You are currently browsing the tag archive for the 'Julia Hartley-Brewer' tag.
My post from last Friday (which includes links to previous ones) was about The Telegraph's Lockdown Files discussed Boris's sister's negative memories of lockdown, the quarantining of holidaymakers, harsh policing, the monitoring of Nigel Farage's (and Piers Morgan's) social media and how No. 10 ignored the Oxford physician Prof Carl Heneghan, who pointed out that the Government data were three weeks out of date.
The Spectator's Chairman, veteran journalist Andrew Neil, who also writes for the Mail and has a programme on Channel 4, was empathetic towards Prof Heneghan, and rightly so. However, it is important to remember that Neil spent much of the pandemic at his home in the south of France. France's lockdown was worse than the UK's: for the first few months of lockdown, you had to have an official note downloaded from a government website just to leave the house for a baguette.
Some of that severity must have rubbed off on Neil, because when the vaccines came out, he wrote that the UK's 5 million 'vaccine refuseniks' must be punished by having their freedoms restricted. Therefore, Andrew Neil can support Prof Heneghan all he likes — in hindsight, by the way — but he must remember his own part in the pandemic:
On another topic, the 100,000 WhatsApp messages that The Telegraph has from Isabel Oakeshott via Matt Hancock were making journalists nervous:
Let us not forget top civil servant Simon Case's role in this, either. How he and Matt Hancock laughed when holidaymakers had to go into quarantine in airport hotels:

Things are looking less 'hilarious' for Simon Case as more of his WhatsApp messages emerge. More on that later.
A mediaeval solution: kill 11m cats
On Wednesday, March 1, 2023, The Express reported that, early in the pandemic, the Government looked at the science around cats and coronavirus (emphases mine):
Britain's 11 million cats were in the firing line at the start of the Covid pandemic, a former health minister has admitted, with the Government considering ordering them all to be "exterminated". Lord Bethell used the surprising example to illustrate the widespread ignorance about the way in which the disease was spread when it first emerged in the UK at the start of 2020.
He said: "There was a moment we were very unclear about whether domestic pets could transmit the disease.
"In fact, there was an idea at one moment that we might have to ask the public to exterminate all the cats in Britain."
He added: "Can you imagine what would have happened if we had wanted to do that?
"And yet, for a moment there was a bit of evidence around that so that had to be investigated and closed down" …
A survey published by the People's Dispensary for Sick Animals (PDSA) last year indicated Britain is currently home to 11.1 million cats, with 24 percent of the UK adult population owning one.
Advice carried on the website of Cats Protection says: "There is limited evidence to suggest the transmission of COVID-19 from people to cats may be possible."
Here is a clip from Lord Bethell's interview on Channel 4 News last Wednesday, March 1:
Isabel Oakeshott soldiers on
Matt Hancock gave journalist Isabel Oakeshott the 100,000 WhatsApp messages about the coronavirus crisis as she co-authored his book Pandemic Diaries which appeared in December 2022. The two agreed at the time that there was just too much information for Hancock to put in one book.
Hancock had been a contestant on ITV's I'm a Celebrity … late last year in the Australian jungle. He said it was to raise public awareness of dyslexia, a condition he himself has, but he only mentioned the word once on the programme. Instead, it would seem he went for his own self-gratification, telling another contestant that he was 'looking for a bit of forgiveness':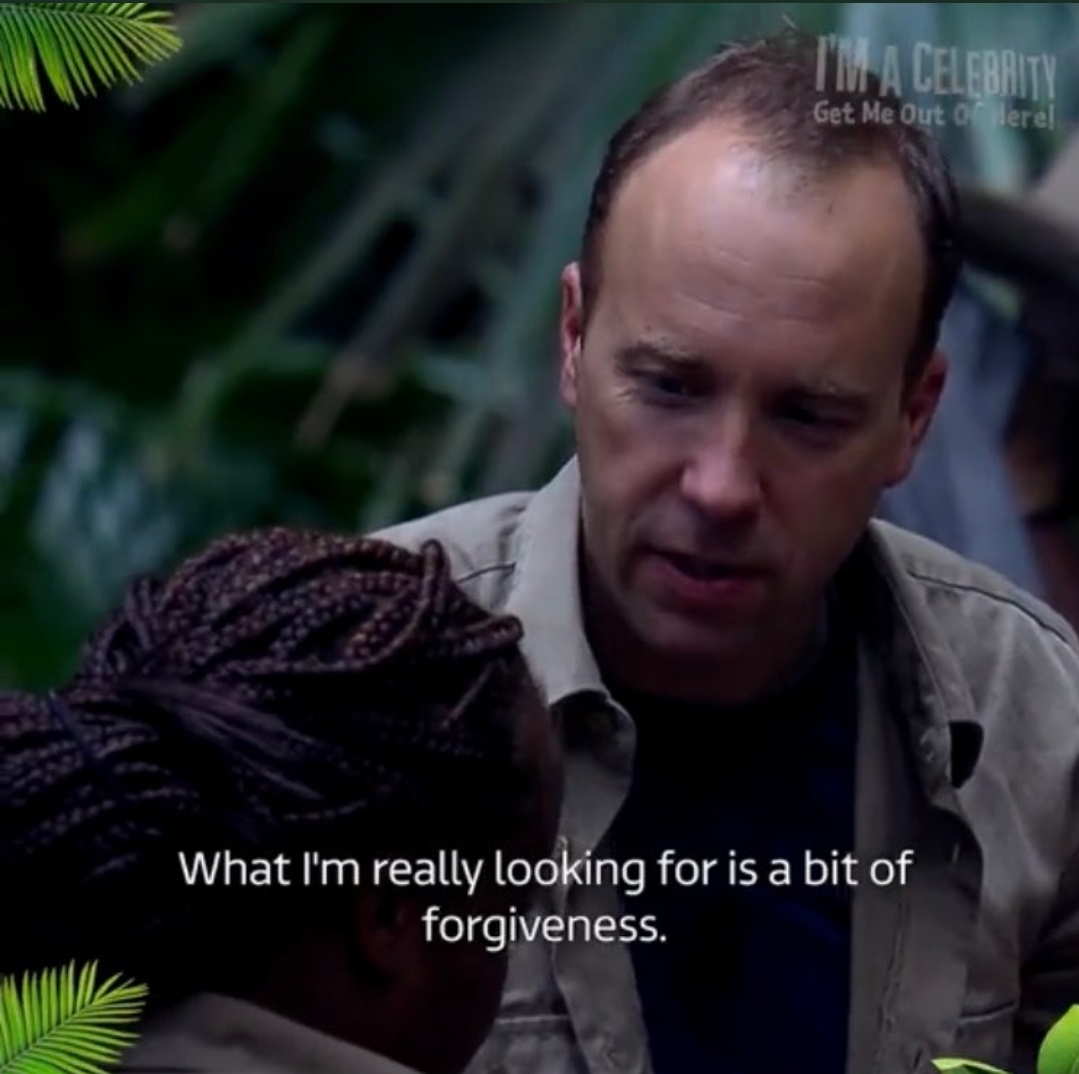 Oakeshott then gave the messages to The Telegraph in the public interest, as there was so much more to explore.
The Guardian spoke to her on Thursday, March 2. I didn't know that Hancock appeared on television, leaving her to finish the book:
Isabel Oakeshott has said her relationship with Matt Hancock soured after he abandoned her in the middle of writing their book in order to appear on I'm a Celebrity.
As she faced ethical questions over her decision to breach her non-disclosure agreement with Hancock and take his WhatsApp messages to the Daily Telegraph, Oakeshott said she chose the newspaper for ideological reasons, because it "pushed back against lockdown during the pandemic".
She told the Guardian she had spent last year pouring all her energy into co-writing Hancock's pandemic diaries, only for him to vanish while arguing with the government over what they could publish.
"I didn't think about any further pandemic-related project until after publication of Matt's book in December. That process had been utterly all-consuming, especially since he vanished to the jungle at a critical moment in very difficult dealings with the Cabinet Office. He didn't tell me he was going," she said.
Rumours that the Telegraph was working on a top-secret project, with a special team of reporters seconded from the main newsroom, had been circulating in journalism circles for weeks. But the revelation that the story was a leak of Hancock's private WhatsApp messages took staff at rival newspapers – and especially Hancock – by surprise.
Oakeshott's primary employment is with News UK, which comprises TalkTV, where she works, as well as Times Radio, The Times and The Sun. Her colleagues were unhappy that she gave the messages to the rival Telegraph:
This was felt especially keenly at Rupert Murdoch's News UK, where Oakeshott enjoys a generous salary to be international editor and appear as a regular pundit on its talkTV channel. On Wednesday night, the TalkTV presenter Tom Newton Dunn said the Sun's political editor, Harry Cole, had had a "bit of a dust-up" with Oakeshott outside the studio.
Cole said: "I just think it's a dubious choice of newspaper, a rival news organisation getting all the glory."
Newton Dunn asked: "You'd prefer she go to the Sun?"
Cole then listed various News UK-owned publications: "The Sun, Times, Sunday Times, other vessels are available in the building."
For her part, Oakeshott has made clear she is employed on a freelance basis by News UK's television channel and is free to work for other newspapers.
She said she took the WhatsApp messages to the Telegraph because of its opposition to lockdowns. "The story simply did not fit with the editorial stance of any News UK paper. None of these brilliant titles pushed back against lockdown during the pandemic."
Exactly when Oakeshott passed the messages to the Telegraph is less clear, although the prominent lockdown sceptic says she did not decide to ghostwrite a book by the pro-lockdown Hancock with the intention of leaking his private messages.
Even though NewsUK did not break the scoop, TalkTV has given it much airtime:
The lockdown files are catnip to her employers at TalkTV, where presenters and guests have been consistently critical of Hancock and the government's lockdown policies during the pandemic. As a result, TalkTV has featured Oakeshott heavily for the last 24 hours, including in appearances on the primetime Piers Morgan show, the breakfast show with Julia Hartley-Brewer, and on Mike Graham's mid-morning slot.
Graham said while introducing Oakeshott: "The world is a different place to where it was a couple of days ago, because in the last two days an incredible story has emerged thanks to Isabel Oakeshott, TalkTV's international editor. If it wasn't for her, this wouldn't be happening. So let's just remember that."
Incidentally, Oakeshott has been in a relationship with Richard Tice, leader of the Reform Party, since 2019. One wonders if a by-product of these revelations will be fewer Conservative votes at the next general election in 2024.
On Saturday, March 4, the title of Oakeshott's Telegraph column read 'Was I right to leak Matt Hancock's WhatsApp messages? Here's what you told me'.
Of course, she received negative messages and letters. However, she says that those she received from parents, grandparents and people involved with care homes were supportive. A few of them follow:
"Dear Isabel, my son committed suicide after lockdown as he missed school and gained a lot of weight. He died in December 2021 and was an indirect victim of lockdowns. This government is criminal. Good on you, keep going!"
"As the daughter of an ex-care home resident who suffered immeasurably from Hancock's lockdown policies, I really can't thank you enough. But I also offer thanks on behalf of thousands of care home residents and their families who equally suffered, including members of my own pressure group Unlock Care Homes." Amanda Hunter: Chair of Social Care at the Together Association/Co-founder of Unlock Care Homes
"My father died alone of congestive heart failure, unable to be visited by anyone despite neither he nor they testing positive for Covid. A man with family and friends numbering in the dozens had 12 people at his funeral."
She even received support from an NHS doctor:
"Dear Isabel, As an NHS doctor I would just like to add my support to you in publishing the Hancock messages, which are so overwhelmingly in the public interest.
"I know that I am not alone in my particular department in being opposed to lockdowns and a lot of the policy decisions that were taken around Covid. And those are just the ones who have been brave enough to say so. I imagine there is a strong constituency of doctors, nurses and other health professionals that feel the same in the NHS. Over and above this, as a product of a working class family, I am devastated about the effect this will have on social mobility through education and achievement. These are the only ways to move up in society and we have deprived a whole generation of this opportunity, which is a travesty. Keep doing what you are doing. Best wishes".
That day, Oakeshott's TalkTV colleague and fellow Covid sceptic Julia Hartley-Brewer wrote an editorial for The Telegraph, 'The journalists condemning Isabel Oakeshott for doing her job didn't do theirs properly':
The Lockdown Files have been full of extraordinary revelations, but perhaps the most extraordinary of all has been the news that some journalists believe that we should never be allowed to know the real truth about how lockdowns, mask mandates and vaccine passports were imposed on our nation …
No journalist worth their salt could possibly question the validity of the public interest defence for Isabel Oakeshott to reveal the truth behind the most extraordinary, damaging and costly government policies in living memory.
Unless, of course, that truth collided head-on with their own deeply held conviction that lockdowns, school closures, mask mandates and vaccine passports were all sound policies based on incontrovertible scientific fact and vital to save hundreds of thousands of lives during a deadly pandemic.
How could they – the guardians of the truth – ever bring themselves to admit that they were wrong about lockdown? …

Remember, these are the same journalists who spent day after day at the No 10 Covid press conferences battling with each other to be the first to demand more and more stringent lockdown measures from Boris Johnson, Matt Hancock et al.
They are the same journalists 
who never once asked what the actual evidence was to support the measures pushed by Prof Sir Chris Whitty and Sir Patrick Vallance, while happily smearing the scientists and medics who dared to point out that our pre-pandemic planning existed for a reason and perhaps we should follow that rather than co-opting the totalitarian response seen in China.
And these are the same journalists who asked more questions about Scotch eggs in one week than they asked about the Government's cost-benefit analysis for shutting schools during the entire pandemic …
Maybe if those journalists had bothered to ask the right questions in 2020 and in 2021, then we wouldn't have to search for the answers in the morass of Matt Hancock's WhatsApp messages in the here and now.
Perhaps if, instead of sitting smugly at home for months on end enjoying their freshly baked sourdough while the country's finances, physical and mental health were all systematically destroyed, those journalists had done their job properly, then Isabel Oakeshott wouldn't have to do it for them now.
Here is one such journalist, Cathy Newman of Times Radio — one of Oakeshott's News UK colleagues — who took so many potshots at her, including revealing her salary — that she terminated the interview. This took place on Friday, March 3:
The Guardian tells us:
Oakeshott clashed with Cathy Newman on Friday during a Times Radio interview, in which Newman questioned Oakeshott on her decision to work with the Telegraph on the story, rather than her colleagues at TalkTV or affiliated papers the Times, the Sunday Times and the Sun.
Newman had asked whether it was fair that "producers and reporters on a fraction of your salary were having to kind of put up with your sloppy seconds, and follow up on the story in a rival newspaper", making reference to her £250,000 salary.
Oakeshott replied: "I'm just not going to go down this route, Cathy," adding: "I think people are much more interested in what the investigation reveals."
"Most of our listeners won't know the individuals that you're referring to," said Oakeshott. "I think that it's kind of absurd that you should be quoting wild figures about my contract with any news organisation. That's my business, it's not yours."
Newman continued with the line of questioning, with Oakeshott repeatedly threatening to hang up. "I'm going to terminate the interview. This is my last warning, OK," she said.
She then accused Newman of being "unprofessional", and in turn asked her how much she was paid by Times Radio.
"I haven't hit the headlines. You've hit the headlines, Isabel," Newman said. "Well, maybe if you broke some stories you would," Oakeshott replied.
The interview ended when Oakeshott hung up halfway through a question about her protection of her sources.
However, Oakeshott had a happier experience with two of her Telegraph colleagues, Christopher 'Chopper' Hope and Investigations Editor Claire Newell, who came back from Christmas break to find that she was part of The Lockdown Files team:
Newell said that the journalists on the team, starting with seven and rising to ten, were allocated with separate batches of messages to co-ordinate and discuss. For security reasons, none of their PCs had internet connectivity, something they learned from the paper's 2009 expenses scandal investigation.
Oakeshott says that investigating the messages was '100% worth it', despite the fierce opposition she has encountered. She hopes that The Lockdown Files will accelerate the public inquiry, which is supposed to begin this month. As for lockdown and the other measures, she says that the cure was worse than the virus.
Those wishing to hear about how Boris was likely manipulated can fast-forward to the 15:20 mark. Oakeshott thinks that his being so seriously ill in hospital with the virus had an impact on his outlook. She adds that Boris was one of the few people to ask questions about relative risk, e.g. more people are likely to die from falling down the stairs, yet we don't ban staircases. Alas, it was to no avail.
Guido Fawkes supports Oakeshott's release of the WhatsApp messages:
I fully agree.
Guido received two types of reaction. Many applauded Oakeshott, then there were the negative people who said there was nothing new.
Allow me add my own impressions at this point. Having followed this pandemic closely since February 2020 and having heard every coronavirus briefing, I thought that the clinicians and other 'experts' on SAGE were directing Hancock. However, having read The Lockdown Files through to what appeared in The Telegraph on the morning of Tuesday, March 7, it looks more like Hancock took every worst case scenario that SAGE presented and ran with it to boost his own standing with his Conservative colleagues, the civil service and the British public. How wrong he was!
And how mistaken I was for getting the wrong end of the stick. I mention this because those who say they learned nothing new from The Lockdown Files clearly have not read them.
Hancock's shock about his affair — and that photo
As we recall, Hancock's downfall came in June 2021 when The Sun splashed the photo of him in a tight clinch with his girlfriend, an adviser at the Department of Health and Social Care. He resigned as the Secretary of State for Health and Social Care a few days later.
This was Saturday's story in The Lockdown Files.
Some of the language is spicy, so be warned.
The Guardian has an excellent summary:
The messages, published by the Telegraph, show Hancock discussing the guidance in place at the time and deciding what his initial response to media questions should be.
As he awaited publication, Hancock asked his special adviser, Damon Poole: "How bad are the pics?" Told it was a "snog and heavy petting", he replied: "How the fuck did anyone photograph that?"
The messages also show the reaction of Hancock and [Gina] Coladangelo to a video obtained by the Sun.
"OMFG," Coladangelo said.
Hancock said: "Crikey. Not sure there's much news value in that and I can't say it's very enjoyable viewing."
There was a shedload of 'news value in that', thanks to Harry Cole and his editors who published the photo and later posted the video, both from an anonymous source. We were under visiting and social distancing restrictions at the time.
The article continues:
Hancock set up a WhatsApp group called "Crisis Management" with Poole and Coladangelo. They talked about the transport secretary, Grant Shapps, going out to support Hancock in broadcast interviews, saying he was "probably the best person you could hope would be out this morning" other than the prime minister.
Poole asked Hancock and Coladangelo to think "really hard" about whether they could have broken any Covid rules.
Referring to the social distancing rule to keep 1 metre apart from others when 2 metres was not possible, Hancock said: "Other than obviously the 1m+ I honestly can't think of any." He then said that the worst thing he and Coladangelo could be accused of was that they had "kissed before they legalised hugs".
At the time, the UK was in step 2 of the coronavirus regulations, which criminalised indoor gatherings "of two or more people".
Separate government guidance in place at the time stated that people should maintain social distancing of 1 metre-plus.
The messages also show that Hancock asked Poole to "keep the focus" on whether Coladangelo's appointment as a paid adviser had broken any rules, rather than whether their embrace had broken social distancing restrictions.
See? The wrong focus. Clearly, Hancock does not want people knowing the background to this:
A spokesperson for Hancock said: "There's nothing new in these messages, and absolutely no public interest in publishing them given the independent inquiry has them all. It's highly intrusive, completely inappropriate and has all been discussed endlessly before."
Now let's go to the full version in The Telegraph :
It was 1am when the pictures were published online of Matt Hancock and his aide Gina Coladangelo in an intimate embrace in his ministerial office.
Just three minutes later the health secretary and aides began a frantic scramble to save his political career.
In the 41 hours that followed, Mr Hancock tried desperately to find exceptions to the rules to justify his behaviour.
His WhatsApp messages reveal the forever changing statements he planned to give to the public, from claims that no rules were broken, to apologising for breaking the guidance to eventually tendering his resignation.
He desperately looked for MPs and former MPs to support him:
As his Cabinet position looked increasingly threatened by the weight of public outrage, the health secretary and his aides tried to recruit more than 25 Tory MPs to publicly defend him, including eight former and current Cabinet ministers.
As his pleas for public support appeared to fall on deaf ears, Mr Hancock celebrated the public support from former foreign secretary Lord Hague as "gold dust".
Dear, oh dear. Hancock really must have been desperate.
The Telegraph has screenshots of the WhatsApp messages, which readers may find entertaining. I certainly did.
The messages reveal that Hancock and his friend's 'first encounter' was on May 4, 2021, definitely when physical contact was, for all intents and purposes, banned.
Media reaction either focused on that or on Hancock's preferred target, Coladangelo's appointment:
Mr Poole notes that the "trickiest" reaction "so far" was a message from Paul Waugh, the chief political commentator at the Huffington Post. Mr Waugh said: "Imagine if you've been literally banned by a govt from hugging your own grandchildren cos they are in 'a different household' and the health secretary has been hugging his lover from 'a different household'."
At 9.13am, Beth Rigby, Sky's political editor, tweeted that Labour's response was "everyone entitled to a private life" but that Ms Codangelo's appointment which involved taxpayers' money "needs to be looked into". Mr Hancock responded: "Great – going on that not the proximity".
Ms Rigby then messages Mr Poole with further questions about social distancing rules, which Mr Hancock says he doesn't want to acknowledge breaking. Mr Poole sends over a link about the law at the time, when Britain was Step 2, and Mr Hancock says that their affair was "arguably charitable", which was one of the exemptions.
How could it have been 'arguably charitable'? This was so typical of Hancock: rules for the plebs and none for himself.
According to the messages, two of Boris's advisers wanted Hancock to admit breaking social distancing rules.
Hancock and his team began looking back at his media interviews during May 2021:
Mr Hancock was talking about personal choice at around the same time that he began his affair with Ms Coladangelo, on May 4. However, he had said that people would only have a personal choice from May 17, when the law changed and England moved into Step 3 of coronavirus regulations. On May 11 when asked by Sky News whether people could hug when the restrictions eased to allow groups of six people to meet indoors and 30 to meet outdoors the following week, he said that the Government would be "trusting people's personal responsibility". Mr Hancock appears to realise that there is a discrepancy in dates.
Just after 11am Mr Hancock seems to have realised that he has to apologise, saying that he is "emotionally" up for it but that before he commits he wants to know the strength of support No 10 will publicly give him.
They go through 14 iterations of his statement over the course of the hour, with Ms Coladangelo commenting that they need to make it more "real". Mr Poole sends it out at 12.16pm. However, the request for privacy did not stop the deluge of questions. They try to decide what guidance they will give to journalists on background to shut down questions of law breaking. Mr Hancock eventually clears the release of a statement which says that they did not break the rules as "various" exemptions were in place …
Really?
Then questions about possible violations of the Ministerial Code arose: whether Hancock's and Coladangelo's relationship was a 'proper and appropriate' one.
Meanwhile, public outrage was building. Hancock needed support from his fellow Conservative MPs:
As the public backlash grew, Mr Hancock and Allan Nixon, his parliamentary special adviser, separately tried to drum up support in the House of Commons. The first message of the day that Mr Hancock sends to his aide is a list of names including some of the Tory Party's biggest hitters.  
The 'biggest hitters' were Cabinet members, present and past.
Hancock was relieved that Lord Hague went public with his support, however, The Sun's Harry Cole, who broke the story was receiving more information:
… it appears that Lord Hague's intervention is not enough to stem the tide of criticism, and Mr Cole gets in touch with more information from a source inside Mr Hancock's ministerial office, leading to the admission that the office kiss was not "exactly a one off" …
A screenshot of the messages shows Damon Poole asking Hancock and Coladangelo whether that was true. They both reply in the affirmative, with Coladangelo typing:
FFS
Yes
Another set of messages shows Coladangelo's offering to resign and making it public in the newspapers the next day. Both Poole and Hancock say no. Hancock gives his reason why not:
It adds pressure on me to go
Later that evening, news breaks that The Sun has the accompanying compromising video.
The next morning, the messages were turned on to 'disappearing' mode so that they cannot be retrieved. The Telegraph says these were about Hancock's imminent resignation.
Hancock enlisted the help of his mentor, former Chancellor George Osborne, who had left politics and was editor of London's Evening Standard at the time:
it appears that most of his guidance was given offline.
Hancock publicly issued a copy of his resignation letter and a video, which was cringe worthy.
Before those went out, Osborne:
reminds him that he should probably apologise to his family and cautions him against revealing that he has fallen in love with Ms Coladangelo, who by his own account he has been in a relationship with for seven weeks.
Osborne's message reads, in part:
We'll leave out the last two seconds!! I like the 'only human' The key question is whether you want to use the word 'love' – it feels a little awkward and premature.
Forty-one hours after The Sun's exclusive broke, Hancock found himself returning to the backbenches.
A nation rejoiced.
More to follow tomorrow.
Just as they did with their exposé of the parliamentary expenses scandal in 2009, The Telegraph's journalists have excelled themselves with their exploration of the Government's handling of coronavirus in The Lockdown Files.
Don't miss my first and second entries, which include reaction from sources elsewhere.
The Telegraph's focus on Friday, March 3, was on policing and quarantining holidaymakers.
Boris's sister speaks
Rachel Johnson, Boris's sister, wrote about how she and their father were tracked down during the pandemic in 'As police pursued my father during Covid lockdown, my lonely mother endured care home prison':
She talks about her brother's handling of the pandemic and her own views (emphases mine):
… I opposed lockdowns on a cellular level. Still do. I have to accept that ultimately schools were closed, the entire population pretty much incarcerated in their own homes, with our sick, vulnerable, frail and elderly people rotting in solitary for months and months on end, and it was all signed off by him.
And I admit that I've been cheered to see that the Hancock cache of WhatsApps – which The Telegraph, via Isabel Oakeshott, has done such a majestic public service in revealing – shows him in his truer colours when it came to all the generally pointless non-pharmaceutical interventions we had to put up with for far too long.
He was much more of a sceptic than a zealot, they show, often bounced into U-turns or Covid-sanitary fascism by being presented with selective fatality graphs and other data dashboards in order that he did what either Hancock or Cummings – gibbering control freaks, both – wanted.
She describes a visit from the police and being spied on by a national newspaper, ending with her mother's loneliness in isolation:
The plight of those in care homes fills me with the most unquenchable rage, even to this day. Many still have visiting restrictions and a Covid mentality. My widowed mother ended up in one, and even from June 2021 residents were isolated in their rooms for 10 days minimum if anyone in the home had tested positive.
Before June, though, my mother lived on her own with a carer. When I called her or Zoomed her, she would whisper: "I'm lonely." It broke my heart.
I continued to see her, even though she was not in my ludicrous "bubble" as she had a carer. I took her Christmas dinner in 2020. It was against the rules and the laws or whatever. In my view, that was immaterial.
Every Covid restriction broke the laws of nature, and nothing and nobody – and I mean nobody – was going to tell me not to see my mother on her last Christmas on Earth.
The price of freedom is eternal vigilance, and I completely support Isabel Oakeshott's bravery in showing us how the sausage of doom was made.
It must never, ever, happen again.
Boris's and Rachel's mother died in 2021.
Most of us in the UK remember the news story from November 2020 about the woman who attempted to take her mother out of a care home only to find that the police swarmed around them in a car park. Her daughter, Leandra Ashton, who filmed the incident, talked about what a painful moment that was for her mother and grandmother. Police arrested her mother and took her grandmother back to the care home. Dr Renee Hoenderkamp, a GP, is the other lady in the interview with GB News's Patrick Christys:
Dr Hoenderkamp shares her experience when she spoke to doctors who did not want to listen to her:
It should be noted that over the course of the pandemic, Dr Hoenderkamp changed her mind about coronavirus measures, e.g. masks. The first tweet is part of a long thread:
How Boris's libertarian instinct disappeared
On Thursday, March 2, we discovered how Boris changed his common sense attitude towards the pandemic in 'Lee Cain and James Slack – the media advisers who helped shape the decisions that changed our lives':
WhatsApp messages sent between Boris Johnson and his ministers show the extent to which media advisers were able to influence policy during the coronavirus pandemic.
In June 2020, for example, the then prime minister considered ending some lockdown restrictions early – but dropped the idea after "Slackie and Lee" said it was "too far ahead of public opinion".
He was referring to James Slack and Lee Cain, his two most important media advisers at the time. Here we take a closer look at the two former journalists who had the prime minister's ear.
The article says that Lee Cain was remarkably powerful in No. 10 in 2020:
Mr Cain's influence within Number 10 was such that when the Prime Minister was in hospital with Covid in April 2020, colleagues said – only half-jokingly – that Mr Cain was left "running the country".
His official role was as the then prime minister's director of communications. However, WhatsApp exchanges have shown that Mr Cain's remit went beyond advising on communications and involved helping to decide the policies themselves …
When Chris Heaton-Harris, then the rail minister, suggested to Mr Johnson in May 2020 that the border with France could be reopened, Mr Cain intervened.
He wrote: "Quarantine surely an essential part of any exit strategy – and opening up a flank to an entire continent would seem to leave a substantial hole. Public will think (rightly) we are potty. Overwhelming support for tougher action at our borders!!"
It was Cain who suggested kowtowing to Nicola Sturgeon on masks. He planted doubt in Boris's mind, saying that she might be right:
In Aug 2020, when Mr Johnson asked ministers and officials for their views on whether face masks were necessary in schools, Mr Cain told him: "Considering Scotland has just confirmed it will [impose them] I find it hard to believe we will hold the line. At a minimum I would give yourself flex and not commit to ruling it out …
"Also why do we want to have the fight on not having masks in certain school settings?"
His pivotal role in government raised eyebrows among some former colleagues who had not seen him as a high-flyer in his previous jobs.
Sturgeon's mask policy — later Boris's — came up Thursday night on GB News with Patrick Christys, Neil Oliver and Prof. David Paton lamenting how much damage it did to children:
The article says that Cain had previously worked for The Sun and The Mirror before going into public relations. He began working on the Vote Leave (Brexit) campaign in 2016, which brought him into contact with Dominic Cummings. Interestingly, he had previously applied to be part of the Britain Stronger in Europe campaign but lost out. He claimed he was primarily interested in a political career.
After the successful Brexit referendum result, Cain worked for Andrea Leadsom MP then for Boris when he was Foreign Secretary. Even after Boris resigned that post in the summer of 2018, Cain remained loyal, working for Boris without remuneration. He was confident great things were in store for him.
Ultimately, he ran afoul of Mrs Johnson and set up his own PR firm:
He left Downing Street, together with Mr Cummings, in Nov 2020 after losing what was widely regarded as a power struggle with Mr Johnson's wife, Carrie. He later set up his own corporate communications firm.
James 'Slackie' Slack was the third member of the trio who advised Boris on policy:
Along with Mr Cain and Mr Cummings, he was never far from the prime minister's side and his input helped to shape key decisions dictating people's freedoms.
Like the prime minister himself, Mr Slack had no background in science, behavioural psychology or even public relations – but Mr Johnson would rarely make a move without first consulting "Slackey", "Caino" and "Dom".
… It was he who updated the waiting world on Mr Johnson's condition as he fought for his life in intensive care.
Along with Mr Cain, he helped to shape lockdown policy by expressing concern that lifting restrictions too soon would be too far ahead of public opinion.
In a similar vein, he told ministers and advisers on March 8 2020 that the newly-imposed first national lockdown was out of kilter with public opinion.
He wrote that: "I think we're heading towards general pressure over why our measures are relatively light touch compared to other countries. Also why we aren't isolating/screening people coming back from Italy. We'll need to explain very calmly that we're doing what actually works."
The Telegraph has screenshots of various WhatsApp messages discussing coronavirus measures.
Slack entered the Downing Street orbit in 2016 when he was the political editor of the Daily Mail. Theresa May had just become Prime Minister and hired him in February 2017 to be her official spokesman in order to improve her public image.
After May's departure, Boris retained Slack:
regarding him as a safe, trustworthy pair of hands. Mrs May rewarded him for his loyal service to her with a CBE in her resignation honours list.
Slack got on well with reporters, which was another plus, then:
He briefly succeeded Mr Cain as No 10 director of communications – a political role, rather than a Civil Service posting – at the start of 2021.
His time in Downing Street ended soon afterwards:
Mr Slack's Downing Street career came to an unexpectedly shameful end, when The Telegraph revealed he held his leaving party in April 2021 on the eve of the late the Duke of Edinburgh's funeral.
Mr Slack, who had moved back into journalism as deputy editor of The Sun, issued a public apology for his behaviour.
Laughing at quarantined holidaymakers
Another pivotal personality in the pandemic was Simon Case, a career civil servant who worked for then-Prime Ministers David Cameron and Theresa May before taking a break to be Prince William's Private Secretary between 2018 and 2020.
As I recall, Prince William highly recommended Case to Boris Johnson. In August 2020, Boris appointed Simon Case as Cabinet Secretary and Head of the Home Civil Service. Case continues in that post today under Rishi Sunak.
In the UK, civil servants have long been called 'mandarins', which explains this story, 'Top mandarin mocked holidaymakers "locked up" in Covid quarantine hotel rooms'. It, too, has several screenshots of WhatsApp conversations.
The article begins:
Those unlucky enough to be caught up in Britain's pandemic-era quarantine hotel policy likened it to being held prisoner.
Messages seen by The Telegraph show that ministers and officials shared the sentiment and joked about passengers being "locked up" in "shoe box" rooms.
In February 2021, Simon Case, the country's most senior civil servant, was in WhatsApp contact with Matt Hancock, the then health secretary, as Britain began a forced quarantine for returning holidaymakers.
On February 16, 2021, Case asked Hancock how many people had been 'locked up' in hotels the day before. Hancock responded:
None. But 149 chose to enter the country and are now in Quarantine Hotels due to their own free will!
To which Case replied:
Hilarious
The Telegraph shared experiences from those quarantined:
Those on the receiving end of the quarantine policy described the misery of being held captive in tiny hotel rooms.
"It feels like I'm in Guantanamo Bay," one woman who was forced to spend 10 days in a government-approved hotel told The Telegraph at the time. "I honestly believe this would destroy most people's sanity."
Another furious traveller said: "It's total abuse. It has abused basically every single human right that we have."
In January 2021, Matt Hancock had convinced Boris as well as Case and other senior officials that toughening up travel rules with £10,000 fines was the way to go:
Mr Hancock said it was "BRILLIANT" when he saw reports of people being stopped by police at airports, while Boris Johnson, the prime minister, said news of a traveller being fined £10,000 for breaking quarantine rules was "superb".
The enforcement of the quarantine rules, including severe punishments for those who broke them, became a major priority for Mr Hancock in the next weeks …
The next month, Mr Hancock shared a story with Mr Johnson directly about two people who were fined £10,000 for failing to quarantine after returning to the UK from Dubai.
Officials had scrambled to put the quarantine policy together amid rising concern in the Government about positive cases slipping into Britain from "red list" countries.
Mr Hancock and Mr Case expressed concern that no single government department had control of the border, describing the situation as "mad" and something the prime minister needed to fix.
Later, doubt arose as to whether the quarantine policy actually worked:
The hotel quarantine policy itself has since been criticised in reports by two parliamentary committees, which said it wasted taxpayers' money without restricting the spread of Covid.
In a report last April [2022], the transport select committee that "using case numbers as an indicator, there is no evidence that the requirement for travellers from certain countries to quarantine at a hotel, rather than at a location of their choice, has improved the UK's coronavirus situation compared with other European countries".
In a submission to the public accounts committee, the Cabinet Office said the Government was unable to determine how successful the quarantine policy had been because "it is difficult to isolate the effects of one of a number of interventions from the other ones".
The committee concluded that the Government "does not know whether it achieved value for money from the £486 million that it spent implementing measures".
One tour operator tweeted his disgust at Case's and Hancock's cavalier response to quarantined passengers, which affected his own business and others:
Hancock encouraged heavy-handed policing
We knew from the beginning that Matt Hancock wanted police to get tough with normal people trying to survive the pandemic in 2020, but another article has more detail, '"Get heavy with police" to enforce lockdown, Matt Hancock told ministers'.
Here, too, Simon Case had some involvement. On August 28, 2020, he WhatsApped Hancock:
Blimey! Who is actually delivering enforcement?
Hancock replied:
I think we are going to have to get heavy with the police
The article explains:
The leaked messages also show that the pair again returned to their fears that police were failing to crack down on alleged lockdown breaches.
However, the police were heavy-handed from the beginning of lockdown in March 2020, with each police force in England deciding how far to go with fines and arrests:
Heavy-handed policing was one of the most controversial issues of the pandemic and saw members of the public fined for going for a walk with a cup of coffee, leaving home "without a lawful reason" and taking part in vigils and protests.
Many of the 118,000 fines were challenged in court and overturned, and officers were later criticised for "Orwellian" tactics that included the use of drones, roadblocks and helicopters to catch rule-breakers.
Meanwhile, in Downing Street, things were very different late in December 2020:
The Telegraph can reveal that Mr Johnson took the decision to create a Tier 4 alert level, effectively cancelling Christmas for 16 million people, while a lockdown party was taking place in the same building.
Timestamps on messages from Mr Case and Mr Hancock, who attended the meeting remotely, show that the "Covid-O" meeting to decide the policy coincided with a Number 10 Christmas party on Dec 18, 2020.
Fines subsequently reviewed
I was very happy to read on Thursday that all the fines issued at the height of the pandemic have since been reviewed, with many rescinded.
'How Covid turned Britain into a curtain-twitcher's paradise' tells us more:
Blameless citizens complained that a family get-together would merit a knock at the door from police, but that they showed no such interest if a burglary was reported.
By March 2022, police forces in England and Wales had issued 118,978 fixed penalty notices for breaches of Covid restrictions.
Fines were issued for uncovered mouths and noses in public places, for failing to self-isolate, for meeting too many friends at once, for having a picnic, for going home after entering the country, and much else besides.
Coronavirus regulations changed more than 60 times over the course of the pandemic, meaning many officers struggled to keep up with the latest iteration of the rules and fines were issued unlawfully.
At the time, senior police officers were understood to be concerned about what they were being asked to do. Having spent years building up trust with communities that were in some cases suspicious of the police, they privately expressed fears that long-term damage would be done to their ability to police by consent.
Early on in the pandemic, Derbyshire Police, which turned out to be one of the most draconian forces of the period, set the tone by pouring black dye into a Peak District beauty spot known as the Blue Lagoon to discourage people from going there for exercise.
The same force deployed drones to spy on people exercising away from their local area, and two women drinking coffee while on a walk together were fined £200 each after their hot drinks were deemed to be "a picnic".
Their fines were later withdrawn and they received an apology – but the damage was done as far as public opinion was concerned.
A report by HM Inspector of Constabulary in 2021 accepted that there had been "a reduced service" in some areas of policing as "some forces increased the number of crimes they decided not to investigate because they were unlikely to be solved" and reduced in-person visits to registered sex offenders …
The low point came in March 2021 during an open air vigil for Sarah Everard, the marketing executive who was abducted and murdered by an off-duty police officer, at which four people were arrested for breaching Covid regulations.
A High Court judge later found that police had breached the human rights of the organisers of the vigil, in particular the right to freedom of speech and assembly …
The House of Commons joint committee on human rights concluded that a "significant number" of fines had been wrongly issued, but that many people felt too intimidated to challenge them.
MPs were so concerned about the heavy-handed approach of some police forces, and the wildly differing interpretations of the rules across different forces, that the committee recommended a review of every fine issued.
It discovered that when people who had been issued with fixed penalty notices opted to take the matter to court, rather than simply paying the fine uncontested, the Crown Prosecution Service (CPS) found that around a quarter of the charges were incorrect.
Even more extraordinary was the CPS's disclosure, in 2021, that every prosecution brought under the Coronavirus Act had been unlawful.
The Act was set up to allow the authorities to detain any "potentially infectious" person who refused to take a Covid test, and a CPS review found that all 270 charges under the legislation had been withdrawn when they got to court, or overturned after innocent people were convicted.
However, the fine mentality has affected policing long-term:
There is evidence that this push for ever-greater numbers of fines for petty offences has permanently affected the police's mentality.
Chief Superintendent Simon Ovens, of the Metropolitan Police's Roads and Transport Policing Command, told a meeting of the London Assembly last year that Transport for London was targeting one million speeding prosecutions in the capital each year, compared with the 130,000 issued from fixed speed cameras in 2018.
Rather than targeting road safety and fewer deaths and injuries on the roads, the police were targeting enforcement – a reversal of the Peelian principle that success should be measured in a lack of crime, not an increase in arrests.
Lockdown — and Covid fines — also adversely affected courts:
Already facing an inevitable backlog of cases because of the closure of public buildings, courts found themselves dealing with the extra caseload generated by Covid fines when they reopened after lockdown.
In November last year, Max Hill, the director of public prosecutions for England and Wales, disclosed that almost 75,000 defendants were awaiting trial, up from 70,200 in August 2020, meaning the post-Covid backlog of cases has increased rather than being gradually reduced.
The Government's target is to reduce the waiting list to 53,000 cases by March 2025, which may seem unambitious – but even that target is in danger because of a squeeze on public spending, said Mr Hill …
Clare Waxman, the Victims' Commissioner for London, said the courts system was "still in crisis" and the delays were having a "devastating" effect on victims.
Former police chief objects to Government policy
During parliamentary debates on lockdown policing, the topic of enforcement arose occasionally. MPs who spoke up said that the police were often confused about what and when to enforce something related to the pandemic. Furthermore, were these actually laws or mere guidance?
On Friday, March 3, The Telegraph published an article on this subject, 'Former police chief rejects Matt Hancock's Covid "marching orders" in leaked WhatsApp texts':
After a meeting on Jan 10, 2021, shortly after another lockdown had begun, Mr Hancock wrote to Mr Case about a meeting in Downing Street with senior police officers on enforcement, with the message finishing by saying: "The plod got their marching orders."
Reacting to the latest exposé on Friday morning, Sir Peter Fahy, the chief constable of Greater Manchester Police between 2008 and 2015, said: "Lots of people in the police service won't be surprised at the tone of these remarks.
"They were faced with an unprecedented situation, this legislation was rushed out, it was confused, it had poor definitions in it, there was this constant confusion between what was legislation and what was guidance; often it seemed ministers themselves didn't understand the impact of the legislation."
Sir Peter suggested he would not have rolled over had he been called into Number 10 and told to get tough.
"No, the conversation would be 'sorry the legislation is not clear enough, the definitions are not clear enough, we're trying to do our best but you've not given us the powers to enforce the legislation'… I know those were the messages going back into Government as police were trying to do their best," he told BBC Radio 4's Today programme.
But the former officer of 34 years said "police were stuck in the middle" as some members of the public wanted stronger enforcement while others "felt it was turning into a police state".
Police forces were repeatedly criticised for being over-zealous during the Covid crisis, prompting Neil Basu, then the Met Police assistant commissioner, to warn in this newspaper at the time that "how we police this pandemic will be remembered for many years to come".
Nigel Farage targeted
In 'Can we lock up "pub hooligan" Nigel Farage, asked Hancock's team', we discover how they relented:
Matt Hancock's team asked if they could "lock up" Nigel Farage after he tweeted a video of himself at a pub in Kent, WhatsApp messages have revealed.
On July 4, 2020, the leader of the Brexit Party shared a video of himself drinking his "first proper pint in 103 days" at The Queens Head pub in Downe Village.
A fortnight earlier, Mr Farage had been filmed attending a Donald Trump rally in Tulsa, Oklahoma. At the time, anyone entering England from abroad was required to quarantine at home for 14 days or face a fine of at least £1,000.
Messages seen by The Telegraph have revealed that Mr Hancock asked his team to contact the Home Office to see whether they were "considering" pursuing Mr Farage for the apparent breach.
At 4.28pm that day, Mr Hancock messaged the "MH top team" WhatsApp group with a link to a Sky News report claiming Mr Farage had breached quarantine rules. "We need to discuss urgently", he said.
The group chat, which included his special advisers and senior officials, quickly sprang into action.
Jamie Njoku-Goodwin, at this time one of Mr Hancock's aides, replied: "Does he count as a pub hooligan? Can we lock him up?"
A senior civil servant also responded to ask whether he "needed anything" and suggested that this might be a matter for Priti Patel, then home secretary.
The police are operationally independent of the Home Office. Despite this, Mr Hancock instructed his team to contact Ms Patel's private office …
Three minutes later, Mr Njoku-Goodwin responded to say that he had "just spoken to HO [Home Office] spads". He said: "Sounds like we need to get PHE to do one of their 'spot checks' and prove that he isn't at home."
Mr Hancock then requested that Mr Farage's case was dealt with "like any other" and that any enforcement action was taken by the Home Office, not the Department of Health.
At the time, Mr Farage insisted he had not broken the rules because he had already completed the 14-day isolation period and tested negative, tweeting a photo of him in a pub with the caption: "Sorry to disappoint you. Cheers!"
But the former Ukip leader told The Telegraph on Thursday that he believes he was in fact in breach, saying: "If I was being honest with you, after the first set of lockdowns I wasn't really prepared for some little pipsqueak like Matt Hancock to tell me how to live my life, quite frankly.
"That photo was taken when I came back from America, on the day the pubs opened. It was pretty nip and tuck … which means I probably was in breach. I'm probably a Covidiot."
Mr Farage said he had three visits from the police during the pandemic. "The idea that headmaster Hancock was after me – I love it," he said.
Farage opened his March 2 GB News show with the story:
Piers Morgan another Government obsession
According to Isabel Oakeshott, to whom Hancock turned over 100,000 WhatsApp messages in compiling his Pandemic Diaries, Piers Morgan was another Government obsession, which I find strange as he was pro-lockdown, pro-masks and pro-vaccines at the beginning. Apparently, he changed his mind partway through:
Contrarian Prof Carl Heneghan speaks
Oxford physician and researcher Prof Carl Heneghan, a Covid contrarian, has been one of my heroes throughout the pandemic.
He wrote an article for The Telegraph's Lockdown Files about his experience with Downing Street in late 2020, 'I warned that second lockdown data was wrong — but I was ignored':
It was a Saturday morning when I was asked if I could Zoom into Downing Street for 1 pm.
I was in the midst of a morning shift in urgent care – having just walked out of a care home with a seriously unwell patient, I was a little flustered, to put it mildly.
My role has never been to make the decisions, but to ensure that the decisions are based on the best available evidence. In this case, though, it was vital that decisions affecting the whole of society were made on accurate information.
I work with a great team, who forensically look at the data and notice details that most overlook. We met daily, and it had become clear that the slides leaked to the BBC on estimated Covid deaths and that would later be presented at the government press conference were out of date and the reported deaths were way too high.
I spent Saturday informing advisers that there needed to be a better understanding at the heart of the Government.
While several others on that call were also trying to aid the understanding of the data, the message was clear – the Government was about to lock down again, based on the wrong information.
I couldn't help but think that the public won't forgive you when they find out they are being fed a narrative of fear based on untruths.
But nothing changed. By Saturday night, the Downing Street press conference went ahead. "Unless we act, we could see deaths in this country running at several thousand a day," said the PM. The second lockdown was announced that evening.
Heneghan contacted the health editor of The Telegraph who published an article shortly after the second lockdown was announced.
Heneghan also got in touch with Dr Raghib Ali, a new Covid Government adviser at the time:
He organised a second call with Downing Street late on Sunday.
The Lockdown Files reveal that the Prime Minister told his WhatsApp group that I'd said "the death modelling you have been shown is already very wrong", as it was out of date, having been drawn up three weeks previously.
However, it did not make a blind bit of difference:
By Nov 6,  Downing Street insisted the incorrect death toll data was "a mistake". The error in the graphs made the numbers too high, but by then it was too late to change course. The second lockdown had already begun. 
How terrible when a government cannot admit the greater mistake of lockdown.
Hancock still aggrieved by The Lockdown Files
Matt Hancock says he still feels betrayed by his former book collaborator, Isabel Oakeshott.
Since The Lockdown Files have appeared, someone posted this 2022 tweet of his wherein he says that even when data bring challenges, the final outcome is always better with them than without: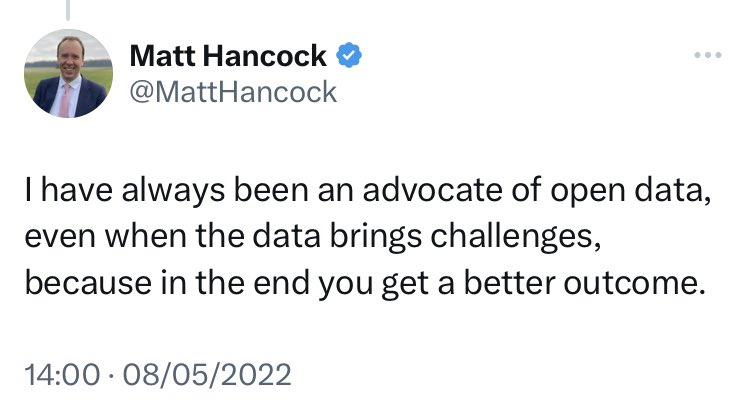 That's something he should keep in mind now, rather than licking his wounds.
On Thursday, Oakeshott told Hancock, via Julia Hartley-Brewer's TalkTV show, that this story is much bigger than he. It's about an entire nation's suffering:
Hartley-Brewer tweeted about Hancock and betrayal. She received an apposite response:
On Thursday afternoon, Oakeshott issued a formal statement on the betrayal issue, which is well worth reading:
Much in our nation could well take decades, if ever, to recover from — in my words — Hancock's disastrous and dictatorial policies.
However, GB News's Patrick Christys said that 'failings extended much further beyond Matt Hancock':
On Thursday, author Lionel Shriver told Jacob Rees-Mogg how sorry she feels for the many children adversely affected by lockdown. It was World Book Day. As such, many schoolchildren dressed up as their favourite literary characters:
The left hand WhatsApp exchange below shows what a farce it was to lock down an entire nation. The mortality rates were quite low overall. When the elderly died, most of them were well into their 80s. People under 35 rarely died. As for Edwina Currie, she single-handedly tanked Britain's egg market in the late 1980s with her salmonella scare:
No doubt, many of us could rail on and on about this. I have done over the past three years.
On the other hand, no words can express the betrayal we — and those in many other Western countries — experienced from elected representatives who are notionally our public servants.
More to follow next week.
On Wednesday, January 11, 2023, the outspoken Conservative MP Andrew Bridgen had the whip removed for remarks he tweeted about the coronavirus vaccines.
He now sits as an Independent.
Before going into that news, let us look at Bridgen's past history in Parliament.
Watchdog
Bridgen, who has represented North West Leicestershire since 2010, has always been a watchdog, in and out of Parliament.
Holding his own on Brexit
On April 8, 2019, when Theresa May and Parliament were at loggerheads on how to proceed with Brexit, Bridgen appeared on the BBC's Politics Live to say that most voters would prefer No Deal. He was the only Leave supporter on a panel of four. Everyone else was a Remainer, including the host, Jo Coburn. They piled in on Bridgen, but the MP was correct. He had cited a poll from YouGov which said that 44% of Britons preferred No Deal. By contrast 42% wanted to remain in the EU.
One month later, he rightly objected to MPs who wanted to have a customs union with the EU instead of a full exit:
The impasse in the House of Commons worsened as the months dragged on. On September 10, Bridgen supported Boris's prorogation, which ended up being overturned. He talked with talkRADIO's Julia Hartley-Brewer just before that prorogation:
In late November, The Sun tweeted an excellent video of Bridgen canvassing North West Leicestershire voters before the general election on December 12 that year. They had strong opinions on Brexit, Labour and Boris. Incidentally, North West Leicestershire is the happiest place to live in the East Midlands:
Pointing out 'modern slavery' in Leicester
In January 2020, Bridgen called to the Government's attention the working conditions at certain women's garment factories in Leicester. They would be considered sweatshops in the United States.
The city of Leicester is not in Bridgen's constituency, but he was concerned enough to call the companies out, directing a question to Kelly Tolhurst MP, the then-BEIS (Department for Business, Energy and Industrial Strategy) in Parliament:
Will the Minister agree to meet me to discuss the situation in Leicester, where I believe that approximately 10,000 people in the clothing industry are being paid £3 to £4 an hour in conditions of modern slavery?
Guido Fawkes reported that nothing was done until July that year, when Leicester showed unusually high rates of coronavirus (emphases in the original):
What happened at the meeting months ago?
The Labour Behind the Label campaign has a report out alleging there is evidence which indicates that conditions in Leicester's factories, primarily producing for Boohoo, are putting workers at risk of COVID-19 infection. Grim reading…
Leicester's rates remained high throughout the rest of 2020. By contrast, North West Leicestershire — Bridgen's constitutency — had the lowest rates in Leicestershire. On October 12, he debated the knotty problem of full lockdowns with talkRADIO's Julia Hartley-Brewer, who advocated sequestration of the vulnerable only:
Calling out West Midlands mayoral candidate
In the week before the 2021 local elections in England, he asked IPSA (the Independent Parliamentary Standards Authority) to investigate Labour MP Liam Byrne's alleged use of parliamentary expenses to fund his campaign for the mayoralty of the West Midlands. Byrne fired back that Bridgen put his own London accommodation on expenses, which is what every other MP, including Byrne, does. Then Byrne accused Bridgen of having one of the worst voting attendance records in Parliament. Byrne was wrong there, too, as records show that Bridgen voted 88% of the time, whereas Byrne voted only 63% of the time between 2010 and 2019.
Calling out the BBC
On May 21, 2021, Bridgen complained about the BBC in a tweet, saying that Britons are forced to pay for it, while the organisation shows inadequate accountability in the face of broadcasting scandals it hid under the carpet.
Objecting to coronavirus vaccine passports
On July 22, 2021, Bridgen told GB News that showing a vaccine passport upon entry to various places was 'unworkable', saying that most people were already vaccinated and that it would take too much extra time to check everyone's vaccine status:
2022 signalled big trouble ahead
In 2022, Andrew Bridgen became known as an MP with a reputation.
Initially, his letters of no confidence in previous Prime Ministers became clear, all the way from David Cameron's time through to Liz Truss:
However, later on, his relationship with his family's potato business would begin to bring matters to a head, affecting his standing as a Conservative MP.
On September 3, The Times reported (purple emphases mine):
A Conservative MP branded "dishonest" by a judge has been ordered to pay £800,000 and evicted from his luxurious country home after a dispute involving his family potato business.
Andrew Bridgen, 57, has spent years suing his family business, AB Produce, which supplies potatoes and other vegetables to catering companies and supermarkets.
In March, a High Court judge ruled that he "lied" under oath, behaved in an "abusive", "arrogant" and "aggressive" way, and was so dishonest that nothing he said about the dispute could be taken at face value.
The North West Leicestershire MP had accused the firm of forcing him out of a £93,000-a-year second job, which required him to attend a monthly board meeting. The judge found that, rather than being bullied out of the job as he alleged, Bridgen resigned in order to reduce the amount he might owe his first wife, Jackie, in divorce proceedings.
Judge Brian Rawlings also found that Bridgen pressured the police inspector in his parliamentary constituency to launch a costly one-year investigation into vexatious allegations against his estranged younger brother, Paul Bridgen, 55, who runs AB Produce, which is based in Derbyshire.
In a later judgment in June, which came to light only last week, the MP has been forced by the judge to vacate the Old Vicarage, a five-room property reportedly valued at about £1.5 million. He was given a final deadline of August 24 and Bridgen, his wife and their child complied with the deadline. It is not known where they now live …
Bridgen and his second wife, Nevena, 42, a Serbian blogger and former opera singer, had lived in the restored 18th-century home without charge since 2015. During this period, it is understood that he refused to pay rent, or bills for water and electricity, according to court filings.
Bridgen was told to pay in excess of £800,000 in legal costs to three shareholders at his family's firm, of which one is his brother, Paul, after bringing claims of unfair treatment. He could yet be ordered to pay £244,000 in rent arrears.
It is understood that Bridgen, who earns a basic salary of £84,144 as an MP, has paid the money he already owes, although the source of the funds is unknown and is likely to come under scrutiny …
Parliamentary rules stipulate that MPs who are declared bankrupt must step down if a bankruptcy restrictions order is made against them. He is also vulnerable to another referral to the parliamentary commissioner for standards as he failed to declare AB Produce as the entity paying his rent and utility bills.
According to the guide to the rules relating to the MPs' code of conduct, MPs must declare "taxable expenses, allowances and benefits such as company cars", as well as "financial support and sponsorship" and "gifts of property".
On November 3, Guido reported that the Commons Committee on Standards recommended that Bridgen be suspended from Parliament for five sitting days for the aforementioned controversy:
They also describe an email he sent to the Standards Commissioner Kathryn Stone as "completely unacceptable behaviour" as he 'sought assurance' about a rumour that Stone was shortly to be ennobled provided she arrived "at the 'right' outcomes when conducting parliamentary standards investigation[s]".
The full list of aggravating factors are as follows:
Mr Bridgen breached the rules of the House on registration, declaration and paid lobbying on multiple occasions and in multiple ways. (The Committee noted that each of these breaches could have led it to recommend a suspension from the service of the House);
Mr Bridgen has demonstrated a very cavalier attitude to the rules on registration and declaration of interests, including repeatedly saying that he did not check his own entry in the register;
Mr Bridgen is an established Member of the House, having been elected in 2010;
Mr Bridgen's email to the Commissioner called her integrity into question on the basis of wholly unsubstantiated and false allegations, and attempted improperly to influence the House's standards processes …
For Andrew's clarification, no you cannot submit a letter of no confidence in the Standards Committee…
But, by then, Bridgen had already turned his attention to the coronavirus vaccines, saying that, if there is an investigation in the EU Commission, there should be one in the UK, too:
On Tuesday, December 13, Bridgen was granted an adjournment debate in which he criticised the vaccines and cited Dr Aseem Malhotra, a cardiologist who saw his own father, a healthy man, die of unusual heart problems after taking one of the vaccines. Bridgen, like Malhotra, wanted the mRNA vaccines stopped and offered evidence as to why. As I wrote on December 22, Maria Caulfield, the Government minister and a practising nurse, did not approve of Bridgen's speech. Danny Kruger, another Conservative MP, supported Bridgen's statements, but Caulfield reiterated the Government's line on vaccines.
On Wednesday, December 28, the British Heart Foundation disparaged Bridgen's claims in the adjournment debate, which I also wrote about the following day.
2023 can make or break Bridgen
On Monday, January 9, 2023, Bridgen began the day by tweeting the link to a discussion about alleged lies told during the pandemic and the response to coronavirus:
Later that day, The Guardian reported that Bridgen had been suspended for five working days for lobbying and undeclared interests, matters unrelated to coronavirus:
The MP for north-west Leicestershire was found to have repeatedly broken the MPs' code of conduct by a cross-party committee, which endorsed findings from Kathryn Stone, the parliamentary commissioner for standards.
He was unsuccessful in an attempt to overturn the recommendation in December and a motion was approved by parliament on Monday.
The suspension is due to start on Tuesday 10 January, and will run for five sitting days.
Bridgen was found to have approached ministers and officials on behalf of a forestry company, Mere Plantations, that had given him a donation, a visit to Ghana and the offer of an advisory contract, a role that ended up being unpaid.
Two of the days were recommended by the committee for the breaches of rules on advocacy and interests. The other three days of suspension were advised in response to what the committee said was a "completely unacceptable" attempt by Bridgen to put pressure on Stone.
Bridgen attempted to appeal against the decision, criticising the investigation as "flawed" and arguing that it had not fully considered the motivations of the person who had made the initial complaint.
He argued that he was just helping a local company that worked with Mere, and that it was thus simply a "constituency interest" that brought him no personal benefits. The committee disagreed with this, saying the MP had breached lobbying rules.
The committee, chaired by the Labour MP Chris Bryant, found that Bridgen breached the rules "on multiple occasions and in multiple ways".
Meanwhile, Bridgen continued to sound the alarm about coronavirus vaccines.
On Tuesday afternoon, January 10, he tweeted a Project Veritas interview with a Pfizer scientist who alleges that they were aware that their vaccine was responsible for the unusual spike in cases of myocarditis. This is short, subtitled and well worth watching:
That afternoon, Bridgen tweeted a video featuring Dr Peter McCullough, who alleges that the vaccines are responsible for myocarditis cases and deaths. This, too, is a short video well worth watching:
On the morning of Wednesday, January 11, Bridgen retweeted a message from Dr Malhotra which included a video of Tucker Carlson and vaccine watchdog Robert F Kennedy Jr discussing the omerta on coronavirus vaccines:
Bridgen followed up with his own tweet about the alleged dangers of the vaccines, including a quote from Robert F Kennedy Jr:
Worse news than a five-day suspension came later that morning, after Bridgen had tweeted a cardiologist's comment that the global rollout of coronavirus vaccines will have been the worst human rights violation since the Holocaust. Bridgen later deleted the tweet, but other MPs saw it and strongly objected to it. Pictured along with Bridgen is Conservative MP Simon Clarke:
It then came to the attention of the Conservative Chief Whip Simon Hart, who withdrew the whip from the MP:
On Wednesday morning, Guido reported what Simon Hart had said in defending his decision:
Andrew Bridgen has crossed a line, causing great offence in the process. As a nation we should be very proud of what has been achieved through the vaccine programme. The vaccine is the best defence against Covid that we have. Misinformation about the vaccine causes harm and costs lives. I am therefore removing the Whip from Andrew Bridgen with immediate effect, pending a formal investigation.
However, that afternoon, the Daily Sceptic reported that a Jewish academic in Israel came to Bridgen's defence:
Andrew Bridgen, the British politician suspended as a Conservative MP over allegations of being anti-Semitic in a tweet criticising the Covid vaccines, has been defended by the Jewish Israeli academic whose article he linked to in the tweet in question.
Dr. Josh Guetzkow, a senior lecturer in criminology and sociology at the Hebrew University of Jerusalem, told the Daily Sceptic that as a Jew living in Israel he was "surprised" by the accusations against Mr. Bridgen, because "there is nothing at all anti-Semitic about his statement" …
John Mann, the Government's independent anti-Semitism adviser, was unequivocal, saying: "There is no possibility that Bridgen can be allowed to stand at the next election. He cannot claim that he didn't realise the level of offence that his remarks cause."
Prime Minister Rishi Sunak said that he "completely condemn[ed] those types of comments in the strongest possible terms".
"Obviously it is utterly unacceptable to make linkages and use language like that and I'm determined that the scourge of antisemitism is eradicated," he told the Commons on Wednesday …
However, Dr. Guetzkow, whose tweeted article details the alarming, recently-released analysis of vaccine adverse event data from the U.S. CDC, said this is a "tempest in a teapot".
"The hollow accusations against him only distract from genuine examples of anti-Semitism and ultimately hinder attempts to draw attention to them, much like the boy who cried wolf," he said.
It is clear from the statement by the Chief Whip that Mr. Bridgen's chief sin is to have criticised the vaccines. Mr. Hart's statement notably does not mention anti-Semitism, but rather says that Mr. Bridgen is having the whip removed for "misinformation about the vaccine", which "causes harm and costs lives", adding only that he had caused "great offence in process".
The allegations of anti-Semitism therefore appear to be just the opportunity party chiefs needed to mete out the punishment to the vaccine heretic …
Stop Press: Dr. Guetzkow has pointed out that Holocaust survivor Vera Sharav has been drawing parallels between the extreme and discriminatory public health measures during the pandemic and the Holocaust throughout the the last three years.
Rishi Sunak's comment came up during Wednesday's PMQs (Prime Minister's Questions), the first of 2023, which I watched on BBC Parliament.
One might well ask who asked the question.
None other than Matt Hancock, who has just returned from a short holiday in Turkey, which seemed to involve shopping.
The Daily Sceptic reported:
Matt Hancock, the disgraced lockdown Health Secretary, hit out at Mr. Bridgen's "disgusting, antisemitic, anti-vax conspiracy theories" at Prime Minister's Questions on Wednesday. He said the comments were "deeply offensive" and "have no place in this House or in our wider society".
Prime Minister Rishi Sunak replied that he joined Mr Hancock in "completely condemning those types of comments in the strongest possible terms".
In closing, the Daily Sceptic calls to readers' attentions Andrew Bridgen's qualifications:
Mr. Bridgen, who has a science background, has become Parliament's most vocal critic of the Covid vaccines. He thus made himself a big target for the pro-vaccine zealots who will have been looking for an excuse to punish and cancel him, and who have predictably leapt on the first 'offensive' thing they could find.
Wikipedia states that Bridgen studied genetics and behaviour at the University of Nottingham and graduated with a degree in biological sciences.
The Government does not want their big achievement of the past three years — the vaccine rollout, Europe's first — to be tainted in any way.
However, judging from the comments, Daily Sceptic readers are supportive of Andrew Bridgen and look forward to hearing more from him on the vaccines this year, which is more than can be said of Matt Hancock, who, as of December 28, was still searching for a celebrity agent to kickstart his new career in reality television.
—————————————————————————————————-
UPDATE — Guido Fawkes has reported Andrew Bridgen's statement on having lost the Conservative whip, complete with video:
The fact I have been suspended over this matter says a lot about the current state of our democracy, the right to free speech, and the apparent suspension of scientific method of analysis of medicines being administered to billions of people.
The Conservative Party leadership contest hustings ended in London's Wembley Arena on Wednesday, August 31.
Did it last too long? We think so only because we are having a cost of living crisis with more Project Fear pumped into our brains every day. Critics should remember that Parliament is in summer recess anyway. If things were normal with the economy, crime levels and the NHS, we wouldn't have minded so much.
Remember, if this had been a Labour leadership contest, no one would have moaned. The media would have bent over backwards justifying it.
What I do mind, however, is that Parliament will be meeting only for a short time in September then adjourning so that the Conservatives, Labour and the Lib Dems can scuttle off to their respective Party conferences. Surely, parliamentary business can continue in the Chamber during September. Not every MP needs to be at a conference every day. Most of them are held on weekends, and Parliament does not meet on Fridays, so there is no reason why the Commons cannot meet during September.
Back to the hustings.
London
I'll start with the last one in London, which was excellent:
Nick Ferrari, the host of the morning show on LBC (radio), was the moderator.
The sound quality was good as was the music. It was highly professional and everyone looked as if they enjoyed being there.
The Conservative audience was diverse: all ethnic groups and all age groups. There were even a few hipsters present.
The first hour was not filmed. Author, national wit, Celebrity Gogglebox star and former Conservative MP Gyles Brandreth, 74, opened proceedings. I wish I could have seen him. Amazingly, he broke his elbow the day before in Fife, Scotland, but still showed up at Wembley Arena the next day.
In the video, Nick Ferrari comes on at 4:13 to introduce the format, which is consistent with the other Conservative Party hustings. 
At this point in the contest, Liz Truss was seen by pollsters and bookmakers to be way ahead of Rishi Sunak, so the introductory theme was one of unity, meaning: no hard feelings, folks, our next job is to defeat Keir Starmer's Labour.
That is the message Iain Duncan Smith MP gave in his endorsement for Liz Truss (6:09), reminding the audience that:
she cut her political teeth in London.
Greenwich, to be precise.
Liz Truss's campaign video followed (13:41), then she appeared on stage, coming out like a winner and invoking the England Lionesses' ladies football win at the Euros, talking about an 'aspiration nation' and pronouncing London:
the greatest city on earth.
After Liz finished her speech, Michael Gove was next (26:08). He endorsed Rishi.
Gove also spoke about unity and had kind — penitential? — words for Boris, which met with a resounding wall of applause. He thanked Boris for 'the biggest vaccine rollout in Europe' and for being the first to support Ukraine at the end of February:
Boris, thank you for your service.
Rishi rushed on to the stage after his cringeworthy Underdog campaign video played (34:44).
The crowd went wild with cries of 'Rishi, Rishi' (36:00). His parents were in the audience and the cameras got several shots of them when their son was on stage. They sat between Rishi's wife and Michael Gove.
He said:
We value who you are not what you are.
He paid Liz credit for being:
a proud and passionate Conservative.
In his speech, he mentioned tackling the decades-old problem of grooming gangs and said he would get to grips with public safety and illegal migration.
Then it was time for Liz to answer Nick Ferrari's and the audience's questions (51:33).
Afterwards came Rishi's turn (1:25:00).
Andrew Stephenson, the co-chairman of the Conservative Party closed proceedings (1:58:26) and asked the two candidates back on stage for a final momentary appearance.
With that, the 12th and final hustings came to a close.
The Telegraph has a good recap. Emphases mine below.
Liz has had a good campaign:
… the past seven weeks have seen momentum firmly swing towards Liz Truss, and it would be a major political shock if Mr Sunak were be unveiled as the next prime minister on Monday.
Polling suggests the Foreign Secretary has a lead of around 30 points among Tory members, who have been drawn to her promises to immediately cut taxes and instigate radical economic reform.
By and large, she has also been better received at the hustings events that have taken place around the country, routinely winning applause for her positions on National Insurance, fracking and transgender issues.
Around 6,000 Conservative Party members attended the London hustings and heard Gyles Brandreth's introduction:
Gyles Brandreth, the broadcaster and former Tory MP whose arm is in a sling, has just given a speech to the Wembley Arena crowd.
"How exciting it is that two people who are intelligent, committed, capable, passionate about their country are actually ready to give service," he said.
"So whatever the result is it's going to be a great result for the United Kingdom. And whatever the result is at the end of this election, we are going to come together and support whoever the victor is to the hilt! No question of that."
He closed with a poem:
From quiet homes and first beginning
Out to the undiscovered ends,
There's nothing worth the wear of winning
But laughter and the love of friends.
Peter Booth, the chairman of the National Convention, appeared next, giving the audience guidelines on asking their questions.
The video misses out a lone protester, angry about energy charges:
A protester has just run in front of the stage – a man in a dark suit holding a sign that said dontpay.uk, writes Tony Diver, our Whitehall Correspondent, from Wembley Arena.
He was escorted out immediately by two security guards as he ran in front of cameras.
Liz put a lot of blame for London's woes on Mayor Sadiq Khan's shoulders:
Liz Truss tells the hustings it is impossible for Britain to succeed with London but it has been "let down by Sadiq Khan".
"Sadiq Khan is anti-everything – he's anti-car, he's anti-business, he's anti-opportunity and he is holding London back. And I don't believe those people who say London is a Labour city. No, it is not. London is a city where people opportunities and they want to get on in life.
"And that's what we can deliver, and we can make London Conservative again."
Sound familiar?
Nationally:
Ms Truss warns we all face dark times, vowing to reverse National Insurance and impose a moratorium on the green levy, while keeping corporation tax low.
These are her pledges:
I would be honoured to be your prime minister, first of all to deliver for the United Kingdom, to deliver an election victory for the Conservatives in 2024, and to make London a Conservative city again.
The applause for Rishi was greater than it was for Liz:
The cheers in the room are significantly louder and longer for Rishi than Liz. Audience members are on their feet and chanting his name, writes Tony Diver, our Whitehall Correspondent.
"Thank you! Thank you, Wembley!" Mr Sunak responds, after entering to The Weeknd's Blinding Lights.
He pledged an ethical approach, if elected:
He promises to lead an administration "with integrity and decency at the heart of everything we do".
Nick Ferrari tried to box Liz into a corner over domestic issues. She ably answered:
I'm the Foreign Secretary and my job is to focus on key foreign affairs issues.
She pledged that there would be no new taxes in her Government.
She also ruled out energy rationing.
She said that she would not refurbish the Downing Street flat:
Liz Truss responds that as a Yorkshirewoman, she believes in "value for money and not buying new things if you've got things that are perfectly good to use".
"I don't think I'm going to have time to think about the wallpaper or the flooring."
The papers largely picked up on her possible moratorium for 'smart motorways', those without a hard shoulder for emergencies:
Asked if she will restore hard shoulders to motorways and change speed limits from mandatory to advisory, Ms Truss replies: "I absolutely think that we need to review them and stop them if they are not working as soon as possible.
"And all the evidence I have suggests they're not working. We need to be prepared to look at that. I do believe that the smart motorways experiment hasn't worked."
Rishi defended his windfall tax, which the big companies can avoid if they prove they will invest more in the UK:
We've got it in place, but as I said in the situation that we're in it was the right thing to do, and I'm glad I did it, to be honest.
He also said that his plan to tackle inflation was the correct one:
I can guarantee that it will fall far faster with my plan than it will with anyone else's.
He, too, criticised Sadiq Khan:
Crime has become "intolerable" in London, adds Rishi Sunak, and "the first thing we need to do is hold to account Sadiq Khan for his failings".
"If you are prepared as a Mayor to do the right things… For example, stop and search. It's an effective policing tactic".
Unlike Liz, who was relieved not to have to stand up for audience questions, Rishi stood up and worked the stage.
He brought up ethics again:
In a sentence, does he think Boris Johnson was hard done by? "When it comes to those ethical issues, we can't be on the wrong side of them. We need to set a clear direction from the top, I would reappoint an ethics adviser because it sends a strong signal from the top."
The Telegraph's article ends with:
Liz Truss seems like a dead cert to become prime minister on Tuesday, and elements of Rishi Sunak's comments tonight shied away from the personal attacks that have characterised this bitter blue-on-blue campaign to lavish praise on his rival.
The cheers and chants at Wembley Arena tonight – far louder for Mr Sunak than the Foreign Secretary – told a different story from the grassroots polling, which suggests she has a lead of around 30 percentage points …
Boris Johnson's successor is likely to find themselves facing even greater challenges, and must also unite a party fractured by weeks of public division and disagreement.
Veteran political sketch writer Quentin Letts had this to say in The Times:
Surveying a throbbing crowd of 7,000 Tory activists, Sunak gasped "thank you!" nine times, the stage lights bouncing blindingly off his grinning ivories. He strode the large stage like an American presidential candidate and, for a man who must have seen predictions that he will be slaughtered when the result is announced on Monday, maintained an amazing level of pitch and thrust.
He even had an emotive card up his sleeve when he announced that his "two people who inspired me to go into public service are actually here tonight — my mum and dad". Jolly proud they looked, too. Rishi thanked his "loving, kind wife — you know what you mean to me, you chose to give up your high heels and take a chance on the short kid with a backpack". The crowd, audibly more pro-Sunak than some of the regional hustings, shouted: "Reeshi! Reeshi!"
Truss entered to strains of Taylor Swift's Change but her tactics for the evening were more cautious, playing down the clock. She was less sprightly in the opening spiels but came to life more in the questions that followed. In her opening remarks she pushed her voice hard, making it sound more strident and bunged-up. A reply to a question on Israel flew off the bat and had a Sunak supporter clapping hard. She also dealt firmly with some fluff about what sort of limousine she wanted and how she might decorate the No 10 flat. Where her campaign has succeeded with Tory activists has been in its simplicity: the basic message, whacked time and again, of lower taxes and a smaller state.
And so the campaign ends. What a festival for SW1 wonks it has been, allowing for oodles of analysis and fake crossness. The rest of the country, enjoying (lucky devils) their August, has possibly taken less notice of the contest. Sunak, smoother, more fluent, more the establishment's idea of a PM, started it as favourite. He ended last night by replaying that dreadful tough-Cockney video film about him being the underdog …
The Wembley crowd's questions were about smart motorways and advisory speed limits …, trans rights, gas prices for companies, corporate tax dodging, Ukraine, childcare costs, property prices and, commendably, the future of West End theatre.
Like Quentin Letts, I haven't gone into too many policy proposals because whoever gets in will be hit hard with reality.
There is an illusion that Party members of any stripe are being let into an honest discussion about what they want to see in a new Government. I do not believe this is what actually happens:
As evidence, let's cast our minds back to July 2019 and Boris Johnson's campaign.
He was going to ask the Queen if she wanted a new yacht to replace Britannia, which is now moored as a museum:
He also said that Sadiq Khan needed to go. Khan was re-elected in 2021. The Conservatives, for whatever reason, gave no support to their candidate Shaun Bailey. I cannot fathom why not, since Boris was Khan's predecessor. Shaun Bailey is a level-headed Conservative.
This is from the July 18, 2019 edition of The Express. Note the mention of housing and accompanying infrastructure, too. None of this happened, perhaps because of the pandemic. Even so, it shows how empty campaign promises are:
The Tory frontrunner savaged Mr Khan out of nowhere, branding him "useless" and "invertebrate" and "not a patch on the old guy." The onslaught was woven into Mr Johnson's wider solution to a question that had been posed on monocultural housing policies. A member of the audience asked the former London Mayor: "How will you ensure the Government's housing policies don't lend themselves into creating ethnic categories inadvertently?"
Without hesitation, Mr Johnson blasted: "You build fantastic housing in the right place.
"And you put in superb transport infrastructure so you can create mixed communities where there are high quality jobs.
"And if you look at the disasters of planning in the '60s and '70s where monocultural estates were built, it's because there simply wasn't the transport infrastructure.
"Look around London and look at the estates outside London – you can see exactly what went wrong."
That said, in the end, Boris did deliver on these pledges:
Other hustings
I purposely didn't cover half the hustings in separate posts, leaving off with the August 11 one in Cheltenham.
A summary of the others follows.
Perth
The next one took place in Perth, Scotland, on August 16. It was unfortunate that pro-independence supporters ruined it with verbally violent posters, throwing eggs and by spitting on older Scottish Conservative members. The SNP denied any involvement.
The Mail had a summary of what the candidates said:
Liz Truss tonight vowed to 'never, ever let our family be split up' as the Tory leadership frontrunner insisted she would not allow another Scottish independence referendum if she becomes prime minister.
Speaking at the latest Conservative hustings event in Perth, the Foreign Secretary promised to battle Nicola Sturgeon's 'agenda of separatism' as she condemned the First Minister and her SNP government for having 'let down' Scottish voters.
Ms Truss accused the SNP of ignoring issues such as schools, hospitals and public transport as they chase another Scottish independence referendum.
Her rival for the Tory leadership, Rishi Sunak, also used tonight's hustings to take a swipe at Ms Sturgeon, as he vowed to 'call out' the Scottish Government's record on drug and alcohol abuse.
He claimed it was 'completely barmy' for the SNP to be agitating for a 'divisive and unecessary constitutional referendum' amid the cost-of-living crisis. 
Ms Truss and Mr Sunak addressed Tory members inside Perth Concert Hall after reports of ugly scenes outside the hustings venue earlier in the evening.
Conservative Party co-chair Andrew Stephenson demanded Ms Sturgeon 'unequivocally condemn' the 'vile behaviour' of Scottish independence campaigners.
Belfast
The candidates converged on Belfast the next day, Wednesday, August 17:
I felt very sorry for the Northern Ireland Conservatives gathered there. The party only has 300 members, and they have no voice in Westminster.
A clear disconnect emerged between the candidates and the Party members. Everyone looked uncomfortable.
For that reason, this hustings is well worth watching.
It became apparent that neither Liz nor Rishi understands the Conservative Northern Ireland mindset. I'm no expert, but even I could have dealt with some of those issues better than they did.
The moment that sticks in my mind was when someone asked why Westminster is foisting abortion clinics on Northern Ireland. Liz matter-of-factly — and rather coldly — responded that the rest of the UK has them, so Northern Ireland has to have them, too.
Abortion is far from being the norm there, and, as Northern Ireland has a devolved government, it should have been their decision, not Parliament's.
Madeline Grant summarised the disconnect in The Telegraph:
Some English Conservatives might be surprised to learn of the existence of their fellow party members across the Irish Sea, let alone that they had a vote in the leadership contest. Yet seatless and marooned from CCHQ – and perhaps because of this – Ulster Tories are the ultimate Tories. This wasn't your average Home Counties cakewalk, there were questions on more intractable subjects than you'd get elsewhere – abortion, China, the perils of a cashless society. Some of the questioners began with a little intro about how long they'd been party members, reminiscent of Alcoholics Anonymous.
A flamboyant chap in a maroon vest had made a journey almost as ponderous as Truss's own political leap from Lib Dem republican to Tory monarchist – he'd moved to South Antrim after heading up 'Conservatives Abroad' in South Korea. Making a similarly unexplained leap, he proceeded to compare the fight against abortion in Northern Ireland to Britain's fight against the slave trade in the 19th century. Would Liz "be a modern day William Wilberforce, and end abortion and infanticide in Northern Ireland?" he asked. Truss politely declined to take up the mantle.
Unlike Madeline Grant, I did not find the Belfast hustings amusing in the slightest. It was the saddest one of the lot.
Verdict: Must do better.
Manchester
On Friday, August 19, our candidates were back on the mainland for the hustings in Manchester, which Alastair Stewart from GB News moderated (start at 6:30):
Alastair Stewart is a television veteran and knows what questions to ask:
He won high praise from Liz:
Rishi's campaign team launched his second campaign film, The Underdog, at this hustings. It was so awful, I wanted to slip through the floor in embarrassment for him.
He told his family story and said that Conservative values were 'patriotism, family, service, hard work':
He turned defensive (again) when he told Stewart that he was winning the war on inflation and being responsible with borrowing:
He told an audience member, 'We're standing up to Russian aggression':
Liz said that the police must fight crime, not patrol tweets:
She also said that left-wing politics dominates today's socio-political debates:
Rishi, too, was tired of leftist dominance — and Manchester's mayor, former Labour MP Andy Burnham. GB News reported:
Rishi Sunak has vowed to take on the "lefty woke culture that seems to want to cancel our history, our values and our women."
… Speaking to the audience, Mr Sunak pledged to "restore trust by delivering on the things that matter to people".
He continued: "That's why I've set out a plan to finally start reforming the NHS so that we can talk less about how much money we can put into it and more in the healthcare that we want to get out of it.
"It's why I want to take on this lefty woke culture that seems to want to cancel our history, our values and our women.
"And it's why we need to restore trust of communities right here by calling out the failures of the Labour mayor Andy Burnham because it simply isn't good enough.
"Just look at the record, a police force that was put into special measures, the highest rates of knife crimes almost across the UK."
He also talked about illegal migration, details of which are available on his website:
"… I've set out a radical plan to finally get to grips with illegal migration.
"Because for too long we've turned on our TV screens and seen the scenes of people coming here on boats illegally and it is wrong."
His comments come days after the number of migrants to have crossed the Channel so far this year passed 21,000.
Another GB News article about the hustings has more:
He said: "I want to move away from the European definition of what an asylum seeker is, because it is too broad and it gets exploited by lefty lawyers.
"When people shouldn't be here we must be able to send them back, it's as simple as that.
Was the next bit a dig at Liz, our Foreign Secretary and former Secretary of State for International Trade?
"We've got to toughen up our foreign policy. At the moment we have a situation, I found it bonkers, we will go to a country, we'll talk to them about a trade deal we want to do with them, but also potentially be giving them actual foreign aid.
"But at the same time we don't say to them 'hang on, you need to take back your failed asylum seekers', that's clearly wrong."
Liz also had something to say about illegal immigration:
Promoting the much maligned Rwanda policy, which saw its first planned flight grounded on the tarmac, Ms Truss vowed to expand the scheme to other countries if she was elected as Prime Minister.
She said: "What we need to find is a permanent home for those people.
"The way to solve this issue is to find a way of making sure there is a long term home for people who are involved in illegal immigration.
"The real issue is at present people are able to get on the phone to their lawyers when they get on a plane and evade being sent to Rwanda and that is the issue we have to fix, that is about the ECHR."
The candidates are not miles apart.
Liz also discussed her vision for the North:
What I want to see is a successful north of England where everyone has opportunities and we link up the great cities of the north.
From Liverpool to Manchester to Leeds and beyond and also of course Bradford.
And that's why I want to build Northern Powerhouse rail and I want those opportunities to be powered by enterprise and business unleashing investment right across the country.
I want us to make the M62 the superhighway to success.
Unfortunately for Rishi, his attempts at being a man of the people failed, as the Mail reported:
Asked at the hustings event how, as a Southampton football club fan, he could get back to 'winning ways' in the battle to become Boris Johnson's replacement, Mr Sunak attempted to make light of his woes.
But his effort at friendly banter with the Manchester audience saw him blunder in his football knowledge.
'I'm going to be unpopular for saying it here – starting by beating United this weekend!,' Mr Sunak told the event.
It was quickly noted how Southampton are not due to play Manchester United until 27th August and would, in fact, be playing Leicester City this weekend.
Mr Sunak's own goal came just two days after he was mocked for claiming to always enjoy a McDonald's breakfast wrap when out with his daughters – despite the item having not been on sale since March 2020.
Yet, the former chancellor's campaign was handed a boost tonight when Michael Gove backed him to be the next Conservative leader.
Mr Gove, the former Levelling Up secretary who was sacked by Mr Johnson last month, accused Ms Truss of taking a 'holiday from reality' with her vow to tackle the cost-of-living crisis by prioritising tax cuts.
Birmingham
On August 23, Times Radio's John Pienaar, formerly of the BBC, moderated the hustings in Birmingham, the UK's second largest city:
Chancellor Nadhim Zahawi went on stage to endorse Liz.
Liz then went on stage (5:36) and embraced him to big applause and cheers from the audience.
Andrew Mitchell followed her by announcing his support for Rishi (16:34). Rishi's newer campaign film, The Underdog, was played.
Rishi then pledged to continue levelling up the Midlands, as he has been doing (21:47).
Of his speech, Pienaar said (33:01):
That was punchy!
Someone in the audience booed when Liz took to the stage for her Q&A (33:49).
Pienaar gave her a hard time in the beginning, but she got a huge round of applause from the audience. 
Recall that The Times came out for Rishi almost immediately in July.
However, Rishi also had his beefs with Pienaar. He looked irritated (yet again) and said (1:06:00):
John, you're acting as if this is already over.
He went on to explain how well his furlough programme worked during the pandemic (1:18:00).
On the subject of Scottish independence, he said that nationalism (1:34:00):
is a romantic ideal.
Then he complained:
There's not been a single question about tax!
He then expanded on corporation tax and the largest companies. He became really agitated in an oddly friendly way.
This tells us tax is his main consideration, nothing else, no matter what he says.
The man is a technocrat.
Guido Fawkes had an excellent round up of sound bites, starting with Liz (emphases his):
If you want a flavour of the current state of Tory hustings, last night in Birmingham Liz Truss came out with the following two statements within 60 seconds of each other: "I'm not a massive fan of mice", and asked how she'd feel in the event of having to launch a nuclear weapons strike, "I think it's an important duty of the PM and I'm ready to do that." A casually blasé statement committing the UK to potential nuclear armageddon…
Also:
Suggesting she won't replace the government ethics adviser, saying: "The PM needs to take responsibility – you cannot outsource ethics to an adviser"
Suggesting she would redirect this year's £12 billion extra funding for the NHS into social care
Asked why she cut funds to the Environment agency as DEFRA secretary she said "I think there's a way with the way utilities are regulated. We were one of the first countries to regulate and privatise utilities but the world has moved on since then… some of those regulators get mission creep, they don't necessarily keep the market as properly as they should. I certainly think it's the case that water companies need to be better are stopping leaks, I think they should be better at dealing with pollution and we need to sort that out." Sounds a lot like Guido's story last Friday that she believes in a single utilities regulator…
As for Rishi:
Rishi's answers last night were less alarming albeit equally newsworthy. Primarily, he refused to commit to voting for Liz's proposed emergency budget should he lose, saying it is a hypothetical question. He reiterated his belief that her tax cut plans will result in "millions of people facing destitution." …
Rishi suggested UK aid programmes should be cut in countries that refuse to accept deportations of "failed asylum seekers" from Britain.
Rishi spoke movingly of yesterday's horrific shooting of a nine-year-old in Liverpool, saying he reacted by calling his wife, and daughter who is the same age as the victim. Rishi says the government needs to finish the Tories' 2019 policy of recruiting 20,000 policemen.
Let's go to the Rishi-supporting Times for their journalists' verdicts.
Daniel Finkelstein said:
Liz Truss is far better speaking without notes and, having delivered the same remarks over and over, she no longer needs them. Both her opening remarks and her answers to what will have been familiar questions were much better than in the early stages of the campaign. There were even flashes of the humour she shows in private …
But, however good Truss may now be, she still trails Sunak, who is just a better performer. Particularly in his answers, he was fluent, tough and compelling. His opening comments about the flaws in the Truss plan — suggesting it would leave many people destitute — were particularly arresting.
… Whoever wins, their policies have to appeal to those who are not Conservatives and need to actually work.
Winner: Rishi Sunak
Katy Balls said:
The state of the Tory leadership contest can be summed up in the video that welcomed Rishi Sunak to the stage. Last week, his team changed it from the montage played in the earlier hustings. It now has a Ray Winstone-style gangster voice boom that the former chancellor is the underdog — and the country loves an underdog. It points to Sunak's dilemma: if the polls are correct, only something drastic can change the state of play.
Although he was well received in the hall, with some of the loudest cheers, it's hard to pinpoint a "change moment" from the display. He again depicted himself as the only candidate willing to tell people hard truths about the economy. He tried again to invoke the spirit of Thatcher by pointing out that many of those who had worked with the late prime minister were backing his plan …
It helped Truss that she focused on her own plans. She came across as confident and assured. This also played well to a party growing tired of blue-on-blue. As the frontrunner, she needs only to hold the line — and she did that.
Winner: Liz Truss
Patrick Maguire said that both won but in different ways:
So how did Truss fare? As a rubber-chicken circuit speaker, just fine. They loved the answers on grammar schools, wokery and nukes. But as a prospective PM? On the biggest question — what to do about rampant inflation and crippling energy costs — Truss was revealingly unrevealing. Cagey, even. Asked how pensioners and the poor would be shielded from the coming storm, she said only that she would "look at" helping them. How to fund social care once Sunak's £13 billion national insurance hike is scrapped? "General taxation." Her cure for the mouse infestation in the Commons — "more cats" — was more detailed and offered with a good deal more enthusiasm.
Sunak attacked her economics with the kamikaze self-confidence that is likelier than not to lose him this race. It's telling. He is as sure as Ted Heath was that he will, in time, be vindicated by his rival's demise. Sunak is embracing the inevitable. Has Truss? She sounded as if she could not admit to herself — let alone the country — that compromise is coming.
Winner: on the clapometer, Truss. But Sunak won the argument.
Norwich
On Thursday, August 25, talkRADIO's Julia Hartley-Brewer moderated the TalkTV hustings in Norwich in East Anglia.
Hartley-Brewer had a great set of questions for the candidates. One wonders if some came from her and TalkTV's listeners:
While she was preparing her questions, Guido says that some Conservative MPs were annoyed with Rishi:
Allies of Liz's have slammed Rishi over his "scorched earth" policy, saying it risks destroying chances of bringing the party back together again when the contest is over. They accuse him of "behaving like a wounded stoat" and "framing us as Tory scum" over the course of the campaign. Given he said the likely next PM's plans would lead to mass homelessness, they're arguably correct…
Guido also included a photo of Rishi at his mother's former pharmacy in Southampton. Stefan Rousseau is an incomparable photographer:
His mother was a chemist you know…
I just checked Rousseau's Twitter feed, and here's the exterior of the pharmacy:
The Telegraph had a running commentary on the candidates' day and the hustings.
This was the day after Rishi's criticism of coronavirus policy appeared in The Spectator:
He had more difficulties when he went on BBC Radio 4's The World at One:
On whether he will quit if he loses the leadership vote, Mr Sunak told BBC Radio 4's World at One earlier today: "Absolutely not. Of course not.
"And I would dispute the characterisation. I'm working incredibly hard going around the country talking about my ideas for the future, and actually having a very positive reception where I'm going, and I think there's everything left to play for.
"There's still weeks to run in this campaign, and that's why I'm continuing to give it everything I've got."
Meanwhile, Liz visited a food manufacturing plant:
Liz Truss has been out and about in Norwich today, visiting Condimentum Ltd at the Food Enterprise Park in Norwich. 
Ms Truss told reporters at the factory near the Norfolk city that tax cuts and boosting energy supply were the key to addressing the cost-of-living crunch.
I think they make Colman's Mustard there.
Now on to the hustings.
The co-chairman of the Conservative Party defended the length of the leadership campaign:
Andrew Stephenson, chairman of the Conservative Party, addresses the Norwich audience. He defends the leadership contest amid criticism that it has dragged on for too long. 
Health Secretary Steve Barclay came out in support of Rishi.
Rishi said that levelling up is for all corners of the UK:
Levelling up is not just about big cities and the north – it is for everyone, including right here in east Anglia, he says and receives a round of applause.
Work and Pensions Secretary Therese Coffey declared her support for Liz:
She ends her introduction by saying: "Back Liz for leader, you can trust her to deliver."
As Liz, the MP for South West Norfolk, was on home turf, she got a standing ovation:
Huge applause and a standing ovation for Liz Truss as she takes the stage, who is the MP for South West Norfolk so this is very much home turf for her. 
"We have travelled around the entire United Kingdon but there is nothing better than being back in my adopted county of Norfolk," she says, and the audience break out into applause once again.
Rishi had to answer a question about lockdown:
Rishi Sunak defends his interview in the Spectator, saying one of the most "tragic" aspects of lockdown was the damage to children of school closures. 
He said it is always important to have an honest discussion about "trade-offs", adding: "If something sounds too good to be true it probably is".
Hartley-Brewer presented each candidate with the same series of quick-fire questions.
These were Rishi's answers:
Can you name a single public service that works well? The furlough scheme.
Macron, friend or foe? Friend
Mask mandates or no mask mandates? No mask mandates
Is a trans woman a woman? No
Who would you rather be stuck in a lift with, Keir Starmer or Nicola Sturgeon? Take the stairs
If not you, who would be a better PM, Boris Johnson or Liz Truss? Liz Truss
Hartley-Brewer had to get tough with a heckler:
Rishi Sunak is heckled by an audience member and Julia Hartley-Brewer intervenes telling him to "Sit down, Sir!"
Meanwhile another audience member asks about housing supply. Rishi Sunak says we need to overcome our aversion to "flat pack" housing.
He says he wants to help young people get on the housing ladder much faster by "turbo-charging" a scheme that allows first time buyers to purchase a home with a small deposit.
I can't believe he still peddles his daughters' concern for the environment when he's just had a full-size swimming pool installed at his home. Egregious:
Rishi Sunak tells the audience that the only thing his daughters ask him about is: "Daddy, what are you going to do for the environment?"
Then it was Liz's turn.
Hartley-Brewer asked her about lockdown:
I did question lockdown, Liz Truss says. 
"Clearly in retrospect, we did do too much. It was too draconian. I don't think we should have closed schools," she said. "A lot of children have ended up suffering."
She adds: "I can assure you that I would never impose a lockdown if I am selected as PM."
These were Liz's answers to the quick-fire questions:
Name me a single public service that works well: Our education system has got a hell of a lot better in the last ten years. 
Macron, friend or foe? The jury's out. If I become PM I will judge him on deeds not words
Mask mandates or no mask mandates? No mask mandates
Is a trans woman a woman? No
Who would you rather be stuck in a lift with, Keir Starmer or Nicola Sturgeon? I think Nicola Sturgeon. I'd hope to persuade her to stop being a separatist by the time we got to the ground floor.
If not you, who would be a better PM, Boris Johnson or Liz Truss? Boris Johnson
Hartley-Brewer asked her about unisex changing rooms at Marks & Spencer:
"M&S is a shop, they can decide their policies as they see fit," Ms Truss said. "I have been to the bra fitting service in M&S and it is behind a curtain. No one has ever tried to open the curtain while I am in there."
Liz explained why she does not want asylum seekers to work:
The Foreign Secretary says we also have huge numbers of people who are "economically inactive" and it should be our "first port of call" to get those people into work.
The reason why we don't allow asylum seekers to work is because the UK will become "even more of a magnate" for people to travel here illegally, she adds.
Good answer.
Liz reiterated her support for Net Zero.
Media outlets picked up on the candidates' responses to the 'stuck in a lift' question:

Their divergent answers on Emmanuel Macron also made the news.
Liz got both barrels, from Labour and Conservatives alike. The BBC reported:
… she was asked if Mr Macron was a "friend or foe" of the UK at a Tory leadership hustings.
She added that if elected PM she would judge him on "deeds not words".
But Labour's David Lammy accused Ms Truss of "a woeful lack of judgement", saying she had insulted one of "Britain's closest allies".
Ms Truss, widely seen as the clear front-runner to be the next Conservative leader and prime minister, made the remark at the penultimate leadership hustings in Norwich, to loud applause.
Her comment came at the end of the hustings during a series of "quickfire questions" posed by the host, TalkTV's Julia Hartley-Brewer.
When asked the same question Mr Sunak said Mr Macron was a "friend".
One Conservative minister said Ms Truss's comments had "completely undermined our relationship with France", calling her a "faux Thatcher", a reference to the infamously Eurosceptic former Tory prime minister.
In a tweet, former foreign minister Alistair Burt said Ms Truss has made a "serious error" and should have struck a more diplomatic tone.
Former Conservative minister Gavin Barwell also questioned Ms Truss's comment saying: "You would have thought the foreign secretary was aware we are in a military alliance with France."
Guido reported Macron's reaction:
Macron replies to Liz's comments on the French President at last night's husting:
"The United Kingdom is a friendly nation, regardless of its leaders, sometimes in spite of its leaders"
As for the 'better Prime Minister' question, Guido says:
When asked whether Rishi or Boris would be a better PM, Liz emphatically shot back "Boris". Not unsurprising, though rather awkward given Rishi was asked the same question of Liz and graciously chose his opponent…
Conclusion
So, here we are, at long last.
At 12:30 p.m, on Monday, September 5, Sir Graham Brady of the 1922 Committee announced that Liz Truss will be our new Prime Minister. She will meet the Queen at Balmoral on Tuesday, at which point she will form a new Government. More on that later this week.
Liz Truss is our third Party leader in six years.
Conservative MPs must stop the regicide and support her premiership.
At the weekend, it seemed as if more and more people began waking up to the fact that coronavirus policies of lockdowns and forced 'vaccines' did more harm than good.
Sweden was right
First, let's go back to the end of July 2022 to an article in City Journal: 'The WHO Doesn't Deserve the Nobel Peace Prize'.
Its author, John Tierney, says that if anyone merits the Nobel it's Anders Tegnell, the state epidemiologist of Sweden.
Excerpts follow, emphases mine:
While the WHO and the rest of the world panicked, he kept calm. While leaders elsewhere crippled their societies, he kept Sweden free and open. While public-health officials ignored their own pre-Covid plans for a pandemic—and the reams of reports warning that lockdowns, school closures, and masks would accomplish little or nothing—Tegnell actually stuck to the plan and heeded the scientific evidence.
Journalists pilloried him for not joining in the hysteria, but he has been proven right. In Sweden, the overall rate of excess mortality—a measure of the number of deaths more than normal from all causes—during the pandemic is one of the lowest in Europe. Swedish children kept going to school and did not suffer the learning loss so common elsewhere. Swedish children and adults went on with their lives, following Tegnell's advice not to wear masks as they continued going to schools, stores, churches, playgrounds, gyms, and restaurants. And fewer of them died than in most of the American states and European countries that delayed medical treatments, bankrupted businesses, impoverished workers, stunted children's emotional and cognitive growth, and stripped their citizens of fundamental liberties.
If it hadn't been for Tegnell and a few other heretics in places like Florida, we would not have clear evidence to prevent a similar catastrophe when the next virus arrives …
Tegnell was aided by another worthy candidate to share the Nobel, Johan Giesecke, who had formerly held Tegnell's job and served during the pandemic as an advisor to the Swedish public health agency. Decades earlier, he had recruited Tegnell to the agency because he admired the young doctor's willingness to speak his mind regardless of political consequences …
Politicians in Sweden were ready to close schools, too, but Tegnell and Giesecke insisted on weighing costs and benefits, as Tegnell had done in a 2009 article reviewing studies of school closures during pandemics. The article had warned that the closures might have little or no effect on viral spread and would cause enormous economic damage, disproportionately harm students and workers in low-income families, and create staff shortages in the health-care system by forcing parents to stay home with young children. Given all those dangers, plus early Covid data showing that schoolchildren were not dangerously spreading the virus, Tegnell and Giesecke successfully fought to keep elementary schools and junior high schools open—without masks, plastic partitions, social distancing, or regular Covid tests for students …
The virus would eventually spread to other countries despite their lockdowns and mask mandates, Tegnell warned in July 2020 as he advised his colleagues and critics to take the long view. "After next summer," he said, "then I think we can more fairly judge what has been good in some countries and bad in other countries."
Sure enough, by summer 2021, Sweden was a different sort of "cautionary tale." Without closing schools or locking down or mandating masks, it had done better than most European countries according to the most meaningful scorecard: the cumulative rate of excess mortality. Critics of Tegnell's strategy were reduced to arguing that Sweden's rate was higher than that of several other nearby countries, but this was a weak form of cherry-picking because two of those countries—Norway and Finland—had also avoided mask mandates and followed policies similar to Sweden's after their lockdowns early in the pandemic …
With the possible exception of the Great Depression, the lockdowns were the costliest public-policy mistake ever made during peacetime in the United States. The worst consequences of lockdowns have been endured by people in the poorest countries, which have seen devastating increases in poverty, hunger, and disease. Yet the WHO has refused to acknowledge these errors and wants to change its pandemic planning to promote more lockdowns in the future. It has even proposed a new global treaty giving it the power to enforce its policies around the world—thereby preventing a country like Sweden from demonstrating that the policies don't work.
The last thing the WHO deserves is encouragement from the Nobel jurors. The prize should reward those who protected the lives and liberties of millions of citizens during this pandemic, and whose work can help protect the rest of the world during the next pandemic …
Now let's move on to last weekend's news and views.
Lockdown and excess deaths
On Friday, August 19, The Telegraph's Camilla Tominey discussed lockdown, the effective closure of the NHS and excess British deaths in 'Lockdown fanatics can't escape blame for this scandal'.
She began with the story of Lisa King, a bereaved widow whose husband died an agonising death at home because he was not allowed to see his GP:
The father of two, 62, did not catch coronavirus. He died on October 9, 2020 because he was repeatedly denied a face-to-face GP appointment during the pandemic – only to be told that an urgent operation to remove his gallbladder had been delayed because of spiralling NHS waiting lists.
His sudden death, in agonising pain, was completely avoidable.
As Mrs King told me at the time: "To the decision makers, he is nothing more than 'collateral damage', but to me, he is the love of my life."
Tominey points out that several doctors and journalists in the UK opposed lockdown but were told in no uncertain terms how hateful they were:
… we were accused of being mercenary murderers intent on prioritising the economy ahead of saving lives.
Scientists who dared to question the severity of the restrictions were, as Lord Sumption put it at the time, "persecuted like Galileo". Falsely branded "Covid deniers" simply for questioning some of the "science" that was slavishly followed, they were subjected to appalling online abuse by a bunch of armchair experts who claimed to know better.
Two years later, those who objected to lockdowns and an effective closure of the NHS, all the way down to GP practices, have been proven right:
… they were right to raise their concerns in the face of pseudo-socialist Sage groupthink.
Official data now suggests that the effects of lockdown may be killing more people than are currently dying of Covid.
An analysis by the Daily Telegraph's brilliant science editor Sarah Knapton (another figure who was pilloried for questioning the pro-lockdown orthodoxy) has found that about 1,000 more people than usual are dying each week from conditions other than coronavirus.
Figures released by the Office for National Statistics (ONS) on Tuesday showed that excess deaths are 14.4 per cent higher than the five-year average, equating to 1,350 more deaths than usual in the week ending August 5. Although 469 deaths were linked to Covid, the remaining 881 have not been explained. Since the start of June, the ONS has recorded almost 10,000 more deaths than the five-year average – about 1,086 a week – none of them linked to coronavirus. This figure is more than three times the number of people who died because of Covid over the same period – 2,811.
The Department of Health and Social Care (DHSC) has asked for an investigation into the data amid concern that the deaths are linked to delays and deferment of treatment for conditions such as cancer, diabetes, and heart disease …
The horror stories are everywhere you look: from people dying needlessly at home like Mr King, to elderly patients waiting 40 hours for ambulances, to cancer sufferers now dying because they didn't get appointments during lockdown, or didn't want to be a burden.
It's tempting to blame this on the NHS being in urgent need of reform – and that's surely part of the explanation. We all know how staff shortages – again, exacerbated by the pandemic – are crippling the system.
But this isn't simply a result of a lack of resources. Healthcare spending has risen sharply as a percentage of GDP in recent years.
The nettle that needs to be grasped is that these figures suggest that the country is facing a growing health crisis that has been caused by our overzealous response to the pandemic – scaremongering policies that kept people indoors, scared them away from hospitals and deprived them of treatment.
These excess deaths may well turn out to be a direct consequence of the decision to lock down the country in order to control a virus that was only ever a serious threat to the old and the vulnerable.
Had a more proportionate approach been taken, akin to Sweden's, then would we be in this mess right now? Perhaps only a government inquiry will be able definitively to answer that question, but what's certain now is the debate over the severity of lockdown was never about the economy versus lives – as pro-shutdown fanatics would have it – but over lives versus lives …
Lest we forget that in the last quarter of 2020, the mean age of those dying with and of Covid was estimated to be 82.4 years, while the risk of dying of it if you were under 60 was less than 0.5 per cent. Who wouldn't now take those odds compared to being diagnosed with cancer, circulatory or cardiovascular related conditions and being made to wait months for post-pandemic treatment?
None of this has come as a surprise to those running organisations like the British Heart Foundation or the Stroke Foundation, which had predicted a sharp rise in deaths because "people haven't been having their routine appointments for the past few years now" …
The World Health Organisation said at the time that the Great Barrington Declaration "lacked scientific basis", but nearly three years on from the start of the pandemic there has been precious little analysis of whether the raft of Covid restrictions either served the collective good – or actually saved lives in the round – compared with the lives that are now being lost as a result.
These numbers aren't just statistics – they are people's husbands, wives, brothers, sisters, daughters and sons. The appalling truth is that a lot of these people would probably still be here today were it not for the lockdowns; lockdowns which seemingly did little to stop tens of thousands of people dying of Covid in the UK.
We stayed at home to "protect the NHS". It turns out the NHS isn't there now to protect us.
The ambulance waits are a horrorshow. This is going on throughout the UK. Scotland and Wales experienced long waiting times before England did.
This photo shows a recurring scene outside a London hospital and explains the situation. Ambulances are backed up because the patients inside cannot be accommodated in the hospital:
Here's a chart of the UK's excess deaths this year:
Blame belongs on both sides of political spectrum
Who can forget how the media, especially the BBC, ramped up Project Fear over the past two years?
Although the media don't legislate, judging from the response to the pandemic, they heavily influence what our MPs do.
So, who is to blame?
Someone thinks it is Michael Gove, who was the Chancellor of the Duchy of Lancaster from 2019 until September 2021. He was also a Minister for the Cabinet Office at the same time.
talkRADIO host Julia Hartley-Brewer says Gove bears a lot of the blame for coronavirus policy. Interesting:
What about the Left? Labour's Keir Starmer held Wales's First Minister Mark Drakeford as a paragon of wisdom during the pandemic. Drakeford's government made 'non-essential' shops close and supermarkets put tape over the aisles the Welsh were forbidden to shop in. That meant they could not buy greeting cards, party favours, toys, books or shoes. That's only a partial list, by the way. That lasted for a few months.
Following Drakeford's example, Keir Starmer wanted earlier and longer lockdowns in England. So did other Labour MPs.
They voted for every Government restriction in Westminster. Boris must have been relieved.
However, this brings up the definition of 'liberal'. How I wish that we had not adopted this American perversion of the word. 'Liberal' in its original definition is akin to 'libertarian'. It certainly isn't 'leftist'.
Rapper and podcast host Zuby brought up the subject last Saturday:
Here comes the conflict of blaming, because both sides of the House of Commons voted in unison on pandemic policy:
Vaccine harm
Then there is the vaccine harm done to young hearts via myocarditis.
Dr Aseem Malhotra is opposed to vaccines being given to children. Here he links to a study from Thailand about the adverse effect a second Pfizer dose can have on one in six teenagers:
Apparently, the Thailand study did not get much publicity at home:
Neil Oliver's editorial on coronavirus
On Saturday, Neil Oliver delivered an excellent opening editorial on pandemic policy, which he said should be a sacking or resigning offence:
He rightly pointed out that those responsible feel no remorse.
Dan Wootton's coronavirus hour
Dan Wootton had a blockbuster coronavirus hour in the first half of his GB News show on Monday, August 22. It was marvellous:
His opening Digest was brilliant:
The transcript is here:
The damage, both to our health, our economy and our future way of life, has been obvious to me since the first national lockdown was imposed in March 2020, following the playbook of communist China.
My overarching mission on this show has been to have the important conversations about the most damaging public health policy of all time, which the vast majority of the media, the establishment and our so-called leaders want to avoid at almost any cost.
This was my opening night monologue on the first night of this channel in June 2021 that, at the time, sparked total outrage from all the usual suspects, who campaigned to see me reprimanded by Ofcom for daring to question the efficacy of lockdowns on a national news channel.
I said then: "Lockdowns are a crude measure. Mark my words, in the years to come we will discover they have caused far more deaths and devastation than the Government has ever admitted.
"They should be wiped from the public health playbook forever more. But, tragically, the doomsday scientists and public health officials have taken control.
"They're addicted to the power and the Government are satisfied its 15-month-long never-ending scare campaign has suitably terrified the public into supporting lockdowns.
"But if we don't fight back against this madness, some of the damage will be irreversible."
It was always going to take some time to get the devastating statistics to back-up the idea that a policy of lockdowns was catastrophically wrong – but it was obvious to me what was just around the corner.
Those statistics are now coming in thick and fast; the conclusions are unavoidable and undeniable.
This striking front page of the Daily Telegraph, suggesting the effects of lockdown may now be killing more people than are dying of Covid, should be leading every news bulletin in the country.
Here's the front page to which he refers:
He discussed the statistics I cited above and rightly pointed out that The Telegraph is the only media outlet (besides GB News) talking about it:
Instead, our dramatic excess death toll is virtually ignored by the BBC, ITV News and Sly News, which used to trumpet Covid death figures on an almost hourly basis …
The officials who terrified the public on a daily basis, backed up by a crazed media and gutless politicians, have blood on their hands.
A small group of honourable folk – many of whom now appear regularly on this show, like Professor Karol Sikora – shouted from the rooftops that delays and deferment of treatment for a host of conditions like cancer, strokes, diabetes and heart disease were going to be responsible for thousands upon thousands of deaths in years to come.
We tried to warn people and wake up the rest of the population, while being dismissed as Covidiots, deniers and the anti-vaxx brigade.
And yet, there's still no apology. Still no acceptance of a gigantic error.
In fact, the same irresponsible and evil idiots who got us into this mess want lockdowns, mass vaccination and muzzling to return this winter.
We cannot and will not rest until the true damage of lockdowns is exposed and accepted so we learn the mistakes of our recent history.
A panel discussion followed:
Cardiologist Karl Sikora gave his view and found it astonishing that health experts, including former SAGE member, behaviourist Susan Michie, whom they did not name, want everlasting masks and lockdowns:
Susan Michie, by the way, has just taken up a plum job with the WHO. Says it all, really.
Neil Oliver told Wootton that he was not optimistic about no future lockdowns, which is one of Liz Truss's proposed policies:
And, finally, the Fairbrass brothers from Right Said Fred presented their scepticism over coronavirus policies. They've lost a few gigs because of it but also picked up a new set of fans:
Conclusion
This past weekend really gave me a lot of encouragement about examining coronavirus policies more closely.
For once, it seemed as if a lot of news items and editorials hit at the same time.
I do hope this augurs well for the future.
Before I get into Thursday's voting results in the Conservative Party leadership contest, readers should note that Labour are no longer afraid of losing the next election.
Please, someone, bring back Boris:
The only candidate who could put the frighteners on Labour is Kemi Badenoch, who is excellent at the despatch box when facing the Opposition.
Thursday's vote result
Sir Graham Brady, chairman of the 1922 Committee of backbench Conservative MPs, announced yesterday's result promptly at 3 p.m.
Unfortunately, Suella Braverman had the lowest votes and had to drop out of the race. She had only 27 MPs backing her.
Going into the weekend, we have the following five candidates:
Guido Fawkes has a summary of Thursday's activity, excerpted below.
Rishi Sunak has received over 100 votes, but overall, he is not doing as well as candidates in past leadership elections:
Rishi is one of the weakest first-place candidates in recent Tory leadership elections, comparing leads in the second round of MP ballots:* … *Hat-tip: Tom Harwood
Penny Mordaunt's work ethic was slammed on Thursday. I covered Lord Frost's damning comments in yesterday's post.
Mordaunt also ran into trouble over past statements she has made on gender identity:
Ran into problems and heightened scrutiny over her trans stance, not least with a blow from newly-eliminated Suella Braverman, who accused her of not standing up for women when pushing for gender-neutral language in the ministerial maternity leave bill

Accused of lying about her trans stance by Team Truss
Kemi Badenoch is, happily, still in the race and is ahead of Tom Tugendhat, who is likely to be the next to be dropped when voting resumes on Monday.
Badenoch received 49 votes and Tugendhat 32, a decrease of five votes for him.
Early news on Friday
Much happened overnight, which I will review in recent campaign activity below.
Suella Braverman is now supporting Liz Truss.
There is likely to be increasing pressure put on Kemi Badenoch to bow out of the race. If anything, pressure should be brought to bear on Tom Tugendhat, who is in last place.
Guido calls our attention to three debates this weekend. One will be online and two will be televised (red emphases his, those in purple mine):
Today things get really interesting: it's debate time. So far candidates have taken lumps out of each other from their respective trenches, today they finally have to go over the top – a special metaphor just for Penny and Tom. Things kick off at ConservativeHome at 1pm, and continue over to Channel 4 at 19.30, where all candidates have confirmed their attendance. Followed by ITV on Sunday and Sky on Monday. 
Debates can make or break candidates at this stage, especially when there are a decent number of votes up for grabs and no one knows who's going to win. In 2019, one debate made Rory Stewart – securing his place in the next round – and the subsequent debate 24 hours later broke him, as he decided to get undressed live on air. In a sign of how febrile things are, even Rishi's agreed to join tonight's Channel 4 debate, an unedifying challenge the frontrunners are sometimes able to duck out of. Will some MPs finally have to recognise that their candidate makes Theresa May's public speaking look relaxed and charismatic? Guido looks forward to finding out…
Let's see what is going on with the various candidates.
Suella Braverman
Suella Braverman, Attorney General for England and Wales, is a committed Conservative, especially when it comes to social issues.
In 2019, along with Northern Ireland's DUP MPs and several other Conservative MPs, she voted to keep abortion illegal in Northern Ireland. However, the Government has since legalised abortion there.
Last Sunday, Danny Kruger, a thoughtful MP and Prue Leith's son, gave his reasons for backing Braverman:
Two days later, on July 12, a Conservative Home poll showed that Rishi Sunak would lose were Braverman the second remaining candidate on the ballot going to Party members:
Were Braverman up against Liz Truss, the vote would have been tied.
This was Braverman's platform — lower taxes, border control, no identity politics and commitment to the Conservatives' 2019 election manifesto:
What's not to like?
She also would have taken us out of the ECHR (European Convention on Human Rights), which is preventing us from deporting faux refugees and serious foreign criminals: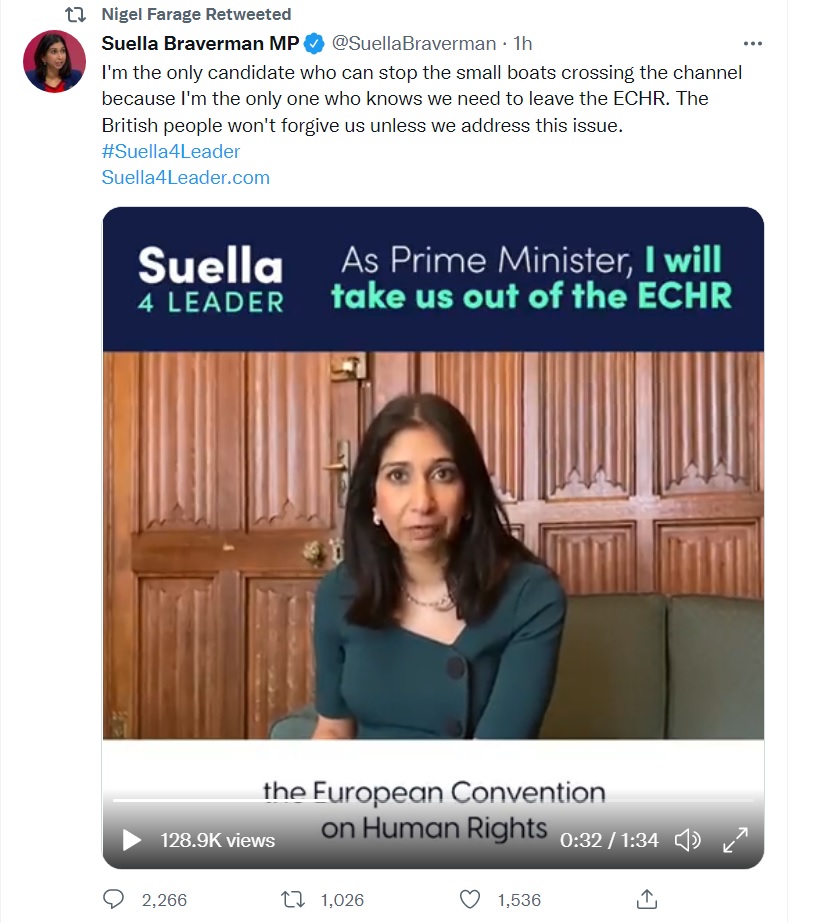 She refused to engage in 'blue on blue' sniping. Here she is with Kemi Badenoch, my other favourite:
Braverman was gracious in defeat:
She swiftly began a media round on Thursday afternoon.
Speaking to Tom Harwood of GB News, she expressed her gratitude for being able to run in the leadership contest, saying it was a real privilege. I agree that she would make an excellent Home Secretary:
She said that she sees both Rishi Sunak and Penny Mordaunt as being on the left. So true:
She criticised Penny Mordaunt's stance on gender identity and accused her of being a 'false Brexiteer':
In an interview with BBC Radio 4, Braverman pointed out that Hansard has a record of what Mordaunt has said in past debates on the Maternity Bill:
She told TalkTV's Tom Newton Dunn why she has decided to support Liz Truss:
I hope that whoever wins will retain Braverman in their Cabinet. She is a true asset to the Conservatives.
Rishi Sunak
Could the wheels be about to fall off for Rishi Sunak, our erstwhile Chancellor?
On Friday, July 15, news emerged that the Chinese government hopes Rishi will be our next Prime Minister:
Guido reported:
This morning Rishi Sunak has successfully won the leadership endorsement none of the candidates wanted: from the Chinese Government's propaganda outfit. Global Times has published an article entitled "China-UK ties 'might improve' with arrival of new PM"; subheading, "Most candidates are tough on Beijing, but 'pragmatic' one wins first round". In the piece, Beijing's mouthpiece notes concern that, despite Rishi winning among MPs, party members might vote for a rival candidate because of tax policy…
Former chancellor of the exchequer (finance minister) Rishi Sunak, the one candidate with a pragmatic view of developing balanced ties with China, has won the first round of voting by MPs.
When Sunak was the finance minister in July 2021, he used his annual Mansion House speech to insist that Britain should beef up its trading relationship with China
Apart from Sunak, almost all of the other candidates hold a very tough stance on China
As I write, mid-day, Guido is awaiting comment from Rishi's team.
In other news, Rishi is losing traction with the bookmakers. He's now in third place:
Guido tells us:
Rishi has fallen from hot favourite to his chances being third rated, with Penny as favourite and an overnight re-evaluation by punters seeing Liz move into the second favourite spot.
Allow me to repeat myself with the aforementioned Conservative Home poll from July 12. According to their readership, likely all Conservative Party members, Rishi could only beat Sajid Javid, who is no longer in the running and Tom Tugendhat, who is currently in last place:
Tom Tugendhat
I do not think that Tom Tugendhat's candidacy will last beyond Monday's vote.
I formed my opinion of him through his participation in House of Commons debates.
He is chair of the Foreign Affairs Committee.
Last August, he spoke about Biden's withdrawal from Afghanistan, where he served with the Army. His contribution gained him a round of applause, which is normally forbidden in Parliament:
America's back – back home.
In 2020, he wrote an editorial on terrorism for the Mail, calling for a return of treason laws, which Tony Blair got rid of:
In 2020, he was critical of China's lockdown policy:
Last year, when there was a suspicion that vaccine passports could be turned into digital identity cards, Tugendhat rightly opposed such a development. talkRADIO's Julia Hartley-Brewer interviewed him on the subject:
Tugendhat announced his candidacy for Conservative leadership on July 7, via an editorial for The Telegraph:
It seems to me that he makes more of his military career than perhaps he should. In one recent interview, he made himself out to be a general (H/T to my reader dearieme):
'What's the worst thing you've ever done?'
'Invaded two countries.'
Guido thinks so, too:
He has the relevant clip:
Anyway, his campaign, increasingly weak, calls for 'a clean start':
A clean start:
On July 8, the Sun featured a profile of him, including his French connection:
Tugendhat is married to Anissia Tugendhat (née Morel).
She is a French judge and civil servant and Tugendhat holds dual citizenship for France and Britain.
According to a tweet from journalist Richard Eden, the pair got engaged in 2013.
Together they have two children, a boy and a girl.
Tugendhat's mother Blandine de Loisne is also French.
Anissia comes from a family of diplomats and her brother has worked in the Foreign Ministry and the French embassy.
We did not know that before, did we? At least Tobias Ellwood told Parliament that he has dual US/UK nationality.
That's probably why he voted Remain in the 2016 Brexit referendum.
He would not be drawn on the subject of whether he regretted his vote. Probably not, then:
The public are suspicious. As he is currently in last place, MPs must be, too:
He launched his campaign on July 12. To calm his nerves, he had a crafty ciggie on the tiny balcony outside his office, forbidden on the parliamentary estate. This, in my opinion, is the only decent thing about him:
I hope he was smoking a Gauloise …
At his launch, he took only two questions from the media:
Perhaps he feared questions about his Frenchness, such as this one:
Candidates, including those running for a position as MP, should declare their nationality or nationalities:
———————————————————————————
I will have more on the leadership contest next week.
For now, I am looking forward to the debates. It will be interesting to see how Rishi and Tugendhat, both of whom are short, look next to Penny Mordaunt, much taller than either of them. Optics are important.
Sometimes things are not as they appear.
Badgering Boris Johnson to resign over the Downing Street parties during lockdown is an attempt to overturn Brexit.
It is also a sign of envy on the part of the journalists, most of whom are Remainers, attacking him verbally. What journalist — and Boris was one of them for many years — doesn't have an 'If I ruled the world' fantasy? Boris has achieved that dream. They have not.
Here is former Conservative MP Michael Heseltine, a prominent Remainer, saying that Boris's departure could reopen the possibility of re-entering the European Union:
It's misleading the house, it's misleading the people and it's misleading the whole country in a general election because if it were to be established that the PM has been lying then that is going to open a can of worms because very large numbers of people – now the majority of people – believe that the Brexit case was actually a pack of lies… now if he proves to be a liar – to the public, to parliament – what does that do for the very large numbers of people who think it is a catastrophic misjudgement to have severed our good relationships with our European neighbours.
Meanwhile, the general public doesn't care about the parties, especially his birthday party: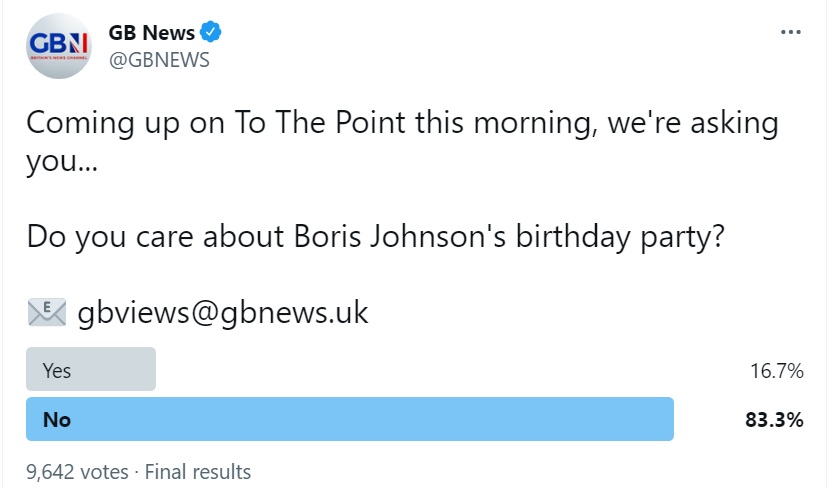 Police investigation
The eminent civil servant Sue Gray had been preparing a report on the Downing Street parties.
Then, the Metropolitan Police stepped in. On Tuesday, January 25, 2022, Commissioner Dame Cressida Dick told the London Assembly, headed by Mayor Sadiq Khan of the news. As such, the Met informed Sue Gray to issue only a summary report so as not to interfere with their own investigation.
GB News has a summary of the social events. Most but not all of them took place at Downing Street, nor did Boris attend all of them (emphases mine):
The Metropolitan Police will investigate a "number of events" alleged to have taken place in Downing Street, Commissioner Dame Cressida Dick has said.
Dame Cressida declined to say which alleged parties are being investigated, nor would she put a timeline on when officers could detail their findings.
The gatherings were already under investigation by senior official Sue Gray, and the Cabinet Office said her work continues.
Here is a list of the alleged gatherings, which in several cases have been admitted to.
– May 15 2020: Downing Street garden party …
– May 20 2020: BYOB garden party …
– June 19 2020: Birthday party for Boris Johnson …
– November 13 2020: Leaving party for senior aide …
– November 13 2020: Johnsons' flat party …
– November 25 2020: Treasury drinks …
– November 27 2020: Second staff leaving do …
– December 10 2020: Department for Education party …
– December 11 2020: Wine fridge delivered to Downing Street for staff's 'wine-time Fridays' …
Mr Johnson was said to have attended a "handful" of these gatherings.
– December 14 2020: Party featuring Tory London mayoral candidate Shaun Bailey and staff …
– December 15 2020: Downing Street quiz …
– December 16 2020: Department for Transport party …
– December 17 2020: Cabinet Office "Christmas party" …
– December 17 2020: Leaving drinks for former Covid Taskforce head …
– December 18 2020: Christmas party at Downing Street …
Mr Johnson's spokeswoman, Allegra Stratton, quit after being filmed joking about it with fellow aides at a mock press conference.
– Run-up to Christmas 2020 …
– April 16 2021: Drinks and dancing the night before the Duke of Edinburgh's funeral …
The Telegraph quoted a No 10 spokesman as saying Mr Johnson was not in Downing Street that day and is said to have been at Chequers.
Strangely, at the time, no one cared:
Now everyone does.
Downing Street has not helped. They are now denying there was a cake:
On January 25, the Paymaster General, Michael Ellis MP, drew the short straw and had to answer an Urgent Question (UQ) from Labour's deputy leader Angela Rayner (pictured in the top left photo):
This was the UQ:
To ask the Chancellor of the Duchy of Lancaster to make a statement on the status of the investigation into Downing Street parties following the statement from the Commissioner of the Metropolitan Police.
I felt very sorry for Ellis, who had to reply for the Chancellor of the Duchy of Lancaster, absent from the chamber. The transcript makes for grim reading.
Sir Edward Leigh, one of the first MPs to speak, tried to put things into perspective but to no avail:
When Europe stands on the brink of war and there is a cost of living crisis, can we please have a sense of proportion over the Prime Minister's being given a piece of cake in his own office by his own staff?
The verbal attacks were many and vicious.
Ellis was able to put one Scottish MP, Pete Wishart (SNP), in his place.
Wishart asked:
Does the Paymaster General not think that it would be a good idea to set up a police special operations unit room in No. 10 Downing Street, because, while the police are looking at this case, they could perhaps look at cash for honours, cash for access, personal protective equipment for pals, paid advocacy, breaking the ministerial code, and all the other general Tory badness?
Ellis responded:
I have to say that a quick Google analysis of the SNP would not be particularly edifying. Despite noises off, this Prime Minister is focused on what matters to the British people and it is right that those matters conclude in an orderly way.
On Friday, January 28, news emerged that the Met told Sue Gray not to publish her report in full:
That day, The Guardian reported that a comedian issued a fake Sue Gray report:
The comedian Joe Lycett, who apparently caused chaos and "mass panic" in government when he tweeted a fake version of Sue Gray's "partygate" report, has said his social media stunt was motivated by anger after the death of a close friend during the first lockdown.
Lycett tweeted a parody Gray report with a fake Cabinet Office letterhead, titled: "A summary of my main findings", captioning his tweet: "BREAKING: Leaked Sue Gray report reveals shocking abuse of rules. Hard to see how the PM can cling on after this."
He later shared a message that he said came "from someone who works for a cabinet minister. Source verified."
The message, purportedly from someone who works in parliament, read: "Your tweet this morning was read as an actual serious leak from Sue Gray's report. U had MP staff literally running around panicking from what it said. Panic dialling MPs like we need to discuss this right now."
On Saturday, January 29, Steven Swinford of The Times reported that Sue Gray was just putting the finishing touches on her report when the Metropolitan Police intervened.
Swinford's first sentence drew me in. It's hard not to like an article that begins with this:
Sue Gray had been looking forward to a holiday.
It is unclear why the Met intervened when they did:
The timing of her intervention is said to have surprised Gray and her team of investigators. She had been in discussions with the Met for weeks, sharing information as she went along. Yet the force had declined to get involved until the point when her report was almost completed and ready for publication …
"She's in a horrible position," a Whitehall source said. "The delay just creates an air of conspiracy. Sue's integrity is at risk here. If a partial report is produced it will look like she's been got at. She just wants a holiday, she feels like she's had enough of it. Very few people could do what she does but she just wants to be on the other side of this one."
Some think that the Met's intervention could be good news for Boris:
Johnson's critics and supporters agreed that the Met's intervention strengthened his position. One cabinet minister said: "Sue Gray cannot prejudice the Metropolitan Police's investigation. It would be insane if she went ahead and published the details. The longer this goes on, the more ridiculous it looks. The prime minister is out of the danger zone, the worst is over."
Or is he?
Sue Gray 'update'
On Monday, January 31, Sue Gray issued a summary — termed an 'update' — of her report.
Guido Fawkes has the update in full.
Gray concluded:
a number of these gatherings should not have been allowed to take place or to develop in the way that they did. There is significant learning to be drawn from these events which must be addressed immediately across Government. This does not need to wait for the police investigations to be concluded.
At 3:30, Boris addressed MPs (see full transcript of the session). He said that he was sorry and that changes would be made in Downing Street.
He concluded with this:
First, it is time to sort out what Sue Gray rightly calls the "fragmented and complicated" leadership structures of Downing Street, which she says
"have not evolved sufficiently to meet the demands"
of the expansion of No. 10. We will do that, including by creating an Office of the Prime Minister, with a permanent secretary to lead No. 10.
Secondly, it is clear from Sue Gray's report that it is time not just to review the civil service and special adviser codes of conduct, wherever necessary, to ensure that they take account of Sue Gray's recommendations, but to make sure that those codes are properly enforced. Thirdly, I will be saying more in the coming days about the steps we will take to improve the No. 10 operation and the work of the Cabinet Office, to strengthen Cabinet Government, and to improve the vital connection between No. 10 and Parliament.
Mr Speaker, I get it and I will fix it. I want to say to the people of this country: I know what the issue is. [Hon. Members: "No!"] Yes. [Hon. Members: "You!"] It is whether this Government can be trusted to deliver. And I say yes, we can be trusted—yes, we can be trusted to deliver. We said that we would get Brexit done, and we did. We are setting up freeports around the whole United Kingdom. I have been to one of them today that is creating tens of thousands of new jobs. We said we would get this country through covid, and we did. We delivered the fastest vaccine roll-out in Europe and the fastest booster programme of any major economy, so that we have been able to restore people's freedoms faster than any comparable economy. At the same time, we have been cutting crime by 14%, building 40 new hospitals and rolling out gigabit broadband, and delivering all the promises of our 2019 agenda, so that we have the fastest economic growth of the G7. We have shown that we have done things that people thought were impossible, and that we can deliver for the British people. [Interruption.] I remind those on the Opposition Benches that the reason we are coming out of covid so fast is partly because we doubled the speed of the booster roll-out.
I can tell the House and this country that we are going to bring the same energy and commitment to getting on with the job, to delivering for the British people, and to our mission to unite and level up across this country. I commend this statement to the House.
It did not go down well with the Opposition benches, nor some of the Conservative MPs.
Theresa May was deeply unhappy:
She said:
The covid regulations imposed significant restrictions on the freedoms of members of the public. They had a right to expect their Prime Minister to have read the rules, to understand the meaning of the rules—and, indeed, those around them him to have done so, too—and to set an example in following those rules. What the Gray report does show is that No. 10 Downing Street was not observing the regulations they had imposed on members of the public, so either my right hon. Friend had not read the rules, or did not understand what they meant—and others around him—or they did not think the rules applied to No. 10. Which was it?
The SNP's Westminster leader, Ian Blackford, followed the former Prime Minister. He cited two of Boris's contradictions and ended with this:
Nobody—nobody—believed him then, and nobody believes you now, Prime Minister. That is the crux. No ifs, no buts; he has wilfully misled Parliament.
Blackford broke two rules there. First, he said 'you'. Secondly, he said 'wilfully misled'.
The Speaker of the House, Sir Lindsay Hoyle, interrupted him:
Order. It would be acceptable to say "inadvertently misled the House", but "misled the House" is not acceptable. The right hon. Member must withdraw that comment.
Blackford doubled down, concluding:
… the public know that this is a man they can no longer trust. He is being investigated by the police. He misled the House. He must now resign.
The exchange between him and the Speaker continued for some time. Blackford refused to withdraw his remark.
At that point, the Speaker was ready to suspend him, but Blackford left voluntarily:
Order. Under the power given to me by Standing Order No. 43, I order the right hon. Member to withdraw immediately from the House—
Another MP said:
He has left anyway!
Here's the video:
Hoyle concluded:
It's all right; we do not need to bother. Let us move on.
Aaron Bell MP spoke later on. Although he is Conservative, he made a good point, asking if Boris was trying to make a fool of him for obeying the restrictions at a family funeral:
Not surprisingly, the Mirror (Labour) picked up on it:
Boris was at the despatch box for a little over two hours.
That evening, he met with a group of Conservative MPs, wherein he pledged to reform how Downing Street operates. Guido's colleague Christian Calgie said it went well:
Meanwhile, Labour MPs and the media hit the bar:
Incidentally, while Boris was giving his afternoon statement to Parliament, one of the bars there re-opened for business.
The next day, Mark Harper MP gave a good interview to Julia Hartley-Brewer at talkRADIO:
Labour's Chinese spy story ignored
In mid-January, news emerged that a Chinese operative had donated £500,000 over a period of several years to a Labour MP. Yet, apart from GB News, no one in the media was — or is — talking about that (Labour leader Sir Keir Starmer is pictured, not the MP involved):
Subplots
There are two important subplots running through this sorry saga: Boris's mention of Labour leader Keir Starmer's record as Director of Public Prosecutions (DPP) with regard to Jimmy Savile (a celebrity paedophile) and the revelation of ghastly text messages by members of London's Metropolitan Police, casting doubt on the force's investigation of the Downing Street parties.
Metropolitan Police
The Metropolitan Police are investigating the Downing Street parties, which is interesting, since the organisation said initially that they would not be doing so, as the events happened too long ago.
One wonders, however, how credible any investigation would be since Commissioner Dame Cressida Dick has come under fire for her leadership. Some constables in the Met have been texting violent and vicious messages that are misogynistic and hateful.
Although Dame Cressida cannot be expected to know everything that her constables are doing, these text messages could cast doubt on the credibility of the investigation.
Furthermore, it is interesting that Dame Cressida announced the Met's investigation of Downing Street at a meeting of the London Assembly, headed by the capital's mayor Sadiq Khan (Labour).
Sir Jimmy Savile
On Monday, January 31, Boris gave the House of Commons an update on Sue Gray's inquiry into the Downing Street parties.
The Metropolitan Police allowed the civil servant to write a summary report pending their own inquiry, which is still ongoing.
As such, there is no conclusion as to whether Boris should resign.
However, Labour and the other Opposition parties have been pushing for Boris to stand down for weeks now.
On Monday, in response to Boris's statement, Labour leader Sir Keir Starmer said:
Conservative Members can heap their reputation, the reputation of their party, and the reputation of this country on the bonfire that is the Prime Minister's leadership, or they can spare the country a Prime Minister totally unworthy of his responsibilities. It is their duty to do so. They know better than anyone how unsuitable he is for high office. Many of them knew in their hearts that we would inevitably come to this one day and they know that, as night follows day, continuing his leadership will mean further misconduct, cover-up and deceit. Only they can end this farce. The eyes of the country are upon them. They will be judged by the decisions they take now.
Boris replied:
There is a reason why the right hon. and learned Gentleman said absolutely nothing about the report that was presented by the Government and put in the Library of this House earlier today. That is because the report does absolutely nothing to substantiate the tissue of nonsense that he has just spoken—absolutely nothing. Instead, this Leader of the Opposition, a former Director of Public Prosecutions—although he spent most of his time prosecuting journalists and failing to prosecute Jimmy Savile, as far as I can make out—chose to use this moment continually to prejudge a police inquiry. That is what he chose to do. He has reached his conclusions about it. I am not going to reach any conclusions, and he would be entirely wrong to do so. I direct him again to what Sue Gray says in her report about the conclusions that can be drawn from her inquiry about what the police may or may not do. I have complete confidence in the police, and I hope that they will be allowed simply to get on with their job. I do not propose to offer any more commentary about it, and I do not believe that he should either.
The Speaker objected:
Boris's mention of Starmer's failure to get the Crown Prosecution Service (CPS) to investigate Savile ran all week long. Conservative MPs also objected to it. It is unclear why that is; after all these years, someone needed to speak up:
Boris's opponents call it a 'far-right conspiracy theory', although Starmer was in charge of the CPS at the time Savile's activities came to light. Starmer even issued an apology for the oversight at the time:
More recently, when Starmer ran for the Labour leadership, he said:
Hear me out: I had 8,000 staff for five years as the director of public prosecutions. And I acted, I hope, in the right way with them, which is when they had victories I celebrated victories on their behalf, I picked up awards on their behalves. When they made mistakes, I carried the can. I never turn on my staff and you should never turn on your staff… I will carry the can for mistakes of any organisation I lead.
Starmer's biography states he was responsible for all criminal prosecutions in England and Wales:
Leader of the House, Jacob Rees-Mogg rightly defended Boris's remark on Thursday, February 3:
In any event, that day, four Downing Street staffers resigned.
Munira Mirza, who had worked for Boris for 14 years — since he was Mayor of London — was the most prominent. The former policy chief said that she took strong objection to her boss's mention of Savile:
Guido posted part of Mirza's resignation letter:
I believe it was wrong for you to imply this week that Keir Starmer was personally responsible for allowing Jimmy Savile to escape justice. There was no fair or reasonable basis for that assertion. This was not the usual cut and thrust of politics; it was an inappropriate and partisan reference to a horrendous case of child sex abuse. You tried to clarify your position today but, despite my urging, you did not apologise for the misleading impression you gave.
In a second post, Guido said that Boris asked Mirza to hold off until he gave a briefing to the media. The briefing only caused her to confirm her resignation:
When the pool clip came without an apology, more of a clarification, she confirmed her resignation via an email which concluded:
Even now, I hope you find it in yourself to apologise for a grave error of judgement made under huge pressure. I appreciate that our political culture is not forgiving when people say sorry, but regardless, it is the right thing to do. It is not too late for you but, I'm sorry to say, it is too late for me.
The public do not understand what the problem is with the mention of Starmer's indirect failure to investigate Savile:
Furthermore, we all understand that Boris wasn't implying that Starmer was personally responsible. However, he was the head of the CPS, so he bore responsibility for it, as Boris told the media:
Let's be absolutely clear, I'm talking not about the Leader of the Opposition's personal record when he was DPP and I totally understand that he had nothing to do personally with those decisions. I was making a point about his responsibility for the organisation as a whole.
Too right.
One of Guido's readers summarised what Boris was saying in Parliament and to the press. It concerns double standards, wherein Starmer expects the Prime Minister to take responsibility for Downing Street activities but not for his own sins of omission at the CPS. This is a good get-out rationale from Guido's reader paraphrasing Boris:
I was not aware of event X being organised or taking place, and so while I apologise it happened under my watch and plan to change systems to avoid such events in future, it is not reasonable for me to resign over it. That is entirely consistent with the Leader of the Opposition's own behaviour while DPP over the Savile issue.
In any event, three more Downing Street staffers resigned after Mirza did, including Martin Reynolds, who issued the email about one of the parties, requesting that people bring their own alcoholic beverages:
It is unclear why the other three left. Some say that they are afraid of being investigated. Others say it was an excuse for Boris to clean house.
Of the three additional resignations, GB News reported:
Martin Reynolds is one of the most senior officials in No 10 but had largely avoided the limelight until the emergence of his email inviting colleagues to "socially-distanced drinks" during England's first coronavirus lockdown.
As Boris Johnson's principal private secretary, he played a key role advising the Prime Minister on a wide range of issues, but resigned from the role on Thursday alongside three other senior Downing Street aides …
Mr Johnson's former adviser Dominic Cummings previously said the influence wielded by the principal private secretary within Downing Street was not widely appreciated.
"The PPS exercises far more influence and actual power over many issues than Cabinet ministers," Mr Cummings said.
"He can nudge policy, he can nudge vital appointments (real power). He can and does walk into the PM's office and exclude all political people 'on security grounds'."
A leaked photograph of the Prime Minister and officials drinking in the No 10 garden on May 15 2020 – five days before the "bring your own booze" event that Mr Reynolds invited colleagues to – showed the PPS sitting at the same table as Mr Johnson …
Mr Reynolds offered his resignation on Thursday alongside Downing Street chief of staff Dan Rosenfield, hours after policy aide Munira Mirza and director of communications Jack Doyle both quit.
A No 10 spokeswoman said: "Dan Rosenfield offered his resignation to the Prime Minister earlier today, which has been accepted.
"Martin Reynolds also informed the Prime Minister of his intention to stand down from his role as principal private secretary and the Prime Minister has agreed to this.
"He has thanked them both for their significant contribution to government and No 10, including work on the pandemic response and economic recovery.
"They will continue in their roles while successors are appointed, and recruitment for both posts is under way."
As I write on Friday morning, an aide to Munira Mirza has also resigned:
Tom Harwood adds that Chancellor Rishi Sunak has been keeping his distance from the Prime Minister and did not defend the remark about Keir Starmer and the Jimmy Savile case.
One of the commenters makes an excellent point about civil servants finding the Savile remark more offensive than what happened to 60+ million people for … a virus:
Those people live in their own bubble.
Interestingly, Boris has appointed an MP rather than a civil servant to succeed Mirza. Andrew Griffith represents the Arundel constituency on the south coast of England. He seems to have a truly Conservative voting record.
Therefore, it seems as if Boris is cleaning house, which can only be a good thing for him. The civil servants do not seem to have been doing him many favours.
In more positive news for the Conservatives, Anna Firth won the by-election in Southend West, served by Sir David Amess until he was stabbed to death last October:
Because of the nature of Sir David's death, Labour and the Liberal Democrats did not put up candidates to run against Anna Firth, although minor political parties did.
Therefore, although she won 86% of the vote, only 24% of the electorate went to the polls.
The party debacle is far from over. This will run and run and run.
The Conservative Party Conference took place in Manchester from Sunday, October 3 through Wednesday, October 6, 2021.
It was the first one since 2019, which was two months before their victory in the December 12 election that year.
UK in crisis
This year's conference took place during the ongoing petrol supply problems and shock record-breaking hikes in gas futures on Tuesday and Wednesday:
On top of that, on Wednesday, Reuters reported that the UK's petroleum regulator rejected Shell's plans to redevelop the Jackdaw gasfield in the North Sea (emphases in purple mine):
"We're disappointed by the decision and are considering the implications," a Shell spokesperson said.
It was unclear on what grounds the Offshore Petroleum Regulator for Environment and Decommissioning (OPRED) refused to approve the environmental statement for the field's development.
The Department for Business, Energy and Industrial Strategy, under whose umbrella OPRED operates, did not immediately reply to a request for comment.
Maddening.
The supply chain crisis for food continues. On Wednesday, The Times reported The National Pig Association warned retailers that 120,000 pigs would have to be slaughtered because of a lack of butchers. Some pig farmers are closing down altogether.
Some supermarkets are also suffering from empty shelves. Tesco, however, is bucking the trend. The Times reported that the supermarket chain is:
often highest up the pecking order when it comes to suppliers committing to make the business a priority …
Good for them.
Conference theme disappointing
The conference theme was … Build Back Better.
How awful.
Here it is draped across Central Station Manchester:
The Conservatives riffed on this in a Bake Off-style event. Pictured with Prime Minister Boris Johnson is Home Secretary Priti Patel:
Having listened to some of the speeches and read excerpts from others, they were all light in content. Most of them were pep rally or visionary statements rather than what plans Cabinet ministers have for the nation.
As The Telegraph's Madeline Grant wrote:
Never at a Tory Conference has so little been said, by so many, to so few.
Sunday, October 3
As the conference opened, rumours circulated about three unnamed Labour MPs thinking of crossing the aisle to the Conservatives, as the Mail on Sunday reported:
Guido Fawkes had more on the story (emphases in red Guido's):
… this is due to disillusionment with Starmer's leadership, with the MPs already having opened up "lines of communication" with Tory whips. In related news, a senior Labour MP was spotted by a co-conspirator chatting with two Mail on Sunday hacks and three senior Tory advisors at a conference bar last night…
The day's big event, according to The Spectator, was the drinks party that the 1922 Committee of backbenchers held, sponsored by ConservativeHome. Interestingly, a long-time Labour MP for north-west London — Barry Gardiner — was in attendance:
… the main focus of the night was the 1922 drinks with ConservativeHome in a room stuffed full of parliamentary talent and, for some reason, Barry Gardiner.
Strangely, Boris did not appear, leaving a gap which Chancellor of the Exchequer Rishi Sunak ably filled (video):
While Johnson was not scheduled to make an appearance here, Prime Ministers have traditionally done so in the past to pay tribute to their colleagues. His 'disappointing' absence – in the words of one disgruntled backbencher – left a vacuum for Sunak to fill, in a room full of MPs who will presumably one day decide who Johnson's successor should be.
The Chancellor leapt to the stage to tell fellow Tories about what he was most looking forward too at conference: Michael Gove dancing, the PM running in a full suit (not just a shirt) and 'machine like message discipline from every single one of you – and that means you too Cabinet.' He added that 'I've got your back' to anxious MPs in the room and that 'for the record I too am a low tax conservative' – welcome words for those party donors who Mr S[teerpike, columnist] understands attended a 'tense' meeting earlier at the Midland, amid considerable unease at the recent NI [National Insurance] hike.
In such circumstances, perhaps it's understandable that Boris would stay away.
According to The Telegraph, senior Conservatives have warned Boris not to dream up any more future tax hikes:
Earlier that day, Boris gesticulated wildly at the BBC's Andrew Marr, saying, 'You have no fiercer opponent to tax rises than me'. This probably means more tax rises are on the way:
The Spectator has more on the interview.
On tax hikes, Sir Desmond Swayne MP told talkRADIO's Julia Hartley-Brewer the raw truth. He added that lower taxes will enable greater economic growth:
Another event that Boris avoided was the one by the Tory Reform Group (TRG), which wants the Conservatives to move closer to the centre politically. They are Remainers. The Spectator reported:
Theresa May's former deputy Damian Green welcomed attendees …
Green, a mainstay of various causes on the left-ish wing of the party over the past two decades, told activists that it was their task to 'make sure that the voice of moderate conservatism, centre-right conservatism is as strong as possible within the party' – a job 'never more important than today because there are times when I slightly feel that it is only people like us that stop this party drifting back to being seen as the nasty party.' A tacit rejoinder to Priti Patel perhaps?
But then it was time for the speaker and the great white hope of Tory moderation. Tom Tugendhat, the chairman of the Foreign Affairs Select Committee, took to the stage to ecstatic applause and, like Green, was under no illusions about the awesome responsibility he and his One Nation caucus members share – to keep the Conservative party effectively sane …
There was also ample time for several potshots at the current Tory leader Boris Johnson, with whom Tugendhat is said to enjoy a wary relationship.
Foreign Secretary Liz Truss, tipped to be a future Party leader, also made the rounds that day (video):
The fringes were packed last night as Tory ministers did the rounds. Liz Truss, the darling of the free market think tanks, appeared at the Think Tent equipped with a magnificent blow dry and an applause-winning speech which castigated cancel culture as 'fundamentally wrong.' That and other jibes at identity politics in her conference address lead the Daily Mail this morning to ask whether she is in fact the new Mrs Thatcher.
Several reporters wrote about her new hairdo, which, to me, didn't look much different from the old one.
Returning to the mysterious Labour people who might want to change parties, here's Manchester mayor Andy Burnham, a former Labour MP, heaping praise on Michael Gove, the minister in charge of Boris's levelling up programme. Burnham spoke to Trevor Phillips on Sky News that morning. Hmm:
Neither Andy Burnham nor Barry Gardiner is a Conservative. Crossing the aisle for ideals they don't believe in seems a rather rash way of getting their own back at Keir Starmer.
Boris made four appearances at conference that day, including one for the Scottish Conservatives. Guido captured his wit along with audio:
The PM warned of a "crackpot coalition" between the SNP and Labour – "the only way they could" kick the Tories out.
He described the Labour conference as "a total rabble", saying it had the air to him of "a seriously rattled bus conductor" facing an "insurrection on the top deck of the bus", or the "captain of a Mediterranean cruise ship facing insurrection by a bunch of Somali pirates".
Douglas Ross MP/MSP also addressed Scottish Conservatives. As party leader in Scotland, he wants to position the party as that of the nation's working class. It's a good move, as The Spectator reported:
Like all good fables, Douglas Ross's speech at Tory conference had a beginning, middle and end. Act One detailed the many iniquities of the SNP, from their dysfunctional vaccine passport scheme to their Hate Crime Act, and most of all their agitation for Scotland to break away from the UK. Act Two took the sword to Labour, bemoaned its abandonment of working-class voters and its internal divisions over the constitution. Theirs was not the party to take on the SNP. Only one party was and it was the subject of Act Three, in which Ross deepened a theme begun under Ruth Davidson's leadership: the Scottish Conservatives as the party of the Scottish working-class.
He hit all the familiar notes about the SNP's failings in government, the ones that never seem to stick longer than two or three news cycles and are invariably forgotten about by the next election. He also hinted at an interesting theme that, if teased out carefully, could come into greater play. It is the perception, no longer wholly limited to unionists, that Nicola Sturgeon is a bit… off. Out of touch. Superior. Maybe even a bit of a snob.
In other news, last week, Labour's Angela Rayner called Conservatives 'Tory scum'. Feisty Dehenna Davison MP, representing Bishop Auckland as the constituency's first Conservative, had 'Tory Scum' badges made.
This harks back to 1948, when Aneurin 'Nye' Bevan said the Conservatives were 'lower than vermin'. Following that, the Conservatives formed the Vermin Club. Club member Margaret Roberts — who would become Margaret Thatcher — also had 'Tory Vermin' badges made, as Nigel Farage told Dehenna Davison on GB News:
Party chairman Oliver Dowden pledged that the Conservatives would do away with ugly new housing developments by strengthening planning laws.
He also assured the public that they would have turkeys for Christmas, referring to ongoing supply chain problems.
Monday, October 4
Monday opened with the latest ConservativeHome popularity poll.
Liz Truss is at the top. Other MPs pictured are (left to right) Defence Secretary Ben Wallace, Leader of the House Jacob Rees-Mogg, Chancellor Rishi Sunak and Education Secretary Nadhim Zahawi:
Guido analysed the results, excerpted below:
The turn round in her fortunes from last year when she was being tipped to be sacked from the Cabinet is quite something. Liz is one of the increasingly rare consistently free market voices around the Cabinet table…
Rishi Sunak is down by some 10 points and moves from second to fifth place. Rishi's tax hikes have clearly taken the gloss off him with the true blue believers. 
Grant Shapps [Transport] and Priti Patel are bumping along the bottom in barely positive approval territory. Shapps has been doing fairly well with the incredibly difficult transport brief. Patel is suffering because she has failed to do the seemingly impossible – stop the cross channel migrants. Tory activists are unforgiving, they don't want excuses, they want results.
It was the turn of Rishi Sunak to address the party faithful.
A rise in council tax would not go down well. Meanwhile, protesters pelted Sir Iain Duncan Smith MP with a traffic cone:
Some at conference are disappointed with Sunak, whose budget comes up in a few weeks' time. Steve Baker MP is pictured in the second tweet:
Boris was out and about in Greater Manchester. He spoke to an interviewer about policing and said that the Government needs to change its culture, which has become misogynistic, particularly in light of the Sarah Everard murder earlier this year, committed by … a policeman, who recently received a life sentence.
In other news, Justice Secretary Dominic Raab plans to reform UK human rights legislation and do away with the ties to EU human rights legislation we are still under.
With regard to the Labour mystery, Manchester's mayor, Andy Burnham, had a conversation with Levelling Up minister Michael Gove, whom he had praised the day before. The Mail reported that Burnham was also due to address Conservatives at a fringe event sponsored by Transport for the North the following day. Hmm.
The cervix question that appeared at Labour's conference was also brought up with Conservatives. Dominic Raab responded by bringing up both misogyny and misandry in a highly confused way (video):
Two MPs decided to have a bit of fun with the issue as they drove to Manchester together:
Guido recapped their amusing exchange:
Health-conscious Conservative MPs Marco Longhi and Lee Anderson don't want to fanny about when it comes to their well-being. Marco, according to their road-trip video, made sure to receive a cervix exam before heading to conference this week. Always better to be safe than sorry…
Why is it that no one ever asks if women have a prostate gland?
On the subject of health, Desmond Swayne told Julia Hartley-Brewer why he is firmly against vaccine passports:
Lord Frost (pictured on the right) threatened the EU over the post-Brexit trade issues with Northern Ireland. Outside of the conference, pig farmers protested over the inability to get their stock to market. Boris had said that government cannot solve every issue, referring to the supply chain problem. He also told British businesses to hike staff salaries, which did not go down well, either:
I think they should give the meat away. A lot of poor families would appreciate it.
Tuesday, October 5
Boris began the day with an interview to LBC's Nick Ferrari. Extinction Rebellion offshoot Insulate Britain had blocked some of Britain's roads for the ninth consecutive day.
Despite injunctions from Priti Patel's Home Office, their human blockades continue.
Boris told Ferrari they are 'irresponsible crusties' (video). The question remains whether Extinction Rebellion gets any Government funding:
Dominic Raab confirmed in his speech that he would be reform the Human Rights Act to free it from EU hackles.
Guido's post includes a quote and this summary:
They will detach it from the ECHR, enabling quicker deportations of convicted criminals and swifter action on domestic abusers …
Raab's successor at the Foreign Office, Liz Truss, confirmed a trip to India later this month, ahead of COP26 in Glasgow in November.
Guido had a chat with her:
Among other topics, the foreign secretary confided in Guido she was finding the new department's mandarins to be "a bit 'Yes, Minister'"…
Rishi Sunak addressed the Northern Powerhouse Leaders' Lunch.
Guido says:
Sunak claimed that there is a "new age of optimism" in the north thanks to Red Wall Tories, and heaped them with praise for "helping to change our party and change our country". "In me, you have a Chancellor who is going to be with you every step of the way," he added.
See? I told you these speeches were content-free.
Later in the day, he appeared at a fringe event where he was asked about the cost of Net Zero. This was his alarming answer:
Health Secretary Sajid Javid promised another reform of the NHS, which mostly involves digitisation. I can think of more pressing NHS concerns and agree with Guido:
… pouring in taxpayers' money without checking how it's being spent isn't enough. That cash needs to be put to good use. Reviewing the eye-watering pay packets of some NHS diversity managers would be a start…
The Telegraph's Christopher Hope interviewed Oliver Dowden, who is thinking about resurrecting the singing of the National Anthem at conference, calling it a 'splendid idea'.
Hope also took the opportunity to present Dowden with a 'Tory Scum' badge, which he put on and said he would wear for the duration of the interview. Hope suggested he wear it until the end of conference.
This video shows the badge exchange. Hope gives us more information on the aforementioned Vermin Club:
Guido says that the badges were most popular. Dehenna Davison had to order more:
Many conference-goers have spent the last couple of days asking Davison for one of her badges, only to be disappointed upon being told she'd run out. Good news however, after Davison put in an emergency order for 400 more given their popularity…
The most outrageous session of the day — and a British first — was an address by the Prime Minister's wife to Party faithful. No Prime Minister's spouse — we've had two husbands in that role — has ever made a party political address until now:
Never mind the subject matter: was it the right thing for Carrie Johnson to do — even if she is a very good public speaker? Boris watched from a distance.
Polling stable
I'll review Boris's closing speech in tomorrow's post.
Post-conference polling is stable. YouGov's was taken on Tuesday and Wednesday:
Sir Desmond Swayne explained to Julia Hartley-Brewer that Boris's popularity and the lack of ideas from the Opposition have buoyed the Conservatives:
What Government should do next
Health Secretary Sajid Javid needs to keep a gimlet eye on NHS spending, especially on things like this:
Guido says:
The NHS is recruiting a supplier to deliver "compassionate conversations training" to 14,000 front facing NHS staff in a publicly funded contract worth a mind-boggling £3 million. The contract tender, which was published yesterday and closes on 5 November 2021, says the aim is to equip NHS staff with "the skills they need to handle challenging situations with compassion whilst ensuring they feel able to look after their own wellbeing if needed". Guido assumed that doctors were already taught about the importance of a good bedside manner…
It's almost ludicrous to think that this weekend Javid promised a forensic review of the NHS's management and leadership whilst the NHS continues to recklessly splash cash on diversity roles. Just six months ago Guido revealed that the NHS was hiring eight more 'diversity, equality and inclusion managers' across the country, with salaries up to as much as a whopping £62,000. If Javid is going to cut down those waiting list times he needs to focus taxpayers' money on the clinical front line, not nonsense make-work contracts and diversity roles…
Guido says it is also time for Boris to reconsider the current Government moratorium on fracking:
If Boris wants to energise Britain, domestic gas production should be part of that mix; it would provide energy security when Britain's energy needs are being threatened by the Russians and the the French. Boris is now in a position to do something glorious, to stop pussy-footing around and leave no stone unturned or unfracked. So get on with it…
This is what Boris had to say on the subject while he was Mayor of London:
I won't be holding my breath on either of those propositions.
Tomorrow: Boris's keynote speech
On Thursday, September 9, the Scottish parliament voted in a motion to implement vaccine passports for the nation, beginning October 1:
Patrick Harvie's Greens, who are in a new alliance with the governing SNP, changed their minds about vaccine passports and decided to vote in favour of them:
Some of the MSPs lost their internet connection during the vote. That does not matter, because they, along with MSPs voting from home, can let the moderator know and she will allow them to cast their vote in person or over the telephone. Those votes are broadcast in the chamber.
The incident gives me a chance to show you the interior of Holyrood, where MSPs meet:
The day before the Holyrood vote, MPs in Westminster debated the implemention vaccine passports for England.
Nadhim Zahawi, the vaccines minister, gave a statement about the plans. It did not go well for him.
MPs — including his fellow Conservatives — quoted his previous statements in which he said the passports would not be implemented domestically.
William Wragg (Con), a member of the awkward squad of backbenchers, chided Zahawi (emphases mine):
What a load of rubbish. I do not believe that my hon. Friend believes a word he just uttered, because I remember him stating very persuasively my position, which we shared at the time, that this measure would be discriminatory. Yet he is sent to the Dispatch Box to defend the indefensible. We in this House seem prepared to have a needless fight over this issue. It is completely unnecessary. We all agree that people should be encouraged to have the vaccine, and I again encourage everybody to do so, but to go down this route, which is overtly discriminatory, will be utterly damaging to the fabric of society.
Zahawi replied:
I am grateful to my hon. Friend, who has made his view clear to me on many occasions. It pains me to have to take a step like this, which we do not take lightly, but the flipside to that is that if we do not and the virus causes super-spreader events in nightclubs and I have to stand at the Dispatch Box and announce to the House that we have to close the sector, that would be much more painful to me.
Mark Harper, another Conservative who has opposed coronavirus restrictions, voiced his disapproval:
I have to say that I agree with the Chairman of the Public Administration and Constitutional Affairs Committee, my hon. Friend the Member for Hazel Grove (Mr Wragg). The Minister set out earlier this year that this policy was discriminatory. He was right then and that remains the case. It is a discriminatory policy. The vaccines are fantastically effective at reducing hospitalisation and death. They are very much less effective in reducing transmission of the Delta variant. This is a pointless policy with damaging effects. I am afraid that the Minister is picking an unnecessary fight with his own colleagues. I say to him that the Government should think again. The Leader of the House has been clear that we do not believe—the Government do not believe—that this policy is necessary for us to meet here in a crowded place. Let us not have one rule for Members of Parliament and another rule for everybody else. Drop this policy.
Zahawi replied, saying he hoped the vaccine passports would be temporary:
This is not something that we enter into lightly, but it is part of our armoury to help us transition over the winter months from pandemic to endemic status. I hope to be able to stand at this Dispatch Box very soon after that and be able to share with the House that we do not need to do this any more as we will be dealing with the virus through an annual vaccination programme.
An SNP MP hoped there would be proportionality:
I pay tribute to all those involved in the vaccination programme. It has been extraordinary. In Scotland, we have 4.1 million adults with a first dose and almost 4 million with a second dose, which means that north of 90% of all adults have had at least one dose. It is a fantastic result across the UK since last December, but the pandemic is not over. Lives are still at risk and the pressures on the NHS are very real, so we in Scotland are introducing a vaccine passport, but, broadly, it will be limited to nightclubs, outdoor standing events with more than 4,000 people and any event with more than 10,000 people. While the rules in England may be slightly different, I hope that they are as proportionate as that.
Zahawi said that more details would be forthcoming.
Zahawi's voice faltered several times during the debate:
It pains me to have to stand at the Dispatch Box and implement something that goes against the DNA of this Minister and his Prime Minister, but we are living through difficult and unprecedented times. As one of the major economies of the world, our four nations have done an incredible job of implementing the vaccination programme. This is a precautionary measure to ensure that we can sustainably maintain the opening of all sectors of the economy.
A Liberal Democrat MP, Munira Wilson, picked up on Zahawi's delivery:
I almost feel sorry for the Minister because he really is struggling to defend this policy. However, he has failed to answer the fundamental question posed by my right hon. Friend the Member for Orkney and Shetland (Mr Carmichael) about this deeply illiberal, discriminatory and unnecessary policy: will this House get a vote on the implementation of covid vaccine passports—yes or no?
Zahawi answered:
There will be appropriate parliamentary scrutiny, as I have said today and in the past.
Not one MP approved of the proposed policy measure in the debate.
On Friday, September 10, news emerged that, if implemented, vaccine passports could open the way for sweeping powers. They could eventually become a national ID 'card'. The Telegraph's Madeline Grant tweeted:
The Telegraph's news that day cited an article from The Sun saying that we might have to have a vaccine passport to go to the pub:
Britons could be required to show vaccine passports at more businesses, the Culture Secretary has suggested amid reports the Prime Minister is preparing to unleash a "toolbox" of contingency measures. 
The Government is set to push ahead with mandatory Covid certification for nightclubs at the end of the month.
But The Sun reports that this will be widened to include other venues such as stadiums and pubs, which will be announced next week by Boris Johnson as part of plans to control the virus through the autumn and winter. 
Oliver Dowden told Sky News: "We will be looking at bringing in certification for nightclubs at end of the month.
"If there is a need to further extend that certification according to the public health need, we will look at doing so but we're always reluctant to impose more restrictions on businesses unless we really need to."
However, having voted in the unpopular increase in National Insurance contributions and the poll result showing a Labour lead for the first time since January, the Government reconsidered their stance on vaccine passports.
On Sunday, September 12, Health Secretary Sajid Javid appeared on the BBC's Andrew Marr Show to say that vaccine passports in England will not be going ahead. I would add 'for now', because this Government is on a right merry-go-round with regard to coronavirus policies:
Mark Harper MP welcomed the news:
Even Public Health England (PHE) statistics show two inoculations (I use the term advisedly) offer little protection:
TalkRADIO's Julia Hartley-Brewer points out that vaccine passports cannot save lives and are discriminatory:
Yet, Scotland's First Minister Nicola Sturgeon insists the decision to implement them north of the border is the right thing to do:
However, one of Scotland's coronavirus advisers, behavioural psychologist Stephen Reicher implied that England, not Scotland, made the right decision:
Guido Fawkes has a quote from Reicher (emphases in the original):
They are a double edged sword. Passports accelerate uptake in the willing but accentuate opposition in the sceptical. They increase safety but can increase complacency.
Quite a departure from Sturgeon's claim that they "have part to play". At least she insisted they were "a very limited scheme"…
Scotland could still backtrack on vaccine passports, as their September 9 vote was on a motion only, not legislation:
It is good to see that politicians are taking note of the public mood — for once.
Freedom Day — Monday, July 19 — in England is turning out to be a damp squib with the exception of nightclubs — for now.
Everyone's preoccupation now is vaccine passports, which France is already rolling out with a grace period of six weeks.
Here in England, vaccine passports are likely to be rolled out in September not only for nightclubs and music venues but anywhere else that can be deemed as a 'crowded space'.
Julia Hartley-Brewer interviewed the owner of a group of entertainment venues, who said that this is a 'very dangerous step' for the Government to take:
She also interviewed a spokesman for the Night Time Industries Association who says that random security guards will be checking people's health status, something that should be private information:
It is the thin end of a very nasty wedge, indeed.
Oxford's Prof Carl Heneghan rightly wonders if he will need a vaccine passport if he takes the Tube in London:
Here's Julia Hartley-Brewer's opening editorial on the danger such a policy presents:
She interviewed the Conservative MP, Sir Iain Duncan Smith. He is not one of my favourite politicians by a long shot, but he gave a considered 10-minute interview and said that we need a balance of risk, otherwise we could end up like China, where you cannot leave the house without the government knowing about it:
Lord Sumption wrote an editorial for The Telegraph on Monday. He says that Prime Minister Boris Johnson has no coronavirus plan:
We are squandering our vaccination success, which is the best in Europe. Lord Sumption concludes:
Vaccination is an impressive achievement. It represents the best that humanity can do about Covid. If it is not enough, then there are only two options. One is to impose total and permanent restrictions on human interaction, something which even governments realise is impossible. The other is to recognise defeat and allow their populations to live with Covid-19 – just as humanity had learned to live with worse pathogens for centuries before governments embarked on their current unprecedented and ill-advised experiment.
Bob Moran, a cartoonist for The Telegraph, has been concerned about coronavirus restrictions for a long time.
On Monday, July 12, he tweeted:
He had quite the Twitter thread on Tuesday. Politicians, he says, do not like solving difficult problems:
Yes, but Labour MPs, except for a handful, have actually voted with the Government on continuing coronavirus restrictions.
Moran has no love for Labour leader Sir Keir 'Keith' Starmer, either:
Bob Moran is genuinely concerned about what is happening:
Also:
If only we could remove the boot on our collective necks.
The next discussion point in England will be vaccinations for children. Even other conservatives, such as James Delingpole, are sounding the alarm:
I have no words for how awful this is.
Although I'm writing about England, Scotland and Wales are no better with their restrictions. I despair.