You are currently browsing the tag archive for the 'Julia Hartley-Brewer' tag.
Freedom Day — Monday, July 19 — in England is turning out to be a damp squib with the exception of nightclubs — for now.
Everyone's preoccupation now is vaccine passports, which France is already rolling out with a grace period of six weeks.
Here in England, vaccine passports are likely to be rolled out in September not only for nightclubs and music venues but anywhere else that can be deemed as a 'crowded space'.
Julia Hartley-Brewer interviewed the owner of a group of entertainment venues, who said that this is a 'very dangerous step' for the Government to take:
She also interviewed a spokesman for the Night Time Industries Association who says that random security guards will be checking people's health status, something that should be private information:
It is the thin end of a very nasty wedge, indeed.
Oxford's Prof Carl Heneghan rightly wonders if he will need a vaccine passport if he takes the Tube in London:
Here's Julia Hartley-Brewer's opening editorial on the danger such a policy presents:
She interviewed the Conservative MP, Sir Iain Duncan Smith. He is not one of my favourite politicians by a long shot, but he gave a considered 10-minute interview and said that we need a balance of risk, otherwise we could end up like China, where you cannot leave the house without the government knowing about it:
Lord Sumption wrote an editorial for The Telegraph on Monday. He says that Prime Minister Boris Johnson has no coronavirus plan:
We are squandering our vaccination success, which is the best in Europe. Lord Sumption concludes:
Vaccination is an impressive achievement. It represents the best that humanity can do about Covid. If it is not enough, then there are only two options. One is to impose total and permanent restrictions on human interaction, something which even governments realise is impossible. The other is to recognise defeat and allow their populations to live with Covid-19 – just as humanity had learned to live with worse pathogens for centuries before governments embarked on their current unprecedented and ill-advised experiment.
Bob Moran, a cartoonist for The Telegraph, has been concerned about coronavirus restrictions for a long time.
On Monday, July 12, he tweeted:
He had quite the Twitter thread on Tuesday. Politicians, he says, do not like solving difficult problems:
Yes, but Labour MPs, except for a handful, have actually voted with the Government on continuing coronavirus restrictions.
Moran has no love for Labour leader Sir Keir 'Keith' Starmer, either:
Bob Moran is genuinely concerned about what is happening:
Also:
If only we could remove the boot on our collective necks.
The next discussion point in England will be vaccinations for children. Even other conservatives, such as James Delingpole, are sounding the alarm:
I have no words for how awful this is.
Although I'm writing about England, Scotland and Wales are no better with their restrictions. I despair.
Matt Hancock, Secretary of State for Health and Social Care, could well experience the worst weekend of his life.
The Queen has her say
On Thursday, June 24, The Times featured an article on its front page about Prime Minister Boris Johnson meeting the Queen in person for their weekly meeting for the first time since lockdown in March 2020.
It says (emphases mine):
Matt Hancock has had a difficult few weeks. And while his line manager may have contributed to his woes, his ultimate boss has seemingly taken pity on him.
The Queen told Boris Johnson, at their first in-person meeting in 15 months: "I've just been talking to your secretary of state for health — poor man. He came to privy council. He's full of . . ."
"Full of beans!" the prime minister interjected, in the clip filmed by broadcasters in the private audience room at Buckingham Palace yesterday.
"He thinks that things are getting better," said the Queen, to which Johnson responded: "They are."
… In a 1992 documentary to mark her 40th year on the throne she said that by meeting prime ministers she helped to take a weight off their shoulders. "They unburden themselves or tell me what is going on . . . and sometimes I can help in some way as well," she said.
The media were allowed to film the first few minutes of their meeting. This was shown on BBC Breakfast:
It's telling that the Queen chose to say that on camera.
Hancock's affair
On Friday, The Sun featured a worldwide exclusive featuring Hancock, husband and father of three:
Normally, I would not comment on extramarital affairs, however, Hancock has left us in lockdown for 16 months and counting. Yet, here he is violating his own rules. For thee, but not for me.
The Sun's political editor Harry Cole broke the story:
Excerpts from Cole's article follow:
He cheated on his wife with Gina Coladangelo, 43, who he hired last year with taxpayers' money, as Covid gripped Britain.
Mr Hancock, 42, and millionaire lobbyist Gina were caught on camera in a steamy clinch at his Whitehall office.
Whistleblowers revealed the Health Secretary had been ­spotted cheating on his wife of 15 years with married Ms ­Coladangelo.
He was seen kissing her at the Department of Health's London HQ during office hours last month as the mutant strain began spreading.
And today, Mr Hancock apologised for his actions, saying: "I accept that I breached the social distancing guidance in these circumstances.
"I have let people down and am very sorry.
Is Hancock going to resign? No, he is not:
I remain focused on working to get the country out of this pandemic, and would be grateful for privacy for my family on this personal matter.
There should be no mercy shown for this egregious hypocrisy.
A year ago, Prof Neil 'Dodgy Modelling' Ferguson entertained his mistress, who travelled across London to spend an afternoon with him at the height of the pandemic. Ferguson resigned from SAGE, although he has been readmitted as a member.
At the time of Ferguson's resignation, Hancock said that it was the right thing to do:
Guido Fawkes has the dialogue from Hancock's interview with Kay Burley of Sky News. She, too, was a coronavirus restrictions violator and was suspended from Sky News for several months:
Matt Hancock: "I think he took the right decision to resign"
Kay Burley: "You wouldn't have fought to keep him?"
Hancock: "That's just not possible in these circumstances"
Guido also said that Hancock supported a police investigation:
Guido notes that when government Covid advisor Neil Ferguson broke the government's social distancing rules to hook up at the start of lockdown, Hancock said he was both right to resign, and backed any police action necessary.
Returning to Harry Cole's article:
Last night, a friend of the Health Secretary said: "He has no comment on personal matters. No rules have been broken."
Mr Hancock was pictured embracing his aide. The image was from just after 3pm on May 6 — as the rest of Westminster was engrossed by the local elections.
We did not yet have a relaxation on hugging at that time. That happened 13 days later.
A whistleblower tipped off Cole. Hancock:
is seen in his distinctive ninth-floor office inside the sprawling Department of Health building, which is a stone's throw from the Houses of Parliament.
During the pandemic, the office has provided the backdrop to his Zoom appearances on TV — including the Andrew Marr Show.
Mr Hancock is seen checking the corridor is clear before closing the door and then leaning on it to ensure he cannot be disturbed.
Ms Coladangelo then walks towards him and the pair begin their passionate embrace.
According to a whistleblower, who used to work at the department, the pair have regularly been caught in clinches together.
The source said: "They have tried to keep it a secret but everyone knows what goes on inside a building like that …
"I'm just amazed he was so brazen about it as he was the Secretary of State.
"It has also shocked people because he put her in such an important, publicly-funded role and this is what they get up to in office hours when everyone else is working hard."
The office where the tryst happened is where Mr Hancock famously hangs his Damien Hirst portrait of the Queen.
Unfortunately, the Government is defending Hancock:
The lunchtime press briefing on Friday indicated that Boris:
considers the matter closed.
By the way, Hancock has an Instagram account. This was one of his posts:
You couldn't make it up:
One wonders if this woman has any involvement in keeping us in restrictions:
It also emerged she had accompanied Mr Hancock to confidential meetings with civil servants and visited No10. Sunday Times sources revealed at the time: "Before Matt does anything big, he'll speak to Gina. She knows everything."
She began working for the Department of Health and Social Care (DHSC) in September 2020:
In September, Mr Hancock appointed her as a non-executive director at DHSC, making her a powerful member of the department's oversight board.
It hit the headlines as there was no public record of the appointment, which was set to see her earn at least £15,000 of taxpayers' money, potentially rising by a further £5,000.
The role makes her responsible for "overseeing and monitoring performance" — in effect, scrutinising matters of concern to Mr Hancock.
A DHSC spokesman said the appointment was "made in the usual way and followed correct procedure".
It is also understood that since April, she has had a parliamentary pass, giving her unregulated access to the Palace of Westminster.
It bears her husband's surname, which she does not use professionally, and is sponsored by Lord Bethell, the hereditary peer, health minister and former lobbyist.
I am sorry to read about Lord Bethell's involvement. Until now, I respected him. I hope the House of Lords asks questions of him next week.
However, she also worked for Hancock in the early stages of the pandemic:
Mr Hancock secretly appointed her to his department as an unpaid adviser on a six-month contract in March last year.
It appears that, six months later, her appointment became official.
Both the woman and Hancock studied together at Oxford, where they read PPE (Philosophy, Politics and Economics):
The pair first met at Oxford University in the early 2000s but Mr Hancock went on to wed Martha Hoyer Millar in 2006.
Chumocracy
There is an interesting history behind the associations Hancock has in this affair.
Many call it 'chumocracy'.
Hancock
This is a biography from Hancock's website:
Before entering politics he worked as an economist at the Bank of England, and for his family tech industry.
Matt is married to Martha and has three young children. He is the first MP in modern times to win a horse race, having raced to victory at the Newmarket July Course in August 2012. He is an avid cricketer and plays for the Lords & Commons Cricket team. Matt once played the most northerly game of cricket on record, and succumbed to frostbite en route to the Pole. He retains all his fingers.
He certainly has retained all of his fingers.
A lengthy article in the Daily Mail tells us about his formative years:
Mr Hancock was born in Chester where he went to the exclusive private school the King's School.
He did his A-levels in maths, physics, computing and economics before doing computing at West Cheshire College.
Like numerous Conservative MPs before him, he studied PPE at Exeter College, Oxford – where he graduated with a first.
It was at the elite university that he realised he had dyslexia, which he only opened up about in recent years.
He later did an MPhil in economics at Christ's College, Cambridge, before turning to politics in 1999 when he joined the Tories.
Hancock's woman and her husband
The Sun's article says:
Mother-of-three Ms Coladangelo is communications director at Oliver Bonas, the fashion and lifestyle store founded by her husband Oliver Tress.
She is also a director and major shareholder at lobbying firm Luther Pendragon, which offers clients a "deep understanding of the mechanics of government".
The Daily Mail has more:
Mr Bonas opened his first store on London's Fulham Road in 1993 with handbags and jewellery he had brought from Hong Kong where his parents lived.
Speaking to the Independent in September 2015, he said: 'I'd been bringing presents back for friends and they were really popular so I thought, 'I wonder if I can make a go of this?' And to my amazement it just worked.' Bonas was the surname of his then girlfriend Anna Bonas, who is the cousin of Prince Harry's former girlfriend Cressida Bonas, and he told how 'she very kindly hasn't demanded that I changed it'.
Hancock's wife
Mrs Hancock's family history is one of privilege:
Mrs Hancock works as an osteopath and is believed to practice at a clinic in Notting Hill, West London.
She is the granddaughter of Frederick Millar, 1st Baron Inchyra – a British diplomat and Ambassador to West Germany.
Mrs Hancock is also the great granddaughter of the 1st Viscount Camrose, a Welsh newspaper publisher.
Her father, Alastair Millar, was Secretary of The Pilgrim Trust between 1980 and 1996.
The trust is responsible for supplying grants, predominately to preservation projects for historically significant buildings or artifacts. Nowadays, around £2million is divvied out by the trust each year.
Conclusion
Matt Hancock has annoyed me greatly for the past 16 months.
This parody of his testing regime is not far from the truth: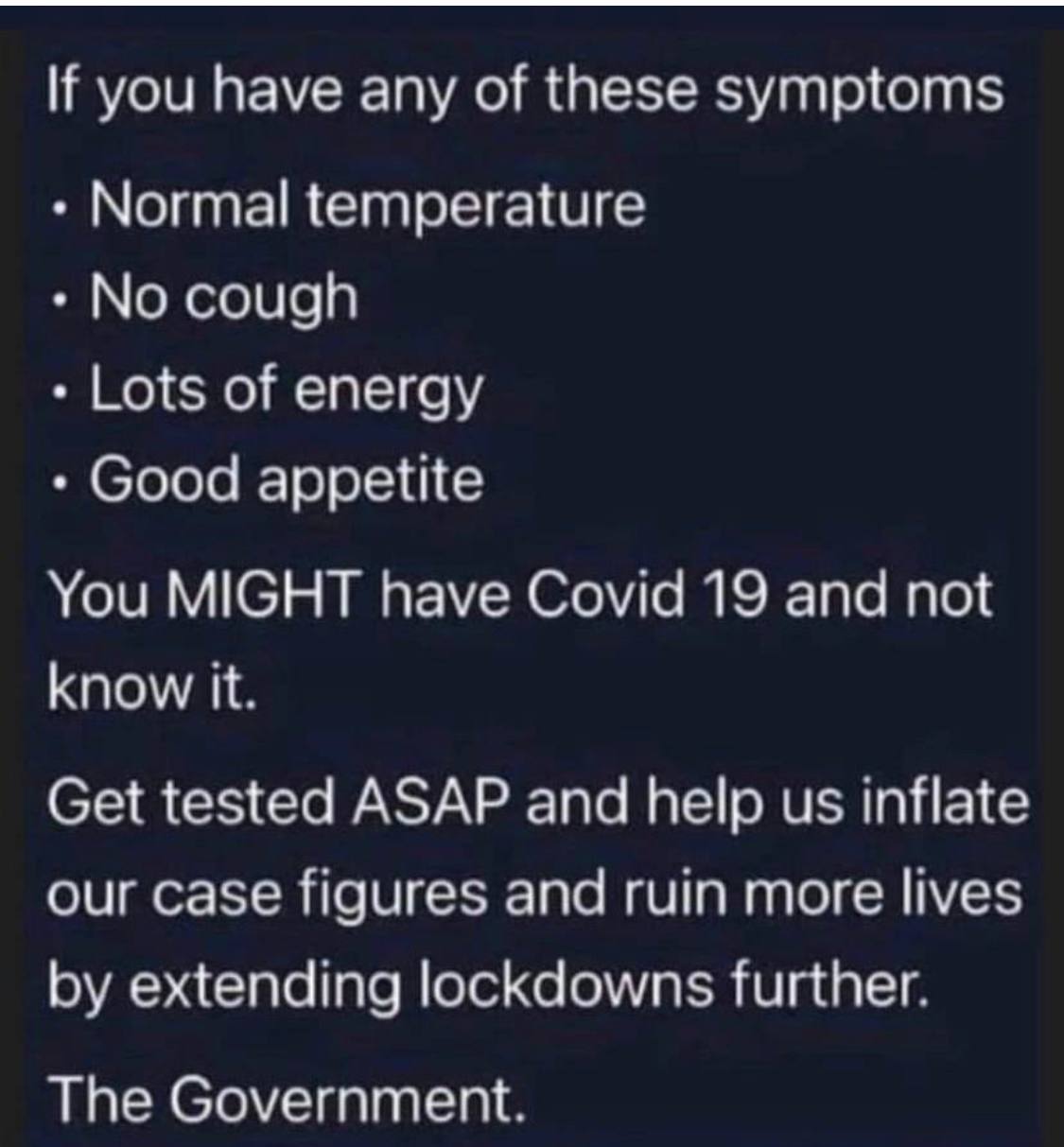 In England, we have lost billions of days of our normal lives:
This was the daily death total for June 23, 2021 (Chief Medical Officer Prof Chris Whitty is pictured):
Here are the death statistics from the past 16 months. Note that most coronavirus deaths are not 'from' the virus but 'with' it:
1. Heart Disease 205,000 (0.31% of the population)
2. Cancer 182,000 (0.25%)
3. Covid 128,000 (0.18%)
4. Dementia 82,000 (0.12%)
5. Stroke 46,000 (0.07%)
6. Diabetes 32,000 (0.05%)
An article on Reaction — 'Hypocritical Hancock: Don't hug your granny but you can hug Gina' — makes the following points about the Secretary of State's affair:
We don't know if anyone was taking morality lessons from Hancock back in September. But the question raises itself once again – is it one rule for you, Matt Hancock, and another for everyone else?
The government has been using its draconian Covid social distancing and travel restrictions to restrict and police morality. While the public may well overlook his private relationships as none of their business, voters are unlikely to stomach hypocrisy.
Number 10 is, so far, silent on the Hancock scandal. The Prime Minister hates morality plays and the invasion of private lives. That's not what this is about though. It's about a leading figure in the government imposing extraordinary restrictions on the rest of us while carrying on inside the Department of Health.
I look forward to an Urgent Question or two in the House of Commons next week.
On Monday, June 14, Prime Minister Boris Johnson postponed Freedom Day from Monday, June 21 to Monday, July 19.
Quelle surprise!
Although the data for hospitalisations and deaths look better than ever thanks to the vaccine rollout, SAGE modelling shows that if figures of cases — positive tests — continue to increase 'exponentially', then we could be in for a big problem:
However, the reality is more like this:
Incredibly, Britons support the delay:
Protest at Downing Street
Earlier in the afternoon, when it became clear that Boris was going to delay England's reopening, a protest took place outside of Downing Street.
The BBC's Nick Watt got caught up in it on his way to the mid-afternoon press briefing for journalists. I have no idea why the crowd harassed him, but the Metropolitan Police did not seem bothered:
Coronavirus briefing
Boris held his televised coronavirus briefing at 6 p.m.
Boris should have had Matt Hancock, Secretary of State for Health and Social Care, go to Parliament first to make this announcement, then give his press conference. Hancock poled up in the House of Commons two hours after Boris's press conference. More on that below.
At the coronavirus briefing, Boris was accompanied by Sir Patrick Vallance and Prof Chris Whitty. Here are the highlights:
Sure, just as he announced June 21 would be a few months ago. I'll believe it when I see it.
Some restrictions have been lifted for weddings and funerals:
The delay is partly because of the Delta variant from India:
Sure thing, Chris. By July, there could be another variant:
Even though Boris is trying to keep us hopeful, there is no way we would open in two weeks' time instead of four:
This is because — as has been explained at previous coronavirus briefings — it takes four weeks for a full cycle of effects to complete before a decision can be made: cases, hospitalisations, deaths.
Keep in mind that our vaccination programme has been wildly successful. The elderly and vulnerable have had their second shot and 18-24 year olds are now invited to get their first inoculation.
The vaccines used thus far — AstraZeneca and Pfizer — are said to be highly effective against the virus, especially after two injections:
One of the three men said that we would have to 'learn to live with this virus'. We know that, fellas, so open up.
We know that people are going to die, just as they do from flu:
That's exactly what they said in April.
Labour are quite happy with an extension of restrictions. No surprise there:
Matt Hancock's statement in the House of Commons
Matt Hancock announced the delay in the Commons that evening at 8:30.
Once again, the Government evaded going to Parliament first, followed by the media and public.
The Speaker, Sir Lindsay Hoyle, was not happy. This is not the first time Hoyle has reprimanded Hancock:
Sir Lindsay said that he is ready to arrange a private meeting with the Prime Minister to discuss these continuing evasions of Parliament:
Hancock said:
That tweet is spot on. In March 2020, it was about 'squashing the sombrero' of hospital admissions, as Boris put it.
Then we had the rest of the list in that tweet.
Now it seems to be about zero COVID.
That's quite a leap.
Hancock's statement and the subsequent debate are available on Hansard. Excerpts follow. All MPs below are Conservative.
Jeremy Hunt MP, the chair of the Health and Social Care Committee and former Health Secretary, said (emphases mine):
May I start by saying that I totally agree with your expression of disappointment, Mr Speaker, that in a parliamentary democracy Parliament heard about this news after the media, and much as I respect my right hon. Friend it should be the Prime Minister who is here this evening?
I happen to support these measures and the caution the Government are showing, but may I suggest to my right hon. Friend that one of the reasons for the disappointment many people feel is the use of words like "irreversible"? Tonight, Sir Patrick Vallance said that we will be living with covid for the rest of our lives. If there is a vaccine-busting variant that threatens another 100,000 lives, these measures will not be irreversible, and we have a duty to be completely honest with people about the bumpiness of the road ahead. So may I urge the Health Secretary to be as cautious with the language we use as he rightly is with NHS bed capacity?
Mark Harper is one of the few MPs who wants England to open up now. He said:
Before I ask the Secretary of State my question, I should just say—as a former Government Chief Whip, it does not give me any great pleasure to do so—that I wholly associate myself with your remarks earlier, Mr Speaker. This statement should have been made to this House by the Prime Minister before it was made to the media. I hope that we do not see a recurrence of it and I wish you well in your meeting with him.
The Secretary of State has set out that it is not the Government's policy to get to zero covid—indeed, that is not possible. Can he say whether it is the Government's policy to maintain a low prevalence of this virus? If it is not, can he confirm the Prime Minister's sentiments today that 19 July is a terminus date, and can he rule out bringing back restrictions in the autumn and winter when we see an inevitable rise in what is a respiratory virus?
Hancock replied:
Well, it is not inevitable—I do not think it is inevitable. It may happen, but it is not inevitable because we also have the planned booster programme to strengthen further the vaccination response. But it is absolutely clear, based on all the clinical advice that I have seen, that a goal of eradication of this virus is impossible. Indeed, there is one part of this country that tried it for a bit in the summer and found it to be impossible. Therefore, we must learn to live with this virus and we must learn how we can live our normal lives with this virus, so I reflect the Prime Minister's words, which, of course, I concur with entirely, on 19 July. Our goal is to make sure that we get as much vaccination done between now and then—especially those second doses—to make sure that we can open up safely, even if there is a rise in cases, by protecting people from hospitalisation and especially from dying of this awful disease.
Steve Brine was, rightly, unhappy:
Last week, the Secretary of State told me:
"Our goal…is not a covid-free world…the goal is to live with covid".—[Official Report, 7 June 2021; Vol. 696, c. 678.]
Well, you could have fooled me, and many of our constituents. There is dismay out there tonight. The reopening of the wedding industry is not a meaningful reopening and I think it is cruel the way some are being misled. The Prime Minister and my right hon. Friend have been very clear today that 19 July is not a new "not before" date but an end to all this, so will the Secretary of State tell the country his assessment of risk and personal responsibility and whether he feels that as a country we remotely have that right at this time?
Hancock replied (in part):
Once we have the offer of a vaccine to everybody, and once we have protected and mitigated the large part of that risk, we do need to move back to a world based on personal responsibility. That is right, and that is where we intend to go. I think that we have made steps already in that direction in steps 1, 2 and 3. This country is freer than almost any other in Europe in terms of our economy and of our society. That is partly because of the very rapid vaccination effort here, but I hope that my hon. Friend can take from that the direction we intend to go.
Peter Bone made excellent points on the Government's disrespect for the Commons:
I am sure, Mr Speaker, that the Secretary of State for Health heard what you said at the beginning of this statement. May I ask the Secretary of State how we got ourselves into this position? He has been very good at coming to the House and making statements on covid, but on the biggest, most important day, the press were given an embargoed statement at 3 o'clock and the Prime Minister had a big showy press conference at 6, yet he could not be bothered to turn up until 8.30. This is a clear breach of the ministerial code. How did it happen? Who thought it was a good idea, and who actually broke the ministerial code?
Hancock had little to say in response but said he would continue answering questions.
Sir Geoffrey Clifton-Brown asked on what basis the decision to delay was made. Hancock said:
… Central to the judgment today is the fact that we are seeing a rise in hospitalisations, especially over the past week, and especially among those who are unvaccinated or have just had a single jab. Those people are not largely those who are unvaccinated out of choice; it is those who are unvaccinated because they have not yet had the opportunity because they are younger.
Until about a week ago, hospitalisations were basically flat. We thought that the link might have been completely broken between cases and hospitalisations or that it might be a lag. Sadly, hospitalisations then started to rise. For deaths, we have not yet seen that rise, which I am very pleased about; hopefully they will never rise, in which case the future will be much easier. It may still be that there is an element of it that is a lag, and we will be looking out for that very carefully over the couple of weeks ahead, but nevertheless our goal is to get those vaccines done in the five weeks between now and 19 July in order to make sure that this country is safe. I will commit to publishing anything further that we can that underpinned the decision, but I can honestly say to my hon. Friend that most of it is already in the public domain.
The morning after with talkRADIO's Julia Hartley-Brewer and guests
On Tuesday, June 15, Israel ditched its mask mandate:
They vaccinated quicker than the UK, which they could do as a much smaller country:
TalkRADIO's Julia Hartley-Brewer interviewed three interesting guests, whose videos are all worth watching.
Clearly frustrated by this delay, she asked her audience about their mood:
She opened her show with an editorial on selfishness, because many people say that her civil liberties stance is 'selfish'. She turned the tables on her accusers:
She interviewed David Paton, the Professor of Industrial Economics Nottingham University Business School. He has been running his own models and studying the national statistics since the early days of the pandemic last year.
This is his take. He observes that we are doing much better than SAGE models suggest:
He also told Julia that we are doing much better than the SAGE models purport:
Next up was Hugh Osmond, the founder of the Punch Taverns chain. He said that the medical experts wanted to remove all joy from our lives. He also pointed out that hundreds of pubs have closed because of the government's handling of the pandemic and that if the pub summer season is short this year, hundreds more will go to the wall by the end of 2021:
Julia's next guest was Mark Harper MP, chairman of the parliamentary Covid Recovery Group, quoted in the aforementioned Hansard excerpt. I agree with him in that these restrictions might never end:
He cannot understand why the Government is not more positive about the success of the vaccine rollout. He also discussed the negative fear-mongering from the media. Note the reply tweet which is spot on re the G7 get-togethers:
Julia's third guest in her coronavirus segment was barrister Francis Hoar, who has been anti-lockdown from the start:
Before his interview, he reiterated his concern about increased government control via a (Chinese style) social credit system:
He also retweeted the following:
This appears to be a quote from Sir Charles Walker MP (Conservative), who is also against lockdowns:
It is hard to disagree with him as the Government keeps moving the goalposts:
Francis Hoar told Julia Hartley-Brewer that Boris looked as if he had been taken hostage at last night's coronavirus briefing and that he is deeply concerned about the future of young people today because of continuing restrictions. He is very much a supporter of having our personal freedoms restored yesterday:
Conclusion
I really do hope that England reopens on July 19. I wanted the nation to reopen on June 21.
However, if it does not, then it is unlikely to reopen until Spring 2022. That could be June 2022.
My reasoning is as follows. September is the month when schools reopen, so that is a risk factor. Then comes flu season when coronavirus will worsen. The experts and the Government will say that we shouldn't have big Christmas celebrations at home, in the pub or in a restaurant because it's just too risky. Winter is always a bad time for illness, and we don't want to overburden the NHS, so we have to wait until sometime during the springtime.
Therefore, if reopening does not take place on July 21, 2021, then the next possible date is between mid-March (after the Cheltenham Festival, likely to be a 'pilot' event) and June 2022.
I hope I am wrong. I truly do.
Weeks ago, the UK government announced that June 21 could well be Freedom Day, with confirmation coming on June 14.
This week, not surprisingly, the government and SAGE began backtracking.
Matt Hancock's testimony
Yesterday, Matt Hancock gave four and a half hours' worth of testimony to the Health and Social Care Select Committee.
Today, Friday, June 11, talkRADIO's Julia Hartley-Brewer picked up on the same lockdown point as I did in my post. They will not hesitate to use it again:
The vaccines minister Nadhim Zahawi defended Matt Hancock's claim that there was never a PPE shortage. Good grief. I watched the debates in Parliament at the time. There definitely WAS a PPE shortage (and not just in the UK):
Dominic Cummings, Prime Minister Boris Johnson's former special adviser and Matt Hancock's nemesis, surfaced as expected:
SAGE
Members of SAGE and Independent SAGE want lockdown to stay.
SPI-M is SAGE's modelling committee, the one with all the dodgy numbers:
Publican Adam Brooks makes an excellent point, although he meant to write 'without culpability'. The modellers will continue to rake in their salaries:
Here's another tweet about the dodgy data modelling — disgraceful:
To top it off, card-carrying Communist Susan Michie, a behavioural psychologist and member of SAGE's SPI-B committee, says that masks and social distancing should be with us forever:
Michie gave the interview to Channel 5 News (the Daily Mail has more):
Carl Vernon analyses it:
Now, Michie is backtracking:
On April 24, the Daily Mail posted a profile of Susan Michie by Peter Hitchens. Excerpts follow (emphases mine):
The super-rich Communist Susan Michie is so militant that her fellow Marxists once searched her baby's pram for subversive literature.
They lifted the tiny infant out of the way, to check that the future Professor of Psychology was not smuggling ultra-hardline propaganda into a crucial conference.
No wonder that fellow students at Oxford a few years before had called her 'Stalin's nanny'.
The 1984 pram-searching incident, disclosed in 2014 by a far- Left website called The Weekly Worker, is far from being the oddest thing about this interesting person.
The oddest thing about her is that she is a senior adviser to Boris Johnson's Tory Government, a regular participant in the official Sage committee and the SPI-B committee, which have had such influence over the handling of Covid.
Yet despite, or perhaps, because of being very wealthy indeed, she has been a fervent Communist since 1978, and still clings to the Hammer and Sickle long after the collapse of her creed's regimes from East Berlin to Moscow.
Her favourite place in the world is Havana, infested with secret police spies and one of the last tottering strongholds of Leninist rule.
It is quite possible to argue that Britain has undergone a revolution in the past year: a cultural revolution in which we have put health and safety above liberty in an astonishing way; a political revolution in which Parliament has become an obedient rubber-stamp and opposition has evaporated, while Ministers rule through decrees; and an economic revolution in which millions of previously independent people have become wholly dependent on the state for their wellbeing.
Perhaps, then, we should look for some revolutionaries. For what an opportunity they have been given by the Covid crisis.
Widespread fear of a mysterious plague led millions to seek safety in the arms of the state. But was this just a natural reaction, or was there any encouragement?
A now-notorious document was issued in March 2020 by Sage, called 'Options for increasing adherence to social distancing measures'. It concluded that we were not yet frightened enough.
It said: 'A substantial number of people still do not feel sufficiently personally threatened.' So we needed to be scared a bit more. It recommended: 'The perceived level of personal threat needs to be increased among those who are complacent, using hard-hitting emotional messaging.'
Well, most of us can recall such messaging. Wherever can it have come from?
The Government, supposedly led by a liberty-loving conservative, deployed intense and repeated propaganda, about the overwhelming of the NHS. It united us around a sort of worship of care workers.
It cleverly portrayed quarantine measures, from house arrest to mask-wearing, as selfless and generous, so making nonconformists and dissenters appear stupid, selfish and mean …
Susan Michie has not responded to my requests for an interview, either directly to her email or through the press office of University College London, where she works. So I cannot say whether her lifelong belief in Communism, apparently inherited from her equally militant scientist parents and shared with her ex-husband, the former Jeremy Corbyn aide Andrew Murray, has had any influence on her advice.
Hitchens says that Michie advocates a zero-COVID policy, which means we'll die in penury from permanent lockdown and be told by the state — Chinese style — when we can leave the house:
Vaccines reduce illness, and hence death rates, for all variants. Most young and healthy people are safe from Covid-19, and always have been. Most of the old are now protected from serious illness via the vaccine.
But can it overwhelm the idealists – Utopians in fact – of Zero Covid, a well-organised and active lobby who believe that the virus needs to be eliminated completely?
Susan Michie seems to be a supporter of this idea. On July 30, 2020, she tweeted: 'To get people out & about, schools back, workplaces open, economy recovering we need #ZeroCOVID.'
On February 24, perhaps recognising that Zero Covid might put some people off, she tweeted: ' 'Maximum suppression' seems to be a good way of expressing the goal of ZeroCOVID (without getting side tracked into wilful or other misinterpretation).'
Where does this desire for elimination of the virus actually lead? Many people have praised China's response to Covid. But in reality China still has Covid outbreaks, and responds to them with measures of extraordinary ruthlessness.
It has also used Covid to speed up and strengthen its worrying 'social credit' system, which puts everyone under surveillance, rewards conformity and punishes misbehaviour by denying access to the small joys of life.
Freedom is conditional, and the gift of the state and the Communist Party. In Peking, which is virtually Covid-free, citizens must use a smartphone to scan a QR code for every mode of transport. Contact-tracing is constant.
Anyone who leaves or arrives in the city must be tested. As David Rennie, Peking bureau chief of The Economist, recently observed: 'It's very hard to know where Covid containment starts and a Communist police state with an obsession with control kicks in.'
The government
The Indian variant is being used as the excuse for not reopening on Freedom Day, June 21:
Julia Hartley-Brewer has exposed the government's new zero-COVID strategy:
It is thought that restrictions on weddings could be lifted:
Adam Brooks has this to say about Freedom Day:
Travel is still a no-no:
Conclusion
I could write more, but knowing that a Communist is controlling our behaviour and is advising a Conservative government makes me nauseous.
Therefore, in conclusion, there is no good reason for the government to refuse to reopen the nation on June 21. Deaths, even from 2020, are still average. This year, so far, they are below average:
We will find out the government's latest excuse on Monday, June 14. More to follow.
Sunday, June 6, 2021, was the 77th anniversary of D-Day, the Longest Day: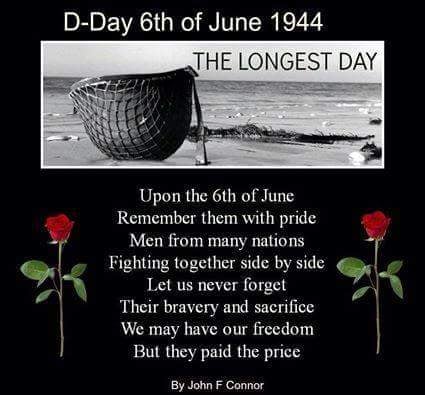 This map shows the landings in Normandy: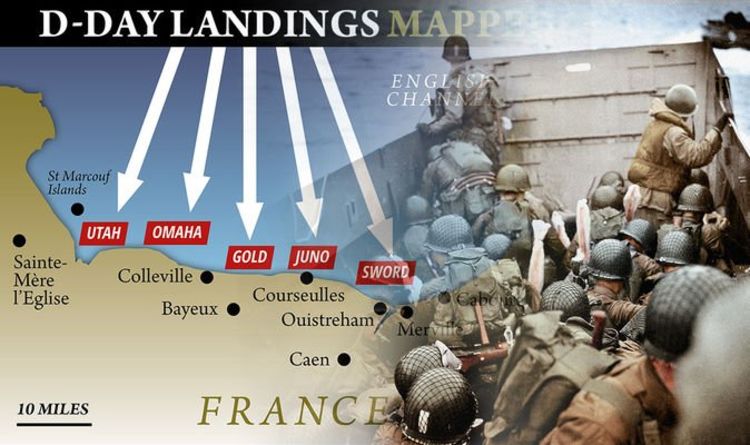 While preparing Sunday dinner, I listened to C-SPAN's Sunday morning show, broadcast on BBC Parliament. Sarah Rose, the author of D-Day Girls, was the guest. Her book is a novel, but she did a lot of historical research showing the intelligence work that women did behind the scenes as part of a carefully-managed international network.
The phone-in included many sons and daughters of Second World War veterans. Nearly all said that those veterans were, understandably, highly reluctant to talk about their war experiences. However, some said that their fathers or grandfathers opened up in their later years. One caller said that she has several hours of memories that she has recorded for posterity, particularly for younger family members.
With more and more of those veterans passing from this mortal coil, now is the time for children and grandchildren to record and catalogue those memories, if they can. One person who has done so is the author of Pacific Paratrooper, remembering Everett A Smith, their father. It's an excellent website, which also documents much history about the battles and conditions in the Pacific theatre. I am delighted to have the author as one of my regular readers.
We will always remember those heroic men and women:
Incidentally, the Houses of Parliament were bombed in 1941 and had to be reconstructed authentically in the 19th century manner. Both were faithfully restored. The next tweet shows the House of Commons:
Seventy-seven years later, we are still in the grip of the coronavirus crisis and a loss of freedom the troops involved in D-Day would have found unthinkable.
In Britain, former Prime Minister Tony Blair (Labour) appeared on The Andrew Marr Show to say that Britons who have had two vaccinations should be allowed greater freedoms, thereby creating a two-tier society:
If a Conservative had said that, Marr would have heaped criticism all over him or her.
It is mystifying that Tony Blair even gets airtime on this topic. He isn't in government, nor is his party.
It appears I am not alone, judging from the replies to this tweet:
On the topic of vaccines, Tony Blair has never said if his son Leo, born when he was in No. 10, had the MMR vaccine, which was highly controversial at the time. So, it was okay for him to refuse to give his son a vaccine that every other child born in Britain had/has to have. It is very difficult to get separate children's vaccines for measles, mumps and rubella. One imagines that Blair managed to get them for his son.
Tony Blair also wanted national ID cards. The debate raged for a few years in Parliament. Fortunately, nothing happened.
On Monday, Guido Fawkes's cartoonist Rich, recalling the ID card debate from the Blair years, posted this:
On the topic of vaccines, the Government is talking about giving them to children. Highly dangerous, one would have thought. The Telegraph's Bob Moran was moved to create this cartoon a week ago:
ITV's Good Morning Britain stoked the flames by asking whether the vaccinated should refuse to associate with the unvaccinated:
Fortunately, most Britons disagree with Good Morning Britain:
June 21 is supposed to be Freedom Day, according to the Government, with the caveat that full reopening of Britain will be based on data rather than dates.
It should come as no surprise that the Government could now backtrack on that date:
On June 1, we had no coronavirus deaths, but that did not make the news:
TalkRADIO host Julia Hartley-Brewer is fed up with the delays. In fact, as the chart below from Peston shows, the UK's actual coronavirus stats are much better than SAGE's models:
On June 3, Portugal, the only European country on the UK's green list for travel, was moved to the amber list, yet these charts tell a different story:
One suspects that it was only ever on the green list for the Champions League final in Porto:
Oddly, we had more freedom a year ago — with no masks and no vaccines — than we do now:
In Wales, First Minister Mark Drakeford (Labour) says that social distancing will not be disappearing any time soon:
Data for the UK should be available on June 14, at which point the Government will announce their decision regarding June 21:
The Government have paid for coronavirus advertising and COVID marshals, extending to 2022. Former London Assembly member David Kurten tweeted a reminder:
I, too, want my country back.
In Germany, scientists from Munich University say that lockdown had no effect on the virus spread:
Something is very wrong when, in a five-minute speech on television, a prime minister or a president can remove everyone's civil liberties at a stroke.
Monday, March 23, 2020, will be etched on my memory forever. That was the date of the UK's first lockdown.
D-Day. Freedom Day. What has happened to us — and for a 'pandemic' with fatality rates no worse than influenza? We are in a very bad way, not only in the UK, but also elsewhere in the West.
On Monday, January 18, 2021, former Supreme Court Justice Lord Sumption appeared on Julia Hartley-Brewer's talkRADIO show to discuss the perils of lockdown:
From early last year, Lord Sumption has been a calm, rational opponent of lockdown.
Breitbart has a summary of the three-minute interview clip. Excerpts follow, emphases mine.
I am pleased that his stance has not changed:
Lord Sumption, who last month branded lockdowns "profoundly immoral" and "useless", told talkRADIO's Julia Hartley-Brewer on Monday: "We are in the process of turning a public health crisis into an economic, social, and educational disaster.
"We didn't have to do this. One of the problems is that the government has never been prepared at least to acknowledge that it is necessary to weigh up one thing against another. We cannot have both: lockdown and a prosperous economy. The fact is that no country ever managed to reduce deaths by making itself poorer."
He warned that this will have a long-term, generational effect:
Lord Sumption continued: "What we have is a lot of people in this country that because they are frightened, or in the case of the government because they are manipulative, are only prepared to look at part of what is actually a very complicated problem.
"You can't just look at it as a public health issue because it's a major economic issue. I'm not talking just about the prosperity of businesses, I'm talking about jobs, and how a generation of young people entering the job market is entering a void and the consequences of that are terrible.
"It's going to live with them for years and years. Long after we've forgotten about COVID, they'll be suffering from the consequences of this. The problem is that emotion is a tool for avoiding difficult choices and the idea that there are no difficult choices — in this case, that the answer is simply to lock down — is frankly absurd."
Using independent sources, Breitbart supports Lord Sumption's views about the economy and about the effect on NHS services in other areas:
A survey conducted by the Federation of Small Businesses (FSB) found that it is expected that around a quarter of a million small businesses will collapse as a result of the lockdown this year.
Reports since the beginning of the lockdowns have also revealed the cost to the nation's wider wellbeing as NHS hospitals prioritised COVID care and cancelled other services, including a fall in chemotherapy attendance and early cancer referrals, and people dying on transplant waiting lists. There has also been a rise in people feeling depressed or suicidal.
The following graph shows that lockdown was — and is — not necessary. It shows deaths in England between 1971 and 2020. There was hardly an uptick last year:
LBC's talk radio show presenter Maajid Nawaz has also been an outspoken opponent of lockdown.
Last Sunday, he put together an exhaustive thread — excerpts of which follow — about the dangers of lockdown worldwide, especially for children:
Lockdown is made for the middle class a) who have houses with gardens and b) who never have to worry about losing their jobs — public sector employees:
Ten months on, this is a never-ending downward spiral, where the rules change every few weeks and are often contradictory. More on that in another post.
Last week proved to be another emotive and passionate one in the House of Commons with regard to coronavirus and Brexit.
This post concerns coronavirus.
On Monday, September 14, Prime Minister Boris Johnson's Rule of Six, which he announced on September 9, came into effect. It sounds rather Chinese.
It means that people living in England cannot meet in groups of greater than six, indoors or outdoors. If we do, according to him, we 'will be breaking the law'.
He also introduced a new platoon to keep us in line: COVID marshals, to remind us of existing coronavirus rules in England — 'hands, face, space'.
Recall that Boris said after the December 2019 election that we now have the People's Government. Hmm.
The UK government is copying a Belgian idea. The Rule of Six reduced their second spike.
Increasingly, Britons have been looking back at Sweden, which refused to lock down. Fraser Nelson is the editor of The Spectator. Chris Whitty is our Chief Medical Officer; in May, he said that coronavirus was harmless for most people and most of us would never get it:
Michael Gove MP, a Cabinet minister and Chancellor of the Duchy of Lancaster, made matters worse when he confirmed that under-12s were part of the Rule of Six, unlike in Scotland and Wales, where under-12s are not. With life getting back to normal as school has started again, this came as a blow to many families:
The Telegraph reported that the Cabinet was split on the proposals (emphases mine):
… one senior Tory source said that "half the Cabinet" had doubts about the so-called 'rule of six', and it was "pretty hard to find a Conservative member of Parliament who agrees with all of this".
The COVID marshals are also a problem for police and local councils:
Meanwhile, Mr Johnson's plan for coronavirus marshals to help enforce the six-person rule was unraveling as police derided them as "Covid Wombles" and councils said they were a "gimmick".
Downing Street admitted councils would not be given any money to pay for the marshals, suggesting volunteers could do the job, and said it would be up to individual local authorities to decide whether they actually wanted them.
It got worse, as curfews were mooted:
The Government has discussed going even further with new lockdown restrictions, and has drawn up "a well-developed proposal" for a nationwide curfew which was discussed at ministerial level.
My head spun.
Then the ministerial snitch crowd appeared on weekend news programmes to say that people must tell on their neighbours if they are seen to be violating the Rule of Six:
Political journalist Isabel Oakeshott rightly responded:
I couldn't agree more. This is supposed to be the People's Government, isn't it?
History will not look kindly on 2020 with regard to the measures taken to combat the virus:
I was wrong.
Home Secretary Priti Patel said that people should not even talk when they see friends in the street, even at a distance (audio here, thanks to Guido Fawkes, and there's video, too):
Yebbut, if you DO report what appears to be criminal activity, allegedly, the police do not want to know. Here is a printscreen of a set of comments on a Guido Fawkes thread. I call your attention to the last two. Police would rather pick on mums and their children. Ironically, that was posted on the anniversary of the Battle of Britain. Go figure.
A mild-mannered man from Buckingham called talkRADIO to say he would not comply with the Rule of Six because the Government had gone too far.
So did a lady from Brighton, saying that the Rule of Six was about:
control. They're trying to see how much they can get away with.
Another talkRADIO host, Julia Hartley-Brewer, had a go at Roy Lilley, former NHS Trust chairman. She said:
We are being scared into thinking we have to give up our civil liberties when that won't save lives. Being sensible will save lives.
The Telegraph's Salley Vickers wrote of the restrictions on her and her loved ones:
I would rather risk dying and have the joy of their company than lose that vital contribution to my own happiness.
With the festive season only several weeks away, the Daily Mail's Peter Hitchens told talkRADIO's Mike Graham that the Rule of Six has:
made Christmas an arrestable offence.
Another Daily Mail journalist, Bel Mooney, wrote an editorial for Conservative Woman saying that she was surprised at the amount of resistance she received when she wrote that she would be defying the Rule of Six at Christmas:
… in response to Matt Hancock's sudden, arbitrary and illogical 'rule of six' diktat, I wrote a strong opinion piece (at the request of my newspaper) headlined 'NO, NO, NO! I'm having Christmas for 14 – and no puffed-up Covid marshal will stop me'.
As you might expect, there was a huge response. I never look online, and am not on Twitter (I expect there was a lot of poison swilling around out there). I am talking about emails to me and the newspaper. What interested me was the fact that, if I am to be honest, the antis outnumbered the pros. I didn't expect that from Mail readers.
You can never tell with Mail readers, though. They're a tricky lot.
Oxford University's Professor Carl Heneghan and honorary research fellow Tom Jefferson wrote an article for The Spectator against the Rule of Six, saying that Boris must bin it:
At Oxford University's Centre for Evidence Based Medicine, we have spent years trawling through the scientific evidence on the effects of measures such as distancing on respiratory viral spread. We are not aware of any study pointing to the number six. If it's made up, why not five or seven? …
Northern Ireland has taken a more measured approach and not announced any changes to how many people can meet. These disagreements in policy reveal how decisions are being made without evidence. It seems that somebody in government sat in a cabinet office room and said six is a good idea and nobody disagreed …
The problems with policy stem from the current cabinet's vast inexperience: the Health Secretary has been in post for just over two years now; the PM and the Chief Medical Officer a year. The Joint Biosecurity Centre is overseen by a senior spy who monitors the spread of coronavirus and suppresses new outbreaks. Add to this mix the new chair of the National Institute for Health Protection, who similarly has little or no background in healthcare. Our leaders amount to little more than a Dad's Army of highly paid individuals with little or no experience of the job at hand.
This inexperience leads to rash decisions and arbitrary policies.
One example is that entire areas can be locked down if they have 50 cases per 100,000 people. Yet the recognised alert threshold for 'regular' acute respiratory infections is 400 cases per 100,000.
Lord Sumption, who has been speaking out against lockdown this year, said that the Rule of Six will be unenforceable. I hope he is right:
Tom Tugendhat (Tunbridge and Malling, Con) expressed his concerns about the new rule and rightly wanted MPs to vote on it and similar measures:
It's unlikely that the House of Lords can help, either. They already have a full schedule. We should thank Lord Lamont for raising the issue of consulting the public, however. 'SI' means 'statutory instrument':
Monday, September 14
Behind the scenes and well outside of Parliament, an email emerged dated May 23, wherein Chief Scientific Adviser Sir Patrick Vallance stated he had pushed the most for March's lockdown:
Guido Fawkes has the full text of the email. I am not sure how Sir Patrick thinks that a vaccine will achieve herd immunity, though.
In the first of the debates on the Brexit-related Internal Market Bill, Charles Walker MP (Broxbourne, Con) prefaced his comments by expressing his dismay about the Rule of Six, the lack of consultation with Parliament and the fining of Jeremy Corbyn's brother Piers at the anti-lockdown rally on Saturday, September 12.
Thank you, Charles Walker:
This is short and well worth watching:
Tuesday, September 15
Secretary of State for Health and Social Care Matt Hancock poled up to make a statement to MPs about the Rule of Six and testing.
Excerpts follow:
There are signs that the number of cases in care homes and the number of hospitalisations is starting to rise again, so last week we acted quickly, putting in place new measures—the rule of six, which came into force yesterday. We do not do this lightly, but the cost of doing nothing is much greater.
Testing also has a vital part to play. Everyone in this House knows that we are doing more testing per head of population than almost any other major nation, and I can tell the House that we have now carried out over 20 million tests for coronavirus in this country. As we expand capacity further, we are working round the clock to make sure that everyone who needs a test can get a test. The vast majority of people who use our testing service get a test that is close to home, and the average distance travelled to a test site is now just 5.8 miles —down from 6.4 miles last week; but the whole House knows that there are operational challenges, and we are working hard to fix them.
We have seen a sharp rise in people coming forward for a test, including those who are not eligible.
Jonathan Ashworth (Leicester South, Lab/Co-op), speaking for the opposition, said:
I am grateful for advance sight of the Secretary of State's answer. That was decent of him.​
Yesterday LBC revealed that there were no tests available in covid hotspots, including Rochdale, Pendle and Bradford. Over the weekend in Bolton, where infections are the highest in the country, a mobile testing centre failed to turn up. Meanwhile, in Bury hundreds queued for five hours for a test. In Walsall, a father with his sick child travelled 76 miles to an appointment in Wales, only to find on arrival that tests had run out. Increasing numbers of teachers and pupils are not in school. In hospitals, operations are cancelled while NHS staff are stuck in limbo, waiting for tests.
The Secretary of State blames increased demand, but when tracing consistently fails to reach 80% of contacts, when less than 20% of those with symptoms self-isolate properly and there is a lack of financial security, infections rise. When schools reopen and people return to workplaces and social distancing becomes harder, infections rise. Extra demand on the system was inevitable. Why did he not use the summer to significantly expand NHS lab capacity and fix contact tracing?
Just as demand is increasing, the ability to process tests is diminishing. Post-graduate students working in the Lighthouse labs are returning to university, so why did the Secretary of State not plan for the inevitable staff shortages in the Lighthouse labs? Those commercial pillar 2 labs, The Sunday Times revealed at the weekend, have a huge backlog of 185,000 tests. Thursday's data revealed that 65,709 test results were not returned by the end of the week. Care home residents now wait an average of 83 hours for their result. The Prime Minister promised us a 24-hour turnaround for results, so what is going on? What is the current backlog and what is the timeframe for clearing it?
We were promised a world-beating system, so why are we sending tests to Germany and Italy for processing? But, most importantly, people want to know when they will get a test and when this mess will be fixed. Today there will be thousands of ill people trying to book a test, only to be told none is available. When will people be able to book a test online again, or has the online booking system been deliberately disabled? When will ill people no longer have to travel hundreds of miles for a test that should be available on their doorstep? When will pupils and teachers out of school get access to testing, so they can get back to school? When will NHS staff have access to regular testing, so they can focus on their patients and not be sitting at home?
We are at a perilous moment. Imperial College estimates the virus is doubling every seven to eight days. We all want to avoid further restrictions or another national lockdown, but when testing and contact tracing break down, the growth of the virus cannot be tracked. The Prime Minister promised us whack-a-mole, but instead his mallet is broken. The Secretary of State is losing control of the virus; he needs to fix testing now.
Many MPs — from both Opposition and Conservative benches — said that their constituents could not get tests.
Even the Speaker of the House tweeted that his constituents were having similar problems:
The testing situation is shocking — as Terry-Thomas used to say in the Boulting Brothers films: 'An absolute shower!'
On the upside, the British coronavirus jobs situation is improving, thank goodness (more from Guido here):
Wednesday, September 16
Deputy Labour Leader Angela Rayner (Ashton-under-Lyne) stood at the Opposition despatch box for Prime Minister's Questions (PMQs), as Sir Keir Starmer was self-isolating:
She did a good job.
She began by saying:
Many people in the Chamber will think that the battle of Britain is today, but actually we marked the 80th anniversary of those veterans yesterday, and I want to put on record our thanks to all those who fought for our country in the past.
I want to start by reading to the Prime Minister a message that I have received from a man called Keir. Keir was not able to go to work today and his children could not go to school because his family had to wait for their coronavirus test results, despite the Prime Minister's promise of results within 24 hours. Keir was able to do the right thing and self-isolate and work from home, but other people are not in this position, and many of them are the very people who were getting us through this crisis, such as the care workers, who I used to work alongside before I was elected to this House. The Prime Minister once earned £2,300 an hour; can he tell us the average hourly rate of a care worker in this country?
Boris was singularly unimpressed, although he had a neutral expression on his face, even when discussing Starmer:
I congratulate the hon. Lady on her elevation. She speaks of the constituent Keir, and I can tell her that—allegedly, apparently—he has had a negative test, and I do not know quite why he is not here. But 89% of those who have in-person tests get them the next day, and we are working very fast to turn around all the test requests that we get. I think that most people looking at the record of this country in delivering tests across the nation will see that that compares extremely well with any other European country. We have conducted more testing than any other European country, and that is why we are able to deliver tests and results in 80% of cases where we know the contacts.
The hon. Lady asks about care homes, and I can tell the House that today we are launching the winter care home action plan. She is right to raise the issue of care homes, and we are concerned about infection rates in care homes, but we will do everything we can to ensure that care homes and their workers are protected.
On the hon. Lady's final point, I am proud that it is this Government who have instituted the national living wage to ensure that every worker in this country, including care home workers, is paid substantially more, thanks to the care and the work of the people of this country.
Boris listened attentively and responded sensitively to all the points that Angela Rayner raised until this point, which came several minutes in, when she said:
Infections are rising. The testing system is collapsing. When you are the Prime Minister, you cannot keep trying to blame other people for your own incompetence. We have the highest death toll in Europe, and we are on course for one of the worst recessions in the developed world. This winter, we are staring down the barrel of a second wave, with no plan for the looming crisis. People cannot say goodbye to their loved ones. Grandparents cannot see their grandchildren. Frontline staff cannot get the tests that they need. And what was the top priority for the covid war Cabinet this weekend? Restoring grouse shooting.
I suppose that is good news for people like the Prime Minister's friend who paid for a luxury Christmas getaway to a Caribbean island and funded his leadership campaign, and just so happens to own two grouse moor estates. So Prime Minister, is this really your top priority?
The Prime Minister answered:
While the Labour Opposition have been consistently carping from the sidelines throughout this crisis and raising, frankly, issues that are tangential, if not scare stories about what is going on, we are getting on with delivering for the British public. We are not only massively ramping up. She has not contested any of my statistics today about the extent to which this country is now testing more than any other European country.
She has not disputed the massive acceleration in our programme. [Interruption.] I will answer the substance of her question, thank you very much. We are getting on with delivering on the priorities of the British people: getting us through this covid crisis; delivering on making our country safer, bringing forward measures to stop the early release of dangerous sexual and violent offenders, which I hope she will support; strengthening our Union, which in principle Opposition Front Benchers should support; and building more homes across this country and more affordable homes across this country, which she should support. That is in addition to recruiting more doctors and more nurses, and building more hospitals.
I do not think anybody is in any doubt that this Government are facing some of the most difficult dilemmas that any modern Government have had to face, but every day we are helping to solve them, thanks to the massive common sense of the British people, who are getting on with delivering our programme and our fight against coronavirus. It is with the common sense of the British people that we will succeed, and build back better and stronger than ever before.
If only.
That day, news of an upcoming curfew in London emerged.
Apparently, the British people don't have much common sense, after all.
Currently, London has some of the fewest new coronavirus cases (i.e. positive tests, little hospitalisation):
Guido rightly wrote (emphases in the original here):
If this afternoon's splash from the Evening Standard is true, it is a step too far. The London director of Public Health England (yes, the organisation is still limping on for now, despite the Health Secretary announcing its abolition back in August) has issued a "curfew alert" to the capital through the newspaper, saying residents could face a mandatory curfew if Covid cases continue to rise. A ridiculous suggestion that should be forcefully opposed.
Shutting pubs, bars, restaurants, and just about everything else at an arbitrary hour will obviously do nothing to stop the spread of coronavirus. If anything, the move will be counter-productive – compressing the same number of customers into a shorter time and making social distancing harder still. Or pushing social gatherings into homes not bars, which are thought to be more likely to spread the virus. This no doubt ineffective PHE [Public Health England] nannying should have been dumped when the organisation was. The government need to remember there is a limit to people's compliance. This might just hit it.
As I write early on Tuesday, September 22, Boris is planning to bring in an England-wide curfew for pubs and restaurants on Thursday. As if the virus will know the difference between a 10 p.m. closing time versus the usual one of 11 p.m. The mind boggles.
Thursday, September 17
Matt Hancock appeared again with another update on coronavirus.
This time, it was about measures taken on lockdown in the North East of England. This includes strict adherence to household bubbles, table service only in hospitality venues and a curfew between 10 p.m. and 5 a.m.:
Once again, he was straining every sinew, an expression he has been using since March:
The battle against coronavirus is not over, and while we strain every sinew to spring free of its clutches, with winter on the horizon we must prepare, bolster our defences and come together once again against this common foe.
Then he announced upcoming plans to make everyone using A&E (Accident and Emergency) departments to make a booking! Good grief:
… we are working to get patients the right care in the right place, by expanding the role of NHS 111. During the peak of this pandemic, we saw millions of people using NHS 111, on the phone or online, to get the best possible advice on coronavirus, helping them to stay safe and, where possible, to stay out of hospital, where they could have unknowingly spread the virus. It is crucial that, ahead of winter, we use this window of opportunity to seek out what worked and build on it, so we provide a better service for patients and protect the NHS. Of course, no one will ever be turned away from our emergency departments in the most serious of cases; however, we have worked with the royal colleges, the NHS and others to develop a better, quicker and more clinically appropriate service for patients by using NHS 111 first.
This is how it works. We will invest £24 million to increase call-handling capacity and to make sure there are more clinicians on hand to provide expert advice and guidance, and we will build on our trials to make NHS 111 a gateway to the emergency care system, providing a first port of call for patients. In future, rather than having to queue in an emergency ward, we are testing that people should call NHS 111 first to book an appointment with whoever can give them the most appropriate care, whether it is a GP, a specialist consultant, a pharmacist, a nurse or community services. Of course if they need to go to the emergency department, NHS 111 will be able to book them into an appropriate time slot. We want to see this approach lead to shorter waiting times and better availability of appointments for patients. We will consult on how its performance is best measured, and, with successful pilots, we will roll out NHS 111 First to all trusts from December.
This is the bit that galled me the most:
The purpose of 111 First is to improve access, including in terms of inequalities in the NHS, by ensuring that people get the right treatment in the right place and easier access if they do need to go to an emergency department, because the emergency ​department will know that they are coming. It is commonplace now in almost every part of our life to let people know that we are coming. If we are going to do something as important as visit an emergency department, it will help both the patient seeking treatment and the NHS to let them know that they are coming first. That is the principle behind 111 First. It sits alongside 999, which anybody should call in a serious incident.
'People's government', my eye.
Nor is the NHS the people's health service.
If you have a serious injury, you or your loved ones could be losing life- or limb-saving time by calling 111 or 999.
Based on what I read during the March lockdown, calling 111 was life-threatening. Children calling on behalf of elderly parents were told, 'If your relative is not turning blue, do the best you can.'
Calling the ambulance service on 999 generally produced this result: 'We're overloaded. If you can take your relative to hospital yourself, please do so.'
Over the past few months, I have heard NHS senior executives give testimony to Select Committees. They do not want patients coming in to a hospital, to a GP surgery — anywhere on NHS property.
An absolute shower!
Speaking of absolute showers, Baroness Harding — Dido Harding, a former jockey and failed business consultant/corporate director — gave testimony to a Select Committee, the Commons Science and Technology Committee, led by Greg Clark MP (Tunbridge Wells, Con).
Wow. It was car-crash television on BBC Parliament.
Baroness Harding is, inexplicably, the director of NHS Test and Trace programme.
Greg Clark is no slouch. He pressed and pressed the same question. Did she not anticipate the increase of demand for tests after lockdown lifted?
Finally, she gave the answer.
The Independent reported:
Demand for coronavirus tests is three to four times the number available, the director of NHS test and trace has admitted.
Baroness Dido Harding, who told MPs there was capacity to carry out 242,817 tests a day, said the "sizeable" rise in demand had been unexpected.
Boris Johnson has pledged to raise capacity to 500,000 by next month – but Baroness Harding's estimates suggest that even that figure would not be enough to satisfy demand.
Even then:
despite images of queues outside Covid-19 drive-in centres, the testing tsar said: "I strongly refute that the system is failing."
She put the blame on SAGE …
Baroness Harding insisted current capacity had been based on modelling provided by the government's Scientific Advisory Group for Emergencies (Sage) and suggested that around a quarter of those seeking tests did not have symptoms.
… and the testing laboratories:
Quizzed by the committee chair and former Tory minister Greg Clark on the current issues in the system, she said that the "constraint" in the testing was in processing and laboratories.
On Friday, Sir Jeremy Farrar, a SAGE member and director of the Wellcome Trust, hit back.
The Telegraph reported:
Sir Jeremy Farrar, the director of the Wellcome Trust, who sits on the Government's Scientific Advisory Group for Emergencies, said the body had given "clear advice" that a fully functioning test, track and trace system should be in place …
Responding to her comments on social media, Sir Jeremy said he had personally warned that a growing testing crisis was looming.
"Interesting to be blaming Sage," he wrote on Twitter. "Has been clear, and in the advice, that the UK faced an inevitable increase in community transmission and cases after the summer and needed a fully functional and trusted test, track and trace in place."
Sir Jeremy posted his comments from a BBC interview with Andrew Marr in June, in which he warned of a "nasty rebound" if steps were not taken to improve testing. He also re-posted an article from May in which he warned that lifting restrictions was difficult even with a fully working testing programme in operation.
The testing crisis deepened on Friday when it emerged that children at four out of five schools are staying at home because they cannot get a test …
This coronavirus business will only get worse. Watch and wait.
Part 2 concerns the Brexit-related Internal Market Bill.
It is tempting to refer to the day the UK is leaving the EU as an active partner as Brexmas.
The Sun coined the name during the 2019 election period in the run-up to Christmas. Today, however — the day it will actually take place — feels more like Brexmas to me.
That said, the suffix '-mas' is an ancient one referring to a Mass being said on an important feast day, e.g. Christmas and Michaelmas, the feast of St Michael (September 29).
The Wikipedia entry on Mass explains how the word entered common parlance centuries ago. From there, '-mas' was used for certain feast days:
The English noun mass is derived from Middle Latin missa. The Latin word was adopted in Old English as mæsse (via a Vulgar Latin form *messa), and was sometimes glossed as sendnes (i.e. 'a sending, dismission').[8] The Latin term missa itself was in use by the 6th century.[9] It is most likely derived from the concluding formula Ite, missa est ("Go; the dismissal is made"); missa here is a Late Latin substantive corresponding to classical missio.
Historically, however, there have been other explanations of the noun missa, i.e. as not derived from the formula ite, missa est. Fortescue (1910) cites older, "fanciful" etymological explanations, notably a latinization of Hebrew matzâh (מַצָּה) "unleavened bread; oblation", a derivation favoured in the 16th century by Reuchlin and Luther, or Greek μύησις "initiation", or even Germanic mese "assembly".[10] The French historian Du Cange in 1678 reported "various opinions on the origin" of the noun missa "mass", including the derivation from Hebrew matzah (Missah, id est, oblatio), here attributed to Caesar Baronius. The Hebrew derivation is learned speculation from 16th-century philology; medieval authorities did derive the noun missa from the verb mittere, but not in connection with the formula ite, missa est.[11] Thus, De divinis officiis (9th century[12]) explains the word as a mittendo, quod nos mittat ad Deo ("from 'sending', that which sends us towards God"),[13] while Rupert of Deutz (early 12th century) derives it from a "dismissal" of the "enmities which had been between God and men" (inimicitiarum quæ erant inter Deum et homines).[14]
But I digress!
This is how the week unfolded — rather quietly — considering that, at 11 p.m. GMT (12 a.m. on the Continent), the United Kingdom of Great Britain and Northern Ireland will become a non-participative member of the EU until our transition period is complete. We hope that will be at the end of December 2020.
Boris answers burning Brexit questions
Prime Minister Boris Johnson made time to answer several Brexit questions from the British public. This short video is as factual as it is entertaining.
Please watch:
British MEPs leave Brussels
The last British MEP (Member of the European Parliament) to attend an EU Council meeting was Chris Pincher on Tuesday, January 28:
Nigel Farage cleared his office:
On Wednesday, January 29, political pundit Guido Fawkes posted a run-down of the closing days of British MEPs' participation, 'The Final Day of Brexit'. They got one final vote that day, on the Withdrawal Agreement (emphases in the original):
Most importantly, MEPs will formally approve the Withdrawal Agreement this afternoon, marking the final legal hoop needed to jump through to secure Brexit on Friday. Remain MEPs will vote against the deal, failing to understand they're voting in favour of a no-deal exit…
MEPs' final day in Brussels will seemingly be occupied by a lot of singing; with a Green Party MEP planning to encourage a rendition of Auld Lang Syne after British MEPs' final vote, socialist MEPs meeting up for a family picture and a rendition of the EU's 'anthem', and MEP Magid Magid hosting a party in the Place du Luxembourg featuring live music and DJs. No word on whether, given it's their last day, MEPs will be signing each other's shirts…
The vote took place in the early evening:
The week before, the president of the European Council and the president of the European Commission signed the UK Withdrawal Agreement for the EU …
… and Prime Minister Boris Johnson signed it for the UK …
… therefore, it was recommended that the EU Parliament approve the Withdrawal Agreement:
Guy Verhofstadt's tweets
Over the past week, Guy Verhofstadt has tweeted about our exit. He is keeping the door open for our return.
I've also included a few replies to his tweets:
He waxed sentimental over a Liberal Democrat MEP:
Michel Barnier visits the Emerald Isle
The UK's chief negotiator representing the EU, Michel Barnier, spent Monday in the Republic of Ireland and Northern Ireland.
He visited Dublin first …
… then travelled north to Belfast:
Perhaps now is the moment to remind everyone that we will always be European. Our beef is with Brussels:
UK to become economic powerhouse?
According to The Express (article link in tweet), Barnier is worried that we could become an economic powerhouse, threatening the prosperity of EU member countries. British commenters say that he has only himself to blame:
Signs look good, at least at this juncture, particularly since the election on December 12:
Going back to Tuesday, January 21, The Express cited findings from the IMF at the time of the World Economic Forum in Davos. Provided our negotiations go well this year (emphasis in the original):
BRITAIN'S economy is set to power ahead after Brexit, outpacing the eurozone and other major European countries, the International Monetary Fund (IMF) has said.
The findings of two studies published by the the body show the UK is on track for two years of growth and is anticipated to outperform Germany, France and Italy. The economy is expected to expand by 1.4 percent this year and by 1.5 percent in 2021, it said. It marks an optimistic outlook for the UK's post-Brexit future after last year's growth was recorded at 1.3 percent.
Celebrations in the UK
Celebrations will be very low-key on January 31.
Big Ben silent
Unfortunately, Big Ben will not be bonging to mark our Brexit.
The historic bell is under renovation at present and unnamed 'Parliamentary officials' said it would cost £500,000. Boris and Conservative MP Mark Francois urged the public to stump up with private contributions. This they promptly did, raising £272,000. That still was not enough — I detect overall resistance from our notional betters here — so the money is going to the veteran's charity, Help for Heroes:
Lights and Union flags in London
On January 22, Guido Fawkes posted the government's plans to mark Brexit Night in central London (emphases in the original):
The Government has already announced its official plans to commemorate Britain leaving the EU at 11pm on 31st January, however a new victory has been won after minister Nigel Adams signed off on the Union Jack being flown down the Mall to celebrate Brexit. Her Majesty will be delighted given her support for the cause…
In addition to the Union Jack flying in Parliament Square, a light display in Downing Street and a countdown clock being projected against No. 10, new intake Tory MP, Dehenna Davison, has spoken of her delight at securing the victory, saying "After discussing this with the Minister multiple times over the past few weeks, I am delighted that he has today instructed officials to ensure the Union Jack is flown down the Mall on Brexit Day", also highlighting the minimal cost to the taxpayer from the move. Unlike getting Big Ben to bong again…
The flags went up on January 28:
British flags will be flown in Parliament Square.
A red, white and blue light display is expected to be shone on Westminster Palace.
The No. 10 digital countdown clock will be illumined in Downing Street.
New 50p coin
The new 50p commemorative Brexit coin, which was ready for our predicted exit on October 31, 2019, had to be melted down. That was quite expensive.
However, they have been reminted and began appearing this week:
More will appear beginning in March.
The text on the reverse of the coin includes the date January 31, 2020 and reads as follows:
A number of Remainers have tweeted their disapproval and said they would not accept them as change.
Radio presenter Julia Hartley-Brewer of TalkRADIO gave her own riposte to diehard Remainers pining for Brussels. Priceless:
Brexit Party celebration
The Brexit Party is holding a special celebration in Parliament Square between 9 and 11:15 p.m. All are welcome:
Brexit merchandise
There are at least three different types of Brexit-related merchandise on sale now.
Forman's smoked salmon
Lance Forman was a Brexit Party MEP then switched to the Conservative Party before December's election.
In real life, he runs his family's smoked fish business in East London, best known for smoked Scottish salmon. I have eaten Forman's fish before and it is excellent. His Brexit offer runs until February 29:
T-shirts
Leave.EU are selling commemorative Brexit t-shirts. Wear at your own risk.
They also have mugs:
Tea towel
The Conservative Party is offering a special tea towel with Boris's election slogan, 'Get Brexit done', in past tense:
————————————————————————-
Whatever way my fellow Britons choose to celebrate Brexit Day, I hope they have fun!
I will continue Brexit Chronicles until we are fully out of the EU.
Welcome to another bumper edition of Brexit Chronicles.
On Tuesday, September 24, 2019, Britain's Supreme Court — formerly known as the Law Lords — decided that Prime Minister Boris Johnson's prorogation of Parliament was unlawful and that MPs should return to the House of Commons on Wednesday.
They did not say that Boris Johnson personally broke the law in this regard, only that the prorogation was unlawful.
That said, this appears to be the first time a court of law has ruled against a prorogation, a fairly common occurrence throughout the history of the House of Commons. This legal decision on prorogation sets a potentially dangerous precedent, although I would be happy to scrap the Labour-instituted Supreme Court and see a return to the Law Lords. Pictured below are the Attorney General Geoffrey Cox and Baroness Hale:
Baroness Hale, speaking for the Supreme Court, wore a large spider brooch when she read out the decision. Hmm. A spider brooch about the size of a tarantula. Optics, anyone?
She also erred on one of the names in her statement, as Conservative MP John Redwood points out:
Unfortunately, that detail is unlikely to render the decision invalid.
At the time the Supreme Court reached its decision, the Labour Party conference was going on at the time in Brighton.
Before recapping this week's events, in 2016, thousands of British barristers signed a letter imploring MPs not to enact the result of the referendum. This I did not know:
Now back to the present day.
Be advised of occasional foul language below!
Thwarting Brexit
Leave voters across the country can see what opposition MPs are doing. I reckon more and more voters are tuning in to BBC Parliament to watch proceedings.
Even renowned historian David Starkey has been vocal about stubborn Remain MPs refusing to fulfil the Leave result:
The danger is that if we adopt the Customs Union proposals that Remainers want, we will have far less control over our own trade, currency, armed forces and laws than we did as a full member of the EU before MPs voted to trigger Article 50 (emphases mine):
It's all been a set up from the very beginning. The UK was only ever half in but after this, if we don't leave 31/10 they'll make sure we're all the way in it right up to our necks. Full implementation of the Lisbon Treaty. Euro and all!
The Liberal Democrats, led by Jo Swinson, wrote to the EU Commission about Brexit, when only the government in power — currently Conservative — should be dealing directly with them. This was brought up in Wednesday's Commons session, by the way, so it is true:
The move has not gone down well with some voters:
Note the petition:
Labour Party conference
The Labour Party produced a laundry list of far left policies to discuss at their conference in Brighton.
A teenage vote would keep a left-wing government in power forever. Reason No. 1 not to vote for Labour:
A trade unionist says other policies will be difficult to explain to voters:
Re the abolition of private schools: who is going to pay for the chaos this would cause? The taxpayer. Here's Diane Abbott, who sent her own son to the private City of London day school:
This would devastate towns where there are private — including what the British call 'public' (e.g. Eton, Harrow, Rugby) — schools. Angela Rayner is the shadow education minister. Her name comes up in the second tweet:
Then there was Labour's protest for a People's Vote on EU membership. Erm … we had one on June 23, 2016. It was the referendum.
Emily Thornberry loathes England, by the way:
Labour MPs voted twice before the prorogation to oppose a general election, by the way. A general election is also a people's vote:
Conservative MP James Cleverly, party chairman, has a good, concise summary of Labour's policies — including their refusal to vote for a general election, when they've asked 35 times for one in Parliament. The video is subtitled:
This is what happened at conference. Diane Abbott makes it look as if Boris Johnson never tabled his two motions for a general election before prorogation.
Dishonest Labour — the perfect party for lo-fo voters and a clear danger to the nation:
I hope Labour never again see power during my lifetime. Thirteen years of them (1997-2010) was almost more than I could bear.
Despite the Labour Party conference, which normally produces a positive bounce in the polls, the Conservatives are still ahead. Why hasn't Britain Elects updated their party leaders photo?
People also want a general election:
Brexit negotiations difficult
The Benn-Burt bill, which received royal assent on September 9 and forces the PM to ask the EU for an extension if there is no deal, has made the Prime Minister's and the government's Brexit negotiations very difficult. This was the status on September 21:
Nevertheless, Boris and his Brexit ministers soldier on.
The following took place on Thursday, September 26:
Michael Gove says that the No Deal Brexit committee has been meeting frequently:
Another Brexit meeting, announced yesterday, took place today:
Boris's statement
Boris gave a statement to MPs at 6:30 p.m. on Wednesday about the 'zombie Parliament', the longest since the Civil War in the 17th century. Brexit Central has the full transcript. Excerpts follow:
With your permission, Mr Speaker, I shall make a statement on yesterday's Supreme Court verdict and the way forward for this paralysed Parliament.
Three years ago, more people voted to leave the European Union than have ever voted for any party or proposition in our history.
Politicians of all parties promised the public that they would honour the result.
Sadly, many have since done all they could to abandon those promises and to overturn that democratic vote.
And after three years of dither and delay – that left this country at risk of being locked forever in the orbit of the EU – this government that I lead has been trying truly to get us out.
And most people – indeed most supporters of the party opposite — regardless of how they voted three years ago — think the referendum must be respected. They want Brexit done, I want Brexit done, people want us out on 31 October — with a new deal if possible but without if necessary.
64 days ago, I was told that Brussels would never reopen the Withdrawal Agreement. We are now discussing a reopened Withdrawal Agreement in the negotiations.
I was told that Brussels would never consider alternatives to the backstop – the trap that keeps the UK effectively in the EU but with no say.
We are now discussing those alternatives in the negotiations.
I was told Brussels would never consider arrangements that were not permanent. We are now discussing in the negotiations an arrangement that works on the principle of consent and is not permanent.
I was told there was no chance of a new deal but we are discussing a new deal.
And this is in spite of the best efforts of this Parliament to wreck our negotiations by their attempts to take No Deal off the table.
The truth is the majority in this Parliament are not opposed to the so-called No Deal — this Parliament does not want Brexit to happen at all.
Many of those who voted for the Surrender Act a few weeks ago said then that their intention was to stop a No Deal Brexit.
They have said every day since that Parliament must vote against ANY deal at all.
I think the people of this country can see perfectly clearly what is going on.
They know that this Parliament does not want to honour its promises to respect the referendum.
The people at home know that this Parliament will keep delaying, it will keep sabotaging the negotiations because they don't want a deal …
The public don't want another referendum – what they want and what they demand, that we honour the promise we made to the voters to respect the first referendum.
And they also want us to move on — to put Brexit behind us and focus on the NHS, on violent crime and on cutting the cost of living.
That is why I also brought forward a Queen's Speech. My government intends to present a programme for life after Brexit.
But some members of this House could not stand that either. Instead of facing the voters, the opposition turned tail and fled from an election. Instead of deciding to let the voters decide, they ran to the courts instead.
And despite the fact that I followed the exact same process as my predecessors in calling a Queen's Speech, the Supreme Court was asked to intervene in this process for the first time ever and it is absolutely no disrespect to the judiciary to say I think the Court was wrong to pronounce on what is essentially a political question at a time of great national controversy.
So we have Opposition MPs that block and delay everything running to the courts to block and delay even more — including blocking legislation to improve and invest in our NHS and keeping violent criminals in jail.
The people outside this place understand what is happening …
Out of sheer political selfishness and political cowardice members opposite are unwilling to move aside and let the people have their say.
They see MPs demanding that the people be given a say, then running scared from the election that would provide them with one.
And worst of all they see ever-more elaborate legal and political manoeuvres from the party opposite which is determined, absolutely determined, to say "we know best" and thumb their noses at the 17.4 million people who voted to leave the European Union.
The Leader of the Opposition and his party do not trust the people.
The Leader of the Opposition and his party are determined to overthrow the referendum result whatever the cost.
They do not care about the bill for hundreds of millions of pounds that will come with every week of delay.
They don't care if another year or more is wasted arguing about a referendum that happened three years ago.
All that matters to them now is an obsessive desire to overrule the referendum result …
I have to confess, Mr Speaker, that I was a little shocked to discover that the party whose members stood up in Brighton this week and repeatedly – and in the most strident terms – demanded an election, I hear them, is the very same party whose members have already this month – not once but twice – refused to allow the people to decide on their next government.
For two years they have demanded an election but twice they have voted against it …
So if in fact the party opposite does not in fact have confidence in the government, they will have a chance to prove it….I think they should listen to this Mr Speaker.
They have until the House rises today to table a motion of no confidence in the government, and we can have that vote tomorrow.
Or if any of the other parties, the smaller parties fancy a go, they can table that motion, we'll give you the time for that vote …
It is time for this Parliament finally to take responsibility for its decisions. We decided to call that referendum. We promised time and again to respect it.
I think the people of this country have had enough of it — this Parliament must either stand aside and let this government get Brexit done or bring a vote of confidence and finally face the day of reckoning with the voters.
And I commend this statement to the House.
No one from the opposition benches put forward a motion for either an election or a vote of no confidence.
People watching at home thought the PM's speech was excellent.
The language issue
On Wednesday, Boris deplored the Benn-Burt bill in his above address and referred to it as the Surrender Act.
He is absolutely correct.
Opposition MPs took exception and said he should not refer to it as such, because MPs' feelings were hurt. We watched the proceedings on television and do not understand how they arrived at that conclusion.
Boris also said 'humbug', which opposition benches also found hurtful.
A Labour MP, Paula Sherriff, then brought up Jo Cox, the Labour MP who was murdered in cold blood just days before the 2016 referendum.
The Prime Minister replied tactfully and mentioned Jo Cox's name, saying that she would have wanted Brexit to go ahead in line with the referendum vote, the people's will.
The media seized on this by making it sound like the PM brought up Jo Cox's name first. He most certainly did not. That link also has videos of Ms Sherriff, which do not show her in a flattering light.
Ms Cox's widower, Brendan, had this to say. I listened to the PM and did not hear him demonise the late MP in any way, but Mr Cox might have heard about the exchange second hand:
The atmosphere in Wednesday's evening session was appalling. Speaker of the House John Bercow did very little to keep order. Opposition MPs spoke over the PM, they shouted in a hostile manner and Bercow said practically nothing.
On Thursday, talkRADIO's Julia Hartley-Brewer interviewed a virtue-signalling Liberal Democrat MP:
Previously, she interviewed another virtue-signalling Lib Dem MP. Note the contrast in tone from said MP:
She gave a short message to opposition MPs on Brexit and language:
The language issue was debated at lunchtime on Thursday in Parliament.
Opposition MPs spoke of death threats.
Well, Conservatives have been on the receiving end of threatening behaviour, too, as Vicky Ford MP pointed out during the debate.
A little over a year ago, anti-Brexit people demonstrated outside of Jacob Rees-Mogg's house, with his children present, more about which below.
Only a few days ago, a rapper accepting a music award held a dripping head effigy of Boris Johnson.
Threats are happening to MPs on both sides of the House of Commons:
Opposition language — the truth
In Thursday's debate on language, following a statement by Labour MP Jess Phillips, who has also received death threats, a Conservative MP brought up Labour MP John McDonnell's wish to assassinate Margaret Thatcher.
Of course, Speaker Bercow shut that down pretty fast.
Let us look at what John McDonnell said some time ago:
Backbencher has an excellent article explaining the full nasty and violent context of McDonnell's aforementioned statements.
Another MP with the first name of John has also used foul and insulting language, directed below at a Conservative MP:
Here is a past video from the aforementioned Jess Phillips about her own party leader:
Also this (click on second tweet to see it in full):
Also:
And this:
And what about the language used in Remainer protests? 'Betrayal'? 'Treason May'?
That's mild compared to this:
If those examples are not convincing enough, Guido Fawkes has many more.
After all is said and done, PLEASE leave everyone to their opinions!
No threats, please!
Let us live in peace, whatever our views!
As the wise Church of England clergyman, the Reverend Marcus Walker points out:
No adjournment for Conservative Party conference
The main opposition parties, Labour and the Lib Dems, have had their party conferences but voted against an adjournment for a few days next week for the Conservatives to have theirs.
How petty:
I could not agree more with the following opinion:
Certain cross-party bills will be tabled for next week, as the Leader of the House, Jacob Rees-Mogg, agreed with MPs on Thursday afternoon.
More to follow next week.