You are currently browsing the tag archive for the 'Kate Hoey' tag.
In December 2022, the then-GB News presenter Mark Steyn suffered two heart attacks within days of each other.
The first one he ignored, because he had never suffered a heart attack and didn't recognise the symptoms.
The second occurred when he and a female friend were in France. Fortunately, he got to the hospital just in time. Fifteen minutes more and he would have died.
While he recuperated in France — there was no chance of his returning to Canada, doctors said — some of GB News's sharpest hosts stepped in to sub for him between 8 and 9 p.m. They told viewers that Mark was on the mend, until the end of January, at which point they mentioned him no more.
Don't mention the vaccines
Then, late on Monday, February 6, 2023, Guido Fawkes posted that Mark would not be returning to GB News. The news channel's CEO wanted to make Steyn liable for any Ofcom fines they received over his segments that criticised the coronavirus vaccine:
Guido tells us, complete with the relevant video clip (emphases in red his):
Mark Steyn has quit GB News on fairly bad terms after a protracted leave of absence owing to his health. A few weeks ago Guido picked up that the channel had been trying to formalise Steyn's contract, having operated on a fairly ad hoc basis since starting his show. Part of trying to get him on board as a properly contracted presenter was also an attempt to rein in his output, given that in a rather short space of time he'd managed to spark two separate Ofcom investigations into claims made on his show.
GBN offered him a new contract to sign, otherwise he'd face termination. It now looks like Steyn is declining to sign the new contract, so he's out.
In a video put out on his website today, Mark doesn't hold back on his opinion of the channel's CEO Angelos Frangopoulos, ranting about the terms of the new contract that would have made him financially liable for any fines imposed on GB News by Ofcom because of his show's output. He also calls Frangopoulos an "habitual liar". Shame – Steyn managed to consistently beat Piers's view count…
After a few months, Mark Steyn Show regularly trounced Piers Morgan's TalkTV show Monday through Thursday in the same time slot.
GB News has been scrupulous about offering both sides of any story on their shows in order to avoid censure from Ofcom. This entails having a left-wing guest oppose the host's centrist or conservative perspective.
In 2022, Press Gazette reported on the channel's potential Ofcom violations. I'll start with the story from August 8, with the communications regulator's examination of two segments, one on Nigel Farage's evening show and one from a morning show with Patrick Christys, who now hosts a three-hour afternoon slot Monday through Friday:
The first two investigations by broadcast regulator Ofcom into GB News have ended with no rebukes, keeping the TV channel's record clean as it enters its 15th month.
Critics feared the opinion-led news channel would rub up poorly against the UK's strict impartiality rules, a problem not faced by broadcasters in the US such as Fox News.
But by balancing views from presenters and guests across its schedule, GB News has avoid any Ofcom rebukes despite airing some strident views on Covid-19 lockdowns and vaccines. Two Ofcom investigations into GB News TV and radio broadcasts remain ongoing.
In October 2022, complaints about Mark Steyn's show were still ongoing:
Ofcom has opened an investigation into an episode of Mark Steyn's 4 October programme on GB News after it received 411 complaints from viewers about comments made by author and journalist Dr Naomi Wolf in relation to Covid-19 vaccines.
Ofcom said: "Specifically, our investigation will consider whether this programme broke our rules designed to protect viewers from harmful material."
Wolf was banned from Twitter last year for spreading unfounded theories about vaccines.
Ofcom is already investigating Steyn's show for a potential breach of standards on 21 April when he claimed people who had a Covid-19 booster vaccine were three times more likely to die than those who had two doses or fewer.
Press Gazette says that the April 21 episode was removed from YouTube:
In a monologue that day, Steyn said: "Why aren't we talking about this? It seems, if the booster shot is making it thrice as likely that you're going to be deadsville, that they're going to carrying you out by the handles, why aren't we talking about that?"
Fact-checking charity Full Fact said the figures used by Steyn were "broadly accurate" but that he was "wrong to claim the booster 'increases your chances of hospitalisation and death'".
Interestingly:
No Ofcom investigations have yet been started into rival TalkTV, which Rupert Murdoch's News UK launched in April.
The Guardian had more, especially about Dr Matthew Sweet, who was interviewed on the BBC and had been monitoring Steyn's show for soundbites that criticised the vaccines. Steyn often mentioned Sweet:
The latest investigation relates to an interview with the author Naomi Wolf in which she claimed women were being harmed by Covid-19 vaccines as part of an effort to "to destroy British civil society".
Ofcom said it would investigate whether the programme broke "rules designed to protect viewers from harmful material" after receiving more than 400 complaints from members of the public.
In the interview, which was originally broadcast on 4 October, Wolf also compared doctors' support for the vaccine rollout to the behaviour of the medical profession in Nazi Germany and described herself as the "last remaining independent journalist" willing to question this.
She was being interviewed on the Mark Steyn Show, which has repeatedly raised doubts over the safety of vaccines. Steyn's claims that the jabs cause "every conceivable kind of damage" have been disputed by factchecking websites. He is already the subject of a separate Ofcom investigation over previous comments about vaccination.
Wolf began as a prominent feminist writer but in recent years her career has taken a hit after she wrote a book partly based on a misunderstanding of English court records. Since then she has veered into the world of conspiracy theories about the impact of 5G telephone masts and the coronavirus vaccine.
Presenter Matthew Sweet, whose BBC interview exposed the flaw in Wolf's book, has since kept tabs on her work and GB News's coverage of the pandemic and accused the channel of repeatedly "broadcasting misinformation about vaccines and presenting conspiracy theorists as legitimate experts on medical matters".
In a letter to Sweet tweeted last month, GB News insisted that at no point had Steyn's programme adopted an "anti-vax" approach. Instead it said he was conducting probing journalism in the face of people who want GB News to be "more supportive of government policy".
As I wrote in my post last week on Big Brother Watch's exposé of Government departments' surveillance of politicians' and journalists' Twitter accounts during the pandemic, the one thing one cannot do is criticise the vaccines.
The best of Mark Steyn's GB News output
Having watched nearly every Mark Steyn show once he began broadcasting weeknights in January 2022, I bookmarked the most notable ones.
Any interested readers should view the videos sooner rather than later. YouTube have already removed some of Steyn's GB News output.
Ratings
It took a while for people to tune into Steyn, which was no fault of his. He did a memorable series in March 2022 in Ukraine and told us that he was partly of Ukranian descent. He hoped to return when the war was over. You can read more about those programmes here.
At the end of that month, he had a special edition on the second anniversary of the first coronavirus lockdown, March 23, 2020. It's a good thing I described the content, because YouTube removed the video for the usual reasons.
Then on Monday, May 16, Mark hit the jackpot, beating TalkTV's Piers Morgan for the first time in the 8 to 9 p.m. slot. Mark wasn't the only ratings star that night — all the GB News evening shows beat TalkTV's:
The following day, Guido wrote:
The slow motion collapse in ratings of Talk TV is astounding. Until now, Piers Morgan has always held his lead in his slot against Mark Steyn on GB News. Last night Steyn beat Morgan for the first time…
And it would not be the last time, either. In fact, it became a regular occurrence.
Coronavirus
On Wednesday, January 12, 2022, Steyn interviewed Lord Ridley — Matt Ridley — about the coronavirus lab leak (30:00 – 40:00):
In February, he covered the Canadian truckers' protest in Ottawa against mandated vaccines:
He also interviewed a Canadian policewoman about the protests:
On April 21, he cited UK government data which said that people over 50 who had three jabs were five times more likely to get the virus: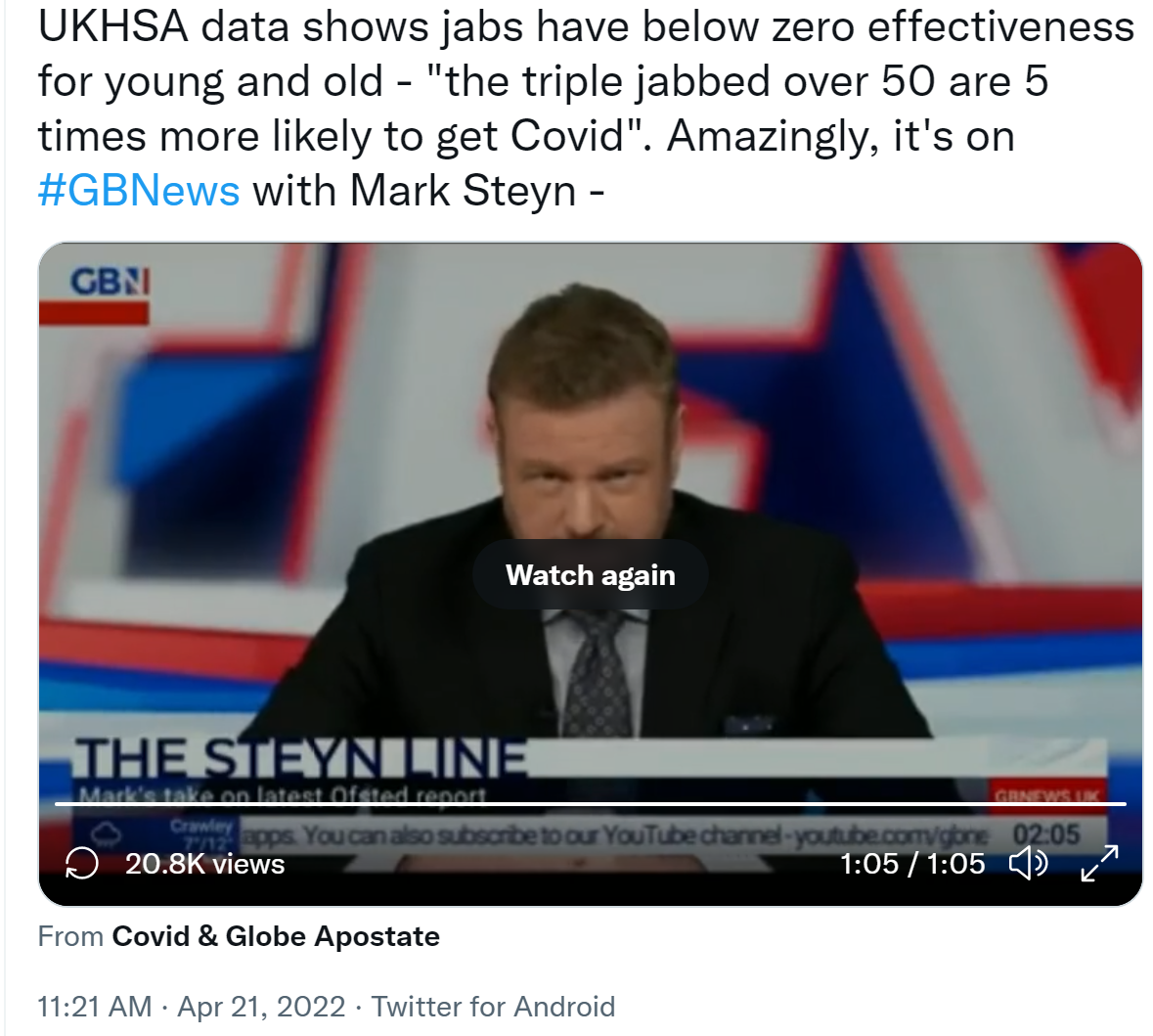 On Monday, May 9, he interviewed vaccine victims:
On May 11, he interviewed people who became seriously ill after taking the Astra Zeneca vaccine. No wonder it's no longer on the Government's vaccine list.
This man got a blood clot on the brain:
This lady suffered blood clots on her liver and lungs:
That day, Laura Perrins from The Conservative Woman waxed lyrical about Steyn's show. I, too, was a bit ambivalent about him many years ago, but as she pointed out:
It is true that a few decades ago he was considered an Establishment journalist; he has written for all your mainstream Right-wing publications. But he had long left that scene by the time I had my political awakening.
Anyway, somehow I stumbled across him, Praise be the Lord. The more I started listening, the more I read, I thought: 'Goodness gracious, hold the phone, shut the front door, this guy is the Real Deal.' This guy knows that we are being had by the political and media establishment and he is not afraid to say it …
Not only is Steyn the best-dressed, most-polished, most-sophisticated of all the presenters on TV, he says what you are thinking. For the last week or two he has been giving a voice to those the MSM have shamefully ignored – families who have lost loved ones through the 'safe and effective' non-vaccine vaccine.
… While Piers 'Lock Me Down Harder, Daddy' Morgan is interviewing Bruce Jenner, Steyn is pointing out that the lockdown has caused economic damage and inflation that the MPs like to ignore.
He also points out that when the Conservatives tell you they are getting a hold on illegal immigration, they are lying to you, they are lying to your face, dear reader.
So, do yourself a favour and watch Mark Steyn, Monday-Thursday, 8pm on GB News.
You can also catch up on YouTube when they haven't censored him for 'disinformation'. This is not a man who could ever be bought or sold for any price. I say again, Mark Steyn is the Real Deal.
The following day, news emerged that the WHO wanted nations to sign up to their pandemic treaty which would supercede national sovereignty. Unbelievable. Steyn said, 'The permanent abnormal staggers on':
On Tuesday, May 17, he talked about the WHO's involvement in the pandemic:
One week later, he interviewed a fellow broadcaster, Andrew Griffiths, who experienced serious side effects after getting the vaccine:
The Powers That Be tried to stir up fear over what is now called MPOX. On May 25, Steyn discussed Natalie Winters' findings for the National Pulse about an alleged link to the Wuhan lab:
Steyn had more on that and other topics on June 1, calling it 'the controlled demolition of the free world':
That was an exceptional show. Former ONS statistician Jamie Jenkins, one of Mark's regulars, alleged that the UK government had not collected any official statistics on vaccine injuries:
Claire Hibbs returned to discuss her injuries and the lack of compensation from the Government:
On June 16, he discussed the disastrous economic results of lockdown with Leilani Dowding:
Other Steyn broadcasts of note
In May 2022, he tapped into Canada's Rebel News output on Davos: excellent and entertaining.
On July 12, he was the only broadcaster to cover the July 12 celebrations in Northern Ireland in a non-confrontational way.
He interviewed Baroness Hoey — former Labour MP Kate Hoey — on her love for Northern Ireland and the United Kingdom:
He also spoke at length with the former leader of the Democratic Unionist Party, now-Baroness, Dame Arlene Foster:
These are just tasters. More to follow tomorrow.
No stranger to controversy
Mark Steyn has never been a stranger to controversy. Thank goodness.
Going way back in my Mark Steyn bookmarks, in 2004, he reviewed Mel Gibson's The Passion of the Christ, an incredible but much-criticised film, for The Spectator (full text here):
… Those who believe in Christ the Redeemer are booming, and Mel Gibson has made a movie for them. If Hollywood was as savvy as it thinks it is, it would have beaten him to it. But it isn't so it didn't. And as most studio execs have never seen an evangelical Christian except in films where they turn out to be paedophiles or serial killers, it's no wonder they're baffled by The Passion's success …
… Mel Gibson was driven by his own passion to make a movie that speaks to millions of people. As I said a couple of weeks back, if it's not the Jesus movie you'd have made, then go make your own. I saw it on a Monday night full house – a rare event in itself – and the crowd was rapt and eerily hushed, except for the occasional sob. It's true that if you don't believe that Christ's death on the cross is the central event in His time on earth then Mel's telling won't convince you and the film will look, as it does to Christopher Hitchens, like an S&M flayfest. One can regard this as a criticism of Gibson. On the other hand, all manner of movies – Star Wars, X-Men – leave you cold if you're not already a devotee. For millions of people, Mel Gibson shows them their Jesus and their salvation.
In 2009, Steyn wrote an article for Canada's Macleans about the danger that political correctness and censorship (i.e. 'hate speech') pose to human lives — the Fort Hood massacre (full text here):
… the old refrain echoes through the corridors of power: vigorous honest free speech will lead to mass murder unless we subject it to "reasonable limits."
Actually, the opposite is true: a constrained and regulated culture policed by politically correct enforcers leads to slaughter. I'm not being speculative here, as Commissar Lynch [Jennifer Lynch, Q.C., Canada's censor at the time] is about my murderous prose style. It's already happened, just a couple of weeks back. Thirteen men and women plus an unborn baby were gunned down at Fort Hood by a major in the U.S. Army. Nidal Hasan was the perpetrator, but political correctness was his enabler, every step of the way. In the days that followed, the near parodically absurd revelations piled up like an overripe satire …

Instead, asked "Who ya gonna believe—The Celebrate Diversity Handbook or your lyin' eyes?", more and more of us plump for the former, if only for a quiet life. Commissar Lynch has it exactly backwards: it's the craven submission to political correctness, the willingness to leave your marbles with the Diversity Café hat-check girl, that leads to death—real death, with real corpses, from Texas to Ontario.
It's amazing that the hot topics really have not changed since the Millennium. It's been the same-old, same-old for over 20 years now.
To be continued tomorrow
Candidates for the Conservative Party leadership race began putting their hats in the ring last weekend.
Many of those MPs are promising everything, and pundits are having a field day in the press:
While it is true to say that a lot of them are alike — yet not all — in policies, let us look at the diversity among the original 11 candidates:
Among those original 11, we had five women and six minority candidates.
No one can say today, as Theresa May did many years ago, that the Conservatives are the 'nasty party':
The Conservatives had no quotas. These MPs merely had to come forward and declare their interest in the leadership contest.
As I write in the early afternoon of Wednesday, July 13, we now have eight candidates.
Four are women and four are from racial minorities:
Brexit Leaver and former Labour MP Kate Hoey, now an unaffiliated Baroness in the House of Lords, told Mark Steyn of GB News how pleased she is that the Conservatives managed to accomplish what Labour only talk about:
How the winner is chosen
Late on Monday, Sir Graham Brady, chairman of the 1922 Committee of backbench MPs, announced the Conservative Party leadership rules. The loud voice heard in the background is none other than the daily disrupter, Steve Bray:
Darren McCaffrey of GB News has more:
The goal is to have a new Prime Minister in place by September 5, when Parliament returns from summer recess.
Conservative MPs will participate in a series of voting rounds between now and July 21, when Parliament goes into summer recess. The final two MPs on the list will then spend the next several weeks going around the country to campaign to Conservative Party members.
Party members will receive a ballot with the final two names and vote for their choice.
GB News has more on how the voting will proceed, beginning on Wednesday, July 13:
Sir Graham said the first ballot will be conducted on Wednesday with candidates required to obtain backing from a minimum of 20 MPs.
In the second ballot, on Thursday, MPs are required to obtain support from 30 MPs in order to progress to the next round, accelerating to the final two as soon as possible.
Disillusionment and a wish for Boris to return
Conservative voters, including those who are not Party members, are disillusioned about this contest.
Many wish that Boris Johnson's name were on the ballot. This petition to 'reinstate' him 'as Prime Minister' has garnered 15,000 signatures in only a few days. However, Boris is still Prime Minister, just not the leader of the Conservative Party.
Neil Oliver, not a Boris supporter, by the way, tweeted that the leadership decision has already been made:
It is rumoured that Bill Gates arrived in England just before Boris resigned. If true, that would not come as a surprise:
Bob Moran, the former Telegraph cartoonist, hit the nail on the head as he expressed the sentiment of many of those who voted Conservative in 2019. We also need an outsider to win so that we have some fresh thinking in Downing Street:
A number of the candidates have ties with the World Economic Forum. One is known to be friends with Bill Gates. Ideally, we would have transparency in this area:
Former Chancellor Rishi Sunak has been in the lead since the contest began. He was one of the first two main Cabinet members to announce his resignation last week. Former Health Secretary Sajid Javid was the first.
It has come to light that the photo of the Downing Street drinks party held during lockdown in 2020 was taken from No. 11, where Rishi Sunak worked. Some people think that Boris's then-adviser Dominic Cummings played a part in getting those photos released to the press. Did Rishi know?
Sajid Javid declared his candidacy, possibly taking a pop at Rishi Sunak's slick candidacy operation.
On Monday, July 11, GB News reported:
Former Health Secretary Sajid Javid addressed media gathered at Westminster this afternoon, outlining his leadership bid.
Mr Javid said "I don't have a ready made logo or slick video ready to go", adding: "I have a passion and desire to get Britain on the right course."
Acknowledging his resignation last week, Mr Javid said "Five days ago I stood up in Parliament and I spoke from the heart and I believe I spoke in the national interest."
Former Prime Minister Boris Johnson endured a series of scandals throughout his premiership, most recently Partygate and the allegations against Chris Pincher.
Addressing the ongoing investigations, the former Health Secretary said: "We need a leader who makes credible promises."
He added that "our party has lost its way".
Javid bowed out late on Tuesday. No one was disappointed:
Rishi, on the other hand, seems to have had his candidacy in mind for some time, since 2020. Interesting:
Note his professional campaign logo in the upper left hand corner of this tweet:
Guido Fawkes has a critique of the various logos, some of which have been rushed to market, as it were.
To make matters worse, rumours have circulated about infighting and dirty tricks among Conservative MPs. The public have taken note:
The Sun's political editor, Harry Cole, tweeted:
On that note, is it possible that Conservative Party members might not even get a vote should one of the final two winners concede to the other? That is what happened in 2016, when Theresa May became PM. Andrew Bridgen MP thinks this is a possibility:
Voting records
This graphic (credit here) shows how the candidates have voted in Parliament on various issues:
Candidates who bowed out
Let us look at the candidates who have bowed out thus far.
Sajid Javid
Conservative voters thought that Sajid Javid was a safe pair of hands as Health Secretary until he started laying out his coronavirus wish list. Only last month, Desmond Swayne MP pointed out the online job advert for a national manager of coronavirus passports:
On July 10, Javid appeared on a Sunday news programme.
He promised tax cuts. No surprise there. It was also unconvincing, considering the tax burden we have been under the past several months, possibly higher than we would have had under Labour's Jeremy Corbyn:
Javid also discussed his non-dom status, which is curious, as he was born in Rochdale:
On Tuesday, July 12, broadcasting from Northern Ireland, Mark Steyn said this about Javid's bowing out of the race:
Rehman Chishti
Rehman Chishti had an even more lacklustre campaign.
He was still on the fence last Saturday, proving that dithering gets one nowhere quick:
He declared on Sunday. Unfortunately, the photo is not a good one:
He dropped out on Tuesday:
Grant Shapps
Transport Secretary Grant Shapps declared his candidacy on Saturday, making much of his loyalty to Boris (Nadhim Zahawi is pictured below):
He appeared on Sky News on Sunday morning.
Meanwhile, viewers and voters rooted round to find out more about Shapps's parliamentary career.
Cabinet of Horrors has a fascinating profile of him, the first half of which follows (emphases mine):
Grant Shapps resigned as a minister in 2015 following revelations of his involvement with a bullying scandal that had led to a young Conservative Party activist taking their own life. Few would have imagined he could ever be reappointed to cabinet, still less to a more senior role. But in July 2019 Boris Johnson replaced the hapless and incompetent Chris Grayling as Transport Minister with someone even more discredited: Grant Shapps.
Then again, Shapps is no stranger to the art of reinvention. Indeed, he has proved remarkably inventive with his own identity.
In 2012, one of his constituents noticed that, while working as an MP, Shapps had also been peddling get-rich-quick-schemes online under the assumed names 'Michael Green' and 'Sebastian Fox'. The schemes, marketed by Shapps' company How To Corp under such titles as 'Stinking Rich 3', promised unwary punters that they could make large amounts of money very rapidly if they followed 'Michael Green's' instructions.  These included the instruction to recruit more punters to sell get-rich-quick schemes to the public – a classic feature of pyramid-selling schemes.
Shapps at first attempted to deny this, saying: 'Let me get this absolutely clear… I don't have a second job and have never had a second job while being an MP. End of story.' He also threatened to sue the constituent who had uncovered what he had been up to. Days later, he was forced to admit the truth, though he did this in a characteristically slippery manner, saying that he had 'over-firmly denied' the story.
One might think that being exposed as a liar, a huckster and a bully would have led to an immediate end to Shapps' career in politics. Instead, he was demoted from cabinet but handed a more junior ministerial portfolio and allowed to continue as co-chair of the Conservative Party.
On Sky News's Sunday news programme, Shapps presented his credentials.
He was squeaky clean. Hmm:
He took credit for Boris's resignation as party leader. Really?
He promised a tax cut:
He said he was relaxed about identity issues:
And he was sure he had the numbers:
Then, suddenly, he didn't.
Oh, well. Too bad.
Conservative Party voters name their candidates
Since the weekend, various polls have been conducted of rank and file Party members.
The results go against the MPs' wishes.
This is where MPs are as voting opens on Wednesday afternoon. I'll post results tomorrow:
A Conservative Home poll (image credit here) shows that Party members want either Penny Mordaunt or Kemi Badenoch to win. Rishi Sunak is a distant third on 12.1% support:
The next poll shows the wishes of Conservative members in Mrs Thatcher's birthplace of Grantham, part of the Grantham and Stamford constuency. They are not fans of Rishi Sunak, either:
However, Rishi does top another poll of Conservative and other voters. Note the Don't Know (read Boris?) percentage:
Some dispute the results. However, as someone points out, this could have to do with name recognition from news programmes and the papers:
I'll have more on today's vote tomorrow.
This is the final instalment of my long-running series, the Brexit Chronicles.
My previous post discussed the December 30 vote on the EU Future Relationship Bill which passed both Houses of Parliament and received Royal Assent in the early hours of the final day of Brexmas, December 31, 2020.
New Year's Eve was a quiet affair in Britain, as we were in lockdown.
One week earlier, Boris said that he would not be dictating to Britons how they should celebrate our exit from the EU, which was a bit rich, because he had already put us into lockdown before Christmas:
What UK independence from the EU means for Boris
The UK negotiating team did some star turns with this agreement, which polished Prime Minister Boris Johnson's political reputation.
Boris's ratings had taken an understandable hit during a year of coronavirus, which included a lot of flip-flopping on his part, however the trade agreement improved things considerably. Liz Truss, who has been negotiating our trade deals with more than 50 countries, deserves her place at the top:
According to an Opinium poll, an overwhelming majority of Britons — even Remainers — wanted MPs and the Lords to pass the deal:
Troublingly for the anti-deal SNP, the poll's sub sample of Scottish voters shows that by 47% to 19%, Scots want their MPs to vote for the deal too…
The Norwegians said that the UK had negotiated a better deal with the EU than they had:
Guido Fawkes thinks that this could give Norway the impetus to renegotiate their terms with the EU. I hope so (emphases in the original):
Marit Arnstad, parliamentary leader of Norway's Centre Party, argues that the UK deal is better than the Norwegian deal her country has as a member of the European Economic Area (EEA). "The UK has now reached an agreement that gives them more freedom and more independence" she tells Klassekampen, Norway's answer to the Guardian, "the British have a better agreement than the EEA. They get access to the internal market and the common trade that is desirable, but they do not have to be part of a dynamic regulatory development that places strong ties on the individual countries' national policies. …The most difficult thing for Norway is that we are bound in areas that are national policy, and that it happens in more and more areas. The British have now taken back this authority, and it is extremely interesting".
Arnstad is not the only politician complaining, the leader of the Norwegian Socialist Party's EEA committee, Heming Olaussen, also believes that the British agreement with the EU is better than the EEA, "because the British escape the European Court of Justice. Then they are no longer subject to EU supremacy and must not accept any EU legislation in the future as we must. This agreement is qualitatively different and safeguards national sovereignty in a better way than the EEA does for us".
Could we soon see Norway and the other EEA countries try to renegotiate their terms?
Prime Minister Boris Johnson made sure that he got everything possible arranged by the end of the day, including Gibraltar. The first tweet has a statement from Foreign Secretary Dominic Raab:
Remainers constantly brought up the future of the Nissan car plant in Sunderland. They can silence themselves now.
Chronicle Live reported:
Automotive giant Nissan has welcomed the UK's post-Brexit trade deal with the EU, which appears to have safeguarded the future of its Sunderland plant.
The plant has been at the centre of the Brexit debate over the last decade, with both Remain and Leave campaigners using it to back up their respective arguments.
A number of global Nissan executives have used visits to Sunderland to warn that its future was threatened by a no-deal Brexit, and two models either being made or due to be made at the plant have been cancelled since the 2016 referendum.
But the Christmas Eve agreement of a deal that appears to allow tariff-free access to EU markets for British-made goods has been welcomed by the company.
On Boxing Day, The Telegraph — Boris's former employer — published an interview with him, excerpts of which follow (emphases mine):
"I think it has been a long intellectual odyssey for many people of this country," he said, casting back to 1988, shortly before he, an up-and-coming journalist at The Telegraph, was dispatched to Brussels to report on the European Commission.
"The whole country has been divided about this issue, because we are European, but on the other hand we don't necessarily want to feel that we're committed to the ideology of the European Union.
"That's been the problem and I think it is absolutely true that Margaret Thatcher … she did begin this period of questioning. Her Bruges speech was very, very important."
Mr Johnson is referring to a speech that, to many Eurosceptics, formed the foundations of the bitter and protracted political struggle against ever closer union that ultimately set Britain on the path to Brexit.
At the height of her power and railing against Jacques Delors' latest move towards deeper integration, in 1988 Baroness Thatcher urged the Commission to abandon aspirations of a "European super-state" which would infringe on the "different traditions, parliamentary powers and sense of national pride in one's own country".
Her warning went unheeded, however, and just four years later the UK signed up to the Maastricht Treaty and with it the creation of the European Union as it is constituted today.
And yet, even after she was toppled and replaced by John Major, an ardent Europhile, the seeds of discontent and the desire to reclaim British sovereignty had been sown in Bruges.
He explained that we will always be European, just not part of the huge project that seems to continually move the goalposts of membership obligations:
"I think this gives us a basis for a new friendship and partnership that should attract people who love Europe and want to have a great relationship with it, who want to feel close to it.
"But it should also be something that is welcome to people who see the advantages of economic and political independence. I think the country as a whole has got itself into a new and more stable footing. It's a better relationship and a healthier relationship."
… The tariff and quota-free deal covers £660bn worth of trade a year, which Mr Johnson said will still be "smooth" but with new customs procedures and paperwork which will mean things are "different and there will be things that businesses have to do".
In particular, he is keen to stress that the UK will be free to diverge from EU standards.
This is particularly gratifying for Mr Johnson, who said that after being accused of "cakeism for so many years," he has achieved what his critics said was impossible: "That you could do free trade with the EU without being drawn into their regulatory or legislative orbit."
Boris enjoys his 'cakeism' references. He made one on Christmas Eve upon the announcement of the deal and he made yet another on January 1, which was Guido Fawkes's Quote of the Day:
I hope I can be forgiven for reminding the world that many people used to insist that you couldn't do both: you couldn't have unfettered free trade with the EU, we were assured, without conforming to EU laws. You couldn't have your cake and eat it, we were told. Maybe it would be unduly provocative to say that this is a cake-ist treaty; but it is certainly from the patisserie department.
The Spectator had an excellent article on the new treaty, 'The small print of Boris's Brexit deal makes for reassuring reading'. Brief excerpts follow. The article has much more:
The Brexit deal takes things back to where they were before Maastricht. The EU is limited now in any meddling to very specific areas indeed. It ends the oddity where because circa seven per cent of UK business trade with the EU, 100 per cent have their laws made by the EU (although that is a bit more blurred in supply chains) …
There are parts of the deal that mean that, should Britain wish to diverge, then UK committees will have to talk to EU committees. Requiring the UK to 'consult' on implementation and change of the agreement etc. But how this is done in practice is left free and thus pretty non-enforceable and limited in scope. It is diplomacy now, not law …
While there is a lot of hot air in the treaty, it does not go beyond that. Lord Frost and his team seem to have seen off the (no doubt many) attempts to get EU regulation in through the back door. The UK is leaving the European Union and the lunar orbit of its regulations. It depends on your politics whether you approve of concessions over fish and some aspects of trade. But the legal question – to take back control – has been accomplished.
In The Atlantic, Tom McTague, a balanced journalist, looked at Brexit from the Conservatives' 2019 manifesto policy of 'levelling up' all parts of the United Kingdom:
… at root, Brexit was a rejection of the economic status quo, which too many had concluded was benefiting the country's urban centers at the expense of its more rural regions. And not without evidence: Britain is the most unequal economy in Europe, combining a supercharged global hub as its capital with areas a three-hour drive away that are as poor as some of the least-developed parts of the continent.
Brexit was not solely a vote of the "left behind"—much of the wealthy and suburban elite also voted to leave. But Brexit was a rejection of the direction the country was taking, a desire to place perceived national interests above wider European ones that too many Britons did not believe were also theirs. Is this entirely unreasonable?
The Revd Giles Fraser, rector of the south London church of St Mary's, Newington — and co-founder of UnHerd — wrote an excellent article on Boris, Brexit and old Christmas traditions involving seasonal games of chaos and fools. He also delves into the Bible. 'Why chaos is good for Boris — and Brexit' is worth reading in full.
You will want to see the photo he includes in his article, which begins as follows:
Back in early December, after a dinner between the British negotiating team and their EU counterparts, a photograph was released that, it was said, "sums everything up". A characteristically dishevelled Boris Johnson was unflatteringly contrasted with the smartly dressed Michel Barnier. "Johnson's loose tie, shapeless suit and messy hair alongside Frost's errant collar stood out somewhat beside an immaculately turned out Ursula von der Leyen and chief EU negotiator Michel Barnier" reported the Huffington Post, while reproducing a series of damning twitter observations …
Fraser points out that Brexit is charting a new course. The old rules no longer apply. Boris seems to be the king of chaos, perhaps a 'fool':
The problem with an orderly approach to things such as Brexit is that most problems, especially the large ones, are always going to be imperfectly and incompletely specified. In such a context, it is not always a straightforward matter to argue in a linear way from problem to solution. Indeed, when situations seem to require some sort of paradigm shift, the rules of the old order present a block on the emergence of the new. Things will always seem chaotic when change does not travel according to pre-established ideas of how one thing follows from another.
In his fascinating book Obliquity, the economist John Kay describes the shortcomings of turning decision making within a complex environment into some sort of algebra. Often, he argues, "complex outcomes are achieved without knowledge of an overall purpose". The importance of rational consistency is exaggerated. Some values are incommensurable, not plottable on a single system of reference. In such situations, neatness is overrated, distorting even.
That, I take it, is partly why Boris Johnson remains ahead in the polls, even now. Yes his shambolic manner, strongly contrasted with Keir Starmer's orderly, lawyerly disposition, speaks to a refusal of some imposed authority. It's a kind of trick, perhaps, given that he is the authority. And Old Etonians are not typically chosen as "the lowly" who are lifted up as per the Magnificat.
But the importance of Johnson "the fool" exceeds the fact that he has become an unlikely poster-boy of some unspecified insurgency against the established European rules based system of governance. The fool understands something the rationally wise does not. "Man plans, God laughs" goes an old Jewish proverb. Much to the deep frustration of its proponents, order can never be finally imposed upon chaos. And those who are comfortable with this, celebrate it even, are often better able to negotiate the complexities of life. Being chaotic might just turn out to be Johnson's unlikely super-power.
Boris certainly has had a good track record over the past 12 years. The coronavirus crisis is the only obstacle remaining:
What independence from the EU means for Britons
The BBC website has a short but practical guide to changes that came into effect on January 1.
In addition, UK drivers licences will be recognised in EU member countries as they were before:
With regard to students and foreign study, we will no longer be part of the EU-centric Erasmus study programme beginning in September 2021. The UK government is developing the worldwide Turing programme, named for Alan Turing:
… Unlike the Erasmus programme, which was founded in 1987 "to promote a sense of European identity* and citizenship among its participants", the new scheme will have a global outlook, targeting students from disadvantaged backgrounds and areas boosting students' skills and prospects, benefitting UK employers. It will be life changing for the student participants.
A year of Erasmus-funded reading of Sartre at the Sorbonne in Paris, or a year of Turing-funded study of Nano-engineering at the Indian Institute of Technology in Madras? It is a no-brainer to choose the exciting future that is beyond Little Europe.
*The EC in latter years funded a post-graduate exchange programme that offered opportunities outside Europe. Some 95% of the budget still focuses on Europe.
Women will be pleased that the EU tax — VAT — on sanitary products is no more.
How we celebrated, despite lockdown
On New Year's Eve, I was cheered to see an article by The Guardian's economics editor Larry Elliott, 'The left must stop mourning Brexit — and start seeing its huge potential'. YES! Every Labour, Lib Dem and SNP MP should read it.
He, too — like the aforementioned Tom McTague of The Atlantic — sees Brexit as an upending of the status quo. He tells his readers on the Left that they should be happy about this (emphases mine):
Many in the UK, especially on the left, are in despair that this moment has arrived. For them, this can never be the journey to somewhere better: instead it is the equivalent of the last helicopter leaving the roof of the US embassy in Saigon in 1975.
… It marked the rejection of a status quo that was only delivering for the better off by those who demanded their voice was heard. Far from being a reactionary spasm, Brexit was democracy in action.
Now the UK has a choice. It can continue to mourn or it can take advantage of the opportunities that Brexit has provided. For a number of reasons, it makes sense to adopt the latter course.
For a start, it is clear that the UK has deep, structural economic problems despite – and in some cases because of – almost half a century of EU membership. Since 1973, the manufacturing base has shrivelled, the trade balance has been in permanent deficit, and the north-south divide has widened. Free movement of labour has helped entrench Britain's reputation as a low-investment, low-productivity economy. Brexit means that those farmers who want their fruit harvested will now have to do things that the left ought to want: pay higher wages or invest in new machinery.
The part of the economy that has done best out of EU membership has been the bit that needed least help: the City of London. Each country in the EU has tended to specialise: the Germans do the high-quality manufactured goods; France does the food and drink; the UK does the money. Yet the mass exodus of banks and other financial institutions that has been predicted since June 2016 has not materialised, because London is a global as well as a European financial centre. The City will continue to thrive.
If there are problems with the UK economy, it is equally obvious there are big problems with the EU as well: slow growth, high levels of unemployment, a rapidly ageing population. The single currency – which Britain fortunately never joined – has failed to deliver the promised benefits. Instead of convergence between member states there has been divergence; instead of closing the gap in living standards with the US, the eurozone nations have fallen further behind.
I was especially pleased that he pointed out the coronavirus vaccine. We were the first in the world to approve one and get it rolled out:
The Covid-19 crisis has demonstrated the importance of nation states and the limitations of the EU. Britain's economic response to the pandemic was speedy and coordinated: the Bank of England cut interest rates and boosted the money supply while the Treasury pumped billions into the NHS and the furlough scheme. It has taken months and months of wrangling for the eurozone to come up with the same sort of joined-up approach.
Earlier in the year, there was criticism of the government when it decided to opt out of the EU vaccine procurement programme, but this now looks to have been a smart move. Brussels has been slow to place orders for drugs that are effective, in part because it has bowed to internal political pressure to spread the budget around member states – and its regulator has been slower to give approval for treatments. Big does not always mean better.
Later on — at 11 p.m. GMT, midnight Continental time — millions of us in Britain were only too happy to toast each other, confined in our own homes, and say:
Free at last!
Here's Nigel Farage:
Baroness Hoey — formerly Kate Hoey, Labour MP — worked tirelessly for Leave in 2016.
She had a message for her late mother …
… and for Guy Verhofstadt, who is shown below a few years ago in London with the Liberal Democrats campaigning against Brexit:
In the days that followed …
On New Year's Day, Labour leader Sir Keir Starmer gave an optimistic message for 2021 — 'the UK's best years lie ahead':
The Sun's political editor, Harry Cole, urged all of us to unite behind a new Britain:
Boris Johnson's father, Stanley, continues to pursue his quest for French citizenship, having researched his family tree.
Nigel Farage's new campaign will be against dependence on China:
Our ports have been problem-free:
On that cheery note, after four and a half years, this completes my Brexit Chronicles! Onwards and upwards!
While much of the UK is in some sort of coronavirus lockdown — England is now in the new Tier 5 — let's cast our minds back to Christmas Eve 2020.
An imminent announcement was rumoured by news channels from the early morning.
Christmas Eve morning — in our household, at least — provided more excitement than Christmas Day, particularly since our area were in Tier 4 at the time, forbidding anything but the briefest of visits.
As December 24 unfolded, there was no final trade agreement enabling the United Kingdom to terminate the Brexit transition phase, scheduled to end at 11:59 p.m. Brussels time, on December 31.
Mid-afternoon, Sky News announced that there would be no statement that day. We stayed tuned in, which was just as well, because a short time later, they changed tack and said that that EU Commission president Ursula von der Leyen and British Prime Minister Boris Johnson would be making separate statements about a deal having been struck.
Amazingly, as Sky News announced there would be no announcement, this independent journalist called it correctly. Well done:
Guido Fawkes's team, who run the best British political website, had been primed for this from the week before. Tom Harwood went the furthest and had worn his Merry Brexmas jumper (pullover sweater) in their news wrap up video on December 18:
Around 3 p.m., Ursula von der Leyen made her announcement from Brussels. Boris made his from No. 10. While Ursula and our chief EU negotiator Michel Barnier were downbeat, Boris was positively euphoric:
His tie had a fish motif:
Fishing was the sticking point that caused the delay to an agreement being reached:
In the end:
Leavers are very grateful to Lord David GH Frost for his tireless efforts in negotiating on the UK's behalf. Words cannot describe how hard he has worked on our behalf:
This was Boris's announcement about the new trade deal with the EU beginning on January 1, 2021. Guido Fawkes has a written summary (ignore the photo, which was not one from December 24):
It was on as even terms as possible. Both von der Leyen and Barnier acknowledged that we were 'tough' in our negotiations. Good.
Michel Barnier is in the first video:
Michel Barnier spoke after von der Leyen. Thank you, Michel:
Here he says that the UK has chosen to leave the European Union and the single market. The new agreement is the basis of a new partnership, one that is fair and equitable:
The woman on the right in that photo moderated the session, which included a press conference.
More highlights follow.
Journalist Dave Keating has an excellent thread, which he introduced with the reference to white smoke appearing at the Vatican when there is a new pope:
Boris's usual critics doubted the 'Canada-style' description, until they began analysing the text. Some admitted on air and in print that it was, indeed, a Canada-style agreement.
The Telegraph had more on the agreement:
Boris sent a three-page letter to each MP and peer.
Contrary to what Boris said, the agreement was 1,246 pages long. Annexes and footnotes probably accounted for the extra length. You can read the full text here, using the links at the bottom of that page:
I couldn't agree more with the poll results.
I also fully agree with the PM that Brexit dragged on long enough:
Agree.
We will always be European.
We love our European friends and family.
However, the EU construct, as it evolved from a common trading area to a common army (developing) and lack of national autonomy, were steps too far for 52% of the British public. Here's a case in point: the EU Parliament — individual MEPs — won't even be voting on this deal until early 2021. We left at the last minute of 2020. This proves further that the only EU decisions that matter come from the EU Commission.
After the announcement of the new EU-UK trade agreement, reactions poured in.
First, here's a reaction from a member of the general public, a Leaver. I felt the same way:
Nigel Farage — without whom we never would have had a referendum (thanks again, Nigel!) — approved, even though the deal isn't perfect:
David Cameron, who was PM at the time of the July 23, 2016 referendum, said:
Theresa May, Cameron's successor and MP for Maidenhead, who ended up resigning over her poor handling of Brexit within Parliament, must have tweeted this through gritted teeth:
Conservative MP Mark Harper was unique in thanking Lord David GH Frost — Barnier's British counterpart — who negotiated so well. Harper — one of the good guys — said that he would look forward to reading through the agreement over Christmas ahead of the December 30 vote.
Another Conservative MP, Chris Heaton-Harris, said, that contrary to negative reports circulating in the media, no MP objected to studying the agreement over Christmas.
The leaders of the devolved nations — Scotland, Wales and Northern Ireland — also reacted to the news.
Scotland's Nicola Sturgeon said that Brexit is happening 'against Scotland's will' and issued yet another plea for Scottish independence.
Another socialist, Mark Drakeford, the First Minister — Prif Weinidog — of Wales, offered a more balanced assessment. Perhaps he recalled that most Welsh voters wanted Brexit. Drakeford said that it wasn't the deal hoped for (probably not enough links with the EU) but was workable.
Northern Ireland's First Minister, Arlene Foster (DUP), said that, provisionally, the agreement looked like 'good news' and issued a full statement on it.
Kate Hoey, the former Labour MP for Vauxhall (London) and the current Baroness Hoey of Lylehill and Rathlin in the County of Antrim, was a staunch supporter of Brexit and was one of the main Leavers in 2016 on the public stage. Even though her heart is in Northern Ireland, her homeland, she participates actively in the House of Lords. She had this to say about the agreement:
Her friends at Labour Leave were equally relieved:
Emmanuel Macron, France's petit président, played the tough guy. In one tweet, he said that European unity and firmness paid off; the agreement with the UK had to protect France's citizens, fishermen and producers. He assured them that this was the case, pointing towards a Europe that is sovereign and strong. In a second tweet, he thanked Michel Barnier for his tenacity and engagement in defending European interests and unity. He also said that, thanks to von der Leyen, European solidarity showed its force.
That evening, Boris posted his Christmas message. The first half is about coronavirus. The second part is about Brexit:
That day, all 52% of us wanted to focus on was this great achievement — a happy one, brightening a coronavirus-dominated Christmas:
The second day of Brexmas will follow tomorrow.
The first part of a review of last week in Parliament concerned coronavirus with a follow-on here.
The other big debates last week were about the Internal Market Bill, a legislative safeguard to preserve Britain's sovereignty after the Brexit transition period concludes at the end of the year.
Talks with the EU have reached an impasse. Worse, the EU wants to take Northern Ireland hostage, as it were, with the possibility that food from other parts of Britain might be prohibited from reaching it. Absurd, but that is the state of play.
On Saturday, September 12, Steve Baker tweeted:
The Telegraph article in Steve Baker's tweet explains (emphases mine):
Boris Johnson has accused the European Union of threatening to impose a food "blockade" in the Irish Sea that would destroy the "economic and territorial integrity of the UK".
Writing in The Telegraph, the Prime Minister made a passionate defence of his decision to alter the Brexit divorce deal, saying he has to protect Britain from the "disaster" of handing Brussels the "power to carve up our country".
He also issued a direct plea to Tory MPs threatening to rebel over his plans, telling them that, if they stand in his way, they will reduce the chance of getting a trade deal with the EU.
Mr Johnson insisted a Canada-style trade deal with the bloc is still possible and remains his goal, but that Brussels must "take their threats off the table" and rebel MPs must get into line. He also believes the UK will still "prosper mightily" under a narrower, Australia-style trade deal.
The Prime Minister claimed the EU could effectively impose a food blockade across the Irish Sea by refusing to grant the UK approved "third party" status for food exports, which officials say Michel Barnier, the EU's chief negotiator, has "explicitly" threatened.
The Withdrawal Agreement gives the EU oversight over goods of animal origin being transported from the mainland to Northern Ireland for four years, meaning Brussels could use an "extreme interpretation" to impose tariffs or declare such trade illegal …
The Government is trying to rush through legislation that would amend the Withdrawal Agreement and in particular its Northern Ireland protocol.
Mr Johnson argues that he has been forced to act because of a "serious misunderstanding" in Brussels about the terms of the agreement, and must unilaterally make changes to it because it has become a "danger to the very fabric of the United Kingdom".
The EU has told Mr Johnson that, unless he backtracks by the end of the month, the trade talks are over. 
That weekend, the news was full of MPs, senior legal experts and former Prime Ministers saying that Boris Johnson's proposals were a 'violation of international law':
On Friday a group of more than a dozen MPs, among them former ministers, signalled that they would press ahead with attempts to bar the Government from overriding the Withdrawal Agreement without the support of Parliament …
In the House of Commons, Sir Bob Neill, an avowed Remainer, led the rebel charge. Neill is:
the chairman of the Commons justice committee, who has already secured the backing of Damian Green, Theresa May's former deputy, and ex-solicitor general Sir Oliver Heald.
The Remain media gave airtime to those who said this proposal violates international law, a distinctly Remainer stance. In 2018, Theresa May watered down an excellent Brexit plan — Canada ++. Boris pushed a stronger 'deal' last autumn. Now Boris sees what the EU could do next year if the UK doesn't close this loophole.
In short, those who oppose Boris's proposed legislation are Remainers. Those who support it are Leavers.
This became evident in Parliamentary debates last week and this week.
On Monday, talkRADIO interviewed two Leavers.
Sir Desmond Swayne gave an early morning interview:
Labour Peer — and Leaver — Kate Hoey went on the air later:
Guido Fawkes published the full text of the bill.
The second reading of the bill took place on Monday, September 14. Excerpts from the debate follow.
Boris introduced the second reading, emphasising its importance to the Union:
The creation of our United Kingdom by the Acts of Union of 1707 and 1801 was not simply a political event, but an act of conscious economic integration that laid the foundations for the world's first industrial revolution and the prosperity we enjoy today. When other countries in Europe stayed divided, we joined our fortunes together and allowed the invisible hand of the market to move Cornish pasties to Scotland, Scottish beef to Wales, Welsh beef to England, and Devonshire clotted cream to Northern Ireland or wherever else it might be enjoyed.
When we chose to join the EU back in 1973, we also thereby decided that the EU treaties should serve as the legal guarantor of these freedoms. Now that we have left the EU and the transition period is about to elapse, we need the armature of our law once again to preserve the arrangements on which so many jobs and livelihoods depend. That is the fundamental purpose of this Bill, which should be welcomed by everyone who cares about the sovereignty and integrity of our United Kingdom.
We shall provide the legal certainty relied upon by every business in our country, including, of course, in Northern Ireland. The manifesto on which this Government were elected last year promised business in Northern Ireland "unfettered access to the rest of the UK".
Sir Bob Neill (Bromley and Chislehurst, Con) spoke, asking about upholding 'the rule of law', a popular theme among Remainer MPs:
I have listened carefully to what the Prime Minister says, but does he accept that were our interlocutors in the EU to behave in such an egregious fashion, which would clearly be objectionable and unacceptable to us, there is already provision under the withdrawal agreement for an arbitrary arrangement to be put in place? Were we to take reserve powers, does he accept that those reserve powers should be brought into force only as a final backstop if we have, in good faith, tried to act under the withdrawal agreement and are then frustrated? The timing under which they come into force is very important for our reputation as upholders of the rule of law.
The PM responded:
… there is the question of tariffs in the Irish sea. When we signed the protocol, we accepted that goods "at risk" of going from Great Britain into the EU via Northern Ireland should pay the EU tariff as ​they crossed the Irish sea—we accepted that—but that any goods staying within Northern Ireland would not do so. The protocol created a joint committee to identify, with the EU, which goods were at risk of going into Ireland. That sensible process was one achievement of our agreement, and our view is that that forum remains the best way of solving that question.
I am afraid that some in the EU are now relying on legal defaults to argue that every good is "at risk", and therefore liable for tariffs. That would mean tariffs that could get as high as 90% by value on Scottish beef going to Northern Ireland, and moving not from Stranraer to Dublin but from Stranraer to Belfast within our United Kingdom. There would be tariffs of potentially more than 61% on Welsh lamb heading from Anglesey to Antrim, and of potentially more than 100% on clotted cream moving from Torridge—to pick a Devonshire town at random—to Larne. That is unreasonable and plainly against the spirit of that protocol …
MPs on the Opposition benches were restive. The PM said:
To answer the questions that are being shouted at me from a sedentary position, last year we signed the withdrawal agreement in the belief, which I still hold, that the EU would be reasonable. After everything that has recently happened, we must consider the alternative. We asked for reasonableness, common sense, and balance, and we still hope to achieve that through the joint committee process, in which we will always persevere, no matter what the provocation.
Jeremy Wright (Kenilworth and Southam, Con) asked about violating international law:
… When I was the Attorney General in the previous Government, I was happy to confirm that the ministerial code obliged Ministers to comply with international as well as domestic law. This Bill will give Ministers overt authority to break international law. Has the position on the ministerial code changed?
The PM replied:
No, not in the least. My right hon. and learned Friend can consult the Attorney General's position on that. After all, what this Bill is simply seeking to do is insure and protect this country against ​the EU's proven willingness—that is the crucial point—to use this delicately balanced protocol in ways for which it was never intended.
The Bill includes our first step to protect our country against such a contingency by creating a legal safety net taking powers in reserve, whereby Ministers can guarantee the integrity of our United Kingdom. I understand how some people will feel unease over the use of these powers, and I share that sentiment. I say to my right hon. and learned Friend that I have absolutely no desire to use these measures. They are an insurance policy, and if we reach agreement with our European friends, which I still believe is possible, they will never be invoked. Of course, it is the case that the passing of this Bill does not constitute the exercising of these powers.
Ed Miliband (Doncaster North, Lab) moved an amendment on behalf of Labour leader Sir Keir Starmer, who was not in the Chamber as he was self-isolating. Note 'the rule of law':
I beg to move an amendment, to leave out from "That" to the end of the Question and add:
"this House notes that the UK has left the EU; calls on the Government to get on with negotiating a trade deal with the EU; recognises that legislation is required to ensure the smooth, effective working of the internal market across the UK; but declines to give a Second Reading to the Internal Market Bill because this Bill undermines the Withdrawal Agreement already agreed by Parliament, re-opens discussion about the Northern Ireland Protocol that has already been settled, breaches international law, undermines the devolution settlements and would tarnish the UK's global reputation as a law-abiding nation and the UK's ability to enforce other international trade deals and protect jobs and the economy."
There are two questions at the heart of the Bill and of why we will oppose it tonight. First, how do we get an internal market after 1 January within the UK while upholding the devolution settlements, which have been a vital part of our constitution for two decades and are essential to our Union? Secondly, will our country abide by the rule of law—a rules-based international order, for which we are famous around the world and have always stood up?
Those are not small questions. They go to the heart of who we are as a country and the character of this Government …
After interventions from a few MPs, Miliband openly challenged the PM, which had to be seen to be believed, it was that bold:
… there is also an irony here—the Prime Minister tried to slip this in; I do not know whether the House noticed—which is that this Bill does precisely nothing to address the issue of the transport of food from Great Britain to Northern Ireland. It is about two issues where the Government are going to override international law: exit declarations, Northern Ireland to GB, and the definition of state aid relating to Northern Ireland. If the Prime Minister wants to tell us that there is another part of the Bill that I have not noticed that will deal with this supposed threat of blockade, I will very happily give way to him. I am sure he has read it; I am sure he knows it in detail, because he is a details man. Come on, tell us: what clause protects against the threat, which he says he is worried about, to GB-to-Northern Ireland exports? I give way to him. [Interruption.]
As the PM smouldered at Miliband's arrogance, Deputy Speaker Dame Eleanor Laing intervened:
Order. The right hon. Gentleman cannot give way unless he is asked to.
Miliband carried on ranting, ending with:
I do not understand this. He signed the deal. It is his deal. It is the deal that he said would protect the people of Northern Ireland. I have to say to him, this is not just legislative hooliganism on any issue; it is on one of the most sensitive issues of all. I think we should take the word of two former Prime Ministers of this country who helped to secure peace in Northern Ireland.
An indignant Sammy Wilson (East Antrim, DUP) intervened:
Before the shadow spokesman lectures the Prime Minister about reading documentation or starts lecturing us about the Good Friday agreement, does he not recognise, first of all, that the Good Friday agreement talks about the principle of consent to change the constitutional position of Northern Ireland, which is what this protocol does? The Good Friday agreement has within it a mechanism to safeguard the minorities in Northern Ireland through a cross-community vote, which again the protocol removed. So before he starts talking about the threats to the Good Friday agreement, does he not recognise that the protocol was a threat to it in the first place?
Miliband replied to Sammy Wilson, then went on to invoke other Remainers, Theresa May and former PM John Major:
The right hon. Gentleman did not like the protocol at all. He would rather have not had the protocol. He and I just have a disagreement on this issue. I believe it was necessary to make special arrangements for Northern Ireland, or for the UK to be in the EU customs union to avoid a hard border in Ireland. That is why the Prime Minister came along and said the protocol was the right thing to do …
Let us just get this straight for a minute, because I think it is important to take a step back. The Prime Minister is coming to the House to tell us today that his flagship achievement—the deal he told us was a triumph, ​the deal he said was oven-ready, the deal on which he fought and won the general election—is now contradictory and ambiguous. What incompetence. What failure of governance. How dare he try to blame everyone else? I say to the Prime Minister that this time he cannot blame the right hon. Member for Maidenhead (Mrs May), he cannot blame John Major, he cannot blame the judges, he cannot blame the civil servants, he cannot sack the Cabinet Secretary again. There is only one person responsible for it and that is him. This is his deal. It is his mess. It is his failure. For the first time in his life, it is time to take responsibility. It is time to 'fess up: either he was not straight with the country about the deal in the first place, or he did not understand it.
Enough of Miliband.
Sir William Cash (Stone, Con) spoke on behalf of the bill:
… There has never been a level playing field in the EU. Its cardinal objective in these negotiations from the outset has included preventing us from being able to compete fairly. That is not good faith. Under the protocol, ​the EU would even control our legal tax freedom to create freeports and enterprise zones. All of this would massively undermine our businesses and jobs and therefore our voters …
He gave several examples of how the EU operates unfairly, then concluded:
The EU seeks to subject us to a foreign regulator, taking essentially political decisions and armed with undemocratic prohibition powers and authorisations. It would be unconscionable and utterly naive for us to allow that to happen. It would be contrary to our national interests at this time of economic instability generated by coronavirus.
You can watch his speech in full here:
Leavers thought it was an excellent performance:
Bill Cash is part of the pro-Brexit ERG (European Research Group), which issued a three-page briefing memo explaining the importance of passing the Internal Market Bill. Guido Fawkes published it in full.
The SNP's Ian Blackford (Ross, Skye and Lochaber) gave his 'Scotland' speech once again and made an egregious emotional appeal, invoking, like other Remainers, the rule of law:
Every Member has a choice. We know that the Bill breaks international law—so many learned individuals, including the previous Attorney General, have told us so. Tonight, this House can tell the Government that it is not on and that this House is not going to be complicit in a breach of international law. I venture that that is the responsibility that each Member has. Every Member—every Member, Madam Deputy Speaker—should examine their conscience. This is about a Bill that breaches the terms of a treaty, the ink of which is barely dry and on the delivery of which the governing party fought an election.
As is his wont, he spoke for ages, taking interventions from Labour MPs supporting his position.
Blackford said that the bill would hamper further devolution. Michael Gove, the Chancellor for the Duchy of Lancaster, asked how.
Blackford replied:
I hear the Cabinet Office Minister shout, "How?" Perhaps he should go and talk to the General Teaching Council, and it will give him its views directly. [Interruption.] Really? We have the Business Secretary, who is supposed to be taking this Bill through, sitting laughing—laughing at the legitimate comments made by stakeholders in Scotland. It is little wonder that the Tories are rejected in the way they are at the polls in Scotland …
Sir Bob Neill began to come around to see the positive points in the bill yet said he could still not support it without amendments being added.
Sammy Wilson responded, making an excellent point:
The hon. Member for Bromley and Chislehurst (Sir Robert Neill) said that we have obligations to the rule of law and obligations to the EU. What about the obligations to the people of the United Kingdom to ensure the provisions of the Act of Union? The economic basis of the Act of Union makes it quite clear that there shall be no barriers on trade between different parts of the United Kingdom. I believe that the Government are fulfilling, in part, their obligations to the people of Northern Ireland in this Bill, and that is why we will support it tonight.
There were many excellent contributions from Brexit-supporting Conservative MPs. Opposition MPs were feisty and the debate was lively.
That evening, the bill passed — 340 to 263:
Guido has the list of Conservative abstentions. Theresa May's name was among those listed.
The Labour amendment to reject the bill entirely failed by 349 votes to 213. TalkRADIO has an analysis.
The bill then moved on to Committee Stage.
On Tuesday, September 15, MPs debated various clauses and amendments.
That might sound boring, but it made for excellent viewing on BBC Parliament. Sparks were flying left and right.
SNP MPs insisted that the bill would decrease their powers under devolution. This is an argument that Conservatives, rightly, find absurd.
Paul Bristow (Peterborough, Con) asked the SNP's Drew Hendry (Inverness, Nairn, Badenoch and Strathspey):
The hon. Gentleman called the Office for the Internal Market an unelected quango. Does he accept that, if he had his way, he would be handing powers back to unelected quangos in Brussels?
Drew Hendry replied:
This is the argument that Government Members try to propagate all the time—that if these powers came to Scotland, they would immediately be transferred to unelected people in the EU. Two things are wrong with that. First, nobody in the EU is actually unelected when they make decisions; they are all elected by either the Parliament or the people who go there. The second and most fundamental point is that, under these proposals, the UK Government are simply taking all control and overriding the ability of Members of the Scottish Parliament to do their job by representing the people who voted for them and their choices.
The SNP fear that the UK Parliament will make decisions that override the spending wishes of the Scottish Government. It's possible but probably unlikely. Still, would that not be better than the EU making those decisions? According to the SNP, no, it would not.
Bill Cash intervened in an attempt to add reason to the debate:
The arguments that I have just heard from the hon. Member for Inverness, Nairn, Badenoch and Strathspey (Drew Hendry) are, in my judgment, completely unjustified. [Interruption.] He might expect me to say that; it is hardly surprising. The reality is that the Bill is intended to provide for independent advice and monitoring through the creation of this internal market within the Competition and Markets Authority arrangements. What the provision clearly states—far from it being just a bunch of nodding donkeys, which is more or less what the hon. Gentleman is saying—is that it will be a non-ministerial department, albeit sponsored by the Department for Business, Energy and Industrial Strategy, and it will have an enormous amount and range of experience and knowledge brought from its predecessor.
Hendry asked him who would be in the Competition and Markets Authority (CMA).
Cash replied, dryly:
What I can say for sure is that it will not be the European Union, and that summarises the argument in a nutshell.
Cash elaborated on the danger of EU interference:
We will need to be able to compete effectively throughout the world. This is a serious matter about a serious issue. What we cannot have, as I mentioned yesterday, is the situation that we have at the moment, which is where authorisations are given by the European Commission that either create discrimination against British businesses or have the perception or the potential for doing so. They will affect the voters in Scotland—and the voters in Sheffield, if I may say so. I was brought up in Sheffield. I saw what the European Coal and Steel Community did to the British steel industry. [Interruption.] I hear what the hon. Member for Sheffield Central (Paul Blomfield) says. The reality is that those businesses were driven out of business by, in many cases, unfair subsidies and unfair state aids that were given to other member states. I can give an example. I happened to know many people who worked at the coalface—I used to play cricket with them when I played for Sheffield—and I can tell Members that the Sheffield steelworkers, whom I also played with on occasion, sometimes it was rugger, found that they were very severely jeopardised by the massive state aids that were given to the German coal industry—it was as much as £4 billion—and authorised by the Commission. For a variety of reasons, we did not get the same kind of treatment here in the United Kingdom. This is all part of the problem of how to have fair and reasonable competition.
Joanna Cherry (Edinburgh South West, SNP) directed her comment to Cash, unintentionally getting the soundbite of the day in his reply:
I am going to answer the hon. Gentleman's question. The Scottish National party wants Scotland to remain part of the European Union—a single market of more than 500 million consumers. The SNP does not wish to put up trade barriers with England. It is his party that wishes to enforce upon us trade barriers if we dare to exercise our democratic right of self-determination, which he has spent the last 40 years banging on about in this House for England.
Cash's reply was brilliant:
If I may say so, not unsuccessfully.
Cherry was clearly irritated:
That remains to be seen.
There is too much to quote from this lively debate, so do read it here.
An Opposition amendment and a clause were defeated.
The debate in Committee Stage continued on Wednesday, September 16. The Opposition brought forward more amendments.
The theme of devolution continued. Discussion about a possible threat to Welsh devolution accompanied the concerns of Scottish SNP MPs.
John Lamont, a Conservative MP representing the Scottish constituency of Berwickshire, Roxburgh and Selkirk asked the SNP's Alison Thewlis why she thought the UK government was working against Scotland's interests:
The hon. Lady is giving a typically bitter speech around the role of the UK Government into Scotland. Does she not accept that the UK Government and the Scottish Government have worked very closely together on the growth deals and city deals in Scotland? They are very good examples of what can be achieved in Scotland with both Governments working together, rather than the attitude that she takes of opposing everything that this place does.
Thewliss replied:
I am very interested that the hon. Gentleman raises growth deals, because every single growth deal in Scotland has been short-changed by the UK Government. The Scottish Government have put in more than the UK Government to those growth deals and we are still waiting for the money for some of those growth deals to be realised.
Andrew Bowie, another Conservative MP representing a Scottish constituency (West Aberdeenshire and Kincardine) couldn't change her mind, either.
The Conservatives brought logic to the debate, something Opposition MPs were unable to do.
A Labour amendment, brought forward by Ed Miliband, requiring financial assistance to be the subject of a framework agreement to be agreed by resolution of each House of Parliament was defeated: 330-208.
That day, Boris Johnson appeared before a Select Committee to explain why the Internal Market Bill was necessary:
He told Labour MP Hilary Benn that he thought the EU representatives were negotiating in bad faith:
It is always possible that I am mistaken. Perhaps they will prove my suspicions wrong.
On Thursday, September 17, Guido Fawkes outlined the debates which took place this week (emphases in the original):
The Government will table two amendments to its own Bill on Tuesday, firstly a redrafted version of the Neill Amendment – setting in stone the need for a parliamentary vote beyond the requirements of ordinary statutory instruments, and secondly a clause to prevent significant litigation of the enactment of the controversial provisions. Tightening up the ability to deploy with the consent of the House.
Of course, the Government insists it still does not want to have to use these powers of last resort. But now it will have them in case the EU don't offer concessions…
I'll cover those tomorrow.
One week ago on Friday, January 31, 2020, millions of Britons celebrated Brexit Day.
David Kurten, Brexit Party member of the Greater London Assembly, tweeted:
James Higham of Orphans of Liberty called our attention to the fact, that despite our celebrations, little has changed. We're merely in a transition period, not full Brexit. To those celebrating, he wrote:
That's the majority view, everyone on our side so wants it to be true, when it quite palpably is not:
# Still in the Customs Union
# Still in the Single Market
# Still only a small percentage of our fishing waters
# Still in the EU Army and no plans to leave
# Still paying the EU billions to prop them up to keep fighting us …
Agree fully on all points!
Still, it was worth celebrating getting even this far against the Remainers in our own country and in the EU:
On the morning of January 31, Nicola Sturgeon, leader of the Scottish National Party (SNP) gave a press conference in which she restated both her opposition to Brexit and her goal of holding another referendum for Scottish independence. The last one was held in 2014.
I fully agree with becabob's tweet below the Daily Record's front page and have often expressed the same thought to my friends:
EU leaders also made speeches to representatives from the media. David Sassoli, the Italian President of the EU Parliament, lamented the criticism heaped upon the European Union. He said that he was referring to people on the Continent — not the British — and said that could not understand it.
Sassoli went on to say that the EU 'rules' and 'regulations' were in place to prevent 'the strong' overtaking 'the weak'.
I wonder. Outside of MEPs, voters in EU member states have no voice over senior EU bureaucrats appointed to their various positions. They're an unelected elite who tell MEPs how to vote. The EU Parliament essentially rubber stamps whatever legislation they are told to approve.
Moving along, the EU removed the British flag from their premises in Brussels:
Hear the cheers in a British sports bar as it happened:
The EU's Guy Verhofstadt, an arch-enemy of Brexit, posted a video from the Alliance Party in Europe:
Meanwhile, television broadcasters were upset that Boris had a No. 10 team film his exit statement to the nation. Normally, that would have been done by one of the main channels, with permission given to the others to air it. On January 30, The Express reported:
The BBC has warned it might not air the message, which is understood to be a fireside chat.
A spokesman said: "There is a long-established process for recording statements by the Prime Minister at significant times where one broadcaster records it and shares the footage.
"The BBC and the other broadcasters are well used to following this usual process, which respects our independence as broadcasters.
"If Number 10 wants to supply its own footage we will judge it on its news value when deciding whether to broadcast it, as we would with any footage supplied to us by third parties."
Mr Johnson's address is one of a number of celebrations to mark Brexit day.
Government buildings in Whitehall will be lit up in red, white and blue, while Parliament Square and Pall Mall will be decorated with British flags.
On a happier note, the Prime Minister's girlfriend Carrie Symonds posted a photo of Dilyn, their rescue dog from Wales:
That evening, Russia Today was the only media outlet to film Brexit Night for four hours:
At 10 p.m. the BBC, Sky News and ITV broadcast news programmes which lasted until 11:15 p.m. I watched ITV, and I'm glad, because the BBC and Sky gave little coverage of Leavers and, instead, focussed on Remainers.
ITV showed Cabinet members approaching No. 10 for a quiet party that Prime Minister Boris Johnson was throwing for them, his staff and other friends of Brexit, e.g. former Labour Party MP Gisela Stuart.
Just as the newsreader was about to announce who was going in — around 10:06 p.m. — the television played up. It was time to retune the channels, which was aggravating, as we missed the next five minutes of coverage. This is an important detail, more about which below.
ITV showed us coverage of the big party at the rugby club in Morley, which is just outside of Leeds in West Yorkshire:
Happily, ITV showed the fireworks display on their rugby pitch. They were probably the only municipality to have one.
Andrea Jenkyns MP helped to organise the event, which was packed, and probably arranged for permission for the firework display. Fireworks are now officially banned for the year until November 5.
This was the scene in Morley earlier in the day (the Twitter thread has great tweets):
The BBC chose a different locale, Boston in Lincolnshire, for their coverage:
They sang Auld Lang Syne at 11 p.m.:
In the southeast — in Kent — this was the scene at 11:00 p.m. along the famous white cliffs of Dover. This is a lovely little video:
In Brussels, the buildings in the historic centre of the city were illuminated beautifully. Thank you:
In London's Parliament Square, thousands gathered for the countdown, including former Labour MP for Vauxhall Kate Hoey, an ardent supporter of Brexit:
Earlier, Kate Hoey gave an interview to Sky News:
Returning to Parliament Square, the chap in the middle has been campaigning in Parliament Square for the past few years. As far as I know, he did it without pay and, unlike his Remainer counterpart Steve Bray, never brayed about Brexit, but greeted passers-by instead. Anyone who wanted to talk about Brexit with him could do so:
Steve Bray, who continually ruined many live broadcasts from No. 10, says he will continue braying. Shameful. He was paid £80 a day, he said, to shout all the time. It's a wonder he has a voice box left:
Here's a nice 'pan' of those in Parliament Square:
This was the big moment in Parliament Square. Thanks to America's OANN for capturing the atmosphere in their video:
Brexit Party leader Nigel Farage was on hand to address the crowd:
The Houses of Parliament looked stunning:
The Department for Exiting the EU formally closed:
Steve Barclay MP formally resigned his position in that department:
Now on to No. 10 Downing Street, the scene of Boris's subdued party (click photo to read the full article):
Recall that, at the beginning of this post, I mentioned that the television required retuning. No one inside No. 10 was aware of that. Unfortunately, when the big moment came and Boris had intended for everyone to watch the countdown televisually, he had to make do with banging a small gong instead.
I don't know if any of the nation's broadcasters showed Boris's address to the nation at 10 p.m. that night. I tuned in to ITV around 10:05.
Here it is in full:
He aptly and congenially explains that a) he understands that not everyone supports Brexit, b) outlines the next 'act' in this continuing 'drama' and c) tells us why leaving the EU is the 'healthy and democratic' thing to do, referring to the referendum result from 2016.
I am really looking forward to the months ahead. I believe that Boris, flawed though he is (aren't we all?), will be making history in all the best ways for the United Kingdom of Great Britain and Northern Ireland.
The charges of anti-Semitism that have dogged Labour since Jeremy Corbyn was elected leader in 2015 beggar belief.
Labour has the highly dubious distinction of being the only other political party than the BNP to be formally investigated by the Equality and Human Rights Commission for anti-Semitism.
It is unclear why anti-Semites within Labour have felt so free to be so open with their hatred.
The front page article in The Sunday Times from December 8 has chilling content (click on image to read it in full):
Few are saying Jeremy Corbyn himself espouses the same hate, but he seems to be doing little about it. This is what he said on the last debate of the campaign on Friday, December 6:
Yet, the diversity campaign video that Labour issued on Saturday, November 30, mentions every ethnic and religious group in some way — except the Jews!
The Daily Mail has the story along with the video (emphases mine below):
Mr Corbyn posted the one minute and eight second video about diversity on Twitter on Saturday with the words 'this is our strength'. 
The video uses a speech by shadow equalities secretary Dawn Butler as a voice over in which she lists various different groups and insists 'a Labour government will value you'.
But the video does not refer to British Jewish people in a move which has sparked fury and risks worsening Labour's existing anti-Semitism crisis. 
The party remains under formal investigation by the Equality and Human Rights Commission over its handling of allegations of anti-Semitism …  
Ms Butler said in her speech: 'If you are in social housing, if you are LGBT+, if you are straight, if you are a traveller, if you struggle to pay the rent, if you wear a hijab, turban, cross, if you are black, white, Asian, if you are disabled, if you are old, if you are young, if you don't have a trust fund.
'If you didn't go to Oxbridge, if you are working class, if you are under 18, if you are aspirational, if you work, if you are a carer, if you feel you won't live beyond 25, if you have ever ticked the 'other box'. 
'You have a future and you are worthy. Worthy of equality, worthy of dignity and worthy of respect and a Labour government will value you. Just be your authentic self.'
The video ends with a statement on screen which reads: 'Our diversity is our greatest strength. Let's unite and unleash the potential of all our people'.
The situation has been serious for at least a year. Yet, it would appear as if most of our main media outlets are purposely ignoring it.
Imagine if the Conservatives had this problem. It would have been headline news, front and centre, all year long.
How did I find out about it earlier this year? Via Guido Fawkes.
In looking through my bookmarks, however, I found a few Press Association articles from 2018:
'Corbyn sorry for "pain and hurt" caused by anti-Semitism in Labour' prior to a protest by Jewish leaders in front of Parliament (March 25)
'Corbyn faces renewed calls to tackle Labour anti-Semitism' (April 1)
'Shadow minister "frustrated" over Labour's slowness to tackle anti-Semitism' which features a protester holding a sign saying 'For the many, not the Jew' and mentions Labour MP Thangham Debbonaire being criticised by her Bristol constituency Labour Party for attending the aforementioned rally against anti-Semitism (April 8)
Things went quiet until July 2019, when the BBC's Panorama investigated charges of anti-Semitism against Labour. This was just after the the Equality and Human Rights Commission had begun their formal investigation. Guido Fawkes's team distilled the hour-long documentary into a video just under nine minutes long:
Labour's Disputes team, comprised of a handful of people, was in charge of investigating claims of anti-Semitism. Then, Corbyn appointed a new party General Secretary. Under her leadership, few suspensions were issued. Instead, letters were sent reminding offending members of the party's code of conduct. One by one, the longer-serving members of the Disputes team resigned. One had a nervous breakdown. Another seriously considered committing suicide.
One Labour MP interviewed said that things started to go downhill once Corbyn made his pro-Palestinian views more widely known. It appears that pro-Palestinian party members thought they had licence to abuse the notional enemy, with Jewish members suffering verbal abuse for their faith.
On August 2, Guido Fawkes posted 'Labour Anti-Semitic Incidents Hit Record Numbers', which says in part (emphasis in the original):
A damning report published by the Community Security Trust – the charity set up to protect Jews from antisemitism – has shown that there have already been 100 incidents of anti-Semitism which are "examples of, or related to arguments over, alleged antisemitism in the Labour Party" in the first half of this year alone …
Alarmingly, there was a spike of 55 incidents in February and March alone – when several Labour MPs including Luciana Berger left the party over its endemic anti-Semitism. Almost 20% of anti-Semitic incidents across the whole UK were linked to the Labour Party in March, with the CST report noting that Labour's anti-Semitism crisis "clearly has an important bearing" on the record-high number of incidents recorded. All the while Corbyn continues to dismiss it as just a case of a few members occasionally 'dipping' into antisemitic language…
The MP mentioned, Luciana Berger, joined the Liberal Democrats.
One month later, a Brexit-supporting Labour MP stood down to work for the Conservative government under Prime Minister Boris Johnson:
On September 12, Guido Fawkes posted a schedule of fringe meetings for the Labour Party conference, 'Labour's Anti-Semitic Conference Line-Up', which ends with this:
The problem for Labour is surely within their party these views are no longer fringe…
On October 16, a Labour MP from Liverpool, Dame Louise Ellman, resigned her party membership. She is featured in the BBC Panorama video above:
More former Labour MPs began to denounce Jeremy Corbyn's leadership.
The next was Ian Austin, who was an independent MP before Parliament dissolved on November 6:
Former Home Secretary David Blunkett — now Lord Blunkett — was next:
Charles Falconer — Baron Falconer — served as Lord High Chancellor of Great Britain under Tony Blair. On November 26, he gave the BBC his thoughts on the Chief Rabbi's condemnation of Labour:
Britain's former most senior civil judge is also deeply concerned about anti-Semitism in Labour:
Former Labour MP Ivan Lewis is calling on voters to back Boris:
Yet, the anti-Semitism continues. The bookmarks I have are too numerous to include here.
Going back to The Sunday Times of December 8, referenced above, little is actually being done about anti-Semitism at Labour HQ (paywall):
Moving on to other topics, it has been said that Jeremy Corbyn wants to do away with MI5 and specialist law enforcement.
This happens to be true, as evidenced by these photos of the December 1979 issue of the Socialist Organiser featuring Jeremy Corbyn. Click on any of the tweets below to see the full thread. Click on any of the images themselves to see the full text:
Former leftist and veteran political pundit Rod Liddle succinctly summarised historical reasons not to vote Labour — Corbyn in particular — on Thursday. This is from a recent BBC Question Time programme in Bishop Auckland:
Reports have emerged saying that Hamas are actively supporting Corbyn's election on Thursday:
Then there is Brexit. Corbyn has been very non-committal on where he personally stands. Historically, he has been thought a Leaver, but, as his party supports either Remain or Leave as a member of the Customs Union — worse than remaining as a full EU member — interviewers could not get him to make a commitment either way.
We also have the outrageous spending pledges from Labour.
This is a long but interesting thread debunking them. Highly recommended:
A shorter thread follows. Even this leftist says that we can't take these pledges seriously:
Kate Hoey, a Brexit supporter and, most recently, Labour MP for Vauxhall in south west London, urges Bournemouth West voters to back Boris by voting for the Conservative candidate, Conor Burns:
These are only some of the many reasons not to support Labour, especially on Thursday, November 12.
Kate Hoey, departing MP for Vauxhall in South London, may be a Labour Party member, but she is one Parliamentarian I will dearly miss.
On Tuesday, November 5, she, along with other departing MPs, gave her valedictory address. I saw it live, and it is very moving indeed:
Hoey, originally from Northern Ireland, still has a soft spot for her homeland. She also has been at the forefront for Brexit since 2016.
As MP for Vauxhall for 30 years (1989-2019), she said in her address that she rarely spent time with colleagues enjoying dinner. Instead, she was rooted in her constituency, just south of the Thames from the Houses of Parliament, and returned every evening for community meetings or get-togethers. She joked that her Mini could drive itself from Parliament to Vauxhall, it had made the journey so many times.
At the end, she began crying as she thanked her loyal staff, most of whom had served her for many years. She tried to stop crying — 'This is silly' — then quickly recovered to finish her speech.
Most importantly, she said that she put country before party.
Kate Hoey is why I never used to mind Labour very much. She was old school, just with different political stances.
The Conservative Woman thought she was great, too (emphases mine):
There are not many Members of Parliament TCW will be sad to see the back of. But there is one: Kate Hoey.
She stands heads and shoulders above her colleagues – Labour and Conservative. There is not a woman MP to match her in any of the parties …
Would that other MPs were as principled. Parliament will be a poorer place without her. Young MPs should listen and learn what political principle really means, and perhaps there is no better place to start than her speech at the Leave Means Leave rally on March 29, 2019:
We wish Kate well and hope that, liberated from party politics, she will continue to exert her influence for good.
I could not agree more.
Recapping 2019, here are some of Kate Hoey's best moments.
Brexit
Hoey, like all Leavers, was deeply disappointed we did not leave the EU on March 29:
Our next extension was to April 12:
She had a go at Guy Verhofstadt …
… and at Channel 4 news presenter Jon Snow:
She liked the new EU-free passports, since suspended:
Labour Party
We had the EU elections in May. Afterwards, Tony Blair's spin doctor Alastair Campbell explained why he himself voted for the Liberal Democrats rather than Labour.
Campbell's supporters were angry that Kate Hoey had not been expelled. However, there was no reason for Labour to expel her. This photo is from 2016, pre-referendum:
Announcing she would stand down as MP for Vauxhall
In 2017, Kate Hoey announced she would be serving her last term as MP for Vauxhall.
In July 2019, she stayed true to her pledge:
At that time, no one knew we would have an election later this year. Hoey wisely confirmed she would serve her term as MP:
This was the main reason why she did not want to seek a further term:
Here's another:
The fact that she supported delivering Brexit did not matter to her Leave constituency. She stood on principle:
She cared about the children in Vauxhall, whether it be for education …
… or a day out at a museum or clay pigeon shooting:
As far as I know, no new Labour candidate has yet been selected. Lord Adonis was willing to renounce his title for the candidacy:
But, he did not succeed:
Boris
Kate was happy when Boris Johnson became Prime Minister:
A few weeks later, he faced opposition from Labour leader Jeremy Corbyn and many other MPs:
Kate made her views known:
She lamented that today's Labourites know nothing about the party's Euroscepticism, e.g. Tony Benn's, in the 1970s:
Boris's deal
Although Boris's new Brexit deal got rid of the backstop, it would put in a virtual border down the middle of the Irish Sea and make getting some goods from Northern Ireland to other parts of the UK difficult.
Therefore, Hoey could not vote for it. Fortunately, it passed, although the Programme Motion for the timetable did not:
That said, she criticised Jeremy Corbyn for blaming Boris for our failure to exit the EU by October 31:
John Bercow
She was no fan of Speaker Bercow:
She is much happier with Sir Lindsay Hoyle:
Election
As for the December 12 election, this is what she predicts:
She has agreement on that:
She has also noted how Labour have dumped Brexit as a talking point:
Conclusion
At the end, Kate Hoey has been grateful for all the support the British public have given her:
If not the Brexit Party, then, yes, please, the House of Lords.
Well done, Kate Hoey. A grateful nation — whether Labour or Conservative — thanks you for your service as an MP.
Before I continue with the surprise ending the exiting Speaker of the House John Bercow received during an afternoon of nauseating tributes, this is what happened today in Parliament:
I'm writing this post before the session begins, but, note how late Monday sittings start — rarely before 2:30 p.m. Parliament does not meet on Fridays, either, so it's a nice long weekend for all concerned.
Also note that there will be no prayers from the chaplain, as the House of Commons is in transition with regard to clergy. The outgoing chaplain will be appointed as Bishop of Dover later this month. She is in the photo on the left in red. The newest Sergeant at Arms, originally from Nigeria, carries the mace:
Someone responding to the House of Commons tweet lamented that no prayers were being said:
I think a few Prayers are needed before the Election of a New Speaker Clearly none were said during the last election.
I agree.
Apparently, the new chaplain, a Catholic priest, has not yet started. However, I would have thought that Jacob Rees-Mogg, the Leader of the House, could have been in a position to say prayers.
Another issue looms. Bercow knew that an election was coming up on December 12, yet, he wanted his successor chosen now. Several MPs will not be standing for re-election, e.g. the Father of the House Kenneth Clarke, and many more, e.g. the Independents, risk losing their seats next month.
Therefore, it seems inappropriate for a departing House of Commons, led by an departing Father of the House to appoint a new Speaker. Parliament will be adjourning on November 6, by the way:
More on the new Speaker anon.
Now let's return to Thursday, October 31. Bercow was lapping up the afternoon session, which MPs completely devoted to him.
Never mind any pending legislation that has to be completed by the end of the day on Tuesday. One looming bit of legislation concerns compensation to victims of child abuse in religious and state-run care homes in Northern Ireland. I have heard the testimony from some of these men, now in their 50s and 60s, and it is harrowing.
Labour MP Kate Hoey has served her London constituency of Vauxhall for many years and will retire (unless she runs for the Brexit Party), but she is from Northern Ireland originally. She was appalled by Thursday afternoon's events:
Yes, Conservative MP Andrew Bridgen messed up Bercow's delightful punchbowl by demanding the truth about a crooked, longstanding Labour MP for Leicestershire, Keith Vaz. Vaz represents Leicester East and Bridgen North West Leicestershire.
What a surprise ending for Bercow.
A report — an investigation into Keith Vaz's activities — came out that day. Andrew Bridgen is holding it in his hand when he speaks. (You can see the name Keith Vaz on the cover.)
Bridgen told Bercow — 'Mr Speaker' — that he tried warning him about this in 2015. Bercow shot out of his chair and told Bridgen to sit down. Then he made out as if Bridgen was in the wrong: 'I cannot help him'; 'I fear he is beyond redemption'.
Interestingly, at this point, Bridgen had spoken for probably a total of two minutes. Bercow told him to sit down twice. As the video below shows, Bercow spoke for at least ten minutes. Near the end, Bercow gave him permission to speak for a third time but not 'to dilate' (go on at length):
Bridgen seized the opportunity, warning about public sentiment once the report on Vaz is released outside of Parliament:
Mr Speaker, to the fag end [cigarette butt] of your tenure, you are defending the indefensible and your very close relationship with the honourable Member in question [Vaz]. The House can come to its own conclusions. The Standards Committee has come to its own conclusions, and, Mr Speaker, the public will come to theirs. Thank you very much.
Political pundit Guido Fawkes put it this way:
At the end of the day, Bridgen tweeted and got a lot of compliments for speaking out:
The Mail on Sunday's Dan Hodges, who is the son of actress and former MP Glenda Jackson, agreed with Bridgen and the public. He got hammered for it:
However, not all comments were negative:
A Conservative MP also spoke up about Bercow's conduct during his tenure:
Nothing will happen. Bercow denied allegations of bullying members of his staff and, as I wrote last week, that's the end of the matter. Lucky for him. Yet, Bercow was the one telling Conservative MPs that they must be nice and moderate their language in Parliament when, in reality, it's the opposition who are the strident ones. More on that in another post.
Returning to Andrew Bridgen's short but sharp comments, let us look at the allegations about Keith Vaz, the Speaker's personal friend. Wikipedia tells us (emphases mine):
Vaz served as the Minister for Europe between October 1999 and June 2001. He was appointed a member of the Privy Council in June 2006. He was Chairman of the Home Affairs Select Committee from July 2007, but resigned from this role on 6 September 2016 after the Sunday Mirror revealed he had engaged in unprotected sexual activity with male prostitutes and had said he would pay for cocaine if they wished to use it. At the end of October 2016, Vaz was appointed to the Justice Select Committee; a parliamentary vote to block this development was defeated.[1]
The Mirror, incidentally, is a Labour-supporting newspaper.
Allegations about Vaz were published by the British Sunday Mirror tabloid in early September 2016. It was reported that he had engaged in unprotected sexual activity with male prostitutes and had told them he would pay for cocaine if they wished to use it. He told the prostitutes that his name was Jim and that he was an industrial washing machine salesman.[60] Vaz later apologised for his actions.[61][62] "It is deeply disturbing that a national newspaper should have paid individuals who have acted in this way", he said.[61][63] Vaz resigned as chair of the Home Affairs Select Committee on 6 September 2016.[64]
At the end of October 2016, Vaz was appointed to the Justice Select Committee, after he had put himself forward and was nominated by his party.[65] A House of Commons motion to block this development was defeated; they are rare on such an issue. According to Laura Hughes of The Daily Telegraph, Conservative Party whips told their MPs to vote for Vaz in the division to prevent a precedent being created of such appointments being rejected by MPs. Over 150 Conservative MPs voted in support of Vaz.[1] The Conservative MP Andrew Bridgen asked in the chamber of Vaz; "If the right honourable member for Leicester East found himself last month to be not fit to be chair of the Home Affairs Select Committee and the matters are unresolved, what makes him think that he is a fit and proper person this month?"[66]
The Parliamentary Commissioner for Standards, Kathryn Hudson, has previously announced an investigation into Vaz's conduct.[66] The Standards Commissioner's investigation was halted "for medical reasons" in December 2017.[67] The inquiry recommenced in March 2018[68] and, in October 2019, the inquiry recommended that he be suspended from Parliament for six months.[69][70] On 31 October, MPs voted in favour of the suspension.[71]
I agree with Diane Abbott below (if only this time), but, if Labour had any moral compass at all, they would not allow Vaz to stand for re-election:
On November 7, 2018, the BBC published an article by Newsnight's editor Chris Cook, 'How John Bercow keeps Keith Vaz's secrets'. The article says that Bercow is exercising 'parliamentary privilege'. Newsnight is a BBC weekday programme:
In the 17th century, England had a problem with laws on sedition. MPs could not speak freely about the king's policies for fear of judges. To solve that problem, we adopted a special guard against tyranny: "parliamentary privilege". Now, John Bercow, speaker of the House of Commons, has invoked it to stop Newsnight getting information about the behaviour of the MP Keith Vaz.
Bercow had the final say in the matter:
Mr Bercow has personally intervened and gone out of his way to bar Newsnight from asking the Information Commissioner or a judge to review the decision. We will not be able to overturn this decision, as journalists fought through the courts to get to see MPs' expenses.
The core legal text here is the 1689 Bill of Rights. It states: "the Freedome of Speech and Debates or Proceedings in Parlyament ought not to be impeached or questioned in any Court or Place out of Parlyament" …

This is perhaps the most important legal change in England that came from the 1688-9 coup, dubbed by supporters "the Glorious Revolution", when James II was replaced by the Dutch prince William of Orange and his wife Princess Mary. It is an important constitutional principle.
That is why MPs and peers can make allegations in the Commons or Lords without fear of libel law. When Lord Hain named Sir Philip Green as having obtained an injunction against the Daily Telegraph, he was deploying this right. Injunctions have no weight inside the walls of the debating chambers.
As Chris Cook explains, not everything is cut and dried in these matters, past and present. Recently, judges have had to intervene, as they did when the expenses scandal broke several years ago.
At the time Cook wrote the article, he focussed on Vaz's expenses rather than the prostitution angle. Cook and his team tried to use the Freedom of Information Act to get details of Vaz's trips abroad, but to no avail:
If the administration of MPs' expenses is not covered by privilege, why should the administration of committee trips be? MPs are involved – but they oversaw expenses too. Could knowing which travel agent booked tickets for MPs be a route to power for a would-be tyrant? What is the threat to free speech?
Some months ago, Mr Bercow personally made the argument that this paperwork was all covered by privilege. But I looked forward to a tribunal when this could be tested.
It all got heavy handed, as Bercow pulled out all the stops to prevent Newsnight from getting access to information about Vaz:
Normally, this sort of determination can be referred to the Information Commissioner and then to the tribunals and courts to judge whether that finding is fair. My judgment is, if they did that, I had a reasonable chance of winning.
I suspect Mr Bercow agreed. That would explain why he has now used an unusual personal power to block any appeals.
This week, I was notified he has issued a "certificate" under section 34(3) of the Freedom of Information Act. This is, in effect, a personal release veto.
These sorts of vetos are supposed to be used sparingly – an emergency reserve power to guard sacred spaces if courts get it wrong.
That is because their use means I have no rights of appeal. The Information Commissioner's view is that, since the certificate is genuine, that is the the end of the matter. Any appeal to the tribunals will automatically be discarded. I can ask a judge to review his decision, but it would entail looking at a decision taken by a parliamentary officer. That would hit privilege from another direction.
The net result is that the Speaker, who denies bullying, has made an order to hide information about the behaviour of his close personal friend, Keith Vaz, a man who also denies bullying – supposedly to protect MPs' freedom of speech.
And then he has gone out of his way to use a personal veto to make sure no-one could even consider reviewing that questionable decision.
You can understand why staff are so suspicious about whether MPs will ever let themselves be judged by outsiders when it comes to bullying and harassment.
I have no confidence that Bercow's conduct will be investigated, whether it concerns bullying, Brexit or Keith Vaz.
On a happier note, however, Andrew Bridgen hurried home to Leicestershire to end Thursday with what looks to have been an excellent curry:
More to follow on the new Speaker soon.
Thursday, October 31, 2019, was John Bercow's last day as Speaker of the House of Commons.
I listened to Parliamentary proceedings that day, as I wanted to be sure he was actually leaving. Based on the fulsome tributes from both Conservative and Labour MPs, it appears as if yesterday did indeed bring an end to the former Conservative's tenure as Speaker.
Prime Minister Boris Johnson gave him a witty, tongue-in-cheek tribute at Wednesday's PMQs (Prime Minister's Questions):
No doubt Bercow got Boris's asides, delivered with aplomb. MPs laughed at the back-handed compliments. To a stranger, they would have indeed sounded as positives. However, those of us watching at home got the jokes.
I had not noticed, but a number of MPs not standing for re-election on December 12 spoke on Wednesday. That was entirely at Speaker Bercow's discretion.
Interestingly, Kate Hoey, Labour's MP for Vauxhall and a firm Leave supporter, was not among them:
Many of us hope that Kate Hoey could run as a candidate for the Brexit Party (BXP):
She has always been a ladylike and eloquent MP, unlike many other women on the opposition benches who, quite frankly, sound like angry harpies:
Most of us do not like John Bercow because not only did he turn his back on the Conservative Party shortly after becoming Speaker, he also did his best to bring up motions that frustrated the Brexit process, from Theresa May's final months to now.
Behind the scenes, members of his staff accused him of harassment. No investigation took place. All he needed to do was to deny the accusations.
As I write on Thursday, I am listening to more MPs — many of whom are Conservatives — fawn over Bercow.
Bercow has a grace and favour accommodation, Speaker's House, in the Palace of Westminster. Unfortunately, it requires renovation, so his successor, to be elected on Monday, November 4, will not be able to move into it for another year. Could the works have been staged, particularly during the many lengthy recesses? Did he have any say in prolonging repairs? One wonders:
Guido Fawkes describes Speaker's House as follows (emphasis in the original):
The Speaker of the House of Commons doesn't just get the freedom to verbally abuse whoever he likes, he gets a very swanky pad in the heart of the Palace of Westminster, with staterooms, a bedroom designed for the monarch to stay in and a private gilded study. Lesser known about Bercow's pad is it also includes a private sectioned-off part of the Commons' Terrace as a private space to entertain guests outside. All paid for by the taxpayer of course.
Despite living in situ in the Palace of Westminster, Bercow took a roundabout route to work on his last day:
Guido Fawkes tells us about the Press Association (PA) record of the event along with a tweet:
John Bercow was pictured arriving at work this morning by PA in the kind of candid, natural shots that we all indulge in on our final day job commute.
The only flaw in his plan was that Bercow lives in Speaker's House… in the Palace of Westminster – meaning he had to first leave his place of work to be featured in the snaps heading back in – a 1627% longer journey. The whole thing is just a faked up performance for the cameras… perfectly appropriate ending.
That said, the PA had a good summary of his ten-year tenure as Speaker, excerpted below, emphases mine:
John Bercow has been no stranger to the limelight in more than 10 years in the Speaker's chair.
The one-time Conservative MP for Buckingham, with a high-profile Labour-supporting wife, has made a catalogue of unconventional comments since he took over the impartial role from Michael Martin.
He has survived attempts to remove him from the chair, including from former colleagues in the Tory party, revelations about his expenses and allegations of bullying, which he denied.
But it will perhaps be his interventions in the Brexit crisis, and the relish with which he seemed to make them, for which he will be best remembered.
Regular Parliament watchers may or may not miss his inimitable style, such as his bellowing shouts of "order" and "division, clear the lobby", but those quirks are what brought him international attention when the eyes of the world became fixed on the Commons throughout 2019.
As the Brexit debate raged and senior opposition figures played every trick in the parliamentary book to prevent the governments of Theresa May and Boris Johnson from pursuing their preferred policies, Mr Bercow drew the ire of hardline Eurosceptics for perceived bias.
After he allowed an amendment by Tory rebel Dominic Grieve to be voted on in January, he was labelled "Speaker of the Devil" by one newspaper, while the Daily Mail called him an "egotistical preening popinjay (who) has shamelessly put his anti-Brexit bias before the national interest – and is a disgrace to his office".
He voted Remain, discussing it candidly with a group of students, but in an interview with Italian newspaper La Repubblica denied this meant he had lost his impartiality.
"If I'm biased, I'm biased in favour of Parliament. Parliament being heard. Parliament having a right to speak. Parliament having time. Parliament being respected by the government of the day and indeed by the opposition," he said.
Since being elected as the 157th Speaker of the House of Commons in June 2009, he has delivered many caustic put-downs, earning him both loathing and appreciative laughter from MPs.
He had a fractious relationship with former Commons Leader, and now Business Secretary, Andrea Leadsom, after he was accused of calling her a "stupid woman".
Andrea Leadsom is far from being 'stupid', but that's Bercow.
Three weeks ago, Bercow travelled to Brussels to meet with his opposite number, the EU Parliament President David Sassoli:
The Speaker's role does not include government negotiations:
To think that October 31 was supposed to be our Brexit date. Of course, Bercow did not prevent this single-handedly, but, nonetheless, he helped:
On the Saturday, October 19 session, Bercow brought forward the Letwin Amendment, which stipulated that all Brexit legislation be voted on before Boris's new deal was approved. Its passage by MPs that day ensured that Boris had to send letters of extension to Brussels, in compliance with the Benn Act. January 31, 2020 is the new Brexit deadline:
The following day, one of his deputies, Conservative MP Dame Eleanor Laing, accused him of abusing his position:
The Mail on Sunday article states:
Dame Eleanor is one of nine MPs running to replace him, including fellow deputies Sir Linsday Hoyle and Dame Rosie Winterton.  
In another barely veiled attack on Mr Bercow, Dame Eleanor said the Speaker needed to 'set an example of dignified, respectful behaviour' and said: 'Aggression and arrogance are deplorable.' 
Mr Bercow's critics have frequently taken aim at what they see as a pompous, grandstanding style of managing the Commons. 
In a bizarre rant at Michael Gove last month he even brought the Cabinet minister's children into a row. 
The Speaker was back in the spotlight yesterday as the Commons assembled on a Saturday for the first time since the Falklands War in 1982. 
After Mr Johnson lost the crunch vote, the Speaker hinted he could block a Government attempt to bring another 'meaningful vote' on Monday. 
Jacob Rees-Mogg, the leader of the House of Commons, suggested the Government would bring the vote before introducing Withdrawal Agreement legislation this week.
But Mr Bercow has previously ruled that MPs cannot hold repeated votes on the same question. 
Citing a precedent dating back to 1604, he ruled in March that then-PM Theresa May could not bring the same withdrawal deal back to Parliament without changes.   
The ruling enraged Conservative MPs who accused him of sparking a 'constitutional crisis'. 
Two months earlier he had torn up precedent to allow a procedural vote which damaged Mrs May. 
'If we were guided only by precedent, manifestly nothing in our procedures would ever change,' he said at the time.      
Mr Bercow, previously a Conservative MP, took the chair in 2009 after Michael Martin resigned over the expenses scandal. 
The following week, Boris's deal did pass in Parliament, however, MPs opposed the Programme Motion for approving legislation, which they said had too short a timeframe. Hence, Boris's move for an election on December 12, which has now passed the House of Lords:
As for choosing Bercow's successor on Monday, I wish Dame Eleanor all the best:
The Health Secretary, Matt Hancock, made it known that he will be voting for her:
That said, many pundits say that it is now Labour's turn to sit in the chair. We shall see.
More next week.
UPDATE: A surprise ending (well, perhaps not so much to my British readers) awaits on Monday. It took place late during Thursday's proceedings and deserves its own post.