You are currently browsing the tag archive for the 'Katy Balls' tag.
Pity our Prime Minister Liz Truss.
The choice of Conservative Party members, the lady who wanted a Thatcherite premiership of low taxation and high growth, is now silent.
On Thursday, October 13, in her private weekly meeting with King Charles, he greeted her with 'Dear, oh dear':
He could have at least waited until the press were out of the way.
On Friday, October 14, she was forced to sack her Chancellor and good friend Kwasi Kwarteng.
The two of them were not playing the globalist game for high taxation and low growth.
Kwarteng's brilliant mind
Kwarteng was elected as MP for Spelthorne in 2010, part of Prime Minister David Cameron's fresh, youthful Conservative intake that year.
He worked on Brexit in 2019 as part of Theresa May's government. Later that year, he was keen for Nigel Farage to stand down candidates in order for Conservatives to win convincingly in the general election — and get Brexit done:
Under Boris Johnson, in 2021, as Business Secretary, he became the first black — and first Conservative — Secretary of State. In that role, he refused to lift the moratorium on fracking. On the other hand, on July 6, 2022, he ensured that two coal plants are staying open to help ensure that the UK has adequate energy supplies this winter.
He was not a man in favour of high taxes, even in the wake of the pandemic, telling LBC radio on March 2, 2021:
Obviously we have to balance the books over time, but I'm a low tax conservative. The real key is to grow the economy. The best remedy for the deficit, the best remedy for the economy is to open up the economy, allow people to get on with their lives, allow businesses to start trading again.
In July 2021, he politely opposed the National Insurance tax hike.
In June that year, he supported the Government's caution on lifting final coronavirus restrictions in England and sagely predicted that there would be no more lockdowns in England.
Once Liz Truss was made Prime Minister, we found out more about his friendship with her, which began when she, too, was first elected to Parliament in 2010.
On September 6, 2022, the Mail posted an old photo from earlier parliamentary days of the new Chancellor and the new Prime Minister with this caption:
The new Chancellor Kwasi Kwarteng is a close friend of Liz Truss, so close that he lives 350 yards away in Greenwich.
The article also told us more about his towering height and intellect (emphases mine):
Although he is not widely known to the public, the 47-year-old MP for Spelthorne, Surrey, comes equipped with a solid academic background.
At 6ft 5in, Mr Kwarteng is a powerhouse physically and intellectually …
He speaks German, Greek and French, and writes poetry in Latin.
One friend recalled how, when the school introduced Italian to the curriculum, 'the teachers were trying to teach rudimentary Italian but Kwasi learnt the whole language – the teachers were struggling to keep up with him'.
Like Boris Johnson, who attended Eton a decade earlier, Mr Kwarteng shone at the Wall Game, a hybrid of football and rugby, where he played First Wall, described by an Etonian as 'an almost suicidal position that involved spending much of the match having his head scraped against brickwork' …
He was a prefect at the school and is still, it is said, held up as an example of how to succeed in Oxbridge interviews.
He went up to Trinity College, Cambridge:
He excelled at Cambridge where friends described him as 'supremely confident, but not arrogant'.
One said he 'had quite a few girlfriends – he had catching up to do after his boys' private school upbringing'.
Professor Tim Whitmarsh, who taught him Latin and Greek, was quoted as describing him as 'a bit of a young fogey', saying: 'I once saw a 19-year-old Kwasi in full brown tweed bumbling around with a pipe in his mouth on a baking hot day.' 
More recently:
Last year, Mr Kwarteng bought a Victorian villa just 350 yards from Miss Truss's £1.5million four-storey townhouse in Greenwich, south London.
Now they are neighbours in Downing Street too.
At one point Mr Kwarteng was dating Amber Rudd, the former Conservative home secretary, but the pair split up.
He then met Harriet Edwards, 36, a former pupil of Cheltenham Ladies' College and now a high-flying corporate lawyer specialising in advising private clients on 'succession' planning.
The pair married in 2019 and have a baby daughter, Ida, born last year …
Said to be a 'pragmatist rather than an ideologue', the free-marketeer's ministerial office allegedly boasts a large whiteboard on which are scrawled the letters 'MSH', standing for 'making s*** happen'.
With the multiple challenges facing the new chancellor, it is a mantra that may serve him well.
On September 7, The Telegraph had a profile of Kwarteng, which gave Truss supporters further hope.
We discovered that he wrote for the newspaper and had decidedly conservative opinions even in his 20s. The article featured a screenshot of his column of August 1, 1997 about higher education — 'Don't go to university, make money instead':
The man appointed the 109th Chancellor of the Exchequer had been considered a rising star well before he entered Parliament and first made his name at the age of 22 with a column in The Telegraph.
From higher education to the rise of "lad mags", Mr Kwarteng left a trail of published evidence showing his youthful thinking on the state of Britain. 
According to Mr Kwarteng, universities were not just a waste of time for those hoping to make lots of money but "a trick of the mind". They offered value of a sort as "a place for reflective thought, like the monasteries of the Middle Ages," but were only really popular as a way of proving one's smarts …
While universities might be conducive to research, on the whole, Mr Kwarteng thought, "the university added little to the talent which was already in them". 
For that reason, the MP for Spelthorne thought it "ridiculous" that everyone should go to university.
Also in August 1997, he also wrote about his scepticism of those who know best in '"Experts": it's the same old story', wherein he expressed his doubts about climate change:
"We live in the age of the expert," he declared, "of course, all these experts are invariably self-appointed, and they all contradict each other."
Mr Kwarteng lamented the loss of Western "reason and objective investigation" and said that the witchdoctors of "simple peoples" had been "reincarnated in a modern, Western, suit-wearing capacity.
"They are the consultants, health gurus, constitutional experts, psychologists and sociologists who seem to spring from the ground at every opportunity."
… In his column, he highlighted global warming as an example of "conjecture" dressed up as "granite fact".
It's a pity he later changed his mind. Perhaps he did it for political expediency. Who knows?
On at least one issue, however, Mr Kwarteng has clearly come to accept the views of the experts …
As Business Secretary, he has declared it essential for governments to intervene to tackle climate change. 
The Telegraph article has several more of his columns to explore.
Kwarteng as Chancellor
A fortnight before he delivered his fiscal event to Parliament, he pledged that his focus on growth would be 'relentless'. The Times reported:
The new chancellor has promised a shift in economic policy towards an "unashamedly pro-growth agenda" rather than worrying about redistribution.
Kwasi Kwarteng promised "to do things differently" as he acknowledged the need for higher borrowing over the winter to help households with their energy bills. However, he promised "fiscal discipline over the medium term" by ensuring the economy would grow faster than government debt, saying this would require deregulation and tax cuts.
After meeting key City figures, including the chief executives of Barclays, NatWest, Lloyds Banking Group and HSBC, Kwarteng said that he wanted to deal with economic problems through growth, with a goal of getting the underlying rate up to 2.5 per cent.
"The prime minister and I are committed to taking decisive action to help the British people now," he said. "That means relentlessly focusing on how we unlock business investment and grow the size of the British economy, rather than how we redistribute what's left."
He and Truss needed to work quickly to come up with the fiscal event. The nation had been in mourning for the Queen from September 8 through September 19. Meanwhile, the Conservatives' opponents were braying for a statement.
On Thursday, September 22, Kwarteng tweeted:
That day, The Spectator's Katy Balls explained that Truss wanted to move quickly:
Liz Truss is in a race against time. It's not just the prospect of an election in two years. It's the political problems – from party management to events outside of one's control – that quickly clog up a prime minister's in-tray. It's why for all the efforts to play down Friday's fiscal event as a mini-Budget, it is likely to be anything but small. Truss and her Chancellor Kwasi Kwarteng plan to push through as much as possible while their stock is highest …
Truss and Kwarteng have said their priority is to boost growth. In order to do that, they are undoing plenty of policies by their predecessors. The plan for investment zones – areas that could benefit from a lighter planning regime and various tax breaks – has already been briefed as a change of priorities compared to the former Levelling Up secretary Michael Gove. A government insider told the Financial Times this week: 'The plans make Gove look like a socialist.' There will also be further measures to undo more of the policies brought in by Rishi Sunak as Chancellor. 
Coffee House understands one plan under consideration is the return of tax-free shopping for tourists. As Chancellor, Sunak axed the 20 per cent discount for foreign visitors – leading to an outcry from MPs who said it would make Britain less attractive to businesses. At the time, the Treasury defended his decision on the grounds that 'this is getting rid of a tax cut that mainly benefits foreign billionaires.' However, the sector has voiced frustrations that this has led UK business to drop off while European capitals have seen business go up.
How will all this go down? As the Bank of England raise interest rates by 0.5 percentage points to 2.25 per cent in an attempt to combat inflation, already there are warnings about the effect of the government's planned borrowing. The Institute for Fiscal Studies has said that the planned tax cuts are likely to push UK borrowing and debt to unsustainable levels. The hope in government is that rather than spark alarm, the markets will have already priced in the new direction they are taking, and what happened in August suggests they may well have done so.  
'The strategy is do everything now,' says one person close to Liz Truss. 'This government has balls of steel'. In adopting this approach, Truss and Kwarteng are taking a gamble – and it won't be too long before it becomes clear whether or not it is paying off.
True conservatives cheered the package Kwarteng delivered to Parliament on Friday, September 23:
We felt as if Brexit would finally become the reality that would thwart Labour:
Our debt would remain the second lowest in the G7:
Guido Fawkes posted Kwarteng's economic plan in full as well as a summary, excerpted below:
Price of Energy
Government freezes household energy bills at £2,500

Government will

subsidise wholesale energy prices for businesses

Total cost of energy package for 6 months from October will be approximately £60 billion
Inflation
Government plan will reduce peak inflation by 5%

Chancellor: Bank of England independence is "sacrosanct"
Growth
Government will focus on growth target of 2.5%
Barriers to Enterprise
Government will bring forward bill to unpick regulation and launch a review into decision making

Increase disposal of government land to build more homes

Government will remove cap on bankers' bonuses

…



Tax
Planned rise in corporation tax is cancelled, it will remain at 19%

Annual investment allowance will not fall to £200,000 as planned, will remain at £1 million

Office of tax simplification abolished,

tax simplification mandated in all government departments

IR35 rules changed: 2017 and 2021 reforms scrapped

Planned increases in duty for beer, wine and spirits cancelled

VAT free shopping for overseas visitors

Increases to National Insurance contributions cancelled

Stamp duty threshold raised from £125,000 to £250,000; for first time buyers it will rise from £300,000 to 425,000

Kwasi will abolish the highest 45% rate of income income tax. Top rate now 40%.

Basic rate of income tax cut to 19% from April
Ahead of Kwasi's statement:
FTSE 100 is at 7,120
£/$ 1.1163
£/€ 1.1435
10 year gilt yield 3.49%
That afternoon, The Telegraph's Allister Heath was over the moon:
This was the best Budget I have ever heard a British Chancellor deliver, by a massive margin. The tax cuts were so huge and bold, the language so extraordinary, that at times, listening to Kwasi Kwarteng, I had to pinch myself to make sure I wasn't dreaming, that I hadn't been transported to a distant land that actually believed in the economics of Milton Friedman and FA Hayek.
But Liz Truss and Kwarteng are very much for real, and in revolutionary mood. The neo-Brownite consensus of the past 20 years, the egalitarian, redistributionist obsession, the technocratic centrism, the genuflections at the altar of a bogus class war, the spreadsheet-wielding socialists: all were blown to smithereens by Kwarteng's stunning neo-Reaganite peroration.
Hardcore, unapologetic liberal Toryism is back. This fiscal statement is in some ways an even bigger deal than that previously greatest of Budgets, Lord Lawson's extravaganza of 1988, so long ago that my generation cannot remember it. All the taboos have been defiled: the fracking ban, the performative 45pc tax rate, the malfunctioning bonus cap, the previous gang's nihilistic corporation tax and national insurance raids. The basic rate of income tax is being cut, as is stamp duty, that dumbest of levies. There will be more reforms, more deregulation from a Chancellor explicitly committed to a flatter and simpler tax system.
It wasn't merely the policies that were astonishingly good: just as remarkable was Kwarteng's language, the arguments he deployed to explain his decisions, the lucid free-market philosophy from which they emanated. He spoke of the need to bolster incentives, to encourage business investment, to increase work, to reward savings. He explained that this meant that the returns on capital and labour had to be improved. He wants to usher in a new Big Bang in the City and launch dozens of new Canary Wharfs on steroids.
At a stroke of a pen, Britain's competitiveness, its attractiveness to investors and top talent, has been transformed. Money and jobs will flow in, especially from the Eurozone. Britain's central pathology is low growth, held back by faulty economic, fiscal, monetary and regulatory policies: higher spending begets higher taxes, which lead to a vicious cycle of even lower growth, and hence yet more taxes, and so on.
I watched Kwarteng's speech to Parliament and the debate that followed. Allister Heath was right in everything he wrote.
On Sunday, September 25, The Sun wrote that its polls indicated the British public supported nearly all of Truss's proposals that Kwarteng delivered:
DELIGHTED Brits overwhelmingly back Kwasi Kwarteng's key income tax and stamp duty cuts, a poll found …
And PM Liz Truss says their radical plan will usher in a "decade of dynamism" …
A Deltapoll survey for The Sun on Sunday found many of his central policies have gone down a storm.
His pledge to slash the basic rate of income tax from 20p in the £1 to 19p from next April, benefitting 31million workers, got the backing of 63 per cent of respondents.
A majority of Labour and Tory supporters like the plan.
Meanwhile, the decision to ditch stamp duty for first-time buyers on homes worth up to £425,000 was approved by 61 per cent of respondents.
The move to reverse the 1.25 percentage point hike in National Insurance Contributions was liked by 59 per cent of the 1,553 people surveyed.
Some parts of the mini Budget, however, were far less popular. Just 30 per cent of voters backed the decision to scrap the bankers' bonus cap.
And even fewer — 28 per cent — approved of the move to do away with the 45p top rate of income tax, which will put more cash in the pockets of society's top earners …
Some delighted Tory MPs punched the air in delight after Mr Kwarteng detailed his mini Budget to the Commons.
One senior Tory said: "I am delighted. Finally, we have a proper Thatcherite budget."
But others warned it was a punt that may cost the Tories the next election.
One minister crossed his fingers as he said: "It is a huge gamble. If we see growth then it will have worked. It's a roll of the dice."
The annual Labour Party conference convened that Sunday.
The Spectator's editor Fraser Nelson pointed out that their leader Sir Keir Starmer opposed only the abolition of the 45% tax rate:
The Sun's editorial that day reminded Britons that it was Gordon Brown who put the 45% rate in place — and that was late in his premiership, around 12 years ago. His predecessor Tony Blair had not. As such, Labour had no room to complain:
For too long — if partly by necessity of the pandemic in recent years — the Conservatives have been parked on the centre ground, often operating from a Blairite or Brownite playbook.
The spleen-venting over Mr Kwarteng's most controversial call — ditching the 45 per cent top tax rate for those on over £150,000 — ignores the fact that, throughout the Blair years, it was the exact same as the new 40 per cent levy.
Nonetheless it's true that the move does give Labour an easy line of attack, as does the Government's reluctance to trumpet the fact that it IS already subjecting energy giants to a windfall tax — one which is raising around £30billion.
Yesterday Labour leader Sir Keir Starmer confirmed he would retain the vast majority of the Chancellor's tax cuts if he gained power.
Already, however, the doomsayers, including Torsten Bell, were already weighing in, as Guido Fawkes wrote that day (emphases his):
… Labour have accepted two thirds of the personal income tax cuts. They are only rejecting one cut, the top rate cut…
So the the dividing line between the parties is: Will "new era" economics work and crank growth up to 2.5% before the next election?
Not a chance say Rachel Reeves and the assembled hardline-centrists of the broadsheet punditry, plus all the orthodox economists from the IFS, Institute for Big Government and gloomy Torsten Bell with his distribution charts. Kwasi and Liz say it will work. It won't surprise co-conspirators that Guido thinks it is less of a gamble than the BBC's Faisal Islam reckons. Barring oil going to $300 or some other catastrophe, it is far more likely to work than the doomsters would have you believe. If Kwasi and Liz fail to hit the 2.5% target they have set for themselves, they will deservedly lose the next election. The choice now is pull out all the stops and go for growth, or go into opposition…
At conference, two Labour MPs of colour criticised the Conservatives' choice of Chancellor in Rishi Sunak, his successors and Kwasi Kwarteng. Guido reported on Rupa Huq's words about Kwarteng, which earned her a suspension from the Party, despite her apology. Shadow Rail Minister Tan Dhesi said he wanted to see white males in the Conservative Cabinet rather that persons of colour:
Guido doesn't consider Tan's comments to be half as bad as Rupa Huq's. His quote about Boris having an Asian do his dirty work for him, alongside Huq's referral to Rishi as "a little brown guy", is indicative that Labour somehow questions the legitimacy of non-white Tory Cabinet ministers. Does anyone get the sense Labour are slightly panicked about the Tories having a more diverse front bench than they do?
Fatal criticism despite global problems
But that was nothing compared to the big anti-Truss, anti-Kwarteng fallout that took place elsewhere that week.
On Monday, September 26, the IMF criticised the fiscal event.
Lord Frost defended Truss and Kwarteng in an article for The Telegraph: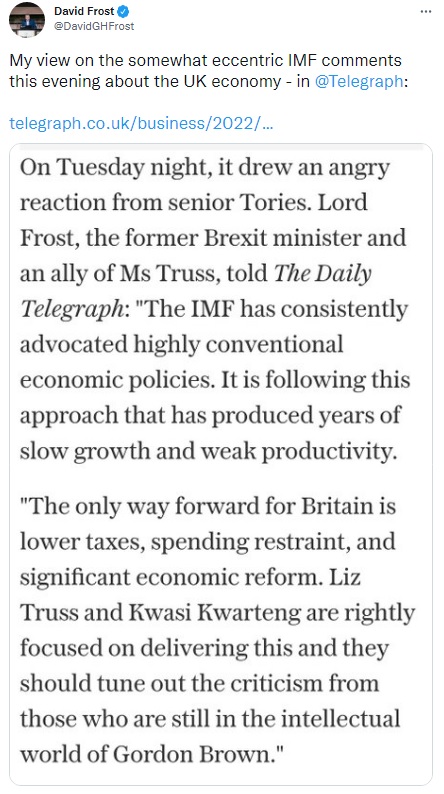 The IEA's head of public policy said that one of Margaret Thatcher's budgets — that of then-Chancellor Geoffrey Howe — was similarly criticised and ended up being wildly successful: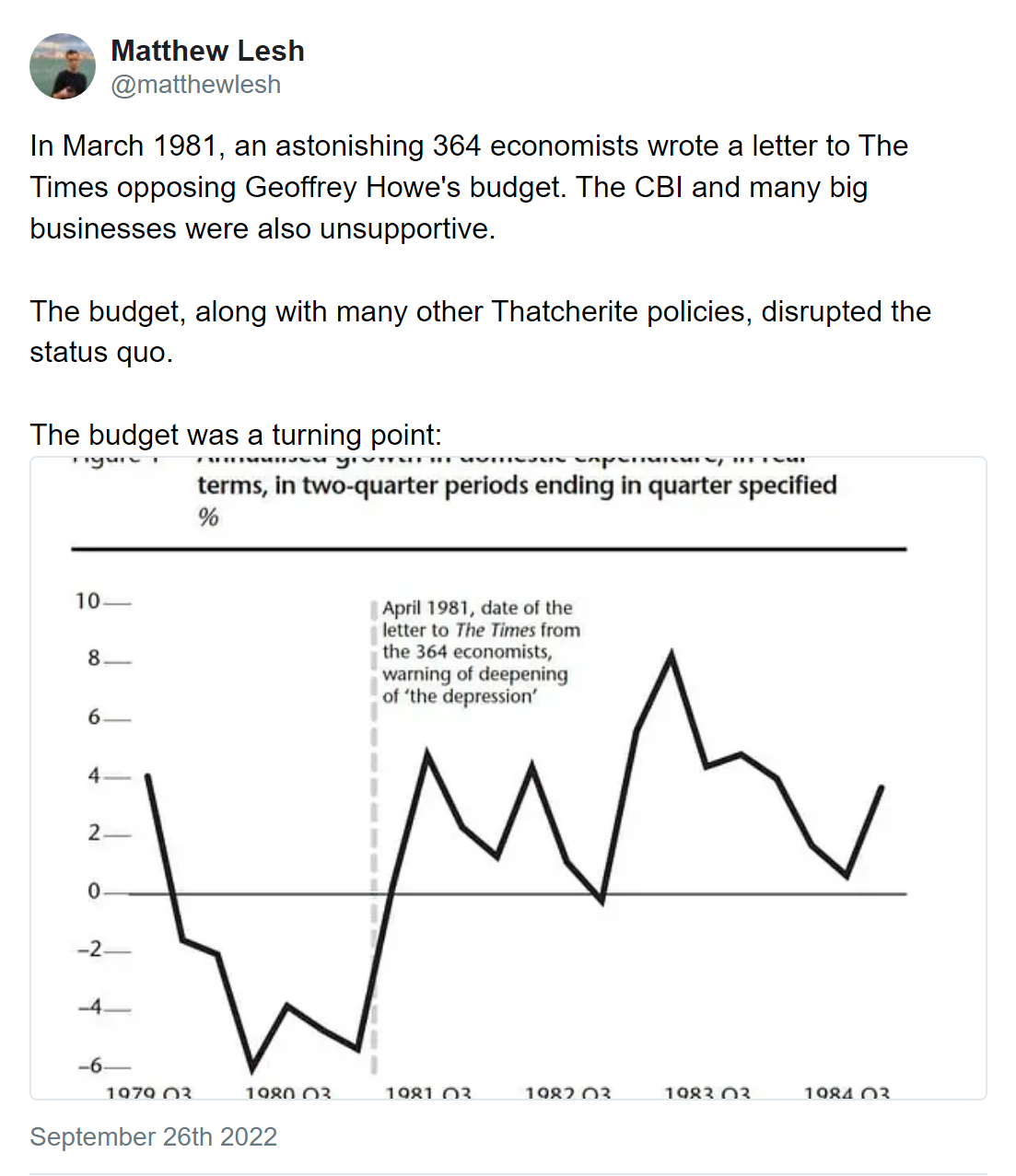 On Thursday, September 29, Labour MPs were back at home but outside criticism of the Truss-Kwarteng plan continued from globalist sources.
The US Treasury had weighed in against the plan after the IMF had.
The markets wobbled that week.
It should be noted that the UK was not the only country suffering from jitters — it was every other main economy, too.
With regard to us, however, the Bank of England had to step in with a fortnight of measures, too complicated to explain here, that put an end to risky measures that British pension funds had been using for several years.
Nevertheless, Truss and Kwarteng got it in the neck.
The Telegraph had a running diary of events that Thursday morning. Excerpts follow, covering the period from 7:30 to 10:30 a.m.:
The Prime Minister is due to undertake a tour of regional BBC radio stations this morning when she will be grilled on her tax cuts and spending plans after they sparked economic turmoil.
Lord Clarke, the Tory former chancellor, has argued this morning that no other Conservative government would have made a "mistake" like Kwasi Kwarteng's mini-Budget. 
The Tory former chancellor told Times Radio: "If the pound sinks any further, then they will have to perhaps retract some of the measures because the more the pound goes down, the more inflation goes up."
The Treasury has said Kwasi Kwarteng will deliver a follow up statement to the mini-Budget in November in which he will set out the Government's medium-term economic plans. 
But the Chancellor is under mounting pressure to deliver a statement to reassure the markets and the nation much sooner than that.
Chris Philp, the Chief Secretary to the Treasury, has defended the Government's decision to scrap the 45p top rate of income tax.
Asked why it was necessary to make the move now, he told Sky News: "The top rate of now 40 per cent, reducing from 45, makes us internationally competitive, it puts us on a par with a number of other economies."
After the Bank of England was forced to step in to calm the markets, Mr Philp told Sky News: "No one's perfect but I'm not going to apologise for having a plan to grow the economy …"
Chris Philp, the Chief Secretary to the Treasury, has dismissed suggestions that Kwasi Kwarteng should resign as Chancellor over his handling of the mini-Budget. 
Liz Truss has defended her mini-Budget plans as she said as Prime Minister she is prepared to take "controversial and difficult decisions". 
Liz Truss has said the world is facing "very, very difficult economic times" as she also insisted Kwasi Kwarteng is working "very, very closely" with the Bank of England.
Liz Truss said that "we have seen difficult markets around the world because of the very difficult international situation we face". 
Liz Truss has defended the decision to scrap the 45p top rate of income tax as she argued that lower taxes "help everybody".
BBC Radio Bristol presenter James Hanson challenged Liz Truss over her repeated claim that financial markets around the world have been facing turmoil. 
Daisy Cooper, the deputy leader of the Liberal Democrats, has claimed Liz Truss is in "complete denial" following the Prime Minister's morning media round. 
The Conservative Party is due to meet in Birmingham from Sunday this weekend for its annual conference. 
Sir Ed Davey, the leader of the Liberal Democrats, has called on the Tories to scrap the event.
Sir Ed said repeated his call for Parliament to be recalled.
Chris Philp, the Chief Secretary to the Treasury, was told this morning that the mini-Budget needs to be changed. 
Speaking to LBC Radio, he said: "No, well, if you listen to the reaction of British business organisations to Kwasi Kwarteng's growth plan on Friday, like, for example, the Confederation of British Industry, the CBI, the Federation of Small Businesses, the British Chambers of Commerce, they all strongly welcomed the growth plan, and they are the organisations that represent British business…"
The Bank of England's £65 billion intervention in the UK economy yesterday is a "very targeted, time-limited intervention", according to the Chief Secretary to the Treasury. (You can read the full story on the bailout here) …
Chris Philp was asked during an interview on LBC Radio this morning if that bailout indicated the economy is experiencing "serious problems".
He said: "Look, they were making a very targeted, time-limited intervention. There was a particular idiosyncrasy to do with the way that particular pension vehicles used long-dated gilts.
"It was a very targeted, very specific intervention to address that issue, which they've successfully done – independently, of course, the Bank of England act independently.
"And they're not the only central bank to have had to make an intervention. Like I said, the Bank of Japan intervened in the Yen dollar market just a few days ago."
Chris Philp, the Chief Secretary to the Treasury, has rejected the suggestion that the UK is now in the middle of a financial "crisis". 
Asked if he accepted it is a "crisis", Mr Philp told LBC Radio: "Look, I don't accept the word crisis at all. Look, in the last six to nine months… the financial markets have been in some volatility around the world."
Sterling has fallen sharply again as former Bank of England governor Mark Carney accused Liz Truss of "undercutting" the central bank …
He said there was an "undercutting" of key City institutions, pointing to the lack of an OBR forecast, a lack of detail about costing and working at "cross-purposes" with the Bank of England.
Ms Truss later told BBC Radio Kent that she is "very clear the Government has done the right thing by taking action urgently to deal with inflation, to deal with the economic slowdown, and to deal with high energy bills".
Were those accusations from globalists really true?
Was day-to-day business in Britain disrupted so dramatically? And wasn't the Government helping Britons with their energy bills? As to the latter question, the UK has been providing the most assistance of any European government:
That week, Kwarteng was under much pressure to meet with the Office for Budget Responsibility (OBR), which, as I posted on October 6, has a lot of Torsten Bell alums from his charity, the Resolution Foundation.
On Friday, September 30, he met with the OBR. Guido reported:
The highly-anticipated meeting between the OBR and government wrapped up after 48 minutes. The OBR says they'll deliver an initial forecast on the October 7, however the government's readout of the meeting sticks to the line that it will be published alongside Kwarteng's medium-term growth plan on November 23 …
Meanwhile, Labour were still banging on about the abolition of the 45% tax rate. The cost of subsidising Britons' energy bills kept increasing, too. Naysayers were pumping up the total expenditure from £60bn to £100bn:
That morning, The Telegraph posted Kwarteng's editorial defending his fiscal event, which ended with this:
Even in the face of extreme volatility in global markets, with major currencies wrestling an incredibly strong US dollar, we will show financial markets and investors that our plan is sound, credible and will work to drive growth.
By combining our immediate energy support with bold action to reset the fundamentals of the UK economy, we are helping households and businesses today – and putting the United Kingdom on a more prosperous, competitive path for years to come.
That evening, The Times reported that the Scottish Secretary Alister Jack said that Truss delivered what she had promised in the leadership hustings and reminded us that she and former Chancellor Rishi Sunak disagreed on how the British economy should proceed:
Speaking to BBC Radio Scotland on Friday, Jack said: "When you say 'huge shock', over the summer [Truss] was very clear that her strategy was to reduce taxes.
"She and Rishi Sunak argued that out over the summer, he said one thing, she said the other, but it shouldn't come as a shock to anyone when she said she believed the strategy was to be more of an Asian tiger economy, where you keep your higher spending but you grow your economy, and she said to do that she would be cutting taxes.
"To anyone paying any attention to that leadership contest it was plain as day what was going to happen" …
In response to the plans announced by Kwarteng last week, the International Monetary Fund said it was monitoring the situation and urged a rethink, while the Bank of England began buying government bonds to avert what it described as a "material risk to UK financial stability".
More controversy, ending with Truss's sacking of Kwarteng, followed.
I will dissect the tragic conclusion tomorrow and, on Thursday, what it means for Truss's premiership.
Despite receiving more brickbats this week, Prime Minister Boris Johnson is still standing as Parliament enters its February recess.
Former PM John Major had a go at Boris about Brexit in a speech he gave to the Institute for Government this week. Like another former PM, Theresa May — still a serving MP — Major is a staunch Remainer.
Writing for The Spectator, historian Nigel Jones discussed the Blob (our Swamp) on Thursday, February 11, 2022 (emphases mine throughout except for Guido Fawkes's posts):
Still fighting their neverendum certain Blobbers, so used to having things go their way for the past half century, view the man who brought us Brexit as the one who betrayed the favourite cause of his caste. For that alone he must be punished. They seek not only Johnson's removal from office but his total humiliation …
The Mays and the Majors of this world, uniting with the legions of the left who have always loathed Johnson, cannot bear it that someone who sums up in his rumpled and hitherto popular persona all that they are not, is, after all the ordure that they have poured over him, like Elton John: still standing. After weeks of sustained bombardment with the most vicious projectiles his enemies can muster, the object of their righteous wrath is still withstanding the siege from the Downing Street bunker, even belting out 'I will survive!'
… And those such as Johnson's former editor Max Hastings, who has predicted the PM could be gone within weeks, could yet be proven wrong. But if Boris does go he will not have been brought down in a flood of booze but by the bile of 'the Blob' against the black sheep who dared, by accident or design, to stray from the flock.
The Spectator's Katy Balls says Boris is succeeding because he is buying himself time, putting forward his 'red meat' policies to win back MPs and those souls who voted Conservative in 2019:
After a difficult few weeks, Boris Johnson has made it to parliamentary recess. Given few expect a no confidence vote to be held during recess, time away from parliament gives the Prime Minister much-needed breathing space. After the seemingly never-ending parade of partygate stories, there have been times when MPs were sceptical he would make it this far.
Instead, the Prime Minister has succeeded in buying himself time — talking down would-be plotters and rushing out a string of red meat announcements to keep the right of his party on side. The announcement this week that all Covid restrictions could end a month early is a prime example of this. When MPs return from recess, Johnson will unveil his plan for living with the virus — which will include the guidance rather than law (self-isolation is expected to become just advice) and reduced access to tests.
Boris made his liberating announcement about lifting coronavirus restrictions to the House of Commons on Wednesday, February 9:
Guido Fawkes wrote:
Boris in the Chamber just now announcing that the final Covid restrictions, including the legal requirement to self-isolate after a positive test, are likely to be lifted after the February recess. The "living with Covid" plan will be revealed on 21st February. A full month ahead of schedule…
February 24 could be our third liberation day. We already had Independence Day on July 4, 2020, followed by Freedom Day on July 19, 2021 and now this. Let's hope it is permanent.
In any event, the announcement made two front pages on Thursday, February 10, with the Daily Mail being more positive about this world leading move than The Star. I can empathise with both:
When SAGE's scientists and the unions object, we know Boris is on the right track. Boris didn't even bother consulting the former, as The Mail reported:
Unions are already digging their heels in after Boris Johnson revealed he intends to ditch all remaining Covid laws within a fortnight as a poll revealed that three in four workers ground down by almost two years of lockdowns and restrictions want to continue with self-isolation.
Unison, Britain's largest union serving more than 1.3million members from swathes of the public sector, has accused the Prime Minister of going 'too far, too soon', insisting that the virus 'hasn't disappeared' — despite a raft of data suggesting the worst is now over.
SAGE scientists have also warned of the 'dangers' of the PM's plan to make England the first country in the world to scrap all Covid rules, after it emerged Mr Johnson had not discussed it with the committee which is now infamous for its gloomy predictions about the pandemic.
Boris appears to be placing more weight on what is actually happening rather than alarming data projections from SAGE:
The resistance comes despite Covid infections falling consistently, with even the gloomiest surveillance study now accepting that the country's outbreak has peaked — mirroring the official numbers.
The milder nature of Omicron, coupled with sky-high immunity, mean the NHS never came under the levels of pressure that No10's experts feared would happen, with hospitalisations and deaths both now in freefall.
People with fragile health should note that they will be free to continue self-isolating. That freedom is an individual choice rather than a mandate by law.
The same goes for masks.
Boris is no doubt trying to encourage the socialist governments in Wales and Scotland to do the same thing:
The announcement annoyed the devolved governments in Scotland and Wales – with Nicola Sturgeon's administration calling it a publicity stunt to divert from the Partygate scandal that has left the PM fighting for his job.
The First Minister did this afternoon pledge to ditch face masks in Scotland's classrooms from February 28 — keeping them in communal areas — but says she will wait for expert advice before following Boris's lead on any other rules.
The Scottish Government is unlikely to go as far as dropping all rules when it publishes its strategy for living with Covid in the months ahead on February 22. The plans will be debated by MSPs, meaning any changes could be several weeks behind England. The Scottish Government is even set to extend its Covid powers until September 24.
Conservatives applauded Boris's move:
Lord Frost, who dramatically quit Cabinet partly in protest at draconian curbs, was among the senior Tories praising the move. 'The PM's plan to end all Covid restrictions a month early is the right thing to do & is extremely welcome. I hope the government will also make clear we will not go down the road of coercive lockdowns ever again,' he tweeted.
Tory MPs last night insisted that lockdowns should never be deployed again. 'I am glad to see the emphasis on learning to live with Covid,' said Bob Seely, who represents the Isle of Wight …
David Jones, a former Cabinet minister, welcomed the 'very positive' news, adding: 'The PM deserves credit for this. We have locked down for too long and we now need a commitment that we will not lock down again, save for in the most exceptional of circumstances.'  
Steve Baker hit the nail on the head. The lifting of restrictions is meaningful only if Boris reforms the Public Health Act of 1984 — and, may I add, scraps the Coronavirus Act of 2020:
Former minister Steve Baker added: 'I welcome this announcement but we are not out of the woods until the Public Health Act has been reformed, we have new rules for better modelling, competitive, multi-disciplinary expert advice and wellbeing-based cost-benefit analysis covering the costs of lockdowns and restrictions. There is much to do!'
Earlier this week, Boris made another reshuffle involving the Cabinet Office and Downing Street, in line with the preliminary recommendations from Sue Gray's report on Boris's lockdown parties on January 31. Boris had met with Conservative MPs that evening:
Guido's accompanying post reads in part:
It could be "imminent".
Guido was also first to reveal the PM won over swathes of support from wavering MPs by promising to massively up their involvement in No. 10's policy-making, saying he liked Graham Brady's suggestion of 1922-organised MP policy committees.
In a sign of how the day had played out, in the evening Birmingham 2019 MP Gary Sambrook put out a gushing tweet about the PM:
Guido understands he's now withdrawn his letter of no confidence to Graham Brady. After the vaccine rollout and Brexit, the new shadow whipping operation has to be one of the most impressive things Boris's No. 10 has managed to organise…
On Tuesday, February 8, GB News gave us the details on the reshuffle:
Jacob Rees-Mogg will be the minister responsible for "Brexit opportunities" in the first move confirmed as part of Boris Johnson's reshuffle.
The shake-up of the ministerial team follows the appointment of Stephen Barclay as the Prime Minister's chief of staff and comes as Mr Johnson seeks to relaunch his administration following the partygate row.
Mr Rees-Mogg, previously the Leader of the House of Commons, will still sit at the Cabinet table in his new role as Minister for Brexit Opportunities and Government Efficiency …
Former Chief Whip Mark Spencer has been confirmed as the new Leader of the House of Commons to replace the vacant role left by Jacob Rees-Mogg.
Mark Spencer has been the MP for Sherwood since 2010 and has previously been Deputy Leader of the House of Commons.
Stuart Andrew has been appointed as Minister of State (Minister for Housing) in the Department for Levelling Up, Housing and Communities; he has been the MP for Pudsey since 2010, he has most recently been a deputy whip.
Chris Heaton-Harris has been confirmed as the Government's new Chief Whip; he has served as MP for Daventry since 2010, he had most recently been Minister of State for Europe and is famed in Westminster for his use of Twitter to post one-liner jokes.
James Cleverly MP will become Minister of State (Minister for Europe) in the Foreign, Commonwealth and Development Office as part of the shake-up of the Government frontbench, Downing Street said.
Wendy Morton MP to be a Minister of State in the Department for Transport.
Rt Hon Christopher Pincher MP to be Treasurer of HM Household (Deputy Chief Whip).
Samantha Jones, the Prime Minister's adviser on the NHS and social care, has been appointed as the new No 10 permanent secretary and chief operating officer, Downing Street said.
Samantha Jones, who is a civil servant, is a former NHS trust executive.
She helped develop the plan to reduce hospital waiting lists, but it did not go down well in Parliament this week when Health Secretary Sajid Javid announced it. Even Conservative MPs thought it was weak, especially as a record high of 6.1 million patients are awaiting surgery or other medical procedures.
Samantha Jones will be both an interim No 10 permanent secretary and its COO, both new posts, as The Telegraph reported on February 9:
Boris Johnson has appointed a former NHS trust executive who advises him on health policy to the newly created position of No 10 permanent secretary.
In the latest move to shake-up his inner circle, the Prime Minister announced that Samantha Jones will take the role for six months on an "interim" basis.
Ms Jones had been Mr Johnson's expert adviser on NHS transformation and social care, meaning she helped craft the newly announced plan to bring down NHS waiting lists.
The former nurse and NHS veteran will also hold the title of Chief Operating Officer for Downing Street as she helps shape the new civil service structure being created for the Prime Minister.
There was another appointment, that of Stuart Andrew MP as Levelling Up Minister:
Andrew Griffith, one of the MPs who was reshuffled in the first week of February, laid out his plans as Boris's new Director of Policy:
You would not know it from the media headlines, but families want to hear about our plans to grow employment, tackle the NHS backlog, control our borders, make their streets safer, bring down the cost of living and return rapidly to the point when we can cut taxes to let everyone keep more of their own money – all policies that are rooted in strong Conservative values.
As the Prime Minister's Director of Policy, these are my top priorities together with delivering the tangible opportunities from Brexit that will allow our economy to be more competitive and the reform of government to deliver better public services. Whilst the Policy Unit's remit is to advise the Prime Minister across the widest breadth of government policy, we will be unafraid to ruthlessly focus on the key issues. It is ultimately outputs that matter.
Elected in 2019, he is far from the Sir Bufton Tufton brand of Conservative MP and has been against the EU since John Major's time as PM:
From a comprehensive school in south-east London, I was the first in my family to go to university, where campaigning to keep the UK out of the Exchange Rate Mechanism turned me into a lifelong Conservative.
Jacob Rees-Mogg went further, asking Sun readers for suggestions on which EU regulations should be rolled back in the UK:
The opportunities in front of us are immense. Huge parts of our economy are no longer regulated by the EU.
Before Brexit, many of my constituents would write to me to complain about regulations that burdened them daily.
From farmers to electricians, on so many issues I had to tell them that even as an MP I could not help to solve their problems, as these rules were set by the EU, not the British Parliament.
Thanks to Brexit, that has all changed. Sun readers can hold their MPs accountable, as the buck truly stops with them …
You are the ones who know the red tape binds your hands, and to do my job I need your wisdom. Ronald Reagan rightly said: "The nine most terrifying words in the English language are, 'I'm from the Government, and I'm here to help'." This needs to be turned on its head: Britain needs The Sun readers' help instead.
I implore you all to write to me with the regulations you want abolished — those which make life harder for small businesses, which shut out competition, or simply increase the cost of operating. Through thousands of small changes, we can enact real economic change — which means The Sun's readers will feel a real Brexit bonus in their pockets and in their lives  every day.
WRITE TO ME: Jacob Rees-Mogg, House of Commons, London SW1A 0AA
EMAIL: jacob.reesmogg.mp@parliament.uk
In other news, the UK economy grew 7.5% in 2021:
Guido has the quote from the ONS:
 Darren Morgan, ONS: 
"Despite December's setback, GDP grew robustly across the fourth quarter as a whole with the NHS, couriers and employment agencies all helping to support the economy," he said.
"Overall, GDP in December was in line with its level in February 2020, before Covid-19 struck, while in the fourth quarter as a whole, it was slightly below that of the fourth quarter in 2019."
People are trying to cast shade on this achievement, but even The Spectator, hardly pro-Boris, has a compliment for his administration. Today, Katy Balls pointed out:
With prices soaring, interest rates rising and the cost of living crisis growing more acute by the day, we could do with some more positive news: and this morning's GDP update has played a small part in providing it.
Despite suffering the largest economic contraction in 300 years in 2020 – and taking the biggest economic hit in the G7 – Britain had the fastest growing economy in the G7 last year, boosting its GDP by 7.5 per cent.
It's still a mixed story: looking at where the UK economy is now compared with pre-pandemic levels, it ranks average within the G7. But with one of the steepest hills to climb back to recovery, the UK's relatively fast growth enabled the economy to get there several months before it was forecast to do so …
… while the economy did take a slight hit at the end of last year, it did not fall back below pre-pandemic levels. Britain can still boast that it made a full economic recovery – and hopefully recoup December's losses fairly quickly, given how quickly fears about Omicron's severity were put to bed.
Finally, with local elections coming up in May, Boris will be doing what he does best — campaigning around England (with one stop in Wales):
Guido notes that not all of Boris's destinations will be holding an election this Spring, but the PM needs to turn things around for the Conservatives:
Boris has spent a lot of time on the road recently. Almost every day he seems to show up at another school, building site, or hospital somewhere outside SW1 – in just the last 5 weeks, he's made 10 trips across the UK. Coincidentally, 7 of those trips happen to be in seats which are holding local elections in May …
With Labour and much of the media hammering away at Partygate since December inside the Westminster bubble, Boris obviously knows his best chance of turning things around is to get back into campaign mode. It is what he does best, after all…
Although Labour are still ahead in the polls, an amazing reversal that began when the Downing Street parties during lockdown came to light, a pollster from Savanta ComRes thinks that it will be easier for Boris to win his 2019 voters back than it will be for Starmer to encourage them to vote Labour:
This is what Savanta ComRes uncovered from their latest focus group — Starmer isn't capturing their collective imagination, so Boris is still in with a chance:
I will have more next week on Boris's attempt to survive at No. 10.
The UK had another big weekend of news, which, as I said last week, is unusual, given that Christmas is just around the corner.
One of the big scoops was The Spectator's revelation as to why every SAGE scenario is based on a worst-case outcome.
Fraser Nelson, the magazine's editor, had an online exchange with Graham Medley from SAGE, which can be seen in his article, 'My Twitter conversation with the chairman of the Sage Covid modelling committee', which is a must-read.
Excerpts follow, emphases mine.
Medley is a professor at London School of Hygiene & Tropical Medicine (LSHTM). Last week, LSHTM published another alarming set of figures for the Omicron variant that, naturally, make the case for more lockdowns.
By contrast, JP Morgan came up with a different conclusion after looking at LSHTM's data:
JP Morgan had a close look at this study and spotted something big: all the way through, LSHTM assumes that the Omicron variant is just as deadly as Delta. 'But evidence from South Africa suggests that Omicron infections are milder,' JP Morgan pointed out in a note to clients.
JP Morgan concluded:
Bed occupancy by Covid-19 patients at the end of January would be 33% of the peak seen in January 2021. This would be manageable without further restrictions.
Fraser Nelson says:
So JP Morgan had shown that, if you tweak one assumption (on severity) then – suddenly – no need for lockdown.
Nelson went online to find out why LSHTM didn't do the same thing:
Medley seems to imply that the Government wants the worst case scenario:
Nelson says:
Note how careful he is to stay vague on whether any of the various scenarios in the Sage document are likely or even plausible. What happened to the original system of presenting a 'reasonable worse-case scenario' together with a central scenario? And what's the point of modelling if it doesn't say how likely any these scenarios are?
From what Prof Medley says, it's unclear that the most-likely scenario is even being presented to ministers this time around. So how are they supposed to make good decisions? I highly doubt that Sajid Javid is only asking to churn out models that make the case for lockdown. That instruction, if it is being issued, will have come from somewhere else.
He concludes that there is an ethical issue with SAGE's pronouncements:
Prof. Robert Dingwall, until recently a JCVI [Joint Committee on Vaccines and Immunisation] expert, has said that Medley's candour reveals "a fundamental problem of scientific ethics in Sage" – ie, a hardwired negativity bias. "The unquestioning response to the brief is very like that of SPI-B's behavioural scientists," he says and suggests that the Covid inquiry looks into all this.
At a time when we have just been given a new set of 'scenarios' for a new year lockdown it might be good if someone – if not Prof Medley – would clear up what assumptions lie behind the new 6,000-a-day-dead scenario, and if emerging information from South Africa about Omicron and its virulence have been taken into account. And how probable it is that a double-jabbed and increasingly boosted nation (with 95 per cent antibody coverage) could see this worst-case scenario come to pass.
In my view, this raises serious questions not just about Sage but about the quality of the advice used to make UK lockdown decisions. And the lack of transparency and scrutiny of that advice. The lives of millions of people rests on the quality of decisions, so the calibre of information supplied matters rather a lot – to all of us.
Too right.
I haven't believed SAGE at all, from the beginning. I am also still angry about how much taxpayers' money has been pumped in for a pandemic that needed a common sense solution in March 2020, such as, 'There are a lot of unknowns here. We will provide updates. However, we advise that anyone who feels sick to get a test then isolate at home for 10 days. Keep your distance from those outside your household. Keep your hands clean. Above all: use the same precautions you would in any potentially contagious environment.'
That's it in a nutshell. Not a lot more needed to be said.
But no.
We plebs couldn't have that. We cannot be trusted.
Chief Medical Officer Prof Chris Whitty implied that we do not know what we are talking about.
This video is from Whitty's appearance before a parliamentary Select Committee on Thursday, December 16. Dean Russell MP (Conservative) asked him whether the NHS risks prioritising the virus over cancer. While it might not be Dean Russell's view, this is a prevailing opinion among many members of the public.
Whitty wasted no time in shooting that down, saying that we do not understand 'health' and insisting that lockdowns helped to save the NHS, which would have collapsed otherwise. Along with Prof Gordon Wishart, I also beg to differ, but here is the exchange:
People are frustrated:
General practitioners are wrapped up in this, too:
Coronavirus has overtaken their surgeries. It was already nearly impossible to get an online appointment, never mind one in person. As of last week, GPs' priority from the Government is to dispense boosters:
No, pandemics are not a regular occurrence, but the NHS should be prepared to deal with one.
On Monday, December 20, Boris convened the Cabinet for a two-hour meeting to discuss the possibility of imposing a Christmas lockdown in England. Sir Patrick Vallance presented a doom-and-gloom scenario.
Bear in mind that Boris is skating on thin ice at the moment politically. A lockdown might have caused some of them to resign their Cabinet positions.
In the end, they decided not to go for a lockdown in England, at least over Christmas weekend:
Well, five of them did, at least.
Foreign Secretary Liz Truss had to leave early:

Guido Fawkes has more (red emphasis his, the purple one mine):
The Times and Telegraph have the most comprehensive write-ups, reporting Rishi, Steve Barclay and Grant Shapps were those leading the sceptics' charge. The Times reports Jacob Rees-Mogg had a prolonged argument with Vallance about their modelling, telling Boris to trust the people rather than the scientists. Truss, Kwarteng, Alister Jack, Nadhim Zahawi and Nigel Adams are all also reportedly sceptical about the threat of Omicron…
On the other side of the divide backing restrictions, according to The Telegraph, are (unsurprisingly) Javid and Gove; Nadine Dorries and Chief secretary to the Treasury Simon Clarke. We can only presume the PM also errs towards this group. There's set to be one more Cabinet before Christmas day that could still decide to recall MPs before New Year.
Katy Balls of The Spectator reports that this is the first time in ages that the Cabinet has been consulted on coronavirus policy:
So what happened in that meeting? 'Boris did a great job and encouraged a proper discussion and respected other views,' says one minister. 'He had quite a lot humility'. Michael Gove was, as usual, leading the arguments for more lockdown. But this was based on Sage forecasts of what might happen which have lost some credibility in the eyes of Cabinet members who were — for the first time in a while — genuinely being consulted.
Boris knows he's in trouble:
Several members of Johnson's Cabinet are vocally opposed to new restrictions. They argue that there needs to be clearer data before any restrictions are brought in – with whispers of resignations if Johnson pressed on without this. These members of government hope that more time will offer clarity that could show omicron is milder than previous variants.
Behind the scenes, the Chancellor is understood to have played a key role warning against rushing into decisions that could cost billions. Other ministers keen to see more modelling include Commons leader Jacob Rees-Mogg and Transport Secretary Grant Shapps ("although it was never quite clear what he was saying," I'm told.) Other ministers have been pressing on Johnson the idea of limiting any new measures to guidance.
But when Johnson emerged talking about the need to observe the data, and questions about Omicron's severity, he was using the language of those who opposed lockdown. They argue, in effect, that Sage models cannot be trusted as they are composed of hypotheticals – and that we need to wait for real-world data. The next few days of hospital data, it's argued, will tell us much about how severe Omicron is and if lockdown is needed. Data is emerging not just from South Africa (where cases now seem to be falling) but Denmark where Omicron has been found to be significantly less likely to put patients in hospital. At least some Sage modellers produced figures on the assumption that Omicron is no less likely to hospitalise or kill: one scenario talks about deaths peaking a day …
Johnson faces a parliamentary party filled with MPs vehemently opposed to any new restrictions and who could question his ability to lead as a result. When the Whips office sent a note around this afternoon telling MPs that the parliamentary away day has been cancelled, one messaged me to say:
'It's probably for the best. If we were all in one place for a few days, we could work out a successor'
But there are Tory MPs who believe action is required. One senior Tory concludes:
'This is a Prime Minister paralysed between science and his backbenchers. It's depressing.'
The Times reports on Leader of the House Jacob Rees-Mogg's words of wisdom. He, too, read Fraser Nelson's article. Good man:
Jacob Rees-Mogg, leader of the Commons, said the government should trust people to do the right thing rather than introduce further restrictions. He said many people had voluntarily changed their behaviour as the threat posed by Omicron became clear.
The prime minister said Rees-Mogg's argument was interesting but asked how he would justify his approach at a press conference. He said that as prime minister he had to look after everyone's health. Rees-Mogg is understood to have responded: "I would stand up and say I respect them for doing the right thing." The prime minister is said to have suggested that this would not be enough if the NHS were at risk of being overwhelmed.
Rees-Mogg is also understood to have criticised official modelling suggesting that without further action 3,000 Omicron patients a day could need a hospital bed. He asked if Johnson had read an article by Fraser Nelson, editor of The Spectator, questioning the assumptions behind the data.
Sir Patrick Vallance, the chief scientific adviser, is said to have responded directly to Rees-Mogg that the modelling had included scenarios where the Omicron variant was deemed less severe than the Delta variant.
If so, why did Vallance not present those data?
Boris made a brief announcement after the Cabinet meeting, saying that he is still keeping all options open after Christmas:
On Wednesday, December 22, Health minister Gillian Keegan told LBC's Nick Ferrari not make firm plans for New Year's parties because of ongoing 'uncertainty':
As people have been cancelling dinner reservations and reneging on trips to the pub, Chancellor Rishi Sunak has had to come up with a £1bn compensation plan for the hospitality sector, which amounts to £6000 per business. A nightclub owner says it's 'insulting'. I agree with the person replying — just drop any remaining restrictions:
When is this going to end?
Oh, well. At least we're not in the socialist nations of Scotland or Wales, where things have been far worse and continue so to be.
Episode 14 of Andrew Neil's Spectator TV was broadcast on Thursday, December 3, 2020.
He interviewed Trevor Phillips, past head of the Commission for Racial Equality and chairman of the Equality and Human Rights Commission (EHRC), the succeeding organisation. Since then, Phillips has held a number of other appointments in human rights, the arts and retail. He is currently managing director of Webber and Phillips, a data analytics provider.
Neil also interviewed Mark Harper, one of my favourite Conservative rebel MPs, who has spoken out against coronavirus lockdown and restrictions. Harper has served as the MP for the Forest of Dean constituency in Gloucestershire since 2005. He has also served as a junior minister in the Cabinet Office, an Immigration Minister and Minister for Disabled People. He was the Chief Whip for the Conservatives in the House of Commons between May 2015 and July 2016. His tenure as Chief Whip ended when Theresa May became Prime Minister.
Emily Gray, managing director of Ipsos MORI Scotland, also appeared on the programme:
By the time the show aired, the mass purchase of the BioNtech/Pfizer coronavirus vaccine was finalised, announced and is now on its way to the UK.
A vote on the new tier restrictions after England's second national lockdown was held on Tuesday, December 1. Mark Harper was one of the rebels who voted against the Government.
Conservative rebels
The Spectator's political editor James Forsyth said that the rebels' vote against the Government, while not toppling the final result, 'was the biggest of Boris Johnson's premiership'. Had the Opposition (i.e. Labour) not supported the Government, Boris and his Cabinet would have lost.
Forsyth pointed out that the number of Conservative rebels 'has been rising consistently'. There will be a vote in January on renewing the tier restrictions. Currently, many English constituencies that started out in Tier 1 before the national lockdown are now, arbitrarily, in Tier 2. (Kent is a good example: communities closer to London have higher coronavirus infection rates than those along the east coast of the county.) If these discrepancies are resolved for in a local way — splitting counties into two different tiers — Forsyth sees more Conservative MPs voting against the Government next year.
He said that vaccine roll out might help to quell the rebellion if it's efficient. However, if the roll out is 'bumpy' and restrictions persist, the rebellion will increase.
Deputy political editor Katy Balls came on next. She said the Government tried to reduce the rebellion, through a Zoom call asking for unity, but that did not succeed as Prime Minister Boris Johnson, who hosted the call, had hoped.
Economics editor Kate Andrews summarised the retail losses — up to £2 billion a week — coupled with retailers Debenhams and the Arcadia Group going into administration was a real problem. Pubs are in severe difficulty, too; only two per cent of them are in Tier 1.
Forsyth thought that the Government might make the tier classification more local but said post-Christmas restrictions present real concern, including the return of university students.
Forsyth did not see any easing of the rebellion until February or March 2021.
Mark Harper, leader of the Covid Recovery Group, was on next. He did not think that the Government had been as 'transparent and open' as they should have been. He has questions as to why hospitality was singled out as a danger sector but has received few answers. He wonders if it makes sense to have a lockdown, then a relaxation over Christmas only to be followed by further restrictions for a month.
Harper said that he wants to support the Government but cannot do so right now.
However, he has noted a change in the tone from the Prime Minister. Letters to the Covid Recovery Group have been more 'collegiate'.
That said, there is nothing of substance in them, e.g. clinical evidence and a 'coherent narrative'. He noted that the scientific experts' opinions differ to those of the Government.
Neil asked Harper what policy change he would like to see. Harper said that the impact of the first lockdown and the recession it caused would have a worse impact on quality of life years (QALYs) than the coronavirus deaths themselves.
Harper says he sees no balance from the Government between health and economic issues during the crisis.
While he appreciates that this is a difficult time with 'no easy answers', he is frustrated with the lack of openness from Government ministers on how they arrive at their decisions.
He hopes that the Government will start showing the criteria on which they base their decisions and 'a proper roadmap' by the end of January 2021.
Scottish independence
The latest support for Scottish independence has risen to 56%.
Emily Gray from IPSOS Mori showed a series of slides demonstrating that Nicola Sturgeon's Scottish National Party (SNP) is far and away the most popular of any political party north of the border.
While Scots admire Sturgeon's handling of the coronavirus crisis, Brexit is another factor in the preference for independence. Scots trust the SNP on all major issues, from the two that I named through to the NHS and education.
Conservatives and Unionists are not doing well in Scotland. Part of the reason for this, she said, was that they were not making a compelling argument for the Union, i.e. being better off together than as separate nations.
Neil pointed out that the SNP have not done well in terms of equality in health and education. Gray said that Sturgeon's ratings have remained high throughout the pandemic. She has calmed their fears; therefore, any shortcomings are not in the forefront of people's minds.
The Scots voted two-to-one to remain in the European Union. Brexit is deeply unpopular there. Neil said that some Scots would vote for independence as revenge for Brexit. Forsyth acknowledged that such a point of view is a problem.
Gray, however, made it clear that the pandemic was a greater factor in the yearning for independence than Brexit.
James Forsyth said that the SNP will win the local 2021 elections handily.
He added that Boris Johnson will have to address this issue of independence sooner or later. Perhaps the Unionists have to wait for 'something to turn up' in order for them to make their case. They would do well to 'buy time', he said.
Katy Balls agreed with Neil when he said that Boris does not 'poll well' north of the border, however, Rishi Sunak does. She said that a Labour government would have a easier time dissuading the Scots from voting for independence.
Forsyth said that a successful UK government vaccine roll out might change Scots' minds against independence. Visiting relatives in different parts of the UK this Christmas might also help to reinforce the benefits and commonality of the Union.
Equality
Equality was the last topic of conversation when Neil interviewed Trevor Phillips.
Critical race theory — yes, Neil used those exact words — was the topic of conversation.
Phillips did not deny the use of critical race theory and said that he, too, was sceptical of the term, saying that it serves only to feed white nationalism.
He also says that it downgrades education. It is, he said, based 'on anecdote, narrative, "my feelings" … none of which will change a single thing for people of colour'.
He called it a 'scam'.
He said it is wrong to make the issue of race 'entirely about white people' with people of colour as 'bystanders'.
Neil, somewhat apologising for his skin colour, pointed out that much progress has been made in race relations but that the theory does not acknowledge any of that progress.
Phillips said that Neil did 'not have to apologise for being white'.
Phillips said that the UK is not the United States. He noted that a number of families in Britain have bi-racial antecedents or parents since the Second World War. He said that no other nation in the world has that number of black and white familial unions. Britain, however, does.
Neil objected to the modern treatment of the telling of American independence, which he said purported to promote slavery. Phillips agreed, calling it 'complete drivel'. Phillips then brought up slavery in the US — tobacco and cotton-based — versus slavery on the Caribbean plantations, which he said was much larger, on a 'factory level'.
Phillips said we should think of the current movement as we do Extinction Rebellion. He noted that Cuba, with all its black residents, has never had a black leader. He said the current movement is a front to 'overthrow things as they are'. He said that, if they want to change things, 'do it honestly'.
Neil asked if Malcolm X would have been a supporter. Phillips doubted it, because he would have disliked 'the indiscipline of the movement'. However, he acknowledged that, he might have done in the middle of his life. Later, Phillips said, Malcolm X dropped the idea that 'whites are intrinsically bad'.
————————————————————–
Charles Stanley Wealth Managers sponsored the programme.
Episode 13 of Andrew Neil's Spectator TV aired on Thursday, November 26, 2020.
As you can see, the main topics were coronavirus and Brexit:
I haven't tuned into the episodes following the US election, because everyone is so anti-Trump.
The Chancellor's spending review
Andrew Neil opened the programme with the UK Government's spending review.
We are heading towards a national debt of £3 trillion and a budget deficit of nearly £420 billion.
There will be few spending cuts but tax rises will help to fill the gaps.
Kate Andrews gave us more information about Chancellor Rishi Sunak's statement. She had updated data from the Office for Budget Responsibility (OBR). The economy is set to contract by 11.3%, the biggest fall in 300 years. I wrote about that earlier this year, so it came as no surprise.
We will not even start to recover until 2022. Andrews said that some believe this is too pessimistic, even if the OBR says they took into account that we would have a vaccine. Well, we have that vaccine now (the week after the programme aired), which means that we could reopen our economy by the middle of next year. That said, we do not know how long the vaccine programme will take. Unemployment will rise by 3.5% to 7.5%, 2.5 million people.
Even by 2025, our deficit will still be around £100 billion. There will be a £15 billion increase in social spending, but Rishi will have to start to raise money. We won't find out how until early next year, possibly at the end of the year.
Andrew Neil said that, so far, the Chancellor has 'kept his powder dry'. James Forsyth, political editor of The Spectator, said there is too much up in the air right now to make any firm predictions.
Katy Balls, The Spectator's deputy political editor, said that a few areas of the statement have raised questions. However, Rishi's decisions might look more reasonable next year. Some cuts, e.g. foreign aid, will be popular with Conservative voters, including those in the North of England.
Forsyth said that as we spend more on defence, it is logical that something will have to be cut: foreign aid (which, in reality, is not being cut by that much).
The 2019 intake of Conservative MPs have formed the One Nation Caucus, who could rebel against the Government, but, as Katy Balls noted, there are various shades of conservatism that do not automatically amount to mass rebellion.
Andrew Neil asked Kate Andrews about the OBR's four scenarios, especially the most optimistic one. She said that we do not know how effective the vaccine will be and how quickly the roll out will go.
Neil asked her about the lack of specifics from the Treasury. Andrews said that he is probably looking at all the options, especially positive ones that might prevent higher unemployment next year.
Forsyth said we will know how much more we need to spend on COVID-19 compensation plans by March 2021, but the Chancellor will have to decide on policy by 2022, well in advance of the next election in 2024. He added that the Chancellor will have to put clear water between the Conservatives and Labour on spending. Currently, there isn't much difference.
Coronavirus tiers in England
Coronavirus tiers came up next. England was still in its final days of the second national lockdown, which ended on December 2.
Only Cornwall, the Isles of Scilly and the Isle of Wight are in Tier 1. That wasn't known at the time of broadcast, but it was already expected because of indications from the Prime Minister and our national medical experts who warned that most areas in Tier 1 before lockdown would end up in Tier 2.
Neil asked Forsyth whether a relaxation over Christmas for family celebrations wouldn't start bumping up contagion rates. Forsyth said that, in Canada, after their Thanksgiving in October, rates started to soar. He also mentioned the warnings going on in Scotland: be sensible and try not to take advantage of Christmas celebrations.
Katy Balls talked about the backbench Conservative rebels on lockdown, particularly about the new tier classification. Many counties with low rates are in Tier 2. However, those rebels are not of large enough number to cause the Government to lose a vote on further restrictions. That vote was held on Tuesday, December 1. Balls said that Boris has Labour's votes on his side, so he will win now and in future.
Coronavirus vaccines
Neil announced that the Government had pre-purchased doses of various vaccines so that two-thirds of the population could achieve 'herd immunity'. Dr Stuart Ritchie, a behavioural scientist at Kings College London, gave his views on the subject.
Neil asked Ritchie about vaccine scepticism. Ritchie said that more and more Britons were sceptical about taking a vaccine. He found the polls 'worrying'. He said that there is a new term replacing 'anti-vax', which is 'vaccine hesitancy'. He said that people are rightly worried, especially when they perceive a political element to vaccination. The rapidity of the vaccine development is one factor, the lack of information about it being another. He admitted that there are things we just do not know yet until the vaccine is rolled out.
Neil asked about mandatory vaccinations. Ritchie said that France has several vaccines that are mandatory, as do the US and Australia. Ritchie does not think this will be a question in the UK, because, despite the polls, there is still an eagerness among the public for vaccination. He thinks the Government should pay people around £200 to get vaccinated as an incentive.
Changing people's minds could be less successful, he admitted. Neil pushed Ritchie on no admittance to restaurants or on flights. Neil clearly is gung-ho on this, sadly. Ritchie agreed, saying that people would feel safer if mandates such as these were added to our everyday lives. (Pathetic.)
Forsyth said that the Government wants 75% of target groups to be vaccinated but added that scepticism would be a problem. Ritchie said making it compulsory would only make people more suspicious. That said, he purported that the vaccine was truly safe.
Ritchie looks very young to me and he was most enthusiastic on vaccination. I would like to see him as a 60+ giving such views.
Katy Balls said the vulnerable as well as front line health workers will be at the top of the vaccination priority list. However, she does not doubt that Conservative rebels will be on the case, depending on the vaccination issue of the day.
She said that one poll showed that the public would be more likely to take the vaccine if their MP took it first. (Excellent idea.)
Ritchie said that vaccine efficacy will determine future uptake.
Brexit
The final topic was Brexit. Neil spoke with Sir Ivan Rogers, the UK's permanent representative to the EU between 2013 and 2017. He worked closely with former Prime Ministers David Cameron and Theresa May on this issue. Neil asked Rogers about Brexit talks as they stand. Rogers said they were 'very fraught'. Time is running out, and decisions now have to be made. Rogers thought the markets were too optimistic on the EU and UK arriving at a deal.
Rogers said that Boris's government is not 'classically Conservative', meaning Thatcherite. He added that we are also in the coronavirus crisis, which has added another dimension to EU-UK negotiations.
Neil said that British politicians never considered how difficult Brexit would be to negotiate. Rogers said that ministers knew about the difficulty and discussed it privately during his time. He agreed that ministers did not have a vision as to how they wanted to negotiate an exit. He added that he had real doubts from the beginning about Theresa May's deal, which he never thought would succeed.
Then there were disagreements about what a 'Canada+' deal actually meant. He said there were 'huge misreadings' on both sides. He warned about the '++' element for that reason. The final deal will be much stronger on goods than on services, he thinks, which is a centuries-old priority.
Neil asked if these negotiations could go on and on in smaller ways, even with a deal. Rogers thinks there will be modifications in the years to come. Some of these are already under discussion, he said, which is making a final deal more evasive at this time.
After the interview, Forsyth said that fishing is the biggest issue right now, especially as the French — Emmanuel Macron, specifically — baulking at the UK's reclaiming our national territories.
Forsyth stated that, even with a deal, future EU-UK negotiations will continue 'for the rest of our lifetimes'. He said these will be a 'constant for the rest of our working lives'.
——————————————————————–
Thanks to Charles Stanley Wealth Managers for their sponsorship of the programme.
Andrew Neil, veteran BBC journalist and chairman of The Spectator worldwide, hosted Episode 7 of The Week in 60 Minutes on Thursday, October 15, 2020:
A summary follows.
Not surprisingly, given events of the past week, coronavirus led the news.
Andrew Neil began with England's increasing number of regional lockdowns. It would seem that Prime Minister Boris Johnson is no longer following the science. The Labour and official Leader of the Opposition, Sir Keir Starmer, wants another national lockdown. The political editor of The Spectator, James Forsyth, said that, whatever coronavirus crisis measures Boris Johnson takes, he's 'damned if he does, damned if he doesn't' and has to deal with the damage of lockdowns.
Across the Channel in France, Emmanuel Macron has been following a similar strategy to that of Downing Street and is very concerned about COVID-19 in all respects. Neil asked about last week's contretemps in Ireland. Forsyth said that Ireland's dispute between their government and medical experts was played out in public; by contrast, in the UK, it was in private. In any event, he said that scientists are now in a position of 'negotiation'.
The magazine's deputy political editor, Katy Balls, was on next to discuss Labour's position on coronavirus. Labour MPs disagreed with Keir Starmer behind the scenes, a move which she said has united the Conservatives. That said, it seems England could well be heading towards a short 'circuit breaker', although that would be very difficult for Conservative MPs to stomach.
Forsyth said that this is a very dangerous time for the Government. Starmer could even emerge victorious. ('At some point', I might add, as Boris has a majority of 79 [from 80], and no general election is due before 2024.) At this stage, it's too soon to tell. He said that no one knows if a circuit breaker would actually work in England.
The Spectator's editor Fraser Nelson was up next. He said that Boris was pretty well on to the way to a national lockdown, adding that he lacks the way to fight off SAGE, having been  'outmanoeuvered'.
Neil asked about a recent poll showing approval for more coronavirus restrictions. Ben Page from IPSOS-Mori explained the polls, which showed that 62% of respondents thought that stricter measures should be taken. Page indicated that these were somewhat alarming results: 'quite astonishing in some ways … across the piece'.
Forsyth noted that 19% of Conservative voters in England oppose increased restrictions, which poses a problem for Boris because it creates a North-South divide. Ben Page countered that the polling support for Labour and Conservative has been fairly stable this year. Labour haven't been able to gain much ground since December 2019.
Jake Berry MP, a Conservative representing the northern constituency of Rossendale and Darwen in Lancashire, spoke next. He said that, although their regional lockdown had been relaxed recently, they are now on Tier 2. He said that people are largely ignoring the Government guidelines and will comply only with what they think is appropriate. He does not favour a national lockdown but supports a local circuit breaker 'based on the data', so that it becomes less political for the public. He believes that the Government could have 'handled the North better' and that recent weeks have proven a 'very dangerous moment for Parliament and the North'. That said, he added that Labour 'is in quite a lot of trouble over this as well' and said Starmer committed quite a big mistake this week when calling for a national circuit breaker.
Berry further advised that we need to give this new two-week regional lockdown the benefit of the doubt which might lead for in-and-out local lockdowns.
Neil then changed tack, moving across the Channel to France, with its local 10 p.m. coronavirus curfews (some of which are now at 9 p.m.) and a campaign against extremism.
Ayaan Hirsi Ali, speaking to the latter point, was the next guest. She was sceptical about any success against extremism. She said that extremists have convinced French immigrants they are living within another type of state to which they do not feel they naturally belong. She added that this is enough to subvert the French nation. She also said that the same narrative is going on in other Western nations, because leaders remain silent and refuse to admit what is really going on.
Talk then turned to Brexit arrangements, which were to have been concluded that day. James Forsyth said that the EU threw the ball into the UK's 'court'. That leaves the situation whereby Michel Barnier wants to carry on talks but neither side wants to back down.
Forsyth expects there will be a deal to be done 'but with a twist in the tail'. Fraser Nelson said that Boris and Macron communicate with each other quite closely and expected that Britain will budge over fishing rights. It will be, he predicted, one for revision: 'a process rather than an event'.
Forsyth said there could be a November deadline, even though neither side wants an early deadline because they do not want any changes to the deal. He predicted a last minute November 15 deal.
The last part of the programme concerned protecting the triple lock pension with Katy Balls affirming that Boris is 'committed to it'.
The panel noted Boris's 'unstrustworthiness' problem with voters. Questions from listeners followed for the last ten minutes. Ben Page said that the Labour Party is very unpopular even if Keir Starmer is popular in the polls.
Viewers are grateful to Charles Stanley Wealth Managers for sponsoring the programme.
Andrew Neil's Spectator TV posted its sixth episode of The Week in 60 Minutes on Thursday, October 8, 2020:
Guests included Prof David Nabarro, World Health Organization special envoy for Covid-19; Andy Preston, mayor of Middlesbrough; Pat Leahy, political editor of the Irish Times and a few Spectator journalists.
The programme began with the status of coronavirus measures in Ireland.
Pat Leahy, political editor of the Irish Times, says that the Irish government was surprised by the recent recommended lockdown which they ultimately rejected. The Irish government were highly critical of the proposed measures, privately and publicly. Leahy explained that the head of the public health advisers has been off work because of compassionate leave, then, last Sunday, he returned and recommended another lockdown. The Irish government took it as, he says, a 'power play'.
The government objected to the health experts' very quick meetings amongst themselves and with government officials. Leahy said that the government were 'annoyed'.
The government did not disagree with the recommended measures per se, but there was a fine balance to be achieved. The minister of finance warned of employment and social consequences, because a number of jobs would not be coming back. He and his staff needed to consider if other measures could be taken instead.
Neil mentioned today's minimal COVID-19 deaths in Ireland. Leahy agreed and said that the so-called second wave has much less severe than the first. That said, the admissions to hospitals have been rising dramatically. So, there is a question about whether the second wave is different from the first. The Irish government felt they could weigh the statistics, adopting a wait-and-see approach. Leahy said that Dr Leo Varadkar, a physician who was formerly the prime minister and is now the deputy prime minister, essentially threw the nation's chief medical officer Tony Holohan 'under the bus'.
Leahy said that the part of Ireland's problem was assigning decisions to scientists and doctors in the first wave earlier this year. Currently, scientific advice 'is only one factor' in the decision making process that the Irish government will take with regard to coronavirus measures. Leahy said that time will tell whether the public will back the government. The economic factors are such that things could change in the weeks to come.
Katy Balls was up next, advocating Swedish models that a number of Conservative MPs back. A number of backbenchers disapprove of Drs Whitty and Vallance.
Conversation then turned to the WHO's Prof David Nabarro who says we are still in a bit of the first wave and we're not over it, so we need to learn how to live with the virus without lockdown and the 'closing down of economies'. What he calls 'the middle path' requires holding the virus at bay while allowing the economy to resume in order to make certain we can put safeguards in place, so that we can stop the virus whilst getting local 'actors', as well as testing and tracing, involved as much as possible and a common commitment to each other to keep everything as safe as possible. He said that lockdowns serve only to give a health service some breathing space.
Nabarro said that is what South East Asian countries are doing, also Germany and Canada. As lockdown lifts, nations can deal with increased cases 'elegantly'.
As for Ireland, Nabarro sided halfway with the Irish government and halfway with the scientific advisors. He did caution that public buy-in was necessary for any success.
Nabarro predicted many more weeks of uncertainty but that we would feel 'much more comfortable' in the New Year.
Neil asked Nabarro about Prof Sunetra Gupta's views on a milder lockdown. Nabarro said that the WHO do not advocate lockdowns as an absolute principle. (UK government: please take note!) He cited the damage done to the Caribbean and Pacific tourist industry. As a result, many more people could lapse into poverty.
Neil brought up Scotland's coming lockdown and a possible one in the North of England.
Kate Andrews had current statistics, comparing them to Sir Patrick Vallance's alarming case graph from the third week of September. So far, we are not close to Vallance's projection, but the UK is higher than France's and Spain's cases, respectively.
The effect of local lockdowns showed a skyrocketing in positive tests ('cases').  According to statistics, it is possible that Leicester should have already been taken out of lockdown.
Kate Andrews showed graphs that revealed that hospitality was responsible for a very low number of cases: around four per cent, not dissimilar to this pie chart, which I cited last Friday.
Nabarro intervened, saying he preferred 'local integrated responses', because breaking the virus involves input from every institution, be it a factory or a house of worship. He praised Leicester for its diversity, holding it up as a model for the world.
The Spectator's political editor, James Forsyth, came on to comment about the former Labour 'Red Wall' in the North. Much of that Red Wall voted for Conservatives in December 2019. Forsyth said that lockdown will be viewed as flooding has been in recent years: even if measures taken are not political, they look as if they ARE political. Northerners see that London and the surrounding Home Counties will not be locked down, and, as a result, will suffer fewer socio-economic casualties.
Andy Preston, the Independent mayor of Middlesbrough, was the next guest. He has been positively incandescent about lockdown. The transmission is a bit choppy, but Preston said that many of his residents didn't personally know many people who had or died of COVID-19. He added that Middlesbrough's residents have paid more in tax whilst losing out locally. He felt that 'the Government is doing stuff to us'.
Preston has asked for a temporary ban on in-house socialising but supports frequenting restaurants. He said that local government and the UK government need to work together on measures.
Preston said that he thought there was an 'inside group' of advisers to the government, with no one from Middlesbrough involved.
He said that this type of decision making could go 'very badly wrong for the country'.
Talk then turned towards the American vice presidential debate. Freddy Gray covered this segment. He said that Mike Pence is 'a very accomplished performer', 'intelligent and he spoke very fluently'. He disclosed that he has never been a Pence fan but predicted that he could be the next Republican nominee in 2024.
Neil said that a Trump-Biden virtual debate would not be the first. Nixon broadcasted in 1960 from Los Angeles. Gray said that no one knew what is going on in Trump's mind and said that the American president had gone 'full gonzo'.
Viewers' questions came next.
The first had to do with successful measures against COVID-19. Nabarro commented on coronavirus success in South East Asia, which he attributed to community buy-in and no delay in taking action, which can result in more problems later.
Another viewer said that England's mayors needed to come together with regard to England's lockdown. Andy Preston said he would back Manchester's Andy Burnham, a former Labour MP.
A third viewer wondered about the vote coming up this week on England's 10 p.m. curfew. Katy Balls said she doubted whether Labour would oppose the vote, but Conservative rebels might have their chance in the weeks to come to succeed in voting against the Government. (Personally, I don't think it will happen. Most of the Opposition support lockdown measures and restricting civil liberties.)
James Forsyth says that half the Conservative MPs really detest the Government's coronavirus restrictions. He cited the communications surrounding them and questioned what the £12bn poured into the 'test and trace' programme has actually achieved. He said it was 'not delivering'.
Andrew Neil asked about the Great Barrington Declaration, which Prof Sunetra Gupta and many other physicians signed a week ago in Massachusetts. Kate Andrews said that Prime Minister Boris Johnson said there would be a 'game changer' with no social restrictions a year from now. As such, time is not a big deal for Boris. Neil said that Boris sounded like Chauncey Gardiner. I don't like saying this, but I tend to agree with his assessment. Boris seems off the rails right now.
Leahy had the final word, measuring the rising positive tests with closed pubs and other measures. The Irish government, he says, needs to give these new measures time to work, including buy-in from the public to avoid another lockdown. He predicts another two to three weeks.
The final question came to Nabarro about the origin of the virus. He said, in short, that there was no definitive answer. 'You [have to] bring in independent actors', therefore, the WHO would need 'to bring in other staff to help'.
Hmm. Interesting.
Then, in an abrupt change of tone, Nabarro sounded a blast at certain countries, including Belarus and Spain, saying that a second wave could come soon and that no nation should be complacent.
Hmm.
Charles Stanley Wealth Managers sponsored this week's programme. For that, we are most grateful. Agree or disagree, Spectator TV is manna in a desert of dry, one-way MSM broadcasts.
There are two more increasingly popular Spectator TV videos to view, brilliantly presented by Andrew Neil.
Each of the episodes below is one hour long, but it is unlikely that those seeking real news and analysis will be bored.
As a supporter of President Trump, I was somewhat less impressed with Episode 3, from September 17, which downplayed his chances for re-election as well as his foreign policy, as many of us consider it a peacetime triumph:
Sweden's state epidemiologist Anders Tegnell was the first to be interviewed about his nation's handling of coronavirus. As we know, they had no lockdown.
Tegnell regretted not having controlled the many deaths in care homes — similar to those in other Western nations. There were also other lives that could not be saved because of co-morbidities. He said that a lockdown would not have saved them.
The problem in the care homes related to their separation from a national health care system, again, not dissimilar to the tragic result seen in other nations, particularly the United Kingdom and the Netherlands.
He indicated that Sweden wanted to ensure that care home fatalities were resolved going forward as well as those among minority populations. He said that an EU commission was looking into those challenges.
Neil asked why Sweden was one of the few countries that ignored the projections from Imperial College London earlier this year. Tegnell replied that Imperial's models were 'quite extreme' and 'doubtful'. He added that models are not made 'for prognosis' because 'you don't really know' what is going to happen.
He said, 'This is not a competition' and expressed his desire for more international collaboration and discussion to find a common pathway towards fighting the a second wave of the pandemic as well as agreement on testing.
He said that Sweden had been conducting 80,000 tests a week with no recent deaths.
Good for Sweden. They did well considering they bucked all the odds.
In case the interview is difficult to listen to because Tegnell is on a train, here is another transmission:
Episode 4 of Spectator TV, from Thursday, September 24, covered a multitude of health, economic and political topics:
Kate Andrews talked about the broadcast that Dr Chris Whitty and Sir Patrick Vallance made about coronavirus last week. Rishi Sunak, Chancellor of the Exchequer, gave a statement last week on a winter economic programme. It focussed on a change from furlough, which expires in October, to a jobs subsidy for viable employment. She said that there is no doubt that unemployment will rise in the UK in the coming months.
James Forsyth echoed that and said that Rishi Sunak's plan is to retain as many current jobs as possible but also to create many more.
On that note, Katy Balls said that there is some tension between 10 and 11 Downing Street. Boris errs on the side of health and personal safety. Rishi is more focussed on the economic numbers in order to keep Britain afloat.
With regard to coronavirus, Dr Flavio Toxvaerd, an economic epidemiologist from Cambridge University, said that epidemiologists do not have a good estimation of human behaviour. He did not believe that we were likely to see the latest coronavirus predictions from Whitty and Vallance's graphs come true. That said, there is a delicate balance to be struck between health and the economy in dealing with COVID-19. Both are critical at this time. Neither can be viewed in isolation.
With regard to his eponymous amendment anticipated to be brought before the House of Commons, Sir Graham Brady said he felt confident that any future coronavirus-related statutory instruments would have to be brought before the House of Commons for debate and a vote prior to implementation.
Questions have been raised as to Boris Johnson's future as Prime Minister. Katy Balls and James Forsyth both thought that he would not be gone by the end of the year, as many have predicted over the past several days. Leaving the EU, they predicted, will put fuel in the tank for 2021, so to speak.
Turning to the upcoming US elections, Dominic Green said that a Biden administration would favour the EU more than the United Kingdom emerging from Brexit. Again, this assumes that Joe Biden will win the election. Green rightly warned that polls are unreliable. (We saw the same situation four years ago with the polls and the 'Trump can't win' theme. We are seeing it again now.)
Thousands of us are grateful to the NatWest Group for sponsoring these useful broadcasts.
Last Monday, I wrote about the debut of Spectator TV, from The Spectator's editors and writers, presented by Andrew Neil.
A lot of viewers loved it:
It's now on YouTube:
If you missed the first episode …
Episode 2 came out on Thursday, September 10:
Enjoy:
The most interesting parts were with Dr Elisabetta Groppelli, a virologist from the University of London, who has been participating in a coronavirus vaccine trial and explains the complications with said trials.
She said that the UK has pre-ordered the Astra Zeneca vaccine, depending on its success. She added that the UK also has interests in other vaccines that are being tested. She said that she thought that it will be unlikely that any of the successful vaccines will be mandatory but that there will be 'discussions' to persuade people to have them.
Katy Balls expressed the Government's concern about university students socialising and possibly spreading coronavirus with partying, even with the 'rule of six' people to any one gathering.
Freddy Gray was as pessimistic as he was in 2016 about a Trump win. He was wrong then. Will he be wrong now? We shall see. He thinks the election result, as the Democrats said at their party conference, will be delayed.
With regard to Brexit, James Forsyth says that the biggest problem we will face is around fish. The French will not want to see a drop in their catch. He also thinks that Angela Merkel will step in at a time that suits her interests.
The questions in the second episode were mostly fronted by Andrew Neil, with a large degree of anonymity.
I enjoyed the first Spectator TV episode more than the first, however, viewers will find much to digest in both.
Once again, well done.
Last Thursday, September 3, 2020, Spectator TV made its debut.
Anyone missing Andrew Neil's piercing interviews on the BBC should definitely watch it:
You cannot ask for a better hour of interviews and analysis about the events of the past week: simply excellent.
It's free to view.
Professor Carl Heneghan from Oxford was the guest. He described how the current cases of COVID-19 in the UK differ from the ones we had six months ago: less hospitalisation and very few deaths. He also said that the chances of contracting the virus in Britain now are very low overall.
The possibility of a second Scottish independence referendum was the next topic of discussion. James Forsyth (political editor of The Spectator) and Fraser Nelson (the magazine's editor) laid out the complexity of the issue as it relates to the United Kingdom as a whole. The Scottish people view independence as a heartfelt emotional issue, hence the rise in the polls for an independent Scotland. Yet, the economic realities point to potential hardship should the nation become independent; the oil price is still very low and Scotland has the most debt of any Western nation. Therefore, it is hard to see how they would get by on their own.
James Forsyth said that the UK government should call Nicola Sturgeon's bluff and start discussions with her on independence. There would be many issues to resolve: currency, trade, cross-border movement, to name but a few. Once the realities become clearer to the Scottish people, they might vote against it, as they did in their first referendum (2014) which was supposed to settle the question once and for all. Fraser Nelson took a different tack. He said that Unionists (those who want to preserve the United Kingdom) need to make a better — and positive — argument for the Union. Because they have never had to do that, it requires thinking differently and presenting a convincing case to Scots who favour independence.
Katy Balls, The Spectator's deputy political editor, described the mood on the Conservative benches in Parliament. One would think that with a majority of 79 (it was 80, until the party whip was withdrawn from Dr Julian Lewis), Prime Minister Boris Johnson would have an easy time of things. However, many MPs had a rough summer defending government policy on COVID-19 to their constituents. They also do not feel as if No. 10 wants them involved in anything useful. Some MPs told Balls that they think Boris is being 'held prisoner' in No. 10 and that his principal adviser Dominic Cummings is actually running the show. Furthermore, Boris's appearances at Prime Minister's Questions (PMQs) have been a disaster since the House of Commons implemented social distancing. Boris performs much better with a large audience, and it will be some time before he gets one. On a deeper level, however, Conservative backbenchers do not think Boris prepares himself enough for PMQs, which they find insulting to their constituents.
The growing tension between No. 10 and Conservative backbenchers means that Boris has to be careful about what policy positions he puts up for a vote in Parliament. Some, e.g. planning laws, he will delay until local elections are held next year; they are too controversial to vote on now, as he could lose.
The programme ended with a 12-minute Q&A from those who registered to watch the programme live on Zoom. There were a few hiccups with the mute button, but some viewers did get to participate. We did not see their faces, just a black screen with their names to accompany the audio. The questions were intelligently expressed.
If the BBC made programmes like this, no one would be carping about the licence fee.
Roll on Spectator TV. I'm looking forward to the next instalment.