You are currently browsing the tag archive for the 'Keir Starmer' tag.
As one would have expected, the Queen's Platinum Jubilee brought out a number of snide republicans — anti-monarchists — on social media.
However, there is a reason why a constitutional monarchy is still a relevant form of government today.
On June 1, 2022, writing for The Telegraph, veteran columnist Allister Heath explained (emphases mine):
The 1,136 years of Royal continuity since Alfred the Great have been a remarkable story of evolution, a shift from absolutism to rule by consent, from feudalism to a form of capitalism, from Catholicism to a multi-faith society, from Anglo-Saxon kingdom to empire to Brexit. The monarchy, paradoxically, given what it was prior to Magna Carta and the Bill of Rights, now protects the people against power. The monarch serves as a reminder to politicians that they are not, ultimately, in total control: there are forces and institutions above them.
Other methods exist to protect nations against extremism or tyranny, such as the division of powers at the heart of the US constitution. But the downside for America is constant paralysis and an inability to reform institutions that are broken. Thanks to our constitutional monarchy, we are able to evolve when necessary; others must raze everything if they are to change. This is no naive paean to a Whiggish view of history: plenty of the changes made to this country over time have been bad, with botched devolutions a case in point. But we can cope with and absorb damaging ideas or ideological revolutions without losing our souls; the French and Russians and even Americans cannot.
It used to be argued by republicans that meritocracy was incompatible with a monarchy: the huge changes of the past few decades, Big Bang in the City, the drastic progress made by the working classes in the 1980s and by minorities in the 2010s, has shown this not to be true. Anybody in Britain today can be prime minister or a billionaire.
Crucially, the monarchy's central role in British life moderates our politics and society. It drastically reduces the threat of extremism, violence or ideological overreach, a quality that the rest of the world values hugely about Britain.
A monarchy, with its titles, palaces, carriages and servants, is obviously not compatible with communism, although it can coexist with pretty radical Left-wing governments. The Royal family is inherently internationalist, as is the Commonwealth: autarky or complete isolationism would be psychologically difficult. When military personnel sign up to the Armed Forces they swear an Oath of Allegiance not to the prime minister, but to the Queen: the threat of a coup organised by some hothead demagogue is vanishingly small …
Monarchies' time horizons are extremely long, a useful counterpoint to a social media-addled age where attention spans are diminishing, where senior roles turn over too quickly in the public and private sectors, where ministers come and go every year, and where wisdom and experience are undervalued. Western societies also tend to downplay the importance of the family: nepotism is rightly taboo in educational institutions, big firms and the public sector. But in the private sphere, in the real world, the family and blood ties matter, and often more than anything else. The Royal family reminds us of the continuity between the generations, even when there are tensions, disagreements and scandals. When millions are battling atomism, a demographic implosion, loneliness and a quest for meaning, anything that rebalances our perceptions of the good life is surely welcome …
The monarchy has become a unifying focal point around which every group can coalesce without degenerating into identity politics: all can feel pride. It is an institution that reminds us of our unique history, of the extension of rights, individual and political freedoms and immense economic opportunity that has characterised British history. No honest reading of the past 1,000 years can remotely claim that we are uniquely bad – for all our flaws, all our mistakes, we have long been a beacon among nations, improving and developing before others and tackling injustices more quickly.
… Ephraim Mirvis, the Chief Rabbi, perfectly captured Her Majesty's remarkable qualities and dedication in his special Jubilee prayer: "Her crown is honour and majesty; her sceptre, law and morality. Her concern has been for welfare, freedom and unity, and in the lands of her dominion, she has sustained justice and liberty for all races, tongues and creeds."
The monarchy, and the Queen in particular, have provided us with an in-built advantage in contending with the destabilising forces battering Western democracies. For that, and for everything else Her Majesty has given us during her 70 extraordinary years on the throne, we should be eternally grateful.
On April 21, 2021, the Queen's real birthday, Mary Harrington, a contributing editor to UnHerd, also put forward the historical case for preserving the constitutional monarchy. This was just days after the Queen attended Prince Philip's funeral.
Harrington wrote:
I was reminded of her iron self-control and bird-like fragility watching our Queen enter St George's Chapel for the funeral of Prince Philip on Saturday. She stumbled momentarily as she approached the chapel door; inside, she sat alone. Born 12 years after my grandmother, she has been our Queen since 1952 and remains so today, her 95th birthday.
And yet despite the dignified pathos of last Saturday, we can be sure that some will celebrate the Queen's birthday by calling for her deposition. For many progressives view the Queen as an unacceptable relic of the past. Never mind personal travails; monarchy, they say, is undemocratic, even if the Queen never wields her power. We should have an elected head of state.
But far from being a relic of despotism, constitutional monarchy is our best protection against its reappearance. The story we like to recall traces a thousand years of royal continuity — the same deep history which progressives say demonstrates the obsolescence of our monarchy. But in truth this story skates over a profound rupture: the end of absolute kingship …
Just as the Reformation represented England's secession from spiritual absolutism, the Glorious Revolution represented something similar in the political sphere. Having got rid of one absolute monarch, the statesmen who defenestrated James II set about making sure their new monarch, William, knew his place. A 1689 Bill of Rights set out constitutional principles we have to this day, including regular Parliaments, open elections and freedom of speech. The Bill also limited and specified the monarch's powers.
The Reformation and Glorious Revolution produced an England in which both spiritual and temporal rule had the same figurehead: a head of both Church and Parliament. The change was subtle but profound, as the authority of England's priest-kings now theoretically extended across moral and political domains. But in practice, they wielded no direct power.
This homeopathic dilution of theocratic tyranny proved exceptionally liberating. The new settlement drove the emergence of our parliamentary system, our two main political parties, and — as the monarchy sought a new role — many of the High Victorian institutions such as the Royal Societies, whose grand buildings form the majestic backbone of London today …
Two world wars, one collapsed empire and a de-industrialised North later, things look rather different. Today, younger adults widely believe the world has been getting worse throughout their lives, and are pessimistic about the capacity of science, government or their own agency to change this. In parallel, the freedom of speech first guaranteed in the 1689 Bill of Rights is increasingly regarded as a stalking-horse for hatred. Growing numbers believe that what's right and wrong — especially where it concerns the rights of marginalised groups — are sufficiently self-evident they shouldn't be up for debate.
But who decides on the exceptions to our post-Glorious Revolution norm of debate? It's been nearly half a millennium since Henry VIII ended England's official embrace of the Pope in this role. Progressives have yet to offer a clear alternative to either the Pope or the Defender of the Faith, though many assert that no hereditary ruler should be allowed such spiritual clout.
Unsurprisingly, then, progressives (such as Jeremy Corbyn) who support abolishing the monarchy, often also argue for disestablishment of the Church of England. Meanwhile a growing chorus of other progressive voices calls for a lengthening list of often self-contradictory articles of faith to be excluded from legitimate debate — a move that bears comparison with the religious ordinances of England's Catholic and Anglican eras.
But what if the progressives are wrong and power can never truly be democratised? This was the argument advanced by political theorist Carl Schmitt. Schmitt argued that democracy is always compromised by absolutism, because no matter how flawless a set of rules you devise, and no matter how fair your electoral system, sooner or later a situation will crop up that doesn't fit the rules.
When that happens, you have to break the rules: a situation Schmitt called the "state of exception". Coronavirus lockdowns are a good example: of the past year, countless ordinary freedoms were abruptly suspended in the name of virus control. Schmitt argued that you can tell who's really in charge by who gets to implement such a state: "Sovereign is he who decides the exception".
Carl Schmitt was, of course, a Nazi. For him, exposing the traces of arbitrary rule that persist even in democratic government was part of a wider argument in favour of strongman rule …
… It wasn't the Queen who decided to suspend our ordinary liberties for the pandemic, but Parliament, which is made up of our elected representatives.
The role of our Queen is to symbolise that tyrannical twitch we can't wholly eradicate even in democracies, lest such twitches break out more regularly among our elected leaders. And she must do so without availing herself of actual power. As such, she acts as a kind of inoculation against real tyranny.
Our Queen has two birthdays: her actual birthdate, which is today, and her "official" birthday on the second weekend in June. This aptly reflects her double existence. On the one hand she's a human individual with a family, a birthday and a recent, terrible bereavement. On the other, she's an interchangeable cipher, a part not just replaceable but designed to be replaced by her heir apparent when the time comes. Her role is to act, with total self-effacement, as the fulcrum between tyranny and democracy. It's a position that, once understood, is rightly seen as profoundly sacred.
On the topic of coronavirus, The Telegraph's French correspondent, Anne-Elisabeth Moutet, wrote of her fellow countrymen's envy when the Queen addressed the United Kingdom on Sunday, April 5, 2020. It was a planned address but was aired — coincidentally — shortly before Prime Minister Boris Johnson was admitted to hospital with coronavirus. Talk about serendipity.
Moutet wrote of French leftists who praised the Queen:
Three weeks into le confinement, the complete lockdown French authorities have imposed on the nation, TV viewers here tuned into the Queen's address yesterday more out of curiosity than to find any kind of succour.
The nation is exhausted. A good deal of Emmanuel Macron's response to the Covid-19 crisis has been deemed flawed. The President and the country's health authorities simultaneously decreeing that masks were unnecessary for the general public and pledging to buy millions as soon as they could be sourced was rightly seen as inconsistent. So was the failure of the French health ministry's bureaucracy, for weeks, to greenlight promising antiviral therapies while deaths rose by the thousands. Trust is at its lowest.
And yet, after a four minutes and thirteen seconds speech broadcast on all our news channels, France, a country that has forgotten neither Waterloo no Mers-el-Kébir, had been utterly won over. "Queen Elizabeth II Would Make Me a Monarchist," Marion Van Renterghem, a seasoned former Le Monde reporter, who now writes for both L'Express and the Guardian, tweeted. "A model Chief of State. A class act" …
"The entire world has just been given a masterly political communication lesson in a crisis by a 93-year-old grande dame," tweeted one of France's foremost spin doctors (and a professor at Sciences Po, Paris' answer to Oxford's PPE), Philippe Moreau-Chevrolet.
In a country where, since the day of Charles de Gaulle, the President has simultaneously tried to symbolise the Republic and manage current affairs hands-on, the Queen's address has reminded everyone that there's a lot to be said for an uncontested head of state, completely detached from the fluctuations of day-to-day politics — and from politicians' vagaries. Most of Emmanuel Macron's speeches here have been too long: in time (rarely less than 20 minutes); on posturing ("We're at war," repeated 6 times in an awkward televised speech three weeks ago); on insincere technocratic babble …
"It was moving; it was subtle; it carried weight because instead of trying to instrumentalise war parallels, the Queen never even said the word, but let us all remember her and her father's history. She had grace, she had authority, she had compassion," says Moreau-Chevrolet.
That direct link between the sovereign and her people, above politics, has often been mocked in Britain as in France; but faced with it, we all recognise it. A politician who had to campaign for the job, and has to look to his numbers the following days — Blair, Sarkozy, Macron — simply can't manufacture that.
Even more notable: patriotism, a word too often used pejoratively, came spontaneously to describe the strange experience of hearing Britain's great-grandmother praising and encouraging her people in adversity. We were, to be honest, more than a little envious.
The day the Queen delivered her coronavirus message to millions of Britons …
… Tony Blair's odious spin doctor, Alastair Campbell, wrote an editorial for The Telegraph, 'From her sense of humour to sense of duty, The Queen is the most remarkable person on earth'.
I am hardly a fan of Campbell's, but he explains how he shifted from being a republican to becoming a monarchist. The Queen's example showed him the way:
My first political row, aged six or seven, was about The Queen, when my mother said I had to sit with her and the rest of the family to watch the traditional Christmas message. 'Why?' I protested. 'Why should I care what some rich woman says, just because she lives in a big posh house, wears a crown and has a silly voice?'
That was more than half a century ago, and the beginnings of fairly persistent Republicanism. My mother, born in the same year as the Queen, and with the same first name, Elizabeth, is alas no longer with us. The Queen, very much, is. How I wish my mother was here to see me write this: that in common with millions around the world, I was keen to see and hear The Queen as soon as it was announced she would be broadcasting a special message to the nation about the coronavirus crisis.
I would go further… I think it is possible to make the case that The Queen is one of, if not the, most remarkable people on the planet. Below are just ten among many reasons.
Campbell praised Her Majesty's longevity:
She has 'done the same job' for almost 70 years … 70 years; there is nobody else, in any other walk of life, who has done that.
He praised her 'enduring excellence':
… her standing with the public has never been below 60 per cent approval in the polls, and often in the 80s and 90s, because of the way she has performed her role.
He pointed to her universal fame:
Her face is perhaps the most reproduced image in the world (300 billion stamps and counting, hundreds of millions of coins and banknotes throughout the Commonwealth.) She is universally known, and near universally admired. Say 'The Queen' in conversation anywhere in the world, and she, the Monarch of all Monarchs, is the one people assume you are talking about. Her death, when it comes, will be one of the defining moments of our times, globally.
He praised her humility:
Despite that fame, and the authority that comes with her constitutional position, she wears both lightly. As one of her advisers once explained to me, 'she knows that she did nothing to deserve the privileged position she holds. She was just plonked there, an accident of birth.' Not for one second, he said, does she ever forget that.
He recalled her ability to handle a crisis, specifically Princess Diana's horrible death on August 31, 1997. Princes William and Harry were with the Queen and Prince Philip at Balmoral at the time. Tony Blair was Prime Minister then, and Campbell was working for him:
… There was considerable reluctance among many at the Palace, her included, to lowering the flag at Buckingham Palace, to returning from Balmoral, to the Queen speaking to the nation. But when she and Prince Philip decided it all needed to be done, it was all systems go, and her walkabout outside the Palace, as I recorded in my diary at the time, dramatically changed the public mood, instantly. 'The Queen,' says historian Tristram Hunt, 'will become a business-school case study in the management technique of rebooting.'
Campbell recalled her resilience when Windsor Castle caught fire in 1992, the same year when Charles and Diana's marriage was breaking down:
There have been periods when the Republican movement has felt wind in its sails, and sensed the possibility of the whole Royal edifice crumbling. She has survived them all. Her annus horribilis, 1992, amid the grisly soap opera her family had become, with the Windsor Castle fire the tipping point to tears, was the only time her courtiers feared she was losing her capacity to endure whatever life threw at her. From that too though, she emerged stronger.
He admired her humanity:
I have met a fair few of her staff, at various levels, and have yet to meet one who doesn't like as well as respect her … Another of her advisers told me that the reason she loves horses so much is that when she rides, 'she feels like an ordinary human being, not a Head of State.' 
He said she has a sense of humour, citing a quip of hers from 2002:
At the time of her Golden Jubilee, Tony Blair hosted a dinner for The Queen and all surviving Prime Ministers at Downing Street – Blair, John Major, Margaret Thatcher and Jim Callaghan – and descendants of the Prime Ministers who had died. As they all gathered somewhat nervously, she said: 'Isn't it just marvellous not to have to be introduced to anyone?'
On the subject of Prime Ministers, Campbell said the Queen has a certain mystique:
Even those who see her regularly, like her fourteen Prime Ministers with their weekly audiences, do not really know what she thinks about many of the major issues they discuss. She never puts a foot wrong on the political front, and though she is one of the most written about people on earth, we don't really know much about her beyond what we see.
He praised the Queen's sense of duty, performing the same rituals time and time again:
This defines her, really. She would not be human, if she did not occasionally think, 'oh no, not another garden party/investiture/State opening/Trooping the Colour/regional visit/Commonwealth trip/State banquet for me to read platitudes drafted by the Foreign Office.' Whatever it is, she just does it, again and again and again. Because it is her duty …
Campbell ended by noting the change through which the Queen has lived. Yet she remains a constant presence in our lives:
She has seen so much change, and helped to drive change too. But she just is; 'show not tell' at its best. The Queen of 1953 would not have had a rock star like Brian May playing the national anthem on the roof of Buckingham Palace, as happened at the Golden Jubilee. The Queen of 2002 would not have appeared in a film for an Olympic and Paralympic Games opening ceremony, with Daniel Craig as James Bond, and a Queen lookalike jumping from a helicopter, as she did in 2012.
There is so much change in those different scenarios, but the only thing different about her is her clothing, and the colour of her hair. She just is, that's it, and her latest broadcast, just being The Queen, will further add to the legend, and the history, of a truly remarkable human being.
That is the one time when Alastair Campbell and I have agreed on something.
That said, the year before, in September 2019, The New York Post published the results of a Sunday Times poll on Labourites' — Campbell's fellow travellers' — views of the Queen. Who knew there were so many republicans among their number?
Only 29% of party members polled believe in keeping the British monarchy, the Sunday Times of London reported. And only one in five would be "happy" or "proud" to sing the national anthem, "God Save the Queen" …

Even more shocking in a country that's in the midst of leaving the European Union in part because of immigration issues, almost half of the poll's respondents agreed that nations "should remove borders and people should decide where they want to live."
I had forgotten about that poll, but everything remains true today. Few Labour MPs attended the Commons debate on the upcoming Platinum Jubilee. Furthermore, with regard to illegal immigration, most of them say that there is no such thing. In other words: come one, come all, no matter how.
Speaking of Labour, in 2005, Keir Starmer had just been made a Queen's Counsel (QC). This was before he was made Director for Public Prosecutions (DPP) in 2008.
Guido Fawkes unearthed this video, in which Starmer said he was against the monarchy:
Guido posted the video on February 3, 2021.
This begs the question: as the current leader of the Labour Party and desperate to appear as a safe pair of hands, is Starmer still a republican?
Guido offered this analysis about Sir Keir, as he now is (red emphasis in the original):
The 2005 interview … shows Sir Keir smugly boasting about his long-held republican views. Sir Keir, reflecting modestly on his other achievements, brags "I also got made a Queen's Counsel, which is odd since I often used to propose the abolition of the monarchy" before smirking …
UPDATE: Owen Jones et al [more leftists] are blabbering on about the past tense of "I often used to propose the abolition of the monarchy". That strictly reads as he used to propose the abolition, now he does not. Doesn't necessarily mean Starmer has changed his mind, just his campaigning priorities. As he embarks on his patriotic makeover, it is reasonable to ask; is that a tactical change or has he truly converted to the merits of a constitutional monarchy? If so, what was it about becoming a knight of the realm that converted him?
I have much more to write about the merits of a constitutional monarchy and the Queen's role within it.
For now, I will close with the thoughts of Alexandra Marshall, an Australian who contributes to that country's edition of The Spectator.
Marshall was on Mark Steyn's GB News show prior to the Platinum Jubilee celebrations and made a solid case for a constitutional monarchy, which she also summed up in a tweet:
Precisely.
Paradoxically, today's monarchies safeguard their citizens from tyranny.
More to come on this topic next week.
On Thursday afternoon and evening, I watched GB News's wall-to-wall commentary on the Queen's Platinum Jubilee. It has been excellent.
GB News is available worldwide, live and on video.
Nigel Farage was in London for Trooping the Colour and said that the parade and the enthusiasm of everyone he met elsewhere was very moving, indeed:
Retired Royal correspondent Michael Cole, who had watched the Coronation in 1953 as a little boy on his family's brand new television set, told Farage that he felt the same way:
Continuing on from Thursday's post on the Platinum Jubilee, likely to be a one-off event in British history, here is the marvellous flypast that took place after Trooping the Colour:
That evening, the Queen symbolically set off the beacon lighting around the UK and Commonwealth nations:
This video shows how the lighting unfolded at Windsor Castle …
… and here we can see them lit up around the world:
On Friday morning, June 3, a Service of Thanksgiving for the Queen's 70-year reign took place at St Paul's Cathedral in the City of London.
The evening before, Buckingham Palace announced that the Queen would not be attending, having suffered 'discomfort' after Trooping the Colour. She made a second appearance on the balcony to acknowledge the military personnel and officers participating.
However, the BBC commentators told us that she was watching the broadcast as it unfolded on television.
Interestingly, Queen Victoria arrived for her Diamond Jubilee at St Paul's Cathedral in 1897 only to find out that she could not exit her carriage because of ill health. When everyone inside found out, they all — clergy included — went outside to conduct the service there:
The Times's Valentine Low wrote the following about Elizabeth II:
The Queen may not have been able to take part in the Trooping the Colour ceremony on Horse Guards, but she takes her role as Colonel-in-Chief very seriously. Her decision to make that extra appearance was prompted by the same motivation that saw her make a last-minute appearance at the opening of the Elizabeth line: her unwavering sense of duty.
The Queen will be extremely disappointed at not going to St Paul's. She has a sincere religious belief, and takes her role as head of the Church of England seriously too …
For the moment, the jubilee remains all about the Queen: wherever she is.
Personally, I would have had the Service of Thanksgiving at St George's Chapel at Windsor Castle. The Queen returned to the castle after lunch with the Royal Family following Trooping the Colour.
The Sussexes attended the lunch at Buckingham Palace. They did not appear on the balcony as they are not working members of the Royal Family.
However, once at Windsor, where Archie and Lilibet stayed while their parents were in London, the Queen finally got to meet her newest great-grandchild:
The Daily Mail article has the order of the Service of Thanksgiving, which was traditional and dignified in all the best Church of England ways. Why can't more C of E services be like that?
St Paul's Cathedral also has the Order of Service as it was printed for those attending:
Crowds had gathered outside by 6 a.m. in the limited space Paternoster (Our Father) Square affords:
Attending these services as invited guests or military guard requires a bladder of steel and optimum decorum. Waiting for everyone to arrive takes longer than the actual service.
Today's service welcomed as guests the charity sector, military cadets, Girl Guides, Boy Scouts, Commonwealth dignitaries, the military, politicians past and present as well as the extended Royal Family.
The public sector were there, too:
Outside were a military guard as well as military representatives from the Commonwealth nations. They had to stand perfectly still as the guests filed into the cathedral.
Here is another set of guards inside:
Musicians played traditional music. The Royal Marines provided the brass accompaniment. The Royal Air Force played the closing fanfare introducing the National Anthem, which concluded the service. Everyone sang his/her heart out. I've never heard anything like it:
Former Prime Ministers were in attendance: Sir John Major, Tony Blair, Gordon Brown and David Cameron. Brown and Cameron brought their respective wives, Sarah and Samantha.
Members of the Cabinet, including Defence Secretary Ben Wallace, Foreign Secretary Liz Truss and Home Secretary Priti Patel, attended.
Opposition leaders Sir Keir Starmer and Sir Ed Davey were there, along with Scotland's First Minister Nicola Sturgeon and her husband.
London Mayor Sadiq Khan and his wife also attended.
Prime Minister Boris Johnson got a huge and prolonged cheer when he arrived at the cathedral, accompanied by wife Carrie.
These photos show Boris and Carrie in the main photo. On the top right are the Camerons and on the bottom right are the Blairs, Tony and Cherie:
The only others who got louder cheers were the Sussexes …
… and the Cambridges:
I have read media reports that the Johnsons and the Sussexes were booed. I watched the proceedings on television. What I heard were most definitely cheers for both couples.
A royal expert commenting on the service said that, where the Queen is concerned:
nothing happens by chance.
Therefore, we can conclude that the fact that the Sussexes arrived by private car and got their own mini-procession down the aisle of St Paul's was an instruction from the Queen (see second tweet):
The couple sat near the front, next to Princesses Beatrice and Eugenie, who were with their husbands.
The minor Royals arrived in a large black coach (bus). It took ages for them to file in, as they shook hands with a long line of Anglican clergy, including the Bishop of London, the Right Revd and Right Hon Dame Sarah Mulally, who had a lucrative career prior to entering the priesthood.
The clergy wore elaborate crimson and gold copes which were created for George V's Silver Jubilee service in 1935. Most of them looked as good as new.
Yeoman Warders (Beefeaters) from the Tower of London stood behind them. They were on official duty guarding those inside the cathedral.
You can see both below:
Prince Edward and the Duchess of Wessex brought along their children. I really like Sophie. So does the Queen:
Prince Charles and the Duchess of Cornwall were the last to arrive:
By now, readers might be wondering who the gentleman wearing ermine is.
He is the Lord Mayor of London — the City of London, that is. This is a rotating one-year position and the new Lord Mayor assumes his responsibilities beginning every autumn at the Lord Mayor's Show, a parade in the City, which is the oldest part of London and still serves as the financial district.
The Lord Mayor of London is in charge of the City and, in that district, is second in power only to the Queen. Therefore, Prince Charles is subordinate to him while within those boundaries.
For centuries, until the Great Fire of 1666, that part of London was the capital, outside of Westminster, which was some distance away.
Everyone lived and worked there unless they had responsibilities at the heart of government in Westminster, which was most easily accessed by boat along the Thames.
Everywhere else that is now very much a part of the capital was a rural suburb until a few hundred years ago.
From that, we can better understand the importance of the Lord Mayor of London's historical role.
The Lord Mayor has several swords, now ceremonial, that he uses. However, each sword has its own role. Today's was the sword of state. If the Queen had been in attendance, he would have worn his most important sword.
The Lord Mayor's assistant also carries a sword and wears a mink hat for ceremonial occasions:
You can see him outside the cathedral, hands resting on the sword, just immediately to the left of the main entrance:
Returning to the service, these chairs were for Prince Charles and the Duchess of Cornwall:
Prince William and the Duchess of Cambridge sat right next to them in ordinary chairs:
Here is a view of what the congregation saw — the main altar, the choirmaster and the men and boys choir:
Boris Johnson delivered the New Testament reading, Philippians 4:4-9, which one can imagine that the Queen selected personally, as it truly gave us a message about our present circumstances and the transition of the monarchy. We are to think on higher things — and not worry:
Rejoice in the Lord always; again I will say, Rejoice. Let your gentleness be known to everyone. The Lord is near. Do not worry about anything, but in everything by prayer and supplication with thanksgiving let your requests be made known to God. And the peace of God, which surpasses all understanding, will guard your hearts and your minds in Christ Jesus. Finally, beloved, whatever is true, whatever is honourable, whatever is just, whatever is pure, whatever is pleasing, whatever is commendable, if there is any excellence and if there is anything worthy of praise, think about these things. Keep on doing the things that you have learned and received and heard and seen in me, and the God of peace will be with you.
The Archbishop of York, the Right Revd Stephen Cottrell, gave the sermon, as the Archbishop of Canterbury has coronavirus, along with Prince Andrew.
The Archbishop of York's sermon began with a brief discourse on how seriously the Queen took her Christian duties and ended on a lighter note with references to her favourite pastime, horse racing, particularly apposite as the Derby is on Saturday. Her Majesty is not expected to attend:
Children from the Commonwealth took turns in giving the prayer intercessions.
After the service, guests went to the Guildhall for lunch:
Meanwhile, Britons up and down the land gathered for street parties:
Thankfully, it was another reasonable day in London, dry and partly cloudy.
On Saturday evening, another spectacular concert in the style of those for the Golden and Diamond Jubilees will take place in front of Buckingham Palace.
On Sunday, a celebratory pageant will take place in the same location.
I plan to have more posts next week on the importance of the Queen's 70-year reign as well as the many social and political changes during that time.
To follow this series, it is helpful to read parts 1 and 2.
We left off on Sunday, May 8, 2022. That day, Labour leader Sir Keir Starmer had cancelled an appearance at an Institute for Government event on Monday in advance of the Queen's Speech on Tuesday.
Labour's campaign beer and curry event took place on April 30, 2021. The Sun made it public soon afterwards, but it did not get traction from other papers, namely The Telegraph and the Mail, until January 2022. Durham Constabulary only decided to really investigate it on Friday, May 6, 2022. Starmer took legal advice and cancelled his public appearance on Monday, May 9.
Journalists and pundits noted the length of time between the event, its wider coverage, the internal memo about the event leaked to the Mail on Sunday and Starmer's reaction to the press coverage it received. No one forgot Starmer's spending from December 2021 to May 2022 calling for Boris Johnson's resignation over Downing Street events:
With the shoe being on the other foot, Labour supporters wanted Starmer's event, held in Labour MP Mary Foy's Durham office, to disappear from the public consciousness. Didn't we know there was a war on in Ukraine? Didn't anyone care about the cost of living crisis? Suddenly, breaking coronavirus restriction rules was something no one should care about unless it had to do with Boris and Downing Street.
Mail on Sunday journalist Dan Hodges noted the hypocrisy:
A YouGov poll published on Monday showed that the public thought Starmer should stand down if he gets a fine:
Guido Fawkes has YouGov's breakdown of the public's opinion on both Starmer and Boris. Not surprisingly, more people think that Boris should resign. That said, Conservative voters are more forgiving of Starmer than are Labour voters. That's because most Conservatives believe in repentance.
Guido says a majority of the public think that Starmer broke the rules:
The general public is firmly of the view that Starmer should resign, at 46% agreeing versus 32% opposing. They also comfortably believe Starmer either did definitely or probably break the rules (54%) to probably didn't or definitely didn't (21%).
Guido conducted his own poll on Monday, May 9. Just under 50 per cent thought that the Labour leader — and Leader of the Opposition (LOTO) — should resign using the same standards that he applied to Boris:
Earlier on Monday, Starmer decided to issue a short statement to the media at 4 p.m. that day. By the time Guido closed his poll, there was a half hour left before that small, select event took place.
Guido's post on the poll says (emphases in the original):
With Sir Keir expected to make a statement on Beergate at 4pm today, Guido asked co-conspirators how they'd advise Starmer if they were by his side in the LOTO office over the weekend. Resign right away? Wait for the police investigation? Tough it out…?
Thousands voted, and it turns out readers are divided. Half (49.6%) think Starmer should resign at the podium today – given he called for Boris's resignation the moment the police launched their inquiry – 28.9% think he should resign only if fined, with a further 21.5% saying he should tough it out regardless of the police outcome. Guido's own view is that the latter choice is politically impossible given his approach to Partygate. Demanding Boris and Rishi resign over a birthday cake set the bar incredibly high for his own behaviour – a bar he hasn't met. If he's not going to resign today, then his only real option is to promise he'll go if Durham Police whack him with a fine…
Starmer invited only three journalists to hear his statement.
He said he would resign if fined.
Guido analysed that statement and said there was more to it than one might think:
Seeing as Charles — now Lord — Falconer is advising Starmer, Blairite tactics could come into play:
Sir Keir has just confirmed he will resign in the event of being given a fine, an unprecedented announcement from a Leader of Her Majesty's Loyal Opposition … Guido can see another obvious tactic at play from the pound shop Blair wannabee…
In 2007, when under investigation for the Cash For Honours scandal, Tony Blair's team warned the Metropolitan Police that the PM would have to resign if interviewed under caution, forcing them to back off under such immense political pressure:
Sources close to the inquiry said that there were difficult discussions before a political intermediary made senior detectives aware of the serious implications of treating the Prime Minister as a suspect.
"Make no mistake, Scotland Yard was informed that Mr Blair would resign as Prime Minister if he was interviewed under caution," said a source. "They were placed in a very difficult position indeed."
On Saturday, when Guido exclusively revealed Lord Falconer has been tasked with putting together out Sir Keir's legal defence, he didn't expect Blair's Justice Secretary to copy the tactic used by his old party boss so like-for-like. Unfortunately for Starmer one of his team accidentally explained the quiet bit out loud to ITV's Daniel Hewitt, briefing "it puts some pressure on Durham Police who are being leant on in one direction". Former DPP [Director of Public Prosecutions] Sir Keir knows a thing or two about letting police forces fudge an investigation and letting the culprit get away…
Hmm:
It will be interesting to see how a campaign team can justify alcohol at a notional working event, especially as a few overdid it:
Guido was referring to a Politico article by Alex Wickham, who wrote that he received no denials of the following account containing mentions of drunkenness:
On Tuesday, May 10 — Day 13 of Beergate — the Mail led with Starmer's alleged piling of pressure on Durham police:
That day, fallout followed Starmer's cosy Monday afternoon session with only three journalists.
The Sun's political editor Harry Cole was left out in the cold. 'Lobby' refers to the media:
Guido said this was but another episode in a long-running period in which Labour have not been transparent with the media:
Guido has been tracking this issue for some time:
Guido's campaign to get Labour to publish their shadow cabinet meetings with media proprietors and editors, as pledged following Leveson, seems to be going nowhere, despite repeated promises from Labour HQ to pull their finger out. Yesterday Labour's relationship with press transparency got colder, when Sir Keir invited just three tame broadcasters into the room, blocking any hacks who may have asked difficult questions from attending. GB News' Tom Harwood was told this was due to "limited space". Guido is old enough to remember when the Lobby was collectively outraged when only selected broadcasters were invited by Lee Cain [Boris's former Downing Street Director of Communications] for a briefing… 
Now Guido's spotted another press frontier on which Labour's dropping the ball: publishing press releases. Labour's website hasn't published a press release in over 40 days, the most protracted period of policy publishing paralysis since Starmer took over …
Perhaps not a good look when even the Labour-supporting press is starting to suggest Sir Keir needs some policies to win, not just claims of personal sainthood…
That day, YouGov published a new poll taken on May 5 and 6 that shows the Conservatives were one point below Labour. Other polls still show Labour in the lead, but here is YouGov's take:
Guido wrote:
Margin of error territory as the public no longer perceives Sir Keir as "Mr Rules". One poll so far so will be intrigued to see if this is a trend…
Prince Charles delivered the Queen's Speech that morning for the State Opening of Parliament.
In the afternoon, both the Commons and the Lords began separate debates on the 38 proposed bills in the Queen's Speech.
In the Commons, at least, the week-long debate, called the Humble Address, begins jovially, and it is an honour to be the MP selected to open it.
The lucky MP was Graham Stuart (Conservative), who represents Beverley and Holderness.
He cracked a joke about Keir Starmer as he reviewed Labour's dominance in the North of England prior to the Conservatives' breaking through the Red Wall in 2019 (emphases in purple mine):
Robert [Sir Robert Goodwill], of course, won selection in Scarborough. He then went on to overturn Lawrie Quinn's 3,500 majority, and was, I think, along with my hon. Friend the Member for Shipley (Philip Davies), the only Conservative candidate in the whole of the north of England to take a seat from the Labour party at that election. The Leader of the Opposition must wish it was so today. Instead the only thing opening up for him in the north is a police investigation. [Laughter.]
Guido has the video. Look at Starmer's painfully forced smile:
Stuart had another go when discussing the corruption in his constituency in the 18th and 19th centuries:
Obviously the law did change. Free beer and cash inducements were the electoral controversies then, rather than, say, beer and curry today. Never in the history of human conflict has so much karma come from a korma.
Some time later, it was Boris's turn to speak, introducing the important bills. Labour MPs intervened until he put a stop to them.
Of the energy bill, he said:
The energy Bill will create hundreds of thousands of new green jobs, taking forward this Government's energy security strategy—it is about time this country had one—with £22 billion—[Interruption.] Labour did not want a single nuclear power station. Come on, be honest. Look at them, the great quivering jellies of indecision that they are. Our £22 billion UK Infrastructure Bank is supporting the transition to net zero and vast new green industries, in which our United Kingdom will again lead the world.
Boris quickly moved on to the economy and the Channel crossings of illegal migrants, during which he added a quip:
We are using our new freedoms to control our borders, with a new plan for immigration so that we can fix our broken asylum system, tackle the illegal immigration that undermines the legal immigration that we support and crack down on the vile people smugglers. I know that the Leader of the Opposition—perhaps I should, in deference to his phrase, refer to him as the Leader of the Opposition of the moment—likes to claim he opposes these plans …

Guido has the video, which is much more entertaining than reading the transcript. Boris was at his best:
That evening, The Guardian reported that Labour MPs were already talking about a change in leadership. Speaking personally, so far, Wes Streeting is the strongest candidate they have:
The majority of shadow ministers said they were grimly resigned to Starmer's pledge – but said there were likely to be internal consequences. "I think once you start talking up the prospect of your own resignation you are on dangerous ground," one said.
Another veteran MP, a Starmer loyalist, said they suspected ulterior motives from some shadow cabinet members. "If you fancy Keir's job, this is win-win," they said.
Rule changes pushed through at last year's Labour conference mean a fifth of MPs must nominate any candidate for the party leadership in order for them to be put to a members' postal vote – a higher threshold than under Jeremy Corbyn's leadership and a move that was seen by those on the left as intending to disadvantage their candidates.
One MP said a snap leadership contest would put ascendant shadow cabinet ministers such as Wes Streeting, the shadow health secretary, in an advantageous position. "[Starmer's] disappearance now would obviously benefit the Blairite right – [the mayor of Greater Manchester, Andy] Burnham couldn't stand, Sadiq Khan [the London mayor] couldn't stand, Angela would be out of the picture for the same reason as Keir because if he goes on this she has said she will go too."
If both Starmer and Rayner are forced to resign, there is no obvious interim leader. The most senior members of Starmer's shadow cabinet – Rachel Reeves, the shadow chancellor; Yvette Cooper, the shadow home secretary; David Lammy, the shadow foreign secretary; Streeting; and Lisa Nandy, the shadow levelling up secretary – are all potential candidates in a contest. The party's national executive committee would have to vote to designate an alternative member of the shadow cabinet.
A source close to Starmer said he was relaxed about the ambitions of his shadow cabinet. "I don't think anyone is actively trying to undermine him. It says a lot about our party that there are so many potential candidates – look at the contrast again with the Tories. If people are ambitious, let them be."
An ally of Streeting said: "Wes was on the media batting for Keir three times over the weekend and into Monday. He's one of Keir's most loyal and vocal supporters. After a great set of a local election results there is everything to play for at the next general election thanks to Keir's leadership. This is no time for introspection."
Senior figures in the Labour leader's team are understood to have felt reluctant to advise Starmer he should raise the prospect of his own resignation.
On Wednesday, May 11, The Sun criticised Keir Starmer's response to the Queen's Speech. When responding to Boris on Tuesday, Starmer had no Labour policies to present. He merely criticised the Government at length and ended with this:
It does not have to be this way; it will not always be this way. A Labour Government would tackle the cost of living crisis head on, get Britain growing again after 12 years of failure, and improve public services so that they deliver for the people paying for them. A Labour Government would rise to the moment where this Government have badly failed.
The Sun's editorial, 'Holey agenda', said (bold in the original):
IS Keir Starmer chasing the wrong job?
He has no ideas anyone can detect, as his vacuous response to the Queen's Speech proves. He clearly thinks it's enough to be 'decent' and 'honourable'.
Tribal Labour voters may lap up his preening sanctimony. Millions of others prefer leaders with vision and drive.
You're auditioning for PM, Mr Starmer. Not Archbishop of Canterbury.
That day, digging around, Guido raised the matter of an early pandemic violation in Durham: that of Boris's then-adviser Dominic Cummings at Barnard Castle in the Spring of 2020.
Durham Constabulary said at the time that there was nothing to investigate. They also stated that they did not issue retrospective fines.
As punishment, Boris made Cummings hold a lengthy televised press conference to explain himself. It lasted well over an hour and was most peculiar. At the end, after having asked many questions, one by one, reporters and broadcasters walked up individually to Cummings's table to tell him what they thought of him.
Cummings's press conference was his public penance.
Then again, parts of it were theatre for the public, most of whom didn't know he is friends with many of those journalists, as is his wife. He addressed only one by his full name: Gary Gibbon from Channel 4 News.
Two years on with Starmer — and other Labour MPs in the frame — the Party's ire was rising in Durham.
Mary Foy MP, who hosted the Durham gathering in 2021, had written a lengthy letter to Boris on May 28, 2020 about Cummings, who is pictured below in the background. The letter beneath it is recent. It is from the leader of Durham's Labour Party to Red Wall Conservative MP Richard Holden, who had written to Durham Constabulary a few weeks ago to enquire as to whether they would investigate the 2021 Starmer event:
Mary Foy's letter would have been better addressed to Durham Constabulary. It was up to them, not Boris, to take action against Cummings.
However, Foy took issue with Boris's refusal to sack Cummings. In the event, he resigned a few months later for other reasons and was gone by the end of 2020.
Guido wrote about Foy's letter, which can be viewed in its entirety on his post:
Now that Sir Keir is feeling the heat from his boozy lockdown curry night, Labour MPs are bending over backwards to explain why their leader's Covid rule-breaking is somehow completely different to Boris's, and why it's right that Starmer remains in post provided he isn't fined. One particular MP who might have some trouble with this is none other than the Honourable Member for Durham, Mary Foy…
Foy is probably best known for hosting the Beergate bhuna session in her constituency office, laughing and drinking merrily with her colleagues while the country was still in stage two of lockdown. She then went on to scream at Richard Holden for his asking Durham Police to reinvestigate the event. It turns out, however, that when Durham Police announced they wouldn't fine Dominic Cummings over the infamous Barnard Castle trip, Foy had a few ideas about what should happen next. None of which involved Cummings keeping his job…
Here's what Foy wrote in a public letter to Boris after the Cummings story:
The vast majority of constituents who have contacted me have expressed the view that Mr Cummings' actions have been insensitive and unacceptable at best, and many feel that they warrant further investigation by the police.
While I understand today's decision by Durham Police to take no further action, many of the constituents who have written to me would like Mr Cummings to resign or be sacked. Clearly, whether you stick by him or not is a matter for you, but the perception from my constituents, and I would hazard a guess that this is a common view across the North East, is that you are currently putting the interests of your chief adviser above that of the people of the region and the country as a whole.
Even though Cummings received no fixed penalty, and the police decided they'd take no further action, Foy still took the time to write a two-page letter informing the Prime Minister how upset her constituents are, and politely suggested Cummings lose his job. Presumably her office is inundated with similar letters now, all demanding Sir Keir does the honourable thing…
Labourites criticised Times Radio's Lucy Fisher for mentioning Cummings and Starmer in the same tweet:
However, it would be wrong to think that Durham Constabulary never issued any fines — fixed penalty notices — for coronavirus violations.
On Thursday, May 12, The Times informed us of a fine Durham Constabulary issued to a bereaved woman in November 2020:
Some of Starmer's supporters have assumed that detectives would not issue a fixed-penalty notice because they decided not to take retrospective action against Dominic Cummings, the prime minister's former adviser.
However, the force's approach appeared to harden later in the pandemic and it issued a £10,000 fine to a woman who organised a balloon release in memory of her father-in-law, who died of Covid.
Vicky Hutchinson held the gathering on November 11, 2020, in a field opposite a church in Horden, Co Durham, where Ian Stephenson's funeral was due to take place a few days later. Her £10,000 fine was reduced to £500, based on her ability to pay, when she attended Peterlee magistrates' court on April 23 last year, a week before the Starmer incident.
A court report by The Northern Echo revealed that Hutchinson, in her mid-thirties, had urged friends and family to wear masks and stay socially distanced at the balloon release. It said that police did not attend the gathering of about 30 people and there was no disorder.
However, it appears that there was a retrospective investigation after a complaint. Durham police analysed a livestream video of the event before issuing the fine, the report said.
The approach to Hutchinson's case raises fresh questions about how the Durham force might handle the case of Starmer, who has denied wrongdoing …
Durham police did not respond to requests for comment.
Also on Thursday, Guido returned to Dominic Cummings, specifically what Keir Starmer said about the incident in 2020:
Guido has the quote:
Here's what he said of Cummings back in 2020 – before the police had even launched their investigation:
This was a huge test of the Prime Minister, and he's just failed that test. He hasn't sacked Dominic Cummings, he hasn't called for an investigation, and he's treating the British public with contempt… that's not a reasonable interpretation of the rules, and the Prime Minister knows it. One rule for the Prime Minister's advisers, another rule for everyone else… If I were Prime Minister, I'd have sacked Cummings.
One rule for the Prime Minister's advisers, another for Sir Keir…
And finally, London's Metropolitan Police confirmed that they have now issued more than 100 fines for Downing Street events. Neither Boris nor his wife Carrie received one in this tranche:
Guido wrote:
A month on from their last update on Partygate, paused thanks to the local elections, the Met's confirmed "more than 100″ fixed penalty notices have now been handed out. Downing Street say Boris has not received another fine…
Later that afternoon, GB News's Colin Brazier and his guests discussed the Met's issuing of fines to people who were at Downing Street gatherings.
It's a bit rich for Brazier's contributors to say that the Met want to channel their resources elsewhere. There are few police forces these days, including the Met, who want to investigate actual crime. This massive dispensing of fines also looks rather selective:
There is also the issue of double standards which irritate many members of the public:
Personally, I think the way the pandemic was handled was dystopian. I don't know what to think about these fines. Part of me wants to see all of them refunded and any related criminal record for violations erased.
On the other hand, it seems only right that, if Labour have done wrong, they, too, should be fined.
So far, only the Conservatives have been. The Met have made them look positively criminal. Well, that's par for the course in Labour-controlled London.
I'll update this in due course.
End of series
Yesterday's post reviewed events surrounding Labour leader Sir Keir Starmer and other MPs connected with 2021's campaign meeting, forbidden under that year's coronavirus rules:
Keir Starmer defended Labour's indoor beer and korma event by saying that no other venue was serving food.
Well, they were. However, the problem was that service was outdoors only at that time.
The hotel where Starmer was staying, the Radisson Blu, provided room service, but that would have precluded any other persons gathering in an individual's room.
On the evening of Election Day, Thursday 5, 2022, GB News's Dan Wootton interviewed Red Wall MP Richard Holden, who had written to Durham Constabulary about properly investigating the event:
Holden said that the students who took the videos and photos offered to give Durham police a statement, but their kind offer was refused.
Holden suggested that evidence was being suppressed. He also questioned the fact that people involved had forgotten their diary details for that day.
As for dining, Holden said that, in order to comply with the rules, he had been part of a group eating a fish and chips supper outdoors in Hartlepool in windy conditions.
On Friday, May 6, Durham Constabulary finally issued a statement saying they would investigate the event held on April 30, 2021:
Labour MP Emily Thornberry dismissed the news and said all would be 'fine':
The BBC reported that Durham Constabulary waited until after the election to make an announcement (emphases in purple mine):
The force initially decided that no offence had occurred on 30 April last year, but said it had since received "significant new information".
It added that it had delayed announcing the investigation until after Thursday's local elections.
Sir Keir said he was confident he hadn't broken any Covid rules.
He has faced criticism since he was filmed drinking a bottle of beer while in the constituency office of City of Durham MP Mary Foy.
Speaking to reporters on Friday, he said he had "stopped for something to eat" during meetings, and there was "no party".
"The police obviously have go their job to do – we should let them get on with it," he added.
Starmer took no questions on the matter:
Guido Fawkes resurrected a Starmer tweet from January 31:
Priceless:
The Telegraph's Madeline Grant made an eloquent observation …
… which received these replies:
Later that day, Guido posted about the concerns that Starmer's advisers had with the upcoming investigation:
Guido's post says that a journalist, Ava Evans, heard that Labour MPs would not be doing media rounds for a few days (emphases in the original):
Ava also reports that one Labour MP told her they would not be participating in any media interviews for the next few days, for fear of being asked to defend Sir Keir. His actions were "indefensible" she reports them as saying. Which explains why we are only seeing Emily Thornberry abasing herself in studios…
On Saturday morning, news emerged that Starmer was taking legal advice from Lord Falconer, Tony Blair's close friend who served as Lord Chancellor and Secretary of State for Justice from 2003 to 2007:
Guido reported on the development, an exclusive:
An extremely worried Keir Starmer has tasked Charlie Falconer with putting together a Beergate legal defence team. Labour lawyers have told Starmer that there is a 60% chance that he will escape a fine, however the fining of Sunak over a cake has spooked Starmer that he too could be fined over a beer and curry. The irony of the legal and political situation is exquisitely painful for the barrister politician.
Guido later added an update:
UPDATE: In another irony, Falconer has publicly opined on the situation of politicians breaching laws they voted for in the Guardian:
… true accountability means facing justice in a criminal court. But not in this case – a fixed penalty notice does not bring any sense of justice done to those who paid what was very often a high price for obeying the rules.
Which appears to be a demand that Boris be tried in court for his birthday cake….
One of Guido's readers wondered if Falconer's involvement presented a conflict of interest, given his strong opinions on the matter:
That isn't the only conflict of interest, either. There's also Durham's Police and Crime Commissioner, Joy Allen. Starmer campaigned for her and she won her election to that post:
The Mail on Sunday was able to obtain a leaked memo, Starmer's itinerary for April 30, 2021:
This was the paper's front page: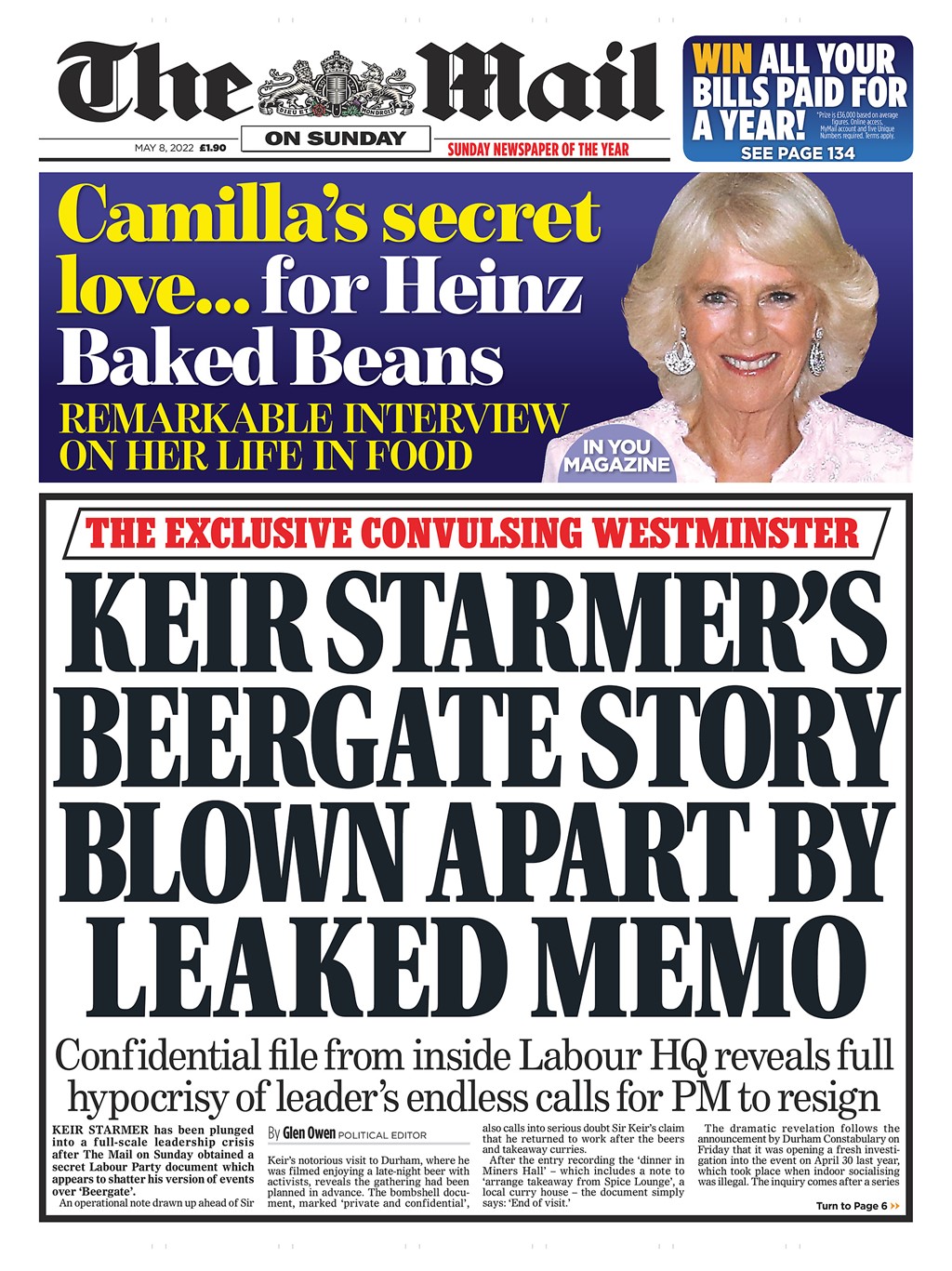 Glen Owen's exclusive for the MoS says:
The bombshell document, marked 'private and confidential', also calls into serious doubt Sir Keir's claim that he returned to work after the beers and takeaway curries.
After the entry recording the 'dinner in Miners Hall' – which includes a note to 'arrange takeaway from Spice Lounge', a local curry house – the document simply says: 'End of visit.'
Spice Lounge did not supply food for the event. Another curry house, The Capital, did.
The paper received the memo from a whistleblower. The itinerary reveals that Angela Rayner MP was scheduled to be present:
The memo – which was passed to this newspaper by a whistleblower – also further undermines Labour's claims that it made 'an honest mistake' when it denied that Deputy Leader Angela Rayner was at the event: it lists 'AR' alongside 'KS' as the two senior politicians anchoring the day's proceedings.
Labour had denied that this was a planned event, but the memo's existence proves that wrong:
… the note – a forward-planning logistics document which is referred to as an 'op note' – makes clear the beer and curries had been planned in advance.
The note says that after a day's campaigning in Hartlepool, Sir Keir's team were due to arrive at the Radisson Blu hotel in Durham at 6.31pm, leaving by 7pm to walk to the Miners Hall.
After recording clips for the media, the note says a 1hr 20mins slot was set aside for 'dinner in Miners Hall with Mary Foy', the local Durham MP. A side note reads: 'YS to arrange takeaway from Spice Lounge'. YS is the acronym for a member of Sir Keir's private office.
The Spice Lounge curry house was closed at the time, with callers being referred to the nearby Capital Indian restaurant. Last week, the Daily Mail spoke to one of the restaurant's delivery drivers, who said he had dropped off a 'big' order of food for at least 15 people, including four bags of curries, rice and naan bread …
The Mail on Sunday has established that the Radisson Blu was serving food when Sir Keir and his party checked in at 6.31pm and continued to do so until 9pm …
The document also refers to four members of the 'MPL' – Met Police Liaison – who were included in the trip, suggesting they are likely to have information useful to the investigation.
Also included on the op note is the line 'Covid Alert Level: National Lockdown', and 'important note: please maintain social distancing of 2m and wear face coverings whilst indoors at all time'.
The leaked document makes clear that Ms Rayner was to play a central role in the day's events …
A Labour source said: 'During a fast-moving campaign, the op note doesn't always keep up with events so it would be wrong to assume that activities occurred at the times originally planned. For example, it's been documented that the takeaway was late'.
This was Starmer's previous denial that the gathering had been planned:
The Sunday Times also had an incriminating article. A source told the paper that some staffers were there only to party and that no work was done afterwards. Pictured below is Mary Foy MP:
It is expected that the investigation will take between four and six weeks:
Allegedly, pictures from the event circulated on Twitter. Those have since been deleted.
Interesting, to say the least:
The aforementioned Sunday Times article said that the Durham Constabulary have opened a major incident room. Angela Rayner's presence appears to have triggered the investigation:
It was the discovery that Rayner had been at the event, despite Labour's original claims, that prompted Durham police to open their investigation. A source close to the force said: "It raises the question about what else we might not have been told the entire truth about."
Officers have set up a major incident room, and up to six detectives will spend the next four to six weeks looking at the potential lockdown breach. They are expected to use questionnaires — similar to the ones used by Scotland Yard to investigate Johnson and the Downing Street scandals — to interrogate those present at the event.
The force said, however, that it did not issue fines retrospectively. When Dominic Cummings was found to have made a 260-mile trip to Barnard Castle in 2020, the force said to take action against him would "amount to treating Mr Cummings differently from other members of the public".
It is unclear whether Scotland Yard's decision to issue retrospective fines over the Downing Street gatherings could force a change of stance.
Mary Foy said:
"Me and my team were working during a very busy period, including facilitating the leader's visit," she said. "I do not believe either I or my office broke any rules, and I will of course fully engage with any police investigation."
Dominic Raab, the Justice Secretary and Deputy Prime Minister, said:
"It's the rank double standards that drive people crazy," Raab told Sky News. "He needs to fess up and answer all of the holes in the account that he gave for that beer-and-curry event in Durham.
"Keir Starmer looks like, I'm afraid, someone who is engaged in complete hypocrisy, complete double standards and I don't think he is going to get past that until he gives a proper account of what happened in Durham."
Here's the video of Raab talking to Sky News:
Jacob Rees-Mogg MP, in charge of Brexit efficiency, told Channel 4's Andrew Neil that one should be extremely careful with hoisted petards:
He does have a way with words.
Guido took a look at what Lord Falconer might say in Starmer's defence:
That said, in February, The Mirror reported that Prime Minister Boris Johnson also hired lawyers over 'Partygate':
The Prime Minister has hired hot shot lawyers to deal with the Met's questions on Partygate.
The Mail reported that Starmer had cancelled his appearance on Monday, May 9, at an Institute for Government event in advance of the Queen's Speech on Tuesday.
Guido tweeted:
Guido's post says:
The public event was scheduled to have included questions from the press and public. This morning, when door-stepped outside his North London home by journalists, a grim faced Starmer refused to say anything and was bundled into a waiting Range Rover. Keir clearly realises that "the police have already investigated this matter and found nothing" will no longer work as a line.
The Institute for Government is funded by the billionaire David Sainsbury, a former Labour minister under Tony Blair, who has backed centrist Labour politicians financially in the past. A statement on the website says only that the event is cancelled, with no explanation given.
The cancellation made the front page of Monday's Daily Mail:
It was the start of another tense week for the Labour leader.
Meanwhile, Boris focused on the Queen's Speech and historic agreements between the UK, Sweden and Finland in case of Russian aggression as a knock-on effect of the Ukraine conflict.
More to follow tomorrow.
My last post on Labour's 2021 election campaign meeting in Durham is a week old.
The intrigue continues and so much more has happened.
It is important to reiterate that while many on social media say it did not break the coronavirus rules …
… there were specific rules for the 2021 election campaign, some of which differed from regulations for households.
Indoor campaign meetings were banned in 2021:
Let's recall how Labour told an untruth about Angela Rayner's not being at the April 30, 2021 event in Durham when she clearly was. Labour had to own up:
The Daily Mail reported that Labour claimed it was an honest mistake (emphases in purple mine):
Labour last night admitted it had lied about an event at which Sir Keir Starmer is alleged to have broken lockdown rules. 
In a sensational U-turn, Labour acknowledged that Angela Rayner was also at the event on April 30 last year at which Sir Keir was filmed enjoying a beer with officials at a time when indoor socialising was banned.
A Labour spokesman said last night: 'Angela was present.' A party source claimed the previous denials had been 'an honest mistake'. 
It directly contradicts assurances given to the Daily Mail over the past three months that Mrs Rayner was 'not there'. 
The admission came only after this newspaper confronted Labour officials with video evidence that Mrs Rayner had joined Sir Keir at an online rally for activists filmed in the Durham offices of Labour MP Mary Foy where the party leader was later seen drinking. 
The extraordinary revelation raises questions about whether Labour's deputy leader also broke lockdown rules.
Recall that, for months, Labour, including Sir Keir Starmer and Angela Rayner, have been braying for Boris Johnson to resign:
Incidentally, once given a fixed penalty notice (fine) for one of the Downing Street events, Boris paid his promptly as did Chancellor Rishi Sunak.
With regard to Durham, their only Conservative MP, Richard Holden, wrote to Durham Constabulary to enquire about Labour's indoor event.
Durham MP Mary Foy, who appears to have hosted the event in her office, took strong exception to Holden's letter. She accosted him in Parliament's Strangers' Bar at the end of April:
Guido Fawkes had the story (emphases in the original):
The pressures of beergate are obviously getting to Labour MPs more than they'd like to admit: Labour MP Mary Foy launched into a furious drunken tirade against Richard Holden in the Strangers' Bar on Tuesday night, after Holden asked Durham Police to reinvestigate Starmer for his lockdown beer drinking. Which isn't exactly surprising, given the infamous event took place in Foy's own constituency office…
Foy allegedly grabbed Holden's arm and hurled so much abuse at him that her staff had to pull her away. Having had a skinful, she growled "how dare you name me and my office in this?" as apologetic staffers tried to calm her down. A witness told the Daily Mail she was "feeling the pressure". Guido can't imagine this morning's revelations about Angela Rayner will do much to soothe her…
Holden threatened to take the matter to the Speaker unless she apologised the following morning. Lo and behold, on Wednesday morning Holden found "I unreservedly apologise for my behaviour on the terrace last night" in his inbox. Holden tells Guido she then went on to talk about how they could work together as Durham MPs …
The Daily Mail reported:
Three witnesses told the Daily Mail that Mary Foy vented her fury at Richard Holden on the Commons terrace on Tuesday night.
She is said to have verbally abused him for asking Durham Police to reopen the investigation into footage of the Labour leader having a beer with officials in her office on April 30, 2021.
Witnesses claim the City of Durham MP grabbed Mr Holden by the arm with both hands and tried to drag him across the terrace before staff restrained her.
Each witness said the former charity worker, 54, appeared to have been drinking heavily when the incident took place at around 10pm as MPs waited for late-night votes.
Goodness me. Being boozed up while waiting to vote on legislation? Unbelievable.
Anyway:
Mr Holden confirmed he had received a written apology from Mrs Foy the following morning. He said: 'Mary has apologised for her totally unacceptable, drunken behaviour on the terrace and I want to leave it at that.'
A Tory source said Mrs Foy's behaviour suggested the 'pressure is showing' on Labour as Durham Police face calls to finally launch a proper investigation into Sir Keir.
Mrs Foy declined to comment on the allegations when contacted yesterday and referred all questions to Labour's press office. A party source confirmed she issued a personal apology.
The source said the pair had been drinking together in a group where there was 'a bit of back and forth on politics generally'.
They added that it was 'incorrect' to say Mrs Foy had grabbed Mr Holden's arm, but did not comment on claims she was drunk.
But several witnesses said they were shocked by the ferocity of her tirade.
More happened that day, Friday, April 29.
BBC Breakfast's review of the newspapers left out the Daily Mail's aforementioned front page with Angela Rayner on it, although reporter Iain Watson later soft-pedalled Labour's claim that it was an honest mistake:
Guido rightly observed that the nation's broadcaster had not afforded the Conservatives such gracious treatment:
When they finally got around to discussing the exposé, political correspondent Iain Watson was at pains to emphasise Labour's absurd line that it was just an "honest mistake", incredibly kind framing Guido's sure Downing Street would not receive. The Metropolitan Police decided to U-turn and investigate No. 10's parties after months of media pressure; now Labour's been caught out, the establishment media is doing its best to downplay the rule-breaking. Labour must be thanking their lucky stars…
At lunchtime, Guido posted Sir Keir's detailed timeline, complete with photos and videos, up North in Hull and Durham:
At the end of the timeline, Guido reminded us of what Angela Rayner had said only a week earlier:
April 20, 2022: Angela Rayner is asked "If Keir Starmer, had been fined for the beer and sandwiches that he had or was perhaps it was just beer. Should he have resigned?" Rayner replies "If Keir Starmer had broken the law, then Yes."
This was the Mail's front page on Saturday, April 30. It was a newsy day, especially with disgraced now-former Conservative MP Neil Parish:
That was also the first anniversary of the event in Durham:
The next day, the Mail on Sunday called Starmer a hypocrite, something a Sky News presenter quizzed him about (video here):
Keir Starmer avoided the BBC that morning. Instead, one of his MPs, David Lammy, went on to chat with Sophie Raworth (videos here and here). By now, the public were catching on that Labour had been obfuscating for nearly five months:
On Tuesday, May 3, The Sun's political editor Harry Cole reported that Starmer's security detail from London's Metropolitan Police were in Durham on the night in question. Hmm:
Cole wrote, in part:
Witnesses suggest dozens of MPs and aides gathered at Miners' Hall, with the police car still there late into the evening.
One bystander who walked past at 11pm said: "The place was still lit up and busy and Keir's car was still outside."
The Sun has also revealed that £200 was spent on takeaway curry for dozens of MPs and aides at the bash.
That day, The Spectator's Patrick O'Flynn wrote that Starmer should be careful about his situation, given he has been running roughshod over Boris, clamouring constantly for his resignation:
… Starmer called for both Johnson and Sunak to quit over their fixed penalty notices despite knowing that the full truth about his own campaign-trail gathering had not come out.
For starters, Labour said its deputy leader Angela Rayner was not at the event when she was. This according to Starmer was a simple 'mistake' made in good faith. But has he ever conceded Johnson could have made simple mistakes in good faith about what constituted unlawful gatherings? Of course not …
Can Starmer be said to have 'come clean' about his own lockdown socialising? Hardly. He is still being evasive now about what exactly the 'work' was that his team supposedly returned to after beer and pizza had been consumed around 10 p.m. on a Friday night …
When Starmer was first questioned about beergate, back in January, he told the BBC's Sophie Raworth: 'If you're trying to persuade anyone that stopping to have some food when you're in the office all day working is a breach of the rules, it's just not going to wash.' Yet hasn't such thinking been at the heart of his own relentless attacks on Johnson?
Starmer the lawyer may think he has winning answers to these questions. Were he a better politician, he would see immediately that he does not. He has been hoisted by his own petard and may soon crash land against some particularly unforgiving ramparts.
The Mail's Stephen Pollard also posted an editorial on Starmer. Pollard, by the way, is a member of the Labour Party. However, he abhors the hypocrisy of Starmer's handling of the Durham event compared with his verbal harassment in the Commons of Boris and Rishi:
… the holes in his story get bigger by the day. Sir Keir also says he had no choice but to eat with his colleagues because he couldn't get a meal at the hotel he was staying in.
The Mail has shown this is nonsense – the hotel made a point of offering room service for law-abiding guests who were following the rules by eating alone in their room. Sir Keir could remove all doubt about the truth of his story if he gave a full account of what happened backed up by evidence. In the absence of such evidence, however, it looks to be no more and no less than a social meal and a drink with colleagues after work – and so not remotely 'necessary'. In other words, illegal under the Tier 2 rules.
The Chancellor, Rishi Sunak, was fined for turning up to a scheduled work meeting in the Cabinet room to find that a gathering was taking place, and not walking out. For that, Labour demanded his resignation. The hypocrisy is breathtaking.
Sir Keir plainly thinks he can keep saying nothing and the fuss will die down. But the one thing voters cannot stomach is a politician who lies – so Sir Keir needs to come clean. It is difficult to imagine why he would let this story fester if he really has done nothing wrong and can prove it by answering questions, so it may well be he is covering up his own lawbreaking.
If that is the case then – on his own merciless standards – surely he must resign.
Or does he believe that the rules don't apply to him?
Also on that day, we found out who took the videos and photos of the Durham event — students at Durham University. The Mail reported that the Met's vehicle piqued their curiosity:
Students who filmed the Labour leader drinking in the office of one of his MPs while indoor socialising was banned also photographed an unfamiliar black Land Rover Discovery parked outside.
If it was one of the official police protection vehicles issued to Sir Keir in his role as a senior politician, it would raise the prospect that officers guarding him can help definitively solve the questions which continue to swirl around the night's events.
One of the students who filmed the gathering at Durham Miners Hall on April 30 last year said: 'We had never seen a black Land Rover parked there before, it really stuck out. We took a picture of it because we were convinced it was the car in which he had been driven there.'
Last night a Metropolitan Police spokesman said: 'We do not comment on protection matters.' Labour did not respond to requests for comment.
Former Scotland Yard Commissioner Dame Cressida Dick was previously forced to defend officers on duty in Whitehall as questions were raised on how potentially lockdown-breaching gatherings were able to take place at a site with a heavy police presence.
Speaking in February, she said the officers were there to provide 'protective security' but refused to be drawn on 'anything they may have seen or heard'.
The Leader of the Opposition is one of a small number of senior politicians given round-the-clock protection by police …
Officers would know everywhere the 'principal' is going during a visit and have a rough idea of timings, a source said last night.
The Mail did not name the students, but Guido knew who one of them was back in January 2022:
On January 18, Guido revealed the student's identity once the images of the Durham event had reached The Sun, The Telegraph and The Mail:
… the person who snapped the incriminating footage – James Delingpole's son, Ivo – is just as angry with the Tories as anyone else. Taking to Instagram yesterday he reacted to the Mail's splash with pleasant surprise:
Bit strange to have a video I filmed… on the front cover of a newspaper. I didn't make any money from it and didn't send it to them, but glad the hypocrisy was outed nonetheless
However he followed up:
It was last year and just outside my university house… I hope this in no way helps the Prime Minister defend himself from critics, and that he gets no respite from the questioning and criticism [he] deserves …

But even that splash in three newspapers didn't stop Starmer. In fact, he doubled down, as we can see in this tweet from January 31:
Returning to last week, Wednesday, May 4, the day before the election, the Mail had the following front page on the seventh day of Beergate. Someone should write a song …
Starmer appeared on ITV1's Good Morning Britain that day. Susanna Reid and Richard Madeley interviewed him. Things did not go spectacularly well, even if Reid is left-of-centre politically:
Guido had the story and video:
For the seventh consecutive day, Starmer is battling the headlines over Beergate. This morning the Sun reports Starmer and Labour aides spent £200 on takeaway food on the night the infamous photo was taken – enough curry to feed 30 people for what Labour still insists was just a quick meal during important campaign work. That line is becoming increasingly untenable, as Starmer's appearance just now on Good Morning Britain attests…
Speaking to Susanna Reid and Richard Madeley, Starmer trotted out the boilerplate excuses Labour have been using for a week, much of which was irrelevant waffle about how many camera pieces he recorded that day. Not once did he deny reports it turned into a £200, 30-person feast …

He recorded some video messages on a laptop – doesn't require 30 people, beer and curry late on a Friday night to do that. When Susanna Reid asked why any of this was actually relevant, Starmer claimed:
We were on the road, at the end of the day, we were in the office preparing. Now, that evening, from memory, we were doing an online event for members… at some point, this was in the evening, everyone is hungry. A takeaway was ordered… in Durham all restaurants and pubs were closed.
Of course, that last part is untrue: hospitality reopened for outdoor service on April 12, and the Durham event took place on April 30. Still, at least Starmer confirmed the police haven't been in touch yet, something he couldn't say yesterday for some reason. If Starmer's finding all this scrutiny unnecessary, Guido would just remind him he called for Rishi to resign last month for singing 'happy birthday'. Or was that just pointless mudslinging?
Guido's tweet about Good Morning Britain had a response about why Labour might not have wanted to put Angela Rayner in the frame until they were forced to:
That day, the Mail's Andrew Pierce looked at the possible people helping Starmer obfuscate. We already know about Mary Foy MP and I covered Joy Allen, the head of Durham Constabulary, in a previous post. She was not at the event.
The others follow — Allen's deputy, the curry house and the other Labour MP for Durham:
PCC Allen's second-in-command is Nigel Bryson, who happens to be a long-standing friend of hers. They met, inevitably, through the Labour Party and she has attracted criticism for appointing him without advertising. Challenged over this failure to vet anyone else, she said: 'I've got somebody who knows everything about me as a candidate… I could go through the process but it would just be possibly going through the motions.' So that's all right then.
The Capital is one of Durham's finest Indian restaurants and this week it emerged its delivery driver had dropped off a '£200' feast for the gathering, including biryanis, tikka masalas, rice and naan breads. The driver initially told the Daily Mail there were '30 or so people' inside – but bizarrely later insisted he had no recollection of making the delivery.
Yet the curry house has been known to have friendly relations with Durham's Labour machine.
In May 2020, during the first lockdown, local MP Foy hailed it for supplying meals to NHS workers and posed for photographs with head chef Syed Islam.
Bordering Foy's constituency is North Durham, with MP Kevan Jones. He has also remained silent about the night in question – and this isn't surprising.
A leading figure in the local Labour community, Jones himself has broken lockdown laws – not once, but twice. The first breach came on May 7, 2020, when he took part in a group photo shoot in his constituency, promoting artwork in praise of the NHS. A noble cause – but the rules about socialising were clear. Jones committed another breach three days later.
A video shows him attending an indoor party for 100-year-old veteran Frederick Herron, allegedly attended by about 40 people. Who would begrudge a hero centenarian a fitting celebration? Nobody – except Starmer and Labour have consistently claimed that the law should have been upheld.
Asked yesterday about his lockdown breaches, Jones said he would 'rather not comment'.
The plot thickened and the intrigue continued.
More tomorrow, beginning with what the papers said on Election Day.
It came as no surprise that the Conservatives fared poorly in the 2022 local elections on Thursday, May 5.
England
In England, the major headline was that the Liberal Democrats lived up to their slogan of 'Winning here' for the first time in quite a while.
They were the big beneficiaries of English votes where local councillors stood this year (many councils held elections in 2021):
Labour's big wins were in London, where they won three longstanding Conservative councils for the first time: Westminster, Wandsworth and Barnet.
It will be interesting to see how these London boroughs fare under Labour. In Lambeth, council tax for a Band D property is £1,502 per annum. Under the Conservatives, Wandsworth's was £800 per annum. Guido has a photo of a street in each of those council areas, where one can see a discernable difference in low-spend, high service council delivery.
Here's a Twitter exchange on the subject, focusing on Wandsworth:
The Croydon Council mention is interesting. It went from Labour to Conservative on Thursday, something I thought I'd never see.
Outside of London, Labour had little traction, especially in Red Wall areas, with the exception of the newly created Cumberland council.
Guido Fawkes has a good analysis, excerpted below (emphases in the original):
Whilst it was obviously terrible for the Tories that they lost nearly 500 seats, now all the votes are in and the dust has settled, did Labour advance as the Tories retreated? They actually did relatively poorly.
Labour's electoral performance outside their M25 enclave saw them gain just 22 councillors across England. That's it. While the Tories' results were obviously weak – although not at their worst expectations – any attempts to spin the numbers will have to contend with the fact that the LibDems, the Greens, and even independent candidates gained more net seats than Labour. Labour's wins in London will be small beer when it comes to a general election …
Winning a net gain of just 22 councillors, and gaining control of the same number of councils as the LibDems, is not a strong showing. William Hague managed to do better in 2001, when the Tories won 120 seats and 5 councils – a consolation prize for getting pummelled in the general election the same day. 
Even within the capital, however, there are warning signs for Labour. While they pop champagne over wins in Westminster, Barnet, and Wandsworth, their losses in Croydon and Harrow to the Tories, and Tower Hamlets to Lutfur Rahman [Independent] should raise a few eyebrows. Losing Tower Hamlets to a man who was temporarily banned from office over corruption isn't exactly promising…
For the Conservatives, the most damaging losses were in previously loyal areas now called the Blue Wall, e.g. the Home Counties just outside of London, the south coast and parts of the West Country.
Late on Friday, The Guardian reported (purple emphases mine):
Boris Johnson's leadership is facing fresh peril after senior Conservatives blamed him for losing swaths of the party's southern heartlands to the Liberal Democrats and flagship London boroughs to Labour.
In a punishing set of local elections for the Tories, the party lost about 400 council seats, ceding control of Westminster and Wandsworth in London to Labour for the first time since the 1970s, and plunging to its worst position in Scotland for a decade.
Conservative MPs and council leaders questioned Johnson's leadership, demanding action to tackle the cost of living crisis and rebuild trust in the wake of the Partygate scandal after a damaging series of losses across the "blue wall" in Somerset, Kent, Oxfordshire and Surrey.
However, the scale of the Tory backlash was tempered by a mixed picture for Labour, which showed progress, but not enough yet to suggest a landslide for Keir Starmer in a general election. A BBC projection for a general election based on Friday's results put Labour on 291 seats, the Conservatives on 253, the Lib Dems on 31 and others on 75.
Labour had a very strong result in London and took some southern councils such as Worthing, Crawley and Southampton …
The Lib Dems also had a clearly successful election night in England, adding at least 189 seats. They took control of the new unitary authority in Somerset, previously a Tory stronghold, edged out the Conservatives in Portsmouth, and pushed them out of control in West Oxfordshire. The Greens also performed well, winning 81 seats – more than doubling their number of councillors – as voters also turned to independents and residents' associations.
Going back to Tuesday, May 3, Conservative Party chairman Oliver Dowden MP alleged that Labour and the Lib Dems had a 'pact', whereby Labour did not put forward a candidate in every council election, deferring to the Lib Dems in order to win against the Conservatives. This is because England uses FPTP (First Past The Post) voting.
Pictured are the Lib Dems' Ed Davey on the left and Labour's Keir Starmer on the right:
Guido has the story along with a video of a Lib Dem woman who confirms such a plan:
There are clearly tactical Lib-Lab stand downs going on around the country. Tory chairman Oliver Dowden claims that in the South West, Labour are standing candidates in 61% of seats compared to 97% in 2018. In the South East, Labour are standing candidates in 88% of seats compared to 99% in 2018.  In the North East, the LibDems are standing in just 56% of seats, down from 78% four years ago. Labour is standing in 99% of seats in the area. "These shifts", claims Dowden, "are far too substantial to be a mere coincidence". In response Starmer says "There is no pact, everybody knows there is no pact" …

This LibDem organiser in Cumbria gives the game away about what is happening at local level. Labour-supporting Neal Lawson and Clive Lewis have been arguing for years that an unfair 'First Past the Post' system splits the 'progressive vote' and prevents the 'progressive majority' from winning.
It stands to reason that the total left-of-centre vote will be split, given on average two candidates from Labour, the LibDems or the Greens are running against just one right-of-centre candidate in England.  According to new research from Electoral Reform Society front-group "Politics for the Many", in 43.8% of wards there is one Tory standing against candidates from all three of the progressive 'left' parties. In 35.5% of wards where there is one Tory candidate, there are two 'left' candidates. According to the research, in almost 3,000 council seats up for grabs, there are only 15 wards in the whole of England where there are more right-of-centre parties standing than left parties.
Labour and LibDem strategists know this; they are looking on these locals as a trust-building exercise and a dry run for the general election…
The Telegraph confirmed this pact on Friday, May 6:
If Sir Keir is to get the keys to Number 10, it may be thanks to a deal struck after election day with another party – which is why the Liberal Democrat performance on Thursday is so interesting.
Seven years ago, the party was all but wiped out as voters punished Nick Clegg for his coalition with David Cameron. The political toxicity has clung on in the years since then.
But there were signs of real green shoots for the Lib Dems on Thursday. Their victory in Hull, taking the council from Labour, was the stand-out early result. 
The relentless targeting of Blue Wall Tory seats – often in rural southern constituencies they believe have been "taken for granted" by the Conservatives – also achieved notable wins.
By now, Labour realisea that it is relatively easy for a Conservative area to go for the Lib Dems at some point, much more than it would be to vote in Labour candidates.
A good illustration of this is in St Albans, Hertfordshire, which, over the past several years, has gone from True Blue to Yellow-Orange, including their MP:
A lot of Lib Dem councils stay that way. This is largely because a) the Lib Dems know how to get out the vote and b) residents get to know the Lib Dem candidates better for that reason:
Conservatives would do well to study St Albans and find out where they've gone wrong.
On that note, one Conservative MP who does realise the value of getting out the vote is Bob Blackman, who has represented Harrow East since 2010.
On Sunday, May 8, he told GB News's The Political Correction that Harrow became a Conservative council on Thursday because he and other Conservatives went out once a week to canvass residents on council services. Their dogged determination worked.
Blackman says that, as far as he is concerned, the next election campaign has already begun, hence more canvassing. Other Conservative MPs should follow his example.
Devolved nations
Each of the devolved nations has a form of proportional representation rather than FPTP. This is why they are very much left-of-centre.
This is how the Single Transferable Vote works:
Wales
Welsh Labour were highly successful. In Wales, First Minister Mark Drakeford runs his nation's Labour Party, so there is no Keir Starmer influence.
As such, Welsh Labour wiped out the last council under Conservative control: Monmouthshire.
Scotland
Scottish Labour also performed well, placing the Conservatives in third place for the first time in ten years.
Nicola Sturgeon's Scottish National Party (SNP) remains the top party, however.
Late on Friday, the Daily Mail reported:
Nicola Sturgeon has said she is 'thrilled' with the results coming out of the local elections in Scotland after her party increased its share of councillors.
The leader of the SNP told Sky News that the results sent a 'clear message' to Boris Johnson and the Tories.
She said: 'We are the largest party in more councils today than we were yesterday – we've won the election and we've won the election by a country mile.
'I think it's the eighth consecutive election win under my leadership of the SNP or after 15 years in government so it is a stupendous result for the SNP and sends the clearest possible message to Boris Johnson and the Tories.'
She said the SNP was still the largest party in Glasgow, despite some Labour gains.
However Sir Keir's party came very close to taking the city council, adding five councillors for a total of 36.
The SNP, meanwhile, shed two seats for a total of 37.
Sturgeon said Labour benefited a lot from Tory's Partygate scandal, adding: 'Labour threw the kitchen sink at Glasgow… and yet they still can't defeat the SNP, so I think there's still some reflection perhaps needed on Labour's behalf.'
All councils up for election in Scotland have now declared their votes.
The SNP gained the most new councillors with 23, followed by the Lib Dems with 20 and Labour 19.
The Green Party gained 15 while the Conservatives lost a total of 61.
Northern Ireland
For the first time in its 101-year history, the Northern Ireland Assembly now has a Sinn Féin majority, even though 58% of the votes in that nation went to Unionist parties. Here's the UK's Deputy Prime Minister Dominic Raab (video here):
As with Wales and Scotland, Northern Ireland's Assembly is free to make its own laws in a number of areas. Oddly enough, that did not extend to abortion laws, which Westminster (the UK Government) imposed on the province by fiat in 2021:
But I digress.
Under the aforementioned Single Transferable Vote system, Sinn Féin won more first preference votes than did the Unionist parties.
This result propels Deputy First Minister Michelle O'Neill to First Minister. She has been Vice President of Sinn Féin for a few years now.
The Democratic Unionist Party (DUP), which had control previously, now refuses to form a coalition government — power-sharing executive — unless and until Boris Johnson's government rectifies the damaging anomalies in the post-Brexit Northern Ireland Protocol.
Until a power-sharing executive is formed, Michelle O'Neill cannot take up her duties as First Minister.
Most Britons associate Sinn Féin not only with past terrorism but also with Irish re-unification, which will surely be on the cards within the next five years.
On Thursday, the party played a blinder, as the Daily Mail reported last Friday:
Neither Sir Jeffrey Donaldson's party or the Ulster Unionists have yet agreed to join a power-sharing executive in which Sinn Fein would be able to nominate the First Minister. 
They have argued that a win for Sinn Fein would lead to a referendum on Irish reunification. But Sinn Fein has run its campaign on the cost-of-living crisis.
Conclusion
The Conservatives are only now reacting after the horse bolted months ago.
They should have been out campaigning over the past few weeks, MPs included.
Only now are they coming up with possible solutions which should have been discussed on the hustings.
On Friday, May 6, the Daily Mail reported that Boris Johnson is considering a summer reshuffle to tackle the cost of living crisis. Hmm.
Over the weekend, a number of Conservative MPs began asking the Government for tax cuts.
Chancellor Rishi Sunak promises to look 'at all the options'.
Good luck with that. There isn't much time before the 2024 elections.
Considering that Parliament is currently prorogued and that this past weekend was the May bank holiday, one would think that nothing political happened.
One would be very wrong indeed.
In fact, a Conservative MP stood down and Labour's indoor 2021 election campaign meeting in Durham attracted more attention.
Labour's 2021 do in Durham
My April 29 post has the background to Labour's 2021 election campaign do in Durham.
April 30 was its one year anniversary:
I couldn't agree more.
The Mail on Sunday's Dan Hodges agrees on Labour's hypocrisy:
Many Labour supporters say that the Durham do did not break any rules, however, it probably did. Below are the rules for the 2021 election campaign:
Furthermore, it is possible that, despite the fines (fixed penalty notices), the Downing Street gatherings did not break the rules, as the address is part of the Crown Estates.
On April 27, the Conservative Post published an article on the lefty activist QC (Queen's Counsel) advising senior civil servant Sue Gray in her report on the gatherings. The article says that they were perfectly legal (emphases in the original):
One might ask is this QC holding an almighty grudge?
Is this why Sue Gray / the Met Police haven't looked at section 73 of the Public Health (Control of Disease) Act 1984? Do they even know about it?
Surely a bipartisan advisor would have pointed out this important law of the land?
The Act clearly states that pandemic regulations, at all times, never applied to Crown Land (which includes No.10). 
Granted, one rule for them and another for the rest of us seems a bit unfair but it also makes sense.
Steven Barrett, a leading barrister at Radcliffe Chambers who read law at Oxford and taught law at Cambridge explains:
In the eighties lawmakers decided that it would be better to allow the government to function during any future national pandemic without having to worry about being caught up in quarantine regulations. The thinking was that by making the government effectively exempt in law, the government could continue to function.
In addition to the 1984 Act, there were also specific regulations that applied at the time of the alleged "parties" the Health Protection (Coronavirus, Restrictions) (All Tiers) (England) Regulations 2020.
According to these rules, gatherings were allowed in all public buildings, or parts of them 'operated by a business, a charitable, benevolent or philanthropic institution or a public body.'
So whatever happened in Downing Street was legal. 
How has a QC / Civil Service Advisor not made this clear to Sue Gray? If he had surely no-one at Downing Street would have received a fine at all.  
One would also have thought the Civil Service would check who is advising them.
Can someone let Sue Gray and the Met Police know please before any more incorrect fines are issued out? It's important rules of the land are adhered to. 
But, but … and it's a BIG BUT:
The matter came up in the House of Lords on December 14, 2021, shortly after the controversy broke. Good grief, that is now six months ago.
Baroness Jones of Moulsecoomb (Jenny Jones, Green Party) asked:
whether Number 10 Downing Street is a Crown property; and, if so, whether regulations made under the Public Health (Control of Disease) Act 1984 apply there.
Lord True, replying for the Cabinet Office, said that the regulations would have applied to Downing Street, despite its being part of the Crown Estates (emphases mine below, except for Guido Fawkes posts):
No 10 Downing Street is a Crown property. Regulations under the Public Health (Control of Disease) Act 1984 which relate to the activities of people, apply regardless of whether those activities took place on Crown property or not.
Hmm.
Back to Labour's Durham do, which has been trending online as Beergate and Currygate:
Durham Constabulary said a long time ago that there was nothing to investigate. Durham is a Labour area, so no surprise there.
However, the clamour over the weekend thanks to Conservative MP Richard Holden's letter to them was such that perhaps the police have decided to have another look.
On Tuesday, May 3, in an interview with BBC Radio 4's Martha Kearney, Keir Starmer refused to say (audio here):
This leads pundits to assume that Durham Constabulary might have been in touch:
Another development over the weekend was confirmation that Labour's deputy leader, Angela Rayner, was also in attendance.
Guido Fawkes posted the following on Friday, April 29:
After months of questioning, it can finally be confirmed Angela Rayner was present at Starmer's lockdown beer party in Durham. Despite refusals to confirm, video evidence dug out yesterday morning reveals Angie's attendance, who shared a chair with Sir Keir for a "Get out the vote rally"  on Facebook an hour before the video of Starmer's unlawful socialising was filmed. Oh. Dear.
Rayner can be heard saying "And being here at the Miners Hall in Durham, I've got to start with, you know, the past we inherit, the future we build." She and Starmer sit in front of a window identical to that Starmer was filmed through an hour later swigging beer, contrary to Covid rules.
Earlier this week, Guido forced a denial from local Police & Crime Commissioner Joy Allen, who said she wasn't present at the 'essential campaign event' after social media rumours began circulating that the female head seen at the bottom of the Starmer beer frame was hers.
Labour claim that there was no other place to go for food and drink, however:
Also:
On Sunday evening, May 1, Mark Dolan of GB News rightly took aim at Labour's sanctimonious and hypocritical posturing:
However, things weren't going well for the Conservatives, either.
Neil Parish stands down as MP
Neil Parish stood down as MP for Tiverton and Honiton in Devon after admitting he was looking at indecent images on his phone while in the Palace of Westminster.
He claimed that he had been searching for tractors on the first occasion and accidentally arrived at an indecent website. On the second occasion, he confessed that he deliberately visited the same website again.
I was somewhere between surprised and shocked. He always seemed like such a level-headed individual.
This video clip is from March 14, 2019, around the time I began watching BBC Parliament regularly. Tension about Brexit had been ramping up since January that year:
In June 2020, he led a debate on the BBC's axeing of local and regional political coverage:
More importantly, he had headed the Environment, Food and Rural Affairs Select Committee since 2015. He came from a farming family and left school at the age of 16 to help run his family's farm.
Last week, rumours had been circulating about a Conservative MP looking at indecent images during parliamentary proceedings.
On Friday, April 29, Guido reported that the Conservatives removed the whip from Parish:
The hunt is over: Neil Parish, the Conservative MP for Tiverton and Honiton, has lost the whip this afternoon after being revealed as the Commons' mystery porn viewer. Following conversations with the Whips' office today, Parish has reported himself to the Standards Committee of the House of Commons for investigation. The Tories had previously referred the claims to the Independent Complaints and Grievance Scheme, so Parish is now under investigation by both bodies…
A spokesperson from the Chief Whip's office said:
Having spoken to the Chief Whip this afternoon, Neil Parish MP is reporting himself to the Parliamentary Commissioner for Standards. Mr Parish has been suspended from the Conservative Whip pending the outcome of that investigation.
Guido included an interview Parish had given to GB News that afternoon. It was clear Parish had no intentions of resigning at that time:
I think the whips' office will do a thorough investigation and we will wait and see that result… I think you've got some 650 Members of Parliament in what is a very intense area, you are going to get people that step over the line. I don't think there's necessarily a huge culture here, but I think it does have to be dealt with, and dealt with seriously. And that's what the whips will do in our whips' office.
There was a time when someone could be sacked on the spot for looking at indecent images at work. Granted, this was in the private sector.
I knew of one such individual in the mid-1990s. His dismissal was also shocking, as he was the last person I would have expected to engage in such activity and was a senior manager who was very good at what he did.
However, it seems that such behaviour is becoming normalised, according to The Telegraph. It extends to viewing such things on public transport. Ugh.
Early on Saturday, The Telegraph posted an exclusive interview with Parish:
Suspended from his party and facing public ridicule, Mr Parish is at the centre of a maelstrom. But now that the accusation is "out in the open," Mr Parish said on Friday night, "it's almost as if a weight is lifted off me" …

Over the course of the interview, conducted in Mr and Mrs Parish's sitting room in front of a warm hearth, the MP confirmed he had referred himself to the parliamentary standards committee, apologised to his constituents, and suggested that, even if cleared, he might step down.
It was late on Friday night when The Telegraph called. The couple's eight-year-old labrador, Kitty, was dozing in front of the fire. Mr Parish, after a long day, was wearing a dressing gown. The MP is a farmer by trade, and the couple's home is the family farmhouse. Their sitting room is bedecked with books and family photos. It is typical for MPs embroiled in scandal to flee their homes, but the Parishes, who have two adult children and two grandchildren, have stayed put …
Earlier in the day, Mr Parish, 65, said he had opened pornographic material "in error", but he declined to give further details. Asked what happened, Mr Parish said: "I think it's all going to have to go through the inquiry, and then I will give them all the evidence I have, and it'll be for them to make the decision. And then I will make my mind up as to what I do, whether I remain in Parliament or whether I leave."
He had not spoken to the Prime Minister, he said. Asked if he had a comment for his constituents, Mr Parish said: "That I very much enjoy being their MP, I've worked very hard, and I will continue working for them. I apologise for the situation – the whip is withdrawn – but I am still their MP. And at the moment I'm still the chair of the Environment, Food and Rural Affairs select committee, and I take that job very seriously. And I will carry it on for as long as I have it."
Mr Parish faces an ignominious end to a 12-year parliamentary career in which he has won increasingly large majorities and worked on a broad set of issues within farming and rural affairs. Local elections are coming up and he is now seen as a liability, with fellow MPs calling for his resignation …
Mrs Parish, 66, said she had first learnt of the allegations from a journalist who rang her for comment. "I didn't know anything about it until he rang and said, 'Oh, you know what I'm ringing about…'
"I didn't know who was more embarrassed, actually, me or him!" said Mrs Parish. "Poor chap."
It seemed that the couple had discussed the matter between them and that it had been explained to Mrs Parish's satisfaction.
"Yes," said Mrs Parish, without hesitation.
"My wife is amazingly loyal and better than I deserve," said Mr Parish.
"That's for sure," said Mrs Parish, chuckling.
At the end of the interview, Mr Parish took a phone call from his brother, Rod. They chatted briefly, with Mr Parish thanking his brother for what sounded like a supportive call. Mr Parish, having swapped his dressing gown for a shirt and jacket, then politely assented to having his picture taken …
By Saturday afternoon, Parish had resigned:
People did not believe the tractor excuse …
… but there is good reason to accidentally see something indecent when searching for tractors:
Guido wrote:
Neil Parish has told the BBC he's quitting after being accused of watching porn on two occasions while performing his MP duties in Parliament. With bizarre detail he claims "the first time was accidental after looking at tractors, but the second time was deliberate". 
24,239 majority in his seat of Tiverton and Honiton. If this by-election ends up being remotely interesting, the Tories are in deep trouble…
A by-election upset in a similar constituency took place in the staunchly Conservative North Shropshire which now has a Liberal Democrat MP after Owen Paterson was forced to stand down late last year.
On May 1, The Sunday Times confirmed that two female MPs had seen Parish looking at indecent material online:
Parish, 65, said the first time he had watched pornography was accidental, insisting he had been looking at tractors on his mobile phone before straying onto a website with a "very similar name". He said he watched the video "for a bit, which I shouldn't have done".
On the second occasion, however, the married father of two admitted he had looked at porn deliberately while waiting to vote at the side of the chamber. "What I did was absolutely wrong," he told the BBC.
Parish, who chaired the Commons environment, food and rural affairs committee, issued a "full apology" to the two female MPs who had seen him watching the pornography, but insisted it was "not my intention to intimidate".
It marked a significant U-turn in 24 hours. At first he had defied calls to quit and said he would await the findings of a parliamentary investigation. A growing number of Conservative MPs made clear that his position was untenable, however, and that he should resign immediately rather than prolong the controversy days before the local elections on Thursday …
His departure means that the Conservatives are now facing the prospect of having to defend two by-elections in short succession.
Imran Ahmad Khan, who was elected MP for Wakefield in 2019, tendered his resignation last week after being convicted of sexually assaulting a teenage boy. Labour is widely expected to win back the seat.
Conservative Party insiders are also braced for a third by-election. They are awaiting the outcome of the investigation into David Warburton, who had the Tory whip withdrawn last month after it was alleged that he sexually harassed three women.
Although Parish's constituency has returned a Conservative at every election since its creation in 1997 — and the party has a majority of 24,000 — Tory insiders fear that it shares parallels with North Shropshire, the seat lost to the Liberal Democrats in December after the resignation of the disgraced MP Owen Paterson.
Last night a Lib Dem source said: "As we saw in North Shropshire, there is a real backlash against Boris Johnson from rural communities who are fed up with being taken for granted."
What a shame.
Also on Sunday, The Telegraph confirmed rural communities' disillusionment with the Conservatives. One woman running for the local council in North Frome, Somerset, says that locals are tearing down her campaign posters and handing leaflets back to her.
The paper refers to these communities and counties as the Blue Wall, historically Conservative areas:
The election is a key test for Boris Johnson, who is facing a difficult mid-term contest after months of criticism of his leadership from Tory quarters over partygate, tax rises and the cost of living crisis.
Many of the English council areas, including Somerset, Hertfordshire and Hampshire, are places the Conservatives have traditionally considered to be strongholds.
Now, they are increasingly thought of as part of the "Blue Wall" – containing millions of wavering Tory voters who are disgruntled with Mr Johnson and could "flip" to Labour or the Liberal Democrats …
Voters in Somerset demonstrate what strategists in all parties have identified – that there has been a shift away from the Conservatives among people who live in the countryside.
New research from Parliament's all-party group for rural business and the "rural powerhouse" suggests the Government has a "chronic under-appreciation for the economic and social potential of the countryside," and that businesses in rural areas are on average 18 per cent less productive than the country at large.
Many voters who have always lent the Tories their trust feel that southern rural areas have suffered at the expense of "levelling up" – the Government's plan to improve high streets and fortunes in neglected Northern areas traditionally represented by Labour.
Meanwhile, a Conservative promise to deliver next-generation broadband speed by 2025 is unlikely to be met, the parliamentary spending watchdog has said.
Countryside voters, who are often keen to protect the natural beauty of their homes, say plans to rip up the planning system to build more houses and erect new onshore wind farms are a direct attack on their way of life.
Paul Moody, an antiques dealer who lives near Shepton Mallet, said his faith in the Conservatives' commitment to the countryside is being challenged by "horrendous" new "T pylons" near his home and the threat of solar panels carpeting the fields.
"They march across the countryside and stand out all across the Somerset Levels" he said.
"I would prefer more nuclear power stations than ruining the countryside."
Answering a survey conducted for The Telegraph by Redfield and Wilton Strategies this week, just 19 per cent of voters said the Conservatives cared about rural areas, while 28 per cent said Labour did. Almost half of voters (46 per cent) say "levelling up" does not inspire them.
Other national polling shows Labour has increased its lead over the Conservatives by three points since April 12, when Mr Johnson was fined over lockdown-busting parties in Downing Street.
While ministers have repeatedly suggested that the public does not care about partygate and would prefer to see the Government focus on making domestic policy, Tory sources admit privately that the polling shows that idea is "for the birds".
It's all falling apart for Boris at the moment.
Ukraine loves Boris
On Tuesday, May 3, Boris made history by becoming the world's first leader to address Ukraine's parliament:
Also on Tuesday morning, he gave an interview to Left-leaning Susanna Reid on ITV's Good Morning Britain.
It did not go well …
… and not knowing who ITV's queen of breakfast television, Lorraine Kelly, is unforgiveable. She's only been on the network for over three decades:
Maybe the man has a point, but it still helps to play to the audience, most of whom probably stay tuned for Lorraine's show, which follows Good Morning Britain.
It's a shame that Ukraine's enthusiasm for Boris doesn't translate here at the moment, but I cannot blame Conservative voters for being disillusioned.
On Wednesday, April 27, at the last Prime Minister's Questions before prorogation, viewers saw Boris Johnson at his campaigning best, saying that Labour have no policy plan. They merely oppose the Conservative ones:
Perhaps this is why Labour are not fielding many candidates in the May 5 local election this year, preferring to leave the contest to the Liberal Democrats. The Chairman of the Conservative Party, Oliver Dowden MP, has written to Labour's Sir Keir Starmer for answers:
Of course, the Left say that the Brexit Party did the same thing in the 2019 general election, but the Brexit Party was acting as an anti-Conservative spoiler. At least one media outlet that year was the first to ask the party to stand down their candidates so that Conservatives would win, enabling Boris to get us out of the EU:
In any event, regardless of what party — whether Conservative or Liberal Democrat — wins council elections this year in crucial seats, the Tories should take note of what is happening on the ground and act on it in order to be better prepared for the general election in 2024.
Best of luck to the Conservatives, but I won't be holding my breath this year.
The UK Parliament was prorogued early Thursday afternoon, April 28, 2022.
The new session will begin on Tuesday, May 10, with the Queen's Speech. One wonders if she will be there in person or delegate Prince Charles to deliver it for her.
We will have one news story to watch, however, besides local elections on Thursday, May 5. Durham Constabulary is said to be reconsidering re-examining their decision not to investigate Keir Starmer, who appeared indoors at the Labour offices at the end of April 2021 after election campaigning, when indoor election meetings were forbidden because of coronavirus.
This decision by the Durham Constabulary is in response to Conservative Red Wall MP Richard Holden's letter to the Chief Constable about the matter. Holden represents Durham North.
On Wednesday, April 26, Guido Fawkes tweeted about the re-examination and someone helpfully posted a video of Starmer, MP Mary Foy and other Labourites enjoying beer one evening:
And there's this further down in response to Guido's tweet about Starmer, whom his detractors call Keith rather than Keir, for whatever reason:
The letter from Durham Constabulary to Richard Holden is below. Based on the wording, one wonders exactly how much will be reconsidered:
If it weren't for Guido and Holden, this issue probably would have never resurfaced.
Guido has a great GIF compilation of Starmer on the campaign trail. It alleges that he might have committed as many as seven violations of the campaign restrictions last year. The second tweet features Labour's deputy leader, Angela Rayner MP. Hmm:
Twitter has a new trending topic, #durhampartygate :
Here is a selection of tweets on #durhampartygate :
In other Labour MP news, Liam Byrne has been suspended for two days, meaning he will lose pay for those days:
Now onto the prorogation. Thanks to Boris Johnson's premiership, I have seen three since 2019:
The order paper for the House of Commons was brief, in expectation of a Royal Commission, whereby Black Rod would officially summon the Commons to go to the House of Lords. All of that takes place in rather elegant language:
The mood around 11:30 a.m. was light, almost festive. Even the Speaker of the House, Sir Lindsay Hoyle, fluffed his lines:
One part of the proceedings is spoken in Norman French: 'La Reyne le veult', or 'The Queen wills it'. This tweet shows the five most senior Lords entering their chamber in formal robes:
Until 1967, every time a law was passed, proceedings in the Lords were briefly suspended to allow for an announcement of new legislation, followed by 'La Reyne le veult':
Since 1967, a simple announcement has been made to the Lords of Royal Assent to new legislation:
The King or Queen used to preside over prorogations in person. Queen Victoria was the last monarch to do so. That was in 1854:
You can see Black Rod coming in to summon the Commons at 12:27 p.m. on this video. The prorogation in the Lords starts at 12:30 p.m. on this video. Afterwards, MPs return to the Commons. Go back to the first video to find the Commons Speaker confirm to MPs what was read out in the Lords, even though they had heard everything there themselves minutes earlier. When he finishes, he instructs MPs to leave the chamber:
True. It finished at 12:52 p.m.
The Lords' business was thin on the ground. Their session began at 11:07 a.m.:
This thread summarises a prorogation:
In a time of emergency, the monarch can recall Parliament during prorogation.
It's a highly formal ceremony and well worth watching.
Now on to the May 5 council and Northern Ireland Assembly elections, which should be interesting.
Following on from yesterday's UK news in brief, the fallout continued into the weekend.
The Opposition
Some viewers of parliamentary proceedings thought that last Wednesday's PMQs was tense.
Guido Fawkes said that Boris looked 'rattled' as Keir Starmer asked Boris some difficult questions:
Boris came across rather rattled at PMQs today as a calm Keir Starmer attacked the PM on a number of topics, including why Allegra Stratton resigned, Rwanda and his reported comments about the BBC during last night's 1922 meeting.
When questioned by Labour's Keir Starmer, at one point, Boris said:
He must be out of his tiny mind!
Guido has the video:
The day before, in responding to Boris's second apology for the fine — for pedants, fixed penalty notice — for a Downing Street gathering, Starmer took the opportunity to mention a constituent of Michael Fabricant, the Conservative MP for Lichfield, who thought there should be a bar in Downing Street (see yesterday's post).
Guido Fawkes has the story.
This is what Starmer said (emphases mine throughout, except for Guido's in red):
This morning I spoke to John Robinson, a constituent of the hon. Member for Lichfield, and I want to tell the House his story.
When his wife died of covid, John and his family obeyed the Prime Minister's rules. He did not see her in hospital; he did not hold her hand as she died. Their daughters and grandchildren drove 100 miles up the motorway, clutching a letter from the funeral director in case they were questioned by the police. They did not have a service in church, and John's son-in-law stayed away because he would have been the forbidden seventh mourner. Does the Prime Minister not realise that John would have given the world to hold his dying wife's hand, even if it was just for nine minutes? But he did not, because he followed the Prime Minister's rules—rules that we now know the Prime Minister blithely, repeatedly and deliberately ignored. After months of insulting excuses, today's half-hearted apology will never be enough for John Robinson. If the Prime Minister had any respect for John, and the millions like him who sacrificed everything to follow the rules, he would resign. But he will not, because he does not respect John, and he does not respect the sacrifice of the British public. He is a man without shame.
When I heard that, I couldn't imagine what Starmer was going to say about Fabricant. Fortunately, he said nothing about the MP. Starmer used the constituent's story to make a point about Boris's breaking the rules during coronavirus restrictions.
However, it is not the done thing to interfere in or visit someone else's constituency without letting the relevant MP know.
Guido discovered that John Robinson had his unfortunate lockdown experience published in The Guardian's letters page on April 14. His letter reads much the way Starmer presented it to the Commons, although it ended with this:
Johnson flouted his own laws and rules. He partied his way through them. Am I angry? Anger doesn't even touch the sides of how I feel about this pathetic excuse for a man, and I suspect that the majority of us little people share my views, will never forget and will never forgive.
Even so, it seems to me that Starmer had some nerve to contact him.
Fabricant appeared on GB News on Wednesday, April 20. He said:
The saddest thing of all, I think, is the way Keir Starmer and other politicians have chosen to weaponise the personal tragedies endured by people like John Robinson and you know I would have thought, actually, that was pretty beneath them.
Me, too.
Imagine if a Conservative MP had done that. Labour would have banged on about it for weeks, if not months.
Migration and the Rwanda policy
The Archbishop of Canterbury used his Easter 2022 sermon to rail against the Home Office's plan to transfer illegal immigrants, especially those crossing the English Channel from France, to Rwanda for processing.
The Archbishop may also take issue with Denmark, which is pursuing the same policy. We pipped them to the post, but, apparently, Rwanda can capably deal with any number of migrants and for more than one country:
Guido reminded readers that the EU were also considering Rwanda as far back as 2019:
An awkward moment this morning for all the lefty hacks and opposition MPs who've turned their noses at the government's illegal migrant plans, as Denmark has announced it is also now outlining plans to send adult asylum seekers to Rwanda. The Archbishop of Canterbury will need to have a lie-down…
In a statement released this morning, Danish Immigration Minister Mattias Tesfaye confirmed the country has entered discussions with the Rwandan government:
Our dialogue with the Rwandan government includes a mechanism for the transfer of asylum seekers… [the deal will] ensure a more dignified approach than the criminal network of human traffickers that characterises migration across the Mediterranean today …
In 2019 then-European Commissioner Neven Mimica also announced a similar plan for the EU:
While in #Rwanda, happy to announce a 10M€ project to support efforts of the Government to receive and provide protection to about 1500 #refugees and asylum-seekers who are currently being held in detention centres in #Libya.
When the PM announced the Rwanda policy he predicted many other countries will soon follow suit – this is much sooner than expected though…
Our deal with Rwanda isn't due to start for another few weeks, but it's already had an effect on the Channel-crossers, as some Red Wall MPs have noticed:
Correct, but it's working before it's even started.
Bassetlaw's MP tweeted:
The Daily Mail article about migrant men in France is a must-read:
Standing beside a row of shabby, small shelters amid a hum from massive industrial units and passing lorries, Hamid Karimi, 34, sums it up: 'I'm not going to the UK if afterwards I'm sent to Rwanda. I'm staying here. I'm not going to Rwanda.'
Others in the group nod in agreement. Referring to the Prime Minister, one jokes: 'Johnson go to Rwanda!'
Boris Johnson has said the scheme drawn up by Home Secretary Priti Patel will serve as a 'very considerable deterrent' – and that appears to be the case here.
Announcing the Rwanda scheme on April 14, the PM said tens of thousands of asylum seekers who arrive in the UK by 'irregular routes', such as small boats or hiding in lorries, will be sent 4,000 miles to the African nation.
Arrivals will be processed and screened in the UK, with those deemed suitable flown to Rwanda on planes chartered by the Government. 
They will be then given accommodation and the opportunity to apply for asylum there – but cannot return to the UK. The change in tack from Hamid and his fellow Iranians is one adopted by many migrants in northern France since the announcement.
A few miles away, near another camp in Calais, a group of mostly Sudanese men told of their fear of being beaten or even killed if they are sent to Rwanda.
'We came from Africa – we don't want to go back,' said Mohammed Noor, 34. 'Nobody wants to go to Rwanda. If I go, I will finish my life. In Rwanda I won't get a good life. I have come here for Europe and for the UK.'
… The Government wants the first flights to leave next month. Channel crossings have continued in their hundreds since the announcement, but early indications show that numbers are in decline. On April 14, 562 crossed in small boats. On Tuesday, the figure was 263.
It is too early to say if the apparent decline is a result of the plan, but ministers will certainly hope so. They say the policy is intended to 'take back control of illegal immigration' and undermine people traffickers who profit from it. 
The decline continues:
Yes, it is possible that the weather — wind — could have been a factor, but the Mail's article supports the premise that the deterrent is working.
However, Home Secretary Priti Patel has run into trouble with civil servants — 'mandarins' — assigned to her department. They do not want to implement the Rwanda plan:
Guido has an exclusive on the 'rebellion', complete with screenshots of anonymous tweets from upset civil servants:
Home Office civil servants used an officially organised online consultation this afternoon to discuss the recently-announced Rwanda policy, asking how to potentially block the move, comparing themselves to Nazis "only obeying orders", proposed going on strike and questioned how to deal with their mental health in light of the policy. It shows conclusive evidence of the scale of left-wing opposition facing Patel and the government from within the civil service. It follows news from the weekend that Patel had to issue a ministerial direction to force the policy through …
This is the scale of opposition Priti Patel is facing at the moment from the enemies within, despite her and her fellow ministers being the only people in the department with democratic mandates. While Jacob Rees-Mogg and Simon Clarke are publicly promising to cull the number of civil servants, Guido can see a very obvious place the start…
On April 21, The Guardian reported that Matthew Rycroft, permanent secretary to the Home Office, attempted to reassure civil servants that they will not be breaking international law or be guilty of racism if they send migrants with unsuccessful refugee status claims to Rwanda:
Amid growing anger from the department's workforce, Matthew Rycroft, the permanent secretary, faced questions at an online staff meeting asking if the home secretary's policy of giving people a one-way ticket to Kigali was racist, while others demanded to know if the new policy was within international law.
Rycroft told staff they had to implement ministers' decisions, and reminded them of the civil service's neutral role, sources said.
The scheduled online meeting was held the day after it emerged that Home Office staff had threatened to strike and had drawn comparisons to working for the Third Reich over Patel's plan.
One source said Rycroft was "bullish" about the government's claim that the nationality and borders bill would not have to be passed into law before the policy could be implemented.
The article says that Rycroft did not sign off the plan initially, hence, as Guido wrote, Patel's ministerial direction to do so:
It emerged on Sunday that Rycroft had refused to sign off Patel's plans, claiming that he could not be sure it would provide value for money to the taxpayer. However, sources said he was "fully supportive" of the policy in the online meeting while flanked by other officials. He criticised leaks of the questions posed by staff, saying it was a breach of the civil service code.
This is the principal sentence from the ministerial direction:
I am therefore formally directing you as Accounting Officer to take forward this scheme with immediate effect, managing the identified risks as best you can.
Brendan Clarke-Smith, the Conservative MP for Bassetlaw, tweeted his empathy for the Home Secretary:
On Monday, April 26, during Home Office questions in Parliament, Marco Longhi, Conservative (and Red Wall) MP representing Dudley North, asked for the Rwanda plan to proceed. Tom Pursglove MP assured him that it would.
The human traffickers must be stopped. By the way, Labour have no alternative plan. They just don't like this one:
There is another wrinkle to this saga. Guido reports that the Home Office is fending off criticism that some journalists were not allowed to be part of the press corps on the Government's recent trip to Rwanda:
Guido's post says, in part:
Guardian, Mirror and Financial Times hacks are complaining in Press Gazette that they were "blocked" from attending Priti's Rwanda trip this month, with the Guardian going as far as to accuse the Home Office of trying to "avoid public scrutiny" …
Strangely, however, Guardian hacks were actually invited on the trip… their reporter just happened to fall ill right before leaving.
The Guardian put forward a substitute journalist, but the Home Office declined the offer.
Ultimately, only so many reporters can go:
Guido's departmental co-conspirator says the whole row is "silly", as they can't offer tickets to everyone, everywhere, at all times. They also point out how both the BBC and PA were on-hand throughout the entire trip – so those that couldn't attend could get straight wire copy. In fact, even the picture used in the Press Gazette report came from PA…
It's 'get Boris' time
It is becoming painfully obvious for those who voted Conservative in 2019 that the police are not applying the coronavirus rules equally.
As I have said before, Prime Minister Boris Johnson is the only government leader in the UK to receive a fixed penalty notice for his birthday 'party' — if you can call a 10-minute gathering of staff and a closed Tupperware container of cake a party.
Chancellor Rishi Sunak also received a fixed penalty notice for being at the same gathering.
Meanwhile, no one in Wales, Scotland or Northern Ireland has received anything more than a polite reminder from the police.
So, let's look at Labour.
In May 2021, we had a local election in England along with regional elections in Wales and Scotland. We will be having local elections this May as well, including a regional election in Northern Ireland.
Going back to last year, there were coronavirus-specific campaign requirements and restrictions. Pictured is Labour leader Keir Starmer at the Labour offices in Durham at the end of April 2021:
On May 1, 2021, The Sun reported on Starmer's visit:
LABOUR have dismissed an election 'booze row' after Sir Keir Starmer enjoyed a beer after a day on the campaign trail.
He was seen mixing with party workers in a constituency office in Durham on Friday night …
Tory co-chair Amanda Milling said: "Keir Starmer has continually and rightly called for people to follow the rules designed to keep us safe, but it's now in question whether he is following them himself.
"People will rightly be asking questions about this."
But a Labour source tonight said: "This is pathetic. The Tories' clearly haven't read their own rules."
The local police concluded that there was nothing to investigate. Last weekend, some people wondered whether Durham's Police and Crime Commissioner was present at the gathering:
Richard Holden, the Red Wall MP who represents Durham North, wrote to the Chief Constable of the Durham Constabulary to ask whether the coronavirus restrictions during the campaign had been followed in this particular instance:
Last Sunday morning, Starmer told the BBC's Sophie Raworth that he had nothing more to add about the gathering.
On Monday, April 25, Guido contacted the press officer for Durham Police and Crime Commissioner Joy Allen. The response he received did not put the matter to rest in his opinion:
Following Holden's letter, multiple social media users began questioning whether Durham Police and Crime Commissioner Joy Allen – a longstanding Starmer supporter – was at the event, and whether that could have played a role in the police force's decision to find in the Labour leader's favour. Following the rumours, Guido contacted her press office…
The Office of the Durham Police and Crime Commissioner has been informed that neither Joy Allen, the then candidate for Durham PCC, or Nigel Bryson, attended the event involving Kier [sic] Starmer during his visit to Durham at the last local election.
Leaving aside the phrase "has been informed" rather than a first-person denial, Guido's intrigued by the formal implication this is being considered a local election event, rather than a business meeting. As the rules stated at the time, campaigners could only go indoors "to meet the committee room organiser in order to collect election literature or drop off telling slips…"
It is against the law to meet socially indoors with anyone not in your household or support bubble.
Did Starmer's own Police and Crime Commissioner just accidentally dob him in?
Nothing more will happen. Apart from Richard Holden's constituency, Durham is Labour, through and through.
Meanwhile, Keir Starmer is deeply disappointed that London's Metropolitan Police will not issue further fixed penalty notices until after local elections in early May:
What does the average Briton think about what has been dubbed 'partygate'? A co-presenter of GB News's The Political Correction said on Sunday that people were tired of hearing about it:
If we're fed up with it, imagine the confusion in Ukraine where, believe it or not, a Times reporter asked a woman there what she thought about Boris's birthday party plight.
On Monday, April 25, Guido reported:
From today's Times:
The details of Carrie Johnson's birthday cake "ambush" were explained to them slowly, and when they understood the full extent of the scandal, they said they did not much care.
"Niet. niet." Raisa said. "I don't know about this birthday party. That seems to be normal human behaviour. But he was the first man who stood with us and helped us in our struggle. He is the best, I tell you, the best, the best, the best."
Conclusion
Opposition MPs have been railing against Boris since he became Prime Minister in 2019, generally attaching some superlative such as 'worst' to their opinions.
Veteran reporter and broadcaster Colin Brazier, who presents an excellent show on GB News, suggests that we could always have had a worse leader. What about Oliver Cromwell, who was born on April 25, 1599?
Local elections take place on Thursday, May 5. We'll see what the fallout looks like then.