You are currently browsing the tag archive for the 'Kemi Badenoch' tag.
After the gloomy opening of the Conservative Party Conference this year, dominated by U-turns, rebels and division, I promised good news.
Liz Truss's closing speech
Prime Minister Liz Truss gave an excellent closing speech and, despite the train strike that day, the conference hall in Birmingham appeared to be filled.
Her speech is 36 minutes long, but it went by very quickly indeed:
I watched a bit of GB News on Wednesday afternoon. One of their reporters interviewed Party members leaving conference. Nearly all said that they were 'pleasantly surprised' and reassured by what the new Prime Minister had to say.
Writing for The Telegraph, veteran journalist Patrick O'Flynn concluded, 'Liz Truss might just have rescued her premiership' (emphases in purple mine):
Strip away the depressing context surrounding Ms Truss's speech, of backbench rebellions and media pile-ons, and what we heard and saw was a well-crafted address that attempted to place her culturally on the side of "normal working people" – especially in the private sector. More notably, she has positioned herself firmly against an "anti-growth coalition" whose members she characterised as being driven from north London town houses to BBC studios to preach "more tax, more regulation, more meddling".
"They don't understand the British people. They don't understand aspiration," she said, adding: "The real heroes are the people who go out to work, take responsibility and aspire to a better life for themselves and their families and I am on their side."
This was an attempt to glue back together an old alliance between a female prime minister and her natural supporters: that which existed between Margaret Thatcher and "our people". So was a key message towards the end of the speech. Not the grandiose "the lady is not for turning" which had after all been made untenable by the U-turn on top rate tax, but the more sober phrase "we must stay the course".
Guido Fawkes has the transcript, excerpted below.
Truss began by thanking Andy Street, the Conservative mayor of Birmingham, which is the United Kingdom's second largest city. She praised Teesside's mayor, Ben Houchen, as he transforms the North East of England.
She acknowledged that we are in difficult days:
Together, we have mourned the death of Queen Elizabeth II, the rock on which modern Britain was built.
We are now in a new era under King Charles III.
We are dealing with the global economic crisis caused by Covid and by Putin's appalling war in Ukraine.
In these tough times, we need to step up.
I am determined to get Britain moving, to get us through the tempest and put us on a stronger footing as a nation.
I am driven in this mission by my firm belief in the British people.
She said she would not meddle in our personal affairs but resolve the concerns that unite us:
… I'm not going to tell you what to do, or what to think or how to live your life.
I'm not interested in how many two-for-one offers you buy at the supermarket, how you spend your spare time, or in virtue signalling.
I'm not interested in just talking about things, but actually in doing things.
What I'm interested in is your hopes and fears that you feel every day.
Can you get a good job locally?
Is it safe to walk down the high street late at night?
Can you get a doctor's appointment?
I know how you feel because I have the same hopes and fears.
I want what you want.
I have fought to get where I am today.
I have fought to get jobs, to get pay rises and get on the housing ladder.
I have juggled my career with raising two wonderful daughters.
I know how it feels to have your potential dismissed by those who think they know better.
She then related an anecdote from her childhood, which may over-40s will recognise:
I remember as a young girl being presented on a plane with a "Junior Air Hostess" badge.
Meanwhile, my brothers were given "Junior Pilot" badges.
It wasn't the only time in my life that I have been treated differently for being female or for not fitting in.
It made me angry and it made me determined.
Determined to change things so other people didn't feel the same way.
This I did not know:
I stand here today as the first Prime Minister of our country to have gone to a comprehensive school.
She gently reminded her audience that the Government has already addressed the fuel price crisis. The cap is £2,500:
Let's remember where we were when I entered Downing Street.
Average energy bills were predicted to soar above £6,000 a year.
We faced the highest tax burden that our country had had for 70 years.
And we were told that we could do nothing about it.
I did not accept that things had to be this way.
Around that point, two protesters waved a Greenpeace banner (Guido has the video):
They would have had to sign up to be Party members in order to get in, just as the protesters did who infiltrated the Party leadership hustings in July and August.
Conservative men quickly took the banner away. The women had a spare to unfurl. That too, was swifly removed.
Truss quipped:
Now later on in my speech my friends I am going to talk about the anti-growth coalition.
But I think they arrived in the hall a bit too early, they were meant to come later on.
We will get onto them in a few minutes.
She paused while security removed the women from the conference hall.
She concluded on the fuel price cap:
We made sure that the typical household energy bill shouldn't be more than around £2,500 a year this winter and next.
We followed up with immediate action to support businesses over the winter.
We are determined to shield people from astronomically high bills.
So much so, that we are doing more in this country to protect people from the energy crisis than any other country in Europe.
Our response to the energy crisis was the biggest part of the mini-Budget.
Later, she borrowed one of Michelle Obama's phrases from the 2008 presidential campaign:
We need to fund the furthest behind first.
And for too long, the political debate has been dominated by the argument about how we distribute a limited economic pie.
Instead, we need to grow the pie so that everyone gets a bigger slice.
That is why I am determined to take a new approach and break us out of this high-tax, low-growth cycle.
She also used John McCain's 'my friends' in addressing the audience, more than the transcript references. That, too, came from the 2008 presidential campaign:
When the government plays too big a role, people feel smaller.
High taxes mean you feel it's less worthwhile working that extra hour, going for a better job or setting up your own business.
That, my friends, is why we are cutting taxes.
We have already cut Stamp Duty, helping people on the housing ladder – especially first-time buyers.
We are reversing the increase in National Insurance from next month.
We are keeping corporation tax at 19%, the lowest in the G20.
We are helping 31 million working people by cutting the basic rate of income tax …
The fact is that the abolition of the 45p tax rate became a distraction from the major parts of our growth plan.
That is why we are no longer proceeding with it.
I get it and I have listened.
She reiterated pledges for post-Brexit and post-pandemic Britain.
She made a good point about Western complacency, something I have been saying for years:
One of the reasons we are facing this global crisis is because collectively the West did not do enough.
We became complacent.
We did not spend enough on defence.
We became too dependent on authoritarian regimes for cheap goods and energy.
And we did not stand up to Russia early enough.
We will make sure this never happens again.
She pledged continued support for Ukraine, which earned her a standing ovation.
Then it was time for her to talk about the anti-growth coalition — the metropolitan elite — which was lengthy. This was her opening:
I will not allow the anti-growth coalition to hold us back.
Labour, the Lib Dems and the SNP…
…The militant unions, the vested interests dressed up as think-tanks…
…The talking heads, the Brexit deniers and Extinction Rebellion and some of the people we had in the hall earlier.
The fact is they prefer protesting to doing.
They prefer talking on Twitter to taking tough decisions.
They taxi from North London townhouses to the BBC studio to dismiss anyone challenging the status quo.
From broadcast to podcast, they peddle the same old answers.
It's always more taxes, more regulation and more meddling.
Wrong, wrong, wrong.
Guido has the video:
She praised our unsung heroes:
My friends, does this anti-growth coalition have any idea who pays their wages?
It's the people who make things in factories across our country.
It's the people who get up at the crack of dawn to go to work.
It's the commuters who get trains into towns and cities across our country.
I'm thinking of the white van drivers, the hairdressers, the plumbers, the accountants, the IT workers and millions of others up and down the UK.
The anti-growth coalition just doesn't get it.
This is because they don't face the same challenges as normal working people.
She concluded:
We cannot give in to those who say Britain can't grow faster.
We cannot give in to those who say we can't do better.
We must stay the course.
We are the only party with a clear plan to get Britain moving.
We are the only party with the determination to deliver.
Together, we can unleash the full potential of our great country.
That is how we will build a new Britain for a new era.
A strong cross-party coalition, helped powerfully by the media, is clearly trying to do away with Truss's premiership.
These were her YouGov ratings before her speech:
Keep in mind that YouGov was founded by former Chancellor, Nadhim Zahawi, who was caretaker during the leadership contest over the summer.
Guido wrote:
If memory serves Guido correctly, [former Labour leader] Jeremy Corbyn managed a minus 60 net approval rating at his worst. Liz has a net approval rating of minus 59. Guido is told it is the lowest rating ever recorded of a Conservative Party leader. Her speech today needs to be the beginning of a turnaround.
Borrowing from the 1960s protest tune: all we are say-ing, is give Truss a chance …
Truss, with the help of Party whips, has finally been able to complete the rest of her parliamentary appointments.
Guido said:
The Government's reshuffle is finally coming to a close, as appointments to a number of Parliamentary Private Secretary (PPS) positions gave been confirmed. Co-conspirators will recall the whips had been experiencing some difficulty in recruiting enough parliamentary bag-carriers, though they have now managed to fill each position. Even if the vast majority are eager 2019ers…
The Government also seems to have granted whips greater individual responsibility for departments, with specific roles also listed. If recent trends are anything to go by, the government could use all the help to party discipline it can muster.
Having mustard keen 2019 MPs in on the act can only be a good thing. Most of them are from Red Wall seats, so their minds will be focused on growth and other Truss objectives, many of which dovetail with their own.
Other high points — Foreign Secretary Cleverly and Home Secretary Braverman
Other well-received speeches came from Foreign Secretary James Cleverly and Home Secretary Suella Braverman, both of whom appeared on Tuesday, October 4.
Here is a short clip from James Cleverly's speech:
Cleverly's speech is at the 2:05:00 mark in this video. Braverman's comes before, beginning at 1:35:00:
Suella Braverman said many of the same things that her predecessor Priti Patel did as Home Secretary. We can but wait and see what happens.
One of the big problems in processing migrants without papers, such as those who come across the Channel in dinghies, is that they are hard to trace to their true countries of origin.
Another issue is that many in the civil service who are assigned to the Home Office are pro-immigration. Patel tried her best to counter them, but they stood firm, citing EU laws under which we are still beholden. The Brexit process continues. There wasn't enough time to renegotiate everything we should have, e.g. the Dublin Agreement. As we are no longer in the EU, we are no longer subject to that agreement whereby migrants have to apply for asylum in the first safe country they are in — in our case, France. We have to draw up a new agreement along the same lines, which will require EU co-operation.
On top of that, during Theresa May's time as PM, a modern slavery law came into force in the UK. In short, anyone claiming to have been a modern slave is automatically allowed to stay here. No proof is required.
With that burden, we can also add human rights charities and their lawyers who effectively scuppered the first UK flight to Rwanda last summer. It never happened. Everyone's case was challenged before take-off, leaving an empty aircraft.
Euronews reported on that part of Braverman's speech:
In a Tuesday evening speech at the Conservative Party's autumn conference in Birmingham, immigration minister Suella Braverman said that people who arrive by unauthorised means should not be allowed to claim asylum in the UK and she doubled down on contentious plans to send some asylum-seekers on a one-way trip to Rwanda.
However, Braverman acknowledged that a legal challenge to the policy means it's unlikely anyone will be deported to the east African country this year. 
"We need to find a way to make the Rwanda scheme work," said Braverman.
"We cannot allow a foreign court to undermine the sovereignty of our borders," she continued, to cheers and applause from the audience.
"A few months ago the European Court of Human Rights in Strasbourg did just that. By a closed process, with an unnamed judge, and without any representation by the UK. A European Court overruled our Supreme Court. And as a result our first flight to Rwanda was grounded. We need to take back control."
She didn't say how the government intends to 'take back control'. The European Court of Human Rights is not part of the EU, and membership is not affected by Brexit …
Braverman said many migrants were "leaving a safe country like France and abusing our asylum system," adding that she wanted to work more closely with French authorities "to get more out of our partnership."
"We've got to stop the boats crossing the Channel," she said, to more applause.
So far this year, 30,000 migrants have crossed the Channel:
The one advantage that Braverman has over Patel is that she is a lawyer, so she will be finely attuned to legal turns of phrase.
Those interested can read more of her views in this article from The Telegraph.
Quentin Letts, The Times's political sketchwriter, concluded:
the day belonged to Braverman. As bids for popularity go, it wasn't particularly subtle or cerebral. Effective, though.
Proper membership cards make comeback
In an eco-friendly move under Boris Johnson, the Conservative Party began issuing paper certificates instead of plastic membership cards.
Thankfully, those days are over, for lifetime Party members at least:
Guido reports:
Tory party Chair Jake Berry has just confirmed the return of plastic membership cards for lifetime Tory members, replacing the much-maligned 'membership certificates' introduced by Amanda Milling back in 2020. At the time, Milling introduced the paper certificates to save the environment, or something like that. Even MPs were upset; Michael Fabricant complained the certificate wouldn't fit in his trinket box of membership cards and hair clips. Jane Stevenson pointed out they could just be made of card instead. Now the debate has been put to rest – Berry's bringing the real deal back, having just revealed the move at a fringe event this morning. Expect to see the cards' triumphant return from January.
That ends the positive conference news.
Kwarteng's U-turn U-turn U-turn
Chancellor Kwasi Kwarteng did a third U-turn on bringing forward his more detailed fiscal event plans.
It appears that he will be going ahead with presenting them to Parliament on November 23 after all:
Or is it October 23?
Mel Stride, who supported Rishi Sunak in the leadership contest and heads the Treasury Select Committee, says that it will be October 23. So did the Financial Times, apparently. They, too, supported Sunak.
Hmm. I sense mischief making.
Guido reports:
Except Kwasi later insisted on GB News that it definitely wasn't moving:
'Shortly' is the 23rd. People are reading the runes […] it's going to be the 23rd.
"People reading the runes" in this case including the Chair of the Treasury Select Committee. Liz herself later said it's coming in November, and Treasury Civil Servants were told in a team meeting this morning that anything to the contrary was just "press speculation". Guido understands, however, that the people reading the runes are onto something: the Treasury is still considering adjusting the date after all…
Kwasi must stick to his guns and stop the U-turns.
Rebel, rebel …
The rebels were active throughout the conference.
Michael Gove
On Wednesday's Dan Wootton Tonight show on GB News, panellists were split on whether Sunak-supporting Michael Gove should have the whip removed.
The Daily Express's Carole Malone said that Truss should have given Gove a Cabinet post so that he would have made less mischief. However, Wootton countered by saying that Gove always undermines the Prime Ministers he has worked for in Cabinet.
Someone who wasn't on the show and thinks Gove should have the whip removed is Nigel Farage. I fully agree with him. We saw the trouble that rebel Conservatives made for Theresa May and Boris Johnson in 2019 over Brexit. David Gauke was one of them. Boris had the whip removed and we did not see him again after the 2019 general election; his Conservative association deselected him:
Grant Shapps
Grant Shapps, another Sunak supporter, has been working in tandem with Michael Gove to thwart Truss's leadership.
He has made no secret of his threat to go to Sir Graham Brady, chairman of the 1922 Committee, with a letter of no confidence — not only from himself but other MPs:
On Tuesday, October 4, he told Times Radio:
I want Liz to succeed. So I'm hoping that she can turn us around, I think there is a window of opportunity for her to do it. I'm cheering her on, if you like, to succeed. Y'know, in the end I don't think members of parliament, Conservatives, if they see the polls continue as they are, are going to sit on their hands. A way would be found to make that change. You know, it's important, not for members of parliament, but for the country, still two years to go to another election, that we have good, stable, sensible, smart government in place doing things that are required for the people in this country. So of course that could happen. In the meantime, I hope Liz can turn this around.
'A way would be found' means urging Brady to change the rules whereby a PM could be ousted sooner than 12 months of assuming the Party leadership.
Shapps had the gall to suggest Truss had ten days to turn around her leadership!
Nadine Dorries
Nadine Dorries was the Secretary of State for Digital, Culture, Media and Sport while Boris was PM.
When he stood down as party leader, she was gutted. She had at least one defender:
She stayed loyal beyond the end of his premiership, perhaps embarrassingly so: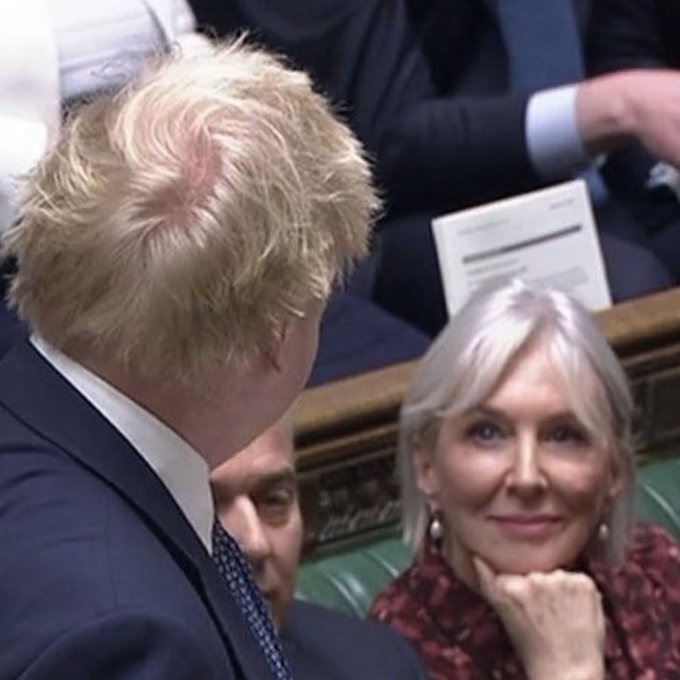 She had a lot to say when he stood down as Party leader:
In the end, she didn't run for Party leadership:
Dorries resigned from Cabinet on Tuesday, September 6. Boris was in his final hours as PM that day, when he and Truss flew separately to Balmoral to see the Queen.
Guido posted Dorries's letter to Boris, commenting:
She added that while Liz had offered her the chance to continue, she's stepping down anyway.
She is now unhappy that her Online Safety Bill might be kicked into the long grass. Millions of us certainly hope so. It is deeply embedded in censorship, principally the 'legal but harmful' clause.
On Monday, October 3, Dorries said that Truss should hold a general election. Utter madness, all because her censorship legislation is up for cancellation. Even madder is the fact that she was a Truss supporter.
The Spectator had the story:
To inspire one Nadine Dorries tweet may be regarded as a misfortune, to inspire two looks like carelessness. Less than 24 hours after the former Culture Secretary criticised Truss for appearing to blame her Chancellor for the 45p tax debacle, she's back at it again. Frustrated by Truss's decision to junk much of the Johnson agenda from 2019, the high priestess of online harms took to her favourite medium of Twitter to write:
Widespread dismay at the fact that 3 years of work has effectively been put on hold. No one asked for this. C4 sale, online safety, BBC licence fee review – all signed off by cabinet all ready to go, all stopped. If Liz wants a whole new mandate, she must take to the country.
The repeated criticisms are all the more interesting, given the importance of Dorries and other Johnson loyalists in ensuring that Truss made the final two earlier this summer. Dorries was something of an unruly attack dog, savaging Truss's opponent Rishi Sunak at ever opportunity …
Guido posted Dorries's tweet …
and wrote:
We appear to be at the "everybody losing their mind" stage of Conservative Party conference a day early.
The next day, she seemed to walk back what she said by citing Boris's support of Truss. This is a clip of her interview with LBC radio's Iain Dale:
Embarrassing.
Benefits rebels
Truss-backer Sir Iain Duncan Smith is now opposing her in wanting benefits increased in line with inflation:
Guido has the video:
Iain Duncan Smith has added his voice to the chorus of rebels piling on Liz to raise benefits with inflation. Speaking at a ConservativeHome fringe the former Work and Pensions Secretary argued giving to the poorest was a more efficient way of going for growth, as they would spend it quicker. He's had a quick change in tune since backing Liz for leader…
That sounds very cynical, indeed.
Kemi Badenoch
Trade Secretary Kemi Badenoch, the popular Party leadership candidate for British voters, openly opposed Truss's bid for even more migration.
It is hard to disagree with Badenoch. Even so, as a Cabinet minister, perhaps she should have held back from expressing them publicly.
She aired her views on Sunday evening:
At the IEA/TPA DrinkTanks reception last night, guest of honour Kemi Badenoch openly rebuked the PM's plans to let in more immigrants to boost growth. The Trade Secretary ignored any sense of collective responsibility as she told the assembled free marketeers:
Simply taking in numbers to boost GDP while GDP per capita falls is not the right way to do that. We need to look again at resolving our productivity issues and that means using capital better, not just getting cheaper and cheaper labour.
Kemi's brazen and deliberate speech last night all but confirmed The Times' article on Sunday reporting major Cabinet divisions over the plan, with Kemi and Suella Braverman at odds with the PM's preferred free market solution. Like Liz, Guido doesn't have a problem with skilled, legal immigration, it is the illegal immigration which is concerning. It seems Tory Cabinet ministers aren't even pretending to play happy families anymore…
45% tax rate rebels
Prominent Conservative Cabinet members disagree with Truss and Kwarteng over their Sunday night U-turn on abolishing the 45% upper tax rate.
Home Secretary Suella Braverman seemed to accuse Conservative MPs of forcing the change in plan, going so far as to claim it was 'a coup':
Guido has a photo of Braverman, along with Jacob Rees-Mogg and Simon Clarke, two other Cabinet members who want the upper rate abolished:
Simon Clarke agrees with Braverman's assessment of 'a coup':
Guido has more:
Jacob Rees-Mogg was also quick to voice his disappointment at the scrapped cut at a fringe event this afternoon, although he claimed to recognise the politics of the move. This all comes in the context of public cabinet battles over benefits, and Penny Mordaunt's attacks on government comms. Meanwhile backbench agitators continue briefing out plans to rebel, with some now even claiming they're holding "crisis" talks about Liz's leadership. Truss has been PM for 28 days. Not quite the honeymoon period she would've hoped for…
Wow. For Jacob Rees-Mogg to speak out about his disappointment is surprising. He is normally respectful of parliamentary boundaries and procedure.
There is a way to get rid of this tax rate. I will have more on that next week.
James Cleverly warns Cabinet rebels to 'shut up'
In much the same way that Welsh Secretary Robert Buckland did, Foreign Secretary James Cleverly warned Cabinet rebels to 'shut up':
On Wednesday, October 5, Guido reported:
James Cleverly has diplomatically warned Cabinet colleagues to shut up after yesterday's day of chaos, in which collective responsibility broke down on everything including the 45p u-turn, immigration numbers and uprating benefits in line with inflation. Speaking on the BBC this morning ahead of Liz's big speech, the foreign secretary warned:
All Cabinet colleagues ultimately are going to have to abide by collective responsibility… I think it's always better and easier to feed ideas, particularly when you're in government and have access to the Chancellor and the PM, feed your ideas directly into the centre of the system…
On TimesRadio he also implied yesterday's comments from Braverman, Mordaunt and Clarke – among others – were inappropriate. Guido hears Cleverly's speechwriter had to edit a swear word out of the Foreign Secretary's speech earlier this week; we can only imagine how many expletives Cleverly wanted to use in response to yesterday's farce…
Conclusion
Here endeth the news about the Conservative Party Conference.
MPs must give Truss a chance. She has gone through the hardest beginning to her premiership of any PM in known history.
She deserves time to lead us. With everyone against her, she must be doing something right.
She is representing British voters' interests. That is only right and fair.
On Friday, September 23, 2022, just four days after the Queen's funeral, Chancellor Kwasi Kwarteng delivered a 'fiscal event' designed to kick start the British economy.
In the days leading up to the fiscal event, so-called because it wasn't a full budget, the media and Labour were clamouring for it. However, the nation was in mourning for the late monarch and, accordingly, Parliament was in recess.
Conservative critics — i.e. Brexit critics — asked, 'Where's Liz? Where's the Chancellor? Something must be done!'
Parliament reconvened on that Friday to hear Kwarteng deliver a big, bold and beautiful economic plan, which included the abolition of the 45% upper tax rate.
Even Nigel Farage approved, going back in history to Margaret Thatcher's time as PM:
What happened? The same critics blasted Kwarteng and Prime Minister Liz Truss for their rather Thatcherite plan, designed to reverse the nation's economic course since the Labour days of the early Millennium under Gordon Brown to the present Conservative government:
Small-c conservatives hoped that Boris Johnson would have done this, but it was too big to take on. With the flak Truss and Kwarteng caught, it now appears that Johnson probably feared it would dent his popularity. That's only my guess, but it makes sense.
Mortgage rate fears
I went to a small local event on Saturday, September 24. Before it began, one woman of pensionable age asked, 'Has anybody seen the news today? I didn't have time to look. Has the economy crashed yet?' It was clear she was angry. Other people in attendance responded with jokes about supply-side economics.
Throughout the week, it was nothing but doom and gloom, even on GB News, which offered few correctives. The Labour Party conference took place last week, which did not help.
I went to the shops on Wednesday, September 28. On my walk, I overheard an estate agent talking to an older couple about their mortgage rate fears as a result of the fiscal event. The media had sent out ominous messages about rising interest rates. The estate agent told the couple that the turbulence would be short term and that it was taking place all over Europe — which is true.
On Thursday, September 29, the BBC's Question Time aired. One young woman stoked fears about a hike in interest rates on mortgages, claiming — claiming — that hers was going up to over 10%: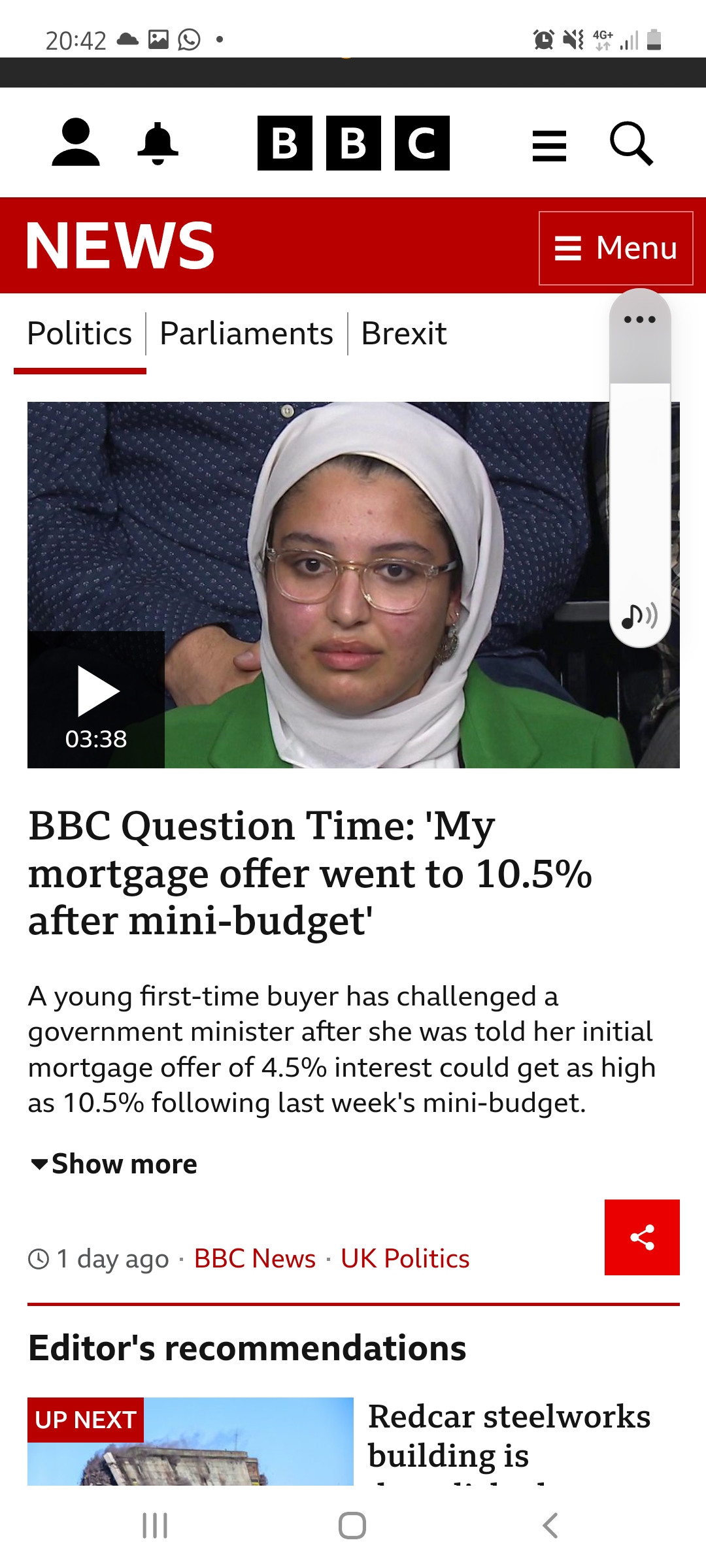 But was this claim true?
Apparently, the claim is false: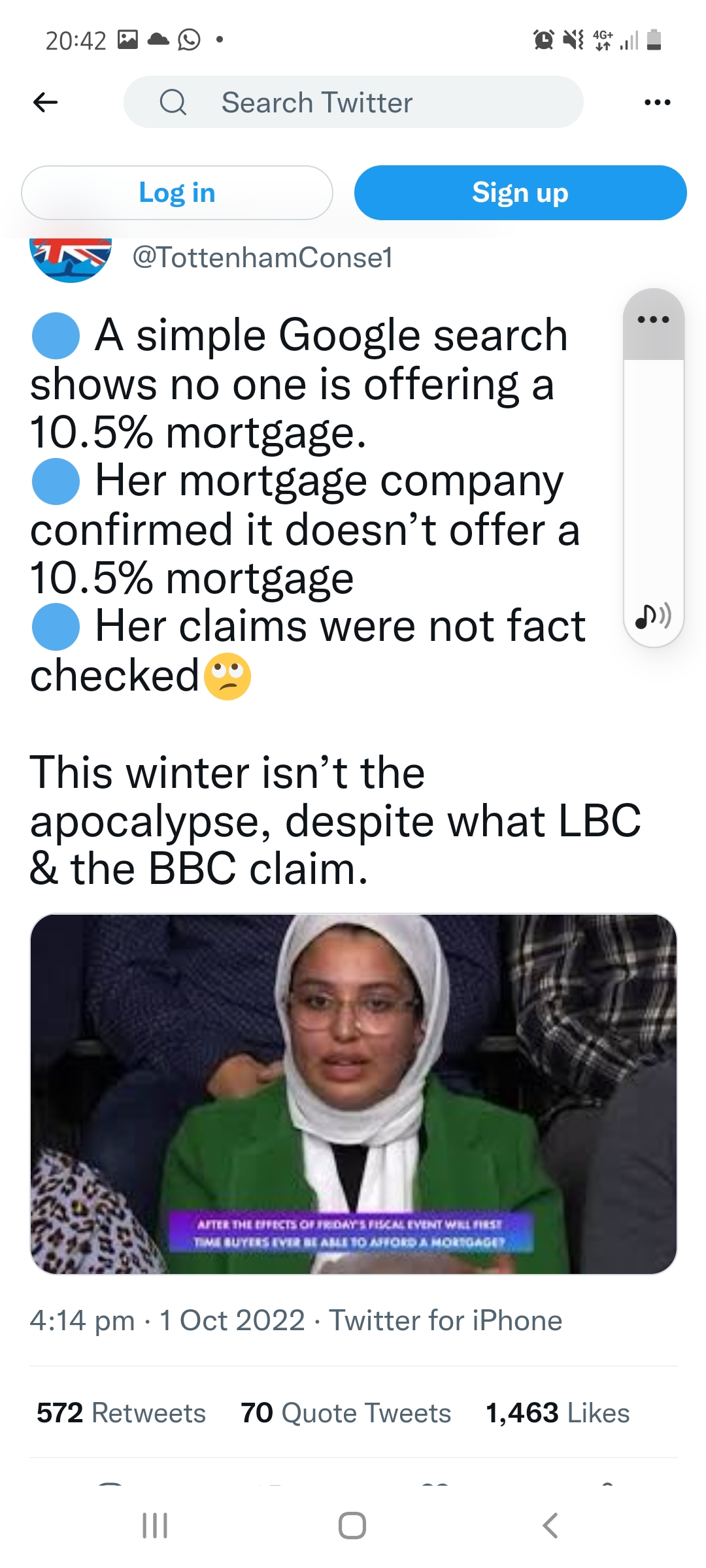 Skipton Building Society said they had not offered a 10%+ mortgage rate for many years: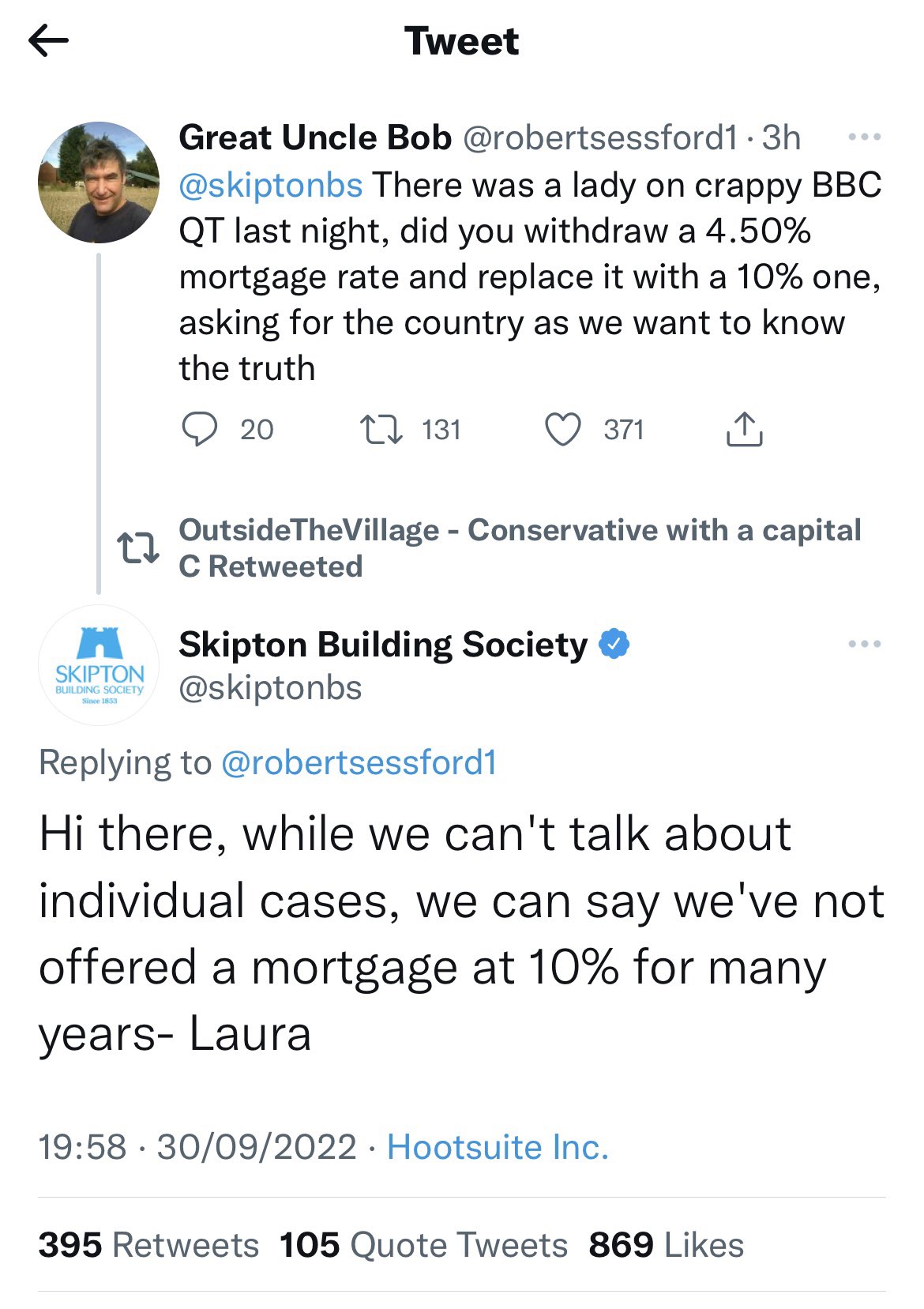 Once again, the Left — including the media — took charge of the Conservative narrative. They're still at it.
Conservative Party conference opens
On Sunday, October 2, the Conservative Party conference began in the UK's Second City, Birmingham, once our industrial capital:
Penny Mordaunt MP, Leader of the House of Commons, paid an excellent tribute to our late Queen, which was followed by a minute's silence and the singing of the National Anthem.
Having seen the first few speeches on GB News, the mood from the MPs speaking was upbeat. However, the mood in the conference hall was sombre.
Rishi Sunak and several of his supporters, prominent MPs, did not attend. Sunak said he wanted to be absent so that Truss 'could own the moment'. Ouch.
Boris Johnson also sent in his regrets.
Earlier that day, Truss appeared on Laura Kuenssberg's Sunday show on BBC1.
Kuenssberg asked her about the abolition of the 45% tax rate. Truss said that was Kwarteng's decision. Oh, dear. Guido Fawkes has the video:
Because the fiscal event had to be done quickly, Truss and Kwarteng did not consult other Cabinet members.
Also, because it was such a departure from the norm, it appeared shocking to Britons expecting more of the same. Truss told Kuenssberg that she and the Chancellor could have communicated it better (see video):
Truss rightly pointed out that 'optics' — rather than reality — dominated the fiscal event:
In the video, Kuenssberg ended by saying that optics were terribly important, implying that they make just as much of an honest representation as does reality. Oh, my days!
Returning to the Conservative Party conference opening day, Michael Gove stuck his oar in, saying that tax cuts are not conservative.
Whaaat?
Former Conservative MP Michael Portillo explained on his GB News show that Gove became an MP during David Cameron's time as Prime Minister and, therefore, has a different take on economics.
The economy wasn't the only issue on MPs' minds. Other of Truss's leadership rivals in this summer's contest for PM were not happy.
As is common with party conferences, smaller events took place outside of the main venue.
Last week, Truss said she would like to see more immigration, something that won't please folks who voted Conservative for the first time in 2019.
On Sunday evening, Trade Secretary Kemi Badenoch — the MP whom conservatives deeply admire — attacked Truss's immigration plans:
Guido has the story, which reveals rifts in the Party (emphases his):
If Liz Truss thought the furore over the 45p rate would distract attention from MPs rebelling on other policy areas, Guido's sorry to disappoint her. At the IEA/TPA DrinkTanks reception last night, guest of honour Kemi Badenoch openly rebuked the PM's plans to let in more immigrants to boost growth. The Trade Secretary ignored any sense of collective responsibility as she told the assembled free marketeers:
Simply taking in numbers to boost GDP while GDP per capita falls is not the right way to do that. We need to look again at resolving our productivity issues and that means using capital better, not just getting cheaper and cheaper labour.
Kemi's brazen and deliberate speech last night all but confirmed The Times' article on Sunday reporting major Cabinet divisions over the plan, with Kemi and Suella Braverman at odds with the PM's preferred free market solution. Like Liz, Guido doesn't have a problem with skilled, legal immigration, it is the illegal immigration which is concerning. It seems Tory Cabinet ministers aren't even pretending to play happy families anymore…
Also that evening, Leader of the House Penny Mordaunt spoke at a small gathering to complain — rightly — about poor Conservative communication over policy making:
She made her views known at an event called 'Conservatives in Communication'.
Sadly, Guido points out:
… host Adam Honeysett-Watts had to tell the crowd to shut up and listen. Unfortunately, most of the attendees were far more interested in guzzling free booze and chatting to each other.
Meanwhile, Truss addressed a group of Conservatives, explaining the need for growth — now. She, too, said that Party communications are lacking:
She is not wrong, and she has to make up for the past two years, consumed by dealing with the pandemic.
The second day of conference brings U-turn on 45% tax rate
Did Michael Gove, the Scot who wants to become PM, exercise his influence once again?
Nothing against Scots, but their politicians do seem to think that people need to be micro-managed, which Gove does, and that we should continue a globalist agenda in, well, nearly everything.
For the first time in years, Gove is not in Cabinet.
That said, he has never supported PMs he has served, going all the way back to David Cameron. This comment comes from one of Guido's readers (purple emphases mine):
Cameron, don't forget Cameron. Gove mortally wounded him too with Brexit. I don't disagree with Gove supporting Brexit obviously but the way he went about it was like a serpent to someone who called him his friend. His whole front line career has been poisonous towards the sitting leader.
At 7:17 a.m., Guido tweeted that Truss and Kwarteng were backing down on abolishing the 45% tax rate:
Kwarteng said he would still be going ahead with the rest of the fiscal event policy.
That U-turn will empower Gove and the Left — again, media included — to control the narrative even more.
Baroness Thatcher would have been so disappointed:
And I know what Thatcher would have done with Gove: withdrawn the Party whip.
Guido says that the reversal came about on Sunday evening and that The Sun had the exclusive:
After The Sun broke the exclusive of conference late last night, the Lobby's just been informed that the government will now not be going ahead with the 45p rate abolition, with a u-turn expected to be announced within the next hour. Just yesterday the press were briefed that Kwasi was to tell conference "We must stay the course. I am confident our plan is the right one."
This morning the course has not been stayed – it has been re-directed in another direction altogether. Kwasi's statement:
From supporting British business to lowering the tax burden for the lowest paid, our Growth Plan sets out a new approach to build a more prosperous economy. However, it is clear that the abolition of the 45p tax rate has become a distraction from our overriding mission to tackle the challenges facing our country. As a result, I'm announcing we are not proceeding with the abolition of the 45p tax rate. We get it, and we have listened. This will allow us to focus on delivering the major parts of our growth package. First, our Energy Price Guarantee, which will support households and businesses with their energy bills. Second, cutting taxes to put money back in the pockets of 30 million hard-working people and grow our economy. Third, driving supply side reforms – including accelerating major infrastructure projects – to get Britain moving.
The move came after crisis talks yesterday between the PM and Chancellor; their hands forced by Tory MPs continuing to state on the record they couldn't vote for the plans, despite an open warning from [new Party chairman, MP] Jake Berry that they'd lose the whip. Gove was at the forefront of the rebellion…
Guido's cartoonist came up with this:
It is unclear how much of this has to come up for a vote in Parliament in order to proceed.
However, it is becoming apparent that a significant number of MPs have not united behind Liz Truss:
If enough Conservative MPs rebel in a vote, the Government could collapse. A collapse could trigger an imminent general election (GE). With the way things are, Labour could win and form a coalition with the other Opposition parties. That would be a disaster, particularly in voting reform if they push through a vote for 16-year-olds and immigrants to vote in a GE. Furthermore, they would probably also want some type of proportional representation to replace the centuries-old first-past-the-post.
Of course, the alternative is that Conservative MPs have another leadership contest, but that would look as if they were incompetent. One MP suggested that Conservative Party members be locked out of that vote altogether, which would anger them deeply.
An hour after Kwarteng announced the U-turn, he was on BBC Radio 4 with Conservative-loathing Nick Robinson. This is so sad:
Then Kwarteng went on Nick Ferrari's LBC breakfast show. Ferrari pressed him to say 'no more U-turns' but the Chancellor repeated, 'I've said what I've said'. Guido has the video:
As a result of the U-turn, the markets were no longer predicting a 6% rise in interest rates, but something slightly lower — 5.5% and 5.75%. Guido is right in saying this is an emotional response:
Sterling was also slightly up, but not hugely:
In closing, let's return to Gordon Brown, who succeeded Tony Blair as PM — without an election, I might add.
Conservative MP Gillian Keegan put the blame squarely on Brown in an interview with Times Radio on Monday morning.
Guido has the story:
Foreign Office Minister Gillian Keegan was spot on when she told Times Radio this morning that the top rate of tax was a political time bomb left behind by Gordon Brown:
I always knew that it was going to be a political problem. I mean, let's be honest, this was a political trap that was set by Gordon Brown in the dying days of his role as PM, right. And I paid the 50% tax. I was in business then. And I remember how devastating it was because actually, it meant you were paying about 65% tax. And there's something in your mind, which is like, really, you know, only 35% for me? And I'm doing all these hours. I was a business person, then it was set as a political trap…. In theory it [the top rate of tax] should never have been there.
There is something immoral about the government taking the majority of your income in tax. It is also a disheartening disincentive; reversing this spiteful tax is the correct policy, though this might perhaps be the wrong time. Getting rid of a political tax that was only set up by Gordon Brown when he knew he was likely to be ousted –to hurt the Tories rather than raise revenue – was the right thing to do. Even the IFS' Paul Johnson thinks in revenue terms "It might plausibly cost nothing at all". The tax was not about raising revenue – it was about political positioning.
Back in Fife, Brown will be rocking in his chair laughing that his tax booby trap, announced only weeks before he left office, and which was expected to cause problems for his successor David Cameron, has finally exploded in the face of a Tory Chancellor. The fuse wire on Brown's time bomb turned out to be 12 years long…
Truss and Kwarteng have learned a lot in the past month.
I do hope that they have learned something from their baptism by fire, especially Truss, for whom I have the greatest empathy. The Queen's death delayed her getting off the ground running. Then when she was finally able to do something, the media attacked her even more for it. Now the Party's MPs are angry with her. Some have already submitted no confidence letters to Sir Graham Brady of the 1922 Committee. The polls have been tanking. Two show voters giving Labour a 30% lead in the polls, something not seen for decades.
No one has even given Truss or the Chancellor a chance.
I will continue to pray for hers and Kwarteng's success against all odds.
They are doing the right thing …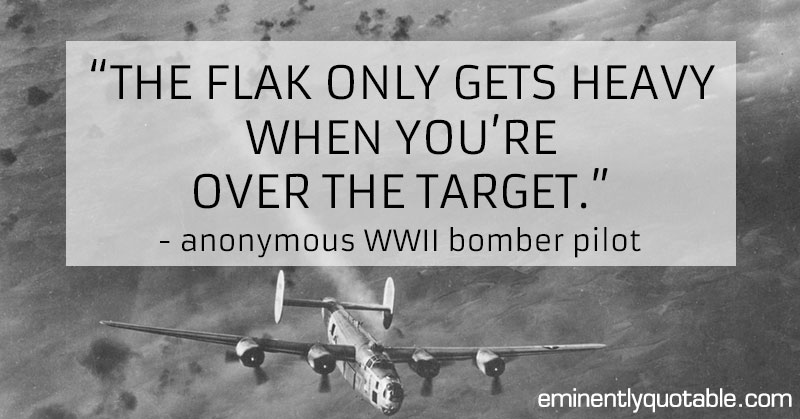 … which is why they are being attacked mercilessly.
Having watched BBC Parliament for the better part of three years, I can only conclude that today's Conservative MPs are a frustrating bunch.
Many of the older hands, who were elected when David Cameron was Prime Minister (2010-2016), seem more like Liberal Democrats. The Thatcher-era MPs who remain are what she would have called Wets.
Many commenters on conservative fora are at their wit's end. Their complaints are many. Why have Conservatives outdone Labour in economic policy? Why are odd subjects taught in our schools instead of the three Rs? Why can't police get a grip on real crime? Those are just a few of the questions Britons have.
On August 12, The Telegraph's Tim Stanley and Steven Edginton discussed British conservatism in one of their Off Script conversations. What is it? What should it be like?
This video is 51 minutes long and is well worth watching for frustrated conservatives. Don't be put off by the title. Immigration comes into the conversation only halfway through and only for a few minutes:
Tim Stanley makes excellent points, summarised below.
The most important thing to note is that conservatism changes over time. Benjamin Disraeli was a great Conservative Prime Minister, but his conservatism would not be applicable in our time. Harold Macmillan was another great Prime Minister of his day, succeeding Labour's Clement Attlee. He responded to the challenges of the postwar 1950s. His brand of conservatism would be irrelevant in our times. Similarly, Margaret Thatcher met the challenges of the late 1970s and the 1980s. Stanley said that invoking Thatcher at every turn today is not helping matters, because we often mis-remember things that she did. He said that some commentators have turned her into a punk libertarian, when she was anything but. He says she was a Conservative with a strong streak of free-will Methodism.
Of our two Conservative Party leadership candidates this year, he says that Rishi Sunak is a technocrat, with all that implies. Liz Truss is a child of the Thatcher years. Both became MPs during David Cameron's time as PM. They tend to think the way he does and only differ on the way they would handle tax cuts. In this area, Sunak adopts the early Thatcher strategy of delaying them. Truss adopts the strategy of her later years, when Nigel Lawson was Chancellor. On everything else, they are remarkably similar. It's a politically generational trait.
Stanley came to conservatism from Marxism and stood as a Labour candidate for Parliament when he was younger. He thinks that Truss's conversion from the Liberal Democrats to the Conservative Party is one she will not fall away from.
Stanley says that Kemi Badenoch, whom he admires greatly, is probably the only MP who studies social issues intently. He thinks she has watched a lot of Thomas Sowell videos on YouTube, because she quotes him a lot.
He thinks Badenoch could be a real agent for change if she ever becomes PM. He warns that few world leaders can effect change on their own. He cites Donald Trump, who could not fight off the Swamp. Our equivalent is called the Blob and is comprised of the same elements: the metropolitan elite and, intersecting as in a Venn diagram, the media and the civil service. Somehow, those groups need to be persuaded to change their minds over time in order for politics and society to improve.
Stanley says that today's Conservative MPs are ignoring two elements of British life that has seen us through the centuries: family and the Church. (Stanley is a practising Catholic.) He said that MPs must find a way of putting those front and centre into policy making discussions. (That's a pretty radical idea for a former Marxist.)
He also advocates consistency in policy positions. He cites Nigel Farage and Jeremy Corbyn as two excellent examples of that. Their opinions have not changed over the past few decades, he says, and this is what makes them popular among their respective supporters.
As for today's younger voters opting for Labour, he says that some will and some will not. He said that it all depends on how much impact today's economic and social issues are having on them. He cites the young generation of the late 1960s, most of whom still vote Labour. He says that their personal experience from that time was so strong that they never changed when they hit middle age. However, there are others who will move from a more left-wing to a conservative stance. Stanley himself and Liz Truss are two great examples of political conversion.
You'll probably want to know what Stanley thinks of our immigration mess. He says that we have dealt with EU migration well, but, as far as the Channel crossings are concerned, he compares them to a door that has all sorts of locks on it yet is kept open, serving no purpose at all. He suspects that most Conservative MPs don't mind the tens of thousands of young men arriving on our shores every year. If they did object, he says, they would have done something by now to stem the flow.
I highly recommend this video, because no one else I've heard has said the things that Tim Stanley has. I now view conservatism in a new way.
On Wednesday, August 10, 2022, Liz Truss appeared on GB News's The People's Forum to answer questions from residents of Leigh in Greater Manchester about her proposed policies:
The veteran newsreader and broadcaster Alistair Stewart ably moderated proceedings, allowing the audience to ask questions then reading viewers' questions and asking a few himself:
The programme was an hour long:
Brian Sheeran was first up to the microphone. Leigh, established in 1885, is a Red Wall constituency. They elected their first Conservative MP in 2019: James Grundy.
Sheeran asked why the people of Leigh should trust the Conservatives. Truss said that voters no longer could rely on Labour, because Labour never did anything for them:
She said that she would make sure that she started local projects as soon as possible, because people only trust a political party once they see tangible signs of improvements being made.
She also pledged to boost local businesses by rescinding EU laws that are still on the books post-Brexit.
She said that she would place a moratorium on the green levy on fuel and prepare an emergency budget as one of her first tasks as Prime Minister.
Not everything would happen straightaway. At least one measure would have to wait until April 2023 to be implemented because the Finance Act would require amending, a procedure that would require approval in both Houses of Parliament.
Another man asked what help Truss would give to working class families now, because the price of home energy has become crippling. He has had to take on a weekend job just to make ends meet:
Truss said that 'from day one', people would be able to keep more of what they earn.
He said that he needs help now, not at some point in the future. She said that she would look into all the options as soon as she becomes Prime Minister, should that happen.
Philip Orr asked about illegal immigration and was remarkably well informed on the statistics of our population increase over the past several years:
Truss summarised the situation of people trafficking across the Channel in dinghies. Criminal gangs are making big money. She hopes to make the Rwanda deportation policy work through Dominic Raab's proposed Bill of Rights. She also hopes to expand the number of countries who could take in these illegal migrants because they need more workers.
Orr suggested revoking French fishing licences if the French authorities continue to do nothing to stop the dinghies coming across the Channel.
In response, Truss said that she had had a 'tough' conversation with the French two weeks ago and that she would continue to be 'robust' in her negotiations. She cited the Northern Ireland Protocol Bill as proof that she could get things done.
She said that these migrants are in league with their lawyers before they make the trip over, enabling the lawyers to use ECHR laws to stop their deportation from the UK.
Finally, Orr asked why the UK couldn't use other countries' ports instead of being so reliant on France.
Orr called all of this 'sticking plaster politics', because nothing so far has been successful.
Jane Knight was the next to ask a question. She noted that the Government was not working. She asked what Truss's key strengths were and how she hoped to build a good Cabinet that would be ready to run on Day One:
Truss said that she has established a record of being able to get things done and has received backing from those Cabinet ministers, past and present, who have worked with her.
She said that she would be looking for three things in her Cabinet ministers: competence, the ability to stand up to civil servants in Whitehall and loyalty to her rather than to the media.
Knight said 'yes' to those but said there should be a certain amount of 'risk taking' and asked whether Kemi Badenoch, immensely popular among the people during her leadership campaign, would be able to have a Cabinet post, such as, perhaps, Foreign Secretary, Truss's current position:
Guido Fawkes has the dialogue (emphases his):
Jane Knight: I would like you to give some opportunity to maybe people that you might not know as well at the moment… certainly somebody who fired the imagination of the public was Kemi Badenoch and I'd really like to see her given a meaty role.
Truss: Do you have any ideas about what that role should be?
Knight: Oh well, Foreign Secretary! There might be a role going there!
Truss: Look, I don't want to get ahead of myself and this leadership campaign is still going on, but I can tell you that I will make sure the best players in the Conservative Party are on the pitch if I'm elected leader… Kemi – I've worked with her as Women & Equalities Minister – we've taken on a lot of the agenda of people who are trying to deny that women are women and so on, so I think she's absolutely brilliant and I would definitely want her as part of my team if I'm successful.
Knight also asked whether the Cabinet would be 'leaner, leaner, leaner', nodding for affirmation as she spoke those words.
Truss said that she could promise a 'leaner No. 10', which 'has become a bit too presidential' and she repeated her pledge to find a good post for Badenoch.
Knight said:
Ohhh, good answer.
Alistair Stewart brought up strikes at universities which prevent students from getting a full education. Some of these strikes are about changes in terms to lecturers' and professors' pensions because some universities took a 'pension holiday', not paying in continually to the pension pot. Other strikes, however, took place during the pandemic over health concerns. Either way, students are out of pocket, to the tune of £9,000 per year. They do not receive refunds for strike action.
Theo Murphin (?), a student, asked about this situation:
Truss said that she would hold universities to account to ensure that students get what they pay for.
In other strike areas, such as railways, she would ensure that industrial action would not overrun the network completely.
Theo also asked about the Online Safety Bill and the coming restrictions on freedom of speech. Truss said that her major focus of the bill would be to ensure that minors are not adversely affected by what they see online. With regard to adults, she said that one should be able to say the same things online as well as offline.
On the subject of strikes, Janice, a Daily Mail reader, wrote in with a question about the disruption of this year's strikes in various sectors across the country. Stewart asked her question for her.
Truss said she would legislate 'as soon as possible' to ensure that a minimum level of service is provided. She added that she is also concerned about activist organisations and mentioned Extinction Rebellion. She said that she would also take steps to ensure that they are dealt with, too, so as to not disrupt the daily circulation of people and goods.
Stewart brought up child grooming gangs (30:39), which seem to be everywhere in England now. He called Paul Eckersley to the microphone. Eckersley asked Truss what she planned to do about these gangs and 'bring criminals to justice':
Truss said that police should not be spending time patrolling tweets. Instead, she said, they should be fighting crime. She said that she wants to introduce police league tables on various forces' results.
Returning to the grooming gangs, she said that what has been going on has been 'absolutely repulsive'. She said that she wanted gang members to be held to account, 'but more than that' also the locals in authority — police, councillors and so forth — who did not do anything to stop them.
She received a round of applause for her answer.
Stewart then turned the subject to housing, especially getting young people on the housing ladder.
Jessica Buckthorpe, a cheerful and polite university student, asked whether Truss had any proposals to help young people in her situation, a student who works but cannot put together enough savings:
Truss proposes using young people's rental history of paying in full and on time to go on their mortgage applications, helping them to get a mortgage more easily.
Truss added that she also wanted to give more planning control to individual communities to plan for the housing they need. It is not unusual for young people to move away from where they grew up because they cannot afford the house prices.
Buckthorpe said that, while she appreciated these ideas, she said that the enormous actual mortgage deposit required is a 'pipe dream' not just for herself but for many other young adults.
Truss replied that using rental history would play an important part in enabling young adults to get a mortgage.
Truss said that it was important to keep in mind that our current inflationary period is temporary:
… we should not bake that into the future.
Stewart looked at Buckthorpe for her reaction:
There's a smile there.
A beaming Buckthorpe said:
Thank you very much.
The subject of war widows' pensions came up, especially those widows of veterans who subsequently remarried and lost their first husbands' pensions through subsequent rule changes. They are known as the WASPIs.
Stewart called on one woman who has a problem with her pension, Patricia Morgan, to ask her question. See the 2:40 point in this video:
Morgan said that, while she does not think she is getting the right amount of state pension because of a change in retirement dates, she cannot help but notice that money is going everywhere else, from coronavirus programmes to the war in Ukraine.
Truss said that she has met many such women in her own Norfolk constituency. The matter has also been addressed — unsatisfactorily, to many women — in Parliament. Truss said that she does not think that women have been looked after fairly in this regard. However, she said it would be very difficult to revisit the circumstances of the WASPIs and she apologised for that. She did, however, pledge to look at the tax system and see how it has an unfair impact on women in changing family circumstances.
Morgan politely countered by bringing up a parliamentary ombudsman's report which said that 'maladministration' had taken place. Truss said that she did not want to make promises that she could not keep. She could only address the future.
Stewart brought up the war widows' issue. Truss said she had already looked at that when she was in the Treasury. This issue, she said, she would look at again in more detail. Some 300+ women are affected.
Stewart then discussed the problems in the NHS.
Janine Ronaldson was the next person to approach the mic. She is a registered nurse with 31 years' experience, who works as a community nurse. She asked what Truss would do about the fact that nurses' salaries and benefits have decreased in recent years, resulting in many of them leaving the profession:
Truss said that nurses on the front line should be able to make more of their own decisions. She added that additional funding could come from existing funds and that the National Insurance tax rise was unnecessary. Some of this money can also go into social care, enabling hospital beds to be freed up for the elderly to go into a care home upon release from hospital. Currently, some patients have to stay in hospital because there is no satisfactory home situation for them to return to.
This, coupled with a huge post-pandemic backlog, is becoming a national problem.
Truss also pledged to look at the pension situation and talk to individuals to assess their concerns. She said that her incoming Health Secretary would also have to be committed to this.
Ronaldson said that it has been very difficult for her to see nurses leaving the profession and having to take on their workloads.
Stewart then asked for final questions on the topics that had been addressed.
One question came from Councillor Liam Billington, who asked about the child grooming problem. He said that Greater Manchester Council keep voting down motions to hold a public inquiry into what happened in Oldham. Truss responded that she would look into it and get back to him.
Johnny Riley (?) was next. He said that he had to give up his job to become a full-time carer for his wife. He receives only £70 a week from the Government in carer's allowance. He now has to use his life's savings to help them get by.
Truss thanked him for his devotion to his wife, who has cystic fibrosis. She said that her pledged review of the tax system should reveal how it works with the benefits system. She does not people like Johnny to be penalised for doing the right thing.
He said that he has paid into the system, so it's not about paying tax; it's about benefits, the least paid of all of them. Truss said that the whole system has to work, which is why she wants to look into it. She said she does not have a detailed answer. He said it was no wonder, because there has never been a detailed answer:
All we're asking for is a fair crack at the whip.
Trevor Bell asked how the Government can retain VAT on gas and electricity, when that is an EU law that should have gone once we left the European Union:
It was a Brexit promise … It should go now.
Truss reiterated that she would abolish the National Insurance tax rise and impose a temporary moratorium on the green energy levy. She also repeated that she would have an emergency budget early this autumn.
She said that the 70-year tax high is unacceptable but, right now, she cannot be more specific because the leadership contest is not yet over.
Truss said that getting rid of the green levy would save as much as getting rid of VAT.
The penultimate question came from Shelley Guest, who asked if Leigh could break away from Wigan Council and set up its own in order to use the tax receipts that it generates for its own needs (58:08). This is known as Lexit (!), something that Leigh's MP, James Grundy, also supports.
The room burst into applause.
Stewart told Truss that, while this seems like a local concern, it is also one that many other communities in England face.
Guest is concerned about rising council tax were Leigh to become independent.
Truss herself was once a local councillor. She appreciated Leigh's wish for independence and has spoken with James Grundy about it. She said she would consult the people of Leigh and appoint a Local Government Secretary to look into the matter with Grundy.
On a much lighter note, the final question came from a viewer who wanted to know about Truss's relationship with cats. Larry is the Downing Street moggie, and Liz remembered Palmerston, the Foreign Office's cat.
She replied that Larry frequently sidles up to her at Cabinet meetings, so she would like to develop her friendship with him. As for Palmerston, she said he left the Foreign Office during the pandemic and is now:
working from home. It's a true story!
She got a huge round of applause.
Some undecided voters there told Michelle Dewberry, who came on next with her show, that they really liked what Truss said.
They were a polite but hard-hitting group of real people who spoke frankly.
One wonders if Rishi Sunak would have the bottle to sit in a studio with their like. Would he or wouldn't he?
GB News has extended him an invitation to participate in his own People's Forum, so we'll see.
Speaking of Sunak, that day, a few other developments occurred.
Guido reported:
Away from the glare of the GB News cameras, Liz's team spent the day tearing chunks out of Camp Rishi on her behalf. After Rishi attacked Liz's cost of living plan for being "clear as mud", Team Truss went nuclear: "Rishi Sunak wouldn't know how people benefit from a tax cut because he has never cut a tax in his life.
People didn't vote for the Conservative Party to be subjected to old fashioned Gordon Brown style politics of envy." Team Rishi inevitably responded in kind – see below…
The mudslinging didn't stop there: Kwasi Kwarteng and Simon Clarke have an article in the Telegraph today in which they claim Rishi "dug his heels in" as Chancellor over post-Brexit reforms, particularly on plans to ditch the EU's Solvency II rule and reform the NI Protocol. You'd be forgiven for forgetting they're all in the same party. Team Rishi insist the claims in the article are "categorically untrue", and Sunak backed a muscular approach to Brussels all along…
Rishi didn't take kindly to Team Liz's attacks – it turns out being compared to Gordon Brown doesn't exactly flatter him. His team countered by claiming Liz's backtrack on regional pay boards last week was "a serious moral and political misjudgement affecting millions of people". This is the same Liz Truss whom Rishi has claimed he'll serve under in any Cabinet role.
His campaign also sent out a dubious press release claiming he'd cut taxes "16 times during and following the pandemic". One of those 'cuts' was reducing the Universal Credit taper rate, another is the promise to cut income tax by 1p in 2024 which, last time Guido checked, is two years away…
Instead of being with an average group of taxpayers, he chose to be interviewed one-on-one by the BBC's Nick Robinson:
He also promised to do more for households this winter beyond the package already announced, although didn't go into specific details on the basis that it was simply too early.

Although when asked whether it would cost "a few billion" or more than £10 billion, he said it would be "closer to the former than the latter"…
He gave Robinson an indication that he might lose the leadership contest:
He came the closest yet to admitting the race may well be over, claiming he'd always "stay true to [his] values" and he would rather lose than "win on a false promise".
It's interesting that Sunak chooses television formats that suit him rather than the electorate, even if, at present, they are Conservative Party members.
Sunak's non-participation in public fora other than Party hustings and closed interviews tells us something about the man.
Next week I will post on The Telegraph's hustings, held on Thursday, August 11.
Before I get to the latest round of voting in the Conservative Party leadership contest, here's an update on our weather.
Tuesday was quite warm. Allegedly, temperatures reached over 40°C for the 'first time ever'. I do wonder, because I remember a day or two in the mid-1990s when we reached 100°F. Furthermore, my reader dearieme wrote in to say that Greenwich recorded 100°F way back in 1911.
I say 'allegedly' because temperature readings came from airports. Certainly, it was at least 38°C.
Everyone in the media was banging on about how many people would die. Yet, cold weather kills many more than does hot weather.
That should not need pointing out, but The Lancet has just published a new study on winter deaths:
In the UK, on average, 791 people die from heat, compared with 60,753 every winter:
Guido Fawkes summarised the findings and concluded (red emphases his, purple ones mine):
With 60,000 annual deaths due to the cold compared to 800 resulting from extreme heat, Guido can only hope that rising average temperatures will save more lives in the future, as a real demonstration of climate justice in action. Always see the sunny side…
I agree. One would think activists would hope for hotter days. Warm weather saves lives.
In any event, it rained in southern England Tuesday night. Wednesday morning was quite cool. Temperatures are now back to normal.
Crisis averted — for the most part.
That said, there was a spate of fires because of dry weather, including a terrible blaze in a village east of London that lasted for hours. It was breezy, so the firefighters had a horrible job on their hands. My prayers go to the residents of that village and those elsewhere who have lost their homes and property.
Wednesday's vote
On Wednesday morning, we had three candidates left. Political geeks hoped for a three-way tie, which would have forced an immediate run-off:
Guido wrote:
At 4 pm today we will learn who the final two are. MPs vote from 1 pm to 3 pm, though we're still not clear whether they'll vote for the candidate they want to win, or the candidate Grand Marshall Gavin Williamson has told them to vote for. Kemi Badenoch's 59 ex-backers won't have had a moment's silence since she got knocked out yesterday. If this were a TV drama, today would be a fantastic half-time series final. 
… If that wasn't enough excitement, we also get Boris's last PMQs proper. His attendance may be a bit awkward, however, given he's already said his goodbyes and bowed out during last week's session, implying he may be unavailable to do today. Now his No. 10 team will be having to come up with more perorations and Starmer put-downs. Will the Tories clap him out? 
… there's the numerical possibility all candidates could tie on 119 votes each. Already Sir Graham's had to draw up contingency plans for an emergency re-vote tomorrow if such an event [occu]rs. There are concerns Westminster could be facing an imminent popcorn shortage…
In the end, while the vote was close, Penny Mordaunt lost.
Rishi Sunak had the most votes — 137 — and Liz Truss came in second:
Membership ballots
Meanwhile, 3,500+ disgruntled Conservative Party members are demanding that Prime Minister Boris Johnson's name be added to their ballots.
On Wednesday, July 20, Guido reported:
More than 3,500 Conservative Party Members have written to the Conservative Party Chairman demanding Boris Johnson is allowed to compete in the forthcoming leadership election. The petition, launched by Conservative Post, claims "our first choice has been removed without our involvement" and has the backing of prominent party figures like Lord Cruddas and David Campbell Bannerman … Guido understands it has at least annoyed CCHQ by clogging their phone lines…

The petition does say a lot about the sentiment within the Tory grassroots, just as they are about to choose the next Prime Minister. Thousands of members have signed up to a letter that describes how morale is low, with grievances arising at a Parliamentary party with a "vested interest" against Boris. No doubt such strong feelings towards Boris, and those who ousted him, could prove an interesting dynamic in the election. The Tory members share a similar belief to the Labour Party: Boris is a vote winner.
CCHQ plans to send ballots to Conservative Party members out the first week in August. Online voting is also available. Members will receive security codes for online votes.
Members may vote more than once, should they change their minds, although only their most recent vote will count.
A debate on the BBC between the top two candidates is scheduled for Monday evening.
One of Rishi Sunak's backers had told Guido that, if the ballots are available too early, his candidate might fare poorly. With ballots going out after the debate, that is no longer a concern. Yet, it is worth noting:
One Sunak backer told Guido this could be especially damaging to their preferred candidate should he make the final two, given he knows all too well he faces an uphill battle among members to win over support – not least proved by this afternoon's YouGov poll. Sunak's key strategy is to win members over with his ability to perform during the regional debates and hustings, as his team believes he proved he could do during the TV debates. The fear is that if CCHQ sends ballots out at the very start of the debate – and opens electronic voting at the same time – the vast majority of members will return their forms immediately, not giving Sunak time to win over doubters. 
Even MPs supporting rival camps worry that while their candidate might benefit from this CCHQ timetable, there's an essential need to "kick the tyres" on the final two candidates to make sure there isn't a repeat of only discovering Theresa May's inability to communicate come the election. Expect this row to take off the moment the final two are confirmed on Thursday…
Early signs that Rishi won't win
At this juncture, it looks unlikely that Rishi Sunak will win the Conservative membership contest.
A YouGov poll published on Tuesday, July 19, shows that every other candidate would beat him:
Think of it this way: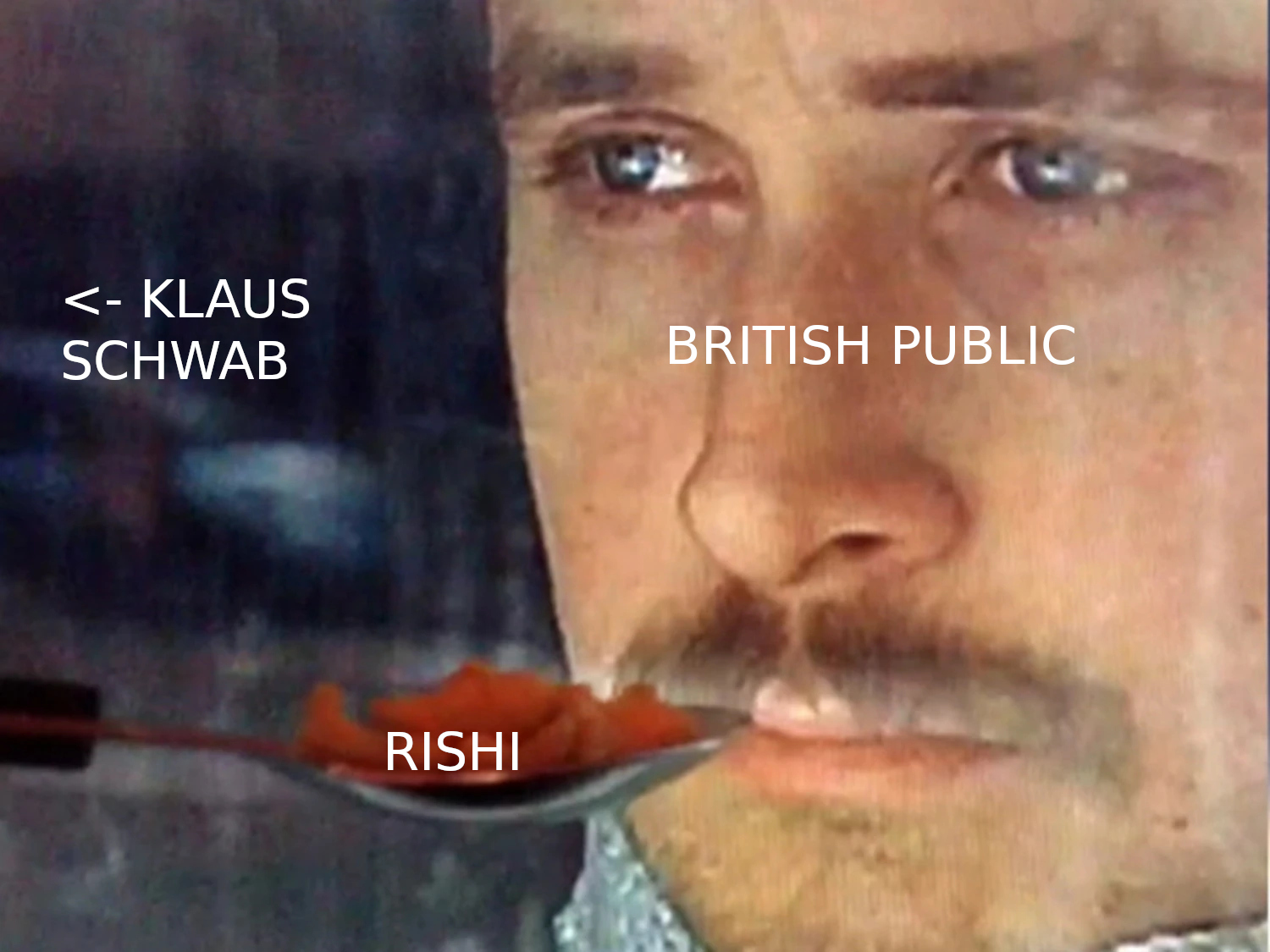 Why Rishi could lose
After Rishi resigned as Chancellor, Nadine Dorries, the Secretary of State for Digital, Culture, Media and Sport, appeared on GB News to give us the lowdown on Rishi. She told Dan Wootton that he didn't work very hard:
She alleged that neglecting his duties gave him a lot of time to prepare his leadership candidacy:
Another MP who thinks that Rishi did not do a good job as Chancellor is John Redwood: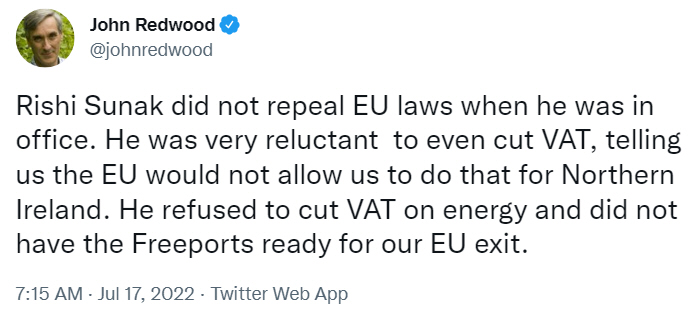 Returning to Nadine Dorries, the public had been disgruntled with Rishi prior to her interview, largely because of his financial and immigration situation, as GB News explains:
his stock has taken a tumble recently following disclosures that his wife had non-dom status for tax purposes and he held on to his US green card while serving in Government.
She suspects that Boris's former adviser Dominic Cummings has a hand in Rishi's candidacy:
Ms Dorries also warned about Mr Sunak's relationship with former Downing Street adviser Dominic Cummings.
She said: "His support for Rishi is off the scale.
"I think it's only because Dominic wants to be back at the heart and that should be a terrifying thought for anybody."
Dorries, probably Boris's staunchest supporter, told Wootton that the Prime Minister should not have been ousted as Party leader:
… the 65-year-old went on to say that "the Remain establishment, Labour and Putin were the three that wanted him out the most."
Referring to the Prime Minister, Ms Dorries added: "He got us through Covid, he lifted the restrictions, he delivered Brexit, so many policies I could just list them forever, all of these have been delivered."
Wootton also had a panel discussion about whether Rishi was trustworthy. One participant said that Rishi should have done his job rather than plot against Boris:
People will not forget his disloyalty:
Early in the contest, The Sunday Times took a poll of the British public and Conservative voters as to whom should succeed Boris. Together, 'Don't know' and 'None of the above' totalled 58 per cent; read 'Boris'. Also note the response from Pippa Crerar of the Labour-friendly Mirror:
A poll that YouGov took for The Sunday Times, conducted on July 12 and 13, showed that Rishi would lose against any of the remaining candidates: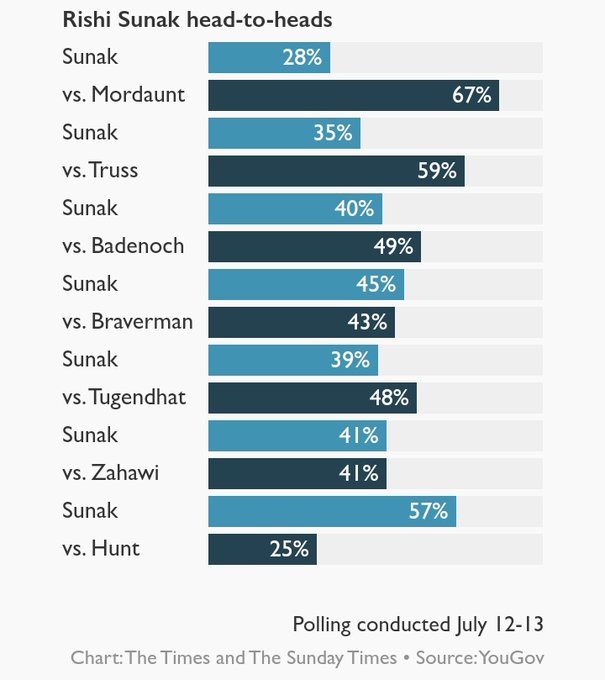 Rishi launched his campaign on July 12. Oddly, he took questions from television news reporters but none from newspapers, except from The Sun's Harry Cole. Cole had to embarrass him into it:
Rishi's campaign message of unity did not go down well with the public:
Dan Wootton had another editorial and discussion on Rishi that evening. Wootton called him 'a big state globalist assassin' and said that Conservative Party members would not back him:
Here's the video:
In the panel discussion, the Revd Calvin Robinson called the former Chancellor 'a socialist':
The next day, Wootton had more, urging MPs to listen to Party members when voting:
GB News has a transcript of his editorial, in which he said:
So all week the usual suspects in the political establishment and the MSM, especially the BBC, ITV News and Sly News, have been trying to convince you that Rishi Sunak was the inevitable candidate to replace Boris Johnson as Conservative Party leader and thus become the Prime Minister of this great country.
As ever, they've been selling you a load of utter piffle cooked up in the Westminster bubble.
But, from the moment Boris was brutally deposed in that completely unnecessary coup, I've been telling you there's zero chance Tory Party members – many of whom are horrified about the treatment of the Prime Minister – will elect the knife-wielding ex-Chancellor …
Tory grandees might think Sunak can win it, but he won't.
Spiked's Brendan O'Neill fears that Sunak is, at heart, a technocrat who does not care about the people:
Body language analyst Judi James says that Rishi's delivery is awful, from his speech patterns to his awkward gestures. She says that it would not take long for his insincerity to turn into smugness:
Guido discovered that Rishi's earliest backers among MPs were Remainers:
A drilldown of the MPs supporting him this afternoon shows that only 30% of Rishi's supporters backed Brexit in 2016.
Hmm.
On July 14, Lord Moylan appeared on Michelle Dewberry's GB News show to say that Sunak is 'deeply unpopular' among Party members. He also said that Conservatives will pay the price for getting rid of Boris, as he could win elections:
Here's the full video:
Dan Wootton was not letting up on Rishi:
That night, his guests discussed the top candidates, agreeing on 'Anybody but Rishi':
Here's the video:
Boris also urged MPs to back 'anyone but Rishi'.
On July 15, The Mail reported:
Boris Johnson is pushing for failed Tory leadership candidates to back 'anyone but Rishi' Sunak, it was claimed today, amid reports that the whole team at 10 Downing Street 'hates' the former chancellor for causing the PM's downfall.
Johnson, who announced last week that he will step down as party leader when his replacement is decided, has said he will not publicly endorse any candidate or get involved in the increasingly bitter leadership race.
However, Johnson has reportedly made clear in private discussions with failed leadership hopefuls that Sunak should not be his successor.
Citing a source close to one such conversation, The Times said Johnson appeared to be most enthusiastic about his Foreign Secretary Liz Truss becoming Prime Minister.
That day, Bev Turner and her guests discussed the likelihood of Rishi or the other candidates being able to win an election:
While people thought that Kemi Badenoch was 'too young' to progress in the contest, she is actually older than Rishi:
Look how far ahead Kemi was in the Conservative Home poll of July 16. Note that Rishi was in fourth place:
It will be hard for Rishi to shake off public opinion.
A poll done for the Mail on Sunday of July 17 shows that 41 per cent of participants think that he is out of touch with voters:
That's Rishi Sunak.
I would enjoy knowing what his real ambitions are for the future. Becoming Prime Minister would be a stepping stone for something that probably only he, his wife and his in-laws know about.
I do not have a vote in this contest, but if I did, I'd cast it for Liz Truss.
In closing, Dan Wootton started a poll last night asking GB News viewers who their choice was for the next Conservative leader. Halfway through his show, he announced that tens of thousands (he cited two different figures) of viewers had participated.
These were the results halfway through his show:
Boris Johnson 49%
Penny Mordaunt 22%
Liz Truss 15%
Rishi Sunak 14%
Bring back Boris — about whom more will follow in another post. His last PMQs was terrific.
The Conservative Party leadership contest now has three candidates.
The big three, according to MPs
Kemi Badenoch lost in the vote held on Tuesday, July 19, 2022:
Every one of Guido Fawkes's tweets and posts since she lost has laments that 'the only Conservative' is out of the running. More on that below.
These are the votes from Tuesday:
Rishi Sunak just missed getting the 'magic' number of votes — 120 — to propel him automatically onto the ballot to be sent to Conservative Party members. It should be noted that although Tobias Ellwood lost the Party whip for not participating in the vote of confidence in Boris's government on Monday and was unable to vote on Tuesday, the whip has been temporarily restored allowing him to cast a proxy vote.
Not a lot happened, although people at home watching this contest unfold wonder about the incongruity of MPs casting their votes for certain candidates.
A case in point is Sir Desmond Swayne, normally associated with common sense, who is now backing Rishi. He had backed Kemi.
However, Tom Harwood explained on GB News on Tuesday that it all depends on what sort of relationship MPs have with each other.
I'm not sure what Sir Roger Gale is on but he's clearly out of touch when he says the electorate want Penny Mordaunt:
He got a lot of replies. No one agreed with his assessment:
Furthermore, voters still want Boris back. One of Guido's readers wrote (purple emphases mine):
On GB News last night they were split over woke Penny or mad Liz, they were united that Blairite Rishi should not be given the job. But and a big but they all believed Boris should still be there (except Nigel). Dan Wootton also held a poll of 40,000 voters and the overwhelming support was to reinstate Boris.
Kemi — a nation laments
Kemi received many supportive replies to her thank you tweet:
The Times's political editor discovered that, in a poll of Conservative Party members, Kemi Badenoch would have beaten all the other candidates:
It was similar on Conservative Home, going back to July 16 and 17, when they had polled their readers:
The order of play is different from the result of our survey yesterday.
There, Badenoch was top with 31 per cent, Truss second with 20 per cent, Mordaunt third with 18 per cent and Sunak fourth with 17 per cent.
Here, Badenoch wins all four head-to-heads. Truss wins three and loses one. Sunak wins two and loses two. Mordaunt wins one and loses three. Tugendhat loses four.
So Camp Truss, third in the Parliamentary ballot, can argue on the evidence of this survey that she could beat the top two runners in a membership ballot – so her supporters should stick with her.  And not desert to right-of-Tory-centre alternatives such as Badenoch.
… And Camp Badenoch, fourth in that ballot, can say that on the evidence of this survey she can trounce all comers – including Sunak. So right-of-Tory-centre MPs should switch to her if they're not backing her already.
Sadly, MPs have ignored both Conservative and conservative voters.
Many readers voiced their support for Kemi in the comments on another Conservative Home article, 'Which candidate has the most public support and is the most likely to win the next election? And is that even the right question?'
No one likes Rishi.
In 'It should have been Kemi', Tim Dawson, writing for The Critic, said:
Kemi Badenoch was a golden ticket. Conservative members — who, according to Conservative Home, favoured her by a massive margin in any "final two" run off — could see it. The media could see it. The Labour Party most definitely could see it. Tory MPs, sadly, could not.
I am not quite sure what possessed them. Perhaps it was fear: the fear of handing over to someone they regarded as inexperienced. "We need a safe pair of hands," they told each other, in between sipping pints on Parliament's sweltering terrace; Badenoch's "not ready". 
Both main parties have been here before: rejecting more attractive leaders in favour of tried-and-tested old war horses. More recently, this approach yielded Gordon Brown and Theresa May. Further back, Jim Callaghan and Alec Douglas-Home. And what of "leaps of faith"? Well, they produced Margaret Thatcher, Tony Blair and David Cameron. Only Conservative MPs could consider this history and plump for the don't-rock-the-boat option.  
I suspect the Right's somewhat eccentric notion of hierarchy will have had something to do with it, too.
It was "Liz's turn". Truss is foreign secretary and it is inarguable that she understands high office. But, she is also … well, weird. The nasal voice; the maladroit presentation. The Margaret Thatcher cosplay. As Tory Twitter worked itself into a frenzy over the last week it became obvious who supported Truss because they kept noting that "charisma doesn't matter". 
But charisma does matter. A Prime Minister must be able to communicate — to connect — and the harsh reality is, as we saw in both TV debates, Liz Truss has nothing on Badenoch. She is May 2.0; in fact, I give it a week before the Trussbot starts dancing.
Rishi Sunak and Penny Mordaunt are also flawed. Sunak is slick, yes, and better known but he is intimately embroiled in Johnson's car crash, and there are serious concerns over the optics of his wealth. 
Mordaunt, meanwhile, is the worst of the lot. She may on the face of it present herself as a traditional jolly hockey sticks Tory – a kind of Hattie-Jacques-on-shore-leave type – but her politics are quite different. Culturally, she is more extreme than many Labour politicians, viewing harmless sitcoms such as Dad's Army as "racist" and deploring the colonial legacy of Britain's honours system. 
Her views on sexuality and gender are even more controversial. She is gaining a reputation as worryingly "economical with the actualité", and it is likely that – if, God help us, she did win – a significant chunk of the "conservative family" simply would not accept her, viewing a period in opposition as preferable to propping up her agenda.
A Kemi Badenoch premiership would have freed the Conservative Party, and the country, of every one of these problems. She offered intellectual ballast, ideological commitment and a history-making fresh start. The other candidates are all, to some extent, continuations of the old regime. Badenoch would have blown apart the consensus and opened up new road.
A barrister tweeted that Dawson's assessment is correct:
Aris Roussinos, not someone with whom I normally agree, wrote an excellent article for UnHerd, 'Kemi Badenoch has saved the Tories'.
Roussinos states his dislike for the top three candidates and is particularly scathing about Penny Mordaunt:
Hostile to everything conservatives — if not the Conservative party — hold dear, lambasting even Civilisation's Sir Kenneth Clark for scoring lowly on the identity politics scoreboard, Mordaunt is the barbarian within the gates of British conservatism. She may, in time, make Labour a perfectly adequate junior minister, but a Tory leader she is not.
Of Rishi Sunak, he says:
a party ready for Rishi, in these circumstances, is simply one desirous of death.
Roussinos says that Kemi Badenoch understands Britain's current malaise and could fix it, given a chance:
… of all the candidates, she was the one who was willing to address the fact that Britain is not working, and cannot suffer more of the same. The central thrust of her platform was that "it's time for change", and that we are held tight "in the grip of an underlying economic, social, cultural and intellectual malaise". The very first sentence on her campaign website observed that "in 2016 and 2019 our country voted for change, yet still a sense that things aren't working remains." Distinguishing herself from her own party's policies, she declared that "We've had a poor decade for living standards," as while "inflation has made the cost-of-living crisis acute… the problems go back way further." Twelve years into a succession of increasingly lacklustre Tory governments, Badenoch was the only candidate offering the possibility of an upward path. Within the narrow parameters of political speech acceptable within the party, she promised to reform the state rather than just offering fantasies of shrinking it, observing that "the machine is not working", and pledging that "as an engineer, I know how to strip things down and get them to work".
Knowingly or not, she has voiced a national wish list:
Kemi was the only candidate to address the state's incapacity rather than merely its size, railing against a cumbersome machinery which "can't deliver passports and driving licenses on time" and in which "We are spending more than you have ever done, and yet people's satisfaction with the quality of their day-to-day services is falling." 
Her argument was that the state should reduce itself to its core priorities, which would "require schools to concentrate on effective whole class teaching of rigorous subjects rather than allocating tight resources to superfluous support staff and peripheral activities" and in which "we should get the police to focus on neighbourhood crime and not waste time and resources worrying about hurt feelings online". Whatever her rationale for getting there, to achieve a tighter, more competent state on slimmer resources would entail reform of British governance at almost every level: whether or not you liked her framing, this remains a desirable goal in itself.
And indeed, on the multiple domestic crises we face she showed a willingness to use the state, even if only cautiously, that marked her out from the competition. Where Sunak always seemed to be held captive in a small cell underneath the Treasury rather than its master, Kemi proposed to break the Treasury up, creating a new department for economic growth directly answerable to her: a thrilling dash of dirigisme in an otherwise stale debate. On the central issue of housing, she stressed that "I have seen the housing crisis from both the housing department and from my constituency, and I know that supply and delivery [my emphasis] is the problem. We must tackle this in the round to ensure more people can own their own home." On the cost of living crisis she promised an emergency budget, distinguishing her variant of tax cuts from the competition by stressing that they must be "focused" on "those working hard on low and average incomes". On the wave of strikes that will follow us through this year's hard winter, she declared, in a conciliatory tone alien to the other candidates, that "We need to work better with the unions. We need to show them respect." 
The case made for Kemi by various Tory outlets as a rampaging culture warrior, it must be added, always seemed mistaken in its emphasis. The culture war, tiresome and interminable as it is, is simply a battle for control of the state's largesse, kept pointlessly alive in the nation's discourse only as a convenient source of attention and income for the news industry and its roster of tame talking heads. Instead – and this was a major argument in Kemi's favour – she understood that the culture war is downstream from government funding, and therefore that the only means of finally laying it to rest is by withdrawing the state's inexplicable subsidy of its identitarian enemies. As she observed, the government has over the past few decades "piled into pressure groups and caved in to every campaigner with a moving message", draining the state's budget on sustaining a parasitical caste of activists who frustrate governance at every turn …
Her argument that she supported, simultaneously, "free markets, limited government [and] a strong nation state" suffered from the same internal contradictions of almost all modern conservatism, the first two being antithetical to the survival of the third. Yet of all the candidates seeking to square this impossible circle, Kemi always seemed the one with the greatest possibility of success, who, at least by aiming for reform, may just have brought good governance in her wake.
The party may not have been persuaded by the case for Kemi, at least this time round, but the enthusiasm she summoned up from the party base, and from conservative commentators of wildly differing stripes, left the Tories with a vision, only partly formed but still powerful, of a successful future. She exits the contest as a strong candidate for the years to come, having made the party listen to a message it must heed if it wishes to exist. As Kemi said, in what we must hope will not become one of the great missed turning points in British history, for the Tories as for the country as a whole, "this is no time for steady as it goes, sinking into decline. It's time for change."
Guido's post on Kemi's defeat garnered 456 comments, all of which are on topic.
One person wrote:
Badenoch – the only one with true Tory values, her background would close down nearly any potential Labour attack lines, no association with previous regime, massive support in the party membership and excitement in the more trustworthy media outlets – she represented a genuine prospect to turn the party around. And now she's gone. I feel quite sad about it.
So do I.
To make matters even more poignant, today is Boris's final PMQs (Prime Minister's Questions).
There is one good thing, though. Everyone now knows who Kemi Badenoch is.
Many of us hope that she will get a good Cabinet post. Failing that, I hope that she is vocal on the backbenches.
May God bless this lady, her husband and her family.
I will have more on the leadership contest tomorrow.
Before discussing the latest developments among the candidates for Conservative Party leader, let's look at the weather here in England.
The weather presenters have been going on for a week about how hot it's going to get here. From the beginning, they forecasted 40°C temps, roughly 100°F. Weather maps have been given a deep red colour, as if we're going to burn alive.
Monday and Tuesday were going to be the hottest days of the week. Monday's high was 38°C, reported in only five places, two of which were airports, so I discount those.
The other three were Cambridge University Botanical Gardens, Cavendish, Suffolk and a village called Sancton Downham.
One of Guido Fawkes's readers posted a photo of the Cambridge location, which makes it suspect. The first photo shows the area when the weather station was first installed. The photo on the right shows what the area looks like today: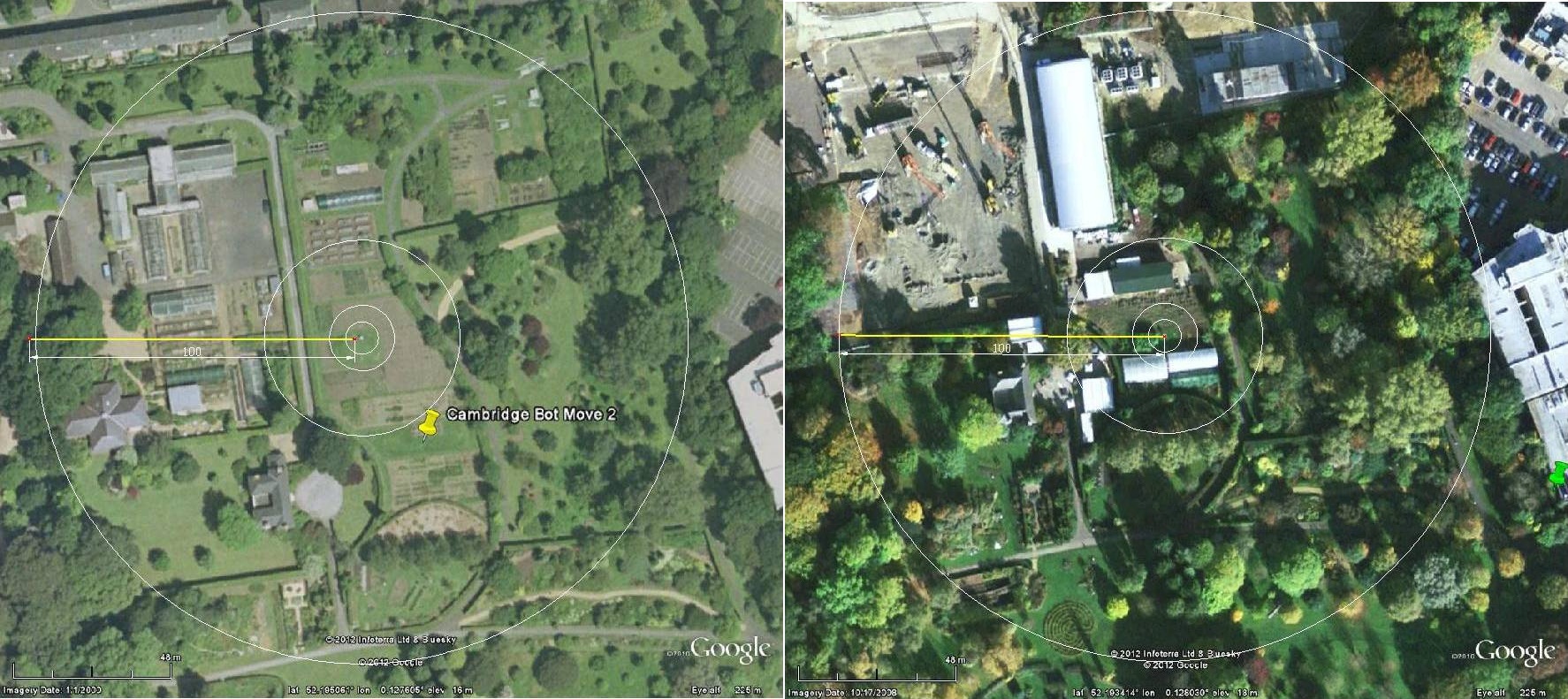 Guido's reader commented (emphases in purple mine):
… the siting of Stevenson screens is crucial when recording temperature change. As I type the Cambridge station is now recording the highest temperature in the UK but it has been surrounded by new buildings which invalidates its scientific accuracy. It certainly must not be used to claim all time highs.
The unit and sensors should also be positioned in open space away from any nearby potential sources of heat such as buildings, airports and brick walls, where free circulation of air can occur, and over a natural surface, grass is recommended as other surfaces such as concrete can cause significant error leading to all time high temperatures being recorded inaccurately.
Was it warm yesterday? Yes.
Was it pleasant? Of course. I did some heavy duty gardening.
I do not understand why the British panic over summer temperatures, especially since most of them go to scorching hot climes on holiday. This graphic sums it up well: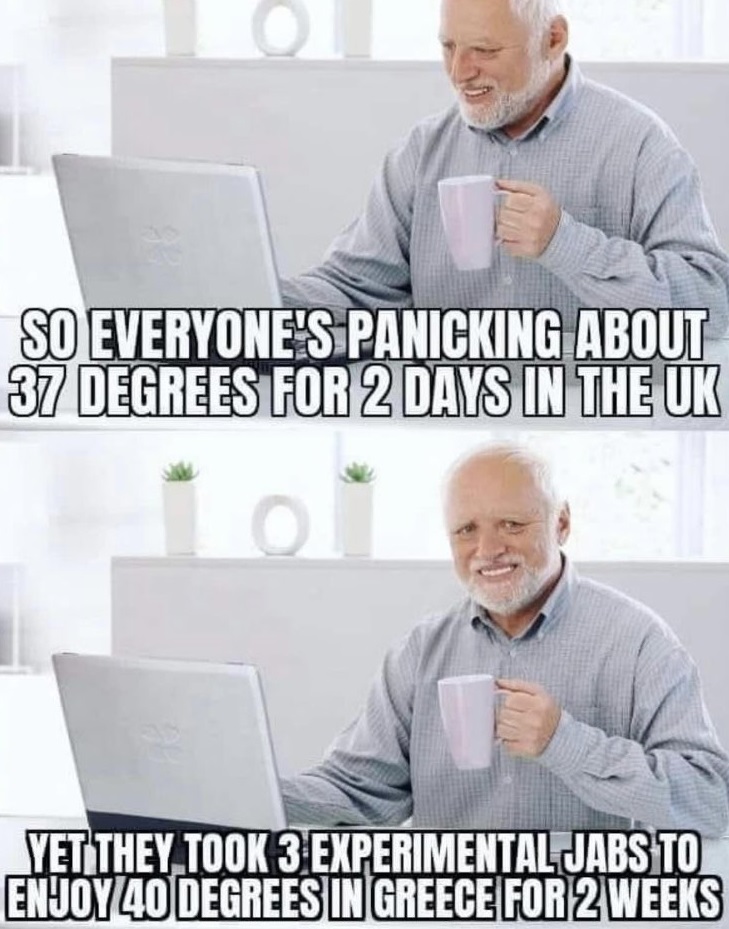 It's hard not to agree with this university lecturer, who wonders how ever created an Empire when we are such Moaning Minnies about heat. Were the British made up of sterner stuff in the 18th and 19th centuries? Perhaps so:
Now on to the Conservative Party leadership contest.
Monday's vote: Tugendhat's out
Conservative MPs voted again on Monday, July 18, 2022.
Tom Tugendhat, our Army superhero, was eliminated from the contest:
Was this his mode of transport home?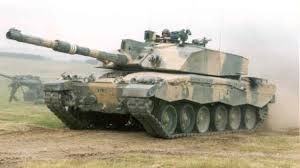 Here's Tom in an Army sweater:
He made a video thanking his supporters:
Guido Fawkes gives us Tom's main statement:
I have been overwhelmed by the response we have received across the country. People are ready for a clean start and our party must deliver on it and put trust back into politics.
No doubt the ladies at Mumsnet enjoyed it:
The final four
Going into Tuesday, these were the final four candidates:
Guido has Monday's vote tally. Results went down as well as up (red emphases his):
Rishi Sunak – 115 (+14)

Penny Mordaunt – 82 (-1)

Liz Truss – 71 (+7)

Kemi Badenoch – 58 (+9)

Tom Tugendhat – 31 (-1)

OUT
Penny's lost support, Kemi is still in contention. Liz is now second favourite at the bookies. All to play for…
Guido had more analysis later in the day:
Whilst tonight's leadership vote-off is unsurprising in that sense, the way the votes have gone for the remaining candidates are much more interesting.
Penny has gone down one vote, totally stalling. While she still leads Liz Truss, this trajectory will kill her momentum. Kemi has done very well; gaining nine backers to Truss's seven. While tonight's result in terms of eliminating Tugendhat may have been predictable, the remaining results make the final two more uncertain than ever. Though Rishi is now guaranteed a space in the final two…
The next vote took place on Tuesday afternoon. I will have an analysis of the results on Wednesday.
Conservative Party members see things differently
After Conservative MPs whittle their choices down to two candidates, the Party will send ballots out to members to vote for their choice, with a new leader — and new Prime Minister — to be in place by September 5, when Parliament reconvenes.
Note the latest polling from the Grantham and Stamford Conservative Association, which I featured last week. Kemi Badenoch was — and is — still in the lead. Rishi Sunak comes in a rather distant third:
Guido says:
The slick Rishi machine has to move the dial with the membership in a big way…
Rishi Sunak
Rishi is in a bit of a pickle, which gives Labour a lot of ammunition should he be our next Prime Minister.
The pandemic turned a lot of Britons into supporters of big state government, as Lord Hannan points out:
On May 26, the then-Chancellor announced a handout of £400 to all households in order to help them with rising energy costs:
The financial support has now been distributed.
Is it a good plan? Guido reported on the reaction from various think tanks.
The one from Taxpayers' Alliance resonated with me most:
The TaxPayers' Alliance isn't impressed either, claiming the move is "little more than the government taking with one hand and giving with the other". Chief Executive John O'Connell said:
Taxes are the single biggest bill families face and these huge handouts will see politicians hoovering up the incomes of struggling taxpayers, creating a cost of government crisis. If the chancellor wants to boost growth and help households, he can deliver both right now by bringing forward the planned income tax cut and slashing costly levies on energy bills.
But that was not all.
Rishi outlined other plans, altogether resulting in a £15bn bailout:
Guido has a summary:
As expected, Rishi has fired up the money printer once again to combat inflation. The Treasury claims it'll cost £15 billion, with £5 billion a year supposedly coming from the newly-announced windfall tax "energy profits levy". Here's what to expect:
Windfall tax on oil and gas companies.

Projected to raise £5 billion a year.
One-off 'cost of living payment' of £650 to approximately 8 million means-tested households.

 Two lump sum payments directly to bank accounts.
Households already receiving winter fuel allowance will also get a one-off payment of £300.
Those on disability payments will also get of £150.

Many of those in receipt of this payment will also be eligible for the £650 sum, bringing their total support to £800.
Universal grant of £400 to all households.

 Doubling the £200 energy bill loan, and turning it into a full grant.
Rishi boasted when making the announcement that his plan is more generous than that proposed by Labour's Rachel Reeves. The levy will raise £5 billion a year, and this will cost £15 billion. The difference will have to be financed by borrowing repaid by taxpayers…
People were shocked.
Labour won this round.
In Parliament, Shadow Chancellor Rachel Reeves said:
We pushed for the windfall tax. They've adopted it.
We said the buy now pay later scheme was wrong. Now they've ditched it.
This government is out of ideas, out of touch and out of time.
When it comes to the big issues facing the country, Mr Speaker, the position is now clear:
We lead. They follow.
Former Labour leader Jeremy Corbyn, who was Boris's opponent in the 2019 general election, was also pleased:
This was Jeremy Corbyn's plan in Labour's 2019 manifesto. It included a windfall tax:
Taxes in Britain are now at a 70-year high. Who was Prime Minister then? Labour's Clement Attlee:
Lord Hannan, a former MEP, fears this will be a permanent development. He might well be right, unfortunately:
The plan made two front pages:
Cabinet members reacted the following day, including Jacob Rees-Mogg:
According to The Times, Rees-Mogg raised concerns in Cabinet yesterday, suggesting "the package would be better funded by reducing government spending on infrastructure projects." The paper puts BEIS Secretary Kwasi Kwarteng in this camp as well, with him telling allies he's particularly concerned by BP's announcement that it's reviewing its plans to invest in the North Sea. Guido agrees with the anonymous cabinet minister who said "The politics of this is just so bad. We voted against it, we marched the whole party up the hill and are now taking them back down again. It looks like we're being dictated to by Labour"…
Conservative MP John Redwood said that taxation does not equal prosperity:
On May 28, Lord Hannan wrote an excellent editorial for The Telegraph, 'The Tories have almost wholly given up on conservative principles. What a tragic waste'.
Excerpts follow:
The Tories have almost wholly given up on conservative principles. They used to argue that lower taxes stimulate growth and so lead, in the long run, to higher revenue; that countries, like families, should live within their means; that individuals spend their money more wisely than state bureaucrats; that arbitrary and complicated taxes are as much a deterrent to investment as high taxes. Not any more …
When George Osborne imposed a one-off tax on energy firms in 2011, the Treasury Red Book predicted that it would bring in £2 billion. Instead, oil companies cut their North Sea investments and tax revenues fell.
Again, Johnson and Sunak know this. As recently as three months ago, the Chancellor was telling us that the "obvious impact of a windfall tax would be to deter investment". Both men understand that the only way out of our present predicament is through growth. Both understand that the way to achieve higher growth is to cut spending, scrap regulations, remove trade barriers, and ensure sound money. But these things are usually unpopular in the short term, and that seems to be their chief consideration.
We are thus in a negative feedback loop. When voters see the Conservatives, supposedly the party of fiscal responsibility, spraying cash around, they conclude that there must be plenty of depth left in the Government's reservoir. When they see a Tory Chancellor promising to bring in extra revenue by hiking corporation tax – despite the experience of cutting corporation tax rates from 2011 and seeing revenues surge – they naturally believe him. All this then heaps pressure on ministers to spend even more …
It was all so unnecessary. Outside the EU, Britain could have become freer and more competitive. We had a Conservative Government with an 80-seat majority, for Heaven's sake. We could have scrapped Brussels regulations, flattened and simplified taxes, embraced global markets, slimmed the civil service, decentralised powers and broken cartels. We could, in short, have made this the most attractive place in the world to do business.
Yes, the pandemic was an unforeseeable distraction – though, even then, some reforms could have been pursued. But nearly a year has passed since the end of the restrictions in Britain, and it is now depressingly clear that there is no plan to make use of our opportunities. After all their talk of buccaneering Britain, our leaders have shied away from almost every difficult economic decision. What a waste. What a tragic, needless waste.
Of course, Nadhim Zahawi is our current Chancellor. For how long remains to be seen. However, it will be difficult for him or his successor to roll back on Rishi's plan. Labour won't allow it. Either way, it will play to Labour's advantage between now and the next general election.
Let us look at more recent developments.
When Rishi resigned as Chancellor, the press gathered outside the Sunak mews house in Kensington, London.
The Infosys heiress Mrs Sunak, in the tradition of other politicians, brought reporters mugs of tea:
One reporter expressed his appreciation:
Boris Johnson had only just stood down as Party leader when Rishi declared his candidacy to succeed him. Note that Channel 4's poll participants still wanted Boris to stay in No. 10:
'Ready for Rishi' launched on July 8, complete with a video on his family's arrival in Southampton on the southern coast of England. Rishi was born there:
Not surprisingly, Rishi's promo did not include this clip from a 2001 documentary he participated in as a student at Winchester, one of the nation's top public (very private) schools. This is from the BBC's Middle Classes: Their Rise and Sprawl, shown in March 2001.
Rishi glibly says he doesn't know any working class people. His father looks on admiringly:
Bim Afolami MP, who is one of Rishi's supporters, defended his friend's quick launch. Afolami said that all the video clips were there for his team to sort through and compile in 24 hours. Afolami said that it was not unusual that Rishi arranged for his campaign website in …. 2020:
Staunch Boris loyalist Nadine Dorries told Dan Wootton on GB News that Rishi was able to launch his campaign because he wasn't at work:
Wootton asked whether Rishi was 'too duplicitous' to be PM:
Ninety-two per cent of those responding to his poll said YES:
Patrick Christys added to the doubt that many have about Sunak, from the timing of his campaign launch to his Boris backstabbing:
At the launch of the candidates' contest, the public reacted negatively to Rishi.
One person was incredulous that both Boris and Rishi received Fixed Penalty Notices for Partygate, yet Boris had to resign only for Rishi to run as his successor:
Another predicts that the Conservatives will lose the next general election. The Opposition will fire too much ammunition Rishi's way:
This chap objects to all of the top candidates:
I will leave it there for now.
More to come tomorrow, including an analysis of Tuesday's vote.
On Monday morning, July 18, 2022, this was where the candidates for the Conservative Party leadership stood with their fellow MPs:
A third vote took place this afternoon. Sir Graham Brady, chairman of the 1922 Committee, announced the result at 8 p.m. More on the outcome in tomorrow's post.
Weekend debates
The final five candidates participated in two debates this weekend: one on Channel 4 on Friday evening and the other on ITV on Sunday evening.
Guido Fawkes summed up the results as follows (purple emphases mine):
The polls after both Channel 4's Friday debate and ITV's Sunday debate will have provided major morale boosts to Team Tom and Team Rishi, though whether they change the dials for tonight's vote – set to be released at 8 pm – remains to be seen. Certainly Liz Truss's declared supporters haven't relented in promoting their candidate over the weekend despite said polls saying she came across rather poorly, the moniker 'Maybot 2.0' already cranking into gear by rival camps.
I'll go into more detail below.
Sky debate cancelled
A third debate was to have taken place on Sky News on Tuesday, July 19, however, Rishi Sunak and Liz Truss pulled out, so, despite Penny Mordaunt and Kemi Badenoch saying they would participate, the broadcaster has cancelled it:
Guido's post says:
Guido has confirmed Steve Swinford's report that Rishi and Liz have decided to avoid another round of the blue-on-blue mutually assured destruction of a televised debate. Last night candidates accused each other of being socialists.
Team Truss say: "It is not the right time to be doing more debates when this part of the contest only has 358 voters. The broadcasters should stop squabbling amongst themselves. The C4 debate in particular was a massive mistake and candidates were wrong to take part in it."
Hmm.
Channel 4 debate
It would have been great if GB News had been able to host a debate, but, since the American-style format launched here before the general election in 2010, Channel 4 has always hosted one.
News presenter Krishnan Gurumurthy was the host. I remember the years when he was reasonably objective, but, for some time now, he makes no effort to hide his political leanings. Furthermore, it's all about him:
Conservative Home journalist thought that GB News would have been a better channel for the debate:
Krishnan put what he described as 'floating voters' in the studio audience, but they looked like left-wing radicals to many viewers.
His main debate theme was trust.
He asked the candidates whether they trusted Boris.
Rishi Sunak gave the most pointed answer, more about which at the end of this post:
Here's the video of Rishi saying that he resigned because 'enough was enough':
Not surprisingly, Rishi's policies were front and centre of the debate.
He looked irritated when another candidate pointed out what he or she would have done better.
Rishi looked irritated quite a lot.
Liz Truss, on the other hand, looked wooden and stiff.
It's no wonder why neither of them wants to do a third debate.
At the end of the first round, Krishnan asked whether Boris was honest. He wanted a 'yes' or a 'no' answer.
Three of the candidates refused to say either way. Of the other two, Kemi Badenoch said 'Sometimes' and Tom Tugendhat shook his head. His was the only definite 'no':
This is why viewers called it Krishnan's show:
One of the more memorable exchanges of the evening was between Rishi Sunak and Liz Truss over tax cuts. We saw irritable Rishi once more:
Guido has the video of Rishi disparaging Liz's tax cut plan:
However, experts say that Liz's plan is affordable. Guido explains why, beginning with the Office of Budget Responsibility (OBR):
The OBR's latest economic and fiscal outlook estimates that for each 1% of higher nominal GDP, public borrowing in 2024/25 will be 0.8% lower. The Centre for Economics and Business Research (CEBR) forecast is that nominal GDP in 2024/25 will be 5.7% points higher than the OBR assumes. If they are right this alone generates £133 billion of net additional revenues. Against that needs to offset some likely higher spending.
The CEBR argues that
If we assume that public spending will be the same share of GDP as in the OBR projections, this increases the cost of public spending by £34 billion; higher inflation will raise indexed debt payments by about £7 billion while higher interest rates could raise debt payments by as much as £30 billion. Even allowing for all these, it is pretty clear that the OBR's forecasting failures mean that substantial additional net revenues are likely to be generated compared with those expected. Which in turn means that net tax (after allowing for expenditure) receipts in 2024/25 will be about £60 billion more than the OBR's base estimates.
Since these receipts will come from the effects of inflation and fiscal drag meaning that people will be paying more tax than they would have expected, it would not be unreasonable for the additional revenues to be used for tax cuts.
Economist Douglas McWilliams points out that since these receipts will come from the effects of inflation and fiscal drag meaning that people will be paying more tax than they would have expected, it would not be unreasonable for the additional revenues to be used for tax cuts. The £60 billion will cover the tax cuts being advocated by Liz Truss…
Another memorable moment was when gender identity came up:
Penny Mordaunt denied that she supports self-ID, but Kemi Badenoch said that she did. Kemi and Liz Truss worked in the department that Penny did. Kemi urged, 'Tell the truth, Liz', which she reluctantly did.
Guido says (emphases in red his):
Kemi insisting self ID was government policy when she took over as Minister, and had to reverse it herself…
True. It's all in Hansard.
Guido ran a poll on who was more believable — Penny or Kemi and Liz. The latter won by a landslide:
And the other memorable moments were when Tom Tugendhat talked constantly — so it seemed — about his military service.
Of course, he gave us no actual details.
Over the weekend, social media saw many people criticising Tugendhat's many mentions of his service to his country, prompting comparisons to characters on past British sitcoms.
Tugendhat also thanked the NHS for giving him two children. He clarified the statement, but it was a comedy gold moment.
One of Guido's readers compared Tugendhat to Uncle Albert of Only Fools and Horses:
Cripes! Please don't encourage Uncle Albert with any more of this military fetishism. His "defend the nation" slogan might be a bit more passable if he didn't look like a foppish library monitor. Come to think of it, maybe the NHS really did give him 2 children – like just handed them over. Not sure how he'd get his leg over otherwise.
Although the debate lasted 90 minutes, time moved quickly.
Notable by their absence were questions about coronavirus lockdowns and immigration. Then again, Channel 4 supports both.
Subsequent polling showed varying approval ratings.
Opinium said that Tom Tugendhat won. Really?
But Tom Harwood of GB News said that Kemi and Rishi performed the best. I agree on Kemi but not on Rishi:
Earlier in the evening, GB News panellists on Patrick Christys's show discussed the candidates. One said that Penny wasn't trustworthy and that Liz was better:
The Sunday Times had more about Truss, who has a problem gaining traction among certain Conservative MPs, it would seem:
Truss is seen as the Johnson continuity candidate, supported by staunch allies of the prime minister such as Nadine Dorries and Jacob Rees-Mogg. The born-again-Brexiteer from Paisley and Leeds has been marked out as a strong contender by influential figures on the Tory right for some time. In December, shortly after his return to the Daily Mail as editor-in-chief of its parent company, Associated Newspapers, Paul Dacre tipped her as a "comer". He wrote in The Spectator: "She is clearly a toughie, possessed of a steely self-belief, an imperviousness to the media, a healthy contempt for the male species, a seemingly genuine belief in a low-tax, small-state economy and a disarming habit of asking abrupt questions and dismissing the response as 'bollocks' — a tactic clearly designed to gain further elucidation."
But Truss is in third place after the second round of parliamentary voting, with the backing of 64 MPs. Despite trying to channel Margaret Thatcher in a pussycat-bow blouse and winning the backing of Suella Braverman, who was ejected from the race on Wednesday, she seemed unsure of herself on Friday night. One observer described her as a "robot on Valium". References to her record in government prompted derision in the "spin room" next to the studio, where the Tugendhat supporter Anne Marie Trevelyan, who succeeded Truss as trade secretary last year, openly laughed at her. Truss allies are pleased, though, that the contest is being framed as a battle between her and Sunak. The idea of a ideologically driven run-off between the former chancellor and the foreign secretary could propel her into the final two.
Liz was more relaxed on Sunday evening. She gesticulated a bit more.
ITV debate
ITV's debate on Sunday evening was an hour long.
Julie Etchingham was an excellent moderator.
Unfortunately, she had no questions about either coronavirus lockdowns or immigration.
Tom Tugendhat banged on again about his military service, prompting this response:
The same flashpoints reappeared: tax cuts and gender identity.
Liz pointed out that Rishi as Chancellor raised taxes to their highest level in 70 years:
The subject came up again with Penny. Rishi accused her of being to the left of Labour's former leader Jeremy Corbyn on economic policy:
Yet, Rishi did borrow for daily Government spending during the pandemic:
Here's the gender identity clash between Kemi and Penny. Note the tweeted reply:
China was a new entry, with Rishi insisting he supported the Government's stance:
The Mail has a brief summary of the debate:
Mr Sunak insisted he had never had non-dom tax status but pointed out his billionaire heiress wife was from India, and said he was 'incredibly proud' that his father-in-law had 'built' a highly successful business from nothing; 

Ms Truss took a backhanded swipe at Mr Sunak's style, saying she is 'not the slickest presenter on this stage… I've shown I can deliver as Foreign Secretary'

;

All the hopefuls dismissed the idea of a snap general election when the new PM takes over, saying the focus should be on addressing the cost of living; 

The would-be PMs were asked to put up their hands if they backed Brexit at the referendum, with Ms Truss unable to say she did;  

Mr Tugendhat said all the other candidates were tainted by having served in Boris Johnson's government; 

Mr Sunak issued a campaign video directly trolling Ms Truss for backing Remain in 2016, and describing him as a 'real Brexiteer from day one'

;

Ms Mordaunt used a BBC interview to vent fury at 'smears' and 'toxic politics' as she struggles to stop her PM bid being derailed by a backlash at her trans rights stance

.
Kemi took issue with Tom's 'clean start' approach, pointing out that he has never served in Government:
Serving in Government is not easy. It requires taking difficult decisions. Tom has never done that. It's very easy for him to criticise what we've been doing, but we have been out there on the frontline making the case.
Here is the dialogue between Kemi and Penny on gender issues:
Ms Badenoch reiterated that she had been responsible for reversing the trans policy put in place by Ms Mordaunt as equalities minister.
'I'm saying that when I took on the role of equalities minister, we had to change the existing Government policy which previous ministers had put in place,' Ms Badenoch said.
'What I'm challenging or what I challenged Penny on is what that policy was. She is saying she did not agree with it, but I don't understand how that would be the case if she had been the previous minister. If she didn't agree with it, why was the policy as it was?'
Ms Mordaunt replied: 'I wasn't the previous minister. The stuff in the papers today demonstrates what my policy was and refutes this. I think this whole thing is unedifying, and I would just say to all four of my other colleagues and candidates here, I know why this is being done.
'But what I would say to you is that all attempts to paint me as an out-of-touch individual will fail. I'm the only person on this stage that has won and fought a Labour seat. My constituents do not elect people who are out of touch.'
Ms Badenoch responded: 'Penny I was just telling the truth. I'm telling the truth.'
I would love to see Kemi as our next Prime Minister. She's upfront and straightforward. She manages expectations, not promising a lot.
In the Channel 4 debate she said that increased spending in one area often means less spending in another. We cannot have everything, and the Government simply cannot provide everything for everyone.
Boris's weekend
Meanwhile, Boris Johnson visited RAF Coningsby in Lincolnshire for the flight of his life and hosted a barbeque at the Prime Minister's weekend home, Chequers:
Guido has a report:
… the PM held a well-timed BBQ at sunny Chequers, which unlike his belated wedding party, managed to avoid being scuppered by a relentless media onslaught. According to Politico, 130 people ate burgers and sipped sparkling wine in the sun. Among the guest list were the remaining Cabinet loyalists, No. 10 aides and Dilyn the Dog. Chequers staff may be happy to see the back of him after numerous stories about Dilyn gnawing on antique furniture…
As ever, Boris delivered plenty of gags in his well written, well delivered speech to guests.
He took a gentle swipe at Neil Parish, who stood down for having looked at tractor porn twice on the parliamentary estate. Parish was replaced by a Liberal Democrat, who took his place in the Commons last week:
Boris's tubthumping valedictory speech went down a treat, with one of the best received gags celebrating his successful fibre optic broadband rollout:
Not only has it delivered incredible choice for consumers in the way in which we consume content but farmers in tractors up and down the land can watch whatever they like at any time of day to their hearts' content…
We will never see the likes of Boris's speeches again in Government. How I will miss them.
He spoke about his flight at RAF Coningsby and took a dig at former Chancellor Rishi Sunak:
… we flung that eager craft through footless halls of air and generally put it through its paces and after a while the wing commander said to me do you want to have a go? I said are you sure, it seems very expensive – we only have 148 of them and they cost about £75 million.
He said don't worry, you can't break it and I thought 'oh well famous last words'.
I pushed the joystick right over to the right and we did an aileron roll and then I hauled the joystick right the way back and we did a loop the loop and then I tried a more complicated thing called a barrel roll and we started as they say to pull a few Gs and when I came back to consciousness I could see the sea getting closer and closer.
And I want you to know that after 3 happy years in the cockpit and after performing some pretty difficult if not astonishing feats: getting Brexit done and restoring this country's ability to make its own laws in parliament; vaccinating the population faster than any other comparable country; and ensuring the fastest growth in the G7; and being the first European country to give the Ukrainians the vital military help they need see off Putin's aggression; cutting neighbourhood crime by 31%; lowest unemployment for almost 50 years; gigabit broadband from 7 to 69%; I am about to hand the controls over seamlessly to someone else.
 
But whoever it is I can tell you the twin engines of this conservative government will roar on fantastic public services, dynamic market economy, each boosting the other and there could be no better example of that relationship that symbiosis between government and the private sector than the aviation industry and if you want a final example of this government's ambition I give you not just FCAS or Jet Zero but space flight.
 
This year if all goes well we will launch the first UK satellite in history to enter space from UK soil as Newquay becomes this country's equivalent of Cape Kennedy and I leave it to you to imagine who I would like at this stage to send into orbit but with so much to look forward to and with the UK at the leading edge of progress not just for our national security and prosperity but for the protection of the planet itself.
The Mail on Sunday reported that Downing Street is most unhappy with Rishi:
Mr Johnson is keen to stay out of the contest, but his allies are clear: if Mr Sunak continues to cast doubt on Mr Johnson's integrity, then there will be consequences. 
One ally says: 'Rishi is being extremely pious in his disapproval about the [lockdown] parties, but he was working in the same building the entire time, so he must have known about them too. And he picked up exactly the same number of fines as Boris.' 
It is clear that resentment is still boiling over at the manner of Mr Johnson's eviction from Downing Street, catalysed by Mr Sunak's resignation.
The PM is understood to have grown increasingly frustrated with Mr Sunak during the past year, complaining to aides that his Chancellor would go missing in a crisis. 
One Government source said: 'Sunak was constantly physically and emotionally absent from the project. He governed in a parallel universe, and would refuse to answer his phone when he was needed most.' 
The source said that during the many crises which have dogged Mr Johnson's time in power, he felt he could not rely on Mr Sunak for constructive advice.
A Johnson ally said: 'If Rishi was asked about an issue in Cabinet, usually as either the very first or the very last person he turned to, Rishi would just say, "Oh you don't need to hear from me" – and would often turn his back as he said it, probably unconsciously. 
'And he was conspicuously absent from the media when the s*** hit the fan. He was the submarine Chancellor.' 
Despite Mr Johnson's vow not to interfere in the contest, his closest supporters have been critical of Mr Sunak. 
Jacob Rees-Mogg, who called Mr Sunak 'the Socialist Chancellor', and Nadine Dorries have both publicly backed Foreign Secretary Liz Truss in the race.
It has also been claimed that Mr Johnson would be open to Ms Mordaunt succeeding him if it meant that Mr Sunak did not win the leadership, with the Prime Minister voicing concerns that Mr Sunak would go soft on Vladimir Putin and ease sanctions on Russia. 
The saga continues tomorrow.
Before I get into Thursday's voting results in the Conservative Party leadership contest, readers should note that Labour are no longer afraid of losing the next election.
Please, someone, bring back Boris:
The only candidate who could put the frighteners on Labour is Kemi Badenoch, who is excellent at the despatch box when facing the Opposition.
Thursday's vote result
Sir Graham Brady, chairman of the 1922 Committee of backbench Conservative MPs, announced yesterday's result promptly at 3 p.m.
Unfortunately, Suella Braverman had the lowest votes and had to drop out of the race. She had only 27 MPs backing her.
Going into the weekend, we have the following five candidates:
Guido Fawkes has a summary of Thursday's activity, excerpted below.
Rishi Sunak has received over 100 votes, but overall, he is not doing as well as candidates in past leadership elections:
Rishi is one of the weakest first-place candidates in recent Tory leadership elections, comparing leads in the second round of MP ballots:* … *Hat-tip: Tom Harwood
Penny Mordaunt's work ethic was slammed on Thursday. I covered Lord Frost's damning comments in yesterday's post.
Mordaunt also ran into trouble over past statements she has made on gender identity:
Ran into problems and heightened scrutiny over her trans stance, not least with a blow from newly-eliminated Suella Braverman, who accused her of not standing up for women when pushing for gender-neutral language in the ministerial maternity leave bill

Accused of lying about her trans stance by Team Truss
Kemi Badenoch is, happily, still in the race and is ahead of Tom Tugendhat, who is likely to be the next to be dropped when voting resumes on Monday.
Badenoch received 49 votes and Tugendhat 32, a decrease of five votes for him.
Early news on Friday
Much happened overnight, which I will review in recent campaign activity below.
Suella Braverman is now supporting Liz Truss.
There is likely to be increasing pressure put on Kemi Badenoch to bow out of the race. If anything, pressure should be brought to bear on Tom Tugendhat, who is in last place.
Guido calls our attention to three debates this weekend. One will be online and two will be televised (red emphases his, those in purple mine):
Today things get really interesting: it's debate time. So far candidates have taken lumps out of each other from their respective trenches, today they finally have to go over the top – a special metaphor just for Penny and Tom. Things kick off at ConservativeHome at 1pm, and continue over to Channel 4 at 19.30, where all candidates have confirmed their attendance. Followed by ITV on Sunday and Sky on Monday. 
Debates can make or break candidates at this stage, especially when there are a decent number of votes up for grabs and no one knows who's going to win. In 2019, one debate made Rory Stewart – securing his place in the next round – and the subsequent debate 24 hours later broke him, as he decided to get undressed live on air. In a sign of how febrile things are, even Rishi's agreed to join tonight's Channel 4 debate, an unedifying challenge the frontrunners are sometimes able to duck out of. Will some MPs finally have to recognise that their candidate makes Theresa May's public speaking look relaxed and charismatic? Guido looks forward to finding out…
Let's see what is going on with the various candidates.
Suella Braverman
Suella Braverman, Attorney General for England and Wales, is a committed Conservative, especially when it comes to social issues.
In 2019, along with Northern Ireland's DUP MPs and several other Conservative MPs, she voted to keep abortion illegal in Northern Ireland. However, the Government has since legalised abortion there.
Last Sunday, Danny Kruger, a thoughtful MP and Prue Leith's son, gave his reasons for backing Braverman:
Two days later, on July 12, a Conservative Home poll showed that Rishi Sunak would lose were Braverman the second remaining candidate on the ballot going to Party members:
Were Braverman up against Liz Truss, the vote would have been tied.
This was Braverman's platform — lower taxes, border control, no identity politics and commitment to the Conservatives' 2019 election manifesto:
What's not to like?
She also would have taken us out of the ECHR (European Convention on Human Rights), which is preventing us from deporting faux refugees and serious foreign criminals: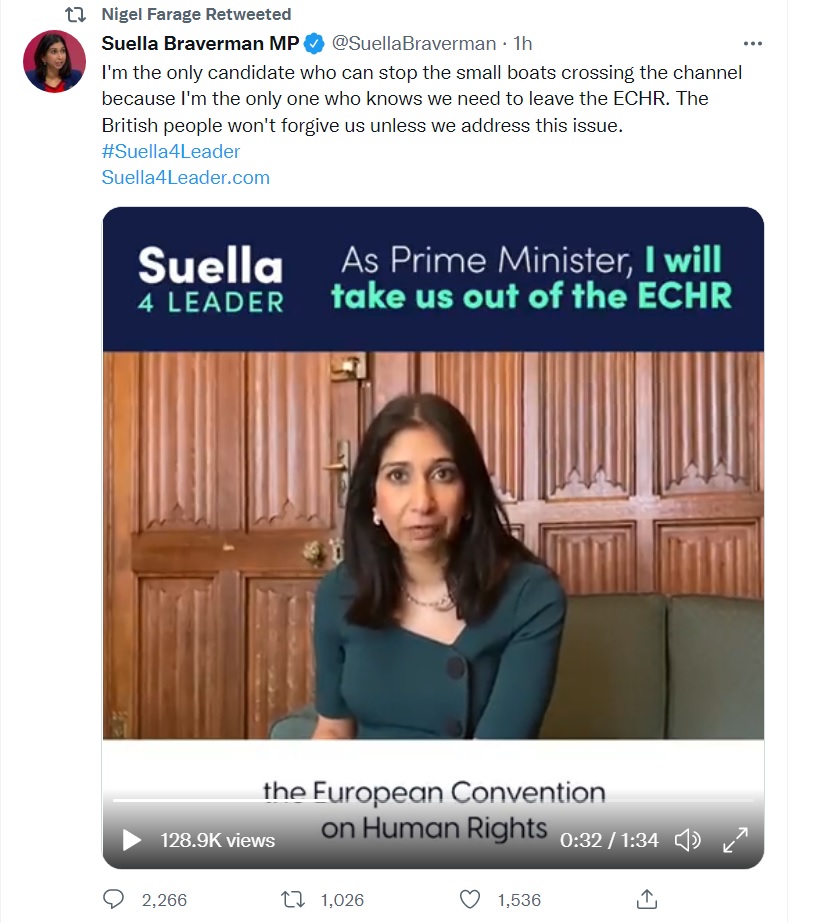 She refused to engage in 'blue on blue' sniping. Here she is with Kemi Badenoch, my other favourite:
Braverman was gracious in defeat:
She swiftly began a media round on Thursday afternoon.
Speaking to Tom Harwood of GB News, she expressed her gratitude for being able to run in the leadership contest, saying it was a real privilege. I agree that she would make an excellent Home Secretary:
She said that she sees both Rishi Sunak and Penny Mordaunt as being on the left. So true:
She criticised Penny Mordaunt's stance on gender identity and accused her of being a 'false Brexiteer':
In an interview with BBC Radio 4, Braverman pointed out that Hansard has a record of what Mordaunt has said in past debates on the Maternity Bill:
She told TalkTV's Tom Newton Dunn why she has decided to support Liz Truss:
I hope that whoever wins will retain Braverman in their Cabinet. She is a true asset to the Conservatives.
Rishi Sunak
Could the wheels be about to fall off for Rishi Sunak, our erstwhile Chancellor?
On Friday, July 15, news emerged that the Chinese government hopes Rishi will be our next Prime Minister:
Guido reported:
This morning Rishi Sunak has successfully won the leadership endorsement none of the candidates wanted: from the Chinese Government's propaganda outfit. Global Times has published an article entitled "China-UK ties 'might improve' with arrival of new PM"; subheading, "Most candidates are tough on Beijing, but 'pragmatic' one wins first round". In the piece, Beijing's mouthpiece notes concern that, despite Rishi winning among MPs, party members might vote for a rival candidate because of tax policy…
Former chancellor of the exchequer (finance minister) Rishi Sunak, the one candidate with a pragmatic view of developing balanced ties with China, has won the first round of voting by MPs.
When Sunak was the finance minister in July 2021, he used his annual Mansion House speech to insist that Britain should beef up its trading relationship with China
Apart from Sunak, almost all of the other candidates hold a very tough stance on China
As I write, mid-day, Guido is awaiting comment from Rishi's team.
In other news, Rishi is losing traction with the bookmakers. He's now in third place:
Guido tells us:
Rishi has fallen from hot favourite to his chances being third rated, with Penny as favourite and an overnight re-evaluation by punters seeing Liz move into the second favourite spot.
Allow me to repeat myself with the aforementioned Conservative Home poll from July 12. According to their readership, likely all Conservative Party members, Rishi could only beat Sajid Javid, who is no longer in the running and Tom Tugendhat, who is currently in last place:
Tom Tugendhat
I do not think that Tom Tugendhat's candidacy will last beyond Monday's vote.
I formed my opinion of him through his participation in House of Commons debates.
He is chair of the Foreign Affairs Committee.
Last August, he spoke about Biden's withdrawal from Afghanistan, where he served with the Army. His contribution gained him a round of applause, which is normally forbidden in Parliament:
America's back – back home.
In 2020, he wrote an editorial on terrorism for the Mail, calling for a return of treason laws, which Tony Blair got rid of:
In 2020, he was critical of China's lockdown policy:
Last year, when there was a suspicion that vaccine passports could be turned into digital identity cards, Tugendhat rightly opposed such a development. talkRADIO's Julia Hartley-Brewer interviewed him on the subject:
Tugendhat announced his candidacy for Conservative leadership on July 7, via an editorial for The Telegraph:
It seems to me that he makes more of his military career than perhaps he should. In one recent interview, he made himself out to be a general (H/T to my reader dearieme):
'What's the worst thing you've ever done?'
'Invaded two countries.'
Guido thinks so, too:
He has the relevant clip:
Anyway, his campaign, increasingly weak, calls for 'a clean start':
A clean start:
On July 8, the Sun featured a profile of him, including his French connection:
Tugendhat is married to Anissia Tugendhat (née Morel).
She is a French judge and civil servant and Tugendhat holds dual citizenship for France and Britain.
According to a tweet from journalist Richard Eden, the pair got engaged in 2013.
Together they have two children, a boy and a girl.
Tugendhat's mother Blandine de Loisne is also French.
Anissia comes from a family of diplomats and her brother has worked in the Foreign Ministry and the French embassy.
We did not know that before, did we? At least Tobias Ellwood told Parliament that he has dual US/UK nationality.
That's probably why he voted Remain in the 2016 Brexit referendum.
He would not be drawn on the subject of whether he regretted his vote. Probably not, then:
The public are suspicious. As he is currently in last place, MPs must be, too:
He launched his campaign on July 12. To calm his nerves, he had a crafty ciggie on the tiny balcony outside his office, forbidden on the parliamentary estate. This, in my opinion, is the only decent thing about him:
I hope he was smoking a Gauloise …
At his launch, he took only two questions from the media:
Perhaps he feared questions about his Frenchness, such as this one:
Candidates, including those running for a position as MP, should declare their nationality or nationalities:
———————————————————————————
I will have more on the leadership contest next week.
For now, I am looking forward to the debates. It will be interesting to see how Rishi and Tugendhat, both of whom are short, look next to Penny Mordaunt, much taller than either of them. Optics are important.
Yesterday's post introduced the ongoing Conservative Party leadership contest.
Today's post will discuss what happened on Wednesday and lead up to Thursday afternoon's vote, the result of which will appear tomorrow.
Before Wednesday's vote
Guido Fawkes wrote the following on the morning of Wednesday, July 13, before the first round of voting (red emphases his, purple ones mine):
Good morning. Six of the eight remaining Tory leadership candidates face an uphill battle throughout the day, as they attempt to reach the 30-MP threshold required in the first knockout round of the contest at 6pm. Rishi now has 48 backers, meaning he can basically sit back and relax for at least the next two rounds, though that hasn't stopped him adding Steve Barclay to his list of supporters this morning. Penny Mordaunt also has the 30 required. The other six, not so much…
All eyes are on Jeremy Hunt and Suella Braverman as the ones most likely not make it, though one of Hunt's backers told Guido last night they believe they have the requisite support. They also described rumours that Gavin Williamson is instructing Rishi backers to temporarily support other candidates like Hunt and Kemi, so Rishi doesn't have to face Liz in the final two, as utter rubbish, though members of other campaign teams believe it is absolutely happening. With Sajid, Shapps and Priti now out of the race, there are 30 newly floating MPs up for grabs…
News overnight includes a policy-light interview with Rishi in The Telegraph, who's trying to get the press back onside after yesterday's scenes at his campaign launch. He says he'll run the economy like Thatcher if he wins. Tom Tugendhat committed to spending 3% of GDP on defence last night.  Penny has used a Times op-ed to commit to supporting families as PM. Stay tuned for her campaign launch at 10.30 this morning…
And:
from now on candidates can also vote for themselves…
Candidates experienced highs and lows, as covered below.
Nadhim Zahawi
When Boris Johnson appointed Nadhim Zahawi as Chancellor of the Exchequer on July 5, it was remarked that he is the first Chancellor with facial hair in 65 years:
Before Harold Macmillan, we have to go back another few decades to find another bearded Chancellor:
Zahawi appears to be the man who convinced Boris that he should stand down as leader of the Conservative Party. On Thursday, July 7, the Daily Mail reported:
Boris Johnson will finally announce his resignation today – but is lining up a 'unity Cabinet' as he battles to stay in Downing Street for months longer.
The PM admitted defeat in the wake of a shattering intervention from Nadhim Zahawi, who was only appointed on Tuesday night following Rishi Sunak's departure. He told Mr Johnson that his situation is 'not sustainable'.
Two days later, on Saturday, news emerged that HMRC (Her Majesty's Revenue and Customs) were investigating Zahawi's tax situation. Hmm:
Zahawi said on a Sunday morning news programme that, if elected Party leader, he would release his tax returns. He complained of being set upon, something Boris knows only too well:
On Tuesday, July 12, he launched his campaign video in which he tells his life story. He arrived in England from Iran with his parents. He started school not knowing a word of English. Fast forward to the past two years and he was able to live his dream. He headed the coronavirus vaccine rollout and went on to become Education Secretary. Today, he is Chancellor. Amazing:
On Wednesday morning, he told LBC's Nick Ferrari that, if elected leader, he would give Boris a Cabinet post:
Guido has the video and concluded:
He's the second leadership contender to make such a pledge after Suealla Braverman. Clearly Zahawi sees some benefit in associating himself with Boris. A swift change of tone considering he was calling for Boris's resignation just a few days ago…
Agreed, but there is no way that a former Prime Minister would take a Cabinet post.
Later on Wednesday morning, someone hacked Zahawi's campaign website and redirected it to Penny Mordaunt's. Penny's website also seemed to have issues:
They are not the only ones, however, as Guido reported that Rishi Sunak's site is banned on the Parliamentary estate:
Website woes are a common theme throughout the leadership campaign, Rishi's site is blocked in Parliament as "insecure" and candidates have had their domain registration timings scrutinised. Turns out this stuff is hard to do right…
Jeremy Hunt
Conservatives either love or loathe Jeremy Hunt.
He served as Health Secretary and then as Foreign Secretary, until Boris sacked him in July 2019.
Hunt ran against Boris in the 2019 leadership contest. In one appearance during that campaign, he said his wife was Japanese. She quickly corrected him and reminded him that she is Chinese.
I wonder if he said that on purpose, because …
During the pandemic, as a backbencher, Hunt proposed Chinese-style lockdowns and mandatory vaccines for healthcare staff.
Nadine Dorries MP recalled a conversation with Hunt in July 2020:
On Christmas Day in 2021, the Mail reported that Hunt's wife presents Chinese state-sponsored television programmes, broadcast on Sky TV from London:
The wife of former Cabinet Minister Jeremy Hunt presents a TV show for China's state-run media that has been accused of 'whitewashing' the Communist Party's human rights abuses.
Lucia Guo, who has three children with the former Health Secretary and Foreign Secretary, appears on China Hour, a series broadcast on Sky TV that showcases Chinese culture to a UK audience.
It is made by the state-owned China International TV Corporation and British-based Dove Media, in partnership with the Communist regime's tourist office in London.
The programme has featured reports on the effectiveness of China's pandemic response and about the beauty of the Xinjiang region without mentioning it is the site of 're-education' camps for its persecuted Muslim Uighur population. 
Ms Guo, who is originally from the city of Xi'an in central China, hosts a feature on the show called Signature Flowers of China. 
It has been broadcast since September and is also available on YouTube.
Human rights campaigners at the US research institute Freedom House last year accused China Hour of being part of the Chinese Communist Party's international media web.
The programme has been praised in Beijing for its viewing figures while its reports on the pandemic have been credited with 'playing a unique role in communicating the Chinese narration of the epidemic to the world'.
On March 13, 2020, three days before the UK's first lockdown, Hunt wanted all British schools closed.
Although Hansard has all of Jeremy Hunt's contributions to parliamentary debates, in May 2022, he tried to walk back his promotion of Chinese-style pandemic measures.
Someone put this graphic together around May 21, a significant date for Hunt, as you will see below: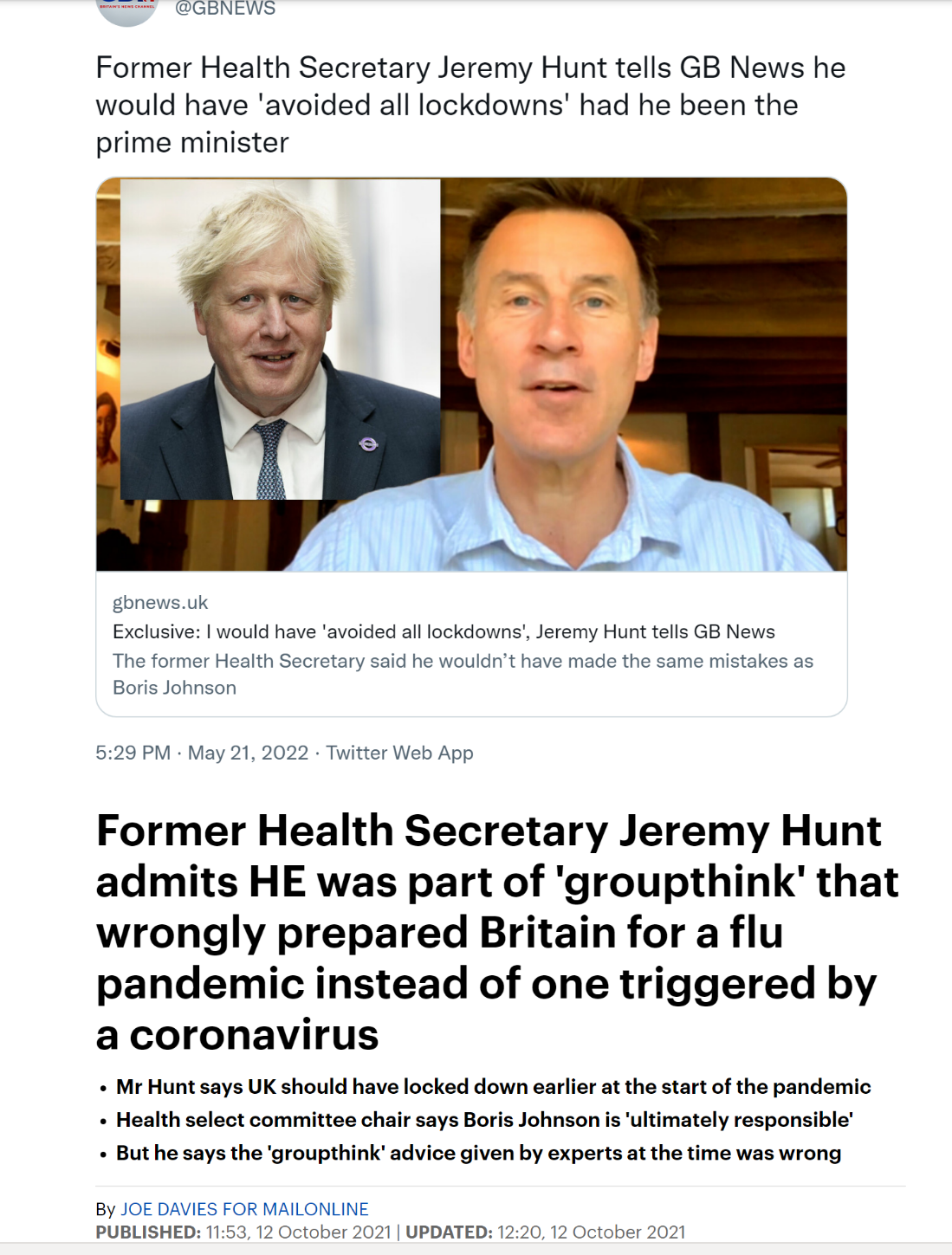 The next day, May 22, he appeared on Sophy Ridge's Sky News programme to say that he did not want to see a Conservative leadership contest:
Guido posted the video and this comment:
Maybe Hunt is one of these Tories who thinks it might be good to lose the next election? He could become leader of the opposition…
That day, a number of letters to the editor appeared in The Sunday Times. The week before, he had written an article for the paper outlining how he would reform the NHS.
A retired GP wrote the Times to point out that Hunt had ample time as Health Secretary some years before, yet he took no action:
What a nerve! Jeremy Hunt tells us "How I would fix the NHS" (News Review, last week) — but he was the longest-serving health secretary in British history and has a huge responsibility for the NHS being in this parlous state.
He did nothing to increase the capacity of our hospitals, which has resulted in ambulances queueing outside A&E departments, unable to discharge their patients. He pledged that by 2025 we would be self-sufficient in "homegrown" doctors, but a lack of planning has resulted in a huge shortage of NHS staff in all sectors. He went out of his way to alienate junior doctors, causing the unprecedented strike of 2014. He did nothing to integrate the NHS with social care.
This is the man who could replace the fool we now have as prime minister. Heaven help us.
One week later, on May 28, an article in the Mail suggested that Hunt had a plan to topple Boris:
Boris Johnson's Cabinet allies have accused supporters of former Health Secretary Jeremy Hunt of mounting a secret pub plot to oust the Prime Minister.
They suspect MPs who attended a dinner at an upmarket bar in West London called The Surprise last week were scheming to trigger a Tory leadership challenge.
The event, held the night before Sue Gray's report into Partygate was published, was hosted by Devon MP Mel Stride, a former campaign chief for Michael Gove who is seen by the Johnson camp as a rebel ringleader.
Also in attendance was long-serving Ludlow MP Philip Dunne, a key ally of Mr Hunt.
The article has two familiar names, in addition to Hunt's. Those MPs entered the current leadership contest:
Of the 16 MPs known to have been there and who voted in the 2019 leadership election, just three backed Mr Johnson.
Five backed Mr Hunt, who is widely expected to mount a leadership bid if a contest is called, while six supported Mr Gove, who is not expected to enter another contest …
Politicians at the dinner strongly denied they were scheming against Mr Johnson and accused his allies of 'paranoia'.
They pointed to the fact that Boris arch-loyalist Grant Shapps – who has himself been tipped as an outside bet for the leadership –addressed the meeting.
But a Cabinet ally of Mr Johnson said: 'Mel Stride is a Goveite looking for a new horse to hitch his wagon to. Many of the people he invited to the pub backed Gove or Hunt last time – including Dunne, who is running Hunt's latest bid.
'Any MP considering backing Hunt must be a masochist yearning for the kind of thrashing we sustained in 2017 and longing for the humiliation of a very long spell on the Opposition benches.
'Without Boris, we will be handing the next Election to a Labour-SNP coalition. But then, some of our pro-Remain MPs and those who think they were naturally destined for high office, are too bitter to care' …
Trade Minister Penny Mordaunt, considered a potential future Tory leadership contender, condemned behaviour at No 10 as 'shameful', telling the Portsmouth News she was 'angry' that people blocking 'reasonable requests to relax [Covid] restrictions, were at the same time ignoring the rules'.
I agree with whoever said that without Boris, the next election will go to a Labour-SNP coalition. Yet, here we are, sadly.
By June 6, the story of Hunt's yearning to be the next Conservative Party leader grew traction, especially with GB News presenters.
Neil Oliver threw his characteristic diplomacy away in this tweet:
Bev Turner shared a Hunt anecdote, wherein he advocated paying domestic staff low salaries:
Someone from Hong Kong confirmed the Chinese way of paying peanuts to domestic staff:
A Conservative Party member chimed in with disgust:
Adam Brooks, the publican who appears on Dan Wootton's show was grateful that Boris was at the helm during the pandemic:
Now let's look at what Jeremy Hunt told Nadine Dorries, Secretary of State for Digital, Culture, Media and Sport, back in July 2020:
Ben Leo, who works on Dan Wootton's show, tracked Hunt down in front of his house on July 9 to follow up. This is an excellent video. Readers won't be surprised to find out that Hunt said absolutely nothing:
Now let us fast forward to last weekend.
GB News viewers were aghast to find out that Esther McVey, an MP many of us admired up to that point, cast her support for Hunt, as did her husband Philip Davies:
Why would a no-nonsense, straight-talking Conservative back Jeremy Hunt?
The answer came on Sunday, July 10, when Hunt announced that, if elected leader, Esther McVey would become Deputy Prime Minister.
Guido posted the video:
She must be stupid if she believes that, I thought. It's like a would-be Romeo trying to seduce a girl. Promise her anything to get her to submit …
Just look at the man's eyes. He often looks like this:
Guido tweeted:
That's me done with McVey and Davies. I liked him, too. No longer.
On Monday, July 11, Dan Wootton warned that Conservative MPs could destroy the Party if either Rishi Sunak or Jeremy Hunt become leader:
He is not wrong in that assessment.
First round voting results
Sir Graham Brady, chairman of the 1922 Committee of Conservative backbench MPs, declared the results of the first round of voting shortly after 5 p.m.
Nadhim Zahawi, the new Chancellor, and Jeremy Hunt were eliminated from the contest:
Conservatives around the nation breathed a sigh of relief at Hunt's elimination from the race.
Perhaps Hunt should have taken a cue when the top of the bell he was ringing flew off, nearly hitting a bystander:
As for Zahawi, he posted a lengthy letter: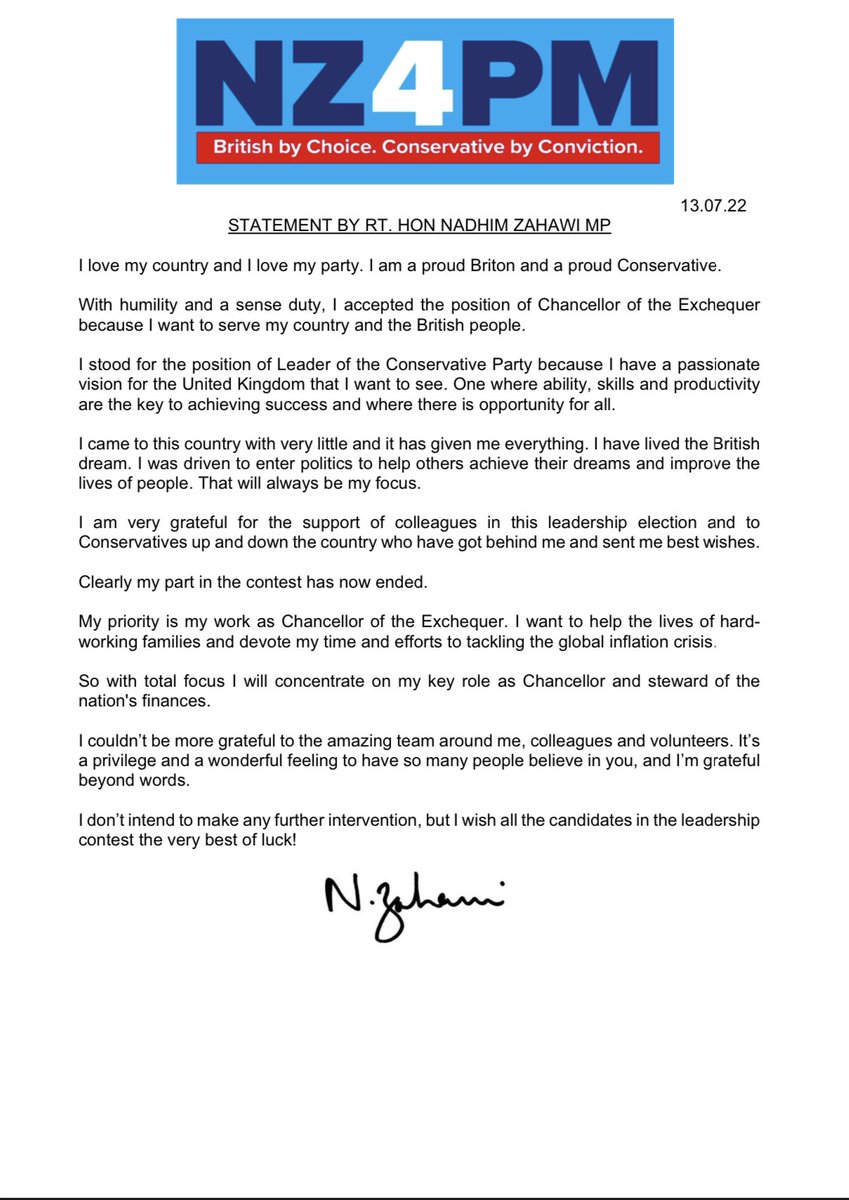 He has a lot on his plate, so perhaps it is best that he focuses on recovering some of the millions that fraudsters took during the pandemic. Those people stole taxpayers' money:
He should also do something about road fuel tax:
Meanwhile, Jeremy Hunt pledged his support for front runner Rishi Sunak:
And then there were six
As Wednesday closed, we were left with six candidates going into Thursday:
Kemi Badenoch, someone around whom most Conservatives could rally, had just over 50 MPs supporting her.
Tom Tugendhat, rather surprisingly, considering that he has a high profile, had fewer than 50.
Suella Braverman, another candidate who makes most Conservative Party members happy, has just over 40.
I think that Braverman and/or Tugendhat will lose on Thursday. Tugendhat is another one who deserves to go.
Guido summed up Wednesday's activity. Highlights follow.
Rishi Sunak could be losing momentum:
… After hogging the limelight with his campaign launch yesterday,

today he resumed being the punching bag of choice for all other candidates

.
Faced some

horrible polling from all quarters, which shows he basically stands no chance of winning among the members if he gets through to the final two

.
Penny Mordaunt did well:
A great day for Penny –

if she wins the contest, today will undoubtedly be viewed as the day she secured the victory

…
Received a major boost from

YouGov polling

that shows,

should she get through to the final two, she'd smash every other candidate

.

Remains a comfortable second among MP backers.
Liz Truss survives another day:
Vowed to halt green levies

Continued her campaign as

the 'Boris continuity candidate'

.
Suella Braverman is unlikely to make it through past Thursday's voting.
Kemi Badenoch does not want tax cuts but has gained support:
Continues to gain support

, not least with her former employers at The Spectator.
Kemi is also opposed to the current form of the dreaded Online Safety Bill, the debates on which could not be completed before summer recess, as the Northern Ireland Protocol Bill, quite rightly, took priority. There is also the debate on confidence in the Government on Monday, which should be interesting: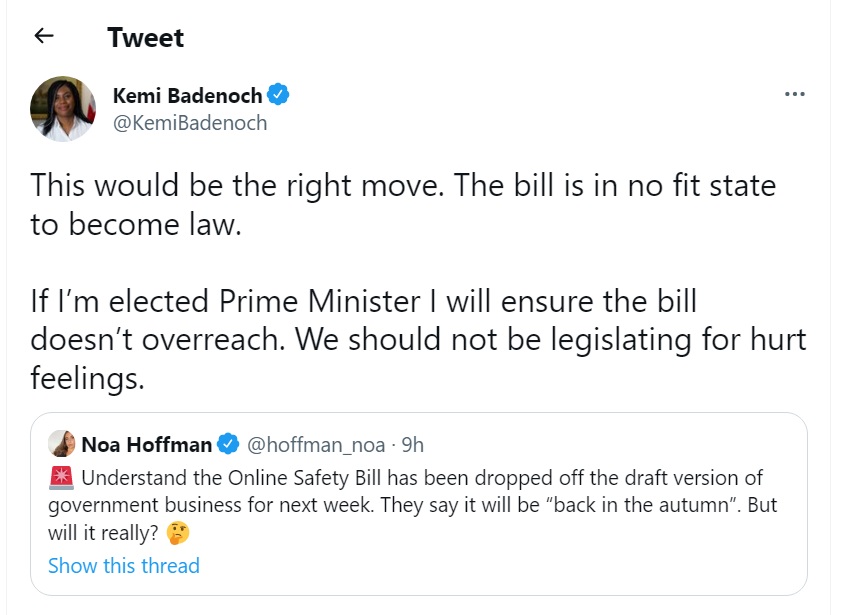 Thursday, before the vote
Guido summed up the state of play on Thursday, July 14. An excerpt follows:
In a few months' time, what will people remember of Jeremy Hunt's 2022 leadership campaign? Nothing, obviously. Seemingly just 18 MPs realised he was running one at all, which is odd as he needed 20 to get on the ballot in the first place. As Sky's Sam Coates asked last night: what exactly does Rishi gain from being endorsed by this competition's biggest loser? He certainly won't gain all of Hunt's supporters – many of them are now angry that Hunt went with Rishi, and not Tugendhat. Mind you, there was already anger towards Hunt from Team Penny, who endorsed him in 2019, as it was very clear he was never considering returning the favour this time around. Et tu, Jeremy…
Today should, in theory, be Truss's day in the spotlight. Her campaign launches bright and early in Smith Square, in two hours' time. They'll be delighted with The Mail splash this morning, which is blatantly campaigning for Liz and telling the right to unite behind her to defeat Rishi. The same front page carries a briefing from someone in the Truss camp accusing Penny of telling lies about her trans stance. Lord Frost has also just taken to the airwaves to slam Penny's record in government, saying she was so rubbish as his deputy he had to ask the PM to move her during the Northern Ireland negotiations…
Yes, this was a damning moment for Penny.
Guido has the video …
… and the quote:
To be honest I'm quite surprised that she is where she is in this leadership race. She was my deputy, notionally more than really, in the Brexit talks last year… I felt she did not master the detail that was necessary in the negotiations last year. She wouldn't always deliver tough messages to the European Union when that was necessary… she wasn't always visible. Sometimes I didn't even know where she was. I'm afraid this became such a problem that after six months I had to ask the Prime Minister to move her on… from the basis of what I saw I would have grave reservations about [Mordaunt].
Guido says that Lord Frost isn't the only one critical of her, either:
On Tuesday, CityAM published damning claims from Department for International Trade sources alleging Penny was "missing for months" as a trade minister and wasn't reliable – something Guido's ministerial sources later confirmed themselves…
As the day unfolded, Rishi tried to make his resignation and leadership candidacy appear sudden, failing to mention that he had his website domain registered in 2020:
On a lighter note, Tom Tugendhat will rue this photo of 'Tom a tart':
Oh, well, he's likely to be out by the end of the day, anyway.
It is unfortunate that so many members of the public cannot identify the next Conservative leader:
Meanwhile, among the party membership, here's the latest from Grantham & Stamford Conservative Association. I am surprised that Mordaunt is doing so well. At least Badenoch is in second place:
Today's vote began at 11:30 and closed at 3 p.m. All being well, I will have an analysis of the results tomorrow.