You are currently browsing the tag archive for the 'Klaus Schwab' tag.
How many times have we heard during the coronavirus crisis that Klaus Schwab's The Great Reset is nothing more than a conspiracy theory?
In reality, it is not a conspiracy theory. It is a book published in July 2020 which outlines exactly how Schwab sees The Great Reset unfolding.
I saw this graphic on another website: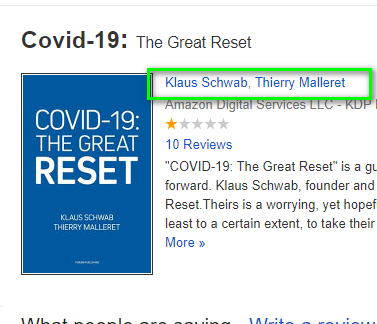 I duly investigated and found a British link to COVID-19: The Great Reset by Klaus Schwab and Thierry Malleret.
The one-star reviews are worth reading. Excerpts follow, emphases mine.
One says:
This is nothing short of a real life "Dr No" Bond movie where psychopaths plan to dominate and take over the world. Yet am I saying that these people are psychopaths? Well, the book contains conflicting words, sentences facts and figures the way psychopaths present, so please read and work that out for yourself.
Another review is a well-written essay. The first two paragraphs follow. The second explains more about Thierry Malleret's role at the World Economic Forum (WEF):
This book explores the current global scenario and discusses what the future might hold for us. We are told we are at a crossroads, one path will take us to a better world, the other will be similar to what we left behind but worse. With a nod to religion (heaven or hell), it is obvious we are supposed to choose the path laid out for us. The authors erroneously suggest that the pandemic has dramatically torn up the existing script of how to govern countries, live with others and take part in the global economy. They tell us that the spread of infectious diseases has a unique ability to fuel fear, anxiety and mass hysteria. To push home this point, the word 'fear' is mentioned 31 times in the book. I don't doubt that there are sections of society who are worried but I fail to sense the emotional carnage that the authors' describe. Things, they say, will never return to normal but a few pages later suggest that a vaccine, and enough people being vaccinated, will enable us to return to normal. Are warning bells ringing with you? They are with me. The use of selective quotes to spread fear and social unrest, promoting the view that we are heading into chaos and uncertainty, is highly irresponsible. The authors claim a failure of global governance and leadership over Covid-19 and that people now feel the time ripe for reinvention. Presumably this is where The Great Reset comes in. All well and good but I'd like to know who these people are? Prince Charles? Tony Blair?

To truly understand the message of the book, you have to know about the authors. Klaus Schwab is an economist, engineer and founder and Executive Chairman of the WEF. The WEF is an elite global non-governmental organisation based in Switzerland committed to shaping a better global future. Thierry Malleret is Managing Partner of the Monthly Barometer (for top-level business and investors) and previously founder and head of the Global Risk Network at the WEF, investment banker and economist. WEF attracts the wealthy and the powerful including those from business, politics, charity and academia, as well as celebrities and activists. Boris Johnson, the British Prime Minster, banned ministers from attending the last WEF meeting at Davos in January 2020 to focus on the people and not on champagne with billionaires. He once told the BBC that Davos was "a great big constellation of egos involved in massive mutual orgies of adulation".
Here's a third review:
Trying to convince the reader that the great reset is required because of covid. All while stating in the conclusion that the virus is one of the worlds least deadly pandemics in 20[2]0. Give me a break, at least it seems that the plan isn't going as expected. I can clearly see almost everything that has happened in 2020 seems to be continuing with a plan to divide the people while scrambling around trying to usher in the new world order.
There we have it: proof from Klaus Schwab himself that coronavirus is tied to The Great Reset.
On Monday, May 17, 2021, a number of interesting news items appeared.
World Economic Forum cancels 2021 meeting
The World Economic Forum, the brainchild of Klaus 'The Great Reset' Schwab, is cancelling their 2021 meeting in Singapore:
MoneyControl reports:
With COVID-19 cases surging across the globe, World Economic Forum on May 17 announced the cancellation of its annual meeting in Singapore.
The World Economic Forum has been preparing a Special Annual Meeting in Singapore, which was supposed to take place just three months from now. The next Annual Meeting will instead take place in the first half of 2022. Though final location and date will be determined based on an assessment of the situation later this summer …
"It was a difficult decision, particularly in view of the great interest of our partners to come together not just virtually but in person, and to contribute to a more resilient, more inclusive and more sustainable world. But ultimately the health and safety of everyone concerned is our highest priority," WEF Founder and Executive Chairman Professor Klaus Schwab said.
The WEF event had already been rescheduled twice and had been moved to Singapore from its usual location of Davos, Switzerland. The event brings together politicians and business leaders from around the world.
Good news.
California can no longer lock down churches during coronavirus crisis
There's more good news, this time from California. Governor Newsom can no longer issue coronavirus — and other — diktats preventing church worship:
LifeNews reports that:
a California District Court entered an order approving Liberty Counsel's settlement of the lawsuit on behalf of Harvest Rock Church and Harvest International Ministry against California Gov. Gavin Newsom. The full and final settlement was approved today the District Court and thus is the first state-wide permanent injunction in the country against COVID restrictions on churches and places of worship.
Once entered by the District Court, this full settlement will be the first state-wide permanent injunction in the country against COVID restrictions on churches and places of worship. Under the agreed state-wide permanent injunction, all California churches may hold worship without discriminatory restrictions.
Under the settlement, California may no longer impose discriminatory restrictions upon houses of worship. The governor must also pay Liberty Counsel $1,350,000 to reimburse attorney's fees and costs.
The settlement references several Supreme Court opinions, including Harvest Rock Church v. Newsom, that include a long list of similar nonreligious activity the High Court set forth as comparable gatherings. These include grocery stores, warehouses, big box stores, transportation, infrastructure, telecommunications, and much more. In other words, churches and places of worship may never again have discriminatory restrictions placed on them that are not equally applied to a long list of "critical infrastructure" or "essential services" as outlined in several Supreme Court precedents cited in the settlement agreement.
Excellent result.
Diner owner posts COVID-19 snitch list
Diner owner Craig Kenady of Washington State got tired of lockdown and decided to reopen his business, That One Place.
It wasn't long before concerned Karens began complaining on Washington's snitch site about the reopening. Kenady decided to print the list of complaints, complete with names, and post it at the entrance to his diner.
The town where he lives, Port Orchard, has a population of 13,000. Most people know each other.
PJ Media has the story, complete with photos, including the snitch list of complaints.
They also have excerpts of his interview with Seattle's KIRO 7. He said:
The only motivation was is that I feel if they're going to call and complain about us, then their neighbors deserve to know. We all, in our small community, deserve to know who we can trust or not.
That's what started it. We felt that it was the right thing.
On Monday afternoon, Howie Carr interviewed him. Well worth a listen. Kenady has no regrets whatsoever.
Oxford University says imperial measurements must be 'decolonised'
The Daily Mail reported that, in the aftermath of American-inspired protests last summer, Oxford University is in the process of decolonising certain aspects of its curriculum, including imperial measurements:
The University has suggested imperial measurements, including the mile, inch, pound and ounce, should be 'decolonised' due to its links to the British Empire.
Decolonising plans by Oxford's maths, physics and life sciences departments suggest the teaching of the measurements in the curriculum may change, according to The Telegraph.
It comes after a pledge from Oxford's vice-chancellor Louise Richardson to embed teaching on colonialism and the Empire into courses and 'diversify' the maths and life sciences curriculum.
The UK had these measurements long before it had an empire.
The libertarian site Spiked responded with this (emphases mine):
What British colonialism has to do with policing in 21st-century America is anyone's guess. But this rage against imperial measurements is even more confusing. Imperial measurements, like all measurements, are simply a way of assessing distance, weight and height.
Just because they are called 'imperial' and were used in the British Empire doesn't mean they are stained forever by racism. As one tweeter pointed out, the metric system is hardly without fault either in this regard, given it was spread around the world thanks to Napoleon's imperial expansion.
The decolonisation movement presents itself as a serious intellectual and political endeavour. It isn't. It is a project of historical offence-taking that is apparently without end. As the goings on at Oxford demonstrate, if you give these activists an inch they will take a mile.
Prince Harry deplores America's First Amendment
Fox News carried a story about Prince Harry (great meme here) and his dislike of freedom of expression in the United States.
The article says:
Prince Harry is facing a wave of backlash after calling the First Amendment of the U.S. Constitution "bonkers" during a podcast appearance last week. 
The Duke of Sussex made the comments on an episode of Dax Shepard and Monica Padman's "Armchair Expert" podcast … 
He specifically took issue with the paparazzi.
"I don't want to start sort of going down the First Amendment route because that's a huge subject and one in which I don't understand because I've only been here a short period of time," Harry said. "But, you can find a loophole in anything. And you can capitalize or exploit what's not said rather than uphold what is said."
"I've got so much I want to say about the First Amendment as I sort of understand it, but it is bonkers," he continued.
Harry's comments ignited a wave of criticism online.
Fox News also included tweets about his interview.
Rep. Dan Crenshaw (R-Texas) tweeted:
Nigel Farage rightly warned the prince about criticising America in an ill-advised way:
That's true.
After Larry King retired from CNN, Piers Morgan took over his slot.
Once Piers Morgan began criticising the Second Amendment, his ratings tanked and the show was cancelled. Newsweek has the story, written after he was ousted from Good Morning Britain earlier this year:
The presenter hosted a CNN talk show from 2011 to 2014. In Piers Morgan Live (formerly known as Piers Morgan Tonight), he interviewed politicians, celebrities and members of the public.
His first guest in the prime-time slot—which was previously occupied by broadcasting giant Larry King, who died in January—was Winfrey.
Morgan's show was canceled on February 23, 2014, after a run of disappointing ratings, which he blamed on his stance on divisive issues such as gun control.
"It's been a painful period and lately we have taken a bath in the ratings," Morgan told The New York Times at the time.
"Look, I am a British guy debating American cultural issues, including guns, which has been very polarising, and there is no doubt that there are many in the audience who are tired of me banging on about it," he added. "That's run its course."
In the U.K. Morgan is also well known for being embroiled in a phone-hacking investigation—and for being sacked as editor of the Daily Mirror in 2004 over the publication of hoax pictures claiming to show British soldiers abusing an Iraqi prisoner.
He was interviewed by U.K. police officers investigating hacking in December 2013. CNN said this had no impact on its move two months later to axe his show.
The Sun reports the same:
While the show started off with respectable ratings, audience figures soon dropped, with some media outlets reporting that the British host failed to connect with an American audience.
Morgan struggled to match the ratings garnered by his predecessor, the Guardian reported.
By February 2014, viewership dropped to the lowest seen since he took over from King …
CNN's Allison Gollust said: "The decision had nothing to do with the hacking interview – not at all."
The final episode of Piers Morgan Live aired on March 28, 2014.
Piers Morgan is still derided in both countries.
Prince Harry, take note.
As most of England is now in either Tier 2 or Tier 3, including London (in the latter), some scientists are clamouring for previously approved Christmas gatherings to be cancelled.
This is the exchange that took place on Wednesday, December 16, the day when London and surrounding areas entered Tier 3. Communist Susan Michie, a member of SAGE and independent SAGE, told Good Morning Britain that we should cancel Christmas this year and replace it with extra 'bank holidays' next year. She's a smooth talker. Laura Perrins, an ex-barrister who co-edits Conservative Woman, saw right through this:
Well, London mayor Sadiq Khan has cancelled the capital's New Year fireworks. The Tube will also stop running at 12:30 a.m. this year.
Laura Perrins had a lot to tweet on Wednesday from her article that day, 'Matt Hancock wants to ruin your Christmas. It's sheer cruelty'. Excerpts follow, emphases mine:
YOU'RE making your list, you're checking it twice and Matt Hancock is deciding whether you've been naughty or nice. Yes, once again the government have decided to inflict more psychological damage on the population by putting in doubt the Christmas relaxation of rules which will 'allow' you to spend some time with your family. The anxiety that this causes, the dread, the cruelty: that is the point of this latest government move. 
At the time of writing it looks as if (for once) Boris Johnson will hold his nerve and not hand over complete control to Matt Hancock and the 'scientists' who seem to run the country. All this anxiety has been triggered because the BMJ published an editorial saying that the rules 'allowing' you to see your family at Christmas are a 'major error' which would cause the health service to be overwhelmed. As usual you have to sacrifice your basic freedoms so that the NHS can do the job you pay them a great deal to do. All must be sacrificed, it seems, for 'our' NHS. 
Even if Johnson does hold his nerve this time, it should be said every day that Matt Hancock is a dangerous man who has set out to destroy this country. Some people think I am too strong in my language. I am not. 
What the government are doing is evil. You need to understand that. They are destroying thousands of businesses, thousands of jobs in arts and culture, they have closed pubs and restaurants as a way of crushing your spirit. Meeting your friends down the pub is uniquely British, speaking to them in the flesh, arguing with them over a pint; these are the small joys that ordinary people look forward to. This is something that the elite in the media and politics, and certainly the scientists, simply do not understand. They're all right, Jack. What's a trip to the pub anyway – that's for the little people. 
This tweet from Camilla Tominey caught my eye yesterday. 
She is right – this landlord has had his business wiped out 'in the blink of an eye'. Destroying the livelihoods of so many in the blink of an eye is something that used to happen only in communist Russia. It is not quite a knock on the door in the middle of the night, but it is not far off. Oh, but don't worry, they will get compensation from the government, you tell me. That is not the point. This landlord runs a business, he wants to provide this service, I have no doubt he takes pride in providing this service, it's not just the money he wants. It's his sense of dignity in a job well done.
This is why I believe that any future legal cases should claim this entire Covid government strategy is a breach Article 3 of the Human Rights Act which states that no one shall be subjected to torture or to inhuman or degrading treatment or punishment.
Perrins ended her article with thoughts on Dickens's A Christmas Carol:
In the great Christian story of redemption, A Christmas Carol, Scrooge famously did not observe Christmas. In addition, he hated anyone who did. He refused a generous invite to share the Christmas meal from his nephew. This was rightly seen as cruel, mean, mean-spirited and immoral. Scrooge was incapable of any joy or love. Matt Hancock wants to ruin your Christmas. He wants you to uninvite the relations you have invited to share your Christmas meal. Hancock, like Scrooge, is mean, mean-spirited and cruel. Ignore him. Keep Christmas as you will.
I wish you and yours every comfort and joy this Christmas. Know in the New Year that we at TCW will not rest until every last mask is burnt and 2m sign is peeled off the pavement. Anything less is defeat. 
Excellent!
On Tuesday, December 15, she opined on the type of people who love lockdown. Someone from Scotland responds:
In case anyone thinks Labour would be any better on Christmas celebrations, their party leader Sir Keir Starmer also wants celebrations on the feast day of Christ's birth scrapped:
This came up at Wednesday's PMQs (Prime Minister's Questions).
Fortunately, Prime Minister Boris Johnson echoed the words of one of his cabinet ministers, Chief Secretary to the Treasury Steve Barclay:
Guido Fawkes reported Steve Barclay told Radio 4's Today programme on Tuesday that Britons should (emphases in the original):
"try and minimise their contacts" in the week before Christmas. Yet still sticking to the four nation, five day relaxation. For now…
Barclay also advised that when families gather they do so "in a way that isn't the maximum of what the rules require but the minimum that they as a family need to do."
That means that Transport Secretary Grant Shapps's subsidy of public transport is still on …
… and Conservative rebel MP Mark Harper — one of the good guys — can rest easy:
Returning to public transport, anyone travelling to London will be greeted with Christmas cheer:
Bob Moran has been doing some great political cartoons for the Telegraph mocking lockdown. He's found a fan in Daily Mail columnist Peter Hitchens:
I hope that Bob Moran — and Peter Hitchens — have a happy Christmas.
Here's Bob at work:
Here are the Models, mocking Chief Medical Officer Prof Chris Whitty and Chief Scientific Officer Sir Patrick Vallance:
Jokes aside — and as necessary as they are right now — it is alarming to think about how a three-week lockdown turned into one that lasted over nine months.
I wrote a few weeks ago here that this is the wildest conspiracy ever. We've moved beyond 'theory'. We're living it:
As regular readers of mine know, my principal worry is the economy.
Here's Klaus 'Great Reset' Schwab, the Founder and Executive Chairman of the World Economic Forum, discussing the COVID-19 group that will address — and, in his mind, solve — all the problems of coronavirus and the world in general. Business, he says, will be a big part of this. Be afraid, be very afraid. This is what he's actually saying:
In closing, let's return to London.
Deaths are normal for this year. This is a five-year chart:
London's hospitals are not overly burdened either, especially compared with 2018 and 2019:
And why do we not receive any information from the Department for Health and Social Care about a prophylaxis for COVID-19? Instead, we're pushed into taking a vaccine with messenger RNA. Revolutionary, for sure, but can we be certain it will work and is safe?
One wonders what will happen next year.