Tag Archive
You are currently browsing the tag archive for the 'Konstantin Kisin' tag.
August 22, 2022 in history | Tags: Aberdeen, Alexandra Marshall, Andrew Doyle, Australia, Boris Johnson, Canada, censorship, Conservative Party, coronavirus, David GH Frost, Donald Trump, Edinburgh, England, freedom, freedom of movement, freedom of speech, GB News, Guido Fawkes, history, humour, Jolyon Maugham, Justin Trudeau, Kathy Gyngell, Konstantin Kisin, London, Mark Steyn, Matt Ridley, Nadine Dorries, Ottawa, Parliament, protest, Salman Rushdie, Scotland, social media, Speaker's Corner, television, The Spectator, Toby Young, UK, vaccine | 5 comments
Last week I posted about the comedian Jerry Sadowitz, whose Fringe show was cancelled by Edinburgh's Pleasance Theatre.
We have seen more examples of the demise of free speech, particularly in the UK, in 2022.
Restaurant's help wanted ad
In February 2022, Steve Bothwell, who owns the 27-year-old Aberdeen restaurant Cafe 52, placed a no-nonsense advert online in an attempt to hire more staff:
On February 28, Scotland's Daily Record reported that the advert went viral and received much online how-dare-he criticism, included in its article.
However, the ad's wording spells out what Steve Bothwell wants: a hard-working employee who is focused on continuing the excellent reputation of the restaurant rather than his or her social identity politics.
I admire a man who says he doesn't want mask wearing Guardian readers, virtue signallers and self-testers. I wouldn't, either. He was also right to say that hospitality works only when staff:
leave their egos in their lockers.
He gave an interview to the paper (emphases mine):
Speaking to the Daily Record he said: "I don't regret the wording [of the job advert], but I wish people would get on their pins about more important issues.
"I'm not banning anyone. The advert was tongue in cheek."
He added: "I've had three good applications this morning off the back of the advert."
Some weeks later, one of The Guardian's restaurant critics, Grace Dent, had lunch at Cafe 52. Wow! If any of my readers are in Aberdeen, this place looks great. It's right across the street from Aberdeen Market.
Dent's review, complete with must-see close-up photos, appeared on April 1, but this was no April Fool's joke:
The menu was full of delicious-sounding things such as cullen skink, hot smoked mackerel, and Normandy chicken casserole with leeks and tarragon. As I loitered by the door, something about the cafe's name rang a bell, then, to my glee, I realised this was the place whose owner famously doesn't like Guardian readers, and who earlier this year penned a job advert banning them. Perhaps I should have been offended, but there was a bread-and-butter pudding made with crumpets on the menu, plus, to quote Groucho Marx, "I refuse to join any club that would have me as a member."
… This charming, long, narrow strip of a bistro has survived for more than 25 years without the likes of me, and is these days serving a sort of boho, rustic, French-Scottish, casual-elegant menu to a unending stream of walk-ins. Cafe 52 has no need for my pronouncements.
Dent was complimentary about the servers as well as the food. So, the advert worked!
She described the food as follows:
I like Aberdeen a great deal, and spent three wonderful days there alone, talking to strangers and eating …
But Cafe 52 was my favourite. Proprietor Steve Bothwell … has created a place where glorious food matters, and I can say beyond doubt that my restorative bowl of Normandy chicken casserole will be one of the greatest things I'll eat all year. Chicken soup – or stew, in this case – does touch the soul, and a good one is as close to a cuddle from Mother T herself as you can get. This one featured five or six chunks of soft, stewed breast, thigh and leg in a clear tarragon broth with the very occasional chunk of soft potato or slice of garlicky mushroom, and was way more than the sum of its parts. This stew, topped with a vivid pink bundle of pickled red cabbage, was a wonder, with fragrant tarragon the hero ingredient. I ate it with a side of kale, deep fried and laced with chilli, which is the only way to treat it – that is, mercilessly …
Steve Bothwell's mother, who is in her 80s, makes all the desserts. Amazing:
Bothwell's octogenarian mother makes all the puddings at Cafe 52, and just two spoons into her crumpet bread-and-butter pudding I felt the need to check with the staff if anyone had written down the recipes for her carrot and brandied fruit cake or her coffee cake with rum syllabub. The bread pudding is a fearsome, rib-sticking challenge of a dessert, with crumpet after crumpet smothered in sweet, eggy custard and served with vanilla ice-cream. It's the sort of dish that makes guests at other tables wink and wish me luck, as if I was some sort of amateur at this game. The first four or five spoons were sublime, all sticky and compelling; I was living my best life.
The owner also asked if she had enjoyed her lunch:
"Yer stew all right?" he asked, semi-begrudgingly, as if he didn't really care what the answer was going to be, but was curious anyway.
"Incredible," I said. "I loved it."
"Fine," he said, and walked off without another glance in my direction. I have paved a way for all of us. Just don't go in carrying this newspaper.
Edinburgh Fringe's best jokes
Speaking of Scotland, the Edinburgh Fringe is supposed to be — and once was — the world's edgiest comedy festival.
It was last held in 2019 and resumed again this year.
Each year, a series of comedy awards are bestowed upon the best talent. They were once sponsored by Perrier and propelled comedians to stardom. Now it seems that the UK comedy channel Dave has assumed the mantle.
On Monday, August 22, The Guardian gave us the top, award-winning jokes from the 2022 Fringe.
At best, these are Christmas cracker jokes, most of which a 10-year-old could tell:
1. I tried to steal spaghetti from the shop, but the female guard saw me and I couldn't get pasta – Masai Graham (52%)
2. Did you know, if you get pregnant in the Amazon, it's next day delivery? – Mark Simmons (37%)
3. My attempts to combine nitrous oxide and Oxo cubes made me a laughing stock – Olaf Falafel (36%)
4. By my age, my parents had a house and a family, and to be fair to me, so do I, but it is the same house and the same family – Hannah Fairweather (35%)
5. I hate funerals. I'm not a mourning person – Will Mars (34%)
6. I spent the whole morning building a time machine, so that's four hours of my life that I'm definitely getting back – Olaf Falafel (33%)
7. I sent a food parcel to my first wife. FedEx – Richard Pulsford (29%)
8. I used to live hand to mouth. Do you know what changed my life? Cutlery – Tim Vine (28%)
9. Don't knock threesomes. Having a threesome is like hiring an intern to do all the jobs you hate – Sophie Duker (27%)
10. I can't even be bothered to be apathetic these days – Will Duggan (25%)
Dire.
On Sunday, the topic came up for discussion on Andrew Doyle's Free Speech Nation show for GB News (54:43 to 58:00):
Doyle's guests, fellow comedians, deplored the level of comedy at this year's Fringe.
One said that there are 'tastemakers' who nominate comedians for an award and go on to nationwide shows.
Another said that, if this trend continues and edgy comedians like Jerry Sadowitz aren't allowed back in, it will spell curtains for the top Fringe venue:
The Pleasance will die.
Another intimated that the establishment wanted to reshape comedy into something anodyne:
These big venues are getting large donations from the Scottish Government.
That might well be true. I read or heard somewhere that someone from the Scottish National Party owns a few comedy clubs in Edinburgh.
Hmm.
Censored television shows versus nudity
On the topic of censored comedy, British actress Vicki Michelle from the classic sitcom 'Allo, 'Allo! weighed in last week on the current preference for saucy reality shows over reruns of old family-oriented shows.
'Allo, 'Allo! satirised the Second World War and was a huge hit that ran for ten years. Until recently, it, and other classic sitcoms from the 1960s through to the 1980s, were often shown on the BBC.
Now they are all on a paid-subscription streaming platform called BritBox. It's odd that the British paid in television tax to see these shows, now they are expected to pay again to see them.
BritBox has put content warnings on 'Allo, 'Allo! and other programmes from that era.
Television and streaming services are dictating what we can and cannot see.
On August 19, Vicki Michelle gave an interview to The Mirror, which The Telegraph reprised:
A string of content warnings for TV series was issued last year by streaming service BritBox – a collaborative venture between the BBC and other broadcasters – including one advisory note which told viewers that 'Allo 'Allo! featured "outdated" material.
"Comedy is being neutralised – or nuked," Ms Michelle said. "I think 80 per cent of this country would love comedy like 'Allo 'Allo! to be made again, so 20 per cent might take aversion to some of the content."
The series which ran from 1982 to 1992 was set at the Cafe Rene in the town of Nouvion and followed the comic troubles of proprietor Rene Artois – played by Gorden Kaye – as he juggled the dangers posed by British airmen, the French resistance and Nazi occupiers.
The humour stemmed from innuendo and mockery of national stereotypes and accents, and in 2021 Britbox warned modern audiences about the supposedly dated content of the decades-old programme, with a note stating: "This classic comedy contains language and attitudes of the time that may offend some viewers."
BritBox explained at the time that certain classic programmes required advice on the "potentially sensitive language or attitudes of their era".
The actress objects, pointing out the near-obscene content of some of our reality television shows, both visually and orally:
Michelle argued that contemporary television is far more offensive than the comedy now deemed worthy of content warnings, telling the Daily Mirror: "People eff, blind and use the c-word on telly and that's considered fine.
"And on reality TV people make love under a sheet, and that's fine. There was none of that in 'Allo 'Allo!. I don't think there's anything in there that would upset a normal person.
She added: "'Allo 'Allo! didn't send up anyone in particular – we sent up everyone.
"It was a family show where the adults got the double entendres and the children just thought the situations were funny. You can see someone on telly in a bikini and their boobs out."
Let's look at it another way. If Blazing Saddles were shown on television now, it would only be seven minutes long: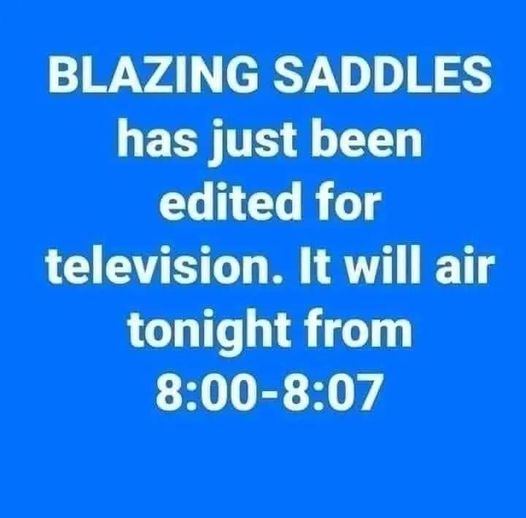 Free speech, Salman Rushdie and the average Twitter user
Along with many millions, I hope that Sir Salman Rushdie is making a steady recovery from his attack less than a fortnight ago.
Conservative commentator Emma Webb told Andrew Doyle on his show last night (see video above) that no publisher would dare print anything like Satanic Verses today. Publishing houses are self-censoring, as if there were a blasphemy law in place:
'If a publisher potentially thought that a book was blasphemous they wouldn't touch it with a barge pole'

Commentator Emma Webb says books like The Satanic Verses wouldn't be written today because the West has 'internalised Islamic blasphemy laws.' pic.twitter.com/EeqKjyiCsN

— GB News (@GBNEWS) August 21, 2022
This year, a few high-profile arrests have been made in the UK with regard to tweets that have caused other Twitter users 'anxiety'. Not long ago, a middle-aged man was pinned down by five police officers in his garden, so it is a bit rich of Boris Johnson to come across as a big supporter of free speech in Salman Rushdie's case when the average Joe is being arrested for lesser offences: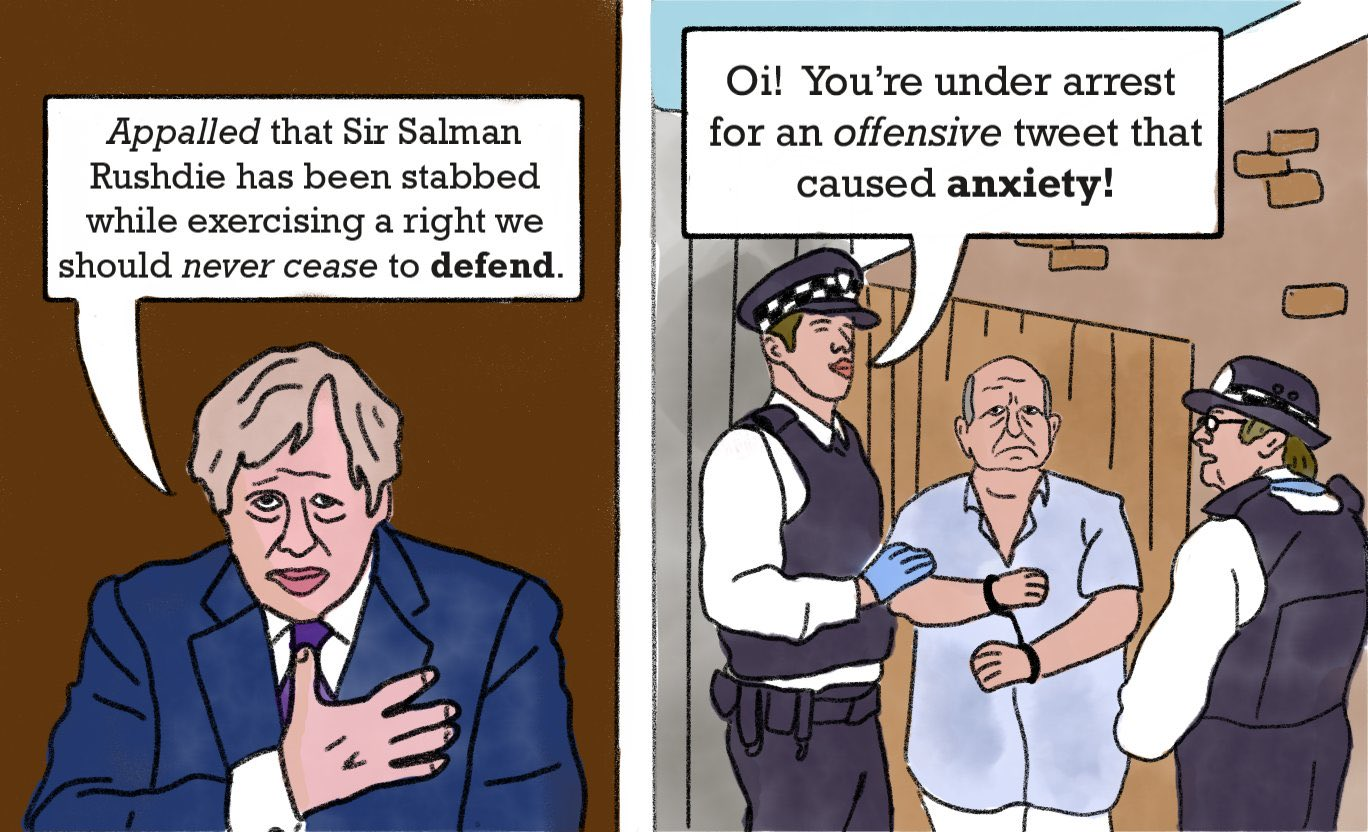 On that subject, lefty lawyer Jolyon Maugham rightly condemned the attack on Rushdie, then asked who has a platform on which to speak.
Well, I do wonder.
A reply to Maugham's tweet told the raw truth of the matter. The Left used to advocate free speech when they thought theirs was censored. Now that the leftist point of view is ubiquitous, they censor any opposing view: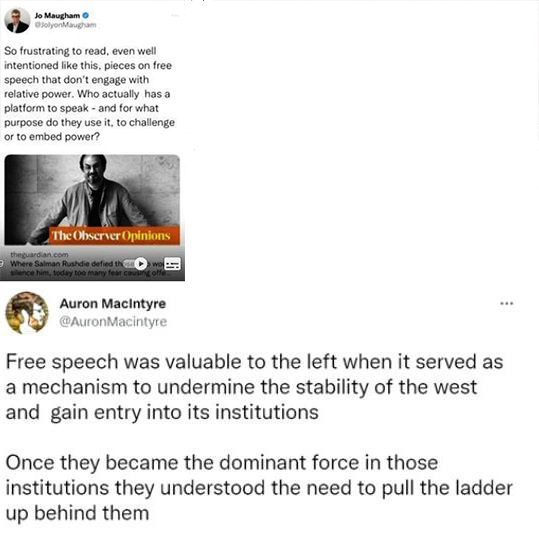 Scarily, this clampdown extends to health issues now.
Censorship of coronavirus vaccine opposition
The truckers' protest in Ottawa in February showed how draconian censorship can get.
The men and women were protesting against the Canadian government for mandating coronavirus vaccines as a condition of employment. Justin Trudeau took the extraordinary action of freezing some protesters' — and contributors' — bank accounts.
On March 8, The Spectator's Jane Stannus wrote an excellent article about this, just as Premier Justin Trudeau visited the UK: 'Where's the outrage over Trudeau's trip to Britain?'
She wrote:
Trudeau used the Emergencies Act to allow banks to unilaterally freeze accounts and assets, not only of participants in the peaceful Ottawa freedom convoy but also of anyone who supported the protest financially – all without a court order and legal immunity. And insurance policies of participants were subject to cancellation. Nothing says 'free country' like being able to freeze the assets of your political opponents without notice, judicial oversight, or possibility of legal recourse, on suspicion of having donated $25 to a trucker who parked in front of Canada's parliament because he didn't want the government to take away his job. 
Perhaps this seems unfair. Trudeau may have invoked the never-before-used Emergencies Act to resolve a parking problem. An error in judgement, but in the end he rescinded it.
Quite true. But not before he suspended Canadians' rights to due process and to peaceful assembly. Or delayed the Act's debate in the Canadian House of Commons until after the protestors were forcibly removed by police. Or cynically strong-armed its approval through the House of Commons via a confidence vote – cleverly changing the subject of the vote to whether or not MPs wanted to call an election. And remember too that he hinted that the Act would be needed for months to come. Can the country ever be considered truly safe when – at any time – a truck driver apparently going about his business might approach the heart of Canada's capital city and run up the Canadian flag, thereby magically metamorphosising into a terrorist?
Trudeau lifted the Emergencies Act on 23 February when it became apparent that the Canadian Senate was likely to vote against it. The next day, Russia attacked Ukraine and both national and international attention turned elsewhere – doubtless to the Liberal government's great relief.
But anyone who thinks Trudeau has learned his lesson is sadly naïve. In a speech to the Toronto Ukrainian community on 4 March, he had the audacity to deplore the 'slippage in our democracies' and express concern about countries around the world 'turning towards slightly more authoritarian leaders'. Why is this happening? According to Trudeau, it's because 'misinformation and disinformation' are allowed to be shared on social media, thus 'turning people against the values and the principles of democracies'. Right. To preserve democracy, what we need is censorship?
For all Trudeau's talk, the real threat to Canadian democracy is not the truckers' movement, whose actions revealed that large numbers of Canadians just want a return to normal life. No: the real threat to democracy is Canada's ideologically driven leadership, seizing more and ever more unchecked power so as to force Canadian society into the mould of a collectivist utopia. It would be nice if the British parliament cared enough to discuss it.
Lord Ridley — Matt Ridley — pointed out that it was quite the opposite for the British parliament with regard to President Donald Trump. MPs wanted to ban Trump for 'hate speech':
"In 2016, the British parliament debated whether Donald Trump ought to be banned from the UK for inflammatory 'hate speech'. When Trudeau announced his visit to the UK, did the House of Commons ask itself whether he should be made welcome?" https://t.co/8QUG1MpStq

— Matt Ridley (@mattwridley) March 9, 2022
When Trump came to the UK, neither House of Parliament extended him an invitation.
Yet, when Trudeau uttered real hate speech against people who did not want to be vaccinated, that was A-okay with our parliamentarians:
"…by criminalising peaceful protest. He invoked emergency powers to inflict extreme punishment on those who objected to his Covid policies while denying them proper due process. Does no one in the UK government find that troubling?" https://t.co/8QUG1MpStq

— Matt Ridley (@mattwridley) March 9, 2022
Fortunately, he was not invited to address Parliament.
He did, however, address EU parliamentarians in Brussels. A German MEP, Christine Anderson, took strong exception to Trudeau's actions over the truckers' protest and pointed out his love of Chinese coronavirus policies.
This very short video is a must-watch. Anderson's English is flawless in every respect:
🇨🇦🇬🇧|Yesterday, Canada's Prime Minister @JustinTrudeau visited the #EU Parliament to give a speech. I took the opportunity to give him an appropriate "welcome" there. Short, concise and right hitting the bull's eye! #ID pic.twitter.com/qpcQyGTixQ

— Christine Anderson (@AndersonAfDMdEP) March 24, 2022
I don't know what the reaction was, but at least she said it and he was there to hear it.
GB News's Mark Steyn has been interviewing British family members of those who have died from the coronavirus vaccine and have been receiving compensation (£100,000) from the British Government.
Unfortunately, many are heartbroken as they share their stories on Twitter and other social media platforms. Not only do they get harsh feedback from readers accusing them of lying, but the social media moderators accuse these people of peddling mis- or disinformation.
This has been going on not only in the UK, but also in other Western countries.
Alexandra Marshall, the editor of the online edition of The Spectator in Australia, says the censorship is taking place because the push to get people to take potentially harmful vaccines has been a 'global error', one that, in some countries, could result in class action lawsuits. This catastrophic failure is too big to fail and no politician wants to jeopardise his or her career by facing a legitimate pushback from citizens. This video is from May 11:
The Online Safety Bill
Meanwhile, our Conservative Government has put forward a potentially damaging Online Safety Bill, notionally designed to protect the most vulnerable but which, in reality, will 'protect' — restrict — everyone else.
Nadine Dorries, the Secretary of State for Digital, Culture, Media and Sport said that she wanted to stop social media 'pile-ons'. It's like using a sledgehammer to crack a nut.
Guido Fawkes explains in a Twitter thread:
Nadine Dorries has just told the commons chamber she wants to force social media companies to stop "pile ons". How will that work without hindering free speech?

— Media Guido (@MediaGuido) April 19, 2022
Who is going to define what a 'pile-on' actually is?
How will a "pile on" be defined? How many people acting in concert will constitute a "pile on". What if the people piling on are correct and what I have said is wicked and wrong? Will they be suspended and my wrongful wickedness be allowed to stand?

— Media Guido (@MediaGuido) April 19, 2022
And will different rules apply online and offline? Think of newspapers:
If newspapers are exempt from anti pile on laws will that apply to their online websites?

— Media Guido (@MediaGuido) April 19, 2022
On May 11, Kathy Gyngell, editor of The Conservative Woman, wrote:
YESTERDAY marked a black day in British history. It was the most repressive Queen's Speech ever. A reversal of Britain's centuries-long march to freedom. 
It contained not one, but a number of 'innovative' measures that threaten to curtail our basic rights, including our freedom of speech and movement, under the guise of what are, I am afraid, spurious claims to reform the law and protect us.   
The proposed new Bill of Rights and a series of other state interventionist and regressive measures will make it harder for any who 'dissent' the official narrative – whether on 'pandemic' policy, vaccine risks or further lockdowns – to air and share their critiques and evidence, or to publicly protest against such curtailing of our rights. 
The Bill of Rights is set to replace current Human Rights law in the name of curbing an incremental rights culture. However, it will quite specifically undermine, if not take away, individual choice and responsibility when and where it is deemed to conflict with the State's definition of the common good.  
Back in March, I asked whether this was the reform of human rights we need? My answer was that it emphatically was not. I argued that the proposed legislation is a perversion of the traditional notions of rights and duties, and a mendacious and threatening one at that.  
Who will decide what those broader interests of society may be? The Government, the World Health Organisation, or any other international public health body with undue influence over our political masters? The last two years of irrational lockdown and all but compulsory vaccination, all in the name of the higher public good, fills me with foreboding. 
The proposed Online Safety Bill is also deeply worrying. Under its terms, 'major social media firms will face fines worth up to ten per cent of their global turnover if they fail to tackle illegal content getting on to their sites under reintroduced duty of care plans to protect users from online harms'.
At the rate we at TCW are already being censored, under the notion of 'harms', this also bodes very ill for us and any other dissenting or free speech site …

The proposed Public Order Bill and its additional police powers, also in yesterday's speech, again would be welcome if it was restricted to stopping eco-protesters blocking roads and inflicting fuel shortages on motorists, and not used against peaceful protest against government policy.  
However, it will allow police to ban suspected troublemakers from attending specified events. Does that mean Piers Corbyn, for example? I defend his right to protest and so should anyone. Does it mean in fact any government critic or opponent could be singled out? How will it be interpreted? The degree to which the police are already politicised and discriminate does not augur well … 
All this proposed new legislation needs to have a bright torch shone on it. We need to protest against it and remember those of centuries past who gave their lives for today's, now to be curtailed, freedoms.
I could not agree more. It is difficult to believe that Conservatives have come up with this unholy intrusion into our lives and thoughts.
Labour have since said that they would take these laws even further once — or if — they are ever in power. We would do well to take them at their word.
On June 27, Lord Frost urged Conservatives to scrap the Online Safety Bill. The Daily Mail reported:
The Tory peer claims the Online Safety Bill contains so many flaws 'it is hard to know where to start'.
He singles out for criticism the fact that it will outlaw comments on social media that would be legal in the real world.
Lord Frost, the former Brexit minister, says the move will be 'highly damaging' to free speech and will benefit only the 'perennially offended' who want to be protected from anything they disagree with.
He says: 'A Conservative Government should not be putting this view into law. The best thing the Government could do would be to slim down the Bill so they can proceed rapidly with the genuinely uncontroversial aspects, and consign the rest where it belongs – the wastepaper basket.'
It is hoped that a new Prime Minister will sink this bill once and for all in September.
I certainly hope so. We have bigger worries right now.
My advice to social media users? If you can't stand the heat, get out of the kitchen.
The 150th birthday of Speaker's Corner
In late June, advocates of free speech gathered at London's Speaker's Corner to celebrate its 150th birthday.
The day before, police arrested a female Christian apologist at Speaker's Corner because she wore a tee shirt with a Charlie Hebdo cartoon featuring an image many think should not see the light of day.
I do not know if this was the same lady who was brutally attacked with a knife there some months earlier for giving a defence of the Christian faith.
Toby Young, the General Secretary of the Free Speech Union, was at Speaker's Corner on its 150th birthday and gave Mark Steyn his report, including one about the Christian lady:
Young pointed out that, in Victorian times — certainly leading up to the founding of Speaker's Corner in 1872 and beyond — people were much more able to speak their minds than they are today.
Young lamented the fact that not many people were present at the 150th birthday celebration. Nor did the mainstream media cover such an important event.
He said that, if people want to read or hear free speech, they now have to go online.
Conclusion
The great irony in all of this censorship is that it took a Russian emigré to the UK to point it out.
Author, comedian and podcaster Konstantin Kisin is putting his views, personal and historical, into a book on the subject: An Immigrant's Love Letter to the West.
On July 10, he discussed free speech with Andrew Doyle and told him that, right now:
We are in the late Soviet stage …
He went on to describe how his grandfather fell foul of this in Stalin's Soviet Union. He lost his job and ended up in a gulag as a result.
Here's the video:
It is sad that it takes an emigré to point out how far down the rabbit hole we are.
That said, thank goodness for Konstatin Kisin. I hope that people listen to him and read his book.
We must defend free speech at all costs.