You are currently browsing the tag archive for the 'Labour Party' tag.
On Monday, I wrote about the UK's third anniversary on becoming free of the European Union.
Admittedly, Northern Ireland is still half-in and half-out, a problematic situation that is being negotiated.
I pointed out the sclerotic pace at which MPs are legislating to take full advantage of Brexit.
On February 1, UnHerd featured an article by Richard Johnson, a Labour Party member, and Lecturer in US Politics and Policy at Queen Mary University of London: 'Labour's lost love for Leave'.
Richard Johnson voted to Leave in 2016 and has no regrets.
Before going into Parliament's slow pace at reclaiming our sovereignty, he explains Labour's changing viewpoint on belonging to the EU (emphases mine):
Back in 2016, one in three people who voted Labour at the previous year's general election voted for Brexit. Today, polling for UnHerd shows that just 15% of Labour voters think the UK was right to leave. Of course, in those intervening years, there has been enormous churn in the Labour electorate, with sizeable defections by Labour Leavers at the last election to the Brexit Party and the Conservatives. Nonetheless, UnHerd's polling shows that support for Brexit has dropped significantly in Labour's historic heartlands in the North and Midlands.
In historical terms, this is a striking shift. For four decades, the Labour Party was the chief Eurosceptic party in British politics — far more so than the Conservative Party. Every Labour leader between Clement Attlee and Neil Kinnock had expressed opposition to joining (or support for leaving) the European Economic Community (EEC) at some point as a frontbench Labour MP. The first truly pro-European Labour leader was John Smith, who defied a three-line whip in 1972 to vote for the Conservatives' European Communities Act. Pro-Europeanism was viewed as a Right-wing project — an attempt to constitutionalise capitalist principles in ways that would curtail the power of socialist governments to plan their national economies as they saw fit.
Labour's perspective on the EU began to change in the 1980s:
In the late Eighties, Labour finally abandoned its opposition to EEC membership, though the change was driven more by a response to repeated domestic defeats than a principled embrace of the European project. The promise of a "social Europe" was regarded by many Labour MPs as a chimera, but it at least offered some alternative to Thatcherism. So the party came to accept supranational legal limits on British governments, hoping the EU could mitigate the excesses of Conservative rule.
Belonging to the EU meant that EU law applied, restricting the ability of both Conservatives and Labour to raise legislation that benefits the UK's interests. This also affected civil servants' work:
… this Mephistophelian deal meant placing limits on future Labour governments, too. Policy tools which had once been fundamental to previous governments' socialist programmes — trade policy, currency management, state aid and nationalisation, and capital and labour controls — were all sacrificed in exchange for the promise of minimum labour standards and regional development funds delivered through European institutions, rather than Whitehall.
Once we were in, we were in fully. Although Johnson is writing from a Labour perspective, the following attitudes also pertain to Conservative Remainer MPs, of which there are many:
Few outwardly advocated leaving the bloc, believing it to be too difficult or simply not politically feasible …
This is where we find ourselves today, six-and-a-half years after voting to leave in the 2016 referendum.
Parliamentarians have not had to legislate much since the 1970s. Civil servants haven't had to think about that, either. Hence the slow pace. It might require work, not only in the House of Commons but also in Whitehall:
Joining the EEC in 1972, for instance, took a variety of national powers out of the hands of the UK Government and, by extension, parliament. EU countries are constitutionally transformed from nation-states to member-states, as the Cambridge academic Chris Bickerton has explained. This means that a variety of policy instruments are removed from national governments altogether, or their implementation becomes contingent on the wishes of the European Commission or interpretations of the European Court of Justice (ECJ). Perhaps more obviously, EU membership is simply not compatible with a belief in socialist planning. At its core, the Single Market is designed to limit the power of national electorates to plan their own economies. Of course, a certain degree of national economic planning is permitted within EU membership, but it is conditional. Any time a national government takes a decision that is viewed as distorting the hallowed Single Market — which must be prioritised above all else — those policies are blocked …
… European judges have struck down labour practices that they claim impose onerous restrictions on business, as in the infamous cases Laval and Viking. The former limited Swedish trade unions insisting on higher working conditions for construction workers from Latvia who operated in Sweden. The latter prevented a Finnish transport union from taking action against Viking Line for reclassifying their workers under the flag of a lower-wage EU country to ignore Finnish collective bargaining. Because these judgements are based on judicial interpretation of fundamental EU treaty rights, no legislation, either at a national level or from MEPs, can overturn them.
As such, for 50 years, the UK government has had to rely on Brussels for legislation. It is no wonder that the nanny state has grown so much, particularly over the past 25 years. What else is there to legislate upon but personal behaviours?
Johnson points out that Labour have been as negligent as the Conservatives over embracing our new freedoms:
Indeed, there are so many areas of policy where Labour ought to have spent the last few years seriously thinking about the post-Brexit opportunities. How can we use procurement better now that we are out of the Single Market? … What would a socialist trade policy look like, once protection of continental European industries and agriculture is removed from the equation?
Instead, Labour has wasted the years since Brexit almost as much as the Tories have. Labour had stood on a manifesto in the 2017 election which promised to take the UK out of the EU, Single Market, and Customs Union. That election saw the biggest increase in its vote since the 1945 General Election and the only net gain in Labour seats since 1997. A majority of the seats Labour won in England were Leave-voting seats off the Tories …
Today, though … the reality is that Labour is still not making the case for Brexit on Labour terms. Virtually every time a Labour politician speaks about Brexit, it is framed as an attempt to mitigate the damage. Labour's underlying assumption is that Brexit has failed because the UK has diverged too much from the EU. A better Brexit is one closer to the EU. But, the reality is that the UK has not diverged enough from the limitations which EU membership placed on national economic planning.
The reason why?
For both main parties, it's too much like work, for MPs and civil servants alike: a parlous state of affairs.
My most recent post on Liz Truss left off with the beginning of the end in her final week as Conservative Party leader.
Friday, October 14
Her sacking of Kwasi Kwarteng and installation of Jeremy Hunt as Chancellor on Friday, October 14, meant only one thing — her end was nigh:
Liz Truss's first Chancellor Kwasi Kwarteng: what he expected, what he got instead (October 13, 14)
Liz Truss and Kwasi Kwarteng illustrate that one DAY is a long time in politics (October 13, 14)
The Times's headline on the morning of the 14th said that Conservative MPs were already plotting to install Rishi Sunak and Penny Mordaunt in Truss's place. One of them would be Prime Minister and the other would be Chancellor or Foreign Secretary:
The article also said (purple emphases mine):
Truss and Kwasi Kwarteng, the chancellor, are expected within days to make a humiliating climbdown over corporation tax in an effort to calm the markets and see off a mounting revolt.
Indeed, that is what Truss announced at her disastrous press conference that afternoon. By then, Jeremy Hunt was already Chancellor:
It was hard to believe, especially as Ireland's corporation tax is half that: 12.5%. What is to stop businesses in Northern Ireland from moving south of the border?
Liz prefaced the announcement with:
This is difficult.
Guido Fawkes has the video and another quote preceding her announcement about corporation tax:
It is clear that parts of our mini-Budget went further and faster than markets were expecting… so the way we are delivering has to change…
He concluded (emphases his):
The mother of all U-turns…
Later in the afternoon, Wendy Morton, the Chief Whip, summoned Conservative MPs to an online call with the Deputy Prime Minister Thérèse Coffey.
One hundred of them dialled in. Coffey allegedly kept staring at her notes:
Saturday, October 15
Saturday's papers were scathing.
The Daily Mail asked, 'How much more can she (and the rest of us) take?'
The i paper led with 'Tory MPs tell Truss: "It's over"':
The Telegraph's Tom Harris wrote about the symbiotic relationship between the Prime Minister and the Chancellor from Margaret Thatcher's time to Truss's.
When that relationship goes wrong in a big way, it's nearly always bad news for the PM, although there are exceptions:
When a prime minister loses a long-serving chancellor and ally – as Margaret Thatcher did when Nigel Lawson walked out of her government in 1989 – the political ramifications are enormous. In Thatcher's case, that event signalled the beginning of her long defeat. When a prime minister loses a friend too, it becomes, as Liz Truss stated in her press conference, "not an easy" personal moment. 
Their closeness also makes it impossible for Truss to distance herself from the mess left at the Treasury. It is not clear which policy Kwarteng implemented that the prime minister was so unhappy with that she had to fire him. In 1989, Lawson resigned over his objection to the prime minister's reliance on her economic adviser, Sir Alan Walters, but there were already disagreements between Numbers 10 and 11 over whether Britain should join the European Exchange Rate Mechanism. 
[John Major's Norman] Lamont was fired over his handling of Britain's departure from the same institution. Javid resigned over personnel issues. Rishi Sunak's reasons for resigning were similar, though in his case the personnel issue involved the then prime minister himself.
In Jeremy Hunt, Liz Truss might be given a chance to form the kind of reassuring, mutually supportive – and, crucially, stable – relationship with her chancellor that good government demands. It would be foolish, however, to assume that when such a relationship breaks down, it is always the chancellor who is next to go.
The Telegraph's Camilla Tominey looked at the backbench Conservative MPs, wondering how Conservative they actually were. I was glad to see that she mentioned Alicia Kearns, who does not seem very Conservative to me.
Tominey's article shows that a significant number of Conservative backbenchers do not hold traditional Conservative Party values:
Never underestimate the Conservative Party's unparalleled ability to turn the gun on itself when coming under enemy fire. As the pot shots continued to rain thick and fast on Liz Truss's troubled premiership, what did the Tories decide to do? With Labour's help, they elected Alicia Kearns as chair of the Foreign Affairs Select Committee.
For those unfamiliar with Ms Kearns, she is the former Amnesty International activist who led the so-called "Pork Pie Plot" to oust Boris Johnson over partygate. Despite having been an MP for all of five minutes, the 34-year-old, who won the safe seat of Rutland and Melton in 2019 (hence the pork pie theme) decided that the Conservatives' wisest move was to remove the man who secured the party's biggest election win since 1987. Well, dip me in jellied pork stock and cover me in hot-crust pastry, that went swimmingly!
Having declared last year that she came into Parliament with "one legislative change I wanted to deliver, which was to ban conversion therapy", inexperienced Kearns now occupies one of the most influential posts in the House of Commons.
Her first intervention? Following hot on the heels of her fellow chair, Mel Stride, of outspoken Treasury select committee fame, she used a radio interview on Thursday night to urge the Prime Minister to reverse the tax-cutting measures in the mini-Budget.
I've got nothing personally against Ms Kearns – she is clearly a thoughtful and intelligent woman. But if she isn't for cutting tax, then what on earth is she doing in the Tory party, let alone now apparently in the running to enter a future Conservative Cabinet?
One former minister was this week quoted as saying: "Everything [the Government] are doing is everything that I don't believe in." Why, then, is that senior politician – apparently so opposed to spending controls and economic growth – not currently residing on Sir Keir Starmer's shadow front bench or drinking Remaineraid with Sir Ed Davey?
As former Brexit negotiator Lord Frost put it on Thursday: "There are too many … social democrats operating under Conservative cover."
It is one thing to be a broad church, but the Tories are currently taking on the mantle of a Blue Labour cult.
Not only are many of them perfectly comfortable with taxing people more, despite the tax burden being at its highest in 70 years, but they are also apparently as opposed to fracking as Ed Miliband. They seem to love the status quo and appear happy to watch Britain slowly sink into decline – along with their own party.
Tominey says that Liz Truss's platform was clasically Conservative, and so was the one upon which Alicia Kearns was elected.
These are the MPs who will determine the outcome of Brexit and the next election. Both are in peril.
Tominey rightly lays the blame at the feet of former PM David Cameron, a wet who wanted a different type of Conservative MP:
David Cameron's decision to introduce open primaries in the late 2000s, which saw wannabe MPs selected by non-members as well as members, was perhaps the most obvious mistake. The Conservatives ended up with "yellow" Tories in its ranks, such as Sarah Wollaston, who later defected to the Liberal Democrats.
Funnily enough, Sarah Wollaston is no longer an MP. Others like her, most of whom had the whip removed, were defeated or chose not to run in 2019.
This is the issue:
But more broadly, by inviting people with no background in Conservative politics to stand for Parliament, they ended up with people with no Tory backbone either. Holding successive snap elections only made the selection process less rigorous and open to people high on ambition and low on ideology.
This is a problem for the next general election. GEs depend upon local activists — party members — who are willing to canvass door-to-door:
We now have the Sunak squadders, calling for people to keep less of their wages, for businesses to pay more in corporation tax and for benefits to be linked to inflation, Corbyn-style …
Conservatives have become so detached from reality that they actually believe this will help them to win the next general election – even though it promises to prompt a mass walkout by the very grass-roots activists they rely on to run a campaign.
However, Tominey says that Rishi Sunak's coronavirus handouts have also altered the public perception of the role of the state. We can but see how this will play in 2024 or early 2025 when the next GE comes along.
Monday, October 17
On Monday, October 17, Leader of the House Penny Mordaunt had to stand in for Truss during a debate. Opposition MPs accused Truss of hiding under a desk.
Mordaunt had to deny that more than once, saying that Truss had a 'very genuine reason' for not being present.
I don't often feel sorry for Penny Mordaunt, but I did that day:
However, one Labour MP, Andrew Gwynne, tweeted that Liz Truss was the victim of a 'coup' — his word — and that Jeremy Hunt was the acting PM: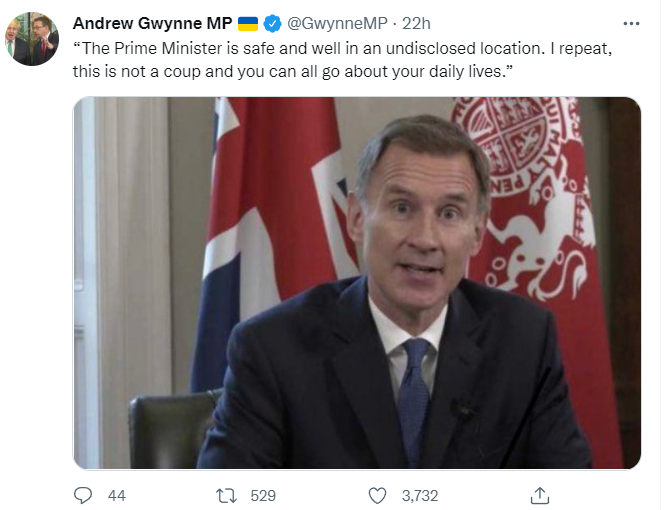 On Tuesday, October 18, The Times explained why Truss did not turn up at the despatch box the day before:
For much of the day Truss was conspicuous by her absence. She refused to respond to a question by Sir Keir Starmer in the Commons, prompting accusations from Labour that she was "frit". Penny Mordaunt, the leader of the Commons, answered questions in her stead. She said that the prime minister had "a very good reason" for her absence but refused to explain further, prompting misplaced speculation that Truss had resigned.
That reason for her absence turned out to be a meeting with Sir Graham Brady, the chairman of the backbench 1922 Committee. Sources said that the meeting was routine and had been arranged before Kwarteng's dismissal. But the issue of her leadership, and a potential revolt by Tory MPs, was said to have been discussed.
One source on the committee said there were a "number of views" on the way ahead but that there were concerns that an immediate move to defenestrate the prime minister could further destabilise the markets.
"The question is whether it is more damaging to create further uncertainty by getting rid of the prime minister when the chancellor [Hunt] appears to have settled the markets," said an MP on the committee.
Some Tory MPs believe that with the unravelling of her tax-cutting agenda and signature energy policy she is finished politically. Sir Charles Walker became the fifth Conservative MP to publicly call for her to go, saying her position was "untenable".
A senior Conservative source added: "It's the biggest unforced humiliation for a British government since Suez. Eden did the decent thing and resigned."
"The trouble is there is no consensus for who should replace her," said one former backer of Rishi Sunak. "And the last thing we need now is to be seen to be causing more uncertainty on the financial markets."
Monday night was grim.
On the subject of a coup, Nigel Farage agreed that Jeremy Hunt was in charge, and that this was a 'globalist coup':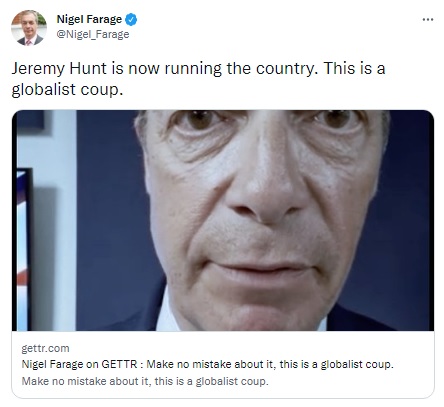 On his GB News show that night, Dan Wootton also said that there had been a coup. He agreed that the unpopular Hunt was in charge and that no one liked him, except for the Establishment. He said that if the Conservatives allowed this to continue, then they deserve to lose the next GE:

Truss surfaced to give an interview to the BBC's Chris Mason, wherein she apologised for the mini-budget. She said:
First of all, I do want to accept responsibility and say sorry for the mistakes that have been made. I wanted to act, to help people with their energy bills, to deal with the issue of high taxes, but we went too far and too fast. I have acknowledged that.
Tuesday, October 18
Tuesday's headlines were deeply discouraging for her. Nearly all had photos of her alongside Hunt:
The new biography of Truss, Out of the Blue, was not even ready for publication. Someone photoshopped the cover with a remainder sticker on it, saying, 'Reduced for quick sale — please just take it':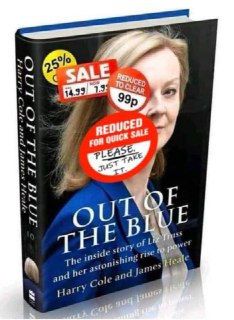 The Sun's political editor, Harry Cole, one of the book's co-authors, posted an article about the MPs plotting against her:
TORY plotters dubbed the "Balti Bandits" carved up Liz Truss's future last night over a korma and bhuna feast, The Sun reveals.
Leading rebel Mel Stride hosted more than a dozen "miserable" Conservative MPs in his large House of Commons office for an Indian takeaway – with the PM's fate also on the table.
Ex-Ministers John Glen, Nick Gibb, Mark Garnier and Shailesh Vara tucked into "lashings of curry and naan" ordered in by Mr Stride, alongside outspoken backbencher Simon Hoare. 
2019 intake MPs Angela Richardson and Simon Baynes were also said to have joined the "poppadum plot" – but sources say the meeting ended with "no credible solution" to their woes …
Contenders include ex-Chancellor Rishi Sunak, Defence Secretary Ben Wallace, new Chancellor Jeremy Hunt and Commons Leader Penny Mordaunt – but given the party is deeply split, the plotters admitted the chances of a rapid "coronation" of a new PM were "almost zero."
One attendee told The Sun: "the vast majority of attendees were Rishi Sunak supporters, but there were Penny people too. It was not a Rishi thing." 
On Tuesday evening, Truss had another group angry with her — her own supporters in the European Research Group, the pro-Brexit group of backbench Conservative MPs.
The Telegraph's Tim Stanley wrote about it, as he was there in the corridor for Truss's meeting with them:
Liz Truss launched her fightback at 6pm in Committee Room 11. The meeting was actually set for 5pm; Commons voting ran late so Mark Francois advised us hacks to go away and come back later, but I hung around on the suspicion that the moment we left, Liz would slip out of her hiding place in the roof of the lift and jog, unseen, into the Room …
These are the true believers: if they're angry at Liz for anything, it's for not keeping the mini-Budget …
What we saw of her on TV on Monday night, interviewed by Chris Mason, did not spark confidence as she uttered that dread word "sorry", thus accepting personal responsibility for blunders past and future. It is the mark of an "honest politician", she said, to admit mistakes. That's true, but it's also a dead giveaway for a not-very-good one, trying to turn a repeated error into a display of moral virtue. As Samuel Johnson might have said, "Honesty is the last refuge of the incompetent".
… She bobbed into view in a dark blue dress and black tights – fresh-faced, one suspects, from a good night's sleep. Instinctively, I stood: she might be a PM, but she's still a lady. I earnt a cheeky nod. Those who can't fathom the rise of Ms Truss haven't met her. She has a way of compromising you, of making you think you're on her side, and it's the most fun side of the room to be on.
The ERG roared as she entered. She entertained them behind a closed door for about 45 minutes. Then she left, followed by Mr Francois who told us it was "a very positive meeting".
The PM evidently spoke about Northern Ireland and her commitment to raising defence spending by the end of the decade, which is ambitious for a woman who could be out of office by Friday. And he noted that David Canzini, the clever political operative, was with her, an eminence so grise, none of us had noticed he'd gone in.
No 10 confirmed it: he was hired as of that morning.
Too little too late. That might have been Canzini's shortest job.
Wednesday, October 19
On Wednesday, October 19, Guido Fawkes posted that the Reform Party — formerly the Brexit Party — was climbing in the polls. The photo shows their chairman, businessman Richard Tice:
Guido's post said, in part:
Guido can reveal that in the 48 hours before close of play yesterday afternoon, the old Brexit Party received almost 1000 new £25 membership sign-ups. That new five-figure cash boost was joined by 300 members registering a new interest in standing as a party candidate at the next election. The first time the Tories dipped below Labour in the polls – September 2021 – Reform saw one in 10 Tory voters switching to them. Can they continue capitalising on Liz's woes? …

It's not just Reform benefitting from the dire state of No. 10. Last night the LibDems revealed five new donors, each giving £50,000 to the party, one of whom is a former Tory donor. While the last 36 hours have been calmer for Truss, it does feel like the ship has sprung one too many leaks to be repaired by a strong PMQs performance…
Wednesday was another fateful day. Home Secretary Suella Braverman resigned, then a confusing scene took place in the voting lobby over a division (vote) on fracking, which resulted in more chaos when it was unclear whether Wendy Morton had resigned as Chief Whip:
Liz Truss's final 24 hours: Suella Braverman's resignation, question over Whips' resignations (October 19)
Truss appointed Grant Shapps, former Transport Secretary, in Braverman's place:
Holy mole, guacamole!
Nigel Farage repeated 'coup' in his tweet about the news:
As with Hunt, Truss had to scrape the barrel.
The Telegraph reported that, like Hunt, Shapps was not a Truss supporter:
It is a remarkable turnaround for Mr Shapps, the transport secretary under Boris Johnson who went on to become a prominent supporter of Ms Truss's leadership rival Rishi Sunak.
Only on Monday night, Mr Shapps was telling a theatre audience that he believed Ms Truss had a "Mount Everest to climb" to remain in power.
"I don't think there's any secret she has a mountain, a Mount Everest to climb," he told Matt Forde's podcast. "What she needs to do is like threading the eye of a needle with the lights off."
Now he is one of her most senior ministers – and another example of the way a weakened Ms Truss is being forced to offer olive branches to the Sunak supporters she had previously shunned.
Not only was Mr Shapps questioning her chances of success until as early as this week – he was working proactively to get rid of her.
Mr Shapps has been viewed in Westminster as one of the leaders of the opposition to Truss's libertarian policies.
He spoke up at the Tory party conference in Birmingham earlier this month against her plans to scrap the 45p rate of income tax, and warned that Ms Truss had "10 days" to turn things around or MPs "might as well roll the dice and elect a new leader".
This is what the aforementioned Camilla Tominey was lamenting in Conservative MPs. Some of the recent ones have no appreciation of or allegiance to Conservative values. Shapps was a Cameronian MP.
The article also discussed Shapps's famous spreadsheets which appear to work as well as the 1922 Committee in making or breaking a Prime Minister:
The veteran MP – known by some as the "Duracell Bunny" for his enthusiasm – is also well-known for his "Star Wars" spreadsheet, with which he has spent the past few weeks recording the views of MPs on Ms Truss and her plans.
Mr Shapps used an earlier version of his famous spreadsheet to lead a rebellion against Theresa May, and also utilised its information to help guide Boris Johnson into Downing Street.
The spreadsheet is said to contain more than 6,000 historical "data points" from previous conversations with MPs.
It was rumoured that he had been in contact with Mr Johnson and Mr Sunak to see if they would join an effort to oust Ms Truss. And some rebel MPs claimed he had even offered himself up as a caretaker prime minister.
Let us not forget that Shapps himself is hardly a paragon of virtue:
… unfortunately for Mr Shapps, some elements of his past may make a shot at No 10 less than likely – not least the Michael Green saga.
This was an alter-ego he employed to enable him to run a series of get-rich-quick schemes on the internet while he was an MP.
Mr Shapps originally denied he had a second job, and threatened legal action against a constituent who said he had. But he was forced to admit practising business under a pseudonym in March 2015.
All this happened while he was Tory chairman, in charge of David Cameron's efforts to win the 2015 election.
He was demoted soon after to aid minister, and resigned from that role after claims he had ignored repeated allegations of bullying involving the Tories' youth organiser. It was said the alleged bullying, which took place on the party's RoadTrip 2015 campaign, may have caused one party member to commit suicide.
On Wednesday evening, Camilla Tominey reprised her warning about un-Conservative MPs and their takeover of the Government. She, too, used the word 'coup':
… the departure of Suella Braverman as home secretary speaks to a bigger problem for Liz Truss than sheer optics.
In sacking two key allies on the Right, only for them to be replaced by opponents more to the Left of the party, the Prime Minister is increasingly looking like the victim of a Conservative coup.
It is certainly ironic that the former home secretary, in post for just 43 days, first used that word to describe those who plotted against Ms Truss's original plan to link benefit to wages rather than inflation. 
With that, and most of her mini-Budget up in flames thanks to a rebellion by the moderates, Jeremy Hunt now appears to be the de facto Prime Minister.
He will now be joined by his fellow Sunakite Grant Shapps, who despite being rejected from Ms Truss's original cabinet, has now been appointed to replace Mrs Braverman at the Home Office.
Braverman, at one point, had headed the aforementioned European Research Group:
… her swift exit from one of the highest posts in public office will anger her European Research Group supporters.
It was only on Tuesday evening that Ms Truss was said to have charmed the backbench group of Eurosceptics with her honest, straight-talking approach.
They are unlikely to take kindly to their former chairman, a darling of the grassroots, being ejected in such unseemly fashion.
Mrs Braverman, a Conservative leadership candidate herself over the summer, received the longest standing ovation at the Tory Party conference two weeks ago.
Fortunately, Rishi Sunak re-appointed Braverman as Home Secretary. He probably realised he had to, in order to keep Party members on side.
Returning to Wednesday, October 19, The Telegraph posted an article stating that Conservative backbenchers were asking Labour for help in ousting Truss. Unbelievable:
Rebel Tories have been asking Labour MPs to help them overthrow Liz Truss, The Telegraph has been told.
Conservative backbenchers are growing increasingly frustrated with the Prime Minister's leadership, but currently lack any mechanisms to remove her given the one-year immunity she has from a no confidence vote.
As things stand, the only way to oust Ms Truss would be to change the rules – which is a decision that only the executive of the 1922 committee of backbenchers can make – or if she resigns of her own volition.
One Labour MP told The Telegraph: "Tories are speaking to us saying 'this is a complete nightmare and there is no way out'. We are being asked 'can't you do something about her?'"
The MP, who said their colleagues have reported similar experiences, said they were approached by one Red Wall MP whose constituency was in the north and another MP who is a member of the One Nation group of moderates …
A Labour source said: "There is very little Labour can do. Even a vote of no confidence doesn't have the constitutional standing that it used to. The Tory party are the ones that elected her, they need to get rid of her."
The paper's Michael Deacon wrote that Conservative MPs were entirely to blame for the mess. Furthermore, he said, they risked angering Party members, the campaigning activists, if they pushed ahead with a rule change saying that the members would no longer be able to vote for future Party leaders. The members elected Truss over Sunak in August:
This week, The Telegraph reported that Tory MPs want to bar members from voting in future leadership elections. Supposedly the reason is to speed up the process of choosing a leader. But this is blatantly a smokescreen. Quite plainly, MPs just want to prevent the members from landing them with another turkey like Truss.
Many members are appalled by this suggestion. And so they should be. Such a plan is not just arrogant and undemocratic, it's delusional. Because party members aren't to blame for the current mess.
Tory MPs are.
After all, who put Truss on the ballot paper in the first place? Tory MPs. No fewer than 113 of them, in fact. A third of the parliamentary party. Out of an initial field of 11 candidates for the leadership, Truss was the MPs' second favourite.
Unlike the MPs, however, the party members weren't allowed to choose between the initial field of 11. If they had been, it's extremely unlikely that they would have chosen Truss. They'd have been far more likely to choose Penny Mordaunt or Kemi Badenoch, to name just two. In fact, if the MPs had deigned to ask them, I suspect that the greatest number of members would have wanted their leader to be Boris Johnson – the person they chose to be leader in the first place.
The truth is, the members voted for Truss simply because they didn't want to vote for Rishi Sunak. In leadership contests, they're only ever given two candidates to choose from. And why? Because Tory MPs don't trust them. They fear that, if presented with a wide-open field, party members will choose the "wrong" candidate. Funny how things turn out.
All things considered, then, it seems clear that, if anyone should be barred from voting in leadership contests, it should be Tory MPs. In future, just leave it to the wiser judgment of the members instead.
That night, The Telegraph posted an article by Lord Frost saying that the Party was moving towards a status quo, if not anti-Brexit, stance, going all the way back to David Cameron's time as Prime Minister, with George Osborne as Chancellor and Philip Hammond in the same post under Theresa May:
… the Government is implementing neither the programme Liz Truss originally advocated nor the 2019 manifesto. It is going in a completely different direction. We are back to Osbornomics, the continuity Hammond view of the world. There is no shred of a mandate for this. It's only happening because the Truss Government messed things up more badly than anyone could have imagined, and enabled a hostile takeover by its opponents …
… the correct account of the past few weeks is the simplest. Truss tried to deliver worthwhile reforms and set the country onto a much-needed new direction. I supported this policy direction and still do. But it was rushed and bungled. The markets were spooked. The mistakes were opportunistically seized on by her opponents to undermine her leadership, to blame Brexit, and to stop the party getting out of the social democratic tractor beam of the past few years. And now, under pressure, the Prime Minister has reversed tack completely.
The risk now is that we lose for a generation the opportunity to do anything better. Every time the PM defends her approach, she denounces the policies on which she was chosen. The danger is that necessary and correct reforms are discredited.
Frost held that Truss was ultimately responsible for her own downfall.
As such, she had to go:
We are where we are. I am very sorry about it, because I had such high hopes. Whatever happens to her ministers or the stability of the Government in the next few days, Truss just can't stay in office for one very obvious reason: she campaigned against the policies she is now implementing. However masterfully she now implements them – and it doesn't seem that it will be very masterfully – it just won't do. She said she wouldn't U-turn, and then she did. Her fate is to be the Henry VI of modern politics – a weak figurehead, unable to control the forces around her, occasionally humiliated, and disposed of when she has become inconvenient. Better to go now.
As for her successor and the Party:
Then the party must do two things: avoid making the economic situation even worse by repeating the policies of the Cameron government in totally different circumstances; and recover some political legitimacy for carrying on – because in our system legitimacy does matter.
Thursday, October 20
After 44 days, Liz Truss resigned as Conservative Party leader on Thursday, October 20.
She served as Prime Minister for 50 days, beating George Canning's record of 118 days. Also a Conservative, he died of tuberculosis in 1827.
She remained PM until Rishi Sunak succeeded her:
Liz Truss's final 24 hours: Suella Braverman's resignation, question over Whips' resignations (October 19)
Liz Truss's final 24 hours: fallout over Braverman and Morton, no tears in exit speech (October 19, 20)
Rishi Sunak becomes Prime Minister: a momentous morning of historic significance (October 24, 25)
How Rishi Sunak won the Conservative Party leadership contest — part 1 (October 20, 21, 25)
How Rishi Sunak won the Conservative Party leadership contest — part 2 (October 21, 26, 27)
How Rishi Sunak won the Conservative Party leadership contest — part 3 (October 22-24, 27, 28)
On Thursday morning, The Telegraph posted a Planet Normal podcast in which Lord Frost said he could see Brexit being reversed:
In the wide-ranging discussion, Lord Frost also said that he could see a future where Brexit is reversed. 
"Brexit was about giving us the power to do things ourselves and to give responsibility back to British ministers, British governments. And they've shown that many of them are not up to the job in the last year or two."
"I can easily see a situation where Keir Starmer gets in. We drift back closer into the single market and go back into the Customs Union. And then everyone says why are we in these things where we don't get a say in them? Wouldn't it be better to be a member? So I can easily see how it could happen. And the way you stop it happening is to prove, while we have the levers of power, that we can do things differently and better. And at the moment we're not making a very good job of that, unfortunately."
Little did Truss know that, the day before, she had stood at the despatch box for her last PMQs:
She resigned early on Thursday afternoon. Thankfully, she didn't cry, unlike Theresa May, who broke down at the podium (Guido has the video):
Sterling began surging the second Truss finished her announcement:
In less than 24 hours, the Conservative Party website deleted her presence from their home page (Guido has the before and after screenshots):
It was a sad ending to a sad episode of British parliamentary history.
Next week, I will look at who, besides Truss herself, was also responsible for it.
Truss is currently spending time in her own constituency and has not yet appeared on the backbenches, an alien place for someone who had been a minister of state for most of her career.
It becomes clearer by the day that most British voters support Home Secretary Suella Braverman and that vociferous Members of Parliament are working against her.
Picking up from where I left off yesterday, on Tuesday, November 1, Labour referred Braverman to the Financial Conduct Authority for her two breaches of the ministerial code during her time as Home Secretary under Liz Truss.
Furthermore, civil servants are still upset over Braverman's use of 'invasion' on Monday in Parliament:
I'm still trying to wrap my head around the Financial Conduct Authority referral, which seems to be grasping at straws in this witch hunt.
The Guardian reports (emphases mine):
Suella Braverman has been referred to the financial service watchdog by Labour over claims she may have breached market abuse laws, as the home secretary also faced growing criticism for her "car crash" handling of a migrant processing facility in Kent.
Fresh questions were raised about the "growth visas" announcement Braverman sent to several figures outside the government that led to her sacking nearly two weeks ago, with one Conservative MP openly saying they did not "accept or trust this home secretary's word".
Did she send it to 'several figures' or just one or two people by mistake? Earlier reports suggested that she did not send it to a group of recipients.
The article continues. Labour's premise seems to be a stretch of the imagination:
Labour claimed Braverman's leak may have had significant economic repercussions, given the policy was designed to be factored into the Office for Budget Responsibility's projections.
In a letter seen by the Guardian, the shadow City minister, Tulip Siddiq, wrote to the Financial Conduct Authority (FCA) urging them to launch an investigation and argued the move could "tangibly influence financial markets".
She said there was a "case to answer", as public interest and industry confidence in measures to prevent insider trading relied on trust they would be fully enforced.
Simon Case, the cabinet secretary, was also urged to confirm whether he believed the law had been broken.
Siddiq told him it was "not unreasonable to suggest" that the policy leak "could lead to insider trading on the value of sterling" and have other serious repercussions "if it fell into the wrong hands".
Given Downing Street had briefed journalists when Braverman was sacked on 19 October that the information she leaked was market-sensitive, Siddiq said breaching insider trading laws "does not require proof that market-sensitive information has been acted upon for gain". Unlawful disclosure "is a serious offence in its own right", she added. Braverman has denied the leaks were market-sensitive.
Siddiq quoted FCA advice to government departments, which states that they "may hold information that is confidential, non-public and valuable", which if handled incorrectly could lead to "disorderly markets" and "market abuse, such as insider dealing".
While the guidance says that the law is not being broken if information is disclosed "in the normal exercise" of employment, Siddiq said it was "difficult to see that the disclosure of market sensitive, confidential, significant policy from a personal email address to someone outside of government is included in this exception to the rules".
Yes, it does seem to be that Braverman corresponded with one Conservative MP intentionally and another person, a staffer to another Conservative MP, in error. This is hardly 'several figures':
Six days after her re-appointment as home secretary by Rishi Sunak, Braverman confirmed that she had forwarded a draft written ministerial statement about the launch of growth visas by Liz Truss's government to a backbench MP, Sir John Hayes, and another colleague's parliamentary staffer.
Given the admission, Siddiq said the FCA should launch an investigation into whether Braverman broke market abuse laws or regulations, and confirm that senior ministers should show the highest standards of protecting market-sensitive information.
Interestingly, when Braverman gets on with her job, hardly anyone reports on it.
On Thursday, November 3, she visited the Manston migrant processing centre in Kent. That afternoon, GB News showed the Government motorcade approaching the road to Manston.
No one else seems to have covered the story.
On the other hand, there were reports that two groups of migrants were dropped off at Victoria coach station in central London. With the first group, officials said that the migrants were going to be housed by friends or family. The whereabouts of the second group is less clear.
On Friday, November 4, The Times reported:
A second group of asylum seekers from the Manston immigration centre have said that they were abandoned at Victoria coach station by the Home Office and forced to sleep outside.
The incident is alleged to have taken place less than 24 hours after the Home Office left 11 migrants in the coach station without accommodation or warm clothing. The Home Office denied that the asylum seekers involved in the first incident had been abandoned in error and claimed that accommodation for them had been organised.
About 50 migrants were said to have arrived in London on a coach from Manston at about 9am on Wednesday. Many were picked up by friends or family, but a dozen spent the night outside Victoria as they had nowhere to go.
Members of the second group said the coach driver had told them a lack of accommodation was their problem. Of the group that slept outside the station six remained in Victoria yesterday and the six others went to central London in the hope of receiving support.
The group who remained in Victoria were approached by members of The Passage, a local homelessness charity, which took them to their local service and gave them hot meals, showers and tracksuits. It also provided medical assistance and arranged accommodation for last night …
Danial Abbas, the volunteer who found the asylum seekers, said the Home Office told him there had been an "operational error". Abbas accused the Home Office of being disingenuous. He said: "I would have a lot more respect if they put their hands up to any mistakes that they made and reassure the voting public that they have put measures in place to prevent this from happening again."
Hmm …
This has become an intractable situation.
In France, police are now instructed to leave the dinghies alone in certain conditions, which helps the smugglers.
On November 1, the Mail reported:
French police have been ordered not to stop migrant boats in the water departing for Britain because of fears of facing legal action.
The diktat has left 'overwhelmed' officers powerless to intervene as people smuggling gangs ruthlessly exploit the system to send thousands more migrants on perilous cross Channel crossings.
The policy was introduced after a campaign group filed a complaint accusing police of endangering human life after officers punctured an overloaded small boat just a few yards from the shore to prevent it leaving.
A subsequent notice from France's Departmental Board of the National Police issued on August 26 banned officers from targeting boats already in the water. Only those on the beach or on the road could be intercepted.
People smugglers swiftly responded, setting up almost untouchable 'taxi boat' services.
Instead of taking dinghies to the beach by road and inflating them on the sand, as before, gangs now pilot boats along the coast and pick up groups of migrants waiting on the shore at pre-arranged spots. 
The same article has a sidebar showing that the British people support Suella Braverman in her use of the word 'invasion' in Parliament:
The Mail+ readers overwhelmingly agree with Suella Braverman that the Channel migrant crisis is 'out of control'.
In a poll of 2,494 people, 98 per cent said they agreed with the remarks of the Home Secretary. Just 2 per cent disagreed. On Monday Mrs Braverman told MPs that ministers needed to be straight with the public because the asylum system was broken.
Using remarkably stark language, Mrs Braverman also likened the Channel crossings to 'an invasion' of the southern coast. 
Once the migrants arrive in Britain, younger ones are allegedly urged to lie about their age in order to leave Manston sooner. The Home Office denies the allegations.
The Mail reported:
Child migrants are claiming that they are being pressed by UK officials to lie that they are adults so that they can leave the crisis-hit Manston compound more quickly, a report alleges.
The child asylum seekers, who are said to have crossed the Channel on small boats, are reportedly claiming that they were told by officials that they would be able to get out of the troubled processing plant in Kent faster if they pretend that they are over 18.
A recording was reportedly passed to The Guardian of an apparent 16-year-old Eritrean boy speaking to a guard at Manston on Saturday about the pressure he says he was put under to say he was older. 
The Refugee Council also gave the Left-wing newspaper information about three recent interviews their staff carried out with Kurdish boys from Iraq and Iran who made the same claims.
And a fifth child reportedly made the same allegation to the Humans for Rights Network, the report adds.
The Home Office branded the allegations 'baseless speculation', with a spokesperson telling MailOnline no evidence has been produced to back the claims. MailOnline has asked the Refugee Council and the Humans for Rights Network for further information.
Add to this the continuous pressure in Parliament to take in more 'refugees'. Opposition MPs say that Britain takes in far too few, yet, by the end of the year, 50,000 people — mostly men — will have crossed the Channel in 2022.
However, Kelvin MacKenzie, the retired editor of the Sun, says that Britain takes in many more refugees than the largest EU countries:
With all of this mayhem swirling around Suella Braverman, one wonders if she can survive in post, even if she is the most determined to sort out the mess.
On Tuesday, The Telegraph's Christopher Hope listed 'Five reasons why Rishi Sunak will not sack Suella Braverman':
1. The Right needs a Cabinet champion
… Braverman is a darling of the party's Right wing, as evidenced by the ovations she received at the party's conference in Birmingham last month.
The party's grassroots loved her – and she clearly is in tune with them. None of this is confected – Braverman is rightwing to her irreducible core …
This makes her politically valuable to Sunak. Right-wing Tories want to see one of their own at the top of the party – and Braverman is that person.
Hope's second reason is to appease the Brexit-supporting European Research Group in Parliament. Braverman is one of their past chairmen.
His next reason is:
3. Cover for huge tax rises
Sunak's Cabinet is stuffed with moderate Conservatives and fewer bona fide tax cutters. Braverman is one – and this is why she must remain there.
His fourth reason is to complete Brexit in line with sorting out the Northern Ireland Protocol, weighted heavily in the EU's — and the Republic of Ireland's — favour.
His last reason is:
5. Beware Suella the backbencher
Braverman's pronouncements in the Commons last night that the borders "system is broken" and "immigration is out of control" show how desperate things are …
Labour Home Secretary John Reid did in 2006 when he declared the Home Office as "not fit for purpose" and broke it up to create the Ministry of Justice.
Braverman is ambitious. She told me on my podcast that wants to bring net immigration down to "tens of thousands", adopting the famous target that former PM David Cameron could never meet …
And Sunak won't want her on the backbenches, where she would emerge as a touchstone for criticism of the Home Office.
He concludes:
For now, at least, Braverman is the answer. As a Right-wing Conservative MP told me today: "She is the last chance we have to deal with the migrant boat crisis before the general election."
I hope he is right.
For now, Braverman is beleaguered by attacks on all sides, including the civil servants notionally working for her.
I wish her all the best in her continuing quest.
Picking up from where I left off on Friday, October 28, 2022, Home Secretary Suella Braverman's woes continue in and out of Parliament.
The knives continue to be out for this accomplished barrister in Parliament. Outside of Westminster, all hell is breaking loose at two migration processing centres in Kent: Manston and Western Jet Foil.
Ayaan Hirsi Ali, who has been watching events from across the pond, wrote an excellent summary for UnHerd of the challenges that Britain's Home Secretary faces: 'Can Suella Braverman take back control?'
Excerpts follow, emphases in purple mine:
I almost feel sorry for Suella Braverman. One minute, the Home Secretary was living her best life, happily raging against "the tofu-eating wokerati"; the next, she was being blamed for a firebomb attack on a migrant centre in Dover, the latest chapter in Britain's sorry immigration story. But amid the chaos, the combination of these flashpoints perfectly encapsulated everything wrong with the current immigration system: here we had yet another politician trying to appear tough on immigration while flailing incompetently, only to be followed by an outburst of hateful violence in response to their incompetence. And so the cycle continues.
Hirsi Ali says that focusing on clearing up the immigration mess is a 'career killer', but it is worth bearing in mind that Theresa May was unsuccessful as Home Secretary yet served as Prime Minister for three years from 2016 to 2019.
That said, Hirsi Ali is correct in saying that political willpower is central to resolving this issue:
Perhaps the real challenge isn't actually immigration itself, but a lack of political willpower. After all, the immigration issue is not going away any time soon. If anything, it is likely to get worse.
To put it simply, many, many more will likely make their way to Europe in the very near future. This will mean more political polarisation and extremism in Europe, as those frustrated by politicians' failure to control their nation's borders seek radical, even violent, solutions. If there has ever been a time to reverse decades of incompetence on immigration, it is surely now.
However, is it government incompetence causing this problem? Or is it because of intransigent civil servants assigned to the Home Office? It is difficult to know.
Legislation, such as that surrounding modern slavery — brought in during Theresa May's time as PM — and treaties complicate the immigration problem. Capitalising on these is the bread and butter of immigration lawyers and charities.
Hirsi Ali explains that the 1951 UN treaty on refugees is woefully out of date. We have moved beyond a European-centred Cold War world:
The UK, for instance, remains a signatory to the 1951 Convention Relating to the Status of Refugees, which, along with its 1967 Protocol, the UN's refugee agency calls "the key legal documents that form the basis of our work". What the UN fails to mention, however, is that its legislation dates from the Cold War, and was originally devised as a short-term Eurocentric solution to a post-war problem: to help those fleeing from the wrong side of the Iron Curtain. Its architects never envisioned a world of mass, global migration from poorer, less stable countries whose people follow very different cultural norms, many of which clash with modern Western values (women's rights, for one). The 1951 Convention is, in other words, decades out-of-date. Its authors could never have conceived the scale of today's migrant crisis.
Regular readers of my posts know that the one flight scheduled for Rwanda this past summer never left for its destination. The few dozen of people scheduled to leave for that nation were taken off one by one, as human rights lawyers furthered their cases in the UK. The UK was allegedly violating the European Court/Convention on Human Rights (ECHR):
At present, then, it is impossible for the immigration crisis to be solved, for the simple reason that any effective new laws will clash with other legal obligations. Indeed, it is because of the UK's membership in the European Convention on Human Rights that the Rwanda scheme failed: at the last minute, the ECHR ruled that the UK could not deport migrants to Rwanda. This is not to say that the Rwanda plan was a suitable solution, but rather that if progress is to be made, a fundamental conflict has to be resolved — and the only way to achieve this is for the UK to revisit its legal obligations and amend or even abandon them completely.
Hirsi Ali concludes:
In the short term, at least, it is unlikely that she will have the parliamentary support to push through a complete overhaul of the UK's legislative commitments. All of which means that Rishi Sunak has little choice but to step in. This is no longer a battle he can afford to delegate. For immigration is a career-killer — and if it's not warded off soon, Braverman is unlikely to be its only victim.
On Saturday, October 29, The Times followed up on allegations that Braverman was 'ignoring advice' about the problems at the Manston processing centre. These could result in an inquiry or even court action:
The home secretary received advice at least three weeks ago warning that migrants were being detained for unlawfully long periods at the Manston asylum processing centre in Ramsgate, Kent. According to five sources, Braverman, 42, was also told that the legal breach needed to be resolved urgently by rehousing the asylum seekers in alternative accommodation.
Two sources said she was also warned by officials that the Home Office had no chance of defending a legal challenge and the matter could also result in a public inquiry if exposed.
A government source said: "The government is likely to be JR'd [judicially reviewed] and it's likely that all of them would be granted asylum, so it's going to achieve the exact opposite of what she wants. These people could also launch a class action against us and cost the taxpayer millions."
I had not realised that class action suits were allowed in the United Kingdom. Are they?
The article continues:
Asylum seekers are meant to be in Manston, a short-term holding facility, for no more than 24 hours while they undergo checks before being moved into immigration detention centres or asylum accommodation.
But of the 2,600 migrants at the site — which was designed to hold a maximum of 1,600 — some, including families, have been held there for up to four weeks.
The majority are believed to have arrived on the south coast after crossing the Channel in small boats in recent weeks. The centre is now dealing with outbreaks of diphtheria and scabies, with staff at the site also reporting outbreaks of violence as tensions have mounted over the overcrowded conditions.
David Neal, the independent chief inspector of borders and immigration, told MPs on the home affairs select committee he was left shocked by the "wretched conditions" migrants were being kept in after he visited the centre.
In claims fiercely disputed by the home secretary, it is alleged that after receiving legal advice about Manston, she refused to solve the problem by securing new hotels for the asylum seekers to be transferred to.
I empathise with Braverman, because hotels have been filling up quickly throughout the year, to the extent that Britons have either been unable to book rooms from as far back as Easter or they have had weddings and other booked events cancelled.
On Sunday, October 30, the newly-returned Secretary of State for Levelling Up, Michael Gove, defended his Cabinet colleague on Sky News (video):
Late that morning, a 66-year-old man who lived in Buckinghamshire, two hours away by car, firebombed the exterior of the Western Jet Foil facility. He later died at a nearby petrol station. Fortunately, no one was seriously injured.
Meanwhile, in Parliament, Labour and other Opposition MPs were still going after Braverman for her resignation when Liz Truss was PM over two violations of the ministerial code.
On Monday, October 31, Braverman sent Labour's Dame Diana Johnson MP a six-page letter about the events surrounding those violations:
Guido Fawkes has the letter in a more readable format, along with more information and an additional timetable:
Suella also admits to having sent documents from her personal email on six separate further occasions …
On Monday afternoon, Braverman gave a statement to the House of Commons about the weekend's events at Manston and Western Jet Foil. She also took questions about her resignation in Liz Truss's government.
Robert Jenrick, the Minister for Immigration, her 'minder', of sorts, sat behind her to keep an eye on her for Rishi.
Excerpts from her statement follow:
At around 11.20 am on Sunday, police were called to Western Jet Foil. Officers established that two to three incendiary devices had been thrown at the Home Office premises. The suspect was identified, quickly located at a nearby petrol station, and confirmed dead. The explosive ordnance disposal unit attended to ensure there were no further threats. Kent police are not currently treating this as a terrorist incident. Fortunately, there were only two minor injuries, but it is a shocking incident and my thoughts are with all those affected …
By Tuesday, police were treating it as a terrorist incident, based on social media posts from the perpetrator which later came to light.
Braverman continued:
My priority remains the safety and wellbeing of our teams and contractors, as well as the people in our care. Several hundred migrants were relocated to Manston yesterday to ensure their safety. Western Jet Foil is now fully operational again. I can also inform the House that the Minister for Immigration, my right hon. Friend the Member for Newark (Robert Jenrick), visited the Manston site yesterday and that I will visit shortly. My right hon. Friend was reassured by the dedication of staff as they work to make the site safe and secure while suitable onward accommodation is found.
As Members will be aware, we need to meet our statutory duties around detention, and fulfil legal duties to provide accommodation for those who would otherwise be destitute. We also have a duty to the wider public to ensure that anyone who has entered our country illegally undergoes essential security checks and is not, with no fixed abode, immediately free to wander around local communities.
When we face so many arrivals so quickly, it is practically impossible to procure more than 1,000 beds at short notice. Consequently, we have recently expanded the site and are working tirelessly to improve facilities. There are, of course, competing and heavy demands for housing stock, including for Ukrainians and Afghans, and for social housing. We are negotiating with accommodation providers. I continue to look at all available options to overcome the challenges we face with supply. This is an urgent matter, which I will continue to oversee personally.
I turn to our immigration and asylum system more widely. Let me be clear: this is a global migration crisis. We have seen an unprecedented number of attempts to illegally cross the channel in small boats. Some 40,000 people have crossed this year alone—more than double the number of arrivals by the same point last year. Not only is this unnecessary, because many people have come from another safe country, but it is lethally dangerous. We must stop it.
It is vital that we dismantle the international crime gangs behind this phenomenon. Co-operation with the French has stopped more than 29,000 illegal crossings since the start of the year—twice as many as last year— and destroyed over 1,000 boats. Our UK-France joint intelligence cell has dismantled 55 organised crime groups since it was established in 2020. The National Crime Agency is at the forefront of this fight. Indeed, NCA officers recently joined what is believed to be the biggest ever international operation targeting smuggling networks.
This year has seen a surge in the number of Albanian arrivals, many of them, I am afraid to say, abusing our modern slavery laws. We are working to ensure that Albanian cases are processed and that individuals are removed as swiftly as possible—sometimes within days.
Shadow Home Secretary Yvette Cooper mentioned Braverman ignoring advice about the situation at the processing centres.
Braverman replied:
As I made clear in my statement, on no occasion did I block hotels or veto advice to procure extra and emergency accommodation. The data and the facts are that, on my watch, since 6 September, over 30 new hotels were agreed, which will bring into use over 4,500 additional hotel bed spaces. Since the start of October, it has been agreed that over 13 new hotels will provide over 1,800 additional hotel bed spaces. Also since 6 September, 9,000 migrants have left Manston, many of them heading towards hotel accommodation. Those are the facts; I encourage the right hon. Lady to stick to the facts, and not fantasy. [Interruption.]
The right hon. Lady raised other points. My letter to the Home Affairs Committee, sent today, transparently and comprehensively addresses all the matters that she has just raised. I have been clear that I made an error of judgment. I apologised for that error; I took responsibility for it; and I resigned. [Interruption.]
I apologised for the error, I took responsibility, and I resigned for the error, but let us be clear about what is really going on here. The British people deserve to know which party is serious about stopping the invasion on our southern coast, and which party is not. Some 40,000 people have arrived on the south coast this year alone. For many of them, that was facilitated by criminal gangs; some of them are actual members of criminal gangs, so let us stop pretending that they are all refugees in distress. The whole country knows that that is not true. It is only Opposition Members who pretend otherwise.
We need to be straight with the public. The system is broken. [Interruption.] Illegal migration is out of control, and too many people are more interested in playing political parlour games and covering up the truth than solving the problem. I am utterly serious about ending the scourge of illegal migration, and I am determined to do whatever it takes to break the criminal gangs and fix our hopelessly lax asylum system. That is why I am in government, and why there are some people who would prefer to be rid of me. [Interruption.]
Let them try. I know that I speak for the decent, law-abiding, patriotic majority of British people from every background who want safe and secure borders. Labour is running scared of the fact that this party might just deliver them.
An SNP MP had a go at Braverman over the ministerial code violations.
Braverman replied, talking about false allegations made against her:
I refer the hon. Gentleman to the letter that I sent today to the Chair of the Home Affairs Committee, the right hon. Member for Kingston upon Hull North (Dame Diana Johnson). I have been up front about the details of my diary on 19 October and co-operative with any review that has taken place. I have apologised; I have taken responsibility; and that is why I resigned.
I hope that the House will see that I am willing to apologise without hesitation for what I have done and any mistakes that I have made, but what I will not do under any circumstances is apologise for things that I have not done. It has been said that I sent a top secret document. That is wrong. It has been said that I sent a document about cyber-security. That is wrong. It has been said that I sent a document about the intelligence agencies that would compromise national security. That is wrong, wrong, wrong. What is also wrong and worrying is that, without compunction, these assertions have been repeated as fact by politicians and journalists. I am grateful to have had the opportunity to clarify the record today.
Chris Philp, transferred from the Treasury to the Home Office, is shown with Braverman. Guido has the video:
Braverman received both bouquets and brickbats from Conservative MPs.
Red Wall MP Lee Anderson stood up for Braverman:
Now then. Albanian criminals are leaving Albania, which is a safe country, and the same criminals then set up shop in France. They then leave France, which is a safe country, and come across the channel to the UK. When they get into accommodation, the Opposition parties say that the accommodation is not good enough for them. Does the Home Secretary agree that if the accommodation is not good enough for them, they can get on a dinghy and go straight back to France?
She agreed. It is true that they are staying in three-star hotels much of the time:
My hon. Friend is right: the average cost per person per night in a hotel is £150. By my standards, that is quite a nice hotel. Therefore, any complaints that the accommodation is not good enough are, frankly, absolutely indulgent and ungrateful.
Late that afternoon, news broadcasts were aghast that Braverman called the tens of thousands of unvited arrivals from the Channel an 'invasion'.
Robert Jenrick was assigned Tuesday morning's news round. He took exception to 'invasion', then backtracked:
Guido wrote that Jenrick said one thing to Sky News and another to the BBC (emphases in the original):
On Sky News, Jenrick suggested he didn't exactly agree:
Well, in a job like mine, you choose your words very carefully, and I would never demonise people coming into this country in pursuit of a better life. And I understand and appreciate our obligation to refugees…
Later on BBC Breakfast, however, he'd already diluted his language, claiming he "[thinks] it's a phrase that expresses very clearly the concern that millions of people feel across the country". Remember last week when the government claimed he hadn't been put in the Home Office as a centrist diluting agent to hardline Braverman?

This Home Office lark is far from easy.
As for Braverman's detractors, Guido suggested using the American plan of relocating asylum applicants:
I will have more tomorrow on this continuing saga.
Before going into Rishi's win in last weekend's leadership contest, a few items of current news follow.
Wednesday, October 26 saw Rishi at the despatch box for PMQs, which he handled well. Labour's Sir Keir Starmer was still going around in circles with his six questions, achieving nothing, as usual.
Home Secretary Suella Braverman's security breach dominated PMQs and Shadow Home Secretary Yvette Cooper asked an Urgent Question about it.
This morning's Telegraph editorial said (purple emphases mine):
There is something about Mrs Braverman that seems to drive the Left borderline hysterical. Her robust views on issues such as controlling the borders and tackling crime put her in the mainstream of public opinion. Somehow that is enough to earn her the sobriquet "hard-Right" among her Leftist critics.
In the Commons, Mr Sunak defended Mrs Braverman's return to the Home Office, saying that she had made an error of judgment but that she had recognised that and accepted her mistake. Her resignation last week also took place amid a row within government over immigration levels: Mrs Braverman is a firm advocate of cutting numbers.
Many Conservative voters will be reassured that she is back in office. Mrs Braverman has the right political instincts, taking a hard line for instance on the need to clamp down on disruptive climate protesters. In her previous roles, she has shown that she has the ability to master the details of complex policy areas, including on sensitive matters such as transgender rights. Now, she should be given the time and space to get on with the job.
A retired Squadron Leader wrote the Telegraph to say:
SIR – Congratulations to the new Prime Minister and to Suella Braverman on her return as the Home Secretary.
… The situation in the English Channel, with migrants entering Britain with impunity and without permission, at a cost of millions of pounds a day for hotel accommodation alone, cannot go on.
In 2021, 28,526 migrants landed in Britain without permission. This year, more than 38,000 migrants have arrived so far, with a projection of up to 50,000 by the new year.
Mrs Braverman would seem to have the answers to this problem. One can only hope that her return to the Home Office will make a difference, and quickly.
Another issue Braverman will have to deal with are alleged Chinese 'police stations' in two Glasgow restaurants.
Today — Thursday — the Times reported:
Ministers have been called on to intervene after China was accused of operating a "shadowy and chilling" secret police hub in the heart of Glasgow.
A report compiled by a human rights organisation claims that the Chinese government is operating a global network of undeclared "police stations", which are being used to intimidate and silence dissidents.
The Home Office said the claims were "very concerning" and would be taken "extremely seriously". A spokesman said: "Any foreign country operating on UK soil must abide by UK law. The protection of people in the UK is of the utmost importance and any attempt to illegally repatriate any individual will not be tolerated."
Safeguard Defenders, a Madrid-based civil liberties group, alleges one of the outposts is running from 417 Sauchiehall Street in central Glasgow, alongside two others in London. The address houses the premises of Loon Fung, one of the city's oldest and best-known Chinese restaurants …
A spokesman for Safeguard Defenders:
claimed the Scottish Fujian Chamber of Commerce, registered at the premises of Sichuan House, another Chinese restaurant based on Sauchiehall Street, also had links to the Chinese state.
The Times attempted to confirm the allegations:
The Chinese consulate in Edinburgh did not respond to a request for comment …
Loon Fung has strongly denied any involvement. "There's no secret police here," a spokesman said. Sichuan House did not respond to a request to comment. A man who answered a mobile number published online as being the contact for the Scottish Fujian Chamber of Commerce hung up when The Times introduced itself.
Returning to Braverman, on Wednesday night, Sir Jake Berry MP, the short-lived chairman of the Conservative Party under Liz Truss, gave an interview on TalkTV's Piers Morgan Uncensored, on which Nadine Dorries MP was a guest host, Morgan being on holiday.
The Times reported what Berry said, in part:
From my own knowledge, there were multiple breaches of the ministerial code …
That seems a really serious breach. The cabinet secretary had his say at the time. I doubt he's changed his mind in the last six days but that's a matter for the prime minister.
Also:
Asked whether Braverman had rapidly owned up to the mistake as she claimed, Berry replied: "I wasn't in the meeting but as I understand it the evidence was put to her and she accepted the evidence rather than the other way around" …

Berry's comments are likely to prompt further questions about the circumstances of Braverman's re-appointment as Sunak completes a reshuffle of the government's junior ranks.
Hmm. Interesting.
Berry's interview was up for discussion this morning in the House of Lords. Labour peer Baroness Smith of Basildon, leader of the Opposition, asked an Urgent Question about it. Baroness Neville-Rolfe, responding for the Government, gave a brief statement in support of the Prime Minister and the Home Secretary, which was met with audible groans from many of the peers. Several of them, including a Lord Spiritual (Anglican bishop), asked questions for several minutes.
Labour will continue to press this issue, it seems.
Guido Fawkes caught up with Sir Keir Starmer on Wednesday:
Guido wrote (emphases his):
Finding himself behind Keir Starmer in a coffee-queue this afternoon, Guido took the opportunity to ask the Leader of the Opposition about his future attack lines on the Government. The case of Suella Braverman, the Labour leader said, "wasn't going away."
It was a relatively inconspicuous item in his PMQs: "Have officials raised concerns about his decision to appoint her?" It caused a frisson among those who know how important process is, and how deadly the advice given by officials can be …
Obviously no PM is going to answer such questions, nor will he willingly surrender written advice given in ministerial confidence. However, there is a route to get it. By a Humble Address (a procedural device resurrected from ancient obscurity by the previous Speaker, John Bercow), documents of all sorts, including electronic, can be demanded by an Opposition Motion.
Labour has had next week's Opposition Day nicked by the SNP. But the issue will probably fructify rather than decay over time. It may be a little early in the new administration for 35 Tories to defy the Whip and vote for the  documents to be revealed – but if recent history is anything to go by …
Questions about Braverman continued in the House of Commons on Thursday during Cabinet Office Questions and, later, Business Questions to Leader of the House Penny Mordaunt.
A Telegraph article by Gordon Rayner said that recent Home Secretaries ended up doomed from the start:
Almost as soon as Rishi Sunak reappointed Mrs Braverman as Home Secretary, the civil service was letting it be known that there were "concerns" about whether she could be trusted with sensitive information. Simon Case, the Cabinet Secretary and head of the Civil Service, was "livid" about her appointment, sources said.
If the ultimate goal of the poisonous briefings by civil servants was to suggest the department cannot function with Mrs Braverman in charge, it will be a familiar scenario to previous holders of the post.
Priti Patel only just survived a concerted campaign to force her out by civil servants who accused her of bullying. Amber Rudd lasted two years before she was forced to resign for misleading a Commons committee, having been wrongly briefed by her department on deportation targets. As far back as 2006 Labour's John Reid declared the department "not fit for purpose".
In 2006, Labour was in power, by the way.
Gordon Rayner rightly includes Braverman's allies in his analysis:
Allies of Mrs Braverman say that her enemies in the Home Office, and on the Left, have used a technical breach of the ministerial code as a convenient excuse to attack a woman with whom their true battle lies over immigration.
Conservative Party members are likely to support Braverman:
As the current "queen of the Right" in the Government, every carping comment from a Labour MP or BBC commentator simply reinforces her popularity with Conservative Party members and a significant chunk of MPs.
Rishi Sunak reinstated her at the Home Office because he knows that to stand any chance of uniting his party, he needs a figurehead of the Right in a senior position, and in Mrs Braverman he has a former chairman of the European Research Group of Right-wing Eurosceptic Tories.
It is significant that Braverman backed Rishi last weekend:
If, as has been suggested, a return to the Home Office was the price she demanded for backing his leadership bid (and effectively killing off Boris Johnson's attempted resurrection) it simply proves the clout she now has within the Party.
Other news from Wednesday included a confirmed ban on fracking, overturning Liz Truss's decision to allow fracking in communities that overwhelmingly allow it.
——————————————————————————————————————
Now back to the leadership contest.
In the early hours of Friday, October 21, Boris Johnson was leading Rishi Sunak and Penny Mordaunt:
I left off yesterday with Stanley Johnson saying that morning that his son Boris was 'on a plane'.
Meanwhile, Liz Truss made a brief return to Downing Street, probably to collect something. The Guardian's photos show her in sportswear, a heretofore unseen Liz.
'Bring Back Boris'
Express readers opened their Friday paper to find an article by one of Boris's main backers, Sir James Duddridge MP, a champion of the Bring Back Boris, or BBB, campaign:
I was his Parliamentary Private Secretary and stayed with him right until the end. It was a mistake to force him out but now is the time to bring him back.
He is the only one who can unite the party after the turbulent last few weeks and I trust him to right the ship …
He always remained hugely popular with the party's grassroots and with large parts of the country.
There will always be socialists and angry Twitter mobs who rail against him but he is an election winner, twice in London as well as nationally.
My constituents regularly tell me they want Boris back and he still has a mandate from the country …
He has the star quality and inspirational leadership the country needs during the challenging months ahead.
It's time to Bring Back Boris.
Jacob Rees-Mogg, Truss's Business Secretary, declared his support for the former Prime Minister — 'Boris or Bust':
Pollster Matt Goodwin pointed out that while Rishi is more popular overall with British voters, Boris still leads those who voted in the 2019 election:
The video from 2012 showing Boris, who was then Mayor of London and promoting the Olympics that year, went viral: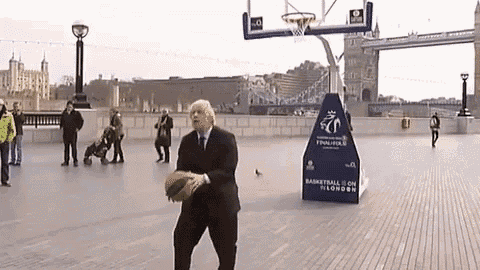 However, The Sun's Harry Cole reminded everyone that Boris still had the upcoming Privileges Committee investigation to deal with. If it goes badly, he might have to resign as an MP:
Conservative MPs could schedule a motion to cancel the investigation. That would have to be approved by the Commons, but as the Conservatives have a current majority of 71, it could still be overturned. This Sun reporter thinks it is unlikely, however:
Truss's Deputy Chief Whip Craig Whittaker requested that his name be removed from Guido's list of Boris supporters. His post requires impartiality:
Emily Maitlis, formerly of the BBC, reacted characteristically to news that Boris was running in the leadership contest:
Guido has the audio and reported:
Emily Maitlis meanwhile learnt the Boris news live on her News Agents podcast. You'll never guess her reaction…
Shouldn't hurt Boris's chances…
Rishi takes the lead
Maitlis needn't have worried.
By 11 a.m. on Friday, Rishi had just edged past Boris:
A half hour later, Rishi's momentum was beginning to build:
Boris backers hadn't lost hope, however. The fact that Ben Wallace, the Defence Secretary, supported him was an added fillip:
That afternoon, Opinium posted their snap poll on who the public supported. Rishi was the clear winner. Even Penny beat Boris:
Boris gained support from more of the Red Wall. Teesside mayor Ben Houchen is a Party member and not an MP. Simon Clarke was Truss's Levelling Up Secretary:
Guido excerpted their letter to the Telegraph …
Boris is the person we need to lead our country and our party. 
He won the greatest election victory for years on a mandate to unite and level up the UK, and inspired millions of people who had never voted Conservative before to get behind a generous, optimistic vision of what Britain can be.  
People on Teesside love Boris because he recognised that while talent is evenly distributed across the country, opportunity is not. Boris gave us that opportunity. 
…
Teesside has had difficult times and is now levelling up because of Boris. We know that for us, like Boris, the comeback will be greater than the setback.
… adding:
Houchen is a real loss for Rishi…
By 3:45, Rishi was well on his way to 100 backers. Boris was now lagging behind, and Penny was stuck:
In the early evening, an MP from the 2019 intake, Antony Higginbotham, representing the traditionally Labour constituency of Burnley, came out for Boris:
Two hours later, veteran MP Bill Cash also announced his support for Boris:
It seemed that most Boris backers were traditional Conservatives and Red Wall MPs.
Guido pointed out the Red Wall loyalty:
By contrast, Matt Hancock felt the need to produce a lengthy statement explaining why he was supporting Rishi:
Saturday's papers
Saturday's papers were a mixed bag.
Not surprisingly, the Financial Times said that investors were alarmed at the prospect of Boris's return:
The Telegraph reported that Rishi was expected to pass the threshold of 100 MPs:
The Star came up with an aubergine motif for Boris and couldn't resist featuring Lettuce Liz again:
Their Thought for the Day was:
Haven't we all suffered enough?
The lead paragraph reads:
Just when you thought all salad-based puns had been exhausted, posh aubergine Bozo Johnson has emerged as one of the favourites to replace Lettuce Liz as PM.
Rumours began circulating about joint talks between Rishi and Boris:
Two papers played to Boris supporters — the Express …
… and the Sun:
The paper's veteran Trevor Kavanagh explored both sides of the Boris equation in 'Boris Johnson is a political Humpty Dumpty with a giant ego who had such a great fall — but if he runs for PM, he'll win':
… Boris Johnson, the political Joker who makes half the nation smile while the rest are spitting chips, is gearing up for another pitch at the premiership.
He needs 100 MPs' votes and may well get more.
If he runs, he wins — that's my prediction for what it's worth in this tumultuous here-today, gone-tomorrow blur of Tory leaders, challengers and assassins.
And even if he doesn't win, what a pleasure to hear the screams of fury from Labour, Lib Dems and Scot Nats — amplified through the impartial BBC's 100-decibel speakers …
These puce-faced wets don't seem to realise they are fuelling the pro-Boris momentum which might propel him back into Downing Street and even produce another sensational election win.
Happily, their moans are drowned out by cheers from Red Wall Tory MPs who credit Boris with winning their seats in Parliament.
They want Boris back and so do millions of voters across the land.
It may be deeply irresponsible to say so, but this is diamond-studded 24-carat political entertainment and I for one am enjoying the ride.
Don't get me wrong — I am not ­watching BoJo: The Movie through rose-coloured glasses, or even suggesting that it makes sense.
Boris Johnson must take much of the blame for the catastrophic mess the country is in, politically and economically.
But he won his 2019 80-seat landslide majority fair and square.
It was an almost entirely personal achievement beyond the reach of any other politician.
He used that majority to achieve great things, ramming Brexit through Parliament, the Covid vaccination triumph and leading global support for Ukraine.
He also blew it as the "Greased Piglet" PM who believes rules are for little people, not him …
It was such casual conduct that handed Labour grounds for a kangaroo court trial for lying to Parliament — a hurdle still to be cleared.
But for such careless affronts to good governance, Boris Johnson would still be Prime Minister right now.
The Pound would be steady, mortgages manageable, inflation past its peak.
We would not have seen the eye- popping political convulsions which turned Britain into a global laughing stock.
The soap opera is not over yet.
Whoever wins next week must choose a new Cabinet and pick a way through the ruins.
If it is Boris, it should at least end the clamour — choreographed yesterday across all BBC networks — for a snap General Election.
Boris won't have to face the tricky ­question: "Who Voted for You?" …
Without Boris, the Conservative Party faces certain defeat by 2025.
Boris has the magical Heineken ability to reach voters other politicians cannot reach.
It's a gamble, a glitterball Who Dares Wins test of luck and daring.
Even Netflix couldn't make it up.
But for the Tories, it is the only game in town.
For the next 24 hours I had hope.
More on the contest will follow tomorrow.
Yesterday's post introduced the sad saga of Prime Minister Liz Truss and her first Chancellor Kwasi Kwarteng over their fateful fiscal event of Friday, September 23, 2022.
My post ended with the market turmoil and negativity up to Friday, September 30.
Many of us hoped that his plan would work. After all, the market turmoil is global, for different reasons in different Western countries.
What motivates Kwarteng
On Wednesday, September 28, Rachel Sylvester wrote an interesting profile of Kwarteng for The Times, complete with photos of him and Truss from their earlier days as MPs. One from 2013 shows them together at a book awards event and another from 2018 has them enjoying a picnic at that year's Hay literary festival.
Excerpts follow, emphases mine.
Kwarteng was pleased with his fiscal event and believed the market's jitters were temporary:
So sure was he of his plan that he smiled as he announced that he was abolishing the cap on bankers' bonuses introduced by David Cameron in 2014.
Within hours the pound had tanked, but Kwarteng doubled down, promising that he had "more to come". As the markets reacted to the UK's biggest tax cuts in 50 years, the pound fell to a record low against the dollar. One senior figure in the City described the fiscal statement to me as "economically reckless". Yet the chancellor did not blink, with an ally suggesting that this was just "the City boys playing fast and loose with the economy" and insisting, "It will settle."
Although it is unclear what Kwarteng thinks today, he and Truss were allies dating back at least a decade:
At 47, Kwarteng is the same age as Liz Truss and is one of her closest political allies. Earlier this year, he moved into a house just down the road from her in Greenwich and now they are neighbours in Downing Street. His appointment as chancellor was one of the first decisions she made when it became clear that she was likely to win the Tory leadership contest. Truss and Kwarteng have been working for weeks on their "shock and awe" shake-up of taxes, including changes to stamp duty and the abolition of the top 45p rate of income tax. The blueprint has been in their dreams for years …
His allies say his politics have also evolved. In 2012 the chancellor was one of a group of free marketeers – including Truss – who published a pamphlet called Britannia Unchained, which described British workers as "among the worst idlers in the world" and railed against a "bloated state, high taxes and excessive regulation". He has since distanced himself from the controversial text.
His parents arrived in England from Ghana. Both received a first-class education and had top-flight careers:
An only child, Akwasi Addo Alfred Kwarteng was born in Waltham Forest, northeast London, in 1975. His parents had come to Britain as students in the Sixties. His father, Alfred, an economist for the Commonwealth Secretariat, was educated in Ghana at an Anglican school with a Winchester-educated English headmaster. His mother, Charlotte, a successful barrister, was an admirer of Margaret Thatcher. "It was a self-reliance thing," Kwarteng once explained. She instilled in her son a ferocious work ethic and education was of fundamental importance to the family.
When his father was posted to Switzerland, Kwasi was sent at the age of eight to board at the fee-paying Colet Court – now St Paul's Juniors – in southwest London. He admits it was probably too young to be separated from his parents but he not only survived, he thrived. He won a scholarship to Eton where friends recall a "lanky malcoordinated" but hard-working teenager who was determined to make the most of the opportunity he had been given.
Like Boris Johnson, Kwarteng played the wall game – a brutal mixture of football and rugby. "He's so tall that he was a great addition to any team," one fellow pupil recalls.
Kwarteng is not attracted to identity politics:
Kwarteng never expressed his desire to be "world king" in the way that Johnson did. "I was slightly surprised when he went into politics," says a contemporary from Eton and Cambridge. "He wasn't in a political activist circle at university. People sometimes think one Etonian is just like another, but Boris and Kwasi are very different. Boris wants to rule the world; Kwasi wants to solve problems, rather than just being in power for the sake of it. He's not going to go out there to break rules. Kwasi does listen to people and wants to discuss ideas" …

Kwarteng's 2011 book Ghosts of Empire is a far more nuanced analysis than the rose-tinted version of British history favoured by Tory traditionalists. He rejects the "sterile debate" over whether "empire was a good or bad thing" and concludes, "Much of the instability in the world is a product of its legacy of individualism and haphazard policymaking." According to those who know him well, the chancellor is uncomfortable with "culture war" politics and describes his own philosophy as "relentless pragmatism". One aide insists, "He is sometimes lazily pigeonholed as a ruthless, black and white free market ideologue. It is true that he is a low-tax Conservative. He's a free marketeer, but there are occasions when the state does need to intervene." In 2019, the chancellor told a Tory party conference event: "There's nothing [better] to convert someone from being a radical free marketeer to seeing the virtues of government action than making them an energy minister."
He focused on his studies at Trinity College, Cambridge:
"As a student he was charismatic and a bit chaotic," says a friend from that time. "He was scholarly. The everyday run of things didn't worry him. He would be immersed in his books."
He began meeting the great and the good in the Conservative Party:
… the future chancellor was spotted by Dr John Casey, an English fellow and legendary figure among Conservative thinkers, who invited him to his dining club, the Michael Oakeshott Society. There Kwarteng met Tory politicians and journalists such as Norman Lamont, Geoffrey Howe, Norman Tebbit and Charles Moore. Casey insists it was never a political society: "It is devoted to intelligent conversation and strong views don't go with that.
"He has a first-rate mind and a first-rate personality," Casey continues. "He is intellectually and personally equipped to be chancellor. He's a cultured man, an intellectual – there are very few in politics. He's not like anybody else; he's himself."
After Cambridge, Kwarteng won a Kennedy scholarship to Harvard. When he finished his time there, he returned to Cambridge to earn a doctorate in economic history, after which the City of London beckoned:
He then worked as a fund manager at the bank JP Morgan and at Odey Asset Management, run by the Brexit-backing investor Crispin Odey, as well as chairing the Bow Group, a conservative think tank.
His political career began afterwards:
In 2005 he stood as the Conservative candidate for Brent East, coming third, before being elected as MP for the safe Tory seat of Spelthorne in Surrey in 2010, the same year as Truss entered politics. He spent several years on the back benches after criticising coalition policies including the help-to-buy scheme. "He's genuinely clever, with a very strong academic, scholarly mind," one old friend says. "But that academic, scholarly mind meant he was happy to speak out against David Cameron and George Osborne and didn't really worry about the consequences."
Kwarteng understands the importance of a Prime Minister and Chancellor working closely together:
For now, Kwarteng and Truss are united on economic policy. The chancellor tells colleagues that his role is to support the PM, explaining: "I will facilitate; I won't emasculate." One ally says, "Kwasi was completely disillusioned with the battles between No 10 and No 11 under Rishi and Boris. When No 10 and No 11 are at war, nothing works. Kwasi will deliver what the prime minister wants. She is the first lord of the treasury, Kwasi is the second lord of the treasury. That will change the entire mood and approach of government. The institutions will try to break No 10 and No 11 apart, but they underestimate the strength of the relationship between Kwasi and Liz."
Hmm. Interesting.
British public gaslit
The last week of September was one of news about unfunded tax cuts, the Bank of England stepping in to calm the UK markets, how Kwarteng and Truss didn't bother to communicate their economic plan and how awful everything was.
On Friday, September 30, Tom Harwood, GB News's political correspondent and Guido Fawkes alum, put things into perspective, rightly saying that the media were gaslighting Britons:
That day, The Telegraph's Matthew Lynn wrote, 'There's no such thing as unfunded tax cuts — it's our money':
It is hard to imagine that three simple words could be quite so lethal. But over the last few days "unfunded tax cuts" have been held responsible for the potential destruction of the British economy, and, come to think of it, the global financial system as well.
We are told that the Government's £45bn package of cuts announced last week have crashed the currency markets, sent mortgage rates soaring, and left the stock market to keel over and die. Any government crazy enough to even attempt unfunded tax cuts can expect to be evicted from office within days if not hours. 
Tosh. Although the phrase has become ubiquitous, we should be a lot more cautious about how we use it. In reality, tax cuts don't need to be funded, for the same reason that staying home instead of going out to dinner doesn't need to be 'funded', and nor does opting to spend Christmas with your parents rather than flying off to Mauritius need to be 'funded' either.
It isn't spending. It is simply taking less of your citizen's money. It is state spending that needs to be 'funded', and not its opposite – and until we get that straight, and change the language we use, we will never be able to have a grown-up debate about how to manage our economy.
If Kwasi Kwarteng had a grand for every time our broadcasters, newspapers, a think tank, or indeed a growing legion of City analysts, used the term "unfunded tax cuts", or UTCs as we should probably call them, he'd have enough money to wade into the markets and send sterling back over the two dollar mark. The phrase probably has its own emoji by now, just to make it easier to discuss on WhatsApp (some sort of variant of the scowling face, I'd imagine).
Ever since the pound started falling modestly against the dollar on Monday – because after all "crashing" seems a slightly extreme term for a downwards correction of less than 10pc – the phrase has dominated the headlines.
According to just about every think tank, constant broadcasts from the BBC, dozens of newspaper analysts, the IMF, and just about every major City bank, not to mention a small army of retired central bankers, it was the Chancellor's decision to cut a few taxes without announcing accompanying decisions on reducing spending that led immediately to a dramatic sell-off in sterling and a rise in bond yields that could only be controlled by emergency intervention by the Bank of England. 
A quick Google search yields 28,000 mentions of the phrase, and that is without even counting social media. According to the credit ratings agency Moody's "large unfunded tax cuts are credit negative" while according to the former Bank Governor Mark Carney "the message of financial markets is that there is a limit to unfunded spending and unfunded tax cuts in this environment."
And yet, in reality, we should be a lot more careful about the language we use. We can leave aside the point that the "unfunded" parts of last Friday's fiscal package amount to no more than a few billion pounds, a trivial sum give the size of state spending, and that by far the largest part of it was made up of the energy support package that all sides of the political spectrum had been calling for. The more important point is this: we shouldn't ever describe tax cuts as "unfunded".
By definition a tax cut is not spending any money. It is simply a decision to take less from a particular group of people in one particular way …
Next, the term ignores the possibility that tax cuts might pay for themselves …
Finally, and perhaps most importantly, it concedes the argument before it has even begun. "Unfunded" is a boo word, and even more so when you put the inevitable "reckless" in front of it. The language deliberately skews opinion against a reform of the tax system. Even worse, it is used by banks and broadcasters who pretend they are staying neutral – when in reality they are anything but. 
… fundamentally it is only state spending that needs to be funded – not leaving more money in the pockets of long-suffering taxpayers. If we could be a little clearer about that we might be able to have a slightly more sane debate about how much tax the government should be raising and how – instead of hysterical catastrophizing about UTCs.
On Saturday, October 1, The Sun rightly defended the Truss-Kwarteng plan, citing other Western economies' woes: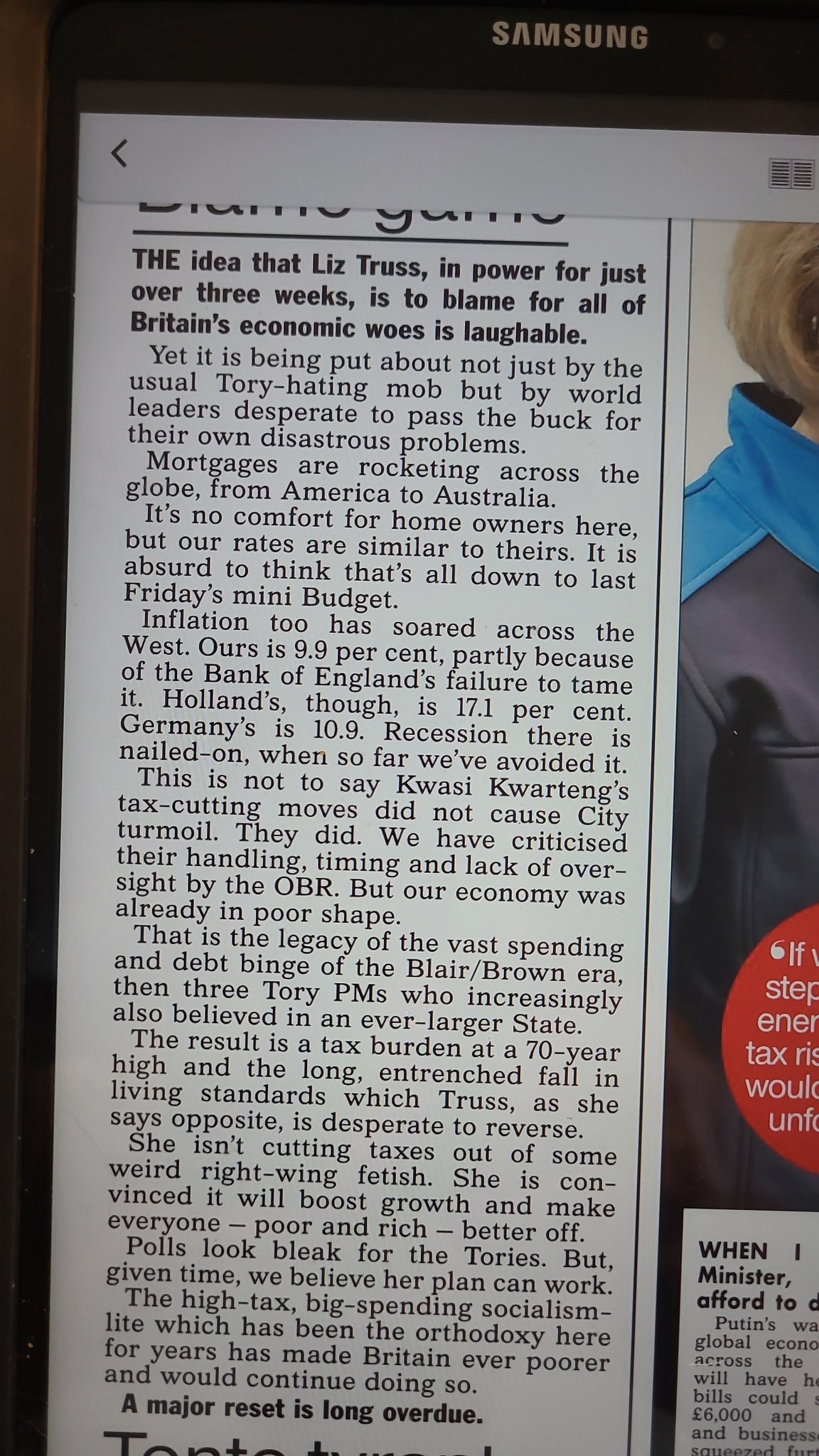 On Sunday, October 2, GB News's and The Telegraph's Liam Halligan, formerly of Channel 4 News, was on the money when he said that the market meltdown was the fault of quantitative easing (QE):
… This week of financial turmoil has left millions frightened and angry.
While Kwarteng's statement sparked last week's alarming debt repricing, it was by no means the underlying cause. There are far bigger forces at play …
… what we saw last week was just the beginning of a long-term shift away from over a decade of ultra-low interest rates and quantitative easing. We've indulged in ultra-loose monetary policy since the 2008/09 financial crisis – a necessary emergency measure, which ossified into a lifestyle choice.
And now, the obvious excesses, dangers – and crass stupidity – of this policy, are coming home to roost.
Since that financial crisis, the Bank of England has created hundreds of billions of pounds of QE money, as have similarly aligned central banks, which have blown huge asset price bubbles in stocks, bonds and property.
QE has helped governments borrow cheaply, while making the rich even richer – which is why, having begun as a £50 billion temporary measure to inject liquidity into bombed-out banks, it has morphed, thirteen years on, into an £895 billion monster.
The early tranches of QE stayed largely within the financial system – so didn't cause serious inflation. But the Covid-era variant, funding furlough and an avalanche of business support loans, has fed directly into the real economy – helping to explain today's inflation predicament.
This is an inconvenient truth that no-one wants to admit – certainly not the likes of the International Monetary Fund and central bankers who oversaw QE. Better to blame an incoming Tory government ­– one led by a politically vulnerable Prime Minister, with only lukewarm support from her own MPs.
… the idea that this "unfunded cut crashed the pound" is preposterous. Yet that is now the accepted political narrative – that a greed-driven Tory policy collapsed sterling and sent 10-year gilt yield surging as fears swirled of government insolvency, sending higher borrowing costs rippling across the economy, damaging hard-working families and firms.
What I suspect happened is that global currency traders, understanding the top tax cut was politically tin-eared, could see ministers were in for a kicking. With the Government introducing a potentially expensive energy price cap, the moment seemed right to start shorting – that is, betting against – the pound, knowing the media would pile in.
When that happened on Asian markets on Monday, and we woke to a plunging currency, I was astonished that ministers fell silent – given the strength of the arguments on their side …
For now, the Bank of England's intervention on Wednesday – buying gilts to rein in borrowing costs – seems to have worked. By Friday, the pound was back where it was pre-statement, the 10-year yield having retreated from over 4.5pc to around 4.0pc.
But the City and Wall Street moneymen, having loaded pension schemes with billions of pounds of debt, yet again have the upper hand – effectively forcing the UK authorities to restart the QE asset-boosting machine. This cannot end well.
"Tory tax cuts". It's such an easy and convenient scapegoat. The truth is we're in for a sustained period of painful adjustment – one which our political and media class must urgently start to explain.
The Times's Robert Colvile pointed out the global aspects of market turmoil, driven in part by the United States:
The markets were already primed to punish the UK, he [Albert Edwards of Société Générale] argues, because of the Bank of England's decision the previous day to raise rates at a slower rate than the US and to keep trying to dispose of the assets accumulated under quantitative easing. So Kwasi Kwarteng's decision to throw in a few more tax cuts just gave an extra push to a boulder that was already rolling …
Admittedly, the attempts of some in government to blame last week's rout in the markets entirely on global factors strained credulity. But they did have the core of a point. A year ago the Bank of England believed interest rates would stay below 1 per cent. A month ago they were set to top out at 3 per cent. By the time Kwarteng got to his feet, the expected peak had risen to 5 per cent — soaring over 6 per cent at the height of last week's panic.
Now, some of that rise in September was probably due to anxieties about the new government. But it was also driven, yes, by global factors — in particular decisions made in Washington. Even if Kwarteng had replaced his planned statement with a lusty rendition of the Marseillaise, mortgage-holders would still be facing eye-popping jumps in interest rates. For example, at that 6 per cent rate a typical UK mortgage would, according to the Resolution Foundation, cost an excruciating £4,800 a year extra — but £3,800 of that was already on the way before Friday's speech. The age of cheap money is over not just for Britain but for everyone.
Over the past three years, a number of conservatives must have wondered why Boris Johnson never delved deeper into economic policy. A letter to The Telegraph gives a possible explanation — global forces at work:
SIR – It takes great strength of character and conviction to stand up and face a baying mob, especially a political one. Liz Truss and Kwasi Kwarteng have my admiration.
I always wondered why Boris Johnson did not attempt to enact some of his early policies after Brexit, for which he had great public support. Perhaps he understood how the pro-EU and socialist contingents in Parliament and the wider political world would react, and was fully aware of the force that would be against him.
I wish Ms Truss and Mr Kwarteng good luck. They have shown enough courage in their beliefs to see this challenge through.
Conservative Party Conference
The Conservative Party Conference opened on Sunday, October 3, in Birmingham.
That day, The Times reported that Kwarteng had requested Cabinet ministers to cut expenditure in their respective departments:
Kwasi Kwarteng has told ministers to make cuts in their departments and warned them "we have a duty to live within our means".
The chancellor has asked cabinet ministers to send him their "proposals to support growth" by the end of the month.
He is also launching a reprioritisation, efficiency and productivity review across the public sector, which will re-examine "existing spending commitments" and repurpose budgets to deliver the government's "core priorities", including growth.
I wrote about the conference, including Truss's and Kwarteng's U-turn on abolishing the 45% tax rate, the prominent Conservative MPs in disarray, the rebels and Truss's closing speech.
On Monday, October 3, the duo pulled out of a fringe event, which cost £3,000 a ticket:
Nigel Farage, looking on from the outside, predicted a Labour rout in the next general election:
Meanwhile, Guido Fawkes kept us apprised of market movements, which weren't nearly as alarming as expected that week:
He rightly criticised Labour's shadow chancellor Rachel Reeves for stirring the pot unnecessarily:
On Wednesday, October 5, as the conference closed, Guido wrote (emphases his):
The Bank of England has been easing off its interventions in the gilt market, leaving Rachel Reeves's hyperbolic attack lines exposed for their inaccuracies. Julian Jessop points out the fact the Bank did not have to buy any gilts again today, leaving total purchases stable at £3.66 billion. A tad short of the £65 billion she repeatedly claims. This is a further sign market jitters have been effectively mitigated, far from Labour's claims of an "economic crash". As a trained economist and former Bank of England employee, Rachel really must know better. Her sums were out by a factor of 17…
At the weekend, while anti-Conservative pundits were still banging on about the 45% tax rate, which Truss and Kwarteng did a U-turn on …
… The Telegraph's Ambrose Evans-Pritchard pointed out that gas prices were already falling, indicating that 'Liz Truss may be winning her gamble on the energy price cap after all':
Plummeting global gas prices have slashed the cost of the UK's energy price cap and may ultimately reduce the monthly subsidy to zero, greatly alleviating the strain on Government borrowing.
NatWest Markets estimates that the price guarantee would cost approximately £30bn over the first six months based on current futures contracts, half the £60bn figure assumed by the Treasury and the rating agencies …
While NatWest remains wary of gilts after the mini-budget and the bond shock last month, it said pessimism over the UK's public finances may have gone too far. Gilts may no longer be a one-way bet for traders …
Goldman Sachs thinks European wholesale prices may fall a further 40pc by late winter. Average energy bills in the UK would in that case fall to £2,000 or less.
The Government could put its cheque book back in the drawer.
Douglas McWilliams, from the Centre of Economics and Business Research, says that the public finances are in better shape than widely-supposed.
An odd week that began well
By Monday, October 10, things appeared to be looking up for Truss and Kwarteng.
Mel Stride MP, chairman of the Treasury Select Committee and not one of their best friends, was satisfied that the then-Chancellor agreed to review his economic plan on Halloween rather than in November:
Tuesday, October 11, was a red-letter day.
The head of JP Morgan said that Truss deserved a chance:
Guido wrote:
… Speaking last night from London with US broadcaster CNBC, Dimon backed Liz's tax plans and hammered home the need for laser-like focus on growth – adding he'd "love to hear that out of their mouth every time a president or prime minister speaks"…
It'll take time to execute the policies and kind of drive growth and what's important … [but] there's a lot of things the UK has going for it and proper strategies to get it growing faster … then it can accomplish some of the other objectives it wants to accomplish too […] I would like to see the new Prime Minister, the new Chancellor, be successful […] I think every government should be focusing on growth. I would love to hear that out of their mouth every time a president or prime minister speaks.
Another proud member of the Pro-Growth Coalition. Although he did warn the US will likely tip into recession in about 6 months…
The IMF did an about-face, as The Telegraph reported:
Kwasi Kwarteng's tax cutting mini-Budget will help Britain to be the fastest growing major economy this year at the cost of higher long-term inflation, the International Monetary Fund (IMF) has said.
Strong momentum at the end of 2021 means UK economic growth will outpace the rest of the G7 this year. Tax cuts announced in the mini-Budget are expected to lift it even higher than the IMF's current forecast of 3.6pc, which was published on Tuesday but finalised before the Chancellor announced his plans …
The paper's Ambrose Evans-Pritchard wrote, 'Rejoice: we may be very close to Fed capitulation':
Not only is the Fed rushing through jumbo rises of 75 points each meeting, it is also draining global dollar liquidity with $95bn a month of quantitative tightening (QT). It has never done the two together before. And it does not understand how QE/QT actually works, as admitted cheerfully by one Ben Bernanke, Nobel Prize laureate as of yesterday …
Ben Bernanke flagged the dangers of a strong dollar and the capital exodus from emerging markets yesterday. Without naming the British gilt market, he said financial stress in the international system was building up and posed a threat. "We really have to pay close attention," he said. 
On Wednesday, October 12, it was noted that a Federal Reserve hike in interest rates took place before Kwarteng's economic statement:
Furthermore, the US was also experiencing an unusual increase in mortgage rates, meaning that the UK was not the only country with that problem:
On Thursday, October 13, Truss had her weekly meeting with King Charles, who greeted her with 'Dear, oh dear' while the press were there:
What did he know?
He would have heard Foreign Secretary James Cleverly defend Truss and Kwarteng on that day's news round. The poor man.
The Telegraph has a running diary of what went on that morning. This is the summary:
James Cleverly has warned it would be a "disastrously bad idea" to replace Liz Truss as Prime Minister.
Ms Truss is under intense pressure from some of her own MPs to abandon her economic plan following a market backlash to the measures set out in the mini-Budget.
The Prime Minister's leadership is being questioned after little more than a month in the job, with some Tory MPs already considering who could replace her.
ConservativeHome's editor Paul Goodman was also on the airwaves. He told BBC Radio 4 that some Conservative MPs had suggestions for Truss's and Kwarteng's replacement:
The former Tory MP told BBC Radio 4's Today Programme: "All sorts of different people are talking about all sorts of different things because the Conservative backbenchers are casting around for a possible replacement for Kwasi Kwarteng, even for a possible replacement for Liz Truss.
"All sorts of names are being thrown about, Rishi Sunak, even Boris Johnson, Kit Malthouse, Sajid Javid.
"But one idea doing the rounds is that Penny Mordaunt and Rishi Sunak, who, after all, between them got pretty much two-thirds of the votes of MPs, come to some kind of arrangement and essentially take over."
The King probably also knew that Truss and Kwarteng were going to do a U-turn on corporation tax, which they planned to lower to 19%, as it is in Ireland:
On Wednesday, at PMQs, Truss stood by the cut:
What we are doing is simply NOT putting up corporation tax. It's not a tax cut, we're just not raising corporation tax. And I feel that it would be wrong, in a time when we are trying to attract investment into our country, at a time of global economic slowdown, to be raising taxes. Because it will bring less revenue in.  And the way that we are going to get the money to fund our National Health Service… is by having a strong economy with companies investing and creating jobs.
On Thursday, October 13, Guido wrote:
What a difference 24 hours makes: this lunchtime The Sun broke the news that Truss "is considering raising Corporation Tax next year in spectacular mini-Budget U-turn". A source tells Harry Cole that while the U-turn is being seriously considered, it wouldn't be back up to the 25% proposed by Rishi before leaving the Treasury.
An unpleasant surprise for Kwarteng
Meanwhile, Kwarteng was in Washington at the annual IMF meeting.
Guido's post had an update:
Channel 4 doorstepped him on his way in, where he said "I'll be coming out with a statement on 31st October and I'm not going to pre-empt that." As The Speccie's James Forsyth points out, if the markets are now pricing in a U-turn, and the government decides against one, they'll likely be in a worse position than they were 24 hours ago…
On Friday, October 14, we woke up to the news that Kwarteng was summoned back to London, under the guise that emergency budget negotiations had to take place. The IMF meeting was to last into the weekend:
This could mean only one thing — that his time as Chancellor was over.
Guido reported that Mel Stride was happy that Kwarteng's economic package was about to be shot to bits:
… one source quoted in the Financial Times claims "Almost everything in the Budget is now up for grabs" …
For those who enjoyed the excitement of tracking Priti Patel's flight back to the UK ahead of her sacking by Theresa May, you can follow Kwasi's flight in real time here …
Mel Stride, Chair of the Treasury Select Committee, spoke on the Today Programme and welcomed a U-Turn. He called it a "powerful" signal to markets and added the government's "fiscal credibility is now firmly back on the table". He added the Conservative party should give the government "more time" and space to "rest". How generous…
Sterling and bond markets had rallied following the first reports of a U-turn, which only adds on the pressure for more reversals. Elsewhere in the markets, today is the final day of the Bank of England's gilt operations. Although gilt markets appeared steady this morning, the real test will come on Monday…
A Downing Street source tried to downplay Kwarteng's return:
Kwarteng had scrambled to take the last commercial flight from Dulles Airport to Heathrow:
The next bit of news was that Truss was going to hold a press conference that afternoon.
Guido wrote:
Liz is set to U-turn on the corporation tax freeze at 2pm this afternoon. It's rumoured she'll whack it all the way up to 25% in the spring. Kwasi won't be appearing alongside her…
Speculation began on who the new Chancellor would be. The Sun's political editor Harry Cole tweeted the following in the hours before the press conference, indicating Jeremy Hunt:
Cabinet members were correct about Jeremy Hunt:
King Charles approved the following appointments from Truss:
Nigel Farage was rightly furious about a Remainer assuming the post of Chancellor:
Harry Cole got a copy of Truss's letter to Kwarteng, thanking him for his hard work:
The nation now had a new dream team. This seconds-long video is a must-see. The UK is doomed:
I'll go into Truss's press conference tomorrow.
In short, it was absolutely dire and lasted only eight minutes, which included four questions, one of which was from Harry Cole. His face is a picture:
I'll have more tomorrow on how shocked Kwarteng must have been as well as what this means for Truss's premiership.
Pity our Prime Minister Liz Truss.
The choice of Conservative Party members, the lady who wanted a Thatcherite premiership of low taxation and high growth, is now silent.
On Thursday, October 13, in her private weekly meeting with King Charles, he greeted her with 'Dear, oh dear':
He could have at least waited until the press were out of the way.
On Friday, October 14, she was forced to sack her Chancellor and good friend Kwasi Kwarteng.
The two of them were not playing the globalist game for high taxation and low growth.
Kwarteng's brilliant mind
Kwarteng was elected as MP for Spelthorne in 2010, part of Prime Minister David Cameron's fresh, youthful Conservative intake that year.
He worked on Brexit in 2019 as part of Theresa May's government. Later that year, he was keen for Nigel Farage to stand down candidates in order for Conservatives to win convincingly in the general election — and get Brexit done:
Under Boris Johnson, in 2021, as Business Secretary, he became the first black — and first Conservative — Secretary of State. In that role, he refused to lift the moratorium on fracking. On the other hand, on July 6, 2022, he ensured that two coal plants are staying open to help ensure that the UK has adequate energy supplies this winter.
He was not a man in favour of high taxes, even in the wake of the pandemic, telling LBC radio on March 2, 2021:
Obviously we have to balance the books over time, but I'm a low tax conservative. The real key is to grow the economy. The best remedy for the deficit, the best remedy for the economy is to open up the economy, allow people to get on with their lives, allow businesses to start trading again.
In July 2021, he politely opposed the National Insurance tax hike.
In June that year, he supported the Government's caution on lifting final coronavirus restrictions in England and sagely predicted that there would be no more lockdowns in England.
Once Liz Truss was made Prime Minister, we found out more about his friendship with her, which began when she, too, was first elected to Parliament in 2010.
On September 6, 2022, the Mail posted an old photo from earlier parliamentary days of the new Chancellor and the new Prime Minister with this caption:
The new Chancellor Kwasi Kwarteng is a close friend of Liz Truss, so close that he lives 350 yards away in Greenwich.
The article also told us more about his towering height and intellect (emphases mine):
Although he is not widely known to the public, the 47-year-old MP for Spelthorne, Surrey, comes equipped with a solid academic background.
At 6ft 5in, Mr Kwarteng is a powerhouse physically and intellectually …
He speaks German, Greek and French, and writes poetry in Latin.
One friend recalled how, when the school introduced Italian to the curriculum, 'the teachers were trying to teach rudimentary Italian but Kwasi learnt the whole language – the teachers were struggling to keep up with him'.
Like Boris Johnson, who attended Eton a decade earlier, Mr Kwarteng shone at the Wall Game, a hybrid of football and rugby, where he played First Wall, described by an Etonian as 'an almost suicidal position that involved spending much of the match having his head scraped against brickwork' …
He was a prefect at the school and is still, it is said, held up as an example of how to succeed in Oxbridge interviews.
He went up to Trinity College, Cambridge:
He excelled at Cambridge where friends described him as 'supremely confident, but not arrogant'.
One said he 'had quite a few girlfriends – he had catching up to do after his boys' private school upbringing'.
Professor Tim Whitmarsh, who taught him Latin and Greek, was quoted as describing him as 'a bit of a young fogey', saying: 'I once saw a 19-year-old Kwasi in full brown tweed bumbling around with a pipe in his mouth on a baking hot day.' 
More recently:
Last year, Mr Kwarteng bought a Victorian villa just 350 yards from Miss Truss's £1.5million four-storey townhouse in Greenwich, south London.
Now they are neighbours in Downing Street too.
At one point Mr Kwarteng was dating Amber Rudd, the former Conservative home secretary, but the pair split up.
He then met Harriet Edwards, 36, a former pupil of Cheltenham Ladies' College and now a high-flying corporate lawyer specialising in advising private clients on 'succession' planning.
The pair married in 2019 and have a baby daughter, Ida, born last year …
Said to be a 'pragmatist rather than an ideologue', the free-marketeer's ministerial office allegedly boasts a large whiteboard on which are scrawled the letters 'MSH', standing for 'making s*** happen'.
With the multiple challenges facing the new chancellor, it is a mantra that may serve him well.
On September 7, The Telegraph had a profile of Kwarteng, which gave Truss supporters further hope.
We discovered that he wrote for the newspaper and had decidedly conservative opinions even in his 20s. The article featured a screenshot of his column of August 1, 1997 about higher education — 'Don't go to university, make money instead':
The man appointed the 109th Chancellor of the Exchequer had been considered a rising star well before he entered Parliament and first made his name at the age of 22 with a column in The Telegraph.
From higher education to the rise of "lad mags", Mr Kwarteng left a trail of published evidence showing his youthful thinking on the state of Britain. 
According to Mr Kwarteng, universities were not just a waste of time for those hoping to make lots of money but "a trick of the mind". They offered value of a sort as "a place for reflective thought, like the monasteries of the Middle Ages," but were only really popular as a way of proving one's smarts …
While universities might be conducive to research, on the whole, Mr Kwarteng thought, "the university added little to the talent which was already in them". 
For that reason, the MP for Spelthorne thought it "ridiculous" that everyone should go to university.
Also in August 1997, he also wrote about his scepticism of those who know best in '"Experts": it's the same old story', wherein he expressed his doubts about climate change:
"We live in the age of the expert," he declared, "of course, all these experts are invariably self-appointed, and they all contradict each other."
Mr Kwarteng lamented the loss of Western "reason and objective investigation" and said that the witchdoctors of "simple peoples" had been "reincarnated in a modern, Western, suit-wearing capacity.
"They are the consultants, health gurus, constitutional experts, psychologists and sociologists who seem to spring from the ground at every opportunity."
… In his column, he highlighted global warming as an example of "conjecture" dressed up as "granite fact".
It's a pity he later changed his mind. Perhaps he did it for political expediency. Who knows?
On at least one issue, however, Mr Kwarteng has clearly come to accept the views of the experts …
As Business Secretary, he has declared it essential for governments to intervene to tackle climate change. 
The Telegraph article has several more of his columns to explore.
Kwarteng as Chancellor
A fortnight before he delivered his fiscal event to Parliament, he pledged that his focus on growth would be 'relentless'. The Times reported:
The new chancellor has promised a shift in economic policy towards an "unashamedly pro-growth agenda" rather than worrying about redistribution.
Kwasi Kwarteng promised "to do things differently" as he acknowledged the need for higher borrowing over the winter to help households with their energy bills. However, he promised "fiscal discipline over the medium term" by ensuring the economy would grow faster than government debt, saying this would require deregulation and tax cuts.
After meeting key City figures, including the chief executives of Barclays, NatWest, Lloyds Banking Group and HSBC, Kwarteng said that he wanted to deal with economic problems through growth, with a goal of getting the underlying rate up to 2.5 per cent.
"The prime minister and I are committed to taking decisive action to help the British people now," he said. "That means relentlessly focusing on how we unlock business investment and grow the size of the British economy, rather than how we redistribute what's left."
He and Truss needed to work quickly to come up with the fiscal event. The nation had been in mourning for the Queen from September 8 through September 19. Meanwhile, the Conservatives' opponents were braying for a statement.
On Thursday, September 22, Kwarteng tweeted:
That day, The Spectator's Katy Balls explained that Truss wanted to move quickly:
Liz Truss is in a race against time. It's not just the prospect of an election in two years. It's the political problems – from party management to events outside of one's control – that quickly clog up a prime minister's in-tray. It's why for all the efforts to play down Friday's fiscal event as a mini-Budget, it is likely to be anything but small. Truss and her Chancellor Kwasi Kwarteng plan to push through as much as possible while their stock is highest …
Truss and Kwarteng have said their priority is to boost growth. In order to do that, they are undoing plenty of policies by their predecessors. The plan for investment zones – areas that could benefit from a lighter planning regime and various tax breaks – has already been briefed as a change of priorities compared to the former Levelling Up secretary Michael Gove. A government insider told the Financial Times this week: 'The plans make Gove look like a socialist.' There will also be further measures to undo more of the policies brought in by Rishi Sunak as Chancellor. 
Coffee House understands one plan under consideration is the return of tax-free shopping for tourists. As Chancellor, Sunak axed the 20 per cent discount for foreign visitors – leading to an outcry from MPs who said it would make Britain less attractive to businesses. At the time, the Treasury defended his decision on the grounds that 'this is getting rid of a tax cut that mainly benefits foreign billionaires.' However, the sector has voiced frustrations that this has led UK business to drop off while European capitals have seen business go up.
How will all this go down? As the Bank of England raise interest rates by 0.5 percentage points to 2.25 per cent in an attempt to combat inflation, already there are warnings about the effect of the government's planned borrowing. The Institute for Fiscal Studies has said that the planned tax cuts are likely to push UK borrowing and debt to unsustainable levels. The hope in government is that rather than spark alarm, the markets will have already priced in the new direction they are taking, and what happened in August suggests they may well have done so.  
'The strategy is do everything now,' says one person close to Liz Truss. 'This government has balls of steel'. In adopting this approach, Truss and Kwarteng are taking a gamble – and it won't be too long before it becomes clear whether or not it is paying off.
True conservatives cheered the package Kwarteng delivered to Parliament on Friday, September 23:
We felt as if Brexit would finally become the reality that would thwart Labour:
Our debt would remain the second lowest in the G7:
Guido Fawkes posted Kwarteng's economic plan in full as well as a summary, excerpted below:
Price of Energy
Government freezes household energy bills at £2,500

Government will

subsidise wholesale energy prices for businesses

Total cost of energy package for 6 months from October will be approximately £60 billion
Inflation
Government plan will reduce peak inflation by 5%

Chancellor: Bank of England independence is "sacrosanct"
Growth
Government will focus on growth target of 2.5%
Barriers to Enterprise
Government will bring forward bill to unpick regulation and launch a review into decision making

Increase disposal of government land to build more homes

Government will remove cap on bankers' bonuses

…



Tax
Planned rise in corporation tax is cancelled, it will remain at 19%

Annual investment allowance will not fall to £200,000 as planned, will remain at £1 million

Office of tax simplification abolished,

tax simplification mandated in all government departments

IR35 rules changed: 2017 and 2021 reforms scrapped

Planned increases in duty for beer, wine and spirits cancelled

VAT free shopping for overseas visitors

Increases to National Insurance contributions cancelled

Stamp duty threshold raised from £125,000 to £250,000; for first time buyers it will rise from £300,000 to 425,000

Kwasi will abolish the highest 45% rate of income income tax. Top rate now 40%.

Basic rate of income tax cut to 19% from April
Ahead of Kwasi's statement:
FTSE 100 is at 7,120
£/$ 1.1163
£/€ 1.1435
10 year gilt yield 3.49%
That afternoon, The Telegraph's Allister Heath was over the moon:
This was the best Budget I have ever heard a British Chancellor deliver, by a massive margin. The tax cuts were so huge and bold, the language so extraordinary, that at times, listening to Kwasi Kwarteng, I had to pinch myself to make sure I wasn't dreaming, that I hadn't been transported to a distant land that actually believed in the economics of Milton Friedman and FA Hayek.
But Liz Truss and Kwarteng are very much for real, and in revolutionary mood. The neo-Brownite consensus of the past 20 years, the egalitarian, redistributionist obsession, the technocratic centrism, the genuflections at the altar of a bogus class war, the spreadsheet-wielding socialists: all were blown to smithereens by Kwarteng's stunning neo-Reaganite peroration.
Hardcore, unapologetic liberal Toryism is back. This fiscal statement is in some ways an even bigger deal than that previously greatest of Budgets, Lord Lawson's extravaganza of 1988, so long ago that my generation cannot remember it. All the taboos have been defiled: the fracking ban, the performative 45pc tax rate, the malfunctioning bonus cap, the previous gang's nihilistic corporation tax and national insurance raids. The basic rate of income tax is being cut, as is stamp duty, that dumbest of levies. There will be more reforms, more deregulation from a Chancellor explicitly committed to a flatter and simpler tax system.
It wasn't merely the policies that were astonishingly good: just as remarkable was Kwarteng's language, the arguments he deployed to explain his decisions, the lucid free-market philosophy from which they emanated. He spoke of the need to bolster incentives, to encourage business investment, to increase work, to reward savings. He explained that this meant that the returns on capital and labour had to be improved. He wants to usher in a new Big Bang in the City and launch dozens of new Canary Wharfs on steroids.
At a stroke of a pen, Britain's competitiveness, its attractiveness to investors and top talent, has been transformed. Money and jobs will flow in, especially from the Eurozone. Britain's central pathology is low growth, held back by faulty economic, fiscal, monetary and regulatory policies: higher spending begets higher taxes, which lead to a vicious cycle of even lower growth, and hence yet more taxes, and so on.
I watched Kwarteng's speech to Parliament and the debate that followed. Allister Heath was right in everything he wrote.
On Sunday, September 25, The Sun wrote that its polls indicated the British public supported nearly all of Truss's proposals that Kwarteng delivered:
DELIGHTED Brits overwhelmingly back Kwasi Kwarteng's key income tax and stamp duty cuts, a poll found …
And PM Liz Truss says their radical plan will usher in a "decade of dynamism" …
A Deltapoll survey for The Sun on Sunday found many of his central policies have gone down a storm.
His pledge to slash the basic rate of income tax from 20p in the £1 to 19p from next April, benefitting 31million workers, got the backing of 63 per cent of respondents.
A majority of Labour and Tory supporters like the plan.
Meanwhile, the decision to ditch stamp duty for first-time buyers on homes worth up to £425,000 was approved by 61 per cent of respondents.
The move to reverse the 1.25 percentage point hike in National Insurance Contributions was liked by 59 per cent of the 1,553 people surveyed.
Some parts of the mini Budget, however, were far less popular. Just 30 per cent of voters backed the decision to scrap the bankers' bonus cap.
And even fewer — 28 per cent — approved of the move to do away with the 45p top rate of income tax, which will put more cash in the pockets of society's top earners …
Some delighted Tory MPs punched the air in delight after Mr Kwarteng detailed his mini Budget to the Commons.
One senior Tory said: "I am delighted. Finally, we have a proper Thatcherite budget."
But others warned it was a punt that may cost the Tories the next election.
One minister crossed his fingers as he said: "It is a huge gamble. If we see growth then it will have worked. It's a roll of the dice."
The annual Labour Party conference convened that Sunday.
The Spectator's editor Fraser Nelson pointed out that their leader Sir Keir Starmer opposed only the abolition of the 45% tax rate:
The Sun's editorial that day reminded Britons that it was Gordon Brown who put the 45% rate in place — and that was late in his premiership, around 12 years ago. His predecessor Tony Blair had not. As such, Labour had no room to complain:
For too long — if partly by necessity of the pandemic in recent years — the Conservatives have been parked on the centre ground, often operating from a Blairite or Brownite playbook.
The spleen-venting over Mr Kwarteng's most controversial call — ditching the 45 per cent top tax rate for those on over £150,000 — ignores the fact that, throughout the Blair years, it was the exact same as the new 40 per cent levy.
Nonetheless it's true that the move does give Labour an easy line of attack, as does the Government's reluctance to trumpet the fact that it IS already subjecting energy giants to a windfall tax — one which is raising around £30billion.
Yesterday Labour leader Sir Keir Starmer confirmed he would retain the vast majority of the Chancellor's tax cuts if he gained power.
Already, however, the doomsayers, including Torsten Bell, were already weighing in, as Guido Fawkes wrote that day (emphases his):
… Labour have accepted two thirds of the personal income tax cuts. They are only rejecting one cut, the top rate cut…
So the the dividing line between the parties is: Will "new era" economics work and crank growth up to 2.5% before the next election?
Not a chance say Rachel Reeves and the assembled hardline-centrists of the broadsheet punditry, plus all the orthodox economists from the IFS, Institute for Big Government and gloomy Torsten Bell with his distribution charts. Kwasi and Liz say it will work. It won't surprise co-conspirators that Guido thinks it is less of a gamble than the BBC's Faisal Islam reckons. Barring oil going to $300 or some other catastrophe, it is far more likely to work than the doomsters would have you believe. If Kwasi and Liz fail to hit the 2.5% target they have set for themselves, they will deservedly lose the next election. The choice now is pull out all the stops and go for growth, or go into opposition…
At conference, two Labour MPs of colour criticised the Conservatives' choice of Chancellor in Rishi Sunak, his successors and Kwasi Kwarteng. Guido reported on Rupa Huq's words about Kwarteng, which earned her a suspension from the Party, despite her apology. Shadow Rail Minister Tan Dhesi said he wanted to see white males in the Conservative Cabinet rather that persons of colour:
Guido doesn't consider Tan's comments to be half as bad as Rupa Huq's. His quote about Boris having an Asian do his dirty work for him, alongside Huq's referral to Rishi as "a little brown guy", is indicative that Labour somehow questions the legitimacy of non-white Tory Cabinet ministers. Does anyone get the sense Labour are slightly panicked about the Tories having a more diverse front bench than they do?
Fatal criticism despite global problems
But that was nothing compared to the big anti-Truss, anti-Kwarteng fallout that took place elsewhere that week.
On Monday, September 26, the IMF criticised the fiscal event.
Lord Frost defended Truss and Kwarteng in an article for The Telegraph: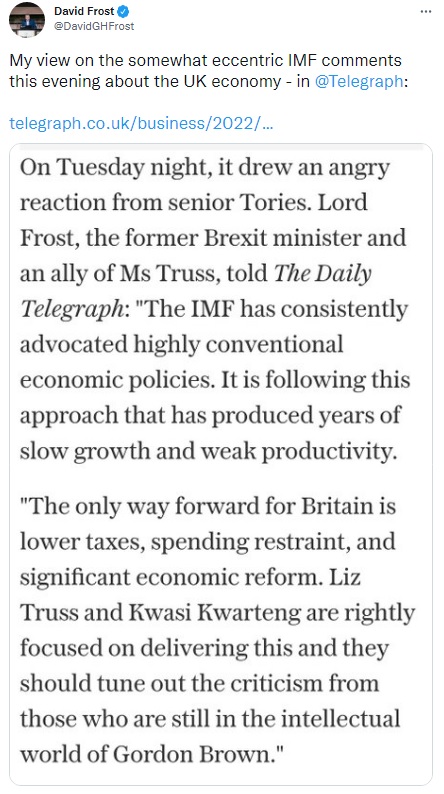 The IEA's head of public policy said that one of Margaret Thatcher's budgets — that of then-Chancellor Geoffrey Howe — was similarly criticised and ended up being wildly successful: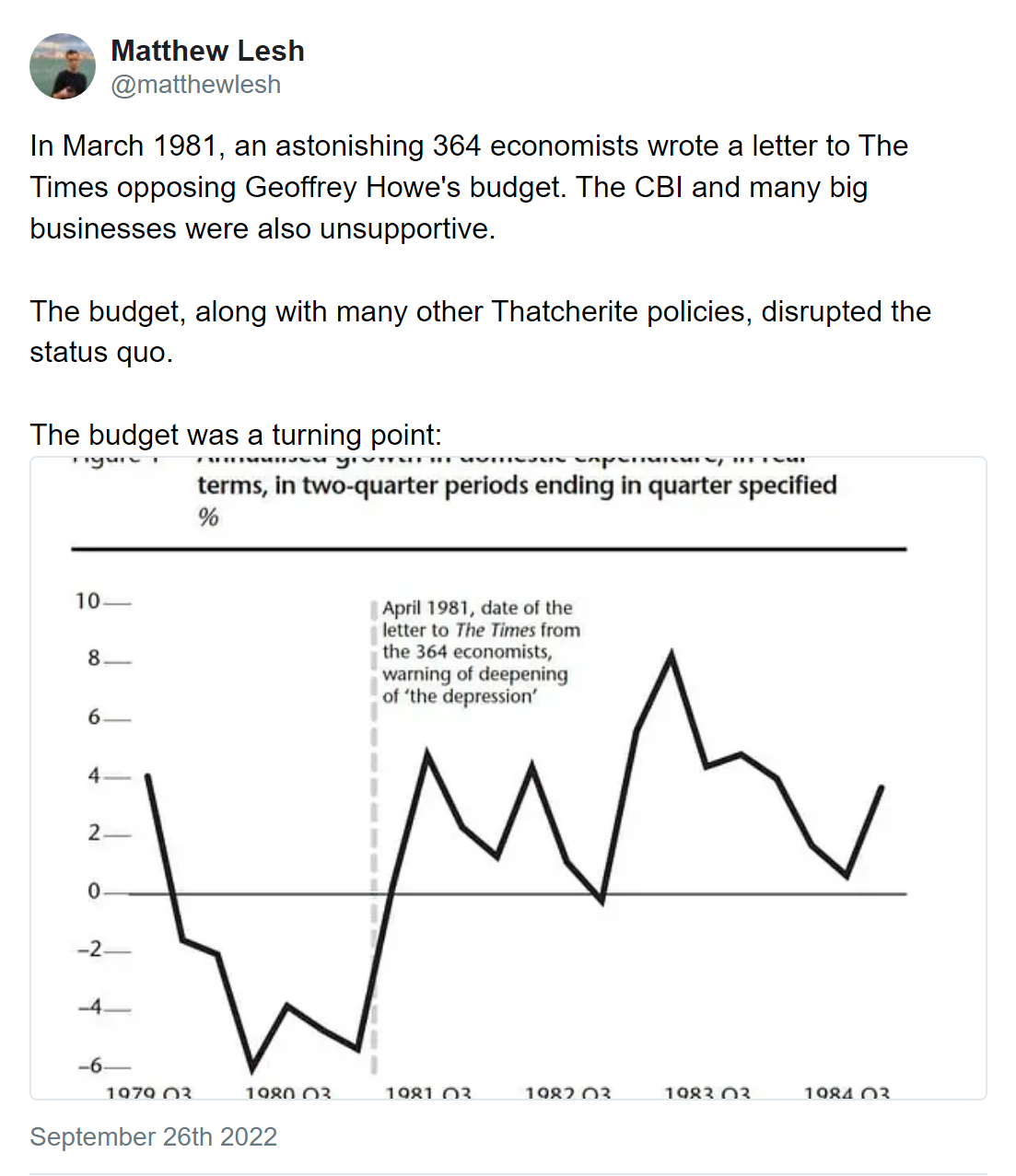 On Thursday, September 29, Labour MPs were back at home but outside criticism of the Truss-Kwarteng plan continued from globalist sources.
The US Treasury had weighed in against the plan after the IMF had.
The markets wobbled that week.
It should be noted that the UK was not the only country suffering from jitters — it was every other main economy, too.
With regard to us, however, the Bank of England had to step in with a fortnight of measures, too complicated to explain here, that put an end to risky measures that British pension funds had been using for several years.
Nevertheless, Truss and Kwarteng got it in the neck.
The Telegraph had a running diary of events that Thursday morning. Excerpts follow, covering the period from 7:30 to 10:30 a.m.:
The Prime Minister is due to undertake a tour of regional BBC radio stations this morning when she will be grilled on her tax cuts and spending plans after they sparked economic turmoil.
Lord Clarke, the Tory former chancellor, has argued this morning that no other Conservative government would have made a "mistake" like Kwasi Kwarteng's mini-Budget. 
The Tory former chancellor told Times Radio: "If the pound sinks any further, then they will have to perhaps retract some of the measures because the more the pound goes down, the more inflation goes up."
The Treasury has said Kwasi Kwarteng will deliver a follow up statement to the mini-Budget in November in which he will set out the Government's medium-term economic plans. 
But the Chancellor is under mounting pressure to deliver a statement to reassure the markets and the nation much sooner than that.
Chris Philp, the Chief Secretary to the Treasury, has defended the Government's decision to scrap the 45p top rate of income tax.
Asked why it was necessary to make the move now, he told Sky News: "The top rate of now 40 per cent, reducing from 45, makes us internationally competitive, it puts us on a par with a number of other economies."
After the Bank of England was forced to step in to calm the markets, Mr Philp told Sky News: "No one's perfect but I'm not going to apologise for having a plan to grow the economy …"
Chris Philp, the Chief Secretary to the Treasury, has dismissed suggestions that Kwasi Kwarteng should resign as Chancellor over his handling of the mini-Budget. 
Liz Truss has defended her mini-Budget plans as she said as Prime Minister she is prepared to take "controversial and difficult decisions". 
Liz Truss has said the world is facing "very, very difficult economic times" as she also insisted Kwasi Kwarteng is working "very, very closely" with the Bank of England.
Liz Truss said that "we have seen difficult markets around the world because of the very difficult international situation we face". 
Liz Truss has defended the decision to scrap the 45p top rate of income tax as she argued that lower taxes "help everybody".
BBC Radio Bristol presenter James Hanson challenged Liz Truss over her repeated claim that financial markets around the world have been facing turmoil. 
Daisy Cooper, the deputy leader of the Liberal Democrats, has claimed Liz Truss is in "complete denial" following the Prime Minister's morning media round. 
The Conservative Party is due to meet in Birmingham from Sunday this weekend for its annual conference. 
Sir Ed Davey, the leader of the Liberal Democrats, has called on the Tories to scrap the event.
Sir Ed said repeated his call for Parliament to be recalled.
Chris Philp, the Chief Secretary to the Treasury, was told this morning that the mini-Budget needs to be changed. 
Speaking to LBC Radio, he said: "No, well, if you listen to the reaction of British business organisations to Kwasi Kwarteng's growth plan on Friday, like, for example, the Confederation of British Industry, the CBI, the Federation of Small Businesses, the British Chambers of Commerce, they all strongly welcomed the growth plan, and they are the organisations that represent British business…"
The Bank of England's £65 billion intervention in the UK economy yesterday is a "very targeted, time-limited intervention", according to the Chief Secretary to the Treasury. (You can read the full story on the bailout here) …
Chris Philp was asked during an interview on LBC Radio this morning if that bailout indicated the economy is experiencing "serious problems".
He said: "Look, they were making a very targeted, time-limited intervention. There was a particular idiosyncrasy to do with the way that particular pension vehicles used long-dated gilts.
"It was a very targeted, very specific intervention to address that issue, which they've successfully done – independently, of course, the Bank of England act independently.
"And they're not the only central bank to have had to make an intervention. Like I said, the Bank of Japan intervened in the Yen dollar market just a few days ago."
Chris Philp, the Chief Secretary to the Treasury, has rejected the suggestion that the UK is now in the middle of a financial "crisis". 
Asked if he accepted it is a "crisis", Mr Philp told LBC Radio: "Look, I don't accept the word crisis at all. Look, in the last six to nine months… the financial markets have been in some volatility around the world."
Sterling has fallen sharply again as former Bank of England governor Mark Carney accused Liz Truss of "undercutting" the central bank …
He said there was an "undercutting" of key City institutions, pointing to the lack of an OBR forecast, a lack of detail about costing and working at "cross-purposes" with the Bank of England.
Ms Truss later told BBC Radio Kent that she is "very clear the Government has done the right thing by taking action urgently to deal with inflation, to deal with the economic slowdown, and to deal with high energy bills".
Were those accusations from globalists really true?
Was day-to-day business in Britain disrupted so dramatically? And wasn't the Government helping Britons with their energy bills? As to the latter question, the UK has been providing the most assistance of any European government:
That week, Kwarteng was under much pressure to meet with the Office for Budget Responsibility (OBR), which, as I posted on October 6, has a lot of Torsten Bell alums from his charity, the Resolution Foundation.
On Friday, September 30, he met with the OBR. Guido reported:
The highly-anticipated meeting between the OBR and government wrapped up after 48 minutes. The OBR says they'll deliver an initial forecast on the October 7, however the government's readout of the meeting sticks to the line that it will be published alongside Kwarteng's medium-term growth plan on November 23 …
Meanwhile, Labour were still banging on about the abolition of the 45% tax rate. The cost of subsidising Britons' energy bills kept increasing, too. Naysayers were pumping up the total expenditure from £60bn to £100bn:
That morning, The Telegraph posted Kwarteng's editorial defending his fiscal event, which ended with this:
Even in the face of extreme volatility in global markets, with major currencies wrestling an incredibly strong US dollar, we will show financial markets and investors that our plan is sound, credible and will work to drive growth.
By combining our immediate energy support with bold action to reset the fundamentals of the UK economy, we are helping households and businesses today – and putting the United Kingdom on a more prosperous, competitive path for years to come.
That evening, The Times reported that the Scottish Secretary Alister Jack said that Truss delivered what she had promised in the leadership hustings and reminded us that she and former Chancellor Rishi Sunak disagreed on how the British economy should proceed:
Speaking to BBC Radio Scotland on Friday, Jack said: "When you say 'huge shock', over the summer [Truss] was very clear that her strategy was to reduce taxes.
"She and Rishi Sunak argued that out over the summer, he said one thing, she said the other, but it shouldn't come as a shock to anyone when she said she believed the strategy was to be more of an Asian tiger economy, where you keep your higher spending but you grow your economy, and she said to do that she would be cutting taxes.
"To anyone paying any attention to that leadership contest it was plain as day what was going to happen" …
In response to the plans announced by Kwarteng last week, the International Monetary Fund said it was monitoring the situation and urged a rethink, while the Bank of England began buying government bonds to avert what it described as a "material risk to UK financial stability".
More controversy, ending with Truss's sacking of Kwarteng, followed.
I will dissect the tragic conclusion tomorrow and, on Thursday, what it means for Truss's premiership.
As I promised earlier week, there is a way that Prime Minister Liz Truss and Chancellor Kwasi Kwarteng can deal with the 45% tax rate.
Before I go into that, however, the hysteria from the past few weeks, beginning with Kwarteng's September 23 fiscal event, has gone into overdrive.
Truss's dresses
During the Conservative leadership contest in July and August, Liz Truss has worn a particular style of dress.
During last week's Party conference, The Guardian went a bit mad and accused the Prime Minister of dressing like a dictator. One can only hope that whoever tweeted this looked at the reply with Liz Hurley wearing the same style of dress …
… which is very popular at the moment.
On October 5, The Telegraph wrote about the new 'power dress', a Karen Millen creation called Forever.
If Truss is dressing like a dictator, then so is Catherine, Princess of Wales (emphases in purple mine):
You may not be familiar with the term "inverted notch lapel", or what it might look like. Until now, that is, after two of the country's most high profile women stepped out wearing it.
The first was the new Princess of Wales, who wore the Karen Millen Forever dress in sunshine yellow for a visit to a maternity ward. Kate rarely puts a fashion foot wrong so, as PR opportunities come, this is the holy grail. The Kate Effect is as powerful as it was 11 years ago when she married Prince William and, at the time of writing, the dress is already sold out in every size.
The other person modelling this style, Prime Minister Liz Truss, wore a red Karen Millen dress for her leader's speech at the Conservative Party Conference in Birmingham. This in itself is not new; she has several dresses like this in different colours. For her, the inverted notch lapel is almost a style signature.
Truss's look has gone viral on social media though, because it appears to be uncannily similar to the dress worn by Emma Thompson in the dystopian Russell T Davies drama Years and Years. It could even be the same one. Named the "Forever" dress, Karen Millen has been selling it in various iterations since 2015 and it's a consistent bestseller. At £225, it's not cheap, but also not prohibitively expensive. It's inclusive too, available in sizes 6-26. 
Note how selective the perception is. Russell T Davies notices when Truss wears the dress, but not the Princess of Wales:
The fact that Thompson plays an ultra-far-right politician in a terrifying imagined future in Years and Years is less than ideal for Truss. As Davies himself pointed out on Instagram: "This is getting weird."
The dress's appeal is all about its neckline:
"The V-neck does all the right things," says personal stylist Annabel Hodin, who regularly works with women in the public eye. "It elongates the neck in an unprovocative but very feminine way and allows for delicate but pretty jewellery. This highlights the collarbone and draws the eye upwards. The neckline also creates a narrow shoulder effect. This all exudes confidence very subtly."
We know that both the Princess of Wales and Truss are fond of delicate jewellery; the inverted notch allows the PM to put her "Circle of Truss" necklace front and centre.
Here's the 'power dress' angle:
But it's not just famous women – it's regular women who desperately need smart clothes for work and don't have the time to trawl the high street for other options. They need clothes that aren't cut too low at the chest, don't expose their upper arms, conceal their knees, and allow them to get on with their work without being distracted by their clothes. They are the lawyers, finance executives and general managers at fine dining restaurants. Ask those women where they found their well-fitting skirt or sharply cut dress and they'll whisper, "Karen Millen".
That's enough about dresses.
Liz-slamming continues
Labour, along with the media, are doing their best at slamming Liz — Truss, that is, not Hurley.
After Truss criticised the 'anti-growth coalition' in her conference speech on Wednesday, Labour's Sir Keir Starmer wasted no time in attacking her:
On Thursday, October 6, Guido Fawkes reported (red and bold emphases his):
On cue, Sir Keir has hit the airwaves this morning to go on the counterattack after Liz's conference speech. As expected, Liz's "anti-growth coalition" line is doing all the heavy lifting, with Starmer erupting into a kind of "I know you are, but what am I?" defence on BBC Radio Sheffield:
Oh for heaven's sake… the enemies of growth? She has just passed a kamikaze mini-Budget which has lost control of the economy, is putting hundreds of pounds on people's mortgage bills […] that is the absolute opposite of growth. She's…she- she's absolutely not just anti-growth, she's the destroyer of growth!
Like Liz last week, Starmer made a whistle-stop tour of local media this morning, so inevitably he was asked about this repeatedly. He reacted more of less the same way in each interview, as though it's the first time he'd heard the accusation.
Labour are also 'cultivating business', which is interesting as they normally cultivate unions. Sir Keir is pictured with his Shadow Chancellor Rachel Reeves:
On October 6, Guido posted an excerpt from a new Labour document laying out the Party's strategy:
Labour has in the past made much of cash for access attacks on Ministers – most recently on Kwasi after the mini-budget. Now the party has its eyes on government it too plans to get closer to corporate interests. In an internal document obtained by Guido, the party intends to raise an initial immediate target of £250,000 by deploying shadow ministers to "business engagement" events. They also plan to "cultivate and maintain" corporate contacts. A Labour press release from just days ago criticised the Tories for "prioritising the rich and big business". Perhaps they might want to rethink that attack line…
… they are clearly aware that they are going to be pushing the legal boundaries, to generate hundreds of thousands coordinating with the leader's office and glad handing at business engagement events without being caught offering policy changes. They may claim euphemistically to be "engaging with business", the document makes clear that the real purpose is to "ensure income maximisation from events" and "to work closely with the fundraising team to ensure business contacts who may also be interested in a donor relationship are identified and effectively managed". In other words, businessmen are to be flattered and fêted in return for their cash.
Keir is already facing internal criticism for moving away from the unions, who in turn are threatening to withdraw funding. He might now have the "who funds you" cash for access brigade on his case too…
Meanwhile, Rachel Reeves continued pumping out more inaccuracies about Kwarteng's fiscal event economic policies:
Guido reminded us that Reeves used to work for the Bank of England (BoE) and should be able to handle dead hard sums. Furthermore, she was a few days behind the curve, as the BoE had stopped its intervention during this week's Conservative Party conference:
The Bank of England has been easing off its interventions in the gilt market, leaving Rachel Reeves's hyperbolic attack lines exposed for their inaccuracies. Julian Jessop points out the fact the Bank did not have to buy any gilts again today, leaving total purchases stable at £3.66 billion. A tad short of the £65 billion she repeatedly claims. This is a further sign market jitters have been effectively mitigated, far from Labour's claims of an "economic crash". As a trained economist and former Bank of England employee, Rachel really must know better. Her sums were out by a factor of 17…
On October 4, Reuters stated that the BoE had already slowed down its purchases of long-dated government bonds:
The Bank of England rejected all 2.23 billion pounds ($2.53 billion) of long-dated government bonds which it was offered on Tuesday at its daily auction aimed at stabilising markets and stopping a fire-sale of assets by pension funds.
The BoE said last week that it was open to buying up to 5 billion pounds of long-dated gilts a day at reverse auctions which it is holding until Oct. 14, subject to a reserve price which would vary depending on market conditions.
The BoE announced the operations on Sept. 28, when 30-year gilt yields hit a 20-year high above 5% in market turmoil after Kwasi Kwarteng's mini-budget. Thirty-year yields dropped 100 basis points (bps) shortly after the BoE announcement.
The actual volume of gilts purchased by the BoE so far has been low and looks unlikely to come close to the 65 billion pounds which initially looked possible.
On Monday the BoE bought just 22.1 million pounds of gilts with a maturity of 20 years or over, and in last week's three auctions it only bought 3.64 billion pounds in total …
Late on Monday the BoE issued a statement reaffirming its willingness to buy up to 5 billion pounds of gilts, but reiterating that it would not buy gilts at any price.
The lies and the truth
On October 6, The Guardian wrote that the BoE warns that pension funds are in meltdown because of Kwarteng's fiscal event, or mini-budget.
However, as usual, all the Conservatives' critics, including their own rebel MPs, miss the point that currencies are fluctuating all over the world.
One of Guido's readers responded to the article as follows:
1) It's the G[uardian]
2) It's an opinion piece
3) Explain why the € is STILL below parity.
4) Explain why every currency crashed (except the Ruble).
Was that all to do with Liz?
Grow up and grow a pair.
Another of Guido's readers explained that many years of quantitative easing (QE) need to be corrected:
I'm afraid all the "listening" … in the world to the current myopic economic orthodoxy and vested interest groups, will not lead to a result contrary to that which it has already caused i.e. stagflation, merely more of the same.
Further, the real reason Sterling fell in value (which the deluded mainstream media dare not countenance) is because the Bank of England are running nominal interest 1% below that of the Federal Reserve (over 3% in real terms), and that they also announced the reversal of the Quantitative Easing programme (currently standing at over £1 trillion in asset purchases sitting on the Bank of England's balance sheet).
Unfortunately the bond markets (along with every other asset market, including junk bonds) have been bid up into the stratosphere because of fifteen years of QE and ZIRP, without which, the huge manipulation of asset markets, including Gilts, is going to unwind, resulting in huge price falls, and a large rise in Gilt yields.
It has gone on so long, nobody can remember long term averages of bond yields or interest rates, and trillions of debt has been secured on this basis, which has skewed the economy toward speculation, idle whimsy and a reliance on huge government subsidy, none of which is productive.
In essence we have been producing too little and consuming too much, for far too long, expecting to borrow ever further into the future to fund it, or papering over the cracks with ever greater tranches of money printing.
Quite reasonably lenders are questioning our ability to pay, and the underlying value of our currency.
That is to say, the bill is coming due, and I'm afraid blindly following the prevailing economic orthodoxy, with more debt, money printing, state entitlement, etc., is only going to deepen the economic stagnation and inflation, quite probably to the point of hyperinflation if we continue to "listen" to vested interests unwilling to countenance their folly.
The long-serving Conservative MP John Redwood watches the economy closely and posted these observations on October 5:
The United States has experienced similar turbulence:
Overall, this is a global situation:
Let us now look at the global situation and how the United Kingdom compares.
We are better off than some countries and worse than others.
The point is: we are not an international outlier.
On Wednesday, October 5, The Times's David Smith looked at debt-to-GDP ratio across Western countries:
… according to International Monetary Fund figures compiled by the UK's Office for National Statistics, only Germany in the G7 has a lower debt-to-GDP ratio. The UK's debt to GDP is 102.8 per cent, slightly higher than the ONS's own estimate. This is above Germany, 70.2 per cent and the EU, 90.3 per cent, but lower on this measure than Canada, 112.1 per cent, France, 112.3 per cent and America, 132.6 per cent. Then you get to the very high levels of debt of Italy, 150.9 per cent and Japan, 263 per cent.
Some countries have surprisingly low government debt, such as Sweden, 35 per cent and Denmark, 33 per cent. Switzerland, perhaps more predictably, is on 25 per cent. New Zealand is a low-debt country, 33 per cent, with Australia on 48 per cent.

It is worth noting that:
Singapore's debt-to-GDP ratio, interestingly, is 176 per cent.
The panic narrative in the UK seems to centre around the debt trajectory:
More important is the trajectory of debt; the rate at which it is rising. Fifteen years ago, on the eve of the global financial crisis, under one of the rules followed by the Labour government then, UK debt was just under 40 per cent of GDP. Now it is close to 100 per cent, with a further rise to come, whose size will be determined by the forthcoming assessment by the Office for Budget Responsibility (OBR).
I'll get into the OBR shortly.
David Smith has more:
Other countries have not seen anything like this rise. Germany's debt-to-GDP ratio, having risen during the financial crisis, is back close to pre-crisis levels, despite the pandemic, thanks to tough fiscal rules. America has seen close to a doubling of its debt, but a smaller rise than the UK. Italy had high debt at the launch of the euro in 1999, roughly 120 per cent of GDP, from which the rise to just over 150 per cent now does not look spectacular.
Japan's very high government debt has never been a particular problem because it is funded by Japanese savers and financial institutions. A significant proportion of UK debt is held by foreigners and is thus more vulnerable to shifts in sentiment.
Whenever I write about UK government debt, a small contingent raises the issue of unfunded public sector pensions. A much bigger liability, on top of this, is unfunded state pensions. But all countries have unfunded liabilities and the way the OBR deals with this issue is to look at the future cost to government of funding those public sector pensions, which is expected to fall marginally relative to GDP in future because of the reform of those pensions.
He says that everything will hinge on the OBR, rather than the Chancellor, hence more doom and gloom:
The OBR, in its July fiscal risks report, had a baseline projection of UK government debt rising to 267 per cent of GDP over the next 50 years because of the upward pressure on spending on health, the state pension, social care and the loss of motoring taxes from the switch to electric. Returning debt to the 75 per cent of GDP considered sustainable before the pandemic would require significant future tax increases and spending cuts, it said.
Since then, the government has abandoned the health and social care levy (originating with the rise in national insurance) and the receipts in prospect from higher corporation tax. The question now is whether the OBR, later this month, can offer some reassurance on the short-term trajectory of UK debt. With markets still jumpy, that reassurance is still required.
All hail the OBR, in other words.
However, can the OBR be trusted?
Some of the OBR people come from a left-leaning organisation called the Resolution Foundation.
Those who watch parliamentary debates know that one name that comes up a lot is the Resolution Foundation, founded by Torsten Henricson-Bell, who now goes by the name Torsten Bell. Labour quote him and his Resolution Foundation frequently. Bell is also a frequent guest at various select committee inquiries.
This is because Torsten Bell was Ed Miliband's policy advisor several years ago. It was Bell who carved Miliband's 2015 Labour manifesto pledges into stone, which, after David Cameron won the general election that year, mysteriously disappeared. Even today, no one knows what happened to the Ed Stone, as it is called.
Bell was always opposed to Brexit.
Once, in 2018, BBC Radio 4 called the Resolution Foundation 'left-leaning'.
Guido says that the Resolution Foundation, a registered charity, plays a bit fast and loose with the Charity Foundation's rules on politicising matters. In their case, that involved promoting Labour at one point in February 2019.
This brings us to the present day and the intertwining of the Resolution Foundation with the OBR and the Treasury.
Conservative Chancellor George Osborne created the OBR — Office for Budget Responsibility — in 2010 when the Conservatives were in coalition with the Liberal Democrats. Whether Osborne realised it or not at the time, the OBR took stances that opposed later Government policy.
On Monday, October 3, Guido posted 'Office for Budget Responsibility' Not-So-Independent Leadership':
There's been plenty of media squawking in the last couple of weeks over the lack of an Office for Budget Responsibility (OBR) forecast in the mini-Budget. Never mind the fact the OBR didn't even exist until 2010, without its explicit blessing, how can any fiscal policy ever be trusted?
Even a cursory look at the OBR's personnel gives you an idea of which school of thought its leaders belong: both the chair of its Budget Responsibility Committee and its Deputy Chief of Staff are former colleagues or protégés of Torsten Bell, chief executive of the left-of-centre* Resolution Foundation (RF). Torsten Bell will be a familiar face to co-conspirators. Before he spent his days pushing for ever-higher welfare payments at the RF, Bell was Labour's Director of Policy under Ed Miliband. For years it seemed carving Labour's manifesto into stone would be his crowning achievement. It turns out seeing his friends land top jobs overseeing government fiscal policy has won out…
Richard Hughes, now the chair of the OBR's Budget Responsibility Committee, spent a year alongside Bell at the Resolution Foundation as its research associate, where he:
Co-authored new fiscal rule proposals which were "urgent" because the Government was promising "a flurry of spending commitments and promises to cut taxes" in 2019.
Warned of the "economic disruption associated with a no deal Brexit", and claimed it would lead to "a smaller and slower-growing economy in the long run."
Claimed

the impact of Brexit on the economy would be "worse than Covid" which was responsible for over 100,000 deaths.
Laura Gardiner, OBR Deputy Chief of Staff responsible for policy costings, expenditure, receipts and "fiscal risks", worked for Bell for six years. In that time she:
Claimed it "

makes sense

" to bribe 25-year olds with £10,000

handouts

–

an £8 billion-a-year policy which was soon swept under the rug, presumably once everyone realised how bonkers it was.
Attacked

the government for "the era of austerity", and proposed reforming Universal Credit. Learned plenty from her days alongside Bell, obviously.
Served as a "Lambeth Equality Commissioner".
Lambeth is a long-time Labour borough in south London.
Guido is perplexed:
It baffles Guido that Richard Hughes was recruited to head the OBR from an organisation, the Resolution Foundation, which has been unremittingly critical of every Tory chancellor since George Osborne. Is it any wonder that Kwasi didn't fancy having his plans benchmarked by known ideological opponents who favoured staying in the EU and egalitarian redistribution on a gargantuan scale. It doesn't take a great insight to guess what the OBR will say when a budget that doesn't align with their values and objectives lands on their desks…
*David Willets, the foundation's president, is used as a token Tory shield against accusations it is a left-wing campaigning organisation. Guido would not go as far as to say Two Brains is a useful idiot, he is however an ideological fig-leaf…
No wonder that Kwarteng felt free to joke about the OBR at a drinks reception sponsored by the think tank Policy Exchange that night at the Party conference:
On Thursday, October 6, Guido made another OBR revelation. Another Resolution Foundation alum favours huge tax rises :
It turns out there's a third we missed…
Cara Pacitti, the OBR's Senior Fiscal Analyst, also spent two years as an economist at the Resolution Foundation, where she worked alongside her future OBR boss Richard Hughes on one paper assessing the "damage" of a no-deal Brexit, and another which claimed "tax rises tend to harm the economy less than spending cuts". The latter paper, "How to support the economy today and repair the public finances tomorrow", may as well have been drafted by Gordon Brown. 
Here's a flavour of what it proposed:
Public support is necessary and so

taxes on corporate crisis windfall profits should be considered –

which is Labour Party policy.
Freezing tax thresholds and raising the Corporation Tax rate should be seen as low-hanging fruit for raising revenue –

a massive stealth tax on individuals and a jobs destroying burden on businesses.
Reforming wealth taxes can improve the functioning of the tax system and raise significant revenue –

the Corbyn agenda.
So that's three senior members of the OBR who are about to assess a budget which obviously runs contrary to their declared ideological objectives. The Resolution Foundation has never seen a tax it doesn't like, is run by the Labour Party's former policy chief and advances an agenda that is socialistic. How is it that out of the thousands of economists turned out by British universities every year, the OBR over and over again keeps hiring senior economists from the one think-tank run by Labour's former policy chief? What are the odds?
No wonder Kwarteng didn't bother consulting the OBR before issuing his mini-budget.
Another hard-hitting truth is that average families are paying more tax than the Left and their water-carrying media chums would have us believe:
A full report is available:
How to abolish the 45% tax rate
Now to the nub of the matter.
All the above provides a backdrop as to how difficult it will be to get rid of Gordon Brown's — Labour's — 45% tax rate.
I wrote about Kwarteng's U-turn on Monday. It was spurred on by Sir Graham Brady of the 1922 Committee of Conservative backbenchers who can make or break a Prime Minister.
If Parliament had a vote on its abolition, the Government would have lost, leaving Liz Truss in a precarious position. On Monday, The Telegraph reported:
Rebels told journalists they were confident that at least 36 of them would vote with the Opposition on the 45p cut – the number needed to overturn Ms Truss's working majority – and it became increasingly clear that the policy was unsustainable.
On Tuesday, the veteran editor and author Charles Moore wrote a Telegraph article implying that dropping the abolition of the top tax rate was the right thing to do under the circumstances, although he did say:
Yesterday, unfortunately, the wrong side won. Kwasi Kwarteng may be right that the top-rate cut had become "a terrible distraction" from the rest of the growth plan, but its removal is a setback for that plan. It weakens the Truss/Kwarteng attempt to change our economic culture and return to enterprise.
However, all is not lost.
The Spectator's Matthew Lynn has a cracking plan on how to get rid of the 45% tax rate — by stealth:
The tax only raised a trivial £2 billion a year or so and prevented the UK from being the lowest-taxed major economy in Europe.
Getting rid of it might even raise more money. Clearly abolishing it in the middle of a cost-of-living crisis is too difficult politically. It is, however, still the right thing to do. So here's what Truss – who has spent all her political capital on a botched attempt to scrap the tax – should do instead.
The PM should start by steadily raising the threshold so that it impacts far fewer people. If she's feeling brave, she should take it all the way up to £500,000. In the United States, for example, the top rate of 37 per cent kicks in at $539,000 (£480,000) – and hardly anyone apart from a few fanatics on Twitter have much to say about that.
Next, Truss should add in various exemptions and allowances that could only be set against the top rate. Mortgage relief, for example, or travel expenses for work.
Finally, she should dramatically increase the thresholds for the 40 per cent rate as well. Given that £50,000 a year is a ridiculous level for people to start paying almost half their income in tax, Truss could push that all the way up to £150,000 a year, and then eventually to £200,000. And then once that had been achieved, the PM could merge the two top rates, and sell the whole package as an increase for the rich. Add up all those changes, and it would no longer exist.
Some of the biggest changes in political direction are best done under cover. Margaret Thatcher and Gordon Brown achieved some of their most significant policy changes by stealth: Thatcher did so with her slow and gradual reduction of trade union power; Brown with a steady expansion of the tax and welfare system that turned the UK into a country addicted to state support.
The Truss government – if it is not already too late for it to make any meaningful reforms – should learn to follow them. The 45 per cent rate should go: but it can only be done if nobody notices.
No doubt, either Truss or Kwarteng reads The Spectator. Let's hope they did not miss this brilliant way forward on getting rid of the 45% tax rate. And never mind the OBR.
This is the final instalment of my series on Boris Johnson's downfall.
Those who missed them can read parts 1, 2, 3, 4, 5 and 6.
Also of interest are:
Developing news: how long can Boris last as PM? (July 5-6)
Boris stays as PM for now but stands down as Conservative leader: 'When the herd moves, it moves' (July 6-7)
This post discusses two groups of people who are still wild about Boris: British voters and the Ukrainians.
British voters
On June 11, 2022, one week after Boris survived a vote of confidence by his fellow Conservative MPs, The Observer — the Sunday edition of The Guardian — posted the results of a poll they commissioned.
The findings were surprising for a left-wing newspaper (emphases mine):
Boris Johnson makes a better prime minister than Keir Starmer would despite Partygate, the cost of living crisis and the confidence vote in Johnson held by his MPs, according to the latest Observer poll.
Granted, the results were close, but Boris managed to come out on top, with the Conservatives two points behind Labour:
The Opinium figures, which will raise further concerns within Labour over the party leader's performance, shows that the prime minister has a two-point lead over his opponent. It also reveals that Starmer's party holds a narrow two-point lead, compared with a three-point lead in the last poll a fortnight ago. Labour are on 36% of the vote, with the Tories up one point on 34%. The Lib Dems are on 13% with the Greens on 6% …
While 28% think Johnson would make the best prime minister, 26% opted for Starmer.
On June 13, the i paper's Hugo Gye posted a few pages from the book Moonshot, by Pfizer's chairman Albert Bourla:
Two excerpts follow. These pertain to late 2020 and early 2021:
From my perspective, the UK was doing an exceptional job under tremendous pressure.
At that time, the UK was the only vaccinating so quickly that demand surpassed supply. As a result, we worked on a plan to meet the UK's needs …
Yet, in the UK, it was only the Conservatives and conservatives remembering Boris's efforts during that time period:
On June 14, the Mail's Alex Brummer wrote a positive article about the British economy, explaining why things weren't as bad as the media and pundits portray them:
So, yes, we face serious challenges. And yet I simply do not believe there is any justification for the gloom-laden interpretation by large sections of the broadcast media and fierce critics of Boris Johnson's government.
These Cassandras peddle a diet of relentless financial woe as they carelessly claim that the nation is in recession or heading for one.
But closer inspection shows not only that things are nowhere near as bad as they claim, but that there are serious grounds for hope in certain sectors, too.
Brummer explored the possibilities of what could happen either way:
True, the UK economy lost momentum recently, shrinking by 0.3 pc in April.
But what no one has mentioned is that this was largely down to a statistical quirk, and respected City forecasters are still actually predicting a 3.2 pc expansion of the UK economy this year, followed by 0.9 pc in 2023.
The big danger is that the constant barrage from the doom merchants could begin to influence events and destroy the resilience of consumers and enterprise — resilience which is still delivering for this country.
What is more, with a change of tack in the Government's approach, I believe the economy could be recharged.
Of course, the country will struggle if it is required to contend with inflation, rising interest rates and a mountainous tax burden all at the same time. If consumers and businesses are doubly squeezed by higher interest rates and higher taxes, household incomes will be devastated …
Brummer disagreed with Rishi's tax hikes:
The truth is that, with the nation close to full employment and the City of London and services — comprising more than 70 pc of national output — performing well, there was absolutely no need to urgently hike taxes, if at all.
Income tax, national insurance receipts, VAT and corporation tax receipts have all been flowing into the exchequer in record volumes. All that future rises will do is stymie spending and the willingness of companies to invest.
And the main reason for that fall in output of 0.3 pc in April? It is because the Government suddenly ended the NHS's Test and Trace operations — which had grown into a formidable industry, employing tens of thousands of people — as the country emerged from the pandemic.
In fact, April saw activity in consumer services jump by 2.6 pc. In spite of the £100-a-tank of petrol, the £8-a-pint of best IPA and rocketing food prices, a recession — defined as two quarters of negative growth — is unlikely.
Brummer did support Rishi's help to the neediest families:
Even if Rishi Sunak does not cut taxes, his £15 billion package of targeted support to help poorer households with the rising cost of living means incomes should now rise in the second and third quarter of the year. It is equal to nearly 2 pc of their earnings and will boost the country's spending power.
There were more reasons not to believe the doom-mongers, who, as I write in early September, are getting shriller and shriller:
What the doom-mongers fail to tell you is that investment bankers Goldman Sachs recently pointed out that consumer services are 'robust' and Britain's economy is 0.9 pc larger now than it was before the nation went into lockdown.
Economic activity in the crucial services sector, meanwhile, is 2.6 pc higher.
But it is not just the consumer activity — along with the £370 bn plus of pandemic savings in the current and savings accounts of households — propping up the economy.
New data just released shows that the drive towards the UK becoming a high-tech, high-value nation continues to make Britain prosper.
So far this year, the country has sucked in £12.4 bn of investment into the tech industry, the highest level of any country other than the United States.
And let no one blame Brexit:
As for the argument that Brexit has done for Britain, it is comprehensively rubbished by the City consultancy firm EY, which argues that, when it comes to financial services, 'six years since the EU referendum, we can be confident that Brexit has not damaged the UK's fundamental appeal'.
Since the financial and professional services are the biggest generator of income for HMRC, and the UK's most successful export to the rest of the world, this should surely be a source of national pride rather than Remoaner carping.
Indeed, wherever you look, the excellence of Britain's life sciences sector — as evidenced by the rapid development and distribution of the Oxford-AstraZeneca vaccine during the pandemic — continues to shine …
Ultimately, taxes do need to be cut:
But more needs to be done. And by that I mean Rishi Sunak must put an end to the tax hikes — or even reverse them …
… he froze personal tax allowances until 2025-6, along with the thresholds for capital gains tax.
… this will provide additional revenues to the Government of about £20.5 bn a year.
Sunak also opted to raise corporation tax from 19 pc to a whopping 25 pc next year. And to help pay for the NHS and social care, every employee and employer in the country is now paying a 1.25 pc surcharge on national insurance.
Together, all these measures (before inclusion of the windfall tax on oil production) mean that Boris Johnson's government is raising more tax from the British people and commerce than any UK government since the 1940s.
Such a position, given the precarious economic circumstances we face, is completely unsustainable. If the Johnson government wants to fight the next election with a healthy economy, taxes have to be cut with a decisive policy shift.
And if that happens, it could just be the magic pill for a Tory revival.
Meanwhile, Boris took a brief staycation in Cornwall while he helped campaign for the Conservative candidate in Neil 'Tractor Porn' Parish's constituency for the by-election, which, unfortunately, the Liberal Democrats won.
The Mail reported on Boris's schedule:
Boris Johnson has been pictured walking on a Cornish beach with his son Wilfred as he chose a staycation amid weeks of chaos at Britain's airports for millions desperate for a post-pandemic foreign break.
The Prime Minister has been in the West Country campaigning as he tries to win the Tiverton and Honiton by-election for the Tories on June 23, but is squeezing in a short family holiday.
And after a flying visit to the Devon constituency he headed to Cornwall to launch his food strategy at the wheel of a tractor before relaxing on the award-winning Porthminster beach, St Ives.
Unfortunately, on Wednesday, June 15, Lord Geidt quit as Boris's ethical adviser, which made all of his opponents question whether he should still be in office. This came a day after Geidt had appeared before a parliamentary select committee. I saw parts of that session. Geidt did not exactly inspire me with confidence.
Lord Geidt, a former private secretary to the Queen, announced his resignation in a 21-word statement the day after MPs accused him of "whitewashing" Johnson's conduct and questioned whether there was "really any point" to him.
Geidt, 60, came close to quitting last month after concluding that there were "legitimate" questions about whether the prime minister breached the ministerial code. He said that Johnson's fine for breaking coronavirus rules threatened to undermine his role and risked leaving the ministerial code open to ridicule.
He also received a "humble and sincere" apology from Johnson in January after the prime minister withheld critical messages from Geidt's inquiry into the refurbishment of his Downing Street flat.
A statement from Geidt published on the government website this evening said simply: "With regret, I feel that it is right that I am resigning from my post as independent adviser on ministers' interests."
In a bruising encounter with the public administration and constitutional affairs select committee yesterday, Geidt admitted that he had been "frustrated" by the prime minister's approach to the scandal.
William Wragg, the Conservative chairman of the committee, told The Times: "Lord Geidt is a person of great integrity, motivated by the highest ideals of public service. For the prime minister to lose one adviser on ministers' interests may be regarded as a misfortune. To lose two looks like carelessness."
Then again, William Wragg is not a fan of Boris's, prompting his supporters to think there was a stitch up, especially as Tony Blair had just been installed as a new member of the Order of the Garter.
Geidt's letter seems to be focused on Boris's fixed penalty notice for Partygate, but Boris's response, published in The Guardian, is about steel tariffs: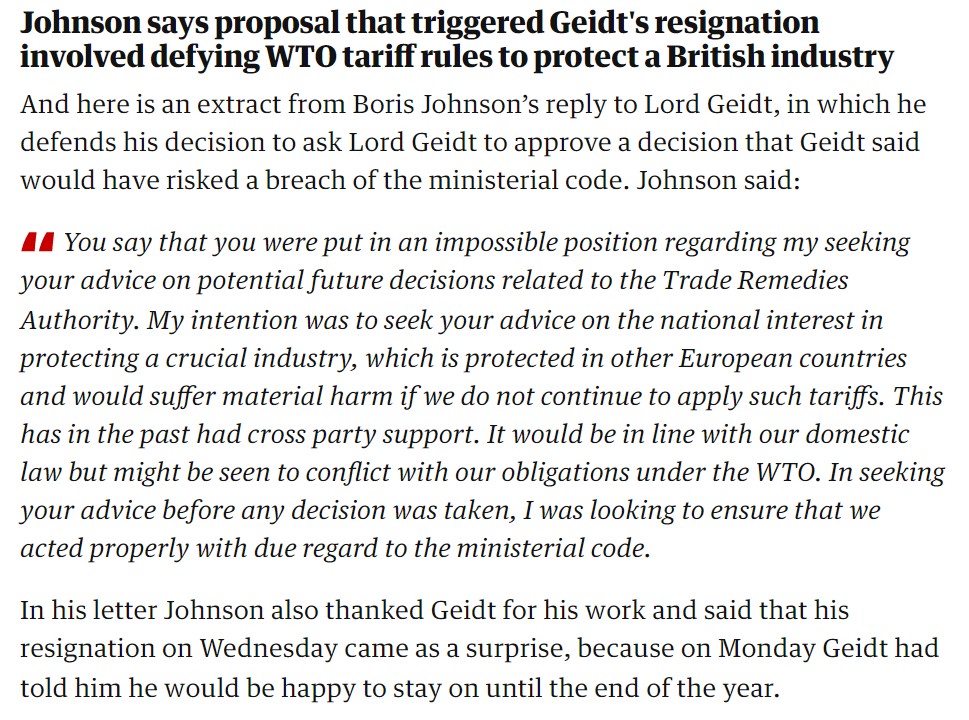 GB News's Patrick Christys explained this before going into Tony Blair's offences during his time as Prime Minister, including the Iraq War and letting IRA terrorists walk free. It's a shame the video isn't clearer, but the audio is compelling. After Christys introduced the subject, a panel debate took place:
Christys ran a poll asking if Boris is more unethical than Blair. Seventy per cent said No:
Blair's former adviser John McTernan said that, unlike Boris, Blair had been cleared of a fixed penalty notice (for an irregularity in paying London's congestion charge). But was Blair actually cleared? The BBC article from the time suggests that he wasn't:
On June 24, after the Conservatives lost Neil Parish's seat to the Lib Dems and the Wakefield seat to Labour, The Telegraph reported that the co-Chairman of the Conservative Party, Oliver Dowden MP, resigned. He seemed to blame the loss on Boris, although mid-term by-election victories often go to an Opposition party, something Dowden should have known:
Oliver Dowden has resigned as chairman of the Conservative Party after it suffered two by-election defeats, saying in a letter to Prime Minister Boris Johnson that "someone must take responsibility".
Mr Dowden's resignation came at 5.35am, shortly after the announcement of the two defeats. He had been scheduled to appear on the morning media round before he decided to step down.
In Tiverton and Honiton the Liberal Democrats overturned a 24,000 Tory majority to win, while Labour reclaimed Wakefield.
The contests, triggered by the resignation of disgraced Tories, offered voters the chance to give their verdict on the Prime Minister just weeks after 41 per cent of his own MPs cast their ballots against him.
Guido Fawkes posted Boris's generous letter of thanks to Dowden and his video explaining that mid-term by-election results often explain voters' frustration with the direction of the Government:
As usual, Blair's former spin doctor Alastair Campbell posted another inaccuracy, this time about Labour's by-election results:
At the time, Boris was away in Kigali, Rwanda, for CHOGM (Commonwealth Heads of Government Meeting). While there, he clarified sex and gender. The Times reported:
A woman cannot be born with a penis, Boris Johnson said last night, adding that there were "particular problems" around "issues of gender", but he said it was important to be "as understanding of everybody else as possible".
Asked whether a woman could be born with a penis, Johnson replied: "Not without being a man".
This has been an ongoing controversy for the past year. Neither Rishi Sunak nor Keir Starmer have been willing to answer that question. Boris met that challenge.
By the time Boris resigned on Thursday, July 7, millions of voters thought it was a stitch up.
Dan Wootton expressed our thoughts magnificently in his editorial that evening on GB News:
Excerpts from his transcript follow:
They won, folks.
They got him in the end.
Let's be honest for a moment, they were never going to stop until they'd secured Boris Johnson's head.
Since December, the campaign by the political establishment, the Remoaner elite, the civil service blob and – crucially – the country's biased broadcast media, notably BBC News, ITV News and Sly News, has been fever pitch.
Eventually, the Conservative Party decided it was impossible to govern while also fighting such dark and powerful forces.
These are deeply depressing times for British democracy.
Boris is the third Tory Prime Minister brought down in six years.
The febrile and hostile establishment and the MSM knows the power they have to bring political paralysis to the country.
And why were they so determined to destroy Boris?
Think about it.
He was a transformational Prime Minister.
A Prime Minister who stared them all down to finally deliver Brexit.
A Prime Minister who had vowed to cut the size of the civil service and demanded they return to their damned desks.
A Prime Minister who was going to scrap the hated BBC licence fee and sell the far-left Channel 4 News.
It's not hard to see why they would stop at nothing to discredit him.
I mean, last night the BBC quoted a source saying Boris Johnson "is now like Putin".
That's how deranged and determined his critics have become.
The celebration that broke out across the airwaves today – especially on the Boris Bashing Corporation once known as the BBC – blew up any final suggestion that we have an impartial broadcast media here in Britain …
I wanted to share with you part of a conversation I had earlier today with a source close to the Prime Minister.
They told me: "People had no interest in talking about the quite historic leadership achievements be that dragging us through a pandemic, a world leading vaccine programme rollout and a quite uniquely special performance in regards to that European war."
"Those people who wanted him gone never wanted to acknowledge that at any point. Never ever. It was always just the Westminster personality stuff. That was the only focus."
"Labour has had not one policy or grown-up policy discussion. It has been an out and out campaign to remove Boris. And you always have to ask yourself why. Why did they want to get rid of Boris so much? Why did sections of the media do that? Ultimately, wounded or not, he is the Conservative's best chance of winning an election" …

As the Daily Mail said today: "The truth is, Mr Johnson stands head and shoulders above almost all his assassins. Compared with the mountains he has scaled, their combined achievements are little more than molehills" …
To Boris Johnson, it was a project not completed, largely down to external forces.
But thank you for delivering us Brexit; that is an achievement for the ages that will go down in the history books.
It was a sad evening, indeed.
However, in time, there might be an upside. Maybe he could appear on GB News now and again:
Boris won that night's Greatest Briton accolade:
Wootton's focus on Brexit was confirmed by The Telegraph's Sherelle Jacobs the following day. She fears that Boris's resignation will give a lift to prominent Remainers:
… With the implosion of Boris Johnson, the Brexit war threatens to start anew. Tory Leavers must accept their vulnerability. The Prime Minister who ended the last battle by getting a Brexit deal done has just fallen in ignominious circumstances. Meanwhile, Remainers – who will never give up the fight – scent weakness.
While Andrew Adonis rallies against a "revolution which devours its children", Michael Heseltine has declared that "if Boris goes, Brexit goes". It might be tempting to dismiss all this as the hopeful rantings of bitter men. After all, Sir Keir Starmer has been at pains to reassure voters in recent days that Labour will not take Britain back into the European Union.
But even if the leader of the Opposition – a Remainer who voted six times against a Brexit deal – is genuine, he is powerless to stop the rejuvenation of the Remainer campaign. As support for Brexit in the polls has seeped away in recent months, in part because of the chaos that has gripped the Government, ultra-Remainers have been on manoeuvres. With the fall of Johnson, they think their time has almost come.
Over the next two years, they will likely proceed with a calculated mixture of boldness and caution. Already the public is being relentlessly bombarded with misinformation, which erroneously links every ill facing Britain with the decision to leave the EU. As the Tory party is distracted by internal dramas, negative Brexit sentiment will mount. This is already starting to happen, as critics in the business world become blunter in their criticisms – from the aviation industry to the CBI.
Meanwhile, some Tory MPs have been discreetly arguing in favour of a softer Brexit. Indeed, while the removal of the PM was by no means a Remainer plot, some of his internal enemies were motivated by a desire for greater alignment with EU rules – or at least by their opposition to what they consider to be an excessively aggressive attitude towards fixing the Northern Ireland protocol …
In truth, Conservative fealty to the Brexit cause has been disintegrating even under Boris Johnson, as the Blob has sapped the Government's will …
The great fear is that the Tory party now elects a closet Remainer who does not have the conviction to take all this on. That Brexit dies with a whimper, smothered by bureaucratic inertia and then finally strangled after the next election. If Brexiteers want to avoid this fate, they must think like war strategists once again. That means confronting the extent of their current weakness, and taking their opponents seriously.
Boris also shares that same worry and said so in Parliament on July 19, the day of his final Prime Minister's Questions:
Right after Boris's resignation, an online petition appeared: 'Reinstate Boris Johnson as PM'. It currently has over 23,000 signatures making it one of the top signed petitions on Change.org.
On Saturday, July 9, the i paper had an interesting report with several interviews:
The atmosphere sounded surreal:
"It was a bit weird", a source said of the Cabinet meeting Boris Johnson convened on Thursday just two hours after he said he would step down, effectively putting Britain on pause.
The Prime Minister was flanked by senior ministers, some of whom, less than 24 hours, had earlier led a delegation of men and women in grey suits to No 10 to urge him to quit …
Bill committees examining legislation line-by-line had to be cancelled, or they had newly resigned ministers sitting on them as backbenchers, while the whips who lacked the required specialist knowledge of the issues at stake were leading for the Government …
Contenders to take over as PM, when Mr Johnson does go, have been preparing for a contest months as the writing has slowly been scrawled on the wall of No 10.
Tom Tugendhat, Penny Mordaunt, and Jeremy Hunt were the most active hopefuls this week, contacting MPs and arranging meetings …
As the leadership contenders jostled, the Whitehall blame game began over Mr Johnson's spectacular fall from grace. The Prime Minister entirely overhauled his inner circle in February, after the initial "Partygate" allegations broke, and it is largely this team that will shepherd the Government through the final few months of his premiership …
The arrival of Guto Harri, one of Mr Johnson's oldest allies, as director of communications is seen by many as a contributor to the Prime Minister's downfall …
The spin chief had a habit of making up policies off the cuff, prompting advisers in other departments to joke about "the Guto special" when confronted with unexpected announcements from No 10. One Whitehall official concluded: "He is good for journalists, I'm not sure he's good for HMG [Her Majesty's Government]" …
But others pin the ultimate blame firmly at Mr Johnson's door.
One of Mr Johnson's closest former advisers told i that it "all went wrong for the PM" when he stopped listening to those from Vote Leave …
One of the former ministers who quit said on Thursday simply: "Everything is his fault. I spent months defending, or at least being generous about, his mistakes.
"Not after the last 24 hours. Appalling."
On July 12, Guido reported that Boris loyalist Jacob Rees-Mogg thought that the Prime Minister's name should be on the Conservative MPs' ballot (emphases his):
… he affirmed it was "unjust" to deny the Prime Minister the opportunity to fight for his position amongst Tory members. This comes in the context of his previous arguments for the growing presence of personal mandates in British political leaders. Unfortunately, Guido doesn't believe this strategy is quite in line with the contest rules…
I think this gave Boris's supporters false hopes:
People in Conservative constituencies began emailing their MPs:
With no result, the question then turned to whether Boris's name should be on the ballot for Conservative Party members.
On Saturday, July 16, The Times's Gabriel Pogrund and Harry Yorke posted an article: 'How the Tories turned the heat on Rishi Sunak'. In it, they introduced Lord Cruddas, who would go on to campaign for Boris's name to be on the members' ballot:
Both men were Eurosceptics who had supported the Vote Leave campaign when it might have been politically advantageous not to do so. Both were the beneficiaries of Boris Johnson's patronage. Cruddas had been given a peerage despite official objections. Sunak had been plucked from obscurity the previous year and made one of the youngest chancellors in history.
In 2021:
Sunak was the most popular politician in Britain and second only to Liz Truss in Conservative Home members' polls, having overseen the furlough and Eat Out to Help Out schemes. In the chamber, Cruddas gave his own vote of confidence, saying Sunak's budget "had established a clear path for the country to move from these difficult times", praising his "thoughtful" approach and arguing it would "not just to reinvigorate the economy post Covid but to help propel the post-Brexit opportunities".
By July 2022, everything had changed:
A week into the most toxic Tory leadership election in memory, the fact such comments were made feels inconceivable. Cruddas, 68, who remains close to Johnson, has shared posts on social media describing Sunak as a "rat", "a snake", a "little weasel", a "backstabber", "a slimy snake", a "treacherous snake", "Fishy Rishi", "Hissy Rishi", "Judas", "the traitor", "the Remainer's choice", a "sly assassin", a "Tory wet" promoting high taxes and the leader of a "coup" who "must be removed at all costs". Cruddas also retweeted claims about the financial affairs of Sunak's wife, Akshata Murty.
Tonight the peer said there had indeed been a "coup", adding: "I planned to donate a total of £500,000 this year but that is on hold and will not be paid unless the membership have a chance to vote on Boris being PM. I have no interest in Rishi who I deem to be not fit for high office due to his plotting and the orchestrated way he and others resigned to remove the PM." He also accused Sunak, 42, of setting up his leadership "before Christmas" and choreographing his resignation to inflict maximum damage.
The problem for Sunak is that such sentiment — especially the notion that he behaved improperly and cannot be trusted on the economy — is not confined to a fringe on social media. He might be the frontrunner but "Anyone But Rishi" reflects the opinion of Johnson and a coalition within the party. This includes cabinet ministers, staff inside Downing Street and Conservative Campaign Headquarters (CCHQ), Johnson's biggest donors, MPs opposed to higher taxes, and rivals for the leadership.
On July 22, The Telegraph's Christopher Hope added support for Boris's return and, in the meantime, addition to the ballot:
Tim Montgomerie, a former aide to Mr Johnson who has since been critical of him, said he had been told by sources close to the Prime Minister that he was convinced he would be back.
In a well-sourced post on social media, Mr Montgomerie wrote: "Boris is telling aides that he'll be PM again within a year" …
It comes as a row broke out among senior Conservatives about a campaign among party members to allow them a vote on whether Mr Johnson should continue as Prime Minister.
By Friday night, 7,600 members – all of whom have given their membership numbers – had signed a petition calling for the vote.
Lord Cruddas of Shoreditch, the former party treasurer who organised the petition, said "several MPs" had started to "make noises" about supporting his campaign …
Conservative MPs panicked:
The next day, The Times stirred the pot even more with 'Is Boris Johnson really planning another run at No 10?'
On Wednesday afternoon, moments after Liz Truss and Rishi Sunak were announced as the final two Conservative Party leadership contenders, a group of "red wall" MPs met on the House of Commons terrace to reflect on the result. "Is it too late to withdraw my resignation letter?" mused an MP, who held a junior ministerial role until the coup against Boris Johnson. "Shouldn't we just bring back Boris?" she said, leaving the question to hang in the air …
… Much like the Roman republic after Caesar's assassination, Whitehall is now riven by internecine warfare and a government paralysed by indecision …
For a man who just 18 days ago was brutally ousted from the job he has coveted his entire political life, Johnson appears to be living out his final days in Downing Street in a cheerful mood. Freed from the never-ending cycle of Westminster scandals, Johnson is relaxed and has spent the past few days hosting friends, relatives and other allies at Chequers and preparing a number of set-piece events leading up to his departure from No 10 in September …
Johnson, who allies claim remains furious with Sunak for his part in the coup, has sought to distract himself from the race to select his successor through media-friendly stunts …
Several MPs who helped oust Johnson have received a backlash from their constituents, stoking fears that they may face the same electoral retribution inflicted on Conservative MPs who ousted Margaret Thatcher. Backbenchers in red wall seats have been inundated with emails from voters who are furious at their role in ousting the prime minister.
They added that their postbag was filled with messages from newly converted Tory voters who have warned they will not vote for the party again now Johnson is gone. A colleague of Gary Sambrook, MP for Birmingham Northfield, claimed he had received hundreds of emails from constituents since he stood up in the Commons earlier this month and accused Johnson of refusing to accept responsibility for his mistakes …
Johnson leaves, aides say, with the air of someone with unfinished business. Whether this is the end of the Johnsonian project, or a precursor to his own Hollywood-esque sequel, remains to be seen.
On July 25, Christopher Hope wrote that the Boris petition had garnered 10,000 signatures:
Insiders say he is obsessed with delivering for the 14 million voters who voted Conservative in 2019, many for the first time because of him.
There are already stirrings of a revolt among the members. By Saturday night, 10,000 Conservative members had signed a petition organised by Lord Cruddas of Shoreditch, former Party treasurer, and David Campbell-Bannerman, former Tory MEP, demanding a say over his future.
The members want a second ballot to confirm MPs' decision to force his resignation, to run concurrently with the official leadership ballot between Liz Truss and Rishi Sunak.
That evening, Dan Wootton stated his belief that Boris's name should be on the members' ballot:
He asked his panel, which included Boris's father Stanley about it:
You can see relevant portions in these shorter extracts: Stanley supporting his son, Stanley verbally sparring with a journalist for the i paper as well as the opinion of former Boris adviser, Tim Montgomerie.
In the end, nothing happened. There was no Boris ballot.
Early this week, I heard one of the campaigners tell GB News that CCHQ are asking the organisers to do a sanity check on the signatories, confirming their Party membership number and clearing out any duplicates. If the number is still sizeable, CCHQ will discuss a possible changing of the rules for any future contests.
This is good news, in a way, but it will not help the Conservatives in the next general election. Boris's supporters are still angry.
Ukrainians
The Ukrainians will miss their biggest supporter.
They were saddened by his resignation:
Boris offered them his reassurance:
Volodymyr Zelenskyy even made a special announcement to the Ukrainian people about it:
Guido Fawkes wrote:
After leaving office Guido suspects Boris may end up reflecting more proudly on his work supporting Ukraine than even his Brexit legacy. Since the announcement of his resignation, Ukrainians have come out en masse to voice their sadness about his impending departure … Taking to Telegram late last night, Zelenksyy posted a touching video saying "Today, the main topic in our country has become the British topic – Boris Johnson's decision to resign as party leader and Prime Minister" …

Boris's hair has become a bit of an icon there (just as Trump's had in the United States). Guido has the images:
Boris's popularity among Ukrainians has already been well-reported since the outbreak of war. Streets have been named after him, as have cakes in a Kyiv patisserie. Yesterday Ukraine's national railways redesigned their logo to include an unmistakable mop of blonde hair, as did major supermarket Сільпо…
Boris once joked that the reason he'd left journalism for politics was because "no one puts up statues to journalists". It seems that, thanks to his efforts in Ukraine, he did manage achieved his wish for public deification – just not in the country in which he was elected…
On July 8, Ukraine's youngest MP made a video praising Boris:
Boris Johnson took a clear stand when so many others looked the other way.
In August, someone was inspired to paint a mural of Boris:
On August 24, Boris made his farewell — and surprise — visit to Ukraine on the nation's Independence Day:
Guido wrote:
Boris has made yet another surprise visit to Ukraine on its independence day — and the sixth month anniversary of its invasion. He used the visit, his last as PM, to announce a £54 million aid package to the country of 2000 state-of-the-art drones and loitering munitions …
Slava Ukraini…
Guido also posted this video:
GB News had more on the story:
Mr Johnson's visit came as Ukraine marked 31 years since its independence from Moscow's rule.
And it also came six months on from Russia's invasion of Volodymyr Zelenskyy's nation …
He said in Kyiv today: "What happens in Ukraine matters to us all.
"That is why I am in Kyiv today. That is why the UK will continue to stand with our Ukrainian friends. I believe Ukraine can and will win this war" …
The Prime Minister used his meeting with Mr Zelenskyy to set out a further package of military aid, including 2,000 drones and loitering munitions.
He also received the Order of Liberty, the highest award that can be bestowed on foreign nationals, for the UK's support for Ukraine.
Mr Johnson said: "For the past six months, the United Kingdom has stood shoulder-to-shoulder with Ukraine, supporting this sovereign country to defend itself from this barbaric and illegal invader.
"Today's package of support will give the brave and resilient Ukrainian armed forces another boost in capability, allowing them to continue to push back Russian forces and fight for their freedom."
The package includes 850 hand-launched Black Hornet micro-drones – smaller than a mobile phone – which can be used to provide live feeds and still images to troops, particularly important in urban warfare.
The support also includes larger drones and loitering weapons, which can be used to target Russian vehicles and installations.
The UK is also preparing to give mine-hunting vehicles to operate off the coast, with Ukrainian personnel being trained in their use in UK waters in the coming weeks.
Ukraine's ambassador to the UK Vadym Prystaiko marked the occasion by urging UK citizens to be "patient" as the war-torn country "cannot afford to lose your support".
He said: "You are playing a very important part in this fight. Ukraine will do what it takes to claim victory."
But will Britons continue to love Ukraine as much when the winter and higher fuel bills kick in?
Boris told us that we must do it, we must suffer, for Ukraine:
He has a point, but I do wonder how well this will play by the end of the year.
At least Boris got his Churchillian international claim to fame.
What next?
This week, Boris made a farewell tour of the UK, topped off with a dawn police raid of a house:
Guido has the video and explains the greeting:
This morning Boris accompanied the police on a home raid. Given we're now comfortably into the 21st century, it didn't take long for one of the occupants to realise the PM was in his home and film the experience, asking Boris 'wagwan'. Boris politely asked the filming resident "how you doing?". The Snapchatter could have at least offered Boris a cuppa…
It's rumoured that Michael Gove might be off to edit a newspaper:
Guido has the story and the audio of Gove's plans:
This morning Michael Gove laughed off the suggestion he's planning an imminent return to Fleet Street, insisting on the Today Programme he's "definitely planning to stay in Parliament" and won't be stepping down any time soon. Rumours have been building in SW1 that Gove had his eye on the editorship of, erm, one particular Murdoch-owned broadsheet, should a vacancy become available …
No, no. I think my first responsibility and duty is to my constituents in Surrey Heath. I'm going to stay on as MP, argue for them, and also argue for some of the causes in which I believe. I think it's vitally important that we continue to make the case for levelling up. I think Boris Johnson is absolutely right to focus on the need to provide additional support for overlooked and undervalued communities…
Gove added he still has "a reservoir" of affection for Boris despite being the only Minister the PM actually sacked in July. Boris is also rumoured to be sticking around until the next election. Could make for awkward small talk on the backbenches.
I predict they will stay on as MPs until the next election, just show up less often in the Commons.
As for Rishi, The Guardian said on Friday, September 2, that he was being compared with Michael Heseltine, one of the MPs who brought down Margaret Thatcher:
One of the most familiar refrains of the Conservative leadership contest was candidates earnestly inviting comparisons to Margaret Thatcher.
But after his resignation as chancellor brought down Boris Johnson's wobbling house of cards, a Tory insider said Rishi Sunak found himself with "the curse of Heseltine hanging round his neck".
Despite long having been talked of as a likely future prime minister, Sunak struggled to shed the parallel with the man who helped bring down Thatcher but failed in his own tilt at the top job – before coining the famous political cliche: "He who wields the knife never wears the crown."
I'll leave the final word to The Spectator's political editor James Forsyth, who muses on what politics will look like after Boris leaves:
His absence will reshape the political landscape because his presence defined it.
We will find out who Boris's successor is on Monday. The Guardian has a report on what we should expect:
The candidate who receives the most votes will be revealed on Monday by Sir Graham Brady, the chair of the 1922 Committee, a gathering of Conservative backbench MPs (not named after the average year of birth of its members but the year in which it was founded) …
The formal handover will take place on Tuesday. The Queen is recovering from the outgoing prime minister's tenure in her Scottish pile Balmoral and will appoint the new PM there, which will be a challenge as it requires the winner to leave Westminster.
Johnson is expected to make a farewell address outside 10 Downing Street at about 9am on Tuesday. It is not known whether he has written two versions of the speech, one based on staying, one based on leaving.
More next week as a new chapter in Conservative politics begins.
End of series
This is the penultimate instalment of Boris Johnson's downfall.
Earlier ones can be found here: parts 1, 2, 3, 4 and 5.
Before I get to the heart of the matter, one of Boris's former aides, Cleo Watson, wrote about her time in Downing Street for the September 2022 issue of the high society magazine Tatler: 'Exclusive: how PM's former aide had to "nanny" him through lockdown'.
Cleo Watson tells the story of how she went from working on Obama's 2012 campaign to the Vote Leave one that preceded the 2016 Brexit referendum. As she worked with Dominic Cummings on the latter, he asked her if she would like to work at Downing Street when Boris became Prime Minister.
She accepted but had no idea what fate awaited her. Who knew then about the pandemic, which she had to get Boris through: frequent coronavirus testing, recovering from his near-death viral experience with nourishing drinks rather than Diet Coke and putting up with his silly, schoolboy jokes.
Then there was Dilyn, his and Carrie's Welsh rescue terrier, which they acquired in 2019. Dilyn never was properly house-trained and left little surprises in Downing Street and at the prime ministerial weekend retreat, Chequers.
Watson has just finished writing her first novel, Whip!, a fictionalised account of what life is like in Downing Street. It is scheduled to be published in 2023.
One thing that struck me is just how pervasive Dominic Cummings was during his time there.
She describes what the penitential press conference he had to give in May 2020 after his forbidden trip to County Durham during lockdown was like (emphases mine):
Dom's 'eye test' itself led to moments of strange humour as we struggled to respond to the public anger it caused. Remember his press conference in the rose garden? What you didn't see was the group of advisers loitering behind the cameras, clutching ourselves with worry. Dom's natural sunny attitude …
'Sunny attitude'? Surely some sarcasm there, methinks:
… seemed to be waning, so halfway through I took to standing directly in his eyeline, bent over like a tennis linesman, gesticulating for him to sit up straight and, if not smile, be tolerant and polite when responding to the repetitive questions being fired at him.
She left around the same time as Cummings, in November 2020:
As so many in politics know, the end comes sooner or later – generally sooner, if you're employed by this prime minister. (Although I suppose he's had karma returned with interest recently.) The end for me came in November 2020, about two weeks after Dom's hurried departure.
These were her final moments with Boris:
The PM had been isolating after his latest 'ping' and he and I finally reunited in the Cabinet room, where we had an exchange that I am sure may have been familiar to many of his girlfriends. Him: 'Ho hum, I'm not sure this is working any more.' Me: 'Oh, OK, you seem to be trying to break up with me. I'll get my things.' Him: 'Aargh… I don't know… yes, no, maybe… wait, come back!' I suppose it went a little differently. He said a lot of things, the most succinct being: 'I can't look at you any more because it reminds me of Dom. It's like a marriage has ended, we've divided up our things and I've kept an ugly old lamp. But every time I look at that lamp, it reminds me of the person I was with. You're that lamp.' A lamp! At least a gazelle has a heartbeat. Still, he presumably knows better than most how it feels when a marriage breaks up.
So I left No 10 – without a leaving party, contrary to what has been reported. What actually happened is that we agreed to go our separate ways and I went to the press team to say goodbye. The PM, unable to see a group of people and not orate, gave a painful, off-the-cuff speech to a bewildered clutch of advisers and I left shortly after.
More work followed, then came a holiday in Barbados:
I was asked to work on the COP26 climate change summit (quite cleansing for the brand after Vote Leave and Johnson's No 10), which took place in Glasgow in November 2021. It was a brutal year, no less dogged by Covid than the previous one, and I was lucky enough to top it off with a recovery holiday in Barbados in December.
The sun, the sea, the cocktail bar… Welcome to paradise. Except something was off. I couldn't put my finger on it, but whenever I was indoors at Cobblers Cove, the lovely hotel my husband, Tom, and I were staying at, I had a strange, uneasy feeling that I'd been there before. Where had I seen muted green print on jolly green print on rattan before? The place had been revamped by none other than Lulu Lytle, of the Downing Street flat fame.
Downing Street stays with a person, not unlike memories of an ex:
It's often the way that looking at a period of your life later on can frame it as much happier than it really was. It's like remembering the good times with an ex. You'll smell or hear something that nearly knocks you over with a wave of nostalgia and before you know it, you're thinking: 'I wonder what they're doing now…'
I'm very fortunate in that I know exactly what they're doing and what I'm missing out on. Yes, you get the chance to serve the country and on an individual level you can change people's lives. But there is also the constant work that gets gobbled up by the news cycle. The gut-busting effort behind every speech that flops. The policy that gets torn to shreds. The constant lurk of an MP rebellion. From the moment you're awake, you're on your phone(s).
These days I'll be walking my dog (far too big to be used as a handheld prop now) and delighted – literally delighted – to be picking up after him rather than dealing with the latest catastrophe I can see playing out just a couple of miles away.
I've weaned myself off my phone, cancelled my newspaper subscriptions and studiously avoided social media. I've really understood what burnout means. It has taken months to recover …
Now on to the final weeks of Boris and his wife Carrie.
The thing that sticks most in my mind is that awful — and awfully expensive — refurb of the Downing Street flat.
The next occupant will want to rip it all out and start again with something quiet and tasteful.
Boris must have thought he would be there for years. Otherwise, why would he have agreed to it?
Another disappointment for them must have been not being able to use Chequers for their big wedding party.
The couple married in 2021 at Westminster Cathedral (Catholic), but because of coronavirus restrictions, could have only a small number back to Downing Street to celebrate.
They had looked forward to having a big party at Chequers. Unfortunately, once Boris resigned as Party leader, he became a caretaker PM and was refused permission.
Fortunately, Lord and Lady Bamford of construction equipment manufacturer JCB fame lent their sprawling Gloucestershire estate to the Johnsons:
On Wednesday, July 27, GB News reported:
The Prime Minister and his wife are said to be planning on hosting family and friends at 18th-century Daylesford House, in Gloucestershire, this weekend.
A huge white marquee topped with bunting had been erected in the property's expansive grounds on Wednesday, with staff going in and out amid apparent party preparations.
Owned by Lord Bamford, the Grade I-listed mansion has been found as a replacement to Chequers – where the Johnsons had originally planned to host the party.
The Tory peer, chairman of construction equipment manufacturer JCB, has donated millions to the Conservative Party …
Lord Bamford is covering at least some of the cost of the party, the Mirror reported, quoting unnamed sources.
No 10 declined to comment on the "private matter".
The Johnsons decided on a unique celebration.
Reporters from The Mail were on hand earlier on Saturday, July 30, to find out more:
Guests at Boris and Carrie Johnson's wedding party are set to dine in style on South African street food at the Cotswolds retreat of Tory mega-donor Lord Bamford today.
Caterers from eco-friendly BBQ eatery Smoke and Braai were spotted setting up shop on the grounds at Daylesford House on Friday in advance of the fanfare.
Around 200 guests including a dozen Conservative MPs will gather at the idyllic, Gloucestershire Grade I-listed mansion for drinks from 5.30pm.
Grass-fed locally sourced meat will be the mainstay of the food menu in line with Mrs Johnson's well-known commitment to green causes, The Telegraph reported.
At least three street food outlets were pictured arriving at the gorgeous countryside manor house on Friday afternoon, with helicopters heard amassing above …
Daylesford House is the 18th-century home of Lord Bamford, 76, the founder of construction giant JCB and one of the Conservative party's most prolific donors.
The billionaire Bamfords, who gave £4million to the party in the run-up to the 2019 general election, after handing £100,000 to the Vote Leave campaign, stepped in to fill hosting duties after furore surrounded the Johnsons' prior plans to hold their wedding party at Chequers.
Lady Bamford and Carrie, in particular, joined forces to orchestrate today's proceedings, the newspaper reported.
The South African street food menu is set to include lime and mint-infused pineapple, skin-on fries, cherry wood-smoked pork with honey and mustard slaw, and Aberdeen Angus ox cheeks.
South Africa's answer to the barbecue, a braai is typically the setting for an hours-long cookout in which all are welcome. 
The Telegraph told us that Steve Bray, the braying anti-Brexit chap from College Green near Parliament, was a short distance away. The article has a photo of him.
Caterers and entertainers could not miss him:
… they were greeted by Steve Bray, an activist known as the "Stop Brexit Man", who had positioned himself at one of the entrances holding a banner which read: "Corrupt Tory Government. Liars, cheats and charlatans. Get them out now."
The article told us more about the menu:
Rum punch is also available to guests, as well as barbecue chicken and beef with salad. Handmade ice-cream from a family run dairy farm in the Peak District is also being served, adding to the laid back atmosphere at Daylesford House, Gloucestershire …
Mrs Johnson is thought to have worked closely with Lady Bamford to organise the event and set the theme of a South African-style barbecue laid on by Corby-based Smoke and Braai, with the 200 guests served from eco-friendly street food trucks amid hay bale benches.
On the menu is grass-fed British beef braai boerewors rolls, masa corn tortilla tacos, smoked barbacoa lamb and what was described as "ancient grain salad" …
Adding to the festival atmosphere, for dessert there is ice-cream courtesy of Dalton's Dairy, a family-run dairy farm in the Peak District which produces handmade ice creams, including wild strawberries and cream, pineapple, and amaretto and black cherry.
The guest list included MPs, singers and millionaires:
The guests, who include several Conservative MPs, began to arrive at the estate at around 5pm. Australian actress and singer Holly Valance, who is married to British property developer Nick Candy, was also pictured arriving at the estate in a Rolls Royce.
Mr Johnson's younger sister, Rachel Johnson, was seen arriving via the back entrance, as did the Prime Minister's father, Stanley Johnson, who arrived alongside a female companion.
Nadine Dorries and Jacob Rees-Mogg were also among the first guests to arrive.
Other politicians in attendance included Ben Wallace, the Defence Secretary; Jake Berry, who previously served as minister for the Northern Powerhouse; Amanda Milling, the MP for Cannock Chase; and John Whittingdale, the former culture secretary.
More elusive and camera shy guests preferred to arrive by helicopter, landing on a helipad positioned in the grounds of the estate. They were then ferried to the garden party in a black Range Rover.
The Mail on Sunday had more, complete with lots of photographs:
Boris and Carrie Johnson danced the night away at their festival-style wedding party in the Cotswolds last night, with the bride wearing a £3,500 dress that was rented for £25. 
Carrie opted to stick to her sustainable fashion principles with the dress by designer Savannah Miller, the older sister of actress Sienna.
The floor-length, halter-neck gown named Ruby has an original price tag of £3,500 but is available for a day rate of £25 on London-based website Wardrobe HQ, which Carrie, 34, has been using for more than three years.
Meanwhile, the festivities started with Boris joining Carrie on the dancefloor for their first dance to Neil Diamond's Sweet Caroline – chosen because Carrie's full first name is Caroline. 
They were joined by friends and family at the picturesque venue that sits within 1,500 acres and boasts stunning amenities including a heart-shaped orchard, painstakingly manicured gardens, an 18th century orangery and a luxurious pool. 
For anyone wondering if this Daylesford is related to the eponymous organic food brand, it is, indeed:
Lady Carole Bamford OBE, became famous for launching Daylesford Organic Farm, based in the private village but with farm shops across London.
Daylesford House, which is just a mile from Lord and Lady Bamford's organic farm of the same name, boasts 1,500 acres of manicured gardens including pristine lawns, an 18th-century orangery and a secret garden – complete with octagonal swimming pool, shell grotto and alfresco pizza oven.
The article had more on the Bamfords and their involvement with the Conservative Party:
Downing Street has refused to comment on the occasion, stating it does not discuss private events which do not involve taxpayer funds or ministerial declarations.
Beyond cash handouts, the Tories have also benefited from repeated press conferences staged at JCB's Staffordshire headquarters.
Boris Johnson made his headline-grabbing Brexit stunt at the factory as part of his general election bid in 2019.
The global digger manufacturer paid him £10,000 just three days before he smashed through a brick wall in a JCB digger.
Beyond politics, the Bamfords hold sway with a long list of British elites, including their friends the Prince of Wales and Duchess of Cornwall.
Lady Bamford, whose precise age is unknown, sits on JCB's board of directors and was awarded in OBE in 2006 for services to children and families.
A former air hostess, Lady Bamford OBE married Sir Anthony in 1974.
They have four children and a haul of houses around the world in addition to a prolific car collection worth tens of millions of pounds.
The article beneath it, by Adam Solomons, had more about Steve Bray's presence. One photo shows a policeman seemingly asking him to leave. Bray alleged that his friend was arrested:
So-called 'Stop Brexit Man' Steve Bray flouted the tight guest list for Boris and Carrie Johnson's wedding party to conduct a solo protest yesterday after a friend and fellow campaigner was allegedly arrested nearby.
Photographer Sylvia Yukio Zamperini was taken away in a police car after turning up close to opulent party venue Daylesford House, Gloucestershire, Mr Bray claimed.
In a Facebook post this evening, he wrote: 'I was supposed to meet Sylvia […] but she called me. She was searched by Police.
'A police van and car passed me 20 minutes ago. She was crying and waving frantically from the back of the car. She's been arrested.'
He added in a subsequent tweet: 'Police using dirty tactics.'
Gloucester Constabulary did not respond to a MailOnline request for clarification or comment this afternoon.
The notorious Parliament demonstrator put out an appeal for urgent legal help on Sylvia's behalf.
Ms Yukio Zamperini has been Bray's right-hand woman throughout years of noisy campaigning in and around the parliamentary estate over the past six years.
Describing herself as a 'proud European', she often shoots footage of Bray's flags and banners.
Sylvia travelled to the gorgeous Cotswolds wedding venue from Birmingham, with Steve commuting from London. 
They were supposed to meet close to Daylesford House, but Sylvia had reportedly already been arrested. 
Bray also posted a video in which he spoke to a local police officer, who'd warned him that loud amplifiers set up to disrupt the party would be confiscated.
The unidentified officer, who Bray's followers noted was polite and respectful, said he was giving 'Stop Brexit Man' a 'pre-pre-warning' in the event he tried to sabotage the postponed wedding party.
The infamous campaigner tells the policeman: 'Look what these guys have done to our lives. I don't care if it's a wedding party.'
Guido Fawkes has a video of Boris and Carrie dancing to Sweet Caroline, which young Wilf interrupted. Carrie picked him up and swayed from side to side. Of Boris, Guido says:
Some questionable dad dancing moves from Boris there.
On August 6, The Telegraph's Gordon Rayner had more in 'Inside Boris and Carrie Johnson's secret wedding party':
The bride wore a gold mini dress, the groom wore a baggy cream suit and the guests wore expressions of mild bemusement.
At the Prime Minister's wedding celebration, Sweet Caroline had been chosen for the first dance as a romantic tribute to Caroline Johnson, better known as Carrie – but her husband seemed to think he was at an England football match, where the song has become a fan favourite.
His dad-dancing at the couple's wedding celebration last weekend was more "let's all have a disco", as sports crowds chant, than "how can I hurt when holding you", in the words of Neil Diamond's song.
The moment, however, was entirely in keeping with the eccentricity of the whole event, held in the middle of a field where guests had no escape from the speeches, the South African street food or the bitching about Rishi Sunak.
It featured slut-drops, congas, rum punch, hay bales, a steel band and Jacob Rees-Mogg, but without an actual wedding for the guests to attend, it was an event that appeared not to know quite what it was trying to be …
The Prime Minister, who had worn a charcoal suit on what was his third wedding day last year, struggled to pull off the Man From Del Monte look, wearing a cream suit with trousers that needed taking up and a jacket that appeared too long for his body.
Mrs Johnson, 34, had greeted guests earlier in the day wearing a £3,500 halter-neck Ruby wedding gown by Savannah Miller, the designer, which she had rented for £25 a day. However, by the time the first dance happened at 8.30pm, she had changed into a shimmering gold mini dress with a plunging neckline that was more disco diva than blushing bride.
Neither she nor the 58-year-old Prime Minister looked comfortable dancing in front of their guests. They may have been relieved when their two-year-old son Wilfred, dressed in a navy blue sailor suit, toddled across to them halfway through the dance and became the centre of attention, as he was twirled around on the hips of his parents …
The event officially ended at 11.30pm, although many guests, with long journeys home, had already left by then.
Ms Johnson said the party was held in "a magical flower-filled field", but other guests whispered that the party had the vibe of a failed pop festival, complete with portable lavatories …
Before the dancing, the guests were treated to a succession of speeches, starting with Ms Johnson, followed by Carrie Johnson – whose words were "full of affection" for her husband – and finishing with the Prime Minister himself, who stood with one hand in his trouser pocket and the other clutching A4 sheets of notes.
In a defiant and typically joke-filled speech, Mr Johnson told his guests that he had received "masses of letters to resign, mostly from my closest family", according to The Times.
He went on: "There are many opportunities, which lead to disasters, and disasters can lead to new opportunities, including to opportunities for fresh disasters."
He also described the mass ministerial resignations that forced him to resign as: "The greatest stitch-up since the Bayeux Tapestry."
The guest list was light on parliamentarians, partly because so many of them had turned on the Prime Minister only days before. Only the most ultra-loyal Johnsonites received an invitation.
As a former head of communications for the Conservatives, Mrs Johnson knows all about messaging. She was keen to put the word out that her dress was rented, because she is keen to promote sustainable fashion, and that the food on offer was eco-friendly because the catering firm buys its ingredients from local farmers.
But the messaging was somewhat undermined by the reality of the event. Guests arrived in a steady stream of Range Rovers, Rolls-Royces and other gas guzzlers, with some even arriving by helicopter.
By choosing to hold their party in such a rural location, the couple ensured that it had the largest possible carbon footprint. In only a matter of weeks, though, worrying about political mis-steps will cease to be much of a concern for them.
The party — especially with Bray's presence — would make a great film for television. You could not make this up.
On August 2, Telegraph reporter Rosie Green poured cold water on Carrie's renting of dresses. I'm including this as a caution for women thinking it's a failsafe solution: 'Renting a dress sounds like a good idea — until you face the logistics'.
She went through the process herself, which sounds tiresome:
I book appointments at the places offering "trying on" services (Front Row, Harrods and Selfridges) and let them know which dresses I would like to road test.
At the My Wardrobe HQ pop up concession at Harrods, although the manager was friendly and helpful, disappointingly only one of the four pieces I had requested was there. Then the dress I had loved on screen wouldn't do up. Hmm.
Thankfully I found another wonderful gown by the same designer which fits beautifully (the same size weirdly). But at £1,861 to buy and with a long train that looked perfect for stepping on I was worried about incurring damage. Another dress I loved had a broken zip …
I leave for my next appointment at Front Row to meet one of its founders and to try on a selection of dresses, but when I arrive at the showroom she is not there and the doors are locked. I am stumped. I can't get through on the phone. I later discovered she had her handbag snatched by a man on a motorbike. Front Row confirms they'll send the dresses to my home instead. In the meantime, I get a message from Selfridges saying my requested dress (the only one on the website I found suitable) is not available as it is being repaired. Hmm.
I head home to Oxfordshire a little dispirited. So I start delving deeper into By Rotation and discover that they act as a middle man between the renter and the owner. This means the clothes are kept by their owners and so effectively you are reliant on Sandra from Surrey or Carla from Cheshire posting you their gown. This makes me very nervous.
There's more, so I'll skip to the chase:
Then, on the day I'm expecting the My Wardrobe dress to arrive, I'm told I have to pick it up from Harrods. I have a minor heart attack. I tell them I live in Oxfordshire and not only is it impractical but the cost of the return train ticket to London would be more than the rental. They arrange for it to be couriered and it arrives the morning of the event.
According to UPS the Front Row dresses are stuck at the depot. Then they are officially AWOL. Renting has not been stress free. Buying my dress is now feeling like a much more attractive proposition …
… my advice if you're planning to rent would be to get your choices a few days before you need them. Try them on first, and always have a back-up plan.
Would I hire a wedding dress this way, like Carrie did? No way. My nerves couldn't take it.
On another cautionary note, provocative dance moves can prove difficult as one ages.
Guido Fawkes found a 2018 Celebrity Big Brother clip with Boris's sister Rachel boasting about how Liz Hurley taught her one of these dance moves then demonstrating it.
Unfortunately for Rachel, 56, things didn't go so well with it at her brother and sister-in-law's party, as she wrote in her Spectator diary of August 6:
The Season has ended and – apart from The Spectator's summer bash of course – the two bang-up parties of July were discos in the Cotswolds. They do things differently there. At Jemima Goldsmith's I danced so hard in high heels with a selection of her handsome young swains that I suspect the double hip replacement will be sooner rather than later. At Carrie and Boris's Daylesford wedding do in a magical flower-filled field we all busted out our best moves. I was taught the slut-drop by Liz Hurley years ago in Nick Coleridge's party barn in Worcestershire. She demonstrated how to collapse to the floor like a broken deckchair on the count of three. My problem at Daylesford was getting up again – not a challenge shared by my sister-in-law. She could win a Commonwealth gold hands-down in this particular high-risk dance move. I'd kicked off my shoes (to save on physio bills later) but still ripped off a big toenail during the conga. Conclusion: I can no longer slut-drop but I can still name-drop for Britain till the cows come home.
Sometimes I feel as if I live in another world.
Anyway, by early August, the party was over for Boris.
Although he surpassed Theresa May's tenure at No. 10 on August 5 …
… Boris faces a hearing by the parliamentary Privileges Committee in September, led by Labour's Harriet Harman.
Note that Boris's opposite number, Keir Starmer, gets away with multiple violations. Yet, Boris will be quizzed on whether he knowingly — rather than accidentally — misled Parliament over a piece of cake in a Tupperware container:
To make matters worse, Conservative MP Bernard Jenkin is on that committee. He is not one of Boris's biggest fans:
The topic came up on Dan Wootton's GB News show on August 8. Nearly 75% of his viewers thought the committee hearing would be a witch hunt:
Panellist Christine Hamilton agreed:
Boris's supporters among the general public were eager to get his name on the Conservative Party leadership ballot along with Liz Truss's and Rishi Sunak's. The fight on that still continues. The best they can hope for now is a change in the Conservative Party rules. I will have more on that in a separate post. The feeling for Boris continues to run deeply among many voters.
On Friday, August 12, a reporter asked Boris why he was not taking calls from Rishi Sunak:
Boris said:
That's one of those Westminster questions that doesn't change the price of fish…
He quickly deflected to move the discussion towards resolving the cost of energy crisis and said that the future would be very bright.
On Saturday, August 13, Jacob Rees-Mogg, Minister of State for Brexit Opportunities and Government Efficiency, gave an interview on GB News to two of his fellow Conservative MPs, Esther McVey and her husband Philip Davies.
In this segment, he explains why Boris has always had his support, dating back to 2016. His only criticism is that the Government could have handled the economy better post-pandemic:
As for Boris coming back as PM, Rees-Mogg said it was highly unlikely. The Telegraph reported:
"Nobody's come back having lost the leadership of the party since Gladstone," Mr Rees-Mogg replied. "And I just don't think in modern politics, the chance of coming back is realistic.
"Lots of people think they're going to be called back by a grateful nation which is why Harold MacMillan waited 20 years before accepting his peerage… Life just isn't like that."
Rees-Mogg also explained why Boris was hounded out of office:
In the interview, Mr Rees-Mogg claimed that Mr Johnson's downfall was partly the result of anti-Brexit campaigners – even though a number of Brexiteer MPs, such as Steve Baker, called for his resignation.
Mr Rees-Mogg said: "There's a lot of people who resent the fact we left the European Union. And therefore to bring down the standard bearer of Brexit was a triumph for them."
In August, Boris and Carrie took a summer holiday in Slovenia.
He no sooner returned than he jetted off again, this time to Greece, for reasons to be explored tomorrow.