You are currently browsing the tag archive for the 'Labour Party' tag.
This is the final instalment of my series on Boris Johnson's downfall.
Those who missed them can read parts 1, 2, 3, 4, 5 and 6.
Also of interest are:
Developing news: how long can Boris last as PM? (July 5-6)
Boris stays as PM for now but stands down as Conservative leader: 'When the herd moves, it moves' (July 6-7)
This post discusses two groups of people who are still wild about Boris: British voters and the Ukrainians.
British voters
On June 11, 2022, one week after Boris survived a vote of confidence by his fellow Conservative MPs, The Observer — the Sunday edition of The Guardian — posted the results of a poll they commissioned.
The findings were surprising for a left-wing newspaper (emphases mine):
Boris Johnson makes a better prime minister than Keir Starmer would despite Partygate, the cost of living crisis and the confidence vote in Johnson held by his MPs, according to the latest Observer poll.
Granted, the results were close, but Boris managed to come out on top, with the Conservatives two points behind Labour:
The Opinium figures, which will raise further concerns within Labour over the party leader's performance, shows that the prime minister has a two-point lead over his opponent. It also reveals that Starmer's party holds a narrow two-point lead, compared with a three-point lead in the last poll a fortnight ago. Labour are on 36% of the vote, with the Tories up one point on 34%. The Lib Dems are on 13% with the Greens on 6% …
While 28% think Johnson would make the best prime minister, 26% opted for Starmer.
On June 13, the i paper's Hugo Gye posted a few pages from the book Moonshot, by Pfizer's chairman Albert Bourla:
Two excerpts follow. These pertain to late 2020 and early 2021:
From my perspective, the UK was doing an exceptional job under tremendous pressure.
At that time, the UK was the only vaccinating so quickly that demand surpassed supply. As a result, we worked on a plan to meet the UK's needs …
Yet, in the UK, it was only the Conservatives and conservatives remembering Boris's efforts during that time period:
On June 14, the Mail's Alex Brummer wrote a positive article about the British economy, explaining why things weren't as bad as the media and pundits portray them:
So, yes, we face serious challenges. And yet I simply do not believe there is any justification for the gloom-laden interpretation by large sections of the broadcast media and fierce critics of Boris Johnson's government.
These Cassandras peddle a diet of relentless financial woe as they carelessly claim that the nation is in recession or heading for one.
But closer inspection shows not only that things are nowhere near as bad as they claim, but that there are serious grounds for hope in certain sectors, too.
Brummer explored the possibilities of what could happen either way:
True, the UK economy lost momentum recently, shrinking by 0.3 pc in April.
But what no one has mentioned is that this was largely down to a statistical quirk, and respected City forecasters are still actually predicting a 3.2 pc expansion of the UK economy this year, followed by 0.9 pc in 2023.
The big danger is that the constant barrage from the doom merchants could begin to influence events and destroy the resilience of consumers and enterprise — resilience which is still delivering for this country.
What is more, with a change of tack in the Government's approach, I believe the economy could be recharged.
Of course, the country will struggle if it is required to contend with inflation, rising interest rates and a mountainous tax burden all at the same time. If consumers and businesses are doubly squeezed by higher interest rates and higher taxes, household incomes will be devastated …
Brummer disagreed with Rishi's tax hikes:
The truth is that, with the nation close to full employment and the City of London and services — comprising more than 70 pc of national output — performing well, there was absolutely no need to urgently hike taxes, if at all.
Income tax, national insurance receipts, VAT and corporation tax receipts have all been flowing into the exchequer in record volumes. All that future rises will do is stymie spending and the willingness of companies to invest.
And the main reason for that fall in output of 0.3 pc in April? It is because the Government suddenly ended the NHS's Test and Trace operations — which had grown into a formidable industry, employing tens of thousands of people — as the country emerged from the pandemic.
In fact, April saw activity in consumer services jump by 2.6 pc. In spite of the £100-a-tank of petrol, the £8-a-pint of best IPA and rocketing food prices, a recession — defined as two quarters of negative growth — is unlikely.
Brummer did support Rishi's help to the neediest families:
Even if Rishi Sunak does not cut taxes, his £15 billion package of targeted support to help poorer households with the rising cost of living means incomes should now rise in the second and third quarter of the year. It is equal to nearly 2 pc of their earnings and will boost the country's spending power.
There were more reasons not to believe the doom-mongers, who, as I write in early September, are getting shriller and shriller:
What the doom-mongers fail to tell you is that investment bankers Goldman Sachs recently pointed out that consumer services are 'robust' and Britain's economy is 0.9 pc larger now than it was before the nation went into lockdown.
Economic activity in the crucial services sector, meanwhile, is 2.6 pc higher.
But it is not just the consumer activity — along with the £370 bn plus of pandemic savings in the current and savings accounts of households — propping up the economy.
New data just released shows that the drive towards the UK becoming a high-tech, high-value nation continues to make Britain prosper.
So far this year, the country has sucked in £12.4 bn of investment into the tech industry, the highest level of any country other than the United States.
And let no one blame Brexit:
As for the argument that Brexit has done for Britain, it is comprehensively rubbished by the City consultancy firm EY, which argues that, when it comes to financial services, 'six years since the EU referendum, we can be confident that Brexit has not damaged the UK's fundamental appeal'.
Since the financial and professional services are the biggest generator of income for HMRC, and the UK's most successful export to the rest of the world, this should surely be a source of national pride rather than Remoaner carping.
Indeed, wherever you look, the excellence of Britain's life sciences sector — as evidenced by the rapid development and distribution of the Oxford-AstraZeneca vaccine during the pandemic — continues to shine …
Ultimately, taxes do need to be cut:
But more needs to be done. And by that I mean Rishi Sunak must put an end to the tax hikes — or even reverse them …
… he froze personal tax allowances until 2025-6, along with the thresholds for capital gains tax.
… this will provide additional revenues to the Government of about £20.5 bn a year.
Sunak also opted to raise corporation tax from 19 pc to a whopping 25 pc next year. And to help pay for the NHS and social care, every employee and employer in the country is now paying a 1.25 pc surcharge on national insurance.
Together, all these measures (before inclusion of the windfall tax on oil production) mean that Boris Johnson's government is raising more tax from the British people and commerce than any UK government since the 1940s.
Such a position, given the precarious economic circumstances we face, is completely unsustainable. If the Johnson government wants to fight the next election with a healthy economy, taxes have to be cut with a decisive policy shift.
And if that happens, it could just be the magic pill for a Tory revival.
Meanwhile, Boris took a brief staycation in Cornwall while he helped campaign for the Conservative candidate in Neil 'Tractor Porn' Parish's constituency for the by-election, which, unfortunately, the Liberal Democrats won.
The Mail reported on Boris's schedule:
Boris Johnson has been pictured walking on a Cornish beach with his son Wilfred as he chose a staycation amid weeks of chaos at Britain's airports for millions desperate for a post-pandemic foreign break.
The Prime Minister has been in the West Country campaigning as he tries to win the Tiverton and Honiton by-election for the Tories on June 23, but is squeezing in a short family holiday.
And after a flying visit to the Devon constituency he headed to Cornwall to launch his food strategy at the wheel of a tractor before relaxing on the award-winning Porthminster beach, St Ives.
Unfortunately, on Wednesday, June 15, Lord Geidt quit as Boris's ethical adviser, which made all of his opponents question whether he should still be in office. This came a day after Geidt had appeared before a parliamentary select committee. I saw parts of that session. Geidt did not exactly inspire me with confidence.
Lord Geidt, a former private secretary to the Queen, announced his resignation in a 21-word statement the day after MPs accused him of "whitewashing" Johnson's conduct and questioned whether there was "really any point" to him.
Geidt, 60, came close to quitting last month after concluding that there were "legitimate" questions about whether the prime minister breached the ministerial code. He said that Johnson's fine for breaking coronavirus rules threatened to undermine his role and risked leaving the ministerial code open to ridicule.
He also received a "humble and sincere" apology from Johnson in January after the prime minister withheld critical messages from Geidt's inquiry into the refurbishment of his Downing Street flat.
A statement from Geidt published on the government website this evening said simply: "With regret, I feel that it is right that I am resigning from my post as independent adviser on ministers' interests."
In a bruising encounter with the public administration and constitutional affairs select committee yesterday, Geidt admitted that he had been "frustrated" by the prime minister's approach to the scandal.
William Wragg, the Conservative chairman of the committee, told The Times: "Lord Geidt is a person of great integrity, motivated by the highest ideals of public service. For the prime minister to lose one adviser on ministers' interests may be regarded as a misfortune. To lose two looks like carelessness."
Then again, William Wragg is not a fan of Boris's, prompting his supporters to think there was a stitch up, especially as Tony Blair had just been installed as a new member of the Order of the Garter.
Geidt's letter seems to be focused on Boris's fixed penalty notice for Partygate, but Boris's response, published in The Guardian, is about steel tariffs: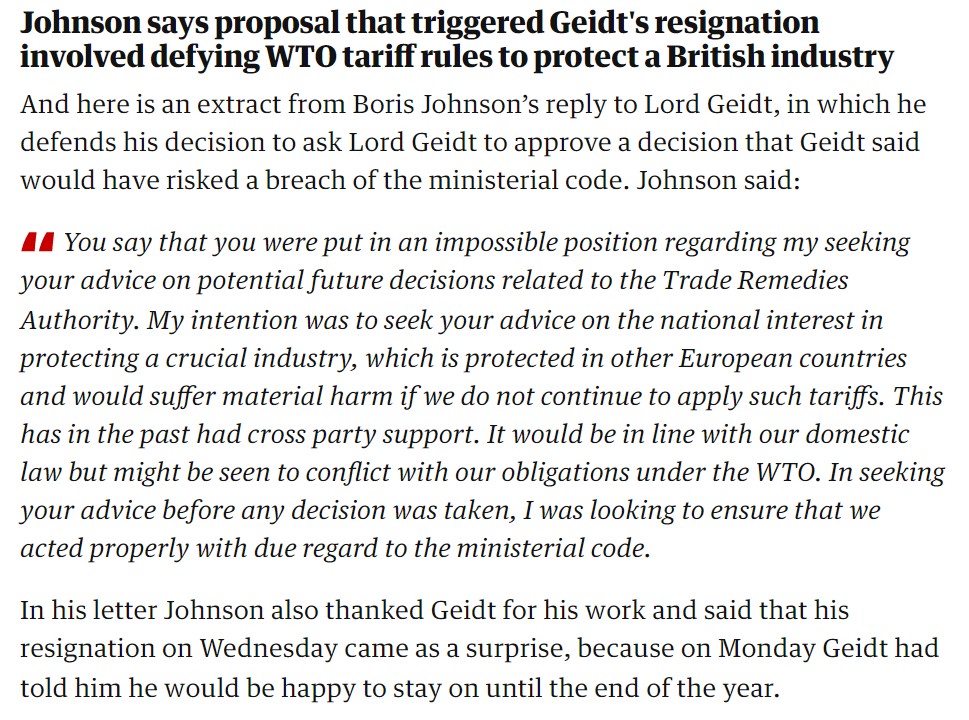 GB News's Patrick Christys explained this before going into Tony Blair's offences during his time as Prime Minister, including the Iraq War and letting IRA terrorists walk free. It's a shame the video isn't clearer, but the audio is compelling. After Christys introduced the subject, a panel debate took place:
Christys ran a poll asking if Boris is more unethical than Blair. Seventy per cent said No:
Blair's former adviser John McTernan said that, unlike Boris, Blair had been cleared of a fixed penalty notice (for an irregularity in paying London's congestion charge). But was Blair actually cleared? The BBC article from the time suggests that he wasn't:
On June 24, after the Conservatives lost Neil Parish's seat to the Lib Dems and the Wakefield seat to Labour, The Telegraph reported that the co-Chairman of the Conservative Party, Oliver Dowden MP, resigned. He seemed to blame the loss on Boris, although mid-term by-election victories often go to an Opposition party, something Dowden should have known:
Oliver Dowden has resigned as chairman of the Conservative Party after it suffered two by-election defeats, saying in a letter to Prime Minister Boris Johnson that "someone must take responsibility".
Mr Dowden's resignation came at 5.35am, shortly after the announcement of the two defeats. He had been scheduled to appear on the morning media round before he decided to step down.
In Tiverton and Honiton the Liberal Democrats overturned a 24,000 Tory majority to win, while Labour reclaimed Wakefield.
The contests, triggered by the resignation of disgraced Tories, offered voters the chance to give their verdict on the Prime Minister just weeks after 41 per cent of his own MPs cast their ballots against him.
Guido Fawkes posted Boris's generous letter of thanks to Dowden and his video explaining that mid-term by-election results often explain voters' frustration with the direction of the Government:
As usual, Blair's former spin doctor Alastair Campbell posted another inaccuracy, this time about Labour's by-election results:
At the time, Boris was away in Kigali, Rwanda, for CHOGM (Commonwealth Heads of Government Meeting). While there, he clarified sex and gender. The Times reported:
A woman cannot be born with a penis, Boris Johnson said last night, adding that there were "particular problems" around "issues of gender", but he said it was important to be "as understanding of everybody else as possible".
Asked whether a woman could be born with a penis, Johnson replied: "Not without being a man".
This has been an ongoing controversy for the past year. Neither Rishi Sunak nor Keir Starmer have been willing to answer that question. Boris met that challenge.
By the time Boris resigned on Thursday, July 7, millions of voters thought it was a stitch up.
Dan Wootton expressed our thoughts magnificently in his editorial that evening on GB News:
Excerpts from his transcript follow:
They won, folks.
They got him in the end.
Let's be honest for a moment, they were never going to stop until they'd secured Boris Johnson's head.
Since December, the campaign by the political establishment, the Remoaner elite, the civil service blob and – crucially – the country's biased broadcast media, notably BBC News, ITV News and Sly News, has been fever pitch.
Eventually, the Conservative Party decided it was impossible to govern while also fighting such dark and powerful forces.
These are deeply depressing times for British democracy.
Boris is the third Tory Prime Minister brought down in six years.
The febrile and hostile establishment and the MSM knows the power they have to bring political paralysis to the country.
And why were they so determined to destroy Boris?
Think about it.
He was a transformational Prime Minister.
A Prime Minister who stared them all down to finally deliver Brexit.
A Prime Minister who had vowed to cut the size of the civil service and demanded they return to their damned desks.
A Prime Minister who was going to scrap the hated BBC licence fee and sell the far-left Channel 4 News.
It's not hard to see why they would stop at nothing to discredit him.
I mean, last night the BBC quoted a source saying Boris Johnson "is now like Putin".
That's how deranged and determined his critics have become.
The celebration that broke out across the airwaves today – especially on the Boris Bashing Corporation once known as the BBC – blew up any final suggestion that we have an impartial broadcast media here in Britain …
I wanted to share with you part of a conversation I had earlier today with a source close to the Prime Minister.
They told me: "People had no interest in talking about the quite historic leadership achievements be that dragging us through a pandemic, a world leading vaccine programme rollout and a quite uniquely special performance in regards to that European war."
"Those people who wanted him gone never wanted to acknowledge that at any point. Never ever. It was always just the Westminster personality stuff. That was the only focus."
"Labour has had not one policy or grown-up policy discussion. It has been an out and out campaign to remove Boris. And you always have to ask yourself why. Why did they want to get rid of Boris so much? Why did sections of the media do that? Ultimately, wounded or not, he is the Conservative's best chance of winning an election" …

As the Daily Mail said today: "The truth is, Mr Johnson stands head and shoulders above almost all his assassins. Compared with the mountains he has scaled, their combined achievements are little more than molehills" …
To Boris Johnson, it was a project not completed, largely down to external forces.
But thank you for delivering us Brexit; that is an achievement for the ages that will go down in the history books.
It was a sad evening, indeed.
However, in time, there might be an upside. Maybe he could appear on GB News now and again:
Boris won that night's Greatest Briton accolade:
Wootton's focus on Brexit was confirmed by The Telegraph's Sherelle Jacobs the following day. She fears that Boris's resignation will give a lift to prominent Remainers:
… With the implosion of Boris Johnson, the Brexit war threatens to start anew. Tory Leavers must accept their vulnerability. The Prime Minister who ended the last battle by getting a Brexit deal done has just fallen in ignominious circumstances. Meanwhile, Remainers – who will never give up the fight – scent weakness.
While Andrew Adonis rallies against a "revolution which devours its children", Michael Heseltine has declared that "if Boris goes, Brexit goes". It might be tempting to dismiss all this as the hopeful rantings of bitter men. After all, Sir Keir Starmer has been at pains to reassure voters in recent days that Labour will not take Britain back into the European Union.
But even if the leader of the Opposition – a Remainer who voted six times against a Brexit deal – is genuine, he is powerless to stop the rejuvenation of the Remainer campaign. As support for Brexit in the polls has seeped away in recent months, in part because of the chaos that has gripped the Government, ultra-Remainers have been on manoeuvres. With the fall of Johnson, they think their time has almost come.
Over the next two years, they will likely proceed with a calculated mixture of boldness and caution. Already the public is being relentlessly bombarded with misinformation, which erroneously links every ill facing Britain with the decision to leave the EU. As the Tory party is distracted by internal dramas, negative Brexit sentiment will mount. This is already starting to happen, as critics in the business world become blunter in their criticisms – from the aviation industry to the CBI.
Meanwhile, some Tory MPs have been discreetly arguing in favour of a softer Brexit. Indeed, while the removal of the PM was by no means a Remainer plot, some of his internal enemies were motivated by a desire for greater alignment with EU rules – or at least by their opposition to what they consider to be an excessively aggressive attitude towards fixing the Northern Ireland protocol …
In truth, Conservative fealty to the Brexit cause has been disintegrating even under Boris Johnson, as the Blob has sapped the Government's will …
The great fear is that the Tory party now elects a closet Remainer who does not have the conviction to take all this on. That Brexit dies with a whimper, smothered by bureaucratic inertia and then finally strangled after the next election. If Brexiteers want to avoid this fate, they must think like war strategists once again. That means confronting the extent of their current weakness, and taking their opponents seriously.
Boris also shares that same worry and said so in Parliament on July 19, the day of his final Prime Minister's Questions:
Right after Boris's resignation, an online petition appeared: 'Reinstate Boris Johnson as PM'. It currently has over 23,000 signatures making it one of the top signed petitions on Change.org.
On Saturday, July 9, the i paper had an interesting report with several interviews:
The atmosphere sounded surreal:
"It was a bit weird", a source said of the Cabinet meeting Boris Johnson convened on Thursday just two hours after he said he would step down, effectively putting Britain on pause.
The Prime Minister was flanked by senior ministers, some of whom, less than 24 hours, had earlier led a delegation of men and women in grey suits to No 10 to urge him to quit …
Bill committees examining legislation line-by-line had to be cancelled, or they had newly resigned ministers sitting on them as backbenchers, while the whips who lacked the required specialist knowledge of the issues at stake were leading for the Government …
Contenders to take over as PM, when Mr Johnson does go, have been preparing for a contest months as the writing has slowly been scrawled on the wall of No 10.
Tom Tugendhat, Penny Mordaunt, and Jeremy Hunt were the most active hopefuls this week, contacting MPs and arranging meetings …
As the leadership contenders jostled, the Whitehall blame game began over Mr Johnson's spectacular fall from grace. The Prime Minister entirely overhauled his inner circle in February, after the initial "Partygate" allegations broke, and it is largely this team that will shepherd the Government through the final few months of his premiership …
The arrival of Guto Harri, one of Mr Johnson's oldest allies, as director of communications is seen by many as a contributor to the Prime Minister's downfall …
The spin chief had a habit of making up policies off the cuff, prompting advisers in other departments to joke about "the Guto special" when confronted with unexpected announcements from No 10. One Whitehall official concluded: "He is good for journalists, I'm not sure he's good for HMG [Her Majesty's Government]" …
But others pin the ultimate blame firmly at Mr Johnson's door.
One of Mr Johnson's closest former advisers told i that it "all went wrong for the PM" when he stopped listening to those from Vote Leave …
One of the former ministers who quit said on Thursday simply: "Everything is his fault. I spent months defending, or at least being generous about, his mistakes.
"Not after the last 24 hours. Appalling."
On July 12, Guido reported that Boris loyalist Jacob Rees-Mogg thought that the Prime Minister's name should be on the Conservative MPs' ballot (emphases his):
… he affirmed it was "unjust" to deny the Prime Minister the opportunity to fight for his position amongst Tory members. This comes in the context of his previous arguments for the growing presence of personal mandates in British political leaders. Unfortunately, Guido doesn't believe this strategy is quite in line with the contest rules…
I think this gave Boris's supporters false hopes:
People in Conservative constituencies began emailing their MPs:
With no result, the question then turned to whether Boris's name should be on the ballot for Conservative Party members.
On Saturday, July 16, The Times's Gabriel Pogrund and Harry Yorke posted an article: 'How the Tories turned the heat on Rishi Sunak'. In it, they introduced Lord Cruddas, who would go on to campaign for Boris's name to be on the members' ballot:
Both men were Eurosceptics who had supported the Vote Leave campaign when it might have been politically advantageous not to do so. Both were the beneficiaries of Boris Johnson's patronage. Cruddas had been given a peerage despite official objections. Sunak had been plucked from obscurity the previous year and made one of the youngest chancellors in history.
In 2021:
Sunak was the most popular politician in Britain and second only to Liz Truss in Conservative Home members' polls, having overseen the furlough and Eat Out to Help Out schemes. In the chamber, Cruddas gave his own vote of confidence, saying Sunak's budget "had established a clear path for the country to move from these difficult times", praising his "thoughtful" approach and arguing it would "not just to reinvigorate the economy post Covid but to help propel the post-Brexit opportunities".
By July 2022, everything had changed:
A week into the most toxic Tory leadership election in memory, the fact such comments were made feels inconceivable. Cruddas, 68, who remains close to Johnson, has shared posts on social media describing Sunak as a "rat", "a snake", a "little weasel", a "backstabber", "a slimy snake", a "treacherous snake", "Fishy Rishi", "Hissy Rishi", "Judas", "the traitor", "the Remainer's choice", a "sly assassin", a "Tory wet" promoting high taxes and the leader of a "coup" who "must be removed at all costs". Cruddas also retweeted claims about the financial affairs of Sunak's wife, Akshata Murty.
Tonight the peer said there had indeed been a "coup", adding: "I planned to donate a total of £500,000 this year but that is on hold and will not be paid unless the membership have a chance to vote on Boris being PM. I have no interest in Rishi who I deem to be not fit for high office due to his plotting and the orchestrated way he and others resigned to remove the PM." He also accused Sunak, 42, of setting up his leadership "before Christmas" and choreographing his resignation to inflict maximum damage.
The problem for Sunak is that such sentiment — especially the notion that he behaved improperly and cannot be trusted on the economy — is not confined to a fringe on social media. He might be the frontrunner but "Anyone But Rishi" reflects the opinion of Johnson and a coalition within the party. This includes cabinet ministers, staff inside Downing Street and Conservative Campaign Headquarters (CCHQ), Johnson's biggest donors, MPs opposed to higher taxes, and rivals for the leadership.
On July 22, The Telegraph's Christopher Hope added support for Boris's return and, in the meantime, addition to the ballot:
Tim Montgomerie, a former aide to Mr Johnson who has since been critical of him, said he had been told by sources close to the Prime Minister that he was convinced he would be back.
In a well-sourced post on social media, Mr Montgomerie wrote: "Boris is telling aides that he'll be PM again within a year" …
It comes as a row broke out among senior Conservatives about a campaign among party members to allow them a vote on whether Mr Johnson should continue as Prime Minister.
By Friday night, 7,600 members – all of whom have given their membership numbers – had signed a petition calling for the vote.
Lord Cruddas of Shoreditch, the former party treasurer who organised the petition, said "several MPs" had started to "make noises" about supporting his campaign …
Conservative MPs panicked:
The next day, The Times stirred the pot even more with 'Is Boris Johnson really planning another run at No 10?'
On Wednesday afternoon, moments after Liz Truss and Rishi Sunak were announced as the final two Conservative Party leadership contenders, a group of "red wall" MPs met on the House of Commons terrace to reflect on the result. "Is it too late to withdraw my resignation letter?" mused an MP, who held a junior ministerial role until the coup against Boris Johnson. "Shouldn't we just bring back Boris?" she said, leaving the question to hang in the air …
… Much like the Roman republic after Caesar's assassination, Whitehall is now riven by internecine warfare and a government paralysed by indecision …
For a man who just 18 days ago was brutally ousted from the job he has coveted his entire political life, Johnson appears to be living out his final days in Downing Street in a cheerful mood. Freed from the never-ending cycle of Westminster scandals, Johnson is relaxed and has spent the past few days hosting friends, relatives and other allies at Chequers and preparing a number of set-piece events leading up to his departure from No 10 in September …
Johnson, who allies claim remains furious with Sunak for his part in the coup, has sought to distract himself from the race to select his successor through media-friendly stunts …
Several MPs who helped oust Johnson have received a backlash from their constituents, stoking fears that they may face the same electoral retribution inflicted on Conservative MPs who ousted Margaret Thatcher. Backbenchers in red wall seats have been inundated with emails from voters who are furious at their role in ousting the prime minister.
They added that their postbag was filled with messages from newly converted Tory voters who have warned they will not vote for the party again now Johnson is gone. A colleague of Gary Sambrook, MP for Birmingham Northfield, claimed he had received hundreds of emails from constituents since he stood up in the Commons earlier this month and accused Johnson of refusing to accept responsibility for his mistakes …
Johnson leaves, aides say, with the air of someone with unfinished business. Whether this is the end of the Johnsonian project, or a precursor to his own Hollywood-esque sequel, remains to be seen.
On July 25, Christopher Hope wrote that the Boris petition had garnered 10,000 signatures:
Insiders say he is obsessed with delivering for the 14 million voters who voted Conservative in 2019, many for the first time because of him.
There are already stirrings of a revolt among the members. By Saturday night, 10,000 Conservative members had signed a petition organised by Lord Cruddas of Shoreditch, former Party treasurer, and David Campbell-Bannerman, former Tory MEP, demanding a say over his future.
The members want a second ballot to confirm MPs' decision to force his resignation, to run concurrently with the official leadership ballot between Liz Truss and Rishi Sunak.
That evening, Dan Wootton stated his belief that Boris's name should be on the members' ballot:
He asked his panel, which included Boris's father Stanley about it:
You can see relevant portions in these shorter extracts: Stanley supporting his son, Stanley verbally sparring with a journalist for the i paper as well as the opinion of former Boris adviser, Tim Montgomerie.
In the end, nothing happened. There was no Boris ballot.
Early this week, I heard one of the campaigners tell GB News that CCHQ are asking the organisers to do a sanity check on the signatories, confirming their Party membership number and clearing out any duplicates. If the number is still sizeable, CCHQ will discuss a possible changing of the rules for any future contests.
This is good news, in a way, but it will not help the Conservatives in the next general election. Boris's supporters are still angry.
Ukrainians
The Ukrainians will miss their biggest supporter.
They were saddened by his resignation:
Boris offered them his reassurance:
Volodymyr Zelenskyy even made a special announcement to the Ukrainian people about it:
Guido Fawkes wrote:
After leaving office Guido suspects Boris may end up reflecting more proudly on his work supporting Ukraine than even his Brexit legacy. Since the announcement of his resignation, Ukrainians have come out en masse to voice their sadness about his impending departure … Taking to Telegram late last night, Zelenksyy posted a touching video saying "Today, the main topic in our country has become the British topic – Boris Johnson's decision to resign as party leader and Prime Minister" …

Boris's hair has become a bit of an icon there (just as Trump's had in the United States). Guido has the images:
Boris's popularity among Ukrainians has already been well-reported since the outbreak of war. Streets have been named after him, as have cakes in a Kyiv patisserie. Yesterday Ukraine's national railways redesigned their logo to include an unmistakable mop of blonde hair, as did major supermarket Сільпо…
Boris once joked that the reason he'd left journalism for politics was because "no one puts up statues to journalists". It seems that, thanks to his efforts in Ukraine, he did manage achieved his wish for public deification – just not in the country in which he was elected…
On July 8, Ukraine's youngest MP made a video praising Boris:
Boris Johnson took a clear stand when so many others looked the other way.
In August, someone was inspired to paint a mural of Boris:
On August 24, Boris made his farewell — and surprise — visit to Ukraine on the nation's Independence Day:
Guido wrote:
Boris has made yet another surprise visit to Ukraine on its independence day — and the sixth month anniversary of its invasion. He used the visit, his last as PM, to announce a £54 million aid package to the country of 2000 state-of-the-art drones and loitering munitions …
Slava Ukraini…
Guido also posted this video:
GB News had more on the story:
Mr Johnson's visit came as Ukraine marked 31 years since its independence from Moscow's rule.
And it also came six months on from Russia's invasion of Volodymyr Zelenskyy's nation …
He said in Kyiv today: "What happens in Ukraine matters to us all.
"That is why I am in Kyiv today. That is why the UK will continue to stand with our Ukrainian friends. I believe Ukraine can and will win this war" …
The Prime Minister used his meeting with Mr Zelenskyy to set out a further package of military aid, including 2,000 drones and loitering munitions.
He also received the Order of Liberty, the highest award that can be bestowed on foreign nationals, for the UK's support for Ukraine.
Mr Johnson said: "For the past six months, the United Kingdom has stood shoulder-to-shoulder with Ukraine, supporting this sovereign country to defend itself from this barbaric and illegal invader.
"Today's package of support will give the brave and resilient Ukrainian armed forces another boost in capability, allowing them to continue to push back Russian forces and fight for their freedom."
The package includes 850 hand-launched Black Hornet micro-drones – smaller than a mobile phone – which can be used to provide live feeds and still images to troops, particularly important in urban warfare.
The support also includes larger drones and loitering weapons, which can be used to target Russian vehicles and installations.
The UK is also preparing to give mine-hunting vehicles to operate off the coast, with Ukrainian personnel being trained in their use in UK waters in the coming weeks.
Ukraine's ambassador to the UK Vadym Prystaiko marked the occasion by urging UK citizens to be "patient" as the war-torn country "cannot afford to lose your support".
He said: "You are playing a very important part in this fight. Ukraine will do what it takes to claim victory."
But will Britons continue to love Ukraine as much when the winter and higher fuel bills kick in?
Boris told us that we must do it, we must suffer, for Ukraine:
He has a point, but I do wonder how well this will play by the end of the year.
At least Boris got his Churchillian international claim to fame.
What next?
This week, Boris made a farewell tour of the UK, topped off with a dawn police raid of a house:
Guido has the video and explains the greeting:
This morning Boris accompanied the police on a home raid. Given we're now comfortably into the 21st century, it didn't take long for one of the occupants to realise the PM was in his home and film the experience, asking Boris 'wagwan'. Boris politely asked the filming resident "how you doing?". The Snapchatter could have at least offered Boris a cuppa…
It's rumoured that Michael Gove might be off to edit a newspaper:
Guido has the story and the audio of Gove's plans:
This morning Michael Gove laughed off the suggestion he's planning an imminent return to Fleet Street, insisting on the Today Programme he's "definitely planning to stay in Parliament" and won't be stepping down any time soon. Rumours have been building in SW1 that Gove had his eye on the editorship of, erm, one particular Murdoch-owned broadsheet, should a vacancy become available …
No, no. I think my first responsibility and duty is to my constituents in Surrey Heath. I'm going to stay on as MP, argue for them, and also argue for some of the causes in which I believe. I think it's vitally important that we continue to make the case for levelling up. I think Boris Johnson is absolutely right to focus on the need to provide additional support for overlooked and undervalued communities…
Gove added he still has "a reservoir" of affection for Boris despite being the only Minister the PM actually sacked in July. Boris is also rumoured to be sticking around until the next election. Could make for awkward small talk on the backbenches.
I predict they will stay on as MPs until the next election, just show up less often in the Commons.
As for Rishi, The Guardian said on Friday, September 2, that he was being compared with Michael Heseltine, one of the MPs who brought down Margaret Thatcher:
One of the most familiar refrains of the Conservative leadership contest was candidates earnestly inviting comparisons to Margaret Thatcher.
But after his resignation as chancellor brought down Boris Johnson's wobbling house of cards, a Tory insider said Rishi Sunak found himself with "the curse of Heseltine hanging round his neck".
Despite long having been talked of as a likely future prime minister, Sunak struggled to shed the parallel with the man who helped bring down Thatcher but failed in his own tilt at the top job – before coining the famous political cliche: "He who wields the knife never wears the crown."
I'll leave the final word to The Spectator's political editor James Forsyth, who muses on what politics will look like after Boris leaves:
His absence will reshape the political landscape because his presence defined it.
We will find out who Boris's successor is on Monday. The Guardian has a report on what we should expect:
The candidate who receives the most votes will be revealed on Monday by Sir Graham Brady, the chair of the 1922 Committee, a gathering of Conservative backbench MPs (not named after the average year of birth of its members but the year in which it was founded) …
The formal handover will take place on Tuesday. The Queen is recovering from the outgoing prime minister's tenure in her Scottish pile Balmoral and will appoint the new PM there, which will be a challenge as it requires the winner to leave Westminster.
Johnson is expected to make a farewell address outside 10 Downing Street at about 9am on Tuesday. It is not known whether he has written two versions of the speech, one based on staying, one based on leaving.
More next week as a new chapter in Conservative politics begins.
End of series
This is the penultimate instalment of Boris Johnson's downfall.
Earlier ones can be found here: parts 1, 2, 3, 4 and 5.
Before I get to the heart of the matter, one of Boris's former aides, Cleo Watson, wrote about her time in Downing Street for the September 2022 issue of the high society magazine Tatler: 'Exclusive: how PM's former aide had to "nanny" him through lockdown'.
Cleo Watson tells the story of how she went from working on Obama's 2012 campaign to the Vote Leave one that preceded the 2016 Brexit referendum. As she worked with Dominic Cummings on the latter, he asked her if she would like to work at Downing Street when Boris became Prime Minister.
She accepted but had no idea what fate awaited her. Who knew then about the pandemic, which she had to get Boris through: frequent coronavirus testing, recovering from his near-death viral experience with nourishing drinks rather than Diet Coke and putting up with his silly, schoolboy jokes.
Then there was Dilyn, his and Carrie's Welsh rescue terrier, which they acquired in 2019. Dilyn never was properly house-trained and left little surprises in Downing Street and at the prime ministerial weekend retreat, Chequers.
Watson has just finished writing her first novel, Whip!, a fictionalised account of what life is like in Downing Street. It is scheduled to be published in 2023.
One thing that struck me is just how pervasive Dominic Cummings was during his time there.
She describes what the penitential press conference he had to give in May 2020 after his forbidden trip to County Durham during lockdown was like (emphases mine):
Dom's 'eye test' itself led to moments of strange humour as we struggled to respond to the public anger it caused. Remember his press conference in the rose garden? What you didn't see was the group of advisers loitering behind the cameras, clutching ourselves with worry. Dom's natural sunny attitude …
'Sunny attitude'? Surely some sarcasm there, methinks:
… seemed to be waning, so halfway through I took to standing directly in his eyeline, bent over like a tennis linesman, gesticulating for him to sit up straight and, if not smile, be tolerant and polite when responding to the repetitive questions being fired at him.
She left around the same time as Cummings, in November 2020:
As so many in politics know, the end comes sooner or later – generally sooner, if you're employed by this prime minister. (Although I suppose he's had karma returned with interest recently.) The end for me came in November 2020, about two weeks after Dom's hurried departure.
These were her final moments with Boris:
The PM had been isolating after his latest 'ping' and he and I finally reunited in the Cabinet room, where we had an exchange that I am sure may have been familiar to many of his girlfriends. Him: 'Ho hum, I'm not sure this is working any more.' Me: 'Oh, OK, you seem to be trying to break up with me. I'll get my things.' Him: 'Aargh… I don't know… yes, no, maybe… wait, come back!' I suppose it went a little differently. He said a lot of things, the most succinct being: 'I can't look at you any more because it reminds me of Dom. It's like a marriage has ended, we've divided up our things and I've kept an ugly old lamp. But every time I look at that lamp, it reminds me of the person I was with. You're that lamp.' A lamp! At least a gazelle has a heartbeat. Still, he presumably knows better than most how it feels when a marriage breaks up.
So I left No 10 – without a leaving party, contrary to what has been reported. What actually happened is that we agreed to go our separate ways and I went to the press team to say goodbye. The PM, unable to see a group of people and not orate, gave a painful, off-the-cuff speech to a bewildered clutch of advisers and I left shortly after.
More work followed, then came a holiday in Barbados:
I was asked to work on the COP26 climate change summit (quite cleansing for the brand after Vote Leave and Johnson's No 10), which took place in Glasgow in November 2021. It was a brutal year, no less dogged by Covid than the previous one, and I was lucky enough to top it off with a recovery holiday in Barbados in December.
The sun, the sea, the cocktail bar… Welcome to paradise. Except something was off. I couldn't put my finger on it, but whenever I was indoors at Cobblers Cove, the lovely hotel my husband, Tom, and I were staying at, I had a strange, uneasy feeling that I'd been there before. Where had I seen muted green print on jolly green print on rattan before? The place had been revamped by none other than Lulu Lytle, of the Downing Street flat fame.
Downing Street stays with a person, not unlike memories of an ex:
It's often the way that looking at a period of your life later on can frame it as much happier than it really was. It's like remembering the good times with an ex. You'll smell or hear something that nearly knocks you over with a wave of nostalgia and before you know it, you're thinking: 'I wonder what they're doing now…'
I'm very fortunate in that I know exactly what they're doing and what I'm missing out on. Yes, you get the chance to serve the country and on an individual level you can change people's lives. But there is also the constant work that gets gobbled up by the news cycle. The gut-busting effort behind every speech that flops. The policy that gets torn to shreds. The constant lurk of an MP rebellion. From the moment you're awake, you're on your phone(s).
These days I'll be walking my dog (far too big to be used as a handheld prop now) and delighted – literally delighted – to be picking up after him rather than dealing with the latest catastrophe I can see playing out just a couple of miles away.
I've weaned myself off my phone, cancelled my newspaper subscriptions and studiously avoided social media. I've really understood what burnout means. It has taken months to recover …
Now on to the final weeks of Boris and his wife Carrie.
The thing that sticks most in my mind is that awful — and awfully expensive — refurb of the Downing Street flat.
The next occupant will want to rip it all out and start again with something quiet and tasteful.
Boris must have thought he would be there for years. Otherwise, why would he have agreed to it?
Another disappointment for them must have been not being able to use Chequers for their big wedding party.
The couple married in 2021 at Westminster Cathedral (Catholic), but because of coronavirus restrictions, could have only a small number back to Downing Street to celebrate.
They had looked forward to having a big party at Chequers. Unfortunately, once Boris resigned as Party leader, he became a caretaker PM and was refused permission.
Fortunately, Lord and Lady Bamford of construction equipment manufacturer JCB fame lent their sprawling Gloucestershire estate to the Johnsons:
On Wednesday, July 27, GB News reported:
The Prime Minister and his wife are said to be planning on hosting family and friends at 18th-century Daylesford House, in Gloucestershire, this weekend.
A huge white marquee topped with bunting had been erected in the property's expansive grounds on Wednesday, with staff going in and out amid apparent party preparations.
Owned by Lord Bamford, the Grade I-listed mansion has been found as a replacement to Chequers – where the Johnsons had originally planned to host the party.
The Tory peer, chairman of construction equipment manufacturer JCB, has donated millions to the Conservative Party …
Lord Bamford is covering at least some of the cost of the party, the Mirror reported, quoting unnamed sources.
No 10 declined to comment on the "private matter".
The Johnsons decided on a unique celebration.
Reporters from The Mail were on hand earlier on Saturday, July 30, to find out more:
Guests at Boris and Carrie Johnson's wedding party are set to dine in style on South African street food at the Cotswolds retreat of Tory mega-donor Lord Bamford today.
Caterers from eco-friendly BBQ eatery Smoke and Braai were spotted setting up shop on the grounds at Daylesford House on Friday in advance of the fanfare.
Around 200 guests including a dozen Conservative MPs will gather at the idyllic, Gloucestershire Grade I-listed mansion for drinks from 5.30pm.
Grass-fed locally sourced meat will be the mainstay of the food menu in line with Mrs Johnson's well-known commitment to green causes, The Telegraph reported.
At least three street food outlets were pictured arriving at the gorgeous countryside manor house on Friday afternoon, with helicopters heard amassing above …
Daylesford House is the 18th-century home of Lord Bamford, 76, the founder of construction giant JCB and one of the Conservative party's most prolific donors.
The billionaire Bamfords, who gave £4million to the party in the run-up to the 2019 general election, after handing £100,000 to the Vote Leave campaign, stepped in to fill hosting duties after furore surrounded the Johnsons' prior plans to hold their wedding party at Chequers.
Lady Bamford and Carrie, in particular, joined forces to orchestrate today's proceedings, the newspaper reported.
The South African street food menu is set to include lime and mint-infused pineapple, skin-on fries, cherry wood-smoked pork with honey and mustard slaw, and Aberdeen Angus ox cheeks.
South Africa's answer to the barbecue, a braai is typically the setting for an hours-long cookout in which all are welcome. 
The Telegraph told us that Steve Bray, the braying anti-Brexit chap from College Green near Parliament, was a short distance away. The article has a photo of him.
Caterers and entertainers could not miss him:
… they were greeted by Steve Bray, an activist known as the "Stop Brexit Man", who had positioned himself at one of the entrances holding a banner which read: "Corrupt Tory Government. Liars, cheats and charlatans. Get them out now."
The article told us more about the menu:
Rum punch is also available to guests, as well as barbecue chicken and beef with salad. Handmade ice-cream from a family run dairy farm in the Peak District is also being served, adding to the laid back atmosphere at Daylesford House, Gloucestershire …
Mrs Johnson is thought to have worked closely with Lady Bamford to organise the event and set the theme of a South African-style barbecue laid on by Corby-based Smoke and Braai, with the 200 guests served from eco-friendly street food trucks amid hay bale benches.
On the menu is grass-fed British beef braai boerewors rolls, masa corn tortilla tacos, smoked barbacoa lamb and what was described as "ancient grain salad" …
Adding to the festival atmosphere, for dessert there is ice-cream courtesy of Dalton's Dairy, a family-run dairy farm in the Peak District which produces handmade ice creams, including wild strawberries and cream, pineapple, and amaretto and black cherry.
The guest list included MPs, singers and millionaires:
The guests, who include several Conservative MPs, began to arrive at the estate at around 5pm. Australian actress and singer Holly Valance, who is married to British property developer Nick Candy, was also pictured arriving at the estate in a Rolls Royce.
Mr Johnson's younger sister, Rachel Johnson, was seen arriving via the back entrance, as did the Prime Minister's father, Stanley Johnson, who arrived alongside a female companion.
Nadine Dorries and Jacob Rees-Mogg were also among the first guests to arrive.
Other politicians in attendance included Ben Wallace, the Defence Secretary; Jake Berry, who previously served as minister for the Northern Powerhouse; Amanda Milling, the MP for Cannock Chase; and John Whittingdale, the former culture secretary.
More elusive and camera shy guests preferred to arrive by helicopter, landing on a helipad positioned in the grounds of the estate. They were then ferried to the garden party in a black Range Rover.
The Mail on Sunday had more, complete with lots of photographs:
Boris and Carrie Johnson danced the night away at their festival-style wedding party in the Cotswolds last night, with the bride wearing a £3,500 dress that was rented for £25. 
Carrie opted to stick to her sustainable fashion principles with the dress by designer Savannah Miller, the older sister of actress Sienna.
The floor-length, halter-neck gown named Ruby has an original price tag of £3,500 but is available for a day rate of £25 on London-based website Wardrobe HQ, which Carrie, 34, has been using for more than three years.
Meanwhile, the festivities started with Boris joining Carrie on the dancefloor for their first dance to Neil Diamond's Sweet Caroline – chosen because Carrie's full first name is Caroline. 
They were joined by friends and family at the picturesque venue that sits within 1,500 acres and boasts stunning amenities including a heart-shaped orchard, painstakingly manicured gardens, an 18th century orangery and a luxurious pool. 
For anyone wondering if this Daylesford is related to the eponymous organic food brand, it is, indeed:
Lady Carole Bamford OBE, became famous for launching Daylesford Organic Farm, based in the private village but with farm shops across London.
Daylesford House, which is just a mile from Lord and Lady Bamford's organic farm of the same name, boasts 1,500 acres of manicured gardens including pristine lawns, an 18th-century orangery and a secret garden – complete with octagonal swimming pool, shell grotto and alfresco pizza oven.
The article had more on the Bamfords and their involvement with the Conservative Party:
Downing Street has refused to comment on the occasion, stating it does not discuss private events which do not involve taxpayer funds or ministerial declarations.
Beyond cash handouts, the Tories have also benefited from repeated press conferences staged at JCB's Staffordshire headquarters.
Boris Johnson made his headline-grabbing Brexit stunt at the factory as part of his general election bid in 2019.
The global digger manufacturer paid him £10,000 just three days before he smashed through a brick wall in a JCB digger.
Beyond politics, the Bamfords hold sway with a long list of British elites, including their friends the Prince of Wales and Duchess of Cornwall.
Lady Bamford, whose precise age is unknown, sits on JCB's board of directors and was awarded in OBE in 2006 for services to children and families.
A former air hostess, Lady Bamford OBE married Sir Anthony in 1974.
They have four children and a haul of houses around the world in addition to a prolific car collection worth tens of millions of pounds.
The article beneath it, by Adam Solomons, had more about Steve Bray's presence. One photo shows a policeman seemingly asking him to leave. Bray alleged that his friend was arrested:
So-called 'Stop Brexit Man' Steve Bray flouted the tight guest list for Boris and Carrie Johnson's wedding party to conduct a solo protest yesterday after a friend and fellow campaigner was allegedly arrested nearby.
Photographer Sylvia Yukio Zamperini was taken away in a police car after turning up close to opulent party venue Daylesford House, Gloucestershire, Mr Bray claimed.
In a Facebook post this evening, he wrote: 'I was supposed to meet Sylvia […] but she called me. She was searched by Police.
'A police van and car passed me 20 minutes ago. She was crying and waving frantically from the back of the car. She's been arrested.'
He added in a subsequent tweet: 'Police using dirty tactics.'
Gloucester Constabulary did not respond to a MailOnline request for clarification or comment this afternoon.
The notorious Parliament demonstrator put out an appeal for urgent legal help on Sylvia's behalf.
Ms Yukio Zamperini has been Bray's right-hand woman throughout years of noisy campaigning in and around the parliamentary estate over the past six years.
Describing herself as a 'proud European', she often shoots footage of Bray's flags and banners.
Sylvia travelled to the gorgeous Cotswolds wedding venue from Birmingham, with Steve commuting from London. 
They were supposed to meet close to Daylesford House, but Sylvia had reportedly already been arrested. 
Bray also posted a video in which he spoke to a local police officer, who'd warned him that loud amplifiers set up to disrupt the party would be confiscated.
The unidentified officer, who Bray's followers noted was polite and respectful, said he was giving 'Stop Brexit Man' a 'pre-pre-warning' in the event he tried to sabotage the postponed wedding party.
The infamous campaigner tells the policeman: 'Look what these guys have done to our lives. I don't care if it's a wedding party.'
Guido Fawkes has a video of Boris and Carrie dancing to Sweet Caroline, which young Wilf interrupted. Carrie picked him up and swayed from side to side. Of Boris, Guido says:
Some questionable dad dancing moves from Boris there.
On August 6, The Telegraph's Gordon Rayner had more in 'Inside Boris and Carrie Johnson's secret wedding party':
The bride wore a gold mini dress, the groom wore a baggy cream suit and the guests wore expressions of mild bemusement.
At the Prime Minister's wedding celebration, Sweet Caroline had been chosen for the first dance as a romantic tribute to Caroline Johnson, better known as Carrie – but her husband seemed to think he was at an England football match, where the song has become a fan favourite.
His dad-dancing at the couple's wedding celebration last weekend was more "let's all have a disco", as sports crowds chant, than "how can I hurt when holding you", in the words of Neil Diamond's song.
The moment, however, was entirely in keeping with the eccentricity of the whole event, held in the middle of a field where guests had no escape from the speeches, the South African street food or the bitching about Rishi Sunak.
It featured slut-drops, congas, rum punch, hay bales, a steel band and Jacob Rees-Mogg, but without an actual wedding for the guests to attend, it was an event that appeared not to know quite what it was trying to be …
The Prime Minister, who had worn a charcoal suit on what was his third wedding day last year, struggled to pull off the Man From Del Monte look, wearing a cream suit with trousers that needed taking up and a jacket that appeared too long for his body.
Mrs Johnson, 34, had greeted guests earlier in the day wearing a £3,500 halter-neck Ruby wedding gown by Savannah Miller, the designer, which she had rented for £25 a day. However, by the time the first dance happened at 8.30pm, she had changed into a shimmering gold mini dress with a plunging neckline that was more disco diva than blushing bride.
Neither she nor the 58-year-old Prime Minister looked comfortable dancing in front of their guests. They may have been relieved when their two-year-old son Wilfred, dressed in a navy blue sailor suit, toddled across to them halfway through the dance and became the centre of attention, as he was twirled around on the hips of his parents …
The event officially ended at 11.30pm, although many guests, with long journeys home, had already left by then.
Ms Johnson said the party was held in "a magical flower-filled field", but other guests whispered that the party had the vibe of a failed pop festival, complete with portable lavatories …
Before the dancing, the guests were treated to a succession of speeches, starting with Ms Johnson, followed by Carrie Johnson – whose words were "full of affection" for her husband – and finishing with the Prime Minister himself, who stood with one hand in his trouser pocket and the other clutching A4 sheets of notes.
In a defiant and typically joke-filled speech, Mr Johnson told his guests that he had received "masses of letters to resign, mostly from my closest family", according to The Times.
He went on: "There are many opportunities, which lead to disasters, and disasters can lead to new opportunities, including to opportunities for fresh disasters."
He also described the mass ministerial resignations that forced him to resign as: "The greatest stitch-up since the Bayeux Tapestry."
The guest list was light on parliamentarians, partly because so many of them had turned on the Prime Minister only days before. Only the most ultra-loyal Johnsonites received an invitation.
As a former head of communications for the Conservatives, Mrs Johnson knows all about messaging. She was keen to put the word out that her dress was rented, because she is keen to promote sustainable fashion, and that the food on offer was eco-friendly because the catering firm buys its ingredients from local farmers.
But the messaging was somewhat undermined by the reality of the event. Guests arrived in a steady stream of Range Rovers, Rolls-Royces and other gas guzzlers, with some even arriving by helicopter.
By choosing to hold their party in such a rural location, the couple ensured that it had the largest possible carbon footprint. In only a matter of weeks, though, worrying about political mis-steps will cease to be much of a concern for them.
The party — especially with Bray's presence — would make a great film for television. You could not make this up.
On August 2, Telegraph reporter Rosie Green poured cold water on Carrie's renting of dresses. I'm including this as a caution for women thinking it's a failsafe solution: 'Renting a dress sounds like a good idea — until you face the logistics'.
She went through the process herself, which sounds tiresome:
I book appointments at the places offering "trying on" services (Front Row, Harrods and Selfridges) and let them know which dresses I would like to road test.
At the My Wardrobe HQ pop up concession at Harrods, although the manager was friendly and helpful, disappointingly only one of the four pieces I had requested was there. Then the dress I had loved on screen wouldn't do up. Hmm.
Thankfully I found another wonderful gown by the same designer which fits beautifully (the same size weirdly). But at £1,861 to buy and with a long train that looked perfect for stepping on I was worried about incurring damage. Another dress I loved had a broken zip …
I leave for my next appointment at Front Row to meet one of its founders and to try on a selection of dresses, but when I arrive at the showroom she is not there and the doors are locked. I am stumped. I can't get through on the phone. I later discovered she had her handbag snatched by a man on a motorbike. Front Row confirms they'll send the dresses to my home instead. In the meantime, I get a message from Selfridges saying my requested dress (the only one on the website I found suitable) is not available as it is being repaired. Hmm.
I head home to Oxfordshire a little dispirited. So I start delving deeper into By Rotation and discover that they act as a middle man between the renter and the owner. This means the clothes are kept by their owners and so effectively you are reliant on Sandra from Surrey or Carla from Cheshire posting you their gown. This makes me very nervous.
There's more, so I'll skip to the chase:
Then, on the day I'm expecting the My Wardrobe dress to arrive, I'm told I have to pick it up from Harrods. I have a minor heart attack. I tell them I live in Oxfordshire and not only is it impractical but the cost of the return train ticket to London would be more than the rental. They arrange for it to be couriered and it arrives the morning of the event.
According to UPS the Front Row dresses are stuck at the depot. Then they are officially AWOL. Renting has not been stress free. Buying my dress is now feeling like a much more attractive proposition …
… my advice if you're planning to rent would be to get your choices a few days before you need them. Try them on first, and always have a back-up plan.
Would I hire a wedding dress this way, like Carrie did? No way. My nerves couldn't take it.
On another cautionary note, provocative dance moves can prove difficult as one ages.
Guido Fawkes found a 2018 Celebrity Big Brother clip with Boris's sister Rachel boasting about how Liz Hurley taught her one of these dance moves then demonstrating it.
Unfortunately for Rachel, 56, things didn't go so well with it at her brother and sister-in-law's party, as she wrote in her Spectator diary of August 6:
The Season has ended and – apart from The Spectator's summer bash of course – the two bang-up parties of July were discos in the Cotswolds. They do things differently there. At Jemima Goldsmith's I danced so hard in high heels with a selection of her handsome young swains that I suspect the double hip replacement will be sooner rather than later. At Carrie and Boris's Daylesford wedding do in a magical flower-filled field we all busted out our best moves. I was taught the slut-drop by Liz Hurley years ago in Nick Coleridge's party barn in Worcestershire. She demonstrated how to collapse to the floor like a broken deckchair on the count of three. My problem at Daylesford was getting up again – not a challenge shared by my sister-in-law. She could win a Commonwealth gold hands-down in this particular high-risk dance move. I'd kicked off my shoes (to save on physio bills later) but still ripped off a big toenail during the conga. Conclusion: I can no longer slut-drop but I can still name-drop for Britain till the cows come home.
Sometimes I feel as if I live in another world.
Anyway, by early August, the party was over for Boris.
Although he surpassed Theresa May's tenure at No. 10 on August 5 …
… Boris faces a hearing by the parliamentary Privileges Committee in September, led by Labour's Harriet Harman.
Note that Boris's opposite number, Keir Starmer, gets away with multiple violations. Yet, Boris will be quizzed on whether he knowingly — rather than accidentally — misled Parliament over a piece of cake in a Tupperware container:
To make matters worse, Conservative MP Bernard Jenkin is on that committee. He is not one of Boris's biggest fans:
The topic came up on Dan Wootton's GB News show on August 8. Nearly 75% of his viewers thought the committee hearing would be a witch hunt:
Panellist Christine Hamilton agreed:
Boris's supporters among the general public were eager to get his name on the Conservative Party leadership ballot along with Liz Truss's and Rishi Sunak's. The fight on that still continues. The best they can hope for now is a change in the Conservative Party rules. I will have more on that in a separate post. The feeling for Boris continues to run deeply among many voters.
On Friday, August 12, a reporter asked Boris why he was not taking calls from Rishi Sunak:
Boris said:
That's one of those Westminster questions that doesn't change the price of fish…
He quickly deflected to move the discussion towards resolving the cost of energy crisis and said that the future would be very bright.
On Saturday, August 13, Jacob Rees-Mogg, Minister of State for Brexit Opportunities and Government Efficiency, gave an interview on GB News to two of his fellow Conservative MPs, Esther McVey and her husband Philip Davies.
In this segment, he explains why Boris has always had his support, dating back to 2016. His only criticism is that the Government could have handled the economy better post-pandemic:
As for Boris coming back as PM, Rees-Mogg said it was highly unlikely. The Telegraph reported:
"Nobody's come back having lost the leadership of the party since Gladstone," Mr Rees-Mogg replied. "And I just don't think in modern politics, the chance of coming back is realistic.
"Lots of people think they're going to be called back by a grateful nation which is why Harold MacMillan waited 20 years before accepting his peerage… Life just isn't like that."
Rees-Mogg also explained why Boris was hounded out of office:
In the interview, Mr Rees-Mogg claimed that Mr Johnson's downfall was partly the result of anti-Brexit campaigners – even though a number of Brexiteer MPs, such as Steve Baker, called for his resignation.
Mr Rees-Mogg said: "There's a lot of people who resent the fact we left the European Union. And therefore to bring down the standard bearer of Brexit was a triumph for them."
In August, Boris and Carrie took a summer holiday in Slovenia.
He no sooner returned than he jetted off again, this time to Greece, for reasons to be explored tomorrow.
Those who missed the first instalment of Boris Johnson's downfall can read it here.
The Queen's Platinum Jubilee weekend at the beginning of June cannot have been an easy one for the Prime Minister, who turned up with his wife Carrie at the public events.
Pressure was mounting for a vote of confidence by Conservative backbenchers.
On the morning of Sunday, June 5, the last day of the Jubilee weekend, Transport Secretary Grant Shapps told the BBC that there would be no such vote, but even if one took place, Boris would win it (video):
By the time the Queen had celebrated her historic jubilee that weekend, Sir Graham Brady, chair of the Conservative 1922 Committee, had received the requisite number of letters from the Party's backbench MPs to trigger such a vote.
The vote took place on Monday, June 6. Shapps was correct in saying that Boris would win it. Shapps went on to run for the Party leadership himself in July.
Unfortunately, after the confidence vote, more events occurred making Boris's position as Party leader untenable.
Earlier, in May, the Conservatives had taken a drubbing in the local elections.
Then came the two by-elections on Thursday, June 23.
One was for Neil Parish's seat of Tiverton and Honiton in Devon. The farmer had stood down on April 30 after two fellow Conservative MPs saw him viewing tractor porn on his phone in the Palace of Westminster. Liberal Democrat Richard Foord won handily.
The second was further north, in Wakefield, where another disgraced Conservative-then-Independent MP, Imran Ahmad Khan, had to stand down for being convicted on April 11 of assault on a 15-year-old boy in 2008. On May 23, Khan was sentenced to 18 months in prison. The West Yorkshire seat reverted to Labour, with the election of Simon Lightwood.
Then came the Chris Pincher groping scandal. Pincher was Deputy Chief Whip but resigned on Thursday, June 30, after a lubricious episode at the Carlton Club in St James. The Carlton is a private club for Conservatives. Pincher had allegedly groped two men at an event there.
Boris had to sign off on Pincher's appointment as Deputy Chief Whip. However, even if Boris had objected, the Chief Whip could have appointed Pincher, anyway. As I explained on July 6, whoever the Chief Whip wants for a deputy, the Chief Whip gets.
However, the Party whip had not been withdrawn from Pincher, and MPs were incandescent.
On Friday, July 1, an article appeared in The Telegraph: 'The "disturbing" call about Chris Pincher's lurid behaviour that forced Boris Johnson to act'.
GB News interviewed Neil Parish, who was furious.
The Telegraph article says:
The low point of yet another chaotic 24 hours for Boris Johnson came when disgraced "tractor porn MP" Neil Parish popped up on the airwaves to give him a lecture on moral standards in government.  
As the Prime Minister and his aides were holed up in Number 10 deciding how to respond to the growing Chris Pincher scandal, the "very cross" former backbencher was giving them both barrels on television. 
"I can't believe they haven't done it," he said incredulously, when asked why the whip had not been removed. Referring to his own punishment for watching pornography in the House of Commons, he added: "It's double standards. Come on, let's be fair."
His righteous outrage encapsulated how untenable Downing Street's insistence that Mr Pincher would be able to remain a Conservative MP, despite accusations he drunkenly groped two men, had become.
Someone must have been watching GB News that afternoon or the fury from MPs must have increased to the extent that the Chief Whip, Chris Heaton-Harris, withdrew the Party whip:
Just over two hours later, Chris Heaton-Harris, the Chief Whip, put out a statement reversing that decision, following a day of growing anger amongst backbench Tories at the Prime Minister's failure to act. 
However, there was a problem in that, the day before, Boris did not think things needed to go that far. He thought that Pincher's resignation from the Deputy Chief Whip role sufficed (emphases mine):
Downing Street was bullish as the news broke at 8pm, with a Tory source insisting: "The PM thinks he's done the decent thing by resigning. There is no need for an investigation and no need to suspend the whip."
Even into Friday afternoon, Boris's stance had not changed:
… at noon, No 10 still remained defiant – with the Prime Minister's spokesman telling reporters he considered the matter closed, since Mr Pincher had resigned and that there was no investigation into his conduct.
Heaton-Harris and Boris received pushback for their inaction.
Finally, later on Friday Pincher became an Independent MP:
Early in the evening Downing Street was eventually forced to act and announced it had stripped Mr Pincher of the whip, given that a formal complaint had been made to Parliament's harassment watchdog.
The question was how much did Boris know about Pincher — past and present — and when did he know it?
Regarding the Carlton Club:
The Prime Minister had also been "troubled" by a "disturbing" call from one of the MPs who witnessed the incident and relayed to him a detailed account of what had happened, according to a source close to him.
The article has the details of what happened with Pincher at the club.
One MP was so unnerved that he rang Heaton-Harris at 3 a.m.:
One Tory MP who was present at the scene told The Telegraph how they "threw out" a "very drunk" Mr Pincher after being told about one of the two sexual assaults and then called the chief whip at 3am to inform him.
Another waited until daylight to inform him:
A second MP who witnessed at least one of the groping incidents also informed Mr Heaton-Harris the following morning. "This is not something that should be brushed over," the MP told The Telegraph.
That MP says Pincher's reputation was known, and it is true that he did have to stand down from another post when Theresa May was Prime Minister:
"Given the nature of the behaviour and the seniority of the role he held, it was highly inappropriate behaviour. This is not the first time there have been conversations about this person either. Many of us were surprised when that appointment was made."
It is the second time that Mr Pincher has been forced to resign from the whips' office over allegations of sexual impropriety. In 2017, he quit a more junior position after being accused by a former Tory candidate of trying to chat him up.
Returning to Boris:
"Boris has set the level and now everyone else is trying to imitate him, it is a constant drip drip. It all adds up, doesn't look good," one former minister told The Telegraph.
"The worrying thing is this is beginning to shape up so much like sleaze in the 90s under Major, where it was a whole series of inappropriate and pretty seedy actions by ministers and Tory MPs that completely undermined him."
Lord Hague, the former Conservative leader, said the Prime Minister had been too slow to act, with a "whole day of everybody speculating and talking". He added: "These things need dealing with decisively."
That day, The Telegraph had a related article, 'Boris Johnson v John Major: How Tory sleaze scandals under the two leaders stack up'. The scores are pretty even. I remember reading it and thinking that things did not look good for Boris.
There were two other things that did not bode well for him that week: a proposed treehouse for his son and an upcoming investigation by the Privileges Committee over Partygate.
Let's look at the treehouse first. Labour MPs were apoplectic that Boris wanted to have one built at Chequers for young Wilf.
Guido Fawkes has the story (emphases his):
Eyebrows were raised in Downing Street over the weekend after the publication of a story in The Sunday Times that Boris had looked into having a £150,000 treehouse built for son Wilf at Chequers. The story – undisputed since publication – goes he had once again entered into discussions about Lord Brownlow forking out for the cost, however plans were eventually scuppered by police security concerns given the house would be visible from the road. Despite the design including bulletproof glass, which raised the cost significantly…
Guido was amused to learn that Downing Street's eyebrows weren't raised by the Sunday Times's story, instead by Labour MPs' attacking the plans on the grounds of Boris being out of touch. Vauxhall's Florence Eshalomi, Rhondda's Chris Bryant, Wallasey's Angela Eagle, and Hull's Karl Turner were all among those laying into the PM.
Guido points out Labour's hypocrisy, because it was Tony Blair who had a tennis court complex installed at the Prime Minister's weekend retreat (purple emphases mine):
No. 10 sources wryly note, however, that it wasn't that long ago when it was a Labour PM splashing huge wads of cash to renovate Chequers – without a whimper of controversy. In 1999, one Tony Blair added a luxury tennis court complex to the PM's Buckinghamshire residence, something since enjoyed by successive MPs including David Cameron and Boris Johnson. Sources in the know tell Guido that the courts weren't built using public cash, nor did they come out of the Chequers Trust, implying the extortionate costs either came out of Blair's personal pocket, or a private donor. Given Guido unfortunately can't make it to Blair's big centrist jamboree today, perhaps an on-hand hack might like to raise the question of who paid for the courts…
Labour: it's okay when they do it.
The Privileges Committee are investigating Boris for Partygate, specifically on whether he deliberately lied to the House of Commons in saying he was unaware any coronavirus rules were breached. That was before he received his fine.
Labour's Harriet Harman is leading the investigation. Labour's Chris Bryant recused himself from that responsibility because he has made no secret of his dislike for Boris.
However, as Guido pointed out on June 17, Harman is hardly impartial:
It's now emerged his replacement, Harman, has not been neutral on the question up until this point either. She has tweeted her views relating to allegations around the PM's truthfulness, with one saying "If PM and CX admit guilt, accepting that police right that they breached regs, then they are also admitting that they misled the House of Commons". You wouldn't favour your chances going to trial if the judge was on the record with such levels of preconceived bias…
Conservative MPs are also aware of her bias:
Yesterday in the Commons, Andrew Murrison asked Michael Ellis whether he agreed "that those placed in a position of judgment over others must not have a previously stated position on the matter in question". The Cabinet Office minister replied:
It is, of course, an age-old principle of natural justice that no person should be a judge in their own court.
Where an individual has given a view on the guilt or innocence of any person, they ought not to then sit in judgment on that person. I know that point he is referring to, and I have no doubt that the right honourable lady will consider that.
It seems to be yet another own goal by Labour, mind-made-up Harman's appointment totally undermines the impartiality of the privileges committee investigation…
The investigation formally began on June 29:
The problem with this investigation is that it has to prove intent on Boris's part to mislead the House. How will Harman prove it?
If Boris is found guilty of deliberately misleading the House, it will have severe ramifications for parliamentary proceedings. Ministers might fear expanding on certain subjects in case they get a figure or another type of detail wrong.
We should find out the result in September.
What Labour are trying to do with this process is ensure that Boris loses his parliamentary seat for good, which is what will happen if he's guilty. That way, he can never be an MP again.
Meanwhile, some Conservative MPs were disgruntled that Boris had won the confidence vote in June. Under the current 1922 Committee rules another one cannot be held until 12 months have elapsed. They wanted Sir Graham Brady to change the rules to allow another vote before then.
On Monday, July 4, Mail+ said that Boris was 'still the best man to lead Britain':
THE Prime Minister returns to his desk today after an impressive display of statesmanship on the world stage.
Following a Commonwealth conference in Rwanda aimed at building a common future, he returned to Europe to galvanise Nato and a wavering G7 into hardening their support for Ukraine.
Sadly, though, his achievements were overshadowed by yet another Tory sleaze row, leading to inevitable further attacks on his leadership. There are even reports that rebel backbenchers are plotting another attempt at regicide – just a month after the last one failed.
When will this self-mutilation end? Yes, the Chris Pincher affair is ghastly and should have been handled better. But there are far bigger issues at stake.
There's a painful cost of living crunch, war in Europe and a migration crisis. Meanwhile, Tony Blair and his embittered Remainer chums are on a renewed mission to strangle Brexit.
Instead of dissipating energy on brainless infighting, the parliamentary Conservative Party needs to focus on the problems its constituents actually care about. They can only do that by getting behind their leader.
For all his recent troubles – some self-inflicted – this paper unequivocally believes Boris Johnson is the right man to lead the party and the country.
None of the potential replacements has his almost unique ability to connect with voters across the social and political spectrum. Crucially, he is the only one capable of winning the next election …
That Mail+ editorial has its finger on the pulse of the nation. I will come back to what voters think in a future post.
On Tuesday, July 5, Chris Pincher was in the news again after Baron McDonald of Salford — Simon McDonald — the Permanent Under-Secretary to the Foreign and Commonwealth Office between 2015 and 2020, wrote about the MP's past and what he thought Boris knew to Kathryn Stone OBE, the Parliamentary Commissioner for Standards for the House of Commons.
I wrote about this at length on July 6, concluding that there was bad blood between the life peer and Boris. Boris sacked him when the Foreign Office was merged with the Department for International Development. To soften the blow, Boris elevated him to the House of Lords. It should be noted that Baron McDonald is also a Remainer.
Wikipedia has a summary of Pincher's parliamentary history of appointments under Theresa May and Boris Johnson:
Pincher served as an Assistant Whip and Comptroller of the Household in 2017, before he resigned after being implicated in the 2017 Westminster sexual misconduct allegations, having been accused of sexual misconduct by Tom Blenkinsop and Alex Story. Two months later, in January 2018, he was appointed by Theresa May as Government Deputy Chief Whip and Treasurer of the Household. After Boris Johnson became Prime Minister in July 2019, Pincher was appointed Minister of State for Europe and the Americas. In the February 2020 reshuffle, he was appointed Minister of State for Housing. In February 2022, he returned to his former role of Government Deputy Chief Whip and Treasurer of the Household.
As to what the peer alleges Boris knew about Pincher, here are two possibilities:
The matter was discussed on that morning's Today show on BBC Radio Four.
Guido has the dialogue, with Deputy Prime Minister Dominic Raab responding for the Government. Raab said:
Aside from the Westminster rumour mill, any allegation that had resulted in formal disciplinary action… whilst there was inappropriate behaviour [from Pincher], it didn't trip the wire into disciplinary action… the individual who made the complaint did not want formal disciplinary action taken.
McDonald was on next. He said:
I disagree with that, and I dispute the use of the word 'resolved'… the complaint was upheld… Number 10 have had five full days to get the story correct, and that still has not happened… it's sort of telling the truth and crossing your fingers at the same time and hoping people aren't too forensic in their subsequent questioning.
Guido said:
In a matter of hours, the line has gone from "it's not true" to "the PM didn't know of any formal complaints". Chaos.
The Paymaster General, Michael Ellis, addressed the matter in Parliament, intimating that Boris forgot a prior briefing on Pincher:
From that point, the spiral turned ever downward.
That day, Sajid Javid resigned as Health and Social Care Secretary.
Shortly afterwards, Rishi Sunak resigned as Chancellor.
That evening, an article by Lord Frost appeared in The Telegraph: 'It is time for Boris Johnson to go':
No one is more downhearted than me at the events of the last few days. Over the years, I have worked as closely as anyone with Boris Johnson. I know, therefore, that he is a remarkable man and a remarkable politician. Only he could have cut through the mess left by Theresa May and delivered on the verdict of the people in the Brexit referendum. He took the country with him through the pandemic and has shown huge leadership on policy towards Ukraine.
But this country now faces formidable challenges. Facing them requires not just the ability to talk about a vision but the determination and steeliness to establish a credible pathway to it. It requires a leader who knows where he wants to take the country and can set out how he intends to get there, in a way that is consistent with the traditional Conservative vision.
I had hoped Boris Johnson could be that person, but I have realised that despite his undoubted skills he simply can't be. As I have often said, his Government has drifted far too much to the Left on economic matters, not only on tax and spend but by being too quick to regulate and too willing to get captured by fashionable trivia. It is tax-raising while claiming to be tax-cutting, regulatory while claiming to be deregulatory. It purports to be Conservative while too often going along with the fashionable nostrums of the London Left …
… I can't honestly see what this Prime Minister's economic philosophy is, beyond the content-free concept of "levelling up", and accordingly I no longer believe we will ever see a consistent drive towards low taxation, low spending, attractiveness to investment, and deregulation on the scale needed. 
But even more than that I have become worried by the style of government. The whole partygate affair could have been dealt with more straightforwardly and honestly by setting out right from the start what had gone wrong in No 10, taking responsibility, and explaining why it would not happen again. By the time those things had been said, they seemed to have been dragged unwillingly from the Prime Minister rather than genuinely meant. Accordingly they lacked credibility …
The Pincher affair then showed in a real-life case study that [reform of Downing Street] was not going to happen. Confronted with a problem which appeared to reflect badly on the Prime Minister's judgment, we saw once again the instinct was to cover up, to conceal, to avoid confronting the reality of the situation. Once again that instinct, not the issue itself, has become the story and the problem. Worse, this time round, ministers have been sent out repeatedly to defend suspect positions that came apart under closer examination. This is no way to run a government …
Boris Johnson's place in history is secure. He will be one of the past century's most consequential prime ministers. If he leaves now, before chaos descends, that reputation is what will be remembered. If he hangs on, he risks taking the party and the Government down with him. That's why it is time for him to go. If he does, he can still hand on to a new team, one that is determined to defend and seek the opportunities of Brexit, one that is able to win the next election convincingly. That is in the Conservative Party's interest, in Leave voters' interest, and in the national interest. It needs to happen.
On Wednesday, July 6, all hell broke loose.
The prime minister's authority over his party is crumbling as three more ministers plus two parliamentary aides resigned this morning and a string of previously loyal MPs turned on his leadership.
Rebel MPs believe that a routine meeting of the executive of the 1922 Committee of Conservative backbenchers this afternoon could be the trigger point for changing the rules that at present mean Johnson cannot be ousted for another 11 months.
Sir Graham Brady, the 1922 Committee chairman, has told the 16 members of the executive to arrive promptly for the meeting, an instruction being taken by some of those on the executive as a sign that he wants to discuss options for ousting Johnson …
At midday he will take prime minister's questions knowing that about half — perhaps more — of the Conservative MPs on the benches behind him want him gone …
Rebel Conservatives have been contacting Brady today to demand a rule change that would allow Johnson to be ousted as soon as possible. "It is being made very clear to Graham that this needs to happen sooner rather than later," said one …
One former minister said that there was a very strong feeling amongst MPs that the issue needed to be brought to a conclusion. "Boris has made very clear that it will take a forklift truck to get him out of Downing Street. So it's now up to us to assemble the forklift truck."
The article goes on to list the resignations which came in by 11:30 a.m. that day. More followed in the afternoon.
To make matters worse, Boris got a grilling during his appearance at the Liaison Committee, comprised of the heads of the Commons select committees.
That evening during a telephone call, Boris sacked Michael Gove, who was the Levelling-up Secretary.
Gove had contacted Boris that morning to tell him he should resign before PMQs at noon.
Somehow, the news reached the media.
Gove's allies claimed it was Downing Street that had briefed the media that Gove had told Johnson to resign. They said it was an attempt to make him look disloyal and distract attention from the wider revolt.
"It did not come from us," one said. "They want to paint Michael as the villain trying to orchestrate a revolt against the PM. Nothing could be further from the truth." They added that the sacking had then come out of the blue in a call from Downing Street. "He just told Michael that given their conversation in the morning he had no choice but to sack him," the ally said.
I wonder. Gove is incredibly untrustworthy and, according to the article, he and Boris have had a difficult relationship since their days at Oxford.
Before Boris sacked Gove, a number of Cabinet ministers had urged him to stand down, including Priti Patel and Kit Malthouse, who had worked with Boris during his time as Mayor of London:
Patel's intervention was striking because of her longstanding support of Johnson, having been home secretary throughout his time as prime minister.
In a one-to-one meeting in No 10 she is understood to have conveyed to him the overwhelming views of the parliamentary party. She said there was no way he could continue to govern without the support of his party.
A similar message was conveyed by Malthouse, her deputy, who was also one of Johnson's deputies when he was mayor of London.
[Brandon] Lewis travelled back from Belfast to tell the prime minister that he believed he should resign. On his flight a passenger heckled him, telling him: "You are complicit in the betrayal of this country by Boris Johnson," the BBC said.
[Grant] Shapps told the prime minister that he stood little chance of commanding a majority in a second confidence vote. [Kwasi] Kwarteng told Chris Heaton-Harris, the chief whip, that Johnson should resign for the good of the country.
I will have more on the resignations tomorrow.
At the weekend, it seemed as if more and more people began waking up to the fact that coronavirus policies of lockdowns and forced 'vaccines' did more harm than good.
Sweden was right
First, let's go back to the end of July 2022 to an article in City Journal: 'The WHO Doesn't Deserve the Nobel Peace Prize'.
Its author, John Tierney, says that if anyone merits the Nobel it's Anders Tegnell, the state epidemiologist of Sweden.
Excerpts follow, emphases mine:
While the WHO and the rest of the world panicked, he kept calm. While leaders elsewhere crippled their societies, he kept Sweden free and open. While public-health officials ignored their own pre-Covid plans for a pandemic—and the reams of reports warning that lockdowns, school closures, and masks would accomplish little or nothing—Tegnell actually stuck to the plan and heeded the scientific evidence.
Journalists pilloried him for not joining in the hysteria, but he has been proven right. In Sweden, the overall rate of excess mortality—a measure of the number of deaths more than normal from all causes—during the pandemic is one of the lowest in Europe. Swedish children kept going to school and did not suffer the learning loss so common elsewhere. Swedish children and adults went on with their lives, following Tegnell's advice not to wear masks as they continued going to schools, stores, churches, playgrounds, gyms, and restaurants. And fewer of them died than in most of the American states and European countries that delayed medical treatments, bankrupted businesses, impoverished workers, stunted children's emotional and cognitive growth, and stripped their citizens of fundamental liberties.
If it hadn't been for Tegnell and a few other heretics in places like Florida, we would not have clear evidence to prevent a similar catastrophe when the next virus arrives …
Tegnell was aided by another worthy candidate to share the Nobel, Johan Giesecke, who had formerly held Tegnell's job and served during the pandemic as an advisor to the Swedish public health agency. Decades earlier, he had recruited Tegnell to the agency because he admired the young doctor's willingness to speak his mind regardless of political consequences …
Politicians in Sweden were ready to close schools, too, but Tegnell and Giesecke insisted on weighing costs and benefits, as Tegnell had done in a 2009 article reviewing studies of school closures during pandemics. The article had warned that the closures might have little or no effect on viral spread and would cause enormous economic damage, disproportionately harm students and workers in low-income families, and create staff shortages in the health-care system by forcing parents to stay home with young children. Given all those dangers, plus early Covid data showing that schoolchildren were not dangerously spreading the virus, Tegnell and Giesecke successfully fought to keep elementary schools and junior high schools open—without masks, plastic partitions, social distancing, or regular Covid tests for students …
The virus would eventually spread to other countries despite their lockdowns and mask mandates, Tegnell warned in July 2020 as he advised his colleagues and critics to take the long view. "After next summer," he said, "then I think we can more fairly judge what has been good in some countries and bad in other countries."
Sure enough, by summer 2021, Sweden was a different sort of "cautionary tale." Without closing schools or locking down or mandating masks, it had done better than most European countries according to the most meaningful scorecard: the cumulative rate of excess mortality. Critics of Tegnell's strategy were reduced to arguing that Sweden's rate was higher than that of several other nearby countries, but this was a weak form of cherry-picking because two of those countries—Norway and Finland—had also avoided mask mandates and followed policies similar to Sweden's after their lockdowns early in the pandemic …
With the possible exception of the Great Depression, the lockdowns were the costliest public-policy mistake ever made during peacetime in the United States. The worst consequences of lockdowns have been endured by people in the poorest countries, which have seen devastating increases in poverty, hunger, and disease. Yet the WHO has refused to acknowledge these errors and wants to change its pandemic planning to promote more lockdowns in the future. It has even proposed a new global treaty giving it the power to enforce its policies around the world—thereby preventing a country like Sweden from demonstrating that the policies don't work.
The last thing the WHO deserves is encouragement from the Nobel jurors. The prize should reward those who protected the lives and liberties of millions of citizens during this pandemic, and whose work can help protect the rest of the world during the next pandemic …
Now let's move on to last weekend's news and views.
Lockdown and excess deaths
On Friday, August 19, The Telegraph's Camilla Tominey discussed lockdown, the effective closure of the NHS and excess British deaths in 'Lockdown fanatics can't escape blame for this scandal'.
She began with the story of Lisa King, a bereaved widow whose husband died an agonising death at home because he was not allowed to see his GP:
The father of two, 62, did not catch coronavirus. He died on October 9, 2020 because he was repeatedly denied a face-to-face GP appointment during the pandemic – only to be told that an urgent operation to remove his gallbladder had been delayed because of spiralling NHS waiting lists.
His sudden death, in agonising pain, was completely avoidable.
As Mrs King told me at the time: "To the decision makers, he is nothing more than 'collateral damage', but to me, he is the love of my life."
Tominey points out that several doctors and journalists in the UK opposed lockdown but were told in no uncertain terms how hateful they were:
… we were accused of being mercenary murderers intent on prioritising the economy ahead of saving lives.
Scientists who dared to question the severity of the restrictions were, as Lord Sumption put it at the time, "persecuted like Galileo". Falsely branded "Covid deniers" simply for questioning some of the "science" that was slavishly followed, they were subjected to appalling online abuse by a bunch of armchair experts who claimed to know better.
Two years later, those who objected to lockdowns and an effective closure of the NHS, all the way down to GP practices, have been proven right:
… they were right to raise their concerns in the face of pseudo-socialist Sage groupthink.
Official data now suggests that the effects of lockdown may be killing more people than are currently dying of Covid.
An analysis by the Daily Telegraph's brilliant science editor Sarah Knapton (another figure who was pilloried for questioning the pro-lockdown orthodoxy) has found that about 1,000 more people than usual are dying each week from conditions other than coronavirus.
Figures released by the Office for National Statistics (ONS) on Tuesday showed that excess deaths are 14.4 per cent higher than the five-year average, equating to 1,350 more deaths than usual in the week ending August 5. Although 469 deaths were linked to Covid, the remaining 881 have not been explained. Since the start of June, the ONS has recorded almost 10,000 more deaths than the five-year average – about 1,086 a week – none of them linked to coronavirus. This figure is more than three times the number of people who died because of Covid over the same period – 2,811.
The Department of Health and Social Care (DHSC) has asked for an investigation into the data amid concern that the deaths are linked to delays and deferment of treatment for conditions such as cancer, diabetes, and heart disease …
The horror stories are everywhere you look: from people dying needlessly at home like Mr King, to elderly patients waiting 40 hours for ambulances, to cancer sufferers now dying because they didn't get appointments during lockdown, or didn't want to be a burden.
It's tempting to blame this on the NHS being in urgent need of reform – and that's surely part of the explanation. We all know how staff shortages – again, exacerbated by the pandemic – are crippling the system.
But this isn't simply a result of a lack of resources. Healthcare spending has risen sharply as a percentage of GDP in recent years.
The nettle that needs to be grasped is that these figures suggest that the country is facing a growing health crisis that has been caused by our overzealous response to the pandemic – scaremongering policies that kept people indoors, scared them away from hospitals and deprived them of treatment.
These excess deaths may well turn out to be a direct consequence of the decision to lock down the country in order to control a virus that was only ever a serious threat to the old and the vulnerable.
Had a more proportionate approach been taken, akin to Sweden's, then would we be in this mess right now? Perhaps only a government inquiry will be able definitively to answer that question, but what's certain now is the debate over the severity of lockdown was never about the economy versus lives – as pro-shutdown fanatics would have it – but over lives versus lives …
Lest we forget that in the last quarter of 2020, the mean age of those dying with and of Covid was estimated to be 82.4 years, while the risk of dying of it if you were under 60 was less than 0.5 per cent. Who wouldn't now take those odds compared to being diagnosed with cancer, circulatory or cardiovascular related conditions and being made to wait months for post-pandemic treatment?
None of this has come as a surprise to those running organisations like the British Heart Foundation or the Stroke Foundation, which had predicted a sharp rise in deaths because "people haven't been having their routine appointments for the past few years now" …
The World Health Organisation said at the time that the Great Barrington Declaration "lacked scientific basis", but nearly three years on from the start of the pandemic there has been precious little analysis of whether the raft of Covid restrictions either served the collective good – or actually saved lives in the round – compared with the lives that are now being lost as a result.
These numbers aren't just statistics – they are people's husbands, wives, brothers, sisters, daughters and sons. The appalling truth is that a lot of these people would probably still be here today were it not for the lockdowns; lockdowns which seemingly did little to stop tens of thousands of people dying of Covid in the UK.
We stayed at home to "protect the NHS". It turns out the NHS isn't there now to protect us.
The ambulance waits are a horrorshow. This is going on throughout the UK. Scotland and Wales experienced long waiting times before England did.
This photo shows a recurring scene outside a London hospital and explains the situation. Ambulances are backed up because the patients inside cannot be accommodated in the hospital:
Here's a chart of the UK's excess deaths this year:
Blame belongs on both sides of political spectrum
Who can forget how the media, especially the BBC, ramped up Project Fear over the past two years?
Although the media don't legislate, judging from the response to the pandemic, they heavily influence what our MPs do.
So, who is to blame?
Someone thinks it is Michael Gove, who was the Chancellor of the Duchy of Lancaster from 2019 until September 2021. He was also a Minister for the Cabinet Office at the same time.
talkRADIO host Julia Hartley-Brewer says Gove bears a lot of the blame for coronavirus policy. Interesting:
What about the Left? Labour's Keir Starmer held Wales's First Minister Mark Drakeford as a paragon of wisdom during the pandemic. Drakeford's government made 'non-essential' shops close and supermarkets put tape over the aisles the Welsh were forbidden to shop in. That meant they could not buy greeting cards, party favours, toys, books or shoes. That's only a partial list, by the way. That lasted for a few months.
Following Drakeford's example, Keir Starmer wanted earlier and longer lockdowns in England. So did other Labour MPs.
They voted for every Government restriction in Westminster. Boris must have been relieved.
However, this brings up the definition of 'liberal'. How I wish that we had not adopted this American perversion of the word. 'Liberal' in its original definition is akin to 'libertarian'. It certainly isn't 'leftist'.
Rapper and podcast host Zuby brought up the subject last Saturday:
Here comes the conflict of blaming, because both sides of the House of Commons voted in unison on pandemic policy:
Vaccine harm
Then there is the vaccine harm done to young hearts via myocarditis.
Dr Aseem Malhotra is opposed to vaccines being given to children. Here he links to a study from Thailand about the adverse effect a second Pfizer dose can have on one in six teenagers:
Apparently, the Thailand study did not get much publicity at home:
Neil Oliver's editorial on coronavirus
On Saturday, Neil Oliver delivered an excellent opening editorial on pandemic policy, which he said should be a sacking or resigning offence:
He rightly pointed out that those responsible feel no remorse.
Dan Wootton's coronavirus hour
Dan Wootton had a blockbuster coronavirus hour in the first half of his GB News show on Monday, August 22. It was marvellous:
His opening Digest was brilliant:
The transcript is here:
The damage, both to our health, our economy and our future way of life, has been obvious to me since the first national lockdown was imposed in March 2020, following the playbook of communist China.
My overarching mission on this show has been to have the important conversations about the most damaging public health policy of all time, which the vast majority of the media, the establishment and our so-called leaders want to avoid at almost any cost.
This was my opening night monologue on the first night of this channel in June 2021 that, at the time, sparked total outrage from all the usual suspects, who campaigned to see me reprimanded by Ofcom for daring to question the efficacy of lockdowns on a national news channel.
I said then: "Lockdowns are a crude measure. Mark my words, in the years to come we will discover they have caused far more deaths and devastation than the Government has ever admitted.
"They should be wiped from the public health playbook forever more. But, tragically, the doomsday scientists and public health officials have taken control.
"They're addicted to the power and the Government are satisfied its 15-month-long never-ending scare campaign has suitably terrified the public into supporting lockdowns.
"But if we don't fight back against this madness, some of the damage will be irreversible."
It was always going to take some time to get the devastating statistics to back-up the idea that a policy of lockdowns was catastrophically wrong – but it was obvious to me what was just around the corner.
Those statistics are now coming in thick and fast; the conclusions are unavoidable and undeniable.
This striking front page of the Daily Telegraph, suggesting the effects of lockdown may now be killing more people than are dying of Covid, should be leading every news bulletin in the country.
Here's the front page to which he refers:
He discussed the statistics I cited above and rightly pointed out that The Telegraph is the only media outlet (besides GB News) talking about it:
Instead, our dramatic excess death toll is virtually ignored by the BBC, ITV News and Sly News, which used to trumpet Covid death figures on an almost hourly basis …
The officials who terrified the public on a daily basis, backed up by a crazed media and gutless politicians, have blood on their hands.
A small group of honourable folk – many of whom now appear regularly on this show, like Professor Karol Sikora – shouted from the rooftops that delays and deferment of treatment for a host of conditions like cancer, strokes, diabetes and heart disease were going to be responsible for thousands upon thousands of deaths in years to come.
We tried to warn people and wake up the rest of the population, while being dismissed as Covidiots, deniers and the anti-vaxx brigade.
And yet, there's still no apology. Still no acceptance of a gigantic error.
In fact, the same irresponsible and evil idiots who got us into this mess want lockdowns, mass vaccination and muzzling to return this winter.
We cannot and will not rest until the true damage of lockdowns is exposed and accepted so we learn the mistakes of our recent history.
A panel discussion followed:
Cardiologist Karl Sikora gave his view and found it astonishing that health experts, including former SAGE member, behaviourist Susan Michie, whom they did not name, want everlasting masks and lockdowns:
Susan Michie, by the way, has just taken up a plum job with the WHO. Says it all, really.
Neil Oliver told Wootton that he was not optimistic about no future lockdowns, which is one of Liz Truss's proposed policies:
And, finally, the Fairbrass brothers from Right Said Fred presented their scepticism over coronavirus policies. They've lost a few gigs because of it but also picked up a new set of fans:
Conclusion
This past weekend really gave me a lot of encouragement about examining coronavirus policies more closely.
For once, it seemed as if a lot of news items and editorials hit at the same time.
I do hope this augurs well for the future.
For me, the Conservative Party leadership contest is over.
I could be wrong, but it looks as if Liz Truss will be measuring curtains for No. 10 in a few weeks' time.
Barring anything unforeseen, this will be my last report on the contest until early September.
Telegraph hustings at Cheltenham
On Thursday, August 11, The Telegraph presented a Conservative Party hustings at the Cheltenham racecourse in Gloucestershire.
The paper's Camilla Tominey moderated the event.
She asked Liz Truss about her barbed exchange with TalkTV's Tom Newton Dunn earlier last week:
Camilla: Are you happy with the press this week? Because you've had a bit of a go at us.
Liz: Well, I had a go at Tom Newton Dunn, but you're asking much sounder questions Camilla.
Camilla: Thank you!
Guido has the video, in which Liz tells Camilla that she would like more questions about trade deals:
Here is the video of the hustings in full:
Viewers were given the opportunity to vote for their preferred candidate online in a poll for the paper. It appeared that people could vote more than once:
Even before the hustings began, Rishi was in the lead. Hmm:
The Telegraph featured an article highlighting readers' opinions.
It is a shame that so many Britons have forgotten the comparative 'more'. There were only two candidates, therefore, saying 'most' — implying three or more — was clearly wrong.
One of Rishi's supporters thought he could beat Labour:
Having just watched both candidates, it's not too difficult to accept that Rishi Sunak was the most inspiring. Indeed, in contrast to his wooden adversary, he gave a rousing speech. I wonder how many members watched and are open-minded enough to ditch Liz Truss? She would lose to Labour in two years' time. Sunak at least gives us a chance.
Another said Liz was 'weak':
Liz Truss's yes and no round showed her to be very weak: no dramatic reform of the BBC, no cap on immigration, keeping net zero, no dramatic reduction to the size of government. She is no Tory candidate.
Another branded her 'useless':
Liz Truss cannot answer a question properly. She is useless. At least Rishi Sunak is willing to tell some home truths even if people don't want to hear it.
However, Liz's supporters thought that she offered a fresh approach.
One said (emphases mine):
I'm beginning to like Liz Truss more and more. She's a radical democrat determined to confront the anti-democratic 'establishment'. If she wins, hers will be a revolution supported by the democratic majority in the UK.
Another said she has foresight:
Whoever wins the leadership contest, one thing is for certain – Rishi Sunak will lose the next general election. Liz Truss at least has a better chance of seeing off Labour and the Lib Dems. She has more foresight than Rishi Sunak, where he is telling the Tory members more of the same is right, where at least Liz Truss is offering a choice of something different. Time will tell if she's right.
Another said that Rishi looked too managerial:
Watching this debate reminded me of a typical departmental meeting. Rishi Sunak is the over-keen middle manager trying to impress the boss and climb the greasy pole. Liz Truss is the experienced old hand who just gets on with the job.
Yes, interesting comment, that. Who is Rishi's boss? His Infosys father-in-law?
Telegraph columnists weighed in with their verdicts.
Seasoned veteran Janet Daley noted that, while the candidates differed on strategy, they are both committed to Conservative values:
The substantive disagreement came through as clearly as I have ever heard it. Rishi believes that inflation is the greatest danger and that our primary obligation is to pay down the national debt to create a sound economy. 
Liz insists that the more serious threat is impending recession which would be made more likely by increasing taxes which would depress investment and entrepreneurialism. That's it. This was an argument about strategy rather than outcome.
Apart from that, their philosophies and values were remarkably similar. They are both sincere in their commitment to post-Thatcher Conservative values which they defined in almost identical ways: pride in the country and its values, the importance of education in providing opportunity and equality and, above all, creating the possibility for aspiration and social mobility. For all the supposed acrimony in this contest, they could certainly serve in each other's Cabinets.
She said that the candidates' ease of presentation depended on the format:
The opening statement went to Rishi who was rather manically charismatic but charming, where Liz looked uncomfortable and stiff.
But in the conversational mode with Camilla Tominey, Liz came through as relatable and convincingly thoughtful. She looked much happier talking to a person than to a large audience. Rishi seemed perfectly at home with a crowd, turning round repeatedly to make sure to address the whole room. It made him appear confident – perhaps too much so.
There was something of the conceited sixth former about him – as there has been all along.
Tim Stanley thought that Camilla Tominey came out on top.
He picked up on Liz's line about wheat fields being turned into solar farms:
Fields that should be stuffed with wheat, she said, are now planted with solar panels – and "it's one of the most depressing sights in Britain".
Oh, I can think of far worse. Such as an email from British Gas.
He prefers Rishi's stage presence but says that Liz's policies are more interesting:
The curious thing is that Rishi still looks like the frontrunner. He's got the best ad, energy and endorsers: Hague, Lilley, Lawson and the ghost of Lord Salisbury. But it's Liz who with every appearance gets more interesting. No election before 2024, she said; no windfall taxes because profit is a good thing.
In the end:
For my money, the winner of this one was The Telegraph, because it had the best presenter thus far. Camilla for PM.
Ross Clark thought that Rishi was losing ground:
He couldn't understand, he told us, why he was perceived not to be 'Brexity' enough. Both claims fell flat. No-one clapped or cheered when he tried to establish his Brexit credentials.
Moreover, Sunak's strongest suit – his warmth as a public speaker – no longer seemed quite the asset it was in earlier debates. He tried to up the tempo – with the result that he began to lose gravitas …
Clark said that Liz is developing policies as she gradually moves through the hustings:
For her part, Truss concentrated on trying to resolve the policy weaknesses which led, for example, to last week's embarrassment over regional pay boards. It was a strategy that seemed to pay off in Cheltenham. She came across as someone who is thinking carefully on policy – even though she is still lacking many answers.
Her biggest weakness was failing to answer what immediate steps she would take to help people with energy bills over the next few months; she sketched over the issue and rushed ahead onto longer-term policies such as fracking – which might be right but are not going to help people over the next few months.
In the one-to-one section of the hustings it became clear that Rishi's team is better at filling to front rows of these events with his own cheering supporters. But you sense that the rest of the audience are more interested in what Truss has to say, because she remains by far the most likely victor.
Patrick O'Flynn said that Liz's ideas for defeating the Liberal Democrats, who have been winning Conservative by-elections, topped Rishi's style over substance:
Her pledge about bringing back a special unit in CCHQ to mastermind a fightback against the Yellow Peril – the Lib Dems, with whom she enjoyed a youthful infatuation – may not have raised the roof but certainly had the wise owls in the crowd nodding sagely. Her claim that she could best beat the Liberals because she knew all about their old tricks was stretching things a bit, but then so was Sunak's attempt to be passionate about having funded "the dualling of the A417".
If this were a knife-edge contest then Sunak's slick display and his whooping fans could have conjured the illusion of him being the candidate with most momentum. And fair play to him for insisting again that he will not quit the contest prematurely. But he is so far behind on points that he would have needed a knockout blow to revive his chances and he came nowhere near that.
The paper also reported that, although things looked normal on stage, once the cameras were off:
things were frostier, with the candidates clearly avoiding crossing one another's path as they walked off stage towards their dressing rooms.
The Guardian's political editor, Toby Helm, was also in Cheltenham to assess the mood before and after the hustings:
As Conservative party members filed into the latest leadership hustings at a baking hot Cheltenham racecourse, very few among this important electorate seemed enthused by the two-way race.
Neither of the runners – foreign secretary Liz Truss nor ex-chancellor Rishi Sunak – excited much Tory passion, nor seemed the subject of heavy betting. Some of those who attended, and who will decide the identity of the new prime minister, suggested they had come along out of duty, to choose the least worst option on offer …
Lucy Coxall, a project manager for a London design company, who had travelled from Wiltshire, said she was genuinely undecided and irritated at media reports that Truss had it in the bag already. "It is ridiculous to suggest it is already over. I really want to hear what the candidates have to say," she said.
Caroline Baldwin, who runs a property business with her husband, said she was leaning to Truss but not firmly, while Jude Walker, who used to vote Labour, but had switched to the Tories a few years ago because she liked Boris Johnson, seemed to wish the dethroned PM could carry on, as she arrived to assess the qualities of his potential successors.
Ned Bowron, who runs an outside events business and is deputy chair of membership and fundraising for Stroud Conservatives, said he too was leaning in the Truss direction but was open to persuasion by Sunak, while Bob Griffin, who runs an export business, preferred Truss on the evidence thus far.
Two hours of speeches and interrogation later, many views had changed. Some undecideds had made up their minds, some decideds had switched allegiances, while others had just hardened their opinions in the direction they were already leaning. Strikingly, the movement was by no means all – or even predominantly – towards the hot favourite Truss.
The previously agnostic Coxall had decided to plump decisively for Sunak on the basis of what she had seen and heard. "I was much more convinced by Rishi and thought he had an answer for everything on the economy," she said afterwards. "He presented himself with energy. He sounded so much more progressive and had so much more of a vision for the future. Everything from Liz was short-term thinking." If Truss were to become prime minister, Coxall believes the Tories will have less chance of victory at the next general election.
Griffin, on the other hand, had become more convinced that Truss was the right choice after the meeting: "What she was trying to sell me was a genuine 'to do list' while what he was selling was 'Rishi Sunak for prime minister'."
Both Bowron and Baldwin, however, had gone from preferring Truss to thinking better of Sunak than they had before. "Liz's financial plans seemed, well, rather unbudgeted and rather worrying," said Bowron. "I am pretty sure I will vote for Rishi now. I think he is a safer pair of hands. Liz doesn't seem to understand that those who most need help don't pay tax and yet she is going on about tax cuts." Baldwin was also concerned that Truss's tax plans would not help the most needy. "I was leaning to her but now I am not sure," she said.
Boris
Boris returned from his holiday early last week and is now house-hunting.
On Monday, August 15, the Mail reported that he is looking for an abode in Dulwich Village, south London:
Boris Johnson appears to be taking notes from a former Prime Minister, as he looks to buy a house in the same south London suburb Margaret Thatcher moved to after she left No 10 Downing Street.
The outgoing Prime Minister, 58, will be leaving his role next month and has started house-hunting for a new marital home in Dulwich Village with wife Carrie, 34, and the couple's two children.
Before moving into Number 10 in 2019, Mr and Mrs Johnson bought a property overlooking Brunswick Park in Camberwell, south London.
That townhouse is now listed for sale for £1.6million, £400,000 more than they paid for it.
Not short of cash, the couple's reported budget of £3million should be more than sufficient, as properties in the leafy village have sold £1,820,887 on average in the past year, according to Zoopla.
Margaret Thatcher, however, did not stay in Dulwich Village for long:
Margaret Thatcher moved to Dulwich Village after being ousted in 1990, buying a house with her husband Dennis for £400,000.
However the Iron Lady lasted just a year in the village before moving back to a more central location in London.
Discussions on GB News at the weekend showed that Boris was still popular with the public, especially among newly-minted Red Wall Conservatives.
They liked the spark and verve he brought to the 2019 general election. They appreciated the attention he gave them.
They said that neither Truss nor Sunak seemed to be in touch with ordinary people.
The irony is that Boris isn't anymore in touch with them than either of the two leadership candidates. He just knows how to speak to people — and fire up their imaginations. He's the best campaigner the Conservative Party will have for decades.
There hasn't been any more mention of whether a special ballot will go out to Conservative members with his name on it. The petition, with nearly 20,000 signatories, was a great idea but it didn't go anywhere at CCHQ, which would have had to change the rules.
On Tuesday, August 9, one of the petition's campaigners, David Bannerman, a former Conservative MEP, told Nigel Farage that he was supporting Liz Truss:
Farage, as one would expect, presented the Conservatives as losers, saying that the public would never forgive them for the cost of living crisis.
Boris, in his detractors' minds, is somehow supposed to take care of the crisis when everyone who is anyone is on holiday at the moment.
On Monday, August 8, Scotland's Westminster leader, Ian Blackford (SNP), demanded that Boris 'come out of hiding' and recall Parliament:
Interestingly, Ian Blackford was on holiday in the western United States at the time, enjoying sights such as the Grand Canyon. Guido Fawkes has his full itinerary. Blackford did not fly home until August 6, at the earliest.
Also interesting is that, by the time Blackford issued his demand, Boris had already returned to London:
Here's Tony Blair's spinmeister Alastair Campbell also baying for Boris and saying that former Labour PM Gordon Brown should be in charge:
Voters will not care what Campbell or Blackford think. Gordon Brown piped up, too, but a lot of conservatives and Conservatives still back the former Party leader.
On Sunday, August 14, The Guardian reported:
This weekend, with less than three weeks to go before voting ends, Truss is way ahead of Sunak, according to opinion polls of the Tory membership.
Today's survey of 570 Conservative members, by Opinium, for the Observer, gives Truss a 22-point lead. She is on 61% to Sunak's 39% ….
Where this latest poll is perhaps most intriguing is in the lack of enthusiasm it shows for either Truss or Sunak among those who must choose the next leader of the party and country after September 5. This is evident when those with a vote in the contest are offered the choice of either Truss or Sunak, against the theoretical option of Johnson remaining leader and prime minister. Asked who they would prefer in No 10 – Johnson or Truss – 63% of Conservative members said they would prefer to keep Johnson while only 22% would rather have Truss. When the offer is Johnson staying on, versus Sunak taking over, 68% say Johnson and just 19% Sunak. Chris Curtis of Opinium says sellers' remorse is setting in as far as Johnson is concerned. "It could be down to people forgetting how bad things got, or a lack of appetite for the replacements," he said.
But it is hardly encouraging for the eventual winner to know that three times as many of their party's own voters would now prefer to have the previous leader than either of them to fight for a fifth consecutive Tory win at the next general election. Inside the hustings at Cheltenham, there were cheers for Truss and Sunak in equal measure. But there was deep uncertainty – and plenty who were unimpressed.
On Saturday, August 13, Jacob Rees-Mogg, former Leader of the house and current minister for Brexit opportunities and government efficiency, told MPs Esther McVey and Philip Davies, her husband, that Boris would not be returning to Downing Street.
The Telegraph reported that Rees-Mogg, a Boris loyalist, said:
life just isn't like that.
Despite Boris's hints at a return during his final PMOs …
… Rees-Mogg told the two MPs:
that it was not "realistic" to think that Mr Johnson could make a return to Downing Street …
"Nobody's come back having lost the leadership of the party since Gladstone," Mr Rees-Mogg replied. "And I just don't think in modern politics, the chance of coming back is realistic.
"Lots of people think they're going to be called back by a grateful nation which is why Harold MacMillan waited 20 years before accepting his peerage… Life just isn't like that."
It's time to let Boris get on with the rest of his life after September 5.
We won't have seen the last of him, but it will be in a different guise.
This week, I hope to write about the events that led to Boris's downfall.
So much happened in the UK this week that it is hard to find the time and the space to write about it all.
Conservative leadership contest
Liz Truss's campaign continues to motor ahead, gaining powerful MPs' backing.
On Wednesday, August 3, a new Conservative Home poll appeared, its results matching those of polling companies, e.g. YouGov. Liz is 32 points ahead:
Conservative Home's Paul Goodman analysed his site's results and YouGov's (emphases mine):
Granted, neither can be proved right or wrong: as our proprietor has it, a poll is a snapshot, not a prediction. If our survey is correct, all that follows is that Truss would win the contest, were it held now, by 32 points among those who have declared their hand.
However, if we and YouGov are right it is very hard to see how Sunak recovers in the month or so between the opening and closing of the poll. For even if during that time he won over that 16 per of undecideds and others, Truss would still beat him by 58 per cent to 42 per cent.
In short, if our survey is correct he would have to add to that 16 per cent of don't knows and others some nine per cent of Truss's supporters – i.e: persuade them to switch.
This seems most unlikely if YouGov's question about certainty of intention is taken into account. For it finds that 83 per cent of Truss voters and 70 per cent of Sunak voters have made their minds up.
What odds would you give on Sunak winning over all those don't knows and others (from our survey), and then adding to that pile over half of Truss's soft support (using YouGov's figure)? I would say that they are very long indeed …
Those interested in events slightly further back will recall that Boris Johnson beat Jeremy Hunt by 66 per cent to 34 per cent during the leadership election of 2019.  That's exactly the same margin as the Truss-Sunak forced choice I spell out above from our new survey.
One way of looking at Conservative leadership election as matters stand might be to forget the thrills and spills, hype and blunders – such as Truss's yesterday over regional public sector pay.
And stick instead to the simple thought that the Tory membership divides right-of-party-centre to left-of-party-centre by about two to one and so, all other things being equal, the leadership candidate perceived to be right-wing than the other will win by a margin about two to one.
Finally, Opinium promises a Conservative members poll next week, and it has tended recently to find better results for Sunak than ours or YouGovs.
The YouGov poll from August 3 showed that Britons believe Truss is better than Sunak on the main issues:
Liz gained another supporter in former Health Secretary Sajid Javid, who was also Boris Johnson's first Chancellor from the summer of 2019 through to February 2020, at which point Rishi Sunak took over.
Sunak worked for Javid when the latter was Chancellor. Javid mentored his younger MP friend:
However, the dynamic changed when Chancellor Sunak locked horns with Health Secretary Javid during the pandemic in 2021.
… those who know both men say there are more prescient personal and political reasons behind Javid's decision [to back Truss].
They say that tensions emerged after Javid was brought back into the government as health secretary. Sunak regarded the NHS as a bottomless drain on resources and was exasperated by what he saw as Javid's failure to spearhead fundamental reform of the health service.
Javid for his part was frustrated with the highhanded manner in which the Treasury dealt with the Department of Health and its refusal to countenance the type of spending he believed was necessary to tackle treatment backlogs coming out of the pandemic. He felt that Sunak had not shown the loyalty that he had when the power dynamics were reversed.
There are now significant policy differences as well. When Javid threw his hat in for the leadership he set out a tax-cutting agenda broadly similar to that proposed by Truss. He proposed cutting national insurance and reversing the planned corporation tax rise while Sunak stuck to his policies as chancellor.
One ally said Javid sincerely believes that only by kick-starting growth through tax cuts can public services be properly funded. They said it would have been "odd" if Javid had backed Sunak, given their different and genuinely held views on how to deal with Britain's economic uncertainties.
This is what Javid had to say about Truss in his article for The Times:
"I fought for strong fiscal rules in our last manifesto," he wrote. "But the circumstances we are in require a new approach. Over the long term, we are more likely to be fiscally sustainable by improving trend growth.
"Only by getting growth back to pre-financial crisis levels can we hope to support the high-quality public services people rightly expect."
In a direct attack on Sunak, he said: "Some claim that tax cuts can only come once we have growth. I believe the exact opposite — tax cuts are a prerequisite for growth. Tax cuts now are essential. There are no risk-free options in government. However, in my view, not cutting taxes carries an even greater risk."
He added: "With only two years before the next election, there has been a temptation to just 'get the barnacles off the boat' and avoid any short-term political pain for long-term national gain.
"We must reject that. As a nation we are sleepwalking into a big-state, high-tax, low-growth, social democratic style model which risks us becoming a middle-income economy by the 2030s with the loss of global influence and power" …
A senior Truss campaign source described Javid's endorsement as the "big one for us".
They added: "The bigger beasts of the party are uniting behind Liz because they believe in her vision for the economy. We can't have the Treasury orthodoxy and tired status quo. They believe she will turn things around in time for the next election by getting on and delivering quickly in No10."
On Wednesday, August 3, Truss and Sunak canvassed separately in Wales before meeting up for a televised hustings in Cardiff later in the day.
A Conservative Welsh Senedd (Senate) member, James Evans, changed his mind about Sunak and decided to support Truss instead. He got a lot of flak in response to his tweet:
Truss's former party, the Liberal Democrats, criticised her for taking a helicopter around Wales to get to the various Conservative associations there. Pictured is the Lib Dem leader Sir Ed Davey:
Guido Fawkes points out that the Lib Dems are suffering an attack of sour grapes — and hypocrisy (red emphases his):
… Rishi's been known to use them, so why should Liz be confined to the rail network…
i News were the ones to reveal Liz's chartering this afternoon, juxtaposing the decision against her backing of net-zero carbon emissions by 2050. The LibDems were only too happy to butt in, providing a quote for the copy that it "makes a complete mockery of her promises on Net Zero. It's clear that she is not serious on climate change." This quote came from Vera Hobhouse rather than Sir Ed Davey himself, who surely wouldn't mind the coverage…
Guido's sure Sir Ed's decision not to provide the comment has little to do with the fact that, in 2013 as Energy Secretary, he hitched a ride in the helicopter of EDF boss Henri Proglio, after handing him a nuclear deal at double the going rate for electricity. The decision raised objections from Friends of the Earth at the time, who said it "confirms how close the Big Six energy firms are to our decision-makers."  A source close to Liz Truss calls the political attack "the usual sanctimonious hypocrisy from the LibDems". Sir Ed may need to refuel his own spin machine…
While in Wales, Truss took the opportunity to have a go at First Minister Mark Drakeford (Labour), calling him:
the low energy version of Jeremy Corbyn.
Bullseye!
John McTernan, who advised Tony Blair between 2005 and 2007, wrote in UnHerd why Labour should be afraid of Truss.
I've seen John McTernan on GB News and he knows whereof he speaks.
He explains Truss's strengths:
One of her overlooked strengths is that she has been on a political journey. Changing your mind is often thought of as a weakness in politicians, whereas in reality an unchanging commitment to ideology is one of their most eccentric habits. In normal life, we change our minds frequently and without fuss. As economist Paul Samuelson said, in a line so good it is often attributed to Keynes: "Well when events change, I change my mind. What do you do?" In itself, changing their mind humanises a politician — a particular asset in a time of popular revolt against out-of-touch elites.
But, more than that, making a political journey shows character. Three of the most significant politicians of the Blair era — John Reid, Alan Milburn, and David Blunkett — were great New Labour reformers who had started on the hard Left. Their politics had been tempered and strengthened by their journey. Liz Truss was brought up on the Left and attended anti-nuclear peace camps with her mother. She then became a Liberal Democrat activist, famously demanding an end to the monarchy to Paddy Ashdown's discomfort. And when a Tory Cabinet minister she backed Remain not Leave, though she is now a passionate Brexiteer. Those surprised that Tory party members overwhelmingly see a former Remainer as the best defender of Brexit need to remember their New Testament: "There will be more rejoicing in heaven over one sinner who repents than over ninety-nine righteous persons who do not need to repent." The redemption narrative is one of our most powerful stories: she who once was blind, but now can see.
The fact Liz Truss has been on a political journey also makes her a powerful communicator. Some of the most persuasive arguments in politics are based on empathy rather than angry disagreement. Liz Truss knows why voters find progressive policies attractive, which can strengthen the persuasive power of her arguments for people to change their views. And her speaking style is clear and simple. The listener readily understands what she thinks and believes. Her opponents who too readily dismiss her as simplistic are missing the point. Politics is not a mathematical equation — a ten-point plan won't beat a five-point plan 10-5. The messages and policies that win are those that connect with the heart as much as the head.
The Truss agenda is straightforward. The educational system is failing kids. Grammar schools would identify and help some bright working-class and minority children. The cost-of-living crisis is hitting wallets and purses. A tax cut would give money back to the public. Energy prices are spiking. Pausing the green levy would reduce prices. Now, there are good arguments against each of these policies, but they are superficially strong one-liners. It takes time to explain how grammar schools distort the education of the vast majority of pupils who don't get into them, or to make the case that there is a danger that tax cuts lead to more inflation. The arguments against Liz Truss's policies are strong but they need to be explained. And, as the old political saying goes, "when you're explaining, you're losing".
… One of the best jokes in the US TV show Veep comes when Selina Myers uses the slogan "continuity with change" for her Presidential campaign. It works because it is bizarrely true — and it is true because that is what most voters want. They're not revolutionaries, they're realists.
The Truss offer is continuity with the spirit of Johnson and Brexit while meeting the demands of the voters who were, and are, angry with the status quo. That anger has been the fuel of politics since the Global Financial Crisis — it was there in Brexit, in the Scottish independence referendum, in the rise of Corbyn, and in Boris Johnson's 2019 landslide. The fact that such competing and conflicting political forces can harness that same anger signals that there is an underlying volatility in British politics that can be channelled in different directions by strong and intelligent leadership.
It is in leadership that Labour must contest most convincingly. Liz Truss will likely be undone by events. The cost-of-living crisis is of such a scale that it is hard to see any of her policies — or any of Rishi Sunak's — that will be more than a drop in the ocean. To win, Keir Starmer must learn from New Labour [Tony Blair's government]. Attack the new Prime Minister and her government, but don't nit-pick. The critique must be based on a vision of hope and a positive project that positions Labour once more as the "political wing of the British people". Otherwise, Keir Starmer risks being just one more man, in a long line of men, who have underestimated Liz Truss at their peril. After all, there are no accidental Prime Ministers, and like the rest, Truss has guile, will and talent.
Guido Fawkes adds another point:
… Truss will be the Tories' third female PM to Labour's big fat nought …
Exactly. And Conservatives didn't need to have all-women shortlists, either, unlike Labour.
For Conservative Party member Toby Young, General Secretary of the Free Speech Union, Truss's strength lies in opposing another lockdown, which she said 'No' to on Monday night in Exeter:
Also in Exeter, on Monday, Truss said that First Minister Nicola Sturgeon (SNP) was an 'attention seeker' who should be ignored. Again, I'm pretty sure Truss meant that with regard to appeals for a second independence referendum.
The Telegraph's Alan Cochrane, who lives in Scotland, said that some would sincerely welcome those words: 'Amen to that! Liz Truss finally puts the boot into Nicola Sturgeon':
It is easy to sympathise with Liz Truss's presumably exasperated and outspoken statement that the best way to deal with Nicola Sturgeon was to ignore her. 
After watching, listening and responding to this ambitious politician for more than 20 years, ignoring her is something I'd rather have been doing than countering every one of her largely lame-brained arguments for breaking up Britain.
Furthermore, the First Minister is every bit the "attention seeker" that the Foreign Secretary portrays her as – most especially when she dons her "Mother of Scotland" role and seeks to insist that she, and only she, speaks for the whole of Scotland. 
The truth, of course, is that she speaks only for her party and government, neither of which commands an overwhelming majority of Scottish opinion …
… while Ms Truss is being assailed for her choice of words by the Nationalists and those faint hearts who seek a peaceful political life, there will be more than a few who will shout "Amen to that!" when she talks of Ms Sturgeon's perpetual attention seeking.
Furthermore, a great deal more candour from Westminster in its dealings with the SNP is long overdue. Far too long. Successive UK administrations have bent over backwards not to be seen as provoking the cause of independence when the truth is that it is already on a life support system, with a fast declining appeal to the Scottish people.
The fact is that Ms Truss knows that she cannot just ignore the devolved Scottish Government and its leader. But she is to be commended for putting the boot in. It's about time someone did.
While Truss and Sunak were in Wales, Iain Duncan Smith MP was north of the border in Scotland.
He was at an event for Scottish Conservatives in Stirling, in Scotland's central belt.
The former work and pensions secretary backtracked on comments made by Truss that Nicola Sturgeon, the first minister, should be "ignored" as he criticised the UK government's approach towards the Union.
"I don't want to ignore her," he said. "What I want to do is to let the world know just exactly why Scotland is suffering so much under this incompetent regime at Holyrood. The truth is, it is a disaster: everything from health, the police, the railways — they can't even build ships sometimes on time and on budget."
He's not exaggerating. It's the raw truth.
The MP wants the next PM to have greater powers of scrutiny over the way Scotland's SNP government is run. They get billions from taxpayers in the Barnett Formula and waste it. No one, not even Scots, has any idea where the money goes.
He said:
I am desperate for greater powers for scrutiny. It is only scrutiny that unearths all this nonsense and … that the weaker scrutiny up here has allowed the Nationalists to get away with it. So I am going to take that straight back and talk to her about it and see what we could do.
Not surprisingly, the SNP were furious and, as usual, blamed Westminster:
Kirsten Oswald, the SNP deputy leader at Westminster, said: "This is an utterly ridiculous suggestion, showing that even the Tories are out of ideas for how to fix the broken Westminster system. It is not the SNP's job to explain why Westminster control is increasingly making life more difficult for the people of Scotland — even if the Tories are out of excuses.
"The job of SNP MPs in Westminster is to stand up for Scotland against a UK government choosing to ignore our interests at every turn. That is what they will continue to do."
Duncan Smith justified his desire for scrutiny saying that SNP MPs are part of the Scottish government, too:
… Duncan Smith said: "We need to turn the tables on them and start saying, 'Well, can we have a period of question time for you lot to talk about what you are doing in Scotland as the devolved administration?'
"And start examining some of this stuff because they're not just SNP protesters down in parliament, they are actually part of the government up here."
Meanwhile, Rishi Sunak told the audience in Cardiff that Truss was wrong about her public sector pay reform and tried to scare Welsh Conservatives into thinking that Truss was going to cut the pay of every single public sector worker in Wales:
However, Sunak got himself into a bit of hot water when he 'misspoke' on wind turbines at the event:
On Thursday, August 4, Guido reported:
Rishi's team has said he "misspoke" during the hustings last night when it appeared he'd u-turned on his opposition to new onshore wind. At the Wales' husting, Sunak was asked "will you be bold enough to scrap the embargo on onshore wind in England?", replying "So, yes, in a nutshell." This appeared totally contradictory to one of his previous policy announcements:
Wind energy will be an important part of our strategy, but I want to reassure communities that as prime minister I would scrap plans to relax the ban on onshore wind in England, instead focusing on building more turbines offshore,
Team Liz immediately leapt on his words as sign of yet another u-turn from Rishi, alleging it was his eleventh campaign u-turn.
This morning Team Rishi, asked to justify his words, bluntly replied "he misspoke". Much like Britain under Rishi's actual wind energy policy, he's losing fans rapidly…
Sunak is also being economical with the truth when he says that he personally came up with the idea of British freeports, which were first mooted in an early Margaret Thatcher manifesto for the Conservatives:
However, Rishi managed to get two notable endorsements, one from former Conservative Party leader Michael Howard and Nigel Lawson, who was Chancellor under Margaret Thatcher. He is also Nigella Lawson's father.
Guido has more:
Finally got an endorsement from Nigel Lawson himself, who writes in The Telegraph that Rishi is

"the only candidate who understands Thatcherite economics" …



Michael Howard opened for Rishi at Wales' Tory husting last night, saying he can provide the leadership needed "not only in this country, but across the wider western world"
Lawson must have felt obliged to endorse Sunak, given that the latter has a photo of him in his office.
Sunak was over the moon about Lawson's Telegraph article:
Boris looms large
Prime Minister Boris Johnson still looms large in the psyche of British voters.
Normally, we are all too happy when a Prime Minister stands down. When Margaret Thatcher's MPs booted her out, we breathed a sigh of relief. We'd had enough of Tony Blair when he left No. 10 to Gordon Brown. We didn't care too much about David Cameron's resignation, although we did think he was petty-minded for resigning the morning after the Brexit referendum result. And we were only too happy for Theresa May to go, although we did feel sorry for her as she cried at the Downing Street podium.
However, Boris is a different kettle of fish.
The August 3 YouGov poll showed that a) most Conservative Party members thought their MPs made a mistake in getting him to resign as Party leader and b) he would make a better PM than either Truss or Sunak:
In response to the aforementioned Welsh Senedd member's tweet, someone responded with this:
Incredibly, as ballots are currently being posted to Conservative Party members, Alex Story, the leader of the Bring Back Boris campaign, still thinks there is time to add Boris's name to the list of candidates.
He spoke to Nigel Farage on Wednesday, August 3:
He said that 14,000 members of the public wrote to Conservative Party headquarters after Boris stood down as leader.
He added that most Boris supporters knew he was economical with the truth, but they felt that his ouster was forced.
Nigel Farage countered by saying that 40% of Conservative voters wanted Boris to leave. Furthermore, he could no longer command the support of his MPs.
Story responded by saying that Boris will be like 'Lazarus [rising] from the dead … something romantic and quirky'.
That's one way of putting it, I suppose.
It is highly unlikely that Boris's name will be on the ballot, but … one cannot fault Story and Lord Cruddas for trying on the public's behalf.
More news next week.
On Tuesday, July 26, the UK's fledgling news channel TalkTV scheduled a Conservative Party leadership debate with The Sun for 6 p.m.:
Kate McCann was the moderator.
She was to have been joined by Guido Fawkes alumnus Harry Cole, The Sun's political editor, but he had coronavirus:
TalkTV asked for questions from viewers, as well as their audience, half of whom had voted Conservative in 2019.
It promised to be a debate quite unlike the ones on Channel 4 and the BBC:
With The Sun involved, one knew that the candidates would get hard-hitting questions rather than boring ones from the media establishment.
In the opening round, Kate McCann gave the candidates 60 seconds each to present themselves and their platform.
Rishi Sunak did well …
… even if he was still in Tony Blair mode and sounded like Labour's Keir Starmer …
… but Liz Truss had to glance at her notes:
Then it was on to the questions.
It was gratifying to see that the audience members, both in person and remotely, asked them of the candidates directly.
The first one came from John Hughes in Birmingham, who spoke remotely. He is a cancer patient and said that, since the pandemic, he has had a very difficult time getting the care and the support he needs. He said that a cancer charity has been helping him but the NHS and Macmillan Cancer Support nurses have not been available:
Rishi said that it was good that John was getting the support he needed. John retorted that he was not getting the support he needed. Rishi corrected himself.
Rishi gave a long answer, which did not respond to the question.
Sunak said that he had been criticised for raising national insurance contributions to tackle the NHS backlog and fund social care reform, but that it was a "brave decision" and the right thing to do.
Liz said that she would reform the NHS, reducing layers of management so that the focus could be on patient care rather than bureaucracy:
I want to see fewer layers of management in the National Health Service and less central direction because I simply don't think that people can sit there in Whitehall and direct everything that happens in local communities across our country.
It seemed that John preferred her answer to Rishi's. At least Liz offered a plan. Kate McCann asked John what he thought. He said that:
he remained unconvinced by their answers and stated that the Conservative Party had been given 12 years to fix the NHS.
The next question came from a member of the studio audience. A lady said that she was used to buying steak several times a week, however, the price has gone up so much that she can no longer afford to buy meat of any kind. She asked whether she should become vegetarian:
The Times reported:
The debate then moved on to the cost of living, with Gemma from Manchester, a Sun reader, telling the candidates about the rising cost of meat in supermarkets and asking if more people should go vegetarian to save money.
Rishi said:
he would ensure that prices came down by "making sure that the supermarkets and all the other people in the supply chain are being fair in how they price these things [and that] no one is taking advantage of the situation to pass on price rises."
Surely, although I agree with the principle, if everyone in the supply chain is being fairly remunerated, prices will go up even further.
Liz told Gemma that becoming vegetarian was 'a choice' and one that the Government leaves to individuals.
I understood what Gemma meant by asking about vegetarianism, because with this year's price rises, it does seem as if that is the end game.
Bloomberg's Alex Wickham summed up this refreshing debate well:
For once, we had real people asking about real problems.
However, the candidates reverted to a subject with which they were more comfortable — tax cuts.
As the i paper's Hugo Gye pointed out, it seemed as if Rishi and Liz still couldn't connect with the audience as well as a certain Prime Minister — Boris Johnson:
Harry Cole, watching from home, tweeted this at 6:27 p.m.:
The Times reported:
The candidates' response quickly turned to the economy, with Truss saying that Sunak's manifesto-breaking tax rises had been "morally wrong" as she accused the former chancellor of having policies which are "making us less competitive" as a country.
Sunak said that tackling inflation remained his priority but suggested that some businesses were also profiteering from the cost of living crisis. He said he would ensure that prices came down by "making sure that the supermarkets and all the other people in the supply chain are being fair in how they price these things [and that] no one is taking advantage of the situation to pass on price rises."
Sunak also defended his plans to increase corporation tax. He said: "I think it's entirely reasonable to ask the largest companies in this country, just the top 10 per cent of companies, to pay a bit more because they're received a lot of help during the pandemic."
Truss countered by telling Sunak: "You've made it worse". "Companies have a choice about whether they invest in the UK or whether they invest elsewhere. Rishi's policies are making us less competitive," she said.
The Mail's Henry Deedes described other exchanges between the candidates and the optics. Rishi still looked vexed when Liz contradicted him. Liz almost fell into the same trap this time (emphases mine):
Rishi seemed to have eased a little on the caffeine since the night before.
He'd also rediscovered his manners and used his opening spiel to wish his opponent a happy birthday. Truss, 47 yesterday, shot him an icicle smile. 
The Foreign Secretary wore a purple dress the colour of a Cadbury's Dairy Milk wrapper. Très snazzy. She went into a brief monologue about how her upbringing was more modest than Sunak's. 'I know what it looks like when economic times are hard,' she said. Rishi bit down and resisted making a tart response. There was a bit of early tit-for-tat, but nothing that required Kate to pull them apart. The candidates had a brief struggle over who had the stronger family connections to the NHS. 'My father was GP,' said Rishi. 'Well, my mother was nurse!' countered Liz. 
Tempers frayed whenever Truss began to discuss her economic plans. Rishi's blood pressure would visibly spike, his eyes flickering from side to side as if to say: 'Leave the maths to me, luv.' 
Once again their main beef was over taxes – Liz wants to cut them, Rishi thinks it's unaffordable to do so. 
He accused Truss of funding her cuts by saddling future generations with more debt. 'That's not true, that's not true!' Liz retorted, shaking her head crossly. 
Kate McCann was doing an excellent job as moderator, keeping everything going at a rolling pace which made it interesting. I was settling into an unusual comfort zone, which I normally don't do when watching debates.
Just after 6:30 p.m., Kate asked Liz a question.
While Liz was speaking, viewers at home could hear a soft rocking noise, possibly a perspex podium against the floor.
Seconds later, there was a crash of perspex on the floor.
Viewers saw this:
The Telegraph's Tim Stanley was also watching from home and describes what happened:
It was one of the strangest, most shocking moments in TV history. Liz Truss was in the middle of denouncing Russia with her characteristic tics – her hands gripping that invisible tea tray for dear life – when there was an almighty crash off-screen.
"Oh my God!" Liz covered her mouth. Then she stepped towards the camera.
Turns out that poor Kate McCann, the talented journalist and host, had fainted.
Rishi also went to Kate's aid, but we didn't see that.
We didn't know what had happened.
The Mail reported:
A loud noise caused the clearly worried Foreign Secretary to hold her face in shock as she exclaimed: 'Oh my God!'. Ms Truss was then seen leaving her podium and walking towards where Miss McCann had been standing.
The broadcast feed was swiftly cut, with viewers shown the message: 'We're sorry for the disruption to this programme. We're working hard to fix the issue and will return to normal programming soon.'
Stanley wrote:
For 25 excruciating minutes, viewers speculated if a light had fallen, a bomb had gone off, or Boris Johnson had rushed the stage demanding to be heard – all the while that producers tried to carry on as normal by cutting to a promo for their other shows.
What were they thinking? That this was a great chance to promote their product? We're lucky they didn't try to flog us some diamante earrings …
… debating tax policy is exactly how Liz would want to spend her birthday – and though the evening took an alarming turn, the gods did her a favour by having the camera focused on her when Kate passed out. Liz's instinct to run towards the disaster did her credit, a reminder that whatever her job, she is first and foremost a mum.
And her mother was a nurse!
Just before 7 p.m., when the debate would have ended:
TalkTV put on two talking heads who calmly discussed what we'd been watching – vegetarian options, clown doctors – without substantial reference to the one bit we were all shouting at the telly about: "What the hell just happened?!"
It was surreal: the commercial equivalent of Soviet TV cutting from the coup against Gorbachev to 72 hours of Swan Lake. Thankfully, Twitter was still reporting the news: Kate was ok. By then it was 7pm and time for Piers Morgan's landmark show on Ukraine – at which point what was probably TalkTV's largest ever audience, all 250 of us, turned off.
Kate, you're a star and your peers wish you the very best.
Henry Deedes said:
Doctor's orders were that she was done for the evening. It must have been frustrating for Team Rishi, who are running out of time. The former chancellor has agreed to be interviewed by that fearsome rottweiler of an interviewer, Andrew Neil, on Channel 4 on Friday. For politicians, such encounters rarely end well.
The candidates spent the remaining half hour talking to the studio audience:
Kate received many supportive messages.
Harry Cole tweeted:
BBC Newsnight's Nicholas Watt complimented Kate on her moderation of the debate:
The candidates also sent their best wishes, saying they would like to return to finish the debate:
I hope the debate is rescheduled — and agree that it should pick up where it left off:
Harry Cole is an excellent journalist.
That night, The Sun reported that, after all these days of insisting his tax plan was the right thing to do, Rishi decided to do an about-face and cut VAT on energy bills.
But has he stolen Work and Pensions Minister Thérèse Coffey's idea? Hmm:
Polling results must have been eating away at the former Chancellor.
The Telegraph also carried the story on its front page for Wednesday:
The Mail alleges that this was Boris's plan but Rishi wouldn't allow it:
Rishi Sunak makes a desperate bid to claw back lost ground in the Tory leadership race today by promising a £4billion VAT cut on energy bills just hours after he and his rival Liz Truss led tributes to TalkTV presenter Kate McCann after she fainted live on air.
The former chancellor has repeatedly refused to match rival Liz Truss on cutting taxes, labelling her plans a 'fairytale' and insisted such cuts must wait until inflation is curbed.
But today he pledges to scrap the 5 per cent VAT rate levied on domestic energy bills for a year.
Last night No10 insiders told the Daily Mail that this plan was something Boris Johnson tried to implement to ease the burden on consumers – but was blocked by Mr Sunak.
'Boris begged him to do it – but he wouldn't budge', said the source. 'It's astonishing that he's now claiming it as his own policy.'
A source close to Liz Truss's campaign told The Telegraph: 'It's good that Rishi has finally woken up and decided to offer something to people struggling with the rising cost of living.
'However, this feels like a screeching U-turn from someone who has spent the last few weeks of the leadership campaign branding everyone else's tax cuts immoral and fairytales.'
The article states that this was also Labour's policy:
Mr Sunak's energy bill tax move, which would save an average household £160, has been Labour Party policy for nearly a year, and Mr Sunak voted against the proposal in the Commons in January.
He told the Commons in February that the policy would 'disproportionately benefit wealthier households'.
He added: 'This would become a permanent £2.5billion Government subsidy… when we are trying to rebuild the public finances.'
This month he argued that tax cuts are 'immoral because there is nothing noble or good about racking up bills on the country's credit card that we then pass on to our children and grandchildren'.
One can understand his point, but when the Work and Pensions Minister and the Prime Minister both want it, it's the right thing to do.
I read only this week that VAT is an EU tax. Therefore, we can scrap it.
No one ever mentions that VAT is an EU tax. Why not?
The Mail says:
Until yesterday [Wednesday] Mr Sunak had refused to consider tax cuts before autumn 2023, the earliest point when a 1p cut in the basic rate of income tax could come in.
Autumn 2023 would be way too late, especially if our next general election is held in May 2024.
The Telegraph reported that Rishi's team denied a U-turn:
The Sunak camp denied there had been a U-turn, adding that the tax cut was "a tool that was always in our arsenal".
"We didn't use it back in spring because the size of the jump of the bills was way bigger, and it wouldn't have touched the sides," a source said. "This is a response to latest estimates that suggest the rise might be £100-200 more than anticipated."
For me, this volte face comes too late in the contest, because Rishi was adamant in three debates that he would not cut taxes.
As such, in Truss we trust.
———————————————————–
UPDATE — Guido Fawkes posted TalkTV's ratings for Tuesday night. The debate's 'off air' message beat Piers Morgan's show by far:
Morgan tweeted McCann, who has since recovered:
On Wednesday, July 27, the i paper reported ructions at TalkTV about the interruption of the debate, with staff asking why it didn't continue with another presenter:
Rupert Murdoch's TalkTV is holding an inquest into why there was no "plan B" to keep its Prime Ministerial debate on air after presenter Kate McCann fainted.
Presenters at TalkTV and its sister radio station were said to be ready and able to jump in and replace the stricken presenter during the abandoned live broadcast, i has been told.
As panic spread, executives asked Rishi Sunak and Liz Truss to remain at their podiums at the Ealing studio, normally used for Piers Morgan's nightly programme, while they considered their options.
However it was decided that stunned viewers would continue to be shown a recorded message saying normal programming would resume, rather than restart with a new presenter.
Trouble began behind the scenes when planned co-presenter Harry Cole was forced to pull out on the morning of the debate after contracting Covid.
An insider said: "Tom Newton Dunn (presenter of TalkTV's 7pm news show) would have stepped up to co-present but the bosses wanted Kate to front it solo as a showcase for her."
McCann, Talk's political editor, was said to be "nervous" at fronting the high-profile event but had shown no sign of ill health, even during the broadcast's first half hour.
The source said: "It was very sudden. She crashed forward into the podium. That was the loud bang viewers heard."
Truss, speaking on camera at the moment, said "oh my god" and rushed over towards McCann. At that point, with the clock showing 6.31pm, the channel cut from the debate.
"Rishi also rushed over. He knelt on the floot and held Kate's hand, he was very comforting," the insider said.
Faced with a crisis playing out live on TV and social media, some in the building believed that the show must go on.
"There were plenty of experienced on-screen talent already there who felt they could have taken over. They could have winged it."
"All the News UK bigwigs were there. There was a panicked pow-wow. Some said 'who can we get to fill in?' but they decided against it."
Instead the candidates were asked to stay in the studio and take questions informally from The Sun readers in the audience.
The insider added: "Today there is an inquest into why there wasn't a Plan B to keep the debate on air. It's a given for any serious broadcast channel" …

The incident gave a brief boost to TalkTV's struggling ratings. The channel has recorded zero viewers at low points in its schedules and Piers Morgan's flagship show has even been beaten by rival GB News on occasions.
The screen message telling viewers TalkTV was off air was watched by one of the channel's highest ever audiences.
Some 141,000 people tuned in, numbers comparable to Morgan's opening week on Talk in April before his figures tumbled.
The debate peaked with 183,000 viewers tuning in shortly after its 6pm start. However Talk's numbers dropped across the night with Morgan's programme dropping to 14,000 viewers at its conclusion.
Despite the lure of the debate, Sky News, BBC News and GB News all recorded a greater audience than TalkTV across the whole of primetime, according to Barb data.
Insiders said this would disappoint NewsUK's bosses who had hoped to relaunch TalkTV off the back of the debate, which was shared with sister title, The Sun …
The podium "crash" even gave TalkTV what it has been seeking since it launched three months ago – highly-shareable viral content that creates a buzz on social media.
On this occasion though, that content, seized upon by media rivals including the BBC, was unintended.
Picking up from where I left off yesterday with Dan Wootton's GB News poll on the next Conservative Party leader, 60,000 people responded and 49 per cent said that Boris Johnson should be the next one.
On Thursday, Wootton remarked:
The Prime Minister's swashbuckling and energetic PMQs farewell today just emphasised that point further.
Boris participated in his final Prime Minister's Questions on Wednesday, July 20, 2022, just under three years since he first stood behind the despatch box as Prime Minister.
It was one of Boris's best performances and can be viewed here. Hansard's transcript is here.
Highlights follow, emphases mine.
Labour's Sir Keir Starmer had a go at the leadership contest, particularly last week's debates and the refusal of a third debate on Sky News. The debates were a bit spiky at times, but pretty tame overall.
Boris replied:
I am not following this thing particularly closely, but my impression is that there has been quite a lot of debate already, and I think the public have ample opportunity to view the talent, any one of which—as I have said before—would, like some household detergent, wipe the floor with the right hon. and learned Gentleman. Today happens to be just about the anniversary of the exit from lockdown last year, and do you remember what he said? He said—[Interruption.] No, I am going to remind him. He said it was "reckless". It was because we were able to take that decision, supported by every single one of those Conservative candidates, opposed by him, that we had the fastest economic growth in the G7 and we are now able to help families up and down the country. If we had listened to him, it would not have been possible, and I do not think they will be listening to him either.
Starmer had a go at Rishi Sunak's accusation of Liz Truss's proposed tax cuts as 'fantasy economics'.
Boris said:
Well, Labour know all about fantasy economics, because they have already committed to £94 billion of extra tax and spending, which every household in this country would have to pay for to the tune of about £2,100. It is thanks to the former Chancellor's management of the economy—thanks to this Government's management of the economy—that we had growth in May of 0.5%. We have more people in paid employment than at any time in the history of this country. I am proud to be leaving office right now with unemployment at or near a 50-year low. When they left office, it was at 8%. That is the difference between them and us.
Then Starmer quoted Liz Truss's criticism of Rishi's economic policy for its lack of growth.
Boris answered:
I think that everybody would agree that what we saw in the last two and a half years was because of the pandemic, with the biggest fall in output for 300 years, which this Government dealt with and coped with magnificently by distributing vaccines faster than any other European Government—faster than any other major economy—which would not have been possible if we had listened to the right hon. and learned Gentleman. That is why we have the fiscal firepower that is necessary to help families up and down the country, making tax cuts for virtually everybody paying national insurance contributions. There is a crucial philosophical difference between Labour and the Conservatives: under Labour, families on low incomes get most of their income from benefits; under us, they get most of it from earnings, because we believe in jobs, jobs, jobs. That is the difference.
Starmer went on to quote Penny Mordaunt on Britain's sluggish public services.
Boris said:
… This is the Government who are investing £650 billion in infrastructure, skills and technology. He talks about public services; what really matters to people in this country right now is getting their appointments and their operations, fixing the covid backlogs—that is what we are doing—and fixing the ambulances. That is what he should be talking about. That is why we voted through and passed the £39 billion health and care levy, which Labour opposed. Every time something needs to be done, Labour Members try to oppose it. He is a great pointless human bollard. That is what he is.
Starmer referred to Kemi Badenoch's criticism of Rishi's handling of covid loans.
Boris replied:
This is one of the last blasts from Captain Hindsight, at least to me. They were the party, I remember, that was so desperate for us to be hiring their friends—they wanted a football agent and a theatrical costumier to supply personal protective equipment. Do you remember, Mr Speaker? We had to get that stuff at record speed. We produced £408 billion-worth of support for families and for businesses up and down the country. The only reason we were able to do it at such speed was that we managed the economy in a sensible and moderate way. Every time Labour has left office, unemployment has been higher. The Opposition are economically illiterate, and they would wreck the economy.
You can read more on Guido Fawkes about Labour's hilarious — well, it would be were it not so tragic — attempts to get the Government to employ their friends for pandemic related equipment.
Starmer went on for another few minutes about the nation being an utter shambles at the moment.
That is true in many instances, but Boris cited the good things that the Conservatives have accomplished over the past three years:
What does it say about the right hon. and learned Gentleman that no one can name a single policy, after three years, of the Opposition apart from putting up taxes? He is one of those pointless plastic bollards you find around a deserted roadworks on a motorway. We got Brexit done; he voted against it 48 times. We got this country fast out of covid, in spite of everything, when he would have kept us in lockdown. We are fixing social care, when the Opposition have no plan and no ideas of their own. We are now bringing forward measures, in the face of strikes, to outlaw wildcat strikes.
I can tell the House why the Leader of the Opposition does that funny wooden flapping gesture—it is because he has the union barons pulling his strings from beneath. That is the truth—£100 million.
We have restored our democracy and our independence. We have got this country through covid. I am proud to say that when it comes to tackling climate change or sticking up for Ukraine, we have led the world on the international stage. I want to thank my friends and colleagues on these Benches for everything they have done.
Guido posted the video of that portion, which is Boris at his best. Viewers will also get the mood of the Chamber, which was very noisy indeed:
After Starmer had finished, it was the turn of Ian Blackford from the Scottish National Party (SNP). As ever, he criticised the Government and put in yet another plug for a second independence referendum:
Boris said:
That is not what I observe. The right hon. Gentleman talks about records; I point to the fastest vaccine roll-out in Europe, the lowest unemployment for at or near 50 years as I have said, the lowest youth unemployment, and the fastest growth in the G7 last year, in spite of everything. As for the Scottish nationalists' record, look at where they are. I am afraid to say that Scottish school standards are not what they should be, because of the failure of the SNP. It is failing people who are tragically addicted to drugs in Scotland, and the people of Scotland are facing another £900 million in tax because of the mismanagement of the SNP.
True. All of it.
Blackford ranted once more on partygate. Incidentally, he is a multi-millionaire who likes to paint himself as a humble crofter.
Boris replied:
On the personal abuse stuff, I think the right hon. Gentleman is talking a load of tosh, but when he has retired to his croft—which may be all too soon—I hope that he will reflect on his long-running campaign to break up the greatest country in the world. I hope that he will reflect on the pointlessness of what he is trying to do, and think instead about the priorities of the people of Scotland, which are all the issues that he thought were trivial: education, crime, and the burden of taxation that the SNP is unnecessarily placing on the people of Scotland.
After Blackford sat down, Sir Ed Davey, leader of the Liberal Democrats, had his say. He indirectly accused Boris of being ambitious and 'tyrannical'. He asked whether Boris would now be devoting time to completing his book on Shakespeare. He also said there should be a general election.
Boris answered:
Polonius—that's who the right hon. Gentleman is; he needs more matter with less art. The only thing we need to know is that if there were to be a general election, the Liberal Democrats would rightly get thrashed, because that would be the moment when the public looked with horror at what the Liberal Democrats' policies really are and all those rural voters would discover the massive green taxes that they would like to apply. The only risk is that there could be some kind of crackpot coalition between those guys on the Labour Benches, the Lib Dems and the Scottish nationalists to put that into effect. That is what we must prevent.
Felicity Buchan, a Conservative who represents London's Kensington constituency, expressed her concerns about rising crime under the current Mayor of London (Sadiq Khan).
Referring to himself, Boris replied:
London once had a Mayor who cut crime by 25%, cut the murder rate by 30% and built twice as many affordable homes as the current incumbent. What London needs is another Conservative Mayor.
Another Liberal Democrat, Scotland's Jamie Stone (Caithness, Sutherland and Easter Ross) wanted a freeport in his Highlands constituency.
Boris said:
I can confirm that we are committed to funding two new green freeports in Scotland to the tune of £52 million. That would not be possible, of course, if the SNP got its way and we returned to the EU.
Boris defined levelling up:
It is not just inequality; it is inequality of opportunity, and that is what levelling up addresses.
A Labour MP moaned about the railways in the north of England.
Boris replied:
Actually, this Government are responsible for three new high-speed lines, including Northern Powerhouse Rail, which no previous Government have done.
Boris gave his advice with regard to hot weather when an MP asked about disposable barbeques and Chinese sky lanterns:
The key thing is for people to behave responsibly with the use of these things. It is clearly insane to take a disposable barbecue on to dry grass.
Another SNP MP, Dr Philippa Whitford, talked about poverty in Scotland, ending with a plug for independence.
Boris said:
Actually, we increased the living wage across the whole of the UK by £1,000, we made sure that people on universal credit got their tax bills cut by £1,000, and over the last couple of weeks we have cut national insurance contributions by an average of £330. It was because of the Union that we were able to support families up and down the country, in Scotland, with the furlough and other payments, to the tune of £408 billion.
One of the nicest contributions came from Conservative MP Andrew Bowie, who represents West Aberdeenshire and Kincardine:
May I thank my right hon. Friend for his commitment to Scotland and the entire United Kingdom over his years in Downing Street? I also thank him and my right hon. Friend the Secretary of State for Scotland for improving and increasing the visibility and involvement of the UK Government in Scotland over the past three years. Does my right hon. Friend the Prime Minister agree that whoever takes his job, and whatever comes next, the United Kingdom will always be stronger together than it ever would be apart?
Boris replied:
That was brilliantly put; I could not have put it better myself.
Then a young Labour MP asked about the slow compensation for Windrush victims.
Boris said:
Actually, I think more people have got compensation. I renew my apologies to the Windrush generation for what they have suffered, but we have greatly increased the compensation available. We have paid out, I think, more than £51 million. We are working with voluntary groups to ensure that people get what they are entitled to. I may say that Labour has never apologised for its own part in the Windrush scandal.
An MP from Northern Ireland accused the Government of ruining relationships between Ulster and the Republic.
Boris replied:
I completely disagree with that. The whole objective of the Northern Ireland (Protocol) Bill that we have passed is to support the balance and symmetry of the Belfast/Good Friday arrangements. I was very pleased that the Bill advanced to the House of Lords with no amendments.
GB News has more on the legislation:
A Conservative MP, Crispin Blunt, is not my favourite. However, here is where I agree with him. He paid a splendid tribute to Boris:
In recalling the situation that the Prime Minister inherited in July 2019, of a Parliament with a majority determined to frustrate the result of the 2016 referendum, led by a Speaker who was just slightly partial—the seemingly impossible situation he found—does my right hon. Friend understand that he has the gratitude of my constituents, who can identify the wood from the trees, and of myself, for his leadership over the last three years?
Boris replied:
I am very grateful to my hon. Friend. There is a fair amount of wood on the Opposition Benches and I think that is why we will prevail at the next general election.
Another SNP MP banged on about a second independence referendum.
Boris said:
This is the country that secured furlough and that delivered the vaccine across the whole of the UK, while the SNP gets on with overtaxing to the tune of £900 million—that is how much they are overtaxing in Scotland. And we had a referendum in 2014.
Another SNP MP complained spitefully about Boris being a nobody and about the honours list he might draw up before he leaves office.
Boris answered:
I am sure that everybody who has served this Government loyally and well deserves recognition of some kind, but as for the honours list, I am afraid the hon. Gentleman will have to contain his excitement.
Conservative MP Sir Edward Leigh was the last to speak. He, too, paid Boris tribute for the past three years:
On behalf of the House, may I thank the Prime Minister—[Interruption.] On behalf of the House, may I thank the Prime Minister for his three-year record of service? On behalf of some of the most vulnerable people in the country, can I thank him for his insistence on rolling out the AstraZeneca jab, which has saved thousands of lives around the world? On behalf of the 17.4 million people who voted Brexit, may I thank him for restoring people's faith in democracy? On behalf of northern towns, may I thank him for his commitment to levelling up? And most of all, on behalf of the people of Ukraine, may I thank him for holding high the torch of freedom and ensuring that that country is not a vassal state? For true grit and determination, keep going and thank you.
Boris replied, giving his closing remarks and advice for the future PM:
I thank my right hon. Friend, and I want to use the last few seconds to give some words of advice to my successor, whoever he or she may be.
No. 1: stay close to the Americans; stick up for the Ukrainians; stick up for freedom and democracy everywhere. Cut taxes and deregulate wherever you can to make this the greatest place to live and invest, which it is. I love the Treasury, but remember that if we had always listened to the Treasury, we would not have built the M25 or the Channel Tunnel. Focus on the road ahead, but always remember to check the rear-view mirror. And remember, above all, it is not Twitter that counts; it is the people that sent us here.
And yes, the last few years have been the greatest privilege of my life. It is true that I helped to get the biggest Tory majority for 40 years and a huge realignment in UK politics. We have transformed our democracy and restored our national independence, as my right hon. Friend says. We have helped—I have helped—to get this country through a pandemic and helped save another country from barbarism. Frankly, that is enough to be going on with. Mission largely accomplished—for now.
I want to thank you, Mr Speaker. I want to thank all the wonderful staff of the House of Commons. I want to thank all my friends and colleagues. I want to thank my right hon. Friend the Member for Ross, Skye and Lochaber (Ian Blackford). I want to thank everybody here. And hasta la vista, baby. [Applause.]
Here's the 'Hasta la vista, ba-by' video — a must-see:
The Conservatives gave him a standing ovation, with everyone applauding him, except for Theresa May, who merely stood.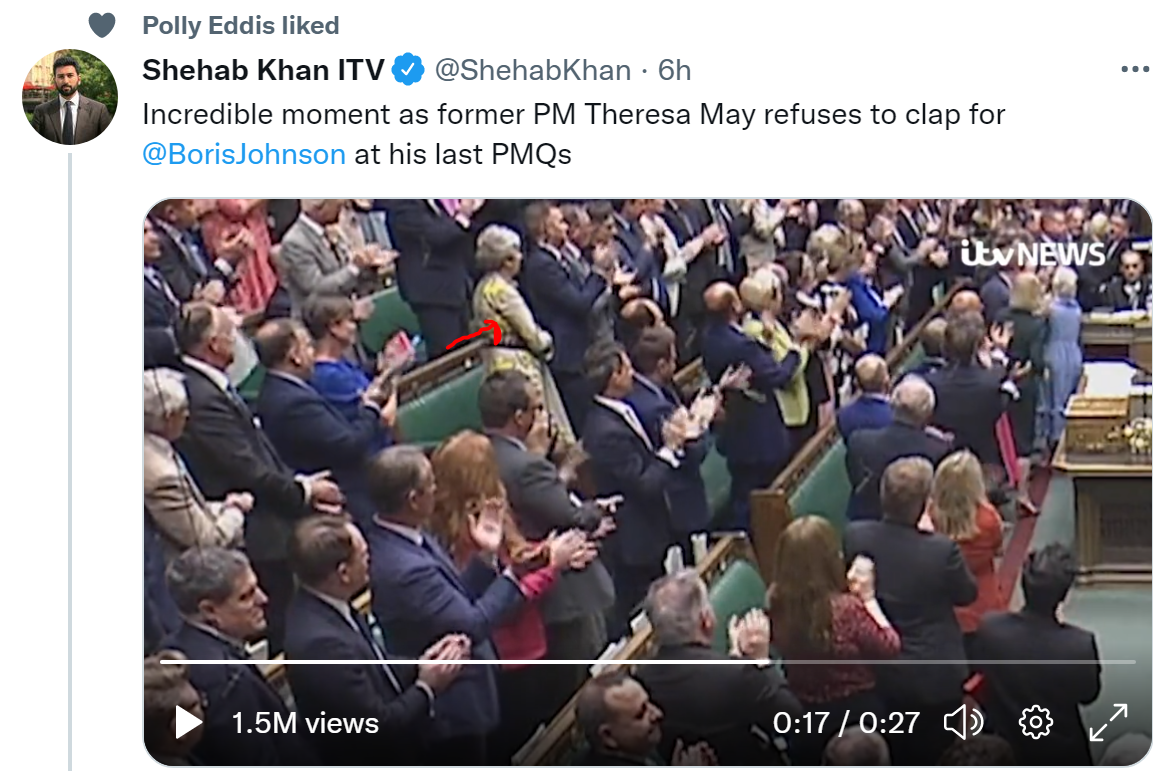 The Opposition either sat in silence or walked out.
One of Guido's readers wrote:
Lack of class from opposition MPs who can't possibly give a polite round of applause for a political opponent.
I agree. On the other hand, they hate Boris because he represents Brexit.
In Guido's comments on the same post, someone said that Boris was Britain's 'worst ever PM', which garnered this response, rightly pointing out the greater moral failings of Tony Blair, John Major and Theresa May as well as today's world leaders:
What, even worse than a Prime Minister who took the UK into an illegal war which resulted in the deaths of millions as well as thousands of UK soldiers and for which the UK is still feeling reverberations in the form of terrorist attacks? What a worse PM than a Prime Minister who signed the UK up to the Maastricht Treaty without putting it to the British people in the form of a referendum? What worse than a Prime Minister who put forward the idea of making the elderly sell their homes to pay for Health Care …
But instead listened to the people and secured an 80 seat majority to leave the EU (admittedly still leaving a lot to do). Invested in Vaccine development and procurement to ensure the UK had enough supplies for every citizen, and that the UK was at the front of the queue, and didnt go overboard on Covid restrictions, not when you look at what other countries got up to, namely Canada, China and France with Macron's "I want to punish those that won't get vaccinated" this after he was responsible for sowing Vaccine doubt simply because the Vaccine was developed in the UK – but then Johnson commited a crime so heinous – he had a piece of Birthday cake brought to him buy his wife – and that's 'your' worst Prime Minister, lol …
Journalist and former Conservative adviser Amanda Platell said she wept after PMQs:
Boris will be missed for his powerful performances at the despatch box …
… and Labour know it. One of their former advisers admits that's why Boris had to go:
Keir Starmer was often petty and unpleasant towards Boris:
That is because he knows Boris can win elections. In fact, earlier this week, Starmer was so frustrated with the Prime Minister that he insulted him on a podcast.
Starmer's deputy leader Angela Rayner said on Monday, July 18, that she would be happy with either Truss or Sunak as his successor. At the time she gave this interview, five candidates were still in the race:
I'm quite happy with any one of them. Because the one thing, and I kind of could see it… [Boris] had this, like, teflon coating… It's like a little magic. Where he was able to get through to the public and get through to the places that I actually don't see any of the five candidates that are standing having at the moment… Boris had so much going for him. He got an 80-seat majority and the country was really behind him… the five that we've got now I don't think have got that…
Here's the video:
Boris's former adviser Dominic Cummings thinks that Boris, like Arnie, will be back, if the next Conservative leader is too lacklustre:
As I wrote yesterday, thousands of voters do not want until then. Dan Wootton's viewers think that Boris's name should be on the ballot going out to Conservative Party members early in August:
Wootton's poll follows on from the ongoing petition by Party members to have Boris's name on the ballot:
The petition is being spearheaded by Lord Cruddas of Shoreditch, the Tory donor, and David Campbell Bannerman, a former Conservative Euro MP:
The Mail also has a report on the petition.
GB News interviewed David Campbell Bannerman on Thursday, July 21:
However, Labour are planning a rearguard action to prevent Boris from ever being Party leader again.
They hope to depose him as MP for Uxbridge and South Ruislip in west London:
On Thursday, July 21, GB News reported:
Boris Johnson could be forced to face a by-election if he is found to have lied to Parliament and is handed a suspension for 10 or more sitting days.
The Privileges Committee is examining whether the Prime Minister committed a contempt of Parliament by misleading MPs over the Partygate scandal.
Commons Speaker Sir Lindsay Hoyle [Labour] confirmed that the committee's findings would fall within the remit of the Recall of MPs Act, following advice from a leading lawyer.
That would mean that a suspension of 10 or more sitting days, or 14 calendar days, would trigger a recall petition.
If at least 10 percent of voters in Mr Johnson's Uxbridge and South Ruislip seat demand a by-election he would lose his place as an MP, but would be eligible to stand again in the contest.
The cross-party committee also published advice from the Clerk of the Journals, Eve Samson, the Commons' expert on parliamentary privilege, which suggested that whether or not Mr Johnson intended to mislead MPs was not a factor that needed to be considered.
But she said that intent could be seen as an "aggravating factor" when considering penalties …
The MPs intend to call Mr Johnson to give oral evidence in public in the autumn, under oath.
The committee has already said that whistleblowers will be able to give evidence about the Prime Minister anonymously.
Mr Johnson has also been ordered to hand over a cache of documents to the MPs investigating whether he lied to Parliament with his partygate denials.
The committee wrote to the Prime Minister and Cabinet Secretary Simon Case demanding details relevant to its inquiry.
On Friday, July 22, Guido posted on the upcoming inquiry, saying (emphases in red his):
While the committee will now disregard the PM's intent, the Clerk's report does say that can feed into deciding a sanction. This is all, in the understated words of The Telegraph, "a departure from precedent"…
It seems the Speaker's also got in on the act of changing rules. The Privileges Committee's announcement yesterday said Hoyle has ruled that "any suspension of the requisite length (10 sitting days or 14 calendar days) ) following on from a report from that Committee will attract the provisions of the Recall of MPs Act". Previously only recommendations of suspension from the Standards Committee would apply the recall act. Now the PM faces a by-election being forced by [Labour MP Harriet] Harman. Tory MPs are now having to fight back on his behalf, launching a petition to scrap the investigation altogether in light of his resignation…
For now, let's remember the happier times of earlier this week.
Boris held his final Cabinet meeting on Tuesday, July 19:
Despite the heat, Guido reports that there were no refreshments or food:
… there were a few presents, and a round of applause for the PM. Nigel Adams also gave a speech commending Boris's time in office, followed by a school photo.
Boris was gi[ven] a six-set first edition of Churchill's war books; surprisingly not something the ex-PM's biographer didn't already own. Guido also learns Boris was given wines that reflected significant dates in his life and political career: 1964, 2008, 2012 and 2019. He also got wine from other countries that mean a lot to him, including Ukraine and Greece …
Here's the Cabinet photo:

I hope all goes well for the Prime Minister in the weeks to come.
No doubt if Labour try to get at him, he'll find a way out.
All being well, I'll have a post next week on what really happened leading to his ouster.
Before discussing the latest developments among the candidates for Conservative Party leader, let's look at the weather here in England.
The weather presenters have been going on for a week about how hot it's going to get here. From the beginning, they forecasted 40°C temps, roughly 100°F. Weather maps have been given a deep red colour, as if we're going to burn alive.
Monday and Tuesday were going to be the hottest days of the week. Monday's high was 38°C, reported in only five places, two of which were airports, so I discount those.
The other three were Cambridge University Botanical Gardens, Cavendish, Suffolk and a village called Sancton Downham.
One of Guido Fawkes's readers posted a photo of the Cambridge location, which makes it suspect. The first photo shows the area when the weather station was first installed. The photo on the right shows what the area looks like today: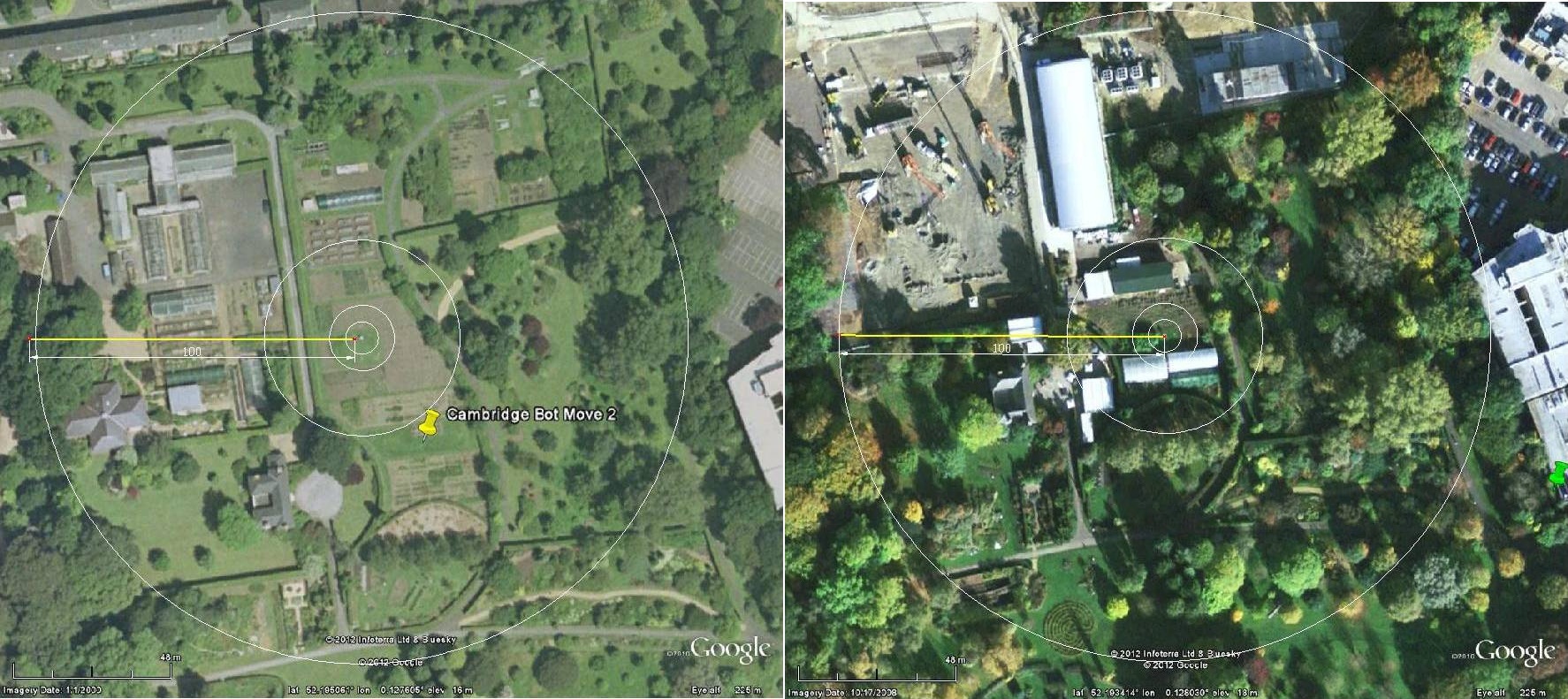 Guido's reader commented (emphases in purple mine):
… the siting of Stevenson screens is crucial when recording temperature change. As I type the Cambridge station is now recording the highest temperature in the UK but it has been surrounded by new buildings which invalidates its scientific accuracy. It certainly must not be used to claim all time highs.
The unit and sensors should also be positioned in open space away from any nearby potential sources of heat such as buildings, airports and brick walls, where free circulation of air can occur, and over a natural surface, grass is recommended as other surfaces such as concrete can cause significant error leading to all time high temperatures being recorded inaccurately.
Was it warm yesterday? Yes.
Was it pleasant? Of course. I did some heavy duty gardening.
I do not understand why the British panic over summer temperatures, especially since most of them go to scorching hot climes on holiday. This graphic sums it up well: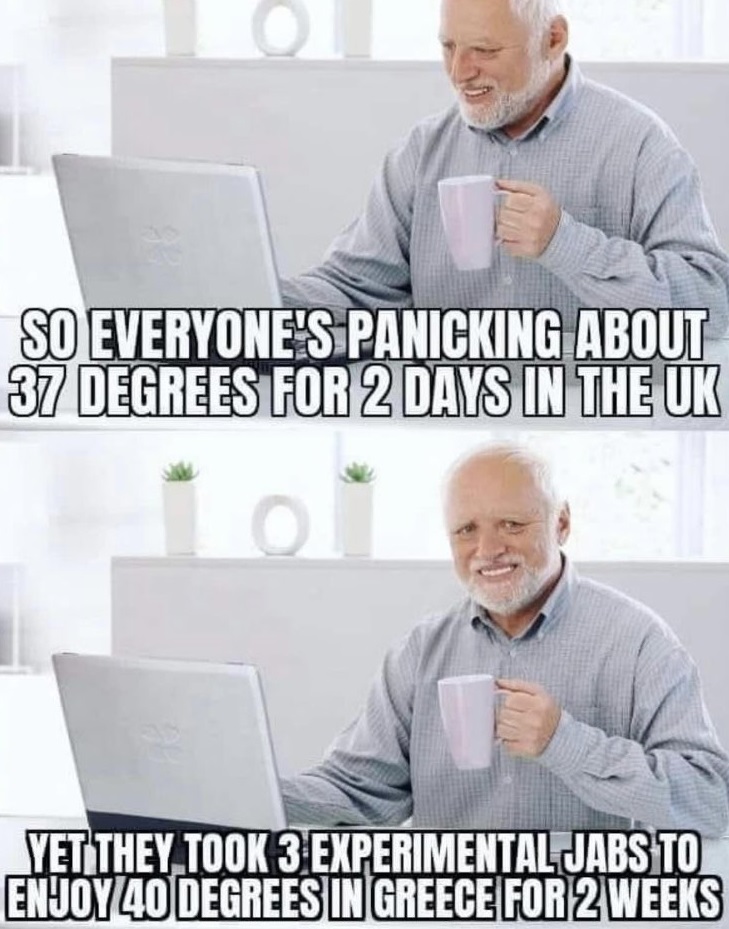 It's hard not to agree with this university lecturer, who wonders how ever created an Empire when we are such Moaning Minnies about heat. Were the British made up of sterner stuff in the 18th and 19th centuries? Perhaps so:
Now on to the Conservative Party leadership contest.
Monday's vote: Tugendhat's out
Conservative MPs voted again on Monday, July 18, 2022.
Tom Tugendhat, our Army superhero, was eliminated from the contest:
Was this his mode of transport home?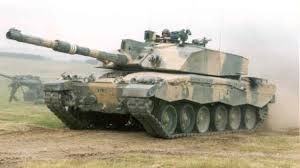 Here's Tom in an Army sweater:
He made a video thanking his supporters:
Guido Fawkes gives us Tom's main statement:
I have been overwhelmed by the response we have received across the country. People are ready for a clean start and our party must deliver on it and put trust back into politics.
No doubt the ladies at Mumsnet enjoyed it:
The final four
Going into Tuesday, these were the final four candidates:
Guido has Monday's vote tally. Results went down as well as up (red emphases his):
Rishi Sunak – 115 (+14)

Penny Mordaunt – 82 (-1)

Liz Truss – 71 (+7)

Kemi Badenoch – 58 (+9)

Tom Tugendhat – 31 (-1)

OUT
Penny's lost support, Kemi is still in contention. Liz is now second favourite at the bookies. All to play for…
Guido had more analysis later in the day:
Whilst tonight's leadership vote-off is unsurprising in that sense, the way the votes have gone for the remaining candidates are much more interesting.
Penny has gone down one vote, totally stalling. While she still leads Liz Truss, this trajectory will kill her momentum. Kemi has done very well; gaining nine backers to Truss's seven. While tonight's result in terms of eliminating Tugendhat may have been predictable, the remaining results make the final two more uncertain than ever. Though Rishi is now guaranteed a space in the final two…
The next vote took place on Tuesday afternoon. I will have an analysis of the results on Wednesday.
Conservative Party members see things differently
After Conservative MPs whittle their choices down to two candidates, the Party will send ballots out to members to vote for their choice, with a new leader — and new Prime Minister — to be in place by September 5, when Parliament reconvenes.
Note the latest polling from the Grantham and Stamford Conservative Association, which I featured last week. Kemi Badenoch was — and is — still in the lead. Rishi Sunak comes in a rather distant third:
Guido says:
The slick Rishi machine has to move the dial with the membership in a big way…
Rishi Sunak
Rishi is in a bit of a pickle, which gives Labour a lot of ammunition should he be our next Prime Minister.
The pandemic turned a lot of Britons into supporters of big state government, as Lord Hannan points out:
On May 26, the then-Chancellor announced a handout of £400 to all households in order to help them with rising energy costs:
The financial support has now been distributed.
Is it a good plan? Guido reported on the reaction from various think tanks.
The one from Taxpayers' Alliance resonated with me most:
The TaxPayers' Alliance isn't impressed either, claiming the move is "little more than the government taking with one hand and giving with the other". Chief Executive John O'Connell said:
Taxes are the single biggest bill families face and these huge handouts will see politicians hoovering up the incomes of struggling taxpayers, creating a cost of government crisis. If the chancellor wants to boost growth and help households, he can deliver both right now by bringing forward the planned income tax cut and slashing costly levies on energy bills.
But that was not all.
Rishi outlined other plans, altogether resulting in a £15bn bailout:
Guido has a summary:
As expected, Rishi has fired up the money printer once again to combat inflation. The Treasury claims it'll cost £15 billion, with £5 billion a year supposedly coming from the newly-announced windfall tax "energy profits levy". Here's what to expect:
Windfall tax on oil and gas companies.

Projected to raise £5 billion a year.
One-off 'cost of living payment' of £650 to approximately 8 million means-tested households.

 Two lump sum payments directly to bank accounts.
Households already receiving winter fuel allowance will also get a one-off payment of £300.
Those on disability payments will also get of £150.

Many of those in receipt of this payment will also be eligible for the £650 sum, bringing their total support to £800.
Universal grant of £400 to all households.

 Doubling the £200 energy bill loan, and turning it into a full grant.
Rishi boasted when making the announcement that his plan is more generous than that proposed by Labour's Rachel Reeves. The levy will raise £5 billion a year, and this will cost £15 billion. The difference will have to be financed by borrowing repaid by taxpayers…
People were shocked.
Labour won this round.
In Parliament, Shadow Chancellor Rachel Reeves said:
We pushed for the windfall tax. They've adopted it.
We said the buy now pay later scheme was wrong. Now they've ditched it.
This government is out of ideas, out of touch and out of time.
When it comes to the big issues facing the country, Mr Speaker, the position is now clear:
We lead. They follow.
Former Labour leader Jeremy Corbyn, who was Boris's opponent in the 2019 general election, was also pleased:
This was Jeremy Corbyn's plan in Labour's 2019 manifesto. It included a windfall tax:
Taxes in Britain are now at a 70-year high. Who was Prime Minister then? Labour's Clement Attlee:
Lord Hannan, a former MEP, fears this will be a permanent development. He might well be right, unfortunately:
The plan made two front pages:
Cabinet members reacted the following day, including Jacob Rees-Mogg:
According to The Times, Rees-Mogg raised concerns in Cabinet yesterday, suggesting "the package would be better funded by reducing government spending on infrastructure projects." The paper puts BEIS Secretary Kwasi Kwarteng in this camp as well, with him telling allies he's particularly concerned by BP's announcement that it's reviewing its plans to invest in the North Sea. Guido agrees with the anonymous cabinet minister who said "The politics of this is just so bad. We voted against it, we marched the whole party up the hill and are now taking them back down again. It looks like we're being dictated to by Labour"…
Conservative MP John Redwood said that taxation does not equal prosperity:
On May 28, Lord Hannan wrote an excellent editorial for The Telegraph, 'The Tories have almost wholly given up on conservative principles. What a tragic waste'.
Excerpts follow:
The Tories have almost wholly given up on conservative principles. They used to argue that lower taxes stimulate growth and so lead, in the long run, to higher revenue; that countries, like families, should live within their means; that individuals spend their money more wisely than state bureaucrats; that arbitrary and complicated taxes are as much a deterrent to investment as high taxes. Not any more …
When George Osborne imposed a one-off tax on energy firms in 2011, the Treasury Red Book predicted that it would bring in £2 billion. Instead, oil companies cut their North Sea investments and tax revenues fell.
Again, Johnson and Sunak know this. As recently as three months ago, the Chancellor was telling us that the "obvious impact of a windfall tax would be to deter investment". Both men understand that the only way out of our present predicament is through growth. Both understand that the way to achieve higher growth is to cut spending, scrap regulations, remove trade barriers, and ensure sound money. But these things are usually unpopular in the short term, and that seems to be their chief consideration.
We are thus in a negative feedback loop. When voters see the Conservatives, supposedly the party of fiscal responsibility, spraying cash around, they conclude that there must be plenty of depth left in the Government's reservoir. When they see a Tory Chancellor promising to bring in extra revenue by hiking corporation tax – despite the experience of cutting corporation tax rates from 2011 and seeing revenues surge – they naturally believe him. All this then heaps pressure on ministers to spend even more …
It was all so unnecessary. Outside the EU, Britain could have become freer and more competitive. We had a Conservative Government with an 80-seat majority, for Heaven's sake. We could have scrapped Brussels regulations, flattened and simplified taxes, embraced global markets, slimmed the civil service, decentralised powers and broken cartels. We could, in short, have made this the most attractive place in the world to do business.
Yes, the pandemic was an unforeseeable distraction – though, even then, some reforms could have been pursued. But nearly a year has passed since the end of the restrictions in Britain, and it is now depressingly clear that there is no plan to make use of our opportunities. After all their talk of buccaneering Britain, our leaders have shied away from almost every difficult economic decision. What a waste. What a tragic, needless waste.
Of course, Nadhim Zahawi is our current Chancellor. For how long remains to be seen. However, it will be difficult for him or his successor to roll back on Rishi's plan. Labour won't allow it. Either way, it will play to Labour's advantage between now and the next general election.
Let us look at more recent developments.
When Rishi resigned as Chancellor, the press gathered outside the Sunak mews house in Kensington, London.
The Infosys heiress Mrs Sunak, in the tradition of other politicians, brought reporters mugs of tea:
One reporter expressed his appreciation:
Boris Johnson had only just stood down as Party leader when Rishi declared his candidacy to succeed him. Note that Channel 4's poll participants still wanted Boris to stay in No. 10:
'Ready for Rishi' launched on July 8, complete with a video on his family's arrival in Southampton on the southern coast of England. Rishi was born there:
Not surprisingly, Rishi's promo did not include this clip from a 2001 documentary he participated in as a student at Winchester, one of the nation's top public (very private) schools. This is from the BBC's Middle Classes: Their Rise and Sprawl, shown in March 2001.
Rishi glibly says he doesn't know any working class people. His father looks on admiringly:
Bim Afolami MP, who is one of Rishi's supporters, defended his friend's quick launch. Afolami said that all the video clips were there for his team to sort through and compile in 24 hours. Afolami said that it was not unusual that Rishi arranged for his campaign website in …. 2020:
Staunch Boris loyalist Nadine Dorries told Dan Wootton on GB News that Rishi was able to launch his campaign because he wasn't at work:
Wootton asked whether Rishi was 'too duplicitous' to be PM:
Ninety-two per cent of those responding to his poll said YES:
Patrick Christys added to the doubt that many have about Sunak, from the timing of his campaign launch to his Boris backstabbing:
At the launch of the candidates' contest, the public reacted negatively to Rishi.
One person was incredulous that both Boris and Rishi received Fixed Penalty Notices for Partygate, yet Boris had to resign only for Rishi to run as his successor:
Another predicts that the Conservatives will lose the next general election. The Opposition will fire too much ammunition Rishi's way:
This chap objects to all of the top candidates:
I will leave it there for now.
More to come tomorrow, including an analysis of Tuesday's vote.
Before I get into Thursday's voting results in the Conservative Party leadership contest, readers should note that Labour are no longer afraid of losing the next election.
Please, someone, bring back Boris:
The only candidate who could put the frighteners on Labour is Kemi Badenoch, who is excellent at the despatch box when facing the Opposition.
Thursday's vote result
Sir Graham Brady, chairman of the 1922 Committee of backbench Conservative MPs, announced yesterday's result promptly at 3 p.m.
Unfortunately, Suella Braverman had the lowest votes and had to drop out of the race. She had only 27 MPs backing her.
Going into the weekend, we have the following five candidates:
Guido Fawkes has a summary of Thursday's activity, excerpted below.
Rishi Sunak has received over 100 votes, but overall, he is not doing as well as candidates in past leadership elections:
Rishi is one of the weakest first-place candidates in recent Tory leadership elections, comparing leads in the second round of MP ballots:* … *Hat-tip: Tom Harwood
Penny Mordaunt's work ethic was slammed on Thursday. I covered Lord Frost's damning comments in yesterday's post.
Mordaunt also ran into trouble over past statements she has made on gender identity:
Ran into problems and heightened scrutiny over her trans stance, not least with a blow from newly-eliminated Suella Braverman, who accused her of not standing up for women when pushing for gender-neutral language in the ministerial maternity leave bill

Accused of lying about her trans stance by Team Truss
Kemi Badenoch is, happily, still in the race and is ahead of Tom Tugendhat, who is likely to be the next to be dropped when voting resumes on Monday.
Badenoch received 49 votes and Tugendhat 32, a decrease of five votes for him.
Early news on Friday
Much happened overnight, which I will review in recent campaign activity below.
Suella Braverman is now supporting Liz Truss.
There is likely to be increasing pressure put on Kemi Badenoch to bow out of the race. If anything, pressure should be brought to bear on Tom Tugendhat, who is in last place.
Guido calls our attention to three debates this weekend. One will be online and two will be televised (red emphases his, those in purple mine):
Today things get really interesting: it's debate time. So far candidates have taken lumps out of each other from their respective trenches, today they finally have to go over the top – a special metaphor just for Penny and Tom. Things kick off at ConservativeHome at 1pm, and continue over to Channel 4 at 19.30, where all candidates have confirmed their attendance. Followed by ITV on Sunday and Sky on Monday. 
Debates can make or break candidates at this stage, especially when there are a decent number of votes up for grabs and no one knows who's going to win. In 2019, one debate made Rory Stewart – securing his place in the next round – and the subsequent debate 24 hours later broke him, as he decided to get undressed live on air. In a sign of how febrile things are, even Rishi's agreed to join tonight's Channel 4 debate, an unedifying challenge the frontrunners are sometimes able to duck out of. Will some MPs finally have to recognise that their candidate makes Theresa May's public speaking look relaxed and charismatic? Guido looks forward to finding out…
Let's see what is going on with the various candidates.
Suella Braverman
Suella Braverman, Attorney General for England and Wales, is a committed Conservative, especially when it comes to social issues.
In 2019, along with Northern Ireland's DUP MPs and several other Conservative MPs, she voted to keep abortion illegal in Northern Ireland. However, the Government has since legalised abortion there.
Last Sunday, Danny Kruger, a thoughtful MP and Prue Leith's son, gave his reasons for backing Braverman:
Two days later, on July 12, a Conservative Home poll showed that Rishi Sunak would lose were Braverman the second remaining candidate on the ballot going to Party members:
Were Braverman up against Liz Truss, the vote would have been tied.
This was Braverman's platform — lower taxes, border control, no identity politics and commitment to the Conservatives' 2019 election manifesto:
What's not to like?
She also would have taken us out of the ECHR (European Convention on Human Rights), which is preventing us from deporting faux refugees and serious foreign criminals: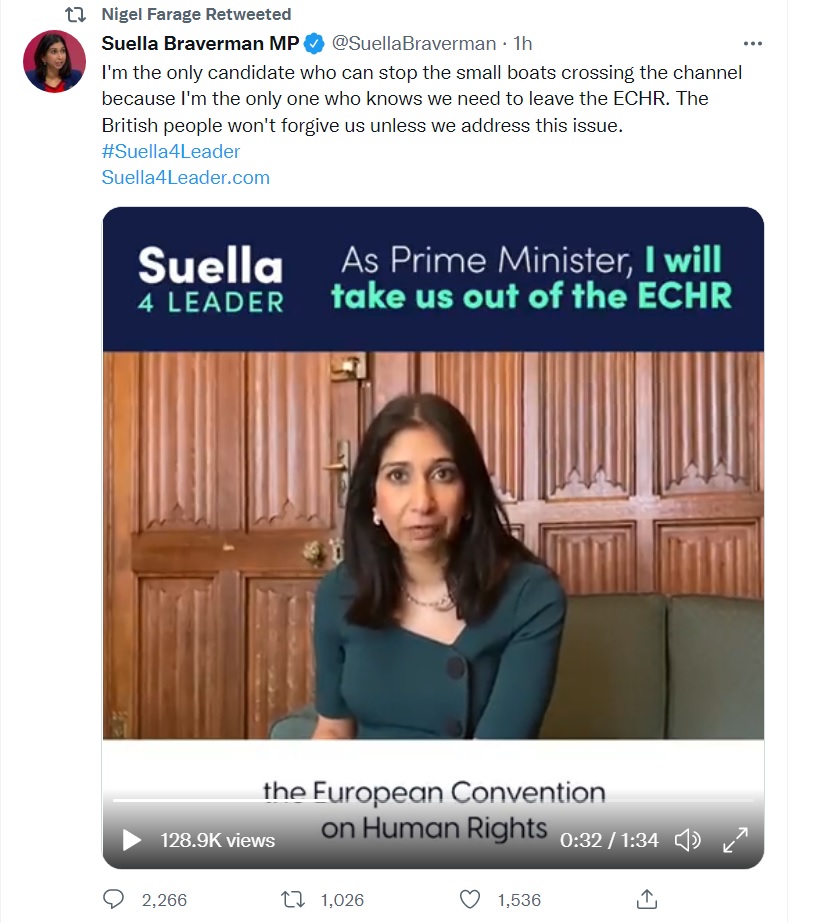 She refused to engage in 'blue on blue' sniping. Here she is with Kemi Badenoch, my other favourite:
Braverman was gracious in defeat:
She swiftly began a media round on Thursday afternoon.
Speaking to Tom Harwood of GB News, she expressed her gratitude for being able to run in the leadership contest, saying it was a real privilege. I agree that she would make an excellent Home Secretary:
She said that she sees both Rishi Sunak and Penny Mordaunt as being on the left. So true:
She criticised Penny Mordaunt's stance on gender identity and accused her of being a 'false Brexiteer':
In an interview with BBC Radio 4, Braverman pointed out that Hansard has a record of what Mordaunt has said in past debates on the Maternity Bill:
She told TalkTV's Tom Newton Dunn why she has decided to support Liz Truss:
I hope that whoever wins will retain Braverman in their Cabinet. She is a true asset to the Conservatives.
Rishi Sunak
Could the wheels be about to fall off for Rishi Sunak, our erstwhile Chancellor?
On Friday, July 15, news emerged that the Chinese government hopes Rishi will be our next Prime Minister:
Guido reported:
This morning Rishi Sunak has successfully won the leadership endorsement none of the candidates wanted: from the Chinese Government's propaganda outfit. Global Times has published an article entitled "China-UK ties 'might improve' with arrival of new PM"; subheading, "Most candidates are tough on Beijing, but 'pragmatic' one wins first round". In the piece, Beijing's mouthpiece notes concern that, despite Rishi winning among MPs, party members might vote for a rival candidate because of tax policy…
Former chancellor of the exchequer (finance minister) Rishi Sunak, the one candidate with a pragmatic view of developing balanced ties with China, has won the first round of voting by MPs.
When Sunak was the finance minister in July 2021, he used his annual Mansion House speech to insist that Britain should beef up its trading relationship with China
Apart from Sunak, almost all of the other candidates hold a very tough stance on China
As I write, mid-day, Guido is awaiting comment from Rishi's team.
In other news, Rishi is losing traction with the bookmakers. He's now in third place:
Guido tells us:
Rishi has fallen from hot favourite to his chances being third rated, with Penny as favourite and an overnight re-evaluation by punters seeing Liz move into the second favourite spot.
Allow me to repeat myself with the aforementioned Conservative Home poll from July 12. According to their readership, likely all Conservative Party members, Rishi could only beat Sajid Javid, who is no longer in the running and Tom Tugendhat, who is currently in last place:
Tom Tugendhat
I do not think that Tom Tugendhat's candidacy will last beyond Monday's vote.
I formed my opinion of him through his participation in House of Commons debates.
He is chair of the Foreign Affairs Committee.
Last August, he spoke about Biden's withdrawal from Afghanistan, where he served with the Army. His contribution gained him a round of applause, which is normally forbidden in Parliament:
America's back – back home.
In 2020, he wrote an editorial on terrorism for the Mail, calling for a return of treason laws, which Tony Blair got rid of:
In 2020, he was critical of China's lockdown policy:
Last year, when there was a suspicion that vaccine passports could be turned into digital identity cards, Tugendhat rightly opposed such a development. talkRADIO's Julia Hartley-Brewer interviewed him on the subject:
Tugendhat announced his candidacy for Conservative leadership on July 7, via an editorial for The Telegraph:
It seems to me that he makes more of his military career than perhaps he should. In one recent interview, he made himself out to be a general (H/T to my reader dearieme):
'What's the worst thing you've ever done?'
'Invaded two countries.'
Guido thinks so, too:
He has the relevant clip:
Anyway, his campaign, increasingly weak, calls for 'a clean start':
A clean start:
On July 8, the Sun featured a profile of him, including his French connection:
Tugendhat is married to Anissia Tugendhat (née Morel).
She is a French judge and civil servant and Tugendhat holds dual citizenship for France and Britain.
According to a tweet from journalist Richard Eden, the pair got engaged in 2013.
Together they have two children, a boy and a girl.
Tugendhat's mother Blandine de Loisne is also French.
Anissia comes from a family of diplomats and her brother has worked in the Foreign Ministry and the French embassy.
We did not know that before, did we? At least Tobias Ellwood told Parliament that he has dual US/UK nationality.
That's probably why he voted Remain in the 2016 Brexit referendum.
He would not be drawn on the subject of whether he regretted his vote. Probably not, then:
The public are suspicious. As he is currently in last place, MPs must be, too:
He launched his campaign on July 12. To calm his nerves, he had a crafty ciggie on the tiny balcony outside his office, forbidden on the parliamentary estate. This, in my opinion, is the only decent thing about him:
I hope he was smoking a Gauloise …
At his launch, he took only two questions from the media:
Perhaps he feared questions about his Frenchness, such as this one:
Candidates, including those running for a position as MP, should declare their nationality or nationalities:
———————————————————————————
I will have more on the leadership contest next week.
For now, I am looking forward to the debates. It will be interesting to see how Rishi and Tugendhat, both of whom are short, look next to Penny Mordaunt, much taller than either of them. Optics are important.