You are currently browsing the tag archive for the 'Lee Anderson' tag.
Mark Steyn's British fans have been lamenting his departure from GB News a few weeks ago.
However, we have reason to celebrate, because his replacement, Conservative MP Jacob Rees-Mogg, had a splendid debut with his State of the Nation show on Monday, February 27, 2023. Rees-Mogg has somewhat of a cult following among British conservatives. :
He has represented North East Somerset since 2010 and regularly walks about his constituency, both town and country, at the weekends to find out what's on voters' minds: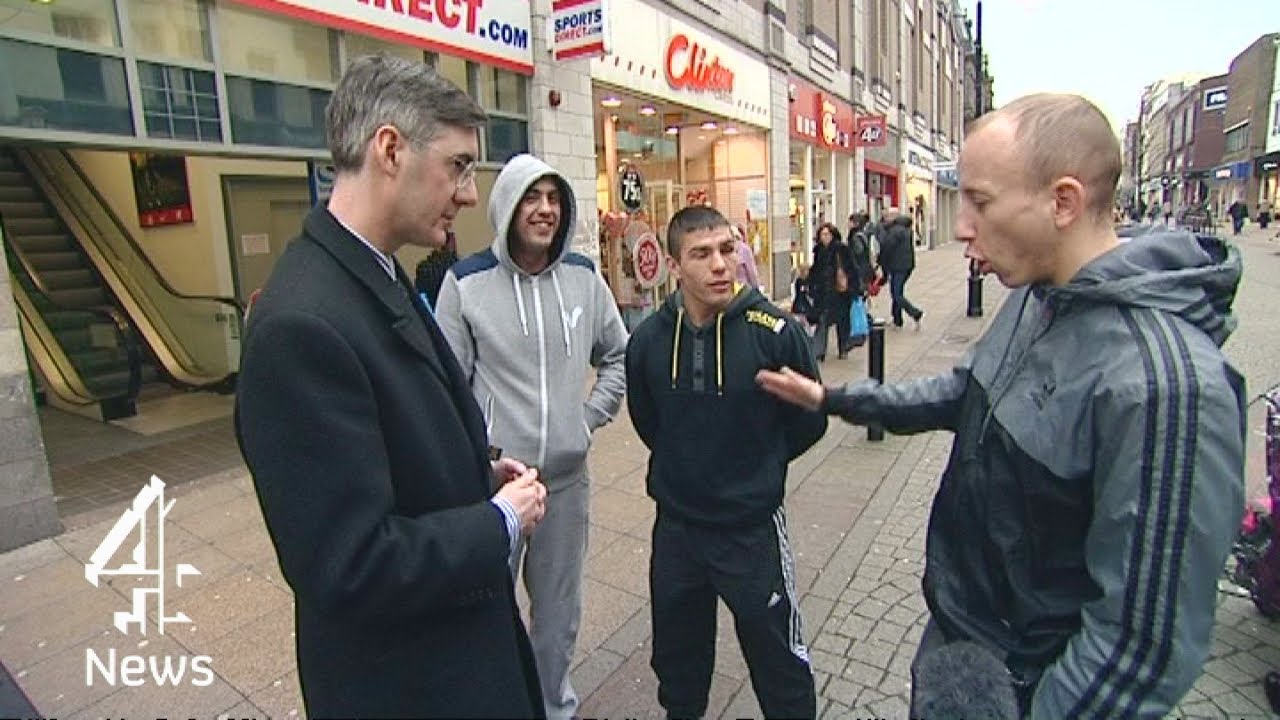 Piers Morgan's show runs concurrently on TalkTV in the 8 p.m. timeslot.
Granted, Monday was Rees-Mogg's first night, but he managed to beat both Morgan and Sky News between 8 and 9 that evening:
In fact, the traditionally-minded MP had twice as many viewers as Morgan.
Guido Fawkes gives us the BARB ratings (red emphases his):
Jacob took in an average of 79,200 viewers for the hour. Piers, meanwhile, took in a mere 35,300. More than doubling Morgan's average throughout the show.
In fact, Rees-Mogg beat Sky News, which scored 64,700. Jacob and Piers will face off again tonight – rest assured, Guido will be checking the figures again. Beaten by a part-time presenter, oh Piers…
Well done!
Here are the segments from last night's programme.
Fortuitously, it was a historic day for the UK, as Prime Minister Rishi Sunak and European Commission president Ursula von der Leyen presented the new Windsor Framework for Northern Ireland that afternoon. King Charles also met Ms von der Leyen, which was controversial, as the monarch does not get involved in matters political.
It is unclear at the moment whether this will be a suitable replacement for the Northern Ireland Protocol in our post-Brexit nation.
Rees-Mogg opened with the story in his Moggologue:
Here's the Moggologue in full:
Lee Anderson, the outspoken Red Wall MP who is now deputy chairman of the Conservative Party, was Rees-Mogg's first guest. They discussed another news item of the day, which was that the first female Speaker of the House of Commons, Labour's Betty Boothroyd, died at the age of 93. Anderson and Boothroyd both came from working class homes. Anderson said that Boothroyd inspired him to pursue a career in politics:
They also discussed the Windsor Framework, which Anderson sees as a positive replacement for the Northern Ireland Protocol:
Rees-Mogg asked Anderson what it was like switching from the Labour Party to the Conservatives. He said that, while the party switch was easy, because he worked in local government in Ashfield as a Labour councillor and for then-MP Gloria De Piero, some of his friends and family found the decision hard to take, although, he added, a fair number of them voted for him in the general election in 2019:
Here's the segment in full:
Veteran Conservative MP David Davis was up next. He was the Secretary of State for Exiting the European Union from 2016 to 2018. He viewed Rishi's Windsor Framework positively and thinks that Brexit is mostly 'done' now:
You can see more of that interview here:
The segment of the evening was a three-way exchange between Rees-Mogg, retired Labour MP Stephen Pound and historian David Starkey on the King's association, no matter how vague, with the Windsor Framework. All agreed he should have sat on the sidelines and not met von der Leyen, as the Queen would have done. I could have listened to another several minutes of their discussion:
Here's the full video:
The show ended with a segment about the rewriting — i.e. censorship — of Ian Fleming's James Bond novels. Joining Pound and Starkey was Toby Young:
Here's the full interview:
State of the Nation, which airs Monday through Thursday evenings, will be good not only for GB News but also for the Conservative Party, bringing a bit of Parliament to television. Jacob Rees-Mogg is an eminently sensible man.
My post last Friday was about Liz Truss's 4,000 word essay in The Telegraph, her 49-day premiership and the support her mandate for growth subsequently received.
There is still tension among conservative and Conservative voters about the direction of Rishi Sunak's premiership, especially with Jeremy Hunt installed as Chancellor in the last days of Truss's time in No. 10. Jeremy Hunt is a man no Conservative Party member ever wanted to see in either No. 10 or No. 11 Downing Street. Since October 2022, he seems to be running the country.
Even worse, Conservative Party members were denied a vote for Truss's successor. The Parliamentary Conservative Party elected Sunak and were delighted to crown their man without input from people they consider as plebs. That said, not every Conservative MP was happy with the new Prime Minister.
Public sentiment is not in Sunak's favour, as this poll from December 19 shows. Liz had far higher ratings in September:
Guido Fawkes wrote (red emphases his):
New polling from Ipsos MORI continues to show the dire state of Rishi Sunak's party. The poll puts Labour's lead at 26%, up 7% on November, with the Conservatives' trust on the economy falling. On public trust to secure economic growth specifically, Rishi's ratings are now significantly lower than Liz Truss managed. Liz had a lead of 15% over Labour, Rishi is level.
Economic statistics paint a similar picture. The economy outperformed other months in October, registering 0.5% growth in the one month Liz was PM. It seems the public had good reason to initially back Liz's pro-growth message.
This might seem like ancient history, but Jeremy Hunt's Spring Budget is due in March. He presented his Autumn statement in November.
On November 19, Liz Truss's favourite economist Patrick Minford wrote an analysis of Hunt's budget for The Telegraph. The opening and closing paragraphs follow:
Jeremy Hunt's Autumn Statement has presented us with big tax rises and spending cuts in order to avoid a large "fiscal hole" created by the need to have the debt-to-GDP ratio falling by 2027-28 – the new "fiscal rule". But it will worsen the recession and ironically will also wreck the public finances.
In short, the Autumn Statement is a wrecking ball – worsening recession, damaging growth, degrading the long-run public finances and even raising inflationary wage costs. Commons amendments are needed to restore sanity to these plans.
He had a much better critique for non-economists on November 5. While he disapproved of Truss's and Kwasi Kwarteng's mini-Budget delivery, he wrote (purple emphases mine):
The danger now is serious. Sunak and Hunt are set on a course that will turn a stagnant economy into a shrinking one, with unemployment rising, firms folding and the quality of public services declining even more.
The whole notion of a growth agenda has tragically been rendered toxic. The track we are now on – fiscal tightening (tax rises and spending cuts) plus monetary tightening (high interest and mortgage payments) – has been tried before and invariably leads us further on to the scorched earth of more tax rises, more spending cuts and a slump in living standards.
Politically, for the Conservatives, the outlook is grim. If Sunak and Hunt press ahead in the November 17 Autumn Statement with their triple whammy of tax rises, spending cuts and higher mortgage rates, the country is unlikely to forgive them.
That same day, The Telegraph released results of an Ipsos UK poll showing that voters were deeply unhappy with Hunt's tax increases:
Tory MPs have told The Telegraph that the decision by Jeremy Hunt, the Chancellor, to raise Britain's tax burden to the highest level since the Second World War on Thursday was the "economics of a madhouse" that has made the party "more Labour than Labour".
Polling conducted for The Telegraph by Ipsos UK shows the statement has also failed to reassure voters, with almost half of the public reporting they feel more concerned about the economy and their personal finances than they did beforehand …
In the wake of the Autumn Statement, three Conservative MPs told The Telegraph they had visited constituency associations and been met with hostility from members about the tax increases.
"I had an association dinner the day after the Kwasi and Liz mini-Budget – everybody was full of enthusiasm, they were excited again, they could see ­Conservative policies coming over the hill and they were cheering," said one backbencher. In contrast, the atmosphere at a dinner following Mr Hunt's statement was "unbelievably subdued", they said. 
Jacob Rees-Mogg, the former business secretary, said: "Conservative members are fretful, I think it's fair to say. They are loyal but fretful.
"They want to support Rishi [Sunak] and they want him to do well, but they are concerned about where we are on the economy."
Sir Bill Cash, the veteran Tory MP, said there was a "sense of bewilderment by some people at seeing things brought forward that are not at all Conservative economically or politically".
Another senior Tory MP said the ­party's supporters were "furious" about the statement, which they described as "the economics of a madhouse".
"Our voters feel as if frankly we've abandoned them and that we've become more Labour than Labour," they said.
On November 20, Liam Halligan, GB News's economics editor who also writes for The Telegraph, wrote, 'The Chancellor is taking us for fools with his cynical stealth budget':
This Autumn Statement was based on a false premise: that the UK is on the brink of fiscal implosion and set to be shut out of international bond markets.
As a result, Chancellor Hunt is imposing very substantial tax rises at precisely the wrong time, which risks driving an already shrinking economy deeper into recession and undermining our public finances even more.
Hours before Jeremy Hunt stood up in the House of Commons on Thursday, the 10-year gilt yield – the annual interest the Government must pay on a new decade-long loan – was 3.14pc.
Ahead of the now notorious mini-Budget in late September, that same yield was 3.49pc ­ – considerably higher.
It's not as if Britain is so much more indebted than other comparable countries. While our national debt stands at 97pc of GDP, the figures in France, Canada and the US are 115pc, 116pc and 132pc respectively. Across the G7, only Germany has less public debt than the UK.
But prior to the measures proposed by then Prime Minister Liz Truss and her Chancellor Kwasi Kwarteng, no-one was seriously questioning the UK Government's solvency. 
They weren't before this Autumn Statement either, as illustrated by the fact that – partly because of measures Hunt already implemented since becoming Chancellor – gilt yields had fallen by a third in little more than a month.
As such, was it really necessary, in the midst of a cost-of-living crisis, to drive the tax burden even higher? Government revenue as a share of GDP – 33.1pc as recently as 2019 – is now heading for 37.1pc, the highest sustained level since World War Two.
… no other major economy is imposing sharp tax rises in the face of a slowdown.
The UK is heading "into a storm", as Hunt said. But while he attempted to come across as humane – the word "compassion" appeared five times in a speech lasting less than an hour – the Chancellor came across as rather cynical …
It's as if he thinks we are fools and won't notice we're paying much more if most headline tax rates stay put.
When Nigel Lawson introduced the 40p rate of tax in 1988, it was paid by only the highest earning 1.7 million workers. Now, those paying income tax at 40pc or more will soon number almost 8 million – a fifth of the workforce …
This is the kind of fiscal management typically associated with Labour, not the Tories. And that could turn out to be ironic – given the voter anger that will be generated as this Autumn Statement sinks in.
Meanwhile, on another front, Rishi Sunak was undoing Truss's plan for a streamlined, more controlled No. 10. 'SpAds' below means 'special advisers'. I note that Sunak's welcome into No. 10 was much more muted than Liz Truss's:
Sunak also rejected Truss's plan for more affordable childcare.
On New Year's Day 2023, The Telegraph reported:
Rishi Sunak has shelved plans for a major overhaul of the childcare system aimed at saving parents money and helping them back into work.
Liz Truss had been looking at increasing free childcare support by 20 hours a week and ending mandated staff-child ratios in what her team described as a "big bang" shake-up of the system.
But The Telegraph understands that the policy drive has been postponed indefinitely, with the scale of reforms now being considered expected to be much smaller. Any proposed changes to the rules around childcare provision are not expected for months – a much later timescale than Ms Truss's push for announcements before Christmas …
The cost of childcare is often named by MPs as a major concern for constituents, with backers of reform arguing that better, cheaper provision would allow more parents to return to work, boosting the economy.
A stark drop in the number of facilities offering childcare has been a trend for years, with an overall fall of 10,600 providers since August 2019 in England – a 14 per cent drop.
Two days later, The Times reported, 'Don't ditch my childcare reforms, Liz Truss tells Rishi Sunak'.
Here we see Conservative MP Simon Clarke appearing. He will be a Trussite force with which to be reckoned this year. He was also a Treasury minister when Sunak was Chancellor:
Liz Truss has warned Rishi Sunak not to scrap her childcare reforms amid growing frustration from Tory MPs over the "unaffordable" costs facing parents …
Supporters of Truss, including Simon Clarke, the former levelling up secretary, are among those who have publicly criticised Sunak's plans.
Truss herself is understood to disapprove of the prime minister's reluctance to embrace significant reform.
A source close to Truss told The Times: "Excessive bureaucracy is making childcare in England increasingly unaffordable for many parents. The system needs to be reformed in order to boost growth and opportunity. Junking Liz's plans for this critical policy area seems economically and politically counterproductive."
Kit Malthouse, the education secretary under Truss, urged Sunak to "push the go button as soon as possible".
"The current system is a complicated Heath-Robinson affair that means no one, parents or providers, is happy. It's fundamental for economic growth that parents are supported in work and my team and I had formed up a 'Childcare Big Bang' plan to do just that," he said …
Amid concerns from Tory MPs over the spiralling costs of childcare, the education select committee will launch an inquiry into the problem.
On January 5, The Times's Katy Balls told us more about Simon Clarke's mobilisation of Trussite MPs:
Shortly before Christmas, in a darkly lit Chinese restaurant near the Home Office, a scene played out that would alarm any government whip. There, in a corner of Ma La Sichuan, was Liz Truss, dining with three of her allies. Simon Clarke, her one-time levelling up secretary, and Ranil Jayawardena, her environment secretary, were present. They were joined by her former parliamentary private secretary Rob Butler. None of them have prospered under Rishi Sunak.
… Clarke has already opened hostilities with Rishi Sunak, pushing to overturn the ban on new onshore wind farms. He's backed by Truss and Boris Johnson. He's also setting up a new group of Tories dedicated to that Trussite watchword: growth …
The less-than-edifying circumstances of Truss's ejection from Downing Street mean that both she and members of her cabinet have been keeping largely quiet …
But as the Trussites emerge from a period of reflection, they could pose the bigger threat in an ideological fight. They did, after all, triumph over Sunak in the argument with Tory members. "These MPs haven't suddenly changed their worldview," says a former adviser to Truss. As Clarke put it in an interview with The Spectator this week, "There is a real risk that with Liz's eclipse comes the wider rejection of an entire school of Tory thinking." He warns that "a battle for the soul of the Tory party is underway".
The good news for Sunak is that as things stand, a large chunk of these MPs don't want to throw another prime minister out of Downing Street. Free market Tories in marginal seats, such as Clarke and Jacob Rees-Mogg, will be nervous about more leader volatility ahead of the next election. But they also don't want to sit back and do nothing for two years. Instead, they want to see Sunak expand his ambitions for growth across housing, childcare and work …
Clarke's new outfit — Next Generation Tories — is aimed at bringing younger voters to the party, a cause few would disagree with. But it is ultimately free market with a focus on housebuilding and planning.
Truss could join the fray next. She has hired a press chief and there are talks about the possibility of her fronting or taking a role with a think tank. Not everyone thinks it is such a great idea. "I think silence is undervalued," says a former aide …
The Truss project didn't survive long enough for her to publish her growth plan, but a draft of the eight-page document offers a taste of the kind of policies this group is likely to advocate. They include mobile phone planning reform (relaxing planning regulations to extend 5G coverage across the country) which aides predicted would cause a parliamentary row over the digging required for new cabling. On childcare, easing restrictions for childminders; on farming, slowing cuts to subsidies to give the average farmer an extra £7,000 over two years; and on immigration, removing students and temporary workers from the net migration statistics as part of a looser policy to bolster the economy.
… while some MPs undoubtedly backed Truss for careerist reasons, plenty more regard her reform pitch as the right one. "If they pick their fight well, they'll start a debate on direction," says an MP who backed Sunak.
Katy Balls, who also writes for The Spectator, revealed Truss's growth plan in the magazine on February 9. It is eminently sensible and achievable. Truss planned for much of it to be achieved in 2023. Readers may peruse it at their leisure, as there are several tables to examine.
Returning to January 2023, the Financial Times took issue with Conservative efforts to reduce the deficit. They really have moved ever leftward over the years:
It also became clear that Truss wasn't such a bad PM after all. The UK's GDP results for November 2022 were better than expected:
On January 31, The Telegraph's Tim Stanley wrote that the IMF owes Liz Truss an apology. He reminded us of their previous critique in light of their new forecast:
Conservative Greg Clark made one very good point: this is only a forecast. The IMF has been known to get those wrong.
Moreover, it's the same clever-clogs IMF that advised us not to cut tax last year that now tells us our economy is in a nosedive because we raised taxes. Somebody owes Liz Truss an apology.
The Telegraph should apologise, too, for putting words in Truss's mouth when headlining her 4,000-word essay of February 4, their grand exclusive. The problem is that people who didn't read the essay, probably among them Andrew Neil, repeated the headline:
The day after Truss's essay appeared, her Conservative Party chairman, Red Wall MP Jake Berry, told the BBC that voters in the North had enough of the status quo and wanted a new way forward, i.e. Truss's policies. Guido Fawkes has the video:
That day, Grant Shapps told the BBC that Truss's instinct to lower taxes was correct in principle, but she collided with reality. A Twitter user pointed out Shapps's error. Truss's policies would have kept the UK second only to Germany in debt-to-GDP ratio of the G7 nations:
James Dyson, the vacuum cleaner mogul, would strongly disagree with Shapps. On January 19, The Guardian recapped an article he wrote for The Telegraph in which he criticised the lack of UK growth:
The founder of the eponymous vacuum cleaner firm said "growth has become a dirty word" under the current leadership and that on current trends, the average British family will be poorer than their Polish counterpart by 2030.
Dyson, a prominent supporter of Brexit, criticised the government's "ever higher tax bills" for the private sector and regulations, saying it is imposing "tax upon tax on companies in the belief that penalising the private sector is a free win at the ballot box".
"This is as shortsighted as it is stupid," Dyson wrote in the Telegraph on Thursday. "In the global economy, companies will simply choose to transfer jobs and invest elsewhere. Our country has an illustrious history of enterprise and innovation, born of a culture which we are in the process of extinguishing. We have got through the worst of Covid, but risk wasting the recovery."
Dyson said the government's failure to get workers back to the office after the pandemic had "badly damaged the country's work ethic", arguing face-to-face interaction was important, including for the training of new and young employees. He also claimed the growth of his business, which makes vacuum cleaners, fans and hairdryers, had happened largely "despite government, rather than because of it".
However, he concluded that "it is not too late for Britain to shake off its Covid inertia" if the government acts fast. "Starting with the spring budget in March, it must incentivise private innovation and demonstrate its ambition for growth," Dyson wrote.
The government is under pressure to reduce taxes for households and businesses in the spring budget to avoid a damaging and long-lasting recession.
On Sunday, February 12, John Redwood, who has been an MP since the Thatcher years, made an appeal on Sky News for more tax cuts, beginning with corporation tax (Guido has the video):
The following day, he wrote more about it in his online diary, pointing out that high corporation tax has caused AstraZeneca to renege on future expansion in the UK. Instead, the company will be moving to Ireland:
The decision by Astra Zeneca to put a major new investment  into Ireland where they charge 15% business tax compared to our new rate of 25% shows just how stupid our high tax policy is. Instead of getting 15% of a good stream of profits over many years alongside income tax and VAT on all the well paid ,jobs they bring, the UK has settled not to have any of it. 25%  of nothing is  nothing.
The same folly is evident in the North Sea. In a rush to get a bit more revenue this year with high and erratic windfall taxes, the government has delayed or lost important investments in new gas and oil fields. Instead of generating more well paid jobs and plenty of tax revenue on the output over the next decade or two, we opt to import and to pay huge taxes away to foreign governments on all the imports. Just one of the fields not currently going ahead would generate a gross £25bn over its life, with a lot of that passing directly to the Treasury in taxes.
Ireland makes my case perfectly. With a much lower rate of business tax than us Ireland enjoys a much higher proportion of its revenues from business tax because so many businesses go there to set up an HQ and to invest in plants and offices. Ireland  has a much higher per capita national income than us thanks to all the foreign investors congregating there to create jobs and spend money. The UK should copy them with a 15% tax rate as Jeremy Hunt himself proposed last summer. We too would get more revenue and have higher per capita average incomes. Enthusiasts for the EU are always urging us to align more with our Irish neighbours. This would be a great way of doing just that.
When Margaret Thatcher and her Chancellors cut higher rate income tax from 83% to 60% and then to 40% the amount of income tax paid by the better off rose in cash terms, rose in real terms, and rose as a proportion of total income tax. What's not to like for all involved? When George Osborne drove UK corporation tax down gradually to 19%, the take from company tax went up, not down. So why do OBR and Treasury models tell Ministers any cut in tax rates will lead to a reduction in tax revenue we cannot afford? History and modern experience suggests otherwise.
Last week, economic growth continued to be a hot topic. On February 24, The Telegraph published two letters from their readers on the subject.
One reads:
SIR – For many years we have believed that we live in a rich country – one that can afford top-class services such as the NHS, social support and good roads, railways and other infrastructure, and can buy whatever food it needs from abroad rather than growing it.
Sadly this is no longer the case. Britain does not generate enough wealth to support its needs, and has been borrowing ever more to make up the shortfall. Unless we make a fundamental change and start to grow our economy, we will not be able to afford the things we think we are entitled to.
The other says:
SIR – When will the Chancellor and Prime Minister remember that taxation discourages whatever it falls on, and that, in many cases, raising tax rates leads to lower overall receipts?
… we have ended in the grotesque chaos of a Conservative government – a Conservative government – scuttling around raising corporation tax at precisely the moment it should be lowering it in order to encourage businesses to set up and invest in our economy.
Meanwhile, the wagons have been circling from both the Sunak and the pro-Boris camps.
On the Sunak side, Lee Anderson is now the Deputy Chairman of the Conservative Party and, on February 21, another Red Wall MP, Brendan Clarke-Smith, was appointed to succeed Anderson as leader of the Blue Collar Conservatives. While both will do brilliantly, is it just a cynical move from Sunak to keep Red Wall voters onside with no policy changes from Downing Street?
On the pro-Boris/Liz side of the equation, David Campbell-Bannerman, a former Conservative MEP and head of the new Conservative Democratic Organisation, says that Conservative associations across England are prepared to de-select MPs who resigned when Boris was PM so that he was himself forced to stand down. They are also angry that they voted for Liz Truss and found her similarly deposed within a few weeks.
On February 23, The Telegraph's Christopher Hope reported:
Members are particularly irked that they chose both Mr Johnson and Ms Truss, only for MPs to force out both and eventually appoint Rishi Sunak as Prime Minister. During the Conservative leadership campaign last summer, members voted by 57.4 per cent to 42.6 per cent for Ms Truss over Mr Sunak.
Last weekend Damian Green, the former de facto deputy Prime Minister under Theresa May, was not selected to fight the Weald of Kent seat at the next general election. There were reports that this was because of anger at his criticism of Mr Johnson when he was prime minister, although this was disputed by friends of Mr Green.
Scores of MPs are facing votes on whether they will stand at the next election before July 23 – known as "vesting day" in Conservative Central Office – because of a shake-up of constituency boundaries.
There were suggestions in Westminster that Sir Richard Graham, who was critical of Mr Johnson, might not be readopted by his party at a meeting of local Tories in Gloucester on Friday. Sir Richard urged Conservative colleagues to focus on defeating Labour rather than party disunity …
Mr Campbell-Bannerman, a former Conservative MEP, told The Telegraph's Chopper's Politics podcast: "I get the feel of a reckoning – MPs being held to account. MPs have caused this chaos by bringing down Boris.
"There were about 60 MPs who signed letters or resigned or said Boris should go. There's more than that, maybe 150, who didn't want Boris. I'm not saying Boris was flawless. He certainly wasn't. But look at the disaster that has followed getting rid of him. Surely they should have toughed it out, got him to improve performance?"
He added that "potentially" dozens of these MPs could now find that they are not adopted as candidates by their local parties, adding: "A lot of MPs will be coming up for selection and they will be held to account.
"I'm not advocating it, but what I'm advocating is the members have the right and the power to do this. Central Office should back off and they should be allowed to make their decisions.
"We don't have a hit list or a target list. We're not operating like that. But we support members and I think we've empowered members to take back control, to say hang on, this isn't good enough. We're not getting a good enough choice here. We want to do it our way."
He said MPs were "being held to account for plunging the party into crisis", pointing out that the Tories had plummeted in the polls.
"We've really gone down badly, due to the chaos. And you can point fingers at Liz Truss, but Liz Truss would not have been there if they had kept Boris and Rishi wouldn't be there if they had kept Boris," he added.
Good! Well said!
Liz Truss stood by Boris all the way until the end. Her South West Norfolk Conservative association awarded her with reselection for the next general election:
An indirect compliment came Liz's way from Labour's Keir Starmer. Imitation is the sincerest form of flattery. He, too, is touting a growth-led economy — for now, at least:
An exciting year lies ahead, one that will make or break either the Conservatives or Labour ahead of 2024's general election.
This post concludes the story of how Rishi Sunak became Prime Minister.
Those who missed them might find parts 1 and 2 of interest.
Before concluding, an important anniversary took place this week.
On October 26, 2012, UKIP MP Douglas Carswell introduced a private member's bill, 'The People's EU Withdrawal Bill'.
The groundswell of support from Guido Fawkes's readers helped bring it to the Commons:
Guido has the video and a brief comment (emphases his):
Today history was made as the first-ever crowd-sourced Bill was debated in Parliament. The majority of 5,000 readers of this website voted for Douglas Carswell to propose Britain to withdraw from the European Union, and today Carswell stood up in the House to argue the case for the People's Bill. The debate can be watched at length here. 
Here is a short video of proceedings:
A few years later, then-Prime Minister David Cameron, frightened by the overwhelming support for UKIP in the European election, decided to give the British people a referendum. It ended up being the largest plebiscite in the history of the United Kingdom. On Thursday, June 23, 2016, in pouring rain, voters said they wanted the UK to leave the EU: 52% to 48%.
In current news, during Rishi Sunak's first week as PM, as I wrote yesterday, questions were being asked in the Commons and the Lords about Suella Braverman's reappointment as Home Secretary.
The Telegraph's Madeline Grant called Braverman 'Houdini' for not showing up for an Urgent Question in the Commons about the horrifying state of the Manston processing centre in Kent, which is turning from a short-stay to a longer-term residence for Channel migrants (emphases in purple mine):
At a second Home Office UQ, this time courtesy of Labour's Diana Johnson, the Home Secretary was a no-show again …
In truth, there were unhappy campers on both sides of the House; enough to populate Butlins, if not quite Calais …
Deputising for Houdini was Robert Jenrick – a junior Home Office minister and close ally of the PM who, some say, was appointed to keep a watchful eye on Braverman and prevent her from doing anything too mad …
Yet Jenrick's arguments were more true-blue, or at least Red Wall. He had little sympathy with illegal migrants, and the diversion of resources away from their legal counterparts, and seized eagerly on Priti Patel's pet phrase, "evil people-smuggling gangs". Reinforcements soon began to arrive from the Tory backbenches. What gave Labour the right to complain, wondered Steve Double, the MP for St Austell, when they'd voted against Patel's Nationality and Borders Bill. Lee Anderson and Richard Graham warned of Britain's imminent inundation by Albanian men.
Christopher Chope reminded the Commons that whatever the state of the Manston processing centre, conditions were a darn sight worse in the Calais Jungle. Labour MPs looked scandalised, but Jenrick agreed wholeheartedly.
When asked why he was deputising for Braverman:
Jenrick, in the spirit of Sunak, came back with an answer that was simultaneously boring and unimpeachable. "Because I'm the Minister of State for Immigration" …
It is estimated that from 1% to 2% of Albanian men are in the UK. They have places to go to once they arrive. The Albanian drug trade is the latest development in our migration story.
The situation in Dover is intensifying. The Times reported the story of the week: '"Desperate" new arrivals drive Dover into taking up arms'. Sledgehammers, more like, as firearms are largely illegal here:
Sue Doyle, 59, was sitting in her living room sipping a cup of coffee on Sunday morning when a 16-year-old Albanian migrant got in through the back door, which she had left open for her dog.
"All of a sudden he was there standing in my front room," she told The Times. "He didn't seem very friendly. He kept saying: 'no police, no police'."
Doyle, a full-time carer for her mother, said she was made to her lock her dog in a bedroom and that the teenager then asked her to drive him to Manchester. When she refused he demanded her mobile phone and used it to arrange to be picked up by a contact.
… Doyle managed to sneak out of the front door and alert a neighbour, who contacted the police and confronted the young migrant.
The neighbour, Louise Monger, 36, said she became more sympathetic when she realised his age and tried to assist him. Police arrived and he was detained before the driver arrived, she said …
The teenager who was arrested was said to be in tears as he was driven away in a police car …
A few doors down from Doyle, Kerry Jones, 45, a mother of a young autistic girl, said she now sleeps with a sledgehammer next to her bed after a migrant tried to enter her home through the back door in August …
The residents complained that not enough was being done by the council, police and border force to deal with the problem. Many spoke of seeing migrants running through the streets and residential areas or "hiding in bushes" in local parks …
When a Times reporter arrived at Dover Priory station yesterday a Syrian mother and her young child approached and asked for help getting to an "army base" where their money and belongings were.
The mother, Nur Taha, 27, said she and her son, Mohammad Salu, six, arrived in Dover ten days ago in an overcrowded dinghy that was rescued on the water and were separated from her partner Akram Salu, 49, who was detained by military police, and their possessions …
When a reporter called Kent Police to request assistance for the mother and son, he was told that no officers were available as they had more pressing priorities. The advice given was to let them roam in Dover and hope that they were safe.
In a statement on Doyle's report, the force said it received a call at about 10.45am on Sunday that a man had entered "an insecure door at a property in Dover and was seeking the use of a phone".
The force added: "He was initially arrested, then de-arrested at the scene once the circumstances had been established by speaking to both parties. The man was then detained on behalf of immigration officers."
In Nur Taha's case, it is understood she and Mohammad had been processed by Border Force officers …
The council was approached for comment.
Mass migration started during Tony Blair's government and has only become worse, as the backlog of cases is through the roof.
Twenty years on, the Home Office again needs more information on those arriving, as well as stronger co-operation with France to stem the flow. Officials often have little information on claimants, whose lack of identification may be a deliberate ploy — case workers have little choice but to believe them: 75 per cent of asylum seekers were given the right to stay in the 12 months to March, the highest rate since 1990.
Meanwhile, claims are taking longer to assess, having climbed to an average of 480 days for an initial decision to be reached.
Some in the Home Office have suggested there is a deliberate policy of slowing down the processing of claims given the high rate of people granted asylum. A six-month target for assessing claims has been ditched and the rate of cases completed in that time has fallen from 80 per cent in 2015 to 17 per cent. But this looks set to change, given the soaring cost of housing those waiting for their claim to be assessed in hotels, which now stands at £6.8 million per day.
This month, the idea of erecting tent cities in London's parks was mooted, something Paris has tried with shocking effect. Most Parisian women living near one of these tent cities can no longer go out at night. Drugs, violence and noise prevail once it turns dark.
The same Times article reported that London tent cities are unlikely to come to fruition:
The idea was raised by civil servants in meetings with leaders of London councils this month, sources said.
It was considered after efforts to persuade London boroughs and local authorities in other parts of the country to accommodate more asylum seekers failed. The Home Office had issued an emergency appeal to councils for more places earlier this year as officials struggled to cope with the growing numbers of migrants crossing the Channel.
Council leaders in the meeting dismissed the prospect of installing marquees in parks in the capital and instead urged the Home Office to lift the ban on asylum seekers being able to get a job …
The Home Office made clear last night that the plans to erect tents in London parks were no longer under consideration. It said: "It is categorically untrue to suggest that the Home Office is planning to erect tents to house asylum seekers in London parks."
The idea arose during discussions on how to deal with overcrowding at the temporary asylum processing site at Manston Airport, which is only designed to hold Channel migrants for up to 24 hours.
It is unclear what Rishi Sunak has planned for Suella Braverman.
On the one hand, Sunak's people say everything is in hand, and MI5 say they have no problem working with the Home Secretary, the Times revealed:
A former Conservative minister in the Home Office told The Times: "You can't even have the vague notion that you might leak because then all the security services will clam up on you — which is not what you need."
However, responding to claims that MI5 could withhold information from Braverman, a security source said: "This is completely untrue. The home secretary and MI5 have a strong and trusted working relationship. She will continue to receive regular intelligence briefings, as was the case when the home secretary was in post previously and with other home secretaries."
Rishi Sunak's spokesman insisted that Braverman had "strong relationships" with the security services and the prime minister's full confidence.
Oh, dear: 'the prime minister's full confidence'. Those are dangerous words, dating back from the 1990s. That means a resignation or a sacking could be coming soon.
The Star wasted no time in putting 'Leeky Sue' on their Friday front page:
On the other hand, the Times said that Sunak's allies are waiting for Braverman to go, possibly so that Jenrick can step in. He wouldn't be very good, I don't think, but that seems to be charactistic of Sunak's government — business as usual, nothing gets done:
Sunak's close ally and Braverman's deputy in the Home Office, Robert Jenrick, responded to an urgent question on crossings yesterday in her place. The sole hope now, Sunak allies have whispered, is that Braverman makes a further error and goes for good, leaving Sunak and Jenrick to press on peacefully in her absence.
That doesn't surprise me in the slightest.
The Guardian continued to cast shade on Braverman:
London's Evening Standard, however, went with the story about Cabinet minister Nadhim Zahawi's defence of the Home Secretary at the bottom of their front page:
One good thing that Rishi has done is to decline going to COP27:
A new poll shows that the Conservatives are doing better than Labour, but still have a huge hill to climb:
I disagree with Guido's assessment here. The poll decline started with Boris and Partygate nearly a year ago:
That said, Guido rightly sees this as an uphill battle:
Add to that the impending storm of budget cuts, Rishi certainly faces an uphill battle.
The poll also strengthens Reform UK's claims of a resurgence, with their support at 6% and growing representing a relatively strong showing. The Conservatives face challenges from all sides…
Finally, there's the idiocy of America's Trevor Noah calling Britain racist towards Rishi Sunak. I haven't read one negative comment about his heritage from conservatives, ever. Labour — our equivalent of the Democrats — are the ones making the racist remarks.
Rishi Sunak does not believe Britain is a racist country, a Downing Street spokesman said, following claims by Trevor Noah that there was a "backlash" after he became the UK's first British-Asian Prime Minister …
"But you heard the words in the House [of Commons] on Wednesday with regard to the [appointment of the] Prime Minister," the spokesman said. When asked whether Mr Sunak believes Britain is a racist country, the spokesman said: "No he doesn't."
His words were echoed by Sajid Javid, the former chancellor and health secretary, who said Noah was "detached from reality" when he claimed Mr Sunak's appointment provoked a racist "backlash".
… Tom Holland, a popular historian and podcaster, wrote:
—————————————————————————————————————–
Now back to the leadership contest, where we pick up on the events of Saturday, October 22, 2022.
Boris returns to the UK
The Sun's Harry Cole told TalkTV that Boris and Rishi could come up with a plan to save the country:
Sky News's Mark Stone was tracking Boris's progress back to the UK:
Sky News interviewed Chris Heaton-Harris MP, who said that Boris definitely had 100 backers (see video):
Guido was eager to confirm, as Boris's numbers were far behind Rishi's at that point:
Boris landed at Gatwick mid-morning:
Guido was hopeful for his prospects:
One German newspaper, however, was less than enthusiastic, asking, 'Seriously?':
Former Home Secretary and Boris loyalist Priti Patel declared her support:
However, the never-Boris MP, Sir Roger Gale, did not mince words in an interview with LBC:
Scottish Conservatives would agree. The Telegraph's Alan Cochrane wrote:
Just when an air of undisguised relief began to filter through the higher reaches of the Scottish Tories at the resignation of Prime Minister Liz Truss, along came Boris Johnson to dampen their ardour.
They may not have been the greatest fans of Ms Truss and were glad to see the back of her. But their view of Boris bordered on the certain belief that he was a major electoral liability north of the border. And as the news emerged that the former PM aims to stand again for the top job, one former senior minister commented: "It will destroy the Conservative Party if he does."
At lunchtime, Harry Cole produced a poll for the Sun saying that Boris still topped the charts. That must have been in England, then:
However, Lord Frost thought that Rishi was the right man for the job:
One Twitter user reminded us that Boris plucked David GH Frost from obscurity and elevated him to the House of Lords:
However, the BBC's Laura Kuenssberg and ITV News's Anushka Asthana spotted a trend. Former Boris supporters, such as Lord Frost, who also supported Liz Truss, now preferred Rishi Sunak:
That afternoon, Boris's father Stanley appeared again on GB News, saying he would vote for his son if the contest went to Party members:
Just before 3 p.m., Boris backers told the BBC's Chris Mason that the former PM had the numbers:
However, the Evening Standard's Nicholas Cecil sounded a note of caution — Boris's MPs did not want their names made public:
A Mail+ report couldn't shed much more light on the names, either:
On Saturday morning, former Home Secretary Priti Patel said she was backing Mr Johnson in the leadership race because he had a 'proven track record'. Ms Truss, Defence Secretary Ben Wallace and former Home Secretary Suella Braverman are also in Mr Johnson's camp, while former No10 chief of staff Steve Barclay and ex Brexit Minister Lord Frost have publicly backed rival Rishi Sunak.
Just before 3 p.m., another Twitter user provided this analysis, saying that Rishi had the momentum and numbers:
Just after 3 p.m., Guido's spreadsheet showed that Rishi was on 120 MPs with Boris on 71:
Red Wall MP Lee Anderson declared his support for Boris after 3:30:
That was about it for Boris's afternoon.
Shortly after 6 p.m., Guido described how he and his team were compiling their spreadsheet. The following points stood out:
Here is some insight into what has happened in the last few days: the Rishi campaign has decided in their wisdom to freeze Guido out – no briefing, no contact, effectively pretending we don't exist as a fact of political life. Petulantly putting us in the penalty box for giving Rishi a hard time in the last leadership campaign. We started reporting and publicly recording the support of MPs for Boris on Thursday, and by yesterday evening the Rishi campaign was instructing their supporting MPs to contact us to confirm their support for him. As our records showed support for Rishi catching up with and then pulling ahead of Boris, his campaign reminded supporters to confirm their pledges to us. All can now see the relative strength of candidates' support.
… MPs who have not pledged can be seen by all sides. They are either genuinely undecided – waiting to see which way the wind blows – or biding their time for Machiavellian reasons, or simply ransoming their vote for the highest bid or best favour. What MPs can't do is double pledge any more. If they tell a campaign they are backing their candidate the campaign expects them to go public. If they don't go public, they are suspect.
Yesterday the site was visited three quarters of a million times, such was the demand for data.* This kind of transparency is now a fact of political life, the game has changed. Changed for the better…
*Team Rishi's strategy of ignoring the website read by so much of the membership doesn't bode well for their success if the contest goes to the membership.
Penny who?
Meanwhile, Penny Mordaunt's leadership bid wasn't the best.
Although this was strictly for MPs, The Guardian went to her Portsmouth North constituency to find out what the public thought:
Penny Mordaunt may have been the MP for Portsmouth North for 12 years, and could perhaps be the next prime minister, but some of her constituents were perplexed when hearing her name on Friday.
"Who's she? I don't know nothing about her," said James McLeish, who added he would not recognise her if she passed him on the street. "Never seen her, don't even know what she stands for."
McLeish's bemusement came hours before Mordaunt formally announced she was standing to replace Liz Truss – stealing a march on her presumed rivals Rishi Sunak and Boris Johnson.
Speaking in Cosham High Street, which runs through the centre of a suburb to the north of the port city, McLeish, 82, had a much clearer view on Truss's resignation after a disastrous 45 days in office.
The Telegraph's Tim Stanley gave us a tongue-in-cheek profile of the Leader of the House:
What about Penny Mordaunt, bringing up the rear? She was the first candidate to declare – and she surprised everyone last time by how far she went. The Tory grassroots appear besotted with this lady, thanks to her naval career and taste for innuendo; she exudes an impression of authority that was bolstered during the accession of Charles III when she managed to read aloud from an official document clearly and without error. That's all it takes nowadays. If only she were in Parliament, Angela Rippon would be a shoe-in.
Ms Mordaunt has reportedly told Jeremy Hunt that if she wins, he can write economic policy. And Mr Hunt, no doubt, rang the Bank of England and said, "If Penny wins, you can write economic policy." The Bank rang the IMF… and on it went all the way to Joe Biden, who put a call through to his wife, even though she was lying next to him, and said, "Honey, if Penny Farthing is made Queen of England, you can write economic policy."
Stanley spoke with Conservative Party members:
What do the members think? I've put out feelers. They want Boris.
They know he's not Jesus. He might have spent 40 days in the desert, but if the Devil tried to tempt him, he'd give in on every occasion. Yet they voted for Truss, the suits kicked her out – so now they want the good times back with BoJo. He likes pina coladas and dancing in the rain. And if they want him, and assuming he can find his passport – last seen in a swimming pool locker – he'll be right with us.
Harry Cole said that Penny's backers during the Liz Truss contest during the summer were now plumping for Boris or Rishi this time around:
Deal? No deal
Boris and Rishi met on Saturday evening. The meeting lasted three hours. The Times reported it took place at Boris's office in Millbank Tower. I've been to Millbank Tower. It has lovely offices and a spectacular view of the Thames.
The Sun put the talks on its front page on Sunday, October 23:
The paper's Harry Cole tweeted when the meeting ended, which was after 11 p.m.:
On Sunday, Cole said that Boris's backers did not want to make themselves public until they were sure there was no deal:
There was no deal.
The Mail on Sunday reported that Suella Braverman was backing Rishi:
She wrote in the Telegraph: 'I have backed Boris from the start. From running alongside him in London in 2012, to supporting him to be our leader in 2019 and willing him to succeed throughout the travails of this year. His resignation in July was a loss for our country.
'But we are in dire straits now. We need unity, stability and efficiency. Rishi is the only candidate that fits the bill and I am proud to support him.'
The article gave us scant information on the meeting between Boris and Rishi:
Last night's crunch summit between Mr Johnson and Mr Sunak, which is believed to have ended shortly before 11.20pm, comes ahead of tomorrow's deadline for Tory leadership hopefuls to secure the backing of 100 MPs.
The headline banners read:
Ex-Chancellor fomally confirms candidacy for Tory leadership after late-night talks with Boris Johnson

It was claimed this morning that no agreement was struck between the pair in their three-hour negotiations

Some had been hoping for a power-sharing pact between the pair in order to avoid a divisive battle
Sunday's hope would not last
The day began well, but with Boris's numbers stagnant, reality began to set in.
That morning, Redfield & Wilton Strategies released a positive poll for Boris, taken on October 20 and 21:
Guido showed us the Mail on Sunday poll, which also showed that Boris had the best chance of stemming a Labour majority were a general election to take place that day. Guido meant 'Tory' not 'Toy', by the way:
Liz Truss's Business Secretary Jacob Rees-Mogg told Laura Kuenssberg that Boris had the numbers (video):
Rees-Mogg also defended Boris's record (video):
Later that morning, Guido said that some MPs were sounding out their constituents:
Just before 2 p.m., Foreign Secretary James Cleverly tweeted that he was backing Boris:
Meanwhile, Rishi already had 150 MPs signed up to vote for him, including names:
The Mail on Sunday reported that Boris allegedly contacted Penny Mordaunt to ask her to stand aside. The sign of a desperate man:
Penny Mordaunt, who officially declared her leadership bid on Friday, was claimed to have rebuffed Mr Johnson's attempts to get her to drop out of the Tory leadership race in a phone call this afternoon.
He was reported to have told the ex-PM that, even if she did quit, most of her supporters would switch to Mr Sunak and not Mr Johnson. 
'I'm in this to win it,' the Leader of the House of Commons declared, despite signs she is struggling to win backers.
Boris bows out
Around 9 p.m., Boris announced that he was withdrawing from the contest. The time was not right for him to return, he said.
Afterwards, the Telegraph recapped the past 24 hours and said the meeting between him and Rishi on Saturday night lasted only one hour:
It was as he sat with Rishi Sunak, face-to-face for 60 minutes with no one else in the room, that Boris Johnson rolled the dice for the last time …
Barely a word had been passed between Mr Sunak and Mr Johnson since their relationship imploded in July.
Yet on Saturday night, the two biggest names in Tory politics agreed to down tools and meet, with the keys to Number 10 the prize on the table …
But the truth was that he believed a joint ticket between the two men, with him back as prime minister, was his route back to Downing Street.
The meeting was called at the behest of Mr Johnson, not Mr Sunak.
It was also, according to one figure who was in touch with one of the two candidates on Sunday, a surprisingly convivial affair. "It was perfectly pleasant," said the source.
But Mr Johnson had been forced into a meeting with his old foe in an attempt to regain control of the corridors of power.
Above all, it was no Granita pact [one between Tony Blair as PM and Gordon Brown as Chancellor, done in a London restaurant of the same name] because of one simple reality – there was no deal. Mr Sunak did not agree to stand aside. Nor did Mr Johnson. They parted ways unresolved.
On Sunday morning, Boris rang his supporters:
His gamble to take control of Mr Sunak's bigger list of backers had failed.
That much became clear at 8am on Sunday, when Mr Johnson gathered his supporters on a video call and informed them no agreement had been reached.
We found out more about his appeal to Penny to stand aside:
Ms Mordaunt gave him short shrift. The Commons Leader, who remembers being ejected from the Cabinet by Mr Johnson on his first day in office in July 2019, told him most of her MP supporters would prefer to back Mr Sunak – and that he should consider dropping out of the race and leave her to face him alone. Her offer was refused.
On Saturday, Boris's aides even said he would keep Jeremy Hunt as Chancellor:
Searching, perhaps, to persuade MPs he had credibility as a "unity candidate", Mr Johnson's aides let it be known he would keep Jeremy Hunt in post as Chancellor if he won the contest.
Little did he know that at that moment, Mr Hunt was preparing to make his first public declaration of the leadership race since ruling himself out – by backing Mr Sunak in an article for The Telegraph.
King Charles would have said, 'Dear, oh dear'.
On Sunday, around 9 p.m., Boris threw in the towel:
By 9pm, the answer was clear.
Writing to his supporters on a WhatsApp group, Mr Johnson himself conceded defeat – but claimed he had the numbers all along.
Telling friends he had been "overwhelmed" by support from MPs, he maintained that he was "uniquely placed to avert a general election".
Stressing that he had cleared the "high hurdle" of 102 nominations including a proposer and a seconder, he said he was confident he could be "back in Downing Street on Friday".
But it appeared the concern among Tory MPs about the return of their former leader had rattled Mr Johnson.
Confirming he had "reached out" to Mr Sunak and Ms Mordaunt in an attempt to strike a deal, his message concluded: "I am afraid that the best thing is that I do not allow my nomination to go forward and commit my support to whoever succeeds."
… As he told MPs on Sunday night: "I believe I have much to offer but I am afraid this is simply not the right time."
One of Boris's main supporters, Sir James Duddridge MP, was nonplussed:
An hour later, he changed his support from Boris to Rishi:
Jonathan Gullis, a Red Wall MP, didn't wait that long:
Braverman pivotal to Rishi's support
On Monday, October 24, the Times had two articles about the importance of Suella Braverman backing Rishi.
The European Research Group of Eurosceptic backbenchers [Brexit supporters], which in previous leadership contests has acted as a bloc, is increasingly fractured.
Suella Braverman, the former home secretary who was once one of Johnson's most ardent supporters, came out for Sunak. The party, she said, could not afford to indulge in "parochial or nativist fantasies" given the "dire straits" it was in now. The world was "fundamentally different" from when Johnson was elected in 2019.
Braverman's endorsement of Sunak surprised even some of her allies, with one speculating about whether she had been offered the chance to return as home secretary. "She wouldn't have settled for much less," said one.
Braverman's support was not just a blow to Johnson, it also allowed Sunak to make the case to wavering MPs that he could command support across the party. As well as Braverman, Sunak won the backing of other former ERG stalwarts such as Steve Baker and Theresa Villiers. He has even persuaded MPs who had joined a "Back Boris 22" WhatsApp group to jump ship, including Chris Loder, MP for West Dorset.
It suggests that Sunak has made assurances to the ERG on policy and jobs, given that senior ERG figures were briefing on Friday that they would seek "guarantees" before endorsing candidates, which ranged from no concessions on the Northern Ireland protocol, reaffirming the manifesto commitment to reduce immigration and senior cabinet roles for their members.
Braverman suggested as much, saying in an article for The Telegraph website that the party needed to "move beyond Leaver or Remainer; One Nation or ERG; right of the party or left of the party; wets or Thatcherites," adding: "One person can build that team: Rishi Sunak."
The other said that Boris's team had approached her for support on Saturday but was rebuffed:
Johnson's team had made a "big pitch" to her yesterday in the hope that winning her over would persuade fellow right-wing MPs to back him. She is a former head of the European Research Group of Brexiteer MPs. It is a further sign that the ERG is split down the middle between Sunak and Johnson …
Her endorsement will deliver a big blow to Johnson's efforts to attract the remaining MPs on the right of the party, as she is seen as one of their flag-bearers and rising stars.
She is the latest figure on the right to endorse Sunak following Kemi Badenoch, the trade secretary, and Lord Frost.
Braverman also signalled that Sunak had agreed to continue with reforms she had begun working on during her short spell as home secretary, including a new law to prevent the European Convention on Human Rights allowing migrants and criminals to avoid deportation. It also suggests that Sunak has agreed to press ahead with the government's controversial Rwanda policy.
I hope that all works out for her.
Unfortunately for James Duddridge, the Boris loyalist, even though he voted for Rishi, he was sacked as Trade minister on Wednesday:
Jacob Rees-Mogg also got the sack this week and has returned to the backbenches.
Rishi's 'coronation'
On Monday morning, October 24, the outspoken Lee Anderson refused to back Rishi, swapping his vote from Boris to Penny. Interesting, to say the least:
Just before 1 p.m., Rishi had over 200 backers, double of what he needed:
At 2 p.m., the all-powerful 1922 Committee assembled at Conservative Party headquarters (CCHQ) to announce the results.
They had to meet at CCHQ, because while Rishi was the new Party leader, he was not yet Prime Minister and would not be able to enter No. 10 until he met with the King, who would grant him permission to form a government. The monarch returned to London on Tuesday, at which time Rishi's premiership was formalised.
According to the 1922 Committee, Boris had real numbers behind him — and had passed the threshold:
Guido reported:
For the historical record Nigel Adams says he met this morning with Bob Blackman, Joint Secretary of the 1922 Committee.
He has independently verified the nomination paperwork and confirmed to me that Rt Hon Boris Johnson MP was above the threshold required to stand for the Conservative Party leadership in this leadership election. Therefore Mr Johnson could have proceeded to the ballot had he chosen to do so.
The nominations process is confidential and it is up to individual MPs whether they wish to publicly announce who they back in leadership elections – Bob Blackman is verifying nominations today for the remaining candidates in this leadership election. Those still suffering from Boris Derangement Syndrome may need to seek help…
At the very last minute, Penny Mordaunt withdrew from the contest.
That meant Rishi had his 'coronation' as the only candidate left.
As such, the vote did not need to go to the Party members.
Conservative MPs were happy as Larry as they rejoiced that they finally got their man in office at last.
That evening, GB News reported that the Party's phone lines and website could not handle the amount of calls and clicks from members trying to cancel their membership.
They weren't angry at Rishi as much as they were the MPs who denied them a say.
End of series
Although the results of the Conservative Party leadership contest were not announced until Monday, September 5, 2022, it was widely believed that Liz Truss would emerge the victor.
So, on Sunday, September 4, the BBC's Laura Kuenssberg interviewed Truss on her morning current events show.
It was as much as a debut for Truss as it was for Kuenssberg. Although Kuenssberg has been on our television screens for several years, it was the first time in this format.
No longer much of a viewer of the regular BBC output outside of BBC Parliament, I only watched a short clip that Guido Fawkes posted:
Truss was polite and constructive. She explained that her policies were based on growth rather than redistribution:
Guido's post says, in part (emphases his):
The goal of Liz Truss's government should be to provide the framework for economic growth, growth that provides high paying jobs, not optimises universal credit. The Treasury has been trapped in the logic of Gordon Brown for too long, tinkering with taxes and benefits instead of turbo-charging the economy. We can't tax or redistribute our way to prosperity, Liz Truss knows this and has the drive to reform government policy. It is a positive, optimistic agenda on which she needs to move fast, starting this week…
Kuenssberg acted like the cool girl from school. (How did her hair grow so much in such a short space of time, one wonders.) She asked Truss:
You will come and see us again, won't you?
A Telegraph review of the new show mentioned that Kuenssberg couldn't interview Truss in detail because she had to move on to an interview with Ukraine's Olena Zelenska (emphases in purple mine):
One hopes … that the busy format can be slimmed down when the need arises, to allow for longer-form interviews and tougher interrogation. Kuenssberg did not, for example, have time to ask Truss about crime, immigration or education, because the programme also had to fit in an interview with Ukraine's first lady, Olena Zelenska (unfortunately, interviews conducted via a translator rarely make for riveting TV), fleeting discussions of Nasa's Artemis launch and the Taylor Hawkins tribute concert, plus some banter with the panel.
It is just like the BBC to give priority to foreign nations over our own citizens' needs and concerns.
Another mistake might be the addition of notional comic Joe Lycett, who insulted the then-future Prime Minister and made the Mail's front page on Monday:
The British public received more insight from Mark Littlewood, the director of the Institute of Economic Affairs (IEA). Littlewood (H/T to Guido Fawkes) was up at Oxford with Truss in the early 1990s and said she would be:
the most radical British Prime Minister in over a century.
Excerpts from Littlewood's article for The Sunday Telegraph follow:
The first myth that needs to be laid to the rest is that Liz Truss is some sort of wily, calculating chameleon who changes her political colours, depending on prevailing political circumstances, to suit her own narrow ends.
I first met Liz Truss over twenty-five years ago at Oxford University and have detected no shift in her underlying political philosophy in that time. She has not jumped from left to right or from radical to reactionary – she is, and has always been, a market liberal with a deep suspicion of entrenched, vested interests. She instinctively believes that the state has a greater propensity to do harm than to do good.
How then to reconcile her record as a pro-EU, Liberal Democrat at university with her Tory policy platform today? You only need to appreciate how politics have changed so markedly since the mid-1990s to understand that while the world itself might not be very consistent, Liz Truss very much is …
I would argue that Liz Truss's changing position on the EU reflects a consistent application of her underlying principles to changing circumstances. To go right back to the 1990s, the single market had just come into being. On the face of it, the European project was on an exciting, liberalising trajectory. It was about removing barriers erected by nation states in order to facilitate trade and free exchange. Over many years – and only incrementally – did the EU's obsession with regulatory conformity oblige free market liberals to seriously question whether the European Union was now more of a socialist than a liberal enterprise …
Although she was hostile to the EU's heavy-handed intervention, she also recognised that many of the problems afflicting Britain were homegrown. Most of the policy reforms she craved could be carried out whether or not we were a member of the European Union.
In wishing to move Britain in a liberalising, more market-orientated direction, Liz Truss would have judged Brussels to have been bad, but probably Whitehall to be worse …
Her approach to date on the energy crisis is a classic example of this. Whilst politicians of all stripes seem to want the government to take even more action to fix the price of energy, Truss's starting position would be to allow the price mechanism to operate freely and then consider how one might mitigate the effects. She would rather offset the soaring price of utility bills through meaningful tax cuts, than appoint a central committee to pronounce on the exact price we should all be paying per kilowatt hour.
But it's not merely the underlying instincts of Liz Truss that has led so many free marketeers to get excited about her upcoming premiership. We can also expect her to act decisively. This doesn't mean she is a dogmatic individual although, for sure, she is guided by an underlying ideology in a way our last three Conservative Prime Ministers have not been …
I suspect we are about to bear witness to the most radical British Prime Minister in over a century.
We can expect to see a whirlwind of activity and announcements from the very first minutes of her entering Downing Street. Given the speed she is going to have to operate at, there inevitably will be missteps. But the overall direction of travel in the Truss administration will be crystal clear – to move power and money away from the state bureaucracy and into the hands of ordinary men and women.
It remains to be seen exactly how far she can move Britain in that direction in the limited time she has available to her, but I can't wait to find out.
The Sunday Telegraph granted Truss an editorial that day which bear out what Littlewood wrote:
… My plan for growth is built on Conservative ideas: tax cuts, supply-side reform and deregulation. I will grasp the nettle on the ambitious reforms needed to get our economy growing, including working with local communities to create low-tax, opportunity-rich investment zones and make Britain the home of innovation and start-ups …
We will break with the same old tax and spend approach by focusing on growth and investment. The heaviest tax burden in 70 years cannot go on. We will change the Treasury investment rules to drive opportunity across every part of our United Kingdom. As Prime Minister, I will terminate the technocratic excesses that have crept into government and our economy.
I will be on the side of the people who drive Britain forward: from our hard-working taxpayers to our dynamic businesses and the self-employed. In the same spirit, I will take on whatever holds us back.
Too often, people face a morass of bureaucracy to get things done. It cannot be right that the last reservoir or new nuclear power station was over a quarter of a century ago. It's time to get Britain building and liberate our enterprising spirit.
At this critical moment, we can shape the future of our economy through the decisions we make. I am prepared to be bold in order to transform our economy into the powerhouse I know it can be. That is how we will deliver a better future for the British people and ensure together that our best days lie ahead.
On the morning of Monday, September 5, Red Wall MP Lee Anderson (see parts 1, 2, 3, 4 and 5) reacted to Laura Kuenssberg's Sunday show.
Guido reported:
Speaking to Mike Graham on TalkTV this morning, he's just called for the whole BBC to be shipped off to a desert island, because "they do not represent what this country wants."
One minute before the leadership contest results were announced, Guido tweeted about an extravagant bet he made on a Truss victory:
Sir Graham Brady, chairman of the 1922 Committee of Conservative backbench MPs, announced the result promptly at 12:30 in the Queen Elizabeth II conference centre, not far from Parliament.
Guido could rest easy. Truss won and would become our new Prime Minister:
Sir Graham read out the results from the Party members' ballots in full. Rishi Sunak did better than most pundits and pollsters predicted.
We also discovered the true number of Conservative Party members, heretofore unknown:
Rishi Sunak received 60,399 votes (42.4%)
Liz Truss received 81,326 votes (57.1%)
There were 172,437 eligible electors. Turnout was 82.6%.
There were 654 rejected ballots – probably mostly write ins for Boris. Which means 142,379 votes were returned.
58,378 electors voted by post and 84,001 electors voted online.
Before the result was announced, Conservative Home's Paul Goodman tweeted his expecations based on conversations with Party MPs and activists:
He found that Opinium was the most accurate polling company in the contest:
Look how far off the mark Conservative Home was.
Opinium readily acknowledged that doing party-specific polls were much more challenging than those from the general public:
Opinium has once again won the crown for most accurate poll during the Tory leadership election. After winning the same accolade at the 2019 election, Opinium were closest to the final result. They add the usual caveats that polling political parties is much trickier than the general public…
Truss and Sunak were seated next to each other as the votes were announced. Whe she got up to give her speech she rushed past Sunak without a glance or a handshake. Oh, well.
Her short speech didn't tell us anything we didn't already know:
Guido has the video, in which she was emphatic about one thing:
I campaigned as a Conservative and I will govern as a Conservative.
She also paid tribute to Boris Johnson:
Guido reported that Boris quickly congratulated Truss and said that the two had met before the contest was over:
Boris has congratulated Liz Truss on a "decisive win" in the leadership race:
I know she has the right plan to tackle the cost of living crisis, unite our party and continue the great work of uniting and levelling up our country. Now is the time for all Conservatives to get behind her 100 per cent.
It's not like Boris stayed neutral throughout the race. This morning the BBC's Chris Mason reported that Liz visited Boris at Chequers to ask his advice on how to be PM. 
Rishi has tweeted, through obviously gritted teeth, "It's right we now unite behind the new PM, Liz Truss, as she steers the country through difficult times."
Meanwhile, Carrie took to Instagram to wish Liz and her family well, alongside a photo of her, Boris, Wilf and Romy stepping through the No. 10 door into Downing Street for the last time.
I expect Wilf and Romy won't remember it but they've had an incredibly happy start to their lives growing up here.
Let's hope the garish wallpaper didn't leave a permanent imprint on their young minds.
Unfortunately for Truss and the Conservatives, the longstanding co-chairman of the Party, Ben Elliot, resigned that evening:
Ben Elliot is an entrepreneur, not an MP. He has incredible social connections and has raised a lot of money for the Conservatives.
Elliot is best known for his personal concierge subscription service which he started many years ago.
Ben Elliot, a close ally of Boris Johnson, announced he was stepping down from the role – leaving Miss Truss with the headache of trying to find a powerful replacement.
Mr Elliot spearheaded the drive to amass a £56millon war chest in the run-up to the 2019 election, of which £23million was raised in the four weeks prior to polling day.
Controversially, Mr Elliot used donor clubs to generate funds – including the use of an 'advisory board' for £250,000-a-head contributors – which attracted allegations that he was deploying 'cash-for-access' techniques.
But it also allowed the party to comprehensively outgun Labour in the income stakes.
One of Mr Elliot's friends said that 'Ben's own initiative and contacts' had been responsible for more than one third of donor income.
The friend said:
He is going because he recognises that Liz will want the freedom to appoint her own chair, and wants to spend more time concentrating on his businesses.
Hmm.
Elliot thanked the groups he worked with in the Party, adding:
I would like to thank Boris Johnson for appointing me, and wish Liz Truss every success in leading our great country, particularly given the challenges of the winter ahead.
The article concludes with this:
Darren Mott, chief executive of the Conservative Party said: 'The whole Conservative Party wants to thank Ben Elliot for his tireless service over the past three years. Without his incredible efforts, the 2019 landslide would not have been possible. We wish him all the best in his future endeavours.'
Moving on to Parliament, which resumed sitting on Monday afternoon, changes were afoot.
Boris loyalist Nadine Dorries's Online Safety Bill was scheduled to be debated further that day, but was suddenly pulled from the Order Paper.
Mark Spencer, still in post at that point as Leader of the House, announced:
With permission, Mr Speaker, it may help if I inform the House that, following the election of the new leader of the Conservative party, the business managers have agreed that the Government will not move the Second Reading and other motions relating to the Data Protection and Digital Information Bill today to allow Ministers to consider the legislation further. The remainder of this week's business is as I announced on 21 July.
That was one piece of good news, as it is draconian.
The other good news was that Home Secretary Priti Patel resigned that day, after giving her last Q&A session on Home Department progress over the summer. She had a lot to say but not much to report, which was typical of her performance since 2019:
I had such high hopes for her, but, between civil servants and lingering EU laws to which we are still subject, she couldn't get anywhere, internationally with migration or domestically with policing.
Returning to Liz Truss, the Russians were not happy that she is now Prime Minister. One Russian broadcaster said:
Elizabeth Truss wants to achieve something entirely different — the end of the world.
Good. Truss is right over the target.
More flak came Truss's way here in the UK from the usual suspects:
As for Boris, was he as bad a Prime Minister as all the Remainers said? No. Not at all.
Labour's Gordon Brown is still our most unpopular PM of living memory:
Guido wrote:
The usual blowhards like Alastair Campbell and James O'Brien like to claim that Boris was the worst Prime Minister of all time. That's not a view reflected by the public. According to data compiled by Britain Elects and published by the New Statesman, during his premiership Boris never reached the depths of unpopularity reached by most of his recent predecessors as PM. Tony Blair was more unpopular before he left office, Gordon Brown was far more unpopular during his tenure and Theresa May sunk lower in popular esteem than ever Boris did. Of recent PMs only David Cameron was less negatively perceived at his lowest point. Dave didn't have the almost universal and unforgiving disdain of the europhile chattering classes against him though…
Tuesday, September 6, was a busy day and, unfortunately, too much for the Queen, who, as I write on Thursday, is gravely unwell at Balmoral.
Sir Lindsay Hoyle, the Speaker of the House of Commons, interrrupted the energy debate to make a brief announcement, asking for thoughts and good wishes for the Queen and her family at this time.
Tomorrow's post will discuss Boris's and Liz's respective trips to Balmoral to meet with the Queen.
In the meantime, my prayers go to our monarch for her recovery and to the Royal Family.
After a few weeks' hiatus to cover the Conservative Party leadership contest, I am now able to conclude my series on Red Wall MP Marco Longhi, who represents Dudley North in the West Midlands.
Those who missed them might find Parts 1 and 2 of interest.
Boris tribute
Marco Longhi paid Boris Johnson a brief but heartfelt tribute during the Prime Minister's final PMQs on July 20, 2022:
A long time ago, when I trained as a pilot, I had the luxury of being able to fly around turbulent storms. I also had the ability to rely on a team who kept my aircraft airworthy. As the Prime Minister prepares his new flight plans, may I suggest that he resets his compass to true north and stops off in Dudley, where he will always be welcomed with open arms and sincere affection, and where he will be able to see his legacy?
Boris replied:
I thank my hon. Friend for that renewed invitation. I have spent many happy days with him in Dudley; let us hope that there are more to come.
The Archbishop of Canterbury on Rwanda
After the first scheduled deportation to Rwanda on June 14, 2022 proved to be a non-starter, the Archbishop of Canterbury made his views known yet again.
On June 15, The Express reported (emphases mine):
In a Tweet he wrote: "To reduce dangerous journeys to the UK we need safe routes: the church will continue to advocate for them.
"But deportations — and the potential forced return of asylum seekers to their home countries — are immoral and shame us as a nation."
This, rightly, elicited reaction from some Red Wall MPs:
Red Wall Conservative MPs were furious at the attack on Home Secretary Priti Patel and suggested that Welby give up his two palaces, which come with his Archbishopric, to house illegal migrants and use his personal wealth to pay for their needs.
Ashfield MP Lee Anderson said: "If the Archbishop of Canterbury truly believes that we should do more to keep illegal immigrants in this country and love thy neighbour as thyself then perhaps he should give up his two palaces and pay for all the accommodation costs.
"He can then instruct every Church in the UK that their vicarages should also be given up to illegal immigrants to stay in. These are practical measures he could take to assure the great British public that the Church is doing all it can during these difficult times."
The Archbishop's main residence is Lambeth Palace – south of the River Thames from the Houses of Parliament.
As well as numerous bedrooms the 800-year-old palace boasts extensive gardens, a large library, an atrium, "the pink drawing room" and a state dining room.
Meanwhile, his residence in Canterbury is the Old Palace or Archbishop's Palace, another grade I-listed 800-year-old building where one of the bedrooms was used by the Queen.
Marco Longhi echoed those sentiments:
In a personal message directed at the Archbishop, Dudley North MP Marco Longhi added: "Archbishop, as you appear to feel so strongly about this, will you give up two of your palaces for illegal migrants and pay for their accommodation?
"I note how it is the liberal privileged elite, unaffected by the impact of illegal immigration, whose moral outrage is loudest."
Well said.
Policing
When Boris won the December 2019 general election, increasing the numbers of police around England was a manifesto pledge.
On December 14, 2021, Longhi recognised the efforts the Government had made thus far in the West Midlands:
This Government value all our police officers. That is why, with our 11,053 extra police officers, we are not on target, but ahead of target to deliver our manifesto pledge of 20,000 new officers; there are 867 new officers already working in the West Midlands.
The financial settlement gave West Midlands police an inflation-busting 5.8% increase to its budget—a staggering £36 million. In addition, the rises in local tax that residents pay, together with council tax, put West Midlands police at the top of league tables across the country for precept increases; since 2012, a staggering increase of 79% has been imposed on people in Dudley North and across the West Midlands by the Labour police and crime commissioner.
Dudley people—and those across the West Midlands, I am certain—can see that effective policing is about more than just money. It is about local decision making and how that filters down from the chief constable and the police and crime commissioner.
Longhi was having a go at Labour for taxing West Midlands residents excessively but delivering little value for money with regards to policing. A Labour MP asked him to give way for an intervention, but he refused:
I would rather not, just now. The facts sadly speak for themselves. We need the right strategy for deploying all the new police officers we recruit, making the right decisions locally, and having the will and competence to deliver on them. The Labour police and crime commissioner has closed dozens of police stations, while spending more than £30 million on refurbishing plush offices at his headquarters in Lloyd House in Birmingham.
Another Labour MP asked to intervene, but Longhi refused to do so.
A commotion arose.
This took place in Westminster Hall, where niche debates take place rather than in the House of Commons. This one focused on West Midlands policing.
Sir Edward Leigh (Conservative) was the chair:
Order. Calm down. The hon. Gentleman does not have to give way if he does not want to.
Longhi continued, pointing out Labour's ability to rake in tax money then do nothing for local people:
Meanwhile, Dudley and Sedgley police stations have closed. Some hope was given to Dudley people when a new police station was promised in Dudley. It was hailed by my predecessor—the noble Lord Austin—as a new multimillion-pound station to replace the one in Brierley Hill. Several years later, we are still waiting for it. In 2019, it was announced that it would open in 2021, yet no detailed plans have been submitted by the police and crime commissioner to the council planning department.
Dudley is a major metropolitan town—I believe it is the largest town in the country that is not a city—and it has been without a central police station since late 2017. We are paying the price for no presence as a result of inaction and incompetence. Perhaps the Minister might inquire of the police and crime commissioner when Dudley people might see shovels in the ground and the promised new station.
I have great respect for a local police inspector in Dudley by the name of Pete Sandhu and his team. They are trying their utmost to make do with offices borrowed from Dudley Council that are, quite frankly, not fit for purpose. Inspector Pete Sandhu, the local police teams and PCSOs in Dudley town, the surrounding villages and those across the West Midlands not only deserve but need a station that is fit for purpose. Unfortunately, time and again, Labour police and crime commissioners have failed their constituents—including mine.
At the end of the debate, Kit Malthouse, the then-Minister of State for Crime and Policing, responded on behalf of the Government:
I have never shied away from those difficult financial decisions that have to be taken. Nevertheless, generations will pass, and maybe in 50 years the Labour party will stop talking about that period of austerity and talk about what is happening today. Today, I thought I was coming to a debate about the value of neighbourhood policing. However, it has become obvious that this is a pretty naked political manoeuvre in advance of some difficult financial decisions that the police and crime commissioner for the West Midlands will have to make as he moves towards setting his council tax. My hon. Friend the Member for Dudley North (Marco Longhi) has highlighted how significantly council tax has increased over the past few years …
… I find these debates a bit disheartening because of the lack of curiosity exhibited by Members about the performance in the West Midlands. For example, they never ask themselves why other police forces are doing better. Why is Liverpool doing better than the West Midlands? Why is Humberside doing better than the West Midlands? …
I will give way in a moment. Those Members are unwilling to acknowledge the reason, which is that decisions were made by the previous Labour police and crime commissioner that set the West Midlands back. They have to take responsibility for those decisions; they cannot, I am afraid, just come to this Chamber and keep saying that everything that goes wrong in the West Midlands is the Government's fault, and that everything that goes right is the Labour party's achievement. Nobody is buying that in Edgbaston, Selly Oak, or anywhere else in the West Midlands. They recognise that difficult decisions had to be made, and I urge the Labour party to acknowledge those difficult decisions.
David Jamieson was not all good, and he was not all bad. He had difficult things to do, and he made a set of choices that produced a particular outcome and a particular baseline in the West Midlands. I have no doubt that that was what he said in the elections that he won, and that the people of the West Midlands took him at his word and believed him. They have re-elected a Labour police and crime commissioner, so presumably they are happy with that performance, but complaining that everything that goes wrong is down to the Government seems a little naive to me.
Malthouse concluded:
… The West Midlands made a certain matrix of decisions that resulted in the outcome today. A number of forces around the country made different decisions. As a result, they will have more police officers than they had in 2010. That is something with which hon. Members will have to wrestle; I am afraid that is the plain truth.
On neighbourhood policing, I am pleased to hear that there is a thrust in the West Midlands to invest in neighbourhood policing, not least because the neighbouring Staffordshire force has been doing that for some years, to great effect. The police and crime commissioner and the former chief constable there took the decision to invest in neighbourhood policing and, interestingly, traffic policing, as the basic building blocks of an excellent delivery of service to their people. As a result, they saw significant reductions in neighbourhood crime. My hon. Friend the Member for Dudley North referred to the uplift number, which is 800-odd. I encourage exactly that kind of intervention. It is what lies behind our desire to expand the number of police officers in the country.
Fireworks
I strongly disagree with Marco Longhi's desire to see ordinary people banned from using fireworks.
It has only been in recent years that virtue signallers have made complaints about a splendid celebratory tradition that has been going on for centuries.
In England, at least, fireworks may be used only a few months during the year and, even then, only on certain days:
15 October to 10 November;
26 to 31 December;
3 days before Diwali and Chinese New Year.
However, not everyone obeys the rules. Furthermore, the rules are not enforced in equal measure.
So, Longhi took a survey of his constituents on the matter.
On November 8, 2021, a debate on fireworks took place in Westminster Hall. Although this debate has taken place often in recent years, this particular one was triggered by an online e-petition. The number of signatures required a parliamentary debate.
Longhi said:
There is no denying that access to fireworks in the UK is easy and that enforcement of existing legislation is poor. Although many of us have enjoyed firework displays over the last week to celebrate Diwali or to remember the foiled plot to blow up this House, many, if not more, are traumatised by fireworks. Last year, following scores of pieces of correspondence from constituents, I decided to open a public survey so that all my constituents could share their thoughts on fireworks and the impact they have. I received both positive and negative feedback, but I was truly shocked by the sheer volume of responses I received, many of which were overwhelmingly negative. Given the nature of the internet, the survey spread widely—some might say it went viral—and I found myself with well over 1 million hits on Facebook and well over a 100,000 survey returns.
We have heard about the trauma to pets and livestock. As we approach Remembrance Day, let us also spare a thought for our veterans and those suffering from PTSD, for whom loud and unexpected bangs and flashing lights can have a devastating effect on quality of life.
We have had many Australian influences on legislation over the years, and perhaps it is time for some more. At present in the UK, there is no legal requirement to have any form of licence or training in order to let off consumer fireworks. Fireworks can be sold at any time of the year and can be bought online. In Australia, it is illegal for someone to buy, possess or discharge fireworks unless they hold a pyrotechnician's licence or single-use licence. Authorities must be notified of all firework displays, and authorised events can be found using the authorities' fireworks display search.
One question that I would ask all Members in this room and those unable to join us today is this: should local authorities take the location of public displays into consideration when granting them a licence and should they require displays to be well publicised in the surrounding area? Furthermore, is it right to place greater restrictions on the sale, purchase and use of fireworks? If we agree, surely we can then find an agreeable compromise that protects those who are traumatised by fireworks.
I have already had discussions with my hon. Friend the Minister about this issue and I greatly appreciate his time, but it is time we had a wider debate and an honest discussion. This debate is had every year, but there are no real legislative changes. Surely the time is right for that to happen now.
Paul Scully, who was the Parliamentary Under-Secretary for Business, Energy and Industrial Strategy at the time, responded for the Government.
I agree with what he said:
… I am grateful to the members of the public who took the time to sign the e-petition that has brought us here to Westminster Hall to discuss this important matter, because it has received more than 300,000 signatures and calls on the Government to limit the sale of fireworks.
Therefore, I will take the time to outline and explain the Government's position on this matter, and to say, first of all, why we believe—although I understand that it is not the subject of this debate, as has been outlined—an outright ban on fireworks or an outright ban on their sale to the public is not the appropriate course of action.
We have concerns that banning fireworks in that way could have significant adverse and unintended consequences for public safety, particularly in leading to the emergence of a black market in illicit fireworks. There was a reason why there was not a 2019 debate on this issue. Yes, it was the year of a general election, but more importantly in 2019 the Petitions Committee conducted an inquiry on this issue, which I was a part of as a Member of the Committee, and the evidence given by interested parties aligned with the Government's current view. Those interested parties included both the National Police Chiefs' Council and the National Fire Chiefs Council.
The petition being debated today also highlights the concerns that some people have—understandably—about the impact of fireworks on vulnerable groups and animals. These are issues that I was only too pleased to discuss with my hon. Friend the Member for Dudley North (Marco Longhi) when we met back in July to discuss the fireworks survey that he had carried out in his constituency; as he said, it went somewhat viral. I really sympathise with those views, and I am always sorry to hear the stories of how some individuals and animals have been affected by fireworks. That is why the Government are committed to promoting the safe and considerate use of fireworks, and why we have been carrying out a programme of action on fireworks to ensure that those who use them do so safely and appropriately.
It is important to say that this is a highly regulated area, with a comprehensive regulatory framework already in place to control the sale, availability and use of fireworks. We believe that this framework strikes the right balance for people to enjoy fireworks while aiming to reduce risks and disturbances to people and animals. For example, current legislation sets an 11 pm curfew on the use of fireworks, with later exceptions only for the traditional firework periods of 5 November, Diwali, New Year's Eve and Chinese New Year.
A load of concerned Opposition MPs from Labour and the Scottish National Party piled on with interventions.
Scully replied on noise and trading standards questions:
There is a 120 dB noise limit on fireworks available to consumers. Retailers are restricted to only selling consumer fireworks during a limited period around each of the seasonal celebrations that I just referred to, and retailers may only supply fireworks to the public outside those periods if they obtain a licence from their local licensing authority. However, I fully appreciate that it is just as important to ensure that legislation is enforced effectively. We have heard of some issues where that has fallen short, but I will describe what powers and mechanisms are in place against the illegal sale and use of fireworks.
Local authority trading standards work with retailers to ensure that the fireworks that are sold are safe, and have powers to enforce against those who place non-compliant fireworks on the market. Trading standards and local fire and rescue authorities in metropolitan counties can also enforce against those selling fireworks without an appropriate licence—for example, outside of the normal selling period.
He also said, in response to Opposition MPs:
In our polling, the Government found that 11% of the population want a total ban on fireworks, 36% want a ban on the private sale of fireworks, and, from memory, 64% enjoy the use of fireworks and want to be able to enjoy them both privately and publicly. We came to similar conclusions from our evidence as were reached by the Petitions Committee in its 2019 inquiry. In the extensive report setting out its findings, the Committee concluded that introducing further restrictions on fireworks was not the appropriate course of action, due to the potential unintended consequences. That was just two years ago. We agree with that position.
We acknowledge the experience of people who believe that banning fireworks would push the market underground and make it more difficult to regulate and monitor. We also agree with the Committee's conclusion that such a ban would have a substantial economic effect on those who have built their livelihood in the fireworks industry. Restricting fireworks would probably also have dire consequences for community displays, which raise funds for good causes.
Due to those significant concerns, the Government believe that the most balanced course of action is to continue to pursue non-legislative measures on fireworks to complement existing legislation. That is the position we set out and committed to in our response to the Petition Committee's inquiry.
Leave our fireworks alone!
I've only ever bought sparklers, but I have no idea where my neighbours purchase their fireworks.
For years, our local superette used to have a large, locked counter filled with fireworks at the appropriate time of the year. They got rid of that over a decade ago.
Our neighbourhood's home displays of fireworks, which I used to be able to watch from the comfort of my living room and kitchen, have also decreased over the past few years.
I disagree with Longhi on this subject. However, it is good that he respected his constituents' wishes, conducted a survey and presented the results to the Government.
Business of the House questions
Marco Longhi and Lee Anderson seem to have struck up a friendship. I often see them sitting together in the Commons.
Perhaps Lee's Ashfield food bank brought them together.
This is from the Business Debate of November 25, 2021, when Jacob Rees-Mogg was still Leader of the House.
Anderson said:
Last Friday I was joined by my hon. Friends the Members for Stockton South (Matt Vickers), for Bassetlaw (Brendan Clarke-Smith) and for Dudley North (Marco Longhi) in a "Ready Steady Cook" event in Ashfield. With the help of the local food bank, the college and local top chef Dave Marshall, we were able to produce 175 meals for just 50 quid. This is our fight against food poverty. Does the Leader of the House agree that we need a debate in this place on food poverty, so we can help people to cook on a budget and feed the nation?
Rees-Mogg replied:
I commend my hon. Friend for his amazing achievement and his hard work. I have a friend who teaches people to cook on a budget and runs something called Bags of Taste, which is a very successful way of encouraging people to cook on a budget. My hon. Friend is leading by example.
In the same debate, Longhi raised a complaint about a group of Travellers who refused to move on when they should have:
Yesterday, I received a three-page letter from the leader of Dudley Council. A designated Traveller site in Dudley has been occupied by Travellers who have overstayed the terms of their licence. After due process was followed in the courts in co-operation with the police, the police commander refused to support the council to give cover to bailiffs, citing the European Convention on Human Rights, as Travellers may have rights.
Will the Leader of the House agree to look into the matter and arrange a statement from the relevant Minister? This sets a terrible precedent for councils across the country, which may find that they have wasted taxpayers' money by following legislation set out by this place to invest in designated sites. It can provide indefinite leave to stay illegally, with no protection for landowners. It implies that the police can "woke interpret" and choose to follow laws other than this country's and its courts' instructions. Does that not give further credence to the need to repeal the Human Rights Act, as I have been calling for for many months?
Rees-Mogg gave a theoretically correct reply on policing by consent, which, as we saw during the pandemic, no longer works as such.
He also seemed reluctant to condemn the European Convention on Human Rights, of which the UK is still a signatory:
My hon. Friend asks an excellent question. It is really important that we are all equal under the law, and it is fundamental that the law is carried out by the police. We police by consent; the police are us, and we are the police. For that to work, people have to have confidence that the law will be enforced. Having said that, I do not know the specific details of the case or the reasons for the police decision, but the Government are taking more action to deal specifically with the issues around illegal campsites and associated criminality. I will pass on my hon. Friend's comments to the Lord Chancellor, and I note with great interest what he has to say about the Human Rights Act.
A new Human Rights Act is making its way through the Commons, with the intention that it frees us from EU conventions. However, why we cannot use and enforce the original one, the 1688 Bill of Rights, puzzles me.
King Kong
To end on a lighter note, on January 28, 2022, the Cultural Objects (Protection from Seizure) Bill debate took place.
Suzanne Webb, the Conservative MP for Stourbridge, discussed little-known artefacts and the importance of taking good care of them.
This includes a replica of King Kong:
I now want to tell the tale of an artefact of great distinction and notoriety that resided in the Midlands: an 8 foot tall, 890 kg fibreglass statue commissioned for display in Birmingham in 1972, as part of the sculpture for public places scheme in partnership with the Arts Council of Great Britain. It was commissioned to make something city-oriented, and the sculptor chose King Kong—I do not know whether my hon. Friend the Member for Dudley North (Marco Longhi) remembers the King Kong that resided in Birmingham. I do not want hon. Members to do a quick Google now, as I will be told off by Mr Speaker, but when they leave the Chamber, they can see the incredible artefact that was in Birmingham and supposed to represent it. It was down to the sculptor's association with New York City, and he created it for their own petty reasons. It was displayed in the heart of the city for many years—imagine if it was actually seized! It was something of a notoriety, and I loved it as a child growing up. We used to drive round to look at it. Hon. Members will be pleased to hear that King Kong lives on, and is now retired in Penrith.
Longhi made no reference to King Kong in his speech, but commended the Bill as an important contribution to preserving our culture and history, good and bad:
It is a pleasure to follow my hon. Friend the Member for Vale of Clwyd (Dr Davies) and to speak about this straightforward and reasonable Bill, which has been designed in a specific and targeted way, and will only help to support a sector that, like so many others, has been affected during the pandemic.
Our museums and cultural institutions in the United Kingdom do an incredible job. They have the power to transcend barriers, to preserve and to educate. Our museums, galleries and cultural institutions teach us about the past—the good, the bad and the ugly. By learning about the past, we can be inspired for the future to do better or learn from past mistakes. They stimulate our brains and make us smarter.
My Dudley North constituents are lucky that we have many rich cultural institutions on our doorstep: the Black Country Living Museum, Dudley Zoo and Castle, the Wren's Nest site of special scientific interest, the Dudley Canal Tunnel Trust, nature reserves, our microbreweries and pubs, and our bowling greens and parks. The list really does go on.
——————————————————————–
I am pleased to say that Longhi supported Kemi Badenoch in the Conservative Party leadership contest.
All the best to him for a long and satisfying parliamentary career.
Tuesday, July 5, 2022 proved to be a memorable day for Boris Johnson for all the wrong reasons.
Last weekend, details emerged of Conservative MP Chris Pincher's inebriated groping of another man at the Carlton Club in London's St James. The Carlton Club is the private members club for Conservatives. Chris Pincher had been a Government minister and Deputy Chief Whip.
Lest anyone think the furore about Chris Pincher and blaming Boris for it is about cleaning up government, the end goal remains: get rid of Boris because Boris represents Brexit.
Chris Pincher
Chris Pincher has been a Conservative MP since 2010, the year David Cameron became Prime Minister.
Theresa May gave him his first ministerial role, that of Comptroller of the Household, in 2017. A few months later, she appointed him Treasurer of the Household, the next move up from Comptroller of the Household. In 2018, he then became Deputy Chief Whip, which is a role given by the Chief Whip, not the Prime Minister.
Boris Johnson gave Pincher other ministerial roles. I watched him at the despatch box regularly as Minister of State for Europe and the Americas and Minister of State for Housing. In February 2022, he once again became Treasurer of the Household, a Boris appointment, and Deputy Chief Whip, a Chief Whip appointment.
Then the Carlton Club scandal broke, with Pincher freely admitting in writing what he had done. He has had the Conservative Party whip removed, although he remains an MP for now.
The question from Boris's enemies is how much blame should the Prime Minister carry.
It looks to me as if it all started with Theresa May, especially as he resigned his 2017 appointment as Comptroller of the Household when sexual misconduct allegations involving MPs swirled into a scandal that year. Pincher was accused of misconduct at the time by then-MP Tom Blenkinsop and Olympic rower Alex Story.
Shortly afterwards, in January 2018, Pincher became Deputy Chief Whip, so the Whip's office is partly responsible, too.
On July 5, the veteran journalist and columnist Charles Moore explained in The Telegraph how the Whips Office selection process works (purple emphases mine):
The coverage of the row about Chris Pincher, the allegedly groping and confessedly drunk former deputy chief whip, suffers from a false premise. It is said that Boris Johnson appointed him. This is true only in a formal sense. I feel that lobby [press corps] journalists should have made this clear.
This custom is not just a reflection of the fact that any prime minister pays less attention to junior appointments than to Cabinet-level ones. It is also – and mainly – because the whips are a law unto themselves. The idea is that they will know best how to achieve the necessary geographical and ideological spread to look after all sections of the party. The Chief Whip is therefore free – "100 per cent" in the words of one former chief to me – to appoint whoever he thinks fit. This seems sensible: how on earth would a prime minister know that level of detail about who's who in the parliamentary party? Backbenchers would be suspicious of a whips' office filled with a prime minister's favourites.
Each prime minister sees the government chief whip's list before it is announced and is free to comment on it, but the chief decides. So Boris Johnson would have been breaking the unwritten rules if he had either forbidden or insisted on Mr Pincher's appointment. If it can be shown that he did the latter, he is in a bit of trouble on the issue. If not, then not.
Lord McDonald
Until July 5, I had never heard of the life peer Baron McDonald of Salford, or Simon to his friends.
Lord McDonald was the Permanent Under-Secretary to the Foreign and Commonwealth Office between 2015 and 2020.
On July 5, he wrote to Kathryn Stone OBE, the Parliamentary Commissioner for Standards for the House of Commons.
Guido Fawkes posted a copy of the letter, which takes issue with a BBC report of complaints made against Pincher and says that, indeed, allegations had been raised against the MP in 2019.
Two brief excerpts of his letter follow.
In the summer of 2019, after Pincher received his first ministerial appointment (at the Foreign and Commonwealth Office) under Boris Johnson:
… a group of officials complained to me about Mr Pincher's behaviour. I discussed the matter with the relevant official at the Cabinet Office … An investigation upheld the complaint; Mr Pincher apologised and promised not to repeat the inappropriate behaviour. There was no repetition at the FCO before he left seven months later.
The BBC had changed the text of their present-day article about whether Boris knew or not.
Lord McDonald's letter says:
Mr Johnson was briefed in person about the initiation and outcome of the investigation. There was a "formal complaint". Allegations were "resolved" only in the sense that the investigation was completed; Mr Pincher was not exonerated. To characterise the allegations as "unsubstantiated" is therefore wrong.
I am aware that it is unusual to write to you and simultaneously publicise the letter. I am conscious of the duty owed to the target of an investigation but I act out of my duty towards the victims. Mr Pincher deceived me and others in 2019 …
He tweeted the text of his letter:
Hmm.
Could there be any bad blood between McDonald and Boris?
Downing Street claims that Boris forgot about the investigation into Pincher.
A commenter on Guido's post about this claim makes pertinent points:
I find it strange that the criticism is of the appointment of Pincher as Deputy Chief Whip in February. He wasn't promoted from the backbenches, he was already a minister in the Dept of Levelling Up. If he was unsuitable for ministerial office in Feb, he must have been unsuitable in Jan, so why the focus on the Feb appointment?
Lord MacDonald is another nasty CS mandarin in the Philip Ruttnam mould. His letter is very carefully phrased but disingenuous. If he was unhappy for Pincher to continue as a minister in the FCO for seven months after the 2019 complaint, what did he do about it? If he was content with the arrangement, then clearly the matter was indeed resolved.
Pincher was first appointed to the Whips' Office by Theresa May. Is anyone in the MSM questioning her judgement?
Gordon Rayner's Telegraph article, 'Lord McDonald: The former civil servant who "never saw eye to eye" with Boris Johnson' has an account of what happened between the peer and Boris, the then-Foreign Secretary during Theresa May's premiership:
A former civil servant publicly accusing a Prime Minister of lying is a rare event, but Baron McDonald of Salford is unlikely to have had any pangs of guilt about calling out the man who effectively ended his career.
During his time as Boris Johnson's Permanent Under-Secretary at the Foreign Office, Lord McDonald – or Sir Simon, as he was then – was suspected by Mr Johnson of running a spying operation and orchestrating damaging leaks about the then foreign secretary.
Mr Johnson believed that media stories accusing him of being lazy and failing to attend properly to his red boxes of ministerial papers were being briefed by Lord McDonald's department. When the Foreign Office merged with the Department for International Development, Mr Johnson, by then Prime Minister, saw to it that Lord McDonald was squeezed out.
So when he had the chance to expose Mr Johnson's Downing Street operation for what he says is a lie over the Chris Pincher affair – an undeniably important intervention – he is unlikely to have spent much time wrestling with his conscience.
Does Brexit enter into this? You bet it does:
"They never saw eye to eye," said one former minister. "Simon never made a secret of the fact that he was a strong Remainer and he has always had big issues with Brexit."
Another insider said:
"So it does feel a little bit as though Simon has been waiting three years to get his revenge, and has finally had his chance, notwithstanding the fact that what he says may well be true."
Lord McDonald took early retirement in September 2020. Since then, he has spoken freely:
In March last year Lord McDonald, 61, was interviewed by the think tank UK In a Changing Europe, when he said he was one of three senior civil servants on a Downing Street "s— list" who were "all for the high jump".
He said that he was "one of those that were soaked" by former Downing Street adviser Dominic Cummings' threat of a "hard rain" falling on Whitehall …
Mr Johnson softened the blow by giving Lord McDonald a peerage, not an automatic appointment for retiring civil servants. But it has not prevented him from criticising the Prime Minister since then.
So now we know.
It is unlikely that Gordon Rayner's article will be getting any traction in the media. Will GB News pick it up? I hope so.
McDonald's letter sends Conservative MPs flying in all directions
Note that McDonald tweeted his letter at 7:30 a.m., just the right time to dictate the news narrative for the day.
And so it proved.
For those in the political bubble, BBC Radio 4's Today show is required listening.
Guido has a summary of what happened. Deputy PM and Justice Secretary Dominic Raab gave an interview, followed by Lord McDonald (emphases in the original):
… Following ex-Foreign Office Permanent Secretary Sir Simon McDonald's bombshell letter this morning, Dominic Raab had the task once again of spinning the latest unsustainable No.10 line to the press. Through plenty of coughing and spluttering, Raab insisted on the Today Programme that 
Aside from the Westminster rumour mill, any allegation that had resulted in formal disciplinary action… whilst there was inappropriate behaviour [from Pincher], it didn't trip the wire into disciplinary action… the individual who made the complaint did not want formal disciplinary action taken.
Just minutes later, McDonald appeared on Today himself to once again take a sledgehammer to No.10's line that Boris wasn't briefed on Pincher's behaviour in person in 2019, and Raab's claims that since no "further disciplinary action" was taken, the matter was resolved:
I disagree with that, and I dispute the use of the word 'resolved'… the complaint was upheld… Number 10 have had five full days to get the story correct, and that still has not happened… it's sort of telling the truth and crossing your fingers at the same time and hoping people aren't too forensic in their subsequent questioning.
In a matter of hours, the line has gone from "it's not true" to "the PM didn't know of any formal complaints". Chaos.
In Downing Street that morning, a Cabinet meeting took place. Why cameras were allowed, I have no idea. What a silly thing to do, especially when all hell was breaking loose:
At lunchtime in the House of Commons, Michael Ellis, Minister for the Cabinet Office, had to answer an Urgent Question (UQ) from Labour's Deputy Leader Angela Rayner about what Boris knew of Pincher:
This is the most succinct quote from Ellis:
As I have articulated, there was an exercise in the Foreign and Commonwealth Office on the matter, which I believe went on for several weeks. I need to confirm the details, because I had insufficient time to do so this morning, but as I say, there was an exercise, and it concluded to the satisfaction of all involved. That was within the Department and, it appears to me, before the Prime Minister was made aware.
One of Guido's readers sums the matter up as follows:
1. Pincher's conduct in 2019 was investigated and did not result in disciplinary action in 2019.
2. Independent advice was sought from Simon McDonald and the Cabinet Office propriety and ethics team, which also did not result in any form of disciplinary action.
3. The victim in 2019 DID NOT WANT aany disciplinary action against Pincher.
4. Pincher's appointment to government had followed all set procedures, including oversight by an independent QC. Until this point, as Pincher had kept a clean disciplinary record up, there was no reason to block his appointment to government.
Boris would have no grounds to refuse Pincher's appointment as there were no official disciplinary action against him up to that point, which is in line with the rules set out in Westminster.
All this drama over whether Boris knew of Pincher's indescretions would not have changed anything in terms of his appointment to government as he had satisfied all the requirements in terms of pedigree (appointed by two PMs and vetting).
The Opposition benches were full for Ellis and the UQ.
Watching at home, I nearly applauded when Peter Bone got his chance to speak:
Recently, at a Brexit opportunities debate here, there were no Liberal Democrats and virtually no Labour Members. The only time they turn up here is to bash Boris. Does my right hon. and learned Friend think that our constituents in Northamptonshire, which we both represent, are more concerned about an MP they have never heard about, or the biggest tax reduction in decades, which will happen tomorrow?
Ellis replied:
My hon. Friend hits the nail on the head, as usual. As he points out, Labour Members have made frequent requests for business in this House to be about not what our constituents primarily care about, but personalities. They do not raise the issue of policies, because when they do, they lose. Instead, they focus on personalities, and that has been the drive of the past six months.
Guido covered MPs' reaction to the events of the day:
Number 10's spin operation today after the McDonald letter has, unsurprisingly, gone down like a cup of cold sick with the Tory benches, including amongst Boris loyalists. Guido's spoken to several MPs following the lobby briefing and Michael Ellis's Urgent Question response, and they all agreed it was a "disaster". One said it was "the last days of Rome"…
There were also raised eyebrows – and that's putting it mildly – over No.10's decision to allow cameras in to the Cabinet meeting this morning …
Where, one might ask, is the counter-attack? What is Downing Street doing to get on the front foot? What is CCHQ doing? MPs who are hardcore supporters of the Prime Minister are fed up. Trying to push the "biggest tax cut" talking point today won't work to set the agenda when you put up the same taxes only a few months ago. If the government wants to shift the media's focus on to the economy, what will they do that Starmer won't? Tory MPs want a sense of purpose and direction, rather than constantly ricocheting at the hands of the media from one minor negative process story to another, that the general public doesn't really care about… 
Chancellor and Health Secretary resign
Worse was to come later that afternoon.
Health Secretary Sajid Javid tendered his resignation, followed by Chancellor Rishi Sunak minutes later.
Some pundits say there was no connection between the resignations.
Others say that the two men are friends and agreed on a plan.
GB News covered the resignations and analysis all evening long. It was a good move. The shows were excellent.
In other news, Theresa May was at the opera with her husband Philip and friends:
Returning to GB News, the resignations happened just before Nigel Farage's show at 7 p.m. Not surprisingly, Farage thinks that Boris should resign, something he has said many times before and will continue to say for weeks, if not months:
Farage used Guido's video of that day's Cabinet meeting:
Discussion continued on Mark Steyn's show at 8 p.m. By the end of the show one hour later, Boris had appointed Steve Barclay as the new Health Secretary:
Dan Wootton came on at 9 p.m.:
By the time his show was halfway through, Nadhim Zahawi became the new Chancellor of the Exchequer. The conversation between him and Boris in No. 10 was a long one. Apparently, Zahawi was eager to relinquish his role as Education Secretary and really wanted the No. 11 job. Michelle Donelan is the new Education Secretary, having been Minister of State for Higher and Further Education from 2020 to 2022.
Boris deflected a crisis within three hours.
Guido has an ongoing list of other Cabinet resignations, which are, as I write, for minor posts. Red Wall MP Jonathan Gullis, once a staunch Boris supporter, was among that number. It should be noted that the main Cabinet appointees are still in place.
Unfortunately, during that time, Lord Frost, usually a voice for sanity, fell for the McDonald bait. He wrote an article for The Telegraph, 'It is time for Boris Johnson to go':
I resigned from the Government on a matter of principle. On Tuesday, Sajid Javid and Rishi Sunak did the same. Other Cabinet Ministers now need to consider whether they are truly happy with the current direction of travel.
Boris Johnson's place in history is secure. He will be one of the past century's most consequential prime ministers. If he leaves now, before chaos descends, that reputation is what will be remembered. If he hangs on, he risks taking the party and the Government down with him. That's why it is time for him to go. If he does, he can still hand on to a new team, one that is determined to defend and seek the opportunities of Brexit, one that is able to win the next election convincingly. That is in the Conservative Party's interest, in Leave voters' interest, and in the national interest. It needs to happen.
PMQs on July 6 could have been worse. It was more of the same from the Opposition. On the Conservative benches, which were packed, only Tim Loughton, Gary Sambrook and David Davis (once again) rebelled, all saying that Boris should resign.
After PMQs, Sajid Javid was granted a statement about his resignation. Boris remained seated behind the despatch box. Javid put a big emphasis on 'integrity'. He said that, for him, 'loyalty and integrity' were at loggerheads over the past few months, hence his resignation. He could no longer defend the indefensible, from Partygate to Pincher, especially to his constituents. He told his former Cabinet colleagues that not doing 'something' — i.e. resigning — would look bad. Boris left immediately afterwards to jeers of 'Byeee, Boooris' from the Opposition benches.
Lee Anderson withdraws support
In an unexpected development, Red Wall MP Lee Anderson has withdrawn his support for Boris:
Guido has the full text of Anderson's letter, excerpted below:
With A Heavy Heart.
I have remained loyal to the Prime Minister since being elected in 2019.
However my position has changed over the past few days since the incident which led to the Deputy Chief Whip losing the party whip …
I do not hold a position I can resign from so the only thing I can do is make my feelings known to my constituents and party members. This statement may upset some people and I am sure some people will be delighted with the demise of our PM but I have a job to do and I must do it with a clear conscience.
My focus has always been my constituents many of whom are friends, family and neighbours and my loyalty to them is paramount.
Finally, I will do all I can to make sure our party wins the next election to form a Government of low taxation and who will be tough on illegal immigration as I feel we could have done better, that said the thought of a Labour Government terrifies me so please keep the faith.
I hope that explains my position.
Perhaps he will throw his hat into the ring when the leadership contest begins in due course.
Meanwhile, Conservative voters are fuming
At home, Conservative voters are perplexed by the actions of what is supposed to be an orderly, no-nonsense Government. Most do not know who Chris Pincher is. They are interested in what Boris and his team are doing to improve our lives which, at the moment, isn't much.
This is what we have at present, ably stated by a Guido Fawkes reader:
It is apposite to follow my posts about Lee Anderson with a series on his fellow Red Wall MP Marco Longhi.
Among other things, they have in common a dislike of Steve Bray, the noisy anti-Brexit protester who had his amplifying equipment taken by police this week.
Steve Bray
This is where I left off yesterday:
I'll get to the debate in which Marco Longhi said those words.
First, however, Steve Bray reappeared in the area around Parliament on Wednesday, June 29, 2022, with a new boombox:
Guido Fawkes had the story and a video:
His post says (emphases in the original):
Just when you thought it was all over, Steve Bray's back for an encore. With his boombox ripped from his hands yesterday by a swarm of Met officers, it looked like it was finally time to say bye, bye Bray-by. Not so much.
Undeterred, and as promised during a BBC interview yesterday afternoon, Bray is back on his island outside Parliament, having found a new boombox to blast his tunes at full volume as MPs walk past. He's also picked up a gang of new supporters to chant along with him. Presumably they don't have jobs to go to either. Chopper [The Telegraph's Christopher Hope] even claims he's seen pedestrians hand Bray some cash in solidarity. It's not like Met officers have far to commute given New Scotland Yard's just metres away…
On May 11, Marco Longhi mentioned Steve Bray, although not by name, in a parliamentary debate, Preventing Crime and Delivering Justice.
Guido covered the bit about Bray:
Guido wrote:
… Speaking in the Chamber yesterday afternoon alongside Bray's arch nemesis Lee Anderson, Longhi said:
I will not dignify his existence by tarnishing Hansard with his name, but there is a noisy man outside who dresses up as a clown and harasses and chases Members of Parliament and our staff from his little camp on the crossing island on Parliament Street. He is someone else who serves no public benefit whatsoever… This person needs to have his loudspeaker system confiscated and to be moved on. Personally, I would like to see him locked up in the Tower with a loudspeaker playing "Land of Hope and Glory" on repeat at maximum volume. The Met really should deal with him.
Labour's Lloyd Russell-Moyle intervened to offer swapping offices with Longhi so that "there will be no problem and we will not need to shut down free speech either"…
Guido concluded by saying that, like Lloyd Russell-Moyle, he has no problem with Bray's braying as it shows we tolerate free speech.
Personally, I disagree. After six years of his daily noise, the Met should put a stop to it.
Returning to the debate, which took place after the Queen's Speech in May, Longhi discussed the people from his constituency, Dudley North, and their concerns, among them Brexit and re-establishing law and order (emphases mine):
I was going to confine my speech to the Public Order Bill, but I will follow up on a few comments that the right hon. Member for East Antrim (Sammy Wilson) made. The more I listen to him, the more I think he speaks a good deal of common sense. I would like him to know that I for one, and a number of my colleagues, agree with much if not everything of what he says, and we have a steely resolve to make sure that we are one United Kingdom. That is what we voted for when we voted for Brexit.
My daughters, for some unfathomable reason, sometimes describe me as a grumpy old man. I really do not know why. However, there are a few things that can make me a little bit miserable, and one thing that has really grated on me in recent years is the minority of protesters who have pretty much used guerrilla warfare to disrupt the everyday lives of the vast majority of our constituents—not just mine, but everybody's.
The good people of Dudley North are ordinary folk, working hard to make a living, a living that is increasingly harder to make in the current climate. I cannot fathom how the privileged and entitled few think it is acceptable to stop our carers and nurses from being able to get to work to care for our sick and elderly, or to blockade a fire appliance from getting to a serious fire burning a local business to the ground—or, more tragically, perhaps preventing people inside the burning building from being saved. Of course, that applies to any blue light service, not just the fire service. That minority of criminals truly disgust me. They have no concept of the real world out there. They have no concept of the misery they bring to those less fortunate than themselves.
I hope that you, Mr Deputy Speaker, and those on the Front Benches will join me in making working here more bearable for our staff, myself and my colleagues. I will not dignify his existence by tarnishing Hansard with his name, but there is a noisy man outside who dresses up as a clown and harasses and chases Members of Parliament and our staff from his little camp on the crossing island on Parliament Street. He is someone else who serves no public benefit whatsoever.
Lee Anderson intervened:
I know the character my hon. Friend alludes to, and I have witnessed some ferocious verbal attacks on my hon. Friend from that character, who patrols Whitehall like a public nuisance. May I suggest telling him that, if he is interested in changing things in this country, he should come to Dudley North and stand against my hon. Friend at the next general election?
Longhi replied:
In fact, that invitation has already been made. I am going to print off a set of nomination papers, but I wonder about the 10 people this person might need for the form to be valid.
My staff cannot hear distressed constituents on the phone through the awful racket he causes. All our staff who have offices in 1 Parliament Street suffer considerable stress and anxiety from the disruption he causes to their, and our, work. I doubt that staff in the Department for Digital, Culture, Media and Sport and Her Majesty's Revenue and Customs, the buildings opposite, would say anything different—[Interruption.] Is someone wanting to intervene? I do not know. I heard some noises. It is like a Hoover—an irritating thing in the background. I do not know what it is.
This person needs to have his loudspeaker system confiscated and to be moved on. Personally, I would like to see him locked up in the Tower with a loudspeaker playing "Land of Hope and Glory" on repeat at maximum volume. The Met Police really should deal with him. He is causing misery to hundreds of staff, he is intimidating many—
Then Labour's Lloyd Russell-Moyle, who is quite the leftie, intervened for a bit of to-ing and fro-ing:
Russell-Moyle: No, he's not!
Longhi: I think someone wants to intervene, Mr Deputy Speaker. This person intimidates many who are passing by, going about our business and representing our constituents—
Russell-Moyle: No, he doesn't!
Longhi: Would the hon. Gentleman like to intervene?
Russell-Moyle: The hon. Member clearly does not know how Parliament works, but we often make sounds across the Chamber when we disagree with someone, and I disagree with him. I am happy to swap offices: I will take his office and he can have my office. Then there will be no problem and we will not need to shut down free speech either. Win-win!
Longhi: I am actually very comfortable for the hon. Member to come to Dudley North and make those very arguments, because he would be out of office completely. Please do come and make those very arguments. I am not going to allow this kind of behaviour from someone outside, who is a public nuisance, to force us to have to make changes for him.
Our police, whether in Dudley, the Met or elsewhere, need the tools to better manage and tackle the dangerous and highly disruptive tactics used by a small minority of selfish protesters to wreak havoc on people going about their daily lives. Our police already have enough to be doing without the unnecessary burden of a privileged few who seek to rinse taxpayers' money.
It will come as no surprise that I wholeheartedly support the Public Order Bill. If that disruptive minority want to glue themselves to anything, maybe the Bill should make it easier for them to have their backsides glued to a tiny cell at Her Majesty's pleasure. They would be most welcome.
Kit Malthouse MP, the minister for Crime and Policing, concluded the debate. Malthouse, incidentally, worked for Boris Johnson in a similar position when the latter was Mayor of London:
… We have had a variety of contributions this afternoon, falling broadly into three categories. First, there were the constructive contributions. My hon. Friend the Member for Bracknell (James Sunderland) talked about antisocial behaviour in his constituency, a theme we heard from several hon. Members. The three graces—my hon. Friends the Members for Ashfield (Lee Anderson), for Peterborough (Paul Bristow) and for Dudley North (Marco Longhi)—expressed strong support for the Public Order Bill. The general theme was expressed pithily by my hon. Friend the Member for Peterborough:
"We want criminals to be scared of the law. We do not want the law-abiding majority to be scared of criminals"—
a sentiment with which the Government heartily agree. My hon. Friend the Member for Stoke-on-Trent North (Jonathan Gullis) made his usual vigorous and wide-ranging contribution, illustrating neatly why his part of the world is becoming more of a Conservative stronghold with every month that passes …
I wrote about Jonathan Gullis in April.
Malthouse ended with this. I do hope he is correct when he says:
As my right hon. Friend the Home Secretary set out earlier in this debate, the first job of any Government is to keep their people safe, which is why we are delivering ambitious reforms to do just that by cutting crime, delivering swifter justice and making our streets safer. We are backing the ever-growing numbers of police with the tools and support they need, making sentences tougher for violent and sexual crimes, strengthening victims' rights and restoring confidence in the criminal justice system. We will ensure that we strike the right balance in our human rights framework so that it meets the needs of the public and commands their confidence, strengthens our traditions of liberty, particularly the right to free speech, adds a healthy dose of common sense and curtails abuses of our justice system. I commend the Government's programme on crime and justice to the House.
In the beginning
Marco Longhi was born in the Midlands town of Walsall, Staffordshire, on April 22, 1967, to an Englishwoman and an Italian airline worker. He grew up in Rome.
He took after both parents in his personal choices.
Following his father's interest in airlines, he trained as a pilot. Later, following the example from his mother's family, he entered politics.
In between, he studied at Manchester University and worked in the oil and gas industry. Later on, he became interested in real estate and was the director of the lettings (rental) firm Justmove. He also owns ten houses in Walsall.
His grandfather Wilfred Clarke was mayor of Walsall in 1978. Longhi became a Conservative councillor for the town in 1999 and served two terms as its mayor, in 2017 and 2018.
Dudley North
Longhi ran successfully for election to Parliament in 2019, after the much-admired Labour MP, subsequently Independent, Ian Austin, stood down for Dudley North.
The constituency of Dudley North was created in 1997. Labour's Ross Cranston served as its MP between 1997 and 2005. Afterwards, Ian Austin succeeded him until 2019. Austin became an Independent in February 2019. He resigned from Labour because he was troubled by its anti-Semitism, which prevailed in some factions of the party under Jeremy Corbyn's leadership. Austin's adoptive father Fred was a Czech Jew who was adopted by an English family, hence the surname change from Stiller to Austin. Fred Austin was the headmaster of The Dudley School from its foundation in 1975 to his retirement in 1985.
In December 2019, Marco Longhi handily defeated Labour's appropriately named Melanie Dudley with a majority of 11,533, a swing of 15.8 per cent.
Maiden speech
Longhi gave his maiden speech to the Commons on February 26, 2020, during the debate on the Environment Bill.
Although coronavirus was seeping into the news narrative, getting on with Brexit was still the main topic of discussion among Conservative MPs. The debates were marvellous, imbued with optimism.
Everyone was also happy with the relatively new Speaker of the House, Sir Lindsay Hoyle, who was a breath of fresh air compared with his predecessor John Bercow who did so much to try and thwart Brexit.
Longhi's speech tells us about Dudley and his hopes for the historic town:
Let me start by thanking you, Mr Deputy Speaker, for allowing me to present my maiden speech today, and to thank your staff—and, indeed, all staff on the estate—for keeping us safe and looking after us so well and with such professionalism. I should like you to convey my more profound thanks, if that is possible, to Mr Speaker for the way in which he has signalled that he will carry out his office as Speaker of the House, in complete contrast to his predecessor. The conventions and integrity that he is restoring in such an unassuming way are having a much greater impact in restoring faith in our democracy than any commentators may be giving him credit for, which is why I want to do so today.
It is the convention to comment on one's predecessor in a maiden speech. I shall do so, but not for that reason: I will because I want to. I am certain than many in this place will want to recognise Ian Austin for his integrity, and for the brave way in which he decided to stand up against antisemitism. There is not a person in my constituency to whom I have spoken who does not speak well of Ian, even when they disagreed with his politics. So I want to thank him for his efforts as a local MP, and for the example that he has set for many of us, on both sides of the House, in standing up to prejudice and hatred. I suspect that some of my colleagues on this side of the House—myself included—may wish to thank him for other reasons too.
I say with a degree of both pride and humility that I am the first ever Conservative Member of Parliament for Dudley North, the first ever Member called Marco, and the Member holding a larger majority than any of my predecessors in this seat. For that, I thank the people of Dudley, who, like the people in the rest of the country, decided to tell the House—yet again, at the umpteenth time of asking—what they wanted us to do.
The Dudley North constituency is made up of the town of Sedgley, the suburban areas of Upper Gornal, Lower Gornal and Gornal Wood, Woodsetton, and other conurbations around Dudley town itself. It has several attractions of national significance, including the Black Country Living Museum, Dudley Castle and Dudley Zoo.
Dudley has been a market town since the 13th century, and its fortunes over the centuries have ebbed and flowed with the economic cycles of the heavy industry that its coal-rich mines supported. This also means that it has suffered much since the decline of the traditional industries, which is why a focus on skills and future jobs is crucial if the economic prosperity of the area and the wellbeing of Dudley people are to be secured for the coming decades.
Dudley is also credited with being the birthplace of the industrial revolution, with the advent of smelting iron ore using coal instead of charcoal, which is manufactured by burning trees and therefore much rarer and more costly to obtain. Abraham Darby introduced this revolutionary method, which meant that iron and steel could be made in much larger quantities and more efficiently and cheaply. He effectively kick-started the industrial revolution, so Dudley's heritage and legacy are second to none—notwithstanding what other people in this House might say! However, I will say that competing with Magna Carta and perhaps alienating a doctor might not be my smartest move. Abraham Darby was born in Woodsetton in 1678 and is reported to have lived at Wren's Nest, which is now a site of special scientific interest—I had to practise that—and, since 1956, one of only two national nature reserves assigned on geology alone because of the variety and abundance of fossils found on the site.
However, although the new industrial revolution brought wealth, it also resulted in the area being named the most unhealthy place in the country in the mid-19th century, because of the dreadful working and living conditions. That led to the installation of clean water supplies and sewerage systems. Dudley had the highest mortality rate in the country. In the 21st century we are faced with the fourth industrial revolution, characterised by a range of new advancements in the digital and biological worlds, but with a different impact on human wellbeing.
Improving health and wellbeing and seeking to tackle mental ill health are some of the areas on which I wish to focus during my time in this House, for the benefit of everyone at home and in their workplaces. If we tackle the issue of poor mental health at its core and in its infancy, we can prevent crisis moments and the devastating consequences that they can have. That it is also why having an environment that we can all enjoy, which supports us in our own wellbeing and that we can leave as a positive legacy to our children and grandchildren, is so important. Mother Nature has been talking to us for some time, and it is time we did more than simply listen. It is time to take action as well, which is why the Bill is so welcome.
Mr Deputy Speaker, if you ever come to Dudley, the capital of the Black Country, you will be warmly welcomed, because that is the nature of Dudley people. You will also feel a sense of expectation—a feeling that change is about to happen, a feeling of optimism—and this is another reason why I am so privileged to represent the town and its people. In the near future, we will be seeing the demolition of the infamous Cavendish House in the town centre to make way for many new homes, the metro extension and I hope—subject to consent—a very light rail system.
Like many high streets around the country, Dudley's has suffered much. Nobody has a silver bullet to fix that, but increasing footfall by attracting more people feels like part of the solution. If attracting more people into the town centre is part of the solution, and if the focus on skills for future jobs is key, I would like to see our plans for a university campus on the edge of Dudley town centre finally being delivered. I am pleased that the Prime Minister agrees with me on that. These game-changing plans were drawn up before my arrival, and some have been spoken about for many years. Now is the time to turn words into action and to deliver for Dudley. My pledge to all Dudley people is that I will fight every step of the way to make things happen and bring about the change that they want. It is Dudley's turn now.
On May 12, 2021, he rightly objected to lefties trolling him over Brexit in the Better Jobs and a Fair Deal at Work debate, which followed that year's Queen's Speech:
"Your name isn't English, why don't you go back to where you came from?" That is a recent Facebook comment from an articulate but clearly limited left-wing activist, so I took some pleasure in replying in Italian "Che in realtà sono nato da un minatore di carbone del black country"—that I was in fact born to a Black Country coalminer.
More condescending left-wingers recently said this:
"You'd think Marco would understand why Brexit is bad. He's lived in Italy and EVEN his Dad is Italian. Why is he such a strong Brexiteer? He must be stupid."
Well, brownie points for working out that my dad is Italian. I did explain at length why Brexit is vital, but it became clear to me that there was a limit to their thinking, too—I mean Marco, Italian, therefore remainer, otherwise stupid is a bit of a "micro-aggression", and is rather limited thinking isn't it, Mr Deputy Speaker?
Here is my suggestion for the Labour party: set up an internal limited-thinking focus group to eradicate it from among their ranks, because how can they represent people who are clearly not limited? They may want to start in Amber Valley where the Labour leader blamed voters for their election results; it might prove more useful than rearranging the deckchairs on their Front Bench.
So, yes, my name is Marco, and, yes, my father is Italian, but here I am. How did I get here? Two words: opportunità e lavoro—opportunity and graft. My grandfather's story is one of rags to riches and my parents are examples of blue-collar workers who for years lived hand to mouth. They bent over backwards to give me opportunities, and I put in the work.
Opportunity and work are two pillars of Her Majesty's Gracious Speech. People out there do not want handouts; they want a hand getting back on their feet. More than anything, they want opportunities to do well. The lifetime skills guarantee is a massive investment in education and apprenticeships, readying people for the jobs coming their way. We may remember the Prime Minister—or "our Boris" as they say back home—visiting Dudley and going to the site of our new Institute of Technology, where he delivered his "jobs, jobs, jobs" vision. The pandemic has shown that fish can be necessary, but fishing rods are what people really need, and that institute will provide the rods.
The Queen's Speech contained a vast array of steps that will take us out of the clutches of the pandemic, freeing us to be even stronger than when we entered it. The commitment to our NHS and continuing with our investment in the vaccination programme and in private sector life sciences are huge bonuses that this country will benefit from.
The roaring '20s are upon us. Dio salvi la Regina—God save the Queen.
I hope he is right about the roaring '20s being upon us.
One year on, and it's hard to see. However, that is no fault of Marco Longhi's.
I will have more on this gently witty and highly incisive Red Wall MP next week.
Continuing my series on Red Wall MPs and, most recently, Lee Anderson, this post gives his positions on various topics in British life.
Those who missed previous instalments can read about his adventures and opinions in Parts 1, 2, 3 and 4.
Rail strikes
This week, England has been crippled by a series of rail strikes, one every other day, which means that on the days there are no strikes, it is still fruitless trying to travel by rail.
On Monday, June 20, 2022, the House of Commons held a debate, Industrial Action on the Railway.
Lee Anderson was the last MP called to speak. He asked the following question of Grant Shapps, Transport Secretary (emphases mine):
This strike is a real kick in the teeth for hard-working taxpayers, who have dug deep over the past 18 months to keep this industry alive. Does my right hon. Friend agree that the Labour party—the spineless party opposite—should grow a backbone and condemn these strikes?
Grant Shapps replied:
That is an appropriate place to end. My hon. Friend is absolutely right. People have dug deep—that is exactly what they have done; it was £600 per household. People are furious. They paid out that money to make sure that nobody lost their jobs, and what thanks have they got? Where is the reward? Where is the "thank you" for keeping the railway going? It is a strike that will put people out of pay and hit people's pockets once again, and Labour Members cannot even find their way to say, "We condemn the strikes." It is a disgrace.
Immigration
On Wednesday, June 15, Home Secretary Priti Patel made a statement about the fact that the June 14 flight to Rwanda with scheduled deportees never took off. There were originally 37 people who were to be deported. Because of last minute legal delays, only a handful boarded the charter flight and, by 11 p.m., even they were taken off.
The Opposition parties hate the idea of sending illegals to Rwanda for processing. Strange that, as it is called the Switzerland of Africa.
Labour, the Lib Dems and Scotland's SNP have all said during debates about illegal migration that people can legitimately come to the UK from France. Such a statement implies that France is not a safe country.
In the June 15 debate, Migration and Economic Development Partnership with Rwanda, Lee Anderson asked Priti Patel:
Just when you think this place cannot get any dafter, you turn up and listen to the rubbish that the Opposition are coming out with today. Is the Home Secretary aware of the sniggering, smugness and delight shown on the out-of-touch Opposition Benches about the cancelled Rwanda flight? Will she please advise me? I need some travel advice—I am going away this summer. Is France a safe country to go to?
Priti Patel replied:
For the benefit of the British people, the public, I have in my hand just four pages with a list of Opposition Members making exactly that point with glee—basically wanting the policy to fail, condemning it and saying all sorts of things without coming up with alternative solutions.
My hon. Friend is absolutely right about France as a safe country. This is a fundamental principle of working with our colleagues more broadly—[Interruption.] Those on the Opposition Front Bench have already had their chance to speak. These are safe countries and there are people who are effectively picking to come to the UK. That is something we have to stop by going after the people smugglers and breaking up their business model.
Moral failings of Tony Blair versus Boris Johnson
Also on June 15, Boris Johnson lost his latest ethics adviser, Lord Geidt, who suddenly resigned.
This month, for whatever reason, Tony Blair became a member of the prestigious Order of the Garter, an honour the Queen decides independently.
On GB News, Patrick Christys asked a panel who was less ethical, Boris or Blair. Lee Anderson was one of the participants. He said that he had canvassed his constituents in Ashfield, Northamptonshire, and all said that Blair was less ethical. Anderson said there is no comparison between a Prime Minister being presented with cake and one who got us into a highly costly war in Iraq. The second tweet shows Blair with his spin doctor Alastair Campbell at the time:
The full discussion follows:
Labour
Anderson was a member of the Labour Party until 2018, when he switched to the Conservatives.
He has no praise for Labour MPs, especially Deputy Leader Angela Rayner. On May 22, she was angry with Chancellor Rishi Sunak for giving more aid to Ukraine.
The Daily Mail reported:
The party's deputy leader sparked outrage after she told the Chancellor on Twitter to 'do one' – a slang insult meaning 'get lost'.
The message was posted in response to a weekly No 11 newsletter from Mr Sunak, in which he detailed an additional £40 million of aid for Ukraine.
It is not the first time the senior Labour figure has landed herself in hot water for her remarks about those on the other side of the Commons. The former care worker resorted to calling senior Conservatives 'a bunch of scum, homophobic, racist, misogynistic, absolute pile of… banana republic… Etonian … piece of scum' in a foul-mouthed tirade at last year's Labour party conference.
Lee Anderson made his views known:
Lee Anderson, Tory MP for Ashfield, accused Ms Rayner of behaving pathetically after the latest controversial outburst.
He said: 'I don't know what it is about Angela Rayner and the Left that have it in for successful people running the country, surely it's much better for successful people who are successes in business to hold the purse strings of the country rather than somebody whose only claim to fame is dishing out insults.
'She is someone throughout her career who has made childish insults against Conservative politicians and now she's having a go at Rishi, who by the way is one of the most polite politicians you'll ever wish to meet. He's a real gentleman, regardless of your politics.'
Green energy policies
As is the case in most European countries, the prices of home fuel and petrol have gone through the roof.
On January 3, Nigel Farage asked Anderson for his views on what the UK should do. Anderson said that while it was imperative that we leave the planet in better shape for the next generation, he and his Ashfield constituents think that some of Boris's Net Zero policies need to be wound back. Furthermore, he wants us, rightly, to use our own energy sources during our transition period to Net Zero:
Two months later, Anderson appeared on Farage's Talking Pints segment of his show. They discussed the necessity of energy independence, which the UK can easily achieve. Instead, the Government prefers a policy of importing coal and gas from Russia:
You can see the full interview here, where Anderson says:
We should be selling gas to the rest of Europe!
The BBC
Anderson remains a firm supporter of Boris Johnson and wants him to be allowed to get on with his job. He accuses the BBC of conducting a witch hunt against the Prime Minister.
This interview took place the day after Boris survived a Conservative vote of confidence. Anderson laid his dislike of the BBC's tactics on the line. This is short, sharp and to the point:
Guido Fawkes wrote (emphases in the original):
Lee Anderson provided daytime fireworks as he confronted the BBC over anti-Boris bias live on the channel. He also called them "quite sad" over their refusal to let the Boris leadership question drop, accusing them of spearheading a witchhunt. Agree or not, it was great TV…
Not surprisingly, it was Guido's most popular post that day:
That night, the question of a BBC witch hunt popped up on Dan Wootton's GB News show:
Wootton invited Anderson on to discuss the issue with left-wing pundit Nina Myskow, who defended the BBC. Anderson said that his constituents supported Boris. He invited Myskow to speak with his constituents to hear their views. She replied, although not in this clip, that she never travels north of Selfridges:
Russia
On April 27, Anderson was disappointed not to have made the list of 287 MPs that Russia sanctioned.
He wrote a letter to the Russian ambassador to the UK to ask that his name be added to the list:
Crime
Lee Anderson has been outspoken against crime. I posted some of his perspectives last week.
During his candidacy in the autumn of 2019, he proposed creating forced labour camps for noisy council tenants:
After Winston Churchill's statue was desecrated in June 2020, during the pandemic and 'mostly peaceful' protests, Anderson gave a brief interview to a young independent reporter. He ended by saying:
You wouldn't be stood here today, young man, talking to me if it wasn't for Churchill.
On March 16, 2021, Anderson participated in the Crime Bill debate. Highlights follow:
Here's another, courtesy of Guido:
Ashfield's straight-talking MP Lee Anderson gave the Labour Party both barrels last night in the Crime Bill debate. Effusively supporting the Bill, no-nonsense Anderson took aim at what he sees as Labour's hypocritical positions:
I find it strange that Labour are talking about tougher sentences for crimes against women, yet in December they were trying to stop us deporting foreign rapists. One Labour MP said we should not deport these criminals in December as it was too close to Christmas. I disagree. I thought it was a great Christmas present.
Guido is fairly sure that the residents of Ashfield will be in overwhelming agreement. For such a short speech, many shots were fired – rounding off on some Labour politicians' attitude to the law…
Seven months later, his fellow Conservative MP Robbie Moore led a debate on the sexual exploitation of young girls by a certain demographic. Sadly, the 'grooming gang' phenomenon is growing to the extent that it is said to be present in every town in the UK.
Moore focused his attention on Bradford.
Guido points out that none of the three Labour MPs for Bradford bothered to show up for the debate.
Anderson contributed and, as one would expect, has strong views on what should happen to such politicians:
Away from the noise of the Budget, earlier this week Conservative MP Robbie Moore led a Commons debate on child sexual exploitation across Bradford, calling for a "Rotherham-style inquiry" into the scandal and claiming it had been "swept under the carpet" by the local authorities. Although the debate only attracted small number of MPs – none of the three Labour MPs for Bradford bothered to appear, despite two previously claiming they would – there was one booming voice lending his support to Moore's campaign: the Honourable Member for Ashfield, Lee Anderson. Asking Moore to give way twice so he could give the Chamber a piece of his mind, Anderson said:
The only way that we know the full scale of these vile crimes in Bradford is for a full Rotherham-style… investigation, and would he also agree with me that certain local politicians on the council, and the mayor, should hang their heads in shame.
Once this inquiry takes place, and we get to the bottom of this, and these grooming gangs are put away where they rightly belong in prison, then the next call will be these lazy politicians – and they need locking up too.
Even Moore sounded a bit surprised by Lee's fury…
Guido has the video:
Anderson's no-nonsense speech might have been partly due to his appointment to the Women and Equalities Committee in May 2021:
Guido wrote:
Guido learns that parliament's wokest committee – the Women and Equalities Committee – is to welcome two new, perhaps unexpected, members: Philip Davies and Lee Anderson. Philip Davies is making a, no doubt, welcome return after having served on it in 2016 – where he made headlines calling for the word "women" to be removed from the Committee's name. Lee Anderson is a co-conspirator favourite: from saying nuisance tenants should be forced to live in tents; to recently ranting that he's torn up his licence fee. Confirming the appointment, Lee told Guido:
The great women of Ashfield have been the backbone of my community for hundreds of years with barely any recognition.
Yes the men have worked down the pits and gone off to war but its our women that have kept everything together.
The women in communities like Ashfield need a voice in Parliament and anyone who knows me will tell you that I am a firm believer in better rights for women. I am a modern man with a modern outlook who is keen to speak up for the women in my community.
They deserve to be on a level playing field with us men which is not always the case. I will still open doors for women and give up my seat on public transport as I am a gentleman first and a politician second, but you can be assured that I will be fighting on all fronts for the women of Ashfield.
Both men will no doubt relish the appointments, which they richly deserve. Guido sends his warmest congratulations to the pair. Chapeau to the 1922 Committee on the wit and wisdom of their appointments.
Returning to politicians, on November 9, he had a go at convicted Labour MPs and recommended that they should work as a condition of their licence:
This morning in Parliament, straight-talking Lee Anderson told Deputy Prime Minister Dominic Raab exactly how he thinks the government should solve labour shortages:
Prisoners and ex-offenders out on licence should help fill the labour shortage and […] on release, all prisoners – including ex-Labour MPs – should be ready for work and starting work should be a condition of their licence.
Guido has the video:
Nutritious meals on the cheap
As I wrote in my third post on Lee Anderson, he took a lot of unnecessary stick in May 2022 for saying that people can make nutritious meals for only 30 pence per portion.
He revealed that he, too, had been a single parent for many years and lived scrimping and saving. He still got pilloried.
On May 26, however, the Mail profiled a partnered mother of three who makes meals for 29 pence a portion.
Was there any criticism of her from other media outlets, such as the BBC? No, there was not.
Such double standards. Such hypocrisy.
Conclusion
Regrettably, I have run out of Lee Anderson anecdotes.
He is my favourite MP. I would love to see him as the next Conservative leader, if not Prime Minister.
Sadly, that will not happen. He is not Establishment enough and never will be.
I hope that he is re-elected as MP for Ashfield and wish him all the best in his Parliamentary career.
We need more MPs like him.
A profile of another Red Wall MP will appear next week.
My series on Red Wall MP Lee Anderson from Ashfield continues.
Those who missed the previous three instalments of his profile can read them here, here and here.
Lee Anderson nearly always has something useful to contribute to debates in the House of Commons.
He is also no stranger to controversy, either.
Ian Lavery MP
He has a particular dislike for Labour MP Ian Lavery, who used to head the National Union of Mineworkers (NUM), of which Anderson was once a member.
In Part 1, I introduced Anderson's animosity towards Lavery, which has to do with £165,000 that the Labour MP received years ago from the NUM. Anderson, like other NUM members, believes that Lavery should return the money to the miners.
On Wednesday, June 15, Anderson raised the matter of the money again during the debate about the upcoming nationwide rail strike.
Guido Fawkes has the story and the video:
It was Guido's most read and shared story of June 16:
Guido wrote (emphases in the original):
Another vintage Commons clash last night between Lee Anderson and Ian Lavery, with Anderson once again accusing Lavery of "stealing money" from the miners, and Lavery getting so upset he actually asked Deputy Speaker Nigel Evans to "protect" him from Anderson. Not a demand Evans took to kindly…
Anderson: Does he think that any Opposition Member who has received a donation from the RMT should put that money in a pot to help people who suffer during next week's rail strike? Does he also think that other MPs who have stolen money from the mineworkers—165 grand in the case of the hon. Member for Wansbeck (Ian Lavery) —should pay it back?
After eventually convincing Anderson to withdraw the remark, Evans turned his attention to Lavery:
Lavery: On a point of order, Mr Deputy Speaker. You have been in the Chair three times when the hon. Member for Ashfield (Lee Anderson) has made allegations. He withdraws his ridiculous remark and consistently comes back to say it again. As Deputy Speaker, you are not protecting the likes of myself. I need your protection.
Evans: Order. Do not make allegations against the Chair, ever. You saw how I treated Mr Anderson. You just leave it with me—I don't need lectures on how to do my job.
All this happening in the mother of all parliaments, rather than the school playground. At least it was entertaining…
Earlier this year, in the February 8 debate, Cost of Living and Food Insecurity, Anderson tried unsuccessfully to intervene in Lavery's contribution. One wonders if he was going to ask about Lavery's NUM money:
Lavery: I want to put some human context into this debate. I saw on social media this weekend a comment by a single parent. She said:
"It's difficult to imagine without experiencing it is how tiring being skint is. How you're so utterly consumed by financial hardship that it affects every decision you make on a daily basis. It takes up every thought and you can't escape. No wonder there is a mental health crisis".
Anderson: Will the hon. Gentleman give way?
Lavery: That comes from a single parent and it sets the tone for this debate. The country is badly fractured and, sadly, broken. Kids cannot eat and pensioners cannot eat, yet sales of luxury yachts have gone through the roof.
Anderson: Will the hon. Gentleman give way?
Lavery: And then we look at the other end of the political spectrum, where we see 14 million people in this country, the sixth richest economy on this planet, living in poverty.
Anderson: Will the hon. Gentleman give way?
Lavery: UK wages are at the lowest they have been and they are a 15-year standstill. Wages are gone and energy bills are going through the roof—I will come on to that. Poverty is a political choice. Hunger is a political choice. I am sick and tired of debates in this place where people from all parts are basically reducing hungry and cold families and individuals to mere balance sheet statistics—count them as human beings. The debate often gets dragged into whether this is absolute poverty or relative poverty.
Anderson: Will the hon. Gentleman give way?
Lavery: That does not matter to people who are suffering greatly in our communities. If they are sitting at the table with nothing to eat in the morning or at teatime at night, they are not aware of whether they are in abject poverty, absolute poverty, relative poverty or overall poverty. They might not even know that they are in poverty, but they know they are hungry. I think we will all probably have experienced being behind the person in the local newsagent who has the key to put £5 on their electricity bill—
Anderson: Will the hon. Gentleman give way?
Then things kicked off:
Deputy Speaker Nigel Evans: Order. I do not believe Mr Lavery is going to give way, so please save your voice for the rest of the speech. [Interruption.]
Order. What did the Member say?
Other MPs: He said, "Coward."
Deputy Speaker: Please withdraw that word.
Anderson: Mr Deputy Speaker, I am sure that the hon. Member is not a coward.
Deputy Speaker: Thank you.
Lavery: Mr Deputy Speaker, that has taken out a minute and a half of my time, but thank you very much for allowing me to continue. I am far from a coward, by the way …
Lavery finished his speech. Later in the debate, however, he raised a point of order about Anderson (emphases mine):
Lavery: On a point of order, Mr Deputy Speaker. I would like your advice about the intimidation that I seem to be getting from the Member for Ashfield (Lee Anderson). The last couple of times I have been in the Chamber, there have been some absolutely terrible remarks. I am sure you remember, Mr Deputy Speaker, the last time he had to return and apologise. How can this be stopped? How can we tackle it? If Members do not want to give way, they do not have to, but they should not suffer abuse as a result.
Deputy Speaker: I thank the hon. Gentleman for his point of order. I was in the Chair the very last time this happened. That is why I intervened to say that the hon. Gentleman was not giving way. I could not hear what the hon. Member for Ashfield said, because I was talking when he said it, and he then withdrew it. However, Mr Speaker made it absolutely clear at the beginning of today's sitting, after what happened on the streets of London yesterday, that we must all be temperate in the language we use, not only in the Chamber but outside it. I hope that all right hon. and hon. Members will take that on board before they stand up, and even when they make sedentary interventions, and that they are very temperate in the language they use.
Anderson then directed his interventions towards other Labour MPs.
One recommended collective bargaining. Anderson, who was a Labour Party member until 2018, intervened:
The hon. Gentleman mentions collective bargaining, but will he say how successful that was in the 1970s, when the lights were out?
True!
Another Labour MP recommended more nuclear power. Anderson said:
My hon. Friend talks about nuclear power. It is quite interesting, actually, because I wonder if he can recall that, in 1997, the Labour manifesto said, "We can see no economic case for the building of any new nuclear power stations." Does he think now, moving on 20-odd years, that they regret that?
Crime
Lee Anderson is, to paraphrase Tony Blair, 'tough on crime, tough on the causes of crime'.
On June 8, 2021, during the Police, Crime Sentencing and Courts Bill debate, he spoke frankly about the travelling community:
We have a big problem in Ashfield with the travelling community. They come two or three times a year. I did my own poll of about 2,000 constituents, and 95% agreed with me that the Travellers were creating a massive problem—crime was going up, pets were going missing, antisocial behaviour was going through the roof and properties were getting broken into. My constituents do not want them in our area anymore. That was a survey of 2,000 people, and that was the response from 95% of them. That evidence from my area is a bit more compelling than the petition the hon. Gentleman mentioned, which has probably been signed by 100,000 Travellers.
A Labour MP, Bambos Charalambous, said the problems in Ashfield arose because of inadequate housing provision.
Later on, Anderson said:
We have already established that in places where Traveller communities set up, such as Ashfield, crime goes up; we know that there is a direct correlation between Travellers being in the area and crime going up. Does the hon. Gentleman think that crime will come down if we have a permanent site in Ashfield?
Undeterred by the throwaway answers he was receiving, Anderson intervened once again in Charalambous's speech:
At the beginning, the hon. Gentleman made an interesting point about Romani Gypsies coming here more than 500 years ago, but the Gypsy encampments that we are talking about in places such as Ashfield are not the traditional, old-fashioned Gypsies sat there playing the mandolin, flogging lucky heather and telling fortunes. The Travellers I am talking about are more likely to be seen leaving your garden shed at 3 o'clock in the morning, probably with your lawnmower and half of your tools. That happens every single time they come to Ashfield. Does he agree that there is some confusion on the Opposition side as to who these people actually are?
Charalambous replied that there were many misconceptions about the various traveller communities, which were unhelpful.
Anderson made his final intervention a short time afterwards:
About five years ago, we had Travellers come to a car park in my village and they left a load of rubbish there, which cost the council over £1,000 to clean up. A few weeks later, they came back again, left another load of rubbish that cost another £1,000. I got that fed up with the local council that I hired a JCB and put two concrete blocks there, to stop the Travellers coming back and to keep the beauty spot tidy, and I got a £100 fixed penalty notice from my local Labour authority. Does the hon. Gentleman think that that was the right course of action?
Charalambous said that it was the local council's responsibility to take action, not individuals.
On May 11, 2022, after this year's Queen's Speech, MPs discussed the subject again in the Preventing Crime and Delivering Justice debate. The plan to send migrants to Rwanda was also announced that day.
Anderson delivered a speech on public protests, which have gone out of control over the past few years. At times, the police looked as if they are aiding and abetting the protesters:
Nobody should feel unsafe on the streets or in their home, which is why preventing crime is probably the most important part of this Queen's Speech. Each time we debate the subject in this place, the Labour party seems to side with the criminals. I am not sure why that is, but it seems to happen every single time. The Queen's Speech serves as a reminder to everyone that the Conservatives are the only party that is serious about law and order in the UK.
The vast majority of decent, hard-working people in this country will welcome the new public order Bill. Every week we see mindless people who have nothing better to do than wreak havoc on our streets, motorways and petrol stations. Frankly, the hard-working people of this country are fed up to the back teeth of these people disrupting lives and destroying property.
When I have been out and about, I have seen people gluing themselves to property, digging up lawns, throwing paint and performing zombie-like dances in the middle of the road with no regard for the decent, hard-working people of this country. [Interruption.] … These people have no regard for the decent, hard-working people of this country, and their guerrilla tactics are disrupting emergency workers and putting lives at risk. The public have had enough.
We were pretty good at handing out fines during lockdown. We dished out big fines, some justified and some not, and I hope the Government will consider handing out bigger fines to these public nuisances who think it is a good idea to damage petrol stations. I suggest a £10,000 fine, going up to 20 grand. That will teach them. Going back to their mum and dad with a 10 grand fine might be the deterrent they need.
Let us remind ourselves of what the Conservative party has been up to in government. We are recruiting 20,000 new police officers, and there are already more than 13,000 new police officers on our streets, making our streets safer. We have enshrined the Police, Crime, Sentencing and Courts Act 2022 in law, giving the police extra powers to prevent crime and keep dangerous criminals off our streets. The Act stops the automatic early release of dangerous, violent and sexual offenders, widens the scope of police powers such as stop and search, and places a legal duty on local authorities to work together with fire and rescue services, the police and criminal justice agencies. Labour voted against the Act, and I will tell the House what else Labour voted against: everything in the Act.
In Ashfield we are really benefiting from a Conservative Government. We have just had £550,000 from the safer streets fund, with which we are putting up CCTV in some really dodgy areas of my town. This will make women and young girls feel safe. There will be safe hotspots where they can reach out for help. It is wonderful news for one of the most deprived areas of my constituency. We are using the fund to put up new security gates to secure alleyways, which are antisocial behaviour hotspots. The funding is making residents feel safe in their own home. It is real action. On top of that, we have new police officers in the Operation Reacher teams in Eastwood and Ashfield, which are going out to take the most undesirable people off our streets and lock them up.
The police had always been a little frustrated that the sentencing has not been enough for these criminals, but we have sorted that with the 2022 Act. People will be locked up for longer, and so they should be. It makes people in Ashfield and Eastwood feel safer, it makes me feel safer and it makes my family feel safer. When these criminals are arrested and taken through the court system, it is only right that they should be put away for as long as possible to make us all feel safe.
Labour also has no ideas about the illegal crossings by dinghies and boats coming over the channel. Labour Members seem to be confused, as they do not know the difference between an economic migrant and a genuine asylum seeker, which is a shame. My constituents in Ashfield would put them right. If Labour Members come up to my Wetherspoons in Kirkby, my constituents will tell them the difference—they are pretty good at it.
An SNP MP intervened to say that the Home Office considers most of those coming illegally over the Channel as refugees.
Anderson replied:
I thank the hon. Lady for her intervention and I think that what she describes is the fault of the old, failing asylum system; when people get here, they know how to fill the forms out and they have these lefty lawyers who say, "Put this, this and this." So they fill the forms out and, hey presto, about 80% get asylum status, and it is wrong. It is a burden on the taxpayer, these people are abusing the system. It is a bit like some benefit cheats—they do it, don't they? They abuse the system, saying that they are disabled when they are not. [Interruption.] Yes, they do. Come on, let's be right about it.
Make no mistake: if that lot on the Opposition Benches got in power, perish the thought, this Rwanda plan would be scrapped within five minutes. They want to see open borders. They want to let anybody in. [Interruption.] However, I welcome the sensible comments on food bank use made by the hon. Member for St Helens North (Conor McGinn), who is not in his place. I would welcome any Opposition Member coming to visit my local food bank in Ashfield, where I help out on a regular basis. We have a great project in place at the moment.
You can read more about Anderson's food bank controversy in Part 3.
Free speech at universities
Last week, on July 12, Anderson participated in the debate on the Higher Education (Freedom of Speech) Bill. He rightly took strong exception to the metropolitan elite:
Now then, if we control what students in universities can listen to, we are controlling what they can think and the type of person they will become. That may work in places such as North Korea and, possibly, within the Labour party, but it has no place in our society. The Bill will strengthen free speech and academic freedom at universities. It is not the job of the Labour party or anybody else to control who we listen to. The champagne socialists, the Islington elite and the trade unions may agree with the Labour party, but most of the country do not. We fought and won a war to protect our freedoms, and freedom of speech, to my mind, is the most important freedom that we have.
Let us not forget that universities are there to supply our great country with scientists, mathematicians, doctors, lawyers, school teachers, nurses and so on, not to provide us with state-sponsored political activists who have only one opinion or one goal in life. Our young people should be able to flourish at university and be open to all kinds of debate. Let them make their own mistakes, form their own opinions and ask their own questions. We should not dictate who they can and cannot listen to.
By voting against this Bill, Labour is saying that our university students are not capable of making up their own minds. It is a bit like the Brexit debate when it told my residents in Ashfield and Eastwood that they were thick, they were stupid, they were racist and they did not know what they were voting for. Well, that ended well! It ended up with my standing here tonight.
We know that free speech is being shut down in universities in this country. Professor Jo Phoenix was due to give a talk at Essex University about placing transgender women in women's prisons. Students threatened to barricade the hall. They complained that Ms Phoenix was a transphobe who was likely to engage in hate speech. A flyer with an image of a gun and text reading "Shut the **** up" was circulated. The university told Ms Phoenix and the event was postponed.
What about the human rights lawyer Rosa Freedman, a radical feminist law professor, whose event was cancelled amid allegations of transphobia? She received a passive aggressive email from a University of Reading student who called her views on gender politics "problematic" and warned her to "choose her words carefully". Selina Todd, an Oxford University professor, had her invitation to a conference celebrating women withdrawn owing to pressure from trans activists who had threatened to disrupt the event.
It is a real shame that we have to legislate to allow free speech, but the biggest shame is that Labour Members will vote against the Bill and subsequently vote against free speech. Perhaps they should all come off Twitter, throw their Guardian newspapers away, leave the Tea Room, and get out there and speak to the millions of voters they lost at the last election. Let us have some free speech on the doorstep and perhaps that lot on the Opposition Benches will finally realise that they have nothing in common with the very people they expect to vote for them. Thank you very much, Mr Deputy Speaker; that is me done.
The next MP to speak was from Labour. That MP disliked being told he was against free speech. He ended by saying:
If this legislation were needed, I would support it, but I do not think that it is needed, because, as has already been said, the legislation is already in place. We know the reason why, because we have had it explained. We just had a great example of it from the hon. Member for Ashfield. This is actually about trying to use the so-called woke agenda in a political manner. It is amplifying the message, so we get a situation where anyone who dares to question what happens or who votes against this Bill tonight is said to be against freedom of speech.
Anderson intervened to say:
I thank the right hon. Gentleman for the important points that he is making in the Chamber tonight, but the most important thing I want to thank him for is mentioning the word "Ashfield". That is the first time ever in this Chamber that a Labour politician has mentioned the word "Ashfield", so I thank him for that.
Immigration
Lee Anderson likes hard-working immigrants but, along with most other Britons, objects to people coming to the UK illegally then complaining about living in three-star hotels with three square meals a day.
On July 19, 2021, during a Nationality and Borders Bill debate, he related the story of a man he once knew, Janis Bite, who came to the UK from Latvia:
Now then, Janis Bite was 13 years old and living in Latvia at the start of World War Two. Two years later, the Nazis came. Their request was simple: one male member from each family to go and fight the Russians. It was either Janis, his dad or his younger brother, so Janis went to the Russian front and witnessed the horrors of war in temperatures of minus 40.
When the war ended in 1945, Janis was classed as a displaced person—a refugee. Imagine that. He could not go back to Latvia, because he had been sent straight to Siberia and that is where they sent his dad, so Janis was given two more choices: the US or the UK. So he came to the UK to a small village in Derbyshire, where he and other refugees were housed in Nissen huts in army barracks. He did not complain or whinge or moan about the barracks or set fire to the barracks or make TikTok videos. In fact, they were so grateful to the UK that they all volunteered to work in the fields at local farms picking potatoes and other seasonal vegetables for no pay. Janis met a girl in the village, he fell in love and he later married. He worked hard all his life and had three sons, one of them being Alan in Ashfield. Janis loved his football. He became a British citizen and loved this country. He even went on to meet our Queen. Janis is no longer with us, but his story makes me feel incredibly proud of our great country and its willingness to help people from all over the world.
A Conservative MP asked Anderson if Janis Bite would have been affronted by the misguided, generous way the Home Office treats illegal immigrants.
Anderson responded:
I thank my right hon. Friend for his comments. That is absolutely right. I spoke to Janis's family last week in Ashfield, and they made exactly that point. I will feed that back to them when I get back to Ashfield this weekend.
We have always been a welcoming and tolerant country that has reached out to genuine refugees from all over the world, but just like Janis's family in Ashfield, most people in the UK do not accept that people travelling here from France in dinghies are genuine asylum seekers—[Interruption.] They are not genuine asylum seekers. We know that many of them have been trafficked with a clear instruction on how to claim asylum once they get here. That is because our asylum system is not fit for purpose, and this Bill stops that.
The Labour party and the Opposition want to bring back free movement. They dislike our points-based immigration system, and now they are going to vote against a Bill that protects our borders and helps us deport foreign murderers and rapists. They will always vote against the British people. This new Bill will ensure that people in genuine need, like Janis all those years ago, get the help they need, and the greedy lawyers and the human traffickers will be told, "No more." We owe it to people such as Janis who are suffering today to ensure that we have a fairer system that offers genuine refugees a safe haven. This Bill does that.
We have nothing to be ashamed of in this country. We are a kind, tolerant and welcoming country. That is proven by the number of people who risk their lives every single day to get here. If Janis's family can see that the current situation is unacceptable, surely the Opposition should see that too.
I give a massive thanks to the Home Secretary, who has stuck to her guns. She has listened to the British people and delivered. Opposition MPs want to travel into reality. I will offer this opportunity to all of you now sitting there now with those glazed expressions on your face: come down to Ashfield, come speak to some real people in my towns and villages, and the message you will get will be completely different from the message you are feeding into this House. I am here because of you lot and the attitudes you had in 2019. We are getting tough on crime, we are getting tough on immigration and we are getting tough on law and order.
Well said!
I'm still not finished with Lee Anderson's policy stances. More to come next week.
Of all the Red Wall MPs, Lee Anderson's star shines the brightest among true conservatives.
Those who missed the first two instalments of his profile can read them here and here.
Anderson-Bray latest
I left off with Anderson's exchanges with Steve Bray, who lives up to his surname. For years, he has been on the open spaces around Parliament, e.g. College Green, braying against Brexit. He appears to be crowdfunded. He is very loud and the police won't move him along. As for MPs taking action, not enough witnesses will come forward to corroborate his disturbances with them or with employees on the estate. After six or so years, he should really find a proper job.
The latest instalment in Bray-Anderson story took place on June 9, 2022:
Guido Fawkes has the story and the video (red emphases in the original):
The ongoing war of words between Red Wall Rottweiler Lee Anderson and Professional Loiterer Steve Bray has taken another dramatic turn. Yesterday, after Bray once again tried to confront Anderson on College Green, Lee bit back by asking "why haven't you been sectioned yet?". This, according to the London Economic, "sparked outrage"…
So much outrage that Shadow Mental Health Minister Rosena Allin-Khan demanded an immediate apology, claiming "MPs should not use mental health tropes when responding to criticism."
Now, following Allin-Khan's intervention, Anderson has offered a heartfelt apology. He tells Guido:
I will be apologising to the good people of London as it would appear Lord Bray has slipped through the net and quite clearly should be getting help.
Don't count on it…
No doubt, the story will run and run.
Food banks
One story the whole nation knows about is Lee Anderson's views on home cooking in light of food bank use.
One month ago, on Wednesday, May 11, a week after local elections, Anderson, who participates at his local food bank, said in Parliament:
There's not this massive use for food banks in this country. We've got generation after generation who cannot cook properly, they can't cook a meal from scratch, they cannot budget.
Guido has the video of his part in the Commons debate. Anderson invited any MP who wished to take him up on it an invitation to his local food bank in Ashfield. His food bank has a scheme whereby anyone who comes for food has to sign up to a budgeting course and a lesson in how to cook from scratch.
He rightly criticised the Labour MPs opposite for being out of touch and, fortunately, he said, out of power. Guido borrowed the motif from a popular BBC programme, Eat Well for Less:
Remember that, until 2018, Anderson was a card-carrying member of the Labour Party. He joined the Conservatives that year.
It is also worth saying that Anderson was hardly born with a silver spoon in his mouth. He grew up in a mining family and said in another parliamentary speech that Labour's poor education policies prevented him and his classmates from progressing in life. They all ended up working in the local mine when they left school.
Michelle Dewberry invited him on her show that evening to allow him to elaborate on his views. He told her that his mother and grandmother cooked from scratch every night.
In an interview with Dan Wootton (see below), he said that, for many years, he was a single parent, and also cooked fresh meals daily for his children.
Dewberry's segment is worth watching:
Anderson and other food bank staff brought in a local, award-winning chef to do a cook off. He participated in it. He said that people can make a batch of meals for only 30p a portion. I can believe it.
He described it to Michelle Dewberry (emphases mine):
We did a small project where we took some school children and we spent £50, we filled a trolley up, we had a local chef, an award-winning chef.
We went back to the college and invited four other MPs and we had a bake off, like a cook off.
We prepared I think it was about 1700 meals and we put them in a container and froze them, now that's enough to feed a family of five for about £50.
Now they're not massive piles that people get at the local carvery, but they were enough, they were nutritious, good value meals.
He also told her:
My position is, yes, we have to support some people but, in the meantime, instead of throwing money at everything, let's try and help people.
I couldn't agree more. It's not just food bank users who cannot — or won't — cook, it's also a lot of ordinary middle-class women. I'm nodding at the women who live on either side of me. There are countless more who rely on a) ready meals, especially the pricey ones from Marks & Spencer, and b) weekend roast lunches at the local carvery.
For a family of four — parents and two children — the sums add up pretty quickly, week after week.
The front pages from Thursday, May 12, were expectedly execrable, shouting that he was just another out of touch Conservative.
Metro is the free newspaper, available to all metropolitan commuters:
This was the headline from Labour's house organ, The Mirror:
The story made GB News shows again that evening.
Colin Brazier invited left-wing Tom Pollard and conservative Benjamin Loughnane to debate what Anderson said in Parliament:
Pollard, not surprisingly, said that the poor are going through some really rough times. True, but one of the cheapest ways of saving a bit more of dole money is by getting smart by cooking at home. There's nothing shameful about a hot dinner of a baked potato topped with hot baked beans. The potato can be done in the microwave and crisped up for 15 minutes in the oven. The beans can be poured out of the tin into a microwave-proof dish.
Loughnane said that he thought what Anderson said was well-intentioned and 'not malicious'. He agreed that there were other ways to help people rather than monetarily. He said that the controversial element was that a Conservative MP had said it. However, Loughnane said that Conservative policies haven't helped anyone's cost of living very much, especially the poor.
Later that evening, Dan Wootton used the Anderson controversy for his lead editorial. He featured clips from all the televisual media — ITV, BBC, Sky — and said that their left-wing claims were false. Wootton said that Anderson made a practical point about the lack of cooking and budgeting skills in today's households. He also played the full exchange from Parliament and explained that Anderson was a regular volunteer at the Ashfield food bank. He said that Anderson himself fed his two sons for 17 years by cooking from scratch:
Wootton interviewed Anderson later in the show:
Anderson said that there were also a lot of:
rich people who can't cook, either, and that's my whole point.
Wootton then went into Anderson's background. The MP said:
I did struggle. I had to sell my car and walk everywhere. I've been that single parent.
As for what he said in Parliament:
What I alluded to … is common sense. The media have just run amok with it, really.
He said that it is better for him, as someone who has experienced living on the edge, to say what he did rather than some of his colleagues 'who have been to Eton'.
Anderson said that food banks should be considered as a safety net not as a regular fixture in their lives. He supports people who are on hand to ask if those getting food parcels have problems with debt or money in general.
He added that he'd worked in his Citizen's Advice Bureau and was used to encountering these types of issues from the people he helped.
I still have more on Lee Anderson to come next week.
He's a no-nonsense, common-sense man who would make a great Prime Minister. It's just a shame that he would never get that chance in the current political climate of Islington, the London borough that rules Westminster.
The metropolitan elites have done this country no favours at all. Lee Anderson and other Conservative MPs from modest backgrounds are trying their best to reset the balance.