You are currently browsing the tag archive for the 'Liberal Democrats' tag.
Continuing on Scotland's upcoming election, I have been astonished by some of the articles and social media messages appearing north of the border.
Scottish women — and sensible Scotsmen — are increasingly concerned by the encroaching activism of a small minority of Scots with regard to certain aspects of gender recognition, including self-identification.
The SNP do not seem to care, and no one knows how the new Hate Crime legislation will work against anyone who is worried about a man wandering into a ladies' room or a women's changing room.
In a guest post for Wings Over Scotland on March 31, 2021, Margaret Lynch a long-time activist, first for Labour, then for the SNP and now for the Alba Party, wrote about the topic in 'Why women want Alba' (emphases mine):
The inability of the SNP leadership to accept the simple distinction between sex and gender has led them into very troubled waters and has done real harm. It has led to vulnerable women in prisons being subjected to sexual assault by men who "identify" as women, to a local authority adopting a "gender neutral" approach to domestic violence which saw funding removed from Women's Aid groups because they refused to admit men to refuges or work with perpetrators.
Lastly and perhaps most ludicrously it's seen a situation arise where crossdressers – but not real women – are protected by a Hate Crimes Bill which omits misogyny from the list of prejudices it seeks to prohibit.
The response of the SNP leadership to those women who did try and constructively engage within the SNP around these issues was genuinely shocking. They stood by and watched prominent female SNP elected representatives be hounded and abused, and said nothing. They colluded in attempts to prevent the selection of gender critical candidates using all manner of chicanery.
Alex Salmond of the new Alba Party has spent the past few years defending his reputation against SNP smears, so there is a certain irony that a man falsely accused of preying on women now appears to be their defender in Scotland, at least where pro-independence parties are concerned:
The irony of Alex Salmond presenting a solution to our problems has not escaped me. Some feminists think this is a bridge too far. But what I know is that Alex Salmond's political survival now depends on him demonstrating at all times and to all people that he can be trusted in women's company and to defend women's rights.
Nicola [Sturgeon], who I have long admired and liked, has demonstrated over and over again that she CANNOT be trusted to defend women's rights – and in fact would throw them under a bus in a heartbeat to gain the support of the fanatical youth wing of the party, and the Greens who appear to care less about the environment than they do about bedding down Queer Theory in Scotland's political institutions.
What drew me to join Alba was the tactical opportunity it presented:
– to ensure that there's a party which will protect women's rights in Scotland, and provide a safe harbour for those of us who want independence to cast our votes in the coming election without betraying our sex.
– to act as a countermeasure to the malign forces which have propelled the SNP leadership towards an agenda which is dismantling women's rights, to speak out on the matters which affect us, and to retain safe spaces and representation.
That same day, Wings Over Scotland featured another guest post by a former SNP member, Morag Kerr, who explains why she has cancelled her party membership. Her article is called 'To the National Secretary'. Excerpts follow:
During the first 25 years of my membership I made many friends and had many wonderful experiences. I never imagined for a moment that I would leave the party before independence day.
However the past four years have been an entirely different experience and that time has now come. I cannot remain a member of the SNP for the following reasons.
1. Lack of any progress towards independence since 2015, including the lack of preparation of the infrastructure that will be needed by an independent country.
2. Failure to capitalise on the very real opportunities which arose between 2016 and 2019 in the run-up to Brexit.
3. The explicit ruling-out of viable routes to independence, and the imposition of conditions which would stand in the way of viable routes to independence.
4. The insulting dangling of "vote SNP for a new indyref" when an election was at hand, followed by the inevitable kick into the long grass soon afterwards.
5. The lack of rebuttal of unionist attacks and talking-points, combined with currying favour with the unionist mainstream media while attacking and indeed monstering pro-independence online media. The donation of a substantial sum of public money to prop up the Unionist print press was absolutely inexplicable.
6. The fitting-up of Alex Salmond on false allegations of sexual assault intended to prevent his returning to politics to do something about points 1 to 5 …
9. The appalling Hate Crime Bill which will criminalise simple disagreement if someone simply chooses to take offence at it, and the exclusion of women as a protected category while including men in drag on their way to a stag night.
(I can't believe I'm even writing that, and [Justice Secretary] Humza Yusuf's sneering jibe that a woman would be protected in the event she were mistaken for a transwoman was simply the last straw.) …
13. The rewriting of the rules with the obvious express purpose of preventing Joanna Cherry from being considered as a candidate in the Holyrood election …
20. Promotion of highly unsuitable sex education material to young children.
On April 6, an Edinburgh blogger, Calton Jock — hardly a political conservative — wrote about the close alliance between certain gender/lifestyle identity organisations and the Scottish government:
LGBT Youth Scotland was formerly called the Stonewall Youth Project and is mainly funded by the state (in other words us), with over 75% its annual income coming from the Scottish Government, local councils and the National Health Service. (Scottish schools to get updated guidance on supporting transgender pupils).
Bear in mind that the co-founder of Stonewall, Simon Fanshawe, broke away from the organisation and condemned its "extreme" position on transgender rights. Yet we have the Scottish Government determined to change the Gender Reform Act (GRA) and to continue to permit children to be given permanently damaging puberty blockers, despite a ruling in the English courts that this has to stop. (Letters to the Times) …
The Scottish Government and opposition parties have agreed to continue talks about freedom of expression elements of the hate crime bill.
It follows concern about the impact of some of the amendments proposed to the legislation on the transgender community.
The Justice Committee considered stage two amendments to the Hate Crime and Public Order (Scotland) Bill'.
Justice Secretary Humza Yousaf had originally proposed an amendment seeking to protect "discussion or criticism of matters relating to transgender identity", provided the behaviour was not threatening or abusive …
People are questioning the influence of "Stonewall" on Scotland's civil service after it emerged that controversial policies have been introduced in alignment with Stonewall's political aims. These include a compulsory "Diversity Objective" for all staff to make the Scottish Government "a more diverse and inclusive place to work", training on "intersectionality" and "unconscious bias", and the use of gender-neutral language. The Civil Service is also included on Stonewall's "Diversity Champions Index" …
The Deputy Director for Public Affairs at The Christian Institute said:
"The extent of Stonewall's influence on the Civil Service is alarming, particularly given the controversial nature of some of its political aims. Stonewall's stance on trans issues is strongly opposed by women's organisations, medics and faith groups. Yet, the Civil Service appears to endorse it wholesale. How does this fit with the Service's duty to remain politically impartial? Staff are encouraged to attend training sessions on "intersectionality" and "unconscious bias". These controversial ideas are disputed in wider society. So it's concerning that they are written into the training schedule for Civil Service employees. The compulsory "Diversity Objective" also raises questions. What happens to staff members who hold religious beliefs which differ from those championed by Stonewall? Are they marked down? This could constitute direct discrimination on the grounds of religious belief."
Gender identity activism also affects the Liberal Democrats as Calton Jock explained in an April 6 post, 'The Threat to Women is a Real and Present Danger'. He discovered that this goes back to 2019 when then-party leader Jo Swinson put gender identity into the party manifesto before the general election that December. To think that most of us saw her — and her party's candidates — as being anti-Brexit. No, there was much more.
Calton Jock has an image of one of Swinson's tweets before the election. It reads, in part:
Introduce an 'X' gender option on passports and extend equality law to cover gender identity and expression …
Thank goodness she lost her seat as an MP. So did many other Lib Dems. There are only 11 of them now in the House of Commons.
Calton Jock explains why the Lib Dems have these policies:
Assisting their efforts with donations exceeding £1.3million, is Ferring Pharmaceuticals a company that markets drugs used in gender-identity clinics to delay puberty.
The party has already upset feminists, who worry that the "extreme trans-ideological" policies in its manifesto will put vulnerable women at risk.
The company is owned by the Swedish billionaire Frederik Paulsen and markets the drug, which is used to block puberty among adolescents.
The Lib Dem manifesto pledges "complete reform of the Gender Recognition Act to remove the requirement for medical reports, scrapping fees and recognition of non-binary gender identities" …
A Drugs company owned by a Swedish billionaire philanthopist and explorer, who is an honorary Russian consul and lives in Switzerland, has given nearly £500k to the Liberal Democrats.
Frederik Paulsen, who lives in Lausanne, is worth an estimated £3bn and owns Ferring Pharmaceuticals. The company is ultimately controlled from Curacao, a Caribbean tax haven.
Electoral Commission records show that the British arm of the company, based in West Drayton, west London, gave four donations to the Liberal Democrats between December 2013 and June 2014. Three of them exceeded £100,000.
The British arm of Ferring Pharmaceuticals was set up in 1975. Ferring said the company had made the donations because it supported Liberal Democrats policy on Europe. (Sunday Times)
Comment: And the Lib/Dems had the hard neck to criticise Alex Salmond for broadcasting his show on RT!!!
Paulsen was personally awarded an "Order of Friendship" medal by Putin himself. The Vlad acolyte who has poured huge amounts of cash into Russia, was given the gong by the Russian Foreign ministry, and is an honorary Russian citizen …
On April 9, an Alba Party member, Denise Findlay, wrote about the lack of political will in standing up for protecting women: 'Life begins on the other side of despair', a guest post on Yours For Scotland.
An excerpt follows:
It has been a hard few years for the women who support Scottish independence. The women have endured vicious bullying, name calling, doxing and rape threats simply for trying to stand up for their rights. All from those who are meant to on the same side in the independence debate. Women have now struggled for years against their own party and movement. Many honourable men have joined the debate giving women their support but still truckloads of abuse are heaped on the women's heads every day.
Women's concerns have not been heard. All parties in the Scottish Parliament are signed up in varying degrees to gender ideology.
The Greens and LibDems are irretrievably anti-women in hock to an ideology which is dangerous to the health and well being of women and girls. Andy Wightman resigned from the Greens due to their intolerance of any discussion of women's rights claiming party leader Patrick Harvie is captured by Queer Theory.
Labour is unfortunately losing three MSPs who actually backed women; Johann Lamont, Jenny Marra and Elaine Smith and Anas Sarwar the new Labour leader is unwilling to take on the gender ideologues within his own party.
The Conservatives although they voted against the Hate Crimes Bill that was because of its general infringement of the right to freedom of expression and it is a sad day when it is the Conservatives who are our only slim hope.
The SNP leadership is fully signed up to the gender ideology and have a number of policies that are dangerous to women.
Just before recess the Scottish Parliament passed the Hate Crimes Bill (HCB). This bill does not give protection to women who as a sex have been ignored by this bill. A man dressed as a woman has more protection against hate than a woman. But it does pose significant danger and risk to women.
The bill introduces a new offence of 'stirring up hatred' which requires that behaviour must be judged "abusive or threatening" by a "reasonable" person.
Define 'Reasonable' when using the word 'female' can be judged transphobic. When our own justice secretary can't say if there are two sexes and a judge in England ruled that belief in two sexes was 'not worthy of respect in a democratic society'. When many women's accounts have been suspended or banned from social media for stating biological fact.
During the passage of the bill amendments that would have given women a small measure of protection, were withdrawn due to an outcry by the trans lobby.
There is little doubt that women arguing on the basis of sex will be reported to the police, this coupled with doubts over the independence of the crown office will have a chilling effect of women's freedom of expression.
One would have thought that, with all the equality legislation in the UK, including Scotland, these issues should not have arisen. But, no. Things have become worse:
In the new parliament the SNP intends to reform the Gender Recognition Act (GRA) which would allow a man to legally change his sex to female purely on his own say-so. The GRA was introduced prior to same sex marriage, it was to allow people who suffer from gender dysphoria – which at that time was a mental illness – and have changed their bodies to legally become the opposite sex in order to marry.
At the time it was understood that it impacted women's rights because women's sex-based rights are necessarily exclusive as they exclude males. But the European Court of Human Rights decided that the numbers were so small women could just accommodate them.
Over time same sex marriage was made legal which negated the original need for a GRA. A further ruling of the European Court of Human Rights meant that people would not have to change their bodies to obtain a GRA and the World Health Organisation (WHO) determined that gender dysphoria was not a mental illness.
This greatly increased the number of men who could claim to be women and the trans umbrella is now large, it includes men with gender dysphoria who have changed their bodies but also cross-dressers, men who have a sexual fetish about being a woman or being accepted as a woman, exhibitionists and men who believe they have a lady brain. As well as the increase in the number of men now considered trans and who feel they are entitled to access women only spaces and services there is also an issue of abuse of the system.
With self-id there is no gate-keeping so this opens it up to the risk of predatory men taking advantage. Male sexual offenders are identifying as women and being housed in women's prisons, this is already happening in Scottish prisons.
The ramifications of self-id for women's sex-based rights are considerable, already mixed sex toilets in schools are causing teenage girls to miss school in particular when they have their period, there are mixed sex changing rooms, mixed sex hospital wards, women's refuges and rape crisis centres. All places where women are vulnerable and predatory men or men indulging their sexual fetishes can take advantage.
Denise Findlay concludes:
The very real prospect of the complete loss of women's rights in Scotland and the risk of a criminal prosecution if we complain.
Then into this hopeless situation strode hope.
Hope in the form of the Alba Party who just might save the rights of Scottish women and girls, while gaining us our independence.
This weekend it is the Alba Party Women's Conference. Women will have a voice. All is not yet lost. We still have Hope.
The Alba Party Women's Conference was held online. It was well attended and watched by hundreds of women in Scotland.
One of the more disturbing revelations from the Women's Conference was news from a guest speaker that gender activists in Scotland want the age of consent lowered to the age of 10.
The Rev. Stuart Campbell of Wings Over Scotland has more on this development in 'The Paedophile Charter':
ILGA World –  the International Lesbian, Gay, Bisexual, Trans and Intersex Association – is an organisation that we hadn't heard of until today. Just over a year ago they released, as part of a 200-member caucus of other groups, something called "The Feminist Declaration". It's a mostly-innocuous document of demands about women's rights, but buried in the middle of it is a very disturbing section.
The section, a screenshot of which is in his post, encourages a de-stigmatisation of adolescent sexuality.
Campbell continues (emphases his):
The World Health Organisation defines "adolescents" as people aged from 10 to 19.
So the only possible interpretation of "end the criminalization of adolescents' sexuality" is a reduction in the age of consent to 10 years old. Indeed, a slightly earlier paragraph of the Declaration is more explicit about it:
"Eliminate all laws and policies that punish or criminalize same-sex intimacy, gender affirmation, abortion, HIV transmission non-disclosure and exposure, or that limit the exercise of bodily autonomy, including laws limiting legal capacity of adolescents, people with disabilities or other groups to provide consent to sex"
While it doesn't go into more detail, one would like to imagine that the intent would be to remove laws limiting capacity for consent only within that age group, ie to make it legal for all adolescents to have sex with each other, rather than to let older people have sex with them. But it doesn't actually say that anywhere.
Even if it did, alert readers will note that that would still make it legal for 19-year-olds to have sex with 10-year-olds, and to put it very mildly that seems a somewhat controversial position.
So who are the organisations signing up to this "feminist" demand under the ILGA umbrella? On its list of member organisations, sure enough, appear the names of LGBT Youth Scotland and Stonewall Scotland.
Just 12 years ago LGBT Youth Scotland was at the centre of Scotland's biggest ever paedophile scandal, with its chief executive James Rennie sentenced to life imprisonment for a string of offences …
It appears that it's entirely true – the SNP are indeed paying lobby groups with your money to try to reduce the age of consent in Scotland to 10.
We wish we could be confident that the danger of that actually happening was only theoretical.
Stonewall Scotland disputed the Wings Over Scotland claims, but Rev. Stuart Campbell stood by his post and responded in 'If it hit you in the eye':
So the only possible thing about adolescent sexuality that could currently be decriminalized in Scotland, England or Wales is the requirement for both of the participants to be at least 16, or at a minimum over 12. Or put more simply, the reduction of the age of consent.
(It offers no alternative definition of the word to the widely-agreed ones already in existence saying it starts at 10.)
And as Stonewall Scotland are (through ILGA) signatories to that declaration, then there is simply no interpretation possible other than that they're calling for a reduction in the age of consent. If they didn't MEAN to do that, they need to withdraw their membership of ILGA, or get ILGA to withdraw its signature from the Declaration, or immediately have the document rewritten to remove that sentence. Because that is unambiguously and unequivocally what it demands.
But notably, they haven't done that. They've just angrily asserted that it doesn't say what it says. That isn't a denial of the material facts, it's a denial of language and a denial of the entire concept of reality.
He returned to the subject in 'What you find under rocks'. He concluded as follows, issuing an important disclaimer (purple highlight mine):
Paedophiles have a long and well-documented history of trying to infiltrate and hijack LGBT groups, and Scotland is no exception. Indeed, it has very disturbing recent history. Observing that fact does not amount to an accusation and it absolutely certainly does NOT imply any intrinsic link between homosexuality and paedophilia. Wings is not aware of any statistical predilection of homosexual people towards paedophilia compared to heterosexual people.
But anyone who reacts with outrage and evasion and deflection to a basic minimum of scrutiny and vigilance about the safeguarding of 10-year-olds (and especially if, as with ILGA and LGBT Youth Scotland, they've had previous and very severe problems with paedophile infiltration) is probably someone over whom there should be rather MORE scrutiny and vigilance, not less.
The prospect of a lower age of consent was also a topic among some Unionists. George Galloway of Scotland's fledgling All For Unity party is a married father of six. On April 11, he tweeted about the possibility of home schooling:
An article from 2020 in Scottish Review discusses Scotland's education curriculum in this regard. Bruce Scott's article, 'The crisis of consent in Scottish schools' is detailed and well worth reading. He made Freedom of Information requests of the Scottish government, which he said were not answered satisfactorily. With regard to faith groups and home schooling he says (emphases mine):
I also enquired what faith groups had been consulted as part of their working group/implementation group (e.g., Muslim, Jewish, Christian, Hindu, etc). So far, it seems that the wide variety of faith groups in Scotland have not been consulted on the Scottish Government's LGBT Inclusive Education proposals.
One thing I have gleamed from my inquiries is that contrary to some reports, the LGBT Inclusive Education in Scotland is not mandatory; parents are within their rights to withdraw their children if they wish. Further, all schools have to implement the LGBT Inclusive Education curriculum in consultation with parents of children at the school and tailor it to their needs. This is not common knowledge. But, and it is a big but, as the LGBT focus is going to be disseminated throughout all aspects of the curriculum, the only option for parents who object to this curriculum would be withdraw their child from the school completely; a fait accompli on the part of the Scottish Government. I predict they will come for those who decide to home school next.
A supporter of gay and lesbian rights also spoke out against a lower age of consent:
She is not wrong. This Twitter thread — which contains photos not to be shared with children or the vulnerable — explains how Scotland arrived where it is today. The gender issue started in 1974 in Edinburgh. Less than 20 years later, ILGA was an international NGO recognised by the United Nations and remains so today. Graham Linehan, creator of several hit sitcoms in the UK, wrote an article based on the Twitter thread: 'If you say so'. Linehan is also deeply concerned about protecting women's and children's rights.
In closing, The Scotsman reported that the speaker at the Alba Party Women's Conference came under fire for discussing the possibility of a lower age of consent (emphases mine):
Responding to a request for comment, an Alba spokesperson said the women's conference was a "great success" and defended Ms Lynch's statement.
They said: "The organisations referenced have both signed up to this demand, and both have received substantial amounts of Government funding. These are reputable organisations that make a positive impact on the lives of many in Scotland.
"If the organisations do not support what they have signed up to it is for them to say or provide clarification, it is not for women that attended our women's conference to defend concerns that women have raised based on fact."
The Alba Party manifesto makes a clear commitment to protecting women's rights (item 8):
One wonders if this situation will have an impact on Scottish voters next Thursday, May 6.
Once again, coronavirus measures featured strongly in this week's debates in the House of Commons.
Yesterday's post explained that a compromise was reached over the proposed Brady Amendment and covered the subsequent debate on the renewal of the Coronavirus Act 2020.
In the end, only a handful of MPs voted against the extension. Congratulations to them and to the Liberal Democrats, all of whom voted No:
The Labour MPs were Dawn Butler, Kevan Jones, Rebecca Long-Bailey, John Spellar, Graham Stringer and Derek Twigg. I do have a particular admiration for Graham Stringer who adds lucidity in every discussion in which he participates. I've seen him in Select Committee hearings and he's brilliant.
Below is a review of coronavirus debates from the other days.
Monday, September 28
Steve Baker (Con) was in rebel mode on his way to the Commons that morning:
In the afternoon, Secretary of State for Health and Social Care Matt Hancock appeared at the despatch box for a debate on COVID-19 measures.
He received several interventions (interruptions).
Sir Edward Leigh (Con) was the first. He also mentioned Sir Graham Brady of the eponymous amendment (emphases mine below):
If the first duty of Government is to keep people safe, will the Secretary of State remember that the first duty of Parliament is to hold Government to account? I know that he wants to take public opinion with him, but will he therefore reassure us that he is also determined to take Parliament with him? In that respect, may I urge him to meet with my hon. Friend the Member for Altrincham and Sale West (Sir Graham Brady) and come to a compromise to ensure that, if there are further national lockdowns, Parliament will be fully involved in the process?
He agreed, but note the 'where possible' in his reply:
We are looking at further ways to ensure that the House can be properly involved in the process—in advance, where possible. I hope to provide the House with further details soon. I will take up the invitation to a further meeting with my hon. Friend the Member for Altrincham and Sale West (Sir Graham Brady), whom I have already met to discuss this matter, to see what further progress can be made. I hope that that, for the time being, satisfies my right hon. Friend.
Mark Harper and Steve Baker, both Conservatives, hit the nail on the head.
Harper said:
To develop the point made by my right hon. Friend the Member for Gainsborough (Sir Edward Leigh), I accept the points about scrutiny that the Secretary of State makes, but it is about not just scrutiny but the laws we are making. The laws that came in at midnight, for example, were 12 pages of laws, with lots of detail, criminal offences and duties not mentioned when they were set out in a statement last week. That includes duties on employers, directors and officers, with serious criminal penalties. We need to scrutinise the detail of the legislation before it comes into force and give our assent, and not, I am afraid, just allow the Secretary of State to put it into force by decree.
Hancock batted that away, as if it were nothing:
Of course, sometimes in this pandemic we have to move fast. Sometimes we have had to move fast, and we may need to do so again. The challenge we have in this House is how to ensure proper scrutiny while also being able, when necessary, to move fast in response to the virus. That is the challenge that collectively we all face.
Steve Baker dismissed that answer with facts but had to couch it, knowing how thin-skinned Hancock is:
I reassure my right hon. Friend that I am going to praise him later, but the Constitution Unit at University College London tweeted earlier about the regulations mentioned by my right hon. Friend the Member for Forest of Dean (Mr Harper) that
"this policy was briefed to the media 8 days ago. Was it really not possible to schedule proper, detailed parliamentary debate during that time, given the far-reaching consequences?"
It added:
"Given the current mood, it seems very likely MPs will ask this."
Well, I am asking. Surely it was possible, in eight days, to have the debate that my right hon. Friend has called for.
Hancock replied that both he and Prime Minister Boris Johnson had made statements about the new laws the week before.
Labour's John Spellar, who voted against the extension of the Coronavirus Act 2020, pressed Hancock on the issue:
It is nice to be informed, nice to be consulted and nice to be able to scrutinise, but in the end it is about who decides. Can the Secretary of State explain why he is so against Parliament's making the decision, even if he argues for urgency and immediacy —within two days, for example—to either confirm or revoke those regulations? Why is he against Parliament's being the one that finally decides on this? It is quite clear that this is not even being decided in Cabinet, but just by one or two Cabinet members. Let Parliament decide.
Hancock said he hoped to find a way forward.
Jonathan Ashworth, Shadow Health Secretary, replied on behalf of Labour.
This was an excellent debate, one worth reading in full. A few more highlights follow.
John Spellar pointed out that a vaccine would give no guarantees:
There has been much mention of the success of a vaccine, but, first, it is unclear when that is likely to be and, secondly, surely even if we have a vaccine, it will not be 100% effective.
Sir Desmond Swayne (Con) gave the best speech of the debate — a must-watch at just under two minutes:
He took exception to Chief Medical Officer Dr Chris Whitty and Chief Scientific Officer Sir Patrick Vallance's televised presentation the week before with a graph that strained credulity. They took no questions from the press. No government minister was present, either, even though they sat in front of a No. 10 backdrop.
Swayne rightly railed about it and them:
Less than a year ago, I celebrated what I thought was the election of a sceptical and liberal Conservative Administration. Now, I am left wondering if the Prime Minister has not been abducted by Dr Strangelove and reprogrammed by the SAGE over to the dark side.
The purpose of politicians is to impose a sense of proportion on science and not to be in thrall to it. I will make myself very unpopular, but I believe that the appearance of the chiefs last week should have been a sacking offence. When they presented that graph, it was with the caveat that it was not a prediction, but nevertheless it was clear that they presented it as a plausible scenario, with its 50,000 cases per day by mid-October based on the doubling of infections by the week. Not on one day since March have there been infections on a day that were double that of the same day of the week preceding—not once. Where did this doubling come from? What was their purpose in presenting such a graph? It was the purpose of the fat boy in "The Pickwick Papers":
"I wants to make your flesh creep."
It was "project fear". It was an attempt to terrify the British people, as if they had not been terrified enough.
I have been banging on about this since March, and with every criticism I have made, I have been told that the Government were relying on the best possible science. So I was delighted by the letter one week ago today with the nuanced criticism of Professors Heneghan, Gupta and Sikora. I believe that the Government now have to answer that criticism. I am glad that the consensus in the scientific community is broken and the critics are speaking out.

I do not underestimate for one moment the horrible nature of this disease and its post-viral syndrome, but in terms of the United Kingdom's killers, it is 24th in the league, accounting for only 1.4% of deaths. As a consequence, I believe the Government's policy has been disproportionate. By decree, they have interfered in our private and family lives, telling us whom we may meet, when we may meet them and what we must wear when we meet them. We have the cruelty of elderly people in care homes being disoriented, unable to see ​the faces of their loved ones or to receive a hug. We have the tsunami of deaths that we may experience shortly as a consequence of undiagnosed cancers and heart disease, and the discontinuation of clinical trials.
He praised Sweden's lack of lockdown and compared the Government's warning about Christmas celebrations to Cromwell, who, as Lord Protector, also banned the holiday:
All sorts of criticisms are levelled against the Swedish Government that, on examination of the data and comparing like for like, are without foundation. I certainly hold up the Swedish model as an alternative.
We have seen the eye-watering costs that we must now all face for a generation, having closed down our economy for all those months as a consequence of the Government's policy. We face the crushing of enterprises, the destruction of livelihoods, and unemployment among young people, all as a consequence of an overreaction. I understand that there is now some question as to whether students will be allowed to return from university at Christmas. I say most gently to the Minister that the last Administration that sought to restrain celebrations at Christmas was during the Commonwealth, when the Lord Protector was left musing in public whether, if he were to arm one in 10, that would be enough. How many marshals will be required?
I conclude by saying that the policy of the Government has been disproportionate in response to this threat. There may be a virus one day that threatens our very way of life, but this is not it, even if we are behaving as if it were.
In other news, people in England were deeply unhappy to discover that, while they are under 10 p.m. closing time for pubs and restaurants, Parliament's bar and restaurant were allowed to stay open past that hour.
Guido Fawkes reported that a U-turn took place. The exemption was initially made because both are considered as a 'workplace canteen', as sittings in both the Commons and the Lords occasionally run into the night. Now, at least, alcohol will not be served after the witching hour:
Tuesday, September 29
The 10 p.m. closing time for bars and restaurants in England has rankled both proprietors and the public to the extent that the Mojo Bar in Manchester has banned all MPs until the curfew is cancelled:
Guido Fawkes had more details (emphasis in purple mine):
After five days of the disastrous mandatory 10 pm closing time policy for bars, pubs, and restaurants, Mojo Bar in Manchester is taking matters into its own hands. Clearly fuming at the counterproductive curfew order imposed this week, the bar took to social media to share pictures of all MPs – declaring none of them will be served until the curfew is cancelled. Clearly the management know which strings to pull to get the attention of MPs…
Managing Director Martin Greenhow tells Guido that the eye catching policy came about "from frustration and fear". Before the curfew the bar had bounced back pretty strongly from lockdown, back up to 85% of normal turnover. After the curfew was imposed it's down to just 20%.
Good grief! Stop the madness.
The coronavirus restrictions in England became so complicated that ministers, including Boris, could not keep them straight any more.
Gillian Keegan, the Parliamentary Under Secretary of State for Apprenticeships and Skills, had a rough start in the morning on BBC Radio 4's Today:
Guido had more (emphases in the original):
… she was unable to clarify the newly-imposed rules in the northeast on meeting other families, squirming "no, I'm sorry I can't clarify that… no I don't know the answer to that question", claiming she couldn't answer the ever-increasingly complex regulation question because she's "not from the northeast". Mishal Husain correctly pointed out Keegan, as a minister, couldn't understand the new rules, what hope does the general population have of being able to stick to them…
Alok Sharma, Secretary of State for Business, Energy and Industrial Strategy, also appeared on BBC radio that morning. He took issue with their 'gotcha' tactics:
Boris, too, got tripped up around lunchtime. He was asked to clarify Gillian Keegan's answer on Today:
Guido reported:
Responding to a Channel 5 question, Boris said:
"Outside the areas such as the North East where extra measures have been brought in, it's six inside and six outside, in those areas such as the North East where extra tight measures have been brought in you should follow the guidance of local authorities, but it's six in a home or in hospitality but as I understand it, not six outside. That's the situation there."
Which is precisely the opposite of what the new restrictions say, as the Government announced last night:
"Measures will be brought into law restricting inter-household mixing in indoor settings, including pubs and restaurants"
So in indoor settings no household mixing. Outdoor can see household mixing. Something the PM got 180 degrees the wrong way round…
He quickly issued an erratum early in the afternoon:
Wednesday, September 30
In the debate on extending the Coronavirus Act 2020, another highlight was Conservative MP Charles Walker's speech. He was on fire:
He said:
I first thank the Secretary of State for everything he has done to get us to this stage tonight, but 90 minutes to debate the renewal of an Act that has fundamentally changed the nature of the relationship between the state and citizens is not good enough. If this is the portent of the promises to come, it is not good enough. I need, at some stage, more than three minutes to discuss the fundamental ​hardships that are going on in my constituency—the jobs that are being lost, the opportunities that are being lost, the young people struggling to find work, to get back to university and to come back from university. Ninety minutes is an utter, utter disgrace. It is actually disrespectful to this House and it is disrespectful to colleagues.
I am sorry, Secretary of State, if I sound—actually, I am not sorry that I am angry, because a lot of people in this place are angry. We want to see this virus beaten, of course we do, but it would be nice—just nice—if this House were shown some respect.
Charles Walker is the vice-Chairman of the 1922 Committee, which Sir Graham Brady chairs. It represents backbench Conservative MPs.
Walker's righteous anger has been building since September 10:
I note that Steve Baker did not vote against the extension of the Coronavirus Act 2020, despite a bold interview days before on Sky News.
Despite that, he still has his eye on the ball. He retweeted this from Italy:
And he's doing more interviews:
We really do need to reopen the economy in full — now.
Next week, I'll have a wrap-up of the final debates of the Brexit-oriented Internal Market Bill.
Last week, I wrote about the Brady Amendment, brought by Sir Graham Brady MP to stop the Government ruling 'by decree' when it comes to local coronavirus lockdowns and other measures.
Prime Minister Boris Johnson and Health Secretary Matt Hancock have been appearing at the despatch box to announce these lockdowns and measures without allowing MPs to debate them in the Commons first.
As I wrote then, because Sir Graham and Steve Baker MP were confident they had the numbers for it to pass on Wednesday, September 30:
It's all good news — but only if Speaker of the House Sir Lindsay Hoyle allows Brady to bring the proposed amendment forward for debate.
In the end, conversations took place behind closed doors and the Speaker did not table it for debate.
Here is what happened in the meantime.
On Thursday, September 24, Guido Fawkes posted a copy of it (emphases in the original):
Prior parliamentary scrutiny of major national coronavirus regulations
Line [1], leave out from "expire" to end and add "provided Ministers ensure as far as is reasonably practicable that in the exercise of their powers to tackle the pandemic under the Coronavirus Act 2020 and other primary legislation, including for example Part 2A of the Public Health (Control of Disease) Act 1984, Parliament has an opportunity to debate and to vote upon any secondary legislation with effect in the whole of England or the whole United Kingdom before it comes into effect."
Member's explanatory statement
This amendment appends to the statutory motion, Section 98.2 of the Coronavirus Act, a provision that Parliament shall have the opportunity to debate and vote upon secondary legislation of major national importance before it comes into effect. The amendment makes clear Parliament's intent to renew the powers of the Coronavirus Act with this provision.
Dr Ruth Fox, Director of the Hansard Society, wrote an analysis of it: 'Building on the Brady Amendment: how can Parliament scrutinise Coronavirus regulations more effectively?'
At that point, 46 MPs had signed the amendment. Forty of the MPs are Conservatives.
On Sunday, September 27, the BBC's Andrew Marr interviewed the new leader of the Liberal Democrats, Sir Ed Davey, who said he was 'hugely sympathetic' to the amendment, would 'almost certainly' vote for it and said it doesn't go far enough:
On Monday evening, Steve Baker tweeted to say that the Conservative Whip invited him and other signatories to discuss the matter with Matt Hancock and Leader of the House Jacob Rees-Mogg:
William Wragg (Con) is also one of the good guys. His tweet below met with mixed reactions from the British public:
Bloomberg's economics editor tweeted …
… as did The Spectator's deputy political editor:
Katy Balls's article, 'Is No. 10 about to move on the Brady amendment?'
She wrote, in part (emphases mine):
The critical conversations … have been going on out of sight. As Tory support grows for the Brady amendment — which seeks to give parliament a say on changes to coronavirus restrictions currently covered by emergency laws — government chief whip Mark Spencer has spent his afternoon meeting with would-be Tory rebels.
While it's still unclear whether the amendment will even be selected on Wednesday for a vote (the expectation in government is that it will be ruled out of scope by the Speaker), the size of the potential rebellion has been enough to focus minds …
Former ERG chair Steve Baker described the meeting online as 'cordial and constructive'. The expectation among those rebels who attended today's meeting is that the government is in 'listening mode' and will come back with a proposal in due course. However, while there is room for negotiation here, a red line among many of the leading rebels is that it isn't enough to be given more time for speeches, MPs need a say — they need votes. Up until now, that's something No. 10 has been reluctant to give.
On Tuesday, Guido tweeted:
By that time, 80 Conservative rebels had signed the amendment.
Guido's accompanying post was, as usual, accurate in predicting what would happen on Wednesday. ITV's Robert Peston was spot on (emphases in the original):
By all accounts a deal is close to being struck before Wednesday's vote. Robert Peston reckons Hancock will acquiesce at the Despatch Box tomorrow, and allow MPs to vote on national coronavirus measures – albeit reserving the power to delay the vote until a few days after the imposition of a new restriction in the case of "an emergency". Rebels are holding what specific procedure they would agree to close to their chest, although Steve Baker described yesterday's meeting as "cordial and constructive"…
While the Brady Amendment could still be ruled out of scope by the Speaker on Wednesday instead of being put to a vote, Number 10 has been at pains to communicate that it understands the swelling sense of feeling on its back benches. Guido is told by one senior rebel that they are "confident a solution will be found"…
On Wednesday, September 30, the Speaker sympathetically announced why he rejected the Brady Amendment. However, he also rebuked the Government:
I will now look the the Government to rebuild trust with this house and not treat it with the contempt it has shown.
Here's the video:
He allowed a 90-minute debate that afternoon, followed by a vote, on renewing the Coronavirus Act 2020.
The first part of his statement pertains to the Government and the latter half to the Brady Amendment (emphases mine):
I wish to make a statement about this House's scrutiny of delegated powers during the pandemic, and on the selection of amendments to the motion relating to the Coronavirus Act 2020 later today.
The way in which the Government have exercised their powers to make secondary legislation during this crisis has been totally unsatisfactory. All too often, important statutory instruments have been published a matter of hours before they come into force, and some explanations why important measures have come into effect before they can be laid before this House have been unconvincing; this shows a total disregard for the House.
The Government must make greater efforts to prepare measures more quickly, so that this House can debate and decide upon the most significant measures at the earliest possible point. The use of made affirmative statutory instruments under the urgency procedure gives rise to particular concern. I will give very sympathetic consideration to applications for urgent questions or emergency debates in such cases, requiring Ministers to come to the Dispatch Box to justify the use of such powers.
That last sentence means that Matt Hancock will have to appear at the despatch box to answer questions and allow debate.
Moving along to the debate held that afternoon and to the Brady Amendment:
I hope that all hon. Members will have a chance to express their views through substantive amendable motions on scrutiny of delegated powers, or on the operation of the Coronavirus Act 2020, or both.
I turn now to the motion to be considered later today, which invites the House to make a narrow, binary choice as to whether the temporary provisions of the Coronavirus Act 2020 should or should not expire. Unfortunately, as it is only a 90-minute debate as a proceeding under an Act under Standing Order No. 16, I am disappointed that I cannot give additional time to discuss the issues. I know some Members will be disappointed.
When I became Speaker, I made it clear that I would take decisions on matters relating to procedure guided by professional advice. I have concluded, on the basis of advice that I have received, that any amendment to the motion before the House risks giving rise to uncertainty about the decision the House has taken. This then risks decisions that are rightly the responsibility of Parliament ultimately being determined by the courts. Lack of clarity in such important matters risks undermining the rule of law. I have therefore decided not to select any of the amendments to the motion.
As I hope my earlier comments show, I have not taken this decision lightly. I am looking to the Government to remedy a situation I regard as completely unsatisfactory. I now look to the Government to rebuild the trust with this House and not treat it with the contempt that they have shown.
Matt Hancock introduced the debate of the renewal of the Coronavirus Act 2020 and said:
This has been an unprecedented time. This House has had to do many unprecedented things, many of which have been uncomfortable. I have listened to the concerns raised about scrutiny. As you pointed out earlier, Mr Speaker, there have been times when this pandemic has challenged us all and we have not been able to do this as well as we would have liked. I therefore propose that we change the approach to bringing in urgent measures. I am very grateful to all colleagues we have worked with to come forward with a proposal that will allow us to make decisions and implement them fast, yet also ensure that they are scrutinised properly.
Today, I can confirm to the House that for significant national measures with effect in the whole of England or UK-wide, we will consult Parliament; wherever possible, we will hold votes before such regulations come into force. But of course, responding to the virus means that the Government must act with speed when required, and we cannot hold up urgent regulations that are ​needed to control the virus and save lives. I am sure that no Member of this House would want to limit the Government's ability to take emergency action in the national interest, as we did in March.
We will continue to involve the House in scrutinising our decisions in the way my right hon. Friend the Prime Minister set out last week, with regular statements and debates, and the ability for Members to question the Government's scientific advisers more regularly, gain access to data about their constituencies and join daily calls with my right hon. Friend the Paymaster General. I hope these new arrangements will be welcomed on both sides of the House, and I will continue to listen to colleagues' concerns, as I have tried my best to do throughout.
That said very little. I remain unconvinced.
Sir Graham Brady was the first to respond:
I thank my right hon. Friend for being prepared to listen and for the constructive conversations that we have had over the last couple of weeks. As he said, Members on both sides of the House understand the importance of Ministers having the freedom to act quickly when it is necessary, but we are grateful that he and other members of the Government have understood the importance of proper scrutiny in this place and the benefits that that can bring for better government.
Steve Baker also expressed his thanks.
A few minutes later, Steve Brine (Con) pointed out that some of these dangers to civil liberties come from older legislation:
I thank the Secretary of State very much for the sensible measures the Government have taken today on the involvement and ongoing consent of this House. There is widespread public concern out there about consent and the measures we are imposing on their lives. Just to be clear for the public, and some sectors of the media, watching this debate: many of the restrictions that we are reluctantly having to place on our constituents' lives do not come through the Coronavirus Act 2020; they come through many other pieces of legislation, but primarily the Public Health (Control of Disease) Act 1984.
Mark Harper (Con) asked for more detail on how this new rapprochement would work:
May I just press the Secretary of State? He said in his remarks that the Government will bring forward votes in advance of the measures coming into force on national measures covering the whole of England or the whole of the UK. Obviously, some of the measures that have come into force so far have been quite significant, covering large parts of the country and millions of people. I accept there is a judgment to be made here; can he say a little more about where the line will be drawn about what is brought to this House in advance?
Hancock gave a slippery answer:
In a way my right hon. Friend, who has huge experience in these matters, answers his own question, because of course there is a judgment to be made. We have made a very clear commitment to the process that we will follow, and I hope that over the weeks to come we will demonstrate through our actions and through what we bring forward that we are true to that commitment, which essentially will become a new convention.
'A new convention'! It is standard parliamentary procedure.
Tim Farron (Lib Dem) asked about the seeming inconsistency of social distancing and the harm to certain businesses:
Will he agree, though, that the inconsistent and sometimes nonsensical application of some of the rules is doing damage to some of the businesses that he talks about? In particular, I am thinking of the wedding industry and the many families who have been affected by that. The rule of six surely can apply so that a place that can take many multiples of six could host weddings and give people their special day, and so that it does not kill a vital industry not just in the lakes and the dales, but across the country.
Hancock gave a stock answer about following public health evidence.
Andrew Mitchell (Con) also asked about weddings as well as the events industry:
I have a lot of sympathy with what the Secretary of State is saying, but may I also support what was said by the hon. Member for Westmorland and Lonsdale (Tim Farron), not only about the wedding industry but about the exhibitions and events industry? Will my right hon. Friend at least bear in mind that good sense from careful people who seek to be covid-sensible and compliant would enable him to exercise some flexibility in the very inflexible rules that currently govern those two important industries, which are flat on their backs?
Edward Timpson (Con) was also concerned about wedding venues:
On the 15-person limit at wedding venues, it would help a lot of those in the industry, which is struggling desperately, if they could see the public health evidence and anything else taken into consideration in coming to that judgment. The difference between them and the rest of the hospitality industry does stand out, and they are going to be in a further desperate state for the next six months.
Hancock referred him to the Business Secretary!
Nick Thomas-Symonds responded on behalf of Labour to Hancock's statement.
Sir Graham Brady rose to speak:
Mr Speaker, may I begin by thanking you? Although you gave your reasons earlier for not selecting the amendments in my name and that of 80 other colleagues across the House, you also made your expectations of Government crystal clear. No one could doubt your commitment to upholding the Standing Orders of this House, Mr Speaker, and nor have you left any doubt about your resolve in defending parliamentary democracy and the right of this House to scrutinise and hold Ministers to account.
I am also pleased to be able to thank my right hon. Friend the Secretary of State. Throughout my discussions with him, he has accepted the need to find a better approach to scrutiny and parliamentary approval of coronavirus measures. The new procedure that he has committed the Government to follow shows a genuine understanding of what has been wrong in the past and a real promise of transparency and engagement in the future. I believe the outcome we have reached is in the interests of Parliament, in the interests of better government and, most importantly, it gives the British people reassurance that measures that restrict their liberty, interfere with their family life, and very often threaten their livelihoods will not be implemented without important questions being asked and answers given in advance.
This video is a must watch as Hancock looks absolutely petulant:
Chris Bryant (Lab) asked Brady:
Can the hon. Gentleman tell us what this new procedure is?
Brady replied:
The hon. Gentleman is an expert on procedure, and he will soon get to grips with it. It is the made affirmative procedure, which entails the setting of a commencement date in the future for measures, which will allow for a debate and vote to take place in advance of commencement. The House will therefore have that crucial ability to refuse consent.
It isn't often that I agree with Chris Bryant, but I did here. He came back with this:
But the Government decide.
Brady said:
These things will be brought forward. We have had the assurance, and we will hold the Government to it. The hon. Gentleman will see it very soon.
I will close by thanking those Members across the House who, by supporting my amendment publicly or privately, have helped to achieve what I believe will be an important step forward for all of us.
The Speaker set a three-minute time limit on the rest of the speeches, in order to fit everyone in:
Scotland's Ian Blackford (SNP) banged on for 20 minutes, beginning as follows:
I regret the fact that this is only a 90-minute debate. The Government should have ensured that a more appropriate amount of time was given. In that context, I will not do what I normally do; I apologise to Members, but because of time, I will not be taking interventions. [Hon. Members: "Hooray!"] That is utterly pathetic.
Jim Shannon (DUP) asked about a future vaccine, hoping that its uptake would be voluntary:
Very quickly, one of the issues that has come to my attention—the number of emails has been enormous—is to do with the enforcement of vaccines on those people who do not wish to have them. I personally would take such a vaccine, but others will not. Does my hon. Friend agree that when it comes to vaccines, it should be by choice only?
I couldn't agree more.
Sammy Wilson (DUP) had the best speech, because he wanted to find out more specifics of this 'new convention' of Hancock's. He began by replying to Jim Shannon:
Well, of course, that is an issue that the Government will have to address in the future, if ever a vaccine is found.
The important thing is the frustration that many in the public are experiencing at present. It might not have been totally wiped out, but I believe there certainly would have been far more scrutiny if this House had not just had the ability to listen to statements or ask questions, but had actually had the real sanction that if the Minister did not make a consistent and competent case for the measures that he was introducing, they could be voted down. That is why the demand that there be effective scrutiny by this House is important.
We have listened to what the Minister has said, but I am not convinced that we will see that effective scrutiny; because if I heard him right, first, it would only be for matters that are significant. Now, who will make the judgment on whether the issue is significant? I can tell the Minister that, if I own a business and it is decided that it could be closed down, that is significant; yet we do not know who will make that final decision.
The scrutiny will only be for issues that are national. Sixteen million people are currently affected by a range of local decisions and local restrictions. That, to me, is as bad—half the nation, half the country, is affected—yet according to the Minister's definition today that would not be covered because it would not be a national decision. And, of course, scrutiny will happen where possible. I suppose if the Government wished to escape scrutiny they could always say, "But this has suddenly emerged," even though the data could have been collected days and days before. So who will decide whether it is possible to have the time to do this?
Hancock gave him a deathly stare.
After an intervention, he continued and concluded:
It certainly should not be left to those who have wanted to rush through decisions and those who in the past have wanted to escape scrutiny because the decisions have been illogical and inconsistent, and people cannot understand them, and even some of those who have made the decisions do not understand them and sometimes have a different interpretation.​
This is not just about MPs having a sense of their own importance. This is important if the measures are to have acceptance among the public, because with that kind of scrutiny, with a final vote, at least if we were not convinced that the measures were necessary, if we were not convinced that they would not have disproportionately damaging effects, if we were not convinced that they would actually work, if we were not convinced that the public would understand them, we would have the right to say, "Minister, you cannot proceed with them," and have the opportunity to vote them down. I do not think we have had a convincing assurance from the Secretary of State today about when we would have that kind of role, and if we do not have that kind of role, I do not think that we should support the continuation of these kinds of measures.
In the end — because of Ian Blackford:
Shameful.
After a few more MPs spoke, it was time for Hancock to wrap things up prior to the vote on the extension of the Coronavirus Act 2020.
He gave a very watery response to Sammy Wilson:
I listened with care to the right hon. Member for East Antrim (Sammy Wilson). I urge him to support the Coronavirus Act this evening, not least because he knows, from the commitments I have given, that there will be further chances for both scrutiny and votes on measures in future thanks to the discussions we have had today.
Unfortunately, the Act was renewed: 330-24.
More on this to follow tomorrow.
Happy New Year!
Happy new decade!
I enjoy, albeit with trepidation at times, looking back at the decades I've lived through and charting the change from beginning to end.
O tempora, o mores!
1960s
In 1960, growing up in the United States, I remember that things were still quite formal. Most people took care in the way they spoke and in their appearance. They were careful to conduct their households in a respectable manner. By the middle of the decade, that began to change but not too noticeably.
By 1968, a social revolution was underway, including sexually. What was once private became public. Attire reflected that. Women began wearing skirts above the knee. Men's clothes became more form-fitting.
Sloppiness and drugs became fashionable with the advent of hippies. Even though they were a small minority, they received a lot of media coverage. A slogan connected with them — 'If it feels good, do it' — began to pervade society at large.
Cinema and television reflected this change.
At home, Americans moved from watching westerns to tuning into a zany comedy hour. In 1960, Gunsmoke was the most viewed programme. In 1969, it was Rowan and Martin's Laugh-In. Gunsmoke had moved to sixth place in the Nielsen ratings.
Film genres and themes also shifted. In 1960, the great epics were popular, with Spartacus the highest grossing film and Exodus coming third. Psycho was second. In 1969, while Butch Cassidy and the Sundance Kid was in the top slot, Midnight Cowboy was at No. 3, Bob & Carol & Ted & Alice was No. 6 and an X-rated movie, I Am Curious (Yellow) was No. 12. It would have been unthinkable in 1960 that an urban drama about homosexuality, a movie about swingers and one that was pornographic would have been so popular nine years later.
1970s
The cultural shift continued in the 1970s. American magazines and newspapers devoted many column inches to social drop-outs experimenting with communal living. Swingers were becoming popular in suburbia. Again, those were two small sub-groups of society, but everyone — even the most respectable — knew about these two phenomena.
Pop music got bolder, more sexualised. I remember in high school that we talked a lot about sex and could hardly wait to start dating so that we could experiment. Our parents wondered what was wrong with us. The idea of sin and the forbidden went out the window. 'If it feels good, do it' had spread to the middle classes. Previously forbidden carnal acts were encouraged as being completely 'natural'. This furthered the evolution of a shame-free society. Today, I read that some teenagers don't kiss on a first date; instead they engage in oral sex.
Interestingly, one of the most suggestive singers of the decade, Eric Carmen of the Raspberries, laments where this has led today:
I remember neighbours of ours getting divorced. The wife said that she could earn her own living now, thank you very much. The husband was heartbroken. We felt sorry for their two children. Until then, my family and I personally did not know any couples who got divorced. It just didn't happen to everyday individuals. However, divorce rates continued to rise and, these days, no one bats an eyelid.
More women started working. What began as a liberating elective would turn out to be a mandatory means of survival in marriage in the years that followed. Few of us knew that then, though.
Returning to music, it was a great decade for youngsters. FM radio produced rather excellent stations devoted to little known genres that never reached Top 40 AM stations. Through them, we discovered prog rock from Britain: Yes, Rick Wakeman, and Emerson, Lake and Palmer, to name but three musical greats. There were many more, too numerous to mention here.
Near the end of the decade we had disco. Saturday Night Fever was a huge box office hit and propelled John Travolta from television (Welcome Back Kotter) to cinema fame.
The most popular television sitcoms, such as Welcome Back Kotter, were all set in metropolitan areas. In terms of television in general, The Waltons was probably the only show with a rural setting.
Halfway through the decade, I spent a year in France, which was much quieter than the US socially and still quite formal, even though the more leftist state university students were generally unkempt and unwashed. In many respects, the country was a bridge between the 1960s and the 1970s in the nicest possible way.
1980s
Leaving university, I recall that many of my friends latched onto the Reagan zeitgeist and became conservatives.
They turned into their parents and lost the fun-loving verve they once had. I stayed single the longest, so was more acutely aware of a shift into respectability and suburban living.
I lived in a major US city then, earning my own way in life. For relaxation, I used to go to matinees at the weekend. The price of admission was cheaper and the cinemas were nearly empty, giving me the impression I had the big screen all to myself.
I saw a lot of world films in the first part of that decade, some from Brazil and Australia but mostly Britain and France. French film became a passion. Even one of the UHF television channels showed French films from the 1950s. Bliss.
As far as music was concerned, my favourite FM station played British and European singles apart from reggae on Sunday afternoons. More bliss.
Then, around 1986, something began to change. Although my favourite radio station stayed the same, the movie theatres weren't showing as many foreign films. Within a couple of years, they stopped showing them altogether. One of my lifelines had vanished, sadly. The American films that replaced them were not very good, either, so I stopped going to the cinema.
Everything became very one-dimensional. America, somehow, had lost the link with the zeitgeist of European culture, which it never recovered. It used to be that people in the 1960s and early 1970s made a two- or three-week trip to western Europe to see the historic sites they learned about in school. It was what we today would call a bucket list item.
Fortunately, by the end of the decade, employment events intervened — and further improved — for me.
1990s
Living in England, I realised that I had an insatiable appetite for history and politics. I learned a lot about both thanks to a gift subscription to The Spectator, which I had read about in English lit class in high school. It's been around since 1828.
In 1990s, my in-laws told me that Margaret Thatcher's time was up. She had become too full of herself. We had high hopes for John Major.
I remember the 1992 election, which Major won handily. I could not understand the rage of my female colleagues who expected Neil Kinnock to win. They stayed up all night drinking, waiting for a Labour government that never came. The next day, at work, they were hungover, tearful — and, above all, angry. Why did they think he stood a chance? Perhaps I had been reading too much of The Spectator, but I had no doubt that Major would continue as Prime Minister.
By 1997, most of us felt change was needed. The Conservative MPs on the front bench seemed like tired, bloated bureaucrats. None of them had an original idea. Most seemed to be lining their own pockets. I was most consterned by Health Secretary Virginia Bottomley, who started closing A&E (Accident and Emergency) services at local hospitals. What was she thinking?
When Tony Blair became Prime Minister in 1997, nearly everyone I knew rejoiced. Change was coming.
And how …
2000s
The first few years of Labour were fine. I was enjoying my work too much to pay any attention.
By 2005, I longed for a Conservative government, especially when Gordon Brown became PM with no general election.
After that, Labour became unbearable, banging on about people's personal lives and habits. The smoking ban came into force in the summer of 2007. Ministers assured us in television interviews that private members clubs and hotels would be exempt. No, not at all. It was a blanket ban everywhere.
It was during this decade that London elected its first mayor, Ken Livingstone. He served two terms and introduced the city-wide congestion charge for motor vehicles, which we called the Kengestion Charge. My colleagues at the time reminded me that, as head of the old GLA (Greater London Authority), he was known as Red Ken.
Boris Johnson succeeded him, also serving two terms. His administration made the streets tidy again and also lowered crime.
By 2006, I started looking more closely at the EU and the unelected bureaucrats in Brussels who seemed to rule our lives. I agreed with those disgruntled Britons who wanted a referendum on our membership.
Most of all, however, I was sick and tired of Labour, to the point of despair.
I also asked my far better half to cancel my gift subscription to the The Spectator, as it had changed its editorial line considerably after Boris Johnson left as editor. Although more people now read it, it is a former shadow of itself. I would not call it neither conservative nor traditional at all any more.
2010s
Hope came in the May 2010 general election.
The Conservatives had to form a coalition government with the Liberal Democrats. It was the David Cameron and Nick Clegg Show, but at least Labour were out of the picture after 13 years.
David Cameron referred to himself as the 'heir to Blair'. It took me some time to see it, but he was not wrong.
He set out to reform the Conservative Party and alienated older, faithful members in their local associations. CCHQ suddenly did not need their help.
On a broader level, Cameron will probably be best remembered for opening up marriage to same-sex couples and for offering us the EU referendum, billed by all parties as a 'once in a lifetime' choice which they all pledged to implement.
A number of televised debates took place in 2016. I watched them all. Some of my friends were less than convinced by the Leave proposition. The one clincher was Brexit The Movie, which is an hour-long eye-opener about the Brussels gravy train and better than any of the debates, no matter how good:
I stayed up until the early hours of the morning of Friday, June 24, 2016 to watch the result. When it was clear that Leave had won, I went to bed. The next day, my far better half and I woke up to Cameron resigning because he did not like the result. We had a celebratory lunch in London and went to a party that evening that had been planned months earlier. I remember the apprehension we both felt about sounding out the other party guests as to their views on the EU. We later discovered that were not alone. Finally, someone there broke the ice upon his arrival by exclaiming:
Is everybody HAPPY? I certainly am!
At that point, we were free to talk about Brexit.
Theresa May became Prime Minister later that summer.
Across the pond, another sea change was happening: Donald Trump's candidacy. It was even more of a shock when he won. A startled nation awoke to find that Hillary Clinton was not their president.
The conflicts about Brexit and Trump continue today. Opponents to both have grown ever more vehement.
On September 20, 2019, the British website Spiked issued a thought-provoking documentary on Trump and Brexit. It's 26-minutes long and well worth watching. To cover Brexit, their reporters interviewed residents of Southend-on-Sea in Essex. To cover the Trump phenomenon, they interviewed Pennsylvania journalist Salena Zito and residents of Erie, which was once a major industrial powerhouse in that state. It has fallen on very hard times, indeed:
The major theme running through both is, as they put it, 'change', which I believe they should have called 'self determination' and 'recovering the aspirational dream'.
One thing that struck me was the interview with the owner of a gym in Erie. He said that his father raised seven children on a janitor's salary:
You couldn't do that now.
Too right. Both parents now have to work — unlike in the 1960s — and few households can support more than two or three children.
People in Britain and the United States want to work and save more of their hard-earned cash. They also want good job opportunities for their children.
A fisherman in Southend said that, because of EU rules, he is restricted to an ever-smaller part of waters in which to fish. The number of fishing boats has continued to decline, he added, and the number of fisherman has also dropped dramatically. That is why he, and many others in Southend, voted Leave in 2016.
The decade closed with Boris Johnson's landslide victory on December 12. Historian David Starkey explores what this means for the nation in this 57-minute documentary from The Sun, ably conducted by a young reporter:
Starkey explores the evolution of Parliament since Victorian times, when it became the institution we know today. As many Northern constituencies flipped from Labour to Conservative, Starkey says that Boris's pledge to revitalise the North will mean little unless he espouses their values of patriotism, which, he says, has been a dirty word for many years.
He says that Boris could well become a figure like Charles II, who restored the monarchy beginning in 1660. Many of their personality traits are similar, he notes, particularly their penchant for bringing a nation together and reforming it at the same time. It is well worth watching when you have the opportunity.
There is much more to Starkey's interview than summarised here. He talks about the people of the North, Labour, Jeremy Corbyn, David Cameron, Tony Blair and, significantly, Benjamin Disraeli. Starkey hopes that the PM will study his Victorian predecessor's successes closely.
With that, I must close for now. There are many developments over the past 60 years that I have not mentioned. This is merely to give an idea about the direction that Western society took as the decades rolled on.
Welcome to 2020. Let's hope it brings many good tidings. I wish all of us the very best.
Thursday, December 12, 2019 was the day the Conservatives won their biggest victory since 1987, when Margaret Thatcher was Prime Minister.
By contrast, Labour suffered their worst drubbing since 1935.
Even though he was re-elected in London's Islington, Jeremy Corbyn will be resigning — at some point:
The leader of the Liberal Democrats, Jo Swinson, lost her seat in Scotland:
As such, she had to resign:
In Northern Ireland, the DUP's Nigel Dodds lost his seat to, of all parties, the polar opposite: Sinn Fein.
As for Nigel Farage's Brexit Party, they got 2.0% of the vote and no parliamentary seats. The man is a spent force now, and he should retire from political life.
So, on to Boris's big night out. He defeated his Labour opponent comfortably in the constituency of Uxbridge and South Ruislip in west London:
Contrary to what the leftist media predicted, he increased his majority over Labour:
He returned to central London to give a speech there:
He thanked everyone who voted Conservative as well as volunteers and candidates:
Nationwide, the Conservatives won some traditional Labour seats:
London, meanwhile, largely remained Labour, although Felicity Buchan managed to return Kensington to the Conservatives:
The biggest news was Conservative Mark Fletcher's defeat of Labour's Dennis 'Beast of Bolsover' Skinner. Even Margaret Thatcher couldn't do that:
Another huge Conservative win was Sedgefield, Tony Blair's former constituency:
Boris now has a comfortable majority not only to stave off calls for a second Brexit referendum but also to leave the EU early next year.
Whilst it is too early to wish everyone a happy Brexmas, yesterday might as well have been called Boris Day. Guido Fawkes has a montage of Boris's greatest video clips. Some of these go back to when he was Mayor of London. He admirably hosted the 2012 Olympics:
I wish Boris Johnson all the best as he continues his stay in No. 10 presiding over what he now calls The People's Government.
May his vision last summer of 'sunlit uplands' come true for all of us in Great Britain.
Life looked rosy for the Liberal Democrats at their party conference in September 2019.
Buoyed by her election as leader, Jo Swinson, a Scot, appeared on the Andrew Marr Show on September 15. The Daily Mail reported on the programme and the party's policies on Brexit:
The clear stance on Brexit was cemented when members at the Liberal Democrat conference in Bournemouth voted overwhelmingly to support a motion to revoke Article 50 it the party gains a majority in a general election.
The move would stop Brexit in its tracks without the need for a second referendum.
"The policy we are debating at conference today is very clear," Ms Swinson told the BBC's Andrew Marr Show.
"If the Liberal Democrats win a majority at the next election, if people put into government – as a majority government – the 'Stop Brexit' party, then stopping Brexit is exactly what people will get. Yes, we will revoke Article 50."
The East Dunbartonshire MP added: "We have argued that a specific Brexit deal should be put to a People's Vote to give clarity.
"We still argue for that. But if we end up at a general election then I think we need to be straightforward with people and give them an option for all this Brexit chaos to stop.
"I recognise not everyone agrees with the Lib Dems on this. (But) it is genuinely what we think is right for the country."
Is cancelling a referendum result 'liberal' or 'democratic'?
Some voters did not think it was:
Tweets began appearing about her voting record as an MP in David Cameron's and Nick Clegg's coalition government (2010-2015). Swinson voted with the Conservatives more often than the leading Conservative MPs of the day:
She went further than most.
However, those were but minor distractions that never hit the media. On September 19, the Daily Mail reported (emphases mine):
Jo Swinson's party jumped from 19 per cent to 23 per cent to leapfrog Jeremy Corbyn's bitterly divided outfit, according to the YouGov vote tracker. 
It came after the party used its annual conference at the weekend to vow to revoke Article 50 and keep the UK in the EU if it won a general election.
Meanwhile former prime minister Tony Blair said today that UK political parties should be worried about the Lib Dems as there is a 'great level of frustration' about the direction Labour and the Tories are taking.
Ms Swinson used the speech to lashed out at 'insular, closed and selfish' Brexiteers as she branded Brexit 'the fight of our lives for the heart and soul of Britain'.
This was the polling result published that day:
London's Evening Standard published an exclusive interview with Tony Blair that afternoon. The former Prime Minister told the interviewer 'you're making me feel under-dressed' and gave his thoughts on the Lib Dems:
… the dangers to Labour if its leader blunders into "a Brexit election" have increased following Jo Swinson's first conference as Liberal Democrat leader this week. Her promise of a "very, very clear revoke" could be "attractive" and he thought a "resurgent" centre party could squeeze Labour.
On September 30, Twitter activists had researched Swinson's husband, who works for a pro-EU organisation called Transparency International:
On October 9, Swinson went to Brussels to meet with EU politicians, including Guy Verhofstadt, who has travelled to England to participate in a few Lib Dem events, including their 2019 party conference:
Here is a bit more about Swinson's visit. Lib Dem MP Tom Brake is in the far left photo:
She also met our EU negotiator Michel Barnier that day. He negotiates with the government, not opposition MPs. She has some brass neck, but, then, again, she wasn't the only one bending the ears of EU officials:
On Wednesday, October 30, Swinson appeared on the BBC, where veteran journalist Andrew Neil gave her a grilling for insisting she could become Britain's next Prime Minister. I watched it. It was a breathtaking half hour. The Express reported the principal soundbite around which the rest of the interview revolved:
Speaking on BBC Two's the Andrew Neil Show, Ms Swinson said: "I'm standing as a candidate to be Prime Minister, Andrew."
He interjected: "No one stands as a candidate to be Prime Minister. You're standing as a candidate in East Dunbarton."
Ms Swinson continued: "I'm standing as the leader of the Liberal Democrats.
"You're right, we have a parliamentary democracy system and the leader of the party who secures the most or majority of MPs becomes Prime Minister."
Oh, my!
She dug herself in deeply during that half hour:
Only two weeks later — one week into the general election campaign — Swinson's delusions of becoming PM were dashed:
Her approval ratings haven't budged since.
At the party's manifesto launch on November 20, Swinson pledged to save Britain's children from a 'boiling planet'. You cannot make this stuff up:
Some found her rhetoric unconvincing:
Two days later, Home Secretary Priti Patel took strong exception to Swinson's illiberal and undemocratic approach to Brexit, based on what she had said on the BBC's Question Time:
Swinson had said on more than one occasion, the first time in an ITV interview, that she would revoke Article 50 on Day 1 of her premiership, because that is within the remit of the Prime Minister.
The BBC's Andrew Marr decided not to ask her about that statement. The Mail on Sunday's Dan Hodges, Glenda Jackson's son, wanted to be sure:
That day, Hodges had written a columm for the Mail on Sunday about how Swinson was 'killing the Liberal Democrats', particularly in the south west, where they always do well:
True. And the slogan on the Lib Dem leaflets is:
STOP BREXIT
in large upper-case letters.
Negative slogans are nearly always the least persuasive.
She began turning off voters in earnest:
Many men have said, rather politely, that Swinson would do well to wear, as one put it, 'more business-like attire'. Where do one's eyes go when looking at her? We would like to look more at her face without the other obvious distraction, which women have noticed, too. A Chanel-style jacket would certainly help.
She also made a huge mis-step by putting a huge photo of her face on the side of the Lib Dem battle bus:
Then Andrew Neil chimed in. Oh, boy, did Neil nail it:
On Wednesday, December 4, she made a second appearance on Andrew Neil's show. She seemed more realistic but, by now, it no longer matters for her or for the Lib Dems. They have sunk like a stone:
She'll be lucky if they pick up one more MP.
Neil quizzed her on her past voting record, which she now admits was a mistake. He then asked if we couldn't trust her to make good judgements in the past, how could we do so now? Fair point, well made:
ITV's political editor Robert Peston sounded the death knell for the Lib Dems on December 5:
This is the latest polling. Lib Dems are down three points:
Of course, all of us pontificating on and projecting their result next week could be wrong, but, somehow, I doubt it.
Lib Dems: same as they ever were, Jo or no Jo.
Friday, November 29, 2019, began as a normal day in the general election campaign.
Tom Harwood, who works with Guido Fawkes, ably outlines what the political parties were up to until the afternoon, when a terror attack took place on London Bridge, effectively halting the campaign for 24 hours:
Guido's accompanying column received a lot of comments, including the following.
On Brexit, a reader quoted an MEP on the necessity of No Deal (emphases mine):
Ben Habib MEP: "There is perhaps only one way the Conservative Party could comply with its pledge to be out of Transition by the end of 2020 with a deal along the lines set out in its manifesto. That is if it is prepared to take the UK out of Transition without a deal. It remains as true today as it did in 2016 that, to get a good deal, the UK must be prepared to leave with no deal."
Labour pledged more madness. Only a few days after they promised to plant 2 billion — yes, you read that correctly — trees in Britain, they came up with a massive housing pledge. Another reader discussed Shadow Chancellor John McDonnell's plan:
John Mcd threw the kitchen sink in with his environmental pitch today not only Labour building more houses than their is bricks on the planet, every house will have solar panels and heat exchangers. No longer grasping, just saying anything because they just ignore the facts.
Another reader discussed what would happen if Labour's — McDonnell's — plans for corporations came to fruition:
McDonnell intends to steal 10% of a company's share capital and give it away. Either he steals existing capital or a company creates more shares. Either way the value of the company remains the same but now everyone's shares will be worth less either because there are more shares or the shares have been given to someone else. So, anyone paying into a Defined Contribution Pension Fund and there are millions doing just that, will suddenly find that their savings are worth a lot less than before the capital restructuring. Someone tell the voters.
Another comment examined the Liberal Democrats' Jo Swinson's perorations on climate change:
'Climate Change' – we can't "fight it by leaving the EU". 🤔
What won't we be able to do as an EU state in relation to climate change – that we otherwise can do as a member ?
Given the fact that China produces more C02 emissions that the EU Britain and the US combined – what is it that we are supposed to do ?
Has Swinson thought this through ? Or is it just a risible hollow slogan for yoghurt knitters in the middle classes ?
Someone pointed out what the 2017 terror attack — also on London Bridge — did to the Conservatives' chances days later in the June 8 election:
… the problem is that the Tories are allowing Labour and the others to constantly raise the NHS, climate, trust, WASPIs and everything else besides, in an effort to sideline the Brexit debate. And I'm worried that it's working! Tories need to get the agenda back on message ASAP. Also, I presume that I don't need to point out the disturbing similarity to the 2017 campaign in what we've witnessed unfold on London Bridge today, and that it signalled the beginning of the end for Theresa May's majority as soon as Labour used those atrocities to introduce reduced police numbers into the debate. I'm nervous. Very, very nervous!
That concerns me, too. However, Boris Johnson is not Theresa May. He's campaigning across the country every day.
Moving on to Twitter, someone pointed out that a fatal incident has occurred before each of the last three plebiscites in Britain:
Friday afternoon took a dark and bloody turn as events unfolded at London Bridge.
Cambridge University was holding a conference at Fishmongers' Hall near London Bridge. The subject of the conference was prisoner rehabilitation.
Attending the conference on day release wearing an electronic tag was 28-year-old Usman Khan, who, as the Press Association (PA) reports:
was a convicted terrorist released half-way through a 16-year prison sentence for a plot to bomb the London Stock Exchange.
Last Friday:
Usman Khan killed a man and a woman in the knife rampage on Friday afternoon and injured three other people, who are being treated in hospital.
The 28-year-old, who was on licence and wearing an electronic monitoring tag, was attending a conference on prisoner rehabilitation organised by University of Cambridge-associated Learning Together at Fishmongers' Hall and reportedly "threatened to blow up" the building.
Armed with two knives and wearing a fake suicide vest, Khan was tackled by members of the public before he was shot dead by police on London Bridge next to the Hall.
Video footage posted online shows Khan being taken to the ground as one man sprays him with a fire extinguisher and another, reportedly a Polish chef, lunges towards him with a narwhal tusk believed to have been taken from the wall inside the Hall.
Metropolitan Police Assistant Commissioner Neil Basu said he had been living in the Staffordshire area and that police were "not actively seeking anyone else" over the attack.
Why do police always say that? Often, in the weeks that follow, it turns out there was a plot involving more than one person, including some that had no prior police record but were aiders and abetters.
What about the attack that same day in the Netherlands? This is what happened in The Hague:
Returning to London Bridge, no doubt this is the first time many of us have heard of a narwhal tusk, but you can see below what they look like in nature on this species of whale, also known as the unicorn whale. The tusk protrudes from a canine tooth. The narwhal lives in Arctic waters.
A narwhal tusk was hanging in Fishmongers' Hall. A quick-thinking man deployed it against the terrorist:
Here's a dramatic video of events as they happened. The second tweet shows Fishmongers' Hall. One of the pikes shown below was used in subduing the terrorist:
Here is a video of what happened on London Bridge when the police arrived. Fishmongers' Hall is pictured in the second tweet:
Understandably, everyone would like to see the men who subdued the terrorist given an honour or reward of some sort. However, one of them was also a prisoner on day release, attending the Cambridge University conference. James Ford had committed a horrific murder in cold blood in 2003 and was given a life sentence in 2004. Hmm:
The Mirror reported:
James Ford, 42, was jailed for life in 2004 for the murder of 21-year-old Amanda Champion, who was found strangled with her throat cut in Ashford, Kent, in July 2003 …
… Ford found himself embroiled on the London Bridge attack as he helped bring down the knife man while out on day release from his life sentence.
Ford is understood to be in the final days of his sentence at HMP Standford Hill, an open prison in Kent.
It's believed Khan was tackled by ex-offenders inside Fishmongers' Hall – who had all been invited to a conference on rehabilitation.
Source say Khan began "lashing out" in a downstairs room of the hall but was grabbed by the conference-goers and bundled out of the front door as he tried to go upstairs.
Those who tackled Khan on the street were not ex-offenders.
Ford's victim's aunt Angela Cox has told how she was contacted yesterday by Kent Police who informed her Ford had been involved in the terror attack as a member of the public, reports the Mail.
Angela, 65, said she was "angry" Ford was out on day release after the horrific murder of her niece – who had the mental age of a 15-year-old.
She said: "He is not a hero. He is a murderer out on day release, which us as a family didn't know anything about. He murdered a disabled girl. He is not a hero, absolutely not.
"They let him out without even telling us. Any of my family could have been in London and just bumped into him."
Angela described how a police liaison officer had called her yesterday asking if she was aware of the London incident before revealing Ford had been captured on TV.
The still-heartbroken aunt said the officer told her "don't worry" before saying Ford was at the scene and "being classed as a hero".
Former factory worker Ford has never revealed his motive for killing Amanda.
At the time of his jailing, a judge told him: "What you did was an act of wickedness.
"You clearly have an interest in the macabre and also an obsession with death including murder by throat cutting."
On to people who should be classed properly as heroes, we have the Polish kitchen porter employed at Fishmongers' Hall who allegedly grabbed the narwhal tusk. By December 3, it transpired that Lukasz Koczocik was indeed one of the pursuers, but not the man brandishing the tusk. Lukasz was the man with the pike. The attacker stabbed him five times. Fortunately, the heroic kitchen worker was released from hospital on Saturday. He has been nominated for an official honour in Poland:
It seems the tusk got broken:
Not surprisingly, questions arose about the terrorist's early release:
As with Labour (1997-2010), the Conservative government has had its part to play in law and order failures:
You can see from the following that Usman Khan did not act alone in 2010. Several other men were involved, some released since their 2012 conviction:
On that basis, I do wonder if police did the right thing in saying they are not looking for other suspects at this time with regard to Friday's incident.
Again, what about the attack in the Netherlands that day? This RT article has one description of the suspect; Euronews has another. Dutch police said then there is no terrorist motive. On November 30, with a suspect in custody, they said it is 'too early to speculate' as they are investigating 'several scenarios'.
Perhaps these statements are meant to keep the public calm while police investigate further.
Yet, we find time and time again that terrorism is the motive and that, especially in France, more than one person is involved somewhere along the line.
Sentencing and law enforcement soundbites should be reviewed.
Cambridge University was not left unscathed Friday afternoon. Sadly, one of their employees, Jack Merritt, was the first fatality. My condolences go to his family and friends:
The Guardian reported:
Merritt worked as the course coordinator for Learning Together, a programme run by the University of Cambridge's institute of criminology which had been running a course at Fishmongers' Hall next to London Bridge on Friday.
Two people were killed and three were injured when 28-year-old Usman Khan launched a knife attack. Khan was arrested in December 2010 and released on licence in December 2018, wearing an electronic tag.
David Merritt posted on Twitter on Saturday: "My son, Jack, who was killed in this attack, would not wish his death to be used as the pretext for more draconian sentences or for detaining people unnecessarily."
His words came as Boris Johnson, said the system of automatic release from prison was flawed.
A second Cambridge graduate, Saskia Jones, 23, also died in the attack. My condolences to her family and friends at this difficult time.
This was the Prime Minister's column for the Mail on Sunday:
The early release of dangerous prisoners — terrorists, murderers and the like — needs a thorough rational, not emotional, discussion.
Many of us have been wanting this for several years.
If not now, when?
How many more people, including those who advocate for prisoners, will have to die?
On Friday, November 22, 2019, a special two-hour Question Time was broadcast.
Fiona Bruce, the show's host, moderated a discussion involving questions from a live audience put forward to the four main party leaders in half-hour segments.
The programme began with Jeremy Corbyn. Nicola Sturgeon of the SNP followed. The last two were Jo Swinson of the Liberal Democrats and Boris Johnson of the Conservative Party.
It was really sad to see that Boris Johnson's Conservatives are the only political party running on a pro-Brexit platform. Labour favour a watery Brexit with a second referendum. Jo Swinson said in a previous interview on ITV last week that in the (unlikely) event she became Prime Minister, she would revoke Article 50 all by herself on the first day. The SNP are all about Scottish independence and only the Scots can vote for them. They, too, oppose Brexit and would appeal to the EU to allow Scotland to join as a separate nation.
Who won?
On Saturday, November 23, The Express reported on a poll it conducted among readers. Not surprisingly, most participants thought that Boris won (emphases mine):
A total of 50 percent of people believed the Conservative leader stole the show, with less than a quarter of readers (23 percent) convinced Jeremy Corbyn won.
Of the 22,368 people who voted in the poll, 11,307 believed Boris Johnson won – versus just 4,816 people. who voted for Mr Corbyn.
Of the four candidates, Jo Swinson seemed the least popular, with just eight percent – 1,776 people – believing she won the debate.
In fact, more people said they didn't know who won – with this option being chosen by 1,924 people.
Coming third was Nicola Sturgeon, who teased a "less formal" arrangement with Labour to stop Brexit and end austerity, with 2,545 votes for the SNP leader.
One commenter, 'fitz', said the Prime Minister managed to "scrape through" after a tough start.
They said: "Boris had a tough job, but he scraped through ok at the end.
"I do not have any doubts that he will win the election with a modest majority of MPs who will support him."
I hope that proves to be the case.
Nicola Sturgeon
Nearly all the leaders received tough questions from the audience. Nicola Sturgeon seemed to receive fewer:
I was hoping someone would ask her more about Scotland being financially self-sufficient post-independence without English money provided through what is called the Barnett Formula and what plans she would have for a Scottish currency. The SNP believe they can continue to use the British pound!
But I digress.
Sturgeon was adamant that Scots alone could decide the fate of the Union, which has existed since 1707:
Sturgeon relaxed with a book on the way back to Scotland:
Jo Swinson
Jo Swinson got a verbal blast from a Brexit supporter. The Express reported on the exchange:
Catherine, the audience member, asked: "Is revoking Article 50 confirming to 17.4 million people that you think we're stupid and don't know what we voted for?"
The Lib Dem leader said: "You cannot accuse us of not being upfront about wanting to stop Brexit. We have been crystal clear about that from the very beginning.
"Not for one second do I think that means you or anyone like you is stupid. I think it means we disagree.
"I really want us to be in a situation in this country where we can disagree with each other, Catherine."
Ms Swinson continued: "That means that you want to leave, and I don't think that makes you a bad person.
"I want to remain in the EU and I hope you think that doens't make me a bad one."
The audience member shot back: "You can disagree with me but you lost.
"You don't get to keep disagreeing with me."
Well said, Catherine.
On Saturday morning, Chuka Umunna, former Labour MP, now a Lib Dem parliamentary candidate, was asked on a BBC radio programme about Swinson's Question Time performance and the Lib Dem's anti-Brexit policy. The Express reports:
Mr Umunna, who standing in the cities of London and Westminster constituency on December 12, insisted the Liberal Democrat position to revoke Article 50 was not a mistake, despite Ms Swinson facing a tough grilling by furious audience members on the special leaders debate last night. The Labour-turned-ChangeUK-turned-Lib Dem politician told BBC Radio 4's Today Programme: "No, there's been no mistake made on this policy."
Mr Umunna added: "It's absolutely clear – you can't save the NHS and address the issues in it at the same time as not seeking to stop Brexit, not least because 10 percent of our doctors come from the EU, and 7 percent of our nurses come from the EU."
What no one from any party has addressed is WHY we have so few British doctors and nurses these days. I do not have an answer myself.
Anyway, The Express article related another audience member's blast at Swinson on the Question Time special:
Ms Swinson faced yet another awkward encounter when another audience member branded the plan to stop Brexit "undemocratic".
An audience member said: "You are not saying we will go back to the people, you are unilaterally saying 'Revoke it.'
"It's undemocratic from somebody who wishes the last three and a half years had never happened."
A startled Ms Swinson responded by saying the Liberal Democrats had campaigned for a so-called people's vote for the past three years without getting the support in the House of Commons.
Swinson also received a grilling about her voting record when she was an MP in the Conservative-Lib Dem coalition government from 2010-2015. Swinson voted 'Aye' to more Conservative policies than Conservative MPs did during those years:
The woman asking that question was no ordinary member of the general public. To some viewers, her face seemed very familiar. They were not wrong. The woman is an actress:
That did not go down well with some viewers, and, in my humble opinion, rightly so:
Returning to Jo Swinson, the questions did no favours for the Lib Dems:
Jeremy Corbyn
Right at the outset, Jeremy Corbyn received a verbal smackdown from a long haired, bearded man:
Then, one of Corbyn's supporters chimed in:
Corbyn's position on Brexit has been rather nebulous, so, someone asked him about it:
This is what Corbyn said:
Boris Johnson
Boris confirmed to Fiona Bruce and the audience that he had been watching the programme backstage.
The Left have been hammering at Boris for an alleged lack of integrity. Yet, I cannot think of a single politician who has told the truth 100% of the time. Anyway:
As in the United States with the 2016 election, the Left are alleging that Russia interfered in the Brexit referendum campaign. Before Parliament was dissolved, Boris declined to release an official report about it, saying that, customarily, the Prime Minister reviewed such documents over a matter of weeks rather than days:
Someone brought up former Conservative MP, Dominic Grieve, a muckraking Remainer:
Boris got many more difficult questions.
He handled them well. Here he is on education:
And on Brexit:
Many of the questions and remarks were not fair, because he was not a sitting MP for most of the time the Conservatives have been in government. He was Mayor of London during several of those years, a fact that he put forward to the audience. He also said that he has been Prime Minister for only 120 days!
Overall, he managed a conversational tone with everyone, no matter how obnoxious they were:
Nearly everyone is upset over the blatant bias that Fiona Bruce and Mentorn Productions show on Question Time. Therefore, people overall — outside of Leftist activists — empathised with Boris, such as this journalist:
Boris also got a boost from this viewer:
And these:
The Prime Minister was gracious afterwards:
Conclusion
Outside of the usual bias, the Question Time Leaders Special was good, because it is probably be the only time in this election campaign when party leaders will take questions from a live audience.
For those who would like to read more about the programme as it happened, see the Daily Mail (here and here) as well as The Guardian.
Interestingly, whilst the Conservatives were at their annual party conference, the opposition benches were largely empty.
Strange. Last week, they voted against proroguing Parliament from Monday through Wednesday because they had serious work to get on with.
Or so they said.
As it turned out, only a handful of the diligent, hardworking opposition MPs showed up on those days.
On Tuesday, October 1, a Brexit-related session headed by George Eustice, the minister for DEFRA (Department for Environment, Food and Rural Affairs) covered the draft Common Agricultural Policy from July 24 which would be used for Brexit. The end of the debate is here. It's a pity that only the opposition agricultural ministers and a couple of other MPs attended:
On Wednesday, October 2, Foreign Minister Dominic Raab headed PMQs — Prime Minister's Questions — as Prime Minister Boris Johnson gave his rousing speech in Manchester to the party faithful.
That morning, the Labour Whips issued a directive to their MPs not to ask Urgent Questions that day:
It was even worse when the afternoon's proceedings began.
Recall — as if we could forget — that the opposition claim to be the champions of the vulnerable, especially women.
So, it was particularly galling to see that very few of them turned up for the second reading of the Domestic Abuse Bill:
Only a few Liberal Democrat MPs attended that afternoon. Labour produced more, but could have done much better.
Good grief.
Apparently, this bill and some others have been carried over post-Queen's Speech on October 14:
Therefore, if this is true, the opposition knew full well that they could have easily prorogued for three days during the Conservative Party Conference but chose not to out of sheer spite. Ditto the Supreme Court when they cancelled Boris's prorogation.
The main and most moving speech of the debate was that of Labour MP Rosie Duffield. Her testimony of a recent relationship is well worth sharing with your daughters or nieces.
Women cannot be too careful when getting involved in a long-term relationship. If this can happen to an MP, it can happen to anyone. Please watch:
This bill is Theresa May's. She brought it forward as a backbencher, therefore, before she became Prime Minister in 2016. How slowly the wheels of legislation turn.
Theresa May also gave an impassioned speech for the bill near the end.
Debate continues after October 14.
Attendance improved when Boris appeared on Thursday, October 3, to discuss a new proposal for Brussels, sent to Jean-Claude Juncker the day before:
Note the final paragraph about the Northern Ireland backstop on the first page: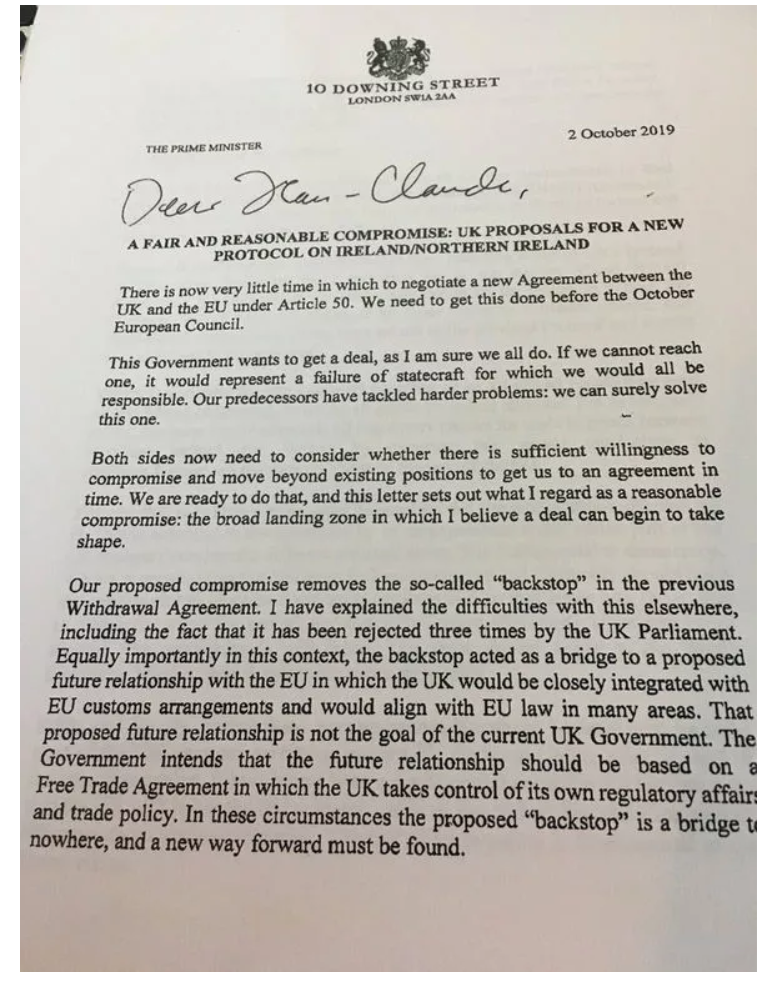 This is the European Commission's announcement about the letter (click on the image to enlarge text):
Many MPs who offered comments following Boris's address commented positively. Even most Remainers accepted the proposal, albeit with a request for more details, which will be forthcoming. Only two or three diehard Remainers spoke out against it.
Several MPs hoped that the EU commissioners were watching the positive reaction.
Guido Fawkes has more, including this video of Boris's speech:
Guido gives us the transcript of Boris's five elements concerning the abolition of the proposed backstop, the crux of the leaving date delay thus far (italics in the original):
In the first place all our actions are based on our shared determination to sustain the Belfast (Good Friday) Agreement, the fundamental basis of governance in Northern Ireland the protection of which is the highest priority of all.

And from this follows the second principle – namely that we shall of course uphold all the longstanding areas of co-operation between the UK and our friends in Ireland including the rights of all those living in Northern Ireland, North/South co-operation and the Common Travel Area, which predates both the Good Friday Agreement and the European Union itself.

Third, we propose the potential creation of a regulatory zone on the island of Ireland covering all goods, including agri-food. For as long as it exists, this zone would eliminate all regulatory checks for trade in goods between Ireland and Northern Ireland.

But fourth, unlike the so-called backstop, such a regulatory zone would be sustained with the consent of the people of Northern Ireland, as expressed through the Assembly and Executive. They will give their consent during the transition period as a condition for these arrangements entering into force. Thereafter, the Assembly will vote again every four years – and if consent were withheld, these arrangements would then lapse after one year.

Fifth, it has always been a point of principle for this government that at the end of the transition period, the UK should leave the EU Customs Union whole and entire restoring sovereign control over our trade policy and opening the way for free trade deals with all our friends around the world.
In short: no hard border between the Republic and Northern Ireland. Instead, there would be a regulatory zone covering all goods, including foodstuffs. Northern Ireland's Assembly and Executive would vote on the arrangements in the near future and every four years after that. (I do not know how that will work if Stormont is not sitting, but, no doubt, the government can find a way.)
I'm guardedly hopeful that Boris is onto something positive with this. It won't please Brexit Party members, but we were never going to get an absolute No Deal. I'm hoping that David Davis's Canada ++ arrangement can be revived. Theresa May insisted that his plans be superseded by her Withdrawal Agreement in July 2018, no ifs, ands or buts. Davis resigned as Secretary of State for Exiting the European Union on July 8 that year. It was all downhill from there.
Davis has not tweeted his reaction, but another staunch Leave MP, John Redwood, offered his thoughts on Boris's proposal:
Unfortunately, the Twitter replies to that were very angry, indeed.
It is essential to keep in mind that trade and other agreements will be in transition once we leave the EU.
It's not as if everything will change dramatically on November 1 (God willing) or whenever we leave.
The transition period is likely to last anywhere from two to four years, depending on negotiations.
As for prescription drug shortages, some of which are occurring now in the UK and being blamed on Brexit: several EU countries have been experiencing similar shortages of essential medication for several months now. France and the Netherlands are among those nations. We cannot blame Brexit for that.
More news from last weekend will help put the Remainers' tricks into better context.
BBC bias — Andrew Marr Show
The flagship Sunday morning television news programme is the BBC's Andrew Marr Show.
On September 29, 2019, Marr interviewed Prime Minister Boris Johnson, followed by the Shadow (Labour's) Education Secretary Angela Rayner.
Boris could barely get a word in edgewise, whereas Marr let Rayner speak uninterrupted:
Language humbug
The topic of language used in the Commons on Wednesday, September 25, was still a huge issue for Remainers. The media storm continued into Monday.
Here's Gina Miller, who is leading anti-Brexit lawsuits:
Boris somehow made dirty words out of 'humbug' and 'surrender' for them last Wednesday evening.
So did Attorney General Geoffrey Cox earlier that day:
Guido Fawkes had this (emphasis in the original):
Attorney General, Geoffrey Cox, just gave one of the most barnstorming speeches Guido has seen in many years:
This parliament is a dead parliament. It should no longer sit. It has no moral right to sit on these benches… This parliament is a disgrace. They could vote 'no confidence' at any time, but they're too cowardly.
Guido has a feeling this one may go viral…
Indeed. Both the AG and the PM spoke eloquently — and wittily — getting their points across with aplomb.
On the other hand, at least one rebel Conservative used blunt language. Here's Dominic Grieve:
Grieve was on Robert Peston's ITV news show last Wednesday. It seems this is acceptable and non-hyperbolic language — as long as it comes from a Remainer:
A few days later, the Scottish equivalent of Gina Miller — another Remainer lawyer bringing similar lawsuits — let rip on the PM:
The women
As America's Left did with Donald Trump, Britain's Left — including notional Conservative Remainers — played up two news stories about Boris, involving women.
Jennifer Arcuri
This events in this story took place during Boris's time as Mayor of London. It is developing and could be politically motivated, especially as Boris and the current Mayor of London Sadiq Khan trade occasional verbal jabs with each other.
It is strange that no one outside the London political bubble has heard of Jennifer Arcuri until now, when a) we are on the Brexit countdown and b) the Conservative Party Conference was starting at the time this news broke.
From the BBC (emphases mine):
It is alleged businesswoman Jennifer Arcuri received favourable treatment due to her friendship with Mr Johnson.
The prime minister was referred by the Greater London Authority on Friday.
Mr Johnson has denied any impropriety, while a government source described the referral as "politically motivated".
The allegations regarding Mr Johnson's friendship with technology entrepreneur Ms Arcuri first emerged last weekend in the Sunday Times.
They refer to claims that Ms Arcuri joined trade missions led by Mr Johnson when he was mayor of London and that her company received several thousand pounds in sponsorship grants.
The Greater London Authority's monitoring officer – whose job it is to monitor the conduct of the mayor and other members – said it had written to the police watchdog, the Independent Office for Police Conduct (IOPC).
It said it had referred the PM to the IOPC "so it can assess whether or not it is necessary to investigate the former mayor of London for the criminal offence of misconduct in public office".
It added that it has recorded a "conduct matter" against Mr Johnson which happens when there is information that indicates that a criminal offence may have been committed.
But it does not mean that a criminal offence is proved in any way, the GLA's monitoring officer added.
"The IOPC will now consider if it is necessary for the matter to be investigated."
The reason the IOPC is involved is because the role of the mayor of London is also London's police and crime commissioner …
Responding to the referral, No 10 said: "The prime minister, as Mayor of London, did a huge amount of work when selling our capital city around the world, beating the drum for London and the UK.
"Everything was done with propriety and in the normal way."
Charlotte Edwardes
Charlotte Edwardes was a young columnist for The Spectator 20 years ago, at the time when Boris was the magazine's editor.
Last weekend, she wrote her maiden article for The Sunday Times about the time the 35-year-old editor squeezed her thigh around that time. Interestingly, Ms Edwardes's current boyfriend is the aforementioned Robert Peston, ITV's political editor. Timing is everything:
Not surprisingly, the story made the front page of The Sunday Times, which a proud Peston retweeted:
Both the social and the political angles merit explanation.
I remember reading about The Spectator's parties at this time. They were legendary. Many celebrities, authors, journalists and politicians hoped for invitations to the magazine's summer garden party and/or the Christmas lunch.
Writer Toby Young, who also wrote for the magazine when Boris was editor, remembers the atmosphere:
Toby Young might have overstated things a bit, but Boris did have a way with the ladies, so there is probably more than a germ of truth to that.
An 82-year-old lady rang The Jeremy Vine Show (Channel 5) to say she wouldn't mind an evening out with Boris. I do not think she is an outlier, either. Again, we should consider the timing of Miss Edwardes's revelation and wonder why she did not come forward sooner:
That tweet makes an excellent point about timing.
Here is more information:
Yes, there was a rumour that Edwardes's colleague, Mary Wakefield, was sitting on the other side of her and supposedly remembered that Boris touched her thigh, too.
Or, perhaps not.
Interestingly, Mary Wakefield is married to Dominic Cummings, the PM's chief adviser on Brexit:
The story annoys both Leavers and Remainers:
No. 10 denied the story, and Labour MP Paula Sherriff, who was the first to mention the late MP Jo Cox's name last Wednesday, offered Edwardes her moral support:
At the Conservative Party conference, the PM's father, former Conservative MEP Stanley Johnson, defended his son eloquently to Kay Burley of Sky News:
People at home were unimpressed:
Kay Burley isn't exactly blameless, though. You can see her red hair in the photo below from an old story:
The news story surrounding the photo is about Naomi Campbell's appearance at Uxbridge Magistrates Court in north-west London in 2008.
Naturally, reporters raced to get quotes from the model and photographers wanted photos. Mayhem ensued, as the Daily Mail reported on June 21 that year:
Sky News presenter Kay Burley clashed with a photographer during the mayhem when Naomi Campbell arrived at court yesterday.
The newscaster, 46, was apparently hit in the cheek by a camera – and was then seen with her hand around a photographer's throat.
Given the scrum, witness accounts differed:
There were suggestions that the photographer, Kirsty Wigglesworth from the Associated Press agency, had bumped into Miss Burley and injured her badly.
A witness said: 'We were walking in alongside Naomi and basically, Kay got whacked in the face by a photographer.
'Kay pushed back the photographer after she had her cheekbone smashed by this person. The photographer's aggressive behaviour was extraordinary.
But another witness, who saw the second half on the incident, said: 'Kay Burley had her hands around the photographer's neck. It was really, really vicious.
'The only way the photographer stopped her was by pulling her sunglasses off.
'She has got marks around her throat.' It is claimed that Miss Burley and the photographer were taken to one side by the police about the incident.
Remainer news
Whilst the Conservatives are at conference in Manchester, with some MPs flying back and forth to London via helicopter because opposition benches refused to adjourn for three days, Remainers have been busy elsewhere.
Not many opposition MPs attended Monday's afternoon session in the Commons. Speaker Bercow spent only a couple of hours before turning over the rest of the day's proceedings to a female Deputy Speaker.
Civil servants
Civil servants are under strain after summer holidays to deliver background work on Brexit. They complained of stress earlier in the year. They're lucky they do not work in the private sector:
Labour and Lib Dem views
Former Home Secretary Jack Straw says that, although he disapproves of Jeremy Corbyn's leadership …
… he will still vote Labour for tribal reasons.
Party before country … not surprising.
Liberal Democrat leader Jo Swinson plans to block Corbyn's possible ascendancy as temporary PM:
Rebel Conservative MPs
I am disappointed to read that David Gauke, now an Independent MP, spoke at the Conservatives' conference:
On Monday, September 30, Sky News reported that Gauke focussed on the language issue (emphases mine):
Ex-justice secretary David Gauke spoke at the Conservative conference in Manchester despite having been effectively expelled from the party – by having the Tory whip withdrawn – for voting against Boris Johnson on Brexit earlier this month.
He accused the prime minister of a "strategy that is about stoking resentment", with Mr Johnson having recently been criticised by opposition MPs for his use of language …
"Hence we have the language of surrender, of betrayal, of collusion. Because that feeds into a strategy that is about stoking resentment, nursing grievances, provoking anger.
"It means our politics becomes debased, it means the Conservative Party becomes a much more aggressive, much more confrontational, much more divisive party …
"And we cease to follow the traditions of our great leaders. We are no longer the party of Churchill, we are more the party of Trump."
Dominic Grieve poled up, too, although not as far as a podium. He says he received an unsettling message:
Reading out a message he received on his phone during the event, which he revealed read: "You are a foul traitor", Mr Grieve said: "This sort of atmosphere, which is being currently – I'm sorry to say it – but bluntly encouraged by the leader of the Conservative Party… is unacceptable behaviour and it is undermining our democracy and [will] smash it up.
"We will all have to live with the consequences – not only in our constituencies but our neighbourhoods and it will extend to each one of us."
Mr Grieve, who supports a second EU referendum and Remain, added he was "pleased" to have attended the Manchester conference despite having been advised by some not to go.
"Most people here have been rational, pleasant and engaged even when they've come up to disagree with me," he said.
Alistair Burt, another rebel — and the co-author of the Benn-Burt Bill, which attempts to thwart No Deal on October 31 — insisted he was still loyal to the party:
He revealed he recently chose not to stand at the next general election as he could not recommend a no-deal Brexit, which the government insists is still a possibility on 31 October, to his North East Bedfordshire constituents.
Describing how he has been a Conservative Party member for almost 50 years – but has now had the Tory whip withdrawn – Mr Burt added: "I was also parliamentary private secretary to two Conservative leaders: Michael Howard and Iain Duncan Smith.
"I stood behind Iain Duncan Smith at one of the most difficult times in the Conservative Party's history.
"I don't need any lessons on loyalty from anyone in telling me what to do for the Conservative Party in the future."
It's not as much about the Conservative Party, Mr Burt, as it is for the nation: the 52% of Britons who voted Leave on June 23, 2016.
More to come tomorrow.