You are currently browsing the tag archive for the 'Liberal Democrats' tag.
So much happened in the UK this week that it is hard to find the time and the space to write about it all.
Conservative leadership contest
Liz Truss's campaign continues to motor ahead, gaining powerful MPs' backing.
On Wednesday, August 3, a new Conservative Home poll appeared, its results matching those of polling companies, e.g. YouGov. Liz is 32 points ahead:
Conservative Home's Paul Goodman analysed his site's results and YouGov's (emphases mine):
Granted, neither can be proved right or wrong: as our proprietor has it, a poll is a snapshot, not a prediction. If our survey is correct, all that follows is that Truss would win the contest, were it held now, by 32 points among those who have declared their hand.
However, if we and YouGov are right it is very hard to see how Sunak recovers in the month or so between the opening and closing of the poll. For even if during that time he won over that 16 per of undecideds and others, Truss would still beat him by 58 per cent to 42 per cent.
In short, if our survey is correct he would have to add to that 16 per cent of don't knows and others some nine per cent of Truss's supporters – i.e: persuade them to switch.
This seems most unlikely if YouGov's question about certainty of intention is taken into account. For it finds that 83 per cent of Truss voters and 70 per cent of Sunak voters have made their minds up.
What odds would you give on Sunak winning over all those don't knows and others (from our survey), and then adding to that pile over half of Truss's soft support (using YouGov's figure)? I would say that they are very long indeed …
Those interested in events slightly further back will recall that Boris Johnson beat Jeremy Hunt by 66 per cent to 34 per cent during the leadership election of 2019.  That's exactly the same margin as the Truss-Sunak forced choice I spell out above from our new survey.
One way of looking at Conservative leadership election as matters stand might be to forget the thrills and spills, hype and blunders – such as Truss's yesterday over regional public sector pay.
And stick instead to the simple thought that the Tory membership divides right-of-party-centre to left-of-party-centre by about two to one and so, all other things being equal, the leadership candidate perceived to be right-wing than the other will win by a margin about two to one.
Finally, Opinium promises a Conservative members poll next week, and it has tended recently to find better results for Sunak than ours or YouGovs.
The YouGov poll from August 3 showed that Britons believe Truss is better than Sunak on the main issues:
Liz gained another supporter in former Health Secretary Sajid Javid, who was also Boris Johnson's first Chancellor from the summer of 2019 through to February 2020, at which point Rishi Sunak took over.
Sunak worked for Javid when the latter was Chancellor. Javid mentored his younger MP friend:
However, the dynamic changed when Chancellor Sunak locked horns with Health Secretary Javid during the pandemic in 2021.
… those who know both men say there are more prescient personal and political reasons behind Javid's decision [to back Truss].
They say that tensions emerged after Javid was brought back into the government as health secretary. Sunak regarded the NHS as a bottomless drain on resources and was exasperated by what he saw as Javid's failure to spearhead fundamental reform of the health service.
Javid for his part was frustrated with the highhanded manner in which the Treasury dealt with the Department of Health and its refusal to countenance the type of spending he believed was necessary to tackle treatment backlogs coming out of the pandemic. He felt that Sunak had not shown the loyalty that he had when the power dynamics were reversed.
There are now significant policy differences as well. When Javid threw his hat in for the leadership he set out a tax-cutting agenda broadly similar to that proposed by Truss. He proposed cutting national insurance and reversing the planned corporation tax rise while Sunak stuck to his policies as chancellor.
One ally said Javid sincerely believes that only by kick-starting growth through tax cuts can public services be properly funded. They said it would have been "odd" if Javid had backed Sunak, given their different and genuinely held views on how to deal with Britain's economic uncertainties.
This is what Javid had to say about Truss in his article for The Times:
"I fought for strong fiscal rules in our last manifesto," he wrote. "But the circumstances we are in require a new approach. Over the long term, we are more likely to be fiscally sustainable by improving trend growth.
"Only by getting growth back to pre-financial crisis levels can we hope to support the high-quality public services people rightly expect."
In a direct attack on Sunak, he said: "Some claim that tax cuts can only come once we have growth. I believe the exact opposite — tax cuts are a prerequisite for growth. Tax cuts now are essential. There are no risk-free options in government. However, in my view, not cutting taxes carries an even greater risk."
He added: "With only two years before the next election, there has been a temptation to just 'get the barnacles off the boat' and avoid any short-term political pain for long-term national gain.
"We must reject that. As a nation we are sleepwalking into a big-state, high-tax, low-growth, social democratic style model which risks us becoming a middle-income economy by the 2030s with the loss of global influence and power" …
A senior Truss campaign source described Javid's endorsement as the "big one for us".
They added: "The bigger beasts of the party are uniting behind Liz because they believe in her vision for the economy. We can't have the Treasury orthodoxy and tired status quo. They believe she will turn things around in time for the next election by getting on and delivering quickly in No10."
On Wednesday, August 3, Truss and Sunak canvassed separately in Wales before meeting up for a televised hustings in Cardiff later in the day.
A Conservative Welsh Senedd (Senate) member, James Evans, changed his mind about Sunak and decided to support Truss instead. He got a lot of flak in response to his tweet:
Truss's former party, the Liberal Democrats, criticised her for taking a helicopter around Wales to get to the various Conservative associations there. Pictured is the Lib Dem leader Sir Ed Davey:
Guido Fawkes points out that the Lib Dems are suffering an attack of sour grapes — and hypocrisy (red emphases his):
… Rishi's been known to use them, so why should Liz be confined to the rail network…
i News were the ones to reveal Liz's chartering this afternoon, juxtaposing the decision against her backing of net-zero carbon emissions by 2050. The LibDems were only too happy to butt in, providing a quote for the copy that it "makes a complete mockery of her promises on Net Zero. It's clear that she is not serious on climate change." This quote came from Vera Hobhouse rather than Sir Ed Davey himself, who surely wouldn't mind the coverage…
Guido's sure Sir Ed's decision not to provide the comment has little to do with the fact that, in 2013 as Energy Secretary, he hitched a ride in the helicopter of EDF boss Henri Proglio, after handing him a nuclear deal at double the going rate for electricity. The decision raised objections from Friends of the Earth at the time, who said it "confirms how close the Big Six energy firms are to our decision-makers."  A source close to Liz Truss calls the political attack "the usual sanctimonious hypocrisy from the LibDems". Sir Ed may need to refuel his own spin machine…
While in Wales, Truss took the opportunity to have a go at First Minister Mark Drakeford (Labour), calling him:
the low energy version of Jeremy Corbyn.
Bullseye!
John McTernan, who advised Tony Blair between 2005 and 2007, wrote in UnHerd why Labour should be afraid of Truss.
I've seen John McTernan on GB News and he knows whereof he speaks.
He explains Truss's strengths:
One of her overlooked strengths is that she has been on a political journey. Changing your mind is often thought of as a weakness in politicians, whereas in reality an unchanging commitment to ideology is one of their most eccentric habits. In normal life, we change our minds frequently and without fuss. As economist Paul Samuelson said, in a line so good it is often attributed to Keynes: "Well when events change, I change my mind. What do you do?" In itself, changing their mind humanises a politician — a particular asset in a time of popular revolt against out-of-touch elites.
But, more than that, making a political journey shows character. Three of the most significant politicians of the Blair era — John Reid, Alan Milburn, and David Blunkett — were great New Labour reformers who had started on the hard Left. Their politics had been tempered and strengthened by their journey. Liz Truss was brought up on the Left and attended anti-nuclear peace camps with her mother. She then became a Liberal Democrat activist, famously demanding an end to the monarchy to Paddy Ashdown's discomfort. And when a Tory Cabinet minister she backed Remain not Leave, though she is now a passionate Brexiteer. Those surprised that Tory party members overwhelmingly see a former Remainer as the best defender of Brexit need to remember their New Testament: "There will be more rejoicing in heaven over one sinner who repents than over ninety-nine righteous persons who do not need to repent." The redemption narrative is one of our most powerful stories: she who once was blind, but now can see.
The fact Liz Truss has been on a political journey also makes her a powerful communicator. Some of the most persuasive arguments in politics are based on empathy rather than angry disagreement. Liz Truss knows why voters find progressive policies attractive, which can strengthen the persuasive power of her arguments for people to change their views. And her speaking style is clear and simple. The listener readily understands what she thinks and believes. Her opponents who too readily dismiss her as simplistic are missing the point. Politics is not a mathematical equation — a ten-point plan won't beat a five-point plan 10-5. The messages and policies that win are those that connect with the heart as much as the head.
The Truss agenda is straightforward. The educational system is failing kids. Grammar schools would identify and help some bright working-class and minority children. The cost-of-living crisis is hitting wallets and purses. A tax cut would give money back to the public. Energy prices are spiking. Pausing the green levy would reduce prices. Now, there are good arguments against each of these policies, but they are superficially strong one-liners. It takes time to explain how grammar schools distort the education of the vast majority of pupils who don't get into them, or to make the case that there is a danger that tax cuts lead to more inflation. The arguments against Liz Truss's policies are strong but they need to be explained. And, as the old political saying goes, "when you're explaining, you're losing".
… One of the best jokes in the US TV show Veep comes when Selina Myers uses the slogan "continuity with change" for her Presidential campaign. It works because it is bizarrely true — and it is true because that is what most voters want. They're not revolutionaries, they're realists.
The Truss offer is continuity with the spirit of Johnson and Brexit while meeting the demands of the voters who were, and are, angry with the status quo. That anger has been the fuel of politics since the Global Financial Crisis — it was there in Brexit, in the Scottish independence referendum, in the rise of Corbyn, and in Boris Johnson's 2019 landslide. The fact that such competing and conflicting political forces can harness that same anger signals that there is an underlying volatility in British politics that can be channelled in different directions by strong and intelligent leadership.
It is in leadership that Labour must contest most convincingly. Liz Truss will likely be undone by events. The cost-of-living crisis is of such a scale that it is hard to see any of her policies — or any of Rishi Sunak's — that will be more than a drop in the ocean. To win, Keir Starmer must learn from New Labour [Tony Blair's government]. Attack the new Prime Minister and her government, but don't nit-pick. The critique must be based on a vision of hope and a positive project that positions Labour once more as the "political wing of the British people". Otherwise, Keir Starmer risks being just one more man, in a long line of men, who have underestimated Liz Truss at their peril. After all, there are no accidental Prime Ministers, and like the rest, Truss has guile, will and talent.
Guido Fawkes adds another point:
… Truss will be the Tories' third female PM to Labour's big fat nought …
Exactly. And Conservatives didn't need to have all-women shortlists, either, unlike Labour.
For Conservative Party member Toby Young, General Secretary of the Free Speech Union, Truss's strength lies in opposing another lockdown, which she said 'No' to on Monday night in Exeter:
Also in Exeter, on Monday, Truss said that First Minister Nicola Sturgeon (SNP) was an 'attention seeker' who should be ignored. Again, I'm pretty sure Truss meant that with regard to appeals for a second independence referendum.
The Telegraph's Alan Cochrane, who lives in Scotland, said that some would sincerely welcome those words: 'Amen to that! Liz Truss finally puts the boot into Nicola Sturgeon':
It is easy to sympathise with Liz Truss's presumably exasperated and outspoken statement that the best way to deal with Nicola Sturgeon was to ignore her. 
After watching, listening and responding to this ambitious politician for more than 20 years, ignoring her is something I'd rather have been doing than countering every one of her largely lame-brained arguments for breaking up Britain.
Furthermore, the First Minister is every bit the "attention seeker" that the Foreign Secretary portrays her as – most especially when she dons her "Mother of Scotland" role and seeks to insist that she, and only she, speaks for the whole of Scotland. 
The truth, of course, is that she speaks only for her party and government, neither of which commands an overwhelming majority of Scottish opinion …
… while Ms Truss is being assailed for her choice of words by the Nationalists and those faint hearts who seek a peaceful political life, there will be more than a few who will shout "Amen to that!" when she talks of Ms Sturgeon's perpetual attention seeking.
Furthermore, a great deal more candour from Westminster in its dealings with the SNP is long overdue. Far too long. Successive UK administrations have bent over backwards not to be seen as provoking the cause of independence when the truth is that it is already on a life support system, with a fast declining appeal to the Scottish people.
The fact is that Ms Truss knows that she cannot just ignore the devolved Scottish Government and its leader. But she is to be commended for putting the boot in. It's about time someone did.
While Truss and Sunak were in Wales, Iain Duncan Smith MP was north of the border in Scotland.
He was at an event for Scottish Conservatives in Stirling, in Scotland's central belt.
The former work and pensions secretary backtracked on comments made by Truss that Nicola Sturgeon, the first minister, should be "ignored" as he criticised the UK government's approach towards the Union.
"I don't want to ignore her," he said. "What I want to do is to let the world know just exactly why Scotland is suffering so much under this incompetent regime at Holyrood. The truth is, it is a disaster: everything from health, the police, the railways — they can't even build ships sometimes on time and on budget."
He's not exaggerating. It's the raw truth.
The MP wants the next PM to have greater powers of scrutiny over the way Scotland's SNP government is run. They get billions from taxpayers in the Barnett Formula and waste it. No one, not even Scots, has any idea where the money goes.
He said:
I am desperate for greater powers for scrutiny. It is only scrutiny that unearths all this nonsense and … that the weaker scrutiny up here has allowed the Nationalists to get away with it. So I am going to take that straight back and talk to her about it and see what we could do.
Not surprisingly, the SNP were furious and, as usual, blamed Westminster:
Kirsten Oswald, the SNP deputy leader at Westminster, said: "This is an utterly ridiculous suggestion, showing that even the Tories are out of ideas for how to fix the broken Westminster system. It is not the SNP's job to explain why Westminster control is increasingly making life more difficult for the people of Scotland — even if the Tories are out of excuses.
"The job of SNP MPs in Westminster is to stand up for Scotland against a UK government choosing to ignore our interests at every turn. That is what they will continue to do."
Duncan Smith justified his desire for scrutiny saying that SNP MPs are part of the Scottish government, too:
… Duncan Smith said: "We need to turn the tables on them and start saying, 'Well, can we have a period of question time for you lot to talk about what you are doing in Scotland as the devolved administration?'
"And start examining some of this stuff because they're not just SNP protesters down in parliament, they are actually part of the government up here."
Meanwhile, Rishi Sunak told the audience in Cardiff that Truss was wrong about her public sector pay reform and tried to scare Welsh Conservatives into thinking that Truss was going to cut the pay of every single public sector worker in Wales:
However, Sunak got himself into a bit of hot water when he 'misspoke' on wind turbines at the event:
On Thursday, August 4, Guido reported:
Rishi's team has said he "misspoke" during the hustings last night when it appeared he'd u-turned on his opposition to new onshore wind. At the Wales' husting, Sunak was asked "will you be bold enough to scrap the embargo on onshore wind in England?", replying "So, yes, in a nutshell." This appeared totally contradictory to one of his previous policy announcements:
Wind energy will be an important part of our strategy, but I want to reassure communities that as prime minister I would scrap plans to relax the ban on onshore wind in England, instead focusing on building more turbines offshore,
Team Liz immediately leapt on his words as sign of yet another u-turn from Rishi, alleging it was his eleventh campaign u-turn.
This morning Team Rishi, asked to justify his words, bluntly replied "he misspoke". Much like Britain under Rishi's actual wind energy policy, he's losing fans rapidly…
Sunak is also being economical with the truth when he says that he personally came up with the idea of British freeports, which were first mooted in an early Margaret Thatcher manifesto for the Conservatives:
However, Rishi managed to get two notable endorsements, one from former Conservative Party leader Michael Howard and Nigel Lawson, who was Chancellor under Margaret Thatcher. He is also Nigella Lawson's father.
Guido has more:
Finally got an endorsement from Nigel Lawson himself, who writes in The Telegraph that Rishi is

"the only candidate who understands Thatcherite economics" …



Michael Howard opened for Rishi at Wales' Tory husting last night, saying he can provide the leadership needed "not only in this country, but across the wider western world"
Lawson must have felt obliged to endorse Sunak, given that the latter has a photo of him in his office.
Sunak was over the moon about Lawson's Telegraph article:
Boris looms large
Prime Minister Boris Johnson still looms large in the psyche of British voters.
Normally, we are all too happy when a Prime Minister stands down. When Margaret Thatcher's MPs booted her out, we breathed a sigh of relief. We'd had enough of Tony Blair when he left No. 10 to Gordon Brown. We didn't care too much about David Cameron's resignation, although we did think he was petty-minded for resigning the morning after the Brexit referendum result. And we were only too happy for Theresa May to go, although we did feel sorry for her as she cried at the Downing Street podium.
However, Boris is a different kettle of fish.
The August 3 YouGov poll showed that a) most Conservative Party members thought their MPs made a mistake in getting him to resign as Party leader and b) he would make a better PM than either Truss or Sunak:
In response to the aforementioned Welsh Senedd member's tweet, someone responded with this:
Incredibly, as ballots are currently being posted to Conservative Party members, Alex Story, the leader of the Bring Back Boris campaign, still thinks there is time to add Boris's name to the list of candidates.
He spoke to Nigel Farage on Wednesday, August 3:
He said that 14,000 members of the public wrote to Conservative Party headquarters after Boris stood down as leader.
He added that most Boris supporters knew he was economical with the truth, but they felt that his ouster was forced.
Nigel Farage countered by saying that 40% of Conservative voters wanted Boris to leave. Furthermore, he could no longer command the support of his MPs.
Story responded by saying that Boris will be like 'Lazarus [rising] from the dead … something romantic and quirky'.
That's one way of putting it, I suppose.
It is highly unlikely that Boris's name will be on the ballot, but … one cannot fault Story and Lord Cruddas for trying on the public's behalf.
More news next week.
Picking up from where I left off yesterday with Dan Wootton's GB News poll on the next Conservative Party leader, 60,000 people responded and 49 per cent said that Boris Johnson should be the next one.
On Thursday, Wootton remarked:
The Prime Minister's swashbuckling and energetic PMQs farewell today just emphasised that point further.
Boris participated in his final Prime Minister's Questions on Wednesday, July 20, 2022, just under three years since he first stood behind the despatch box as Prime Minister.
It was one of Boris's best performances and can be viewed here. Hansard's transcript is here.
Highlights follow, emphases mine.
Labour's Sir Keir Starmer had a go at the leadership contest, particularly last week's debates and the refusal of a third debate on Sky News. The debates were a bit spiky at times, but pretty tame overall.
Boris replied:
I am not following this thing particularly closely, but my impression is that there has been quite a lot of debate already, and I think the public have ample opportunity to view the talent, any one of which—as I have said before—would, like some household detergent, wipe the floor with the right hon. and learned Gentleman. Today happens to be just about the anniversary of the exit from lockdown last year, and do you remember what he said? He said—[Interruption.] No, I am going to remind him. He said it was "reckless". It was because we were able to take that decision, supported by every single one of those Conservative candidates, opposed by him, that we had the fastest economic growth in the G7 and we are now able to help families up and down the country. If we had listened to him, it would not have been possible, and I do not think they will be listening to him either.
Starmer had a go at Rishi Sunak's accusation of Liz Truss's proposed tax cuts as 'fantasy economics'.
Boris said:
Well, Labour know all about fantasy economics, because they have already committed to £94 billion of extra tax and spending, which every household in this country would have to pay for to the tune of about £2,100. It is thanks to the former Chancellor's management of the economy—thanks to this Government's management of the economy—that we had growth in May of 0.5%. We have more people in paid employment than at any time in the history of this country. I am proud to be leaving office right now with unemployment at or near a 50-year low. When they left office, it was at 8%. That is the difference between them and us.
Then Starmer quoted Liz Truss's criticism of Rishi's economic policy for its lack of growth.
Boris answered:
I think that everybody would agree that what we saw in the last two and a half years was because of the pandemic, with the biggest fall in output for 300 years, which this Government dealt with and coped with magnificently by distributing vaccines faster than any other European Government—faster than any other major economy—which would not have been possible if we had listened to the right hon. and learned Gentleman. That is why we have the fiscal firepower that is necessary to help families up and down the country, making tax cuts for virtually everybody paying national insurance contributions. There is a crucial philosophical difference between Labour and the Conservatives: under Labour, families on low incomes get most of their income from benefits; under us, they get most of it from earnings, because we believe in jobs, jobs, jobs. That is the difference.
Starmer went on to quote Penny Mordaunt on Britain's sluggish public services.
Boris said:
… This is the Government who are investing £650 billion in infrastructure, skills and technology. He talks about public services; what really matters to people in this country right now is getting their appointments and their operations, fixing the covid backlogs—that is what we are doing—and fixing the ambulances. That is what he should be talking about. That is why we voted through and passed the £39 billion health and care levy, which Labour opposed. Every time something needs to be done, Labour Members try to oppose it. He is a great pointless human bollard. That is what he is.
Starmer referred to Kemi Badenoch's criticism of Rishi's handling of covid loans.
Boris replied:
This is one of the last blasts from Captain Hindsight, at least to me. They were the party, I remember, that was so desperate for us to be hiring their friends—they wanted a football agent and a theatrical costumier to supply personal protective equipment. Do you remember, Mr Speaker? We had to get that stuff at record speed. We produced £408 billion-worth of support for families and for businesses up and down the country. The only reason we were able to do it at such speed was that we managed the economy in a sensible and moderate way. Every time Labour has left office, unemployment has been higher. The Opposition are economically illiterate, and they would wreck the economy.
You can read more on Guido Fawkes about Labour's hilarious — well, it would be were it not so tragic — attempts to get the Government to employ their friends for pandemic related equipment.
Starmer went on for another few minutes about the nation being an utter shambles at the moment.
That is true in many instances, but Boris cited the good things that the Conservatives have accomplished over the past three years:
What does it say about the right hon. and learned Gentleman that no one can name a single policy, after three years, of the Opposition apart from putting up taxes? He is one of those pointless plastic bollards you find around a deserted roadworks on a motorway. We got Brexit done; he voted against it 48 times. We got this country fast out of covid, in spite of everything, when he would have kept us in lockdown. We are fixing social care, when the Opposition have no plan and no ideas of their own. We are now bringing forward measures, in the face of strikes, to outlaw wildcat strikes.
I can tell the House why the Leader of the Opposition does that funny wooden flapping gesture—it is because he has the union barons pulling his strings from beneath. That is the truth—£100 million.
We have restored our democracy and our independence. We have got this country through covid. I am proud to say that when it comes to tackling climate change or sticking up for Ukraine, we have led the world on the international stage. I want to thank my friends and colleagues on these Benches for everything they have done.
Guido posted the video of that portion, which is Boris at his best. Viewers will also get the mood of the Chamber, which was very noisy indeed:
After Starmer had finished, it was the turn of Ian Blackford from the Scottish National Party (SNP). As ever, he criticised the Government and put in yet another plug for a second independence referendum:
Boris said:
That is not what I observe. The right hon. Gentleman talks about records; I point to the fastest vaccine roll-out in Europe, the lowest unemployment for at or near 50 years as I have said, the lowest youth unemployment, and the fastest growth in the G7 last year, in spite of everything. As for the Scottish nationalists' record, look at where they are. I am afraid to say that Scottish school standards are not what they should be, because of the failure of the SNP. It is failing people who are tragically addicted to drugs in Scotland, and the people of Scotland are facing another £900 million in tax because of the mismanagement of the SNP.
True. All of it.
Blackford ranted once more on partygate. Incidentally, he is a multi-millionaire who likes to paint himself as a humble crofter.
Boris replied:
On the personal abuse stuff, I think the right hon. Gentleman is talking a load of tosh, but when he has retired to his croft—which may be all too soon—I hope that he will reflect on his long-running campaign to break up the greatest country in the world. I hope that he will reflect on the pointlessness of what he is trying to do, and think instead about the priorities of the people of Scotland, which are all the issues that he thought were trivial: education, crime, and the burden of taxation that the SNP is unnecessarily placing on the people of Scotland.
After Blackford sat down, Sir Ed Davey, leader of the Liberal Democrats, had his say. He indirectly accused Boris of being ambitious and 'tyrannical'. He asked whether Boris would now be devoting time to completing his book on Shakespeare. He also said there should be a general election.
Boris answered:
Polonius—that's who the right hon. Gentleman is; he needs more matter with less art. The only thing we need to know is that if there were to be a general election, the Liberal Democrats would rightly get thrashed, because that would be the moment when the public looked with horror at what the Liberal Democrats' policies really are and all those rural voters would discover the massive green taxes that they would like to apply. The only risk is that there could be some kind of crackpot coalition between those guys on the Labour Benches, the Lib Dems and the Scottish nationalists to put that into effect. That is what we must prevent.
Felicity Buchan, a Conservative who represents London's Kensington constituency, expressed her concerns about rising crime under the current Mayor of London (Sadiq Khan).
Referring to himself, Boris replied:
London once had a Mayor who cut crime by 25%, cut the murder rate by 30% and built twice as many affordable homes as the current incumbent. What London needs is another Conservative Mayor.
Another Liberal Democrat, Scotland's Jamie Stone (Caithness, Sutherland and Easter Ross) wanted a freeport in his Highlands constituency.
Boris said:
I can confirm that we are committed to funding two new green freeports in Scotland to the tune of £52 million. That would not be possible, of course, if the SNP got its way and we returned to the EU.
Boris defined levelling up:
It is not just inequality; it is inequality of opportunity, and that is what levelling up addresses.
A Labour MP moaned about the railways in the north of England.
Boris replied:
Actually, this Government are responsible for three new high-speed lines, including Northern Powerhouse Rail, which no previous Government have done.
Boris gave his advice with regard to hot weather when an MP asked about disposable barbeques and Chinese sky lanterns:
The key thing is for people to behave responsibly with the use of these things. It is clearly insane to take a disposable barbecue on to dry grass.
Another SNP MP, Dr Philippa Whitford, talked about poverty in Scotland, ending with a plug for independence.
Boris said:
Actually, we increased the living wage across the whole of the UK by £1,000, we made sure that people on universal credit got their tax bills cut by £1,000, and over the last couple of weeks we have cut national insurance contributions by an average of £330. It was because of the Union that we were able to support families up and down the country, in Scotland, with the furlough and other payments, to the tune of £408 billion.
One of the nicest contributions came from Conservative MP Andrew Bowie, who represents West Aberdeenshire and Kincardine:
May I thank my right hon. Friend for his commitment to Scotland and the entire United Kingdom over his years in Downing Street? I also thank him and my right hon. Friend the Secretary of State for Scotland for improving and increasing the visibility and involvement of the UK Government in Scotland over the past three years. Does my right hon. Friend the Prime Minister agree that whoever takes his job, and whatever comes next, the United Kingdom will always be stronger together than it ever would be apart?
Boris replied:
That was brilliantly put; I could not have put it better myself.
Then a young Labour MP asked about the slow compensation for Windrush victims.
Boris said:
Actually, I think more people have got compensation. I renew my apologies to the Windrush generation for what they have suffered, but we have greatly increased the compensation available. We have paid out, I think, more than £51 million. We are working with voluntary groups to ensure that people get what they are entitled to. I may say that Labour has never apologised for its own part in the Windrush scandal.
An MP from Northern Ireland accused the Government of ruining relationships between Ulster and the Republic.
Boris replied:
I completely disagree with that. The whole objective of the Northern Ireland (Protocol) Bill that we have passed is to support the balance and symmetry of the Belfast/Good Friday arrangements. I was very pleased that the Bill advanced to the House of Lords with no amendments.
GB News has more on the legislation:
A Conservative MP, Crispin Blunt, is not my favourite. However, here is where I agree with him. He paid a splendid tribute to Boris:
In recalling the situation that the Prime Minister inherited in July 2019, of a Parliament with a majority determined to frustrate the result of the 2016 referendum, led by a Speaker who was just slightly partial—the seemingly impossible situation he found—does my right hon. Friend understand that he has the gratitude of my constituents, who can identify the wood from the trees, and of myself, for his leadership over the last three years?
Boris replied:
I am very grateful to my hon. Friend. There is a fair amount of wood on the Opposition Benches and I think that is why we will prevail at the next general election.
Another SNP MP banged on about a second independence referendum.
Boris said:
This is the country that secured furlough and that delivered the vaccine across the whole of the UK, while the SNP gets on with overtaxing to the tune of £900 million—that is how much they are overtaxing in Scotland. And we had a referendum in 2014.
Another SNP MP complained spitefully about Boris being a nobody and about the honours list he might draw up before he leaves office.
Boris answered:
I am sure that everybody who has served this Government loyally and well deserves recognition of some kind, but as for the honours list, I am afraid the hon. Gentleman will have to contain his excitement.
Conservative MP Sir Edward Leigh was the last to speak. He, too, paid Boris tribute for the past three years:
On behalf of the House, may I thank the Prime Minister—[Interruption.] On behalf of the House, may I thank the Prime Minister for his three-year record of service? On behalf of some of the most vulnerable people in the country, can I thank him for his insistence on rolling out the AstraZeneca jab, which has saved thousands of lives around the world? On behalf of the 17.4 million people who voted Brexit, may I thank him for restoring people's faith in democracy? On behalf of northern towns, may I thank him for his commitment to levelling up? And most of all, on behalf of the people of Ukraine, may I thank him for holding high the torch of freedom and ensuring that that country is not a vassal state? For true grit and determination, keep going and thank you.
Boris replied, giving his closing remarks and advice for the future PM:
I thank my right hon. Friend, and I want to use the last few seconds to give some words of advice to my successor, whoever he or she may be.
No. 1: stay close to the Americans; stick up for the Ukrainians; stick up for freedom and democracy everywhere. Cut taxes and deregulate wherever you can to make this the greatest place to live and invest, which it is. I love the Treasury, but remember that if we had always listened to the Treasury, we would not have built the M25 or the Channel Tunnel. Focus on the road ahead, but always remember to check the rear-view mirror. And remember, above all, it is not Twitter that counts; it is the people that sent us here.
And yes, the last few years have been the greatest privilege of my life. It is true that I helped to get the biggest Tory majority for 40 years and a huge realignment in UK politics. We have transformed our democracy and restored our national independence, as my right hon. Friend says. We have helped—I have helped—to get this country through a pandemic and helped save another country from barbarism. Frankly, that is enough to be going on with. Mission largely accomplished—for now.
I want to thank you, Mr Speaker. I want to thank all the wonderful staff of the House of Commons. I want to thank all my friends and colleagues. I want to thank my right hon. Friend the Member for Ross, Skye and Lochaber (Ian Blackford). I want to thank everybody here. And hasta la vista, baby. [Applause.]
Here's the 'Hasta la vista, ba-by' video — a must-see:
The Conservatives gave him a standing ovation, with everyone applauding him, except for Theresa May, who merely stood.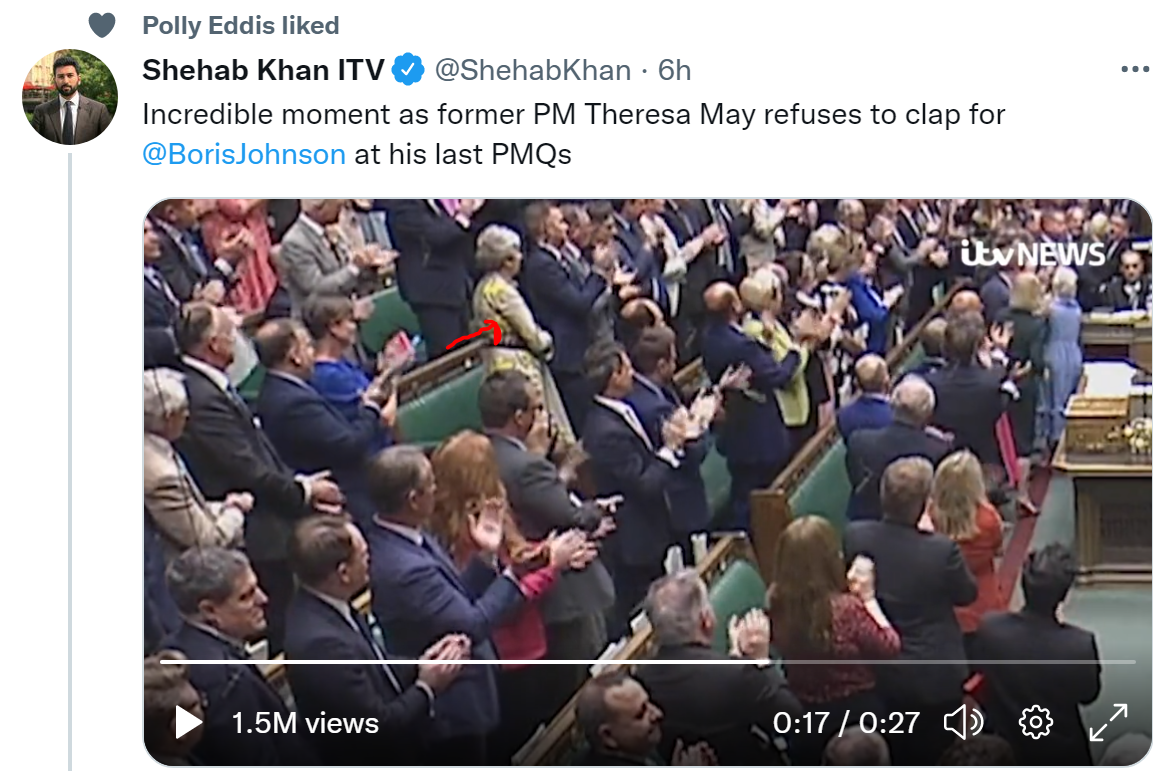 The Opposition either sat in silence or walked out.
One of Guido's readers wrote:
Lack of class from opposition MPs who can't possibly give a polite round of applause for a political opponent.
I agree. On the other hand, they hate Boris because he represents Brexit.
In Guido's comments on the same post, someone said that Boris was Britain's 'worst ever PM', which garnered this response, rightly pointing out the greater moral failings of Tony Blair, John Major and Theresa May as well as today's world leaders:
What, even worse than a Prime Minister who took the UK into an illegal war which resulted in the deaths of millions as well as thousands of UK soldiers and for which the UK is still feeling reverberations in the form of terrorist attacks? What a worse PM than a Prime Minister who signed the UK up to the Maastricht Treaty without putting it to the British people in the form of a referendum? What worse than a Prime Minister who put forward the idea of making the elderly sell their homes to pay for Health Care …
But instead listened to the people and secured an 80 seat majority to leave the EU (admittedly still leaving a lot to do). Invested in Vaccine development and procurement to ensure the UK had enough supplies for every citizen, and that the UK was at the front of the queue, and didnt go overboard on Covid restrictions, not when you look at what other countries got up to, namely Canada, China and France with Macron's "I want to punish those that won't get vaccinated" this after he was responsible for sowing Vaccine doubt simply because the Vaccine was developed in the UK – but then Johnson commited a crime so heinous – he had a piece of Birthday cake brought to him buy his wife – and that's 'your' worst Prime Minister, lol …
Journalist and former Conservative adviser Amanda Platell said she wept after PMQs:
Boris will be missed for his powerful performances at the despatch box …
… and Labour know it. One of their former advisers admits that's why Boris had to go:
Keir Starmer was often petty and unpleasant towards Boris:
That is because he knows Boris can win elections. In fact, earlier this week, Starmer was so frustrated with the Prime Minister that he insulted him on a podcast.
Starmer's deputy leader Angela Rayner said on Monday, July 18, that she would be happy with either Truss or Sunak as his successor. At the time she gave this interview, five candidates were still in the race:
I'm quite happy with any one of them. Because the one thing, and I kind of could see it… [Boris] had this, like, teflon coating… It's like a little magic. Where he was able to get through to the public and get through to the places that I actually don't see any of the five candidates that are standing having at the moment… Boris had so much going for him. He got an 80-seat majority and the country was really behind him… the five that we've got now I don't think have got that…
Here's the video:
Boris's former adviser Dominic Cummings thinks that Boris, like Arnie, will be back, if the next Conservative leader is too lacklustre:
As I wrote yesterday, thousands of voters do not want until then. Dan Wootton's viewers think that Boris's name should be on the ballot going out to Conservative Party members early in August:
Wootton's poll follows on from the ongoing petition by Party members to have Boris's name on the ballot:
The petition is being spearheaded by Lord Cruddas of Shoreditch, the Tory donor, and David Campbell Bannerman, a former Conservative Euro MP:
The Mail also has a report on the petition.
GB News interviewed David Campbell Bannerman on Thursday, July 21:
However, Labour are planning a rearguard action to prevent Boris from ever being Party leader again.
They hope to depose him as MP for Uxbridge and South Ruislip in west London:
On Thursday, July 21, GB News reported:
Boris Johnson could be forced to face a by-election if he is found to have lied to Parliament and is handed a suspension for 10 or more sitting days.
The Privileges Committee is examining whether the Prime Minister committed a contempt of Parliament by misleading MPs over the Partygate scandal.
Commons Speaker Sir Lindsay Hoyle [Labour] confirmed that the committee's findings would fall within the remit of the Recall of MPs Act, following advice from a leading lawyer.
That would mean that a suspension of 10 or more sitting days, or 14 calendar days, would trigger a recall petition.
If at least 10 percent of voters in Mr Johnson's Uxbridge and South Ruislip seat demand a by-election he would lose his place as an MP, but would be eligible to stand again in the contest.
The cross-party committee also published advice from the Clerk of the Journals, Eve Samson, the Commons' expert on parliamentary privilege, which suggested that whether or not Mr Johnson intended to mislead MPs was not a factor that needed to be considered.
But she said that intent could be seen as an "aggravating factor" when considering penalties …
The MPs intend to call Mr Johnson to give oral evidence in public in the autumn, under oath.
The committee has already said that whistleblowers will be able to give evidence about the Prime Minister anonymously.
Mr Johnson has also been ordered to hand over a cache of documents to the MPs investigating whether he lied to Parliament with his partygate denials.
The committee wrote to the Prime Minister and Cabinet Secretary Simon Case demanding details relevant to its inquiry.
On Friday, July 22, Guido posted on the upcoming inquiry, saying (emphases in red his):
While the committee will now disregard the PM's intent, the Clerk's report does say that can feed into deciding a sanction. This is all, in the understated words of The Telegraph, "a departure from precedent"…
It seems the Speaker's also got in on the act of changing rules. The Privileges Committee's announcement yesterday said Hoyle has ruled that "any suspension of the requisite length (10 sitting days or 14 calendar days) ) following on from a report from that Committee will attract the provisions of the Recall of MPs Act". Previously only recommendations of suspension from the Standards Committee would apply the recall act. Now the PM faces a by-election being forced by [Labour MP Harriet] Harman. Tory MPs are now having to fight back on his behalf, launching a petition to scrap the investigation altogether in light of his resignation…
For now, let's remember the happier times of earlier this week.
Boris held his final Cabinet meeting on Tuesday, July 19:
Despite the heat, Guido reports that there were no refreshments or food:
… there were a few presents, and a round of applause for the PM. Nigel Adams also gave a speech commending Boris's time in office, followed by a school photo.
Boris was gi[ven] a six-set first edition of Churchill's war books; surprisingly not something the ex-PM's biographer didn't already own. Guido also learns Boris was given wines that reflected significant dates in his life and political career: 1964, 2008, 2012 and 2019. He also got wine from other countries that mean a lot to him, including Ukraine and Greece …
Here's the Cabinet photo:

I hope all goes well for the Prime Minister in the weeks to come.
No doubt if Labour try to get at him, he'll find a way out.
All being well, I'll have a post next week on what really happened leading to his ouster.
It came as no surprise that the Conservatives fared poorly in the 2022 local elections on Thursday, May 5.
England
In England, the major headline was that the Liberal Democrats lived up to their slogan of 'Winning here' for the first time in quite a while.
They were the big beneficiaries of English votes where local councillors stood this year (many councils held elections in 2021):
Labour's big wins were in London, where they won three longstanding Conservative councils for the first time: Westminster, Wandsworth and Barnet.
It will be interesting to see how these London boroughs fare under Labour. In Lambeth, council tax for a Band D property is £1,502 per annum. Under the Conservatives, Wandsworth's was £800 per annum. Guido has a photo of a street in each of those council areas, where one can see a discernable difference in low-spend, high service council delivery.
Here's a Twitter exchange on the subject, focusing on Wandsworth:
The Croydon Council mention is interesting. It went from Labour to Conservative on Thursday, something I thought I'd never see.
Outside of London, Labour had little traction, especially in Red Wall areas, with the exception of the newly created Cumberland council.
Guido Fawkes has a good analysis, excerpted below (emphases in the original):
Whilst it was obviously terrible for the Tories that they lost nearly 500 seats, now all the votes are in and the dust has settled, did Labour advance as the Tories retreated? They actually did relatively poorly.
Labour's electoral performance outside their M25 enclave saw them gain just 22 councillors across England. That's it. While the Tories' results were obviously weak – although not at their worst expectations – any attempts to spin the numbers will have to contend with the fact that the LibDems, the Greens, and even independent candidates gained more net seats than Labour. Labour's wins in London will be small beer when it comes to a general election …
Winning a net gain of just 22 councillors, and gaining control of the same number of councils as the LibDems, is not a strong showing. William Hague managed to do better in 2001, when the Tories won 120 seats and 5 councils – a consolation prize for getting pummelled in the general election the same day. 
Even within the capital, however, there are warning signs for Labour. While they pop champagne over wins in Westminster, Barnet, and Wandsworth, their losses in Croydon and Harrow to the Tories, and Tower Hamlets to Lutfur Rahman [Independent] should raise a few eyebrows. Losing Tower Hamlets to a man who was temporarily banned from office over corruption isn't exactly promising…
For the Conservatives, the most damaging losses were in previously loyal areas now called the Blue Wall, e.g. the Home Counties just outside of London, the south coast and parts of the West Country.
Late on Friday, The Guardian reported (purple emphases mine):
Boris Johnson's leadership is facing fresh peril after senior Conservatives blamed him for losing swaths of the party's southern heartlands to the Liberal Democrats and flagship London boroughs to Labour.
In a punishing set of local elections for the Tories, the party lost about 400 council seats, ceding control of Westminster and Wandsworth in London to Labour for the first time since the 1970s, and plunging to its worst position in Scotland for a decade.
Conservative MPs and council leaders questioned Johnson's leadership, demanding action to tackle the cost of living crisis and rebuild trust in the wake of the Partygate scandal after a damaging series of losses across the "blue wall" in Somerset, Kent, Oxfordshire and Surrey.
However, the scale of the Tory backlash was tempered by a mixed picture for Labour, which showed progress, but not enough yet to suggest a landslide for Keir Starmer in a general election. A BBC projection for a general election based on Friday's results put Labour on 291 seats, the Conservatives on 253, the Lib Dems on 31 and others on 75.
Labour had a very strong result in London and took some southern councils such as Worthing, Crawley and Southampton …
The Lib Dems also had a clearly successful election night in England, adding at least 189 seats. They took control of the new unitary authority in Somerset, previously a Tory stronghold, edged out the Conservatives in Portsmouth, and pushed them out of control in West Oxfordshire. The Greens also performed well, winning 81 seats – more than doubling their number of councillors – as voters also turned to independents and residents' associations.
Going back to Tuesday, May 3, Conservative Party chairman Oliver Dowden MP alleged that Labour and the Lib Dems had a 'pact', whereby Labour did not put forward a candidate in every council election, deferring to the Lib Dems in order to win against the Conservatives. This is because England uses FPTP (First Past The Post) voting.
Pictured are the Lib Dems' Ed Davey on the left and Labour's Keir Starmer on the right:
Guido has the story along with a video of a Lib Dem woman who confirms such a plan:
There are clearly tactical Lib-Lab stand downs going on around the country. Tory chairman Oliver Dowden claims that in the South West, Labour are standing candidates in 61% of seats compared to 97% in 2018. In the South East, Labour are standing candidates in 88% of seats compared to 99% in 2018.  In the North East, the LibDems are standing in just 56% of seats, down from 78% four years ago. Labour is standing in 99% of seats in the area. "These shifts", claims Dowden, "are far too substantial to be a mere coincidence". In response Starmer says "There is no pact, everybody knows there is no pact" …

This LibDem organiser in Cumbria gives the game away about what is happening at local level. Labour-supporting Neal Lawson and Clive Lewis have been arguing for years that an unfair 'First Past the Post' system splits the 'progressive vote' and prevents the 'progressive majority' from winning.
It stands to reason that the total left-of-centre vote will be split, given on average two candidates from Labour, the LibDems or the Greens are running against just one right-of-centre candidate in England.  According to new research from Electoral Reform Society front-group "Politics for the Many", in 43.8% of wards there is one Tory standing against candidates from all three of the progressive 'left' parties. In 35.5% of wards where there is one Tory candidate, there are two 'left' candidates. According to the research, in almost 3,000 council seats up for grabs, there are only 15 wards in the whole of England where there are more right-of-centre parties standing than left parties.
Labour and LibDem strategists know this; they are looking on these locals as a trust-building exercise and a dry run for the general election…
The Telegraph confirmed this pact on Friday, May 6:
If Sir Keir is to get the keys to Number 10, it may be thanks to a deal struck after election day with another party – which is why the Liberal Democrat performance on Thursday is so interesting.
Seven years ago, the party was all but wiped out as voters punished Nick Clegg for his coalition with David Cameron. The political toxicity has clung on in the years since then.
But there were signs of real green shoots for the Lib Dems on Thursday. Their victory in Hull, taking the council from Labour, was the stand-out early result. 
The relentless targeting of Blue Wall Tory seats – often in rural southern constituencies they believe have been "taken for granted" by the Conservatives – also achieved notable wins.
By now, Labour realisea that it is relatively easy for a Conservative area to go for the Lib Dems at some point, much more than it would be to vote in Labour candidates.
A good illustration of this is in St Albans, Hertfordshire, which, over the past several years, has gone from True Blue to Yellow-Orange, including their MP:
A lot of Lib Dem councils stay that way. This is largely because a) the Lib Dems know how to get out the vote and b) residents get to know the Lib Dem candidates better for that reason:
Conservatives would do well to study St Albans and find out where they've gone wrong.
On that note, one Conservative MP who does realise the value of getting out the vote is Bob Blackman, who has represented Harrow East since 2010.
On Sunday, May 8, he told GB News's The Political Correction that Harrow became a Conservative council on Thursday because he and other Conservatives went out once a week to canvass residents on council services. Their dogged determination worked.
Blackman says that, as far as he is concerned, the next election campaign has already begun, hence more canvassing. Other Conservative MPs should follow his example.
Devolved nations
Each of the devolved nations has a form of proportional representation rather than FPTP. This is why they are very much left-of-centre.
This is how the Single Transferable Vote works:
Wales
Welsh Labour were highly successful. In Wales, First Minister Mark Drakeford runs his nation's Labour Party, so there is no Keir Starmer influence.
As such, Welsh Labour wiped out the last council under Conservative control: Monmouthshire.
Scotland
Scottish Labour also performed well, placing the Conservatives in third place for the first time in ten years.
Nicola Sturgeon's Scottish National Party (SNP) remains the top party, however.
Late on Friday, the Daily Mail reported:
Nicola Sturgeon has said she is 'thrilled' with the results coming out of the local elections in Scotland after her party increased its share of councillors.
The leader of the SNP told Sky News that the results sent a 'clear message' to Boris Johnson and the Tories.
She said: 'We are the largest party in more councils today than we were yesterday – we've won the election and we've won the election by a country mile.
'I think it's the eighth consecutive election win under my leadership of the SNP or after 15 years in government so it is a stupendous result for the SNP and sends the clearest possible message to Boris Johnson and the Tories.'
She said the SNP was still the largest party in Glasgow, despite some Labour gains.
However Sir Keir's party came very close to taking the city council, adding five councillors for a total of 36.
The SNP, meanwhile, shed two seats for a total of 37.
Sturgeon said Labour benefited a lot from Tory's Partygate scandal, adding: 'Labour threw the kitchen sink at Glasgow… and yet they still can't defeat the SNP, so I think there's still some reflection perhaps needed on Labour's behalf.'
All councils up for election in Scotland have now declared their votes.
The SNP gained the most new councillors with 23, followed by the Lib Dems with 20 and Labour 19.
The Green Party gained 15 while the Conservatives lost a total of 61.
Northern Ireland
For the first time in its 101-year history, the Northern Ireland Assembly now has a Sinn Féin majority, even though 58% of the votes in that nation went to Unionist parties. Here's the UK's Deputy Prime Minister Dominic Raab (video here):
As with Wales and Scotland, Northern Ireland's Assembly is free to make its own laws in a number of areas. Oddly enough, that did not extend to abortion laws, which Westminster (the UK Government) imposed on the province by fiat in 2021:
But I digress.
Under the aforementioned Single Transferable Vote system, Sinn Féin won more first preference votes than did the Unionist parties.
This result propels Deputy First Minister Michelle O'Neill to First Minister. She has been Vice President of Sinn Féin for a few years now.
The Democratic Unionist Party (DUP), which had control previously, now refuses to form a coalition government — power-sharing executive — unless and until Boris Johnson's government rectifies the damaging anomalies in the post-Brexit Northern Ireland Protocol.
Until a power-sharing executive is formed, Michelle O'Neill cannot take up her duties as First Minister.
Most Britons associate Sinn Féin not only with past terrorism but also with Irish re-unification, which will surely be on the cards within the next five years.
On Thursday, the party played a blinder, as the Daily Mail reported last Friday:
Neither Sir Jeffrey Donaldson's party or the Ulster Unionists have yet agreed to join a power-sharing executive in which Sinn Fein would be able to nominate the First Minister. 
They have argued that a win for Sinn Fein would lead to a referendum on Irish reunification. But Sinn Fein has run its campaign on the cost-of-living crisis.
Conclusion
The Conservatives are only now reacting after the horse bolted months ago.
They should have been out campaigning over the past few weeks, MPs included.
Only now are they coming up with possible solutions which should have been discussed on the hustings.
On Friday, May 6, the Daily Mail reported that Boris Johnson is considering a summer reshuffle to tackle the cost of living crisis. Hmm.
Over the weekend, a number of Conservative MPs began asking the Government for tax cuts.
Chancellor Rishi Sunak promises to look 'at all the options'.
Good luck with that. There isn't much time before the 2024 elections.
Considering that Parliament is currently prorogued and that this past weekend was the May bank holiday, one would think that nothing political happened.
One would be very wrong indeed.
In fact, a Conservative MP stood down and Labour's indoor 2021 election campaign meeting in Durham attracted more attention.
Labour's 2021 do in Durham
My April 29 post has the background to Labour's 2021 election campaign do in Durham.
April 30 was its one year anniversary:
I couldn't agree more.
The Mail on Sunday's Dan Hodges agrees on Labour's hypocrisy:
Many Labour supporters say that the Durham do did not break any rules, however, it probably did. Below are the rules for the 2021 election campaign:
Furthermore, it is possible that, despite the fines (fixed penalty notices), the Downing Street gatherings did not break the rules, as the address is part of the Crown Estates.
On April 27, the Conservative Post published an article on the lefty activist QC (Queen's Counsel) advising senior civil servant Sue Gray in her report on the gatherings. The article says that they were perfectly legal (emphases in the original):
One might ask is this QC holding an almighty grudge?
Is this why Sue Gray / the Met Police haven't looked at section 73 of the Public Health (Control of Disease) Act 1984? Do they even know about it?
Surely a bipartisan advisor would have pointed out this important law of the land?
The Act clearly states that pandemic regulations, at all times, never applied to Crown Land (which includes No.10). 
Granted, one rule for them and another for the rest of us seems a bit unfair but it also makes sense.
Steven Barrett, a leading barrister at Radcliffe Chambers who read law at Oxford and taught law at Cambridge explains:
In the eighties lawmakers decided that it would be better to allow the government to function during any future national pandemic without having to worry about being caught up in quarantine regulations. The thinking was that by making the government effectively exempt in law, the government could continue to function.
In addition to the 1984 Act, there were also specific regulations that applied at the time of the alleged "parties" the Health Protection (Coronavirus, Restrictions) (All Tiers) (England) Regulations 2020.
According to these rules, gatherings were allowed in all public buildings, or parts of them 'operated by a business, a charitable, benevolent or philanthropic institution or a public body.'
So whatever happened in Downing Street was legal. 
How has a QC / Civil Service Advisor not made this clear to Sue Gray? If he had surely no-one at Downing Street would have received a fine at all.  
One would also have thought the Civil Service would check who is advising them.
Can someone let Sue Gray and the Met Police know please before any more incorrect fines are issued out? It's important rules of the land are adhered to. 
But, but … and it's a BIG BUT:
The matter came up in the House of Lords on December 14, 2021, shortly after the controversy broke. Good grief, that is now six months ago.
Baroness Jones of Moulsecoomb (Jenny Jones, Green Party) asked:
whether Number 10 Downing Street is a Crown property; and, if so, whether regulations made under the Public Health (Control of Disease) Act 1984 apply there.
Lord True, replying for the Cabinet Office, said that the regulations would have applied to Downing Street, despite its being part of the Crown Estates (emphases mine below, except for Guido Fawkes posts):
No 10 Downing Street is a Crown property. Regulations under the Public Health (Control of Disease) Act 1984 which relate to the activities of people, apply regardless of whether those activities took place on Crown property or not.
Hmm.
Back to Labour's Durham do, which has been trending online as Beergate and Currygate:
Durham Constabulary said a long time ago that there was nothing to investigate. Durham is a Labour area, so no surprise there.
However, the clamour over the weekend thanks to Conservative MP Richard Holden's letter to them was such that perhaps the police have decided to have another look.
On Tuesday, May 3, in an interview with BBC Radio 4's Martha Kearney, Keir Starmer refused to say (audio here):
This leads pundits to assume that Durham Constabulary might have been in touch:
Another development over the weekend was confirmation that Labour's deputy leader, Angela Rayner, was also in attendance.
Guido Fawkes posted the following on Friday, April 29:
After months of questioning, it can finally be confirmed Angela Rayner was present at Starmer's lockdown beer party in Durham. Despite refusals to confirm, video evidence dug out yesterday morning reveals Angie's attendance, who shared a chair with Sir Keir for a "Get out the vote rally"  on Facebook an hour before the video of Starmer's unlawful socialising was filmed. Oh. Dear.
Rayner can be heard saying "And being here at the Miners Hall in Durham, I've got to start with, you know, the past we inherit, the future we build." She and Starmer sit in front of a window identical to that Starmer was filmed through an hour later swigging beer, contrary to Covid rules.
Earlier this week, Guido forced a denial from local Police & Crime Commissioner Joy Allen, who said she wasn't present at the 'essential campaign event' after social media rumours began circulating that the female head seen at the bottom of the Starmer beer frame was hers.
Labour claim that there was no other place to go for food and drink, however:
Also:
On Sunday evening, May 1, Mark Dolan of GB News rightly took aim at Labour's sanctimonious and hypocritical posturing:
However, things weren't going well for the Conservatives, either.
Neil Parish stands down as MP
Neil Parish stood down as MP for Tiverton and Honiton in Devon after admitting he was looking at indecent images on his phone while in the Palace of Westminster.
He claimed that he had been searching for tractors on the first occasion and accidentally arrived at an indecent website. On the second occasion, he confessed that he deliberately visited the same website again.
I was somewhere between surprised and shocked. He always seemed like such a level-headed individual.
This video clip is from March 14, 2019, around the time I began watching BBC Parliament regularly. Tension about Brexit had been ramping up since January that year:
In June 2020, he led a debate on the BBC's axeing of local and regional political coverage:
More importantly, he had headed the Environment, Food and Rural Affairs Select Committee since 2015. He came from a farming family and left school at the age of 16 to help run his family's farm.
Last week, rumours had been circulating about a Conservative MP looking at indecent images during parliamentary proceedings.
On Friday, April 29, Guido reported that the Conservatives removed the whip from Parish:
The hunt is over: Neil Parish, the Conservative MP for Tiverton and Honiton, has lost the whip this afternoon after being revealed as the Commons' mystery porn viewer. Following conversations with the Whips' office today, Parish has reported himself to the Standards Committee of the House of Commons for investigation. The Tories had previously referred the claims to the Independent Complaints and Grievance Scheme, so Parish is now under investigation by both bodies…
A spokesperson from the Chief Whip's office said:
Having spoken to the Chief Whip this afternoon, Neil Parish MP is reporting himself to the Parliamentary Commissioner for Standards. Mr Parish has been suspended from the Conservative Whip pending the outcome of that investigation.
Guido included an interview Parish had given to GB News that afternoon. It was clear Parish had no intentions of resigning at that time:
I think the whips' office will do a thorough investigation and we will wait and see that result… I think you've got some 650 Members of Parliament in what is a very intense area, you are going to get people that step over the line. I don't think there's necessarily a huge culture here, but I think it does have to be dealt with, and dealt with seriously. And that's what the whips will do in our whips' office.
There was a time when someone could be sacked on the spot for looking at indecent images at work. Granted, this was in the private sector.
I knew of one such individual in the mid-1990s. His dismissal was also shocking, as he was the last person I would have expected to engage in such activity and was a senior manager who was very good at what he did.
However, it seems that such behaviour is becoming normalised, according to The Telegraph. It extends to viewing such things on public transport. Ugh.
Early on Saturday, The Telegraph posted an exclusive interview with Parish:
Suspended from his party and facing public ridicule, Mr Parish is at the centre of a maelstrom. But now that the accusation is "out in the open," Mr Parish said on Friday night, "it's almost as if a weight is lifted off me" …

Over the course of the interview, conducted in Mr and Mrs Parish's sitting room in front of a warm hearth, the MP confirmed he had referred himself to the parliamentary standards committee, apologised to his constituents, and suggested that, even if cleared, he might step down.
It was late on Friday night when The Telegraph called. The couple's eight-year-old labrador, Kitty, was dozing in front of the fire. Mr Parish, after a long day, was wearing a dressing gown. The MP is a farmer by trade, and the couple's home is the family farmhouse. Their sitting room is bedecked with books and family photos. It is typical for MPs embroiled in scandal to flee their homes, but the Parishes, who have two adult children and two grandchildren, have stayed put …
Earlier in the day, Mr Parish, 65, said he had opened pornographic material "in error", but he declined to give further details. Asked what happened, Mr Parish said: "I think it's all going to have to go through the inquiry, and then I will give them all the evidence I have, and it'll be for them to make the decision. And then I will make my mind up as to what I do, whether I remain in Parliament or whether I leave."
He had not spoken to the Prime Minister, he said. Asked if he had a comment for his constituents, Mr Parish said: "That I very much enjoy being their MP, I've worked very hard, and I will continue working for them. I apologise for the situation – the whip is withdrawn – but I am still their MP. And at the moment I'm still the chair of the Environment, Food and Rural Affairs select committee, and I take that job very seriously. And I will carry it on for as long as I have it."
Mr Parish faces an ignominious end to a 12-year parliamentary career in which he has won increasingly large majorities and worked on a broad set of issues within farming and rural affairs. Local elections are coming up and he is now seen as a liability, with fellow MPs calling for his resignation …
Mrs Parish, 66, said she had first learnt of the allegations from a journalist who rang her for comment. "I didn't know anything about it until he rang and said, 'Oh, you know what I'm ringing about…'
"I didn't know who was more embarrassed, actually, me or him!" said Mrs Parish. "Poor chap."
It seemed that the couple had discussed the matter between them and that it had been explained to Mrs Parish's satisfaction.
"Yes," said Mrs Parish, without hesitation.
"My wife is amazingly loyal and better than I deserve," said Mr Parish.
"That's for sure," said Mrs Parish, chuckling.
At the end of the interview, Mr Parish took a phone call from his brother, Rod. They chatted briefly, with Mr Parish thanking his brother for what sounded like a supportive call. Mr Parish, having swapped his dressing gown for a shirt and jacket, then politely assented to having his picture taken …
By Saturday afternoon, Parish had resigned:
People did not believe the tractor excuse …
… but there is good reason to accidentally see something indecent when searching for tractors:
Guido wrote:
Neil Parish has told the BBC he's quitting after being accused of watching porn on two occasions while performing his MP duties in Parliament. With bizarre detail he claims "the first time was accidental after looking at tractors, but the second time was deliberate". 
24,239 majority in his seat of Tiverton and Honiton. If this by-election ends up being remotely interesting, the Tories are in deep trouble…
A by-election upset in a similar constituency took place in the staunchly Conservative North Shropshire which now has a Liberal Democrat MP after Owen Paterson was forced to stand down late last year.
On May 1, The Sunday Times confirmed that two female MPs had seen Parish looking at indecent material online:
Parish, 65, said the first time he had watched pornography was accidental, insisting he had been looking at tractors on his mobile phone before straying onto a website with a "very similar name". He said he watched the video "for a bit, which I shouldn't have done".
On the second occasion, however, the married father of two admitted he had looked at porn deliberately while waiting to vote at the side of the chamber. "What I did was absolutely wrong," he told the BBC.
Parish, who chaired the Commons environment, food and rural affairs committee, issued a "full apology" to the two female MPs who had seen him watching the pornography, but insisted it was "not my intention to intimidate".
It marked a significant U-turn in 24 hours. At first he had defied calls to quit and said he would await the findings of a parliamentary investigation. A growing number of Conservative MPs made clear that his position was untenable, however, and that he should resign immediately rather than prolong the controversy days before the local elections on Thursday …
His departure means that the Conservatives are now facing the prospect of having to defend two by-elections in short succession.
Imran Ahmad Khan, who was elected MP for Wakefield in 2019, tendered his resignation last week after being convicted of sexually assaulting a teenage boy. Labour is widely expected to win back the seat.
Conservative Party insiders are also braced for a third by-election. They are awaiting the outcome of the investigation into David Warburton, who had the Tory whip withdrawn last month after it was alleged that he sexually harassed three women.
Although Parish's constituency has returned a Conservative at every election since its creation in 1997 — and the party has a majority of 24,000 — Tory insiders fear that it shares parallels with North Shropshire, the seat lost to the Liberal Democrats in December after the resignation of the disgraced MP Owen Paterson.
Last night a Lib Dem source said: "As we saw in North Shropshire, there is a real backlash against Boris Johnson from rural communities who are fed up with being taken for granted."
What a shame.
Also on Sunday, The Telegraph confirmed rural communities' disillusionment with the Conservatives. One woman running for the local council in North Frome, Somerset, says that locals are tearing down her campaign posters and handing leaflets back to her.
The paper refers to these communities and counties as the Blue Wall, historically Conservative areas:
The election is a key test for Boris Johnson, who is facing a difficult mid-term contest after months of criticism of his leadership from Tory quarters over partygate, tax rises and the cost of living crisis.
Many of the English council areas, including Somerset, Hertfordshire and Hampshire, are places the Conservatives have traditionally considered to be strongholds.
Now, they are increasingly thought of as part of the "Blue Wall" – containing millions of wavering Tory voters who are disgruntled with Mr Johnson and could "flip" to Labour or the Liberal Democrats …
Voters in Somerset demonstrate what strategists in all parties have identified – that there has been a shift away from the Conservatives among people who live in the countryside.
New research from Parliament's all-party group for rural business and the "rural powerhouse" suggests the Government has a "chronic under-appreciation for the economic and social potential of the countryside," and that businesses in rural areas are on average 18 per cent less productive than the country at large.
Many voters who have always lent the Tories their trust feel that southern rural areas have suffered at the expense of "levelling up" – the Government's plan to improve high streets and fortunes in neglected Northern areas traditionally represented by Labour.
Meanwhile, a Conservative promise to deliver next-generation broadband speed by 2025 is unlikely to be met, the parliamentary spending watchdog has said.
Countryside voters, who are often keen to protect the natural beauty of their homes, say plans to rip up the planning system to build more houses and erect new onshore wind farms are a direct attack on their way of life.
Paul Moody, an antiques dealer who lives near Shepton Mallet, said his faith in the Conservatives' commitment to the countryside is being challenged by "horrendous" new "T pylons" near his home and the threat of solar panels carpeting the fields.
"They march across the countryside and stand out all across the Somerset Levels" he said.
"I would prefer more nuclear power stations than ruining the countryside."
Answering a survey conducted for The Telegraph by Redfield and Wilton Strategies this week, just 19 per cent of voters said the Conservatives cared about rural areas, while 28 per cent said Labour did. Almost half of voters (46 per cent) say "levelling up" does not inspire them.
Other national polling shows Labour has increased its lead over the Conservatives by three points since April 12, when Mr Johnson was fined over lockdown-busting parties in Downing Street.
While ministers have repeatedly suggested that the public does not care about partygate and would prefer to see the Government focus on making domestic policy, Tory sources admit privately that the polling shows that idea is "for the birds".
It's all falling apart for Boris at the moment.
Ukraine loves Boris
On Tuesday, May 3, Boris made history by becoming the world's first leader to address Ukraine's parliament:
Also on Tuesday morning, he gave an interview to Left-leaning Susanna Reid on ITV's Good Morning Britain.
It did not go well …
… and not knowing who ITV's queen of breakfast television, Lorraine Kelly, is unforgiveable. She's only been on the network for over three decades:
Maybe the man has a point, but it still helps to play to the audience, most of whom probably stay tuned for Lorraine's show, which follows Good Morning Britain.
It's a shame that Ukraine's enthusiasm for Boris doesn't translate here at the moment, but I cannot blame Conservative voters for being disillusioned.
On Wednesday, April 27, at the last Prime Minister's Questions before prorogation, viewers saw Boris Johnson at his campaigning best, saying that Labour have no policy plan. They merely oppose the Conservative ones:
Perhaps this is why Labour are not fielding many candidates in the May 5 local election this year, preferring to leave the contest to the Liberal Democrats. The Chairman of the Conservative Party, Oliver Dowden MP, has written to Labour's Sir Keir Starmer for answers:
Of course, the Left say that the Brexit Party did the same thing in the 2019 general election, but the Brexit Party was acting as an anti-Conservative spoiler. At least one media outlet that year was the first to ask the party to stand down their candidates so that Conservatives would win, enabling Boris to get us out of the EU:
In any event, regardless of what party — whether Conservative or Liberal Democrat — wins council elections this year in crucial seats, the Tories should take note of what is happening on the ground and act on it in order to be better prepared for the general election in 2024.
Best of luck to the Conservatives, but I won't be holding my breath this year.
By chance, last week I read an article from May 20, 2015 in The Guardian about the general election result earlier that month: 'The metropolitan elite: Britain's new pariah class'.
Labour lost, leaving the metropolitan elite scratching their heads and wondering why.
Zoe Williams's article has three pages of comments, which are illuminating. The general public revealed why Conservatives won not only in 2015 but even more convincingly with an 80-seat majority in 2019.
Of course, in between those two elections was the one held in 2017, whereby Prime Minister (PM) Theresa May barely scraped by with a slim majority which caused her major problems in getting Brexit legislation passed in the first half of 2019. She resigned during the summer, and Boris Johnson became party leader, thereby succeeding her as PM. He held an election on December 12 that year, primarily to break the Brexit deadlock. It was one of the best things he ever did.
What is the metropolitan elite?
Zoe Williams, who has been writing for The Guardian for decades, defines the metropolitan elite through interviews with other people which makes up the article.
The characteristics that tie the metropolitan elite together are working in London, living in an upper-middle class bubble, going to a public (private boarding) school; having an Oxford degree (especially in Philosophy, Politics and Economics); making a close network of friends from school and university; finding employment in politics, the civil service, law, the media and academia. They ensure their children follow the same route.
No one's definition is perfect. Each needs another element added to it.
Williams concludes that an exact definition doesn't really matter, because it is fluid, but the reality is that this group has caused the ethos of Parliament to change through the years (emphases mine):
The meaning of "metropolitan elite" is not fixed. It will change in the mouth of whoever says it, and it will take on the shape of the person to whom, for whatever combination of reasons, it is thrown at and sticks. But the anger is real: parliament, as the last century understood it, represented the people to the state. Parliament now represents the state to the people. And maybe "metropolitan" is a way to say that, and to give it a face.
Background to the 2015 election
Below is a summary of the highlights of the 2015 election.
Conservatives and Liberal Democrats
David Cameron was PM at the time, part of a coalition government with the Lib Dems. Nick Clegg was deputy PM.
Clegg ran as the Lib Dem candidate as he was party leader at the time.
Cameron was getting a lot of heat about holding a Brexit referendum. Nigel Farage, leader of UKIP at the time, piled on the pressure. Referenda are not a British thing and Cameron could have happily ignored it were it not for the fact that a Conservative victory depended upon granting voters a Brexit referendum.
There was also much talk at the time about English Votes for English Laws, or EVEL: the inappropriateness of allowing Scottish MPs to vote on English laws when English MPs have not been able to vote on Scottish laws since devolution in 1999. MPs from Wales and Northern Ireland can also vote on English laws, but the issue mainly concerns Scotland, since many laws apply equally to England and Wales. EVEL — arising from the West Lothian Question of 1977 — was another issue Cameron had to address in the campaign. As such, it became part of the Conservative manifesto that year.
Labour
Ed Miliband was Labour's leader at the time.
Emily Thornberry
The snobbish aspect of the metropolitan elite, which Labour embodies so well, came to light during the World Cup in 2014. Emily Thornberry MP experienced a combination of bemusement and outrage upon seeing that someone would have the audacity to display St George's flags, representing England, outside their home. What's more, there was a white van parked in the driveway. Oh, the horror!
She tweeted a photo of the house and captioned it: 'Image from #Rochester'
The offending home was in Rochester, Kent, where a by-election was being held in November that year. The owner of the house said that he put three St George's flags up during the World Cup and decided to leave them flying from an upstairs window.
On November 14, the BBC reported that Thornberry resigned from the shadow front bench as a result of the tweet (bold in the original here):
Emily Thornberry has resigned from Labour's front bench after sending a tweet during the Rochester and Strood by-election which was branded "snobby".
The shadow attorney general apologised for the message, which showed a terraced house with three England flags, and a white van parked outside.
UKIP said she had "sneered, and looked down her nose at a white van in Strood with the cross of St George on it".
Labour leader Ed Miliband was "angry" at her, a senior figure told the BBC.
The resident of the house, Dan Ware, said Ms Thornberry – the MP for Islington South and Finsbury – was a "snob".
"I've not got a clue who she is – but she's a snob," he told the Sun. "We put the flags up for the World Cup (in 2014) and will continue to fly them."
Even today, everyone who loves England remembers Thornberry's attitude towards our nation's flag. Ed Miliband was right to have been angry at the time. It must have lost Labour votes in certain constituencies:
The Independent had more:
Three hours later she apologised, after Ed Miliband intervened and the Labour leader made it "very clear" that he believes people should be able to fly the England flag without feeling ashamed.
Following her resignation, Labour has revealed that Thornberry had spoken to Mr Miliband a second time.
"Ed and Emily had a second conversation. She thought the right thing to do was to resign. Ed agreed," the source said.
Her tweeted apology received strong reactions, among them the following:
Simon Danczuk, who was the Labour MP for Rochdale at the time, could see the elitist London-centric outlook at work:
Everyone will know exactly what she meant by that comment. I think she was being derogatory and dismissive of the people. We all know what she was trying to imply.
I've talked about this previously. It's like the Labour party has been hijacked by the north London liberal elite and it's comments like that which reinforce that view.
In the end, Mark Reckless won the by-election which was held because he wanted to change party affiliation from Conservative to UKIP. Nigel Farage had told him to do the right thing by asking his constituents. Reckless became the second UKIP MP to serve in the House of Commons when he joined Douglas Carswell that year. Carswell also had to hold a by-election in his constituency before Farage would allow him into UKIP.
Ed Miliband
Returning to Labour, a month before the by-election, Ed Miliband proposed a mansion tax, aimed primarily at Londoners.
However, a Londoner from Dartmouth Park in Kentish Town, Dan Carrier, wrote an article for The Guardian in October 2014, saying that not everyone living in a house in North London was necessarily wealthy: 'My house in the middle of Ed Miliband's street'.
It so happens that Ed Miliband and his family moved into the street where Mr Carrier grew up. In 2014, his parents still lived in the same house and he had the good fortune to be able to buy a home just a few doors down.
The Carriers and the Milibands are two very different classes of people:
In many ways our road is a typical London street: a mixture of Victorian terraces, some grand double-fronted villas and a postwar apartment block. More recently, however, it has had national media attention, prompted by the arrival a few years ago of Ed Miliband and his family. When they decamped from Primrose Hill, the move produced a swathe of articles describing my neighbourhood as a place of leafy-lefty-intellectual-middle-class types. The road I grew up on, and moved back to, has become shorthand for the gentrification of north London. The gap between the property haves and have-nots has never been starker, and housing is set to be a defining issue of the next general election. Ours is just one street, but it could be anywhere in the capital.
Carrier described many of his neighbours, who were working- or middle-class, hardly of the metropolitan elite. As such, a mansion tax would have been devastating:
Under the proposed system, many of Ed's neighbours could face large bills.
The newcomers, however, were flush with cash:
One recently arrived couple, both on six-figure salaries, asked not to be named. Being able to buy a property in this neighbourhood these days, it seems, is enough to single you out for unwanted attention.
They say they moved here because of "the large houses, and the fact it's not chi-chi like Hampstead or Primrose Hill. You see neighbours at the weekends, they're not all out at their country homes. You don't see Fortnum's vans pull up." Dartmouth Park is not yet Mayfair, in other words – not a comparison my parents' generation would have felt compelled to make. "It feels like a real street, with real people."
In the end, there was no mansion tax because Labour lost the election, thankfully.
By the way, Ed's house has two kitchens in it. One is for the nanny and the children. The other is for Ed and his wife.
Ed Miliband could have taken some advice on the PR front. The lesser of his campaign sins was jamming a bacon sandwich into his mouth, further proof that no one should be photographed eating. The greater sin, however, was imitating Moses by erecting a stone listing five Labour Party goals, dubbed the Ed Stone. Oh, my, how we laughed at such hubris.
The election was held on Thursday, May 7.
Miliband resigned as Labour Party leader on Friday, May 8, a position he had held since September 2010.
By May 10, the Ed Stone was nowhere to be seen.
That day, The Guardian reported:
A case of champagne is among the rewards being offered by tabloids and rightwing pundits in return for the whereabouts of the so-called "Ed Stone".
The 10 commandments-style tablet, engraved with five promises and unveiled in the final days before the election, was meant to symbolise how Ed Miliband would keep his pledges and restore trust in politics.
But the gimmick was perhaps the greatest gift Miliband gave to his opponents – and the mockery shows no signs of letting up even after his resignation and the quiet disappearance of the stone.
An 8ft 6in-high, two-ton limestone hulk is not the easiest thing to hide. But the stone, which was rumoured to have cost up to £30,000, is proving remarkably elusive and Labour sources are staying tight-lipped.
The Mail has offered a case of champagne to any reader who has information that "leads to the discovery of the Ed Stone". The Sun has set up a dedicated "Ed Stone hotline" for tips about the stone's whereabouts.
But without any apparent success in locating the real thing, the Sun also offered its readers a chance to win a full-size replica of "the Labour loser's laughable slab".
It was only on January 16, 2016, that we found out what happened to the slab. The Guardian reported:
The Ed Stone was broken up shortly after the general election, it has been revealed, putting an end to eight months of speculation about its whereabouts.
Two party officials, speaking on condition of anonymity, told Bloomberg News that the stone had been destroyed in the weeks following 7 May 2015.
Shortly before the election, David Cameron tweeted that there would be chaos with Ed Miliband (pictured with Ed Balls on the left):
Miliband is still an MP.
The Ed Stone might not have survived, but one of his lasting legacies as Energy Minister from Labour's time in power has: the green levy on home heating fuel, which is more than the VAT. The Conservatives should scrap the levy. Perhaps they will when the cost of gas for the home reaches breaking point and people get sufficiently irritated with Net Zero.
I wrote two posts about the 2015 election. In the second, I wrote about the 'historic upset the pollsters missed':
Even the most accurate poll — the exit poll — slightly underestimated the final total. The Conservatives won a clear majority of seats, surpassing the magic number of 326 to end up with 331!
David Cameron no longer needed a coalition government.
Today, Nick Clegg works in California for Facebook and has just received a huge promotion as president of global affairs for parent company Meta, taking on some of Mark Zuckerberg's former responsibilities.
What the public thought
In 2015, the public made it abundantly clear that they preferred a Conservative government.
The readers' responses to Zoe Williams's article about the metropolitan elite made some excellent points. I read them all.
One person said that the Conservatives' policies appeal more to the average Briton:
The election was won by the Tories less because they represent the views of more people than any other party than because their policies offended fewer people than those of any other party. The widespread and insidious disenchantment with politicians stems from this disconnect and it just happens that at the moment the Tory message is marginally less unpopular than a whole range of unpopular messages – probably because the Tory demographic is a currently a bit wider than that of Labour.
Another said that Labour had deserted the working class for the middle class:
A large section of the working class of this country still can't box their way out of this ingrained deference to the ruling class. The existence of the royal family and the institution of the monarchy is the guarantor of that deference. But they do not feel the same deference to the 'metropolitan elite' and this fact has been nicely used by right wing media to undermine urban liberalism and split the working class vote. The Labour party will have difficulty fighting its way out of this conundrum so long as they exclude working class representatives in favour of middle-class ones, black or white.
The working class feel ignored:
Labour are more and more removed from working class people … The divide is growing -hence the growth in UKIP in traditional labour areas. The metropolitan elite – useless Ed is one of them – have failed to understand and address the concerns of their traditional voting base in far too many areas.
Someone said that the Labour Party was synonymous with the metropolitan elite:
If the Labour Party (or the metropolitan elite that provides it`s talking heads) thinks that simply stealing the Conservatives`s clothes or repositioning themselves on Europe is going to work – forget it. At the moment the terms "Labour Party" and "metropolitan elite" are interchangeable and are synonymous with what us plebs would call "being out of touch". Can the Labour Party learn how to talk to us again?….They`d better, and quickly because at present we`re all listening to the Tories and UKIP …
Another reader said the same thing:
I say this as a northern working class boy …
Until we have a left wing party led and organised by the working class, I'm a Tory. All you people still voting Labour when these people are in charge of the party are fools – they've tricked you into believing they represent you, but actually you're just useful to them to legitimise their marginal differences compared to their blue friends in the next street.
Two people even had a go at Zoe Williams:
Zoe Williams. Godolphin and Latymer School, Oxbridge, lives in Camberwell, brays, wrote a tedious feminist piece about why she married the father of her kids after a decade as if anyone cared, spouts by-numbers liberal-lefty discourse every week in the Graun.
I don't loathe the metropolitan elite. It's just a shame there are so many of them clogging up the national media, the political scene, academia, the arts, public policy, etc. when they represent such an infinitesimal cadre of people. So much for the 'diversity' they so often chirrup about.
Also:
YOU, Zoe W, are most certainly a member of that elite. How else do you get on What The Papers Say on Sky television?
This comment seemed to unknowingly say the most about what would happen in December 2019. Britain was — and is — becoming more nationalistic, but not as a Union, only as separate parts:
Events in Scotland and the victory of the SNP and the rise of UKIP, particularly in Northern heartlands, have raised questions about the leadership of a working class party by a group of North London academics and politicians. However the real event is the battle of ideas about what a Labour Party should represent as the North London hegemony over policy has dissolved. The Blairites are in the news on the TV every day attempting to solve the problem of hegemony by a return to the centre. Both the SNP and UKIP have shown that there is no way back as both Scotland and large swathes of England are staunch nationalist. The rest of England, with the collapse of Lib Dems, is dark and lite tint blue Tory, and as such a distinct Englishness has temporarily been established. This Englishness is different from that of the UKIP North and certainly different from that of the Scottish nationalism of the SNP. The hegemonic moment of North London has in the words of Tom Nairn come face to face with the break up of Britain. Dr. Eamon O'Doherty
And, lo, it turned out to be …
More to come tomorrow.
It's been a week full of news, which is unusual right before Christmas. Yet, here we are.
Omicron death
The person who died with Omicron was an unvaccinated man in his 70s:
I, too, would like those questions answered.
The man's stepson called into Nick Ferrari's LBC show to say that he was a germophobe. He had everything delivered to his door and never left the house unless he had to post a letter:
Guido Fawkes has more (emphasis in the original):
Speaking to Nick Ferrari, the stepson of the man who died earlier this week claimed that he had been taken in by "conspiracy theories", and refused to take the vaccine despite being in his early 70s:
He thought it was a conspiracy. He was an intelligent man but it's all these different things you are getting from online and different media things… He wasn't vaccinated at all.
According to the latest figures, there are currently 15 people in hospital with Omicron, an increase of 5 since Tuesday…
Chris Whitty's Omicron projections
Earlier this week, Prime Minister Boris Johnson held a press conference with Chief Medical Officer Prof Chris Whitty and Chief Scientific Officer Prof Patrick Vallance.
Whitty predicted Armageddon with a chart showing unbelievably high projections of Omicron cases.
A good friend of mine said he hoped that chart would come back to bite Whitty in the proverbial. I couldn't agree more.
However, when Whitty appeared before the Health and Social Care Select Committee on Thursday, December 16, he changed his tune when giving evidence to MPs.
The Telegraph reported (emphases mine):
Britain may be "better off" with omicron than it was with the delta variant, thanks to the booster programme, Prof Chris Whitty has suggested.
Giving evidence at the Health and Social Care Select Committee, the Chief Medical Officer for England said that vaccines appeared to be holding up well against omicron and said boosters may even be preventing transmissibility and infection …
"It is possible that with a boost, we're better off with omicron than we are with two vaccines with delta for severe disease," he told MPs.
Prof Whitty said he was expecting omicron to cause an "impressive" rise in cases, which could lead to daily peaks in admission bigger than seen in the January wave, when hospitalisations hit nearly 40,000 a day.
However, he said that cases may begin to fall quickly and that a milder illness may mean people would stay in hospital for a short period, reducing the overall burden on the health service. Fewer people may also need intensive care, he added …
"I think most people think on the positive side, that there will be some preserved immunity, particularly on the non-antibody side, such as T-cells. Therefore it is likely someone who has one or two vaccines already will have some protection and with a booster considerably more protection against hospitalisation and death.
"It does look as if boosters restore some of the ability to actually reduce infection and transmission, at least for a period of time."
Then he told MPs that he was reluctant to give the public projection numbers, yet he did just that at this week's press conference:
"I have resisted putting forward projection numbers into the public domain because I don't think they are reliable and you can't put enough caveats on them."
We don't think they are reliable either, Prof Whitty.
Health and Security Agency's Omicron projections for England withdrawn
The UK Health and Security Agency also backtracked on their projections because of a change in public behaviour. I wonder:
If only they would lift Plan B …
… because it is really hurting the hospitality sector.
Michel Roux Jr has tweeted about his daughter Emily's London restaurant Caractère, which is suffering from a rash of sudden cancellations:
Her restaurant is not the only one. Omicron has everyone running scared.
But, what if it 'cases' did double every two days and what if we all caught Omicron? Would it confer herd immunity? We'll know if the following extrapolation is true by Twelfth Night:
The Queen cancels Windsor Castle pre-Christmas lunch
Because of the Omicron scare, our sovereign has cancelled her traditional pre-Christmas family lunch at Windsor Castle. ITV's Chris Ship reports:
South Africa, however, remains relatively relaxed about Omicron, as the Daily Mail's Dan Hodges points out. Note the reply, which shows Chris Whitty contradicting himself yet again. Either boosters help immunity or they don't. Which is it, Chris?
The elusive NHS GP can be seen — privately
Our NHS GPs have been elusive since last year. If you're lucky, you can get a telephone or an online appointment. Very few patients are able to see them in person.
However, if one goes private, one can see one's GP:
It looks as if the Mail on Sunday is investigating this situation. Good!
Killing off ivermectin as coronavirus prophylaxis
In more medical news, we discover how ivermectin was effectively killed off as a prophylaxis for coronavirus in the UK and the US.
Thanks to my reader dearieme for the Vox Day link, which leads to a World Tribune article summarising the incident from Robert Kennedy Jr's New York Times Bestseller, The Real Anthony Fauci: Bill Gates, Big Pharma, and the global war on Democracy and Public Health.
Excerpts follow:
Andrew Hill, PhD, is a senior visiting Research Fellow in Pharmacology at Liverpool University. He is also an advisor for the Bill and Melinda Gates Foundation and the Clinton Foundation. As a researcher for the WHO evaluating ivermectin, Hill wielded enormous influence over international guidance for the drug's use.
Hill had previously authored an analysis of ivermectin as a treatment for COVID-19 that found the drug overwhelmingly effective.
On Jan. 6 of 2021, Hill testified enthusiastically before the NIH COVID-19 Treatment Guidlelines Panel in support of ivermectin's use. Within a month, however, Hill found himself in what he describes as a "tricky situation." Under pressure from his funding sponsors, Hill then published an unfavorable study. Ironically, he used the same sources as in the original study. Only the conclusions had changed.
Shortly before he published, Dr. Tess Lawrie, Director of the Evidence-based Medicine Consultancy in Bath, England, and one of the world's leading medical research analysts, contacted Hill via Zoom and recorded the call (transcript below). Lawrie had learned of his new position and reached out to try to rectify the situation.
In a remarkable exchange, a transcript of which appears on pages 137 – 143 in Kennedy's book, Hill admitted his manipulated study would likely delay the uptake of ivermectin in the UK and United States, but said he hoped his doing so would only set the lifesaving drug's acceptance back by about "six weeks," after which he was willing to give his support for its use …
The two scientists discussed ivermectin's positive results in combating coronavirus:
… the number of preventable deaths incurred by such a delay would be staggering — as many as 504,000.
Hill declined being listed as Lawrie's head author on the paper with the positive results. Instead, he published the negative findings.
This is why he did so:
Four days before publication, Hill's sponsor Unitaid gave the University of Liverpool, Hill's employer $40 million. Unitaid, it turns out, was also an author of the conclusions of Hill's study …
… when pressed he admitted his sponsor, Unitaid, was an unacknowledged author of conclusions.
"Unitaid has a say in the conclusions of the paper. Yeah," he told Lawrie …
Dr. Pierre Kory, of the Front Line COVID-19 Critical Care Alliance, commented, "Andrew is apparently making a living now accusing the doctors and scientists who support ivermectin of medical fraud."
Regulatory acceptance of ivermectin did not delay only six weeks. Instead, almost a year later, it has still not been approved by health agencies in the United Kingdom or in United States. Instead The WHO, CDC, NIH, and FDA have suppressed the drug's use.
Instead, we are taking notional vaccines. Who knows what they are doing to our bodies?
Boris's daughter's name
Boris and Carrie Johnson have named their infant daughter Romy Iris Charlotte. She is shown with her brother Wilfred:
Romy is a 'rainbow baby' because she followed a miscarriage.
Best wishes to the Johnsons.
Conservatives lose safe seat for first time ever
In less cheery news for Boris, the Conservatives lost Owen Paterson's former North Shropshire constituency for the first time ever — nearly 200 years:
Paterson resigned a few weeks ago over sleaze allegations. He had a 23,000+ majority in the 2019 general election.
Failed candidate Neil Shastri-Hunt, who had been parachuted in from outside the constituency, said he planned to get some sleep and:
go and give my 8-week old a bit of a cuddle.
My commiserations to anyone who took this misguided betting advice:
The by-election took place on Thursday, December 16. The Liberal Democrats won by a landslide, as I thought they might:
Also note how low the vote for Labour was, despite party leader Sir Keir Starmer refusing to admit he is a socialist:
Conservative Party chairman Oliver Dowden MP admitted his party 'got a kicking' but added that such by-election results are not unusual when a Prime Minister is halfway through his or her term in office:
Therefore, this protest vote might be a one-off. Let us hope so.
However, in order for that to happen, Boris must be more of a Conservative and less of a Green Blairite.
Courier's employees throw parcels against wall
And last, but hardly least, we have distressing news about some Christmas home deliveries.
Hermes is the UK's worst courier company, but we have to put up with their delayed, sometimes damaged, deliveries.
A reporter from The Times did a brief stint with Hermes and found a group of disgruntled employees, some of whom threw parcels against a warehouse wall. The reporter is shown with his car boot open:
Hermes will investigate but says this is not typical behaviour of its employees. The company is at the bottom of the national delivery league table:
Meanwhile, I have been noting the rather downbeat Christmas notes we have received with our cards this year.
I hope that 2022 brings us far better tidings.
This week's coronavirus debates in both houses of Parliament are proof that only the Left want masks and lockdown to stay.
Below are revealing excerpts from debates in the Commons and the Lords.
Emphases mine.
House of Commons
Health Secretary Sajid Javid appeared twice in the House of Commons this week.
Monday, July 5
He delivered his statement about lifting all restrictions, including those for masks, on Monday, July 5.
Shadow Health Secretary Jonathan Ashworth (Lab) objected:
He will be aware that Israel has reintroduced its mask mandate because of the delta variant, so why is he planning to bin ours? Masks do not restrict freedoms in a pandemic when so much virus is circulating. They ensure that everyone who goes to the shops or who takes public transport can do so safely, because wearing a mask protects others. If nobody is masked, covid risk increases and we are all less safe. He must understand that those in the shielding community are particularly anxious. Why should they feel shut out of public transport and shops because he has abandoned the mask mandate? That is no definition of freedom that I recognise.
Who else suffers when masks are removed? It is those working in shops, those who drive the buses, those who drive taxis and those who work in hospitality—it is the low-paid workers who have also been without access to decent sick pay. Many of them live in overcrowded accommodation. It is those who have been savagely, disproportionately impacted by the virus from day one and now the Secretary of State is asking them to bear the brunt of the increased risk again. Will he explain why he thinks abandoning masks is a sensible proposal to follow?
Dr Philippa Whitford (SNP) also objected:
Why is he planning to end even simple measures such as mask wearing?
As did Caroline Lucas (Green):
Failing to mandate mask-wearing in stuffy crowded places such as public transport, where people are often pressed together for much longer than 15 minutes, risks high costs, and allowing people to choose whether or not to put others at risk is both reckless and unfair. If the freedom to pelt down the motorway at 100 mph is restricted because it poses risks to others, why, with millions still unvaccinated, with some immunosuppressed and with the risk of long covid rising, does the Health Secretary not apply the same logic to mask-wearing?
Patrick Grady (SNP) wants masks to become 'routine' in the notional new normal:
Given that masks help to reduce the spread of not just covid, but all kinds of respiratory diseases, is it not important to avoid mixed messages and encourage everyone to continue that kind of practice and the likes of good hand hygiene as a relatively routine part of a new normal, to stop coughs and sneezes from spreading diseases?
Paul Blomfield (Lab) said:
We all want to unlock the economy, but surely we should maintain barriers to infection where we can. The Secretary of State has said that wearing masks would be a good thing, so will he accept that requiring them on public transport, in essential shops and in similar locations would make sense and would reassure people?
Tuesday, July 6
On Tuesday, July 6, Javid delivered a statement on self-isolation and vulnerable people.
By way of response, Jonathan Ashworth had more to say on masks:
Getting back to normal, which we all want to do, depends on people feeling safe. Does the Secretary of State appreciate that those who are immunocompromised, or for whom the vaccination is less effective, will have their freedoms curtailed by ditching masks on public transport? Blood Cancer UK warned yesterday that people with blood cancer will feel like their freedoms have been taken away when mask wearing lifts. What is his message to those with blood cancer? It is not good enough simply to say that people should travel or go to the shops at less busy times.
Of course, the Secretary of State understands the importance of masks. I have now read his Harvard pandemic paper, to which he likes to refer. He praises the use of masks in this paper, but he also warns:
"Changing course in policy making…is an essential feature of good policy making. Yet, politicians find it hard"—
because of—
"the tendency for decisions to become psychologically and emotionally anchored."
Well, I agree with him, and I hope he still agrees with himself. Let us have a U-turn on mask wearing. Yes, let us have freedom, but not a high-risk free for all. Keep masks for now, fix sick pay and let us unlock in a safe and sustainable way.
Martyn Day (SNP) agreed:
In a poll by New Scientist, a majority of disease experts said that some form of mask-wearing would be required until 2022. Others thought that 2023 or later was the correct time to lift mask requirements—more than agreed with the Government's position of ending the requirements this year. For the sake of clarity and honesty, can the Secretary of State confirm that the UK Government have stopped listening to the science on their covid policy? Tragically, we have 150,000 people dead already, and the Prime Minister has said that we must reconcile ourselves, sadly, to more deaths from covid, so perhaps the Secretary of State can enlighten us as to how many more deaths the UK Government think acceptable.
Tulip Siddiq (Lab) brought up public transport:
The flu season that we have just been through was the mildest on record, thanks in no small part to the fact that we have all been wearing masks to protect against coronavirus. Public Health England has warned that we could see a flu surge in winter, as we have not had much recent exposure to and therefore immunity from other respiratory viruses. What is the Secretary of State doing to prepare for this? Does he agree that we should keep the wearing of masks compulsory on public transport to keep covid cases down and prepare for the flu season?
Matt Western (Lab) wants England to emulate the Far East:
Case rates are currently eight or nine per 100,000 in Korea and Japan, yet those countries—certainly Korea—are still mandating the wearing of masks. In the light of that, what does the Secretary of State think we should be doing, because those places are clearly having success?
House of Lords
The House of Lords held debates on Sajid Javid's vaccine-driven strategy for Freedom Day on July 19.
The Left-leaning among the noble lords were furious.
Tuesday, July 6
Below are excerpts from Tuesday's debate.
The Lords direct their questions to a Government minister, in this case, Lord Bethell (Con).
Baroness Thornton (Lab) had a lot to say about masks. She is old enough to have had both 'jabs', therefore, in theory, she should not be worried:
We have government Ministers saying different things about what they personally intend to do; last night, we had a clear message from the CMO [Chief Medical Officer, Chris Whitty] about the circumstances under which he intends to wear a mask. So I think that we have every right to be concerned that the debate may cause confusion and compromise crucial safety.
Let us look at public transport, for example. I have been using public transport throughout. I started wearing a mask long before it became mandatory. I still do not feel safe on a very crowded Tube, and I still do not want anyone to sit next to me. I test twice a week, and I have self-isolated twice since January when I got pinged. I do not think that I am unusual or nervous, but I feel strongly that I have a duty not to unwittingly spread the virus, and I do not want people to infect me. In a recent travel study, a majority of passengers said that they would lose confidence if the use of face masks were reduced. Many people, especially those who are more vulnerable, may become more anxious about using public transport if face masks become voluntary.
What is the Minister's answer to these legitimate concerns? Does it go with the view that we let the virus rip and take the consequences? Given that we know that bus and taxi drivers experience Covid and death, what does the Minister have to say to them about their safety in these circumstances? Masks do not restrict freedoms in a pandemic when so much virus is circulating; they ensure that everyone who goes to the shops or takes public transport can do so safely. Who suffers most when masks are removed? It is those working in the shops, those driving the buses and taxis, and low-paid workers without access to decent pay, many of whom live in overcrowded housing and have been savagely, disproportionately impacted by this virus from day one.
We know that masks are effective when a virus is airborne. Given that high circulations of virus can see it evolve and possibly escape vaccine, what risk assessment have the Government done on the possibility of a new variant emerging? Will the Minister publish that assessment?
Baroness Brinton (Lib Dem) followed her, also with much to say on masks, putting forward the example in the Far East:
We on these Benches want to start with a return to normal and to lift restrictions. We desperately need to kick-start the economy, to start to socialise again and, as my noble friend Lord Scriven said last month, to live with Covid as it is now endemic and will be with us for some years to come. However, that means providing the safety net needed to ensure that people are as safe as possible. Asian countries that managed their pandemic well learned from SARS. The use of face masks became routine and a matter of personal and wider social responsibility, allowing life to continue in the flu season and in the pandemic. They also maintain strong and effective test, trace and isolate systems all the time. We will be discussing test, trace and isolate in detail following the Statement that is due to come to your Lordships' House on Thursday, but the proposed reductions in test, trace and isolate will remove the UK's ability to manage outbreaks swiftly, during which time others will catch and pass on Covid.
When we drive into our towns and cities, we rely on local authorities to set up traffic systems, including traffic lights, to help to guide us on safe journeys, regulate movement and reduce harm and damage. But it is as if "freedom day" is getting rid of all our traffic lights.
Proportionate responses are needed, and these include face masks. Early last year, even the WHO was equivocal on the use of face masks but, as the world became aware that this is a respiratory disease passed on through droplets, most countries moved to face mask mandates. On 19 July we switch to rules that make it only the responsibility of individuals. Thankfully, most people have taken that responsibility seriously, but not everyone has. That is important because, despite what the Minister said in response to my question yesterday about the clinically extremely vulnerable, there is no direct reference to the CEV in this Statement—unless he meant the passing reference to them being part of the priority group that will get the third jab. They need to know where they stand. There is no new advice, just the burning of the remaining rules that keep them safe.
I'm including part of Lord Bethell's reply, because I have not covered the Lords as much as I have the Commons:
I have four children—who are vectors of infection, to put it politely—and I attend a large number of business meetings, including here in the House, and I regard myself as a high-risk candidate for carrying the disease.
I have never caught it myself and I have been vaccinated but when I sit on a Tube train I wear my mask, not to protect myself but to protect the person next to me. That is my personal assessment and my personal decision. That is the spirit in which we are inviting people to step forward and make their own decisions and to be considerate to each other.
We cannot have laws on all these matters for the rest of time. At some point we have to ask the country to step up and take responsibility and to have personal agency in these decisions. If we do not put that challenge to the country in the summer months, when our hospitals are relatively safe and the virus has the right conditions, when will we be able to make those decisions?
Lord Campbell-Savours (Lab) put forward a case for the vulnerable, a tiny proportion of the English population:
My Lords, is it not obvious that if you reduce mask wearing on public transport and in public places, those who believe they are more exposed to the virus will then reduce their use of public transport and avoid public places? People who are fearful of more liberated environments will avoid them, leading to a slowdown in the return to work that the Government want. Indeed, it is the reverse of what the Government want. Why remove those restrictions that offer the only way of securing public confidence in the new regime that is being proposed?
Lord Bethell replied:
I applaud the noble Lord for his advocacy of mask wearing, but of course this issue cuts both ways. He is right that we need to build back trust in sharing space with one another, but I am not sure that mandatory mask wearing either builds trust or erodes it. If we give people the impression that wearing masks is somehow a panacea that protects everyone on a tube train or in a lift, that is a false impression. Masks are not a panacea. In fact, for some people, they can be a source of grave concern and be enough to send them back home to seek safety. I take the noble Lord's point that we have to be clear about this, but I am not sure that mandatory mask wearing, or even ubiquitous mask wearing, is either a universal antidote to the spread of the disease or necessarily builds trust in the manner he describes.
Baroness Tyler of Enfield (Lib Dem) spoke next:
My Lords, continuing on this theme: "masks work" is the clear message from Public Health England. Both Sir Patrick Vallance and Professor Chris Whitty have said that they will continue to wear a mask in crowded indoor spaces, primarily because it protects others. Critically, it does not hold back the opening up of the economy, but rather provides a safeguard as social distancing rules are relaxed. Can the Minister tell me why there is so little in the Statement about our social responsibility to others, including front-line transport and shop workers, and the clinically extremely vulnerable? In this scrapping of masks, we are condemning millions with poor immune systems to be trapped in their homes, too afraid to go to the shops or their workplace or to use public transport.
Lord Bethell responded, saying that people who are ill should stay at home:
Since this is the second question on masks, I hope the noble Baroness will not mind if I go off on a tangent. Masks do work a bit; they are not a panacea. What is really important is that when you are ill, you stay at home. That is the big behavioural change that will make a big difference in the year to come. That is where Britain has got it wrong in the past. Too often we have put our workmates, fellow travellers and school friends at risk by heroically going into crowded indoor places and coughing all over them. I hope that is one habit that will stop and that that will be a legacy of this awful pandemic.
Baroness Donaghy (Lab) said that not enough people were being penalised for ignoring the mask mandate:
My Lords, one person's choice is another's imposition. Even when mask wearing was mandatory on the tube, some broke the law and there was no policing. So-called choice will cause conflict and confusion. Can the Minister assure me that the Government are not reverting to type and their original herd immunity policy based not on the science but on "let us see how it falls"? Although he does not accept any deaths, as he said, what assessment has been made of the impact of this new policy on death rates and long Covid rates?
Lord Bethell countered, saying that a lot of fines had been issued:
My Lords, I do not have the figures to hand, but I reassure the noble Baroness that the policy on masks was very diligently imposed and a large number of people did get fined. We have to ask ourselves as a society whether we really want to live in a country where simple behavioural habits, such as wearing a mask or not, make you susceptible to arrest or fines. That is a very uncomfortable place for a country to find itself. The noble Baroness is right: that does introduce ambiguity, but we are sophisticated people and can live with a degree of ambiguity. We need to learn how to live not only with this disease but with each other. The dilemma that the noble Baroness points out is one that we will all have to debate, understand and learn to live with. We are not in any way letting this disease get on top of us. We are fighting it through the vaccine, we are supporting the vaccine with test and trace, and we have a tough borders measure. We are taking the battle to the virus and will continue to do so.
Only one Conservative peer spoke out in favour of masks, Lord Bellingham, who said:
My Lords, as a strong supporter of the Government's policy on the coronavirus, I was nevertheless critical of them being very slow to enunciate a clear policy on masks over a year ago—so I have a lot of sympathy with those noble Lords who have expressed concern about the imminent lifting of compulsion regarding masks. Surely one possible compromise might be to keep masks where you have passengers on public transport sitting or standing next to each other?
Lord Bethell replied, saying that it would be up to local councils and transport companies, rather than the Government:
My Lords, I hear my noble friend's words loud and clear. The Government have indicated that we will leave it to those who run the transport systems themselves and to local politicians. There is a good case for a degree of devolvement and subsidiarity in this matter. He is right that masks do perform an important role, but they are not a catch-all, and it is therefore reasonable to leave those who run the transport systems to make decisions for themselves.
Thursday, July 8
On Thursday, July 8, another debate on the Government's new coronavirus strategy took place.
Once again, Baroness Thornton (Lab) had a lot to say. With regard to masks, she mentioned the tiny minority of people living in England with poor health:
Does the Minister appreciate that those who are immunocompromised or for whom the vaccine is less effective will have their freedoms curtailed by ditching masks on public transport? Blood Cancer UK warned yesterday that people with blood cancer will feel that their freedoms have been taken away from them.
Baroness Brinton (Lib Dem) followed her. She was horrified by what she saw on television following the England-Denmark match:
Wonderful as yesterday's England victory was, the sight of 60,000 fans walking down Wembley Way in very close proximity with hardly a mask in sight was concerning. As with the England-Scotland match, we must expect a surge in cases. Yesterday, the BBC asked Dr Mike Ryan of the World Health Organization about the UK proposals to lift all restrictions on 19 July. He replied:
"The logic of more people being infected is better is, I think, logic that has proven its moral emptiness and epidemiological stupidity".
The letter in today's Lancet from 100 senior medics and scientists echoes the WHO view. What are the Government doing to explain to the experts why their strategy is safe? …

Last night, Sebastian Payne of the Financial Times reported the re-election of Sir Graham Brady MP as chairman of the 1922 committee, and tweeted:
"Brady's re-election is … a reminder of why Johnson is dropping masks and nearly all other … restrictions on July 19: ministers privately say the government no longer had the … votes to keep the measures in place. Relying on Labour would have been … difficult for the PM."
Are the Prime Minister and the so-called Covid Recovery Group now putting health and lives at risk for their own principles?
Lord Bethell replied, saying that it was better to reopen England now rather than wait until autumn or winter, when the NHS would be under pressure:
… the noble Baroness, Lady Thornton, half-answered her own question, because she is entirely right: we need to focus on getting the NHS back to speed in order to address the very long waiting lists and to get elective surgery back on track. It is very difficult to find an answer to the question, "If not now, when?" That has been tackled by the CMO and a great number of people. It must surely be right that we take the inevitable risks of restarting the economy and getting people back to their normal lives at the moment of minimum risk from the virus, which has to be in the middle of summer. Assessing those risks precisely is incredibly complex. Impact assessments of the kind that we would normally associate with legislation are the product of months of analysis. They often identify one relatively straightforward and simple policy measure. We are talking here about a machine of a great many moving parts.
I cannot guarantee that any model anywhere could give us accurate projections of the exact impact of what is going to happen this summer. We are, to a certain extent, walking into the unknown: the Prime Minister made that extremely clear in his Statement. As such, we are ready to change and tweak our policy wherever necessary in reaction to events. However, what we know very well now on the basis of our assessment of the data, and because of the pause we put in place to give ourselves breathing time to assess and additional time to roll out the vaccinations, is that that direct correlation between the infection rate and severe disease, hospitalisation and death has massively diminished. There is a relationship, but it is a fraction of what it used to be.
We can therefore look at a period where those who are at extremely low risk of any severe disease may see an increase in the infection rate, because we know that those in the highest-risk groups have been protected by two doses of the vaccine, and two weeks, and because we are working incredibly hard to get as many in the high-risk groups vaccinated as possible—half a million a day—and to roll out the vaccine to younger cohorts. That is the balance. I cannot deal in certainty here, because certainty does not exist. Balance is key, and I believe the balance we have here is the right one.
A Cross-bencher, Baroness Bull, cited the editor-in-chief of The Lancet — another leftist, as we saw last summer — which called the Government's new policy 'libertarian':
My Lords, 120 scientists have written to the Lancet and today come together in an emergency summit to ask the Government to rethink their plans. The editor in chief warned against
"a plan driven more by libertarian ideology than prudent interpretation of the data"
and called for continued mask-wearing, distancing and increased vaccine coverage. A YouGov survey found that two-thirds of people want to continue with masks and an ALVA survey found that three-quarters of people did. So why have the Government decided to end this simple yet effective measure? It costs the economy nothing, but it would be life-changing for the clinically extremely vulnerable, who will be forced back into lockdown by this shift from a public health approach to so-called personal responsibility.
Lord Bethell said that the policy was not at all 'libertarian':
I am always grateful for the challenge of medics in the Lancet and elsewhere. I would like to reassure them that this is not a question of libertarian ideology but a question of assessing the risks faced by the country. We have discussed masks several times in the Chamber. I would like to reassure the noble Baroness that masks simply are not a panacea; were the whole country to wear masks for the rest of their lives, we would still have pandemics because they offer only marginal protection.
One peer voiced his disapproval:
Nonsense!
Lord Bethell replied:
I am afraid we cannot have in place laws on the intimate practicalities of people's lives for the long term. We do not have a law on sneezing. I would not think of sneezing in the presence of noble Lords, but I do not accept that I should be given a fine for doing so.
I'll leave it at that.
Conclusion
It is abundantly clear, with only one Conservative peer speaking in favour of masks and many Left-leaning MPs and peers supporting continued muzzling, that they do not trust the general public — the great unwashed who pay their salaries.
We, the great unwashed, however, do have the brains, the intellect and the discernment to think for ourselves and do the right thing.
If that is libertarianism, count me in.
This week, Prime Minister Boris Johnson postponed Freedom Day from June 21 to July 19, 2021.
Although a vote on this passed comfortably on Wednesday, June 16 — 489 to 60 — the number of rebel MPs, mostly Conservative, increased compared with previous votes on coronavirus restrictions. This page shows who voted No.
Boris and Matt Hancock might want to rethink their dependence on the lefty scientists of SAGE, but will they?
SAGE are effectively running this nation … into the ground.
Chesham & Amersham by-election upset
In addition, on Thursday, June 17, the Conservatives lost a by-election in Chesham & Amersham in leafy Buckinghamshire, not far from London. It had been a safe Conservative seat since the 1970s. A journalist from the Financial Times tweeted that he was sure they would win it once again:
In reality, it was a hat made out of fabric. Jim Pickard took three small bites of it, washed down with water. Sensible, as it could have been made in the world's largest manufacturing country (no prizes for guessing correctly). H/T Guido Fawkes:
Now they have a Liberal Democrat MP, the lady pictured below standing next to party leader Ed Davey MP. The reply to the tweet blames the win on local opposition to a high speed railway (HS2) and to extending lockdown:
However, the Lib Dems never really opposed HS2:
The by-election took place because Dame Cheryl Gillan MP died on April 4. Despite a long term illness, she was an active participant in parliamentary debates until the end.
According to a Guido Fawkes reader, this was the vote tally on Thursday compared with 2019's general election:
2019 results:
Conservative 30,850
Lib Dems 14,627
Labour 7,166
2021 Votes:
Conservative 13,489
Lib Dems 21,517
Labour 622
The only consolation is that the Labour vote sank like a stone:
Coronavirus cases rise in Cornwall after G7 summit
The virus lives and is on the rise in Cornwall:
In addition to the G7 and half term, another factor could be the warm weather last Sunday, attracting people to beaches.
Guido Fawkes has maps and the figures (emphasis in the original):
Last week, both St. Ives and the Carbis Bay area had two positive cases respectively. Now, St. Ives has 36 cases, and Carbis Bay has 15. That's a 1,700% increase in the former, and a 650% rise in the latter…
One of Guido's readers replied that a hotel and university are responsible (emphases mine below):
Tosh. The rise in St Ives/Carbis Bay happened before G7 kicked off and was down to the staff in one hotel and is linked back to the plastic University at the top of Penryn.
Cases, however, are only positive tests. Not all should require hospitalisation.
Wednesday's vote in Parliament
On Wednesday, June 16, Matt Hancock opened the debate on coronaivirus restrictions in the House of Commons.
He said, in part:
Thanks to the protection of the vaccination programme, huge advances in treatments like dexamethasone, which was discovered a year ago today, and the resolve of the British people in following the rules that this House has laid down, we have been able to take the first three steps on our road map, removing restrictions and restoring colour to the nation, but we have always said that we would take each step at a time and look at the data and our four tests before deciding whether to proceed. The regulations before the House today put into effect our decision to pause step 4 on our roadmap until 19 July. Before outlining the regulations that will put this into effect, I would like to set out why we made this difficult but essential decision.
Unfortunately, there has been a significant change since we started on our journey down the road map in February. A new variant has given the virus extra legs, both because it spreads more easily and because there is some evidence that the risk of hospitalisation is higher than for the alpha variant, which was, of course, previously dominant in this country. The delta variant now accounts for 96% of new cases. The number of cases is rising and hospitalisations are starting to rise, too—they are up 48% over the past week. The number of deaths in England is thankfully not rising and remains very low, but, as I told the House on Monday, we do not yet know the extent to which the link between hospitalisations and deaths has been broken, so we propose to give the NHS a few more crucial weeks to get those remaining jabs into the arms of those who need them.
Mark Harper (Con) intervened:
Can I just ask my right hon. Friend what we expect to achieve in the four weeks? I think I am right in saying that there are 1.3 million people in priority groups one to nine who have yet to have a second dose of the vaccination. The good point is that that means we have vaccinated 96% of people in those groups, but I just wonder—after four weeks, I doubt that we will get to 100%, so there will still be a significant number of people in those groups not vaccinated with two doses, and at that point, there is still going to be some risk. My worry, and the worry of others, is that we are going to get to this point in four weeks' time and we will just be back here all over again extending the restrictions. That is what we are concerned about.
Hancock said he was sure that four weeks would be sufficient. He's said that before.
Steve Baker (Con) also intervened:
Is not the problem with the two-week checkpoint that it creates another moment of hope for people who still feel even these restrictions very acutely, and that if we create hope and then shift the goalposts again, people will continue to deepen their despair? What will he say to those people?
Hancock said the public understood the reasons for the delay.
After Hancock finished speaking, it was the turn of the Shadow Health Secretary Jonathan Ashworth (Lab) to respond.
Ashworth largely agreed with the Government's extension to Freedom Day, but he rightly posed questions, such as this one:
Will we continue wearing masks?
At which point, Desmond Swayne (Con), who wears a silk scarf instead of a mask, shouted:
No!
Steve Brine (Con), former Public Health minister, intervened, recalling a bad flu year:
The right hon. Gentleman is right: we had a battle royal with influenza in the first year that I was in the job, but the difference was that we did not have any non-pharmaceutical interventions. Our interventions were about the take-up of the vaccine—yes, for children as well as for adults, especially the vulnerable. One of our chief advisers, the deputy chief medical officer then, one Professor Chris Whitty, never suggested masks, let alone closing schools—just a really good roll-out of the flu vaccine. We lost 22,000 people that year. Never were those numbers rolled on BBC News; never did we know the R number, but there was a point where we accepted an element of risk in society. I guess that was the point of my earlier intervention on the hon. Gentleman: what element of risk is he prepared to accept? Because that is what it comes down to—our own mortality is part of the human condition.
Ashworth replied, in part:
I do not want to see it done by some of the wider restrictions and lockdowns that we have heard about. That is why I would be interested to know whether the Department has developed plans for restrictions this winter and whether the Secretary of State has been discussing that with Whitehall colleagues.
Mark Harper intervened again:
On the point about the restrictions, I know that those discussions are going on because I have seen documents from within Government with very detailed suggestions about what measures may continue. I asked the Secretary of State about this when he was in the Commons earlier this week, and he did not rule out bringing in restrictions this winter. That is partly why some Conservative Members are very concerned and why we are not going to vote for these regulations today. However, I want to take the right hon. Gentleman back to his comments on what Chris Hopson said about the fact that the NHS is very busy at the moment. There is a danger here. I am very sympathetic to colleagues who work in the NHS, who have done a fantastic job, but we cannot get to a point where we restrict and manage society in order to manage NHS waiting lists. That is not the right way round. The NHS is there to serve society. If we need to enable it to do that, we have to think of a way of doing it other than putting restrictions on the rest of society. That is not a sustainable or a desirable position, but it is the logical consequence of what Chris Hopson was saying earlier this month.
Here's the video, which begins with Ashworth sitting down to give way to Harper:
Ashworth replied, beginning with this:
Even though we will find ourselves in different Lobbies this evening, I think there is more in common between us than perhaps one might expect. I do not want restrictions to remain in place for any longer than they need to. I want to move to a system where we are trying to push down covid infection rates by, yes, rolling out vaccination as far and as fast as possible to everybody, but also putting in place the proper framework so that those who are ill or a contact of someone who has been ill with covid is able to isolate themselves.
He took more interventions from Conservative MPs, then concluded:
The House is being asked to extend these restrictions, but there are a number of pressing issues. First, many of us have been contacted by business people in our constituencies who are deeply concerned about the extension of these restrictions. For my constituency in Leicester, which has been living under a form of restrictions more severe than other parts of the country, other than perhaps parts of Greater Manchester, this has been particularly devastating. I hope that the Government will be putting in place full support for businesses such as mine in Leicester and Greater Manchester and elsewhere.
The second issue, which we have touched on a little bit, is whether these restrictions will ever end, or whether the Prime Minister has trapped us in Hotel California, where we can never leave. He has talked about 19 July as the terminus date, but the explanatory notes themselves say that the four tests will apply on 19 July, and that these four weeks will be used to gather more data.
Hancock said later on that July 19 is still the terminus date and that data would be examined in two weeks' time.
The general debate took off from there, with Sir Desmond Swayne (Con), the original rebel, the first to speak. He criticised SAGE and one of its members, Susan Michie, the Communist:
I never believed that it was proportionate, even from the outset, for Ministers to take such liberties with our liberty. I always thought that it was wrong for them to take our freedoms, even though they believed that they were acting in our best interests in an emergency, but by any measure that emergency has now passed and yet freedoms are still withheld and the Government will not allow us to assess for ourselves the risks that we are prepared to encounter in our ordinary, everyday lives. The Government do not trust the people whom they govern.
Many members of SAGE—a misnomer if ever there was one—have been out busily undermining public morale. One of them even shared her dystopian vision that we must all remain masked and distanced in perpetuity—a shocking, horrible prospect. The fact is that once the consequences of this virus in terms of their financial and health impacts have long been addressed, the moral impact will remain. The Government have set a disastrous precedent in terms of the future of liberty on these islands. I could understand it if we were a communist party, but this is the party that inherited the true wisdom of the Whig tradition. This is the party of Margaret Thatcher, who said that liberty was indivisible. This is the party that only recently elected a leader whom we believed was a libertarian. There is much on which we are going to have to reflect.
Here is the video of his remarks:
Smoking also came up in the debate:
Sir Charles Walker (Con), another early rebel, spoke. He wants a reform of SAGE. Excerpts follow:
I wish to try to be constructive about how we can improve SAGE. As you know, Mr Deputy Speaker, SAGE has huge power over our lives. It has power over whom we hug and hold. It has power over which businesses open and which businesses close. In essence, it has power over who keeps their job and who loses their job. We, too, in this place have great power, but our power is matched by accountability.
Accountability is very important in the exercising of power, so I want to suggest some reforms to SAGE—some quite technical reforms. First, there is a need for greater financial transparency from members of SAGE in line with that expected of Members of Parliament. For example, I think when we look at SAGE members, we should be able to see what their annual income is—not only from their substantive job, but from their pensions accrued or the pensions they might well be in receipt of. This is something that is freely available for all Members of Parliament. I think we should also know and constituents should know if they have any significant shareholdings in companies, in the same way that our constituents know if we have significant shareholdings in companies. We could also look at whether they get other forms of income—from rent, for example …
… in the case of young people, many SAGE experts say that young people should be working from home. We know that young people are now tied to their small kitchen table or in their bedroom in miserable environments—the new dark satanic mills—and working endless hours in appalling circumstances, because people with nice gardens and comfortable homes think that is what they should be doing.
There should also be far greater personal accountability. There should be no more, "Here is Sir Mark Walport—of SAGE, but here in a personal capacity". Nonsense! He is there because he is a member of SAGE. We should also have elections to SAGE, so we could see Sir Mark Walport, Professor Susan Michie, John Edmunds and regular talking heads in our TV studios challenged by people with a different perspective—people such as Professor Karol Sikora, Professor Paul Dolan, who is an expert on human behaviour and quality of life, and Professor Ellen Townsend, who has a huge interest in the welfare of children and adolescents who are now being plagued by anxiety and eating disorders …
So here it is: full financial disclosure from members of SAGE and full elections, or they advise the Government, and if they do not want to do that, but want to advise TV studios, they do that, but they do not do both.
Here is the video of his speech in full:
Graham Stringer (Lab), also a rebel, spoke next. He rightly said that MPs do not have enough scientific data to make an informed decision about restrictions. Excerpts follow:
As ever, it is an honour to follow the hon. Member for Broxbourne (Sir Charles Walker). On his interesting point about SAGE, we could do with full disclosure from the Government about all the facts that they have available to them on covid. In the Science and Technology Committee this morning, we were told that vaccinations have saved 14,000 lives. I have no doubt that that is an accurate figure, but there are many figures that have not been given. As we said the last time we debated this issue, only one side of the equation is given. Let me ask this question: how many lives have been lost in order to save capacity in the NHS? When it comes to looking at people untested and untreated for cancer, heart disease and other diseases, we will find that the figures are of a similar, if not greater, magnitude than the number of people who have died from covid …
There is a great deal more information that we require in order to make a rational decision about whether the lockdown should continue. I agree with the right hon. Member for New Forest West (Sir Desmond Swayne) that what we have here is the Government asking for emergency powers when there is no longer an emergency …
The Government have refused on a number of occasions to give out that information. They have run a campaign to scare people into accepting their decisions …
One of the things that has annoyed me most in the last 15 months is when the Prime Minister and the Secretary of State for Health and Social Care say, "We instruct you"—meaning the population—"to do various things," when there is nothing in the legislation that would give the Secretary of State or the Prime Minister the ability to instruct individuals. We live in a liberal democracy in which we pass laws that are enforced by the police, and then the courts make a decision if there is a prosecution, not one in which the Secretary of State acts like some kind of uniformed Minister of the Interior.
I will vote against the regulations today. We need a more direct debate on the issue and we need what Members have searched for—a straightforward comparison, with real statistics, of what risks everybody faces.
Steve Baker (Con) agreed with Mark Harper about society and the NHS:
I refer the House to the declarations that I have made relating to the Covid Recovery Group.
No one can deny the brilliance of the Government's—the NHS's—vaccination programme. By mid-April, the over-50s and the vulnerable had had their first vaccination, and overwhelmingly they have now had their second. That is reflected in the Office for National Statistics antibody data, which shows extraordinary levels for anyone over 50. Antibodies are there in that population, which is vulnerable to the disease.
That brings me to the best case that the Government could make for the regulations before the House, which is that the ability of the NHS to provide other healthcare could be compromised by admissions from a younger population, because a small percentage of a big number is still a big number. But the huge problem with that is that it concedes the point that our liberties can be used to manage the capacity of the NHS. I cannot concede that. As my right hon. Friend the Member for Forest of Dean (Mr Harper) said, that is not the way in which we should be going as a society. If the restrictions that we are extending had been proposed for that purpose in the past, we would never have accepted them.
In Wycombe, people have of course been dutifully washing their hands, covering their faces and keeping social distancing rules, yet early in this pandemic, I remember one dear, sweet, older lady was beside herself with anxiety at the thought of having to go about her ordinary life with her face covered, and look at us now, taking it for granted. This is not normal. This is the dystopia that I stood here and forecast on the day we went into lockdown …
One of the most important things that we have learned from Mr Cummings' leaked WhatsApp messages is that it seems that the Government have been significantly influenced by polling. I fear we have had a real doom loop here between polling and policy making, which has driven us into a disastrous position. We now must not tolerate lockdowns being perpetually on the table. We must not tolerate a situation going on where we and the police are unclear about what the law is and how it should be applied. Imagine that you can hug but not dance—what madness is this? We cannot tolerate a situation any more in which a Government social scientist told the author of the book "A State of Fear" that the Government had used unethical techniques of behavioural science to deliver a policy which he said, in his own words, "smacks of totalitarianism".
We have transformed this society for the worst. We have it put in place a culture and habits that will take years to shake off and that distance people from one another and diminish their quality of life and the quality of relationships that they have with one another. High streets are in danger of becoming haunted alleyways. We are in danger of hollowing out and destroying the entertainment industry—much of what makes life worth living. Today's vote will go through—it is a foregone conclusion—but as my right hon. Friend the Member for New Forest West (Sir Desmond Swayne) implied, if the Conservative party does not stand for freedom under the rule of law, in my view, it stands for nothing. We have got to have a turning point. We have got to recapture a spirit of freedom.
Mark Harper spoke later on, at which point the Labour benches were empty. It is important for Britons reading this post to look at what he has uncovered. The Government continue to be dishonest not only with MPs but also the public:
Well said!
Please also note the following about winter. Meanwhile, Democrat-run New York and California are now open:
May our merciful God help the UK out of this unholy mess.
Continuing on Scotland's upcoming election, I have been astonished by some of the articles and social media messages appearing north of the border.
Scottish women — and sensible Scotsmen — are increasingly concerned by the encroaching activism of a small minority of Scots with regard to certain aspects of gender recognition, including self-identification.
The SNP do not seem to care, and no one knows how the new Hate Crime legislation will work against anyone who is worried about a man wandering into a ladies' room or a women's changing room.
In a guest post for Wings Over Scotland on March 31, 2021, Margaret Lynch a long-time activist, first for Labour, then for the SNP and now for the Alba Party, wrote about the topic in 'Why women want Alba' (emphases mine):
The inability of the SNP leadership to accept the simple distinction between sex and gender has led them into very troubled waters and has done real harm. It has led to vulnerable women in prisons being subjected to sexual assault by men who "identify" as women, to a local authority adopting a "gender neutral" approach to domestic violence which saw funding removed from Women's Aid groups because they refused to admit men to refuges or work with perpetrators.
Lastly and perhaps most ludicrously it's seen a situation arise where crossdressers – but not real women – are protected by a Hate Crimes Bill which omits misogyny from the list of prejudices it seeks to prohibit.
The response of the SNP leadership to those women who did try and constructively engage within the SNP around these issues was genuinely shocking. They stood by and watched prominent female SNP elected representatives be hounded and abused, and said nothing. They colluded in attempts to prevent the selection of gender critical candidates using all manner of chicanery.
Alex Salmond of the new Alba Party has spent the past few years defending his reputation against SNP smears, so there is a certain irony that a man falsely accused of preying on women now appears to be their defender in Scotland, at least where pro-independence parties are concerned:
The irony of Alex Salmond presenting a solution to our problems has not escaped me. Some feminists think this is a bridge too far. But what I know is that Alex Salmond's political survival now depends on him demonstrating at all times and to all people that he can be trusted in women's company and to defend women's rights.
Nicola [Sturgeon], who I have long admired and liked, has demonstrated over and over again that she CANNOT be trusted to defend women's rights – and in fact would throw them under a bus in a heartbeat to gain the support of the fanatical youth wing of the party, and the Greens who appear to care less about the environment than they do about bedding down Queer Theory in Scotland's political institutions.
What drew me to join Alba was the tactical opportunity it presented:
– to ensure that there's a party which will protect women's rights in Scotland, and provide a safe harbour for those of us who want independence to cast our votes in the coming election without betraying our sex.
– to act as a countermeasure to the malign forces which have propelled the SNP leadership towards an agenda which is dismantling women's rights, to speak out on the matters which affect us, and to retain safe spaces and representation.
That same day, Wings Over Scotland featured another guest post by a former SNP member, Morag Kerr, who explains why she has cancelled her party membership. Her article is called 'To the National Secretary'. Excerpts follow:
During the first 25 years of my membership I made many friends and had many wonderful experiences. I never imagined for a moment that I would leave the party before independence day.
However the past four years have been an entirely different experience and that time has now come. I cannot remain a member of the SNP for the following reasons.
1. Lack of any progress towards independence since 2015, including the lack of preparation of the infrastructure that will be needed by an independent country.
2. Failure to capitalise on the very real opportunities which arose between 2016 and 2019 in the run-up to Brexit.
3. The explicit ruling-out of viable routes to independence, and the imposition of conditions which would stand in the way of viable routes to independence.
4. The insulting dangling of "vote SNP for a new indyref" when an election was at hand, followed by the inevitable kick into the long grass soon afterwards.
5. The lack of rebuttal of unionist attacks and talking-points, combined with currying favour with the unionist mainstream media while attacking and indeed monstering pro-independence online media. The donation of a substantial sum of public money to prop up the Unionist print press was absolutely inexplicable.
6. The fitting-up of Alex Salmond on false allegations of sexual assault intended to prevent his returning to politics to do something about points 1 to 5 …
9. The appalling Hate Crime Bill which will criminalise simple disagreement if someone simply chooses to take offence at it, and the exclusion of women as a protected category while including men in drag on their way to a stag night.
(I can't believe I'm even writing that, and [Justice Secretary] Humza Yusuf's sneering jibe that a woman would be protected in the event she were mistaken for a transwoman was simply the last straw.) …
13. The rewriting of the rules with the obvious express purpose of preventing Joanna Cherry from being considered as a candidate in the Holyrood election …
20. Promotion of highly unsuitable sex education material to young children.
On April 6, an Edinburgh blogger, Calton Jock — hardly a political conservative — wrote about the close alliance between certain gender/lifestyle identity organisations and the Scottish government:
LGBT Youth Scotland was formerly called the Stonewall Youth Project and is mainly funded by the state (in other words us), with over 75% its annual income coming from the Scottish Government, local councils and the National Health Service. (Scottish schools to get updated guidance on supporting transgender pupils).
Bear in mind that the co-founder of Stonewall, Simon Fanshawe, broke away from the organisation and condemned its "extreme" position on transgender rights. Yet we have the Scottish Government determined to change the Gender Reform Act (GRA) and to continue to permit children to be given permanently damaging puberty blockers, despite a ruling in the English courts that this has to stop. (Letters to the Times) …
The Scottish Government and opposition parties have agreed to continue talks about freedom of expression elements of the hate crime bill.
It follows concern about the impact of some of the amendments proposed to the legislation on the transgender community.
The Justice Committee considered stage two amendments to the Hate Crime and Public Order (Scotland) Bill'.
Justice Secretary Humza Yousaf had originally proposed an amendment seeking to protect "discussion or criticism of matters relating to transgender identity", provided the behaviour was not threatening or abusive …
People are questioning the influence of "Stonewall" on Scotland's civil service after it emerged that controversial policies have been introduced in alignment with Stonewall's political aims. These include a compulsory "Diversity Objective" for all staff to make the Scottish Government "a more diverse and inclusive place to work", training on "intersectionality" and "unconscious bias", and the use of gender-neutral language. The Civil Service is also included on Stonewall's "Diversity Champions Index" …
The Deputy Director for Public Affairs at The Christian Institute said:
"The extent of Stonewall's influence on the Civil Service is alarming, particularly given the controversial nature of some of its political aims. Stonewall's stance on trans issues is strongly opposed by women's organisations, medics and faith groups. Yet, the Civil Service appears to endorse it wholesale. How does this fit with the Service's duty to remain politically impartial? Staff are encouraged to attend training sessions on "intersectionality" and "unconscious bias". These controversial ideas are disputed in wider society. So it's concerning that they are written into the training schedule for Civil Service employees. The compulsory "Diversity Objective" also raises questions. What happens to staff members who hold religious beliefs which differ from those championed by Stonewall? Are they marked down? This could constitute direct discrimination on the grounds of religious belief."
Gender identity activism also affects the Liberal Democrats as Calton Jock explained in an April 6 post, 'The Threat to Women is a Real and Present Danger'. He discovered that this goes back to 2019 when then-party leader Jo Swinson put gender identity into the party manifesto before the general election that December. To think that most of us saw her — and her party's candidates — as being anti-Brexit. No, there was much more.
Calton Jock has an image of one of Swinson's tweets before the election. It reads, in part:
Introduce an 'X' gender option on passports and extend equality law to cover gender identity and expression …
Thank goodness she lost her seat as an MP. So did many other Lib Dems. There are only 11 of them now in the House of Commons.
Calton Jock explains why the Lib Dems have these policies:
Assisting their efforts with donations exceeding £1.3million, is Ferring Pharmaceuticals a company that markets drugs used in gender-identity clinics to delay puberty.
The party has already upset feminists, who worry that the "extreme trans-ideological" policies in its manifesto will put vulnerable women at risk.
The company is owned by the Swedish billionaire Frederik Paulsen and markets the drug, which is used to block puberty among adolescents.
The Lib Dem manifesto pledges "complete reform of the Gender Recognition Act to remove the requirement for medical reports, scrapping fees and recognition of non-binary gender identities" …
A Drugs company owned by a Swedish billionaire philanthopist and explorer, who is an honorary Russian consul and lives in Switzerland, has given nearly £500k to the Liberal Democrats.
Frederik Paulsen, who lives in Lausanne, is worth an estimated £3bn and owns Ferring Pharmaceuticals. The company is ultimately controlled from Curacao, a Caribbean tax haven.
Electoral Commission records show that the British arm of the company, based in West Drayton, west London, gave four donations to the Liberal Democrats between December 2013 and June 2014. Three of them exceeded £100,000.
The British arm of Ferring Pharmaceuticals was set up in 1975. Ferring said the company had made the donations because it supported Liberal Democrats policy on Europe. (Sunday Times)
Comment: And the Lib/Dems had the hard neck to criticise Alex Salmond for broadcasting his show on RT!!!
Paulsen was personally awarded an "Order of Friendship" medal by Putin himself. The Vlad acolyte who has poured huge amounts of cash into Russia, was given the gong by the Russian Foreign ministry, and is an honorary Russian citizen …
On April 9, an Alba Party member, Denise Findlay, wrote about the lack of political will in standing up for protecting women: 'Life begins on the other side of despair', a guest post on Yours For Scotland.
An excerpt follows:
It has been a hard few years for the women who support Scottish independence. The women have endured vicious bullying, name calling, doxing and rape threats simply for trying to stand up for their rights. All from those who are meant to on the same side in the independence debate. Women have now struggled for years against their own party and movement. Many honourable men have joined the debate giving women their support but still truckloads of abuse are heaped on the women's heads every day.
Women's concerns have not been heard. All parties in the Scottish Parliament are signed up in varying degrees to gender ideology.
The Greens and LibDems are irretrievably anti-women in hock to an ideology which is dangerous to the health and well being of women and girls. Andy Wightman resigned from the Greens due to their intolerance of any discussion of women's rights claiming party leader Patrick Harvie is captured by Queer Theory.
Labour is unfortunately losing three MSPs who actually backed women; Johann Lamont, Jenny Marra and Elaine Smith and Anas Sarwar the new Labour leader is unwilling to take on the gender ideologues within his own party.
The Conservatives although they voted against the Hate Crimes Bill that was because of its general infringement of the right to freedom of expression and it is a sad day when it is the Conservatives who are our only slim hope.
The SNP leadership is fully signed up to the gender ideology and have a number of policies that are dangerous to women.
Just before recess the Scottish Parliament passed the Hate Crimes Bill (HCB). This bill does not give protection to women who as a sex have been ignored by this bill. A man dressed as a woman has more protection against hate than a woman. But it does pose significant danger and risk to women.
The bill introduces a new offence of 'stirring up hatred' which requires that behaviour must be judged "abusive or threatening" by a "reasonable" person.
Define 'Reasonable' when using the word 'female' can be judged transphobic. When our own justice secretary can't say if there are two sexes and a judge in England ruled that belief in two sexes was 'not worthy of respect in a democratic society'. When many women's accounts have been suspended or banned from social media for stating biological fact.
During the passage of the bill amendments that would have given women a small measure of protection, were withdrawn due to an outcry by the trans lobby.
There is little doubt that women arguing on the basis of sex will be reported to the police, this coupled with doubts over the independence of the crown office will have a chilling effect of women's freedom of expression.
One would have thought that, with all the equality legislation in the UK, including Scotland, these issues should not have arisen. But, no. Things have become worse:
In the new parliament the SNP intends to reform the Gender Recognition Act (GRA) which would allow a man to legally change his sex to female purely on his own say-so. The GRA was introduced prior to same sex marriage, it was to allow people who suffer from gender dysphoria – which at that time was a mental illness – and have changed their bodies to legally become the opposite sex in order to marry.
At the time it was understood that it impacted women's rights because women's sex-based rights are necessarily exclusive as they exclude males. But the European Court of Human Rights decided that the numbers were so small women could just accommodate them.
Over time same sex marriage was made legal which negated the original need for a GRA. A further ruling of the European Court of Human Rights meant that people would not have to change their bodies to obtain a GRA and the World Health Organisation (WHO) determined that gender dysphoria was not a mental illness.
This greatly increased the number of men who could claim to be women and the trans umbrella is now large, it includes men with gender dysphoria who have changed their bodies but also cross-dressers, men who have a sexual fetish about being a woman or being accepted as a woman, exhibitionists and men who believe they have a lady brain. As well as the increase in the number of men now considered trans and who feel they are entitled to access women only spaces and services there is also an issue of abuse of the system.
With self-id there is no gate-keeping so this opens it up to the risk of predatory men taking advantage. Male sexual offenders are identifying as women and being housed in women's prisons, this is already happening in Scottish prisons.
The ramifications of self-id for women's sex-based rights are considerable, already mixed sex toilets in schools are causing teenage girls to miss school in particular when they have their period, there are mixed sex changing rooms, mixed sex hospital wards, women's refuges and rape crisis centres. All places where women are vulnerable and predatory men or men indulging their sexual fetishes can take advantage.
Denise Findlay concludes:
The very real prospect of the complete loss of women's rights in Scotland and the risk of a criminal prosecution if we complain.
Then into this hopeless situation strode hope.
Hope in the form of the Alba Party who just might save the rights of Scottish women and girls, while gaining us our independence.
This weekend it is the Alba Party Women's Conference. Women will have a voice. All is not yet lost. We still have Hope.
The Alba Party Women's Conference was held online. It was well attended and watched by hundreds of women in Scotland.
One of the more disturbing revelations from the Women's Conference was news from a guest speaker that gender activists in Scotland want the age of consent lowered to the age of 10.
The Rev. Stuart Campbell of Wings Over Scotland has more on this development in 'The Paedophile Charter':
ILGA World –  the International Lesbian, Gay, Bisexual, Trans and Intersex Association – is an organisation that we hadn't heard of until today. Just over a year ago they released, as part of a 200-member caucus of other groups, something called "The Feminist Declaration". It's a mostly-innocuous document of demands about women's rights, but buried in the middle of it is a very disturbing section.
The section, a screenshot of which is in his post, encourages a de-stigmatisation of adolescent sexuality.
Campbell continues (emphases his):
The World Health Organisation defines "adolescents" as people aged from 10 to 19.
So the only possible interpretation of "end the criminalization of adolescents' sexuality" is a reduction in the age of consent to 10 years old. Indeed, a slightly earlier paragraph of the Declaration is more explicit about it:
"Eliminate all laws and policies that punish or criminalize same-sex intimacy, gender affirmation, abortion, HIV transmission non-disclosure and exposure, or that limit the exercise of bodily autonomy, including laws limiting legal capacity of adolescents, people with disabilities or other groups to provide consent to sex"
While it doesn't go into more detail, one would like to imagine that the intent would be to remove laws limiting capacity for consent only within that age group, ie to make it legal for all adolescents to have sex with each other, rather than to let older people have sex with them. But it doesn't actually say that anywhere.
Even if it did, alert readers will note that that would still make it legal for 19-year-olds to have sex with 10-year-olds, and to put it very mildly that seems a somewhat controversial position.
So who are the organisations signing up to this "feminist" demand under the ILGA umbrella? On its list of member organisations, sure enough, appear the names of LGBT Youth Scotland and Stonewall Scotland.
Just 12 years ago LGBT Youth Scotland was at the centre of Scotland's biggest ever paedophile scandal, with its chief executive James Rennie sentenced to life imprisonment for a string of offences …
It appears that it's entirely true – the SNP are indeed paying lobby groups with your money to try to reduce the age of consent in Scotland to 10.
We wish we could be confident that the danger of that actually happening was only theoretical.
Stonewall Scotland disputed the Wings Over Scotland claims, but Rev. Stuart Campbell stood by his post and responded in 'If it hit you in the eye':
So the only possible thing about adolescent sexuality that could currently be decriminalized in Scotland, England or Wales is the requirement for both of the participants to be at least 16, or at a minimum over 12. Or put more simply, the reduction of the age of consent.
(It offers no alternative definition of the word to the widely-agreed ones already in existence saying it starts at 10.)
And as Stonewall Scotland are (through ILGA) signatories to that declaration, then there is simply no interpretation possible other than that they're calling for a reduction in the age of consent. If they didn't MEAN to do that, they need to withdraw their membership of ILGA, or get ILGA to withdraw its signature from the Declaration, or immediately have the document rewritten to remove that sentence. Because that is unambiguously and unequivocally what it demands.
But notably, they haven't done that. They've just angrily asserted that it doesn't say what it says. That isn't a denial of the material facts, it's a denial of language and a denial of the entire concept of reality.
He returned to the subject in 'What you find under rocks'. He concluded as follows, issuing an important disclaimer (purple highlight mine):
Paedophiles have a long and well-documented history of trying to infiltrate and hijack LGBT groups, and Scotland is no exception. Indeed, it has very disturbing recent history. Observing that fact does not amount to an accusation and it absolutely certainly does NOT imply any intrinsic link between homosexuality and paedophilia. Wings is not aware of any statistical predilection of homosexual people towards paedophilia compared to heterosexual people.
But anyone who reacts with outrage and evasion and deflection to a basic minimum of scrutiny and vigilance about the safeguarding of 10-year-olds (and especially if, as with ILGA and LGBT Youth Scotland, they've had previous and very severe problems with paedophile infiltration) is probably someone over whom there should be rather MORE scrutiny and vigilance, not less.
The prospect of a lower age of consent was also a topic among some Unionists. George Galloway of Scotland's fledgling All For Unity party is a married father of six. On April 11, he tweeted about the possibility of home schooling:
An article from 2020 in Scottish Review discusses Scotland's education curriculum in this regard. Bruce Scott's article, 'The crisis of consent in Scottish schools' is detailed and well worth reading. He made Freedom of Information requests of the Scottish government, which he said were not answered satisfactorily. With regard to faith groups and home schooling he says (emphases mine):
I also enquired what faith groups had been consulted as part of their working group/implementation group (e.g., Muslim, Jewish, Christian, Hindu, etc). So far, it seems that the wide variety of faith groups in Scotland have not been consulted on the Scottish Government's LGBT Inclusive Education proposals.
One thing I have gleamed from my inquiries is that contrary to some reports, the LGBT Inclusive Education in Scotland is not mandatory; parents are within their rights to withdraw their children if they wish. Further, all schools have to implement the LGBT Inclusive Education curriculum in consultation with parents of children at the school and tailor it to their needs. This is not common knowledge. But, and it is a big but, as the LGBT focus is going to be disseminated throughout all aspects of the curriculum, the only option for parents who object to this curriculum would be withdraw their child from the school completely; a fait accompli on the part of the Scottish Government. I predict they will come for those who decide to home school next.
A supporter of gay and lesbian rights also spoke out against a lower age of consent:
She is not wrong. This Twitter thread — which contains photos not to be shared with children or the vulnerable — explains how Scotland arrived where it is today. The gender issue started in 1974 in Edinburgh. Less than 20 years later, ILGA was an international NGO recognised by the United Nations and remains so today. Graham Linehan, creator of several hit sitcoms in the UK, wrote an article based on the Twitter thread: 'If you say so'. Linehan is also deeply concerned about protecting women's and children's rights.
In closing, The Scotsman reported that the speaker at the Alba Party Women's Conference came under fire for discussing the possibility of a lower age of consent (emphases mine):
Responding to a request for comment, an Alba spokesperson said the women's conference was a "great success" and defended Ms Lynch's statement.
They said: "The organisations referenced have both signed up to this demand, and both have received substantial amounts of Government funding. These are reputable organisations that make a positive impact on the lives of many in Scotland.
"If the organisations do not support what they have signed up to it is for them to say or provide clarification, it is not for women that attended our women's conference to defend concerns that women have raised based on fact."
The Alba Party manifesto makes a clear commitment to protecting women's rights (item 8):
One wonders if this situation will have an impact on Scottish voters next Thursday, May 6.