You are currently browsing the tag archive for the 'libertarianism' tag.
My most recent post discussed Liz Truss's commitment to libertarianism and the part she played in her own downfall.
At the end, I mused whether she would still be in office were she a man. Having thought about it some more, I do believe that would have been the case. Truss has better morals than Boris Johnson and more integrity than Rishi Sunak. Furthermore, she is far more trustworthy than our de facto Prime Minister, Chancellor Jeremy Hunt. She has flaws. They have flaws.
It is curious that all of them, men, are given a pass. Truss, an honest woman, was not afforded that opportunity.
Let us look at who was out to finish Liz Truss's premiership.
The media
During the summer Conservative Party leadership campaign, most papers — right and left — came out in favour of Rishi Sunak.
Only the Daily Mail and The Telegraph consistently supported Truss. Truss also saw The Sun as a friendly paper, particularly its political editor Harry Cole.
Broadcast media also largely favoured Sunak. Only GB News supported Truss for the most part.
Why that was is unclear.
One could point to Truss's U-turns, evident as soon as the leadership campaign for Party members' votes started, but most of the media — print and broadcast — were already in the tank for Sunak when Conservative MPs were still voting in July.
On November 16, veteran columnist Andrew Gimson wrote about the media outlets covering Parliament, known as the 'lobby': 'Lobby journalism holds power to account. But it's often cruel, trivial — and unfair'.
Guido Fawkes liked what he had to say:
Gimson's article for ConservativeHome discussed the attacks on other Conservative ministers in Rishi Sunak's Cabinet. Suella Braverman, Home Secretary once again, is one of them and Justice Secretary/Deputy Prime Minister Dominic Raab is another.
Gimson says that journalists find their witch hunts as exhiliarating as blood sports (emphases mine):
Hunting is reckoned to improve the health of the fox population.
That is not, however, why people want to hunt them. They yearn to do so because it is a wonderful, exhilarating sport.
Forget for a moment any impulse to moralise. High-minded theories are all very well. Politics as actually practised is a blood sport.
Dominic Raab, Gavin Williamson and Suella Braverman are or were the most recent quarry, closely preceded by Liz Truss and Kwasi Kwarteng, before which a blond beast rampaged across the political landscape for three years with excited members of the Westminster lobby in close pursuit.
Four of the six were hunted down, while Raab and Braverman have so far (with intermissions) survived, but might at any moment find themselves once more in mortal danger.
The lobby is trained and ready at a moment's notice to follow any scent, no matter how faint, rival correspondents for different newspapers acting as a pack of hounds, each leaping at whichever politician is the hunted animal, drawing blood and emboldening the others to fresh frenzies of aggression …
It is impossible, if one is a lobby correspondent at Westminster, to stand aside from the full-blown crisis which rages, and any case, few experiences are more exhilarating than to be in at the death of a Prime Minister.
Every journalist, indeed everyone in the slightest bit interested in politics, will remember the first time he or she witnessed such a drama: in my case I was lucky enough in November 1990 to be in the Press Gallery to watch the fatal resignation speech delivered by Sir Geoffrey Howe, and 19 days later was in the crammed Committee Corridor on the evening it was announced amid almost unbearable excitement that Margaret Thatcher had fallen four votes – four votes! – short of beating Michael Heseltine by the necessary margin in the first round.
Such crises becomes all-consuming. You surrender yourself to the experience, and nothing else seems to matter. If you are a reporter, your news editor and editor demand constant reports from the front, and you want to distinguish yourself by revealing dramatic new charges, whether solid or flimsy, against the embattled minister, rather than just repeating what your rivals have said.
Such work requires the ruthless expertise to spot in an instant the two or three words in some dreary speech or answer which can be held to constitute a new development. The lobby are brilliant at this: they see the new angle, the incriminating admission, where a normal person would notice nothing.
News becomes an artificial commodity, an esoteric language only comprehensible to highly intelligent and practised correspondents, who translate it into the latest thrilling episode of a story which is intelligible to the dimmest of us, for it is as old as history: will the ruler live or die?
This question of life and death simplifies everything, and lends it a personal flavour. Does one like the look of whichever minister is just then being hunted, and hope he or she will get away? Or would one much rather see him or her bumped off?
The tyranny of the story extends to the comment pages. Leading articles and columns are written for or against the hunted person, most likely against, for it is much easier to write a vivid piece denouncing a politician for being disreputable than to compose a vivid defence.
In order to purify public life, the offending minister must be drummed out of it. Nothing which might serve this noble end is too cruel to be said; too piffling to be taken down and repeated.
Let the victim and his or her family cope as best they can. It would be wrong to spare them the full blast of public disgust. We find ourselves in a primitive world where human sacrifice is demanded; not in a rational one where events can be weighed and assigned their due importance, or unimportance …
There is a deep satisfaction to be derived from getting rid of a Prime Minister, so deep that we have in recent years got rid of three. For a short time, very short in the case of Liz Truss, we allow them to triumph, before restoring equality, for which all democracies have a deep yearning, by dragging them down with brutal abruptness to our own level …
What the lobby does, or helps Conservative politicians to do, is the modern version of an ancient and savage tradition. All else is forgotten while the tribe slays its chief.
And no tribe is better at slaying its chiefs than the Conservative Party.
Afterwards, some enemies of the prey express their empathy for the slain, such as Jenny Murray did for Truss on October 27 in The Mail. Murray's headline read 'I never expected to feel sorry for Liz Truss' and, upon closer inspection, she doesn't really feel sorry at all. She uses the piece to lick her own wounds after retiring from the BBC at the age of 70:
I was not sorry to see her go. Her short time in power was a disaster.
I'd known her professionally for a good few years and had often found her a bit weird with her oddly truncated speech patterns, bizarre facial expressions and apparent lack of emotional intelligence. She was no public speaker and I certainly never saw her as Prime Ministerial material.
In that I was right, but despite her self-serving, unapologetic final speech and her typically arrogant and selfish, 'Well at least I've been Prime Minister!' goodbye, I can't help sympathising with what she has to face next.
As an ordinary constituency MP, she'll join what I have dubbed, from bitter personal experience, the 'Once I Was Hot, But Now I'm Not,' club. I know she'll be asking herself, 'Who am I now?'
It's two years since I left the job that defined me for 33 years. I was Jenni Murray, presenter of Radio 4's Woman's Hour.
It had been my greatest ambition since childhood. I'd presented Newsnight and Today, but the moment I heard the announcer first say on Monday, September 14, 1987, 'And now Woman's Hour, with Jenni Murray' remains the most thrilling of my life.
I loved every minute of those 33 years and, unlike Liz Truss, I was not forced out of my position (though even when you leave a top job of your own volition, it doesn't stop others speculating). I made the choice to leave as my 70th birthday came and went.
So, nothing like Liz Truss after all. The rest of Murray's lengthy column is all about herself. Sickening.
On a positive note, I was surprised to read that Andrew Neil, normally a supporter of the status quo, supported Truss and Kwarteng's mini-budget just after it was announced in Parliament:
After 12 years of Tory government we finally get a Tory budget. Yesterday's not-so-mini-budget was a watershed event, taking the country in a new economic direction and creating clear blue water between government and opposition.
The Tory faithful couldn't quite believe it. Labour struggled to grapple with its implications. The political dividing lines will now be starker and fiercer than they've been for a generation.
No more tax rises by stealth (or, more recently, in plain sight). Or endless, futile tinkering with the minutiae of spending and taxation to give voters a false impression of constructive activity. Or the relentless doling out of taxpayers' dosh to whatever fashionable vested interests managed to catch ministers' attention.
Instead, Prime Minister Liz Truss and her Chancellor, Kwasi Kwarteng, junked all of that in favour of one overriding economic priority: higher economic growth. Many of the verities of Britain's economic establishment have been slaughtered in the process …
Scrapping next April's planned rise in corporation tax (on businesses' profits) won't win any popularity contests outside company boardrooms. But an essential part of Britain's post-Brexit future is surely to be a magnet for foreign investment. Whacking up the country's key business tax was a strange way of going about it …
New ways require new justifications. The Treasury estimates that abolishing the 45 per cent top rate of income tax will cost £2 billion a year.
This is a typically static official calculation. If it results in more top earners declaring their income in Britain, then it could soon more than pay for itself.
Ditto bankers' bonuses. The cap is a relic of EU regulation. Banks simply increased pay to compensate for reduced bonuses, thereby making their compensation costs more fixed and less flexible.
Frankfurt, Paris and Amsterdam have tried hard to lure our financial services away from the City since Brexit, with only limited success. Bonuses in those centres are still capped. London now has the advantage.
And, remember, with the new top rate of tax at an internationally competitive 40 per cent, every £1 million banker's bonus is £400,000 more for schools and hospitals …
… for more than a decade now I've watched chancellors take tough, painful decisions on tax and spending based on OBR borrowing forecasts that turned out to be huge over-estimates, so much so that in retrospect neither the tax rises nor spending cuts were necessary.
Indeed, as Truss attempts to take the country in a new, less orthodox direction, I'd argue that it's a blessing that she's been able to do so unencumbered by the OBR's dubious forecasting.
We'll get the OBR's latest workings in two months anyway, when it might have a better idea of what 2023 will look like. Nor are we entirely in the dark. The Treasury says the tax cuts and energy price cap measures will increase borrowing this year from £162 billion to £234 billion — an extra £72 billion.
The IFS thinks we'll still be borrowing £100 billion a year through the middle years of the decade.
These figures have spooked the markets. The pound continued its decline against the dollar after Kwarteng's statement and the yield (or interest rate) on short-term government debt rose to close to 4 per cent, making it a lot more expensive to borrow than only two years ago, when it was 0.4 per cent.
These are real constraints on the Government's ability to borrow even more. A falling pound merely fuels inflation, especially when it comes to imported energy, which is priced in dollars.
Interest rates are already rising. If excessive government borrowing forces them even higher, that will merely choke off the economic growth the Government so desperately seeks.
There's another factor at work here. The global currency and debt markets have had a 'down' on Britain for some time. It's not clear why. Britain's debt-to-GDP ratio is among the lowest in the G7 club of big economies. Our budget deficit is on a par with many other major economies. Economic growth is anaemic — as it is everywhere, from the Eurozone to America to China.
I suspect it's a Brexit hangover. The publications global market players read most closely include the New York Times, the Economist, the Financial Times and leading European papers such as Le Monde and the Frankfurter Allgemeine Zeitung. All — and others like them — have been relentlessly negative about Britain since the 2016 referendum …
It is said she's taking a great gamble. That's true. But sticking with the failed policies of the recent past was probably an even a bigger gamble. The stakes are certainly high.
If by this time next year the economy is still in the doldrums, then it's not just Truss who will be finished. So will any prospect of the Tories winning the next election.
Read it and weep. We are back to square one.
There is much that the media didn't tell us about the global picture of economic pandemonium.
Early in the week following Kwarteng's mini-budget, US mortgage rates went up to 7%:
The EU's average deficit is worse than the UK's: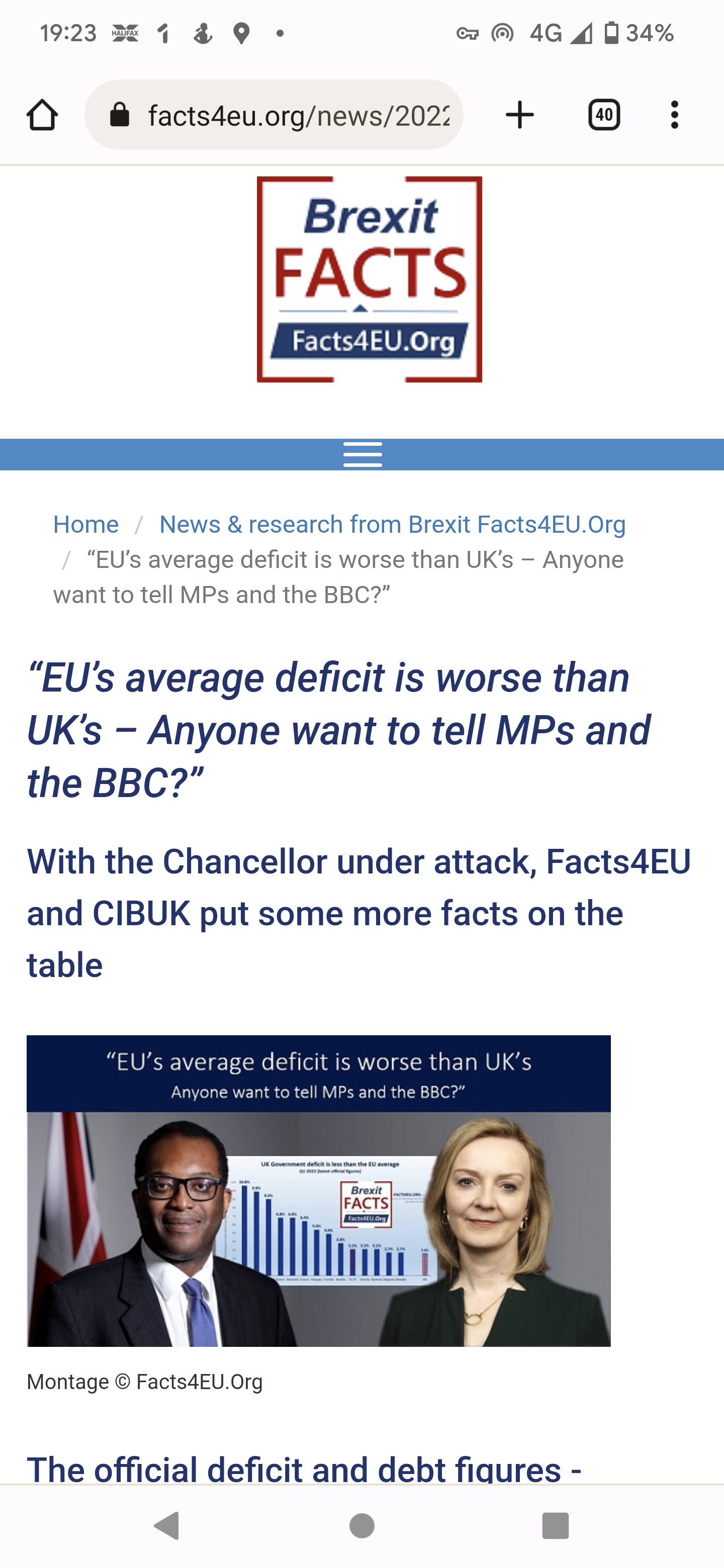 At the end of October, by which time Truss had gone, inflation in the Euro zone increased to 10.7% as growth slowed:
At the beginning of November, a Fed hike caused sterling to trade below £1.13 against the dollar:
And, finally, within three weeks of becoming Prime Minister, Rishi Sunak made new spending commitments, pledging billions to the world. This graphic appeared on November 7: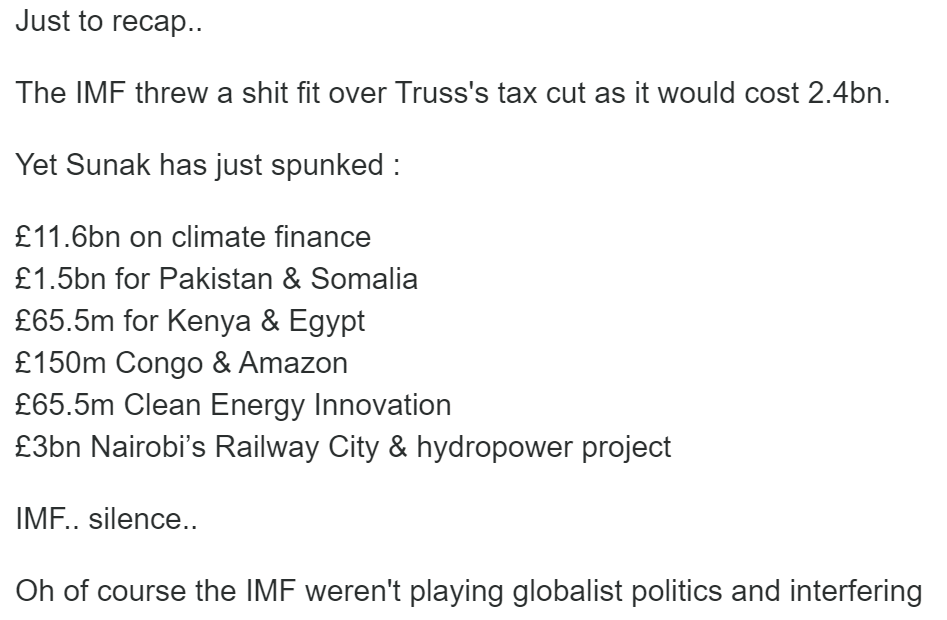 Objection from the media came none.
Conservative MPs
On October 20, in the immediate aftermath of Truss's stoic resignation, The Sun gave us the reaction from three Conservative MPs:
Responding to today's bombshell announcement, former minister and Red Wall poster boy Neil O'Brien tweeted: "The next PM must return to the national conservatism represented by our election winning 2019 manifesto and put us back on the side of normal working people."
If anyone was going to have done that, it would have been Truss, for whom Party members voted in the majority. Sunak and Hunt certainly aren't on the side of 'normal working people': tax 'em until the pips squeak.
Next up was Steve Baker, now an apologetic Northern Ireland Minister:
Brexit hardman Steve Baker urged colleagues that whatever the result, "we must accept and back the new Prime Minister".
Millions of us wish he had shown the same allegiance towards Truss.
The only one to say anything complimentary was Greg Hands, who served as an International Trade Minister:
He said:
A dignified exit as Prime Minister from Liz Truss. A difficult day for the country, the Party and for Liz personally.
She wasn't long as PM, but served at the Cabinet table longer than any of her three predecessors. She has long served the country – and I wish her very well.
At least Truss wasn't removed from the top table Chinese-style:
On October 27, one week after Truss's resignation, The Telegraph's Matthew Lynn said that backbench Conservatives just could not bring themselves to support Truss's economic plan, which Kwasi Kwarteng fronted.
In other words, Conservative MPs shy away from libertarianism, even though I think it would do the UK a lot of good:
The timing, to put it mildly, was unfortunate. It was a difficult transformation to pull off at the best of times, but against the backdrop of rising inflation and an out-of-control dollar, it was doubly difficult. 
Truss's programme did not have the necessary support within the Parliamentary Conservative Party either. Massive opposition from Labour, the Scottish Nationalists, and the Twitter mob was to be expected. 
But very few MPs were willing to support the plan, and without that backing it was always going to be hard to push through. Even before it got on to the genuinely difficult stuff – investment zones, planning reform, the green belt – the opposition was overwhelming. 
The Bank of England
Matthew Lynn points the finger of blame at the Bank of England (BoE):
… the real failure of Trussonmics may well have been the fault of the Bank of England. As Narayana Kocherlakota, a former President of the Minneapolis Fed, and now Professor of Economics at New York's Rochester University, argued in an opinion piece for Bloomberg this week, it was the Bank's failure to support the gilt market that killed the plan. 
"The way the Truss government collapsed should concern all who support democracy," he warned. 
In his Bloomberg article of October 26, Narayana Kocherlakota defended Truss and criticised the BoE:
Markets didn't oust Truss, the Bank of England did — through poor financial regulation and highly subjective crisis management.
… Truss won the leadership of the Conservative Party, which the UK electorate had voted into power, by promising a range of deep tax cuts and government spending increases. Whatever one might think of her policies, they were her mandate. I agree with the many observers who expected them to lead to higher inflation, higher interest rates and quite possibly higher unemployment. But such adverse outcomes take months and years to play out. Her government fell in a matter of weeks. How could this happen?
The common wisdom is that financial markets "punished" Truss's government for its fiscal profligacy. But the chastisement was far from universal. Over the three days starting Sept. 23, when the Truss government announced its mini-budget, the pound fell by 2.2% relative to the euro, and the FTSE 100 stock index declined by 2.2% — notable movements, but hardly enough to bring a government to its knees.
The big change came in the price of 30-year UK government bonds, also known as gilts, which experienced a shocking 23% drop. Most of this decline had nothing to do with rational investors revising their beliefs about the UK's long-run prospects. Rather, it stemmed from financial regulators' failure to limit leverage in UK pension funds. These funds had bought long-term gilts with borrowed money and entered derivative contracts to the same effect — positions that generated huge collateral demands when prices fell and yields rose. To raise the necessary cash, they had to sell more gilts, creating a doom loop in which declining prices and forced selling compounded one another.
The Bank of England, as the entity responsible for overseeing the financial system, bears at least part of the blame for this catastrophe. As a result of its regulatory failure, it was forced into an emergency intervention, buying gilts to put a floor on prices. But it refused to extend its support beyond Oct. 14 — even though its purchases of long-term government bonds were fully indemnified by the Treasury. It's hard to see how that decision aligned with the central bank's financial-stability mandate, and easy to see how it contributed to the government's demise.
The way the Truss government collapsed should concern all who support democracy. The prime minister was seeking to fulfill her campaign promises. She was thwarted not by markets, but by a hole in financial regulation — a hole that the Bank of England proved strangely unwilling to plug.
Two days before Truss resigned, Daniel Lacalle wrote an article for Mises Wire: 'The Bank of England Made Liz Truss a Scapegoat'.
Lacalle points out that economic turmoil was worldwide, something not reported widely in the British media. No surprise there:
I find it astonishing that not one of the so-called experts that have immediately placed the cause of the British market volatility on Liz Truss's budget have said anything about the collapse of the yen and the need for Bank of Japan intervention, which has been ongoing for two weeks.
Why did so many people assume the Truss minibudget was the cause of volatility when the euro, the yen, the Norwegian krone, and most emerging market currencies have suffered a similar or worse depreciation versus the US dollar this year? What about the bond market? This is the worst year since 1931 for bonds all over the world, and the collapse in prices of sovereign and private bonds in developed and emerging market economies is strikingly similar as those of the UK fixed income peers.
He blames British pension funds' liability-driven investing (LDI) strategies on the abuse of quantitative easing (QE) over the years. Who was in charge of that? The BoE.
Lacalle wrote while Truss was still Prime Minister:
British pension funds are not selling sovereign bonds because of lack of trust in this or another government's budget. They are selling negative-yielding sovereign bonds because they jumped wholeheartedly into the debt bubble created by artificially cheap money believing that central banks would keep fixed income prices elevated with constant repurchases.
British pension funds' unfunded liabilities are not a problem caused by the mini budget nor solely a UK problem. It was an enormous problem in 2019–20 disguised by insane currency printing. Unfunded global liabilities for state pension funds in the US were already $783 billion in 2021 and rose to $1.3 trillion in 2022 according to Reason Foundation. The funded ratio of state pensions was just 85 percent in 2021 and has fallen below 75 percent in 2022.
What happened in the years of negative rates and massive currency printing? Pension funds used liability-driven investing (LDI) strategies. Most LDI mandates used derivatives to hedge inflation and interest rate risk. And what happens when inflation kicks in and rates rise? "As interest rates have risen, the notional value of some of the derivatives held in LDI portfolios has fallen. The result: increased collateral calls. The speed at which rates have risen means some pension plans have had to liquidate portfolios to meet collateral calls" according to the Investment Association's latest report in September and Brian Croce at Pensions and Investment.
The total assets in LDI strategies almost quadrupled to £1.6 trillion ($1.8 trillion) in the ten years through 2021. Nearly two-thirds of Britain's defined benefit pension schemes use LDI funds, according to TPR and Reuters. Liz Truss and Kwasi Kwarteng are not to blame for this insanity. The policy of negative real rates and massive liquidity injection of the Bank of England is. Kwarteng and Truss are only to blame for believing that the party of policies of spending and printing defended by almost all mainstream Keynesian economists should work even when the music stopped …
Liz Truss and Kwasi Kwarteng are not to blame for the insanity of the past years or Rishi Sunak's ultra-Keynesian budgets. They are only to blame for believing that another dose of Keynesian deficit insanity would not harm.
Mr. Kwarteng's demise is just a casualty delivered by the modern monetary theory crowd and the monetary laughing gas city to justify that the problem was a ludicrous tax cut not years of currency printing and deficit increases.
What has happened in the UK or Japan is likely to happen soon in the eurozone, which accumulated more than twelve billion euro of negative-yielding bonds in the years of cheap money and reckless stimulus plans.
Liz Truss is not to blame for twenty years of monetary insanity and fiscal irresponsibility. She is to blame for a budget that increases spending without cutting unnecessary expenses.
The irony of it all is that the defenders of monster deficits and borrowing if it comes from bloating the size of government feel vindicated. It was the evil tax cuts!
The political analysis of the mini budget is astonishing. No one in the UK parliament sees any need to cut spending it seems, yet those expenses are consolidated and annualized, which means that any change in the economic cycle leads to larger fiscal imbalances as receipts are cyclical and, with it, more currency printing. The assumption that raising taxes will generate perennial annual increases in receipts no matter what happens to the economic cycle can only be defended by a bureaucrat.
Well, Rishi Sunak and Jeremy Hunt are those bureaucrats.
There are global players in pension fund management, BlackRock being one of them, as The Conservative Woman revealed on October 27:
BlackRock is heavily involved in the charity sector, managing over £4.5billion for more than 3,000 UK charities alone. 'Sustainability', food security and renewable energy rank very highly in their priorities in that sector.
The role of BlackRock in the recent selling off of derivatives by UK pension funds, said to be behind the triggering of a fall in sterling following the ill-fated Kwasi Kwarteng mini-Budget, is an intriguing one. BlackRock executives would defend their actions by stating they were merely protecting clients who were financially overcommitted in that sector and that pension fund managers ought to have known the risks involved in leveraged investment strategies in the first place, and that there is far more to that type of riskier investment than just following trends. Either way the political fallout was profound, triggering a chain of events which led to the fall of Prime Minister Liz Truss. BlackRock executive defends pensions strategy that fuelled UK crisis
Interestingly, Jeremy Hunt has appointed a BlackRock executive who is pro-Net Zero and anti-Brexit as one of his chief advisers:
A business with the financial resources of BlackRock will naturally attract well-connected people to its payroll. People such as Rupert Harrison, chief of staff to Chancellor George Osborne from 2006 to 2015. An opponent of Brexit, he tweeted in July 2017 that 'the rest of Europe is booming and we're not'.
Intriguingly, Harrison is now one of new Chancellor Jeremy Hunt's most senior advisers. On the surface, Hunt seemed to have been parachuted in from nowhere, having failed in two leadership elections and spending more than two years on the back benches, yet from the moment he was appointed he already had a highly expert team, including Harrison, ready to start at once and acting promptly with great self-assurance as though he knew he already had the backing of those who really matter.
However, Conservative Party members are unhappy with Hunt and Sunak's economic policy based on higher taxes, which are, in reality, much higher than they read on paper. This poll is from November 29:
Guido Fawkes wrote (emphases his):
The Tory membership doesn't support their own government's economic policy, according to the latest Conservative Home panel poll. Opposition stands at 48.78% and support at 41.87%. 9.35% don't know. 
It can't come as much surprise. As Rishi's supporters point out, he was warning of the consequences of Liz Truss's policies during the summer contest, and the membership still voted for Liz's low tax package. Support at 41.87 is actually 0.8% lower than Rishi received from the members during the summer…
Let us return to the BoE.
In the December 2022/January 2023 issue of The Critic, Jon Moynihan published 'How the Bank broke the Government', which refers to Narayana Kocherlakota's aforementioned article for Bloomberg and expands on the use of LDIs in pension fund management:
Kocherlakota's view was that the Bank of England was responsible for the crisis, through "poor financial regulation and highly subjective crisis management". Outside the UK chatterati, this view is widely supported.
The beef against the mini-budget was that it spooked the market. But virtually all of the policy announcements made by Kwasi Kwarteng on the day were not new; they had been pledged during the Truss campaign or — in the case of the energy price guarantee — confirmed shortly after her arrival in Downing Street. 
Sure, the mini-budget stated that clarifying how all the spending/lowered tax revenue would be paid for was to be put off until the later financial statement, due some weeks later. But the only new thing was the change to the top rate of income tax from 45 per cent to 40 per cent. 
Given the well-known dynamic impact of lowered tax rates, this change would arguably have been revenue neutral or even beneficial; even without any dynamic benefit, it could have cost at most £2 billion in tax revenue. That is a rounding error compared to the amounts already absorbed by the market and a fraction of the costs Rishi Sunak has accepted at COP 27 — to which the markets have reacted entirely complacently. It is just not credible to blame the mini-budget for the market turmoil.
Moynihan explains more about how LDIs work:
The prime obligation of a pension fund is to match its assets (the money it uses to make payments) to its liabilities (the payments it expects make to its pensioners over the years). For a fund to be as sure as it can that it will be able to pay its future pension liabilities, it buys assets whose coupons and maturity match its (actuarially expected) future pension payments.
So far, all well and good. The problem is with LDI funds. These, like so many pension funds these days, use gilts to accomplish that matching (in a popular meme of the past couple of decades, "gentlemen prefer bonds"). However, in addition the idea has been sold that they can goose up their returns a bit, to compensate for the low yields they are getting on their gilts. 
This little bit of extra profit is accomplished by borrowing some further money, short-term, and with it buying long, higher-yielding assets — either real assets, or derivatives. It's a well-known and always risky bet on interest rate movements; in some markets it's known as the "Carry Trade"; in the Japanese markets it's known as the "Widow Maker". It's entirely inappropriate for "safe" pension funds. 
If rates move against the bet, the bet sours. To cover the risk they are taking, the funds are required to give over their other assets (the gilts) as collateral to the bank that lent them the money. 
When the bet sours, the bank that lent them the money "calls the collateral", selling off the gilts in order to repay the borrowing … a wave of such sales can destabilise the gilts market and create a disorderly environment, as happened in late September 2022.

Some would say that the Bank of England should have known all of this and not allowed such risk to be taken by this huge market in LDI funds. Some would raise an eyebrow at the news that until the middle of 2022, the Bank of England itself held 100 per cent of its £5 billion pension fund in just one single LDI Fund, and therefore blithely seemed to believe it was OK for such risks to be taken (their 100 per cent recently was reduced to a scarcely less concerning 82 per cent).
For whatever reason, the Bank and other regulators did allow LDI funds to become more and more the fashion … The total value of liabilities hedged with LDI strategies was $1.8 trillion in 2021, around half of the total of LDI funds in the world, a sure sign that the Bank Of England had been far too lenient in allowing LDIs to flourish in the UK. That is Strike One.

Why then did the LDI funds start collapsing specifically in late September? It starts with the rapid appearance this year of inflation, caused in no small part — as the Bank has finally admitted — by the bank's excessive growth of the money supply in recent years. As inflation consequently shot up, so, all year, did gilt yields rise, putting increasing pressure on those rickety LDI funds. That is Strike Two against the BoE for its role in worsening inflation in the UK, leading to this instability.
Two days before Kwarteng delivered his mini-budget, Saxo Bank and Deutsche Bank correctly predicted a fall in sterling.
Saxo predicted:
"If the BoE fails to hike 75 basis points, let's shield our eyes for what is going to happen to the pound here." (They were predicting a fall in sterling, which duly happened. Low sterling leads to higher inflation leads to higher gilt yields.) 
Deutsche Bank said that the BoE needed a 'hawkish response'. It never materialised.
In the end:
Both Deutsche and Saxo were right. Only days after the Bank failed to step up to the 75 basis points mark, sterling momentarily dropped to $1.04, just as Deutsche had predicted — yet for reasons that remain to be explained, the drop was blamed on the mini-budget, not on the Bank's failure to sufficiently raise rates. The failure to raise rates enough, two days before the mini-budget, is Strike Three.
In addition, the BoE announced a fortnight-long programme of selling £40 billion of gilts, which ended in mid-October.
In other words, it moved from QE to QT, quantitative tightening.
Reuters noted the BoE was the first central bank to do that, at least in recent years. Bloomberg called the move 'historic' for the same reason:
In 2013, all it had taken was the Fed to announce it was doing less QE — not stopping, just doing less — for the markets to go into a "Taper Tantrum".
Ever since, most central banks have been cautious not to move too fast in shutting down their QE. But not the BoE. Why did it see itself as in a position to be the first in the world to take this very risky step, aware as they were that the mini-budget was about to be announced?
Not surprisingly, the markets responded:
… market participants move fast to get ahead: they quickly sell their own bonds before their value is hammered by the BoE sales. Yields immediately go up and the price of bonds immediately falls. Which is why it was — Strike Four — stupid for the central bank to announce its moves ahead of time: it's like the time that Gordon Brown announced he was selling all our gold, and the price collapsed so he made much less from the sale. But now the LDI pension funds started to get really hammered: as the market moved to dump gilts, the price of gilts fell and fell — this is still before the mini-budget — and collateral calls began to come thick and fast on the LDI funds.
The doom loop began:
And even more collateral calls then came in, and we were in an accelerating doom loop. All this was happening as the mini-budget was announced, and the lazy financial press, not seeing what had happened earlier, blamed the rout in the gilts market on the mini-budget. But it was started by the Bank of England's earlier decision to go full tonto QT. Strike Five.
Cue the headlines that Liz Truss 'crashed the economy', to borrow Labour's words, which they are still using in Parliament:
The Prime Minister is accused the following day of destroying the economy.
The BoE backtracked immediately, announcing it would move from QT back to QE:
The Bank of England, of course, immediately announces that it is not after all going to sell £40 billion of gilts — it is going to buy £60 billion of them — back from QT to QE in a blink of the eye. 
Of course, by then, it was too late for Truss and Kwarteng. Their collective goose was well and truly cooked:
… by now the gods of havoc have been unleashed. Truss's enemies in the Conservative party get to work, using the mini-budget narrative to undo the mini-budget, to oust the Chancellor, and finally to oust the Prime Minister herself. Job Done. 
The BoE defended its actions:
The post-mortem speech by the Bank's director for financial stability, entitled "Risks from leverage: how did a small corner of the financial industry threaten financial stability?" makes for interesting reading; in this telling, the Bank staved off a crisis from what, for anyone, would have been an unexpected direction, dealing more than adequately with the non-bank sector. If anything, the director claims, the UK was ahead of the curve!
As for the current Sunak-Hunt government, Jon Moynihan has also noted the presence of David Cameron's Chancellor and the former BlackRock executive:
George Osborne and Rupert Harrison, late of BlackRock, the UK's second largest provider of LDI funds, are now advising the new government.
Moynihan ends his article by pointing out that the BoE's governor, Andrew Bailey, has the nickname of 'Lullaby' because he tended to doze off during meetings in a prior position:
As head of the Financial Conduct Authority from 2016 to 2020, he saw first-hand the sort of shenanigans firms and funds will get up to if, pressed by smooth talking salesmen, they are given the freedom to act as they will.
It has been alleged that while in that role, Bailey "dozed off" during meetings over a pensions scandal. Now, the organisation he runs is accused of being asleep at the wheel on LDI pension funds, not to mention on inflation, the currency, the stability of markets.
It looks like the BoE's laxity led to the fall of a government:
All that led to the end of a government, in a way that will continue to reverberate, to the detriment of many people's view of democracy in this country, for decades to come.
What the British think
Only last week, on November 23, IPSOS published a poll saying that politicians are the least trustworthy of working Britons. Pictured alongside Rishi is a very young Piers Morgan when he edited The Mirror. Journalists have a trustworthiness rating of 29%, compared to politicians in general at 12%:
Guido has the full chart of occupations participants were asked to rank in order of trustworthiness:
Hardly unsurprisingly, public trust in politicians to tell the truth has fallen to its lowest level ever, according to the latest Ipsos poll. Just 12% of the public now trusts politicians to tell the truth, lower than advertising executives (14%) and government ministers (16%).
Unfortunately for journalists they don't fare much better, at just 29% – one percent above estate agents…
Nurses and doctors ranked the highest at 89% and 85%, respectively.
Television news readers ranked at 58%, above clergy/priests and the man in the street, both of which tied on 55%.
Conclusion
On November 22, roughly one month after Truss resigned, Dan Wootton did a follow up on GB News.
Nigel Farage told him:
Hunt was the coup. Sunak is little more than a puppet.
Wootton also interviewed Ranil Jayawardena, who served as Secretary of State for DEFRA, the Department of Environment, Food and Rural Affairs. He was very gracious and didn't want to get into any controversies. Wootton, who was a big Truss supporter, wanted to know how both of them were faring. He said that they were fine.
I'm including the nine-minute interview here just so you can hear Ranil Jayawardena's voice. He should record audio books in his retirement. Someone in the comments to the video said that he sounds like Boris. He sounds a thousand times better than Boris. This is received pronunciation, rarely heard today in such mellifluous tones:
The Liz Truss saga ends here.
I fear the worst, for the Conservative Party and for the British.
End of series
Yesterday's post discussed Liz Truss's dogged determination.
Today's entry looks at how determined she was to bring a refreshing libertarianism to Government.
On September 28, 2022, Jeremy Cliffe wrote a fascinating profile of Truss's love of free markets in the New Statesman: 'Liz Truss and the rise of the libertarian right'.
Of Kwasi Kwarteng's mini-budget of September 23, Cliffe points out (emphases mine):
… nothing in Truss's past was fundamentally incompatible with her proclaimed ideological commitment to a small-state, free-market model. And now, just three weeks into her tenure in No 10, it has been comprehensively buried. The unofficial Budget from her like-minded Chancellor, Kwasi Kwarteng, on 23 September, removed any remaining doubt by ushering in the biggest package of tax cuts since the Conservative chancellor Anthony Barber's expansionary "dash for growth" in 1972, and by targeting the benefit of those cuts overwhelmingly on the richest.
Far from popularity-chasing opportunism, this amounts to a huge experiment that, as the Conservative commentator Tim Montgomerie has put it, effectively treats Britain as a giant "laboratory" for economically libertarian ideas. The success or failure of that experiment will make or break Truss's government. Say what you like about the wisdom of this approach – and the markets have had their say – but it is absolutely not the method of a flip-flopper. Rather, it is that of a convinced member of a deep-rooted network of ideas, institutions and thinkers born on the shores of Lake Geneva over 75 years ago. It is impossible to understand the ideological zeal with which Truss and Kwarteng are pushing Britain towards the economic brink without understanding that network.
Cliffe goes on to present a summary of Friedrich Hayek's economic vision. I learned a lot, so am sharing that below.
Hayek and the Mont Pelerin Society
Over the centuries, many wonderful things originated in Switzerland. Libertarianism was no exception.
In 1947, in the aftermath of the Second World War, Friedrich Hayek invited a group of 39 economists, historians and philosophers to promote classical liberalism, which has nothing to do with left wing politics. In fact, what became the Mont Pelerin Society was — and is — actively opposed to Marxist and Keynesian economic policies promoted globally at that time.
The group met at the Hotel du Parc, now the Pelerin Palace, in the village of Le Mont-Pèlerin, which overlooks Lake Geneva. I have been to that part of the world, and it is sublime.
The Mont Pelerin Society still meets regularly, annually for regional meetings and every two years for a general meeting. In 1997, they met at the village's stunning Le Mirador Resort and Spa. In October 2022, they met in Oslo.
Cliffe describes the Society's goal:
Inspired by Hayek's warnings of a "road to serfdom" – as set forth in his 1944 book of that name – they were united in concern at the apparent march of international collectivism, in both its totalitarian (Soviet) and democratic (social democrat and New Deal) forms.
Afterwards, libertarian think tanks were founded in the United Kingdom and the United States which influenced the thinking of Margaret Thatcher and Ronald Reagan:
Over the subsequent decades members and associates of this group established successive generations of influential think tanks advancing anti-collectivist economics. In 1955, Antony Fisher founded the Institute of Economic Affairs in London (IEA). This would help inspire a second wave in the 1970s, including the Cato Institute and the Heritage Foundation in Washington DC and, in London, the Centre for Policy Studies (CPS) and the Adam Smith Institute (ASI). As the historian Daniel Stedman Jones puts it in his book Masters of the Universe: Hayek, Friedman, and the Birth of Neoliberal Politics, these transatlantic "ideological entrepreneurs" provided both a long-term incubator for such ideas and a bridge from high economic theory to applied policy practice. Both Reaganomics and Thatcherism would have been unthinkable without them.
Not all of these think tanks think alike. Some are socially conservative, while others are not. Some are geared towards academia, others towards politics. However, they agree on economic policy:
From the 1980s to the early 2000s came the next wave of more public-facing bodies such as Americans for Tax Reform and the TaxPayers' Alliance (TPA). Matthew Elliott, who worked at the former before returning to his native UK to found the latter in 2004, would also go on to help establish and lead the Vote Leave campaign in the run-up to the 2016 Brexit referendum.
These bodies are not homogeneous. Cato, for example, is classically libertarian on social issues like LGBT+ rights, whereas Heritage is hard-line conservative. There are also differences of approach. Mark Littlewood, the director of the IEA [Institute of Economic Affairs], who has known Truss since their student days – they both attended Oxford in the 1990s – differentiates between more "upstream" think tanks like his own, which are closer to academia and concentrate on disseminating ideas among opinion-forming elites, and more "downstream" organisations, which are focused on government policymaking (like the CPS) and shaping debate in the mass media (like the TPA).
One of Truss's tutors at Oxford, Marc Stears, says:
"Hayek's ideas are really important because of the underlying spirit that animates them: that there is no such thing as collective intelligence; the state does not know things and only individuals can really know things. That faith in the wisdom of the crowd, as expressed in price mechanisms, is very deeply ingrained."
He also points to a shared tendency to be patient, citing the Marxist philosopher GA Cohen's observation that the supply-side right has succeeded at "keeping the fires burning" even through periods in the political wilderness.
Stears himself leads a libertarian think tank:
Marc Stears tutored Truss when she was a PPE student at Oxford and today leads the Policy Lab at University College London. He notes that the more theoretical "upstream" parts of the libertarian think-tank spectrum have grown in significance as academia has tilted leftwards. "There are fewer centres in the big universities where these thinkers cluster," he told me. "So that makes the role of think tanks more important."
Cliffe points out the geographical proximity of think tanks in London and Washington DC:
The majority of these think tanks are clustered around Tufton Street, a Georgian terrace in Westminster, and Massachusetts Avenue, a long boulevard in Washington DC (a distinction being that "Mass Ave" is also home to think tanks of various other intellectual outlooks).
These two worlds have long been linked by transatlantic personalities criss-crossing between them. Prominent examples include Fisher (who founded the Atlas Network, a Washington-based umbrella organisation of international free-market think tanks), Edwin Feulner (a former IEA intern who co-founded Heritage) and Eamonn Butler (an ally of Feulner's who co-founded the ASI in London). Today they number Ryan Bourne – a Truss ally, formerly of the IEA and now at Cato; Daniel Hannan – a Brexiteer former MEP and founder of the Initiative for Free Trade (IFT); and Nile Gardiner – head of the Margaret Thatcher Center for Freedom at Heritage.
Today's economic libertarianism
The current Conservative government, whether under Boris Johnson, Liz Truss or Rishi Sunak, has some commitment to economic libertarianism. Sunak promoted freeports in 2019, which are slowly coming to fruition. Truss advocated investment zones, which are still going ahead, although they will be more focused on research.
Cliffe says:
Ideologically, the institutions and thinkers of this world share a common commitment to a low-tax, low-regulation, Anglo-Saxon social model, distinct from the social democratic "European" one. They tend to favour mechanisms for advancing that model, such as free-trade deals, "levelling down" state intervention, and demarcated zones pioneering extremely small-state government (variously referred to as "freeports", "investment zones" or "charter cities"). They instinctively prefer market-led solutions to collective problems, such as climate change, over state-led ones. Perhaps not unrelatedly, many of them draw on opaque funding from big private-sector interests. Cato, for instance, has received backing from corporations such as FedEx and Google, and, in the past, from the tobacco industry – which has also been a source of funding for both the IEA and ASI.
In the Britain of 2022 these instincts express themselves in a particular analysis of the state of the country. This, as Truss-ite thinkers explain, starts from the argument that British governments since Margaret Thatcher – Conservative as well as Labour – have become much too sentimental about the distribution and moral character of growth, and too little focused on raising the overall growth level. As Bourne puts it: "Liz Truss would not consider it a failure if she got the growth rate up significantly but not equally across regions."
It is not a politics of pursuing what is popular per se, but of letting "what works" (defined as whatever lifts the growth rate) speak for itself. "They won't be transactional about policies," Bourne says of Truss and Kwarteng. "It's the whole string of things. Incrementally, the patient might not like the medicine, but overall they will feel healthier and revived."
Truss's brand of libertarianism
I had no idea that Truss worked for a British think tank or that she had speaking engagements at the American ones.
Her interest began at Oxford, then continued in London:
Even during her student years in Oxford, recalls Marc Stears, Truss prided herself on defying intellectual convention. "Her primary characteristic was a love of controversy, quirkiness and idiosyncrasy… Her thinking was always intriguing and contrarian, if not always fully worked through." A brief flirtation with the Lib Dems is not entirely inconsistent with right-wing libertarianism (the party's Orange Book tendency has links with this world  too, and as a student Truss was also a member of the Hayek Society). "She definitely sat outside the prevailing social democratic orthodoxy even then," Stears says.
Truss worked in think-tank land herself before her election to parliament, serving as deputy director of Reform from 2008 to 2010, a period when the organisation was laying some of the intellectual foundations of the spending cuts and market-led approach to public services that would be introduced under David Cameron and George Osborne. "Cameron and Osborne may have been more Thatcherite where Truss is more Reaganite," notes Tim Bale of Queen Mary University of London, a historian of the Conservative Party. "But they shared the basic belief that the market should be the main force in economic life, the state as small as possible and the individual as large as possible."
Truss's Thatcherite tendencies became more apparent once she entered Parliament in 2010. However, Thatcherism means different things to different people:
Shared beliefs, yes, but with different degrees of intensity. In 2010, Truss typified a romantically Thatcherite intake of new Tory MPs who thought Cameron and Osborne were being too cautious about slashing the state.
"When you think that people's politicisation tends to take place in their teens and early twenties, it is perfectly understandable that MPs who had come of age around 1997 would equate past Conservative election victories with what they saw as Margaret Thatcher's uncompromising free-market ideology, rather than her more compromising reality," Bale says.
Truss rapidly became a figurehead for this generation. "Liz was the first convenor of the Free Enterprise Group," recalls Littlewood, referring to the establishment in 2011 of a cluster of like-minded Conservative MPs – which was effectively the IEA's parliamentary branch. "And Kwasi Kwarteng was the second."
Cliffe says there are other Conservative MPs committed to the free market, Priti Patel and Dominic Raab among them.
In 2017, Truss became Chief Secretary to the Treasury.
The following year, she began giving speeches in the United States:
A particularly notable speech was delivered at the Cato Institute in Washington in 2018. In it, Truss called for a new, small-state "Anglo-American dream" driven by an emergent generation of "market millennials" used to the freedoms of the app economy – "Uber-riding, Airbnb-ing, Deliveroo-eating freedom fighters", as she put it elsewhere. "Free enterprise is a hymn to individuality and non-conformity," she proclaimed to her Cato audience. "It's what allows the young to flower and the anti-establishment to flourish."
Bourne helped set up the speech. I put it to him that her argument ignores strong youth support for the likes of Jeremy Corbyn and Bernie Sanders. "It's a case of stated preference versus revealed preference," he said. "Liz's essential argument is that, in their actions, young people in both countries are very entrepreneurial, independent, and enjoy the fruits of a liberal, dynamic economy. She thinks there is a latent enthusiasm for markets if we can reform things in a direction that enables these people to fulfil their wants and needs, like starting companies and buying homes."
Her visits to the US engaged her interest in the Reagan years:
It was around this time that she became engrossed in books by the American historian Rick Perlstein on the making of the Reagan revolution.
Fast-forwarding to her appointment as Foreign Secretary in 2021, her commitment to libertarian ideals ran deeply:
… her ideology, rooted in the school of thought founded at Mont Pelerin, was long-established. "Her ideological disposition is towards the likes of Robert Mundell, Alan Reynolds and Arthur Laffer," says Bourne, "the original supply-side thinkers in the US who influenced the underpinnings of the Reagan administration. The basic idea is that monetary policy deals with inflation and that fiscal and especially tax policy has to deliver incentives for long-run growth."
Another inspiration is "Rogernomics" in 1980s New Zealand, when the Labour government's finance minister Roger Douglas slashed trade tariffs and non-tariff barriers and pioneered monetary policy targeting. (The legacy of that neoliberal experiment remains deeply divisive on the New Zealand left.)
Liz's libertarian allies
Cliffe discusses Prime Minister Truss's Cabinet and think tank allies:
… now she is Prime Minister, the supposed free-market outriders are finding themselves being outridden by the sitting government. Littlewood of the IEA marvels at the scope of the unofficial Budget. "I have long tried to fine-tune out criticism of Conservative governments for not being radical enough; now they're being more radical than even we are requesting." He cites the government's commitment to scrap all remaining EU law as an example. Even when the IEA and Truss disagreed, the closeness was evident; its criticism of her energy price cap promptly elicited an explanatory call from No 10.
Old Tuftonians hold many of the senior jobs in her government. "Matt Sinclair is the standout example," says Littlewood of Truss's chief economic adviser, formerly of the TPA. "He is steeped in this world." Ruth Porter, deputy chief of staff, is an IEA alumna. Sophie Jarvis, No 10's political secretary, was formerly at the ASI. "She will have hired and appointed people who are on board with her ideologically," agrees Bourne. With Kwarteng as Chancellor, as well as James Cleverly as Foreign Secretary and Jacob Rees-Mogg as Business Secretary, the major cabinet roles are held by true believers.
Free-market think tanks, like the IEA, that have long considered themselves to be outside the broad British consensus have used provocation and controversy to catch attention, shake things up and try to shift debates. Truss, observes Marc Stears of his former student, is now bringing that approach into government. "She loves this idea that the action is in the reaction, prodding and provoking people. The unofficial Budget was like going to a slightly mad libertarian think-tank report launch."
Stears said that Truss:
"actually wants to destabilise things. She thinks the prevailing order is wrong and there is a need to break things to rebuild."
Ryan Bourne and Mark Littlewood say that she would have wanted to increase personal freedoms by reducing the nanny state:
Bourne cites childcare, infrastructure, energy and housing (street votes on city planning decisions, for example) as possible focuses, as well as farming ("where there might be a quid pro quo where they scale back government support but relax regulations"). "And I expect this philosophy to apply to lifestyle freedoms, too," adds Littlewood. "Deregulating ads for sugary drinks, McDonald's advertising on the London Underground, that sort of thing."
Oh, if only she'd been allowed to do all those things.
Bourne had more to say:
"Her broad view is 'We have to show, not tell'," says Bourne. "We have to get on with free-market reforms and when they create results they create a baseline, and that wins hearts and minds." There are echoes of the Prime Minister's vision of "market millennials" here: that young people will come to recognise their small-state instincts when they feel the benefit of such politics put into action.
Cliffe has a message for his Labourite New Statesman readers and suggests how Labour can oppose Truss's ideas:
So far, her environment policies seem designed to serve the interests of big polluters rather than market insurgents in the green-energy sector; her deregulation push appears tailored to the interests of existing market insiders with big lobbying budgets; and her proposed tax cuts will certainly benefit the already rich, rather than the worst off. None of this is a "hymn to individuality and non-conformity". It is corporatism.
The challenge now for Liz Truss's opponents, both inside the Conservative family and on the left, is to engage with these tensions and use them to expose the contradictions of the great unruly experiment being rolled out from Downing Street. Because to do so is to contest what is really driving it; to have a chance of changing the public debate and building a solid foundation for a different and better national project. Bad ideas make a much more obvious and persuasive target than bad intentions.
I would say that has already been done. Sunak's government is very different to Truss's, especially with Chancellor Jeremy Hunt as de facto Prime Minister.
'Weird' Liz Truss
Shortly after Truss resigned as Prime Minister, The Guardian had an excellent profile of her: 'From fighter to quitter: the "weird" rise and fall of Liz Truss'.
Truth telling?
It would appear that Truss was somewhat economical with the truth about her education and that of previous Prime Ministers:
At her recent party conference, she spoke of herself as "the first prime minister of our country to have gone to a comprehensive school". The claim has been disproved by those who note that both Gordon Brown and Theresa May went to comprehensive schools. In any case, Truss has said that Roundhay School in Leeds "let down" children by teaching them "about racism and sexism" with "too little time spent making sure everybody could read and write".
Again, the notion that Roundhay, a consistently "outstanding" school, was unacademic has been strenuously contested, as has Truss's claim that her comfortable middle-class neighbourhood in Leeds was "at the heart of the red wall". Truss is not the first politician to massage her biography but she's unusual in attempting to establish her rightwing credentials by making her formative years seem more underprivileged than they were.
Political 'dynamo' at Oxford
The IEA's Mark Littlewood was complimentary about her commitment to politics at Oxford:
She became president of the university Liberal Democrats, and a member of the national executive committee of the party's youth and student wing. Also at Oxford and another Lib Dem activist was Mark Littlewood, now director general of the free market thinktank most associated with Truss's political outlook, the Institute for Economic Affairs (IEA). He remembers her as a "dynamo who exploded on to the political scene" …
"If you spent any more than three minutes in her company, you had no doubt at all about what she thought of the particular topic you might be discussing," Littlewood says.
Unlike her U-turning days as PM, she was sure of her convictions as a student:
For others, like Neil Fawcett, a fellow committee member of the Lib Dems' student national executive, this trait of certitude came across as dogmatic and unbending. "She always had very strong views on everything," he recalls. "Sometimes they were based on knowledge or experience but quite often they weren't. My main memory is that if she came up with something that simply wasn't going to work, and I was in a position where I had the experience to know that it wasn't going to work, she would still argue the case anyway.
"She was absolutely not for turning, whatever the evidence. I thought of that when I read about Treasury civil servants who have been completely ignored because she knew better."
She was more interested in debating and protesting than in canvassing:
She was more concerned to make a splash, he says, than to get things done. Littlewood suggests, in her defence, that Truss was not much interested in "delivering leaflets". Instead she spoke out against the monarchy at a Lib Dem conference, and protested against the BNP in Tower Hamlets.
Mark Littlewood says that Truss found the Liberal Democrats of the 1990s more libertarian than the Conservatives of that era:
Littlewood insists that the Lib Dems made more sense at the time to Truss because the Conservatives were authoritarian on civil liberties and Truss was primarily interested in personal freedom. This, he says, has been the constant in her political career.
"People say she was a Liberal Democrat and now she's a Tory. She was a remainer and became a Brexiter. She was a republican and she's a monarchist. But actually her overarching view of the world has always been a classical liberal one, that the state is too big and interfering in our lives," he says.
She joined the Conservatives in 1996 – when the "back to basics" morality campaign was still alive, if not very well – and 13 years later, it was her local Tory party that wanted to interfere in her life.
That would have been after her affair with a fellow sitting MP at the time. Some local Conservative association members wanted her deselected from her rural Norfolk seat, although that did not happen:
Several constituency association members, dubbed the "Turnip Taliban", objected, arguing that Truss had not disclosed the extramarital affair she had had with the Conservative MP Mark Field. A motion to cancel her candidature was defeated after the then-leader David Cameron came to Truss's aid.
'Weird'
Some of Truss's detractors told The Guardian that her interpersonal skills are 'weird':
The knowledge of the affair with Field has hung around Truss in a way that it probably would not have done with a male politician. There is a welter of parliamentary gossip and tall stories concerning Truss that MPs routinely refer to, off-the-record, although no one can ever name a source or witness. "She flirted with every man she comes across," says one (female) former Tory minister. "She almost even flirted with women." At the same time, so many of her colleagues and former colleagues – including the one who speaks of her flirting – report that she was unapproachable and, as another put it, "she doesn't have great interpersonal skills".
What most MPs agree that she has always had is ambition. Four years after entering parliament in 2010, she joined the cabinet as environment secretary. The most attention she received in the post came with a bizarrely emphatic speech she gave to the Tory party conference.
"We import two-thirds of our cheese," she told a bemused hall, "that is a disgrace." She spoke the last half of the sentence as if there were full-stops between each word, an oratorical choice that cemented the "weird" reputation.
When Theresa May became leader, she replaced Michael Gove with Truss as justice secretary and Lord Chancellor, making her the first woman to hold either post. One insider says that it was obvious that "she was an entirely unsuitable appointment for the job" …
Also:
When asked to describe Truss, two former Conservative government ministers both used the same word: weird. "She doesn't have any friends. She's just weird," one said. "She sits far too close to you," said another. "And when she talks to you, she keeps repeating your name. It's weird."
As Prime Minister:
While Truss may appear to possess an unshakeable self-confidence, many of her appointments spoke of insecurity, as well as debts that required paying. "Never forget that only 50 MPs voted for her in the first round of the leadership election," says one former minister, who puts Truss's ultimate triumph down to the fact that "she wasn't Rishi Sunak" …
"Oh, she's very clever," the former minister acknowledges, admonishing those who think otherwise. "She may not be great at understanding nuance, and her political antenna is not very good, but her political skill is in being a survivor."
A libertarian perspective: 'shambolic'
The IEA's Mark Littlewood did not seem to approve of the Truss-Kwarteng mini-budget:
Whatever is said of Truss, there can be no doubt that she inherited a difficult political and economic situation, with a cost of living crisis, the war in Ukraine, a huge national debt following the pandemic, and the forecast of a major recession.
But, says Littlewood, she played a bad hand badly. He remains bewildered about why she staked so much political capital on reducing the top rate of income tax. "Why select that as the hill you want to die on?"
Similarly, he doesn't understand why, if she was looking for tax reductions, she didn't cut VAT, which he argues would have been counter-inflationary and broadly progressive. He puts her undoing down to her tendency to rely on just a handful of trusted advisers, which may have worked when she was trade secretary, but not as PM. "That's when you need squadrons of very senior and experienced people advising you," he says.
Of course, squadrons of experienced people did advise her not to cut taxes – perhaps that's why she didn't consult them.
"I was utterly amazed by the complete inability to politically execute anything," Littlewood adds. "It was totally shambolic."
It makes you wonder what went on in all those IEA meetings, if Littlewood was taken so thoroughly by surprise.
The article notes the irony in a free-marketeer being brought down by market forces:
Whatever unfolds from here, hers has been a tale of almost classical hubris. In thrall for so many years to free enterprise, she seemed to expect as prime minister that the compliment would be repaid. Instead, she received from the hedge fund managers and bond traders she lionised an ignominious lesson in the most basic rule of capitalism: you can't buck the market.
'Weird' and friendless
According to Harry Cole and James Heale's Truss biography Out of the Blue, even she admitted that she was lacking.
On November 1, The Telegraph's Tim Stanley got a look at the book as it was a month ago, before publication:
… Harry Cole, political editor of the Sun, and James Heale, diary editor of the Spectator, have proven that hacks do our best work under pressure, adding two chapters on her 44-day premiership and cleverly turning a story of surprise victory into a well-researched tragedy of warnings ignored.
Even Ms Truss had her doubts about her suitability for No 10. I think I'd make a great PM, she once told a visitor to her office, the only problems are: "I am weird and I don't have any friends."
Others agreed with that assessment:
One special advisor recalled her "weird manner, where she has a glint in her eye and she thinks she's being edgy or naughty".
At the end of her premiership, she was pragmatic. And she does have some friends, after all:
"Politics is a blood sport," she told friends, "and I am the fox."
The 'pork markets' speech
In The Times, on Saturday, November 5, Cole and Heale gave us a preview of the book by discussing Truss's pork markets speech, which went viral this year, even though it didn't raise any eyebrows at the time. David Cameron was Prime Minister back then:
While Liz Truss was becoming more astute in Whitehall management, there is no escaping that her early days at Defra — the Department for Environment, Food and Rural Affairs — will be remembered for one thing only: the speech about apples, pork markets and cheese. The 2014 Conservative Party conference in Birmingham was the last chance for the faithful to gather before the widely expected election the following year.
With the polls pointing to a hung parliament, and fears of years more of coalition, it was red meat galore. George Osborne put the £100 billion annual benefits bill on notice, while David Cameron basked in some rare warmth from the membership after seeing off Alex Salmond and co in September's Scottish referendum. That week Truss picked a fight on two fronts. First, she declared war on the Hunting Act, and then she turned fire on her least favourite pudding: Angel Delight.
… it was the 1970s dessert that drew the minister's ire in a bizarre pre-conference intervention, most notably in The Times where she blamed the "new-fangled" instant pudding for the decline of Britain's orchards. "Apples are a symbol of a wider failure to take pride in and cultivate our own food," she wrote. Citing the fact that two thirds of UK orchards had been "ripped up in the past 60 years" and that Britain was importing "65 per cent of the apples we eat", Truss was on the warpath: "Consumers reach for easily made, new-fangled products such as Angel Delight or Instant Whip rather than make an apple crumble."
She continued the crusade from the podium in Birmingham, in her first speech to a conference as a cabinet minister: "At the moment, we import two-thirds of all of our apples. We import nine tenths of all of our pears. We import two thirds of our cheese." She continued, with now infamous emphasis: "That . . . is . . . a . . . dis . . . grace! From the apples that dropped on Isaac Newton's head to the orchards of nursery rhymes, this fruit has always been part of Britain, it's been part of our country. I want our children to grow up knowing the taste of a British apple, of Cornish sardines, of Herefordshire pears, of Norfolk turkey, of Melton Mowbray pork pies and, of course, of black pudding . . . I will not rest until the British apple is back at the top of the tree."
With only a few newspaper mentions, her speech went largely unnoticed.
However, she also mentioned 'pork markets', at which point her face strangely lit up, suggesting something more that wasn't there. By the end of the week, the BBC's satirical quiz show, Have I Got News For You (HIGNIFY), picked up the video:
Jennifer Saunders, the programme's host, mocked the environment secretary's facial gestures; responding to Truss's promise that, "In December, I'll be in Beijing opening up new pork markets", Paul Merton quipped: "She likes to enjoy herself on holiday, doesn't she?" Truss's least radical conference speech would become her most famous — as a meme and as a gif — and "that is a disgrace" a punchline of political jokes for years to come.
Recently, Truss said:
To be honest I didn't think it would get that much attention. So basically I hammed it up a bit too much.
Those who knew her at the time said that Truss's awkward delivery was a product of media training gone wrong:
Truss's friends would later confess she had been on a crash course for "corporate management presentational training" shortly before the speech. Reflecting on it eight years later, Kirsty Buchanan, a former adviser to Truss, told the BBC such training "plays into the worst elements of Liz's communication because it makes her more stilted — over-pronunciation and pausing is not her problem, it's the exact opposite. You need to loosen her up in speeches and get her to relax. In private when she's relaxed, she's articulate, sharp, witty, funny, engaging. Put her in front of a camera, until recently when she's grown in terms of confidence, she kind of clams up."
According to Matt Kilcoyne of the Adam Smith Institute think tank: "At the time in CCHQ [Conservative campaign headquarters] and No 10, they were doing training for ministers, trying to train them in a certain way. You saw that with the weird stance that they all took, standing with their legs apart."
A leading Tory sympathetic to Truss notes the difficulty in delivering a modern conference speech: "Addressing a conference hall while being told to address a headshot camera and speak to viewers at home: it's a difficult balancing act to get right, with speakers attempting to build a rapport with delegates while trying to deliver carefully crafted lines more suited to a party political broadcast or social media clip."
Nevertheless:
The reference to "pork markets" nevertheless raised eyebrows. One special adviser then working in another department says: "I think she was trying to be suggestive, it's all part of the whole naughty and weird act. I think because I've seen her be suggestive so many times, I assumed it was deliberate but it might just have been accidental."
Following the speech, allies admit Truss undertook more training to avoid a repeat of the mockery. Buchanan says: "There has clearly been a lot more work done on bringing the voice down and slowing down the pace of delivery."
Kwasi Kwarteng said:
I think it was a bit unfair . . . it was weird, the delivery people thought was a bit strange. The point she made was a fair point. But again she bounced back. She's totally resilient, totally focused and she learnt from Defra, she learnt from that experience.
She didn't let poor delivery deter her:
Undaunted, Truss threw herself back into her departmental work. An aide recalls: "There's a sort of delightfully Terminator quality to her: she just keeps going. And you know if you combine that with a very thick skin this will lead to this almost relentless optimism. It's quite a powerful force in politics."
Truss can laugh at 'pork markets' now:
One cabinet colleague notes that Truss can at least laugh about the speech: "The number of times that I've been in meetings with her and she's gone, 'That is a disgrace' and everyone chuckles because we all know what the reference is and she laughs along with us like, 'What the f*** was I doing?'" Truss says: "My daughter loves it, though, she plays it all the time."
Scottish Secretary helped Truss become PM
Perhaps one of the biggest revelations of Out of the Blue is that Alister Jack, the Scottish Secretary, helped Truss become PM.
On November 13, The Sunday Times featured a synopsis of how Jack dissuaded Truss from resigning as a Cabinet minister in September 2021.
Truss found out about a rise in National Insurance and told Boris Johnson about it. Then a newspaper report about the rise appeared from an unnamed Cabinet minister. The article quoted the minister as saying the rise would be:
morally, economically and politically wrong.
Boris did not want Truss to resign, so he enlisted Alister Jack's support in keeping her in place:
As a result one of the authors argues that she was able to spend a year at a senior level of the government positioned as the alternative to Rishi Sunak if Johnson lost his job …
Jack had become increasingly close to Johnson and was advising him on a cabinet reshuffle. The book says the Scottish MP contacted Truss to tip her off that she was in line for a significant promotion.
Jack told her to keep quiet about the National Insurance rise:
Jack called her and said: "Look Liz you're gonna get a massive job in two weeks' time, a massive job. You would be well advised to shut the f*** up."
Despite going on to raise concerns in cabinet, she did not comment publicly and, according to a Downing Street official "then sucked it up".
Truss then became Foreign Secretary:
With Truss duly being promoted shortly afterwards to the prestigious foreign secretary post, the authors say: "Perhaps Alister Jack's plan had worked after all; Truss did not resign."
Cole told The Sunday Times: "For fans of alternative history, the role Alister Jack played in the rise of Liz Truss is fascinating.
"Had he not convinced her to temper her attacks on Johnson and Sunak's national insurance rise in September 2021, perhaps she would have resigned. Or perhaps Boris would never have promoted her to foreign secretary to clip Sunak's wings and set up the battle to replace him a year later. Keeping her on board made her a contender as she spent a year basically being the alternative to Rishi if Boris did go down so it was clearly a key milestone in her tilt for the top job — and all that followed."
Currently, rumours have been circulating that Alister Jack will be in line for a peerage, perhaps from Liz Truss. Every Prime Minister is allowed a list of nominees for the House of Lords and Truss is no exception.
The end
After Truss resigned, Harry Cole gave an interview to Times Radio, summarising Truss's final week as Prime Minister. Too many things had gone wrong. She had to go. He ended by saying she was remarkably 'zen' about it all:
That fateful Wednesday of Suella Braverman's resignation coupled with the bungled vote on fracking and no Chief Whip brought Truss and her husband to a serious conversation that night, as the October 23 edition of the Mail on Sunday reported:
When Liz Truss finally accepted that her premiership was over, late on Wednesday evening, she went to the fridge in the No 10 flat and pulled out a bottle of sauvignon blanc to share with her husband Hugh.
She had just endured a torrid night in the Commons, where more than 40 of her MPs had failed to back her in a vote on fracking – leading to the astonishing sight of ministers pulling wavering Tories into the voting lobbies.
As she nibbled on a pork pie, the couple agreed that it was a matter of when, not if, she resigned.
One of the main considerations was the impact of the growing turmoil on their two teenage daughters.
Ms Truss then slept fitfully until 4.30am, when she started messaging aides for advice.
Later that morning, No 10 asked Sir Graham Brady, chairman of the 1922 Committee, to come in to see the Prime Minister.
When she asked if the situation was retrievable, he replied: 'I don't think so, Prime Minister.' The game was up …
Downing Street staff were in tears as Ms Truss prepared her resignation but she reassured them: 'Don't worry, I'm relieved it's over,' before adding, 'At least I've been Prime Minister.'
While newspaper reporters were putting together Truss stories, she was spending her final weekend as Prime Minister at Chequers, in leafy Buckinghamshire.
The Sunday Times reported that she held back-to-back parties:
Truss, 47, held a farewell party for ministers last night, and will thank close aides and their partners tonight …
Prime ministers are required to cover the cost of any private entertainment or party business they host at the residence.
A Times2 article told us what she allegedly served to guests:
One of Liz Truss's many leaving parties at Chequers this weekend featured a menu including bruschetta, pigs in blankets and smoked salmon pinwheels and that, right there, sums up this whole sorry mess.
Anyone who inflicts canapé carnage like that is quite obviously unfit for high office. Smoked salmon followed by a mini sausage followed by bruschetta is a recipe for digestive disaster.
It sounds pretty good to me.
The Mail on Sunday reported more Truss controversy to come involving:
a row over whether Ms Truss should be entitled to the annual £115,000 allowance afforded to ex-PMs after her stint in office lasted only six weeks.
She is also due to receive a £18,860 pay-out for her historically short time in office.
Her aforementioned adviser Kirsty Buchanan stuck the knife in:
Kirsty Buchanan, who was a special adviser to Ms Truss at the Ministry of Justice and who also worked in Downing Street under Theresa May, claimed the PM's reputation was 'in tatters'.
'The seeds of destruction were sown early as she shut out all but her closest allies and cocooned herself with those who shared her views,' Ms Buchanan wrote in the Sunday Times.
'With experience and institutional knowledge gone, dangerous groupthink and staggering naivety took hold at No 10.
'Hubris went unchecked when humility was required from an administration that did not earn its majority but inherited it.
'Politics was baked in a Petri dish, away from the political reality of the world outside.'
Ms Truss's former aide said it would take 'every ounce of her famed resilience' for the PM to 'bounce back from this humiliation'.
'I suspect, though, that it will be the humbling in the eyes of her daughters, of whom she is fiercely proud, which may hit Truss hardest,' she added.
Oh, dear. I hope Ms Buchanan was not one of Truss's guests at Chequers.
I still think that, had Truss been male, most people in power would have tolerated her mistakes and been supportive.
Tomorrow's post looks at the role the Bank of England and the media played in her downfall.
Recently, I've been writing about Red Wall MPs in England.
Mark Jenkinson, who represents the Workington constituency in the north west of Cumbria, is among their number.
The constituency was established in 1918.
Until Jenkinson's victory in December 2019's general election, Workington had only one Conservative MP, Richard Page, who, thanks to a by-election, held his seat between 1976 and 1979. In the 1979 general election, a Labour candidate reclaimed the seat.
Therefore, Mark Jenkinson is the first Conservative to represent Cumbria as the result of a general election. He defeated Labour's Shadow Environment Secretary Sue Hayman by a majority of 4,136 votes.
Jenkinson's campaign in 2019 saw the creation of a new name for working class voters turning Conservative: Workington man. Wikipedia explains:
Workington man describes the stereotypical swing voter who it was believed would determine the election result.[1][2] Their support of the Conservatives in the 2019 election helped the party break the Labour Party's Red Wall of safe seats.[2]
And:
Going into the 2019 general election, it was seen as a key marginal seat for the Conservatives to win from Labour. On a 9.7% swing, it fell to the Conservatives on election night, marking the first time the seat had elected a Conservative at a general election.
In his youth, Jenkinson attended a Catholic high school and, afterwards, an agricultural institution, Newton Rigg College in Penrith.
However, he joined British Steel as an apprentice. Before becoming an MP, he was a self-employed contractor in the nuclear supply chain.
Politically, Jenkinson is rather libertarian in outlook. He was the UKIP candidate in the 2015 general election.
He was a founding member of UKIP's West Cumbria branch but left in 2016, having been concerned about the party's approach to the EU referendum that year and what his Wikipedia profile describes as 'internal democracy'.
2019 was a big year for Jenkinson. Having joined the Conservative Party, he was elected to the Seaton and Northside Ward of Allerdale Borough Council, where he became deputy leader. In addition, he was the chairman of Seaton Parish Council, a position he relinquished after having been elected MP in December that year.
Jenkinson is married and has four children.
Despite Boris Johnson's troubles with lockdown parties, Jenkinson remains enthusiastic about the Prime Minister.
On January 13, 2022, he told GB News's Gloria De Piero, a television presenter and former Labour MP, that his constituents also like Boris and appreciate his upbeat messages. He says that he reads every email in his inbox. At that time — the height of Partygate, days before Boris's apology to the House of Commons — he said he received fewer messages about that than he did the Policing and Crime Bill which Parliament was debating.
However, he did say that both he and Boris promised a lot to Workington and there is now a shorter timeframe in which to make those promises a reality. Again, the pandemic put paid to quick action in short order:
De Piero asked Jenkinson about his Private Member's Bill on careers advice to school students. He said that, as a father of four, he was concerned about students receiving good advice on what to do with their lives, particularly when it comes to training and apprentice programmes. The reply to the following tweet goes to the heart of the issue:
This aspect of education does need to be strengthened, something on which all parties agree, as proved during the debate on Jenkinson's bill the following day.
I saw the debate, which was heartwarming, as all sorts of little details popped up, not all of which were germane to the proposed legislation.
Private Member's Bill days are held on a Friday, from mid-morning until 2:30 p.m. The atmosphere is a bit more relaxed and both sides of the House are able to agree on most of the legislation.
I will share some of Jenkinson's contributions made on January 14 then go into other heartwarming aspects.
Jenkinson said (emphases mine):
I am delighted to present the Bill to the House for its Third Reading. It heralds a sea change in how we prepare the next generation to meet the career challenges that lie ahead. It will serve to embed careers advice throughout the secondary phase of education through the provision of regular and ongoing support for students every step of the way. In short, it is designed to give our young people the best start and to maximise their opportunities.
I am delighted that, through the Bill, I will make a positive difference to the lives of young people in my Workington constituency and across England. As a father of four, it is an issue that is close to my heart. The changes that the Bill will help to bring about are important and overdue, and I have no doubt that its effects will be positive and far-reaching.
At present, the statutory duty to provide careers guidance falls on maintained schools, special schools and pupil referral units but not academies. The Bill seeks to address that anomaly by placing the same requirement on all types of state-funded secondary schools, which will help to create a level playing field. I hope that that will encourage a culture where young people, regardless of social background, can advance through merit and hard work.
It is essential that the advice available to our young people is consistent, of the highest quality and accessible to everyone. As a blue-collar Conservative from a working-class community, I am a staunch believer in the value of meritocracy. The standard of careers guidance should not be a postcode lottery—we cannot leave the education of the next generation to chance—and must be based on a set of clear principles that are clearly focused on the best interests of children.
It is also important to develop a more joined-up system in which careers advisers, education providers and employers work together to share information and signpost young people to the opportunities available. I know how frightening it can be for a young person to make momentous and life-changing decisions about his or her future career, and that process becomes even more stressful if they are not in possession of the information that they need to make the choices that work for them.
In previous stages of the Bill, I joked that I am 39 and remain undecided about what I want to be when I grow up. At the end of the month, I will hit the big four-o and I am even less decided than I was. On a more serious note, it is easy for young people to find themselves on the wrong path or facing the wrong direction, and without the proper guidance, the risk of that happening becomes even greater.
That is why it is important to give our young people the best careers advice we can at the earliest opportunity. Such a crucial decision cannot be determined on the basis of an occasional meeting, but must be part of a long-term process that is continually reviewed in the light of changes in the labour market and the child, and of the developing aspirations of the young people themselves.
He received support from the few Labour MPs who showed up for the debate.
Jenkinson recognised the existing problems plaguing young people. Coronavirus measures made these issues worse:
The Bill is particularly timely given the disruption and disorientation caused by covid-19. It is hardly surprising that young people are worried about their education and employment prospects in these unprecedented times. Uncertainty and change inevitably fuel anxiety, and covid-19 has forced many young people to reconsider their options and look again at their career paths …
In my constituency, as in others across England, there are pockets of deprivation, unemployment and sometimes, I have to say, hopelessness. I am acutely aware of the stark disadvantages faced by so many young people. They have so much to contribute, but so often they are written off too soon. If we are serious about "levelling up"—if it is to be more than just a slogan or a soundbite—giving all children access to good-quality careers advice is one of the most important weapons in our fight against poverty and despair. We must leave no child behind.
Providing this enhanced careers education and guidance makes economic sense too, as it will contribute to a high-skills and high-productivity recovery. The Bill will help all young people to develop the skills and attributes that will enable them to succeed in the workplace, and in some cases it will nurture the community leaders of the future.
He went on to discuss the work in this area being done nationally and in Cumbria:
… As a direct result of the Bill, approximately 650,000 year 7 pupils across England will become entitled to independent careers guidance, and we are bringing 2,700 academies into scope. The Bill puts into statute the Government's commitment in the "Skills for jobs" White Paper for the UK's post-pandemic recovery. It builds on the important work that is already being done nationally to develop a coherent and well-established careers system—a sector in which Cumbria is a leading light.
As Members will know, the Government are already committed to the national roll-out of careers hubs, and have taken action to support the careers of young people through schemes such as kickstart. As I said earlier, the Careers & Enterprise Company is increasing young people's exposure to the world of work, and helping schools and colleges to deliver world-class careers guidance for their students in line with the Gatsby benchmarks. The National Careers Service provides careers information, advice and guidance through a website and a telephone helpline. More than 3,300 business professionals are now working as enterprise advisers with schools and colleges, doing a lot of the face-to-face guidance that strengthens employer links with schools. The result is that 3.3 million young people are now having regular encounters with employers, up 70% in just two years.
Education providers, training providers and careers services in my Workington constituency continue to rise to the challenge in the face of often large socioeconomic challenges. The Cumbria careers hub was launched in January 2019 to deliver the Government's careers strategy for Cumbria after the local enterprise partnership's skills investment plan identified a significant challenge in developing skills in our county.
The process is accelerating, with 100% of schools in the hub matched with an enterprise adviser from a pool of senior business volunteers. It has been successfully replicated across the country, with 45% of secondary schools and colleges now in careers hubs. We are seeing rapid improvements in hubs, with disadvantaged areas among the best performers. The link between careers and career pathways is essential for developing and attracting talent to Cumbria, owing to the area's declining working-age population, and their success is to be celebrated.
It is therefore critical that we nurture homegrown talent by giving young people the skills and confidence they need to make the most of the opportunities within a forward-looking global Britain, to help close the skills gaps in areas like Cumbria and to attract investment. It is simply not enough to nurture talent; we must also work to retain it and attract it. Furthermore, careers advice, in line with the Gatsby benchmarks, must be tailored to the jobs market in a local area, which is why conversations and relationships between employers, schools and careers advisers are so important. This Bill ensures that those channels of communication are built upon. The Bill helps to ensure young people are aware of the opportunities that lie on their doorstep, as well as those that exist further afield. Young people often tell us that one of the biggest barriers is not knowing what careers exist …
Careers advice has to start at a young age, he said:
We need to start setting out to children, as soon as possible, the options that will be available to them—not just sixth form and university but further education, apprenticeships, T-levels and other technical education qualifications. The earlier our young people start to consider these options and receive the appropriate guidance, the greater their chance of making the best possible choice.
University technical colleges—I have a fantastic one in my constituency—form an important part of the offer, but that could mean changing schools at 14. This option should not be put in front of a child at 13. It should be talked about from a much earlier age. Although it is important that young people are aware of their options, the last thing we want is for them to get to year 9 and feel like options are being imposed on them or, worse still, are non-existent, which is why flexibility must also be built into the guidance.
Engaging with employers from an early age can inspire young people and help them relate to the career opportunities to which their circumstances, abilities and interests are suited. The Bill recognises and makes use of the work already undertaken as part of the national careers system and, more importantly, it continues to raise young people's aspirations through regular and meaningful engagement with employers and workplaces.
Having spoken in depth with education providers, parents and guardians, careers advisers, employers and, most importantly, young people themselves, I am more convinced than ever that this Bill will help to unlock the potential of generations to come. It is difficult to imagine a more worthy cause than to give our children the confidence and skills they need to be able to fulfil their dreams.
I am grateful to everyone who has worked on the Bill and helped to shape it. Their research, knowledge and observations have been invaluable and have created something that will serve our young people well. This Bill is about helping young people navigate through obstacles and avoid blind alleys, and it will prevent them from ending up in a career cul-de-sac.
Alex Burghart, the Parliamentary Under-Secretary of State for Education, replied on behalf of the Government:
What a pleasure it has been to take part in this debate. We have had some medieval history from me, some family history from my hon. Friend the Member for Hertford and Stortford (Julie Marson) and some personal and socialist history from Opposition Members—or the Opposition Member, I should say.
We all thank my hon. Friend the Member for Workington (Mark Jenkinson) for this excellent Bill, which will improve a lot of young people's lives. That is what we are all here to do. The Government are fully committed to education and to careers education and guidance, which is an essential underpinning of our reforms. It has been clear at every stage that the Bill has cross-party support and co-operation, and I genuinely thank the hon. Member for Chesterfield (Mr Perkins) for his party's support during the Bill's progress.
We are at an important juncture for skills reform in this country, and I thank my hon. Friends for supporting the Skills and Post-16 Education Bill, which will soon return to the House on Report. The careers work we are pleased to be doing with my hon. Friend the Member for Workington underpins a lot of that Bill, and it is wonderful to hear my hon. Friends cite great examples from their constituencies for us to dwell on.
My hon. Friend the Member for Beaconsfield (Joy Morrissey) made a powerful speech on what happens in alternative provision settings. These young people, on whom so much rests, have too often been forgotten. The most important piece of careers advice I ever heard was on a visit to an alternative provision setting in Wandsworth [south London] about 12 years ago. It was a fantastic setting in which the headteacher had created a number of studios for practical vocational education: a car mechanic's workshop; a hairdressing salon; a cookery school; and a bricklaying studio. The headteacher said to the gentleman who taught bricklaying, "Will you tell our visitor what your last job was? This is what you tell all the pupils." And the bricklayer said, "I was an armed robber. I earned £10,000 on my last job and now I earn nearly £30,000 a year working here." That was an extraordinarily valuable and inspiring careers lesson for young people to hear in such a setting.
We want to make sure that young people in all settings, regardless of their background, have access to high-quality careers education, which is what our reforms will do. We want to level up opportunity, and the reforms set out in our skills for jobs White Paper will give a genuine choice between high-quality technical and academic routes. It is vital that everyone has access to careers guidance of the highest standards so that they are well informed on what will happen afterwards.
We cannot overstate the importance of careers advice, and I thank all hon. Members for their contributions at this and previous stages. I congratulate my hon. Friend the Member for Workington again on bringing this Bill to the House.
Jenkinson responded by thanking all the MPs who supported his bill. He ended by quoting a famous Prime Minister from the 19th century:
It was Benjamin Disraeli who said:
"The greatest good you can do for another is not just to share your riches but to reveal to him his own."
This Bill is true to the spirit of those words.
Now to other heartwarming moments, beginning with ancient English history.
Sir Christopher Chope (Conservative) participated in the debate. He represents Christchurch constituency in Dorset.
Alex Burghart, the Government's Under-Secretary of State for Education, said earlier in the debate:
I often think of my hon. Friend when I am reading the Anglo-Saxon Chronicle, which is one of my favourite early medieval texts. As you will know well, Mr Speaker, after King Alfred the Great died, his nephew, a nobleman, tried to seize the throne. He did so by starting at Tweoxneam, which is the archaic name for Christchurch. Whenever I think of that noble rebel of old, my mind sometimes flits to my noble friend from Christchurch today.
We also had a workhouse story from another Conservative MP, Julie Marson:
I want to give a little bit of perspective from my own background. In my maiden speech, I referred to my family background as moving from workhouse to Westminster. My great grandmother was born in a workhouse in the east end of London. She was a foundling and she met my great grandfather in the Foundling Hospital, so they had very modest beginnings. The emphasis in the Foundling Hospital was not on a choice of careers but on set career paths. All the boys who were put into the Foundling Hospital were trained to become Army bandsmen, and all the girls were trained to become maternity nurses—midwives. They did not have a choice in that.
My great grandparents went on to have great careers, in the Army and as a midwife. They met each other in the hospital, and it absolutely changed their lives. They had rewarding careers and their own family, and—workhouse to Westminster—I managed to get here, for some reason. I think that shows the fundamental need for a career and a job to make our lives what we want them to be. That opportunity, which is fundamental to levelling up and everything that we stand for—
The Speaker of the House, Sir Lindsay Hoyle, cut her off at that point and asked her to stick to the legislation.
However, I'm glad it is on the record. Other MPs had equally moving examples of career development, so interested readers might be moved to skim through the debate.
Returning to Mark Jenkinson, his libertarian side came through when he said that he did not want to attend the 2021 Conservative Party Conference if vaccine passports were mandatory:
In the end, I recall that they were made optional.
In November 2021, he wrote an article for Conservative Home about his concerns regarding sexual identity, a hot topic at the time when the question of cervices came up: 'My Twitter monstering. I never thought that saying there are two biological sexes would cause such a stir'.
It's a long and considered article. A few excerpts follow:
I never considered that making a statement of indisputable scientific fact – that there are only two biological sexes, each with their own set of immutable characteristics – would cause such a stir. And then I see the Labour Party eating themselves alive over it, trying hard to lose the votes of the 51 per cent of the electorate that are female.
Gender Recognition Certificates, some based on self-identification, were a topic of discussion in Parliament last year:
I am an instinctive libertarian. Everyone should be free to live their lives, as fully as possible and in a way that makes them happy. Free to live with, sleep with and love whomever they wish. Neither the state or I have any business intervening, other than to stop serious harms. But when I see the direction we're sleepwalking in, I can no longer stay quiet …
As it is only this year that we'll start to track prisoners with GRCs, we don't know how many male-bodies there are in the female prison estate, where some of our most vulnerable women are housed.
We do know that at the latest datapoint in 2019, there were 129 males who identified as transgender held in the male estate, and that 57 per cent of them had at least one previous conviction for sexual offences, compared to 17 per cent of men and two per cent of women convicted of the same.
Despite exemptions for single sex spaces in the equality act, the NHS allows access to same-sex wards depending on how you present not your biological sex. Despite exemptions for necessarily same-sex services, hospital trusts are referring to 'birthing people' and 'cervix havers' – while also referring to only men having prostates.
The Scottish Government is set to introduce gender self-identification, significantly speeding up legal recognition of gender in all spheres while reducing to the age requirement to 16 – meaning those transgender prisoners can move more easily to the female estate.
Meanwhile, the UK government is toughening up on the recording of statistics around sex and gender, but is also seeking to ban conversion therapy, on the back of an unprecedentedly-short six week consultation.
As Conservatives, it's time we stopped staying silent because it's the nice thing to do: emotion cannot trump biological reality.
That debate will run and run.
In closing, Mark Jenkinson was pleased to host the Prime Minister along with four other Conservative MPs during the recent February recess. He took them on a quick tour of Workington and events around Cumberland on Valentine's Day. Judging from his tweet, all appeared to have had a grand day out.
That month, he was made a parliamentary private secretary for DEFRA, the Department for Environment, Food and Rural Affairs. DEFRA needs some common sense, so his appointment is most welcome.
It is good to have Red Wall MPs in the House. I wish Mark Jenkinson every success in his Parliamentary career.
Today's guest post comes from my reader lynnfay73, a retired adjunct professor, who, last week, expressed her dismay and disappointment with both of America's political parties after the past two presidential elections, the events of January 6, 2021 at the Capitol and President Trump's second impeachment in the House of Representatives.
—————————————————-
Pen letter to Republicans from a disheartened libertarian:
I will be sending this hard copy to every senator and representative in US.
I'll also send it to The Detroit News where I've been published before, though I may be censored there.
Open letter to Republican politicians from a disheartened libertarian
Dear Republican Leaders,
We Americans couldn't be more dismayed at the state of the country, and we couldn't be more disappointed in you.
I wasn't a Donald Trump fan. I voted in the primaries for Marco Rubio who I thought articulated freedom the best I'd heard in a while (and having decided Rand Paul was unelectable). Donald Trump was an acquired taste to say the least. He's made some mistakes, he's no politician, but nowhere near the extent of the mistakes YOU have made.
Before Donald Trump even took office, the Democrats were calling for impeachment. They were allowed every day on all networks, even Fox News, for four years to call him illegitimate. A Russian asset, a traitor. A NAZI, HITLER. Hollywood circulated memes of him beheaded, did plays with people killing him as Julius Caesar, Madonna called for blowing up the White House, DeNiro and Biden threatening to beat him up. They lied about his words, blatantly, and the left journalists never called them on it, knowing full well he never said white supremacists were "good people"–he expressly said he meant those people who wanted to preserve the statues, NOT white supremacists whom he condemned immediately. And that went on and on. The man is a lot of things, but he's no racist. And let's not forget Maxine Waters' calls for violence against Trump, openly, and Pelosi tearing up the State of the Union address. To name a few things.
Then they went on and weaponized Obama's justice department to use Hillary Clinton bought and paid for (from Russians) dirty dossier which they used illegally (even by their own standards) to obtain illegal FISA warrants to spy on him and ruin Carter Page's life by actually forging documents.
The press never changed the narrative and they severely threatened our Republic by doing all this. And the Never Trumpers are even more to blame. Lincoln Project? You have been a disgrace (and it appears maybe even degenerates) and you harmed the Republican party irreparably by not just staying quiet if he wasn't YOUR cup of tea. The list is long on this. John McCain GAVE that dossier to the FBI and attacked Trump publicly as did Romney, and they wonder why they got the reaction they got. No excuse for that.
Then before this latest election, the left media and Big Tech and the Democrats censored the conservative news — true news, about the Bidens' activities in Ukraine and China (the other phony impeachment crap was to hide and accuse people of what THEY had been doing for four years — using the justice department against a political opponent and covering up their own corruption). They have now carried that to the extreme that not only have they censored the president of the United States, they have silenced the conservative ability to communicate. And they are raising this unrest to fever pitch by these actions alone.
It is the height of hypocrisy to call this mess at the capitol "insurrection" when the left (and even the never-Trumpers) have been stoking just that for four years in an attempt to overturn a duly elected presidential election.
But what is the most egregious is that YOU are such cowards that instead of ALL standing up to force a ten-day investigation– into what is election practices half this country has no intention of accepting going forward– most of you chickened out in the elitist establishment hope that you could hold the senate but get rid of Trump. His list of accomplishments will not be appreciated for a while which is a very big shame AND you have divided this party irreparably. It is YOU who cost us Georgia, mostly because you refuse to insist on election integrity.
And that is why this happened on Jan. 6th, not because of Donald Trump.
None of us thought this election would be overturned. We wanted it investigated and we want election reform NOW. You cowards should have stood by him and insisted that this happen as the American people wanted.
No, this does not excuse violence (though the left excuses it any time they want to), but Donald Trump is not responsible for it. The left is responsible for it with all their actions of the last four years and YOU establishment elitists who are really nothing more than Democrats in disguise–YOU are responsible for it. No idea what you are doing in this party.
And had you had his back the whole time, he could have been more measured in his actions and responses all along. I wonder how any of you would have held up to this kind of abuse, never before seen in American political history.
I will be working to get rid of any of you I can: McConnell, Romney, Sasse, Kinzinger, Cheney, and the rest of you. Liz Cheney (R-Wyo.), John Katko (R-N.Y.), Adam Kinzinger (R-Ill.), Fred Upton (R-Mich.), Jaime Herrera Beutler (R-Wash.), Dan Newhouse (R-Wash.), Anthony Gonzalez (R-Ohio), Tom Rice (R-S.C.), David Valadao (R-Calif.), and Peter Meijer (R-Mich.) who just voted to impeach Donald Trump.
There are some patriots here (even if their motives might be political) — Matt Gaetz, Jim Jordan, Devin Nunes, Ted Cruz, Elise Stefanik, Mo Brooks, and more (and some who might be excused for arguing constitutional issues like states' rights — Mike Lee, Rand Paul).
It's fine if you didn't prefer Donald Trump's style; it is NOT fine that your arrogance and elitist superiority and cowardice (Democrats never would have done this–say what you want about their motives — they play hardball) have resulted in this country embarking on an authoritarian nightmare that could once never have been contemplated in America let alone practiced.
We won't forget.
L. Fay
Adjunct Professor (retired)
————————————————————————————————————-
Lynn's is an excellent letter. I am grateful she allowed it to be reprinted as a guest post.
I have a backlog of unused links in a Pending folder.
One of them is a profile of radio host Larry Elder's 2012 book Dear Father, Dear Son with the subtitle Two Lives, Eight Hours. The photo is of his father's snack bar in Los Angeles. More about that in a moment.
Writing for World Daily News in January 2013, during the aftermath of the Sandy Hook killings, Elder says that American society is suffering not from gun culture but from a fatherless culture (emphases mine below):
Rapper/actor Ice T ("Cop Killer") and I attended the same high school. In the 1991 John Singleton film "Boyz n the Hood," the teenagers attend that school and car-cruise the South Central Los Angeles boulevard after which the school is named.
Crenshaw High opened in 1968. By the time Ice-T left, less than a decade later, Crenshaw had become, in the rapper's words, "a Crip school" – meaning one controlled by that street gang. Because of the school's reputation for violence, Time magazine called it "Fort Crenshaw." A powerhouse in basketball and football, the school lost its accreditation 2005, before getting it back in 2006 on a short-term basis.
In 1970, I was part of the second graduating class in the new school's history. Some kids who started with me in the 10th grade did not finish. But it was the exception rather than the rule. By 2012, only 51 percent of Crenshaw's students graduated.
What happened?
Dads disappeared. Or, more precisely, to use Bill Cosby's term, the number of "unwed fathers" exploded.
He goes on to say:
In 1979 the National Longitudinal Survey of Youth found that fatherless kids were twice as likely to drop out of school and that girls who grew up without dads were 2.5 times more likely to become pregnant teenagers.
Rutgers University sociology professor David Popenoe published "Life Without Father" in 1996, where he describes the "massive erosion" of fathers in America. Popenoe concluded that boys raised without fathers were more likely to have problems with drugs, alcohol, behavior and social interactions. Several studies during the '90s found that disruption in family structures was a predictor of children's gang involvement.
Many on the left dismiss the importance of fathers as "right-wing," blame-the-victim propaganda. Well, the late rapper Tupac Shakur, in the posthumously released documentary "Resurrection," said: "I know for a fact that had I had a father, I'd have some discipline. I'd have more confidence." He admits that he starting hanging out with gangs because he wanted to belong to a family structure, and it offered structure, support and protection – the kind of thing we once expected home and family to provide.
Anyone who knows a bit about gang culture will know that the gang leader acts as a surrogate father and that his top assistants as big brothers, meting out brutal punishments to members violating house rules.
Larry Elder's upbringing in an unsavoury part of Los Angeles was quite different.
In this YouTube clip, Elder — a graduate of Brown University and University of Michigan Law School — tells the interviewer about his troubled relationship with his dad:
Elder explains that he and his father — married, working and living at home — got into an argument when Elder was 15. They did not speak to each other for ten years.
When they did start talking again, they had an eight-hour long conversation.
Until that point Elder did not understand what his father had been through from childhood in the South through to the time he was raising a family.
Elder Sr took his surname from his mother's long-term boyfriend. In a parallel with Elder Jr, Elder Sr did not get on with the man of the house and was thrown out at age 13. He went on to serve his country during the Second World War. Upon returning to the South, he could not get a job. Frustrated but determined, he moved to California. He had problems finding employment as a short order cook because he had no references. Eventually, he ended up working two jobs whilst his wife raised the children. Larry Elder said that his parents believed it was important for his mother to stay at home.
Elder Sr, he tells us, only got four-and-a-half hours of sleep for decades. Even when he had saved up enough money to open the snack bar, Larry says his dad was always on edge. Home life proved difficult, especially once the children began working there:
… what I knew I hated — really, really hated. Cold, ill-tempered, thin-skinned, my father always seemed on the brink of erupting.
But Larry never knew about his father's trials until the eight-hour conversation many years later. That is the reason for the book.
Larry Elder wants to reconcile children with their fathers, those fortunate enough to know them. In the Fox News interview, he says he has heard from men and women around the country who have mended fences with their dads and have come to understand them and love them in an entirely different light.
Elder believes that fathers are essential and that couples should marry before having children:
The formula for achieving middle-class success is simple: Finish high school; don't have a child before the age of 20; and get married before having the child. Preparing for the future requires dedication. It requires deferring gratification, precisely the kind of "discipline" Tupac admitted he lacked because he grew up without a father.
Doing what you want to do is easy. Doing what you have to do is hard. Dads, by getting up and going to work each day, send a powerful message every day to their children: Hard work wins. There are no short cuts. The outcome is unknowable. But the effort is entirely within your control.
His own success is a testament to the upbringing he had, flawed and harsh as it was.
Elder says that whatever we perceive to be the problems in the black community are not the crucial issue. As he tells Tavis Smiley (at 5:06 and near the end of the interview) the crux of the matter is 'children having children':
He wants people to take responsibility for their own lives and rely less on the welfare state.
Incidentally, this is not just a black problem: Britain has many whites who have adopted the same multi-generational lifestyle.
In December 2014, Los Angeles radio station KABC dropped its hometown host's show from its schedule. However, Elder's show is syndicated and can be heard via other American radio stations and online.
Elder's politics are small-state libertarian. Some would call him conservative, particularly in his probing and fascinating interview of Bill Ayers, who — amazingly — progressed from antiwar terrorist to teacher to Obama's mentor:
Several of Elder's fans would prefer that he be President of the United States rather than a talk show host. I can see their point.
The end of Britain's anti-tobacco campaign, Stoptober, comes as a relief.
Its counterpart is #Octabber. Whilst most of my posts this month have not focussed on smoking, they do point to a possible endgame of drug-taking replacing the clear thinking which nicotine provides.
I remember the sensible days when smoking was allowed nearly everywhere: aircraft, offices and public buildings. Ashtrays — large or small — were ubiquitous until the late 1980s. In the 1990s, separate smoking rooms became common. Shortly after the Millennium — at least in Britain — these were done away with and the great outdoors became the smoking lounge. Our near-universal smoking bans were in place a few years later.
The effect has been devastating on pubs, productivity and property rights.
Adults can no longer go out to meet their friends for a drink and a cigarette in some areas; there is no pub anymore, never mind one with a smoking area in back.
Office workers need to walk outside — sometimes a few minutes away — for a quiet smoke. Often, because of the weather, there is no longer the ability to take work to do during a five-minute cigarette break.
Private companies can no longer allow an employee to smoke in a company car or other vehicle. The government has dictated to them, just as it has to those in the hospitality industry, what can and cannot be done within the confines of their own property. Along with this is the constant threat of new legislation which would prohibit smoking in the family car if children were present.
We in the West read that our health services are on overload or at breakdown point. Nonetheless, Tobacco Control rolls on with Alcohol Control not far behind. If I were in charge of any of our governments, the first thing I would do would be to remove the funding from these people. We all know the risks; we learn about them at home and in school. We know we can go to our pharmacists and doctors if we want help to stop smoking or drinking. That's quite enough.
Agree or disagree with smoking (or drinking), no government should be dictating what can be done on or in private property other than where it concerns trespass, crime, unreasonable burdens on neighbours or domestic abuse.
In closing, here are a few more medical benefits from nicotine.
First, health writer Art Ayers's research has revealed that studies from 2007 and 2009 have shown nicotine may benefit compromised immune systems with:
beneficial effects on inflammatory diseases, such as arthritis, asthma, cancer, inflammatory bowel diseases and perhaps, H1N1 [swine flu].
He says that the studies show that nicotine produces these benefits by acting on the vagus nerve, which runs from the base of our brains (medulla oblongata) through to the abdomen. The vagus nerve has a significant effect on various physical functions, from those in the brain all the way to the digestive tract.
Nicotine may also help to prevent or diminish the devastation of what are known as cytokine storms. In cases of infection or a compromised immune system:
cytokines signal immune cells such as T-cells and macrophages to travel to the site of infection. In addition, cytokines activate those cells, stimulating them to produce more cytokines.[2] Normally, this feedback loop is kept in check by the body. However, in some instances, the reaction becomes uncontrolled, and too many immune cells are activated in a single place. The precise reason for this is not entirely understood but may be caused by an exaggerated response when the immune system encounters a new and highly pathogenic invader. Cytokine storms have potential to do significant damage to body tissues and organs. If a cytokine storm occurs in the lungs, for example, fluids and immune cells such as macrophages may accumulate and eventually block off the airways, potentially resulting in death.
Ayers writes that nicotine is being studied to see if its anti-inflammatory properties can be used to block cytokine storms, particularly in the case of influenza.
Therefore, smokers, he says, are protecting themselves from infection and disease. However, when they stop smoking, they open themselves up to inflammatory disorders, as nicotine is no longer present.
More surprisingly, perhaps, are the studies which indicate that smoking may actually prevent some types of cancer. Second Opinions, cited yesterday, found two studies which discuss stomach and breast cancer (emphases mine in the body of the text):
Stomach cancer
There is other evidence that smoking might actually protect against cancer. Nitrates and nitrites, commonly found in vegetables and cured meats turn to carcinogenic nitrosamines in the stomach. Smoking inhibits the uptake of circulating nitrate into the saliva, especially at higher levels of dietary nitrate intake. (11)
Breast cancer
One out of every 250 women has one of the inherited mutated genes, BRCA1 or BRCA2, whose normal function is not yet fully understood. And 80 percent of women with one of the mutated genes will get breast cancer before the age of 70. This means that 3200 women per million will get breast cancer. Dr Paul Kleihues, M.D., Director of the International Agency for Research on Cancer, WHO reported a study which found that smoking cuts the risk of developing breast cancer by 50 percent in these women. "The protection associated with smoking increased with the amount smoked. . . The risk reduction associated with up to four pack-years (one pack-year equals one pack per day for one year) of smoking was 35 percent, and for greater than four pack-years of smoking was 54 percent." (12)
So, it's not all bad for smokers or for nicotine.
Yet, in their war on smoking, the medical community and social policy makers over the past 30 years have encouraged non-smokers to blame smokers for their every ill. Going to the doctor's surgery (office) or Accident & Emergency results in being asked, 'Do you smoke?' prior to any consultation or treatment. Smokers, who pay tax with every tobacco purchase (in the UK, around 75% of the cost of a pack of 20), are being denied NHS operations unless they stop smoking. Many employers condemn smoking, which extends to well-qualified, energetic interview candidates. Even when going away on holiday, the smoker is met with accommodation sites saying '100% non-smoking property'. The list goes on.
The end result is that non-smokers view smokers as being morally derelict.
Therefore, it's high time Tobacco Control were put out to pasture. It's time, instead, that we find out the truth about the causes of lung cancer — vehicle emissions being a good starting point.
Although not naturally optimistic, I remain hopeful that, just as a number of headlines in 2014 have been hailing the benefits of animal fat on the human body (a swipe at Ancel Keys's falsehoods which have persisted since the 1950s), that smoking ceases to be demonised in the near future.
Fortunately, certain towns and counties in the US have been repealing their smoking bans. In some cases they have been declared unconstitutional. In others, restaurant and bar owners said the bans were bad for business.
Smoking is hardly the world's greatest evil.
In fact, it pales in comparison to bullying of all ages, child molestation, child suicide, rising crime, domestic violence, abortion as birth control and the very real rise of tuberculosis (among other diseases) in the West.  Those really are public health concerns.
Regardless of whether one smokes tobacco, it is instructive to read of the effects smoking bans have on the leisure industry.
The Pub Curmudgeon has a tally of the numbers of pubs which have closed since July 1, 2007, the date England's smoking ban came into effect. As I write, the number of defunct pubs now totals 14,192.
Now there are those who do not go to pubs, however, when one thinks how one piece of legislation could cripple such an inherent part of English life and culture, it beggars belief. Think of all the jobs lost through this draconian law.
To be sure, there are other factors, and the Pub Curmudgeon explores these — such as drink drive laws as well as large pub companies' arrangements with their tenants — but, there is no question that the smoking ban is killing our pubs.
The Pub Curmudgeon says (emphases mine):
This is not a beer blog. It's a view of life from the saloon bar, not entirely about the saloon bar – which of course is a metaphorical place as well as a physical one. It is as much about political correctness and the erosion of lifestyle freedom as it is about pubs and beer. And, while I enjoy cask beer, I don't assume that it is the only alcoholic beverage worth consuming.
I'm a non-smoker, but not an antismoker. I believe the owners of private property should be entitled to choose whether or not smoking is permitted on their premises. If any supporter of pubs still thinks the smoking ban was a remotely good idea, just look around at all the pubs that have closed since 1 July 2007. The smoking ban is what prompted the creation of this blog back then and, while it touches on many other topics, it remains essentially its core theme. However, there remains much to be enjoyed and celebrated in pubs despite the effects of the ban.
I condemn drunken driving, but there is no evidence that driving after consuming a small quantity of alcohol is dangerous, and the campaign to discourage driving even within the British legal limit has been a major cause of the decline of the pub trade in recent years. Reducing the current legal limit – a proposal fortunately rejected by the Coalition government – would lead to the closure of thousands more pubs and would not necessarily save a single life. In my view, this is at least as much a threat to pubs as the smoking ban.
When Labour MPs discussed the smoking ban on news programmes, many cited how well local, then afterwards, statewide bans worked in California. Hmm. Not many Britons would compare our climate to California's.
However, the California comparison seems to have been used in the US as well. Yet, whereas it's relatively easy to spend time outdoors on a bar or restaurant terrace there for a smoke, the rest of the United States has a variable climate depending on where one lives. This makes the California comparison particularly disingenuous.
The Federal Reserve Bank of St Louis has a few articles on the impact of smoking bans by state or region, including their effect on casino revenue.
In 2009, the St Louis Fed noted that Illinois was the only state at that time which extended the smoking ban to casinos. 'No Ifs, Ands or Butts: Illinois Casinos Lost Revenue after Smoking Banned' states:
In the first year after the smoking ban took effect, revenue at Illinois casinos fell sharply from the previous year.4 As shown in the figure, the decline in revenue stands in sharp contrast both to the growth of recent years and to the performance of casinos in nearby states.
The Illinois Casino Gaming Association, they say, disputes that and says the economic downturn was responsible.
I'm not a huge casino fan, but I do have empathy for people who may have lost their jobs there during that time. Casinos have gift shops and restaurants, too. They also generate a lot of tax, some of which gets put back into schools and communities.
The Fed's chart shows that Illinois — in contrast to Indiana, Iowa and Missouri — experienced a huge drop in revenue in 2008:
Using our estimates of revenue losses and declining attendance at each of the casinos in Illinois, we find that the tax loss was more than $200 million in 2008. For the local communities, the total loss in tax revenue amounted to over $12 million.
The economic effects of the Smoke-Free Illinois Act—specifically with regard to casino revenue and government tax receipts—represent only part of the act's overall impact. In a full analysis, these costs need to be considered alongside other costs and benefits, including the public health benefits of the legislation. But as policymakers in Illinois and elsewhere ponder the implications of the Illinois smoking ban, the impact on revenue, attendance and taxes should not be ignored.
It's quite easy for people who live downstate to go to St Louis. Those in the Chicago area can spend an hour or less travelling to Indiana. Iowa is a stone's throw away for many in western Illinois.
However, back to the California comparison. Another St Louis Fed article from 2008, 'Clearing the Haze? New Evidence of the Economic Impact of Smoking Bans' tells us:
A previous article in The Regional Economist ("Peering Through the Haze," July 2005) described some early evidence on the economic impact of smoke-free laws and suggested that the findings were far from conclusive.1
As more communities have adopted smoke-free laws and more data have been gathered, economists have discovered new, significant findings. As an earlier article suggested, economic costs often focus on specific business categories—those that smokers tend to frequent.
They cite research saying that bar employment has gone down between 4 and 16 per cent. Restaurants have experienced less of a decline, however, it depends on where they are located and whether the majority of their clientele are smokers.
However, the real issue is climate:
Restaurants in warm climates fared better than those in cooler climates. The authors suggest that the reason for this might be that restaurants in warmer climates can more easily provide outdoor seating where smoking is not prohibited … Restaurants that suffered the dual curse of being in regions with colder climates and a high prevalence of smokers suffered statistically significant employment losses, on average.
California, therefore, cannot be used as a template for everywhere else in the Northern Hemisphere.
The article features an item about the effects of the smoking ban on restaurants in Columbia, Missouri. It says, in part:
Since January 2007, all bars and restaurants in Columbia, Mo., have been required to be smoke-free. Only some sections of outdoor patios are exempt from the requirement.
Some local businesses have continued to oppose the Columbia Clean Air Ordinance, circulating petitions to repeal the law by ballot initiative. According to local press reports, owners of at least four establishments have cited the smoking ban as a factor in their decision to close their doors in 2007.
Recent data from the city of Columbia show a distinct decline in sales tax receipts at bars and restaurants. After rising at an average rate of 6.8 percent from 2002 through 2006, tax revenue declined at an annual rate of 1.3 percent over the first seven months of 2007. (See graph.) Although the data are still preliminary, initial analysis suggests a 5 percent decline in overall sales revenue at Columbia dining establishments since the implementation of the smoking ban. This estimate takes into account past trends, seasonal fluctuations in the data and an overall slowdown in sales tax revenue in Columbia. 6
Of course, as is true everywhere else, the answer is outdoor patio space:
One owner was quoted as saying, "You have to have a patio to survive."7 The expenses associated with these renovations may help buffer the sales revenue of these establishments, but they also represent profit losses that are above and beyond the measured sales declines.
Two things are certainly true of smoking bans: they harm business and create unemployment.
Today's post is short and sweet.
I recently saw this anonymous comment about libertarianism in a Cranmer's Curate post:
Libertarianism may be the only political approach which is prepared to tolerate Biblical Christianity in the near future.
Correct.
Furthermore, the merits of smaller government are many. Unfortunately, Conservatives and Republicans have turned into today's Christian Democrats, left-of-centre continental European political parties. Administrations led by each party have continued to encroach on the lives of private citizens. Each party has also supported questionable causes, e.g. homosexual marriage (UK) and illegal immigrant amnesty (US).
It's time for voters to ask themselves whether their government considers them to be sentient adults and critical thinkers.
It's also time for taxpayers to ask themselves whether government treats them as people or mere cash machines.
Lt Col Allen West is a retired Army officer who has been a US Congressional Representative for Florida's 22nd district since January 2011.
West represents one of America's wealthiest Congressional districts, which includes Palm Beach.  Although raised in a Democrat household, he said that his family was conservative in many ways. His father and brother were also career Army officers, whilst his mother was a civilian employee for the United States Marine Corps.
On October 12, 2012, West addressed a conservative audience in Temecula, California in a speech which evoked the Field of Dreams idea of 'build it and they will come'.
This is one of the most beautiful contemporary speeches about America. West discusses the Founding Fathers' ideals for individual sovereignty which, he reminds us, comes not from government but our Creator.
He mentions the sacrifices the Founding Fathers and the patriots paid for the freedom of every American and how precious that freedom is. He cites the Declaration of Independence.  He goes on to say that 236 years later — after independence from the British — people the world over still dream of living in America, where liberty, success and hard work are held in high esteem.
However, he warns his audience that they must resist today's ever-encroaching state and do what they can as today's patriots to defeat government control and restriction of God-given liberties. He says those are not the government's to take away. They were divinely given to us.
West also lauds libertarian ideas and cites Atlas Shrugged as a warning about what can happen when free enterprise and market forces are restricted.
Wherever you are reading this, West's speech is an eloquent tribute to America and freedom. I hope that you will find time to share it with your friends and family:
H L Mencken was a well known and much celebrated journalist, critic and social commentator of the early 20th century.
The house where he lived for most of his life is open to the public in Baltimore, if one can arrange a tour.
The blogger at Tobaccoland explores historical sites from colonial days to the present. He had this to say about Mencken:
It is fair to call Mencken a libertarian …
Many today are unaware of who Mencken was and how he and his ideas influenced his world and the world we live in today. The Mission of the Friends of the H.L. Mencken House is to educate "the public about the life and legacy of H. L. Mencken." To this end they are interested in purchasing, or at least permanently leasing, Mencken's house to establish a museum to teach others about Mencken, his life, ideas, and times.
The Mencken House, where H.L. lived all but 8 years of his life, and where he died, is only opened today for private tours and special events. I had the opportunity to visit the house during one of those events.
Located at 1524 Hollins Street in the Union Square area of Baltimore, the neighborhood could use some work. I spotted at least one drug deal while driving away. I would advise against leaving out any valuables. But it is safe enough, especially during the daytime and especially if you park near the house. Parking is generally not a problem …
On the second floor, if you visit on the right day, the ghost of H.L. Mencken himself, still thinking it is the past, will greet you and talk about his life, views, work, and times. Also, if you would like H.L. to come to your event or party that can be arranged as well.
Mencken would have had much to say about our society today. It is for this reason that he is well worth mentioning on the Fourth of July, America's Independence Day.  What better day to discuss the individual as well as his freedom and liberty?
My American readers might wish to run portions of the following Mencken quotes past their family and friends over a beer and a burger. Emphases mine below with thanks to Tobaccoland:
The trouble with fighting for human freedom is that one spends most of one's time defending scoundrels. For it is against scoundrels that oppressive laws are first aimed, and oppression must be stopped at the beginning if it is to be stopped at all.
——–
Democracy is the theory that the common people know what they want, and deserve to get it good and hard.
——–
The most dangerous man to any government is the man who is able to think things out for himself, without regard to the prevailing superstitions and taboos. Almost inevitably he comes to the conclusion that the government he lives under is dishonest, insane and intolerable, and so, if he is romantic, he tries to change it. And even if he is not romantic personally he is very apt to spread discontent among those who are.
——–
Every time the papers print another account of a Prohibionist agent murdering a man who resists him or searching some woman's underwear or raiding a Vanderbilt yacht or blackmailing a Legislature or committing some other such inordinate and anti social act they simply make a thousand more votes for Prohibition. It is precisely that sort of entertainment that makes Prohibition popular with the boobery. It is precisely because it is unjust, imbecile, arbitrary and tyrannical that they are so hot for it. The incidental violation of even the inferior man's liberty is not sufficient to empty him of delight in the chase. The victims reported in the newspapers are commonly his superiors he thus gets the immemorial democratic satisfaction out of their discomfiture. Besides he has no great rage for liberty himself. He is always willing to surrender it at demand. The most popular man under a democracy is not the most democratic man but the most despotic man. The common folk delight in the exactions of such a man. They like him to boss them. Their natural gait is the goose step.
Agree or disagree with this agnostic who had a deep admiration for the orthodox Presbyterian John Gresham Machen, Henry Louis Mencken is guaranteed to provide worthwhile talking points.
Best wishes to all my American readers — wherever you may be today — for a happy and safe Fourth of July!