You are currently browsing the tag archive for the 'Liz Truss' tag.
Yesterday's post looked at the new biography of Liz Truss, Out of the Blue.
Her life has been a fascinating one in many ways.
On Saturday, September 3, 2022, shortly before Conservative Party members elected Liz Truss as their leader, The Times published an excellent article complete with photos, 'Just where is Liz Truss from? Her incredible journey spans three countries and two continents'.
Excerpts follow, emphases mine.
Early years
Mary Elizabeth Truss was born in Oxford in 1975 to a couple who lived in Cowley, known for the Anglican religious order, the Cowley Fathers, and car making:
The Truss odyssey begins amid the rackety student townhouses of James Street in Cowley, Oxford. She was born on July 26, 1975 at the nearby John Radcliffe Hospital, the second of five children, to Priscilla, a nurse and teacher and John, a mathematics professor. Their first child, Matthew, died when he was a baby. James Street today is inhabited by a mixture of posh students and local families, with a dash of Cowley seediness thrown in.
Like many of the places where Truss grew up, the area is middle class, left-leaning and studenty, home to a variety of public sector workers and professionals on a budget.
A series of moves followed, all connected with John Truss's work:
When her father's junior research fellowship at Oxford University ended, he spent a couple of years as a teacher at King Charles I High School in Kidderminster [Worcestershire], where Truss's younger brother Chris was born in 1978. After that, he found employment at Paisley College of Technology in Renfrewshire, and in 1979 took the family on the long journey up the M6 to Glasgow. Truss was four at the time.
Handsome civic buildings aside, Paisley is a fairly down-at-heel town, its high street a parade of betting shops, tattoo parlours and discount stores. But leafy Low Road, where the Truss family lived, is a bourgeois haven of Range Rovers and birdsong nestled among council estates and main roads. The Trusses lived in two different houses on the street, one a capacious detached villa, the other a sturdy semi-detached. Her other two brothers, Patrick and Francis, were born in this period.
Liz attended West Primary School and once drew the short straw in having to play Margaret Thatcher in a mock election. Most Scots detest Conservatives, especially in the western half of the country:
"I ended up with zero votes," she recalled. "I didn't even vote for myself. Even at that age, we knew it was simply unpopular to be a Tory in the west of Scotland."
In her spare time, young Liz embraced her parents' left-wing politics and attended protests:
It was in Paisley that Truss's mother first introduced her to political activism, taking her on Campaign for Nuclear Disarmament marches with the local CND chapter, including the famous Greenham Common protests, which she attended as a seven-year-old. A picture from the Paisley Daily Express on October 23, 1985 shows a 10-year-old Liz with her mother and brother Chris proudly holding aloft a new Paisley CND banner, ahead of a planned protest trip to London. The article recounts how the family spent two weeks painstakingly making the flag.
Truss has recalled the DIY nature of her family's 1980s radicalism. "We did a number of things like marches, protests," she told an interviewer in 2014. "On one occasion when we went down to London in a bus we had made some nuclear bombs made out of carpet rolls — ours didn't quite work because it had floral wallpaper on it."
In 1987, John Truss got a new job as a visiting professor at Simon Fraser University in British Columbia. The year the family spent in Canada transformed Liz's life:
In July she posted a picture on Instagram of her class at Parkcrest Elementary School in Burnaby, a suburb of Vancouver, which also boasts the actor Michael J Fox as an alumnus. The caption read: "30 years ago I spent a year in Canada that changed my outlook on life #pioneerspirit #optimism."
Moving 6,000 miles across the world would be a challenge to any 12-year-old, but the wide-open spaces and artless optimism of western Canada appear to have invigorated Truss.
The Times was able to find a Canadian classmate of hers, Brenda Montagano, who now teaches at the school both women attended:
"I remember her accent and I remember her being very smart," Montagano recalled. "Now that I'm a teacher, I recognise that it's no small feat to change schools, never mind countries, at that age. She came in and was confident, chatty, tried to get to know everyone. She made her mark."
Upon returning to England, the Trusses settled in Roundhay, a suburb of Leeds:
the closest thing Truss and her brothers had to a permanent family home. It was a household of music lessons and political debate, books and board games, the latter of which Truss "had to win", her brother Francis once told Radio 4.
Roundhay was an affluent area in the 1980s and remains so now, with the villas that overlook the park selling for more than £1 million. As a teenager, Truss would play tennis here with her brothers and drink cider with schoolfriends. Although the constituency of Leeds East was still Conservative when the Trusses first moved there, Roundhay today is solidly middle-class Labour, with the tapas bars and bookshops to prove it.
Liz was highly critical of Roundhay on the campaign trail during the summer, denouncing its Labour element. The Roundhay ward is part of Leeds City Council, so perhaps that was what she referred to. She was also critical of Roundhay School, which she attended:
"All of my parents' friends worked in public sector jobs," Truss has recalled. "The teachers at my school were quite often card-carrying members of the Labour Party and it just was not part of the culture to approve of what the government was doing."
Truss is profoundly unpopular in Roundhay today. Beyond her politics, locals were outraged when she made disparaging remarks about Roundhay School, which is now a successful comprehensive (motto: "Courtesy, co-operation and commitment"), situated in a handsome redbrick building by the park.
"The reason I am a Conservative is that I saw kids at my school being let down in Leeds," Truss said during a debate with Rishi Sunak in July.
It's true that Roundhay was not a particularly good school in the late 1980s. "The fabric of the school was crap, really awful," said one Roundhay teacher who overlapped with Truss. "There were ceilings collapsing, water leaks, gas leaks. The GCSE pass rate would have been 40 per cent A-C."
It is possible that Truss thinks that more effort should have been made across the board. She was clearly a gifted student:
… the school improved markedly for sixth form and Truss reportedly received extra tuition along with other Oxbridge applicants, which helped her gain acceptance to Merton College, Oxford, to study philosophy, politics and economics (PPE).
Her years in Roundhay might not have been her best with regard to friendships:
On Ingledew Crescent, neighbours of John Truss, whose politics diverge considerably from his daughter's, have been asked to keep their views to themselves. Some are too furious to hold back though. "She's a lying b***h," said Louise, a long-time neighbour. "She told lies about our local school. She told lies about the assistance she was given. I despise the woman and I feel sorry for her father. It's not his fault"…
One pupil at Roundhay remembered Truss as "aloof" and a "loner".
The Oxford years
Going up to Oxford probably came as a relief for Liz Truss:
Like many bumptious high-achievers, it seems she found a more comfortable groove when she went to university in 1993. Even among Oxford colleges, the secluded, introspective Merton has a reputation for academic excellence. "For those of us from regional comprehensives, we'd often had to hide how clever we were," said one contemporary from her year at Merton. "But at Merton you could meet all these amazing people with similar interests. It was very liberating."
Oxford was a bastion of Conservatism in those days:
"I met Tories and [found] these people don't have two heads and they don't eat babies," she said of this experience.
That said, she joined the Liberal Democrats:
Unlike most of her Merton contemporaries, though, Truss threw herself into life outside the college, joining the university Liberal Democrat society and becoming its president in the spring term of 1995. Student politics seems to have provided the stage she had been looking for.
Truss's politics in the Oxford years were a typical Lib Dem mishmash. On social issues she still espoused the left-wing radicalism of her parents. During her speech to the Lib Dem party conference in 1994, made while she was still an Oxford student, she made an impassioned plea to abolish the monarchy.
Roger Crouch, who became president of the Lib Dem society the year after Truss, met her at a freshers' fair in which she was determined to carpet the party's entire stall with entreaties to legalise cannabis.
"Even at the time she was determined and willing to pick a fight and stand her ground," Crouch recalled. "She knew what she thought and was willing to defend it. She was determined, slightly eccentric and challenging. She had an acerbic sense of humour, which I think is why we got on."
The termcard for Truss's presidency of the society included events on the legalisation of drugs and prostitution. "She liked to challenge the orthodoxy, often a male orthodoxy," said Crouch, who is now a teacher.
Even so, she was too libertarian to remain a Liberal Democrat for long:
"Liz was always quite a libertarian Liberal Democrat," he says. Truss was also involved with the free-market Hayek Society at the university and Crouch recalls one particular discussion in which she advocated for the privatisation of lampposts. "I didn't see her as someone with a longer-term future in the Lib Dems," he said. "I think she would have found us quite annoying."
Liz and her boyfriends made the fringe student newspaper columns, one of which said:
Liz had mad ideas.
Her acceptance of a job with Shell also garnered criticism in the student gossip columns.
Life in London
Liz completed her studies in 1996 when John Major was Prime Minister, one year before Tony Blair's Labour landslide:
Truss migrated to London after college and the not-quite-northerner became an entrenched southerner. She worked as an economist for Shell and then Cable and Wireless, but she was quickly captivated by the siren call of Tory politics, baffling some of her university peers.
"We came out of Oxford and it was the summer of Euro 96 and Britpop," said her Merton contemporary. "Then Tony Blair got in. It was a breath of fresh air. The country was full of optimism. To then go and join the Conservative Party, I was like: 'How does that happen?' It was really perplexing."
It was at this time that politics took hold of Liz, even if she was not an immediate success. However, her tenacity saw her through:
In 1998, aged 23, Truss ran for a seat on Greenwich council, a Labour-leaning borough. She lost, and it would be a 12-year political slog before she eventually became MP for South West Norfolk.
Running alongside her in 1998 was Douglas Ellison, who later won a seat on the council. "She was definitely resilient," he recalled. "I don't know how many selection processes she went through. There was this enormous self-belief to keep on getting up in front of these audiences and voters to eventually try and get that break. She was a sucker for punishment."
Ellison wouldn't necessarily have expected her to become prime minister, but noticed her obvious political skill. "Her manner could be a bit matronly, but she was very good at working people," he said. "She's been very lucky in a sense. Sometimes it can be better to be lucky than talented."
Even though she never got a seat on Greenwich council, she settled in the borough, marrying her accountant husband Hugh O'Leary in 2000, at St Alfege church in Greenwich, just half a mile walk from their current home.
Her Oxford classmate Roger Crouch attended the reception:
It must have been a good one, because I can't really remember it.
The couple have two daughters:
Frances, 16, and Liberty, 13, who she says is looking forward to hosting sleepovers in Downing Street.
I hope Liberty acted quickly.
Hugh O'Leary
On Tuesday, September 6, after Liz became Prime Minister that day, the Daily Mail told us more about Hugh O'Leary, complete with lots of photos:
Liz Truss' 'true blue' husband watched proudly as the Tory leader was crowned Britain's third female Prime Minister.
Hugh O'Leary listened on as Ms Truss delivered her first Downing Street address on Tuesday, vowing to to create an 'aspiration nation' during her reign as the nation's 56th Prime Minister …
Mr O'Leary was also by her side when she won Tory leadership on Monday, marking the first high-profile joint appearance by a hitherto private couple.
Ms Truss, 47, described her 'dry-witted' accountant spouse as the 'love of my life' on Valentine's Day three years ago. She met Mr O'Leary at the Tory Party Conference in 1997 and said of their first date: 'I invited him ice skating and he sprained his ankle.' 
Mr O'Leary was born in 1974 and grew up in Allerton, Liverpool, before his family moved to Heswall, Wirral.
A former neighbour said 'Hugh was much more serious' than his two younger siblings and that 'he was very earnest and very quiet but a lovely boy,' the Times reported last week.
O'Leary, 48, became a chartered accountant after studying econometrics and mathematical economics at the London School of Economics (LSE). 
The couple started dating and married three years later, settling in Greenwich, South-East London. They have two daughters, Frances and Liberty. O'Leary has worked from home as a house-husband.
A close family friend, cookery writer Mallika Basu, said: 'They are a great team. Both are keen cooks and very good cooks. She does lovely roasts, he does a good curry.'
There was only one dark period, when Liz had an affair with a fellow Conservative MP. Fortunately, her marriage withstood the strain:
Only once has their relationship been rocked. In 2006, it was revealed Truss had been having an affair with married Tory MP Mark Field. Her marriage survived; his ended.
The only damaging moment came when Tory members in her Norfolk constituency complained they had been kept in the dark about the affair and tried to oust her. 
But they were defeated and Truss triumphed.
'I remember when the tabloid furore was roaring … both times, her friends locally rallied around,' a source told The Times. 
'There were a number of occasions when the two of them came to various parties and it was quite good to see that people were sympathising and rallying round, particularly when it was over her selection in 2009. It was extremely unfair the way that came up.
'I don't really know much about what went on but from my impression, they [O'Leary and Truss] have always been a really strong couple and I have never seen any real sign that it's had much of an impact.'
What her family think
The article said that Liz's father John was sad and furious about his daughter's Conservatism — and probably her ascent to No. 10:
Truss' left-wing academic father was apparently 'so saddened' at her metamorphosis from an anti-monarchist Lib Dem to a Tory that he finds it difficult to talk about it, according to reports. 
A former neighbour of maths professor John Truss claims he was 'sometimes furious' and could 'barely bring himself to speak about' her being a Conservative candidate when she first stood in 2005. 
His college, the University of Leeds, has also reportedly banned his colleagues from speaking about Truss as well, The Times reports …
In July, the Daily Express also alleged that the Foreign Secretary's relationship with her father has been impacted by her 'conversion to extreme right-wing politics' and he is really 'appalled' by it, a colleague said.
Another university source said: 'John is distraught at the policies his daughter is advocating in her bid to become PM.'
Also:
Another report claimed Professor Truss was 'so appalled' by his child's 'conversion to extreme Right-wing politics' that it had impacted their relationship.
We understand that this is considerably wide of the mark. It may be coincidence but we understand Prof Truss has spent part of the time that his daughter has been campaigning abroad in Finland.
'I think it's fair to say there is a diplomatic element to this,' says a source. Family figures have indicated to us that the move was almost certainly to avoid being a distraction to his daughter.
But if he has been dismayed by her transformation from the spirited girl in whom he proudly instilled a strong social conscience into the standard bearer for the Tory Right, he is not saying.
All the same it is worth noting Prof Truss, whose colleagues at Leeds have been ordered not to give interviews about him, declined to campaign for his daughter when she first stood for election in 2001. (Again it may be a coincidence but she was standing in a strongly Labour-supporting constituency.) An indication of how this must have been testing family bonds comes from Prof Truss's older brother Richard, a retired Church of England vicar who officiated when his niece married accountant, Hugh O'Leary, 22 years ago.
The Truss family, he said, had liberalism 'in its blood' adding: 'It must still be in her blood as well.'
He last saw his niece in March at a party to mark his 80th birthday.
He was, he says, 'touched' that the Foreign Secretary had flown in from overseas in order to be there. Of the family politics, he explained: 'My grandfather lived and died quite young but he used to turn up and campaign for the Liberals before the First World War, so it's kind of in our genes.'
His understanding of liberal, he says, is of being 'open and concerned for those who are in need'.
It is also why he hopes the girl he remembers as 'fun, very bright… questioning and determined' will do something to heal 'the division between people in poverty' as well as changing the Government's approach to immigration and refugees. 'I hope she might do something on both fronts,' he says.
Fortunately, Priscilla Truss supports her daughter:
The former neighbour also said that Truss' mother, nurse and teacher, Priscilla – who he spoke to before she was selected as a Tory candidate in 2005 – is backing her daughter.
'She said she was quite torn. She'd agonised over whether to support her because she was her daughter, or not to support her because she was a Tory,' he told The Times. 'In the end, she decided that family ties should win out.'
Liz's three brothers also support her:
Paradoxically for all this apparent family dissent, there is also considerable support for a politician whose list of jobs in government reads like a cut-out-and-keep guide to becoming PM: Under-secretary of state for childcare and education; Environment, Food and Rural Affairs Secretary; Justice Secretary and Lord Chancellor; Chief Secretary to the Treasury, International Trade Secretary; and finally heading the Foreign and Commonwealth Office.
Her three brothers, Chris, Patrick and Francis, turned out to support her at the final hustings at Wembley on Wednesday evening. As for her mother Priscilla, she has been a near constant presence as her daughter has criss-crossed the country seeking support.
'For the children, Priscilla has always been there for them,' says a family friend. 'They always knew that if they needed her she would be there.
'The fact is Liz is proud of her politics but she is also proud of her mother's political views, too.'
The article says that her mother's family's politics have been pivotal in shaping Liz's worldview:
If anything, it is from her mother's side of the family that we find the crucible of Liz Truss's convictions.
The roots of the Grasby family, Priscilla's maiden name, are deep in the rural landscape around Driffield, East Yorkshire. Priscilla's grandfather George fought in the Great War with the East Yorkshire regiment and lost a leg at the Battle of Passchendaele.
After the war, he married Mary and became a cobbler on Adelphi Street. Mike Kennie, who lived next door, said the old soldier's disability was no handicap and that he would 'often be climbing ladders outside the building.'
His father William was a shepherd and inn keeper. Today the pub he ran, The Ship Inn at Langtoft, is still in business. But the link came as a shock to the current publican Martin Weaver.
'Can you repeat that? Liz Truss, our probable next Prime Minister, is connected to this pub. I'm astonished.
'In fact I'm shocked. This has been a pub since the days of Queen Victoria but I never knew that Truss's great-grandfather was brought up here as a boy. I can't wait to tell the locals.'
The local Tory MP, Sir Greg Knight, looks forward to having a drink with Miss Truss in her great-grandfather's former home as a matter of urgency.
I hope he hurried.
Anyway:
'Why not? It's a great part of the countryside and I am pleased to learn of the family connection.' It was George who laid the foundation for the socially-upward Truss family. His son, also George, won a place to read classics at Queen's College, Oxford.
During World War II he served with the Army in India in an intelligence role. After the war he became a teacher, later a head of classics at Bolton School for 25 years. His daughter, Liz's mother, was one of his pupils.
According to one former pupil, the pipe-smoking Mr Grasby was very much a 'post-Second World War socialist'. It was into this Left-leaning family tradition that Miss Truss was born in 1975. An older brother Matthew died in infancy the previous year. Three brothers followed her.
Here's something we didn't know:
When Liz was two, they moved to Poland and then, when she was three to Paisley, where her father had been appointed a maths lecturer at Paisley College of Technology. She started at the West Primary School, where she recalls, discipline was still imposed with the leather strap for miscreants.
Liz's brothers talked about what it was like growing up with her. Let's begin with a neighbour's reminiscence:
… she revelled in her position as the only girl in a family of boys. 'Her brothers were very sporty and her parents active so there was always something going on,' says a Roundhay neighbour.
Youngest brother Francis said it was a very musical home: 'We'd do music practice every night because my dad's a very keen musician, and that was sort of enforced.' Recalling playing board games such as Cluedo and Monopoly, Francis said of his sister: 'My dad would say she cheated to win. She was someone who had to win. She created a special system to work out how she could win, and then if she was losing she might sort of disappear rather than lose.'
What her friends say
The paper reported that Liz's friends were on board with her candidacy as Party leader and had every confidence in her:
We have spoken to family, friends, foes and even former romantic partners. They all agree on one thing: the Liz Truss they know is brighter and far more intelligent than some of her leaden appearances on hustings and in interviews might have suggested.
There is, too, something of a chameleon character to her that manages to identify her with practically everyone. That, of course, may be her skill as a politician — she is after all the longest-serving Cabinet minister in recent times.
But as a one-time ally says: 'The key to understanding her is that she actually says what she believes.' What perhaps is even more bizarre is the contempt she has these days for liberal group-think.
The paper caught up with friends of hers from Roundhay:
While still at school she joined the youth branch of the Lib Dems. A fellow student was Kiron Reid and the two were photographed holding a party flag at a mass trespass at Twyford Down, Hampshire, in protest at then Home Secretary Michael Howard's Criminal Justice Bill clamping down on illegal raves.
Reid was also a friend of her then boyfriend, Wyn Evans, another Lib Dem supporter who was at Leeds Polytechnic.
Reid, who is still a party activist, told us: 'Liz always had a liberal social and economic view of the world. Am I surprised she's now a Tory?
'Well, even back then she was a huge fan of Mrs Thatcher which was not a commonly held position in the North of England. She regarded her as a strong woman leader.
'It was a long time ago and I was often drunk or hung over at Lib Dem conferences but she always argued her position strongly.
'Wyn and Liz went out with each other for at least a year, maybe 18 months or more.'
Mr Evans is clearly no longer a fan of his former girlfriend, tweeting in April: 'Biggest war in Europe for 75 years and our Foreign Secretary, in a major speech, can barely utter the word Europe. This is a speech of an isolated, detached nation still carrying notions of being a global power. Depressingly sad and woefully dangerous.'
A professor speaks
The Mail's article ends with the words of one of Liz's lecturers at Oxford:
Perhaps Marc Stears, one of her Oxford lecturers, offers the most intriguing insight on our next PM.
'That Truss appears to be on the cusp of becoming Prime Minister, rather than those candidates from central casting of PPE at Oxford, shows not only that I grossly underestimated her 25 years ago but also that the qualities our politics rewards have changed beyond recognition,' he says.
'Truss lacks the media elan of Tony Blair and David Cameron. She lacks the dogged determination of Gordon Brown or the patient, long-term vision of Margaret Thatcher.'
Then again, he will not be the first person to have underestimated Mary Elizabeth Truss.
Maybe the prof nailed it in saying she lacked a patient, long-term vision. Then again, with the Conservatives having lost two years' worth of policy making to the pandemic, time was against her.
Tomorrow's post looks at the New Statesman's fascinating profile of Liz Truss's brand of politics and The Guardian's analysis of her time in Parliament as well as Downing Street.
My most recent post on Liz Truss left off with the beginning of the end in her final week as Conservative Party leader.
Friday, October 14
Her sacking of Kwasi Kwarteng and installation of Jeremy Hunt as Chancellor on Friday, October 14, meant only one thing — her end was nigh:
Liz Truss's first Chancellor Kwasi Kwarteng: what he expected, what he got instead (October 13, 14)
Liz Truss and Kwasi Kwarteng illustrate that one DAY is a long time in politics (October 13, 14)
The Times's headline on the morning of the 14th said that Conservative MPs were already plotting to install Rishi Sunak and Penny Mordaunt in Truss's place. One of them would be Prime Minister and the other would be Chancellor or Foreign Secretary:
The article also said (purple emphases mine):
Truss and Kwasi Kwarteng, the chancellor, are expected within days to make a humiliating climbdown over corporation tax in an effort to calm the markets and see off a mounting revolt.
Indeed, that is what Truss announced at her disastrous press conference that afternoon. By then, Jeremy Hunt was already Chancellor:
It was hard to believe, especially as Ireland's corporation tax is half that: 12.5%. What is to stop businesses in Northern Ireland from moving south of the border?
Liz prefaced the announcement with:
This is difficult.
Guido Fawkes has the video and another quote preceding her announcement about corporation tax:
It is clear that parts of our mini-Budget went further and faster than markets were expecting… so the way we are delivering has to change…
He concluded (emphases his):
The mother of all U-turns…
Later in the afternoon, Wendy Morton, the Chief Whip, summoned Conservative MPs to an online call with the Deputy Prime Minister Thérèse Coffey.
One hundred of them dialled in. Coffey allegedly kept staring at her notes:
Saturday, October 15
Saturday's papers were scathing.
The Daily Mail asked, 'How much more can she (and the rest of us) take?'
The i paper led with 'Tory MPs tell Truss: "It's over"':
The Telegraph's Tom Harris wrote about the symbiotic relationship between the Prime Minister and the Chancellor from Margaret Thatcher's time to Truss's.
When that relationship goes wrong in a big way, it's nearly always bad news for the PM, although there are exceptions:
When a prime minister loses a long-serving chancellor and ally – as Margaret Thatcher did when Nigel Lawson walked out of her government in 1989 – the political ramifications are enormous. In Thatcher's case, that event signalled the beginning of her long defeat. When a prime minister loses a friend too, it becomes, as Liz Truss stated in her press conference, "not an easy" personal moment. 
Their closeness also makes it impossible for Truss to distance herself from the mess left at the Treasury. It is not clear which policy Kwarteng implemented that the prime minister was so unhappy with that she had to fire him. In 1989, Lawson resigned over his objection to the prime minister's reliance on her economic adviser, Sir Alan Walters, but there were already disagreements between Numbers 10 and 11 over whether Britain should join the European Exchange Rate Mechanism. 
[John Major's Norman] Lamont was fired over his handling of Britain's departure from the same institution. Javid resigned over personnel issues. Rishi Sunak's reasons for resigning were similar, though in his case the personnel issue involved the then prime minister himself.
In Jeremy Hunt, Liz Truss might be given a chance to form the kind of reassuring, mutually supportive – and, crucially, stable – relationship with her chancellor that good government demands. It would be foolish, however, to assume that when such a relationship breaks down, it is always the chancellor who is next to go.
The Telegraph's Camilla Tominey looked at the backbench Conservative MPs, wondering how Conservative they actually were. I was glad to see that she mentioned Alicia Kearns, who does not seem very Conservative to me.
Tominey's article shows that a significant number of Conservative backbenchers do not hold traditional Conservative Party values:
Never underestimate the Conservative Party's unparalleled ability to turn the gun on itself when coming under enemy fire. As the pot shots continued to rain thick and fast on Liz Truss's troubled premiership, what did the Tories decide to do? With Labour's help, they elected Alicia Kearns as chair of the Foreign Affairs Select Committee.
For those unfamiliar with Ms Kearns, she is the former Amnesty International activist who led the so-called "Pork Pie Plot" to oust Boris Johnson over partygate. Despite having been an MP for all of five minutes, the 34-year-old, who won the safe seat of Rutland and Melton in 2019 (hence the pork pie theme) decided that the Conservatives' wisest move was to remove the man who secured the party's biggest election win since 1987. Well, dip me in jellied pork stock and cover me in hot-crust pastry, that went swimmingly!
Having declared last year that she came into Parliament with "one legislative change I wanted to deliver, which was to ban conversion therapy", inexperienced Kearns now occupies one of the most influential posts in the House of Commons.
Her first intervention? Following hot on the heels of her fellow chair, Mel Stride, of outspoken Treasury select committee fame, she used a radio interview on Thursday night to urge the Prime Minister to reverse the tax-cutting measures in the mini-Budget.
I've got nothing personally against Ms Kearns – she is clearly a thoughtful and intelligent woman. But if she isn't for cutting tax, then what on earth is she doing in the Tory party, let alone now apparently in the running to enter a future Conservative Cabinet?
One former minister was this week quoted as saying: "Everything [the Government] are doing is everything that I don't believe in." Why, then, is that senior politician – apparently so opposed to spending controls and economic growth – not currently residing on Sir Keir Starmer's shadow front bench or drinking Remaineraid with Sir Ed Davey?
As former Brexit negotiator Lord Frost put it on Thursday: "There are too many … social democrats operating under Conservative cover."
It is one thing to be a broad church, but the Tories are currently taking on the mantle of a Blue Labour cult.
Not only are many of them perfectly comfortable with taxing people more, despite the tax burden being at its highest in 70 years, but they are also apparently as opposed to fracking as Ed Miliband. They seem to love the status quo and appear happy to watch Britain slowly sink into decline – along with their own party.
Tominey says that Liz Truss's platform was clasically Conservative, and so was the one upon which Alicia Kearns was elected.
These are the MPs who will determine the outcome of Brexit and the next election. Both are in peril.
Tominey rightly lays the blame at the feet of former PM David Cameron, a wet who wanted a different type of Conservative MP:
David Cameron's decision to introduce open primaries in the late 2000s, which saw wannabe MPs selected by non-members as well as members, was perhaps the most obvious mistake. The Conservatives ended up with "yellow" Tories in its ranks, such as Sarah Wollaston, who later defected to the Liberal Democrats.
Funnily enough, Sarah Wollaston is no longer an MP. Others like her, most of whom had the whip removed, were defeated or chose not to run in 2019.
This is the issue:
But more broadly, by inviting people with no background in Conservative politics to stand for Parliament, they ended up with people with no Tory backbone either. Holding successive snap elections only made the selection process less rigorous and open to people high on ambition and low on ideology.
This is a problem for the next general election. GEs depend upon local activists — party members — who are willing to canvass door-to-door:
We now have the Sunak squadders, calling for people to keep less of their wages, for businesses to pay more in corporation tax and for benefits to be linked to inflation, Corbyn-style …
Conservatives have become so detached from reality that they actually believe this will help them to win the next general election – even though it promises to prompt a mass walkout by the very grass-roots activists they rely on to run a campaign.
However, Tominey says that Rishi Sunak's coronavirus handouts have also altered the public perception of the role of the state. We can but see how this will play in 2024 or early 2025 when the next GE comes along.
Monday, October 17
On Monday, October 17, Leader of the House Penny Mordaunt had to stand in for Truss during a debate. Opposition MPs accused Truss of hiding under a desk.
Mordaunt had to deny that more than once, saying that Truss had a 'very genuine reason' for not being present.
I don't often feel sorry for Penny Mordaunt, but I did that day:
However, one Labour MP, Andrew Gwynne, tweeted that Liz Truss was the victim of a 'coup' — his word — and that Jeremy Hunt was the acting PM: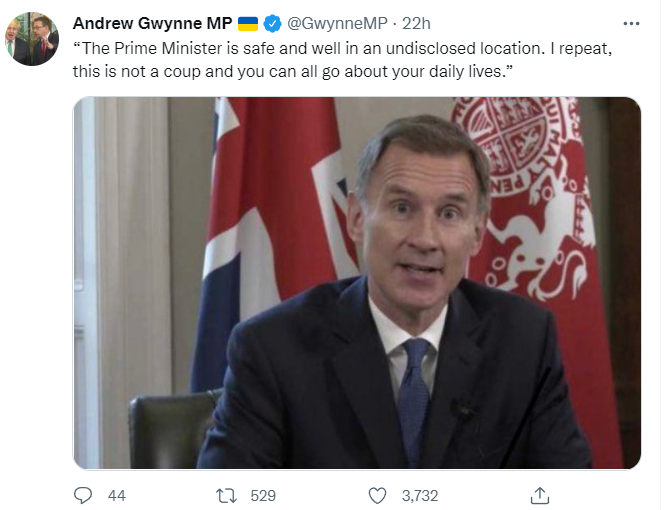 On Tuesday, October 18, The Times explained why Truss did not turn up at the despatch box the day before:
For much of the day Truss was conspicuous by her absence. She refused to respond to a question by Sir Keir Starmer in the Commons, prompting accusations from Labour that she was "frit". Penny Mordaunt, the leader of the Commons, answered questions in her stead. She said that the prime minister had "a very good reason" for her absence but refused to explain further, prompting misplaced speculation that Truss had resigned.
That reason for her absence turned out to be a meeting with Sir Graham Brady, the chairman of the backbench 1922 Committee. Sources said that the meeting was routine and had been arranged before Kwarteng's dismissal. But the issue of her leadership, and a potential revolt by Tory MPs, was said to have been discussed.
One source on the committee said there were a "number of views" on the way ahead but that there were concerns that an immediate move to defenestrate the prime minister could further destabilise the markets.
"The question is whether it is more damaging to create further uncertainty by getting rid of the prime minister when the chancellor [Hunt] appears to have settled the markets," said an MP on the committee.
Some Tory MPs believe that with the unravelling of her tax-cutting agenda and signature energy policy she is finished politically. Sir Charles Walker became the fifth Conservative MP to publicly call for her to go, saying her position was "untenable".
A senior Conservative source added: "It's the biggest unforced humiliation for a British government since Suez. Eden did the decent thing and resigned."
"The trouble is there is no consensus for who should replace her," said one former backer of Rishi Sunak. "And the last thing we need now is to be seen to be causing more uncertainty on the financial markets."
Monday night was grim.
On the subject of a coup, Nigel Farage agreed that Jeremy Hunt was in charge, and that this was a 'globalist coup':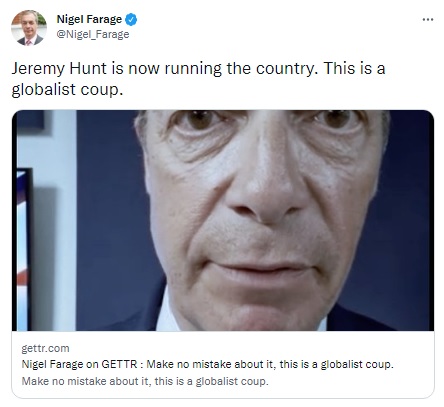 On his GB News show that night, Dan Wootton also said that there had been a coup. He agreed that the unpopular Hunt was in charge and that no one liked him, except for the Establishment. He said that if the Conservatives allowed this to continue, then they deserve to lose the next GE:

Truss surfaced to give an interview to the BBC's Chris Mason, wherein she apologised for the mini-budget. She said:
First of all, I do want to accept responsibility and say sorry for the mistakes that have been made. I wanted to act, to help people with their energy bills, to deal with the issue of high taxes, but we went too far and too fast. I have acknowledged that.
Tuesday, October 18
Tuesday's headlines were deeply discouraging for her. Nearly all had photos of her alongside Hunt:
The new biography of Truss, Out of the Blue, was not even ready for publication. Someone photoshopped the cover with a remainder sticker on it, saying, 'Reduced for quick sale — please just take it':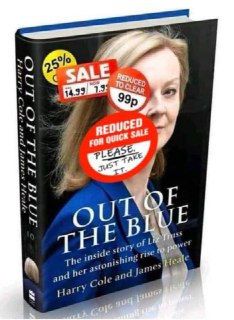 The Sun's political editor, Harry Cole, one of the book's co-authors, posted an article about the MPs plotting against her:
TORY plotters dubbed the "Balti Bandits" carved up Liz Truss's future last night over a korma and bhuna feast, The Sun reveals.
Leading rebel Mel Stride hosted more than a dozen "miserable" Conservative MPs in his large House of Commons office for an Indian takeaway – with the PM's fate also on the table.
Ex-Ministers John Glen, Nick Gibb, Mark Garnier and Shailesh Vara tucked into "lashings of curry and naan" ordered in by Mr Stride, alongside outspoken backbencher Simon Hoare. 
2019 intake MPs Angela Richardson and Simon Baynes were also said to have joined the "poppadum plot" – but sources say the meeting ended with "no credible solution" to their woes …
Contenders include ex-Chancellor Rishi Sunak, Defence Secretary Ben Wallace, new Chancellor Jeremy Hunt and Commons Leader Penny Mordaunt – but given the party is deeply split, the plotters admitted the chances of a rapid "coronation" of a new PM were "almost zero."
One attendee told The Sun: "the vast majority of attendees were Rishi Sunak supporters, but there were Penny people too. It was not a Rishi thing." 
On Tuesday evening, Truss had another group angry with her — her own supporters in the European Research Group, the pro-Brexit group of backbench Conservative MPs.
The Telegraph's Tim Stanley wrote about it, as he was there in the corridor for Truss's meeting with them:
Liz Truss launched her fightback at 6pm in Committee Room 11. The meeting was actually set for 5pm; Commons voting ran late so Mark Francois advised us hacks to go away and come back later, but I hung around on the suspicion that the moment we left, Liz would slip out of her hiding place in the roof of the lift and jog, unseen, into the Room …
These are the true believers: if they're angry at Liz for anything, it's for not keeping the mini-Budget …
What we saw of her on TV on Monday night, interviewed by Chris Mason, did not spark confidence as she uttered that dread word "sorry", thus accepting personal responsibility for blunders past and future. It is the mark of an "honest politician", she said, to admit mistakes. That's true, but it's also a dead giveaway for a not-very-good one, trying to turn a repeated error into a display of moral virtue. As Samuel Johnson might have said, "Honesty is the last refuge of the incompetent".
… She bobbed into view in a dark blue dress and black tights – fresh-faced, one suspects, from a good night's sleep. Instinctively, I stood: she might be a PM, but she's still a lady. I earnt a cheeky nod. Those who can't fathom the rise of Ms Truss haven't met her. She has a way of compromising you, of making you think you're on her side, and it's the most fun side of the room to be on.
The ERG roared as she entered. She entertained them behind a closed door for about 45 minutes. Then she left, followed by Mr Francois who told us it was "a very positive meeting".
The PM evidently spoke about Northern Ireland and her commitment to raising defence spending by the end of the decade, which is ambitious for a woman who could be out of office by Friday. And he noted that David Canzini, the clever political operative, was with her, an eminence so grise, none of us had noticed he'd gone in.
No 10 confirmed it: he was hired as of that morning.
Too little too late. That might have been Canzini's shortest job.
Wednesday, October 19
On Wednesday, October 19, Guido Fawkes posted that the Reform Party — formerly the Brexit Party — was climbing in the polls. The photo shows their chairman, businessman Richard Tice:
Guido's post said, in part:
Guido can reveal that in the 48 hours before close of play yesterday afternoon, the old Brexit Party received almost 1000 new £25 membership sign-ups. That new five-figure cash boost was joined by 300 members registering a new interest in standing as a party candidate at the next election. The first time the Tories dipped below Labour in the polls – September 2021 – Reform saw one in 10 Tory voters switching to them. Can they continue capitalising on Liz's woes? …

It's not just Reform benefitting from the dire state of No. 10. Last night the LibDems revealed five new donors, each giving £50,000 to the party, one of whom is a former Tory donor. While the last 36 hours have been calmer for Truss, it does feel like the ship has sprung one too many leaks to be repaired by a strong PMQs performance…
Wednesday was another fateful day. Home Secretary Suella Braverman resigned, then a confusing scene took place in the voting lobby over a division (vote) on fracking, which resulted in more chaos when it was unclear whether Wendy Morton had resigned as Chief Whip:
Liz Truss's final 24 hours: Suella Braverman's resignation, question over Whips' resignations (October 19)
Truss appointed Grant Shapps, former Transport Secretary, in Braverman's place:
Holy mole, guacamole!
Nigel Farage repeated 'coup' in his tweet about the news:
As with Hunt, Truss had to scrape the barrel.
The Telegraph reported that, like Hunt, Shapps was not a Truss supporter:
It is a remarkable turnaround for Mr Shapps, the transport secretary under Boris Johnson who went on to become a prominent supporter of Ms Truss's leadership rival Rishi Sunak.
Only on Monday night, Mr Shapps was telling a theatre audience that he believed Ms Truss had a "Mount Everest to climb" to remain in power.
"I don't think there's any secret she has a mountain, a Mount Everest to climb," he told Matt Forde's podcast. "What she needs to do is like threading the eye of a needle with the lights off."
Now he is one of her most senior ministers – and another example of the way a weakened Ms Truss is being forced to offer olive branches to the Sunak supporters she had previously shunned.
Not only was Mr Shapps questioning her chances of success until as early as this week – he was working proactively to get rid of her.
Mr Shapps has been viewed in Westminster as one of the leaders of the opposition to Truss's libertarian policies.
He spoke up at the Tory party conference in Birmingham earlier this month against her plans to scrap the 45p rate of income tax, and warned that Ms Truss had "10 days" to turn things around or MPs "might as well roll the dice and elect a new leader".
This is what the aforementioned Camilla Tominey was lamenting in Conservative MPs. Some of the recent ones have no appreciation of or allegiance to Conservative values. Shapps was a Cameronian MP.
The article also discussed Shapps's famous spreadsheets which appear to work as well as the 1922 Committee in making or breaking a Prime Minister:
The veteran MP – known by some as the "Duracell Bunny" for his enthusiasm – is also well-known for his "Star Wars" spreadsheet, with which he has spent the past few weeks recording the views of MPs on Ms Truss and her plans.
Mr Shapps used an earlier version of his famous spreadsheet to lead a rebellion against Theresa May, and also utilised its information to help guide Boris Johnson into Downing Street.
The spreadsheet is said to contain more than 6,000 historical "data points" from previous conversations with MPs.
It was rumoured that he had been in contact with Mr Johnson and Mr Sunak to see if they would join an effort to oust Ms Truss. And some rebel MPs claimed he had even offered himself up as a caretaker prime minister.
Let us not forget that Shapps himself is hardly a paragon of virtue:
… unfortunately for Mr Shapps, some elements of his past may make a shot at No 10 less than likely – not least the Michael Green saga.
This was an alter-ego he employed to enable him to run a series of get-rich-quick schemes on the internet while he was an MP.
Mr Shapps originally denied he had a second job, and threatened legal action against a constituent who said he had. But he was forced to admit practising business under a pseudonym in March 2015.
All this happened while he was Tory chairman, in charge of David Cameron's efforts to win the 2015 election.
He was demoted soon after to aid minister, and resigned from that role after claims he had ignored repeated allegations of bullying involving the Tories' youth organiser. It was said the alleged bullying, which took place on the party's RoadTrip 2015 campaign, may have caused one party member to commit suicide.
On Wednesday evening, Camilla Tominey reprised her warning about un-Conservative MPs and their takeover of the Government. She, too, used the word 'coup':
… the departure of Suella Braverman as home secretary speaks to a bigger problem for Liz Truss than sheer optics.
In sacking two key allies on the Right, only for them to be replaced by opponents more to the Left of the party, the Prime Minister is increasingly looking like the victim of a Conservative coup.
It is certainly ironic that the former home secretary, in post for just 43 days, first used that word to describe those who plotted against Ms Truss's original plan to link benefit to wages rather than inflation. 
With that, and most of her mini-Budget up in flames thanks to a rebellion by the moderates, Jeremy Hunt now appears to be the de facto Prime Minister.
He will now be joined by his fellow Sunakite Grant Shapps, who despite being rejected from Ms Truss's original cabinet, has now been appointed to replace Mrs Braverman at the Home Office.
Braverman, at one point, had headed the aforementioned European Research Group:
… her swift exit from one of the highest posts in public office will anger her European Research Group supporters.
It was only on Tuesday evening that Ms Truss was said to have charmed the backbench group of Eurosceptics with her honest, straight-talking approach.
They are unlikely to take kindly to their former chairman, a darling of the grassroots, being ejected in such unseemly fashion.
Mrs Braverman, a Conservative leadership candidate herself over the summer, received the longest standing ovation at the Tory Party conference two weeks ago.
Fortunately, Rishi Sunak re-appointed Braverman as Home Secretary. He probably realised he had to, in order to keep Party members on side.
Returning to Wednesday, October 19, The Telegraph posted an article stating that Conservative backbenchers were asking Labour for help in ousting Truss. Unbelievable:
Rebel Tories have been asking Labour MPs to help them overthrow Liz Truss, The Telegraph has been told.
Conservative backbenchers are growing increasingly frustrated with the Prime Minister's leadership, but currently lack any mechanisms to remove her given the one-year immunity she has from a no confidence vote.
As things stand, the only way to oust Ms Truss would be to change the rules – which is a decision that only the executive of the 1922 committee of backbenchers can make – or if she resigns of her own volition.
One Labour MP told The Telegraph: "Tories are speaking to us saying 'this is a complete nightmare and there is no way out'. We are being asked 'can't you do something about her?'"
The MP, who said their colleagues have reported similar experiences, said they were approached by one Red Wall MP whose constituency was in the north and another MP who is a member of the One Nation group of moderates …
A Labour source said: "There is very little Labour can do. Even a vote of no confidence doesn't have the constitutional standing that it used to. The Tory party are the ones that elected her, they need to get rid of her."
The paper's Michael Deacon wrote that Conservative MPs were entirely to blame for the mess. Furthermore, he said, they risked angering Party members, the campaigning activists, if they pushed ahead with a rule change saying that the members would no longer be able to vote for future Party leaders. The members elected Truss over Sunak in August:
This week, The Telegraph reported that Tory MPs want to bar members from voting in future leadership elections. Supposedly the reason is to speed up the process of choosing a leader. But this is blatantly a smokescreen. Quite plainly, MPs just want to prevent the members from landing them with another turkey like Truss.
Many members are appalled by this suggestion. And so they should be. Such a plan is not just arrogant and undemocratic, it's delusional. Because party members aren't to blame for the current mess.
Tory MPs are.
After all, who put Truss on the ballot paper in the first place? Tory MPs. No fewer than 113 of them, in fact. A third of the parliamentary party. Out of an initial field of 11 candidates for the leadership, Truss was the MPs' second favourite.
Unlike the MPs, however, the party members weren't allowed to choose between the initial field of 11. If they had been, it's extremely unlikely that they would have chosen Truss. They'd have been far more likely to choose Penny Mordaunt or Kemi Badenoch, to name just two. In fact, if the MPs had deigned to ask them, I suspect that the greatest number of members would have wanted their leader to be Boris Johnson – the person they chose to be leader in the first place.
The truth is, the members voted for Truss simply because they didn't want to vote for Rishi Sunak. In leadership contests, they're only ever given two candidates to choose from. And why? Because Tory MPs don't trust them. They fear that, if presented with a wide-open field, party members will choose the "wrong" candidate. Funny how things turn out.
All things considered, then, it seems clear that, if anyone should be barred from voting in leadership contests, it should be Tory MPs. In future, just leave it to the wiser judgment of the members instead.
That night, The Telegraph posted an article by Lord Frost saying that the Party was moving towards a status quo, if not anti-Brexit, stance, going all the way back to David Cameron's time as Prime Minister, with George Osborne as Chancellor and Philip Hammond in the same post under Theresa May:
… the Government is implementing neither the programme Liz Truss originally advocated nor the 2019 manifesto. It is going in a completely different direction. We are back to Osbornomics, the continuity Hammond view of the world. There is no shred of a mandate for this. It's only happening because the Truss Government messed things up more badly than anyone could have imagined, and enabled a hostile takeover by its opponents …
… the correct account of the past few weeks is the simplest. Truss tried to deliver worthwhile reforms and set the country onto a much-needed new direction. I supported this policy direction and still do. But it was rushed and bungled. The markets were spooked. The mistakes were opportunistically seized on by her opponents to undermine her leadership, to blame Brexit, and to stop the party getting out of the social democratic tractor beam of the past few years. And now, under pressure, the Prime Minister has reversed tack completely.
The risk now is that we lose for a generation the opportunity to do anything better. Every time the PM defends her approach, she denounces the policies on which she was chosen. The danger is that necessary and correct reforms are discredited.
Frost held that Truss was ultimately responsible for her own downfall.
As such, she had to go:
We are where we are. I am very sorry about it, because I had such high hopes. Whatever happens to her ministers or the stability of the Government in the next few days, Truss just can't stay in office for one very obvious reason: she campaigned against the policies she is now implementing. However masterfully she now implements them – and it doesn't seem that it will be very masterfully – it just won't do. She said she wouldn't U-turn, and then she did. Her fate is to be the Henry VI of modern politics – a weak figurehead, unable to control the forces around her, occasionally humiliated, and disposed of when she has become inconvenient. Better to go now.
As for her successor and the Party:
Then the party must do two things: avoid making the economic situation even worse by repeating the policies of the Cameron government in totally different circumstances; and recover some political legitimacy for carrying on – because in our system legitimacy does matter.
Thursday, October 20
After 44 days, Liz Truss resigned as Conservative Party leader on Thursday, October 20.
She served as Prime Minister for 50 days, beating George Canning's record of 118 days. Also a Conservative, he died of tuberculosis in 1827.
She remained PM until Rishi Sunak succeeded her:
Liz Truss's final 24 hours: Suella Braverman's resignation, question over Whips' resignations (October 19)
Liz Truss's final 24 hours: fallout over Braverman and Morton, no tears in exit speech (October 19, 20)
Rishi Sunak becomes Prime Minister: a momentous morning of historic significance (October 24, 25)
How Rishi Sunak won the Conservative Party leadership contest — part 1 (October 20, 21, 25)
How Rishi Sunak won the Conservative Party leadership contest — part 2 (October 21, 26, 27)
How Rishi Sunak won the Conservative Party leadership contest — part 3 (October 22-24, 27, 28)
On Thursday morning, The Telegraph posted a Planet Normal podcast in which Lord Frost said he could see Brexit being reversed:
In the wide-ranging discussion, Lord Frost also said that he could see a future where Brexit is reversed. 
"Brexit was about giving us the power to do things ourselves and to give responsibility back to British ministers, British governments. And they've shown that many of them are not up to the job in the last year or two."
"I can easily see a situation where Keir Starmer gets in. We drift back closer into the single market and go back into the Customs Union. And then everyone says why are we in these things where we don't get a say in them? Wouldn't it be better to be a member? So I can easily see how it could happen. And the way you stop it happening is to prove, while we have the levers of power, that we can do things differently and better. And at the moment we're not making a very good job of that, unfortunately."
Little did Truss know that, the day before, she had stood at the despatch box for her last PMQs:
She resigned early on Thursday afternoon. Thankfully, she didn't cry, unlike Theresa May, who broke down at the podium (Guido has the video):
Sterling began surging the second Truss finished her announcement:
In less than 24 hours, the Conservative Party website deleted her presence from their home page (Guido has the before and after screenshots):
It was a sad ending to a sad episode of British parliamentary history.
Next week, I will look at who, besides Truss herself, was also responsible for it.
Truss is currently spending time in her own constituency and has not yet appeared on the backbenches, an alien place for someone who had been a minister of state for most of her career.
My most recent post on Liz Truss examined her first two weeks in office as Conservative Party leader and Prime Minister, from September 6th through the 16th.
Things had started out so well. Ironically, Jeremy Hunt, who is now Chancellor, told ITV's political editor Robert Peston on September 7 that Truss would be 'formidable'. An amazing endorsement from someone who was her natural ally:
Hmm. Did he know anything at that point? We'll probably never know.
On September 20, The Sun's political editor Harry Cole was delighted to announce his and James Heale's book on Truss, Out of the Blue, which later had to have hastily written chapters added to it:
Yes, it is still coming out by Christmas — November 24, to be precise:
King Charles and COP27
Liz saw King Charles on Sunday, September 18, the day before the Queen's funeral. It was not their usual day to meet, but the Royal Family went into private mourning until the end of September:
On Saturday, October 1, The Times reported that Liz had asked the King not to attend COP27, which ran between November 6 and 18, despite an invitation from the organisers.
This was a good move, in my opinion, as climate change, or whatever it's being called this week, has turned highly political.
The article said (emphases mine):
The King, a passionate environmental campaigner, has abandoned plans to attend next month's Cop27 climate change summit after Liz Truss told him to stay away.
He had intended to deliver a speech at the meeting of world leaders in Egypt.
Had she remained PM, Liz would not have attended, either:
Truss, who is also unlikely to attend the Sharm el-Sheikh gathering, objected to the King's plans during a personal audience at Buckingham Palace last month.
There were no hard feelings between the Palace and No. 10:
… a Downing Street source claimed the audience had been cordial and there had "not been a row".
No doubt he was expecting it:
A senior royal source said: "It is no mystery that the King was invited to go there. He had to think very carefully about what steps to take for his first overseas tour, and he is not going to be attending Cop."
They said the decision was made on the government's advice and was "entirely in the spirit of being ever-mindful as King that he acts on government advice".
In the end, the King held a reception at Buckingham Palace for world leaders before they flew to the summit. In light of that, this was rather interesting:
Charles is still determined to make his presence felt there, and how he will do that is "under active discussion". A senior royal source said: "Just because he is not in physical attendance, that doesn't mean His Majesty won't find other ways to support it."
A source who knows Charles said he would be "personally disappointed" to miss it and was "all lined up to go", with several engagements planned around his Sustainable Markets Initiative (SMI) which aims to persuade businesses to invest in environmentally friendly initiatives.
Public v parliamentary opinion
In late September, a poll showed that Truss was ahead of Labour's Keir Starmer in Red Wall seats, boosting the Conservatives by eight points:
Admittedly, that was before Kwasi Kwarteng's fiscal event, or mini-budget, of Friday, September 23.
That said, I will go out on a limb and say that most conservative voters thought that Kwarteng's — Truss's — plan was the right one. My better half and I thought it was refreshingly libertarian.
However, Conservative MPs vehemently disagreed with the public and started writing in to Sir Graham Brady, the chairman of the 1922 Committee, the all-powerful group that Margaret Thatcher dubbed 'the men in grey suits'.
On September 26, the Northern Echo reported:
A former Tory minister MP has told Sky News the new Prime Minister is "f*****" and the party are already looking to bring her down following Friday's mini-budget.
The MP said: "They are already putting letters in as they think she will crash the economy. The tax cuts don't matter as all noise anyway – mainly reversing back to the status quo this year …
Another Tory MP told the broadcaster that Friday's announcement – which included reversing a 1.25% hike in National Insurance – had been a "s***show".
Note that MPs were siding with the Bank of England. Very establishmentarian of them:
"The issue is government fiscal policy is opposite to Bank of England monetary policy – so they are fighting each other. What Kwasi [Kwarteng] gives, the Bank takes away."
The mood among Conservative 'wets', to borrow Thatcher's name for such weaklings, only escalated.
At Liz's one — and only — appearance before the 1922 Committee on Thursday, October 13, Robert Halfon, a wet, told Truss she had 'trashed the past ten years'.
Liz Truss was accused by a senior MP of trashing "the last ten years" of Conservative government as her party turned on its new leader over the mini-budget.
Robert Halfon, a former minister who chairs the education select committee, unleashed a furious attack on her financial measures, saying they disproportionately benefited the wealthy and meant she had abandoned "workers' conservatism".
Anything but, however:
According to an MP present, Halfon told Truss in a meeting of the 1922 Committee of backbenchers — her first as prime minister — that "in the last ten years we had the living wage, a focus on apprenticeships and skills", contrasting that with "bankers' bonuses, benefits cuts and now cuts to affordable housing targets".
His intervention came after Truss tried to assuage Conservative MPs by saying she had "shielded families and businesses from bills of up to £6,000 this winter and for the winter ahead, while Labour has no plan beyond the next six months".
The meeting did not go well. Halfon seemed to voice other MPs' concerns:
… a Tory MP who has been in the Commons for more than a decade said: "It was the worst 1922 I've ever been to." They added: "With each tough question she looked like she'd had the wind knocked out of her — the 31st of October could finish her off on the basis of the reception she got in that room."
Halloween — who schedules these things? — was supposed to be the day Kwasi was going to set out more detail behind his fiscal event. Liz's friend and neighbour in Greenwich was on hand to support her:
Thérèse Coffey, the deputy prime minister, told reporters outside the 1922 meeting that the chancellor would meet MPs before presenting his medium-term plan on Halloween, stressing that engagement was key.
In the event, Truss had to sack Kwarteng and appoint (ahem) the aforementioned Jeremy Hunt as Chancellor. He delivered his shocking budget on Thursday, November 17, to Prime Minister Rishi Sunak's approval. Sunak nodded several times during the presentation.
Returning to The Times's article of October 13, what other wets said presaged the future:
Even those who back the prime minister expect some sort of climbdown. One MP said: "She will have to unwind everything fiscal in the statement. They have to backtrack. There is no alternative. They've done it on the 45p and they'll have to do it on the rest.
"Then if we are still 20 points behind in the polls we will have to change leader. We are cold-blooded like that."
Another admitted there was "definitely still a big split between her and the Rishi [Sunak] side of the party". Asked if Truss would have to perform another U-turn, they said: "Ultimately, I suppose it depends if she's leveraged into that position by our own party, but it's all by those with 20,000 majorities."
Hmm … Hmm.
However, one Rishi Sunak supporter — Esther McVey — is deeply unhappy over his Chancellor's budget:
On Tuesday, November 22, McVey rightly tore the budget apart in ConservativeHome, saying that Hunt's tax rises are 'socialist measures' that are 'punishing Conservative voters':
… It wasn't helped by the Chancellor's statement being such a pendulum swing from the Liz Truss / Kwasi Kwarteng mini budget. People went from thinking they were getting their taxes cut to seeing them hiked.
The Autumn Statement was clearly an over-correction to that mini-budget. Going from one extreme to the other is hardly reassuring for people. A middle ground was needed: an acceptance of Conservative principles, with a costed plan and the accompanying narrative to reassure the markets.
Instead, Hunt delivered his statement with a doom and gloom that would have appropriate were the country on the brink of financial collapse. However, despite some serious challenges, things are not so dire that we had to have such excessive medicine.
For instance, the ten-year gilt yield – the interest rate the Government must pay on a new decade-long loan – was 3.14 per cent, whereas, even before the notorious mini-Budget in late September, that same yield was much higher at 3.49 per cent.
Britain is no more indebted than other comparable countries. Our national debt (albeit too high) stands at 97 per cent of GDP, whereas France, Canada and the US stands at 115 per cent, 116 per cent and 132 per cent respectively. Across the G7, only Germany has lower levels of government debt than the UK.
So when I stood up in the House of Commons at PMQs the day before the budget and said –
Given that we have the highest burden of taxation in living memory, it is clear that the Government's financial difficulties are caused by overspending and not due to undertakings. Does the Deputy Prime Minster therefore agree, if the government has got enough money to proceed with HS2 at any cost then it has sufficient money not to increase taxes, if however, it has so little money it has to increase taxes (which is the last thing for a conservative government to do) then it doesn't have sufficient money for HS2 [High Speed Rail 2]?
So can I gently urge the Deputy Prime Minister not to ask Conservative MPs to support any tax rises, unless and until, this unnecessary vanity project is scrapped, because I for one won't support them.
– it was to remind everyone there are better choices for our Conservative government than hiking up taxes.
In fact, given that unprecedented tax burden, any self-respecting Conservative would instinctively know that the answer is to spend less. Dropping HS2 – an out-of-date white elephant, costing north of £150 billion which (as Andrew Gilligan revealed on my show on GB News) the Ministers themselves know will deliver less economic benefit than the cost of it – would have been an ideal place to start. That would certainly have been more desirable than increasing taxes on hard-working families who are already feeling the severe pain of higher energy prices and increased mortgage payments.
If a Conservative government with a sizeable majority – in a time of financial pressure – won't cut public expenditure to start living within our means, then when on earth will that ever happen? …
Parliament is debating Jeremy Hunt's budget this week. In Monday's proceedings, a number of Conservative MPs spoke out against it.
Liz's U-turn on windfall tax
On October 12, two days before she sacked her friend and neighbour Kwasi Kwarteng, she appeared to do a U-turn on 'no new taxes' by allowing an announcement for a new levy on green energy firms.
Her ally, then-Business (BEIS) Secretary Jacob Rees-Mogg, defended the move and claimed it was not a windfall tax:
Guido Fawkes reported (emphases his):
The government has announced a new plan to impose a multi-billion pound levy on green energy firms to fund support to consumers. Renewable and nuclear electricity generators in England and Wales will now have their revenues capped after windfall tax-hating Liz Truss seemingly bowed to pressure to limit profits. The announcement came from BEIS last night, which is calling the new policy a "Cost-Plus-Revenue Limit" and spinning that it isn't in any way a windfall tax "as it will be applied to 'excess revenues' as opposed to profits". If it walks like a tax, swims like a tax and quacks like a tax…
The latest backtracking on free market values by the government comes just 41 days after Liz Truss told party members at the London husting that they could read her lips, and there would be no new taxes under her leadership …
On Today this morning, Rees-Mogg tried performing a Jedi mind trick, saying "this is not a windfall tax…this is rationalising the market"…
Despite the government's denial that the new revenue limit is a tax, the boss of RWE – the third biggest renewable power generator in Britain – has told The Times the move "is a de facto 'windfall tax' on low-carbon generators that, if not designed and implemented correctly, could have severe negative consequences for investment in the renewable and wider energy market and so for the energy transition."
Guido warned that Labour's support for the new levy is not a good sign:
Ed Miliband welcoming the policy with open arms should give the government sufficient pause for thought before it buys its own spin…
The mystery of Liz signing UK up to EU's PESCO
Early in October, Liz did a strange thing, considering she is a staunch Brexit supporter.
She attended the first ever meeting of the European Political Community in Prague. The European Political Community is Emmanuel Macron's brainchild.
This group is made up of EU member countries, yet, somehow Liz got an invitation. No one knows for certain.
However, she went.
She met with Macron on Thursday, October 6, in an effort to get the Channel dinghy crossing issue resolved.
GB News reported:
Liz Truss hailed Emmanuel Macron as a "friend" on Thursday, as the two countries signalled that a new agreement could be close to tackle small-boat crossings in the Channel.
The pair met at the first summit of the European Political Community in Prague, a gathering pushed for by the French president.
There, the pair said they looked forward to "an ambitious package of measures this autumn" to address issue of migration across the Channel.
And in a sign that Ms Truss hopes to improve relations with Mr Macron, she had no hesitation in labelling him a "friend", just weeks after refusing to do so …
Mr Macron later suggested it was a "problem" if Britain could not call itself a friend of France.
But Prime Minister Ms Truss adopted a different tone ahead of a meeting with Mr Macron in Prague on Thursday.
She told broadcasters: "I work very, very closely with President Macron and the French government and what we're talking about is how the UK and France can work more closely together to build more nuclear power stations and to make sure that both countries have energy security in the future.
"We're both very clear the foe is Vladimir Putin, who has through his appalling war in Ukraine threatened freedom and democracy in Europe and pushed up energy prices which we're now all having to deal with."
Asked if he was then a friend, Ms Truss said: "He is a friend."
The bi-lateral meeting between the two leaders, which took place towards the end of the day, appeared to signal some progress on the issues of migration and energy, both areas Ms Truss had raised as priorities ahead of the summit.
"Thank you for being here," Mr Macron told the PM when they met.
It also emerged that the two countries have agreed to hold a joint summit next year to "take forward a renewed bilateral agenda", in a further sign of the desire for warmer relations between the two countries.
On migration, a joint statement said the leaders "agreed to deepen cooperation on illegal migration within the bounds of international law, to tackle criminal groups trafficking people across Europe, ending in dangerous journeys across the Channel".
But the big, and secret, news was that Liz had signed the UK up to the EU's PESCO — Permanent Structured Co-operation — which is a military initiative.
Nigel Farage announced the move on his GB News show as soon as he had heard.
On Friday, October 7, The Express said that the move could affect British armed forces by dragging them into an EU army:
The Prime Minister has been warned not to allow the UK to be dragged into an EU Army by accident after she signed a military deal this week at Emmanuel Macron's European Political Community (EPC) summit in Prague. The decision to go into part of the PESCO has alarmed some Brexiteers who fear it could undermine the UK's sovereignty.
Former defence minister Sir Gerald Howarth, a leading Brexiteer has led the campaign to resist joining PESCO for many years.
He said: "This is very serious and we must be very careful. The issue around PESCO is that the structures are permanent.
"We must not sign up to anything which undermines our sovereignty and where we do not have a veto.
"Second, we must not do anything that undermines NATO. If we have learnt anything over the last few months is that we need NATO for the defence of western values and Europe against our enemies which at the moment is clearly Russia."
Even if this has to do with Ukraine, and enables us to move troops and military equipment more easily, it still raises questions:
At the EPC meeting on Thursday, the EU member states voted unanimously to allow the UK to join the the mobility project that would allow the UK to move troops and military equipment more quickly.
The UK Government decided to enter the strand in case Britain is called upon as a NATO ally to defend the Baltic states from a Russian invasion.
However, staunch Brexiteer Mark Francois MP was relaxed about it:
One senior Brexiteer, former Armed Forces Minister, Mark Francois, who now chairs the powerful group of Tory Brexiteers the European Research Group (ERG), said he believes that the move was the right one.
He said: "As we are outside the EU, we can opt in to individual PESCO projects if they have merit and looking at how we could speed up reinforcing the Baltic States from the UK, across internal EU borders, may well have military advantages.
"However, it is NATO that remains the bedrock of our security, especially in deterring further Russian adventurism and we should never forget that."
On October 9, David Kurten, a former London Assembly member and founder of the Heritage Party, said that signing the UK up to PESCO was a betrayal of Brexit:
One month ago, the aforementioned Sir George Howarth appeared on Farage to say that we still do not know what part of PESCO Liz signed us up to. He was clearly concerned, saying that the implications could be important, especially as none of the countries involved has a veto. The EU calls all the shots:
Today, one month on, we are none the wiser about our involvement in PESCO.
Someone must know what's going on. In fact, a lot of people probably do know.
Liz's final week
All of Liz's opponents, whether on the right or the left, told us that Liz and Kwasi, joined at the hip politically, had to go.
Project Fear started as soon as Kwasi delivered his mini-budget on September 23.
On September 27, Bloomberg told us that UK markets had lost $500 billion in combined value since Liz Truss became PM. Really?
'Investor confidence' means international markets, ergo part of the Establishment.
Also at that time, former Conservative Chancellor George Osborne, who served under David Cameron, stuck the boot in.
On September 29, a comment from an UnHerd reader appeared in response to one of their articles, beginning with 'Is this the end for Liz Truss?':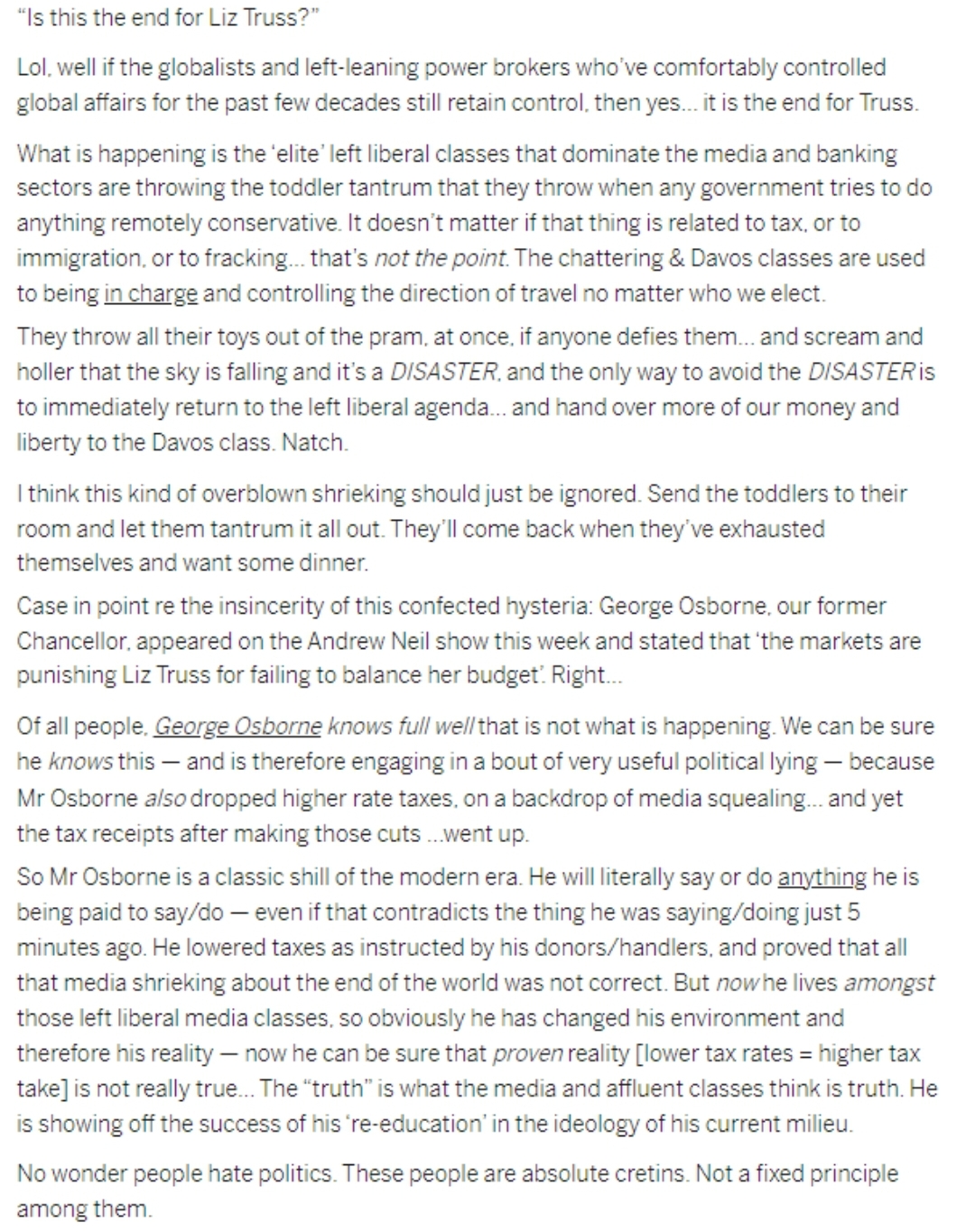 Osborne features heavily in it. The reader quotes him saying, 'The markets are punishing Liz Truss for failing to balance her budget'.
The UnHerd reader says:
Right.
Of all people, George Osborne knows full well that is not what is happening. We can be sure he knows this — and is therefore engaging in a bout of very useful political lying — because Mr Osborne also dropped higher rate taxes [the 50% rate], on a backdrop of media squealing … and yet the tax receipts after making those cuts … went up.
So Mr Osborne is a classic shill of the modern era …
As to whether Liz would have to go, the reader supplies the answer at the top of his message:
… well, if the globalists and left-leaning power brokers who've comfortably controlled global affairs for the past few decades still retain control, then yes … it is the end for Truss …
… It doesn't matter if that thing is related to tax, or to immigration, or to fracking … that's not the point. The chattering and Davos classes are used to being in charge and controlling the direction of travel no matter who we elect.
Speaking of such people, on Wednesday, October 12, King Charles greeted Liz with, 'Dear, oh dear', while the press were still there to record it for posterity:
What did he know and when?
The beginning of the end came two days later on Friday, October 14, when Liz sacked Kwasi and appointed (ahem) Jeremy Hunt as Chancellor. This was the shortest and most painful press conference — she only took four questions — in living memory. She looked like a rabbit in the headlamps or a hostage being forced at gunpoint to read out a message:
As soon as she announced it, we knew Hunt was, at that point, the de facto Prime Minister.
Hours later, The Telegraph reported:
Mr Hunt, a former foreign secretary, took the helm at the Treasury following the sacking of Kwasi Kwarteng over the mini-Budget fiasco. Ms Truss turned to him even though the pair have strongly disagreed on economic policy.
Mr Hunt, also an ex-health secretary, endorsed Rishi Sunak for the Tory leadership after being voted out of the race in July, saying: "This is the wrong time for populist crowd-pleasing and the right time for honesty."
He will hold huge power over a weakened Prime Minister, raising the likelihood that much of her growth plan will now be axed. Allies said that he would act as her "chief executive".
Mr Hunt ran for the Conservative leadership on a platform of slashing corporation tax to 15 per cent to boost growth but also opposed cuts to personal levies such National Insurance and income tax, with which Ms Truss still intends to press ahead.
His appointment was announced moments before the Prime Minister unveiled her U-turn on corporation tax at a press conference. She ditched what had been a core leadership pledge, meaning the rate companies pay on their profits will go up from 19 to 25 per cent in April. It means she has reverted to the plan put in place by Mr Sunak when he was chancellor.
Quelle surprise!
Conservative Party members had voted Liz Truss in largely on her economic policy.
The elites took out her Chancellor. Soon afterwards, they came for her in the form of Conservative MPs and the 1922 Committee. It was a grand game of political chess, not seen since Margaret Thatcher was removed from office in 1990.
To be continued on Friday.
While this is a change to the previous schedule of analysing Liz Truss's premiership, more about which next week, there are references below as to why hers and Kwasi Kwarteng's plan was the right one for the UK.
Chancellor Jeremy Hunt delivered his Autumn Statement — a Labourite Conservative budget — on Thursday, November 17, 2022.
Compared with Kwasi Kwarteng's fiscal event of September 23, this will be a disaster for most middle class Britons.
It was clear that Hunt designed this budget to placate the all-hallowed — for whatever reason — OBR (Office for Budget Responsibility) and the markets. Stability is their watchword. Growth, regardless of what Hunt said yesterday, plays little part in our economy for the foreseeable future.
Unlike Kwarteng's, which did focus on growth, Hunt's statement had little to no consideration of the British taxpayer in a cost of living crisis.
What Hunt said
Before going into Hunt's address, Guido Fawkes has a brief summary and the full detail from the Treasury, a 70-page document.
Below are excerpts from Hunt's Autumn Statement to the House of Commons (emphases mine):
… today we deliver a plan to tackle the cost of living crisis and rebuild our economy. Our priorities are stability, growth and public services. We also protect the vulnerable, because to be British is to be compassionate and this is a compassionate Conservative Government.
Remember when then-Chancellor Rishi Sunak told us we did not have to worry about the cost of borrowing and borrowing itself during the pandemic? Well, now we have to worry:
Most countries are still dealing with the fallout from a once-in-a-century pandemic. The furlough scheme, the vaccine roll-out and the response of the NHS did our country proud, but they all have to be paid for.
Hunt paid homage to the Bank of England and had a poke at Kwarteng for not doing so:
So the Bank of England, which has done an outstanding job since its independence, now has my wholehearted support in its mission to defeat inflation and I today confirm we will not change its remit. But we need fiscal and monetary policy to work together, and that means the Government and the Bank working in lockstep.
He delivered a deeper attack on Kwarteng:
I understand the motivation of my predecessor's mini-Budget and he was correct to identify growth as a priority, but unfunded tax cuts are as risky as unfunded spending, which is why we reversed the planned measures quickly. As a result, Government borrowing has fallen, the pound has strengthened and the OBR says today that the lower interest rates generated by the Government's actions are already benefiting our economy and public finances. But credibility cannot be taken for granted and yesterday's inflation figures show we must continue a relentless fight to bring it down, including a rock solid commitment to rebuild our public finances.
He bowed before the all-powerful OBR, whose forecasts have not been terribly accurate over the past few years. Let us see if these come true in the coming months:
Richard Hughes and his team at the OBR today lay out starkly the impact of global headwinds on the UK economy, and I am enormously grateful to him and his team for their thorough work. The OBR forecasts the UK's inflation rate to be 9.1% this year and 7.4% next year. It confirms that our actions today help inflation to fall sharply from the middle of next year. It also judges that the UK, like other countries, is now in recession. Overall this year, the economy is still forecast to grow by 4.2%. GDP then falls in 2023 by 1.4%, before rising by 1.3%, 2.6% and 2.7% in the following three years. The OBR says higher energy prices explain the majority of the downward revision in cumulative growth since March. It also expects a rise in unemployment from 3.6% today to 4.9% in 2024, before falling to 4.1%.
This is Hunt's strategy, with the blessing of the OBR and borrowing Sunak's morality from the August leadership campaign about leaving debts to the next generation:
I also confirm two new fiscal rules. The first is that underlying debt must fall as a percentage of GDP by the fifth year of a rolling five-year period. The second is that public sector borrowing over the same period must be below 3% of GDP. The plan I am announcing today meets both rules.
Today's statement delivers a consolidation of £55 billion, and means inflation and interest rates end up significantly lower. We achieve this in a balanced way. In the short term, as growth slows and unemployment rises, we will use fiscal policy to support the economy. The OBR confirms that, because of our plans, the recession is shallower and inflation is reduced. Unemployment is also lower, with about 70,000 jobs saved as a result of our decisions today. Then, once growth returns, we increase the pace of consolidation to get debt falling. This further reduces the pressure on the Bank to raise interest rates, because as Conservatives we do not leave our debts to the next generation.
So this is a balanced path to stability, tackling inflation to reduce the cost of living and protect pensioner savings, while supporting the economy on a path to growth. But it means taking difficult decisions.
Hunt then discussed the fiscal drag elements of the budget. Fiscal drag means drawing the unsuspecting into paying new and more tax:
I start with personal taxes. Asking more from those who have more means that the first difficult decision I take on tax is to reduce the threshold at which the 45p rate becomes payable from £150,000 to £125,140. Those earning £150,000 or more will pay just over £1,200 more in tax every year. We are also taking difficult decisions on tax-free allowances. I am maintaining at current levels the income tax personal allowance, higher rate threshold, main national insurance thresholds and the inheritance tax thresholds for a further two years, taking us to April 2028. Even after that, we will still have the most generous set of tax-free allowances of any G7 country.
I was amazed he could talk about 2028 with a straight face. By then, we will probably have a Labour government. Oh well, he's done their work for them.
Continuing on tax rises, he said:
I am also reforming allowances on unearned income. The dividend allowance will be cut from £2,000 to £1,000 next year, and then to £500 from April 2024. The annual exempt amount for capital gains tax will be cut from £12,300 to £6,000 next year, and then £3,000 from April 2024. Those changes still leave us with more generous allowances than countries such as Germany, Ireland, France, and Canada.
Because the OBR forecasts that half of all new vehicles will be electric by 2025, to make our motoring tax system fairer, I have decided that from then electric vehicles will no longer be exempt from vehicle excise duty. Company car tax rates will remain lower for electric vehicles, and I have listened to industry bodies and will limit rate increases to 1 percentage point a year for three years from 2025.
At least he kept one thing from Kwarteng's statement:
The OBR expects housing activity to slow over the next two years, so the stamp duty cuts announced in the mini-Budget will remain in place but only until 31 March 2025. After that, I will sunset the measure, creating an incentive to support the housing market, and the jobs associated with it, by boosting transaction during the period when the economy most needs it.
He won't even be Chancellor then.
Moving on to businesses:
I now turn to business taxes. Although I have decided to freeze the employers national insurance contributions threshold until April 2028, we will retain the employment allowance at its new higher level of £5,000. That means that 40% of all businesses will pay no NICs at all. The VAT threshold is already more than twice as high as the EU and OECD averages. I will maintain it at that level until March 2026.
Then came the windfall tax:
Can I just say that any such tax should be temporary, not deter investment and recognise the cyclical nature of energy businesses? So, taking account of that, I have decided that from 1 January until March 2028 we will increase the energy profits levy from 25% to 35%. The structure of our energy market also creates windfall profits for low-carbon electricity generation, so we have decided to introduce, from 1 January, a new, temporary 45% levy on electricity generators. Together, those measures will raise £14 billion next year.
Business rates have been a thorn in the side of those enterprises on our high streets. Here, it would seem, Hunt offered some relief:
Finally, I turn to business rates. It is an important principle that bills should accurately reflect market values, so we will proceed with the revaluation of business properties from April 2023, but I will soften the blow on businesses with a nearly £14 billion tax cut over the next five years. Nearly two thirds of properties will not pay a penny more next year and thousands of pubs, restaurants and small high street shops will benefit. That will include a new Government-funded transitional relief scheme, as called for by the CBI, the British Retail Consortium, the Federation of Small Businesses and others, benefiting around 700,000 businesses.
Then he turned to people on benefits, proving that Sunak's furlough scheme during the pandemic was more than adequate:
… I am proud to live in a country with one of the most comprehensive safety nets anywhere in the world. But I am also concerned that we have seen a sharp increase in economically inactive working-age adults of about 630,000 people since the start of the pandemic. Employment levels have yet to return to pre-pandemic levels, which is bad for businesses who cannot fill vacancies and bad for people missing out on the opportunity to do well for themselves and their families, so the Prime Minister has asked the Work and Pensions Secretary to do a thorough review of issues holding back workforce participation, to conclude early in the new year.
Alongside that, I am also committed to helping people already in work to raise their incomes, progress in work and become financially independent. So we will ask over 600,000 more people on universal credit to meet with a work coach so that they can get the support that they need to increase their hours or earnings. I have also decided to move back the managed transition of people from employment and support allowance on to universal credit to 2028, and will invest an extra £280 million in the DWP to crack down on benefit fraud and error over the next two years. The Government's review of the state pension age will be published in early 2023.
He then discussed foreign spending:
… I salute the citizens of another country right on the frontline … the brave people of Ukraine. The United Kingdom has given them military support worth £2.3 billion since the start of Putin's invasion, the second highest contribution in the world after the United States, which demonstrates that our commitment to democracy and open societies remains steadfast. In that context, the Prime Minister and I both recognise the need to increase defence spending. But before we make that commitment, it is necessary to revise and update the integrated review, written as it was before the Ukraine invasion. I have asked for that vital work to be completed ahead of the next Budget and today I confirm that we will continue to maintain the defence budget at at least 2% of GDP to be consistent with our NATO commitment.
I was pleased to hear that overseas aid will stay at 0.5%:
Another important international commitment is to overseas aid. The OBR's forecasts show a significant shock to public finances, so it will not be possible to return to the 0.7% target until the fiscal situation allows. We remain fully committed to that target, and the plans I have set out today assume that official development assistance spending will remain around 0.5% for the forecast period. As a percentage of GNI, we were the third highest donor in the G7 last year, and I am proud that our aid commitment has saved thousands of lives around the world.
Net Zero is still going ahead:
I also confirm that, despite the economic pressures, we remain fully committed to the historic Glasgow climate pact agreed at COP26, including a 68% reduction in our own emissions by 2030.
He discussed schools, beginning with those in England:
… we have risen nine places in the global league tables for maths and reading in the last seven years.
… as Chancellor I want to know the answer to one simple question: will every young person leave the education system with the skills they would get in Japan, Germany or Switzerland? So, I have appointed Sir Michael Barber to advise me and my right hon. Friend the Education Secretary on the implementation of our skills reform programme.
… Some have suggested putting VAT on independent school fees as a way of increasing core funding for schools, which would raise about £1.7 billion. But according to certain estimates, that would result in up to 90,000 children from the independent sector switching to state schools, giving with one hand only to take away with another.
So instead of being ideological, I am going to be practical: because we want school standards to continue to rise for every single child, we are going to do more than protect the schools budget—we are going to increase it. I can announce today that next year and the year after, we will invest an extra £2.3 billion per annum in our schools.
He has asked a former Labour MP, Patricia Hewitt, to help him reform the NHS. Oh, my days:
I have asked the former Health Secretary and chair of the Norfolk and Waveney integrated care system, Patricia Hewitt, to help me and the Health Secretary to achieve that by advising us on how to make sure that the new integrated care boards, the local NHS bodies, operate efficiently and with appropriate autonomy and accountability. I have also had discussions with NHS England about the inflationary pressures on their budgets.
More money will be pumped into the system:
With £3.3 billion for the NHS and £4.7 billion for social care, there is a record £8 billion package for our health and care system. That is a Conservative Government putting the NHS first.
Barnett consequentials, which come from the hard-pressed English taxpayer, will also increase:
The NHS and schools in Scotland, Wales and Northern Ireland face equivalent pressures, so the Barnett consequentials of today's decisions mean an extra £1.5 billion for the Scottish Government, £1.2 billion for the Welsh Government, and £650 million for the Northern Ireland Executive. That means more resources for the schools and hospitals in our devolved nations next year, the year after and every year thereafter.
A new energy strategy will be forthcoming from the Business Secretary.
These are Hunt's infrastructure commitments:
… today I can announce that I am not cutting a penny from our capital budgets in the next two years, and I am maintaining them at that level in cash terms for the following three years. That means that although we are not growing our capital budget as planned, it will still increase from £63 billion four years ago to £114 billion next year and £115 billion the year after, and will remain at that level—more than double what it was under the last Labour Government.
Smart countries build on their long-term commitments rather than discarding them, so today I confirm that because of this decision, alongside Sizewell C, we will deliver the core Northern Powerhouse Rail, HS2 to Manchester, East West Rail, the new hospitals programme and gigabit broadband roll-out. All these and more will be funded as promised, with over £600 billion of investment over the next five years to connect our country and grow our economy.
Our national Conservative mission is to level up economic opportunity across the country. That, too, needs investment in infrastructure, so I will proceed with round 2 of the levelling-up fund, at least matching the £1.7 billion value of round 1. We will also drive growth across the UK by working with the Scottish Government on the feasibility study for the A75, supporting the advanced technology research centre in Wales and funding a trade and investment event in Northern Ireland next year.
He is bringing devolution to England in the form of mayoralties:
Our brilliant [Conservative] Mayors such as Andy Street and Ben Houchen have shown the power of civic entrepreneurship. We need more of this inspirational local leadership, so today I can announce a new devolution deal that will bring an elected Mayor to Suffolk, and deals to bring Mayors to Cornwall, Norfolk and an area in the north-east to follow shortly. We are also making progress towards trailblazer devolution deals with the Greater Manchester Combined Authority and the West Midlands Combined Authority, and soon over half of England will be covered by devolution deals. Taken together, that £600 billion investment in our future growth represents the largest investment in public works for 40 years, so our children and grandchildren can be confident that this Conservative Government are investing in their future.
Hunt is altering the Truss-Kwarteng investment zones to be more in line with Michael Gove's aspirations for levelling up:
I will also change our approach to investment zones, which will now focus on leveraging our research strengths by being centred on universities in left-behind areas, to help to build clusters for our new growth industries. My right hon. Friend the Levelling Up Secretary will work with Mayors, devolved Administrations and local partners to achieve this, with the first decisions announced ahead of the spring Budget.
The Truss-Kwarteng energy support plan remains in place until the end of March 2023:
I pay tribute to my predecessor, my right hon. Friend the Member for Spelthorne (Kwasi Kwarteng), and to the former Prime Minister, my right hon. Friend the Member for South West Norfolk (Elizabeth Truss), for their leadership in this area. This winter, we will stick with their plan to spend £55 billion to help households and businesses with their energy bills—one of the largest support plans in Europe. From April, we will continue the energy price guarantee for a further 12 months at a higher level of £3,000 per year for the average household. With prices forecast to remain elevated throughout next year, this will mean an average of £500 of support for every household in the country.
There is more help for the most vulnerable:
At the same time, for the most vulnerable, we will introduce additional cost of living payments next year of £900 to households on means-tested benefits, £300 to pensioner households and £150 for individuals on disability benefit. We will also provide an additional £1 billion of funding to enable a further 12-month extension to the household support fund, helping local authorities to assist those who might otherwise fall through the cracks. For those households that use alternative fuels such as heating oil and liquefied petroleum gas to heat their homes, I am today doubling the support from £100 to £200, which will be delivered as soon as possible this winter. Before the end of this year, we will also bring forward a new targeted approach to support businesses from next April.
But I want to go further to support the people most exposed to high inflation. Around 4 million families live in the social rented sector—almost one fifth of households in England. Their rents are set at 1% above the September inflation rate, which means that on current plans they are set to see rent hikes next year of up to 11%. For many, that would just be unaffordable, so today I can announce that this Government will cap the increase in social rents at a maximum of 7% in 2023-24. Compared with current plans, that is a saving for the average tenant of £200 next year.
Labour started a commotion at this point. Hunt then announced a rise in the minimum wage:
This Government introduced—[Interruption.] I thought they cared about the most vulnerable! This Government introduced the national living wage, which has been a giant step in eliminating low pay, so today I am accepting the recommendation of the Low Pay Commission to increase it next year by 9.7%. This means that, from April 2023, the hourly rate will be £10.42, which represents an annual pay rise worth over £1,600 to a full-time worker. It is expected to benefit over 2 million of the lowest-paid workers in our country, and it keeps us on track for our target to reach two thirds of median earnings by 2024. It is the largest increase in the UK's national living wage ever.
Benefits will increase by the rate of inflation:
… today I commit to uprating such benefits by inflation, with an increase of 10.1%. That is an expensive commitment, costing £11 billion, but it means that 10 million working-age families will see a much-needed increase next year, which speaks to our priorities as a Government and our priorities as a nation. On average, a family on universal credit will benefit next year by around £600. To increase the number of households that can benefit from this decision, I will also exceptionally increase the benefit cap by inflation next year.
Finally, I have talked a lot about the British values of compassion, hard work, dignity and fairness, but there is no more British value than our commitment to protect and honour those who built the country we live in, so to support the poorest pensioners I have decided to increase pension credit by 10.1%, which is worth up to £1,470 for a couple and £960 for a single pensioner in our most vulnerable households, but the cost of living crisis is harming not just our poorest pensioners but all pensioners.
The triple-lock stays:
Because we have taken difficult decisions elsewhere today, I can also announce that we will fulfil our pledge to the country to protect the pension triple lock. In April, the state pension will increase in line with inflation, an £870 increase, which represents the biggest ever increase in the state pension. To the millions of pensioners who will benefit from this measure, I say: "Now and always, this Government are on your side."
Hunt did not receive a jubilant reception from Conservative MPs, some of whom had concerns.
Dr Liam Fox asked about quantitative easing and interest rates:
I congratulate my right hon. Friend on a balanced and skilful statement prioritising fiscal stability. He will be aware that some of us believe that the Bank of England maintained monetary conditions that were too loose for too long, but that it would also be a mistake to maintain monetary conditions that are too tight for too long. Can he therefore confirm that the anti-inflationary measures that he has taken today will mean that the pressure to raise interest rates will be minimised, and that there is a much greater chance that they will fall earlier than would otherwise have been the case?
Hunt replied:
My right hon. Friend is absolutely right to focus on this issue, because every 1% increase in interest rates is about £850 more on the average mortgage, so it is hugely important to families up and down the country. The OBR has said that the measures that we have taken today will mean that inflation is lower than it would otherwise have been. That means that the Bank of England is under less pressure to increase interest rates, which for reasons that he knows are such a worry for so many families.
Sir William Cash was concerned about the ever-increasing costs of the HS2 rail project:
My right hon. Friend argued for sound money and sound foundations. Would he be good enough to explain how it is that High Speed 2 will continue beyond Birmingham at a verifiable cost of at least £40 billion, when every independent report on HS2 condemns the project and confirms that phase 2 will make rail services to all west coast destinations north of Birmingham much worse? I ask him to make a clear commitment to keep this matter under review at all costs; it is in the national interest.
Hunt said:
My hon. Friend is right that the increases in the budget for HS2 are disappointing, but a strong economy needs to have consistency of purpose, and that means saying we will make sure that we are a better connected country. The lack of those connections is one of the fundamental reasons for the differences in wealth between north and south, which we are so committed to addressing. There is a bigger issue about the way that we do infrastructure projects: it takes too long, and the budgets therefore get out of control. We are just not very good at it, and we have to sort it out.
Theresa Villiers rightly asked how soon we could move to a lower-tax economy if the forecasts are wrong. For me, this was the question of the day:
I thank the Chancellor for the announcement on schools funding, which, as he knows, is something that I raised with him as being crucial. Can he also confirm that, if current forecasts about economic recovery and inflation prove to be overly pessimistic, we will move more quickly than he has announced today towards delivering a lower-tax economy?
Hunt was non-committal:
My right hon. Friend is an immensely experienced colleague. She is right to point out that there is always inaccuracy in any forecast, and there is always variation from fiscal event to fiscal event, so we keep all those decisions under review in the round. I think it is still important to have forecasts—that is better than not to have them—but we keep all those decisions under review.
Virginia Crosbie from Ynys Môn in Wales asked how soon the new nuclear programme would begin:
This Government's commitment to Sizewell C and large-scale nuclear is welcome, and it was noted that Labour's shadow Chancellor failed to mention nuclear. When will the launch of Great British Nuclear be announced, and will its scope include large-scale gigawatt nuclear at sites such as Wylfa in my constituency, as well as small modular reactors?
Hunt was encouraging:
There is no more formidable advocate for big nuclear investment on Ynys Môn than my hon. Friend. Indeed, when I went on a family holiday to Ynys Môn this summer, she tried to persuade me to visit the potential site of a nuclear power station with my children. I apologise that I did not take her up on the offer, but it shows her commitment. My right hon. Friend the Business Secretary will be making an announcement soon on things such as the launch of Great British Nuclear—I hope before Christmas, but if not just afterwards—because we want to crack on with our nuclear programme.
Richard Drax was concerned about the burden on the taxpayer, another excellent question:
I have huge sympathy for my right hon. Friend. We are facing severe financial challenges for the reasons he explained so well, but Members on both sides of the House are promising to spend billions and billions more pounds. I remind the House that it is the private sector, and hardworking people through their taxes, who pay for Government expenditure. Does my right hon. Friend agree that raising taxes on both risks stifling the growth and productivity that he and I both want, and that would counter the recession we are now in?
Hunt defended his budget:
My hon. Friend is right to make the case for a lightly taxed dynamic economy, and I would like to bring taxes down from their current level. We are faced with the necessity of doing something fast to restore sound money and bring inflation down from 11%, which is why we have made difficult decisions today. But yes, my hon. Friend is absolutely right: there is no future for this country unless we get back on the path to being a lower taxed economy.
Mark Pawsey asked about small businesses:
My constituents in Rugby and Bulkington will not enjoy the tough decisions that the Chancellor has had to make today, but they will understand the need for sound finances after the huge expenditure that the country has made on the pandemic and supporting people with their energy costs as a consequence of the war in Ukraine. They will also want to know that businesses will continue to invest to grow and to create jobs. Will he speak about the incentives that still exist for businesses to do exactly that?
Hunt pledged his support:
I am happy to do that. My hon. Friend is quite right to raise those issues. We are doing a lot of short-term things, including help with energy bills as well as business rates. As we move to a new business rates system, we are freezing the levels at which business rates can increase and introducing a 75% discount next year for retail, hospitality and leisure businesses. Fundamentally, as a Conservative Government, we know that we cannot flourish as an economy without flourishing small businesses, and we will back them to the hilt.
Greg Smith asked what Hunt was doing about reducing fuel duty:
I absolutely agree with my right hon. Friend when he talks about the inflationary pressures coming from the aftershocks of the pandemic and the war in Ukraine. We see that at the fuel pumps and, more significantly, our haulage and logistics sector sees it with the enormous level of taxation on diesel in particular driving inflation to get food and goods on to our shelves. As he prepares for the March Budget, will he look at the inflationary impact of fuel duty on top of the high cost of diesel and see whether we can reduce it?
Hunt said he was looking at the issue:
I assure my hon. Friend that I will absolutely do that. We have a little time, and I know that fuel duty is an important issue to him and many other colleagues.
March 2023 — fuel duty hike
Hunt's answer to Greg Smith on the fuel duty hike sounded reassuring, but GB News's economic editor Liam Halligan uncovered a planned fuel duty hike of 23% for March 2023 from the OBR forecast. It would be the first since 2011:
Here's Liam Halligan talking about it:
Forbes noticed it, too, bringing the news to an even wider international audience: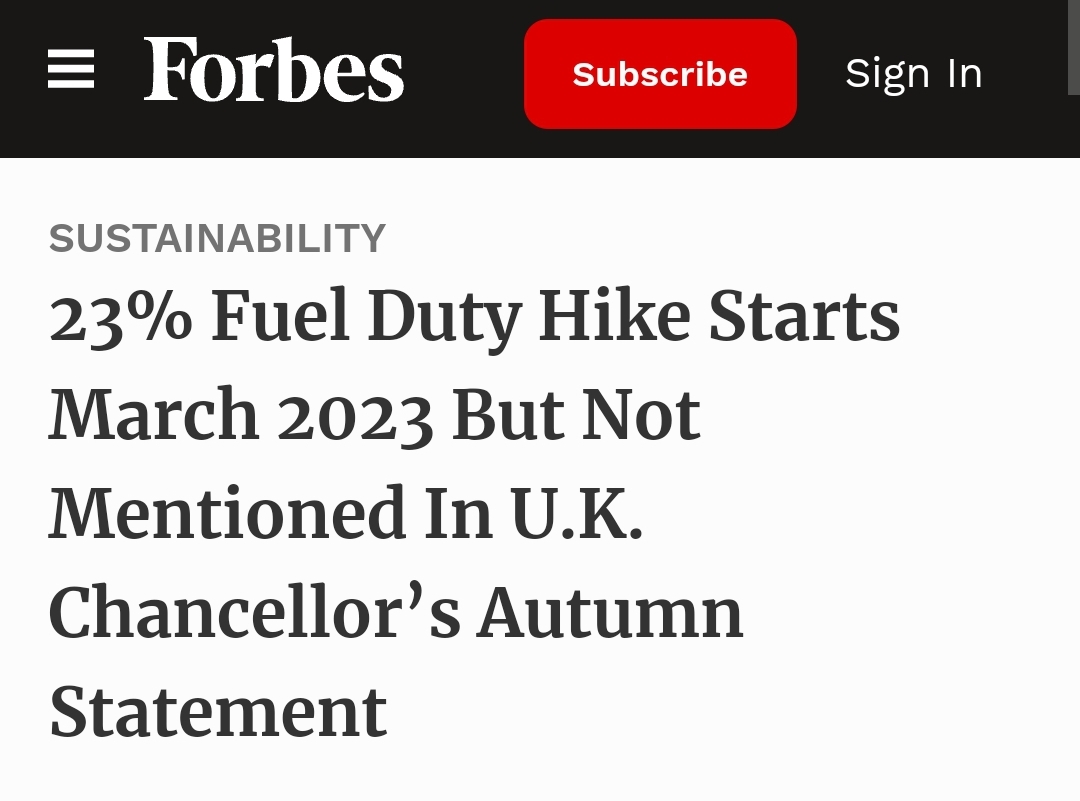 Fiscal drag
The Times had an article on the upcoming fiscal drag following Hunt's budget:
Disposable incomes, after adjusting for inflation, will fall by 4.3 per cent in 2022-23, which would be the largest fall since records began in the 1950s. It is set to be followed by the second largest fall — in 2023-24 — of 2.8 per cent.
… Despite the aspirations of Rishi Sunak to create a low-tax economy, Britain is on course for its biggest ever tax burden as hundreds of thousands of workers are dragged into higher income tax bands by the freezing of thresholds and allowances while businesses also face a jump in levies, including employment taxes.
The tax burden is set to rise to 37.5 per cent of GDP in the financial year ending 2025, reaching the highest level since records began shortly after the Second World War.
The level of taxation as a share of the national income will rise to 36.4 per cent of GDP this year and 37.4 per cent in the financial year ending 2024, breaking the previous record.
Recovery is not likely to begin until 2025, several months after the next general election. This is accurate only if Conservatives are still in power by then:
GDP is expected to rise by 4.2 per cent this year before falling by 1.4 per cent next year, only returning to pre-pandemic levels by the end of 2024. However, growth is expected to pick up to 2.6 per cent the following year and 2.7 per cent in 2026, following a recovery in real incomes, consumption and investment.
The Telegraph also had an article on fiscal drag:
Nearly a quarter of a million workers will be dragged into paying the 45p rate of income tax after Jeremy Hunt slashed the threshold at which it is charged.
The salary on which the additional rate is payable will be reduced from £150,000 to £125,140 effective next April, Chancellor Jeremy Hunt announced in the Autumn Statement, and frozen until 2028, forcing 232,000 workers into paying the top rate of tax for the first time and costing these quarter of a million taxpayers £620 on average, according to wealth manager Quilter.
The number of workers paying 45pc has more than doubled since the rate was first introduced in 2010 – rising from 236,000 to 629,000 today – as wage inflation has pushed more taxpayers into the highest income tax band.
Lowering the threshold will cost the 629,000 workers earning over £150,000 who are already impacted by the 45pc tax an additional £1,250 …
Just two months ago, then-Chancellor Kwasi Kwarteng promised that the top rate would be abolished altogether. But now the Government is hoping to earn £420m in 2023-24 by catching more taxpayers in the 45pc net, and almost double that – £855m – in 2027-28.
Neela Chauhan of accountancy firm UHY Hacker Young said the move was "a major attack" on higher earners.
She added: "It's going to bring in people into the upper rate who feel that they are far from being rich."
Tax firm RSM said that there are also unexpected consequences of slashing the additional-rate threshold and the Chancellor had opened the door to a new 67.5pc tax rate.
Taxpayers earning over £100,000 lose their personal allowance at a rate of £1 for every £2 of income.
This means for every £100 they earn between £100,000 and £125,140, a worker takes home just £40 – because £40 is lost to income tax and another £20 to the tapering of the personal allowance – creating a 60pc tax trap.
Dismal headlines
The Guardian has a breakdown of last Friday's front pages, which were bleak.
The Telegraph noted the austerity of George Osborne, Chancellor when the Conservative-Lib Dem coalition took over from in 2010, and the Labourite policies of his predecessor Gordon Brown. At the bottom of the page is an analysis from Lord Frost:
Lord Frost's analysis is pro-Truss/Kwarteng
Lord Frost points out that the OBR are predicting what Liz Truss did just a few weeks ago:
This was a very curious Autumn Statement. For the last month, we have been told that Britain needed to re-establish the confidence of the markets and put in place renewed fiscal discipline, supposedly so carelessly squandered by Liz Truss. "Eye-wateringly painful decisions" were coming for all of us …
… public spending will be at its highest since the 1970s and taxation the highest since the Second World War. Both only start to fall, gently, in the late 2020s, and then only because of some pretty heroic assumptions about growth. Indeed, under Liz Truss we were told that 2.5 per cent growth was impossible – yet the Office for Budget Responsibility (OBR) is predicting exactly that for 2025 and 2026.
How do we explain this?
To do so, I think, we have to go back to that extraordinary week in mid-October, when Truss's government blew up on the launch pad. 
She was levered out of Downing Street with the argument that she had been careless about the public finances, casual about fiscal discipline and had lost market confidence. An emergency correction was needed – tax rises or spending cuts, and probably both.
Yet on taking office, our current government will have found – as the OBR has now acknowledged – that we were already into a deepening recession. Tightening fiscal policy with growth collapsing and interest rates increasing globally would clearly have been an insane policy, one at variance with what virtually every economist would suggest. But, having destroyed the Truss administration for being insufficiently fiscally disciplinarian, the Government could hardly overtly change course itself.
That is why we got what we got. Keep growing spending, raise taxes now on unpopular groups, defer deficit reduction and everything else until 2025, and meanwhile talk a lot about austerity and discipline to disguise the reality that this is likely a similar fiscal policy to what Truss's would have been, just at higher levels of tax and spend. Then, after the election, if the Conservatives are still in power, it can all be looked at again …
… Taxes on business wreck investment and growth. Taxes on the (not very) rich destroy incentives. Britain's hard-won reputation for being a low tax country is permanently lost. And we all have less of our own money and are less free.
Another defence of Trussonomics
The Mail reminds us that the Truss plan was to cap energy prices for two years. Hunt has reduced this to the end of March 2023:
Average energy bills will rise to £3,000 a year from April as Chancellor Jeremy Hunt confirmed he was scrapping previous Government plans.
In his Autumn Statement to the House of Commons, Mr Hunt revealed changes to the 'Energy Price Guarantee' would leave Britons facing higher gas and electricity payments next year.
When former prime minister Liz Truss first announced the cost of living support in September, she outlined how average energy bills would be frozen at £2,500 a year for the next two years …
Delivering details of an altered plan today, Mr Hunt revealed the Energy Price Guarantee would now be set at a higher level of £3,000 a year for average households until April 2024.
Of course, those who use less energy at home might have less to pay:
The plan only caps the cost per unit that households pay, with actual bills still determined by how much is consumed.
Sarah Coles, senior personal finance analyst at Hargreaves Lansdown, said:
The fact that this comes on top of so many other price rises means life is going to get even tougher next spring.
More Trussonomics
The Spectator's editor Fraser Nelson wrote an analysis of the budget for The Telegraph, 'This could turn out to be the week that the Tories lost the next election'.
I noted above that some of what Hunt said points far into the future.
Fraser Nelson also observed that fact:
Suspiciously, almost all of this austerity is due to take place after April 2025, after the election. The Tory benches were very quiet during Hunt's speech, perhaps because they were piecing all this together. It was not just an Autumn Statement being written, but the next Conservative manifesto, too – with all the bad stuff saved for after the vote. Hardly the behaviour of a party expecting to win.
As one minister put it: "This was the day we lost the election." This is how some Tories see the Autumn Statement: a suicide note, wrapping a poison pill for a Keir Starmer government to swallow.
This is the alarming rate of borrowing today. Factor in the previous QE and the generous Sunak pandemic programmes when he was Chancellor:
Even now, the Government is borrowing £485 million a day – or £20,000 by the time you finish this sentence. It all needs to be repaid. And the interest we all have to pay for such debt is, broadly, treble what it was a year ago.
The new forecasts show a UK Government expecting to pay £484 billion in debt interest over the next five years – almost £300 billion more than was expected this time last year. This year alone it's £120 billion, twice last year's sum.
This extra £60 billion has had to come from somewhere. It's enough to double the size of the military, treble the police force or rebuild every school or hospital. But instead it is dead money, servicing an old debt – and things need to be squeezed to make room for it. For years, Tories wrote cheques, for HS2 and more, barely thinking about the cost. Now the bill has landed.
Nelson doesn't mention the number of times long-serving Conservative backbenchers warned Sunak over the past two years that the bill would come due, but I saw them in parliamentary debates being duly ignored. To Sunak, those men were mere Thatcherites, so last century. Rishi told us we could borrow with little consequence. Not so.
He created a lot of our current problems and campaigned in August that he would be the candidate to get us out of this situation.
Now he is No. 10, just as he wanted to be from the beginning:
Sunak can't be blamed for the debt interest. But he might have been expected to have better ideas of how to get out of the mess.
Of the Autumn Statement, Nelson writes:
Liz Truss said her message was "growth, growth, growth," but Sunak's seems to be "brace, brace, brace". A massive fiscal impact lies ahead, he says – and our mission is to recognise it, make our peace with it, and accept that talk about a low-tax future is futile. So his Autumn Statement did not kick-start a recovery. It was, instead, a requiem for growth.
Of the August leadership campaign, he reminds us:
During the leadership debate, Truss was asked what advice she would give to Sunak. Don't be so fatalistic, she told him. Don't go along with narratives of decline. She had a point. Groundless optimism ended her premiership very quickly, but groundless pessimism can also be deeply damaging.
Nelson wonders how a government can so quickly discount its people:
A million more Brits, for example, are expected to join the 1.7 million already claiming disability or health-related benefits over the next five years. They will, in turn, join the 3.5 million others on out-of-work benefits. Was it so unreasonable to hope that this number might go down, with people helped back to work? We've been promised a review into all this, but not much else.
Another assumption is that most of the 400,000 who have dropped out of the economy since the pandemic started, citing long-term sickness, will never work again. It's hard to find many other countries giving up so readily on such a stunningly large chunk of the population.
Is a uniquely British malady at work here? Or is the real problem a kind of Tory fatalism, where an exhausted governing party thinks the country is now too old, too sick or simply too workshy to get back to where it was in January 2020?
Many conservative voters said at the time that Rishi's furlough scheme was a bit too helpful — and we were paying for it.
Now we are paying even more for it.
Nelson concludes:
… the risk is that voters make up their mind now – and associate Toryism with chaos, broken promises and a general counsel of despair. Labour just needs to promise to do things better. As things stand, it's not a very high bar.
Feeling fleeced yet?
The Telegraph's editorial warned, 'Hard times ahead for British taxpayers':
Unlike the tumultuous response to Kwasi Kwarteng's unfunded growth measures in September, the market reaction was muted, which is precisely what Mr Hunt hoped for, even if the pound fell against the dollar amid forecasts of a year-long recession …
… benefits and the old age pension will rise in April by 10.1 per cent, the inflation rate in October.
This continues a trend of recent years whereby working people are expected to pay more in tax to protect social programmes that successive governments have been reluctant to reform. Although headline tax rates have not risen, the extended freeze on allowances at a time of double-digit inflation is a serious hit to the incomes of millions who will be dragged into higher bands. Some three million earners will pay income tax for the first time.
This year will see the sharpest fall in living standards on record, while the tax burden rises to its highest level as a share of GDP in decades. More than 47 per cent of national income will be spent in the public sector. In fact, spending will actually rise in real terms. The cuts are to planned budgets.
Rishi Sunak and Mr Hunt consider this social democratic approach to be fair and compassionate, closing off attack lines from Labour as a general election approaches. But there are consequences for the long-term well-being of the country if working people and businesses feel they are being fleeced to prop up failing public services and a benefit system in need of a drastic overhaul.
Essentially, the productive part of the economy is being squeezed to prop up the unproductive. The problem Mr Sunak faces is that, by 2024, the Conservatives will have been in office for 14 years and they need to offer voters a better slogan than "Labour will be worse". In fact, Labour would support many of the measures in the Autumn Statement, from loading more tax on the wealthy to increasing windfall taxes on the energy companies.
… ministers need to prepare for the worst and could proactively address the biggest drags on the economy, above all the NHS, social care and welfare benefits. The health service continues to soak up huge sums – with another £6 billion announced yesterday – and yet produces worse outcomes. Its shortcomings are causing problems throughout the economy, with treatment backlogs contributing to acute manpower shortages which the Government intends to fill by increasing immigration.
The Spectator's political editor James Forsyth, a close friend of Rishi Sunak's, explained in The Times why this recession is different to previous ones and why we need more people in the workforce. I hope his friend pays attention to this:
One bright spot amid the gloom is the unemployment rate, which is just 3.6 per cent, down from 3.8 per cent this year. This is close to historic lows. But even this glimmer is tarnished. The low unemployment number disguises how many people have left the labour force: one in five working-age Brits are economically inactive, meaning they are neither in work nor looking for it. More than five million are claiming out-of-work benefits.
The recession may last a year, perhaps two — but it will be different. Unemployment, as formally defined, won't exceed 5 per cent even during the worst of the downturn — in the 1980s it went into double digits. Seldom have there been more vacancies in the economy. It's an odd form of recession where almost anyone who wants a job can find one, but that's the situation we're in. Almost every month, the number of those not looking for work grows: it jumped by 169,000 in the three months to August. That is more than the population of Oxford.
This has consequences. The OBR thinks the cost of health and disability benefits will rise by £7.5 billion — quite a sum. A shrinking labour market is also one of the reasons why the Bank of England thinks potential growth is now a mere 0.75 per cent even in 2024-25. The Tories desperately need to get back to moving people from welfare into work — not just to reduce the welfare bill but also to boost the economy …
Alongside those not in work nor looking for it, there are 970,000 people on Universal Credit who are working very limited hours in an economy where employers are offering shifts. Hunt announced that about 600,000 of them will now be required to meet a work coach to try to increase their hours. This signals a return to Tory welfare reform …
… to ensure taxes don't need to keep going up indefinitely, two things are needed. The first is a renewed emphasis on public-sector reform. The Tory mantra used to be more for less from public services. But in recent years, it has felt like the opposite is the case. As the Institute for Fiscal Studies pointed out this week, the NHS has more money and more staff than it did before Covid yet is treating fewer people on the waiting list. This needs reversing if the tax burden is not to continue climbing ever higher.
The second is the economy needs to grow. Meat needs to be put on the bones of the growth agenda that Sunak and Hunt set out this week, with further incentives for businesses to invest.
After the debacle of the mini-budget, this autumn statement was always going to be about steadying the ship. Yet satisfying the markets is a necessary but not sufficient condition for a successful government. Sunak and Hunt must now deliver on public service reform, moving people from welfare into work and getting more out of the health and education budgets.
The Telegraph had more on the parlous state of the NHS, despite more taxpayer money being dumped into it, all for nought:
An analysis by the Institute for Fiscal Studies shows the health service in England carried out 600,000 fewer procedures in the first nine months of 2022, compared with the same period in 2019.
The NHS's budget rose from £123.7 billion in 2019-20 to £151.8  billion in 2022-23, with the extra funding tied to a target of increasing elective hospital activity by 30 per cent compared with pre-pandemic levels. This will not only be missed but matters have worsened. Why is no one being held to account?
Record sums have been poured in for years, yet there is now a waiting list of more than seven million patients. Working practices remain stuck in the past, with consultants complaining that hospitals are "like the Mary Celeste" at weekends, while most GP surgeries are only open on weekdays, pushing patients to overstretched A&E services.
The NHS unions are not helping in their demands for more money.
The article concludes:
There is something fundamentally wrong with the NHS which politicians must confront before it crashes and brings the rest of the economy down with it.
Hunt puts economic hope in migrants
It seems the OBR, a quango started by the Conservative Chancellor George Osborne and staffed by Labourites, has convinced Jeremy Hunt that he should increase our already heavy migration levels to boost the economy.
That's a left-wing idea that has never worked.
Home Secretary Suella Braverman will oppose that, but can she succeed? Only a few weeks ago, a 90-minute argument with Liz Truss and Hunt resulted in Braverman's resignation. Her security violations were a likely smokescreen for what really happened.
Jeremy Hunt is relying on a surge in net migration to more than 200,000 people per year to help deliver economic growth as he oversees a sharp rise in the tax burden to its highest ever peacetime level.
The Office for Budget Responsibility (OBR) predicted net migration – the numbers entering the UK minus those leaving – will be 224,000 next year, before gently declining to settle at 205,000 a year from 2026 onwards.
This is dramatically higher than the OBR's March estimate, when it predicted that net migration would be between 139,000 and 129,000 in the same years, some 80,000 lower.
It is also significantly higher than the long-term "ambition" of Suella Braverman, the Home Secretary, to reduce net migration to below 100,000 – similar to the target of Theresa May, one of her predecessors in the post.
The increase in migrant labour will help to buttress Britain's economy as Mr Hunt imposes higher taxes on earnings, jobs and investment. The OBR said that an increase in migration would help add to the potential size of the economy.
However, rising costs from tax are creating "growing disincentives to work", reduce business investment and depress wages, according to the OBR itself.
Business groups were even more damning. The Chancellor talked a lot about "hard work" and "fairness" in his Autumn Statement. But workers, entrepreneurs and businesses have been left to pick up the bill to keep Britain's welfare state on the road.
The OBR are being deeply irresponsible in advocating city-sized populations coming from abroad each year.
Where will these people live? How is our infrastructure — medical facilities, schools, water supply — increase to meet this demand year upon year?
Anyone travelling by Tube can pick up a copy of the Evening Standard to read about how many British twenty-somethings in London cannot find a room to rent. In many cases, there are 100 of them chasing every available room. The Standard interviews them. Their stories are heart-breaking. These young people are signed up to every rental app, to no avail.
Council tax increasing
On top of all of this, The Times reported that Hunt has given the green light to councils to increase council tax:
… the chancellor announced "more council tax flexibilities", enabling councils in England to raise council tax by 3 per cent a year (up from 2 per cent) from April 2023 and increase the adult social care precept by 2 per cent a year (up from 1 per cent) without having to hold a referendum — leaving councils free to raise the tax by up to 5 per cent next year.
Their article has charts of various council tax rates and offers this example:
If they decide to increase council tax by the full 5 per cent, council tax band D payments would rise by £115 from £2,300 to £2,415 a year in Rutland in the East Midlands — the local authority with the most expensive tax bills in England — while in Westminster in central London, the cheapest authority, they would increase by just £43 from £866 to £909 a year.
Short takes
The Telegraph has an article on winners and losers from the Autumn Statement. There are only two groups of winners: housebuyers and pensioners/benefits claimants.
The Guardian interviewed some of Hunt's constituents in leafy South West Surrey. They are unhappy with him as MP and are equally unhappy with the Government.
Guido Fawkes's sketchwriter summed up Hunt's announcement as follows:
What was the job of the day? To persuade the markets that all was under control. That debt-to-GDP would fall in reasonable time, that things would get back to normal in his cool, technocratic, managerial hands.
It's what we all need, to believe that someone knows how things work and that they know what they're doing. That there is such a thing as "sound money". That the great, communal hallucination of financial reality may be preserved.
In Guido's view, the Chancellor did exactly that. (Pound crashes, housing market collapses, the global financial architecture disappears into the Pacific Trench)
The readers' comments near the end of that post have to do with the raw deal Liz Truss got. Here's the exchange:
I find it impossible to believe that Liz Truss did so much damage in a couple of weeks with a mini budget which was never even enacted to require today's grotesque socialist budget. Hunt and Rishi must be following an ideological policy and using Truss as their excuse.
Yes, she's been made a convenient scapegoat by the WEF shills, to cover all their earlier and current mistakes and wrongdoings.
She went too far too fast and, by doing so, gave the one nation Tories and SunakHunts the opportunity to bring her down. The real villains are Sunak and Bailey [Bank of England governor] with their money printing and inflation denial. We are paying for their mistakes.
She didn't go too far too fast. That is the Conservative spin. The Socialist spin is that she crashed the economy. It was cautious and a promising start, a direction of travel being set, nothing more – except for that huge two year package on the gas bills which was pure socialism and not mentioned by anyone.
The true Conservative spin is that, as an experienced Cabinet minister, she didn't scan the political and financial hinterlands and underestimated the faux Conservative forces ranged against her. Once she u-turned she was done for.
On another of Guido's posts, a reader posited that this is all about reversing Brexit:
The champagne socialist billionaire Rishi Sunak and arch remainer narssisist Jeremy Hunt have nailed the final nails in the socialist party AKA as the Conservative party coffin. They will be wiped out at the next GE for a generation. They want to tank the economy and make everyone feel financial pain so they can say BREXIT didn't work. They will then seem to come to the rescue with every excuse on the planet and join us up first to the single market and customs union. Then kicking and screaming back into the EU. Why do you think they staged this remainer coup and got rid of Truss? The Truss budget of low tax, high wages, high growth, low government spend and the scrapping of the 2300-3000 EU laws retained on the UK statue book would have taken advantage of BREXIT and boosted the economy. They could not allow that to happen. They want to ditch plans to scrap the EU laws as that will make it harder to leave. They have folded on the NI Protocol and leaving the Jurisdiction of the ECHR. Why? Because they want to rejoin. We now are having forced on us a low wage, high tax, low growth, high government spend economy that will cripple most people financially and small businesses. Who wants to invest in the UK now?
On that note, another reader posted a photo of Hunt and Sunak sharing a laugh, with this fictitious caption:
Hunt: Told you you didn't need the support of the members.
Sunak: Yes, it was so easy to stab Truss in the back, too. Who needs democracy?
What taxpayers can do
All is not lost for taxpayers. There are ways to mitigate the effects from Hunt's statement.
Anyone who needs to cut back on food costs, protein in particular, should start eating eggs, which are cheap and the best source of protein around. Supposedly, they're in short supply, but I bought a dozen only yesterday.
The Telegraph has an excellent article on various egg preparations, whether sweet or savoury. It's well worth reading.
The paper also has a helpful article about what taxpayers can do to mitigate Hunt's raid on their money. Some will require advice from a financial planner. The most important tip is to get one's capital gains in order and start liquidating shares or funds to put into an ISA — a process called 'bed and ISA' — without exceeding the CGT thresholds. This has to be started well before the end of the 2022-23 tax year in April, when the current capital gains threshold of £12,300 expires and becomes £6,000 for one year, then £3,000 the year after that.
Good luck!
Thursday, November 17 is a historic day, because the UK will be seeing a return to high taxes, this under a 'Conservative' government.
I'm writing this before Chancellor Jeremy Hunt gives his budget, or 'statement', but Guido Fawkes has a preview, which includes this:
Cutting capital gains tax allowance from £12,300 to £6,000;
Raising dividend tax rate across all three bands and cutting tax-free allowance to £1,000.
Shocking.
On the other hand, we have this:
Raising benefits in line with inflation;
Protecting the triple lock on pensions.
Liz: 'No new taxes'
Let us cast our minds back to Liz Truss, who did not want to penalise ordinary Britons:
Clearly, she was the wrong person for Prime Minister.
Since Rishi became PM, I have read very little criticism of him in the media, recalling that, for whatever reason, they all wanted him in No. 10.
And, now that he is in No. 10, everything has been rolled back to a very Establishment Government, including the Treasury. There is no criticism of Jeremy Hunt, either, even though his budget will have a deleterious impact on Britain's middle class.
Rishi's Cabinet is more of the same old, same old, as I wrote yesterday. The media don't criticise him for it, either.
Liz's refreshing Cabinet
Liz made some splendid Cabinet appointments, some of which I covered yesterday.
Two others included Jacob Rees-Mogg as Business, Energy and Industrial Strategy Secretary and Simon Clarke as Levelling Up Secretary.
Out were Boris's chaps, including Steve Barclay …
… Grant Shapps …
… and Dominic Raab, whose departure was also warmly welcomed. Note the warning in the reply tweet:
Interestingly, she kept Kit Malthouse, transferring him from Policing to Education. I, too, would have preferred Kemi Badenoch in that post:
Liz gave Tom Tugendhat, one of the summer's Conservative Party leadership candidates, his first Cabinet role, one which he holds on to today under Rishi Sunak — that of Security Minister.
The Times noted that there was no longer a Minister for Women in Cabinet, which is a good thing. This is a hangover from Tony Blair's time:
Liz Truss will not have a cabinet-level minister for women, having handed the equalities brief to a man.
Truss was minister for women and equalities in conjunction with her role as foreign secretary before she became prime minister on Tuesday.
The ministerial post, which Truss had held since February 2020, means taking charge of the government equalities office (GEO), which was created in 2007. This oversees government policy on women, sexual orientation, transgender rights and related issues.
Truss has appointed Nadhim Zahawi, the new chancellor of the Duchy of Lancaster, to succeed her in the position. Because he is a man, it was decided his title would be minister for equalities. But No 10 confirmed yesterday that his job was the same as when Truss held it …
The title of minister for women was created by Tony Blair in 1997, before the GEO was set up …
With regard to education and diversity, Liz's Cabinet was a testament to opportunity in the United Kingdom.
On Thursday, September 8, The Times told us that she had the most privately-educated Cabinet since John Major's time (1990-1997):
The new prime minister's cabinet are more than nine times more likely to have gone to an independent school than the general population, according to analysis by the Sutton Trust, a social mobility charity.
It found that 68 per cent of the cabinet were educated at fee-charging schools, while 19 per cent went to a comprehensive and 10 per cent attended a grammar school. This compares with around 7 per cent of the wider population.
Under Boris Johnson's first cabinet, 64 per cent of members were alumni of private schools and the proportion is more than twice that of Theresa May's 2016 cabinet, of which 30 per cent were privately educated.
David Cameron — who like Johnson attended Eton — appointed 50 per cent alumni of private schools in his first cabinet and for the 2010 coalition cabinet the proportion was 62 per cent …
The article noted that Liz herself attended a private secondary school:
Roundhay School in Leeds. She was criticised during her leadership campaign for suggesting the outstanding school, in an affluent suburb, had low expectations and a lack of opportunity.
Margaret Thatcher and John Major had higher percentages of privately educated Cabinet members:
John Major (71 per cent in 1992) and Margaret Thatcher (91 per cent in 1979).
The Sutton Trust disapproved of Liz having such a high proportion of privately educated Cabinet members, but, considering how diverse everyone was, it was a positive optic.
Thankfully, on Sunday, September 11, The Sunday Times pointed out 'Cabinet heavyweights crown the success of post-colonial African migrants'. Why hadn't the Sutton Trust done a press release on that?
The article said:
The sound of glass ceilings cracking could be heard all over Whitehall last week, as Liz Truss announced her first cabinet. With the elevation of Kwasi Kwarteng to chancellor of the exchequer, Suella Braverman to home secretary, James Cleverly to foreign secretary and Kemi Badenoch to trade secretary, Truss's cabinet represents the most diverse ruling cadre ever appointed in Britain. At least when it comes to ethnicity.
The arrival of these individuals into the great offices of the British state also represents the culmination of an extraordinary and underplayed success story: post-colonial African migration into the UK. All four are children of parents who arrived in the waves of late 20th century migration that followed the retreat of the British empire.
Kwarteng's parents came from Ghana in the 1960s. Although Braverman's parents are of Indian ethnicity, they lived in Kenya and Mauritius before emigrating to the United Kingdom in the 1960s. Cleverly's mother emigrated from Sierra Leone in that decade. Badenoch's parents both come from Lagos, Nigeria. Although Badenoch is British, she spent much of her childhood there.
Furthermore, previous Cabinet members at the time also had parents who emigrated from Africa:
Two recently departed cabinet heavyweights, Priti Patel and Rishi Sunak, also have parents who migrated to Britain from east Africa: Uganda in Patel's case, Kenya and Tanzania in Sunak's. Each individual story is different of course, and all faced a variety of economic and social hurdles to success in Britain. But taken together, they reflect a journey from post-imperial Africa to the very heart of the British establishment, over the course of just two generations.
And, they are all Conservatives!
Jimi Famurewa, food critic for the Evening Standard and author of a new book, Settlers, about African migration to Britain, told The Sunday Times that private education for African immigrants was very important:
My family and a lot of families from west African countries that came here in the 1980s were very aspirational middle class. There's a huge culture around the importance of education, across the African diaspora. It's drummed into you that that's your route to success.
It was really important to my parents that if they were in any way able to send us to private schools, that's something they would do.
Education was seen as the silver bullet to advance socially and professionally. You can see reverberations of that in people like Kemi and Kwasi.
He was not surprised they are Conservative rather than Labour MPs:
Given their generally middle-class background and private education, it is perhaps no coincidence that many of the first black or Asian figures to hold the great offices of state are Conservative MPs. "It doesn't hugely surprise me that they are all Conservatives," said Famurewa. "By and large west African families are quite socially conservative in their beliefs."
On a lighter note, the previous Leader of the House, Mark Spencer, received a food brief as Minister of State for the Department for Environment, Food and Rural Affairs (DEFRA).
Someone on Twitter did a play on words with Marks & Spencer's advert, including their brand Simply Food:
Thérèse Coffey's plan for the NHS
Yesterday, I mentioned Liz's Secretary for Health and Social Care, Thérèse Coffey. I neglected to mention that Coffey was also her Deputy Prime Minister.
Coffey is shown here at a 2015 Spectator summer party. Yes, she enjoys cigars:
The photo shocked those on social media:
On Wednesday, September 7, the Mail's Andrew Pierce told us that Coffey, whom Liz refers to as Tiz, is her long-time confidante:
Truss knows she owes a large part of her victory to her ever-faithful parliamentary companion. She has rewarded her lavishly – appointing her as Deputy Prime Minister and Health Secretary.
In a cut-throat political world, Coffey has shown absolute loyalty to her new boss over many years. She not only ran Truss's successful campaign against Rishi Sunak for the leadership, but wisely persuaded her not to stand against Boris Johnson in the 2019 leadership contest – paving the way for her to become his successor instead.
The two have been friends since their student politics days more than 25 years ago and are known by some colleagues as 'Yin and Yang'. Truss refers to Coffey affectionately as 'Tiz'.
Interestingly, they started out as rivals, running against one another to be the Tory parliamentary candidate in South West Norfolk in 2007. It was Truss who triumphed.
She then took Coffey under her wing, coaching her on how to raise her game in selection meetings. Coffey was duly chosen for the neighbouring Suffolk Coastal constituency in 2010.
The two share a love of karaoke – which has got them into trouble in the past. Their regular karaoke evenings on the ministerial corridor in the Commons have on occasion become so boisterous that they were ticked off by Parliamentary authorities.
Coffey herself has had her own problems with karaoke – and they were nothing to do with how tuneful she is. During the 2021 Tory conference in Manchester, the then Work and Pensions Secretary was filmed at 1am belting out the classic song from the film Dirty Dancing, (I've Had) The Time Of My Life.
Alas, only one hour earlier, her department had withdrawn the £20 weekly increase in universal credit for benefit claimants introduced during the pandemic. Coffey was upbraided over her lack of tact and her insensitive choice of song. She now prefers singing Queen's Don't Stop Me Now.
However, Coffey has never lived down a picture taken at a Spectator magazine party in 2015 at which she was snapped puffing away on a large cigar and clutching a glass of champagne.
'I do enjoy a cigar. I hadn't realised I had spilt something on my top. I looked very odd. You'll never see me smoke a cigar in front of anyone again,' she said later. 'It's not a photograph I'm proud of.'
But despite all her faux pas, she is generally regarded as a safe pair of hands who avoids controversy …
Both campaigned for Remain in the 2016 referendum and both backed Boris Johnson in the 2019 leadership contest. Truss was made Foreign Secretary, while Coffey entered the Cabinet as Work and Pensions Secretary.
A proud Scouser, Therese Anne Coffey was brought up in Liverpool. The daughter of two teachers, George and Alice, who worked in state schools, she was privately educated at St Mary's College boarding school in North Wales and remains a practising Catholic to this day.
After sixth form at St Edward's College in Liverpool (a grammar school that has since turned independent) Coffey read chemistry at Somerville College, Oxford – the same degree course at the same college as her political heroine Margaret Thatcher.
It was Thatcher's battle with Militant Tendency, a Marxist group that had infiltrated Liverpool's council and driven the city to the edge of bankruptcy in 1985, that converted Coffey to Conservative politics. She was only 14 when she joined the Young Conservatives.
By the time Mrs Thatcher visited Somerville College in 1994, the Tories were languishing in the polls behind Labour's telegenic leader Tony Blair and many students had to be dragooned into a line-up to greet her. But one student – Coffey – broke ranks and ran noisily across the concourse to shake Mrs Thatcher's hand.
After university she qualified as a chartered accountant, serving as finance director for Mars and as a finance manager at the BBC – one parallel with Truss, a chartered accountant who became economic director at Cable & Wireless.
Coffey's Roman Catholicism defines her worldview, says Andrew Pierce. She has never married — and she is Liz's next door neighbour in Greenwich. Kwasi Kwarteng lives nearby.
In 2018, Coffey became gravely ill because of an ear infection, which spread to her brain. She was diagnosed with meningitis and required hospitalisation as well as an operation. She was in hospital for one month:
At times, she had difficulty forming sentences and suffered memory loss. When her sister Clare, who runs her parliamentary office, came to visit, she said: 'I have forgotten what these things on my feet are called.' She was pointing at her slippers.
She later said she felt she'd had a 'near miss' and her recovery had made her enjoy life, adding: 'You realise that you can be gone tomorrow. Cherish what you have.'
Liz was a regular visitor while her friend was in hospital – and again when she was recuperating at home.
On Thursday, September 8, The Times told us about Coffey's plan for greater efficiency in the NHS:
Thérèse Coffey has demanded to know why all GPs and hospitals cannot match the best performers as she attempts to fulfil Liz Truss's promise of enabling people to see a doctor easily.
The new health secretary said she wanted to set out "clear expectations" for the NHS after Truss said that dealing with the dire state of the health service would be a priority for her government. Coffey acknowledged yesterday she was not a "role model" after being criticised on social media about her weight and smoking …
Coffey has said her "A-B-C-D" priorities will involve focusing on ambulances, backlogs of routine treatment, care, doctors and dentistry.
She is due to set out her plan for the NHS next week but is understood not to have yet finalised specific actions. However, Coffey has asked for detail on "unwarranted variation" in the NHS, including ideas on how this could be used for performance management of hospitals and GPs …
The MP for Suffolk Coastal added: "My focus is on how we deliver for patients and I appreciate I may not be the role model but I am sure the chief medical officer and others will continue to be role models in that regard and I will do my best as well."
Coffey had to take an early morning newsround, the first of the new premiership. LBC listeners discovered that the 50-year-old enjoys rap music, too:
"I've just realised my alarm is going off on my phone, I apologise," Coffey said. "You're getting a bit of Dr Dre. It's just an eight o'clock alarm."
The song was Still D.R.E., a 1999 track by Dr Dre, the American rapper, featuring Snoop Dogg. Dre, 57, whose real name is Andre Young, was a member of the rap group N.W.A. before becoming a solo artist and producer. Coffey is known as Dr Coffey thanks to her doctorate in chemistry from UCL.
No. 10 advisers
Liz also cleared out Boris's advisers from No. 10.
On Tuesday, September 6, The Telegraph reported (emphases mine):
Liz Truss has appointed a new chief economic adviser who previously warned against heavy-handed green energy measures and wrote a book on how to shrink the state.
Matthew Sinclair – described by former colleagues as a "safe pair of hands" – has been appointed as the country faces an unprecedented rise in energy costs amid Russia's war in Ukraine.
He will enter Downing Street as part of an inexperienced top team under the new Prime Minister, after she ordered a mass clear out of officials who had served under Boris Johnson.
Ms Truss wielded the axe shortly after taking power on Tuesday, with even … Mr Johnson's deputy chief of staff David Canzini, who had been tipped to stay on at No 10 – failing to survive the cull.
Mr Sinclair has held a number of roles in the private sector, most recently at the accounting firm Deloitte, where he led its work on the digital economy. He has also worked on projects for the UK and European Parliaments.
The 38-year-old previously rose through the ranks of the Taxpayers' Alliance, joining as a policy analyst but rising to chief executive in 2012. During this time, he made the case for small government, low taxes and ensuring British families get value for money.
Matthew Elliott, founder of the Taxpayers' Alliance, who hired Mr Sinclair, said: "He is very much an ideas person, but he's able to deliver the detail in spades. That's going to prove very useful in government" …
He has also spoken out in favour of clear tax and spending rules, with fiscal targets and a system that prizes simplicity, as well as abolishing unnecessary quangos, maintaining a lean civil service, and decentralising power.
Mr Sinclair has also criticised MPs for using "climate change as an excuse to take your money".
Clearly, supporting the public would turn out to be too good to be true. This could not last.
Matthew Sinclair's former boss, Andrew Lilico, wrote a glowing recommendation for The Telegraph:
Liz Truss's new chief economic adviser is Matthew Sinclair. In the Westminster world, Matthew is probably best-known for his stint as Chief Executive of the Taxpayers' Alliance, arguing vigorously for all kinds of cuts to public expenditure, against tax rises and for greater transparency in taxes (including the campaign to get beer duty reported on till receipts and the end of the "fuel duty escalator"). He went on from there to work for me at Europe Economics as an economics consultant, doing hard-core economics projects for bodies such as the European Parliament on the sharing economy, the Department for Business on theories of competition in online platforms, and the Woodland Trust on the economic value of trees. He moved on from us to Deloitte, where until now he has been a Director in the Economic Advisory team, leading its work on the digital economy …
He was a keen Brexiteer when the moment came, but having worked on projects for the EU agencies, he understands why they function as they do and their strengths as well as their weaknesses. His Italian wife also offers him an additional European perspective. No caricatured anti-European he. As well as wanting to diverge from the EU he will be keen that policy should learn from them where what they do is good.
Unafraid to look at the world squarely and challenge his own points of view, he likes to consider what would make his beliefs and recommendations prove to be wrong, after the event, as well as what might prove them to be right. Politically pragmatic and savvy, we can expect him to be closely interested in whether enough MPs might support this or that measure to get it through, as well as whether it would be right in an ideal world.
On Wednesday, September 7, the Mail told us more about Liz's other advisers:
Mark Fullbrook, a former business partner of the Tory strategist Sir Lynton Crosby is set to become Miss Truss's chief of staff, despite initially running the campaign for her rival Nadhim Zahawi.
Jason Stein, who worked with the new Prime Minister when she was chief secretary to the Treasury and helped her leadership campaign, will come on as a senior adviser with Ruth Porter, who worked with Miss Truss when she was justice secretary.
Adam Jones, who ran Miss Truss's communications operation during her leadership campaign will be political director of communications. John Bew, Boris Johnson's foreign policy adviser, is the only one to stay on with Miss Truss, having worked with her when she was foreign secretary.
Some of the 40 roles that Mr Johnson had in his team will not be filled as Miss Truss attempts to shrink the size of the Downing Street operation in a bid to set an example to the rest of Whitehall.
Miss Truss had said she will wage war on Whitehall waste and make billions of pounds of cuts. It is believed Mr Sinclair will be a key ally in helping her achieve her aims.
In 2012, Mr Sinclair set out a six-point plan to cut Whitehall spending.
His first idea was to abolish the Equality and Human Rights Commission to save £48.9million in funding. Even a decade ago, he complained that the EHRC had taken on 'a campaigning role that is inappropriate for a public sector body'.
This drive for efficiency could not last, could it?
No, it could not. Nor would it.
Shaky perception
The prospect of Liz Truss as Prime Minister had not moved the polls at the end of August, as YouGov demonstrated:
Guido Fawkes wrote (emphases his):
Labour leads the Tories by 15 points, 43% to 28%. It is a big mountain to climb before the next election. Good luck…
On September 6, The Telegraph's Allison Pearson analysed Truss's victory and the criticism she received:
Few believe that Truss is the cat's whiskers. Not even on her own side. Of the 172,437 Tory party members who were eligible to vote, 30,712 didn't bother at all and 60,399 voted for Rishi Sunak. It's the narrowest margin of victory since members were allowed to decide. A YouGov poll suggested that only 21 per cent of the public like Truss and, of those who voted Conservative at the last general election, 50 per cent don't trust her.
Even before she was declared the winner, the brickbats were coming thick and fast. I don't use the word misogyny lightly, but I have been shocked by the hateful abuse hurled at Liz Truss by lofty male commentators. "The worst PM ever," suggested one …
Although Truss ended up reading PPE, I'm told by one of her contemporaries that she got into Merton College to read maths. A girl from a Northern comprehensive does not win a mathematics place at Oxford without being seriously clever.
If anything, I reckon it is a slight spoddy tendency, inherited from her maths-lecturer father, which inhibits Truss's ability to communicate with feeling. A deficiency in expressiveness and verbal felicity doesn't mean a lack of thinking power. Quite the contrary. Wiffly, wordy arts graduates have had their turn running the country; time to let the numbers girl have a go.
Pearson was referring to Boris in that sentence.
Also:
Shame on those backbench Tory MPs who are rumoured to be murmuring about confidence votes and slyly manoeuvring against their new leader before she's even got her feet under the desk. Have we really reached a point of such decadence, after 12 years in power, that Conservatives prefer to devote their energies to undermining a loyal friend than smiting the enemy? If so, electoral wipeout in 2024 will be richly deserved – even welcome.
This was a typical anti-Liz comment:
The outspoken Labour MP Chris Bryant who, somehow, had won the Civility in Politics award, said this:
It feels like pretty much anyone with a brain, a conscience and a work ethic has been purged from government either by Johnson or Truss. It's an empty vessel of a government – loud, noisy but dangerously vacuous.
By contrast, when he accepted the award, he said:
Politics doesn't have to be brutal. Our opponents are human and nobody has a monopoly on truth, so I try to be polite, civil and empathetic in every engagement… Manners maketh humanity.
Queen postpones Privy Council meeting
Bad news arrived on Wednesday, September 7, when the Queen postponed a virtual meeting of the Privy Council.
The Queen has postponed a meeting of the Privy Council on the advice of her doctors, Buckingham Palace said today …
"After a full day yesterday, Her Majesty has this afternoon accepted doctors' advice to rest," a spokesman said. "This means that the Privy Council meeting that had been due to take place this evening will be rearranged."
A royal source said that there would be "no running commentary" on the Queen's health.
The meeting was necessary in order for Elizabeth Truss to become First Lord of the Treasury, a title that goes to the Prime Minister. The Mail said:
During the proceedings, Ms Truss would have taken her oath as First Lord of the Treasury and new cabinet ministers would have been sworn into their roles, and also made privy counsellors if not already appointed as one in past.
The Privy Council is a formal body of advisers to the Sovereign of the United Kingdom. As of last month, there were 719 members on the council, with membership lasting for life.
It is composed of politicians, civil servants, judges, members of the clergy as well as Prince Charles and the Duke of Cambridge. 
There is no constitutional issue with the delay to the proceedings, the palace said.
King Charles held the meeting the weekend after his mother died.
On Thursday, September 8, the world was shocked to learn of Her Majesty's death. Earlier that afternoon, the extraordinary news that she was unwell filtered to the House of Commons, where Liz was outlining her energy support plan.
On Saturday, September 10, The Times reported that Liz had a lot on her plate, beginning with her energy statement, knowing that the Queen was dying:
Truss had got to her feet knowing the Queen's death was "imminent". She was with her team in her House of Commons office preparing for the energy statement when she heard …
If Truss is prime minister for a decade she may never have a bigger day than Thursday: a head of government less than two days into the job making an even bigger economic intervention than the pandemic furlough scheme, battling to finalise her ministerial team and facing the death of a beloved head of state whose final public act was to make her prime minister.
However, Liz and her team were beginning what they hoped would be a new era of reform:
The Queen's death robbed the government of media coverage to publicise details of its help for families at a time when the public wants to know how they will deal with soaring inflation. As these problems piled up, the new team began, under the radar, one of the most radical shake-ups of how government is run that anyone can remember. It has left Conservative MPs wondering if Truss has bitten off more than she can chew.
One of the big ructions earlier that week involved Chancellor Kwasi Kwarteng sacking Gordon Brown's Chief of Staff, Sir Tom Scholar, who, inexpicably, had been made Permanent Secretary to the Treasury and served under no fewer than five Conservative Chancellors between 2016 and 2022. Before that, he was the Prime Minister's Adviser for Europe and Global Issues to David Cameron.
Many conservatives were delighted, but, in the Blob (our equivalent of the Swamp), the news did not go down well:
At the start of the week, it looked like officials were being sidelined. Dozens of civil servants in Downing Street received a peremptory email on Tuesday telling them to leave No 10. Sir Tom Scholar, the permanent secretary at the Treasury, was told he was no longer required in his first meeting with Kwasi Kwarteng, the new chancellor. The mood in the civil service was "sulphurous". One official phoned a friend in the Labour Party and said: "They're making a real rod for their own backs."
Liz's ambition for a leaner structure in Downing Street also upset the Blob:
… when photos of Truss's first cabinet emerged on Wednesday morning MPs were surprised to see that not one of her spin doctors or political aides, from chief of staff Mark Fullbrook down, was present. Only Truss's closest civil service aide, Nick Catsaras, her new principal private secretary, was there. One politico from a previous Downing Street regime remarked drily: "The irony was that those people had to be in cabinet when she was a secretary of state as you had to deal with all her leaks."
… "Liz doesn't want a presidential style No 10," an aide said. "She wants it to be lean, professional and relentlessly focused on delivery — policymaking and legislating. You'll see fewer prime ministerial visits, fewer events in No 10, and in its place more meetings on the economy, on energy and the things people really care about."
Ironically, although the Blob were complaining, she was actually giving some among them more power than ever before:
… in this she has handed huge power to the civil servants. One close ally explained: "The good ones will be deeply empowered by her. The civil service are always in the ascendancy with Liz as long as they actually do their job."
When she announced the outline of her energy support plan, she had no details:
Key details of how the plan will work were left unexplained in her statement to parliament on Thursday, not least the estimated cost. Aides argued that this depends on the price of gas. "If I knew what that was going to be in a year's time I would be working for a hedge fund, not the government," one said.
As for a leaner No. 10, some were sceptical it could work. Others remained positive:
Scepticism remains about whether a slimmed-down No 10 can really deal with the challenges it faces. A former No 10 aide said: "PMs always go in with some great new structure that will streamline things and then discover they've just handed away power before spending 12 months scrabbling to get it back" …
… from their point of view, the new team has been tested early, something that will stand them in good stead through the turbulence ahead. "Officials have described it as the busiest week in No 10 in living memory," an aide said. "We had no idea when we wrote the line 'Together we can get through the storm' into Liz's Downing Street speech how apposite it would come to feel."
In policy areas, Liz was keen on fracking and, towards that end, sacked the eco-friendly Lord Goldsmith in his DEFRA ministerial post in the House of Lords.
On Friday, September 16, Guido reported:
Despite the reshuffle being formally paused until after the Queen's funeral, Liz Truss has ploughed on with sacking Tory tree-hugger-in-chief Zac Goldsmith from his DEFRA ministerial post. While the government is still paying lip service to the Net Zero target, they've signalled climate and animal welfare issues could be de-prioritised over the coming months. The Guardian speculates that the Animal Welfare Bill could be first up for slaughter. The PM's next royal audience should be interesting… 
The news comes as The Guardian reports Liz is planning to follow through on her leadership election pledge and lift the ban on fracking as soon as possible, with first licences set to be issued as early as next week. This will no doubt come as welcome relief as energy bills continue to rise during winter. The decision comes despite the paper's ominous quote from a forthcoming report that forecasting fracking-induced earthquakes "remains a significant challenge". In August 2019 Caudrilla halted work after recording the UK's "biggest fracking tremor". The tremor in question was 1.55ML on the Richter scale, "which it likened to 'a large bag of shopping dropping to the floor'"…
Former Labour adviser John McTernan wrote an article for UnHerd, saying that Liz's policy strategy could unhinge Labour:
The abandonment of the sugar tax, and possibly the entire government anti-obesity strategy has been floated. As has ending the cap on bonuses in the City. These give the flavour of what the 100 Days Plan must have looked like. Sir Lynton Crosby famously talks of "getting rid of the barnacles": that before a government can campaign effectively, it needs to rid itself of unnecessary distractions. These could be unpopular policies, ungrasped nettles, or unresolved disputes, but the Queen's death has prevented this, disrupting the Government's momentum.
… The Prime Minister wants to govern as she campaigned for the leadership. Directly, clearly and simply. She has said she wants a smaller state, and Labour have taken the bait. Without waiting to see any government policy, some Labour frontbenchers have immediately attacked Truss as a Thatcherite intent on cutting public spending. That's hard to argue in the face of the energy price cap — one of the biggest unfunded public spending commitments ever made by a UK government.
Worse, it showed that some in Labour haven't been listening to Truss, or taking her seriously. There's more than one way to shrink the state — and getting out of people's lives is an effective and popular one. One of the greatest weaknesses of progressive politics is the belief that what the country is crying out for is "more government". A large part of the fuel that drives the campaign against political correctness is the sense that government is over-reaching, interfering in bits of life where it has no place. Liz Truss wants to tap into that. She instinctively knows that most people want to look after themselves, their families and their communities without government interference.
The other headline announcement — uncapping City bonuses — has trapped Labour too. Missing the wood for the trees, opposition frontbenchers have spluttered in outrage at policies that would benefit fat-cat bankers rather than the general public. The point, of course, is what David Cameron's team used to call the politics of "aroma". It is not the specific policy detail that matters; it is the sense of the overall direction. "Hugging a husky" showed a greener, more compassionate, modern Conservative party. Uncapping City bonuses shows a government committed to Go For Growth — no old-fashioned prejudices or well-meaning sacred cows will be allowed to stand in the way. The point is to grow the pie, not, as Labour want, to talk about tax and redistribution of the proceeds of growth.
Note what he says about Rishi Sunak:
Is this a risky approach? Yes. Is it a clear one? Absolutely. The trap for Labour is that they adopt the Sunak Strategy. Liz Truss's ideas are simplified not simplistic; and as Rishi Sunak's defeat showed, treating the new PM as a simpleton won't win votes. Truss may not have the right answers, but she has asked the right question. Growth is the only game in town. If Truss manages to keep it on The Grid when parliament returns next month, her lost 100 days might not be fatal.
Unfortunately, for the British people, it was the beginning of the end, with all roads leading to Rishi.
To be continued tomorrow.
Yesterday's post looked back at Liz Truss's leadership campaign during the latter half of August 2022.
As September started, most ordinary conservatives were happy to know that Liz was likely to be the next Party leader.
On September 3, the veteran journalist Janet Daley wrote an empathetic column about her for The Telegraph, 'Ignore conventional wisdom: the new prime minister is not doomed'.
CCHQ — Conservative Party headquarters — had not yet finished counting the members' votes, but Daley thought that people would give Liz their support in the face of the cost of living crisis (emphases mine):
Given that virtually everyone in the country accepts that the current dilemma is both desperately urgent and, in the short term, utterly hopeless, Liz Truss will begin her premiership with the lowest possible expectations and, given the inherent fair mindedness of the British population, even a little sympathy …
Whether Daley realised it or not at the time, she hit the proverbial on the head in the second paragraph:
Standing up in the House – or better, at that podium in Downing Street – to address a nation that has been terrified out of its wits by predictions of the devastation that is to come, will look like an act of singular bravery and resolve. Most of the country, apart from sworn partisan enemies (the most pathologically vicious of whom are inside her own party), will be willing her to succeed in whatever terms success can be measured, against the impossible odds. She will not have a honeymoon as such, but she can gain points for rigorous resolve and determination – especially if she seems to be in touch with the justifiable fears of real people. That will be the key to it. Every word, every pronouncement, every policy will have to be communicated with infinite humaneness: genuine compassion for the impact that this crisis is having on daily life and future prospects …
Although this was Daley's prediction at the time, this is how things played out with most fair-minded voters:
Ordinary people who do not have an ideological dog in the fight know that this is uncharted territory. What disagreements there are – and will continue to be – over the right way to proceed will be accepted as reasonable argument and not necessarily discrediting to the sitting government providing that it remains proactive and committed.
I particularly liked the next bit, which posited that, as the year went on, things might turn out to be less gloomy than forecast during the summer:
… there is the possibility of some good (or less bad) news in the coming months. What if the combined efforts and ingenuity of the Western economies produce more optimistic projections for energy subsistence sooner than was expected? Already we hear that gas storage in Europe is exceeding expectations and, as a result, commodity prices are beginning to fall.
However, Daley, for all her brilliance, did not foresee the savage attack from Liz's fellow MPs.
North of the border, Scotland's First Minister Nicola Sturgeon was still seething that Liz had called her an 'attention seeker' during the campaign:
During her premiership, Liz never did contact Nicola Sturgeon.
On Monday, September 5, these were the main news stories. We could rely on The Independent for negative stories about our new Prime Minister: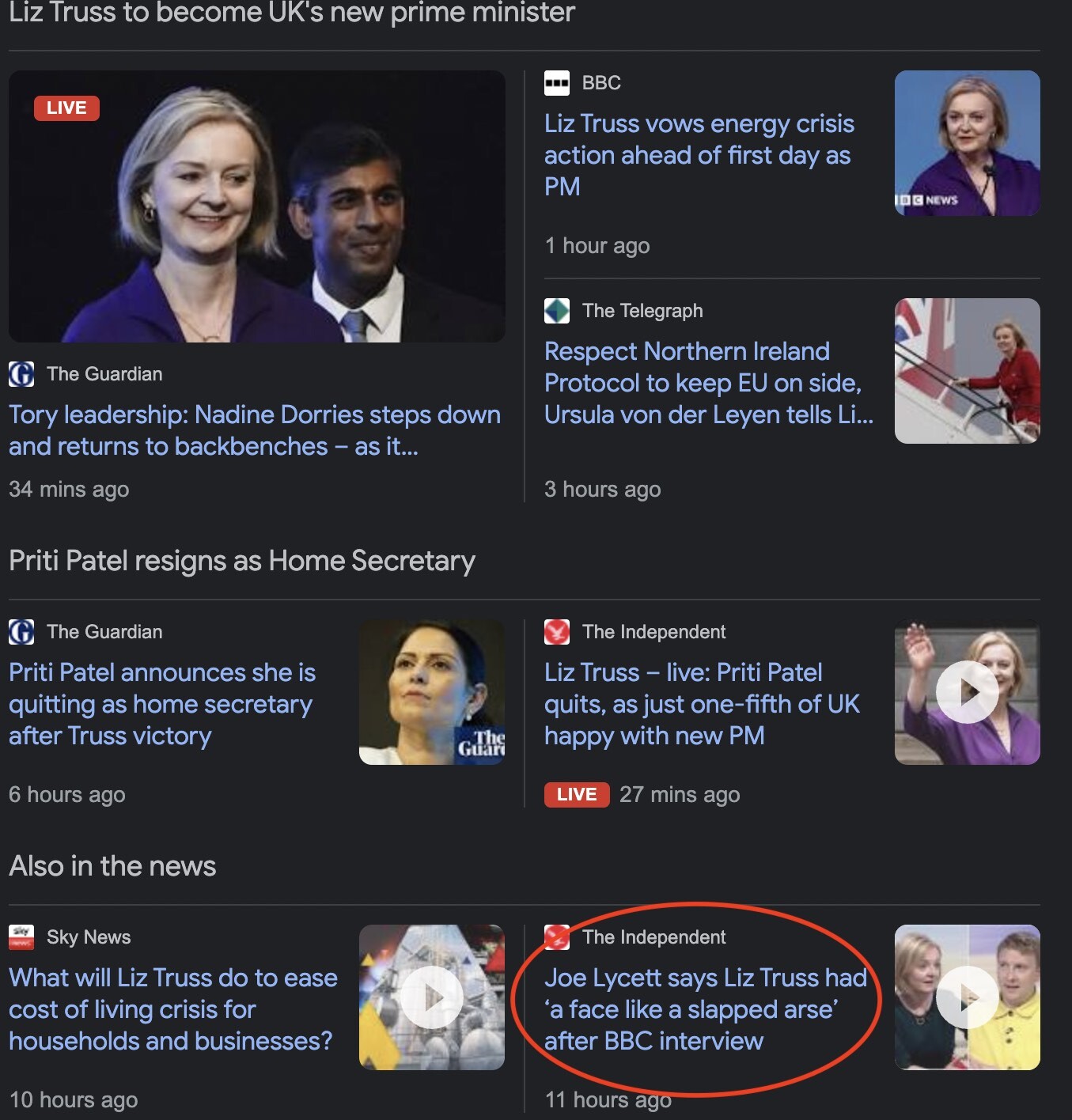 The Mail on Sunday's Dan Hodges was thrilled. He had predicted Liz's ascendancy on Boxing Day 2021:
His article says that Liz's rise began when she replaced Dominic Raab as Foreign Secretary. During his time in post, he said that all ministers (MPs) serving under him were to be called Junior Ministers (JMs) rather than Ministers. The MPs were none too happy with that move.
Then, when Biden's sudden withdrawal from Afghanistan took place in mid-August 2021, Raab was on holiday in the Mediterranean with his family. Boris replaced him with Liz:
On her first day in the job, she issued a note to her officials ordering the JM designation be dropped.
'Liz gets it,' a Minister said. 'She knows how to treat her colleagues properly. It's one of the reasons she's been so successful.'
Spectacularly successful. 2021 has been Liz Truss's year …

She's now in charge of masterminding the final fraught stages of Britain's EU exit.
And – were Boris to suddenly fall beneath a heavily laden wine-and-cheese platter – favourite to replace him in No 10 Downing Street.
At the time Hodges had written his article, Boris was becoming more embroiled in Partygate allegations, which had begun in November 2021.
We thought that Boris had a diverse Cabinet. It was nothing like Liz's, however:
The Mail reported:
Ms Truss is expected to make long-term ally Kwasi Kwarteng chancellor, with Suella Braverman moving to the Home Office and James Cleverly to the Foreign Office.
If selected, Mr Kwarteng would be the fourth non-white chancellor in a row, directly following Sajid Javid, Rishi Sunak and Nadhim Zahawi.
And Ms Braverman would become the third minority home secretary, after Priti Patel and Mr Javid. 
Mr Cleverly, currently the Education Secretary, would become the first ever non-white foreign Secretary.
Cleverly continues in post today under Rishi Sunak, as does Kemi Badenoch, International Trade Secretary and Minister for Women and Equalities:
Would the media — our diversity champions — give her, our third female Conservative PM, any credit? Never:
On a related note, Liz gave us a Health and Social Care Secretary with a fondness for cigars, the likes of which we had not seen since Kenneth Clarke in the 1990s. Here is Thérèse Coffey, one of her close friends, pictured at a Spectator summer party a few years ago:
However, just as important were the people no longer in Cabinet. This is worth noting. Some said later that this is where Liz's premiership became unstuck, that she should have held on to some opponents:
There is expected to be a clear out of Rishi Sunak and his supporters after a bitter blue-on-blue campaign in which he seems almost certain to be defeated.
Into the political wilderness too will go Michael Gove, after serving under the three previous PMs. Dominic Raab, the First Secretary of State, and Boris Johnson himself, are expected to return to the backbenches. Both have question marks over whether they can hold on to their seats at the next election.
I think she did the right thing. We'd seen enough of all of them over the past three years and, in Gove's case, much longer than that.
They would not have been friendly:
Other backbench Conservative MPs were unfriendly, too:
Rishi was unaccustomed to being on the backbenches, and his first opportunity to participate in a debate came that Tuesday afternoon. Guido Fawkes reported:
Backbencher Rishi Sunak making a debate intervention today on "unavoidably small hospitals":
Thank you for accommodating me at a late stage in this debate. I hadn't planned on speaking but this morning I saw the order paper and it turns out I had more time on my hands than I anticipated.
Tuesday's Mail pointed out the Conservatives have had three women PMs. Labour have had none, not even a female Party leader:
We were also entering a new generation of PMs who were younger than we:
Liz's supporters in the media were hopeful:
James Johnson's Politico article said:
The main qualities the public look for from their leaders in the 2020s are honesty, strength and authenticity. It will require care and calibration, but Truss has a path to come closer to these than Starmer.
If she stands in Downing Street on Tuesday and levels with the public about the challenge ahead and tells them to judge her on results in two years' time she will not only create a reputational shield for herself but also have the opportunity to make a novel mark on the public — many of whom will be tuning into her for the first time — as someone who gives it to them straight.
Some have suggested that her more libertarian instincts and views, such as decrying a focus on redistribution, make her unelectable. But voters, especially those new Tory converts in the Red Wall, value consistency — a quality they feel is so lacking in modern politicians — as much as an individual policy position. Focus group attendees praise Thatcher and Blair when asked if there are any politicians they admire not because they agreed with them on everything, but because they felt they held beliefs and stuck with them.
One of Truss' biggest applause lines in one of the early debates was that she is not the slickest media performer, but she gets things done. If she successfully harnesses that sentiment, the ideological gap between her and the public on specific issues or an awkward communication style may matter less …
It could all come undone, of course. Moments in the summer would have been similarly disastrous for Truss in a live election campaign environment. The calibre of her team will be crucial …
There is a pathway for the Conservative Party. If followed, the optimistic scenario for Liz Truss is underpriced.
Like the aforementioned Janet Daley, James Johnson underestimated the opposition on the Conservative backbenches.
After flying back from Aberdeen, the closest airport to Balmoral, Liz gave her first address as Prime Minister. Heavy downpours punctuated the afternoon. The weather, combined with London's rush hour traffic, delayed her. The rain let up long enough for her to give her speech, in which she borrowed a line from Churchill, 'Action this day'. Her husband, Hugh O'Leary, stood on the sidelines:
Liz's first call to a foreign leader was to Volodymyr Zelenskyy to reassure him that the UK would continue to support Ukraine:
One of her economic advisers, Gerard Lyons, was confident that a low-tax economic plan would help to stave off recession:
The cost of living crisis made Wednesday's papers, September 7. These front pages show Liz's husband:
The Telegraph borrowed words from her speech, 'We can ride out the storm':
Wednesday saw Liz's first Prime Minister's Questions (PMQs). This is the full half hour:
She managed to lob a few witty grenades Keir Starmer's way.
To roars of applause from Conservatives, Liz pointed out that there is nothing new about a Labour leader wanting tax rises:
Guido noted that the comment painted Starmer the same colour as his predecessor, the very left-wing Jeremy Corbyn (emphases his):
It only took a free marketeer PM to bring out Starmer's inner Corbynite…
Directing her aim at both Starmer and Corbyn, she asked aloud why Labour can't find a leader who lives outside of north London, home of the metropolitan elite. She also wondered why there had been no female Labour Party leaders (video):
After PMQs ended, Guido said that Liz's Cabinet was more diverse than Labour's shadow team, although you cannot see that in the photo that he posted. He calculated:
… up to seven BAME members: 23% of the total. 
By Guido's reckoning, Labour's shadow cabinet has six ethnic minority members, or a mere 20%.
Meanwhile, Labour continue thrashing the Tories on gender and state school educations. All completely irrelevant, but nonetheless, interesting to note …
That evening, The Telegraph analysed Liz's first full day as PM.
Madeline Grant provided a sketch of PMQs:
Therese Coffey, radiating gung-ho enthusiasm, looked ready to crack out another celebratory cigar. A dazed Suella Braverman wandered into the Chamber via the Westminster Hall route used by most MPs, then remembered she is Home Secretary now and hot-footed it to the "VIP entrance" at the back.
Notable by their absence were Rishi Sunak, and, predictably, Boris Johnson, though Sajid Javid was there …
A huge roar enveloped Liz Truss as she sashayed in, looking sleek in a blue pantsuit – shades of Keeley Hawes in the Bodyguard. The Tory troops, clearly desperate for things to go well, cheered raucously no matter what she said or did. Yet again beating Labour in the identity politics stakes seemed to have sparked particular joy. When Sir Keir Starmer congratulated Truss on her appointment, a Tory backbencher snarled "3-nil!". James Cleverly, the Foreign Secretary, brandished three fingers and jabbed them in the air.
Theresa May also congratulated Truss on becoming Britain's third female prime minister. "Why does she think it is that all three female prime ministers have been Conservative?", she asked. Truss positively beamed at her. "I look forward to calling on her advice," she said. (Oh no).
"There does seem to be an extraordinary inability of the Labour Party to find a female leader," continued Truss, "or indeed a leader who doesn't come from north London." The Tory hordes roared at this, and even Starmer repressed a chuckle.
Her presentation was as wooden as ever:
But her replies were assured, refreshingly direct. There were even a few one-word answers – no to a windfall tax, for instance – a quasi-mythical event in Westminster. It was almost as if the sphinx was at the despatch box. All of this seemed to flummox Keir Starmer, who is more used to spending PMQs trying to prise answers out of Boris Johnson – occasionally wincing as if pulling out his own teeth with a pair of rusty pliers.
Truss's true-blue rhetoric seemed to bring out Starmer's inner Corbyn too. He railed against "excess profits" with the wild-eyed conviction of a politburo member sounding off about Kulaks. "Same old Tories… There is nothing new about the Tory fantasy of trickle-down economics", he scoffed.
The Times's Quentin Letts noted Liz's calm demeanour:
The Tory benches mooed when they saw her but once Truss started answering questions, the composure was striking. Most of all it was the slower pace that one noticed, and the evaporation of most of the performance-venom that tarnished the late Johnson era. Where Boris used to gabble, Truss spoke slowly. The voice, which seems to emanate from near the tip of her nose, was clear. It may pink a little, like a novice musician's recorder, but it is strong enough to cut through a full Commons …
Truss referred to "my chancellor" and "my new health secretary". She was asserting her power. There wasn't a quiver visible in her fingers and she maintained a consistent tempo, andante rather than allegretto. Talking slowly makes you sound more authoritative and means you need not say so much. Helen Hayes (Lab, Dulwich & West Norwood) essayed a zinger. Would the government's response to some report be published by the end of the year? "Yes," said Truss, and she slowly, serenely resumed her seat, suffused with calmness. One should not over-interpret this performance. PMQs debuts usually go well. But the story is not quite conforming to the catastrophists' narrative.
Returning to The Telegraph's articles, Daniel Martin told us that Liz wanted proper dress in Downing Street:
The Prime Minister has made it clear she wants to re-introduce a dress code, with officials told to wear shirts and ties as part of a new, more formal style of government …
One government source said Ms Truss had made her views plain when she arrived back to Admiralty House from her victory party in the City of London, the night before she became Prime Minister.
The source said: "This is all born from Liz coming back from winning and telling the staff in Admiralty House that ties were back."
We also found out that she wanted a leaner operation:
Ms Truss has also ordered a wider operational shake-up at Downing Street, including a new economic unit whose role is to help her take on "Treasury orthodoxy".
She has brought in Matthew Sinclair, the former director of the TaxPayers' Alliance, as her chief economic adviser …
In a bid to strengthen the relationship between Ms Truss and her most important ministers, new offices are being created in Downing Street for both Wendy Morton, the new chief whip, and Thérèse Coffey, the Deputy Prime Minister.
An aide told The Spectator: "We've blown up the No 10 floor plan", saying the idea is to create a leaner, nimbler operation.
Allister Heath was fully behind Liz and her plans:
I'm optimistic about the Truss Government. Yes, of course, nobody can possibly know how well it will do – whether it will outwit the Blob to push through genuine improvements. But it is absurd to state, almost as self-evident fact, that it is bound to collapse, that it cannot last even two years, based in part on an insulting dismissal of the credibility and intellect of all of the members of the new Government.
It is astonishing that pundits with no understanding of economics dismiss the Prime Minister's ability in this area: she actually worked as an economist for Shell (ideal in the current climate) and as an economic director for Cable and Wireless. The first accountant ever in No 10 – she holds the qualification from the Chartered Institute of Management Accountants – she is more financially literate and comfortable with complex policy matters than almost all of those who patronise her. The fact that she is reflexively written off as lightweight, a dilettante even, is more a reflection of the bizarrely misogynistic and classist minds of some of her more extreme critics than of any objective reality.
Kwasi Kwarteng, the Chancellor, holds a PhD in economic history from Cambridge, perhaps the ideal qualification for the moment; his War and Gold and Ghosts of Empire remain timely. Thérèse Coffey, Truss's deputy, is another PhD: in her case, in chemistry, showing how much more intelligent she is than the ignoramuses who hate her.
Suella Braverman, the Home Secretary, is an extremely competent, bright and personable lawyer who drives the Left crazy. Kemi Badenoch holds degrees in engineering and law, and is fiendishly clever. Jacob Rees-Mogg, with his background in finance, is the perfect pick for Business (and Energy), given the technical and intellectual complexity of his mission. Kit Malthouse, the Education Secretary, another accountant, has experience running a medium-sized business; Chris Philp, the Chief Secretary, has a degree in physics.
The list goes on. Of course, some ministers are weaker than others, but the average quality is a great improvement on many past governments. Matthew Sinclair, one of Truss's advisers, is the best free-market economist of his generation in Britain today.
The paradox is that it is a policy that I'm uncomfortable with that is likely to send the Government's poll ratings surging, discrediting its Leftist critics. Truss's energy plan is rightly a big bazooka; it is regrettable that, for a variety of practical and political reasons, she appears to have decided to freeze all energy bills, rather than to opt for targeted subsidies to small firms and the bottom half of earners. The Government's bill will be at least 5 per cent of GDP, with enormous potential liabilities. This is the biggest welfare programme in British history, one that helps the well-off as much as the needy.
But we are where we are. The Government felt that an alternative, non-universal plan could not be targeted correctly, that the cliff-edge from means testing would be too extreme, that the public's allergy to high prices had become too toxic. Truss feared she would be destroyed on arrival if she didn't go for broke. Her gambit is that the scale of this intervention will cripple the Left: it's a statist umbrella protecting her free-market reforms …
Our new Prime Minister likes economic growth, not merely because she values material prosperity, but because she buys into the very idea of progress, of improvement. Boris Johnson agreed in theory, but didn't understand what to do. Unlike Theresa May, Truss is inherently anti-Malthusian: her Chancellor talks of growing the economy, rather than arguing about how to redistribute a stagnant pie, the vanishing "proceeds of growth" taken for granted by David Cameron.
Yes, Truss will address our immediate crisis via costly, short-term policies. But she's deadly serious about principled long-term measures to accelerate the economy by boosting energy output, housebuilding, private investment, scientific innovation and entrepreneurship. It will be tough, but the Twitter Lefties are entirely wrong to be betting so emphatically against her.
The Telegraph's main editorial compared her to Margaret Thatcher:
Opinion polls indicate that Labour's windfall levy is popular, but Ms Truss is right to identify the flaws in this approach. Her declaration that we cannot tax our way to higher growth could have been uttered by the first woman prime minister 30 years ago.
Balancing short-term expediency with long-term economic requirements will require skill and determination. Ms Truss has set out her position and is clearly intent on sticking to her guns, even if the polls are tempting her to abandon them. It was an encouraging start.
The Mail provided us with short takes from the more left-of-centre broadcasters, who also thought Liz did a great job at PMQs. These were not her natural allies.
The BBC's Chris Mason noted:
As Prime Minister's Questions finished, there appeared to be a warm, one-on-one brief chat between Liz Truss and Keir Starmer.
I think Starmer said "well done" to his opponent: all party leaders regularly acknowledge that PMQs is a tough gig …
It felt less personal, much less theatrical and more ideological …
TalkTV's Tom Newton Dunn said:
Liz Truss is not a legendary orator, and some Tory MPs lived in terror at the thought of her robotic despatch box style.
But that was a very strong debut …
The Mail had several more comments, so I will end with this one from the i newspaper's Richard Vaughan:
If Liz Truss's aim for her first PMQs was to kill the usual heat and rancour in the Commons chamber, then she succeeded. It was a solid, no-frills performance.
… Ms Truss's arrival onto the front bench was greeted with cheers, but it was by no means a deafening welcome by backbenchers to their new leader – perhaps a portent of things to come.
On the evidence of her no-nonsense opening appearance in her new role, they would be wise not to underestimate her. Her next trick will be to try and inspire those on the benches behind her.
Aye, there's the rub.
To be continued tomorrow.
As I need something positive to think about while awaiting Chancellor Jeremy Hunt's awful budget on Thursday, November 17, here is a retrospective on Liz Truss's rise to power, however short-lived.
The Conservative Party leadership campaign dominated the latter half of July and all of August.
By Tuesday, August 16, like the Telegraph's Tim Stanley, I, too, had watched every hustings up to that point.
Who could have guessed that, in an extraordinary turn of events, both she and Rishi Sunak would be in No. 10 within weeks of each other?
Reporting on what happened north of the border in Perth, Stanley wrote:
The hustings had become so repetitive, I know the speeches by rote. Rishi grew up in a pharmacy, Liz sat on a planning committee. My only pleasure has been waiting for the day they cross their wires and Rishi announces he grew up on a planning committee and Liz that she sat on a pharmacy.
But on Tuesday we were in Scotland, so the script was rewritten. Lots of references to whisky, gas and Nicola Sturgeon, who Liz once said we should ignore, so Rishi said: "I don't just want to ignore [her], I want to take her on and beat her!" Big clap for that …
"I grew up in a small business," he said. And the cream for your burn, sir, can be found on the fourth aisle.
Liz did a much better job of showing that she knew she was in Scotland, referencing Adam Smith, JK Rowling and salmon fishing – and reminding us that she understood what poverty was because she grew up in a recession in Paisley in the 1980s (when the Tories were in power) and later in Leeds in the 1990s (ditto). 
In fairness to Liz, she meant local councils, not the Government.
The Mail highlighted the disagreement Liz and Rishi had on taxes:
Miss Truss has pledged to reverse the national insurance hike to help struggling families, but has not ruled out offering further support. But Mr Sunak said the right way to help people with higher energy bills is through direct support.
He told the hustings: 'The tax cuts that Liz is proposing are worth about £1,700 to someone on her income. For someone working very hard on the national living wage, it's worth about a quid a week …'
On Wednesday, August 17, the duo were in Northern Ireland, where, yes, there is a Conservative Party. It has around 600 members. I had no idea.
The Guardian had unearthed an old video of her saying that the British weren't very good workers. The Mail said that she defended her remarks to the press in Northern Ireland:
Pressed by reporters in Northern Ireland today whether she believes British workers are not working hard enough, Ms Truss replied: 'What I believe is that we need more skills in our country, we need more capital investment in our country, we need more opportunity in our country. That is what I would deliver as prime minister …
She added : 'I'm fundamentally on the side of people who work hard, who do the right thing. Those are the people I want back.'
Conservatives did not object to Liz's views (emphases mine):
Despite the furore, Ms Truss was delivered a major boost today with the latest ConservativeHome poll showing she is firmly on track for victory on September 5. She was 60 per cent to 28 per cent ahead of Rishi Sunak in a survey of activists.
The Belfast hustings was the only uncomfortable one of the campaign. It was clear neither candidate had any grasp of Northern Ireland or people's concerns:
The furthest Liz could connect with the small group of Conservative members was to say that she knew that a 'woman is a woman', for which she received applause (somewhere around the 12-minute mark). Near the end of her Q&A, a man expressed concern about abortion, which was foisted on them by Westminster. He asked about the fairness of that, since Northern Ireland has its own Assembly. She bristled at the question and brusquely replied that all the devolved nations had to have the same health policies (somewhere between 32 and 35 minutes in).
Rishi's intro and Q&A followed Liz's.
The London Evening Standard had an excellent report from Rebecca Black following the hustings at the Culloden Hotel on the outskirts of Belfast:
The Brexit protocol, the Stormont Assembly, the health service, abortion, foreign policy and support for the party in Northern Ireland were among the issues raised …
Martin Craigs said he remained undecided after hearing their pitches.
He said he felt their content in terms of Northern Ireland had been "very weak".
"They're sitting on the fence, this isn't the audience they're playing to, the audience they're playing to are the 160,000 Conservative members, and there are very few of them in Northern Ireland, but they obviously have to go to all corners of the UK to be seen to be democratic," he told the PA news agency.
"I might actually not vote at all because I think the performance has been so poor."
Matthew Robinson, chairman of the Northern Ireland Conservatives, welcomed the candidates' visit and paid tribute to the commitment they were showing to the region.
He said he had been holding back on deciding who to vote for, but based on what he heard at the hustings he would back Ms Truss.
"I think she outlined an unwavering commitment to what we do locally here as a political force," he said.
"I'm not just encouraged but excited about what we can achieve together during her hopeful premiership."
David Trimble's widow said that, just before he died, he wanted to make sure he voted for Liz. Lord Trimble had originally been a member of the Ulster Unionist Party (UUP) but became a Conservative in 2007. The following year, a voting alliance was created between the UUP and Conservatives in Northern Ireland.
The Standard reported on Lady Trimble's article in the Telegraph in which she supported Liz. The Stormont Assembly has not been meeting for several months now:
The powersharing structures Lord Trimble helped create in the landmark 1998 agreement are currently in limbo, with the DUP blocking the creation of a governing executive in protest at Brexit's Northern Ireland Protocol.
Lady Trimble wrote: "I believe that in this contest, Liz Truss has the best record and a viable plan to protect our Union and Northern Ireland's integral place within it.
"I know David thought the same.
"One of the last things he did before we lost him was to ask his son to collect his voting papers so he could vote for Liz.
"He was adamant that she was what the country needed and I agree.
"She has already proven her resolve and bravery in the face of opposition to our most valuable asset, and I am confident that my husband's legacy, peace in Northern Ireland, will be safe with her."
Lady Trimble, born Daphne Orr, is an academic who served as a member of the Equality Commission for Northern Ireland and the Northern Ireland Human Rights Commission.
Another article in the Standard showed that Liz understood the difficulty with the post-Brexit Protocol:
The Foreign Secretary also said she would not accept any compromises on a renegotiated Northern Ireland Protocol as prime minister if it meant key UK demands were not met.
She made the comments during a visit to Belfast, where she and Rishi Sunak were quizzed by Tory members during a hustings event.
She told party members that until the Northern Ireland Protocol is sorted, Stormont will not be back up and running.
The Standard's Rebecca Black wrote a separate article on the abortion question:
Abortion laws in the region were liberalised in 2019 in laws passed by Westminster at a time when the power-sharing government at Stormont had collapsed.
During a Conservative Party leadership hustings event at the Culloden Hotel on the outskirts of Belfast, Ms Truss was asked if she would abolish abortion in Northern Ireland, "ending infanticide", or let the people of the region have their say on the issue.
She responded to applause [for the man, not her]: "I'm afraid I don't agree with you.
"We are a United Kingdom and we need all of our laws to apply right across the United Kingdom – that is what being a union is."
Rishi's highlight of the hustings was about Liz's £50 billion black hole:
Rishi Sunak has warned that Tory leadership rival Liz Truss's tax plans would add £50 billion to borrowing while failing to give direct support to the most vulnerable in society, as the cost-of-living crisis deepened.
The former chancellor said the Foreign Secretary would be guilty of "moral failure" if she does not focus on the nation's poorest, and warned her policies could further stoke inflation.
Ms Truss instead insisted "taxes are too high and they are potentially choking off growth", as she promised an emergency budget to tackle the situation.
On Thursday, August 18, the eminently sensible Lord Moylan told GB News that he was voting for Liz because Rishi's economic plans did not make sense:
On Saturday, August 20, Sir John Redwood MP criticised the pro-Rishi media:
Redwood laid out his Thatcherite economic plan for Liz in that day's Telegraph:
Britain's fiscal rules should be ripped up by Liz Truss if she wins the Conservative leadership race, one of her key allies has said.
Sir John Redwood, who served as the head of Margaret Thatcher's Downing Street policy unit and is tipped to return to government if Ms Truss wins, said she should abandon the practice of targeting a set percentage of GDP for national debt and the deficit.
He also called for a review of both the Bank of England and Office for Budget Responsibility (OBR), and suggested the Foreign Secretary should be inspired by Mrs Thatcher in removing utilities and transport from state control.
Since 1997, fiscal rules have been announced by chancellors during Budget statements in an attempt to control government spending.
They usually set a restriction on the proportion of national debt or deficit as a percentage of economic output.
But in an interview with The Telegraph, Sir John said the practice is a hangover from EU fiscal regulation agreed between member states at the Maastricht conference in 1992, and does not encourage economic growth or limit inflation.
"I think having a fiscal rule, which is a variant of state debt as a percentage of GDP, and the public deficit as a percentage of GDP in any given year, is not really the right couple of rules for the two targets you're trying to meet," he said.
The Tory backbencher said ministers should maintain "sensible controls over growth in public spending and in public debt" by instead monitoring the amount of money paid by the Treasury to lenders in interest payments.
In a coded rebuke to Rishi Sunak, who was the chancellor until last month, he added: "You have to elect governments that take controlling public finances seriously, and they then have to take them seriously.
"If you have a government that doesn't take controlling public finances seriously, it won't matter what your fiscal rules say, as we know from recent past experience," he said.
Sir John is expected to be appointed as a Treasury minister in Ms Truss's government and is understood to have helped shape her thinking on economic issues during the campaign …
Sir John said he had not had "any discussions" with Ms Truss about taking a role if she wins the contest, but told The Telegraph he would accept a job if he was offered one.
The Times also thought that Liz would give Redwood a role. One campaign source said:
"There are a lot of crumpled up bits of paper. I've been in three meetings about the cabinet and it keeps changing."
Among the names on the pieces of paper: Iain Duncan Smith, who is heading back to cabinet, and John Redwood, who was last a minister 27 years ago and is earmarked for a junior Treasury post.
This weekend Truss will take a team of her senior aides to Chevening, the grace and favour home in Kent which she enjoys as foreign secretary, with the aim of getting people and policies more firmly nailed down.
In the past few days she has repeatedly told her team "no complacency". As an ally puts it more prosaically: "No f***-ups, basically."
Sadly, Liz never offered Redwood a role. If she had, she might still be Prime Minister today.
The Times was also wrong about Iain Duncan Smith, who was not part of Liz's Cabinet, either.
Also on August 20, the Mail's Dan Hodges wrote that Rishi's campaign was effectively over because of his mansplaining:
It was the moment Rishi Sunak's leadership campaign started to unravel. Actually, it was one of 20 moments. 'Please let me respond,' Liz Truss chided, as her opponent butted in during their first head- to-head TV debate. 'Absolutely, let Liz Truss respond,' the BBC's moderator Sophie Raworth was forced to interject.
Sunak didn't. Time and again he talked over his rival, interrupting and silencing her. It was a strategy his team seemed to think would put Truss on the defensive.
They were wrong …
… the damage was done. Sunak was branded a 'Mansplainer'.
To some, this episode provided further evidence of Sunak's poor political tradecraft. But he'd actually fallen into a well-prepared trap.
'We were ready for him!' one Truss campaign ally told me. 'For years, Liz has been patronised by men who are a bit full of themselves. She's not going to just stand there and take it.'
In 15 days' time, Britain will have our third woman Prime Minister. And unlike her predecessors, Liz Truss isn't going to be shy of reminding people of it.
Let us recall that only the Conservatives have had female Party leaders, all of whom were Prime Minister.
By contrast, Labour have yet to elect a woman leader.
On August 21, The Sunday Times told us what Labour-to-Conservative voters in Oldham thought of the two candidates:
If Rishi Sunak (the ferret) and Liz Truss (the budgie) had put a glass to the wall of the room in Oldham where ten swing voters gathered by Public First, all of whom voted Conservative in the last general election, were sharing their impressions of the Tory leadership hopefuls, they would have blushed. But mostly not with pride.
They had been asked to say which animal, item of clothing or single word would best describe each of the candidates (Truss was also a "bunny rabbit", for the record). As someone who has posed for photos atop a tank and astride a motorbike during her cabinet career, she might have been surprised to hear herself described as "mumsy", "dull as dishwater", a "cardigan", "Jemima Puddle-Duck" and, possibly worst of all, an "unknown".
Sunak would have heard that he was a "suit" a "backstabber" and a "traitor" (to Boris Johnson, that is) and he would have certainly regretted wearing a pair of £490 suede Prada shoes to visit a Teesside building site as he did last month. This did not go down well at all with many of these C2DE (aka working class) voters. It suggested, said Rachel, 33, a bar worker, that he was so rich he had "no respect for money"; after all a building site, she said, is going to be messy. She said "quite a lot of people were upset" by it, especially those struggling to make ends meet. "I certainly couldn't afford to buy a £500 pair of shoes," she said.
Matthew, 40, who works in the oil trade, asked how Sunak could possibly relate to low-wage people. The group wondered what his PR advisers were thinking, allowing it to happen. It was quite simple, said Mandy, an educator in a prison: "If you are going to an area where . . . people are on the minimum wage, don't wear £500 shoes."
But there was happier news for Sunak when it came to which of the two leadership candidates they preferred. Five chose Sunak, compared with three for Truss while two didn't know, though by the end of the discussion a couple had changed to "don't know".
Sunak, according to those who picked him, had a higher profile due to the furlough scheme during lockdown. Jodie, 33, a school administrator, said she associated him with helping people during that period. "I had never heard of Liz Truss before this race, but Rishi Sunak . . . we've seen him in action. He's helped out, like, working class people."
Mandy, however, who chose Truss, said the foreign secretary had been growing as a force in the "background" for some time now. She mentioned the "scandals" involving Sunak. This was a reference to a recent video in which he boasted to Conservative party members in Kent of taking money from deprived urban areas in order to give it to other parts of the country …
That day, Guido Fawkes revealed that Rishi's team broke down Liz's £50 billion black hole, which is actually tax savings.
Even now, with Thursday's Rishi-Hunt budget in view, Guido still appears to be correct in his assessment:
Guido also thought that the Conservatives would win the next general election:
Guido's post has Rishi's breakdown of Liz's black hole. This is Guido's analysis of Liz's savings for the taxpayer (emphases his):
According to figures just released by the Rishi campaign, taxpayers will get a net saving of £48.3 billion in reduced taxes under Liz as Prime Minister compared to Rishi. This is a similar figure to calculations made by the Guardian newspaper. This is intended to be an attack line, the argument Rishi is making is that Liz will have to choose between tax cuts or handouts. When you consider that this is equivalent to some £2,000 per taxpayer you will understand what Liz means when she says she wants to "help people in a Conservative way" …
In the Rishi campaign's press release the tax savings are described as "costs". This approach hasn't been seen since 2010, when Gordon Brown would point to any tax saving proposed by the opposition and demand to know from Cameron and Osborne what spending would be cut. It is a mindset that considers the public's money to belong to the government and any income not taxed to be a "cost". Guido's not sure why Liam Booth-Smith, Rishi's policy guru, ever thought this orthodox Brownian line of attack would appeal to Tory members…
By Monday, August 22, with a week and a half left to go in the seemingly endless campaign, Rishi's poll ratings were tanking.
The Guardian warned that Labour found that Liz could boost the Conservatives in the polls, which Labour had been leading for several months by that point. They still are in the lead.
However, the paper said that any poll boost would be short lived:
Tory leadership frontrunner Liz Truss could give the government a double-figure bounce in the polls once she is installed in No 10, according to internal Labour analysis.
A memo drawn up by Keir Starmer's director of strategy, Deborah Mattinson, claimed the foreign secretary could dramatically improve Conservative fortunes.
The document, dated 18 August and leaked to the Guardian, comes amid speculation that Truss could be tempted to capitalise on the upswing and call a snap general election.
However, the research also suggests that any improvement in the government's position could be very short-lived, with voters already concerned about aspects of Truss's character.
"Our focus groups suggest that as voters get to know Truss better they like her less," it says. "Serious negatives – untrustworthiness, inauthenticity, U-turns, lack of grip – are starting to cut through suggesting that any bounce may be very short-lived."
Meanwhile, Rishi allegedly scoffed at the idea he would take a post in Liz's Cabinet. That day, The Times reported on his interview with BBC Radio 2:
Truss has said that she would offer Sunak a cabinet job if she were to win. The Times reported at the weekend that she is considering asking him to become health secretary.
Sunak appeared to scoff at the prospect today, however, suggesting he did not want to serve in a cabinet in which he and the prime minister would disagree on "the big things".
Liz's poll results were buoyant. An Italian firm, Techne, cut their teeth in the UK on this campaign:
In the end, the result was much closer, although Liz still had a clear majority.
However, on the same day, a GB News Peoples Poll (Peoples Poll being the name of the polling organisation) showed that Britons overwhelmingly prefer Labour's Keir Starmer as the next Prime Minister, viewing Liz Truss as 'untrustworthy':
A poll exclusively commissioned by GB News has found that British people would prefer Keir Starmer to be Prime Minister over both Rishi Sunak and Liz Truss.
41 percent of the 1,235 Brits polled said they would be more likely to vote for a Labour Party led by Keir Starmer than the Conservatives led by Liz Truss, who received 22 percent of the vote.
And Rishi Sunak, also standing to become the next Tory leader and Prime Minister, only fared one percent better than Ms Truss when compared with Sir Keir, who received a share of 40 percent of the poll.
In both cases, 28 percent of people said they didn't know who they would prefer, with nine percent preferring not to say.
The results raise questions about the popularity of both candidates, with the Conservatives faring better in a straight contest with Labour.
When asked which party they would vote for if there was a General Election tomorrow, Labour came out on top with 31 percent.
But the margin between the two parties was a lot smaller than between the leaders, with 20 percent voting Conservative …
When asked to give one word they associated with Liz Truss, Brits' top answer was "untrustworthy".
Unfortunately for Ms Truss, second most popular answer was "useless", with the even less flattering "idiot" in third.
On Monday, August 29, the anti-Liz media went into a tizz when she declined an interview with the BBC's Nick Robinson.
Liz Truss has pulled out of a BBC interview with Nick Robinson because she can "no longer spare the time".
Ms Truss, the Tory leadership front-runner, committed to the primetime sit-down interview with Mr Robinson, who presents the Today programme, on Aug 18.
But the Foreign Secretary now appears to have changed her mind as the race to succeed Boris Johnson enters its final week. Rishi Sunak, her leadership rival, was interviewed by Mr Robinson on Aug 10 …
Mr Sunak has taken part in nine one-on-one broadcast interviews throughout the leadership campaign, including three appearances on the Today programme.
Ms Truss has done two such interviews, including the Today programme, when she was interviewed at the start of the head-to-head stage of the contest, and the People's Forum show on GB News.
A bigger controversy that day was that Liz was preparing to cut VAT. She never did, but someone should, because VAT is an EU law. Here is smoked salmon king Lance Forman's wise opinion, saying that the people who object to a VAT cut are on the Left:
On the penultimate day of Conservative Party member voting, Liz pledged to revive Conservative grassroots activism, but readers of ConservativeHome were unimpressed.
One of the comments read:
This and other similar pieces of rhetoric just prove to me that it's all about strategies to win elections rather than a coherent, well thought-out set of policies that will benefit the country in both the short- and long-term, much the same as some of the statements made by both candidates in this "leadership" election.
Surely we are capable of better?
Yes, we are capable of better.
On the last day of members voting, Wednesday, August 31, The Telegraph asked readers who should be in and out of Liz's Cabinet.
Interestingly, everyone the readers wanted out are in Rishi Sunak's Cabinet. Priti Patel is the only exception. And, Alok Sharma is still COP26 president, although he is not in Cabinet.
In conclusion, within weeks, we went back to the same old, same old thing.
I still have a few more items about Liz Truss to cover. Stay tuned.
On Thursday night, November 10, 2022, Liz Truss's Chancellor, Kwasi Kwarteng, broke his silence in an interview with TalkTV's Tom Newton Dunn on First Edition.
He and Truss disagreed on how quickly to move on the economy.
Background
Looking back at that period of mourning for the late Queen when Truss assumed office, the nation had been jittery over the cost of living crisis.
The Conservative leadership contest, which had lasted several weeks, put paid to any constructive solutions to the problem in the latter half of the summer.
Furthermore, Parliament had been in its customary weeks-long recess at that time.
During that period, energy prices were forecasted to be at a crippling high. Every news outlet was full of articles and broadcasts on the choice between food or fuel.
People wanted Parliament to be recalled because 'something must be done'.
A general election is also coming up in two years' time, therefore, Truss wanted to hit the ground running and make up for the two-and-a-half years lost with the pandemic.
Hence Truss's ambitious and, to use her word, bold economic plan.
Kwasi explains
Tom Newton Dunn wrote up highlights in The Times of what Kwarteng told him (emphases mine):
In his first interview since being sacked as chancellor, Kwarteng told TalkTV that he had advised Truss to "slow down" and take a "methodical and strategic approach" to boosting growth as prime minister …
In the interview with First Edition, Kwarteng also revealed that Truss was "distressed and emotional" when she summoned him to be sacked days before she was forced from Downing Street.
He said he told her during their meeting that she was "mad" to fire him, adding: "People will ask, 'If you sacked the person who was doing what you wanted, why are you still there?'"
Which is exactly what happened. The Sun's Harry Cole asked that very question at Truss's press conference that fateful day, Friday, October 14. Truss thought that Cole would be more empathetic, as The Sun generally supports the Government.
Whilst unapologetic for his economic plan, the former Chancellor did say that lessons had been learned:
Kwarteng repeatedly refused to apologise for pursuing the principle of the pair's economic agenda and warned Rishi Sunak that he could not "simply keep putting up taxes".
He said that he had had reservations about the scale of the planned tax cuts in his mini-budget, especially as there were no accompanying plans to reduce government spending. "The prime minister was very much of the view that we needed to seize the opportunity and we hit the ground running," he said. "She's very dynamic, very forceful. That's a great strength. But I think you had to have a measured approach, especially doing the things that were radical, that were bold. And that's the lesson that we've learnt."
Asked who controlled the timetable of the mini-budget, Kwarteng said that he bore "some responsibility for it" but added: "I think the prime minister was very much of the view that we needed to move things fast. But I think it was too quick. If you look at it, it was on the 23rd of September. We only got into the office on the 6th of September. And looking back I think a measured pace would have been much better."
Kwarteng said that afterwards he confronted Truss and warned her the government could fall unless she slowed down. "After the mini-budget we were going at breakneck speed and I said, you know, we should slow down, slow down. She said, 'Well, I've only got two years' and I said, 'You will have two months if you carry on like this'. And that is, I'm afraid, what happened."
He also said:
She was very emotional. I can't remember whether she was actually shedding tears but she was very emotional and it was a difficult thing to do. I think she genuinely thought that that was the right thing to buy her more time to set her premiership on the right path. I disagreed, obviously. I thought that if chancellors are sacked by the prime minister for doing what the prime minister campaigned on, that leaves the prime minister in a very weak position.
Kwarteng revealed that he found out he was being sacked by reading a tweet from a Times journalist:
… a tweet from The Times' political editor as he drove to a meeting with Truss in Downing Street.
As King Charles said to Truss only a month ago — and just days before she sacked her Chancellor:
Dear, oh dear.
Kwarteng is supportive of Prime Minister Rishi Sunak but says that he and Chancellor Jeremy Hunt should not put the blame for a cratering economy on him and Truss:
Kwarteng praised Sunak as a "very credible prime minister" but said he and the new chancellor, Jeremy Hunt, should not attempt to blame him and Truss for all the government's current problems. "The only thing that they could possibly blame us for is the interest rates and interest rates have come down and the gilt rates have come down. I mean, it wasn't that the national debt was created by Liz Truss's 44 days in government."
He added that although he accepted that taxes would need to rise in the short term, the government still needed a growth strategy. "You're not going to grow an economy or incentivise economic growth by putting up our taxes," he said.
True. I wrote earlier this week about why the Truss-Kwarteng plan was the correct one for the UK.
Kwarteng and Truss have known each other for years and live near each other in Greenwich.
He says they are 'still friends', but:
he had still not returned a missed call from her two days ago. "I will call her back," he said.
The BBC's analysis
In an analysis of the interview, the BBC points out that, at the time of the mini-budget, Kwarteng promised more tax cuts to come:
During his time as chancellor, he repeatedly advocated measures of the sort set out in the mini-budget, and two days after delivering it told the BBC there was "more to come" in the way of tax cuts.
The comment, along with a decision to announce the mini-budget without publishing an assessment by the government's fiscal watchdog, was later seen as key to convincing investors that the government did not have a credible plan to keep debt levels under control.
Did Kwarteng reveal too much in the interview?
He insists that he remains friends with Ms Truss. But in this interview he does reveal elements of private conversations during his sacking that Ms Truss may well have preferred had stayed within the walls of Downing Street.
He once toured TV studios insisting she would make a great prime minister. It doesn't feel like they're on as good terms now as they once were.
And what next for Mr Kwarteng? It doesn't sound like he's going to be an awkward backbencher: he's pledging complete loyalty to Rishi Sunak.
There was lots of detail in this interview, but it's important to remember that this is only one side of the events that took place as Ms Truss's premiership began to crumble. When will she break her silence?
Jeremy Hunt's tactful comments
On Friday, November 11, the new Chancellor reacted to Kwarteng's interview.
The Guardian reported:
Good morning. We've got less than a week to go now until the autumn statement – in effect, the second budget of the autumn – and already a blame game has broken out in the Conservative party about who is responsible for the massive spending cuts and tax rises the nation is about to face.
Kwarteng had denied there is a black hole in the nation's finances:
The national debt wasn't radically changed by Liz Truss … There isn't a black hole and the interest rates and the gilt rate funding the debt is exactly the same as it was before the mini-budget. So the black hole hasn't been caused by the mini budget. It's something that Jeremy and Rishi and their officials are going to have to tackle on their own regardless of what happened in the budget.
However, on Sky News, Jeremy Hunt pushed back on Kwarteng's claim:
All I would say is that when we produced a fiscal statement that didn't show how we were going to bring our debts down over the medium term, the markets reacted very badly and so we have learned that you can't fund either spending or borrowing without showing how you are going to pay for it and that is what I will do.
The Guardian concludes:
Hunt did not engage with Kwarteng's specific argument, but he was clearly implying that his predecessor was at fault.
The article includes a clip from Hunt's interview:
Hunt was giving an interview to respond to this morning's growth figures showing the economy shrank by 0.2% in the third quarter of the year.
The Bank of England admits QE wrong policy
But wait, there's more.
On Tuesday, November 8, the Bank of England (BoE) finally admitted that QE — quantitative easing — was a mistake during the pandemic.
This is where the real problem lies. It has nothing to do with Kwarteng or Truss.
The Daily Mail reported that the BoE's chief economist, Huw Pill, appeared before the House of Lords economic affairs committee, admitting:
the Bank played a part in driving up inflation through its massive money-printing programme.
Known as quantitative easing (QE), this pumped £450billion into the economy during 2020.
He had more to say on inflation:
Pill also blamed the huge mismatch between supply and demand in the aftermath of Covid lockdowns for pushing the price of goods ever higher.
Pill has only been in his job for a year, so no one can blame him, but:
The comments could make uncomfortable reading for Bank Governor Andrew Bailey, who oversaw the explosion in QE, and new Prime Minister Rishi Sunak, who as chancellor was at the heart of the Government's response to Covid.
The Government has been fond of blaming the war in Ukraine for our current problems, however:
even before Russia's invasion of Ukraine in February, which caused gas prices to spike, inflation was already at 6.2 per cent – more than three times the Bank's target of 2 per cent.
Rishi and the BoE are to blame for this. As Chancellor, Rishi told MPs that we could borrow, borrow, borrow during the pandemic at little to no cost.
However, Huw Pill sees things differently:
Gas prices do not 'explain all of the overshoot' in inflation, said Pill. One factor, he said, was 'developments in the past – including choices over monetary policy'.
Warning that 'QE and the choices over QE may have contributed' to the rise in the cost of living, Pill added: 'I was not at the Bank two or three years ago when some of those rounds of QE were undertaken. Whether those would be chosen to do now is an open question.'
He also suggested that lockdowns – and the support offered to households and businesses through the pandemic such as the furlough scheme – played a part as they boosted demand at a time when the supply of goods and services was severely hit.
'Looking back at the impact of the pandemic, I think one can say that destruction of demand was over-emphasised relative to the destruction of supply,' he said.
'The support coming from the macroeconomic side – both fiscal support and monetary support –was very profound.'
QE works in the UK as follows:
buying bonds from investors – mainly government bonds known as gilts – reducing borrowing costs and freeing up cash for those investors to plough into the economy.
During the pandemic:
this helped to fuel demand by propping up buying activity while ignoring the supply problems caused by lockdowns, when businesses were forced to shut their doors.
When economies reopened, there was a surge in demand that could not be met, driving up prices and causing workers to demand higher wages.
Other economists and financial experts sounded the alarm at the time:
Andy Haldane, Pill's predecessor at the Bank, predicted as much when he began warning early last year that inflation could get out of hand.
Delaying efforts to tame inflation would be like 'trying to catch a tiger by its tail', Haldane said.
But other members of the Bank of England's interest rate-setting committee remained adamant that inflation would be 'transient'.
The Bank only began to raise interest rates in an attempt to get a grip on inflation in December last year and has now raised them from 0.1 per cent to 3 per cent.
Gerard Lyons, chief economist at investment firm Netwealth and former economic adviser to Boris Johnson during his time as mayor of London, accused the Bank of making a 'major policy mistake' with QE.
And Sir Paul Marshall, a hedge fund veteran, compared QE with a drug to which markets had become 'addicted'.
One week ago, sterling slumped as the BoE raised interest rates to 3%.
The Daily Mail reported:
Sterling slid around 2 per cent towards $1.11 as Andrew Bailey said markets were wrong to believe rates would peak as high as 5.25 per cent next year. 
His comments came as the Bank raised rates by a mammoth 0.75 percentage points to 3 per cent, the largest hike in more than 30 years. But in a warning to traders who were expecting more bumper hikes, Bailey suggested the unprecedented speed of rate hikes would soon begin to slow. 
There is internal disagreement among the BoE's ninestrong Monetary Policy Committee (MPC). A vote had to be taken on the interest rate rise:
More splits emerged at the Bank of England as two members of its ratesetting Monetary Policy Committee ( M P C ) opposed the hike to 3 per cent. Swati Dhingra argued that interest rates should be raised by 0.5 percentage points to 2.75 per cent and Silvana Tenreyro voted for an increase of just 0.25 percentage points to 2.5 per cent. They were outvoted by the other seven members, who opted for a 0.75 percentage point rise. The split exposed the difficulty the Bank is having in navigating Britain through the economic storm. Dhingra said that 'a small rate increase was warranted to safeguard against creating a deeper and longer recession' in Britain. Tenreyro, meanwhile, said the rate rises seen already would bring inflation back below 2 per cent in due course.
Sterling hadn't been that low since Kwarteng was Chancellor one month ago:
The pound slid by more than 2 per cent. Yesterday's [last week's] clash with traders again pulled down the value of sterling, which would usually rise on news of higher rates as traders shift to a currency promising greater returns. It is now at its lowest point since before Kwasi Kwarteng was sacked in mid-October following a disastrous six-week stint as Chancellor.
The US Federal Reserve has also affected sterling:
The pound has also been dragged down by the US Federal Reserve, which has been more aggressive than the Bank in its fight against inflation. The Fed has hiked rates by the unusually high amount of 0.75 percentage points at its last four meetings, taking its base rate to a range of 3.75 to 4 per cent and causing traders to flock to the dollar. While the Bank of England said its own base rate was unlikely to hit 5.25 per cent, it conceded it was also unlikely to remain at 3 per cent. 
Bailey said: 'Where the truth is between the two, we're not giving guidance on that.' 
Analysts pointed out that more uncertainty lies ahead of Jeremy Hunt's budget next Thursday, November 17:
Analysts said Threadneedle Street [where the BoE is] would be worrying about what other unpleasant surprises could be in store – especially regarding gas prices, which have been a key driver behind rising prices.
Philip Shaw, an economist at Investec, said rate-setters also had little idea what Chancellor Jeremy Hunt would announce in his Autumn Statement later this month, and whether there would be any further help for households which could fuel inflation.
Other economic news
More economic news came to light this week.
London
On November 10, Mayor of London Sadiq Khan told Times Radio that he has never been so worried about the capital:
I've lived in London my entire life; including the 80s during Thatcher's reign and the recession. I've never known it so bad.
Really?
I had the good fortune of being in London three times in the past week: once in the afternoon and twice at night.
I have not seen so many people on the streets in the evening since before the pandemic. The streets were filled, especially with 20-somethings, giggling as they made their way to their various destinations. I saw no unhappiness.
The restaurants were full. The one my better half and I ate at this week was already booked for the next several weeks. The one we ate at last week started filling up from 5:30 onwards. It had plenty of students dining there.
Furthermore, the Tube was heaving with passengers. Maybe Sadiq Khan (Labour) needs to take the Underground now and again rather than his motorcade to see what's really going on in London.
NHS — eye-watering costs
The NHS always wants more money: billions and billions more.
No one has got the nerve to reform its bloated ways.
Today, The Guardian reported that agency fees are spiralling out of control, yet Labour wants to give the NHS even more money if/when they get into Government:
NHS trusts are paying as much as £2,500 for a single agency nursing shift, research by the Labour party has revealed.
The party produced the figures by submitting freedom of information requests, and it says the results show the need for a big investment in NHS recruitment – which is what Labour is promising.
… A BBC investigation on the same topic found that, even though pay rates for agency staff are supposedly capped, these limits are regularly ignored, on the grounds that patient safety would otherwise be at risk.
Hmm.
Yesterday, the Daily Mail reported that the NHS will be curbing procedures such as tummy tucks and liposuction in order to save money.
An excellent idea. This should have been done years ago:
Circumcisions, tummy tucks and liposuction are among 13 operations which will stop being funded by the NHS in a 'crackdown' on wasteful spending.
It is thought that stopping the state funding of these operations could save £2 billon a year, along with less wasteful prescribing methods.
Last week bosses of the ailing NHS said that they want billions more cash to keep key services running this winter as Rishi Sunak ruled out cutting its budget as part of the public spending squeeze.
The £152 billion-per-year health service is seeking an extra £7 billion this year — the equivalent of an extra five per cent of its budget — to counter the effects of sky-high inflation, pay rises and Covid costs.
Finance chiefs warned that vital cancer, mental health and GP services face being axed unless the Treasury stumps up the cash.
Somehow, though, past efforts have not been proven money-savers:
It follows years of plans being drawn up to cut NHS costs.
In 2018, plans to stop funding breast reductions, tonsillectomies, and varicose vein surgeries were estimated to save the NHS £439 million a year, but in 2019 the spending had only dropped by three per cent in these areas, the newspaper reported.
Two years ago, 31 procedures were complied in a list in a plan to limit funding, including imaging for lower back pain. It is estimated that around 2.7 million procedures on the list were being carried out each year prior to this.
The new list, which includes circumcisions, tummy tucks and liposuction is the third that the NHS has made a bid to reduce costs.
The NHS will fund procedures on the list only if specific criteria are met:
Created by NHS bosses and medics from the Academy of Medical Royal Colleges, the plan states that the procedures should only be performed via NHS funding if specific criteria have been met …
The right-wing think tank The Policy Exchange estimates that this new guidance could save the NHS up to £2 billion.
Chairman of the Academy of Medical Royal Colleges, Professor Dame Helen Stokes-Lampard, told the newspaper: 'In short, this programme is about making sure we don't waste money doing things that don't work and we are instead redirecting that cash towards those things that are proven to be beneficial.'
MPs' 'golden goodbyes'
The UK's parliamentary constituency boundaries are being redrawn prior to the next general election.
As such, some MPs will lose their current constituencies, meaning they will stand to gain from 'loss of office' payments, or LOOPs.
The Daily Mail reported:
Rules on 'golden goodbyes' for MPs could be made more generous after a swathe of constituencies had their boundaries overhauled for the next election.
The Commons watchdog is looking at changing the provisions for politicians who are ejected from the House after it emerged very few could be entitled to cash.
Under the existing rules, departing MPs are only eligible for 'Loss of Office' payments – LOOP – if they have served at least two years and stood for re-election in the 'same seat'. 
However, the extent of the boundary review – due to be finalised in the coming months – means that all but a handful of constituencies have either been redrawn, had their names changed, or both. 
LOOP is equivalent to two or three weeks' salary for every year served, depending on age. For an MP on the core wage of £84,000 with 10 years' service that would be worth between £30,000 and £50,000.
Similar rules apply to 'winding up' payments, which are equivalent to a lump sum of two months' salary after tax and NICs [National Insurance Contributions] – roughly £10,000.
The turnover of MPs could be particularly high at the election – potentially in 2024 – with Labour riding high in the polls.
Conclusion
Various news outlets have reported that the UK is in for six years of austerity, beginning with Hunt's budget next Thursday.
Despite that, Rishi Sunak has just pledged billions in foreign aid — climate reparations — this week at COP27:
What about the folks back home?
What about Kwarteng's £50m notional 'black hole' that the media and Labour have been crying about?
On Monday, Guido Fawkes's sketch writer wrote about Sunak's new commitments to apologise for … the advances the Industrial Revolution brought the world:
Not only was Little Rishi backed up in the speaking queue behind Iraq, Mozambique, Kenya, Tonga and the Congo – he had to listen to Barbados telling him to up his giving game. Billions? That was last year. Trillions are the new billions.
Other speakers pointed out that we in the rich world had failed to make good on our pledges for £100 billion in climate finance. In the new world order, we will fail to make good on our trillion-pound pledges and they'll be a thousand times better off. "I profoundly believe it is the right thing to do," he said. He heard none of us who were shouting at the screen.
He went on to tell the COP that Britain had been the first major economy to legislate for Net Zero. He suggested that it was our leadership that had raised the proportion of countries going for zero emissions from one third to 90%. That we were going to reduce our emissions by 68% by 2030. Not a shred of shame did he allow himself for any of this.
Are we one of the rich countries anymore? It seems odd that the Treasury is agonising over a £50 billion hole in this year's budget and Rishi stood there offering the world £11.6 billion because of something we started 250 years ago.
Lance Forman, who runs his family's smoked salmon business and was a Brexit Party MEP, also points out the radio silence surrounding Rishi's pronouncements:
I can't figure it out, either.
It must have something to do with being on the correct side of the Establishment.
November 17, 2022 will be a day of doom for the UK as the Chancellor of the Exchequer, Jeremy Hunt, lays out his and Rishi Sunak's new economic plan.
This plan is likely to increase taxes dramatically for the foreseeable future — years, rather than months.
When Kwasi Kwarteng was Chancellor I had hope for our economic future. Regardless of what Jeremy Hunt says next week, Kwasi's plan will be proven in the years ahead to have been the right one for the UK.
An economist explains
In an October 16 article for the Telegraph, Liam Halligan, an economist, journalist and broadcaster, explains why the Truss-Kwarteng plan was good.
Its title is 'The trashing of Truss's mini-Budget is an economic tragedy'.
Excerpts follow, emphases mine:
The financial and political meltdown of recent weeks has seen Kwasi Kwarteng's proposals dubbed "radical", "libertarian" – even "grossly irresponsible". But that's demonstrably untrue.
Back in September, the then-Chancellor proposed lowering the top rate of income tax from 45pc to 40pc – the level it was for almost the entire period New Labour was in office under Tony Blair and then Gordon Brown – hardly "libertarian" Prime Ministers.
Kwarteng also pledged to reverse former Chancellor Rishi Sunak's 1.25 percentage point rise in national insurance contributions – allowing 28m people to keep, on average, an extra £330 of their earnings each year. This largely non-controversial proposal was also endorsed by Keir Starmer's Labour party.
His Majesty's Opposition backed Kwarteng's mini-Budget plan to cut the basic rate of income tax from 20p to 19p in the pound from 2023, a year earlier than Sunak proposed but, again, hardly a radical move.
That means Labour fully agreed with two of the three main measures tabled by Kwarteng, amounting to £24bn out of a tax-cutting package worth around £43bn. But Starmer's party did oppose Tory plans to keep corporation tax at 19pc, rather than increasing it to 25pc next April – a rise previously enacted by Sunak.
So the only major "irresponsible Tory tax cut" Labour didn't support wasn't an actual cut, but a freeze in taxation. Yet that didn't stop Starmer relentlessly referring to "a Tory crisis, a crisis made in Downing Street". Labour's Treasury team, in fact, having backed almost all Kwarteng's main measures, now wants "this entire mini-budget to be reversed".
Well, Labour got its wish.
Since mid-October, Labour have repeatedly accused Truss and Kwarteng of 'crashing' the economy.
Halligan readily accuses Truss and Kwarteng of poor communcation in presenting and defending their short-lived economic plan, which they called a 'fiscal event', as it was not a full budget. However, he says that the policies themselves were responsible.
Halligan says:
… what was a bold, but far from irresponsible set of policy proposals has – through a combination of bad timing and woeful communication – sparked serious financial turmoil, roiling the UK gilts market, pushing up broader borrowing costs and spreading mortgage and pension panic.
It's vital to grasp, though, that this chaos was triggered by the Government's inept handling of its policy measures, not the measures themselves.
He makes it clear that the fiscal event was not in itself the underlying cause of the economic turmoil which followed:
… while the Truss government's actions as a whole – the policies and their disastrously botched presentation – were the catalyst behind recent gyrations of sterling and the upward movement of borrowing costs, they were not the underlying cause. To suggest otherwise is politically disingenuous. It is also fundamentally to misunderstand what is happening across global markets and why.
This mini-Budget, in total, amounts to an attempt – after a two-decade upward trend of rising UK taxation – to lower the Government's tax take from 36.5pc to 36pc GDP.
With the state's share of national income heading for sustained levels not seen in the 70 years since World War Two, Kwarteng and Truss were trying to put that tax share back where it was in 2021.
Halligan rightly blames the worldwide excess of QE, quantitative easing, so prevalent over the past 15 years:
What we've actually seen over recent weeks is just the latest stage in the long-term global shift away from a decade and more of ultra-low interest rates and excessive quantitative easing (QE). Many of the major economies, not least the UK and US, have indulged in irresponsibly loose monetary policy since the 2008 financial crisis. Initially necessary emergency measures were allowed to ossify into a lifestyle choice.
Endless QE juiced up stock and bond markets, making the rich richer while pushing the price of assets such as housing further out of reach for ordinary families. Such "extraordinary measures", cheered on by groupthink economists, kept state borrowing costs low, paying for lockdown and allowing governments to gorge themselves on debt.
Now we are finally paying the piper for the always obvious excesses, dangers and utter stupidity of these policies. Interest rates are starting to spring back, with indebted governments, households and firms forced painfully to retrench.
Just days after Kwarteng said that the top tax rate of 45% — introduced by Gordon Brown around 20 years ago — would be removed, the media and 'experts' said it had to stay. Truss announced a U-turn just before the Conservative Party conference began:
That set up the chance of generating a lucrative "doom loop", selling the pound short, then turning more profit as media outrage caused the currency to fall even more.
Halligan takes Kwarteng and Truss to task for not explaining where their economic growth would come from, which made matters worse. Recall the noise from their opponents about 'unfunded tax cuts'.
Unfortunately, sterling is vulnerable at this time:
Britain has a big balance of payments deficit and is a significant energy importer with scant storage capacity at a time of geopolitical peril.
We have only to look at what then-Chancellor Rishi Sunak spent during the pandemic and the war in Ukraine which followed just as we thought we'd get a breather.
Halligan wrote his article the day after Truss sacked Kwarteng and replaced him with the Establishment-minded Jeremy Hunt, who immediately began rolling back Kwarteng's reforms:
Jeremy Hunt's tour of the TV studios on Saturday morning was a further attempt to pour oil on troubled waters as the new Chancellor raised the prospect of further tax increases and spending cuts. Its effectiveness remains to be seen.
It's also alarming that the latest policy sacrifice has been to go ahead with a previously scrapped rise in corporation tax from 19pc to 25pc.
For tens of thousands of small and medium-sized enterprises, this is disastrous.
These companies account for over half of Britain's GDP and two thirds of employment. They're the engine of our economy. They were hammered during lockdown and Truss has just taken 6pc off their often thin profit margins. Many will struggle to survive.
By hiking corporation tax, Truss is harming the prospects of small businesses and alienating millions of them, many run by and employing natural Conservatives. She is also scuppering the best chance she has of rapidly achieving her "plan for growth".
A 'very British coup'
On Sunday, October 17, the Telegraph's Tim Stanley wrote 'I resent this "very British coup". Any Tory who welcomes it is a fool'.
Any true conservative should keep this in mind when they watch Hunt deliver his budget next week. Stanley's subtitle reads:
Deviate from orthodoxy, and you'll be crushed by the Remainer, 'expert'-driven establishment
He is not wrong.
Although he did not approve of Kwarteng's plan for its 'policies and philosophy', we face a perilous time ahead, especially with regard to Brexit:
Reputationally, the Conservatives are sunk. Labour will win the next election; Brexit is imperilled. Hitherto the argument against Brexit was emotional, but watch as it becomes technocratic: "in light of our political and economic turmoil", the grey men will say, "it's not something we can afford."
Truss was made a whipping girl for what happened after Kwarteng's fiscal event. Cast your minds back over the past month. What Stanley predicted happened:
… make no mistake, those hollow-men are back in charge. The imposition of Jeremy Hunt as chief executive to Truss' chairman of the board – the language is theirs, not mine, and tells you everything you need to know about their ghastly worldview – is a reassertion of orthodoxy, revenge of the Remainers, capture by experts. British policy, you see, must always operate within certain parameters; anyone who dares to step an inch too far to the right or the left will feel the full force of the establishment. Not by sending in the army, that would be unBritish and, besides, we haven't got an army to send – but by the removal of confidence, via the markets, the Bank, the IMF or our good friend, Uncle Sam.
Stanley rightly blames Andrew Bailey, who heads the Bank of England:
The Bank kept interest rates ridiculously low while pumping our economy with cheap money, fuelling an inflationary spiral that it now believes is the sole job of the Treasury to cure. It was Andrew Bailey, widely criticised for poor judgement, who finished off the arrogant Mr Kwarteng when, last Tuesday, he informed pension funds that he'd stop bailing them out on Friday.
Stanley perceives an anti-democratic trend that emerged in 2022:
After a few, bright years of grassroots activism and open debate – the essence of Brexit – there is pushback against democracy. This year, the Conservatives have kicked out a PM who won a landslide and then effectively imprisoned a second PM who, for all her faults, was at least elected by the members. Mr Hunt, by contrast, was beaten solidly by Boris in 2019 and didn't even make it past the first round against Truss. He has no popular mandate.
… Comrades, we're in for two years of painful austerity …
At least two years. I predict more.
Stanley concludes:
I am not saying there is a conspiracy afoot. There's no need. Our system is ancient, sophisticated and surprisingly transparent. We have a way of doing things, old bean, and we make it gently inconceivable to do it any other way. This is the dictatorship of consensus.
The Establishment view
Writing for the Telegraph on the day that Truss sacked Kwarteng, October 15, Jeremy Warner said, 'Project Fear was right all along'.
He began with this condemnation of Brexit:
Call it revenge of the Remainer Establishment, if you like. The revolution in the British economy promised by Leave campaigners six years ago finally seemed to go the way of all revolutionary movements this week: it ended up eating itself.
Downbeat predictions by the Treasury and others on the economic consequences of leaving the EU, contemptuously dismissed at the time by Brexit campaigners as "Project Fear", have been on a long fuse, but they have turned out to be overwhelmingly correct, and if anything have underestimated both the calamitous loss of international standing and the scale of the damage that six years of policy confusion and ineptitude has imposed on the country …
Perhaps I exaggerate, but not since the humiliation of the International Monetary Fund bailout in 1976 have we seen an unravelling quite as spectacular. This too from a Tory Government with a substantial overall majority. It is scarcely believable.
Hmm …
Warner blamed 'unfunded tax cuts', saying that a cut in corporation tax was derisory and that, ultimately, Liz Truss would have to go:
… the fact is that Truss was in lockstep with Kwarteng in challenging "economic orthodoxy" and the institutions that were its standard bearers. On the campaign trail she was, if anything, even more of a zealot for economic radicalism than Kwarteng.
In any case, she plainly didn't understand the sometimes destructive way markets interact with policy. It's been a rude awakening.
Warner is grateful that Andrew Bailey intervened:
In the end, it was Andrew Bailey, Governor of the Bank of England, who brought matters to a head, by insisting that there would be no extension to the bond buying programme he had initiated to counter forced selling by UK pension funds.
This has been widely portrayed as another foot in mouth episode by a Governor with something of a reputation for gaffes. Having failed, despite all the warning signs, to see the surge in inflation coming, the Bank fully deserves whatever criticism is thrown at it. The Bank has failed to conduct itself well in recent times.
Even so, the Governor had little option but to say what he did. It makes no sense at all for a central bank, which is supposed to be tightening policy to fight inflation, to be simultaneously loosening it through resumed asset purchases …
By making the programme time-limited, the Bank was able just about to pass its intervention off as justified on financial stability grounds. It would have been game over had Bailey made the programme open ended.
Warner was clearly glad the Establishment was in charge again:
"Economic orthodoxy" is back in the saddle. But then it never really went away. Instead we had a brief aberration in which the Government, having dispensed with all sensible advice, thought bizarrely that it could defy gravity.
If it had been done differently it might have succeeded, but it was not. We'll be paying the consequences in reduced standing and prosperity for years, if not decades, to come.
He blames Truss and Kwarteng for a short-lived plan that was never given a chance.
Note that he has nothing in his article about QE, which really will make us pay the consequences for many years to come.
The Bank of England gets revenge
The Bank of England was offended that Kwarteng never consulted them before his fiscal event.
He probably should have done so.
Perhaps he thought they would have said 'no'.
On Thursday, October 20, The Times reported that Sir Jon Cunliffe, deputy governor for financial stability of the Bank of England, appeared before Parliament's Treasury Select Committee:
Sir Jon Cunliffe told a hearing of MPs that Kwasi Kwarteng, the former chancellor, did not brief Bank officials before the September 23 fiscal statement, in which he announced more than £40 billion in tax cuts.
Cunliffe said the Bank had been aware of some measures that were pre-announced, but added: "We did not get the normal briefing we would get for a budget . . . This wasn't a budget. The process was rather different."
That's the polite British way of saying that they were miffed.
Cunliffe also said that there were no figures from the OBR — the Office for Budget Responsibility — to back up Kwarteng's plan. This is the same OBR that cannot predict anything accurately. The OBR were not due to make a projection until November, as I recall:
"When [the Treasury] briefs us normally on the budget, we see the Office for Budget Responsibility costings and that is what we take into account for monetary policy. But there were no OBR costings. It was a different sort of event in many respects," he told the Treasury select committee.
However, all is well now that Jeremy Hunt is Chancellor:
Cunliffe said he expected the Bank to get a full briefing on the contents of the upcoming medium-term fiscal plan from Jeremy Hunt … The plan is expected to lay out new tax-raising measures, cuts to public spending and the government's new fiscal rulebook, along with the OBR's assessment …
It all sounds rather scary. This is a long-term plan to make the middle class poorer, make no mistake.
Meanwhile, global turmoil in world markets
When these articles were written, Western economies were in turmoil.
This had nothing to do with Kwasi Kwarteng or Brexit.
On Thursday, October 14, the Japanese yen had hit a 32-year low against the US dollar and mortgage rates were rising in the US:
On October 15, Germany's inflation rate reached a 70-year high. We cannot blame Brexit, Kwarteng or Truss for that:
We are in for years of obfuscation ahead.
I am not looking forward to Jeremy Hunt, with his supercilious smile, mansplaining to us the 'difficult decisions' he will have to take. He is a successful businessman. He has no idea how ordinary Britons live.
Worst of all, he will lie and lie about the costs of Brexit, of this we can be sure.
As for Rishi? I don't trust him an inch. He's already promised billions in climate change reparations this week at COP27. Those won't be one-off payments, either, even though they'll be billed as such.
What about the British taxpayer? Answer there came none.
This post concludes the story of how Rishi Sunak became Prime Minister.
Those who missed them might find parts 1 and 2 of interest.
Before concluding, an important anniversary took place this week.
On October 26, 2012, UKIP MP Douglas Carswell introduced a private member's bill, 'The People's EU Withdrawal Bill'.
The groundswell of support from Guido Fawkes's readers helped bring it to the Commons:
Guido has the video and a brief comment (emphases his):
Today history was made as the first-ever crowd-sourced Bill was debated in Parliament. The majority of 5,000 readers of this website voted for Douglas Carswell to propose Britain to withdraw from the European Union, and today Carswell stood up in the House to argue the case for the People's Bill. The debate can be watched at length here. 
Here is a short video of proceedings:
A few years later, then-Prime Minister David Cameron, frightened by the overwhelming support for UKIP in the European election, decided to give the British people a referendum. It ended up being the largest plebiscite in the history of the United Kingdom. On Thursday, June 23, 2016, in pouring rain, voters said they wanted the UK to leave the EU: 52% to 48%.
In current news, during Rishi Sunak's first week as PM, as I wrote yesterday, questions were being asked in the Commons and the Lords about Suella Braverman's reappointment as Home Secretary.
The Telegraph's Madeline Grant called Braverman 'Houdini' for not showing up for an Urgent Question in the Commons about the horrifying state of the Manston processing centre in Kent, which is turning from a short-stay to a longer-term residence for Channel migrants (emphases in purple mine):
At a second Home Office UQ, this time courtesy of Labour's Diana Johnson, the Home Secretary was a no-show again …
In truth, there were unhappy campers on both sides of the House; enough to populate Butlins, if not quite Calais …
Deputising for Houdini was Robert Jenrick – a junior Home Office minister and close ally of the PM who, some say, was appointed to keep a watchful eye on Braverman and prevent her from doing anything too mad …
Yet Jenrick's arguments were more true-blue, or at least Red Wall. He had little sympathy with illegal migrants, and the diversion of resources away from their legal counterparts, and seized eagerly on Priti Patel's pet phrase, "evil people-smuggling gangs". Reinforcements soon began to arrive from the Tory backbenches. What gave Labour the right to complain, wondered Steve Double, the MP for St Austell, when they'd voted against Patel's Nationality and Borders Bill. Lee Anderson and Richard Graham warned of Britain's imminent inundation by Albanian men.
Christopher Chope reminded the Commons that whatever the state of the Manston processing centre, conditions were a darn sight worse in the Calais Jungle. Labour MPs looked scandalised, but Jenrick agreed wholeheartedly.
When asked why he was deputising for Braverman:
Jenrick, in the spirit of Sunak, came back with an answer that was simultaneously boring and unimpeachable. "Because I'm the Minister of State for Immigration" …
It is estimated that from 1% to 2% of Albanian men are in the UK. They have places to go to once they arrive. The Albanian drug trade is the latest development in our migration story.
The situation in Dover is intensifying. The Times reported the story of the week: '"Desperate" new arrivals drive Dover into taking up arms'. Sledgehammers, more like, as firearms are largely illegal here:
Sue Doyle, 59, was sitting in her living room sipping a cup of coffee on Sunday morning when a 16-year-old Albanian migrant got in through the back door, which she had left open for her dog.
"All of a sudden he was there standing in my front room," she told The Times. "He didn't seem very friendly. He kept saying: 'no police, no police'."
Doyle, a full-time carer for her mother, said she was made to her lock her dog in a bedroom and that the teenager then asked her to drive him to Manchester. When she refused he demanded her mobile phone and used it to arrange to be picked up by a contact.
… Doyle managed to sneak out of the front door and alert a neighbour, who contacted the police and confronted the young migrant.
The neighbour, Louise Monger, 36, said she became more sympathetic when she realised his age and tried to assist him. Police arrived and he was detained before the driver arrived, she said …
The teenager who was arrested was said to be in tears as he was driven away in a police car …
A few doors down from Doyle, Kerry Jones, 45, a mother of a young autistic girl, said she now sleeps with a sledgehammer next to her bed after a migrant tried to enter her home through the back door in August …
The residents complained that not enough was being done by the council, police and border force to deal with the problem. Many spoke of seeing migrants running through the streets and residential areas or "hiding in bushes" in local parks …
When a Times reporter arrived at Dover Priory station yesterday a Syrian mother and her young child approached and asked for help getting to an "army base" where their money and belongings were.
The mother, Nur Taha, 27, said she and her son, Mohammad Salu, six, arrived in Dover ten days ago in an overcrowded dinghy that was rescued on the water and were separated from her partner Akram Salu, 49, who was detained by military police, and their possessions …
When a reporter called Kent Police to request assistance for the mother and son, he was told that no officers were available as they had more pressing priorities. The advice given was to let them roam in Dover and hope that they were safe.
In a statement on Doyle's report, the force said it received a call at about 10.45am on Sunday that a man had entered "an insecure door at a property in Dover and was seeking the use of a phone".
The force added: "He was initially arrested, then de-arrested at the scene once the circumstances had been established by speaking to both parties. The man was then detained on behalf of immigration officers."
In Nur Taha's case, it is understood she and Mohammad had been processed by Border Force officers …
The council was approached for comment.
Mass migration started during Tony Blair's government and has only become worse, as the backlog of cases is through the roof.
Twenty years on, the Home Office again needs more information on those arriving, as well as stronger co-operation with France to stem the flow. Officials often have little information on claimants, whose lack of identification may be a deliberate ploy — case workers have little choice but to believe them: 75 per cent of asylum seekers were given the right to stay in the 12 months to March, the highest rate since 1990.
Meanwhile, claims are taking longer to assess, having climbed to an average of 480 days for an initial decision to be reached.
Some in the Home Office have suggested there is a deliberate policy of slowing down the processing of claims given the high rate of people granted asylum. A six-month target for assessing claims has been ditched and the rate of cases completed in that time has fallen from 80 per cent in 2015 to 17 per cent. But this looks set to change, given the soaring cost of housing those waiting for their claim to be assessed in hotels, which now stands at £6.8 million per day.
This month, the idea of erecting tent cities in London's parks was mooted, something Paris has tried with shocking effect. Most Parisian women living near one of these tent cities can no longer go out at night. Drugs, violence and noise prevail once it turns dark.
The same Times article reported that London tent cities are unlikely to come to fruition:
The idea was raised by civil servants in meetings with leaders of London councils this month, sources said.
It was considered after efforts to persuade London boroughs and local authorities in other parts of the country to accommodate more asylum seekers failed. The Home Office had issued an emergency appeal to councils for more places earlier this year as officials struggled to cope with the growing numbers of migrants crossing the Channel.
Council leaders in the meeting dismissed the prospect of installing marquees in parks in the capital and instead urged the Home Office to lift the ban on asylum seekers being able to get a job …
The Home Office made clear last night that the plans to erect tents in London parks were no longer under consideration. It said: "It is categorically untrue to suggest that the Home Office is planning to erect tents to house asylum seekers in London parks."
The idea arose during discussions on how to deal with overcrowding at the temporary asylum processing site at Manston Airport, which is only designed to hold Channel migrants for up to 24 hours.
It is unclear what Rishi Sunak has planned for Suella Braverman.
On the one hand, Sunak's people say everything is in hand, and MI5 say they have no problem working with the Home Secretary, the Times revealed:
A former Conservative minister in the Home Office told The Times: "You can't even have the vague notion that you might leak because then all the security services will clam up on you — which is not what you need."
However, responding to claims that MI5 could withhold information from Braverman, a security source said: "This is completely untrue. The home secretary and MI5 have a strong and trusted working relationship. She will continue to receive regular intelligence briefings, as was the case when the home secretary was in post previously and with other home secretaries."
Rishi Sunak's spokesman insisted that Braverman had "strong relationships" with the security services and the prime minister's full confidence.
Oh, dear: 'the prime minister's full confidence'. Those are dangerous words, dating back from the 1990s. That means a resignation or a sacking could be coming soon.
The Star wasted no time in putting 'Leeky Sue' on their Friday front page:
On the other hand, the Times said that Sunak's allies are waiting for Braverman to go, possibly so that Jenrick can step in. He wouldn't be very good, I don't think, but that seems to be charactistic of Sunak's government — business as usual, nothing gets done:
Sunak's close ally and Braverman's deputy in the Home Office, Robert Jenrick, responded to an urgent question on crossings yesterday in her place. The sole hope now, Sunak allies have whispered, is that Braverman makes a further error and goes for good, leaving Sunak and Jenrick to press on peacefully in her absence.
That doesn't surprise me in the slightest.
The Guardian continued to cast shade on Braverman:
London's Evening Standard, however, went with the story about Cabinet minister Nadhim Zahawi's defence of the Home Secretary at the bottom of their front page:
One good thing that Rishi has done is to decline going to COP27:
A new poll shows that the Conservatives are doing better than Labour, but still have a huge hill to climb:
I disagree with Guido's assessment here. The poll decline started with Boris and Partygate nearly a year ago:
That said, Guido rightly sees this as an uphill battle:
Add to that the impending storm of budget cuts, Rishi certainly faces an uphill battle.
The poll also strengthens Reform UK's claims of a resurgence, with their support at 6% and growing representing a relatively strong showing. The Conservatives face challenges from all sides…
Finally, there's the idiocy of America's Trevor Noah calling Britain racist towards Rishi Sunak. I haven't read one negative comment about his heritage from conservatives, ever. Labour — our equivalent of the Democrats — are the ones making the racist remarks.
Rishi Sunak does not believe Britain is a racist country, a Downing Street spokesman said, following claims by Trevor Noah that there was a "backlash" after he became the UK's first British-Asian Prime Minister …
"But you heard the words in the House [of Commons] on Wednesday with regard to the [appointment of the] Prime Minister," the spokesman said. When asked whether Mr Sunak believes Britain is a racist country, the spokesman said: "No he doesn't."
His words were echoed by Sajid Javid, the former chancellor and health secretary, who said Noah was "detached from reality" when he claimed Mr Sunak's appointment provoked a racist "backlash".
… Tom Holland, a popular historian and podcaster, wrote:
—————————————————————————————————————–
Now back to the leadership contest, where we pick up on the events of Saturday, October 22, 2022.
Boris returns to the UK
The Sun's Harry Cole told TalkTV that Boris and Rishi could come up with a plan to save the country:
Sky News's Mark Stone was tracking Boris's progress back to the UK:
Sky News interviewed Chris Heaton-Harris MP, who said that Boris definitely had 100 backers (see video):
Guido was eager to confirm, as Boris's numbers were far behind Rishi's at that point:
Boris landed at Gatwick mid-morning:
Guido was hopeful for his prospects:
One German newspaper, however, was less than enthusiastic, asking, 'Seriously?':
Former Home Secretary and Boris loyalist Priti Patel declared her support:
However, the never-Boris MP, Sir Roger Gale, did not mince words in an interview with LBC:
Scottish Conservatives would agree. The Telegraph's Alan Cochrane wrote:
Just when an air of undisguised relief began to filter through the higher reaches of the Scottish Tories at the resignation of Prime Minister Liz Truss, along came Boris Johnson to dampen their ardour.
They may not have been the greatest fans of Ms Truss and were glad to see the back of her. But their view of Boris bordered on the certain belief that he was a major electoral liability north of the border. And as the news emerged that the former PM aims to stand again for the top job, one former senior minister commented: "It will destroy the Conservative Party if he does."
At lunchtime, Harry Cole produced a poll for the Sun saying that Boris still topped the charts. That must have been in England, then:
However, Lord Frost thought that Rishi was the right man for the job:
One Twitter user reminded us that Boris plucked David GH Frost from obscurity and elevated him to the House of Lords:
However, the BBC's Laura Kuenssberg and ITV News's Anushka Asthana spotted a trend. Former Boris supporters, such as Lord Frost, who also supported Liz Truss, now preferred Rishi Sunak:
That afternoon, Boris's father Stanley appeared again on GB News, saying he would vote for his son if the contest went to Party members:
Just before 3 p.m., Boris backers told the BBC's Chris Mason that the former PM had the numbers:
However, the Evening Standard's Nicholas Cecil sounded a note of caution — Boris's MPs did not want their names made public:
A Mail+ report couldn't shed much more light on the names, either:
On Saturday morning, former Home Secretary Priti Patel said she was backing Mr Johnson in the leadership race because he had a 'proven track record'. Ms Truss, Defence Secretary Ben Wallace and former Home Secretary Suella Braverman are also in Mr Johnson's camp, while former No10 chief of staff Steve Barclay and ex Brexit Minister Lord Frost have publicly backed rival Rishi Sunak.
Just before 3 p.m., another Twitter user provided this analysis, saying that Rishi had the momentum and numbers:
Just after 3 p.m., Guido's spreadsheet showed that Rishi was on 120 MPs with Boris on 71:
Red Wall MP Lee Anderson declared his support for Boris after 3:30:
That was about it for Boris's afternoon.
Shortly after 6 p.m., Guido described how he and his team were compiling their spreadsheet. The following points stood out:
Here is some insight into what has happened in the last few days: the Rishi campaign has decided in their wisdom to freeze Guido out – no briefing, no contact, effectively pretending we don't exist as a fact of political life. Petulantly putting us in the penalty box for giving Rishi a hard time in the last leadership campaign. We started reporting and publicly recording the support of MPs for Boris on Thursday, and by yesterday evening the Rishi campaign was instructing their supporting MPs to contact us to confirm their support for him. As our records showed support for Rishi catching up with and then pulling ahead of Boris, his campaign reminded supporters to confirm their pledges to us. All can now see the relative strength of candidates' support.
… MPs who have not pledged can be seen by all sides. They are either genuinely undecided – waiting to see which way the wind blows – or biding their time for Machiavellian reasons, or simply ransoming their vote for the highest bid or best favour. What MPs can't do is double pledge any more. If they tell a campaign they are backing their candidate the campaign expects them to go public. If they don't go public, they are suspect.
Yesterday the site was visited three quarters of a million times, such was the demand for data.* This kind of transparency is now a fact of political life, the game has changed. Changed for the better…
*Team Rishi's strategy of ignoring the website read by so much of the membership doesn't bode well for their success if the contest goes to the membership.
Penny who?
Meanwhile, Penny Mordaunt's leadership bid wasn't the best.
Although this was strictly for MPs, The Guardian went to her Portsmouth North constituency to find out what the public thought:
Penny Mordaunt may have been the MP for Portsmouth North for 12 years, and could perhaps be the next prime minister, but some of her constituents were perplexed when hearing her name on Friday.
"Who's she? I don't know nothing about her," said James McLeish, who added he would not recognise her if she passed him on the street. "Never seen her, don't even know what she stands for."
McLeish's bemusement came hours before Mordaunt formally announced she was standing to replace Liz Truss – stealing a march on her presumed rivals Rishi Sunak and Boris Johnson.
Speaking in Cosham High Street, which runs through the centre of a suburb to the north of the port city, McLeish, 82, had a much clearer view on Truss's resignation after a disastrous 45 days in office.
The Telegraph's Tim Stanley gave us a tongue-in-cheek profile of the Leader of the House:
What about Penny Mordaunt, bringing up the rear? She was the first candidate to declare – and she surprised everyone last time by how far she went. The Tory grassroots appear besotted with this lady, thanks to her naval career and taste for innuendo; she exudes an impression of authority that was bolstered during the accession of Charles III when she managed to read aloud from an official document clearly and without error. That's all it takes nowadays. If only she were in Parliament, Angela Rippon would be a shoe-in.
Ms Mordaunt has reportedly told Jeremy Hunt that if she wins, he can write economic policy. And Mr Hunt, no doubt, rang the Bank of England and said, "If Penny wins, you can write economic policy." The Bank rang the IMF… and on it went all the way to Joe Biden, who put a call through to his wife, even though she was lying next to him, and said, "Honey, if Penny Farthing is made Queen of England, you can write economic policy."
Stanley spoke with Conservative Party members:
What do the members think? I've put out feelers. They want Boris.
They know he's not Jesus. He might have spent 40 days in the desert, but if the Devil tried to tempt him, he'd give in on every occasion. Yet they voted for Truss, the suits kicked her out – so now they want the good times back with BoJo. He likes pina coladas and dancing in the rain. And if they want him, and assuming he can find his passport – last seen in a swimming pool locker – he'll be right with us.
Harry Cole said that Penny's backers during the Liz Truss contest during the summer were now plumping for Boris or Rishi this time around:
Deal? No deal
Boris and Rishi met on Saturday evening. The meeting lasted three hours. The Times reported it took place at Boris's office in Millbank Tower. I've been to Millbank Tower. It has lovely offices and a spectacular view of the Thames.
The Sun put the talks on its front page on Sunday, October 23:
The paper's Harry Cole tweeted when the meeting ended, which was after 11 p.m.:
On Sunday, Cole said that Boris's backers did not want to make themselves public until they were sure there was no deal:
There was no deal.
The Mail on Sunday reported that Suella Braverman was backing Rishi:
She wrote in the Telegraph: 'I have backed Boris from the start. From running alongside him in London in 2012, to supporting him to be our leader in 2019 and willing him to succeed throughout the travails of this year. His resignation in July was a loss for our country.
'But we are in dire straits now. We need unity, stability and efficiency. Rishi is the only candidate that fits the bill and I am proud to support him.'
The article gave us scant information on the meeting between Boris and Rishi:
Last night's crunch summit between Mr Johnson and Mr Sunak, which is believed to have ended shortly before 11.20pm, comes ahead of tomorrow's deadline for Tory leadership hopefuls to secure the backing of 100 MPs.
The headline banners read:
Ex-Chancellor fomally confirms candidacy for Tory leadership after late-night talks with Boris Johnson

It was claimed this morning that no agreement was struck between the pair in their three-hour negotiations

Some had been hoping for a power-sharing pact between the pair in order to avoid a divisive battle
Sunday's hope would not last
The day began well, but with Boris's numbers stagnant, reality began to set in.
That morning, Redfield & Wilton Strategies released a positive poll for Boris, taken on October 20 and 21:
Guido showed us the Mail on Sunday poll, which also showed that Boris had the best chance of stemming a Labour majority were a general election to take place that day. Guido meant 'Tory' not 'Toy', by the way:
Liz Truss's Business Secretary Jacob Rees-Mogg told Laura Kuenssberg that Boris had the numbers (video):
Rees-Mogg also defended Boris's record (video):
Later that morning, Guido said that some MPs were sounding out their constituents:
Just before 2 p.m., Foreign Secretary James Cleverly tweeted that he was backing Boris:
Meanwhile, Rishi already had 150 MPs signed up to vote for him, including names:
The Mail on Sunday reported that Boris allegedly contacted Penny Mordaunt to ask her to stand aside. The sign of a desperate man:
Penny Mordaunt, who officially declared her leadership bid on Friday, was claimed to have rebuffed Mr Johnson's attempts to get her to drop out of the Tory leadership race in a phone call this afternoon.
He was reported to have told the ex-PM that, even if she did quit, most of her supporters would switch to Mr Sunak and not Mr Johnson. 
'I'm in this to win it,' the Leader of the House of Commons declared, despite signs she is struggling to win backers.
Boris bows out
Around 9 p.m., Boris announced that he was withdrawing from the contest. The time was not right for him to return, he said.
Afterwards, the Telegraph recapped the past 24 hours and said the meeting between him and Rishi on Saturday night lasted only one hour:
It was as he sat with Rishi Sunak, face-to-face for 60 minutes with no one else in the room, that Boris Johnson rolled the dice for the last time …
Barely a word had been passed between Mr Sunak and Mr Johnson since their relationship imploded in July.
Yet on Saturday night, the two biggest names in Tory politics agreed to down tools and meet, with the keys to Number 10 the prize on the table …
But the truth was that he believed a joint ticket between the two men, with him back as prime minister, was his route back to Downing Street.
The meeting was called at the behest of Mr Johnson, not Mr Sunak.
It was also, according to one figure who was in touch with one of the two candidates on Sunday, a surprisingly convivial affair. "It was perfectly pleasant," said the source.
But Mr Johnson had been forced into a meeting with his old foe in an attempt to regain control of the corridors of power.
Above all, it was no Granita pact [one between Tony Blair as PM and Gordon Brown as Chancellor, done in a London restaurant of the same name] because of one simple reality – there was no deal. Mr Sunak did not agree to stand aside. Nor did Mr Johnson. They parted ways unresolved.
On Sunday morning, Boris rang his supporters:
His gamble to take control of Mr Sunak's bigger list of backers had failed.
That much became clear at 8am on Sunday, when Mr Johnson gathered his supporters on a video call and informed them no agreement had been reached.
We found out more about his appeal to Penny to stand aside:
Ms Mordaunt gave him short shrift. The Commons Leader, who remembers being ejected from the Cabinet by Mr Johnson on his first day in office in July 2019, told him most of her MP supporters would prefer to back Mr Sunak – and that he should consider dropping out of the race and leave her to face him alone. Her offer was refused.
On Saturday, Boris's aides even said he would keep Jeremy Hunt as Chancellor:
Searching, perhaps, to persuade MPs he had credibility as a "unity candidate", Mr Johnson's aides let it be known he would keep Jeremy Hunt in post as Chancellor if he won the contest.
Little did he know that at that moment, Mr Hunt was preparing to make his first public declaration of the leadership race since ruling himself out – by backing Mr Sunak in an article for The Telegraph.
King Charles would have said, 'Dear, oh dear'.
On Sunday, around 9 p.m., Boris threw in the towel:
By 9pm, the answer was clear.
Writing to his supporters on a WhatsApp group, Mr Johnson himself conceded defeat – but claimed he had the numbers all along.
Telling friends he had been "overwhelmed" by support from MPs, he maintained that he was "uniquely placed to avert a general election".
Stressing that he had cleared the "high hurdle" of 102 nominations including a proposer and a seconder, he said he was confident he could be "back in Downing Street on Friday".
But it appeared the concern among Tory MPs about the return of their former leader had rattled Mr Johnson.
Confirming he had "reached out" to Mr Sunak and Ms Mordaunt in an attempt to strike a deal, his message concluded: "I am afraid that the best thing is that I do not allow my nomination to go forward and commit my support to whoever succeeds."
… As he told MPs on Sunday night: "I believe I have much to offer but I am afraid this is simply not the right time."
One of Boris's main supporters, Sir James Duddridge MP, was nonplussed:
An hour later, he changed his support from Boris to Rishi:
Jonathan Gullis, a Red Wall MP, didn't wait that long:
Braverman pivotal to Rishi's support
On Monday, October 24, the Times had two articles about the importance of Suella Braverman backing Rishi.
The European Research Group of Eurosceptic backbenchers [Brexit supporters], which in previous leadership contests has acted as a bloc, is increasingly fractured.
Suella Braverman, the former home secretary who was once one of Johnson's most ardent supporters, came out for Sunak. The party, she said, could not afford to indulge in "parochial or nativist fantasies" given the "dire straits" it was in now. The world was "fundamentally different" from when Johnson was elected in 2019.
Braverman's endorsement of Sunak surprised even some of her allies, with one speculating about whether she had been offered the chance to return as home secretary. "She wouldn't have settled for much less," said one.
Braverman's support was not just a blow to Johnson, it also allowed Sunak to make the case to wavering MPs that he could command support across the party. As well as Braverman, Sunak won the backing of other former ERG stalwarts such as Steve Baker and Theresa Villiers. He has even persuaded MPs who had joined a "Back Boris 22" WhatsApp group to jump ship, including Chris Loder, MP for West Dorset.
It suggests that Sunak has made assurances to the ERG on policy and jobs, given that senior ERG figures were briefing on Friday that they would seek "guarantees" before endorsing candidates, which ranged from no concessions on the Northern Ireland protocol, reaffirming the manifesto commitment to reduce immigration and senior cabinet roles for their members.
Braverman suggested as much, saying in an article for The Telegraph website that the party needed to "move beyond Leaver or Remainer; One Nation or ERG; right of the party or left of the party; wets or Thatcherites," adding: "One person can build that team: Rishi Sunak."
The other said that Boris's team had approached her for support on Saturday but was rebuffed:
Johnson's team had made a "big pitch" to her yesterday in the hope that winning her over would persuade fellow right-wing MPs to back him. She is a former head of the European Research Group of Brexiteer MPs. It is a further sign that the ERG is split down the middle between Sunak and Johnson …
Her endorsement will deliver a big blow to Johnson's efforts to attract the remaining MPs on the right of the party, as she is seen as one of their flag-bearers and rising stars.
She is the latest figure on the right to endorse Sunak following Kemi Badenoch, the trade secretary, and Lord Frost.
Braverman also signalled that Sunak had agreed to continue with reforms she had begun working on during her short spell as home secretary, including a new law to prevent the European Convention on Human Rights allowing migrants and criminals to avoid deportation. It also suggests that Sunak has agreed to press ahead with the government's controversial Rwanda policy.
I hope that all works out for her.
Unfortunately for James Duddridge, the Boris loyalist, even though he voted for Rishi, he was sacked as Trade minister on Wednesday:
Jacob Rees-Mogg also got the sack this week and has returned to the backbenches.
Rishi's 'coronation'
On Monday morning, October 24, the outspoken Lee Anderson refused to back Rishi, swapping his vote from Boris to Penny. Interesting, to say the least:
Just before 1 p.m., Rishi had over 200 backers, double of what he needed:
At 2 p.m., the all-powerful 1922 Committee assembled at Conservative Party headquarters (CCHQ) to announce the results.
They had to meet at CCHQ, because while Rishi was the new Party leader, he was not yet Prime Minister and would not be able to enter No. 10 until he met with the King, who would grant him permission to form a government. The monarch returned to London on Tuesday, at which time Rishi's premiership was formalised.
According to the 1922 Committee, Boris had real numbers behind him — and had passed the threshold:
Guido reported:
For the historical record Nigel Adams says he met this morning with Bob Blackman, Joint Secretary of the 1922 Committee.
He has independently verified the nomination paperwork and confirmed to me that Rt Hon Boris Johnson MP was above the threshold required to stand for the Conservative Party leadership in this leadership election. Therefore Mr Johnson could have proceeded to the ballot had he chosen to do so.
The nominations process is confidential and it is up to individual MPs whether they wish to publicly announce who they back in leadership elections – Bob Blackman is verifying nominations today for the remaining candidates in this leadership election. Those still suffering from Boris Derangement Syndrome may need to seek help…
At the very last minute, Penny Mordaunt withdrew from the contest.
That meant Rishi had his 'coronation' as the only candidate left.
As such, the vote did not need to go to the Party members.
Conservative MPs were happy as Larry as they rejoiced that they finally got their man in office at last.
That evening, GB News reported that the Party's phone lines and website could not handle the amount of calls and clicks from members trying to cancel their membership.
They weren't angry at Rishi as much as they were the MPs who denied them a say.
End of series