You are currently browsing the tag archive for the 'Liz Truss' tag.
On Saturday, December 18, 2021, Lord Frost resigned as the UK Government's chief Brexit negotiator.
He cited his dissatisfaction with Boris Johnson's 'political direction':
Most Conservatives were in shock at the news. He was among the top-rated Cabinet members and was negotiating Brexit as well as could be expected, given the nature of the EU in Brussels:
Lord Frost had been in a Brexit negotiating post for two and a half years. He became a full Cabinet member on March 1, 2021, at which point he became Britain's chief negotiator, taking over from Michael Gove, who was then Chancellor of the Duchy of Lancaster.
Guido Fawkes has the text of Frost's acceptance of the Cabinet position:
I am hugely honoured to have been appointed Minister to take forward our relationship with the EU after Brexit. In doing so I stand on the shoulders of giants and particularly those of Michael Gove, who did an extraordinary job for this country in talks with EU over the past year.
Frost was sworn into the House of Lords on September 8 as Baron Frost of Allenton in the County of Derbyshire. Because of coronavirus, wearing ermine has been optional:
The most intractable part of Brexit has been — and continues to be — the EU's holding Northern Ireland hostage. Goods from Great Britain cannot get through, such as English oak trees, which the Province wants to plant for the Queen's Platinum Jubilee in 2022. British Christmas cards were taxed last year, according to EU rules. The transport of medicines is a much more serious problem.
Guido Fawkes has the full text of Lord Frost's resignation letter and Boris's reply.
This is the main highlight, wherein the peer mentions his 'concern about the current direction of travel', particularly with coronavirus lockdowns. Interestingly, he thinks that Brexit 'is now secure':
Although Lord Frost had tendered his resignation the week before, according to the Mail on Sunday, and had agreed to stay on until January, he changed his mind and left Government with immediate effect, after the Mail on Sunday leaked his impending departure a week before. See the end of the first paragraph of his letter below:
The story made the Mail on Sunday's front page on December 19. Frost also objected to, quite rightly, to tax hikes and green policies, neither of which is Conservative:
The article clearly worried some Conservative MPs. Sam Coates from Sky News tweeted a bit of their WhatsApp exchange.
Theresa Villiers wrote:
Very worrying that Lord Frost has gone.
Andrew Bridgen replied:
Worrying? It's a disaster. Lord Frost was concerned about the policy direction of the Gov. So are most of the Conservative backbenchers.
Marcus Fysh said, in part:
Frost is a hero and 100% right on this.
The day he resigned, The Spectator posted the text of Frost's speech to the Centre for Policy Studies, 'Britain needs low taxes and no vaccine passports'. Excerpts follow:
We can't carry on as we were before and if after Brexit all we do is import the European social model we will not succeed. We have not successfully rolled back the frontiers of the European Union from Britain with Brexit, only to import that European model after all this time …
It is all too easy to get captured by the interest groups and the lobbies. We don't have time for that. The world is not standing still. No-one owes us a living. Earning one is now fully in our own hands. The formula for success as a country is well known. Low taxes – I agree with the Chancellor, as he said in his Budget speech, our goal must be to reduce taxes.
Light-touch and proportionate regulation, whatever our policy objectives. Free trade – of course – simultaneously increasing consumer choice while reducing consumer costs. Ensuring competition stops complacency – keeping our economy fit and responsive to innovation and progress abroad.
And personal freedom and responsibility. Unavoidably, we have had a lot of state direction and control during the pandemic. That cannot and must not last for ever, and I am glad that it is not. I am very happy that free Britain, or at least merry England, is probably now the free-est country in the world as regards covid restrictions. No mask rules, no vaccine passports – and long may it remain so.
The Mail on Sunday's editorial explained why Frost's departure is a serious blow not only for the UK but also for Boris's premiership (emphases mine):
Lord Frost, the Brexit Minister, is the opposite of a career politician. He is a distinguished diplomat with a long record of skilled negotiation who gave his talents to Boris Johnson in the hope of getting Brexit done, successfully and to the benefit of this country.
He is a serious and substantial figure, a genuine patriot who believes in Britain …
He transformed the Brexit talks, symbolising a new, unapologetic and frankly patriotic approach by getting our negotiating team to wear Union Flag badges.
His approach was so unlike the feeble and defeatist attitudes of so much previous British contact with the EU that Brussels realised it was for once dealing with serious opponents, with an iron determination to stand up for ourselves …
But his departure is less to do with the continuing problems of sorting out the details of our new relationship with the Continent and more to do with the PM's conduct of the Covid crisis.
With his usual sharp perception, Lord Frost has decided that he has had enough of the Government's increasingly European-style approach to the pandemic.
Lord Frost has been among the strongest voices in Cabinet in favour of keeping the country open and for avoiding more legislative controls to deal with the disease. He is believed to have objected in principle to the idea of 'vaccine passports'. He is also thought to have been disillusioned by the latest resort to regulations.
This is all of a piece with his more general disenchantment with the whole policy direction of the Government in recent months – especially on tax rises and the green-driven preoccupation with the target of 'net zero' CO2 emissions.
This view meshes with his public statements, disagreeing with the European-style high- tax high-spend economic model recently embraced by the Chancellor. Lord Frost believes that such a policy, whatever the excuse for it may be, is unlikely to deliver the benefits of Brexit. These are serious objections from a serious man.
Boris Johnson, who understands very well the value of figures such as Lord Frost, needs to heed what he says, and soon. The Covid crisis has caused the Government to wander very far from the principles on which it was so decisively elected. And, while it is easy to read too much into bad by-election results, it would be very unwise for Mr Johnson to brush the North Shropshire defeat aside.
It is because he has failed to deliver what his supporters want that they are now prepared to shift their votes elsewhere. For the moment, protests of this kind are just a warning, as Lord Frost's departure is a warning.
But if these danger signals go unheeded in the year ahead, the Government will face a much more serious defection and its future could be in real danger.
The Sun's article was along the same lines, signposting danger for Boris, who was already sinking in the polls at the time:
Lord Frost's walk-out will intensify the pressure on Mr Johnson's faltering leadership — and will be particularly painful as he was his "Brexit brother in arms" …
A Downing Street source said: "This is a proper kick in the balls for Boris and the team.
"Frostie hated the Covid restrictions and higher taxes — but vaccine passports was the final straw."
The hammer blow came as Boris planned his fightback after his worst week in charge.
Senior allies have told him heads must roll if he is to cling on to power …
Cabinet big guns have said they will stand by the PM.
A source said yesterday: "We all need to pull together. We need the whips to make it clear that there is no other option than to stick with Boris."
The Spectator said that Frost's departure was worse for Boris than the recent Shropshire by-election loss, which saw the Liberal Democrats take over a long-standing Conservative constituency:
On December 19, Boris wasted no time in appointing Foreign Secretary Liz Truss as Frost's replacement:
Guido reported that Truss will be primarily responsible for the Northern Ireland Protocol negotiations and that Chris Heaton-Harris will become her deputy:
The Foreign Secretary is to become lead negotiator with the EU on the Northern Ireland Protocol, following the departure of Lord Frost.
Liz Truss will take over Ministerial responsibility for the UK's relationship with the European Union with immediate effect.
She will become the UK's co-chair of the Partnership Council and the Joint Committee, and will lead the ongoing negotiations to resolve the problems arising from the current operation of the Northern Ireland Protocol.
Chris Heaton-Harris will become Minister of State for Europe and will deputise for the Foreign Secretary as necessary on EU Exit and the Protocol.
Nikki da Costa, Former Director of Legislative Affairs at No 10, posted an incisive Twitter thread explaining how hard Lord Frost worked on Brexit negotiations, despite all the obstacles. He remained cool-headed and diplomatic throughout:
At that point, I will add that, having seen the Lords grill Lord Frost when he answered their questions, they gave him a very hard time. Not surprising, when most of them are Remainers, but he really did not need the extra aggravation.
Nikki da Costa concludes:
On December 20, The Spectator took a closer look at what Frost wanted out of negotiations concerning Northern Ireland. Henry Hill, who wrote the article and works for Conservative Home, concluded that the Government didn't have the nerve to go through with his plans:
Whether Frost speaks out or not, this speaks to a deeper political problem for the government. Frost could only ever be as muscular as Johnson was prepared to allow him. Thus, over the past couple of months, we have gone from a very robust line about triggering Article 16 — the mechanism that allows either side to suspend the Protocol — to the most recent news that actually, maybe the government's red line about the jurisdiction of the ECJ wasn't quite so red after all.
According to Dominic Cummings, Frost and his team did have a proper strategy for invoking Article 16 and using it to secure the reforms required to safeguard the integrity of the British state. But they knew the government didn't have the bottle for it. And following the departure of most of the rest of the Prime Minister's original Vote Leave team, they were also isolated within government.
Even accepting that Cummings has an axe to grind, that seems perfectly plausible. Johnson's overall approach to the Union has been wildly erratic. One might plausibly favour either a more conciliatory 'four nations' strategy or a more muscular approach to unionism. The government has instead lurched haphazardly between the two.
Boris's lurching, as the article puts it, seems to be affecting other areas of government policy:
It's the same story on pretty much every important area where the Tories should be pursuing structural change. Ambitious planning reform has been abandoned. Detailed proposals for reforming the courts have been sidelined in favour of disinterring David Cameron's 'British Bill of Rights'. I couldn't even tell you if this ministry has an education reform policy.
Time and again, Johnson has proven that his 'fight or flight' instinct is stuck on 'flight'. He's a talented campaigner with an uncommon knack for connecting with voters, at least until recently. But he isn't going to fight to the last for the things he believes in because neither fighting nor believing things are major parts of his political character.
That day, LBC (radio) interviewed Lord Frost, who said that being a Cabinet minister involves supporting Government policies, something he no longer felt he could do, hence his resignation (H/T Guido):
On January 8, 2022, the Mail reported that Lord Frost supports Boris as Prime Minister but thinks he has the wrong advisers. He also hit out at 'woke warriors', stifling public debate. How true — on both counts:
Boris Johnson must reset his Government along traditional Conservative lines if he is to avoid defeat at the next General Election, his former Cabinet Minister Lord Frost warns today.
In his first interview since his sensational resignation as Brexit Minister last month, Lord Frost calls on Mr Johnson to revitalise the country with 'free markets, free debate and low taxes' and to 'set the direction of travel' to appeal to ordinary voters.
He says that the course change is essential for the party 'if we're going to get out of this little trough and win the Election in a couple of years' time' …
Lord Frost makes clear he does not want Mr Johnson to stand down, but to change his policies – and the people around him.
'What I think we need to do is be clearer about the direction of travel, clearer about how we're going to get there. And I think the PM should trust his instincts a bit more,' he says, before criticising the No 10 operation.
'The PM has a right, when he wants something to happen, for the levers that he pulls to actually produce something. And he has the right to the best possible advice around him.
'So I think there needs to be machinery changes and there probably need to be some different voices around him to make sure that he gets the best possible advice.'
Setting out a manifesto for post-Brexit Britain, Lord Frost says: 'I think we need to focus on rebuilding the nation and be proud of our history.
'We need to get the country going economically again and that means free markets, free debate and low taxes. People need to look at this country and think, yes, something is changing here. You've got to set the direction of travel …
His intervention comes after Tory MPs were shaken by a poll in last week's Mail on Sunday showing a Labour lead of 16 per cent in the 'Red Wall' seats seized by Mr Johnson in the 2019 Election, which are critical to his chances of winning the next one.
Lord Frost says: 'I saw the polling and it doesn't look good. I don't think the Red Wall is so different to the rest of the country. What people want is their own lives to get better. They want control of their lives and to be prosperous' …
'It isn't about just, "Is this tax increase justifiable or not?" It's about the big-picture things we are trying to do and why.'
That includes the 'policing of people's opinions' by 'woke warriors' and mounting 'Twitter pile-ons' targeting those with opposing opinions.
'It really worries me it's becoming difficult to advocate certain positions that have been reasonable in public debate in the past,' Lord Frost says.
'All of Western history is about free debate, intellectual inquiry, the ability to take the conclusions where you find them.'
… Despite the many problems afflicting the Government, Lord Frost still believes that Mr Johnson will be Prime Minister this time next year, if he gets 'the right sort of support'.
Lord Frost refuses to name his preferred successor to Mr Johnson, although he believes that Brexit is safe in the hands of Ms Truss, who has taken over his portfolio …
How would he define 'Johnsonist Conservatism'?
'Good question. It's about a 'can do' attitude – he is relentlessly optimistic and positive about this country, which is a good thing, and he's right to be. I think his fundamental views about the world and politics are good ones.
'I look back to the speech he gave at party conference in 2018 about tax cuts.
'That was a good speech and I think we could get back to that.' 
Lord Frost expanded on his views in this January 21 interview with Mark Steyn on GB News, which is well worth watching:
With the controversy over Boris's Downing Street parties still a subject of daily debate, pending civil servant Sue Gray's report, on January 27, Frost said in The Sun that we should not condemn the Prime Minister until the facts are made available.
I am glad that he brought the PM's critics' hatred of Brexit into the mix, because that's what is really at the heart of the matter:
Sue Gray's report must be published and judgments must be made.
Her report may provide evidence to condemn the Prime Minister. 
Or it may turn out, as so often before, that his critics have allowed their dislike of Brexit, or of Boris Johnson personally, to blind them to the facts.
For my part, I think the Prime Minister of this country should have the right to be believed — unless there is clear contrary evidence. 
That is why the Gray report is so important. 
MPs will have to draw their own conclusions from it. 
On January 31, Lord Frost ruled out a return to Downing Street as an adviser.
The Telegraph's political editor tweeted:
Frost had tweeted:
I hope that Boris gets the message. He needs the proper help — and fast.
On Thursday, January 13, 2022, Lord Frost, who resigned as Brexit negotiator last December, gave an interview to The Telegraph in which he accused the UK Government of 'covid theatre'.
Another reason for his resignation was his disagreement with the Net Zero policy, which most households will not be able to afford:
In the video below, which is subtitled, Lord Frost why he objects to the most restrictive of the Government's coronavirus policies — lockdowns, masks, working from home and vaccine passports:
Good on him for objecting to what he described last month as Boris's 'direction of travel'. Many Conservatives agree but were sorry to see him go. He was a doughty negotiator, although Northern Ireland is still a sticking point with the EU.
Foreign Secretary Liz Truss has been appointed as Lord Frost's replacement, adding Brexit negotiations to her long list of responsibilities.
Tomorrow's post will feature a UK coronavirus roundup.
The UK had another big weekend of news, which, as I said last week, is unusual, given that Christmas is just around the corner.
One of the big scoops was The Spectator's revelation as to why every SAGE scenario is based on a worst-case outcome.
Fraser Nelson, the magazine's editor, had an online exchange with Graham Medley from SAGE, which can be seen in his article, 'My Twitter conversation with the chairman of the Sage Covid modelling committee', which is a must-read.
Excerpts follow, emphases mine.
Medley is a professor at London School of Hygiene & Tropical Medicine (LSHTM). Last week, LSHTM published another alarming set of figures for the Omicron variant that, naturally, make the case for more lockdowns.
By contrast, JP Morgan came up with a different conclusion after looking at LSHTM's data:
JP Morgan had a close look at this study and spotted something big: all the way through, LSHTM assumes that the Omicron variant is just as deadly as Delta. 'But evidence from South Africa suggests that Omicron infections are milder,' JP Morgan pointed out in a note to clients.
JP Morgan concluded:
Bed occupancy by Covid-19 patients at the end of January would be 33% of the peak seen in January 2021. This would be manageable without further restrictions.
Fraser Nelson says:
So JP Morgan had shown that, if you tweak one assumption (on severity) then – suddenly – no need for lockdown.
Nelson went online to find out why LSHTM didn't do the same thing:
Medley seems to imply that the Government wants the worst case scenario:
Nelson says:
Note how careful he is to stay vague on whether any of the various scenarios in the Sage document are likely or even plausible. What happened to the original system of presenting a 'reasonable worse-case scenario' together with a central scenario? And what's the point of modelling if it doesn't say how likely any these scenarios are?
From what Prof Medley says, it's unclear that the most-likely scenario is even being presented to ministers this time around. So how are they supposed to make good decisions? I highly doubt that Sajid Javid is only asking to churn out models that make the case for lockdown. That instruction, if it is being issued, will have come from somewhere else.
He concludes that there is an ethical issue with SAGE's pronouncements:
Prof. Robert Dingwall, until recently a JCVI [Joint Committee on Vaccines and Immunisation] expert, has said that Medley's candour reveals "a fundamental problem of scientific ethics in Sage" – ie, a hardwired negativity bias. "The unquestioning response to the brief is very like that of SPI-B's behavioural scientists," he says and suggests that the Covid inquiry looks into all this.
At a time when we have just been given a new set of 'scenarios' for a new year lockdown it might be good if someone – if not Prof Medley – would clear up what assumptions lie behind the new 6,000-a-day-dead scenario, and if emerging information from South Africa about Omicron and its virulence have been taken into account. And how probable it is that a double-jabbed and increasingly boosted nation (with 95 per cent antibody coverage) could see this worst-case scenario come to pass.
In my view, this raises serious questions not just about Sage but about the quality of the advice used to make UK lockdown decisions. And the lack of transparency and scrutiny of that advice. The lives of millions of people rests on the quality of decisions, so the calibre of information supplied matters rather a lot – to all of us.
Too right.
I haven't believed SAGE at all, from the beginning. I am also still angry about how much taxpayers' money has been pumped in for a pandemic that needed a common sense solution in March 2020, such as, 'There are a lot of unknowns here. We will provide updates. However, we advise that anyone who feels sick to get a test then isolate at home for 10 days. Keep your distance from those outside your household. Keep your hands clean. Above all: use the same precautions you would in any potentially contagious environment.'
That's it in a nutshell. Not a lot more needed to be said.
But no.
We plebs couldn't have that. We cannot be trusted.
Chief Medical Officer Prof Chris Whitty implied that we do not know what we are talking about.
This video is from Whitty's appearance before a parliamentary Select Committee on Thursday, December 16. Dean Russell MP (Conservative) asked him whether the NHS risks prioritising the virus over cancer. While it might not be Dean Russell's view, this is a prevailing opinion among many members of the public.
Whitty wasted no time in shooting that down, saying that we do not understand 'health' and insisting that lockdowns helped to save the NHS, which would have collapsed otherwise. Along with Prof Gordon Wishart, I also beg to differ, but here is the exchange:
People are frustrated:
General practitioners are wrapped up in this, too:
Coronavirus has overtaken their surgeries. It was already nearly impossible to get an online appointment, never mind one in person. As of last week, GPs' priority from the Government is to dispense boosters:
No, pandemics are not a regular occurrence, but the NHS should be prepared to deal with one.
On Monday, December 20, Boris convened the Cabinet for a two-hour meeting to discuss the possibility of imposing a Christmas lockdown in England. Sir Patrick Vallance presented a doom-and-gloom scenario.
Bear in mind that Boris is skating on thin ice at the moment politically. A lockdown might have caused some of them to resign their Cabinet positions.
In the end, they decided not to go for a lockdown in England, at least over Christmas weekend:
Well, five of them did, at least.
Foreign Secretary Liz Truss had to leave early:

Guido Fawkes has more (red emphasis his, the purple one mine):
The Times and Telegraph have the most comprehensive write-ups, reporting Rishi, Steve Barclay and Grant Shapps were those leading the sceptics' charge. The Times reports Jacob Rees-Mogg had a prolonged argument with Vallance about their modelling, telling Boris to trust the people rather than the scientists. Truss, Kwarteng, Alister Jack, Nadhim Zahawi and Nigel Adams are all also reportedly sceptical about the threat of Omicron…
On the other side of the divide backing restrictions, according to The Telegraph, are (unsurprisingly) Javid and Gove; Nadine Dorries and Chief secretary to the Treasury Simon Clarke. We can only presume the PM also errs towards this group. There's set to be one more Cabinet before Christmas day that could still decide to recall MPs before New Year.
Katy Balls of The Spectator reports that this is the first time in ages that the Cabinet has been consulted on coronavirus policy:
So what happened in that meeting? 'Boris did a great job and encouraged a proper discussion and respected other views,' says one minister. 'He had quite a lot humility'. Michael Gove was, as usual, leading the arguments for more lockdown. But this was based on Sage forecasts of what might happen which have lost some credibility in the eyes of Cabinet members who were — for the first time in a while — genuinely being consulted.
Boris knows he's in trouble:
Several members of Johnson's Cabinet are vocally opposed to new restrictions. They argue that there needs to be clearer data before any restrictions are brought in – with whispers of resignations if Johnson pressed on without this. These members of government hope that more time will offer clarity that could show omicron is milder than previous variants.
Behind the scenes, the Chancellor is understood to have played a key role warning against rushing into decisions that could cost billions. Other ministers keen to see more modelling include Commons leader Jacob Rees-Mogg and Transport Secretary Grant Shapps ("although it was never quite clear what he was saying," I'm told.) Other ministers have been pressing on Johnson the idea of limiting any new measures to guidance.
But when Johnson emerged talking about the need to observe the data, and questions about Omicron's severity, he was using the language of those who opposed lockdown. They argue, in effect, that Sage models cannot be trusted as they are composed of hypotheticals – and that we need to wait for real-world data. The next few days of hospital data, it's argued, will tell us much about how severe Omicron is and if lockdown is needed. Data is emerging not just from South Africa (where cases now seem to be falling) but Denmark where Omicron has been found to be significantly less likely to put patients in hospital. At least some Sage modellers produced figures on the assumption that Omicron is no less likely to hospitalise or kill: one scenario talks about deaths peaking a day …
Johnson faces a parliamentary party filled with MPs vehemently opposed to any new restrictions and who could question his ability to lead as a result. When the Whips office sent a note around this afternoon telling MPs that the parliamentary away day has been cancelled, one messaged me to say:
'It's probably for the best. If we were all in one place for a few days, we could work out a successor'
But there are Tory MPs who believe action is required. One senior Tory concludes:
'This is a Prime Minister paralysed between science and his backbenchers. It's depressing.'
The Times reports on Leader of the House Jacob Rees-Mogg's words of wisdom. He, too, read Fraser Nelson's article. Good man:
Jacob Rees-Mogg, leader of the Commons, said the government should trust people to do the right thing rather than introduce further restrictions. He said many people had voluntarily changed their behaviour as the threat posed by Omicron became clear.
The prime minister said Rees-Mogg's argument was interesting but asked how he would justify his approach at a press conference. He said that as prime minister he had to look after everyone's health. Rees-Mogg is understood to have responded: "I would stand up and say I respect them for doing the right thing." The prime minister is said to have suggested that this would not be enough if the NHS were at risk of being overwhelmed.
Rees-Mogg is also understood to have criticised official modelling suggesting that without further action 3,000 Omicron patients a day could need a hospital bed. He asked if Johnson had read an article by Fraser Nelson, editor of The Spectator, questioning the assumptions behind the data.
Sir Patrick Vallance, the chief scientific adviser, is said to have responded directly to Rees-Mogg that the modelling had included scenarios where the Omicron variant was deemed less severe than the Delta variant.
If so, why did Vallance not present those data?
Boris made a brief announcement after the Cabinet meeting, saying that he is still keeping all options open after Christmas:
On Wednesday, December 22, Health minister Gillian Keegan told LBC's Nick Ferrari not make firm plans for New Year's parties because of ongoing 'uncertainty':
As people have been cancelling dinner reservations and reneging on trips to the pub, Chancellor Rishi Sunak has had to come up with a £1bn compensation plan for the hospitality sector, which amounts to £6000 per business. A nightclub owner says it's 'insulting'. I agree with the person replying — just drop any remaining restrictions:
When is this going to end?
Oh, well. At least we're not in the socialist nations of Scotland or Wales, where things have been far worse and continue so to be.
Yesterday's post discussed the first three days of the Conservative Party Conference.
Today's entry will look at Prime Minister Boris Johnson's speech on Wednesday, October 6, 2021.
It was still content-light, but at least he explained what 'levelling up' is. More on that below.
But first, let's look at what happened the night before, the last opportunity for MPs and the party faithful to get together on the dance floor.
Tuesday, October 5, after hours
Pensions minister Thérèse Coffey had a great time as the temporary £20 Universal Credit boost came to an end.
A cold fish at the despatch box at the best of times, Coffey showed us a different side of herself as she, a chemist by training, belted out 'Time of My Life' from Dirty Dancing (video credit to the Daily Mail):
The Mail reported (emphases mine):
The cabinet minister in charge of Universal Credit was slammed today for belting out Time of My Life at a boozy Conservative party Conference karaoke bash hours before cutting payments to six million people.
Work and Pensions Secretary Therese Coffey enthusiastically belted out the 1987 power ballad from the film Dirty Dancing in a duet with fellow Will Quince – a former welfare minister.
It came as a £20-per-week Covid uplift payment was removed from UC for families across the UK.
The Government has pressed ahead with the cut despite concerns – including from Tory backbenchers – that hundreds of thousands of people will be plunged into poverty.
From today, no assessments will include the uplift, meaning that from October 13 – a week later – no payments will be received that include the extra money.
I don't know what I think about removal of the £20 uplift. The Government always said in Parliament that it was temporary and stated months ago that it would end in October 2021. I feel for those families. On the other hand, the last thing I want to see is Universal Basic Income, and if this £20 were maintained, it would have been a slippery slope along that road.
Furthermore, there are plenty of job vacancies and salaries are going up. Note the decrease in people clicking on the vacancies, however. Hmm:
Two other MPs, Levelling Up minister Michael Gove, in the process of divorcing his wife, and Tom Tugendhat, danced together. Guido referred to this season's Strictly Come Dancing:
It was only a few weeks ago that Gove spent the early hours of one morning dancing in a nightclub in Aberdeen, his home town.
The Mail reported:
Michael Gove has been spotted rocking the dance floor again – this time busting moves to Whitney Houston's I Wanna Dance With Somebody and belting out Bonnie Tyler's Total Eclipse Of The Heart at the Tory party conference. 
One hilarious clip shows the Levelling Up Secretary, 54, arm in arm with Tom Tugendhat as he throws his finest shapes to a cover of the 1987 hit while wearing a suit and tie – just a month after his infamous night out in Aberdeen.  
Newly-single Mr Gove, and Mr Tugendhat, MP for Tonbridge and Malling, are seen taking turns to spin each other as they go all out at the gathering – which is not usually known as a hotbed of hedonism. 
In a second clip shared by The Sun, Gove can be seen passionately singing along to Bonnie Tyler's hit 1983 anthem with his mouth wide open, hands interlocked with an unidentified woman in front of him.
Meanwhile, at another Conference party event, Liz Truss danced to Beyonce (video credit to Guido Fawkes):
Wednesday, October 6
Wednesday was Boris's big day.
He abandoned his diet temporarily:
Guido Fawkes has the calorific coffee order:
Sat in the conference exhibition hall ahead of Boris's speech Guido was astonished to overhear the Speccie's Katy Balls being told by a barista that Boris's aides turned up at his stall yesterday to fetch the boss a coffee. The coffee order in question was a stomach-churning triple shot flat white, with extra caramel syrup with three sugars – an astonishing departure from the diet Carrie supposedly put him on after his Covid hospital trip.
Later, an appreciative crowd gave their Party leader a standing ovation:
Guido has the full text of Boris's speech, which was not much shorter than Keir Starmer's last week but was delivered in half the time: 45 minutes compared with 90.
Before going into Boris's speech, Keir Starmer's speechwriter dived in to say that his went on 'absolutely' too long:
Guido reported that Philip Collins, Starmer's speechwriter (and Tony Blair's), said the policy sections were 'a bit baggy' (red emphases in the original, purple one mine):
Philip Collins, the man who drafted Sir Keir's epic 90-minute address at Labour Conference last week, has admitted the speech "absolutely" went on too long – and even claimed the sections on policy (such that they were) were "a little bit baggy" and yes, "boring". This is a speech he wrote only a week ago…
Speaking on Politico's Westminster Insider Podcast, Collins said:
"It's always the same bits […] the policy bits are very, very difficult to bring to life. If you don't include them, everybody will write that you have nothing to say, that you're empty […] those bits, if I'm critical, could have been tighter, could have been more compressed. I think they were a bit long, a little bit baggy."
Which in view of criticisms of Boris that his conference speech was light on policy detail, suggests he made the right call. Collins, who was also Tony Blair's wordsmith, goes on to say that while he thought Starmer handled the inevitable heckles well, the interruptions and subsequent applause ("people enjoyed it far too much!") contributed to the running time, claiming Starmer "was getting standing ovations for things that were just basically boring lines that were meant to just take you to the next stage of the speech". "It got ridiculous", Collins said…
Returning to Boris, Guido also has videos of his speech.
It was clear that Boris, a former journalist, penned the words himself.
He opened with an amusing put-down of former Labour leader Jeremy Corbyn, recalling the 2019 election:
Isn't it amazing to be here in person, the first time we have met since you defied the sceptics by winning councils and communities that Conservatives have never won in before – such as Hartlepool. In fact it's the first time since the general election of 2019 when we finally sent the corduroyed communist cosmonaut into orbit where he belongs …
Then he threw in a joke about Michael Gove:
The Mail was on hand to give us Gove's reaction:
Prime Minister Boris Johnson later referenced Mr Gove's disco moves at his conference speech today, branding him 'Jon Bon Govi' – prompting the minister to turn bright red.
Here's Guido's video:
Boris said:
… for months we have had one of the most open economies and societies and on July 19 we decided to open every single theatre and every concert hall and night club in England and we knew that some people would still be anxious, so we sent top government representatives to our sweatiest boîtes de nuit to show that anyone could dance perfectly safely and wasn't he brilliant my friends? Let's hear it for Jon Bon Govi, living proof that we, you all, represent the most jiving, hip, happening and generally funkapolitan party in the world.
Tom Harwood, a Guido alum now working for GB News, gives us tweeted highlights.
Despite the rise in National Insurance tax, Boris insisted that Britain would move towards a low-tax economy:
Boris then had a go at Labour:
He then went on to slam Insulate Britain, which had blocked the roads for ten consecutive days at that point (12 as I write):
He discussed immigration from Afghanistan and Hong Kong …
… adding:
We are doing the right and responsible thing and, speaking as the great grandson of a Turk who fled in fear of his life, I know that this country is a beacon of light and hope for people around the world, provided they come here legally, provided we understand who they are and what they want to contribute, and that is why we took back control of our borders and will pass the borders bill, because we believe there must be a distinction between someone who comes here legally and someone who doesn't, and, though I have every sympathy with people genuinely in fear of their lives, I have no sympathy whatever with the people traffickers who take thousands of pounds to send children to sea in frail and dangerous craft. And we must end this lethal trade. We must break the gangsters' business model.
He made reference to 2022's general election in France and the newly-conservative outlook on the EU and immigration from our Brexit negotiator:
And is it not a sublime irony that even in French politics there is now a leading centre right politician calling for a referendum on the EU. Who is now calling for France to reprendre le controle?? It's good old Michel Barnier. That's what happens if you spend a year trying to argue with Lord Frost, the greatest frost since the great frost of 1709.
Boris then illustrated what he means by 'levelling up'. Different areas of England will get solutions to their specific needs:
I will tell you what levelling up is. A few years ago they started a school not far from the Olympic park, a new school that anyone could send their kids to in an area that has for decades been one of the most disadvantaged in London. That school is Brampton Manor academy and it now sends more kids to Oxbridge than Eton. And if you want proof of what I mean by unleashing potential and by levelling up, look at Brampton Manor, and we can do it.
There is absolutely no reason why the kids of this country should lag behind, or why so many should be unable to read and write or do basic mathematics at the age of 11. And to level up – on top of the extra £14 bn we're putting into education and on top of the increase that means every teacher starts with a salary of £30k – we are announcing a levelling up premium of up to £3000 to send the best maths and science teachers to the places that need them most.
And above all we are investing in our skills, skills, folks. Our universities are world beating. I owe everything to my tutors and they are one of the great glories of our economy, but we all know that some of the most brilliant and imaginative and creative people in Britain – and some of the best paid people in Britain – did not go to university. And to level up you need to give people the options, the skills that are right for them. And to make the most of those skills and knowledge and to level up you need urgently to plug all the other the gaps in our infrastructure that are still holding people and communities back.
As I've been saying over this wonderful conference to you when I became leader of this party, there were only, can you remember, what percentage of households had gigabit broadband when you were so kind as to make me leader? 7 percent, only 7 percent, and by the new year that will be up to 68 per cent. Thanks to Rishi's super-deduction the pace is now accelerating massively as companies thrust the fibre-optic vermicelli in the most hard to reach places.
On that topic, he had a witty go at Scotland's Ian Blackford MP, a multi-millionaire who gives the impression he has nothing. This bit is about the remote video connections Parliament had during the pandemic:
It's wonderful, for years SNP leader Ian Blackford has been telling the Commons that he is nothing but a humble crofter on the Isle of Skye. Well, now we have fibre optic broadband of very high quality that we can inspect the library or is it perhaps the billiard room of Ian Blackford's croft. And that is levelling up in action.
Boris wants to get Britons back in the office:
And my friends it is not good enough just to rely on Zoom. After decades of ducked decisions, our national infrastructure is way behind some of our key competitors.
It is a disgrace that you still can't swiftly cross the Pennines by rail, a disgrace that Leeds is the largest city in Europe with no proper metro system, a waste of human potential that so many places are not served by decent bus routes. Transport is one of the supreme leveller-uppers and we are making the big generational changes shirked by previous governments.
We will do Northern Powerhouse rail. We will link up the cities of the Midlands and the North. We will restore those sinews of the union that have been allowed to atrophy: the A1 north of Berwick and on into Scotland, the A75 in Scotland that is so vital for the links with Northern Ireland and the rest of the country, the North Wales corridor. And we will invest in our roads, unblocking those coagulated roundabouts and steering-wheel-bending traffic lights, putting on 4000 more clean green buses made in this country, some of them running on hydrogen.
And as we come out of Covid, our towns and cities are again going to be buzzing with life because we know that a productive workforce needs that spur that only comes with face to face meetings and water cooler gossip.
If young people are to learn on the job in the way that they always have and must, we will and must see people back in the office. And that is why we are building back better with a once in an a century £640bn pound programme of investment.
And by making neighbourhoods safer, by putting in the gigabit broadband, by putting in the roads and the schools and the healthcare, we will enable more and more young people everywhere to share the dream of home ownership, the great ambition of the human race that the left always privately share but publicly disparage.
And we can do it.
He discussed rewilding Britain:
We are going to re-wild parts of the country and consecrate a total of 30 per cent to nature. We are planting tens of millions of trees.
Otters are returning to rivers from which they have been absent for decades. Beavers that have not been seen on some rivers since Tudor times, massacred for their pelts, and now back. And if that isn't conservatism, my friends I don't know what is.
Build back beaver.
And though the beavers may sometimes build without local authority permission, you can also see how much room there is to build the homes that young families need in this country.
He talked about the housing crisis and the importance of home ownership, especially for the young:
He praised the success of the coronavirus vaccine rollout and the contribution of private enterprise:
He wittily criticised Labour's reluctance to accept the Government's pandemic strategy:
Boris discussed the Labour Party conference and Sir Keir Starmer. This is classic Boris:
Did you see them last week, did you watch them last week in Brighton? Hopelessly divided I thought they looked.
Their leader looked like a seriously rattled bus conductor, pushed this way and that by, not that they have bus conductors any more, unfortunately, like a seriously rattled bus conductor pushed this way and that by a Corbynista mob of Sellotape-spectacled sans-culottes or the skipper of a cruise liner that has been captured by Somali pirates desperately trying to negotiate a change of course and then changing his mind.
He discussed getting a trade deal with the United States, especially our export of British beef:
He touched on AUKUS …
… and Labour's opposition to that alliance:
He also addressed political correctness, which, frankly, has only worsened under this Government. He really does need to tackle it, so I hope he means what he says here. On a lighter note, he mentioned Michael Gove again:
We are led by our values, by the things we stand for. And we should never forget that people around the world admire this country for its history and its traditions. They love the groovy new architecture and the fashion and the music and the chance of meeting Michael in the disco. But they like the way it emerges organically from a vast inherited conglomerate of culture and tradition. And we Conservatives understand the need for both and how each nourishes the other. And we attack and deny our history at our peril. And when they began to attack Churchill as a racist I was minded to ignore them. It is only 20 years ago since BBC audiences overwhelmingly voted him the greatest Briton of all time, because he helped defeat a regime after all that was defined by one of the most vicious racisms the world has ever seen.
But as time has gone by it has become clear to me that this isn't just a joke. They really do want to re-write our national story starting with Hereward the Woke. We really are at risk of a kind of know-nothing cancel culture, know-nothing iconoclasm. And so we Conservatives will defend our history and cultural inheritance, not because we are proud of everything, but because trying to edit it now is as dishonest as a celebrity trying furtively to change his entry in Wikipedia, and its a betrayal of our children's education.
He closed by paying tribute to England footballers, Emma Radacanu and Team GB's Olympians and our Paralympians, who did so well this year:
The spirit of our Olympians. It is an incredible thing to come yet again in the top four, a formidable effort for a country that has only 0.8 per cent of the world's population … but when we come second in the Paralympics as well – that shows our values, not only the achievement of those elite athletes but a country that is proud to be a trailblazer.
To judge people not by where they come from but by their spirit and by what is inside them.
That is the spirit that is the same across this country, in every town and village and city that can be found. That can be found in the hearts and minds of kids growing up everywhere.
And that is the spirit we are going to unleash.
The crowd loved every minute:
Tom Harwood interviewed party members afterwards, all of whom gave Boris's speech rave reviews:
I could go into the pundits' analyses, but why bother? So many are disgruntled Remainers, still licking their wounds over Brexit, which means that they will attack any Conservative policy.
As a former boss of mine used to say: 'Onwards and upwards!'
The Conservative Party Conference took place in Manchester from Sunday, October 3 through Wednesday, October 6, 2021.
It was the first one since 2019, which was two months before their victory in the December 12 election that year.
UK in crisis
This year's conference took place during the ongoing petrol supply problems and shock record-breaking hikes in gas futures on Tuesday and Wednesday:
On top of that, on Wednesday, Reuters reported that the UK's petroleum regulator rejected Shell's plans to redevelop the Jackdaw gasfield in the North Sea (emphases in purple mine):
"We're disappointed by the decision and are considering the implications," a Shell spokesperson said.
It was unclear on what grounds the Offshore Petroleum Regulator for Environment and Decommissioning (OPRED) refused to approve the environmental statement for the field's development.
The Department for Business, Energy and Industrial Strategy, under whose umbrella OPRED operates, did not immediately reply to a request for comment.
Maddening.
The supply chain crisis for food continues. On Wednesday, The Times reported The National Pig Association warned retailers that 120,000 pigs would have to be slaughtered because of a lack of butchers. Some pig farmers are closing down altogether.
Some supermarkets are also suffering from empty shelves. Tesco, however, is bucking the trend. The Times reported that the supermarket chain is:
often highest up the pecking order when it comes to suppliers committing to make the business a priority …
Good for them.
Conference theme disappointing
The conference theme was … Build Back Better.
How awful.
Here it is draped across Central Station Manchester:
The Conservatives riffed on this in a Bake Off-style event. Pictured with Prime Minister Boris Johnson is Home Secretary Priti Patel:
Having listened to some of the speeches and read excerpts from others, they were all light in content. Most of them were pep rally or visionary statements rather than what plans Cabinet ministers have for the nation.
As The Telegraph's Madeline Grant wrote:
Never at a Tory Conference has so little been said, by so many, to so few.
Sunday, October 3
As the conference opened, rumours circulated about three unnamed Labour MPs thinking of crossing the aisle to the Conservatives, as the Mail on Sunday reported:
Guido Fawkes had more on the story (emphases in red Guido's):
… this is due to disillusionment with Starmer's leadership, with the MPs already having opened up "lines of communication" with Tory whips. In related news, a senior Labour MP was spotted by a co-conspirator chatting with two Mail on Sunday hacks and three senior Tory advisors at a conference bar last night…
The day's big event, according to The Spectator, was the drinks party that the 1922 Committee of backbenchers held, sponsored by ConservativeHome. Interestingly, a long-time Labour MP for north-west London — Barry Gardiner — was in attendance:
… the main focus of the night was the 1922 drinks with ConservativeHome in a room stuffed full of parliamentary talent and, for some reason, Barry Gardiner.
Strangely, Boris did not appear, leaving a gap which Chancellor of the Exchequer Rishi Sunak ably filled (video):
While Johnson was not scheduled to make an appearance here, Prime Ministers have traditionally done so in the past to pay tribute to their colleagues. His 'disappointing' absence – in the words of one disgruntled backbencher – left a vacuum for Sunak to fill, in a room full of MPs who will presumably one day decide who Johnson's successor should be.
The Chancellor leapt to the stage to tell fellow Tories about what he was most looking forward too at conference: Michael Gove dancing, the PM running in a full suit (not just a shirt) and 'machine like message discipline from every single one of you – and that means you too Cabinet.' He added that 'I've got your back' to anxious MPs in the room and that 'for the record I too am a low tax conservative' – welcome words for those party donors who Mr S[teerpike, columnist] understands attended a 'tense' meeting earlier at the Midland, amid considerable unease at the recent NI [National Insurance] hike.
In such circumstances, perhaps it's understandable that Boris would stay away.
According to The Telegraph, senior Conservatives have warned Boris not to dream up any more future tax hikes:
Earlier that day, Boris gesticulated wildly at the BBC's Andrew Marr, saying, 'You have no fiercer opponent to tax rises than me'. This probably means more tax rises are on the way:
The Spectator has more on the interview.
On tax hikes, Sir Desmond Swayne MP told talkRADIO's Julia Hartley-Brewer the raw truth. He added that lower taxes will enable greater economic growth:
Another event that Boris avoided was the one by the Tory Reform Group (TRG), which wants the Conservatives to move closer to the centre politically. They are Remainers. The Spectator reported:
Theresa May's former deputy Damian Green welcomed attendees …
Green, a mainstay of various causes on the left-ish wing of the party over the past two decades, told activists that it was their task to 'make sure that the voice of moderate conservatism, centre-right conservatism is as strong as possible within the party' – a job 'never more important than today because there are times when I slightly feel that it is only people like us that stop this party drifting back to being seen as the nasty party.' A tacit rejoinder to Priti Patel perhaps?
But then it was time for the speaker and the great white hope of Tory moderation. Tom Tugendhat, the chairman of the Foreign Affairs Select Committee, took to the stage to ecstatic applause and, like Green, was under no illusions about the awesome responsibility he and his One Nation caucus members share – to keep the Conservative party effectively sane …
There was also ample time for several potshots at the current Tory leader Boris Johnson, with whom Tugendhat is said to enjoy a wary relationship.
Foreign Secretary Liz Truss, tipped to be a future Party leader, also made the rounds that day (video):
The fringes were packed last night as Tory ministers did the rounds. Liz Truss, the darling of the free market think tanks, appeared at the Think Tent equipped with a magnificent blow dry and an applause-winning speech which castigated cancel culture as 'fundamentally wrong.' That and other jibes at identity politics in her conference address lead the Daily Mail this morning to ask whether she is in fact the new Mrs Thatcher.
Several reporters wrote about her new hairdo, which, to me, didn't look much different from the old one.
Returning to the mysterious Labour people who might want to change parties, here's Manchester mayor Andy Burnham, a former Labour MP, heaping praise on Michael Gove, the minister in charge of Boris's levelling up programme. Burnham spoke to Trevor Phillips on Sky News that morning. Hmm:
Neither Andy Burnham nor Barry Gardiner is a Conservative. Crossing the aisle for ideals they don't believe in seems a rather rash way of getting their own back at Keir Starmer.
Boris made four appearances at conference that day, including one for the Scottish Conservatives. Guido captured his wit along with audio:
The PM warned of a "crackpot coalition" between the SNP and Labour – "the only way they could" kick the Tories out.
He described the Labour conference as "a total rabble", saying it had the air to him of "a seriously rattled bus conductor" facing an "insurrection on the top deck of the bus", or the "captain of a Mediterranean cruise ship facing insurrection by a bunch of Somali pirates".
Douglas Ross MP/MSP also addressed Scottish Conservatives. As party leader in Scotland, he wants to position the party as that of the nation's working class. It's a good move, as The Spectator reported:
Like all good fables, Douglas Ross's speech at Tory conference had a beginning, middle and end. Act One detailed the many iniquities of the SNP, from their dysfunctional vaccine passport scheme to their Hate Crime Act, and most of all their agitation for Scotland to break away from the UK. Act Two took the sword to Labour, bemoaned its abandonment of working-class voters and its internal divisions over the constitution. Theirs was not the party to take on the SNP. Only one party was and it was the subject of Act Three, in which Ross deepened a theme begun under Ruth Davidson's leadership: the Scottish Conservatives as the party of the Scottish working-class.
He hit all the familiar notes about the SNP's failings in government, the ones that never seem to stick longer than two or three news cycles and are invariably forgotten about by the next election. He also hinted at an interesting theme that, if teased out carefully, could come into greater play. It is the perception, no longer wholly limited to unionists, that Nicola Sturgeon is a bit… off. Out of touch. Superior. Maybe even a bit of a snob.
In other news, last week, Labour's Angela Rayner called Conservatives 'Tory scum'. Feisty Dehenna Davison MP, representing Bishop Auckland as the constituency's first Conservative, had 'Tory Scum' badges made.
This harks back to 1948, when Aneurin 'Nye' Bevan said the Conservatives were 'lower than vermin'. Following that, the Conservatives formed the Vermin Club. Club member Margaret Roberts — who would become Margaret Thatcher — also had 'Tory Vermin' badges made, as Nigel Farage told Dehenna Davison on GB News:
Party chairman Oliver Dowden pledged that the Conservatives would do away with ugly new housing developments by strengthening planning laws.
He also assured the public that they would have turkeys for Christmas, referring to ongoing supply chain problems.
Monday, October 4
Monday opened with the latest ConservativeHome popularity poll.
Liz Truss is at the top. Other MPs pictured are (left to right) Defence Secretary Ben Wallace, Leader of the House Jacob Rees-Mogg, Chancellor Rishi Sunak and Education Secretary Nadhim Zahawi:
Guido analysed the results, excerpted below:
The turn round in her fortunes from last year when she was being tipped to be sacked from the Cabinet is quite something. Liz is one of the increasingly rare consistently free market voices around the Cabinet table…
Rishi Sunak is down by some 10 points and moves from second to fifth place. Rishi's tax hikes have clearly taken the gloss off him with the true blue believers. 
Grant Shapps [Transport] and Priti Patel are bumping along the bottom in barely positive approval territory. Shapps has been doing fairly well with the incredibly difficult transport brief. Patel is suffering because she has failed to do the seemingly impossible – stop the cross channel migrants. Tory activists are unforgiving, they don't want excuses, they want results.
It was the turn of Rishi Sunak to address the party faithful.
A rise in council tax would not go down well. Meanwhile, protesters pelted Sir Iain Duncan Smith MP with a traffic cone:
Some at conference are disappointed with Sunak, whose budget comes up in a few weeks' time. Steve Baker MP is pictured in the second tweet:
Boris was out and about in Greater Manchester. He spoke to an interviewer about policing and said that the Government needs to change its culture, which has become misogynistic, particularly in light of the Sarah Everard murder earlier this year, committed by … a policeman, who recently received a life sentence.
In other news, Justice Secretary Dominic Raab plans to reform UK human rights legislation and do away with the ties to EU human rights legislation we are still under.
With regard to the Labour mystery, Manchester's mayor, Andy Burnham, had a conversation with Levelling Up minister Michael Gove, whom he had praised the day before. The Mail reported that Burnham was also due to address Conservatives at a fringe event sponsored by Transport for the North the following day. Hmm.
The cervix question that appeared at Labour's conference was also brought up with Conservatives. Dominic Raab responded by bringing up both misogyny and misandry in a highly confused way (video):
Two MPs decided to have a bit of fun with the issue as they drove to Manchester together:
Guido recapped their amusing exchange:
Health-conscious Conservative MPs Marco Longhi and Lee Anderson don't want to fanny about when it comes to their well-being. Marco, according to their road-trip video, made sure to receive a cervix exam before heading to conference this week. Always better to be safe than sorry…
Why is it that no one ever asks if women have a prostate gland?
On the subject of health, Desmond Swayne told Julia Hartley-Brewer why he is firmly against vaccine passports:
Lord Frost (pictured on the right) threatened the EU over the post-Brexit trade issues with Northern Ireland. Outside of the conference, pig farmers protested over the inability to get their stock to market. Boris had said that government cannot solve every issue, referring to the supply chain problem. He also told British businesses to hike staff salaries, which did not go down well, either:
I think they should give the meat away. A lot of poor families would appreciate it.
Tuesday, October 5
Boris began the day with an interview to LBC's Nick Ferrari. Extinction Rebellion offshoot Insulate Britain had blocked some of Britain's roads for the ninth consecutive day.
Despite injunctions from Priti Patel's Home Office, their human blockades continue.
Boris told Ferrari they are 'irresponsible crusties' (video). The question remains whether Extinction Rebellion gets any Government funding:
Dominic Raab confirmed in his speech that he would be reform the Human Rights Act to free it from EU hackles.
Guido's post includes a quote and this summary:
They will detach it from the ECHR, enabling quicker deportations of convicted criminals and swifter action on domestic abusers …
Raab's successor at the Foreign Office, Liz Truss, confirmed a trip to India later this month, ahead of COP26 in Glasgow in November.
Guido had a chat with her:
Among other topics, the foreign secretary confided in Guido she was finding the new department's mandarins to be "a bit 'Yes, Minister'"…
Rishi Sunak addressed the Northern Powerhouse Leaders' Lunch.
Guido says:
Sunak claimed that there is a "new age of optimism" in the north thanks to Red Wall Tories, and heaped them with praise for "helping to change our party and change our country". "In me, you have a Chancellor who is going to be with you every step of the way," he added.
See? I told you these speeches were content-free.
Later in the day, he appeared at a fringe event where he was asked about the cost of Net Zero. This was his alarming answer:
Health Secretary Sajid Javid promised another reform of the NHS, which mostly involves digitisation. I can think of more pressing NHS concerns and agree with Guido:
… pouring in taxpayers' money without checking how it's being spent isn't enough. That cash needs to be put to good use. Reviewing the eye-watering pay packets of some NHS diversity managers would be a start…
The Telegraph's Christopher Hope interviewed Oliver Dowden, who is thinking about resurrecting the singing of the National Anthem at conference, calling it a 'splendid idea'.
Hope also took the opportunity to present Dowden with a 'Tory Scum' badge, which he put on and said he would wear for the duration of the interview. Hope suggested he wear it until the end of conference.
This video shows the badge exchange. Hope gives us more information on the aforementioned Vermin Club:
Guido says that the badges were most popular. Dehenna Davison had to order more:
Many conference-goers have spent the last couple of days asking Davison for one of her badges, only to be disappointed upon being told she'd run out. Good news however, after Davison put in an emergency order for 400 more given their popularity…
The most outrageous session of the day — and a British first — was an address by the Prime Minister's wife to Party faithful. No Prime Minister's spouse — we've had two husbands in that role — has ever made a party political address until now:
Never mind the subject matter: was it the right thing for Carrie Johnson to do — even if she is a very good public speaker? Boris watched from a distance.
Polling stable
I'll review Boris's closing speech in tomorrow's post.
Post-conference polling is stable. YouGov's was taken on Tuesday and Wednesday:
Sir Desmond Swayne explained to Julia Hartley-Brewer that Boris's popularity and the lack of ideas from the Opposition have buoyed the Conservatives:
What Government should do next
Health Secretary Sajid Javid needs to keep a gimlet eye on NHS spending, especially on things like this:
Guido says:
The NHS is recruiting a supplier to deliver "compassionate conversations training" to 14,000 front facing NHS staff in a publicly funded contract worth a mind-boggling £3 million. The contract tender, which was published yesterday and closes on 5 November 2021, says the aim is to equip NHS staff with "the skills they need to handle challenging situations with compassion whilst ensuring they feel able to look after their own wellbeing if needed". Guido assumed that doctors were already taught about the importance of a good bedside manner…
It's almost ludicrous to think that this weekend Javid promised a forensic review of the NHS's management and leadership whilst the NHS continues to recklessly splash cash on diversity roles. Just six months ago Guido revealed that the NHS was hiring eight more 'diversity, equality and inclusion managers' across the country, with salaries up to as much as a whopping £62,000. If Javid is going to cut down those waiting list times he needs to focus taxpayers' money on the clinical front line, not nonsense make-work contracts and diversity roles…
Guido says it is also time for Boris to reconsider the current Government moratorium on fracking:
If Boris wants to energise Britain, domestic gas production should be part of that mix; it would provide energy security when Britain's energy needs are being threatened by the Russians and the the French. Boris is now in a position to do something glorious, to stop pussy-footing around and leave no stone unturned or unfracked. So get on with it…
This is what Boris had to say on the subject while he was Mayor of London:
I won't be holding my breath on either of those propositions.
Tomorrow: Boris's keynote speech
On Tuesday, September 21, 2021, Prime Minister Boris Johnson met Joe Biden at the White House:
He and Foreign Secretary Liz Truss arrived in the United States on Monday for discussions about trade and climate change.
The two spent a day in New York then travelled by Amtrak to Washington, DC:
New York
On Monday, Boris gave a speech at the UN Climate Roundtable in advance of COP26 to be held in Glasgow in November:
The full text of his speech is here.
This short video shows Boris summarising his message to world leaders:
COP26 will be the biggest single political event that the UK has ever hosted. I hope that Glasgow is ready:
The Prime Minister met with President Bolsonaro of Brazil and President Moon of South Korea. He also met with Martin Griffiths of the UN Office for the Coordination of Humanitarian Affairs (UNOCHA) and, for whatever reason, with Jeff Bezos of Amazon:
There was speculation on what Boris and Bezos discussed:
In fact, they did discuss tax as well as the Bezos Earth Fund:
They discussed the upcoming COP26 Summit and agreed that there was an urgent need to mobilise more public and private money to help developing countries protect biodiversity, including through the LEAF Coalition.
The Prime Minister welcomed the Bezos Earth Fund's commitment, announced tonight, to give $1 billion to protect forests and remove carbon from the air. The Prime Minister and Mr Bezos agreed to work together to see what more could be done in the run up to and at COP26.
The Prime Minister raised the issue of taxation, and hoped progress could be in implementing the G7 agreement on tax.
Beth Rigby from Sky News was in New York to interview Boris. They talked over each other for two minutes:
I wish he had mentioned her suspension from Sky for flouting coronavirus rules last December:
Boris's interview for the Today show went much better. He was diplomatic about Joe Biden's withdrawal from Afghanistan, even when Savannah Guthrie pressed him on the subject:
Guthrie asked Boris about President Trump. Again, Boris was diplomatic, saying that prime ministers have to get along with US presidents. In fact, Trump was mentioned very little in Parliament, including by Boris. I do not get the impression that Boris was sorry Trump lost the election. In fact, he has said in the Commons — as he does in the clip below — that he considers Biden a 'breath of fresh air'. Biden's name gets mentioned quite a lot in Parliament, by the way:
Boris also discussed family life and his unwavering belief in American ideals:
The Sun's Harry Cole was on hand to broadcast for Sky News from New York:
He said that New York hasn't yet bounced back from coronavirus:
The British press pack then travelled to Washington DC:
Washington DC
On Tuesday, the day that she and Boris went to Washington, Liz Truss's office issued the following tweet about the special relationship between the US and the UK:
Hmm.
Truss held a press huddle on the train:
While Truss met with her American counterpart Secretary of State Antony Blinken, Boris met with Kamala Harris at the Eisenhower Building:
Downing Street issued this summary of their meeting. Topics included the new AUKUS alliance, climate change and humanitarian efforts. Boris also expressed his gratitude to the US military for their leadership in withdrawing from Afghanistan.
British journalist Hugo Gye objected to the Eisenhower Building's architecture:
Then it was time to meet with Joe Biden.
Biden arrived by helicopter, no doubt from Delaware:
Unlike the Trumps, the Bidens do not greet their guests at the door:
Liz Truss accompanied the Prime Minister:
Hugo Gye has a summary of the meeting and brief press conference in the Oval Office. Anne Sacoolas is an American 'diplomat' who was in a road accident in England leading to the death of a young man, Harry Dunn:
My American readers will be very familiar with the Amtrak anecdote, which Biden used on the campaign trail last year:
In the end, the chances of a trade deal appear slim. Trump would have definitely been open to one.
Boris took two questions from the media, one from Harry Cole and the other from Beth Rigby.
Biden pointed to Harry Cole first:
Biden and Boris gave this answer on the Harry Dunn case:
Biden did not solicit questions, even though there were plenty of reporters in the Oval Office. When the session adjourned, they started shouting various questions at him. He apparently answered a question about the southern border, but the reporter could not hear the answer over the din. The reporters filed a complaint with Jen Psaki, who once again replied that the president takes questions 'several times a week':
Downing Street issued a summary of the private meeting which followed:
… The President and Prime Minister agreed that the new AUKUS alliance, announced last week, was a clear articulation of the UK and America's shared values and approach to the world. They underscored the important role the alliance will play in promoting peace and stability around the world, harnessing British, American and Australian expertise to solve future challenges.
The leaders welcomed the close cooperation between our countries during the NATO withdrawal from Afghanistan. The Prime Minister expressed his condolences for the American servicepeople killed during the operation. The Prime Minister and President Biden agreed that the best way to honour all those who gave their lives to make Afghanistan a better place will be to use all the diplomatic and humanitarian tools at our disposal to prevent a humanitarian crisis and preserve the gains made in Afghanistan.
To that end, they discussed the progress made since the G7 meeting last month to coordinate international action on Afghanistan. They agreed that any international recognition of the Taliban must be coordinated and contingent on the group respecting human rights.
The Prime Minister welcomed President Biden's leadership on the issue of climate, and his announcement today that the US would double its climate finance commitment. The leaders agreed on the need for G7 countries to deliver on the promises made in Carbis Bay, particularly with regard to phasing out the use of coal and supporting developing countries to grow cleanly. They agreed the Build Back Better World Initiative would be crucial in achieving this. The Prime Minister said he looks forward to welcoming the President to the COP26 Summit in Glasgow.
The Prime Minster and President Biden also agreed on the need to increase international vaccine access to deliver on the commitment made in Cornwall to vaccinate the world by the end of next year. They noted that the success of the British and American vaccine rollouts has been instrumental in allowing UK-US travel to resume. The Prime Minister welcomed the US announcement that they will allow double vaccinated British nationals to enter the country from November, a move which will allow families and friends to reunite and will help stimulate our economies.
The Prime Minister updated President Biden on the developments with respect to the Northern Ireland Protocol since they last met in June. The leaders agreed on the importance of protecting peace in Northern Ireland …
Not surprisingly, it is unlikely we will get a trade deal with the US. Biden is concerned about the post-Brexit Northern Ireland protocol disturbing the peace agreement between that nation and the Republic of Ireland:
Return to New York
The Telegraph reports Boris Johnson remained in Washington on Wednesday to meet with:
US politicians at Capitol Hill, including senators Chuck Schumer and Mitch McConnell, US Speaker of the House Nancy Pelosi and House minority leader Kevin McCarthy.
Afterwards, he visited Arlington Cemetery before returning to New York to deliver his climate change speech at the UN:
He will then travel to Arlington Cemetery to lay a wreath at the Tomb of the Unknown Soldier, before returning to New York, where he will give his climate change speech to the UN General Assembly in the early hours of the morning UK time.
Liz Truss was in New York on Wednesday to address her counterparts on the UN Security Council:
Sky News reported:
She will chair talks with foreign ministers from the US, France, China, and Russia – the countries that, along with the UK, make up the five permanent members of the United Nations security council – in New York later.
UN Secretary-General Antonio Guterres is also expected to join the discussions.
Ms Truss's aides say she will be promoting greater cooperation among the so-called P5.
This will include encouraging Beijing and Moscow to "act as one" with other international military forces to prevent Afghanistan from once again becoming a home for global terrorists following the Taliban's takeover last month.
But "un peu riche" (a little rich) may be the French retort as the diplomatic rift deepens over a new security pact between Australia, the UK and the US that leaves France out in the cold and China smarting.
Trade might be off the table for now, but, no doubt, both Boris Johnson and Liz Truss will make progress in other areas.
Boris Johnson is now into his third year as Prime Minister.
On Wednesday and Thursday, September 15 and 16, he reshuffled some of his cabinet and ministerial posts, signalling that he is more than halfway through his premiership. In other words, this will be the major reshuffle to lead the Conservatives into the next general election.
I hope that Boris does not go for a 2023 election, unless it is late in the year. The coronavirus crisis will have put much of the Conservative manifesto agenda on hold for two years. As such, not much has been accomplished to date, as Andrew Neil, who recently resigned from GB News, says:
Boris has appointed more Leave ministers as well as more minority and female ministers, which will not matter to most small-c conservatives:
Highlights of the reshuffle follow.
Dominic Raab no longer Foreign Secretary
It looks as if dithering over Afghanistan while holidaying in Crete has finished Dominic Raab's days as Foreign Secretary. He had to do the walk of shame after his demotion:
That said, Boris has found a new job for him as Justice Secretary.
Raab will also continue to be Deputy Prime Minister, a role he handled extremely well in April 2020, when Boris was hospitalised with coronavirus.
Defence Secretary Ben Wallace defended his fellow MP and the move in an interview with BBC Breakfast:
Wallace said of Raab: "Dominic is by trade a lawyer, he started his life in the Foreign Office as a human rights lawyer and he's gone to the Ministry of Justice, which is actually a very, very important role and a role he desperately understands."
Liz Truss becomes new Foreign Secretary
Former Trade Secretary Liz Truss replaces Dominic Raab as Foreign Secretary, with Anne-Marie Trevelyan taking her place.
Post-Brexit, Truss has made various trade deals with other nations, notably Australia and Japan.
She also remains minister for women and equalities.
Truss is popular with grassroots conservatives and her name has often been mentioned as a future party leader and Prime Minister.
She succeeded not only in trade but also in refusing wokery in 2020 …
… and in 2021, as Guido Fawkes reported on June 16 (emphases mine):
Liz Truss tells Times Radio most people aren't interested in the culture war…
"My role as equality minister is to make sure everybody in Britain is treated equally regardless of their sex, their sexuality and their race. What we have seen over the past few years is the development of identity politics where there has been division created. People are described as being members of a group rather than for their own personal, individual humanity and dignity… We have just launched for example a big data project looking where are the gaps in education, employment and enterprise across the country, and how we can fix those. That is the approach we need to take… I think some of the identity politics we have seen focus on symbolism over real results has been divisive… I think most people aren't interested in this so–called culture war, what they're interested in is, "Am I being given a fair chance? Do I have a good chance of getting a job? Am I treated fairly by public services?" And that's why I think our equality agenda should focus on, those bread and butter issues that are of concern to everyone in the country."
She is consistently among the most popular of the Cabinet members. This survey is from March 2021:
She can even ably dodge camera equipment during an interview:
Nadine Dorries moves from Health and Social Care to Culture Secretary
In what is hoped to please grassroots small-c conservative voters, Nadine Dorries now heads Digital, Culture, Media and Sport (DCMS), replacing Oliver Dowden, who, as new co-chairman of the Conservative Party, will formulate a strategy for the next general election.
Most of these grassroots supporters are fed up with the BBC. Will Dorries take on Auntie Beeb?
I do not put much stock in that possibility. Resurrecting Dorries's tweets from several years ago are no indication of her current willingness to oppose the BBC on anything much:
The BBC have just appointed a firmly left-wing executive editor of BBC News, Jess Brammar. At least one Conservative MP, Brendan Clarke-Smith, was unhappy about the possibility of her appointment back in August:
I will not be holding my breath for Dorries to take her on, although others in the left-wing and anti-Brexit political establishment are angry about Dorries's appointment, as Guido Fawkes reports; he has screenshots of her past tweets (emphasis in the original):
She's been in the job for 17 hours and is already annoying all the right people… 
John Whittingdale returns to backbenches
I have doubts about Dorries because one of the DCMS ministers, John Whittingdale, was supposed to take on the BBC in 2016 and never did. He also washed his hands of removing free TV licences for most over-75s, saying it was a decision for the BBC. Is this why he got the sack?
During the Euro 2020 soccer tournament this year, Whittingdale told Kay Burley of Sky News that travel restrictions were lifted for 'important' people associated with the matches:
Speaking on Sky News, John Whittingdale was asked why players, officials and others coming to London for the Euros final on 11 July should be allowed in without self-isolating.
He said: "We've always said that for some people who are important, players, for instance …"
The presenter, Kay Burley, interrupted him, saying: "So people who want to go on holiday are not important. Is that what you're saying?"
Whittingdale's last pronouncement, standing in for his boss Oliver Dowden, was about a proposed mandate to make all BBC and ITV output 'distinctively British'. That was on September 16. It will be interesting to see whether Nadine Dorries will insist on it.
Newsnight argument over Dorries
Nadine Dorries was the subject of an argument between Conservative MP Charles Walker and former Conservative MP, Remainer Anna Soubry, who lost her seat in December 2019.
By the way, this was Anna Soubry with Nigel Farage either just before or just after the Brexit referendum in June 2016: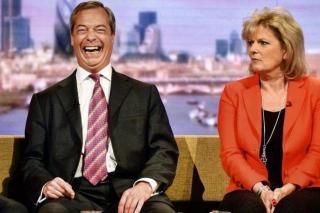 But I digress.
The discussion between Soubry and Charles Walker took place on the BBC's Newsnight on September 15:
Here's the video, with Labour MP Peter Kyle sitting at the desk with presenter Emily Maitlis:
Guido Fawkes has the highlights:
Nadine Dorries provided the biggest clash, as the eternally bitter Soubry ranted that her appointment "actually says everything that's wrong and rotten about this prime minister's stewardship of this country". Charles Walker had some thoughts:
"Nadine Dorries has been a health minister, a minister of state, at an incredibly difficult time for the department of health; has been an extremely good minister for mental health; and really to come onto this programme and just trash her like that is just not a very nice thing to do to be perfectly honest"
Responding to Soubry's claim that people don't really care about reshuffles in the real world, Walker pointed out "Why is it the lead story on Newsnight, and why are you appearing on Newsnight?" Why indeed…
However, there is a personal reason why Anna Soubry is angry with Nadine Dorries.
On July 1, 2016, one week after David Cameron stood down as Prime Minister and Conservative Party leader because of the Brexit referendum result, tensions were running high not only in the Commons but also among the public.
Soubry went out near Parliament to address her fellow Remain supporters. Dorries tweeted that Soubry was under the influence. Soubry demanded that Dorries retract the tweet. The Times has the full story, which ends with this:
Update (25.07.2016): Following publication of this article, Nadine Dorries MP has withdrawn her tweet about passing Anna Soubry MP leaving the bar before she attended a rally of Remain supporters in central London. Ms Soubry has confirmed that she had not drunk any alcohol before speaking at the event.
Another reason why I am doubtful about Nadine Dorries is because she did not question the Government's coronavirus restrictions when she was at Health and Social Care. Does she really believe everything she hears? Here she responds to Conservative Woman's co-founder Kathy Gyngell. Dorries and her mother had the virus at the same time, and her mother recovered first. Even so, not questioning lockdown earns her a black mark from me:
At least she supported Brexit.
Michael Gove moves to Housing, no longer Chancellor of the Duchy of Lancaster
Michael Gove, who is in the process of a divorce and was a recent party boy in an Aberdeen nightclub, is no longer the Chancellor of the Duchy of Lancaster.
Stephen Barclay, formerly Chief Secretary to the Treasury, replaces him in that post. Simon Clarke replaces Barclay in the Treasury role.
Michael Gove replaces Robert Jenrick at the Ministry of Housing, Communities and Local Government and is in charge of Boris's 'levelling up' agenda.
A first attempt at a new acronym for the department has produced DULL:
Guido reports on the problems with acronyms for government departments in general:
The Sun's Harry Cole reports the initial proposal for a new "Department for the Union and Levelling Up" is no longer a flyer after realisations its acronym, 'DULU', sounds too much like "Dull". It's a shame a change was needed, given it was pointed out yesterday that Michael Gove the first MHCLG Secretary with all the letters of the department in his name…
Guido will leave it up to cleverer minds to work out an acronym that includes all the letters of Gove's new remit (MHCLG + Union + Levelling Up + Elections) though it's not the worst reshuffle acronym problem encountered by a PM. As Alan Johnson recounts, in 2005 Tony Blair came up with a plan to rename the department for Trade and Industry as the "Department of Productivity, Energy, Industry and Science". Thankfully Johnson was used to it by that point however – he'd already been Minister for Higher Education and Lifelong Learning, and headed up the Sexual Health Advisory Group…
Although this looks like a demotion for Gove, it involves a hefty budget with pan-govermental reach, something that should definitely appeal to him:
New Education Secretary
Nadhim Zahawi, formerly in charge of the coronavirus vaccine rollout, is the new Education Secretary, replacing Gavin Williamson, who likely got the sack because of the school exams fiasco during the coronavirus crisis.
Zahawi has achieved the British dream, having arrived in the UK as a child refugee who could not speak English:
Other appointments
Guido Fawkes has full reshuffle information for September 15 and 16.
Some MPs have transferred to other departments:
Others will be returning to the backbenches:
Jesse Norman tweeted that he was happy to return to the backbenches:
The new role for Nigel Adams is said to be a 'fixer' appointment in order to get things done:
More information and analysis can be found at The Guardian, The Telegraph, GB News , The Spectator and The Times (here, here and here).
House of Lords
Reshuffles can affect the House of Lords, too.
Fortunately, two of the stars there are still in place.
Baroness Evans
Baroness Evans, composed and competent, will remain as Leader of the House of Lords.
Lord Frost
Lord Frost will remain Cabinet Office Minister for Europe, in charge of EU negotiations and changes to relevant legislation:
On September 16, Guido wrote about Frost's plans to rid the UK of EU laws (emphases in the original):
Lord Frost has announced the government's plans to finally capitalise on the freedoms of Brexit and remove the "special status" of all individual EU laws still on the UK's statute books. There are also plans to invest heavily artificial intelligence, transport, and farming over the Parliament. Now if we just pair deregulation with lower taxes we may actually get somewhere…
Speaking on the reforms this afternoon, Lord Frost said:
"From rules on data storage to the ability of businesses to develop new green technologies, overbearing regulations were often conceived and agreed in Brussels with little consideration of the UK national interest.
"We now have the opportunity to do things differently and ensure that Brexit freedoms are used to help businesses and citizens get on and succeed."
Lord Frost will begin with a review of so-called "retained EU law" – the huge amount of EU legislation still on the UK's statute books; removing its special status so it's no longer a distinct category of UK domestic law, and ensuring all courts have the full ability to depart from EU case law. He describes it as finalising the process of "restoring this sovereign Parliament". There's a reason he's popular with the Tory membership…
Guido's post has more detail, much of which involves digitalising everything from share (stock) certificates and driving licences.
Hmm. I hope that when his proposals reach MPs that they are not taken too far. First, not everyone is online. Secondly, think of the hacking opportunities this could provide. Finally, and perhaps most importantly, digitalisation can lead quickly to establishing a Chinese-style social credit score.
One thing I did like was this:
Permitting the voluntary printing of the Crown Stamp on pint glasses and reviewing the EU ban on markings and sales in imperial units and legislating in due course, none of which were possible within the EU.
Robert Peston's misguided predictions
Sometimes, it is better to wait for the final outcome rather than tweet silly predictions:
On September 16, Guido noted witheringly of ITV's Robert Peston:
While yesterday may not have been great for Dominic Raab, at least he can take solace in the fact he had a better reshuffle than Robert Peston. ITV's senile senior political reporter spent all day tweeting every thought process, speculation and briefing with the acumen and insight of a first-year politics student.
Guido's article lists Peston's tweets. Perhaps ITV should buy him a new crystal ball.
Conclusion
I still think that most Conservative MPs are half-hearted. It's a shame that Boris did not promote any of the 2019 intake, especially the feisty ones from the North of England.
Fortunately, last week's horrible poll results have been reversed. Participants were polled during the reshuffle days of September 15 and 16:
Onwards and upwards to Boris's promised 'sunlit uplands', I hope.
Thursday, May 6, 2021, could be a historic day for the constituency of Hartlepool in the North East of England.
Labour MP Mike Hill had to stand down earlier this year because of allegations of sexual harassment and victimisation. Voters will elect his replacement on Thursday.
The by-election is principally between an NHS physician, Dr Paul Williams (Labour), and Jill Mortimer (Conservative), a cattle farmer who lives in the North East but not in Hartlepool, something of which the media make much ado. Dr Williams is a former MP for nearby Stockton South (2017-2019) and lost his 2019 bid to Matt Vickers, a Conservative. He was also the CEO of the Hartlepool and Stockton Health GP Federation, which oversees 37 practices in Hartlepool and Stockton.
Hartlepool would be a significant, and one of the last, bricks in the Red Wall (historically Labour constituencies in the North) to fall to the Conservatives since the 2019 general election. The Conservative MPs representing the former Red Wall constituencies are from the North, know the issues and are willing to fight for the people they represent. In Parliament, they are no-nonsense, feisty and spiky. They do not hesitate to call out Labour on their lies.
Furthermore, Teesside, where Hartlepool is located, has a popular Conservative mayor, Ben Houchen, more about whom below.
Everyone wonders whether the constituency's new MP will be a Conservative, ending decades of consecutive Labour victories:
On May 3, this is what polling showed over time once Hill stood down:
Guido Fawkes reported (emphases in the original):
Expectations management by both Labour and the Tories sees them both privately spinning that it is on a knife edge that they fear they could lose or expect to lose respectively. Betting markets were neck and neck until a few weeks ago. Punters seem to think the Tories could steal it. A second visit to Hartlepool by the PM does suggest he is happy to own the outcome…
UPDATE: A recount shows this is the PM's third trip. Despite No. 10 doing expectation management, it sounds like Tories on the ground are gaining confidence …
Boris is being careful
Prime Minister Boris Johnson has been careful to manage Conservatives' expectations and to maintain the campaign momentum on the ground:
It was difficult for Liz Truss MP to contain herself in an interview with ITV News today:
What locals say
Guido Fawkes's readers have been giving their views of what has been happening in Hartlepool over the years.
One says (emphases mine):
Labour have done nothing for the north east especially Teesside. Remember when that slimeball Mandelson was parachuted in to Hartlepool to give him a safe seat? Great example of how Labour took their voters for granted (holding them in contempt more like) and no wonder they lost the red wall. The Tories are much more likely to deliver for this area and the locals know it. Boris has many faults but he realizes that the future of the Conservative Party rests in places like Hartlepool. Credit to him for recognizing this.
Another says:
This comment explains why the town voted Leave in the Brexit referendum:
… Hartlepool's trawler fleet devastated by the much bigger French and Spanish boats that destroyed our fisheries when we joined the EU, and the EU Commissioner NEIL KINNOCK [Labour] who refused to allow the government to supply British steel with cheap or free energy for the blast furnaces, and, of course, the EU edict that ordered the closure of the Tees shipyards in order to address over capacity in Europe, with the Labour party at the time saying the closures were the price we had to pay for European harmonisation.
That's why Hartlepool voted LEAVE, because the EU, not the Tories, ruined the region.
Tanya Gold went to Hartlepool for UnHerd and filed a report: 'How the Left lost Hartlepool'.
Incidentally, Hartlepool once made ships; it had 43 ship-owning companies in 1913. Now it has nothing.

She talked to the locals, one of whom is a pub landlord and an independent councillor. He said that the local council election is just as important as the parliamentary by-election:
There are two Hartlepools: the Headland ("The Heugh"), an ancient fishing village, and the newer West Hartlepool (Hartlepool means "stag pool"). I go to the Headland. There is a fabulous Norman church, St Hilda's, built on the site of a 7th century abbey, named for the patron saint of poetry. Its bells cannot be rung, due to weakness of the tower. What a metaphor! There are fine Georgian and Victorian houses on the sea, but they are crumbling, and in the gaps when others have fallen, modern housing: a history of English architecture, in mistakes …
I eat roast beef in the Cosmopolitan pub — the name is a gag — on the Headland, and I meet the landlord, the independent councillor Tim Fleming. Fleming says: "We've had enough of people just getting dumped on us, 'oh that's a safe seat, put him there'. It's the London Labour Party where it [the rot] started."
For Fleming, some voters have passed beyond despair to cynicism. "If you have a Tory up as mayor in Teesside [Ben Houchen] and a Tory in Hartlepool — all the Tories in all the towns they've took over — they might do [something] because they might be looking to build a new power base that's longer lasting than the one they've had. They've never had anything in the North so who knows? If he [Houchen] gets re-elected, there'll be nothing if we have a Labour MP and a Labour council in Hartlepool. No money will come here, never has done".
2019 election result
The Independent's John Rentoul points out that a Conservative victory on Thursday might be a logical eventuality. Note the number of their votes and the number of Brexit Party votes in 2019, when Labour's Mike Hill was elected:
Labour leader Sir Keir Starmer looked a bit worried in this interview with Sky News:
Mayoral election
The Conservatives have two popular mayors running for re-election on Thursday. Andy Street represents the West Midlands and, as mentioned above, Ben Houchen represents the Tees Valley. Their polling results look healthy:
On May 4, The Financial Times featured a profile of Ben Houchen: 'Tories' red wall shows no signs of crumbling on Teesside'. He is young, dynamic and gets things done in a part of England that has lost much of its proud industry: shipbuilding, steel making and fishing, to name but a few.
Excerpts follow:
As a close ally of Boris Johnson, Houchen's plans were unlocked when Johnson became prime minister in 2019. After freeport status was granted in the Budget in March, GE announced a new wind turbine factory on Teesside, creating 1,000 new roles. Although economists question the value of freeports, Houchen believes the status is vital for the area.
"People can talk about displacement, they can talk about additionality, GE were going to expand their factory in France if we didn't get the freeport . . . it has cost the exchequer nothing," he said. "If we can do what we want to deliver on that site, as well as across Teesside, you are getting dozens and dozens, if not hundreds, of new employers."
Houchen is up for re-election on May 6, when the 34-year-old hopes to gain a second term representing a conurbation of several of England's post-industrial towns. From Stockton to Middlesbrough, this corner of England once had deep connections to the opposition Labour party — ties that were cut when the region's heavy manufacturing industries entered inexorable decline.
In 2017, he delivered an electoral shock by winning the Tees Valley mayoralty for the Conservatives. His victory represented the first brick to be chipped out of the so-called "red wall": Labour's traditional heartland areas of England which have defected to the Tories over Brexit. Now he hopes to prove that the victory was not a one-off.
In 2017, he made an incredible campaign promise, which he kept:
His election pitch then was unconventional for a Tory: Houchen pledged to renationalise the small Teesside airport and reinstate more flights. If the plan failed, he would sell off the land to recoup the costs. It now has 18 flights a day, compared to two before, and with 1.4m passengers passing through its doors, is on track to turn a profit within a decade.
As part of the Conservatives' 'levelling up' agenda for the North, the Government has sent a lot of money to that part of England:
Chancellor Rishi Sunak chose the former railway town of Darlington in Tees Valley to be home for the Treasury's new northern economic campus. The government has also granted £52m for a carbon capture project as part of Teesside's burgeoning renewable sector.
Even Houchen's opponent, Labour's Jessie Joe Jacobs sounded discouraged, a situation not helped by the fact that she got coronavirus during the final days of the campaign:
Struck down with coronavirus in the final 10 days before polling day, Jacobs acknowledged the campaign has been difficult for Labour, given its wider decline in Teesside, and described the fight with Houchen as a "David and Goliath scenario".
The FT reporter went to Darlington to interview people there. One was particularly bullish on Boris:
Tony Law, a taxi driver waiting for customers, predicted Houchen would "win by a landslide" and praised his improvements to the area. He voted for him in 2017 and would back him again. "He's done a hell of a lot to change the area. He's clearly had an impact," he said.
Law felt the recent row about Johnson's use of donations to redecorate the Downing Street flat was irrelevant. "He deserves nice curtains given what he's been through with Covid. Boris has done a great job, especially with the vaccines."
The article ended with the Hartlepool by-election:
As well as the mayoralty, Tees Valley will be especially important on May 6 because of the Hartlepool by-election in the region. The town was such a Labour stronghold that the Conservatives did not target it in the 2019 election.
Were the Tories able to take it for the first time in 62 years, it would add credence to the view that a realignment among England's working class is taking place. According to a new YouGov poll this week, the Conservatives have a 19 point lead among working class voters.
The biggest danger for Labour is what one red wall Tory MP described as the "Houchen factor": voters will double tick to re-elect the mayor and Jill Mortimer to be Hartlepool's first Conservative MP. One of Labour's shadow cabinet ministers who has visited the seat cautioned that "it's not looking good".
It's hard to recall a local election as exciting as this one, especially with the Hartlepool by-election. I hope to have more later this week or early next week after the results are in and analysed.
Yesterday's post looked at the beginning of today's modern Conservative Party in the late 20th and early 21st century, including Boris Johnson's diverse family history.
Since 2010, the Conservatives have added to their number of accomplished MPs, people who have really achieved something in their lives before they entered Parliament.
The list of MPs whose immediate ancestry includes parents from Asia and Africa continues below.
The Cameron years: May 2010 – June 2016
In the 2010 election, when David Cameron became Prime Minister, several more Conservative MPs of colour took their places in Parliament.
Most are still serving today, listed below.
Rehman Chishti (Gillingham and Rainham)
Rehman Chishti was born in Pakistan on October 4, 1978.
At the time, his father, Abdul Rehman Chishti, was Federal Adviser on religious affairs to the Prime Minister of Azad Kashmir, the region where the Chishtis lived. This was during the time when Zulfikar Ali Bhutto was Pakistan's prime minister. In 1978, Chishti's father left Pakistan for the UK, where he became an imam. Shortly afterwards, a military coup overthrew the Bhutto government. General Zia-uk-Haq led the coup and later executed Bhutto.
It was not until 1984 that Mrs Chishti was able to join her husband in Kent, taking with her their elder daughter and young Rehman. From that point, life resumed a sense of normality for the family. Rehman Chisti attended local schools, then read law at University of Wales Aberystwyth. He supplemented his income by working summer jobs in retail in Kent.
In 2001, he became a barrister, having been called to the Bar of England and Wales by Lincoln's Inn in London. He prosecuted and defended cases in Magistrates' and Crown courts.
During the years when Labour was in power, he worked as an advisor for Zulfikar Ali Bhutto's daughter, Benazir Bhutto, after her tumultuous term as Pakistan's prime minister had ended. Chishti held this position between 1999 and 2007.
In 2006, he decided to switch his affiliation from Labour to Conservative and served as advisor on diversity to Francis Maude, who led the Conservatives at that time.
He won his first election as MP for Gillingham and Rainham in 2010, having been lauded by both Labour and Conservative publications as being a rising star in Parliament.
Since then, he has held three notable appointments: Vice Chairman of the Conservative Party for Communities (2018), Prime Ministerial Trade Envoy to Pakistan (2017-2018) and Prime Minister's Special Envoy for Freedom of Religion or Belief (2019-2020).
Helen Grant (Maidstone and The Weald)
Another MP serving Kent is Helen Grant.
Helen Grant was born in Willesden (London) in 1961. Her mother is English and her father a Nigerian, an orthopaedic surgeon.
Helen's parents split up when she was a young child. Her father later emigrated to the United States. Helen and her mother moved to Carlisle, in the north-West of England, where she was raised by her mother, her grandmother and her great-grandmother. They lived on a council estate.
She excelled in sports at secondary school and decided to read law at university. She later opened her own law practice, Grants Solicitors, which specialises in family law.
She was a member of the Labour Party between 2004 and 2006, but quickly grew disillusioned:
It was almost looking in the biscuit barrel, not liking the look of the biscuits, and slamming the lid shut.[6]
In 2006, she joined the Conservative Party. That year, she helped the Conservatives devise a policy on family breakdown, co-authoring the Social Justice Policy Group Report 'State of the Nation – Fractured Families' published in December 2006, and the follow-up solutions report 'Breakthrough Britain' published in July 2007.[8]
Grant became the first mixed-race/black female MP, succeeding the formidable Anne Widdecombe, who stood down for the 2010 election.
Helen Grant married her husband Simon in 1991. They have two sons, one of whom served in the Royal Marines.
Kwasi Kwarteng (Spelthorne)
Kwasi Kwarteng, who represents Spelthorne in Surrey, is familiar to anyone who has followed Brexit and the Government department BEIS (Business, Energy and Industrial Strategy).
Kwasi Kwarteng's parents emigrated from Ghana in the 1960s when both of them were students. His mother became a barrister and his father an economist in the Commonwealth Secretariat.
Kwarteng was a brilliant student. As a boy, he attended Colet Court, the feeder school for St Paul's School. Kwarteng went one better. He attended Eton.
At Eton, he was a King's Scholar and received the school's most prestigious award: the Newcastle Scholarship. He read classics and history at Trinity College, Cambridge, earning a First in both subjects.
During his time at Cambridge, he appeared on University Challenge during the first season when the BBC resurrected the show in 1994. I saw it. The episode that he was on aired in 1995 and raised eyebrows. Kwarteng pressed the buzzer to answer the question, then forgot the answer. Exasperated, he spontaneously uttered the 'f-word'. The production team was unable to censor it in time.
Guido Fawkes has the details:
This photo of a resulting newspaper article comes from Guido. Moderator Jeremy Paxman is pictured:
After earning his degree at Cambridge, Kwarteng was awarded a Kennedy Scholarship from Harvard. After studying there, he returned to Cambridge to earn a PhD in economic history.
He then had a busy career, combining work with journalism. He was a columnist for The Daily Telegraph and worked at investment banks, among them JPMorgan Chase. He also wrote and co-authored books on history and business.
At the time he won his first election as MP for Spelthorne, a local paper described him as a:
black Boris.
Kwarteng was an ardent supporter of Brexit and Boris Johnson. He also thinks that Britain's welfare state needs to be pared back.
Kwarteng has held a variety of positions in Government and is the first black MP — and the first Conservative MP — to be appointed as a Secretary of State.
He is also a member of the Privy Council.
Priti Patel (Witham)
Priti Patel has been Home Secretary since Boris Johnson became Prime Minister in 2019.
She held various Government posts prior to that appointment.
Priti Patel was born in London in 1972. Her paternal grandparents were from Gujurat, India, then emigrated to Uganda. They owned a shop in Kampala.
In the 1960s, the Patels' son and his wife — Priti's parents — emigrated to England, settling in Hertfordshire, where they built up a successful chain of newsagents. The family are Hindu.
Unlike a few of the other MPs profiled above, Priti never flirted with the Labour Party. She was a firm fan of Margaret Thatcher, who, in her words:
had a unique ability to understand what made people tick, households tick and businesses tick. Managing the economy, balancing the books and making decisions—not purchasing things the country couldn't afford".[8]
Patel was always interested in politics. After completing her degree in economics at Keele University in Staffordshire, she studied British government and politics at the University of Essex.
She began her career working in the Conservative Central Office. As she was interested in seeing the UK leave the EU, she left for two years to head the office of the Referendum Party, headed by the late tycoon Sir James Goldsmith. That was between 1995 and 1997. Goldsmith's party did not win many votes. We still have the campaign video tape, which Goldsmith's campaigners sent to certain constituencies he had hoped to carry. Goldsmith died two months after the election.
Patel returned to the Conservatives, working for party leader William Hague in his press office.
In 2006, she became the Prospective Parliamentary Candidate for the staunchly Conservative constituency of Witham in Essex. By 2010, she was well known and won election handily.
She became part of the 'class of 2010', also known as 'the new Right'. She and her fellow 'classmates' Kwasi Kwarteng, Liz Truss, Dominic Raab and Chris Skidmore co-authored Britannia Unchained, which took strong exception to the welfare state. One of the book's more controversial statements is:
once they enter the workplace, the British are among the worst idlers in the world.
I don't fully agree with that, but I do worry about the effect that lockdown and furlough are having on our collective psyche in that regard.
Priti Patel is married and has one child, a son.
Alok Sharma (Reading West)
In 2010, Alok Sharma won Reading West with a majority of 6,004 after Labour MP, Martin Salter retired.
Alok Sharma was born to a Hindu family in Agra, India, in 1967. Five years later, he and his parents settled in Reading, Berkshire, where Alok's father became very involved in Conservative Party politics and helped to establish the Conservative Parliamentary Friends of India.
The Sharmas sent their son to local schools, including the well-respected Reading Blue Coat School in Sonning, Berkshire. Alok moved to the north-West for university, earning a BSc in Applied Physics with Electronics in 1988.
However, Alok's interests extended beyond science. He later qualified as a chartered accountant with Deloitte, Haskins & Sells in Manchester. He went on to work as a corporate financial advisor for other firms, leading to posts not only on London but also in Stockholm and Frankfurt. He advised clients on cross-border mergers and acquisitions, listings and restructurings.[8]
Sharma has held several posts as Minister of State and Secretary of State.
He is currently the President for the climate change conference COP26, which the UK will host in 2021. Sharma is currently a full member of Boris Johnson's Cabinet Office.
Sharma married a Swedish lady, with whom he has two daughters.
Nadhim Zahawi (Stratford-on-Avon)
Nadhim Zahawi is best known for his current post as Parliamentary Under-Secretary for COVID-19 Vaccine Deployment in the UK.
He is second-best known for co-founding the international polling company YouGov with Stephan Shakespeare. Zahawi served as YouGov's CEO from 2005 to 2010.
Zahawi was born to Iraqi Kurdish parents in Bagdad in 1967. In 1976, when Saddam Hussein began his rule over Iraq, the Zahawis moved to London, where Nadhim attended independent day schools.
Nadhim earned a BSc in Chemical Engineering from the University of London.
However, immediately after university, Zahawi's interests lay with the Kurds. He worked on their behalf from 1991 to 1994.
In 1994, he was elected as a local Conservative councillor for Putney in south-West London. He held that post until 2006.
In 2010, he gained the attention of the local Conservative association in Stratford-on-Avon and became their prospective parliamentary candidate. He has been re-elected three times since: 2015, 2017 and 2019.
Zadawi has held two Parliamentary Under-Secretary of State posts, the first for Children and Families and the second for Business and Industry.
Zadawi and his wife are keen horse riders. They co-own a riding school. Their children attend university in the United States.
Sajid Javid
Sajid Javid was also among the 2010 intake. I will cover his life story this week, as it is worth a separate post.
Conclusion
Had I not been watching BBC Parliament so often, I would not have read the life experiences of many of our MPs.
I had watched the maiden speeches of those who entered Parliament in 2019, however, I had missed those of the MPs who came before them.
One can imagine that Boris, given that his paternal great-grandfather was lynched in Turkey, would appreciate every element of life experience and intelligence that this intake of MPs brings to the House of Commons.
This is the final instalment of my long-running series, the Brexit Chronicles.
My previous post discussed the December 30 vote on the EU Future Relationship Bill which passed both Houses of Parliament and received Royal Assent in the early hours of the final day of Brexmas, December 31, 2020.
New Year's Eve was a quiet affair in Britain, as we were in lockdown.
One week earlier, Boris said that he would not be dictating to Britons how they should celebrate our exit from the EU, which was a bit rich, because he had already put us into lockdown before Christmas:
What UK independence from the EU means for Boris
The UK negotiating team did some star turns with this agreement, which polished Prime Minister Boris Johnson's political reputation.
Boris's ratings had taken an understandable hit during a year of coronavirus, which included a lot of flip-flopping on his part, however the trade agreement improved things considerably. Liz Truss, who has been negotiating our trade deals with more than 50 countries, deserves her place at the top:
According to an Opinium poll, an overwhelming majority of Britons — even Remainers — wanted MPs and the Lords to pass the deal:
Troublingly for the anti-deal SNP, the poll's sub sample of Scottish voters shows that by 47% to 19%, Scots want their MPs to vote for the deal too…
The Norwegians said that the UK had negotiated a better deal with the EU than they had:
Guido Fawkes thinks that this could give Norway the impetus to renegotiate their terms with the EU. I hope so (emphases in the original):
Marit Arnstad, parliamentary leader of Norway's Centre Party, argues that the UK deal is better than the Norwegian deal her country has as a member of the European Economic Area (EEA). "The UK has now reached an agreement that gives them more freedom and more independence" she tells Klassekampen, Norway's answer to the Guardian, "the British have a better agreement than the EEA. They get access to the internal market and the common trade that is desirable, but they do not have to be part of a dynamic regulatory development that places strong ties on the individual countries' national policies. …The most difficult thing for Norway is that we are bound in areas that are national policy, and that it happens in more and more areas. The British have now taken back this authority, and it is extremely interesting".
Arnstad is not the only politician complaining, the leader of the Norwegian Socialist Party's EEA committee, Heming Olaussen, also believes that the British agreement with the EU is better than the EEA, "because the British escape the European Court of Justice. Then they are no longer subject to EU supremacy and must not accept any EU legislation in the future as we must. This agreement is qualitatively different and safeguards national sovereignty in a better way than the EEA does for us".
Could we soon see Norway and the other EEA countries try to renegotiate their terms?
Prime Minister Boris Johnson made sure that he got everything possible arranged by the end of the day, including Gibraltar. The first tweet has a statement from Foreign Secretary Dominic Raab:
Remainers constantly brought up the future of the Nissan car plant in Sunderland. They can silence themselves now.
Chronicle Live reported:
Automotive giant Nissan has welcomed the UK's post-Brexit trade deal with the EU, which appears to have safeguarded the future of its Sunderland plant.
The plant has been at the centre of the Brexit debate over the last decade, with both Remain and Leave campaigners using it to back up their respective arguments.
A number of global Nissan executives have used visits to Sunderland to warn that its future was threatened by a no-deal Brexit, and two models either being made or due to be made at the plant have been cancelled since the 2016 referendum.
But the Christmas Eve agreement of a deal that appears to allow tariff-free access to EU markets for British-made goods has been welcomed by the company.
On Boxing Day, The Telegraph — Boris's former employer — published an interview with him, excerpts of which follow (emphases mine):
"I think it has been a long intellectual odyssey for many people of this country," he said, casting back to 1988, shortly before he, an up-and-coming journalist at The Telegraph, was dispatched to Brussels to report on the European Commission.
"The whole country has been divided about this issue, because we are European, but on the other hand we don't necessarily want to feel that we're committed to the ideology of the European Union.
"That's been the problem and I think it is absolutely true that Margaret Thatcher … she did begin this period of questioning. Her Bruges speech was very, very important."
Mr Johnson is referring to a speech that, to many Eurosceptics, formed the foundations of the bitter and protracted political struggle against ever closer union that ultimately set Britain on the path to Brexit.
At the height of her power and railing against Jacques Delors' latest move towards deeper integration, in 1988 Baroness Thatcher urged the Commission to abandon aspirations of a "European super-state" which would infringe on the "different traditions, parliamentary powers and sense of national pride in one's own country".
Her warning went unheeded, however, and just four years later the UK signed up to the Maastricht Treaty and with it the creation of the European Union as it is constituted today.
And yet, even after she was toppled and replaced by John Major, an ardent Europhile, the seeds of discontent and the desire to reclaim British sovereignty had been sown in Bruges.
He explained that we will always be European, just not part of the huge project that seems to continually move the goalposts of membership obligations:
"I think this gives us a basis for a new friendship and partnership that should attract people who love Europe and want to have a great relationship with it, who want to feel close to it.
"But it should also be something that is welcome to people who see the advantages of economic and political independence. I think the country as a whole has got itself into a new and more stable footing. It's a better relationship and a healthier relationship."
… The tariff and quota-free deal covers £660bn worth of trade a year, which Mr Johnson said will still be "smooth" but with new customs procedures and paperwork which will mean things are "different and there will be things that businesses have to do".
In particular, he is keen to stress that the UK will be free to diverge from EU standards.
This is particularly gratifying for Mr Johnson, who said that after being accused of "cakeism for so many years," he has achieved what his critics said was impossible: "That you could do free trade with the EU without being drawn into their regulatory or legislative orbit."
Boris enjoys his 'cakeism' references. He made one on Christmas Eve upon the announcement of the deal and he made yet another on January 1, which was Guido Fawkes's Quote of the Day:
I hope I can be forgiven for reminding the world that many people used to insist that you couldn't do both: you couldn't have unfettered free trade with the EU, we were assured, without conforming to EU laws. You couldn't have your cake and eat it, we were told. Maybe it would be unduly provocative to say that this is a cake-ist treaty; but it is certainly from the patisserie department.
The Spectator had an excellent article on the new treaty, 'The small print of Boris's Brexit deal makes for reassuring reading'. Brief excerpts follow. The article has much more:
The Brexit deal takes things back to where they were before Maastricht. The EU is limited now in any meddling to very specific areas indeed. It ends the oddity where because circa seven per cent of UK business trade with the EU, 100 per cent have their laws made by the EU (although that is a bit more blurred in supply chains) …
There are parts of the deal that mean that, should Britain wish to diverge, then UK committees will have to talk to EU committees. Requiring the UK to 'consult' on implementation and change of the agreement etc. But how this is done in practice is left free and thus pretty non-enforceable and limited in scope. It is diplomacy now, not law …
While there is a lot of hot air in the treaty, it does not go beyond that. Lord Frost and his team seem to have seen off the (no doubt many) attempts to get EU regulation in through the back door. The UK is leaving the European Union and the lunar orbit of its regulations. It depends on your politics whether you approve of concessions over fish and some aspects of trade. But the legal question – to take back control – has been accomplished.
In The Atlantic, Tom McTague, a balanced journalist, looked at Brexit from the Conservatives' 2019 manifesto policy of 'levelling up' all parts of the United Kingdom:
… at root, Brexit was a rejection of the economic status quo, which too many had concluded was benefiting the country's urban centers at the expense of its more rural regions. And not without evidence: Britain is the most unequal economy in Europe, combining a supercharged global hub as its capital with areas a three-hour drive away that are as poor as some of the least-developed parts of the continent.
Brexit was not solely a vote of the "left behind"—much of the wealthy and suburban elite also voted to leave. But Brexit was a rejection of the direction the country was taking, a desire to place perceived national interests above wider European ones that too many Britons did not believe were also theirs. Is this entirely unreasonable?
The Revd Giles Fraser, rector of the south London church of St Mary's, Newington — and co-founder of UnHerd — wrote an excellent article on Boris, Brexit and old Christmas traditions involving seasonal games of chaos and fools. He also delves into the Bible. 'Why chaos is good for Boris — and Brexit' is worth reading in full.
You will want to see the photo he includes in his article, which begins as follows:
Back in early December, after a dinner between the British negotiating team and their EU counterparts, a photograph was released that, it was said, "sums everything up". A characteristically dishevelled Boris Johnson was unflatteringly contrasted with the smartly dressed Michel Barnier. "Johnson's loose tie, shapeless suit and messy hair alongside Frost's errant collar stood out somewhat beside an immaculately turned out Ursula von der Leyen and chief EU negotiator Michel Barnier" reported the Huffington Post, while reproducing a series of damning twitter observations …
Fraser points out that Brexit is charting a new course. The old rules no longer apply. Boris seems to be the king of chaos, perhaps a 'fool':
The problem with an orderly approach to things such as Brexit is that most problems, especially the large ones, are always going to be imperfectly and incompletely specified. In such a context, it is not always a straightforward matter to argue in a linear way from problem to solution. Indeed, when situations seem to require some sort of paradigm shift, the rules of the old order present a block on the emergence of the new. Things will always seem chaotic when change does not travel according to pre-established ideas of how one thing follows from another.
In his fascinating book Obliquity, the economist John Kay describes the shortcomings of turning decision making within a complex environment into some sort of algebra. Often, he argues, "complex outcomes are achieved without knowledge of an overall purpose". The importance of rational consistency is exaggerated. Some values are incommensurable, not plottable on a single system of reference. In such situations, neatness is overrated, distorting even.
That, I take it, is partly why Boris Johnson remains ahead in the polls, even now. Yes his shambolic manner, strongly contrasted with Keir Starmer's orderly, lawyerly disposition, speaks to a refusal of some imposed authority. It's a kind of trick, perhaps, given that he is the authority. And Old Etonians are not typically chosen as "the lowly" who are lifted up as per the Magnificat.
But the importance of Johnson "the fool" exceeds the fact that he has become an unlikely poster-boy of some unspecified insurgency against the established European rules based system of governance. The fool understands something the rationally wise does not. "Man plans, God laughs" goes an old Jewish proverb. Much to the deep frustration of its proponents, order can never be finally imposed upon chaos. And those who are comfortable with this, celebrate it even, are often better able to negotiate the complexities of life. Being chaotic might just turn out to be Johnson's unlikely super-power.
Boris certainly has had a good track record over the past 12 years. The coronavirus crisis is the only obstacle remaining:
What independence from the EU means for Britons
The BBC website has a short but practical guide to changes that came into effect on January 1.
In addition, UK drivers licences will be recognised in EU member countries as they were before:
With regard to students and foreign study, we will no longer be part of the EU-centric Erasmus study programme beginning in September 2021. The UK government is developing the worldwide Turing programme, named for Alan Turing:
… Unlike the Erasmus programme, which was founded in 1987 "to promote a sense of European identity* and citizenship among its participants", the new scheme will have a global outlook, targeting students from disadvantaged backgrounds and areas boosting students' skills and prospects, benefitting UK employers. It will be life changing for the student participants.
A year of Erasmus-funded reading of Sartre at the Sorbonne in Paris, or a year of Turing-funded study of Nano-engineering at the Indian Institute of Technology in Madras? It is a no-brainer to choose the exciting future that is beyond Little Europe.
*The EC in latter years funded a post-graduate exchange programme that offered opportunities outside Europe. Some 95% of the budget still focuses on Europe.
Women will be pleased that the EU tax — VAT — on sanitary products is no more.
How we celebrated, despite lockdown
On New Year's Eve, I was cheered to see an article by The Guardian's economics editor Larry Elliott, 'The left must stop mourning Brexit — and start seeing its huge potential'. YES! Every Labour, Lib Dem and SNP MP should read it.
He, too — like the aforementioned Tom McTague of The Atlantic — sees Brexit as an upending of the status quo. He tells his readers on the Left that they should be happy about this (emphases mine):
Many in the UK, especially on the left, are in despair that this moment has arrived. For them, this can never be the journey to somewhere better: instead it is the equivalent of the last helicopter leaving the roof of the US embassy in Saigon in 1975.
… It marked the rejection of a status quo that was only delivering for the better off by those who demanded their voice was heard. Far from being a reactionary spasm, Brexit was democracy in action.
Now the UK has a choice. It can continue to mourn or it can take advantage of the opportunities that Brexit has provided. For a number of reasons, it makes sense to adopt the latter course.
For a start, it is clear that the UK has deep, structural economic problems despite – and in some cases because of – almost half a century of EU membership. Since 1973, the manufacturing base has shrivelled, the trade balance has been in permanent deficit, and the north-south divide has widened. Free movement of labour has helped entrench Britain's reputation as a low-investment, low-productivity economy. Brexit means that those farmers who want their fruit harvested will now have to do things that the left ought to want: pay higher wages or invest in new machinery.
The part of the economy that has done best out of EU membership has been the bit that needed least help: the City of London. Each country in the EU has tended to specialise: the Germans do the high-quality manufactured goods; France does the food and drink; the UK does the money. Yet the mass exodus of banks and other financial institutions that has been predicted since June 2016 has not materialised, because London is a global as well as a European financial centre. The City will continue to thrive.
If there are problems with the UK economy, it is equally obvious there are big problems with the EU as well: slow growth, high levels of unemployment, a rapidly ageing population. The single currency – which Britain fortunately never joined – has failed to deliver the promised benefits. Instead of convergence between member states there has been divergence; instead of closing the gap in living standards with the US, the eurozone nations have fallen further behind.
I was especially pleased that he pointed out the coronavirus vaccine. We were the first in the world to approve one and get it rolled out:
The Covid-19 crisis has demonstrated the importance of nation states and the limitations of the EU. Britain's economic response to the pandemic was speedy and coordinated: the Bank of England cut interest rates and boosted the money supply while the Treasury pumped billions into the NHS and the furlough scheme. It has taken months and months of wrangling for the eurozone to come up with the same sort of joined-up approach.
Earlier in the year, there was criticism of the government when it decided to opt out of the EU vaccine procurement programme, but this now looks to have been a smart move. Brussels has been slow to place orders for drugs that are effective, in part because it has bowed to internal political pressure to spread the budget around member states – and its regulator has been slower to give approval for treatments. Big does not always mean better.
Later on — at 11 p.m. GMT, midnight Continental time — millions of us in Britain were only too happy to toast each other, confined in our own homes, and say:
Free at last!
Here's Nigel Farage:
Baroness Hoey — formerly Kate Hoey, Labour MP — worked tirelessly for Leave in 2016.
She had a message for her late mother …
… and for Guy Verhofstadt, who is shown below a few years ago in London with the Liberal Democrats campaigning against Brexit:
In the days that followed …
On New Year's Day, Labour leader Sir Keir Starmer gave an optimistic message for 2021 — 'the UK's best years lie ahead':
The Sun's political editor, Harry Cole, urged all of us to unite behind a new Britain:
Boris Johnson's father, Stanley, continues to pursue his quest for French citizenship, having researched his family tree.
Nigel Farage's new campaign will be against dependence on China:
Our ports have been problem-free:
On that cheery note, after four and a half years, this completes my Brexit Chronicles! Onwards and upwards!