You are currently browsing the tag archive for the 'lockdown' tag.
On Thursday night, November 10, 2022, Liz Truss's Chancellor, Kwasi Kwarteng, broke his silence in an interview with TalkTV's Tom Newton Dunn on First Edition.
He and Truss disagreed on how quickly to move on the economy.
Background
Looking back at that period of mourning for the late Queen when Truss assumed office, the nation had been jittery over the cost of living crisis.
The Conservative leadership contest, which had lasted several weeks, put paid to any constructive solutions to the problem in the latter half of the summer.
Furthermore, Parliament had been in its customary weeks-long recess at that time.
During that period, energy prices were forecasted to be at a crippling high. Every news outlet was full of articles and broadcasts on the choice between food or fuel.
People wanted Parliament to be recalled because 'something must be done'.
A general election is also coming up in two years' time, therefore, Truss wanted to hit the ground running and make up for the two-and-a-half years lost with the pandemic.
Hence Truss's ambitious and, to use her word, bold economic plan.
Kwasi explains
Tom Newton Dunn wrote up highlights in The Times of what Kwarteng told him (emphases mine):
In his first interview since being sacked as chancellor, Kwarteng told TalkTV that he had advised Truss to "slow down" and take a "methodical and strategic approach" to boosting growth as prime minister …
In the interview with First Edition, Kwarteng also revealed that Truss was "distressed and emotional" when she summoned him to be sacked days before she was forced from Downing Street.
He said he told her during their meeting that she was "mad" to fire him, adding: "People will ask, 'If you sacked the person who was doing what you wanted, why are you still there?'"
Which is exactly what happened. The Sun's Harry Cole asked that very question at Truss's press conference that fateful day, Friday, October 14. Truss thought that Cole would be more empathetic, as The Sun generally supports the Government.
Whilst unapologetic for his economic plan, the former Chancellor did say that lessons had been learned:
Kwarteng repeatedly refused to apologise for pursuing the principle of the pair's economic agenda and warned Rishi Sunak that he could not "simply keep putting up taxes".
He said that he had had reservations about the scale of the planned tax cuts in his mini-budget, especially as there were no accompanying plans to reduce government spending. "The prime minister was very much of the view that we needed to seize the opportunity and we hit the ground running," he said. "She's very dynamic, very forceful. That's a great strength. But I think you had to have a measured approach, especially doing the things that were radical, that were bold. And that's the lesson that we've learnt."
Asked who controlled the timetable of the mini-budget, Kwarteng said that he bore "some responsibility for it" but added: "I think the prime minister was very much of the view that we needed to move things fast. But I think it was too quick. If you look at it, it was on the 23rd of September. We only got into the office on the 6th of September. And looking back I think a measured pace would have been much better."
Kwarteng said that afterwards he confronted Truss and warned her the government could fall unless she slowed down. "After the mini-budget we were going at breakneck speed and I said, you know, we should slow down, slow down. She said, 'Well, I've only got two years' and I said, 'You will have two months if you carry on like this'. And that is, I'm afraid, what happened."
He also said:
She was very emotional. I can't remember whether she was actually shedding tears but she was very emotional and it was a difficult thing to do. I think she genuinely thought that that was the right thing to buy her more time to set her premiership on the right path. I disagreed, obviously. I thought that if chancellors are sacked by the prime minister for doing what the prime minister campaigned on, that leaves the prime minister in a very weak position.
Kwarteng revealed that he found out he was being sacked by reading a tweet from a Times journalist:
… a tweet from The Times' political editor as he drove to a meeting with Truss in Downing Street.
As King Charles said to Truss only a month ago — and just days before she sacked her Chancellor:
Dear, oh dear.
Kwarteng is supportive of Prime Minister Rishi Sunak but says that he and Chancellor Jeremy Hunt should not put the blame for a cratering economy on him and Truss:
Kwarteng praised Sunak as a "very credible prime minister" but said he and the new chancellor, Jeremy Hunt, should not attempt to blame him and Truss for all the government's current problems. "The only thing that they could possibly blame us for is the interest rates and interest rates have come down and the gilt rates have come down. I mean, it wasn't that the national debt was created by Liz Truss's 44 days in government."
He added that although he accepted that taxes would need to rise in the short term, the government still needed a growth strategy. "You're not going to grow an economy or incentivise economic growth by putting up our taxes," he said.
True. I wrote earlier this week about why the Truss-Kwarteng plan was the correct one for the UK.
Kwarteng and Truss have known each other for years and live near each other in Greenwich.
He says they are 'still friends', but:
he had still not returned a missed call from her two days ago. "I will call her back," he said.
The BBC's analysis
In an analysis of the interview, the BBC points out that, at the time of the mini-budget, Kwarteng promised more tax cuts to come:
During his time as chancellor, he repeatedly advocated measures of the sort set out in the mini-budget, and two days after delivering it told the BBC there was "more to come" in the way of tax cuts.
The comment, along with a decision to announce the mini-budget without publishing an assessment by the government's fiscal watchdog, was later seen as key to convincing investors that the government did not have a credible plan to keep debt levels under control.
Did Kwarteng reveal too much in the interview?
He insists that he remains friends with Ms Truss. But in this interview he does reveal elements of private conversations during his sacking that Ms Truss may well have preferred had stayed within the walls of Downing Street.
He once toured TV studios insisting she would make a great prime minister. It doesn't feel like they're on as good terms now as they once were.
And what next for Mr Kwarteng? It doesn't sound like he's going to be an awkward backbencher: he's pledging complete loyalty to Rishi Sunak.
There was lots of detail in this interview, but it's important to remember that this is only one side of the events that took place as Ms Truss's premiership began to crumble. When will she break her silence?
Jeremy Hunt's tactful comments
On Friday, November 11, the new Chancellor reacted to Kwarteng's interview.
The Guardian reported:
Good morning. We've got less than a week to go now until the autumn statement – in effect, the second budget of the autumn – and already a blame game has broken out in the Conservative party about who is responsible for the massive spending cuts and tax rises the nation is about to face.
Kwarteng had denied there is a black hole in the nation's finances:
The national debt wasn't radically changed by Liz Truss … There isn't a black hole and the interest rates and the gilt rate funding the debt is exactly the same as it was before the mini-budget. So the black hole hasn't been caused by the mini budget. It's something that Jeremy and Rishi and their officials are going to have to tackle on their own regardless of what happened in the budget.
However, on Sky News, Jeremy Hunt pushed back on Kwarteng's claim:
All I would say is that when we produced a fiscal statement that didn't show how we were going to bring our debts down over the medium term, the markets reacted very badly and so we have learned that you can't fund either spending or borrowing without showing how you are going to pay for it and that is what I will do.
The Guardian concludes:
Hunt did not engage with Kwarteng's specific argument, but he was clearly implying that his predecessor was at fault.
The article includes a clip from Hunt's interview:
Hunt was giving an interview to respond to this morning's growth figures showing the economy shrank by 0.2% in the third quarter of the year.
The Bank of England admits QE wrong policy
But wait, there's more.
On Tuesday, November 8, the Bank of England (BoE) finally admitted that QE — quantitative easing — was a mistake during the pandemic.
This is where the real problem lies. It has nothing to do with Kwarteng or Truss.
The Daily Mail reported that the BoE's chief economist, Huw Pill, appeared before the House of Lords economic affairs committee, admitting:
the Bank played a part in driving up inflation through its massive money-printing programme.
Known as quantitative easing (QE), this pumped £450billion into the economy during 2020.
He had more to say on inflation:
Pill also blamed the huge mismatch between supply and demand in the aftermath of Covid lockdowns for pushing the price of goods ever higher.
Pill has only been in his job for a year, so no one can blame him, but:
The comments could make uncomfortable reading for Bank Governor Andrew Bailey, who oversaw the explosion in QE, and new Prime Minister Rishi Sunak, who as chancellor was at the heart of the Government's response to Covid.
The Government has been fond of blaming the war in Ukraine for our current problems, however:
even before Russia's invasion of Ukraine in February, which caused gas prices to spike, inflation was already at 6.2 per cent – more than three times the Bank's target of 2 per cent.
Rishi and the BoE are to blame for this. As Chancellor, Rishi told MPs that we could borrow, borrow, borrow during the pandemic at little to no cost.
However, Huw Pill sees things differently:
Gas prices do not 'explain all of the overshoot' in inflation, said Pill. One factor, he said, was 'developments in the past – including choices over monetary policy'.
Warning that 'QE and the choices over QE may have contributed' to the rise in the cost of living, Pill added: 'I was not at the Bank two or three years ago when some of those rounds of QE were undertaken. Whether those would be chosen to do now is an open question.'
He also suggested that lockdowns – and the support offered to households and businesses through the pandemic such as the furlough scheme – played a part as they boosted demand at a time when the supply of goods and services was severely hit.
'Looking back at the impact of the pandemic, I think one can say that destruction of demand was over-emphasised relative to the destruction of supply,' he said.
'The support coming from the macroeconomic side – both fiscal support and monetary support –was very profound.'
QE works in the UK as follows:
buying bonds from investors – mainly government bonds known as gilts – reducing borrowing costs and freeing up cash for those investors to plough into the economy.
During the pandemic:
this helped to fuel demand by propping up buying activity while ignoring the supply problems caused by lockdowns, when businesses were forced to shut their doors.
When economies reopened, there was a surge in demand that could not be met, driving up prices and causing workers to demand higher wages.
Other economists and financial experts sounded the alarm at the time:
Andy Haldane, Pill's predecessor at the Bank, predicted as much when he began warning early last year that inflation could get out of hand.
Delaying efforts to tame inflation would be like 'trying to catch a tiger by its tail', Haldane said.
But other members of the Bank of England's interest rate-setting committee remained adamant that inflation would be 'transient'.
The Bank only began to raise interest rates in an attempt to get a grip on inflation in December last year and has now raised them from 0.1 per cent to 3 per cent.
Gerard Lyons, chief economist at investment firm Netwealth and former economic adviser to Boris Johnson during his time as mayor of London, accused the Bank of making a 'major policy mistake' with QE.
And Sir Paul Marshall, a hedge fund veteran, compared QE with a drug to which markets had become 'addicted'.
One week ago, sterling slumped as the BoE raised interest rates to 3%.
The Daily Mail reported:
Sterling slid around 2 per cent towards $1.11 as Andrew Bailey said markets were wrong to believe rates would peak as high as 5.25 per cent next year. 
His comments came as the Bank raised rates by a mammoth 0.75 percentage points to 3 per cent, the largest hike in more than 30 years. But in a warning to traders who were expecting more bumper hikes, Bailey suggested the unprecedented speed of rate hikes would soon begin to slow. 
There is internal disagreement among the BoE's ninestrong Monetary Policy Committee (MPC). A vote had to be taken on the interest rate rise:
More splits emerged at the Bank of England as two members of its ratesetting Monetary Policy Committee ( M P C ) opposed the hike to 3 per cent. Swati Dhingra argued that interest rates should be raised by 0.5 percentage points to 2.75 per cent and Silvana Tenreyro voted for an increase of just 0.25 percentage points to 2.5 per cent. They were outvoted by the other seven members, who opted for a 0.75 percentage point rise. The split exposed the difficulty the Bank is having in navigating Britain through the economic storm. Dhingra said that 'a small rate increase was warranted to safeguard against creating a deeper and longer recession' in Britain. Tenreyro, meanwhile, said the rate rises seen already would bring inflation back below 2 per cent in due course.
Sterling hadn't been that low since Kwarteng was Chancellor one month ago:
The pound slid by more than 2 per cent. Yesterday's [last week's] clash with traders again pulled down the value of sterling, which would usually rise on news of higher rates as traders shift to a currency promising greater returns. It is now at its lowest point since before Kwasi Kwarteng was sacked in mid-October following a disastrous six-week stint as Chancellor.
The US Federal Reserve has also affected sterling:
The pound has also been dragged down by the US Federal Reserve, which has been more aggressive than the Bank in its fight against inflation. The Fed has hiked rates by the unusually high amount of 0.75 percentage points at its last four meetings, taking its base rate to a range of 3.75 to 4 per cent and causing traders to flock to the dollar. While the Bank of England said its own base rate was unlikely to hit 5.25 per cent, it conceded it was also unlikely to remain at 3 per cent. 
Bailey said: 'Where the truth is between the two, we're not giving guidance on that.' 
Analysts pointed out that more uncertainty lies ahead of Jeremy Hunt's budget next Thursday, November 17:
Analysts said Threadneedle Street [where the BoE is] would be worrying about what other unpleasant surprises could be in store – especially regarding gas prices, which have been a key driver behind rising prices.
Philip Shaw, an economist at Investec, said rate-setters also had little idea what Chancellor Jeremy Hunt would announce in his Autumn Statement later this month, and whether there would be any further help for households which could fuel inflation.
Other economic news
More economic news came to light this week.
London
On November 10, Mayor of London Sadiq Khan told Times Radio that he has never been so worried about the capital:
I've lived in London my entire life; including the 80s during Thatcher's reign and the recession. I've never known it so bad.
Really?
I had the good fortune of being in London three times in the past week: once in the afternoon and twice at night.
I have not seen so many people on the streets in the evening since before the pandemic. The streets were filled, especially with 20-somethings, giggling as they made their way to their various destinations. I saw no unhappiness.
The restaurants were full. The one my better half and I ate at this week was already booked for the next several weeks. The one we ate at last week started filling up from 5:30 onwards. It had plenty of students dining there.
Furthermore, the Tube was heaving with passengers. Maybe Sadiq Khan (Labour) needs to take the Underground now and again rather than his motorcade to see what's really going on in London.
NHS — eye-watering costs
The NHS always wants more money: billions and billions more.
No one has got the nerve to reform its bloated ways.
Today, The Guardian reported that agency fees are spiralling out of control, yet Labour wants to give the NHS even more money if/when they get into Government:
NHS trusts are paying as much as £2,500 for a single agency nursing shift, research by the Labour party has revealed.
The party produced the figures by submitting freedom of information requests, and it says the results show the need for a big investment in NHS recruitment – which is what Labour is promising.
… A BBC investigation on the same topic found that, even though pay rates for agency staff are supposedly capped, these limits are regularly ignored, on the grounds that patient safety would otherwise be at risk.
Hmm.
Yesterday, the Daily Mail reported that the NHS will be curbing procedures such as tummy tucks and liposuction in order to save money.
An excellent idea. This should have been done years ago:
Circumcisions, tummy tucks and liposuction are among 13 operations which will stop being funded by the NHS in a 'crackdown' on wasteful spending.
It is thought that stopping the state funding of these operations could save £2 billon a year, along with less wasteful prescribing methods.
Last week bosses of the ailing NHS said that they want billions more cash to keep key services running this winter as Rishi Sunak ruled out cutting its budget as part of the public spending squeeze.
The £152 billion-per-year health service is seeking an extra £7 billion this year — the equivalent of an extra five per cent of its budget — to counter the effects of sky-high inflation, pay rises and Covid costs.
Finance chiefs warned that vital cancer, mental health and GP services face being axed unless the Treasury stumps up the cash.
Somehow, though, past efforts have not been proven money-savers:
It follows years of plans being drawn up to cut NHS costs.
In 2018, plans to stop funding breast reductions, tonsillectomies, and varicose vein surgeries were estimated to save the NHS £439 million a year, but in 2019 the spending had only dropped by three per cent in these areas, the newspaper reported.
Two years ago, 31 procedures were complied in a list in a plan to limit funding, including imaging for lower back pain. It is estimated that around 2.7 million procedures on the list were being carried out each year prior to this.
The new list, which includes circumcisions, tummy tucks and liposuction is the third that the NHS has made a bid to reduce costs.
The NHS will fund procedures on the list only if specific criteria are met:
Created by NHS bosses and medics from the Academy of Medical Royal Colleges, the plan states that the procedures should only be performed via NHS funding if specific criteria have been met …
The right-wing think tank The Policy Exchange estimates that this new guidance could save the NHS up to £2 billion.
Chairman of the Academy of Medical Royal Colleges, Professor Dame Helen Stokes-Lampard, told the newspaper: 'In short, this programme is about making sure we don't waste money doing things that don't work and we are instead redirecting that cash towards those things that are proven to be beneficial.'
MPs' 'golden goodbyes'
The UK's parliamentary constituency boundaries are being redrawn prior to the next general election.
As such, some MPs will lose their current constituencies, meaning they will stand to gain from 'loss of office' payments, or LOOPs.
The Daily Mail reported:
Rules on 'golden goodbyes' for MPs could be made more generous after a swathe of constituencies had their boundaries overhauled for the next election.
The Commons watchdog is looking at changing the provisions for politicians who are ejected from the House after it emerged very few could be entitled to cash.
Under the existing rules, departing MPs are only eligible for 'Loss of Office' payments – LOOP – if they have served at least two years and stood for re-election in the 'same seat'. 
However, the extent of the boundary review – due to be finalised in the coming months – means that all but a handful of constituencies have either been redrawn, had their names changed, or both. 
LOOP is equivalent to two or three weeks' salary for every year served, depending on age. For an MP on the core wage of £84,000 with 10 years' service that would be worth between £30,000 and £50,000.
Similar rules apply to 'winding up' payments, which are equivalent to a lump sum of two months' salary after tax and NICs [National Insurance Contributions] – roughly £10,000.
The turnover of MPs could be particularly high at the election – potentially in 2024 – with Labour riding high in the polls.
Conclusion
Various news outlets have reported that the UK is in for six years of austerity, beginning with Hunt's budget next Thursday.
Despite that, Rishi Sunak has just pledged billions in foreign aid — climate reparations — this week at COP27:
What about the folks back home?
What about Kwarteng's £50m notional 'black hole' that the media and Labour have been crying about?
On Monday, Guido Fawkes's sketch writer wrote about Sunak's new commitments to apologise for … the advances the Industrial Revolution brought the world:
Not only was Little Rishi backed up in the speaking queue behind Iraq, Mozambique, Kenya, Tonga and the Congo – he had to listen to Barbados telling him to up his giving game. Billions? That was last year. Trillions are the new billions.
Other speakers pointed out that we in the rich world had failed to make good on our pledges for £100 billion in climate finance. In the new world order, we will fail to make good on our trillion-pound pledges and they'll be a thousand times better off. "I profoundly believe it is the right thing to do," he said. He heard none of us who were shouting at the screen.
He went on to tell the COP that Britain had been the first major economy to legislate for Net Zero. He suggested that it was our leadership that had raised the proportion of countries going for zero emissions from one third to 90%. That we were going to reduce our emissions by 68% by 2030. Not a shred of shame did he allow himself for any of this.
Are we one of the rich countries anymore? It seems odd that the Treasury is agonising over a £50 billion hole in this year's budget and Rishi stood there offering the world £11.6 billion because of something we started 250 years ago.
Lance Forman, who runs his family's smoked salmon business and was a Brexit Party MEP, also points out the radio silence surrounding Rishi's pronouncements:
I can't figure it out, either.
It must have something to do with being on the correct side of the Establishment.
Yesterday's post, 'The Western world is changing, from coronavirus to climate change', discussed the outrage that Britons felt on reading Rishi Sunak's revelations in The Spectator about the UK's coronavirus policy:
Rishi, Liz Truss's rival in the Conservative Party leadership contest, did not do himself any favours. If he hoped to garner votes from the Party's coronavirus sceptics, he was mistaken.
From March 2020 to the present, any sceptics voicing an opinion were thrown under the bus, such as Bev Turner, who featured in yesterday's post.
On Thursday, August 25, the day that the ex-Chancellor's revelations were published, another sceptic, GB News's Dan Wootton, aired his views:
Wootton rightly took issue with Rishi's claim that the wrongful promotion of the SAGE scientists to an all-powerful level was wrong and that he should have changed it.
After all, next to Prime Minister Boris Johnson, the Chancellor is the next most powerful position in the Government. Yet, Rishi stayed quiet — for two years. Only now has he said anything.
He did nothing. Yes, he could have changed the course of events but did not:
At the end of that night's show, the Union Jackass nominees — prominent names in the news cycle for dumb things — were Boris Johnson for flying to Ukraine again instead of visiting the Channel to see migrants being escorted in, Nicola Sturgeon for saying she will always be British in spite of pushing for a second Scottish independence referendum and Rishi Sunak for not resigning or doing anything about our damaging coronavirus policy. Wootton chose Rishi Sunak:
Another coronavirus sceptic, Robert Taylor, wrote for The Telegraph about his own experience over the past two years and Rishi's revelations (purple emphases mine):
 … Take a bow, Rishi Sunak.
I had to do a double take when I saw the reports. For those long lockdown months, nobody in government, let alone the Cabinet, was prepared to say any such thing. It was left to a few courageous journalists and scientists to take on the overwhelming force of the lockdown fanatics, with police fining people for sitting on park benches and neighbours eagerly shopping each other like this was some authoritarian country.
The brave few kept the flag of personal freedom alive. That really is no exaggeration. And they paid heavily for it. On social media the abuse was intense. You don't care about lives! they snarled. You're murderers! they claimed. And in the mainstream, things weren't much better. You're a "small, disproportionately influential faction," moaned a Guardian Leader, that "denies the virulence of the virus". Thanks for that.
One MP, Neil O'Brien, took it upon himself to publicly discredit any sceptic, declaring "they have a hell of a lot to answer for". No, you do Mr O'Brien, for stifling free debate, along with certain mainstream news outlets for failing over a two-year period to examine whether lockdown might cause more harm than good …
But while I welcome and applaud Sunak's intervention, I also have a question. He was second only to the Prime Minister for power and influence, and lockdown was the most consequential, freedom-destroying government initiative since the war. He had severe doubts about it. So why didn't he resign? Yes, it would have been another headache for Boris. But given the massive consequences of the wrong strategy, didn't he owe it to the British people?
It's tragedy upon tragedy. Okay, it's a relief to hear that someone in the heart of government had the guts to challenge the dangerous group-think. But it's cold comfort to millions of children whose schooling was irreparably damaged along with their long-term prospects, and to patients who only discover now that they have cancer, diabetes or heart disease, and to those who were denied the chance simply to hug lonely, dying relatives.
For all these lockdown victims, Sunak's words come two years too late.
Publican Adam Brooks tweeted the article, which didn't get any replies in support of the former Chancellor:
However, earlier that day, two former Government advisers weighed in against Rishi: Dominic Cummings and Lee Cain.
Cummings blasted Rishi. The trolley in the tweet is Cummings's symbol for Boris, who veers off in all directions like a supermarket trolley:
Then he had a go at The Spectator's editor Fraser Nelson who conducted the interview with Rishi. Recall that Cummings's wife, Mary Wakefield, writes for the magazine:
Guido had a post on Cummings and Cain:
But, wait. Wasn't Rishi a friend of Cummings?
Guido's post says, in part (emphases his):
Whilst many sources disagree with some of Rishi's more lockdown-sceptic policy views, his criticism of the decision-making process by which those policies were reached are more widely supported. Lee Cain and Dominic Cummings, however, are not playing ball…
Former comms director Lee Cain argues that whilst he is a "huge admirer" of Rishi, "his position on lockdown is simply wrong. It would have been morally irresponsible of the govt not to implement lockdown in spring 2020."
Dominic Cummings is, characteristically, less diplomatic. Taking on Twitter he says, "the Sunak interview is dangerous rubbish, reads like a man whose epicly bad campaign has melted his brain & he's about to quit politics. Also pins blame *unfairly* on
 & others". A very rare defence of Boris. He ominously promises more blogging on the topic later…
I checked Cummings's Twitter account, but he hasn't posted anything more on the subject.
He defends his former boss here because he, too, wanted lockdown, even though he sneaked off to County Durham with his family one weekend during the first one in Spring 2020. He got rumbled, and, as penance, Boris made him give an agonising televised press conference about it. Cummings left Downing Street later in November that year.
Professor John Edmunds, a prominent SAGE member, pointed out that it was not SAGE's remit to do a cost-benefit analysis of lockdown. That would have been the responsibility of the Chancellor and the Treasury:
So, Conservative Party members should elect Rishi Sunak as their next leader when he couldn't be bothered to do a cost-benefit analysis during the pandemic? The Treasury has a lot of civil servants. That would have been part of their job. If only someone had asked them to do it:
GB News had a good article with reaction from Government advisers, including scientists:
Boris Johnson's former communications chief, Lee Cain, dismissed Mr Sunak's assessment of the situation, saying he is "simply wrong" …
He said No 10, the Treasury and Department of Health and Social Care "met multiple times daily and discussed the trade-offs".
Mr Cain added: "We all knew lockdown was a blunt instrument that had many downsides but in a world without vaccinations it was the best option available."
… A No 10 spokesman said: "At every point, ministers made collective decisions which considered a wide range of expert advice available at the time in order to protect public health."
Prof Graham Medley, a member of Sage, said: "Government have the power, so if one member of Cabinet thinks that scientific advice was too 'empowered' then it is a criticism of their colleagues rather than the scientists.
"The Sage meetings were about the science, not the policy options, and the minutes reflect the scientific consensus at the time."
… Another scientist who contributed advice to the Government during the pandemic said Mr Sunak's comments "are very misleading as they suggest that he was alone in thinking about the wider impact of lockdown on schools and other social impacts".
The source said the SPI-B group, which investigated behavioural impacts, and other advisers spent a lot of time examining the issues around school closures.
"If the former chancellor was arguing against school closures he would have found plenty of evidence to support his case from the very group of scientists he now appears to be criticising," the source said.
On Friday, August 26, Prime Minister Boris Johnson gave an interview in which he discussed the controversy. GB News reported:
Boris Johnson said he is "very confident" the Government made the "right" decisions about lockdowns.
The Prime Minister was asked to address the comments made by his former chancellor during a visit to South West London Elective Orthopaedic Centre in Surrey …
Speaking to broadcasters at the orthopaedic centre , Mr Johnson said if the Government did not lock the country down during the pandemic, "the delays for cardiac, the delays for hips, the delays for cancer treatment, or the other procedures that people care about" would have been "even greater".
He added: "I'm just giving you my view, which is that the… about the decision to try to stop the spread of Covid, and with all the things that we did.
"Of course, the inquiry will have to look at those decisions. I'm very confident that they were the right ones. I just want to remind people of the logic because I think there's a bit of… it all gets turned upside down.
"People say, 'Oh, well, it was because of the lockdowns that people's health was impaired'. Actually, the purpose of using those methods, imperfect though they were, to restrict the spread of Covid, was to reduce the huge numbers in the NHS.
"Forty-thousand people at one stage occupying beds in the NHS because of Covid, and therefore, to reduce the numbers of patients with other complaints, other sicknesses, other needs, who were displaced by Covid, and are now coming back into the NHS. That was the purpose of what we were doing."
Unfortunately, lockdown has made the NHS worse. We still cannot see a GP. The A&E wards are full, even early in the evenings on a weekday. Six million patients are awaiting various medical procedures.
Lockdown was the worst thing we could have done. I know the UK is not in an isolated position here, but we should have been better at this.
Rishi Sunak could have come up with a cost-benefit analysis during those two years, yet he never did.
And he's running to be our next Prime Minister?
It turns out that Conservative Party members are asking the same question. On Saturday, August 27, The Telegraph featured an article: 'The moment Rishi Sunak knew his leadership dream was over'.
It had nothing to do with The Spectator interview, but with remarks he made earlier in the month during the hustings in Eastbourne, on the south coast:
It was when Rishi Sunak mentioned California for the third time in less than 10 minutes that his campaign team realised it was all over.
On stage at the Conservative leadership hustings in Eastbourne on Aug 5, Mr Sunak answered a question about the career he would choose as a young graduate by reflecting on the "culture" of enterprise he saw while living on the West Coast between 2004 and 2006.
"I think it's incredibly inspiring and empowering," he said. "If I was a young person, I'd want to go and do something like that."
But back at his campaign headquarters in Holborn, Central London, his strategists were far from inspired.
Staff felt his focus on California showed he was out of touch and summed up his failure to win over grassroots Tory members as polls showed members backing Liz Truss by more than two to one.
"People started to say that it wasn't going to happen now and he wasn't connecting with voters in the room," a source on the campaign told The Telegraph.
"He kept talking about California and tech. It became an open secret within the campaign that he wasn't going to win. That hustings was the point things really took a turn as everyone started to realise that."
Just as well, really.
All this talk of California? He must be wondering how he'll get his Green Card back.
Knowing Rishi and his in-laws' connections, he'll find a way.
My far better half and I never miss a Neil Oliver editorial during his Saturday evening GB News shows.
His topic is the changing fabric of the Western world post-pandemic, whether it be through farming prohibitions, climate change or the ongoing revelations about coronavirus policies.
Here is the transcript and the video from his August 13 editorial:
Excerpts follow, emphases mine:
It is hard to think the unthinkable – but there comes a time when there's nothing else for it. People raised to trust the powers that be – who have assumed, like I once did, that the State, regardless of its political flavour at any given moment, is essentially benevolent and well-meaning – will naturally try and keep that assumption of benevolence in mind when trying to make sense of what is going on around them.
People like us, you and me, raised in the understanding that we are free, that we have inalienable rights, and that the institutions of this country have our best interests at heart, will tend to tie ourselves in knots rather than contemplate the idea those authorities might actually be working against us now. I took that thought of benevolent, well-meaning authority for granted for most of my life, God help me. Not to put too fine a point on it, I was as gullible as the next chump.
A couple of years ago, however, I began to think the unthinkable and with every passing day it becomes more and more obvious to me that we are no longer being treated as individuals entitled to try and make the most of our lives – but as a barn full of battery hens, just another product to be bought and sold – sold down the river …
Once the scales fall from a person's eyes, the resultant clarity of sight is briefly overwhelming. Or it is like being handed a skeleton key that opens every locked door, or access to a Rosetta Stone that translates every word into a language instantly understood.
Take the energy crisis: If you've felt the blood drain from your face at the prospect of bills rising from hundreds to several thousands of pounds while reading about energy companies doubling their profits overnight while being commanded to subsidise so-called renewables that are anything but Green while listening to this politician or that renew their vows to the ruinous fantasies of Net Zero and Agenda 2030 while knowing that the electricity for electric cars comes, in the main and most reliably, from fossil fuels if you can't make sense of it all and just know that it adds up to a future in which you might have to choose between eating and heating then treat yourself to the gift of understanding that the powers that be fully intend that we should have less heat and less fuel and that in the planned future only the rich will have cars anyway. The plan is not to fix it.
The plan is to break it, and leave it broken. If you struggle to think the best of the world's richest – vacuous, self-obsessed A-list celebrities among them – endlessly circling the planet on private jets and super yachts, so as to attend get-togethers where they might pontificate to us lowly proles about how we must give up our cars and occasional holiday flights – even meat on the dinner table … if you wonder how they have the unmitigated gall … then isn't it easier simply to accept that their honestly declared and advertised intention is that their luxurious and pampered lives will continue as before while we are left hungry, cold and mostly unwashed in our unheated homes.
Here's the thing: if any leader or celeb honestly meant a word of their sermons about CO2 and the rest, then they would obviously lead by example. They would be first of all of us willingly to give up international travel altogether … they would downsize to modest homes warmed by heat pumps. They would eschew all energy but that from the sun and the wind. They would eat, with relish, bugs and plants. They would resort to walking, bicycles and public transport. If Net Zero and the rest was about the good of the planet – and not about clearing the skies and the beaches of scum like us – don't you think those sainted politicians and A-listers would be lighting the way for us by their own example? If the way of life they preach to us was worth living, wouldn't they be living it already? Perhaps you heard Bill Gates say private jets are his guilty pleasure.
And how about food – and more particularly the predicted shortage of it: the suits and CEOs blame it all on Vladimir Putin. But if the countries of the world are truly running out of food, why is our government offering farmers hundreds of thousands of pounds to get out of the industry and sell their land to transnational corporations for use, or disuse unknown? Why aren't we, as a society, doing what our parents and grandparents did during WWII and digging for victory? Why is the government intent on turning a third of our fertile soil over to re-wilding schemes that make life better only for the beavers? Why aren't we looking across the North Sea towards the Netherlands where a WEF-infected administration is bullying farmers off their land altogether, forcing them to cull half the national herd …
Why do you think it matters so much, to the government of the second most productive population of farmers in the world, to gut and fillet that industry? Why? Why have similar protests, in countries all across Europe and the wider world, been largely ignored by the mainstream media – a media that would have crawled on its hands and knees over broken glass just to report on a BLM protester opening a bag of non-binary crisps. Why the silence on the attack on farming? …
Isn't the simple obvious answer … the answer that makes most sense and that is staring us in our trusting faces … that power for the power-hungry has always rested most effectively upon control of food and its supply? Why are the powers that be attributing this to a cost of living crisis when everyone with two brain cells to rub together can see it's a cost of lockdown crisis – the inevitable consequence of shutting down the whole country – indeed the whole world – for the best part of two years. Soaring inflation, rising interest rates, disrupted supply chains …
Rather than dismiss as yet another conspiracy theory the idea of cash being ultimately replaced with transactions based on the exchange of what amount to glorified food stamps that will only be accepted if our social credit score demonstrates that we've been obedient girls or boys … how about taking the leap and focussing on the blatantly obvious … that if we are not free to buy whatever and whenever we please, free of the surveillance and snooping of governments and the banks that run them, then we have absolutely no freedom at all. And while we're on the subject of money and banks, why not pause to notice something else that is glaringly obvious – which is to say that the currencies of the West are teetering on the abyss, and that one bank after another is revealed, to those who are bothering to watch, as being as close to bankruptcy as its possible to be without actually falling over the edge.
Then there's the so-called vaccines for Covid – I deliberately say "so-called" because by now it should be clear to all but the wilfully blind that those injections do not work as advertised. You can still contract the virus, still transmit the virus, still get sick and still die. Denmark has dropped their use on under-18s. All across the world, every day, more evidence emerges – however grudgingly, however much the various complicit authorities and Big-Pharma companies might hate to admit it – of countless deaths and injuries caused by those medical procedures …
Now I ask myself on a daily basis how I ignored the stench for so long. Across the Atlantic, the Biden White House sent the FBI to raid the home of former president Donald Trump. Meanwhile Joe Biden and his son Hunter – he of the laptop full of the most appalling and incriminating content – fly together on Air Force 1. No raids planned on the Obamas, nor on the Clintons. Speaker of the House Nancy Pelosi flew to Taiwan and onwards to China. Her son Paul, an investor in a Chinese tech firm and with seats on the board of companies dealing in lithium, was along for the ride, into that part of the world where three quarters of the world's lithium batteries are made. Taiwan leads in that technology.
It is hard to think the unthinkable. It's hard to think that all of it, all the misery, all the suffering of the past and to come might just be about money, greed and power. It is hard to tell yourself you've been taken for a fool and taken for a ride. It's hard, but the view from the other side is worth the effort and the pain. Open your eyes and see.
In the middle of last week, Rishi Sunak gave an interview to Fraser Nelson, editor of The Spectator, about his view on the Government's coronavirus policy and SAGE, their medical and scientific advisory team.
Excerpts from 'The lockdown files: Rishi Sunak on what we weren't told' follow:
When we meet at the office he has rented for his leadership campaign, soon to enter its final week, he says at the outset that he's not interested in pointing the finger at the fiercest proponents of lockdown. No one knew anything at the start, he says: lockdown was, by necessity, a gamble. Chris Whitty and Patrick Vallance, the chief medical officer and chief scientific adviser, would openly admit that lockdown could do more harm than good. But when the evidence started to roll in, a strange silence grew in government: dissenting voices were filtered out and a see-no-evil policy was applied.
Sunak's story starts with the first Covid meeting, where ministers were shown an A3 poster from scientific advisers explaining the options. 'I wish I'd kept it because it listed things that had no impact: banning live events and all that,' he says. 'It was saying: you should be careful not to do this stuff too early, because being able to sustain it is very hard in a modern society.' So the scientific advice was, initially, to reject or at least delay lockdown.
This all changed when Neil Ferguson and his team at Imperial College published their famous 'Report 9', which argued that Covid casualties could hit 500,000 if no action was taken – but the figure could be below 20,000 if Britain locked down. That, of course, turned out to be a vast exaggeration of lockdown's ability to curb Covid deaths …
A cost-benefit calculation – a basic requirement for pretty much every public health intervention – was never made. 'I wasn't allowed to talk about the trade-off,' says Sunak. Ministers were briefed by No. 10 on how to handle questions about the side-effects of lockdown. 'The script was not to ever acknowledge them. The script was: oh, there's no trade-off, because doing this for our health is good for the economy.'
… When he did try to raise concerns, he met a brick wall. 'Those meetings were literally me around that table, just fighting. It was incredibly uncomfortable every single time.' He recalls one meeting where he raised education. 'I was very emotional about it. I was like: "Forget about the economy. Surely we can all agree that kids not being in school is a major nightmare" or something like that. There was a big silence afterwards. It was the first time someone had said it. I was so furious.'
One of Sunak's big concerns was about the fear messaging, which his Treasury team worried could have long-lasting effects. 'In every brief, we tried to say: let's stop the "fear" narrative. It was always wrong from the beginning. I constantly said it was wrong.' The posters showing Covid patients on ventilators, he said, were the worst. 'It was wrong to scare people like that.' The closest he came to defying this was in a September 2020 speech saying that it was time to learn to 'live without fear' – a direct response to the Cabinet Office's messaging. 'They were very upset about that.'
… Lockdown – closing schools and much of the economy while sending the police after people who sat on park benches – was the most draconian policy introduced in peacetime. No. 10 wanted to present it as 'following the science' rather than a political decision, and this had implications for the wiring of government decision-making. It meant elevating Sage, a sprawling group of scientific advisers, into a committee that had the power to decide whether the country would lock down or not. There was no socioeconomic equivalent to Sage; no forum where other questions would be asked.
So whoever wrote the minutes for the Sage meetings – condensing its discussions into guidance for government – would set the policy of the nation. No one, not even cabinet members, would know how these decisions were reached.
In the early days, Sunak had an advantage. 'The Sage people didn't realise for a very long time that there was a Treasury person on all their calls. A lovely lady. She was great because it meant that she was sitting there, listening to their discussions.'
… But his victories were few and far between. One, he says, came in May 2020 when the first plans were being drawn to move out of lockdown in summer. 'There's some language in there that you will see because I fought for it,' he says. 'It talked about non-Covid health impact.' Just a few sentences, he says, but he views the fact that lockdown side-effects were recognised at all at that point as a triumph.
He doesn't name Matt Hancock, who presided over all of this as health secretary, or Liz Truss, who was silent throughout. As he said at the outset, he doesn't want to name names but rather to speak plainly about what the public was not told – and the process that led to this. Typically, he said, ministers would be shown Sage analysis pointing to horrifying 'scenarios' that would come to pass if Britain did not impose or extend lockdown. But even he, as chancellor, could not find out how these all-important scenarios had been calculated.
Liz Truss was not part of the 'quad', though, the four Cabinet ministers who determined policy. If I remember rightly, the 'quad' were Boris, Hancock, Michael Gove and Rishi. Truss claimed that she didn't speak up because she was told that the decisions were a fait accompli. Nelson verifies that below.
Returning to Rishi:
'I was like: "Summarise for me the key assumptions, on one page, with a bunch of sensitivities and rationale for each one",' Sunak says. 'In the first year I could never get this.' The Treasury, he says, would never recommend policy based on unexplained modelling: he regarded this as a matter of basic competence. But for a year, UK government policy – and the fate of millions –was being decided by half-explained graphs cooked up by outside academics.
'This is the problem,' he says. 'If you empower all these independent people, you're screwed.' Sir Gus O'Donnell, the former cabinet secretary, has suggested that Sage should have been asked to report to a higher committee, which would have considered the social and economic aspects of locking down. Sunak agrees. But having been anointed from the start, Sage retained its power until the rebellion that came last Christmas.
In December 2021, at the time JP Morgan's lockdown analysis appeared:
He flew back early from a trip to California. By this time JP Morgan's lockdown analysis was being emailed around among cabinet ministers like a samizdat paper, and they were ready to rebel. Sunak met Johnson. 'I just told him it's not right: we shouldn't do this.' He did not threaten to resign if there was another lockdown, 'but I used the closest formulation of words that I could' to imply that threat. Sunak then rang around other ministers and compared notes.
Normally, cabinet members were not kept in the loop as Covid-related decisions were being made – Johnson's No. 10 informed them after the event, rather than consulting them. Sunak says he urged the PM to pass the decision to cabinet so that his colleagues could give him political cover for rejecting the advice of Sage. 'I remember telling him: have the cabinet meeting. You'll see. Every-one will be completely behind you… You don't have to worry. I will be standing next to you, as will every other member of the cabinet, bar probably Michael [Gove] and Saj [Javid].' As it was to prove.
Nelson claims that Rishi is telling the truth:
For what it's worth, his account squares with what I picked up from his critics in government: that the money-obsessed Sunak was on a one-man mission to torpedo lockdown. And perhaps the Prime Minister as well. 'Everything I did was seen through the prism of: "You're trying to be difficult, trying to be leader,"' he says. He tried not to challenge the Prime Minister in public, or leave a paper trail. 'I'd say a lot of stuff to him in private,' he says. 'There's some written record of everything. In general, people leak it – and it causes problems.'
Rishi said why he did not resign at the time:
To quit in that way during a pandemic, he says, would have been irresponsible. And to go public, or let his misgivings become known, would have been seen as a direct attack on the PM.
At the time, No. 10's strategy was to create the impression that lockdown was a scientifically created policy which only crackpots dared question …
David Cameron employed the same strategy with the Brexit referendum in 2016. He said that the only people supporting Leave were 'swivel-eyed loons'.
Rishi explained why he waited until now to speak out:
He is opening up not just because he is running to be prime minister, he says, but because there are important lessons in all of this. Not who did what wrong, but how it came to pass that such important questions about lockdown's profound knock-on effects – issues that will probably dominate politics for years to come – were never properly explored …
And the other lessons of lockdown? 'We shouldn't have empowered the scientists in the way we did,' he says. 'And you have to acknowledge trade-offs from the beginning. If we'd done all of that, we could be in a very different place.' How different? 'We'd probably have made different decisions on things like schools, for example.' Could a more frank discussion have helped Britain avoid lockdown entirely, as Sweden did? 'I don't know, but it could have been shorter. Different. Quicker.'
Even now, Sunak doesn't argue that lockdown was a mistake – just that the many downsides in health, the economy and society in general could have been mitigated if they had been openly discussed. An official inquiry has begun, but Sunak says there are lessons to learn now …
To Sunak, this was the problem at the heart of the government's Covid response: a lack of candour. There was a failure to raise difficult questions about where all this might lead – and a tendency to use fear messaging to stifle debate, instead of encouraging discussion. So in a sentence, how would he have handled the pandemic differently? 'I would just have had a more grown-up conversation with the country.'
Hmm.
On Thursday, August 25, Fraser Nelson wrote an article about it for The Telegraph: 'Rishi Sunak is just the start. The great lockdown scandal is about to unravel':
For some time, I've been trying to persuade Rishi Sunak to go on the record about what really happened in lockdown. Only a handful of people really know what took place then, because most ministers – including members of the Cabinet – were kept in the dark. Government was often reduced to a "quad" of ministers deciding on Britain's future and the then chancellor of the exchequer was one of them. I'd heard rumours that Sunak was horrified at much of what he saw, but was keeping quiet. In which case, lessons would never be learnt.
His speaking out now confirms much of what many suspected. That the culture of fear, seen in the Orwellian advertising campaign that sought to terrify the country, applied inside Government. Questioning lockdown, even in ministerial meetings, was seen as an attack on the Prime Minister's authority. To ask even basic questions – about how many extra cancer deaths there might be, for example – was to risk being portrayed as one the crackpots, the "Cov-idiots", people who wanted to "let the virus rip". Hysteria had taken hold in the heart of Whitehall …
Chris Whitty and Patrick Vallance began by advising ministers not to lock down, saying public events were fine, and that face masks were pointless. They were talking about herd immunity as the way out. Then they flipped entirely. But this reveals something crucial: lockdown never was backed by science. It was about models and suppositions, educated guesswork. It was driven by moods, emotion, fear – and, worst of all, politics masquerading as science.
This is part of Sunak's point. He doesn't say locking down was wrong. Just that it somehow went from being a daft idea, rubbished by scientists, to a national imperative whose necessity was unquestionable scientific truth. So we need to ask: was the fear messaging really necessary? Why were No 10 outriders sent out to savage dissenting scientists? Why was Sunak made to feel, as he told me, that he was being seen – even inside government – as a callous money-grabber when he raised even basic concerns?
The disclosures should start a great unravelling of the lockdown myth, its pseudo-scientific sheen stripped away and the shocking political malfeasance left to stand exposed. Were Sage minutes manipulated, with dissent airbrushed out? If Sage "scenarios" were cooked up on fundamentally wrong assumptions we need to know, because that will mean lockdowns were imposed or extended upon a false premise. A premise that could have been exposed as false, had there been basic transparency or proper scrutiny.
This isn't just about a virus. An autocratic streak took hold of the Government and overpowered a weak Prime Minister – and did so because our democratic safeguards failed. It should have been impossible for policies of such huge consequence to be passed without the most rigorous scrutiny. So many lives were at risk that every single lockdown assumption should have been pulled apart to see if it was correct. It should have been impossible for government to suspend such scrutiny for more than a few weeks.
I suspect that this authoritarian reflex lies embedded in our system, ready to twitch again. Life, after all, is easier without opposition so if tools exist to suspend it, we can expect them to be grabbed …
Sunak doesn't speak like a man expecting to end up in No 10. He said earlier this week that he would rather lose having been honest with people than win by telling half-truths. Opening up on lockdown may not save, or even help, his campaign. But his candour has offered important insights into one of the most important stories of our times – and one that is only beginning to be told.
As the then-Chancellor, he was the most powerful man in Government after Prime Minister Boris Johnson. Rishi held the nation's purse strings and could have said 'no' at any point to the policies. But he didn't.
It was difficult to know exactly what Rishi's motives were in giving such an interview. Perhaps he was trying to glean votes from sceptical Conservative Party members in a last ditch attempt to save his candidacy.
Whatever his reason, one outcome was that it got Covid sceptics talking again, with some indirect support from him.
On Friday, August 26, one of those sceptics, Bev Turner, delivered a guest host editorial on GB News.
She was not happy with Rishi's silence over Government policy:
Now, Rishi Sunak says that lockdowns "could have been shorter. Different. Quicker. We could be in a very different place", he says now with the benefit of hindsight that some of us never needed… Apparently, as the economy tanks, he regrets the Government's Covid strategy, stating that the scientists at Sage should never have been put in charge of the country's response.
Well…who knew?…thanks for that, Rishi. Now I can sleep at night….except of course I can't. And I won't until there are arrests over the despotic, unscientific measures of the scamdemic and the perverted profits sucked up by vampirical pharma companies aided and abetted by a media paid off to the tune of £300m. Paid for, by Rishi Sunak's department with our tax payers money!
"If you empower all these independent people, you're screwed," he now says in reference to Sage, "We shouldn't have empowered the scientists in the way we did."
She brought up Susan Michie, who is now — or who soon will be — working for the WHO:
a leading member of Sage is a life-long member of the Communist Party and might just have enjoyed the frisson of power.
She wondered why Rishi didn't do more in his position of power:
… Rishi's wrong, you can empower scientists – except that as with any medical decision – the consequences of which could be life-changing, you seek a second opinion.
Are you telling us, Rishi Sunak, that you didn't have the chance, at one of your Sage meetings to ask your colleagues to read The Great Barrington Declaration for instance? That statement written in October 2020 by some of the world's top epidemiologists and public health scientists in which they expressed their grave concerns about the damaging physical and mental health impacts of your policies, instead recommending more Focused Protection for the vulnerable. They were publicly discredited as 'fringe' according to leaked emails and denounced as quacks. You should have had the gumption, Rishi Sunak, to insist to your team that there might have been a different way.
Rishi acknowledged that there was no cost-benefit analysis of the lockdowns. I remember a handful of  Conservative MPs asking for them in Parliament. Answer there came none.
Bev discussed her own demonisation during the pandemic:
Is he FINALLY referencing the necessity of a cost-benefit analysis of lockdowns?
Let me tell you, after making such statements on TV I was vilified by the press, demonised on social media and written off by former employers as a selfish granny-killer…
But it was so obvious if you chose to look. You didn't need to be the Chancellor to see what was coming. You just needed to switch off the BBC; seek out people who were looking at facts rather than trilling with emotion.
It wasn't easy taking a public stance for the poor, the old, the young, and anyone who was going to suffer harms from Covid theatre. But I did it anyway. Because it was the right thing to do.
She finds it hard to support Rishi's stance:
In my opinion, Sunak's words paint a picture of a man who lacked the spine to publicly call-out what he now says he knew were policy mistakes. How dare you, Rishi Sunak, How dare you …
… He wasn't a passenger when, long after we had a clear picture of the infection fatality rate, said nothing to stop confused, 98-year-old care-home residents having to mouth "I love you" through windows when all they wanted was to hold someone's hand.
Sunak wasn't a passenger when schools closed; when the decades-old pandemic response plan was mysteriously ripped up in favour of a Chinese style quarantine-the-healthy strategy. He wasn't a passenger when the Chief Medical Officers took to their lecterns with baffling figures seemingly obfuscated to maintain the fear.
He was a driver, one of a handful up front at the wheel, map in hand as he helped drive the country into a brick wall with businesses closed, families destroyed, mental health problems exacerbated and some educational achievements lost forever.
He was in on the meetings that decided the NHS must be solely obsessed with a disease that was involved in the deaths of those averaging 82 years of age. Thanks to the growing treatment backlog he was well aware of, we are now deep in a period of excess weekly mortality in the relatively young which dwarfs anything that Covid-19 managed …
"In every brief, we tried to stop the fear narrative," he now says. "I constantly said it was wrong."
No, you did not. If you had genuinely believed that you would have resigned noisily and defiantly with the backing of so many British people who could also see the Covid pantomime for what it was. You could have taken a temporary step off your own political career ladder and ironically – you could have eventually come back free from the stains of the Covid oil slick in which this country is now drowning.
You say, Rishi, that you were ticked off by the Cabinet Office after saying it was time to 'live without fear'. So tell us – who didn't want to hear that message? Name names now and put your money where your mouth is.
It's actually hard to know who Sunak is aiming this about-turn at: those of us who stuck our own necks out to question the non-scientific policy, whether that was on TV or even just round a family dinner table are not ready to forgive those who were in power.
Sunak has even said that minutes from Sage meetings were edited to omit dissenting voices from final drafts.
This has caused lawyer Francis Hoar to tweet: "This is absolutely shocking. If this is true then those responsible – and it is reasonable to suppose that Whitty and Vallance were at least aware – should face a criminal investigation for misconduct in public office."
Quite right.
Sunak has thrown the scientists under the bus. They will now blame the politicians who took the decisions. The inevitable infighting will be bloody and brutal and it will finally allow us to see behind the curtain and find out WHY in my opinion insanity was allowed to run riot. I will have my popcorn ready.
The next day, Neil Oliver delivered another great editorial.
This one is spectacular:
He advised us not to be taken in by Sunak, although he admits that the ex-Chancellor's revelations have brought the coronavirus policy narrative to the fore.
Excerpts follow:
Don't be fooled into thinking this disaster movie is coming to an end.
Rishi Sunak was quick off the mark last week with his pitiful, self-serving claims about having known the lockdowns were a bad thing but that despite him drumming his tiny fists on the table until they were a little bit sore no one would listen to him.
He said his heroic efforts to avert disaster were deleted from the official records of meetings he attended.
If that's true – if minutes of meetings affecting government policy were doctored – then Sunak's claims demand criminal investigation and jail time for those responsible – including big wigs with letters after their names, who presumably knew the truth of it as well and kept their mouths shut while people needlessly died miserable deaths, endured miserable lives and the country was driven off a cliff.
Sunak squeaks that he was on the right side of history but powerless. What absolute twaddle. He was arguably the second most powerful figure in government. By his own admission, he went along with all that was done to us. If it had ever been about principles, he would have resigned the first time his dissent was ignored and erased. He would have made his way hot foot to a television studio and there delivered an honest statement about how doing the right thing was more important than keeping his job. He did none of those things.
For all that, there's excitement in the air. The mere fact the former chancellor and would-be prime minister have broken ranks – basically opting for the tried and trusted playground tactic of claiming a big boy did it and ran away means many are scenting blood in the water.
I'm hearing a lot of people, desperate and hopeful that the whole truth will finally come out, saying things like, "the narrative is finally falling apart."
It might be and it might not. But the Covid and lockdown double-act is expendable. They've wrung all the juice they're ever going to get out of that rotten fruit and now it's ready to be cast aside. Or maybe it will just go on the back burner while other, fresher concoctions are brought forward. Either way, someone, somewhere seems to have decided it's time to move on.
Just don't be fooled into thinking that stuff about saving Granny and the NHS was ever the point, far less the main event. I've said before and I'll say it again:
"It's never about what they say it's about."
Thousands of grannies and grandpas died anyway and the NHS is a vast money pit that sucks in billions and now shuts its doors against people dying of cancer. I don't believe the last two years was ever about public health …
The good ship Pandemic is holed below the waterline and all the rats are scuttling towards the life rafts. All the lies about Covid, all the lies about vaccines, more and more exposed every day.
On the other side of the Atlantic, micro megalomaniac Antony Fauci is making for dry land as fast as his little paws will propel him. There are so many rats on that sinking ship, however, that they know there won't be enough rafts. They are aboard the Titanic and many won't make it. Here's hoping.
Now that some of the great and the good are changing their tune … now that more and more of the mainstream media are pirouetting like ballerinas and finally contemplating questions some of us have been asking, shouting indeed, on a desperate loop, for months and years, there's a narrow window of opportunity for getting some other stuff out into the open. And so now seems like the right time to think more of the unthinkable and say more of the unsayable.
Things are unfolding now exactly as the so-called conspiracy theorists, us with the tin hats on, said they would. And while everyone else – those who poured scorn, and ridiculed and hated – surely have to face the fact that we, the outcasts who lost work and reputations and much else besides – were right all along about the unforgivable damage of locking down, about harms to children, about being determined to refuse the Covid injections – in this brief moment while those who had nothing to offer but spite, and vitriol and undisguised loathing for those of us who first suspected we were being sold a pup – and who felt something wrong in our guts and so bothered to do our own reading and learned we were absolutely right and so spoke out and kept speaking out – right now before those smug smarty pants regroup behind the next line trotted out by the establishment, we can state some more of the blindingly obvious.
Let me, on behalf of my fellow conspiracy theorists, put more of the truth out there. After all, in a few months' time it's what those same smarty pants will be saying they knew all along as well.
Here's what I make of the bigger picture – and what some of us so-called Covidiots, anti-vaxxers, Putin-apologists, fascist, far-right extremist swivel-eyed loons want to talk about next.
… The horror show in the Ukraine is being exploited.
Here at home last week, Boris implied that while only lesser mortals are fretting selfishly about heat and food, his attentions are focused on the lofty heights of saving the world. The little people of Britain must endure cold and hunger for … guess what … the greater good.
Anyone with even the faintest grasp on, at least an interest in, geopolitics knowns it is utterly bogus and he is a fraud – along with Biden, Trudeau, Macron, Von der Leyen and the rest of a list so long I don't have time to read it out.
The imminent cold and hunger were made inevitable not by Putin in 2022, but years ago by the adoption of ruinous, ideologically-driven nonsense presented as world-saving environmental policies that only denied us any hope of energy independence, the profitable exploitation of all the resources beneath our feet and seas, and condemned much of Europe to dependence on Russia.
What we are paying is the cost of going Green, when those polices are not green at all but predicated upon some of the most destructive and toxic practices and technologies ever conceived.
Wind and solar will never provide the energy we need to keep thriving as societies, to grow and flourish. The situation is so insane I find it easiest to conclude we are simply meant to do without.
Stop thinking we're all going to have cars, and international travel, and warm homes – just different than before. What seems obvious is that we are being groomed to live small lives, to make way for the grandiose expectations and entitlements of the elites that are working so effectively to hoover up the last of the wealth …
Energy prices will keep going up. This will obviously hurt the poorest countries and poorest people first and worst. What is obvious about the Green warriors making war on affordable, reliable energy is that they care not a jot about the poor – at least not the actual poor alive in the world today. Those real flesh and blood people are to be sacrificed, by the millions, utterly denied the energy that might have lifted them out of poverty, so that imaginary people as yet unborn might thrive in a Utopia that exists only in the imaginations of pampered protesters. China will just burn more coal to compensate and seize more control but, shh, best not mention it.
That corrupted thinking comes from Communism – or perhaps Communism's idiot cousin Socialism. Green warriors don't care about the poor, in the same way socialists don't care about the poor … they just hate the rich.
Which is ironic, given that with their infantile protests they are doing the work of the very richest for them.
Ukraine produces a fifth of the wheat crop, required by the poorest. Not this year though. Whatever has been grown will be hard to store and harder to export – so that hunger and full-blown famine becomes a looming threat for hundreds of millions of the world's hungriest people.
In richer countries, life is being made deliberately impossible for farmers. Spiking costs of fertilisers and fuel are one thing but governments in the Netherlands, across Europe, in Canada and elsewhere around the world are persecuting those who grow our food. Farmers are being made to endure restrictions that destroy their businesses, being driven off their land altogether. They will have to watch as fields they have known and cared for over generations are hoovered up by transnational organisations with other ideas about what that land might be used for.
If you think mass migration and immigration are difficult problems now, wait until the unavoidable famines cause a haemorrhage of humanity out of the poorest countries of Africa and the Middle East. Perhaps hundreds of millions of people with nothing more to lose. Where do you think they'll go?
And here's another inconvenient truth: money and weapons keep flowing into Ukraine, but despite months of war and sanctions, the Russian rouble remains strong and an end to hostilities seems as far away as ever. Maybe no one wants that war to end. Wars don't determine who's right anyway; wars determine who's left.
Ultimately this is all about wealth and power. Not money, remember. Money is to wealth as a menu is to a steak. One's a worthless bit of paper, the other something that will keep you alive. This is about actual wealth and its acquisition. It's about the already super-rich getting hold of even more of the real things. Land, buildings, natural resources, gold. While we are supposed to be frightened out of our wits, squabbling among ourselves, and just hoping that one day it will all be over, a relative handful of others are hoovering up all the wealth, as planned …
Don't be fooled by Sunak and the rest and their about face – their pretence that they were with us all along. Covid and lockdown carried them only so far – but they plan to go much further. Disease, War, Famine, Death – the same people always ride on the same four horses. Now is not the time to take our eyes off the ball. Not by a long chalk. Keep watching the usual suspects.
On Sunday, August 28, Scottish comedian Leo Kearse guest hosted Mark Dolan's GB News show.
He gave an excellent editorial about eco-warriors. This is a five-minute video you won't regret seeing, full of fact with a generous scoop of wit:
He points out that Green pressure on Government has made us back away from energy independence over the years. The result? We are now dependent upon Putin for gas. He says that eco-warriors are helping Putin to win the war in Ukraine. Meanwhile, the rest of us will be cutting back on fuel we need to heat our homes this winter.
He concludes that Green policies are a nonsense, especially when the Scottish Green leader Patrick Harvie says that only right-wing extremists advocate energy independence.
He gives President Trump credit for telling Germany to become energy independent, even if the German delegation listening laughed in his face. He asks when Germany will ever be on the right side in a war.
I cannot help but agree.
Returning to Rishi's coronavirus revelations, I will have more on that tomorrow, as there was fallout over the weekend. Bev Turner was not wrong. They're turning on each other.
At the weekend, it seemed as if more and more people began waking up to the fact that coronavirus policies of lockdowns and forced 'vaccines' did more harm than good.
Sweden was right
First, let's go back to the end of July 2022 to an article in City Journal: 'The WHO Doesn't Deserve the Nobel Peace Prize'.
Its author, John Tierney, says that if anyone merits the Nobel it's Anders Tegnell, the state epidemiologist of Sweden.
Excerpts follow, emphases mine:
While the WHO and the rest of the world panicked, he kept calm. While leaders elsewhere crippled their societies, he kept Sweden free and open. While public-health officials ignored their own pre-Covid plans for a pandemic—and the reams of reports warning that lockdowns, school closures, and masks would accomplish little or nothing—Tegnell actually stuck to the plan and heeded the scientific evidence.
Journalists pilloried him for not joining in the hysteria, but he has been proven right. In Sweden, the overall rate of excess mortality—a measure of the number of deaths more than normal from all causes—during the pandemic is one of the lowest in Europe. Swedish children kept going to school and did not suffer the learning loss so common elsewhere. Swedish children and adults went on with their lives, following Tegnell's advice not to wear masks as they continued going to schools, stores, churches, playgrounds, gyms, and restaurants. And fewer of them died than in most of the American states and European countries that delayed medical treatments, bankrupted businesses, impoverished workers, stunted children's emotional and cognitive growth, and stripped their citizens of fundamental liberties.
If it hadn't been for Tegnell and a few other heretics in places like Florida, we would not have clear evidence to prevent a similar catastrophe when the next virus arrives …
Tegnell was aided by another worthy candidate to share the Nobel, Johan Giesecke, who had formerly held Tegnell's job and served during the pandemic as an advisor to the Swedish public health agency. Decades earlier, he had recruited Tegnell to the agency because he admired the young doctor's willingness to speak his mind regardless of political consequences …
Politicians in Sweden were ready to close schools, too, but Tegnell and Giesecke insisted on weighing costs and benefits, as Tegnell had done in a 2009 article reviewing studies of school closures during pandemics. The article had warned that the closures might have little or no effect on viral spread and would cause enormous economic damage, disproportionately harm students and workers in low-income families, and create staff shortages in the health-care system by forcing parents to stay home with young children. Given all those dangers, plus early Covid data showing that schoolchildren were not dangerously spreading the virus, Tegnell and Giesecke successfully fought to keep elementary schools and junior high schools open—without masks, plastic partitions, social distancing, or regular Covid tests for students …
The virus would eventually spread to other countries despite their lockdowns and mask mandates, Tegnell warned in July 2020 as he advised his colleagues and critics to take the long view. "After next summer," he said, "then I think we can more fairly judge what has been good in some countries and bad in other countries."
Sure enough, by summer 2021, Sweden was a different sort of "cautionary tale." Without closing schools or locking down or mandating masks, it had done better than most European countries according to the most meaningful scorecard: the cumulative rate of excess mortality. Critics of Tegnell's strategy were reduced to arguing that Sweden's rate was higher than that of several other nearby countries, but this was a weak form of cherry-picking because two of those countries—Norway and Finland—had also avoided mask mandates and followed policies similar to Sweden's after their lockdowns early in the pandemic …
With the possible exception of the Great Depression, the lockdowns were the costliest public-policy mistake ever made during peacetime in the United States. The worst consequences of lockdowns have been endured by people in the poorest countries, which have seen devastating increases in poverty, hunger, and disease. Yet the WHO has refused to acknowledge these errors and wants to change its pandemic planning to promote more lockdowns in the future. It has even proposed a new global treaty giving it the power to enforce its policies around the world—thereby preventing a country like Sweden from demonstrating that the policies don't work.
The last thing the WHO deserves is encouragement from the Nobel jurors. The prize should reward those who protected the lives and liberties of millions of citizens during this pandemic, and whose work can help protect the rest of the world during the next pandemic …
Now let's move on to last weekend's news and views.
Lockdown and excess deaths
On Friday, August 19, The Telegraph's Camilla Tominey discussed lockdown, the effective closure of the NHS and excess British deaths in 'Lockdown fanatics can't escape blame for this scandal'.
She began with the story of Lisa King, a bereaved widow whose husband died an agonising death at home because he was not allowed to see his GP:
The father of two, 62, did not catch coronavirus. He died on October 9, 2020 because he was repeatedly denied a face-to-face GP appointment during the pandemic – only to be told that an urgent operation to remove his gallbladder had been delayed because of spiralling NHS waiting lists.
His sudden death, in agonising pain, was completely avoidable.
As Mrs King told me at the time: "To the decision makers, he is nothing more than 'collateral damage', but to me, he is the love of my life."
Tominey points out that several doctors and journalists in the UK opposed lockdown but were told in no uncertain terms how hateful they were:
… we were accused of being mercenary murderers intent on prioritising the economy ahead of saving lives.
Scientists who dared to question the severity of the restrictions were, as Lord Sumption put it at the time, "persecuted like Galileo". Falsely branded "Covid deniers" simply for questioning some of the "science" that was slavishly followed, they were subjected to appalling online abuse by a bunch of armchair experts who claimed to know better.
Two years later, those who objected to lockdowns and an effective closure of the NHS, all the way down to GP practices, have been proven right:
… they were right to raise their concerns in the face of pseudo-socialist Sage groupthink.
Official data now suggests that the effects of lockdown may be killing more people than are currently dying of Covid.
An analysis by the Daily Telegraph's brilliant science editor Sarah Knapton (another figure who was pilloried for questioning the pro-lockdown orthodoxy) has found that about 1,000 more people than usual are dying each week from conditions other than coronavirus.
Figures released by the Office for National Statistics (ONS) on Tuesday showed that excess deaths are 14.4 per cent higher than the five-year average, equating to 1,350 more deaths than usual in the week ending August 5. Although 469 deaths were linked to Covid, the remaining 881 have not been explained. Since the start of June, the ONS has recorded almost 10,000 more deaths than the five-year average – about 1,086 a week – none of them linked to coronavirus. This figure is more than three times the number of people who died because of Covid over the same period – 2,811.
The Department of Health and Social Care (DHSC) has asked for an investigation into the data amid concern that the deaths are linked to delays and deferment of treatment for conditions such as cancer, diabetes, and heart disease …
The horror stories are everywhere you look: from people dying needlessly at home like Mr King, to elderly patients waiting 40 hours for ambulances, to cancer sufferers now dying because they didn't get appointments during lockdown, or didn't want to be a burden.
It's tempting to blame this on the NHS being in urgent need of reform – and that's surely part of the explanation. We all know how staff shortages – again, exacerbated by the pandemic – are crippling the system.
But this isn't simply a result of a lack of resources. Healthcare spending has risen sharply as a percentage of GDP in recent years.
The nettle that needs to be grasped is that these figures suggest that the country is facing a growing health crisis that has been caused by our overzealous response to the pandemic – scaremongering policies that kept people indoors, scared them away from hospitals and deprived them of treatment.
These excess deaths may well turn out to be a direct consequence of the decision to lock down the country in order to control a virus that was only ever a serious threat to the old and the vulnerable.
Had a more proportionate approach been taken, akin to Sweden's, then would we be in this mess right now? Perhaps only a government inquiry will be able definitively to answer that question, but what's certain now is the debate over the severity of lockdown was never about the economy versus lives – as pro-shutdown fanatics would have it – but over lives versus lives …
Lest we forget that in the last quarter of 2020, the mean age of those dying with and of Covid was estimated to be 82.4 years, while the risk of dying of it if you were under 60 was less than 0.5 per cent. Who wouldn't now take those odds compared to being diagnosed with cancer, circulatory or cardiovascular related conditions and being made to wait months for post-pandemic treatment?
None of this has come as a surprise to those running organisations like the British Heart Foundation or the Stroke Foundation, which had predicted a sharp rise in deaths because "people haven't been having their routine appointments for the past few years now" …
The World Health Organisation said at the time that the Great Barrington Declaration "lacked scientific basis", but nearly three years on from the start of the pandemic there has been precious little analysis of whether the raft of Covid restrictions either served the collective good – or actually saved lives in the round – compared with the lives that are now being lost as a result.
These numbers aren't just statistics – they are people's husbands, wives, brothers, sisters, daughters and sons. The appalling truth is that a lot of these people would probably still be here today were it not for the lockdowns; lockdowns which seemingly did little to stop tens of thousands of people dying of Covid in the UK.
We stayed at home to "protect the NHS". It turns out the NHS isn't there now to protect us.
The ambulance waits are a horrorshow. This is going on throughout the UK. Scotland and Wales experienced long waiting times before England did.
This photo shows a recurring scene outside a London hospital and explains the situation. Ambulances are backed up because the patients inside cannot be accommodated in the hospital:
Here's a chart of the UK's excess deaths this year:
Blame belongs on both sides of political spectrum
Who can forget how the media, especially the BBC, ramped up Project Fear over the past two years?
Although the media don't legislate, judging from the response to the pandemic, they heavily influence what our MPs do.
So, who is to blame?
Someone thinks it is Michael Gove, who was the Chancellor of the Duchy of Lancaster from 2019 until September 2021. He was also a Minister for the Cabinet Office at the same time.
talkRADIO host Julia Hartley-Brewer says Gove bears a lot of the blame for coronavirus policy. Interesting:
What about the Left? Labour's Keir Starmer held Wales's First Minister Mark Drakeford as a paragon of wisdom during the pandemic. Drakeford's government made 'non-essential' shops close and supermarkets put tape over the aisles the Welsh were forbidden to shop in. That meant they could not buy greeting cards, party favours, toys, books or shoes. That's only a partial list, by the way. That lasted for a few months.
Following Drakeford's example, Keir Starmer wanted earlier and longer lockdowns in England. So did other Labour MPs.
They voted for every Government restriction in Westminster. Boris must have been relieved.
However, this brings up the definition of 'liberal'. How I wish that we had not adopted this American perversion of the word. 'Liberal' in its original definition is akin to 'libertarian'. It certainly isn't 'leftist'.
Rapper and podcast host Zuby brought up the subject last Saturday:
Here comes the conflict of blaming, because both sides of the House of Commons voted in unison on pandemic policy:
Vaccine harm
Then there is the vaccine harm done to young hearts via myocarditis.
Dr Aseem Malhotra is opposed to vaccines being given to children. Here he links to a study from Thailand about the adverse effect a second Pfizer dose can have on one in six teenagers:
Apparently, the Thailand study did not get much publicity at home:
Neil Oliver's editorial on coronavirus
On Saturday, Neil Oliver delivered an excellent opening editorial on pandemic policy, which he said should be a sacking or resigning offence:
He rightly pointed out that those responsible feel no remorse.
Dan Wootton's coronavirus hour
Dan Wootton had a blockbuster coronavirus hour in the first half of his GB News show on Monday, August 22. It was marvellous:
His opening Digest was brilliant:
The transcript is here:
The damage, both to our health, our economy and our future way of life, has been obvious to me since the first national lockdown was imposed in March 2020, following the playbook of communist China.
My overarching mission on this show has been to have the important conversations about the most damaging public health policy of all time, which the vast majority of the media, the establishment and our so-called leaders want to avoid at almost any cost.
This was my opening night monologue on the first night of this channel in June 2021 that, at the time, sparked total outrage from all the usual suspects, who campaigned to see me reprimanded by Ofcom for daring to question the efficacy of lockdowns on a national news channel.
I said then: "Lockdowns are a crude measure. Mark my words, in the years to come we will discover they have caused far more deaths and devastation than the Government has ever admitted.
"They should be wiped from the public health playbook forever more. But, tragically, the doomsday scientists and public health officials have taken control.
"They're addicted to the power and the Government are satisfied its 15-month-long never-ending scare campaign has suitably terrified the public into supporting lockdowns.
"But if we don't fight back against this madness, some of the damage will be irreversible."
It was always going to take some time to get the devastating statistics to back-up the idea that a policy of lockdowns was catastrophically wrong – but it was obvious to me what was just around the corner.
Those statistics are now coming in thick and fast; the conclusions are unavoidable and undeniable.
This striking front page of the Daily Telegraph, suggesting the effects of lockdown may now be killing more people than are dying of Covid, should be leading every news bulletin in the country.
Here's the front page to which he refers:
He discussed the statistics I cited above and rightly pointed out that The Telegraph is the only media outlet (besides GB News) talking about it:
Instead, our dramatic excess death toll is virtually ignored by the BBC, ITV News and Sly News, which used to trumpet Covid death figures on an almost hourly basis …
The officials who terrified the public on a daily basis, backed up by a crazed media and gutless politicians, have blood on their hands.
A small group of honourable folk – many of whom now appear regularly on this show, like Professor Karol Sikora – shouted from the rooftops that delays and deferment of treatment for a host of conditions like cancer, strokes, diabetes and heart disease were going to be responsible for thousands upon thousands of deaths in years to come.
We tried to warn people and wake up the rest of the population, while being dismissed as Covidiots, deniers and the anti-vaxx brigade.
And yet, there's still no apology. Still no acceptance of a gigantic error.
In fact, the same irresponsible and evil idiots who got us into this mess want lockdowns, mass vaccination and muzzling to return this winter.
We cannot and will not rest until the true damage of lockdowns is exposed and accepted so we learn the mistakes of our recent history.
A panel discussion followed:
Cardiologist Karl Sikora gave his view and found it astonishing that health experts, including former SAGE member, behaviourist Susan Michie, whom they did not name, want everlasting masks and lockdowns:
Susan Michie, by the way, has just taken up a plum job with the WHO. Says it all, really.
Neil Oliver told Wootton that he was not optimistic about no future lockdowns, which is one of Liz Truss's proposed policies:
And, finally, the Fairbrass brothers from Right Said Fred presented their scepticism over coronavirus policies. They've lost a few gigs because of it but also picked up a new set of fans:
Conclusion
This past weekend really gave me a lot of encouragement about examining coronavirus policies more closely.
For once, it seemed as if a lot of news items and editorials hit at the same time.
I do hope this augurs well for the future.
On Monday, August 15, 2022, Guido Fawkes posted a photo of a frustrated Remainer and former Government minister Michael Gove. Both were trapped with thousands of others in an airport:
The lady in the photo is an advisor to Labour's Lord Dubs. Both are refugee activists. She met her husband when both worked for the European Commission.
Guido showed us her tweet:
Here's another:
Guido's post explains (emphases his):
Holidaying politicians can't catch a break at the moment: Boris is being attacked for his second holiday in a fortnight to his dad's in Greece, Sir Keir's finally out on the airwaves after two weeks in Mallorca, and Michael Gove can't travel without mouthy lefties haranguing him at the airport. Voluble remainiac nutter Candida Jones has already garnered 17,000 likes on a photo tweeted at 5pm last night, claiming Michael Gove had been caught up in a Brexit-related "sh*tshow" over a 30-hour EasyJet delay, which she was apparently told was caused by "lack of staff due to the pandemic compounded, in the case of the UK, by #Brexit". It's remarkable she was given an excuse that coincides neatly with her worldview. At least there are no airport staff shortages in any other EU member states to undermine the claim…
Unfortunately for Candida, not only is her Brexit-hating worldview not backed up by facts, neither is her belief that Gove was caught up in the supposed "#BrexitChaos". While she may have been delayed by 30 hours, according to a source close to Michael, he experienced an hour delay in landing at most after coming back from his holiday in Greece …
Maybe Candida needs another holiday to calm down…
Airport chaos is going on all over Europe — yes, that's right, EU-member countries — and, just as importantly, all over the Western world.
I read the comments to Guido's article with interest. Emphases mine below.
Here is the situation in Dublin and Madrid:
I'm Irish. She's a lyre, Dublin airport is wild, luggage is a disaster. Madrid is wild. I'm a regular flier. Both in the EU. My wife had to wait 5 days for her luggage. Last week I was caught in the Dublin luggage disaster, went to log in my bag code, computer did not register it or anyone else's. On the way out luggage check in system failed and the clock was ticking. Luckily a US business man went and gave the manager a roasting. It was up within 8 minutes, tech operatives were mooching around doing nowt apart from looking blank.
This is not only continental chaos. It is also occurring in North America:
Four hour delays and passengers refused access to the terminal at Schiphol, Amsterdam.
Huge delays in Berlin
Ditto Nice
Ditto Brussels
In June Lufthansa and its subsidiary Eurowings cancelled nearly 1,500 flights because of staffing problems.
And it's been happening across the Atlantic, in Toronto and JFK.
All of this is obviously due to Brexit. Ireland, Germany, the Netherlands, Belgium, France, the USA and Canada must all be regretting their decisions to leave the EU.
From that, we see the absurdity of blaming Brexit, but for anyone not yet convinced, here's another report about airports in EU countries:
Brexit causing the 3km queue at Essen airport, at Frankfurt airport, at Amsterdam airport and Brussels airport (a small selection of those I've read about in the German press). I suppose all their British staff left after Brexit and returned home causing the staff shortages.
Let's look at Germany a bit more closely. This isn't a criticism of that nation, by the way. This is to point out the stupidity of blaming Brexit. At fault are the crippling coronavirus lockdowns, as evidenced in the last sentence:
Europe's worst performing airports and airlines are in Germany.
Holidaymakers from Germany are most likely to be impacted by the airport chaos, Mabrian's data shows.
Between June 14 and 5 July, 1,482 flights scheduled for the first half of July were scrapped. This is a total of 6 per cent of all outbound flights from the country.
It also represents a chunky 27 per cent of total cancellations of flights with their origin or destination in Europe.
"German connectivity has been slower than most in recovering to 2019 levels so this could slow the recovery further," Cendra comments.
Germany has also seen strike action by airport workers:
Numerous flights were cancelled at Frankfurt Airport due to the strike organized by trade union ver.di, German news agency DPA reported. Starting at 2am, employees of the cargo and passenger controls at Germany's largest airport stopped working, a ver.di spokesperson said in the morning.
Only passengers with layovers were able to go through security checks in Frankfurt. Airport operator Fraport had called on all travelers hoping to board in Frankfurt not to travel to the airport.
According to Fraport, 130 of 818 flights planned for Tuesday were cancelled. Originally, about 71,000 passengers had been expected at the airport that day.
EuroNews has more on the situation in Germany, Turkey and the UK.
This Guido reader works for British Airways and says the chaos has to do with extensive lockdowns — and layoffs — during the pandemic:
I'll admit here, I work for BA as a FO (A350). All the airlines are experiencing this. The bosses ruthlessly cut staff during the pandemic and have then tried to reinstate a 100% service without the staff levels to cover that. If it's Brexit, why are Lufthansa, Air France, KLM, United, American, Iberia, Delta, Southwest, etc, etc all dealing with an identical solution …
He probably meant to type 'situation', but anyway:
From what I've seen first hand (not a lot but I hear a lot of the tittle tattle), it seems to be the short haul copping the worst of it. The more popular routes (NYC, LA, Toronto and such like) seem to be faring better. I know we are on a major recruitment drive ATM and people are returning but I'd like to think that in November you would be good.
Another Briton, a Welshman, says that once laid off, a number of airport employees sought jobs elsewhere with better pay and no shift work:
It has got nothing to do with Brexit. It's happening everywhere, but only to certain airlines. In UK the main cause is these airlines (usually budget ones) rather than go through the rigmorole of furlough, made the cheap staff redundant (baggage handlers are on or near to minimum wage) rather stupidly thinking they would come back once this was all over. In reality, they went and found better paying jobs in better conditions and are not that stupid enough to come back. The morons are trying to recruit – but ignoring reality & still advertising minimum wage/ near to minimum wage and guess what – they can't get anyone dumb enough to do it. You can get more working in a supermarket or an Amazon warehouse, no split shifts, more comfy conditions.
This is a fact – I'm actually involved in the edges of this.
Someone else says this is true:
This is very true, I live near Gatwick and recently went to a local tile shop for some advice on tile adhesive. The young lad seemed a little confused and told me it was his first day as he previously was a baggage handler in Gatwick but had been made redundant during the pandemic but had now found a better job, more money and no shift work in this tile shop.
In addition, potential airport workers have to undergo security screening before they are employed:
It is also a fact that recruiting new people to do the jobs so many were made redundant in as they have to have security clearance to work airside and the civil servants working from home have been very slow to process clearance.
One now understands that Brexit is hardly to blame for airport chaos.
Coronavirus lockdowns from 2020 onwards are the cause of this madness.
It would be interesting to know if the aforementioned lady was a supporter of longer, harder lockdowns, as nearly everyone on the Left was. If so, she can blame herself indirectly for her travel discomfort.
So much happened in the UK this week that it is hard to find the time and the space to write about it all.
Conservative leadership contest
Liz Truss's campaign continues to motor ahead, gaining powerful MPs' backing.
On Wednesday, August 3, a new Conservative Home poll appeared, its results matching those of polling companies, e.g. YouGov. Liz is 32 points ahead:
Conservative Home's Paul Goodman analysed his site's results and YouGov's (emphases mine):
Granted, neither can be proved right or wrong: as our proprietor has it, a poll is a snapshot, not a prediction. If our survey is correct, all that follows is that Truss would win the contest, were it held now, by 32 points among those who have declared their hand.
However, if we and YouGov are right it is very hard to see how Sunak recovers in the month or so between the opening and closing of the poll. For even if during that time he won over that 16 per of undecideds and others, Truss would still beat him by 58 per cent to 42 per cent.
In short, if our survey is correct he would have to add to that 16 per cent of don't knows and others some nine per cent of Truss's supporters – i.e: persuade them to switch.
This seems most unlikely if YouGov's question about certainty of intention is taken into account. For it finds that 83 per cent of Truss voters and 70 per cent of Sunak voters have made their minds up.
What odds would you give on Sunak winning over all those don't knows and others (from our survey), and then adding to that pile over half of Truss's soft support (using YouGov's figure)? I would say that they are very long indeed …
Those interested in events slightly further back will recall that Boris Johnson beat Jeremy Hunt by 66 per cent to 34 per cent during the leadership election of 2019.  That's exactly the same margin as the Truss-Sunak forced choice I spell out above from our new survey.
One way of looking at Conservative leadership election as matters stand might be to forget the thrills and spills, hype and blunders – such as Truss's yesterday over regional public sector pay.
And stick instead to the simple thought that the Tory membership divides right-of-party-centre to left-of-party-centre by about two to one and so, all other things being equal, the leadership candidate perceived to be right-wing than the other will win by a margin about two to one.
Finally, Opinium promises a Conservative members poll next week, and it has tended recently to find better results for Sunak than ours or YouGovs.
The YouGov poll from August 3 showed that Britons believe Truss is better than Sunak on the main issues:
Liz gained another supporter in former Health Secretary Sajid Javid, who was also Boris Johnson's first Chancellor from the summer of 2019 through to February 2020, at which point Rishi Sunak took over.
Sunak worked for Javid when the latter was Chancellor. Javid mentored his younger MP friend:
However, the dynamic changed when Chancellor Sunak locked horns with Health Secretary Javid during the pandemic in 2021.
… those who know both men say there are more prescient personal and political reasons behind Javid's decision [to back Truss].
They say that tensions emerged after Javid was brought back into the government as health secretary. Sunak regarded the NHS as a bottomless drain on resources and was exasperated by what he saw as Javid's failure to spearhead fundamental reform of the health service.
Javid for his part was frustrated with the highhanded manner in which the Treasury dealt with the Department of Health and its refusal to countenance the type of spending he believed was necessary to tackle treatment backlogs coming out of the pandemic. He felt that Sunak had not shown the loyalty that he had when the power dynamics were reversed.
There are now significant policy differences as well. When Javid threw his hat in for the leadership he set out a tax-cutting agenda broadly similar to that proposed by Truss. He proposed cutting national insurance and reversing the planned corporation tax rise while Sunak stuck to his policies as chancellor.
One ally said Javid sincerely believes that only by kick-starting growth through tax cuts can public services be properly funded. They said it would have been "odd" if Javid had backed Sunak, given their different and genuinely held views on how to deal with Britain's economic uncertainties.
This is what Javid had to say about Truss in his article for The Times:
"I fought for strong fiscal rules in our last manifesto," he wrote. "But the circumstances we are in require a new approach. Over the long term, we are more likely to be fiscally sustainable by improving trend growth.
"Only by getting growth back to pre-financial crisis levels can we hope to support the high-quality public services people rightly expect."
In a direct attack on Sunak, he said: "Some claim that tax cuts can only come once we have growth. I believe the exact opposite — tax cuts are a prerequisite for growth. Tax cuts now are essential. There are no risk-free options in government. However, in my view, not cutting taxes carries an even greater risk."
He added: "With only two years before the next election, there has been a temptation to just 'get the barnacles off the boat' and avoid any short-term political pain for long-term national gain.
"We must reject that. As a nation we are sleepwalking into a big-state, high-tax, low-growth, social democratic style model which risks us becoming a middle-income economy by the 2030s with the loss of global influence and power" …
A senior Truss campaign source described Javid's endorsement as the "big one for us".
They added: "The bigger beasts of the party are uniting behind Liz because they believe in her vision for the economy. We can't have the Treasury orthodoxy and tired status quo. They believe she will turn things around in time for the next election by getting on and delivering quickly in No10."
On Wednesday, August 3, Truss and Sunak canvassed separately in Wales before meeting up for a televised hustings in Cardiff later in the day.
A Conservative Welsh Senedd (Senate) member, James Evans, changed his mind about Sunak and decided to support Truss instead. He got a lot of flak in response to his tweet:
Truss's former party, the Liberal Democrats, criticised her for taking a helicopter around Wales to get to the various Conservative associations there. Pictured is the Lib Dem leader Sir Ed Davey:
Guido Fawkes points out that the Lib Dems are suffering an attack of sour grapes — and hypocrisy (red emphases his):
… Rishi's been known to use them, so why should Liz be confined to the rail network…
i News were the ones to reveal Liz's chartering this afternoon, juxtaposing the decision against her backing of net-zero carbon emissions by 2050. The LibDems were only too happy to butt in, providing a quote for the copy that it "makes a complete mockery of her promises on Net Zero. It's clear that she is not serious on climate change." This quote came from Vera Hobhouse rather than Sir Ed Davey himself, who surely wouldn't mind the coverage…
Guido's sure Sir Ed's decision not to provide the comment has little to do with the fact that, in 2013 as Energy Secretary, he hitched a ride in the helicopter of EDF boss Henri Proglio, after handing him a nuclear deal at double the going rate for electricity. The decision raised objections from Friends of the Earth at the time, who said it "confirms how close the Big Six energy firms are to our decision-makers."  A source close to Liz Truss calls the political attack "the usual sanctimonious hypocrisy from the LibDems". Sir Ed may need to refuel his own spin machine…
While in Wales, Truss took the opportunity to have a go at First Minister Mark Drakeford (Labour), calling him:
the low energy version of Jeremy Corbyn.
Bullseye!
John McTernan, who advised Tony Blair between 2005 and 2007, wrote in UnHerd why Labour should be afraid of Truss.
I've seen John McTernan on GB News and he knows whereof he speaks.
He explains Truss's strengths:
One of her overlooked strengths is that she has been on a political journey. Changing your mind is often thought of as a weakness in politicians, whereas in reality an unchanging commitment to ideology is one of their most eccentric habits. In normal life, we change our minds frequently and without fuss. As economist Paul Samuelson said, in a line so good it is often attributed to Keynes: "Well when events change, I change my mind. What do you do?" In itself, changing their mind humanises a politician — a particular asset in a time of popular revolt against out-of-touch elites.
But, more than that, making a political journey shows character. Three of the most significant politicians of the Blair era — John Reid, Alan Milburn, and David Blunkett — were great New Labour reformers who had started on the hard Left. Their politics had been tempered and strengthened by their journey. Liz Truss was brought up on the Left and attended anti-nuclear peace camps with her mother. She then became a Liberal Democrat activist, famously demanding an end to the monarchy to Paddy Ashdown's discomfort. And when a Tory Cabinet minister she backed Remain not Leave, though she is now a passionate Brexiteer. Those surprised that Tory party members overwhelmingly see a former Remainer as the best defender of Brexit need to remember their New Testament: "There will be more rejoicing in heaven over one sinner who repents than over ninety-nine righteous persons who do not need to repent." The redemption narrative is one of our most powerful stories: she who once was blind, but now can see.
The fact Liz Truss has been on a political journey also makes her a powerful communicator. Some of the most persuasive arguments in politics are based on empathy rather than angry disagreement. Liz Truss knows why voters find progressive policies attractive, which can strengthen the persuasive power of her arguments for people to change their views. And her speaking style is clear and simple. The listener readily understands what she thinks and believes. Her opponents who too readily dismiss her as simplistic are missing the point. Politics is not a mathematical equation — a ten-point plan won't beat a five-point plan 10-5. The messages and policies that win are those that connect with the heart as much as the head.
The Truss agenda is straightforward. The educational system is failing kids. Grammar schools would identify and help some bright working-class and minority children. The cost-of-living crisis is hitting wallets and purses. A tax cut would give money back to the public. Energy prices are spiking. Pausing the green levy would reduce prices. Now, there are good arguments against each of these policies, but they are superficially strong one-liners. It takes time to explain how grammar schools distort the education of the vast majority of pupils who don't get into them, or to make the case that there is a danger that tax cuts lead to more inflation. The arguments against Liz Truss's policies are strong but they need to be explained. And, as the old political saying goes, "when you're explaining, you're losing".
… One of the best jokes in the US TV show Veep comes when Selina Myers uses the slogan "continuity with change" for her Presidential campaign. It works because it is bizarrely true — and it is true because that is what most voters want. They're not revolutionaries, they're realists.
The Truss offer is continuity with the spirit of Johnson and Brexit while meeting the demands of the voters who were, and are, angry with the status quo. That anger has been the fuel of politics since the Global Financial Crisis — it was there in Brexit, in the Scottish independence referendum, in the rise of Corbyn, and in Boris Johnson's 2019 landslide. The fact that such competing and conflicting political forces can harness that same anger signals that there is an underlying volatility in British politics that can be channelled in different directions by strong and intelligent leadership.
It is in leadership that Labour must contest most convincingly. Liz Truss will likely be undone by events. The cost-of-living crisis is of such a scale that it is hard to see any of her policies — or any of Rishi Sunak's — that will be more than a drop in the ocean. To win, Keir Starmer must learn from New Labour [Tony Blair's government]. Attack the new Prime Minister and her government, but don't nit-pick. The critique must be based on a vision of hope and a positive project that positions Labour once more as the "political wing of the British people". Otherwise, Keir Starmer risks being just one more man, in a long line of men, who have underestimated Liz Truss at their peril. After all, there are no accidental Prime Ministers, and like the rest, Truss has guile, will and talent.
Guido Fawkes adds another point:
… Truss will be the Tories' third female PM to Labour's big fat nought …
Exactly. And Conservatives didn't need to have all-women shortlists, either, unlike Labour.
For Conservative Party member Toby Young, General Secretary of the Free Speech Union, Truss's strength lies in opposing another lockdown, which she said 'No' to on Monday night in Exeter:
Also in Exeter, on Monday, Truss said that First Minister Nicola Sturgeon (SNP) was an 'attention seeker' who should be ignored. Again, I'm pretty sure Truss meant that with regard to appeals for a second independence referendum.
The Telegraph's Alan Cochrane, who lives in Scotland, said that some would sincerely welcome those words: 'Amen to that! Liz Truss finally puts the boot into Nicola Sturgeon':
It is easy to sympathise with Liz Truss's presumably exasperated and outspoken statement that the best way to deal with Nicola Sturgeon was to ignore her. 
After watching, listening and responding to this ambitious politician for more than 20 years, ignoring her is something I'd rather have been doing than countering every one of her largely lame-brained arguments for breaking up Britain.
Furthermore, the First Minister is every bit the "attention seeker" that the Foreign Secretary portrays her as – most especially when she dons her "Mother of Scotland" role and seeks to insist that she, and only she, speaks for the whole of Scotland. 
The truth, of course, is that she speaks only for her party and government, neither of which commands an overwhelming majority of Scottish opinion …
… while Ms Truss is being assailed for her choice of words by the Nationalists and those faint hearts who seek a peaceful political life, there will be more than a few who will shout "Amen to that!" when she talks of Ms Sturgeon's perpetual attention seeking.
Furthermore, a great deal more candour from Westminster in its dealings with the SNP is long overdue. Far too long. Successive UK administrations have bent over backwards not to be seen as provoking the cause of independence when the truth is that it is already on a life support system, with a fast declining appeal to the Scottish people.
The fact is that Ms Truss knows that she cannot just ignore the devolved Scottish Government and its leader. But she is to be commended for putting the boot in. It's about time someone did.
While Truss and Sunak were in Wales, Iain Duncan Smith MP was north of the border in Scotland.
He was at an event for Scottish Conservatives in Stirling, in Scotland's central belt.
The former work and pensions secretary backtracked on comments made by Truss that Nicola Sturgeon, the first minister, should be "ignored" as he criticised the UK government's approach towards the Union.
"I don't want to ignore her," he said. "What I want to do is to let the world know just exactly why Scotland is suffering so much under this incompetent regime at Holyrood. The truth is, it is a disaster: everything from health, the police, the railways — they can't even build ships sometimes on time and on budget."
He's not exaggerating. It's the raw truth.
The MP wants the next PM to have greater powers of scrutiny over the way Scotland's SNP government is run. They get billions from taxpayers in the Barnett Formula and waste it. No one, not even Scots, has any idea where the money goes.
He said:
I am desperate for greater powers for scrutiny. It is only scrutiny that unearths all this nonsense and … that the weaker scrutiny up here has allowed the Nationalists to get away with it. So I am going to take that straight back and talk to her about it and see what we could do.
Not surprisingly, the SNP were furious and, as usual, blamed Westminster:
Kirsten Oswald, the SNP deputy leader at Westminster, said: "This is an utterly ridiculous suggestion, showing that even the Tories are out of ideas for how to fix the broken Westminster system. It is not the SNP's job to explain why Westminster control is increasingly making life more difficult for the people of Scotland — even if the Tories are out of excuses.
"The job of SNP MPs in Westminster is to stand up for Scotland against a UK government choosing to ignore our interests at every turn. That is what they will continue to do."
Duncan Smith justified his desire for scrutiny saying that SNP MPs are part of the Scottish government, too:
… Duncan Smith said: "We need to turn the tables on them and start saying, 'Well, can we have a period of question time for you lot to talk about what you are doing in Scotland as the devolved administration?'
"And start examining some of this stuff because they're not just SNP protesters down in parliament, they are actually part of the government up here."
Meanwhile, Rishi Sunak told the audience in Cardiff that Truss was wrong about her public sector pay reform and tried to scare Welsh Conservatives into thinking that Truss was going to cut the pay of every single public sector worker in Wales:
However, Sunak got himself into a bit of hot water when he 'misspoke' on wind turbines at the event:
On Thursday, August 4, Guido reported:
Rishi's team has said he "misspoke" during the hustings last night when it appeared he'd u-turned on his opposition to new onshore wind. At the Wales' husting, Sunak was asked "will you be bold enough to scrap the embargo on onshore wind in England?", replying "So, yes, in a nutshell." This appeared totally contradictory to one of his previous policy announcements:
Wind energy will be an important part of our strategy, but I want to reassure communities that as prime minister I would scrap plans to relax the ban on onshore wind in England, instead focusing on building more turbines offshore,
Team Liz immediately leapt on his words as sign of yet another u-turn from Rishi, alleging it was his eleventh campaign u-turn.
This morning Team Rishi, asked to justify his words, bluntly replied "he misspoke". Much like Britain under Rishi's actual wind energy policy, he's losing fans rapidly…
Sunak is also being economical with the truth when he says that he personally came up with the idea of British freeports, which were first mooted in an early Margaret Thatcher manifesto for the Conservatives:
However, Rishi managed to get two notable endorsements, one from former Conservative Party leader Michael Howard and Nigel Lawson, who was Chancellor under Margaret Thatcher. He is also Nigella Lawson's father.
Guido has more:
Finally got an endorsement from Nigel Lawson himself, who writes in The Telegraph that Rishi is

"the only candidate who understands Thatcherite economics" …



Michael Howard opened for Rishi at Wales' Tory husting last night, saying he can provide the leadership needed "not only in this country, but across the wider western world"
Lawson must have felt obliged to endorse Sunak, given that the latter has a photo of him in his office.
Sunak was over the moon about Lawson's Telegraph article:
Boris looms large
Prime Minister Boris Johnson still looms large in the psyche of British voters.
Normally, we are all too happy when a Prime Minister stands down. When Margaret Thatcher's MPs booted her out, we breathed a sigh of relief. We'd had enough of Tony Blair when he left No. 10 to Gordon Brown. We didn't care too much about David Cameron's resignation, although we did think he was petty-minded for resigning the morning after the Brexit referendum result. And we were only too happy for Theresa May to go, although we did feel sorry for her as she cried at the Downing Street podium.
However, Boris is a different kettle of fish.
The August 3 YouGov poll showed that a) most Conservative Party members thought their MPs made a mistake in getting him to resign as Party leader and b) he would make a better PM than either Truss or Sunak:
In response to the aforementioned Welsh Senedd member's tweet, someone responded with this:
Incredibly, as ballots are currently being posted to Conservative Party members, Alex Story, the leader of the Bring Back Boris campaign, still thinks there is time to add Boris's name to the list of candidates.
He spoke to Nigel Farage on Wednesday, August 3:
He said that 14,000 members of the public wrote to Conservative Party headquarters after Boris stood down as leader.
He added that most Boris supporters knew he was economical with the truth, but they felt that his ouster was forced.
Nigel Farage countered by saying that 40% of Conservative voters wanted Boris to leave. Furthermore, he could no longer command the support of his MPs.
Story responded by saying that Boris will be like 'Lazarus [rising] from the dead … something romantic and quirky'.
That's one way of putting it, I suppose.
It is highly unlikely that Boris's name will be on the ballot, but … one cannot fault Story and Lord Cruddas for trying on the public's behalf.
More news next week.
On Monday, August 1, 2022, a hustings took place in Exeter.
The event was two hours long. Sky News filmed it, and the moderator was Sebastian Payne, the Financial Times's Whitehall editor:
The sound quality is not the best. There are lots of echoes.
The venue was full. Some supporters made their allegiances known Trump rally style, either by waving 'Ready for Rishi' placards or by wearing 'Liz for Leader' tee shirts.
The event began with a couple of videos from Conservative MPs.
Then Penny Mordaunt appeared on stage to pledge her support for Liz Truss (video clip here):
Liz took the stage afterwards (17:38 in the video) and introduced her platform.
Afterwards, Liam Fox went on stage (33:34), announcing that he would be backing Rishi Sunak.
Liz's Q&A came after that (45:00), taking questions from the audience and Sebastian Payne.
She was much more relaxed than she had been at previous events over the past two weeks. She has a sense of humour. She gesticulated in a natural way. She was conversational.
When an audience member asked if she would favour another lockdown, she gave a simple answer — 'No'. She explained that, during the pandemic, her Cabinet responsibilities lay in areas other than health and that when presented with past measures, she said others told her they were already 'a fait accompli'. Liz said she always favours the least amount of intervention:
Liz also lobbed a zinger at Scotland's First Minister Nicola (Neverendum) Sturgeon (SNP) by saying that she should was an 'attention seeker' who should be ignored. She got a huge round of applause.
This raised a stink the next day, including on GB News, but I understood it in the context of having another independence referendum eight years after the first 'once in a generation' one:
GB News has the quote (emphases mine):
Liz Truss has claimed it is best to ignore "attention seeker" Nicola Sturgeon.
The Conservative Party leadership candidate criticised Scotland's First Minister before ruling out a second independence referendum.
Ms Truss, speaking at a hustings event in Exeter, referenced growing up in Paisley before saying: "I feel like I'm a child of the union, I really believe we're a family and we're better together and I think the best thing to do with Nicola Sturgeon is ignore her."
Tory members cheered and applauded the comment, with the Foreign Secretary adding: "She's an attention seeker, that's what she is.
"What we need to do is show the people of Scotland, Northern Ireland and Wales what we're delivering for them and making sure that all of our Government policies apply right across the United Kingdom."
She replied "no, no, no" when asked about another independence referendum in Scotland if she becomes prime minister.
SNP MP Chris Law, posting on Twitter with a link to Ms Truss's remarks, said: "The only reason why Scotland needs independence. Utter contempt from the future PM."
Rishi Sunak has also ruled out having a second referendum on Scottish independence should be become Prime Minister.
He said: "I am clear that another referendum is the wrong priority at the worst possible moment.
"The SNP are wrong to try and tear the country apart when we should be pulling together. Why aren't they talking about the drugs crisis in Scotland or how we can get more money into Scottish workers' pockets?
"Just as I want to be more accountable to people in every corner of the United Kingdom, so too does the SNP need to be more accountable for their responsibilities."
That night, comedians on GB News's Headliners joked about the SNP's utter irresponsibility north of the border. Leo Kearse is Scottish and gives the full story of the disappearing billions. He says that Westminster should audit the Scottish Government:
Earlier, on Dan Wootton's show, 90% of viewers agreed with Liz on Nicola Sturgeon with regard to a second referendum:
In short, Liz came across as the continuity candidate. People who liked Boris will find an appropriate comfort level with her.
Then it was Rishi's turn to take questions (1:17:00).
Both candidates received warm applause for their policies, but some applauded only for their preferred candidate.
Rishi left the stage with a clean slate.
However, Liz got into trouble over the next 24 hours for saying that she would reform public sector pay. I took her to mean civil servants, but people got anxious and critical over teachers and NHS staff.
Liz said she would cut public sector pay outside of London, but wouldn't keeping their pay the same or upping it a pledge to 'levelling up'?
Years ago, Labour's Harriet Harman tried the same thing:
The Financial Times article that Guido Fawkes cites explains why what Liz's proposal is problematic.
Journalist Stephen Bush begins by disingenuously putting on the frighteners …
Liz Truss has promised to save £11bn a year by cutting pay for public sector workers — including civil servants, teachers and nurses — outside London and the South-East.
… before clarifying that it would take several years for the proposed plan to be rolled out to all public sector workers:
The foreign secretary said she would introduce regional pay boards that would set wages for civil servants working outside London in line with local labour market conditions and living costs. Her campaign said the regional pay would initially be introduced for new civil service recruits, but if successful would be rolled out over a number of years to all public sector workers.
From that, it is obvious that the FT want Rishi Sunak to win.
This is why public sector pay is difficult to reform:
Now, it's true to say that, in real terms, a secondary school teacher in Torridge in north Devon or Cannock Chase in Staffordshire is paid more in real terms than they are in St Albans or Hackney. And this is true across the public sector. In real terms, a public sector worker would be economically better off working in Don Valley in South Yorkshire than if they were working in the centre of Manchester.
But of course, it is also true to say that we find it easier to recruit secondary schoolteachers, GPs, firefighters and police officers in St Albans, Hackney or Manchester than we do in Don Valley, Cannock Chase or Torridge …
The policy suggestion does the rounds every so often and it founders on the same basic problem: you can't cut salaries in the places you struggle to recruit. Given that the UK state (rather like the UK as a whole) faces considerable difficulties in recruiting enough workers it is highly unlikely that the policy will succeed now.
 … What might matter is if enough Conservative members see this policy as an electorally disastrous idea they need to avoid.
One thing that would be welcome is reforming or getting rid of unnecessary posts in the public sector. Liz favours this, too:
I'll come back to that in a moment.
Polling
Stephen Bush's article gave more evidence that he and the FT are Ready for Rishi, so to speak.
Based on polling, Bush is worried that Liz might be winning:
Every scrap of data suggests Liz Truss is ahead of Rishi Sunak, and that Sunak failed to really change the dynamic of the race in any of the televised debates.
Although both Ben Wallace and Tom Tugendhat have ideological and policy reasons to endorse Truss over Sunak, it helps, of course, when everything suggests that to help Truss is to help yourself. Unless her campaign finds a way to implode or the polls are wildly out of kilter.
Now, of course, the big known unknown in this leadership election is just how big Liz Truss's lead actually is. YouGov's polls have shown the foreign secretary enjoying a 24 point lead over Rishi Sunak (opens a new window) among Tory members. The gap suggested by Opinium has been a narrower one. Its latest snap poll showed (opens a new window) Tory voters thought Truss did better in the television debate last week by 47-38.
Now another pollster, Techne, has tried its hand at a poll of the Conservative supporters (opens a new window), who comprise Tory voters that are also activists. The result is, again, a Truss lead, but not a very large one.
I wouldn't sweat this too much, frankly. What unites the various polls (Liz Truss is winning all of them) is more important than what divides them (the exact size of Liz Truss's opinion poll lead). It's possible that some error or event on the part of Truss's campaign may hand Sunak a victory, and it's possible that all the polls are wrong. Given all that, the implied 10 per cent probability of a Sunak victory suggested by the prediction website Metaculus (opens a new window) seems about right to me. But of course, if Truss's lead is only five points, this "cut public sector pay in places with greater shortages" wheeze may well prove catastrophic for her chances.
Guido has more on the Techne results.
Another interesting poll appeared on August 1. Redfield & Wilton Strategies results show that Liz Truss could just beat Labour's Keir Starmer in being perceived to be a better potential Prime Minister. Rishi, on the other hand, would lose to Starmer — 40% to 33%:
Why are all the metropolitan elite coming out for Rishi? They know he would lose and put the Conservatives out of office for years!
On Tuesday, August 2, YouGov came out with a poll also showing stonking results for Liz:
Polling took place between July 29 and August 2:
Guido also posted about the polls and another pro-Rishi publication, The Times:
Guido then posted the YouGov poll:
I couldn't agree more about voting anxiety. This reminds me of the 2019 contest between the totalitarian Jeremy Hunt and Boris 'Sunlit Uplands' Johnson.
Guido explained the stark differences between the two polls:
The Times claimed — wrongly — that Liz Truss's team commissioned the more favourable YouGov poll. Guido notes that the newspaper has since changed its copy. Good:
And someone confirmed the hypothesis that media supporting Rishi want the Conservatives to lose:
On Wednesday, August 3, YouGov published an all-party poll. After months of the Conservatives trailing Labour by a large margin, there is now only one percentage point between the two!
Amazing!
Guido wrote (red emphases his):
The YouGov poll of Tory members showing Liz looking to take two-thirds of the vote for leader was not the only surprising poll result. YouGov's regular voting intention survey has the Tories on 34% (+2 from 21-22 July), just a point behind Labour on 35% (-4). Is this an outlier?
YouGov themselves say "This shrinking of Labour's lead from 7 points to 1 point is a sharp move, but changes are either within the margin of error or close to it. It will be worth waiting to see whether further polls replicate the extent of this narrowing of the gap before we can be certain of a Tory recovery."
Yet, an IPSOS-Mori poll from Monday shows Rishi in the lead.
The Evening Standard reported:
As the 160,000 members of the Tory party prepare to start voting in the Tory leadership contest from Monday, the exclusive survey by Ipsos shows that 49 per cent of Conservative backers said the former Chancellor would make a good premier compared to 40 per cent for rival Liz Truss.
Among Conservative voters in the 2019 general election, Mr Sunak enjoys an even bigger lead over the Foreign Secretary with 49 per cent saying Mr Sunak has what it takes for the top job compared to 35 per cent for Ms Truss.
Among the general public, just over a third of people said Mr Sunak would make a good Prime Minister compared to just 24 per cent for Ms Truss.
Conservative Home's poll of its readers did not show Rishi on their chart. This is because he resigned as Chancellor and is no longer in the Cabinet:
The perils of policy on the hoof
Now that we have covered the good news, let us return to Liz's public sector statement, which is the first real blunder she has made in her campaign.
Not surprisingly, Team Rishi jumped on it.
On Tuesday, August 2, Guido reported that a Red Wall mayor is also unhappy:
Team Rishi has slammed Liz Truss over her policy announcement last night that she can save up to £8.8 billion by replacing National Pay Boards with Regional Pay Boards. This sum immediately raised eyebrows given the total Civil Service salary budget is around £16.5 billion. The footnotes of the press release specified this figure is "the potential savings if the system were to be adopted for all public sector workers in the long term," allowing her opponents to spin the policy as one of cutting nurses' and teachers' pay in the Red Wall while improving the pay packets of those in London and the South East. Tees Valley Metro Mayor Ben Houchen is not happy:
There is simply no way you can do this without a massive pay cut for 5.5m people including nurses, police officers and our armed forces outside London.
Liz Truss's campaign is explicit that their savings target is only possible 'if the system were to be adopted for all public sector workers'.
This is a ticking time bomb set by team Truss that will explode ahead of the next general election.
Just one mistake like this can help Rishi win over Conservative Party members:
Rishi doubles down by calling the policy "a gift to the Labour Party and Keir Starmer. Her plan would punish hard working nurses, police officers and soldiers across the country, including in the Red Wall just before a General Election". Rishi was already reportedly performing better among Southern members – can this latest attack help him claw back up North?
Liz and her team quickly backtracked but said it was a 'wilful misrepresentation' of the policy:
UPDATE: Team Truss say
Over the last few hours there has been a wilful misrepresentation of our campaign. Current levels of public sector pay will absolutely be maintained. Anything to suggest otherwise is simply wrong. Our hard-working frontline staff are the bedrock of society and there will be no proposal taken forward on regional pay boards for civil servants or public sector workers.
Under fire from Rishi she drops the policy. So we now have the status quo of a national pay rate for civil servants.
Another member of Liz's team told Guido that the policy will not be taken forward. Nonetheless:
Team Rishi are absolutely loving this, joking "The lady is for turning"…
Yes, one can imagine.
On GB News Tuesday afternoon, a number of presenters and pundits, some of whom think Liz either should or could win (there is a difference), thought that she made a terrible mistake with this.
One said that making policy up on the hoof was a 'dangerous' thing to do and could turn the contest against her.
However, Team Liz were ready to fire back at Rishi, accusing him of more U-turns during this campaign than at a driving test centre.
Note that only one of Liz's U-turns happened during the campaign. The other three happened when she was a young adult. The same cannot be said of Rishi:
Guido has the full story, which begins with this:
Hours after a brief campaign blip from Team Liz, which involved a somewhat humiliating climbdown from their regional pay boards policy, they've finally pulled their finger out for some return fire on the topic of u-turns. Team Rishi has spent the morning on cloud nine, joking that it turns out "The lady is for turning", and accusing Liz of having a Mayite 'Dementia Tax' moment. In return Liz Truss's team have compiled a list, which they allege shows Rishi has performed "more u-turns than a DVLA test centre". A spokesperson for Liz says:
This is all a bit rich coming from Sunak's backers when they stayed schtum on the steady stream of u-turns from Rishi over the recent weeks. He's flip-flopped on tax cuts, VAT, grammar schools, China , EU regulations, Northern Ireland protocol and planning to name a few.
Before Monday's debate, Liz issued a letter to Conservative Party members, which can be read in full here. It has way too many 'I's, which someone should have reworded.
An excerpt follows:
… If you work hard, do the right thing, save your money, or start your own business, then I am on your side.
And you can trust me to deliver. I have delivered trade deals, faced down Putin's Russia, and got on with sorting the Northern Ireland Protocol. I am honest and straight talking. I do what I say I will and I know what it takes to get things done. 
We cannot continue to have business-as-usual and I have a bold plan to get our economy back on track.
We must reject orthodoxy, the voices of decline and unleash Britain's potential in line with Conservative values. 
I will lower taxes to spark economic growth and reward people for working hard. I will seize the full opportunities of Brexit, and level up in a Conservative way. I will defend freedom at home and abroad, and keep Britain safe. 
I will ensure the police do more to crack down on real crimes, and raise defence spending. I will stand up for free speech, and protect single sex spaces for our young women. And I will abolish Soviet top-down housing targets. I know from being a councillor that local people are best-placed to deliver the housing we need. 
To win in 2024, we must work relentlessly to deliver on our promises. 
Now is the time to be bold … 
That is how Liz came across in the debate, so I was happy to see The Telegraph endorse her candidacy that night:
Ballots delayed to next week
The Party members' ballots were to have arrived this week.
However, a security issue has caused a delay, therefore, they will not be sent until next week.
Nigel Farage tweeted:
The Telegraph's Ben Riley-Smith got the scoop on the ballots. Furthermore, members can now vote only once, not twice as planned — excellent:
This might turn out to be a blessing in disguise for Liz.
A week is a long time in politics, so by the time the ballots arrive, Liz's public sector policy blunder is likely to be old news.
Even better, however, is the platform that GB News will give her on Wednesday, August 10, just as the ballots arrive:
I do not have details as to how the event was arranged nor do I know whether Rishi was invited to appear on a separate programme.
The next debate was on Sky News on Thursday, August 4. More about that in a separate post.
Before I get into Thursday's voting results in the Conservative Party leadership contest, readers should note that Labour are no longer afraid of losing the next election.
Please, someone, bring back Boris:
The only candidate who could put the frighteners on Labour is Kemi Badenoch, who is excellent at the despatch box when facing the Opposition.
Thursday's vote result
Sir Graham Brady, chairman of the 1922 Committee of backbench Conservative MPs, announced yesterday's result promptly at 3 p.m.
Unfortunately, Suella Braverman had the lowest votes and had to drop out of the race. She had only 27 MPs backing her.
Going into the weekend, we have the following five candidates:
Guido Fawkes has a summary of Thursday's activity, excerpted below.
Rishi Sunak has received over 100 votes, but overall, he is not doing as well as candidates in past leadership elections:
Rishi is one of the weakest first-place candidates in recent Tory leadership elections, comparing leads in the second round of MP ballots:* … *Hat-tip: Tom Harwood
Penny Mordaunt's work ethic was slammed on Thursday. I covered Lord Frost's damning comments in yesterday's post.
Mordaunt also ran into trouble over past statements she has made on gender identity:
Ran into problems and heightened scrutiny over her trans stance, not least with a blow from newly-eliminated Suella Braverman, who accused her of not standing up for women when pushing for gender-neutral language in the ministerial maternity leave bill

Accused of lying about her trans stance by Team Truss
Kemi Badenoch is, happily, still in the race and is ahead of Tom Tugendhat, who is likely to be the next to be dropped when voting resumes on Monday.
Badenoch received 49 votes and Tugendhat 32, a decrease of five votes for him.
Early news on Friday
Much happened overnight, which I will review in recent campaign activity below.
Suella Braverman is now supporting Liz Truss.
There is likely to be increasing pressure put on Kemi Badenoch to bow out of the race. If anything, pressure should be brought to bear on Tom Tugendhat, who is in last place.
Guido calls our attention to three debates this weekend. One will be online and two will be televised (red emphases his, those in purple mine):
Today things get really interesting: it's debate time. So far candidates have taken lumps out of each other from their respective trenches, today they finally have to go over the top – a special metaphor just for Penny and Tom. Things kick off at ConservativeHome at 1pm, and continue over to Channel 4 at 19.30, where all candidates have confirmed their attendance. Followed by ITV on Sunday and Sky on Monday. 
Debates can make or break candidates at this stage, especially when there are a decent number of votes up for grabs and no one knows who's going to win. In 2019, one debate made Rory Stewart – securing his place in the next round – and the subsequent debate 24 hours later broke him, as he decided to get undressed live on air. In a sign of how febrile things are, even Rishi's agreed to join tonight's Channel 4 debate, an unedifying challenge the frontrunners are sometimes able to duck out of. Will some MPs finally have to recognise that their candidate makes Theresa May's public speaking look relaxed and charismatic? Guido looks forward to finding out…
Let's see what is going on with the various candidates.
Suella Braverman
Suella Braverman, Attorney General for England and Wales, is a committed Conservative, especially when it comes to social issues.
In 2019, along with Northern Ireland's DUP MPs and several other Conservative MPs, she voted to keep abortion illegal in Northern Ireland. However, the Government has since legalised abortion there.
Last Sunday, Danny Kruger, a thoughtful MP and Prue Leith's son, gave his reasons for backing Braverman:
Two days later, on July 12, a Conservative Home poll showed that Rishi Sunak would lose were Braverman the second remaining candidate on the ballot going to Party members:
Were Braverman up against Liz Truss, the vote would have been tied.
This was Braverman's platform — lower taxes, border control, no identity politics and commitment to the Conservatives' 2019 election manifesto:
What's not to like?
She also would have taken us out of the ECHR (European Convention on Human Rights), which is preventing us from deporting faux refugees and serious foreign criminals: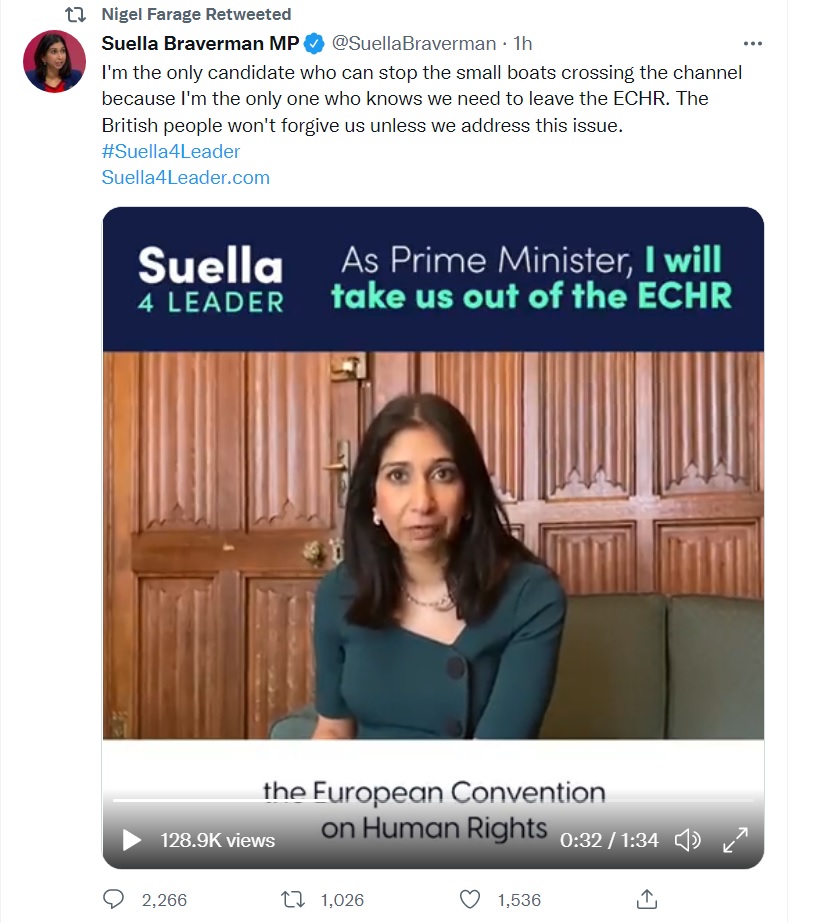 She refused to engage in 'blue on blue' sniping. Here she is with Kemi Badenoch, my other favourite:
Braverman was gracious in defeat:
She swiftly began a media round on Thursday afternoon.
Speaking to Tom Harwood of GB News, she expressed her gratitude for being able to run in the leadership contest, saying it was a real privilege. I agree that she would make an excellent Home Secretary:
She said that she sees both Rishi Sunak and Penny Mordaunt as being on the left. So true:
She criticised Penny Mordaunt's stance on gender identity and accused her of being a 'false Brexiteer':
In an interview with BBC Radio 4, Braverman pointed out that Hansard has a record of what Mordaunt has said in past debates on the Maternity Bill:
She told TalkTV's Tom Newton Dunn why she has decided to support Liz Truss:
I hope that whoever wins will retain Braverman in their Cabinet. She is a true asset to the Conservatives.
Rishi Sunak
Could the wheels be about to fall off for Rishi Sunak, our erstwhile Chancellor?
On Friday, July 15, news emerged that the Chinese government hopes Rishi will be our next Prime Minister:
Guido reported:
This morning Rishi Sunak has successfully won the leadership endorsement none of the candidates wanted: from the Chinese Government's propaganda outfit. Global Times has published an article entitled "China-UK ties 'might improve' with arrival of new PM"; subheading, "Most candidates are tough on Beijing, but 'pragmatic' one wins first round". In the piece, Beijing's mouthpiece notes concern that, despite Rishi winning among MPs, party members might vote for a rival candidate because of tax policy…
Former chancellor of the exchequer (finance minister) Rishi Sunak, the one candidate with a pragmatic view of developing balanced ties with China, has won the first round of voting by MPs.
When Sunak was the finance minister in July 2021, he used his annual Mansion House speech to insist that Britain should beef up its trading relationship with China
Apart from Sunak, almost all of the other candidates hold a very tough stance on China
As I write, mid-day, Guido is awaiting comment from Rishi's team.
In other news, Rishi is losing traction with the bookmakers. He's now in third place:
Guido tells us:
Rishi has fallen from hot favourite to his chances being third rated, with Penny as favourite and an overnight re-evaluation by punters seeing Liz move into the second favourite spot.
Allow me to repeat myself with the aforementioned Conservative Home poll from July 12. According to their readership, likely all Conservative Party members, Rishi could only beat Sajid Javid, who is no longer in the running and Tom Tugendhat, who is currently in last place:
Tom Tugendhat
I do not think that Tom Tugendhat's candidacy will last beyond Monday's vote.
I formed my opinion of him through his participation in House of Commons debates.
He is chair of the Foreign Affairs Committee.
Last August, he spoke about Biden's withdrawal from Afghanistan, where he served with the Army. His contribution gained him a round of applause, which is normally forbidden in Parliament:
America's back – back home.
In 2020, he wrote an editorial on terrorism for the Mail, calling for a return of treason laws, which Tony Blair got rid of:
In 2020, he was critical of China's lockdown policy:
Last year, when there was a suspicion that vaccine passports could be turned into digital identity cards, Tugendhat rightly opposed such a development. talkRADIO's Julia Hartley-Brewer interviewed him on the subject:
Tugendhat announced his candidacy for Conservative leadership on July 7, via an editorial for The Telegraph:
It seems to me that he makes more of his military career than perhaps he should. In one recent interview, he made himself out to be a general (H/T to my reader dearieme):
'What's the worst thing you've ever done?'
'Invaded two countries.'
Guido thinks so, too:
He has the relevant clip:
Anyway, his campaign, increasingly weak, calls for 'a clean start':
A clean start:
On July 8, the Sun featured a profile of him, including his French connection:
Tugendhat is married to Anissia Tugendhat (née Morel).
She is a French judge and civil servant and Tugendhat holds dual citizenship for France and Britain.
According to a tweet from journalist Richard Eden, the pair got engaged in 2013.
Together they have two children, a boy and a girl.
Tugendhat's mother Blandine de Loisne is also French.
Anissia comes from a family of diplomats and her brother has worked in the Foreign Ministry and the French embassy.
We did not know that before, did we? At least Tobias Ellwood told Parliament that he has dual US/UK nationality.
That's probably why he voted Remain in the 2016 Brexit referendum.
He would not be drawn on the subject of whether he regretted his vote. Probably not, then:
The public are suspicious. As he is currently in last place, MPs must be, too:
He launched his campaign on July 12. To calm his nerves, he had a crafty ciggie on the tiny balcony outside his office, forbidden on the parliamentary estate. This, in my opinion, is the only decent thing about him:
I hope he was smoking a Gauloise …
At his launch, he took only two questions from the media:
Perhaps he feared questions about his Frenchness, such as this one:
Candidates, including those running for a position as MP, should declare their nationality or nationalities:
———————————————————————————
I will have more on the leadership contest next week.
For now, I am looking forward to the debates. It will be interesting to see how Rishi and Tugendhat, both of whom are short, look next to Penny Mordaunt, much taller than either of them. Optics are important.
Yesterday's post introduced the ongoing Conservative Party leadership contest.
Today's post will discuss what happened on Wednesday and lead up to Thursday afternoon's vote, the result of which will appear tomorrow.
Before Wednesday's vote
Guido Fawkes wrote the following on the morning of Wednesday, July 13, before the first round of voting (red emphases his, purple ones mine):
Good morning. Six of the eight remaining Tory leadership candidates face an uphill battle throughout the day, as they attempt to reach the 30-MP threshold required in the first knockout round of the contest at 6pm. Rishi now has 48 backers, meaning he can basically sit back and relax for at least the next two rounds, though that hasn't stopped him adding Steve Barclay to his list of supporters this morning. Penny Mordaunt also has the 30 required. The other six, not so much…
All eyes are on Jeremy Hunt and Suella Braverman as the ones most likely not make it, though one of Hunt's backers told Guido last night they believe they have the requisite support. They also described rumours that Gavin Williamson is instructing Rishi backers to temporarily support other candidates like Hunt and Kemi, so Rishi doesn't have to face Liz in the final two, as utter rubbish, though members of other campaign teams believe it is absolutely happening. With Sajid, Shapps and Priti now out of the race, there are 30 newly floating MPs up for grabs…
News overnight includes a policy-light interview with Rishi in The Telegraph, who's trying to get the press back onside after yesterday's scenes at his campaign launch. He says he'll run the economy like Thatcher if he wins. Tom Tugendhat committed to spending 3% of GDP on defence last night.  Penny has used a Times op-ed to commit to supporting families as PM. Stay tuned for her campaign launch at 10.30 this morning…
And:
from now on candidates can also vote for themselves…
Candidates experienced highs and lows, as covered below.
Nadhim Zahawi
When Boris Johnson appointed Nadhim Zahawi as Chancellor of the Exchequer on July 5, it was remarked that he is the first Chancellor with facial hair in 65 years:
Before Harold Macmillan, we have to go back another few decades to find another bearded Chancellor:
Zahawi appears to be the man who convinced Boris that he should stand down as leader of the Conservative Party. On Thursday, July 7, the Daily Mail reported:
Boris Johnson will finally announce his resignation today – but is lining up a 'unity Cabinet' as he battles to stay in Downing Street for months longer.
The PM admitted defeat in the wake of a shattering intervention from Nadhim Zahawi, who was only appointed on Tuesday night following Rishi Sunak's departure. He told Mr Johnson that his situation is 'not sustainable'.
Two days later, on Saturday, news emerged that HMRC (Her Majesty's Revenue and Customs) were investigating Zahawi's tax situation. Hmm:
Zahawi said on a Sunday morning news programme that, if elected Party leader, he would release his tax returns. He complained of being set upon, something Boris knows only too well:
On Tuesday, July 12, he launched his campaign video in which he tells his life story. He arrived in England from Iran with his parents. He started school not knowing a word of English. Fast forward to the past two years and he was able to live his dream. He headed the coronavirus vaccine rollout and went on to become Education Secretary. Today, he is Chancellor. Amazing:
On Wednesday morning, he told LBC's Nick Ferrari that, if elected leader, he would give Boris a Cabinet post:
Guido has the video and concluded:
He's the second leadership contender to make such a pledge after Suealla Braverman. Clearly Zahawi sees some benefit in associating himself with Boris. A swift change of tone considering he was calling for Boris's resignation just a few days ago…
Agreed, but there is no way that a former Prime Minister would take a Cabinet post.
Later on Wednesday morning, someone hacked Zahawi's campaign website and redirected it to Penny Mordaunt's. Penny's website also seemed to have issues:
They are not the only ones, however, as Guido reported that Rishi Sunak's site is banned on the Parliamentary estate:
Website woes are a common theme throughout the leadership campaign, Rishi's site is blocked in Parliament as "insecure" and candidates have had their domain registration timings scrutinised. Turns out this stuff is hard to do right…
Jeremy Hunt
Conservatives either love or loathe Jeremy Hunt.
He served as Health Secretary and then as Foreign Secretary, until Boris sacked him in July 2019.
Hunt ran against Boris in the 2019 leadership contest. In one appearance during that campaign, he said his wife was Japanese. She quickly corrected him and reminded him that she is Chinese.
I wonder if he said that on purpose, because …
During the pandemic, as a backbencher, Hunt proposed Chinese-style lockdowns and mandatory vaccines for healthcare staff.
Nadine Dorries MP recalled a conversation with Hunt in July 2020:
On Christmas Day in 2021, the Mail reported that Hunt's wife presents Chinese state-sponsored television programmes, broadcast on Sky TV from London:
The wife of former Cabinet Minister Jeremy Hunt presents a TV show for China's state-run media that has been accused of 'whitewashing' the Communist Party's human rights abuses.
Lucia Guo, who has three children with the former Health Secretary and Foreign Secretary, appears on China Hour, a series broadcast on Sky TV that showcases Chinese culture to a UK audience.
It is made by the state-owned China International TV Corporation and British-based Dove Media, in partnership with the Communist regime's tourist office in London.
The programme has featured reports on the effectiveness of China's pandemic response and about the beauty of the Xinjiang region without mentioning it is the site of 're-education' camps for its persecuted Muslim Uighur population. 
Ms Guo, who is originally from the city of Xi'an in central China, hosts a feature on the show called Signature Flowers of China. 
It has been broadcast since September and is also available on YouTube.
Human rights campaigners at the US research institute Freedom House last year accused China Hour of being part of the Chinese Communist Party's international media web.
The programme has been praised in Beijing for its viewing figures while its reports on the pandemic have been credited with 'playing a unique role in communicating the Chinese narration of the epidemic to the world'.
On March 13, 2020, three days before the UK's first lockdown, Hunt wanted all British schools closed.
Although Hansard has all of Jeremy Hunt's contributions to parliamentary debates, in May 2022, he tried to walk back his promotion of Chinese-style pandemic measures.
Someone put this graphic together around May 21, a significant date for Hunt, as you will see below: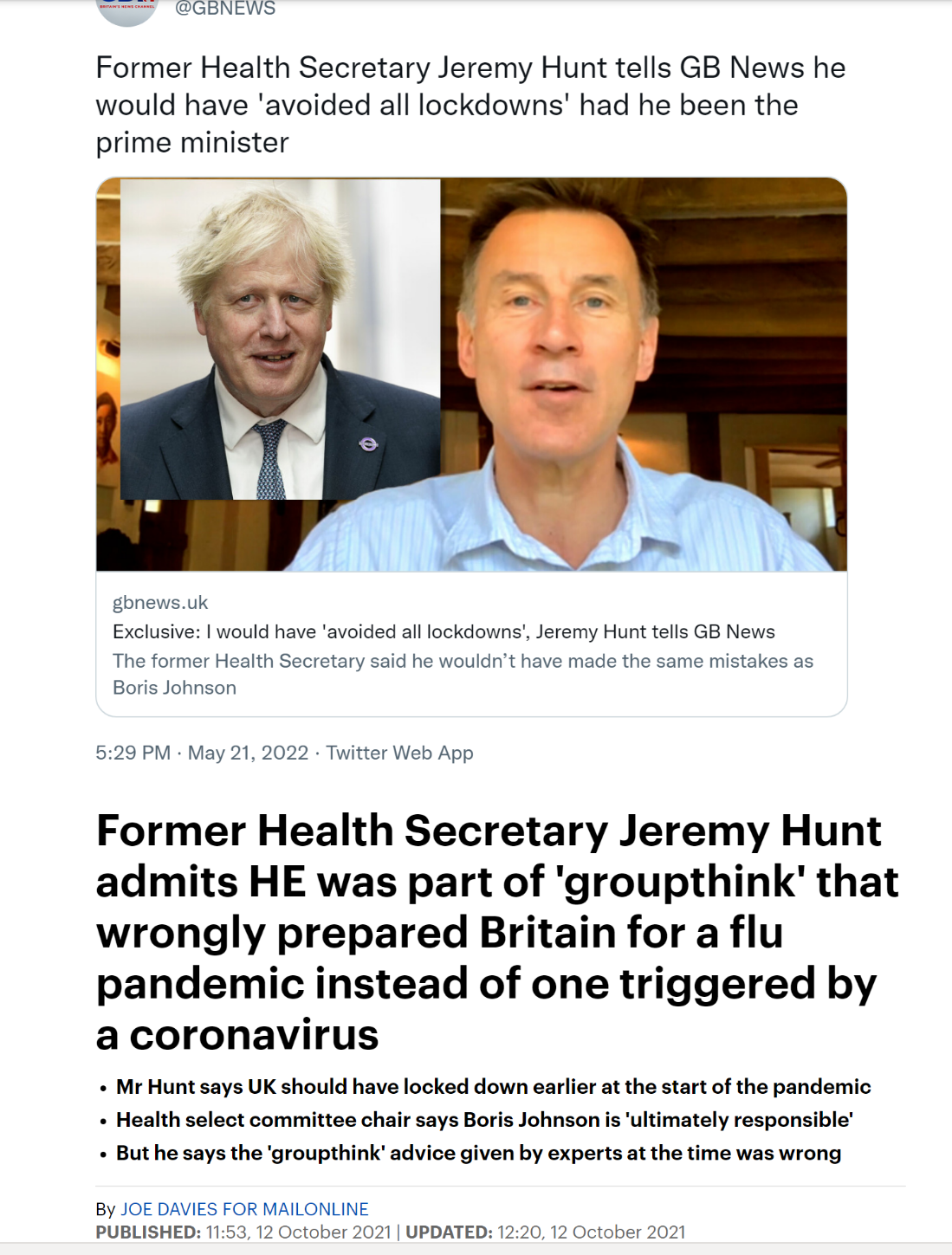 The next day, May 22, he appeared on Sophy Ridge's Sky News programme to say that he did not want to see a Conservative leadership contest:
Guido posted the video and this comment:
Maybe Hunt is one of these Tories who thinks it might be good to lose the next election? He could become leader of the opposition…
That day, a number of letters to the editor appeared in The Sunday Times. The week before, he had written an article for the paper outlining how he would reform the NHS.
A retired GP wrote the Times to point out that Hunt had ample time as Health Secretary some years before, yet he took no action:
What a nerve! Jeremy Hunt tells us "How I would fix the NHS" (News Review, last week) — but he was the longest-serving health secretary in British history and has a huge responsibility for the NHS being in this parlous state.
He did nothing to increase the capacity of our hospitals, which has resulted in ambulances queueing outside A&E departments, unable to discharge their patients. He pledged that by 2025 we would be self-sufficient in "homegrown" doctors, but a lack of planning has resulted in a huge shortage of NHS staff in all sectors. He went out of his way to alienate junior doctors, causing the unprecedented strike of 2014. He did nothing to integrate the NHS with social care.
This is the man who could replace the fool we now have as prime minister. Heaven help us.
One week later, on May 28, an article in the Mail suggested that Hunt had a plan to topple Boris:
Boris Johnson's Cabinet allies have accused supporters of former Health Secretary Jeremy Hunt of mounting a secret pub plot to oust the Prime Minister.
They suspect MPs who attended a dinner at an upmarket bar in West London called The Surprise last week were scheming to trigger a Tory leadership challenge.
The event, held the night before Sue Gray's report into Partygate was published, was hosted by Devon MP Mel Stride, a former campaign chief for Michael Gove who is seen by the Johnson camp as a rebel ringleader.
Also in attendance was long-serving Ludlow MP Philip Dunne, a key ally of Mr Hunt.
The article has two familiar names, in addition to Hunt's. Those MPs entered the current leadership contest:
Of the 16 MPs known to have been there and who voted in the 2019 leadership election, just three backed Mr Johnson.
Five backed Mr Hunt, who is widely expected to mount a leadership bid if a contest is called, while six supported Mr Gove, who is not expected to enter another contest …
Politicians at the dinner strongly denied they were scheming against Mr Johnson and accused his allies of 'paranoia'.
They pointed to the fact that Boris arch-loyalist Grant Shapps – who has himself been tipped as an outside bet for the leadership –addressed the meeting.
But a Cabinet ally of Mr Johnson said: 'Mel Stride is a Goveite looking for a new horse to hitch his wagon to. Many of the people he invited to the pub backed Gove or Hunt last time – including Dunne, who is running Hunt's latest bid.
'Any MP considering backing Hunt must be a masochist yearning for the kind of thrashing we sustained in 2017 and longing for the humiliation of a very long spell on the Opposition benches.
'Without Boris, we will be handing the next Election to a Labour-SNP coalition. But then, some of our pro-Remain MPs and those who think they were naturally destined for high office, are too bitter to care' …
Trade Minister Penny Mordaunt, considered a potential future Tory leadership contender, condemned behaviour at No 10 as 'shameful', telling the Portsmouth News she was 'angry' that people blocking 'reasonable requests to relax [Covid] restrictions, were at the same time ignoring the rules'.
I agree with whoever said that without Boris, the next election will go to a Labour-SNP coalition. Yet, here we are, sadly.
By June 6, the story of Hunt's yearning to be the next Conservative Party leader grew traction, especially with GB News presenters.
Neil Oliver threw his characteristic diplomacy away in this tweet:
Bev Turner shared a Hunt anecdote, wherein he advocated paying domestic staff low salaries:
Someone from Hong Kong confirmed the Chinese way of paying peanuts to domestic staff:
A Conservative Party member chimed in with disgust:
Adam Brooks, the publican who appears on Dan Wootton's show was grateful that Boris was at the helm during the pandemic:
Now let's look at what Jeremy Hunt told Nadine Dorries, Secretary of State for Digital, Culture, Media and Sport, back in July 2020:
Ben Leo, who works on Dan Wootton's show, tracked Hunt down in front of his house on July 9 to follow up. This is an excellent video. Readers won't be surprised to find out that Hunt said absolutely nothing:
Now let us fast forward to last weekend.
GB News viewers were aghast to find out that Esther McVey, an MP many of us admired up to that point, cast her support for Hunt, as did her husband Philip Davies:
Why would a no-nonsense, straight-talking Conservative back Jeremy Hunt?
The answer came on Sunday, July 10, when Hunt announced that, if elected leader, Esther McVey would become Deputy Prime Minister.
Guido posted the video:
She must be stupid if she believes that, I thought. It's like a would-be Romeo trying to seduce a girl. Promise her anything to get her to submit …
Just look at the man's eyes. He often looks like this:
Guido tweeted:
That's me done with McVey and Davies. I liked him, too. No longer.
On Monday, July 11, Dan Wootton warned that Conservative MPs could destroy the Party if either Rishi Sunak or Jeremy Hunt become leader:
He is not wrong in that assessment.
First round voting results
Sir Graham Brady, chairman of the 1922 Committee of Conservative backbench MPs, declared the results of the first round of voting shortly after 5 p.m.
Nadhim Zahawi, the new Chancellor, and Jeremy Hunt were eliminated from the contest:
Conservatives around the nation breathed a sigh of relief at Hunt's elimination from the race.
Perhaps Hunt should have taken a cue when the top of the bell he was ringing flew off, nearly hitting a bystander:
As for Zahawi, he posted a lengthy letter: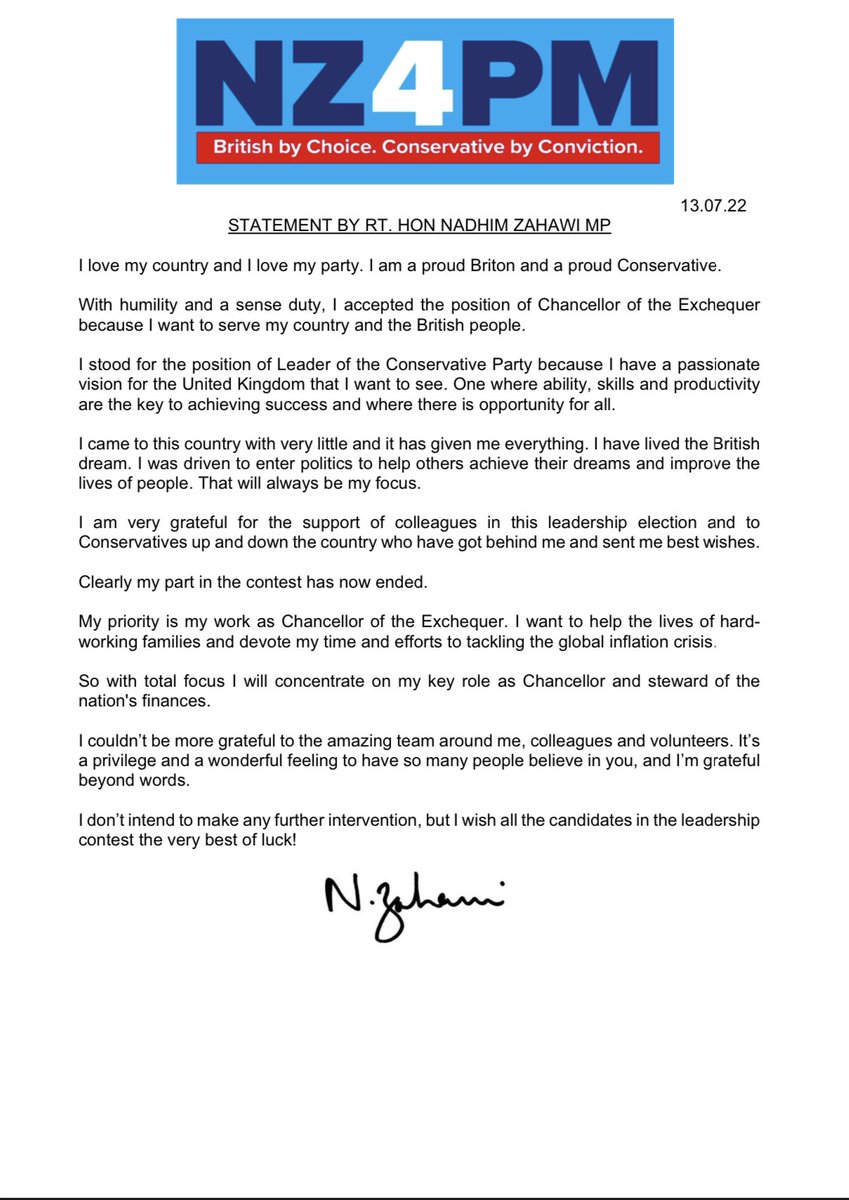 He has a lot on his plate, so perhaps it is best that he focuses on recovering some of the millions that fraudsters took during the pandemic. Those people stole taxpayers' money:
He should also do something about road fuel tax:
Meanwhile, Jeremy Hunt pledged his support for front runner Rishi Sunak:
And then there were six
As Wednesday closed, we were left with six candidates going into Thursday:
Kemi Badenoch, someone around whom most Conservatives could rally, had just over 50 MPs supporting her.
Tom Tugendhat, rather surprisingly, considering that he has a high profile, had fewer than 50.
Suella Braverman, another candidate who makes most Conservative Party members happy, has just over 40.
I think that Braverman and/or Tugendhat will lose on Thursday. Tugendhat is another one who deserves to go.
Guido summed up Wednesday's activity. Highlights follow.
Rishi Sunak could be losing momentum:
… After hogging the limelight with his campaign launch yesterday,

today he resumed being the punching bag of choice for all other candidates

.
Faced some

horrible polling from all quarters, which shows he basically stands no chance of winning among the members if he gets through to the final two

.
Penny Mordaunt did well:
A great day for Penny –

if she wins the contest, today will undoubtedly be viewed as the day she secured the victory

…
Received a major boost from

YouGov polling

that shows,

should she get through to the final two, she'd smash every other candidate

.

Remains a comfortable second among MP backers.
Liz Truss survives another day:
Vowed to halt green levies

Continued her campaign as

the 'Boris continuity candidate'

.
Suella Braverman is unlikely to make it through past Thursday's voting.
Kemi Badenoch does not want tax cuts but has gained support:
Continues to gain support

, not least with her former employers at The Spectator.
Kemi is also opposed to the current form of the dreaded Online Safety Bill, the debates on which could not be completed before summer recess, as the Northern Ireland Protocol Bill, quite rightly, took priority. There is also the debate on confidence in the Government on Monday, which should be interesting: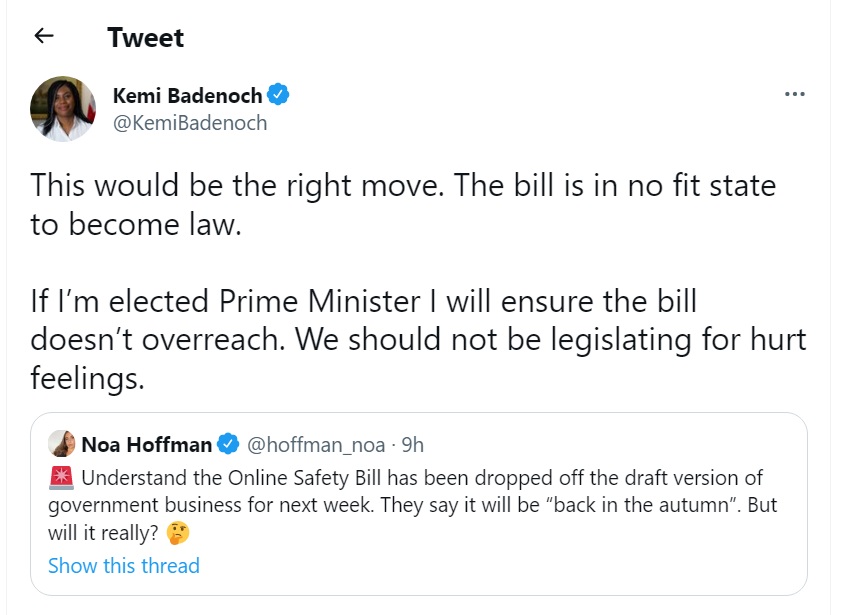 Thursday, before the vote
Guido summed up the state of play on Thursday, July 14. An excerpt follows:
In a few months' time, what will people remember of Jeremy Hunt's 2022 leadership campaign? Nothing, obviously. Seemingly just 18 MPs realised he was running one at all, which is odd as he needed 20 to get on the ballot in the first place. As Sky's Sam Coates asked last night: what exactly does Rishi gain from being endorsed by this competition's biggest loser? He certainly won't gain all of Hunt's supporters – many of them are now angry that Hunt went with Rishi, and not Tugendhat. Mind you, there was already anger towards Hunt from Team Penny, who endorsed him in 2019, as it was very clear he was never considering returning the favour this time around. Et tu, Jeremy…
Today should, in theory, be Truss's day in the spotlight. Her campaign launches bright and early in Smith Square, in two hours' time. They'll be delighted with The Mail splash this morning, which is blatantly campaigning for Liz and telling the right to unite behind her to defeat Rishi. The same front page carries a briefing from someone in the Truss camp accusing Penny of telling lies about her trans stance. Lord Frost has also just taken to the airwaves to slam Penny's record in government, saying she was so rubbish as his deputy he had to ask the PM to move her during the Northern Ireland negotiations…
Yes, this was a damning moment for Penny.
Guido has the video …
… and the quote:
To be honest I'm quite surprised that she is where she is in this leadership race. She was my deputy, notionally more than really, in the Brexit talks last year… I felt she did not master the detail that was necessary in the negotiations last year. She wouldn't always deliver tough messages to the European Union when that was necessary… she wasn't always visible. Sometimes I didn't even know where she was. I'm afraid this became such a problem that after six months I had to ask the Prime Minister to move her on… from the basis of what I saw I would have grave reservations about [Mordaunt].
Guido says that Lord Frost isn't the only one critical of her, either:
On Tuesday, CityAM published damning claims from Department for International Trade sources alleging Penny was "missing for months" as a trade minister and wasn't reliable – something Guido's ministerial sources later confirmed themselves…
As the day unfolded, Rishi tried to make his resignation and leadership candidacy appear sudden, failing to mention that he had his website domain registered in 2020:
On a lighter note, Tom Tugendhat will rue this photo of 'Tom a tart':
Oh, well, he's likely to be out by the end of the day, anyway.
It is unfortunate that so many members of the public cannot identify the next Conservative leader:
Meanwhile, among the party membership, here's the latest from Grantham & Stamford Conservative Association. I am surprised that Mordaunt is doing so well. At least Badenoch is in second place:
Today's vote began at 11:30 and closed at 3 p.m. All being well, I will have an analysis of the results tomorrow.
As one would have expected, the Queen's Platinum Jubilee brought out a number of snide republicans — anti-monarchists — on social media.
However, there is a reason why a constitutional monarchy is still a relevant form of government today.
On June 1, 2022, writing for The Telegraph, veteran columnist Allister Heath explained (emphases mine):
The 1,136 years of Royal continuity since Alfred the Great have been a remarkable story of evolution, a shift from absolutism to rule by consent, from feudalism to a form of capitalism, from Catholicism to a multi-faith society, from Anglo-Saxon kingdom to empire to Brexit. The monarchy, paradoxically, given what it was prior to Magna Carta and the Bill of Rights, now protects the people against power. The monarch serves as a reminder to politicians that they are not, ultimately, in total control: there are forces and institutions above them.
Other methods exist to protect nations against extremism or tyranny, such as the division of powers at the heart of the US constitution. But the downside for America is constant paralysis and an inability to reform institutions that are broken. Thanks to our constitutional monarchy, we are able to evolve when necessary; others must raze everything if they are to change. This is no naive paean to a Whiggish view of history: plenty of the changes made to this country over time have been bad, with botched devolutions a case in point. But we can cope with and absorb damaging ideas or ideological revolutions without losing our souls; the French and Russians and even Americans cannot.
It used to be argued by republicans that meritocracy was incompatible with a monarchy: the huge changes of the past few decades, Big Bang in the City, the drastic progress made by the working classes in the 1980s and by minorities in the 2010s, has shown this not to be true. Anybody in Britain today can be prime minister or a billionaire.
Crucially, the monarchy's central role in British life moderates our politics and society. It drastically reduces the threat of extremism, violence or ideological overreach, a quality that the rest of the world values hugely about Britain.
A monarchy, with its titles, palaces, carriages and servants, is obviously not compatible with communism, although it can coexist with pretty radical Left-wing governments. The Royal family is inherently internationalist, as is the Commonwealth: autarky or complete isolationism would be psychologically difficult. When military personnel sign up to the Armed Forces they swear an Oath of Allegiance not to the prime minister, but to the Queen: the threat of a coup organised by some hothead demagogue is vanishingly small …
Monarchies' time horizons are extremely long, a useful counterpoint to a social media-addled age where attention spans are diminishing, where senior roles turn over too quickly in the public and private sectors, where ministers come and go every year, and where wisdom and experience are undervalued. Western societies also tend to downplay the importance of the family: nepotism is rightly taboo in educational institutions, big firms and the public sector. But in the private sphere, in the real world, the family and blood ties matter, and often more than anything else. The Royal family reminds us of the continuity between the generations, even when there are tensions, disagreements and scandals. When millions are battling atomism, a demographic implosion, loneliness and a quest for meaning, anything that rebalances our perceptions of the good life is surely welcome …
The monarchy has become a unifying focal point around which every group can coalesce without degenerating into identity politics: all can feel pride. It is an institution that reminds us of our unique history, of the extension of rights, individual and political freedoms and immense economic opportunity that has characterised British history. No honest reading of the past 1,000 years can remotely claim that we are uniquely bad – for all our flaws, all our mistakes, we have long been a beacon among nations, improving and developing before others and tackling injustices more quickly.
… Ephraim Mirvis, the Chief Rabbi, perfectly captured Her Majesty's remarkable qualities and dedication in his special Jubilee prayer: "Her crown is honour and majesty; her sceptre, law and morality. Her concern has been for welfare, freedom and unity, and in the lands of her dominion, she has sustained justice and liberty for all races, tongues and creeds."
The monarchy, and the Queen in particular, have provided us with an in-built advantage in contending with the destabilising forces battering Western democracies. For that, and for everything else Her Majesty has given us during her 70 extraordinary years on the throne, we should be eternally grateful.
On April 21, 2021, the Queen's real birthday, Mary Harrington, a contributing editor to UnHerd, also put forward the historical case for preserving the constitutional monarchy. This was just days after the Queen attended Prince Philip's funeral.
Harrington wrote:
I was reminded of her iron self-control and bird-like fragility watching our Queen enter St George's Chapel for the funeral of Prince Philip on Saturday. She stumbled momentarily as she approached the chapel door; inside, she sat alone. Born 12 years after my grandmother, she has been our Queen since 1952 and remains so today, her 95th birthday.
And yet despite the dignified pathos of last Saturday, we can be sure that some will celebrate the Queen's birthday by calling for her deposition. For many progressives view the Queen as an unacceptable relic of the past. Never mind personal travails; monarchy, they say, is undemocratic, even if the Queen never wields her power. We should have an elected head of state.
But far from being a relic of despotism, constitutional monarchy is our best protection against its reappearance. The story we like to recall traces a thousand years of royal continuity — the same deep history which progressives say demonstrates the obsolescence of our monarchy. But in truth this story skates over a profound rupture: the end of absolute kingship …
Just as the Reformation represented England's secession from spiritual absolutism, the Glorious Revolution represented something similar in the political sphere. Having got rid of one absolute monarch, the statesmen who defenestrated James II set about making sure their new monarch, William, knew his place. A 1689 Bill of Rights set out constitutional principles we have to this day, including regular Parliaments, open elections and freedom of speech. The Bill also limited and specified the monarch's powers.
The Reformation and Glorious Revolution produced an England in which both spiritual and temporal rule had the same figurehead: a head of both Church and Parliament. The change was subtle but profound, as the authority of England's priest-kings now theoretically extended across moral and political domains. But in practice, they wielded no direct power.
This homeopathic dilution of theocratic tyranny proved exceptionally liberating. The new settlement drove the emergence of our parliamentary system, our two main political parties, and — as the monarchy sought a new role — many of the High Victorian institutions such as the Royal Societies, whose grand buildings form the majestic backbone of London today …
Two world wars, one collapsed empire and a de-industrialised North later, things look rather different. Today, younger adults widely believe the world has been getting worse throughout their lives, and are pessimistic about the capacity of science, government or their own agency to change this. In parallel, the freedom of speech first guaranteed in the 1689 Bill of Rights is increasingly regarded as a stalking-horse for hatred. Growing numbers believe that what's right and wrong — especially where it concerns the rights of marginalised groups — are sufficiently self-evident they shouldn't be up for debate.
But who decides on the exceptions to our post-Glorious Revolution norm of debate? It's been nearly half a millennium since Henry VIII ended England's official embrace of the Pope in this role. Progressives have yet to offer a clear alternative to either the Pope or the Defender of the Faith, though many assert that no hereditary ruler should be allowed such spiritual clout.
Unsurprisingly, then, progressives (such as Jeremy Corbyn) who support abolishing the monarchy, often also argue for disestablishment of the Church of England. Meanwhile a growing chorus of other progressive voices calls for a lengthening list of often self-contradictory articles of faith to be excluded from legitimate debate — a move that bears comparison with the religious ordinances of England's Catholic and Anglican eras.
But what if the progressives are wrong and power can never truly be democratised? This was the argument advanced by political theorist Carl Schmitt. Schmitt argued that democracy is always compromised by absolutism, because no matter how flawless a set of rules you devise, and no matter how fair your electoral system, sooner or later a situation will crop up that doesn't fit the rules.
When that happens, you have to break the rules: a situation Schmitt called the "state of exception". Coronavirus lockdowns are a good example: of the past year, countless ordinary freedoms were abruptly suspended in the name of virus control. Schmitt argued that you can tell who's really in charge by who gets to implement such a state: "Sovereign is he who decides the exception".
Carl Schmitt was, of course, a Nazi. For him, exposing the traces of arbitrary rule that persist even in democratic government was part of a wider argument in favour of strongman rule …
… It wasn't the Queen who decided to suspend our ordinary liberties for the pandemic, but Parliament, which is made up of our elected representatives.
The role of our Queen is to symbolise that tyrannical twitch we can't wholly eradicate even in democracies, lest such twitches break out more regularly among our elected leaders. And she must do so without availing herself of actual power. As such, she acts as a kind of inoculation against real tyranny.
Our Queen has two birthdays: her actual birthdate, which is today, and her "official" birthday on the second weekend in June. This aptly reflects her double existence. On the one hand she's a human individual with a family, a birthday and a recent, terrible bereavement. On the other, she's an interchangeable cipher, a part not just replaceable but designed to be replaced by her heir apparent when the time comes. Her role is to act, with total self-effacement, as the fulcrum between tyranny and democracy. It's a position that, once understood, is rightly seen as profoundly sacred.
On the topic of coronavirus, The Telegraph's French correspondent, Anne-Elisabeth Moutet, wrote of her fellow countrymen's envy when the Queen addressed the United Kingdom on Sunday, April 5, 2020. It was a planned address but was aired — coincidentally — shortly before Prime Minister Boris Johnson was admitted to hospital with coronavirus. Talk about serendipity.
Moutet wrote of French leftists who praised the Queen:
Three weeks into le confinement, the complete lockdown French authorities have imposed on the nation, TV viewers here tuned into the Queen's address yesterday more out of curiosity than to find any kind of succour.
The nation is exhausted. A good deal of Emmanuel Macron's response to the Covid-19 crisis has been deemed flawed. The President and the country's health authorities simultaneously decreeing that masks were unnecessary for the general public and pledging to buy millions as soon as they could be sourced was rightly seen as inconsistent. So was the failure of the French health ministry's bureaucracy, for weeks, to greenlight promising antiviral therapies while deaths rose by the thousands. Trust is at its lowest.
And yet, after a four minutes and thirteen seconds speech broadcast on all our news channels, France, a country that has forgotten neither Waterloo no Mers-el-Kébir, had been utterly won over. "Queen Elizabeth II Would Make Me a Monarchist," Marion Van Renterghem, a seasoned former Le Monde reporter, who now writes for both L'Express and the Guardian, tweeted. "A model Chief of State. A class act" …
"The entire world has just been given a masterly political communication lesson in a crisis by a 93-year-old grande dame," tweeted one of France's foremost spin doctors (and a professor at Sciences Po, Paris' answer to Oxford's PPE), Philippe Moreau-Chevrolet.
In a country where, since the day of Charles de Gaulle, the President has simultaneously tried to symbolise the Republic and manage current affairs hands-on, the Queen's address has reminded everyone that there's a lot to be said for an uncontested head of state, completely detached from the fluctuations of day-to-day politics — and from politicians' vagaries. Most of Emmanuel Macron's speeches here have been too long: in time (rarely less than 20 minutes); on posturing ("We're at war," repeated 6 times in an awkward televised speech three weeks ago); on insincere technocratic babble …
"It was moving; it was subtle; it carried weight because instead of trying to instrumentalise war parallels, the Queen never even said the word, but let us all remember her and her father's history. She had grace, she had authority, she had compassion," says Moreau-Chevrolet.
That direct link between the sovereign and her people, above politics, has often been mocked in Britain as in France; but faced with it, we all recognise it. A politician who had to campaign for the job, and has to look to his numbers the following days — Blair, Sarkozy, Macron — simply can't manufacture that.
Even more notable: patriotism, a word too often used pejoratively, came spontaneously to describe the strange experience of hearing Britain's great-grandmother praising and encouraging her people in adversity. We were, to be honest, more than a little envious.
The day the Queen delivered her coronavirus message to millions of Britons …
… Tony Blair's odious spin doctor, Alastair Campbell, wrote an editorial for The Telegraph, 'From her sense of humour to sense of duty, The Queen is the most remarkable person on earth'.
I am hardly a fan of Campbell's, but he explains how he shifted from being a republican to becoming a monarchist. The Queen's example showed him the way:
My first political row, aged six or seven, was about The Queen, when my mother said I had to sit with her and the rest of the family to watch the traditional Christmas message. 'Why?' I protested. 'Why should I care what some rich woman says, just because she lives in a big posh house, wears a crown and has a silly voice?'
That was more than half a century ago, and the beginnings of fairly persistent Republicanism. My mother, born in the same year as the Queen, and with the same first name, Elizabeth, is alas no longer with us. The Queen, very much, is. How I wish my mother was here to see me write this: that in common with millions around the world, I was keen to see and hear The Queen as soon as it was announced she would be broadcasting a special message to the nation about the coronavirus crisis.
I would go further… I think it is possible to make the case that The Queen is one of, if not the, most remarkable people on the planet. Below are just ten among many reasons.
Campbell praised Her Majesty's longevity:
She has 'done the same job' for almost 70 years … 70 years; there is nobody else, in any other walk of life, who has done that.
He praised her 'enduring excellence':
… her standing with the public has never been below 60 per cent approval in the polls, and often in the 80s and 90s, because of the way she has performed her role.
He pointed to her universal fame:
Her face is perhaps the most reproduced image in the world (300 billion stamps and counting, hundreds of millions of coins and banknotes throughout the Commonwealth.) She is universally known, and near universally admired. Say 'The Queen' in conversation anywhere in the world, and she, the Monarch of all Monarchs, is the one people assume you are talking about. Her death, when it comes, will be one of the defining moments of our times, globally.
He praised her humility:
Despite that fame, and the authority that comes with her constitutional position, she wears both lightly. As one of her advisers once explained to me, 'she knows that she did nothing to deserve the privileged position she holds. She was just plonked there, an accident of birth.' Not for one second, he said, does she ever forget that.
He recalled her ability to handle a crisis, specifically Princess Diana's horrible death on August 31, 1997. Princes William and Harry were with the Queen and Prince Philip at Balmoral at the time. Tony Blair was Prime Minister then, and Campbell was working for him:
… There was considerable reluctance among many at the Palace, her included, to lowering the flag at Buckingham Palace, to returning from Balmoral, to the Queen speaking to the nation. But when she and Prince Philip decided it all needed to be done, it was all systems go, and her walkabout outside the Palace, as I recorded in my diary at the time, dramatically changed the public mood, instantly. 'The Queen,' says historian Tristram Hunt, 'will become a business-school case study in the management technique of rebooting.'
Campbell recalled her resilience when Windsor Castle caught fire in 1992, the same year when Charles and Diana's marriage was breaking down:
There have been periods when the Republican movement has felt wind in its sails, and sensed the possibility of the whole Royal edifice crumbling. She has survived them all. Her annus horribilis, 1992, amid the grisly soap opera her family had become, with the Windsor Castle fire the tipping point to tears, was the only time her courtiers feared she was losing her capacity to endure whatever life threw at her. From that too though, she emerged stronger.
He admired her humanity:
I have met a fair few of her staff, at various levels, and have yet to meet one who doesn't like as well as respect her … Another of her advisers told me that the reason she loves horses so much is that when she rides, 'she feels like an ordinary human being, not a Head of State.' 
He said she has a sense of humour, citing a quip of hers from 2002:
At the time of her Golden Jubilee, Tony Blair hosted a dinner for The Queen and all surviving Prime Ministers at Downing Street – Blair, John Major, Margaret Thatcher and Jim Callaghan – and descendants of the Prime Ministers who had died. As they all gathered somewhat nervously, she said: 'Isn't it just marvellous not to have to be introduced to anyone?'
On the subject of Prime Ministers, Campbell said the Queen has a certain mystique:
Even those who see her regularly, like her fourteen Prime Ministers with their weekly audiences, do not really know what she thinks about many of the major issues they discuss. She never puts a foot wrong on the political front, and though she is one of the most written about people on earth, we don't really know much about her beyond what we see.
He praised the Queen's sense of duty, performing the same rituals time and time again:
This defines her, really. She would not be human, if she did not occasionally think, 'oh no, not another garden party/investiture/State opening/Trooping the Colour/regional visit/Commonwealth trip/State banquet for me to read platitudes drafted by the Foreign Office.' Whatever it is, she just does it, again and again and again. Because it is her duty …
Campbell ended by noting the change through which the Queen has lived. Yet she remains a constant presence in our lives:
She has seen so much change, and helped to drive change too. But she just is; 'show not tell' at its best. The Queen of 1953 would not have had a rock star like Brian May playing the national anthem on the roof of Buckingham Palace, as happened at the Golden Jubilee. The Queen of 2002 would not have appeared in a film for an Olympic and Paralympic Games opening ceremony, with Daniel Craig as James Bond, and a Queen lookalike jumping from a helicopter, as she did in 2012.
There is so much change in those different scenarios, but the only thing different about her is her clothing, and the colour of her hair. She just is, that's it, and her latest broadcast, just being The Queen, will further add to the legend, and the history, of a truly remarkable human being.
That is the one time when Alastair Campbell and I have agreed on something.
That said, the year before, in September 2019, The New York Post published the results of a Sunday Times poll on Labourites' — Campbell's fellow travellers' — views of the Queen. Who knew there were so many republicans among their number?
Only 29% of party members polled believe in keeping the British monarchy, the Sunday Times of London reported. And only one in five would be "happy" or "proud" to sing the national anthem, "God Save the Queen" …

Even more shocking in a country that's in the midst of leaving the European Union in part because of immigration issues, almost half of the poll's respondents agreed that nations "should remove borders and people should decide where they want to live."
I had forgotten about that poll, but everything remains true today. Few Labour MPs attended the Commons debate on the upcoming Platinum Jubilee. Furthermore, with regard to illegal immigration, most of them say that there is no such thing. In other words: come one, come all, no matter how.
Speaking of Labour, in 2005, Keir Starmer had just been made a Queen's Counsel (QC). This was before he was made Director for Public Prosecutions (DPP) in 2008.
Guido Fawkes unearthed this video, in which Starmer said he was against the monarchy:
Guido posted the video on February 3, 2021.
This begs the question: as the current leader of the Labour Party and desperate to appear as a safe pair of hands, is Starmer still a republican?
Guido offered this analysis about Sir Keir, as he now is (red emphasis in the original):
The 2005 interview … shows Sir Keir smugly boasting about his long-held republican views. Sir Keir, reflecting modestly on his other achievements, brags "I also got made a Queen's Counsel, which is odd since I often used to propose the abolition of the monarchy" before smirking …
UPDATE: Owen Jones et al [more leftists] are blabbering on about the past tense of "I often used to propose the abolition of the monarchy". That strictly reads as he used to propose the abolition, now he does not. Doesn't necessarily mean Starmer has changed his mind, just his campaigning priorities. As he embarks on his patriotic makeover, it is reasonable to ask; is that a tactical change or has he truly converted to the merits of a constitutional monarchy? If so, what was it about becoming a knight of the realm that converted him?
I have much more to write about the merits of a constitutional monarchy and the Queen's role within it.
For now, I will close with the thoughts of Alexandra Marshall, an Australian who contributes to that country's edition of The Spectator.
Marshall was on Mark Steyn's GB News show prior to the Platinum Jubilee celebrations and made a solid case for a constitutional monarchy, which she also summed up in a tweet:
Precisely.
Paradoxically, today's monarchies safeguard their citizens from tyranny.
More to come on this topic next week.