You are currently browsing the tag archive for the 'lockdown' tag.
As one would have expected, the Queen's Platinum Jubilee brought out a number of snide republicans — anti-monarchists — on social media.
However, there is a reason why a constitutional monarchy is still a relevant form of government today.
On June 1, 2022, writing for The Telegraph, veteran columnist Allister Heath explained (emphases mine):
The 1,136 years of Royal continuity since Alfred the Great have been a remarkable story of evolution, a shift from absolutism to rule by consent, from feudalism to a form of capitalism, from Catholicism to a multi-faith society, from Anglo-Saxon kingdom to empire to Brexit. The monarchy, paradoxically, given what it was prior to Magna Carta and the Bill of Rights, now protects the people against power. The monarch serves as a reminder to politicians that they are not, ultimately, in total control: there are forces and institutions above them.
Other methods exist to protect nations against extremism or tyranny, such as the division of powers at the heart of the US constitution. But the downside for America is constant paralysis and an inability to reform institutions that are broken. Thanks to our constitutional monarchy, we are able to evolve when necessary; others must raze everything if they are to change. This is no naive paean to a Whiggish view of history: plenty of the changes made to this country over time have been bad, with botched devolutions a case in point. But we can cope with and absorb damaging ideas or ideological revolutions without losing our souls; the French and Russians and even Americans cannot.
It used to be argued by republicans that meritocracy was incompatible with a monarchy: the huge changes of the past few decades, Big Bang in the City, the drastic progress made by the working classes in the 1980s and by minorities in the 2010s, has shown this not to be true. Anybody in Britain today can be prime minister or a billionaire.
Crucially, the monarchy's central role in British life moderates our politics and society. It drastically reduces the threat of extremism, violence or ideological overreach, a quality that the rest of the world values hugely about Britain.
A monarchy, with its titles, palaces, carriages and servants, is obviously not compatible with communism, although it can coexist with pretty radical Left-wing governments. The Royal family is inherently internationalist, as is the Commonwealth: autarky or complete isolationism would be psychologically difficult. When military personnel sign up to the Armed Forces they swear an Oath of Allegiance not to the prime minister, but to the Queen: the threat of a coup organised by some hothead demagogue is vanishingly small …
Monarchies' time horizons are extremely long, a useful counterpoint to a social media-addled age where attention spans are diminishing, where senior roles turn over too quickly in the public and private sectors, where ministers come and go every year, and where wisdom and experience are undervalued. Western societies also tend to downplay the importance of the family: nepotism is rightly taboo in educational institutions, big firms and the public sector. But in the private sphere, in the real world, the family and blood ties matter, and often more than anything else. The Royal family reminds us of the continuity between the generations, even when there are tensions, disagreements and scandals. When millions are battling atomism, a demographic implosion, loneliness and a quest for meaning, anything that rebalances our perceptions of the good life is surely welcome …
The monarchy has become a unifying focal point around which every group can coalesce without degenerating into identity politics: all can feel pride. It is an institution that reminds us of our unique history, of the extension of rights, individual and political freedoms and immense economic opportunity that has characterised British history. No honest reading of the past 1,000 years can remotely claim that we are uniquely bad – for all our flaws, all our mistakes, we have long been a beacon among nations, improving and developing before others and tackling injustices more quickly.
… Ephraim Mirvis, the Chief Rabbi, perfectly captured Her Majesty's remarkable qualities and dedication in his special Jubilee prayer: "Her crown is honour and majesty; her sceptre, law and morality. Her concern has been for welfare, freedom and unity, and in the lands of her dominion, she has sustained justice and liberty for all races, tongues and creeds."
The monarchy, and the Queen in particular, have provided us with an in-built advantage in contending with the destabilising forces battering Western democracies. For that, and for everything else Her Majesty has given us during her 70 extraordinary years on the throne, we should be eternally grateful.
On April 21, 2021, the Queen's real birthday, Mary Harrington, a contributing editor to UnHerd, also put forward the historical case for preserving the constitutional monarchy. This was just days after the Queen attended Prince Philip's funeral.
Harrington wrote:
I was reminded of her iron self-control and bird-like fragility watching our Queen enter St George's Chapel for the funeral of Prince Philip on Saturday. She stumbled momentarily as she approached the chapel door; inside, she sat alone. Born 12 years after my grandmother, she has been our Queen since 1952 and remains so today, her 95th birthday.
And yet despite the dignified pathos of last Saturday, we can be sure that some will celebrate the Queen's birthday by calling for her deposition. For many progressives view the Queen as an unacceptable relic of the past. Never mind personal travails; monarchy, they say, is undemocratic, even if the Queen never wields her power. We should have an elected head of state.
But far from being a relic of despotism, constitutional monarchy is our best protection against its reappearance. The story we like to recall traces a thousand years of royal continuity — the same deep history which progressives say demonstrates the obsolescence of our monarchy. But in truth this story skates over a profound rupture: the end of absolute kingship …
Just as the Reformation represented England's secession from spiritual absolutism, the Glorious Revolution represented something similar in the political sphere. Having got rid of one absolute monarch, the statesmen who defenestrated James II set about making sure their new monarch, William, knew his place. A 1689 Bill of Rights set out constitutional principles we have to this day, including regular Parliaments, open elections and freedom of speech. The Bill also limited and specified the monarch's powers.
The Reformation and Glorious Revolution produced an England in which both spiritual and temporal rule had the same figurehead: a head of both Church and Parliament. The change was subtle but profound, as the authority of England's priest-kings now theoretically extended across moral and political domains. But in practice, they wielded no direct power.
This homeopathic dilution of theocratic tyranny proved exceptionally liberating. The new settlement drove the emergence of our parliamentary system, our two main political parties, and — as the monarchy sought a new role — many of the High Victorian institutions such as the Royal Societies, whose grand buildings form the majestic backbone of London today …
Two world wars, one collapsed empire and a de-industrialised North later, things look rather different. Today, younger adults widely believe the world has been getting worse throughout their lives, and are pessimistic about the capacity of science, government or their own agency to change this. In parallel, the freedom of speech first guaranteed in the 1689 Bill of Rights is increasingly regarded as a stalking-horse for hatred. Growing numbers believe that what's right and wrong — especially where it concerns the rights of marginalised groups — are sufficiently self-evident they shouldn't be up for debate.
But who decides on the exceptions to our post-Glorious Revolution norm of debate? It's been nearly half a millennium since Henry VIII ended England's official embrace of the Pope in this role. Progressives have yet to offer a clear alternative to either the Pope or the Defender of the Faith, though many assert that no hereditary ruler should be allowed such spiritual clout.
Unsurprisingly, then, progressives (such as Jeremy Corbyn) who support abolishing the monarchy, often also argue for disestablishment of the Church of England. Meanwhile a growing chorus of other progressive voices calls for a lengthening list of often self-contradictory articles of faith to be excluded from legitimate debate — a move that bears comparison with the religious ordinances of England's Catholic and Anglican eras.
But what if the progressives are wrong and power can never truly be democratised? This was the argument advanced by political theorist Carl Schmitt. Schmitt argued that democracy is always compromised by absolutism, because no matter how flawless a set of rules you devise, and no matter how fair your electoral system, sooner or later a situation will crop up that doesn't fit the rules.
When that happens, you have to break the rules: a situation Schmitt called the "state of exception". Coronavirus lockdowns are a good example: of the past year, countless ordinary freedoms were abruptly suspended in the name of virus control. Schmitt argued that you can tell who's really in charge by who gets to implement such a state: "Sovereign is he who decides the exception".
Carl Schmitt was, of course, a Nazi. For him, exposing the traces of arbitrary rule that persist even in democratic government was part of a wider argument in favour of strongman rule …
… It wasn't the Queen who decided to suspend our ordinary liberties for the pandemic, but Parliament, which is made up of our elected representatives.
The role of our Queen is to symbolise that tyrannical twitch we can't wholly eradicate even in democracies, lest such twitches break out more regularly among our elected leaders. And she must do so without availing herself of actual power. As such, she acts as a kind of inoculation against real tyranny.
Our Queen has two birthdays: her actual birthdate, which is today, and her "official" birthday on the second weekend in June. This aptly reflects her double existence. On the one hand she's a human individual with a family, a birthday and a recent, terrible bereavement. On the other, she's an interchangeable cipher, a part not just replaceable but designed to be replaced by her heir apparent when the time comes. Her role is to act, with total self-effacement, as the fulcrum between tyranny and democracy. It's a position that, once understood, is rightly seen as profoundly sacred.
On the topic of coronavirus, The Telegraph's French correspondent, Anne-Elisabeth Moutet, wrote of her fellow countrymen's envy when the Queen addressed the United Kingdom on Sunday, April 5, 2020. It was a planned address but was aired — coincidentally — shortly before Prime Minister Boris Johnson was admitted to hospital with coronavirus. Talk about serendipity.
Moutet wrote of French leftists who praised the Queen:
Three weeks into le confinement, the complete lockdown French authorities have imposed on the nation, TV viewers here tuned into the Queen's address yesterday more out of curiosity than to find any kind of succour.
The nation is exhausted. A good deal of Emmanuel Macron's response to the Covid-19 crisis has been deemed flawed. The President and the country's health authorities simultaneously decreeing that masks were unnecessary for the general public and pledging to buy millions as soon as they could be sourced was rightly seen as inconsistent. So was the failure of the French health ministry's bureaucracy, for weeks, to greenlight promising antiviral therapies while deaths rose by the thousands. Trust is at its lowest.
And yet, after a four minutes and thirteen seconds speech broadcast on all our news channels, France, a country that has forgotten neither Waterloo no Mers-el-Kébir, had been utterly won over. "Queen Elizabeth II Would Make Me a Monarchist," Marion Van Renterghem, a seasoned former Le Monde reporter, who now writes for both L'Express and the Guardian, tweeted. "A model Chief of State. A class act" …
"The entire world has just been given a masterly political communication lesson in a crisis by a 93-year-old grande dame," tweeted one of France's foremost spin doctors (and a professor at Sciences Po, Paris' answer to Oxford's PPE), Philippe Moreau-Chevrolet.
In a country where, since the day of Charles de Gaulle, the President has simultaneously tried to symbolise the Republic and manage current affairs hands-on, the Queen's address has reminded everyone that there's a lot to be said for an uncontested head of state, completely detached from the fluctuations of day-to-day politics — and from politicians' vagaries. Most of Emmanuel Macron's speeches here have been too long: in time (rarely less than 20 minutes); on posturing ("We're at war," repeated 6 times in an awkward televised speech three weeks ago); on insincere technocratic babble …
"It was moving; it was subtle; it carried weight because instead of trying to instrumentalise war parallels, the Queen never even said the word, but let us all remember her and her father's history. She had grace, she had authority, she had compassion," says Moreau-Chevrolet.
That direct link between the sovereign and her people, above politics, has often been mocked in Britain as in France; but faced with it, we all recognise it. A politician who had to campaign for the job, and has to look to his numbers the following days — Blair, Sarkozy, Macron — simply can't manufacture that.
Even more notable: patriotism, a word too often used pejoratively, came spontaneously to describe the strange experience of hearing Britain's great-grandmother praising and encouraging her people in adversity. We were, to be honest, more than a little envious.
The day the Queen delivered her coronavirus message to millions of Britons …
… Tony Blair's odious spin doctor, Alastair Campbell, wrote an editorial for The Telegraph, 'From her sense of humour to sense of duty, The Queen is the most remarkable person on earth'.
I am hardly a fan of Campbell's, but he explains how he shifted from being a republican to becoming a monarchist. The Queen's example showed him the way:
My first political row, aged six or seven, was about The Queen, when my mother said I had to sit with her and the rest of the family to watch the traditional Christmas message. 'Why?' I protested. 'Why should I care what some rich woman says, just because she lives in a big posh house, wears a crown and has a silly voice?'
That was more than half a century ago, and the beginnings of fairly persistent Republicanism. My mother, born in the same year as the Queen, and with the same first name, Elizabeth, is alas no longer with us. The Queen, very much, is. How I wish my mother was here to see me write this: that in common with millions around the world, I was keen to see and hear The Queen as soon as it was announced she would be broadcasting a special message to the nation about the coronavirus crisis.
I would go further… I think it is possible to make the case that The Queen is one of, if not the, most remarkable people on the planet. Below are just ten among many reasons.
Campbell praised Her Majesty's longevity:
She has 'done the same job' for almost 70 years … 70 years; there is nobody else, in any other walk of life, who has done that.
He praised her 'enduring excellence':
… her standing with the public has never been below 60 per cent approval in the polls, and often in the 80s and 90s, because of the way she has performed her role.
He pointed to her universal fame:
Her face is perhaps the most reproduced image in the world (300 billion stamps and counting, hundreds of millions of coins and banknotes throughout the Commonwealth.) She is universally known, and near universally admired. Say 'The Queen' in conversation anywhere in the world, and she, the Monarch of all Monarchs, is the one people assume you are talking about. Her death, when it comes, will be one of the defining moments of our times, globally.
He praised her humility:
Despite that fame, and the authority that comes with her constitutional position, she wears both lightly. As one of her advisers once explained to me, 'she knows that she did nothing to deserve the privileged position she holds. She was just plonked there, an accident of birth.' Not for one second, he said, does she ever forget that.
He recalled her ability to handle a crisis, specifically Princess Diana's horrible death on August 31, 1997. Princes William and Harry were with the Queen and Prince Philip at Balmoral at the time. Tony Blair was Prime Minister then, and Campbell was working for him:
… There was considerable reluctance among many at the Palace, her included, to lowering the flag at Buckingham Palace, to returning from Balmoral, to the Queen speaking to the nation. But when she and Prince Philip decided it all needed to be done, it was all systems go, and her walkabout outside the Palace, as I recorded in my diary at the time, dramatically changed the public mood, instantly. 'The Queen,' says historian Tristram Hunt, 'will become a business-school case study in the management technique of rebooting.'
Campbell recalled her resilience when Windsor Castle caught fire in 1992, the same year when Charles and Diana's marriage was breaking down:
There have been periods when the Republican movement has felt wind in its sails, and sensed the possibility of the whole Royal edifice crumbling. She has survived them all. Her annus horribilis, 1992, amid the grisly soap opera her family had become, with the Windsor Castle fire the tipping point to tears, was the only time her courtiers feared she was losing her capacity to endure whatever life threw at her. From that too though, she emerged stronger.
He admired her humanity:
I have met a fair few of her staff, at various levels, and have yet to meet one who doesn't like as well as respect her … Another of her advisers told me that the reason she loves horses so much is that when she rides, 'she feels like an ordinary human being, not a Head of State.' 
He said she has a sense of humour, citing a quip of hers from 2002:
At the time of her Golden Jubilee, Tony Blair hosted a dinner for The Queen and all surviving Prime Ministers at Downing Street – Blair, John Major, Margaret Thatcher and Jim Callaghan – and descendants of the Prime Ministers who had died. As they all gathered somewhat nervously, she said: 'Isn't it just marvellous not to have to be introduced to anyone?'
On the subject of Prime Ministers, Campbell said the Queen has a certain mystique:
Even those who see her regularly, like her fourteen Prime Ministers with their weekly audiences, do not really know what she thinks about many of the major issues they discuss. She never puts a foot wrong on the political front, and though she is one of the most written about people on earth, we don't really know much about her beyond what we see.
He praised the Queen's sense of duty, performing the same rituals time and time again:
This defines her, really. She would not be human, if she did not occasionally think, 'oh no, not another garden party/investiture/State opening/Trooping the Colour/regional visit/Commonwealth trip/State banquet for me to read platitudes drafted by the Foreign Office.' Whatever it is, she just does it, again and again and again. Because it is her duty …
Campbell ended by noting the change through which the Queen has lived. Yet she remains a constant presence in our lives:
She has seen so much change, and helped to drive change too. But she just is; 'show not tell' at its best. The Queen of 1953 would not have had a rock star like Brian May playing the national anthem on the roof of Buckingham Palace, as happened at the Golden Jubilee. The Queen of 2002 would not have appeared in a film for an Olympic and Paralympic Games opening ceremony, with Daniel Craig as James Bond, and a Queen lookalike jumping from a helicopter, as she did in 2012.
There is so much change in those different scenarios, but the only thing different about her is her clothing, and the colour of her hair. She just is, that's it, and her latest broadcast, just being The Queen, will further add to the legend, and the history, of a truly remarkable human being.
That is the one time when Alastair Campbell and I have agreed on something.
That said, the year before, in September 2019, The New York Post published the results of a Sunday Times poll on Labourites' — Campbell's fellow travellers' — views of the Queen. Who knew there were so many republicans among their number?
Only 29% of party members polled believe in keeping the British monarchy, the Sunday Times of London reported. And only one in five would be "happy" or "proud" to sing the national anthem, "God Save the Queen" …

Even more shocking in a country that's in the midst of leaving the European Union in part because of immigration issues, almost half of the poll's respondents agreed that nations "should remove borders and people should decide where they want to live."
I had forgotten about that poll, but everything remains true today. Few Labour MPs attended the Commons debate on the upcoming Platinum Jubilee. Furthermore, with regard to illegal immigration, most of them say that there is no such thing. In other words: come one, come all, no matter how.
Speaking of Labour, in 2005, Keir Starmer had just been made a Queen's Counsel (QC). This was before he was made Director for Public Prosecutions (DPP) in 2008.
Guido Fawkes unearthed this video, in which Starmer said he was against the monarchy:
Guido posted the video on February 3, 2021.
This begs the question: as the current leader of the Labour Party and desperate to appear as a safe pair of hands, is Starmer still a republican?
Guido offered this analysis about Sir Keir, as he now is (red emphasis in the original):
The 2005 interview … shows Sir Keir smugly boasting about his long-held republican views. Sir Keir, reflecting modestly on his other achievements, brags "I also got made a Queen's Counsel, which is odd since I often used to propose the abolition of the monarchy" before smirking …
UPDATE: Owen Jones et al [more leftists] are blabbering on about the past tense of "I often used to propose the abolition of the monarchy". That strictly reads as he used to propose the abolition, now he does not. Doesn't necessarily mean Starmer has changed his mind, just his campaigning priorities. As he embarks on his patriotic makeover, it is reasonable to ask; is that a tactical change or has he truly converted to the merits of a constitutional monarchy? If so, what was it about becoming a knight of the realm that converted him?
I have much more to write about the merits of a constitutional monarchy and the Queen's role within it.
For now, I will close with the thoughts of Alexandra Marshall, an Australian who contributes to that country's edition of The Spectator.
Marshall was on Mark Steyn's GB News show prior to the Platinum Jubilee celebrations and made a solid case for a constitutional monarchy, which she also summed up in a tweet:
Precisely.
Paradoxically, today's monarchies safeguard their citizens from tyranny.
More to come on this topic next week.
To follow this series, it is helpful to read parts 1 and 2.
We left off on Sunday, May 8, 2022. That day, Labour leader Sir Keir Starmer had cancelled an appearance at an Institute for Government event on Monday in advance of the Queen's Speech on Tuesday.
Labour's campaign beer and curry event took place on April 30, 2021. The Sun made it public soon afterwards, but it did not get traction from other papers, namely The Telegraph and the Mail, until January 2022. Durham Constabulary only decided to really investigate it on Friday, May 6, 2022. Starmer took legal advice and cancelled his public appearance on Monday, May 9.
Journalists and pundits noted the length of time between the event, its wider coverage, the internal memo about the event leaked to the Mail on Sunday and Starmer's reaction to the press coverage it received. No one forgot Starmer's spending from December 2021 to May 2022 calling for Boris Johnson's resignation over Downing Street events:
With the shoe being on the other foot, Labour supporters wanted Starmer's event, held in Labour MP Mary Foy's Durham office, to disappear from the public consciousness. Didn't we know there was a war on in Ukraine? Didn't anyone care about the cost of living crisis? Suddenly, breaking coronavirus restriction rules was something no one should care about unless it had to do with Boris and Downing Street.
Mail on Sunday journalist Dan Hodges noted the hypocrisy:
A YouGov poll published on Monday showed that the public thought Starmer should stand down if he gets a fine:
Guido Fawkes has YouGov's breakdown of the public's opinion on both Starmer and Boris. Not surprisingly, more people think that Boris should resign. That said, Conservative voters are more forgiving of Starmer than are Labour voters. That's because most Conservatives believe in repentance.
Guido says a majority of the public think that Starmer broke the rules:
The general public is firmly of the view that Starmer should resign, at 46% agreeing versus 32% opposing. They also comfortably believe Starmer either did definitely or probably break the rules (54%) to probably didn't or definitely didn't (21%).
Guido conducted his own poll on Monday, May 9. Just under 50 per cent thought that the Labour leader — and Leader of the Opposition (LOTO) — should resign using the same standards that he applied to Boris:
Earlier on Monday, Starmer decided to issue a short statement to the media at 4 p.m. that day. By the time Guido closed his poll, there was a half hour left before that small, select event took place.
Guido's post on the poll says (emphases in the original):
With Sir Keir expected to make a statement on Beergate at 4pm today, Guido asked co-conspirators how they'd advise Starmer if they were by his side in the LOTO office over the weekend. Resign right away? Wait for the police investigation? Tough it out…?
Thousands voted, and it turns out readers are divided. Half (49.6%) think Starmer should resign at the podium today – given he called for Boris's resignation the moment the police launched their inquiry – 28.9% think he should resign only if fined, with a further 21.5% saying he should tough it out regardless of the police outcome. Guido's own view is that the latter choice is politically impossible given his approach to Partygate. Demanding Boris and Rishi resign over a birthday cake set the bar incredibly high for his own behaviour – a bar he hasn't met. If he's not going to resign today, then his only real option is to promise he'll go if Durham Police whack him with a fine…
Starmer invited only three journalists to hear his statement.
He said he would resign if fined.
Guido analysed that statement and said there was more to it than one might think:
Seeing as Charles — now Lord — Falconer is advising Starmer, Blairite tactics could come into play:
Sir Keir has just confirmed he will resign in the event of being given a fine, an unprecedented announcement from a Leader of Her Majesty's Loyal Opposition … Guido can see another obvious tactic at play from the pound shop Blair wannabee…
In 2007, when under investigation for the Cash For Honours scandal, Tony Blair's team warned the Metropolitan Police that the PM would have to resign if interviewed under caution, forcing them to back off under such immense political pressure:
Sources close to the inquiry said that there were difficult discussions before a political intermediary made senior detectives aware of the serious implications of treating the Prime Minister as a suspect.
"Make no mistake, Scotland Yard was informed that Mr Blair would resign as Prime Minister if he was interviewed under caution," said a source. "They were placed in a very difficult position indeed."
On Saturday, when Guido exclusively revealed Lord Falconer has been tasked with putting together out Sir Keir's legal defence, he didn't expect Blair's Justice Secretary to copy the tactic used by his old party boss so like-for-like. Unfortunately for Starmer one of his team accidentally explained the quiet bit out loud to ITV's Daniel Hewitt, briefing "it puts some pressure on Durham Police who are being leant on in one direction". Former DPP [Director of Public Prosecutions] Sir Keir knows a thing or two about letting police forces fudge an investigation and letting the culprit get away…
Hmm:
It will be interesting to see how a campaign team can justify alcohol at a notional working event, especially as a few overdid it:
Guido was referring to a Politico article by Alex Wickham, who wrote that he received no denials of the following account containing mentions of drunkenness:
On Tuesday, May 10 — Day 13 of Beergate — the Mail led with Starmer's alleged piling of pressure on Durham police:
That day, fallout followed Starmer's cosy Monday afternoon session with only three journalists.
The Sun's political editor Harry Cole was left out in the cold. 'Lobby' refers to the media:
Guido said this was but another episode in a long-running period in which Labour have not been transparent with the media:
Guido has been tracking this issue for some time:
Guido's campaign to get Labour to publish their shadow cabinet meetings with media proprietors and editors, as pledged following Leveson, seems to be going nowhere, despite repeated promises from Labour HQ to pull their finger out. Yesterday Labour's relationship with press transparency got colder, when Sir Keir invited just three tame broadcasters into the room, blocking any hacks who may have asked difficult questions from attending. GB News' Tom Harwood was told this was due to "limited space". Guido is old enough to remember when the Lobby was collectively outraged when only selected broadcasters were invited by Lee Cain [Boris's former Downing Street Director of Communications] for a briefing… 
Now Guido's spotted another press frontier on which Labour's dropping the ball: publishing press releases. Labour's website hasn't published a press release in over 40 days, the most protracted period of policy publishing paralysis since Starmer took over …
Perhaps not a good look when even the Labour-supporting press is starting to suggest Sir Keir needs some policies to win, not just claims of personal sainthood…
That day, YouGov published a new poll taken on May 5 and 6 that shows the Conservatives were one point below Labour. Other polls still show Labour in the lead, but here is YouGov's take:
Guido wrote:
Margin of error territory as the public no longer perceives Sir Keir as "Mr Rules". One poll so far so will be intrigued to see if this is a trend…
Prince Charles delivered the Queen's Speech that morning for the State Opening of Parliament.
In the afternoon, both the Commons and the Lords began separate debates on the 38 proposed bills in the Queen's Speech.
In the Commons, at least, the week-long debate, called the Humble Address, begins jovially, and it is an honour to be the MP selected to open it.
The lucky MP was Graham Stuart (Conservative), who represents Beverley and Holderness.
He cracked a joke about Keir Starmer as he reviewed Labour's dominance in the North of England prior to the Conservatives' breaking through the Red Wall in 2019 (emphases in purple mine):
Robert [Sir Robert Goodwill], of course, won selection in Scarborough. He then went on to overturn Lawrie Quinn's 3,500 majority, and was, I think, along with my hon. Friend the Member for Shipley (Philip Davies), the only Conservative candidate in the whole of the north of England to take a seat from the Labour party at that election. The Leader of the Opposition must wish it was so today. Instead the only thing opening up for him in the north is a police investigation. [Laughter.]
Guido has the video. Look at Starmer's painfully forced smile:
Stuart had another go when discussing the corruption in his constituency in the 18th and 19th centuries:
Obviously the law did change. Free beer and cash inducements were the electoral controversies then, rather than, say, beer and curry today. Never in the history of human conflict has so much karma come from a korma.
Some time later, it was Boris's turn to speak, introducing the important bills. Labour MPs intervened until he put a stop to them.
Of the energy bill, he said:
The energy Bill will create hundreds of thousands of new green jobs, taking forward this Government's energy security strategy—it is about time this country had one—with £22 billion—[Interruption.] Labour did not want a single nuclear power station. Come on, be honest. Look at them, the great quivering jellies of indecision that they are. Our £22 billion UK Infrastructure Bank is supporting the transition to net zero and vast new green industries, in which our United Kingdom will again lead the world.
Boris quickly moved on to the economy and the Channel crossings of illegal migrants, during which he added a quip:
We are using our new freedoms to control our borders, with a new plan for immigration so that we can fix our broken asylum system, tackle the illegal immigration that undermines the legal immigration that we support and crack down on the vile people smugglers. I know that the Leader of the Opposition—perhaps I should, in deference to his phrase, refer to him as the Leader of the Opposition of the moment—likes to claim he opposes these plans …

Guido has the video, which is much more entertaining than reading the transcript. Boris was at his best:
That evening, The Guardian reported that Labour MPs were already talking about a change in leadership. Speaking personally, so far, Wes Streeting is the strongest candidate they have:
The majority of shadow ministers said they were grimly resigned to Starmer's pledge – but said there were likely to be internal consequences. "I think once you start talking up the prospect of your own resignation you are on dangerous ground," one said.
Another veteran MP, a Starmer loyalist, said they suspected ulterior motives from some shadow cabinet members. "If you fancy Keir's job, this is win-win," they said.
Rule changes pushed through at last year's Labour conference mean a fifth of MPs must nominate any candidate for the party leadership in order for them to be put to a members' postal vote – a higher threshold than under Jeremy Corbyn's leadership and a move that was seen by those on the left as intending to disadvantage their candidates.
One MP said a snap leadership contest would put ascendant shadow cabinet ministers such as Wes Streeting, the shadow health secretary, in an advantageous position. "[Starmer's] disappearance now would obviously benefit the Blairite right – [the mayor of Greater Manchester, Andy] Burnham couldn't stand, Sadiq Khan [the London mayor] couldn't stand, Angela would be out of the picture for the same reason as Keir because if he goes on this she has said she will go too."
If both Starmer and Rayner are forced to resign, there is no obvious interim leader. The most senior members of Starmer's shadow cabinet – Rachel Reeves, the shadow chancellor; Yvette Cooper, the shadow home secretary; David Lammy, the shadow foreign secretary; Streeting; and Lisa Nandy, the shadow levelling up secretary – are all potential candidates in a contest. The party's national executive committee would have to vote to designate an alternative member of the shadow cabinet.
A source close to Starmer said he was relaxed about the ambitions of his shadow cabinet. "I don't think anyone is actively trying to undermine him. It says a lot about our party that there are so many potential candidates – look at the contrast again with the Tories. If people are ambitious, let them be."
An ally of Streeting said: "Wes was on the media batting for Keir three times over the weekend and into Monday. He's one of Keir's most loyal and vocal supporters. After a great set of a local election results there is everything to play for at the next general election thanks to Keir's leadership. This is no time for introspection."
Senior figures in the Labour leader's team are understood to have felt reluctant to advise Starmer he should raise the prospect of his own resignation.
On Wednesday, May 11, The Sun criticised Keir Starmer's response to the Queen's Speech. When responding to Boris on Tuesday, Starmer had no Labour policies to present. He merely criticised the Government at length and ended with this:
It does not have to be this way; it will not always be this way. A Labour Government would tackle the cost of living crisis head on, get Britain growing again after 12 years of failure, and improve public services so that they deliver for the people paying for them. A Labour Government would rise to the moment where this Government have badly failed.
The Sun's editorial, 'Holey agenda', said (bold in the original):
IS Keir Starmer chasing the wrong job?
He has no ideas anyone can detect, as his vacuous response to the Queen's Speech proves. He clearly thinks it's enough to be 'decent' and 'honourable'.
Tribal Labour voters may lap up his preening sanctimony. Millions of others prefer leaders with vision and drive.
You're auditioning for PM, Mr Starmer. Not Archbishop of Canterbury.
That day, digging around, Guido raised the matter of an early pandemic violation in Durham: that of Boris's then-adviser Dominic Cummings at Barnard Castle in the Spring of 2020.
Durham Constabulary said at the time that there was nothing to investigate. They also stated that they did not issue retrospective fines.
As punishment, Boris made Cummings hold a lengthy televised press conference to explain himself. It lasted well over an hour and was most peculiar. At the end, after having asked many questions, one by one, reporters and broadcasters walked up individually to Cummings's table to tell him what they thought of him.
Cummings's press conference was his public penance.
Then again, parts of it were theatre for the public, most of whom didn't know he is friends with many of those journalists, as is his wife. He addressed only one by his full name: Gary Gibbon from Channel 4 News.
Two years on with Starmer — and other Labour MPs in the frame — the Party's ire was rising in Durham.
Mary Foy MP, who hosted the Durham gathering in 2021, had written a lengthy letter to Boris on May 28, 2020 about Cummings, who is pictured below in the background. The letter beneath it is recent. It is from the leader of Durham's Labour Party to Red Wall Conservative MP Richard Holden, who had written to Durham Constabulary a few weeks ago to enquire as to whether they would investigate the 2021 Starmer event:
Mary Foy's letter would have been better addressed to Durham Constabulary. It was up to them, not Boris, to take action against Cummings.
However, Foy took issue with Boris's refusal to sack Cummings. In the event, he resigned a few months later for other reasons and was gone by the end of 2020.
Guido wrote about Foy's letter, which can be viewed in its entirety on his post:
Now that Sir Keir is feeling the heat from his boozy lockdown curry night, Labour MPs are bending over backwards to explain why their leader's Covid rule-breaking is somehow completely different to Boris's, and why it's right that Starmer remains in post provided he isn't fined. One particular MP who might have some trouble with this is none other than the Honourable Member for Durham, Mary Foy…
Foy is probably best known for hosting the Beergate bhuna session in her constituency office, laughing and drinking merrily with her colleagues while the country was still in stage two of lockdown. She then went on to scream at Richard Holden for his asking Durham Police to reinvestigate the event. It turns out, however, that when Durham Police announced they wouldn't fine Dominic Cummings over the infamous Barnard Castle trip, Foy had a few ideas about what should happen next. None of which involved Cummings keeping his job…
Here's what Foy wrote in a public letter to Boris after the Cummings story:
The vast majority of constituents who have contacted me have expressed the view that Mr Cummings' actions have been insensitive and unacceptable at best, and many feel that they warrant further investigation by the police.
While I understand today's decision by Durham Police to take no further action, many of the constituents who have written to me would like Mr Cummings to resign or be sacked. Clearly, whether you stick by him or not is a matter for you, but the perception from my constituents, and I would hazard a guess that this is a common view across the North East, is that you are currently putting the interests of your chief adviser above that of the people of the region and the country as a whole.
Even though Cummings received no fixed penalty, and the police decided they'd take no further action, Foy still took the time to write a two-page letter informing the Prime Minister how upset her constituents are, and politely suggested Cummings lose his job. Presumably her office is inundated with similar letters now, all demanding Sir Keir does the honourable thing…
Labourites criticised Times Radio's Lucy Fisher for mentioning Cummings and Starmer in the same tweet:
However, it would be wrong to think that Durham Constabulary never issued any fines — fixed penalty notices — for coronavirus violations.
On Thursday, May 12, The Times informed us of a fine Durham Constabulary issued to a bereaved woman in November 2020:
Some of Starmer's supporters have assumed that detectives would not issue a fixed-penalty notice because they decided not to take retrospective action against Dominic Cummings, the prime minister's former adviser.
However, the force's approach appeared to harden later in the pandemic and it issued a £10,000 fine to a woman who organised a balloon release in memory of her father-in-law, who died of Covid.
Vicky Hutchinson held the gathering on November 11, 2020, in a field opposite a church in Horden, Co Durham, where Ian Stephenson's funeral was due to take place a few days later. Her £10,000 fine was reduced to £500, based on her ability to pay, when she attended Peterlee magistrates' court on April 23 last year, a week before the Starmer incident.
A court report by The Northern Echo revealed that Hutchinson, in her mid-thirties, had urged friends and family to wear masks and stay socially distanced at the balloon release. It said that police did not attend the gathering of about 30 people and there was no disorder.
However, it appears that there was a retrospective investigation after a complaint. Durham police analysed a livestream video of the event before issuing the fine, the report said.
The approach to Hutchinson's case raises fresh questions about how the Durham force might handle the case of Starmer, who has denied wrongdoing …
Durham police did not respond to requests for comment.
Also on Thursday, Guido returned to Dominic Cummings, specifically what Keir Starmer said about the incident in 2020:
Guido has the quote:
Here's what he said of Cummings back in 2020 – before the police had even launched their investigation:
This was a huge test of the Prime Minister, and he's just failed that test. He hasn't sacked Dominic Cummings, he hasn't called for an investigation, and he's treating the British public with contempt… that's not a reasonable interpretation of the rules, and the Prime Minister knows it. One rule for the Prime Minister's advisers, another rule for everyone else… If I were Prime Minister, I'd have sacked Cummings.
One rule for the Prime Minister's advisers, another for Sir Keir…
And finally, London's Metropolitan Police confirmed that they have now issued more than 100 fines for Downing Street events. Neither Boris nor his wife Carrie received one in this tranche:
Guido wrote:
A month on from their last update on Partygate, paused thanks to the local elections, the Met's confirmed "more than 100″ fixed penalty notices have now been handed out. Downing Street say Boris has not received another fine…
Later that afternoon, GB News's Colin Brazier and his guests discussed the Met's issuing of fines to people who were at Downing Street gatherings.
It's a bit rich for Brazier's contributors to say that the Met want to channel their resources elsewhere. There are few police forces these days, including the Met, who want to investigate actual crime. This massive dispensing of fines also looks rather selective:
There is also the issue of double standards which irritate many members of the public:
Personally, I think the way the pandemic was handled was dystopian. I don't know what to think about these fines. Part of me wants to see all of them refunded and any related criminal record for violations erased.
On the other hand, it seems only right that, if Labour have done wrong, they, too, should be fined.
So far, only the Conservatives have been. The Met have made them look positively criminal. Well, that's par for the course in Labour-controlled London.
I'll update this in due course.
End of series
There was little of an Easter recess for some British parliamentarians, especially Boris Johnson.
That said, the relatively short break proved once again that a week is a long time in politics.
The Archbishop
The Archbishop of Canterbury's Easter sermon continued to rattle cages last week. Boris was the last to chime in on Tuesday, April 19, when he spoke to Conservative MPs after making another apology in Parliament for being fined in relation to a Downing Street lockdown gathering.
The Times reported that Boris defended the new policy of flying illegal immigrants to Rwanda for processing (emphases mine):
Boris Johnson took aim at the Archbishop of Canterbury last night as he criticised senior members of the clergy for having "misconstrued" the policy of sending some asylum seekers to Rwanda.
Sources close to the prime minister said he told Conservative MPs in a private meeting that it was a "good policy" despite some "criticism on the BBC and from senior members of the clergy".
Johnson said that some clergymen "had been less vociferous in their condemnation on Easter Sunday of Putin than they were on our policy on illegal immigrants".
Justin Welby, the Archbishop of Canterbury, used his Easter Day sermon to condemn the policy, in which some migrants will be flown to Rwanda on a one-way ticket. He said it raised "serious ethical questions", contradicted Christian values and would not "stand the judgment of God".
On Wednesday, The Times reported that the Church of England fired back:
John Bingham, the Church of England's head of news, said: "If true, a disgraceful slur." He highlighted Welby's recent criticism of the invasion as a "great act of evil". Some of the country's most senior clerics today joined Welby in condemning the Rwanda policy.
Why is it a 'slur' and a 'disgraceful' one at that? Boris's words were polite enough.
The Times article also said that Boris was critical of the BBC. Hmm, I wonder:
At the private meeting of Tory MPs Johnson was also critical of the BBC's coverage of the asylum plans, claiming it had misunderstood the proposal to send migrants on a one-way flight to the African country as early as next month.
The Telegraph put the story of alleged criticisms of the BBC on their front page, which Keir Starmer picked up on at Prime Minister's Questions on Wednesday. Apparently, there was a misunderstanding between reporters and Downing Street:
The Spectator's Melanie McDonagh, a practising Catholic, explained why some sort of policy was necessary, particularly to stem the daily multiple Channel crossings to England from France:
Certainly, as the reading that preceded the Gospel in the service today [Easter] makes clear, 'God has no favourites'. By this was meant Jews and Gentiles, but by all means, make the point that asylum seekers are of equal worth to Spectator readers. But it doesn't follow that this prescribes any particular asylum policy. When the Archbishop says that the deportation to Rwanda policy 'cannot carry the weight of our national responsibility as a country formed by Christian values', he's being a little disingenuous. When Britain was far more overtly Christian than it is now – say, a couple of generations ago – it actually had a far more restrictive approach to immigration and asylum. The concept that anyone who wanted to come, should be able to come, is pretty well a product of the Blair government's opening the floodgates from 1997, 25 years ago. Before that, yearly immigration levels were in the tens of thousands; asylum claims were far lower than now but were probably dealt with more individually than at present.
As I say, declaring that 'the details are for politicians' leaves an important question hanging: should anyone who wants to come to Britain, and can get to Britain, be allowed to stay? Who should be returned? Of the 600 a day who arrive here by boat alone (leaving out of account every other means of entry), only two per cent have passports; should they by virtue of abandoning their identity documents automatically be granted leave to remain? When is it right to return people either back to where they came from, or indeed to Rwanda? (He doesn't suggest they will be persecuted there.) And what about the EU countries on the frontline of the asylum influx (on a scale that far surpasses Britain); are they ever justified in turning back boats? How many people must European countries admit? And if the Archbishop thinks there can be no sending back asylum seekers or economic migrants, he must say so. But he must also acknowledge the consequences for the host countries.
I am not so stupid as to suggest that clergy should stay out of politics; the Archbishop was speaking in Canterbury cathedral where Thomas Becket was killed for taking issue with the king. But the Archbishop – like Pope Francis in other contexts – is being disingenuous in criticising a government policy as unChristian without any attempt to acknowledge the scale and nature of the problem it is designed to address.
And there is no denying that the C of E is political. GB News's conservative commentator and former teacher Calvin Robinson is an Anglican ordinand in the Diocese of London, which claims it cannot give him an assignment, even though he has had offers:
Here's an interesting exchange on that tweet:
On Easter Monday evening, the Archbishop of Canterbury's name came up on Dan Wootton's GB News show, and one of the panellists, Emma Webb, nominated Calvin Robinson for Greatest Briton. Patrick Christys, filling in for Dan, chose Nathan Dunne, who is raising money for charity by walking across the country barefoot:
The Prime Minister
On April 12, Tuesday in Holy Week, Boris Johnson received a fine from the Metropolitan Police for an event during lockdown nearly two years ago. So did the Chancellor, Rishi Sunak.
Both men paid their fixed penalty notice — 'It's not a fine!' — promptly.
Naturally, Boris had to apologise before the House of Commons again, as he did earlier in January this year.
There was a feeling of déjà vu about it all:
… let me begin in all humility by saying that on 12 April, I received a fixed penalty notice relating to an event in Downing Street on 19 June 2020. I paid the fine immediately and I offered the British people a full apology, and I take this opportunity, on the first available sitting day, to repeat my wholehearted apology to the House. As soon as I received the notice, I acknowledged the hurt and the anger, and I said that people had a right to expect better of their Prime Minister, and I repeat that again in the House now.
Let me also say—not by way of mitigation or excuse, but purely because it explains my previous words in this House—that it did not occur to me, then or subsequently, that a gathering in the Cabinet Room just before a vital meeting on covid strategy could amount to a breach of the rules. I repeat: that was my mistake and I apologise for it unreservedly. I respect the outcome of the police's investigation, which is still under way. I can only say that I will respect their decision making and always take the appropriate steps. As the House will know, I have already taken significant steps to change the way things work in No. 10.
The only difference was the mention of the Ukraine conflict:
I travelled to Kyiv myself on 9 April—the first G7 leader to visit since the invasion—and I spent four hours with President Volodymyr Zelensky, the indomitable leader of a nation fighting for survival, who gives the roar of a lion-hearted people. I assured him of the implacable resolve of the United Kingdom, shared across this House, to join with our allies and give his brave people the weapons that they need to defend themselves. When the President and I went for an impromptu walk through central Kyiv, we happened upon a man who immediately expressed his love for Britain and the British people. He was generous enough to say—quite unprompted, I should reassure the House—"I will tell my children and grandchildren they must always remember that Britain helped us."
But the urgency is even greater now because Putin has regrouped his forces and launched a new offensive in the Donbas. We knew that this danger would come. When I welcomed President Duda of Poland to Downing Street on 7 April and Chancellor Scholz the following day, we discussed exactly how we could provide the arms that Ukraine would desperately need to counter Putin's next onslaught. On 12 April, I spoke to President Biden to brief him on my visit to Kyiv and how we will intensify our support for President Zelensky. I proposed that our long-term goal must be to strengthen and fortify Ukraine to the point where Russia will never dare to invade again …
This Government are joining with our allies to face down Putin's aggression abroad while addressing the toughest problems at home, helping millions of families with the cost of living, making our streets safer and funding the NHS to clear the covid backlog. My job is to work every day to make the British people safer, more secure and more prosperous, and that is what I will continue to do. I commend this statement to the House.
The Commons was lit, especially the Opposition benches, more about which below.
Going back to June 19, 2020, grateful conservatives were happy that Boris was even alive to celebrate his birthday, which The Times reported on the following day. No one said anything negative at the time.
Boris had survived coronavirus but was far from well. It took the rest of the summer for him to recover. Even in September, he still looked and sounded somewhat peaky.
Furthermore, some pundits and MPs have said that Downing Street is a Crown estate, thereby exempt from the rules.
We will have to see what transpires from the Metropolitan Police and civil servant Sue Gray's respective reports.
The Opposition
After Boris apologised on Tuesday of Easter Week, a number of MPs on both sides of the aisle were talking animatedly.
Keir Starmer responded for the opposition benches, which agitated his side even more:
What a joke!
Even now, as the latest mealy-mouthed apology stumbles out of one side of the Prime Minister's mouth, a new set of deflections and distortions pours from the other. But the damage is already done. The public have made up their minds. They do not believe a word that the Prime Minister says. They know what he is.
As ever with this Prime Minister, those close to him find themselves ruined and the institutions that he vows to protect damaged: good Ministers forced to walk away from public service; the Chancellor's career up in flames; the leader of the Scottish Conservatives rendered pathetic. Let me say to all those unfamiliar with this Prime Minister's career that this is not some fixable glitch in the system; it is the whole point. It is what he does. It is who he is. He knows he is dishonest and incapable of changing, so he drags everybody else down with him. [Interruption.] The more people debase themselves, parroting—[Interruption.]
The Speaker, Sir Lindsay Hoyle, interrupted:
Order. I cannot hear what is being said because there is so much noise.
There were also cries of disagreement about Starmer's labelling Boris dishonest:
Withdraw!
The Speaker agreed:
Order. What I will say is that I think the Leader of the Opposition used the word "dishonest", and I do not consider that appropriate. [Hon. Members: "Breaking the rules!"] We do not want to talk about breaking rules, do we? I do not think this is a good time to discuss that.
I am sure that if the Leader of the Opposition withdraws that word and works around it, he will be able—given the knowledge he has gained over many, many years—to use appropriate words that are in keeping with the good, temperate language of this House.
Starmer accepted the Speaker's direction and said:
I respect that ruling from the Chair, Mr Speaker. The Prime Minister knows what he is.
Starmer then launched an attack on the Conservative MP for Lichfield, Michael Fabricant, without naming him. If you wish to mention an MP by name, you must ask their permission beforehand:
Last week, we were treated to a grotesque spectacle: one of the Prime Minister's loyal supporters accusing teachers and nurses of drinking in the staff room during lockdown. Conservative Members can associate themselves with that if they want, but those of us who take pride in our NHS workers, our teachers, and every other key worker who got us through those dark days will never forget their contempt.
Casting our minds back to January — and Boris's first apology — Michael Fabricant suggested resurrecting an idea of Tony Blair's: an Office of Prime Minister, which would allow Boris to control No. 10 the way the US president does the White House. The context of Fabricant's intervention was in response to Boris saying that he was going to improve the way Downing Street is run:
On Tuesday in Holy Week, Fabricant suggested that Downing Street get a bar so that staffers would not need to wheel luggage to the local shops in order to bring alcohol back to No. 10:
Guido Fawkes had the story and accompanying audio:
Expertly reading the room, Michael Fabricant used an interview on 5 Live in the wake of Boris, Rishi and Carrie receiving pre-notices to defend staffers wheeling in suitcases of booze to Downing Street during lockdown:
There is no bar in Downing Street… That's the only way you can actually get any alcohol into Downing Street.
He then went on to argue the suitcase claims makes the argument for a bar being installed in No. 10, like there is in the Houses of Parliament.
It seems reasonable enough, provided the room is under lock and key until after hours.
The next day, however, Fabricant went further, which is what Starmer was talking about:
Guido's tweet brightened my day. It goes so far in explaining why the UK and Ireland used to be so much fun, once upon a time. Unfortunately, that fun ended by the mid-1990s as we imported an increasingly American mindset.
A terrific exchange followed his tweet, with others recalling similar memories of secondary school:
But I digress.
I don't remember how many times Boris apologised after MPs' comments.
Earlier that day, the Speaker announced that Starmer had approached him about Boris's fixed penalty notice, the lockdown 'parties' at Downing Street and the issue of parliamentary privilege:
Before we come to today's business, I wish to make a short statement. I have received letters from a number of hon. and right hon. Members, including the right hon. and learned Member for Holborn and St Pancras (Keir Starmer), the Leader of the Opposition, requesting that I give precedence to a matter as an issue of privilege. The matter is the Prime Minister's statements to the House regarding gatherings held at Downing Street and Whitehall during lockdown. The procedure for dealing with such a request is set out in "Erskine May" at paragraph 15.32.
I want to be clear about my role. First, as Members will appreciate, it is not for me to police the ministerial code. I have no jurisdiction over the ministerial code, even though a lot of people seem to think that I have. That is not the case. Secondly, it is not for me to determine whether or not the Prime Minister has committed a contempt. My role is to decide whether there is an arguable case to be examined.
Having considered the issue, and having taken advice from the Clerks of the House, I have decided that this is a matter that I should allow the precedence accorded to issues of privilege. Therefore, the right hon. and learned Member for Holborn and St Pancras may table a motion for debate on Thursday. Scheduling the debate for Thursday will, I hope, give Members an opportunity to consider the motion and their response to it. The motion will appear on Thursday's Order Paper, to be taken after any urgent questions or statements—hopefully, there will not be any. I hope that this is helpful to the House.
Incredibly, the Speaker — a Labour MP — granted five and a half hours of debating time. Some weeks back, the Opposition benches were allowed a generous two or three hours of debating Boris's suitability for office in light of these 'parties'.
How much debating time does one need?
It started at 11:30 a.m. and ended at 4:30 p.m., so, five hours in length. Here's the transcript. I saw about a third of it. Again, much like Boris's second apology, this was much like listening to the other debate from earlier this year.
What more can they reasonably say? Not a lot.
Most people I know would like for the media and the opposition to leave Boris alone. As I said above, he wasn't well at that point in 2020, was taking advice from other people upon whom he relied heavily — rightly or wrongly — and would have trusted the person(s) who said that having a short birthday get together was permissible.
It lasted around ten minutes, apparently, and the cake was left unopened in its Tupperware container.
Returning to last Thursday's debate on privilege and Boris. A division — vote — was expected, but, in the event, none took place.
The end result was that the matter will now be referred to the Committee of Privileges pending the release of the Metropolitan Police report. Chris Bryant (Lab) chairs the committee, which is cross-party:
Resolved,
That this House
(1) notes that, given the issue of fixed penalty notices by the police in relation to events in 10 Downing Street and the Cabinet Office, assertions the Rt hon Member for Uxbridge and South Ruislip has made on the floor of the House about the legality of activities in 10 Downing Street and the Cabinet Office under Covid regulations, including but not limited to the following answers given at Prime Minister's Questions: 1 December 2021, that "all guidance was followed in No. 10", Official Report vol. 704, col. 909; 8 December 2021 that "I have been repeatedly assured since these allegations emerged that there was no party and that no Covid rules were broken", Official Report vol. 705, col. 372; 8 December 2021 that "I am sickened myself and furious about that, but I repeat what I have said to him: I have been repeatedly assured that the rules were not broken", Official Report vol. 705, col. 372 and 8 December 2021 "the guidance was followed and the rules were followed at all times", Official Report vol. 705, col. 379, appear to amount to misleading the House; and
(2) orders that this matter be referred to the Committee of Privileges to consider whether the Rt hon Member's conduct amounted to a contempt of the House, but that the Committee shall not begin substantive consideration of the matter until the inquiries currently being conducted by the Metropolitan Police have been concluded.
It should be noted that no other British political leader or minister serving during the pandemic has been fined or censured for breaking lockdown or violating other coronavirus restrictions: Nicola Sturgeon (Scotland, twice); Vaughan Gething (Wales, once), Michelle O'Neill (Northern Ireland, once) or Mark Drakeford (Wales, once).
Only Boris, our Prime Minister, is in trouble.
And that trouble could become very deep, indeed.
A week really is a long time in politics.
More to follow tomorrow.
The first part of this series was yesterday's post: … from the sublime John Donne.
Today's entry looks at the current Archbishop of Canterbury, Justin Welby, who has been in that post since 2013. He is the 105th Archbishop of Canterbury.
There could not be a greater contrast with John Donne, who was followed all over London by people who wanted to hear him preach.
It is unlikely that people would follow Welby around the capital.
In 2015, he told Michael Gove MP, who interviewed him for The Spectator's Christmas issue that year (emphases mine):
I suppose I struggle with a sense that I'm the wrong person for the job. An imposter syndrome, that's the phrase I'm looking for.
He was not concerned about the severe decline in Church of England (CofE) worship over the past few decades:
Church attendance in this country has fallen hugely both in absolute terms and as a proportion of the population. The number of Christians around the world has risen hugely since the nineteenth century and continues to rise at an extraordinary rate: it is over two billion now. So we're seeing a change in the pattern of where the church is: the Anglican Communion is essentially global, as much for a sub-Saharan woman and not just someone in a church in England.
You can find a vast range of churches in the Church of England with examples of growth and examples of decline. Sometimes it is simply circumstances: populations move. Sometimes it's that people feel the church is not welcoming, there is not an ethos which makes them look outwards to those around them. Where they grow it will usually be because they relate extraordinarily well to their communities and that the circumstances are there, there is a clear spirituality, there is a clear sense of what they are about.
Although Welby is pleased with the proliferation of the social gospel at the expense of evangelism, this is where he and others before him have been going wrong:
This is one of the most interesting changes from the 50s and 60s and 70s, where social gospel was for one part of the church and evangelism for another. The two are absolutely inextricable now.
Yes, and most Sunday sermons from CofE priests sound as if they came from The Guardian's op-ed pages. Therefore, why not simply stay in bed and read a newspaper? Oh, wait, they already do.
In 2022, he told the BBC's Michael Buerk in an interview for the Radio Times ('There's an end to darkness', 19-25 February 2022, pp 19-23):
'None of us want to see the thing go down on our watch', he says. He talks of 'bad moments' when he has a sense of 'oh, my goodness, am I going to be the one who they'll say finished the Church of England off?' He pauses. 'Then I realise it's God's problem, not mine.'
Wow. Welby, along with other clerics, will be held accountable on that fateful day of the Last Judgement. They are supposed to evangelise, as Jesus Himself instructed the Apostles in the Great Commission (Matthew 28:16-20):
The Great Commission
16 Then the eleven disciples went to Galilee, to the mountain where Jesus had told them to go. 17 When they saw him, they worshiped him; but some doubted. 18 Then Jesus came to them and said, "All authority in heaven and on earth has been given to me. 19 Therefore go and make disciples of all nations, baptizing them in the name of the Father and of the Son and of the Holy Spirit, 20 and teaching them to obey everything I have commanded you. And surely I am with you always, to the very end of the age."
Perhaps Welby thinks that applied only to the eleven remaining Apostles at that time. If so, how sad.
In December 2019, he gave an interview to the Big Issue before the general election that year, when Boris's 'Get Brexit done' slogan won an 80-seat majority for the Conservatives.
Days after the election, the BBC carried highlights from that interview. Welby said:
"I'm not saying we are in a crisis", he said. "I'm just saying the direction of travel is not what we want."
He batted away a question about Prince Andrew:
Archbishop Welby was also asked about the controversy involving the Duke of York's ties to Jeffrey Epstein.
He refused to comment on any particular member of the Royal Family, but said it was wrong to expect them to be "superhuman saints".
He intimated that those who voted Conservative were consumed by fear:
The interview – which was conducted before last Thursday's general election – concluded with the Archbishop quoting from the First Letter of John in the New Testament, which says that "perfect love casts out fear".
He said that people should reject fear and, instead, accept that love of God which – he said – "changes the world dramatically".
Brexit was largely a huge no-no for CofE clergy, from the top to the bottom. Pewsitters, on the other hand, wanted to leave the EU, as The Economist reported in April 2019:
Justin Welby's dilemma over Brexit is all the more difficult because he was a declared Remain voter in the June 2016 referendum, while 66% of self-identified Anglicans opted for Brexit.
Yet, there were still some clergy who wanted to part from Brussels, including a former Dean of St Paul's Cathedral, the Revd Giles Fraser:
Giles Fraser, an Anglican cleric who is a prominent figure on the religious and intellectual left, is a convinced supporter of leaving what he sees as the capitalist European club. "The emotional core of Brexit, and the reason I remain a passionate Brexiter, despite all its problems, is that it seeks to collapse the distance between power and ordinary people," he wrote recently.
True!
This was Welby's prayer as the UK exited the EU for good at the end of January 2020. I agree with the reply:
Yes, that's the eternal essential, not Brexit. However, the prayer shows where Welby's priorities lie. They do not appear to be with evangelism.
We had just left the EU when coronavirus hit.
This could have been a huge moment for the CofE. Had John Donne been Archbishop of Canterbury, no doubt he would have recognised this.
But Justin Welby thought otherwise and went along with the decision to close Anglican churches, a closure that even forbade priests from entering their own churches for a moment of private prayer or even cleaning for several weeks. Many vicars were distraught.
Welby issued the closure tweet one week before lockdown:
Welby told the Radio Times this year (p. 23):
If I had the time again, I would be more cautious about closing the churches. At the time, we were being told the virus can stay on surfaces for ages and that it could kill 30 per cent of the people who caught it.
It wasn't just me. It's not a dictatorship. I am not the Pope. But I had an influence and I'm not sure I got that right.
No, he definitely did not get that right. People were bereft. They would have loved to actually enter a church and worship in person, even if socially distanced and even without Communion. Morning Prayer services would have sufficed for the first few months. Masks were not mandated until the first lockdown was lifted.
Sure, there were Zoom services later in the Spring …
… when participants were erroneously told to consecrate their own piece of bread and sip of wine for Holy Communion. That is not a tenet of the CofE.
Welby could have called for a National Day of Prayer, but he didn't:
What happened in June 2020 was startling. It was as if the pandemic never happened. Here he was, responding to an American issue. Once more, I agree with the reply:
If Welby wants to feel guilty for physical characteristics that God gave him, then, by so doing, he disgraces God, who chose him to be created as he is.
On June 8, he wanted to create a collective sin, when what he accuses the majority of Britons of has been rare in recent decades. His job is to preach the Gospel, not identity politics:
At the end of June 2020, Welby pledged that the CofE would review its monuments in place at Canterbury Cathedral and Westminster Abbey. Readers will not be surprised to find that I agree with the replies:
The following day, Welby tweeted again. A layman has a better perspective than he does:
On June 28, The Telegraph's Nick Timothy wrote an excellent editorial on Welby's pronouncements, far more numerous than any he ever made on the pandemic, which was still very much a concern in Britain. Churches continued to be closed.
Nick Timothy shows he understands Christian theology better than Welby:
Nobody personifies the madness of our times, and the moral cowardice of our leaders, like the Archbishop of Canterbury.
On Friday, under pressure from precisely nobody, Justin Welby climbed atop his chosen pulpit – an interview on BBC Radio 4 – and announced a review of statues and commemorative names in Anglican churches and buildings. "Some will have to come down," he said, and "some names will have to change."
… Welby seems to believe Britain, and all white people, carry collective sin specific to them. He recently invited us to pray for "white Christians [to] repent of our own prejudices". On Friday, he said: "For this country and for this country in the world, there's got to be a generosity … there's got to be that new life which is always on offer." Britain, and specifically Britain, he believes, must repent its unique sins to be born again.
When a Black Lives Matter activist called for statues of Jesus to be pulled down because they portrayed Him as a white European, Welby had the chance to draw the line. Jesus is depicted in different ways the world over, the Archbishop explained. He might have gone on to say that the significance of Jesus is spiritual, not political or racial, that Jesus was God made flesh, and that we are all made in God's own image. Instead, he agreed that the depiction of Christ in Western countries should change and criticised the "sense that God is white". Jesus was "Middle Eastern, not white," he later reiterated, studiously avoiding the more accurate description that Jesus was a Jew. But then Middle Eastern Jews, or Israelis as we also call them, are these days an unfashionable minority to defend.
In this strange fusion between a belief in collective national or racial guilt and Christian forgiveness, Welby articulated a new – and utterly incoherent – account of forgiveness and mercy. "There can be forgiveness [of those from the past we commemorate]," he said, "but only if there's justice: if we change the way we behave now."
There is, of course, an unanswerable Christian case for treating all our fellow beings with respect and love. There is still racism in our society, and great disparities in the experiences of people from different ethnic backgrounds, just as there is for people from different class backgrounds. There is a Christian case for seeking to address all such disadvantages. But there is no such case for the conditional forgiveness he proposes.
The Bible tells us "a son will not bear the iniquity of the father, and a father will not bear the iniquity of the son." We are responsible before God for the trespasses we commit, but not for the trespasses of others. And just as God will forgive us, so we should forgive others. "Pardon, and you will be pardoned," Saint Luke tells us. There is no biblical justification for making the forgiveness of one generation conditional on the actions of another, just as there is no biblical justification for a presupposition of collective national or racial guilt.
Whether you are a Christian or not, this departure from scripture is profoundly worrying. Christianity's promise of redemption, and the idea that we are each accountable for our own sins, has shaped our civilisation. We are members of families and communities large and small, but we are more than just featureless components of some greater group identity. This is one reason why we have equal political and civil rights, and stand equal before the law.
Our Christian heritage – and our associated history of bloody religious conflict – also inspired another important Western principle. The realisation that clashes between different values, beliefs and interests are inevitable gave rise to the essential liberal idea of pluralism. We should accept and tolerate difference, while agreeing laws and processes to mediate clashes, guaranteeing rights for minorities, and protecting the norms, traditions and institutions that foster a common, unifying identity to build trust and reciprocity.
Now this principle is also under attack. The more our society boasts of diversity and inclusion, the more it becomes illiberal and intolerant. Businesses, public services, universities and other important institutions are engaged in an organised hypocrisy, closing down debate, sacking people with the wrong opinions, and participating knowingly in a politically correct doublethink …
Such nonsense and nihilism is possible because through ignorance and cowardice our leaders have allowed the pillars that support our society – built up through time by thinkers and statesmen upon foundations laid in part by Christianity – to crumble. Time will tell if we are worthy of our inheritance, but one thing we do know. A civilisation that ceases to believe in itself is doomed to self-destruction.
The next day, The Telegraph published several letters in which readers expressed their disapproval with Welby. The first three are from Scotland:
SIR – Nick Timothy (Comment, June 29) rightly points to the most recent example of the divisive leadership of the Archbishop of Canterbury, Justin Welby, in his response to the Black Lives Matter protests.
The Archbishop has often talked of "reconciliation", but his latest comments seem to continue a trend of the divisiveness of his leadership in a whole range of matters, from Brexit to Covid-19.
It's a terrible shame: the Church has missed a multitude of opportunities to be an institution that can unite the population.
———–
SIR – About 25 years ago, as a white, middle-aged, middle-class, mildly overweight woman, I had the supreme privilege of training for ordination under the authority of Archbishop Desmond Tutu.
I wish the Archbishop of Canterbury would seek advice from him about the kind of discourse that leads to real truth and reconciliation, and forgiveness and justice. Each life matters.
———–
SIR – Regarding church memorials, if we wiped from history everyone who has done great things but might have done something politically incorrect in the past, the list would have to include Moses (murder), Jacob (deceit), Rahab, an ancestor of Jesus (prostitution), and King David (adultery and murder).
———–
SIR – The Archbishop of Canterbury, instead of worrying about the colour of Jesus's skin, should perhaps be concerned about how Jesus would react to being charged £12 to enter Canterbury Cathedral, the House of God, and having to exit via the shop.
———–
SIR – In his haste to jump on a bandwagon, the Archbishop of Canterbury contradicts himself. He says the Church is guilty of portraying Jesus as a white European, but he celebrates his portrayal as black, Chinese, Middle Eastern and Fijian.
Is not the portrayal of Jesus as white in Europe the same kind of legitimate cultural contextualisation as his portrayal differently in other societies? Unless we confine ourselves to depicting Jesus as a first-century Middle Eastern Jew (whatever that might have been) we are bound to portray him in the various ways he has been throughout history. And it cannot be otherwise since he is the Saviour of people from all nations.
Later in 2020, the Government and scientific advisers put us on track for a winter lockdown, which started early in the New Year. This time, Welby proposed that churches be allowed to remain open, with coronavirus measures in place:
On February 27, 2022, Welby admitted he was not very good at attracting more worshippers to Anglican churches in Britain.
Now, John MacArthur considers unbelievers to be his 'mission field', which is very true. So, one would think that the spiritual head of a denomination with millions of members the world over would think the same.
Not so. The Daily Mail reported on Welby's interview with an atheist on Radio 4:
The Archbishop of Canterbury has accepted responsibility for failing to attract more worshippers into the Church of England, with numbers hitting record lows in recent years.
In a BBC radio interview being broadcast today, Justin Welby makes his admission to Dr Susan Blackmore, a psychologist and atheist, after she expressed doubts about whether she would ever convert to a faith.
The Most Rev Welby, 66, said: 'As you can tell from numbers in the Church of England, I don't persuade many people.'
He almost wears that admission as a badge of honour. It's ridiculous and heinous in equal measure.
He has an odd sense of his relationship with God:
The Archbishop also said there were times when even he questioned God.
He described one encounter with a warlord, whom he did not identify, as the only time he had come face to face with evil.
A warlord?
Anyway:
Asked how he coped with those situations, he said: 'I go back to the Psalms, the Psalms of protest and lament, and say to God, "This is all wrong. What do you think you are up to?"'
He told Michael Buerk more about his spirituality and devotions in the Radio Times interview.
He never mentioned Jesus Christ, not once.
He began speaking in tongues while he was at Eton (p. 23). Note that this is not the type of speaking in tongues that the Book of Acts describes — foreign languages understood not by the speaker but by listeners — just mere ululating:
… in what he describes as both a process and a moment of awareness, he says he opened his heart to a God he 'didn't even know existed'.
From that moment, Welby began speaking 'in tongues', producing a stream of sounds, often involuntarily, that have no obvious meaning, but which Pentecostalists, in particular, regard as a sign of the Holy Spirit.
The Archbishop continues to do so to this day, which has raised eyebrows in the more conservative ranks of his church. He plays it down. 'It's unduly controversial, and not really as interesting as it sounds.
'I get up very early in the morning and, after making a cup of tea, I go into my study, read the Bible, and speak in tongues. I don't pray in a language I know. I do it quietly — it's before six in the morning, remember — with no sense of ecstasy or excitement at all. I'd rather be in bed.
'It helps me focus', he says, perhaps defensively. 'It's not something that leads me dancing or clapping, or waving a tambourine.'
He gave few details on his journey from Eton to Cambridge to being an oil company executive to the Church, other than to say that his bishop at the time told him:
There's no place for you in the Church of England.
The bishop was not wrong.
Yet, Welby 'persisted' and, somehow, reached the heady heights of Lambeth Palace in London, the Archbishop of Canterbury's official residence:
I've been surprised to be here every single day of the nine years I have been doing the job.
So have millions of us.
Most of the interview has some political bent to it, and he told Michael Buerk that he allows Boris Johnson to jog in the Lambeth Palace garden, which is near Downing Street.
Buerk tried to press him on the matter:
'It's such a live party-political issue, it's not for me to step into it too much,' he maintains. I say I thought having a moral view on public life was what he was paid for. 'Not exactly,' he replies, a little sharply. 'I am paid to talk about God.'
Really? Interesting response. Where does talking about Jesus fit into his job description?
Strangely, perhaps, he is also on antidepressants. I still do not understand how so many clergy can be depressed.
I can appreciate that Welby is still grieving over the death of his seven-month-old daughter Johanna who was killed in a car crash in 1983, but, surely, over the years, a closer relationship with God would help him to reconcile that in his mind.
Welby told Buerk that consolation (p. 21):
eventually came from friends, which he regards as coming from God anyway, even if indirectly. 'There's an end to darkness. There's light but you might be surprised by how it comes,' he says.
Indeed, the Archbishop makes no secret of his lifelong battle with depression: 'Only last week, I really messed up something in a way that really left me down for several days.'
In the past, Welby says he would have denied it was a problem. But dark moods, which he likens to what Churchill called his 'Black Dog', made him feel 'hopeless'.
He's open about it now, though. 'I'm on daily antidepressants, which work quite well, but it is a struggle. Certain things trigger it, principally about myself, and sometimes it comes out of the blue. But it's a lot better than it used to be,' he says.
The other major disappointment for him was finding out that the man he thought was his father — Gavin Welby — wasn't (pp 21, 23):
DNA tests have shown that his biological father was actually Churchill's private secretary, Sir Anthony Montague Browne.
Welby's mother, Jane Portal, had been Churchill's personal secretary. She came from a long line of well-connected, prominent people.
I am sorry that Justin Welby is such a tortured soul. I'm even sorrier that he feels the need to project his insecurities on most of the Anglicans in Britain.
I hope that his relationship with God and Jesus Christ, in particular, improves.
May the Lord grant us a better Archbishop of Canterbury someday. We haven't had a good one in decades.
On the first Thursday in May 2022, the UK will hold local elections.
It is unclear how well the Conservative Party will do, given sudden cost of living increases across the board, all of which occurred on April 1. Oh, were that this an April Fool joke. Sadly, it is all too real.
On April 3, Tim Stanley recapped the Conservatives' self-inflicted wounds for The Telegraph: 'The nannying Tories face oblivion if they refuse to get their priorities straight'.
Excerpts follow, emphases mine, except for Guido Fawkes's posts below:
The same day the gas bill doubled, it snowed. Oh, and restaurants were mandated to list calorie counts on menus. After 12 years in office, the Tories have gone from trying to fix the state to trying to fix us, so we'll be less of a shivery, fat burden on the bureaucrats. Don't eat, they advise; don't fly, don't drive, avoid using the heating. In fact, it would be helpful if we could stop existing altogether. The NHS would look good on paper if no one used it, and we'd have a zero per cent failure rate in schools if no one ever sat an exam.
As MPs take a break from Parliament this week, the Tories need to dwell on what they have actually done and what there is to do. This all hinges upon the question of who they truly represent. Considering they were elected to clear up the economic mess left by Labour, it's a bummer to note that debt is higher than under Gordon Brown, the tax burden rising and living standards crashing. We cannot blame ministers for a pandemic or a war, it's true, but the Conservative Party's solutions are near-indistinguishable from New Labour's, and the alternatives rarely aired. Last week, I sat in on the Treasury Committee's "grilling" of Rishi Sunak and the two points I never heard made were "you are spending too much" and "how dare you take my constituents' money to do it". The anger is not there. No party in Westminster stands for the consumer.
It was heartening to see that Stanley shares my impressions of parliamentary debate — virtue signalling, for the most part, including from Conservative benches:
This is not merely a crisis of philosophy, it is undemocratic. MPs are supposedly elected to do what their constituents want, but too many of them, as soon as they arrive in Westminster, are absorbed into a culture that has a uniform idea of what voters need, a total plan for life that runs from reducing carbon to dropping enough weight to fit into a size six dress (even better if you're a fella!). Half the debates are toe-curlingly pious nonsense that does the electorate no benefit except to reassure them that their MP is spectacularly compassionate – and the more laws you pass, goes the logic, the more money we splash, the more compassionate they appear to be. Ergo, the most important metric for success in 2022 is how much the Treasury is spending, not the results.
It's maddening to contemplate that nothing is ever done about situations past and present that affect many Britons:
Where to begin? The Ockenden report has stated that more than 200 babies and nine mothers might have survived were it not for failings at the Shrewsbury and Telford Hospital Trust. During the lockdown, the Government allocated around £37 billion for the deeply inefficient Test and Trace project. It lost £4.9 billion in loan fraud. Not one police officer has been sacked in relation to the Rotherham child abuse scandal. And the same Home Office that struggles to kick out foreign-born criminals finds it strangely difficult to let in Ukrainian women and children.
And we're paying for this incompetence, while an independent body that Labour created years ago just gave all MPs a 2.7% pay rise:
You are paying for all this, and likely paying more thanks, despite [Rishi] Sunak's tinkering, to a combination of National Insurance changes and inflation dragging people into ever higher tax bands. The Chancellor, in his munificence, says he plans to cut income tax in 2024, which means the British government is now handing out IOUs. At the same time, he is also bunging us £200 to help with the electricity bills, a sum that the state will reclaim at a later date, which means it's also entered the habit of writing "UOMes". MPs are getting a wee grant of their own. Their salaries will rise by 2.7 per cent, or £2,212.
The Government has become more intrusive and we have less money in our pockets:
… thanks to Covid, the public sector has been calling the shots since 2020, while the burden of wealth and power has shifted decisively away from the individual. Does this feel like a freer society than 12 years ago? Or a happier one? Paranoia and suspicion are not only widespread but encouraged (adverts on the London Underground now warn against "staring"), and privacy is dead. I can remember when we were told to protect our data. Now, just to take a train to Belgium, I have to prove my vaccine status by downloading the NHS app, send it a photo of my driving licence and record a video of my face reciting a series of numbers. Do I trust the NHS will delete all this information once used? Bless you. I'd sooner invite a rabid fox to babysit the chickens …
Voters, in the eyes of far too many, are spreaders of disease or pollution (in the opinion of some of the old ladies who glue themselves to roads, we ought even to stop breeding), and pockets of money waiting to be tapped.
What is a truly conservative concept of government?
… the old-fashioned principle of offering us the best possible service at the lowest possible price …
Small government doesn't mean "no government" but more efficient government – more effective precisely because it limits itself to a narrower range of tasks at which it can excel. Drawing a line under the Trimalchio's feast of a Spring Statement, the Tories must spend the time they have before the next election peeling back the bureaucracy where it is not needed, passing the benefits on to the people who have been robbed to pay for it, and coming up with creative ways to encourage the private sphere to revive. I don't just mean conjuring up new markets in insurance or energy, but also unleashing culture and technology, faith and family, the very things that make life worth living.
Bravo!
Ultimately, Stanley says:
The paradoxical goal of conservative politics is to make politics less important in everyday life, and while it might sound hopelessly idealistic to expect powerful people to surrender power, unless the Tories try to reduce the state, they will eventually lose office altogether. The time will come when voters finally snap, and take it away.
Let us look at a few more news items on this subject.
A week or two ago, someone sent in a letter to The Telegraph illustrating how much the Government is taking in tax. This is an alarming practical example: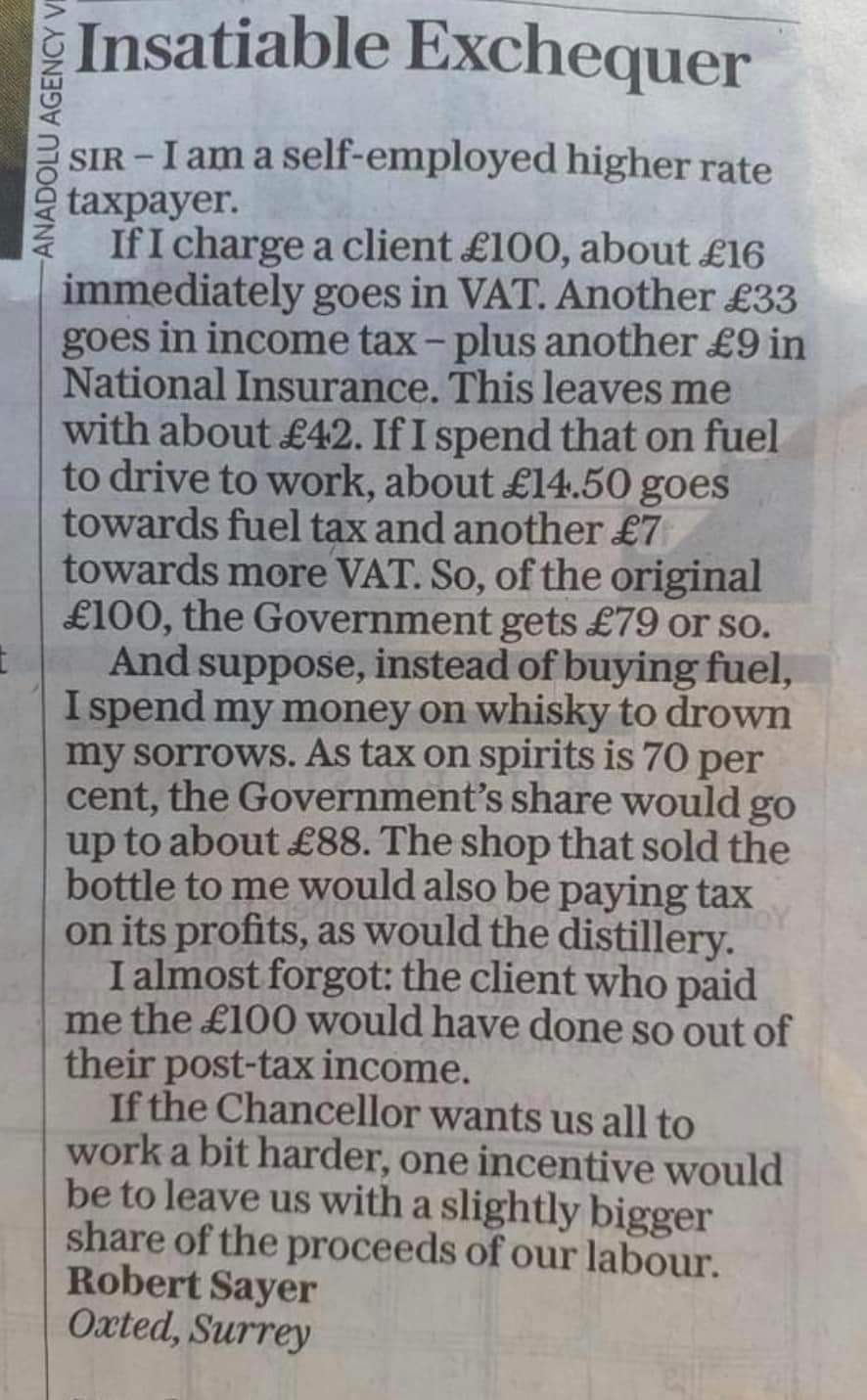 Now let's look at Net Zero, the Government's pet project, initiated by then-Prime Minister Theresa May.
This is a practical illustration of the folly of electric cars, written by conservative columnist and broadcaster Iain Dale for The Telegraph:
Back in November, I acquired an electric car, something I never thought I would do … I calculated it would save me thousands of pounds every year … 
On Friday night, I was invited to speak to Beverley and Holderness Conservatives. The main difference when you drive an electric car on a long journey is that you have to plan. In my old car, I could drive 600 miles without filling the tank, but if I ever nearly ran out of diesel there was always a petrol station around the corner.
The equivalent is not true if you have an electric car. You have to plan your journey using apps such as Zap-Map, which tell you where the charging points are, and whether they're being used, or working. I got to Beverley OK, having recharged the car at Donington Park services on the M1, which has a few charging points. Some motorway services don't have any.
The return journey proved to be a disaster. I left Beverley at 9am and arrived home in Kent at 7.45pm. A journey that should have taken four hours lasted an astonishing 10¾. It was a day completely wasted. The problem was that the three fast chargers in Beverley were either in use or didn't work. So I had to use slow chargers to get to the next fast charger, which was 50 miles away. Range anxiety is a real phenomenon. The whole time you're looking at the screen in front of you, wondering if you will run out of charge before you reach the next charger. And then what?
This week, [Transport Secretary] Grant Shapps announced a target of 300,000 more chargers across the country by 2030, the year when the Government says it will ban the sale of new petrol and diesel powered cars. Fatally, he's left it to local authorities to make sure the roll-out happens. Mark my words, it won't. Not without national direction.
My advice is this. If you only do relatively short journeys, then buying an electric car is a good decision. If you regularly travel more than 150 miles, it isn't. In my experience, the car manufacturers lie about the expected range. My electric car is supposed to do 298 miles. The reality is that it does 206, or 215 if the weather is warm. Caveat emptor.
In other news, the price of milk is set to rise by 50%. The Telegraph reports that crisis talks with EU and British dairy farmers took place in Brussels last week:
Rocketing costs from feed, fertiliser and fuel have stoked fears in the industry of a surge in milk prices not seen in decades.
The cost of four pints of milk will jump from around £1.15 to between £1.60 and £1.70, an increase of up to 50pc, according to Kite Consulting, the UK's leading adviser to dairy farmers.
Michael Oakes, the dairy board chair of the National Farmers' Union, agreed that milk prices will likely rise by as much as 50pc.
John Allen at Kite said a 30-year period of low milk price rises is "coming to an end now" as costs surge on multiple fronts. He expects a typical pack of butter to rise from £1.55 to more than £2.
He said: "What is of concern at present is processors are getting inflationary costs as well and also we are short of milk around the world."
Dairy industry bosses from the UK and elsewhere in Europe flew into Brussels at the end of last week with talks led by Eucolait, the continent's leading dairy industry group. Dairy processors, which act as a link between farmers and shops, are said to be deeply concerned about soaring costs both at farm level and further up the supply chain, as the war in Ukraine lifts key input costs …
UK dairy industry bosses have raised concerns over their costs to the Government, but officials at the Department for Environment, Food and Rural Affairs (Defra) are said to be merely in "listening mode" …
Mr Oakes, who is also a farmer, said: "I was paying about £7,000 for an artic [articulated lorry] load of fertiliser, and this year it's £28,000. It would have been a little bit less before Ukraine happened, but it made another big jump because we'd already seen higher gas prices, which have implications for fertiliser costs …
He added that feed costs have risen 60pc.
As if all that isn't enough to worry voters, we have the Online Safety Bill passing through Parliament. Guido Fawkes tells us what is happening as Ofcom, the communications regulator, prepares for the not-so-distant future:
Scary.
Guido's accompanying post says, in part:
According to Melanie Dawes, the newly-appointed CEO of Ofcom, the quango will increase headcount by 400 staff ahead of new powers to police the internet in the Online Safety Bill, which will be voted on in Parliament after Easter. That's a lot of censors…
Ofcom will have Putin-style powers to block websites from being seen in the UK if those sites fail to uphold their new legal duty of care to remove "harmful content". The definition of "harmful content", of course, will be a political question. Will questioning hurtling towards net-zero whilst millions are in energy poverty be deemed harmful content? …
Ofcom's Melanie Dawes told Times Radio:
We've got some tough and strong tools in our toolkit as a result of this legislation. And I think we need those. …These very strict and somewhat draconian kinds of sanctions are really only the sort of thing that you would expect to use as a serious last resort.
If you don't accept self-censorship and comply, your website will be blocked. Chilling.
Then we found out at the weekend that the civil servant in charge of ethics was at a lockdown party.
The Times's Patrick Maguire reported:
Were this a plot point in a satire, it would feel much too lazy for any self-respecting reader to get behind. But here we are: the official who was then in charge of ethics on Whitehall has been fined for her attendance at a lockdown-busting karaoke party.
As the first major name to have been revealed to have received a fixed penalty notice, Helen Macnamara — then the government's head of propriety and ethics, now in the business of neither as director of policy and corporate affairs at the Premier League — is surely a sign of things to come.
For confirmation of her attendance at a leaving do in the Cabinet Office in June 2020 — at a cost of £50 — is a sign that it wasn't just the junior, nameless and faceless who breached Covid restrictions at the heart of government over that fateful period, as Boris Johnson would much prefer to be the case.
Meanwhile, Scotland Yard is also said to have told people who attended a No 10 party on April 16 last year, the day before Philip's funeral, that they would be given fixed penalty notices: conclusive proof at last that the law was broken in Downing Street itself.
The PM did not attend either do, but the slow burn of revelations from the Met's investigation is hardly ideal, particularly with elections just over a month away.
"I have 65,000 constituents in west Wales, where I represent, and they are not shy in coming forward and expressing a view about this and a number of other subjects," Simon Hart, the Welsh secretary, told Sky News this morning.
"And throughout all of this saga of the Downing Street parties they have said one thing very clearly, and in a vast majority they say they want contrition and they want an apology, but they don't want a resignation."
The bigger risk, looking at the polls, is that they don't want to vote Tory…
However, there are two bright rays of sunlight in an otherwise cloudy day.
The first is that London's position as the second most important financial centre in the world is holding steady, as The Telegraph reported on Monday, April 4:
London remains Europe's dominant financial centre based on factors such as (relative) political stability, labour market flexibility, quality of life, infrastructure and innovation, a ranking by think tank Z/Yen Group found last week. It was ranked second only to New York globally, while Paris came in at 11th place.
The second is that Volodymyr Zelenskyy still appreciates all of Boris Johnson's efforts for Ukraine. He is contemptuous of Emmanuel Macron and Angela Merkel, as Guido reports:
Guido has the video of Zelenskyy praising Boris:
Zelenskyy's said the UK has "agreed on new defensive support for Ukraine. New package. Very, very tangible support," adding "Thank you Boris for the leadership! Historical leadership. I'm sure of it". 
It's too bad that Zelenskyy cannot campaign for Boris's Conservatives. They could use his help.
For anyone wanting a break from politics and coronavirus, Jay Rayner's restaurant reviews for The Guardian — okay, The Observer (Sunday edition) — are fantastic.
Rayner is also one of the critics on MasterChef in the UK. The man speaks the way he writes, so I can hear him as I read.
He also has a musical quartet, which celebrated its 10th anniversary in February:
Occasionally, he adds a few historical notes to his reviews, such as the one from October 2020 that he wrote about The Windmill in London. The Windmill is known for its pies (photos at the link):
There are certain food items that make everything better. A well-made pie is one of them. The Windmill, a pub in London's Mayfair, now serves very well-made pies. In the days following my dinner there, I kept thumbing open the photograph on my phone and gazing upon their steak and kidney pie, with its glazed suet pastry case, lightly crimped around the edges. It looked like a promise, fully kept.
Rayner then gives us a potted history of pastry (emphases mine):
There was a time, many centuries ago, when pastry was used only as a lid on stews, or as a case to protect cuts of meat from the flames in the hearth. It would be discarded or fed to the pigs or, if the big house was conscious of its obligations, given to the poor. By the late medieval era we were putting fats into pastry and making it distinctly edible. Follow that golden thread all the way through history to this brilliant piece of steak and kidney loveliness.
After we emerged from the 2021 lockdown in April that year, Rayner shared with his readers his experience of being unable to go out to eat. He rediscovered his cookbooks and followed the recipes:
He overcame his fear of making pastry. Excellent.
Several of the comments following his article discuss pastry problems and how to avoid them.
This one is quite helpful on avoiding shrunk pastry and soggy bottom crusts:
A good book to get is "Leiths Baking Bible" – it's quite a technical book as it's based on their cookery school.
But it does give good insights into different pastry, cake and dough recipes. With a good "What has gone wrong when…." section after each method.
Shrunk pastry is usually a result of not resting it before cooking – rest then trim. Soggy bottoms are generally not blind baking for long enough or not glazing the pastry with an egg wash if using liquid fillings. Although it can help to do tart cases on a solid oven tray that has been pre heated before the dish with the pastry is placed on it – it boosts the cooking at the base of the tart.
Rolling out the dough from the edges can also cause pastry to shrink. Here's how to do it properly; roll from the centre:
In my experience shrinking happens when you stretch the pastry whilst rolling (stands to reason that it would then try and bounce back). Try and roll gently from above and don't force it.
Another warns against adding too much water and not using the right kind of butter:
Could be you are adding too much water. That makes pastry tough. Also, use real butter, not the garbage currently masquerading as such in many supermarkets. High lipids content from butterfat, not buttermilk, which has too much water. If you melt a pat in a pan and get a watery smear, it's bad butter. You want a pool of gold, a bit of froth on the edges and the unmistakable aroma of real, creamy butter.
On that topic, the most expensive brand of butter is not necessarily the best. I learned that in the US and have found the same to be true in the UK with some name brands.
Although Président (French) and Lurpak (Danish) are excellent, the expensive, famous British butters, similar to America's Land O Lakes, are quite watery. When I lived in the US, I used my favourite supermarket's own brand with reliable results. Here in the UK, I occasionally buy supermarket own brand, too, if I cannot find Président.
Finally, should one use a food processor for making pastry? Some purists say that pastry should be made only by hand. I beg to differ.
This comment explains how to make it in a food processor:
First put in the flour, then (I think this is crucial) add frozen butter, small chunks at a time till it resembles fine bread crumbs. Very slowly add cold water till the dough forms all together. Voila, it works every time for short crust….
However, it is important to give the pastry time to come together in the processor. I have never had to add more than a tablespoon of ice cold water.
I use cold butter straight from the fridge. It is essential to cut the butter into small cubes before adding it to the flour.
When it comes to pastry, a food processor can be a life saver along with using the exact ingredient measurements.
I hope that these tips and hints help the pastry-shy to give it a try.
Isn't it interesting that the media narrative has changed from wall-to-wall coronavirus coverage to Ukraine?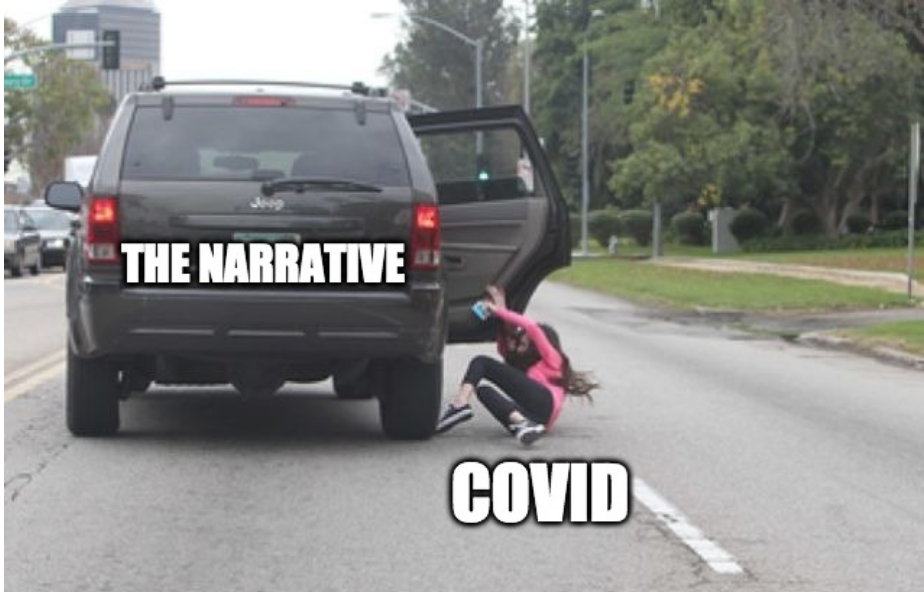 It seems that there is never room for more than one media narrative at a time. Sadly, this is now true even on GB News.
Fortunately, I have a few coronavirus gems from last month.
We must never forget what our notional betters did to us over the past two years.
The UK will hold a formal inquiry, although we do not know when it will start.
On Saturday, February 5, GB News's Neil Oliver delivered a five-star editorial on coronavirus measures in Scotland and other Western nations:
This was the theme:
Well, the narrative certainly changed by the end of the month.
Nonetheless, even as I write, coronavirus measures are still a thing in Scotland. First Minister Nicola Sturgeon has lifted some, with others to go this month. However, it might be some months before all of them disappear north of the border.
This was the state of play in Scotland in early February:
Somehow, Covid still manages to be in our faces – suffocating us bit by bit and all the time.
My children are still required to wear masks at school all day every day – rebreathing their own exhaust fumes for hours at a time.
In Scotland last week, first minister Nicola Sturgeon said her devolved assembly would spend hundreds of thousands of taxpayers' pounds cutting the bottoms off classroom doors so as to improve air flow in schools.
Seriously – that's what she said. Get this: she actually said there's a worry about how much CO2 children are inhaling in improperly ventilated classrooms.
They have to keep the masks on – so that they exist in a permanent cloud of their own, self-generated CO2, held over their mouths and noses like a smothering hand, but rather than let them take off those masks and breathe air like free people should, Sturgeon's proposed solution is to take a saw to the bottom of the classroom doors.
To say you couldn't make it up is an insult to made up things.
The fact that you can open a door to increase ventilation, on account of its hinges, the fact that doors exist in schools at least in part to inhibit the spread of smoke and flames in the event of fire, significantly more of a threat to the lives of children and staff than Covid ever was, has apparently passed Sturgeon by.
But, hey-ho, if there's one thing we've learned after two years, it's that everything is all and only about Covid.
Some days it feels like it always will be.
Covid could and should be behind us, as I have already said, but the powers that be keep pulling it back around until it's front and centre.
[Boris] Johnson announced some sort of an end to restrictions, but still, that air of lives limited, lives controlled, prevails, like the smirking grin that remains after the Cheshire Cat has otherwise disappeared.
And do you want to know why? Because after these two years like no others in our history, Covid is all they've got to explain and to justify everything else.
He took issue with Western governments:
Governments need Covid, and desperately …
All the money we ever had and most of the money we might ever dream of having – they blew the lot on Covid.
And since Covid is all the Governments have got now, by God they're determined to keep it.
Covid, as it turns out, is like a sort of Swiss Army knife, equipped with all sorts of useful little tools for all sorts of jobs, large and small. And meanwhile the evidence of manmade disaster is all around us.
He referred to the Johns Hopkins study that came out a few days beforehand:
A recently published study from the world-renowned Johns Hopkins University, in Baltimore, found lockdowns had had little to zero public health benefits and instead imposed enormous economic and social costs.
Like we didn't know that already, having been there while it was actually happening – but anyway, let's hear it again.
Researchers found lockdowns in Europe and the US lessened the Covid-19 mortality rate by just 0.2 percent.
The authors concluded that lockdown policies are ill founded and should be rejected in future.
Everywhere they were applied – everywhere – lockdowns caused enormous economic and social costs.
He went on to discuss how our various governments 'blew it':
Allow me to summarise those findings even more: Our governments blew it.
Faced with what they told us was the greatest threat to our civilisation in our lifetimes, for a hundred years or more, our governments took a bad thing and, through over-confidence, monumental incompetence and with the dull-eyed stubbornness of mules made it massively worse.
More importantly, when they must have known they were making it worse, they did it again. And again.
Now, rather than take responsibility and own up to their catastrophic failures – maybe say sorry for all the lives ended, lives ruined, lives compromised, a generation of children used like sandbags to protect the vulnerable from a flood, like stab vests worn on the chests of adults – they keep holding up the tattered rags of Covid, like the remnants of a curtain to stop us seeing the reality that lies behind it.
What lies behind that shabby curtain are consequences, and even now those powers that be don't want us looking at them, far less talking about them and thereby understanding the crippling reality of them.
Isn't it convenient that the TPTB now have Ukraine with which to distract us? Thanks, Putin. The news overkill on that is the ultimate distraction.
Oliver then talked about the horrors of quantitative easing:
What they did with money – your money, my money, everybody's money – during the pandemic is what the banks have been doing with money for decades now, and it's largely to blame for the bigger mess we're in now.
Quantitative Easing, they called it – printing money, to you and me.
For decades the tactic applied by the banks, with governments in cahoots, was to print uncountable, unthinkable amounts of money.
"We don't have any money left."
"Well print more, then."
"How much?"
"As much as you like – and keep it coming, I need another super yacht, and so does my mum. No one'll notice. And if they do, say it was Covid."
Imagine a glass of orange squash – a little bit of concentrate, topped up with water.
Tastes like orange, you know how it goes.
Then imagine tipping that glass-full into an empty swimming pool and turning on the taps.
By the time the pool is filled up with water, any orange in the mix is so diluted as to be utterly undetectable.
That, more or less, is what has happened to our money.
The value of our money has been so diluted it is quite literally not worth the paper it's printed on – which probably explains why they don't seem to want to actually print it on paper anymore.
They just add more zeros on their computer screens instead. Look at what they did with some of that pretend money: trillions of pounds worth of debt that will never, ever be repaid.
Billions blown on dodgy PPE, billions handed over as 'Bounce Back Loans' to companies that didn't even exist. Gone.
Those gazillions are gone – and the truly troubling point is that in every way that matters, they didn't really exist in the first place.
Rishi Sunak and Boris Johnson and the like have the gall to say they've got a way to fix the mess.
They might as well try to put out a factory fire by blowing on it.
On account of all that funny money, and then their use of Covid as a hammer to flatten business after business, the economic and financial model we've taken for granted for the last 50 years or more is finally done.
He looked at Covid measures in various countries:
Much of Europe is an interesting watch, to say the least. Austria is a police state now, in all but name, thanks to Covid.
Papers, please! Italy and Germany are much the same.
France would likely go the same way – except President Macron is too properly scared of too many of his own people to go all the way to vaccine mandates.
Instead, he remains committed to making the lives of the unvaccinated as miserable as possible. In Western Australia unvaccinated parents are barred from the hospitals where their children lie sick, dying.
In Canada the GoFundMe organisation has withheld millions of dollars raised in good faith, in support of the truckers protesting vaccine mandates.
What will become of that money, donated by hundreds of thousands of ordinary Canadians, remains unclear.
More and more questions are being asked about the vaccines, all around the world.
Questions about efficacy, about safety, and yet governments like the US, Canada and Australia, as well as here and just about everywhere else continue to dig in, more and more determined to get a needle into every arm on the planet.
Israel is beavering away with injection number four – and the positive cases are spiking in what looks, on the graphs, like a vertical line pointed into space.
With the Covid narrative in tatters now, new weapons of mass distraction are being deployed to stop us thinking too much about the mess.
Enter Putin with his invasion of Ukraine. How timely. In early February, we knew it was coming:
I'd like to say, Don't Mention the War, but of course there's Russia and Ukraine to look forward to as well.
Oliver brought up non-Covid health issues:
There was a GP on the telly last week saying the stress of lockdown is causing heart attacks and strokes.
Well, I never.
He brought up the irony about the silence surrounding all the plastic face masks being dumped into the environment:
Climate crisis and environmental meltdown are back to the fore again – never mind the fact we've dumped trillions of filthy face masks, and Covid tests into that environment, that doesn't seem to matter.
He concluded:
Weapons of mass distraction or not, there'll be no hiding the fuel bills due in a few weeks' time.
People forced to choose between eating and heating tend to behave differently than before.
Energy black hole, Net Zero and its consequences and only pretend money with which to pay for it all.
How much longer can our dear leaders hide behind Covid?
We do a lot of weather forecasting on this channel. I tell you this – there's a storm coming.
Oliver then had Benjamin Loughnane (pron. 'Loknayn') from The Bow Group think tank to discuss the Johns Hopkins study about lockdown. This was also a very good segment:
Richard Tice from the Reform Party also appeared to talk about our leaders' mistakes:
You can see the full show below. Almost all of it concerns coronavirus:
Later in the evening, Mark Dolan presented an excellent editorial on how the media and Government handled the pandemic:
The replies to the tweets were worthwhile, such as this one:
Some of us knew from the beginning that most of the coronavirus measures in Western countries were bogus, but anyone who mentioned that PCRs were picking up old viruses was dismissed as a crank.
Lo, it emerged last month that the intrusive PCR testing was proven to be ineffective in accurately diagnosing coronavirus.
Dolan said (emphases mine):
A major new study confirms that PCR tests are horribly inaccurate. There's a surprise.
According to researchers at the University of Oxford, if you've heard of it, a third of people who tested positive for coronavirus via PCR tests were not contagious and did not need to self-isolate.
The study found that many laboratories are setting the positivity bar very low, meaning they're picking up people, who are – quotes – "a danger to no one".
Hand sanitising is also inconclusive:
Do you remember our blistered skin, in March 2020?
Sing happy birthday twice, as you wash your hands? After which a couple of scientists with half a brain cell, pointed out that the virus is transmitted through the air, via aerosols. No sugar, Sherlock.
Perspex screens in shops — or, in cars, as was the case in France — might not have been a good idea, either:
A report came out in August of last year, suggesting those environmentally catastrophic Perspex screens you see in shops, offices and on TV, may make matters worse.
The Environmental Modelling Group, a panel of 16 SAGE experts, said "There is some epidemiological and mechanistic evidence, that suggests screens could increase risks of aerosol transmission, due to blocking/changing airflow patterns or creating zones of poor air circulation behind screens.
Well done everyone.
The best masks couldn't stop the rise in contagion:
Even where countries have demanded better N95 masks, like Austria, cases have sky rocketed nonetheless.
There was no evidence that vaccine passports stopped the spread:
What about vaccine passports? We're saving lives aren't we?
Except that cases have continued to soar in countries that have implemented these divisive measures, which link your medical status to certain basic rights, freedoms and privileges, including in particular in France and Italy.
The same held true for closing nightclubs:
What about closing nightclubs?
The Welsh first Minister Mark Drakeford, who likes a boogie himself, was able to demonstrate no evidence that closing nightclubs would have an impact on spread.
After two years, our health service is on backlog overload and probably will be until the end of the decade.
Some people's lives are in ruins: closed businesses, relatives' suicides, nervous breakdowns, missed diagnoses of terminal illness. I could go on.
Dolan said:
Two years in which we have incarcerated the healthy, stopped people from going out to work and making a living, closed once viable businesses, wrecked mental health and ignored worse diseases like cancer.
The Telegraph are reporting that up to 87,000 cancer diagnoses may have been missed. And the rest.
If you think Covid is worse than cancer, there is something wrong with you.
But that's been the message of the pandemic response.
'If it's not Covid, they don't care' is something I've heard from so many of you over the last two years.
The famously deadly disease of cancer, that affects all age groups, has been relegated in importance for two years, with tragic consequences that will be with us for years to come, with cases like young mothers who didn't get that lump checked or weren't able to. Well done everyone.
There will be a day of reckoning for what Professor Jay Bhattacharya, one of the most respected medics in the world, has called the biggest public health mistake in history. He's being polite.
Dolan rightly took issue with governments, modellers and the media:
So who's to blame?
Well, weak politicians who panicked in March 2020 and discarded decades of pandemic planning …
I blame the modellers like the randy professor, Professor Pants Down himself, Neil Ferguson, who predicted half a million deaths at the start of the pandemic, which spooked ministers into taking this ruinous path.
Some government scientific advisors predicted 6000 deaths a day if we didn't cancel Christmas …
I blame Sage, who failed to equate economic damage with death.
The University of Bristol have told me that half a million people will die as a result of creating the biggest recession in 300 years. And what about wrecked lives?
It's a question no one has ever been able to answer me. Why is it okay to wreck lives? Of course, it isn't. But wreck them we did. And it's most reprehensible when you think of the needless impact on young people and children, who face vanishing threats from the virus. So who else do I blame?
Well I blame the media …
… I blame the media for offering just one narrative. Lockdowns work, masks work and absolutely everybody's got to have the vaccine.
Now these views are valid, arguably the majority of people and perhaps most scientific professionals think exactly that. No problem. Let's hope you're right, because that's the hell you've put us through.
As data come in from around the world, based upon different approaches, with no obvious difference from where I'm standing, I have my doubts. But remember those press conferences – the Beeb, Sky, ITV – why are we not locking down longer, tougher, harder?
By offering such one-sided coverage of the pandemic, by betting everything on the words of SAGE, and freezing out other scientific voices like Sunetra Guptha, Carl Henegan, Martin Kulldorf and Jay Bhattacharya, the media let us down.
To say that the media have lied to you is a bit strong. But they have not provided the full picture.
And any lawyer will tell you concealing information is tantamount, in its own way, to an untruth.
Shall we be polite and just call it government propaganda? I think that'll do.
I shouldn't name names, but I will. The Mail and the Telegraph are the only papers I can think of that have consistently balanced their reporting and have dared to offer a critique about these debatable lockdowns.
The Guardian is a paper I've always admired and read every day.
But where was their coverage of the Johns Hopkins University report, a meta analysis of 24 studies into lockdown, suggesting the measures saved 0.2% of lives, whilst of course exacting colossal harm.
Not peer reviewed and the study has been done by economists, but worth reporting?
I'd say so.
Sweden got it right. That was something that many of us were criticised for saying offline.
Dolan said:
Sweden have seen a fraction of the economic damage, the societal damage and have had fewer per capita deaths than so many countries that locked down hard.
He concluded:
In the end I think the media have got this wrong – they've backed the wrong horse and they are on the wrong side of history.
So there will be a day of reckoning for their one-sided coverage. But will we ever get an admission of guilt, or dare I say it, an apology? I doubt it.
There will be no contrition. And for all of those well paid and high profile figures in the media – we know who they are – the relentless cheerleaders for these disastrous and, in my view, failed measures, sorry seems to be the hardest word.
Now to the present day.
On Wednesday, March 2, the House of Commons Science and Technology Select Committee gathered oral evidence on coronavirus in a session called 'UK Science, Research and Technology Capability and Influence in Global Disease Outbreaks'. Greg Clark (Conservative) chaired the session.
You can watch it here.
After the first hour, Prof Graham Medley — who exchanged tweets late last year with The Spectator's Fraser Nelson on modelling — gave his oral evidence on SPI-M's modelling of the pandemic. He is SPI-M's chair.
Sorry seemed to be the hardest word for him, too, as he saw no need to apologise for Prof Neil Ferguson's mad models which the Swedes described as 'hysterical'.
Medley told MPs that SPI-M 'didn't have the time' (his words) to calculate the probability or feasibility of their overblown scenarios. They plugged garbage in, and, lo, garbage came out. However, he defended everything. He had no regrets.
Three MPs gently took him to task for the modelling. Labour's Graham Stringer came right out and said that he doesn't trust modelling at all, none of it.
One of the MPs tried to press him on the Twitter exchange with Fraser Nelson. Medley replied:
I wish you wouldn't do that.
In the end, he managed to get himself out of any controversy.
Most of the other MPs wanted to question the person from the behavioural part of SAGE, SPI-B. This person was to have sat along side Medley. However, the SPI-B representative cancelled. How convenient.
Dr Camilla Holten-Møller appeared in the final segment. She is the Chair of the Expert Group for Mathematical Modelling at Statens Serum Institut (SSI) in Denmark. What a breath of fresh air she was.
She admitted that SSI did get one of their models woefully wrong, so they quickly regrouped, studied their mistakes and liaised more closely with university research and clinical groups who provide them with data.
It would be nice if Medley had showed the same candour. As it was, he didn't even look bothered.
I can hardly wait for the formal coronavirus inquiry in the UK. The Science and Technology Select Committee will write a report on this evidence session, as they have with others, and submit it to the Government. The reports will be part of the inquiry process.
On Monday, February 28, 2022, The Telegraph released the findings of their Freedom of Information request concerning modelling that SAGE and other scientists in the UK used to promote the case for 2020's initial lockdown.
The Telegraph reported (emphases mine):
Scientists did not have accurate Covid case numbers, and were unsure of hospitalisation and death rates when they published models suggesting that more than 500,000 people could die if Britain took no action in the first wave of the pandemic, it has emerged.
On March 16 2020, Imperial College published its "Report 9" paper suggesting that failing to take action could overwhelm the NHS within weeks and result in hundreds of thousands of deaths.
Before the paper, the UK coronavirus strategy was to flatten the peak rather than suppress the wave, but after the modelling was made public, the Government made a rapid u-turn, which eventually led to lockdown on March 23.
However SPI-M (Scientific Pandemic Influenza Group on Modelling) minutes released to the Telegraph under a Freedom of Information request show that by March 16, modellers were still "uncertain" of case numbers "due to data limitations".
The minutes show that members were waiting for comprehensive mortality data from Public Health England (PHE) and said that current best estimates for the infection fatality rate, hospitalisation rates, and the number of people needing intensive care were still uncertain.
They also believed that modelling only showed "proof of concept" that lockdowns could help, and warned that "further work would be required".
The team was also encouraged to look for collaborators and resources outside of the infectious diseases network.
Well, that never happened. They stayed within their closely knit group and never ventured outside of it for data sources from other scientists and clinicians.
For the millions of us around the world who had been looking at the data from the Diamond Princess cruise ship in Asia and thinking that coronavirus was no big deal, it was a shock to find that those data had not been considered in the Government's strategy.
Those waiting for a certain hapless modeller's name to appear need wait no longer:
Imperial College held a press briefing about its model on the afternoon of March 16, and on the same day, Boris Johnson ordered the public to avoid pubs, restaurants and non-essential contact and work from home if possible.
At the briefing, Prof Ferguson told journalists that the new conclusions had been reached because "the last few days" had provided "refinements" in the estimates of intensive care demand and hospital surge capacity.
But the minutes now show that SPI-M did not believe the data were complete …
Minutes from the following day, March 17, also show that the Department of Health wanted to know whether Prof Neil Ferguson had referenced other papers in the Imperial model.
And both Imperial and the London School of Hygiene and Tropical Medicine (LSHTM) were asked to renew modelling ahead of a Sage meeting on March 18 which would "include reviewing the commonality of assumptions" and look specifically at a London lockdown, where cases were rising more quickly.
All of Neil Ferguson's predictions, going back to the Millennium, have been wildly wrong. How the Government could not have questioned these figures is beyond me. To make matters worse, the modelling went around the world, including to the US and to Sweden.
Good grief. What a global shambles.
Furthermore, Ferguson couldn't even keep to the rules himself, having visited his mistress who lived on the other side of London to him and his wife.
These modelling inaccuracies went on through 2021. The article has more, but, in short, the minutes recorded that blame for incomplete data belonged to NHS Test and Trace on one occasion, to NHS England on another and Public Health England (PHE) on a third.
Last year, the Government planned to lift the post-Christmas lockdown on June 21 but waited another month. Modellers:
did not use the most up-to-date figures, which was criticised by MPs at the Science and Technology Select Committee.
That means that June 21's Freedom Day could have gone ahead! Instead, we had to wait until July.
Two scientists who have never been invited to share their views on coronavirus with SAGE or the modellers told The Telegraph what they thought. Prof Carl Heneghan and Dr Tom Jefferson are colleagues at the University of Oxford:
Prof Carl Heneghan, the director of the centre for evidence based medicine (CEBM) at the University of Oxford, said: "This has always concerned me about the modelling. Throughout the two years there has been systematic error, consistent over-estimation and a tendency to go directly to the media with conclusions, without validation or peer review.
"It's clear from the SPI-M minutes there were issues with the data, it wasn't robust. And it shows that they should have been looking for additional outside expertise.
"What concerns me is if we don't fix these problems we will end up being bounced back into restrictions or end up spending money in ways that detracts from the healthcare problems at hand."
… Dr Tom Jefferson of the CEBM at Oxford branded the early pandemic modelling "irresponsible".
"They should have said 'I'm sorry, we do not have the data," he said. "Any forecast based on limited data is just a guess, it's unethical and reckless, and we can now see the consequences of this behaviour with people dying because of the destruction of our services."
One of the people just as upset, if not more so, with Neil Ferguson and the other modellers is the MP for the Isle of Wight, Bob Seely.
He has been sounding off on this in Parliament for a few months now. My guess is that he wants modelling to be included in the UK's coronavirus inquiry.
He told The Telegraph:
The arguments for and against lockdown are complex, but what is becoming clear is that the evidence that the Government saw was incomplete and potentially inaccurate.
This is a national scandal. No question about it. The data that petrified politicians was inaccurate.
The Daily Mail also covered this story. The blue sidebar discusses Ferguson's modelling:
The scientific paper published by Professor Ferguson and his colleagues on the Imperial College COVID-19 Response Team was credited for persuading Boris Johnson's Government to ramp up their response to the coronavirus.
The paper, released on March 17, and titled Impact of non-pharmaceutical interventions (NPIs) to reduce COVID19 mortality and healthcare demand, predicted that the Government's original plan to 'mitigate' the outbreak instead of trying to stop it could have led to a quarter of a million people dying.
Using data from Italy and China, the scientists predicted how different Government measures would have different impacts on the outbreaks. 
If no action at all had been taken against the coronavirus it would have claimed 510,000 lives, the team's report said. Had the Government stuck with their strategy of trying to 'mitigate' the spread – allowing it to continue but attempting to slow it down – with limited measures such as home isolation for those with symptoms this number would be roughly halved to 260,000. 
If the strictest possible measures are introduced, the number of deaths over a two-year period will fall below 20,000, the scientists said.
Even reading those numbers in a newspaper report is dumbfounding. They do not make sense.
Returning to Bob Seely, he first started mentioning Ferguson's modelling on December 14, 2021, when MPs were asked to vote on a few new coronavirus measures, including a Christmas lockdown in England because of Omicron, already known to be mild. Fortunately, 101 Conservative rebels voted against the lockdown. As news was emerging about Boris's Christmas party during the previous year's seasonal lockdown and the fact that the Conservatives were tanking in the polls, another year of Yuletide misery would not have gone down well with the public.
This is what Bob Seely said on December 14, 2021, when Health Secretary Savid Javid was at the despatch box during the debate:
I strongly support getting vaccinated. I had my booster jab two weeks ago. I thank all Islanders who are engaged in the vaccination process in my constituency. I congratulate the Government on an ambitious booster programme. When it comes to the vote tonight, I will accept and trust what they say on face masks and on the daily tests, which seem infinitely more sensible than locking people down in hotels. I will not support them on passports or mandatory jabs. Threatening the jobs of 73,000 NHS staff seems an odd way to support the NHS.
I want to raise a wider issue with those on the Front Bench, which has somewhat coloured my judgment. I have heard nothing to reassure me on the following points. I am fed up with dubious forecasts and ridiculous extrapolations the kind of which many hon. Members have talked about. Academics—I am not quoting myself—have talked about Imperial College London's forecast being "hysterical", "inflated", "consistently over-confident", "lurid", "flawed" and "spectacularly wrong". What do the Government have to say about the incredibly questionable extrapolations that they have used?
I am tired of all the leaks. It was leaked that omicron could kill 75,000. It could, but it may not. All these doomsday forecasts, leaked at critical moments, erode public trust.
Thirdly, we are told we have to follow the science. Of course we have to follow the science, but it is a misleading statement as science is shaped by the inputs and by the desired outcome. For example, we had 70 pages of evidence from Scotland on vaccine passports, but there was no evidence to support their value for uptake, so why are we introducing them? We are doing so because of the precautionary principle. That is not science.
One of the most disturbing things is the lack of context for the statistics that have been used. Was that to increase knowledge or to increase fear? My right hon. Friend the Member for New Forest West (Sir Desmond Swayne) said that between 500 and 1,000 people die each day in this country, and people die of flu all the time. It is about putting this information in context, and I fear that the result of too much of this has been to scare people, especially the old and now the young. They are petrified of covid without taking account of more genuine and potentially more damaging threats such as the appalling impact on education.
I will vote against the Government on two of the motions tonight, but my decision to do so has been coloured by the past 18 months of policy, which we need to improve.
On January 5, 2022, Boris Johnson gave Parliament an update on the Omicron variant's effect on health in England.
Seely said:
I congratulate the Prime Minister on his balanced approach, unlike that of others in this House. There is increasing concern among epidemiologists, modellers, oncologists and scientists about the use of modelling and forecasts. Among the comments are that the forecasts we may have been using over the past two years are "almost hysterical," "lurid," "spectacularly wrong," "consistently overconfident" and "substantially inflated." Those comments are from scientists, not journalists or politicians. Does the Prime Minister trust the modelling he is getting, and will the Government consider an inquiry into the use of modelling and forecasts, many of which have been found to be unrelated to reality?
Boris did not like that one bit. I saw the debate.
He replied:
It is important for everybody to understand the limitations of models; they are not forecasts, but mathematical projections based on the data the modellers currently have, particularly when it came to Omicron, about the severity of the disease. That is why, when we feed assumptions about severity that are excessive into the models, we get results that are excessive; that is what my hon. Friend is driving at. Some of the models or calculations are much closer to what is happening now, and models are useful and cannot be dispensed with as we need to have projections, and we in this House should not in any way try to undermine or attack the independent scientists, whose independence is absolutely vital for our ability to handle this disease.
Oh, please!
On January 18, Seely led a motion at a Select Committee chaired by Sir Edward Leigh MP:
I beg to move,
That this House has considered forecasting and modelling during covid-19.
This was a rather heated debate, not so much by Conservatives but by the left-wing MPs responding to Seely's lead contribution.
Excerpts follow:
… Thanks to some questionable modelling that was poorly presented and often misrepresented, never before has so much harm been done to so many by so few based on so little questionable and potentially flawed data.
I believe that the use of modelling is pretty much getting to be a national scandal. That is not just the fault of the modellers; it is how their work was interpreted by public health officials and the media—and yes, by politicians, including the Government, sadly. Modelling and forecasts were the ammunition that drove lockdown and created a climate of manipulated fear. I believe that that creation of fear was pretty despicable and unforgivable. I do not doubt that modelling is important or that there has been some good modelling, but too often it has been drowned out by hysterical forecasts. I am not, as Professor Ferguson implied, one of those with an "axe to grind". I do, however, care about truth and believe that if someone influences policy, as the modellers and Imperial College London have done, they should be questioned. Frankly, they have not been questioned enough.
Above all, I want to understand why Government, parts of the media and the public health establishment became addicted to these doomsday scenarios, and then normalised them in our country with such depressing and upsetting consequences for many. I do not pretend to be an expert; I am not. I defended my own PhD at the end of last year, but it is not in epidemiology and I do not pretend to be particularly knowledgeable about that. But depending on time—I know others want to come in as well—I will quote from 13 academic papers and 22 articles authored by a total of approximately 100 academics.
Seely went into Neil Ferguson's history of poor modelling over the past 20+ years, which had disastrous results for British farmers in earlier epidemics, then the greater populace during coronavirus:
This is a story of three scandals, and the first one took place 21 years ago. In 2001, we faced the foot and mouth emergency. We reacted drastically by slaughtering and burning millions of animals, and farmer suicides and bankruptcies followed. That policy was allegedly heavily influenced by Imperial College modelling and Professor Ferguson. Since foot and mouth, two peer-reviewed studies examined the method behind that particular madness. I quote from them now to show there are practical and ethical questions over modelling going back two decades.
In a 2006 paper, and I apologise for these wordy, long titles, titled "Use and abuse of mathematical models: an illustration from the 2001 foot and mouth disease epidemic in the United Kingdom"—they are not that catchy—the authors confirmed that Ferguson's model
"probably had the most influence on early policy decisions"
and
"specifically, the introduction of the pre-emptive contiguous culling policy".
That is

the mass slaughter of animals near infected farms

. The authors said that the consequences were "severe" and
"the models were not fit for the purpose of predicting the course of the epidemic"
—not a good start. They remain "unvalidated". Their use was "imprudent" and amounted to
"the abuse of predictive models".
Devastatingly, the authors wrote
"The UK experience provides a salutary warning of how models can be abused in the interests of scientific opportunism."
It is difficult to find a more damning criticism of one group of scientists by another.
A 2011 paper, "Destructive tension: mathematics versus experience—the progress and control of the 2001 foot and mouth disease epidemic in Great Britain"—bit of a mouthful—by four academics said the models that supported the culling policy were "severely flawed" and based on flawed data with "highly improbable biological assumptions". The models were
"at best, crude estimations that could not differentiate risk".
That is not a very good "at best". At worst, they were "inaccurate representations".
Sadly, the paper said, impatience for results
"provided the opportunity for self-styled 'experts', including some veterinarians, biologists and mathematicians, to publicise unproven novel options."
Some of the scientific work—some of it modelling, some of it not, with some modelling by Ferguson and some not—was cited as "unvalidated" and "severely flawed", with inaccurate data on "highly improbable assumptions" leading to "scientific opportunism". Is anybody reminded of anything more recent that would suggest the same?
I scroll forward 20 years. As with foot and mouth, with covid we had a nervous Government presented with doomsday scenarios by Imperial—the 500,000 dead prediction—that panicked them into a course of profound action with shocking outcomes. After the lockdown had gone ahead, Imperial publicised on 8 June a study by, I think, seven of them arguing the justification for lockdown. It claimed that non-pharmaceutical interventions saved more than 3 million lives in Europe. Effectively, Imperial marked its own homework and gave itself a big slap on the back.
That work is now being challenged. Because of time, I will quote only a small selection. In a paper entitled, "The effect of interventions on COVID-19", 13 Swedish academics—Ferguson ain't popular in Sweden, I can tell Members that much—said that the conclusions of the Imperial study were not justified and went beyond the data. Regensburg and Leibniz university academics directly refuted Imperial College in a paper entitled "The illusory effects of non-pharmaceutical interventions on COVID-19 in Europe", which said that the authors of the Imperial study
"allege that non-pharmaceutical interventions imposed by 11 European countries saved millions of lives. We show that their methods involve circular reasoning. The purported effects are pure artefacts, which contradict the data. Moreover, we demonstrate that the United Kingdom's lockdown was both superfluous and ineffective."
I am not saying that this stuff is right; I am just saying that there is a growing body of work that is, frankly, taking apart Imperial's. Remember, we spent £370 billion on lockdown that we will never get back. I could continue with other quotes, but I think Members get the flavour.
Moreover, a substantial number of other papers now question not Imperial per se but the worth generally of lockdowns. A pre-print article by four authors, "Effects of non-pharmaceutical interventions on COVID-19: A Tale of Three Models", said:
"Claimed benefits of lockdown appear grossly exaggerated."
In another paper, three authors found no clear, significant benefit of lockdowns on case growth in any country. Other papers continue that theme. I will quote one more, on adults living with kids. Remember: we shut schools because we were scared that kids would come home and infect older people, who would then die. This paper, in The BMJ, found
"no evidence of an increased risk of severe COVID-19 outcomes."
We shut down society and schools just in case, doing extraordinary harm to people's lives, especially young people. I am not a lockdown sceptic, as Ferguson casually describes some of his critics, but I am becoming so. Do you know why, Sir Edward? Because I read the evidence, and there is a growing body of it. In fact, there is one quote that I did not read out. There was a study of lots of countries that had lockdowns and lots that did not, and the data was inconclusive.
The third element of the scandal is the recent modelling. Swedish epidemiologists looked at Imperial's work and compared it with their own experience. Chief epidemiologist Anders Tegnell said of Imperial's work that
"the variables…were quite extreme…We were always quite doubtful".
Former chief epidemiologist Johan Giesecke said Ferguson's model was "almost hysterical". In the House of Lords, Viscount Ridley talked of a huge discrepancy and flaws in the model and the modelling. John Ioannidis from Stanford University said that the "assumptions and estimates" seemed "substantially inflated".
There was a second example last summer. In July 2021, the good Professor Ferguson predicted that hitting 100,000 cases was "almost inevitable". He told the BBC that the real question was whether we got to double that or even higher. That is where the crystal ball starts to fail: we got nowhere near 200,000, and we got nowhere near 100,000. There was nothing inevitable about Professor Ferguson's inevitability, and his crystal ball must have gone missing from the start. In The Times, he blamed the Euros for messing up his modelling because—shock horror—people went to pubs a lot to watch the games during the competition. When the tournament finished—shock horror—they did not. That seems to be the fundamental problem: where reality comes up against models, reality steamrollers them because models cannot cope with the complexity of real life. To pretend that they can and even that they are useful, when so many of them have proved not to be, is concerning.
Ferguson is only one of many people in Independent SAGE especially, but also SAGE, who did not cover themselves in glory. Raghib Ali—a friend of my hon. Friend the Member for Wycombe (Mr Baker), who I am delighted is present—is one of the heroes of covid. He noted that many left-wing SAGE members
"repeatedly made inaccurate forecasts overestimating infections".
Very often, they were falsely described on the BBC.
After a brief intervention of thanks from another Conservative MP, Seely continued, mentioning another member of SAGE who seemed to appear regularly on the BBC:
Just for the record, the communist Susan Michie, who is quoted quite often by the BBC, is not a medical doctor, a virologist or an epidemiologist. She is a health psychologist, so why on earth is she talking about epidemiology?
The third scandal took place this winter. Imperial, the London School of Hygiene and Tropical Medicine and others—I think they included Warwick—predicted 5,000 daily covid deaths, with 3,000 daily deaths as the best-case scenario. They were hopelessly inaccurate, and at this point the tide really begins to turn. Dr Clive Dix, a former vaccine taskforce head, said:
"It's bad science, and I think they're being irresponsible. They have a duty to reflect the true risks, but this just headline grabbing."
As I say, the tide is turning. Oncology professor Angus Dalgleish describes Ferguson's modelling as "lurid predictions" and "spectacularly wrong". The great Carl Heneghan, another scientist who has emerged with great credit for his honesty and fairness of comment, says:
"it's becoming clearer all that ministers see is the worst-case scenario".
Professor Brendan Wren says:
"Dodgy data and flawed forecasts have become the hallmarks of much of the scientific establishment"—
what a damning quote!—
"which has traded almost exclusively in worst-case scenarios…this must stop now."
I agree.
I will wind up in the next two to three minutes—I will speak for no longer than 15 minutes because other people wish to get in, and I am always mindful of that. What is the result of all this? The result, as UCL's Professor Francois Balloux notes, is a
"loss of trust in government and public institutions for crying wolf."
That is just it. We have had hysterical forecasts, models taken out of context, and worst-case scenarios normalised.
In the Army, there is something called the most dangerous course of action, and there is something called the most likely course of action. To sum up in one sentence how we got this wrong, we have effectively taken the most dangerous course of action and collectively—the politicians, media, scientists and health professionals—presented that as the most likely course of action, but it was not. Why did politicians say, "Follow the science" as a way of shutting down debate, when we know that science is complex and that our outputs are dependent on our inputs? It was down to public-health types, whose defensive decision making would only ever cost other people's jobs, other people's health, other people's sanity, other people's education and other people's life chances.
We know that the Opposition supported lockdown from the word go, but a little more opposing might have been helpful. The BBC and the Guardian have been salivating at state control and doomsday scenarios. Against this tsunami of hysteria and fear, thank God for The Spectator, The Telegraph and, yes, the Daily Mail for keeping alive freedom of speech and putting forward an alternative, which is now being increasingly scientifically vindicated. I accept that lockdown was understandable at first—I get that—but I believe the continuation of lockdown after that first summer was an increasingly flawed decision.
In wrapping up, I have some questions. To Professor Ferguson and the doomsday modellers: why are so many of your fellow academics disputing your work and your findings? To the BBC, as our state broadcaster: why did you so rarely challenge Ferguson, SAGE or Independent SAGE? Why did we misrepresent experts, and why did the BBC allow itself to become the propaganda arm of the lockdown state? To the Government: how could we have been so blinkered that we thought that following the science meant shutting down scientific debate? Why did we never use other datasets in contexts with the British people, or even in contexts in which these profound and enormous decisions were made? Why did we think that it was in our nation's interests to create a grotesque sense of fear to manipulate behaviour? SAGE and Independent SAGE kept on getting it wrong. To the public health types, I quote from Professor Angus Dalgleish again:
"Flailing around, wallowing in hysteria, adopting impractical policies and subverting democracy, the Chief Medical Officer is out of his depth. He has to go if we are ever to escape this nightmare."
He is not a journalist; he is an oncologist—a senior oncologist.
Twice in 20 years, we have made some pretty profound and significant errors of judgment, using modelling as a sort of glorified guesswork. I suggest respectfully to the Government that, after foot and mouth and covid, never again should they rely on dubious modelling, regardless of the source and regardless of the best intent. I am sure that Imperial and all these other people do the best that they can, and am very happy to state that publicly. However, why has so much of their work been described—and I will use the words of other academics—as "unvalidated", "flawed", "not fit for purpose", "improbable", "almost hysterical", "overconfident", "lurid", "inflated", "pessimistic", "spectacularly wrong", "fraudulent" and as "scientific opportunism"?
On January 26, the Daily Mail published his speech as an article, which was a great idea. Only political geeks, myself included, watch Parliament in action. This is information the public need to know.
I read the comments following the article. This one caught my eye:
The only accurate data analysis of Covid19 remains the Diamond Princess incident where an entire population were analysed and it showed that Covid19 was not the severe threat to all population that it was made out to be and even more interesting now is that if you rerun the incident again yet pressure that cruise ship population was vaccinated, you get statistically the same results.
Hmm.
To think that millions of 'ordinary' people knew about the Diamond Princess early in 2020, yet very few 'important' people ever brought it up in the media — or in political settings.
It's no wonder that many of us think that we were severely taken advantage of over the past two years.
Thanks to Prime Minister Boris Johnson, England is now the freest country in the Western world.
On Monday, February 21, Boris announced the lifting of the remaining coronavirus restrictions. Some of this began yesterday. However, much of the lifting comes into effect on Thursday, February 24, with the remainder finished by April 1.
He gave a statement to Parliament first, which he followed with a televised coronavirus briefing — press conference — at 7 p.m. that evening.
This was the nub of his statement to the House of Commons (emphases mine):
As we have throughout the past two years, we will continue to work closely with the devolved Administrations as they decide how to take forward their own plans. Today's strategy shows how we will structure our approach in England around four principles. First, we will remove all remaining domestic restrictions in law. From this Thursday, 24 February, we will end the legal requirement to self-isolate following a positive test, and so we will also end self-isolation support payments, although covid provisions for statutory sick pay can still be claimed for a further month. We will end routine contact tracing, and no longer ask fully vaccinated close contacts and those under 18 to test daily for seven days. We will also remove the legal requirement for close contacts who are not fully vaccinated to self-isolate. Until 1 April, we will still advise people who test positive to stay at home, but after that we will encourage people with covid-19 symptoms to exercise personal responsibility, just as we encourage people who may have flu to be considerate to others …
The testing, tracing and isolation budget in 2020-21 exceeded the entire budget of the Home Office; it cost a further £15.7 billion in this financial year, and £2 billion in January alone, at the height of the omicron wave. We must now scale this back.
From today, we are removing the guidance for staff and students in most education and childcare settings to undertake twice-weekly asymptomatic testing. And from 1 April, when winter is over and the virus will spread less easily, we will end free symptomatic and asymptomatic testing for the general public. We will continue to provide free symptomatic tests to the oldest age groups and those most vulnerable to covid. And in line with the practice in many other countries, we are working with retailers to ensure that everyone who wants to can buy a test. From 1 April, we will also no longer recommend the use of voluntary covid-status certification, although the NHS app will continue to allow people to indicate their vaccination status for international travel. The Government will also expire all temporary provisions in the Coronavirus Act 2020. Of the original 40, 20 have already expired and 16 will expire on 24 March. The last four, relating to innovations in public service, will expire six months later, after we have made those improvements permanent via other means.
Secondly, we will continue to protect the most vulnerable with targeted vaccines and treatments. The UK Government have procured enough doses of vaccine to anticipate a wide range of possible Joint Committee on Vaccination and Immunisation recommendations. Today, we are taking further action to guard against a possible resurgence of the virus, accepting JCVI advice for a new spring booster offered to those aged 75 and over, to older care home residents, and to those over 12 who are immunosuppressed. The UK is also leading the way on antivirals and therapeutics, with our Antivirals Taskforce securing a supply of almost 5 million, which is more per head than any other country in Europe.
Thirdly, the Scientific Advisory Group for Emergencies advises that there is considerable uncertainty about the future path of the pandemic, and there may of course be significant resurgences. SAGE is certain that there will be new variants, and it is very possible that those will be worse than omicron. So we will maintain our resilience to manage and respond to those risks, including our world-leading Office for National Statistics survey, which will allow us to continue tracking the virus in granular detail, with regional and age breakdowns helping us to spot surges as and where they happen. And our laboratory networks will help us understand the evolution of the virus and identify any changes in characteristics.
We will prepare and maintain our capabilities to ramp up testing. We will continue to support other countries in developing their own surveillance capabilities, because a new variant can emerge anywhere. We will meet our commitment to donate 100 million vaccine doses by June, as our part of the agreement at the UK's G7 summit to provide a billion doses to vaccinate the world over the next year. In all circumstances, our aim will be to manage and respond to future risks through more routine public health interventions, with pharmaceutical interventions as the first line of defence.
Fourthly, we will build on the innovation that has defined the best of our response to the pandemic. The vaccines taskforce will continue to ensure that the UK has access to effective vaccines as they become available, and has already secured contracts with manufacturers trialling bi-valent vaccines, which would provide protection against covid variants. The therapeutics taskforce will continue to support seven national priority clinical trial platforms focused on prevention, novel treatments and treatments for long-covid. We are refreshing our biosecurity strategy to protect the UK against natural zoonosis and accidental laboratory leaks, as well as the potential for biological threats emanating from state and non-state actors.
Building on the five-point plan that I set out at the UN and the agreements reached at the UK's G7 last year, we are working with our international partners on future pandemic preparedness, including through a new pandemic treaty; an effective early warning system or global pandemic radar; and a mission to make safe and effective diagnostics, therapeutics and vaccines available within the first 100 days of a future pandemic threat being identified. We will host a global pandemic preparedness summit next month.
The pandemic treaty concerns me. Will it supersede individual nations' laws and liberties?
Boris put the focus on common sense and personal responsibility. People took exception to his taking credit for restoring our liberties — 'they were ours all along' — but he was the one who took them away on March 23, 2020, at 8 p.m.:
Covid will not suddenly disappear, so those who would wait for a total end to this war before lifting the remaining regulations would be restricting the liberties of the British people for a long time to come. This Government do not believe that that is right or necessary. Restrictions take a heavy toll on our economy, our society, our mental wellbeing and the life chances of our children, and we do not need to pay that cost any longer. We have a population that is protected by the biggest vaccination programme in our history; we have the antivirals, the treatments and the scientific understanding of this virus; and we have the capabilities to respond rapidly to any resurgence or new variant.
It is time that we got our confidence back. We do not need laws to compel people to be considerate to others. We can rely on our sense of responsibility towards one another, providing practical advice in the knowledge that people will follow it to avoid infecting loved ones and others. So let us learn to live with this virus and continue protecting ourselves without restricting our freedoms. In that spirit, I commend this statement to the House.
I watched the Coronavirus Briefing at 7 p.m. and sincerely hope it would be the last one.
Boris was flanked by Sir Patrick Vallance, Chief Scientific Officer, and Sir Chris Whitty, Chief Medical Officer.
Boris spoke first, then we had Chris 'Next slide, please' Whitty's presentation. I do not understand why Downing Street couldn't have given him a clicker to advance the slides himself.
Listening to Whitty and Vallance, however, gave me a different impression. I wondered if I was alone:
Then I found a Guido Fawkes post, and one of his readers wrote:
Chris Whitty is literally stood there contradicting everything Johnson just said in Parliament. He is advising wearing face masks and self isolation. Emphasising this a 'gradual series of steps'.
Vallance emphasising the next variant could be more severe. I can't believe what I am hearing. It's quite clear they do not agree at all with the announcement. They still quite clearly want a very slow and gradual lifting of restrictions and mass surveillance testing all the way to summer with rapid lockdown again if we a get any rise in infections.
They need to be removed.
I agree that SAGE needs disbanding or a deep reorganisation. Everyone on it is in lockstep. SAGE needs a variety of voices from the medical establishment, with more libertarians. They exist. They just haven't been invited. It seems as if SAGE nominates its own members, all like-minded people.
I was most surprised to see Whitty say that the vaccine was good for pregnant women and their babies:
As expected, reporters were clearly unhappy with Boris's announcement. A few accused him of playing politics in order to keep his job.
Later that evening, Toby Young told Dan Wootton of GB News that journos have comfortable houses and gardens to enjoy. They don't need to worry about lockdowns or self-isolation:
On Monday, Wootton launched his own lockdown inquiry, which he says will be a recurring topic on his show for some time. He rightly blames the media for stoking fear every minute of the day:
Top oncologist Prof Karol Sikora agreed with Wootton about Project Fear:
Public health official Prof John Ashton and Dr Steve James, the unvaccinated consultant anaesthesiologist, joined Wootton. Having just returned from France, Ashton championed masks and asked what the problem was in wearing them. It doesn't seem he understands the full picture there:
Dr James said that he is not against vaccines. He supports those who want to take them:
Dr. Jay Bhattacharya told Wootton that 'lockdown' should become a 'dirty word':
Freedom Day feels a bit like Groundhog Day. We've been here before:
Still, let's hope it is definitive this time.
Thanks go to Boris but, more importantly, to the 101 rebel Conservative MPs who opposed an Omicron lockdown before Christmas. They put the frighteners on Boris — and with good reason.
Following on from my post yesterday, Neil Oliver had more on coronavirus on his programme of Saturday, January 22, 2022, wherein he warned of 'consequences coming' and eroding trust in institutions we normally respect.
His commentary was much appreciated:
Here's the YouTube version:
GB News has a transcript, excerpts from which follow. Emphases mine:
American money man, philosopher and billionaire philanthropist Warren Buffet said: "Only when the tide goes out do you discover who's been swimming naked."
He was talking about business models – how when times are good everyone might seem to be doing ok, but when times turn bad, and there are always bad times, the reckless and bad ideas get woefully exposed.
As soon as the virus arrived among us, our democratically-elected governments, eagerly abetted by their preferred scientific advisors, threw away all the plans they had had for dealing with a pandemic – plans laid down after years of preparation and discussion, plans in line with advice from the World Health Organisation – and replaced them overnight with tactics lifted straight – I can only assume – from the Chinese Communist Party's Big Boy's Book of totalitarian control. All over Europe and the developed West it was the same. Talk about Plan B – where had they kept this one hidden, a person might have asked, if questions had been allowed, but they were not.
They helped themselves, those elected representatives of the tax-paying, law-abiding public – to powers unprecedented in peacetime, the sort of powers indeed that might give dictators and emperors excited dreams. With the craven complicity of the so-called political opposition, they drafted and passed outrageously invasive laws with barely so much as a nod to discussion or debate in Westminster. Before we knew where we were, the old world of taken-for-granted freedom had been papered over with a dystopia.
It was around then, though – within weeks of the outbreak starting, and certainly within a few months – that the tide started to go out and the truth began to be revealed, made obvious for those looking the right way. The naked swimmers were clearly to be seen.
Long ago now – long ago in terms of policies that have ruined lives, destroyed livelihoods, lethally endangered the health prospects of uncountable numbers of people and compromised the educations and therefore the hopes and dreams, not to mention the mental health and general wellbeing, of a generation of children – there were all manner of voices saying how wrong it all was.
Among them, and worth listening to more than any others in the spectrum of dissenting voices, were those of other scientists and, perhaps most pertinently, medical professionals of unimpeachable expertise and experience, with lifetimes devoted to the treatment and care of respiratory viruses and battling courageously to be heard. Again and again, they sought to highlight and to explain the wrong-headedness of what was being done, allegedly in the name of public health. Always they were shouted down, shamed, ridiculed, humiliated, even ruined professionally for having had the temerity to raise doubts and offer alternative solutions.
And of course, our governments did not – absolutely and unequivocally could not – have done all this alone. For me, in many ways worst of all has been the complicity, in the reprehensible behaviour, indulged in by so much of the mainstream media …
The governments, listening all the while to the psychologists in the Nudge Unit, decided to fire up the fear train and the mainstream media were at their side for the duration. We, the people, it was blatantly decided, were to be frightened out of our wits so that governments could have their way with us, all for the greater good. Whatever they wanted us to do, they would use the seemingly unstoppable momentum of the fear train to carry all of us where they wanted us taken.
First aboard, like ticket inspectors and guards – were faces made so familiar by their daily appearance in our homes courtesy of news broadcasts. All aboard went the BBC, Sky, ITV, C4 and the rest. High profile journalists and all manner of well-kent faces took turns shovelling coal into the firebox, making the train's engine run faster and faster … the most prominent news providers in the land were instantly and always on the governments' backs – demanding faster … faster … faster … more … more … more.

Two years later and here we are, wherever here actually is. Like many populations around the developed Western world we have arrived at a destination many of us struggle to recognise. The buildings and streets look the same, right enough, but everything else is altered. Society is riven with divisions – between vaxxed and unvaxxed; mask wearers and bare faces, those who were helped financially and those that were hung out to dry. Those divides are deep and feel permanent. Great Britain is half a trillion pounds in debt. It has been estimated that 50,000 people who might by now have had cancers diagnosed and embarked upon treatment are, as yet, unaware of the awful news coming their way sooner or later. Six million people await treatment by Our NHS.
In the past few days here on GB News we have highlighted the results of a freedom of information request made to the Office of National Statistics. Coverage of the reply has been absent from the mainstream media. The ONS was asked how many otherwise healthy people had died in England and Wales of Covid and nothing else. The answer was 17,371 across the two years, average age over 82. These figures are comparable, to say the least, with the death toll that might be expected from a typical flu season.
All lives matter, including those 17,371. But there are nearly 70 million people in Britain. Around 700,000 of us die every year, of all manner of causes.
I look at these facts, these figures, and I cannot begin to imagine making sense of what has been done, apparently in the name of public health. Time will surely tell, as I and others have predicted before, that policies followed in these two years past will prove to have been the worst policy mistakes in peacetime – perhaps ever.
The tide I mentioned earlier, that revealing tide, is receding fast now. More and more naked swimmers – politicians, advisors and journalists among them – are to be seen running for cover behind the sand dunes, clutching at towels as they go. But we can see them. We know who they are. Some of them, more every day, have even had the unmitigated gall to think they could hurriedly get dressed again, without anyone noticing, so as to pretend they were never in the water in the first place.
Neil Oliver is not wrong. In fact, in the past few days, various vocal commentators in the public sphere have begun saying that they never supported the coronavirus policies. Really? Pull the other one.
He concludes:
There is still so much we don't know – still so much we are not supposed to talk about, ask questions about … Maybe when talk of a new variant comes along, and it surely will, and the government tries to get us back in our boxes, some of those journalists might join the rest of us in saying Never Again. Or maybe they won't. Anyway, as I say, the tide is well and truly out now and the naked swimmers are plain to see.
All drama aside, there are consequences coming, a great wave of them – economy, health, the as-yet unmeasured damage to our children and unanswered questions about which, if any, of our institutions we can trust. What has been done these last two years by those we had been encouraged to trust, will be hard to forgive, and impossible to forget.
I am incensed that England was locked down for 17,371 deaths.
Some of those deaths were in Wales, too, but the Welsh decided to vote Labour in May 2021 and remade their collective, socialist bed, thereby retaining Mark Drakeford as Prif Weinidog (First Minister). May they rest easy in it …
Guido Fawkes tells us that the title Prif Weinidog translates literally to Prime Minister (emphases in the original):
Speaking to BBC reporter Mark Hutchings, who asked Drakeford whether he planned to set a firm date for the lifting of Wales' Covid restrictions, the First Minister said:
"No I won't because I'm the Prime Minister of Wales, not a horoscope writer for a daily newspaper. And it's simply impossible for anybody to peer into the future of coronavirus with the sort of definiteness you were suggesting."
Hutchings later gave Drakeford the benefit of the doubt by suggesting it was just a "slip". Probably, although Drakeford also changed his Twitter handle to "@PrifWeinidog" back in October – a direct Welsh translation of Prime Minister…
Returning to England, thank goodness that a rump of Conservative backbenchers rebelled against Boris late last year in voting against Plan B before Christmas. Even though Plan B passed, thanks to Labour, Boris did not push Plan C at the end of December.
Back in March 2020, MPs pledged not to make the pandemic about politics. It did not take long, however, for it to become purely political, especially in Wales and Scotland.
Thank goodness for Conservative MPs with backbone — and for the revelations about the Downing Street parties. Both prevented England from a sharper lockdown.
The Government lifted restrictions in England on Thursday, January 26. May they never return.
Neil Oliver is right: the fallout from the pandemic policies will be great.