You are currently browsing the tag archive for the 'lockdown' tag.
On Monday, October 4, a reader of mine, The Underdoug, commented on my last coronavirus vaccine post, including a link to an essay by Julius Ruechel, 'The Snake-Oil Salesmen and the COVID-Zero Con: A Classic Bait-And-Switch for a Lifetime of Booster Shots (Immunity as a Service)'.
Julius Ruechel appears to be a dairy farmer living in Canada.
Excerpts from his lengthy essay follow, emphases in purple mine.
Ruechel posits that coronavirus vaccines could become yet another subscription model, because there will always be a perceived need for boosters:
Exposing this story does not require incriminating emails or whistleblower testimony. The story tells itself by diving into the long-established science that every single virologist, immunologist, evolutionary biologist, vaccine developer, and public health official had access to long before COVID began. As is so often the case, the devil is hidden in the details. As this story unfolds it will become clear that the one-two punch of lockdowns and the promise of vaccines as an exit strategy began as a cynical marketing ploy to coerce us into a never-ending regimen of annual booster shots intentionally designed to replace the natural "antivirus security updates" against respiratory viruses that come from hugs and handshakes and from children laughing together at school. We are being played for fools.
This is not to say that there aren't plenty of other opportunists taking advantage of this crisis to pursue other agendas and to tip society into a full-blown police state. One thing quickly morphs into another. But this essay demonstrates that never-ending boosters were the initial motive for this global social-engineering shell game ― the subscription-based business model, adapted for the pharmaceutical industry. "Immunity as a service".
Vaccines cannot eradicate everything
Ruechel explains that vaccines cannot eradicate everything, because specific criteria must be met in order to do so.
A disease such as smallpox, which is specific to humans, can be eradicated, but a respiratory virus that jumps across species — animals and humans — cannot:
Eradication of a killer virus sounds like a noble goal. In some cases it is, such as in the case of the smallpox virus. By 1980 we stopped vaccinating against smallpox because, thanks to widespread immunization, we starved the virus of available hosts for so long that it died out. No-one will need to risk their life on the side effects of a smallpox vaccination ever again because the virus is gone. It is a public health success story. Polio will hopefully be next ― we're getting close. 
But smallpox is one of only two viruses (along with rinderpest) that have been eradicated thanks to vaccination. Very few diseases meet the necessary criteria. Eradication is hard and only appropriate for very specific families of viruses.
Smallpox made sense for eradication because it was a uniquely human virus ― there was no animal reservoir. By contrast, most respiratory viruses including SARS-CoV-2 (a.k.a. COVID) come from animal reservoirs: swine, birds, bats, etc. As long as there are bats in caves, birds in ponds, pigs in mud baths, and deer living in forests, respiratory viruses are only controllable through individual immunity, but it is not possible to eradicate them. There will always be a near-identical cousin brewing in the wings.
Even the current strain of COVID is already cheerfully jumping onwards across species boundaries …
SARS was an exception, he says, because it was poorly adapted to humans:
When it made the species jump to humans, it was so poorly adapted to its new human hosts that it had terrible difficulty spreading. This very poor level of adaptation gave SARS a rather unique combination of properties:
SARS was

extremely difficult to catch (it was never very contagious)

SARS

made people extremely sick

.
SARS

did not have pre-symptomatic spread

.
These three conditions made the SARS outbreak easy to control through contact tracing and through the quarantine of symptomatic individuals. SARS therefore never reached the point where it circulated widely among asymptomatic community members. 
COVID-19 was different:
COVID was quite contagious (its rapid spread showed that COVID was already well adapted to spreading easily among its new human hosts), most people would have mild or no symptoms from COVID (making containment impossible), and that it was spreading by aerosols produced by both symptomatic and pre-symptomatic people (making contact tracing a joke).
In other words, it was clear by January/February 2020 that this pandemic would follow the normal rules of a readily transmissible respiratory epidemic, which cannot be reined in the way SARS was. Thus, by January/February of 2020, giving the public the impression that the SARS experience could be replicated for COVID was a deliberate lie – this genie was never going back inside the bottle.
Viruses such as these mutate quickly, unlike polio or smallpox:
Once a reasonably contagious respiratory virus begins circulating widely in a community, herd immunity can never be maintained for very long. RNA respiratory viruses (such as influenza viruses, respiratory syncytial virus (RSV), rhinoviruses, and coronaviruses) all mutate extremely fast compared to viruses like smallpox, measles, or polio. Understanding the difference between something like measles and a virus like COVID is key to understanding the con that is being perpetrated by our health institutions. Bear with me here, I promise not to get too technical.
All viruses survive by creating copies of themselves. And there are always a lot of "imperfect copies" — mutations — produced by the copying process itself. Among RNA respiratory viruses these mutations stack up so quickly that there is rapid genetic drift, which continually produces new strains. Variants are normal. Variants are expected. Variants make it virtually impossible to build the impenetrable wall of long-lasting herd immunity required to starve these respiratory viruses out of existence. That's one of several reasons why flu vaccines don't provide long-lasting immunity and have to be repeated annually ― our immune system constantly needs to be updated to keep pace with the inevitable evolution of countless unnamed "variants." 
Hence the need for constant booster shots, as with influenza:
This never-ending conveyor belt of mutations means that everyone's immunity to COVID was always only going to be temporary and only offer partial cross-reactive protection against future re-infections. Thus, from day one, COVID vaccination was always doomed to the same fate as the flu vaccine ― a lifelong regimen of annual booster shots to try to keep pace with "variants" for those unwilling to expose themselves to the risk of a natural infection. And the hope that by the time the vaccines (and their booster shots) roll off the production line, they won't already be out of date when confronted by the current generation of virus mutations.
He criticises public health officials and Big Pharma for causing alarm over variants:
The alarm raised by our public health authorities about "variants" and the feigned compassion of pharmaceutical companies as they rush to develop fresh boosters capable of fighting variants is a charade, much like expressing surprise about the sun rising in the East.
Vaccines for these types of viruses will only ever offer temporary, short-lived protection. The same goes for our own antibodies:
… for fast-mutating respiratory viruses, including coronaviruses, within a few months they are sufficiently different that your previously acquired immunity will only ever offer partial protection against your next exposure. The fast rate of mutation ensures that you never catch the exact same cold or flu twice, just their closely related constantly evolving cousins. What keeps you from feeling the full brunt of each new infection is cross-reactive immunity, which is another part of the story of how you are being conned, which I will come back to shortly. 
But let's pretend for a moment that a miraculous vaccine could be developed that could give us all 100% sterilizing immunity today. The length of time it takes to manufacture and ship 8 billion doses (and then make vaccination appointments for 8 billion people) ensures that by the time the last person gets their last dose, the never-ending conveyor belt of mutations will have already rendered the vaccine partially ineffective. True sterilizing immunity simply won't ever happen with coronaviruses. The logistics of rolling out vaccines to 8 billion people meant that none of our vaccine makers or public health authorities ever could have genuinely believed that vaccines would create lasting herd immunity against COVID.
So, for a multitude of reasons, it was a deliberate lie to give the public the impression that if enough people take the vaccine, it would create lasting herd immunity. It was 100% certain, from day one, that by the time the last dose is administered, the rapid evolution of the virus would ensure that it would already be time to start thinking about booster shots. Exactly like the flu shot. Exactly the opposite of a measles vaccine. Vaccines against respiratory viruses can never provide anything more than a temporary cross-reactive immunity "update" ― they are merely a synthetic replacement for your annual natural exposure to the smorgasbord of cold and flu viruses. Immunity as a service, imposed on society by trickery. The only question was always, how long between booster shots? Weeks, months, years? 
Feeling conned yet?
Mass vaccination and vaccine passports are a 'con'
Ruechel posits that mass vaccination should not have been done. Only the vulnerable should have had the vaccine:
… these vaccines can neither stop you from catching an infection nor stop you from transmitting the infection to someone else. They were never capable of creating herd immunity. They were designed to protect individuals against severe outcomes if they choose to take them – a tool to provide temporary focused protection for the vulnerable, just like the flu vaccine. Pushing for mass vaccination was a con from day one. And the idea of using vaccine passports to separate the vaccinated from the unvaccinated was also a con from day one. The only impact these vaccine passports have on the pandemic is as a coercive tool to get you to roll up your sleeve. Nothing more.
I am going to interject here to offer support for the argument that vaccine passports drive up vaccination rates. In Scotland, vaccine passports will be mandatory from October 18, 2021, provided the bugs with the app, which rolled out on October 1, can be ironed out.
A July 21 article in The National on this subject has a quote from Dr Nicola Steedman, Scotland's deputy chief medical officer:
According to the Times, less than half of men under 30 in Scotland's cities have received their first dose of a vaccine. Asked if a passport scheme could increase vaccine uptake, Steedman said: "In theory it might, and clearly that's something other nations have used to increase the uptake in their vaccination programmes, but we have to balance that very carefully against people feeling as though they've been forced into something or coerced …"
The need for a vaccine passport, the use of which in Scotland will be limited, increases Big Pharma's profits, especially if people have to update it every few months to prove they have had the latest booster shot.
Ruechel says:
vaccines will, at best, only last as long as immunity acquired through natural infection and will often fade much faster because the vaccine is often only able to trigger a partial immune response compared to the actual infection. So, if the disease itself doesn't produce a broad-based immune response leading to long-lasting immunity, neither will the vaccine. And in most cases, immunity acquired through vaccination will begin to fade much sooner than immunity acquired through a natural infection. Every vaccine maker and public health official knows this despite bizarrely claiming that the COVID vaccines (based on re-creating the S-protein spike instead of using a whole virus) would somehow become the exception to the rule. That was a lie, and they knew it from day one. That should set your alarm bells ringing at full throttle …
Thus, to pretend that there was any chance that herd immunity to COVID would be anything but short-lived was dishonest at best. For most people, immunity was always going to fade quickly. Just like what happens after most other respiratory virus infections. By February 2020, the epidemiological data showed clearly that for most people COVID was a mild coronavirus (nowhere near as severe than SARS or MERS), so it was virtually a certainty that even the immunity from a natural infection would fade within months, not years. It was also a certainty that vaccination was therefore, at best, only ever going to provide partial protection and that this protection would be temporary, lasting on the order of months. This is a case of false and misleading advertising if there ever was one.
He explains that coronavirus vaccines for animals work in the same way:
If I can allow my farming roots to shine through for a moment, I'd like to explain the implications of what was known about animal coronaviruses vaccines. Baby calves are often vaccinated against bovine coronaviral diarrhea shortly after birth if they are born in the spring mud and slush season, but not if they are born in midsummer on lush pastures where the risk of infection is lower. Likewise, bovine coronavirus vaccines are used to protect cattle before they face stressful conditions during shipping, in a feedlot, or in winter feed pens. Animal coronavirus vaccines are thus used as tools to provide a temporary boost in immunity, in very specific conditions, and only for very specific vulnerable categories of animals. After everything I've laid out so far in this text, the targeted use of bovine coronavirus vaccines should surprise no-one. Pretending that our human coronavirus vaccines would be different was nonsense. 
The only rational reason why the WHO and public health officials would withhold all that contextual information from the public as they rolled out lockdowns and held forth vaccines as an exit strategy was to whip the public into irrational fear in order to be able to make a dishonest case for mass vaccination when they should have, at most, been focused on providing focused vaccination of the most vulnerable only. That deception was the Trojan Horse to introduce endless mass booster shots as immunity inevitably fades and as new variants replace old ones.
How natural immunity works
Ruechel explains how the body fights off infection.
Not all forms of our natural defences are needed whenever we get sick. It depends on the illness:
… a mild infection doesn't trigger as many layers whereas a severe infection enlists the help of deeper layers, which are slower to respond but are much more specialized in their attack capabilities. And if those deeper adaptive layers get involved, they are capable of retaining a memory of the threat in order to be able to mount a quicker attack if a repeat attack is recognized in the future. That's why someone who was infected by the dangerous Spanish Flu in 1918 might still have measurable T-cell immunity a century later but the mild bout of winter flu you had a couple of years ago might not have triggered T-cell immunity, even though both may have been caused by versions of the same H1N1 influenza virus.
As a rule of thumb, the broader the immune response, the longer immunological memory will last. Antibodies fade in a matter of months, whereas B-cell and T-cell immunity can last a lifetime.
Another rule of thumb is that a higher viral load puts more strain on your immune defenses, thus overwhelming the rapid response layers and forcing the immune system to enlist the deeper adaptive layers. That's why nursing homes and hospitals are more dangerous places for vulnerable people than backyard barbeques. That's why feedlot cattle are more vulnerable to viral diseases than cattle on pasture. Viral load matters a lot to how easily the generalist layers are overwhelmed and how much effort your immune system has to make to neutralize a threat.
Where the infection happens in the body also matters. For example, an infection in the upper respiratory tract triggers much less involvement from your adaptive immune system than when it reaches your lungs. Part of this is because your upper respiratory tract is already heavily preloaded with large numbers of generalist immunological cells that are designed to attack germs as they enter, which is why most colds and flus never make it deeper into the lungs. The guys with the clubs are capable of handling most of the threats that try to make through the gate. Most of the specialized troops hold back unless they are needed.
Catching a dangerous disease like measles produces lifetime immunity because an infection triggers all the deep layers that will retain a memory of how to fight off future encounters with the virus. So does the measles vaccine. Catching a cold or mild flu generally does not.
Constant booster shots could harm natural immune systems
Ruechel says that a continual regimen of booster shots could harm our natural immune systems:
At this point you may be wondering, if there is no lasting immunity from infection or vaccination, then are public health officials right to roll out booster shots to protect us from severe outcomes even if their dishonest methods to get us to accept them were unethical? Do we need a lifetime regimen of booster shots to keep us safe from a beast to which we cannot develop durable long-term immunity?
The short answer is no. 
Contrary to what you might think, the rapid evolution of RNA respiratory viruses actually has several important benefits for us as their involuntary hosts, which protects us without the benefit of broad lifelong immunity. One of those benefits has to do with the natural evolution of the virus towards less dangerous variants. The other is the cross-reactive immunity that comes from frequent re-exposure to closely related "cousins". I'm going to peel apart both of these topics in order to show you the remarkable system that nature designed to keep us safe… and to show you how the policies being forced on us by our public health authorities are knowingly interfering with this system. They are creating a dangerous situation that increases our risk to other respiratory viruses (not just to COVID) and may even push the COVID virus to evolve to become more dangerous to both the unvaccinated and the vaccinated. There are growing signs that this nightmare scenario has already begun. 
The panic generated by our notional experts over the Delta variant is unwarranted and unethical. That variant is a logical progression of coronavirus.
Ruechel says:
fear mongering about the Delta variant being even more contagious leaves out the fact that this is exactly what you would expect as a respiratory virus adapts to its new host species. We would expect new variants to be more contagious but less deadly as the virus fades to become just like the other 200+ respiratory viruses that cause common colds and flus. 
How lockdown damages healthy immune systems
Lockdowns and restricted circulation among humans also adversely affect healthy immune systems:
… the decision to lock down the healthy population is so sinister. Lockdowns, border closures, and social distancing rules reduced spread among the healthy population, thus creating a situation where mutations produced among the healthy would become sufficiently rare that they might be outnumbered by mutations circulating among the bedridden. Mutations circulating among the healthy are, by definition, going to be the least dangerous mutations since they did not make their hosts sick enough to confine them to bedrest. That's precisely the variants you want to spread in order to drown out competition from more dangerous mutations.
A host stuck in bed with a fever and not out dining with friends is limited in his ability to infect others compared to a host infected with a variety that only gives its host a sniffle. Not all bedridden hosts have caught a more dangerous mutation, but all dangerous mutations will be found among the bedridden. Thus as time goes by, dangerous mutations can only compete with less dangerous mutations if the entire population is limited in its ability to mix and mingle.
As long as the majority of infections are among the healthy, the more dangerous variants circulating among some of the bedridden will be outnumbered and will become evolutionary dead ends. But when public health officials intentionally restricted spread among the young, strong, and healthy members of society by imposing lockdowns, they created a set of evolutionary conditions that risked shifting the competitive evolutionary advantage from the least dangerous variants to more dangerous variants. By locking us all up, they risked making the virus more dangerous over time. Evolution doesn't sit around to wait for you while you develop a vaccine.
Spanish Flu 1918
Ruechel explores the Spanish Flu pandemic, which took place in the last year of the Great War. A lot of soldiers were in trenches:
Let me give you a historical example to demonstrate that this rapid evolution of a virus towards either more or less dangerous variants isn't mere theory. Small changes to the environment can lead to very rapid changes in the virus' evolution. The first wave of the 1918 Spanish Flu was not particularly deadly, with mortality rates similar to regular seasonal flu. However, the second wave was not only much deadlier but, rather unusually, was particularly deadly to young people rather than just the old and the weak. Why would the second wave be the deadly one? And what would cause the virus to evolve so quickly to become both more deadly and better adapted to preying on young people? At first glance it would seem to defy all evolutionary logic.
The answer demonstrates just how sensitive a virus is to small changes in evolutionary pressure. The Spanish Flu spread in the midst of the lockdown-mimicking conditions of World War One. During the first wave, the virus found a huge population of soldiers trapped in the cold damp conditions of the trenches and a near endless supply of captive bedridden hosts in overflowing field hospitals. By the Spring of 1918, up to three-quarters of the entire French military and half of British troops had been infected. These conditions created two unique evolutionary pressures. On the one hand, it allowed variants that were well adapted to young people to emerge. But on the other hand, unlike normal times, the cramped conditions of trench warfare and field hospitals allowed dangerous variants that immobilize their hosts to spread freely with little competition from less dangerous variants that spread through lively hosts. The trenches and field hospitals became the virus incubators driving the evolution of variants. 
Normally young people are predominantly exposed to less dangerous mutations because the healthiest do all the mingling while the bedridden stay home. But the lockdown conditions of war created conditions that erased the competitive advantage of less dangerous mutations that don't immobilize their hosts, leading to the rise of more dangerous mutations. 
Thanks to the end of the war, the lockdown-mimicking conditions also ended, thereby shifting the competitive advantage back to less dangerous mutations that could spread freely among the mobile healthy members of the population. The deadliness of the second wave of the 1918 Spanish Flu is inextricably linked to the First World War, and the end of the war is linked to the virus fading into the background of regular cold and flu season.
This brings him back to our 2020 lockdowns around the world:
It is therefore highly likely that the 1918 Spanish Flu would never have been more than a really bad flu season had it not been for the amplifying effect of lockdown conditions created by a world at war.
It also raises the question, for which I don't have an answer, whether the lockdown strategy during COVID was intentionally used to reduce spread among the healthy in order to keep the virus from fading into harmless irrelevancy. I use the word "intentionally" ― and it's a strong word ― because the deadly second wave of the 1918 Spanish Flu and its causes are hardly secrets in the medical community. You'd have to be a completely reckless and utterly incompetent idiot, or a cynical bastard with an agenda, to impose any strategy that mimics those virus-amplifying conditions. Yet that's what our health authorities did. And what they continue to do, while shamelessly hyperventilating about the risk of "variants" to force us to submit to medical tyranny based on mandatory vaccines, never-ending booster shots, and vaccine passports that can turn off access to our normal lives. This is cynicism at its finest.
'Leaky' vaccines: how vaccinated people can pose a danger
As we know, coronavirus vaccines do not provide what is known as sterilising immunity because they cannot.
The vaccinated can still spread the virus, making the vaccines 'leaky', something which happened in chickens vaccinated against a herpes virus in the 1950s. This is what is known as the Marek effect, as he was the one who discovered it in 1968.
Ruechel says:
Vaccinated chickens were protected from severe outcomes but nevertheless continued to catch and spread the virus, so evolutionary pressure led to the emergence of a dual-track variant that become the dominant strain of this herpes virus. It continues to spread among the vaccinated chickens without killing them but kills up to 80% or more of unvaccinated birds if they get infected. Thus, a never-ending stream of vaccinations is now required just to maintain the status quo. I bet the pharmaceutical industry is smiling at all those drug-dependent chickens though — talk about having a captive audience!
Ruechel explains that this same effect is happening with COVID-19 vaccinations:
A vaccine that provides sterilizing immunity prevents the vaccinated from being able to catch or transmit the virus. They become a dead end for the virus. However, as I've already mentioned, the current crop of COVID vaccines, which are meant to train the immune system to recognize the S-spike proteins, were not designed to create sterilizing immunity. By their design, they merely help reduce the risk of severe outcomes by priming the immune system. The vaccinated can still catch and spread the virus ― the definition of a leaky vaccine ― and epidemiological data makes it very clear that this is now happening all around the world. Thus, both the vaccinated and the unvaccinated are equally capable of producing new variants. The idea that the unvaccinated are producing variants while the vaccinated are not is a boldfaced lie.
This is dangerous:
From an evolutionary perspective, this is a potentially dangerous scenario. What has been done by temporarily blunting the risk of hospitalization or death, but without stopping infection among the vaccinated, is to create a set of evolutionary conditions where a variant that is dangerous to the unvaccinated can spread easily among the vaccinated without making the vaccinated very sick. For lack of a better term, let's call this a dual-track variant. Thus, because the vaccinated are not getting bedridden from this dual-track variant, they can continue to spread it easily, giving it a competitive advantage, even if it is highly dangerous to the unvaccinated.
Furthermore, since COVID vaccination only offers temporary short-term protection, as soon as immunity fades, the vaccinated themselves are also equally at risk of more severe outcomes. Thus, this creates the evolutionary pressure for the virus to behave as an increasingly contagious but relatively mild virus as long as everyone is vaccinated but as a dangerous but also very contagious virus as soon as temporary immunity wears off. The call for boosters every 6 months is already here. (Update: now it's being revised down to 5 months.)
Here's where Big Pharma steps in, aided and abetted by our respective leaders:
So, the pandemic really does have the potential to become the Pandemic of the Unvaccinated (the shameless term coined by public health officials to terrify the vaccinated into bullying their unvaccinated peers), but reality comes with a twist because if a dual-track variant does evolve it would be the unvaccinated (and those whose boosters have expired) who would have reason to fear the vaccinated, not the other way around as so many frightened citizens seem to believe. And the end result would be that we all become permanently dependent on boosters every 6 months, forever.
He says that the reason this hasn't happened with the flu vaccine is because not enough people are advised to take it, thereby avoiding a dangerous dual-track variant scenario:
It is mostly the vulnerable and those who work around them that get it while children, young adults and other healthy members of society don't get it. So, even if more deadly variants were to arise in nursing homes or hospital settings, the high number of healthy unvaccinated visitors to those facilities would constantly bring less deadly more contagious variants with them, thereby preventing more dangerous variants from gaining a competitive edge in nursing home or hospital settings. But if the leaky flu vaccinations were to be extended to everyone, or if nursing home populations continue to be kept isolated from the rest of society during COVID lockdowns, things might begin to look a little different.
We do not need constant booster shots
Ruechel gives various scientific reasons why we do not need constant booster shots for coronavirus if we are healthy:
This year's runny nose is your protection against COVID-23. Your cross-reactive immunity to last years annoying flu might just save your life if something truly dangerous arrives, as long as it is at least somewhat related to what your immune system has seen before. COVID could easily have turned out to be as dangerous to us as the Spanish Flu if it hadn't been for the saving grace of cross-reactive immunity. As this study shows, up to 90-99% of us already had some level of protection to COVID thanks to partial cross-reactive immunity gained from exposure to other coronaviruses. The high percentage of infections that turn out to be asymptomatic bears that out.
Someone needs to remind Bill Gates, his fawning public health bootlickers, and the pharmaceutical companies that whisper sweet-nothings in his ear that in the natural world of respiratory viruses, most of us don't need a regimen of never-ending booster shots to keep us safe from COVID variants ― we already have a perfectly functioning system to keep bringing us new updates. Respiratory viruses are a completely different beast than smallpox, polio, or measles; and pretending otherwise is not just silly, it's criminal because anyone with a background in immunology knows better. But it's a fantastic and very profitably way to scare a wide-eyed population into accepting never-ending booster shots as a replacement for the natural antivirus updates that we normally get from hugs and handshakes. Protect the vulnerable. Stop preying on the rest of us.
He also delves into the Diamond Princess cruise case, which was made public in February 2020, early on in the pandemic. Not many people displayed symptoms, and only a few died.
Yet, world leaders were getting the jitters:
The important thing to remember is that the Diamond Princess data was already publicly available since the end of February of 2020. Operation Warp Speed, the vaccine development initiative approved by President Trump, was nevertheless announced on April 29th, 2020. Thus, our health authorities knowingly and opportunistically recommended lockdowns and promoted vaccines as an exit strategy after it was already clear that the majority of us had some kind of protection through cross-reactive immunity. The Diamond Princess example provided the unequivocal proof that the only people who might benefit from a vaccine, even if it worked as advertised, were the small number of extremely vulnerable members of society with weak immune systems. Likewise, lockdowns should have been recommended only for nursing home residents (on a strictly voluntary basis to protect their human rights) while the pandemic surged through the rest of us.
Conclusion — vaccine by subscription
There is much more that Ruechel discusses, so it is worth reading his essay in full.
I'm going to skip to the conclusion, which is about making us permanently dependent on Big Pharma's vaccines:
What if, by depriving us of normal life, those who stand to gain from vaccines can forever cement themselves at the center of society by providing an artificial replacement for what our immune systems used to do to protect us against common respiratory viruses back when we were still allowed to live normal lives? …
What if the fast mutation of RNA viruses ensures that no vaccine will ever be fully effective at providing lasting immunity, thus creating the illusion that we are permanently in need of vaccine boosters? 
What if politicians could be convinced to make vaccination mandatory in order to prevent potential customers from opting out? 
What if, by relying on lockdowns during the winter season, our vulnerability to other viruses increased, which could then be used to rationalize expanding the jab, via mission creep, to simultaneously vaccinate us against RSV, influenza, other coronaviruses, the common cold, and so on, despite knowing full well that the protection that these vaccines offer against respiratory viruses is only temporary?
And what other social engineering goals can be rolled into your annual booster shot in the future once you are permanently bound to these annual jabs and vaccine passports? In an atmosphere of hysteria, it's a system ripe for abuse by opportunists, ideologues, power hungry totalitarians, and Malthusian social engineers. The snowball doesn't have to grow by design. Mission creep happens all on its own once Pandora's Box is opened to coerced vaccinations and conditional rights. The road to Hell is frequently paved by good intentions… and hysteria. 
So, what if COVID-Zero and the vaccine exit strategy is merely the global state-sanctioned equivalent of a drug dealer creating dependency among its customers to keep pushing more drugs? 
What if it was all just a way of convincing society of the need for subscription-based "immunity as a service"? The subscription-based business model (or some version of it) is all the rage these days in the corporate world to create loyal captive audiences that generate reliable money streams, forever. Subscriptions are not just for your cable TV and gym membership anymore. Everything has been redesignated as a "consumable". 
Netflix did it with movies.
Spotify did it with music.
Microsoft did it with its Office suite.
Adobe did it with Photoshop editing suite.
The smartphone industry did it with phones that need to be replaced every 3 to 5 years.
The gaming industry did it with video games.
Amazon is doing it with books (i.e. Kindle Unlimited).
The food industry is doing it with meal delivery services (i.e. Hello Fresh).
Uber is doing it with subscription-based ride sharing …
Monsanto and its peers did it to farmers with patented seed technology, which cannot legally be replanted, and is lobbying to try to legalize the use of terminator seed technology (GMO seeds that are sterile in the second generation to prevent replanting).
The healthcare industry is doing it with concierge medical services, fitness tracking apps (Fitbit), sleep-tracking apps, and meditation apps.
The investment industry is doing it with farmland, with investors owning the land and leasing it back to farmers in a kind of modern revival of the sharecropping system. (Bill Gates is the largest farmland owner in the USA – are you surprised?)
Blackrock and other investment firms are currently trying to do it with homes to create a permanent class of renters.
And public health authorities and vaccine makers have been trying to do it with flu vaccines for years, but we've been stubbornly uncooperative. Not anymore.
Remember when the World Economic Forum predicted in 2016 that by 2030 all products would become services? And remember their infamous video in which they predicted that "You will own nothing. And you will be happy."? Well, the future is here. This is what it looks like. The subscription-based economy. And apparently it now also includes your immune system in a trade-off for access to your life.
Ultimately:
The con is clear. It's time to focus all our might on stopping this runaway train before it takes us over the cliff into a police state of no return. Stand up. Speak out. Refuse to play along. Stopping this requires millions of voices with the courage to say NO — at work, at home, at school, at church, and out on the street …
It's time to be bold. It's time to call out the fraudsters. And it's time to reclaim the habits, values, and principles that are required to fix our democratic and scientific institutions to prevent this from ever happening again.
Feudalism was one giant stinking cesspool of self-serving corruption. Individual rights, free markets, the democratic process, and limited government were the antidotes that freed humanity from that hierarchical servitude. It seems we have come full circle. The COVID con is a symptom, not the cause, of a broken system …
Freedom of speech, individual rights, private property, individual ownership, competition, good faith debate, small government, minimal taxes, limited regulation, and free markets (the opposite of the crony capitalism we now suffer under), these are the checks and balances that bullet-proof a society against the soulless charlatans that fail upwards into positions of power in bloated government institutions and against the parasitic fraudsters that seek to attach themselves to the government's teat.
Yes, we need a Great Reset. Just not the subscription-based version that the World Economic Forum imagined.
I learned a lot about vaccines and immunity from Ruechel's essay, even though reading it and writing this post has taken me well over five hours.
Thanks again to The Underdoug for sharing it.
On Saturday, August 7, 2021, Mark Dolan of GB News interviewed a Scottish clergyman on his late night show.
The Revd Dr William Philip is the pastor of Tron Church in Glasgow. Earlier this year, he led a handful of other Scottish clergy in filing a successful lawsuit against the Scottish government for having closed churches in 2020 during lockdown.
In the 20-minute interview below, he explained why it is so important to be able to gather together to worship during the coronavirus crisis. Believers need to gather together in one place — church — for communal prayer and fellowship. His words were well received not only by Dolan and his guests but also on YouTube:
Philip, who worked as a hospital physician before ordination, also does not think that vaccine passports are necessary:
While churches in England and Wales re-opened in July 2020 and closed again for three weeks in October, Scotland took different measures. In January 2021, Nicola Sturgeon's SNP government forbade — criminalised — public worship during new lockdown measures.
On January 6, Philip and five other Protestant clergy sent a letter to Nicola Sturgeon, which reads, in part (emphases in the original):
We write as ministers and leaders of churches in Scotland, supported by colleagues across the United Kingdom, to raise our profound concerns at the measures to suspend public worship in Scotland as part of the currently increased restrictions.
We understand entirely the exceptional difficulties of leading the country at the present time, and we and our churches have prayed for wisdom and clarity for your government repeatedly. But we strongly disagree with the decision to prevent the gathering of the Church at this time, which we believe is profoundly unhelpful and may be unlawful.
As pointed out by Sir Edward Leigh in his letter to you of 4 January, Article 9 of the European Convention of Human Rights prohibits governments from interfering with religious practice unless demonstrated as essential for public health because church services were proven a significant source of spread of disease. We know of no evidence of any tangible contribution to community transmission through churches in Scotland; to the contrary, since churches re-opened in July we have demonstrated that places of worship and public worship can be made safe from Covid transmission. It is for such reasons that legal challenges in other jurisdictions have overturned prohibitions of the freedom to gather for worship.
However, above all we are dismayed because there seems to be a failure in the Scottish Government to understand that Christian worship is an essential public service, and especially vital to our nation in a time of crisis …
In national times of crisis past, governments have looked to the church and sought leadership in a national call to prayer to the Living God. We urge you not to be the government which denies our nation the collective prayer of the churches of our land in days when it is most greatly needed.
We echo the words of the Archbishop [of Canterbury] and other leaders to the Prime Minister and call on the Scottish Government to recognise and support this, and enable us to continue to worship safely, as part of the essential fabric of the nation.
On February 9, Philip wrote an article for The Critic: 'Meeting others to worship is a lifeline'. Excerpts follow (emphases mine):
A group of Clergy taking government to court might seem a surprisingly 'un-Christian' thing to do, when closing churches is to 'save lives'. In fact, the reason we have commenced action against Scottish Minsters is born of profound Christian love for our nation. We all recognise the challenges facing the government. But we believe that, however well-intentioned, criminalising corporate worship is both damaging and dangerous for Scotland …
There is an urgent need for a message beyond that of health and safety: a message of hope and salvation. This is the calling of the Christian Church – especially in dark and difficult days: to 'hold fast the confession of our hope without wavering' (Hebrews 10:23). Jesus Christ is the only hope that dispels all fear, death included.
That is not to say Christians don't care about present physical threats. Indeed, it is this eternal perspective that liberates to love and serve neighbours truly, and fearlessly. As CS Lewis pointed out 'those who want heaven most have served earth best'. This is what our society needs to witness, proclaimed boldly by Christian leaders and adorned visibly in the worshipping Church. So it is of great damage to Scotland that corporate worship is now illegal.
It also brings great danger.
Many in the world today brave huge threats to worship as Christ's Church. We do not remotely claim such persecution; however, our situation is unprecedented in modern times. For centuries Scottish law has embedded the truth that both Church and Civil government are ordained by God and subject to Him, but their roles are distinct and government must not interfere in the Church. It was the Stuart monarchs seeking to undermine this 'twa kingdoms' doctrine that led to a century of conflict before religious toleration prevailed across Scotland and England with the Claim of Right Act 1689. Scots law reiterated then that Jesus Christ alone is head of the Church and this remained paramount in the Union of 1707, was reinforced again in the 1921 Church of Scotland Act, and is affirmed by each monarch in the Coronation Oath …
I never imagined myself involved in action like this. But Scots would not have precious freedoms today had our Kirk forebears shrunk back in their time. I truly hope that our government will see what a grave incursion this ban on public worship is – to centuries-old Scots law as well as modern Human Rights protections – and also the suffering it is inflicting on many. The proper place of Christian worship must be restored so that, as Martin Luther said (amid a far more deadly epidemic), our people may 'learn through God's word how to live and how to die'."
One week later, Lord Braid of the Scottish High Court granted permission for a hearing. By then, 27 clergy had pledged their support. Christian Today's article says:
Lord Braid has granted permission for a hearing which will take place remotely on 11 and 12 March after Scottish ministers rejected the arguments of 27 Scottish church leaders in a pre-action letter.
The church leaders argue that the "disproportionate" closures are a breach of human rights law and the Scottish constitution, and are preventing them from meeting the material, emotional and spiritual needs of their congregations and communities.
In their response, Scottish ministers said the state was within its rights to "regulate the secular activities of Churches…for the purposes of protecting public health", and that churches were compelled to "comply with secular law."
The church leaders come from a broad range of denominations, including the Free Church of Scotland, Free Church of Scotland (Continuing), Church of Scotland and a number of independent churches …
Rev Geoffrey de Bruin, leader at Christian Revival Church Edinburgh, said: "This is now a crucial moment for the freedom of the church in Scotland …
"For Christians, spiritual health is more important than physical health.
"Churches serve as lifelines of support to the most vulnerable during the toughest times and we pray that these important principles and beliefs will be recognised and upheld by the courts in March."
The Christian Legal Centre (CLC), founded in 2007, took the case on behalf of the clergy.
Fortunately, the clergy won their case in March. Christian Concern issued a statement on the outcome:
Permission for a judicial review was granted and heard at the Scottish High Court on 11 March 2021.
On 24 March 2021, judgment was handed down by Lord Braid, ruling that the Scottish Ministers' decision to ban and criminalise gather church worship during lockdown was unconstitutional and disproportionate.
The Tron Church serves a diverse congregation in central Glasgow. In 2012, it broke away from the Church of Scotland, opposing its move to accept gay clergy, although it maintains a cordial relationship with the Kirk, as the state church is known. The Tron is now part of the West of Scotland Gospel Partnership.
In February 2020, the SSE Hydro stadium in Glasgow cancelled an appearance by the Revd Franklin Graham, Billy's son, amid accusations of 'homophobia'.
Philip joined several other clergy from the West of Scotland Gospel Partnership in signing a letter to The Herald, expressing their disappointment. Excerpts follow:
THE cancellation by the SSE Hydro in Glasgow of the Franklin Graham event is a deeply disturbing decision that is antithetical to freedom of speech, freedom of religion, and to true democratic values.
Franklin Graham is being discriminated against for having on occasions expressed mainstream Judaeo-Christian views on sexuality. His views in this area are not religiously extreme, indeed they simply reflect the historic and orthodox teachings of the Roman Catholic Church, the Church of England and countless other denominational groups. Like all mainstream Christian leaders Franklin Graham believes that every human being is a precious soul made in the image of God, and thus should be loved and treated with respect accordingly.
The planned event is one in a rich tradition of such Christian activity going back centuries in both Glasgow and the country at large. As Rev Graham has expressed himself his mission is not political but to make known the good news about Jesus Christ to every person regardless of their sexuality or any other characteristic …
Christians disagree about many things, but Christians all agree that respect for religious freedom and freedom of speech is fundamental to a free society. Therefore, we ask that the SSE Hydro management, and those political leaders who have influence in such matters, reverse this decision.
A failure to do so would be an ominous move towards a less free society and one that will in time have serious repercussions for the civic liberties of all.
The Revd Dr Philip sounds like a good clergyman and one who refuses to stand by when the Church is discriminated against.
Time is short today, so here are a few brief takes on coronavirus.
The young
I was appalled to see this video of an infant undergoing a PCR test. What are parents and medical staff thinking?
Why would a tiny baby need to undergo such a test? Yes, I agree that the procedure could cause an infection or, worse, damage. The barrier between the brain and back of the nose must be extremely delicate in such a young child.
The old
Allegedly, last October, Prime Minister Boris Johnson sent the following message expressing scepticism about a winter lockdown in England. I agree with all of what he says. Barrister Francis Hoar makes a valid point about deaths of/with coronavirus. At the time Boris made this statement, our PCR cycle threshold was >35, thereby picking up anything and everything:
It is true that, in England, at least, the average age for the elderly dying from the virus is greater than the average life expectancy.
I do wish Boris had had the nerve to 'recalibrate' and avoid a winter-to-spring lockdown. He resisted, but, as usual, SAGE got to him, it would seem.
This topic came up in the comments to an article on Conservative Home about Boris.
One reader wrote (emphases mine):
A reply to the comment pointed out the truth about winter respiratory diseases:
I am 82 years old. Pneumonia was always called "the old man's friend."
Vaccine passports
Despite the Government denying it for the past seven months, it looks as if coronavirus passports are coming to England.
There is speculation that they will be required at the annual Conservative Party conference this coming autumn in Manchester at the Midland Hotel:
Guido Fawkes says:
The Mail reports the Tories' September conference in Manchester is set to require Covid passports, in a blow to any libertarian MPs hoping to attend. While most of conference is quite far away from nightclubbing scenes, no doubt photos of a packed Midland's bar would attract online ire …
Yesterday the Telegraph reported one prominent Tory rebel MP said he suspects if Boris does force them "significant numbers of Conservative MPs and activists will refuse to attend."
I hope libertarian-minded Conservatives do boycott this. This policy would set a dangerous precedent for civil liberties. It's a narrow step from a vax passport to a digital ID.
The Mail's article reports that the insider said:
'Some MPs might not like it, but all the polling suggests the public are quite strongly in favour of Covid passports,' they said.
'That looks to be truer for the older generations who are more at risk, and might be wanting to come along.'
On their heads be it.
Appalling.
On Monday, July 5, 2021, Richard Madeley, an occasional co-presenter on ITV's Good Morning Britain (GMB), asked SAGE member Susan Michie if her avowed Communism affects her coronavirus recommendations to the general public:
It must have come as a surprise to a number of GMB's viewers who probably did not suspect that a card-carrying Communist works for the Government.
Michie, a psychologist who is also a professor at University College London, works on the SPI-B — behavioural — committee of SAGE which has been driving public behaviour during the pandemic. She appears most frequently on the BBC but also on other television channels.
She was also a speaker at the UN's Psychology Day in 2020. The Division of Health Psychology of the British Psychological Society, of which she is a member, tweeted:
I've written about Michie three times before, twice in the run-up to Christmas (here and here) and once in June.
Before I get to Richard Madeley's interview with Prof Michie, the tweets below show what Communist health policy looks like. We've been living under such rules for 16 months and counting.
2018 Daily Mail article
But first, here is a brief retrospective from the time when Jeremy Corbyn was Labour leader.
In 2018, the Daily Mail posted an extensive article about her support of Corbyn and her praise of Communism. Excerpts follow, emphases mine.
This is her family background. Much of the £52 million she inherited from her mother was in a Picasso, which she and another family member sold:
Susan Fiona Dorinthea Michie is the granddaughter of Henry McLaren, the 2nd Baron Aberconway, an Eton-educated Edwardian industrialist and Liberal MP. 
He inherited major interests in coal, iron, steel and engineering conglomerates, and created the sumptuous gardens at Bodnant House, a stately home set in 5,000 acres near Snowdonia.
Her mother, Dame Anne McLaren, was born at Aberconway House, the family's imposing 2,800-square-metre second residence in London's Mayfair, and was one of the world's leading biologists. When she died in 2007, aged 80, she left £52million in her will.
Ms Michie's father, meanwhile, was an eminent computer scientist who was the son of a wealthy banker whose photo is among the National Portrait Gallery's collection.
Despite these moneyed roots, the blue-blooded Susan, 62, marches to the beat of her own drum.
She stretches her every sinew in pursuance of a class war as a member of the Communist Party of Britain.
The article then described the speech she gave in early March 2018:
On Monday night, she addressed a meeting of about 40 true believers at the Marx Memorial Library in London's Clerkenwell.
She delivered her speech while standing beneath a portrait of Cuban dictator Fidel Castro, a bronze of Lenin and an array of Soviet flags. 
Seemingly oblivious to the irony, this lifelong beneficiary of inherited wealth began by saying: 'We, the working class.'
During the course of a two-hour talk, Ms Michie (whose day-job is as a university academic) made a comment that broke almost a century of hard-Left tradition. 
Britain's Communist Party, she said, is urging its members to work 'full tilt' to help get a Labour prime minister.
This development — after decades of Communists and Labour operating on very separate lines — is a direct result of Labour's lurch to the hard Left under Jeremy Corbyn.
Already, there have been signs of this change of policy with the Communists deciding last year not to split the Left-wing vote by fielding their own candidates at the General Election.
With the two parties increasingly in harmony (Ms Michie declared it 'a really good situation to work much more closely than we have in the past'), the Communists — by way of a 'priority' — are advising their comrades to actively campaign on Corbyn's behalf.
In the general election of December 2019, Labour suffered its worst result since 1935.
Sir Keir Starmer eventually replaced Jeremy Corbyn as Labour leader.
Now on to Michie's activity as a SAGE member.
Regular media appearances
By May 2020, Michie was already becoming a regular guest on various news programmes:
As Guido Fawkes explained, Michie is not only a member of SAGE but also Independent SAGE, a breakaway group (emphases in the original, those in purple mine):
Susan Michie is a Marxist campaigner who has managed to get herself on not only the activist dominated fake SAGE, she is also on the official SAGE. Quite an achievement and evidence of the time and effort she is dedicating to the cause…
Michie is Professor of Health Psychology and Director of the Centre for Behaviour Change at UCL, so prima facie she has the credentials to be a scientific advisor. What is never mentioned at any point to give context to her many media appearances, in which she usually launches a tirade at the government, is that she has for 40 years been a member of of the Communist Party of Britain.
All this has not precluded her from using family wealth to financially support the Labour Party under the Corbyn leadership. In March 2018, it was Michie who said that the Communist Party would no longer stand against Labour in general elections and she should be "working full tilt" for the election of Corbyn as PM. Hardly surprising given her daughter was appointed under him to Labour HQ and her ex-husband was Corbyn's close adviser. That illustrates the level of her dedication to far-left politics.
Two days later, the Father of the House, Peter Bottomley MP (Con), appeared on Radio 4's Broadcasting House programme to lambaste the BBC for not revealing her political philosophy and connections:
He said (audio in Guido's post):
If one of your previous contributors has been a member of a far left party for decades, donated more to the Labour Party under Corbyn than I've given to the Tory Party in forty years, was the wife of a former Labour Party special adviser and mother of Labour's head of complaints, that might have been better than just saying she's a member of SAGE.
The BBC called Bottomley's remarks an:
ad hominem attack.
Prof Stephen Reicher, who teaches at St Andrews in Scotland, is another SAGE member who works on SPI-B. He took issue with Prime Minister Boris Johnson for not sacking his then-special adviser Dominic Cummings after his fateful trip to County Durham during lockdown. Michie agreed:
She is clearly not a Boris fan, nor is The Guardian's Carole Cadwalladr:
Lockdown and mask fan
In May, it was becoming clear to a segment of the British population that Michie favoured a Chinese-style handling of the pandemic. An Anglican clergyman tweeted:
The accompanying article from Michie in The Psychologist is a mild one about directing the public's response to the pandemic. Notable is this sentence (emphases mine below):
If these behaviours changed across the population (as seatbelt use and smoking in public places have), the Covid-19 pandemic would extinguish.
In July 2020, masks had been compulsory on public transport since mid-June, but were not yet mandatory elsewhere. Michie told LBC's Andrew Castle that they must be required:
By November, more Britons were finding out the truth about Michie:
When Boris banned Christmas, lockdown sceptic Dick Delingpole tweeted:
Michie started 2021 by asking why people were not complying with the mask mandate:
In April, mainstream journalists were finally beginning to reveal Michie's political persuasion:
Guido Fawkes reminded his readers that he had unearthed the information in May 2020:
In June, despite Boris's stellar rollout of the vaccine programme — still the best in Europe — Michie, laughing, told Channel 5 News that we would have to wear masks 'forever' (00:57 – 1:05):
A week later, she complained to Freddie Sayers of UnHerd that she had been misquoted (video at the link):
I actually used four words [in that interview with Channel 5], and only one of them was reported. The full words I used were "forever to some extent". What I mean by this is that, sadly, this isn't going to be the last pandemic. For as long as humans are around viruses are going to be around …
In reality, as you can see in the Channel 5 video above, her first answer was 'Forever'. When the interviewer expressed her astonishment, Michie gave the longer response.
She told Sayers that she wanted a delay to Freedom Day, which was to have been on June 21. She must be happy:
I don't think there's really any alternative other than delaying for four weeks and seeing what's happening. It's a very tricky situation… I think [Boris] is right — I think the question is: is it going to be sufficient?
She probably opposes the possible July 19 Freedom Day, too.
She clearly did not want to discuss her communist beliefs with Sayers:
My politics are not anything to do with my scientific advice. And I've never discussed my politics with people like yourself, so nor am I going to now. And the important thing is that when one gives scientific advice, one does so using the expertise one has — not going beyond the expertise, being transparent about what expertise you provide. And I think that the kind of articles you refer to are a really disturbing kind of McCarthyite witch hunting, which I don't think should have any place in a liberal tolerant society.
Richard Madeley's interview
This brings me neatly to Richard Madeley's interview from Monday morning, July 5.
Guido Fawkes broke the story, along with the video (emphases in the original):
Guido commends Richard Madeley for being the first TV host in the country to invite "Independent" SAGE's Susan Michie on to their show and finally confront her about her hard-left politics. Madeley rightly points out that activist expert Michie's love of national Covid restrictions may not be born from her concern for the nation's health, rather the default policy position of a hard-core, state-loving communist. It looked like Susan didn't appreciate this line of questioning…
Lockdown Sceptics has the transcript (emphases in purple mine):
Richard Madeley: There's a point I really have to put to you and you'll be aware of this because there's been a lot of commentary about this in the British media about you and it's to do with your politics and you know what I'm going to ask you. You've been a member of the Communist Party for about 40 years now, you're still a member, and we know that they're statist. We look at Communist countries around the world and we see that they are tremendously top down dominant and controlled societies that they rule over. I just wonder – and I'm putting this question on behalf of those who wonder about your politics – if your politics actually informs your sense of control? It's not just the medical arguments, but you have a kind of a political bent to want the state to tell people what to do?
Susan Michie: I've come on your programme as a scientist, as do all people who come on to your programme as scientists. They come on to talk about the evidence, relevant theories, how we approach our scientific disciplines, and you don't ask other scientists about politics so I'm very happy to speak about science which is what my job is and to limit it to that.
RM: So you're saying that your politics doesn't inform your opinion on this subject?
SM: I'm saying that I agreed to come on this programme as a scientist and I'm very happy to talk to you about the issues that you're raising as a scientist which is the same for other scientists that you invite on to the programme.
Michie has a large house in a leafy part of London, but the video clip says Berkshire for her location. So, she must be one of those privileged people with two homes. Could one call her Berkshire place a dacha?
If Michie thought her interview with Richard Madeley was a one-off, she was wrong.
On Tuesday, July 6, Times journalist Matthew Syed brought up her Communism in his interview with the BBC's Jo Coburn on Politics Live:
Syed mentioned Michie by name and said that it would be wrong for a political agenda to determine a pandemic response:
Guido Fawkes provided this analysis of what Syed said:
On Politics Live earlier Matthew Syed succinctly made the point that Richard Madeley was inching towards yesterday – the issue of the card-carrying communist Susan Michie, of the self-appointed "Independent" SAGE, being given frequent media platforms to smuggle in her political agenda under the guise of "science". Michie is a committed Marxist ideologue, and central committee member of the British Communist Party. This is relevant.
Marxist analysis understands socialism itself to be a scientific method for understanding and predicting social, economic and material phenomena to derive probable outcomes and probable future developments. Her life-long ideology feeds into her work as director of UCL's Centre for Behaviour Change. That theoretical underpinning to her ideas on behavioural change and social compliance has gone unexplored even as she has been given a position advising the government in these matters. She has spoken approvingly of the Chinese Communist dictatorship's authoritarian methods and of her belief that restrictions in Britain should continue "forever, to some extent." Her whole mindset is one of top-down control and diktat that is incompatible with a free and open society.
Before anyone claims that Syed is a misogynist or a right-wing Murdoch lackey – he has a very readable intellectual column in the Sunday Times – Guido would remind them that he stood as the Labour candidate in the 2001 UK general election. At the very least it is fair to discount Michie's advice in the light of her ideological activism.
However, as the aforementioned Lockdown Sceptics article says, complete with a tweet, one woman accused Good Morning Britain of misogyny and asked people to stop watching the programme in protest.
Toby Young, who wrote the article, says that her sex had nothing to do with Madeley's question. It was her politics (emphases mine):
I really don't get why it was "misogynistic" of Madeley to ask Susan Michie whether her hard left politics have affected her position on mask mandates. Of course they have! After all, forcing people to wear masks as a condition of participating in certain activities is a flagrant breach of their liberty and the reason Michie doesn't care about that and thinks public health concerns should take priority (even though there's precious little evidence that masks reduce transmission of the virus) must in part be because she's a communist, who famously don't put much value on individual freedom. And the reason Madeley hasn't put the same question to other members of SAGE is not because Michie's a woman, but because she's the only one who's been a member of the Communist Party for the past 40 years.
True.
However, by July 8, Ofcom, the media watchdog, received 145 complaints about Madeley's interview:
Guido reported that one of the 145 complainants was Michie herself (emphases in the original):
Ofcom are unlikely to rule against Madeley for asking a question Michie did not want to answer; that's an editorial judgement way outside Ofcom's remit. Yet apparently for 145 viewers, it was all too much. Of course, amongst those complaining was Michie herself, who took to Twitter to write:
"A complaint has been submitted and a public apology requested".
If Michie and 144 other pearl-clutching viewers were upset by Madeley, Guido has to wonder what they thought of Matthew Syed's comments on Politics Live yesterday…
What concerns me is that Susan Michie might not be the only Communist in SAGE.
If only we could find out more about the political proclivities of the other members.
One year ago, July 4 was England's Independence Day from coronavirus.
Shops and restaurants re-opened, albeit with requirements for masks.
One year on, and it's Groundhog Day. After a prolonged period of restrictions from Christmas 2020, England awaits Freedom Day, which Prime Minister Boris Johnson and his Cabinet ministers assure us will be on July 19.
On Monday, July 5, 2021, when the Duchess of Cambridge began self-isolating for ten days and her husband Prince William attended an NHS service of thanksgiving at St Paul's Cathedral, Boris gave a coronavirus briefing about what we can expect on Freedom Day. Health Secretary Sajid Javid gave Parliament a briefing at the same time.
All being well, tomorrow, I will report on the details of what they had to say.
It was largely good news, except for some ambiguity about masks, which could lead to mask rage once restrictions are relaxed.
Below is relevant analysis aired and published before Boris and Saj (as he is now known) delivered their remarks.
Masks
The most contentious lifting of restrictions concerns masks.
Masks are the new Brexit referendum. They have divided England enormously, as Matthew Lynn wrote in the Telegraph on July 5 (emphases mine):
Maskers and anti-maskers look set to become the new Remainers and Leavers (with almost, if not quite, the same tribes in both camps). Very few people on either side of that bitter debate were actually very interested in the finer points of tariffs on citrus fruits, or what the European Commission's plans for the digital transformation of European industry might be this week. They wanted to say something about themselves.
He is not wrong. Anti-maskers, for the most part, appear to be Leavers. Pro-maskers are Remainers.
The Sunday news shows seemed to bear this out.
Housing Secretary Robert Jenrick told Trevor Phillips on Sky News that he would stop wearing one as soon as restrictions are lifted:
By contrast, Prof Adam Finn, a member of the JCVI (Joint Committee on Vaccination and Immunisation) told Phillips that he would continue to wear his mask 'indefinitely':
Finn is a man who manages to travel to holiday locations on taxpayer's money. Here he is in Coimbra, Portugal. Nice work if you can get it. Wouldn't Portugal have been on the amber list at the time of this interview? Interesting. Another case of 'For me, but not for thee'.
So, how exactly will this mask dilemma play out in real life? This is what Matthew Lynn foresees:
London mayor Sadiq Khan, a man who never saw a cynical political gesture without wanting to give it a big hug, is reportedly toying with demanding that masks continue to be worn on public transport in the capital, whatever the Government decides. If he goes through with it, it can surely only be a matter of seconds before Wales's Mark Drakeford and Scotland's Nicola Sturgeon follow suit, saltire or dragon optional, while every grandstanding local politician will soon be jumping on that bandwagon.
Likewise, businesses will be coming up with their own rules, based on what they see as their core demographic. A sports bar in Chelmsford, decked out in England flags? My feeling is it won't require masks. A vegan cafe in Islington or Bristol? You will have to wrap up your face before ordering that soyamilk fair trade latte.
There was a time — at the height of the pandemic in Spring 2020 — when we had no masks. Somehow, the vast majority of us did not catch coronavirus.
Lynn reminds us of the absurdity of the rules:
We can also all argue about whether masks were ever necessary. The scientific evidence was always shaky, which was why most governments in Europe, as well as the US, were reluctant to impose them in the first place. The rules governing masks have become increasingly bizarre, too. Why the virus doesn't spread while you are eating a meal at a restaurant, for example, but does while you walk to the lavatory, defies any rational explanation.
Nonetheless, Lynn sees masks and lockdowns as yet more tools of social division:
We might have hoped that Covid-19 would soon be behind us. There seems little chance of that now. The divisions lockdowns have opened up and exacerbated will run for years.
Hope amidst ambiguity
The Telegraph's Tim Stanley wrote 'The British must reject fear and dump their masks'.
He began by saying:
Hope, at last! The Government has indicated that all legal lockdown restrictions will end in England on July 19 and that even masks will become a question of choice, in which case I choose to burn mine. I've only worn the wretched thing "to make others feel comfortable", and my heroes are the religious cranks and anti-social yobs who refused to play along.
He is pinning his hopes on new Health Secretary Sajid Javid:
Javid, one hopes, has taken a fresh look at the data and concluded that cases are rising significantly but hospitalisations and deaths are not, which suggests the emergency is under control.
Stanley says we must adjust our outlook towards coronavirus:
We need to shift from disaster containment to threat management. Think of it as living in an earthquake zone: you're conscious of the risk and prepare for the worst, but you don't walk around acting like an earthquake is happening right now, with your knees bent, holding onto the furniture. Nor should we act as if Covid will kill us all, because it won't.
He has two suggestions for the Government in order to make things clear to the public and avoid ambiguity:
The Government needs to get two things right. One is consistency: if adults are free, children should be too. It makes no sense whatsoever that they are isolating from school, or even routinely tested, if this disease doesn't pose a direct threat to them and the vulnerable are double-jabbed. If we keep this silly regime going on in schools, it would both be unjust and sow confusion and fear: how are we supposed to feel safe if kids are treated like unexploded bombs?
And, second – this is so crucial – the Government mustn't allow legal restrictions to be replaced with ongoing "advice" or "guidance", because we've never got to the bottom of which is what, and the result – if trains or supermarkets are still advising us to distance and people assume they have to comply – will be de facto lockdown.
SAGE and communitarianism
SAGE continue to try to make the UK a communitarian, authoritarian society with their rules and restrictions.
Sorry, we are not the Far East, and most of us do not want to transform Britain into that type of society.
Here is a good example of SAGE-think. On Sunday, July 4, the Telegraph reported:
Prof Stephen Reicher at the University of St Andrews, a member of the Sage subcommittee advising on behavioural science, said it was frightening to have ministers "who want to make all protections a matter of personal choice when the key message of the pandemic is "this isn't an 'I' thing, it's a 'we' thing."
No, it is not a 'we' thing. It never should have been.
Reicher gets a lot of airtime on the BBC, especially in Scotland.
Prof Stephen Powis, the NHS medical director for England, told the BBC's Andrew Marr on Sunday that we must continue to protect the NHS by getting vaccinated twice. He said that the link between infection and hospitalisation is 'severely weakened' but not yet broken:
When asked about masks, he said:
Some people may choose to wear face masks in particular circumstances, such as crowded environments, and that's not necessarily a bad thing. Those habits to reduce infections are a good thing to keep.
Millions of us would disagree.
As for official figures in England:
Official figures showed there had been 24,248 Covid cases in the last 24 hours, up 161 per cent on a fortnight ago and highest daily figure since January, but only 15 more people had died as more than half English residents have now been double-jabbed.
These scientists must be from SAGE:
Some UK scientists warned however, that the lifting of all Covid-19 restrictions was like building new "variant factories" at a very fast rate.
If it were up to them, we, the great unwashed, would never see freedom again.
A new 'broom', a new outlook
We are fortunate to have a new health secretary who is a new broom, so to speak, with a new outlook.
Sajid Javid is on the same page as Chancellor Rishi Sunak and Boris himself.
Spectator editor Fraser Nelson explained the alliance for the Telegraph on Thursday, July 1:
Unlocking on July 19 now looks a near-certainty, but so does the surge in Covid cases. So the Prime Minister will need to explain to a nervous country why, all of a sudden, people should be relaxed when the virus rises. Javid will need a version of the "live without fear" theme that Sunak was developing last summer. To say that most of these cases are now among the under-25s, so hospitalisations should be low, posing no serious threat to the NHS. And it's best to get this "exit wave" over with now, rather than wait for the winter.
This will be the next battle: whether Covid-style techniques (self-isolation, classroom closures) should be used to fight back whatever winter brings. This is perhaps where a Sunak-Javid alliance will really come into play. Last summer, the Treasury vetoed an NHS plan to expand hospital capacity on the (now laughable) logic that Test and Trace would quash any second wave. Extra capacity is needed now. Lockdowns, of course, hurt the economy and hit future ability to pay for the NHS.
When the vaccines were first proven to work, Johnson's first thought was that this meant things should be over quickly. Surely they'd only need to protect the over-50s, he thought, then life could then get back to normal. It all turned out very differently, and he ended up caught in a Whitehall war. In Sunak and Javid, he now has two of his most senior ministers committed to an irreversible reopening.
They might not succeed. But this time, he can't say he lacked the support that he needs.
I hope the plan for July 19 works, especially as it would send a clear message to SAGE about the direction of the future for the UK. A data review will take place on Monday, July 12.
On the evening of Saturday, June 26, many Britons were relieved that Prime Minister Boris Johnson appointed a new Secretary of State for Health and Social Care so soon after Matt Hancock's resignation.
Although lockdown supporters say that Sajid Javid has no experience in health, that is why many of us think he is a good choice. He will give the department a fresh pair of eyes and a new perspective, one that isn't tied to SAGE or 'our NHS', which has become a cult religion over the past 16 months (March 2020 – June 2021).
Since the pandemic began, it has become very difficult being able to see a general practitioner (GP) in person.
The Telegraph's Ross Clark wrote (emphases mine):
… many patients struggle to get a doctor to see them even at the surgery. Hancock's vision of us all consulting medical staff via smartphone app doesn't allow for the fact that, according to Ofcom, only 55 percent of the over-65s – ie those who need the NHS the most – use a smartphone. Even if it did, it ignores the views of cancer specialists who have warned that cancer is often diagnosed via subtle changes in a patient's appearance – something you can't capture by uploading a photograph of a spot.
Hopefully, the new health secretary will bring a keen eye to Hancock's failures and won't shy away from tackling vested interests so that we can a real doctor, in real life, when we need to.
GB News covered the appointment on their Sunday morning programme:
TalkRADIO's Julia Hartley-Brewer also thought Javid's appointment was good news:
Mark Harper MP of the Covid Recovery Group (CRG) in Parliament tweeted his congratulations:
The Sunday Times said that Carrie Johnson, who once worked for Javid in government, was influential in getting him the job:
The Mayor of London appeared on Andrew Marr's show on Sunday to congratulate a fellow son of a bus driver (video here):
This confused Deputy Labour Leader Angela Rayner, who also said 'fragrant' instead of 'flagrant' in an interview this week:
Later that day, Times journalist Steven Swinford was told that the security camera in Hancock's former office — now Javid's — had been turned off:
Monday's front page of the Telegraph reported a positive outlook from the new Health Secretary:
That morning, Javid gave an interview to Sky News expressing his desire for a quick lifting of coronavirus restrictions:
However, as Guido Fawkes pointed out, Javid has voted with the Government on continuing restrictions (emphasis in the original):
Co-conspirators will be relieved to hear that given hitherto he has voted in favour of every lockdown. Javid also confirmed the notorious camera lurking in his new office has now been disabled, though not by him personally…
Late Monday afternoon, Javid delivered his first statement in Parliament as Health Secretary. Excerpts from Hansard follow, emphases mine.
He stated the positives about the vaccine rollout, beginning with a brief tribute to Hancock:
I want to take this opportunity to pay tribute to my predecessor, my right hon. Friend the Member for West Suffolk (Matt Hancock), who has worked hard throughout all these testing times. He achieved a great amount in the work that he did, and I know that he will have more to offer in public life. I wish him the very best.
There remains a big task ahead of us to restore our freedoms—freedoms that, save in the gravest of circumstances, no Government should ever wish to curtail. My task is to help to return the economic and cultural life that makes this country so great, while, of course, protecting life and our NHS. That task has been made all the more difficult by the delta variant, which we now know makes up some 95% of new cases in the UK. Not only does it spread more easily, but the evidence points to a higher risk of those who have not been vaccinated needing hospital treatment, compared with the previously dominant alpha variant.
This narrowing of the race between the virus and the vaccine led to this Government's difficult decision to pause step 4 on our road map until 19 July. We are using this extra time to protect as many people as we can. When the Government took that decision on 14 June, more than 4.3 million over-40s had had a first dose but not a second. The figure is now down to 3.2 million people over 40. We can all be reassured by how many more people are getting the life-saving opportunity that a vaccine offers.
At this two-week review point, I want to update the House on our progress on our road map to freedom. Our aim is that around two thirds of all adults in this country will have had both doses by 19 July. We are bringing forward second doses, and bringing forward our target for first doses too, so we can meet that 19 July goal. Vaccine uptake remains sky-high. We have seen that age is no barrier to enthusiasm for getting the jab: as of this weekend, more than half of adults under 30 have taken up the chance to be vaccinated—including, in the past couple of weeks, all three of my own adult children.
Our vaccines are working, including against the delta variant. The latest modelling from Public Health England shows that they have saved more than 27,000 lives and have prevented more than 7 million people from getting covid-19. We know that, after a single dose of vaccine, the effectiveness is lower against the new delta variant, at around a 33% reduction in symptomatic disease, but two doses of the vaccine are just as effective against hospital admission with the delta variant as with the alpha variant.
The jabs are making a difference in our hospitals, too. In January, people over 65 who were vaccinated earlier in our programme made up the vast majority of hospital admissions; the latest data shows that that group now makes up less than a third. While cases now are ticking up, the number of deaths remains mercifully low, and we will continue to investigate how our vaccines are breaking that link between cases, hospitalisations and deaths. I am also encouraged by new data just today from Oxford University's mix and match trial, which shows that a mixed schedule of jabs, such as getting the AstraZeneca jab first and the Pfizer second, could give our booster vaccination programme more flexibility and possibly even some better immune responses …
I spent my first day as Health Secretary—just yesterday—looking at the data and testing it to the limit. While we decided not to bring forward step 4, we see no reason to go beyond 19 July because, in truth, no date we choose comes with zero risk for covid. We know we cannot simply eliminate it; we have to learn to live with it. We also know that people and businesses need certainty, so we want every step to be irreversible. Make no mistake: the restrictions on our freedoms must come to an end. We owe it to the British people, who have sacrificed so much, to restore their freedoms as quickly as we possibly can, and not to wait a moment longer than we need to.
With the numbers heading in the right direction, all while we protect more and more people each day, 19 July remains our target date. The Prime Minister has called it our terminus date. For me, 19 July is not only the end of the line, but the start of an exciting new journey for our country. At this crucial moment in our fight back against this pandemic, we must keep our resolve and keep on our road map to freedom so that together we can beat this pandemic and build back better. It is a task that I am deeply honoured to lead and one I know will succeed. I commend this statement to the House.
Shadow Health Secretary Jonathan Ashworth (Lab) responded for the Opposition, pointing out that Javid's optimism might be misguided:
Can I just say at the outset that, despite our fierce political differences, my dealings with the previous Secretary of State, the right hon. Member for West Suffolk (Matt Hancock), were always courteous, respectful and professional, and I wish him well in resolving his personal difficulties.
I welcome the right hon. Member for Bromsgrove (Sajid Javid) to his place and thank him for advance sight of his statement. He will find working with the NHS and social care staff both inspirational and rewarding, and I hope he will agree to make arrangements for them to receive a fair pay rise and not the real-terms pay cut that is currently pencilled in.
Today, the Secretary of State has let it be known that the 19 July reopening will effectively go ahead. He told the news this morning that there is "no going back" and that lifting restrictions will be "irreversible". A word to the wise: I have responded to a lot of these statements these past 15 months, and I remember Ministers telling us there was "nothing in the data" to suggest that 21 June would not go ahead. I remember children returning to school for one day before the January lockdown. I remember, "It will all be over by Christmas". I remember, "We will send it packing in 12 weeks".
Well, we have seen around 84,000 cases in the past week—an increase of around 61%. Today, we have seen the highest case rate since January. If these trends continue, we could hit 35,000 to 45,000 cases a day by 19 July. That will mean more long covid—the Secretary of State did not mention more long covid—and it will mean more disruption to schooling. For some, it will mean hospitalisation, and we know that even after two doses, someone can catch and transmit the virus, so what is he going to do to push infections down? Vaccination will do it eventually, but not in the next four weeks.
I want to see an end to restrictions and our constituents want to see an end to restrictions, but I hope the Secretary of State's confidence today about 19 July does not prove somewhat premature or even, dare I say it, hubristic. Can he confirm that by "irreversible" he is ruling out restrictions this winter? Has he abandoned the plan that the previous Secretary of State and officials were drawing up for restrictions this winter? …
Javid responded, without addressing possible winter restrictions:
… With all the data I saw yesterday—I sat down and discussed it with the experts and my colleagues—it is very clear that we are heading in the right direction, and I am very confident about that date of 19 July …
Lucy Allan (Con), who has voiced her scepticism about coronavirus restrictions before, asked about the terminus date:
Can my right hon. Friend confirm that 19 July will mark the end of the road map out of lockdown, that "terminus" means the end of the line, not an interchange, and that it is his intention that all restrictions will be lifted on that date?
Javid replied:
… As she will have heard in my statement, it is absolutely our intention to have step 4 commence on 19 July and to remove restrictions and start returning to normal. She asked me specifically about all restrictions, or which restrictions. It is certainly our intention to remove restrictions, but as we follow the data in the coming days, we will set out more in due course.
Jim Shannon (DUP), a staunch Anglican, asked about loosening restrictions on church worship:
… If we are aiming for progression and moving away from restrictions such as the wearing of masks, may I ask when people will be able to attend worship and sit in churches self-distanced, without wearing a mask, just as diners can sit in a restaurant self-distanced without a mask? If we are going to have parity, then I believe that churches should have parity with restaurants.
Javid gave a reassuring reply:
I thank the hon. Gentleman for his remarks. I agree with him that as we move towards removing restrictions and step 4, we should take seriously into account what he said about people attending churches and the restrictions that they currently face. That is certainly my intention.
John Redwood (Con) asked whether Javid would look into improvements in ventilation and cleaning for various types of establishments to improve the air flow. Javid said that he would do so.
Theresa Villiers (Con) also asked about church, specifically singing hymns:
… Now that thousands of people are allowed to gather together at a football match to shout and cheer as much as they want, is it not time that we allowed congregations in church to sing hymns together?
Javid responded positively, which is more than Hancock ever did when asked similar questions:
I can tell my right hon. Friend that that is certainly what I would like to see and it is certainly my intention to allow that to happen as soon as possible. When it does, I hope we can sing a hymn together.
Richard Drax (Con) asked how long it would take before people could see their GPs in person again.
It looks as if Javid will address that issue, which Hancock did not much care about, insisting that phone and video conferences were highly successful:
My hon. Friend has raised an important issue. Even before I had this job, that issue came up again and again when I was a constituency MP just like him, and I absolutely understand it. It has especially been raised by older members of my constituency; people have brought this issue up where they are perhaps not as familiar with technology and they want that face-to-face meeting. I have already asked for advice on that and I will write to him on it, if I may.
Liam Fox (Con) asked for more data to be made public:
… As for the data we get, it is not just about the number of infections—it is about who is infected, what age they are, whether they have pre-existing conditions, and whether they have been offered a vaccine, but have refused. It is not just about hospitalisations and how many people are in hospital. How long have they been hospitalised compared with the figures for previous parts of the pandemic? How many of them require extra care and how many are in intensive care units? We need to understand much better how the Government are reaching their decisions. The British people are not stupid, and Parliament needs to be taken into the Government's confidence much more. I trust, given the previous examples of how he has conducted himself, that my right hon. Friend can do that.
Javid replied:
… On his important point about data, I saw the data in the Department for the first time yesterday. I saw the detail that it provides and how granular it is. I was impressed with that data, so I can give my right hon. Friend reassurance that the Government are looking at the data, and are absolutely taking it into account. I would also like to find a way to make sure that we can share as much of that data as possible so that others can benefit from it, and I will certainly look at ways in which we can do just that.
Dr Ben Spencer (Con) asked about winter measures:
… Does he share my concerns regarding this winter, when we predict that an increase in covid hospitalisations may be superimposed on normal NHS winter pressures? Can he confirm that plans and preparations are being put in place now to support our NHS in what may be a very difficult winter indeed?
Javid responded in the affirmative:
My hon. Friend is right to raise this issue. I can absolutely confirm that plans are being put in place. A huge amount of work was done by my predecessor and, of course, I will continue that work—just yesterday, I had meetings on winter plans. I can give my hon. Friend the absolute assurance, not just on vaccinations but on dealing with the backlog, that there are plans in place, and in due course I will come to the House and set them out.
Huw Merriman (Con) asked about a return to international travel, especially for those who have had two vaccinations.
Javid said:
First, my hon. Friend will know that, in terms of 19 July and the restrictions that will be removed, we are focusing on domestic restrictions. He knows that, separately, we also take very seriously the border controls, the border restrictions and the so-called traffic light system. In terms of making any further decision on that, he will know that it is kept under constant review on a very regular basis, and it is something that I intend to sit down and discuss with my right hon. Friend the Transport Secretary as soon as I can.
Mark Harper (Con) pressed Javid with a question on winter restrictions:
… I welcome my right hon. Friend's tone and his intent to get us back to normal, but let me pick up on his earlier answer to our hon. Friend the Member for Runnymede and Weybridge (Dr Spencer). There are those in government, from documents that I have seen, who are preparing the ground for the return of restrictions in the autumn and the winter. Will he rule out the use of lockdowns and restrictions in the winter as a mechanism for managing covid, and look at alternatives to ensure that the NHS is able to deal with us getting back to normal?
Javid answered:
… I am very happy to meet with him to discuss the issues in more detail and listen to his views. He should know that it is my intention, and the Government's intention, as I have said from day one on this job, to remove all restrictions as quickly as possible.
Steve Brine (Con) asked about the disruptive self-isolation rules following positive test results, especially for schoolchildren:
… I am looking for a change in policy as much as a change in tone. I return him to the subject of education. Estimates suggest that a quarter of a million children are missing school today due to precautionary isolations, the vast majority of them sequential due to the bubbles that they are caught in. Under the current rules, 10 days of isolation is then unavoidable, even with a negative PCR test. Have our young people not suffered enough? Are we really going to continue to do this to ourselves? Is this not an area, given the availability and reliability of testing now, where I might find the change of policy that I am looking for?
Javid replied:
Other hon. Members have rightly raised this very important issue, and my hon. Friend is right to draw attention to it once again. It is something that I have focused on from day one on the job. That is why I have asked for fresh advice on it. As he knows, that decision was made with the data that was available at the time. Clearly, data is changing all the time, and we must ensure that we keep that under review for exactly the reasons that he has just set out. As I say, I have asked for advice on that and will hopefully be able to say more on it as soon as possible.
This is what journalists and the public picked up from that debate.
The Sun's Deputy Political Editor Kate Ferguson tweeted about the terminus date …
… and singing in church:
GB News was a bit more cautious:
The Telegraph's Alison Pearson gave Javid five suggestions for improvement, including sacking SAGE and publishing COVID-19 recovery data with the public:
… It was pure speculation by Sage that led to the cancellation of Freedom Day on June 21. Subsequent figures have shown that we are not seeing any sign of hospitalisations for Covid "rocketing" or "surging" as we were warned two weeks ago. On the contrary, NHS England currently has just 1,445 Covid patients (one per cent of all beds). The rolling seven-day average of deaths after a positive test with Covid is 17. Sir John Bell, regius professor of medicine at Oxford, says the vaccines are holding up really well against variants. Asked about the large number of "cases", he said, "This is trivial, actually. Most who test positive are under 30 and they don't get very sick." Sir John is clearly far too sane to qualify as a government adviser. Maybe have a word with him?
As for publishing the recovery data:
Matt Hancock promised he would last summer; the slippery eel never did. We are among the only countries in the world not to trust its people with positive information from which they can calculate their own risk. Please stop infantilising us.
The Telegraph's Jeremy Warner has hope that, by working together, Javid and Chancellor of the Exchequer Rishi Sunak can turn this parlous situation around:
Like the new Health Secretary, Sunak has always been at the libertarian end of the debate on lockdown, as he must given his interest in a functioning, tax generating economy. So unusually, we for now have a Chancellor and a Health Secretary who are actually on the same page. The Prime Minister should enjoy the harmony while it lasts. The Treasury and Health department are not natural bedfellows.
On the other hand, Bob Moran, the Telegraph's cartoonist and a coronavirus sceptic, was unimpressed:
Someone picked up on 'Build Back Better':
However, author Carl Vernon, also a coronavirus sceptic, was positive:
I tend to agree with him.
As Sajid Javid has worked for some of the world's greatest investment banks, I hope that he will cast a gimlet eye over all of the data and ask probing questions of SAGE when they make recommendations on continuing restrictions.
I wish our new Health Secretary all the best.
Yesterday's post covered former Health Secretary Matt Hancock's final 48 hours in that post.
Marital breakups
When Harry Cole's story broke in The Sun on Friday, Hancock asked for privacy because he wanted to spend time with his children.
Perhaps.
However, on Monday night, Cole reported (emphases mine):
The ousted Health Secretary quit on his wife Martha last week after 15 years and is now understood to be living with his lover.
Her husband is devastated:
Gina, 43, has called time on her own 12-year marriage with Oliver Tress after her affair was exposed.
Oliver, 54, the millionaire Oliver Bonas founder, is said to be "devastated" by the shock revelations, as family pals confirmed the split …
A neighbour in Wandsworth, South West London, said: "Gina and Matt are giving it a proper go and Olly was left reeling.
"They had lots of friends here so we are all trying to help look after Olly."
Hancock's relationship seems to have been developing for some time, as the Mail reported:
The aide who kissed Matt Hancock in CCTV footage which ended his marriage and Health Secretary career was 'asked two years ago if they were having an affair'.
Gina Coladangelo, 43, is said to have denied the existence of any romance between her and Mr Hancock when she was quizzed by one of his allies.
Friends said on Saturday night the affair had been going on for months, despite others only seeming to find out when the steamy minute-long clip of them emerged.
One wonders why they did not get married after graduating from Oxford. They both read PPE and worked on the student radio station. The Mail explains why:
Matt Hancock's mistress Gina Coladangelo was way out of the disgraced former Health Secretary's league while they were studying together at Oxford, a fellow alumnus revealed last night.
Broadcast journalist Maxie Allen, who worked alongside the pair at university radio station Oxygen FM in the late 1990s, recalled that men were desperate to date Miss Coladangelo while 'low profile' Mr Hancock cut 'an obscure figure' and was 'not someone you would mark out as destined for greatness'.
Speaking to the Sunday Mirror, Mr Allen told the Sunday Mirror: 'She struck me as someone who would get what they want. He's done well. This wouldn't have happened if he wasn't the Health Secretary and she wasn't lobbying, that is blatantly obvious to anyone who knew them back then.
'Gina was very glamorous, very nice and very good looking – all the young men held a candle for her. She was suave, composed and elegant. Most men would have given their right arm to go out with her.'
The former Health Secretary, who read sports for the radio station while he studied Politics, Philosophy and Economics, was regarded as 'low profile' and 'not someone you would mark out as destined for greatness'.  
He added: 'Hancock did the odd sports report but he wasn't well known. He was not the sort of person where he'd come into a room and everyone went, 'Oh, Matt Hancock's here'.
'He had a very slight presence, not someone you would mark out as destined for greatness. Whereas Gina was very well-known and high-profile and memorable. You never saw them talking to each other.'
Mr Allen recalled Miss Coladangelo's 21st birthday party at her parents' home in Royston, Hertfordshire, and remarked: 'It was a glamorous affair. They had a few bob. Gina is not the sort of person to get drunk and make a scene. She was very composed and elegant.'
Affair unfair to the public
The Mail's veteran columnist Richard Littlejohn put the affair into perspective for us in a time of lockdown:
Clearly this wasn't simply a 'moment of madness'. It's emerged that the affair has been the talk o' the steamie, as they say in Scotland, for months.
When wasn't it going on?
So all the time Hancock was ordering us — on pain of prosecution — to keep our distance, not to hug our grannies or make love to anyone outside our immediate household, he was getting hot and heavy with his old university flame — a woman he'd put on the public payroll so he could keep her in close proximity for whenever the fancy took him.
So it would seem. He personally appointed her to her post, which required only 15 days of actual work per year:
Cross constituents
In Newmarket, Suffolk — the heart of Hancock's constituency — people were unhappy with their MP. The Mail interviewed several of them on Sunday:
Today Newmarket locals said they were 'happy' that the MP for West Suffolk had resigned from the Cabinet as they accused him of 'hypocrisy and double standards' over coronavirus restrictions. 
Residents described how they had been prevented from visiting their grandchildren by Mr Hancock, while some admitted they only voted for him in 2019 to keep Labour out. Others were thrilled to hear that the minister whose regulations had kept their businesses shut had left the Government.
Graham Gladstone, 41, said: 'He should have resigned immediately. The defence from Boris Johnson shows a contempt towards British members of public who have followed the rules and NHS staff who have had to be involved in treating people and the consequences of the virus. 
'It seemed typical of Conservative ministers to see what the public reaction was rather than think about the consequences of what he did. Especially after he publicly denounced Neil Ferguson.' 
Hannah Grimwood, 32, who works at Argos and has lived in Newmarket for 10 years, said: 'I never liked him in the first place, I've been moaning about the man for years.  I feel sorry for Boris Johnson, he had too much on his plate and too many people telling him what he should and shouldn't do.'
Miss Grimwood's partner Gary Holliday, 42, added: 'If you make the rules you have to follow the rules. He's only human but when it's happening a couple of times or more then members of the public are going to think it's not fair.'
Cross Conservative MPs
Conservative MPs were also angry at Hancock's hypocrisy. No doubt their inboxes were filling up with complaints from constituents. A crucial by-election is also coming up in Batley and Spen on Thursday, July 1, which the Conservatives hope to win. More on that later this week.
The Telegraph's Christopher Hope had the story about Hancock's decision to resign on Saturday:
The Daily Telegraph understands that this view crystallised in a "fairly direct" conversation with Mark Spencer, the Government's chief whip, at lunchtime on Saturday, who told him that 80 Tory MPs had complained to the whips' office about him in the 24 hours after he refused to resign.
Mr Spencer fed back the concerns in a call to Mr Hancock at midday on Saturday. "There were 80 Tory MPs saying he should go at that time," a source said.
The number of complaints means that more than one in four of the party's 363 MPs complained about Mr Hancock.
Sky News interview about funerals
On Sunday morning, Trevor Phillips interviewed a Conservative Cabinet member, Brandon Lewis, about Hancock's hypocrisy.
On his Sky News show, Phillips related the story of his daughter who died during lockdown on May 11 this year, six days after Hancock's steamy clinch with his aide. Phillips's daughter did not have the virus. She was anorexic.
Here's the video:
The Evening Standard has the dialogue:
Mr Phillips told Mr Lewis he wanted "to do something I wouldn't normally do and put a personal, private, question to you".
He continued: "Over the past two days, every Cabinet minister, including you, has come out to essentially defend the Prime Minister and Matt Hancock.
"The pictures that we saw were of an encounter on May 6.
"On May 11, my family buried my daughter who had died not of Covid but during the lockdown.
"Three hundred of our family and friends turned up online but most of them were not allowed to be at the graveside, even though it is in the open air, because of the rule of 30.
"Because of the instruction by Mr Hancock."
Before allowing Mr Lewis the chance to respond, Mr Phillips finished by saying: "Now the next time one of you tells me what to do in my private life, explain to me why I shouldn't just tell you where to get off?"
Mr Lewis failed to acknowledge Mr Phillips' loss, and said: "Look I absolutely accept the frustration, even the anger, from people and the situations they've been through.
"I've lost friends whose funerals I've not been able to go to, that is such a tragic situation for any of us to be in, which is why it's so important for all of us to do what we can to keep ourselves and family members safe."
He again defended disgraced Mr Hancock, adding: "What Matt did was wrong and that's why he apologised and acknowledged that."
Mr Phillips is covering for Sophy Ridge on the channel's Sunday morning politics show.
More double standards
With regard to coronavirus restrictions, here is a video of Wimbledon from Monday, June 28. The stands are full. There are no masks nor is there any social distancing:
However, football matches are still restricted in audience numbers and require mask wearing:
And here we are, being told to wear masks in shops, when we are there for far less time than it takes to watch a day's worth of tennis at Wimbledon.
However, since the Hancock photos and video emerged, some shops are no longer asking for masks to be worn.
The Mail reported:
Together with growing exasperation at the never-ending cycle of lockdowns, people are taking matters into their own hands – with small retailers discouraging mask-wearing while massive anti-lockdown protests sweep through London calling for Mr Hancock's arrest. 
Shops in Thirsk, North Yorkshire, placed signs in windows showing Mr Hancock kissing Miss Coladangelo, who studied politics, philosophy and economics at Oxford at the same time as Mr Hancock in the 1990s and is married to Oliver Bonas founder Oliver Tress.  
The signs say: 'Welcome to House Interiors. Don't wear a mask if you don't want too (sic). Matt doesn't'. 
The article has a photo of the sign, which is as amusing as it is true.
Hancock's house was also targeted. It's a pity he was not there to see it:
Police were pictured removing a sticker put on Mr Hancock's London home, where his wife Martha and their children live. It says: 'Our forefathers gave their lives to keep this country free, and you're just going to sit back and let it become an authoritarian hellhole, over a virus with a 99.9% recovery rate?' 
Television presenter Kirstie Allsopp pointed out:
the incident showed how 'it was one rule for you, another for us', tweeting: 'I remember footage of Hancock whipping of his mask as he entered No 10, not even keeping it on in the corridors as school children were made to do, I knew then it was one rule for you, another for us.' 
Humour at Hancock's expense
On Monday, June 28, an amusing video went viral of a man enquiring of Hancock at the gates of Downing Street:
The Mail reported:
The clip, filmed by company boss Dan Wright on Monday afternoon, has gone viral and been viewed more than a million times already. 
In the video, Mr Wright asks the group of armed policemen: 'Is Matt allowed to play? Is Matt allowed to come out and play?' The smirking officer then responds: 'No, he's cleaning his locker out at the moment' – to roars of laughter from his colleagues.
Passerby Mr Wright, of Chelmsford, Essex, also bursts out laughing while a second armed police officer quips: 'He's had his play already.' 
Conclusion
It is to be hoped that the House of Commons will not forget the Hancock debacle any time soon.
Debates on coronavirus restrictions this week have been lively, even though Hancock was only the subject of one Urgent Question, which related to the security camera in his former office.
Julia Lopez, the Parliamentary Secretary for the Cabinet Office, also fielded questions from MPs about Hancock's use of his personal Gmail account for Health Department contracts.
More on those tomorrow.
Matt Hancock, Secretary of State for Health and Social Care, could well experience the worst weekend of his life.
The Queen has her say
On Thursday, June 24, The Times featured an article on its front page about Prime Minister Boris Johnson meeting the Queen in person for their weekly meeting for the first time since lockdown in March 2020.
It says (emphases mine):
Matt Hancock has had a difficult few weeks. And while his line manager may have contributed to his woes, his ultimate boss has seemingly taken pity on him.
The Queen told Boris Johnson, at their first in-person meeting in 15 months: "I've just been talking to your secretary of state for health — poor man. He came to privy council. He's full of . . ."
"Full of beans!" the prime minister interjected, in the clip filmed by broadcasters in the private audience room at Buckingham Palace yesterday.
"He thinks that things are getting better," said the Queen, to which Johnson responded: "They are."
… In a 1992 documentary to mark her 40th year on the throne she said that by meeting prime ministers she helped to take a weight off their shoulders. "They unburden themselves or tell me what is going on . . . and sometimes I can help in some way as well," she said.
The media were allowed to film the first few minutes of their meeting. This was shown on BBC Breakfast:
It's telling that the Queen chose to say that on camera.
Hancock's affair
On Friday, The Sun featured a worldwide exclusive featuring Hancock, husband and father of three:
Normally, I would not comment on extramarital affairs, however, Hancock has left us in lockdown for 16 months and counting. Yet, here he is violating his own rules. For thee, but not for me.
The Sun's political editor Harry Cole broke the story:
Excerpts from Cole's article follow:
He cheated on his wife with Gina Coladangelo, 43, who he hired last year with taxpayers' money, as Covid gripped Britain.
Mr Hancock, 42, and millionaire lobbyist Gina were caught on camera in a steamy clinch at his Whitehall office.
Whistleblowers revealed the Health Secretary had been ­spotted cheating on his wife of 15 years with married Ms ­Coladangelo.
He was seen kissing her at the Department of Health's London HQ during office hours last month as the mutant strain began spreading.
And today, Mr Hancock apologised for his actions, saying: "I accept that I breached the social distancing guidance in these circumstances.
"I have let people down and am very sorry.
Is Hancock going to resign? No, he is not:
I remain focused on working to get the country out of this pandemic, and would be grateful for privacy for my family on this personal matter.
There should be no mercy shown for this egregious hypocrisy.
A year ago, Prof Neil 'Dodgy Modelling' Ferguson entertained his mistress, who travelled across London to spend an afternoon with him at the height of the pandemic. Ferguson resigned from SAGE, although he has been readmitted as a member.
At the time of Ferguson's resignation, Hancock said that it was the right thing to do:
Guido Fawkes has the dialogue from Hancock's interview with Kay Burley of Sky News. She, too, was a coronavirus restrictions violator and was suspended from Sky News for several months:
Matt Hancock: "I think he took the right decision to resign"
Kay Burley: "You wouldn't have fought to keep him?"
Hancock: "That's just not possible in these circumstances"
Guido also said that Hancock supported a police investigation:
Guido notes that when government Covid advisor Neil Ferguson broke the government's social distancing rules to hook up at the start of lockdown, Hancock said he was both right to resign, and backed any police action necessary.
Returning to Harry Cole's article:
Last night, a friend of the Health Secretary said: "He has no comment on personal matters. No rules have been broken."
Mr Hancock was pictured embracing his aide. The image was from just after 3pm on May 6 — as the rest of Westminster was engrossed by the local elections.
We did not yet have a relaxation on hugging at that time. That happened 13 days later.
A whistleblower tipped off Cole. Hancock:
is seen in his distinctive ninth-floor office inside the sprawling Department of Health building, which is a stone's throw from the Houses of Parliament.
During the pandemic, the office has provided the backdrop to his Zoom appearances on TV — including the Andrew Marr Show.
Mr Hancock is seen checking the corridor is clear before closing the door and then leaning on it to ensure he cannot be disturbed.
Ms Coladangelo then walks towards him and the pair begin their passionate embrace.
According to a whistleblower, who used to work at the department, the pair have regularly been caught in clinches together.
The source said: "They have tried to keep it a secret but everyone knows what goes on inside a building like that …
"I'm just amazed he was so brazen about it as he was the Secretary of State.
"It has also shocked people because he put her in such an important, publicly-funded role and this is what they get up to in office hours when everyone else is working hard."
The office where the tryst happened is where Mr Hancock famously hangs his Damien Hirst portrait of the Queen.
Unfortunately, the Government is defending Hancock:
The lunchtime press briefing on Friday indicated that Boris:
considers the matter closed.
By the way, Hancock has an Instagram account. This was one of his posts:
You couldn't make it up:
One wonders if this woman has any involvement in keeping us in restrictions:
It also emerged she had accompanied Mr Hancock to confidential meetings with civil servants and visited No10. Sunday Times sources revealed at the time: "Before Matt does anything big, he'll speak to Gina. She knows everything."
She began working for the Department of Health and Social Care (DHSC) in September 2020:
In September, Mr Hancock appointed her as a non-executive director at DHSC, making her a powerful member of the department's oversight board.
It hit the headlines as there was no public record of the appointment, which was set to see her earn at least £15,000 of taxpayers' money, potentially rising by a further £5,000.
The role makes her responsible for "overseeing and monitoring performance" — in effect, scrutinising matters of concern to Mr Hancock.
A DHSC spokesman said the appointment was "made in the usual way and followed correct procedure".
It is also understood that since April, she has had a parliamentary pass, giving her unregulated access to the Palace of Westminster.
It bears her husband's surname, which she does not use professionally, and is sponsored by Lord Bethell, the hereditary peer, health minister and former lobbyist.
I am sorry to read about Lord Bethell's involvement. Until now, I respected him. I hope the House of Lords asks questions of him next week.
However, she also worked for Hancock in the early stages of the pandemic:
Mr Hancock secretly appointed her to his department as an unpaid adviser on a six-month contract in March last year.
It appears that, six months later, her appointment became official.
Both the woman and Hancock studied together at Oxford, where they read PPE (Philosophy, Politics and Economics):
The pair first met at Oxford University in the early 2000s but Mr Hancock went on to wed Martha Hoyer Millar in 2006.
Chumocracy
There is an interesting history behind the associations Hancock has in this affair.
Many call it 'chumocracy'.
Hancock
This is a biography from Hancock's website:
Before entering politics he worked as an economist at the Bank of England, and for his family tech industry.
Matt is married to Martha and has three young children. He is the first MP in modern times to win a horse race, having raced to victory at the Newmarket July Course in August 2012. He is an avid cricketer and plays for the Lords & Commons Cricket team. Matt once played the most northerly game of cricket on record, and succumbed to frostbite en route to the Pole. He retains all his fingers.
He certainly has retained all of his fingers.
A lengthy article in the Daily Mail tells us about his formative years:
Mr Hancock was born in Chester where he went to the exclusive private school the King's School.
He did his A-levels in maths, physics, computing and economics before doing computing at West Cheshire College.
Like numerous Conservative MPs before him, he studied PPE at Exeter College, Oxford – where he graduated with a first.
It was at the elite university that he realised he had dyslexia, which he only opened up about in recent years.
He later did an MPhil in economics at Christ's College, Cambridge, before turning to politics in 1999 when he joined the Tories.
Hancock's woman and her husband
The Sun's article says:
Mother-of-three Ms Coladangelo is communications director at Oliver Bonas, the fashion and lifestyle store founded by her husband Oliver Tress.
She is also a director and major shareholder at lobbying firm Luther Pendragon, which offers clients a "deep understanding of the mechanics of government".
The Daily Mail has more:
Mr Bonas opened his first store on London's Fulham Road in 1993 with handbags and jewellery he had brought from Hong Kong where his parents lived.
Speaking to the Independent in September 2015, he said: 'I'd been bringing presents back for friends and they were really popular so I thought, 'I wonder if I can make a go of this?' And to my amazement it just worked.' Bonas was the surname of his then girlfriend Anna Bonas, who is the cousin of Prince Harry's former girlfriend Cressida Bonas, and he told how 'she very kindly hasn't demanded that I changed it'.
Hancock's wife
Mrs Hancock's family history is one of privilege:
Mrs Hancock works as an osteopath and is believed to practice at a clinic in Notting Hill, West London.
She is the granddaughter of Frederick Millar, 1st Baron Inchyra – a British diplomat and Ambassador to West Germany.
Mrs Hancock is also the great granddaughter of the 1st Viscount Camrose, a Welsh newspaper publisher.
Her father, Alastair Millar, was Secretary of The Pilgrim Trust between 1980 and 1996.
The trust is responsible for supplying grants, predominately to preservation projects for historically significant buildings or artifacts. Nowadays, around £2million is divvied out by the trust each year.
Conclusion
Matt Hancock has annoyed me greatly for the past 16 months.
This parody of his testing regime is not far from the truth: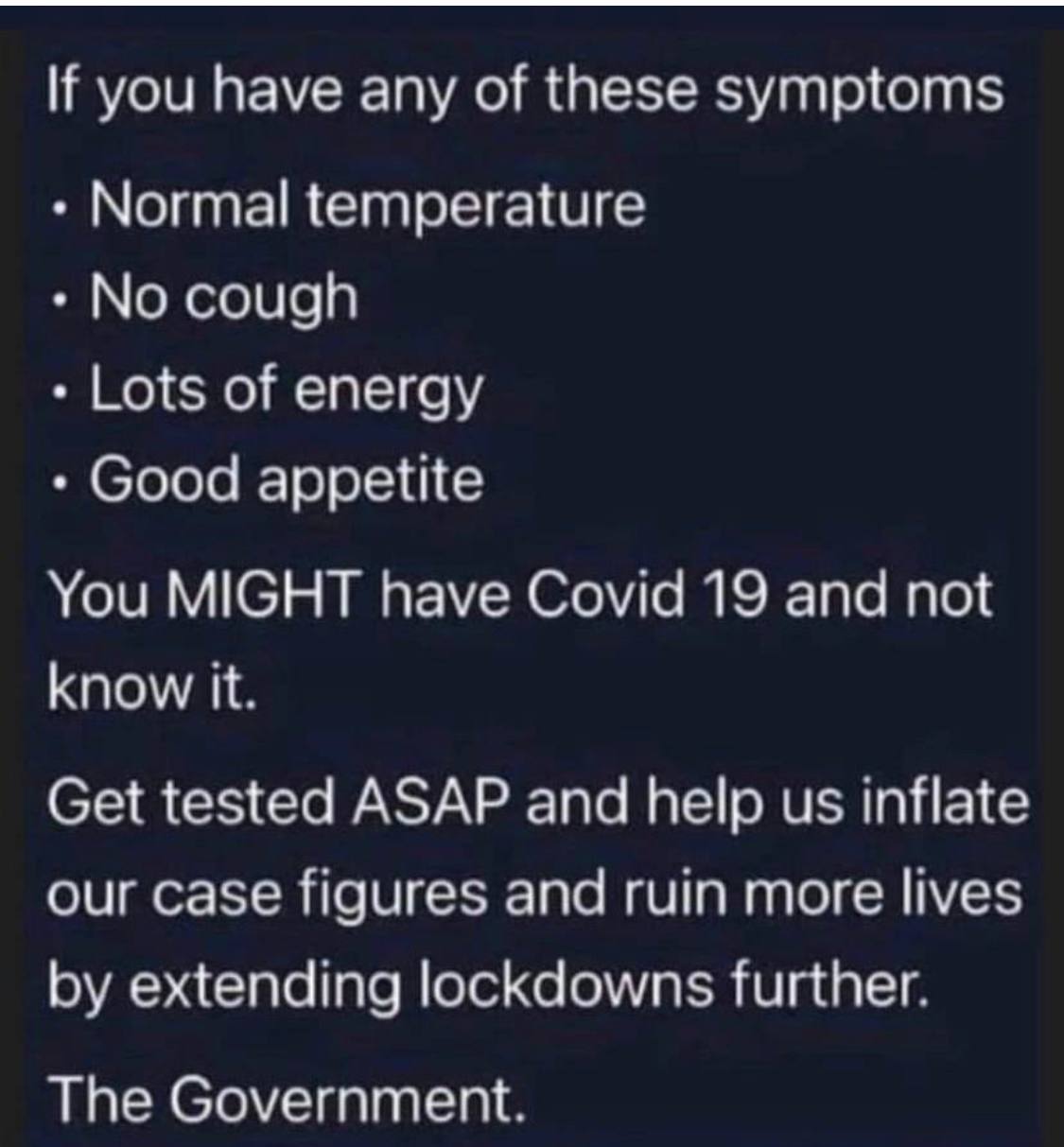 In England, we have lost billions of days of our normal lives:
This was the daily death total for June 23, 2021 (Chief Medical Officer Prof Chris Whitty is pictured):
Here are the death statistics from the past 16 months. Note that most coronavirus deaths are not 'from' the virus but 'with' it:
1. Heart Disease 205,000 (0.31% of the population)
2. Cancer 182,000 (0.25%)
3. Covid 128,000 (0.18%)
4. Dementia 82,000 (0.12%)
5. Stroke 46,000 (0.07%)
6. Diabetes 32,000 (0.05%)
An article on Reaction — 'Hypocritical Hancock: Don't hug your granny but you can hug Gina' — makes the following points about the Secretary of State's affair:
We don't know if anyone was taking morality lessons from Hancock back in September. But the question raises itself once again – is it one rule for you, Matt Hancock, and another for everyone else?
The government has been using its draconian Covid social distancing and travel restrictions to restrict and police morality. While the public may well overlook his private relationships as none of their business, voters are unlikely to stomach hypocrisy.
Number 10 is, so far, silent on the Hancock scandal. The Prime Minister hates morality plays and the invasion of private lives. That's not what this is about though. It's about a leading figure in the government imposing extraordinary restrictions on the rest of us while carrying on inside the Department of Health.
I look forward to an Urgent Question or two in the House of Commons next week.
Dr Michael Yeadon is a former Vice President of Research for Pfizer. He researched respiratory diseases and allergies for many years.
After he left Pfizer, he co-founded a biotech firm that Novartis later purchased for approximately $325 million.
He is now semi-retired and has been a coronavirus sceptic from the early days of the pandemic in 2020.
For anyone who missed it, this is a video of his speech to those who participated in the Canterbury Freedom Rally on May 15, 2021. It is around 25 minutes long.
Highlights follow.
Contrary to what our governments are telling us via scientific advice, Yeadon said that there is no asymptomatic transmission of the virus, therefore, no masks or lockdowns are needed.
In short, he said, you know you have coronavirus because you are ill.
With regard to PCR tests, he says that those analysing them work in conditions that could possibly contaminate the tests. He said that there is no measure of contamination when analysing PCR tests.
As for the variants, they are with 0.3% of the original COVID-19, making it 'a lazy virus'.
Contrary to what the UK government says, Yeadon stated that if you are immune or have been vaccinated you will not get the virus and you will not need a top-up vaccine. In his words:
You do not need a third jab.
He has concerns about the vaccines: more people have died from this vaccine in four months than from any other vaccine in that time frame.
Concerning the blood clots that some younger adults have experienced after vaccination, Yeadon said that spike proteins cause coagulation. He added that has been known since 2006 with SARS vaccines. As such, he believes the coronavirus vaccines causing clotting should have been taken off the market.
He then went on to discuss 'vaccine passports rubbish'. He said that a vaccine passport database is 'tyrannical' and fears that it will be misused for a universal identity monitoring system.
He does not know why coronavirus restrictions and authoritarian measures took root so deeply in Western countries. He acknowledges the notion that these measures could be about control or depopulation, but he has no idea:
I don't know.
He thinks Western nations are in this for the long haul:
This isn't going to be over soon. They'll still be going at it months from now.
He encouraged those at the rally to say to their friends and family swept up by coronavirus fear:
It's simply not true.
He said that people are unknowingly peddling lies about the virus, because T-cells recognise all variants in immune persons.
At that point, he asked members of the audience to chat briefly to each other by choosing someone they didn't know on one side of them, exchanging contact details. Then he asked them to do the same thing by choosing someone from the other side, again exchanging details. By doing that, they could start to build up a network of acquaintances to oppose continuing restrictions.
Afterwards, he said that this is the first time a vaccine has been given to pregnant women or healthy 25-29 year olds:
I'm pleading with you not to get vaccinated for non-medical reasons.
He added that minors should not be given the vaccine:
That's just appalling.
He said that the restrictions and lockdown have nothing to do with viruses. He encouraged the audience to persuade people they know. With enough opposition, he thinks the UK government will back down on restrictions.
He then warned:
We're standing in front of the gates of Hell.
He ended by saying that he has adopted rationality of thought throughout his life, however:
My rational thoughts that I've had all my life are no longer working, so whatever your faith is: use it.
That was an incredible admission.
The past 16+ months in the UK have been a huge 'come to Jesus' call.
It would be interesting to know how many unknown converts to Christianity there have been during that time.
Unfortunately, we'll never know.
This week, Prime Minister Boris Johnson postponed Freedom Day from June 21 to July 19, 2021.
Although a vote on this passed comfortably on Wednesday, June 16 — 489 to 60 — the number of rebel MPs, mostly Conservative, increased compared with previous votes on coronavirus restrictions. This page shows who voted No.
Boris and Matt Hancock might want to rethink their dependence on the lefty scientists of SAGE, but will they?
SAGE are effectively running this nation … into the ground.
Chesham & Amersham by-election upset
In addition, on Thursday, June 17, the Conservatives lost a by-election in Chesham & Amersham in leafy Buckinghamshire, not far from London. It had been a safe Conservative seat since the 1970s. A journalist from the Financial Times tweeted that he was sure they would win it once again:
In reality, it was a hat made out of fabric. Jim Pickard took three small bites of it, washed down with water. Sensible, as it could have been made in the world's largest manufacturing country (no prizes for guessing correctly). H/T Guido Fawkes:
Now they have a Liberal Democrat MP, the lady pictured below standing next to party leader Ed Davey MP. The reply to the tweet blames the win on local opposition to a high speed railway (HS2) and to extending lockdown:
However, the Lib Dems never really opposed HS2:
The by-election took place because Dame Cheryl Gillan MP died on April 4. Despite a long term illness, she was an active participant in parliamentary debates until the end.
According to a Guido Fawkes reader, this was the vote tally on Thursday compared with 2019's general election:
2019 results:
Conservative 30,850
Lib Dems 14,627
Labour 7,166
2021 Votes:
Conservative 13,489
Lib Dems 21,517
Labour 622
The only consolation is that the Labour vote sank like a stone:
Coronavirus cases rise in Cornwall after G7 summit
The virus lives and is on the rise in Cornwall:
In addition to the G7 and half term, another factor could be the warm weather last Sunday, attracting people to beaches.
Guido Fawkes has maps and the figures (emphasis in the original):
Last week, both St. Ives and the Carbis Bay area had two positive cases respectively. Now, St. Ives has 36 cases, and Carbis Bay has 15. That's a 1,700% increase in the former, and a 650% rise in the latter…
One of Guido's readers replied that a hotel and university are responsible (emphases mine below):
Tosh. The rise in St Ives/Carbis Bay happened before G7 kicked off and was down to the staff in one hotel and is linked back to the plastic University at the top of Penryn.
Cases, however, are only positive tests. Not all should require hospitalisation.
Wednesday's vote in Parliament
On Wednesday, June 16, Matt Hancock opened the debate on coronaivirus restrictions in the House of Commons.
He said, in part:
Thanks to the protection of the vaccination programme, huge advances in treatments like dexamethasone, which was discovered a year ago today, and the resolve of the British people in following the rules that this House has laid down, we have been able to take the first three steps on our road map, removing restrictions and restoring colour to the nation, but we have always said that we would take each step at a time and look at the data and our four tests before deciding whether to proceed. The regulations before the House today put into effect our decision to pause step 4 on our roadmap until 19 July. Before outlining the regulations that will put this into effect, I would like to set out why we made this difficult but essential decision.
Unfortunately, there has been a significant change since we started on our journey down the road map in February. A new variant has given the virus extra legs, both because it spreads more easily and because there is some evidence that the risk of hospitalisation is higher than for the alpha variant, which was, of course, previously dominant in this country. The delta variant now accounts for 96% of new cases. The number of cases is rising and hospitalisations are starting to rise, too—they are up 48% over the past week. The number of deaths in England is thankfully not rising and remains very low, but, as I told the House on Monday, we do not yet know the extent to which the link between hospitalisations and deaths has been broken, so we propose to give the NHS a few more crucial weeks to get those remaining jabs into the arms of those who need them.
Mark Harper (Con) intervened:
Can I just ask my right hon. Friend what we expect to achieve in the four weeks? I think I am right in saying that there are 1.3 million people in priority groups one to nine who have yet to have a second dose of the vaccination. The good point is that that means we have vaccinated 96% of people in those groups, but I just wonder—after four weeks, I doubt that we will get to 100%, so there will still be a significant number of people in those groups not vaccinated with two doses, and at that point, there is still going to be some risk. My worry, and the worry of others, is that we are going to get to this point in four weeks' time and we will just be back here all over again extending the restrictions. That is what we are concerned about.
Hancock said he was sure that four weeks would be sufficient. He's said that before.
Steve Baker (Con) also intervened:
Is not the problem with the two-week checkpoint that it creates another moment of hope for people who still feel even these restrictions very acutely, and that if we create hope and then shift the goalposts again, people will continue to deepen their despair? What will he say to those people?
Hancock said the public understood the reasons for the delay.
After Hancock finished speaking, it was the turn of the Shadow Health Secretary Jonathan Ashworth (Lab) to respond.
Ashworth largely agreed with the Government's extension to Freedom Day, but he rightly posed questions, such as this one:
Will we continue wearing masks?
At which point, Desmond Swayne (Con), who wears a silk scarf instead of a mask, shouted:
No!
Steve Brine (Con), former Public Health minister, intervened, recalling a bad flu year:
The right hon. Gentleman is right: we had a battle royal with influenza in the first year that I was in the job, but the difference was that we did not have any non-pharmaceutical interventions. Our interventions were about the take-up of the vaccine—yes, for children as well as for adults, especially the vulnerable. One of our chief advisers, the deputy chief medical officer then, one Professor Chris Whitty, never suggested masks, let alone closing schools—just a really good roll-out of the flu vaccine. We lost 22,000 people that year. Never were those numbers rolled on BBC News; never did we know the R number, but there was a point where we accepted an element of risk in society. I guess that was the point of my earlier intervention on the hon. Gentleman: what element of risk is he prepared to accept? Because that is what it comes down to—our own mortality is part of the human condition.
Ashworth replied, in part:
I do not want to see it done by some of the wider restrictions and lockdowns that we have heard about. That is why I would be interested to know whether the Department has developed plans for restrictions this winter and whether the Secretary of State has been discussing that with Whitehall colleagues.
Mark Harper intervened again:
On the point about the restrictions, I know that those discussions are going on because I have seen documents from within Government with very detailed suggestions about what measures may continue. I asked the Secretary of State about this when he was in the Commons earlier this week, and he did not rule out bringing in restrictions this winter. That is partly why some Conservative Members are very concerned and why we are not going to vote for these regulations today. However, I want to take the right hon. Gentleman back to his comments on what Chris Hopson said about the fact that the NHS is very busy at the moment. There is a danger here. I am very sympathetic to colleagues who work in the NHS, who have done a fantastic job, but we cannot get to a point where we restrict and manage society in order to manage NHS waiting lists. That is not the right way round. The NHS is there to serve society. If we need to enable it to do that, we have to think of a way of doing it other than putting restrictions on the rest of society. That is not a sustainable or a desirable position, but it is the logical consequence of what Chris Hopson was saying earlier this month.
Here's the video, which begins with Ashworth sitting down to give way to Harper:
Ashworth replied, beginning with this:
Even though we will find ourselves in different Lobbies this evening, I think there is more in common between us than perhaps one might expect. I do not want restrictions to remain in place for any longer than they need to. I want to move to a system where we are trying to push down covid infection rates by, yes, rolling out vaccination as far and as fast as possible to everybody, but also putting in place the proper framework so that those who are ill or a contact of someone who has been ill with covid is able to isolate themselves.
He took more interventions from Conservative MPs, then concluded:
The House is being asked to extend these restrictions, but there are a number of pressing issues. First, many of us have been contacted by business people in our constituencies who are deeply concerned about the extension of these restrictions. For my constituency in Leicester, which has been living under a form of restrictions more severe than other parts of the country, other than perhaps parts of Greater Manchester, this has been particularly devastating. I hope that the Government will be putting in place full support for businesses such as mine in Leicester and Greater Manchester and elsewhere.
The second issue, which we have touched on a little bit, is whether these restrictions will ever end, or whether the Prime Minister has trapped us in Hotel California, where we can never leave. He has talked about 19 July as the terminus date, but the explanatory notes themselves say that the four tests will apply on 19 July, and that these four weeks will be used to gather more data.
Hancock said later on that July 19 is still the terminus date and that data would be examined in two weeks' time.
The general debate took off from there, with Sir Desmond Swayne (Con), the original rebel, the first to speak. He criticised SAGE and one of its members, Susan Michie, the Communist:
I never believed that it was proportionate, even from the outset, for Ministers to take such liberties with our liberty. I always thought that it was wrong for them to take our freedoms, even though they believed that they were acting in our best interests in an emergency, but by any measure that emergency has now passed and yet freedoms are still withheld and the Government will not allow us to assess for ourselves the risks that we are prepared to encounter in our ordinary, everyday lives. The Government do not trust the people whom they govern.
Many members of SAGE—a misnomer if ever there was one—have been out busily undermining public morale. One of them even shared her dystopian vision that we must all remain masked and distanced in perpetuity—a shocking, horrible prospect. The fact is that once the consequences of this virus in terms of their financial and health impacts have long been addressed, the moral impact will remain. The Government have set a disastrous precedent in terms of the future of liberty on these islands. I could understand it if we were a communist party, but this is the party that inherited the true wisdom of the Whig tradition. This is the party of Margaret Thatcher, who said that liberty was indivisible. This is the party that only recently elected a leader whom we believed was a libertarian. There is much on which we are going to have to reflect.
Here is the video of his remarks:
Smoking also came up in the debate:
Sir Charles Walker (Con), another early rebel, spoke. He wants a reform of SAGE. Excerpts follow:
I wish to try to be constructive about how we can improve SAGE. As you know, Mr Deputy Speaker, SAGE has huge power over our lives. It has power over whom we hug and hold. It has power over which businesses open and which businesses close. In essence, it has power over who keeps their job and who loses their job. We, too, in this place have great power, but our power is matched by accountability.
Accountability is very important in the exercising of power, so I want to suggest some reforms to SAGE—some quite technical reforms. First, there is a need for greater financial transparency from members of SAGE in line with that expected of Members of Parliament. For example, I think when we look at SAGE members, we should be able to see what their annual income is—not only from their substantive job, but from their pensions accrued or the pensions they might well be in receipt of. This is something that is freely available for all Members of Parliament. I think we should also know and constituents should know if they have any significant shareholdings in companies, in the same way that our constituents know if we have significant shareholdings in companies. We could also look at whether they get other forms of income—from rent, for example …
… in the case of young people, many SAGE experts say that young people should be working from home. We know that young people are now tied to their small kitchen table or in their bedroom in miserable environments—the new dark satanic mills—and working endless hours in appalling circumstances, because people with nice gardens and comfortable homes think that is what they should be doing.
There should also be far greater personal accountability. There should be no more, "Here is Sir Mark Walport—of SAGE, but here in a personal capacity". Nonsense! He is there because he is a member of SAGE. We should also have elections to SAGE, so we could see Sir Mark Walport, Professor Susan Michie, John Edmunds and regular talking heads in our TV studios challenged by people with a different perspective—people such as Professor Karol Sikora, Professor Paul Dolan, who is an expert on human behaviour and quality of life, and Professor Ellen Townsend, who has a huge interest in the welfare of children and adolescents who are now being plagued by anxiety and eating disorders …
So here it is: full financial disclosure from members of SAGE and full elections, or they advise the Government, and if they do not want to do that, but want to advise TV studios, they do that, but they do not do both.
Here is the video of his speech in full:
Graham Stringer (Lab), also a rebel, spoke next. He rightly said that MPs do not have enough scientific data to make an informed decision about restrictions. Excerpts follow:
As ever, it is an honour to follow the hon. Member for Broxbourne (Sir Charles Walker). On his interesting point about SAGE, we could do with full disclosure from the Government about all the facts that they have available to them on covid. In the Science and Technology Committee this morning, we were told that vaccinations have saved 14,000 lives. I have no doubt that that is an accurate figure, but there are many figures that have not been given. As we said the last time we debated this issue, only one side of the equation is given. Let me ask this question: how many lives have been lost in order to save capacity in the NHS? When it comes to looking at people untested and untreated for cancer, heart disease and other diseases, we will find that the figures are of a similar, if not greater, magnitude than the number of people who have died from covid …
There is a great deal more information that we require in order to make a rational decision about whether the lockdown should continue. I agree with the right hon. Member for New Forest West (Sir Desmond Swayne) that what we have here is the Government asking for emergency powers when there is no longer an emergency …
The Government have refused on a number of occasions to give out that information. They have run a campaign to scare people into accepting their decisions …
One of the things that has annoyed me most in the last 15 months is when the Prime Minister and the Secretary of State for Health and Social Care say, "We instruct you"—meaning the population—"to do various things," when there is nothing in the legislation that would give the Secretary of State or the Prime Minister the ability to instruct individuals. We live in a liberal democracy in which we pass laws that are enforced by the police, and then the courts make a decision if there is a prosecution, not one in which the Secretary of State acts like some kind of uniformed Minister of the Interior.
I will vote against the regulations today. We need a more direct debate on the issue and we need what Members have searched for—a straightforward comparison, with real statistics, of what risks everybody faces.
Steve Baker (Con) agreed with Mark Harper about society and the NHS:
I refer the House to the declarations that I have made relating to the Covid Recovery Group.
No one can deny the brilliance of the Government's—the NHS's—vaccination programme. By mid-April, the over-50s and the vulnerable had had their first vaccination, and overwhelmingly they have now had their second. That is reflected in the Office for National Statistics antibody data, which shows extraordinary levels for anyone over 50. Antibodies are there in that population, which is vulnerable to the disease.
That brings me to the best case that the Government could make for the regulations before the House, which is that the ability of the NHS to provide other healthcare could be compromised by admissions from a younger population, because a small percentage of a big number is still a big number. But the huge problem with that is that it concedes the point that our liberties can be used to manage the capacity of the NHS. I cannot concede that. As my right hon. Friend the Member for Forest of Dean (Mr Harper) said, that is not the way in which we should be going as a society. If the restrictions that we are extending had been proposed for that purpose in the past, we would never have accepted them.
In Wycombe, people have of course been dutifully washing their hands, covering their faces and keeping social distancing rules, yet early in this pandemic, I remember one dear, sweet, older lady was beside herself with anxiety at the thought of having to go about her ordinary life with her face covered, and look at us now, taking it for granted. This is not normal. This is the dystopia that I stood here and forecast on the day we went into lockdown …
One of the most important things that we have learned from Mr Cummings' leaked WhatsApp messages is that it seems that the Government have been significantly influenced by polling. I fear we have had a real doom loop here between polling and policy making, which has driven us into a disastrous position. We now must not tolerate lockdowns being perpetually on the table. We must not tolerate a situation going on where we and the police are unclear about what the law is and how it should be applied. Imagine that you can hug but not dance—what madness is this? We cannot tolerate a situation any more in which a Government social scientist told the author of the book "A State of Fear" that the Government had used unethical techniques of behavioural science to deliver a policy which he said, in his own words, "smacks of totalitarianism".
We have transformed this society for the worst. We have it put in place a culture and habits that will take years to shake off and that distance people from one another and diminish their quality of life and the quality of relationships that they have with one another. High streets are in danger of becoming haunted alleyways. We are in danger of hollowing out and destroying the entertainment industry—much of what makes life worth living. Today's vote will go through—it is a foregone conclusion—but as my right hon. Friend the Member for New Forest West (Sir Desmond Swayne) implied, if the Conservative party does not stand for freedom under the rule of law, in my view, it stands for nothing. We have got to have a turning point. We have got to recapture a spirit of freedom.
Mark Harper spoke later on, at which point the Labour benches were empty. It is important for Britons reading this post to look at what he has uncovered. The Government continue to be dishonest not only with MPs but also the public:
Well said!
Please also note the following about winter. Meanwhile, Democrat-run New York and California are now open:
May our merciful God help the UK out of this unholy mess.