You are currently browsing the tag archive for the 'London' tag.
It's been a week full of news, which is unusual right before Christmas. Yet, here we are.
Omicron death
The person who died with Omicron was an unvaccinated man in his 70s:
I, too, would like those questions answered.
The man's stepson called into Nick Ferrari's LBC show to say that he was a germophobe. He had everything delivered to his door and never left the house unless he had to post a letter:
Guido Fawkes has more (emphasis in the original):
Speaking to Nick Ferrari, the stepson of the man who died earlier this week claimed that he had been taken in by "conspiracy theories", and refused to take the vaccine despite being in his early 70s:
He thought it was a conspiracy. He was an intelligent man but it's all these different things you are getting from online and different media things… He wasn't vaccinated at all.
According to the latest figures, there are currently 15 people in hospital with Omicron, an increase of 5 since Tuesday…
Chris Whitty's Omicron projections
Earlier this week, Prime Minister Boris Johnson held a press conference with Chief Medical Officer Prof Chris Whitty and Chief Scientific Officer Prof Patrick Vallance.
Whitty predicted Armageddon with a chart showing unbelievably high projections of Omicron cases.
A good friend of mine said he hoped that chart would come back to bite Whitty in the proverbial. I couldn't agree more.
However, when Whitty appeared before the Health and Social Care Select Committee on Thursday, December 16, he changed his tune when giving evidence to MPs.
The Telegraph reported (emphases mine):
Britain may be "better off" with omicron than it was with the delta variant, thanks to the booster programme, Prof Chris Whitty has suggested.
Giving evidence at the Health and Social Care Select Committee, the Chief Medical Officer for England said that vaccines appeared to be holding up well against omicron and said boosters may even be preventing transmissibility and infection …
"It is possible that with a boost, we're better off with omicron than we are with two vaccines with delta for severe disease," he told MPs.
Prof Whitty said he was expecting omicron to cause an "impressive" rise in cases, which could lead to daily peaks in admission bigger than seen in the January wave, when hospitalisations hit nearly 40,000 a day.
However, he said that cases may begin to fall quickly and that a milder illness may mean people would stay in hospital for a short period, reducing the overall burden on the health service. Fewer people may also need intensive care, he added …
"I think most people think on the positive side, that there will be some preserved immunity, particularly on the non-antibody side, such as T-cells. Therefore it is likely someone who has one or two vaccines already will have some protection and with a booster considerably more protection against hospitalisation and death.
"It does look as if boosters restore some of the ability to actually reduce infection and transmission, at least for a period of time."
Then he told MPs that he was reluctant to give the public projection numbers, yet he did just that at this week's press conference:
"I have resisted putting forward projection numbers into the public domain because I don't think they are reliable and you can't put enough caveats on them."
We don't think they are reliable either, Prof Whitty.
Health and Security Agency's Omicron projections for England withdrawn
The UK Health and Security Agency also backtracked on their projections because of a change in public behaviour. I wonder:
If only they would lift Plan B …
… because it is really hurting the hospitality sector.
Michel Roux Jr has tweeted about his daughter Emily's London restaurant Caractère, which is suffering from a rash of sudden cancellations:
Her restaurant is not the only one. Omicron has everyone running scared.
But, what if it 'cases' did double every two days and what if we all caught Omicron? Would it confer herd immunity? We'll know if the following extrapolation is true by Twelfth Night:
The Queen cancels Windsor Castle pre-Christmas lunch
Because of the Omicron scare, our sovereign has cancelled her traditional pre-Christmas family lunch at Windsor Castle. ITV's Chris Ship reports:
South Africa, however, remains relatively relaxed about Omicron, as the Daily Mail's Dan Hodges points out. Note the reply, which shows Chris Whitty contradicting himself yet again. Either boosters help immunity or they don't. Which is it, Chris?
The elusive NHS GP can be seen — privately
Our NHS GPs have been elusive since last year. If you're lucky, you can get a telephone or an online appointment. Very few patients are able to see them in person.
However, if one goes private, one can see one's GP:
It looks as if the Mail on Sunday is investigating this situation. Good!
Killing off ivermectin as coronavirus prophylaxis
In more medical news, we discover how ivermectin was effectively killed off as a prophylaxis for coronavirus in the UK and the US.
Thanks to my reader dearieme for the Vox Day link, which leads to a World Tribune article summarising the incident from Robert Kennedy Jr's New York Times Bestseller, The Real Anthony Fauci: Bill Gates, Big Pharma, and the global war on Democracy and Public Health.
Excerpts follow:
Andrew Hill, PhD, is a senior visiting Research Fellow in Pharmacology at Liverpool University. He is also an advisor for the Bill and Melinda Gates Foundation and the Clinton Foundation. As a researcher for the WHO evaluating ivermectin, Hill wielded enormous influence over international guidance for the drug's use.
Hill had previously authored an analysis of ivermectin as a treatment for COVID-19 that found the drug overwhelmingly effective.
On Jan. 6 of 2021, Hill testified enthusiastically before the NIH COVID-19 Treatment Guidlelines Panel in support of ivermectin's use. Within a month, however, Hill found himself in what he describes as a "tricky situation." Under pressure from his funding sponsors, Hill then published an unfavorable study. Ironically, he used the same sources as in the original study. Only the conclusions had changed.
Shortly before he published, Dr. Tess Lawrie, Director of the Evidence-based Medicine Consultancy in Bath, England, and one of the world's leading medical research analysts, contacted Hill via Zoom and recorded the call (transcript below). Lawrie had learned of his new position and reached out to try to rectify the situation.
In a remarkable exchange, a transcript of which appears on pages 137 – 143 in Kennedy's book, Hill admitted his manipulated study would likely delay the uptake of ivermectin in the UK and United States, but said he hoped his doing so would only set the lifesaving drug's acceptance back by about "six weeks," after which he was willing to give his support for its use …
The two scientists discussed ivermectin's positive results in combating coronavirus:
… the number of preventable deaths incurred by such a delay would be staggering — as many as 504,000.
Hill declined being listed as Lawrie's head author on the paper with the positive results. Instead, he published the negative findings.
This is why he did so:
Four days before publication, Hill's sponsor Unitaid gave the University of Liverpool, Hill's employer $40 million. Unitaid, it turns out, was also an author of the conclusions of Hill's study …
… when pressed he admitted his sponsor, Unitaid, was an unacknowledged author of conclusions.
"Unitaid has a say in the conclusions of the paper. Yeah," he told Lawrie …
Dr. Pierre Kory, of the Front Line COVID-19 Critical Care Alliance, commented, "Andrew is apparently making a living now accusing the doctors and scientists who support ivermectin of medical fraud."
Regulatory acceptance of ivermectin did not delay only six weeks. Instead, almost a year later, it has still not been approved by health agencies in the United Kingdom or in United States. Instead The WHO, CDC, NIH, and FDA have suppressed the drug's use.
Instead, we are taking notional vaccines. Who knows what they are doing to our bodies?
Boris's daughter's name
Boris and Carrie Johnson have named their infant daughter Romy Iris Charlotte. She is shown with her brother Wilfred:
Romy is a 'rainbow baby' because she followed a miscarriage.
Best wishes to the Johnsons.
Conservatives lose safe seat for first time ever
In less cheery news for Boris, the Conservatives lost Owen Paterson's former North Shropshire constituency for the first time ever — nearly 200 years:
Paterson resigned a few weeks ago over sleaze allegations. He had a 23,000+ majority in the 2019 general election.
Failed candidate Neil Shastri-Hunt, who had been parachuted in from outside the constituency, said he planned to get some sleep and:
go and give my 8-week old a bit of a cuddle.
My commiserations to anyone who took this misguided betting advice:
The by-election took place on Thursday, December 16. The Liberal Democrats won by a landslide, as I thought they might:
Also note how low the vote for Labour was, despite party leader Sir Keir Starmer refusing to admit he is a socialist:
Conservative Party chairman Oliver Dowden MP admitted his party 'got a kicking' but added that such by-election results are not unusual when a Prime Minister is halfway through his or her term in office:
Therefore, this protest vote might be a one-off. Let us hope so.
However, in order for that to happen, Boris must be more of a Conservative and less of a Green Blairite.
Courier's employees throw parcels against wall
And last, but hardly least, we have distressing news about some Christmas home deliveries.
Hermes is the UK's worst courier company, but we have to put up with their delayed, sometimes damaged, deliveries.
A reporter from The Times did a brief stint with Hermes and found a group of disgruntled employees, some of whom threw parcels against a warehouse wall. The reporter is shown with his car boot open:
Hermes will investigate but says this is not typical behaviour of its employees. The company is at the bottom of the national delivery league table:
Meanwhile, I have been noting the rather downbeat Christmas notes we have received with our cards this year.
I hope that 2022 brings us far better tidings.
Friday's post provided the background to the current turmoil in Boris Johnson's Government.
This is where we left off — a GB News tweet from November 22, before further events occurred:
The Christmas party — or parties
Last week, news emerged of an alleged Christmas party held on December 18, 2020, at No. 10 Downing Street.
Somehow, it took most of 12 months for this news to appear.
It surfaced with a video of Allegra Stratton, who was rehearsing for her new — ultimately unfulfilled — role as a televised press secretary, although she did remain press secretary.
On Tuesday, December 7, ITV News was able to obtain this video of her rehearsing for a press conference involving a fictitious Christmas party. The press corps are senior No. 10 employees:
According to this rehearsal, which Stratton did not take too seriously, we are looking at a party that never took place.
However, when one watches the video, one wonders: did it or did it not happen?
Allegra Stratton laughed and slumped over the podium. Hardly a professional look.
The Sun reported (emphases mine):
Senior members of the PM's top team were filmed laughing and referring to "cheese and wine" in a mock press conference held by Allegra Stratton in the No9 briefing room …
In footage of the fake presser, obtained by ITV, one of the PM's advisers asked: "I've just seen reports on Twitter that there was a Downing Street Christmas party on Friday night, do you recognise those reports?"
Ms Stratton joked: "I went home!" before she paused to consider how to respond.
The aide added: "Would the prime minister condone having a Christmas party?"
Ms Stratton, who was due to lead daily political press briefings in the £2.5million press room before the plan was ditched earlier this year, laughed and replied: "what's the answer?"
Another No10 staffer popped up to say: "It wasn't a party, it was cheese and wine."
Ms Stratton added: "Is cheese and wine alright? It was a business meeting…"
Business meetings were allowed under the restrictions at that time, as The Times explains:
People were allowed to gather if it was reasonably necessary for work purposes, but that would not have included holding a party.
The government's advice from the time said: "Although there are exemptions for work purposes, you must not have a work Christmas lunch or party, where that is a primarily social activity and is not otherwise permitted by the rules in your tier."
The Telegraph's Christopher 'Chopper' Hope reported that Downing Street might have been exempt from the party rule because it was a Crown property. However, Guido Fawkes pointed out that the Queen wore a mask earlier this year at Prince Philip's funeral on the grounds of Windsor Castle:
No. 10 responded to the Christmas party allegations. ITV News's UK Editor Paul Brand tweeted:
By Thursday, December 9, 2021, The Times revealed a catalogue of seven Christmas parties allegedly taking place in or near Downing Street last year during a time when London was, for the most part, under lockdown.
Excerpts follow, emphases mine.
The Times reports:
Insiders said that the No 10 Christmas party on December 18 began early, with officials and political advisers gathering in the press office shortly after 6pm.
Over the course of the evening some people made speeches, enjoyed a cheese board, drank together and exchanged Secret Santa gifts. By the time it ended shortly before 2am, several of those present were said to be "rat-arsed".
A few rooms away Boris Johnson was working in his office, where after consulting once more with government scientists, he was coming to a critical realisation that Christmas, as planned, could no longer go ahead. Less than 24 hours later the prime minister broke the news that millions of people could not see friends and family over the festive period if they lived in other households …
At the time London was under Tier 3 restrictions, banning indoor mixing with a narrow exemption for people whose jobs required them to be at work in the office. Was Johnson aware of the event, which included some of his most senior aides and was held yards from his office? …
The Christmas party, however, was different. A source said it had been organised days in advance on WhatsApp and with a follow-up email.
Originally it was intended for members of the press office who work together in the same large room on the ground floor …
It was not, they said, a party that had been organised by senior members of staff or indeed political special advisers. But in the close world of Downing Street some members of Johnson's media team were also invited. The most senior members were understood to be involved in the preparations for the impending new Christmas restrictions.
Other parties were alleged to have taken place:
At another point in December, sources say, a Christmas quiz was held for officials and Conservative advisers working in Downing Street. Invitations were sent out by email, with people asked to organise themselves into teams of about six. Many wore novelty Christmas jumpers on the day. One source said that the quiz took place in the "control centre" established in 70 Whitehall by Dominic Cummings, who had left his role as one of Johnson's most senior advisers in November. Another source said that people stayed late drinking, and that there was much discussion the next day about the unexpectedly strong knowledge displayed by the victors.
No 10 sources were adamant that the quiz was "entirely virtual", and denied that it took place in 70 Whitehall, but conceded that some people may have participated from desks in communal offices …
One party allegedly took place at Conservative Party headquarters in central London:
Another event took place at CCHQ a few days before the Christmas party. At least two dozen party aides and volunteers, who had helped Shaun Bailey, the Tories' London mayoral candidate, held a "raucous" bash involving drinking, Christmas hats and dancing that went on late into the night. Things were said to have got so rowdy that a door was damaged. London was in Tier 2 restrictions, with a ban on indoor mixing and the rule of six applying outdoors.
Some parties allegedly took place in November 2020:
Government staff are also said to have held informal leaving dos in November, when England was in a full lockdown, to mark the departures of the senior Downing Street aides Lee Cain and Cleo Watson. Christmas parties were also held at the Cabinet Office and the Department for Education.
Those are the seven alleged parties.
The timing of this leak could not have been worse for the Government.
At PMQs on Wednesday, December 8, Boris insisted that the Cabinet Secretary Simon Case would investigate the alleged December 18 party, which was the only known one at the time.
This is how he responded to Labour's Sir Keir Starmer at the despatch box:
… I apologise for the impression that has been given that staff in Downing Street take this less than seriously. I am sickened myself and furious about that, but I repeat what I have said to him: I have been repeatedly assured that the rules were not broken …
I have asked the Cabinet Secretary to investigate exactly what happened, and I repeat that there will be consequences for those involved if the rules were broken.
I have been repeatedly assured that no rules were broken. I understand public anxiety about this and I understand public indignation, but there is a risk of doing a grave injustice to people who were, frankly, obeying the rules. That is why the Cabinet Secretary will be conducting an investigation and that is why there will be the requisite disciplinary action if necessary.
Starmer brought up the story of a woman who died in hospital over Christmas and her aggrieved daughter who was not allowed to see her because of coronavirus restrictions.
Boris responded:
The first thing to say is that, in common with everybody in this House, I extend my sympathies to Trisha and her family. I understand the pain of everybody who has suffered throughout this pandemic.
I know the implication that the right hon. and learned Gentleman is trying to draw: that the case that we are now investigating should somehow undermine public confidence in the measures that we are taking. I think that is the point he is trying to make, but I say to him that I think it is a great mistake to try to play politics with this issue, and I think that is what he is doing. I do not think the public do want to see confidence in the measures undermined. We are taking—[Interruption.] I think they can see the difference. We are taking the steps necessary to protect the public, above all by rolling out the vaccinations. Rather than focusing on the events of a year ago, that is what we are focusing on and that is what I think the public will understand.
On the one hand, one could say that this is still a sour grapes ploy to get Boris, who got Brexit done.
On the other hand, The Times reported that the news caused some Cabinet ministers and backbench Conservative MPs to distance themselves from the allegations, especially as they were not directly involved with the events:
On Tuesday Sajid Javid, the health secretary, volunteered to do a broadcast round the next day to push the booster campaign. After a video was leaked in which Allegra Stratton, then a spokeswoman for Johnson, joked about the party, Javid is said to have made clear he would not defend the No 10 position.
One minister told The Times that the talk in the Commons tea room was of more letters of no confidence in Johnson going into Sir Graham Brady, the leader of the 1922 Committee of backbench Conservative MPs. They said that the party looks "divided, hypocritical, out-of-control, out-of-touch and all the other things that voters despise" …
A succession of Conservatives went on the record with concerns. Douglas Ross, the leader of the Scottish Tories, suggested that Johnson should quit if it emerged that he knew about the party.
This is how some members of the public view the revelations. As seen last week by someone in England: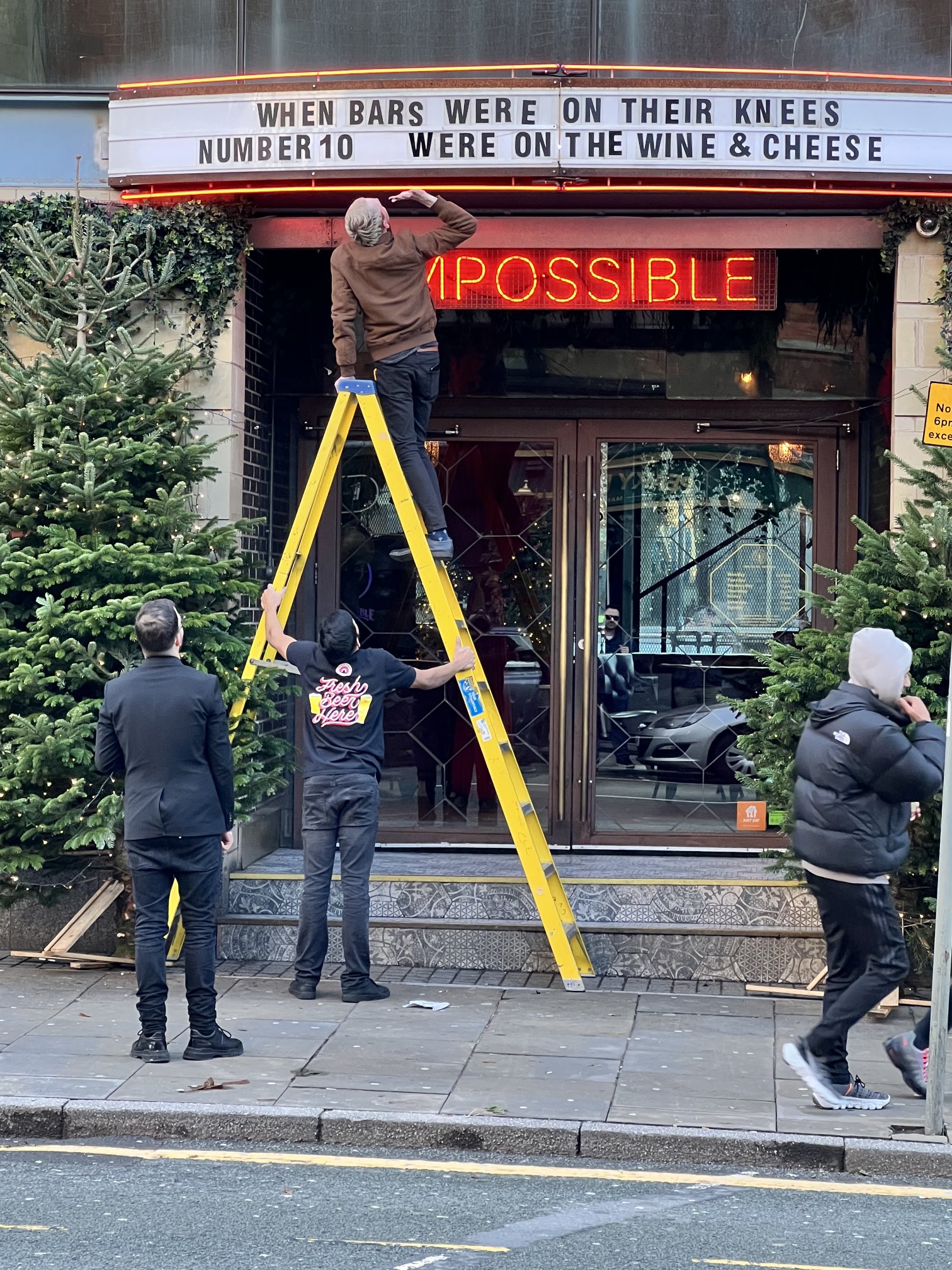 Allegra Stratton's resignation
Allegra Stratton, who appeared so insouciant a year earlier, tendered her resignation shortly after PMQs on Wednesday, December 8.
Tearful — or almost — she gave a brief statement to the press that afternoon:
Guido Fawkes quotes part of her statement:
My remarks seemed to make light of the rules, rules that people were doing everything to obey. That was never my intention. I will regret those remarks for the rest of my days and offer my profound apologies to all of you for them
[…]
To all of you who lost loved ones, endured intolerable loneliness and struggled with your business – I am truly sorry and this afternoon I have offered my resignation to Prime Minister.
This woman is media savvy and has a lot of important connections, shall we say. She'll get another job somewhere else by the New Year, most probably:
Allegra Stratton's televised daily press briefings, mimicking those of the White House, never saw the light of day. One wonders if someone informed on her after the aforementioned December 2020 dress rehearsal video:
She was never very good in No. 10, as our COP26 spokesperson, having explained at length why she didn't own an electric car and why people should join the Green Party! What planet is she on?
Further coronavirus restrictions for England
On the day of her resignation, the Daily Mail reported that No. 10 was desperately searching for the person who leaked Stratton's rehearsal video to ITV News.
But that was not all. Their article said that, in order to take the heat off the Christmas party story, Boris put England under Plan B — further coronavirus restrictions (masks, vaccine passports, travel quarantine) — in light of the Omicron variant, which he did on Wednesday, December 8, a few hours after PMQs and Allegra Stratton's resignation. What was — is — he thinking?
Within 24 hours of its broadcast, the toxic footage of No 10 staff giggling about a lockdown-busting party had detonated a bomb under the Government and led to the tearful resignation of its 'star' Allegra Stratton.
It also sparked an immediate hunt for the leaker, whose decision to pass the film to ITV News may even have prompted Boris Johnson to fast-track plans for tighter Covid restrictions.
So, Boris might have a Christmas party scandal on his hands from last year, therefore, in order to rectify that with the largest swathe of the British public — those living in England — he puts them under Plan B just before Christmas.
How is that a future vote winner?
Furthermore, Boris did not present the initiation of Plan B to Parliament first, which he should do. He had Health Secretary Sajid Javid present it to Parliament at the same time he was giving a press conference to the nation about it.
Wrong!
According to Parliamentary procedure, MPs must be allowed to debate and, if necessary, vote on these proposals before they are made public or enacted into law.
However, Boris has been doing this consistently since 2020 with coronavirus restrictions.
These restrictions will be in place by Monday, December 13. The Parliamentary debate and vote do not take place until Tuesday, December 14. Outrageous.
Omicron relatively weak, yet we have Plan B
As far as we know, Omicron is relatively mild:
Guido points out that the Government is going overboard about a variant whose symptoms resemble a common cold (emphasis in the original):
As the UK government hits the 'Plan B' button in a moment of epidemiological stringency, in the past 24 hours both the US Center for Disease Control and Prevention and the EU Medicine Agency have both said cases remain mild.
15 hours ago the CDC Chief said that of the more-than-40 people in the US have been infected with Omicron, "nearly all of them were only mildly ill" and the "the disease is mild". Just one person's been hospitalised.
… Meanwhile the UK government is preparing to hit the UK economy with a stay-at-home order, based on no hospitalisation or death data suggesting it's necessary.
In his press conference last Wednesday annoucing Plan B, to make things worse, Boris also said that we need to have 'a national conversation' as to whether the UK should implement mandatory vaccinations!
On December 9, The Telegraph's Andrew Lilico wrote (emphases mine):
… Omicron cases are currently doubling every two to two and a half days. Wearing a face mask in the cinema but not the pub isn't going to make a lot of difference to that.
If omicron is really going to grow as explosively as the Government suggests, Plan B isn't going to come remotely close to slowing it down or stopping it. Restricting people's lives in a way that makes no difference whatever to a problem is just as authoritarian as restricting people's lives when there is no problem at all. If the only point of restrictions is as a kind of virtual flag with "We're doing something" written on it, it'd be better not to restrict people's lives but instead to raise a literal physical flag saying that, outside 10 Downing Street …
There needs to be a high likelihood that some disaster will follow if restrictions are not imposed and a good chance that the restrictions would avert or at least mitigate that disaster.
The Government does not appear to believe it needs such a rationale. It seems to think that it's legitimate to restrict millions of people's lives on bases such as "on balance, that's wise" or "to reduce pressure on the NHS" (not to avoid its collapse – just to make life a bit easier). That is a serious departure that MPs of good conscience should vote against. Otherwise it would be legitimate to introduce a curfew every evening to "reduce pressure on the police" or restrictions every time a new flu strain is identified "just in case" it might lead to a pandemic …
We did our bit. We got vaccinated. That has meant that, since April, the infection fatality rate of Covid has only been perhaps 3 to 4 times that of flu. Covid will be with us forever, killing tens of thousands each year. But since April it has never again been possible for it to create the waves of 100,000 and more deaths at a time that we experienced last Winter and that would have been much worse had we not accepted restrictions from last Spring onwards.
… Everyone in the country was going to get delta over the next couple of years, as our immunity faded, unless we were willing to get boosters every few months forever. Why does it matter if we get omicron this Christmas instead? A vague sense that "Something must be done. This is Something. So let's do This." is not even close to an adequate basis on which to let Plan B proceed.
On Sunday evening, December 12, Boris gave a brief recorded address to those in the UK saying that there has been a 'surge' of hospital cases and that the coronavirus danger level has been ramped up to Stage 4 throughout the four nations. Again, he and his ministers just decided this with no input from MPs:
In a nutshell, this appears to be what is happening with Government policy and the media on Omicron:
That morning, Dr Susan Hopkins of the UK [England, actually] Health Security Agency was still among those experts waiting for something to happen with Omicron:
UPDATE — Monday, December 13: One patient in the UK has died 'with' Omicron.
Sadly, the Government and their scientists will consider that a success.
————————————————————————-
People living in England wonder whether Plan B will proceed to another full lockdown in 2022 as punishment for celebrating Christmas.
On Friday, December 10, The Telegraph's Julia Samuel said that, in light of the Christmas party allegations, the Government no longer has the moral authority to impose yet another lockdown:
It seems almost inconceivable and yet it's not. We could be headed for another lockdown, probably just after Christmas. No one really believes that the measures announced by Boris Johnson this week will stop the new Covid variant from spreading. The private reasoning of the officials recommending them and the ministers agreeing to them is that they need to prepare the public psychologically for the possibility of going back into lockdown …
They might tell us to stay at home, but they don't. They might have told us not to party, but Number 10 staffers clearly judged that since they had worked together in close quarters for weeks, a party couldn't really hurt. What stinks is not the logic of this decision; it's the rank hypocrisy of legislating for one thing and then doing another.
If the Government is considering another lockdown, then it needs to understand that it has exhausted consent for the type of policy it could enact before. It has no moral authority to ban fathers from being with their wives during childbirth or to confine people to their houses because an app says they shared a bus ride with a Covid case. If we are told to stay at home, it can only be conditional upon our nearest and dearest social obligations. If that makes enforcement difficult, so be it. Policing this mess fairly has been a fool's errand from the start …
With any luck, this will all end up with a dramatic anti-climax. Scientists are starting to sound increasingly confident that omicron hails Covid's transformation from a threat to a common cold.
By Christmas, we will know the score. But in the meantime, let's recognise the government's half-hearted and ineffective Covid measures for what they are: the start of a campaign to soften us up for another lockdown, if it's deemed necessary.
If that is what's coming down the track, we need to be clear: some things are too important to be sacrificed to Covid controls. The Government ought to recognise that and use the law sparingly.
But if it doesn't, people will have to use their own judgement and make decisions they can live with afterwards. We would only be following Number 10's example, after all.
Who can argue with that?
In Parliament, a rebellion has been brewing over the past week on coronavirus legislation. Although protest votes will not prevent Plan B from passing, they will send a signal to No. 10 that a growing number of Conservative backbench MPs are deeply unhappy.
More on that tomorrow.
On Thursday, December 9, Prime Minister Boris Johnson's wife Carrie gave birth to a baby daughter in a London NHS hospital:
Their young son Wilfred now has a baby sister.
The Daily Mail reported:
Boris Johnson has left hospital after his wife Carrie gave birth to his seventh child today – a baby girl – in a tumultuous 24 hours where he triggered 'Plan B' on Omicron as the furore over illegal Christmas parties at No 10 rocked his premiership.
The couple walked into a central London NHS hospital at 7.40am this morning – around two hours after police officers turned up to secure the site ahead of Carrie's arrival, MailOnline can reveal.
A masked Mrs Johnson, 33, was accompanied into a side entrance by a bodyguard carrying an overnight bag. Her husband, 57, wearing a mask and a trademark wooly hat, was flanked by two policemen as he followed her in carrying a suitcase and what appeared to be a bluetooth speaker.
The baby girl, a younger sister to their son Wilf, one, was born within a couple of hours with Mr Johnson at his third wife's side throughout the labour and birth. The PM returned to Downing Street at lunchtime after leaving the maternity ward at around 11.45am. 
In a statement, a spokeswoman for the couple said: 'The Prime Minister and Mrs Johnson are delighted to announce the birth of a healthy baby girl at a London hospital earlier today. Both mother and daughter are doing very well. The couple would like to thank the brilliant NHS maternity team for all their care and support.' 
Mrs Johnson has called their newborn girl their 'rainbow baby' – a term used by parents having a child after losing a baby to miscarriage, stillbirth or neonatal death and coined to signify the arrival of something beautiful after a storm. 
The couple announced they were expecting at the end of July, as Carrie, an environmental campaigner and former director of communications for the Conservatives, described her own 'heartbreak' following a miscarriage in early 2021. 
It is unclear whether Boris has fathered seven or eight children.
This birth comes at a chaotic time for Boris's premiership. Allegations of 2020 Christmas parties defying coronavirus rules have surfaced along with a £17,800 fine for his Downing Street flat refurbishment and the launching of a most authoritarian Plan B in light of the Omicron variant:
Boris' happy news came after a day of bedlam in government where he is struggling to contain a Tory revolt today amid fury at 'non-sensical' new Covid restrictions and his handling of the No10 Christmas party debacle, which forced the tearful resignation of senior Government aide Allegra Stratton. 
Last night the PM dramatically triggered 'Plan B' measures to control the rampant Omicron strain at a press conference, with fears that infections are now doubling every few days and the NHS could be crippled.  But critics says the restrictions are 'mental' as he urged 66million Britons to work from home if they can to slow the spread of Omicron – but still head into town for Christmas parties as well as festive drinks and dinners. 
And amid more scandal at No 10, Baby Johnson entered the world just as the Conservatives were fined £17,800 over the controversial donation to help cover the lavish refurbishments to the couple's Downing Street flat.  
Labour leader Sir Keir Starmer tweeted: 'Congratulations to Carrie and Boris Johnson on the birth of their daughter. 'Wishing your family health and happiness.' 
Wilfred Lawrie Nicholas Johnson was born in April last year and was named in partly in tribute to two doctors, Nick Hart and Nick Price, who helped saved the Prime Minister's life when he was admitted to hospital with Covid-19 earlier that month.
It is unclear whether the wheels on the Boris bus are coming off. Conservative MPs are angry about the alleged Christmas parties in 2020 and a further ramping up of coronavirus restrictions which go into effect on Friday, December 10. A vote will be held in the House of Commons after the fact next Tuesday, just before Christmas recess.
For now, Boris has a happy distraction in his newborn daughter.
Congratulations to the Johnsons on their new bundle of joy.
Two funeral Masses have been held for Sir David Amess MP, who was stabbed to death on October 15, 2021.
On Monday, November 22, mourners gathered in Essex at St Mary's Church in Prittlewell, Southend, Essex. Mass began at 1 p.m.
As Sir David was born in the East End of London, he wished for a traditional funeral from that part of the capital. A horse-drawn hearse took his coffin, draped with a Union flag, to two destinations in Southend so that the public could briefly pay their respects. The first stop was the local civic centre and the second his constituency office. His coffin was then taken to a funeral chapel, where local people have been signing a book of condolence.
GB News has a report here from Ellie Costello. This was before the Mass:
Ellie Costello filed the following report at the civic centre after the Mass at St Mary's. The Victorian horse-drawn hearse — a glass covered carriage — is visible at the 1:00 point. The video also includes her interview with Mark Francois MP, who gave a eulogy at Lady Julia Amess's request. She spoke with the MP before the Mass. He pointed out that his late friend's lasting legacy will be that Southend becomes an official city within the next few months:
Six local fire-fighters were Sir David's pallbearers:
Guido Fawkes's post said that the hearse also stopped at the Methodist church where Sir David was so heartlessly killed. Guido has more on the funeral, including Mark Francois's eulogy and a statement from former Conservative MP, Anne Widdecombe:
Hundreds of mourners gathered to pay tribute to Sir David Amess this afternoon after he was killed in a terror attack last month. The hearse drove through his constituency, pausing to stop outside the church in which he was killed and his constituency office.
Mark Francois delivered another moving eulogy at the private service in Prittlewell, telling mourners that Sir David "put Basildon firmly on the map and he worked tirelessly for Southend". Following the 1pm service, a horse-drawn hearse carried the Union flag draped casket on a procession through Southend. Former Conservative MP Ann Widdecombe, also a friend of Amess's, read a statement on behalf of the Amess family, and asked people to "set aside their differences and show kindness and love to all". 
Metro has photos of the Southend funeral procession along with a report, excerpted below:
One of the mourners, Sue Abrahams, told the BBC she knew Sir David from their time campaigning together in Southend.
She said she wanted to come out to pay her 'final respects to him'.
'Everybody knew him and he knew everybody; it was amazing,' she said.
'Seeing the coffin was a very emotional moment. I couldn't fight back the tears, I'm afraid.'
In an earlier tribute read aloud in church, Sir David's family said their hearts are 'shattered' but that they are 'enormously proud of him'.
They added: 'As a family, we are still trying to understand why this awful thing has occurred. Nobody should die in that way. Nobody. Please let some good come from this tragedy.'
The MP's friend and colleague Mark Francois delivered a eulogy, saying: 'Whatever the weaknesses of Parliament, David Amess was the living embodiment of all its strengths.'
The former minister said in his tribute that, despite the 'awful tragedy' of Sir David's death, the country should 'keep calm and carry on' as that is 'what he would have wanted us to do'.
On Tuesday, November 23, a Requiem Mass was held at Westminster Cathedral in central London.
Parliament's session was delayed to accommodate politicians from both sides of the aisle who wished to attend.
The celebrant, the Revd Canon Pat Browne, had married Julia and David Amess 38 years earlier. Therefore, it was only fitting that he should give the sermon his friend's Requiem Mass. Canon Browne is also the Catholic duty priest for Parliament.
The Archbishop of Westminster, Cardinal Vincent Nichols, was the celebrant.
Ellie Costello tells us that, on their wedding day, David Amess arranged for a horse-drawn carriage to transport his bride-to-be to the cathedral. She said that the Requiem Mass was also likely to be in that same vein: grand and emotional. Anne Widdecombe gave a eulogy, and a representative for the Pope delivered a statement:
Prime Minister Boris Johnson tweeted a tribute to his late colleague:
This is the funeral procession:
Prominent politicians, past and present, sat in the front pew:
A clip of Canon Browne's sermon follows. He describes the long-standing friendship he had with the Amess family, including baptising their five children and presiding over the funeral of his mother, who died at the age of 104:
He said that Sir David's office in Parliament was a place he could always go to for a cup of tea and a friendly chat. On the day Sir David was stabbed in cold blood, he went to comfort the MP's parliamentary staff:
The Apostolic Nuncio to Great Britain, His Excellency Archbishop Claudio Gugerotti, delivered the Pope's message. Sir David had met Pope Francis several times:
The Pope's message included an entreaty for combatting evil with good:
Anne Widdecombe told us that Sir David married his wife only three months after having been first elected as an MP. That was in 1983, when he represented the constituency of Basildon in Essex. She also related other anecdotes, including one about the horse and carriage which delivered the future Mrs Amess to Westminster Cathedral on their wedding day. He said he borrowed it from the Royal Mews. Anne Widdecombe has no idea if that was true or just a joke, but she said that with him, it couldn't be entirely discounted:
Two Labour MPs who attended were moved by the Mass. They were Barbara Keeley …
… and Dame Diana Johnson:
Afterwards, Mark Francois told Sky News that he hoped the Requiem Mass sent his late friend suitably on his way to God:
This video has views of the beginning of the Mass along with Ellie Costello's interview with Anne Widdecombe, also a devout Catholic:
Sir David was a true example to us all of a life well lived in unswerving faith in God through His Son Jesus Christ. He could have been swept up solely by politics. Instead, he was always mindful of the Lord.
Remembrance Sunday in Britain saw a return to normal.
In 2020, the main walk past at the Cenotaph in London was depressingly sparse because of coronavirus restrictions.
Fortunately, this year, England saw a return to normal. Between 9,000 (the BBC's estimate) and 10,000 (GB News's) people participated at the Cenotaph.
Thousands of others gathered in their own towns and villages en masse to remember their war dead. It was heartening to see so many young people, from children through to adolescents, coming together. Some honoured family members who had died in battle. Others came to remember in a more general way.
2021 marked the centenary of Remembrance commemorations.
As I watched the BBC's coverage, it occurred to me that Remembrance Day and Remembrance Sunday are the only days left where a group of people can gather in unison and concord to remember the sacrifice of the men and women who died for our freedom.
These are the only days left where a common objective unites all of us, regardless of political persuasion or social class.
The Royal British Legion — now 100 years old — posts commemorative religious symbols to donors which they can mail back to the Legion with the names of soldiers they would like remembered. Most often, these are family members. This was the display near Parliament:
On Remembrance Sunday, the Bishop of London (Anglican) leads a short Christian service after politicians and Commonwealth representatives lay commemorative wreaths, as illustrated in the following photographs from the Speaker of the House of Commons, Sir Lindsay Hoyle.
Starting with the second photograph, the UK's political leaders and Hoyle approach with their wreaths. Left to right, we see Sir Lindsay Hoyle, Sir Jeffrey Donaldson (Democratic Unionist Party, Northern Ireland), Sir Ed Davey (Liberal Democrats), Ian Blackford (Scottish National Party), Sir Keir Starmer (Labour Party) and Prime Minister Boris Johnson (Conservative Party). The Prime Minister is the first to lay his wreath, followed by Labour, SNP and so on, with the Speaker being the last in that group.
The first photograph shows some of the Commonwealth nations' representatives behind the Speaker:
Unfortunately, for the first time in 22 years, the Queen was unable to attend the ceremony at the Cenotaph. According to Buckingham Palace, she is recovering from a sprained back following a few weeks of rest on health grounds.
The Daily Mail reported:
Boris Johnson has reassured the public that The Queen is very well after seeing her last week. 
The Prime Minister gave an update on the 95-year-old monarch's health in a Downing Street conference on Sunday evening after she missed the Remembrance Sunday ceremony today for the first time in 22 years due to a back injury. 
Buckingham Palace said she made the decision not to attend the service at the Cenotaph in London on Sunday morning 'with great regret' and was 'disappointed' to miss the event.   
Speaking at the conference, Mr Johnson said: 'I know that everybody will be wanting to offer their best wishes to Her Majesty the Queen.
'I just want to reassure everybody by saying that I did see the Queen for an audience last week on Wednesday in Windsor and she is very well.
'It shouldn't need saying, but I just wanted to say it anyway.' 
The daily list of official royal engagements showed that Mr Johnson had an audience with the Queen on Friday, as he was in Glasgow on Wednesday speaking at the Cop26 climate change summit. 
Queen Elizabeth had planned on attending the Remembrance Day service at the Cenotaph in London on Sunday and it would have marked her first in-person public engagement since she was advised to rest following a night in hospital last month.
It is understood the Queen's back sprain is unrelated to her doctor's recent advice to rest.
Buckingham Palace said: 'The Queen, having sprained her back, has decided this morning with great regret that she will not be able to attend today's Remembrance Sunday Service at the Cenotaph.
'Her Majesty is disappointed that she will miss the service.
'As in previous years, a wreath will be laid on Her Majesty's behalf by the Prince of Wales.
'His Royal Highness, along with the Duchess of Cornwall, the Duke and Duchess of Cambridge, the Earl and Countess of Wessex, the Princess Royal and Vice Admiral Sir Tim Laurence, the Duke and Duchess of Gloucester, the Duke of Kent and Princess Alexandra will be present at the Cenotaph today as planned.'
The event on Whitehall was given added poignancy by a return to pre-pandemic numbers of participating veterans and military, as well as onlookers.
The Prince of Wales and Prime Minister were among those laying a wreath at the war memorial for the National Service of Remembrance.
Boris Johnson, who appeared sombre as he laid a wreath, said it was a moment to 'come together to remember those who sacrificed everything in service of our country'.
The Queen served in the British Army during the Second World War as a mechanic. When she became Queen, she still wore her Army uniform on Remembrance Sunday in the early years of her reign. Guido Fawkes posted a rare photo of her in uniform laying a wreath in the 1950s.
The Royal Family never left London during the Second World War, even though they were in as much danger as everyone else in the capital at that time.
The House of Commons was destroyed in the Blitz in May 1941:
Fortunately, it was faithfully restored to the way it was in the 19th century when the Palace of Westminster was rebuilt following a devastating fire.
Returning to the sentiments behind Remembrance Sunday, a small minority of Britons does not view it the way the rest of us do. Here is a tweet from the radical side of the Labour Party:
In that same vein, Mary Harrington wrote an excellent historical review of what happened in the years following the Great War (1914-1918) for the Daily Mail.
Those in positions of influence wanted to remake the Western world and thought it would be a good idea to erase the major unifying aspects of our society, particularly Christianity.
A century on, we are feeling those effects even more deeply.
Excerpts follow, emphases mine:
From the perspective of the ordinary citizen, the poppy simply marks an unimaginable loss. You'll find a memorial in every parish up and down the country, some huge and some simple plaques. They're markers of a collective grief, all the more unspeakable because it is so universal …
But today, those who remember the fallen are almost all gone themselves. So what is the loss we're left to remember?
The loss perhaps most clearly visible is the one concerning the values that, sadly, we no longer feel able to celebrate.
For the Great War saw the beginning of the end for faith in the foundations of a European culture that had held fast for generations.
By the end of the war in 1918, George V presided over a broken, debt-ridden empire, Tsar Nicholas was killed by revolutionaries and Kaiser Wilhelm was deposed and exiled.
The war spawned the first Communist state, and it shattered confidence in Western civilisation. Patriotism took a hammering and, perhaps more profoundly, so did institutional Christianity.
Indeed, most Christian denominations on both sides supported the conflict, with many at the time viewing it as a 'holy war'.
Notoriously, in 1915, the Bishop of London declared it the duty of 'everyone that puts principle above ease' to 'kill Germans… not for the sake of killing, but to save the world'.
The aftermath of the First World War saw a backlash by society's elite – not just against nationalism, but also against traditional religious faith and cultural forms.
Historian Anna Neima shows how many among the world's avant-garde sought to create new, ideal communities. They wanted to reimagine human society, so that nothing as horrifying could ever happen again, by transcending borders of faith or nation.
Humanity, such visionaries hoped, might be induced to forge links across what was considered to be mere national identity in favour of something higher. The elite that shared this inspiration was moulded by contact across the world as it attempted to shape humanity atop the smoking rubble of the imperialist 19th Century. Some went on to found their own visionary communities, such as the one set up at Dartington Hall in Devon by Dorothy and Leonard Elmhirst. It became a magnet for artists, architects, writers, philosophers and musicians from around the world, establishing a centre of creative activity.
It was at Dartington that the Labour politician Michael Young wrote the party's post-war manifesto. At Dartington, and other communities like it, traditional practices and values were deemed worthy only for the scrap-heap – classical music, realist painting, traditional architecture. Everything should be new, stripped of the old-fashioned loyalties that had led to the slaughter of millions and left Europe in ruins …
Everyone blamed that catastrophe on nationalism, religion and realpolitik. Elites tried to abolish all those things for good. For the good of humanity.
Significant in this was the high American ideal – inspired by President Woodrow Wilson – of nations shaping their own destinies.
With hindsight, even this now looks like realpolitik: a high ideal designed to end the empires of America's European political rivals.
And now the liberal internationalism that Wilson set in motion has itself, ironically, come adrift in another set of poppy fields: those of Afghanistan. The American civilisation that took the torch from Europe is itself embattled, under economic and cultural siege …
That said, yesterday's gatherings in England, especially London, gave me hope for the future. Thousands of people came together to meet with their comrades, relive experiences, share laughs and lively conversation. On the sidelines, away from the Cenotaph, there were shared songs and even applause as the media interviewed various military participants, from current officers in the Armed Forces to old soldiers.
Our commonly held social values will survive, but we will need to constantly cherish and protect them.
There was a time when one could get an excellent job in the UK without a university degree.
In fact, one could get an excellent job even without secondary school qualifications.
It was so long ago, however, that those days have vanished in the mists of time.
At the end of October 2021, I read The Telegraph's obituary of advertising genius Mo Drake, who died in August at the age of 93.
By today's standards, on paper, Mo Drake would appear to be a scholastic failure and doomed to a life on the dole. Yet, he worked in advertising and gave the UK one if its best known slogans for Heinz Baked Beans: Beanz Meanz Heinz.
This advert is from the early 1960s:
During the Second World War, Drake's schooling was interrupted to the point where he received very little of it:
He passed the 11-plus but could not take up a place at grammar school because of the outbreak of war – and in fact did not attend secondary school at all until he was 14, and even then he left after a few months.
He was born a Cockney, within the range of the Bow (church) bells:
Maurice Drake was born in working-class Bromley-by-Bow, east London, on May 20 1928 to Thomas and Sarah Jane Drake. The family moved to Ilford [Essex] when he was three.
Nothing there in 2021 spells 'success'.
However, young Mo Drake spent a lot of time reading. As such, he absorbed the cadence of the English language and developed a way with words.
As an adolescent, he started work at a London advertising agency:
After leaving school he worked as a filing clerk for the Thames advertising agency, before National Service in the RAF.
Afterwards, he worked for a PR agency:
He then joined the PR firm Armstrong Warden, where he proved so good at drafting publicity blurb that he was appointed a full-time copywriter.
Then he worked for a time as a comedy writer. He managed to link this to his former employers which ended up catapulting him to one of the top ad agencies, Young & Rubicam:
For a short spell in the early 1950s he left the company after he and a friend, Jack Potter, began to submit jokes to Bob Monkhouse, then a BBC scriptwriter, who introduced them as joke-writers to other entertainers such as Arthur Haynes and Bruce Forsyth. In the process he provided Drake with useful contacts in the entertainment industry on whom he could call after he returned to Armstrong Warden – and at Young & Rubicam, which he joined in 1959.
That was the start of a beautiful career, involving well known celebrities such as Bruce Forsyth and Frank Muir:
Thus Bruce Forsyth agreed to front a campaign for Maxwell House coffee, while he got Frank Muir to sing "Everyone's a Fruit and Nut Case" for Cadbury's.
Everyone over the age of 60 remembers 'Fruit and Nut Case':
As the years passed, more successful adverts followed, such as the iconic 'Just one Cornetto' for Wall's, which I remember well:
When the Wall's ad came out, Mo Drake was creative director of Grey Advertising and Lintas. His team had written the ad.
When Drake — the man with no school qualifications — retired, he lectured at universities and held a regular seminar at Trinity College, Oxford. That would never happen today.
In 2003, Mo Drake disparaged today's advertising, criticising it for concentrating too much on special effects rather than a memorable slogan, invoking another advert of his:
For years after the Murray Mints campaign came out people were going round singing 'Murray Mints, Murray Mints, the too good to hurry mints'. You can't imagine that happening now.
Drake's wife predeceased him. I wish his three daughters and a son all the best in the months ahead. They must surely miss their father.
Reading about his career, I could not help but wonder whether we will ever recapture the time when someone enterprising and literate can get a good job without school qualifications.
Today, it would be impossible to work in advertising without proper connections and a university degree. If Mo Drake were a teenager in 2021, he'd never get a look in. His job application would go in the bin, accompanied by peals of laughter. More's the pity.
At the end of October 2021, London head teacher Katharine Birbalsingh said that children were born with Original Sin and had to be taught how to be good.
Katharine Birbalsingh founded the highly successful Michaela Community School in Wembley in north west London and was also recently appointed as a Government 'levelling up' adviser.
On October 29, The Times reported:
The row was started by a tweet to Birbalsingh which read: "We are all born 'bad', that is why it is so important to be morally educated and not just conditioned."
Birbalsingh replied: "Exactly. Original Sin. Children need to be taught right from wrong and then habituated into choosing good over evil. That requires love and constant correction from all the adults in their lives over YEARS. Moral formation is a good thing."
Absolutely. I am so glad that Birbalsingh 'went there', as it were.
As one would expect, Birbalsingh's pointing out biblical truth did not go unnoticed. The Times included several quotes from the notional great and the good condemning what she said.
Everyone piled in, as an article by The Spectator's Theo Hobson pointed out (emphases mine):
This opinion immediately offended the great and the good, as if her point of view was equivalent to advocating the thumb-screw. An outgoing member of the social mobility commission, which Birbalsingh now chairs, accused her of 'whipping up division' and said he hoped it wouldn't be a 'sign of things to come'.
Another departing commissioner told the Times that, 'I wouldn't agree with those comments and I wouldn't say her comments reflected at all any of the current commission's views. I've always viewed young people in the best light and any negativity comes from the fact that they haven't been nurtured or aren't in the position to get the support they need.'
Others called her view 'medieval', a very dated accusation. This remains a strand of secular humanism, the idea that humanity is naturally good, and that people become corrupted by bad ideas as they grow up. This was the opinion of Neil Gray, an SNP MSP, who said her 'original sin' comment was 'the opposite of my world view.' He added: 'Children are not born bad. Children are born good and I would suggest trauma, poverty… and negative influences of adults are what drive negative behaviour into adulthood. We must nurture and protect our children not stigmatise them from birth.'
Theo Hobson could even cite a real life example of Original Sin's presence — in his own son who, at the age of six, was confused about slavery:
When my son was about six he heard something at school about slavery but was not quite clear what it was all about. So I spelled it out. I told him that a slave was someone that someone else owned and ordered around and probably mistreated. I waited for the proper response of moral horror to show on his innocent features. Instead he said, 'Cool, I want one!'
Hobson concludes:
Many would agree with Birbalsingh that 'moral formation' is necessary for children, but reject her appeal to original sin. But I think she is quite right, and that the most rigorous moral idealism entails this concept.
What's wrong with the vague orthodoxy that everyone is a mix of good and bad impulses, and that most of us manage to be good enough? It is not ambitious enough. The strange thing about original sin is that it sounds amazingly negative but is actually the most idealistic belief available. It says that normal moral decency is not good enough, it's a compromise that makes us feel moral as long as we don't break the law. In fact we are all morally inadequate, and even the keenest do-gooders have dodgy inclinations. This 'bleak' view of humanity is not bleak at all – it simply means that an ideal of perfect morality is on the table. We should, ideally, be morally ideal, perfectly loving, all the time. It is only in relation to this extreme ideal that 'sin', as a universal human condition, makes sense. They are two sides of the same coin.
So hats off to a headteacher capable of teaching us all a lesson.
Even the Stoics, pagans, believed that man was inherently bad. The most famous of them, Marcus Aurelius — yes, he did persecute Christians — wrote a book of his musings on Stoicism called Meditations. This is one of his quotes on mankind's instinctive carnality:
Begin each day by telling yourself: Today I shall be meeting with interference, ingratitude, insolence, disloyalty, ill-will, and selfishness – all of them due to the offenders' ignorance of what is good or evil. But for my part I have long perceived the nature of good and its nobility, the nature of evil and its meanness, and also the nature of the culprit himself, who is my brother (not in the physical sense, but as a fellow creature similarly endowed with reason and a share of the divine); therefore none of those things can injure me, for nobody can implicate me in what is degrading. Neither can I be angry with my brother or fall foul of him; for he and I were born to work together, like a man's two hands, feet or eyelids, or the upper and lower rows of his teeth. To obstruct each other is against Nature's law – and what is irritation or aversion but a form of obstruction.
That quote came as an answer in the comments to someone writing into The Guardian who was struggling with maintaining his (or her) optimism:
I've been an optimist my whole life, with a rugged dedication that even I can see is, at times, questionable. My optimism mainly rests on a belief in the inherent goodness of people and, in many ways, I haven't been disappointed. But over the last few years I had to face the fact that most of my significant relationships have been abusive and, clearly, there's a tonne of evidence of hatred, ruthless greed and intolerance everywhere at the moment.
These experiences have provoked something of an existential crisis in me. I still feel an optimistic outlook is, fundamentally, the only way to keep going – otherwise what's the point? How can I find a comfortable and balanced place in my mind and heart to settle?
The Guardian's secular agony aunt responding to this enquiry advocated a good dose of hope and reflecting on the realm of possibility. Here is the excerpt:
The thing we need to keep going isn't belief – it's hope. And hope is a choice; hope doesn't mind what has happened 'til now, because hope lives in the thought the next moment might be different and better.
Hope isn't as easily deterred by evidence that goodness sometimes falters, because hope isn't about evidence. It's about possibility. Staring into the possibility of other people's badness makes us rooted to the spot, transfixed with the worst interpretations of what's going on around us. Looking back into imagination and possibility gives us something else to focus on; it tears our eyes from the void. Don't look for proof. Look for hope.
Believing in the doctrine of Original Sin is much easier and makes more sense more immediately.
We are in a constant battle against sin. None of us is good. Not one.
Only the Holy Trinity is inherently good and always will be.
God the Father sent His Son Jesus Christ to redeem the world — past, present and future — from sin. Jesus paid the price on the Cross in order to reconcile us to the Father, opening up the promise of eternal life forever.
Original Sin exists and always will. When even pagans realised that two millennia ago, why doesn't everyone else?
In my humble opinion, Michael Caine is the ultimate Londoner.
He was the only Londoner I 'knew' growing up — and that was through the films he made.
Now he is planning a move from his massive estate in nearby Surrey back to the capital, possibly Wimbledon.
On October 18, The Guardian published Xan Brooks's interview with him, done by video link.
He told Brooks that only his wife and he live there:
These days it's mostly just him and Shakira, rattling around. "So I'm going to get a smaller one," he says. "Because the grandchildren have all gone now. They're all growing up. So I'm going to move back to be nearer to them, where it's easier for them to visit. I'm going to move to Wimbledon. My daughter, Natasha, lives in Wimbledon."
Caine, 88, told his London story (emphases mine):
He was named Maurice Micklewhite, after his father, who worked as a fish market porter. I've read that he only officially changed it a few years ago, because he got sick of having to explain himself every time he lined up at UK passport control. But he says that's not true: he changed it ages ago, 10 years back at least. It felt like cutting the last link with his past.
When he first became Michael Caine, of course, people still called him Maurice. "But I haven't got any family members now, so no one's called me Maurice for years. Everyone's dead. My brother, my mother, my father. If I have any other relations, they'd be living in Bermondsey." He shrugs. "And I don't go to Bermondsey."
What about him? Is he still Maurice deep down? "No. The day I became Michael Caine, that was it – I was Michael Caine. I wasn't Maurice any more, I was a completely different person. And it was amazing. It was fabulous."
What was wrong with Maurice? "Well, nobody knew him. He was broke. He was out of work. And the moment I became Michael Caine, I got a job and was on my way."
He swings with practised ease into an anecdote he has probably told 100 times before – at dinner parties, in discotheques and on prime-time chatshows to rolling audience applause. It's the tale of how he got his big break in the 1964 film Zulu. How he met the American director Cy Endfield in the theatre bar only to be told that the part he wanted had already gone to another actor. How he had thought that was that. Back to penury and obscurity. Back to being Maurice Micklewhite.
He says: "My entire movie career is based on the length of the bar at the Prince of Wales theatre, because I was on my way out and it was a very long walk to the door. And I had just got there, when he called out: 'Come back!' because he had decided that I could play the part of the officer instead. He said: 'You look like an officer,' because I was 6ft 2in, blond hair, very slim. The door was half-open; I was very nearly through it. I turned around and walked back in."
His story makes me think of Dick Whittington, turning again on the road into London. "Exactly," says Caine. "That's exactly who I am: the Dick Whittington of acting."
Moral of the story: never give up on your dreams!
The journalist makes an excellent observation, which ties in with my impressions of Caine as the ultimate Londoner:
He was the ordinary bloke with the alleycat swagger, the working-class hero with the undiluted Thames accent, a bespectacled poster-boy for 60s social mobility. He has now reached the point where he's started to view himself in those terms …
He got interested in acting because the two places he went to most often were the library and the cinema. Now that his acting career is over, because of the lack of physical agility, he is writing a thriller:
What's the title and what's it about? "Well," he says. "The title is If You Don't Want to Die. I only read thrillers. I'm an adventure man, I'm not a literature person, so I'm not trying to replace Shakespeare here. But it's based on something I once read about two dustmen, two rubbish collectors in the East End." Dramatic pause. "And they find uranium in the rubbish."
As a boy in south London, his twin passions were always movies and books, the cinema and the library. He's done cinema to death, so it's only fitting that he should now be circling back to the library, albeit metaphorically – the actual building has long gone. The last time he visited Elephant and Castle he saw it had been replaced by a block of flats. But that's progress, that's history. It involves good changes and bad. When he was starting out as an actor, for instance, British film and theatre were the preserve of the posh. "It was: 'Bunty's having a party and everyone's in their tennis whites.'" Another short laugh. "Then we came along and we changed all that."
Although he still receives the occasional screenplay, the most recent having arrived a few weeks ago, he's ready to hang up his boots.
The actor:
has a gammy leg and a dodgy spine and reckons the only time he leaves the house these days is when his wife has the time to take him out for a drive. The other week he was sent a screenplay that had his character running away from a bunch of crooks, and this made him laugh – the very idea he could play it. "I can't walk, let alone run," he says. "And I'm more or less done with movies now."
It is likely that Best Sellers, which finished filming just before the pandemic hit, will be his last film:
He doubts he will ever make another, which is fine by him, no great loss. He's got his knighthood and his Oscars; what does he have left to prove? He says: "I've done 150 movies. I think I've done enough."
Best Sellers is about a crochety old author who suddenly goes viral.
Brooks makes another London-centric observation about the star's exit from film:
Caine has been such a reliable fixture for so long – part of the furniture, a familiar face on the screen – that it's unnerving to imagine the landscape without him, like walking into the Tower of London and finding the ravens all gone. It's more unnerving still to realise that it may already have happened; that he might have retired without anyone making a fuss. Caine spent the first part of his career storming the barricades and the second enjoying the spoils of his success. One would have expected some big final act, a showstopping swan song. Instead, we have this: a clean getaway.
A 'clean getaway' sounds just the way Michael Caine would like to end his career: quietly slipping out the back door, unnoticed.
Yesterday's post recapped the horrific murder of Sir David Amess MP on October 15, 2021.
Today's will cover more about this much admired man's personal character and political causes.
Posthumous victory: Southend-on-Sea now a city
I was delighted to learn at dinner time last night that the Queen granted Southend-on-Sea city status. Sir David must have mentioned Southend at least once a week in Parliament. He had long campaigned for it and made 115 references to it. Here he is with his two French bulldogs, one of which is Vivienne. He was due to participate with her in the Westminster Dog of the Year charity event on October 28:
The GB News article says that Prime Minister Boris Johnson made the announcement to MPs on Monday, October 18 (emphases mine):
The Prime Minister has notified the House of Commons that the Queen has agreed to confer city status upon Southend in tribute to Sir David Amess who was recently killed.
MPs cheered in the Commons as the Prime Minister announced Southend "will be accorded the city status it so clearly deserves".
Mr Johnson said: "As it is only a short time since Sir David last put that very case to me in this chamber, I am happy to announce that Her Majesty has agreed that Southend will be accorded the city status it so clearly deserves …
That 'short time' was probably last Thursday, October 14:
In a three-hour debate on Monday, preceding a service of remembrance at St Margaret's, the Parliamentary church next to Westminster Abbey, Boris noted that Amess was never an MP interested in climbing the greasy pole to a Cabinet or party leadership position:
"That Sir David spent almost 40 years in this House, but not one day in ministerial office, tells everything about where his priorities lay."
Boris Johnson, opening tributes to Sir David Amess, told the House of Commons: "The passing of 72 hours has done little to numb the shock and sadness we all felt when we heard of the tragic and senseless death of Sir David Amess.
"This House has lost a steadfast servant, we've lost a dear friend and colleague, and Julia and her children have lost a loving husband and devoted father.
"Nothing I or anyone else can say can lessen the pain, the grief, the anger they must feel at this darkest of times."
Returning to Southend-on-Sea, having city status will help to increase its profile and encourage outside investment, as the leader of the city's council explains below. Incidentally, having a cathedral, the traditional marker of an English city, is no longer necessary. City status is now a symbolic designation:
On Friday night, this Southend business owner said that Amess was dedicated to making his town a city:
Everything I know about Southend I learned from David Amess's contributions in the House of Commons:
'Community man'
There are MPs and there are MPs.
Sir David was the type of MP who will be sorely missed by his constituents, who called him a 'community man'. GB News interviewed several over the weekend, some of whom were in tears or close to it, including men, such as this Leigh-on-Sea councillor:
This councillor from Southend says that Sir David, whose mother lived to the age of 104, used to throw parties for constituents over 100 years old. He also used to ask about local issues in Southend and resolve them with the help of councillors:
Another councillor remembers that Sir David would check on certain constituents to see if they had transport for important meetings, probably related to issues of theirs he was dealing with as an MP. The man says that Sir David would personally drive those constituents to the places they needed to go. And, yes, there were right to life issues he campaigned for:
The Chairman of Leigh-on-Sea council recalls Sir David's selflessness:
This lady from Leigh-on-Sea, the Essex town where Sir David was stabbed to death (17 times), discusses his dedication to his constituency. Like many other people, she had the pleasure of meeting him at work in nearby Southend:
As was the case with other people GB News interviewed, a man interviewed (at 2:35 in the next video) said that people used to see Amess in the local Lidl, where he took time to chat with fellow shoppers. The man said that he did not vote for him but said that the MP was always available and accessible to everyone:
Vigil Mass
On Friday evening, the Revd Jeffrey Woolnough conducted a vigil Mass at St Peter's Catholic Church in Eastwood, Leigh-on-Sea.
This is the church the Amess family attend.
The video below has a few photos from the Mass. Starting at the 40-second point, notice how traditional it is. The priest stands with his back to the people, as in days of yore. He also wears a short chasuble that is very pre-Vatican II, a fiddleback. How fortunate for the Amess family to have found such a church:
At 1:50 in the video above, two ladies expressed their grief on Friday night following the vigil Mass. One of them said that Amess 'knew everybody'. As was the case with other people GB News interviewed, one of ladies said that people used to see him in the supermarket.
GB News was on hand to cover the Mass:
A service at Saint Peter's Church in Eastwood Lane, close to where Sir David was killed, was held on Friday evening to remember him – where he was described by a priest as "Mr Southend".
The church fell silent as Father Jeffrey Woolnaugh paid tribute to the Conservative MP and invited his constituents to remember him.
He placed a photograph of Sir David at the front of the church, and said: "This liturgy is one I was not expecting to lead today.
"The whole world grieves. In this Mass we pray for the repose of the soul of dear David.
"Have you ever known Sir David Amess without that happy smile on his face? Because the greeting he would always give you was that happy smile.
"He carried that great east London spirit of having no fear and being able to talk to people and the level they're at. Not all politicians, I would say, are good at that."
Around 80 people attended the service and listened as Father Woolnough recounted his own memories of Sir David.
He said: "When you can speak to your MP and you can talk and get on like a house on fire, that's when you can talk to them later about things that are important to your area.
"What can we say? He died doing the thing he loved, meeting his constituents, his local people."
Father Woolnough added that his constituents could "count on" Sir David, and said: "He was always available. We don't have the words tonight.
"Dear Sir David, rest well."
The priest also said that Amess's smile is ingrained on everyone's hearts:
On Saturday night, a secular candlelit vigil took place near where Sir David was murdered. The Daily Mail has many moving photographs of the gathering.
Biography
Most Britons think that all Conservatives were born with a silver spoon in their mouths.
Not so.
David Amess was born in humble circumstances in London's East End.
The Telegraph recounted his life:
David Anthony Andrew Amess was born on March 26 1952 in working-class Plaistow, East London, to James Amess, an electrician, and Maud, née Martin, a dressmaker. As Amess recalled, "we were very poor and lived in a small terraced house with no bathroom, an outside toilet and a tin bath hanging on the wall". In 2014 he would compile and publish a pamphlet, Party of Opportunity, containing short biographies of Tory MPs with working-class origins.
David's mother was a Roman Catholic who brought him up in the faith and he remained a staunch Catholic throughout his life, his commitment reflected in his opposition to abortion and to the broadening of LGBT rights. "Confession," he once said, "is very important to me."
He attended St Antony's Junior School, Forest Gate, where he was "often in classes of 50, and the teachers still gave us excellent tuition and kept order to a high standard", and St Bonaventure's Grammar School, Newham, where he remembered being "quite bossy and pushy" and was rumoured to have once hit a fellow pupil over the head with a bicycle pump.
Until the age of five, Amess said, he had the nickname of "Double Dutch" on account of a bad stutter: he could not make the sounds "st" or "the" and saw a speech therapist for three years, which also had the effect of virtually eliminating his Cockney accent.
He had a varied career prior to entering politics:
He took a degree in Economics and Government at Bournemouth College of Technology. Then, after 18 months' teaching at a primary school ("I specialised in teaching children who were described as ESN"), and a short stint as an underwriter, he became a recruitment consultant.
One wonders if he met his wife Julia while he was an underwriter:
In 1983 he married Julia Arnold, a former underwriter, who survives him with their four daughters and a son.
Margaret Thatcher was Prime Minister during Amess's early years in politics:
A dedicated Thatcherite, Amess contested the safe Labour seat of Newham North West in 1979, and in 1982 became a councillor in the London borough of Redbridge.

During those years, Essex went from electing Labour MPs to Conservative ones. The county is still Conservative-dominated in Parliament.
In the 1980s and 1990s, the media coined expressions for Essex voters, many of whose families had been moved out of London after the Second World War had ended. The next generation of voters became known collectively as 'Basildon man' and 'white van man'.
Amess rode the crest of that wave, as The Sun's Trevor Kavanagh explains:
Basildon was the first constituency he served, beginning in 1983:
When the incumbent Tory MP for Basildon, the Right-wing Harvey Proctor, moved to safer Billericay for the 1983 general election, Amess was chosen to fill his shoes and was duly elected. Three years later he stood down from the council to concentrate on his Westminster seat.
Basildon was regarded as a bellwether seat, and when Amess won it again in 1992, albeit with a tiny majority, it provided the first indication that despite the pundits, and the triumphalism of Labour's leader Neil Kinnock, the Tories were on course for a fourth successive election victory. He would later describe his campaign in a short pamphlet entitled 1992: Against All Odds! (2012).
Boundary changes prior to the 1997 general election meant that Basildon was almost certain to go Labour, so Amess decided to look elsewhere, and in 1995 was selected to fight Southend West after the retirement of Paul Channon. Returned to Westminster again, he held the seat until his death.
Amess focused on his constituents, first and foremost:
Assiduous and likeable, Amess built a strong personal following by concentrating on constituency issues: the Guardian's Andrew Rawnsley once suggested that the secret of his electoral success was that "he never completed a sentence without mentioning his constituency".
This was also reflected away from Parliament:
Amess … was a lifelong supporter of West Ham United, and also followed Basildon United …
Even after he left Basildon, he still returned to visit, as this former Basildon councillor remembers:
He had many accomplishments with regard to charity, earning him a knighthood. He:
was knighted in 2015 and received several awards for his contributions in parliament, including the Animal Welfare and Environment Champion award of the 2011 Dods Charity Champion Awards, and the "Outstanding Achievement Award" at the same event the following year, in recognition of his lifetime commitment to charitable work.
This was how the newly knighted Sir David celebrated:
He did not always follow the Conservative line in Parliament:
… he incurred the wrath of many fellow Conservatives by consistently voting to ban foxhunting and hare coursing (though he was in favour of capital punishment), and supporting numerous other animal welfare campaigns.
Many MPs will remember his staunch support of Brexit, however.
They will also remember him for supporting animal causes and an end to fuel poverty:
The most significant of these were the Protection Against Cruel Tethering Act (1988), and the Warm Homes and Energy Conservation Act (2000) …
The animal-related Act, supported by the NFU, banned the tethering of "any horse, ass or mule under such conditions or in such manner as to cause that animal unnecessary suffering".
The second piece of legislation, following on from the death of a constituent from cold, required the Secretary of State to "publish and implement a strategy for reducing fuel poverty". The measure was credited with pushing fuel poverty to near the top of the political agenda, contributing to a dramatic fall in the problem in England from 5.1 million households in 1996 to 1.2 million in 2004.
Another cause that Amess supported, thanks to a Leigh-on-Sea constituent, Carla Cressy, was that of endometriosis. 
The Telegraph has the story:
"I first approached Sir David Amess when I'd just found out I had endometriosis five years ago," says Carla Cressy, 30, an accounts manager from Leigh-on-Sea. "I didn't know much about it, and realised there was very little awareness, support and education around it. He's my local MP so I visited him at his surgery. I had no expectations of what would happen. I just knew I wanted to share my story with him, about how I'd suffered with endometriosis for an entire decade before I was diagnosed.
"He was so lovely – genuinely concerned and upset about what I'd been through. He said we need to do something about it, and he then really did. He went above and beyond to champion this community like a beacon of light. It was incredible. I am devastated that he's gone."
This is what happened:
"Sir David recognised the significant impact endometriosis could have, and really wanted to make a difference to help those with the disease," says Emma Cox, CEO of Endometriosis UK, a charity that was working closely with an All-Party Parliamentary Group (APPG) that Sir David set up in 2018 to raise awareness in Parliament of the condition …
One of Sir David's goals when he created the APPG was for the government to provide education on endometriosis in schools. It's something the group achieved over a year later, meaning menstrual wellbeing is now included on the English curriculum. "We made so much progress together," says Cressy, who worked closely with Sir David on the campaign. "He really has changed so many lives, including my own."
One of Sir David's upcoming tasks, had he lived, was to ask for further research funding, as a Labour MP explains:
"He really wanted that debate," says Labour MP Emma Hardy, vice-chair of the APPG on endometriosis. "We'd published a report last year, collecting evidence from women around the country with their experience of endometriosis, and Sir David wanted to draw attention to our recommendations."
Their key goals are to reduce the time it takes for people to be diagnosed, ensure GPs have enough information to make them aware of the condition, raise public awareness, and fund more research into non-invasive ways of diagnosis …
"The main thing that comes from women is not being listened to, not being believed, taking ages to be diagnosed and then when they are, there's not much change. Sir David wanted to change that. Endometriosis isn't party politics, but he was really passionate about trying to do something about this condition. I don't want him to be remembered as the person this tragedy happened to, but the person who worked so hard to improve the lives of people with endometriosis. We can't replace him, but I hope we can find another Conservative MP to champion his work and continue with the APPG."
This GB News video covers Sir David's public life from the time he entered politics:
MPs paid respects
On Friday afternoon, Union flags were lowered to half-mast over government buildings, including No. 10:
On Saturday morning, prominent Conservative and Labour MPs laid flowers near the Methodist church hall where Sir David was murdered:
Government whips have reminded MPs that there is an Employee Assistance Programme for anyone among them who wants counselling after Sir David's senseless murder.
Everyone, regardless of party affiliation, was deeply sorry to lose this man:
This was because he befriended MPs from both sides of the aisle and found ways to work constructively with them:
One of the things I found moving in watching and reading these tributes was the recollection made by more than one MP, regardless of party affiliation, on his befriending of new Parliamentarians. He introduced himself, asked how they were getting on and enquired if they had any issues with which he could help.
Conservative MPs
These are some of the Conservative MPs' tributes, beginning with Boris's:
Long-time friend David Davis paid tribute to Amess's career of service, rather than ambition:
Stuart Anderson remembers Amess helping him settle into the job:
Andrew Rosindell, another Essex MP, lamented the loss of his oldest friend in the Commons:
Another long-time friend, David Jones, called him 'frankly irreplaceable':
I agree with Mike Wood. Forthcoming Adjournment debates will never be the same. That said, Southend is now a city:
The folks running PARLY agree on the adjournment debates, during which Sir David addressed more issues than Southend:
Labour
Party leader Sir Keir Starmer emphasised Amess's Christian faith and the fact that he was well liked across the House:
Hilary Benn remembered Amess's dogged campaigning and dedication:
Siobhain McDonagh will forever connect Amess with Southend, and who can blame her?
Steve McCabe will remember Amess's cheerful nature:
John Cryer was a former neighbour:
Liberal Democrat
The most moving tribute, however, came from Lembit Öpik, a former Liberal Democrat MP, who spoke to Mark Dolan on GB News Saturday night:
The former MP was so moved that he had to sit down and recover after that interview. Mark Dolan's producer was with him during that time.
Conclusion
It was serendipitous that the Gospel reading for Sunday, October 17, was about service (Mark 10:35-45):
10:42 So Jesus called them and said to them, "You know that among the Gentiles those whom they recognize as their rulers lord it over them, and their great ones are tyrants over them.
10:43 But it is not so among you; but whoever wishes to become great among you must be your servant,
10:44 and whoever wishes to be first among you must be slave of all.
10:45 For the Son of Man came not to be served but to serve, and to give his life a ransom for many."
What apposite verses for Sir David Amess, who gave his all in service to his constituents.
May his place in Heaven be an exalted one.
On Tuesday, October 12, 2021, Sir David Amess MP (Conservative), posted the following tweet promoting his upcoming constituency surgery in Leigh-on-Sea, Essex:
These surgeries are an opportunity for constituents to present their problems to their MP. They might be seeking help with schooling, crime or health, among other things. Meetings are face-to-face, one-on-one. One's MP then cuts through bureaucracy to achieve a successful resolution to the problem.
It seems this type of in-person connection between a member of the public and an elected constituency politician is unique to the UK. Long may it continue.
Two days later, Sir David posted a photo of himself and the Emir of Qatar. Amess was the chairman of the All-party Parliamentary Group fostering good relations between Britain and Qatar:
That same day, the MP for Southend West tweeted his gratitude for the government aid to Southend-on-Sea, no longer a smallish, seaside resort, but a town with a population of 160,000. Sir David has been campaigning tirelessly in Parliament for it to have city status. Winter fuel poverty was another of his big causes:
Little did he realise those would be his final tweets.
Just before noon on Friday, October 15, I was watching a heart-warming segment on GB News about the Westminster Dog of the Year charity event, to be held on October 28 in Victoria Tower Gardens, London. Isabel Oakeshott was interviewing Matt Vickers MP (Conservative) and his dog Karen. Karen was paying attention to the conversation. As soon as it turned to dog-napping, she began barking.
The public can vote up for their favourite MP-dog pairing until October 27. Sir David had already registered with his French bulldog Vivienne. Recently, he said:
If I am feeling down, the dog lifts my spirits as she is always pleased to see me and she makes me smile.
Little did I know watching the GB News segment with Matt Vickers and Isabel Oakeshott that Sir David was minutes away from his last breath.
Amess's last meeting was a Zoom call about the Children's Parliament, which pairs up an MP with a young member of the public. The meeting ended at 12:02 p.m.
At 12:05, Sir David was gasping his final breaths, having been stabbed multiple times in the church hall.
It was just moments after midday on Friday when Sir David Amess had his last appointment.
Richard Hillgrove, a PR professional, shared a call with Amess to discuss the Children's Parliament, an event where kids are matched with members of parliament to debate the important issues of the day.
As usual, the MP for Southend West was firing on all cylinders, full of buzz and ideas for the event: the running order, the voting system, what software they should use. Hillgrove's daughter, Lola, 11, had been matched with Amess, who visited her at school so they could have their picture taken.
Hillgrove says he ended the Zoom call at 12.02pm, so that Amess could host a constituency surgery at the Belfairs Methodist Church in Leigh-on-Sea. It was his final farewell. By 12.05pm, Amess had been stabbed to death.
A few minutes later, Hillgrove saw the first reports of the murder on television. "I didn't even realise it was Sir David at first," he recalled. "I was absolutely horrified, every minute that came passed seemed like an hour, the longer it went, the more concerning it got."
Eventually the unimaginable news filtered through. Lola came home from school in tears. "I was honoured to have known him," said Hillgrove. "He was such an inspiration, his engagement was incredible. He made sense of a crazy world."
The events of Friday afternoon have pierced the quiet provincial calm of Leigh-on-Sea, leaving the tight-knit Essex community fearful and furious. A deep, heavy sadness hangs over this seaside town. Yesterday, the flower bins were empty at the Co-op on Eastwood Road, just 100 yards from where Amess was stabbed 17 times by a 25-year-old man. Every tulip, rose and pansy had been scooped up and deposited at the tribute for the man alternately known as "Sir David" or simply "Dave".
The Telegraph reported that Amess's staff, women, witnessed his horrifying murder. Paramedics from an air ambulance worked in vain for two hours trying to stabilise him:
Sir David was attacked seconds later, stabbed repeatedly in front of his horrified staff.
… Sir David's wounds were so many and severe that paramedics were unable to stabilise him sufficiently for a transfer to hospital. After two hours of vain struggle to stem his injuries, the air ambulance took off empty.
The Telegraph spoke with the aforementioned Richard Hillgrove:
Mr Hillgrove recalled how, during their conversation, Sir David had periodically glanced to his right.
He assumes this was towards trusted assistant, Rebecca Hayton, upon whom Sir David, not being the most technologically savvy parliamentarian, relied for help when making video calls.
It was she who witnessed at close quarters the full ferocity of the knife attack, running from the Belfairs Methodist Church hall screaming. Her screams alerted Sir David's other assistant, Julie Cushion, who was positioned in the church hall lobby.
Shortly after the attack, Stephan Aleyn, a former Southend Conservative councillor, spoke to Ms Cushion.
"She is in absolute bits," he said. "What she saw is going to stick with her for the rest of her life.
"It was a normal surgery and they were assisting Sir David in helping his constituents.
"Julie and Rebecca thought this man was just another constituent who needed help from their MP, when suddenly he launched his attack on Sir David.
"For anyone to witness that sort of shocking, unprovoked assault is awful. It was a lovely, normal, sunny day – then this."
After stabbing Sir David several times, his assailant sat down next to his body, making no effort to evade police, it has emerged.
A Southend Conservative Party source said: "One of Sir David's office staff was in the hall with him, and it now appears that after attacking Sir David, this man sat down and waited for police to arrive. It's absolutely chilling."
The article says that 999 calls were made at 12:05 p.m. Police, including an armed response unit, and the air ambulance responded immediately. The suspect went quietly with the police:
The 25-year-old suspect was detained inside the church hall and led out to a police van. A knife was recovered.
Amess's staff must have also contacted a Catholic priest he knew. The Revd Jeffrey Woolnough showed up shortly afterwards and asked police to be admitted to administer Last Rites — or Extreme Unction, as it used to be known. However, he was refused entry:
He was denied entry, however, and so stood on the street with another man reciting the rosary. He described it as a "great disappointment" for a Roman Catholic not to be able to receive the last rites.
"It was remarkably calm by the time I arrived," Fr Woolnough told The Telegraph.
"I prayed from outside and I just hope David received those. I know he would have done, because any prayer said that is sincere is received by the recipient.
"I was praying the rosary – it's a half hour prayer going through all of those intentions, asking that whatever was going on in there, for God's will to be done. That's all I could pray at that point in time."
I did not know until he died that Sir David was a devout Catholic, but, given his serene demeanour, sincere smile and gentle wit, it does not surprise me that he was a churchgoer.
The Spectator's Melanie McDonagh, also a devout Catholic, expressed her displeasure with the police response regarding Last Rites:
It's not known whether Sir David was alive when the priest arrived at the scene, but he still should have been there. Nothing should come between a dying man and the mercy of the Church. Of course the police were dealing with a tremendously difficult situation and would have been shocked and confused – how could they not have been? – but it doesn't excuse this failure of judgment, which we can assume stems from a failure of training.
Essex Police sent The Spectator a statement, which says, in part:
As with any police incident, it is of the utmost importance that we preserve the integrity of a crime scene and allow emergency services to tend to those in need. A cordon is put in place to secure and prevent contamination of the area. Access into a scene is at the discretion of the investigating officers. This is a fundamental part of any investigation to ensure the best possible chance of securing justice for any victim and their family.
McDonagh says that the priest was 'an emergency service'. I cannot disagree:
The most troubling element of the statement is that the police wanted to 'allow the emergency services to tend to those in need.'
A priest is an emergency service. In the case of Sir David, the priest was someone who could help see him into the next world, not just keep him in this one. You don't have to share a belief in the efficacy of confession to go along with this; you just need a very elementary knowledge of and respect for the faith to refrain from standing between a confessor and a dying man. As for the reference to the 'emergency services administering potentially life-saving treatment,' Catholic priests are used to operating together with medics for precisely this reason.
You might like to know that Essex police recently engaged in that exercise in cultural conformity, Hate Crime Awareness Week. Perhaps in future, some awareness of Christianity might be part of the training.
Monsignor Kevin Hale, who knew Sir David, told GB News how Catholicism informed the MP's life. Amess's mother was a Catholic and she brought him up in the faith:
Monsignor Hale said that Sir David had grown up in the East End of London and attended St Bonaventure's Roman Catholic School in Newham. It is a secondary school for boys.
The Right Revd Stephen Cottrell, the Anglican Archbishop of York, lived for a time in Amess's constituency and paid a warm, faith-filled tribute to his former MP and friend in The Telegraph:
It was said of Sir David Amess that though he had opponents, he didn't have enemies. As we come to terms with the horror of his murder on Friday, this is a distinction worth pondering.
I think of David Amess as a friend. Leigh-on-Sea is my home town and, for ten glorious years as Bishop of Chelmsford, part of the diocese I served. We often met: in parliament, but usually in his constituency, Southend West.
He was, as we have heard over the weekend, a dedicated, zestful, persevering constituency MP. He loved Southend, as I do. He rooted for it. He exemplified that vital, but overlooked, root of our democracy that Members of Parliament may get elected on a party ticket, but, once elected, serve everyone …
David Amess was a kind man. The word kind is related to the word kin. When we are kind to someone, it doesn't mean we necessarily agree with them, or even like them, but that we recognise a kinship, a common humanity and treat them accordingly; or as we sometimes say, "treat them in kind".
David's robust kindness came from his Christian faith. He was a devout Christian, a Roman Catholic. But the idea that we human beings belong to one another and have a responsibility to each other is not self-evident. Observation of our behaviour and attitudes shows us the opposite. Our worst desires can be seen everywhere, leading us to separation, fuelled by selfishness, and bearing fruit in hatefulness and the possession of each other.
The picture of humanity that God gives us in Jesus Christ offers something else. In this regard, perhaps the most radical words Jesus ever spoke are the ones most of us know and many of us say every day: "Our Father." In saying these words we don't just acknowledge we belong to God, we acknowledge our belonging to each other as kith and kin …
David Amess, the friend with whom I sometimes disagreed, had the same values and the same vision. It shaped his life and it is what made him such a loved and effective constituency MP and an exemplar of what our democracy can be.
He was always very kind to me. He supported the Church. He cared. He liked to build coalitions of goodwill so that people could work together. Kindness and kinship, it turns out, gets things done.
My heart goes out to his wife and family and the constituents of Southend West. I am praying for them …
David Amess didn't wear his faith on his sleeve. He wore it in his heart. That's the best place for it. It means it runs through your very being.
Late on Friday, the Metropolitan Police's Counter Terrorism Command took over the case from Essex Police:
Early on Saturday, October 16, it was established that the suspect is a Briton of Somali parentage.
The Mail on Sunday reported that the BBC's home affairs correspondent, Dominic Casciani, downplayed the suspect's parental origins:
The BBC's home affairs correspondent was accused yesterday of trying to downplay the suspect's reported Somali origins …
Although every national newspaper with the exception of the Financial Times mentioned that the suspect had Somali 'origins', 'heritage' or 'descent' yesterday, Casciani appeared to wrestle with the issue on Radio 4's Today programme.
Presenter Nick Robinson asked him: 'The suspect is a British citizen, but he's also of Somali origin. Is that regarded as significant?'
Casciani replied: 'The Somali element – erm, no. The reason why some reporters have established this fact is that there has been some misreporting …'
Twelve hours earlier, he had tweeted: 'We have learnt from official sources that detectives have established the individual is a UK national, seemingly of Somali heritage. We report this in the interests of accuracy' …
The BBC says Casciani 'focuses on stories relating to law, order, society and belonging – including immigration, ethnicity'.
The Telegraph reported on the Met's discoveries made on Saturday. The suspect lived in London, far from Sir David's constituency:
On Saturday, officers from the Metropolitan Police's counter-terrorism team, which is leading the investigation into his death, were searching three addresses in London – at least two of which were believed to be in the east of the capital. One search had ended but the others remained ongoing on Saturday night. The suspect, a British national of Somali origin, is thought to have acted alone and travelled by train from his north London home to Essex to carry out the attack.
The Daily Mail told us that the suspect lives among at least one celebrity in London, the rest of his neighbours clearly well-heeled, and might have spent a week planning the bloody attack:
Ali, who is thought to have been targeted by the Government's anti-terror Prevent programme, may have lived in Sir David's Southend West constituency in Essex in the past.
His most recent residence is believed to be in London. Officers have been carrying out searches at three addresses.
The security services are providing assistance to Scotland Yard, which is leading the investigation. Last night, detectives were granted a warrant of further detention, allowing them to keep Ali in custody until Friday.
Police officers were yesterday standing guard outside the North London council house where Ali lives. It is in a street of £2 million three-storey townhouses where the late actor Roger Lloyd Pack, who played Trigger in Only Fools And Horses, used to live.
That day, news emerged that Sir David had received a menacing threat just days before his murder. However, police believe that the two events are unconnected, according to The Telegraph:
The threat to the veteran MP was made in the past few days and reported to police …
It is understood that Essex Police received a report of the threat, but they are not connecting it with Friday's attack.
John Lamb, the former Mayor of Leigh-on-Sea and a close colleague of the murdered MP, said Sir David had received the "upsetting" threat in the past few days …
Mr Lamb said it had been Sir David's idea to hold his surgeries in places like the Methodist church, so he could be more accessible to his constituents, rather than in the local Conservative Party offices in Southend.
It is understood this came despite concerns being expressed by some of his staff over the potential security risk at more open venues.
Mr Lamb said: "Sir David used to hold them at the Conservative Association, but that made it hard for older people to see him so around a year ago he started going out into the community. He didn't want to hide away, he wanted to be visible and accessible. He told me: 'I want them to be able to see me in their local area'.
Before this, the last time an MP was murdered was in June 2016, just days before the Brexit referendum. A white male fatally stabbed Labour MP Jo Cox outside her own surgery. He was said to have had mental health problems, aggravated by the threat of eviction. His mother was also in poor health. That is not in any way to excuse his horrific crime of murdering a young wife, mother and MP. However, at the time, the media said the motive was because he was pro-Brexit and she was not.
Sir David, along with every other MP, was deeply affected by her death. He mentioned it and attendant security issues in his 2020 book, In Ayes and Ears: A Survivor's Guide to Westminster, published last November.
He wrote:
The British tradition has always been that Members of Parliament regularly make themselves available for constituents to meet them face to face at their surgeries. Now advice has been given to be more careful when accepting appointments. We are advised to never see people alone, we must be extra careful when opening post and we must ensure that our offices are properly safe and secure. In short, these increasing attacks have rather spoilt the great British tradition of the people openly meeting their elected politicians.
He also said that he had to check the locks on his property and that certain 'nuisance' (his word) members of the public occasionally showed up outside his home. Other MPs have installed CCTV cameras on their properties.
Jo Cox's sister, Kim Leadbeater, is now an MP in her former constituency, Batley & Spen. She tweeted her condolences:
The Emir of Qatar also sent a message of sympathy. Last week, he and Sir David were discussing Afghanistan refugees who are currently living in Qatar, awaiting settlement in other countries:
On Sunday, October 17, the father of the suspect in custody spoke. The Sunday Times reported:
The father of the suspected killer of Sir David Amess said he had been left "traumatised" by his son's arrest after the stabbing of the veteran Tory MP.
Harbi Ali Kullane, a former adviser to the prime minister of Somalia, confirmed that his British-born son, Ali Harbi Ali, 25, was in custody. Kullane said that anti-terrorist police from Scotland Yard had visited him.
Speaking at his sister's home in north London last night, Kullane said: "I'm feeling very traumatised. It's not something that I expected or even dreamt of."
The suspect was a "self-radicalised" lone operative known to counterterrorist police, according to Whitehall sources. He is believed to have been referred to Prevent, the government's deradicalisation programme, before allegedly stabbing Amess on Friday …
Investigators are examining the theory that he was radicalised online during lockdown.
Officers were yesterday granted a further warrant to detain him until Friday under terrorism laws. Scotland Yard said that early inquiries had uncovered "a potential motivation linked to Islamist extremism".
Amess, 69, an MP for almost 40 years, was a devout Roman Catholic who was guided in his daily life by his strong faith …
Intelligence sources said the suspect had not been on the radar of MI5, which is monitoring more than 3,000 people who it is feared could be plotting a terrorist attack. However, he is believed to be one of thousands of extremists who have been referred to the voluntary Prevent programme after displaying potentially disturbing behaviour such as inflammatory postings on social media.
More than 6,000 people were referred by police and other agencies to the programme in the year ending March 31, 2020.
By the way, referral to the Prevent programme does not include monitoring by police and/or security services.
That day, the Amess family issued a statement thanking the public for their messages of support and urged the Government to grant Southend-on-Sea city status.
Sir David Amess's family have said that achieving city status for Southend would be a way of paying tribute to a "patriot and man of peace".
In their first public comments since the MP's murder, his family thanked people for the "wonderful, wonderful tributes paid to David following his cruel and violent death. It truly has brought us so much comfort."
Amess, 69, was married with five children and in a statement tonight they said: "The support shown by friends, constituents and the general public alike has been so overwhelming. As a family it has given us strength."
They urged people "to set aside their differences and show kindness and love to all" so that some good might come from their father's death. His family said there was "still so much David wanted to do" insisting: "This is not the end of Sir David Amess MP. It is the next chapter and as a family we ask everyone to support the many charities he worked with."
They cited his efforts to raise money for a statue of Dame Vera Lynn and said: "Closer to home, David was working hard for Southend to gain city status. In his memory, please show your support for this campaign."
As I write on Monday, no known motive for Sir David's gruesome murder has emerged.
Some of his friends believe it was because he was a devout Catholic. I'm not sure about that. I did not know he was one until he died, and I'm a political junkie and frequent viewer of BBC Parliament.
A radical Islamist preacher says it was because Sir David was pro-Israel, as the MP had been an honorary secretary of the Conservative Friends of Israel since 1998.
However, let us not forget Qatar and the current tensions in Somalia.
In Monday's Times, speculation arose over whether Amess was murdered because he headed the APPG fostering relations between the UK and Qatar. Qatar supports the current regime in Somalia:
Meanwhile, members of the public are calling for those voting for the Westminster Dog of the Year to choose Sir David and Vivienne as a fitting posthumous tribute to the tireless yet cheerful MP, who will be sorely missed.
I will have more on Sir David's life in tomorrow's post.
My deepest condolences go to the Amess family, Sir David's staff and his many friends. May the good Lord grant them His infinite grace and comfort in the days and months ahead.
Eternal rest grant unto your servant David, O Lord, and let perpetual light shine upon him. May his soul and all the souls of the faithful departed rest in your eternal mercy and peace. Amen.