You are currently browsing the tag archive for the 'London' tag.
Gosh, what a lot of news to cover in one post.
Admittedly, a few of these items are a bit old but fit in thematically.
Theresa May U-turns on support for Scottish gender reform legislation
I wrote yesterday about former Prime Minister Theresa May's support for Scotland's Gender Recognition Reform bill on Tuesday, December 27.
Within 24 hours she had made a U-turn, thankfully, although she did it through a spokeswoman.
On Wednesday, December 28, The Times reported (emphases mine):
In the wake of the interview the BBC issued a press release which stated: "On the subject of Scotland's proposed gender recognition laws, Ms May said she was disappointed the Westminster government wasn't supporting them."
Yesterday, however, a spokeswoman for the Maidenhead MP insisted that was not the case.
"As prime minister, Theresa launched a consultation looking at gender recognition laws with the aim of providing a more sensitive approach to transgender people, but she does not agree with Nicola Sturgeon's legislation and is particularly concerned about the consequences it could have for children in Scotland and across the UK," she said.
We can but hope that the Secretary of State for Scotland does not send the legislation for Royal Assent:
Immediately after MSPs voted in favour of the legislation Alister Jack, the Scottish secretary, threatened to invoke section 35 of the Scotland Act, which allows him to prevent the legislation from receiving royal assent.
Although gender recognition is devolved to Holyrood, the Equality Act — with which the new law will interact — is reserved to Westminster.
As nearly two-thirds of Scottish voters — even SNP supporters — think this legislation is a terrible idea, Westminster can show the 'Union dividend' in being 'better off together'.
Gas futures coming down
On Thursday, December 29, The Guardian had encouraging news about the price of natural gas futures in Europe:
European gas prices have dropped back to levels seen before the Ukraine war began in February, as fears of a gas crisis this winter ease.
The month-ahead European gas future contract dropped as low as €76.78 per megawatt hour yesterday — its lowest level in 10 months, data from Refinitiv shows.
As this chart shows, gas prices have fallen back from their surge in March, and again in the summer as European countries scrambled to fill their gas storage tanks.
Prices have dropped thanks to warmer-than-normal temperatures this winter, which have limited demand for gas, after the European Union successfully filled reserves to a peak of almost 96% in November.
Consumption reduction targets have also helped to limit demand, with the EU aiming to cut its gas consumption by 15%.
Earlier this week, 83.2% of EU gas storage was filled, data from industry body Gas Infrastructure Europe shows, still above the target of 80% set for the start of November.
Traders are confident that inventories will end winter at a very comfortable level with a very low risk of falling to critically low levels, says John Kemp, energy market analyst at Reuters.
UK gas prices have also dropped back from their highs earlier this year. The day-ahead gas price closed at 155p per therm yesterday, compared with 200p/therm at the start of 2022, and over 500p/therm in August.
The UK versus the EU
All year long in Parliament we've heard that the UK is 'broken' and that we should have stayed in the EU.
Polls have been published showing that Brexit voters have buyer's remorse. Well, they shouldn't have. We are much better off outside an unelected European Commission. Furthermore, EU countries are not doing substantially better than Blighty.
France
This week, I received the latest copy of Marianne, the French newsweekly. Part of its cover story headline, referring to the state of their nation, reads:
EN PANNE
meaning, 'out of order', 'not working'.
On Wednesday this week, The Spectator had an excellent article about our neighbour: 'All is not well in Macron's France':
In 2021, both World Bank and United Nations GDP (nominal) rankings have the UK at 5th and France 7th. International Monetary Fund estimates for 2022 show India overtaking the UK to claim the 5th spot for world GDP, but with France still 7th.
One may question the reliability of GDP as a comparator, but a host of other measures regularly show France worse off than the UK. Debt to GDP ratios show France at some 115 per cent, the UK 99.6 per cent. Meanwhile the Bank for International Settlements gives France's total public and private debt (non-financial) at 351 per cent; the UK at 271 per cent.
One can rightly point to France's present day lower inflation at 7.1 per cent (EU harmonised) compared to the UK's 10.7 per cent. But as French debt statistics above show, president Emmanuel Macron began forcing down domestic inflation by subsidising prices during his 2022 presidential election campaign. French unemployment at 7.4 per cent compares unfavourably with the UK's 3.4 per cent. Meanwhile France is the highest taxed OECD and EU state, leaving little margin for manoeuvre. Her balance of payments figures are as gloomy as the UK's, together with her flat economic growth.
While Britain's position is not rosy, France's is certainly no better. That is why recent predictions in a certain European press, not least in France, taken up by British elites, that the UK was descending into terminal decline has lost all proportion. If the French press enjoy a touch of schadenfreude at the expense of the old enemy, and French politicians are glad to distract from their own problems, the willingness of much of the British middle class to swallow the same view can only be explained by ingrained cultural habit aggravated by post-Brexit resentment. Today, with Macron utterly wedded to the EU project, France for British elites is ipso facto superior to Britain. Yet France's moral state is parlous.
Since the 2022 presidential and legislative elections Macron's centrist party has no overall majority. France is stalemated and drifting towards ever more radical politics. Macron's prime minister Élisabeth Borne, unable to command a majority in the National Assembly, struggles to get her business other than by the constitutional sleight of hand of article 49,3, which guillotines parliamentary debate. With the chamber split four ways the question remains as to whether Macron will eventually dissolve parliament. Opinion polls suggest this would be a gift to Marine Le Pen's party, already the single largest opposition party with 89 seats. France might then come to replicate the present radical right Italian government.
Socially and culturally French society is far from healthy. Other than worsening violence and lawlessness in the banlieues – conveniently out of sight of English elites' visits to France – the French model of assimilation and laïcité is being tested to destruction. Official Justice Ministry statistics for July 2021 show 24.6 per cent of the prison population as foreign (double the proportion in Britain).  The French Interior Minister publicly stated this summer that, although foreigners make up 7.4 per cent of the French population, they account for 19 per cent of all delinquency nationally, and that 48 per cent of arrested delinquents in Paris are foreigners, 55 per cent in Marseille, 39 per cent in Lyon.
… The general picture is of a France far from at ease with itself. The prospect of a member of France's ethnic minorities leading the country with no fuss in the near future, as has just happened in Britain, seems impossible.
And remember the cries of 'Brexit is bad' when the Paris stock exchange overtook London's in November?
I don't recall any mea culpas from the metropolitan elite once we resumed normal service ten days later:
Guido Fawkes posted (emphases his):
The London stock market has re-overtaken Paris's after falling behind for 10 days, with a lead of $63 billion. A 2.5% rally in the value of the pound led to the improvement, and morale booster, compared to a modest 0.7% improvement for the Euro …
Germany
While Remainers in Britain's metropolitan elite moan about food inflation, our friends in Germany have experienced similar price hikes.
On October 14, September figures for the UK showed that our grocery price inflation hit an all-time high of 13.9%.
Yet, JustFood reported that Germany's grocery price inflation also reached historic highs:
Inflation levels in Germany reached their highest levels in three decades in September with food prices rising 18.7% year on year, figures show.
In a continued squeeze on consumer pockets, inflation reached 10% – its highest level since the country's reunification in 1990, the federal statistical office said.
Consumers faced the sharpest rises in edible fats and oils, which were up by 49%. Dairy products and eggs increased by 29.1%, meat and meat products 19.5% and bread and cereals 18.5%.
Month-on-month comparisons show consumers paid 1.8% more for food in September than in August, with vegetables 3.9% more expensive and dairy products up by 2.2%.
The consumer price index for food in Germany, measured against a 2015 baseline of 100, stood at 135.4 year-on-year in September, compared to 121.1 overall.
The federal statistical office said the cost of energy was leading inflation but food also played a major role, with both contributing to an overall 10% rise in prices.
Without food and energy rises in the equation, the country's inflation rate is reduced by over half to 4.6%. The prices of all goods increased by 17.2% in September 2022 compared to 2021, but the prices of non-durable consumer goods, which include food and energy, increased by 23.3%.
We cannot blame German inflation on Brexit. As Conservative ministers rightly say at the despatch box, inflation is up all over Europe and the West.
UK to relax egg rules to line up with EU
Another thing we hear from Remainers, especially in the Houses of Parliament, is that British food regulations are weaker than the EU's!
Nothing could be further from the truth! Our food standards have been higher than the EU's for decades.
Anyone wanting up-to-date proof can read an article in Wednesday's Guardian — 'UK free-range egg rules could be relaxed in line with EU for avian flu outbreaks':
Free-range egg rules in the UK could be relaxed in response to the European Union preparing to overhaul regulations after the biggest avian flu outbreak on record.
Ministers are understood to be considering a change to the rules that would mean eggs laid by hens kept in barns for months on end could be classed as free range.
Currently, eggs cannot be classed as free range if birds are indoors for more than 16 weeks. Farmers have that grace period in both the EU and UK, which means eggs can still be labelled as free-range if a government-issued housing order for birds is in place up to 16 weeks.
Subsequently, labels need to be added to packaging making it clear that those are now classified as barn eggs.
Whitehall sources told the Daily Telegraph that the Department for Environment, Food and Rural Affairs (Defra) is considering changing the regulations in order to keep farmers competitive with Europe …
The European Commission put forward a proposal in September, which stated "where temporary restrictions have been imposed on the basis of EU legislation, eggs may be marketed as 'free-range' notwithstanding that restriction".
The proposal, which is awaiting approval by the European parliament, means eggs could be classed as free range even if hens are forced to spend months indoors due to government rulings.
In September, egg producers in the UK said it was essential that the government now followed suit to avoid British suppliers being undercut by EU imports.
Climate change
Climate change sceptics will be on the right side of history in time.
Guido Fawkes's readers posted about deforestation in this post.
One chap posted an article about the increasing need for balsa wood from Latin and South America for blades on wind farms. Apparently, indigenous communities have not been consulted: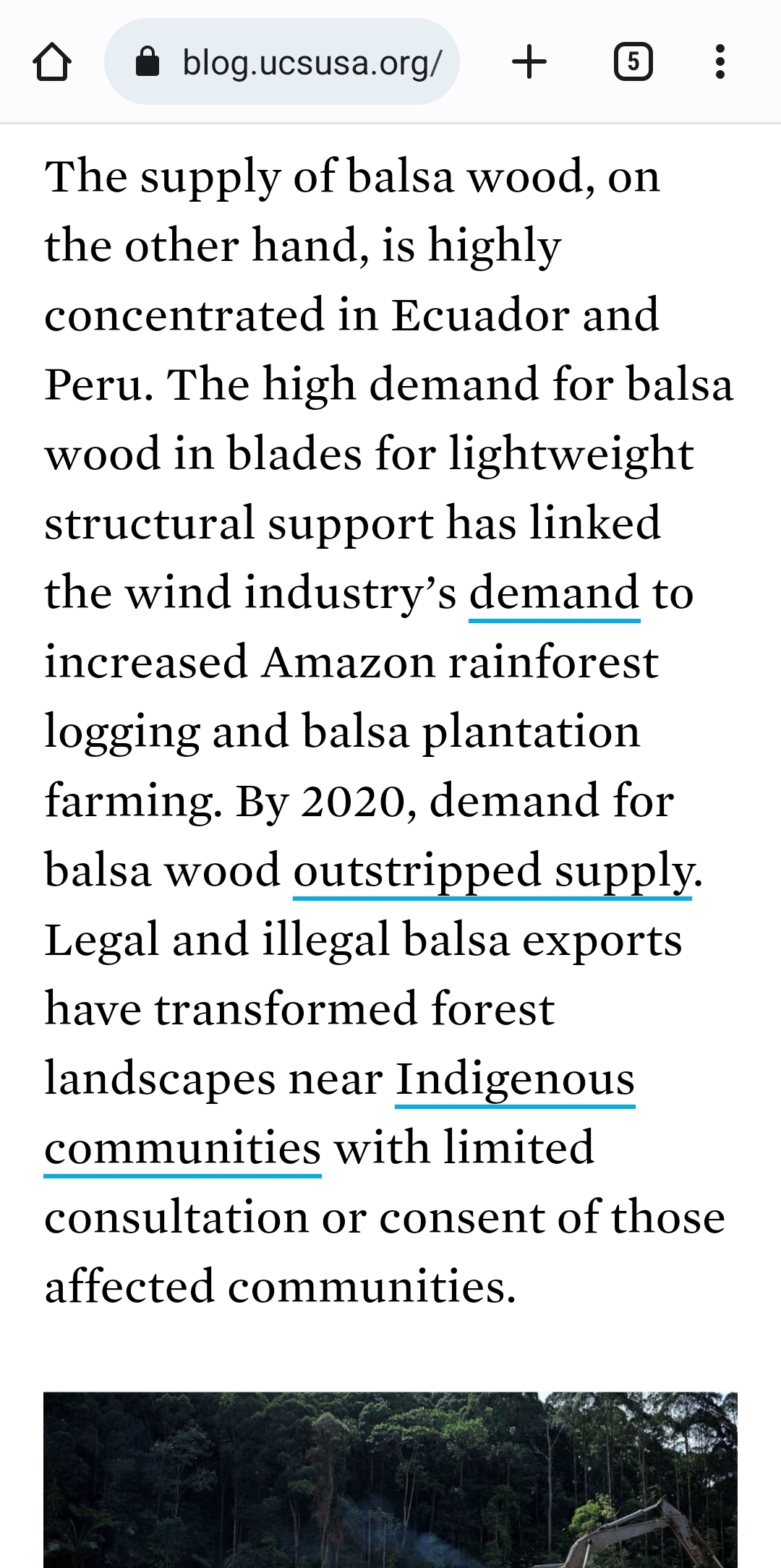 The article continues, stating that some companies are switching from balsa to oil byproducts, such as PET and PVC, or to cellulose: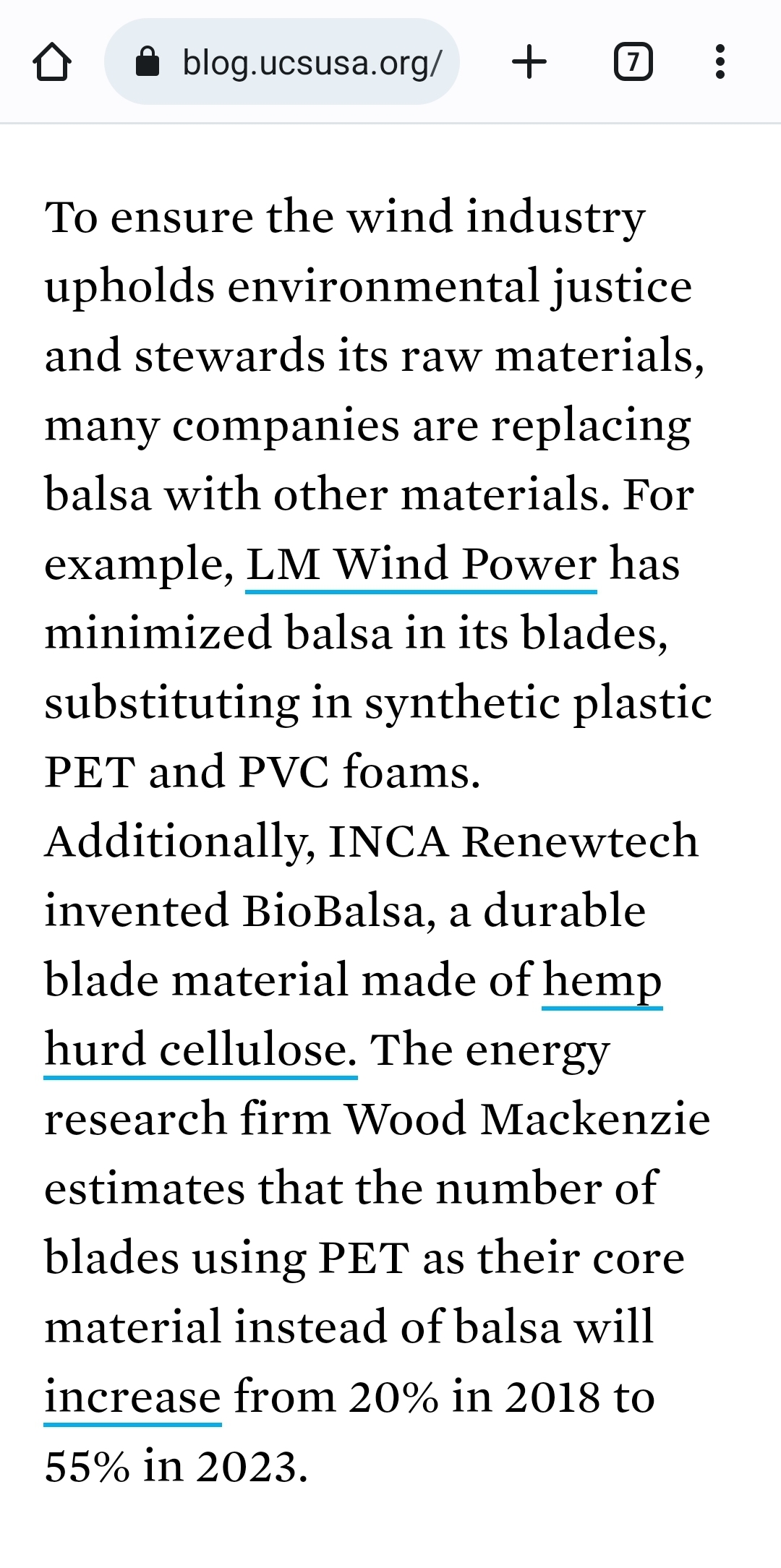 The man who posted the article pointed out:
BALSA is being replaced with PET and PVC (yep- crude oil) but are also experimenting with cellulose– which needs highly toxic chemicals to make.
Someone responded with this:
Synthetic PET usually uses food starch as a replacement for oil based derivatives. These divert food crops away from human and livestock consumption. They also encourage the use of GM crops and pesticides.
PVC production creates sodium chloride, which is a cause of acid rain.
The eco loons really didn't think this through.
Ultimately:
The eco l00ns NEVER think anything through.
And they hope we won't notice.
It's part of the reason why 'climate science is settled' and they refuse to debate.
You know how it goes.
Fracking bad – mining cobalt (even using young children) good.
You flying -bad- them flying- good.
On a similar note, an UnHerd article laments the loss of the hearth in 'Firewood will save the West'. The author, Paul Kingsnorth, lives in Ireland and has his firewood delivered to his home:
The Irish government is currently campaigning against households which burn turf or wood, the former on the grounds of CO2 emissions, and the latter on the grounds of air quality. As ever, the campaign is driven from Dublin, and mostly takes Dublin sensibilities into account. Rural households in Ireland have been burning turf and wood forever, with little significant impact on "air quality" — or at least, no impact comparable to that which Ireland's "Celtic Tiger" modernisation has had. Suddenly, though, the media is full of scientists armed with studies demonstrating how getting a fire going in your cottage in winter will lead to cancer and lung disease on a widespread scale.
That is nonsense. Until recently, Man had been surrounded by smoke for millennia.
Essentially, the Irish government, in line with other Western governments, wants to do away with fireplaces:
This new tilt against household fireplaces is not just an Irish phenomenon: it is suddenly popping up everywhere. Woodstoves are, curiously, becoming the number one air pollution villain. Never mind mass car use, accelerating air travel or industrial pollution. Never mind the emissions caused by the massive increase in Internet server farms, which within just a few years could be using up an astonishing 70% of this country's electricity. These days, if you want to demonstrate your social responsibility, you should be all aboard with the abolition of the traditional fireplace and its replacement with "green" alternatives.
He explains that the home hearth has been not only traditional but also atavistic throughout mankind's history. He cites the philosophical polymath John Michell (1933-2009):
The fireplace, whether our dessicated urban authorities know it or not, has a primal meaning, even in a world as divorced as ours from its roots and from the land.
In his short essay "Fireside Wisdom", the uncategorisable John Michell suggested that the "displacement of the hearth or fireplace" from the home was one of the many reasons for the craziness of the modern world which his life had been spent playfully exploring. The fireplace at the centre of the home, he wrote, was both an ancient practicality and a device of "cosmological significance" across cultures and time: "Conversation is directed into the fire while dreams and images are drawn out of it."
In the past, the act of sitting staring into the smoky fire with family or neighbours was the genesis of the folk tale and folk song which tied the culture together. Now we stare at digital fires hemmed into boxes manufactured by distant corporations who also tell us our stories. No song we can dream up around a real fireplace can compete with what these boxed fires can sell us. "Thus," wrote Michell, "the traditional cosmology is no longer represented by its domestic symbols, and a new, secular, restless, uncentred world-view has taken its place."
Focus, Michell explained, is "the Latin name for the central fireplace. The fire not only warms but, as a symbol, illuminates the corresponding images of a centre to each of our own beings and of a world-centre which is divine, eternal and unchanging." Lose your fires, and you literally lose your focus as a culture. In this context, a government spokesman telling his population, as one minister here recently did, that they should "get over" their "nostalgic" attachment to the hearth fire and install ground source heat pumps instead is more than just a nod to efficiency. It is an assault on what remains of the home and its meaning. It is an attack on the cultural — even the divine — centre.
Paul Kingsnorth posits that each move away from self-sufficiency, e.g. using one's own fireplace, puts us more under the control of government:
When you can no longer grow your own wood or cut your own turf to heat your own parlour, you are made that little bit more dependent on the matrix of government, technology and commerce that has sought to transmute self-sufficiency into bondage since the time of the Luddites. The justification for this attack on family and community sufficiency changes with the times — in 17th-century England, the enclosures were justified by the need for agricultural efficiency; today they are justified by the need for energy efficiency — but the attack is always of the same nature. Each blow struck against local self-sufficiency, pride and love of place weaves another thread into the pattern which has been developing for centuries, and which is almost complete now in most affluent countries …
In my lifetime, in my part of the world, the notion and meaning of "home" has steadily crumbled under external pressure until it is little more than a word. The ideal (post)modern home is a dormitory, probably owned by a landlord or a bank, in which two or more people of varying ages and degrees of biological relationship sleep when they're not out being employed by a corporation, or educated by the state in preparation for being employed by a corporation. The home's needs are met through pushing buttons, swiping screens or buying-in everything from food to furniture; for who has time for anything else, or has been taught the skills to do otherwise?
He refers to a 1980 manuscript, 'Family Work', by the American essayist Wendell Berry:
Like so much of Berry's work, it locates the centrepoint of human society in the home, and explains many of the failures of contemporary Western — specifically American — society as a neglect of that truth. The home, to Wendell Berry, is the place where the real stuff of life happens, or should: the coming-together of man and woman in partnership; the passing-down of skills and stories from elders; the raising and educating of children; the growing, cooking, storing and eating of food; the learning of practical skills, from construction to repair, tool-making to sewing; the conjuration of story and song around the fire …
Even back in 1980, Berry recognised that the home had become an "ideal" rather than a practical reality — precisely because the reality had been placed out of reach for many. What killed the home? Three things, said Berry: cars, mass media and public education. The first meant that both work and leisure could, for the first time in history, happen a long way from home. The second — "TV and other media" — have played a role, since the mid-20th century, in luring us all into a fantasy world of freedom from obligation, and a limitless, fun consumer lifestyle. "If you have a TV," writes Berry, "your children will be subjected almost from the cradle to an overwhelming insinuation that all worth experiencing is somewhere else and that all worth having must be bought." Finally, the school system is designed "to keep children away from the home as much as possible. Parents want their children kept out of their hair." Schools exist to train children to fit into individualistic, consumer societies; to internalise and normalise their ethics and goals, and to prepare for a life serving their needs.
I have to disagree with his disparagement of television, as my better half and I watch a lot of French programmes, food shows in particular. For us, it is a window into a culture we love very much. Were it not for television, we would have to visit France in person much more often. As it is, we can experience France from our sitting room and perfect our language skills while learning more about the world's finest cuisine.
Berry's solution is to make the home a welcoming, peaceful place for everyone living there:
… he suggested that we should "try to make our homes centres of attention and interest"; to make them as productive and nurturing as we can … you will see new possibilities begin to open up. You will see, in Berry's words, that "no life and no place is destitute; all have possibilities of productivity and pleasure, rest and work, solitude and conviviality that belong particularly to themselves", whether in the country, the city or the suburb. "All that is necessary," he suggests, is "the time and the inner quietness to look for them."
Television is a good thing
On the subject of television, a 104-year-old Australian woman told her grandson that it was probably the greatest development in her lifetime.
Lewis Isaacs wrote her story for The Guardian: 'My 104-year-old Nan's secret to a long life':
A life as long as hers can be hard to comprehend. Asked what the biggest change to the world she'd seen across her life was, Nan replied that it was television. Life when she grew up rarely extended past her suburb. Television connected the living room to the world.
How true! Well said, Nan!
The article has family photographs, too.
So what is Coral Isaacs's secret to longevity?
She says it comes down to genetics and finding the right partner. She was widowed more than 30 years ago and says the life she built with my Pop has supported her since. It helps to remember your pills, she adds, and to get up, shower and make your bed every day.
I suspect the truth about her endurance is something different though. Nan is determined to keep her eyes focused on the future. Even when the days are hard, she still looks forward.
I was hoping she would mention smoking a crafty cigarette or enjoying a daily digestif, but, sadly, no.
Churchill's cigar goes on sale
For a smoking story, we had to go to an auction house.
On Thursday, December 29, The Times reported that one of Winston Churchill's cigars is expected to fetch £3,000 at auction:
The former prime minister gave the Cuban cigar to an RAF doctor who helped him when he broke his leg in 1962.
The doctor's grandson has put the rare cigar up for sale with Hansons Auctioneers, which said it would be an "impressive item" for any Churchill collector. Charles Hanson, the owner, said: "We occasionally see Churchill cigar stubs that people have picked up after he dropped them. But to gain a whole cigar in such pristine condition, given as a gift in unusual circumstances, is special."
Churchill, who died in 1965 aged 90, was a lifelong smoker. While he was at boarding school, his mother learnt he had taken up smoking cigarettes and tried to bribe him to stop by promising him a pistol and a pony.
He switched to cigars after spending time in Cuba after his graduation from Sandhurst military academy, and friends, dealers and associates sent him regular deliveries of cigars from then on.
The circumstances are most Churchillian:
The auction house said the cigar under auction was given to an RAF squadron leader, Bertram AJ Barrow. Churchill fractured his femur while getting out of his bed at the Hotel de Paris in Monte Carlo, and was flown back to London on an RAF plane while in a waist-to-ankle plaster cast.
Barrow, the leader of the medical team, plucked up the courage to ask Churchill for one of his famous cigars.
For decades the treasured cigar was kept in a bedside drawer, but will now go under the hammer at on January 9 with an estimate of £2,000 to £3,000.
Barrow's grandson, Thomas Barrow, 33, an employment law adviser from London, said: "Bertram asked for a cigar as a keepsake, and Churchill advised that he could have 'one that he had been saving' — which was Cuban and still in its glass case."
What a story!
Conclusion
As my later grandmother-in-law, a lifelong Londoner, was fond of saying:
The old ways are the best.
I couldn't agree more.
Let's try to recapture them in 2023.
Before June 2022, the last time an ordination was shown on British television was when the first female Anglican priests were ordained in 1994.
I did not cover this at the time, as Boris stood down as Conservative Party leader. The news onslaught surrounding the contest for his successor, Liz Truss, lasted for the rest of the summer. Then the Queen died, sadly. It was not long after that when Truss had to stand down to make way for Rishi Sunak.
Having been refused ordination by the Church of England, Calvin Robinson was ordained a deacon on Saturday, June 25, 2022, at Christ Church Harlesden, a Free Church of England parish in north west London which is part of GAFCON:
The Global Fellowship of Confessing Anglicans — GAFCON — is a global network of conservative Anglican churches that formed in 2008 in response to an ongoing theological crisis in the worldwide Anglican Communion. Thankfully, they took in their brother Calvin and recognised his calling:
GB News was on hand to film the ceremony and broadcast it that weekend:
Calvin's GB News colleagues offered their heartfelt congratulations, such as the Conservative life peer Baroness Foster:
Some of his colleagues attended the ceremony …
… and stayed for lunch afterwards:
Those who were unable to attend also sent their best wishes. Every one of them recognised the CofE's rejection of a godly man called to Holy Orders:
Always evangelising, whether indirectly or, as is the case here, directly, Calvin never misses out an opportunity to exhort people to experience the truth and light of Christ Jesus, as he did with GB News contributor Dominique Samuels:
Other conservative media personalities who are Calvin's friends also offered their congratulations for his ministry, such as the Reform Party leader Richard Tice …
… and Margaret Thatcher's former aide Nile Gardiner:
Calvin's friends from his radio days also wished him well:
Politicians also chimed in, from former London Assembly member and Conservative candidate for Mayor of London (2021) Shaun Bailey …
… and Conservative MP Steve Baker, who has not hesitated to mention his own faith in House of Commons debates:
I'll leave the closing word to the head of the conservative think tank The Bow Group. Ben Harris-Quinney discusses choosing principle over power and achieving both:
As Calvin replied:
For the greater glory of God!
Indeed!
The Revd Calvin Robinson has his own GB News show every Sunday at 2 p.m.
He also appears as a contributor on several other of the channel's programmes throughout the day and evening.
May God's grace and the wisdom of the Holy Spirit continue to guide Calvin in his ministry for Jesus Christ, our only mediator and advocate:
Deo gratias! Thanks be to God!
The first part of my series on former Health Secretary Matt Hancock can be found here.
It summarises where he is today, having finished third in a British reality show in Australia for a cool £400,000 and deciding not to run again as MP for West Suffolk.
It details the first months of the coronavirus pandemic in 2020, through to the end of April as the news covered it.
To offer balance, today's post covers the same period in Hancock's own words. He has just published his Pandemic Diaries, which he co-authored with former Times journalist Isabel Oakeshott.
Isabel Oakeshott's view
Not being able to imagine who on earth would want to collaborate on a book with our historically authoritarian Health Secretary who left his wife in June 2021 for his adviser/girlfriend, I was interested to read Oakeshott's justification in The Spectator, posted on December 7, 2022.
Excerpts from 'The truth about Matt Hancock' follow, emphases mine:
Matt Hancock and I have almost nothing in common. For starters I'm terrified of spiders and hopelessly squeamish. I physically retched as I watched him eating unmentionables in the Australian jungle. Far more importantly, we fundamentally disagree over his handling of the pandemic …
This country paid a catastrophic price for what I see as a reckless overreaction to a disease that was only life-threatening to a small number of people who could have been protected without imprisoning the entire population. As each day passes, more evidence emerges that shutting down society for prolonged periods to 'stop the spread' and 'protect the NHS' was a monumental disaster.
Hancock, obviously, disagrees. The Rt Hon Member for West Suffolk is not just unrepentant: he still wholeheartedly believes that as health secretary during the pandemic, he made all the right calls. He is utterly scathing of anyone who argues that repeated lockdowns were avoidable; does not have the slightest doubt over any aspect of the government's vaccine policy; and thinks anyone who believes any other approach to the pandemic was either realistic or desirable is an idiot.
How then could I have worked with him on his book about the pandemic? Some of my lockdown confidantes suggested it was a betrayal and that he should be punished, perhaps viciously so.
… I wanted to get to the truth. What better way to find out what really happened – who said what to whom; the driving force and thinking behind key policies and decisions; who (if anyone) dissented; and how they were crushed – than to align myself with the key player? I might not get the whole truth and nothing but the truth, but I'd certainly get a good dollop of it, and a keen sense of anything murky requiring further investigation.
In the event, Hancock shared far more than I could ever have imagined. I have viewed thousands and thousands of sensitive government communications relating to the pandemic, a fascinating and very illuminating exercise. I was not paid a penny for this work, but the time I spent on the project – almost a year – was richly rewarding in other ways. Published this week, co-authored by me, Hancock's Pandemic Diaries are the first insider account from the heart of government of the most seismic political, economic and public health crisis of our times.
I am not so naive as to imagine that he told me everything. However, since he still does not believe he did anything wrong, he was surprisingly inclined to disclosure. In an indication of how far he was prepared to go, the Cabinet Office requested almost 300 deletions and amendments to our original manuscript. Under pressure from me and out of his own desire that the book should be both entertaining and revelatory, to his credit, Hancock fought hard to retain as much controversial material as he could. The resulting work is twice as long as I originally intended, and half the length he wanted it to be.
Pandemic Diaries: January to April 2020
The Mail has been serialising Pandemic Diaries over the past week.
Excerpts from the first exclusive extract follow, beginning on New Year's Day 2020.
Wednesday, January 1:
Standing in my kitchen in Suffolk after a quiet New Year's Eve, I scanned my newspaper for clues as to what might be lurking around the corner. The only thing on my patch was a news-in-brief story about a mystery pneumonia outbreak in China.
There were enough people in hospital for Beijing to have put out an alert. It reminded me a bit of SARS (severe acute respiratory syndrome) back in 2003, which killed hundreds, mainly in China and Hong Kong. I asked my private office to put together a briefing and made a mental note to raise it when I got back.
Sunday, January 5:
There are now 59 cases in China; seven of these patients are seriously ill with breathing problems.
Tuesday, January 7, when Parliament had returned from Christmas recess:
I found the PM [Boris] in the voting lobby looking like he'd had a good Christmas and revelling in all the congratulatory back slaps from colleagues. We walked through the lobby together, and I told him about the new disease.
'You keep an eye on it,' he said breezily. 'It will probably go away like all the others.'
In more trivial news, a picture of my Union Jack socks has somehow gone viral after I was pictured on my way into Cabinet yesterday. My old university friend and communications specialist Gina Coladangelo was not particularly impressed. She thinks they're a bit Ukip.
Saturday, January 11:
First death from the virus in China — at least, the first one they've told us about.
Friday, January 17:
When I got into the department, Chris Whitty — whom I appointed Chief Medical Officer last year, and who is known informally as the Prof — asked for a word. Calmly, in his ultra-reasonable way, he explained that he thinks the virus has a 50:50 chance of escaping China. If it gets out of China in a big way, he says a very large number of people will die.
At this point, Boris was preparing for our official exit from the European Union at the end of January. Everyone's attention, not surprisingly, was on Brexit. Hancock's push for a Cabinet Office Briefing — COBRA — went unheeded.
Wednesday, January 22:
I found out tonight that Sir Mark Sedwill, Cabinet Secretary and head of the civil service, is blocking my push for a meeting of COBRA. Infuriating!
Thursday, January 23:
No 10 has grudgingly agreed to let me make a statement to the Commons about the virus. No 10 are still saying calling COBRA would be 'alarmist'. What utter rubbish.
Friday, January 24:
Dominic Cummings [the PM's chief adviser] thinks Covid is a distraction from our official withdrawal from the EU next week. That's all he wants Boris talking about.
On Saturday, January 25, Hancock worried about evacuating Britons from Wuhan. He contacted then-Foreign Secretary Dominic Raab, who agreed to put a plan into place. On Sunday, Hancock was frustrated to find that civil servants were drawing up advice on whether, not how, to evacuate UK citizens there.
Monday, January 27:
Coronavirus is now the first thing I think about when I wake up and the last thing I think about when I go to bed.
The next day, Tuesday, a meeting of 30 people took place to discuss the virus, including SAGE members Chris Whitty and Professor Jonathan Van-Tam, who would be regulars on our television screens in the months to come. This is where the alarmism started.
Tuesday, January 28 (see photo):
In his characteristically understated way, sitting at the back peeling a tangerine, Chris Whitty quietly informed everyone that in the reasonable worst-case scenario, as many as 820,000 people in the UK may die. The transmission is so high that almost everyone would catch it.
The whole room froze. We are looking at a human catastrophe on a scale not seen here for a century.
I asked what we needed to do to accelerate a vaccine. Professor [Jonathan] Van-Tam said developing a vaccine normally takes five to ten years, but there's a team in Oxford working on an Ebola project that can easily be switched to the new disease.
'I want it by Christmas,' I said.
On Wednesday, Boris's PMQs went as usual, with no mention of the virus. Hancock was frustrated.
Wednesday, January 29:
I called the head of the World Health Organisation to try to persuade him — for the second time — to declare a public health international emergency. But China runs various projects in his private office, so he is scared stiff of upsetting them.
Thursday, January 30:
The Wuhan Brits are on their way back. I've had a showdown with officials and lawyers over what to do with the evacuees when they land at RAF Brize Norton.
PHE [Public Health England] thinks they should be greeted with a smile and a leaflet and asked nicely to go home and stay there for a couple of weeks. I said they should go straight into quarantine. PHE started hand-wringing about human rights. 'OK,' I said, 'let's get them to sign a contract before they board. In return for the flight, they agree to go into quarantine. No contract, no flight.' I was told the contract wouldn't be legally enforceable and was too draconian. 'Do it anyway,' I instructed.
The World Health Organisation have finally declared the virus a public health emergency. The risk level in the UK has now gone from low to moderate.
PHE's audit of PPE [personal protective equipment] came back and did not lighten my mood. There's no clear record of what's in the stockpile, and some kit is past its 'best before' date. I've instructed officials to work out what we need fast, and buy in huge quantities.
Friday, January 31:
The Wuhan flight touched down at Brize Norton. The RAF crew and all our officials were in full hazmat suits, but the poor coach drivers taking them into quarantine were in their normal work clothes. Who on earth would give protection to air crew but not bus crew?
The UK left the EU on schedule. I remember the parliamentary contributions from Conservative MPs about the wonderful plans they had for the nation. It was a glorious time to be alive.
Meanwhile, Downing Street's attention would turn to the pandemic in February.
Hancock tries to paint himself as a supporter of personal liberty in this next diary entry.
Tuesday, February 4:
As a [classical] liberal, I've always believed people make the best decisions for themselves. Now we are contemplating actions that could bankrupt millions of businesses and interfere in literally everyone's lives. It is a very, very strange feeling; not me at all.
Hancock says that Boris, rightly, was still unconcerned.
Tuesday, February 11:
Driving home down the Harrow Road [in London], I looked at the crowds spilling out of the pub on the corner and tried to imagine what it will be like if we have to shut these places. I felt like I inhabited another world, that no one outside had yet seen into.
Hancock finally got his COBRA meeting.
Wednesday, February 12:
Back in the COBRA room today for a civil service exercise to rehearse what we'll do if the virus runs out of control. We role-played how we would do our jobs in two months' time if the very worst-case scenario has happened and hundreds of thousands are dying.
Where in Hyde Park would the burial pits be? Who would dig them? Have we got enough body bags?
Worst of all was agreeing a protocol to instruct doctors which lives to save. Do we treat the young, because they have more years to live, or the old, because they are more vulnerable? Horrific decisions.
Public Health England (PHE) had bad news for Hancock.
Tuesday, February 18:
PHE says our current approach of tracing all contacts of anyone who's infected is unsustainable. Apparently they can only cope with five new cases a week. This is infuriating since only a few weeks ago they told me they had the best system in the world.
I had no idea that China was buying testing services from Britain's Randox. Hmm.
Thursday, February 27:
PHE has outright refused a request from Randox, the UK's biggest testing company, for coronavirus samples. Certain senior public health officials are absolutely allergic to anything involving the private sector. Evidently they'd rather risk lives than set aside these ideological objections.
No such sniffiness from the Chinese, who are snapping up Randox's services.
At the beginning of March, public health posters and announcements about coronavirus began appearing.
Sunday, March 1:
We're telling everyone to wash their hands more frequently and encouraging parents to get their kids to sing 'Happy Birthday' twice to make sure they do it for long enough. What I really wanted people to sing was the national anthem.
Sadly, I was overruled, as the collective view seems to be that happy birthday is 'less divisive'. Since when is the national anthem controversial? Sigh.
Thursday, March 5:
First two UK deaths — a horrible landmark.
Saturday, March 7:
There's a crisis looming with ventilators. We have nowhere near enough. If the worst comes to the worst, we may need to put out advice on how to care for a critically-ill relative at home, a terrifying prospect for most people.
I took a few hours off today and took the kids to Planet Laser in Bury St Edmunds [in his constituency]. It involves charging around in the dark in a 'battle suit' firing lasers at other players. I was looking forward to forgetting about coronavirus for an hour or so, but no such luck: it turned out that one of the games is called Infection.
Every time a player's laser hit one of the other players, they would get 'infected' with a disease. In between attempts to dodge the fictional virus, I kept having to dart out to respond to urgent messages about the real one.
By March 8, the UK began experiencing a shortage of bathroom tissue. People were bulk buying. Rice was another product in short supply. Hancock says that he and his wife bought a huge sack of rice.
Another thing in short supply were hospital beds.
Monday, March 9:
In my box of official papers this evening was a scientific briefing suggesting the NHS could have a deficit of 150,000 beds and 9,000 ICU spaces.
Tuesday, March 10:
I've instructed PHE to produce plans for how they will get testing up from 1,000 tests a week to 10,000. I don't care who does these tests — just that they're fast and accurate.
Thursday, March 12:
While the Prime Minister was standing before the nation declaring we're doing everything possible to save lives, PHE have advised to stop all contact tracing. They've basically given up, having become overwhelmed by the number of cases. Infuriating!
March 12, 2020 was the day of the last lunch my better half and I had with friends in Mayfair before lockdown. None of us would have believed that we would not see each other again until August 11, 2021, by which time indoor mask restrictions had been lifted.
Friday, March 13:
A call with my fellow G7 Health Ministers. Everyone sounded terrified.
Also from that day:
Simon Stevens [NHS England chief executive] says frail elderly patients who don't need urgent treatment need to be discharged from hospital, either to their home or to care homes. He's spoken to the PM about it and is determined to make it happen.
Saturday, March 14:
In just three days, the numbers have doubled. At 10am I went to Downing Street to talk to the PM and others. We wrestled with all the issues. What measures? How long? Would people comply? Are we doing enough to make sure the NHS can cope?
We were all struggling to get our heads round the enormity of what we were discussing. Boris set out the case for and against each option. After everyone had had their say, we collectively made the decision: to close large swathes of society.
Monday, March 16:
Cummings, [communications director] Lee Cain, Whitty and I went into Boris's study garden and finessed the message he was going to give in a televised press conference. Then, at 5pm, it was time. Looking as grave as he ever does, Boris told the elderly and vulnerable they are going to have to stay at home for 12 weeks.
That day, Hancock issued his first guidelines to Parliament and the public:
Tuesday, March 17:
I've been told we have a billion items of PPE in a warehouse in the North-West. 'Hooray!' I thought. Just one problem — we can't get it out. It turns out that it's in a huge storage unit with only one door. Ergo, only one lorry can pull up at a time. What a classic government fail.
It was my son's 12th birthday today, almost all of which I missed. My family is already paying a heavy price for this crisis.
Also from that day:
A bonkers proposal from the Ministry of Justice to let prisoners out, as they'd be easier to manage if they're not in prison. Yes really: they actually thought this might be a goer. I was emphasising [my opposition] so hard that all of a sudden my chair could take the strain no longer and ripped, tipping me unceremoniously on to the floor.
Hancock advised that the public could pose any questions on his Instagram account:
A few days before, Hancock appealed to retired NHS practitioners to return to the health service to help in the pandemic effort. On Saturday, March 21, he said that 4,000 nurses and 500 doctors were returning:
Good Morning Britain's Piers Morgan quickly got into panic mode:
Sunday, March 22:
Crunch meeting in Downing Street, at which the Prime Minister weighed up all the options. He's famous for this, so it's impossible to know in the middle of the meeting where he's going to end up. It's his way of making big decisions. Today he agreed to a formal lockdown as soon as possible.
Monday, March 23:
At 8.30pm, the Prime Minister gave his address to the nation. 'From this evening, I must give the British people a very simple instruction: you must stay at home . . .'
In my own household, I found an old computer in the attic and have set it up for our youngest, though I'm not sure how online school is going to work for a six-year-old. With me largely absent, it's tough on the family.
Hancock led the coronavirus briefing for the first time on Tuesday, March 24. He described himself as being 'unusually nervous'.
Tuesday, March 24:
Driving down Park Lane there wasn't a single other car on the road — not one. I sat in the back of the car feeling almost sick. All I could think was: What have we done?
The nausea wouldn't last long, however. Hancock would soon grow into his newly found power.
He had many messages that day:
He announced a war footing for the British public:
The first Nightingale hospital — relatively unused — was opened.
Hancock ordered NHS and care home staff to report to work:
He issued contradictory advice about working between addressing the House of Commons and the coronavirus briefing later that day:
London's mayor Sadiq Khan said that too many Tube workers were off sick to run a full service. This left the trains that were running packed to the gills:
Hancock said that lockdown was not guidance and that police would enforce it:
Meanwhile, the airports were open to all arrivals:
On Wednesday, March 25, Hancock expressed his gratitude to the 405,000 Britons who were volunteering in the pandemic effort:
Friday, March 27:
A nurse called first thing this morning to say I've got Covid. I called [the PM's press secretary] Jack Doyle to break the news. 'Erm, that's interesting, as we're just about to announce that the PM has tested positive, too,' he replied. To cap it all, the Prof [Chris Whitty] also has symptoms.
He later announced his positive diagnosis:
Sunday, March 29:
My throat hurts so much that I can't swallow and I can't eat or drink. [My wife] Martha has also got it, along with our daughter and our live-in au pair.
Meanwhile there are still dire supply issues with PPE. The BMA [British Medical Association] is going nuts. It's not as if I think it's acceptable: it's not! There's just no quick fix. When the whole world is after it, it simply isn't possible to get as much as we need as fast as it's required.
Monday, March 30:
The government-owned company that gets PPE supplies to hospitals across the NHS has effectively collapsed. Total disaster.
I'm absolutely furious that the people who are meant to be experts in logistics have been unable to cope because there are too many actual logistics. WTF? We've been buying more from China, but the immediate problem is still lorry access to our storage facility in the North-West, where there's only one door. Funnily enough, nobody has been able to magic up any extra entrances, so we're still stuck with single lorryloads at a time.
On Thursday, April 2, Hancock announced his audacious and controversial plan of getting 100,000 coronavirus tests done by May 1, something for which he was derided by the media at the daily coronavirus briefings.
Also from that day:
Negative tests won't be required prior to transfers/admissions into care homes. The tragic but honest truth is we don't have enough testing capacity to check anyway. It's an utter nightmare, but it's the reality.
Under the circumstances, we must make sure that anyone going from a hospital into a care home is kept away from other residents. I hope this message filters through and is followed.
It's been a choice between very difficult options. If we keep people in hospital, the NHS will be overrun. If only we had more tests.
Friday, April 3:
A 13-year-old boy who died from Covid was buried without any mourners yesterday. His parents weren't even at the graveside because they were self-isolating. I felt almost physically sick reading it as my own boy, just a year younger, slept peacefully in the room next door.
I told Boris and he was shocked and upset. He tries not to let on, but he is actually a very emotional man. He was coughing through the call. He's very worried about looking weak: 'A general's job is to show strength, not weakness,' he told me ruefully.
Also from that day:
Officials are still insisting that Justice Secretary Rob Buckland wants to release thousands of non-violent prisoners to take the pressure off the system. I keep writing 'NO' in large letters on submissions asking me to sign this off. It's obvious the public won't wear it, yet the idea keeps going back and forth on paper.
After about the third iteration I called Rob Buckland, who to my astonishment told me he'd been advised that I was the one who wanted to release them.
Unfortunately, this still wasn't the end of the matter. Clearly someone in Whitehall still thought it was a good idea and kept pushing it, to the point that the PM asked to talk to us both. I made my views crystal clear.
'We cannot lock up literally everyone in the country except prisoners, who we instead release!' I spluttered.
Saturday, April 4:
President Trump has randomly and dangerously declared that hydroxychloroquine is an effective treatment for Covid, despite a total absence of the evidence. What an awful, awful man.
The next day, the Queen gave a brief message of support to her subjects, ending with 'We'll meet again', echoing Dame Vera Lynn's famous song from the Second World War.
Shortly afterwards, the nation received alarming news.
Sunday, April 5:
I was just about to go to bed when my phone rang for the umpteenth time. It was [Cabinet Secretary] Mark Sedwill, who informed me that the Prime Minister was on his way to St Thomas's Hospital 'as a precautionary step'. Boris is still furiously texting everyone.
Everyone knows that a Prime Minister isn't admitted to hospital unless it's something very serious. And so it turned out to be.
Monday, April 6:
Boris has been taken into intensive care. Everyone is stunned. I'm told there's a 50:50 chance he'll end up on a ventilator; and if that happens, we know there's a 50:50 chance he will die. The minute the news came out, pharma companies started calling my private office with offers of experimental drugs.
On Tuesday, Hancock surmised Boris was in intensive care because coronavirus affects the obese.
Wednesday, April 8:
Boris spent a second night in intensive care. I worry about losing a close colleague and friend. When you spend time with Boris, it's impossible not to like him.
He's endlessly funny and engaging and thinks differently and more laterally than anyone I know. This can bring its challenges when straight-line thinking is required, but for grasping the big picture there's no one like him.
Nobody speaks of it, but there is a 'worst-case scenario' plan for if Boris doesn't pull through. We couldn't possibly have a normal Conservative Party leadership election, so the Cabinet would have to take a quick decision, advise the Queen and rally round.
Boris left intensive care on April 9. He left hospital at the weekend. He then went to Chequers to recuperate, accompanied by his then-partner Carrie Symonds, who was in the final weeks of her pregnancy with their son Wilf.
Care homes were Hancock's focus for the rest of the month — and the summer.
Wednesday, April 15:
From today, everyone going from hospital into social care will be tested and then isolated while the result comes through.
Saturday, April 18:
Care homes haven't yet grasped the fact that we're only going to get out of this if we test, test, test. According to figures I received today, the average care home has carried out 0.5 tests, which is exasperating, given how hard we're working to increase capacity.
Also from that day, another tempest brewed over PPE supplies, which is still a hot topic in Parliament, even today:
Hundreds of businesses are approaching the department offering to manufacture this or that. Half the time nobody returns their calls, even with big companies such as Primark.
The problem is weeding out time-wasters and chancers – of which there are many – without missing opportunities. One company with a good product got so p***ed off they sold everything to the Scottish NHS. 
Even the Labour Party is writing in with suggested names of companies and individuals who could help – apparently without doing any due diligence on the offers.
Hancock sensed that not everyone in Downing Street or the Cabinet wanted him to succeed.
Monday, April 20:
Crunch week for hitting my testing target of 100,000 tests done by May 1. There's an uncomfortable amount of speculation about my career depending on it. [Dominic] Cummings is itching for me to fail.
Friday, April 24:
Downing Street called my office saying I needed to schedule a quick call with the PM. I was looking forward to it, until I switched on Zoom to find the PM at Chequers flanked by Cummings and about a dozen other advisers. Rishi [Sunak] was there, looking sheepish. I realised instantly what was going on: an attempted ambush.
Boris opened with some gentle warm-ups, then Cummings started the shelling, subjecting me to a barrage of questions about my department's response: on PPE, testing, NHS capacity, ventilators. Every so often, one of the others would pile in. Most questions seemed to be based on inaccurate media reports.
It was utterly exhausting, but I've lived this for months now, 18 hours a day, pretty much every day, so I am on top of every detail.
When they finally ran out of ammunition, I pressed 'Leave Meeting', sat back in my chair, checked my body for shrapnel wounds and saw that I was broadly intact. Next?
To be continued tomorrow.
A few weeks ago, a fellow Anglican and I were chatting about the peculiar archbishops in the Church of England (CofE).
'They're rather political, aren't they?' the woman asked.
I agreed and said, 'Their job is to save souls.'
She looked at me, wide-eyed, as if this were some sort of revelation.
Apparently, it is a revelation as the results of the 2021 census show that the last time there have been so few Christians in Britain was during … the Dark Ages:
In just ten years, the percentage of British Christians has decreased from 59.3% (33.3 million) in 2011 to 46.2% (27.5 million) in 2021:
Proportionally, Wales on its own has a higher percentage of unbelievers than England:
This is an interesting video about religion in London:
Some people will rejoice at the news. However, the online editor of The Critic, Sebastian Milbank, warns of what happens in secular societies:
On Saturday, December 3, 2022, the Archbishop of York, the Right Revd Stephen Cottrell, wrote about the census for The Telegraph: 'Christianity is not in terminal decline in Britain, whatever the census might say'.
Excerpts follow, emphases mine.
He writes:
Some commentators have responded to the census data about religious affiliation released last week by the Office for National Statistics (ONS) by predicting the terminal decline of Christianity in our nation or declaring this as a statistical watershed moment …
Though the most common response to the voluntary question of religious affiliation remains "Christian," there was a 13.1 percentage decrease from 2011 to 2021.
The ONS clarifies that these figures are about "the religion with which [respondents] connect or identify, rather than their beliefs or active religious practice."
I do not find the trend in the responses to this particular question surprising: we have left behind the time when many people almost automatically identified as Christian.
Cottrell says that some British churches are very successful:
There are fewer people in the pews on a typical Sunday morning than a few decades ago but, at the same time, some of our churches – of all traditions and styles – are growing significantly …
It's hard to know what churches he speaks of, but I would assume Evangelical ones that have nothing to do with the established church, the CofE. After all, the CofE rolled out local church growth programmes this year.
He posits that people are doing Christianity differently:
These apparently contrasting statistical snapshots inform a more complicated, though incomplete story, which is not one of terminal decline for religious faith nor Christianity, but more about how individuals in our ever-changing nation and culture choose to express their identity.
Hmm. I'm not so sure. In any case, that is a characteristically watery and woolly excuse, so prominent among today's Anglican hierarchy.
He says:
… the story that defines our identity has never been one of overwhelming numerical growth nor fear of extinction. Amid the complexities of identity, values and nation, Christians strive to live by the story of the Good News of Jesus Christ – a story notable for the absence of success by the world's usual standards.
Yes, but, all the same, the CofE archbishops — York and Canterbury — are presiding over a diminishing church.
The Right Revd Justin Welby, Archbishop of Canterbury, went to Ukraine last week. While many Anglican priests applauded his trip there …
… I wonder why he isn't putting the same energy into getting those living in England back to church:
Personally, I think Welby went because it was a political mission for him.
Cottrell recounts the Christmas story, which also involves a census:
A watershed moment in that story happened when "Caesar Augustus issued a decree that a census should be taken of the entire Roman world." The events that then unfolded will be shared by millions of people in the UK this Christmas.
They will hear the baby Jesus described as a light that shines in the darkness. His story is not a tale of linear success, but about how that light shines through the difficult realities of our lives and finally overcomes all darkness.
A baby is born helpless in a stable to a very young mother in an occupied country. The family is threatened with murder and flees as refugees.
As he grows, Jesus will reject worldly power and wealth. He will feast and celebrate. He will weep and mourn. He will sit with the lonely. He will sit with his enemies. He will be loved and hated, cherished and betrayed.
He will suffer injustice and die a criminal's death. And – as Christians believe – he will rise on Easter Sunday, and secure light rather than darkness as the very final word.
That's the fundamental story that shapes Christian identity.
And it is why I am full of hope …
That hope started with a census.
Hmm.
For me, the Christmas story starts with the Annunciation, with the Angel Gabriel appearing to Mary, telling her that she would bear a child whose name would be Jesus.
Mary then visited her ageing cousin Elizabeth, also with child. Her son was John the Baptist, the prophet who heralded Jesus and His ministry. Mary's words to Elizabeth are known as the Magnificat (Luke 1:46-55), which begins as follows:
1    My soul doth magnify the Lord :
and my spirit hath rejoiced in God my Saviour.
2    For he hath regarded :
the lowliness of his handmaiden.
3    For behold, from henceforth :
all generations shall call me blessed.
4    For he that is mighty hath magnified me :
and holy is his Name.
5    And his mercy is on them that fear him :
throughout all generations.
Cottrell ends by expressing Christianity in a very secular manner, although as with any wonky way of expressing it, there is always a germ of truth. Christians are the mainstay of combining practical and spiritual support:
… right now, across our nation Christians are offering practical help and spiritual support to anyone in need.
This winter, perhaps more than ever before, food and warmth and companionship are being made available by Christians.
We offer this to all – entirely irrespective of any census answers they may have given. And this dedication and service will continue, whatever the statistical trend.
Christians in our nation are part of a global faith: the largest movement on Earth, which is its greatest hope for a peaceful, sustainable future.
I can't say that Cottrell's article was particularly compelling. If I were an unbeliever, I certainly wouldn't feel moved to attend church because of it.
As the Revd Marcus Walker, the rector of St Bartholomew The Great in the City of London, asks how we got here. As is so often the case, the laity offer informed answers, i.e. blaming the hierarchy:
This woman is right in saying that Anglican churches must return to focusing on God:
Advent is a great time for Anglican churches to attract converts. Most have choral concerts and quite a few offer Evensong:
For some attending, music goes straight to parts of the soul that liturgy or a sermon cannot reach:
I like Marcus Walker a lot and am glad that he is in charge of London's oldest church that is still operating. St Bartholomew the Great was founded in 1123.
Another priest I like is the Revd Giles Fraser, who used to be the Dean of St Paul's Cathedral. He is now the vicar of St Anne's in Kew, West London.
Giles Fraser rightly objects to the CofE hierarchy telling churches not to hold their carol services on the day of the World Cup final this month:
An even worse CofE idea is to show the final in church instead. Horrible:
Fraser says that we are called to be faithful, not successful:
It does not sound as if he is big on the church growth strategy:
In an UnHerd article, Fraser gave his suggestions on how Christianity can flourish again in the UK:
Excerpts from 'Secularisation is leading Britain astray' follow:
The results of the 2021 census, announced this week, tell us that we are a minority Christian country, with just 46% self-defining as Christian. The humanists are gleeful. And the treasurer tells me we are again set to lose tens of thousands of pounds next year. Churches in poorer areas may not survive the coming storm. Ones set in the leafy suburbs may be able to reinvent themselves as fancy conference venues — but both will be subject to a kind of death.
Of course, the universal church isn't in this situation. It remains the largest movement on earth, despite a little local difficulty in this part of the world. It just goes to highlight the woeful parochialism of so much of our media coverage. The narrative of secularisation, and of its inevitability, is linked to that dodgy old Enlightenment idea of progress — which is as much a matter of wilful faith as anything said from the pulpit. Numerically speaking, the 20th century was the Church's best since its creation …
Despite the success of the church worldwide, we are not called to be successful. We are called to be faithful. The central image of the Christian faith is of a man being strung up on a cross, mocked for his claims to royal authority. Whatever the outcome of this cosmic interruption, whatever its meaning, triumphalism has little place amongst the detritus of spears and spit that attended His gruesome end. For Christians, victory is claimed in the manner of His failing. A smaller church is not a failed church any more than a satsuma is a failed orange, as one bishop rightly put it.
He points out where the CofE has gone wrong over the decades:
Generally speaking, however, the leadership of the Church of England is still gripped by the debilitating fear of numerical decline. It nervously responds at every turn with cheesy new initiatives bent on making us relevant and popular. These often have the very opposite of their intended consequences: cathedrals … turning themselves into fun parks of crazy golf or helter skelters. "Please like us," they plead, desperately, with all the panache (and success rate) of spotty teenagers dousing themselves in cheap aftershave in a bid to make themselves attractive to the opposite sex.
Fraser rightly thinks that people want spiritual gravitas in their lives, something that only the Church can provide:
In part, we have to meet people where they are. But nevertheless, our core mission is responding to a deeper seriousness in people. And chumminess with the divine is not the answer. Where the church is failing its parishioners is how thin our offer can so often be. People don't want weak jokes from the pulpit — they want fire. And too often we have been short-changing people by simply reflecting back to them an undemanding slate of soft-Left progressive values that they already have.
That is true. Many agnostics have told me that.
These are Fraser's suggestions to CofE bishops:
There are three things the church leadership needs to hear: the uppermost among them is to stop being so afraid. "Fear not," is the message of the Christmas angel. If God is in charge then, ultimately, we cannot fail ... We will not be saved by better management, or by a more compelling social media strategy: we will be saved by God or not at all. To say this is not to give us an alibi for inaction or laziness or lack of creativity — simply, to insist that we live or die by our theology.
You'd think we'd have learnt by now that relevance is an unappealing evangelistic strategy. We should be doing the very opposite of proclaiming our faith through the lens of popular culture. A minority church has the freedom to be defiantly culturally different, more learned even. It can be unapologetically serious about those things secular culture shies away from, like death and our need for salvation. We do not need to speak to God as if he were our mate. And we shouldn't be so scared of people sometimes being a little bored in church: the silence of the monastic cloister is terrifying to a generation weaned on the internet and video games, but it is here that something deeper can be mined. The Church has to stop trying to satisfy every fidgety urge of its visitors.
Finally, we must fight to reclaim that particular strand of English Christianity — associated especially with the Church of England — that regards belonging as preceding believing. Going to church is a little like going to the pub. People speak of "my pub" or "my local" in the way they used to talk about "my church" — or at least they used to. This is a place where you expect to feel at home, where you belong. Here you are welcome whoever you are.
He says there will always be times when the Church waxes and wanes:
… as with all churches that concede to a market model, it is forever subject to the logic of boom and bust. As the Parable of the Sower has it, some seed falls on stony ground and springs up quickly but soon withers because there is no depth of soil.
The latest census has triggered a great deal of doom-mongering. I am merely adding to this, of course. Bishops do an impossible job and mostly do it pretty well, despite all the brickbats they receive. And the church will, of course, survive despite its diminished circumstances.
Fraser concludes by saying that we have much more to fear from a Godless society:
Ironically, I think the secular imagination has far more challenges in store. For once it has finished piggybacking on the inherited deposit of faith, it will have to work out what it believes and why. Not believing in anything, which is the fastest growing position, has nothing to offer as a foundation for many of our moral concerns. As Tom Holland has observed, human rights, for instance, borrow substantially from a Christian worldview. When that worldview disappears from sight, secular culture will be walking on little but thin air. Without a meaningful moral story to underpin it, might will be right and power supreme.
I could not agree more. People will not like what's coming down the pike in the years ahead.
Marcus Walker was the guest preacher for Evensong at Fraser's church on Sunday, December 4:
The two priests shared dinner afterwards:
In closing, here is the 2022 welcome to attend an Anglican church this Christmas season. It traces a woman's Christian journey throughout her life. Fictitious though it is, I am glad the CofE were honest enough to show full pews when she was a little girl and empty seats once she entered widowhood:
The message is that church members will support each other through each stage of life.
I guess it will do.
The Queen's funeral on September 19 made a much more powerful statement, the closest glimpse of heaven that we will see here on earth. Fortunately, more than 4 billion people around the world watched it.
I hope that the music, the readings and the liturgy bring some of those billions to the light and truth of Christ, who lives and reigns forever and ever.
The weekend's events surrounding Remembrance Day and Remembrance Sunday entered a new era with King Charles.
First, however, November 14 is the King's birthday and his first one as monarch. He turned 74 on Monday:
Many happy returns, Your Majesty!
Remembrance Day
Last week, the King and Queen Consort paid their respects to those who died for our freedom:
On Thursday, November 10, the Telegraph reported (emphases mine):
The Queen Consort today paid tribute to Queen Elizabeth II at a plot created in her memory at Westminster Abbey's Field of Remembrance.
The plot features two black-and-white photographs of the late Queen taken at the Field of Remembrance in 2002, the year she lost both her mother and her sister.
In one, she stands, head bowed in silent contemplation alongside the Duke of Edinburgh.
In the other, she is bending down to place a small wooden cross amongst others in the ground.
A black wooden cross alongside the photographs reads "In Memorandum. Her Majesty Queen Elizabeth II. 1926 – 1922".
The Queen [Consort], who is patron of the Poppy Factory, was taking part in a ceremony to commemorate the nation's war dead, which takes place on the Thursday before Remembrance Sunday each year.
She placed her own wooden cross of remembrance, bearing her new cypher, amid a sea of poppies before bowing her head.
The ceremony had a large attendance:
More than 1,000 veterans gathered in the grounds of Westminster Abbey for the short ceremony, observing a two-minute silence as Big Ben chimed to mark 11am.
The Queen Consort then met Ben Wallace, the Defence Secretary, before being introduced to Poppy Factory staff and then reviewing the plots for regimental and other associations.
Before leaving, she was invited by the Dean of Westminster, The Very Reverend Dr David Hoyle, to review a plot honouring her late mother-in-law.
Camilla took over the patronage from Prince Harry in 2020, after he relinquished his royal duties:
The Queen took over at the event from the Duke of Sussex when he stepped down from royal duties in 2020. The ceremony marks a tradition, now in its 94th year, that was previously the responsibility of Prince Philip and Queen Elizabeth the Queen Mother.
Deirdre Mills, chief executive of The Poppy Factory, said:
Her Majesty's commitment to the ex-forces community has been unwavering. We are grateful to Her Majesty The Queen Consort for her continued support as we look to help hundreds more veterans overcome barriers on their journey towards employment.
Meanwhile, the Princess of Wales toured a children's centre in London, where she explained the importance of the poppy to a little boy and gave him hers to wear:
The Princess of Wales gave a three-year-old her poppy on Wednesday after he pointed it out on her coat.
She stopped to speak to the boy, called Akeem, during a visit to Colham Manor Children's Centre in Hillingdon, west London, after spending the morning chatting with mothers and health workers.
The two introduced themselves, then:
The Princess asked Akeem if he had a poppy, before adding: "It's very nice, would you like mine?"
"Yes," came the response, to giggles from onlookers. The Princess then carefully removed the poppy from her coat, saying, "there you go, you can have my poppy. Shall I see if I can get it out?"
As she fiddled with it, she asked the boy: "Do you know what this is for? It's for remembering all the soldiers who died in the war."
She said: "There you go, that's for you. Will you look after it?"
She gave the pin to his mother so she fasten it for him.
New monarch, new wreath
As we have a new monarch, a new memorial wreath appeared on Remembrance Sunday.
King Charles has his own design, with his own 'racing colours', displayed in an elegant ribbon and bow extending across the centre.
Its poppies are mounted on an arrangement of black leaves, as per tradition for the sovereign, while its ribbon bears the King's racing colours; scarlet, purple and gold.
The racing colours were also incorporated into the wreaths of King George V, King George VI and the late Queen.
Unfortunately, the King's wreath had no white in it, which, as I recall, the Queen's did. In fact, I don't remember the black in her wreath, only the white.
White symbolises resurrection and eternal life, which we hope the Glorious Dead experience.
The Queen Consort also had a wreath laid at the Cenotaph on Sunday, as the Queen Mother — the previous Queen Consort — had when she was alive:
For the first time, a wreath will be laid on her behalf, by an equerry, and will bear her own family's racing colours, inherited from her grandfather.
Remembrance Sunday
It was heartening to see that, although the survivors of the Great War have long gone to their rest and that those from the Second World War are, too, Remembrance Sunday still attracts 20,000 people.
The Sunday Times reported that 10,000 took place in the march past the Cenotaph in Whitehall. They were mainly Royal British Legion veterans representing 300 Armed Forces organisations. The other participants were from civilian organisations connected with previous wars and conflicts. War widows also marched past. Cadet organisations representing the respective armed forces also marched past.
The Sunday Times estimated that 10,000 spectators watched from the sidelines.
The march past began and ended at Horse Guards Parade, where Trooping the Colour takes place every June. At the Cenotaph in Whitehall, one person from each organisation handed over a large poppy wreath to lay at the foot of the monument.
Mobility issues are catered for …
… and age is no barrier:
This year marked the 40th anniversary of the Falklands War (see the second tweet):
This retired soldier is from Royal Hospital Chelsea, which Charles II founded in 1682, at the suggestion of his mistress Nell Gwyn. It is a retirement home with a state-of-the-art infirmary.
Those lucky few men and women who live there are known as Chelsea Pensioners. On ceremonial days and when they leave the Hospital, they wear their red jackets and tricorne hats, also designed by Charles II. See the gentleman in the second tweet:
The ceremony revolves around the Cenotaph, with its inscription:
THE GLORIOUS DEAD
The commemoration began in 1920 to remember all those who gave their lives in the Great War, the First World War. George V, whom the late Queen affectionately called Grandfather England, was the first monarch to lay a wreath. Note that there was quite a bit of white in his (top right photo) compared with Charles's. George VI is pictured on the lower left:
Here is a close-up of George V from 1924:
Other working Royals also laid their wreaths. Note that William's is that of the Prince of Wales now. The Queen Consort and Princess of Wales watched from the balcony at the Foreign, Commonwealth and Development Office (FCDO):
Other members of the Royal Family also watched from the FCDO balcony: The Countess of Wessex, The Duke and Duchess of Gloucester, The Duke of Kent and Sir Tim Laurence (Princess Anne's husband).
The Chiefs of Staff of the Armed Forces and leaders of the UK's political parties also laid wreaths. This will be the last time we see EIIR cyphers:
A short Christian service followed the two-minute silence at 11:00 a.m. The Right Revd Dame Sarah Mullally, the Bishop of London, led it:
The march past took place afterwards.
The morning was poignant, solemn, dignified and, if I may say so, beautiful as always.
The Telegraph quoted Chief of the Defence Staff Admiral Sir Tony Radakin, who summed up the 2022 ceremony well:
In an interview broadcast on Sky's Sophy Ridge on Sunday programme, he said: "I think Remembrance Sunday is always poignant.
"I think it's poignant for the whole nation, this special moment when we pause to reflect on the sacrifice and commitment of others to provide our freedom today.
"I think there's a special poignancy this year with both the loss of Her Majesty, another loss of a Second World War veteran.
"I also think it's poignant when we have once again the spectre of war in Europe and all that that entails, and a country that's been invaded and is fighting for its freedom."
On Sunday night, the Elizabeth Tower, which Big Ben adorns, had a splendid illumination for Remembrance Sunday, which also remembered the late Queen, for whom the tower is named:
My better half and I watch the ceremony every year. Each time, I see something new upon which to reflect privately in the days that follow. This year was no different. Long may those reflections continue.
On Thursday night, November 10, 2022, Liz Truss's Chancellor, Kwasi Kwarteng, broke his silence in an interview with TalkTV's Tom Newton Dunn on First Edition.
He and Truss disagreed on how quickly to move on the economy.
Background
Looking back at that period of mourning for the late Queen when Truss assumed office, the nation had been jittery over the cost of living crisis.
The Conservative leadership contest, which had lasted several weeks, put paid to any constructive solutions to the problem in the latter half of the summer.
Furthermore, Parliament had been in its customary weeks-long recess at that time.
During that period, energy prices were forecasted to be at a crippling high. Every news outlet was full of articles and broadcasts on the choice between food or fuel.
People wanted Parliament to be recalled because 'something must be done'.
A general election is also coming up in two years' time, therefore, Truss wanted to hit the ground running and make up for the two-and-a-half years lost with the pandemic.
Hence Truss's ambitious and, to use her word, bold economic plan.
Kwasi explains
Tom Newton Dunn wrote up highlights in The Times of what Kwarteng told him (emphases mine):
In his first interview since being sacked as chancellor, Kwarteng told TalkTV that he had advised Truss to "slow down" and take a "methodical and strategic approach" to boosting growth as prime minister …
In the interview with First Edition, Kwarteng also revealed that Truss was "distressed and emotional" when she summoned him to be sacked days before she was forced from Downing Street.
He said he told her during their meeting that she was "mad" to fire him, adding: "People will ask, 'If you sacked the person who was doing what you wanted, why are you still there?'"
Which is exactly what happened. The Sun's Harry Cole asked that very question at Truss's press conference that fateful day, Friday, October 14. Truss thought that Cole would be more empathetic, as The Sun generally supports the Government.
Whilst unapologetic for his economic plan, the former Chancellor did say that lessons had been learned:
Kwarteng repeatedly refused to apologise for pursuing the principle of the pair's economic agenda and warned Rishi Sunak that he could not "simply keep putting up taxes".
He said that he had had reservations about the scale of the planned tax cuts in his mini-budget, especially as there were no accompanying plans to reduce government spending. "The prime minister was very much of the view that we needed to seize the opportunity and we hit the ground running," he said. "She's very dynamic, very forceful. That's a great strength. But I think you had to have a measured approach, especially doing the things that were radical, that were bold. And that's the lesson that we've learnt."
Asked who controlled the timetable of the mini-budget, Kwarteng said that he bore "some responsibility for it" but added: "I think the prime minister was very much of the view that we needed to move things fast. But I think it was too quick. If you look at it, it was on the 23rd of September. We only got into the office on the 6th of September. And looking back I think a measured pace would have been much better."
Kwarteng said that afterwards he confronted Truss and warned her the government could fall unless she slowed down. "After the mini-budget we were going at breakneck speed and I said, you know, we should slow down, slow down. She said, 'Well, I've only got two years' and I said, 'You will have two months if you carry on like this'. And that is, I'm afraid, what happened."
He also said:
She was very emotional. I can't remember whether she was actually shedding tears but she was very emotional and it was a difficult thing to do. I think she genuinely thought that that was the right thing to buy her more time to set her premiership on the right path. I disagreed, obviously. I thought that if chancellors are sacked by the prime minister for doing what the prime minister campaigned on, that leaves the prime minister in a very weak position.
Kwarteng revealed that he found out he was being sacked by reading a tweet from a Times journalist:
… a tweet from The Times' political editor as he drove to a meeting with Truss in Downing Street.
As King Charles said to Truss only a month ago — and just days before she sacked her Chancellor:
Dear, oh dear.
Kwarteng is supportive of Prime Minister Rishi Sunak but says that he and Chancellor Jeremy Hunt should not put the blame for a cratering economy on him and Truss:
Kwarteng praised Sunak as a "very credible prime minister" but said he and the new chancellor, Jeremy Hunt, should not attempt to blame him and Truss for all the government's current problems. "The only thing that they could possibly blame us for is the interest rates and interest rates have come down and the gilt rates have come down. I mean, it wasn't that the national debt was created by Liz Truss's 44 days in government."
He added that although he accepted that taxes would need to rise in the short term, the government still needed a growth strategy. "You're not going to grow an economy or incentivise economic growth by putting up our taxes," he said.
True. I wrote earlier this week about why the Truss-Kwarteng plan was the correct one for the UK.
Kwarteng and Truss have known each other for years and live near each other in Greenwich.
He says they are 'still friends', but:
he had still not returned a missed call from her two days ago. "I will call her back," he said.
The BBC's analysis
In an analysis of the interview, the BBC points out that, at the time of the mini-budget, Kwarteng promised more tax cuts to come:
During his time as chancellor, he repeatedly advocated measures of the sort set out in the mini-budget, and two days after delivering it told the BBC there was "more to come" in the way of tax cuts.
The comment, along with a decision to announce the mini-budget without publishing an assessment by the government's fiscal watchdog, was later seen as key to convincing investors that the government did not have a credible plan to keep debt levels under control.
Did Kwarteng reveal too much in the interview?
He insists that he remains friends with Ms Truss. But in this interview he does reveal elements of private conversations during his sacking that Ms Truss may well have preferred had stayed within the walls of Downing Street.
He once toured TV studios insisting she would make a great prime minister. It doesn't feel like they're on as good terms now as they once were.
And what next for Mr Kwarteng? It doesn't sound like he's going to be an awkward backbencher: he's pledging complete loyalty to Rishi Sunak.
There was lots of detail in this interview, but it's important to remember that this is only one side of the events that took place as Ms Truss's premiership began to crumble. When will she break her silence?
Jeremy Hunt's tactful comments
On Friday, November 11, the new Chancellor reacted to Kwarteng's interview.
The Guardian reported:
Good morning. We've got less than a week to go now until the autumn statement – in effect, the second budget of the autumn – and already a blame game has broken out in the Conservative party about who is responsible for the massive spending cuts and tax rises the nation is about to face.
Kwarteng had denied there is a black hole in the nation's finances:
The national debt wasn't radically changed by Liz Truss … There isn't a black hole and the interest rates and the gilt rate funding the debt is exactly the same as it was before the mini-budget. So the black hole hasn't been caused by the mini budget. It's something that Jeremy and Rishi and their officials are going to have to tackle on their own regardless of what happened in the budget.
However, on Sky News, Jeremy Hunt pushed back on Kwarteng's claim:
All I would say is that when we produced a fiscal statement that didn't show how we were going to bring our debts down over the medium term, the markets reacted very badly and so we have learned that you can't fund either spending or borrowing without showing how you are going to pay for it and that is what I will do.
The Guardian concludes:
Hunt did not engage with Kwarteng's specific argument, but he was clearly implying that his predecessor was at fault.
The article includes a clip from Hunt's interview:
Hunt was giving an interview to respond to this morning's growth figures showing the economy shrank by 0.2% in the third quarter of the year.
The Bank of England admits QE wrong policy
But wait, there's more.
On Tuesday, November 8, the Bank of England (BoE) finally admitted that QE — quantitative easing — was a mistake during the pandemic.
This is where the real problem lies. It has nothing to do with Kwarteng or Truss.
The Daily Mail reported that the BoE's chief economist, Huw Pill, appeared before the House of Lords economic affairs committee, admitting:
the Bank played a part in driving up inflation through its massive money-printing programme.
Known as quantitative easing (QE), this pumped £450billion into the economy during 2020.
He had more to say on inflation:
Pill also blamed the huge mismatch between supply and demand in the aftermath of Covid lockdowns for pushing the price of goods ever higher.
Pill has only been in his job for a year, so no one can blame him, but:
The comments could make uncomfortable reading for Bank Governor Andrew Bailey, who oversaw the explosion in QE, and new Prime Minister Rishi Sunak, who as chancellor was at the heart of the Government's response to Covid.
The Government has been fond of blaming the war in Ukraine for our current problems, however:
even before Russia's invasion of Ukraine in February, which caused gas prices to spike, inflation was already at 6.2 per cent – more than three times the Bank's target of 2 per cent.
Rishi and the BoE are to blame for this. As Chancellor, Rishi told MPs that we could borrow, borrow, borrow during the pandemic at little to no cost.
However, Huw Pill sees things differently:
Gas prices do not 'explain all of the overshoot' in inflation, said Pill. One factor, he said, was 'developments in the past – including choices over monetary policy'.
Warning that 'QE and the choices over QE may have contributed' to the rise in the cost of living, Pill added: 'I was not at the Bank two or three years ago when some of those rounds of QE were undertaken. Whether those would be chosen to do now is an open question.'
He also suggested that lockdowns – and the support offered to households and businesses through the pandemic such as the furlough scheme – played a part as they boosted demand at a time when the supply of goods and services was severely hit.
'Looking back at the impact of the pandemic, I think one can say that destruction of demand was over-emphasised relative to the destruction of supply,' he said.
'The support coming from the macroeconomic side – both fiscal support and monetary support –was very profound.'
QE works in the UK as follows:
buying bonds from investors – mainly government bonds known as gilts – reducing borrowing costs and freeing up cash for those investors to plough into the economy.
During the pandemic:
this helped to fuel demand by propping up buying activity while ignoring the supply problems caused by lockdowns, when businesses were forced to shut their doors.
When economies reopened, there was a surge in demand that could not be met, driving up prices and causing workers to demand higher wages.
Other economists and financial experts sounded the alarm at the time:
Andy Haldane, Pill's predecessor at the Bank, predicted as much when he began warning early last year that inflation could get out of hand.
Delaying efforts to tame inflation would be like 'trying to catch a tiger by its tail', Haldane said.
But other members of the Bank of England's interest rate-setting committee remained adamant that inflation would be 'transient'.
The Bank only began to raise interest rates in an attempt to get a grip on inflation in December last year and has now raised them from 0.1 per cent to 3 per cent.
Gerard Lyons, chief economist at investment firm Netwealth and former economic adviser to Boris Johnson during his time as mayor of London, accused the Bank of making a 'major policy mistake' with QE.
And Sir Paul Marshall, a hedge fund veteran, compared QE with a drug to which markets had become 'addicted'.
One week ago, sterling slumped as the BoE raised interest rates to 3%.
The Daily Mail reported:
Sterling slid around 2 per cent towards $1.11 as Andrew Bailey said markets were wrong to believe rates would peak as high as 5.25 per cent next year. 
His comments came as the Bank raised rates by a mammoth 0.75 percentage points to 3 per cent, the largest hike in more than 30 years. But in a warning to traders who were expecting more bumper hikes, Bailey suggested the unprecedented speed of rate hikes would soon begin to slow. 
There is internal disagreement among the BoE's ninestrong Monetary Policy Committee (MPC). A vote had to be taken on the interest rate rise:
More splits emerged at the Bank of England as two members of its ratesetting Monetary Policy Committee ( M P C ) opposed the hike to 3 per cent. Swati Dhingra argued that interest rates should be raised by 0.5 percentage points to 2.75 per cent and Silvana Tenreyro voted for an increase of just 0.25 percentage points to 2.5 per cent. They were outvoted by the other seven members, who opted for a 0.75 percentage point rise. The split exposed the difficulty the Bank is having in navigating Britain through the economic storm. Dhingra said that 'a small rate increase was warranted to safeguard against creating a deeper and longer recession' in Britain. Tenreyro, meanwhile, said the rate rises seen already would bring inflation back below 2 per cent in due course.
Sterling hadn't been that low since Kwarteng was Chancellor one month ago:
The pound slid by more than 2 per cent. Yesterday's [last week's] clash with traders again pulled down the value of sterling, which would usually rise on news of higher rates as traders shift to a currency promising greater returns. It is now at its lowest point since before Kwasi Kwarteng was sacked in mid-October following a disastrous six-week stint as Chancellor.
The US Federal Reserve has also affected sterling:
The pound has also been dragged down by the US Federal Reserve, which has been more aggressive than the Bank in its fight against inflation. The Fed has hiked rates by the unusually high amount of 0.75 percentage points at its last four meetings, taking its base rate to a range of 3.75 to 4 per cent and causing traders to flock to the dollar. While the Bank of England said its own base rate was unlikely to hit 5.25 per cent, it conceded it was also unlikely to remain at 3 per cent. 
Bailey said: 'Where the truth is between the two, we're not giving guidance on that.' 
Analysts pointed out that more uncertainty lies ahead of Jeremy Hunt's budget next Thursday, November 17:
Analysts said Threadneedle Street [where the BoE is] would be worrying about what other unpleasant surprises could be in store – especially regarding gas prices, which have been a key driver behind rising prices.
Philip Shaw, an economist at Investec, said rate-setters also had little idea what Chancellor Jeremy Hunt would announce in his Autumn Statement later this month, and whether there would be any further help for households which could fuel inflation.
Other economic news
More economic news came to light this week.
London
On November 10, Mayor of London Sadiq Khan told Times Radio that he has never been so worried about the capital:
I've lived in London my entire life; including the 80s during Thatcher's reign and the recession. I've never known it so bad.
Really?
I had the good fortune of being in London three times in the past week: once in the afternoon and twice at night.
I have not seen so many people on the streets in the evening since before the pandemic. The streets were filled, especially with 20-somethings, giggling as they made their way to their various destinations. I saw no unhappiness.
The restaurants were full. The one my better half and I ate at this week was already booked for the next several weeks. The one we ate at last week started filling up from 5:30 onwards. It had plenty of students dining there.
Furthermore, the Tube was heaving with passengers. Maybe Sadiq Khan (Labour) needs to take the Underground now and again rather than his motorcade to see what's really going on in London.
NHS — eye-watering costs
The NHS always wants more money: billions and billions more.
No one has got the nerve to reform its bloated ways.
Today, The Guardian reported that agency fees are spiralling out of control, yet Labour wants to give the NHS even more money if/when they get into Government:
NHS trusts are paying as much as £2,500 for a single agency nursing shift, research by the Labour party has revealed.
The party produced the figures by submitting freedom of information requests, and it says the results show the need for a big investment in NHS recruitment – which is what Labour is promising.
… A BBC investigation on the same topic found that, even though pay rates for agency staff are supposedly capped, these limits are regularly ignored, on the grounds that patient safety would otherwise be at risk.
Hmm.
Yesterday, the Daily Mail reported that the NHS will be curbing procedures such as tummy tucks and liposuction in order to save money.
An excellent idea. This should have been done years ago:
Circumcisions, tummy tucks and liposuction are among 13 operations which will stop being funded by the NHS in a 'crackdown' on wasteful spending.
It is thought that stopping the state funding of these operations could save £2 billon a year, along with less wasteful prescribing methods.
Last week bosses of the ailing NHS said that they want billions more cash to keep key services running this winter as Rishi Sunak ruled out cutting its budget as part of the public spending squeeze.
The £152 billion-per-year health service is seeking an extra £7 billion this year — the equivalent of an extra five per cent of its budget — to counter the effects of sky-high inflation, pay rises and Covid costs.
Finance chiefs warned that vital cancer, mental health and GP services face being axed unless the Treasury stumps up the cash.
Somehow, though, past efforts have not been proven money-savers:
It follows years of plans being drawn up to cut NHS costs.
In 2018, plans to stop funding breast reductions, tonsillectomies, and varicose vein surgeries were estimated to save the NHS £439 million a year, but in 2019 the spending had only dropped by three per cent in these areas, the newspaper reported.
Two years ago, 31 procedures were complied in a list in a plan to limit funding, including imaging for lower back pain. It is estimated that around 2.7 million procedures on the list were being carried out each year prior to this.
The new list, which includes circumcisions, tummy tucks and liposuction is the third that the NHS has made a bid to reduce costs.
The NHS will fund procedures on the list only if specific criteria are met:
Created by NHS bosses and medics from the Academy of Medical Royal Colleges, the plan states that the procedures should only be performed via NHS funding if specific criteria have been met …
The right-wing think tank The Policy Exchange estimates that this new guidance could save the NHS up to £2 billion.
Chairman of the Academy of Medical Royal Colleges, Professor Dame Helen Stokes-Lampard, told the newspaper: 'In short, this programme is about making sure we don't waste money doing things that don't work and we are instead redirecting that cash towards those things that are proven to be beneficial.'
MPs' 'golden goodbyes'
The UK's parliamentary constituency boundaries are being redrawn prior to the next general election.
As such, some MPs will lose their current constituencies, meaning they will stand to gain from 'loss of office' payments, or LOOPs.
The Daily Mail reported:
Rules on 'golden goodbyes' for MPs could be made more generous after a swathe of constituencies had their boundaries overhauled for the next election.
The Commons watchdog is looking at changing the provisions for politicians who are ejected from the House after it emerged very few could be entitled to cash.
Under the existing rules, departing MPs are only eligible for 'Loss of Office' payments – LOOP – if they have served at least two years and stood for re-election in the 'same seat'. 
However, the extent of the boundary review – due to be finalised in the coming months – means that all but a handful of constituencies have either been redrawn, had their names changed, or both. 
LOOP is equivalent to two or three weeks' salary for every year served, depending on age. For an MP on the core wage of £84,000 with 10 years' service that would be worth between £30,000 and £50,000.
Similar rules apply to 'winding up' payments, which are equivalent to a lump sum of two months' salary after tax and NICs [National Insurance Contributions] – roughly £10,000.
The turnover of MPs could be particularly high at the election – potentially in 2024 – with Labour riding high in the polls.
Conclusion
Various news outlets have reported that the UK is in for six years of austerity, beginning with Hunt's budget next Thursday.
Despite that, Rishi Sunak has just pledged billions in foreign aid — climate reparations — this week at COP27:
What about the folks back home?
What about Kwarteng's £50m notional 'black hole' that the media and Labour have been crying about?
On Monday, Guido Fawkes's sketch writer wrote about Sunak's new commitments to apologise for … the advances the Industrial Revolution brought the world:
Not only was Little Rishi backed up in the speaking queue behind Iraq, Mozambique, Kenya, Tonga and the Congo – he had to listen to Barbados telling him to up his giving game. Billions? That was last year. Trillions are the new billions.
Other speakers pointed out that we in the rich world had failed to make good on our pledges for £100 billion in climate finance. In the new world order, we will fail to make good on our trillion-pound pledges and they'll be a thousand times better off. "I profoundly believe it is the right thing to do," he said. He heard none of us who were shouting at the screen.
He went on to tell the COP that Britain had been the first major economy to legislate for Net Zero. He suggested that it was our leadership that had raised the proportion of countries going for zero emissions from one third to 90%. That we were going to reduce our emissions by 68% by 2030. Not a shred of shame did he allow himself for any of this.
Are we one of the rich countries anymore? It seems odd that the Treasury is agonising over a £50 billion hole in this year's budget and Rishi stood there offering the world £11.6 billion because of something we started 250 years ago.
Lance Forman, who runs his family's smoked salmon business and was a Brexit Party MEP, also points out the radio silence surrounding Rishi's pronouncements:
I can't figure it out, either.
It must have something to do with being on the correct side of the Establishment.
Just yesterday, while in London, a French lady asked me about the significance of the poppy.
I explained that it was the equivalent of the cornflowers — blue — that the French wear for Remembrance Day there. Both were flowers in Flanders fields.
As she lives here, I suggested that she watch the Remembrance Sunday coverage on November 13 this year on BBC1, which she didn't know about.
A two-minute silence will be observed then as it will on Friday, November 11, at 11:00 a.m., also known as Armistice Day, which ended the Great War on that day and time in 1918:
Those who served in the Great War — the First World War — have now gone to their eternal rest, but the remembrance continues, encompassing those who served in the Second World War as well as military conflicts to the present day.
Our late Queen was the first female member of the Royal Family to serve in the military. All kudos to the Queen Consort (later the Queen Mother) and to George VI for encouraging Princess Elizabeth to join the Army Auxiliary and become a mechanic during the Second World War.
The Queen's example encourage many other men and women to join the armed forces. The Royal British Legion interviewed some active members and veterans to talk about how she inspired them to serve their country:
Wearing a poppy remembers those who died for freedom and is also a visible symbol of thanks to those who served and are alive today, as the veterans in this video explain:
As ever, the Royal British Legion assembled teams of volunteers to be part of their annual Poppy Appeal.
They collected funds from all over England (Scotland has its own Poppy Appeal, the Earl Haig Fund, named after Field Marshal Douglas Haig).
In England, Poppy Days were held in major cities, such as Bristol and Manchester …
… and Birmingham, too:
Poppy Runs took place in Nottingham, Milton Keynes and Southampton:
Not surprisingly, the largest Poppy Appeal event took place in London on November 3, mainly at railway stations but also elsewhere, affording more places where military bands could play:
Here, the Coldstream Guards played familiar melodies at Waterloo Station:
Actor Ross Kemp helped the active servicemen and veterans:
Trains and buses were also decorated with poppies:
The London goal was £1 million this year:
And, yes, the London volunteers achieved their goal. Having a wide range of merchandise helped boost donations, no doubt:
My far better half and I bought enamelled lapel pins at a London railway station last week.
Like millions of other Britons …
We will remember.
Tuesday, October 25, 2022, was a historic day for the United Kingdom.
We have our first minority Prime Minister, Rishi Sunak — and, always remember, he is Conservative.
Labour, with all their waffling about equality and short-lists designed to produce the desired result, have not even come close to attaining what the Conservative Party has accomplished organically.
India cheers, on Diwali
When the 1922 Committee, which represents Conservative backbench MPs, announced on Monday, October 24, that Sunak was the winner of the leadership contest, India cheered.
Sunak's victory as the last man standing with an overwhelming amount of MPs' votes took place on Diwali.
The Times reported (emphases mine):
The prospect of Rishi Sunak being named as the UK's first British-Asian prime minister today has been headline news in India's media.
Newspapers and broadcasters pointed out that his likely victory in the Conservative leadership race would come on Diwali, the festival of lights marking the victory of light over darkness and the most important celebration in the Hindu religious calendar.
The former chancellor's mother and father are both Hindu Punjabis whose parents migrated from India to Tanzania and Kenya respectively before coming to the UK in the 1960s. But that has not stopped Indian journalists and commentators claiming him as one of their own.
India's press has not forgotten how then-Chancellor Sunak celebrated Diwali:
The Press Trust of India, a national news agency, noted that Sunak is a devout Hindu and a regular at the temple close to where he was born in Southampton. It reported that he had made history when he was the first chancellor of Indian origin by lighting Diwali lanterns at 11 Downing Street.
Sunak's rise to the premiership is important to India as it comes 75 years after the nation's independence in 1947:
The prominent Indian TV anchor Rajdeep Sardesai tweeted: "To think that on Diwali day, UK could have its first prime minister of Indian origin. That too in the 75th year of independence! Yeh hui na baat! [that's the spirit]" …

The former Bihar state government chief secretary MA Ibrahimi tweeted: "Revenge of history as well. Destiny." Another Twitter user, Ranjan Kumar, who described himself as a banker, joked: "Reverse colonisation."
Indian media also celebrated Sunak's wealth and billionaire in-laws:
Sunak is also married to Akshata Murty, the daughter of NR Narayana Murthy, the Indian billionaire and founder of Infosys, the information technology giant, who has a net worth of $3.2 billion. Many have noted that, through his family ties, Sunak is effectively richer than the King.
"Advantage Rishi Sunak: Narayana Murthy's son-in-law could be UK's next prime minister", read a headline in the Mint newspaper this morning.
Star adopts new motif: calendar PMs
The Star newspaper, having finished comparing Liz Truss's shelf life with that of a lettuce, put Sunak on the front page as their Prime Minister of the Month for October:
Their Tuesday Thought for the Day says:
Who'll be the PM for November? Stay tuned …
Liz Truss's final hours as Prime Minister
Although Liz Truss had not been Party leader after she resigned on Thursday, October 20, she did remain Prime Minister until she tendered her resignation to Charles III on Tuesday morning.
At 9 a.m., she held her final Cabinet meeting, as is customary on a Tuesday.
Meanwhile, a moving van arrived at No. 10 to remove the Truss family's belongings:
Most PMs use Bishop's Move removals company. Not so this time around. Liz Truss was always going to be different, and, if Harrow Green was her choice, it was further proof of her standing out in a crowd.
Various Cabinet members filed in through the front door of No. 10. It is likely that Chancellor Jeremy Hunt will keep his job under Sunak.
For the competent and calm Defence Secretary Ben Wallace, however, things could be different.
The Guardian's daily diary reported:
Wallace is very popular with Tory party members, but there is a good chance that he will be moved. In recent months people have been briefing papers on his behalf saying that he would resign if a new prime minister refused to stick to the plan to raise defence spending to 3% of GDP by the end of the decade. But Rishi Sunak is refusing to make that commitment.
The two also clashed when Sunak was chancellor, and in the summer Wallace publicly critcised Sunak's stance on defence spending. Wallace backed Liz Truss for the leadership.
Another capable MP, Welsh Secretary Robert Buckland, could be out, too:
In the summer leadership contest Buckland originally supported Sunak. But then, in a highly unusual move, he switched to backing Liz Truss. By that point she was the favourite, and Buckland's move raised a lot of eyebrows because MPs who pledge allegiance to one candidate almost never normally switch in public, because it makes them look inconsistent and opportunist.
Buckland kept his Welsh secretary job in Truss's first reshuffle (although if he was hoping for a return to his previous cabinet job, justice secretary, which was going to be vacant when Truss sacked Dominic Raab, he was disappointed). But this morning, Buckland may be thinking his summer Judas performance was not so wise after all.
Another MP who will probably be gone is the veteran Jacob Rees-Mogg, the current Business Secretary. Under Boris Johnson he was Leader of the House then the minister for Brexit efficiencies. He is very much a Boris loyalist:
Yesterday he said he would support Rishi Sunak as PM. But during the summer leadership contest he said he could never serve in a Sunak cabinet. He told Sky News in July:
I think as a chancellor, he made decisions that were of the left rather than on the right, that he was a tax increasing chancellor. I didn't support the decisions he made.
When asked whether he would serve in a Sunak government, he replied:
No, of course I wouldn't. I believe his behaviour towards Boris Johnson, his disloyalty means that I could not possibly support him. And he wouldn't want me in his cabinet anyway.
He will be sorely missed.
At 9:30, the Cabinet meeting ended.
Truss gave her final speech as Prime Minister at 10:15, before going to Buckingham Palace, to tell the King that she was standing down.
Her lectern appeared shortly before 10:00:
On GB News this morning, Darren McCaffrey explained that, starting 50 years ago, each Prime Minister has had his or her own podium. He showed us the various ones from Gordon Brown's to Truss's.
Liz Truss's has a terrible Zenga style to it, so I was relieved that McCaffrey said that Rishi Sunak would have his own lectern.
Truss's staff and closest MPs gathered off to one side of Downing Street:
At the appointed time, she left Downing Street for the final time, joined by her husband Hugh and daughters Frances and Liberty. The three stood off to one side of No. 10.
Truss approached the Zenga podium with a black folder.
On Monday, she pledged Sunak her full support:
However, her valedictory speech struck another tone, that her boldness and ideas were the correct ones.
This is the full transcript:
It has been a huge honour to be Prime Minister of this great country.
In particular, to lead the nation in mourning the death of Her Late Majesty The Queen after 70 years of service,
and welcoming the accession of His Majesty King Charles III.
In just a short period, this government has acted urgently and decisively on the side of hardworking families and businesses.
We reversed the National Insurance increase.
We helped millions of households with their energy bills and helped thousands of businesses avoid bankruptcy.
We are taking back our energy independence…
…so we are never again beholden to global market fluctuations or malign foreign powers.
From my time as Prime Minister, I am more convinced than ever we need to be bold and confront the challenges that we face.
As the Roman philosopher Seneca wrote: "It is not because things are difficult that we do not dare. It is because we do not dare that they are difficult."
We simply cannot afford to be a low growth country where the government takes up an increasing share of our national wealth…
and where there are huge divides between different parts of our country.
We need to take advantage of our Brexit freedoms to do things differently.
This means delivering more freedom for our own citizens and restoring power in democratic institutions.
It means lower taxes, so people keep more of the money they earn.
It means delivering growth that will lead to more job security, higher wages and greater opportunities for our children and grandchildren.
Democracies must be able to deliver for their own people…
We must be able to outcompete autocratic regimes, where power lies in the hands of a few.
And now more than ever we must support Ukraine in their brave fight against Putin's aggression.
Ukraine must prevail.
And we must continue to strengthen our nation's defences.
That is what I have been striving to achieve… and I wish Rishi Sunak every success, for the good of our country.
I want to thank Hugh, Frances, Liberty, my family and friends, and all the team at No10 for their love, friendship and support.
I also want to thank my protection team.
I look forward to spending more time in my constituency, and continuing to serve South West Norfolk from the backbenches.
Our country continues to battle through a storm.
But I believe in Britain.
I believe in the British people.
And I know that brighter days lie ahead.
Her speech was Johnsonian in so many ways. Like Boris, she had no apologies: good. After all, she'd made enough already. No backing down from her beliefs. Justification of her actions for her ideals. All good.
She was the first Prime Minister to thank her protection team: outstanding. More PMs should do so.
GB News criticised her for saying that brighter days lie ahead. It was her way of saying what President Lincoln did in the 1860s: 'This, too, shall pass'. In other words, don't give up hope.
As for Truss's future, being a backbench MP will be difficult for her, because she has had ministerial or Cabinet positions since the days of the Coalition government, dating from 2012. That's a decade ago. She began her Cabinet posts in 2014.
Perhaps she will find a continuing cause to champion:
Immediately after her speech, she and Hugh went in one vehicle and her daughters in another, escorted by police and special security detail to Buckingham Palace. Truss arrived shortly afterward.
At 10:56, GB News reported that Truss had tendered her resignation. At that point, King Charles was in charge of the UK, as we had no Government.
That sort of thing used to unnerve his mother, the late Queen, so she tried to make those time periods as brief as possible.
The King's conversation with Truss was lengthy.
After her motorcade left, it was time for Rishi Sunak to request the King's permission to form a new government.
The Queen received 15 Prime Ministers during her reign. King Charles, who ascended to the throne just days after Truss became Prime Minister, is already on his second.
Sunak's first hours as PM
Sunak's motorcade, also comprised of police and special security, arrived at the Palace immediately after Truss's left.
Sir Clive Alderton, principal private secretary to the king and queen consort, the monarch's equerry, Lt Col Jonny Thompson, and Sir Edward Young, joint principal private secretary to the king, PA Media reports.
Sunak also spent a long time with the King.
Just before 11:30, the monarch turned the Government over to Sunak. The King had been in charge of us for half an hour. With his mother, it was a matter of minutes. Fascinating.
Someone on GB News quipped that perhaps we should reconsider having an absolute monarchy.
Sunak was due to give his first speech at No. 10 at 11:35. In the event, it was closer to 11:50.
He and the King already know each other through a Prince's Trust event from a few years ago.
When Sunak arrived in Downing Street, he left his vehicle and immediately approached — thankfully — a new lectern.
There were no MPs around him. If there had, it would have been a phalanx, as he had the support of nearly half of them:
Sunak's speech lasted exactly five minutes.
It is possible that he knew what Truss had said in hers, because he wasted no time in blaming her for the mess he was about to land in:
I have just been to Buckingham Palace and accepted His Majesty The King's invitation to form a government in his name.
It is only right to explain why I am standing here as your new Prime Minister.
Right now our country is facing a profound economic crisis.
The aftermath of Covid still lingers.
Putin's war in Ukraine has destabilised energy markets and supply chains the world over.
I want to pay tribute to my predecessor Liz Truss.
She was not wrong to want to improve growth in this country. It is a noble aim.
And I admired her restlessness to create change.
But some mistakes were made.
Not borne of ill will or bad intentions. Quite the opposite, in fact. But mistakes nonetheless.
He warned of 'difficult decisions' to come:
And I have been elected as leader of my party, and your prime minister, in part, to fix [those mistakes – see 11.52am.].
And that work begins immediately.
I will place economic stability and confidence at the heart of this government's agenda.
This will mean difficult decisions to come.
But you saw me during Covid, doing everything I could, to protect people and businesses, with schemes like furlough.
There are always limits, more so now than ever, but I promise you this – I will bring that same compassion to the challenges we face today.
The government I lead will not leave the next generation – your children and grandchildren – with a debt to settle that we were too weak to pay ourselves.
I will unite our country, not with words, but with action.
I will work day in and day out to deliver for you.
This government will have integrity, professionalism and accountability at every level.
Trust is earned. And I will earn yours.
I hope so.
Then he paid tribute to Boris and said he would continue the 2019 manifesto:
I will always be grateful to Boris Johnson for his incredible achievements as prime minister, and I treasure his warmth and generosity of spirit.
And I know he would agree that the mandate my party earned in 2019 is not the sole property of any one individual. It is a mandate that belongs to and unites all of us.
And the heart of that mandate is our manifesto. I will deliver on its promise: a stronger NHS, better schools, safer streets, control of our borders, protecting our environment, supporting our armed forces, levelling up and building an economy that embraces the opportunities of Brexit, where businesses invest, innovate, and create jobs.
I understand how difficult this moment is. After the billions of pounds it cost us to combat Covid, after all the dislocation that caused in the midst of a terrible war that must be seen successfully to its conclusions, I fully appreciate how hard things are.
And I understand too that I have work to do to restore trust after all that has happened.
All I can say is that I am not daunted.
I know the high office I have accepted and I hope to live up to its demands.
But when the opportunity to serve comes along, you cannot question the moment, only your willingness.
So I stand here before you, ready to lead our country into the future.
To put your needs above politics.
To reach out and build a government that represents the very best traditions of my party.
Together we can achieve incredible things.
We will create a future worthy of the sacrifices so many have made and fill tomorrow, and every day thereafter with hope.
Hmm. That I will be interested to see.
Afterwards, Boris tweeted his congratulations. Better late than never:
He was just in time.
Emmanuel Macron tweeted his congratulations one minute later:
Cabinet resignations roll in
Afterwards, Sunak went to the Commons to meet with Cabinet members who he sacked or demoted.
The Guardian explains why this is not done in No. 10:
Prime ministers normally do the sacking element of the reshuffle in parliament because people losing their jobs can come and go without being photographed, or seen by journalists. Lobby journalists have access to some areas of parliament, but other parts are off limits and trying to doorstep the PM's office is definitely not allowed.
Sunak started from the lesser end of the spectrum and moved up the ladder:
According Sky's Beth Rigby, Wendy Morton, the chief whip, and Ranil Jayawarena, the environment secretary, have both been summoned. But were Truss acolytes who were seen as lightweight appointments to cabinet.
Chloe Smith was Truss's Work and Pensions Secretary:
Boris loyalist Kit Malthouse, who worked for him when he was Mayor of London, is out as Education Secretary. His brief stint at Education was under Truss. Prior to that, Malthouse was in charge of Policing:
It is customary for sacked MPs to write a resignation letter.
Jacob Rees-Mogg, a devout Catholic, dated his letter 'St Crispin's Day':
Here's Robert Buckland's:
Brandon Lewis pointed out that he had been one of the longest serving Cabinet members — under four Prime Ministers:
On a positive note, Suella Braverman could re-enter Cabinet:
The Guardian's Pippa Crerar has more news. Glad to see that Grant Shapps will not continue as Home Secretary. Business is better suited to him:
Commiserations to Jake Berry, a Red Wall MP and, however briefly, chairman of the Conservative Party. I wonder what Sunak has against Simon Clarke, though. He's been in the Treasury since Sunak was Chancellor. Hmm. Glad to see that James Cleverly, Ben Wallace and Thérèse Coffey could be staying. I hope that Coffey continues as Health Secretary:
Jake Berry tweeted:
For Foreign Secretary Cleverly, it looks like business as usual. If so, excellent:
With regard to Simon Clarke, it seems there's a bit of a back story there involving Liz Truss:
Simon Clarke has left his post as levelling up secretary. It is not clear from his tweet whether he was sacked, or whether he quit "voluntarily" to save face.
But it is no surprise that he has gone. He was one of Liz Truss's key allies, and during the Tory leadership contest in the summer he often criticised Rishi Sunak quite harshly on her behalf, at one point co-authoring an article accusing him of favouring "a Labour-lite economic policy".
On another point, he is very tall. When he walked with Rishi, he made sure he kept several paces behind so that no one would notice the difference in height.
ITV's political editor Robert Peston summed up the departures as follows:
Around 2:30, Sunak walked into Downing Street to applause. It is customary for staff to applaud the incoming Prime Minister.
New Cabinet appointments took place.
I'll leave it here — at 3:14 p.m.:
I'll have more tomorrow, particularly on the leadership contest that took place over the weekend.
To our modern minds, the Victorian Era probably seems un-democratic.
Yet, it was a time of great transformation in the United Kingdom, from labour legislation to public transport  — and even food.
One man at the vanguard of improving basic nutrition and gustatory enjoyment for everyone during this time was none other than the French chef Alexis Soyer (1810-1858).
Soyer began his British career in London, cooking for the great and the good at the Reform Club, immortalised by Jules Verne in Around the World in Eighty Days. He then turned his attention to the culinary needs of the poor and of infantrymen.
Dr Marjie Bloy, Senior Research Fellow for the Victorian Web, tells us more about this remarkable man:
Alexis Benoît Soyer was born on 4 February 1810 at Meaux-en-Brie on the Marne in France. He was the youngest son of Emery Roch Alexis Soyer, a grocer, and his wife Marie Chamberlan. The couple had five sons: Alexis was the youngest. However two of the sons — Paul and Rene — died. When Alexis was born, Marie thought he was a blessing, therefore she wanted him to enter the Church. However, he did not choose that calling in life.
Early in his career he worked outside of Paris, near Versailles, then progressed to the capital. By the time he was 20 years old in 1830, he was second cook in the French Foreign Office.
He left France in June that year because of a second French revolution and moved to England where he worked for British nobility in and near London:
… in 1831 he accepted employment in the London kitchen of the Duke of Cambridge. Subsequently he worked for the Duke of Sutherland, the Marquis of Waterford, William Lloyd of Aston Hall, Oswestry, and the Marquis of Ailsa at Isleworth.
In 1837, he began working for the Reform Club in the heart of London. On the occasion of Queen Victoria's coronation, he prepared a breakfast for 2,000 guests at the Club.
In 1847, Soyer wrote several letters to the editor about the Irish Famine. Ireland was part of the United Kingdom at the time. The British government appointed him to go to Dublin:
where he built and opened kitchens from where he sold soup and meat at half the usual cost. While there, he published a sixpenny book, Soyer's Charitable Cookery, giving part of the proceeds to various charities.
In 1855, he wrote another budget recipe book, A Shilling Cookery Book for the People:
In 1849, he invented his 'magic stove', which he took to Crimea with him in 1855. The British Army used the 'Soyer Stove' until 1982:
The success of his portable stove and utensils prompted him to resign from the Reform Club in May 1850. At that time, his salary and fees amounted to a very healthy £1,000 per annum. In May 1851, he opened a restaurant in Gore House, Kensington. While he had many customers, especially during the Great Exhibition in Hyde Park, the restaurant closed with losses of £7,000.
On February 2, 1855, he wrote to The Times announcing that he was going to Crimea at his own expense to offer advice on cooking for the infantrymen fighting there (emphases mine):
He began by revising the diet sheets for the hospitals at Scutari and Constantinople. In two visits to Balaklava he, Florence Nightingale and the medical staff reorganised the provisioning of the hospitals; he also began to cook for the fourth division of the army.
When he returned to London, he shared what he learned in Crimea:
On 3 May 1857 he returned to London, and on 18 March 1858 he lectured at the United Service Institution on cooking for the army and navy. He also built a model kitchen at the Wellington Barracks, London.
He also wrote two cookery books for military use, one of which was published posthumously:
Soyer's Culinary Campaign (1857) and Instructions for Military Hospitals (1860).
Soyer devoted his adult life to the British and, as such, is buried in London:
He died on 5 August 1858 at St. John's Wood, London and was buried on 11 August in Kensal Green cemetery.
He certainly had a public relations touch. The subtitle to A Shilling Cookery Book for the People is:
Embracing an entirely new system of plain cookery and domestic economy.
Soyer was predeceased by his English wife, Elizabeth Emma Soyer, an oil painter whose interests included the abolition of slavery. She died while pregnant in 1842. Soyer erected a large memorial monument to her in Kensal Green Cemetery. Her paintings were displayed in London and in Paris, where her art was highly esteemed. Her portrait of her husband remains in the Reform Club's collection.
The Prayer Book Society was founded in 1972.
Its purpose is to make sure that the liturgy of the 1662 Book of Common Prayer (BCP) survives in the ever-modern Church of England, which began chipping away at it gradually until the appearance of the Alternative Service Book of the 1980s.
On October 4, 2022, Lord Moore — Charles Moore — the eminent author and past editor of The Telegraph and The Spectator, wrote an article for the former about the Society on its 50th anniversary.
Moore converted to Catholicism in the 1990s in opposition to women's ordination.
However, he still has a fondness for the BCP and the Society's work.
He provided a brief history of how the Society came into being, beginning with the first edition of the BCP in the 1500s, dating back to Archbishop Cranmer (emphases mine):
The Prayer Book Society is 50 years old this year. It came into being to protect the Book of Common Prayer (BCP) from the neglect and even hostility of the Church authorities. For roughly four centuries, Thomas Cranmer's words, along with the Authorised Version of the Bible, provided the normative language of worship and religious education in England. The BCP therefore occupied the collective imagination of the English people. Then it was sidelined by modern versions – a tremendous loss to knowledge, beauty, literature and prayerfulness.
Moore tells us that he asked King Charles III — who was Prince of Wales at the time — to present the Thomas Cranmer prize to a worthy school child in 1989. The recipient had to:
best declaim a Prayer Book passage.
The then-Prince:
kindly and enthusiastically accepted.
Moore tells us:
In a speech of almost barnstorming eloquence, in St James Garlickhythe, the Prince declared that: "If English is spoken in Heaven (as the spread of English as a world language makes more likely each year), God undoubtedly employs Cranmer as his speech-writer. The angels of the lesser ministries probably use the language of the New English Bible and the Alternative Service Book for internal memos."
He became the Society's active Patron, and again presented the Thomas Cranmer Awards in 2019. Now that he has become King, all his existing patronages are being reviewed, but it would surely be entirely fitting for the new Supreme Governor of the Church of England to retain his commitment.
Currently:
More than 100 school pupils compete for the Cranmer Awards every year.
It is heartening to read that the BCP has support among younger laity and clergy:
Bradley Smith, the society's current chairman, tells me that young people are the most numerous new recruits. This began in lockdown, which gave many of them their first chance to engage with the Prayer Book liturgy online. Among young clergy, support is particularly strong. At York Minster, BCP choral Matins is the cathedral's fastest-growing service.
What excellent news!
Westminster Abbey was scheduled to hold a special service for the Society's golden anniversary on Saturday, October 8. Unfortunately, a train strike has forced a postponement:
However, Mr Bradley assures me that the service will take place at a later date. As the Prayer Book puts it, there will be "a happy issue out of all our afflictions".
Indeed.
May God continue to bless the Prayer Book Society and its work for many more decades to come.
For those living in or visiting London, the historic St James Garlickythe offers 1662 BCP services daily as well as on Sundays. It is located in the City of London. The nearest Tube station is Mansion House, and their website gives alternative routes by rail and bus.
The church has existed on its site since the 12th century and had to be rebuilt after the Great Fire of London in 1666. Sir Christopher Wren designed the present church, known as 'Wren's Lantern' for its many windows.
In the Middle Ages, garlic was sold in the vicinity, hence the name Garlickhythe.