You are currently browsing the tag archive for the 'London' tag.
In 2017, The Guardian posted a long article: '"London Bridge is down": the secret plan for the days after the Queen's death'.
Halfway through, it says (emphases mine):
The reporting for this article involved dozens of interviews with broadcasters, government officials, and departed palace staff, several of whom have worked on London Bridge directly. Almost all insisted on complete secrecy. "This meeting never happened," I was told after one conversation in a gentleman's club on Pall Mall. Buckingham Palace, meanwhile, has a policy of not commenting on funeral arrangements for members of the royal family.
Royal funeral plans are top secret, which makes the article even more amazing. I don't know how the journalist, Sam Knight, managed it.
Queen Victoria's death
Until Queen Elizabeth II, Queen Victoria was the United Kingdom's longest reigning monarch.
A monarch's death is preceded by an announcement about illness, signifying that the end is near:
"The Queen is suffering from great physical prostration, accompanied by symptoms which cause much anxiety," announced Sir James Reid, Queen Victoria's physician, two days before her death in 1901.
Her longevity produced a shockwave of reaction, particularly as she did not perceive her heir, Edward VII, to be worthy of succession. This suggests a parallel between the Queen and Charles III:
It is not unusual for a country to succumb to a state of denial as a long chapter in its history is about to end. When it became public that Queen Victoria was dying, at the age of 82, a widow for half her life, "astonished grief … swept the country", wrote her biographer, Lytton Strachey. In the minds of her subjects, the queen's mortality had become unimaginable; and with her demise, everything was suddenly at risk, placed in the hands of an elderly and untrusted heir, Edward VII. "The wild waters are upon us now," wrote the American Henry James, who had moved to London 30 years before.
The parallels with the unease that we will feel at the death of Elizabeth II are obvious, but without the consolation of Britain's status in 1901 as the world's most successful country. "We have to have narratives for royal events," the historian told me. "In the Victorian reign, everything got better and better, and bigger and bigger. We certainly can't tell that story today."
George V's death
In a well run monarchical system, a symbiosis exists between monarchs and their subjects:
The bond between sovereign and subjects is a strange and mostly unknowable thing. A nation's life becomes a person's, and then the string must break …
This is what happened when the Queen's grandfather died. Note how George V's physician thought it was important for the news to make the morning rather than the evening newspapers:
"The King's life is moving peacefully towards its close," was the final notice issued by George V's doctor, Lord Dawson, at 9.30pm on the night of 20 January 1936. Not long afterwards, Dawson injected the king with 750mg of morphine and a gram of cocaine – enough to kill him twice over – in order to ease the monarch's suffering, and to have him expire in time for the printing presses of the Times, which rolled at midnight …
"For a little while," wrote Edward VIII, of the days between his father's death and funeral, "I had the uneasy sensation of being left alone on a vast stage."
Other Royal deaths
Sometimes, Royal deaths are unexpected events, leading to differences in who finds out first:
On 6 February 1952, George VI was found by his valet at Sandringham at 7.30am. The BBC did not broadcast the news until 11.15am, almost four hours later …
"It is with the greatest sorrow that we make the following announcement," said John Snagge, the BBC presenter who informed the world of the death of George VI. (The news was repeated seven times, every 15 minutes, and then the BBC went silent for five hours).
Also:
When Princess Diana died at 4am local time at the Pitié-Salpêtrière hospital in Paris on 31 August 1997, journalists accompanying the former foreign secretary, Robin Cook, on a visit to the Philippines knew within 15 minutes.
I do remember watching BBC1's Peter Sissons on the Saturday evening when the Queen Mother died in 2002:
On the BBC, Peter Sissons, the veteran anchor, was criticised for wearing a maroon tie. Sissons was the victim of a BBC policy change, issued after the September 11 attacks, to moderate its coverage and reduce the number of "category one" royals eligible for the full obituary procedure. The last words in Sissons's ear before going on air were: "Don't go overboard. She's a very old woman who had to go some time."
I thought his maroon tie was disrespectful, as was the way he read out that bit of news. It was as if he did not care. That started my dislike of the BBC's treatment of current affairs, which only escalated afterwards.
The Duke of Norfolk
As the Royal Family has been Anglican for centuries, it is ironic that the person they entrust with their funerals and coronations is the highest ranking Catholic layman of the realm, the Duke of Norfolk.
Dukes of Norfolk have been organising these events since 1672:
The 18th Duke of Norfolk, the Earl Marshal, will be in charge. Norfolks have overseen royal funerals since 1672. During the 20th century, a set of offices in St James's Palace was always earmarked for their use.
The current Duke is Edward William Fitzalan-Howard, 65. In April 2022, he ran a red light while talking on his mobile phone. He was found guilty of these traffic violations on September 26 and pleaded not to have his driving licence revoked for six months. His request was refused.
On his role as Earl Marshal, the Daily Mail reports:
Edward William Fitzalan-Howard, 65, became England's most senior peer and the 18th duke following the death of his father Miles in 2002.
For more than 350 years, his ancestors have passed down the ancient office of Earl Marshal – meaning that they are responsible for overseeing funerals for members of the Royal Family, the coronations of Britain's monarchs, and even state openings of parliament. 
And because the office is hereditary, it meant that the peer's grandfather Bernard Fitzalan-Howard, the 16th Duke of Norfolk, was responsible for organising Elizabeth II's Coronation in 1953, the state funeral of Winston Churchill in 1965 and the investiture of Charles as the Prince of Wales in 1969.
Eddie, as he is known to his friends, oversaw the planning and execution of the most majesty send-off of a Sovereign in living memory – as 2,000 VIPs including King Charles and the British royal family emperors, kings and queens, prime ministers, presidents, and members of the public including decorated war heroes, members of the Armed Forces and NHS staff who worked tirelessly during the pandemic attended Westminster Abbey for the state funeral …
… an overwhelming majority of Britons (86%) believe that the Duke of Norfolk did a 'good job' of commemorating the late Monarch. 
The duke began planning the Queen's funeral the week of his father's death 20 years ago, though plans for the service – codenamed Operation London Bridge – have been in place since the 1960s. Eddie held annual meetings in the throne room of Buckingham Palace, working closely with Lieutenant Colonel Anthony Mather, a long-serving member of the royal household who commanded the bearer party at Churchill's funeral, for the first 10 years. In the two decades which followed, the number of people involved swelled from just 20 to 280 in April this year.
Just days before the funeral, the peer explained that the funeral was being held in Westminster Abbey for the first time in more than 200 years – since George II in 1760 – so that 2,000 guests could attend. He also revealed that he extended the Queen's lying in state at Westminster Hall for an extra day 'to allow an additional 85,000 people to file past the coffin'. 
His niece Lady Kinvara Balfour told Tatler magazine: 'In organising the Queen's funeral (and the coronation to come), Uncle Eddie has done a truly outstanding job. What a show of elegance, efficiency and rare precision he has produced for our nation, and the world – just like the late Queen Elizabeth II herself did. He is an incredible father of five, a grandfather too'. 
As for the guilty verdict on his traffic violations:
His Grace The Duke of Norfolk, Edward William Fitzalan-Howard, 65, appeared at Lavender Hill Magistrates Court after being caught by the officers who told the court he appeared to run a red light while not paying attention.
The Duke pleaded guilty to one count of driving his six year-old blue three-litre diesel BMW while using a hand-held device in Battersea Park Road, south-west London on April 7.
The Oxford-educated father of five, who is a descendant of Elizabeth I, was also fined £800, with £350 costs and ordered to pay an £80 victim surcharge.
His Grace received six penalty points for using his mobile phone.
'That means, as you know, you will be disqualified for six months because you have more than twelve points on your licence,' magistrate Judith Way told him.
'We have been advised of the test for exceptional hardship and it is the burden of the defendant to show exceptional hardship,' announced magistrate Judith Way.
Before the ruling was handed down, his Grace had tried to argue it was necessary for him to keep his licence.
The highest-ranking duke in England argued he would suffer 'exceptional hardship' if he was disqualified, highlighting his official duties along with his conservation work to prevent 'nature's complete collapse' and 'the end of mankind'. 
In his hereditary role as Earl Marshal he told the court he is in charge of the coronation of King Charles III and asked for part of the hearing to be held in private in the interests of 'national security', while his legal team told the court he needed to be able to drive to ensure the organisation went smoothly.
His Grace, of Arundel Castle, Arundel, Sussex already has nine penalty points on his driving licence for two speeding offences and this latest conviction means he has been subjected to the minimum six-month ban under totting rules.
Dismissing The Duke's application to keep his licence, Ms Way said: 'We have heard sworn evidence from the defendant.
'We accept this is a unique case because of the defendant's role in society and his role in the King's coronation and even though inconvenience may be caused we do not find exceptional hardship.
'We know the need for security clearance for any driver and we do not think this is insurmountable for his high-profile role.
'We believe the defendant has the means to employ a driver.'
Indeed he does.
Managing the Queen's death rituals
Keeping in mind that The Guardian's article was written in 2017, this was true in the event:
During London Bridge, the Lord Chamberlain's office in the palace will be the centre of operations … The government's team – coordinating the police, security, transport and armed forces – will assemble at the Department of Culture, Media and Sport.
Michelle Donelan, formerly of the Department for Education, is the new Secretary of State for Digital, Culture, Media and Sport.
Someone in that group of officials also had the job of printing tickets for various events:
for invited guests, the first of which will be required for the proclamation of King Charles in about 24 hours time.
Everyone on the conference calls and around the table will know each other. For a narrow stratum of the British aristocracy and civil service, the art of planning major funerals – the solemnity, the excessive detail – is an expression of a certain national competence. Thirty-one people gathered for the first meeting to plan Churchill's funeral, "Operation Hope Not", in June 1959, six years before his death. Those working on London Bridge (and Tay Bridge and Forth Bridge, the Duke of Edinburgh's funeral) will have corresponded for years in a language of bureaucratic euphemism, about "a possible future ceremony"; "a future problem"; "some inevitable occasion, the timing of which, however, is quite uncertain".
Operation London Bridge had been in place for well over 50 years and was regularly updated from then until this month:
The first plans for London Bridge date back to the 1960s, before being refined in detail at the turn of the century. Since then, there have been meetings two or three times a year for the various actors involved (around a dozen government departments, the police, army, broadcasters and the Royal Parks) in Church House, Westminster, the Palace, or elsewhere in Whitehall. Participants described them to me as deeply civil and methodical. "Everyone around the world is looking to us to do this again perfectly," said one, "and we will." Plans are updated and old versions are destroyed. Arcane and highly specific knowledge is shared … The coffin must have a false lid, to hold the crown jewels, with a rim at least three inches high.
Processions were also carefully timed.
After the Queen died, the military personnel involved rehearsed day and night to get everything exactly right.
King Charles III was also involved:
… in the hours after the Queen has gone, there will be details that only Charles can decide. "Everything has to be signed off by the Duke of Norfolk and the King," one official told me … In recent years, much of the work on London Bridge has focused on the precise choreography of Charles's accession. "There are really two things happening," as one of his advisers told me. "There is the demise of a sovereign and then there is the making of a king." Charles is scheduled to make his first address as head of state on the evening of his mother's death.
In the event, he made it the following evening at 6 p.m.
The Throne Room at Buckingham Palace was the site for the Queen's lying at rest before going to Westminster Hall:
In every scenario, the Queen's body returns to the throne room in Buckingham Palace, which overlooks the north-west corner of the Quadrangle, its interior courtyard. There will be an altar, the pall, the royal standard, and four Grenadier Guards, their bearskin hats inclined, their rifles pointing to the floor, standing watch. In the corridors, staff employed by the Queen for more than 50 years will pass, following procedures they know by heart.
It is ironic that The Guardian published an article waxing incandescent over staff redundancies — lay-offs — because this piece makes it abundantly clear that they knew the King would bring in his own staff:
"Your professionalism takes over because there is a job to be done," said one veteran of royal funerals. There will be no time for sadness, or to worry about what happens next. Charles will bring in many of his own staff when he accedes. "Bear in mind," the courtier said, "everybody who works in the palace is actually on borrowed time."
Dying in Scotland
Although the article does not mention it, the Queen's death in Scotland activated Operation Unicorn.
However, that operation dovetailed with London Bridge:
The most elaborate plans are for what happens if she passes away at Balmoral, where she spends three months of the year. This will trigger an initial wave of Scottish ritual. First, the Queen's body will lie at rest in her smallest palace, at Holyroodhouse, in Edinburgh, where she is traditionally guarded by the Royal Company of Archers, who wear eagle feathers in their bonnets. Then the coffin will be carried up the Royal Mile to St Giles's cathedral, for a service of reception …
Thankfully, her coffin was flown back to London. According to this, a train journey would have been difficult to organise if she had travelled by rail:
put on board the Royal Train at Waverley station for a sad progress down the east coast mainline. Crowds are expected at level crossings and on station platforms the length of the country – from Musselburgh and Thirsk in the north, to Peterborough and Hatfield in the south – to throw flowers on the passing train. (Another locomotive will follow behind, to clear debris from the tracks.) "It's actually very complicated," one transport official told me.
Coming by plane also enabled an extra day of viewing at Westminster Hall.
How the media probably found out
Informing the media is also a big part of Royal deaths, especially the Queen's.
Radio and television channels had — and have — their response plans ready.
In the case of the Queen, the following more or less happened:
For many years the BBC was told about royal deaths first, but its monopoly on broadcasting to the empire has gone now. When the Queen dies, the announcement will go out as a newsflash to the Press Association and the rest of the world's media simultaneously. At the same instant, a footman in mourning clothes will emerge from a door at Buckingham Palace, cross the dull pink gravel and pin a black-edged notice to the gates …
The BBC has a special, secret transmission system, RATS:
At the BBC, the "radio alert transmission system" (Rats), will be activated – a cold war-era alarm designed to withstand an attack on the nation's infrastructure. Rats, which is also sometimes referred to as "royal about to snuff it", is a near mythical part of the intricate architecture of ritual and rehearsals for the death of major royal personalities that the BBC has maintained since the 1930s. Most staff have only ever seen it work in tests; many have never seen it work at all. "Whenever there is a strange noise in the newsroom, someone always asks, 'Is that the Rats?' Because we don't know what it sounds like," one regional reporter told me.
Royal experts were at the ready because they were pre-booked a long time ago. Media outlets have had obituaries ready to go, with only minor updates for the death to be added:
All news organisations will scramble to get films on air and obituaries online. At the Guardian, the deputy editor has a list of prepared stories pinned to his wall. The Times is said to have 11 days of coverage ready to go. At Sky News and ITN, which for years rehearsed the death of the Queen substituting the name "Mrs Robinson", calls will go out to royal experts who have already signed contracts to speak exclusively on those channels. "I am going to be sitting outside the doors of the Abbey on a hugely enlarged trestle table commentating to 300 million Americans about this," one told me.
Radio stations were also prepared with suitable music:
For people stuck in traffic, or with Heart FM on in the background, there will only be the subtlest of indications, at first, that something is going on. Britain's commercial radio stations have a network of blue "obit lights", which is tested once a week and supposed to light up in the event of a national catastrophe. When the news breaks, these lights will start flashing, to alert DJs to switch to the news in the next few minutes and to play inoffensive music in the meantime. Every station, down to hospital radio, has prepared music lists made up of "Mood 2" (sad) or "Mood 1" (saddest) songs to reach for in times of sudden mourning. "If you ever hear Haunted Dancehall (Nursery Remix) by Sabres of Paradise on daytime Radio 1, turn the TV on," wrote Chris Price, a BBC radio producer, for the Huffington Post in 2011. "Something terrible has just happened."
Incredibly, all television presenters wore black immediately:
… there will be no extemporising with the Queen. The newsreaders will wear black suits and black ties. Category one was made for her. Programmes will stop. Networks will merge. BBC 1, 2 and 4 will be interrupted and revert silently to their respective idents – an exercise class in a village hall, a swan waiting on a pond – before coming together for the news. Listeners to Radio 4 and Radio 5 live will hear a specific formulation of words, "This is the BBC from London," which, intentionally or not, will summon a spirit of national emergency …
According to one former head of BBC news … The rehearsals for her are different to the other members of the family, he explained. People become upset, and contemplate the unthinkable oddness of her absence. "She is the only monarch that most of us have ever known," he said. The royal standard will appear on the screen. The national anthem will play. You will remember where you were …
The passing of the Queen will be monumental by comparison. It may not be as nakedly emotional, but its reach will be wider, and its implications more dramatic. "It will be quite fundamental," as one former courtier told me.
And so it turned out to be.
Media broadcasts
I'm still wrapping my head around 12 days of continuous news coverage focusing on the Queen.
Somehow, it never got boring.
That is because there were seven decades of historic reign to cover, as well as the years between 1926 — the year of the Queen's birth — and 1952, when she succeeded George VI:
… there will be an almighty psychological reckoning for the kingdom that she leaves behind. The Queen is Britain's last living link with our former greatness – the nation's id, its problematic self-regard – which is still defined by our victory in the second world war. One leading historian, who like most people I interviewed for this article declined to be named, stressed that the farewell for this country's longest-serving monarch will be magnificent. "Oh, she will get everything," he said. "We were all told that the funeral of Churchill was the requiem for Britain as a great power. But actually it will really be over when she goes."
… The second Elizabethan age is likely to be remembered as a reign of uninterrupted national decline, and even, if she lives long enough and Scotland departs the union, as one of disintegration. Life and politics at the end of her rule will be unrecognisable from their grandeur and innocence at its beginning. "We don't blame her for it," Philip Ziegler, the historian and royal biographer, told me. "We have declined with her, so to speak."
The obituary films will remind us what a different country she inherited. One piece of footage will be played again and again: from her 21st birthday, in 1947, when Princess Elizabeth was on holiday with her parents in Cape Town. She was 6,000 miles from home and comfortably within the pale of the British Empire. The princess sits at a table with a microphone. The shadow of a tree plays on her shoulder. The camera adjusts three or four times as she talks, and on each occasion, she twitches momentarily, betraying tiny flashes of aristocratic irritation. "I declare before you all that my whole life, whether it be long or short, shall be devoted to your service, and the service of our great imperial family to which we all belong," she says, enunciating vowels and a conception of the world that have both vanished.
Conclusion
In summary:
London Bridge is the Queen's exit plan. "It's history," as one of her courtiers said. It will be 10 days of sorrow and spectacle in which, rather like the dazzling mirror of the monarchy itself, we will revel in who we were and avoid the question of what we have become.
It was an incredible time which galvanised the United Kingdom:
"I have to be seen to be believed," is said to be one of her catchphrases. And there is no reason to doubt that her funeral rites will evoke a rush of collective feeling. "I think there will be a huge and very genuine outpouring of deep emotion," said Andrew Roberts, the historian. It will be all about her, and it will really be about us. There will be an urge to stand in the street, to see it with your own eyes, to be part of a multitude. The cumulative effect will be conservative. "I suspect the Queen's death will intensify patriotic feelings," one constitutional thinker told me, "and therefore fit the Brexit mood, if you like, and intensify the feeling that there is nothing to learn from foreigners."
That is quite true. The conclusion that most of us drew from television coverage was that no one does monarchy and ritual quite like Britain. We are still the greatest in that regard.
On Monday, September 19, four million television viewers tuning in from around the world to pay their respects agreed.
Today's post was supposed to be a comprehensive retrospective of what people around the world experienced this week in seeing Queen Elizabeth II being laid to rest.
However, I have information and reflections for more than one post.
Today's will look at the religious aspects and history of Westminster and some Royal funeral traditions.
Westminster's religious history
One thing I learned is that the area that is called Westminster, which we connect with the Abbey and the Palace (where the Houses of Parliament meet) was originally a monastery with a church on the site.
'West' refers to the location being to the west of where most people were settled long before the Norman Conquest in 1066.
The word 'minster' is the Anglicised version of the Latin 'monasterii', 'monasterium' and 'monasteriensis', dating back to 669.
My curiosity was piqued when I read the inscription of the four tall candlesticks immediately flanking the Queen's catafalque. Unfortunately, I do not have the full wording, but 'Westmonasterii' and 'Petri' are on them, gold lettering on a red border, just underneath where the large, thick beeswax candles sit.
Then came the story of how the monastery became linked to St Peter, the fisherman who became a bold Apostle preaching Christ after the first Pentecost.
In 2017, Cambridge University Press published a paper by Bernhard W Scholz, Sulcard of Westminster: Prologus de construccione Westmonasterii.
An extract reads, in part (emphases mine):
Sulcard, a monk of Westminster in the eleventh century, is the author of the first history of his monastery, the unprinted Prologus de construccione Westmonasterii. In this brief tract he describes the foundation of Westminster in the days, as he claims, of King Æthelberht of Kent, and the patronage and endowment extended by various benefactors, notably Archbishop Dunstan of Canterbury and King Edward the Confessor. Sulcard also records the marvellous dedication of Westminster by St. Peter, patron of the church, and two other miracles worked in Westminster by the prince of the apostles.
Of the original church, replaced by the structure we know today, the Wikipedia entry for Westminster Abbey states:
According to a tradition first reported by Sulcard in about 1080, a church was founded at the site (then known as Thorn Ey (Thorn Island)) in the seventh century at the time of Mellitus, a Bishop of London. Construction of the present church began in 1245 on the orders of King Henry III.[5]
Here is where St Peter comes in. A tradition dedicated to him continues today:
A late tradition claims that Aldrich, a young fisherman on the River Thames, had a vision of Saint Peter near the site. This seems to have been quoted as the origin of the salmon that Thames fishermen offered to the abbey in later years, a custom still observed annually by the Fishmongers' Company …
Sulcard's entry reads:
The sole work which Sulcard is known to have produced is the so-called Prologus de Construccione Westmonasterii ("Prologue concerning the Building of Westminster"), dedicated to Abbot Vitalis of Bernay (c. 1076—?1085) and hence datable to about 1080.[2] It relates the history of the abbey, beginning in the time of Mellitus, bishop of London (604—17), with the foundation of its first church on what was then Thorney Island by a wealthy Londoner and his wife. It concludes with the dedication of a new church erected by King Edward the Confessor (r. 1042–1066) for the monastery. In the dedication to Vitalis, Sulcard writes that he intended his work to serve as a 'commemorative book' (codex memorialis) for his house. He was primarily interested in promoting the cult of St. Peter, the abbey's patron saint, who is said to have miraculously appeared in the early 7th century to dedicate the church in person. Two copies of the history are extant, the earliest being a chartulary from Winchester (c. 1300), BL, Cotton MS Faustina A.iii, fols. 11r—16v. The other copy is in BL, Cotton MS Titus A.viii, fols. 2r–5v. The title is not contemporary, but derives from the heading in the former chartulary, to which it serves as a prologue.[3]
Apart from relating local traditions about St. Peter's miraculous involvement, the narrative of Sulcard's prologus is relatively free of embellishments.[1]
It does not appear that the monks had an easy time of it on Thorney Island:
Thorney Island was the eyot (or small island) on the Thames, upstream of medieval London, where Westminster Abbey and the Palace of Westminster (commonly known today as the Houses of Parliament) were built. It was formed by rivulets of the River Tyburn, which entered the Thames nearby. In Roman times, and presumably before, Thorney Island may have been part of a natural ford where Watling Street crossed the Thames,[1] of particular importance before the construction of London Bridge.
The name may be derived from the Anglo-Saxon Þorn-īeg, meaning "Thorn Island". [2]
Thorney is described in a purported 8th century charter of King Offa of Mercia, which is kept in the Abbey muniments, as a "terrible place". In the Spring of 893, Edward the Elder, son of Alfred the Great, forced invading Vikings to take refuge on Thorney Island.[3] Despite hardships and more Viking raids over the following centuries, the monks tamed the island until by the time of Edward the Confessor it was "A delightful place, surrounded by fertile land and green fields". The abbey's College Garden survives, a thousand years later, and may be the oldest garden in England.[4]
Since the Middle Ages, the level of the land has risen, the rivulets have been built over, and the Thames has been embanked, so that there is now no visible Thorney Island. The name is kept only by Thorney Street, at the back of the MI5 Security Service building; but a local heritage organisation established by June Stubbs in 1976 took the name The Thorney Island Society.
In 1831 the boundaries of the former island were described as the Chelsea Waterworks, the Grosvenor Canal, and the ornamental water in St James's Park.[5]
Thorney Island is one of the places reputed to be the site of King Canute's demonstration that he could not command the tides, because he built a palace at Westminster.
In 2000, the politician John Roper was created a Life peer and revived the name of Thorney in Parliament by taking the title Baron Roper of Thorney Island in the City of Westminster.[6]
Royal traditions at Westminster Hall
The Daily Mail has an excellent article on Westminster Hall's history from 1087 to the present, beginning with William the Conqueror's son, William II, or William Rufus.
The Queen's lying in rest was another historic milestone. By September 15, just four days before her funeral, someone described it as a:
piece of history that will never be repeated.
Before the public viewing started, Westminster Abbey's clergy and the Archbishop of Canterbury conducted a 20-minute service, accompanied by the Abbey choir.
Although the Hall is unconsecrated ground, it nonetheless felt as if it were a church.
The hundreds of thousands of people who filed past over four days, until 6:30 a.m. on the morning of Monday, September 19, 2022, also respected it as such. The continuing silence was overwhelming in its beauty.
Although there are traditions relating to monarchs long ago, the Westminster Hall visitation is a relatively new one, as The Telegraph's Tim Stanley tells us:
The modern lying-in-state was invented in 1910, for the funeral of Edward VII. No tickets were issued; rich and poor queued in torrential rain. As the doors opened at Westminster Hall, a work girl was heard to cry, "They're givin' 'im back to us!"
When the ceremony was repeated for George V in 1936, cynics sneered at its elitist "pomp". The writer G K Chesterton advised them to open a history book. In aiming to modernise royalty by bringing George's body closer to the people, he said, the court turned the clock back to the Middle Ages, to when kingship was more personal and tangible. The coffin of a medieval sovereign was generally topped with a waxwork effigy, so that even the lowliest subject could see what he looked like.
The body of a monarch was, in a sense, sacred, transformed by coronation into an instrument of God. But, like Doubting Thomas, we need to see to believe. Hence even as monarchy became more absolutist over time, better convinced of its divine rights, the principal actors still felt the need to put on a show.
France's monarchy was even more open than ours. The public could watch Louis XIV and his family at Versailles:
Louis XIV, the Sun King of France, rose every morning, washed, shaved and dressed in front of an audience of around 100 people. Anyone could come to see him at Versailles; all you needed to get in w[ere] a hat and a sword, and the concierge did a nice sideline in selling both. Tourists could watch the royal family going to chapel, eating, even playing cards – you could say Versailles was the Center Parcs of its day, though reviews were scathing about the pickpocketing and the smell. The palace did not benefit from modern plumbing. People relieved themselves in the corridors. There's a story that Marie Antoinette once stepped out for a walk and a woman in the window above emptied a chamberpot over her head.
Returning to Westminster Hall last week, Stanley says:
Let's call it what it is: a pilgrimage. The body has been returned to the people; the people have come to see it, drawn by belief, by spectacle or raw instinct. When I entered Westminster Hall, I saw at once that it was a shrine, marked by candles and shrouded in silence. Phones were banned.
Alone at the coffin, some bowed, some curtsied, some crossed themselves. These ritual gestures, observed Chesterton back in 1936, are "not only more serious but more spontaneous" than the "ghastly mummery of saying a few words" … The poverty of the 21st-century imagination betrays the dead and the living. Tradition honours with awe, and it provides those left behind with the language and actions to articulate the inexpressible.
The person who willingly submits to the ritual of the lying-in-state, argued Chesterton, "may not be an exceptional person but at least he understands what is meant by an exceptional occasion." By contrast, the bright spark who stands above it all forfeits the wisdom of the crowd, and by rejecting history, discards a part of themselves, too – so that they are ignorant even of their own identity. Worse, they are without hope. If you believe, as we are encouraged to believe today, that death is it, the funeral is a "goodbye" that can't even be heard by the deceased. But if you believe, as the late Queen did, that there is a life after this one, then the rite is a demonstration of faith that things will continue.
To inhabit a tradition means not only to participate in it but to pass it on. Its survival is a tribute to the perseverance of life itself. We will be told that all we've seen is old hat; we'll be told that even if it was grand, Queen Elizabeth was its last shout. Well, they've said that a million times before, and yet here we are lining the streets, or crowding around the television, bearing witness to an ancient institution that has the audacity to claim its origin from King Solomon.
Bemusement? It renders clarity. Despair? It offers hope.
I will return to faith in a moment.
Also writing for The Telegraph, Christopher Howse described the 'sacred mysteries' surrounding royal ceremonies:
The lying-in-state of Queen Elizabeth, her coffin covered by the royal standard upon which rested the Imperial State Crown, made an argument hard to reduce to words. It argued for a constitutional monarchy and the ancient conventions surrounding it. Millions of people this week have quietly taken part in recognising that reality.
In religion, an old saw says: lex orandi lex credendi – the law of prayer is the law of belief. In other words, prayers and liturgy express implicit meanings behind them. Perform the rites and you learn what you believe.
Something similar operates in state ceremonial. I know that traditions are reinvented, and that the lying-in-state in Westminster Hall is little over a century old. But it incorporates remarkably old elements. In the Imperial State Crown, for example, is the sapphire of St Edward, said to have been part of the coronation ring of King Edward the Confessor, who came to the throne in 1042.
It is not too soon now … to consider the coronation of King Charles. There is antiquity here too, the inheritance of which should not be thrown away. The motet Zadok the Priest, for example, has been sung at every coronation since 973, for King Edgar. The words are based on the First Book of Kings (1:38): "Zadok the priest and Nathan the prophet anointed Solomon king. And all the people rejoiced and said: God save the King! Long live the King! God save the King!"
… Some of my fears have been assuaged by the words of King Charles. He had once spoken of being the defender of faiths, rather than the faith of the Church of England implied by the abbreviations found on our coinage: FID DEF – fidei defensor. In his first address on coming to the throne, King Charles called the Church of England "the church in which my own faith is so deeply rooted".
The Coronation takes place within the service of Holy Communion (even if films from 1953 omit images of Queen Elizabeth and the Duke of Edinburgh receiving the Sacrament, as they did).
And, no matter what, we are better off with an established church in England than without one, precisely for these reasons:
Sometimes I find the Church of England annoying. Who doesn't? But I'd rather have it as the Established Church than not … as the godly anointing of the head of state and supreme governor of the Church of England, the Coronation must retain the Christian elements that define it.
The only noise we heard was during the changing of the guard, which took place every 20 minutes. Unless one does it as a job, i.e. in front of one of the palaces, it is difficult to stand completely still in one place for much longer.
Lucy Denyer wrote an article for The Telegraph describing what an honour it was for her to see her husband as part of that guard:
My husband is – imperceptibly, infinitesimally – swaying. Backwards and forwards he goes, gently, so, so gently. Blink and you'd miss it; to all intents and purposes he is standing stock still, eyes front, unsmiling, upright. You'd only catch the tiny movement if you were looking very intently.
… The rocking – forwards and backwards from the heel to the ball of the foot – keeps the blood flowing; stops him passing out. Watch really carefully and they're all at it. 
The Queen herself also did that when standing for long periods of time. It does work.
She, too, commented on the silence:
Inside, under the bright lights hanging from the mediaeval beams, it is silent, bar the tapping of feet, the discreet click of an official photographer's lens and once, the wail of a baby.
Suddenly comes the bang of sword on stone, the signal for the guard to change. It is precisely 12:20am and the four on the corners swing their swords in a graceful arc in perfect time, before making their careful way down the steps of the dais on which the late Queen's catafalque stands …
My husband tells me afterwards that all he could think of, at this point, was not to trip, fall – and become a global meme.
She discussed the power of ritual and solemnity of a vigil:
A vigil can at once be grand or simple, awe-inspiring or strangely intimate – or all of those things – and Queen Elizabeth II's is no exception. Ignore the velvet ropes and the electric lights – and the anoraks, trainers and clutched plastic bags – and this could be a moment from another time; it is timeless.
Soothing, too; the endless river of people filing by the coffin. Most slow, some bow, others curtsey, some blow kisses. Many linger after they have passed by, reluctant to leave this sanctuary that it has taken them so long to reach. Exhaustion is etched on faces; there is the odd dazed-looking child stumbling along between its parents.
Among this stream of awkward humanity, the officers on guard stand in marked contrast – statues, doing their duty. They have been practicing all week: their entrances and exits, their synchronised sword drills run through at home in spare half hours with umbrellas. Standing orders have been dusted off, breastplates refitted, helmets adjusted, boots polished. I have seen the pomp and ceremony hundreds of times, yet never carried out so silently; there is no shouting of orders in here.
The sword bangs once more; it is time to leave. On top of the coffin, the Black Prince's Ruby suddenly flashes red. I pause, bow my head, say a prayer of thanks – for Her Majesty's life, but also, in her death, to have been able to see this, to watch my husband carry out this enormous honour.
Returning to Windsor — and to God
After the Queen's committal at St George's Chapel at Windsor Castle, Tim Stanley wrote a moving tribute for The Telegraph:
The Committal was a homecoming. To Windsor and to God.
This is one of England's holiest spots, burial site of kings, church of the Order of the Garter, it once hosted a splinter of Christ's cross. Its slender pillars are like the trunks of ash trees. 
Beneath its canopy of silver lattice, the coffin was borne to the quire and rested at the catafalque, to a setting of Psalm 121: "I will lift up mine eyes unto the hills."
Then the choir sang the Russian contakion of the departed, also performed at the Duke's funeral, a nod to the family's Orthodox heritage. Absent a eulogy, it was the music that expressed Her Majesty's character and convictions, including a motet arranged by Sir William Henry Harris who, it is believed, taught the young Princess Elizabeth how to play the piano. As a child, she could often be found in the organ loft listening to him play for the services down below, especially at Christmas.
The words by John Donne crystallised the message of the readings: "Bring us, O Lord God… into the house and gate of Heaven", where there shall be no darkness "but one equal light", no noise "but one equal music" and one "equal eternity".
Put another way, Elizabeth II lived as a queen but, in death, she is a soul equal to any other, returned to God. In an age of atheism, when Christians are persecuted across the world, it's remarkable that perhaps history's largest ever TV audience was given over to a statement of unafraid Christian belief – and over the course of the Committal, one cleric after another expressed the vision of their church with utter clarity.
There is the reality of mortality, as described by the Dean of Windsor in Psalm 103: "The days of man are but grass… As soon as the wind goeth over it, it is gone."
There is the certainty of life after death, as stated in the prayers: "We rejoice at thy gracious promise to all thy servants, living and departed, that we shall rise again at the coming of our Saviour Jesus Christ." And there is the vision of triumph at the end of times, as the Dean quoted from Revelation: "There shall be no more death, neither sorrow, nor crying."
This passage was read at the funerals of the Queen's grandparents and father, casting us back over an unbroken line of succession.
There was no qualification in any of these words, no Thought for the Day "some might say, others will feel differently", but instead pure hope rooted in unshakable faith. The Queen has died, but her story does not end. That's true for the monarchy, as well …
Finally, the coffin lowered into the ground as the Dean continued: "Go forth upon thy journey from this world, O Christian soul." The Garter King of Arms proclaimed the late Queen's titles; a bagpiper played a lament from the North Quire Aisle, slowly walking into the distance, till the figure and his tune became a ghost in the ash forest. You might say that physically we were in England, but spiritually we were in Balmoral.
And the congregation awoke from its reverie into a new era …
Later, of course, the family would say a very private farewell to Queen Elizabeth, and she would be laid next to her beloved husband – concluding a set of rites that, like Russian dolls, grew smaller and more precious in form. 
For the public, the emotional journey to this moment was intense. Over 10 days, the lying in state allowed us to participate in the Queen's farewell and, let's be honest, make it a little bit about us. How British were the queues, we said, how democratic the whole thing.
But at the Abbey and the Chapel, we saw what this was really all about: namely the late Queen, her precious traditions and the principles they exist to pass on. Ultimately, the Committal articulated love – for country, for family, for horses and dogs, all the things that make a life worth living.
The Church of England is preoccupied by church growth programmes.
They do not need that at all.
What they need is a continuous replay of the Queen's four days in Westminster Hall, her funeral at Westminster Abbey and her committal service at St George's Chapel.
My message to Anglican clerics is: build it and they will come.
————————————————-
It is not too late to send the Royal Family a message of condolence:
My better half and I were in London yesterday. Friends told us that floral tributes were still being laid in the relevant parks and at Windsor Castle.
It is good to see that mourners are still remembering our late monarch, especially as the Royal Family now have a chance to grieve in private for the next few days.
May God bless them on that difficult journey.
Long live the King.
Reflections on the Queen continue next week.
On Monday, September 19, 2022, the United Kingdom held its first state funeral since the death of Winston Churchill in 1965.
The public viewing of the Queen's casket at Westminster Hall ended at 6:30 a.m.:
I am certain that more than 250,000 people filed past in four days in London, because in 2002, 200,000 filed past her mother's coffin in three days. I was one of them. It was an unforgettable experience.
The Sky News article had more numbers before the Queen's funeral at Westminster Abbey began:
The Mayor of London's office said an estimated 80,000 people were in Hyde Park, 75,000 in ceremonial viewing areas and 60,000 on South Carriage Drive.
Overall numbers will be much higher as crowds formed on virtually the entire route to Windsor, where Thames Valley Police said 100,000 people had turned out.
The Telegraph reported much higher numbers for Westminster Hall. These seem more realistic to me:
The four-day lying-in-state ceremony has seen more than a million mourners packing the banks of the Thames, waiting in a queue which, at its peak, took 24 hours and stretched 10 miles, beyond London Bridge to Southwark Park.
On the final day, Westminster Hall was attended by dozens of foreign leaders and royals who have arrived in London ahead of the state funeral, which starts at 11am.
They included Joe Biden, the US President, Emmanuel Macron, the French leader, Olena Zelenska, the First Lady of Ukraine, President Jair Bolsonaro of Brazil and his wife Michelle, King Felipe and Queen Letizia of Spain, and King Phillipe and Queen Mathilde of Belgium.
On Sunday morning, the Government warned people not to travel to the queue "to avoid disappointment".
Another Telegraph article had more statistics about the Elizabeth Line (emphases mine):
At an average queueing time of 12 hours – perhaps even more – they had clocked up a total of 4.8 million hours between them as they shuffled forward, uncomplainingly, in the sunshine, and in the cold, and in the dark. It means that since the late Queen's lying in state began last Wednesday, her people had spent a cumulative 550 years saying their final thank you.
And if each of them entered the winding, folding queue at its end in Southwark Park, they would have walked 4 million miles between them, the equivalent of 153,846 marathons.
The fact that all of them knew how arduous the wait would be, having been given ample warning, is an even more reliable measure of how much Queen Elizabeth meant to them.
From children in push-chairs to pensioners and even global celebrities, they patiently waited their turn to spend only a few minutes in the presence of the late Queen's coffin, almost all of them pausing to bow or curtsy, many of them turning away in tears.
As one of my readers, dearieme, pointed out, this shows the trust our Queen had in her subjects and foreign visitors:
How often in the history of civilisations would governments, here or elsewhere, have allowed – even encouraged – huge mobs of the public to congregate, and trust largely to their natural instincts to keep themselves in order?
I think the answer might be "rarely".
Douglas Murray pondered all of the above in his Telegraph article: 'Our late Queen's final act was to bring her nation and the world deeply together'.
Excerpts follow:
The passing of Elizabeth II is remarkable for many reasons. But just one of them is the way in which the Queen's final act seems to have been to bring her nation deeply together.
There is the literal way in which that has happened, with the mini-nationalists across Britain ceasing – for a moment at least – their relentless task of trying to tear our country apart. The Scottish nationalists observed the death of our monarch without a series of "buts". Even Sinn Fein paid tribute and passed condolences to the Queen's son and heir – an act that would have been unthinkable beforehand.
People have rightly remarked on the way in which hundreds of thousands of people have queued to pay their own personal respects to the late Queen. But almost as remarkable is the way in which other nations around the world, as well as their media, have mourned her death …
The Queen leaves behind a Commonwealth that has been united in mourning – hardly the expected reaction if she had been the cruel tyrant of the New York Times's imagination.
What is more, although the dissenters have received an extraordinary amount of attention, more extraordinary by far is how united the world's response has been.
France, for instance, is not a country known for its love of monarchy. But on the death of Queen Elizabeth the French political and media class were united in paying tribute to her. She was honoured on the cover of almost every French magazine and periodical, as she was across the European and world media.
This reaction is largely a tribute to a reign of unparalleled length and dignity, a life given to the service of the country and the deepening of alliances with our friends and allies. But it also serves as a reminder of the way in which Britain is regarded around the world. With the exception of a few raucously noisy malcontents, we find that most people do not regard Britain as some terrible tyrannical power, either now or in history. Most see us, rightly, as having been among the fairer, certainly more benign, world powers …
This is the Britain that is still influential both in its impact abroad and also in the lives of its citizens. I doubt that there has been a figure in history whose death has led to such a voluntary outburst of feeling. There may have been despots whose death had to be mourned by their citizens and subjects, but there can have been few, if any, who have ever produced such willing devotion.
And there is a lesson in this for our institutions, and for institutions and nations around the world: people are loyal to institutions that are loyal to them. Break any part of that pact and you break the whole; sustain it and you sustain the whole.
Queen Elizabeth II swore an oath to this country as a young woman, and it was an oath she kept until her dying day. That loyalty is what is being honoured and mirrored today: the respect of people around the world for a life of service and duty. Something to remember, certainly. But something to emulate and live up to as well.
On the subject of tributes from abroad, a Belgian created this inspired photo montage of the Queen:
The next two short videos are well worth watching. The first is about Elizabeth II's 'Queenhood', probably written by the poet laureate with footage from her coronation. The second is a film montage of her entire life from beginning to end:
Operation London Bridge — the Queen's funeral plan — was now in its final phase in the capital and at Windsor Castle.
A military procession arrived at Westminster Hall to take the Queen for her final time to Westminster Abbey.
A new bouquet of pink and purple flowers with foliage and herbs — rosemary for remembrance and myrtle from the plant which supplied the sprigs for her wedding — replaced the white wreath for her lying in state:
Eight pallbearers from the military carefully placed her coffin onto a gun carriage. Naval ratings holding onto ropes in front and in back guided the gun carriage on its way.
This tradition began with Queen Victoria's funeral, which took place in January 1901. Horses were supposed to transport the gun carriage, but part of it snapped off in the cold, thereby making it impossible. Prince Louis Battenberg, who was Prince Philip's grandfather, came up with the solution, which, he said, had operated satisfactorily during the Boer War:
If it is impossible to mend the traces you can always get the naval guard of honour to drag the gun carriage.
The tradition continued throughout the 20th century:
The gun carriage is part of the materiel of the King's Troop, commanded for the first time by a woman, Captain Amy Hooper. She told The Telegraph that she was in Canada when the Queen's death was announced:
"BRIDGE, BRIDGE, BRIDGE," the text stated. "Operation LONDON BRIDGE has been activated. Initiate telephone cascade. All personnel are to return to camp" …
She was in Calgary when the news broke, along with soldiers exercising alongside Canadian mounted units. The British party was flying back to the UK within five hours …
Soldiers as far away as Turkey and America had to cancel their family holidays and return to the UK …
On Monday, she will be leading the gun team in Hyde Park for the Queen's funeral.
King's Troop, a unit of about 160 soldiers with an equal split of men and women, has one of the most important ceremonial roles in the British armed forces.
Their six 13-pounder quick-fire guns, built between 1913 and 1918, all of which have seen active service in the First and Second World Wars, are used regularly for royal salutes in Hyde Park, Green Park or Windsor Great Park for State Occasions and to mark royal anniversaries and royal birthdays …
The gun carriage is known as the George Gun Carriage, and carried King George VI's coffin from Sandringham Church to Wolferton Station in February 1952. It was also used in the funeral of the Queen Mother in 2002.
Queen Elizabeth's funeral had more troops and regiments than had ever been gathered at one time.
These included troops from around the Commonwealth, particularly Canada and Australia:
The soldiers walked at a 75 beat per minute pace, which is slow and difficult to sustain.
The Times reported on the use of a metronome, mimicked on the day by drum beats to ensure proper timing:
Military chiefs have been told to "up their game" for the Queen's funeral today and listen to a metronome at 75 beats per minute to ensure the right pace during the procession.
Admiral Sir Tony Radakin, the chief of the defence staff, admitted to nerves but said an enormous amount of planning for the event had gone on for "a very long time". He said more than 10,000 soldiers, sailors and airmen and women would perform their "last duty" to the Queen during the day's events.
Queen Elizabeth wished to have her funeral at Westminster Abbey because she had been married and crowned there.
The last monarch to have a funeral at the Abbey was George II on November 13, 1760. The other monarchs had theirs at St George's Chapel at Windsor Castle.
The Queen's children along with Princes William and Harry walked in the procession to the Abbey.
Meanwhile, heads of state and dignitaries took their places inside. Charity workers also were seated.
The Queen Consort and the Princess of Wales arrived with Prince George, 9, and Princess Charlotte, 7:
The procession arrived at the Abbey and the pallbearers carefully carried the Queen's coffin inside:
You can find the Order of Service here:
The Times has an excellent article on the service.
You can see the procession from Westminster Hall and the full funeral service. As with the other Royal Family YouTube links I have posted, if you get a message saying it cannot be viewed, click on 'Watch on YouTube' or this tweet:
The Queen chose the music, which held particular significance to her and to the Abbey:
Pardon the irreverence, but this is an aerial view of the seating plan in the transept. Look how far back Joe Biden was. Apparently, his Beasts and motorcade got caught up in traffic, although he arrived before the service began. By contrast, the dignitaries who took the white coaches in the 'podding' system got there on time. Even if he hadn't been late, he would still have been seated in the same place.
The altar is to the left and, out of shot, to the right are more seats for guests: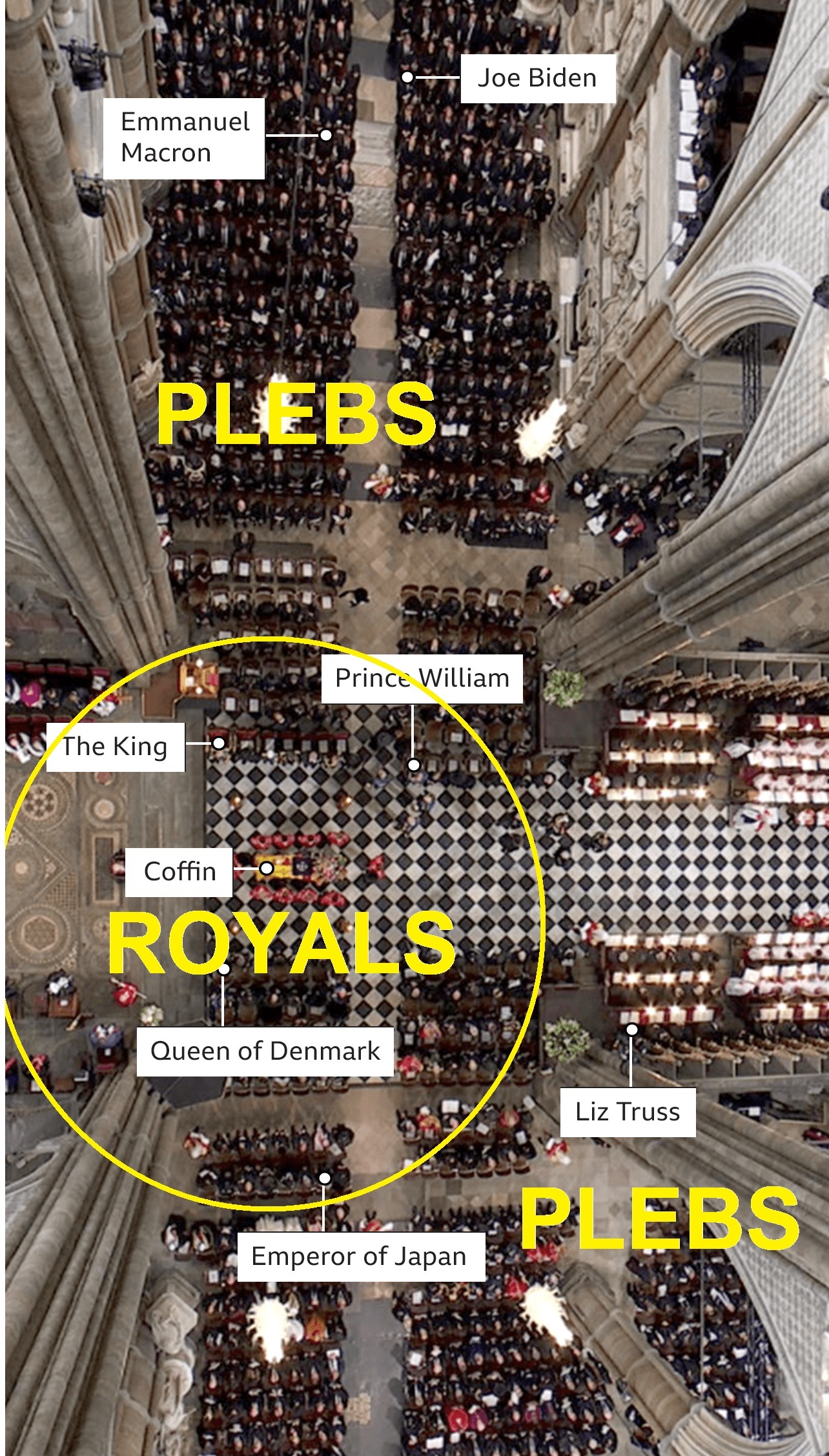 Likely sitting out of shot was, ironically, The Guardian's editor, Kath Viner:
Guido Fawkes has a quote from one of her recent editorials. I cannot bear to cite it in full, so here are the first and last sentences:
Royal rituals are contrived affairs meant to generate popular attachment to a privileged institution and to serve as reminders of a glorious past … How much Britain will be changed once this moment floats past the country is as yet unknown.
Guido commented (emphasis his):
Of course that didn't stop the Guardian's editor Kath Viner accepting a ticket to the funeral from the "privileged institution" herself. Maybe she's sentimental…
Another hypocrite turned up, Scotland's First Minister Nicola Sturgeon, she of the second independence referendum.
The Times has a photo of her and her husband, Peter Murrell, along with a few quotes:
Nicola Sturgeon has said it was an "honour to represent Scotland" as leaders from across the world joined the royal family and other mourners at the state funeral.
The first minister was among some 2,000 mourners at Westminster Abbey along with leaders of the other main Scottish political parties. She spoke of a "final and poignant goodbye to a deeply respected and much-loved monarch".
As I listened to the liturgy, I could not help but think that this is the last time we will hear language from the King James Version of the Bible and the 1662 Book of Common Prayer at a service for the Royals. How I will miss it. I hope I am wrong.
There was one prayer from an even earlier version of the Book of Common Prayer, Archbishop Cranmer's, from 1549. This was put to music. The choir did it full justice:
THOU knowest, Lord, the secrets of our hearts; shut not thy merciful ears unto our prayer; but spare us, Lord most holy, O God most mighty, O holy and most merciful Saviour, thou most worthy Judge eternal, suffer us not, at our last hour, for any pains of death, to fall from thee. Amen.
This was the Bidding Prayer:
O MERCIFUL God, the Father of our Lord Jesus Christ, who is the resurrection and the life; in whom whosoever believeth shall live, though he die; and whosoever liveth, and believeth in him, shall not die eternally; who hast taught us, by his holy Apostle Saint Paul, not to be sorry, as men without hope, for them that sleep in him: We meekly beseech thee, O Father, to raise us from the death of sin unto the life of righteousness; that, when we shall depart this life, we may rest in him, as our hope is this our sister doth; and that, at the general Resurrection in the last day, we may be found acceptable in thy sight; and receive that blessing, which thy well–beloved Son shall then pronounce to all that love and fear thee, saying, Come, ye blessed children of my Father, receive the kingdom prepared for you from the beginning of the world. Grant this, we beseech thee, O merciful Father, through Jesus Christ, our mediator and redeemer. Amen.

The entire liturgy was a lesson about faith and salvation. Even an unbeliver could not miss it.
I pray that it works on the hearts and minds of those in attendance who are indifferent.
The Queen always liked Psalm 42 for its reference to the hart, which reminded her of Scotland:
LIKE as the hart desireth the water–brooks : so longeth my soul after thee, O God.
My soul is athirst for God, yea, even for the living God : when shall I come to
appear before the presence of God?
My tears have been my meat day and night : while they daily say unto me, Where is
now thy God?
Now when I think thereupon, I pour out my heart by myself : for I went with the
multitude, and brought them forth into the house of God;
In the voice of praise and thanksgiving : among such as keep holy–day.
Why art thou so full of heaviness, O my soul : and why art thou so disquieted within
me?
Put thy trust in God : for I will yet give him thanks for the help of his countenance.
Prime Minister Liz Truss read the second Lesson, John 14:1-9a:
LET not your heart be troubled: ye believe in God, believe also in me. In my Father's house are many mansions: if it were not so, I would have told you. I go to prepare a place for you. And if I go and prepare a place for you, I will come again, and receive you unto myself; that where I am, there ye may be also. And whither I go ye know, and the way ye know. Thomas saith unto him, Lord, we know not whither thou goest; and how can we know the way? Jesus saith unto him, I am the way, the truth, and the life: no man cometh unto the Father, but by me. If ye had known me, ye should have known my Father also: and from henceforth ye know him, and have seen him. Philip saith unto him, Lord, shew us the Father, and it sufficeth us. Jesus saith unto him, Have I been so long time with you, and yet hast thou not known me, Philip? He that hath seen me hath seen the Father.

After Psalm 23 was sung, the Archbishop of Canterbury's sermon followed:
Near the end, clergy from the main Christian denominations recited their own prayers in thanksgiving for the Queen's long reign of service.
The Abbey's Precentor then recited a prayer from John Donne (1573-1631):
BRING us, O Lord God, at our last awakening into the house and gate of heaven, to enter into that gate and dwell in that house, where there shall be no darkness nor dazzling, but one equal light; no noise nor silence, but one equal music; no fears nor hopes, but one equal possession; no ends nor beginnings, but one equal eternity; in the habitation of thy glory and dominion, world without end. Amen.
After the blessing, the State Trumpeters of the Household Cavalry sounded The Last Post:
The congregation sang two verses of the National Anthem.
The funeral service closed with a poignant military lament, Sleep, dearie, sleep, performed by the Queen's Piper, Warrant Officer Class 1 (Pipe Major) Paul Burns. He stood on a balcony overlooking the congregation. Words cannot describe it.
This video has brief highlights from the funeral:
After the funeral ended, the Queen's coffin resumed its place on the gun carriage for a procession past Whitehall, down The Mall, then past Buckingham Palace, finishing at Wellington Arch on Constitution Hill.
A gun salute also took place:
The Royals walked with the military, as before. This was a long walk.
Every person in this procession has seen active military service. I put that in bold, because some living overseas think that these are 'toy soldiers', as it were. They are anything but.
Here they are in front of Buckingham Palace. Note that the Queen's household are standing in front of the gates in their normal working clothes to pay their respects:
The horses leading the procession were gifts to the Queen from the Royal Canadian Mounted Police (RCMP), or the Mounties. The Queen was their honorary commissioner.
George, Elizabeth, Darby and Sir John are the latest in a long line of horses given by Canada to the Queen and ridden by senior royals, including King Charles and the Princess Royal, during the annual ceremony of Trooping the Colour …
In 1969, the RCMP presented her with Burmese, a seven-year-old black mare who went on to become the Queen's favourite horse.
She rode her at Trooping the Colour for 18 years, including in 1981 when Marcus Sarjeant, then 17, shot six blank rounds at the Queen as she was travelling down The Mall to the parade that marks her official birthday.
Although Burmese was briefly startled, the horse won praise for remaining calm due to her RCMP training, in which she had been exposed to gunfire.
Burmese, who died in 1990, was the first of eight horses given to the Queen by the Mounties. George was given to her in 2009. Now 22, he has been ridden each year at Trooping the Colour by Charles.
Elizabeth, now 17, named in honour of the Queen Mother, was a gift to mark the Queen's Diamond Jubilee in 2012 …
Sir John, 14, was a 90th birthday present for the Queen and is ridden at Trooping the Colour by Princess Anne, a former Olympic equestrian.
Darby, a 16-year-old Hanoverian gelding, was one of two horses received by the late monarch in 2019.
[Sergeant Major Scott] Williamson is one of four RCMP officers who will ride at the front of tomorrow's funeral procession after the Westminster Abbey service.
It will travel up Whitehall and along The Mall, passing Buckingham Palace before ending at Wellington Arch. Here, the Queen's coffin will be transferred from the state gun carriage to a hearse for her final journey to Windsor.
I will cover the committal service at Windsor in tomorrow's post.
With the late Queen's casket in London, those who wished to pay their respects at Westminster Hall began to queue.
This post covers the events of Wednesday, September 14 and Friday, September 16.
Parliament and commerce act 'out of respect'
Some rather unusual developments in Parliament and elsewhere in the United Kingdom occurred, notionally 'out of respect' for the late monarch.
On Tuesday, September 13, Guido Fawkes posted a tweet about a fire drill for Tuesday, September 20, that would be turned into a virtual one, as it was 'too close to Her Majesty the Queen's funeral', which took place on the 19th:
In Parliament, two female MPs — one Labour, one Conservative — decided to stop working 'out of respect':
Guido's post conveyed the absurdity of it all. Note the first paragraph in particular (emphases his):
The Queen's passing led many across the country to suspend their duties as a mark of respect over the weekend: the Met Office stopped reporting the weather, the football was called off, and the Bank of England delayed its decision on interest rates for a week, Norwich council have stopped residents locking up their bikes, and Wetherspoons has reportedly stopped selling condoms in its loos*. All as Her Majesty would have wanted.
A few MPs are also throwing themselves into a period of mourning. Both Victoria Atkins and Alex Davies-Jones closed their offices on Friday. "Out of respect" for the sovereign…
Alex Davies-Jones (Labour) was first. She left a Facebook message.
Victoria Atkins (Conservative) followed suit, also via Facebook.
Guido posted the messages and followed up:
This morning Davies-Jones clarified that her constituency office had "only closed on Friday out of respect for HM The Queen's sad passing", and is now open. If you're a constituent of Victoria Atkins and you haven't heard from her since Friday, though, you can probably assume your problems have been sent to the "non-urgent" pile. Presumably neither MP will be forgoing last Friday's salary as a similar mark of respect…
*Guido remains sceptical about the truthfulness of this tweet…
More followed from the Palace of Westminster.
IPSA — the Independent Parliamentary Standards Authority — the independent body that regulates and administers the business costs and decides the pay and pensions of the 650 elected MPs and their staff in the UK, announced a delay in publishing MPs' expenses because the Queen had died:
Guido recalled that something similar happened nearly a year ago after the murder of Sir David Amess MP:
This latest nonsensical expression of sympathy with His Majesty the King's recent bereavement comes just days after Guido revealed two MPs had suspended "non-urgent" casework as a mark of respect. IPSA's move also comes almost a year after they stopped publishing MPs' expenses details in the wake of Sir David Amess's murder. It's almost like they're looking for any excuse…
Everyone knew there was going to be a long queue for four days in order to see the Queen lying at rest in Westminster Hall. The queue was quickly dubbed the Elizabeth Line, which is a nod and a wink to London's Crossrail route of the same name which the Queen opened in May 2022. It was one of her last public appearances.
The public were angry over arrangements for MPs, peers and some parliamentary staff to get priority and to bring at least one guest to Westminster Hall while everyone else — including MPs' staffers — would have to queue, day and night, for many hours. Guido's tweet below received a lot of angry responses:
Guido posted the official instructions and said:
The parliamentary staffer squabble over the Queen's Lying-in-State is about to get worse. Despite rumours that Commons Leader Penny Mordaunt is reviewing the decision to ban MPs' staffers from skipping the queue, a new announcement on the parliamentary intranet reveals those who already have priority access – including grey passholders such as cleaners and cooks – are now even allowed to invite a guest as they pay their respects …
MPs and Lords are entitled to up to four guests; grey passholders are allowed one. Staffers, many of whom have a not dissimilar sense of entitlement, will have to queue up for 20 hours like everyone else. Unless they make friends with a priority attendee pretty quickly…
I do not know how that ended.
Meanwhile, the Royal Family, particularly the King and Queen Consort, were undertaking daily engagements around the country.
Speaking of the Royal Family, some staff at Clarence House, which, for a while, continues to be the residence of King Charles, received redundancy notices while he and the Royal Family were in Edinburgh.
On September 13, The Guardian reported (purple emphases mine):
Dozens of Clarence House staff have been given notice of redundancies as the offices of King Charles and the Queen Consort move to Buckingham Palace after the death of the Queen, the Guardian has learned …
Private secretaries, the finance office, the communications team and household staff are among those who received notice during the thanksgiving service for the Queen, at St Giles' Cathedral in Edinburgh on Monday, that their posts were on the line.
Many staff had assumed they would be amalgamated into the King's new household, claiming they were given no indication of what was coming until the letter from Sir Clive Alderton, the King's top aide, arrived. One source said: "Everybody is absolutely livid, including private secretaries and the senior team. All the staff have been working late every night since Thursday, to be met with this. People were visibly shaken by it."
In his letter, seen by the Guardian, Alderton wrote: "The change in role for our principals will also mean change for our household … The portfolio of work previously undertaken in this household supporting the former Prince of Wales's personal interests, former activities and household operations will no longer be carried out, and the household … at Clarence House will be closed down. It is therefore expected that the need for the posts principally based at Clarence House, whose work supports these areas will no longer be needed."
That said, staff will receive assistance in finding other posts:
Staff who are made redundant are expected to be offered searches for alternative employment across all royal households, assistance in finding new jobs externally and an "enhanced" redundancy payment beyond the statutory minimum.
A Clarence House spokesman said: "Following last week's accession, the operations of the household of the former Prince of Wales and Duchess of Cornwall have ceased and, as required by law, a consultation process has begun. Our staff have given long and loyal service and, while some redundancies will be unavoidable, we are working urgently to identify alternative roles for the greatest number of staff."
However, former Royal Butler Grant Harrold told GB News at the weekend that staff contracts state they are in the employ of specific members of the Royal Family, e.g. Prince/King Charles. Therefore, most staff know that they might not have jobs for life.
The same thing happened when the Queen Mother died in 2002:
When the Queen Mother died, the Duke of York took over Royal Lodge at Windsor. While some of her 83 members of staff were redeployed within other royal households, others were let go.
The Guardian also reported that King Charles will not be paying inheritance tax as those assets are surrendered to the Government in return for a sovereign grant to the Royal Family:
King Charles will not pay tax on the fortune he has inherited from the late Queen, although he has volunteered to follow his mother's lead in paying income tax.
Under a clause agreed in 1993 by the then prime minister, John Major, any inheritance passed "sovereign to sovereign" avoids the 40% levy applied to assets valued at more than £325,000.
The Crown Estate has an estimated £15.2bn in assets, of which 25% of the profits are given to the Royal Family as the sovereign grant. The estate includes the royal archives and the royal collection of paintings, which are held by the monarch "in right of the crown".
These assets cannot be sold by the King and they are in effect surrendered to the government in return for a grant. The government's guidance concludes that it would therefore be "inappropriate for inheritance tax to be paid in respect of such assets".
Separately, Charles also inherits from the Queen the Duchy of Lancaster, a private estate that includes portfolio of lands, properties and assets held in trust for the sovereign.
He is exempt from inheritance tax on these assets, among others, in order to preserve "a degree of financial independence from the government of the day".
And rightly so.
September 14
On Wednesday, September 14, the Queen's casket lay at Buckingham Palace until the middle of the afternoon when the King, his siblings, his sons, his nephews Peter Philips and the Earl of Snowdon along with the Duke of Gloucester and Princess Anne's husband Sir Tim Laurence walked behind it in a ceremonial procession to Westminster Hall.
The King and Queen Consort made the short journey from Clarence House to Buckingham Palace mid-morning, where the crowd warmly cheered them:
While the Elizabeth Line began building near Westminster Hall near Parliament, other people remained at Buckingham Palace:
Mourners' flowers accumulated in the park, said to be more fragrant as the days passed. Nearby, this was the scene on The Mall:
Those in the Elizabeth Line could be assured of help throughout the ensuing four days:
Nearly 2,000 law enforcement officers, stewards, other officials and volunteers were on hand for mourners:
The procession from Buckingham Palace began around 2:30 p.m. Other members of the Royal Family followed in cars in the cortege:
Once the cortege, which included other members of the Royal Family, arrived at Westminster Hall, a 20-minute service took place:
This video has the end of the procession, the placing of the Queen's casket on the catafalque in Westminster Hall and the service, much of which is in traditional language and includes the funeral Collect from the 1662 Book of Common Prayer. The Archbishop of Canterbury is there and the choir from Westminster Abbey sound like angels.
I'm not sure why the video shows an 'unavailable' message. Click on 'Watch on YouTube' and you should be able to see it. I still can, although it might expire in time:
Afterwards, the Royal Family returned to Buckingham Palace.
Outside, no one complained about waiting in the Elizabeth Line. These two women told Sky News why they were there.
Vanessa was first in the queue:
Even the unpredictable weather couldn't keep this lady away:
Many people made friends quickly in the queue. It was wonderful hearing their stories, many more of which followed into the weekend.
September 15
On Thursday, September 15, The King and Queen Consort had a well deserved rest day at home. They left London on Wednesday evening via helicopter.
It is thought that Camilla was dropped off first at her home in Wiltshire. From there, Charles journeyed to his estate.
We discovered that Camilla had a broken toe. That must have made her walkabouts quite painful.
September 16
September 16 is an important date to the Welsh who resent having non-Welsh Princes of Wales. It is Owain Glyndŵr Day.
The last true Welsh prince was Owain ap Gruffydd (c. 1359 – c. 1415), also known as Owain Glyndŵr, Glyn Dŵr and, in English, Owen Glendower. Shakespeare gave him the name Owen Glendower in Henry IV, Part 1.
He took up his rightful place as Prince of Powys on September 16, 1400, at his estate. Owain became the last Welsh Prince of Wales in 1404, a ceremony witnessed by emissaries from Scotland, France and Castile (Spain).
He had been fighting the English under Henry IV for some time and continued to do so until 1412. Henry IV appointed Hotspur of Shakespeare fame, Henry Percy, to lead the English side of the battle.
In 1412, Owain disappeared, not to be seen for the next three years. Meanwhile, in 1413, Henry IV died and Henry V was more conciliatory towards the Welsh.
In 1415, one of Owain's supporters, Adam of Usk, wrote in his Chronicle:
After four years in hiding, from the king and the realm, Owain Glyndŵr died, and was buried by his followers in the darkness of night. His grave was discovered by his enemies, however, so he had to be re-buried, though it is impossible to discover where he was laid.
Owain was 56 years old.
As of 2015, his final resting place remained uncertain.
The Tudors effectively conquered Wales and found little resistance in so doing. It is said that they made the Welsh more prominent in English society.
Future English monarchs installed non-Welsh Princes of Wales, including the new one, Prince William. One Welshman started a petition, 'End "Prince of Wales" title out of respect for Wales'. As I write, it has over 32,000 signatures.
The petition reads, in part:
… the title has been held exclusively by Englishmen as a symbol of dominance over Wales. To this day, the English "Princes of Wales" have no genuine connection to our country.
The title remains an insult to Wales and is a symbol of historical oppression. The title implies that Wales is still a principality undermining Wales' status as a nation and a country. In addition, the title has absolutely no constitutional role for Wales, which is now a devolved country with a national Parliament. Neither the Welsh parliament nor the people of Wales were notified, let alone consulted about this controversial decision.
The Welsh Nationalist Party, Plaid Cymru (pron. 'Plied Cuhm-ree'), is not happy about Prince William's appointment or the possible investiture in to follow in Wales within the next year or two.
On September 13, Guido reported that Plaid's leader, Adam Price, made his views known:
Guido's post says that the Welsh First Minister, Labour's Mark Drakeford, opposes Prince William's probable investiture in Wales, which his father had in 1969:
With Prince William assuming the Prince of Wales role last week, thousands of furious Welsh nationalists have signed a change.org petition demanding he be stripped of the title "out of respect for Wales" given its symbolism of "historical oppression". Now Plaid leader – and Mark Drakeford's right-hand man – Adam Price has waded in to pour fuel on the fire:
I welcome what the First Minister, Mark Drakeford, had to say on the question of an investiture. I've seen stories in the London press that an investiture is going to happen and I think that a line is crossed because that gives the Prince of Wales a quasi-official status in Welsh life. I think that's a decision that we in Wales should make in a time when we're living in a modern democratic Wales – it's a decision we need to make here before any announcement is made […] I'm a republican, and there is sensitivity and pain around the [Prince of Wales] title for many of us…
However, not everyone in Wales was upset either by the prospect of King Charles or a new Prince of Wales. These residents of Caerphilly seemed content:
It was against this historical backdrop that King Charles and Camilla Queen Consort visited Wales on Friday.
While the new Prince and Princess of Wales visited Sandringham to greet mourners and view their tributes …
… the King and Queen Consort attended a service in memory of the Queen at Llandaff Cathedral then travelled to Cardiff to the Senedd, where they received condolences in the chamber from members and speak with them afterwards.
I was hoping to find a video of them on walkabout. The crowds were warm and welcoming. Unfortunately, the news videos for that day are mostly about London with only two about Wales.
The service at Llandaff Cathedral was beautiful, especially the hymns, which I sang when I lived in the United States. Part of it was in Welsh. The bilingual Order of Service is here. This article from the Church in Wales (Anglican) has more.
The full video is available from the BBC for another 26 days.
The Bidding Prayer (p. 7) was exquisite, touching all the right notes for the late Queen and for the new King:
We are gathered in the sight of Almighty God
to give thanks for the life
of our Most Gracious Sovereign Lady Queen Elizabeth the Second,
for her steadfastness and devotion to her sacred calling,
her courage and unwavering sense of duty
to the people of this Realm and Commonwealth.
As we entrust her to our Redeemer and Lord,
in whose promises she gained assurance and hope,
we pray for our Most Gracious Sovereign Lord
King Charles the Third,
that God may grant him peace in these days of mourning,
wisdom as he faces the challenges of sovereignty
and grace to accept the mantle of his calling.
First Minister Mark Drakeford read 1 Kings, 3:4-15:
The king went to Gibeon to sacrifice there, for that was the principal high place; Solomon used to offer a thousand burnt-offerings on that altar. At Gibeon the Lord appeared to Solomon in a dream by night; and God said, 'Ask what I should give you.' And Solomon said, 'You have shown great and steadfast love to your servant my father David, because he walked before you in faithfulness, in righteousness, and in uprightness of heart towards you; and you have kept for him this great and steadfast love, and have given him a son to sit on his throne today. And now, O Lord my God, you have made your servant king in place of my father David, although I am only a little child; I do not know how to go out or come in. And your servant is in the midst of the people whom you have chosen, a great people, so numerous they cannot be numbered or counted. Give your servant therefore an understanding mind to govern your people, able to discern between good and evil; for who can govern this your great people?'
It pleased the Lord that Solomon had asked this. God said to him, 'Because you have asked this, and have not asked for yourself long life or riches, or for the life of your enemies, but have asked for yourself understanding to discern what is right, I now do according to your word. Indeed, I give you a wise and discerning mind; no one like you has been before you and no one like you shall arise after you. I give you also what you have not asked, both riches and honour all your life; no other king shall compare with you. If you will walk in my ways, keeping my statutes and my commandments, as your father David walked, then I will lengthen your life.' Then Solomon awoke; it had been a dream.
The motion of condolence and subsequent reception at the Senedd went well.
The Conservative leader, Andrew R T Davies, was happy with the Royal visit:
This lady, who was at the religious service, remembered the visits the Queen made after the Aberfan Disaster, 21 October 1966, which involved a huge slag heap destroying a school while children were in class. Five teachers and 109 pupils died. The lady in the video was 11 years old at the time:
This was the first time a monarch visited a disaster outside of wartime, with pressure from the usual quarters urging her to go to Aberfan. It was one of the rare times she came close to tears: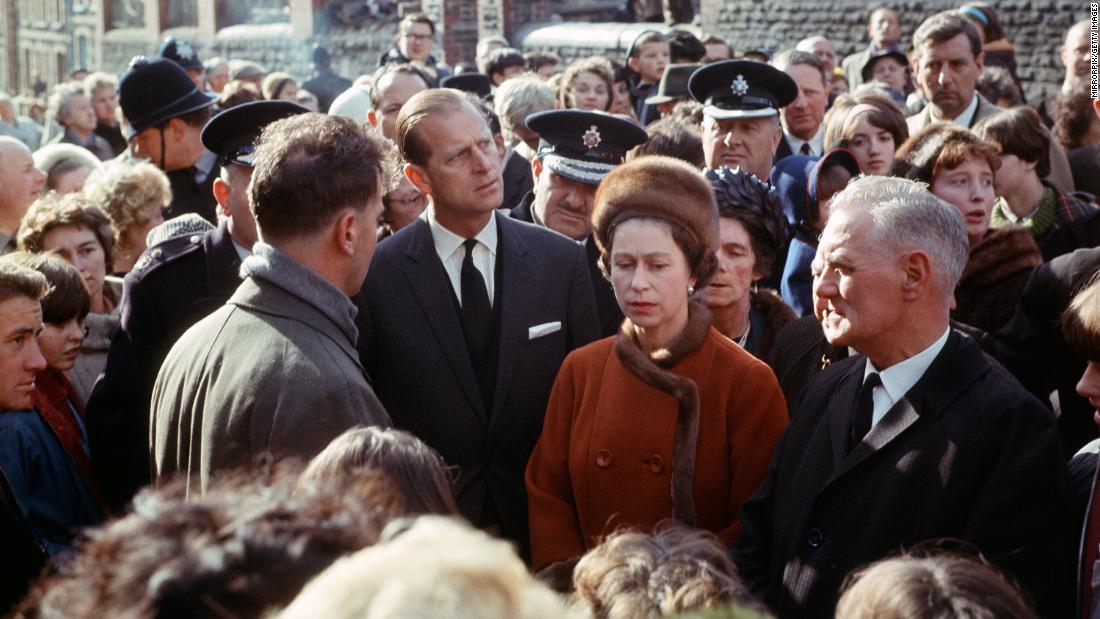 The lady whom GB News interviewed said that the Queen could not have done anything to help. What had happened was already done. She and other residents appreciated the Queen's visits nonetheless.
The Royal Couple left Cardiff for London in the late afternoon.
That evening, at 7:30, the King, his sister and two brothers held the first of two Vigils of the Princes at Westminster Hall:
As in Edinburgh, the public were allowed to file past to pay their respects to the late monarch. This was a first both at St Giles' Cathedral and at Westminster Hall, where the tradition started with the death of George V in 1936. It was closed to the public that time and again in 2002, when the Queen Mother died.
Another Vigil of the Princes took place on Saturday, this time with the Queen's grandchildren.
More to come tomorrow.
My two previous posts about the Queen's death in Scotland are here and here.
Thanks to the Queen's and Princess Anne's Operation Unicorn plan for the monarch's death in Scotland, we saw their capital and the monarchy depicted magnificently.
Unicorn ticked all the boxes, especially at St Giles' Cathedral in Edinburgh.
A filmmaker could not have done better — and that was the Queen's intention.
History of St Giles' Cathedral
The Times has an excellent history of St Giles' Cathedral, the High Kirk: 'Beauty and peace of St Giles' make it a fitting place to lie at rest for Queen Elizabeth II'.
Excerpts follow, emphases mine:
St Giles' Cathedral in Edinburgh, High Kirk of the Church of Scotland, where the Queen will lie at rest, has been at the centre of Scottish history for more than 800 years. It has seen war, violence, rebellion and desecration, never more so than during the Reformation, when it was stripped to the bone by the firebrand Calvinist John Knox.
Kings and queens have left their mark on it down the ages. From it, Elizabeth's Stewart forebears in particular have tried at various stages to impose their religious beliefs on an unwilling and recalcitrant Scottish people.
Charles I gave it cathedral status in 1633 but when he insisted on introducing a common prayer book, based on the English order of worship, he provoked a riot, famously culminating in a tirade from a market trader called Jenny Geddes, who hurled a stool at the dean, forcing him to end the service abruptly.
It is also a place of beauty, its architecture lovingly restored, its 15th-century crown steeple one of Edinburgh's most distinctive landmarks — described by a historian as "a serene reminder of the imperial aspirations of the late Stewart monarchs". Here, in 1416, a graceful pair of storks made their nest, an event hailed as a portent of peace at a time of civic strife. Not until March 2020, when three birds nested at the Knepp Estate in Sussex, would storks return to Britain.
No one quite knows why the church, as it originally was, took its name from St Giles, the patron saint of lepers, but in its early days it was seen as a place with healing powers. The arm bone of the saint was brought as a relic from France, and at one stage the church had no fewer than 50 altars for those who came to pray for salvation. In the aftermath of the disastrous Battle of Flodden in 1513, when most of the Scottish nobility, and their king, James IV, were killed, Bishop Gavin Douglas held a requiem mass, a powerful act of mourning and renewal.
Knox was less forgiving. He ordered workmen to clear stone altars and monuments from the church. Precious items used in pre-Reformation worship were sold. The church was whitewashed, its pillars painted green, and St Giles's arm was hurled into the Nor' Loch. In 1558 Knox published his First Blast of the Trumpet Against the Monstrous Regiment of Women, a polemical work attacking female monarchs, and arguing that rule by women is contrary to the Bible …
The Queen will lie at peace in a place of singular beauty, close to the elegant Thistle Chapel, with which she was so familiar. Created by the great Scottish architect Robert Lorimer in 1909, it was the place where she, as senior member of the ancient Order of the Thistle, Scotland's equivalent to the Order of the Garter, welcomed new members, 16 in number, appointed on her personal recommendation.
The cathedral's interior is now a place of colour, its crown steeple is gilded with gold, its stained glass windows filter in the daylight, thanks to a renewal appeal, headed by the late financier Sir Angus Grossart, which led to the conservation of the medieval tower, the restoration of the stained glass windows, and the moving of the altar to the centre of the building. A thanksgiving service in the presence of the Princess Royal in January 2011 marked the conclusion of the project.
September 12, continued
In covering the events of Monday, September 12, 2022 in Edinburgh, I left off with the service at St Giles' Cathedral.
Afterwards, mourners were already queuing to pay their respects:
The Guardian reports that former Prime Minister Boris Johnson gave an interview to the BBC's Fiona Bruce that day. She asked him what his final meeting with the Queen at Balmoral on Tuesday, September 6, was like:
Johnson said: "In that audience, she had been absolutely on it. She was actively focused on geopolitics, on UK politics, quoting statesmen from the 50s, it was quite extraordinary.
"She seemed very bright, very focused. She was clearly not well. I think that was the thing that I found so moving when I heard about her death on Thursday, I just thought how incredible that her sense of duty had kept her going in the way that it had, and given how ill she obviously was, she could be so bright and so focused. It was a pretty emotional time."
Johnson gave a memorable tribute to the Queen in parliament on Friday, the day after her death. He told the broadcaster that her death was a "colossal" thing for him and that he felt a "slightly inexplicable access of emotion".
Shortly after 5:30 p.m., the King and Queen Consort arrived at Holyrood, Scotland's parliament, not far from the Palace of Holyroodhouse (emphases in the original):
King Charles and Camilla, Queen Consort have processed into the Scottish parliament in Holyrood, as trumpets played in the background.
They had met political leaders from Scotland beforehand, including first minister, Nicola Sturgeon, Labour leader, Anas Sarwar, and leader of the Conservative party, Douglas Ross.
Presiding officer, Alison Johnstone, opened the session and paid tribute to the Queen, who was there for the assembly's first session in 1999.
Two minutes' silence is now being held. Sturgeon will shortly move a motion of condolence.
She recounted an amusing anecdote from one of her visits to Balmoral:
I did, however, experience one rather tense moment at Balmoral. My husband and I were with the Queen before dinner when the drawing room light started to flicker. To my great alarm … my husband suddenly leapt up and darted across the room. Peter had spotted the cause of the flickering light, one of the Queen's young corgis, a beautiful pup called Sandy was eating through a lamp switch. Thankfully tragedy was adverted, not before a ticking off from his mistress.
Sturgeon, the woman who refused to deliver a message of loyalty on the occasion of the Platinum Jubilee, then waxed lyrical:
I deeply valued the time I spent alone with the Queen. Her words of wisdom, counsel, and humour will stay in my heart for the rest of my life …
The Queen has been intrinsic to the story of modern Scotland, from the opening of the Forties oil pipeline, to the Forth bridge, the Queensferry Crossing, three Commonwealth Games, she was present at so many of our iconic moments. She was a true and steadfast friend of this parliament.
Our nation is in mourning today for a Queen whose loss we have not yet begun to come to terms with. We are deeply honoured by the presence today of His Majesty King Charles III and the Queen Consort. Your Majesty, we stand ready to support you as you continue your own life of service and build on the extraordinary legacy of your mother. Queen Elizabeth, Queen of Scots, we are grateful for her life, may she now rest in peace.
After Sturgeon spoke, the other Party leaders had their turns: Douglas Ross from the Conservatives, Anas Sarwar from Labour and Patrick Harvie from the Greens.
Patrick Harvie's remarks once again revealed how far left he is. He praised all the social advances made during the Queen's reign — more than enough for most people — then said that much more needed to be done. He sounded ungrateful.
Harvie evidently did not want to meet the King. He sent the Greens' deputy leader Lorna Slater instead.
The session concluded with an address from the King:
Wearing a kilt, he stands and says:
I know that the Scottish parliament and the people of Scotland share with me a profound sense of grief at the death of my beloved mother. Through all the years of her reign, the Queen, like so many generations of our family before her, found in the hills of this land, and in the hearts of its people, a haven and a home.
My mother felt as I do, the greatest admiration for the Scottish people, for their magnificent achievements and their indomitable spirit. It was the greatest comfort for her to know, in turn, the true affection in which she was held. The knowledge of that depth and abiding bond must be a solace as we mourn the life of incomparable service.
If I might paraphrase the words of the great Robert Burns, my dear mother was the friend of man, the friend of truth, the friend of age, and guide of youth. Few hearts like hers with virtue warned, few heads with knowledge so informed.
While still very young, the Queen pledged herself to serve her country and her people and to maintain the principles of constitutional government. As we now mark with gratitude a promise most faithfully fulfilled, I am determined with God's help and with yours to follow that inspiring example.
The title of Duke of Rothesay and the other Scottish titles which I have had the honour of carrying for so long, I now pass to my eldest son, William, who I know will be as proud as I have been to bear the symbols of this ancient kingdom.
I take up my new duties with thankfulness for all that Scotland has given me, with resolve to seek always the welfare of our country and its people, and with wholehearted trust in your goodwill and good counsel as we take forward that task together.
The King and Camilla, Queen Consort, then leave the chamber while the bagpipes are being played.
By the time that the Holyrood session ended, mourners were entering St Giles' Cathedral to pay their respects.
The Vigil of the Princes took place that evening, with the Royal Family returning to St Giles' from Holyroodhouse.
The Vigil of the Princes was devised for George V's funeral in 1936. His four sons stood at his casket for a short time. It took place in Westminster Hall at 12:15 a.m. on January 28 that year, after it closed to the public.
In 2002, the Queen Mother's grandsons participated in a similar vigil in Westminster Hall.
For the first time, this silent ceremony included a woman. The Princess Royal, being one of the Queen's four children, participated in it at St Giles'.
This time, the public were able to see them in their solemn ten-minute vigil:
They have chosen not to be armed with swords, as they have the right to do so.
Charles stands at the head of the coffin, the crown behind him on top of it. He and his siblings, facing outwards, bow their heads. They are stood next to the Royal Company of Archers. Camilla is sat off to the side alongside Sophie, Countess of Wessex.
Prince Andrew and Princess Anne can be seen with their eyes closed.
Members of the public are still filing past the coffin.
It was incredibly moving. Two videos follow:
The Royals then returned to Holyroodhouse to spend the night.
The Queen lay at rest in the cathedral until early Tuesday afternoon, at which point staff and the military prepared for her casket to be put in the hearse for the journey back to London.
People queued all night. By the time the viewing closed on Tuesday, 26,000 people paid their respects. They were of all ages and included quite a few children, some dressed in their school uniforms.
The Guardian had a report on the mourners at the close of Monday:
Many thousands of people are waiting for hours in long queues through central Edinburgh to see the Queen lying in rest at St Giles' Cathedral, with some facing a wait until early morning before they pass the coffin.
Mourners queueing in George Square, an early Georgian square now part of the University of Edinburgh, have been waiting for over three hours, with the line six to eight people abreast in places.
The Scottish government responded by increasing the number of lines at the security checkpoint on George IV Bridge, dramatically increasing the numbers of people being cleared to move on to the cathedral. Officials estimate that up to 6,000 people per hour were being allowed through.
Aaron Kelly, 32, a psychotherapist originally from Belfast, who lives close to George Square, had been timing his wait on iPhone. It had clocked up three hours and five minutes by about 8.15pm. He felt it was essential to be there.
"This is a moment in history and I think the Queen has done so much for the nation; it just felt it was apt to come and pay our final respects," he said.
Behind him stood Corey Docherty, 14, and his mother, Mary, and their friend Janis. After travelling from the Glasgow area, and with school tomorrow, he faced getting home after midnight. Docherty has visited Balmoral, Buckingham Palace and Clarence House, the king's former residence in London.
"It's just the most famous royal family in the world," he said. Of the new king, he said: "He's the king. We must support him. He has waited 73 years."
Norman Davenport, 68, who recently retired after 18 years as an officer in the RAF reserve and before then 20 years as an army reservist, began queueing for the cathedral at 2pm on Monday, in good time for it to open to the public at 5.30pm, and arrived there by around 7pm. By 8.30pm, he was in George Square for a rest and a sandwich.
The queen was honorary air commodore of his RAF reserve unit, 603 (City of Edinburgh) Sqdn. He had met her twice. "I have a huge connection with her, from that point of view, as a personal thing. She was my sovereign, my commander in chief, my honorary air commodore."
The City of Edinburgh Council's website had a helpful list of guidelines for mourners.
The Guardian's Murdo MacLeod has an excellent photo compilation of the long queue as it grew throughout the night.
September 13
On Tuesday morning, September 13, The Guardian had an update on the mourners:
Tens of thousands of people, including royalists, "soft republicans" and the plain curious, have queued through the night in Edinburgh to view the Queen's coffin lying at rest.
The queues stretched several kilometres from St Giles' Cathedral on the Royal Mile – with the route winding past security checks, Scotland's national museum, Edinburgh university's student union and library on George Square, then on to The Meadows, a tree-lined park on the city's south side – in an event without modern parallel in Scotland.
Over Monday night, the queues were eight to 10 people abreast in places, with mourners and well-wishers – helped by dry and temperate weather – waiting more than five hours to reach the Queen's coffin.
At 5am on Tuesday, they queued in the open for more than hour to view the coffin, which was guarded by four green-garbed members of the Royal Company of Archers, each holding an upright bow, and four police officers wearing white gloves.
The Scottish government expects the queue – remarkable in its size – to grow again on Tuesday morning, before public viewing ends at 3pm. At about 5pm, the Queen's coffin will be taken by hearse to Edinburgh airport, accompanied by Princess Anne, the Princess Royal, then flown by military aircraft to RAF Northolt, before being driven to Buckingham Palace …
Victoria, 53, an artist, and her daughter Grace, 20, an art and philosophy student, woke up at 3.45am to come from Linlithgow, West Lothian, by train. Both women said they had an emotional response to the Queen's death, which contradicted their republican sympathies.
"We're not royalists but it has been a very strange thing, to be affected by the Queen dying," Victoria said. "And Grace was very affected too, so we thought: 'Let's go.'
"From a political point of view, I'm just a bit confused because it's what I'm against politically, but I just felt an emotional desire to come. I wasn't expecting to feel this way" …
Brian Todd, 51, who had joined the Royal Navy at 16 before serving as a fire fighter, and his partner, Allison Pearson, 55, a property manager, travelled from Livingston, West Lothian, getting up at 3.30am. They said they were monarchists, born to monarchist parents …
For Todd, originally from County Durham, the three days of events in Scotland attached to the Queen's death at Balmoral – events which began with the funeral cortege's slow 170-mile drive through eastern Scotland to Edinburgh on Sunday – were significant and resonant.
"Scotland needed this as well," he said. "Everything seems to be London-centric and set down south. It's not great that the queen has passed away, but it has been great for Scotland. At least we can say we did her proud. It's not just about London."
Meanwhile, at Holyroodhouse, the King and Queen Consort were preparing for a day in Northern Ireland while Princess Anne steeled herself to accompany her mother's casket on a flight back to London to rest overnight at Buckingham Palace. Her husband, Vice Admiral Sir Tim Laurence, accompanied her.
The plan was for the King and Queen Consort to arrive at Buckingham Palace in time to meet his mother's casket.
At 12:15, the Scottish Government reported on the visitors at St Giles':
The queue was still long, but by the end of the viewing, everyone was accommodated at St Giles':
The King and Queen Consort touched down in Belfast shortly after noon that day:
At 12:30 p.m., the King and Queen Consort had arrived at the official Royal residence in Northern Ireland, Hillsborough Castle, which had a huge crowd waiting to greet them.
The Royal couple did a walkabout before viewing an exhibition about the Queen's long association with Northern Ireland.
The Guardian reported that the crowd chanted 'God save the King':
He and the Queen Consort Camilla were greeted by delighted crowds. He went along the line smiling and laughing and receiving flowers for over five minutes.
"I spoke to him and he spoke back!" yelled one woman in delight as he passed.
The Daily Mail has a video of well-wishers, including a corgi:
The floral tributes were many.
Just before 1:30, the King met the new Northern Ireland Secretary, Chris Heaton-Harris, inside the castle.
The Northern Ireland Assembly, which meets at Stormont in Belfast, gathered at the castle to present official condolences to the monarch. This took place a short time after the King's meeting with the Northern Ireland Secretary.
The Assembly's speaker, Alex Maskey MLA, opened proceedings:
Maskey, a Sinn Féin member of the assembly, directly addressed the political context of the changes in Northern Ireland during Queen Elizabeth's lifetime, saying:
On the walls of parliament building in Stormont are images from two of Queen Elizabeth's visits during the coronation year 1953 and the second for the diamond jubilee in 2012. It is extraordinary to consider how much social and political change Queen Elizabeth witnessed in the time between those visits, and indeed throughout her long reign. Yesterday an assembly of Unionists, Republicans, nationalists met to pay tribute to the late Queen. When she first came to the throne, no one would have anticipated an assembly so diverse and inclusive.
Also:
It was notable that neither the speaker of the Northern Ireland assembly, Sinn Féin's Alex Maskey, nor the new King, shied away from talking about the history of Northern Ireland or the long years of conflict, and Maskey alluded to the current stalemate.
Maskey said that at one point it would have been unthinkable for someone "from my own background and political tradition" being in the position to deliver this address. He said:
… Queen Elizabeth was not a distant observer in the transformation and progress of relationships between these islands. She proudly demonstrated that individual acts of positive leadership can help break down barriers and encourage reconciliation. Queen Elizabeth showed that a small but significant gesture – a visit, a handshake, crossing the street or speaking a few words of Irish can make a huge difference and change attitudes and build relationships. Her recognition of both British and Irish citizens as well as the wider diversity of our community was undoubtedly significant.
Of course, such acts of leadership do not come without risks, or the need for courage and determination to see them through. I represent the elected assembly of a society which has struggled with the legacy of our past and how to move on from it without leaving those who have suffered behind.
During her visit to Dublin, Queen Elizabeth said that whatever life throws at us, our individual responses will be all the stronger for working together and sharing that load. Let us all pay heed to that. As we remember Queen Elizabeth's positive leadership, let us all reflect that such leadership is still needed. And let us be honest with ourselves enough to recognise that too often, that leadership has been lacking when it has been most required.
Maskey's reference to 'a handshake' recalled the time she shook Martin McGuinness's hand in 2012. She was wearing gloves. McGuinness was a pivotal figure in the IRA, which was responsible for assassinating one of the Queen's relatives, Lord Moutbatten, in 1979.
The King responded to Maskey's speech:
Charles says that his mother, the Queen, was aware of her own role, saying:
My mother felt deeply the significance of the role she has played in bringing together those who history had separated, and extending a hand to make possible the healing of long-held hurts.
He said he would dedicate himself to a similar role, saying:
At the very beginning of her life of service, she made a pledge to dedicate herself to her country and her people and to maintain the principles of constitutional government.
This promise she kept with steadfast faith.
Now with that shining example for me, and with God's help, I take up my new duties resolved to seek the welfare of all the inhabitants of Northern Ireland.
He recalled Lord Mountbatten's death:
King Charles thanked Northern Ireland for the condolences, and said that his mother never ceased to pray for the best of times for its people, "whose sorrows our family had felt", in a reference to the death of Lord Mountbatten in 1979.
Here is the video:
Then, the King met Northern Ireland's political leaders. The Guardian has photos of him with DUP (Democratic Unionist Party) leader Sir Jeffrey Donaldson MP, Northern Ireland Assembly speaker Alex Maskey, Alliance Party leader Naomi Long and Sinn Féin vice president Michelle O'Neill, who is the most senior member of the Assembly.
At the end of the Royal couple's visit, the King experienced pen problems once more as he signed the visitors' book. This time, it was more than a misplaced tray of pens. His fountain pen was well and truly leaking. The Queen Consort helped to dry it with a handkerchief, which ended up soaked with ink. Sky News has a subtitled version:
The Daily Mail's description reads:
'Can't bear this bloody thing!' King Charles frustrated by leaking pen, but Queen Consort Camilla saves the day. This is the moment King Charles blasts a leaking pen that threatens to ruin his mood just hours after the new monarch was warmly embraced by the people of Northern Ireland during his inaugural trip as monarch. King Charles III, sitting inside the royal residence of Hillsborough Castle appeared visibly frustrated as he tried wiping off dripping ink during a book signing towards the end of his visit. Charles complained about the faulty instrument he was using to sign his name, pronouncing he 'can't bear this bloody thing' as he briskly turned on his heels and left the room flanked by aides. The leaky pen was swiftly replaced by flustered courtiers before Queen Consort Camilla sat down to sign the book herself from inside the historic residence.
Afterwards, the Royal couple returned to Belfast for a Service of Reflection at St Anne's Cathedral (Anglican).
It was very moving, as have been all the religious services for the late Queen. You can find the Order of Service here.
Clergy representing Northern Ireland's main Christian denominations all participated.
Alex Maskey MLA read Philippians 4: 4-9:
Rejoice in the Lord always; again I will say, rejoice. Let your gentleness be known to everyone. The Lord is near. Do not worry about anything, but in everything by prayer and supplication with thanksgiving let your requests be made known to God. And the peace of God, which surpasses all understanding, will guard your hearts and your minds in Christ Jesus. Finally, beloved, whatever is true, whatever is honourable, whatever is just, whatever is pure, whatever is pleasing, whatever is commendable, if there is any excellence and if there is anything worthy of praise, think about these things. Keep on doing the things that you have learned and received and heard and seen in me, and the God of peace will be with you.
Also notable was the prayer before the sermon for its use of 'felicity', a word I have not heard in decades:
O Lord, our heavenly Father, high and mighty, King of kings and Lord of lords, the only ruler of princes, who from your throne beholds all who dwell upon earth; grant to us understanding of your will and thankfulness of heart for the life and reign of our most beloved Queen, and to her everlasting joy and felicity, through Jesus Christ our Lord. Amen.
The Most Reverend John McDowell, Archbishop of Armagh and Primate of All Ireland delivered the sermon, which was gentle in tone yet hard hitting in content when it came to reconciliation.
To me, this was the best sermon of all from the Services of Reflection.
Excerpts follow:
In the Name of the Father and of the Son and of the Holy Spirit. In anim a Athair, agus a Mhic agus a Spiorad Naomh. Amen.
For many of us in the United Kingdom there were two people whose deaths we could never imagine. Our own and the Queen's. I think that is one of the reasons why the death of Queen Elizabeth was literally felt so keenly by so many people when the news broke on Thursday afternoon. It was as though the nation's collective grief was gathered up in those remarkable words of Christopher Marlowe's:
"If I had wept a sea of tears for her, it would not ease the sorrow I sustain".
And if that was how those of us felt who were her adopted family through her coronation oath, how much more profound must that feeling of loss be to those of the Queen's blood family; those who knew her best and loved her most; Your Majesty, our prayers will be with you and your family for a long time to come.
St Paul could be a bit of a gloomy old moralist at times and some of the injunctions contained in his letters are far from easy to put into practice. It is pretty difficult to "have no anxiety about anything". But I would dare to suggest that for the family of the late Queen and for millions of others, there will be no difficulty whatsoever, when she comes to mind, in following St Paul's command to think on "whatever is true, whatever is just, whatever is pure, whatever is lovely, whatever is gracious and whatever is worthy of praise".
There were many other words used about the late Queen during her long reign. Faithfulness, care, dutifulness, love and devotion. All of these could be employed to describe her relationship with Northern Ireland (with patience binding them all together) but paying attention especially to what she said most recently, the word which I think will be most associated with Queen Elizabeth and Ireland, north and south, is reconciliation.
It is a great New Testament word and it is a great civic word; and it is a hard word. So hard in the religious sense that it was beyond the power of humanity to achieve, and God himself had to give it to us as a gift in his Son. And as a disciple of Jesus Christ, Queen Elizabeth followed where Jesus led as women often have in the elusive and unfinished work of reconciliation here in Ireland.
For where the Master is, there will his servant be also.
It has always been love's way that in order to rise, she stoops; so the bowing of her head in respect was far more powerful than much grander gestures would have been. Love listens far more than she speaks, so a few words in an unfamiliar language and a judicious sentence or two of heartfelt regret and wisdom said far more than ceaseless volubility. Love never rushes into anything for fear of overwhelming the beloved, but when the moment is right she walked the few steps between two Houses of Prayer in Enniskillen alongside the beloved, in encouragement and affection. Although love is easily injured, she keeps no record of wrongs and extends the open hand of sincerity and friendship, with courage, to create an environment and an atmosphere where reconciliation has a chance.
And love never fails; for where the Master is there will his servant be also.
Reconciliation is about the restoration of broken relationships. And the word should never be cheapened by pretending it is an easy thing to achieve. By and large in the work of reconciliation most of our victories will be achieved quietly and in private: and most of our humiliations will be in public.
Reconciliation requires the greatest of all religious virtues, love; and it requires the greatest of all civic virtues, courage. But as the great apostle of reconciliation says: "What you have learned and received and heard and seen in me, do; and the God of peace will be with you" …
It is only an impression, but it seemed to me that in the last years of her reign the tone and content of the Queen's broadcasts became more overtly religious and perhaps a little more personal. On Christmas Day 2017 she said this:
Although we are capable of great acts of kindness, history teaches us that we sometimes need saving from ourselves – from our recklessness and greed. God sent into the world a unique person – neither a philosopher or a general, important as they are; but a saviour with the power to forgive. Forgiveness lies at the heart of the Christian faith. It can heal broken families, it can restore friendships and it can reconcile divided communities. It is in forgiveness that we feel the power of God's love.
At her baptism Elizabeth Alexandra Mary was signed on her forehead with the sign of sacrifice; the cross. And for 96 years in a life which was a prodigy of steady endeavour she offered herself, her soul and body, as a living sacrifice to the God who loves her with an everlasting love.
So, I want to finish by reminding you of those final words spoken by Mr Valiant for Truth in Bunyan's Pilgrim's Progress, some of which the Queen herself used in her very first Christmas televised broadcast in 1957:
Then he said, I am going to my Fathers, and though with great difficulty I am got hither, yet now I do not repent me of all the trouble I have been at to arrive where I am. My sword I give to him who shall succeed me in my pilgrimage, and my courage and skill to him that can get it. My marks and scars I carry with me, that I have fought his battles who will now be my Rewarder. When the Day that he must go hence was come, many accompanied him to the riverside, into which as he went he said, Death where is thy sting; and as he went down deeper he said, Grave where is thy victory? So he passed over, and the trumpets sounded for him on the other side.
All these words I have offered from an unworthy heart.
God save the King
Oecumenical prayers followed.
Two verses of the National Anthem followed:
God save our gracious King,
Long live our noble King,
Thy choicest gifts in store
On him be pleased to pour,
To sing with heart and voice,
God save the King.
The service closed with a Celtic blessing.
The Belfast News Letter has a collection of photos from the service, leading with one of Prime Minister Liz Truss sitting next to Ireland's Taoiseach (pron. 'Tee-shuck') — Prime Minister — Micheal (pron. 'Mee-hull') Martin.
According to television reports, various politicians, including Truss and Martin, spent a long time in the cathedral talking after the service.
The Daily Mail reported that Truss and Martin will meet after the Queen's funeral on Monday, September 19:
Liz Truss is expected to hold talks with Irish premier Micheal Martin about Northern Ireland's Brexit political impasse when he visits London for the Queen's funeral.
They are expected to meet after the Taoiseach represents Ireland at the Westminster Abbey ceremony on Monday …
It comes after Mr Martin suggested the Queen's death was an opportunity to 'reset' relations between Britain and Ireland following bitter Brexit disputes.
Northern Ireland is currently gripped by heightened political tensions at Stormont and between the UK and Irish governments over post-Brexit arrangements for Northern Ireland. 
Sinn Fein became the largest party at the assembly in May's election but the DUP has refused to restore the power-sharing executive until the Northern Ireland Protocol of the UK/EU Brexit deal is replaced.
Ms Truss is also threatening to push ahead with legislation at Westminster to scrap key elements of the Protocol if negotiations with the EU on revamping trade rules continue to stall.
This has caused a furious response from both Dublin and Brussels, with the bloc launching fresh legal action against the UK.
After greeting clergy and other dignitaries, the King and Queen Consort returned to Belfast Airport to return to RAF Northolt in north west London.
The Daily Mail has a video showing the amazing crowds in Belfast and Hillsborough:
Back in Edinburgh, the military attending during the Queen's lying in state at St Giles' carefully placed her coffin in the hearse to go to Edinburgh Airport.
Princess Anne and her husband were there to accompany it.
People lined the roads on the way to the airport.
The Daily Mail has an article with many photographs showing the Princess and her husband making the sorrowful six-hour journey from Balmoral to Edinburgh on Sunday. Undertakers William Purves, which have been operating since the 19th century, provided the service. They followed up with a second article with more photos.
At least the ride to Edinburgh Airport was much shorter.
The number on the RAF aircraft, a C-17 Globemaster — also used to transport our military home from Afghanistan — was ZZ177, or Liz. Note that the Scottish Crown was removed, as it stays in Scotland: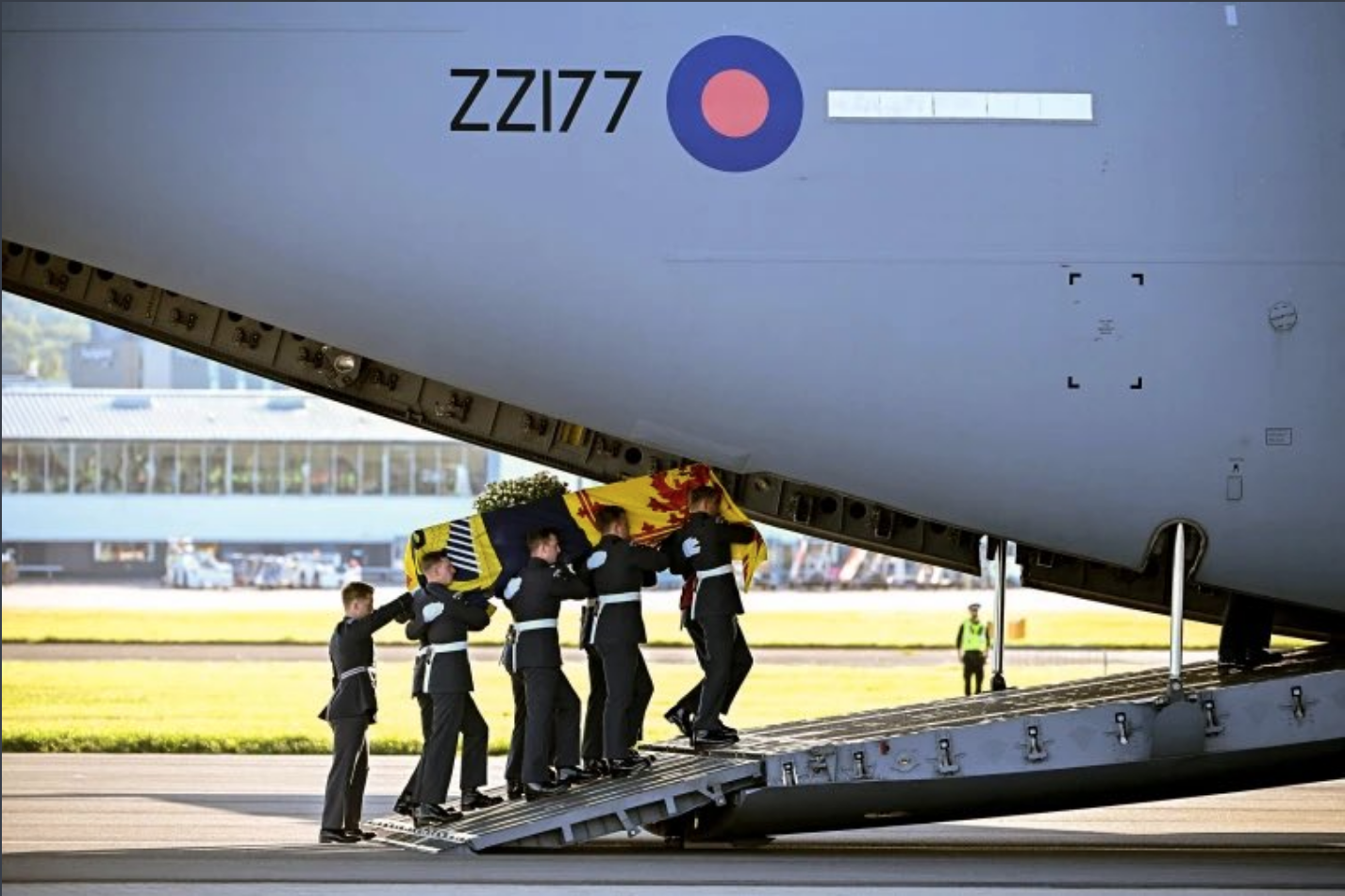 As Princess Anne and her husband prepared for takeoff, the King and Queen Consort arrived in London.
Crowds gathered around Buckingham Palace to welcome them.
The flight with the Queen's casket landed at RAF Northolt just after 7 p.m. Liz Truss and a senior Anglican clergyman, who offered a blessing, were present.
Crowds lined the route on the way into the capital. Rod Stewart's wife Penny Lancaster was outside RAF Northolt as a special constable, keeping order. You could not make this up:
The 51-year-old, who is married to crooner Rod Stewart, began working as a special constable last year and earlier confirmed she would be working during the Queen's funeral on Monday.
On Tuesday evening she was pictured engaging and marshalling expectant crowds and helping a wheelchair user.
The cortege arrived at Buckingham Palace an hour later:
The Queen's casket rested in the Bow Room of the palace overnight before moving to Westminster Hall on Wednesday.
On Wednesday, September 13, the Mail reported on the statement the Princess posted online after she reached London on Tuesday evening:
The Princess Royal has paid tribute to her mother and said it had been 'an honour and a privilege' to accompany the Queen on her final journeys as she travelled with the monarch's coffin back to London.
Princess Anne, the late monarch's only daughter, told how she was 'fortunate to share the last 24 hours of my dearest mother's life'.
She said the love and respect shown to the Queen on her journey from Balmoral to Edinburgh and onto London had been 'both humbling and uplifting'.
Anne also thanked the nation for the 'support and understanding offered to my dear brother Charles' as he takes on his duties as King.
She ended her statement with the words: 'To my mother, The Queen, thank you.' 
More will follow beginning next Monday, continuing on with Wednesday's events in London, Friday's trip to Wales and the Queen's funeral.
This has been an incredible period not only in British history, but also the world's.
We are experiencing the end of an era.
Yesterday's post introduced the significance of Scotland to Queen Elizabeth II.
In it, I mentioned that, after the 1707 Acts of Union, the history of Scotland began to be romanticised through the efforts of Queen Victoria, Prince Albert as well as Walter Scott's novels.
Romantic history
A royal historian told GB News that Prince Albert was quite taken by the countryside in Aberdeenshire, which reminded him of his native Rhineland.
He and Victoria had an amazing love life, according to a television documentary I saw many years ago. In the early days, at least, he used to dress and undress her. Her silk stockings were a favourite part of the ritual.
After Albert died in 1861, Victoria moved up to Balmoral for a time and became close friends with one of his servants, John Brown, a Scot. A film about their relationship, Mrs Brown, made its debut in 1997.
In 1863, courtiers and the Royal Family thought that Brown could rehabilitate the mourning Queen. Instead, he began controlling her daily life at her holiday idyll.
In time, rumours about the extent of their relationship began circulating not only among her inner circle but also in London, where a republican sentiment began growing in her absence. Courtiers and the Royal Family changed tack, this time urging Brown to get the widowed Queen back to the capital to make public appearances.
Brown followed orders, although his and Victoria's relationship was never the same afterwards.
On the other hand, her resumption of public appearances quelled restive republicans.
Brown remained a loyal servant, foiling an assassination attempt on the Royal Family. In 1883, he contracted pneumonia. Victoria visited him in his room and apologised for not having been a better friend. Brown died a short time later and left behind a diary, which, allegedly, has disappeared.
Victoria's two main courtiers, Sir Henry Ponsonby and Sir William Jenner, found it and read it. Only they knew what happened to it afterwards. One of them said later on that the then-Prince of Wales — Edward VII — was so resentful of Brown that he threw a bust of the man over the palace wall in London after his death.
At Balmoral, John Brown is immortalised in two paintings which hang in the drawing room where Queen Elizabeth II received Boris Johnson and Liz Truss on Tuesday, September 6, 2022.
On September 7, The Times helpfully told us more about the room's features, including the paintings which flank the fireplace (emphases mine):
Victoria and John Brown, her servant and close friend after the death of Prince Albert, feature twice in the room's paintings. To the left of the mantelpiece they appear in Sir Edwin Landseer's chalk and pastel drawing Sunshine: Balmoral in 1860 or Death of the Royal Stag. Albert stands proudly in the foreground with a gun over his shoulder, dogs at his heel and a stag at his feet. In the background Victoria sits side-saddle on a horse led by Brown, her ghillie.
To the right is Gilbert Sprague's copy of another Landseer painting of Victoria, in mourning as she sits on her pony Flora outside Osborne House, her retreat on the Isle of Wight. Victoria commissioned the original in 1861 after Albert's death, telling Landseer that she wished to be depicted "as I am now, sad and lonely, seated on my pony, led by Brown, with a representation of Osborne".
Queen Elizabeth also experienced the magic of Scotland that her forebears helped to create.
As a child, she remembered happy days at Glamis Castle then Balmoral. As an adult, she associated possibly her happiest memories with Balmoral. There, the love of her life, Prince Philip, proposed to her. The happy couple also spent their honeymoon there.
On September 8, The Times published an insightful article: 'Balmoral gave Elizabeth the chance to feel "free"', excerpted below:
Scotland played a large and emotional part in Elizabeth's life. Her happiest memories were of the childhood days she spent with "Granny Strathmore"— Cecilia Bowes-Lyon, Countess of Strathmore and Kinghorne, who was also her godmother — at Glamis Castle.
At the family home in Angus she enjoyed parties, children's theatre after tea, and visits to nearby Cortachy Castle, owned by Lord Airlie, where she once "borrowed" the young David Ogilvie's little blue pedal car, much to his fury. At Balmoral, she felt she could be "normal" — almost a housewife, like ordinary people; it took her into another world. "Here I can be free," she told a friend once.
Not that it was exactly ordinary; there were certain traditions. A piper played every morning before breakfast, and, when guests were staying, there would be pipers at dinner. The ladies would depart after the meal, leaving the men to talk over the brandy.
There were shooting parties, with the Queen and her dogs driving out to join the guns at lunch, then "picking up": her dogs retrieving the birds they had shot. "She was an ace picker-up," recalled one friend. Back at the house the first duty would be to feed the dogs.
She insisted on doing the washing-up after picnics, when Philip managed the barbecue and she did the rest. Those picnics — some of them in the evening, in one or other of the huts in the grounds of the estate, always kept open, and often used by members of the public — were famous occasions, remembered by guests long after for their combination of relaxed informality and perfectly organised routine.
Then it would be back to the castle. What one friend noticed, however, was that, as soon as Elizabeth walked through the door of Balmoral Castle, she became Queen again. This was the royal residence, and there was no mistaking who was in charge.
The Queen also enjoyed an annual week-long stay in Edinburgh at the Palace of Holyroodhouse. The city's Lord Provost would deliver the keys to the palace to her in the Ceremony of the Keys and a closing ceremony of her returning them to him took place upon her departure.
She would visit St Giles' Cathedral, probably the only Presbyterian cathedral in existence, and, beginning in the late 1990s, Holyrood, the Scottish parliament.
The independence movement strengthened by an SNP government has grown leaps and bounds since I last visited Scotland 30 years ago.
It is difficult to pin down what exactly the SNP expect as an independent nation, including where they stand on the monarchy. Although First Minister Nicola Sturgeon praised the Queen in death, she was less forthcoming in June during the Platinum Jubilee weekend:
After the scandal surrounding Prince Andrew, she said that there should be a "debate" about the future of the monarchy; she notably failed to deliver a message of loyalty at the time of the Platinum Jubilee; and she did nothing to contradict a statement from the Green Party, her allies in government, which accused the monarchy of "holding back" progress.
However:
None of that has diluted the Queen's affection for Scotland, and her pride in her Scottish connections. As Sir Charles Fraser, who was purse bearer at the Palace of Holyroodhouse for nearly 20 years, commented: "Over many conversations with the Queen, she always spoke of her love for Scotland and her commitment to her Scottish ancestry. Throughout her reign she gave us leadership and hope, where others have failed."
Incidentally, former Royal servants say that all of them enjoyed being at Balmoral and could hardly wait for their annual stay there. It seems that it was as delightful for them as it was for the Queen. 
Monday, September 12
In my preceding post, I wrote about a young woman getting arrested on Sunday, September 11, near St Giles' Cathedral for an anti-monarchy poster with an obscenity written on it. This happened during the proclamation of Charles III as the new King.
People in England were upset about it, but Scotland has its own speech laws which are much stricter than ours:
Guido Fawkes thought that the arrest was overkill. I tend to agree but, then again, I don't know anything about Scottish policing (emphases his):
The 22-year-old woman who was arrested after holding up this anti-monarchy placard at St Giles' Cathedral has been charged "in connection with a breach of the peace" and is reportedly due to appear at Edinburgh Sheriff Court today. Amid the emotional royalist fervour, the country is feeling it is even more important to stand up for universal and enduring values. The Free Speech Union has expressed concern that the protester been arrested for voicing anti-monarchist views during the Proclamation of King Charles III yesterday.  Defenders of free speech know that if they don't stand up for views with which they disagree or even find offensive, they're not defending free speech. Whatever your views on the monarchy, this protester has a right to hers.
… The Free Speech Union has already reached out to the protester to offer their assistance.
That day, Guido reported that the SNP's deputy leader John Swinney expressed surprising pro-monarchy views. He sounded like a Conservative:
Guido said that, on Sunday, Swinney said he watched the broadcast of Charles III's Accession Ceremony in London:
I thought that when I watched the accession council in London yesterday because right at the heart of it was the significance of Scotland's place within the Union and the extraordinary significance that was attached to that and the declarations and commitments that the King made and the fact the Secretary of State for Scotland, the First Minister of Scotland, the Lord Advocate of Scotland, the Lord President of the Court of Session in Scotland, were signatories to the documents which essentially facilitate the accession.
On Monday, Swinney went further:
This morning, Swinney went even further in irritating the most ardent of Scottish nationalists, stating the SNP would continue to have the UK monarch be Head of State in the event of independence, as they promised during the 2014 referendum:
The monarch should be the head of state of an independent Scotland. It's what we argued in the referendum in 2014 and it's what we will continue to argue.
Will the death of the Queen accidentally cause a cooling of temperatures in the Scottish independence debate?
That is part of what Operation Unicorn — the days of mourning in Scotland — was designed to do.
For much of Monday, the Queen continued lay in rest at the Palace of Holyroodhouse. This allowed staff to pay their respects in quiet privacy from Sunday afternoon onwards.
Senior members of the Royal Family, such as Princess Anne, were there awaiting the arrival of King Charles. Upon his and the Queen Consort's arrival, the Lord Provost would go to conduct the Ceremony of the Keys.
Meanwhile, in the morning, King Charles was in London, addressing both Houses of Parliament in the ancient Westminster Hall, adjacent to the Houses of Parliament.
Westminster Hall was built by William the Conqueror's son, William Rufus (William II) in 1097. It is the largest hall of its kind in Europe. The beamed ceilings were added in 1399 when Richard II had the pillars removed so that everyone inside could see what was going on. On the two occasions when the Palace of Westminster caught on fire or when it was bombed during the Second World War, the first priority of firefighters is to save Westminster Hall over the parliamentary palace.
The building has been used throughout the ages as Parliament, as court for the trials of Charles I and the real Guido Fawkes (a traitor) but has also been the venue for coronation banquets. It is still used by both houses of Parliament and is open to the public on important occasions when it is used for the lying in state of distinguised politicians such as Winston Churchill (1965) and members of the Royal Family. The Queen Mother was the last person to lie in state there. I went to pay my respects to her in 2002. The Queen is lying in state there as I write.
The Queen also spoke there on her Silver Jubilee (1977), her Golden Jubilee (2002) and her Diamond Jubilee (2012). A beautiful stained glass window commemorating her Diamond Jubilee is installed on one side of the hall.
Charles's visit was of historical significance and not only because he is the United Kingdom's first King in 70 years.
Both Speakers — of the Lords and of the Commons — wore their dress robes, which are gilded. Their respective serjants of arms brought each House's mace up to the appropriate Speaker and laid them down on a raised platform.
The Speakers stood across from each other below the raised platform on which Charles was due to speak. The maces were covered with a black cloth, indicating not only mourning but also that they were subservient to the Sovereign.
Peers and MPs, as well as staff members, were in attendance.
The Speaker of the Lords, Lord McFall spoke first to extend his and the Lords' sympathy to the King.
The life peer, a Scot, is a testament to the progress people can make in modern Britain:
Sir Lindsay Hoyle spoke next for the Commons, reminding the new monarch of the increased powers of Parliament since the Glorious Revolution of 1688. The King smiled wryly:
Then it was time for the King to address the room:
The Telegraph's summary has the key points of his speech:
We gather today in remembrance of the remarkable span of the Queen's dedicated service to her nations and peoples.
While very young her late Majesty pledged herself to serve her country and her people and to maintain the precious principles of constitutional government which lie at the heart of our nation.
This vow she kept with unsurpassed devotion. She set an example of selfless duty which, with God's help and your counsels, I am resolved faithfully to follow.
The King had already met with senior Government ministers, including Liz Truss, over the weekend at Buckingham Palace. Shadow (Opposition) ministers also met with him:
After the event at Westminster Hall ended, a reception was held, but the King and Queen Consort did not attend as they were due to fly to Edinburgh.
While the Royal couple were on their way, people lined up along Edinburgh's Royal Mile:
Once Charles and Camilla arrived at Holyroodhouse, they and other members of the Royal Family assembled to be led by members of Scottish regiments for the procession to St Giles' Cathedral, for a service of remembrance.
I know from first hand experience that it is a long walk and did not envy the Royals who did walk behind the hearse, especially on the cobbled road.
The Royals who walked were the Queen's children: the King, the Princess Royal, Prince Andrew and the Prince Edward. Vice Admiral Sir Tim Laurence, Princess Anne's husband, also walked with them.

Prince Andrew was not allowed to wear his military uniform. He appeared in morning dress with his military medals.
A young heckler shouted at Prince Andrew in reference to sexual allegations with an underage girl, was quickly tackled by a member of the public, then police dragged him to his feet and arrested him:
He was arrested for breach of the peace:
The SNP had toughened up that law in 2010:
The procession up the ancient road was deeply moving, like something out of a film.
Prince Charles wore the green sash and star of the Order of the Thistle.
The Queen's coffin was draped in the Royal Standard of Scotland.
The Guardian's diary for the day added:
The Queen's coffin is … dressed with a wreath of flowers consisting of white spray roses, white freesias, white button chrysanthemums, dried white heather from Balmoral, spray eryngium, foliage, rosemary, hebe, and pittosporum.
The hearse is flanked by a bearer party found by the Royal Regiment of Scotland and the King's Body Guard for Scotland.
The cortege arrived at St Giles' shortly after 3 p.m. Watching the procession, I do not think they allowed enough time.
Heralds and Pursuivants of Scotland stood outside the cathedral door to receive the Queen for one last time. The Guardian has a magnificent photo of their uniforms.
The Crown of Scotland (see photo) was placed on the Queen's casket before the service.
Here is a photo of the military bearer party dressed in kilts placing the casket on the catafalque in the cathedral.
The Guardian reported (emphases theirs):
At the beginning of the service of thanksgiving for the Queen, Reverend Calum MacLeod welcomed the royal family, "representatives of our nation's life" and "people whose lives were touched by the Queen in so many unforgettable ways".
Among those attending the service are the prime minister, Liz Truss, as well as Scotland's first minister, Nicola Sturgeon.
Unfortunately, there is no video of the service, which was very well done and oecumenical.
The Order of Service is here.
Nicola Sturgeon read Ecclesiastes 3:1-15. We know the first several verses well but here are the next:
What gain have the workers from their toil? I have seen the business that God has given to everyone to be busy with. He has made everything suitable for its time; moreover, he has put a sense of past and future into their minds, yet they cannot find out what God has done from the beginning to the end. I know that there is nothing better for them than to be happy and enjoy themselves as long as they live; moreover, it is God's gift that all should eat and drink and take pleasure in all their toil. I know that whatever God does endures forever; nothing can be added to it, nor anything taken from it; God has done this, so that all should stand in awe before him. That which is, already has been; that which to be, already is; and God seeks out what has gone by.
The Church of Scotland has a transcript of the sermon that the Right Revd Dr Iain Greenshields preached:
Excerpts follow:
Death has been overcome, these are the words of hope expressed and centered around Jesus who died and rose again.
And this is clearly something that Her Majesty Queen Elizabeth acknowledged and personally embraced.
These last few days, as tributes to her Majesty have poured in and we have watched images of her on screen from her earliest years, capturing that remarkable life, yet now beginning to sink in that she is gone from us – "gone home" to express her own words.
Today, we gather in this place of worship and throughout the nation, to express our thanks to God, for her Majesty Queen Elizabeth's extraordinary life.
We are united in sorrow at the death of our Monarch, but we are also so aware that His Majesty King Charles and all his family are not just grieving the loss of their Queen, but their mother, grandmother and great-grandmother too.
Her Majesty Queen Elizabeth began her reign, like King Solomon by asking for wisdom, something that she demonstrated in large measure and to which was added duty, honour, commitment, and faith.
These are the words that we reach for today to describe the life and reign of Queen Elizabeth, whose passing is mourned not only in her native land but across the Commonwealth and the world, as has been so evident to us in recent days.
Most of us cannot recall a time when she was not our monarch.
Committed to the role she assumed in 1952 upon the death of her beloved father, she has been a constant in all of our lives for over 70 years.
She was determined to see her work as a form of service to others and she maintained that steady course until the end of her life.
People who were in her company always felt that they were being listened to carefully and attentively and with compassion.
She possessed a sharp, intelligent mind, with amazing recall, a kindly heart and a gentle sense of humour.
She understood the breadth of world affairs and also cared about what happened to all of her people.
And although sometimes buffeted by events around her, she continued resolutely and cheerfully fulfilled her responsibilities …
Much has been said about the Queen's contribution to the life of the United Kingdom and the Commonwealth which meant so much to her.
But here in Scotland we acknowledge with gratitude her deep links with our land and its people.
Her love of the Balmoral estate is well known and being there latterly brought her great comfort.
There she was valued as a neighbour and a friend and there she drew strength and refreshment during the summer months.
She was active in the life of civic Scotland, travelling across the country to support numerous causes, entertaining guests at Holyrood Palace and presiding at ceremonial events, many of which took place in this Church.
Here she received the Scottish crown in 1953, an event vividly memorialised in the painting by the Orcadian artist Stanley Cursiter.
Her links with the Scottish churches were also deep and lasting.
She was the Supreme Governor of the Church of England, but she worshipped in the Church of Scotland here north of the border, at Canongate Kirk and especially at Crathie Kirk where she took her pew each Sunday morning, prevented from doing so latterly only by infirmity.
She perceived little difficulty in belonging to two Churches and appreciating the strength of each.
It is clearly evident and without doubt that the Queen's Christian faith was genuine, and often gave clear and sincere expression in those remarkable Christmas broadcasts.
She spoke unashamedly of her trust in God and of the example and teaching of Jesus Christ whom she sought to follow as best she could – indeed, of that faith she said she had no regret …
Today we mourn her passing but we also celebrate the long and happy reign that we experienced with her.
And we pray God's blessing upon King Charles who will surely draw strength from his mother's example and the many affectionate tributes of these days and from our assurance to him as a Church of our steadfast prayers at all times and of our unstinting support to him as was offered to his mother, the Queen.
The Cathedral's website has more about the Queen's visits.
The service lasted an hour and ended at 4:15.
The Royal party then returned to Holyroodhouse.
However, their day was far from over.
The King met with Nicola Sturgeon. He and the Queen Consort then went to Holyrood to visit the Scottish parliament where MSPs delivered a motion of condolence.
At 7:20 that evening, the senior Royals returned to St Giles' for the Vigil of the Princes. It would be the first time that a female — Princess Anne — would take part.
More on that tomorrow.
The death and mourning period of Queen Elizabeth II is steeped in history, a time that those of us in the United Kingdom will never forget.
Within the space of a week, we had a new Prime Minister, a King and a new Prince of Wales.
The hand of God is at work.
This change takes place at a time when our Kingdom is stymied, divided with a number of Scots and Welsh hoping for independence while the Northern Irish argue about unification with the Republic of Ireland as the Northern Ireland Protocol has been a source of problems since we left the EU.
These have become political arguments and, as such, are left to the Government to resolve.
Perhaps a King will be able to break an impasse where the Government cannot.
My previous posts discuss what happened when the Queen died and on Friday, September 9, 2022.
Friday, September 9 — continued
The first rendition for 70 years of God Save the King took place at Friday evening's remembrance service for the public at St Paul's:
This seven-hour long video from The Telegraph shows the busy yet quiet scenes at Buckingham Palace on Friday:
The King also met with Prime Minister Liz Truss for the first time:
Meanwhile, the Royal Butler, Grant Harrold, who worked for the then-Prince Charles when William and Harry were young and now teaches etiquette, expressed his sympathy:
He posted his video of the activity at the Palace:
He also posted this poignant press photograph of the King and the Queen Consort entering Buckingham Palace on Friday afternoon …
… and pledged his loyalty to his former employer:
Saturday, September 10
We witnessed a historic event on Saturday, as the Accession Ceremony was broadcast for the first time ever:
It began at 10:00 a.m. at St James Palace with the Privy Council.
The purpose of the ceremony is to have the monarch sign relevant proclamations of loyalty to the people, the Church as Defender of the Faith and to the Church of Scotland, which is Presbyterian.
Afterwards, the new monarch is proclaimed not only in London but in the following 24 hours throughout the United Kingdom.
Flags, which had been at half mast for the Queen, were elevated to full mast for that 24-hour period. Afterwards, the flags returned to half mast.
On Saturday afternoon, the King met with the Privy Council members in a private session.
There are over 700 Privy Council members. Unless they do something highly illegal, they are members for life. This is but a partial list of current members, who come from all over the United Kingdom.
I was aghast to see that so many of the members gathering at St James Palace to witness the Accession Ceremony were a true rogues gallery. Labour's Deputy Leader Angela Rayner was present. So were Scottish National Party leaders Nicola Sturgeon and Ian Blackford, as was the Mayor of London, Sadiq Khan.
A historian told GB News that only two members have ever been expelled in the last century or so. One was suspected of treason during the First World War and the second, from just several years ago, was too heavily mired in the MPs expenses scandal.
Guido Fawkes's cartoonist Mark gives us an idea, showing a fictionalised quip of former Prime Minister Gordon Brown, whom Tony Blair appointed to succeed him, saying that he shares much in common with the Queen in having been unelected. Other former Prime Ministers in the cartoon are David Cameron, John Major, Tony Blair, Boris Johnson and Theresa May:
The Telegraph has an excellent article about the Accession Ceremony and how much has changed in 70 years, including the presence of women and ethnic minorities (emphases mine):
At the personal request of the King, the historic meeting of the Accession Council – a ceremony rooted in antiquity – was filmed by two television cameras.
The first part of the Privy Council meeting was witnessed by a crowd of some 200 suited and booted parliamentarians past and present, including all six living former prime ministers.
In 1952, when the young Princess Elizabeth was proclaimed Queen, this gathering would have comprised only men in uniform or morning dress.
Saturday's array of faces reflected a notably different society. There were a significant number of women, dressed almost entirely in formal black dresses or suits. The majority of men wore morning dress or black suits, with a white shirt and black tie. David Cameron, dressed in a navy suit, stood out in a sea of black.
Among those present were former party leaders Nick Clegg and Ed Miliband, Welsh first minister Mark Drakeford and several members of the cabinet, including James Cleverly, Anne-Marie Trevelyan and Ben Wallace.
Also present was former Archbishop of Canterbury Lord Carey, whose leadership of the Church of England spanned the difficult time of the King's divorce from Diana, Princess of Wales and the fallout from his affair with Camilla.
The article gives us the history of the Privy Council:
The Privy Council dates back to Anglo Saxon times. Once an advisory body for the monarch, today its role is largely symbolic.
For the King, whose first few hours as monarch have included a royal walkabout and a televised address to the nation, it was a nod to the layers of constitution and practice in which the monarchy is rooted.
This is how the ceremony unfolded at St James Palace, where the King has been working for decades. Penny Mordaunt MP, candidate for the Conservative leadership, played a prominent role:
At 10am Simon Case, the Cabinet Secretary [and top civil servant], urged those present to ensure mobile phones were switched off and an expectant silence fell over the picture gallery.
The platform party then duly filed slowly in, stepping onto the low red dais.
They included the Archbishop of Canterbury, the Archbishop of York, Penny Mordaunt, the acting Lord President of the Council, the Lord Chancellor and Liz Truss, the Prime Minister.
Behind them were the black-clad Queen Consort and the new Prince of Wales, accompanied by a small group of staff from the Royal Household …
In position, he [the King] allowed himself a brief glance around the room, taking in the moment before turning to listen to Ms Mordaunt as she announced that Queen Elizabeth II had died.
"My lords, it is my sad duty to inform you that her most gracious majesty, Queen Elizabeth the second, has passed away on Thursday, Sept 8 2022 at Balmoral Castle," she said.
Ms Mourdant then invited the clerk of the council, Richard Tilbrook, to read the proclamation to the packed gallery.
He said: "Charles III, by the grace of god of the United Kingdom of Great Britain and Northern Ireland and of his other realms and territory, King, head of the commonwealth, defender of the faith, to whom we do acknowledge all faith and obedience with humble affection, beseeching God by whom kings and queens do reign to bless his majesty with long and happy years to reign over us."
He ended by saying "God Save the King."
The packed room dutifully echoed in unison: "God Save the King."
Until I saw this ceremony in full, meaning during the public proclamations later, I could never understand how people could lament a beloved monarch only to then proclaim the new one so passionately.
They do so because they are grateful that the new monarch is able to serve quickly and unhindered. In other words, the monarchy has worked once again, to everyone's relief.
After everyone said, 'God save the King', Charles III had proclamations to sign:
The Prince of Wales then stepped forward to sign the declaration with his left hand. He was followed by the Queen [Consort], who slowly signed her name with care.
Other members of the platform party followed suit, including a hesitant Archbishop of Canterbury Justin Welby, who briefly appeared unsure where to sign.
Ms Mordaunt went on to list eight orders of council, ensuring that the proclamation would be published and circulated nationwide and that guns would be fired at Hyde Park and at the Tower of London.
Formal business concluded, those assembled then filed slowly out of the room.
The second part of the Accession Council took place a few minutes later in the Throne Room. Privy Counsellors eligible to take part duly filed in below the coved ceiling embellished with block gilt plasterwork.
On the dais before them, the throne still bore the Queen's "ER" cypher. A new one currently being designed will be read "CR", Charles Rex.
There, they were joined by the King for the first time, who began with a personal declaration.
This is the video of his declaration:
The article summarises what he said:
The sovereign, in formal black attire with a white waistcoat, stepped forward to the lectern and unfolded his notes before declaring it his "sorrowful duty" to announce the death of his "beloved mother".
He spoke of an "irreparable loss" as he paid tribute to the late Queen's selfless service and acknowledged the "heavy task" before him and he strives to follow her example.
The King said: "My mother's reign was unequalled in its duration, its dedication and its devotion. Even as we grieve, we give thanks for this most faithful life.
"I am deeply aware of this great inheritance and of the duties and heavy responsibilities of sovereignty which have now passed to me. In taking up these responsibilities, I shall strive to follow the inspiring example I have been set in upholding constitutional government and to seek the peace, harmony and prosperity of the peoples of these islands and of the Commonwealth Realms and Territories throughout the world."
The King said he was "profoundly encouraged by the constant support of my beloved wife" who watched, alongside the Prince of Wales, from the platform.
He then held aloft a small blue bible as he took the oath to preserve the Church of Scotland, necessary due to the division between church and state in Scotland.
The King then signed two copies of a declaration confirming the oath had been taken using an ink pot that was a gift from his sons, the Prince of Wales and the Duke of Sussex.
He produced a pen from his jacket pocket to do the honours, carefully dipping it into the pot of ink before signing the first document with a flourish.
Then the King visibly grimaced at his staff members:
There was a flicker of frustration when a tray containing another pen appeared in his way and he signalled to aides to remove it.
When he stood, he appeared to clip the ink pot with his hand but it did not spill. The moment prompted a brief glance between King and Queen as he returned to his position.
The other pen was then passed back to the Prince of Wales to enable both him and the Queen to sign the documents.
Here's the video:
The signing continued:
As Nicola Sturgeon, Scotland's First Minister, added her signature, the Coldstream Guards could be heard playing outside.
The Privy Council members filed out to sign copies of the proclamation in a large corridor. The Daily Mail has the video, accompanied by this blurb:
King Charles III proclamation signing: It was the first time a monarch's Accession has been broadcast and cameras were fixed on the MPs antics as they lined up to sign their names earlier this morning. As Mr Cameron approached the paper, he could be seen gesturing with his glasses, adding: 'I need to put my glasses on so I can see what I'm doing' (left). Meanwhile Mr Blackford could be seen chatting to the deputy Labour leader Mrs Rayner after he accidentally stepped on her foot in the line.

Then it was time to proclaim the new King publicly in Friary Court. St James Palace was originally a friary. Henry VIII dissolved it along with other similar Catholic institutions.
One of the Palace windows had to be removed in order for this final step to happen:
David White, Garter King of Arm, in his colourful regalia and flanked by other Officers of Arms and Sergeants at Arms, later read the proclamation of the new King from a balcony at St James's Palace, as cheers of "God save the King" rang out.
A small group of the general public were allowed to stand on one side of Friary Court to witness this public proclamation:
The King and Queen Consort did not appear. They thanked Palace staff and officials for the ceremony and left to go to Buckingham Palace:
After the public proclamation at St James ended, two more took place. One was at the Tower of London and the other at the Royal Exchange in the City of London.
This video shows the gun salutes in Hyde Park and at the Tower:
Another Telegraph article says:
A traditional Royal Salute comprises 21 rounds. A further 20 rounds are fired in royal parks, such as Hyde Park.
At the Tower of London, a royal salute comprises the traditional 21 rounds, a further 21 rounds to show the loyalty of the City of London to the Crown, and a final 20 rounds as the tower is a royal palace and fortress …
The tradition of gun salutes routinely being fired throughout the country to mark significant national events dates back centuries.
There are historical records of salutes taking place as early as the 14th-century when guns and ammunition began to be adopted widely.
Similar gun salutes were fired to mark the death of Queen Victoria in 1901 and Winston Churchill in 1965.
Gun salutes occur on the following royal anniversaries: Accession Day, the Monarch's birthday, Coronation Day, the Monarch's official birthday, the State Opening of Parliament, royal births, and when a visiting Head of State meets the sovereign in London, Windsor or Edinburgh.
The City of London's proclamation was similar to the one at St James in many ways, but the City has its own traditions which date back to the Guilds of the Middle Ages. The City is the only part of the realm where the monarch is subordinate to the Lord Mayor of London, who is elected by that district's aldermen for a one-year term. It should be noted that the Lord Mayor of London and the Mayor of London are two different people in two different posts.
A lot of people were in the City for the proclamation.
The Telegraph article about the Royal Salute also described what happened in the City. It was written before the ceremony began, hence the use of future tense:
At midday the Proclamation will be read from the steps of the Royal Exchange by Clarenceux King of Arms. The Lord Mayor of the City of London, together with the Court of Aldermen and Members of Common Council, will be present.
The Company of Pikemen and Musketeers of The Honourable Artillery Company, The Lord Mayor's Body Guard in the City of London, will be on duty at the Royal Exchange. They will be accompanied by The Band of the Honourable Artillery Company and eight State Trumpeters of the Household Cavalry.
It was really quite something to see. The senior attendees wore robes trimmed in fur, which is something that would have been from the days of the Guilds, which still exist but not in the way they did for commerce hundreds of years ago:
Later that day, Princes William and Harry, along with their wives, went on a walkabout at Windsor Castle. One young woman embraced Meghan enthusiastically:
The Telegraph has more. Catherine, the new Princess of Wales, did not look happy.
——————————————————————
Sunday was about Princess Anne, who had the sorrowful duty of accompanying her mother's casket from Balmoral to Edinburgh.
She fulfilled her responsibility admirably, considering that it took hours in order for the public to grieve as the car went through several cities and towns before arriving at Holyroodhouse.
More on that tomorrow.
The UK experienced a busy and historic weekend as Operations London Bridge and Unicorn became reality after the Queen's death on Thursday, September 8, 2022.
The nation is now in a 10-day period of mourning, which continues through Monday, September 19, the day of the Queen's funeral in Westminster Abbey. King Charles III has declared the day to be a bank holiday. The Royals, including their staff, will mourn for an additional week.
Before going into the weekend's events, I have a few items to add from the end of last week.
Wednesday and Thursday, September 7 and 8
Last Wednesday, possibly having been busy preparing for her parliamentary statement on the energy crisis on Thursday, Liz Truss's office cancelled the weekly update on Operation London Bridge, the funeral plans for Queen Elizabeth II. However, Simon Case, the civil servant who is Cabinet Secretary, informed the Prime Minister of the Queen's decline early on Thursday morning.
Former Metropolitan Police Chief Superintendent Parm Sandhu told GB News that Operation London Bridge was originally planned in the 1960s and has been regularly reviewed since.
The Duke of Edinburgh's — Prince Philip's — plans were Operation Forth Bridge, so named for the magnificent bridge that links the Scottish capital to Fife.
Operation Unicorn involves funeral plans for Scotland in the event the Queen died there.
As my post on Friday explained, the Prime Minister found out about the Queen's death during the energy debate in the Commons.
On Friday, September 9, Conservative MP Michael Fabricant told GB News that the note she received at lunchtime might well have said:
London Bridge is down.
At that point, the Queen was receiving medical attention and her closest family members were on their way to Balmoral.
The Times reported how Thursday afternoon's events unfolded (emphases mine):
The six hours that followed brought together a fractured royal family and seemed to unite a nation in apprehension. At 12.32pm, moments after the first signs in the Commons, a Buckingham Palace spokesman said: "Following further evaluation this morning, the Queen's doctors are concerned for Her Majesty's health and have recommended she remain under medical supervision."
It was immediately clear the news was more significant than previous announcements about the Queen's health. Newspaper websites swiftly reported the announcement …
… At 12.45pm the Duke and Duchess of Cornwall announced that they were travelling to Balmoral. They were already in Scotland after hosting a dinner at Dumfries House in Ayrshire the previous evening. A minute later the Duke of Cambridge, 40, announced that he would be travelling from London. It was now clear that the situation was grave.
The Duchess of Cambridge, 40, remained at their Windsor home and drove to collect Prince George, Princess Charlotte and Prince Louis following their first full day at their new school to tell them of the news. At 1.30pm the Duke of York, 62, who was stripped of his royal duties after the scandal surrounding Jeffrey Epstein, said that he would also be flying to Scotland. Six minutes later the Earl and Countess of Wessex confirmed that they would also be travelling to Balmoral.
The Princess Royal, 72, had been on the Isle of Raasay on Wednesday and stayed at Balmoral overnight. The Duke of Sussex, despite his long- running troubles with the monarchy, announced at 1.52pm that he was also travelling to Scotland, separately from other senior royals but "in co-ordination with other family members' plans". He arrived at Balmoral almost two hours after the announcement of his grandmother's death. He had flown into Aberdeen airport alone, and his wife remained in Windsor.
Prince Harry, 37, happened to be in the UK anyway, and had been due to attend a charity event in London last night.
The first signs of serious concerns about the Queen's health had emerged at 6pm on Wednesday, when it was announced that she had "accepted doctors' advice to rest" rather than attend a virtual meeting of the privy council that evening.
That would have been only an hour after I'd heard a long pealing of bells from Westminster Abbey on Wednesday, which I mentioned in my post on Friday.
More of the timeline continues, including the hour when the Queen's death was announced:
Soon after the announcement of concerns of the Queen's doctor, Charles, 73, was seen clutching a large briefcase as he boarded the royal helicopter from Dumfries House with Camilla, 75, for the journey to Balmoral.
The flight carrying William, Prince Andrew, Prince Edward and Sophie took off from RAF Northolt in northwest London at 2.39pm. Royal Air Force flight KRF23R landed at Aberdeen airport at 3.50pm. A short while later, at 4.30pm, the prime minister was informed of the Queen's death by Simon Case, the cabinet secretary, according to her official spokesman.
Meanwhile, the Duke of Cambridge was driving his two uncles the 40 miles from Aberdeen airport to Balmoral, arriving just after 5pm. William was behind the wheel of the Range Rover, with Andrew in the passenger seat and Edward, 58, and Sophie, 57, in the back …
The Palace said in a statement: "The Queen died peacefully at Balmoral this afternoon. The King and The Queen Consort will remain at Balmoral this evening and will return to London tomorrow."
Charles had acceded to the throne immediately.
The flags in Downing Street were lowered to half mast at 6.36pm. BBC One played the national anthem following the announcement of the monarch's death, showing a photograph of the Queen, followed by a royal crest on a black background and the words Queen Elizabeth II …
The double rainbow, which I also referenced on Friday, appeared as soon as the flags were lowered to half mast, not only in London but also in Windsor.
On Friday afternoon, The Telegraph reported that only Princess Anne and Prince Charles made it to Balmoral in time to see the Queen before she died:
The King and the Princess Royal were the only two senior members of the Royal family who made it to Balmoral before Queen Elizabeth II's death, it is understood …
As for Prince William and his uncles and aunt:
Royal Air Force flight KRF23R took off shortly after 2.30pm, according to flight tracking website Flightradar24.com, landing in Aberdeen at 3.50pm.
Prince William drove the quartet from the airport to Balmoral and they were pictured sweeping into the gates of the castle shortly after 5pm.
It is possible they had known they would not make it, perhaps even before their plane took off.
In the event, by the time they arrived, it was too late.
Prince Harry's flight was delayed and he did not arrive until 8 p.m.:
… he is believed to have been mid-air when Buckingham Palace announced at 6.30pm that the Queen had died, arriving at Balmoral an hour and a half later.
The Duke's Cessna had been due to land at 6.29pm, a minute before the historic statement. But it was 20 minutes late taking off at Luton Airport, meaning he did not land in Aberdeen until 6.46pm.
The grief-stricken Duke was photographed as he was driven into Balmoral Castle just before 8pm to join other members of his family.
That evening, France paid the Queen tribute by turning off the lights on the Eiffel Tower at midnight and on Friday, at 10 p.m.:

Friday, September 9
On Friday morning, the Telegraph article said that Prince Harry left Balmoral early:
Prince Harry was the first to leave Balmoral on Friday morning, driven out of the gates at 8.20am.
He had to take a commercial flight back to Windsor:
He later boarded a British Airways flight from Aberdeen to Heathrow and is thought to have returned to Frogmore Cottage, Windsor, where the Duchess of Sussex was waiting for him.
Later that morning, the RMT (Rail, Maritime and Transport Union) head, Mick Lynch, announced that the rail strikes planned for September 15 and 17 were cancelled.
Guido Fawkes said that a postal strike was also cancelled (emphases his):
The Communication Workers Union has also called off a planned Royal Mail strike, with General Secretary Dave Ward saying "Following the very sad news of the passing of the Queen, and out of respect for her service to the country and her family, the union has decided to call off tomorrow's planned strike action."
Fair play to both Lynch and Ward, whether they're genuinely in mourning or its cynical comms, they made the right call…
England's three main political parties suspended campaigning during the mourning period. This is fine, except that Parliament is adjourned until after the Queen's funeral, at which point it will continue to be adjourned for three weeks' worth of annual political party conferences.
If Liz is smart, she will find a way to get the Commons, at least, to reconvene during conference season. There is no justification, especially this year, for every MP to attend these rather superfluous events. Furthermore, the evening events are also times of revelry, which seems inappropriate at this time.
Guido's Friday post says:
With King Charles instituting 17 days of mourning, the death of Queen Elizabeth will certainly cast shadows over all three of the major parties' conferences. Guido understands the Tories are having conversations about how to proceed with their Birmingham gathering in light of the news. With politics grinding to a halt, it's going to be difficult for PM Truss to enjoy the full political dividend from yesterday's energy policy announcement…
Parliament is not due to reconvene until October 17. October is the month when the new energy 'price cap' — i.e. a dramatic increase — comes into effect. This will affect everyone and a policy really needs to be finalised before then. Conservative MP John Redwood tweeted:
As I write on Monday afternoon, GB News's Tom Harwood says that a 'fiscal event' — an energy policy announcement — could be made on one of the four consecutive days after mourning and before conference recess. He says that his sources tell him that separate legislation would not be required. Let's hope he is right.
Friday is not normally a day when either House of Parliament meets. However, both MPs and the Lords met to pay tribute to the Queen. The sessions, which also included taking the Oath of Loyalty to King Charles — optional, as the Oath includes successors — continued into Saturday. Every MP and Lord who wanted to speak was able to do so.
The Commons session on Friday afternoon began with a minute's silence:
Afterwards, the Prime Minister began the tributes:
Guido has the video and pulled out the key quote from her address:
The United Kingdom is the great country it is today because of her, the Commonwealth is the family of nations it is today because of her.
Hansard has the full transcript of Friday's and Saturday's tributes from MPs. I commend them to everyone, because many MPs mentioned that the Queen visited their respective constituencies more than once during her reign. Only a handful had never had met her. The contributions reflected a monarch with not only dignity but also good humour. Everyone who met her said that she knew how to put them at ease.
Truss pointed out other historical highlights in her address:
In the hours since last night's shocking news, we have witnessed the most heartfelt outpouring of grief at the loss of Her late Majesty the Queen. Crowds have gathered. Flags have been lowered to half-mast. Tributes have been sent from every continent around the world. On the death of her father, King George VI, Winston Churchill said the news had,
"stilled the clatter and traffic of twentieth-century life in many lands".
Now, 70 years later, in the tumult of the 21st century, life has paused again.
Her late Majesty Queen Elizabeth II was one of the greatest leaders the world has ever known. She was the rock on which modern Britain was built. She came to the throne aged just 25, in a country that was emerging from the shadow of war; she bequeaths a modern, dynamic nation that has grown and flourished under her reign. The United Kingdom is the great country it is today because of her. The Commonwealth is the family of nations it is today because of her. She was devoted to the Union of England, Scotland, Wales and Northern Ireland. She served 15 countries as Head of State, and she loved them all …
Her devotion to duty remains an example to us all. She carried out thousands of engagements, she took a red box every day, she gave her assent to countless pieces of legislation and she was at the heart of our national life for seven decades. As the Supreme Governor of the Church of England, she drew on her deep faith. She was the nation's greatest diplomat. Her visits to post-apartheid South Africa and to the Republic of Ireland showed a unique ability to transcend difference and heal division. In total, she visited well over 100 countries. She met more people than any other monarch in our history.
She gave counsel to Prime Ministers and Ministers across Government. I have personally greatly valued her wise advice. Only last October, I witnessed first hand how she charmed the world's leading investors at Windsor Castle. She was always so proud of Britain, and always embodied the spirit of our great country. She remained determined to carry out her duties even at the age of 96. It was just three days ago, at Balmoral, that she invited me to form a Government and become her 15th Prime Minister. Again, she generously shared with me her deep experience of government, even in those last days.
Everyone who met her will remember the moment. They will speak of it for the rest of their lives. Even for those who never met her, Her late Majesty's image is an icon for what Britain stands for as a nation, on our coins, on our stamps, and in portraits around the world. Her legacy will endure through the countless people she met, the global history she witnessed, and the lives that she touched. She was loved and admired by people across the United Kingdom and across the world.
One of the reasons for that affection was her sheer humanity. She reinvited monarchy for the modern age. She was a champion of freedom and democracy around the world. She was dignified but not distant. She was willing to have fun, whether on a mission with 007, or having tea with Paddington Bear. She brought the monarchy into people's lives and into people's homes.
During her first televised Christmas message in 1957, she said:
"Today we need a special kind of courage…so that we can show the world that we are not afraid of the future."
We need that courage now. In an instant yesterday, our lives changed forever. Today, we show the world that we do not fear what lies ahead. We send our deepest sympathy to all members of the royal family. We pay tribute to our late Queen, and we offer loyal service to our new King.
His Majesty King Charles III bears an awesome responsibility that he now carries for all of us. I was grateful to speak to His Majesty last night and offer my condolences. Even as he mourns, his sense of duty and service is clear. He has already made a profound contribution through his work on conservation and education, and his tireless diplomacy. We owe him our loyalty and devotion.
The British people, the Commonwealth and all of us in this House will support him as he takes our country forward to a new era of hope and progress: our new Carolean age. The Crown endures, our nation endures, and in that spirit, I say God save the King. [Hon. Members: "God save the King."]
Labour's Keir Starmer, Leader of the Loyal Opposition, spoke next. Guido has the video:
The highlight of his speech was this:
She did not simply reign over us, she lived alongside us. She shared in our hopes and our fears, our joy and our pain, our good times, and our bad.
Interestingly, when they were younger, both Starmer and Truss wanted to abolish the monarchy.
Boris Johnson spoke a short time later, declaring the Queen:
Elizabeth the Great.
Historian David Starkey would disagree and did so on GB News on Sunday, September 11. He said that 'the Great' has applied exclusively to monarchs who waged war, e.g. Peter the Great.
Guido has the video. Boris began by saying that the BBC contacted him recently to speak about the Queen in past tense:
I hope the House will not mind if I begin with a personal confession. A few months ago, the BBC came to see me to talk about Her Majesty the Queen. We sat down and the cameras started rolling, and they requested that I should talk about her in the past tense. I am afraid that I simply choked up and could not go on. I am really not easily moved to tears, but I was so overcome with sadness that I had to ask them to go away.
I know that, today, there are countless people in this country and around the world who have experienced the same sudden access of unexpected emotion, and I think millions of us are trying to understand why we are feeling this deep, personal and almost familial sense of loss. Perhaps it is partly that she has always been there:
a changeless human reference point in British life; the person who—all the surveys say—appears most often in our dreams; so unvarying in her pole-star radiance that we have perhaps been lulled into thinking that she might be in some way eternal.
But I think our shock is keener today because we are coming to understand, in her death, the full magnitude of what she did for us all. Think what we asked of that 25-year-old woman all those years ago: to be the person so globally trusted that her image should be on every unit of our currency, every postage stamp; the person in whose name all justice is dispensed in this country, every law passed, to whom every Minister of the Crown swears allegiance; and for whom every member of our armed services is pledged, if necessary, to lay down their lives.
Think what we asked of her in that moment: not just to be the living embodiment, in her DNA, of the history, continuity and unity of this country, but to be the figurehead of our entire system—the keystone in the vast arch of the British state, a role that only she could fulfil because, in the brilliant and durable bargain of the constitutional monarchy, only she could be trusted to be above any party political or commercial interest and to incarnate, impartially, the very concept and essence of the nation.
Think what we asked of her, and think what she gave. She showed the world not just how to reign over a people; she showed the world how to give, how to love and how to serve. As we look back at that vast arc of service, its sheer duration is almost impossible to take in. She was the last living person in British public life to have served in uniform in the Second World War. She was the first female member of the royal family in a thousand years to serve full time in the armed forces.
That impulse to do her duty carried her right through into her 10th decade to the very moment in Balmoral—as my right hon. Friend said—only three days ago, when she saw off her 14th Prime Minister and welcomed her 15th. I can tell you, in that audience she was as radiant and as knowledgeable and as fascinated by politics as ever I can remember, and as wise in her advice as anyone I know, if not wiser. Over that extraordinary span of public service, with her naturally retentive and inquiring mind, I think—and doubtless many of the 15 would agree—that she became the greatest statesman and diplomat of all.
She knew instinctively how to cheer up the nation, how to lead a celebration. I remember her innocent joy more than 10 years ago, after the opening ceremony of the London Olympics, when I told her that the leader of a friendly middle eastern country seemed actually to believe that she had jumped out of a helicopter in a pink dress and parachuted into the stadium. [Laughter.] I remember her equal pleasure on being told, just a few weeks ago, that she had been a smash hit in her performance with Paddington Bear.
Perhaps more importantly, she knew how to keep us going when times were toughest. In 1940, when this country and this democracy faced the real possibility of extinction, she gave a broadcast, aged only 14, that was intended to reassure the children of Britain. She said then:
"We know, every one of us, that in the end all will be well".
She was right …
… It was that indomitability, that humour, that work ethic and that sense of history that, together, made her Elizabeth the Great.
When I call her that, I should add one final quality, of course: her humility—her single-bar-electric-fire, Tupperware-using refusal to be grand. I can tell the House, as a direct eyewitness, that unlike us politicians, with our outriders and our armour-plated convoys, she drove herself in her own car, with no detectives and no bodyguard, bouncing at alarming speed over the Scottish landscape, to the total amazement of the ramblers and tourists we encountered.
It is that indomitable spirit with which she created the modern constitutional monarchy—an institution so strong, so happy and so well understood, not just in this country but in the Commonwealth and around the world, that the succession has already seamlessly taken place. I believe she would regard it as her own highest achievement that her son, Charles III, will clearly and amply follow her own extraordinary standards of duty and service. The fact that today we can say with such confidence, "God save the King" is a tribute to him but, above all, to Elizabeth the Great, who worked so hard for the good of her country not just now but for generations to come. That is why we mourn her so deeply, and it is in the depths of our grief that we understand why we loved her so much.
Theresa May's speech was the funniest. I do wish she had shown this side of herself as Prime Minister. Her comic timing was impeccable:
Guido has a video of most of her address:
Arguably one of May's most poignant speeches. Some needed light relief for the day...
Here's the best part:
This excerpt follows:
Of course, for those of us who had the honour to serve as one of her Prime Ministers, those meetings were more frequent, with the weekly audiences. These were not meetings with a high and mighty monarch, but a conversation with a woman of experience, knowledge and immense wisdom. They were also the one meeting I went to that I knew would not be briefed out to the media. [Laughter.] What made those audiences so special was the understanding the Queen had of issues, which came from the work she put into her red boxes, combined with her years of experience. She knew many of the world leaders—in some cases, she had known their fathers—and she was a wise and adroit judge of people.
The conversations at the audiences were special, but so were weekends at Balmoral, where the Queen wanted all her guests to enjoy themselves. She was a thoughtful hostess. She would take an interest in which books were put in your room and she did not always expect to be the centre of attention; she was quite happy sometimes to sit, playing her form of patience, while others were mingling around her, chatting to each other. My husband tells of the time he had a dream: he dreamt that he was sitting in the back of a Range Rover, being driven around the Balmoral estate; and the driver was Her Majesty the Queen and the passenger seat was occupied by his wife, the Prime Minister. And then he woke up and realised it was reality!
Her Majesty loved the countryside. She was down to earth and a woman of common sense. I remember one picnic at Balmoral that was taking place in one of the bothies on the estate. The hampers came from the castle, and we all mucked in to put the food and drink out on the table. I picked up some cheese, put it on a plate and was transferring it to the table. The cheese fell on the floor. I had a split-second decision to make: I picked up the cheese, put it on a plate and put the plate on the table. I turned round to see that my every move had been watched very carefully by Her Majesty the Queen. I looked at her, she looked at me and she just smiled. And the cheese remained on the table. [Laughter.]
This is indeed a sad day, but it is also a day of celebration for a life well spent in the service of others. There have been many words of tribute and superlatives used to describe Her late Majesty Queen Elizabeth II, but these are not hype; they are entirely justified. She was our longest-serving monarch. She was respected around the world. She united our nation in times of trouble. She joined in our celebrations with joy and a mischievous smile. She gave an example to us all of faith, of service, of duty, of dignity and of decency. She was remarkable, and I doubt we will ever see her like again. May she rest in peace and rise in glory.
Saturday's session in the Commons was another marathon.
Shortly after 1 p.m., Speaker Sir Lindsay Hoyle opened it with this:
I now invite the House to resume its tributes to Her late Majesty. I expect to conclude tributes at 10 o'clock, when I shall invite Ministers to move the motion for a Humble Address to His Majesty. A hundred and eighty-two Members contributed yesterday, and many want to contribute today. I hope Members will therefore keep to the informal time limit of three minutes.
An excerpt from John Redwood's speech follows.
On Friday, he pointed out how historically significant three of our Queens were in British history and for women:
On Saturday, he said:
What always came across to all of us was just how much she respected every person and every institution that she visited. She showed that respect by impeccable manners and great courtesy—always on time, always properly briefed, always appropriately dressed for the occasion.
But, as so many have said from their personal experiences, there was something so much more than that. She was not just the consummate professional at those public events: there was the warm spirit, the personality, and above all the understanding that everyone else at that event was terrified that something was going to go wrong, that they had not understood the protocol, or that there was some magic way of doing it—as my right hon. Friend the Member for Welwyn Hatfield (Grant Shapps) was explaining—that they had to get right. At those public events, the Queen always relaxed people and showed them that there was no right way, because she was there for the people; she was there for the institution; she was there for the event. That is what we can learn from.
Of course, she was also Our Majesty. She was the embodiment of the sovereignty of people and Parliament; she represented us so well abroad and represented us at home, knowing that as a constitutional monarch, she represented us when we were united. She spoke for those times when we were gloriously happy and celebrating, or she spoke for those times when there was misery and gloom and she had to deal with our grief and point to the better tomorrow. That was why she held that sovereignty so well and for so long—a constitutional monarch who did not exercise the power, but captured the public mood; who managed to deal with fractious and difficult Parliaments and different political leaders, but who was above the politics, which meant that our constitution was safe in her hands. I wish her son, the new King, every success in following that great lead as he has told us he will do, and I can, with others, say today—"God save the King."
Redwood later tweeted that he had omitted an important part of his speech:
Indeed.
The Queen attended only two of her former Prime Ministers' funerals, those of Winston Churchill and Margaret Thatcher.
These are links to Friday's (continued here) and Saturday's (continued here) tributes from the Lords, both Spiritual and Temporal.
On Sunday, our vicar said that the Church of England lost her greatest evangelist, the Queen.
I cannot disagree with that.
The Archbishop of Canterbury spoke earlier on Friday afternoon, excerpted below.
He recalled her deep faith, something I wish more CofE clergy had:
… What has been said already today has been extraordinarily eloquent. I do not intend to repeat it but to say something about the Queen's links to faith and to the Church of England. First is her assurance, her confidence, in the God who called her. At her coronation, so long ago, conducted by Archbishop Geoffrey Fisher—the first of seven Archbishops of Canterbury who had the privilege of serving her—the service began with her walking by herself past the Throne, where she would very shortly be seated, and kneeling by the high altar of Westminster Abbey. The order of service said, "She will kneel in private prayer"—and so she did, for some time. The next thing to happen was that homage was paid to her, starting with the Duke of Edinburgh. What that said about her understanding of her role was that she pledged her allegiance to God before others pledged their allegiance to her. She had this profound sense of who she was and by whom she was called.
Then there was her profound, deep and extraordinary theological vision. Many years ago now—seven or eight years ago—I was travelling abroad, and someone who had no knowledge of these things said, "Well, of course, she's not really got that much intellect, has she? I mean, private tutors and all this—what can she know?" Well, what ignorance. In 2012, she spoke at Lambeth Palace on the occasion of her Diamond Jubilee, and the speech she made there is one we return to very frequently, because she set out a vision for what an established Church should be. It was not a vision of comfort and privilege; it was to say, put very politely, "You are here as an umbrella for the whole people of this land". The subtext was, "If you are not that, you are nothing". That is a deep vision of what it is to be the Church—of what it is to be not an established Church but a Christian Church. That came from her deep understanding of faith. Every five years, at the inauguration of the Church of England's General Synod, she came with messages of encouragement and assurance of her prayers. In 2021, her message was,
"my hope is that you will be strengthened with the certainty of the love of God, as you work together and draw on the Church's tradition of unity in fellowship for the tasks ahead."
Publicly, Her late Majesty worshipped regularly and spoke of her faith in God, particularly in her Christmas broadcasts, with quiet, gentle confidence. Privately, she was an inspiring and helpful guide and questioner to me and to my predecessors. She had a dry sense of humour, as we have heard already, and the ability to spot the absurd—the Church of England was very capable of giving her material—but she never exercised that at the expense of others. When I last saw her in June, her memory was as sharp as it could ever have been. She remembered meetings from 40 or 50 years ago and drew on the lessons from those times to speak of today and what we needed to learn: assurance of the love of God in her call, and then humility. It would be easy as a monarch to be proud, but she was everything but that. It was her faith that gave her strength. She knew that, but she knew also her call to be a servant, the one whom she served, and the nation she served, the Commonwealth and the world. Over the last 24 hours, I have had so many messages from archbishops, bishops and other people around the world, within the Commonwealth and way beyond it—from China, Latin America and many other places—in a deep sense of loss.
It has been the privilege of those on these Benches to be intimately involved with momentous occasions so often throughout Her late Majesty's life. As has been said, she has been a presence for as long as we can remember. Jesus says in the Gospel of St Matthew:
"Blessed are those who mourn, for they shall be comforted".
May God comfort all those who grieve Her late Majesty's loss, and may God sustain His Majesty King Charles III in the enormous weight and challenges that he takes on immediately, at the same as he bears the burden of grief, and those around him in his family. May God hold Her late Majesty in His presence, firmly secured in the peace that passes far beyond our understanding.
The Archbishop of York, the Right Revd Stephen Cottrell, spoke in the first of Saturday's sessions in the Lords. He added some light relief:
My Lords, like most Bishops from these Benches, I have stories to tell; stories of doing jigsaws in Sandringham on Sunday evenings and of barbeques in the woods at Sandringham in the middle of January—I even have a slightly scurrilous story about healing the Queen's car. Perhaps I will tell it.
I had preached in Sandringham parish church. We were standing outside and the Bentley was there to get the Queen. It did not start. It made that throaty noise cars make in the middle of winter when they will not start, and everybody stood there doing nothing. I was expecting a policeman to intervene, but nothing happened. Enjoying the theatre of the moment, I stepped forward and made a large sign of the cross over the Queen's car, to the enjoyment of the crowd—there were hundreds of people there, as it was the Queen. I saw the Queen out of the corner of my eye looking rather stony-faced, and thought I had perhaps overstepped the mark. The driver tried the car again and, praise the Lord, it started. The Queen got in and went back to Sandringham, and I followed in another car. When I arrived, as I came into lunch, the Queen said with a beaming smile, "It's the Bishop—he healed my car". Two years later, when I greeted her at the west front of Chelmsford Cathedral, just as a very grand service was about to start and we were all dressed up to the nines, she took me to one side and said, "Bishop, nice to see you again; I think the car's all right today, but if I have any problems I'll know where to come."
When I became the 98th Archbishop of York, during Covid, I paid homage to the Queen by Zoom conference. I was in the Cabinet Office; everyone had forgotten to bring a Bible, including me, but there was one there—which is kind of reassuring. Just as the ceremony was about to begin, the fire alarm went off.
The Queen was at Windsor Castle, but we all trooped out of the Cabinet Office, on to the road, and were out there for about 20 minutes until they could check that it was a false alarm and we could go back in. When I went back into the room, there was the screen, with Her late Majesty waiting for things to begin again. I do not know why I find myself returning to that image of her, faithful watching and waiting through those very difficult times. That was a very small part of a life of astonishing service.
The other thing I have noticed in the last couple of days is that we are all telling our stories. Yesterday, I found myself sharing stories with somebody in the street. I at least had had the honour of meeting Her late Majesty; this person had never met her, but we were sharing stories. I said, "Isn't it strange how we need to tell our stories? It's not as if she was a member of our family." Except she was. That is the point. She served the household of a nation. For her, it was not a rule but an act of service, to this people and to all of us.
I remind us, again and again, that that came from somewhere: it came from her profound faith in the one who said,
"I am among you as one who serves."
The hallmark of leadership is service, watchfulness and waiting. It was her lived-in faith in Jesus Christ, day in and day out, which sustained, motivated and equipped her for that lifetime of service. How inspiring it was last night and this morning to see the baton pass to our new King, King Charles, in the same spirit of godly service to the people of a nation.
I had not thought of this, but the Archbishop of York pointed out the important feast day that coincided with the Queen's death, the Nativity of the Blessed Virgin Mary:
Her Majesty the Queen died on 8 September, the day on which the blessed Virgin Mary is remembered across the world and the Church. Another Elizabeth, the cousin of Mary, said of her when she knew she would be the mother of the Lord:
"Blessed is she who believed that the promises made to her would be fulfilled".
Shot through all our tributes in this House and another place, and across our nation, is that which we have seen, especially as it was only on Tuesday—I thank the noble Baroness, Lady Bull, for reminding us—that the Queen received a new Prime Minister. Can it really be possible? She served to the end—a life fulfilled.
I will finish with a handful of her words. This is what the Queen wrote in a book to mark her 90th birthday, reflecting on her faith in Jesus Christ in her life:
"I have indeed seen His faithfulness."
I am not supposed to call noble Lords "brothers and sisters", but dear friends, we have seen her faithfulness too, and we see it now in our new King. May Her late Majesty the Queen rest in peace and rise in glory. God save the King.
Friday, September 9
At 6 p.m. on Friday, two significant events occurred.
The first was an hour-long service of prayer and reflection held at St Paul's Cathedral:
This service was for people who work in the City of London along with a limited number of members of the public who could apply for wristbands — tickets — to attend. St Paul's posted a page on how to obtain a wristband and how to queue on Friday afternoon for admittance.
Cabinet members attended and sat in the choir stalls. Prime Minister Truss and her Cabinet Secretary Simon Case sat in the front row. On the opposite side were Labour's Keir Starmer and other Opposition MPs.
This was an excellent service. The Cathedral helpfully posted the Order of Service, which can be downloaded from the aforementioned webpage.
Truss read Romans 14:7-12:
We do not live to ourselves, and we do not die to ourselves. If we live, we live
to the Lord, and if we die, we die to the Lord; so then, whether we live or whether we die, we are the Lord's. For to this end Christ died and lived again, so that he might be Lord of both the dead and the living.
Why do you pass judgement on your brother or sister? Or you, why do you despise your brother or sister? For we will all stand before the judgement seat of God. For it is written,
'As I live, says the Lord, every knee shall bow to me, and every tongue shall give praise to God.'
So then, each of us will be accountable to God.
This prayer in memory of the Queen is beautiful:
Eternal Lord God,
you hold all souls in life;
send forth, we pray, upon your servant, Elizabeth,
and upon your whole Church in earth and heaven
the brightness of your light and peace;
and grant that we,
following the good example of those
who have faithfully served you here and are now at rest,
may at the last enter with them
into the fullness of eternal joy
in Jesus Christ our Saviour.
Amen.
Meanwhile, King Charles III addressed the nation for the first time as monarch:
He spoke for ten minutes, first discussing his late mother then pledging his service to the people of the United Kingdom.
He ended his address by saying that Prince William would become the new Prince of Wales and that he had much love for Prince Harry as he and Meghan continue building their life together overseas.
The Telegraph included the following blurb. The last line comes from Shakespeare:
The broadcast was recorded in the Blue Drawing Room of Buckingham Palace, after the King and Queen greeted crowds of mourners outside the gates.
In a final message to his mother, the King said: "To my darling Mama, as you begin your last great journey to join my dear late Papa, I want simply to say this: thank you.
"Thank you for your love and devotion to our family and to the family of nations you have served so diligently all these years.
"May 'flights of Angels sing thee to thy rest'."
The walkabout the paper refers to involved much emotion from members of the public, especially women. One lady kissed him on the cheek and another shook his hand. Historically, one does not touch the monarch. That also applied to the Queen, even if a few people did touch her.
Another similar walkabout by the new King and Queen Consort occurred on Saturday afternoon outside the Palace.
The Accession Ceremony took place on Saturday morning. More about that tomorrow.
An unusual thing happened when I was in central London on Wednesday, September 7, 2022.
I was enjoying a quiet cigarette on a rooftop terrace when I heard the bell from Westminster Abbey, a short walk away.
It was 4:45 p.m. I began counting the single peals and stopped at 25. The bell continued ringing long past that and after I left. Immediately, I wondered if this was a rehearsal for the Queen's death.
At that point, I felt a bit like this beagle: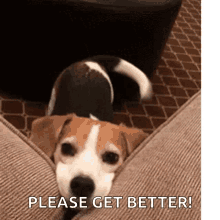 I didn't mention it to my far better half on the taxi ride back to the railway station, for fear the taxi driver would overhear. I mentioned it once we were at home and was summarily dismissed for being silly.
Thursday
On Thursday afternoon, both of us were watching the House of Commons energy debate in separate rooms of the house. Sir Lindsay Hoyle, the Commons speaker, interrupted the debate to say that the Queen was in poor health at Balmoral. I asked my better half about it, because the way every MP responded as the debate continued, it seemed to signal the end of our Elizabethan era. Again, I was told not to worry, etc., etc.
Lo, at 6:30 p.m., news emerged that our beloved Queen had gone to her eternal rest. By then, all newsreaders on all channels were dressed in black.
Valete Elizabeth Regina, vivat Charles Rex.
Yes, 'Carolus Rex' is the correct Latin usage. Furthermore, it is also unclear whether our new King will call himself by his given first name. A British monarch may opt for another of their given names. We will find out for sure on Saturday morning:
It has been 70 years since this happened:
The Times reports (emphases mine):
Officially the nation will have to wait until tomorrow morning before we find out whether Charles will reign as King Charles III or under another name.
His regnal name will not be announced until the proclamation is made from the balcony at St James's Palace at 11am.
Unofficially, the guidance from Charles's team has for the last few years been that he will indeed be Charles III …
Indeed, it has often been speculated that because Charles I was executed — and neither was his son Charles II a particularly admirable figure — the new King would prefer to choose another name.
His full name is Charles Philip Arthur George, and he could opt to reign under any of those names.
Some reports have claimed that he would reign as George VII, and although this has never been given any credence by Clarence House, it does at least have the ring of plausibility.
I read the story about the possibility that he might be George VII. That was at least 20 years ago.
If the King does choose to retain Charles as his regnal name, he would, of course, be imitating his dearly departed mother:
In the hours after the death of George VI, Elizabeth was asked by Martin Charteris, her private secretary, what she planned to call herself. "My own name, of course," she replied. "What else?"
The Times article tells us of other relatively recent monarchs who did not use their given first names: Queen Victoria (Alexandrina Victoria), Edward VII (Albert, or Bertie) and George VI (another Albert/Bertie).
Incidentally, Edward VIII, he who abdicated, was christened Edward but preferred to be called David.
The Times' veteran political sketch writer Quentin Letts described what happened in Parliament on Thursday afternoon:
Liz Truss had just informed a raucous house of her energy plan. Sir Keir Starmer was at his dispatch box, jousting with Tory backbenchers about higher taxes on power companies. While this rumpus was playing out with all its attendant flouncing and bombast, Nadhim Zahawi quietly entered via the back double-doors. Zahawi is chancellor of the Duchy of Lancaster, minister for constitutional matters. He softly eased his way past the throng at the entrance. After edging along the packed front bench with a Crown-embossed file under his arm and a slip of paper in one hand, he gestured to Truss's neighbour Kwasi Kwarteng that he needed to sit next to the prime minister. The note was passed. A few discreet words were exchanged. Zahawi departed the scene with an ecclesiastical nod.
Truss frowned, sat back in her seat and became utterly still. She betrayed little surprise. When she had arrived for the debate she had, however, been sombre. Perhaps she had been expecting this. Now, half an hour later, the paper message was being discreetly passed across to the shadow leader of the house, thence to Angela Rayner, Labour's deputy leader. Rayner read it, wrinkled her nose uncertainly and guarded it for when Starmer finished his speech.
Up in the press gallery, the anthill was disturbed. Some of us had heard earlier that things were not good at Balmoral and that "the news agenda could be changing". That rumour acquired greater sharpness when a Downing Street official signalled to lobby reporters that they should follow him outside for a confidential briefing. This flurry of movement was soon matched downstairs in the body of the kirk.
Government and opposition whips convened behind the Speaker's chair in animated huddles. Martin Docherty-Hughes (SNP, West Dunbartonshire) burst through a far doorway and hastened, almost at a dressage trot, towards his party's Westminster leader, Ian Blackford. Docherty-Hughes knelt at Blackford's side and imparted urgent news.
By the cockpit of the chamber, the Speaker's staff were coming and going in a bug-eyed swirl of clerical robes and Edwardian stockings. Truss was still in her seat, hard to read. A blinking Starmer beetled off at 12.24 once he had digested that note from Rayner. The Labour leader returned minutes later, only to exit again at 12.32, this time following the prime minister when she withdrew. The two of them could be seen talking as they left.
… A clerk dashed in with a printed statement for the Speaker, Sir Lindsay Hoyle. From above we could see a paragraph of ominously thick print.
As soon as he was sure the BBC had reported that the Queen's health was in peril, Hoyle interrupted the debate to voice the Commons' concern and best wishes for Her Majesty.
Here is Hoyle's historic announcement:
Order. I wish to say something about the announcement that has just been made about Her Majesty. I know that I speak on behalf of the entire House when I say that we send our best wishes to Her Majesty the Queen, and that she and the royal family are in our thoughts and prayers at this moment. I am not going to take any contributions on this now; if there is anything else, we will update the House accordingly.
Returning to Letts's political sketch:
The mood had by that point already been quite, quite altered. On what we no longer call a sixpence, or even the most golden of sovereigns, it had turned from parliamentary tussle to something more subdued and internal. "May God bless our Queen," said Dame Andrea Leadsom (C, South Northants).
This would have been the sort of statement the Party leaders and Cabinet members saw:
Outdoors, where it had been raining off and on, a strange and wonderful thing happened early that evening. It could be seen at both Buckingham Palace and, as reported by GB News, at Windsor Castle, just as the Queen's standard was lowered to half mast.
Letts confirmed this:
A royal bedside in Aberdeenshire had eclipsed all and a double rainbow formed over Buckingham Palace. As I left the Commons I saw the political editor of one illustrious left-wing newspaper close to tears. He was not the only one.
A framed announcement was attached to the gate at Buckingham Palace:
The King issued this statement:
The Times reported that Prince Harry arrived at Balmoral just after his grandmother's death was announced:
Prince Harry travelled to Scotland separately to his other relatives, although the trip was made in co-ordination with their plans.
A plane carrying the Duke of Cambridge, the Duke of York, and the Earl and Countess of Wessex landed in Aberdeen shortly before 4pm, while other members of the family were already in Scotland.
Harry arrived in the early evening, a short time after the Queen's death had been publicly announced.
The Sussexes arrived in the UK last weekend. After a brief visit to Düsseldorf in Germany on Tuesday where the Invictus Games, the event which the duke founded, will be held next year, they had returned to Britain.
Harry, 37, had been expected to speak at the awards ceremony being put on by WellChild, of which he is patron, before his plans changed. Meghan also cancelled her attendance.
The Telegraph gave a different timeline, stating that Harry arrived at 8 p.m., 90 minutes after the Queen's death had been announced.
The Telegraph reports that, in line with rules laid down by George V in 1917, Harry and Meghan's children automatically become Prince Archie and Princess Lilibet, unless the King decides otherwise:
The rules set out by King George V in 1917 mean Archie and Lili – as the children of a son of a sovereign – also now have an HRH style if they choose to use it.
In 2021, it was suggested Charles – in a bid to limit the number of key royals – intended, when he became monarch, to prevent Archie becoming a prince.
To do so, he will have to issue a Letters Patent amending Archie's right to be a prince and Lili's right to be a princess.
Until that potentially happens or if it does not, Archie and Lili remain a prince and princess, whether their parents choose to use the titles or not …
Meghan said she and Harry wanted Archie to be a prince so he would have security and be protected.
But being a prince or princess does not automatically mean royals have police bodyguards paid for by the taxpayer, and the Sussexes have chosen to live in the US.
Archie is technically history's first Prince of Sussex and Lili the first Princess of Sussex.
Eventually Archie will be entitled to succeed Harry as the Duke of Sussex.
The article also has a family tree showing the line of succession, which passes through Prince William's children before it reaches Harry. Sadly, Princess Anne is 16th in line to the throne.
I felt sorry for Liz Truss. Talk about a baptism by fire. She started out with a heaving in-tray of the worst kind — crises everywhere — and then had to address the nation to inform us of the Queen's death. Wow:
It is a brief and beautiful speech, encapsulating the Queen's life, what she meant to us and how well she represented the United Kingdom.
Her address ended with this:
And with the passing of the second Elizabethan age, we usher in a new era in the magnificent history of our great country, exactly as Her Majesty would have wished, by saying the words, 'God save the King'.
May we remember that as we enter a new Caroline era. Pray, God, may it go well.
Boris Johnson also issued a statement, eloquent and considered as always. He, too, spoke for the nation:

These were Friday's front pages:
Tuesday
Before I go on to Friday and the weekend, let us look at Tuesday's events and the last public photographs of the Queen.
The day started much like any other.
Boris Johnson was spending his final few hours in Downing Street before giving his farewell speech.
He invited his loyalists for breakfast, former Culture Secretary Nadine Dorries and the new Business Secretary Jacob Rees-Mogg among them.
The Mail reported:
In his final minutes inside No 10, there were 'inedible' bacon sandwiches and cups of 'grey-looking' tea – but the mood was upbeat.
As Mr Johnson's inner circle gathered for the last time, the atmosphere was described as jolly, with the smiling PM agreeing to souvenir selfies with his loyalists.
Outgoing culture secretary Nadine Dorries posted a photo of herself with the Prime Minister on Twitter stood just outside his office, captioned: 'Around 7.15am. Quick cuppa.'
A No 10 source said: 'It was very light-hearted, with everyone joking around, and Boris was being his usual jovial self despite the circumstances. The focus was on the good times.'
Among the throng, Jacob Rees-Mogg had brought his lookalike teenage son Peter to enjoy the drama, and they asked for an autograph and a selfie.
Rachel Johnson, the PM's sister, was there too and later she told radio station LBC: 'In the last 15 minutes of his time in No 10, you would think he would be off in a side room, reading over his notes, just kind of having a moment, just preparing himself.
'What my brother does, he wants everybody to feel good. Even if he's feeling terrible inside, he feels that he has to spread the love and cheer everybody up, instead of focusing on himself in those last 15, 20 minutes.
'You had this morning sun, this new dawn feeling, as the sun filtered through the hazy morning mist. Jacob and Peter asked for a photograph, Nadine asked for a photograph, which is all great but he obliged right up to the end.
'There were bacon sandwiches – but someone said the food's never worth eating in No 10 – some rather grey-looking RAF-type tea, and then we were all taken out and put in our places.'
Guido Fawkes has the interview with Boris's sister Rachel.
Boris and his wife Carrie bade farewell to Downing Street staff:
Boris's speech was a blinder — a classic.
He compared himself to Cincinnatus, for whom the American city Cincinnati is so named:
Historians gave their view of Boris's comparison of himself to the great Roman:
Guido said (emphases his):
Guido is not convinced that Boris really meant it when he said "This is it, folks…"
The Mail has a partial transcript, excerpts of which follow:
I know that Liz Truss and this compassionate Conservative government will do everything we can to get people through this crisis and this country will endure it and we will win …
I'm proud to have discharged the promises I made to my party when you were kind enough to choose me, winning the biggest majority since 1987, the biggest share of the vote since 1979 …
He said that unemployment hasn't been so low:
since I was about 10 years old and bouncing around on a space hopper.
He went on to encourage the Conservative Party and the nation to come together:
I just say to my party if Dilyn [his dog] and Larry [the Downing Street cat] can put behind them their occasional difficulties, then so can the Conservative Party.
Above all, thanks to you, to the British people, to the voters, for giving me the chance to serve, all of you who worked so tirelessly together to beat Covid, to put us where we are today.
Together, we have laid foundations that will stand the test of time, whether by taking back control of our laws or putting in vital new infrastructure, great solid masonry on which we will continue to build together, paving the path of prosperity now and for future generations.
Unfortunately, the article doesn't include the bit about his dream of nuclear power as he had read about as a boy time and time again in a book on the subject. Nor is there any mention of his comparison of himself with the section of the spacecraft that detaches at the end and lands in the Pacific. It was moving and hilarious.
But, that spacecraft bit gets repurposed later on, as, possibly was Cincinnatus. So, could he be back as he hinted at his last PMQs?
Both Boris and Liz Truss flew to Balmoral, as the Queen's mobility problems prevented her from returning to London.
They flew on separate RAF jets — Dassault (French) jets, in fact — for security purposes:
The Queen looked splendid, beaming. Who could have guessed that anything was wrong? People did notice the bruise on her right hand, but that is part of the ageing process. The Times told us that it is called senile purpura and begins affecting people after the age of 50 in varying degrees. The article includes a photo from 2019, in which her hand was equally bruised.
This is the first of the two of her last public photos:
Royal commentators say that the Queen chose this room at Balmoral because of the plain walls. The walls in the other rooms are covered in tartan.
The Times has a worthwhile article describing the principal highlights of the room, heavily influenced by Queen Victoria:
Over the fire is an inscription that may have been ordered by Albert of the motto on the royal coat of arms in Scotland: nemo me impune lacessit (no one provokes me with impunity).
Boris and his wife Carrie arrived on time. They were photographed outdoors, not inside:
He had to relinquish his keys of office to the Queen. They are actual keys, although I have never seen what they look like:
Guido Fawkes posted confirmation from the Palace:
The Right Honourable Boris Johnson MP had an Audience of The Queen this morning and tendered his resignation as Prime Minister and First Lord of the Treasury, which Her Majesty was graciously pleased to accept.
Guido added:
3 years and 44 days…
The Johnsons spent 40 minutes with the Queen, then they left to return to London.
Truss was late, although it was not because of bad timekeeping on her part.
Between Boris's departure and Truss's arrival, the Queen was more than a figurehead. She was an active Head of State, rather than a passive one, truly in charge of the nation.
Truss arrived around 12:30. This is the second final public photo of the Queen. Here Truss 'kisses' the Monarch's hand. In the old days, the incoming Prime Minister actually did kiss the Monarch's hand. Now it is a handshake:
Guido Fawkes has the text of the Queen's announcement:
The Queen received in Audience The Right Honourable Elizabeth Truss MP today and requested her to form a new Administration. Ms Truss accepted Her Majesty's offer and kissed hands upon her appointment as Prime Minister and First Lord of the Treasury.
The Queen gave Truss the keys of office. Apparently, the Queen was always eager to hand over the keys, as knowing she was an active Head of State made her nervous.
Afterwards, Truss returned to London, where it had been raining on and off all afternoon. Because of the weather and rush hour traffic, she was again delayed.
Downing Street staff placed the podium outside during a dry spell. A short while later, the rain began anew and the podium disappeared inside.
At that point, reporters were being urged to queue in a 'press pen' for the press conference room.
The Mail's Dan Hodges was there:
By the time Truss arrived, the rain had stopped and she was able to give her speech outdoors. This version is subtitled. Her husband is pictured:
Truss paid tribute to Boris:
History will see him as a hugely consequential Prime Minister.
She reminded us of our British grit and determination of the past, which we employed to great effect in times of crisis. She enumerated our present crises.
She used a Churchillian phrase:
I will take action this day …
adding:
and action every day to make it happen.
Her three top priorities are as follows:
Firstly, I will get Britain working again …
Secondly, I will deal hands on with the energy crisis caused by Putin's war …
Thirdly, I will make sure that people can get doctor's appointments and the NHS services they need …
She then said:
As strong as the storm may be, I know that the British people are stronger … I am confident that together we can ride out the storm.
She concluded:
I am determined to deliver. Thank you.
That evening, her first phone call went to President Zelenskyy:
Truss and Joe Biden spoke afterwards.
I hope that in the days — and, all being well, years — ahead that Elizabeth Truss will emulate the fine example of Elizabeth II.
I am sure she will, having had this intense intersection with our late Monarch only 48 hours before her death.
Friday afternoon
As I wrote this on Friday afternoon, I was watching the Royal Household Artillery give their 96 gun salute in Hyde Park in honour of Queen Elizabeth. It started at 1:00 p.m. and took 17 minutes.
The King was returning to London with the Queen Consort:
Concurrently, a special session was held in the House of Commons where all MPs, from Prime Minister Liz Truss to backbenchers, could share their memories of her.
Truss led with her speech:
Highlights follow:
Sir Keir Starmer spoke for the Labour Party — and for 90 seconds longer than the Prime Minister:
Saturday and the subsequent mourning period
The UK's public mourning period is expected to last ten days.
I went to the shops on Friday and one supermarket played sombre classical music. The other I went to had their pop music turned down low.
The Telegraph summarises what the mourning period will be like and what the King will be doing during the mourning period, beginning on Saturday, September 10:
The announcement of her death marks the start of national mourning, with the Royal court to spend one month officially honouring her memory.
Across the country, union flags will be lowered, church services held, and condolence books offered for members of the public to pay their respects during the most seismic institutional change of most of their lifetimes.
Her Majesty's many admirers are expected to be welcomed to commemorate her life over the coming 10 days, during a lying in state at Westminster Hall, a funeral at Westminster Abbey and a spectacular ceremonial procession to her final resting place at St George's Chapel, Windsor.
Buckingham Palace will release official arrangements for the funeral in the coming days, after they have been signed off by the new King …
The Accession Council will now meet in St James's Palace to agree the formal proclamation of the new King, which will be announced to the public from a balcony in the Palace's Colour Court.
Charles is expected to be present at the meeting to take a religious oath, in what is expected to be the first time the historic ceremony has been televised live.
While mourning his mother, he will go on to tour the United Kingdom and meet the public to thank them for their support of his family.
Members of the family, including the Queen's four children, their spouses, the Cambridges and the Sussexes, will rally around in the coming days to mourn the late Queen and support the new King in what will be the most significant public mourning since George VI.
King Charles III is the oldest person in British history to become monarch. He long ago passed the previous record holder, William IV, who was 64 when he became king in 1830.
He already held the record of being the longest-serving heir apparent, having been first in line to the throne since he was three years old.
Buckingham Palace will now instigate Operation London Bridge, its codename for the Queen's funeral plans.
The funeral is expected to take place in 10 days' time, before which the Queen's body will lie in state in Westminster Hall in the Houses of Parliament, where the public will be able to pay their respects.
Future changes
In time, everything will gradually change — from stamps to currency to post boxes — to reflect the King's reign.
The National Anthem reverts to 'God Save the King'.
Printers will enjoy rapid custom as Queen's Counsels (QCs) are now King's Counsels (KCs). They are a set of barristers and solicitors whom the monarch appoints to be a part of the Monarch's Counsel learned in the law.
The Telegraph has more:
Current banknotes featuring a portrait of the Queen will continue to be legal tender, the Bank of England has reassured consumers. A further announcement regarding notes will be made once the period of mourning has been observed following the Queen's death. The Queen was the first monarch to feature on Bank of England banknotes, Threadneedle Street said …
Coins featuring the new King will show him facing to the left. Elizabeth II's effigy faces to the right. It is a tradition from the 17th century to alternate the way successive monarchs are facing. New coins and notes will need to be designed and minted or printed, but are not likely to appear in general circulation for some time. The Royal Mint advisory committee needs to send recommendations for new coins to the Chancellor and obtain royal approval. Designs are then chosen and the final choices approved by the Chancellor and then the King. The Queen's coins did not appear until 1953 – the year after her accession. Elizabeth II's coins are expected to stay in use until they are gradually replaced.
Any new post boxes could feature the new King's cypher. At the start of the Queen's reign in 1952, there were objections in Scotland to her being styled Elizabeth II because the Tudor queen Elizabeth I was never a queen of Scotland. A Post Office pillar box in Edinburgh bearing the ERII cypher was defaced and later blown up. Its replacement was left blank.
The new King will at some stage feature on British stamps, and others around the Commonwealth. He may have already sat for such sculptures or portraits, and he will again have to approve the designs. For her first stamps as monarch, the Queen was photographed by Dorothy Wilding three weeks after acceding to the throne and again around two months later, finally approving the image in May 1952. This portrait from 1952 was replaced in 1967 by the famous sculptured head by Arnold Machin, accompanied by the tiny cameo silhouette of the Queen …
The former Prince of Wales no longer needs his own passport, but for the rest of the UK passports will be issued in his name. The wording in new passports will be changed at some point. Her Majesty's Passport Office will become His Majesty's Passport Office, as is the case with HM Armed Forces and HM Prison Service. Face-to-face, Charles will be Your Majesty rather than Your Royal Highness on first meeting, and Sir on second reference, instead of Ma'am – to rhyme with "lamb" – which was used on second reference to Elizabeth II.
The new monarch will need a new Royal Cypher – the monogram impressed upon royal and state documents.
The Queen's ERII features on traditional police helmets and postboxes. While English queens use the St Edward's crown, or a variant of it, kings traditionally use the more rounded Tudor crown.
Military medals, such as operational ones and long service commendations featuring the Queen's effigy, will need to be altered.
The royal coat of arms, adopted at the start of Queen Victoria's reign in 1837, will remain the same. But just as when the Queen became monarch, it is likely that new artwork will be issued early in Charles's reign by the College of Arms for use by public service bodies such as the civil service and the armed forces. The "very light rebranding" will be hard to spot, but it signifies the opportunity to replace old images, which have been in use for many decades, with newer differently stylised ones. The Duke of Cambridge will be given an updated coat of arms when he is made the Prince of Wales – a title which he does not inherit automatically.
Charles will need a new personal flag as King. In 1960, the Queen adopted a personal flag – a gold E with the royal crown surrounded by a chaplet of roses on a blue background – to be flown on any building, ship, car or aircraft in which she was staying or travelling. It was often used when she visited Commonwealth countries. While the Royal Standard represents the Sovereign and the United Kingdom, the Queen's own flag was personal to her alone and could be flown by no-one other than the Queen.
Conclusion
Gosh, what a week it has been.
My late mother said that something is always happening in the news here. She was not wrong.
I plan to wrap up my Platinum Jubilee posts on the Queen during the mourning period. Tune in next week.
The Conservative Party leadership contest hustings ended in London's Wembley Arena on Wednesday, August 31.
Did it last too long? We think so only because we are having a cost of living crisis with more Project Fear pumped into our brains every day. Critics should remember that Parliament is in summer recess anyway. If things were normal with the economy, crime levels and the NHS, we wouldn't have minded so much.
Remember, if this had been a Labour leadership contest, no one would have moaned. The media would have bent over backwards justifying it.
What I do mind, however, is that Parliament will be meeting only for a short time in September then adjourning so that the Conservatives, Labour and the Lib Dems can scuttle off to their respective Party conferences. Surely, parliamentary business can continue in the Chamber during September. Not every MP needs to be at a conference every day. Most of them are held on weekends, and Parliament does not meet on Fridays, so there is no reason why the Commons cannot meet during September.
Back to the hustings.
London
I'll start with the last one in London, which was excellent:
Nick Ferrari, the host of the morning show on LBC (radio), was the moderator.
The sound quality was good as was the music. It was highly professional and everyone looked as if they enjoyed being there.
The Conservative audience was diverse: all ethnic groups and all age groups. There were even a few hipsters present.
The first hour was not filmed. Author, national wit, Celebrity Gogglebox star and former Conservative MP Gyles Brandreth, 74, opened proceedings. I wish I could have seen him. Amazingly, he broke his elbow the day before in Fife, Scotland, but still showed up at Wembley Arena the next day.
In the video, Nick Ferrari comes on at 4:13 to introduce the format, which is consistent with the other Conservative Party hustings. 
At this point in the contest, Liz Truss was seen by pollsters and bookmakers to be way ahead of Rishi Sunak, so the introductory theme was one of unity, meaning: no hard feelings, folks, our next job is to defeat Keir Starmer's Labour.
That is the message Iain Duncan Smith MP gave in his endorsement for Liz Truss (6:09), reminding the audience that:
she cut her political teeth in London.
Greenwich, to be precise.
Liz Truss's campaign video followed (13:41), then she appeared on stage, coming out like a winner and invoking the England Lionesses' ladies football win at the Euros, talking about an 'aspiration nation' and pronouncing London:
the greatest city on earth.
After Liz finished her speech, Michael Gove was next (26:08). He endorsed Rishi.
Gove also spoke about unity and had kind — penitential? — words for Boris, which met with a resounding wall of applause. He thanked Boris for 'the biggest vaccine rollout in Europe' and for being the first to support Ukraine at the end of February:
Boris, thank you for your service.
Rishi rushed on to the stage after his cringeworthy Underdog campaign video played (34:44).
The crowd went wild with cries of 'Rishi, Rishi' (36:00). His parents were in the audience and the cameras got several shots of them when their son was on stage. They sat between Rishi's wife and Michael Gove.
He said:
We value who you are not what you are.
He paid Liz credit for being:
a proud and passionate Conservative.
In his speech, he mentioned tackling the decades-old problem of grooming gangs and said he would get to grips with public safety and illegal migration.
Then it was time for Liz to answer Nick Ferrari's and the audience's questions (51:33).
Afterwards came Rishi's turn (1:25:00).
Andrew Stephenson, the co-chairman of the Conservative Party closed proceedings (1:58:26) and asked the two candidates back on stage for a final momentary appearance.
With that, the 12th and final hustings came to a close.
The Telegraph has a good recap. Emphases mine below.
Liz has had a good campaign:
… the past seven weeks have seen momentum firmly swing towards Liz Truss, and it would be a major political shock if Mr Sunak were be unveiled as the next prime minister on Monday.
Polling suggests the Foreign Secretary has a lead of around 30 points among Tory members, who have been drawn to her promises to immediately cut taxes and instigate radical economic reform.
By and large, she has also been better received at the hustings events that have taken place around the country, routinely winning applause for her positions on National Insurance, fracking and transgender issues.
Around 6,000 Conservative Party members attended the London hustings and heard Gyles Brandreth's introduction:
Gyles Brandreth, the broadcaster and former Tory MP whose arm is in a sling, has just given a speech to the Wembley Arena crowd.
"How exciting it is that two people who are intelligent, committed, capable, passionate about their country are actually ready to give service," he said.
"So whatever the result is it's going to be a great result for the United Kingdom. And whatever the result is at the end of this election, we are going to come together and support whoever the victor is to the hilt! No question of that."
He closed with a poem:
From quiet homes and first beginning
Out to the undiscovered ends,
There's nothing worth the wear of winning
But laughter and the love of friends.
Peter Booth, the chairman of the National Convention, appeared next, giving the audience guidelines on asking their questions.
The video misses out a lone protester, angry about energy charges:
A protester has just run in front of the stage – a man in a dark suit holding a sign that said dontpay.uk, writes Tony Diver, our Whitehall Correspondent, from Wembley Arena.
He was escorted out immediately by two security guards as he ran in front of cameras.
Liz put a lot of blame for London's woes on Mayor Sadiq Khan's shoulders:
Liz Truss tells the hustings it is impossible for Britain to succeed with London but it has been "let down by Sadiq Khan".
"Sadiq Khan is anti-everything – he's anti-car, he's anti-business, he's anti-opportunity and he is holding London back. And I don't believe those people who say London is a Labour city. No, it is not. London is a city where people opportunities and they want to get on in life.
"And that's what we can deliver, and we can make London Conservative again."
Sound familiar?
Nationally:
Ms Truss warns we all face dark times, vowing to reverse National Insurance and impose a moratorium on the green levy, while keeping corporation tax low.
These are her pledges:
I would be honoured to be your prime minister, first of all to deliver for the United Kingdom, to deliver an election victory for the Conservatives in 2024, and to make London a Conservative city again.
The applause for Rishi was greater than it was for Liz:
The cheers in the room are significantly louder and longer for Rishi than Liz. Audience members are on their feet and chanting his name, writes Tony Diver, our Whitehall Correspondent.
"Thank you! Thank you, Wembley!" Mr Sunak responds, after entering to The Weeknd's Blinding Lights.
He pledged an ethical approach, if elected:
He promises to lead an administration "with integrity and decency at the heart of everything we do".
Nick Ferrari tried to box Liz into a corner over domestic issues. She ably answered:
I'm the Foreign Secretary and my job is to focus on key foreign affairs issues.
She pledged that there would be no new taxes in her Government.
She also ruled out energy rationing.
She said that she would not refurbish the Downing Street flat:
Liz Truss responds that as a Yorkshirewoman, she believes in "value for money and not buying new things if you've got things that are perfectly good to use".
"I don't think I'm going to have time to think about the wallpaper or the flooring."
The papers largely picked up on her possible moratorium for 'smart motorways', those without a hard shoulder for emergencies:
Asked if she will restore hard shoulders to motorways and change speed limits from mandatory to advisory, Ms Truss replies: "I absolutely think that we need to review them and stop them if they are not working as soon as possible.
"And all the evidence I have suggests they're not working. We need to be prepared to look at that. I do believe that the smart motorways experiment hasn't worked."
Rishi defended his windfall tax, which the big companies can avoid if they prove they will invest more in the UK:
We've got it in place, but as I said in the situation that we're in it was the right thing to do, and I'm glad I did it, to be honest.
He also said that his plan to tackle inflation was the correct one:
I can guarantee that it will fall far faster with my plan than it will with anyone else's.
He, too, criticised Sadiq Khan:
Crime has become "intolerable" in London, adds Rishi Sunak, and "the first thing we need to do is hold to account Sadiq Khan for his failings".
"If you are prepared as a Mayor to do the right things… For example, stop and search. It's an effective policing tactic".
Unlike Liz, who was relieved not to have to stand up for audience questions, Rishi stood up and worked the stage.
He brought up ethics again:
In a sentence, does he think Boris Johnson was hard done by? "When it comes to those ethical issues, we can't be on the wrong side of them. We need to set a clear direction from the top, I would reappoint an ethics adviser because it sends a strong signal from the top."
The Telegraph's article ends with:
Liz Truss seems like a dead cert to become prime minister on Tuesday, and elements of Rishi Sunak's comments tonight shied away from the personal attacks that have characterised this bitter blue-on-blue campaign to lavish praise on his rival.
The cheers and chants at Wembley Arena tonight – far louder for Mr Sunak than the Foreign Secretary – told a different story from the grassroots polling, which suggests she has a lead of around 30 percentage points …
Boris Johnson's successor is likely to find themselves facing even greater challenges, and must also unite a party fractured by weeks of public division and disagreement.
Veteran political sketch writer Quentin Letts had this to say in The Times:
Surveying a throbbing crowd of 7,000 Tory activists, Sunak gasped "thank you!" nine times, the stage lights bouncing blindingly off his grinning ivories. He strode the large stage like an American presidential candidate and, for a man who must have seen predictions that he will be slaughtered when the result is announced on Monday, maintained an amazing level of pitch and thrust.
He even had an emotive card up his sleeve when he announced that his "two people who inspired me to go into public service are actually here tonight — my mum and dad". Jolly proud they looked, too. Rishi thanked his "loving, kind wife — you know what you mean to me, you chose to give up your high heels and take a chance on the short kid with a backpack". The crowd, audibly more pro-Sunak than some of the regional hustings, shouted: "Reeshi! Reeshi!"
Truss entered to strains of Taylor Swift's Change but her tactics for the evening were more cautious, playing down the clock. She was less sprightly in the opening spiels but came to life more in the questions that followed. In her opening remarks she pushed her voice hard, making it sound more strident and bunged-up. A reply to a question on Israel flew off the bat and had a Sunak supporter clapping hard. She also dealt firmly with some fluff about what sort of limousine she wanted and how she might decorate the No 10 flat. Where her campaign has succeeded with Tory activists has been in its simplicity: the basic message, whacked time and again, of lower taxes and a smaller state.
And so the campaign ends. What a festival for SW1 wonks it has been, allowing for oodles of analysis and fake crossness. The rest of the country, enjoying (lucky devils) their August, has possibly taken less notice of the contest. Sunak, smoother, more fluent, more the establishment's idea of a PM, started it as favourite. He ended last night by replaying that dreadful tough-Cockney video film about him being the underdog …
The Wembley crowd's questions were about smart motorways and advisory speed limits …, trans rights, gas prices for companies, corporate tax dodging, Ukraine, childcare costs, property prices and, commendably, the future of West End theatre.
Like Quentin Letts, I haven't gone into too many policy proposals because whoever gets in will be hit hard with reality.
There is an illusion that Party members of any stripe are being let into an honest discussion about what they want to see in a new Government. I do not believe this is what actually happens:
As evidence, let's cast our minds back to July 2019 and Boris Johnson's campaign.
He was going to ask the Queen if she wanted a new yacht to replace Britannia, which is now moored as a museum:
He also said that Sadiq Khan needed to go. Khan was re-elected in 2021. The Conservatives, for whatever reason, gave no support to their candidate Shaun Bailey. I cannot fathom why not, since Boris was Khan's predecessor. Shaun Bailey is a level-headed Conservative.
This is from the July 18, 2019 edition of The Express. Note the mention of housing and accompanying infrastructure, too. None of this happened, perhaps because of the pandemic. Even so, it shows how empty campaign promises are:
The Tory frontrunner savaged Mr Khan out of nowhere, branding him "useless" and "invertebrate" and "not a patch on the old guy." The onslaught was woven into Mr Johnson's wider solution to a question that had been posed on monocultural housing policies. A member of the audience asked the former London Mayor: "How will you ensure the Government's housing policies don't lend themselves into creating ethnic categories inadvertently?"
Without hesitation, Mr Johnson blasted: "You build fantastic housing in the right place.
"And you put in superb transport infrastructure so you can create mixed communities where there are high quality jobs.
"And if you look at the disasters of planning in the '60s and '70s where monocultural estates were built, it's because there simply wasn't the transport infrastructure.
"Look around London and look at the estates outside London – you can see exactly what went wrong."
That said, in the end, Boris did deliver on these pledges:
Other hustings
I purposely didn't cover half the hustings in separate posts, leaving off with the August 11 one in Cheltenham.
A summary of the others follows.
Perth
The next one took place in Perth, Scotland, on August 16. It was unfortunate that pro-independence supporters ruined it with verbally violent posters, throwing eggs and by spitting on older Scottish Conservative members. The SNP denied any involvement.
The Mail had a summary of what the candidates said:
Liz Truss tonight vowed to 'never, ever let our family be split up' as the Tory leadership frontrunner insisted she would not allow another Scottish independence referendum if she becomes prime minister.
Speaking at the latest Conservative hustings event in Perth, the Foreign Secretary promised to battle Nicola Sturgeon's 'agenda of separatism' as she condemned the First Minister and her SNP government for having 'let down' Scottish voters.
Ms Truss accused the SNP of ignoring issues such as schools, hospitals and public transport as they chase another Scottish independence referendum.
Her rival for the Tory leadership, Rishi Sunak, also used tonight's hustings to take a swipe at Ms Sturgeon, as he vowed to 'call out' the Scottish Government's record on drug and alcohol abuse.
He claimed it was 'completely barmy' for the SNP to be agitating for a 'divisive and unecessary constitutional referendum' amid the cost-of-living crisis. 
Ms Truss and Mr Sunak addressed Tory members inside Perth Concert Hall after reports of ugly scenes outside the hustings venue earlier in the evening.
Conservative Party co-chair Andrew Stephenson demanded Ms Sturgeon 'unequivocally condemn' the 'vile behaviour' of Scottish independence campaigners.
Belfast
The candidates converged on Belfast the next day, Wednesday, August 17:
I felt very sorry for the Northern Ireland Conservatives gathered there. The party only has 300 members, and they have no voice in Westminster.
A clear disconnect emerged between the candidates and the Party members. Everyone looked uncomfortable.
For that reason, this hustings is well worth watching.
It became apparent that neither Liz nor Rishi understands the Conservative Northern Ireland mindset. I'm no expert, but even I could have dealt with some of those issues better than they did.
The moment that sticks in my mind was when someone asked why Westminster is foisting abortion clinics on Northern Ireland. Liz matter-of-factly — and rather coldly — responded that the rest of the UK has them, so Northern Ireland has to have them, too.
Abortion is far from being the norm there, and, as Northern Ireland has a devolved government, it should have been their decision, not Parliament's.
Madeline Grant summarised the disconnect in The Telegraph:
Some English Conservatives might be surprised to learn of the existence of their fellow party members across the Irish Sea, let alone that they had a vote in the leadership contest. Yet seatless and marooned from CCHQ – and perhaps because of this – Ulster Tories are the ultimate Tories. This wasn't your average Home Counties cakewalk, there were questions on more intractable subjects than you'd get elsewhere – abortion, China, the perils of a cashless society. Some of the questioners began with a little intro about how long they'd been party members, reminiscent of Alcoholics Anonymous.
A flamboyant chap in a maroon vest had made a journey almost as ponderous as Truss's own political leap from Lib Dem republican to Tory monarchist – he'd moved to South Antrim after heading up 'Conservatives Abroad' in South Korea. Making a similarly unexplained leap, he proceeded to compare the fight against abortion in Northern Ireland to Britain's fight against the slave trade in the 19th century. Would Liz "be a modern day William Wilberforce, and end abortion and infanticide in Northern Ireland?" he asked. Truss politely declined to take up the mantle.
Unlike Madeline Grant, I did not find the Belfast hustings amusing in the slightest. It was the saddest one of the lot.
Verdict: Must do better.
Manchester
On Friday, August 19, our candidates were back on the mainland for the hustings in Manchester, which Alastair Stewart from GB News moderated (start at 6:30):
Alastair Stewart is a television veteran and knows what questions to ask:
He won high praise from Liz:
Rishi's campaign team launched his second campaign film, The Underdog, at this hustings. It was so awful, I wanted to slip through the floor in embarrassment for him.
He told his family story and said that Conservative values were 'patriotism, family, service, hard work':
He turned defensive (again) when he told Stewart that he was winning the war on inflation and being responsible with borrowing:
He told an audience member, 'We're standing up to Russian aggression':
Liz said that the police must fight crime, not patrol tweets:
She also said that left-wing politics dominates today's socio-political debates:
Rishi, too, was tired of leftist dominance — and Manchester's mayor, former Labour MP Andy Burnham. GB News reported:
Rishi Sunak has vowed to take on the "lefty woke culture that seems to want to cancel our history, our values and our women."
… Speaking to the audience, Mr Sunak pledged to "restore trust by delivering on the things that matter to people".
He continued: "That's why I've set out a plan to finally start reforming the NHS so that we can talk less about how much money we can put into it and more in the healthcare that we want to get out of it.
"It's why I want to take on this lefty woke culture that seems to want to cancel our history, our values and our women.
"And it's why we need to restore trust of communities right here by calling out the failures of the Labour mayor Andy Burnham because it simply isn't good enough.
"Just look at the record, a police force that was put into special measures, the highest rates of knife crimes almost across the UK."
He also talked about illegal migration, details of which are available on his website:
"… I've set out a radical plan to finally get to grips with illegal migration.
"Because for too long we've turned on our TV screens and seen the scenes of people coming here on boats illegally and it is wrong."
His comments come days after the number of migrants to have crossed the Channel so far this year passed 21,000.
Another GB News article about the hustings has more:
He said: "I want to move away from the European definition of what an asylum seeker is, because it is too broad and it gets exploited by lefty lawyers.
"When people shouldn't be here we must be able to send them back, it's as simple as that.
Was the next bit a dig at Liz, our Foreign Secretary and former Secretary of State for International Trade?
"We've got to toughen up our foreign policy. At the moment we have a situation, I found it bonkers, we will go to a country, we'll talk to them about a trade deal we want to do with them, but also potentially be giving them actual foreign aid.
"But at the same time we don't say to them 'hang on, you need to take back your failed asylum seekers', that's clearly wrong."
Liz also had something to say about illegal immigration:
Promoting the much maligned Rwanda policy, which saw its first planned flight grounded on the tarmac, Ms Truss vowed to expand the scheme to other countries if she was elected as Prime Minister.
She said: "What we need to find is a permanent home for those people.
"The way to solve this issue is to find a way of making sure there is a long term home for people who are involved in illegal immigration.
"The real issue is at present people are able to get on the phone to their lawyers when they get on a plane and evade being sent to Rwanda and that is the issue we have to fix, that is about the ECHR."
The candidates are not miles apart.
Liz also discussed her vision for the North:
What I want to see is a successful north of England where everyone has opportunities and we link up the great cities of the north.
From Liverpool to Manchester to Leeds and beyond and also of course Bradford.
And that's why I want to build Northern Powerhouse rail and I want those opportunities to be powered by enterprise and business unleashing investment right across the country.
I want us to make the M62 the superhighway to success.
Unfortunately for Rishi, his attempts at being a man of the people failed, as the Mail reported:
Asked at the hustings event how, as a Southampton football club fan, he could get back to 'winning ways' in the battle to become Boris Johnson's replacement, Mr Sunak attempted to make light of his woes.
But his effort at friendly banter with the Manchester audience saw him blunder in his football knowledge.
'I'm going to be unpopular for saying it here – starting by beating United this weekend!,' Mr Sunak told the event.
It was quickly noted how Southampton are not due to play Manchester United until 27th August and would, in fact, be playing Leicester City this weekend.
Mr Sunak's own goal came just two days after he was mocked for claiming to always enjoy a McDonald's breakfast wrap when out with his daughters – despite the item having not been on sale since March 2020.
Yet, the former chancellor's campaign was handed a boost tonight when Michael Gove backed him to be the next Conservative leader.
Mr Gove, the former Levelling Up secretary who was sacked by Mr Johnson last month, accused Ms Truss of taking a 'holiday from reality' with her vow to tackle the cost-of-living crisis by prioritising tax cuts.
Birmingham
On August 23, Times Radio's John Pienaar, formerly of the BBC, moderated the hustings in Birmingham, the UK's second largest city:
Chancellor Nadhim Zahawi went on stage to endorse Liz.
Liz then went on stage (5:36) and embraced him to big applause and cheers from the audience.
Andrew Mitchell followed her by announcing his support for Rishi (16:34). Rishi's newer campaign film, The Underdog, was played.
Rishi then pledged to continue levelling up the Midlands, as he has been doing (21:47).
Of his speech, Pienaar said (33:01):
That was punchy!
Someone in the audience booed when Liz took to the stage for her Q&A (33:49).
Pienaar gave her a hard time in the beginning, but she got a huge round of applause from the audience. 
Recall that The Times came out for Rishi almost immediately in July.
However, Rishi also had his beefs with Pienaar. He looked irritated (yet again) and said (1:06:00):
John, you're acting as if this is already over.
He went on to explain how well his furlough programme worked during the pandemic (1:18:00).
On the subject of Scottish independence, he said that nationalism (1:34:00):
is a romantic ideal.
Then he complained:
There's not been a single question about tax!
He then expanded on corporation tax and the largest companies. He became really agitated in an oddly friendly way.
This tells us tax is his main consideration, nothing else, no matter what he says.
The man is a technocrat.
Guido Fawkes had an excellent round up of sound bites, starting with Liz (emphases his):
If you want a flavour of the current state of Tory hustings, last night in Birmingham Liz Truss came out with the following two statements within 60 seconds of each other: "I'm not a massive fan of mice", and asked how she'd feel in the event of having to launch a nuclear weapons strike, "I think it's an important duty of the PM and I'm ready to do that." A casually blasé statement committing the UK to potential nuclear armageddon…
Also:
Suggesting she won't replace the government ethics adviser, saying: "The PM needs to take responsibility – you cannot outsource ethics to an adviser"
Suggesting she would redirect this year's £12 billion extra funding for the NHS into social care
Asked why she cut funds to the Environment agency as DEFRA secretary she said "I think there's a way with the way utilities are regulated. We were one of the first countries to regulate and privatise utilities but the world has moved on since then… some of those regulators get mission creep, they don't necessarily keep the market as properly as they should. I certainly think it's the case that water companies need to be better are stopping leaks, I think they should be better at dealing with pollution and we need to sort that out." Sounds a lot like Guido's story last Friday that she believes in a single utilities regulator…
As for Rishi:
Rishi's answers last night were less alarming albeit equally newsworthy. Primarily, he refused to commit to voting for Liz's proposed emergency budget should he lose, saying it is a hypothetical question. He reiterated his belief that her tax cut plans will result in "millions of people facing destitution." …
Rishi suggested UK aid programmes should be cut in countries that refuse to accept deportations of "failed asylum seekers" from Britain.
Rishi spoke movingly of yesterday's horrific shooting of a nine-year-old in Liverpool, saying he reacted by calling his wife, and daughter who is the same age as the victim. Rishi says the government needs to finish the Tories' 2019 policy of recruiting 20,000 policemen.
Let's go to the Rishi-supporting Times for their journalists' verdicts.
Daniel Finkelstein said:
Liz Truss is far better speaking without notes and, having delivered the same remarks over and over, she no longer needs them. Both her opening remarks and her answers to what will have been familiar questions were much better than in the early stages of the campaign. There were even flashes of the humour she shows in private …
But, however good Truss may now be, she still trails Sunak, who is just a better performer. Particularly in his answers, he was fluent, tough and compelling. His opening comments about the flaws in the Truss plan — suggesting it would leave many people destitute — were particularly arresting.
… Whoever wins, their policies have to appeal to those who are not Conservatives and need to actually work.
Winner: Rishi Sunak
Katy Balls said:
The state of the Tory leadership contest can be summed up in the video that welcomed Rishi Sunak to the stage. Last week, his team changed it from the montage played in the earlier hustings. It now has a Ray Winstone-style gangster voice boom that the former chancellor is the underdog — and the country loves an underdog. It points to Sunak's dilemma: if the polls are correct, only something drastic can change the state of play.
Although he was well received in the hall, with some of the loudest cheers, it's hard to pinpoint a "change moment" from the display. He again depicted himself as the only candidate willing to tell people hard truths about the economy. He tried again to invoke the spirit of Thatcher by pointing out that many of those who had worked with the late prime minister were backing his plan …
It helped Truss that she focused on her own plans. She came across as confident and assured. This also played well to a party growing tired of blue-on-blue. As the frontrunner, she needs only to hold the line — and she did that.
Winner: Liz Truss
Patrick Maguire said that both won but in different ways:
So how did Truss fare? As a rubber-chicken circuit speaker, just fine. They loved the answers on grammar schools, wokery and nukes. But as a prospective PM? On the biggest question — what to do about rampant inflation and crippling energy costs — Truss was revealingly unrevealing. Cagey, even. Asked how pensioners and the poor would be shielded from the coming storm, she said only that she would "look at" helping them. How to fund social care once Sunak's £13 billion national insurance hike is scrapped? "General taxation." Her cure for the mouse infestation in the Commons — "more cats" — was more detailed and offered with a good deal more enthusiasm.
Sunak attacked her economics with the kamikaze self-confidence that is likelier than not to lose him this race. It's telling. He is as sure as Ted Heath was that he will, in time, be vindicated by his rival's demise. Sunak is embracing the inevitable. Has Truss? She sounded as if she could not admit to herself — let alone the country — that compromise is coming.
Winner: on the clapometer, Truss. But Sunak won the argument.
Norwich
On Thursday, August 25, talkRADIO's Julia Hartley-Brewer moderated the TalkTV hustings in Norwich in East Anglia.
Hartley-Brewer had a great set of questions for the candidates. One wonders if some came from her and TalkTV's listeners:
While she was preparing her questions, Guido says that some Conservative MPs were annoyed with Rishi:
Allies of Liz's have slammed Rishi over his "scorched earth" policy, saying it risks destroying chances of bringing the party back together again when the contest is over. They accuse him of "behaving like a wounded stoat" and "framing us as Tory scum" over the course of the campaign. Given he said the likely next PM's plans would lead to mass homelessness, they're arguably correct…
Guido also included a photo of Rishi at his mother's former pharmacy in Southampton. Stefan Rousseau is an incomparable photographer:
His mother was a chemist you know…
I just checked Rousseau's Twitter feed, and here's the exterior of the pharmacy:
The Telegraph had a running commentary on the candidates' day and the hustings.
This was the day after Rishi's criticism of coronavirus policy appeared in The Spectator:
He had more difficulties when he went on BBC Radio 4's The World at One:
On whether he will quit if he loses the leadership vote, Mr Sunak told BBC Radio 4's World at One earlier today: "Absolutely not. Of course not.
"And I would dispute the characterisation. I'm working incredibly hard going around the country talking about my ideas for the future, and actually having a very positive reception where I'm going, and I think there's everything left to play for.
"There's still weeks to run in this campaign, and that's why I'm continuing to give it everything I've got."
Meanwhile, Liz visited a food manufacturing plant:
Liz Truss has been out and about in Norwich today, visiting Condimentum Ltd at the Food Enterprise Park in Norwich. 
Ms Truss told reporters at the factory near the Norfolk city that tax cuts and boosting energy supply were the key to addressing the cost-of-living crunch.
I think they make Colman's Mustard there.
Now on to the hustings.
The co-chairman of the Conservative Party defended the length of the leadership campaign:
Andrew Stephenson, chairman of the Conservative Party, addresses the Norwich audience. He defends the leadership contest amid criticism that it has dragged on for too long. 
Health Secretary Steve Barclay came out in support of Rishi.
Rishi said that levelling up is for all corners of the UK:
Levelling up is not just about big cities and the north – it is for everyone, including right here in east Anglia, he says and receives a round of applause.
Work and Pensions Secretary Therese Coffey declared her support for Liz:
She ends her introduction by saying: "Back Liz for leader, you can trust her to deliver."
As Liz, the MP for South West Norfolk, was on home turf, she got a standing ovation:
Huge applause and a standing ovation for Liz Truss as she takes the stage, who is the MP for South West Norfolk so this is very much home turf for her. 
"We have travelled around the entire United Kingdon but there is nothing better than being back in my adopted county of Norfolk," she says, and the audience break out into applause once again.
Rishi had to answer a question about lockdown:
Rishi Sunak defends his interview in the Spectator, saying one of the most "tragic" aspects of lockdown was the damage to children of school closures. 
He said it is always important to have an honest discussion about "trade-offs", adding: "If something sounds too good to be true it probably is".
Hartley-Brewer presented each candidate with the same series of quick-fire questions.
These were Rishi's answers:
Can you name a single public service that works well? The furlough scheme.
Macron, friend or foe? Friend
Mask mandates or no mask mandates? No mask mandates
Is a trans woman a woman? No
Who would you rather be stuck in a lift with, Keir Starmer or Nicola Sturgeon? Take the stairs
If not you, who would be a better PM, Boris Johnson or Liz Truss? Liz Truss
Hartley-Brewer had to get tough with a heckler:
Rishi Sunak is heckled by an audience member and Julia Hartley-Brewer intervenes telling him to "Sit down, Sir!"
Meanwhile another audience member asks about housing supply. Rishi Sunak says we need to overcome our aversion to "flat pack" housing.
He says he wants to help young people get on the housing ladder much faster by "turbo-charging" a scheme that allows first time buyers to purchase a home with a small deposit.
I can't believe he still peddles his daughters' concern for the environment when he's just had a full-size swimming pool installed at his home. Egregious:
Rishi Sunak tells the audience that the only thing his daughters ask him about is: "Daddy, what are you going to do for the environment?"
Then it was Liz's turn.
Hartley-Brewer asked her about lockdown:
I did question lockdown, Liz Truss says. 
"Clearly in retrospect, we did do too much. It was too draconian. I don't think we should have closed schools," she said. "A lot of children have ended up suffering."
She adds: "I can assure you that I would never impose a lockdown if I am selected as PM."
These were Liz's answers to the quick-fire questions:
Name me a single public service that works well: Our education system has got a hell of a lot better in the last ten years. 
Macron, friend or foe? The jury's out. If I become PM I will judge him on deeds not words
Mask mandates or no mask mandates? No mask mandates
Is a trans woman a woman? No
Who would you rather be stuck in a lift with, Keir Starmer or Nicola Sturgeon? I think Nicola Sturgeon. I'd hope to persuade her to stop being a separatist by the time we got to the ground floor.
If not you, who would be a better PM, Boris Johnson or Liz Truss? Boris Johnson
Hartley-Brewer asked her about unisex changing rooms at Marks & Spencer:
"M&S is a shop, they can decide their policies as they see fit," Ms Truss said. "I have been to the bra fitting service in M&S and it is behind a curtain. No one has ever tried to open the curtain while I am in there."
Liz explained why she does not want asylum seekers to work:
The Foreign Secretary says we also have huge numbers of people who are "economically inactive" and it should be our "first port of call" to get those people into work.
The reason why we don't allow asylum seekers to work is because the UK will become "even more of a magnate" for people to travel here illegally, she adds.
Good answer.
Liz reiterated her support for Net Zero.
Media outlets picked up on the candidates' responses to the 'stuck in a lift' question:

Their divergent answers on Emmanuel Macron also made the news.
Liz got both barrels, from Labour and Conservatives alike. The BBC reported:
… she was asked if Mr Macron was a "friend or foe" of the UK at a Tory leadership hustings.
She added that if elected PM she would judge him on "deeds not words".
But Labour's David Lammy accused Ms Truss of "a woeful lack of judgement", saying she had insulted one of "Britain's closest allies".
Ms Truss, widely seen as the clear front-runner to be the next Conservative leader and prime minister, made the remark at the penultimate leadership hustings in Norwich, to loud applause.
Her comment came at the end of the hustings during a series of "quickfire questions" posed by the host, TalkTV's Julia Hartley-Brewer.
When asked the same question Mr Sunak said Mr Macron was a "friend".
One Conservative minister said Ms Truss's comments had "completely undermined our relationship with France", calling her a "faux Thatcher", a reference to the infamously Eurosceptic former Tory prime minister.
In a tweet, former foreign minister Alistair Burt said Ms Truss has made a "serious error" and should have struck a more diplomatic tone.
Former Conservative minister Gavin Barwell also questioned Ms Truss's comment saying: "You would have thought the foreign secretary was aware we are in a military alliance with France."
Guido reported Macron's reaction:
Macron replies to Liz's comments on the French President at last night's husting:
"The United Kingdom is a friendly nation, regardless of its leaders, sometimes in spite of its leaders"
As for the 'better Prime Minister' question, Guido says:
When asked whether Rishi or Boris would be a better PM, Liz emphatically shot back "Boris". Not unsurprising, though rather awkward given Rishi was asked the same question of Liz and graciously chose his opponent…
Conclusion
So, here we are, at long last.
At 12:30 p.m, on Monday, September 5, Sir Graham Brady of the 1922 Committee announced that Liz Truss will be our new Prime Minister. She will meet the Queen at Balmoral on Tuesday, at which point she will form a new Government. More on that later this week.
Liz Truss is our third Party leader in six years.
Conservative MPs must stop the regicide and support her premiership.