You are currently browsing the tag archive for the 'Lord Moylan' tag.
As I need something positive to think about while awaiting Chancellor Jeremy Hunt's awful budget on Thursday, November 17, here is a retrospective on Liz Truss's rise to power, however short-lived.
The Conservative Party leadership campaign dominated the latter half of July and all of August.
By Tuesday, August 16, like the Telegraph's Tim Stanley, I, too, had watched every hustings up to that point.
Who could have guessed that, in an extraordinary turn of events, both she and Rishi Sunak would be in No. 10 within weeks of each other?
Reporting on what happened north of the border in Perth, Stanley wrote:
The hustings had become so repetitive, I know the speeches by rote. Rishi grew up in a pharmacy, Liz sat on a planning committee. My only pleasure has been waiting for the day they cross their wires and Rishi announces he grew up on a planning committee and Liz that she sat on a pharmacy.
But on Tuesday we were in Scotland, so the script was rewritten. Lots of references to whisky, gas and Nicola Sturgeon, who Liz once said we should ignore, so Rishi said: "I don't just want to ignore [her], I want to take her on and beat her!" Big clap for that …
"I grew up in a small business," he said. And the cream for your burn, sir, can be found on the fourth aisle.
Liz did a much better job of showing that she knew she was in Scotland, referencing Adam Smith, JK Rowling and salmon fishing – and reminding us that she understood what poverty was because she grew up in a recession in Paisley in the 1980s (when the Tories were in power) and later in Leeds in the 1990s (ditto). 
In fairness to Liz, she meant local councils, not the Government.
The Mail highlighted the disagreement Liz and Rishi had on taxes:
Miss Truss has pledged to reverse the national insurance hike to help struggling families, but has not ruled out offering further support. But Mr Sunak said the right way to help people with higher energy bills is through direct support.
He told the hustings: 'The tax cuts that Liz is proposing are worth about £1,700 to someone on her income. For someone working very hard on the national living wage, it's worth about a quid a week …'
On Wednesday, August 17, the duo were in Northern Ireland, where, yes, there is a Conservative Party. It has around 600 members. I had no idea.
The Guardian had unearthed an old video of her saying that the British weren't very good workers. The Mail said that she defended her remarks to the press in Northern Ireland:
Pressed by reporters in Northern Ireland today whether she believes British workers are not working hard enough, Ms Truss replied: 'What I believe is that we need more skills in our country, we need more capital investment in our country, we need more opportunity in our country. That is what I would deliver as prime minister …
She added : 'I'm fundamentally on the side of people who work hard, who do the right thing. Those are the people I want back.'
Conservatives did not object to Liz's views (emphases mine):
Despite the furore, Ms Truss was delivered a major boost today with the latest ConservativeHome poll showing she is firmly on track for victory on September 5. She was 60 per cent to 28 per cent ahead of Rishi Sunak in a survey of activists.
The Belfast hustings was the only uncomfortable one of the campaign. It was clear neither candidate had any grasp of Northern Ireland or people's concerns:
The furthest Liz could connect with the small group of Conservative members was to say that she knew that a 'woman is a woman', for which she received applause (somewhere around the 12-minute mark). Near the end of her Q&A, a man expressed concern about abortion, which was foisted on them by Westminster. He asked about the fairness of that, since Northern Ireland has its own Assembly. She bristled at the question and brusquely replied that all the devolved nations had to have the same health policies (somewhere between 32 and 35 minutes in).
Rishi's intro and Q&A followed Liz's.
The London Evening Standard had an excellent report from Rebecca Black following the hustings at the Culloden Hotel on the outskirts of Belfast:
The Brexit protocol, the Stormont Assembly, the health service, abortion, foreign policy and support for the party in Northern Ireland were among the issues raised …
Martin Craigs said he remained undecided after hearing their pitches.
He said he felt their content in terms of Northern Ireland had been "very weak".
"They're sitting on the fence, this isn't the audience they're playing to, the audience they're playing to are the 160,000 Conservative members, and there are very few of them in Northern Ireland, but they obviously have to go to all corners of the UK to be seen to be democratic," he told the PA news agency.
"I might actually not vote at all because I think the performance has been so poor."
Matthew Robinson, chairman of the Northern Ireland Conservatives, welcomed the candidates' visit and paid tribute to the commitment they were showing to the region.
He said he had been holding back on deciding who to vote for, but based on what he heard at the hustings he would back Ms Truss.
"I think she outlined an unwavering commitment to what we do locally here as a political force," he said.
"I'm not just encouraged but excited about what we can achieve together during her hopeful premiership."
David Trimble's widow said that, just before he died, he wanted to make sure he voted for Liz. Lord Trimble had originally been a member of the Ulster Unionist Party (UUP) but became a Conservative in 2007. The following year, a voting alliance was created between the UUP and Conservatives in Northern Ireland.
The Standard reported on Lady Trimble's article in the Telegraph in which she supported Liz. The Stormont Assembly has not been meeting for several months now:
The powersharing structures Lord Trimble helped create in the landmark 1998 agreement are currently in limbo, with the DUP blocking the creation of a governing executive in protest at Brexit's Northern Ireland Protocol.
Lady Trimble wrote: "I believe that in this contest, Liz Truss has the best record and a viable plan to protect our Union and Northern Ireland's integral place within it.
"I know David thought the same.
"One of the last things he did before we lost him was to ask his son to collect his voting papers so he could vote for Liz.
"He was adamant that she was what the country needed and I agree.
"She has already proven her resolve and bravery in the face of opposition to our most valuable asset, and I am confident that my husband's legacy, peace in Northern Ireland, will be safe with her."
Lady Trimble, born Daphne Orr, is an academic who served as a member of the Equality Commission for Northern Ireland and the Northern Ireland Human Rights Commission.
Another article in the Standard showed that Liz understood the difficulty with the post-Brexit Protocol:
The Foreign Secretary also said she would not accept any compromises on a renegotiated Northern Ireland Protocol as prime minister if it meant key UK demands were not met.
She made the comments during a visit to Belfast, where she and Rishi Sunak were quizzed by Tory members during a hustings event.
She told party members that until the Northern Ireland Protocol is sorted, Stormont will not be back up and running.
The Standard's Rebecca Black wrote a separate article on the abortion question:
Abortion laws in the region were liberalised in 2019 in laws passed by Westminster at a time when the power-sharing government at Stormont had collapsed.
During a Conservative Party leadership hustings event at the Culloden Hotel on the outskirts of Belfast, Ms Truss was asked if she would abolish abortion in Northern Ireland, "ending infanticide", or let the people of the region have their say on the issue.
She responded to applause [for the man, not her]: "I'm afraid I don't agree with you.
"We are a United Kingdom and we need all of our laws to apply right across the United Kingdom – that is what being a union is."
Rishi's highlight of the hustings was about Liz's £50 billion black hole:
Rishi Sunak has warned that Tory leadership rival Liz Truss's tax plans would add £50 billion to borrowing while failing to give direct support to the most vulnerable in society, as the cost-of-living crisis deepened.
The former chancellor said the Foreign Secretary would be guilty of "moral failure" if she does not focus on the nation's poorest, and warned her policies could further stoke inflation.
Ms Truss instead insisted "taxes are too high and they are potentially choking off growth", as she promised an emergency budget to tackle the situation.
On Thursday, August 18, the eminently sensible Lord Moylan told GB News that he was voting for Liz because Rishi's economic plans did not make sense:
On Saturday, August 20, Sir John Redwood MP criticised the pro-Rishi media:
Redwood laid out his Thatcherite economic plan for Liz in that day's Telegraph:
Britain's fiscal rules should be ripped up by Liz Truss if she wins the Conservative leadership race, one of her key allies has said.
Sir John Redwood, who served as the head of Margaret Thatcher's Downing Street policy unit and is tipped to return to government if Ms Truss wins, said she should abandon the practice of targeting a set percentage of GDP for national debt and the deficit.
He also called for a review of both the Bank of England and Office for Budget Responsibility (OBR), and suggested the Foreign Secretary should be inspired by Mrs Thatcher in removing utilities and transport from state control.
Since 1997, fiscal rules have been announced by chancellors during Budget statements in an attempt to control government spending.
They usually set a restriction on the proportion of national debt or deficit as a percentage of economic output.
But in an interview with The Telegraph, Sir John said the practice is a hangover from EU fiscal regulation agreed between member states at the Maastricht conference in 1992, and does not encourage economic growth or limit inflation.
"I think having a fiscal rule, which is a variant of state debt as a percentage of GDP, and the public deficit as a percentage of GDP in any given year, is not really the right couple of rules for the two targets you're trying to meet," he said.
The Tory backbencher said ministers should maintain "sensible controls over growth in public spending and in public debt" by instead monitoring the amount of money paid by the Treasury to lenders in interest payments.
In a coded rebuke to Rishi Sunak, who was the chancellor until last month, he added: "You have to elect governments that take controlling public finances seriously, and they then have to take them seriously.
"If you have a government that doesn't take controlling public finances seriously, it won't matter what your fiscal rules say, as we know from recent past experience," he said.
Sir John is expected to be appointed as a Treasury minister in Ms Truss's government and is understood to have helped shape her thinking on economic issues during the campaign …
Sir John said he had not had "any discussions" with Ms Truss about taking a role if she wins the contest, but told The Telegraph he would accept a job if he was offered one.
The Times also thought that Liz would give Redwood a role. One campaign source said:
"There are a lot of crumpled up bits of paper. I've been in three meetings about the cabinet and it keeps changing."
Among the names on the pieces of paper: Iain Duncan Smith, who is heading back to cabinet, and John Redwood, who was last a minister 27 years ago and is earmarked for a junior Treasury post.
This weekend Truss will take a team of her senior aides to Chevening, the grace and favour home in Kent which she enjoys as foreign secretary, with the aim of getting people and policies more firmly nailed down.
In the past few days she has repeatedly told her team "no complacency". As an ally puts it more prosaically: "No f***-ups, basically."
Sadly, Liz never offered Redwood a role. If she had, she might still be Prime Minister today.
The Times was also wrong about Iain Duncan Smith, who was not part of Liz's Cabinet, either.
Also on August 20, the Mail's Dan Hodges wrote that Rishi's campaign was effectively over because of his mansplaining:
It was the moment Rishi Sunak's leadership campaign started to unravel. Actually, it was one of 20 moments. 'Please let me respond,' Liz Truss chided, as her opponent butted in during their first head- to-head TV debate. 'Absolutely, let Liz Truss respond,' the BBC's moderator Sophie Raworth was forced to interject.
Sunak didn't. Time and again he talked over his rival, interrupting and silencing her. It was a strategy his team seemed to think would put Truss on the defensive.
They were wrong …
… the damage was done. Sunak was branded a 'Mansplainer'.
To some, this episode provided further evidence of Sunak's poor political tradecraft. But he'd actually fallen into a well-prepared trap.
'We were ready for him!' one Truss campaign ally told me. 'For years, Liz has been patronised by men who are a bit full of themselves. She's not going to just stand there and take it.'
In 15 days' time, Britain will have our third woman Prime Minister. And unlike her predecessors, Liz Truss isn't going to be shy of reminding people of it.
Let us recall that only the Conservatives have had female Party leaders, all of whom were Prime Minister.
By contrast, Labour have yet to elect a woman leader.
On August 21, The Sunday Times told us what Labour-to-Conservative voters in Oldham thought of the two candidates:
If Rishi Sunak (the ferret) and Liz Truss (the budgie) had put a glass to the wall of the room in Oldham where ten swing voters gathered by Public First, all of whom voted Conservative in the last general election, were sharing their impressions of the Tory leadership hopefuls, they would have blushed. But mostly not with pride.
They had been asked to say which animal, item of clothing or single word would best describe each of the candidates (Truss was also a "bunny rabbit", for the record). As someone who has posed for photos atop a tank and astride a motorbike during her cabinet career, she might have been surprised to hear herself described as "mumsy", "dull as dishwater", a "cardigan", "Jemima Puddle-Duck" and, possibly worst of all, an "unknown".
Sunak would have heard that he was a "suit" a "backstabber" and a "traitor" (to Boris Johnson, that is) and he would have certainly regretted wearing a pair of £490 suede Prada shoes to visit a Teesside building site as he did last month. This did not go down well at all with many of these C2DE (aka working class) voters. It suggested, said Rachel, 33, a bar worker, that he was so rich he had "no respect for money"; after all a building site, she said, is going to be messy. She said "quite a lot of people were upset" by it, especially those struggling to make ends meet. "I certainly couldn't afford to buy a £500 pair of shoes," she said.
Matthew, 40, who works in the oil trade, asked how Sunak could possibly relate to low-wage people. The group wondered what his PR advisers were thinking, allowing it to happen. It was quite simple, said Mandy, an educator in a prison: "If you are going to an area where . . . people are on the minimum wage, don't wear £500 shoes."
But there was happier news for Sunak when it came to which of the two leadership candidates they preferred. Five chose Sunak, compared with three for Truss while two didn't know, though by the end of the discussion a couple had changed to "don't know".
Sunak, according to those who picked him, had a higher profile due to the furlough scheme during lockdown. Jodie, 33, a school administrator, said she associated him with helping people during that period. "I had never heard of Liz Truss before this race, but Rishi Sunak . . . we've seen him in action. He's helped out, like, working class people."
Mandy, however, who chose Truss, said the foreign secretary had been growing as a force in the "background" for some time now. She mentioned the "scandals" involving Sunak. This was a reference to a recent video in which he boasted to Conservative party members in Kent of taking money from deprived urban areas in order to give it to other parts of the country …
That day, Guido Fawkes revealed that Rishi's team broke down Liz's £50 billion black hole, which is actually tax savings.
Even now, with Thursday's Rishi-Hunt budget in view, Guido still appears to be correct in his assessment:
Guido also thought that the Conservatives would win the next general election:
Guido's post has Rishi's breakdown of Liz's black hole. This is Guido's analysis of Liz's savings for the taxpayer (emphases his):
According to figures just released by the Rishi campaign, taxpayers will get a net saving of £48.3 billion in reduced taxes under Liz as Prime Minister compared to Rishi. This is a similar figure to calculations made by the Guardian newspaper. This is intended to be an attack line, the argument Rishi is making is that Liz will have to choose between tax cuts or handouts. When you consider that this is equivalent to some £2,000 per taxpayer you will understand what Liz means when she says she wants to "help people in a Conservative way" …
In the Rishi campaign's press release the tax savings are described as "costs". This approach hasn't been seen since 2010, when Gordon Brown would point to any tax saving proposed by the opposition and demand to know from Cameron and Osborne what spending would be cut. It is a mindset that considers the public's money to belong to the government and any income not taxed to be a "cost". Guido's not sure why Liam Booth-Smith, Rishi's policy guru, ever thought this orthodox Brownian line of attack would appeal to Tory members…
By Monday, August 22, with a week and a half left to go in the seemingly endless campaign, Rishi's poll ratings were tanking.
The Guardian warned that Labour found that Liz could boost the Conservatives in the polls, which Labour had been leading for several months by that point. They still are in the lead.
However, the paper said that any poll boost would be short lived:
Tory leadership frontrunner Liz Truss could give the government a double-figure bounce in the polls once she is installed in No 10, according to internal Labour analysis.
A memo drawn up by Keir Starmer's director of strategy, Deborah Mattinson, claimed the foreign secretary could dramatically improve Conservative fortunes.
The document, dated 18 August and leaked to the Guardian, comes amid speculation that Truss could be tempted to capitalise on the upswing and call a snap general election.
However, the research also suggests that any improvement in the government's position could be very short-lived, with voters already concerned about aspects of Truss's character.
"Our focus groups suggest that as voters get to know Truss better they like her less," it says. "Serious negatives – untrustworthiness, inauthenticity, U-turns, lack of grip – are starting to cut through suggesting that any bounce may be very short-lived."
Meanwhile, Rishi allegedly scoffed at the idea he would take a post in Liz's Cabinet. That day, The Times reported on his interview with BBC Radio 2:
Truss has said that she would offer Sunak a cabinet job if she were to win. The Times reported at the weekend that she is considering asking him to become health secretary.
Sunak appeared to scoff at the prospect today, however, suggesting he did not want to serve in a cabinet in which he and the prime minister would disagree on "the big things".
Liz's poll results were buoyant. An Italian firm, Techne, cut their teeth in the UK on this campaign:
In the end, the result was much closer, although Liz still had a clear majority.
However, on the same day, a GB News Peoples Poll (Peoples Poll being the name of the polling organisation) showed that Britons overwhelmingly prefer Labour's Keir Starmer as the next Prime Minister, viewing Liz Truss as 'untrustworthy':
A poll exclusively commissioned by GB News has found that British people would prefer Keir Starmer to be Prime Minister over both Rishi Sunak and Liz Truss.
41 percent of the 1,235 Brits polled said they would be more likely to vote for a Labour Party led by Keir Starmer than the Conservatives led by Liz Truss, who received 22 percent of the vote.
And Rishi Sunak, also standing to become the next Tory leader and Prime Minister, only fared one percent better than Ms Truss when compared with Sir Keir, who received a share of 40 percent of the poll.
In both cases, 28 percent of people said they didn't know who they would prefer, with nine percent preferring not to say.
The results raise questions about the popularity of both candidates, with the Conservatives faring better in a straight contest with Labour.
When asked which party they would vote for if there was a General Election tomorrow, Labour came out on top with 31 percent.
But the margin between the two parties was a lot smaller than between the leaders, with 20 percent voting Conservative …
When asked to give one word they associated with Liz Truss, Brits' top answer was "untrustworthy".
Unfortunately for Ms Truss, second most popular answer was "useless", with the even less flattering "idiot" in third.
On Monday, August 29, the anti-Liz media went into a tizz when she declined an interview with the BBC's Nick Robinson.
Liz Truss has pulled out of a BBC interview with Nick Robinson because she can "no longer spare the time".
Ms Truss, the Tory leadership front-runner, committed to the primetime sit-down interview with Mr Robinson, who presents the Today programme, on Aug 18.
But the Foreign Secretary now appears to have changed her mind as the race to succeed Boris Johnson enters its final week. Rishi Sunak, her leadership rival, was interviewed by Mr Robinson on Aug 10 …
Mr Sunak has taken part in nine one-on-one broadcast interviews throughout the leadership campaign, including three appearances on the Today programme.
Ms Truss has done two such interviews, including the Today programme, when she was interviewed at the start of the head-to-head stage of the contest, and the People's Forum show on GB News.
A bigger controversy that day was that Liz was preparing to cut VAT. She never did, but someone should, because VAT is an EU law. Here is smoked salmon king Lance Forman's wise opinion, saying that the people who object to a VAT cut are on the Left:
On the penultimate day of Conservative Party member voting, Liz pledged to revive Conservative grassroots activism, but readers of ConservativeHome were unimpressed.
One of the comments read:
This and other similar pieces of rhetoric just prove to me that it's all about strategies to win elections rather than a coherent, well thought-out set of policies that will benefit the country in both the short- and long-term, much the same as some of the statements made by both candidates in this "leadership" election.
Surely we are capable of better?
Yes, we are capable of better.
On the last day of members voting, Wednesday, August 31, The Telegraph asked readers who should be in and out of Liz's Cabinet.
Interestingly, everyone the readers wanted out are in Rishi Sunak's Cabinet. Priti Patel is the only exception. And, Alok Sharma is still COP26 president, although he is not in Cabinet.
In conclusion, within weeks, we went back to the same old, same old thing.
I still have a few more items about Liz Truss to cover. Stay tuned.
Alas, poor Boris.
His downfall started the Monday after the Queen's Platinum Jubilee weekend in early June.
The next few weekday posts will look at what happened and how.
Before going into the full story, however, I would like to explain why replacing Boris does not automatically trigger a general election.
Why there is no general election
In the UK, we elect MPs to represent us. They are up for (re-)election during a general election, although there might be by-elections in the meantime for those who die or are caught up in scandal.
In other words, we do not elect a Prime Minister. The party that wins a clear majority in Parliament puts forward their leader for that post.
Admittedly, the position of Prime Minister has become somewhat presidential in recent years. People gravitated towards Boris in 2019 and voted for a Conservative MP so that he would become PM.
Boris, although deposed, has never lost an election. He was elected Mayor of London twice (two four-year terms). He has never lost an election as MP. He won the Conservative Party's leadership election. He became PM when the Conservatives won the 2019 general election. He also survived a confidence vote in 2022.
One of Guido Fawkes's readers pointed all this out and provided more food for thought:
Each time he won it was in the face of massive media opposition. So was it logical for his MPs to throw him out because the media told them to? It was the Treasury dominated Chancellor [Rishi Sunak] with his string of wrong economic judgements who needed to go.
Now on to the story of Boris's downfall.
'World king'
Boris Johnson, born in New York and raised there as well as in Europe, imagined himself as destined for greatness when he was a child.
On June 10, 2022, UnHerd's Will Lloyd posted an interesting article, 'How Churchill ruined Boris'.
Lloyd tells us that, when Boris was a child, he:
declared he would be "world king" one day. 
At that point, Lloyd says, Boris's father Stanley was philandering. The Johnson family unit was breaking down and his mother had to leave for a while (emphases mine):
The boy's response was to make himself "unhurtable, invincible, somehow safe from the pains of life…", according to his mother when she resurfaced after an eight month disappearance. His desires betrayed his insecurities. If he could not be loved, he would be powerful. 
As a result, the most popular Prime Minister of living memory became his hero:
The armour plate little Boris chose to cover these scars was Winston Churchill. It was always Churchill: Britain's last world king. Absent a mother, he discovered a hero. Self-pity was sublimated into the desire for glory. 
Churchill, who died in 1965, loomed large in the collective post-war British imagination:
Johnson decided to emulate Churchill — "the greatest statesman Britain had ever produced" — and stitch himself into this gold thread. Churchill was a holy presence in post-war childhoods. Boris memorised the captions of Churchill picture books. Fathers read selections from the Great Man's speeches to their sons. Boys in the Sixties imagined themselves piloting Spitfires over green Sussex, as the sonorous, rousing, words of Churchill echoed in their heads. 
Allegedly, by the time he got to Eton, he had set his goal in life, masked under a cloak of joviality as self-preservation:
By Eton his wish was Churchillian. Become Prime Minister. Win. The clown fez he wore for the next 40 years distracted his contemporaries from this ruthless fixity of purpose. 
In 2014, as the fiftieth anniversary of Churchill's death approached, Boris wrote a biography of his hero, The Churchill Factor. The prose is pure Boris:
Churchill is the "beaver who damned the flow of events"; he is "like some burly and hungover butler from the set of Downton Abbey"; he is simultaneously a "crowbar of destiny" and a "hyper-gravitational astral body".
It is no wonder that Boris continued to be attached to his hero in recent years:
Churchill, wrote Johnson, was the "inevitable" Prime Minister. By 1940 there was only one "man for the moment". When Brexit was deadlocked in 2019 Johnson's association with Churchill, the assiduously spade-worked notion that, give or take some hair, they were the same man, cashed out spectacularly. The mantle of inevitability passed to Johnson.  
Like Boris, Churchill also had a troubled childhood:
They are spookily alike, but not due to their maverick political careers, not for the doughy and obvious reasons. You have to go back to the beginning. Churchill suffered through his own version of Johnson's youth of neglect and distress. "Famous men are usually the product of an unhappy childhood", writes Churchill in Marlborough.
Churchill's personal sadness drove his political ambitions, too:
Unhappiness evoked the same ambitions in Churchill as it did in Johnson: the conscious decision to be a classical hero, with all the ruthlessness and coldness such a choice results in. "He is bound to emerge historically as a romantic and glamorous figure", wrote one sympathetic observer of Churchill in the Thirties, "but he is surrounded by corpses." Suicides close to Winston Churchill included a brother-in-law, a former stepfather, a daughter's lover, a former daughter-in-law, a son-in-law and a daughter. Johnson leaves behind two cratered marriages, and anguished relations with his platoon of children. I can picture both men wondering if this is the cost of greatness.
Both men used self-deprecating humour as a shield:
The callousness of Johnson and Churchill was leavened by self-mocking qualities. Their vanity was excused by humorousness.
Older Britons say that Churchill was perfect for winning the war. His role in leading peacetime Britain, however, was quite the opposite. The public deemed him a failure in that regard. So it was with Boris, the man who got us out of the EU then went on a downward leadership spiral:
Now that half his party is trying to slaughter its chief, The Churchill Factor makes for weirdly poignant reading. If Johnson hadn't chosen all this you could almost feel sorry for him. "I think he doesn't really know what he wants," wrote Johnson about Churchill, and himself. They both just wanted more of whatever it was — acclaim usually — whenever they could grasp it. Such behaviour in peacetime, notes Johnson eight years before Partygate, "can be disastrous". 
You become what you pretend to be. Johnson never really thought beyond Churchill the world king, hero of the finest hour, the growl on the radio. By emulating Churchill's optimism, patriotism, and hopefulness, Johnson could finish Brexit, and take his historical place next to the most famous Englishman of all. Once he became Prime Minister, his inner world of make believe appeared congruent with reality at last. Johnson fantasised about monuments to himself, says Dominic Cummings. Johnson bumbled around Number 10, musing that the people would remember him after his death, like a Roman Emperor. Or Churchill.
The version of Winston remembered by Britain, and imitated by Johnson, is a false one. The picture is incomplete. In his last years Churchill said over and over again that he wished he had died in 1945. His beloved Empire was being dismantled. Communists dominated most of the Eurasian landmass. Socialism appeared to be the future of British politics.
Heroes are not supposed to go on. Either they die young, like Alexander did at 32, or their ludicrous self-image cannot be maintained in the face of the reality of the world. After a certain age, failure sets in like frost.  
Imagine, then, if Boris hadn't survived Covid. A Prime Minister sacrificed for his people. All those early pandemic photos of Johnson bouncing unmasked through hospital wards suddenly charged with saintly light. Nothing beatifies, or erases error, quite like death. A romantic-cynical end, but then, as Johnson said: "All romantics need the mortar of cynicism to hold themselves up." 
Instead there is no romance. Only cynicism. He recovered, and received cake in a Tupperware. There will be no Downing Street booze ban, he says, because Churchill needed his brandies during the war. Johnson ends up resembling the post-war Churchill. Not heroic, but hamstrung. Confused and tortured.
Resignation: who was responsible?
On Thursday, July 7, when Boris resigned as leader of the Conservative Party, he became a caretaker Prime Minister.
The media and anti-Boris Conservative MPs finally forced his hand. They had been banging on since late 2021 about the Downing Street 'parties', assailing him, holding him solely responsible.
But what about Simon Case, who was in charge of the Civil Service at that time and continues in that role as I write?
Surely, it was Case's responsibility to manage the civil servants, not Boris's?
Nothing happened to Simon Case. Yet, no one ever mentions him, only Boris.
Hmm.
The same principle holds true for the groping scandal surrounding now-Independent Chris Pincher MP, which, after Partygate, was the straw that broke the camel's back.
Pincher had been Deputy Chief Whip, an appointment that Boris signed. However, even if he hadn't signed that appointment, the Chief Whip could have gone ahead without him. The Chief Whip can have anyone he wants as his deputy. The Prime Minister's signature is a mere formality.
The push to oust Boris is an intriguing one, indeed. I think that someone will revisit this in the years ahead.
Returning to Boris's childhood, on the day Boris resigned, top biographer Tom Bower spoke to GB News's Dan Wootton. Many years ago, I read Bower's biography of the late Robert Maxwell. It was a page-turner, full of detail about his personal life.
Bower's latest biography is Revenge, which is about the Sussexes.
But I digress.
Bower told Wootton that Boris is:
looking for love.
He said that Boris's bout with coronavirus finished him as Prime Minister. He was never the same afterwards.
Bower said that Boris needs a good — i.e. solid — wife and that Carrie is not that person. He does not think their marriage will last.
He also said that Boris surrounded himself with poor advisers.
This is an insightful interview, well worth watching:
Hmm. I hadn't realised that his ex-wife Marina Wheeler is a friend of Dominic Cummings's wife, Mary Wakefield of The Spectator. Talk about wheels within wheels:
Hmm. Boris divorced Marina while she was suffering from cancer. Not a good look.
Boris has imitated his father's poor marital example.
In closing, on the aforementioned Dan Wootton show, a panel discussed who was to blame for Boris's resignation:
Former Boris adviser and loyalist Lord Moylan, top right, said that the attacks from MPs out to get him were:
vicious and manic.
However, Suzanne Evans said that Boris, as a former journalist, should have been able to fend off the relentless media attacks.
I agree with Liz Truss, who said on July 25, that Boris's notional failings were insufficient to require resignation:
Liz Truss has suggested that the Conservative Party ousting Boris Johnson was a mistake, as she campaigns to replace him.
Asked why she did not join the ministers quitting over Mr Johnson'd conduct in the BBC TV debate on Monday evening, the Foreign Secretary said: "I supported Boris for the leadership, I was first Cabinet supporter, I campaigned with him, he did a brilliant job of delivering Brexit and delivering an 80-seat majority.
"Yes, he made mistakes, he admitted he made mistakes, but I didn't think the mistakes he made were sufficient that the Conservative Party should have rejected him. That is my view.
"I'm still working with the Prime Minister, I'm still Foreign Secretary, and I think it's important that I remain in my post. We have very serious issues to deal with on Russia and Ukraine, and I thought it would have been a dereliction of duty to leave my job at that juncture."
Looking beyond Partygate and Chris Pincher, there is no doubt that, post-pandemic, Boris neglected much of the Conservatives' 2019 manifesto for Net Zero, probably because of his wife Carrie.
It is also likely that he underestimated the power of the civil service. Trump had the Swamp. We have the Blob.
It will be fascinating to see how his successor performs in similar circumstances.
More on Boris next week.
Before I get to the latest round of voting in the Conservative Party leadership contest, here's an update on our weather.
Tuesday was quite warm. Allegedly, temperatures reached over 40°C for the 'first time ever'. I do wonder, because I remember a day or two in the mid-1990s when we reached 100°F. Furthermore, my reader dearieme wrote in to say that Greenwich recorded 100°F way back in 1911.
I say 'allegedly' because temperature readings came from airports. Certainly, it was at least 38°C.
Everyone in the media was banging on about how many people would die. Yet, cold weather kills many more than does hot weather.
That should not need pointing out, but The Lancet has just published a new study on winter deaths:
In the UK, on average, 791 people die from heat, compared with 60,753 every winter:
Guido Fawkes summarised the findings and concluded (red emphases his, purple ones mine):
With 60,000 annual deaths due to the cold compared to 800 resulting from extreme heat, Guido can only hope that rising average temperatures will save more lives in the future, as a real demonstration of climate justice in action. Always see the sunny side…
I agree. One would think activists would hope for hotter days. Warm weather saves lives.
In any event, it rained in southern England Tuesday night. Wednesday morning was quite cool. Temperatures are now back to normal.
Crisis averted — for the most part.
That said, there was a spate of fires because of dry weather, including a terrible blaze in a village east of London that lasted for hours. It was breezy, so the firefighters had a horrible job on their hands. My prayers go to the residents of that village and those elsewhere who have lost their homes and property.
Wednesday's vote
On Wednesday morning, we had three candidates left. Political geeks hoped for a three-way tie, which would have forced an immediate run-off:
Guido wrote:
At 4 pm today we will learn who the final two are. MPs vote from 1 pm to 3 pm, though we're still not clear whether they'll vote for the candidate they want to win, or the candidate Grand Marshall Gavin Williamson has told them to vote for. Kemi Badenoch's 59 ex-backers won't have had a moment's silence since she got knocked out yesterday. If this were a TV drama, today would be a fantastic half-time series final. 
… If that wasn't enough excitement, we also get Boris's last PMQs proper. His attendance may be a bit awkward, however, given he's already said his goodbyes and bowed out during last week's session, implying he may be unavailable to do today. Now his No. 10 team will be having to come up with more perorations and Starmer put-downs. Will the Tories clap him out? 
… there's the numerical possibility all candidates could tie on 119 votes each. Already Sir Graham's had to draw up contingency plans for an emergency re-vote tomorrow if such an event [occu]rs. There are concerns Westminster could be facing an imminent popcorn shortage…
In the end, while the vote was close, Penny Mordaunt lost.
Rishi Sunak had the most votes — 137 — and Liz Truss came in second:
Membership ballots
Meanwhile, 3,500+ disgruntled Conservative Party members are demanding that Prime Minister Boris Johnson's name be added to their ballots.
On Wednesday, July 20, Guido reported:
More than 3,500 Conservative Party Members have written to the Conservative Party Chairman demanding Boris Johnson is allowed to compete in the forthcoming leadership election. The petition, launched by Conservative Post, claims "our first choice has been removed without our involvement" and has the backing of prominent party figures like Lord Cruddas and David Campbell Bannerman … Guido understands it has at least annoyed CCHQ by clogging their phone lines…

The petition does say a lot about the sentiment within the Tory grassroots, just as they are about to choose the next Prime Minister. Thousands of members have signed up to a letter that describes how morale is low, with grievances arising at a Parliamentary party with a "vested interest" against Boris. No doubt such strong feelings towards Boris, and those who ousted him, could prove an interesting dynamic in the election. The Tory members share a similar belief to the Labour Party: Boris is a vote winner.
CCHQ plans to send ballots to Conservative Party members out the first week in August. Online voting is also available. Members will receive security codes for online votes.
Members may vote more than once, should they change their minds, although only their most recent vote will count.
A debate on the BBC between the top two candidates is scheduled for Monday evening.
One of Rishi Sunak's backers had told Guido that, if the ballots are available too early, his candidate might fare poorly. With ballots going out after the debate, that is no longer a concern. Yet, it is worth noting:
One Sunak backer told Guido this could be especially damaging to their preferred candidate should he make the final two, given he knows all too well he faces an uphill battle among members to win over support – not least proved by this afternoon's YouGov poll. Sunak's key strategy is to win members over with his ability to perform during the regional debates and hustings, as his team believes he proved he could do during the TV debates. The fear is that if CCHQ sends ballots out at the very start of the debate – and opens electronic voting at the same time – the vast majority of members will return their forms immediately, not giving Sunak time to win over doubters. 
Even MPs supporting rival camps worry that while their candidate might benefit from this CCHQ timetable, there's an essential need to "kick the tyres" on the final two candidates to make sure there isn't a repeat of only discovering Theresa May's inability to communicate come the election. Expect this row to take off the moment the final two are confirmed on Thursday…
Early signs that Rishi won't win
At this juncture, it looks unlikely that Rishi Sunak will win the Conservative membership contest.
A YouGov poll published on Tuesday, July 19, shows that every other candidate would beat him:
Think of it this way: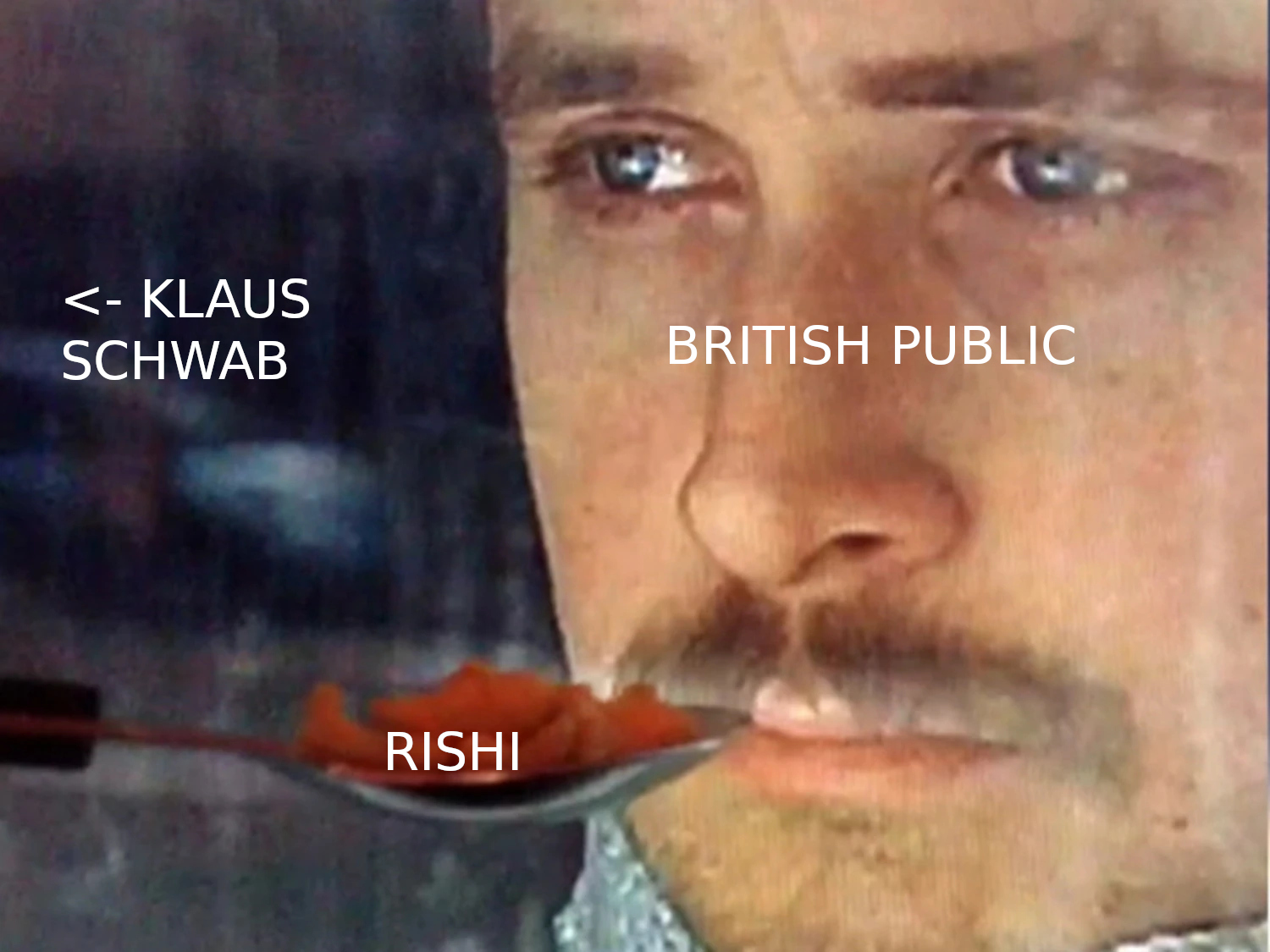 Why Rishi could lose
After Rishi resigned as Chancellor, Nadine Dorries, the Secretary of State for Digital, Culture, Media and Sport, appeared on GB News to give us the lowdown on Rishi. She told Dan Wootton that he didn't work very hard:
She alleged that neglecting his duties gave him a lot of time to prepare his leadership candidacy:
Another MP who thinks that Rishi did not do a good job as Chancellor is John Redwood: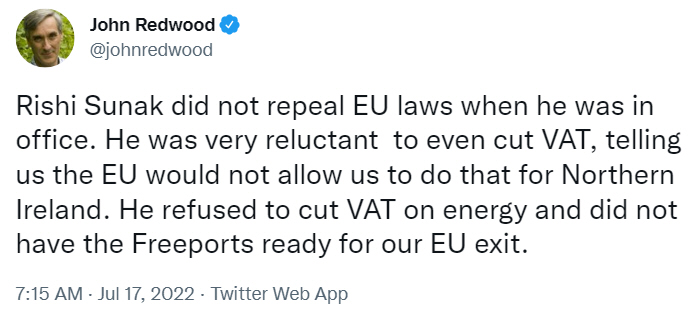 Returning to Nadine Dorries, the public had been disgruntled with Rishi prior to her interview, largely because of his financial and immigration situation, as GB News explains:
his stock has taken a tumble recently following disclosures that his wife had non-dom status for tax purposes and he held on to his US green card while serving in Government.
She suspects that Boris's former adviser Dominic Cummings has a hand in Rishi's candidacy:
Ms Dorries also warned about Mr Sunak's relationship with former Downing Street adviser Dominic Cummings.
She said: "His support for Rishi is off the scale.
"I think it's only because Dominic wants to be back at the heart and that should be a terrifying thought for anybody."
Dorries, probably Boris's staunchest supporter, told Wootton that the Prime Minister should not have been ousted as Party leader:
… the 65-year-old went on to say that "the Remain establishment, Labour and Putin were the three that wanted him out the most."
Referring to the Prime Minister, Ms Dorries added: "He got us through Covid, he lifted the restrictions, he delivered Brexit, so many policies I could just list them forever, all of these have been delivered."
Wootton also had a panel discussion about whether Rishi was trustworthy. One participant said that Rishi should have done his job rather than plot against Boris:
People will not forget his disloyalty:
Early in the contest, The Sunday Times took a poll of the British public and Conservative voters as to whom should succeed Boris. Together, 'Don't know' and 'None of the above' totalled 58 per cent; read 'Boris'. Also note the response from Pippa Crerar of the Labour-friendly Mirror:
A poll that YouGov took for The Sunday Times, conducted on July 12 and 13, showed that Rishi would lose against any of the remaining candidates: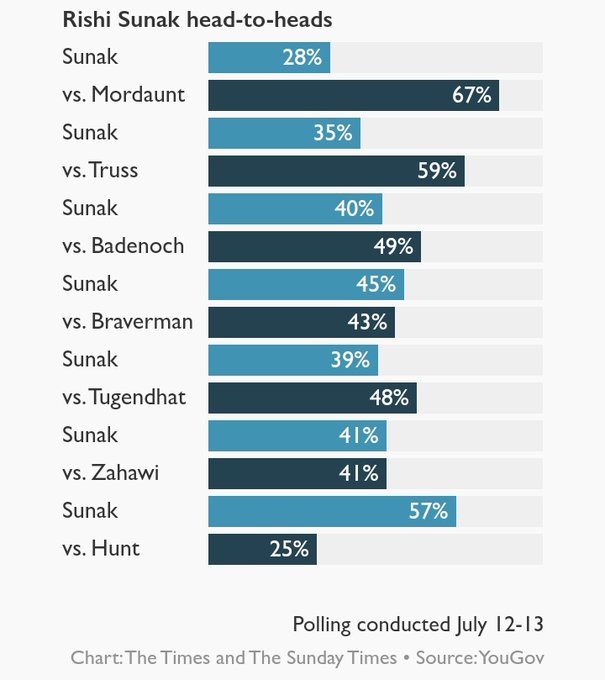 Rishi launched his campaign on July 12. Oddly, he took questions from television news reporters but none from newspapers, except from The Sun's Harry Cole. Cole had to embarrass him into it:
Rishi's campaign message of unity did not go down well with the public:
Dan Wootton had another editorial and discussion on Rishi that evening. Wootton called him 'a big state globalist assassin' and said that Conservative Party members would not back him:
Here's the video:
In the panel discussion, the Revd Calvin Robinson called the former Chancellor 'a socialist':
The next day, Wootton had more, urging MPs to listen to Party members when voting:
GB News has a transcript of his editorial, in which he said:
So all week the usual suspects in the political establishment and the MSM, especially the BBC, ITV News and Sly News, have been trying to convince you that Rishi Sunak was the inevitable candidate to replace Boris Johnson as Conservative Party leader and thus become the Prime Minister of this great country.
As ever, they've been selling you a load of utter piffle cooked up in the Westminster bubble.
But, from the moment Boris was brutally deposed in that completely unnecessary coup, I've been telling you there's zero chance Tory Party members – many of whom are horrified about the treatment of the Prime Minister – will elect the knife-wielding ex-Chancellor …
Tory grandees might think Sunak can win it, but he won't.
Spiked's Brendan O'Neill fears that Sunak is, at heart, a technocrat who does not care about the people:
Body language analyst Judi James says that Rishi's delivery is awful, from his speech patterns to his awkward gestures. She says that it would not take long for his insincerity to turn into smugness:
Guido discovered that Rishi's earliest backers among MPs were Remainers:
A drilldown of the MPs supporting him this afternoon shows that only 30% of Rishi's supporters backed Brexit in 2016.
Hmm.
On July 14, Lord Moylan appeared on Michelle Dewberry's GB News show to say that Sunak is 'deeply unpopular' among Party members. He also said that Conservatives will pay the price for getting rid of Boris, as he could win elections:
Here's the full video:
Dan Wootton was not letting up on Rishi:
That night, his guests discussed the top candidates, agreeing on 'Anybody but Rishi':
Here's the video:
Boris also urged MPs to back 'anyone but Rishi'.
On July 15, The Mail reported:
Boris Johnson is pushing for failed Tory leadership candidates to back 'anyone but Rishi' Sunak, it was claimed today, amid reports that the whole team at 10 Downing Street 'hates' the former chancellor for causing the PM's downfall.
Johnson, who announced last week that he will step down as party leader when his replacement is decided, has said he will not publicly endorse any candidate or get involved in the increasingly bitter leadership race.
However, Johnson has reportedly made clear in private discussions with failed leadership hopefuls that Sunak should not be his successor.
Citing a source close to one such conversation, The Times said Johnson appeared to be most enthusiastic about his Foreign Secretary Liz Truss becoming Prime Minister.
That day, Bev Turner and her guests discussed the likelihood of Rishi or the other candidates being able to win an election:
While people thought that Kemi Badenoch was 'too young' to progress in the contest, she is actually older than Rishi:
Look how far ahead Kemi was in the Conservative Home poll of July 16. Note that Rishi was in fourth place:
It will be hard for Rishi to shake off public opinion.
A poll done for the Mail on Sunday of July 17 shows that 41 per cent of participants think that he is out of touch with voters:
That's Rishi Sunak.
I would enjoy knowing what his real ambitions are for the future. Becoming Prime Minister would be a stepping stone for something that probably only he, his wife and his in-laws know about.
I do not have a vote in this contest, but if I did, I'd cast it for Liz Truss.
In closing, Dan Wootton started a poll last night asking GB News viewers who their choice was for the next Conservative leader. Halfway through his show, he announced that tens of thousands (he cited two different figures) of viewers had participated.
These were the results halfway through his show:
Boris Johnson 49%
Penny Mordaunt 22%
Liz Truss 15%
Rishi Sunak 14%
Bring back Boris — about whom more will follow in another post. His last PMQs was terrific.