You are currently browsing the tag archive for the 'Margaret Thatcher' tag.
When it comes to women in leadership — the theme of International Women's Day 2021 (March 8) — Britain's Conservative Party is decades ahead of Labour.
Below are the first women to lead political parties in the United Kingdom.
Look at the lag time after Margaret Thatcher. Then look at Labour, which has never had a woman leader:
In 1992, 17 years after the Conservatives elected Margaret Thatcher as leader, the Greens voted for Jean Lambert.
In 2012, Leanne Wood became the leader of the Welsh Nationalists.
In 2014, Scotland's SNP elected Nicola Sturgeon to lead them. She is still the First Minister in that devolved nation.
In 2015, Northern Ireland's DUP followed with Arlene Foster.
In 2016, Diane James led UKIP briefly.
In 2019, Jo Swinson led the Liberal Democrats for a few months, until she lost her seat in Scotland in the December general election that year. Nicola Sturgeon was thrilled.
As for left-wing Labour? That day will have to wait.
Labour have no business telling Conservatives that they are behind the times. The Conservatives have had two women Prime Ministers. Labour's never even had a female party leader.
Ironically for Labour, International Women's Day has Socialist origins. The Communists adopted it later.
These days, nearly every nation observes this day. The UN decides the annual theme.
In the UK, the annual budget statement is the Parliamentary event of the year for the British public.
This year, it took place on Wednesday, March 3:
In the old days, many people bought a newspaper the following day for the details on taxes.
Now everything is online and many more people are tuning in to one of the two Parliamentary channels to watch proceedings.
Why is this so important? As Chancellor of the Exchequer Rishi Sunak says, this involves taxpayers' money. It's not the government's, it's ours:
This year, he held the first-ever press conference on the budget:
Here is a bit of history on the UK budget:
In modern times, the Chancellor displays his ministerial red box for an obligatory photo op before going to Parliament:
Despite what the Opposition said on Wednesday, Rishi Sunak put in a lot of work, including television interviews:
He held an online meeting with those most affected by the coronavirus lockdown and the loss of income:
No one could have imagined that when he gave his first budget, on March 11, 2020, one that was full of optimism and big plans, how things would change within one year:
By the way, the projected coronavirus spending for this year should fall dramatically compared with 2020:
On the day the Chancellor lays out the budget, the Chairman of the Ways and Means committee presides, rather than the Speaker of the House.
Since last year's budget, Dame Eleanor Laing, also a Deputy Speaker of the House, was appointed to head this committee:
In the next video, the delightful Dame Eleanor explains what the budget is and how it is debated in Parliament after the Chancellor presents it:
Coronavirus has brought its own challenges. Normally, every MP packs into the Commons for the budget. This year, socially distancing was enforced. Most MPs participated in the initial debate virtually:
Here she is with her team. Masks are obligatory on the Parliamentary estate these days:
This is the video of the coverage as it happened. Click to watch it:
Below are the highlights.
Much of it concerns economic recovery from the pandemic:
Most taxes are frozen for now as well as personal tax thresholds:
There will also be a new taskforce to help prevent fraud in coronavirus claims:
These are designed to fit around Prime Minister Boris Johnson's roadmap to exit the coronavirus crisis:
There will be help for small-to-medium businesses:
And help for technology businesses:
There is a new visa programme to attract the brightest and best talent:
I do hope that our education system is improved so that we do not need to keep looking abroad for talent. Only 30 years ago, Britain's schools were among the best in the world. How times have changed.
You can get more detail about the budget from The Telegraph. One thing to note is that the inheritance tax threshold has not changed since 2009. It is still £325,000 per person.
Finally, in an exciting post-EU development, the Chancellor announced eight new Freeports, where favourable customs rules and tax reliefs will apply, furthering trade with other nations:
Teesside will also be the new 'campus' for the UK's treasury, just up the road from the Chancellor:
The hospitality industry, which has been closed since December — and longer in some places with regional lockdowns — welcomed the budget measures:
The director-general of the Confederation of British Industry (CBI) was also satisfied:
I am cautiously optimistic, but I felt so much happier with the 2020 budget, when we were on top of the world.
For Labour and the SNP, the spending didn't go far enough. However, as Margaret Thatcher, Britain's first female Prime Minister and a Conservative, said in 1983: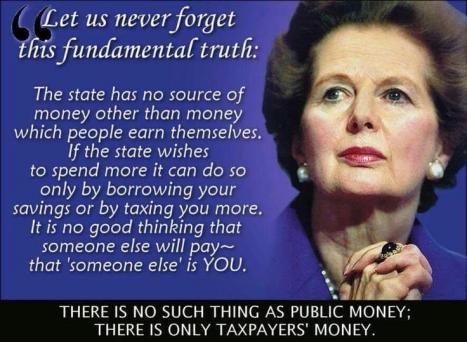 Rishi Sunak is attempting to navigate Britain's worst financial crisis since the early 1700s.
Let's hope his plan works.
This is the final instalment of my long-running series, the Brexit Chronicles.
My previous post discussed the December 30 vote on the EU Future Relationship Bill which passed both Houses of Parliament and received Royal Assent in the early hours of the final day of Brexmas, December 31, 2020.
New Year's Eve was a quiet affair in Britain, as we were in lockdown.
One week earlier, Boris said that he would not be dictating to Britons how they should celebrate our exit from the EU, which was a bit rich, because he had already put us into lockdown before Christmas:
What UK independence from the EU means for Boris
The UK negotiating team did some star turns with this agreement, which polished Prime Minister Boris Johnson's political reputation.
Boris's ratings had taken an understandable hit during a year of coronavirus, which included a lot of flip-flopping on his part, however the trade agreement improved things considerably. Liz Truss, who has been negotiating our trade deals with more than 50 countries, deserves her place at the top:
According to an Opinium poll, an overwhelming majority of Britons — even Remainers — wanted MPs and the Lords to pass the deal:
Troublingly for the anti-deal SNP, the poll's sub sample of Scottish voters shows that by 47% to 19%, Scots want their MPs to vote for the deal too…
The Norwegians said that the UK had negotiated a better deal with the EU than they had:
Guido Fawkes thinks that this could give Norway the impetus to renegotiate their terms with the EU. I hope so (emphases in the original):
Marit Arnstad, parliamentary leader of Norway's Centre Party, argues that the UK deal is better than the Norwegian deal her country has as a member of the European Economic Area (EEA). "The UK has now reached an agreement that gives them more freedom and more independence" she tells Klassekampen, Norway's answer to the Guardian, "the British have a better agreement than the EEA. They get access to the internal market and the common trade that is desirable, but they do not have to be part of a dynamic regulatory development that places strong ties on the individual countries' national policies. …The most difficult thing for Norway is that we are bound in areas that are national policy, and that it happens in more and more areas. The British have now taken back this authority, and it is extremely interesting".
Arnstad is not the only politician complaining, the leader of the Norwegian Socialist Party's EEA committee, Heming Olaussen, also believes that the British agreement with the EU is better than the EEA, "because the British escape the European Court of Justice. Then they are no longer subject to EU supremacy and must not accept any EU legislation in the future as we must. This agreement is qualitatively different and safeguards national sovereignty in a better way than the EEA does for us".
Could we soon see Norway and the other EEA countries try to renegotiate their terms?
Prime Minister Boris Johnson made sure that he got everything possible arranged by the end of the day, including Gibraltar. The first tweet has a statement from Foreign Secretary Dominic Raab:
Remainers constantly brought up the future of the Nissan car plant in Sunderland. They can silence themselves now.
Chronicle Live reported:
Automotive giant Nissan has welcomed the UK's post-Brexit trade deal with the EU, which appears to have safeguarded the future of its Sunderland plant.
The plant has been at the centre of the Brexit debate over the last decade, with both Remain and Leave campaigners using it to back up their respective arguments.
A number of global Nissan executives have used visits to Sunderland to warn that its future was threatened by a no-deal Brexit, and two models either being made or due to be made at the plant have been cancelled since the 2016 referendum.
But the Christmas Eve agreement of a deal that appears to allow tariff-free access to EU markets for British-made goods has been welcomed by the company.
On Boxing Day, The Telegraph — Boris's former employer — published an interview with him, excerpts of which follow (emphases mine):
"I think it has been a long intellectual odyssey for many people of this country," he said, casting back to 1988, shortly before he, an up-and-coming journalist at The Telegraph, was dispatched to Brussels to report on the European Commission.
"The whole country has been divided about this issue, because we are European, but on the other hand we don't necessarily want to feel that we're committed to the ideology of the European Union.
"That's been the problem and I think it is absolutely true that Margaret Thatcher … she did begin this period of questioning. Her Bruges speech was very, very important."
Mr Johnson is referring to a speech that, to many Eurosceptics, formed the foundations of the bitter and protracted political struggle against ever closer union that ultimately set Britain on the path to Brexit.
At the height of her power and railing against Jacques Delors' latest move towards deeper integration, in 1988 Baroness Thatcher urged the Commission to abandon aspirations of a "European super-state" which would infringe on the "different traditions, parliamentary powers and sense of national pride in one's own country".
Her warning went unheeded, however, and just four years later the UK signed up to the Maastricht Treaty and with it the creation of the European Union as it is constituted today.
And yet, even after she was toppled and replaced by John Major, an ardent Europhile, the seeds of discontent and the desire to reclaim British sovereignty had been sown in Bruges.
He explained that we will always be European, just not part of the huge project that seems to continually move the goalposts of membership obligations:
"I think this gives us a basis for a new friendship and partnership that should attract people who love Europe and want to have a great relationship with it, who want to feel close to it.
"But it should also be something that is welcome to people who see the advantages of economic and political independence. I think the country as a whole has got itself into a new and more stable footing. It's a better relationship and a healthier relationship."
… The tariff and quota-free deal covers £660bn worth of trade a year, which Mr Johnson said will still be "smooth" but with new customs procedures and paperwork which will mean things are "different and there will be things that businesses have to do".
In particular, he is keen to stress that the UK will be free to diverge from EU standards.
This is particularly gratifying for Mr Johnson, who said that after being accused of "cakeism for so many years," he has achieved what his critics said was impossible: "That you could do free trade with the EU without being drawn into their regulatory or legislative orbit."
Boris enjoys his 'cakeism' references. He made one on Christmas Eve upon the announcement of the deal and he made yet another on January 1, which was Guido Fawkes's Quote of the Day:
I hope I can be forgiven for reminding the world that many people used to insist that you couldn't do both: you couldn't have unfettered free trade with the EU, we were assured, without conforming to EU laws. You couldn't have your cake and eat it, we were told. Maybe it would be unduly provocative to say that this is a cake-ist treaty; but it is certainly from the patisserie department.
The Spectator had an excellent article on the new treaty, 'The small print of Boris's Brexit deal makes for reassuring reading'. Brief excerpts follow. The article has much more:
The Brexit deal takes things back to where they were before Maastricht. The EU is limited now in any meddling to very specific areas indeed. It ends the oddity where because circa seven per cent of UK business trade with the EU, 100 per cent have their laws made by the EU (although that is a bit more blurred in supply chains) …
There are parts of the deal that mean that, should Britain wish to diverge, then UK committees will have to talk to EU committees. Requiring the UK to 'consult' on implementation and change of the agreement etc. But how this is done in practice is left free and thus pretty non-enforceable and limited in scope. It is diplomacy now, not law …
While there is a lot of hot air in the treaty, it does not go beyond that. Lord Frost and his team seem to have seen off the (no doubt many) attempts to get EU regulation in through the back door. The UK is leaving the European Union and the lunar orbit of its regulations. It depends on your politics whether you approve of concessions over fish and some aspects of trade. But the legal question – to take back control – has been accomplished.
In The Atlantic, Tom McTague, a balanced journalist, looked at Brexit from the Conservatives' 2019 manifesto policy of 'levelling up' all parts of the United Kingdom:
… at root, Brexit was a rejection of the economic status quo, which too many had concluded was benefiting the country's urban centers at the expense of its more rural regions. And not without evidence: Britain is the most unequal economy in Europe, combining a supercharged global hub as its capital with areas a three-hour drive away that are as poor as some of the least-developed parts of the continent.
Brexit was not solely a vote of the "left behind"—much of the wealthy and suburban elite also voted to leave. But Brexit was a rejection of the direction the country was taking, a desire to place perceived national interests above wider European ones that too many Britons did not believe were also theirs. Is this entirely unreasonable?
The Revd Giles Fraser, rector of the south London church of St Mary's, Newington — and co-founder of UnHerd — wrote an excellent article on Boris, Brexit and old Christmas traditions involving seasonal games of chaos and fools. He also delves into the Bible. 'Why chaos is good for Boris — and Brexit' is worth reading in full.
You will want to see the photo he includes in his article, which begins as follows:
Back in early December, after a dinner between the British negotiating team and their EU counterparts, a photograph was released that, it was said, "sums everything up". A characteristically dishevelled Boris Johnson was unflatteringly contrasted with the smartly dressed Michel Barnier. "Johnson's loose tie, shapeless suit and messy hair alongside Frost's errant collar stood out somewhat beside an immaculately turned out Ursula von der Leyen and chief EU negotiator Michel Barnier" reported the Huffington Post, while reproducing a series of damning twitter observations …
Fraser points out that Brexit is charting a new course. The old rules no longer apply. Boris seems to be the king of chaos, perhaps a 'fool':
The problem with an orderly approach to things such as Brexit is that most problems, especially the large ones, are always going to be imperfectly and incompletely specified. In such a context, it is not always a straightforward matter to argue in a linear way from problem to solution. Indeed, when situations seem to require some sort of paradigm shift, the rules of the old order present a block on the emergence of the new. Things will always seem chaotic when change does not travel according to pre-established ideas of how one thing follows from another.
In his fascinating book Obliquity, the economist John Kay describes the shortcomings of turning decision making within a complex environment into some sort of algebra. Often, he argues, "complex outcomes are achieved without knowledge of an overall purpose". The importance of rational consistency is exaggerated. Some values are incommensurable, not plottable on a single system of reference. In such situations, neatness is overrated, distorting even.
That, I take it, is partly why Boris Johnson remains ahead in the polls, even now. Yes his shambolic manner, strongly contrasted with Keir Starmer's orderly, lawyerly disposition, speaks to a refusal of some imposed authority. It's a kind of trick, perhaps, given that he is the authority. And Old Etonians are not typically chosen as "the lowly" who are lifted up as per the Magnificat.
But the importance of Johnson "the fool" exceeds the fact that he has become an unlikely poster-boy of some unspecified insurgency against the established European rules based system of governance. The fool understands something the rationally wise does not. "Man plans, God laughs" goes an old Jewish proverb. Much to the deep frustration of its proponents, order can never be finally imposed upon chaos. And those who are comfortable with this, celebrate it even, are often better able to negotiate the complexities of life. Being chaotic might just turn out to be Johnson's unlikely super-power.
Boris certainly has had a good track record over the past 12 years. The coronavirus crisis is the only obstacle remaining:
What independence from the EU means for Britons
The BBC website has a short but practical guide to changes that came into effect on January 1.
In addition, UK drivers licences will be recognised in EU member countries as they were before:
With regard to students and foreign study, we will no longer be part of the EU-centric Erasmus study programme beginning in September 2021. The UK government is developing the worldwide Turing programme, named for Alan Turing:
… Unlike the Erasmus programme, which was founded in 1987 "to promote a sense of European identity* and citizenship among its participants", the new scheme will have a global outlook, targeting students from disadvantaged backgrounds and areas boosting students' skills and prospects, benefitting UK employers. It will be life changing for the student participants.
A year of Erasmus-funded reading of Sartre at the Sorbonne in Paris, or a year of Turing-funded study of Nano-engineering at the Indian Institute of Technology in Madras? It is a no-brainer to choose the exciting future that is beyond Little Europe.
*The EC in latter years funded a post-graduate exchange programme that offered opportunities outside Europe. Some 95% of the budget still focuses on Europe.
Women will be pleased that the EU tax — VAT — on sanitary products is no more.
How we celebrated, despite lockdown
On New Year's Eve, I was cheered to see an article by The Guardian's economics editor Larry Elliott, 'The left must stop mourning Brexit — and start seeing its huge potential'. YES! Every Labour, Lib Dem and SNP MP should read it.
He, too — like the aforementioned Tom McTague of The Atlantic — sees Brexit as an upending of the status quo. He tells his readers on the Left that they should be happy about this (emphases mine):
Many in the UK, especially on the left, are in despair that this moment has arrived. For them, this can never be the journey to somewhere better: instead it is the equivalent of the last helicopter leaving the roof of the US embassy in Saigon in 1975.
… It marked the rejection of a status quo that was only delivering for the better off by those who demanded their voice was heard. Far from being a reactionary spasm, Brexit was democracy in action.
Now the UK has a choice. It can continue to mourn or it can take advantage of the opportunities that Brexit has provided. For a number of reasons, it makes sense to adopt the latter course.
For a start, it is clear that the UK has deep, structural economic problems despite – and in some cases because of – almost half a century of EU membership. Since 1973, the manufacturing base has shrivelled, the trade balance has been in permanent deficit, and the north-south divide has widened. Free movement of labour has helped entrench Britain's reputation as a low-investment, low-productivity economy. Brexit means that those farmers who want their fruit harvested will now have to do things that the left ought to want: pay higher wages or invest in new machinery.
The part of the economy that has done best out of EU membership has been the bit that needed least help: the City of London. Each country in the EU has tended to specialise: the Germans do the high-quality manufactured goods; France does the food and drink; the UK does the money. Yet the mass exodus of banks and other financial institutions that has been predicted since June 2016 has not materialised, because London is a global as well as a European financial centre. The City will continue to thrive.
If there are problems with the UK economy, it is equally obvious there are big problems with the EU as well: slow growth, high levels of unemployment, a rapidly ageing population. The single currency – which Britain fortunately never joined – has failed to deliver the promised benefits. Instead of convergence between member states there has been divergence; instead of closing the gap in living standards with the US, the eurozone nations have fallen further behind.
I was especially pleased that he pointed out the coronavirus vaccine. We were the first in the world to approve one and get it rolled out:
The Covid-19 crisis has demonstrated the importance of nation states and the limitations of the EU. Britain's economic response to the pandemic was speedy and coordinated: the Bank of England cut interest rates and boosted the money supply while the Treasury pumped billions into the NHS and the furlough scheme. It has taken months and months of wrangling for the eurozone to come up with the same sort of joined-up approach.
Earlier in the year, there was criticism of the government when it decided to opt out of the EU vaccine procurement programme, but this now looks to have been a smart move. Brussels has been slow to place orders for drugs that are effective, in part because it has bowed to internal political pressure to spread the budget around member states – and its regulator has been slower to give approval for treatments. Big does not always mean better.
Later on — at 11 p.m. GMT, midnight Continental time — millions of us in Britain were only too happy to toast each other, confined in our own homes, and say:
Free at last!
Here's Nigel Farage:
Baroness Hoey — formerly Kate Hoey, Labour MP — worked tirelessly for Leave in 2016.
She had a message for her late mother …
… and for Guy Verhofstadt, who is shown below a few years ago in London with the Liberal Democrats campaigning against Brexit:
In the days that followed …
On New Year's Day, Labour leader Sir Keir Starmer gave an optimistic message for 2021 — 'the UK's best years lie ahead':
The Sun's political editor, Harry Cole, urged all of us to unite behind a new Britain:
Boris Johnson's father, Stanley, continues to pursue his quest for French citizenship, having researched his family tree.
Nigel Farage's new campaign will be against dependence on China:
Our ports have been problem-free:
On that cheery note, after four and a half years, this completes my Brexit Chronicles! Onwards and upwards!
Happy New Year!
Happy new decade!
I enjoy, albeit with trepidation at times, looking back at the decades I've lived through and charting the change from beginning to end.
O tempora, o mores!
1960s
In 1960, growing up in the United States, I remember that things were still quite formal. Most people took care in the way they spoke and in their appearance. They were careful to conduct their households in a respectable manner. By the middle of the decade, that began to change but not too noticeably.
By 1968, a social revolution was underway, including sexually. What was once private became public. Attire reflected that. Women began wearing skirts above the knee. Men's clothes became more form-fitting.
Sloppiness and drugs became fashionable with the advent of hippies. Even though they were a small minority, they received a lot of media coverage. A slogan connected with them — 'If it feels good, do it' — began to pervade society at large.
Cinema and television reflected this change.
At home, Americans moved from watching westerns to tuning into a zany comedy hour. In 1960, Gunsmoke was the most viewed programme. In 1969, it was Rowan and Martin's Laugh-In. Gunsmoke had moved to sixth place in the Nielsen ratings.
Film genres and themes also shifted. In 1960, the great epics were popular, with Spartacus the highest grossing film and Exodus coming third. Psycho was second. In 1969, while Butch Cassidy and the Sundance Kid was in the top slot, Midnight Cowboy was at No. 3, Bob & Carol & Ted & Alice was No. 6 and an X-rated movie, I Am Curious (Yellow) was No. 12. It would have been unthinkable in 1960 that an urban drama about homosexuality, a movie about swingers and one that was pornographic would have been so popular nine years later.
1970s
The cultural shift continued in the 1970s. American magazines and newspapers devoted many column inches to social drop-outs experimenting with communal living. Swingers were becoming popular in suburbia. Again, those were two small sub-groups of society, but everyone — even the most respectable — knew about these two phenomena.
Pop music got bolder, more sexualised. I remember in high school that we talked a lot about sex and could hardly wait to start dating so that we could experiment. Our parents wondered what was wrong with us. The idea of sin and the forbidden went out the window. 'If it feels good, do it' had spread to the middle classes. Previously forbidden carnal acts were encouraged as being completely 'natural'. This furthered the evolution of a shame-free society. Today, I read that some teenagers don't kiss on a first date; instead they engage in oral sex.
Interestingly, one of the most suggestive singers of the decade, Eric Carmen of the Raspberries, laments where this has led today:
I remember neighbours of ours getting divorced. The wife said that she could earn her own living now, thank you very much. The husband was heartbroken. We felt sorry for their two children. Until then, my family and I personally did not know any couples who got divorced. It just didn't happen to everyday individuals. However, divorce rates continued to rise and, these days, no one bats an eyelid.
More women started working. What began as a liberating elective would turn out to be a mandatory means of survival in marriage in the years that followed. Few of us knew that then, though.
Returning to music, it was a great decade for youngsters. FM radio produced rather excellent stations devoted to little known genres that never reached Top 40 AM stations. Through them, we discovered prog rock from Britain: Yes, Rick Wakeman, and Emerson, Lake and Palmer, to name but three musical greats. There were many more, too numerous to mention here.
Near the end of the decade we had disco. Saturday Night Fever was a huge box office hit and propelled John Travolta from television (Welcome Back Kotter) to cinema fame.
The most popular television sitcoms, such as Welcome Back Kotter, were all set in metropolitan areas. In terms of television in general, The Waltons was probably the only show with a rural setting.
Halfway through the decade, I spent a year in France, which was much quieter than the US socially and still quite formal, even though the more leftist state university students were generally unkempt and unwashed. In many respects, the country was a bridge between the 1960s and the 1970s in the nicest possible way.
1980s
Leaving university, I recall that many of my friends latched onto the Reagan zeitgeist and became conservatives.
They turned into their parents and lost the fun-loving verve they once had. I stayed single the longest, so was more acutely aware of a shift into respectability and suburban living.
I lived in a major US city then, earning my own way in life. For relaxation, I used to go to matinees at the weekend. The price of admission was cheaper and the cinemas were nearly empty, giving me the impression I had the big screen all to myself.
I saw a lot of world films in the first part of that decade, some from Brazil and Australia but mostly Britain and France. French film became a passion. Even one of the UHF television channels showed French films from the 1950s. Bliss.
As far as music was concerned, my favourite FM station played British and European singles apart from reggae on Sunday afternoons. More bliss.
Then, around 1986, something began to change. Although my favourite radio station stayed the same, the movie theatres weren't showing as many foreign films. Within a couple of years, they stopped showing them altogether. One of my lifelines had vanished, sadly. The American films that replaced them were not very good, either, so I stopped going to the cinema.
Everything became very one-dimensional. America, somehow, had lost the link with the zeitgeist of European culture, which it never recovered. It used to be that people in the 1960s and early 1970s made a two- or three-week trip to western Europe to see the historic sites they learned about in school. It was what we today would call a bucket list item.
Fortunately, by the end of the decade, employment events intervened — and further improved — for me.
1990s
Living in England, I realised that I had an insatiable appetite for history and politics. I learned a lot about both thanks to a gift subscription to The Spectator, which I had read about in English lit class in high school. It's been around since 1828.
In 1990s, my in-laws told me that Margaret Thatcher's time was up. She had become too full of herself. We had high hopes for John Major.
I remember the 1992 election, which Major won handily. I could not understand the rage of my female colleagues who expected Neil Kinnock to win. They stayed up all night drinking, waiting for a Labour government that never came. The next day, at work, they were hungover, tearful — and, above all, angry. Why did they think he stood a chance? Perhaps I had been reading too much of The Spectator, but I had no doubt that Major would continue as Prime Minister.
By 1997, most of us felt change was needed. The Conservative MPs on the front bench seemed like tired, bloated bureaucrats. None of them had an original idea. Most seemed to be lining their own pockets. I was most consterned by Health Secretary Virginia Bottomley, who started closing A&E (Accident and Emergency) services at local hospitals. What was she thinking?
When Tony Blair became Prime Minister in 1997, nearly everyone I knew rejoiced. Change was coming.
And how …
2000s
The first few years of Labour were fine. I was enjoying my work too much to pay any attention.
By 2005, I longed for a Conservative government, especially when Gordon Brown became PM with no general election.
After that, Labour became unbearable, banging on about people's personal lives and habits. The smoking ban came into force in the summer of 2007. Ministers assured us in television interviews that private members clubs and hotels would be exempt. No, not at all. It was a blanket ban everywhere.
It was during this decade that London elected its first mayor, Ken Livingstone. He served two terms and introduced the city-wide congestion charge for motor vehicles, which we called the Kengestion Charge. My colleagues at the time reminded me that, as head of the old GLA (Greater London Authority), he was known as Red Ken.
Boris Johnson succeeded him, also serving two terms. His administration made the streets tidy again and also lowered crime.
By 2006, I started looking more closely at the EU and the unelected bureaucrats in Brussels who seemed to rule our lives. I agreed with those disgruntled Britons who wanted a referendum on our membership.
Most of all, however, I was sick and tired of Labour, to the point of despair.
I also asked my far better half to cancel my gift subscription to the The Spectator, as it had changed its editorial line considerably after Boris Johnson left as editor. Although more people now read it, it is a former shadow of itself. I would not call it neither conservative nor traditional at all any more.
2010s
Hope came in the May 2010 general election.
The Conservatives had to form a coalition government with the Liberal Democrats. It was the David Cameron and Nick Clegg Show, but at least Labour were out of the picture after 13 years.
David Cameron referred to himself as the 'heir to Blair'. It took me some time to see it, but he was not wrong.
He set out to reform the Conservative Party and alienated older, faithful members in their local associations. CCHQ suddenly did not need their help.
On a broader level, Cameron will probably be best remembered for opening up marriage to same-sex couples and for offering us the EU referendum, billed by all parties as a 'once in a lifetime' choice which they all pledged to implement.
A number of televised debates took place in 2016. I watched them all. Some of my friends were less than convinced by the Leave proposition. The one clincher was Brexit The Movie, which is an hour-long eye-opener about the Brussels gravy train and better than any of the debates, no matter how good:
I stayed up until the early hours of the morning of Friday, June 24, 2016 to watch the result. When it was clear that Leave had won, I went to bed. The next day, my far better half and I woke up to Cameron resigning because he did not like the result. We had a celebratory lunch in London and went to a party that evening that had been planned months earlier. I remember the apprehension we both felt about sounding out the other party guests as to their views on the EU. We later discovered that were not alone. Finally, someone there broke the ice upon his arrival by exclaiming:
Is everybody HAPPY? I certainly am!
At that point, we were free to talk about Brexit.
Theresa May became Prime Minister later that summer.
Across the pond, another sea change was happening: Donald Trump's candidacy. It was even more of a shock when he won. A startled nation awoke to find that Hillary Clinton was not their president.
The conflicts about Brexit and Trump continue today. Opponents to both have grown ever more vehement.
On September 20, 2019, the British website Spiked issued a thought-provoking documentary on Trump and Brexit. It's 26-minutes long and well worth watching. To cover Brexit, their reporters interviewed residents of Southend-on-Sea in Essex. To cover the Trump phenomenon, they interviewed Pennsylvania journalist Salena Zito and residents of Erie, which was once a major industrial powerhouse in that state. It has fallen on very hard times, indeed:
The major theme running through both is, as they put it, 'change', which I believe they should have called 'self determination' and 'recovering the aspirational dream'.
One thing that struck me was the interview with the owner of a gym in Erie. He said that his father raised seven children on a janitor's salary:
You couldn't do that now.
Too right. Both parents now have to work — unlike in the 1960s — and few households can support more than two or three children.
People in Britain and the United States want to work and save more of their hard-earned cash. They also want good job opportunities for their children.
A fisherman in Southend said that, because of EU rules, he is restricted to an ever-smaller part of waters in which to fish. The number of fishing boats has continued to decline, he added, and the number of fisherman has also dropped dramatically. That is why he, and many others in Southend, voted Leave in 2016.
The decade closed with Boris Johnson's landslide victory on December 12. Historian David Starkey explores what this means for the nation in this 57-minute documentary from The Sun, ably conducted by a young reporter:
Starkey explores the evolution of Parliament since Victorian times, when it became the institution we know today. As many Northern constituencies flipped from Labour to Conservative, Starkey says that Boris's pledge to revitalise the North will mean little unless he espouses their values of patriotism, which, he says, has been a dirty word for many years.
He says that Boris could well become a figure like Charles II, who restored the monarchy beginning in 1660. Many of their personality traits are similar, he notes, particularly their penchant for bringing a nation together and reforming it at the same time. It is well worth watching when you have the opportunity.
There is much more to Starkey's interview than summarised here. He talks about the people of the North, Labour, Jeremy Corbyn, David Cameron, Tony Blair and, significantly, Benjamin Disraeli. Starkey hopes that the PM will study his Victorian predecessor's successes closely.
With that, I must close for now. There are many developments over the past 60 years that I have not mentioned. This is merely to give an idea about the direction that Western society took as the decades rolled on.
Welcome to 2020. Let's hope it brings many good tidings. I wish all of us the very best.
Yesterday's post was about the 30th anniversary of the fall of the Berlin Wall, a historic and happy occasion, to put it mildly.
However, while reunification has not been easy, the relationship between the western and eastern regions of Germany has been a historically uneasy one in some ways.
James Hawes, the author of The Shortest History of Germany, on sale in 20 different countries, wrote a short but information-packed article for UnHerd: 'It wasn't the Berlin Wall that divided Germany'. It is well worth reading. Even though I took World History in school, there is much here about Germany that I did not know.
A summary with excerpts follows. Emphases mine.
In the Middle Ages, as the Church was gaining adherents in the western half of what we know as Germany, the eastern half was comprised of pagan tribes. The river Elbe was the demarcation line between these two groups of people:
While early medieval western Europe was developing its unique signature, the power-sharing of international Church and national-state, the lands beyond the river Elbe were still populated by pagan, illiterate tribes. No real attempt was made to exert German control and settlement beyond that point until 1147; Cologne had already been a flourishing western European city for 1,200 years when the first German conqueror-farmers reached Berlin.
… East of the Elbe, the Germans never entirely supplanted the Slavs (some, the Sorbs, remain even in the truncated eastern Germany of today, just north of Dresden).
Hence the importance of subsequent Prussian rule and influence over the East:
The Germans of the east came to accept rule by a caste of warlords — the famous Prussian Junkers — and, later, the new Lutheran paradigm of a state which controlled its very own Church and against which there was hence no appeal.
Not for nothing did Friedrich Hayek see Prussia as the template for all modern totalitarian states, whether of the Left or of the Right. Max Weber constantly referred to a place he called Ostelbien, East Elbia, palpably different, for all its local variation, to ciselbian, western Germany.
Once suffrage was granted, voting patterns were very different between these two regions:
Of course, psychologists, philosophers and sociologists can all be wrong and often are. Electoral maps, however, do not lie. They show that ever since Germans have had votes, eastern Germans have voted very differently from western Germans.
Under the German Empire (1871-1918), the Prussian Conservatives — conservative in this context meaning supporters of royal and militarist rule under an agrarian Junker elite — depended almost completely on votes from the East, having scarcely any traction at all in the West.
The First World War changed nothing. In the first normal elections of the Weimar Republic, the extreme Prussian conservatives of the DNVP (officially anti-Semitic and anti-Catholic, violently antidemocratic, their members implicated in several high-profile political murders) were the second largest party nationally but — exactly as with the AfD today — that position was entirely dependent on votes from the East.
And when the deluge finally came in 1933 it was, again, only thanks to heavy votes in the East that Hitler got 43.9% nationally, enabling him (with support from the rump DNVP) to seize power by semi-constitutional means. If the whole country had voted like the Rhineland or Munich, he could only have attempted an armed coup, which the Army would have crushed.
Such patterns have continued to the present day, with nationalist and populist parties more popular in the east than the west.
Further disparity has resulted economically, from the western regions propping those up on the east:
… well over €2 trillion has been pumped from Western taxpayers to the East. The so-called Reunification has dragged West Germany back into the role which Bismarck assigned it: to subsidise the economically moribund East because it is their patriotic duty.
Western German voters, rather sick of this, are more and more wary of keeping up this settlement, on top of their traditional role as paymasters of the stable Europe from which German industry benefits so greatly. Yet the Prussian myth of "reunification" has trumped economic reality, which goes to show something we in Britain should know all too well: that there is nothing worse for a country than to misunderstand its own history …
The founder of West Germany, Conrad Adenauer, knew his history. After the First World War he begged the French and British to help him split Prussia off from Germany. When he had to visit Berlin, he would always draw the curtains of his train compartment as he crossed the fatal River Elbe, muttering "Here we go, Asia again!" ("Schon wieder Asien!") After the second war, though obliged in public to support re-unification, he told the British most secretly that he was determined it should never happen.
To top it all off, both sides of Germany also have a different opinion on the EU, a further source of friction, according to German journalist Sabine Beppler-Spahl in 'After the Berlin Wall: whither democracy':
Sabine Beppler-Spahl explains that the calls for reunification of Germany after the fall of the Berlin Wall were as surprising as the fall of the Wall itself in 1989. The GDR was the German Democratic Republic — East Germany:
It is true that the first banners demanding reunification only appeared after the wall fell, and the GDR had all but collapsed. But that was because of the great dangers involved in demanding reunification in the GDR while it still existed. Hence the original protest slogan was 'Wir sind das Volk' ('We are the people), which was directed at the GDR's Stalinist government. But from mid-November onwards, it changed to 'Wir sind ein Volk' ('We are one people'), which was directed at the establishment in the West. Soon calls for reunification became so powerful that they could no longer be ignored.
In calling for reunification, people were demanding rights that had been withheld for decades. These included an end to the command economy, with all its hardships, and above all, democracy. When the first free elections were held in March 1990, an impressive 93.4 per cent of the population in the old East took part – which remains the highest ever turnout in any free election in Germany. East Germans didn't need to be convinced of the virtues of civil liberty and democracy. That's because, as political scientist Robert Rohrschneider put it in 1999, they knew what it meant to live in an authoritarian system (1).
One of the most amazing aspects of 1989 was that, across Europe, few in power expected it. 'Of course we said that we believed in reunification, because we knew that it would never happen', said former UK prime minister Edward Heath in 1989. When reunification did appear on the popular agenda, it became apparent how large and diverse the opposition to it was. It included the most unlikely of allies, from prominent former East German civil-rights activists (2) and the West German SPD and Green Party, to many Western European heads of state.
The Greens were against reunification and wanted reform of the GDR instead:
Several former East German dissidents, like Bärbel Bohley, campaigned for reform of the GDR system. She and others identified with the environmentalist and anti-consumerist rhetoric of the West German Green Party, which was very successful during the 1980s. The Greens, like large sections of the West German Social Democrats and others, identified with Stalinism more than they liked to admit. They were turned off by the sight of so many people demanding democracy and an end to the command economy. So they became supporters of the status quo. 'We were anti-nationalists', explained former Green Party leader Ralf Fücks in 2015.
That should tell you something about why opponents to the Greens call them the 'watermelon party' — green on the outside, red on the inside.
That said, Margaret Thatcher, Prime Minister at the time, also opposed reunification. So did France's Socialist president, François Mitterand:
Outside of Germany, the speed and turn of events also prompted apprehension. On 28 November, [Chancellor Helmut] Kohl presented his '10-point programme for the formation of a contractual community' (effectively, a plan for German reunification). The then British prime minister, Margaret Thatcher, who had made no secret of her hostility to reunification, quickly demanded that any talk of a united Germany should be postponed for at least five to 10 years (3). French president François Mitterrand informed a group of journalists that he considered German reunification a 'legal and political impossibility'. A reunited Germany 'as an independent, uncontrolled power was unbearable for Europe', he concluded.
The then-US president George HW Bush — Bush I — was Chancellor Kohl's greatest ally:
With Western Europe's most powerful states opposed to reunification, Kohl's most reliable ally became US president George HW Bush. As journalist Elizabeth Pond wrote, the US played a decisive role in reversing the resistance of the British and French. There was, however, one condition placed on German reunification – it was to take place within the European Community.
Although reunification took place on October 3, 1990, it did not happen overnight. The terms of the controversial Maastricht Treaty, signed in 1992, were the only way France would agree to a formally reunified Germany:
The most far-reaching part of Maastricht – and the most contested within Germany itself – was the decision to create a monetary union, with a common currency, namely, the Euro. According to historians Andreas Rödder and Heinrich August Winkler, Kohl accepted that a reunified Germany would have to enter a monetary union in order to win support for reunification from France. It was a concession that came at a price for the French, too. It meant the French state was also to be bound to the fiscal rules and regulations of the EU. As French political scientist Anne-Marie Le Goannec explains in L'Allemagne Après la Guerre Froide, it was France's admiration for the 'German Model' that helped Kohl push through the fiscal rules of the EU. Maastricht, however, was unpopular from the start. And in a referendum held in France in September 1992, only 50.8 per cent voted in favour of it.
Whereas the French public were consulted over Maastricht, the Germans had no say:
Maastricht was also unpopular in Germany. Unlike the French electorate, however, the German electorate was never consulted. The absence of any public vote was compounded by the weakness of the opposition SPD, which had never recovered from its position on reunification. It meant that Kohl's government was given a free hand to reunify Germany as a part of the European Union.
Although most Germans approved of Maastricht when Kohl's government ratified it, by the mid-1990s, sentiment had changed dramatically:
Admittedly, support for a united Europe had been high in the early 1990s, especially in the former GDR, where over 85 per cent were in favour, compared with 70 per cent in the former West. By 1996, however, support had dropped to 35 per cent in the east and 40 per cent in the west (4). Christopher J Andersen, a professor of political science at New York State University, attributes the sharp drop-off in enthusiasm for the EU to the job losses and economic problems that plagued the former East German economy (5).
In brief, reunification under EU rules brought about years of change that no one had expected:
It wasn't just the abolition of the well-loved Deutsche Mark, pushed through by Kohl, which annoyed so many Germans. Other deeply unpopular policy measures, which would probably have been rejected by the electorate, if they'd ever been asked, included: the expansion of the EU; the free movement of cheap labour from impoverished eastern Europe (leading to wage depression); the German military intervention in the Yugoslav war; the handling of the Greek debt crisis; and the temporary loss of control over borders. Again and again the structures of the EU have allowed different German governments to ignore the opinions of the electorate and pursue unpopular policies.
This year, the East has shown that it sees reunification differently to the West and is reacting against the EU:
The Alternative für Deutschland (AfD) party has led three successful election campaigns in the former East German states of Brandenburg and Saxony (in September 2019) and Thuringia (October 2019), using the slogan, 'Vollende die Wende' ('complete reunification'). The slogan was widely criticised in the media. 'People are told to go back on to the streets, like they did in 1989, and bring the system down', said one journalist on a programme entitled How the AfD has appropriated reunification. Elsewhere, an open letter, written by a group of former GDR civil-rights activists, accused the AfD of 'historical lies'. But the AfD can also point to several former dissidents who sympathise with it. And so the battle over the meaning of 1989, which is simultaneously about today's politics, is set to continue.
No doubt some Germans living in the East would agree with another article from UnHerd, '10 things I hate about Germany', which discusses various economic and political policies from Angela Merkel. EU-loving Britons point to Germany as the be-all and end-all, the role model to which we must look up. Ultimately:
the Germans may be no worse than we are, but they're certainly no better.
I could not agree more.
Germany is a great place to visit. The German people I've met have been courteous and friendly. The architecture is fabulous. Shopping is excellent.
However, no EU nation is a be-all and end-all — not under Brussels and the Maastricht system.
On April 27, 2013, BBC2 aired a 90-minute documentary on Margaret Thatcher's early years, Young Margaret.
The programme content was based largely on the many letters the future (late?) Prime Minister exchanged with her sister Muriel, four years older.
It is still difficult for people to imagine that Margaret Thatcher was ever a youngster — or human. The debate goes on in our own home. SpouseMouse maintains she 'ruined Britain forever'. I say she was preferable to James Callaghan or Neil Kinnock. My better half replies, 'She killed off our society. End of'.
Anyway, onto the programme, which I found fascinating. I touched on some of these topics after Lady Thatcher died several weeks ago. Young Margaret elaborated more on them.
The Methodist Church
Alf and Beatrice Roberts were faithful Methodists.
Alf did not allow Sunday newspapers in the house. He did not find them suitable Sabbath reading material.
For Alf, the Methodist Church was the only church. He was dismissive of other Protestant denominations and had a particular distrust of the Catholic Church. He became concerned when Margaret made friends with one of her schoolmates, Mary. Alf feared that Mary would lead Margaret to Catholicism.
Alf was a lay minister. As such, the Roberts family attended church services three times on Sunday. Alf preached at many of these. Margaret absorbed these sermons, which in many ways, defined her spiritual and temporal values.
Although Margaret later attended more Anglican services as an adult, she and her husband Denis (Anglican) were married in the Wesleyan Chapel in City Road, London.
High fashion and impeccable appearance
Alf and Beatrice raised their two daughters above Alf's corner grocery in Grantham, Lincolnshire.
Beatrice preferred to stay in the background, and it does not appear as if the girls were particularly close to her. That said, Beatrice was a seamstress and the girls absorbed their knowledge of fabric and fashion from her. Beatrice made items of clothing for Margaret, including lingerie. Beatrice also sewed a variety of items for the home, including curtains.
As an aside, anyone who has had a tailor or seamstress in the family cannot help but be interested in good taste with regard to clothes and appearance. Some readers might wonder why I place such value on aesthetics. It is because my paternal great-grandfather (whom I never met) was a tailor. Like Beatrice Roberts, he made many outfits — including coats — for his daughters, among them my grandmother. My grandmother took all of this on board, and what she couldn't sew for my late father and aunt when they were young, she bought with a particular eye for fabric and cut, even during the Great Depression. My aunt didn't sew too much but always bought stylish suits and skirts. Similarly, my father was very careful in choosing his attire. My mother also had an eye for clothes — quite possibly because my maternal grandmother spent hours at the sewing machine for her daughters. Along with attention to clothes goes hair and accessories. Dad had two or three pair of high-quality cufflinks which he wore; he was particular. The women in the family chose jewellery with care and their hair was immaculate.
So it was with the Roberts girls, Margaret in particular. Although Alf did not allow his daughters to go to dances until they had finished secondary school, both had fashion sense. When Muriel was away in Birmingham studying physiotherapy, Margaret would write her asking if she could borrow a strand of pearls for social events.
In an interview from 1982, Mrs Thatcher (as she was then) explained why she enjoyed wearing pearls:
They give the face a little lift.
She also advised:
Never press a hem. If you want to let the skirt down, you won't be able to [because of the crease].
In letters to Muriel, Margaret described in great detail what she wore to dances and, once she went up to Oxford, dates with her beaux.
In fact, even one of Margaret's boyfriends from Oxford — Tony Bray — could recall years later what she wore when they once went out for a country pub lunch. It was a fetching blue dress with matching coat. Bray said his date looked stunning.
Incidentally, the programme revealed that it was Tony Bray who, years later, mooted the idea of council tenants purchasing their own flats and homes. He and Margaret — then Prime Minister — discussed the plan privately at his suggestion.
Margaret also illustrated her letters with new additions to her wardrobe, including lingerie. She was particularly delighted when another suitor, Willie Cullen (more about whom later), gave her a beautiful black leather handbag with a monogram on the flap: MR. She wrote Muriel saying that, although she had no intention of marrying Willie, she was duty bound to continue dating him now that he had given her such a lovely gift.
Margaret also went into great detail about every meal she had, including drinks. She described the restaurant or ballroom decor in a way that must have made Muriel feel she was there with her.
Mark Thatcher — her son — told the interviewer that he rarely saw his mother in trousers. She wore them only when instructed to for certain official visits (e.g. military).
Home life in Grantham
Alf ran the corner shop, conveniently placed right at the dividing line between the middle and working class neighbourhoods of Grantham. By all accounts, he was a good grocer.
Conversation at home revolved around either the church or politics. In later years, Alf became mayor of Grantham and an alderman.
Therefore, it is no wonder that Margaret became politically active as an adult.
Alf was conscious that he was providing Muriel and Margaret with advantages that few of their contemporaries had. He later wrote Muriel about this, lamenting that Margaret did not seem very appreciative of the sacrifices and trail blazing he had done on their behalf.
He was right. My late mother-in-law was about the same age as Margaret Thatcher. She desperately wanted to go to university, but her father — an executive — said that girls were unsuited to higher education. My mother-in-law waited until she was married to pursue her interest in painting and art history. As a young mother, she also earned her City and Guilds certification in tailoring. She sewed many of her own outfits as well as items for the home: curtains, silk lampshades and cushions.
Schooldays and a love of America
Margaret was a diligent student and won a scholarship to Kesteven & Grantham Girls' School, which describes itself as 'a specialist science school'.
Note that she later took the title Baroness Thatcher of Kestaven (pron. 'KESS-tuh-vun'), not Grantham!
It was at this time that she and Muriel began many years of correspondence. Margaret wrote of teachers she disliked, students whom she considered academic deadbeats and her own detailed school reports.
Margaret became a prefect and, in 1943, head girl. Her classmates remember her as a young woman with presence who was self-contained, mature beyond her years. One said that most were 'impressed' and 'in awe of her'.
In her free time, Margaret enjoyed going to the State cinema in Grantham. She wrote Muriel about the films she and Beatrice saw. The same year she became head girl also saw the arrival of the United States Air Force at a base near Grantham.
The combination of American films at the State and American military in her town started her lifelong love affair with the United States. Thatcher biographer, journalist Charles Moore, explained that Margaret would have known of Ronald Reagan from the movies she saw and that he represented the American man she knew from the Second World War. Therefore, it was normal that the two would create or cement 'the special relationship' between the two countries in the 1980s.
Somerville College, Oxford
When Margaret went up to Oxford to read Chemistry at Somerville College, her life and connection with Grantham ended.
Again, Alf deserves much credit, especially for encouraging Margaret to apply to Oxford. Many fathers would not have done so. In fact, as Kesteven & Grantham Girls' School did not offer Latin, Alf hired a a local schoolteacher to tutor Margaret in Latin so that she could pass the entrance exam.
Oxford students were encouraged to do their part for the war effort and Margaret, not surprisingly, joined the committee which provided entertainment for American troops stationed nearby.
It took Margaret time to settle in to life in college. She wasn't close with the other girls at Somerville. Some of her contemporaries interviewed said this was because Somerville was known for being left-wing. However, I think Margaret had the outlet for her feelings and experiences in her correspondence with Muriel, so that need was already answered. It is also worth noting that both young women had similar forthright and feisty personalities.
The other girls, those interviewed said, noticed that Margaret was self-contained and had an intellectual curiosity.
It wasn't long then before she needed an outlet for this. She joined the Oxford University Conservative Association. One of her contemporaries was the Duke of Buccleuch (pron. 'Bookh-lew'). (The Duke, incidentally, is probably the most qualified by heritage to be our monarch.) He described Margaret Roberts as
very focussed — she knew what she was doing.
These qualities impressed not only the Duke but also the other members of the aristocracy who belonged to the university's Conservative Association. In fact, the Duke once organised a whipround for Margaret when she was low on funds. Other members donated gladly.
Margaret's social life largely involved around parties and dances with Conservative Association members. They frequently met at the city's iconic Randolph Hotel, which features in a number of Morse episodes.
So esteemed was Margaret that the Conservative Association elected her president.
She earned a Second Class degree in Chemistry in 1947.
The world of work — and courtship
As is common for many university graduates, the real world is a letdown. Margaret had the same experience as she interviewed for her first job.
She also had the handicap of being a woman who was forthright and knew her own mind — qualities which, even today, are valued in men but not the 'fairer sex'. One ICI interviewer wrote that she was too overbearing to ever have a career there. This may go some way towards explaining why there is no ICI today.
Margaret was hired by a plastics firm in Manningtree, Essex, on the River Stour. Manningtree was close enough to London, which pleased her as she had hoped to enrol in law school. However, letters to Muriel reveal that Margaret found the work tedious and, contrary to what she had thought, the post to which she was assigned offered no advancement to management.
Still, work, as we know, pays the bills and finances social activities. Margaret missed her sparkling Oxford social life and decided to join the Colchester (Essex) Young Conservatives.
Another aside here. In the years following the Second World War, the Young Conservative associations were a gateway to courtship and marriage. My mother- and father-in-law met through the Young Conservatives as did their closest friends, with whom they maintained lifelong contact. Friendships and marriages formed there were strong and, from what I understand, the enthusiasm was infectious not only on the hustings but at social gatherings.
Margaret briefly dated a fellow Young Conservative, Brian Harrison, who had recently graduated from Cambridge. He remembers her as being a very good dancer.
In October 1948, Margaret was part of Oxford's graduate delegation attending the Conservative Party conference that year. It was through that meeting that she met the people who would later propose her in 1950 as Conservative candidate for Parliament in Dartford, Kent — a safe Labour seat. One Dartford Conservative described her enthusiasm:
Hearing her speak was exciting!
Margaret began dating a farmer, Willie Cullen, aged 35 — the man who would later buy her the monogrammed handbag. Margaret seemed to find out all sorts of financial details about Willie and described his situation to Muriel. Whilst he seemed to fit the bill, she was unsure whether she could live as a farmer's wife. She also wrote Muriel about a dinner party he had where the other farmers' wives went off to the sitting room afterward. Margaret stayed with the men to talk politics, which was not well received by some of the farmers. One leapt to her defence saying that there was no way the women would be discussing politics. Margaret was allowed to remain with the men.
Margaret enjoyed being with men a few years older than she. Those who were interviewed for the programme suggested that she actively sought them out. In the latter days of her relationship with Willie, she also met 36-year old Denis Thatcher and 47-year old Dr Robert Henderson. Thatcher, divorced, owned his own business. Henderson, never married, was the inventor of the British version of the iron lung. He worked at a hospital in Dartford.
In 1950, Margaret was the Conservative candidate for MP of Dartford. At a local civic event, her Labour opponent expressed his fascination with her and asked her to dance. Although Margaret later lost the election, she was able to increase the number of Conservative votes by several thousand.
It was at this time when Margaret was seeing more of the doctor and less of Willie. She felt obliged to make the break as painless as possible for Willie. In a letter to Muriel, she effectively handed the farmer over to her sister, provided she was in agreement. Muriel met Willie and within several weeks they were engaged. Margaret was maid of honour at their wedding. Muriel settled in to farming life easily and the couple raised three children. One of them, Andrew, was interviewed for the programme. Muriel bequeathed her letter collection to him.
Meanwhile, Margaret had concerns about Dr Henderson, despite her great admiration for him. She was aware that they had come from different social classes and feared he would marry someone else. She believed it was only a matter of time.
Life in London — and marriage
In 1951, Margaret moved to London. She worked hard to fix up her own flat with some assistance from decorators. Denis Thatcher proved a welcome distraction from hours spent on DIY.
Three months after moving into the flat, Margaret broke off her relationship with Dr Henderson. However, she seems to have remained friends with him as evidenced by a medical question she put to him some years later when her son Mark was born.
Although Margaret was not keen on Denis when she first dated him — prior to moving to London — he grew on her and they enjoyed each other's company. Alf also gave his stamp of approval to the relationship.
Later that year, Margaret ran again as Conservative candidate for Parliament for Dartford. Again, she lost to her Labour opponent but continued to build on the Conservative votes from the preceding year. Denis helped to campaign for her but they kept their engagement a secret; as Denis was divorced, it would not have looked good for her. Recall that, two years later, Princess Margaret was forced to break off her relationship with Group Captain Peter Townsend for the same reason. It would not have reflected well on the Royal Family, especially the young Queen.
On December 13, Margaret and Denis were married at the Wesleyan Chapel in City Road, London. In a 1985 documentary, she exclaimed:
This [marriage] was the biggest thing in life!
The couple spent their wedding night at the Savoy before flying to Madeira for their honeymoon.
And so it proved an enduring, loving union. Denis was a reliable and unfailing source of support for his wife. He was happy to remain in the background, offering advice in private. He also acknowledged that he didn't care much for meeting people, although he did meet many. He had a close circle of loyal friends. Private Eye parodied these friendships whilst Margaret was Prime Minister in the series Dear Bill, a collection of fictional and witty letters from Denis to one of his friends.
The Thatchers lived in Denis's home in London's fashionable Chelsea, where they often entertained their friends.
It wasn't long afterward that Margaret began studying law. As if this were not enough, she applied to Conservative Central office in June of 1952, asking them to put her forward as a Parliamentary candidate. Even then, the Conservatives were looking for more female candidates — this is nothing new. Yet, this proved difficult. Margaret's forthright personality did not always gel with the local Conservative associations. Central Office made other excuses: she didn't understand farming; industrial constituencies needed men, not women.
In August 1953, Margaret gave birth prematurely to fraternal twins Mark and Carol. Denis, who hadn't expected his wife to go into labour so early, was at a test match at the Oval at the time.
Five months later, Margaret passed her law exam. A nanny minded the babies, but Margaret wrote Muriel that she was conscious that the nanny also needed her rest, so she shared night duty with her. To give her more time at home, Margaret decided to specialise in tax law.
It was around this time that Margaret and Muriel wrote each other less. Each had their own lives by now. Muriel was on the farm in Essex and Margaret was still eyeing a political career. However, the families still visited each other, which continued even when Margaret spent prime ministerial weekends at Chequers.
Andrew Cullen said that Margaret Thatcher — one of the most famous women in the world for over a decade — was an affectionate aunt, 'like anyone else's aunt'. He added that she remembered the Cullen children's birthdays and big occasions. He described their parents and the Thatchers as
all good friends.
Life in politics
In 1958, Margaret was selected as candidate for Finchley and won the seat in 1959 with a majority of 16,000 votes. One of her constituents at the time said:
We were lucky to have her!
At last, Margaret Thatcher was able to take her place as a Member of Parliament.
Alf was 'proud as punch' to see Margaret in the House of Commons. He died in 1970, so never saw her become Britain's first Prime Minister in 1978.
Once she became an MP, Margaret's correspondence with Alf became rarer and rarer. Alf wrote Muriel with his concerns. Muriel's contact with her sister was somewhat more sustained.
All credit to Alf and Denis
Mrs Thatcher was careful to credit Alf with her success.
Indeed, it could be Methodism's prominent placement of women as church leaders which influenced Alf in ensuring his daughters were well educated. He also had no objection to Margaret's entering politics.
John and Charles Wesley's mother Susanna was a powerful influence not only in the home but during Mr Wesley's absences. Susanna, a lay preacher told me, used to lead prayer meetings in the family home whilst Wesley was in London.
John Wesley granted a licence to preach to six women, the first being Sarah Crosby in 1761. It seems unlikely that these women softened the church. As he was such a keen evangelist, I doubt he would have chosen women who were seen to dilute the Methodist message.
This is what Wesley had to say in a sermon of his from 1786, 'On Visiting the Sick'. He, like I, believed that keeping women submissive is Islamic (emphases mine):
It has long passed for a maxim with many that "women are only to be seen but not heard." And accordingly many of them are brought up in such a manner as if they were only designed for agreeable playthings! No, it is the deepest unkindness; it is horrid cruelty; it is mere Turkish barbarity. And I know not how any women of sense and spirit can submit to it.[3]
It is heartbreaking to read today of 'Christian' men — Catholic and Protestant — who want to restrict women in society.
My Catholic maternal grandfather was guilty of this around the time when Alf was encouraging his girls to fly the coop. My mother, Lady Thatcher's age, was forbidden to move out of the house until she married. My mum — gifted, responsible and diligent — dreamed of moving to the big city and pursuing her own career, but he said no. My mother did not marry until she was 35. She had a long wait. Even then, she was handed over to my dad. She never had any independence in between. Yet, her Catholic friends from childhood did; by the time my mother got married, her girlfriends had been living on their own for years.
Therefore, finding out more about Alf's fatherly example is important to me. We need good models of manhood, fathers who do not fear or denigrate women.
Denis Thatcher falls into this category, too.
Again, it is soul-destroying to read about Catholics and Protestant husbands who think it's all right to beat their wives into submission.
I give Denis full credit for being such a wonderful husband and support to his wife. Her ambitions were not his, yet he was there for her. He was his wife's confidant. They were best friends as well as a married couple.
I would ask all men to reflect carefully on their attitudes towards women. Some are angry at them. Some love them as long as they are subjugated. Some fathers have a really unhealthy relationship with their daughters (purity rituals). Some husbands have a pathological and abusive relationship with their wives.
To those men, my message is to look at the example of Alf and Denis and to learn well from it.
It doesn't matter what we think of Margaret Thatcher's politics. What does matter is that she had a father who raised her to lead and a husband who faithfully encouraged that leadership.
The funeral of Margaret Hilda Roberts Thatcher — Baroness Thatcher of Kestaven (pron. 'KESS-tuh-vun') — was held Wednesday, April 17, 2013 in St Paul's Cathedral.
My condolences to her family and prayers for them in the weeks ahead as they come to terms with the loss of their mother and grandmother who died at the age of 87.
A brief appraisal of Margaret Thatcher
Britain's first woman Prime Minister and the longest serving in 150 years was contentious, to say the least — and not just among left-wing agitprop types. Twenty-three years ago, Conservative Party loyalists also thought that it was time for the Iron Lady to stand down. These were people Mrs Thatcher's age or older who had devoted much free time over the years to their local Conservative Association. They thought that she had started believing her own hype, had served long enough and had damaged the image of the Party. The autumn of 1990 was tense for them as they watched events unfold during the leadership contest, during which she vowed to 'fight to win'. Eventually, her Cabinet persuaded Mrs Thatcher to withdraw her name from the ballot. Her Chancellor of the Exchequer John Major went on to win the Party leadership vote, replaced her as Prime Minister and went on to win the General Election of 1992. He lost to Tony Blair in 1997.
It is for this reason that Margaret Thatcher is anathema in our household, along with Princess Diana, Tony Blair, the Pope, Obama and Mormons. (The last two meant that any conversations about the 2012 US election were short-lived!)
That said, I would rather have had her as Prime Minister than not. Margaret Thatcher knew her own mind and had a strong sense of morality. I don't agree with all of her decisions, however, we  must not forget the Winter of Discontent under her predecessor, Labour's James Callaghan. That period between 1978 and 1979 was the last straw for many British voters.  Indeed, it was the sort of national debacle that can happen only under a left-wing government. It was against this backdrop that Margaret Thatcher won the 1979 election. I'm oversimplifying for reasons of space. My British readers — no agitprop, please — are welcome to contribute their memories of this time in the comments.
Personally, I look at the larger picture of a woman born a grocer's daughter who worked as a chemist (incidentally, on the formula for the soft ice cream Mr Whippy), then became a Member of Parliament at a time when only 4 per cent of MPs were women, eventually becoming Prime Minister. That is an incredible achievement. Some Western countries have never elected a woman to that or a similar position — France and the United States, to name but two.
Unlike some female politicians, Margaret Thatcher always looked and acted like a lady. She had a certain style which was all her own — one which attracted the respect and admiration of powerful men — without ever debasing herself or her office.  Everyone knew that she was a loving wife to her husband Denis (d. 2003), a devoted mother to Carol and Mark and a faithful Christian (initially in the Methodist Church, then the Church of England).
It has been heartening to read the many fulsome comments in Baroness Thatcher's memory from Americans and the French in mainstream fora. Most wished that they, too, had a Mrs Thatcher as head of state. So do I.
The other tribute which struck me was Labour leader Ed Milliband's, which I saw replayed on Andrew Neil's politics show (BBC) on Sunday. It was gracious and generous, considering how opposite they were politically. Apparently, the panellists said, Milliband wanted to 'go even further' but Labour advised against it.
Two final thoughts. One, Mrs Thatcher did not need feminism; she made her own way in the world. Two, she might well have been the last Prime Minister to love England.
The funeral
Before she died, Baroness Thatcher expressed her wish for a religious funeral. She made it clear that she did not want a state funeral. David Cameron and the Conservatives took that into account but decided that she deserved a ceremony which remembered her 11-year leadership and included those who fought in the Falklands War in 1982.
The Queen felt moved to attend the funeral, the first of a Prime Minister she has attended since Winston Churchill's nearly 50 years ago, in 1965.
As we are unlikely to witness a politician's funeral of this magnitude anytime soon, it seems worth recording for those who are interested in finding out more about the protocol surrounding such an event.
This is not an encyclopaedic account of the funeral, by the way. Information on the procession and funeral quotes comes from a live blog of her funeral, the order of service and from the BBC1 broadcast of the ceremony, presented by David Dimbleby. My apologies to British readers if I have some of the following titles incorrect.
On Tuesday, April 16, Baroness Thatcher's coffin was in the Parliamentary chapel, St Mary Undercroft, overnight. The 79th Chaplain to the Speaker of the House, the Revd Rose Hudson-Wilkin, kept vigil. That evening, the Thatcher family and others  — 150 people altogether — participated in a brief service in the chapel.
Military procession
A funeral procession with a hearse processed from Parliament towards St Paul's. The streets were lined with well wishers. At St Clement Danes in the Strand — the central church of the Royal Air Force (RAF) — the hearse stopped and the coffin was transferred to a gun carriage which was part of an Armed Forces procession from there to the cathedral.
Participating in the military procession were battalions which had seen active service in the Falklands War. Included were the RAF, the Royal Navy, the Royal Ghurka Rifles, Scots Guards, Royal Artillery, 3 Battalion Parachute Regiment, 9 Parachute Squadron Royal Engineers, 40 Commando Royal Marines. The Royal Marines Band from Portsmouth on the south coast played funeral marches by Beethoven, Mendelssohn and Chopin.
During that time, the Honourable Artillery Company fired a gun salute at one-minute intervals from the Tower of London. The gun salute was timed to stop when the procession reached St Paul's.
A guard of honour from the 1st Batallion Welsh Guards met the procession at the cathedral.
The eight pall bearers were from other Army, Royal Navy and RAF units and stations with links to the Falklands War. Major Nick Mott of the Welsh Guards led the pall bearers. He had served in the Falklands in 1982.
People attending
2,300 people attended Baroness Thatcher's funeral. The Queen and Prince Philip arrived from Windsor exactly 15 minutes before the ceremony began. Sarah Ferguson, Duchess of York, had been the first to arrive at 9:30. Several members of the Thatcher Cabinet attended, among them Sir John Major, Lord Carrington, Lord (Cecil) Parkinson, Sir Nigel Lawson, Lord (Michael) Heseltine, Baron (Douglas) Hurd, Sir Geoffrey Howe, Sir Norman Tebbit and Baron (Leon) Brittan. Sir Bernard Ingham, synonymous with 'No. 10' as her press secretary sat with his former colleagues. Current Conservative MPs and cabinet members were also in the congregation along with Prime Minister David Cameron and his wife Samantha, Chancellor of the Exchequer George Osborne and William Hague. The Conservative Mayor of London Boris Johnson and former Speaker of the House Betty Boothroyd were also there.
Among those from the Labour Party were the current Leader of the Opposition Ed Milliband, Tony and Cherie Blair as well as Gordon and Sarah Brown.
A number of Liberal Democrats also attended, including Dame Shirley Williams, Baron (David) Steel, Baron (David) Owen as well as Nick and Miriam Clegg.
Among the entertainers and broadcasters in the congregation were Dame Shirley Bassey, Katherine Jenkins, Sir Terry Wogan and Jeremy Clarkson. Journalists included John Sergeant, Kelvin Mackenzie, Matthew Parris and Peter Jenkins.
Lady Thatcher's two full-time carers were also among the congregation as were several members of the armed forces who saw active service in the Falklands, such as Simon Weston — probably the most famous veteran.
Foreign countries also sent representatives. The United States sent George Shultz and James Baker (both from the Reagan era), Henry Kissinger and Dick Cheney. Prime Minister Benjamin Netanyahu attended for Israel. Elisabeth Guigou, adviser to the Mitterand government (1980s), represented France. Mario Monti represented Italy. Kuwait sent Prime Minister Sheikh Jaber Mubarak Al-Sabah, the son of the ruler of Kuwait Sheikh Nasser Sabah Al-Ahmed Al Sabah. Former president FW de Klerk represented South Africa.
The ceremony
Lady Thatcher's grandchildren — Amanda and Michael — processed with the coffin down the central aisle towards the bier in front of the altar. Each carried a purple cushion. One had the insignia of the Order of the Garter and the other that of the Order of Merit. They placed the cushions one on either side of the bier.
The Very Revd David Ison, Dean of St Paul's (post-Occupy), led the service. He gave a brief, gracious introduction about the life of Lady Thatcher and the values by which she lived.
Everyone then recited the Lord's Prayer.
The congregation then sang the first hymn, 'He Who Would Valiant Be' (Monks Gate). Paul Bunyan, incidentally, wrote the lyrics, which conclude with:
I'll fear not what men say
I'll labour night and day
To be a pilgrim.
Lady Thatcher's granddaughter Amanda, aged 19, read the first reading, Ephesians 6:10-18, which is read at the funeral of every member of the Order of the Garter. It includes these verses:
12 For we wrestle not against flesh and blood, but against principalities, against powers, against the rulers of the darkness of this world, against spiritual wickedness in high places. 13 Wherefore take unto you the whole armour of God, that ye may be able to withstand in the evil day, and having done all, to stand.
The men's and boy's choir of St Paul's then sang an anthem by Henry Purcell, 'Hear My Prayer, O Lord', which is based on Psalm 102. Among the verses in that Psalm are the following:
25Of old hast thou laid the foundation of the earth: and the heavens are the work of thy hands.
 26They shall perish, but thou shalt endure: yea, all of them shall wax old like a garment; as a vesture shalt thou change them, and they shall be changed:
 27But thou art the same, and thy years shall have no end.
Prime Minister David Cameron took the second reading, John 14:1-6:
1Let not your heart be troubled: ye believe in God, believe also in me. 2In my Father's house are many mansions: if it were not so, I would have told you. I go to prepare a place for you. 3And if I go and prepare a place for you, I will come again, and receive you unto myself; that where I am, there ye may be also. 4And whither I go ye know, and the way ye know. 5Thomas saith unto him, Lord, we know not whither thou goest; and how can we know the way? 6Jesus saith unto him, I am the way, the truth, and the life: no man cometh unto the Father, but by me.
The choir sang a second anthem, one which Lady Thatcher chose for her husband Denis's funeral: 'How Lovely Is Thy Dwelling Place', based on Psalm 84 with music by Brahms. Psalm 84 ends with these verses:
11For the LORD God is a sun and shield: the LORD will give grace and glory: no good thing will he withhold from them that walk uprightly.
 12O LORD of hosts, blessed is the man that trusteth in thee.
The Bishop of London, the Right Revd Richard Chartres, delivered the address, which gave us an insight into the spiritual thoughts of Lady Thatcher.
Chartres was careful to say at the start — and more eloquently than I express it here — that whilst people had varying opinions of Lady Thatcher, the congregation should consider her funeral a time for 'reconciling' and hope.
He recalled the kindness and courtesy she extended to those who worked for her over the decades. He also remembered the careful attention she took when replying to youngsters who wrote to her. Among them was a nine-year old David Cameron. His letter recounted a discussion he had with his father. David said that he reckoned that Mrs Thatcher never did anything wrong. His father gently corrected him saying that, among those on Earth, only Jesus was perfect. David then decided to write to the Prime Minister who replied (somewhat paraphrased):
However good we try to be we can never be as kind, gentle and good as Jesus.
The Bishop then described her home life and the Church whilst she was growing up. The Roberts family attended their Methodist Church in Grantham, Lincolnshire, twice on Sundays and once during the week. Jesus Christ was at the forefront of their lives.
In adulthood, he said that, as a woman, Lady Thatcher had many hurdles to climb. When she entered Parliament in 1959 (representing Finchley in North London) as a wife and mother, only four per cent of Parliamentarians were women. She experienced many rebuffs from people who did not think that women had any place in political life.
He then explored a few of Lady Thatcher's personal beliefs:
– Christianity offers no easy solutions to political and social issues.
– Family lies at the heart of society and civic virtue. It can be easily eroded. (He then discussed the taking out of context that people did when Lady Thatcher said, 'There is no such thing as society'.)
– Individual independence is essential to living a Christian life. This meeting of individuals leads to an interdependence as we lean on each other and upon Christ.
Chartres then remembered Lady Thatcher's 'lifelong dependence' on her husband Denis, recalling that his death 'was a great blow indeed'.
He asked the congregation to remember God's generosity in giving us the gift of His only Son, Jesus Christ. He also recognised that, at times like these, we also take stock of our own lives. How have we lived? What will people remember of us?
One of his final remarks was recalling what Lady Thatcher said the Church of Scotland (Presbyterian) Assembly (somewhat paraphrased):
I leave you with the earnest hope that we all may come closer to that other country in ways of gentleness and peace.
The congregation then sang the famous Wesley hymn, 'Love Divine, All Loves Excelling' (Blaenwern).
Afterward, four clergy offered prayers in Lady Thatcher's memory: Chaplain to the Speaker of the House, the Revd Rose Hudson-Wilkin; the Most Revd Patrick Kelly, Bishop Emeritus of the (Catholic) Diocese of Liverpool; the Revd William Hall of the American Church and the Revd Ruth Gee, President Designate to the Methodist Convention.
The choir sang the final anthem, 'May Angels Lead You Into Paradise' from Fauré's Requiem Mass.
The Revd Sarah Eynstone, Minor Canon and Chaplain at St Paul's then read a short prayer.
The congregation then sang a rousing rendition of 'I Vow to Thee My Country' (Thaxted). Between them and the choir's superb singing, I thought the dome of St Paul's might lift off. It was a glorious moment and a perfect one for the end of a funeral.
Bishop Chartres gave a blessing, followed by the Archbishop of Canterbury, Justin Welby, whose blessing included this petition:
Grant us a safe passage and Your holy blessing.
The pall bearers then came to gather the casket for the procession out of the cathedral. They were led by two clergy from St Paul's, each of them carrying one of the aforementioned velvet cushions.
A soloist sang the Nunc Dimittis, another hauntingly beautiful moment from this historic ceremony.
The Thatcher family processed behind the coffin, followed at some distance by the Queen and Prince Philip. Once outside, the Thatchers watched as the pall bearers carefully placed the coffin in the hearse with a cushion on each side. The Queen and Prince Philip, accompanied by St Paul's clergy, watched this from some distance away, on the top step of the cathedral.
Afterward, the Queen and Prince Philip allowed the Thatchers a few minutes among themselves before walking down to express their condolences and talk for a while.
The hearse proceeded via a different route to the Royal Hospital Chelsea and from there to Mortlake Crematorium, west of London.
The Thatchers and a small party of friends attended a reception at the Guildhall in the City of London.
In closing, the BBC's David Dimbleby called our attention to the motto on Baroness Thatcher's Order of Merit cushion:
Cherish freedom.
The poster below featured at ThinkScotland caught my eye:
The Giants
Ronald Reagan:
There are no constraints on the human mind, no walls around the human spirit, no barriers to our progress except those we ourselves erect.
Margaret Thatcher:
Socialists cry 'Power to the people', and raise the clenched fist as they say it. We all know what they really mean — power over people, power to the State. 
The Pygmies
Barack Obama in 2012:
If you've got a business, you didn't build that. Somebody else made that happen.
David Cameron, responding to the question, 'Why do you want to be Prime Minister?':
Because I think I'd be rather good at it.
How far we have fallen in only three decades.
Not so long ago we had statesmen. Now we have administrators.
On June 8, 2010, Prime Minister David Cameron welcomed former Prime Minister Baroness Thatcher to Downing Street.
Through no actions of her own, she continues to upset the Labour Party to such an extent that Jack McDonnell, a candidate for party leadership, said the night before that he wished he could have assassinated her in the 1980s:
One thing that centre-right and more conservative watchers try to fathom is the antipathy — actually, hate — which the left have in often speaking of death to their perceived enemies.  And yet, they're the ones who still call the Conservatives 'the nasty party', campaigning on it successfully in parts of the UK in April, 13 years after the Tories left government!
Theories abound.  This one may be helpful.  On a Political Betting post, 'It's final nominations in Labour's election', commenter Patrick says:
The general lefty rule (and that includes much of the MSM) is that if said scumbag was a lefty then he is in no small measure forgiven for his crimes because he was, well, a lefty. Stalin, Mao, Che Guevara, Castro, etc, etc ad nauseam – they were naughty boys but lovable because their uniforms had red stars on them. But…righty scumbags? Well obviously they were righties so deserve all the opprobrium they get.
Sometimes the righty was in fact a lefty but no-one seems to have noticed. That Bohemian chap with the 'tache was, if I remember rightly, the leader of a party that included the words 'socialist' and 'worker' in its name! Ho hum.
On occasion the righty did very nasty things but largely to restore order and put a functioning economy in place. [Pinochet] in Chile is hated by the lefties but for all his unspeakableness did in fact leave behind a relatively successful and properly functioning democratic state. Compare and contrast with the spendy uselessness of their next door neighbour and its junta. Would you rather be a Chilean or an Argentinian today? No brainer for me.
On the same thread, the conversation looked at McDonnell's remark in light of union militancy and mine closures during the Thatcher government:
Andyjay: I think it was an outrageous thing for McDonnell to say – it is the thing I really hate about Labour, they had no way of combatting the argument because they lost so they make it into a personal issue …
Whilst I feel sorry for anyone who loses their job – the world does not owe them a living and I think I can say this given my joblesness. How dare they think the taxpayer should prop them up – Nobody has propped me up! I am on my own, you don't see me picketing or rioting. It was not just the miners either but steel workers and ship workers – their militancy put them out of jobs by making them uncompetetive in industries where they refused to change with the times. The same can be said of Public services – their militancy and greed will mean they lose their jobs as well. The BBC has it coming too – they needs some Tories on the board there and in the news room.
runnymede: … there was a documentary on the miners' strike some months ago in which an ex-union member was asked about the death of a taxi driver during the dispute. The driver died as a result of a concrete block being thrown off a bridge by strikers onto his car.
The union member's response was dismissive – 'hard lines', he said. Apparently, if a person chose to drive a miner to work during a strike he should expect death.
At Guido Fawkes, in 'She's Back', readers also explored Lady Thatcher's legacy:
Godblessher: Its a left wing attempt to re-write history portraying her as some sort of evil dictator, she was hugely popular for a long time. Millions prospered, the state was rolled back and the cold war was won.
AC1: Most amusing thing is that careers in The City got opened up to all classes of people (i.e. based on talent, not nepotism). No wonder the left hated it, their client state moved themselves out of poverty and the need for [Other People's Money].
Maggie's Drawers: Maggie closed fewer mines than [Labour's] Lord Anthony Wedgewood Benn did.
And she gave the working class the chance to own their own council homes.  Labour are just angry that she helped the working class to prosperity and took away a large bloc of their votes from 1979 to 1992.  Well, Labour have had the last 13 years in office.  Time for someone to get us out of the mess they left us in, just like at the end of the 1970s.
I'm not saying Margaret Thatcher was a perfect Prime Minister, but London looked so much better in the late 1980s and early 1990s than when I saw it in the 1970s under Labour PM James Callaghan, when it was, quite frankly, depressing.
I wish our coalition government all the very best.  Let's hope Lady Thatcher gave David Cameron some helpful advice.
By the way, Mr McDonnell has since withdrawn from the Labour leadership contest.
The Cranmer blog (see my Blogroll) really has had some gems this week. The one from St Hilary's day, January 13, went back in time to 1988 when the then Prime Minister Margaret Thatcher, a Methodist, addressed the General Assembly of the Church of Scotland (Presbyterian).
Not many Englishmen agree with the real results of Baroness Thatcher's political line.  However, what follows are excerpts of the best of her thoughts.  You can read her speech in full here.    
Perhaps it would be best, Moderator, if I began by speaking personally as a Christian, as well as a politician, about the way I see things. Reading recently, I came across the starkly simple phrase:
'Christianity is about spiritual redemption, not social reform.'
Sometimes the debate on these matters has become too polarised and given the impression that the two are quite separate. But most Christians would regard it as their personal Christian duty to help their fellow men and women. They would regard the lives of children as a precious trust. These duties come not from any secular legislation passed by Parliament, but from being a Christian.
But there are a number of people who are not Christians who would also accept those responsibilities. What then are the distinctive marks of Christianity?
They stem not from the social but from the spiritual side of our lives, and personally, I would identify three beliefs in particular:
First, that from the beginning man has been endowed by God with the fundamental right to choose between good and evil. And second, that we were made in God's own image and, therefore, we are expected to use all our own power of thought and judgement in exercising that choice; and further, that if we open our hearts to God, He has promised to work within us. And third, that Our Lord Jesus Christ, the Son of God, when faced with His terrible choice and lonely vigil chose to lay down His life that our sins may be forgiven. I remember very well a sermon on an Armistice Sunday when our Preacher said, 'No one took away the life of Jesus , He chose to lay it down'.
I think back to many discussions in my early life when we all agreed that if you try to take the fruits of Christianity without its roots, the fruits will wither. And they will not come again unless you nurture the roots.
But we must not profess the Christian faith and go to Church simply because we want social reforms and benefits or a better standard of behaviour; but because we accept the sanctity of life, the responsibility that comes with freedom and the supreme sacrifice of Christ expressed so well in the hymn:
'When I survey the wondrous Cross, On which the Prince of glory died, My richest gain I count but loss, And pour contempt on all my pride.'
May I also say a few words about my personal belief in the relevance of Christianity to public policy—to the things that are Caesar's?
The Old Testament lays down in Exodus the Ten Commandments as given to Moses , the injunction in Leviticus to love our neighbour as ourselves and generally the importance of observing a strict code of law. The New Testament is a record of the Incarnation, the teachings of Christ and the establishment of the Kingdom of God. Again we have the emphasis on loving our neighbour as ourselves and to 'Do-as-you-would-be-done-by'.
I believe that by taking together these key elements from the Old and New Testaments, we gain: a view of the universe, a proper attitude to work, and principles to shape economic and social life.
We are told we must work and use our talents to create wealth. 'If a man will not work he shall not eat' wrote St. Paul to the Thessalonians. Indeed, abundance rather than poverty has a legitimacy which derives from the very nature of Creation.
Nevertheless, the Tenth Commandment — Thou shalt not covet—recognises that making money and owning things could become selfish activities. But it is not the creation of wealth that is wrong but love of money for its own sake. The spiritual dimension comes in deciding what one does with the wealth. How could we respond to the many calls for help, or invest for the future, or support the wonderful artists and craftsmen whose work also glorifies God, unless we had first worked hard and used our talents to create the necessary wealth? …
I confess that I always had difficulty with interpreting the Biblical precept to love our neighbours 'as ourselves' until I read some of the words of C.S. Lewis. He pointed out that we don't exactly love ourselves when we fall below the standards and beliefs we have accepted. Indeed we might even hate ourselves for some unworthy deed.
None of this, of course, tells us exactly what kind of political and social institutions we should have. On this point, Christians will very often genuinely disagree, though it is a mark of Christian manners that they will do so with courtesy and mutual respect. What is certain, however, is that any set of social and economic arrangements which is not founded on the acceptance of individual responsibility will do nothing but harm.
We are all responsible for our own actions. We can't blame society if we disobey the law. We simply can't delegate the exercise of mercy and generosity to others. The politicians and other secular powers should strive by their measures to bring out the good in people and to fight down the bad: but they can't create the one or abolish the other. They can only see that the laws encourage the best instincts and convictions of the people, instincts and convictions which I'm convinced are far more deeply rooted than is often supposed.
Nowhere is this more evident than the basic ties of the family which are at the heart of our society and are the very nursery of civic virtue. And it is on the family that we in government build our own policies for welfare, education and care.
You recall that Timothy was warned by St. Paul that anyone who neglects to provide for his own house (meaning his own family) has disowned the faith and is 'worse than an infidel'…
In our generation, the only way we can ensure that no-one is left without sustenence, help or opportunity, is to have laws to provide for health and education, pensions for the elderly, succour for the sick and disabled.
But intervention by the State must never become so great that it effectively removes personal responsibility. The same applies to taxation; for while you and I would work extremely hard whatever the circumstances, there are undoubtedly some who would not unless the incentive was there. And we need their efforts too.
Moderator, recently there have been great debates about religious education. I believe strongly that politicians must see that religious education has a proper place in the school curriculum.
In Scotland, as in England, there is an historic connection expressed in our laws between Church and State. The two connections are of a somewhat different kind, but the arrangements in both countries are designed to give symbolic expression to the same crucial truth: that the Christian religion — which, of course, embodies many of the great spiritual and moral truths of Judaism — is a fundamental part of our national heritage. And I believe it is the wish of the overwhelming majority of people that this heritage should be preserved and fostered. For centuries it has been our very life blood. And indeed we are a nation whose ideals are founded on the Bible.
Also, it is quite impossible to understand our history or literature without grasping this fact, and that's the strong practical case for ensuring that children at school are given adequate instruction in the part which the Judaic-Christian tradition has played in moulding our laws, manners and institutions. How can you make sense of Shakespeare and Sir Walter Scott, or of the constitutional conflicts of the 17th century in both Scotland and England, without some such fundamental knowledge?
But I go further than this. The truths of the Judaic-Christian tradition are infinitely precious, not only, as I believe, because they are true, but also because they provide the moral impulse which alone can lead to that peace, in the true meaning of the word, for which we all long.
To assert absolute moral values is not to claim perfection for ourselves. No true Christian could do that. What is more, one of the great principles of our Judaic-Christian inheritance is tolerance. People with other faiths and cultures have always been welcomed in our land, assured of equality under the law, of proper respect and of open friendship. There's absolutely nothing incompatible between this and our desire to maintain the essence of our own identity. There is no place for racial or religious intolerance in our creed …
I always think that the whole debate about the Church and the State has never yielded anything comparable in insight to that beautiful hymn 'I Vow to Thee my Country'. It begins with a triumphant assertion of what might be described as secular patriotism, a noble thing indeed in a country like ours:
'I vow to thee my country all earthly things above; entire, whole and perfect the service of my love'.
It goes on to speak of 'another country I heard of long ago' whose King can't be seen and whose armies can't be counted, but 'soul by soul and silently her shining bounds increase'. Not group by group, or party by party, or even church by church — but soul by soul — and each one counts.
That, members of the Assembly, is the country which you chiefly serve. You fight your cause under the banner of an historic Church. Your success matters greatly — as much to the temporal as to the spiritual welfare of the nation. I leave you with that earnest hope that may we all come nearer to that other country whose 'ways are ways of gentleness and all her paths are peace'
It's too bad that we are unlikely to remember Baroness Thatcher's aforementioned words matching the actions and consequences of her government, yet, these are words that we should remember as Christians, whether we are Tories, Labour or Lib Dems. 
We have an election coming up within the first half of this year.  Let us ensure that we can measure our chosen candidate by the above words.  Can our candidate live up to them?  None of the present candidates can, it would seem.  We might end up choosing the best of a bad lot. Yet, let us strive to choose he who can most clearly measure up to the ideals expressed above.