You are currently browsing the tag archive for the 'Margaret Thatcher' tag.
The UK experienced a busy and historic weekend as Operations London Bridge and Unicorn became reality after the Queen's death on Thursday, September 8, 2022.
The nation is now in a 10-day period of mourning, which continues through Monday, September 19, the day of the Queen's funeral in Westminster Abbey. King Charles III has declared the day to be a bank holiday. The Royals, including their staff, will mourn for an additional week.
Before going into the weekend's events, I have a few items to add from the end of last week.
Wednesday and Thursday, September 7 and 8
Last Wednesday, possibly having been busy preparing for her parliamentary statement on the energy crisis on Thursday, Liz Truss's office cancelled the weekly update on Operation London Bridge, the funeral plans for Queen Elizabeth II. However, Simon Case, the civil servant who is Cabinet Secretary, informed the Prime Minister of the Queen's decline early on Thursday morning.
Former Metropolitan Police Chief Superintendent Parm Sandhu told GB News that Operation London Bridge was originally planned in the 1960s and has been regularly reviewed since.
The Duke of Edinburgh's — Prince Philip's — plans were Operation Forth Bridge, so named for the magnificent bridge that links the Scottish capital to Fife.
Operation Unicorn involves funeral plans for Scotland in the event the Queen died there.
As my post on Friday explained, the Prime Minister found out about the Queen's death during the energy debate in the Commons.
On Friday, September 9, Conservative MP Michael Fabricant told GB News that the note she received at lunchtime might well have said:
London Bridge is down.
At that point, the Queen was receiving medical attention and her closest family members were on their way to Balmoral.
The Times reported how Thursday afternoon's events unfolded (emphases mine):
The six hours that followed brought together a fractured royal family and seemed to unite a nation in apprehension. At 12.32pm, moments after the first signs in the Commons, a Buckingham Palace spokesman said: "Following further evaluation this morning, the Queen's doctors are concerned for Her Majesty's health and have recommended she remain under medical supervision."
It was immediately clear the news was more significant than previous announcements about the Queen's health. Newspaper websites swiftly reported the announcement …
… At 12.45pm the Duke and Duchess of Cornwall announced that they were travelling to Balmoral. They were already in Scotland after hosting a dinner at Dumfries House in Ayrshire the previous evening. A minute later the Duke of Cambridge, 40, announced that he would be travelling from London. It was now clear that the situation was grave.
The Duchess of Cambridge, 40, remained at their Windsor home and drove to collect Prince George, Princess Charlotte and Prince Louis following their first full day at their new school to tell them of the news. At 1.30pm the Duke of York, 62, who was stripped of his royal duties after the scandal surrounding Jeffrey Epstein, said that he would also be flying to Scotland. Six minutes later the Earl and Countess of Wessex confirmed that they would also be travelling to Balmoral.
The Princess Royal, 72, had been on the Isle of Raasay on Wednesday and stayed at Balmoral overnight. The Duke of Sussex, despite his long- running troubles with the monarchy, announced at 1.52pm that he was also travelling to Scotland, separately from other senior royals but "in co-ordination with other family members' plans". He arrived at Balmoral almost two hours after the announcement of his grandmother's death. He had flown into Aberdeen airport alone, and his wife remained in Windsor.
Prince Harry, 37, happened to be in the UK anyway, and had been due to attend a charity event in London last night.
The first signs of serious concerns about the Queen's health had emerged at 6pm on Wednesday, when it was announced that she had "accepted doctors' advice to rest" rather than attend a virtual meeting of the privy council that evening.
That would have been only an hour after I'd heard a long pealing of bells from Westminster Abbey on Wednesday, which I mentioned in my post on Friday.
More of the timeline continues, including the hour when the Queen's death was announced:
Soon after the announcement of concerns of the Queen's doctor, Charles, 73, was seen clutching a large briefcase as he boarded the royal helicopter from Dumfries House with Camilla, 75, for the journey to Balmoral.
The flight carrying William, Prince Andrew, Prince Edward and Sophie took off from RAF Northolt in northwest London at 2.39pm. Royal Air Force flight KRF23R landed at Aberdeen airport at 3.50pm. A short while later, at 4.30pm, the prime minister was informed of the Queen's death by Simon Case, the cabinet secretary, according to her official spokesman.
Meanwhile, the Duke of Cambridge was driving his two uncles the 40 miles from Aberdeen airport to Balmoral, arriving just after 5pm. William was behind the wheel of the Range Rover, with Andrew in the passenger seat and Edward, 58, and Sophie, 57, in the back …
The Palace said in a statement: "The Queen died peacefully at Balmoral this afternoon. The King and The Queen Consort will remain at Balmoral this evening and will return to London tomorrow."
Charles had acceded to the throne immediately.
The flags in Downing Street were lowered to half mast at 6.36pm. BBC One played the national anthem following the announcement of the monarch's death, showing a photograph of the Queen, followed by a royal crest on a black background and the words Queen Elizabeth II …
The double rainbow, which I also referenced on Friday, appeared as soon as the flags were lowered to half mast, not only in London but also in Windsor.
On Friday afternoon, The Telegraph reported that only Princess Anne and Prince Charles made it to Balmoral in time to see the Queen before she died:
The King and the Princess Royal were the only two senior members of the Royal family who made it to Balmoral before Queen Elizabeth II's death, it is understood …
As for Prince William and his uncles and aunt:
Royal Air Force flight KRF23R took off shortly after 2.30pm, according to flight tracking website Flightradar24.com, landing in Aberdeen at 3.50pm.
Prince William drove the quartet from the airport to Balmoral and they were pictured sweeping into the gates of the castle shortly after 5pm.
It is possible they had known they would not make it, perhaps even before their plane took off.
In the event, by the time they arrived, it was too late.
Prince Harry's flight was delayed and he did not arrive until 8 p.m.:
… he is believed to have been mid-air when Buckingham Palace announced at 6.30pm that the Queen had died, arriving at Balmoral an hour and a half later.
The Duke's Cessna had been due to land at 6.29pm, a minute before the historic statement. But it was 20 minutes late taking off at Luton Airport, meaning he did not land in Aberdeen until 6.46pm.
The grief-stricken Duke was photographed as he was driven into Balmoral Castle just before 8pm to join other members of his family.
That evening, France paid the Queen tribute by turning off the lights on the Eiffel Tower at midnight and on Friday, at 10 p.m.:

Friday, September 9
On Friday morning, the Telegraph article said that Prince Harry left Balmoral early:
Prince Harry was the first to leave Balmoral on Friday morning, driven out of the gates at 8.20am.
He had to take a commercial flight back to Windsor:
He later boarded a British Airways flight from Aberdeen to Heathrow and is thought to have returned to Frogmore Cottage, Windsor, where the Duchess of Sussex was waiting for him.
Later that morning, the RMT (Rail, Maritime and Transport Union) head, Mick Lynch, announced that the rail strikes planned for September 15 and 17 were cancelled.
Guido Fawkes said that a postal strike was also cancelled (emphases his):
The Communication Workers Union has also called off a planned Royal Mail strike, with General Secretary Dave Ward saying "Following the very sad news of the passing of the Queen, and out of respect for her service to the country and her family, the union has decided to call off tomorrow's planned strike action."
Fair play to both Lynch and Ward, whether they're genuinely in mourning or its cynical comms, they made the right call…
England's three main political parties suspended campaigning during the mourning period. This is fine, except that Parliament is adjourned until after the Queen's funeral, at which point it will continue to be adjourned for three weeks' worth of annual political party conferences.
If Liz is smart, she will find a way to get the Commons, at least, to reconvene during conference season. There is no justification, especially this year, for every MP to attend these rather superfluous events. Furthermore, the evening events are also times of revelry, which seems inappropriate at this time.
Guido's Friday post says:
With King Charles instituting 17 days of mourning, the death of Queen Elizabeth will certainly cast shadows over all three of the major parties' conferences. Guido understands the Tories are having conversations about how to proceed with their Birmingham gathering in light of the news. With politics grinding to a halt, it's going to be difficult for PM Truss to enjoy the full political dividend from yesterday's energy policy announcement…
Parliament is not due to reconvene until October 17. October is the month when the new energy 'price cap' — i.e. a dramatic increase — comes into effect. This will affect everyone and a policy really needs to be finalised before then. Conservative MP John Redwood tweeted:
As I write on Monday afternoon, GB News's Tom Harwood says that a 'fiscal event' — an energy policy announcement — could be made on one of the four consecutive days after mourning and before conference recess. He says that his sources tell him that separate legislation would not be required. Let's hope he is right.
Friday is not normally a day when either House of Parliament meets. However, both MPs and the Lords met to pay tribute to the Queen. The sessions, which also included taking the Oath of Loyalty to King Charles — optional, as the Oath includes successors — continued into Saturday. Every MP and Lord who wanted to speak was able to do so.
The Commons session on Friday afternoon began with a minute's silence:
Afterwards, the Prime Minister began the tributes:
Guido has the video and pulled out the key quote from her address:
The United Kingdom is the great country it is today because of her, the Commonwealth is the family of nations it is today because of her.
Hansard has the full transcript of Friday's and Saturday's tributes from MPs. I commend them to everyone, because many MPs mentioned that the Queen visited their respective constituencies more than once during her reign. Only a handful had never had met her. The contributions reflected a monarch with not only dignity but also good humour. Everyone who met her said that she knew how to put them at ease.
Truss pointed out other historical highlights in her address:
In the hours since last night's shocking news, we have witnessed the most heartfelt outpouring of grief at the loss of Her late Majesty the Queen. Crowds have gathered. Flags have been lowered to half-mast. Tributes have been sent from every continent around the world. On the death of her father, King George VI, Winston Churchill said the news had,
"stilled the clatter and traffic of twentieth-century life in many lands".
Now, 70 years later, in the tumult of the 21st century, life has paused again.
Her late Majesty Queen Elizabeth II was one of the greatest leaders the world has ever known. She was the rock on which modern Britain was built. She came to the throne aged just 25, in a country that was emerging from the shadow of war; she bequeaths a modern, dynamic nation that has grown and flourished under her reign. The United Kingdom is the great country it is today because of her. The Commonwealth is the family of nations it is today because of her. She was devoted to the Union of England, Scotland, Wales and Northern Ireland. She served 15 countries as Head of State, and she loved them all …
Her devotion to duty remains an example to us all. She carried out thousands of engagements, she took a red box every day, she gave her assent to countless pieces of legislation and she was at the heart of our national life for seven decades. As the Supreme Governor of the Church of England, she drew on her deep faith. She was the nation's greatest diplomat. Her visits to post-apartheid South Africa and to the Republic of Ireland showed a unique ability to transcend difference and heal division. In total, she visited well over 100 countries. She met more people than any other monarch in our history.
She gave counsel to Prime Ministers and Ministers across Government. I have personally greatly valued her wise advice. Only last October, I witnessed first hand how she charmed the world's leading investors at Windsor Castle. She was always so proud of Britain, and always embodied the spirit of our great country. She remained determined to carry out her duties even at the age of 96. It was just three days ago, at Balmoral, that she invited me to form a Government and become her 15th Prime Minister. Again, she generously shared with me her deep experience of government, even in those last days.
Everyone who met her will remember the moment. They will speak of it for the rest of their lives. Even for those who never met her, Her late Majesty's image is an icon for what Britain stands for as a nation, on our coins, on our stamps, and in portraits around the world. Her legacy will endure through the countless people she met, the global history she witnessed, and the lives that she touched. She was loved and admired by people across the United Kingdom and across the world.
One of the reasons for that affection was her sheer humanity. She reinvited monarchy for the modern age. She was a champion of freedom and democracy around the world. She was dignified but not distant. She was willing to have fun, whether on a mission with 007, or having tea with Paddington Bear. She brought the monarchy into people's lives and into people's homes.
During her first televised Christmas message in 1957, she said:
"Today we need a special kind of courage…so that we can show the world that we are not afraid of the future."
We need that courage now. In an instant yesterday, our lives changed forever. Today, we show the world that we do not fear what lies ahead. We send our deepest sympathy to all members of the royal family. We pay tribute to our late Queen, and we offer loyal service to our new King.
His Majesty King Charles III bears an awesome responsibility that he now carries for all of us. I was grateful to speak to His Majesty last night and offer my condolences. Even as he mourns, his sense of duty and service is clear. He has already made a profound contribution through his work on conservation and education, and his tireless diplomacy. We owe him our loyalty and devotion.
The British people, the Commonwealth and all of us in this House will support him as he takes our country forward to a new era of hope and progress: our new Carolean age. The Crown endures, our nation endures, and in that spirit, I say God save the King. [Hon. Members: "God save the King."]
Labour's Keir Starmer, Leader of the Loyal Opposition, spoke next. Guido has the video:
The highlight of his speech was this:
She did not simply reign over us, she lived alongside us. She shared in our hopes and our fears, our joy and our pain, our good times, and our bad.
Interestingly, when they were younger, both Starmer and Truss wanted to abolish the monarchy.
Boris Johnson spoke a short time later, declaring the Queen:
Elizabeth the Great.
Historian David Starkey would disagree and did so on GB News on Sunday, September 11. He said that 'the Great' has applied exclusively to monarchs who waged war, e.g. Peter the Great.
Guido has the video. Boris began by saying that the BBC contacted him recently to speak about the Queen in past tense:
I hope the House will not mind if I begin with a personal confession. A few months ago, the BBC came to see me to talk about Her Majesty the Queen. We sat down and the cameras started rolling, and they requested that I should talk about her in the past tense. I am afraid that I simply choked up and could not go on. I am really not easily moved to tears, but I was so overcome with sadness that I had to ask them to go away.
I know that, today, there are countless people in this country and around the world who have experienced the same sudden access of unexpected emotion, and I think millions of us are trying to understand why we are feeling this deep, personal and almost familial sense of loss. Perhaps it is partly that she has always been there:
a changeless human reference point in British life; the person who—all the surveys say—appears most often in our dreams; so unvarying in her pole-star radiance that we have perhaps been lulled into thinking that she might be in some way eternal.
But I think our shock is keener today because we are coming to understand, in her death, the full magnitude of what she did for us all. Think what we asked of that 25-year-old woman all those years ago: to be the person so globally trusted that her image should be on every unit of our currency, every postage stamp; the person in whose name all justice is dispensed in this country, every law passed, to whom every Minister of the Crown swears allegiance; and for whom every member of our armed services is pledged, if necessary, to lay down their lives.
Think what we asked of her in that moment: not just to be the living embodiment, in her DNA, of the history, continuity and unity of this country, but to be the figurehead of our entire system—the keystone in the vast arch of the British state, a role that only she could fulfil because, in the brilliant and durable bargain of the constitutional monarchy, only she could be trusted to be above any party political or commercial interest and to incarnate, impartially, the very concept and essence of the nation.
Think what we asked of her, and think what she gave. She showed the world not just how to reign over a people; she showed the world how to give, how to love and how to serve. As we look back at that vast arc of service, its sheer duration is almost impossible to take in. She was the last living person in British public life to have served in uniform in the Second World War. She was the first female member of the royal family in a thousand years to serve full time in the armed forces.
That impulse to do her duty carried her right through into her 10th decade to the very moment in Balmoral—as my right hon. Friend said—only three days ago, when she saw off her 14th Prime Minister and welcomed her 15th. I can tell you, in that audience she was as radiant and as knowledgeable and as fascinated by politics as ever I can remember, and as wise in her advice as anyone I know, if not wiser. Over that extraordinary span of public service, with her naturally retentive and inquiring mind, I think—and doubtless many of the 15 would agree—that she became the greatest statesman and diplomat of all.
She knew instinctively how to cheer up the nation, how to lead a celebration. I remember her innocent joy more than 10 years ago, after the opening ceremony of the London Olympics, when I told her that the leader of a friendly middle eastern country seemed actually to believe that she had jumped out of a helicopter in a pink dress and parachuted into the stadium. [Laughter.] I remember her equal pleasure on being told, just a few weeks ago, that she had been a smash hit in her performance with Paddington Bear.
Perhaps more importantly, she knew how to keep us going when times were toughest. In 1940, when this country and this democracy faced the real possibility of extinction, she gave a broadcast, aged only 14, that was intended to reassure the children of Britain. She said then:
"We know, every one of us, that in the end all will be well".
She was right …
… It was that indomitability, that humour, that work ethic and that sense of history that, together, made her Elizabeth the Great.
When I call her that, I should add one final quality, of course: her humility—her single-bar-electric-fire, Tupperware-using refusal to be grand. I can tell the House, as a direct eyewitness, that unlike us politicians, with our outriders and our armour-plated convoys, she drove herself in her own car, with no detectives and no bodyguard, bouncing at alarming speed over the Scottish landscape, to the total amazement of the ramblers and tourists we encountered.
It is that indomitable spirit with which she created the modern constitutional monarchy—an institution so strong, so happy and so well understood, not just in this country but in the Commonwealth and around the world, that the succession has already seamlessly taken place. I believe she would regard it as her own highest achievement that her son, Charles III, will clearly and amply follow her own extraordinary standards of duty and service. The fact that today we can say with such confidence, "God save the King" is a tribute to him but, above all, to Elizabeth the Great, who worked so hard for the good of her country not just now but for generations to come. That is why we mourn her so deeply, and it is in the depths of our grief that we understand why we loved her so much.
Theresa May's speech was the funniest. I do wish she had shown this side of herself as Prime Minister. Her comic timing was impeccable:
Guido has a video of most of her address:
Arguably one of May's most poignant speeches. Some needed light relief for the day...
Here's the best part:
This excerpt follows:
Of course, for those of us who had the honour to serve as one of her Prime Ministers, those meetings were more frequent, with the weekly audiences. These were not meetings with a high and mighty monarch, but a conversation with a woman of experience, knowledge and immense wisdom. They were also the one meeting I went to that I knew would not be briefed out to the media. [Laughter.] What made those audiences so special was the understanding the Queen had of issues, which came from the work she put into her red boxes, combined with her years of experience. She knew many of the world leaders—in some cases, she had known their fathers—and she was a wise and adroit judge of people.
The conversations at the audiences were special, but so were weekends at Balmoral, where the Queen wanted all her guests to enjoy themselves. She was a thoughtful hostess. She would take an interest in which books were put in your room and she did not always expect to be the centre of attention; she was quite happy sometimes to sit, playing her form of patience, while others were mingling around her, chatting to each other. My husband tells of the time he had a dream: he dreamt that he was sitting in the back of a Range Rover, being driven around the Balmoral estate; and the driver was Her Majesty the Queen and the passenger seat was occupied by his wife, the Prime Minister. And then he woke up and realised it was reality!
Her Majesty loved the countryside. She was down to earth and a woman of common sense. I remember one picnic at Balmoral that was taking place in one of the bothies on the estate. The hampers came from the castle, and we all mucked in to put the food and drink out on the table. I picked up some cheese, put it on a plate and was transferring it to the table. The cheese fell on the floor. I had a split-second decision to make: I picked up the cheese, put it on a plate and put the plate on the table. I turned round to see that my every move had been watched very carefully by Her Majesty the Queen. I looked at her, she looked at me and she just smiled. And the cheese remained on the table. [Laughter.]
This is indeed a sad day, but it is also a day of celebration for a life well spent in the service of others. There have been many words of tribute and superlatives used to describe Her late Majesty Queen Elizabeth II, but these are not hype; they are entirely justified. She was our longest-serving monarch. She was respected around the world. She united our nation in times of trouble. She joined in our celebrations with joy and a mischievous smile. She gave an example to us all of faith, of service, of duty, of dignity and of decency. She was remarkable, and I doubt we will ever see her like again. May she rest in peace and rise in glory.
Saturday's session in the Commons was another marathon.
Shortly after 1 p.m., Speaker Sir Lindsay Hoyle opened it with this:
I now invite the House to resume its tributes to Her late Majesty. I expect to conclude tributes at 10 o'clock, when I shall invite Ministers to move the motion for a Humble Address to His Majesty. A hundred and eighty-two Members contributed yesterday, and many want to contribute today. I hope Members will therefore keep to the informal time limit of three minutes.
An excerpt from John Redwood's speech follows.
On Friday, he pointed out how historically significant three of our Queens were in British history and for women:
On Saturday, he said:
What always came across to all of us was just how much she respected every person and every institution that she visited. She showed that respect by impeccable manners and great courtesy—always on time, always properly briefed, always appropriately dressed for the occasion.
But, as so many have said from their personal experiences, there was something so much more than that. She was not just the consummate professional at those public events: there was the warm spirit, the personality, and above all the understanding that everyone else at that event was terrified that something was going to go wrong, that they had not understood the protocol, or that there was some magic way of doing it—as my right hon. Friend the Member for Welwyn Hatfield (Grant Shapps) was explaining—that they had to get right. At those public events, the Queen always relaxed people and showed them that there was no right way, because she was there for the people; she was there for the institution; she was there for the event. That is what we can learn from.
Of course, she was also Our Majesty. She was the embodiment of the sovereignty of people and Parliament; she represented us so well abroad and represented us at home, knowing that as a constitutional monarch, she represented us when we were united. She spoke for those times when we were gloriously happy and celebrating, or she spoke for those times when there was misery and gloom and she had to deal with our grief and point to the better tomorrow. That was why she held that sovereignty so well and for so long—a constitutional monarch who did not exercise the power, but captured the public mood; who managed to deal with fractious and difficult Parliaments and different political leaders, but who was above the politics, which meant that our constitution was safe in her hands. I wish her son, the new King, every success in following that great lead as he has told us he will do, and I can, with others, say today—"God save the King."
Redwood later tweeted that he had omitted an important part of his speech:
Indeed.
The Queen attended only two of her former Prime Ministers' funerals, those of Winston Churchill and Margaret Thatcher.
These are links to Friday's (continued here) and Saturday's (continued here) tributes from the Lords, both Spiritual and Temporal.
On Sunday, our vicar said that the Church of England lost her greatest evangelist, the Queen.
I cannot disagree with that.
The Archbishop of Canterbury spoke earlier on Friday afternoon, excerpted below.
He recalled her deep faith, something I wish more CofE clergy had:
… What has been said already today has been extraordinarily eloquent. I do not intend to repeat it but to say something about the Queen's links to faith and to the Church of England. First is her assurance, her confidence, in the God who called her. At her coronation, so long ago, conducted by Archbishop Geoffrey Fisher—the first of seven Archbishops of Canterbury who had the privilege of serving her—the service began with her walking by herself past the Throne, where she would very shortly be seated, and kneeling by the high altar of Westminster Abbey. The order of service said, "She will kneel in private prayer"—and so she did, for some time. The next thing to happen was that homage was paid to her, starting with the Duke of Edinburgh. What that said about her understanding of her role was that she pledged her allegiance to God before others pledged their allegiance to her. She had this profound sense of who she was and by whom she was called.
Then there was her profound, deep and extraordinary theological vision. Many years ago now—seven or eight years ago—I was travelling abroad, and someone who had no knowledge of these things said, "Well, of course, she's not really got that much intellect, has she? I mean, private tutors and all this—what can she know?" Well, what ignorance. In 2012, she spoke at Lambeth Palace on the occasion of her Diamond Jubilee, and the speech she made there is one we return to very frequently, because she set out a vision for what an established Church should be. It was not a vision of comfort and privilege; it was to say, put very politely, "You are here as an umbrella for the whole people of this land". The subtext was, "If you are not that, you are nothing". That is a deep vision of what it is to be the Church—of what it is to be not an established Church but a Christian Church. That came from her deep understanding of faith. Every five years, at the inauguration of the Church of England's General Synod, she came with messages of encouragement and assurance of her prayers. In 2021, her message was,
"my hope is that you will be strengthened with the certainty of the love of God, as you work together and draw on the Church's tradition of unity in fellowship for the tasks ahead."
Publicly, Her late Majesty worshipped regularly and spoke of her faith in God, particularly in her Christmas broadcasts, with quiet, gentle confidence. Privately, she was an inspiring and helpful guide and questioner to me and to my predecessors. She had a dry sense of humour, as we have heard already, and the ability to spot the absurd—the Church of England was very capable of giving her material—but she never exercised that at the expense of others. When I last saw her in June, her memory was as sharp as it could ever have been. She remembered meetings from 40 or 50 years ago and drew on the lessons from those times to speak of today and what we needed to learn: assurance of the love of God in her call, and then humility. It would be easy as a monarch to be proud, but she was everything but that. It was her faith that gave her strength. She knew that, but she knew also her call to be a servant, the one whom she served, and the nation she served, the Commonwealth and the world. Over the last 24 hours, I have had so many messages from archbishops, bishops and other people around the world, within the Commonwealth and way beyond it—from China, Latin America and many other places—in a deep sense of loss.
It has been the privilege of those on these Benches to be intimately involved with momentous occasions so often throughout Her late Majesty's life. As has been said, she has been a presence for as long as we can remember. Jesus says in the Gospel of St Matthew:
"Blessed are those who mourn, for they shall be comforted".
May God comfort all those who grieve Her late Majesty's loss, and may God sustain His Majesty King Charles III in the enormous weight and challenges that he takes on immediately, at the same as he bears the burden of grief, and those around him in his family. May God hold Her late Majesty in His presence, firmly secured in the peace that passes far beyond our understanding.
The Archbishop of York, the Right Revd Stephen Cottrell, spoke in the first of Saturday's sessions in the Lords. He added some light relief:
My Lords, like most Bishops from these Benches, I have stories to tell; stories of doing jigsaws in Sandringham on Sunday evenings and of barbeques in the woods at Sandringham in the middle of January—I even have a slightly scurrilous story about healing the Queen's car. Perhaps I will tell it.
I had preached in Sandringham parish church. We were standing outside and the Bentley was there to get the Queen. It did not start. It made that throaty noise cars make in the middle of winter when they will not start, and everybody stood there doing nothing. I was expecting a policeman to intervene, but nothing happened. Enjoying the theatre of the moment, I stepped forward and made a large sign of the cross over the Queen's car, to the enjoyment of the crowd—there were hundreds of people there, as it was the Queen. I saw the Queen out of the corner of my eye looking rather stony-faced, and thought I had perhaps overstepped the mark. The driver tried the car again and, praise the Lord, it started. The Queen got in and went back to Sandringham, and I followed in another car. When I arrived, as I came into lunch, the Queen said with a beaming smile, "It's the Bishop—he healed my car". Two years later, when I greeted her at the west front of Chelmsford Cathedral, just as a very grand service was about to start and we were all dressed up to the nines, she took me to one side and said, "Bishop, nice to see you again; I think the car's all right today, but if I have any problems I'll know where to come."
When I became the 98th Archbishop of York, during Covid, I paid homage to the Queen by Zoom conference. I was in the Cabinet Office; everyone had forgotten to bring a Bible, including me, but there was one there—which is kind of reassuring. Just as the ceremony was about to begin, the fire alarm went off.
The Queen was at Windsor Castle, but we all trooped out of the Cabinet Office, on to the road, and were out there for about 20 minutes until they could check that it was a false alarm and we could go back in. When I went back into the room, there was the screen, with Her late Majesty waiting for things to begin again. I do not know why I find myself returning to that image of her, faithful watching and waiting through those very difficult times. That was a very small part of a life of astonishing service.
The other thing I have noticed in the last couple of days is that we are all telling our stories. Yesterday, I found myself sharing stories with somebody in the street. I at least had had the honour of meeting Her late Majesty; this person had never met her, but we were sharing stories. I said, "Isn't it strange how we need to tell our stories? It's not as if she was a member of our family." Except she was. That is the point. She served the household of a nation. For her, it was not a rule but an act of service, to this people and to all of us.
I remind us, again and again, that that came from somewhere: it came from her profound faith in the one who said,
"I am among you as one who serves."
The hallmark of leadership is service, watchfulness and waiting. It was her lived-in faith in Jesus Christ, day in and day out, which sustained, motivated and equipped her for that lifetime of service. How inspiring it was last night and this morning to see the baton pass to our new King, King Charles, in the same spirit of godly service to the people of a nation.
I had not thought of this, but the Archbishop of York pointed out the important feast day that coincided with the Queen's death, the Nativity of the Blessed Virgin Mary:
Her Majesty the Queen died on 8 September, the day on which the blessed Virgin Mary is remembered across the world and the Church. Another Elizabeth, the cousin of Mary, said of her when she knew she would be the mother of the Lord:
"Blessed is she who believed that the promises made to her would be fulfilled".
Shot through all our tributes in this House and another place, and across our nation, is that which we have seen, especially as it was only on Tuesday—I thank the noble Baroness, Lady Bull, for reminding us—that the Queen received a new Prime Minister. Can it really be possible? She served to the end—a life fulfilled.
I will finish with a handful of her words. This is what the Queen wrote in a book to mark her 90th birthday, reflecting on her faith in Jesus Christ in her life:
"I have indeed seen His faithfulness."
I am not supposed to call noble Lords "brothers and sisters", but dear friends, we have seen her faithfulness too, and we see it now in our new King. May Her late Majesty the Queen rest in peace and rise in glory. God save the King.
Friday, September 9
At 6 p.m. on Friday, two significant events occurred.
The first was an hour-long service of prayer and reflection held at St Paul's Cathedral:
This service was for people who work in the City of London along with a limited number of members of the public who could apply for wristbands — tickets — to attend. St Paul's posted a page on how to obtain a wristband and how to queue on Friday afternoon for admittance.
Cabinet members attended and sat in the choir stalls. Prime Minister Truss and her Cabinet Secretary Simon Case sat in the front row. On the opposite side were Labour's Keir Starmer and other Opposition MPs.
This was an excellent service. The Cathedral helpfully posted the Order of Service, which can be downloaded from the aforementioned webpage.
Truss read Romans 14:7-12:
We do not live to ourselves, and we do not die to ourselves. If we live, we live
to the Lord, and if we die, we die to the Lord; so then, whether we live or whether we die, we are the Lord's. For to this end Christ died and lived again, so that he might be Lord of both the dead and the living.
Why do you pass judgement on your brother or sister? Or you, why do you despise your brother or sister? For we will all stand before the judgement seat of God. For it is written,
'As I live, says the Lord, every knee shall bow to me, and every tongue shall give praise to God.'
So then, each of us will be accountable to God.
This prayer in memory of the Queen is beautiful:
Eternal Lord God,
you hold all souls in life;
send forth, we pray, upon your servant, Elizabeth,
and upon your whole Church in earth and heaven
the brightness of your light and peace;
and grant that we,
following the good example of those
who have faithfully served you here and are now at rest,
may at the last enter with them
into the fullness of eternal joy
in Jesus Christ our Saviour.
Amen.
Meanwhile, King Charles III addressed the nation for the first time as monarch:
He spoke for ten minutes, first discussing his late mother then pledging his service to the people of the United Kingdom.
He ended his address by saying that Prince William would become the new Prince of Wales and that he had much love for Prince Harry as he and Meghan continue building their life together overseas.
The Telegraph included the following blurb. The last line comes from Shakespeare:
The broadcast was recorded in the Blue Drawing Room of Buckingham Palace, after the King and Queen greeted crowds of mourners outside the gates.
In a final message to his mother, the King said: "To my darling Mama, as you begin your last great journey to join my dear late Papa, I want simply to say this: thank you.
"Thank you for your love and devotion to our family and to the family of nations you have served so diligently all these years.
"May 'flights of Angels sing thee to thy rest'."
The walkabout the paper refers to involved much emotion from members of the public, especially women. One lady kissed him on the cheek and another shook his hand. Historically, one does not touch the monarch. That also applied to the Queen, even if a few people did touch her.
Another similar walkabout by the new King and Queen Consort occurred on Saturday afternoon outside the Palace.
The Accession Ceremony took place on Saturday morning. More about that tomorrow.
Having watched BBC Parliament for the better part of three years, I can only conclude that today's Conservative MPs are a frustrating bunch.
Many of the older hands, who were elected when David Cameron was Prime Minister (2010-2016), seem more like Liberal Democrats. The Thatcher-era MPs who remain are what she would have called Wets.
Many commenters on conservative fora are at their wit's end. Their complaints are many. Why have Conservatives outdone Labour in economic policy? Why are odd subjects taught in our schools instead of the three Rs? Why can't police get a grip on real crime? Those are just a few of the questions Britons have.
On August 12, The Telegraph's Tim Stanley and Steven Edginton discussed British conservatism in one of their Off Script conversations. What is it? What should it be like?
This video is 51 minutes long and is well worth watching for frustrated conservatives. Don't be put off by the title. Immigration comes into the conversation only halfway through and only for a few minutes:
Tim Stanley makes excellent points, summarised below.
The most important thing to note is that conservatism changes over time. Benjamin Disraeli was a great Conservative Prime Minister, but his conservatism would not be applicable in our time. Harold Macmillan was another great Prime Minister of his day, succeeding Labour's Clement Attlee. He responded to the challenges of the postwar 1950s. His brand of conservatism would be irrelevant in our times. Similarly, Margaret Thatcher met the challenges of the late 1970s and the 1980s. Stanley said that invoking Thatcher at every turn today is not helping matters, because we often mis-remember things that she did. He said that some commentators have turned her into a punk libertarian, when she was anything but. He says she was a Conservative with a strong streak of free-will Methodism.
Of our two Conservative Party leadership candidates this year, he says that Rishi Sunak is a technocrat, with all that implies. Liz Truss is a child of the Thatcher years. Both became MPs during David Cameron's time as PM. They tend to think the way he does and only differ on the way they would handle tax cuts. In this area, Sunak adopts the early Thatcher strategy of delaying them. Truss adopts the strategy of her later years, when Nigel Lawson was Chancellor. On everything else, they are remarkably similar. It's a politically generational trait.
Stanley came to conservatism from Marxism and stood as a Labour candidate for Parliament when he was younger. He thinks that Truss's conversion from the Liberal Democrats to the Conservative Party is one she will not fall away from.
Stanley says that Kemi Badenoch, whom he admires greatly, is probably the only MP who studies social issues intently. He thinks she has watched a lot of Thomas Sowell videos on YouTube, because she quotes him a lot.
He thinks Badenoch could be a real agent for change if she ever becomes PM. He warns that few world leaders can effect change on their own. He cites Donald Trump, who could not fight off the Swamp. Our equivalent is called the Blob and is comprised of the same elements: the metropolitan elite and, intersecting as in a Venn diagram, the media and the civil service. Somehow, those groups need to be persuaded to change their minds over time in order for politics and society to improve.
Stanley says that today's Conservative MPs are ignoring two elements of British life that has seen us through the centuries: family and the Church. (Stanley is a practising Catholic.) He said that MPs must find a way of putting those front and centre into policy making discussions. (That's a pretty radical idea for a former Marxist.)
He also advocates consistency in policy positions. He cites Nigel Farage and Jeremy Corbyn as two excellent examples of that. Their opinions have not changed over the past few decades, he says, and this is what makes them popular among their respective supporters.
As for today's younger voters opting for Labour, he says that some will and some will not. He said that it all depends on how much impact today's economic and social issues are having on them. He cites the young generation of the late 1960s, most of whom still vote Labour. He says that their personal experience from that time was so strong that they never changed when they hit middle age. However, there are others who will move from a more left-wing to a conservative stance. Stanley himself and Liz Truss are two great examples of political conversion.
You'll probably want to know what Stanley thinks of our immigration mess. He says that we have dealt with EU migration well, but, as far as the Channel crossings are concerned, he compares them to a door that has all sorts of locks on it yet is kept open, serving no purpose at all. He suspects that most Conservative MPs don't mind the tens of thousands of young men arriving on our shores every year. If they did object, he says, they would have done something by now to stem the flow.
I highly recommend this video, because no one else I've heard has said the things that Tim Stanley has. I now view conservatism in a new way.
This is the final instalment of my series on Boris Johnson's downfall.
Those who missed them can read parts 1, 2, 3, 4, 5 and 6.
Also of interest are:
Developing news: how long can Boris last as PM? (July 5-6)
Boris stays as PM for now but stands down as Conservative leader: 'When the herd moves, it moves' (July 6-7)
This post discusses two groups of people who are still wild about Boris: British voters and the Ukrainians.
British voters
On June 11, 2022, one week after Boris survived a vote of confidence by his fellow Conservative MPs, The Observer — the Sunday edition of The Guardian — posted the results of a poll they commissioned.
The findings were surprising for a left-wing newspaper (emphases mine):
Boris Johnson makes a better prime minister than Keir Starmer would despite Partygate, the cost of living crisis and the confidence vote in Johnson held by his MPs, according to the latest Observer poll.
Granted, the results were close, but Boris managed to come out on top, with the Conservatives two points behind Labour:
The Opinium figures, which will raise further concerns within Labour over the party leader's performance, shows that the prime minister has a two-point lead over his opponent. It also reveals that Starmer's party holds a narrow two-point lead, compared with a three-point lead in the last poll a fortnight ago. Labour are on 36% of the vote, with the Tories up one point on 34%. The Lib Dems are on 13% with the Greens on 6% …
While 28% think Johnson would make the best prime minister, 26% opted for Starmer.
On June 13, the i paper's Hugo Gye posted a few pages from the book Moonshot, by Pfizer's chairman Albert Bourla:
Two excerpts follow. These pertain to late 2020 and early 2021:
From my perspective, the UK was doing an exceptional job under tremendous pressure.
At that time, the UK was the only vaccinating so quickly that demand surpassed supply. As a result, we worked on a plan to meet the UK's needs …
Yet, in the UK, it was only the Conservatives and conservatives remembering Boris's efforts during that time period:
On June 14, the Mail's Alex Brummer wrote a positive article about the British economy, explaining why things weren't as bad as the media and pundits portray them:
So, yes, we face serious challenges. And yet I simply do not believe there is any justification for the gloom-laden interpretation by large sections of the broadcast media and fierce critics of Boris Johnson's government.
These Cassandras peddle a diet of relentless financial woe as they carelessly claim that the nation is in recession or heading for one.
But closer inspection shows not only that things are nowhere near as bad as they claim, but that there are serious grounds for hope in certain sectors, too.
Brummer explored the possibilities of what could happen either way:
True, the UK economy lost momentum recently, shrinking by 0.3 pc in April.
But what no one has mentioned is that this was largely down to a statistical quirk, and respected City forecasters are still actually predicting a 3.2 pc expansion of the UK economy this year, followed by 0.9 pc in 2023.
The big danger is that the constant barrage from the doom merchants could begin to influence events and destroy the resilience of consumers and enterprise — resilience which is still delivering for this country.
What is more, with a change of tack in the Government's approach, I believe the economy could be recharged.
Of course, the country will struggle if it is required to contend with inflation, rising interest rates and a mountainous tax burden all at the same time. If consumers and businesses are doubly squeezed by higher interest rates and higher taxes, household incomes will be devastated …
Brummer disagreed with Rishi's tax hikes:
The truth is that, with the nation close to full employment and the City of London and services — comprising more than 70 pc of national output — performing well, there was absolutely no need to urgently hike taxes, if at all.
Income tax, national insurance receipts, VAT and corporation tax receipts have all been flowing into the exchequer in record volumes. All that future rises will do is stymie spending and the willingness of companies to invest.
And the main reason for that fall in output of 0.3 pc in April? It is because the Government suddenly ended the NHS's Test and Trace operations — which had grown into a formidable industry, employing tens of thousands of people — as the country emerged from the pandemic.
In fact, April saw activity in consumer services jump by 2.6 pc. In spite of the £100-a-tank of petrol, the £8-a-pint of best IPA and rocketing food prices, a recession — defined as two quarters of negative growth — is unlikely.
Brummer did support Rishi's help to the neediest families:
Even if Rishi Sunak does not cut taxes, his £15 billion package of targeted support to help poorer households with the rising cost of living means incomes should now rise in the second and third quarter of the year. It is equal to nearly 2 pc of their earnings and will boost the country's spending power.
There were more reasons not to believe the doom-mongers, who, as I write in early September, are getting shriller and shriller:
What the doom-mongers fail to tell you is that investment bankers Goldman Sachs recently pointed out that consumer services are 'robust' and Britain's economy is 0.9 pc larger now than it was before the nation went into lockdown.
Economic activity in the crucial services sector, meanwhile, is 2.6 pc higher.
But it is not just the consumer activity — along with the £370 bn plus of pandemic savings in the current and savings accounts of households — propping up the economy.
New data just released shows that the drive towards the UK becoming a high-tech, high-value nation continues to make Britain prosper.
So far this year, the country has sucked in £12.4 bn of investment into the tech industry, the highest level of any country other than the United States.
And let no one blame Brexit:
As for the argument that Brexit has done for Britain, it is comprehensively rubbished by the City consultancy firm EY, which argues that, when it comes to financial services, 'six years since the EU referendum, we can be confident that Brexit has not damaged the UK's fundamental appeal'.
Since the financial and professional services are the biggest generator of income for HMRC, and the UK's most successful export to the rest of the world, this should surely be a source of national pride rather than Remoaner carping.
Indeed, wherever you look, the excellence of Britain's life sciences sector — as evidenced by the rapid development and distribution of the Oxford-AstraZeneca vaccine during the pandemic — continues to shine …
Ultimately, taxes do need to be cut:
But more needs to be done. And by that I mean Rishi Sunak must put an end to the tax hikes — or even reverse them …
… he froze personal tax allowances until 2025-6, along with the thresholds for capital gains tax.
… this will provide additional revenues to the Government of about £20.5 bn a year.
Sunak also opted to raise corporation tax from 19 pc to a whopping 25 pc next year. And to help pay for the NHS and social care, every employee and employer in the country is now paying a 1.25 pc surcharge on national insurance.
Together, all these measures (before inclusion of the windfall tax on oil production) mean that Boris Johnson's government is raising more tax from the British people and commerce than any UK government since the 1940s.
Such a position, given the precarious economic circumstances we face, is completely unsustainable. If the Johnson government wants to fight the next election with a healthy economy, taxes have to be cut with a decisive policy shift.
And if that happens, it could just be the magic pill for a Tory revival.
Meanwhile, Boris took a brief staycation in Cornwall while he helped campaign for the Conservative candidate in Neil 'Tractor Porn' Parish's constituency for the by-election, which, unfortunately, the Liberal Democrats won.
The Mail reported on Boris's schedule:
Boris Johnson has been pictured walking on a Cornish beach with his son Wilfred as he chose a staycation amid weeks of chaos at Britain's airports for millions desperate for a post-pandemic foreign break.
The Prime Minister has been in the West Country campaigning as he tries to win the Tiverton and Honiton by-election for the Tories on June 23, but is squeezing in a short family holiday.
And after a flying visit to the Devon constituency he headed to Cornwall to launch his food strategy at the wheel of a tractor before relaxing on the award-winning Porthminster beach, St Ives.
Unfortunately, on Wednesday, June 15, Lord Geidt quit as Boris's ethical adviser, which made all of his opponents question whether he should still be in office. This came a day after Geidt had appeared before a parliamentary select committee. I saw parts of that session. Geidt did not exactly inspire me with confidence.
Lord Geidt, a former private secretary to the Queen, announced his resignation in a 21-word statement the day after MPs accused him of "whitewashing" Johnson's conduct and questioned whether there was "really any point" to him.
Geidt, 60, came close to quitting last month after concluding that there were "legitimate" questions about whether the prime minister breached the ministerial code. He said that Johnson's fine for breaking coronavirus rules threatened to undermine his role and risked leaving the ministerial code open to ridicule.
He also received a "humble and sincere" apology from Johnson in January after the prime minister withheld critical messages from Geidt's inquiry into the refurbishment of his Downing Street flat.
A statement from Geidt published on the government website this evening said simply: "With regret, I feel that it is right that I am resigning from my post as independent adviser on ministers' interests."
In a bruising encounter with the public administration and constitutional affairs select committee yesterday, Geidt admitted that he had been "frustrated" by the prime minister's approach to the scandal.
William Wragg, the Conservative chairman of the committee, told The Times: "Lord Geidt is a person of great integrity, motivated by the highest ideals of public service. For the prime minister to lose one adviser on ministers' interests may be regarded as a misfortune. To lose two looks like carelessness."
Then again, William Wragg is not a fan of Boris's, prompting his supporters to think there was a stitch up, especially as Tony Blair had just been installed as a new member of the Order of the Garter.
Geidt's letter seems to be focused on Boris's fixed penalty notice for Partygate, but Boris's response, published in The Guardian, is about steel tariffs: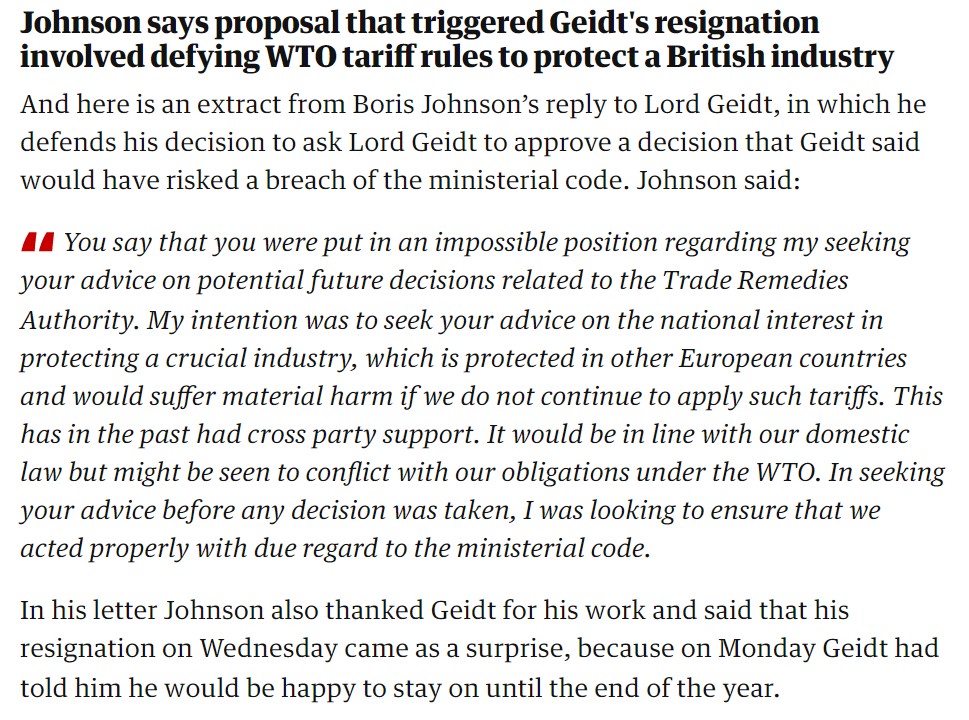 GB News's Patrick Christys explained this before going into Tony Blair's offences during his time as Prime Minister, including the Iraq War and letting IRA terrorists walk free. It's a shame the video isn't clearer, but the audio is compelling. After Christys introduced the subject, a panel debate took place:
Christys ran a poll asking if Boris is more unethical than Blair. Seventy per cent said No:
Blair's former adviser John McTernan said that, unlike Boris, Blair had been cleared of a fixed penalty notice (for an irregularity in paying London's congestion charge). But was Blair actually cleared? The BBC article from the time suggests that he wasn't:
On June 24, after the Conservatives lost Neil Parish's seat to the Lib Dems and the Wakefield seat to Labour, The Telegraph reported that the co-Chairman of the Conservative Party, Oliver Dowden MP, resigned. He seemed to blame the loss on Boris, although mid-term by-election victories often go to an Opposition party, something Dowden should have known:
Oliver Dowden has resigned as chairman of the Conservative Party after it suffered two by-election defeats, saying in a letter to Prime Minister Boris Johnson that "someone must take responsibility".
Mr Dowden's resignation came at 5.35am, shortly after the announcement of the two defeats. He had been scheduled to appear on the morning media round before he decided to step down.
In Tiverton and Honiton the Liberal Democrats overturned a 24,000 Tory majority to win, while Labour reclaimed Wakefield.
The contests, triggered by the resignation of disgraced Tories, offered voters the chance to give their verdict on the Prime Minister just weeks after 41 per cent of his own MPs cast their ballots against him.
Guido Fawkes posted Boris's generous letter of thanks to Dowden and his video explaining that mid-term by-election results often explain voters' frustration with the direction of the Government:
As usual, Blair's former spin doctor Alastair Campbell posted another inaccuracy, this time about Labour's by-election results:
At the time, Boris was away in Kigali, Rwanda, for CHOGM (Commonwealth Heads of Government Meeting). While there, he clarified sex and gender. The Times reported:
A woman cannot be born with a penis, Boris Johnson said last night, adding that there were "particular problems" around "issues of gender", but he said it was important to be "as understanding of everybody else as possible".
Asked whether a woman could be born with a penis, Johnson replied: "Not without being a man".
This has been an ongoing controversy for the past year. Neither Rishi Sunak nor Keir Starmer have been willing to answer that question. Boris met that challenge.
By the time Boris resigned on Thursday, July 7, millions of voters thought it was a stitch up.
Dan Wootton expressed our thoughts magnificently in his editorial that evening on GB News:
Excerpts from his transcript follow:
They won, folks.
They got him in the end.
Let's be honest for a moment, they were never going to stop until they'd secured Boris Johnson's head.
Since December, the campaign by the political establishment, the Remoaner elite, the civil service blob and – crucially – the country's biased broadcast media, notably BBC News, ITV News and Sly News, has been fever pitch.
Eventually, the Conservative Party decided it was impossible to govern while also fighting such dark and powerful forces.
These are deeply depressing times for British democracy.
Boris is the third Tory Prime Minister brought down in six years.
The febrile and hostile establishment and the MSM knows the power they have to bring political paralysis to the country.
And why were they so determined to destroy Boris?
Think about it.
He was a transformational Prime Minister.
A Prime Minister who stared them all down to finally deliver Brexit.
A Prime Minister who had vowed to cut the size of the civil service and demanded they return to their damned desks.
A Prime Minister who was going to scrap the hated BBC licence fee and sell the far-left Channel 4 News.
It's not hard to see why they would stop at nothing to discredit him.
I mean, last night the BBC quoted a source saying Boris Johnson "is now like Putin".
That's how deranged and determined his critics have become.
The celebration that broke out across the airwaves today – especially on the Boris Bashing Corporation once known as the BBC – blew up any final suggestion that we have an impartial broadcast media here in Britain …
I wanted to share with you part of a conversation I had earlier today with a source close to the Prime Minister.
They told me: "People had no interest in talking about the quite historic leadership achievements be that dragging us through a pandemic, a world leading vaccine programme rollout and a quite uniquely special performance in regards to that European war."
"Those people who wanted him gone never wanted to acknowledge that at any point. Never ever. It was always just the Westminster personality stuff. That was the only focus."
"Labour has had not one policy or grown-up policy discussion. It has been an out and out campaign to remove Boris. And you always have to ask yourself why. Why did they want to get rid of Boris so much? Why did sections of the media do that? Ultimately, wounded or not, he is the Conservative's best chance of winning an election" …

As the Daily Mail said today: "The truth is, Mr Johnson stands head and shoulders above almost all his assassins. Compared with the mountains he has scaled, their combined achievements are little more than molehills" …
To Boris Johnson, it was a project not completed, largely down to external forces.
But thank you for delivering us Brexit; that is an achievement for the ages that will go down in the history books.
It was a sad evening, indeed.
However, in time, there might be an upside. Maybe he could appear on GB News now and again:
Boris won that night's Greatest Briton accolade:
Wootton's focus on Brexit was confirmed by The Telegraph's Sherelle Jacobs the following day. She fears that Boris's resignation will give a lift to prominent Remainers:
… With the implosion of Boris Johnson, the Brexit war threatens to start anew. Tory Leavers must accept their vulnerability. The Prime Minister who ended the last battle by getting a Brexit deal done has just fallen in ignominious circumstances. Meanwhile, Remainers – who will never give up the fight – scent weakness.
While Andrew Adonis rallies against a "revolution which devours its children", Michael Heseltine has declared that "if Boris goes, Brexit goes". It might be tempting to dismiss all this as the hopeful rantings of bitter men. After all, Sir Keir Starmer has been at pains to reassure voters in recent days that Labour will not take Britain back into the European Union.
But even if the leader of the Opposition – a Remainer who voted six times against a Brexit deal – is genuine, he is powerless to stop the rejuvenation of the Remainer campaign. As support for Brexit in the polls has seeped away in recent months, in part because of the chaos that has gripped the Government, ultra-Remainers have been on manoeuvres. With the fall of Johnson, they think their time has almost come.
Over the next two years, they will likely proceed with a calculated mixture of boldness and caution. Already the public is being relentlessly bombarded with misinformation, which erroneously links every ill facing Britain with the decision to leave the EU. As the Tory party is distracted by internal dramas, negative Brexit sentiment will mount. This is already starting to happen, as critics in the business world become blunter in their criticisms – from the aviation industry to the CBI.
Meanwhile, some Tory MPs have been discreetly arguing in favour of a softer Brexit. Indeed, while the removal of the PM was by no means a Remainer plot, some of his internal enemies were motivated by a desire for greater alignment with EU rules – or at least by their opposition to what they consider to be an excessively aggressive attitude towards fixing the Northern Ireland protocol …
In truth, Conservative fealty to the Brexit cause has been disintegrating even under Boris Johnson, as the Blob has sapped the Government's will …
The great fear is that the Tory party now elects a closet Remainer who does not have the conviction to take all this on. That Brexit dies with a whimper, smothered by bureaucratic inertia and then finally strangled after the next election. If Brexiteers want to avoid this fate, they must think like war strategists once again. That means confronting the extent of their current weakness, and taking their opponents seriously.
Boris also shares that same worry and said so in Parliament on July 19, the day of his final Prime Minister's Questions:
Right after Boris's resignation, an online petition appeared: 'Reinstate Boris Johnson as PM'. It currently has over 23,000 signatures making it one of the top signed petitions on Change.org.
On Saturday, July 9, the i paper had an interesting report with several interviews:
The atmosphere sounded surreal:
"It was a bit weird", a source said of the Cabinet meeting Boris Johnson convened on Thursday just two hours after he said he would step down, effectively putting Britain on pause.
The Prime Minister was flanked by senior ministers, some of whom, less than 24 hours, had earlier led a delegation of men and women in grey suits to No 10 to urge him to quit …
Bill committees examining legislation line-by-line had to be cancelled, or they had newly resigned ministers sitting on them as backbenchers, while the whips who lacked the required specialist knowledge of the issues at stake were leading for the Government …
Contenders to take over as PM, when Mr Johnson does go, have been preparing for a contest months as the writing has slowly been scrawled on the wall of No 10.
Tom Tugendhat, Penny Mordaunt, and Jeremy Hunt were the most active hopefuls this week, contacting MPs and arranging meetings …
As the leadership contenders jostled, the Whitehall blame game began over Mr Johnson's spectacular fall from grace. The Prime Minister entirely overhauled his inner circle in February, after the initial "Partygate" allegations broke, and it is largely this team that will shepherd the Government through the final few months of his premiership …
The arrival of Guto Harri, one of Mr Johnson's oldest allies, as director of communications is seen by many as a contributor to the Prime Minister's downfall …
The spin chief had a habit of making up policies off the cuff, prompting advisers in other departments to joke about "the Guto special" when confronted with unexpected announcements from No 10. One Whitehall official concluded: "He is good for journalists, I'm not sure he's good for HMG [Her Majesty's Government]" …
But others pin the ultimate blame firmly at Mr Johnson's door.
One of Mr Johnson's closest former advisers told i that it "all went wrong for the PM" when he stopped listening to those from Vote Leave …
One of the former ministers who quit said on Thursday simply: "Everything is his fault. I spent months defending, or at least being generous about, his mistakes.
"Not after the last 24 hours. Appalling."
On July 12, Guido reported that Boris loyalist Jacob Rees-Mogg thought that the Prime Minister's name should be on the Conservative MPs' ballot (emphases his):
… he affirmed it was "unjust" to deny the Prime Minister the opportunity to fight for his position amongst Tory members. This comes in the context of his previous arguments for the growing presence of personal mandates in British political leaders. Unfortunately, Guido doesn't believe this strategy is quite in line with the contest rules…
I think this gave Boris's supporters false hopes:
People in Conservative constituencies began emailing their MPs:
With no result, the question then turned to whether Boris's name should be on the ballot for Conservative Party members.
On Saturday, July 16, The Times's Gabriel Pogrund and Harry Yorke posted an article: 'How the Tories turned the heat on Rishi Sunak'. In it, they introduced Lord Cruddas, who would go on to campaign for Boris's name to be on the members' ballot:
Both men were Eurosceptics who had supported the Vote Leave campaign when it might have been politically advantageous not to do so. Both were the beneficiaries of Boris Johnson's patronage. Cruddas had been given a peerage despite official objections. Sunak had been plucked from obscurity the previous year and made one of the youngest chancellors in history.
In 2021:
Sunak was the most popular politician in Britain and second only to Liz Truss in Conservative Home members' polls, having overseen the furlough and Eat Out to Help Out schemes. In the chamber, Cruddas gave his own vote of confidence, saying Sunak's budget "had established a clear path for the country to move from these difficult times", praising his "thoughtful" approach and arguing it would "not just to reinvigorate the economy post Covid but to help propel the post-Brexit opportunities".
By July 2022, everything had changed:
A week into the most toxic Tory leadership election in memory, the fact such comments were made feels inconceivable. Cruddas, 68, who remains close to Johnson, has shared posts on social media describing Sunak as a "rat", "a snake", a "little weasel", a "backstabber", "a slimy snake", a "treacherous snake", "Fishy Rishi", "Hissy Rishi", "Judas", "the traitor", "the Remainer's choice", a "sly assassin", a "Tory wet" promoting high taxes and the leader of a "coup" who "must be removed at all costs". Cruddas also retweeted claims about the financial affairs of Sunak's wife, Akshata Murty.
Tonight the peer said there had indeed been a "coup", adding: "I planned to donate a total of £500,000 this year but that is on hold and will not be paid unless the membership have a chance to vote on Boris being PM. I have no interest in Rishi who I deem to be not fit for high office due to his plotting and the orchestrated way he and others resigned to remove the PM." He also accused Sunak, 42, of setting up his leadership "before Christmas" and choreographing his resignation to inflict maximum damage.
The problem for Sunak is that such sentiment — especially the notion that he behaved improperly and cannot be trusted on the economy — is not confined to a fringe on social media. He might be the frontrunner but "Anyone But Rishi" reflects the opinion of Johnson and a coalition within the party. This includes cabinet ministers, staff inside Downing Street and Conservative Campaign Headquarters (CCHQ), Johnson's biggest donors, MPs opposed to higher taxes, and rivals for the leadership.
On July 22, The Telegraph's Christopher Hope added support for Boris's return and, in the meantime, addition to the ballot:
Tim Montgomerie, a former aide to Mr Johnson who has since been critical of him, said he had been told by sources close to the Prime Minister that he was convinced he would be back.
In a well-sourced post on social media, Mr Montgomerie wrote: "Boris is telling aides that he'll be PM again within a year" …
It comes as a row broke out among senior Conservatives about a campaign among party members to allow them a vote on whether Mr Johnson should continue as Prime Minister.
By Friday night, 7,600 members – all of whom have given their membership numbers – had signed a petition calling for the vote.
Lord Cruddas of Shoreditch, the former party treasurer who organised the petition, said "several MPs" had started to "make noises" about supporting his campaign …
Conservative MPs panicked:
The next day, The Times stirred the pot even more with 'Is Boris Johnson really planning another run at No 10?'
On Wednesday afternoon, moments after Liz Truss and Rishi Sunak were announced as the final two Conservative Party leadership contenders, a group of "red wall" MPs met on the House of Commons terrace to reflect on the result. "Is it too late to withdraw my resignation letter?" mused an MP, who held a junior ministerial role until the coup against Boris Johnson. "Shouldn't we just bring back Boris?" she said, leaving the question to hang in the air …
… Much like the Roman republic after Caesar's assassination, Whitehall is now riven by internecine warfare and a government paralysed by indecision …
For a man who just 18 days ago was brutally ousted from the job he has coveted his entire political life, Johnson appears to be living out his final days in Downing Street in a cheerful mood. Freed from the never-ending cycle of Westminster scandals, Johnson is relaxed and has spent the past few days hosting friends, relatives and other allies at Chequers and preparing a number of set-piece events leading up to his departure from No 10 in September …
Johnson, who allies claim remains furious with Sunak for his part in the coup, has sought to distract himself from the race to select his successor through media-friendly stunts …
Several MPs who helped oust Johnson have received a backlash from their constituents, stoking fears that they may face the same electoral retribution inflicted on Conservative MPs who ousted Margaret Thatcher. Backbenchers in red wall seats have been inundated with emails from voters who are furious at their role in ousting the prime minister.
They added that their postbag was filled with messages from newly converted Tory voters who have warned they will not vote for the party again now Johnson is gone. A colleague of Gary Sambrook, MP for Birmingham Northfield, claimed he had received hundreds of emails from constituents since he stood up in the Commons earlier this month and accused Johnson of refusing to accept responsibility for his mistakes …
Johnson leaves, aides say, with the air of someone with unfinished business. Whether this is the end of the Johnsonian project, or a precursor to his own Hollywood-esque sequel, remains to be seen.
On July 25, Christopher Hope wrote that the Boris petition had garnered 10,000 signatures:
Insiders say he is obsessed with delivering for the 14 million voters who voted Conservative in 2019, many for the first time because of him.
There are already stirrings of a revolt among the members. By Saturday night, 10,000 Conservative members had signed a petition organised by Lord Cruddas of Shoreditch, former Party treasurer, and David Campbell-Bannerman, former Tory MEP, demanding a say over his future.
The members want a second ballot to confirm MPs' decision to force his resignation, to run concurrently with the official leadership ballot between Liz Truss and Rishi Sunak.
That evening, Dan Wootton stated his belief that Boris's name should be on the members' ballot:
He asked his panel, which included Boris's father Stanley about it:
You can see relevant portions in these shorter extracts: Stanley supporting his son, Stanley verbally sparring with a journalist for the i paper as well as the opinion of former Boris adviser, Tim Montgomerie.
In the end, nothing happened. There was no Boris ballot.
Early this week, I heard one of the campaigners tell GB News that CCHQ are asking the organisers to do a sanity check on the signatories, confirming their Party membership number and clearing out any duplicates. If the number is still sizeable, CCHQ will discuss a possible changing of the rules for any future contests.
This is good news, in a way, but it will not help the Conservatives in the next general election. Boris's supporters are still angry.
Ukrainians
The Ukrainians will miss their biggest supporter.
They were saddened by his resignation:
Boris offered them his reassurance:
Volodymyr Zelenskyy even made a special announcement to the Ukrainian people about it:
Guido Fawkes wrote:
After leaving office Guido suspects Boris may end up reflecting more proudly on his work supporting Ukraine than even his Brexit legacy. Since the announcement of his resignation, Ukrainians have come out en masse to voice their sadness about his impending departure … Taking to Telegram late last night, Zelenksyy posted a touching video saying "Today, the main topic in our country has become the British topic – Boris Johnson's decision to resign as party leader and Prime Minister" …

Boris's hair has become a bit of an icon there (just as Trump's had in the United States). Guido has the images:
Boris's popularity among Ukrainians has already been well-reported since the outbreak of war. Streets have been named after him, as have cakes in a Kyiv patisserie. Yesterday Ukraine's national railways redesigned their logo to include an unmistakable mop of blonde hair, as did major supermarket Сільпо…
Boris once joked that the reason he'd left journalism for politics was because "no one puts up statues to journalists". It seems that, thanks to his efforts in Ukraine, he did manage achieved his wish for public deification – just not in the country in which he was elected…
On July 8, Ukraine's youngest MP made a video praising Boris:
Boris Johnson took a clear stand when so many others looked the other way.
In August, someone was inspired to paint a mural of Boris:
On August 24, Boris made his farewell — and surprise — visit to Ukraine on the nation's Independence Day:
Guido wrote:
Boris has made yet another surprise visit to Ukraine on its independence day — and the sixth month anniversary of its invasion. He used the visit, his last as PM, to announce a £54 million aid package to the country of 2000 state-of-the-art drones and loitering munitions …
Slava Ukraini…
Guido also posted this video:
GB News had more on the story:
Mr Johnson's visit came as Ukraine marked 31 years since its independence from Moscow's rule.
And it also came six months on from Russia's invasion of Volodymyr Zelenskyy's nation …
He said in Kyiv today: "What happens in Ukraine matters to us all.
"That is why I am in Kyiv today. That is why the UK will continue to stand with our Ukrainian friends. I believe Ukraine can and will win this war" …
The Prime Minister used his meeting with Mr Zelenskyy to set out a further package of military aid, including 2,000 drones and loitering munitions.
He also received the Order of Liberty, the highest award that can be bestowed on foreign nationals, for the UK's support for Ukraine.
Mr Johnson said: "For the past six months, the United Kingdom has stood shoulder-to-shoulder with Ukraine, supporting this sovereign country to defend itself from this barbaric and illegal invader.
"Today's package of support will give the brave and resilient Ukrainian armed forces another boost in capability, allowing them to continue to push back Russian forces and fight for their freedom."
The package includes 850 hand-launched Black Hornet micro-drones – smaller than a mobile phone – which can be used to provide live feeds and still images to troops, particularly important in urban warfare.
The support also includes larger drones and loitering weapons, which can be used to target Russian vehicles and installations.
The UK is also preparing to give mine-hunting vehicles to operate off the coast, with Ukrainian personnel being trained in their use in UK waters in the coming weeks.
Ukraine's ambassador to the UK Vadym Prystaiko marked the occasion by urging UK citizens to be "patient" as the war-torn country "cannot afford to lose your support".
He said: "You are playing a very important part in this fight. Ukraine will do what it takes to claim victory."
But will Britons continue to love Ukraine as much when the winter and higher fuel bills kick in?
Boris told us that we must do it, we must suffer, for Ukraine:
He has a point, but I do wonder how well this will play by the end of the year.
At least Boris got his Churchillian international claim to fame.
What next?
This week, Boris made a farewell tour of the UK, topped off with a dawn police raid of a house:
Guido has the video and explains the greeting:
This morning Boris accompanied the police on a home raid. Given we're now comfortably into the 21st century, it didn't take long for one of the occupants to realise the PM was in his home and film the experience, asking Boris 'wagwan'. Boris politely asked the filming resident "how you doing?". The Snapchatter could have at least offered Boris a cuppa…
It's rumoured that Michael Gove might be off to edit a newspaper:
Guido has the story and the audio of Gove's plans:
This morning Michael Gove laughed off the suggestion he's planning an imminent return to Fleet Street, insisting on the Today Programme he's "definitely planning to stay in Parliament" and won't be stepping down any time soon. Rumours have been building in SW1 that Gove had his eye on the editorship of, erm, one particular Murdoch-owned broadsheet, should a vacancy become available …
No, no. I think my first responsibility and duty is to my constituents in Surrey Heath. I'm going to stay on as MP, argue for them, and also argue for some of the causes in which I believe. I think it's vitally important that we continue to make the case for levelling up. I think Boris Johnson is absolutely right to focus on the need to provide additional support for overlooked and undervalued communities…
Gove added he still has "a reservoir" of affection for Boris despite being the only Minister the PM actually sacked in July. Boris is also rumoured to be sticking around until the next election. Could make for awkward small talk on the backbenches.
I predict they will stay on as MPs until the next election, just show up less often in the Commons.
As for Rishi, The Guardian said on Friday, September 2, that he was being compared with Michael Heseltine, one of the MPs who brought down Margaret Thatcher:
One of the most familiar refrains of the Conservative leadership contest was candidates earnestly inviting comparisons to Margaret Thatcher.
But after his resignation as chancellor brought down Boris Johnson's wobbling house of cards, a Tory insider said Rishi Sunak found himself with "the curse of Heseltine hanging round his neck".
Despite long having been talked of as a likely future prime minister, Sunak struggled to shed the parallel with the man who helped bring down Thatcher but failed in his own tilt at the top job – before coining the famous political cliche: "He who wields the knife never wears the crown."
I'll leave the final word to The Spectator's political editor James Forsyth, who muses on what politics will look like after Boris leaves:
His absence will reshape the political landscape because his presence defined it.
We will find out who Boris's successor is on Monday. The Guardian has a report on what we should expect:
The candidate who receives the most votes will be revealed on Monday by Sir Graham Brady, the chair of the 1922 Committee, a gathering of Conservative backbench MPs (not named after the average year of birth of its members but the year in which it was founded) …
The formal handover will take place on Tuesday. The Queen is recovering from the outgoing prime minister's tenure in her Scottish pile Balmoral and will appoint the new PM there, which will be a challenge as it requires the winner to leave Westminster.
Johnson is expected to make a farewell address outside 10 Downing Street at about 9am on Tuesday. It is not known whether he has written two versions of the speech, one based on staying, one based on leaving.
More next week as a new chapter in Conservative politics begins.
End of series
So much happened in the UK this week that it is hard to find the time and the space to write about it all.
Conservative leadership contest
Liz Truss's campaign continues to motor ahead, gaining powerful MPs' backing.
On Wednesday, August 3, a new Conservative Home poll appeared, its results matching those of polling companies, e.g. YouGov. Liz is 32 points ahead:
Conservative Home's Paul Goodman analysed his site's results and YouGov's (emphases mine):
Granted, neither can be proved right or wrong: as our proprietor has it, a poll is a snapshot, not a prediction. If our survey is correct, all that follows is that Truss would win the contest, were it held now, by 32 points among those who have declared their hand.
However, if we and YouGov are right it is very hard to see how Sunak recovers in the month or so between the opening and closing of the poll. For even if during that time he won over that 16 per of undecideds and others, Truss would still beat him by 58 per cent to 42 per cent.
In short, if our survey is correct he would have to add to that 16 per cent of don't knows and others some nine per cent of Truss's supporters – i.e: persuade them to switch.
This seems most unlikely if YouGov's question about certainty of intention is taken into account. For it finds that 83 per cent of Truss voters and 70 per cent of Sunak voters have made their minds up.
What odds would you give on Sunak winning over all those don't knows and others (from our survey), and then adding to that pile over half of Truss's soft support (using YouGov's figure)? I would say that they are very long indeed …
Those interested in events slightly further back will recall that Boris Johnson beat Jeremy Hunt by 66 per cent to 34 per cent during the leadership election of 2019.  That's exactly the same margin as the Truss-Sunak forced choice I spell out above from our new survey.
One way of looking at Conservative leadership election as matters stand might be to forget the thrills and spills, hype and blunders – such as Truss's yesterday over regional public sector pay.
And stick instead to the simple thought that the Tory membership divides right-of-party-centre to left-of-party-centre by about two to one and so, all other things being equal, the leadership candidate perceived to be right-wing than the other will win by a margin about two to one.
Finally, Opinium promises a Conservative members poll next week, and it has tended recently to find better results for Sunak than ours or YouGovs.
The YouGov poll from August 3 showed that Britons believe Truss is better than Sunak on the main issues:
Liz gained another supporter in former Health Secretary Sajid Javid, who was also Boris Johnson's first Chancellor from the summer of 2019 through to February 2020, at which point Rishi Sunak took over.
Sunak worked for Javid when the latter was Chancellor. Javid mentored his younger MP friend:
However, the dynamic changed when Chancellor Sunak locked horns with Health Secretary Javid during the pandemic in 2021.
… those who know both men say there are more prescient personal and political reasons behind Javid's decision [to back Truss].
They say that tensions emerged after Javid was brought back into the government as health secretary. Sunak regarded the NHS as a bottomless drain on resources and was exasperated by what he saw as Javid's failure to spearhead fundamental reform of the health service.
Javid for his part was frustrated with the highhanded manner in which the Treasury dealt with the Department of Health and its refusal to countenance the type of spending he believed was necessary to tackle treatment backlogs coming out of the pandemic. He felt that Sunak had not shown the loyalty that he had when the power dynamics were reversed.
There are now significant policy differences as well. When Javid threw his hat in for the leadership he set out a tax-cutting agenda broadly similar to that proposed by Truss. He proposed cutting national insurance and reversing the planned corporation tax rise while Sunak stuck to his policies as chancellor.
One ally said Javid sincerely believes that only by kick-starting growth through tax cuts can public services be properly funded. They said it would have been "odd" if Javid had backed Sunak, given their different and genuinely held views on how to deal with Britain's economic uncertainties.
This is what Javid had to say about Truss in his article for The Times:
"I fought for strong fiscal rules in our last manifesto," he wrote. "But the circumstances we are in require a new approach. Over the long term, we are more likely to be fiscally sustainable by improving trend growth.
"Only by getting growth back to pre-financial crisis levels can we hope to support the high-quality public services people rightly expect."
In a direct attack on Sunak, he said: "Some claim that tax cuts can only come once we have growth. I believe the exact opposite — tax cuts are a prerequisite for growth. Tax cuts now are essential. There are no risk-free options in government. However, in my view, not cutting taxes carries an even greater risk."
He added: "With only two years before the next election, there has been a temptation to just 'get the barnacles off the boat' and avoid any short-term political pain for long-term national gain.
"We must reject that. As a nation we are sleepwalking into a big-state, high-tax, low-growth, social democratic style model which risks us becoming a middle-income economy by the 2030s with the loss of global influence and power" …
A senior Truss campaign source described Javid's endorsement as the "big one for us".
They added: "The bigger beasts of the party are uniting behind Liz because they believe in her vision for the economy. We can't have the Treasury orthodoxy and tired status quo. They believe she will turn things around in time for the next election by getting on and delivering quickly in No10."
On Wednesday, August 3, Truss and Sunak canvassed separately in Wales before meeting up for a televised hustings in Cardiff later in the day.
A Conservative Welsh Senedd (Senate) member, James Evans, changed his mind about Sunak and decided to support Truss instead. He got a lot of flak in response to his tweet:
Truss's former party, the Liberal Democrats, criticised her for taking a helicopter around Wales to get to the various Conservative associations there. Pictured is the Lib Dem leader Sir Ed Davey:
Guido Fawkes points out that the Lib Dems are suffering an attack of sour grapes — and hypocrisy (red emphases his):
… Rishi's been known to use them, so why should Liz be confined to the rail network…
i News were the ones to reveal Liz's chartering this afternoon, juxtaposing the decision against her backing of net-zero carbon emissions by 2050. The LibDems were only too happy to butt in, providing a quote for the copy that it "makes a complete mockery of her promises on Net Zero. It's clear that she is not serious on climate change." This quote came from Vera Hobhouse rather than Sir Ed Davey himself, who surely wouldn't mind the coverage…
Guido's sure Sir Ed's decision not to provide the comment has little to do with the fact that, in 2013 as Energy Secretary, he hitched a ride in the helicopter of EDF boss Henri Proglio, after handing him a nuclear deal at double the going rate for electricity. The decision raised objections from Friends of the Earth at the time, who said it "confirms how close the Big Six energy firms are to our decision-makers."  A source close to Liz Truss calls the political attack "the usual sanctimonious hypocrisy from the LibDems". Sir Ed may need to refuel his own spin machine…
While in Wales, Truss took the opportunity to have a go at First Minister Mark Drakeford (Labour), calling him:
the low energy version of Jeremy Corbyn.
Bullseye!
John McTernan, who advised Tony Blair between 2005 and 2007, wrote in UnHerd why Labour should be afraid of Truss.
I've seen John McTernan on GB News and he knows whereof he speaks.
He explains Truss's strengths:
One of her overlooked strengths is that she has been on a political journey. Changing your mind is often thought of as a weakness in politicians, whereas in reality an unchanging commitment to ideology is one of their most eccentric habits. In normal life, we change our minds frequently and without fuss. As economist Paul Samuelson said, in a line so good it is often attributed to Keynes: "Well when events change, I change my mind. What do you do?" In itself, changing their mind humanises a politician — a particular asset in a time of popular revolt against out-of-touch elites.
But, more than that, making a political journey shows character. Three of the most significant politicians of the Blair era — John Reid, Alan Milburn, and David Blunkett — were great New Labour reformers who had started on the hard Left. Their politics had been tempered and strengthened by their journey. Liz Truss was brought up on the Left and attended anti-nuclear peace camps with her mother. She then became a Liberal Democrat activist, famously demanding an end to the monarchy to Paddy Ashdown's discomfort. And when a Tory Cabinet minister she backed Remain not Leave, though she is now a passionate Brexiteer. Those surprised that Tory party members overwhelmingly see a former Remainer as the best defender of Brexit need to remember their New Testament: "There will be more rejoicing in heaven over one sinner who repents than over ninety-nine righteous persons who do not need to repent." The redemption narrative is one of our most powerful stories: she who once was blind, but now can see.
The fact Liz Truss has been on a political journey also makes her a powerful communicator. Some of the most persuasive arguments in politics are based on empathy rather than angry disagreement. Liz Truss knows why voters find progressive policies attractive, which can strengthen the persuasive power of her arguments for people to change their views. And her speaking style is clear and simple. The listener readily understands what she thinks and believes. Her opponents who too readily dismiss her as simplistic are missing the point. Politics is not a mathematical equation — a ten-point plan won't beat a five-point plan 10-5. The messages and policies that win are those that connect with the heart as much as the head.
The Truss agenda is straightforward. The educational system is failing kids. Grammar schools would identify and help some bright working-class and minority children. The cost-of-living crisis is hitting wallets and purses. A tax cut would give money back to the public. Energy prices are spiking. Pausing the green levy would reduce prices. Now, there are good arguments against each of these policies, but they are superficially strong one-liners. It takes time to explain how grammar schools distort the education of the vast majority of pupils who don't get into them, or to make the case that there is a danger that tax cuts lead to more inflation. The arguments against Liz Truss's policies are strong but they need to be explained. And, as the old political saying goes, "when you're explaining, you're losing".
… One of the best jokes in the US TV show Veep comes when Selina Myers uses the slogan "continuity with change" for her Presidential campaign. It works because it is bizarrely true — and it is true because that is what most voters want. They're not revolutionaries, they're realists.
The Truss offer is continuity with the spirit of Johnson and Brexit while meeting the demands of the voters who were, and are, angry with the status quo. That anger has been the fuel of politics since the Global Financial Crisis — it was there in Brexit, in the Scottish independence referendum, in the rise of Corbyn, and in Boris Johnson's 2019 landslide. The fact that such competing and conflicting political forces can harness that same anger signals that there is an underlying volatility in British politics that can be channelled in different directions by strong and intelligent leadership.
It is in leadership that Labour must contest most convincingly. Liz Truss will likely be undone by events. The cost-of-living crisis is of such a scale that it is hard to see any of her policies — or any of Rishi Sunak's — that will be more than a drop in the ocean. To win, Keir Starmer must learn from New Labour [Tony Blair's government]. Attack the new Prime Minister and her government, but don't nit-pick. The critique must be based on a vision of hope and a positive project that positions Labour once more as the "political wing of the British people". Otherwise, Keir Starmer risks being just one more man, in a long line of men, who have underestimated Liz Truss at their peril. After all, there are no accidental Prime Ministers, and like the rest, Truss has guile, will and talent.
Guido Fawkes adds another point:
… Truss will be the Tories' third female PM to Labour's big fat nought …
Exactly. And Conservatives didn't need to have all-women shortlists, either, unlike Labour.
For Conservative Party member Toby Young, General Secretary of the Free Speech Union, Truss's strength lies in opposing another lockdown, which she said 'No' to on Monday night in Exeter:
Also in Exeter, on Monday, Truss said that First Minister Nicola Sturgeon (SNP) was an 'attention seeker' who should be ignored. Again, I'm pretty sure Truss meant that with regard to appeals for a second independence referendum.
The Telegraph's Alan Cochrane, who lives in Scotland, said that some would sincerely welcome those words: 'Amen to that! Liz Truss finally puts the boot into Nicola Sturgeon':
It is easy to sympathise with Liz Truss's presumably exasperated and outspoken statement that the best way to deal with Nicola Sturgeon was to ignore her. 
After watching, listening and responding to this ambitious politician for more than 20 years, ignoring her is something I'd rather have been doing than countering every one of her largely lame-brained arguments for breaking up Britain.
Furthermore, the First Minister is every bit the "attention seeker" that the Foreign Secretary portrays her as – most especially when she dons her "Mother of Scotland" role and seeks to insist that she, and only she, speaks for the whole of Scotland. 
The truth, of course, is that she speaks only for her party and government, neither of which commands an overwhelming majority of Scottish opinion …
… while Ms Truss is being assailed for her choice of words by the Nationalists and those faint hearts who seek a peaceful political life, there will be more than a few who will shout "Amen to that!" when she talks of Ms Sturgeon's perpetual attention seeking.
Furthermore, a great deal more candour from Westminster in its dealings with the SNP is long overdue. Far too long. Successive UK administrations have bent over backwards not to be seen as provoking the cause of independence when the truth is that it is already on a life support system, with a fast declining appeal to the Scottish people.
The fact is that Ms Truss knows that she cannot just ignore the devolved Scottish Government and its leader. But she is to be commended for putting the boot in. It's about time someone did.
While Truss and Sunak were in Wales, Iain Duncan Smith MP was north of the border in Scotland.
He was at an event for Scottish Conservatives in Stirling, in Scotland's central belt.
The former work and pensions secretary backtracked on comments made by Truss that Nicola Sturgeon, the first minister, should be "ignored" as he criticised the UK government's approach towards the Union.
"I don't want to ignore her," he said. "What I want to do is to let the world know just exactly why Scotland is suffering so much under this incompetent regime at Holyrood. The truth is, it is a disaster: everything from health, the police, the railways — they can't even build ships sometimes on time and on budget."
He's not exaggerating. It's the raw truth.
The MP wants the next PM to have greater powers of scrutiny over the way Scotland's SNP government is run. They get billions from taxpayers in the Barnett Formula and waste it. No one, not even Scots, has any idea where the money goes.
He said:
I am desperate for greater powers for scrutiny. It is only scrutiny that unearths all this nonsense and … that the weaker scrutiny up here has allowed the Nationalists to get away with it. So I am going to take that straight back and talk to her about it and see what we could do.
Not surprisingly, the SNP were furious and, as usual, blamed Westminster:
Kirsten Oswald, the SNP deputy leader at Westminster, said: "This is an utterly ridiculous suggestion, showing that even the Tories are out of ideas for how to fix the broken Westminster system. It is not the SNP's job to explain why Westminster control is increasingly making life more difficult for the people of Scotland — even if the Tories are out of excuses.
"The job of SNP MPs in Westminster is to stand up for Scotland against a UK government choosing to ignore our interests at every turn. That is what they will continue to do."
Duncan Smith justified his desire for scrutiny saying that SNP MPs are part of the Scottish government, too:
… Duncan Smith said: "We need to turn the tables on them and start saying, 'Well, can we have a period of question time for you lot to talk about what you are doing in Scotland as the devolved administration?'
"And start examining some of this stuff because they're not just SNP protesters down in parliament, they are actually part of the government up here."
Meanwhile, Rishi Sunak told the audience in Cardiff that Truss was wrong about her public sector pay reform and tried to scare Welsh Conservatives into thinking that Truss was going to cut the pay of every single public sector worker in Wales:
However, Sunak got himself into a bit of hot water when he 'misspoke' on wind turbines at the event:
On Thursday, August 4, Guido reported:
Rishi's team has said he "misspoke" during the hustings last night when it appeared he'd u-turned on his opposition to new onshore wind. At the Wales' husting, Sunak was asked "will you be bold enough to scrap the embargo on onshore wind in England?", replying "So, yes, in a nutshell." This appeared totally contradictory to one of his previous policy announcements:
Wind energy will be an important part of our strategy, but I want to reassure communities that as prime minister I would scrap plans to relax the ban on onshore wind in England, instead focusing on building more turbines offshore,
Team Liz immediately leapt on his words as sign of yet another u-turn from Rishi, alleging it was his eleventh campaign u-turn.
This morning Team Rishi, asked to justify his words, bluntly replied "he misspoke". Much like Britain under Rishi's actual wind energy policy, he's losing fans rapidly…
Sunak is also being economical with the truth when he says that he personally came up with the idea of British freeports, which were first mooted in an early Margaret Thatcher manifesto for the Conservatives:
However, Rishi managed to get two notable endorsements, one from former Conservative Party leader Michael Howard and Nigel Lawson, who was Chancellor under Margaret Thatcher. He is also Nigella Lawson's father.
Guido has more:
Finally got an endorsement from Nigel Lawson himself, who writes in The Telegraph that Rishi is

"the only candidate who understands Thatcherite economics" …



Michael Howard opened for Rishi at Wales' Tory husting last night, saying he can provide the leadership needed "not only in this country, but across the wider western world"
Lawson must have felt obliged to endorse Sunak, given that the latter has a photo of him in his office.
Sunak was over the moon about Lawson's Telegraph article:
Boris looms large
Prime Minister Boris Johnson still looms large in the psyche of British voters.
Normally, we are all too happy when a Prime Minister stands down. When Margaret Thatcher's MPs booted her out, we breathed a sigh of relief. We'd had enough of Tony Blair when he left No. 10 to Gordon Brown. We didn't care too much about David Cameron's resignation, although we did think he was petty-minded for resigning the morning after the Brexit referendum result. And we were only too happy for Theresa May to go, although we did feel sorry for her as she cried at the Downing Street podium.
However, Boris is a different kettle of fish.
The August 3 YouGov poll showed that a) most Conservative Party members thought their MPs made a mistake in getting him to resign as Party leader and b) he would make a better PM than either Truss or Sunak:
In response to the aforementioned Welsh Senedd member's tweet, someone responded with this:
Incredibly, as ballots are currently being posted to Conservative Party members, Alex Story, the leader of the Bring Back Boris campaign, still thinks there is time to add Boris's name to the list of candidates.
He spoke to Nigel Farage on Wednesday, August 3:
He said that 14,000 members of the public wrote to Conservative Party headquarters after Boris stood down as leader.
He added that most Boris supporters knew he was economical with the truth, but they felt that his ouster was forced.
Nigel Farage countered by saying that 40% of Conservative voters wanted Boris to leave. Furthermore, he could no longer command the support of his MPs.
Story responded by saying that Boris will be like 'Lazarus [rising] from the dead … something romantic and quirky'.
That's one way of putting it, I suppose.
It is highly unlikely that Boris's name will be on the ballot, but … one cannot fault Story and Lord Cruddas for trying on the public's behalf.
More news next week.
John Redwood certainly has a bee in his bonnet over former Chancellor Rishi Sunak.
Unusually, Redwood has been tweeting several times daily in Trumpian style over which candidate — Sunak or Liz Truss — is better as the future leader of the Conservative Party and our new Prime Minister.
He has also continued to keep his readers updated in his eponymous diary.
On July 20, 2022, the final day of Conservative MPs voting for leadership candidates, he tweeted:
Later that day, he wrote a brief diary entry, 'Then there were two':
I am delighted Liz Truss will be in the final with Rishi Sunak. I want a change of economic policy as readers of this site will know. Liz Truss will give us that change. Rishi has accepted Treasury and Bank advice which has given us a high inflation and if unaltered will give us a recession next year. We can do better.
Redwood has been an MP since Margaret Thatcher was Prime Minister. Not only does he understand her monetary policy but also the way Treasury and Bank of England forecasts have gone wrong over the past 40 years. He advised Thatcher in the middle years of her long premiership.
Boris Johnson also understands that the Treasury gets things wrong. In his final PMQs on Wednesday, July 20, he gave advice to his successor, saying (emphases mine):
I love the Treasury, but remember that if we had always listened to the Treasury, we would not have built the M25 or the Channel Tunnel.
That day, the OBR (Office for Budget Responsibility) came out with a revised forecast.
On July 21, Redwood wrote 'Some funny numbers from the Treasury and OBR':
The OBR has had to explain why it was so far out in its forecasts of the deficit and borrowings last year. They have written:
"Our latest forecast for (Central government borrowing) 2021-2 is £48.3bn below the October forecast and £131.2bn below our March 2021 forecast (the Budget)". They accept they underestimate tax revenues by a massive £77bn and overstated state spending by £48.7bn. It should be easier to forecast what you spend when you are running the spending controls.
We can all make mistakes. Forecasting is difficult. What is more difficult to forgive is that this was not the first time they have underestimated the revenues and overstated the deficit. Worse still is they used their precise forecasts of revenue and deficit to tell the Chancellor he needed to raise more taxes to reduce the gap between spending and taxing. It turns out they need not have asked him to do that as the numbers were so much better than the numbers they tried to create with tax rises.  So when I am asked how do we pay for the tax cuts, the first answer is we are so far ahead of plan there is no problem. The second answer is if you cut the right tax rates to a sensible amount you can end up with more growth and more revenue, not less.
The Treasury also needs to come clean about the debt interest. They have been using their current high figure of £83bn which includes index costs on the repayment of inflation linked debt which does not entail making any cash payments before redemption. They use this figure to scare politicians into accepting more austerity to control the debt interest. What they omit to point out is on their definition of debt interest they forecast a collapse in the cost of it to £46.7bn by 2024-5. That is a fall of £36.3bn or 44% in debt interest.
The Treasury has a tradition of overstating deficits when there is good growth and understating them in recession. There is also a danger their policy advice based on very wrong forecasts could drive us unnecessarily into recession.
Redwood tweeted that our current inflation is likely to be temporary:
As soon as Truss and Sunak were the final two contenders in the Conservative Party leadership contest, The Times endorsed Sunak.
Much of the media have also swung behind Sunak, except for the more conservative news outlets which feature more articles on Liz Truss's candidacy and Kemi Badenoch as the future of the Conservative Party, even though she was eliminated from the leadership contest.
Redwood tweeted:
True.
The Remainer media have attacked Truss's proposed policies. Sunak's softness on the EU are why the media back him. They want a return to the EU:
Sunak has been pushing the line that Margaret Thatcher had an initial high tax policy that worked well. Therefore, Sunak is high tax, in a Thatcherite mode. In reality, once Thatcher got new advisers, she began cutting taxes, which brought economic growth.
Redwood tweeted:
Redwood believes that Liz Truss has the Thatcherite economic policy in this contest:
Redwood had more to say about Sunak's performance while he was Chancellor:
I particularly enjoyed this next tweet, in which Redwood compares Sunak to Labour Chancellor Gordon Brown, who later became Prime Minister, succeeding Tony Blair:
Redwood said that he tried to advise Sunak on the economy, but to no avail:
On Friday, July 22, Redwood correctly predicted that Rishi would send a message of panic:
Sure enough, the next day, Rishi said he wanted to declare a state of national emergency:
We can only hope that Redwood is right in saying that panic puts off voters:
Sunak made the statement in Grantham, Margaret Thatcher's home-town. Redwood finds it curious that Sunak never mentioned an interest in Thatcher until this leadership contest:
As I write on Monday afternoon, I will look at that day's BBC debate between the two candidates in a separate post.
Before the debate, Redwood shared his thoughts:
In closing, Redwood reiterates why Liz Truss is the better candidate:
Even though I have no vote in this contest, Liz Truss has accomplished far more in trade deals and foreign policy than Rishi Sunak as Chancellor. His time in No. 11 was disappointing for the most part.
Conservative Party members will receive their ballots early in August, enabling them to vote by post or online. The deadline for them is August 2. A new Prime Minister should be in place by September 5.
Margaret Thatcher is growing on me.
I must have been too young at the time to appreciate her.
Here is a genius quote of hers about matters of concern to us today: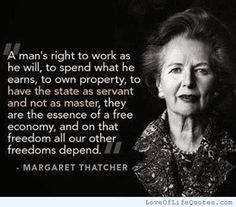 A man's right to work as he will, to spend what he earns, to own property, to have the state as servant and not as master, they are the essence of a free economy, and on that freedom all our other freedoms depend.
On Wednesday, March 22, Rishi Sunak, the Chancellor of the Exchequer, will be delivering a Spring Statement in the House of Commons.
One dreads to think what he will say. Our taxes are going up, up, up.
He has imposed the most tax increases since Labour's Gordon Brown, who was Chancellor for ten years (1997-2007). Rishi's only been in for two!
As Guido Fawkes points out, Thatcher's Nigel Lawson was the last Chancellor to cut taxes. He was in office between 1983 and 1989.
No one under the age of 40 will have experienced a cut to the overall tax burden:
Two readers of Guido's post put a mock letter to taxpayers together:
Dear common people, you must understand that our policy of massive QE to deflate your earnings and savings whilst massively enriching the globalist banks and corporations, the mass uncontrolled relentless 3rd world immigration (not forgetting the VIP illegals), the massive state support of anti-democratic and anti-conservative quangos and NGOs to champion progressive socialism, the destruction of energy security and the lunacy of net zero, the massive tax hikes with nothing in return but more state control, the Covid lockdowns built on deliberately manipulated bad data – they are all necessary if we and the rest of Westminster and Whitehall are to meet our WEF Great Reset targets. Thanks.
P.S.: I'm a multi millionaire and I can still claim my expenses including my energy bills, TV licence and everything else that I buy, so I don't really care.
That doesn't half cut to the bone.
Rishi told Sophie Ridge from Sky News that the other Chancellors did not have pandemics with which to deal. He thought that the chart should have gone back to the Second World War for a truer picture of borrowing and high taxes:
He assured her that taxes will be going down.
This was the front page of the Mail on Sunday from March 20:
Better than slashing fuel duty would be to cut the green levy, which is even greater.
Look at the third column, though (emphases mine):
… the Chancellor has asked Treasury officials to establish a new cost-of-living unit which would scrutinise all new policies for their impact on household finances. He will also chair a new Cabinet committee on financial waste which will aim to prune nearly £6billion from public spending.
I must be naïve. I was always under the impression that the Treasury's civil servants looked at ('scrutinise' is too strong a word) the impact of their policies on household finances. The same goes for financial waste.
Why do we need more civil servants doing nothing?
They cannot even be bothered to go into the office. They've been working from home since the first coronavirus lockdown, the second anniversary of which is Wednesday, March 23 — the same day as Rishi's Spring Statement.
The tax situation never gets better, does it?
In 1952, newly-wed Margaret Roberts Thatcher wrote an article for the Sunday Graphic about the accession of the young Queen Elizabeth to the throne and what it meant for British women.
On February 7, 2022, The Spectator published the article in full and included a photo of it as well as the front page, which features King George VI and Princess Elizabeth together. The headline reads:
THE KING THE PEOPLE LOVED
THE QUEEN WHO IS OUR HOPE
Mrs Thatcher looked very different to the bouffant-wearing Conservative leader and Prime Minister of later years. The magazine put a photo of her in the Order of the Garter robes.
The photos are must-see images.
The Spectator introduced the article, in part (emphases mine):
… It was published in the Sunday Graphic on 17 February 1952. Thatcher [was] just a few months older than the Queen. As Margaret Roberts, she had already been the youngest woman candidate in the last two general elections and had just married Denis Thatcher in December of 1951. At the time of writing, she was studying for the bar.
Three things struck me as I read the article: women were already in positions of power, especially in Britain; Margaret Thatcher subscribed to 'have it all' feminism and, finally, our saying that all women then were 'oppressed' is wide of the mark.
Excerpts follow.
Thatcher supported her contemporary, the young Queen, and welcomed a new Elizabethan age for women:
A young Queen, the loveliest ever to reign over us, now occupies the highest position in the land. If, as many earnestly pray, the accession of Elizabeth II can help to remove the last shreds of prejudice against women aspiring to the highest places, then a new era for women will indeed be at hand. We owe it to the Queen — and to the memory of her father who set her such a wonderful example throughout his life — to play our part with increasing enterprise in the years ahead.
I hope we shall see more and more women combining marriage and a career. Prejudice against this dual role is not confined to men. Far too often, I regret to say, it comes from our own sex. But the happy management of home and career can and is being achieved.
There was already a female QC (Queen's Counsel) — senior barrister — at the time:
… the name of Miss Rose Heilbron QC whose moving advocacy in recent trials has been so widely praised is known throughout the land. Unless Britain, in the new age to come, can produce more Rose Heilbrons — not only in the field of law, of course — we shall have betrayed the tremendous work of those who fought for equal rights against such misguided opposition.
The term 'career woman' has unfortunately come to imply in many minds a 'hard' woman, devoid of all feminine characteristics. But Rose Heilbron and many more have shown only too well that capability and charm can go together. Why have so few women in recent years risen to the top of the professions?
Thatcher said that women mistakenly thought they should forfeit a continuing career when they got married:
In my view this is a great pity. For it is possible to carry on working, taking a short leave of absence when families arrive, and returning later. In this way, gifts and talents that would otherwise be wasted are developed to the benefit of the community.
The idea that the family suffers is, I believe, quite mistaken. To carry on with a career stimulates the mind, provides a refreshing contact with the world outside — and so means that a wife can be a much better companion at home. Moreover, when her children themselves marry, she is not left with a gap in her life which so often seems impossible to fill.
Thatcher returned to the prospects of a great Elizabethan era:
Women can — and must — play a leading part in the creation of a glorious Elizabethan era. The opportunities are there in abundance — in almost every sphere of British endeavour.
She gave examples of powerful women in Britain:
We must emulate the example of such women as Barbara Ward, at 37 one of our leading economists and an expert on foreign affairs. Dr Janet Vaughan, mother of two children and principal of Somerville College; Mary Field who, as president of the 90,000-strong British Federation of Business and Professional Women, is one of our most successful 'career women'; and Dame Caroline Haslett, Britain's No. 1 woman engineer and founder more than a quarter of a century ago of the Electrical Association for Women.
That there is a place for women at the top of the tree has been proved beyond question by these and very many others. And if there are those who would say: 'It couldn't happen to me.' They would do well to remember that Dame Caroline Haslett herself started as a 10s-a-week apprentice in a London boiler works more than 30 years ago.
Thatcher pointed out that Britain was ahead of the United States when it came to representation in political life:
American women have only six out of 435 members in the House of Representatives. We have 17 out of 625 in the House of Commons. But it is still not good enough. If we are to have better representation in parliament, the women of England must fight harder for it.
She advocated aiming for the top in political life, although she did not mention the office of Prime Minister:
Why not a woman chancellor — or foreign secretary? Why not? And if they made mistakes they would not be the first to do so in those jobs!
She concluded (italics in the original):
To sum up, I should like to see the woman with a career holding down her responsibility with easy assurance during the Elizabethan age. I should like to see married women carrying on with their jobs. If so inclined after their children are born. I should like to see every woman trying to overcome ignorance of day-to-day affairs; and every woman taking an acting part in local life.
And, above all, I should like to see more and more women at Westminster, and in the highest places too. It would certainly be a good thing for the women of Britain, and I'm sure it would be a good thing for the men too.
Certainly, Margaret Thatcher followed her own advice by serving as Prime Minister from 1975 to 1990.
All credit to the Conservative Party for supporting her and many other women members in their quest to hold political office.
The Conservatives also gave us a second female Prime Minister: Theresa May.
I daresay we'll get a third Conservative woman PM in our lifetimes.
Meanwhile, the Labour Party lags far behind. They have never had a female party leader.
Credit for Thatcher's rise to the top also belongs to her husband Denis, who was as supportive of her as Prince Philip was of the Queen by being a confidant and a best friend.
It is unfortunate that Margaret Thatcher didn't cherish her daughter, Carol, more; she preferred her son Mark.
As for her relationship with the Queen, rumour had it that it was spiky on occasion. The Queen grants serving Prime Ministers a weekly audience, usually in person. Oh, to have been a fly on the wall during their conversations.
Margaret Thatcher thought that women could have it all: marriage, career and children. She could not have foreseen that taking marriage out of the equation makes working and raising a family precarious and difficult for many women.
In closing, I second The Spectator's thanks to Clarissa Reilly of Digger & Mojo Antiques in Woodborough, Wiltshire, for sending the magazine a copy of Margaret Thatcher's article, which was illuminating and thought-provoking.
When it comes to women in leadership — the theme of International Women's Day 2021 (March 8) — Britain's Conservative Party is decades ahead of Labour.
Below are the first women to lead political parties in the United Kingdom.
Look at the lag time after Margaret Thatcher. Then look at Labour, which has never had a woman leader:
In 1992, 17 years after the Conservatives elected Margaret Thatcher as leader, the Greens voted for Jean Lambert.
In 2012, Leanne Wood became the leader of the Welsh Nationalists.
In 2014, Scotland's SNP elected Nicola Sturgeon to lead them. She is still the First Minister in that devolved nation.
In 2015, Northern Ireland's DUP followed with Arlene Foster.
In 2016, Diane James led UKIP briefly.
In 2019, Jo Swinson led the Liberal Democrats for a few months, until she lost her seat in Scotland in the December general election that year. Nicola Sturgeon was thrilled.
As for left-wing Labour? That day will have to wait.
Labour have no business telling Conservatives that they are behind the times. The Conservatives have had two women Prime Ministers. Labour's never even had a female party leader.
Ironically for Labour, International Women's Day has Socialist origins. The Communists adopted it later.
These days, nearly every nation observes this day. The UN decides the annual theme.
In the UK, the annual budget statement is the Parliamentary event of the year for the British public.
This year, it took place on Wednesday, March 3:
In the old days, many people bought a newspaper the following day for the details on taxes.
Now everything is online and many more people are tuning in to one of the two Parliamentary channels to watch proceedings.
Why is this so important? As Chancellor of the Exchequer Rishi Sunak says, this involves taxpayers' money. It's not the government's, it's ours:
This year, he held the first-ever press conference on the budget:
Here is a bit of history on the UK budget:
In modern times, the Chancellor displays his ministerial red box for an obligatory photo op before going to Parliament:
Despite what the Opposition said on Wednesday, Rishi Sunak put in a lot of work, including television interviews:
He held an online meeting with those most affected by the coronavirus lockdown and the loss of income:
No one could have imagined that when he gave his first budget, on March 11, 2020, one that was full of optimism and big plans, how things would change within one year:
By the way, the projected coronavirus spending for this year should fall dramatically compared with 2020:
On the day the Chancellor lays out the budget, the Chairman of the Ways and Means committee presides, rather than the Speaker of the House.
Since last year's budget, Dame Eleanor Laing, also a Deputy Speaker of the House, was appointed to head this committee:
In the next video, the delightful Dame Eleanor explains what the budget is and how it is debated in Parliament after the Chancellor presents it:
Coronavirus has brought its own challenges. Normally, every MP packs into the Commons for the budget. This year, socially distancing was enforced. Most MPs participated in the initial debate virtually:
Here she is with her team. Masks are obligatory on the Parliamentary estate these days:
This is the video of the coverage as it happened. Click to watch it:
Below are the highlights.
Much of it concerns economic recovery from the pandemic:
Most taxes are frozen for now as well as personal tax thresholds:
There will also be a new taskforce to help prevent fraud in coronavirus claims:
These are designed to fit around Prime Minister Boris Johnson's roadmap to exit the coronavirus crisis:
There will be help for small-to-medium businesses:
And help for technology businesses:
There is a new visa programme to attract the brightest and best talent:
I do hope that our education system is improved so that we do not need to keep looking abroad for talent. Only 30 years ago, Britain's schools were among the best in the world. How times have changed.
You can get more detail about the budget from The Telegraph. One thing to note is that the inheritance tax threshold has not changed since 2009. It is still £325,000 per person.
Finally, in an exciting post-EU development, the Chancellor announced eight new Freeports, where favourable customs rules and tax reliefs will apply, furthering trade with other nations:
Teesside will also be the new 'campus' for the UK's treasury, just up the road from the Chancellor:
The hospitality industry, which has been closed since December — and longer in some places with regional lockdowns — welcomed the budget measures:
The director-general of the Confederation of British Industry (CBI) was also satisfied:
I am cautiously optimistic, but I felt so much happier with the 2020 budget, when we were on top of the world.
For Labour and the SNP, the spending didn't go far enough. However, as Margaret Thatcher, Britain's first female Prime Minister and a Conservative, said in 1983: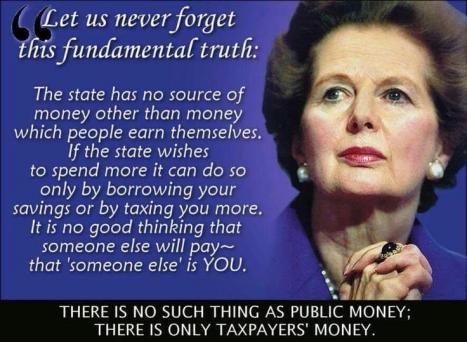 Rishi Sunak is attempting to navigate Britain's worst financial crisis since the early 1700s.
Let's hope his plan works.
This is the final instalment of my long-running series, the Brexit Chronicles.
My previous post discussed the December 30 vote on the EU Future Relationship Bill which passed both Houses of Parliament and received Royal Assent in the early hours of the final day of Brexmas, December 31, 2020.
New Year's Eve was a quiet affair in Britain, as we were in lockdown.
One week earlier, Boris said that he would not be dictating to Britons how they should celebrate our exit from the EU, which was a bit rich, because he had already put us into lockdown before Christmas:
What UK independence from the EU means for Boris
The UK negotiating team did some star turns with this agreement, which polished Prime Minister Boris Johnson's political reputation.
Boris's ratings had taken an understandable hit during a year of coronavirus, which included a lot of flip-flopping on his part, however the trade agreement improved things considerably. Liz Truss, who has been negotiating our trade deals with more than 50 countries, deserves her place at the top:
According to an Opinium poll, an overwhelming majority of Britons — even Remainers — wanted MPs and the Lords to pass the deal:
Troublingly for the anti-deal SNP, the poll's sub sample of Scottish voters shows that by 47% to 19%, Scots want their MPs to vote for the deal too…
The Norwegians said that the UK had negotiated a better deal with the EU than they had:
Guido Fawkes thinks that this could give Norway the impetus to renegotiate their terms with the EU. I hope so (emphases in the original):
Marit Arnstad, parliamentary leader of Norway's Centre Party, argues that the UK deal is better than the Norwegian deal her country has as a member of the European Economic Area (EEA). "The UK has now reached an agreement that gives them more freedom and more independence" she tells Klassekampen, Norway's answer to the Guardian, "the British have a better agreement than the EEA. They get access to the internal market and the common trade that is desirable, but they do not have to be part of a dynamic regulatory development that places strong ties on the individual countries' national policies. …The most difficult thing for Norway is that we are bound in areas that are national policy, and that it happens in more and more areas. The British have now taken back this authority, and it is extremely interesting".
Arnstad is not the only politician complaining, the leader of the Norwegian Socialist Party's EEA committee, Heming Olaussen, also believes that the British agreement with the EU is better than the EEA, "because the British escape the European Court of Justice. Then they are no longer subject to EU supremacy and must not accept any EU legislation in the future as we must. This agreement is qualitatively different and safeguards national sovereignty in a better way than the EEA does for us".
Could we soon see Norway and the other EEA countries try to renegotiate their terms?
Prime Minister Boris Johnson made sure that he got everything possible arranged by the end of the day, including Gibraltar. The first tweet has a statement from Foreign Secretary Dominic Raab:
Remainers constantly brought up the future of the Nissan car plant in Sunderland. They can silence themselves now.
Chronicle Live reported:
Automotive giant Nissan has welcomed the UK's post-Brexit trade deal with the EU, which appears to have safeguarded the future of its Sunderland plant.
The plant has been at the centre of the Brexit debate over the last decade, with both Remain and Leave campaigners using it to back up their respective arguments.
A number of global Nissan executives have used visits to Sunderland to warn that its future was threatened by a no-deal Brexit, and two models either being made or due to be made at the plant have been cancelled since the 2016 referendum.
But the Christmas Eve agreement of a deal that appears to allow tariff-free access to EU markets for British-made goods has been welcomed by the company.
On Boxing Day, The Telegraph — Boris's former employer — published an interview with him, excerpts of which follow (emphases mine):
"I think it has been a long intellectual odyssey for many people of this country," he said, casting back to 1988, shortly before he, an up-and-coming journalist at The Telegraph, was dispatched to Brussels to report on the European Commission.
"The whole country has been divided about this issue, because we are European, but on the other hand we don't necessarily want to feel that we're committed to the ideology of the European Union.
"That's been the problem and I think it is absolutely true that Margaret Thatcher … she did begin this period of questioning. Her Bruges speech was very, very important."
Mr Johnson is referring to a speech that, to many Eurosceptics, formed the foundations of the bitter and protracted political struggle against ever closer union that ultimately set Britain on the path to Brexit.
At the height of her power and railing against Jacques Delors' latest move towards deeper integration, in 1988 Baroness Thatcher urged the Commission to abandon aspirations of a "European super-state" which would infringe on the "different traditions, parliamentary powers and sense of national pride in one's own country".
Her warning went unheeded, however, and just four years later the UK signed up to the Maastricht Treaty and with it the creation of the European Union as it is constituted today.
And yet, even after she was toppled and replaced by John Major, an ardent Europhile, the seeds of discontent and the desire to reclaim British sovereignty had been sown in Bruges.
He explained that we will always be European, just not part of the huge project that seems to continually move the goalposts of membership obligations:
"I think this gives us a basis for a new friendship and partnership that should attract people who love Europe and want to have a great relationship with it, who want to feel close to it.
"But it should also be something that is welcome to people who see the advantages of economic and political independence. I think the country as a whole has got itself into a new and more stable footing. It's a better relationship and a healthier relationship."
… The tariff and quota-free deal covers £660bn worth of trade a year, which Mr Johnson said will still be "smooth" but with new customs procedures and paperwork which will mean things are "different and there will be things that businesses have to do".
In particular, he is keen to stress that the UK will be free to diverge from EU standards.
This is particularly gratifying for Mr Johnson, who said that after being accused of "cakeism for so many years," he has achieved what his critics said was impossible: "That you could do free trade with the EU without being drawn into their regulatory or legislative orbit."
Boris enjoys his 'cakeism' references. He made one on Christmas Eve upon the announcement of the deal and he made yet another on January 1, which was Guido Fawkes's Quote of the Day:
I hope I can be forgiven for reminding the world that many people used to insist that you couldn't do both: you couldn't have unfettered free trade with the EU, we were assured, without conforming to EU laws. You couldn't have your cake and eat it, we were told. Maybe it would be unduly provocative to say that this is a cake-ist treaty; but it is certainly from the patisserie department.
The Spectator had an excellent article on the new treaty, 'The small print of Boris's Brexit deal makes for reassuring reading'. Brief excerpts follow. The article has much more:
The Brexit deal takes things back to where they were before Maastricht. The EU is limited now in any meddling to very specific areas indeed. It ends the oddity where because circa seven per cent of UK business trade with the EU, 100 per cent have their laws made by the EU (although that is a bit more blurred in supply chains) …
There are parts of the deal that mean that, should Britain wish to diverge, then UK committees will have to talk to EU committees. Requiring the UK to 'consult' on implementation and change of the agreement etc. But how this is done in practice is left free and thus pretty non-enforceable and limited in scope. It is diplomacy now, not law …
While there is a lot of hot air in the treaty, it does not go beyond that. Lord Frost and his team seem to have seen off the (no doubt many) attempts to get EU regulation in through the back door. The UK is leaving the European Union and the lunar orbit of its regulations. It depends on your politics whether you approve of concessions over fish and some aspects of trade. But the legal question – to take back control – has been accomplished.
In The Atlantic, Tom McTague, a balanced journalist, looked at Brexit from the Conservatives' 2019 manifesto policy of 'levelling up' all parts of the United Kingdom:
… at root, Brexit was a rejection of the economic status quo, which too many had concluded was benefiting the country's urban centers at the expense of its more rural regions. And not without evidence: Britain is the most unequal economy in Europe, combining a supercharged global hub as its capital with areas a three-hour drive away that are as poor as some of the least-developed parts of the continent.
Brexit was not solely a vote of the "left behind"—much of the wealthy and suburban elite also voted to leave. But Brexit was a rejection of the direction the country was taking, a desire to place perceived national interests above wider European ones that too many Britons did not believe were also theirs. Is this entirely unreasonable?
The Revd Giles Fraser, rector of the south London church of St Mary's, Newington — and co-founder of UnHerd — wrote an excellent article on Boris, Brexit and old Christmas traditions involving seasonal games of chaos and fools. He also delves into the Bible. 'Why chaos is good for Boris — and Brexit' is worth reading in full.
You will want to see the photo he includes in his article, which begins as follows:
Back in early December, after a dinner between the British negotiating team and their EU counterparts, a photograph was released that, it was said, "sums everything up". A characteristically dishevelled Boris Johnson was unflatteringly contrasted with the smartly dressed Michel Barnier. "Johnson's loose tie, shapeless suit and messy hair alongside Frost's errant collar stood out somewhat beside an immaculately turned out Ursula von der Leyen and chief EU negotiator Michel Barnier" reported the Huffington Post, while reproducing a series of damning twitter observations …
Fraser points out that Brexit is charting a new course. The old rules no longer apply. Boris seems to be the king of chaos, perhaps a 'fool':
The problem with an orderly approach to things such as Brexit is that most problems, especially the large ones, are always going to be imperfectly and incompletely specified. In such a context, it is not always a straightforward matter to argue in a linear way from problem to solution. Indeed, when situations seem to require some sort of paradigm shift, the rules of the old order present a block on the emergence of the new. Things will always seem chaotic when change does not travel according to pre-established ideas of how one thing follows from another.
In his fascinating book Obliquity, the economist John Kay describes the shortcomings of turning decision making within a complex environment into some sort of algebra. Often, he argues, "complex outcomes are achieved without knowledge of an overall purpose". The importance of rational consistency is exaggerated. Some values are incommensurable, not plottable on a single system of reference. In such situations, neatness is overrated, distorting even.
That, I take it, is partly why Boris Johnson remains ahead in the polls, even now. Yes his shambolic manner, strongly contrasted with Keir Starmer's orderly, lawyerly disposition, speaks to a refusal of some imposed authority. It's a kind of trick, perhaps, given that he is the authority. And Old Etonians are not typically chosen as "the lowly" who are lifted up as per the Magnificat.
But the importance of Johnson "the fool" exceeds the fact that he has become an unlikely poster-boy of some unspecified insurgency against the established European rules based system of governance. The fool understands something the rationally wise does not. "Man plans, God laughs" goes an old Jewish proverb. Much to the deep frustration of its proponents, order can never be finally imposed upon chaos. And those who are comfortable with this, celebrate it even, are often better able to negotiate the complexities of life. Being chaotic might just turn out to be Johnson's unlikely super-power.
Boris certainly has had a good track record over the past 12 years. The coronavirus crisis is the only obstacle remaining:
What independence from the EU means for Britons
The BBC website has a short but practical guide to changes that came into effect on January 1.
In addition, UK drivers licences will be recognised in EU member countries as they were before:
With regard to students and foreign study, we will no longer be part of the EU-centric Erasmus study programme beginning in September 2021. The UK government is developing the worldwide Turing programme, named for Alan Turing:
… Unlike the Erasmus programme, which was founded in 1987 "to promote a sense of European identity* and citizenship among its participants", the new scheme will have a global outlook, targeting students from disadvantaged backgrounds and areas boosting students' skills and prospects, benefitting UK employers. It will be life changing for the student participants.
A year of Erasmus-funded reading of Sartre at the Sorbonne in Paris, or a year of Turing-funded study of Nano-engineering at the Indian Institute of Technology in Madras? It is a no-brainer to choose the exciting future that is beyond Little Europe.
*The EC in latter years funded a post-graduate exchange programme that offered opportunities outside Europe. Some 95% of the budget still focuses on Europe.
Women will be pleased that the EU tax — VAT — on sanitary products is no more.
How we celebrated, despite lockdown
On New Year's Eve, I was cheered to see an article by The Guardian's economics editor Larry Elliott, 'The left must stop mourning Brexit — and start seeing its huge potential'. YES! Every Labour, Lib Dem and SNP MP should read it.
He, too — like the aforementioned Tom McTague of The Atlantic — sees Brexit as an upending of the status quo. He tells his readers on the Left that they should be happy about this (emphases mine):
Many in the UK, especially on the left, are in despair that this moment has arrived. For them, this can never be the journey to somewhere better: instead it is the equivalent of the last helicopter leaving the roof of the US embassy in Saigon in 1975.
… It marked the rejection of a status quo that was only delivering for the better off by those who demanded their voice was heard. Far from being a reactionary spasm, Brexit was democracy in action.
Now the UK has a choice. It can continue to mourn or it can take advantage of the opportunities that Brexit has provided. For a number of reasons, it makes sense to adopt the latter course.
For a start, it is clear that the UK has deep, structural economic problems despite – and in some cases because of – almost half a century of EU membership. Since 1973, the manufacturing base has shrivelled, the trade balance has been in permanent deficit, and the north-south divide has widened. Free movement of labour has helped entrench Britain's reputation as a low-investment, low-productivity economy. Brexit means that those farmers who want their fruit harvested will now have to do things that the left ought to want: pay higher wages or invest in new machinery.
The part of the economy that has done best out of EU membership has been the bit that needed least help: the City of London. Each country in the EU has tended to specialise: the Germans do the high-quality manufactured goods; France does the food and drink; the UK does the money. Yet the mass exodus of banks and other financial institutions that has been predicted since June 2016 has not materialised, because London is a global as well as a European financial centre. The City will continue to thrive.
If there are problems with the UK economy, it is equally obvious there are big problems with the EU as well: slow growth, high levels of unemployment, a rapidly ageing population. The single currency – which Britain fortunately never joined – has failed to deliver the promised benefits. Instead of convergence between member states there has been divergence; instead of closing the gap in living standards with the US, the eurozone nations have fallen further behind.
I was especially pleased that he pointed out the coronavirus vaccine. We were the first in the world to approve one and get it rolled out:
The Covid-19 crisis has demonstrated the importance of nation states and the limitations of the EU. Britain's economic response to the pandemic was speedy and coordinated: the Bank of England cut interest rates and boosted the money supply while the Treasury pumped billions into the NHS and the furlough scheme. It has taken months and months of wrangling for the eurozone to come up with the same sort of joined-up approach.
Earlier in the year, there was criticism of the government when it decided to opt out of the EU vaccine procurement programme, but this now looks to have been a smart move. Brussels has been slow to place orders for drugs that are effective, in part because it has bowed to internal political pressure to spread the budget around member states – and its regulator has been slower to give approval for treatments. Big does not always mean better.
Later on — at 11 p.m. GMT, midnight Continental time — millions of us in Britain were only too happy to toast each other, confined in our own homes, and say:
Free at last!
Here's Nigel Farage:
Baroness Hoey — formerly Kate Hoey, Labour MP — worked tirelessly for Leave in 2016.
She had a message for her late mother …
… and for Guy Verhofstadt, who is shown below a few years ago in London with the Liberal Democrats campaigning against Brexit:
In the days that followed …
On New Year's Day, Labour leader Sir Keir Starmer gave an optimistic message for 2021 — 'the UK's best years lie ahead':
The Sun's political editor, Harry Cole, urged all of us to unite behind a new Britain:
Boris Johnson's father, Stanley, continues to pursue his quest for French citizenship, having researched his family tree.
Nigel Farage's new campaign will be against dependence on China:
Our ports have been problem-free:
On that cheery note, after four and a half years, this completes my Brexit Chronicles! Onwards and upwards!