You are currently browsing the tag archive for the 'Mark Dolan' tag.
Last weekend saw an Anglican news story make the papers: that of ordinand Calvin Robinson, who is effectively being prevented from taking Holy Orders in the Church of England.
Even though he is mixed-race black, he appears to be the 'wrong sort' of minority for the C of E: too biblical, too conservative, too traditional.
I wrote about him a month ago, when it was clear he was having problems securing a priestly placement, even though he had been offered one in central London at St Alban's in Holborn.
Background
In 2020, Calvin Robinson was a campaigner for Defund the BBC. Here he tells Dan Wootton, then a broadcaster on talkRADIO, that it was absurd for the BBC's Countryfile to suggest that people of colour would feel awkward in the countryside. Robinson said that he practically grew up in Sherwood Forest in Nottinghamshire:
He had more to say in September, when the BBC's A Question of Sport revamped its panel because of their skin colour. Robinson called for more diversity of thought and economic background instead, i.e. conservative working-class people:
Robinson worked as a schoolteacher and assistant principal before entering the seminary. He was also a school governor, so a well-rounded children's education remains important to him. On October 15, he took exception to radical 'theories' entering the British school system:
He had more to say a few days later when Parliament debated the subject. Kemi Badenoch MP is at the despatch box. The Opposition view her as the 'wrong sort' of minority woman:
He deplored the National Education Union's push for school closures early in 2021 because of the pandemic:
Shortly after he tweeted that, he had appeared on a BBC Sunday morning show, The Big Questions. His appearance brought reaction in the form of verbal insults from an activist and academic at Leeds Beckett University, more about whom below. On February 18, he wrote an article about it for the Mail:
… after I had appeared on the long-running BBC discussion show The Big Questions last Sunday morning, I saw a message on Twitter from Aysha Khanom, the founder and director of the Race Trust charity, which works with schools and universities and purports to promote 'racial equity'.
Aysha Khanom personally tweeted of me: 'Please somebody deal with this man!'
I found that menacing. I don't know exactly what she meant by it, but it echoes the sort of language that Tony Soprano would use when he wanted a rival rubbed out.
'Deal with' could easily be read as an incitement to violence.
But I shrugged it off. If I obsessed over every piece of abuse I receive through my phone, I would never think about anything else.
Shortly afterwards, though, the Race Trust Twitter account also attacked me — and this time it was less ambiguous.
'Calvin Robinson,' the tweet read, 'does it not shame you that most people see you as a house n****?'
I knew immediately that any decent person would find that language abhorrent. And sure enough, within 48 hours, Leeds Beckett University, which had worked closely in the past with the Race Trust, cut all ties and deleted Aysha Khanom's profile from its website.
For what it's worth, Race Trust now denies Aysha Khanom sent that second tweet. It claims it came from an anonymous employee without approval, and that this unnamed person has since been dismissed …
There was no apology to me for labelling me with a racist slur …
The sad truth is that many on the Left want to remove my freedom to speak independently.
To them, my skin colour means I am supposed to be part of a homogenous, faceless group, without a mind of my own.
But I am more than that. I am British, a Christian, a Midlander, a former computer programmer, a qualified teacher, a political adviser, a son and a brother.
I have many elements to my identity, and all these things have far more effect on how I see the world.
Above all, I believe in self-reliance and personal responsibility. I want to make the most of my life and refuse to see myself as oppressed or downtrodden …
After Oprah Winfrey's interview with the Sussexes aired, Robinson was dismayed that Meghan claimed the Archbishop of Canterbury married her and Harry privately in the garden when it was only a rehearsal. Robinson explains the C of E criteria for a wedding ceremony:
Robinson joined GB News as a panellist and presenter soon after its launch in the summer of 2021.
This appearance of his from August 2021 was excellent. In it, he defended traditional Christian values which have informed the UK's way of life for centuries:
Two weeks earlier, he reminded us that then-Health Secretary Matt Hancock resolutely said in November 2020 that the coronavirus vaccines would not be given to children. Robinson is opposed to children receiving the vaccine. Yet, by the time he posted this tweet, schoolchildren were receiving it. What a difference several months make:
On August 18, he was very generous in defending the free speech of the aforementioned academic at Leeds Beckett University who called him something offensive. He wrote an article for Spiked about her, saying:
It is for that reason that I haven't joined in the demands for academic Aysha Khanom to lose her job. Leeds Beckett University has cut ties with Khanom after an organisation she runs, the Race Trust, racially abused me on social media.
Earlier this year, I appeared on BBC One's The Big Questions to discuss the state of racism in the UK. I spoke about how I have been racially abused for not holding the 'correct' opinions. In response, the Race Trust tweeted: 'Does it not shame you that most people see you as a house negro?'
Khanom maintains that the 'house negro' tweet was not sent by her, though she accepts responsibility for it. Either she or someone at her organisation was clearly comfortable using such racist language in public. The good news is that the tweet was rightly challenged and 'ratioed' by the masses on Twitter …
In my eyes, what's most worrying about this incident is that Khanom's organisation was set up to promote this critical race theory view – or what it calls 'race literacy' – in schools and universities. Sadly, this is what passes for 'anti-racism' today. Is this really the kind of worldview we want to indoctrinate our young people into?
The rise of identitarian racism should definitely worry us, but we won't be able to challenge it openly if its defenders aren't free to express themselves.
On Remembrance Sunday last year, an asylum seeker attempted to bomb Liverpool Cathedral but set himself off at the nearby children's hospital instead. He had converted to Christianity. Pictured below is a man from his church who housed him for a while. Calvin voiced his opinion:
By early 2022, anyone not towing the media-Government line on coronavirus was anathema. Robinson was empathetic but frank with a university student who lost her friends because she dared to dissent:
Calvin Robinson anathema to C of E bishops
This brings us to the present, the past week, in fact.
On Friday, May 20, Robinson said on GB News that he had no choice but to leave the Church of England. He announced that he would be joining GAFCON, Global Anglican Future Conference, which is traditional in its teaching and practice.
The Mail on Sunday was already working on the story. A Mail+ article from Saturday, May 21, reported (emphases mine):
Internal emails obtained by The Mail on Sunday reveal that Archbishop of Canterbury Justin Welby asked to be shown examples of Mr Robinson's tweets amid mounting alarm within the Church over his criticism of 'bleeding-heart liberal vicars' and the Church's race policy.
In one, The Rt Rev Rob Wickham, Bishop of Edmonton, voiced his fears to senior church leaders after Mr Robinson insisted that Britain was not riven with racism. 'Calvin's comments concern me about denying institutional racism in this country,' he wrote.
Mr Robinson also claimed that the Bishop of London, the Rt Rev Sarah Mullally, lectured him about racism in the church, insisting that 'as a white woman I can tell you that the Church is institutionally racist'.
Mr Robinson, a former teacher who has trained for two years to become an ordained member of the clergy, has been told that plans for him to serve as a deacon at a parish in London have been axed.
Last night he described the decision as 'soul-destroying' and claimed it followed a 'sustained campaign' against him by the Bishop of Edmonton over his views, including on whether Britain and the Church were institutionally racist. 'These people are claiming they are institutionally racist, yet they are disregarding the opinion of an ethnic minority because it is not fitting their narrative,' he said.
In comments set to rock the Church's hierarchy, he questioned whether the Archbishop of Canterbury, who has claimed the Church is 'deeply institutionally racist', had a part in blocking his ordination.
'I would love to know how big a role the Archbishop had in it because he has certainly been a part of the conversation. He is the boss and the fact they have gone ahead and cancelled me suggests that he was happy with that.'
… The Church said last night there were only a few clergy positions in London and 'no suitable option' available in London for Mr Robinson, who became a trainee vicar – an ordinand – at St Stephen's House, a theological college at the University of Oxford, in October 2020.
Yet, Robinson had already been offered a post at St Alban's, Holborn.
I gave you his background above because that is what the bishops were examining:
The emails reveal that even before starting his studies, Mr Robinson's public comments were being scrutinised by church leaders. He claimed on ITV's Good Morning Britain in September 2020 that the Black Lives Matter movement was stoking racial tensions, adding: 'There are elements of racism in this country we need to stamp out, but while we are seeing everything as racist we are kind of undermining those racial issues we need to address.'
That day the Bishop of Edmonton emailed the Bishop of London, the Rt Rev Sarah Mullally, and a PR adviser to the Diocese of London to register 'concern' about Mr Robinson's denial of institutional racism in Britain. 'Calvin Robinson is not only a political commentator, but he's an ordinand and former teacher in this area,' he added. Despite the Church's view on racism, the Commission on Race and Ethnic Disparities concluded in March 2021 that Britain did not have a systemic racism problem. In November 2021 senior Church leaders received a complaint after Mr Robinson shared on social media a Daily Mail investigation that exposed how the Church gave official advice that being baptised could help failed asylum seekers stay in Britain.
It followed news that suicide bomber Enzo Almeni, who detonated a device at a hospital in Liverpool last year, was baptised there as a Christian in 2015. Mr Robinson, by then a GB News commentator, tweeted that 'misguided bleeding-heart liberal vicars could be complicit in recent terror attack', adding: 'Not to mention abuse of the Holy Sacrament of Baptism.'
Bishop Wickham criticised the 'highly irresponsible' comments in an email to Emma Ineson, assistant bishop to the Archbishops of Canterbury and York, and said they remained online after 27 migrants died in the English Channel. 'These are clear examples as to why, in my opinion, his ordination should be looked at very closely indeed,' he wrote. 'Calvin's Twitter feed is here. It is worth scrolling down.' He revealed the Archbishop of Canterbury had 'asked for examples of Calvin Robinson's tweets' and highlighted that Mr Robinson had also criticised the findings of the Church's anti-racism taskforce, which recommended quotas to boost the number of black and ethnic-minority senior clergy. Bishop Ineson said she would show the information to Archbishop Welby.
Mr Robinson was to be ordained as a deacon with a part-time role as assistant curate at St Alban's Church in Holborn, central London. But in February the Bishop of Fulham, the Rt Rev Jonathan Baker, told him the role was 'likely to prove problematic, and would not lead to a fruitful or happy formation for you in your early years in ordained ministry'. Mr Robinson offered to reduce his media work but was told he would still not be able to take up the proposed role because 'that moment had passed'.
The Bishop of London suggested he was stoking division:
At a meeting with Mr Robinson this month, Bishop Mullally insisted the decision was not about his politics, but because his 'presence' on social media and TV 'is often divisive and brings disunity'.
Robinson received support from a young Conservative MP, Tom Hunt:
Tory MP Tom Hunt backed Mr Robinson last night, saying: 'The message the Church seems comfortable to send out is that it's OK to propagate some political views but not others. Sadly, Church of England congregations will continue to decline as millions of Christians are alienated by its behaviour.'
The C of E prelates involved in deciding Robinson's fate as a future priest declined to comment:
The Archbishop of Canterbury and Bishops of Edmonton and London declined to comment. The Diocese of London said: 'We have a limited number of curacies available. In this instance, it is felt that there is no suitable option available that London can offer. We continue to be in conversation with Calvin, are willing to work with him to discern the right way forward, and we keep him in our prayers.'
The Mail on Sunday's article has this title: 'EXCLUSIVE: Not woke enough to be a vicar! Black political commentator Calvin Robinson who said Britain is NOT a racist country is BLOCKED from becoming a priest by a white bishop as a result'.
That title sums the situation up perfectly. Is not the bishops' attitude a racist one, as in 'We whites know better than you'?
Calvin tweeted the article:
The article is the same as Mail+'s, but it does include photos of the main players in this story.
The Mail kindly gave space for Robinson to respond beneath their article.
Excerpts follow:
Sitting in an ornate study in the Old Deanery – a 17th Century mansion house opposite St Paul's Cathedral – the Bishop of London put her hand on my arm and quietly said something that left me astounded.
'Calvin, as a white woman I can tell you that the Church IS institutionally racist,' the Rt Rev Sarah Mullally told me.
We had been discussing the Church's race policy, which I had been vocally objecting to for some time. The Bishop could not understand that as a black man, I simply did not share her – and the Church hierarchy's – view on this contentious issue.
The Archbishop of Canterbury, Justin Welby, has proclaimed that the Church of England is 'deeply institutionally racist' and called for 'radical and decisive' action. Last year an Anti-Racism Task Force recommended using quotas to boost the number of black and ethnic-minority senior clergy, introducing salaried 'racial justice officers' in all 42 dioceses and launching 'racial justice Sunday' once a year.
I fundamentally disagreed with this approach, which is based on a faith in divisive Left-wing Critical Race Theory, instead of the teachings of Christ. I believe it is divisive and offensive.
I have experienced plenty of racism in my life, but it has always been down to a minority of malicious individuals. I do not think the claim that either the Church, or wider society, is institutionally racist has ever been supported by robust evidence.
The Bishop of London's hushed condescension during our meeting made me realise that any dissent from the Church's ingrained view, which to me seems like nothing more than virtue-signalling, is not welcomed. The Church claims it wants to listen to the perspectives of minorities – well, I am one of them but it doesn't appear to want to hear my view because it also happens to be a conservative one.
For the past two years I have been training for ordination at St Stephen's House at the University of Oxford. I was due to begin a curacy at a lovely parish in Holborn, Central London, and within a year I hoped to be ordained a priest.
It takes a long time to acknowledge a call from God to serve as a priest, and it's a vocation that often involves the sacrifice of leaving behind a successful career. I gave up my career as an assistant headteacher and consultant for the Department for Education to throw myself into my theological studies.
He said that the role at St Alban's would have allowed him time to still appear on GB News and do other media work:
as an acknowledgment that I see my media work, which reaches a huge audience, as part of my calling and future ministry.
Another bishop was involved with deciding Robinson's fate, the Bishop of Fulham, also in London:
During a Zoom call, the Bishop of Fulham, the Rt Rev Jonathan Baker, told me that there had been 'a lot of turbulence' over some of the views I had expressed online and on TV. It was no secret that senior figures in the Church disliked me. I am after all a traditionalist – which means I do not believe in the ordination of women – and I have never been afraid to voice my criticism of the Church's drift away from what I, and many of its parishioners, think are its core values.
I did not expect everyone to agree with me, but what I did expect is the right to express my own opinions. I had always been taught that the Church of England was a broad church.
I later discovered that Church leaders in London appeared to have had deep misgivings about my ordination from the very beginning of my training – despite spending more than £20,000 of parishioners' money on sending me to study theology at Oxford.
Emails that I obtained via data-protection rules revealed that bishops at the very top of the Church had been closely scrutinising my public comments.
'His political agenda is I guess what you would call libertarian – anti-woke, anti-identity politics, Covid-sceptical,' the Bishop of Fulham wrote in one email. 'His tweets get him into trouble sometimes and there have been complaints to the Bishop of London that he shouldn't be ordained.'
Robinson rightly asks why, if the Church is institutionally racist, these white bishops have not tendered their resignations:
If the Church is institutionally racist, as the Archbishop of Canterbury insists, then why have he and other senior figures, including Stephen Cottrell, the Archbishop of York, and Sarah Mullally, the Bishop of London, not resigned? After all, they have all been bishops for years, which suggests they have been unable to solve the problem.
He warns that the C of E is entering apostasy. He is not wrong:
If you defend family values, the sanctity of marriage, all human life being sacred, or the fact that God made us male and female, you'll face opprobrium.
Something has gone wrong. The established Church is entering apostasy, and the faithful masses in the congregations and the hard-working clergy deserve better.
Fortunately, he has received much support from clergy and laity:
Since my ordination was blocked I've been contacted by clergymen and lay people up and down the country who have been sharing their stories of how they've been silenced by the Church for holding conservative views.
He confirmed that he will be joining GAFCON and explained why it is so heartbreaking for him to leave the C of E:
After becoming increasingly disillusioned, I recently decided to leave the Church of England and join a more orthodox institution, the Global Anglican Future Conference (GAFCON). Walking away from the Church of England has been heartbreaking.
People often quizzed me on why, if I was so troubled by its direction, I was also so determined to take holy orders in the Church of England. It was because, for me, the Church is the body of Christ and, perhaps naively, I thought I could help pull things back on track from within.
The Sunday Telegraph provided a few more details:
He had been training to become a priest at the University of Oxford for the past two years and was due to begin a curacy at a parish in Holborn, London, but was turned down for the role by the Bishop of Fulham, the Rt Rev Jonathan Baker, in February …
Mr Robinson submitted a subject access request (SAR) to the Church of England – asking the organisation for access to the personal information it held on him.
It was then that he discovered a series of internal emails between Church bosses raising concerns over his opinions on institutional racism in Britain …
In another email, the Bishop of Fulham writes: "I wanted a word about an ordinand, Calvin Robinson. You might be aware of him … "
Of the Bishop of London, he pointed out the irony of her insisting that the Church was institutionally racist:
Former teacher Mr Robinson added: "She was just ignorant. She accused me of being controversial so I said to her in a polite way that some of the things she says are controversial too – like the fact that she thinks the Church is institutionally racist. And then she turned around and said that.
"She was contradicting herself because in one instance she's saying the Church is racist and needs to listen to the lived experiences of ethnic minorities, but then she was refusing to listen to my lived experience as a black man because it didn't fit with her narrative."
On Sunday evening, he appeared on Mark Dolan's GB News show:
On Monday, May 23, The Times carried a report.
In it, we discovered that the Bishop of Edmonton's child or children attended the school where Robinson was an assistant principal:
Calvin Robinson has been blocked as a priest by the Church of England after the Right Rev Rob Wickham, the Bishop of Edmonton, privately warned church leaders against ordaining him. Robinson, a social commentator, was an assistant principal at a school where Wickham was a parent …
Robinson said that he was shocked to be told in February that his ordination was likely to be problematic. He applied under the Data Protection Act to see the information the church had on him.
He discovered that the Bishop of Edmonton had been reporting him to church leaders since he began his studies. Robinson went on Good Morning Britain in September 2020 to say that he was against Black Lives Matter because it was increasing racial tensions, and he believed that everyone in this country had an equal opportunity to succeed. The same day Wickham wrote to the Right Rev Sarah Mullally, the Bishop of London, to "bring it to your attention . . . Calvin Robinson is not only a political commentator, but he's an ordinand and former teacher in this area who has just started at St Stephen's House. Calvin's comments concern me about denying institutional racism in this country."
In December last year, Wickham wrote to the Right Rev Emma Ineson, Bishop to the Archbishop of Canterbury, and also to the Bishop of London. Wickham sent them some of Robinson's tweets, adding: "These are clear examples as to why his ordination should be looked at very closely."
Robinson said he felt "betrayed and a bit heartbroken" at Wickham's conduct. He said: "To hear that people are campaigning behind your back after you have given them all that you have got, I don't know how to put it into words."
Church sources said that Wickham's status as a parent at the school had no bearing on this matter.
Robinson rightly urges the C of E to return to the fundamentals of faith:
The TV pundit, who now works for GB News, accused the church of apostasy by "moving away from core tenets of the faith. They need to focus on scripture because that's the word of God."
He said that he had now joined the Global Anglican Future Conference and would be ordained to one of its parishes. "My hope is to attract all the people who feel the Church of England doesn't represent them because it is obsessed with woke issues."
The Diocese of London issued an updated statement:
A spokesman for the Diocese of London said: "We wish him well in the ministry he is now going to exercise."
On Monday evening, Douglas Murray's editorial for The Times appeared. It listed a modern litany of the C of E's preoccupation with race at the expense of everything else, including during the time when an African, the Right Revd John Sentamu, now retired, was Archbishop of York. Oh, the irony:
It is two years since Justin Welby, the Archbishop of Canterbury, gave a speech to the General Synod in which he apologised for the "institutional racism" of the Church of England. "I am sorry and ashamed," the archbishop said. "I'm ashamed of our history and I'm ashamed of our failure. There is no doubt when we look at our own church that we are still deeply institutionally racist."
It was a strange claim to make — not least because at the time the next most important bishop in the church was John Sentamu, the Archbishop of York.
Murray rightly points out the diversity among C of E clergy:
This fatal combination of ignorance and present-era preening seems to have become the tenor of the established church — and in no area so much as in the church's demands for clergy representation. As it happens, the Anglican communion has one of the most diverse bodies of clergy that any religious denomination could wish for. But the church has declared that it will continue to be racist until such a day as minority ethnic groups (or UKME as the acronym-laden C of E likes to call them) are over-represented among the clergy.
Even my church has had a minority vicar, who has since been promoted within the Church.
Murray then discussed Calvin Robinson's sad situation:
And in a way, here is revealed the modern Church of England's actual party political affiliation.
Having shut its doors throughout the Covid-19 crisis, the church now seems to be back with a new faith: an evangelical and dogmatic belief in its own iniquity and racism. Fail to go along with that belief and the church has no place for you.
So determined is the C of E about this new gospel that a church hierarchy of white people is even willing to bar a young black man from joining the clergy because he will not agree with their insistence that their own church is racist. It is a farce, certainly, but a tragedy, too — for a church that has need of talent, and an era that has need of institutions that are not principally intent on blowing themselves up.
On GB News Monday evening, presenter Dan Wootton chose the Bishop of Edmonton as his Union Jackass of the day. Good on the former Brexit Party MEP, the lady on the right, for nominating him:
Conclusion
Calvin Robinson is surely doing all the right things. That is why our pharisaical clergy have opposed his ordination.
May God continue to sustain Calvin with his grace. May our Lord Jesus continue to give him inner peace. And may the Holy Spirit continue to enhance his gifts of wisdom, fortitude and discernment.
I wish him all the best as he pursues a path to ordination.
Considering that Parliament is currently prorogued and that this past weekend was the May bank holiday, one would think that nothing political happened.
One would be very wrong indeed.
In fact, a Conservative MP stood down and Labour's indoor 2021 election campaign meeting in Durham attracted more attention.
Labour's 2021 do in Durham
My April 29 post has the background to Labour's 2021 election campaign do in Durham.
April 30 was its one year anniversary:
I couldn't agree more.
The Mail on Sunday's Dan Hodges agrees on Labour's hypocrisy:
Many Labour supporters say that the Durham do did not break any rules, however, it probably did. Below are the rules for the 2021 election campaign:
Furthermore, it is possible that, despite the fines (fixed penalty notices), the Downing Street gatherings did not break the rules, as the address is part of the Crown Estates.
On April 27, the Conservative Post published an article on the lefty activist QC (Queen's Counsel) advising senior civil servant Sue Gray in her report on the gatherings. The article says that they were perfectly legal (emphases in the original):
One might ask is this QC holding an almighty grudge?
Is this why Sue Gray / the Met Police haven't looked at section 73 of the Public Health (Control of Disease) Act 1984? Do they even know about it?
Surely a bipartisan advisor would have pointed out this important law of the land?
The Act clearly states that pandemic regulations, at all times, never applied to Crown Land (which includes No.10). 
Granted, one rule for them and another for the rest of us seems a bit unfair but it also makes sense.
Steven Barrett, a leading barrister at Radcliffe Chambers who read law at Oxford and taught law at Cambridge explains:
In the eighties lawmakers decided that it would be better to allow the government to function during any future national pandemic without having to worry about being caught up in quarantine regulations. The thinking was that by making the government effectively exempt in law, the government could continue to function.
In addition to the 1984 Act, there were also specific regulations that applied at the time of the alleged "parties" the Health Protection (Coronavirus, Restrictions) (All Tiers) (England) Regulations 2020.
According to these rules, gatherings were allowed in all public buildings, or parts of them 'operated by a business, a charitable, benevolent or philanthropic institution or a public body.'
So whatever happened in Downing Street was legal. 
How has a QC / Civil Service Advisor not made this clear to Sue Gray? If he had surely no-one at Downing Street would have received a fine at all.  
One would also have thought the Civil Service would check who is advising them.
Can someone let Sue Gray and the Met Police know please before any more incorrect fines are issued out? It's important rules of the land are adhered to. 
But, but … and it's a BIG BUT:
The matter came up in the House of Lords on December 14, 2021, shortly after the controversy broke. Good grief, that is now six months ago.
Baroness Jones of Moulsecoomb (Jenny Jones, Green Party) asked:
whether Number 10 Downing Street is a Crown property; and, if so, whether regulations made under the Public Health (Control of Disease) Act 1984 apply there.
Lord True, replying for the Cabinet Office, said that the regulations would have applied to Downing Street, despite its being part of the Crown Estates (emphases mine below, except for Guido Fawkes posts):
No 10 Downing Street is a Crown property. Regulations under the Public Health (Control of Disease) Act 1984 which relate to the activities of people, apply regardless of whether those activities took place on Crown property or not.
Hmm.
Back to Labour's Durham do, which has been trending online as Beergate and Currygate:
Durham Constabulary said a long time ago that there was nothing to investigate. Durham is a Labour area, so no surprise there.
However, the clamour over the weekend thanks to Conservative MP Richard Holden's letter to them was such that perhaps the police have decided to have another look.
On Tuesday, May 3, in an interview with BBC Radio 4's Martha Kearney, Keir Starmer refused to say (audio here):
This leads pundits to assume that Durham Constabulary might have been in touch:
Another development over the weekend was confirmation that Labour's deputy leader, Angela Rayner, was also in attendance.
Guido Fawkes posted the following on Friday, April 29:
After months of questioning, it can finally be confirmed Angela Rayner was present at Starmer's lockdown beer party in Durham. Despite refusals to confirm, video evidence dug out yesterday morning reveals Angie's attendance, who shared a chair with Sir Keir for a "Get out the vote rally"  on Facebook an hour before the video of Starmer's unlawful socialising was filmed. Oh. Dear.
Rayner can be heard saying "And being here at the Miners Hall in Durham, I've got to start with, you know, the past we inherit, the future we build." She and Starmer sit in front of a window identical to that Starmer was filmed through an hour later swigging beer, contrary to Covid rules.
Earlier this week, Guido forced a denial from local Police & Crime Commissioner Joy Allen, who said she wasn't present at the 'essential campaign event' after social media rumours began circulating that the female head seen at the bottom of the Starmer beer frame was hers.
Labour claim that there was no other place to go for food and drink, however:
Also:
On Sunday evening, May 1, Mark Dolan of GB News rightly took aim at Labour's sanctimonious and hypocritical posturing:
However, things weren't going well for the Conservatives, either.
Neil Parish stands down as MP
Neil Parish stood down as MP for Tiverton and Honiton in Devon after admitting he was looking at indecent images on his phone while in the Palace of Westminster.
He claimed that he had been searching for tractors on the first occasion and accidentally arrived at an indecent website. On the second occasion, he confessed that he deliberately visited the same website again.
I was somewhere between surprised and shocked. He always seemed like such a level-headed individual.
This video clip is from March 14, 2019, around the time I began watching BBC Parliament regularly. Tension about Brexit had been ramping up since January that year:
In June 2020, he led a debate on the BBC's axeing of local and regional political coverage:
More importantly, he had headed the Environment, Food and Rural Affairs Select Committee since 2015. He came from a farming family and left school at the age of 16 to help run his family's farm.
Last week, rumours had been circulating about a Conservative MP looking at indecent images during parliamentary proceedings.
On Friday, April 29, Guido reported that the Conservatives removed the whip from Parish:
The hunt is over: Neil Parish, the Conservative MP for Tiverton and Honiton, has lost the whip this afternoon after being revealed as the Commons' mystery porn viewer. Following conversations with the Whips' office today, Parish has reported himself to the Standards Committee of the House of Commons for investigation. The Tories had previously referred the claims to the Independent Complaints and Grievance Scheme, so Parish is now under investigation by both bodies…
A spokesperson from the Chief Whip's office said:
Having spoken to the Chief Whip this afternoon, Neil Parish MP is reporting himself to the Parliamentary Commissioner for Standards. Mr Parish has been suspended from the Conservative Whip pending the outcome of that investigation.
Guido included an interview Parish had given to GB News that afternoon. It was clear Parish had no intentions of resigning at that time:
I think the whips' office will do a thorough investigation and we will wait and see that result… I think you've got some 650 Members of Parliament in what is a very intense area, you are going to get people that step over the line. I don't think there's necessarily a huge culture here, but I think it does have to be dealt with, and dealt with seriously. And that's what the whips will do in our whips' office.
There was a time when someone could be sacked on the spot for looking at indecent images at work. Granted, this was in the private sector.
I knew of one such individual in the mid-1990s. His dismissal was also shocking, as he was the last person I would have expected to engage in such activity and was a senior manager who was very good at what he did.
However, it seems that such behaviour is becoming normalised, according to The Telegraph. It extends to viewing such things on public transport. Ugh.
Early on Saturday, The Telegraph posted an exclusive interview with Parish:
Suspended from his party and facing public ridicule, Mr Parish is at the centre of a maelstrom. But now that the accusation is "out in the open," Mr Parish said on Friday night, "it's almost as if a weight is lifted off me" …

Over the course of the interview, conducted in Mr and Mrs Parish's sitting room in front of a warm hearth, the MP confirmed he had referred himself to the parliamentary standards committee, apologised to his constituents, and suggested that, even if cleared, he might step down.
It was late on Friday night when The Telegraph called. The couple's eight-year-old labrador, Kitty, was dozing in front of the fire. Mr Parish, after a long day, was wearing a dressing gown. The MP is a farmer by trade, and the couple's home is the family farmhouse. Their sitting room is bedecked with books and family photos. It is typical for MPs embroiled in scandal to flee their homes, but the Parishes, who have two adult children and two grandchildren, have stayed put …
Earlier in the day, Mr Parish, 65, said he had opened pornographic material "in error", but he declined to give further details. Asked what happened, Mr Parish said: "I think it's all going to have to go through the inquiry, and then I will give them all the evidence I have, and it'll be for them to make the decision. And then I will make my mind up as to what I do, whether I remain in Parliament or whether I leave."
He had not spoken to the Prime Minister, he said. Asked if he had a comment for his constituents, Mr Parish said: "That I very much enjoy being their MP, I've worked very hard, and I will continue working for them. I apologise for the situation – the whip is withdrawn – but I am still their MP. And at the moment I'm still the chair of the Environment, Food and Rural Affairs select committee, and I take that job very seriously. And I will carry it on for as long as I have it."
Mr Parish faces an ignominious end to a 12-year parliamentary career in which he has won increasingly large majorities and worked on a broad set of issues within farming and rural affairs. Local elections are coming up and he is now seen as a liability, with fellow MPs calling for his resignation …
Mrs Parish, 66, said she had first learnt of the allegations from a journalist who rang her for comment. "I didn't know anything about it until he rang and said, 'Oh, you know what I'm ringing about…'
"I didn't know who was more embarrassed, actually, me or him!" said Mrs Parish. "Poor chap."
It seemed that the couple had discussed the matter between them and that it had been explained to Mrs Parish's satisfaction.
"Yes," said Mrs Parish, without hesitation.
"My wife is amazingly loyal and better than I deserve," said Mr Parish.
"That's for sure," said Mrs Parish, chuckling.
At the end of the interview, Mr Parish took a phone call from his brother, Rod. They chatted briefly, with Mr Parish thanking his brother for what sounded like a supportive call. Mr Parish, having swapped his dressing gown for a shirt and jacket, then politely assented to having his picture taken …
By Saturday afternoon, Parish had resigned:
People did not believe the tractor excuse …
… but there is good reason to accidentally see something indecent when searching for tractors:
Guido wrote:
Neil Parish has told the BBC he's quitting after being accused of watching porn on two occasions while performing his MP duties in Parliament. With bizarre detail he claims "the first time was accidental after looking at tractors, but the second time was deliberate". 
24,239 majority in his seat of Tiverton and Honiton. If this by-election ends up being remotely interesting, the Tories are in deep trouble…
A by-election upset in a similar constituency took place in the staunchly Conservative North Shropshire which now has a Liberal Democrat MP after Owen Paterson was forced to stand down late last year.
On May 1, The Sunday Times confirmed that two female MPs had seen Parish looking at indecent material online:
Parish, 65, said the first time he had watched pornography was accidental, insisting he had been looking at tractors on his mobile phone before straying onto a website with a "very similar name". He said he watched the video "for a bit, which I shouldn't have done".
On the second occasion, however, the married father of two admitted he had looked at porn deliberately while waiting to vote at the side of the chamber. "What I did was absolutely wrong," he told the BBC.
Parish, who chaired the Commons environment, food and rural affairs committee, issued a "full apology" to the two female MPs who had seen him watching the pornography, but insisted it was "not my intention to intimidate".
It marked a significant U-turn in 24 hours. At first he had defied calls to quit and said he would await the findings of a parliamentary investigation. A growing number of Conservative MPs made clear that his position was untenable, however, and that he should resign immediately rather than prolong the controversy days before the local elections on Thursday …
His departure means that the Conservatives are now facing the prospect of having to defend two by-elections in short succession.
Imran Ahmad Khan, who was elected MP for Wakefield in 2019, tendered his resignation last week after being convicted of sexually assaulting a teenage boy. Labour is widely expected to win back the seat.
Conservative Party insiders are also braced for a third by-election. They are awaiting the outcome of the investigation into David Warburton, who had the Tory whip withdrawn last month after it was alleged that he sexually harassed three women.
Although Parish's constituency has returned a Conservative at every election since its creation in 1997 — and the party has a majority of 24,000 — Tory insiders fear that it shares parallels with North Shropshire, the seat lost to the Liberal Democrats in December after the resignation of the disgraced MP Owen Paterson.
Last night a Lib Dem source said: "As we saw in North Shropshire, there is a real backlash against Boris Johnson from rural communities who are fed up with being taken for granted."
What a shame.
Also on Sunday, The Telegraph confirmed rural communities' disillusionment with the Conservatives. One woman running for the local council in North Frome, Somerset, says that locals are tearing down her campaign posters and handing leaflets back to her.
The paper refers to these communities and counties as the Blue Wall, historically Conservative areas:
The election is a key test for Boris Johnson, who is facing a difficult mid-term contest after months of criticism of his leadership from Tory quarters over partygate, tax rises and the cost of living crisis.
Many of the English council areas, including Somerset, Hertfordshire and Hampshire, are places the Conservatives have traditionally considered to be strongholds.
Now, they are increasingly thought of as part of the "Blue Wall" – containing millions of wavering Tory voters who are disgruntled with Mr Johnson and could "flip" to Labour or the Liberal Democrats …
Voters in Somerset demonstrate what strategists in all parties have identified – that there has been a shift away from the Conservatives among people who live in the countryside.
New research from Parliament's all-party group for rural business and the "rural powerhouse" suggests the Government has a "chronic under-appreciation for the economic and social potential of the countryside," and that businesses in rural areas are on average 18 per cent less productive than the country at large.
Many voters who have always lent the Tories their trust feel that southern rural areas have suffered at the expense of "levelling up" – the Government's plan to improve high streets and fortunes in neglected Northern areas traditionally represented by Labour.
Meanwhile, a Conservative promise to deliver next-generation broadband speed by 2025 is unlikely to be met, the parliamentary spending watchdog has said.
Countryside voters, who are often keen to protect the natural beauty of their homes, say plans to rip up the planning system to build more houses and erect new onshore wind farms are a direct attack on their way of life.
Paul Moody, an antiques dealer who lives near Shepton Mallet, said his faith in the Conservatives' commitment to the countryside is being challenged by "horrendous" new "T pylons" near his home and the threat of solar panels carpeting the fields.
"They march across the countryside and stand out all across the Somerset Levels" he said.
"I would prefer more nuclear power stations than ruining the countryside."
Answering a survey conducted for The Telegraph by Redfield and Wilton Strategies this week, just 19 per cent of voters said the Conservatives cared about rural areas, while 28 per cent said Labour did. Almost half of voters (46 per cent) say "levelling up" does not inspire them.
Other national polling shows Labour has increased its lead over the Conservatives by three points since April 12, when Mr Johnson was fined over lockdown-busting parties in Downing Street.
While ministers have repeatedly suggested that the public does not care about partygate and would prefer to see the Government focus on making domestic policy, Tory sources admit privately that the polling shows that idea is "for the birds".
It's all falling apart for Boris at the moment.
Ukraine loves Boris
On Tuesday, May 3, Boris made history by becoming the world's first leader to address Ukraine's parliament:
Also on Tuesday morning, he gave an interview to Left-leaning Susanna Reid on ITV's Good Morning Britain.
It did not go well …
… and not knowing who ITV's queen of breakfast television, Lorraine Kelly, is unforgiveable. She's only been on the network for over three decades:
Maybe the man has a point, but it still helps to play to the audience, most of whom probably stay tuned for Lorraine's show, which follows Good Morning Britain.
It's a shame that Ukraine's enthusiasm for Boris doesn't translate here at the moment, but I cannot blame Conservative voters for being disillusioned.
On Friday, January 4, news emerged that SAGE, the scientific and clinical group advising the Government on coronavirus, will no longer be meeting regularly.
Pictured on the left is Sir Patrick Vallance, chief scientific officer, and, on the right, Sir Chris Whitty, chief medical officer:
Guido Fawkes's post says (emphases in the original):
The pandemic is over and, rightly, SAGE is gone. Announced this afternoon, the freedom-hating advisory board will stop meeting regularly, though the government has placated hypochondriacs by promising they stand ready to reform. Like an epidemiological Take That…
SAGE met monthly from January 2020, though increasingly pushed for lockdowns and Covid measures, which when ignored by Boris proved massively surplus to requirement. The government has taken back control once again…
SAGE were the ones responsible for repeated lockdowns, the U-turn on masks and 'hysterical', as the Swedes put it, modelling. Here is one example: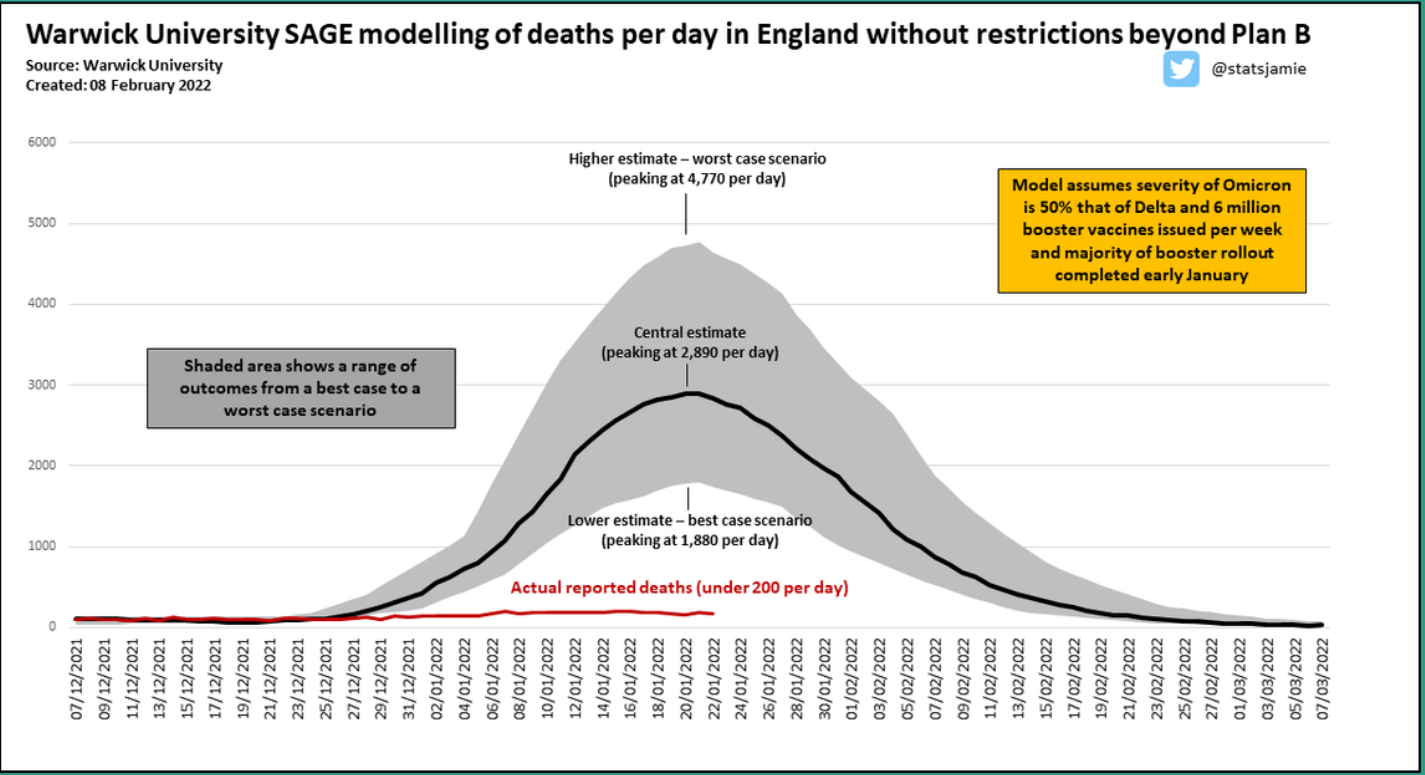 Shameful.
The Daily Mail reported (emphases mine):
The scientific advisory group, chaired by Sir Patrick Vallance and Sir Chris Whitty, 'stands ready' to reconvene if the virus rebounds.  
It marks another significant step in the return to normal and suggests even No10's famously cautious advisers recognise the worst of the pandemic is over.  
The influential panel – made up of 90 leading experts and officials – has met at least monthly since January 2020, and multiple times a week during surges. 
There had been growing calls for the group to be reviewed amid claims it held too much power over the Government and did not have enough diversity of opinion.   
Much of the criticism has been aimed at SAGE's pessimistic projections, most recently warning of up to 6,000 Omicron deaths per day this winter. It has also been accused of leaking proposals to the media in order to pressure ministers to back stricter measures. 
Sir Chris and Sir Patrick will continue to advise ministers on Covid, as will the UK Health Security Agency and Joint Committee on Vaccination and Immunisation (JCVI). 
It comes a week after Boris Johnson lifted all pandemic laws in England as part of his 'living with Covid' strategy, with free testing due to be axed next month. 
Conservative MP Steve Baker was generous in his assessment of the freedom-depriving scientific group:
We have seen that experts are only human too.
That said, he added:
As we now pick up the pieces after the collateral damage of lockdowns and restrictions, we see more clearly than ever before that we need competitive, multi-disciplinary expert advice with challenge. Boris ought to implement reforms now.
Indeed.
Even though most of us never heard of SAGE until two years ago, the committee has been around for well over a decade:
SAGE was initially set up to provide 'coherent, coordinated advice' on the science surrounding pandemics and other emergencies.
It was a little-known body before the Covid crisis, and had only occasionally been called upon to assist in decision making.
It first met in 2009 for the swine flu pandemic, and then in 2014 to advise on Ebola, in 2016 over Zika and in 2018 over the Salisbury poisoning.
The group met only once in 2019 amid concerns the Toddbrook Reservoir dam in Derbyshire would collapse.
But since the pandemic began it has convened meetings at least once a month, with the first held two weeks after the first cases of the virus emerged in Wuhan, China, in December 2019.
The group has met more frequently during fresh waves of the virus, convening eight meetings since Omicron emerged in late November. 
Other than Whitty and Vallance, we knew most about the SAGE subgroups SPI-M, the modellers, and SPI-B, the behaviourists:
SAGE meetings have a shifting membership drawn from a panel of about 90 scientists and medical experts. 
Dozens more sit on sub-groups, including controversial epidemiologist Professor Neil Ferguson, who was kept on as an adviser despite being forced to apologise for breaking lockdown rules during an affair with a married woman.
It is unclear how often the SAGE subcommittees will meet.   
My first inclination on seeing this news was that SAGE will now get involved in climate change.
I hope that the Ukraine situation has put paid to that.
I have some highly uncharitable things to say about SAGE.
GB News's Mark Dolan expressed his dissatisfaction with SAGE much better than I could in this well considered editorial at the weekend. He is right to say that SAGE caused damage to Britain that Vladimir Putin could only have dreamed of:
May we never see their like again. Somehow, sadly, I think we will.
Isn't it interesting that the media narrative has changed from wall-to-wall coronavirus coverage to Ukraine?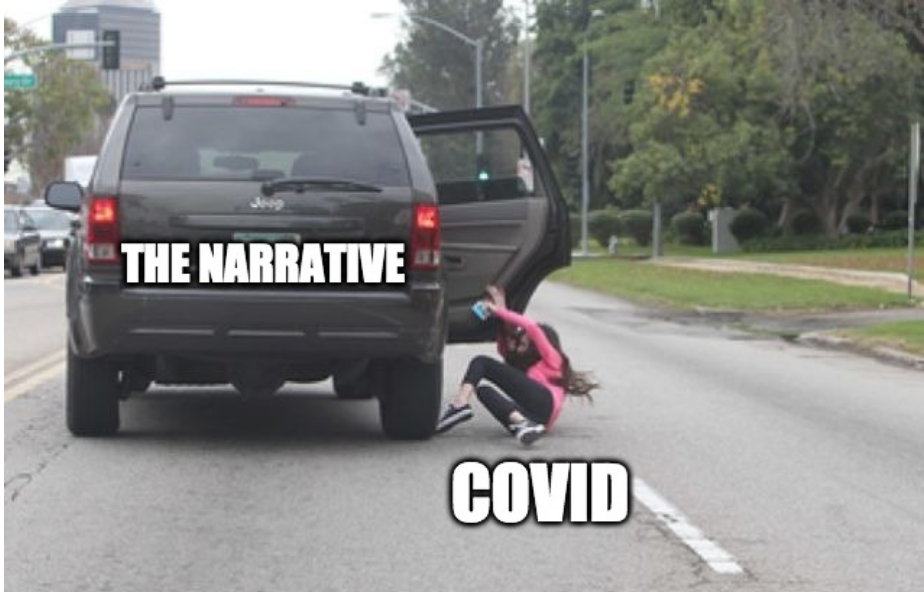 It seems that there is never room for more than one media narrative at a time. Sadly, this is now true even on GB News.
Fortunately, I have a few coronavirus gems from last month.
We must never forget what our notional betters did to us over the past two years.
The UK will hold a formal inquiry, although we do not know when it will start.
On Saturday, February 5, GB News's Neil Oliver delivered a five-star editorial on coronavirus measures in Scotland and other Western nations:
This was the theme:
Well, the narrative certainly changed by the end of the month.
Nonetheless, even as I write, coronavirus measures are still a thing in Scotland. First Minister Nicola Sturgeon has lifted some, with others to go this month. However, it might be some months before all of them disappear north of the border.
This was the state of play in Scotland in early February:
Somehow, Covid still manages to be in our faces – suffocating us bit by bit and all the time.
My children are still required to wear masks at school all day every day – rebreathing their own exhaust fumes for hours at a time.
In Scotland last week, first minister Nicola Sturgeon said her devolved assembly would spend hundreds of thousands of taxpayers' pounds cutting the bottoms off classroom doors so as to improve air flow in schools.
Seriously – that's what she said. Get this: she actually said there's a worry about how much CO2 children are inhaling in improperly ventilated classrooms.
They have to keep the masks on – so that they exist in a permanent cloud of their own, self-generated CO2, held over their mouths and noses like a smothering hand, but rather than let them take off those masks and breathe air like free people should, Sturgeon's proposed solution is to take a saw to the bottom of the classroom doors.
To say you couldn't make it up is an insult to made up things.
The fact that you can open a door to increase ventilation, on account of its hinges, the fact that doors exist in schools at least in part to inhibit the spread of smoke and flames in the event of fire, significantly more of a threat to the lives of children and staff than Covid ever was, has apparently passed Sturgeon by.
But, hey-ho, if there's one thing we've learned after two years, it's that everything is all and only about Covid.
Some days it feels like it always will be.
Covid could and should be behind us, as I have already said, but the powers that be keep pulling it back around until it's front and centre.
[Boris] Johnson announced some sort of an end to restrictions, but still, that air of lives limited, lives controlled, prevails, like the smirking grin that remains after the Cheshire Cat has otherwise disappeared.
And do you want to know why? Because after these two years like no others in our history, Covid is all they've got to explain and to justify everything else.
He took issue with Western governments:
Governments need Covid, and desperately …
All the money we ever had and most of the money we might ever dream of having – they blew the lot on Covid.
And since Covid is all the Governments have got now, by God they're determined to keep it.
Covid, as it turns out, is like a sort of Swiss Army knife, equipped with all sorts of useful little tools for all sorts of jobs, large and small. And meanwhile the evidence of manmade disaster is all around us.
He referred to the Johns Hopkins study that came out a few days beforehand:
A recently published study from the world-renowned Johns Hopkins University, in Baltimore, found lockdowns had had little to zero public health benefits and instead imposed enormous economic and social costs.
Like we didn't know that already, having been there while it was actually happening – but anyway, let's hear it again.
Researchers found lockdowns in Europe and the US lessened the Covid-19 mortality rate by just 0.2 percent.
The authors concluded that lockdown policies are ill founded and should be rejected in future.
Everywhere they were applied – everywhere – lockdowns caused enormous economic and social costs.
He went on to discuss how our various governments 'blew it':
Allow me to summarise those findings even more: Our governments blew it.
Faced with what they told us was the greatest threat to our civilisation in our lifetimes, for a hundred years or more, our governments took a bad thing and, through over-confidence, monumental incompetence and with the dull-eyed stubbornness of mules made it massively worse.
More importantly, when they must have known they were making it worse, they did it again. And again.
Now, rather than take responsibility and own up to their catastrophic failures – maybe say sorry for all the lives ended, lives ruined, lives compromised, a generation of children used like sandbags to protect the vulnerable from a flood, like stab vests worn on the chests of adults – they keep holding up the tattered rags of Covid, like the remnants of a curtain to stop us seeing the reality that lies behind it.
What lies behind that shabby curtain are consequences, and even now those powers that be don't want us looking at them, far less talking about them and thereby understanding the crippling reality of them.
Isn't it convenient that the TPTB now have Ukraine with which to distract us? Thanks, Putin. The news overkill on that is the ultimate distraction.
Oliver then talked about the horrors of quantitative easing:
What they did with money – your money, my money, everybody's money – during the pandemic is what the banks have been doing with money for decades now, and it's largely to blame for the bigger mess we're in now.
Quantitative Easing, they called it – printing money, to you and me.
For decades the tactic applied by the banks, with governments in cahoots, was to print uncountable, unthinkable amounts of money.
"We don't have any money left."
"Well print more, then."
"How much?"
"As much as you like – and keep it coming, I need another super yacht, and so does my mum. No one'll notice. And if they do, say it was Covid."
Imagine a glass of orange squash – a little bit of concentrate, topped up with water.
Tastes like orange, you know how it goes.
Then imagine tipping that glass-full into an empty swimming pool and turning on the taps.
By the time the pool is filled up with water, any orange in the mix is so diluted as to be utterly undetectable.
That, more or less, is what has happened to our money.
The value of our money has been so diluted it is quite literally not worth the paper it's printed on – which probably explains why they don't seem to want to actually print it on paper anymore.
They just add more zeros on their computer screens instead. Look at what they did with some of that pretend money: trillions of pounds worth of debt that will never, ever be repaid.
Billions blown on dodgy PPE, billions handed over as 'Bounce Back Loans' to companies that didn't even exist. Gone.
Those gazillions are gone – and the truly troubling point is that in every way that matters, they didn't really exist in the first place.
Rishi Sunak and Boris Johnson and the like have the gall to say they've got a way to fix the mess.
They might as well try to put out a factory fire by blowing on it.
On account of all that funny money, and then their use of Covid as a hammer to flatten business after business, the economic and financial model we've taken for granted for the last 50 years or more is finally done.
He looked at Covid measures in various countries:
Much of Europe is an interesting watch, to say the least. Austria is a police state now, in all but name, thanks to Covid.
Papers, please! Italy and Germany are much the same.
France would likely go the same way – except President Macron is too properly scared of too many of his own people to go all the way to vaccine mandates.
Instead, he remains committed to making the lives of the unvaccinated as miserable as possible. In Western Australia unvaccinated parents are barred from the hospitals where their children lie sick, dying.
In Canada the GoFundMe organisation has withheld millions of dollars raised in good faith, in support of the truckers protesting vaccine mandates.
What will become of that money, donated by hundreds of thousands of ordinary Canadians, remains unclear.
More and more questions are being asked about the vaccines, all around the world.
Questions about efficacy, about safety, and yet governments like the US, Canada and Australia, as well as here and just about everywhere else continue to dig in, more and more determined to get a needle into every arm on the planet.
Israel is beavering away with injection number four – and the positive cases are spiking in what looks, on the graphs, like a vertical line pointed into space.
With the Covid narrative in tatters now, new weapons of mass distraction are being deployed to stop us thinking too much about the mess.
Enter Putin with his invasion of Ukraine. How timely. In early February, we knew it was coming:
I'd like to say, Don't Mention the War, but of course there's Russia and Ukraine to look forward to as well.
Oliver brought up non-Covid health issues:
There was a GP on the telly last week saying the stress of lockdown is causing heart attacks and strokes.
Well, I never.
He brought up the irony about the silence surrounding all the plastic face masks being dumped into the environment:
Climate crisis and environmental meltdown are back to the fore again – never mind the fact we've dumped trillions of filthy face masks, and Covid tests into that environment, that doesn't seem to matter.
He concluded:
Weapons of mass distraction or not, there'll be no hiding the fuel bills due in a few weeks' time.
People forced to choose between eating and heating tend to behave differently than before.
Energy black hole, Net Zero and its consequences and only pretend money with which to pay for it all.
How much longer can our dear leaders hide behind Covid?
We do a lot of weather forecasting on this channel. I tell you this – there's a storm coming.
Oliver then had Benjamin Loughnane (pron. 'Loknayn') from The Bow Group think tank to discuss the Johns Hopkins study about lockdown. This was also a very good segment:
Richard Tice from the Reform Party also appeared to talk about our leaders' mistakes:
You can see the full show below. Almost all of it concerns coronavirus:
Later in the evening, Mark Dolan presented an excellent editorial on how the media and Government handled the pandemic:
The replies to the tweets were worthwhile, such as this one:
Some of us knew from the beginning that most of the coronavirus measures in Western countries were bogus, but anyone who mentioned that PCRs were picking up old viruses was dismissed as a crank.
Lo, it emerged last month that the intrusive PCR testing was proven to be ineffective in accurately diagnosing coronavirus.
Dolan said (emphases mine):
A major new study confirms that PCR tests are horribly inaccurate. There's a surprise.
According to researchers at the University of Oxford, if you've heard of it, a third of people who tested positive for coronavirus via PCR tests were not contagious and did not need to self-isolate.
The study found that many laboratories are setting the positivity bar very low, meaning they're picking up people, who are – quotes – "a danger to no one".
Hand sanitising is also inconclusive:
Do you remember our blistered skin, in March 2020?
Sing happy birthday twice, as you wash your hands? After which a couple of scientists with half a brain cell, pointed out that the virus is transmitted through the air, via aerosols. No sugar, Sherlock.
Perspex screens in shops — or, in cars, as was the case in France — might not have been a good idea, either:
A report came out in August of last year, suggesting those environmentally catastrophic Perspex screens you see in shops, offices and on TV, may make matters worse.
The Environmental Modelling Group, a panel of 16 SAGE experts, said "There is some epidemiological and mechanistic evidence, that suggests screens could increase risks of aerosol transmission, due to blocking/changing airflow patterns or creating zones of poor air circulation behind screens.
Well done everyone.
The best masks couldn't stop the rise in contagion:
Even where countries have demanded better N95 masks, like Austria, cases have sky rocketed nonetheless.
There was no evidence that vaccine passports stopped the spread:
What about vaccine passports? We're saving lives aren't we?
Except that cases have continued to soar in countries that have implemented these divisive measures, which link your medical status to certain basic rights, freedoms and privileges, including in particular in France and Italy.
The same held true for closing nightclubs:
What about closing nightclubs?
The Welsh first Minister Mark Drakeford, who likes a boogie himself, was able to demonstrate no evidence that closing nightclubs would have an impact on spread.
After two years, our health service is on backlog overload and probably will be until the end of the decade.
Some people's lives are in ruins: closed businesses, relatives' suicides, nervous breakdowns, missed diagnoses of terminal illness. I could go on.
Dolan said:
Two years in which we have incarcerated the healthy, stopped people from going out to work and making a living, closed once viable businesses, wrecked mental health and ignored worse diseases like cancer.
The Telegraph are reporting that up to 87,000 cancer diagnoses may have been missed. And the rest.
If you think Covid is worse than cancer, there is something wrong with you.
But that's been the message of the pandemic response.
'If it's not Covid, they don't care' is something I've heard from so many of you over the last two years.
The famously deadly disease of cancer, that affects all age groups, has been relegated in importance for two years, with tragic consequences that will be with us for years to come, with cases like young mothers who didn't get that lump checked or weren't able to. Well done everyone.
There will be a day of reckoning for what Professor Jay Bhattacharya, one of the most respected medics in the world, has called the biggest public health mistake in history. He's being polite.
Dolan rightly took issue with governments, modellers and the media:
So who's to blame?
Well, weak politicians who panicked in March 2020 and discarded decades of pandemic planning …
I blame the modellers like the randy professor, Professor Pants Down himself, Neil Ferguson, who predicted half a million deaths at the start of the pandemic, which spooked ministers into taking this ruinous path.
Some government scientific advisors predicted 6000 deaths a day if we didn't cancel Christmas …
I blame Sage, who failed to equate economic damage with death.
The University of Bristol have told me that half a million people will die as a result of creating the biggest recession in 300 years. And what about wrecked lives?
It's a question no one has ever been able to answer me. Why is it okay to wreck lives? Of course, it isn't. But wreck them we did. And it's most reprehensible when you think of the needless impact on young people and children, who face vanishing threats from the virus. So who else do I blame?
Well I blame the media …
… I blame the media for offering just one narrative. Lockdowns work, masks work and absolutely everybody's got to have the vaccine.
Now these views are valid, arguably the majority of people and perhaps most scientific professionals think exactly that. No problem. Let's hope you're right, because that's the hell you've put us through.
As data come in from around the world, based upon different approaches, with no obvious difference from where I'm standing, I have my doubts. But remember those press conferences – the Beeb, Sky, ITV – why are we not locking down longer, tougher, harder?
By offering such one-sided coverage of the pandemic, by betting everything on the words of SAGE, and freezing out other scientific voices like Sunetra Guptha, Carl Henegan, Martin Kulldorf and Jay Bhattacharya, the media let us down.
To say that the media have lied to you is a bit strong. But they have not provided the full picture.
And any lawyer will tell you concealing information is tantamount, in its own way, to an untruth.
Shall we be polite and just call it government propaganda? I think that'll do.
I shouldn't name names, but I will. The Mail and the Telegraph are the only papers I can think of that have consistently balanced their reporting and have dared to offer a critique about these debatable lockdowns.
The Guardian is a paper I've always admired and read every day.
But where was their coverage of the Johns Hopkins University report, a meta analysis of 24 studies into lockdown, suggesting the measures saved 0.2% of lives, whilst of course exacting colossal harm.
Not peer reviewed and the study has been done by economists, but worth reporting?
I'd say so.
Sweden got it right. That was something that many of us were criticised for saying offline.
Dolan said:
Sweden have seen a fraction of the economic damage, the societal damage and have had fewer per capita deaths than so many countries that locked down hard.
He concluded:
In the end I think the media have got this wrong – they've backed the wrong horse and they are on the wrong side of history.
So there will be a day of reckoning for their one-sided coverage. But will we ever get an admission of guilt, or dare I say it, an apology? I doubt it.
There will be no contrition. And for all of those well paid and high profile figures in the media – we know who they are – the relentless cheerleaders for these disastrous and, in my view, failed measures, sorry seems to be the hardest word.
Now to the present day.
On Wednesday, March 2, the House of Commons Science and Technology Select Committee gathered oral evidence on coronavirus in a session called 'UK Science, Research and Technology Capability and Influence in Global Disease Outbreaks'. Greg Clark (Conservative) chaired the session.
You can watch it here.
After the first hour, Prof Graham Medley — who exchanged tweets late last year with The Spectator's Fraser Nelson on modelling — gave his oral evidence on SPI-M's modelling of the pandemic. He is SPI-M's chair.
Sorry seemed to be the hardest word for him, too, as he saw no need to apologise for Prof Neil Ferguson's mad models which the Swedes described as 'hysterical'.
Medley told MPs that SPI-M 'didn't have the time' (his words) to calculate the probability or feasibility of their overblown scenarios. They plugged garbage in, and, lo, garbage came out. However, he defended everything. He had no regrets.
Three MPs gently took him to task for the modelling. Labour's Graham Stringer came right out and said that he doesn't trust modelling at all, none of it.
One of the MPs tried to press him on the Twitter exchange with Fraser Nelson. Medley replied:
I wish you wouldn't do that.
In the end, he managed to get himself out of any controversy.
Most of the other MPs wanted to question the person from the behavioural part of SAGE, SPI-B. This person was to have sat along side Medley. However, the SPI-B representative cancelled. How convenient.
Dr Camilla Holten-Møller appeared in the final segment. She is the Chair of the Expert Group for Mathematical Modelling at Statens Serum Institut (SSI) in Denmark. What a breath of fresh air she was.
She admitted that SSI did get one of their models woefully wrong, so they quickly regrouped, studied their mistakes and liaised more closely with university research and clinical groups who provide them with data.
It would be nice if Medley had showed the same candour. As it was, he didn't even look bothered.
I can hardly wait for the formal coronavirus inquiry in the UK. The Science and Technology Select Committee will write a report on this evidence session, as they have with others, and submit it to the Government. The reports will be part of the inquiry process.
Christmas has arrived in England.
On Saturday, November 27, 2021, the Parliament Christmas tree arrived from Northumberland and is standing in New Palace Yard:
Here's the video of it being lifted and placed into position:
In other news, scaffolding around the Elizabeth Tower will be coming down over the next six weeks, revealing the newly restored Big Ben. The new colour scheme is actually the original from the Victorian era and will be more colourful:
Juxtaposed against this good news is the new coronavirus variant, Omicron.
Saturday press conference
Prime Minister Boris Johnson wasted no time in giving a press conference on Saturday evening, November 27 (start at 8:19), flanked by Sir Patrick Vallance and Prof Chris Whitty:
Ahh, just like the old days of the near-daily coronavirus briefings …
Boris announced preliminary measures; the return of face coverings came into effect on Tuesday, November 30. These are for the next three weeks (emphases mine):
So yesterday we took steps to protect the UK against the variant coming here from southern African countries – and earlier today added four more countries to the red list.
But we now need to go further and implement a proportionate testing regime for arrivals from across the whole world.
So we are not going to stop people travelling, I want to stress that, we're not going to stop people travelling, but we will require anyone who enters the UK to take a PCR test by the end of the second day after their arrival, and to self-isolate until they have a negative result.
Second, we need to slow down the spread of this variant here in the UK.
Because measures at the border can only ever minimise and delay the arrival of a new variant, rather than stop it altogether.
So in addition to the measures we are already taking to locate those who have been in countries of concern over the last ten days, we will require all contacts of those who test positive – with a suspected case of Omicron – to self-isolate for ten days, regardless of your vaccination status.
We will also go further in asking all of you to help contain the spread of this variant, by tightening up the rules on face coverings in shops and on public transport.
And third – and most importantly – we need to bolster our protections against this new variant.
We don't yet exactly know how effective our vaccines will be against Omicron, but we have good reasons for believing they will provide at least some measure of protection.
And if you are boosted – your response is likely to be stronger.
So it's more vital than ever that people get their jabs, and we get those boosters into arms as fast as possible.
So from today we are going to boost the booster campaign.
We are already planning to do 6 million jabs in England alone over the next three weeks.
The ten red list countries are all in southern Africa: South Africa, Namibia, Lesotho, Botswana, Eswatini (formerly Swaziland), Zimbabwe, Angola, Mozambique, Malawi and Zambia.
Omicron symptoms
Omicron's symptoms are slightly different to those of the previous variants.
On Monday, The Sun reported more, citing Dr Angelique Coetzee, chairwoman of the South African Medical Association. She also has her own private clinic in Pretoria and has seen Omicron patients:
"Their symptoms were so different and so mild from those I had treated before," she said.
"We had one very interesting case, a kid about six years old, with a temperature and a very high pulse rate, and I wondered if I should admit her. But when I followed up two days later, she was so much better.
"What we have to worry about is older, unvaccinated people. If they are not vaccinated, we are going to see many people with a severe form of the disease."
The Omicron strain, or B.1.1.529, is feared to be more transmissible and may be able to avoid vaccines.
It has 50 genetic mutations, most of which have been identified in previous variants, along with three brand-new changes.
Prof Lawrence Young, of Warwick Medical School, said: "This new variant is very worrying. It is the most heavily mutated version we have seen to date.
"This variant carries some changes we've seen previously in other variants but never all together in one virus. It also has novel mutations that we've not seen before.
"Some of the mutations that are similar to changes we've seen in other variants of concern are associated with enhanced transmissibility and with partial resistance to immunity.
"We need laboratory studies to determine whether the antibodies induced by current vaccines are able to block infection with this variant."
Today, another case of the super-strain was identified in the UK – bringing the total to three.
The person tested positive after travelling to Britain from southern Africa where the variant originated.
The individual is no longer in the UK, but the UK Health Security Agency (UKHSA) is carrying out urgent testing in areas they visited when they were likely to have been infectious.
This includes Westminster in central London, officials said.
Two of the original symptoms do not apply to Omicron: loss of smell/taste and breathing problems.
Reaction to restrictions
It is unclear how many people in England will comply with the face covering rules.
Richard Walker, the managing director of the Iceland supermarket chain, said that his staff will not be policing face coverings in their shops. Good man. Co-op have said the same thing with regard to their stores. Excellent news.
Saturday night's GB News commentators had much to say about the return of restrictions.
Mark Dolan said that we comply with restrictions, believing they will end, but, in fact, our compliance only makes them easier to reinstate at the whim of government. He says that Boris wants to be seen to be doing something and is invoking politics rather than science:
Neil Oliver had much more to say, noting: 'With that fear on the wane it was plainly time to cast another spell'. It's an excellent editorial worth reading and sharing:
Oliver says that science and freedom have been consigned to the dustbin over the past 19 months. Excerpts follow:
… Let me put it this way – for a while there, those scientists given the spotlight and the microphone had a good go at driving a single narrative. It almost, almost made sense for a while, in a twisted, not quite right, something funny going on there, sort of a way. Not anymore, though. Now the cracks are starting to show, the wheels coming off the state-sponsored wagon.
I've said all along that this would prove, when all was said and done, to be a tragic lesson in the hubris of some humans – the sort that wear white coats, or that like to give press conferences – which is to say overconfidence from those that said they had all the answers and that everyone else should just shut up and do what they're told. As the months go by, hubris seems more and more like the explanation for so much that has gone awry.
But enough about the virus – whatever it is, wherever it came from and whatever it's doing right now while I speak. Tragically, this process of unlearning science, forgetting, replacing true with false, did not begin with Covid-19. Strange to say, Covid is just a symptom of something much more dangerous – and that is the deliberate dismantling of so much that our ancestors learned and built and handed on to us, in trust. It enabled an acceleration of something we really should have been aware of for years – the taking apart of so much of the world of science and reason and enlightenment, by those who might have been expected and trusted to be its inheritors. Over the last few months, in their efforts to craft a narrative with the power to dupe the unwary, governments, scientists, academics and others have, at best, lost their way, and at worst they have knowingly vacated, walked away from the vast cathedral that has been the home of history, science, culture, beauty, indeed all that is good and worth preserving.
In their hell for leather scramble to grab and then secure powers previously undreamed of, our leaders and their advisors have turned their backs on decades, centuries in fact, of wisdom carefully acquired by the ancestors. Some of those that went before them – in the age of reason, the age of enlightenment – laid the foundations for the civilisation with which we have been blessed.
Those that came after built upon the foundations, carefully and painstakingly furthering our understanding of the world, and of our own species.
They learned many things – the ancestors – by observation, by careful development and application of the scientific method …
All of this learning and wisdom was raised up like a cathedral, or the grandest colosseum. But cathedrals and colosseums depend upon solid foundations. When the power of Rome waned, their great structures fell into disuse. The barbarians, for the most part hardly knew what to make of them, those towering edifices, and so ignored them as they fell into decline – amphitheatres, great bridges, viaducts, aqueducts, entire cities.
It is up to those of us who care to conserve and to maintain the wonders raised by our ancestors, to re-occupy the space made of reason and enlightenment and left vacant by those who have, on account of wishing to push a new ideology that mocks and seeks to undo the past, wandered away into the wilderness of the social justice warriors, of the so-called woke. They have turned their backs on so much that was learned after great effort and often at great cost. That grand and lofty space, that cathedral of our culture and our civilisation, is still there, at least for now, but it requires constant maintenance, and love. Those of us who care should go about the business of looking after the old place. Only then might we continue to benefit from the shelter it has long provided from the cold, confusing world outside.

The full two-hour long show is on YouTube:
The first 45 minutes are devoted to Oliver's editorial and a discussion about Omicron, coronavirus and the vanishing of civil liberties.
The next hour is reminiscent of the classic Oliver from his Coast days on the BBC. There is a new Yorkshire Atlantis, a coastal city that was washed away in a tidal storm in 1362. Sonar images have recently been done and more investigation will take place in the months to come. A number of the structures still exist, so this will be a fascinating discovery.
Another story concerns a farmer in Rutland who discovered a large Roman floor mosaic of the Greek legend, The Iliad, a rather rare cross-cultural find. Archaeologists have uncovered most of it, which is in a field.
From this, one can understand Neil Oliver's respect of our history and our past.
Let's not allow politicians and scientists to obliterate it or our freedoms for the sake of a virus that has a 99.9% recovery rate for the most part, even in the unvaccinated.
On Sunday evening, November 21, 2021, I watched a GB News interview featuring former Royal butler and etiquette expert, Grant Harrold, on whether Prince Charles should abdicate for Prince William when the time comes.
Mark Dolan interviewed Harrold, who took the traditional side of the argument, affirming that Prince Charles should become King. Former Labour MP Stephen Pound from London said that the Prince should abdicate.
Short clips follow:
The full interview, which is 20 minutes long, follows:
In other Royal news, the Queen has recovered from her sprained back which prevented her from attending London's Remembrance Sunday ceremony last week.
Last week, Prince Charles and the Duchess of Cornwall, visited Jordan and brought back with them several vials of holy water, a customary gift to the Royal Family from Jordan. The holy water is used for christenings.
Yesterday, a rare double christening of the monarch's two great-grandsons took place at Windsor Royal Lodge. Fortunately, the Queen was able to attend:
Returning to the Royal butler, I was struck by his courtesy in the face of a difficult subject. An abdication is a fraught subject and Edward VIII's was a difficult period for the British when it took place in the 1930s. Yet, every cloud has a silver lining. George VI's accession to the throne resulted in Elizabeth II succeeding him in 1952.
GB News host Mark Dolan emphasised Grant Harrold's expertise in etiquette. Investigating his Twitter feed reveals that he gives etiquette courses in person and online.
With the holidays around the corner, it seemed apposite to share a few of his insights. Some of them are quite British, but some aspects are worth adopting elsewhere, as they do exhibit courtesy.
When staying at someone's home, it is worth keeping in mind the hosts' schedule and those who work for them. This is the traditional breakfast rule for houseguests:
This is a gentleman's breakfast attire when he is a houseguest:
Turning now to the hosts, anyone giving a dinner party should send out invitations six weeks in advance:
In Britain, there is a certain etiquette at formal dinner parties as to when one can leave the table to use the loo. Obviously, if it's an emergency, one can leave the table.
'Pudding' is the traditional British word for 'dessert':
Sometimes, when we are together with friends, it is tempting to pass along another friend's personal details. However, we should not do that unless we've asked the friend's permission first:
Sometimes, the holidays are the time for romantic commitment. Harrold explains why men get down on one knee to propose. This is a mediaeval, chivalric holdover that should be respected:
A woman's handbag is one of the most personal items of property she owns. Avoid the temptation to look inside:
Harrold also has advice regarding office life. Despite coronavirus, the rules remain the same.
This is where one should stand in a lift, depending on how many people are in it:
Once in the office, if someone else has boiled the kettle, let them fill their mugs before helping yourself. Be sure to refill it afterwards:
It is also paramount to wash one's own utensils and crockery. As one of my former bosses said to my then-colleagues, 'Your mother doesn't work here':
Regarding coffee, I fully agree with Harrold's advice on drinking cappucino, which is a morning drink, not an all-day one:
This next tip was the only point of etiquette with which I disagree, the notional hazards of making friends in public places:
I would have had a very lonesome time had I adopted that rule, especially on my Scottish holidays decades ago. I met several men and women who stayed in touch with me for years afterwards. Be careful, be alert. Assess accordingly, then take a decision. I always prayed to the Holy Spirit before and after a social situation whilst on holiday. He guided me to and through them, and for those blessings of friendship, I will be forever grateful.
In closing, The Royal Butler, as he styles himself, gives us a glimpse into his work in media over the years:
I haven't watched the video yet, but here it is:
What struck me about Grant Harrold was his inner calm, something of a rarity these days.
His peaceful demeanour would appear to indicate that etiquette and good manners do work!
Yesterday's post was about the opening of COP26 in Glasgow and its attendant hypocrisy.
What our notional betters have done with coronavirus they will most certainly do with climate change.
Examples follow.
Coronavirus
On Monday, November 1, the day COP26 opened, Mark Dolan of GB News had an excellent editorial which bridged the gap between coronavirus and climate change tactics:
At around 5:15 in the full version of Dolan's editorial (just over ten minutes long), he tells us of the mask theatre used with public appearances of politicians. They wear them for the photo op — outdoors — then take them off when they go indoors. Similarly, social distancing is also ignored:
Yes, the elites are laughing at us: 'for thee but not for me'.
Climate change
Another commentator, Spiked's Brendan O'Neill, also says that the elites are laughing at us.
In writing about COP26 on Monday, he says (emphases mine):
It feels like the elites are just laughing in our faces now. So the other day we had the UK's chief scientific adviser, Patrick Vallance, saying everyone will have to eat less meat and fly less if we are going to get a handle on this climate-change thing. A little later it was reported that around 400 private jets will fly into COP26, carrying world leaders and big-business execs to the plush surrounds in which they'll wring their manicured hands over mankind's carbon crimes. Ordinary people are guilt-tripped for taking one poxy flight a year to escape the trials and vagaries of life in capitalist society for a couple of weeks, while those who quaff champagne on airplanes that it costs $10,000 an hour to hire out get to pose as hyper-aware defenders of poor Mother Nature.
He continues:
According to one report, the private jets landing in Glasgow will spew out around 13,000 tonnes of carbon. That's the same amount of CO2 that 1,600 Scots get through in a year … John Kerry, Joe Biden's climate envoy, will be in Glasgow to pull pained faces for the cameras over the possible heat death of the planet. Three months ago he flew in a private jet to Martha's Vineyard for Barack Obama's lavish 60th-birthday celebrations. It was the 16th private-jet jaunt his family had taken this year. Prince Charles, from one of his palaces, says COP26 is the 'last-chance saloon' for the planet. The royal family has collectively flown enough air miles over the past five years to get to the Moon and back. And then around the Earth's equator three times. In short: 545,161 miles. Reader, they're taking the piss.
O'Neill moves on to cars and Joe Biden:
Driving is viewed by greens, and by eco-virtuous political leaders like Sadiq Khan [London's mayor], as one of the stupidest, most Gaia-destroying activities indulged in by the plebs. The Home Counties irritants of Insulate Britain have been winning plaudits from the commentariat over the past few weeks for blocking the paths of such terrible eco-criminals as mums driving their kids to school and deliverymen trying to deliver food and other essentials. And yet there's Joe Biden in Rome for the G20 being whisked around in an 85-car convoy. His own armoured limousine, and its decoy version, generates 8.75 pounds of carbon per mile driven – 10 times more than normal cars. And greens want us to feel angry about the working-class bloke driving an HGV full of groceries and fuel? It's insane.
When he's done with Rome, Biden will fly to Glasgow in Air Force One. Four jets will accompany him. Combined, they'll emit an estimated 2.16million pounds of carbon over five days.
O'Neill gives us other examples:
This is getting ridiculous. People will be perfectly within their rights over the next few days to ask why it is that those who live in the lap of luxury, who jet to every corner of the globe, who experience more luxury in a week than most of us can expect in a decade, should get to hold forth on humanity's alleged suffocation of the planet with carbon and pollution. Like Joanna Lumley, famed, well-paid traveller of the planet, saying travel should be rationed. Or Dame Emma Thompson literally flying first-class from LA to London to take part in an Extinction Rebellion protest about the evils of CO2. Or Harry and Meghan attending a concert focusing on the 'urgent need' for climate action and then leaving on a private jet. What the green oligarchy lacks in moral consistency it more than makes up for with brass neck.
Ultimately, O'Neill concludes that, obvious hypocrisy aside, climate change has become the new orthodoxy of people rolling in money:
It's the perfect ideology for our at-sea elites. It allows them to magic up a sense of urgent moral purpose – they're saving the planet, no less! It lends itself beautifully, or, rather, terrifyingly, to the project of social engineering: lower your horizons, learn to live with less, reconceive of yourself as a destructive creature in need of top-down control rather than a creative being who might help to push humanity forward. It naturalises the limitations of capitalism, encouraging people to make their peace with austerity and downturn on the basis that economic growth is a bad, nature-exploiting idea. And it is a very difficult ideology to challenge. The marshalling of The Science to buoy up this ruling-class ideology means that anyone who questions it – anyone who demands more growth, more ambition, a bigger human footprint – can swiftly be written off as an anti-scientific scourge, as a 'denier' of the revealed truths of climatology. Its social engineering, its social control and its strict, censorious management of social aspirations are what make the green ideology so attractive to the new elites.
Oddly, the Left find this attractive. Then again, they have always been about control:
COP26 will help to consolidate this neo-aristocracy. And, bizarrely, the left will cheer it on. The left once said: 'We do not preach a gospel of want and scarcity, but of abundance… We do not call for a limitation of births, for penurious thrift, and self-denial. We call for a great production that will supply all, and more than all the people can consume.' (Sylvia Pankhurst.) Now it pleads with the super-rich to come up with more and more creative ideas for how to rein in the filthy habits and material dreams of the masses. What a disaster. It isn't climate change that poses the largest threat to humanity in the early 21st century. It's the bourgeoisie's loss of faith in its historic project, and its arrogant generalisation of that loss of faith into a new 'green' ideology we must all bow down before. A revolt against environmentalism is arguably the most necessary cause of our age. Who's in?
Well, we in the UK have just been silenced on any revolt.
Recently, The Telegraph ran two editorials proposing a referendum on climate change legislation from COP26. Today, November 3, Prime Minister Boris Johnson told the Commons at PMQs that there will be no referendum because the public haven't the appetite for it.
Disgusting
At the VIP reception in the centre of Glasgow on Monday evening — which prevented people living nearby from entering their own homes — we saw that there were no masks and no social distancing. But these people are super clean and elite, so it's okay for them.
Here's the Duchess of Cambridge — Kate — laughing as she holds a jar of larvae for livestock feed:
Hilarious. This is the sort of thing that they want us to eat for dinner, along with insects:
Last week, Boris went one step further. He told a classroom of nine-year-olds that humans could be used as animal food:
Guido Fawkes has the video and two quotes, the relevant one of which follows:
recycling "doesn't work", he "wouldn't put beetroot in lasagne", and even that "feeding human beings to animals" might be a decent idea.
One thing is certain: neither Kate nor Boris will ever be deprived of meat on their dinner plates.
As for the rest of us, the jury's out.
The elites despise us. They really do.
On Saturday, August 7, 2021, Mark Dolan of GB News interviewed a Scottish clergyman on his late night show.
The Revd Dr William Philip is the pastor of Tron Church in Glasgow. Earlier this year, he led a handful of other Scottish clergy in filing a successful lawsuit against the Scottish government for having closed churches in 2020 during lockdown.
In the 20-minute interview below, he explained why it is so important to be able to gather together to worship during the coronavirus crisis. Believers need to gather together in one place — church — for communal prayer and fellowship. His words were well received not only by Dolan and his guests but also on YouTube:
Philip, who worked as a hospital physician before ordination, also does not think that vaccine passports are necessary:
While churches in England and Wales re-opened in July 2020 and closed again for three weeks in October, Scotland took different measures. In January 2021, Nicola Sturgeon's SNP government forbade — criminalised — public worship during new lockdown measures.
On January 6, Philip and five other Protestant clergy sent a letter to Nicola Sturgeon, which reads, in part (emphases in the original):
We write as ministers and leaders of churches in Scotland, supported by colleagues across the United Kingdom, to raise our profound concerns at the measures to suspend public worship in Scotland as part of the currently increased restrictions.
We understand entirely the exceptional difficulties of leading the country at the present time, and we and our churches have prayed for wisdom and clarity for your government repeatedly. But we strongly disagree with the decision to prevent the gathering of the Church at this time, which we believe is profoundly unhelpful and may be unlawful.
As pointed out by Sir Edward Leigh in his letter to you of 4 January, Article 9 of the European Convention of Human Rights prohibits governments from interfering with religious practice unless demonstrated as essential for public health because church services were proven a significant source of spread of disease. We know of no evidence of any tangible contribution to community transmission through churches in Scotland; to the contrary, since churches re-opened in July we have demonstrated that places of worship and public worship can be made safe from Covid transmission. It is for such reasons that legal challenges in other jurisdictions have overturned prohibitions of the freedom to gather for worship.
However, above all we are dismayed because there seems to be a failure in the Scottish Government to understand that Christian worship is an essential public service, and especially vital to our nation in a time of crisis …
In national times of crisis past, governments have looked to the church and sought leadership in a national call to prayer to the Living God. We urge you not to be the government which denies our nation the collective prayer of the churches of our land in days when it is most greatly needed.
We echo the words of the Archbishop [of Canterbury] and other leaders to the Prime Minister and call on the Scottish Government to recognise and support this, and enable us to continue to worship safely, as part of the essential fabric of the nation.
On February 9, Philip wrote an article for The Critic: 'Meeting others to worship is a lifeline'. Excerpts follow (emphases mine):
A group of Clergy taking government to court might seem a surprisingly 'un-Christian' thing to do, when closing churches is to 'save lives'. In fact, the reason we have commenced action against Scottish Minsters is born of profound Christian love for our nation. We all recognise the challenges facing the government. But we believe that, however well-intentioned, criminalising corporate worship is both damaging and dangerous for Scotland …
There is an urgent need for a message beyond that of health and safety: a message of hope and salvation. This is the calling of the Christian Church – especially in dark and difficult days: to 'hold fast the confession of our hope without wavering' (Hebrews 10:23). Jesus Christ is the only hope that dispels all fear, death included.
That is not to say Christians don't care about present physical threats. Indeed, it is this eternal perspective that liberates to love and serve neighbours truly, and fearlessly. As CS Lewis pointed out 'those who want heaven most have served earth best'. This is what our society needs to witness, proclaimed boldly by Christian leaders and adorned visibly in the worshipping Church. So it is of great damage to Scotland that corporate worship is now illegal.
It also brings great danger.
Many in the world today brave huge threats to worship as Christ's Church. We do not remotely claim such persecution; however, our situation is unprecedented in modern times. For centuries Scottish law has embedded the truth that both Church and Civil government are ordained by God and subject to Him, but their roles are distinct and government must not interfere in the Church. It was the Stuart monarchs seeking to undermine this 'twa kingdoms' doctrine that led to a century of conflict before religious toleration prevailed across Scotland and England with the Claim of Right Act 1689. Scots law reiterated then that Jesus Christ alone is head of the Church and this remained paramount in the Union of 1707, was reinforced again in the 1921 Church of Scotland Act, and is affirmed by each monarch in the Coronation Oath …
I never imagined myself involved in action like this. But Scots would not have precious freedoms today had our Kirk forebears shrunk back in their time. I truly hope that our government will see what a grave incursion this ban on public worship is – to centuries-old Scots law as well as modern Human Rights protections – and also the suffering it is inflicting on many. The proper place of Christian worship must be restored so that, as Martin Luther said (amid a far more deadly epidemic), our people may 'learn through God's word how to live and how to die'."
One week later, Lord Braid of the Scottish High Court granted permission for a hearing. By then, 27 clergy had pledged their support. Christian Today's article says:
Lord Braid has granted permission for a hearing which will take place remotely on 11 and 12 March after Scottish ministers rejected the arguments of 27 Scottish church leaders in a pre-action letter.
The church leaders argue that the "disproportionate" closures are a breach of human rights law and the Scottish constitution, and are preventing them from meeting the material, emotional and spiritual needs of their congregations and communities.
In their response, Scottish ministers said the state was within its rights to "regulate the secular activities of Churches…for the purposes of protecting public health", and that churches were compelled to "comply with secular law."
The church leaders come from a broad range of denominations, including the Free Church of Scotland, Free Church of Scotland (Continuing), Church of Scotland and a number of independent churches …
Rev Geoffrey de Bruin, leader at Christian Revival Church Edinburgh, said: "This is now a crucial moment for the freedom of the church in Scotland …
"For Christians, spiritual health is more important than physical health.
"Churches serve as lifelines of support to the most vulnerable during the toughest times and we pray that these important principles and beliefs will be recognised and upheld by the courts in March."
The Christian Legal Centre (CLC), founded in 2007, took the case on behalf of the clergy.
Fortunately, the clergy won their case in March. Christian Concern issued a statement on the outcome:
Permission for a judicial review was granted and heard at the Scottish High Court on 11 March 2021.
On 24 March 2021, judgment was handed down by Lord Braid, ruling that the Scottish Ministers' decision to ban and criminalise gather church worship during lockdown was unconstitutional and disproportionate.
The Tron Church serves a diverse congregation in central Glasgow. In 2012, it broke away from the Church of Scotland, opposing its move to accept gay clergy, although it maintains a cordial relationship with the Kirk, as the state church is known. The Tron is now part of the West of Scotland Gospel Partnership.
In February 2020, the SSE Hydro stadium in Glasgow cancelled an appearance by the Revd Franklin Graham, Billy's son, amid accusations of 'homophobia'.
Philip joined several other clergy from the West of Scotland Gospel Partnership in signing a letter to The Herald, expressing their disappointment. Excerpts follow:
THE cancellation by the SSE Hydro in Glasgow of the Franklin Graham event is a deeply disturbing decision that is antithetical to freedom of speech, freedom of religion, and to true democratic values.
Franklin Graham is being discriminated against for having on occasions expressed mainstream Judaeo-Christian views on sexuality. His views in this area are not religiously extreme, indeed they simply reflect the historic and orthodox teachings of the Roman Catholic Church, the Church of England and countless other denominational groups. Like all mainstream Christian leaders Franklin Graham believes that every human being is a precious soul made in the image of God, and thus should be loved and treated with respect accordingly.
The planned event is one in a rich tradition of such Christian activity going back centuries in both Glasgow and the country at large. As Rev Graham has expressed himself his mission is not political but to make known the good news about Jesus Christ to every person regardless of their sexuality or any other characteristic …
Christians disagree about many things, but Christians all agree that respect for religious freedom and freedom of speech is fundamental to a free society. Therefore, we ask that the SSE Hydro management, and those political leaders who have influence in such matters, reverse this decision.
A failure to do so would be an ominous move towards a less free society and one that will in time have serious repercussions for the civic liberties of all.
The Revd Dr Philip sounds like a good clergyman and one who refuses to stand by when the Church is discriminated against.
On Monday, July 12, the day after the Euro 2020 final, GB News presenter Guto Harri took the knee in solidarity with the cause.
His co-presenter, Mercy Muroki, looked on, silently embarrassed for him:
Fallout
That was the last the channel's viewers saw of Guto Harri, a Welshman who used to work at the BBC and also advised Boris Johnson when he was Mayor of London.
On July 13, Harri defended his gesture:
On Thursday, July 15, GB News tweeted:
That evening, The Guardian posted an article about the channel's tanking ratings after the Harri incident (emphases mine, unless stated otherwise):
GB News attracted zero viewers during some of its broadcasts this week, according to official television audience figures produced by rating agency Barb, after a viewer boycott prompted by one of its presenters taking the knee in solidarity with the England football team …
Business editor Liam Halligan and former Labour MP Gloria De Piero attracted no measurable audience to their show between 1pm and 1.30pm on Wednesday afternoon. During the same timeslot the BBC News channel attracted 62,000 viewers, while Sky News had 50,000 people watching.
GB News' audience again briefly dipped to zero at 5pm, during a late-afternoon programme co-hosted by ex-BBC presenter Simon McCoy and former Ukip spokesperson Alex Phillips.
The Guardian also acknowledged GB News's aforementioned tweets.
On July 16, Guido Fawkes wrote that no one was sure whether Harri had been suspended for a time or whether he was fired.
In any event, Harri's Twitter bio no longer mentions GB News.
Programming director quits
That same day, the channel's programming director, John McAndrew, quit, something that management confirmed only on July 28:
Guido wrote that McAndrew was second in command and disagreed about the channel's focus:
Apparently McAndrew had been in favour of more local reporting and open discussions rather than the Wootton-style culture war rants.
To be fair, the local reporters appear on the daytime shows. The evening programmes, such as Dan Wootton's, discuss socio-political issues.
The channel was quick to implement schedule changes last weekend:
TalkRADIO's Mark Dolan hired
Mark Dolan's Saturday night show aired for the first time on July 24. Nana Akua, the former presenter in that slot, has been moved to a daytime show.
Nana Akua has no time for wokery, as her last show in the Saturday night slot proved. The Express had the story on Sunday:
A GB News clash erupted last night after host Nana Akua urged Meghan Markle and Prince Harry to "just stop talking please". This prompted a defence from Tonight Live guests Nicola McLean and Martin Offiah, who argued that Meghan and Harry "were connecting with people". The trio had discussed reports of new details about Prince William's rift with his brother Harry.
Mark Dolan was a top-rated host on talkRADIO. The Express reported:
Mark is best known for hosting his own Drivetime show on TalkRadio for the past two years but he is jumping ship to join GB News from Friday, July 23, 2021. With 20 years of broadcasting experience behind him, he will be taking Nana's Friday and Saturday night slots to oversee proceedings on his chat show, Late Night Live. It will run from 9pm until 12am and he will speak to numerous guests about topical matters making the headlines.
On joining the network, Mark said: "I've had a wonderful time at TalkRadio but the opportunity to shake up the current affairs broadcasting with GB News is just too good to miss.
"My show will tackle the issues that really matter to people across the United Kingdom in a stimulating, informative but entertaining way.
"My one promise is that I won't be boring," he concluded …
He certainly was not boring. His is a good show.
Nigel Farage to the rescue — five days a week
The biggest catch of all is Nigel Farage, who is now on GB News five days a week: Monday through Thursday at 7 p.m. and Sunday mornings:
Farage had the Sunday morning show since GB News launched, but the addition of the 7 p.m. slot, which premiered on Monday, July 19, has been a real fillip for the channel's ratings.
On July 19, Freedom Day, an anti-lockdown protest took place outside of Downing Street. Political correspondent Tom Harwood, who used to work for Guido Fawkes, tried to file a report but Nigel had to cut him off because of all the obscenities being shouted at him. The Express reported:
Spotting the difficulties in the broadcast, Nigel quickly took action and decided to end Tom's report there.
Cutting him off, Nigel said: "Okay, Tom, I'm sorry, I don't want to cut you off, I really don't."
The camera then cut to Nigel in the studio as he continued: "11 people have been arrested so far,
"But you can see, talk about don't shoot the messenger, there's Tom Harwood reporting for us and there are obscenities being shouted at Tom because he's a member, he's part of the media … "
One of the big features of Farage's weeknight show is the 'Talking Pints' segment.
He has had an eclectic assortment of guests in that slot, beginning with Sir Graham Brady MP, who heads the 1922 Committee of Conservative backbenchers:
On Tuesday, July 27, former Conservative MP, Brexit Party MEP and devout Catholic, Ann Widdecombe, who was drinking cola, as she is teetotal. She disparaged Boris as PM but said that he is still '100 times stronger' than Labour leader Sir Keir Starmer. I always look to see how much drink both host and guest consume. In this episode, Farage downed the most ever — half a pint:
By Monday, July 26, Farage's show was climbing in the ratings, beating Sky News's show in the 7 p.m. slot:
Guido has the ratings from Monday-Thursday last week. Farage's show beat Sky News Tonight every evening.
On Tuesday, July 27, Farage's ratings took over the BBC's in that slot (emphases in the original):
UPDATE 28.07: Nige beat both the BBC and Sky News last night –
Farage – 90.8k

Sky News Tonight – 55.1k

BBC Outside Source – 89.1k
Congratulations…
It happened again on Wednesday, with an even greater figure — 107.7k to 93.3k:
Well done, Nigel!
Digital ratings
Rebecca Hutson, Head of Digital and occasional co-presenter, is keen to target younger audiences via Facebook, Twitter, YouTube, Instagram and — incredibly — TikTok. GB News is the only British broadcasting channel to use the Chinese-owned social media video platform.
On July 21, Hutson explained her strategy to Press Gazette:
… the fledgling brand said social media engagement figures show it is resonating with younger audiences to a perhaps surprising extent.
Head of digital and presenter Rebecca Hutson … said GB News is really a "digital media business that has a TV channel attached" …
Hutson told Press Gazette: "We know that traditional linear consumption has really changed. People don't sit at home for three hours and watch a show. Instead they want to snack on the best bits for them on the platforms that they're already using.
"So that's why we publish natively across Facebook, Twitter, Instagram, YouTube, TikTok and we tailor the content specifically for the platform that it's on so we're pretty agnostic in terms of how the content looks and feels across the different destinations that we have and the website."
For example, she added, the brand is more likely to put an eight-minute monologue on YouTube and short snippets on Twitter which is a "much quicker platform".
"Rather than trying to turn all of our platforms into a homogenous output, we spend a lot of time looking at the analytics and amending how the content appears on there and that's really paying off," Hutson said …
TikTok has been useful in attracting younger viewers:
On TikTok GB News has had 24,500 likes and more than 350,000 views across 30 videos and 4,000 followers so far.
Hutson said the numbers may be "quite surprising for people who would maybe think that we don't have relevance or resonance to that younger audience when we clearly do".
Hutson said explainer videos decoding the news are proving to work best for TikTok. The most-watched GB News TikTok so far explains who Sajid Javid is after he replaced Matt Hancock as Health Secretary …
Almost a third (31%) of 18 to 24-year-olds use TikTok, and 9% get news on it.
As for demographics:
On TV only, excluding the likes of TikTok and Instagram, almost a third (32%) of GB News' audience is aged between 18 and 34. Some 39% are aged 55 and above.
Some 62% of the TV audience is in the middle class ABC1 demographic – a drop from the 82% ABC1 demographic thought to have tuned in for Andrew Neil's opening show on 13 June.
The new shows, higher ratings and digital strategy are welcome developments for GB News, which is an excellent channel. Now that Parliament is in summer recess, I have been watching quite a lot of their output. The shows present alternative viewpoints, from libertarian to left-wing: a good thing.