You are currently browsing the tag archive for the 'Mark Francois' tag.
My most recent post on Liz Truss left off with the beginning of the end in her final week as Conservative Party leader.
Friday, October 14
Her sacking of Kwasi Kwarteng and installation of Jeremy Hunt as Chancellor on Friday, October 14, meant only one thing — her end was nigh:
Liz Truss's first Chancellor Kwasi Kwarteng: what he expected, what he got instead (October 13, 14)
Liz Truss and Kwasi Kwarteng illustrate that one DAY is a long time in politics (October 13, 14)
The Times's headline on the morning of the 14th said that Conservative MPs were already plotting to install Rishi Sunak and Penny Mordaunt in Truss's place. One of them would be Prime Minister and the other would be Chancellor or Foreign Secretary:
The article also said (purple emphases mine):
Truss and Kwasi Kwarteng, the chancellor, are expected within days to make a humiliating climbdown over corporation tax in an effort to calm the markets and see off a mounting revolt.
Indeed, that is what Truss announced at her disastrous press conference that afternoon. By then, Jeremy Hunt was already Chancellor:
It was hard to believe, especially as Ireland's corporation tax is half that: 12.5%. What is to stop businesses in Northern Ireland from moving south of the border?
Liz prefaced the announcement with:
This is difficult.
Guido Fawkes has the video and another quote preceding her announcement about corporation tax:
It is clear that parts of our mini-Budget went further and faster than markets were expecting… so the way we are delivering has to change…
He concluded (emphases his):
The mother of all U-turns…
Later in the afternoon, Wendy Morton, the Chief Whip, summoned Conservative MPs to an online call with the Deputy Prime Minister Thérèse Coffey.
One hundred of them dialled in. Coffey allegedly kept staring at her notes:
Saturday, October 15
Saturday's papers were scathing.
The Daily Mail asked, 'How much more can she (and the rest of us) take?'
The i paper led with 'Tory MPs tell Truss: "It's over"':
The Telegraph's Tom Harris wrote about the symbiotic relationship between the Prime Minister and the Chancellor from Margaret Thatcher's time to Truss's.
When that relationship goes wrong in a big way, it's nearly always bad news for the PM, although there are exceptions:
When a prime minister loses a long-serving chancellor and ally – as Margaret Thatcher did when Nigel Lawson walked out of her government in 1989 – the political ramifications are enormous. In Thatcher's case, that event signalled the beginning of her long defeat. When a prime minister loses a friend too, it becomes, as Liz Truss stated in her press conference, "not an easy" personal moment. 
Their closeness also makes it impossible for Truss to distance herself from the mess left at the Treasury. It is not clear which policy Kwarteng implemented that the prime minister was so unhappy with that she had to fire him. In 1989, Lawson resigned over his objection to the prime minister's reliance on her economic adviser, Sir Alan Walters, but there were already disagreements between Numbers 10 and 11 over whether Britain should join the European Exchange Rate Mechanism. 
[John Major's Norman] Lamont was fired over his handling of Britain's departure from the same institution. Javid resigned over personnel issues. Rishi Sunak's reasons for resigning were similar, though in his case the personnel issue involved the then prime minister himself.
In Jeremy Hunt, Liz Truss might be given a chance to form the kind of reassuring, mutually supportive – and, crucially, stable – relationship with her chancellor that good government demands. It would be foolish, however, to assume that when such a relationship breaks down, it is always the chancellor who is next to go.
The Telegraph's Camilla Tominey looked at the backbench Conservative MPs, wondering how Conservative they actually were. I was glad to see that she mentioned Alicia Kearns, who does not seem very Conservative to me.
Tominey's article shows that a significant number of Conservative backbenchers do not hold traditional Conservative Party values:
Never underestimate the Conservative Party's unparalleled ability to turn the gun on itself when coming under enemy fire. As the pot shots continued to rain thick and fast on Liz Truss's troubled premiership, what did the Tories decide to do? With Labour's help, they elected Alicia Kearns as chair of the Foreign Affairs Select Committee.
For those unfamiliar with Ms Kearns, she is the former Amnesty International activist who led the so-called "Pork Pie Plot" to oust Boris Johnson over partygate. Despite having been an MP for all of five minutes, the 34-year-old, who won the safe seat of Rutland and Melton in 2019 (hence the pork pie theme) decided that the Conservatives' wisest move was to remove the man who secured the party's biggest election win since 1987. Well, dip me in jellied pork stock and cover me in hot-crust pastry, that went swimmingly!
Having declared last year that she came into Parliament with "one legislative change I wanted to deliver, which was to ban conversion therapy", inexperienced Kearns now occupies one of the most influential posts in the House of Commons.
Her first intervention? Following hot on the heels of her fellow chair, Mel Stride, of outspoken Treasury select committee fame, she used a radio interview on Thursday night to urge the Prime Minister to reverse the tax-cutting measures in the mini-Budget.
I've got nothing personally against Ms Kearns – she is clearly a thoughtful and intelligent woman. But if she isn't for cutting tax, then what on earth is she doing in the Tory party, let alone now apparently in the running to enter a future Conservative Cabinet?
One former minister was this week quoted as saying: "Everything [the Government] are doing is everything that I don't believe in." Why, then, is that senior politician – apparently so opposed to spending controls and economic growth – not currently residing on Sir Keir Starmer's shadow front bench or drinking Remaineraid with Sir Ed Davey?
As former Brexit negotiator Lord Frost put it on Thursday: "There are too many … social democrats operating under Conservative cover."
It is one thing to be a broad church, but the Tories are currently taking on the mantle of a Blue Labour cult.
Not only are many of them perfectly comfortable with taxing people more, despite the tax burden being at its highest in 70 years, but they are also apparently as opposed to fracking as Ed Miliband. They seem to love the status quo and appear happy to watch Britain slowly sink into decline – along with their own party.
Tominey says that Liz Truss's platform was clasically Conservative, and so was the one upon which Alicia Kearns was elected.
These are the MPs who will determine the outcome of Brexit and the next election. Both are in peril.
Tominey rightly lays the blame at the feet of former PM David Cameron, a wet who wanted a different type of Conservative MP:
David Cameron's decision to introduce open primaries in the late 2000s, which saw wannabe MPs selected by non-members as well as members, was perhaps the most obvious mistake. The Conservatives ended up with "yellow" Tories in its ranks, such as Sarah Wollaston, who later defected to the Liberal Democrats.
Funnily enough, Sarah Wollaston is no longer an MP. Others like her, most of whom had the whip removed, were defeated or chose not to run in 2019.
This is the issue:
But more broadly, by inviting people with no background in Conservative politics to stand for Parliament, they ended up with people with no Tory backbone either. Holding successive snap elections only made the selection process less rigorous and open to people high on ambition and low on ideology.
This is a problem for the next general election. GEs depend upon local activists — party members — who are willing to canvass door-to-door:
We now have the Sunak squadders, calling for people to keep less of their wages, for businesses to pay more in corporation tax and for benefits to be linked to inflation, Corbyn-style …
Conservatives have become so detached from reality that they actually believe this will help them to win the next general election – even though it promises to prompt a mass walkout by the very grass-roots activists they rely on to run a campaign.
However, Tominey says that Rishi Sunak's coronavirus handouts have also altered the public perception of the role of the state. We can but see how this will play in 2024 or early 2025 when the next GE comes along.
Monday, October 17
On Monday, October 17, Leader of the House Penny Mordaunt had to stand in for Truss during a debate. Opposition MPs accused Truss of hiding under a desk.
Mordaunt had to deny that more than once, saying that Truss had a 'very genuine reason' for not being present.
I don't often feel sorry for Penny Mordaunt, but I did that day:
However, one Labour MP, Andrew Gwynne, tweeted that Liz Truss was the victim of a 'coup' — his word — and that Jeremy Hunt was the acting PM: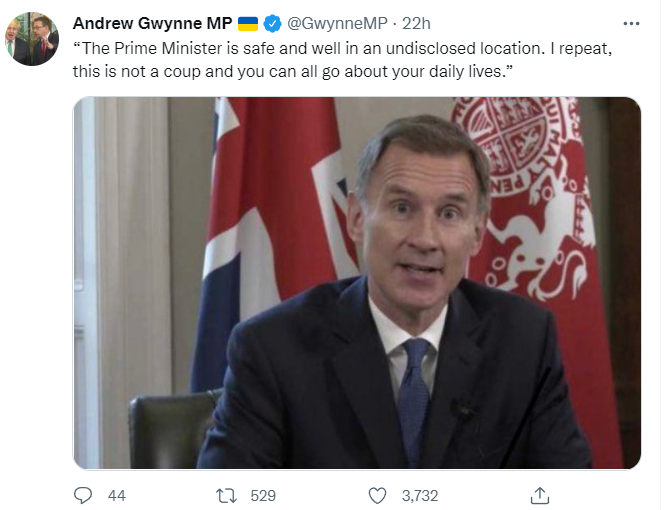 On Tuesday, October 18, The Times explained why Truss did not turn up at the despatch box the day before:
For much of the day Truss was conspicuous by her absence. She refused to respond to a question by Sir Keir Starmer in the Commons, prompting accusations from Labour that she was "frit". Penny Mordaunt, the leader of the Commons, answered questions in her stead. She said that the prime minister had "a very good reason" for her absence but refused to explain further, prompting misplaced speculation that Truss had resigned.
That reason for her absence turned out to be a meeting with Sir Graham Brady, the chairman of the backbench 1922 Committee. Sources said that the meeting was routine and had been arranged before Kwarteng's dismissal. But the issue of her leadership, and a potential revolt by Tory MPs, was said to have been discussed.
One source on the committee said there were a "number of views" on the way ahead but that there were concerns that an immediate move to defenestrate the prime minister could further destabilise the markets.
"The question is whether it is more damaging to create further uncertainty by getting rid of the prime minister when the chancellor [Hunt] appears to have settled the markets," said an MP on the committee.
Some Tory MPs believe that with the unravelling of her tax-cutting agenda and signature energy policy she is finished politically. Sir Charles Walker became the fifth Conservative MP to publicly call for her to go, saying her position was "untenable".
A senior Conservative source added: "It's the biggest unforced humiliation for a British government since Suez. Eden did the decent thing and resigned."
"The trouble is there is no consensus for who should replace her," said one former backer of Rishi Sunak. "And the last thing we need now is to be seen to be causing more uncertainty on the financial markets."
Monday night was grim.
On the subject of a coup, Nigel Farage agreed that Jeremy Hunt was in charge, and that this was a 'globalist coup':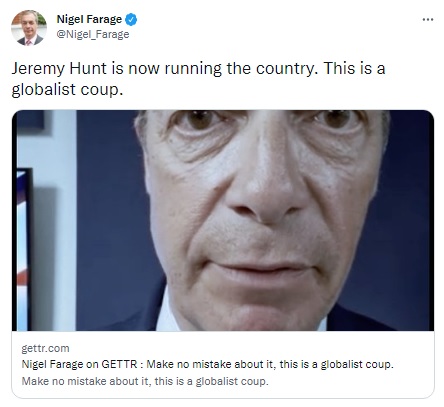 On his GB News show that night, Dan Wootton also said that there had been a coup. He agreed that the unpopular Hunt was in charge and that no one liked him, except for the Establishment. He said that if the Conservatives allowed this to continue, then they deserve to lose the next GE:

Truss surfaced to give an interview to the BBC's Chris Mason, wherein she apologised for the mini-budget. She said:
First of all, I do want to accept responsibility and say sorry for the mistakes that have been made. I wanted to act, to help people with their energy bills, to deal with the issue of high taxes, but we went too far and too fast. I have acknowledged that.
Tuesday, October 18
Tuesday's headlines were deeply discouraging for her. Nearly all had photos of her alongside Hunt:
The new biography of Truss, Out of the Blue, was not even ready for publication. Someone photoshopped the cover with a remainder sticker on it, saying, 'Reduced for quick sale — please just take it':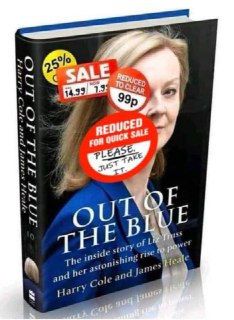 The Sun's political editor, Harry Cole, one of the book's co-authors, posted an article about the MPs plotting against her:
TORY plotters dubbed the "Balti Bandits" carved up Liz Truss's future last night over a korma and bhuna feast, The Sun reveals.
Leading rebel Mel Stride hosted more than a dozen "miserable" Conservative MPs in his large House of Commons office for an Indian takeaway – with the PM's fate also on the table.
Ex-Ministers John Glen, Nick Gibb, Mark Garnier and Shailesh Vara tucked into "lashings of curry and naan" ordered in by Mr Stride, alongside outspoken backbencher Simon Hoare. 
2019 intake MPs Angela Richardson and Simon Baynes were also said to have joined the "poppadum plot" – but sources say the meeting ended with "no credible solution" to their woes …
Contenders include ex-Chancellor Rishi Sunak, Defence Secretary Ben Wallace, new Chancellor Jeremy Hunt and Commons Leader Penny Mordaunt – but given the party is deeply split, the plotters admitted the chances of a rapid "coronation" of a new PM were "almost zero."
One attendee told The Sun: "the vast majority of attendees were Rishi Sunak supporters, but there were Penny people too. It was not a Rishi thing." 
On Tuesday evening, Truss had another group angry with her — her own supporters in the European Research Group, the pro-Brexit group of backbench Conservative MPs.
The Telegraph's Tim Stanley wrote about it, as he was there in the corridor for Truss's meeting with them:
Liz Truss launched her fightback at 6pm in Committee Room 11. The meeting was actually set for 5pm; Commons voting ran late so Mark Francois advised us hacks to go away and come back later, but I hung around on the suspicion that the moment we left, Liz would slip out of her hiding place in the roof of the lift and jog, unseen, into the Room …
These are the true believers: if they're angry at Liz for anything, it's for not keeping the mini-Budget …
What we saw of her on TV on Monday night, interviewed by Chris Mason, did not spark confidence as she uttered that dread word "sorry", thus accepting personal responsibility for blunders past and future. It is the mark of an "honest politician", she said, to admit mistakes. That's true, but it's also a dead giveaway for a not-very-good one, trying to turn a repeated error into a display of moral virtue. As Samuel Johnson might have said, "Honesty is the last refuge of the incompetent".
… She bobbed into view in a dark blue dress and black tights – fresh-faced, one suspects, from a good night's sleep. Instinctively, I stood: she might be a PM, but she's still a lady. I earnt a cheeky nod. Those who can't fathom the rise of Ms Truss haven't met her. She has a way of compromising you, of making you think you're on her side, and it's the most fun side of the room to be on.
The ERG roared as she entered. She entertained them behind a closed door for about 45 minutes. Then she left, followed by Mr Francois who told us it was "a very positive meeting".
The PM evidently spoke about Northern Ireland and her commitment to raising defence spending by the end of the decade, which is ambitious for a woman who could be out of office by Friday. And he noted that David Canzini, the clever political operative, was with her, an eminence so grise, none of us had noticed he'd gone in.
No 10 confirmed it: he was hired as of that morning.
Too little too late. That might have been Canzini's shortest job.
Wednesday, October 19
On Wednesday, October 19, Guido Fawkes posted that the Reform Party — formerly the Brexit Party — was climbing in the polls. The photo shows their chairman, businessman Richard Tice:
Guido's post said, in part:
Guido can reveal that in the 48 hours before close of play yesterday afternoon, the old Brexit Party received almost 1000 new £25 membership sign-ups. That new five-figure cash boost was joined by 300 members registering a new interest in standing as a party candidate at the next election. The first time the Tories dipped below Labour in the polls – September 2021 – Reform saw one in 10 Tory voters switching to them. Can they continue capitalising on Liz's woes? …

It's not just Reform benefitting from the dire state of No. 10. Last night the LibDems revealed five new donors, each giving £50,000 to the party, one of whom is a former Tory donor. While the last 36 hours have been calmer for Truss, it does feel like the ship has sprung one too many leaks to be repaired by a strong PMQs performance…
Wednesday was another fateful day. Home Secretary Suella Braverman resigned, then a confusing scene took place in the voting lobby over a division (vote) on fracking, which resulted in more chaos when it was unclear whether Wendy Morton had resigned as Chief Whip:
Liz Truss's final 24 hours: Suella Braverman's resignation, question over Whips' resignations (October 19)
Truss appointed Grant Shapps, former Transport Secretary, in Braverman's place:
Holy mole, guacamole!
Nigel Farage repeated 'coup' in his tweet about the news:
As with Hunt, Truss had to scrape the barrel.
The Telegraph reported that, like Hunt, Shapps was not a Truss supporter:
It is a remarkable turnaround for Mr Shapps, the transport secretary under Boris Johnson who went on to become a prominent supporter of Ms Truss's leadership rival Rishi Sunak.
Only on Monday night, Mr Shapps was telling a theatre audience that he believed Ms Truss had a "Mount Everest to climb" to remain in power.
"I don't think there's any secret she has a mountain, a Mount Everest to climb," he told Matt Forde's podcast. "What she needs to do is like threading the eye of a needle with the lights off."
Now he is one of her most senior ministers – and another example of the way a weakened Ms Truss is being forced to offer olive branches to the Sunak supporters she had previously shunned.
Not only was Mr Shapps questioning her chances of success until as early as this week – he was working proactively to get rid of her.
Mr Shapps has been viewed in Westminster as one of the leaders of the opposition to Truss's libertarian policies.
He spoke up at the Tory party conference in Birmingham earlier this month against her plans to scrap the 45p rate of income tax, and warned that Ms Truss had "10 days" to turn things around or MPs "might as well roll the dice and elect a new leader".
This is what the aforementioned Camilla Tominey was lamenting in Conservative MPs. Some of the recent ones have no appreciation of or allegiance to Conservative values. Shapps was a Cameronian MP.
The article also discussed Shapps's famous spreadsheets which appear to work as well as the 1922 Committee in making or breaking a Prime Minister:
The veteran MP – known by some as the "Duracell Bunny" for his enthusiasm – is also well-known for his "Star Wars" spreadsheet, with which he has spent the past few weeks recording the views of MPs on Ms Truss and her plans.
Mr Shapps used an earlier version of his famous spreadsheet to lead a rebellion against Theresa May, and also utilised its information to help guide Boris Johnson into Downing Street.
The spreadsheet is said to contain more than 6,000 historical "data points" from previous conversations with MPs.
It was rumoured that he had been in contact with Mr Johnson and Mr Sunak to see if they would join an effort to oust Ms Truss. And some rebel MPs claimed he had even offered himself up as a caretaker prime minister.
Let us not forget that Shapps himself is hardly a paragon of virtue:
… unfortunately for Mr Shapps, some elements of his past may make a shot at No 10 less than likely – not least the Michael Green saga.
This was an alter-ego he employed to enable him to run a series of get-rich-quick schemes on the internet while he was an MP.
Mr Shapps originally denied he had a second job, and threatened legal action against a constituent who said he had. But he was forced to admit practising business under a pseudonym in March 2015.
All this happened while he was Tory chairman, in charge of David Cameron's efforts to win the 2015 election.
He was demoted soon after to aid minister, and resigned from that role after claims he had ignored repeated allegations of bullying involving the Tories' youth organiser. It was said the alleged bullying, which took place on the party's RoadTrip 2015 campaign, may have caused one party member to commit suicide.
On Wednesday evening, Camilla Tominey reprised her warning about un-Conservative MPs and their takeover of the Government. She, too, used the word 'coup':
… the departure of Suella Braverman as home secretary speaks to a bigger problem for Liz Truss than sheer optics.
In sacking two key allies on the Right, only for them to be replaced by opponents more to the Left of the party, the Prime Minister is increasingly looking like the victim of a Conservative coup.
It is certainly ironic that the former home secretary, in post for just 43 days, first used that word to describe those who plotted against Ms Truss's original plan to link benefit to wages rather than inflation. 
With that, and most of her mini-Budget up in flames thanks to a rebellion by the moderates, Jeremy Hunt now appears to be the de facto Prime Minister.
He will now be joined by his fellow Sunakite Grant Shapps, who despite being rejected from Ms Truss's original cabinet, has now been appointed to replace Mrs Braverman at the Home Office.
Braverman, at one point, had headed the aforementioned European Research Group:
… her swift exit from one of the highest posts in public office will anger her European Research Group supporters.
It was only on Tuesday evening that Ms Truss was said to have charmed the backbench group of Eurosceptics with her honest, straight-talking approach.
They are unlikely to take kindly to their former chairman, a darling of the grassroots, being ejected in such unseemly fashion.
Mrs Braverman, a Conservative leadership candidate herself over the summer, received the longest standing ovation at the Tory Party conference two weeks ago.
Fortunately, Rishi Sunak re-appointed Braverman as Home Secretary. He probably realised he had to, in order to keep Party members on side.
Returning to Wednesday, October 19, The Telegraph posted an article stating that Conservative backbenchers were asking Labour for help in ousting Truss. Unbelievable:
Rebel Tories have been asking Labour MPs to help them overthrow Liz Truss, The Telegraph has been told.
Conservative backbenchers are growing increasingly frustrated with the Prime Minister's leadership, but currently lack any mechanisms to remove her given the one-year immunity she has from a no confidence vote.
As things stand, the only way to oust Ms Truss would be to change the rules – which is a decision that only the executive of the 1922 committee of backbenchers can make – or if she resigns of her own volition.
One Labour MP told The Telegraph: "Tories are speaking to us saying 'this is a complete nightmare and there is no way out'. We are being asked 'can't you do something about her?'"
The MP, who said their colleagues have reported similar experiences, said they were approached by one Red Wall MP whose constituency was in the north and another MP who is a member of the One Nation group of moderates …
A Labour source said: "There is very little Labour can do. Even a vote of no confidence doesn't have the constitutional standing that it used to. The Tory party are the ones that elected her, they need to get rid of her."
The paper's Michael Deacon wrote that Conservative MPs were entirely to blame for the mess. Furthermore, he said, they risked angering Party members, the campaigning activists, if they pushed ahead with a rule change saying that the members would no longer be able to vote for future Party leaders. The members elected Truss over Sunak in August:
This week, The Telegraph reported that Tory MPs want to bar members from voting in future leadership elections. Supposedly the reason is to speed up the process of choosing a leader. But this is blatantly a smokescreen. Quite plainly, MPs just want to prevent the members from landing them with another turkey like Truss.
Many members are appalled by this suggestion. And so they should be. Such a plan is not just arrogant and undemocratic, it's delusional. Because party members aren't to blame for the current mess.
Tory MPs are.
After all, who put Truss on the ballot paper in the first place? Tory MPs. No fewer than 113 of them, in fact. A third of the parliamentary party. Out of an initial field of 11 candidates for the leadership, Truss was the MPs' second favourite.
Unlike the MPs, however, the party members weren't allowed to choose between the initial field of 11. If they had been, it's extremely unlikely that they would have chosen Truss. They'd have been far more likely to choose Penny Mordaunt or Kemi Badenoch, to name just two. In fact, if the MPs had deigned to ask them, I suspect that the greatest number of members would have wanted their leader to be Boris Johnson – the person they chose to be leader in the first place.
The truth is, the members voted for Truss simply because they didn't want to vote for Rishi Sunak. In leadership contests, they're only ever given two candidates to choose from. And why? Because Tory MPs don't trust them. They fear that, if presented with a wide-open field, party members will choose the "wrong" candidate. Funny how things turn out.
All things considered, then, it seems clear that, if anyone should be barred from voting in leadership contests, it should be Tory MPs. In future, just leave it to the wiser judgment of the members instead.
That night, The Telegraph posted an article by Lord Frost saying that the Party was moving towards a status quo, if not anti-Brexit, stance, going all the way back to David Cameron's time as Prime Minister, with George Osborne as Chancellor and Philip Hammond in the same post under Theresa May:
… the Government is implementing neither the programme Liz Truss originally advocated nor the 2019 manifesto. It is going in a completely different direction. We are back to Osbornomics, the continuity Hammond view of the world. There is no shred of a mandate for this. It's only happening because the Truss Government messed things up more badly than anyone could have imagined, and enabled a hostile takeover by its opponents …
… the correct account of the past few weeks is the simplest. Truss tried to deliver worthwhile reforms and set the country onto a much-needed new direction. I supported this policy direction and still do. But it was rushed and bungled. The markets were spooked. The mistakes were opportunistically seized on by her opponents to undermine her leadership, to blame Brexit, and to stop the party getting out of the social democratic tractor beam of the past few years. And now, under pressure, the Prime Minister has reversed tack completely.
The risk now is that we lose for a generation the opportunity to do anything better. Every time the PM defends her approach, she denounces the policies on which she was chosen. The danger is that necessary and correct reforms are discredited.
Frost held that Truss was ultimately responsible for her own downfall.
As such, she had to go:
We are where we are. I am very sorry about it, because I had such high hopes. Whatever happens to her ministers or the stability of the Government in the next few days, Truss just can't stay in office for one very obvious reason: she campaigned against the policies she is now implementing. However masterfully she now implements them – and it doesn't seem that it will be very masterfully – it just won't do. She said she wouldn't U-turn, and then she did. Her fate is to be the Henry VI of modern politics – a weak figurehead, unable to control the forces around her, occasionally humiliated, and disposed of when she has become inconvenient. Better to go now.
As for her successor and the Party:
Then the party must do two things: avoid making the economic situation even worse by repeating the policies of the Cameron government in totally different circumstances; and recover some political legitimacy for carrying on – because in our system legitimacy does matter.
Thursday, October 20
After 44 days, Liz Truss resigned as Conservative Party leader on Thursday, October 20.
She served as Prime Minister for 50 days, beating George Canning's record of 118 days. Also a Conservative, he died of tuberculosis in 1827.
She remained PM until Rishi Sunak succeeded her:
Liz Truss's final 24 hours: Suella Braverman's resignation, question over Whips' resignations (October 19)
Liz Truss's final 24 hours: fallout over Braverman and Morton, no tears in exit speech (October 19, 20)
Rishi Sunak becomes Prime Minister: a momentous morning of historic significance (October 24, 25)
How Rishi Sunak won the Conservative Party leadership contest — part 1 (October 20, 21, 25)
How Rishi Sunak won the Conservative Party leadership contest — part 2 (October 21, 26, 27)
How Rishi Sunak won the Conservative Party leadership contest — part 3 (October 22-24, 27, 28)
On Thursday morning, The Telegraph posted a Planet Normal podcast in which Lord Frost said he could see Brexit being reversed:
In the wide-ranging discussion, Lord Frost also said that he could see a future where Brexit is reversed. 
"Brexit was about giving us the power to do things ourselves and to give responsibility back to British ministers, British governments. And they've shown that many of them are not up to the job in the last year or two."
"I can easily see a situation where Keir Starmer gets in. We drift back closer into the single market and go back into the Customs Union. And then everyone says why are we in these things where we don't get a say in them? Wouldn't it be better to be a member? So I can easily see how it could happen. And the way you stop it happening is to prove, while we have the levers of power, that we can do things differently and better. And at the moment we're not making a very good job of that, unfortunately."
Little did Truss know that, the day before, she had stood at the despatch box for her last PMQs:
She resigned early on Thursday afternoon. Thankfully, she didn't cry, unlike Theresa May, who broke down at the podium (Guido has the video):
Sterling began surging the second Truss finished her announcement:
In less than 24 hours, the Conservative Party website deleted her presence from their home page (Guido has the before and after screenshots):
It was a sad ending to a sad episode of British parliamentary history.
Next week, I will look at who, besides Truss herself, was also responsible for it.
Truss is currently spending time in her own constituency and has not yet appeared on the backbenches, an alien place for someone who had been a minister of state for most of her career.
My most recent post on Liz Truss examined her first two weeks in office as Conservative Party leader and Prime Minister, from September 6th through the 16th.
Things had started out so well. Ironically, Jeremy Hunt, who is now Chancellor, told ITV's political editor Robert Peston on September 7 that Truss would be 'formidable'. An amazing endorsement from someone who was her natural ally:
Hmm. Did he know anything at that point? We'll probably never know.
On September 20, The Sun's political editor Harry Cole was delighted to announce his and James Heale's book on Truss, Out of the Blue, which later had to have hastily written chapters added to it:
Yes, it is still coming out by Christmas — November 24, to be precise:
King Charles and COP27
Liz saw King Charles on Sunday, September 18, the day before the Queen's funeral. It was not their usual day to meet, but the Royal Family went into private mourning until the end of September:
On Saturday, October 1, The Times reported that Liz had asked the King not to attend COP27, which ran between November 6 and 18, despite an invitation from the organisers.
This was a good move, in my opinion, as climate change, or whatever it's being called this week, has turned highly political.
The article said (emphases mine):
The King, a passionate environmental campaigner, has abandoned plans to attend next month's Cop27 climate change summit after Liz Truss told him to stay away.
He had intended to deliver a speech at the meeting of world leaders in Egypt.
Had she remained PM, Liz would not have attended, either:
Truss, who is also unlikely to attend the Sharm el-Sheikh gathering, objected to the King's plans during a personal audience at Buckingham Palace last month.
There were no hard feelings between the Palace and No. 10:
… a Downing Street source claimed the audience had been cordial and there had "not been a row".
No doubt he was expecting it:
A senior royal source said: "It is no mystery that the King was invited to go there. He had to think very carefully about what steps to take for his first overseas tour, and he is not going to be attending Cop."
They said the decision was made on the government's advice and was "entirely in the spirit of being ever-mindful as King that he acts on government advice".
In the end, the King held a reception at Buckingham Palace for world leaders before they flew to the summit. In light of that, this was rather interesting:
Charles is still determined to make his presence felt there, and how he will do that is "under active discussion". A senior royal source said: "Just because he is not in physical attendance, that doesn't mean His Majesty won't find other ways to support it."
A source who knows Charles said he would be "personally disappointed" to miss it and was "all lined up to go", with several engagements planned around his Sustainable Markets Initiative (SMI) which aims to persuade businesses to invest in environmentally friendly initiatives.
Public v parliamentary opinion
In late September, a poll showed that Truss was ahead of Labour's Keir Starmer in Red Wall seats, boosting the Conservatives by eight points:
Admittedly, that was before Kwasi Kwarteng's fiscal event, or mini-budget, of Friday, September 23.
That said, I will go out on a limb and say that most conservative voters thought that Kwarteng's — Truss's — plan was the right one. My better half and I thought it was refreshingly libertarian.
However, Conservative MPs vehemently disagreed with the public and started writing in to Sir Graham Brady, the chairman of the 1922 Committee, the all-powerful group that Margaret Thatcher dubbed 'the men in grey suits'.
On September 26, the Northern Echo reported:
A former Tory minister MP has told Sky News the new Prime Minister is "f*****" and the party are already looking to bring her down following Friday's mini-budget.
The MP said: "They are already putting letters in as they think she will crash the economy. The tax cuts don't matter as all noise anyway – mainly reversing back to the status quo this year …
Another Tory MP told the broadcaster that Friday's announcement – which included reversing a 1.25% hike in National Insurance – had been a "s***show".
Note that MPs were siding with the Bank of England. Very establishmentarian of them:
"The issue is government fiscal policy is opposite to Bank of England monetary policy – so they are fighting each other. What Kwasi [Kwarteng] gives, the Bank takes away."
The mood among Conservative 'wets', to borrow Thatcher's name for such weaklings, only escalated.
At Liz's one — and only — appearance before the 1922 Committee on Thursday, October 13, Robert Halfon, a wet, told Truss she had 'trashed the past ten years'.
Liz Truss was accused by a senior MP of trashing "the last ten years" of Conservative government as her party turned on its new leader over the mini-budget.
Robert Halfon, a former minister who chairs the education select committee, unleashed a furious attack on her financial measures, saying they disproportionately benefited the wealthy and meant she had abandoned "workers' conservatism".
Anything but, however:
According to an MP present, Halfon told Truss in a meeting of the 1922 Committee of backbenchers — her first as prime minister — that "in the last ten years we had the living wage, a focus on apprenticeships and skills", contrasting that with "bankers' bonuses, benefits cuts and now cuts to affordable housing targets".
His intervention came after Truss tried to assuage Conservative MPs by saying she had "shielded families and businesses from bills of up to £6,000 this winter and for the winter ahead, while Labour has no plan beyond the next six months".
The meeting did not go well. Halfon seemed to voice other MPs' concerns:
… a Tory MP who has been in the Commons for more than a decade said: "It was the worst 1922 I've ever been to." They added: "With each tough question she looked like she'd had the wind knocked out of her — the 31st of October could finish her off on the basis of the reception she got in that room."
Halloween — who schedules these things? — was supposed to be the day Kwasi was going to set out more detail behind his fiscal event. Liz's friend and neighbour in Greenwich was on hand to support her:
Thérèse Coffey, the deputy prime minister, told reporters outside the 1922 meeting that the chancellor would meet MPs before presenting his medium-term plan on Halloween, stressing that engagement was key.
In the event, Truss had to sack Kwarteng and appoint (ahem) the aforementioned Jeremy Hunt as Chancellor. He delivered his shocking budget on Thursday, November 17, to Prime Minister Rishi Sunak's approval. Sunak nodded several times during the presentation.
Returning to The Times's article of October 13, what other wets said presaged the future:
Even those who back the prime minister expect some sort of climbdown. One MP said: "She will have to unwind everything fiscal in the statement. They have to backtrack. There is no alternative. They've done it on the 45p and they'll have to do it on the rest.
"Then if we are still 20 points behind in the polls we will have to change leader. We are cold-blooded like that."
Another admitted there was "definitely still a big split between her and the Rishi [Sunak] side of the party". Asked if Truss would have to perform another U-turn, they said: "Ultimately, I suppose it depends if she's leveraged into that position by our own party, but it's all by those with 20,000 majorities."
Hmm … Hmm.
However, one Rishi Sunak supporter — Esther McVey — is deeply unhappy over his Chancellor's budget:
On Tuesday, November 22, McVey rightly tore the budget apart in ConservativeHome, saying that Hunt's tax rises are 'socialist measures' that are 'punishing Conservative voters':
… It wasn't helped by the Chancellor's statement being such a pendulum swing from the Liz Truss / Kwasi Kwarteng mini budget. People went from thinking they were getting their taxes cut to seeing them hiked.
The Autumn Statement was clearly an over-correction to that mini-budget. Going from one extreme to the other is hardly reassuring for people. A middle ground was needed: an acceptance of Conservative principles, with a costed plan and the accompanying narrative to reassure the markets.
Instead, Hunt delivered his statement with a doom and gloom that would have appropriate were the country on the brink of financial collapse. However, despite some serious challenges, things are not so dire that we had to have such excessive medicine.
For instance, the ten-year gilt yield – the interest rate the Government must pay on a new decade-long loan – was 3.14 per cent, whereas, even before the notorious mini-Budget in late September, that same yield was much higher at 3.49 per cent.
Britain is no more indebted than other comparable countries. Our national debt (albeit too high) stands at 97 per cent of GDP, whereas France, Canada and the US stands at 115 per cent, 116 per cent and 132 per cent respectively. Across the G7, only Germany has lower levels of government debt than the UK.
So when I stood up in the House of Commons at PMQs the day before the budget and said –
Given that we have the highest burden of taxation in living memory, it is clear that the Government's financial difficulties are caused by overspending and not due to undertakings. Does the Deputy Prime Minster therefore agree, if the government has got enough money to proceed with HS2 at any cost then it has sufficient money not to increase taxes, if however, it has so little money it has to increase taxes (which is the last thing for a conservative government to do) then it doesn't have sufficient money for HS2 [High Speed Rail 2]?
So can I gently urge the Deputy Prime Minister not to ask Conservative MPs to support any tax rises, unless and until, this unnecessary vanity project is scrapped, because I for one won't support them.
– it was to remind everyone there are better choices for our Conservative government than hiking up taxes.
In fact, given that unprecedented tax burden, any self-respecting Conservative would instinctively know that the answer is to spend less. Dropping HS2 – an out-of-date white elephant, costing north of £150 billion which (as Andrew Gilligan revealed on my show on GB News) the Ministers themselves know will deliver less economic benefit than the cost of it – would have been an ideal place to start. That would certainly have been more desirable than increasing taxes on hard-working families who are already feeling the severe pain of higher energy prices and increased mortgage payments.
If a Conservative government with a sizeable majority – in a time of financial pressure – won't cut public expenditure to start living within our means, then when on earth will that ever happen? …
Parliament is debating Jeremy Hunt's budget this week. In Monday's proceedings, a number of Conservative MPs spoke out against it.
Liz's U-turn on windfall tax
On October 12, two days before she sacked her friend and neighbour Kwasi Kwarteng, she appeared to do a U-turn on 'no new taxes' by allowing an announcement for a new levy on green energy firms.
Her ally, then-Business (BEIS) Secretary Jacob Rees-Mogg, defended the move and claimed it was not a windfall tax:
Guido Fawkes reported (emphases his):
The government has announced a new plan to impose a multi-billion pound levy on green energy firms to fund support to consumers. Renewable and nuclear electricity generators in England and Wales will now have their revenues capped after windfall tax-hating Liz Truss seemingly bowed to pressure to limit profits. The announcement came from BEIS last night, which is calling the new policy a "Cost-Plus-Revenue Limit" and spinning that it isn't in any way a windfall tax "as it will be applied to 'excess revenues' as opposed to profits". If it walks like a tax, swims like a tax and quacks like a tax…
The latest backtracking on free market values by the government comes just 41 days after Liz Truss told party members at the London husting that they could read her lips, and there would be no new taxes under her leadership …
On Today this morning, Rees-Mogg tried performing a Jedi mind trick, saying "this is not a windfall tax…this is rationalising the market"…
Despite the government's denial that the new revenue limit is a tax, the boss of RWE – the third biggest renewable power generator in Britain – has told The Times the move "is a de facto 'windfall tax' on low-carbon generators that, if not designed and implemented correctly, could have severe negative consequences for investment in the renewable and wider energy market and so for the energy transition."
Guido warned that Labour's support for the new levy is not a good sign:
Ed Miliband welcoming the policy with open arms should give the government sufficient pause for thought before it buys its own spin…
The mystery of Liz signing UK up to EU's PESCO
Early in October, Liz did a strange thing, considering she is a staunch Brexit supporter.
She attended the first ever meeting of the European Political Community in Prague. The European Political Community is Emmanuel Macron's brainchild.
This group is made up of EU member countries, yet, somehow Liz got an invitation. No one knows for certain.
However, she went.
She met with Macron on Thursday, October 6, in an effort to get the Channel dinghy crossing issue resolved.
GB News reported:
Liz Truss hailed Emmanuel Macron as a "friend" on Thursday, as the two countries signalled that a new agreement could be close to tackle small-boat crossings in the Channel.
The pair met at the first summit of the European Political Community in Prague, a gathering pushed for by the French president.
There, the pair said they looked forward to "an ambitious package of measures this autumn" to address issue of migration across the Channel.
And in a sign that Ms Truss hopes to improve relations with Mr Macron, she had no hesitation in labelling him a "friend", just weeks after refusing to do so …
Mr Macron later suggested it was a "problem" if Britain could not call itself a friend of France.
But Prime Minister Ms Truss adopted a different tone ahead of a meeting with Mr Macron in Prague on Thursday.
She told broadcasters: "I work very, very closely with President Macron and the French government and what we're talking about is how the UK and France can work more closely together to build more nuclear power stations and to make sure that both countries have energy security in the future.
"We're both very clear the foe is Vladimir Putin, who has through his appalling war in Ukraine threatened freedom and democracy in Europe and pushed up energy prices which we're now all having to deal with."
Asked if he was then a friend, Ms Truss said: "He is a friend."
The bi-lateral meeting between the two leaders, which took place towards the end of the day, appeared to signal some progress on the issues of migration and energy, both areas Ms Truss had raised as priorities ahead of the summit.
"Thank you for being here," Mr Macron told the PM when they met.
It also emerged that the two countries have agreed to hold a joint summit next year to "take forward a renewed bilateral agenda", in a further sign of the desire for warmer relations between the two countries.
On migration, a joint statement said the leaders "agreed to deepen cooperation on illegal migration within the bounds of international law, to tackle criminal groups trafficking people across Europe, ending in dangerous journeys across the Channel".
But the big, and secret, news was that Liz had signed the UK up to the EU's PESCO — Permanent Structured Co-operation — which is a military initiative.
Nigel Farage announced the move on his GB News show as soon as he had heard.
On Friday, October 7, The Express said that the move could affect British armed forces by dragging them into an EU army:
The Prime Minister has been warned not to allow the UK to be dragged into an EU Army by accident after she signed a military deal this week at Emmanuel Macron's European Political Community (EPC) summit in Prague. The decision to go into part of the PESCO has alarmed some Brexiteers who fear it could undermine the UK's sovereignty.
Former defence minister Sir Gerald Howarth, a leading Brexiteer has led the campaign to resist joining PESCO for many years.
He said: "This is very serious and we must be very careful. The issue around PESCO is that the structures are permanent.
"We must not sign up to anything which undermines our sovereignty and where we do not have a veto.
"Second, we must not do anything that undermines NATO. If we have learnt anything over the last few months is that we need NATO for the defence of western values and Europe against our enemies which at the moment is clearly Russia."
Even if this has to do with Ukraine, and enables us to move troops and military equipment more easily, it still raises questions:
At the EPC meeting on Thursday, the EU member states voted unanimously to allow the UK to join the the mobility project that would allow the UK to move troops and military equipment more quickly.
The UK Government decided to enter the strand in case Britain is called upon as a NATO ally to defend the Baltic states from a Russian invasion.
However, staunch Brexiteer Mark Francois MP was relaxed about it:
One senior Brexiteer, former Armed Forces Minister, Mark Francois, who now chairs the powerful group of Tory Brexiteers the European Research Group (ERG), said he believes that the move was the right one.
He said: "As we are outside the EU, we can opt in to individual PESCO projects if they have merit and looking at how we could speed up reinforcing the Baltic States from the UK, across internal EU borders, may well have military advantages.
"However, it is NATO that remains the bedrock of our security, especially in deterring further Russian adventurism and we should never forget that."
On October 9, David Kurten, a former London Assembly member and founder of the Heritage Party, said that signing the UK up to PESCO was a betrayal of Brexit:
One month ago, the aforementioned Sir George Howarth appeared on Farage to say that we still do not know what part of PESCO Liz signed us up to. He was clearly concerned, saying that the implications could be important, especially as none of the countries involved has a veto. The EU calls all the shots:
Today, one month on, we are none the wiser about our involvement in PESCO.
Someone must know what's going on. In fact, a lot of people probably do know.
Liz's final week
All of Liz's opponents, whether on the right or the left, told us that Liz and Kwasi, joined at the hip politically, had to go.
Project Fear started as soon as Kwasi delivered his mini-budget on September 23.
On September 27, Bloomberg told us that UK markets had lost $500 billion in combined value since Liz Truss became PM. Really?
'Investor confidence' means international markets, ergo part of the Establishment.
Also at that time, former Conservative Chancellor George Osborne, who served under David Cameron, stuck the boot in.
On September 29, a comment from an UnHerd reader appeared in response to one of their articles, beginning with 'Is this the end for Liz Truss?':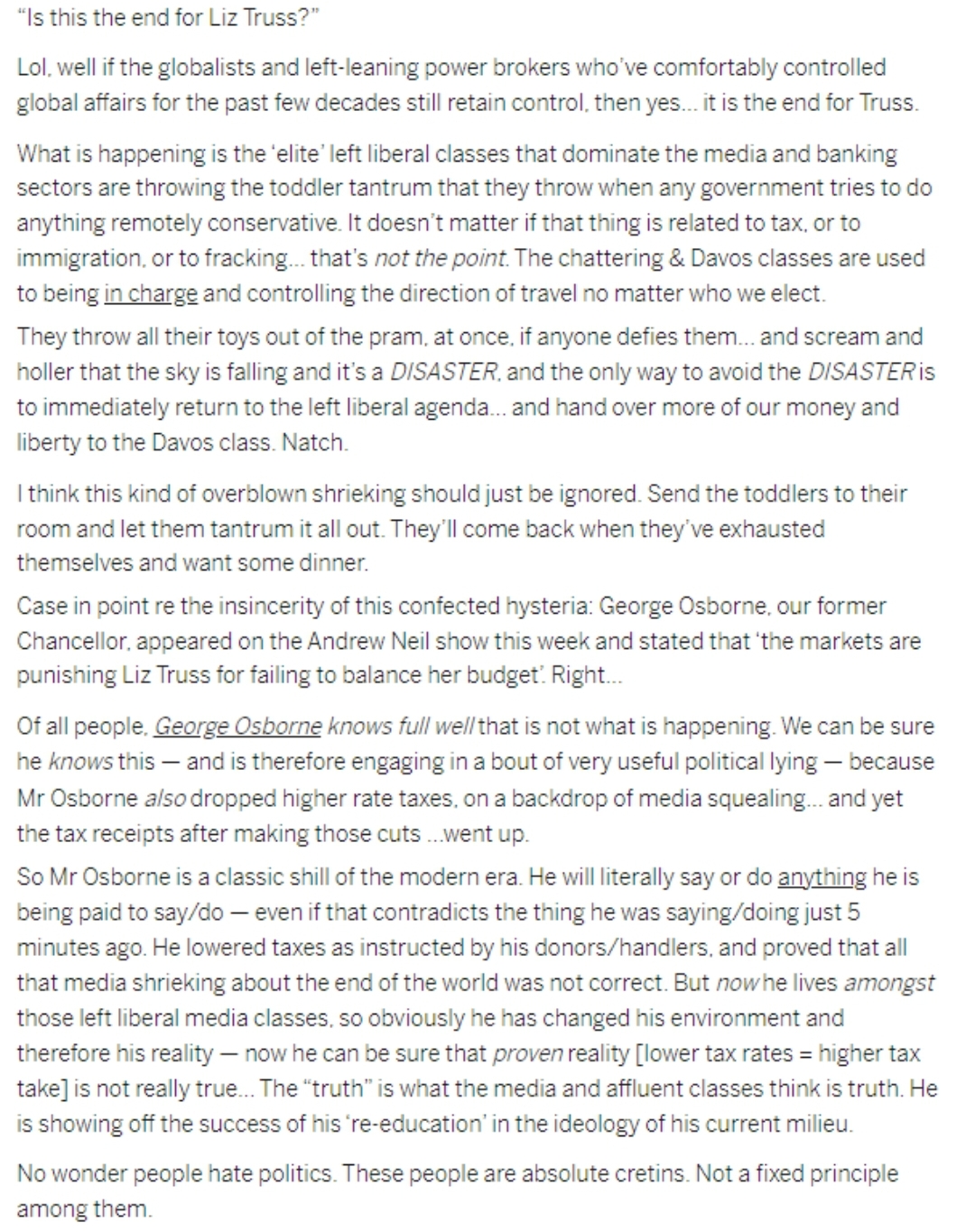 Osborne features heavily in it. The reader quotes him saying, 'The markets are punishing Liz Truss for failing to balance her budget'.
The UnHerd reader says:
Right.
Of all people, George Osborne knows full well that is not what is happening. We can be sure he knows this — and is therefore engaging in a bout of very useful political lying — because Mr Osborne also dropped higher rate taxes [the 50% rate], on a backdrop of media squealing … and yet the tax receipts after making those cuts … went up.
So Mr Osborne is a classic shill of the modern era …
As to whether Liz would have to go, the reader supplies the answer at the top of his message:
… well, if the globalists and left-leaning power brokers who've comfortably controlled global affairs for the past few decades still retain control, then yes … it is the end for Truss …
… It doesn't matter if that thing is related to tax, or to immigration, or to fracking … that's not the point. The chattering and Davos classes are used to being in charge and controlling the direction of travel no matter who we elect.
Speaking of such people, on Wednesday, October 12, King Charles greeted Liz with, 'Dear, oh dear', while the press were still there to record it for posterity:
What did he know and when?
The beginning of the end came two days later on Friday, October 14, when Liz sacked Kwasi and appointed (ahem) Jeremy Hunt as Chancellor. This was the shortest and most painful press conference — she only took four questions — in living memory. She looked like a rabbit in the headlamps or a hostage being forced at gunpoint to read out a message:
As soon as she announced it, we knew Hunt was, at that point, the de facto Prime Minister.
Hours later, The Telegraph reported:
Mr Hunt, a former foreign secretary, took the helm at the Treasury following the sacking of Kwasi Kwarteng over the mini-Budget fiasco. Ms Truss turned to him even though the pair have strongly disagreed on economic policy.
Mr Hunt, also an ex-health secretary, endorsed Rishi Sunak for the Tory leadership after being voted out of the race in July, saying: "This is the wrong time for populist crowd-pleasing and the right time for honesty."
He will hold huge power over a weakened Prime Minister, raising the likelihood that much of her growth plan will now be axed. Allies said that he would act as her "chief executive".
Mr Hunt ran for the Conservative leadership on a platform of slashing corporation tax to 15 per cent to boost growth but also opposed cuts to personal levies such National Insurance and income tax, with which Ms Truss still intends to press ahead.
His appointment was announced moments before the Prime Minister unveiled her U-turn on corporation tax at a press conference. She ditched what had been a core leadership pledge, meaning the rate companies pay on their profits will go up from 19 to 25 per cent in April. It means she has reverted to the plan put in place by Mr Sunak when he was chancellor.
Quelle surprise!
Conservative Party members had voted Liz Truss in largely on her economic policy.
The elites took out her Chancellor. Soon afterwards, they came for her in the form of Conservative MPs and the 1922 Committee. It was a grand game of political chess, not seen since Margaret Thatcher was removed from office in 1990.
To be continued on Friday.
Two funeral Masses have been held for Sir David Amess MP, who was stabbed to death on October 15, 2021.
On Monday, November 22, mourners gathered in Essex at St Mary's Church in Prittlewell, Southend, Essex. Mass began at 1 p.m.
As Sir David was born in the East End of London, he wished for a traditional funeral from that part of the capital. A horse-drawn hearse took his coffin, draped with a Union flag, to two destinations in Southend so that the public could briefly pay their respects. The first stop was the local civic centre and the second his constituency office. His coffin was then taken to a funeral chapel, where local people have been signing a book of condolence.
GB News has a report here from Ellie Costello. This was before the Mass:
Ellie Costello filed the following report at the civic centre after the Mass at St Mary's. The Victorian horse-drawn hearse — a glass covered carriage — is visible at the 1:00 point. The video also includes her interview with Mark Francois MP, who gave a eulogy at Lady Julia Amess's request. She spoke with the MP before the Mass. He pointed out that his late friend's lasting legacy will be that Southend becomes an official city within the next few months:
Six local fire-fighters were Sir David's pallbearers:
Guido Fawkes's post said that the hearse also stopped at the Methodist church where Sir David was so heartlessly killed. Guido has more on the funeral, including Mark Francois's eulogy and a statement from former Conservative MP, Anne Widdecombe:
Hundreds of mourners gathered to pay tribute to Sir David Amess this afternoon after he was killed in a terror attack last month. The hearse drove through his constituency, pausing to stop outside the church in which he was killed and his constituency office.
Mark Francois delivered another moving eulogy at the private service in Prittlewell, telling mourners that Sir David "put Basildon firmly on the map and he worked tirelessly for Southend". Following the 1pm service, a horse-drawn hearse carried the Union flag draped casket on a procession through Southend. Former Conservative MP Ann Widdecombe, also a friend of Amess's, read a statement on behalf of the Amess family, and asked people to "set aside their differences and show kindness and love to all". 
Metro has photos of the Southend funeral procession along with a report, excerpted below:
One of the mourners, Sue Abrahams, told the BBC she knew Sir David from their time campaigning together in Southend.
She said she wanted to come out to pay her 'final respects to him'.
'Everybody knew him and he knew everybody; it was amazing,' she said.
'Seeing the coffin was a very emotional moment. I couldn't fight back the tears, I'm afraid.'
In an earlier tribute read aloud in church, Sir David's family said their hearts are 'shattered' but that they are 'enormously proud of him'.
They added: 'As a family, we are still trying to understand why this awful thing has occurred. Nobody should die in that way. Nobody. Please let some good come from this tragedy.'
The MP's friend and colleague Mark Francois delivered a eulogy, saying: 'Whatever the weaknesses of Parliament, David Amess was the living embodiment of all its strengths.'
The former minister said in his tribute that, despite the 'awful tragedy' of Sir David's death, the country should 'keep calm and carry on' as that is 'what he would have wanted us to do'.
On Tuesday, November 23, a Requiem Mass was held at Westminster Cathedral in central London.
Parliament's session was delayed to accommodate politicians from both sides of the aisle who wished to attend.
The celebrant, the Revd Canon Pat Browne, had married Julia and David Amess 38 years earlier. Therefore, it was only fitting that he should give the sermon his friend's Requiem Mass. Canon Browne is also the Catholic duty priest for Parliament.
The Archbishop of Westminster, Cardinal Vincent Nichols, was the celebrant.
Ellie Costello tells us that, on their wedding day, David Amess arranged for a horse-drawn carriage to transport his bride-to-be to the cathedral. She said that the Requiem Mass was also likely to be in that same vein: grand and emotional. Anne Widdecombe gave a eulogy, and a representative for the Pope delivered a statement:
Prime Minister Boris Johnson tweeted a tribute to his late colleague:
This is the funeral procession:
Prominent politicians, past and present, sat in the front pew:
A clip of Canon Browne's sermon follows. He describes the long-standing friendship he had with the Amess family, including baptising their five children and presiding over the funeral of his mother, who died at the age of 104:
He said that Sir David's office in Parliament was a place he could always go to for a cup of tea and a friendly chat. On the day Sir David was stabbed in cold blood, he went to comfort the MP's parliamentary staff:
The Apostolic Nuncio to Great Britain, His Excellency Archbishop Claudio Gugerotti, delivered the Pope's message. Sir David had met Pope Francis several times:
The Pope's message included an entreaty for combatting evil with good:
Anne Widdecombe told us that Sir David married his wife only three months after having been first elected as an MP. That was in 1983, when he represented the constituency of Basildon in Essex. She also related other anecdotes, including one about the horse and carriage which delivered the future Mrs Amess to Westminster Cathedral on their wedding day. He said he borrowed it from the Royal Mews. Anne Widdecombe has no idea if that was true or just a joke, but she said that with him, it couldn't be entirely discounted:
Two Labour MPs who attended were moved by the Mass. They were Barbara Keeley …
… and Dame Diana Johnson:
Afterwards, Mark Francois told Sky News that he hoped the Requiem Mass sent his late friend suitably on his way to God:
This video has views of the beginning of the Mass along with Ellie Costello's interview with Anne Widdecombe, also a devout Catholic:
Sir David was a true example to us all of a life well lived in unswerving faith in God through His Son Jesus Christ. He could have been swept up solely by politics. Instead, he was always mindful of the Lord.
The 2021 Westminster Dog of the Year event was held on Thursday, October 28, 2021 in Victoria Tower Gardens, Westminster, London.
Had he lived, Sir David Amess MP (pictured) planned on entering with his French bulldog Vivienne. In the wake of his murder two weeks ago, his close friend and fellow Essex MP Andrew Rosindell was allowed to enter with Vivienne:
On the day of the competition, Rosindell said:
No one loved animals like David, and no one loved their dog like David. I could not feel more sadness at the fact that it will be me chaperoning Vivienne, his dog, at the Dog of the Year, instead of him, but I also could not feel more pride to be able to pay tribute to him in this small way.
Another Essex MP, Mark Francois, accompanied Rosindell, holding the dog's lead.
The public was allowed to vote for their favourite MP/dog duo. The Kennel Club judges determined their own winner.
Both public and judges voted overwhelmingly for Vivienne, a pawfect tribute to her late master.
Here's the photo of the winners. Andrew Rosindell holds Amess's dog and Mark Francois the picture of Sir David and a rescue dog from a previous year's entry:
The Kennel Club's article says:
French Bulldog Vivienne, entered with Sir David Amess before his tragic death, has been crowned Westminster Dog of the Year 2021. In second place was Stanley, a Border Terrier owned by Edward Timpson MP for Eddisbury. Placed third was Henry, a Labrador owned by Selaine Saxby MP for North Devon.
Although Conservative MPs won the top spots, Parliamentarians from Opposition parties also entered the competition, held for the first time since 2018. The 2019 contest had to be cancelled because of anti-Brexit protests and last year's couldn't take place because of coronavirus.
The Kennel Club explains that the event is a chance to bring all dog-loving MPs together to highlight animal welfare and responsible canine ownership:
Westminster Dog of the Year is a celebration of the unique bond between dogs and their owners. The competition gives parliamentarians the opportunity to highlight the important work that they have undertaken in Parliament on dog related matters, whilst promoting responsible dog ownership. All Members of Parliament are able to enter regardless of 'pawlitical' persuasion.  
Owen Sharp, Chief Executive of Dogs Trust, explains: "The Westminster Dog of the Year competition is so much more than a canine beauty pageant. The competition is strictly apolitical; judges will be looking for the dogs' good deeds and devotion to their owner rather than policies or opinions. It is a fun filled day out with an important message at its core – helping to promote dog welfare issues and encourage responsible ownership." 
Another Kennel Club article explains how the contest was judged. The Dogs Trust is part of the panel:
The judging panel – Mark Beazley; Chief Executive at The Kennel Club, Owen Sharp, Dogs Trust Chief Executive and Alex Norris MP, 2018 Winner – spent the morning with dogs from different political persuasions and ambitions and led tributes to Sir David Amess, with speeches from the Rt Hon Lord Benyon.
The Kennel Club's Mark Beazley and the Dogs Trust's Owen Sharp paid tributes to Sir David:
Mark Beazley commented: "Today we pay tribute to Sir David and all he has done for dog welfare, and hope to honour his legacy to protect and improve the lives of the nation's pets, who make such a difference to so many. Crowning Vivienne as Westminster Dog of the Year and the public's winner is testament to Sir David's commitment and his passionate campaigning for animals. We would like to thank all the MPs and their four-legged counterparts for taking part in the competition and their tributes to Sir David, and for their commitment to dog welfare."
Owen Sharp, Dogs Trust Chief Executive said:
"Sir David Amess was a cherished friend of Dogs Trust and a great supporter of Westminster Dog of the Year. He was a fantastic advocate for animal welfare and a huge dog lover, making it an honour to award his dog, Vivienne, with the coveted title of Westminster Dog of the Year today.
"His constituents and supporters across the UK voted in their tens of thousands to also crown Vivienne as the winner of the public vote – testament to his unwavering dedication to dog welfare. Sir David's memory lives on at this event and we want to thank him and the other MPs here today for caring and for making a difference to the lives of dogs here in the UK."
Afterwards, Tom Harwood of GB News interviewed Andrew Rosindell, who discussed his friendship with Sir David. The interview also has a few clips from the event. Even those who don't know what a French bulldog looks like will have no problem identifying Vivienne. She's wearing a blue bib with 'City of Southend' printed on it — Sir David's dogged cause in Parliament, posthumously successful:
The Independent also covered the event and has highlights in this minute-long video:
Well done, everyone.
I, too, voted for Sir David and Vivienne.
It is tempting to refer to the day the UK is leaving the EU as an active partner as Brexmas.
The Sun coined the name during the 2019 election period in the run-up to Christmas. Today, however — the day it will actually take place — feels more like Brexmas to me.
That said, the suffix '-mas' is an ancient one referring to a Mass being said on an important feast day, e.g. Christmas and Michaelmas, the feast of St Michael (September 29).
The Wikipedia entry on Mass explains how the word entered common parlance centuries ago. From there, '-mas' was used for certain feast days:
The English noun mass is derived from Middle Latin missa. The Latin word was adopted in Old English as mæsse (via a Vulgar Latin form *messa), and was sometimes glossed as sendnes (i.e. 'a sending, dismission').[8] The Latin term missa itself was in use by the 6th century.[9] It is most likely derived from the concluding formula Ite, missa est ("Go; the dismissal is made"); missa here is a Late Latin substantive corresponding to classical missio.
Historically, however, there have been other explanations of the noun missa, i.e. as not derived from the formula ite, missa est. Fortescue (1910) cites older, "fanciful" etymological explanations, notably a latinization of Hebrew matzâh (מַצָּה) "unleavened bread; oblation", a derivation favoured in the 16th century by Reuchlin and Luther, or Greek μύησις "initiation", or even Germanic mese "assembly".[10] The French historian Du Cange in 1678 reported "various opinions on the origin" of the noun missa "mass", including the derivation from Hebrew matzah (Missah, id est, oblatio), here attributed to Caesar Baronius. The Hebrew derivation is learned speculation from 16th-century philology; medieval authorities did derive the noun missa from the verb mittere, but not in connection with the formula ite, missa est.[11] Thus, De divinis officiis (9th century[12]) explains the word as a mittendo, quod nos mittat ad Deo ("from 'sending', that which sends us towards God"),[13] while Rupert of Deutz (early 12th century) derives it from a "dismissal" of the "enmities which had been between God and men" (inimicitiarum quæ erant inter Deum et homines).[14]
But I digress!
This is how the week unfolded — rather quietly — considering that, at 11 p.m. GMT (12 a.m. on the Continent), the United Kingdom of Great Britain and Northern Ireland will become a non-participative member of the EU until our transition period is complete. We hope that will be at the end of December 2020.
Boris answers burning Brexit questions
Prime Minister Boris Johnson made time to answer several Brexit questions from the British public. This short video is as factual as it is entertaining.
Please watch:
British MEPs leave Brussels
The last British MEP (Member of the European Parliament) to attend an EU Council meeting was Chris Pincher on Tuesday, January 28:
Nigel Farage cleared his office:
On Wednesday, January 29, political pundit Guido Fawkes posted a run-down of the closing days of British MEPs' participation, 'The Final Day of Brexit'. They got one final vote that day, on the Withdrawal Agreement (emphases in the original):
Most importantly, MEPs will formally approve the Withdrawal Agreement this afternoon, marking the final legal hoop needed to jump through to secure Brexit on Friday. Remain MEPs will vote against the deal, failing to understand they're voting in favour of a no-deal exit…
MEPs' final day in Brussels will seemingly be occupied by a lot of singing; with a Green Party MEP planning to encourage a rendition of Auld Lang Syne after British MEPs' final vote, socialist MEPs meeting up for a family picture and a rendition of the EU's 'anthem', and MEP Magid Magid hosting a party in the Place du Luxembourg featuring live music and DJs. No word on whether, given it's their last day, MEPs will be signing each other's shirts…
The vote took place in the early evening:
The week before, the president of the European Council and the president of the European Commission signed the UK Withdrawal Agreement for the EU …
… and Prime Minister Boris Johnson signed it for the UK …
… therefore, it was recommended that the EU Parliament approve the Withdrawal Agreement:
Guy Verhofstadt's tweets
Over the past week, Guy Verhofstadt has tweeted about our exit. He is keeping the door open for our return.
I've also included a few replies to his tweets:
He waxed sentimental over a Liberal Democrat MEP:
Michel Barnier visits the Emerald Isle
The UK's chief negotiator representing the EU, Michel Barnier, spent Monday in the Republic of Ireland and Northern Ireland.
He visited Dublin first …
… then travelled north to Belfast:
Perhaps now is the moment to remind everyone that we will always be European. Our beef is with Brussels:
UK to become economic powerhouse?
According to The Express (article link in tweet), Barnier is worried that we could become an economic powerhouse, threatening the prosperity of EU member countries. British commenters say that he has only himself to blame:
Signs look good, at least at this juncture, particularly since the election on December 12:
Going back to Tuesday, January 21, The Express cited findings from the IMF at the time of the World Economic Forum in Davos. Provided our negotiations go well this year (emphasis in the original):
BRITAIN'S economy is set to power ahead after Brexit, outpacing the eurozone and other major European countries, the International Monetary Fund (IMF) has said.
The findings of two studies published by the the body show the UK is on track for two years of growth and is anticipated to outperform Germany, France and Italy. The economy is expected to expand by 1.4 percent this year and by 1.5 percent in 2021, it said. It marks an optimistic outlook for the UK's post-Brexit future after last year's growth was recorded at 1.3 percent.
Celebrations in the UK
Celebrations will be very low-key on January 31.
Big Ben silent
Unfortunately, Big Ben will not be bonging to mark our Brexit.
The historic bell is under renovation at present and unnamed 'Parliamentary officials' said it would cost £500,000. Boris and Conservative MP Mark Francois urged the public to stump up with private contributions. This they promptly did, raising £272,000. That still was not enough — I detect overall resistance from our notional betters here — so the money is going to the veteran's charity, Help for Heroes:
Lights and Union flags in London
On January 22, Guido Fawkes posted the government's plans to mark Brexit Night in central London (emphases in the original):
The Government has already announced its official plans to commemorate Britain leaving the EU at 11pm on 31st January, however a new victory has been won after minister Nigel Adams signed off on the Union Jack being flown down the Mall to celebrate Brexit. Her Majesty will be delighted given her support for the cause…
In addition to the Union Jack flying in Parliament Square, a light display in Downing Street and a countdown clock being projected against No. 10, new intake Tory MP, Dehenna Davison, has spoken of her delight at securing the victory, saying "After discussing this with the Minister multiple times over the past few weeks, I am delighted that he has today instructed officials to ensure the Union Jack is flown down the Mall on Brexit Day", also highlighting the minimal cost to the taxpayer from the move. Unlike getting Big Ben to bong again…
The flags went up on January 28:
British flags will be flown in Parliament Square.
A red, white and blue light display is expected to be shone on Westminster Palace.
The No. 10 digital countdown clock will be illumined in Downing Street.
New 50p coin
The new 50p commemorative Brexit coin, which was ready for our predicted exit on October 31, 2019, had to be melted down. That was quite expensive.
However, they have been reminted and began appearing this week:
More will appear beginning in March.
The text on the reverse of the coin includes the date January 31, 2020 and reads as follows:
A number of Remainers have tweeted their disapproval and said they would not accept them as change.
Radio presenter Julia Hartley-Brewer of TalkRADIO gave her own riposte to diehard Remainers pining for Brussels. Priceless:
Brexit Party celebration
The Brexit Party is holding a special celebration in Parliament Square between 9 and 11:15 p.m. All are welcome:
Brexit merchandise
There are at least three different types of Brexit-related merchandise on sale now.
Forman's smoked salmon
Lance Forman was a Brexit Party MEP then switched to the Conservative Party before December's election.
In real life, he runs his family's smoked fish business in East London, best known for smoked Scottish salmon. I have eaten Forman's fish before and it is excellent. His Brexit offer runs until February 29:
T-shirts
Leave.EU are selling commemorative Brexit t-shirts. Wear at your own risk.
They also have mugs:
Tea towel
The Conservative Party is offering a special tea towel with Boris's election slogan, 'Get Brexit done', in past tense:
————————————————————————-
Whatever way my fellow Britons choose to celebrate Brexit Day, I hope they have fun!
I will continue Brexit Chronicles until we are fully out of the EU.
For my British readers, a documentary well worth watching is the BBC's Laura Kuenssberg's one on Brexit and Boris.
The Brexit Storm Continues: Laura Kuenssberg's Inside Story is very well made, indeed:
Laura gives us behind the scenes footage of herself with the press corps, her BBC colleagues and, best of all, leading Conservative and Labour politicians discussing Boris's first 100 days.
There is some amazing and interesting footage, including a few seconds of the Prime Minister's bare shins. He wears short socks. Perhaps it is time for Carrie Symonds to buy him a few pairs of knee-length ones for televised interviews.
It is obvious that the BBC loathe Boris and it looks as if Laura is no different. They were all rather nasty to top adviser Dominic Cummings at No. 10 in preparing for an interview with Boris.
Speaking more broadly, Laura seemed to think Boris was taking foolhardy gambles with Brexit and the election. Well, we know how the election turned out. We'll find out about Brexit in the New Year.
Contrary to the negative replies from Labour supporters to her tweet above, she is neither a Conservative nor a conservative. She's a canny journalist doing her job, and it's paying off. This documentary bears her name.
All of that aside, viewers will be able to see the offices of Jacob Rees-Mogg and Michael Gove as they welcome Laura for interviews. They will also be able to watch short exchanges with Steve Baker. I enjoyed the little snippet of the BBC trailing Baker and fellow MP Mark Francois after the Saturday, October 19 session in the House. As it was all a bit hard going, Baker asks Francois if he would fancy a drink. The cameras stop just before the two cross the road to repair to a pub.
I am not a BBC news fan, and I don't trust any of their reporters or presenters, but for anyone missing politics over the holiday period, this documentary is well worth watching.
At the most crucial point before the UK could be thrown out of the EU on April 12, 2019, with a No Deal, discussions since Friday have produced a stalemate.
The House of Lords was not much good reviewing the Cooper/Letwin Bill No. 5 at the end of last week. Old feuds erupted between hereditary appointments and subsequent political ones:
The Lords continued to debate this bill this afternoon.
Theresa May's negotiations with Jeremy Corbyn and the Labour Party got nowhere over the weekend. Talks continue this week.
Conservatives and other Leavers are deeply unhappy:
Labour MP Kate Hoey, a longtime Leaver, is also unhappy:
Brendan O'Neill of the libertarian site Spiked said:
On Sunday, April 7, an uncomfortable looking Theresa May made a statement from No. 10 about Brexit (nothing more than we know already):
Here's another version, closer to the truth:
Today, Leave Conservative MP Mark Francois will try to get a motion tabled for an indicative vote of no confidence against PM May.
Last December, a formal vote of no confidence took place in Parliament but failed. Another vote of no confidence cannot take place until December 2019.
However, Francois thinks that tabling an indicative vote of no confidence, whilst not binding, would send a message for May to stand down and for the EU to disregard another extension date from her.
This is likely to be unsuccessful, because the overwhelming majority of MPs are Remainers. They know that this is his way of attempting a No Deal by the end of the week.
In other news, an EU Exit and Trade Cabinet meeting took place today:
As I write, a Cabinet meeting was scheduled for later in the afternoon:
This is not what the 2016 referendum's 52% of Leavers voted for.
More anon.