You are currently browsing the tag archive for the 'marriage' tag.
The story goes that when the Swiss Reformer Zwingli said that Holy Communion was a mere symbol, an appalled Martin Luther observed that 'another spirit' was working through him, meaning the devil.
Sadly, we have had a lot of 'another spirit' news in 2022.
Let's get through that first in order to move on to other items.
'Another spirit' news
From the family structure to euthanasia, the devil never stops.
Canada's 'killing fields'
On December 16, the Mail had an excellent article about the many Canadians being urged to undergo euthanasia.
Canada's national euthanasia programme is called MAiD (Medical Assistance in Dying), but this is no comely lass, rather a killing machine of sorts, so much so that even the UN wants to call time on it (emphases mine):
… the progressive administration of Prime Minister Justin Trudeau now finds itself in the deeply embarrassing position of being attacked by human rights campaigners and the United Nations over MAiD. 
Three UN experts last year concluded the law appeared to violate the Universal Declaration of Human Rights. Euthanasia — from the Greek for 'good death' — is a means of release to people in unimaginable and incurable pain, especially if expected to die soon. 
This is how Canada's 'killing fields', as the Mail rightly says, entered the statute books:
Canada's Supreme Court dismissed as scaremongering fears of a 'descent down a slippery slope into homicide' when it overturned a ban on euthanasia in 2015, ruling that it was unconstitutional as it deprived people of dignity and autonomy. 
The following year, Canada's Parliament passed legislation allowing euthanasia, but only for people suffering from a terminal illness whose death was 'reasonably foreseeable'. 
Within five years, it became clear that Canada was, indeed, sliding down the slope when — again under pressure from the courts — MPs passed Bill C-7, which scrapped those criteria. 
From 2021, anyone suffering from an illness or disability that 'cannot be relieved under conditions' that he or she 'considers acceptable' can, with the approval of two doctors or nurse practitioners, get MAiD free. 
The patient must be found to be competent to make the decision and wait a minimum 90-day assessment period before death is provided. 
If a doctor refuses to sign off the request, patients can shop around for one who is more amenable. And unlike other countries, including Belgium and the Netherlands, where euthanasia is legal, Canadian patients are not required to have exhausted all treatment alternatives first. 
Last year, 96 per cent of MAiD applications were approved. 
Seeking to understand why so many in government and healthcare appear to be pushing MAiD enthusiastically, critics point to a 2017 study by the University of Calgary that estimated medically-assisted dying could reduce national healthcare spending by $139million a year (£83 million). 
The report noted that in some Canadian provinces, caring for patients in the last six months of life accounted for more than a fifth of healthcare costs.
This page from a MAiD pamphlet didn't come from the Mail, but its egregious typeface and presentation make such a death look harmless and normal: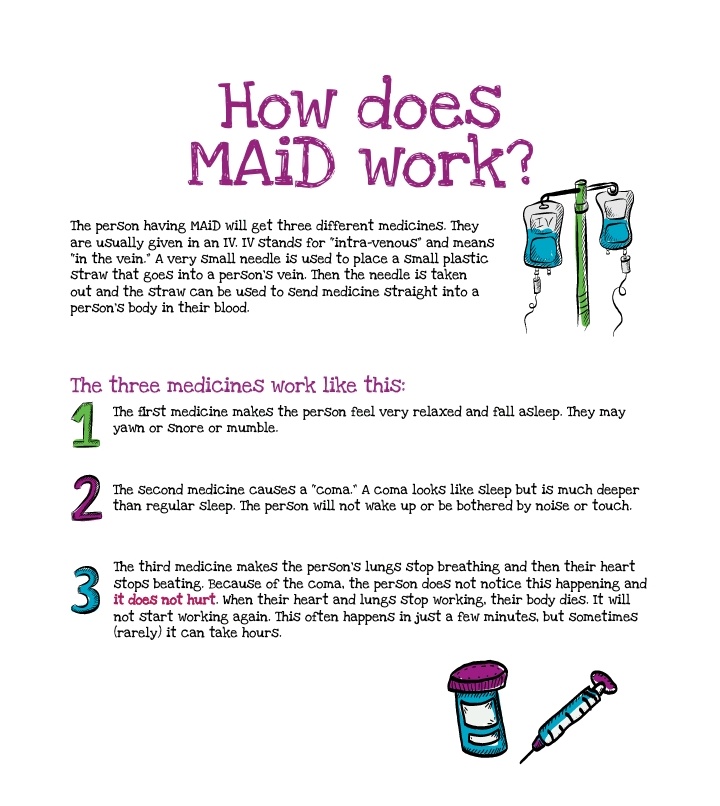 All manner of Canadians — totalling 10,000 in 2021 — have gone to their rest via MAiD. These are photo captions from the Mail where their stories are explored in greater detail. Note the financial reasons:
Michael Fraser, 55, was euthanised by his GP after he pleaded poverty
Wheelchair-bound Les Landry, 65, an ex-lorry driver from Medicine Hat, Alberta, is one of those seeking assisted suicide primarily for financial reasons 
Christine Gauthier, a paraplegic army veteran who competed in the 2016 Paralympics, told MPs how, after five years of trying to obtain a stairlift for her home, a Veterans Affairs official told her that if she was 'desperate', they could offer her MAiD
Here in the UK, both Houses of Parliament have been debating legislating for end of life choices. Some peers (Lords) and MPs (Commons) are all for the Canadian model, about which, it seems, they know very little:
In both Canada and the UK, euthanasia is defined as the act of deliberately ending a person's life to relieve suffering. 
It is often referred to as 'physician-assisted dying' or 'assisted dying' and is distinct from 'assisted suicide' which is helping someone to kill themselves by, say, obtaining lethal drugs for them. 
Just months after the House of Lords halted an attempt to legalise euthanasia in the UK, the Commons last week launched a new inquiry into assisted dying with 'a focus on the healthcare aspects', including the role of doctors, access to palliative care, criteria for eligibility and 'what protections would be needed to safeguard against coercion'. 
Successive UK governments have refused to legalise euthanasia but inquiry chairman [Conservative] Steve Brine MP said there was now 'real-world evidence' to look at from those countries where it is legal. 
What has also changed is that the British Medical Association, Britain's biggest doctors' union, took a landmark vote last year that ended its long- standing opposition to euthanasia. 
It is possible that even children will be able to request MAiD in 2023:
Many are deeply concerned by next spring's extension of MAiD to people with mental illnesses and — pending a parliamentary review — to 'mature minors' above the age of 12. 
MAiD has its critics among clinicians, but does it have enough of them?
This was the most apt description of the process:
Professor Tim Stainton, director of the Canadian Institute for Inclusion and Citizenship at the University of British Columbia, described Canada's law as 'probably the biggest existential threat to disabled people since the Nazis' programme in Germany in the 1930s'. 
It's hard to disagree.
Woe betide Canada. It used to be such a lovely country.
More dismantling of marriage
Two weeks ago, I featured news stories from November advocating that couples abandon the marital bed.
On December 15, The Guardian's Emma Brockes promoted living apart: 'Why are so many women living in separate homes from their partners and kids? Because it's a win-win situation'.
This is obviously for upper middle class types who can afford two homes:
The overheads on two households are eye-bleeding.
Even so, it's another slippery slope article.
As usual, this trend emanates from North America and was first trumpeted in the New York Times, where the devil seems to have a comfy home:
In the New York Times this week – sound the klaxon – a new trends piece drops on the growing numbers of women in the US who, post-pandemic, are opting to sustain the separate household model of marriage, established during lockdown by some families to reduce Covid transmissions, and proving so preferable to the norm, apparently, that they're in no hurry to reunite with their husbands.
It's well known that among straight couples, women initiate most divorces – by some reckonings 70% – and pushing for separate households is, I would imagine, a staging post towards this end for many of the numbers in this new trend. But for others, perhaps it really is a viable solution to the problem of loving your spouse but not wanting them underfoot all the sodding time.
How frightfully sad.
This began years before the pandemic:
What's new is the surge in those who still identify as married but live apart from their spouse; in the US, married couples maintaining separate households rose by a quarter between 2000 and 2019, and in 2021, that number sharply climbed again, according to the New York Times. It is estimated by the Census Bureau that 3.89 million Americans, or 2.95% of married couples, live apart. They even have a little acronym: Lat, or "living apart together".
The trend appears a likely result both of everyone being home for the past two-plus years and driving each other insane, and the fact that after lockdown ended, studies showed that men swiftly dropped the childcare and domestic work some had adopted during that period. Judging by case studies in the article, for some women, quarantining in a quiet, separate residence while their husbands shouldered the caretaking at home, struck them at the level of a revelation. For others, the fact that even a global pandemic did little to undermine – or in some cases, actively deepened – the division of labour at home along traditional gender lines had a straw-that-broke-it effect.
How utterly, utterly selfish.
New York Times crossword puzzle
As we're on the subject of the New York Times, here is their December 18 crossword puzzle. December 18 was the first night of Hanukkah, yet the paper produced a gamma-shaped puzzle. Hmm. Why?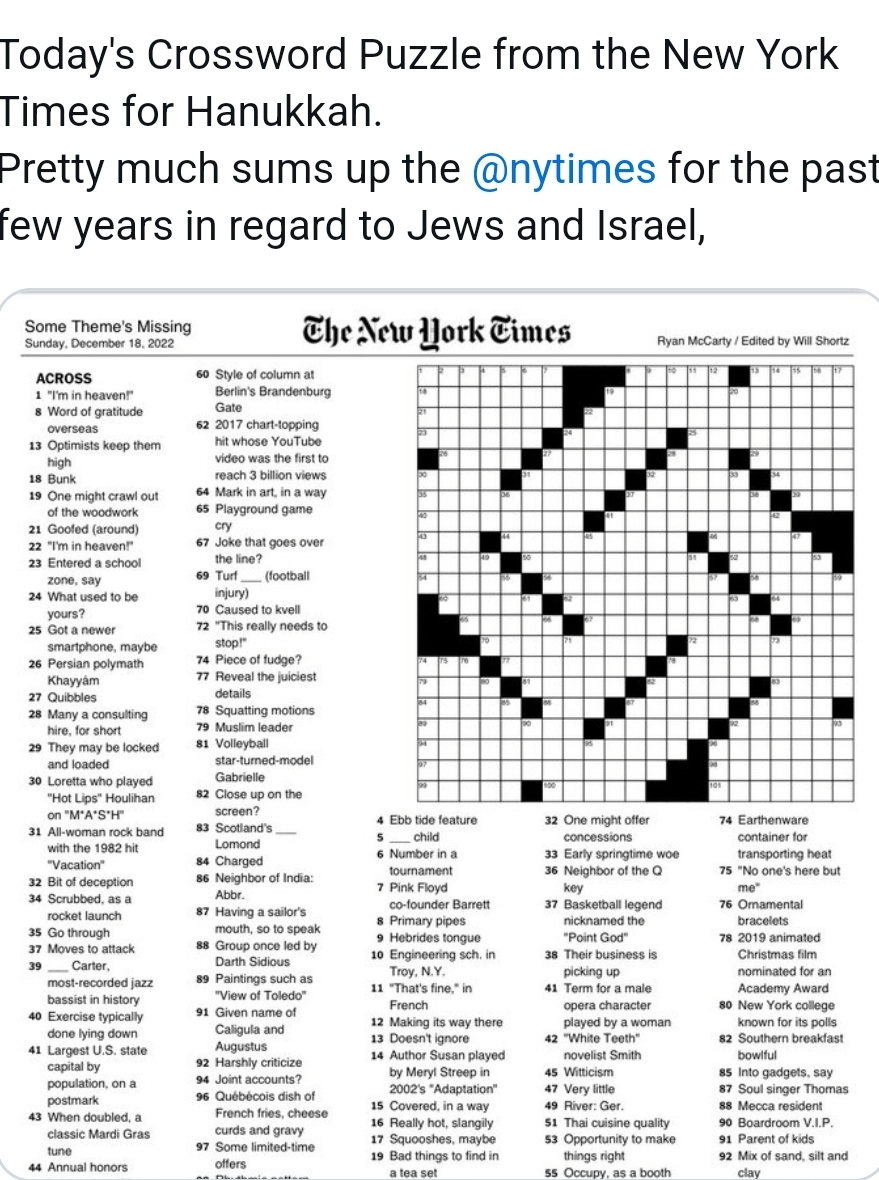 Despite complaints from prominent Jews around the world, the paper defended the puzzle's shape, saying:
'This is a common crossword design: Many open grids in crosswords have a similar spiral pattern because of the rules around rotational symmetry and black squares,' a Times spokesperson told DailyMail.com on Monday. 
Although Carlos Slim is the current owner, the famous Ochs-Sulzberger family are still in charge of content:
The paper is run by AG Sulzberger – the sixth member of the Ochs-Sulzberger family to serve The Times as publisher since the newspaper was purchased by Adolph Ochs in 1896. The family is of both German and Jewish ancestry. 
This is not the first time such a design has appeared:
A similar incident occurred in 2017, and at that time the newspaper responded in a tweet: 'Yes, hi. It's NOT a swastika. Honest to God. No one sits down to make a crossword puzzle and says, "Hey! You know what would look cool?"' 
One wonders.
Christian doctor told to attend 'boundaries' course
I was amazed to see a praying Christian physician, Dr Richard Scott, appear in The Telegraph on September 27.
His is such an old — and sad — story. It goes back to 2019 and has only now been resolved.
The 62-year-old was nearly struck off the medical register for praying by request with his patients in Kent. Someone complained, and you can guess the rest.
The article says:
A tribunal that could have taken away his right to practice was called off after a last-minute settlement with the NHS, but Dr Scott will have to attend a £500 one-day training course on "professional boundaries".
The tribunal was due to consider complaints relating to a telephone interview Dr Scott took part in on BBC Radio 4 in 2019 discussing his use of prayer in his practice.
On the radio programme he also said: "As a Christian doctor you have to ask yourself, who's your ultimate boss? And it's not the GMC [General Medical Council]. It's Jesus Christ."
He said he offered spiritual care to around one in 40 patients, and around 80 per cent of people offered prayer or religious support accepted the offer.
The tribunal was set to begin in Ashford on Monday to determine whether he could still be allowed to work as an NHS doctor.
He had previously been ordered to attend a three-day course costing £1,800 aimed at people who had been accused of sexual impropriety.
Dr Scott was not accused of sexual misconduct and refused to attend the course or undertake a psychiatric assessment. The GMC had twice ruled that the Christian doctor had not breached any of its guidelines.
Following the settlement with the NHS, Dr Scott will now take part in a one-day training course costing £500 relating to "professional boundaries". He said that he did try to "follow the General Medical Council guidelines and if you read them correctly, they allow you and encourage you to speak to patients about religion where it's relevant to their care".
"Some people are desperate for help and I can give any number of examples of people I've helped through spiritual care – which is done on my own time and fully consented." he added.
Andrea Williams, chief executive of the Christian Legal Centre, which supported Dr Scott, said: "Dr Scott is a highly experienced doctor whose life and career has been committed to serving his patients and community.
"He is loved and respected by his community which he has served for decades. His love for Jesus and dedication to his faith is also well known where he works and within the community.
"There is no evidence that Dr Scott's practice of praying with his patients has in any way interfered with his delivery of excellent medicine – in fact, quite the opposite."
NHS England has been contacted for comment.
That poor man. It's hard to imagine the stress he has been under for the past three years. I hope that he and his family have a blessed, relaxing Christmas this year.
House of Lords climate change paper
This month, the House of Lords published a paper on climate change — 'In our hands: behaviour change for climate and environmental goals'.
It's 140 pages long and a product typical of today's left-leaning peers, including a number of the Conservatives lurking there, too.
I've been reading the chapter called 'Behaviour change for climate and environmental goals', because this is what the average Briton will experience in the years to come via media bombardment.
Of course, the Lords worry about 'misinformation' and 'disinformation', meaning any evidence contrary to their Net Zero narrative.
This is from page 84 of the paper (page 86 in the PDF linked to above):
309. Several witnesses expressed concern about the spread of misinformation—incorrect or misleading information—and disinformation—deliberately deceptive information—related to climate change and the environment on social media. Carnegie UK described research carried out by the Institute for Strategic Dialogue (ISD), which compared the levels of engagement on social media platforms generated by reliable scientific organisations and climate sceptic actors respectively and found that the posts from the latter frequently received more traction and reach than the former. Carnegie UK explained:
"In the fortnight over which COP26 took place, sceptic content garnered 12 times the level of engagement of authoritative sources on the platform; and 60 per cent of the "sceptic" posts they analysed could be classified as actively and explicitly attacking efforts to curb climate change."530
310. Witnesses had several suggestions as to how misinformation and disinformation about climate change and the environment on social media could be tackled. Mr Smith suggested traditional broadcasters—like the BBC—must play an important role as "trusted sources" in a landscape of disinformation online. 531 Carnegie UK expressed concern that the Government's Online Safety Bill "does little to tackle climate change information", and proposed amendments to bring climate change disinformation into the scope of the draft Bill in a "proportionate manner".532
Pages 95 and 96 highlight the Conservative government's deficiences in bold text, paragraph after paragraph. Contrary to what the Lords say, this is a good thing.
Here are two sections, emphases theirs, from page 96 (page 98 of the PDF):
362. The public expect the Government to take a leadership role to enable behaviour change, but the Government's reticence to address key areas—such as what people eat, how we heat our homes, what we buy and how we travel—which is largely a result of a reluctance to be perceived as reducing freedom of choice, undermines individuals' willingness and ability to take action.
364. The Government should apply behavioural science to all its policies and initiatives. It should urgently review the Net Zero Strategy and policies and initiatives in place to deliver it and rectify where its six principles underpinning green choices are not being delivered.
Satan has obviously found a home on the cushy red benches of the Lords.
Good on the Conservative government in taking little to no action on this guff. Long may it remain so.
Starving mother struggles to feed children
This is another story that causes one to shake one's head in disbelief or despair.
It appeared on ITV News on Monday, December 19:
A mother-of-four from Bath says she is having to live off her children's leftovers because she no longer has enough money to pay for her own meals.
Victoria Walker will not be able to afford Christmas for her family as food prices continue to rise.
She rarely turns the heating on and tries not to eat so that her children can have food.
"Unless I really have to, I won't eat," she said. "I fill myself up with tea and coffee. I like the children to eat so I tend to have the leftovers."
Recently her 11-year-old daughter even started offering her pocket money to help buy food essentials like bread and milk.
She added: "It just makes me sad. It breaks my heart. Christmas is looking sad for me. I can't afford Christmas."
Victoria is receiving help from Action for Children, a charity created to help vulnerable children, young people and their families in the UK.
Unfortunately, the accompanying video, which can be seen at the link, undermines the mother-of-four's case for hunger.
ITV also showed her in their social media post about the story: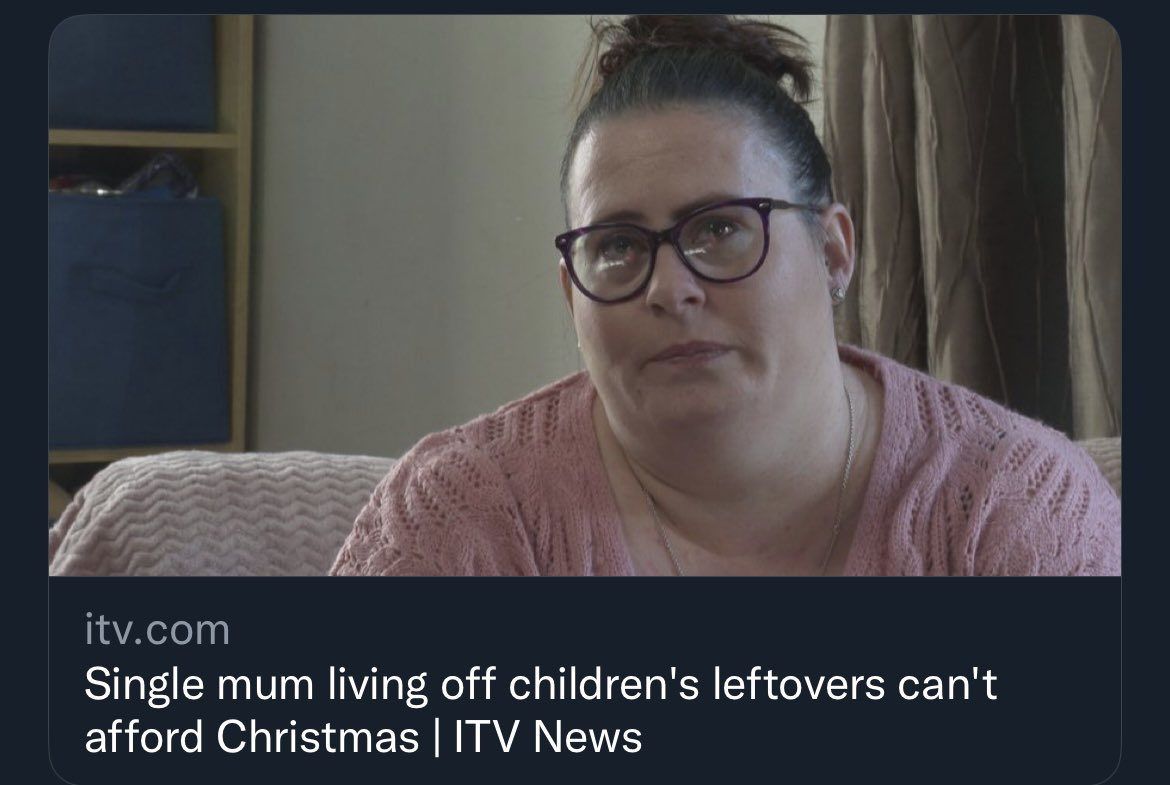 No further comment.
Political theatre: they're all friends, really
We mere mortals think that politicians from opposite sides of the spectrum oppose each other in real life.
However, the Queen's mourning period proved that what we see on television and read in the papers is nothing more than political theatre. I refer specifically to the gathering of hundreds of MPs, Prime Ministers and peers from past and present gathering to see King Charles take the Oath of Affirmation shortly after his mother died.
These men and women, whether Labour or Conservative, have a real rapport with each other.
On September 13, six days before Queen Elizabeth's funeral, The Telegraph's Tom Harris, a former MP himself, discussed the meeting of the Privy Council that day and featured a photo of former Prime Ministers Gordon Brown (Labour) and Boris Johnson (Conservative) sharing a laugh together.
Harris explained why this was not unusual:
Consider this: what if the Queen's death and preparations for her funeral were not forcing natural enemies to behave in public, but were allowing our political leaders the rare opportunity genuinely to enjoy each other's company? …
Cross-party friendships are always surprising to outside observers, though within Westminster's walls they are so common that they are rarely commented upon. True, the tea room, where most of the House of Commons gossip is shared, is strictly split up into party areas. But those demarcations are informal and there is much interchange and banter, including the sharing of tables by MPs of different parties.
The fact is that many MPs will feel more comfortable sitting in the smoking room after a late night vote, having a drink and sharing a joke with colleagues from the opposite party, than they will having a beer after a meeting of their local party. After all, outside those fraught occasions when constituency mergers and boundary changes are in prospect, an MP will see no rival when he gazes around the chamber of the Commons. Everyone there, by definition, already has a seat and is too concerned with holding onto theirs to cast envious eyes on their own.
It's a shame that friendships between MPs of opposition parties is the love that dare not speak its name. Only when tragedy rears its head do we catch a glimpse of those relationships. In a touching tribute to John Smith just a day after the Labour leader's unexpected death in 1994, John Major told of late night drinks in his study with his political rival, meetings which started off with drink singular and then progressed to the plural pretty quickly.
As an MP I would frequently join colleagues from different parties to sample Soho's various karaoke bars … These events were not unusual in themselves; what was unusual was how quickly, the day after, everyone once again sworn political enemies.
Ironic, then, that it is the speeches and barbs of the Commons and TV studio debates, not the joyful, slightly inebriated singing, that are the more performative. Constituents expect it. The first rule of Karaoke Club is that no one talks about Karaoke Club, not just because MPs can't be seen to be enjoying themselves during the week instead of keeping their heads down in the Commons library, but also because it just wouldn't do to be seen to be friends with the other side.
And, finally — Bruce Springsteen
On Monday, November 14, Bruce Springsteen cleared up a long-running argument — apparently — about the lyrics to his 1975 hit 'Thunder Road'.
The next day, The Telegraph reported:
The 73-year-old's fans have long disputed whether the opening line to 1975 hit Thunder Road begins with the slam of a screen door followed by "Mary's dress" either swaying or waving.
Knowing he would be asked about the crucial word during an appearance on US talk show The Tonight Show by host Jimmy Fallon on Monday, Springsteen arrived prepared with an original vinyl LP detailing the song's lyrics.
The Boss declared the LP had the lyrics incorrectly printed as "waves", adding that he had sung "sways" for nearly half a century …
The debate over the wording re-emerged on social media last year after two copies of the handwritten lyrics went to auction, one saying "sways" and the other "waves".
Springsteen's own publications also bear the hallmarks of confusion, with his 2016 autobiography Born to Run using "sways" and his website referring to "waves".
Jon Landau, Springsteen's manager and co-producer on Born to Run, said last year that the lyric was "sways" and that "any typos in official Bruce material will be corrected".
"That's the way he wrote it in his original notebooks," Landau said.
Good to know in case anyone starts a dispute about it after too much Christmas cheer.
More news to follow in the coming days.
Anyone who has missed the previous entries in the series of former Health Secretary Matt Hancock, now a backbench MP with the Conservative whip withdrawn, can catch up on Parts 1, 2, 3, 4 and 5.
I left off on Friday, June 25, 2021, with Dominic Cummings's Substack post on Hancock's and Boris Johnson's handling of the pandemic.
However, the big news that day was The Sun's front page — a 'world exclusive' — which had a large photo of Hancock handling a part of his assistant's anatomy. A security camera captured the image a few weeks before, when social distancing was still in place:
It was bad enough, as I wrote, that he lost all credibility with the Queen the day before when she aired her views to Boris during their weekly meeting.
But The Sun's scoop surely meant that Hancock's dictatorial time was up. And, lo, so it was:
UK coronavirus news: Matt Hancock's final 48 hours as Health Secretary (June 25-27)
That post included these tweets, the first about his marital situation …
… and the second and third featuring polls saying that Britons wanted him gone, especially under those circumstances:
It was a wonderful start to the weekend.
Matt Hancock's side of the story
In the final instalment of Hancock's Pandemic Diaries that the Mail published, he tells his side of the story. Emphases mine below.
Friday, June 25:
The Sun published the story at 2am as a 'world exclusive'. The picture was a grainy CCTV image of me and Gina embracing in my departmental office.
It was immediately obvious that the story would be huge.
I knew I had to get out of London, and my wonderful driver Mark came to pick me up very early and take me to stay discreetly in the countryside.
At about 8am, a welcome call from No 10: Dan Rosenfield [chief of staff] to say they'd got my back. He offered any support we might need, including sending a Conservative Party press officer to my house.
By 9am I'd had half a dozen sympathetic messages from ministerial colleagues: a terrible sign. They knew that I was in deep trouble.
Nadhim [Zahawi, Minister for vaccine deployment] sent me a piece of advice 'from a brother', which sounded very much like an appeal not to resign.
Meanwhile, I went back over all our movements and tried to think of any other rules we might be accused of breaking. Other than the one-metre-plus rule, I couldn't think of any. 'Should I do a fast apology for letting everyone down/breaching guidance?' I asked.
Gina thought it was a good idea, so Damon [Poole, media adviser] began crafting a short statement. I tried to focus on the words, but my head was spinning. The final version of the statement, which went out at lunchtime, accepted that I breached social-distancing guidance and said I was still focused on working to get the country out of the pandemic. I hoped it would quiet the furore.
Yet the story continued to rage: on all the news websites, on the BBC, on Twitter and on just about every other conceivable news outlet.
By mid-afternoon, there were still suggestions that we'd broken the law. It was categorically untrue, and Damon thought we needed to brief harder or put out another line. 'What's wrong with 'No laws were broken'?' I suggested.
Round and round in circles we went, trying to find the right words. Damon's mobile phone was practically melting, and I was more stressed than I have ever been in my entire life.
All afternoon, the 'what, when, where, who, why, how much?' questions continued. Journalists began suggesting I might have broken the Ministerial Code. I hadn't, but I could see the way this was going.
My local constituency association in Suffolk was wonderfully supportive. Allan [Nixon, special adviser] worked the phones, trying to get MPs to say something helpful.
My spirits lifted a little when William Hague [former Tory leader] publicly declared that I shouldn't resign. Not for long, though: by late afternoon it was clear tomorrow's papers will be hideous.
Saturday, June 26:
Privately, I was still getting positive messages from colleagues. Publicly, few were willing to defend me. Politically, I was increasingly isolated. I felt desperate for my family, my children and Gina's family and her children, and powerless to protect them. Worse was the knowledge that Gina and I had brought all this on them.
Gina's feelings of shame and guilt were nearly overpowering her. The jokes and cartoons on social media were excruciating. We were being publicly humiliated, again and again.
While close friends and family were amazing, I also had messages from friends and colleagues who had had terrible lockdown experiences and were very upset. Their disappointment in me – and their sense of betrayal – was agonising.
It is all my fault, of course. I knew I had to take responsibility. I knew in my heart that I had to resign.
I went to Chequers to see the PM. I explained that I had been thinking about what had happened and how it had made people feel – and that my mind was made up. The damage to my family and to the Government was too great.
I told Boris I had to resign.
He was regretful but didn't argue. We sat on the patio and talked about what this would mean for the management of the rest of the pandemic.
An exchange of letters was prepared, offering and accepting my resignation, and we each edited our letters. We had to decide how to make the announcement, what to say and how.
I must have shot a thousand videos over the course of the pandemic, levelling with the public and thanking the NHS for their dedication. This would be the last.
In the end, the great machinery of the State was nowhere. It was just me and the PM fumbling around with an iPhone. He stood on the grass, holding the phone while I said my piece. It took a few goes to get it right.
He nodded sympathetic encouragement so much throughout the first take that the camera waved up and down. In the end it wasn't perfect, but I was beyond caring: I had to get it out.
Now messages of sympathy and support flooded in: from my team, the Prof [Chris Whitty, the Government's Chief Medical Officer], JVT [Jonathan Van-Tam, the Deputy Chief Medical Officer], Pascal [Soriot, head of AstraZeneca] – and just about everyone else who worked so hard alongside us to save lives.
I'm incredibly grateful to all my team, especially my spads [special advisers] and private office, for going above and beyond in supporting me in what is such a difficult time for them, too.
'I'm so sorry,' I told them all. 'I mean, the honest truth is I made a mistake due to love and it doesn't matter that it was only guidance. I should not have broken advice that I myself signed off.'
This evening Jamie N-G [Njoku-Goodwin, former spad] whose endless advice – offered long after he stopped working for me – has been so valuable throughout the pandemic, messaged to say I'd done the right thing.
'There is so much you have done that you should be incredibly proud of. There are people alive today who wouldn't be if you hadn't made the decisions you did,' he said.
'I love her. That's what screwed my judgment,' I replied wretchedly. 'Love does that to us all. I hope you can both be happy,' he said.
'Of that I have no doubt,' I replied.
As for Boris – well, if anyone knows how to survive a catastrophic political and personal mistake, it's him.
'Time to dive beneath the ice cap,' was his advice.
Here's the awkward video from Sky News:
That concludes the Mail's excerpts from Pandemic Diaries. The paper posted the following (emphasis in the original):
Matt Hancock's book sale royalties will be donated to NHS Charities and good causes relating to dyslexia. 
Hancock is a dyslexic and had special tutoring to enable him to pursue his studies at Oxford University.
The book is available now. Someone on social media repositioned it at a bookshop in the Crime section: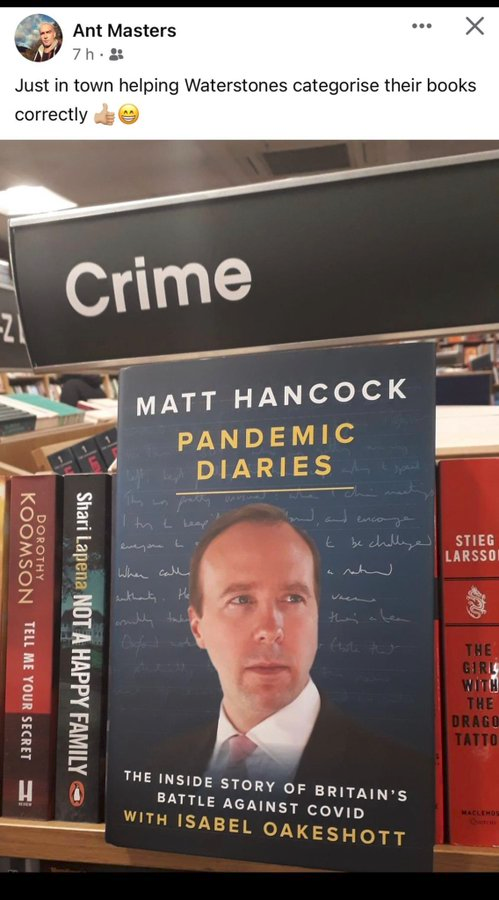 However, as my post on his last 48 hours as Health Secretary pointed out, Hancock told us in April 2020 that social distancing was more than guidance, it was an 'instruction'. I'd included this tweet as proof:
In the days that followed, Sajid Javid — Boris's first Chancellor — became our new Health Secretary. Questions whirled about the camera, security breaches and ministerial code breaches. Oliver Tress is the name Hancock's girlfriend's husband. He owns the Oliver Bonas chain of shops:
UK news: Sajid Javid's return to Cabinet as Health Secretary (June 27-28)
UK coronavirus news: will Matt Hancock be investigated? (June 28; Oliver Tress, restriction-free Wimbledon video)
MPs worried about Matt Hancock's security camera (June 28)
By now, most Britons know that Hancock met his girlfriend when they were undergraduates at Oxford. They both worked at the student radio station. Recollections from their contemporaries differ as to whether Hancock was part of the in crowd or whether he was a geek on its periphery.
Sky News's Beth Rigby put that period of history in perspective for us:
On June 26, 2021, The Telegraph explained how the woman got involved in Hancock's parliamentary career:
Gina Coladangelo started work for Matt Hancock during his short-lived Conservative Party leadership campaign in 2019, it has emerged.
Sources said Ms Coladangelo provided unpaid advice on the Health Secretary's bid to replace Theresa May.
The work coincided with Mr Hancock sponsoring a parliamentary pass at the same time for his longtime friend, who has worked as communications director of Oliver Bonas, the homeware store, since 2014.
Mr Hancock declared his candidacy during a broadcast interview on May 25 2019, saying "we need a leader for the future, not just now".
He quit the race on June 14 2019 – a day after coming sixth in the first ballot of Conservative MPs.
Ms Coladangelo was registered as holding a pass sponsored by Mr Hancock under her married name, Gina Tress, from June 2019.
Sources suggested she then started providing unpaid advice to Mr Hancock during the Covid-19 pandemic, before she was hired as a non-executive director at the Department of Health in September.
Her non-executive directorship also raised eyebrows. Who appointed her and how?
Tatler's profile of Hancock, published on June 28, told us:
… Both Hancock and Coladangelo, who were contemporaries at Oxford, have three children …
But, what of this relatively youthful minister? In 2014, he was touted as a junior minister with the skills 'to reach the top'. Certainly, academically, his results are a tour de force of excellence, a first at Exeter College, Oxford, in what many consider a politician's 'rite of passage', Politics, Philosophy and Economics (PPE). He worked briefly for a Tory backbench MP before breaking loose as an economist at the Bank of England specialising in the sterling money markets and on housing, before being sent to do a masters at Cambridge. On return, he was plucked out by George Osborne (in 2005) to join the Conservative economics team, later becoming the future chancellor's chief of staff, and a bonafide 'high-flyer'.
It was in 2010 that he became an MP for West Suffolk, and today – or at least before the lockdown – he balanced his time between his weekday home in London and his abode in Little Thurlow, in his Newmarket constituency, at the weekends. He has admitted that the work-life balance can sometimes be a challenge, explaining in an interview with the Financial Times in 2014, 'I pay a lot of attention to timetabling. Both my professional and social and family time gets booked up a long way in advance and then you have to be strict about it.'
Hancock married an osteopath, Martha Hoyer Millar, in 2006, and together they have three small children, a daughter and two sons as well as a dachshund called Hercules (which Hancock will occasionally document via his Instagram). With noble connections, Martha, a red head, is the granddaughter of Frederick Millar, 1st Baron Inchyra, a British diplomat who served as Ambassador to West Germany from 1955 to 1956. Baron Inchyra had four children, two sons and two daughters, their youngest, Dame Annabel Whitehead, was a Lady-in-Waiting to Princess Margaret and later to the Queen …
By his own admission, Hancock is fiercely competitive. He once, in 2012, trained as a jockey and won a race at the beating heart of British racing, Newmarket, in his constituency. Going the whole hog, he trained rigorously, shedding two stones and even seeking advice from champion jockey Frankie Dettori. He keeps it up; in December, 2019 he posted a video of himself galloping atop a racehorse on the Newmarket heath, summarising afterwards, 'absolutely exhilarating, every single time'.
It's been far from plain sailing for Hancock, he's overcome his own difficulties. One being dyslexia. His political career apparently practically ended before it even started, when a simple spelling mistake relayed the dead opposite of what he was trying to communicate. As a young Tory campaigner in Guildford he wrote an election leaflet. Instead of saying that candidate Nick St Aubyn wanted to 'unite' the community during the 2001 election, a then 22-year-old Hancock wrote: 'I want to untie the community'. The mistake was spotted after the leaflet had been printed and landed in 50,000 letterboxes. St Aubyn went on to lose the seat by 538 votes.
Hancock reportedly winces at the memory, but told the tale since he does not want other dyslexics growing up thinking they are 'useless' like he did. His wife, too, is dyslexic. He says he got on by focusing on numbers-based subjects, taking A Levels in maths, physics, computing and economics, but told the Telegraph, 'I wish I had been diagnosed earlier'.
Sheer hypocrisy
On June 25, before he resigned, the media rightly began enumerating Hancock's diktats and his own actions, proving the man's hypocrisy.
… How has the Secretary of State for Health and Social Care managed to cling on this long in the first place? …
As the man in charge of England's health system when the pandemic struck, he is accused of overseeing the disastrous discharge of Covid-positive hospital patients into care homes, mismanaging the supply of personal protective equipment, and the multi-billion pound failure that is NHS Test and Trace.
According to Mr Cummings, Mr Hancock "lied" to Mr Johnson and the public about much of this …
Mr Hancock strenuously denies much of this.
Nevertheless, it comes on top of allegations that he awarded a lucrative contract to supply the Government with tens of millions of Covid test vials to a former neighbour, who lacked experience producing medical supplies after he received a WhatsApp from him.
He also committed a "technical" breach of the ministerial code by failing to declare that a firm run by his sister, in which he has a 20 per cent stake, had been awarded an NHS contract …
The danger lies in the familiar territories of hypocrisy and the alleged "chumocracy" of the Johnson administration.
If Mr Hancock's embrace of Ms Coladangelo contravened government guidelines, as he has now admitted it did, many will remember his reaction to last year's Neil Ferguson scandal, where he suggested it could be a matter for the police, not to mention countless hugs with loved-ones missed over recent months.
Meanwhile, if evidence emerges suggesting that Ms Coladangelo was brought into the Government because of her personal relationship with Mr Hancock, rather than her expertise, the rap sheet all too quickly becomes too heavy to survive.
The Spectator's Steerpike, their gossip columnist, posted 'Nine times Matt Hancock told us to obey the rules', most of which follows (bold dates in the original):
From threatening to ban outdoor exercise and close the beaches to advising against sex outside 'established' relationships, Mr S presents his round-up of Hancock's best/worst moments:
9 February 2021:  Ten years in jail for Covid returnees
Hancock announced that people returning from holidays who conceal that they've been in a red list country would face a prison sentence of up to ten years …
1 February 2021 'Don't even think about stretching Covid rules'
At another No. 10 press conference, Hancock gave an update on the South African variant in which he said that those living in postcodes affected by the mutation should 'not even think about stretching the Covid rules.'
10 January 2021: Hancock claimed that flexing of rules 'could be fatal'
The Health Secretary appeared on the Andrew Marr Show where he was asked about the police fining two women who went for a walk five miles from their homes. Hancock told Marr: 'Every time you try to flex the rules that could be fatal' and that staying at home is the 'most important thing we can do collectively as a society.'
24 September 2020:  Hancock warned people to 'be sensible' when having sex during lockdown
Asked about the government's guidance that only 'established' couples should be having sex, Hancock told Sky News: 'There have to be boundaries, to coin a phrase.' He warned against casual sex, advising the public to stick to 'well-established relationships' and joking, 'I know I am in an established relationship,' with his wife …
5 July 2020: Hancock threatened to shut down non-compliant businesses
In an interview with Sky Hancock said: 'We also have the authority to shut down a business if it doesn't follow that [Covid] guidance.' When asked by Sophy Ridge if he is 'looking at shutting down businesses' Hancock replied: 'Yes and that's happened, absolutely'. He added: 'We're not just asking nicely, we're very clear to businesses that these are their responsibilities.'
25 June 2020: Hancock theatened to close the beaches
After sun lovers flocked to the seaside on Britain's hottest day of the year, Hancock warned that he could close beaches …
5 April 2020: Hancock threatened to ban outdoor exercise
At the beginning of the first lockdown, Hancock criticised sunbathers and warned the government would ban outdoor exercise if people continue to ignore government advice. He said on Sky that those who flout the guidance were 'putting others' lives at risk and you are putting yourself in harm's way'. He told Andrew Marr that same day: 'I don't want to have to take away exercise as a reason to leave home… if too many people are not following the rules.' He added: 'If you don't want us to take the next step and ban exercise… then the message is very clear… you have to follow the rules.'
Sickening.
The Mail has a report with reactions from several journalists also calling out Hancock's disgusting hypocrisy, well worth reading.
Questions, questions
Also on June 25, The Spectator's Isabel Hardman asked:
Why was it appropriate for Gina Coladangelo to have a parliamentary pass, to become an unpaid adviser at the department and then to receive the paid non-executive director post?
… the important matter here isn't the affair: these things happen and they're not normally anyone else's business. But where it becomes other people's business is when the affair is interlinked with government business and taxpayer's money. 
Then there's the hypocrisy charge, not just from someone in a government that has restricted personal freedoms so much this past year, but from the very minister responsible for the lockdown legislation and guidance. 
Questions about the camera and security were many.
At lunchtime that day, The Telegraph reported:
The Government Security Group, which is in charge of security at 800 buildings across Whitehall, has been asked to investigate, with Alex Chisholm, the Cabinet Office Permanent Secretary, expected to be in charge of an inquiry.
There have also been calls for MI5 to get involved in order to rule out any involvement from hostile foreign states.
Government insiders said it is "unheard of" for security cameras to be placed in the offices of Secretaries of State, raising questions about whether the footage of Mr Hancock was filmed on a pre-existing camera or could even have been filmed by a camera deliberately placed there to catch him out.
Day-to-day security at government buildings is typically contracted out to private firms, though the Department of Health and Social Care has yet to confirm if this was the case at their offices in London's Victoria Street …
One source said: "There are an awful lot of questions that need answering. Lots of government buildings have cameras outside offices that film people going in and out, but I have never seen one inside a Secretary of State's office. It's unheard of.
"What was that camera doing there, was it even a CCTV camera, and did Matt Hancock know it was there?
"More importantly, who is it that has access to what is going on inside that office? We are talking about people being able to spy on a Secretary of State, so this is a serious breach of security, regardless of what you think of Matt Hancock's behaviour" …
Among the questions the Government Security Group will have to answer is whether proper vetting was carried out of staff who have access to CCTV footage, and whether they have been required to sign the Official Secrets Act.
Breaches of the Official Secrets Act can carry a maximum punishment of 14 years imprisonment.
The paper had a follow-up article that evening:
The Telegraph understands Mr Hancock had no idea the camera existed when it captured him kissing adviser Gina Coladangelo …
It raises the possibility that the camera was deliberately placed by someone with access to his office with the intention of catching the pair cheating on their spouses and breaking Covid rules. It is the first time a Cabinet minister has been filmed in their own office without their knowledge.
In a further twist, the Department of Health and Social Care's offices use CCTV cameras made by the Chinese company Hikvision, which is banned in the US because of national security concerns …
One theory being investigated is that the footage was filmed by someone on a mobile phone as it was being played on a CCTV screen, which could make it more difficult to prove who was responsible.
While the revelation could spell the end of Mr Hancock's Cabinet career, the leak has also triggered a red alert in the Government over who could be spying on the country's most senior ministers …
A source told The Sun that the pair had regularly been caught embracing and that their affair was an open secret among staff. The newspaper claimed the footage was released by a whistleblower disgusted that Mr Hancock was breaking Covid rules while telling people to obey them.
At the time, the country was in stage two of the lifting of lockdown, meaning hugging anyone from outside your own household was banned. On Friday, Mr Hancock admitted breaching social distancing guidance and said he was sorry for having "let people down" …
The £144 million building is owned by Singapore-based property firm Ho Bee Land, which bought it five years ago and has not so far responded to requests for comment.
Cameras on the outside were made by Hikvision, which is owned by the Chinese state and banned in the US because of national security concerns and alleged human rights violations. The firm is alleged to have provided cameras that monitor Uighur Muslims in concentration camps in Xinjiang …
One covert security expert said: "In all my years of working in this field I have never known a camera to be positioned inside an office like this. An office is a private space and that raises all sorts of issues.
"The camera is facing the door so it will give you a record of who is coming and going. But if you wanted to do that you would place the camera outside of the office in the corridor. Also, the angle of the camera is all wrong because if someone walks into the office with their head down this will not be able to see their features. To me it smacks more of a small covert camera that has been placed in a light fixture" …
The fact that the camera was part of the overall CCTV network ruled out any suggestion that Ms Coladangelo could have been behind the leak, and friends of Dominic Cummings, the former Downing Street special adviser who has waged a campaign against Mr Hancock since leaving his job last year, insisted he had nothing to do with the leak.
One government source suggested it was possible the camera had been placed in the office to increase security as a result of the Covid pandemic, while another person familiar with the layout of the office speculated that extra cameras could have been put there because it has a balcony, making it more vulnerable to break-ins …
Indignity for his wife
On Saturday, June 26, the papers had stories about what was happening in the Hancock's marital home.
The Mail's first report was 'Callous Matt Hancock dumped wife on Thursday after learning his affair would be finally exposed':
Matt Hancock dumped his university sweetheart on Thursday night after learning video footage of him kissing an aide in his ministerial office would be exposed.
The ex-Health Secretary, who announced his resignation this evening, raced home to tell his wife of 15 years that he would be leaving her after he was contacted by The Sun newspaper over his affair with Gina Coladangelo …
Martha Hancock, a 44-year-old osteopath, had no clue about the affair until her husband told her their marriage was over, reports The Sunday Times …
The reports of the affair came just weeks after Hancock was seen enjoying lunch out with Martha – the granddaughter of Frederick Millar, 1st Baron Inchyra – in London.
The pair were seen waiting for a taxi after eating at Exmouth market in the capital.
They were last seen together in public at the England vs Scotland Euro 2020 match at Wembley a week ago …
Mrs Hancock is said to have met her future husband while they were students at Oxford University. Both are dyslexic and he once revealed that the condition helped them bond. 
Descended from a baron and a viscount, Mrs Hancock had a privileged upbringing. Her father, Old Etonian Alastair Hoyer Millar, 84, was secretary of The Pilgrim Trust between 1980 and 1996. The organisation supplies grants to preserve historically significant buildings or artefacts. 
Her mother, Virginia Hoyer Millar, 70, an antiques dealer, was yesterday pictured comforting her daughter in the street by putting her arms around her shoulders. They also linked arms as they strolled around North-West London.  
The couple [the Hancocks] divide their time between London and their West Suffolk constituency home, where there was no sign of Mr Hancock following his resignation.
The ex-Health Secretary wrote in his letter: 'The last thing I would want is for my private life to distract attention from the single-minded focus that is leading us out of this crisis.
'I want to reiterate my apology for breaking the guidance, and apologise to my family and loved ones for putting them through this. I also need (to) be with my children at this time.'
Another report from the Mail followed that day, discussing Conservative MPs' disgust with their colleagues and more information about the respective marriages involved, complete with photographs:
… Mrs Hancock looked sad and upset as she left the couple's home but didn't speak to reporters about her husband's alleged infidelity.  Her husband was nowhere to be seen, however, she was still wearing her wedding ring.    
The shutters were closed at the £4.5million South London home Mrs Coladangelo shares with Oliver Tress and their three children yesterday. They are also believed to have a country home near the West Sussex coast. She has been working as an advisor for Mr Hancock since last year, with one source saying: 'Before Matt does anything big, he'll speak to Gina' …
Mr Hancock was meant to be at Newmarket Racecourse to visit the vaccination centre but a spokesman revealed he cancelled at the last minute 'early this morning'. 
A Department of Health probe into how the footage from outside Mr Hancock's office was leaked is expected, with the whistleblower described as a former civil servant who was angry about his 'brazen' affair, adding: 'They have tried to keep it a secret but everyone knows what goes on inside a building like that' …  
Mrs Coladangelo was appointed as a non-executive director at the department in September, meaning she is a member of the board.
She can claim up to £15,000 in taxpayers' money in the role, though there is no public record of her appointment …
The woman Matt Hancock has been allegedly having an affair with is married to the millionaire founder of fashion firm Oliver Bonas and has worked as its communications director for the past seven years. 
Gina Coladangelo, 43, knows the Health Secretary from Oxford University, where they both worked on the student radio station and studied politics, philosophy and economics (PPE) – and where he also met his wife Martha, 44. 
Mrs Coladangelo remains Facebook friends with Mr Hancock's osteopath wife – with whom the Conservative politician has two sons and a daughter – after they both graduated from the university at around the same time. 
And they all reside in London, with Mrs Coladangelo living with her multi-millionaire fashion tycoon husband Oliver Tress and their three children in Wandsworth, while the Hancocks live in Queen's Park with their children … 
Mr Hancock met Mrs Coladangelo when they worked on Oxford student radio together in the 1990s. Mr Hancock was a minority sports reporter on Oxygen FM and they would have socialised together at Exeter College, Oxford.
… Mrs Coladangelo went on to marry Mr Tress, 53, who is founder of fashion chain Oliver Bonas, named after his ex-girlfriend Anna who is cousin of Prince Harry's former partner Cressida Bonas.
It is not known exactly when Mrs Coladangelo and Mr Tress wed, although they were listed on the electoral roll together with her maiden name as recently as 2008, and then her married name of Gina Tress by 2011.
Mr Tress founded Oliver Bonas in London in 1993 with handbags and jewellery he had brought from Hong Kong where his parents lived, and his wife began working there in June 2014 after 11 years at Luther Pendragon. 
They live together in a five-bedroom detached property believed to be worth around £4million in Wandsworth, South West London, on a quiet tree-lined street with residents-only parking bays that is popular with families.
Many of the cars parked in the street – which is a 20-minute drive away from Central London – are top-of-the range BMW 4x4s and Volvos. Neighbours of Mrs Coladangelo remained tight lipped and refused to comment.
But one visiting workman who left a neighbouring home was unimpressed by Mr Hancock. He said: 'The guy had been caught bang to rights on film. He will have to do some smart talking to get out of that one with the wife.'
The Spectator's editor, Fraser Nelson, called readers' attention to a Sunday Times report saying that Hancock took his girlfriend to a G7 summit:
The Sunday Times has something more significant: that Hancock took Mrs Coladangelo to the G7 health ministers' summit, raising questions about whether they stayed together (the event took place a month after their being filmed canoodling in his office). The brilliantly-informed Tim Shipman has a devastating quote from a Cabinet source.
She went with him to the G7 health ministers summit. Did he disclose this to the PM? If it was shown he was shagging on the taxpayer he had to go. He's been puritan-in-chief in the government and now it turns out he's a massive, lying hypocrite.
… In this week's magazine, Kate Andrews has dossier of how ministers have been living la vida loca, travelling globally at a time when they made it illegal for others to do so. All within the loophole-addled rules, yes, but generally conducting themselves in a way that others have been unable to do.
The girlfriend's brother
More news emerged on June 26, this time concerning Hancock's girlfriend's brother.
Sky News reported:
A relative of the Whitehall director alleged to have had an extramarital affair with Matt Hancock, the health secretary, is an executive at a private healthcare company which has won a string of NHS contracts.
Sky News can reveal that Roberto Coladangelo – who is Gina Coladangelo's brother – works at Partnering Health Limited (PHL Group), a specialist in the provision of urgent and primary care services to NHS patients …
People who know Mr Coladangelo said that he and Mr Hancock's aide were siblings, and social media profiles and electoral roll data appear to confirm a relationship between them.
None of those contacted by Sky News on Friday afternoon would confirm or deny the relationship between the Coladangelos.
Weekend papers
The weekend papers were magic for those of us rejoicing over Hancock's resignation:
Also see The Observer and The Sunday Telegraph.
Of the resignation news, the redoubtable Peter Hitchens tweeted that it was sad that the government didn't believe in their guidelines but the public did — 'our tragedy':
He added that, given all the damage Hancock caused Britain, it was ironic an illicit grope brought him down:
Maybe that's why Hancock wants to return to private life after the next general election. Will the formal coronavirus inquiry advance that far in two years' time? If not, he could be safe in the knowledge he won't be asked to testify.
No. 10: photos 'in the public interest'
On July 16, The Telegraph had a follow-up on The Sun's photos: 'Leaked Matt Hancock CCTV footage was "in public interest", says Boris Johnson's office':
The leaked CCTV footage which exposed Matt Hancock's affair was in the public interest, the Prime Minister's spokesman has said, as an investigation into an alleged data breach continues.
Two people suspected of recording the film without consent had their homes raided on Thursday by officials from the Information Commissioner's Office (ICO).
Police and Crime Commissioners have also called for the police to launch an urgent investigation amid concern over the security of government buildings.
But the Prime Minister's official spokesman said Boris Johnson believed in the importance of a free press being able to investigate matters that were in the public interest …
Excellent!!!
There ends the resignation saga.
A final instalment on Hancock's time as a backbencher will come next week.
It amazes me that people still need to be told what constitutes a happy romantic relationship. Even worse is an emerging trend for ditching the marital bed.
Signs of love
On Wednesday, November 23, The Times published the results of a Costa Coffee-sponsored poll of 2,000 adults who gave ten key signs that a romantic relationship is a lasting one. The conclusion follows:
The top ten signs of love
1. Regularly asking if your partner is OK — 58% of respondents
2. Always having each other's back — 56%
3. Saying "I love you" daily — 53%
4. Making time for intimacy — 50%
5. Telling your partner they look nice — 50%
6. Being able to sit in silence without awkwardness — 49%
7. Holding hands — 47%
8. Knowing how the other feels, without having to ask — 46%
9. Regular banter — 40%
10. Never going to bed until an argument is resolved — 39%
The first sign — 'regularly asking if your partner is OK' — is off-putting. I would go barmy if I were asked that. Maybe I'm too old or have been married too long.
I also disagreed with two that, thankfully, didn't get enough votes to make the Top 10:
Amid the challenges of modern dating, allowing your partner access to your mobile phone was a sign of true love for less than 20 per cent of respondents, while only 11 per cent said that it was shown by liking each other's posts on social media.
Good grief. Allowing someone else access to one's mobile phone is like giving them access to one's email account. What are people thinking? And who cares about liking each other's posts on social media? Again, I'm too old for such fripperies.
For me, in the budding stages of a relationship, this one is the most important:
6. Being able to sit in silence without awkwardness — 49%
If one can do that early on, it will last for the rest of the relationship.
In a well-established relationship, this one is the most important:
10. Never going to bed until an argument is resolved — 39%
This one comes as a close second:
9. Regular banter — 40%
It was heartening to read this statistic:
The study of 2,000 Britons commissioned by Costa Coffee showed that eight in ten of those in happy relationships believed love was the most important thing in the world.
The Times then followed up with an antidote to the survey. Stuart Heritage wrote about what really matters — to him, anyway — in a relationship (emphases mine):
If you have the strength to drag yourself away from your phone for long enough to say good morning to the person you've chosen to spend your life with, you must be in love. With that in mind, here's an alternative, much more accurate list of love's definitive hallmarks.
Taking the bins out before they overflow

Remembering your anniversary (the date, not the number of years)

Hanging out with their awful friends without being too outwardly hostile

Telling them when yesterday's underwear is poking out of their trouser leg

Eating in the same room together

a minimum of once a week

Coming up with the perfect insult but being self-aware enough not to say it out loud

Taking the things that have deliberately been left on the stairs to the top of the stairs

Remembering not to put the cast-iron pan in the dishwasher again

Knowing when to take the children away for a few hours

Daily eye contact

Not talking all through the start of a movie, leaving you both unsure of what the movie is about

Agreeing on the optimum temperature of a room

, instead of passive-aggressively wrestling with the thermostat when the other one isn't looking

Having sex all the way through without checking your phone
There were several more, but you get the idea.
One thing he did not put on his list is daily touching — lips, shoulders, hands — which is just as important as daily eye contact.
Again, it must be a generational thing, but I cannot imagine being intimate with someone and checking one's phone at the same time.
Ditching the marital bed
Around the same time the British survey appeared, The Times posted a report from their Paris correspondent Charles Bremner about an Ifop poll — 'Couples opt for separate rooms and less ooh-la-la':
A recent study found that 10 per cent of cohabiting couples sleep in different rooms and a further 6 per cent would like to but fear the consequences.
Young people are increasingly eschewing the same room. More 20 per cent of couples aged 65 and over sleep in separate rooms, the Ifop study found. Contrary to what might be assumed, however, the pandemic and its lockdowns did not accelerate the decline in sleeping together, Ifop said.
The French blame the Catholic Church for the marital bed. I've never heard of a crazier thing. What about every other country and culture?
For centuries, French couples were told by the church that their duty was to sleep in the same bed. But as Christian practices decline, increasing numbers are opting for separate rooms, with the blessing of experts who say there is no reason to feel guilty …
The shift reflects the fading of the obligation that was imposed by church and society since Thomas Aquinas decreed in the 13th century that "the couple must have their bed and their bed-chamber". The duty of the single bed, never observed by French aristocracy and royalty, was in full bourgeois force when Honoré de Balzac wrote in the 19th century, "The bed is all of marriage".
Yes, I am aware of separate bedrooms. The Queen and Prince Philip had their own rooms, and Downton Abbey had them, too.
However, how can one not want to sleep with one's nearest and dearest, barring severe or chronic medical problems? Maybe I'm too much of a romantic.
Experts are telling French couples not to feel guilty if they have or want to have separate sleeping arrangements:
Couples are now being told that while physical intimacy may suffer, "la chambre à part" does not necessarily mean failure and can be healthy. "It is not so natural to sleep with another person," Pascal Anger, a psychotherapist, said. "When you ask people if they feel good at night, they shrug and say 'not as good as all that," he told RMC radio.
What's unnatural about sleeping with the one you love? This all sounds rather selfish:
François de Singly, a sociologist, said: "Modern individuals want more and more to retain their personal identity without giving up the company of the other." Damien Léger, head of the Sleep Centre at the Hôtel-Dieu university hospital in Paris, said the tradition of bed-sharing is cultural, not natural. "It's not obvious for a lot of people," he said.
It sounds like some of the devil's finest work, especially when explained like this:
Advice has been coming from Jean-Claude Kauffmann, a sociologist and author of "A Bed for Two: The tender war", a noted book on sharing lives, in or out of wedlock. "Fifty years ago, the roles were well defined. You began life as a couple with marriage which meant sharing the same place," he said. "We're now in an era when you don't want to disappear as an individual… This phenomenon is being embraced as a new way of being a couple," he told Le Parisien newspaper.
My feelings will be well and truly hurt if that ever happens to me.
Snoring, probably the most common complaint, can be easily solved by rolling up the bed pillow underneath one's neck before going to sleep. With a down pillow it's comfy, and one breathes properly.
The Times offered another perspective. Alice-Azania Jarvis suggested separate duvets, saying she could appreciate the survey results:
I can relate. Or, at least, I could. For years I, too, was separation-curious. In the small hours, after yet another tug of war over the duvet, nothing was more appealing . . . but in the cold light of day, full sleep divorce seemed a step too far. Never mind the lack of intimacy: we live in central London and just don't have the space.
I know, from conversations with friends, that I am not alone. Which is why I'd like to share what has proved a life-changing, no exaggeration, solution. It won't insulate you from snoring (that's what earplugs are for) but neither will it necessitate the addition of an extra wing, nor the requisitioning of your home office. Crucially, it is almost totally free from unsexy housemate vibes. It is this: separate bedding.
I promise, it is magic. My husband and I discovered this happy fact long before we were married, after a tip-off from another couple. I admit, I was sceptical, and reluctant to introduce any more laundry into our lives. But that first night was a revelation — the freedom to hog my own duvet, the luxury of a full cocoon. My husband loved it too: aggressively possessive in sleep, I've been known to kick, hard.
We've never looked back. Over the years, this arrangement has evolved to accommodate our individual preferences: a sheet or very light duvet for me (no overheating), the full marshmallowy shebang for him. It looks a little strange, but we have a pleasing bedspread, and an elaborate selection of scatter cushions, which cover the worst sins.
Now that's the sort of advice worth reading and following.
The Christmas widow
At the same time the aforementioned surveys appeared an 'Anonymous author' first-person story showed up in The Telegraph: 'How did I become a Christmas widow?'
Surely, if one is married, one of the highlights of the year is spending Christmas together, right?
Not so for one husband, who prefers to be away from his wife and children for most of the day. I wonder what their sleeping arrangements are like.
She writes:
For the last four years I have become a Christmas widow. I have my children, aged 17 and 12, to keep me company but my usually attentive husband is nowhere to be seen. My children and I will eat a Christmas lunch – turkey and all the trimmings – without him. We'll watch the King's speech wondering when he'll get back. We'll play charades with no dad jokes to laugh at. 
At around 4pm my husband will come in, all smiles and laughter, re-heat his Christmas dinner and sit with it on a tray on his lap on the sofa. From this position, he'll regale us with all the selfless things he's done that day. 
For the past four years my husband has volunteered every Christmas in a homeless shelter. He stands behind a counter in a pinny handing out lunches to those in need. It's supremely ironic that he finds such fulfilment in this, because he never lifts a finger in our kitchen at home. 
Hmm.
She must be kicking herself:
I married my husband because I loved his big heart and unquenchable kindness. In fact, it was me who introduced him to this homeless shelter through a friend who also volunteers there.
This is where selflessness can go wrong:
I was proud of him at first but over the years he's become a boastful virtue-signaller whose do-goodery turns my stomach every Christmas. He goes on and on about it for the rest of the day and most of the Christmas week, telling all our friends and visitors of who he met and their troubles. I roll my eyes at girlfriends and relatives hoping he'll shut up. To be honest, it all bores me. 
Originally, the idea was that his design company would help make signs and leaflets for this charity, but he became more and more chummy with the organisers and slowly started to get more and more personally involved until we got to where we are now: he a virtue-signalling bore and me a Christmas widow.
According to her, he wants to get the children involved:
This year it's got even worse, as he has started asking our children to go with him. The eldest would never be up in time anyway, but I put my foot down about the youngest. He deserves a Christmas he can enjoy and remember, opening his presents, not serving up gravy to people he's never met before and who I believe might well have a host or problems he is too young to understand and not equipped to deal with. 

I understand what she's saying:
I long to have a relaxed Christmas lie-in with him, to exchange gifts, and hold his hand as the children open up the presents we've carefully picked out for them, watch our favourite Christmas films and perhaps even get a bit of help serving lunch. It's really not the same toasting your 12-year-old while the 17-year-old stares at their mobile phone.
I may come across as heartless. I may come across as selfish, but is it so wrong to want my husband home, present and there for our one special day of the year as a family?
However, he might be one of those people who doesn't like the home rituals of Christmas very much.
As the article is behind a paywall, I cannot read the comments to it.
This one has me torn. I can appreciate both points of view.
What do you think? Feel free to comment below.
The Twenty-first Sunday after Trinity is November 5, 2022.
Readings for Year C can be found here.
The Gospel reading is as follows, emphases mine:
Luke 20:27-38
20:27 Some Sadducees, those who say there is no resurrection, came to him
20:28 and asked him a question, "Teacher, Moses wrote for us that if a man's brother dies, leaving a wife but no children, the man shall marry the widow and raise up children for his brother.
20:29 Now there were seven brothers; the first married, and died childless;
20:30 then the second
20:31 and the third married her, and so in the same way all seven died childless.
20:32 Finally the woman also died.
20:33 In the resurrection, therefore, whose wife will the woman be? For the seven had married her."
20:34 Jesus said to them, "Those who belong to this age marry and are given in marriage;
20:35 but those who are considered worthy of a place in that age and in the resurrection from the dead neither marry nor are given in marriage.
20:36 Indeed they cannot die anymore, because they are like angels and are children of God, being children of the resurrection.
20:37 And the fact that the dead are raised Moses himself showed, in the story about the bush, where he speaks of the Lord as the God of Abraham, the God of Isaac, and the God of Jacob.
20:38 Now he is God not of the dead, but of the living; for to him all of them are alive."
Commentary comes from Matthew Henry and John MacArthur.
Last week's reading about Zacchaeus was near the end of Luke's 10-chapter long account of our Lord's final lessons to His disciples and the Pharisees, along with His final healing miracles to those in the crowds following Him.
We are now in the middle of Holy Week.
John MacArthur says of the timing of this story:
… this is Wednesday … Matthew, in fact, gives the parallel account to Luke in Matthew 22.  Mark gives a parallel account in Mark 12.  Matthew says they came on the same day.  The same day as the prior questioning by the Pharisees which puts it on Wednesday. 
Wednesday was a busy day for Jesus, the last week of His life.  He is crucified on Friday.  On Wednesday He's teaching in the temple, and He is in dialogue with the people, and He is in conflict with these leaders.  The Pharisees have come after Him.  The Herodians have come after Him.  And now it is the Sadducees' turn.  And they are furious at Jesus. 
Matthew Henry's commentary says that the Sadducees were the theological free-thinkers of their era, as they did not believe in the resurrection of the body:
I. In every age there have been men of corrupt minds, that have endeavoured to subvert the fundamental principles of revealed religion. As there are deists now, who call themselves free-thinkers, but are really false-thinkers; so there were Sadducees in our Saviour's time, who bantered the doctrine of the resurrection of the dead and the life of the world to come, though they were plainly revealed in the Old Testament, and were articles of the Jewish faith. The Sadducees deny that there is any resurrection, any future state, so anastasis may signify; not only no return of the body to life, but no continuance of the soul in life, no world of spirits, no state of recompence and retribution for what was done in the body. Take away this, and all religion falls to the ground.
II. It is common for those that design to undermine any truth of God to perplex it, and load it with difficulties. So these Sadducees did; when they would weaken people's faith in the doctrine of the resurrection, they put a question upon the supposition of it, which they thought could not be answered either way to satisfaction. The case perhaps was matter of fact, at least it might be so, of a woman that had seven husbands. Now in the resurrection whose wife shall she be? whereas it was not at all material whose she was, for when death puts an end to that relation it is not to be resumed.

Marriage is an institution meant for this life; it will no longer exist in the next. Jesus's teaching appeared in an old episode of Larry David's Curb Your Enthusiasm several years ago. Larry told his Gentile wife that they would no longer be married in the next life. She became very angry, indeed. He said, 'But it's true!' If I remember rightly, he chided her for not knowing the New Testament, which made her even angrier.
MacArthur has a fascinating account of the Sadducees' ties with Rome, even though they were the top of the elitist heap that made up the Sanhedrin. Their links with Rome, which made them very rich, angered everyday Jews who experienced the corruption at the temple in Jerusalem, particularly with regard to purchasing animals for sacrifices:
When you study the gospel accounts, you don't see the Sadducees very often.  You don't see them in Jesus' ministry in Galilee.  You don't see them as He's moving around in the land of Judea.  Where you see them is where they always were, and that's at the temple.  They come into play at the times that Jesus cleanses the temple. 
He did it at the beginning of His ministry.  He did it again at the end … in chapter 19.  They ran the temple operation, very lucrative, very powerful.  They were wealthy.  And Jesus interrupted their very successful business.  They hated Him.  They were furious at Him for what He had just done a matter of hours before this event in cleansing the temple, throwing out the buyers and the sellers and the moneychangers.  And so He had assaulted them.  Just as He had assaulted the theology of the Pharisees, He had assaulted the economics of the Sadducees.  They had the power over the temple operation.
Now let me just give you a little more background about them.  Politically, they were eager to cooperate with Rome.  Since there was no resurrection, since there was nothing to be worried about in the life to come, they put all their stock in this life.  They went after all the power, all the wealth, all the position, all the control that they could get.
And in order to do that, they had to cooperate with Rome because they were an occupied country under Roman power.  It was the Romans who gave them the right to do what they did.  They had a delegated authority from the Romans.  And so they did everything they could to kowtow to Rome to make sure they curried the favor of Rome to keep their position.  The people hated them.  They hated them.  That's why there weren't many of them.  It wasn't a popular thing to be. 
The people hated them for their accommodation to Rome and they hated them for the corruption of the system to which the people were subjected every time they came to the temple.  They pursued policies that pleased Rome, and therefore they pursued policies that angered the Jews.  And their corrupt temple operation was a continual irritation to the nation.
When the temple was destroyed in AD 70, the Sadducees disappeared:
… in the destruction of 70 A.D. when the Romans finally had all they could take from the Jews who were rebelling against them and came in and destroyed Jerusalem, destroyed the temple, crushed the nation, actually massacred people in up to a thousand towns and villages around Israel, when the Romans finally brought it all down, the Sadducees ceased to exist.  Once their priestly position and power was broken their history was over.
Although the Sadducees were free-thinkers when it came to the resurrection of the body and everlasting life, they were more fundamentalist than the Pharisees when it came to interpreting Scripture for the ordinary Jew:
Religiously, they were very narrow and very strict.  Some people have thought that they were liberal.  They were liberal in the sense that they didn't believe in resurrection and angels and spirits and that's a view like liberal theologians take today.  But in applying justice in the land and in applying the law, they were … cruel.  It was part of how they kept their power to be cruel. 
Josephus tells us they were more savage than any other group of Jews.  The Pharisees, he says, does Josephus, were lenient in dealing with people compared to the Sadducees.  They were brutal in enforcing their will upon the people as they interpreted the Law of God in order to keep their power and position.  They were viewed, then, as fundamentalists and traditionalists who refused to accept the oral law and the scribal law.  Which, by the way, the Pharisees fully accepted.  The Pharisees accepted Scripture and the oral tradition and the scribal writings.  But the Sadducees did not.  They only accepted Scripture. 
They prided themselves on being committed to the pure faith, nothing more.  They interpreted Mosaic Law more literally than any others and were fastidious beyond all others in the matters of Levitical purity … 
They ended up like that because they honoured only the Pentateuch, the first five books of the Bible, the books of Moses:
Now the question comes, how in the world could they call themselves literalists, fundamentalists, traditionalists, purists, adhering to Scripture and not accept the Scriptures that I read to you about resurrection?  And the answer is they very likely held to the primacy and the priority of the Mosaic Law, that is the five books of Moses, the five books of Moses, the Pentateuch, the five books.  Everything was subordinated to the books of Moses.
Since they were protectors of the pure faith, they apparently affirmed the absolute priority of Moses.  And they said all other books in the Old Testament are merely commentaries on those five books, and since nowhere in those five books is resurrection mentioned, therefore resurrection is not a part of the pure faith, and any other attempt to talk of resurrection is an aberration, even by another Bible writer.
The doctrine of resurrection life cannot be found in the Pentateuch, they said, so resurrection as a reality must be rejected, since all of the rest of the Old Testament is only commentary on Moses and it wasn't in Moses' writings, then there must be another way to understand that commentary than to believe in resurrection. 
That's how they defined themselves.  They lived life as if there were no tomorrow, being fastidious on the one hand, pounding people in a cruel and brutal way with the law, but with a view to using that to keep their power base so they could indulge themselves in anything and everything they wanted at the expense of the people.
It sounds illogical to me.
The Pharisees, by contrast, believed in the resurrection of the body and the life to come. Naturally, questions arose about what would happen. The Pharisees devised answers to those questions:
… the Pharisees were very, very definitive about the resurrection.  And the Pharisees loved to discuss the resurrection.  It seems to me that they sort of followed the flow of Baruch and some other writers, that you would be raised the same way you died because the Pharisees discussed things like when you are raised from the dead, will you be naked or will you have clothes on? 
Well, they couldn't comprehend that everybody in the resurrection would be naked so they came to the conclusion that you would have clothes on.  And then the question was where would you get the clothes?  And then the debate was about whether you get new clothes or whether you rise in the same clothes you used to wear, in fact the very clothes with which you were buried.  And then the question they loved to discuss was if you have defects in this life, physical defects, or mental defects, or whatever, when you rise from the dead again will you have those same defects? 
And many of the Pharisees felt that you would rise in the same clothes you died in and you would rise with the same defects you had in this life.  In fact, some of them believed that all Jews would rise, all Jews who died throughout all of history would all rise in the land of Israel.  In other words, wherever they died, they would all rise in the land of Israel.
And, in fact, it was suggested that beneath the earth there's a massive network of tunnels and somehow they're all slanted so that whenever Jews go into the ground, they wind up rolling down a series of tunnels till they all land in a pile in Israel.  So that they're all conveniently there as a result of this complex of tunnels and they'll be raised there.
The Sadducees found such statements absurd:
The Pharisees loved to discuss these kinds of things and occasionally discussed them with the Sadducees.  The Sadducees thought this was ridiculous, as it is.  Thought it was bizarre.  Thought it was outrageous and loved to scorn and mock such ridiculous things.  They became mockers of the resurrection.  They were so defined by not believing in the resurrection, that they had mastered the art of infuriating the Pharisees and the rest of the people with their arguments.  They made a joke out of resurrection.
With this in mind, some Sadducees approached Jesus (verse 27), with a question they thought would stump Him.
MacArthur says the Sadducees wanted Jesus out of their way, because if enough Jews believed in Him, their corrupt system would disappear:
I don't really think they wanted Him arrested by the Romans.  I don't think they necessarily cared about that.  Eventually they fell in line with that.  I think they were very worried about Rome getting involved in anything, doing anything to irritate Rome at all threatened their security.  But in this conflux of Pharisees and Sadducees in John 11:47, they come together, hold a council and they say, "What are we doing?  This man is performing many signs." 
They never denied His miracles, even the raising of Lazarus from the dead.  "If we let Him go on like this, all men will believe in Him, and the Romans will come and take away both our place and our nation."  That was what they feared, they feared losing their position, losing their place.  "And if we don't do something about Him, the Romans are going to come and take away our position."  That has to be the sentiment of the chief priests.  The Pharisees, they want the Romans to come and arrest Him and the people will immediately know He's not the Messiah because He can't overthrow the enemy.
But the Sadducees, they don't want the Romans involved in this because they think they'll lose their position.  So a certain one of them, the high priest, Caiaphas, who is a Sadducee, said to them, "You know nothing at all.  Do you take into account that it is expedient for you that one man should die for the people, and that the whole nation should not perish?"  In other words, we have to have Him put to death.  He's got to die or we're all going to perish. 
And so the Pharisees and the Sadducees come together, even though the Pharisees wanted Him dead for sure, the Sadducees might have not necessarily wanted Him dead thinking Rome would invade, Caiaphas steps up.  He's the high priest.  And says, "Wait a minute, He's got to be dead or we're all going to lose everything."  They're determined that Jesus has to die.
The Sadducees' approach is to discredit Him in front of the people by asking Him a question that nobody's been able to answer.  This is their ultimate question.  This is the one that stumped everybody, I'm sure, all the way along in the debates.  This is their best shot.  Let's make Him look stupid.  Let's make Him look foolish by this question on the resurrection.
The Sadducees ask Jesus a question, addressing Him as Teacher and citing Mosaic law, about a man marrying his brother's wife and raising his children should she become a widow (verse 28).
MacArthur explains the source of their question and why that command was there:
They bring up Moses, of course.  They bring up the Pentateuch, of course.  They bring up Deuteronomy 25.  Deuteronomy 25.
Now, I just remind you of it.  Deuteronomy 25, part of God's law for the nation Israel, this is what it says, verse 5, "When brothers live together and one of them dies and has no son, the wife of the deceased shall not be married outside the family to a strange man."  There are several brothers, one of them gets married, he dies before he can raise up a child to propagate the family.  She's not to marry a stranger.  "Her husband's brother shall go into her take her to himself as wife and marry her perform the duty of a husband's brother to her.  And it shall be that the firstborn whom she bears shall assume the name of his dead brother, that his name may not be blotted out from Israel."
In the time when Israel is on the edge of going into the land in the book of Deuteronomy, they're going to go in.  The land is going to be apportioned.  Families, tribes are going to get certain portions of the land.  It is very important for those tribes to have progeny, to have offspring, to continue God's covenant promise, and the promise is in the giving of the land to those tribes.  What happens if somebody has a wife and never gives birth to a son?  A brother in the same family then takes that woman as his own wife to raise up the seed to keep the family moving, because that was God's covenant promise and purpose.  That was a way of protecting and preserving the nation and the identity of the peoples and the places that God had designed.  It is called levirate marriage from the Latin meaning "brother."
It first appears in the Old Testament, by the way, back in Genesis 38 in the household of Judah, son of Joseph.  Onan refused to comply and raise up a child to his dead brother's wife and it resulted in God taking the life of Onan in Genesis 38.  God wanted to protect and preserve His people and the tribes of His people for the fulfillment of His plan and prophecy and this is the way God did it. 
The hypothetical woman the Sadducees describe sounds like a black widow spider.
There were seven brothers, the first of which married and died childless (verse 29). The second and the third brother married the woman in sequence and also died childless, along with the remaining brothers (verses 30, 31). Then the woman died (verse 32).
The Sadducees asked Jesus whose wife the woman will be at the resurrection if all seven brothers married her (verse 33).
They knew the Pharisees had a view on this, too, as MacArthur tells us:
How many times had they posed that question before?  How many jokes had they made out of the absurdity of resurrection using this kind of illustration or analogy?  The Pharisees were the ones who said the next life will be just like this life.  Same person, same features, same clothes, same weakness and strengths, same relationships.  Are you kidding?  And there were some, like Maimonides, who actually said children will be born after the resurrection.  He's the original Mormon.  That's not new.
Jesus replied succinctly, saying that those who belong in this age — live on earth — marry and are given in marriage (verse 34).
Henry says that marriage is an institution that reins us in from sin and gives us a structure in which to raise children:
The children of men in this world marry, and are given in marriage, hyioi tou aionos toutou—the children of this age, this generation, both good and bad, marry themselves and give their children in marriage. Much of our business in this world is to raise and build up families, and to provide for them. Much of our pleasure in this world is in our relations, our wives and children; nature inclines to it. Marriage is instituted for the comfort of human life, here in this state where we carry bodies about with us. It is likewise a remedy against fornication, that natural desires might not become brutal, but be under direction and control. The children of this world are dying and going off the stage, and therefore they marry and give their children in marriage, that they may furnish the world of mankind with needful recruits, that as one generation passeth away another may come, and that they may have some of their own offspring to leave the fruit of their labours to, especially that the chosen of God in future ages may be introduced, for it is a godly seed that is sought by marriage (Mal 2 15), a seed to serve the Lord, that shall be a generation to him.
MacArthur gives us a bit of Matthew's account of this question, which includes a response from Jesus that Luke does not include:
Matthew 22, which is the parallel passage giving the same account, adds this, Matthew 22:29, "Jesus answered and said to them – " listen to this " ' – You are mistaken, not understanding the scriptures or the power of God.' " 
He was telling them that, as the high priests, their knowledge of Scripture was woefully deficient:
Wow.  If you think it was painful for Him to go in with a whip and clean out their business, how painful was it for them to take that shot at their theology?  They prided themselves at being interpreters of Scripture.  You are mistaken, from the verb plana meaning "to cause to wander, to lead astray."  Means "you have caused yourselves to wander.  You have led yourselves astray.  You are cut loose from the truth and from reality.  You don't get it."  Why?  "Because you do not understand the Scriptures."  What an indictment that is …
Not understanding the Scriptures, you couldn't have said anything more painful for them to hear than that.  You are ignorant interpreters of Scripture.  You've gotten it wrong.  You have misled yourselves.  You have wandered from the truth.  You do not understand the Scriptures.  And that could describe every false teacher ever.
They prided themselves on the knowledge of the Scripture.  They didn't have it.  And then "you do not understand the Scriptures – " He says " – nor the power of God."  Had they known the Scriptures, had they really known the Scriptures, they would have known that God promises resurrection.  Had they known the power of God, they would have understood that God can raise people in a state where all their supposed absurdities are absent.  They were spiritually blind.
And so, He's going to tell them the truth.  Verse 34, "Jesus said to them, 'The sons of this age marry and are given in marriage.' "  "Sons of this age."  That's a Hebraism for "people living in this world," us, temporal humans.  What is Jesus saying?  The matter of marriage, sex, reproduction, childbirth, and everything accompanying it is for this life, not the next.  It's for this life, not the next.  There is for this age marrying and giving in marriage.  That is a part of this age.
Mormons take note, you will not spend forever on your own planet having celestial sex and producing supernatural children.  Muslims take note, you will not be on green pillows having sex with 72 virgins either in the life to come.  Marriage is for this life only.
Jesus went on to tell the Sadducees that those who are worthy of a place in that age and in the resurrection neither marry or are given in marriage (verse 35).
He was talking about the life to come.
Henry says:
Note, There are more worlds than one; a present visible world, and a future invisible world; and it is the concern of every one of us to compare worlds, this world and that world, and give the preference in our thoughts and cares to that which deserves them.
With that in mind, MacArthur says that Jesus was warning the Sadducees about their spiritual inadequacy and blindness:
Notice that little phrase in verse 35, "who are considered worthy to attain to that age and the resurrection of the dead."  That poses the question, why does He say that?  I think it's a warning.  I think it's a direct warning to the Sadducees.  In effect it's saying to them, implying to them, "You obviously aren't worthy to attain to this since you don't even believe in this."  It's a warning.  "You don't even believe in angels, sons of God, sons of the resurrection, that age to come, the resurrection from the dead.  You reject all of that.  Obviously, you're not worthy."
On the other hand, how would one be considered worthy to enter heaven?  How is one considered worthy to become a son of God, a son of resurrection?  Answer, by faith in the Lord Jesus Christ.  The Bible is clear about that.  We don't have any worthiness of ourselves.  All our righteousness is filthy rags.  The Old Testament was clear on that.  Isaiah said that.
Henry explains the life to come, saying that, as there will be no more death, there is no longer a need for marriage and procreation:
(1.) Who shall be the inhabitants of that world: They that shall be accounted worthy to obtain it, that is, that are interested in Christ's merit, who purchased it for us, and have a holy meetness for it wrought in them by the Spirit, whose business it is to prepare us for it. They have not a legal worthiness, upon account of any thing in them or done by them, but an evangelical worthiness, upon account of the inestimable price which Christ paid for the redemption of the purchased possession. It is a worthiness imputed by which we are glorified, as well as righteousness imputed by which we are justified; kataxiothentes, they are made agreeable to that world. The disagreeableness that there is in the corrupt nature is taken away, and the dispositions of the soul are by the grace of God conformed to that state. They are by grace made and counted worthy to obtain that world; it intimates some difficulty in reaching after it, and danger of coming short. We must so run as that we may obtain. They shall obtain the resurrection from the dead, that is, the blessed resurrection; for that of condemnation (as Christ calls it, John 5 29), is rather a resurrection to death, a second death, an eternal death, than from death.
(2.) What shall be the happy state of the inhabitants of that world we cannot express or conceive, 1 Cor 2 9. See what Christ here says of it. [1.] They neither marry nor are given in marriage. Those that have entered into the joy of their Lord are entirely taken up with that, and need not the joy of the bridegroom in his bride. The love in that world of love is all seraphic, and such as eclipses and loses the purest and most pleasing loves we entertain ourselves with in this world of sense. Where the body itself shall be a spiritual body, the delights of sense will all be banished; and where there is a perfection of holiness there is no occasion for marriage as a preservative from sin. Into the new Jerusalem there enters nothing that defiles. [2.] They cannot die any more; and this comes in as a reason why they do not marry. In this dying world there must be marriage, in order to the filling up of the vacancies made by death; but, where there are no burials, there is no need of weddings. This crowns the comfort of that world that there is no more death there, which sullies all the beauty, and damps all the comforts, of this world. Here death reigns, but thence it is for ever excluded.
Jesus continued, saying that those belonging to the next life cannot die again, because they are like angels and are children of God, being children of the resurrection (verse 36).
Henry and MacArthur cite the same Greek word used in that verse, isangeloi — angels' peers.
MacArthur says:
"Rather they're like angels."  That's a verb that Luke coins, isangeloi, "equal to angels," used only here.  The angels were all created at one time, they don't procreate and they don't die.  Their number is fixed.  There's no need for marriage because there's no need for propagation.  There's no need for replacement.  There's no need for continuity in the race.  There's also no need for that kind of union because having a relationship with God and Christ as our true bridegroom and having a perfect relationship with everybody else in the glory of heaven precludes the necessity of having any other lesser relationships.
Verse 36, "Because people don't die anymore, they are equal to angels, they are sons of God."  What does that mean?  They take on God's life, God's life, which is not sexual.  They take on God's life, which is an eternal life.  They become sons of the resurrection.  Whenever you see in the Bible "son of, sons of this age, sons of God, sons of the resurrection," and you'll see that repeated throughout the gospels, it's simply a way to identify the essential nature or essential defining quality of something. 
If you're a son of Belial, the essential quality is satanic.  If you're a son of God, the essential essence of life is divine.  If you're a son of the resurrection, you possess resurrection life.  That's the defining reality.  If you're a son of this age, humanity is your defining reality.  If you're a son of the age to come, eternality is the defining reality.
And so He says those who come to the age of resurrection will take on the character of angels who do not procreate, do not have those kinds of relationships, take on the character of sons of God, that is they will be the possessors of the pure fulfilling life of God.  And they will take on the character of resurrection, newness of life.  Marriage is not necessary.  Marriage does not define any aspect of life in the age to come.
And so our Lord corrects their theology.  If you want more about that, read 1 Corinthians 15, start at verse 35, read to the end of the chapter, where the Lord through the  apostle Paul gives us a look at the form of the resurrection body.  It will be a body like the glorious resurrection body of Jesus as it tells us in Philippians 3:21.
Henry says:
[3.] They are equal unto the angels. In the other evangelists it was said, They are as the angels—os angeloi, but here they are said to be equal to the angels, isangeloi—angels' peers; they have a glory and bliss no way inferior to that of the holy angels. They shall see the same sight, be employed in the same work, and share in the same joys, with the holy angels. Saints, when they come to heaven, shall be naturalized, and, though by nature strangers, yet, having obtained this freedom with a great sum, which Christ paid for them, they have in all respects equal privileges with them that were free-born, the angels that are the natives and aborigines of that country. They shall be companions with the angels, and converse with those blessed spirits that love them dearly, and with an innumerable company, to whom they are now come in faith, hope, and love. [4.] They are the children of God, and so they are as the angels, who are called the sons of God. In the inheritance of sons, the adoption of sons will be completed. Hence believers are said to wait for the adoption, even the redemption of the body, Rom 8 23. For till the body is redeemed from the grave the adoption is not completed. Now are we the sons of God, 1 John 3 2. We have the nature and disposition of sons, but that will not be perfected till we come to heaven. [5.] They are the children of the resurrection, that is, they are made capable of the employments and enjoyments of the future state; they are born to that world, belong to that family, had their education for it here, and shall there have their inheritance in it. They are the children of God, being the children of the resurrection. Note, God owns those only for his children that are the children of the resurrection, that are born from above, are allied to the world of spirits, and prepared for that world, the children of that family.
In the final two verses, Jesus pointed out where the Sadducees failed in their knowledge of Scripture.
He said that even Moses showed that the dead are raised to new life in the story of the burning bush, where the Lord said that He is the God of Abraham, the God of Isaac and the God of Jacob (verse 37).
MacArthur explains that this is the real shot across the bow:
The main answer comes in verse 37 and it is a powerful answer.  Listen to this.  "But that the dead are raised," in other words, let's get back to the point.  Forget the marriage thing, we settled that.  "But that the dead are raised – " which is the big issue here.  You say they're not.  "Even Moses showed – "  Wow, now He's coming at them in their own zone, right?  In their own zone, because that's the issue.  It's not in Moses.  It can't be so.  So He says, "Even Moses showed in – " literally " – in the bush – " in the text about the bush, the passage about the bush, the burning bush, Exodus 3.
What?  In Exodus 3 Moses showed the truth of resurrection?  How did he do that?  Because it was there "where he calls the Lord the God of Abraham, and the God of Isaac, and the God of Jacob."  Well, what does that mean?  Well, I think the important thing for you to know is that when in Exodus 3:6 God said – listen to this – here's a quote, "I am the God of Abraham.  I am the God of Isaac.  I am the God of Jacob."  When He said that emphatically, and the I am is recorded in Matthew's version of this, Matthew 22:32, I think it is.  When He said, "I am the God of Abraham, Isaac and Jacob," He did not say, "I was the God of Abraham.  I was the God of Isaac.  I was the God of Jacob."  I am.  I am, and therefore they are.  Follow that?  A little bit of a careful exegesis of verb tenses.  He doesn't say, "I was their God."  He says, "I am their God."  I am and they are, not I was and they were.
In Genesis 26:24, in Genesis 28:13, God calls Himself "the God of Abraham," and Abraham is dead.  In Exodus 3:6, 15, 16, again in chapter 4, God calls Himself "the God of Abraham, Isaac, and Jacob," and all three are dead.  So is God the God of dead people?  Verse 38, "Now He is not the God of the dead but of the living; for all live to Him."  From our perspective they're dead.  From His perspective they're – what? – they're alive.  They all live to Him. 
The God who says, "I am the God of Abraham, Isaac, and Jacob," isn't establishing His glory on the basis that He's worshiped by corpses.  That wouldn't bring Him any honor.  Notice that each is singled out individually: The God of Abraham, the God of Isaac, the God of Jacob, emphasizing the personal reality of each.  Each is alive to God, in God's presence, in relationship to God, though dead from a worldly view.
Jesus emphasised that reality by saying that God is not of the dead but of the living; to Him, all of them are alive (verse 38), meaning Abraham, Isaac and Jacob.
That also includes God's chosen, those who are worthy of eternal life with Him in glory.
MacArthur says that if we are alive in Christ, we, too, will share that life to come:
"He is not the God of the dead, but of the living; for all live to Him."  To God, all who are His are alive and in union with Him in His presence, just as the Old Testament says.  Death does not end one's existence.  There is another life, an afterlife, a resurrection life, for those who belong to God in His presence.  "I am – " said Jesus in John 11 " – the resurrection and the life, whoever believes in Me though he die yet shall he live."  We will live forever and if we belong to Christ, we will live forever in the presence of Christ and in the presence of God.
It is a pity that the Lectionary compilers did not include the next two verses in this reading, because they show that Jesus silenced the Sadducees in their folly. 'Teachers of the law' here refers to the scribes:
39 Some of the teachers of the law responded, "Well said, teacher!" 40 And no one dared to ask him any more questions.
MacArthur says that, in popular parlance, we could say that Jesus blew away their minds:
And that leads us to the last point, the astonishment of the crowd, the astonishment of the scribes, and I guess you could say the astonishment of the Sadducees.  "Some of the scribes answered and said, 'Teacher, You've spoken well.' "  Scribes are the legal experts.  They were the theologians.  They were the ones who thought most carefully and deeply about Scripture.  They were wowed.  They were floored. 
This is an understatement, "You have spoken well."  Matthew 22:33 says, "The multitudes heard and were astonished."  The word "astonished" and there could be a number of words in the Greek, but the one that's used in Matthew 22:33 is ekplss and one lexicon, I think, gives it a good spin.  This is what it essentially means.  "To strike out of one's wits."  It's kind of an Old English approach.  We would say this:  To blow their minds.  That's exactly what it means.  He blew their minds.  They were just astonished at the teaching of Jesus, astonished, amazed, astounded, marveling.
And the Sadducees?  They were done.  Verse 40, they didn't have courage – the Greek verb is "to dare, or to presume."  "They didn't dare question Him any longer about anything."  They gave it their best shot.  They were done.  They had been cleaned out economically and then they had been dismantled spiritually and theologically.  They're done.  They disappear.
May all reading this have a blessed Sunday.
The three-year Lectionary that many Catholics and Protestants hear in public worship gives us a great variety of Holy Scripture.
Yet, it doesn't tell the whole story.
My series Forbidden Bible Verses — ones the Lectionary editors and their clergy omit — examines the passages we do not hear in church. These missing verses are also Essential Bible Verses, ones we should study with care and attention. Often, we find that they carry difficult messages and warnings.
Today's reading is from the English Standard Version with commentary by Matthew Henry and John MacArthur.
Rules for Christian Households
18 Wives, submit to your husbands, as is fitting in the Lord. 19 Husbands, love your wives, and do not be harsh with them. 20 Children, obey your parents in everything, for this pleases the Lord. 21 Fathers, do not provoke your children, lest they become discouraged. 22 Bondservants, obey in everything those who are your earthly masters,[a] not by way of eye-service, as people-pleasers, but with sincerity of heart, fearing the Lord. 23 Whatever you do, work heartily, as for the Lord and not for men, 24 knowing that from the Lord you will receive the inheritance as your reward. You are serving the Lord Christ. 25 For the wrongdoer will be paid back for the wrong he has done, and there is no partiality.
———————————————————————————-
Last week's post discussed Paul's reasoned warning to the Colossians about not falling prey to the man-made religion of the Judaisers, pre-Gnostics (the true Gnostics weren't around yet) and ascetics, all of whom denied the sufficiency of Christ.
In Colossians 3 Paul exhorts — encourages — the Colossians to focus on Christ and improve on the new people they became when they embraced the faith.
Most of the chapter is in the Lectionary and will be self-explanatory (emphases mine):
Put On the New Self
3 If then you have been raised with Christ, seek the things that are above, where Christ is, seated at the right hand of God. 2 Set your minds on things that are above, not on things that are on earth. 3 For you have died, and your life is hidden with Christ in God. 4 When Christ who is your[a] life appears, then you also will appear with him in glory.
5 Put to death therefore what is earthly in you:[b] sexual immorality, impurity, passion, evil desire, and covetousness, which is idolatry. 6 On account of these the wrath of God is coming.[c] 7 In these you too once walked, when you were living in them. 8 But now you must put them all away: anger, wrath, malice, slander, and obscene talk from your mouth. 9 Do not lie to one another, seeing that you have put off the old self[d] with its practices 10 and have put on the new self, which is being renewed in knowledge after the image of its creator. 11 Here there is not Greek and Jew, circumcised and uncircumcised, barbarian, Scythian, slave,[e] free; but Christ is all, and in all.
12 Put on then, as God's chosen ones, holy and beloved, compassionate hearts, kindness, humility, meekness, and patience, 13 bearing with one another and, if one has a complaint against another, forgiving each other; as the Lord has forgiven you, so you also must forgive. 14 And above all these put on love, which binds everything together in perfect harmony. 15 And let the peace of Christ rule in your hearts, to which indeed you were called in one body. And be thankful. 16 Let the word of Christ dwell in you richly, teaching and admonishing one another in all wisdom, singing psalms and hymns and spiritual songs, with thankfulness in your hearts to God. 17 And whatever you do, in word or deed, do everything in the name of the Lord Jesus, giving thanks to God the Father through him.
Then Paul leaves the general and focuses on the specific: life in the home, which for most people in AD 62 was the centre of their lives.
John MacArthur says:
Christianity's got to work there before it can work in the world.
It's difficult to write about obedience and submission in the 21st century. Not all of us have had comfortable family relationships or suitable work environments. Therefore, it is difficult for some of us to nod sagely in agreement as we read today's passage.
That said, non-Christian homes around the world have much the same order, even today.
Matthew Henry's commentary says:
It is agreeable to the order of nature and the reason of things, as well as the appointment and will of God.
More importantly, Jesus obeyed His Father in all things, even a humiliating death on the cross in front of sinful mankind.
Perhaps that will help to put things in perspective.
MacArthur says that humans have a difficult time getting on with each other, therefore, norms must be established:
The major problem in the world is people. I don't think we'd argue about that. If we could just get rid of the people, we could basically get rid of the problems.
And the major problem with people is this: people can't get along with people. The problem is people, and the problem with people is that people can't get along with people. The inability of man to get along with his fellow man seems to be the number one problem in our society and in any society in our world, and it telescopes all the way from the inability of a brother and a sister to get along without what psychologists call sibling rivalry, all the way to the grandiose kinds of problem of the inability of people to get along, so that you end up in international war.
But from the lowest level of a relationship between a brother and a sister when they're children to the high level wars that occur in our world, it's all basically the same problem: people can't get along with people. And Christianity purports to do something about that. Christianity enters into the world and says, "We not only will do something about an individual, but we offer to an individual the capacity to do something about the people around him in a positive way."
MacArthur says that true believers transform their relationships:
He has been talking about the new man, and now he talks about the new man in his relationships to other people; and he talks about a new wife in verse 18. What happens when a person becomes a Christian? What kind of wife does she become? A new husband in verse 19, a new kind of child in verse 20, a new kind of father in verse 21, a new kind of servant in verse 22, and a new kind of master in chapter 4, verse 1. All of a sudden, his whole orientation to society is dramatically changed, because Jesus Christ has entered his life.
And many a husband has testified to the fact that when his wife became a believer, she changed. And many a wife has testified to the fact that when her husband became a believer, he changed. And many a mother who wondered about her child has been able to say, "When my child came to Jesus Christ, he changed." Many a child has been able to say, "When my parents met Jesus Christ, our home changed." And many an employer has been able to say, "You know that guy that worked for me? Something happened in his life. I don't know what it was. It had something to do with religion. But, boy, is he different on the job." And many an employee has said, "Something happened to my boss when he became a Christian."
You see, it has tremendous social ramifications to become a believer, because the new man radiates the newness of that life into the world. Jesus put it this way: He said we are salt and light. We affect society. Paul said, "We are different. We are not citizens here; we are citizens of another kind of life. But" – he says – "we live as lights in a dark world. We live holy lives in the midst of a crooked and perverse generation." Peter said, "We are models of human behavior."
… Christianity is relational. And, you know, we as Christians need to emphasize that today, because that's where the hurt of man is. 
He then shows how a Christian ethos has changed humanity through the ages:
When you look back on the history of social reform in our culture, in Western culture in Europe and here in America, you find a great amount of that social reform is directly related to Christianity. For example, the l8th century had many of what was called "evangelical awakenings". One who was greatly instrumental in those was John Wesley. And John Wesley was not just a preacher of the gospel, but he was a man concerned about people, and so he denounced the evils of his day.
He particularly took his whacks at slavery; and he urged in addition to that the reform of prisons, the education of the masses – and, incidentally, that became the cry of many preachers in the l8th century. But there had to be education. As a result of these, by the time you got to 1776 all the way through to about 1914, tremendous social reform took place in Western culture, and much of it reaped right out of the evangelistic awakenings with John Wesley and others.
There was a great awakening in America in about 1725 to about 1775, and the result of it was the building of a number of American universities, which at that time were geared to educate the masses, but were built around religious themes. Christianity was at the core.
The second great awakening led to the founding of a school system for the masses in Britain, as well as the founding of hundreds of colleges and schools in America. There was even a revival in Napoleon's day; and out of that revival in Napoleon's day came a man by the name of Wilberforce. And Wilberforce was one of the engineers of the abolition of the slave trade in Africa. And the result of his work, which was the result of the work of an evangelistic awakening, was that the slaves in the British Empire were freed in 1834; and in the United States, they were freed in 1863.
There were certain isolated Christians who had a tremendous impact on society, such as Elizabeth Frye. Elizabeth Frye promoted successful prison reform. There was a man who was a Christian by the name of Fliedner in Germany, who built hopes for ex-prisoners in order to help give them a halfway house to get them back into society. He built hospitals for the sick, spawned insane asylums, that is, homes for people who were insane, that had some character to them and some quality to them, so that they weren't just holes and hovels where people were thrown until they died. He advocated orphanages for the children. One of the people trained by Fliedner, trained in one of his schools, was a lady by the name of Florence Nightingale who became the mother of modern nursing.
There was the 7th Earl of Shaftesbury in England, a man by the name of Anthony Ashley Cooper. He describes himself in one of his writings as an evangelical of the evangelicals. In modern terms, he'd be a fighting fundie. He promoted legislation to cut the hours of factory labor in half, to prohibit the use of women working in coal mines, and of children in factories and farm gangs, and he promoted legislation to transfer retarded people from prisons to places where they would be treated as patients. Agencies came out of these great awakenings, these great Christian awakenings, such as the YMCA, the Young Men's Christian Association, the Salvation Army, and many others.
William Carey, a famous missionary to India, secured the abolition of widow burning, which was practiced in India, and child sacrifice. I always remember when I was a boy and my dad telling about the natives in the land of India, who believed in the great god of the Ganges River, who would take one of their children and throw the baby when he was alive into the river and watch it drown as a sacrifice to the god. William Carey went a long way to stop things like that.
In Africa, many missionaries flooding the country, following in the lead of Livingston, discouraged polygamy, fought the slave trade, built schools, and built hospitals. J. C. Wenger says this: "Christianity burst into a corrupt world with a brilliantly new moral radiance. The moral level of society was dismal at the time of the New Testament, and sin prevailed in many form. And into this discouraged world came Christ and His Spirit-transformed disciples, filled with holy joy, motivated by a love which the pagans could not grasp, and proclaiming good news, the message that God has provided a Savior. These Christians lived in tiny communities knit together in the power of the Holy Spirit, little colonies of heaven. They thought of themselves as pilgrims on their way to the celestial city, but they were very much concerned to manifest the love of Christ in all human relationships. These early Christians insisted on bringing all of life under the lordship of Christ."
And Wenger says, "It is men and women of this kind of moral purity who build into society a strong sense of integrity. Life was cheap in the pre-Christian world: murder, abortion, infant exposure, war. People died in great numbers without anyone being very troubled in conscience. The early Christians brought a new concern into society at this very point." End quote.
Moving on to today's verses, Paul says that a Christian transformation starts in the home.
If today's reading sounds familiar, the Apostle said much the same in Ephesians 4:17-24, about the new life a Christian has, and in Ephesians 6:1-9, which is about behaviour in the home. I wrote both posts in June 2022.
Paul tells wives to submit to their husbands, as is fitting in the Lord (verse 18).
Henry's commentary points out the order in which God created Adam and Eve and Eve's sin:
The reason is that Adam was first formed, then Eve: and Adam was not deceived, but the woman, being deceived, was in the transgression, 1 Tim 2 13, 14. He was first in the creation and last in the transgression. The head of the woman is the man; and the man is not of the woman, but the woman of the man; neither was the man created for the woman, but the woman for the man, 1 Cor 11 3, 8, 9.
MacArthur explains what a wife's submission is:
It isn't the idea that he's firing out the orders and you're obeying …
I think the idea of "own" here is to emphasize that this is a personal, intimate, inward, vital relationship. He's saying, "Submit to your own husband. This is the man you own. This is yours. This is your possession." And somehow, that makes the submission all the more possible. You're not just submitting to some indifferent, detached authority. This is your own husband. You possess him; he possesses you. There's something very intimate, very personal there.
Now we've talked about the kind of submission this means. Submission doesn't mean inferiority. It doesn't mean you're inferior to your husband, not at all. Jesus wasn't inferior to God; but He submitted, didn't He? …

Another thing: submission is not absolute. It doesn't mean that you submit to everything all the time under every possible situation. In Acts, chapter 5, Luke says you have some times to choose, as did Peter and John, when they said, "You choose whether we ought to obey God or men." Your husband may ask you to do something that you can't do in good conscience before God, so the submission is not absolute.
And then I would add, thirdly, what I mentioned: submission is in love. This is your own husband, assuming the one that you are intimately, inwardly, vitally in love with. There is something relational here. I think a Christian wife who loves her husband, who sees him as God's gift to her, who sees him as her own possession, will more easily regulate her conduct in harmony with this particular command.
Paul tells husbands to love their wives and not be harsh with them (verse 19). In that era, many Gentile husbands were harsh with their wives.
MacArthur expands on that verse:
Now there are really two commands there. Number one: keep on loving your wives. How often this isn't the case unfortunately. All the love is there before the marriage; and then when the marriage happens, all the love seems to drain away; and what comes in its place is bitterness. And Paul knows this; the Holy Spirit knows this. You can replace love with bitterness. "Keep on loving your wives. You loved them before you married them, you loved them when you married them, you loved them for awhile after you married them; keep on loving your wives."
And we have defined love, haven't we. "Don't sink to the level of assuming that love is an emotion again. Love is activity. It is the act of self-sacrifice," – and we'll see more of that in our morning studies – "but don't let what was love turn into bitterness."
Some have suggested that this word "bitter" should be translated "cross." "Don't be cross toward them." Well, either word emphasizes a harshness of temper. It emphasizes that attitude of resentment that leads to misery, and often leads to divorce. I think it's pikrainō that is the verb here, and if I remember correctly, it could be translated here as "exasperate" or "irritate." "Don't irritate your wife. Don't exasperate your wife. Don't be cross against your wife."
The word, incidentally, is only used three other times in the New Testament. And you'll find that the only times it is used, it is used in Revelation chapter 8 once, chapter 10 twice, and it has there the idea of bitterness – something very distasteful, something very unenjoyable. What Paul is really saying is, "Don't call her honey and act like vinegar." A husband is a leader and a lover …
Now this is more than sexual love. It's that deep affection that sees your wife as a sister in the Lord, that sees your wife as a weaker vessel to be cared for, that sees your wife as your best friend, that sees your wife as the most important human being in the world, that sees your wife as your most critical permanent investment and life-long partner. Boy, if some men took care of their wives the way they take care of their money, it'd be interesting …
Now this is the basic key to the home: husband and wife. That's where it all starts. You know, you've got to cultivate this. My wife and I talk about this all the time. It isn't easy for us. It's no easier for us than it is for anybody else. People think, "Oh, your home must be paradise." Paradise lost. We have our times, believe me, like everybody else. We have a happy home, and there is love in our home, and we work at it because you have to work at it.
Here are easy suggestions for husbands to improve their marriages:
… When was the last time you took her out? When was the last time you bought each other a gift when it wasn't any special occasion? When was the last time you sacrificed something you really wanted for something he or she wanted but never said so? Now, you see, you've got to work on it. Christianity ought to affect the home; and to affect the home, it's going to have to be at that level: husband and wife.
Paul then moves on to children, telling them to be obedient in all things, because it pleases the Lord (verse 20).
Henry has advice for parents, too:
And parents must be tender, as well as children obedient (v. 21): "Fathers, provoke not your children to anger, lest they be discouraged. Let not your authority over them be exercised with rigour and severity, but with kindness and gentleness, lest you raise their passions and discourage them in their duty, and by holding the reins too tight make them fly out with greater fierceness." The bad temper and example of imprudent parents often prove a great hindrance to their children and a stumbling-block in their way; see Eph 6 4.
Ultimately, children are the Church's next generation:
… it is by the tenderness of parents, and dutifulness of children, that God ordinarily furnishes his church with a seed to serve him, and propagates religion from age to age.
MacArthur also qualifies this verse:
Now again I would add that this is limited. It's limited to that which doesn't violate God's standards. It's limited to that which doesn't step cross-grain to God's leading and God's will. I think at that point, the young person or the child has to say what Peter said, "You judge whether we ought to obey God or men."
He, too, points out the natural order of things:
Now notice at the end of the verse, he simply says, "This is well-pleasing." Again, the same purpose. The reason to do this is because this is the way God set it up. This is God's standard. This is God's pattern.
Again, that pattern exists outside of Christianity to the point where it is pretty much universal in the world. Therefore, there is an atavistic urge for an orderly home with parents and children.
Paul tells fathers not to provoke their children, lest they become discouraged (verse 21).
MacArthur explains 'fathers' in the Greek:
Let me say a word about the word pateres. You can draw a line through "fathers," if you want, in your Bible and write "parents," because that's that the word means. It is translated in Hebrews 11:23 as "parents," or should be translated, because there it says, "Moses was hid three months by his pateres." And there it's a plural. He didn't have more than one father; but it's used there to speak of parents.
So what you really have in verse 21 is, "Parents, provoke not" – or – "stop provoking your children, lest they be discouraged. Stop literally irritating your children, that they may not lose heart. Stop irritating your children, that they may not lose heart. Stop nagging your kids." This refers to the irritation that comes by the emotional explosion on the part of parents.
MacArthur gives a lengthy — and useful — list of parental dos and don'ts:
Here's a list of ways. If you really want to irritate your children, do this. Number one: overprotection, overprotection. I hear the amen corner over here really going at it – a couple of overprotected people over here. Overprotection. No trust, all rules, all deprivation. You never ever allow them any liberty. You draw the lines so narrow, and the boxes are so closed, that they soon feel that you do not believe in them, you do not trust in them. No matter what they do to earn that trust, they never experience that trust. Consequently, they give up and say, "What's the difference anyway?" And then you've got that seething rebellion.
Now you can really irritate your children by overprotection. Give them a sense of trust…
Second way you can really irritate your children is by favoritism. Make sure you always compare them with the other kids in the family who do better than they do. "Why can't you be Like Albert? He always does his homework." It's very irritating for a child to be less than an individual. It's very irritating for the child to be a lemon on the assembly line. Favoritism. Favoritism means you constantly compare the child with the other child.
A third way that you can irritate your child is by depreciating his worth. One good way to really depreciate his worth is whenever you have company, have him eat in the kitchen; that'll really let him know that he just really isn't worth having around anything important. Or else when he comes in and has something to say, and you have company and you say, "Hush up and go back in the den. Go to your room."
You know, and then you get the autistic kind of child who finally tries to communicate and gives up; and so then he can't communicate at all, and he won't. And you get that ultimate kind of autistic person who doesn't say anything anytime, because he never did get listened to when he tried to. We were talking about this with Howard Hendricks when we were back at the conference last weekend, you know, and he was saying, "Look, if you come to my house for dinner, you've got to get ready; they're all going to be there, staring you right in the eye – the whole bunch. When we have company, the kids are all there, looking right dawn your throat, because they're part of our family." They have every right to be a part. Don't depreciate their worth. Don't tell them to shut up and go to bed. There are boundaries, yes.
A fourth way, a fourth you can irritate your child is by discouragement: don't ever reward him for anything, make sure that he never feels like he's succeeded. I know a girl that killed herself for that reason, because no matter what she did, it was never enough. No matter what her grades were, it was never enough. No matter how well she did, it was never enough.
Let's face it, a parent who feels that way about a child is trying to get a child to be something the parent never was. That's not fair. And this girl couldn't handle it, so she killed herself. Sad. Discouragement: no rewards, no honors.
Another good way to irritate your child is never demonstrate any affection for him; don't ever go out of your way to love him, or hug him, or kiss him, or pick him up, squeeze her, be gentle or thoughtful in a physically affectionate way. Very discouraging, very discouraging. So if you want to discourage your child, don't reward your child, don't honor your child, and never demonstrate any love or affection. So the child just begins to feel totally alienated, totally unacceptable, can't do anything right, isn't worthy of your love, isn't worthy of your affection; gets very, very discouraged.
Another thing, and this is kind of practical. You can irritate your child by not providing his needs, by not providing his needs. You know what a child's needs are? Believe it or not, in our society, do you know what a child needs? A room. Yeah, he does. Probably needs a room. A little privacy would be good. Now you can overcome that; and maybe your economics don't make it possible for every single child to have his own domain. But provide someplace for him.
Your child needs a place to play; and if it can't be at your place, then take him to the park, because he or she needs a place to play, or she needs a place to play. Another thing is clean clothes. That's a good thing to provide your children. And when they get a little older, somewhere to study.
You know, I think that one of the reasons that some children never do well in school is because they don't know where to land when they come home. They sit down at a table and, "What are you doing in here with that homework? Get out of here, go to your room." And they go to their room, and they get backaches from sitting five minutes on their bed, because there's no where to sit. Provide someplace for them to study.
Another thing is to give them something that belongs to them, whatever it is. Another thing is to feed them good meals. Let them know that you've prepared something special just for them. These little practical things, where a child begins to learn that you are concerned about him and about her as a person.
On the other hand, you can irritate a child too by a lack of standards. You know, there are children and young people – and when I use the word "child," I mean anybody who's still in the home. But you can really irritate your young people by not giving them any rules, because then they are totally left on their own, and they can't handle that kind of liberty, and they are constantly getting into problems that they really can't cope with. Cross some lines; make some fences.
Another way to irritate your children – I'll just give you a few more. Another way to irritate your children is by criticism. A well-known doctor, Dr. Haim Ginott says this: "The child who lives with criticism does not learn responsibility; he learns only to condemn himself, and find fault with others. He learns to doubt his own judgment, disparage his own ability, distrust everybody. Above all, he learns to live with continual expectation of impending doom." End quote. Now that is no way to live. Criticism. Don't irritate your child with criticism. Create a positive environment, an uplifting, upbuilding one.
And then I think too of another way to irritate a child is by neglect. You know what a classic illustration of that is? Absalom. Absalom was a tragic young man, who tried to kill his own father David; and Absalom is a classic illustration of a son who was neglected by a father. You can really irritate your child by indifference, neglect. Play with your children.
And then, of course, the last one I'll mention is, you can really irritate your child by over-discipline, over-discipline. This is where your discipline hurts them, you know, where you haul off and really hurt them. Or it can be when you just scream at them all the time, or holler at them, or yell at them, or shut them in their rooms.
Or you're actually – some people even discipline their children in a show of their superior strength, if you can believe it. You talk about battered children, or whatever. But the idea is that of over-disciplining children. You can do it by yelling and screaming at them for every single thing they do. You know, they can knock – this happens all the time: "Bang," over goes the milk at the table. "You stupid." Or you can say, "Well, you know, here we go again," and laugh about it. You can over-discipline them. I mean he didn't do it on purpose.
You can over-discipline by actually using your brute strength to show your superior power over your child. I've often thought that we say things to our children we'd never say to anybody else, don't we – never. Don't ever discipline them in anger. Well, those are just some practical things to help you see that you don't want to irritate your children.
Paul tells bondservants — doulos, slaves who wanted to be with their masters (for the most part) — to obey their earthly masters in everything, not just when they are being supervised ('eye-service, as people pleasers') but all the time, with sincerity of heart and fear of the Lord (verse 22).
MacArthur says:
Now's here is a home where you have some slaves. Now maybe you don't have that in your home – I'm not sure you don't. Maybe you have a maid; maybe you have somebody who does your garden; maybe you have people who come and go, fixing things, doing things. Or maybe you want to look at this from the standpoint of your job or your employee/employer relationship.
Christianity has some principles on which this thing is to function. And it's very simple: if you are an employee, you are to obey everything. Notice: not with eye service – that is, not just when the boss is looking, as if you were to please him. But with a single heart. Really, you're pleasing God. The Greeks and the Romans, just slaves everywhere.
Paul encourages slaves to work heartily, as if they were serving the Lord, not mere men (verse 23).
MacArthur gives us the words in Greek:
enthusiastically "working from the soul," the literal Greek says.
In doing so, Paul says, they will receive the inheritance — a heavenly reward — because they are serving the Lord Christ (verse 24).
MacArthur explains:
Verse 24: "The Lord will give you the reward of the inheritance, because it's Him that you serve." As an employee on the job, as a servant in the home, whatever it is, wherever you're working, for whomever you're working, you are really working for the Lord. You are serving the Lord. And whatever inequities there are, don't let them condition your behavior. You serve with a full heart, you serve whole-heartedly, you serve all-out, you serve with total commitment, because the Lord is the one you're really serving, and the Lord will pay you back.
Henry says:
Observe, We are really doing our duty to God when we are faithful in our duty to men. And, for servants' encouragement, let them know that a good and faithful servant is never the further from heaven for his being a servant: "Knowing that of the Lord you shall receive the reward of the inheritance, for you serve the Lord Christ, v. 24. Serving your masters according to the command of Christ, you serve Christ, and he will be your paymaster: you will have a glorious reward at last. Though you are now servants, you will receive the inheritance of sons.
Paul ends by saying that the Lord will pay back — and not in a good way — a wrongdoer for the wrong he has done, because He is impartial (verse 25).
Henry says that verse pertains to masters and servants equally:
… he will be sure to punish the unjust as well as reward the faithful servant: and so if masters wrong their servants.—And there is no respect of persons with him. The righteous Judge of the earth will be impartial, and carry it with an equal hand towards the master and servant; not swayed by any regard to men's outward circumstances and condition of life. The one and the other will stand upon a level at his tribunal.
MacArthur concludes Colossians 3 as follows:
If Christianity is to affect our world, it'll affect the world from the vantage point that it affects the home. And it all goes back to the same thing, verse 1 of chapter 3: "If you're risen with Christ, live it. Put off the old man, put on the new man." Verse 15: "Let the peace of Christ rule." Verse 16: "Let the word of Christ dwell in you." Verse 17: "Let the name of Christ guide you." And the result is going to be that you're not only going to be a new man, but a new wife, and a new husband, and a new child, and a new parent, and a new slave, and a new master. And I really believe that if homes can become what God wants them to be, they can become the catalyst to change a messed-up world; and Christianity will continue to go on in history as the agency that has brought about great social reform …
I'll tell you one thing we'd better do; if we're going to have anything to say about this, we'd better get our homes together. Don't you think? And if we can get our homes together and they can become a testimony to the world, maybe we can affect this world before it's so far gone that we've lost it all together.
Paul has final instructions for the Colossians before ending his letter.
Next time — Colossians 4:1-6
At the weekend, two articles promoting marriage appeared in the papers.
N.B.: Adult content follows.
Separately, two Britons — feminist Louise Perry and conservative columnist Peter Hitchens — say it is time to dump the sexual revolution from the 1960s and return to traditional marriage.
Louise Perry's book, The Case Against the Sexual Revolution, is published this Friday, June 3, 2022.
The Sunday Times reported that it is a call to return to the centuries-old tradition of getting married (emphases mine):
She has a piece of simple advice for the young women reading her book: "Get married. And do your best to stay married."
Perry, who read women's studies at the left-wing School of Oriental and African Studies in London, was brought up to embrace sexual freedom and personal choice.
Then she began volunteering for the National Rape Crisis Helpline and was appalled by what she discovered, Times journalist Laura Hackett says:
"That was a turning point," she tells me. All the feminist theory she was studying had "no relevance … there was nothing in there about sexual violence, it didn't map on to reality."
It turns out that society's obsession with pornography has a lot to do with damaging and fractured relationships between men and women:
We are being exposed to more and more explicit content in our everyday lives — everything from lingerie and perfume adverts to Fifty Shades of Grey — and this deadens our responses to actual sex, she argues, destroying our romantic relationships.
Should we ban it, then? She pauses. "I'm not sure if I want to bring back the old classification board . . . but either you have centralised censorship or you have a free market, and the free market is producing this horror show."
Perry is dismayed that the #MeToo movement has not put people off watching sex scenes. "I really feel for actors. Who would have thought 20 years ago that signing up to be an actor would mean basically signing up to be a porn star?" The difference, of course, is that the sex isn't real, but Perry doesn't back down. "From what I've heard it's not far off. And it clearly is sometimes a source of distress for actors and an opportunity for sex pests."
Rightly, Perry thinks that rough sex, which is prevalent in today's pornography, is a form of domestic abuse:
The erotic bestsellers women are reading today — Fifty Shades of Grey for mums, and Sarah J Maas's sexy fantasy fiction for their daughters — are heavily focused on BDSM, which Perry believes is little more than abuse. She helped to found the campaign group We Can't Consent to This, which aims to eradicate the use of "rough sex" defences to the killing or harming of women.
She also points out that one-night stands give little pleasure to the women pursuing them:
Perry is eloquent, empathetic — and very persuasive. I was surprised to find myself agreeing with her on most things: porn is clearly a dangerous, exploitative industry; prostitution isn't just a normal job (or else why would we be so outraged by landlords asking for sex as payment?); and hook-up culture has practically no benefits for women (only 10 per cent of women orgasm during a one-night stand; no prizes for guessing that figure is much higher among men).
What is the solution, other than marriage?
"This idea that marriage is inherently oppressive to women I don't think is true," Perry says.
In her book she races through statistics highlighting the benefits of marriage: almost half of divorced people in the UK regret it, fatherless boys are more likely to go to prison, and fatherless girls are more likely to become pregnant in their teens. She even lauds the hidden benefits of shotgun marriages and the stigma around single motherhood. "In an era without contraception," Perry writes, "a prohibition on sex before marriage served female, not male, interests." I'm not sure how Ireland's mother and baby homes, for example, which locked up unmarried mothers and removed their children, served female interests. Perry nods. "What haunts me is: do we have to choose between Magdalene laundries and PornHub?"
Perry also laments the ease of getting a divorce, made even simpler now because of a new law that Parliament passed earlier this year:
Perry argues that while it is important to have divorce as an option for people in terrible, abusive marriages, the easy availability of divorce under any circumstances has killed off the institution of marriage — and that's bad news for women.
Interestingly, given her upbringing and university studies, Perry married a police officer.
She is adamant about tough sentencing for convicted rape:
prison — for life, if needs be.
She says that the male urge to dominate women is atavistic:
She links the crime back to biology, rejecting the prevailing view that our sexist culture encourages men to rape. Evolutionary theory, she explains, shows that rape confers a selection advantage on men, giving them more opportunities to pass on their genes. In other words sexual violence is rational. It's no coincidence, she says, that women are most likely to be raped between the ages of 12 and 30 — their fertile years.
She believes that the education policy instructing students about mutual consent is wrong because it does not work:
When it comes to prevention, Perry thinks consent workshops, which teach young people how to check that their partner really wants to have sex, are useless. "If we think that the problem is young men being really horny and larger and more aggressive than young women, then things like gender-neutral bathrooms in school are the stupidest things ever."
Her book also has a chapter on rules for young women, which sound very last century:
"In the earlier stages of writing I had that feeling of walking on eggshells and being worried I'd piss off everyone … But in the end I just wrote what I thought was true."
The Case Against the Sexual Revolution is explicitly directed towards young women who have grown up in a world of PornHub, OnlyFans and Tinder; 21st-century sexual freedom has not been liberating for them at all, but instead benefited men, Perry believes. She provides a list of 11 rules for young women in the epilogue, including: "Get drunk or high in private and with female friends rather than in public or in mixed company"; "Avoid being alone with men [you] don't know"; "Hold off on having sex with a new boyfriend for at least a few months"; "Don't use dating apps"; and "Only have sex with a man if you think he would make a good father to your children".
It surprised me to read over the past two years — and this was true before lockdown — that young people are having fewer sexual encounters at a time when their hormones and fertility are in their prime. Is it because of pornography? I don't know.
However, the Times journalist says that Perry could be tapping into something with her book:
The Case Against the Sexual Revolution is unapologetically focused on improving women's health and happiness. Will it work? The tide does seem to be turning in our attitudes. Young people are having less sex; they're worried about age gaps and power imbalances in their relationships; and a recent BBC documentary on Mary Whitehouse [censorious campaigner of the late 20th century] even asked if she was ahead of her time. Perry may have predicted a new age of sexual puritanism, and perhaps it will make us happier.
Incidentally, Perry had her first child, a boy, while writing her book. She says that men are also harmed by our anything-goes lifestyle:
Has that altered her perspective? "Yes, to the extent that I had a baby boy. It made me think a bit more about the way that men are harmed by this culture."
Speaking of children, Mail columnist Peter Hitchens says that broken homes harm their prospects as adults.
We always say that, in case of a relationship breakup, children are resilient, but is that actually true in the long term?
Hitchens says that it isn't.
He points to the recent release of a report on children's social care:
Last week great publicity was rightly given to a report on children's social care. It predicted that the number of children in care, now 80,000, would rise to 100,000 by 2032, costing taxpayers a colossal £15 billion a year.
Of course many terrible things happen to children in so-called 'care' apart from actual violence and death. The general outcomes for children deprived of what we would once have called stable family life, and deprived of fathers, are just not very good. 
No doubt plenty of social workers, foster parents and others do all they can, and I am not trying to criticise these individuals but they just cannot do what a loving, stable home can do.
He, too, points indirectly to the sexual revolution which has seen a continuing decline in marriage and an increase in divorce:
The tragedy of care is a direct consequence of 50 years in which the law, and our culture, have encouraged the idea that lifelong marriage is dispensable – a cruel prison from which adults should be free to escape. The latest loosening of the marriage laws, effectively allowing divorce on demand, follows the same failed view.
I agree. I was appalled to see a Conservative government push that law through the statute books.
Hitchens also says that today's marriage vows outside of church do not pledge fidelity over the years:
Should we not connect the number of children in care to the fact that, in England and Wales, the numbers getting married fell in 2019 to the lowest rate since records began? Less than 20 per cent of these weddings were in a religious building, where the idea that marriage is for life is still pretty much insisted upon.
Many modern weddings are lavish affairs in beautiful places, but they simply do not demand the commitment that couples used to make. And many modern couples, seeing which way the wind is blowing, never bother to marry at all. Such commitment is generally discouraged, even viewed as foolish.
He says there is a class divide when it comes to divorce and children:
… the children are the ones who suffer, and whose freedom from worry and insecurity has been sacrificed to allow for grown-up freedoms to do as we will.
Among the well-off, the damage is generally not so bad, though there is damage. But among the poor, and in the parts of the country where the schools are bad and the streets are grim, it is another story. And that story often ends in care, with all its miseries, loneliness, insecurity and disappointment.
It is not the same sort of hell as the workhouses and the orphanages of the past were, but it can be hell even so. We need a modern Charles Dickens to depict it. If more people realised how bad it was, we might start to wonder if the gradual dismantling of stable marriage was such a good idea after all.
I am delighted to read about two Britons championing traditional marriage. I hope the case they make for lifelong marital vows is heard far and wide. Marriage was instituted for our benefit. We can see that doing away with it has done us precious little good as a society.
Mothering Sunday is March 27, 2022, which is also Laetare Sunday, the joyful day in Lent:
Laetare Sunday, Mother's Day and the Golden Rose
Laetare Sunday is Mothering Sunday
Some churches in the UK will be departing from the usual Lectionary lesson and read the latter part of 1 Samuel 1 instead.
Here is the whole chapter, the highly moving story of Hannah and her long-awaited son, Samuel (emphases mine below):
The Birth of Samuel
1 There was a certain man from Ramathaim, a Zuphite[a] from the hill country of Ephraim, whose name was Elkanah son of Jeroham, the son of Elihu, the son of Tohu, the son of Zuph, an Ephraimite. 2 He had two wives; one was called Hannah and the other Peninnah. Peninnah had children, but Hannah had none.
3 Year after year this man went up from his town to worship and sacrifice to the Lord Almighty at Shiloh, where Hophni and Phinehas, the two sons of Eli, were priests of the Lord. 4 Whenever the day came for Elkanah to sacrifice, he would give portions of the meat to his wife Peninnah and to all her sons and daughters. 5 But to Hannah he gave a double portion because he loved her, and the Lord had closed her womb. 6 Because the Lord had closed Hannah's womb, her rival kept provoking her in order to irritate her. 7 This went on year after year. Whenever Hannah went up to the house of the Lord, her rival provoked her till she wept and would not eat. 8 Her husband Elkanah would say to her, "Hannah, why are you weeping? Why don't you eat? Why are you downhearted? Don't I mean more to you than ten sons?"
9 Once when they had finished eating and drinking in Shiloh, Hannah stood up. Now Eli the priest was sitting on his chair by the doorpost of the Lord's house. 10 In her deep anguish Hannah prayed to the Lord, weeping bitterly. 11 And she made a vow, saying, "Lord Almighty, if you will only look on your servant's misery and remember me, and not forget your servant but give her a son, then I will give him to the Lord for all the days of his life, and no razor will ever be used on his head."
12 As she kept on praying to the Lord, Eli observed her mouth. 13 Hannah was praying in her heart, and her lips were moving but her voice was not heard. Eli thought she was drunk 14 and said to her, "How long are you going to stay drunk? Put away your wine."
15 "Not so, my lord," Hannah replied, "I am a woman who is deeply troubled. I have not been drinking wine or beer; I was pouring out my soul to the Lord. 16 Do not take your servant for a wicked woman; I have been praying here out of my great anguish and grief."
17 Eli answered, "Go in peace, and may the God of Israel grant you what you have asked of him."
18 She said, "May your servant find favor in your eyes." Then she went her way and ate something, and her face was no longer downcast.
19 Early the next morning they arose and worshiped before the Lord and then went back to their home at Ramah. Elkanah made love to his wife Hannah, and the Lord remembered her. 20 So in the course of time Hannah became pregnant and gave birth to a son. She named him Samuel,[b] saying, "Because I asked the Lord for him."
Hannah Dedicates Samuel
21 When her husband Elkanah went up with all his family to offer the annual sacrifice to the Lord and to fulfill his vow, 22 Hannah did not go. She said to her husband, "After the boy is weaned, I will take him and present him before the Lord, and he will live there always."[c]
23 "Do what seems best to you," her husband Elkanah told her. "Stay here until you have weaned him; only may the Lord make good his[d] word." So the woman stayed at home and nursed her son until she had weaned him.
24 After he was weaned, she took the boy with her, young as he was, along with a three-year-old bull,[e] an ephah[f] of flour and a skin of wine, and brought him to the house of the Lord at Shiloh. 25 When the bull had been sacrificed, they brought the boy to Eli, 26 and she said to him, "Pardon me, my lord. As surely as you live, I am the woman who stood here beside you praying to the Lord. 27 I prayed for this child, and the Lord has granted me what I asked of him. 28 So now I give him to the Lord. For his whole life he will be given over to the Lord." And he worshiped the Lord there.
Hannah vowed that Samuel would take a life-long Nazirite vow (verse 11):
… no razor will ever be used on his head …

The only other men in the Bible to do so were Samson and John the Baptist. Most Nazirite vows were short-term in nature.
John MacArthur explains the vow:
That last little part was a Nazarite vow, described in Numbers 6:3 to 6.  If a Jew wanted to take a vow of total consecration to God, he would not cut his hair, no concern for physical appearance, not drink the wine and the strong drink, abstaining from the banquetings and the celebrations and all of that, living an austere, consecrated, God-centered life. 
Commentary on Hannah's story comes from John MacArthur's 1987 sermon, 'Hannah: A Godly Mother'.
Hannah truly had faith. Even though she was sterile, she believed the Lord would reverse her condition, which He did.
The name Hannah means 'grace'. It befits this woman:
… We meet her in 1 Samuel 1.  Hannah, her name speaks of her beauty; it means grace, and indeed she is the emblem of the grace of womanhood.  She became a mother by faith.  She first appears, as 1 Samuel opens, as a childless woman.  Then she becomes a mother, the mother of one of the greatest men who ever walked the earth, Samuel.  And as you see the account of the birth of Samuel, you note the profile of a godly mother.
Incidentally, the name Anna is a form of Hannah.
This was not a propitious era for Israel, which was experiencing a time of turmoil:
As the book opens, it is the period of the Judges.  There is no king in Israel as yet.  It is a time of turmoil; it is a time of confusion.  It is a time when Israel is vulnerable to the Philistines.  It is a time when they are debauched morally.  It is a time when their religion has grown cold.  And it is a time for a great man to rise and take the leadership of the nation, a period of religious degeneracy, of political distress.  With the death of Samson the country was divided and leaderless.  The Philistines were hanging on the edge.  The priesthood was corrupt.  Moral scandals were rampant among the family of the priests.  The nation was weak.  The nation was impotent.  And the worst of all, chapter 3, verse 1 says, "word from the Lord was rare in those days, and visions were infrequent."  God even had nothing to say.  The nation needed a great leader, a great man, and God needed a great woman to shape that great man.  And Samuel, one of the greatest men who ever walked the earth, was not only the product of the work of God, but the product of a godly mother.  And she gave to her nation and the world the greatest legacy a woman can ever give, a godly child.
MacArthur gives us his perspective on what denotes a godly mother:
As we are introduced to this story, I want us to note three things that profile a godly mother.  She had a right husband relationship, she had a right heavenly relationship, and she had a right home relationship.  Those three things stand out and profile her for us.
First of all, let's consider her right husband relationship.  And may I say that this is, at the very outset, essential for you to understand.  The most important relationship in a family in raising godly children is not the relationship between the parents and the children, it's the relationship between the mother and the father.  What you communicate to your children by your relationship dominates their thinking.  They are learning about human relationships from the two of you.  They are learning about virtue, they are learning about sin.  They are learning about love.  They are learning about forgiveness.  They're learning about sympathy.  They're learning about understanding.  They're learning about compassion.  They're learning about virtue.  They're learning about honesty and integrity.  They're watching, and far more important than your relationship to your child in the long run is the relationship you have to your spouse, that's projected to your child.  And so at the very outset, the Word of God is clear to tell us the relationship between Hannah and Elkanah.
Now, first of all, let me say that it wasn't a perfect relationship; so ladies, you want to start out by realizing you're not married to a perfect man.  That's a given.  I want you to understand what the Scripture says.  Hannah was married to a polygamist.  Now, I don't know how that would sit with you as a woman, but I can guess.  And I can also tell you that it didn't sit any better with Hannah than it does with you, to have a rival in the house, to have another wife in the house.  And worst of all, she is producing boys and girls and Hannah has none, and so she is the unfruitful, unproductive wife who cannot give to her husband that which her heart most longs to give.
He wasn't a perfect man.  The very fact that he was a polygamist indicates his imperfection.  But understand this, this is a primitive time, and polygamy was a part of human culture; never God's design, never.  God always designed one man, one woman, leaving their parents, joining together for life, and becoming one flesh, from Genesis on.  But human society was rife with polygamy, and when the truth of God came into human society, it was so pervasive, polygamy, that it took time to root it out …
And so Elkanah created for Hannah a very difficult situation.  We don't know the details, but it may well have been that he went on to marry Peninnah because of Hannah's barrenness, and in order to produce a generation who could then possess his inheritance.  And so that would even make the pain deeper, because Peninnah came to do in that union what Hannah could not do.  Not a perfect relationship, but nonetheless a good one, a right one.  Let me show you why.
First of all, they shared worship.  Now, "this man," Elkanah, verse 3 says, "would go up from his city yearly to worship and to sacrifice to the Lord of hosts in Shiloh."  It doesn't mean he went once a year, it meant that every year he went.  In Deuteronomy, chapter 16, verse 16, it explains the prescription; three times a year – yes, it was the Feast of Unleavened Bread, the Feast of Weeks, and the Feast of Booths.  The man had to go to the place of worship.  In this particular time, in 1 Samuel, the place of worship was at Shiloh, because that's where the Ark of the Covenant was located before it was transferred to Jerusalem …
Starting out, then, they had a shared worship; so vital.  How you worship communicates volumes of information to your children.  Are you faithful?  Are you faithful to come and meet with God's redeemed people, week in and week out?  Are you faithful to make the Word of God the priority in your life?  Are you faithful that prayer should have a high place in your experience spiritually?  Are you faithful to live what you affirm that you believe?  In other words, the attitude of your spiritual devotion is communicating a Christianity to your children that they will have a hard time overcoming, if it in fact is less than it ought to be.
Secondly, they not only had a right relationship in their marriage because of worshiping together, but secondly, they shared love.  Notice verse 4, "And when the day came that Elkanah sacrificed" – one of those times when he took the trip to Shiloh – "he would give portions to Peninnah his wife and all her sons and her daughters, but to Hannah he would give a double portion, for he loved Hannah."  Stop at that point.  He didn't love Peninnah.  That's the implication.  Peninnah was there to produce the children that Hannah couldn't have.  Peninnah was there to create a future for his family, his inheritance.  But Hannah was the one he loved, and he made no attempt to hide that.  And when they went to offer their sacrifices, I don't know if you know how that worked, but they would go to offer peace offerings, and they would offer the offering on the altar there.  The priest would take a small part, then most of it would come back to the family, and they'd have a feast.  And when passing out the feast, he would give a double portion to Hannah, because she was the one he loved.  This was a gesture in the East to an honored guest.  She was the one who had his heart.  And it was not just the love of emotion, it was the love of kindness, and the love of thoughtfulness, and the love of sacrifice, the love of honor.  He loved her.  And this love was her security. 
Men, if you don't know it yet, you ought to know it; a woman's security is in your love for her, not in your bank account, not in a fancy house, not in new furniture, not in a retirement plan.  A woman finds her security in your love, and it needs to be demonstrated so frequently that there's never a question about it.  People wonder often why women tend to be suspicious of their husbands, and wondering if they might have some other attraction or be fooling around with some other person, and the reason is because it's so deeply rooted in a woman that her security is in the love of her man.  And that's the way it was with Elkanah and Hannah.  And she was secure in his love, because he took the time to demonstrate his love to her in very public ways, such as he had done at this feast in front of everyone.  They shared love, and thus she was secure in that love; and she needed that, believe me, when he had another wife …
… They shared love … There is the absence of anxiety and frustration, so that the woman can give herself to the children, and not always feel that she's got to be a beauty queen to win the affection of her husband.  Once the husband with his love wraps that woman up and secures her, then she can give herself away to her children, and not have to feel that she must always fight the uphill battle to attract her husband.

Thirdly, they shared another thing.  They shared feelings.  Shared worship, their relationship to God was a common one.  They shared love, and they shared feelings.  Look at verse 6.  "Her rival, however," – that's Peninnah – "would provoke her bitterly to irritate her because the Lord had closed her womb."  It said that also at the end of verse 5, twice it says the Lord had closed her womb.  What it's trying to say is this isn't Hannah's problem; the Lord did this.  The Lord closed her womb.  And this Peninnah would harass her, you know, that kind of thing, "Too bad you can't have any children, Hannah," just sticking the knife in.  And it happened year after year; "as often as she went up to the house of the Lord, she would provoke her so she wept and wouldn't eat." 
Here she goes to the big feast.  Elkanah is sympathetically, lovingly giving her a double portion.  She won't eat anything, 'cause on the other side of the table, Peninnah's really rubbing it in that she has no children.  The response – I would not want to be in Elkanah's position, trying to pull these two women together.  But Elkanah, her husband, said to her, "Hannah, why do you weep?  And why do you not eat?  And why is your heart sad?  Am I not better to you than ten sons?"  They shared feelings.  Boy, he read her feelings and he didn't pontificate, he asked a question.  Why are you doing this, Hannah?  Haven't I been better than ten sons to you? … He knew the conflict, and he knew the conflict was intensified from Peninnah's side, and he knew that it was deep and painful and it was a hard, hard place for her to be.  And so he was tender, and sympathetic, and thoughtful, and he felt her feelings in his own heart.
… She has a right husband relationship.  They share worship, the deepest dimension of human life.  They share love, maybe the next deepest dimension of human life.  They share feelings, maybe the next deepest dimension of human life.  They have a deep relationship.  They move together in the presence of God, with one another, and over the issues of life that involve other people.
As devestated as she was about her sterility — which God had given her — she believed that He could reverse her condition. She never lost her faith. Not only did she pray and pray for a child, she also made a vow to the Lord. Many women would have been bitter and turned away from God, but not Hannah:
The high priest is in the temple.  She goes there.  She came into the temple greatly distressed.  Her soul was bitter, it literally says.  And she prayed to the Lord and wept bitterly.  She is just crushed – crushed.  And she made a promise, a vow.  "O Lord," and she goes on to make her vow.  But notice this about this godly woman: she was a woman of prayer.  It's a beautiful characteristic.  She understood that God was the source of children.  She understood that God alone could alter her sterility.  Her distinctive virtue was her faith, constant faith.  Verse 12, "It came about as she continued praying before the Lord" – constant.  She remained there.  She stayed there.  Her heart was broken.  She was pouring out her prayers.  This is the spirit of true prayer …
So she promised God, "I'll give You this child, I just want to be fulfilled as a mother, I just want to raise a godly son to give back to Your glory.  And if You give him to me I'll give him back."  This is her promise, to present her child to God.  That's the essence of a godly mother.  While praying for a child, she prays for that child not for a wrong reason but a right reason, to turn that child back to God, from where the child came.  That's the essence of a godly mother – to give the child to God, to give the child to God.  My mother only had one son, and I am that son.  Before I was born she dedicated me to the Lord from birth, and told my father that she wanted a son who would preach the gospel.  That's a wonderful legacy.  And that may not be what every son is to do, it is not what every son is to do, but every godly mother will give that child to the Lord for whatever he has; the same with a daughter.  So Hannah made her promise.
We also find out more about Eli and his sons. Wasn't it awful for Eli to accuse Hannah in her brokenness of being drunk?
The next thing we see about Hannah was her purity.  Eli was the high priest, but I've got to tell you, he was really a lousy high priest.  And nothing could be said about his discernment, either.  "It came about when she was praying continually before the Lord, Eli was watching her mouth."  Sitting off on a – he was a big, fat man.  In fact, when his sons died, he was so shook he fell over, and landed on his neck and broke it and killed himself.  So Eli was sitting there watching her, and she was in there pouring out her heart and weeping and crying.  And she was speaking in her heart.  She wasn't speaking out loud, it says in verse 13, only her lips were moving.  Have you ever had that experience where you're really talking in your heart but your lips are moving, though not a sound was heard?  So Eli thought she was drunk.  Isn't he discerning?  Now, I don't know anything about my discernment as relative to other people, or to Eli's, but I'll tell you, I think I know the difference between a drunk and a woman broken in prayer. 
So Eli decided to play the spiritual role.  "How long will you make yourself drunk?  Put away your wine from you," he says to her.  And Hannah is so gracious, and answered and said, "No, my lord, I'm a woman oppressed in spirit.  I have drunk neither wine nor strong drink, but I have poured out my soul before the Lord.  You misjudge me.  Do not consider your maidservant as a worthless woman."  That tells us a little bit about drinking wine or strong drink and its relationship to worthlessness regarding women.  That's an Old Testament attitude.  "Don't consider me like that.  I have spoken until now out of my great concern and my provocation."  Then Eli, hearing such a lucid answer, answered and said, "Go in peace, and may the God of Israel grant your petition that you've asked of Him."  It's sort of a mild apology.  But he mistook her for being drunk.  "Don't think your maidservant a worthless woman" – literally, a son of Belial, profitless.  A common term, by the way, in the Old Testament, associated with idolatry, Deuteronomy 13; rebellion, 1 Samuel 2; lewd, sensuous acts in Judges 19 and 20; a term used to speak of arrogance and stupidity in 1 Samuel 25, and even murder in 1 Kings 21.  "Don't think that I'm in that group.  I'm not that kind of person."  She was a virtuous woman, like the woman of Proverbs 12:4 and 31:10, she was a woman of virtue.  She was a godly woman, she was a pure woman …
… the rest of chapter 2 into chapter 3 into chapter 4 is the sad, pathetic tragedy of the family of Eli.  His sons were fornicators.  They died, and he himself fell over, as I said, and died.  It was a tragic, ugly scene.  And the commentary of Scripture on Eli was that he could not restrain his sons from doing evil; and his wife is never mentioned.  I don't know what part, if any, she had, but she was a long way from what Hannah was in producing godly Samuel. 
MacArthur explains why Hannah was able to enjoy eating after she was so upset in prayer:
I'll tell you why: because she had patient faith.  She had patient faith.  She gave it to God, what else could she do?  She wasn't about to remain frustrated.  This is true faith.  True faith doesn't pray, "O God, here's my problem, here's my problem," walk away in utter frustration.  That's really doubt.  Faith says, "Here it is, God," and walks away, and is no longer sad.  That's trust.  "I trust You."  Very much the mark of a godly mother, one who totally trusts God – she casts her burden on God, and that's the end of it.  She walks away.  She eats.  She is no longer sad.
Samuel was a little boy — older than a toddler — when Hannah dedicated him to the Lord:
"For she said to her husband, 'I will not go up until the child is weaned.'"  Now wait a minute.  That's a couple of years, Hannah.  Three years?  I don't know exactly how long Hannah nursed little Samuel, but several years surely.  "I won't go."  It was only about a two or three week trip, at the longest, to go up there and be there for a week, traveling there, traveling back.  It's less than 200 miles from one end of Palestine to the other.  She wouldn't go, she wouldn't go at all.  Why?  She was dedicated to the child.  When God gave the child, she was dedicated to the child …
… Samuel means heard by God.  And boy, once that child came, Hannah said, "This is the child of my passion, this is the child of my vow; I will not forsake my time with this child.  I won't leave this child for several weeks.  I won't take this little child along and make it uncomfortable," because they would necessarily walk.  The child needs sleep, and the child needs the gentleness of home, the quietness of a nursing environment … 
And she dedicates the weaned child to God.  So verse 24, "When she had weaned him, she took him up with her, along with a three-year- old bull, and one ephah of flour, and a jug of wine, and brought him to the house of the Lord in Shiloh, although the child was young.  They slaughtered the bull and brought the boy to Eli, and she said, 'O my lord, as your soul lives, my lord, I am the woman who stood here beside you praying to the Lord.  For this boy I prayed, and the Lord has given me my petition which I asked of Him.  So I have also dedicated him to the Lord; as long as he lives he is dedicated to the Lord.'  And he worshiped the Lord there."
Samuel's story begins in 1 Samuel 2:
Look at chapter 2, verse 18:  "Now Samuel was ministering before the Lord, as a boy wearing a linen ephod."  In other words, he was girded like a priest would be, dressed as a little boy.  His whole life was ministering before the Lord.  "And his mother would make him a little robe," verse 19, "and bring it to him from year to year when she would come up with her husband to offer the yearly sacrifice.  Then Eli would bless Elkanah and his wife and say, 'May the Lord give you children from this woman in place of the one she dedicated to the Lord.'  And they went to their own home.  The Lord visited Hannah; and she conceived and gave birth to three sons and two daughters.  And the boy Samuel grew before the Lord."
She never really let go of her responsibility; every time she came, she came with a new little robe for her growing Samuel.  That's the result of godly mothering.  And that's the insight that you never stop being Mother, no matter how old they become.  God blessed her. To be a godly mother involves a right husband relationship, a right heavenly relationship, and a right home relationship.  Hannah had all of that.  God honored it, and she gives us a model to follow.

In closing, may I wish all mothers celebrating in a few days' time a happy — and blessed — Mothering Sunday.
Happy St Valentine's Day to all my readers!
The traditions behind this day go back millenia. During pagan times, it was called Lupercalia and took place on February 15. It is thought that Pope Gelasius I turned the event into a Christian feast day in the fifth century, assigning it to St Valentine. However, Gelasius is better known for giving the Church the feast of Candlemas, February 2, encouraging a devotion to Mary. Incidentally, the Latin word Febrare, from which we derive February, means 'to purify'. Read more about the history of February 14 here.
There is also the question of which St Valentine is remembered. All three lived during Roman times and were connected with love and marriage. As such, in 1969, the Catholic Church dropped the feast day, but parts of the Anglican Communion and the Lutheran Church remember the saint on February 14. Read more about the three Valentines and romantic traditions that developed through the centuries here.
For many, February 14 is either a day of joy or one of dread.
For those who do not have someone special with whom to celebrate, this year, The Times has an article about the application of the Drake Formula, used in seeking alien life (!), to romance.
It says, in part (emphases mine):
The quest to find intelligent life out there can feel hopeless. You can search for years without any progress.
Yes, searching for a viable romantic date has a lot in common with the search for extraterrestrial intelligence …
As with rocky exoplanets, so with girlfriends. Love interests have to live close, be of the right gender, attractive to you and — crucially — attracted to you in turn. Drake calculated that perhaps 1 in 200,000 star systems contained contactable alien civilisations.
The adapted formula is based on an idea by Peter Backus, now at Manchester University. In a paper titled, Why I Don't Have a Girlfriend: An Application of the Drake Equation to Love in the UK, Backus tweaked the original variables.
The rate of star formation became the birth rate, while the other variables sought to narrow down that number to women in his city and age range.
Backus concluded his odds of finding love were infinitesimal.
However, Steven Wooding, a member of the Institute of Physics who works for Omni Calculator, said:
… that there is hope. "The problem with the Drake equation and aliens is there is a lot of uncertainty in those numbers. Whereas we definitely know people fall in love."
Incidentally, Backus himself is happily married. He told The Times:
My love life is actually great. I am married to the loveliest, smartest, most gorgeous person I know.
Good for him!
But what if someone has a sweetheart who doesn't fit their 'type'? Is that person Ms or Mr Right?
The Telegraph says that some seemingly improbable couples can — and do — truly love each other:
The flight of Cupid's arrow is notoriously unpredictable. Sometimes people fall in love with the boy (or girl) next door. Sometimes mutual friends set us up, with varying degrees of subtlety and success. But sometimes people fall for another human being who seems to be not only not their "type", but from a different planet altogether. The eyes meet, the arrow hits home. It will never last, friends say. But sometimes it does…
Clearly, fundamental differences in personality, lifestyle or upbringing don't need to stand in the way of happiness, even if dating algorithms would never match you. One in every 10 UK couples identifies as intercultural and, according to the 2001-11 Census, one to two per cent of all UK marriages are interfaith.
"We're drawn towards certain individuals, almost as if we've known them our whole lives," says psychotherapist Malcolm Stern, author of Slay Your Dragons with Compassion. "It's that easy dialogue that happens between you the second you meet that creates an instant connection. Somehow you just click."
Of course, where there are profound cultural and religious differences, or a large age gap, opposition from family members, or society in general can give a certain "us against the world" feeling. Research shows that the average age difference for UK couples is between three and five years. But there are long-term marriages where the divide is greater. Somehow these marriages do work …
If you make each other happy, who's to say what's right or wrong in love? …

As with all major choices in life, one has to be discerning as a potentially serious relationship develops:
If you have a similar outlook, there's a good chance your love will endure. But if you have markedly different personalities, a recent study found that while opposites may attract at first, after a while they may well start attacking each other, with differences leading to frustration and animosity.
Psychologist Edward Waring found that self-disclosure is the way to build intimacy between couples who seem incompatible, in order to discover what values, beliefs, and personality traits they share and to reveal what really matters to them. According to the Association for Psychological Science, chemistry emerges from interactions and encompasses the feeling that a relationship is special and different from other ones.
The Telegraph's article gives us profiles of four successful couples who come from different backgrounds. I wish them well.
For those who got engaged at the most romantic time of the year, the question of what sort of wedding to have looms large.
This year, a few articles appeared in the British press advising against lavish 'Bridezilla' festivities. Personally, I find such displays rather vulgar.
The Telegraph has a cautionary article on the subject: 'Marriage rests on shaky ground when the wedding itself is the big event'.
Columnist Jane Shilling warns against ostentation:
… the influence of celebrity, both in selling product and framing modern mores, has led to a steady normalisation of weddings as extravagant displays of that most perishable of commodities, romance, rather than the solemnisation of a relationship intended to last a lifetime.
I couldn't agree more.
However, can the type of wedding one has predict success or failure in marriage?
Not really.
Things can go either way.
Celebrity-type weddings can sometimes be ill-fated:
… the Marriage Foundation, a charity dedicated to promoting the advantages of marriage, sounds a cautionary note. A survey commissioned by the Foundation found that weddings costing more than £20,000 were twice as likely to end in divorce than more modest ceremonies.
On the other hand, a modest celebration does not guarantee success in marriage:
Frugality apparently offers no sounder footing for a durable partnership: the survey found that almost a third of weddings attended by fewer than 10 guests ended in divorce.
My advice for those who are single? First, don't give up on love. Secondly, marry your best friend. Thirdly, be sensible: make sure one of you can cook from scratch. As the old American saying goes: kissin' don't last; cookin' do.
The Second Sunday after Epiphany is January 16, 2022.
Readings for Year C can be found here.
The Gospel reading is as follows (emphases mine):
John 2:1-11
2:1 On the third day there was a wedding in Cana of Galilee, and the mother of Jesus was there.
2:2 Jesus and his disciples had also been invited to the wedding.
2:3 When the wine gave out, the mother of Jesus said to him, "They have no wine."
2:4 And Jesus said to her, "Woman, what concern is that to you and to me? My hour has not yet come."
2:5 His mother said to the servants, "Do whatever he tells you."
2:6 Now standing there were six stone water jars for the Jewish rites of purification, each holding twenty or thirty gallons.
2:7 Jesus said to them, "Fill the jars with water." And they filled them up to the brim.
2:8 He said to them, "Now draw some out, and take it to the chief steward." So they took it.
2:9 When the steward tasted the water that had become wine, and did not know where it came from (though the servants who had drawn the water knew), the steward called the bridegroom
2:10 and said to him, "Everyone serves the good wine first, and then the inferior wine after the guests have become drunk. But you have kept the good wine until now."
2:11 Jesus did this, the first of his signs, in Cana of Galilee, and revealed his glory; and his disciples believed in him.
Commentary comes from Matthew Henry and John MacArthur.
By way of introduction, John MacArthur tells us that John's Gospel is an apologetic and an evangelic purpose set to prove that Jesus is the Son of God:
John has written his gospel for one purpose, really. These have been written, he says–the words of this gospel–that you may believe that Jesus is the Christ, the Son of God. John writes to give evidence for the fact that Jesus of Nazareth is the Messiah and is the Son of God, that you may believe that, and that believing you may have life, eternal life, in His name. So we've been saying he has an apologetic purpose to give evidence that Jesus is the Messiah, the Son of God, and he has an evangelistic purpose that you might believe that, and then believing have eternal life in His name. John's gospel is a collection of evidences, of evidences concerning the Lord Jesus Christ, to prove His deity and His humanity. The whole purpose of this gospel is just to line up supporting proofs for the deity of Jesus Christ.
We already know that from our experience in chapter 1. There is the first eighteen verses, which is the testimony of John the apostle himself. In the opening eighteen verses that some call the prologue, John gives his own testimony that the Word, who is Jesus Christ, is God, with God, created everything, is the Light, is the life, all of those things are part of that. "The Word," verse 14, "became flesh and dwelt among us and we beheld His glory. The glory as of the only begotten of the Father, full of grace and truth."
We heard the first 14 verses read on Christmas Day and the remainder of the Prologue on the Second Sunday after Christmas Day.
John writes about eight miracles that Jesus performed:
He turns water into wine in chapter 2. He heals a dying man in chapter 4. He cures a paralyzed man in chapter 5. He creates food for thousands of people in chapter 6. He walks on water at the end of chapter 6. He gives sight to the blind in chapter 9. He raises a man dead for days in chapter 11. He creates a meal in chapter 21, breakfast for His disciples. And then the culminating miracle beyond the eight, He is raised from the dead. So those are the miracle signs that John records.
However, there were many more that John did not include:
I would just remind you that in chapter 20, verse 30, it says this: "Therefore many other signs Jesus also performed in the presence of the disciples which are not written in this book." So I don't want you to think that these are the only miracles Jesus did, far from it. There are many others. They were a daily experience of those who followed Jesus.
And then in chapter 21, verse 25, the last verse in the gospel of John, John writes "there were also many other things which Jesus did which if they were written in detail, I suppose that even the world itself would not contain the books that would be written." Jesus did so many signs and so many miracles that the books of the world wouldn't be able to contain the details of all of them. Many other things; John is merely giving us samples of these miraculous evidences that Jesus is in fact God because He does what only God can do. In chapter 1, verse 14, the Word, the divine Word, the eternal Word became flesh and manifested His divine glory. That's John's point. He shows His glory as God through these signs.
This is how John wrote of our Lord's ministry, both public and private:
Now as we come to chapter 2, it is also in chapter 2 that we have the beginning of Jesus' public ministry. His ministry to the crowds, His ministry to the people of Israel, and His public ministry goes from chapter 2, verse 1 to the end of chapter 12. When you come to the end of chapter 12, that's the end of His public ministry. Chapter 13 through 17 is His private ministry in the Upper Room to the apostles. And that is right before His death and resurrection, which then become the subject of chapters 18 to 21. So the book is divided then into those sections: chapter 1, verbal testimony; chapter 2 to 12, public ministry; 13 to 17, private ministry; 18 to the end, His death, resurrection, and post-resurrection appearances. That helps locate you in the big scheme of things in the gospel of John.
John tells us that, on the third day, a wedding took place in Cana and that the mother of Jesus — Mary — was invited (verse 1).
The 'third day' refers to the previous chapter, in which He began calling His apostles:
The third day after the previous meeting with Philip and Nathanael, which was concluded when Philip brought Nathanael, and Nathanael said in verse 49 concerning Jesus, "After we've examined You, we see You are the Son of God, You are the King of Israel." That's what John the apostle said in the opening, that's what John the Baptist says, that's what these men all say, and now it is going to be proven to us in the miracle that happens in the wedding at Cana. It's the third day after that meeting. What that tells us is that from the time that John the Baptist said "Behold the Lamb of God" and turned his disciples away from him to follow Jesus–those five men to follow Jesus–from that day to this day everything happens in a week. They have gone from being across the Jordan and Judah, all the way back to Galilee to the village of Cana, which is about nine miles, the ruins of it are about nine miles north of Nazareth. All of this happens in a very power-packed week. Jesus being declared, these men being called to follow Him, and they do so and end up in the town of Cana.
Jesus and His disciples had also been invited to the wedding (verse 2).
MacArthur tells us more about Cana and Nazareth, both in Galilee:
… we're talking about Andrew and Peter and Philip and Nathanael and John and just incidentally Nathanael's hometown, according to John 21:2, was Cana. This is a very small place. Nazareth, for example, the highest number we read about in terms of the population of Nazareth at the time of Jesus would be 500. That would be the max. Small place.
Cana is a village nine miles away, even smaller; maybe a few dozen people, a sort of a gathering place for the agricultural folks in that region; very, very small place. That would make this wedding a huge event. And obviously people from Nazareth would know those people because they lived nearby, they farmed together, the people in the outlying areas would come to Nazareth when they needed things that could only be gained in Nazareth.
It would also be true that if a town of Nazareth has five hundred or less people, they know each other. They've been there for generations; they aren't mobile. They're not only friends, many are family, and that would be extended into Cana. So we're not surprised that Nathanael would be there because that's his village. We're not surprised that Mary would be there, she had lived in Nazareth for a long time. And we're not also surprised that the rest of these folks from Galilee, the other men who came with Jesus, would also be there. Surely they would know people in that wedding as well.
Matthew Henry's commentary mentions the biblical significance of Cana as the place for our Lord's first miracle:
The place: it was at Cana in Galilee, in the tribe of Asher (Joshua 19:28), of which, before, it was said that he shall yield royal dainties, Genesis 49:20 Christ began to work miracles in an obscure corner of the country, remote from Jerusalem, which was the public scene of action, to show that he sought not honour from men (John 5:41; John 5:41), but would put honour upon the lowly. His doctrine and miracles would not be so much opposed by the plain and honest Galileans as they would be by the proud and prejudiced rabbies, politicians, and grandees, at Jerusalem.
Both commentators point out the significance of this first miracle occurring at a wedding.
Henry says:
The occasion itself was a marriage; probably one or both of the parties were akin to our Lord Jesus. The mother of Jesus is said to be there, and not to be called, as Jesus and his disciples were, which intimates that she was there as one at home. Observe the honour which Christ hereby put upon the ordinance of marriage, that he graced the solemnity of it, not only with his presence, but with his first miracle; because it was instituted and blessed in innocency, because by it he would still seek a godly seed, because it resembles the mystical union between him and his church …
MacArthur says that by virtue of the fact that marriage is open to all cultures signifies its importance to humanity through common grace, ordained by God for an orderly society:
The fact that our Lord did His first miracle at a wedding emphasizes the sanctity of that covenant. Weddings matter. Public covenant matters. The ceremony matters; it always has, it always has. People are not married who just live together. People are married who make public covenant before God and before people.
Marriage is a condition of life designed by God, ordained by God, and authenticated in an open, public covenant. It is the highest and noblest and best of all human relationships. No other human relationship is as wonderful as marriage. It is called in the Bible "the grace of life." It is the most wonderful and most blessed of all common graces. And we talk about common grace. What we mean by that is a grace gift from God to all people without regard to whether they believe in Him. That's a common grace. And of all the common graces–the beauty of the world, a sunset, sleep, health, a good meal, falling in love–of all the common graces, the epitome of common graces is marriage. It is the best gift that God can give to humanity in general without regard to whether they know Him at all. Any society that honors marriage, any society that elevates marriage–a life-long commitment openly; a covenant made and kept between a man and a woman who rear children in the bond of that love–any society that honors marriage will be blessed temporally. It will prosper. It will be safe. It will be secure. It will know peace. It will have a minimum of crime.
On the other hand, any society that fails to honor marriage as a covenant, open covenant between a man and a woman for life, in which children are reared and cared for; any society that diminishes marriage, that fails to honor marriage, is corrupt, is doomed to chaos, turmoil, evil and judgment. Where marriage for life is not honored, where the covenant vows between a man and a woman are not kept, immorality abounds. Immorality overruns the culture, delinquency overruns the culture. The fabric of society is shredded and even escalates. Our Lord honored marriage by attending and doing His first miracle at a wedding.
When the wine ran out, Mary told Jesus that there was no more (verse 3).
How did she know? She was no doubt sensitive to and interested in everything that was going on.
Henry says that Mary and Jesus were the principal guests:
Christ and his mother and disciples were principal guests at this entertainment. The mother of Jesus (that was her most honourable title) was there; no mention being made of Joseph, we conclude him dead before this.
On the other hand, MacArthur thinks that Mary helped serve rather than be served:
Maybe Mary was there because she, of course, would have been who served, just her character as a godly woman demonstrated in her Magnificat at the time of our Lord's birth. She would have been a wonderful woman, a loved woman, a beloved woman. She probably had some role to play in the wedding to serve as indicated by the fact that she sees the problem and brings it to Jesus.
MacArthur says that running out of wine was a big deal that would have reflected badly on the groom, who would have been preparing for the feast and married life since betrothal, likely to have been a year before. To run out of wine during a days-long wedding feast was a sign of trouble. Note that the couple did not consummate their marriage until the feast had ended:
… this is a major event going on, it lasted for days. Some writers say they usually would start in the middle of the week and go on for many days. Sometimes they would start early in the week and go all week long, as long as seven days. When people came to this celebration, they came because there had been a betrothal, an engagement period. About a year earlier, the couple had been engaged. That's a legal, binding, covenantal contract that could only be broken by divorce. But the marriage wasn't consummated; it wasn't consummated till the end of this party.
What was going on all that year? The husband was preparing a place for his bride. That's what he did. He built a house for his bride. He may be extended on the father's house, the family house. The bridegroom had full responsibility for all the cost of the wedding. And his job was to get everything ready, and then when everything was ready and the house was built and the house was furnished and all preparations were made and he had demonstrated that he had what it took to care for this girl and to provide for this girl, the party began. It was a great celebration because he had been working hard for a year …
Well, a wedding, as I said, is the greatest occasion. No occasion like it. And the celebration is in full swing. Everybody's having a wonderful time. That's the party. And then comes the predicament, verse 3, when the wine ran out, that's a problem. When the wine ran out, this is a major catastrophe. This is a colossal social embarrassment because if there was anything that the bridegroom had spent a year trying to prove is that he could take care of his bride. He had to build her a house; he had to acquire everything that was necessary. He had to demonstrate his ability to take care of her for the rest of her life. Her father was handing her over to him. This is a problem. Maybe he can't plan. This is what all of you fathers who marry off your daughters fear. Is this guy going to be able to make a living? Is this guy going to be able to take care of you? Is this guy smoke 'n mirrors here? Is there substance there? This is the same issue. They ran out of wine at the greatest celebration that they would have had. Remember, life was tough, life was hard, labor was extreme. It was a difficult world to just survive and a celebration like this meant so much as a relief and then to run out of wine.
Jesus addresses Mary as 'woman' and asks what the lack of wine has to do with them; He then tells her that His hour has not yet come (verse 4).
In other words, with regard to miracles, He takes orders from His Heavenly Father, not a human being.
Henry says:
Now this was intended to be, First, A check to his mother for interposing in a matter which was the act of his Godhead, which had no dependence on her, and which she was not the mother of. Though, as man, he was David's Son and hers; yet, as God, he was David's Lord and hers, and he would have her know it. The greatest advancements must not make us forget ourselves and our place, nor the familiarity to which the covenant of grace admits us breed contempt, irreverence, or any kind or degree of presumption. Secondly, It was an instruction to others of his relations (many of whom were present here) that they must never expect him to have any regard to his kindred according to the flesh, in his working miracles, or that therein he should gratify them, who in this matter were no more to him than other people.
As for Jesus saying His hour had not yet come, He meant that God would direct His actions at the proper time.
Henry interprets this in a practical way, saying that Jesus wanted to make sure all the wine had been consumed first:
His mother moved him to help them when the wine began to fail (so it may be read, John 2:3; John 2:3), but his hour was not yet come till it was quite spent, and there was a total want; not only to prevent any suspicion of mixing some of the wine that was left with the water, but to teach us that man's extremity is God's opportunity to appear for the help and relief of his people. Then his hour is come when we are reduced to the utmost strait, and know not what to do. This encouraged those that waited for him to believe that though his hour was not yet come it would come. Note, The delays of mercy are not to be construed the denials of prayer.
MacArthur sees it as a mild rebuke:
It's not harsh to say "Woman." Some say it's kind of the southern expression, "ma'am." It's not harsh, but it's not intimate. It's not mother. It's courteous. By the way, it's the same word that He used on the cross in John 19 when He said to her, "Woman, behold your son," and handed her over to John. He called her "woman" there as well. Why? Because He is telling her we don't any longer have the relationship we've had up till now. It's over. She is no longer in a position to act as an authority in His life. She is no longer in a position to tell Him what to do, to make suggestions to Him. This would be a big change because I'm pretty confident that everything she ever asked of Him, everything she ever desired of Him, He gave out of His love. But she could no longer demand anything from Him. She played no role in His ministry.
Recall that the Gospel reading a few weeks ago for the First Sunday after Christmas Day was when Jesus stayed behind after Passover at the age of 12 to listen to the teachers at the temple.
MacArthur says:
When He was twelve years old, He gave her a preview of this moment, and He was in the temple talking to the officials, and He said, "I must be about My Father's business." And this day His Father's business started and His mother's business ended. From here on He was saying, "I don't do your business; I do My Father's business. I'm done with My mother's business, fully engaged in My Father's business."
Can I even extend that? He never asked for suggestions from anybody…from anybody. In fact, when people gave Him suggestions, He normally rebuked them such as "Get behind Me, Satan." Here His rebuke is a little milder. He says, "What does that have to do with us?" "What does that have to do with us?" This is so critically important. The years of compliance, the years of submission, the years of obedience are over. He is finished with His mother's business and He is now doing His Father's business. He says from here on, as we'll see in John, "I only do what the Father tells Me to do. I only do what the Father wills that I do. I only do what I see the Father do. It is the Father who gives Me His Word, and it is what the Father speaks that I do."
Mary lets the matter drop and tells the servants to obey Jesus in any instruction (verse 5).
Henry observes that Mary wanted the servants to adopt the same obedience that she would now adopt:
She directed them punctually to observe his orders, without disputing, or asking questions. Being conscious to herself of a fault in prescribing to him, she cautions the servants to take heed of the same fault, and to attend both his time and his way for supply: "Whatsoever he saith unto you, do it, though you may think it ever so improper. If he saith, Give the guests water, when they call for wine, do it. If he saith, Pour out from the bottoms of the vessels that are spent, do it. He can make a few drops of wine multiply to so many draughts." Note, Those that expect Christ's favours must with an implicit obedience observe his orders. The way of duty is the way to mercy; and Christ's methods must not be objected against.
John tells us that there were six stone water jars for purification purposes; each could hold 20 or 30 gallons of water (verse 6).
Henry explains that the purification rituals under Mosaic law were seen as a means to win favour with God:
Observe, 1. For what use these water-pots were intended: for the legal purifications from ceremonial pollutions enjoined by the law of God, and many more by the tradition of the elders. The Jews eat not, except they wash often (Mark 7:3), and they used much water in their washing, for which reason here were six large water-pots provided. It was a saying among them, Qui multâ utitur aquâ in lavando, multas consequetur in hoc mundo divitias–He who uses much water in washing will gain much wealth in this world.
At that time — and until relatively recently, in historical terms — water was unsafe to drink unless it had been purified. Wine (or beer) could purify it, which was why alcohol was added to water. One could drink it without becoming inebriated because of the small quantity of alcohol used.
Jesus told the servants to fill the vessels to the brim with water (verse 7).
MacArthur explains why He wanted them completely filled:
If they weren't filled to the brim, somebody would just say He added wine to the water. But if the water goes all the way to the brim, there's nothing left to…no room left. That was the point. And by the way, you have people who are completely disinterested parties now who are going to give testimony to this miracle. They don't have any stake in this issue. They're not trying to prove anything about Jesus. These are servants, whoever they were, the people who were serving there. They might not have been full-time servants. They might just have been friends and folks who were willing to do this. But they don't have any issue. They are disinterested parties who are going to witness and give testimony to this miracle. So they filled the water pots with water. And they filled them up to the brim.
Jesus then instructed the servants to give some of the wine to the chief steward, which they did (verse 8).
MacArthur points out that the miracle occurred between verses 7 and 8:
… it actually happened in the white space between verses 7 and 8. They filled it to the brim and all of a sudden they drew some out, took it to the head waiter, they took it to him and the head waiter tasted water which had become wine. This is so understated. This is like in the backdoor. Where's the miracle? I mean, this is massive.
The chief steward tasted the wine; he was unaware of its origin, although the servants knew, and he called over the bridegroom (verse 9).
The chief steward told the bridegroom that the best wine was about to be served, rather than before (verse 10). The implication is that the host begins with the best wine first when people can experience it most: with clean tastebuds and the accompaniment of good food.
A good host serves the best of everything first and the lesser quality items later.
John concludes by saying that this was the first of our Lord's signs, performed in Cana in Galilee, thereby revealing His glory; His disciples believed in him (verse 11).
Henry reminds us that they believed, although their faith at that stage would have been imperfect, as borne out by the Gospels:
Those whom he had called (John 1:35-43.1.51; John 1:35-43.1.51), who had seen no miracle, and yet followed him, now saw this, shared in it, and had their faith strengthened by it. Note, (1.) Even the faith that is true is at first but weak. The strongest men were once babes, so were the strongest Christians. (2.) The manifesting of the glory of Christ is the great confirmation of the faith of Christians.
This wine would have been the most perfect ever created, better than the best Petrus. Those wedding guests experienced a gustatorial blessing that no one since ever has.
In closing, this is what Matthew Henry's commentary says about drink, putting paid to any abstemious notions — everything in moderation:
Temperance per force is a thankless virtue; but if divine providence gives us abundance of the delights of sense, and divine grace enables us to use them moderately, this is self-denial that is praiseworthy. He also intended that some should be left for the confirmation of the truth of the miracle to the faith of others. And we have reason to think that the guests at this table were so well taught, or at least were now so well awed by the presence of Christ, that none of them abused this wine to excess. These two considerations, drawn from this story, may be sufficient at any time to fortify us against temptations to intemperance: First, That our meat and drink are the gifts of God's bounty to us, and we owe our liberty to use them, and our comfort in the use of them, to the mediation of Christ; it is therefore ungrateful and impious to abuse them.
This goodness of God's creation presages the pleasure and perfection of the life to come:
Secondly, That, wherever we are, Christ has his eye upon us; we should eat bread before God (Exodus 18:12), and then we should not feed ourselves without fear. [2.] He has given us a specimen of the method he takes in dealing with those that deal with him, which is, to reserve the best for the last, and therefore they must deal upon trust. The recompence of their services and sufferings is reserved for the other world; it is a glory to be revealed. The pleasures of sin give their colour in the cup, but at the last bite; but the pleasures of religion will be pleasures for evermore.
May all reading this have a blessed Sunday.
The Eighteenth Sunday after Trinity — Nineteenth Sunday after Pentecost — is October 3, 2021.
Readings for Year B can be found here.
The Gospel reading is as follows (emphases mine):
Mark 10:2-16
10:2 Some Pharisees came, and to test him they asked, "Is it lawful for a man to divorce his wife?"
10:3 He answered them, "What did Moses command you?"
10:4 They said, "Moses allowed a man to write a certificate of dismissal and to divorce her."
10:5 But Jesus said to them, "Because of your hardness of heart he wrote this commandment for you.
10:6 But from the beginning of creation, 'God made them male and female.'
10:7 'For this reason a man shall leave his father and mother and be joined to his wife,
10:8 and the two shall become one flesh.' So they are no longer two, but one flesh.
10:9 Therefore what God has joined together, let no one separate."
10:10 Then in the house the disciples asked him again about this matter.
10:11 He said to them, "Whoever divorces his wife and marries another commits adultery against her;
10:12 and if she divorces her husband and marries another, she commits adultery."
10:13 People were bringing little children to him in order that he might touch them; and the disciples spoke sternly to them.
10:14 But when Jesus saw this, he was indignant and said to them, "Let the little children come to me; do not stop them; for it is to such as these that the kingdom of God belongs.
10:15 Truly I tell you, whoever does not receive the kingdom of God as a little child will never enter it."
10:16 And he took them up in his arms, laid his hands on them, and blessed them.
Commentary comes from Matthew Henry and John MacArthur.
There is a lot to discuss here, so grab yourself a cup of tea and a biscuit.
We pick up where we left off last Sunday.
It is unclear why the Lectionary editors left out Mark 10:1, so here it is:
And he left there and went to the region of Judea and beyond the Jordan, and crowds gathered to him again. And again, as was his custom, he taught them.
John MacArthur explains:
… we find Him, according to verse 1, having concluded His Galilean ministry. And actually, by the time we get into this chapter in Mark, He has also concluded His Judean ministry, which lasted quite a number of months. Mark gives us no record of that at all. If you want the record of that period of ministry, look at Luke 10 through 18, and those months are covered in a summary fashion by Luke.
So we jump from the Galilean ministry right over the top of the Judean ministry, and here we find our Lord beyond the Jordan in the area called Peraea, often referred to, then, as His Peraean ministry. This is the last little bit of ministry He does before He goes down to Jericho and in chapter 11 enters Jerusalem for the final week of His life. So we're at the end of His earthly ministry here, virtually at the end of it. And He is teaching His disciples some very, very important lessons, and this one happens to be about the subject of divorce.
Also:
There were lots of people there. He was ministering there at the very end. Why? Because when He left Galilee, He left the hostility of Galilee. Six months in Judea has escalated the hostility of Judea, so He spent the last brief time before His death crossing the Jordan into Peraea.
So in chapter 10, you really have His Peraean ministry. It's just one chapter. As I say, Mark doesn't even tell us about the six months, we just have one chapter, and then in chapter 11, verse 1, He enters Jerusalem. The Galilean Jews who went down to Jerusalem, which they would start doing now because Passover would be coming – that's why Jesus went there, to be the Passover – Galilean Jews would travel south on the east side of Jordan because if they were on the west side, they'd be going through Samaria, and they hated the Samaritans because they were inter-married half-breeds.
And so they would all go down the east side, all the way down to Jericho, and from Jericho up to Jerusalem, and so our Lord would find crowds there at the last time of His ministry, crowds of people, because there were many Jews who had moved there during the reign of Herod the Great, and they lived there but there would also be many pilgrims, traversing on their way to Jerusalem.
It had a large Jewish population, as I said, that developed during the reign of Herod the Great, the father of the current ruler, Herod Antipas. So we read here there were crowds gathered around Him. Those would be the Jews that lived in that area, as well as the pilgrims headed to Jerusalem, as the migration would have begun toward the coming feasts.
The Pharisees were on hand to test him with a question about divorce (verse 2).
MacArthur says that the question being posed and where the Pharisees posed it was no accident, but part of a plan to put Jesus in danger:
They were putting Him to the test with the purpose of discrediting Him. They wanted Him to say things that would alienate Him from the people. Since divorce was popular among the leaders, it was popular among the people, the men especially. And they wanted Jesus to say what they knew He believed because they had heard it before.
They wanted Him to say that divorce was wrong, and they wanted Him to condemn everybody that was divorced, and that would set Him against the leaders and against the people, irritate the people, and thus Jesus would not be nearly so popular. But even more than that, it happened to be that they confront Him on the subject in Peraea because they're in the territory under Herod Antipas, and Herod had divorced his wife and married the divorced wife of his own brother and committed incest with her because she was his relative.
And John the Baptist had confronted this divorce and Herod chopped his head off. They were hoping that if Jesus took John's position on divorce, Herod might rise again and destroy Jesus the way he had destroyed John the Baptist. So they had some plans to discredit Jesus and even to have Him killed by bringing up the question.
We do not normally think of the ancient Jews as favouring divorce, but they did in the Old Testament.
MacArthur tells us of the books of Nehemiah and Malachi where Jewish men divorced their Jewish wives in order to marry pagan women. In the time of Jesus, Jewish men were divorcing their wives under petty claims of indecency, which could be anything trivial, to marry other Jewish women:
What they were doing was divorcing their Jewish wives to marry pagan Gentile women. That's how, essentially, the Old Testament history ends. Nehemiah and Malachi give us the last word, and the last word of the Old Testament to the priests and the people is, "Do not divorce your wives, I hate divorce." Four hundred years later, we arrive in Mark's gospel in the New Testament period, and you can go back to chapter 10. Divorce now has been reestablished as a noble alternative, a righteous behavior.
The Jews of our Lord's day have a rationalized framework to make divorce acceptable. They're engaged in it. It was rampant through the culture of Israel and including the priests who were the ones indicted originally four hundred years earlier by Malachi and Nehemiah. This issue of pervasive divorce in the land of Israel becomes the subject of the opening verses of this chapter.
Jesus responds by asking them what Moses commanded (verse 3).
They responded by saying that Moses allowed a man to write a certificate of dismissal and to divorce a wife (verse 4).
Jesus replied that Moses allowed that provision because of their hardness of heart (verse 5).
Matthew Henry says that some men would have killed their wives just to be rid of them:
That the reason why Moses, in his law, permitted divorce, was such, as that they ought not to make use of that permission; for it was only for the hardness of their hearts (Mark 10:5; Mark 10:5), lest, if they were not permitted to divorce their wives, they should murder them; so that none must put away their wives but such as are willing to own that their hearts were so hard as to need this permission.
Jesus referred to Genesis 1:27: Adam and Eve, male and female (verse 6). There were no other humans in the Garden of Eden.
MacArthur discusses God's plan for a union between a man and a woman:
Now, what's important about that is there is no provision for polygamy. There isn't Adam and Eve and Sally and Alice. And there is no provision for divorce because there are not a few single women hanging around as options or alternatives. In the order of creation, there was one man and one woman. There are no spare parts. There are no spare people. They were created for each other and for no one else. Their union was complete, their union was unique, and they are a pattern for all to follow. Every marriage is no less an indissoluble union between one man and one woman.
And there were no provisions for any other people. The argument is clear. In the case of Adam and Eve, divorce is not only inadvisable, it is not only wrong, it is impossible where there isn't anybody else for either of them to marry.
Jesus went on to cite Genesis 2:24: a man shall leave his mother and father to be joined to his wife and the two will become one flesh (verses 7, 8).
Matthew 19:5 uses the word 'cleave' or 'cling', as in sticking to each other as one:
Verse 7, "For this reason a man shall leave his father and mother," and Matthew adds, "and shall cling to his wife." This is Genesis 2:24. This is the God-ordained view of marriage. It is an independent, strong union. You leave father and mother. You break the prior family bond. And in the language of Matthew 19:5, which is taken from Genesis 2:24, "You cling" or cleave "to your wife." The idea of that word is glue – glue. You're literally stuck together.
It is not a – arm's-length relationship, it is not a look-and-see trial. You are glued together. And it also, that word, carries the idea – cleaving carries the idea of pursuing hard after. It is two people unbreakably connected together, glued together, and pursuing hard after each other to be united in mind and will and spirit and body and emotion. The Jewish term for marriage is kiddushin. It means sanctification or consecration. Both of those words mean something completely set apart for special use. It was used to describe something dedicated to God as His exclusive possession, His personal possession.
Jesus said what God has joined together, no man must separate (verse 9).
MacArthur explains:
You can't divide one. One is the indivisible number – one is the indivisible number.
That oneness, that indivisibility is seen in the product of those two, isn't it? Children. The child is the one that comes out of the two. It is an indivisible oneness that manifests itself in the offspring that are the ones that come from the two. Family plays into this, then, by implication. We all understand the destructiveness of the family in divorce.
Later, once they were in the house where they were staying, the disciples asked Jesus again about divorce (verse 10).
He responded, saying that a man who divorces his wife and marries another woman commits adultery against her (verse 11) and that a woman who divorces her husband to marry another man commits adultery (verse 12).
Henry says:
No more is here related of this private conference, that the law Christ laid down in this case–That it is adultery for a man to put away his wife, and marry another; it is adultery against the wife he puts away, it is a wrong to her, a breach of his contract with her, Mark 10:11; Mark 10:11. He adds, If a woman shall put away her husband, that is, elope from him, leave him by consent, and be married to another, she commits adultery (Mark 10:12; Mark 10:12), and it will be no excuse at all for her to say that it was with the consent of her husband. Wisdom and grace, holiness and love, reigning in the heart, will make those commands easy which to the carnal mind may be as a heavy yoke.
Children feature in Mark 10, just as they did in Mark 9.
People were bringing their children to Jesus so that He might touch them, but the disciples rebuked them (verse 13).
We would find that a strange response, but the disciples, still thinking of works-based salvation, disregarded small children because they did not understand Mosaic law nor could they accomplish what was involved in keeping those laws.
MacArthur explains:
So while they had come to salvation by grace, they had imbibed so much of their former system (salvation by works) that they didn't think children fit in anywhere. And, of course, the Lord hadn't apparently said anything to this point about the children, so this is their teaching moment. They strongly protest this group of parents who desired the Lord to bless their babies and pray for their babies, convinced that this would just be an unnecessary, trivial interruption.
And, again, if you just took a Greek New Testament, took the word epitimaō and started in Mark 3 and traced it through Mark 10, you would see that every time it's used, it's a very intense reprimand. So the disciples really let those parents have it …
And that is a very strong word, epitimaō, a compound word intensified again by a preposition as verbs tend to be in the Greek language. Literally, it means they censured them or they reprimanded them. In a noun form, it means punishment. They turned on these parents. Their worldview, their religious worldview, was such that children had no place in the system of religion, no place before God, not until they arrived at the point where they could do the things they needed to do to gain God's favor.
The practice of a Jewish blessing either by a patriarch or a religious elder was widespread throughout history:
There are Old Testament illustrations of how fathers blessed their children. There are a number of them. All through the patriarchal period, fathers blessed their children, Noah blessed Shem and Japheth, and we see that through the patriarchs, through Jacob and passed down to the next generation and the next, Isaac blessing his sons and Jacob blessing his sons, and this was a typical fatherly benediction pronounced on the heads of children.
What was it about? It was a desire, including a prayer, for their spiritual blessing. It was that God would show favor to them. In fact, it was even more specific. The elders used to say that when you pray for your child and you pray blessing on your child, you pray this, that the child would be famous in the law, faithful in marriage, and abundant in good works. Famous in the law, faithful in marriage, and abundant in good works. The father would lay his hands on the child's head, the elders of the synagogue would come together and they would do the same and bless the child, and they would pray for the child.
The Talmud tells us that it was a very customary thing for parents to bring their children, their little children, to be blessed by the elders of the synagogue, and in Judaism, there was a special day set aside for this, the day before the Day of Atonement, the day before Yom Kippur. In fact, they would bring their children that day before praying that, of course, the atonement the next day would be applied to those children.
The children in today's reading were toddlers, little innocents.
Jesus was indignant with the disciples, telling them that they should not stop the children coming to Him because they were part of the kingdom of God (verse 14).
MacArthur tells us:
"He was indignant" – again, a very strong verb, to be angry, to be irate. This is not an insignificant issue, not a minor issue. Jesus doesn't pass over this lightly. He is very angry that they would treat children this way. The parents were not wrong. He did not rebuke the parents. Only the disciples were rebuked for their wrong assumptions and their bad understanding of Scripture.
MacArthur says this is an unconditional promise for children and is not dependent on baptism. This is important for parents who have lost their little ones:
The kingdom of God belongs to such as these. There are no qualifiers there. Okay? There are no caveats there. There are no conditions there. This is so very important. He doesn't say the kingdom of God belongs to these as if somehow these particular babies were in the kingdom. He says the kingdom of God belongs to such as these, meaning the whole category or the whole class of beings to which these babies belong. Literally, the kingdom of God belongs to these kind, babies, infants, little children.
Matthew calls it the kingdom of heaven and says the same thing, it belongs to such as these. Not just to these but to the whole category to which these belong. The kingdom of God belongs to babies. They have a place in the kingdom. They have a part in the kingdom.
What is He talking about, the kingdom? He's talking about the sphere of salvation – the sphere of salvation – same thing He was always talking about. The sphere in which God rules over those who belong to Him, the spiritual domain in which souls exist under His special care.
Now, what's important here is He just said that babies, as a category, have a part in the kingdom. They belong to it, it belongs to them, same thing. Nothing is said about the parents' faith, nothing is said about a covenant as if there was some family covenant. Nothing is said about baptism. Nothing is said about circumcision. Nothing is said about any rite, any ritual, any parental promise, parental covenant, or any national covenant. His words simply and completely engulf all babies. They belong to the kingdom; the kingdom belongs to them.
And if our Lord was ever going to teach infant baptism, this would have been the perfect spot. All He would have to have said was, "These children will possess the kingdom if you baptize them." But He doesn't say that. This was His golden opportunity, but He said nothing, and neither does anybody else in the Bible say anything about infant baptism. This is not about personal faith, either. He doesn't commend the parents' faith. He doesn't commend the babies' faith, which would be nonexistent. He simply says babies belong in the kingdom and the kingdom belongs to them, as a category …
This is not salvation, but this is His special care. And in the event that the child dies, I think the testimony of Scripture is that child receives salvation at the point of death because of God's sovereign grace. Another way to look at it is to understand that all babies that die are elect. They're all saved. Christ's sacrifice is applied to them all.
Jesus was emphatic — 'Truly, I tell you' — that whoever does not receive the kingdom of God as a little child will never enter it (verse 15).
That means that we need to be as little innocents when approaching the Gospel and our Lord.
MacArthur says:
You have to come the way children come – simple, open, trusting, unpretentious, dependent, weak, lacking achievement, humbly. And if you don't come like that, you'll never enter the kingdom.
Henry has an eloquent commentary on that verse:
We must receive the kingdom of God as little children (Mark 10:15; Mark 10:15); that is, we must stand affected to Christ and his grace as little children do to their parents, nurses, and teachers. We must be inquisitive, as children, must learn as children (that is the learning age), and in learning must believe, Oportet discentem credere–A learner must believe. The mind of a child is white paper (tabula rasa–a mere blank), you may write upon it what you will; such must our minds be to the pen of the blessed Spirit. Children are under government; so must we be. Lord, what wilt thou have me to do? We must receive the kingdom of God as the child Samuel did, Speak, Lord, for thy servant heareth. Little children depend upon their parents' wisdom and care, are carried in their arms, go where they send them, and take what they provide for them; and thus must we receive the kingdom of God, with a humble resignation of ourselves to Jesus Christ, and an easy dependence upon him, both for strength and righteousness, for tuition, provision, and a portion.
Jesus took the children in His arms, laid His hands on them and blessed them (verse 16).
Henry says this was a fulfilment of prophecy:
See how he out-did the desires of these parents; they begged he would touch them, but he did more. (1.) He took them in his arms. Now the scripture was fulfilled (Isaiah 40:11), He shall gather the lambs in his arms, and carry them in his bosom. Time was, when Christ himself was taken up in old Simeon's arms, Luke 2:28. And now he took up these children, not complaining of the burthen (as Moses did, when he was bid to carry Israel, that peevish child, in his bosom, as a nursing father bears the sucking child,Numbers 11:12), but pleased with it. If we in a right manner bring our children to Christ, he will take them up, not only in the arms of his power and providence, but in the arms of his pity and grace (as Ezekiel 16:8); underneath them are the everlasting arms. (2.) He put his hands upon them, denoting the bestowing of his Spirit upon them (for that is the hand of the Lord), and his setting them apart for himself. (3.) He blessed them with the spiritual blessings he came to give. Our children are happy, if they have but the Mediator's blessing for their portion. It is true, we do not read that he baptized these children, baptism was not fully settled as the door of admission into the church until after Christ's resurrection; but he asserted their visible church-membership, and by another sign bestowed those blessings upon them, which are now appointed to be conveyed and conferred by baptism, the seal of the promise, which is to us and to our children.
In closing, I wanted to share with you John MacArthur's views on marriage. Like him, I would like to see as many people married as possible.
He says not to wait too long or be too fussy:
… by the way, marriage is the grace of life. And here's a verse all you ladies know, "A man who finds a good wife finds a good thing. A wife is a gift from the Lord," Proverbs 19:14. A wife is the best gift that God can ever give a man; a husband is the best gift that God could ever give a woman. It's the best thing in life. It's the greatest joy in life. It's the greatest fulfillment in life.
The disciples were talking on a very theoretical and pragmatic level. It's not good for man to be what? Alone. It is the grace of life. It is the joy of all joys, the blessing of all blessings. It is the path to fruitfulness, to children, the blessing of children, the blessing of grandchildren, the blessing of family. So He says it's a nice sentiment, but you're made to be married. Find somebody. Don't look for the Messiah, just find somebody.
I keep saying that to girls, you know, the Messiah came and went, you've got to settle for somebody else. Not everybody can receive it. He means not everybody can be fulfilled in a single state. Not everybody – literally, the word means have space or room for that. You need to be married. We say, "Well, if marriage is so hard…."
Well, look, let me tell you how to make a marriage work. Two people perfectly related to Jesus Christ will be perfectly related to each other. Two people who seek to honor Christ will have no problem honoring each other. How do you treat your spouse? You treat your spouse the way you would treat Christ because when you receive that person, you receive Christ. You treat that person the way Christ would treat that person.
People sometimes say to me, "You seem to have a good marriage." I do have a good marriage. I'm ecstatic about the marriage that God has given to me. I love my wife more now than I've ever loved her. I can't even – I don't even know where I stop and she starts. That's the way it is. She has not been married to a perfect man, but she has been married to a man who pursues the things in her life that I believe Christ would want for her. And the same for me. She pursues in my life the things that Christ would want for me. And it's the joy of all joys, it's supreme joy.
And I'll tell you young people, I know some of you are hanging around, waiting for the perfect person to come up. Look, just find somebody in whom Christ lives who desires to serve Christ and don't postpone marriage needlessly. Get married. This is the grace of life. We need more kids in the nursery. The kingdom grows that way.
You know, hanging around until you're 30 years of age, just checking everybody out, guess what – they're checking you out, and they're not thrilled, either, so just find somebody. You're wasting great years, do you understand that? You're wasting great, great years. If I could wish anything for myself, I wish that I had gotten married younger because it's such a wonderful thing, a blessed thing, God-honoring thing. In Christ, your marriage can be anything that Christ wants it to be, if you walk with Him.
You're in the best of circumstances here to have a sanctifying influence. Let me tell you something: It's not good to be single. It's good to have a sanctifying influence in your life right next to you 24 hours a day. And you want a strong believer. Just find one and let that person be a spiritual influence on you.
I could not agree more.
Let us pray for singletons seeking a suitable partner for life's journey.
Marriage is an amazing blessing! I am most grateful for mine; it is a tremendous gift from God.