You are currently browsing the tag archive for the 'marriage' tag.
The Eighteenth Sunday after Trinity — Nineteenth Sunday after Pentecost — is October 3, 2021.
Readings for Year B can be found here.
The Gospel reading is as follows (emphases mine):
Mark 10:2-16
10:2 Some Pharisees came, and to test him they asked, "Is it lawful for a man to divorce his wife?"
10:3 He answered them, "What did Moses command you?"
10:4 They said, "Moses allowed a man to write a certificate of dismissal and to divorce her."
10:5 But Jesus said to them, "Because of your hardness of heart he wrote this commandment for you.
10:6 But from the beginning of creation, 'God made them male and female.'
10:7 'For this reason a man shall leave his father and mother and be joined to his wife,
10:8 and the two shall become one flesh.' So they are no longer two, but one flesh.
10:9 Therefore what God has joined together, let no one separate."
10:10 Then in the house the disciples asked him again about this matter.
10:11 He said to them, "Whoever divorces his wife and marries another commits adultery against her;
10:12 and if she divorces her husband and marries another, she commits adultery."
10:13 People were bringing little children to him in order that he might touch them; and the disciples spoke sternly to them.
10:14 But when Jesus saw this, he was indignant and said to them, "Let the little children come to me; do not stop them; for it is to such as these that the kingdom of God belongs.
10:15 Truly I tell you, whoever does not receive the kingdom of God as a little child will never enter it."
10:16 And he took them up in his arms, laid his hands on them, and blessed them.
Commentary comes from Matthew Henry and John MacArthur.
There is a lot to discuss here, so grab yourself a cup of tea and a biscuit.
We pick up where we left off last Sunday.
It is unclear why the Lectionary editors left out Mark 10:1, so here it is:
And he left there and went to the region of Judea and beyond the Jordan, and crowds gathered to him again. And again, as was his custom, he taught them.
John MacArthur explains:
… we find Him, according to verse 1, having concluded His Galilean ministry. And actually, by the time we get into this chapter in Mark, He has also concluded His Judean ministry, which lasted quite a number of months. Mark gives us no record of that at all. If you want the record of that period of ministry, look at Luke 10 through 18, and those months are covered in a summary fashion by Luke.
So we jump from the Galilean ministry right over the top of the Judean ministry, and here we find our Lord beyond the Jordan in the area called Peraea, often referred to, then, as His Peraean ministry. This is the last little bit of ministry He does before He goes down to Jericho and in chapter 11 enters Jerusalem for the final week of His life. So we're at the end of His earthly ministry here, virtually at the end of it. And He is teaching His disciples some very, very important lessons, and this one happens to be about the subject of divorce.
Also:
There were lots of people there. He was ministering there at the very end. Why? Because when He left Galilee, He left the hostility of Galilee. Six months in Judea has escalated the hostility of Judea, so He spent the last brief time before His death crossing the Jordan into Peraea.
So in chapter 10, you really have His Peraean ministry. It's just one chapter. As I say, Mark doesn't even tell us about the six months, we just have one chapter, and then in chapter 11, verse 1, He enters Jerusalem. The Galilean Jews who went down to Jerusalem, which they would start doing now because Passover would be coming – that's why Jesus went there, to be the Passover – Galilean Jews would travel south on the east side of Jordan because if they were on the west side, they'd be going through Samaria, and they hated the Samaritans because they were inter-married half-breeds.
And so they would all go down the east side, all the way down to Jericho, and from Jericho up to Jerusalem, and so our Lord would find crowds there at the last time of His ministry, crowds of people, because there were many Jews who had moved there during the reign of Herod the Great, and they lived there but there would also be many pilgrims, traversing on their way to Jerusalem.
It had a large Jewish population, as I said, that developed during the reign of Herod the Great, the father of the current ruler, Herod Antipas. So we read here there were crowds gathered around Him. Those would be the Jews that lived in that area, as well as the pilgrims headed to Jerusalem, as the migration would have begun toward the coming feasts.
The Pharisees were on hand to test him with a question about divorce (verse 2).
MacArthur says that the question being posed and where the Pharisees posed it was no accident, but part of a plan to put Jesus in danger:
They were putting Him to the test with the purpose of discrediting Him. They wanted Him to say things that would alienate Him from the people. Since divorce was popular among the leaders, it was popular among the people, the men especially. And they wanted Jesus to say what they knew He believed because they had heard it before.
They wanted Him to say that divorce was wrong, and they wanted Him to condemn everybody that was divorced, and that would set Him against the leaders and against the people, irritate the people, and thus Jesus would not be nearly so popular. But even more than that, it happened to be that they confront Him on the subject in Peraea because they're in the territory under Herod Antipas, and Herod had divorced his wife and married the divorced wife of his own brother and committed incest with her because she was his relative.
And John the Baptist had confronted this divorce and Herod chopped his head off. They were hoping that if Jesus took John's position on divorce, Herod might rise again and destroy Jesus the way he had destroyed John the Baptist. So they had some plans to discredit Jesus and even to have Him killed by bringing up the question.
We do not normally think of the ancient Jews as favouring divorce, but they did in the Old Testament.
MacArthur tells us of the books of Nehemiah and Malachi where Jewish men divorced their Jewish wives in order to marry pagan women. In the time of Jesus, Jewish men were divorcing their wives under petty claims of indecency, which could be anything trivial, to marry other Jewish women:
What they were doing was divorcing their Jewish wives to marry pagan Gentile women. That's how, essentially, the Old Testament history ends. Nehemiah and Malachi give us the last word, and the last word of the Old Testament to the priests and the people is, "Do not divorce your wives, I hate divorce." Four hundred years later, we arrive in Mark's gospel in the New Testament period, and you can go back to chapter 10. Divorce now has been reestablished as a noble alternative, a righteous behavior.
The Jews of our Lord's day have a rationalized framework to make divorce acceptable. They're engaged in it. It was rampant through the culture of Israel and including the priests who were the ones indicted originally four hundred years earlier by Malachi and Nehemiah. This issue of pervasive divorce in the land of Israel becomes the subject of the opening verses of this chapter.
Jesus responds by asking them what Moses commanded (verse 3).
They responded by saying that Moses allowed a man to write a certificate of dismissal and to divorce a wife (verse 4).
Jesus replied that Moses allowed that provision because of their hardness of heart (verse 5).
Matthew Henry says that some men would have killed their wives just to be rid of them:
That the reason why Moses, in his law, permitted divorce, was such, as that they ought not to make use of that permission; for it was only for the hardness of their hearts (Mark 10:5; Mark 10:5), lest, if they were not permitted to divorce their wives, they should murder them; so that none must put away their wives but such as are willing to own that their hearts were so hard as to need this permission.
Jesus referred to Genesis 1:27: Adam and Eve, male and female (verse 6). There were no other humans in the Garden of Eden.
MacArthur discusses God's plan for a union between a man and a woman:
Now, what's important about that is there is no provision for polygamy. There isn't Adam and Eve and Sally and Alice. And there is no provision for divorce because there are not a few single women hanging around as options or alternatives. In the order of creation, there was one man and one woman. There are no spare parts. There are no spare people. They were created for each other and for no one else. Their union was complete, their union was unique, and they are a pattern for all to follow. Every marriage is no less an indissoluble union between one man and one woman.
And there were no provisions for any other people. The argument is clear. In the case of Adam and Eve, divorce is not only inadvisable, it is not only wrong, it is impossible where there isn't anybody else for either of them to marry.
Jesus went on to cite Genesis 2:24: a man shall leave his mother and father to be joined to his wife and the two will become one flesh (verses 7, 8).
Matthew 19:5 uses the word 'cleave' or 'cling', as in sticking to each other as one:
Verse 7, "For this reason a man shall leave his father and mother," and Matthew adds, "and shall cling to his wife." This is Genesis 2:24. This is the God-ordained view of marriage. It is an independent, strong union. You leave father and mother. You break the prior family bond. And in the language of Matthew 19:5, which is taken from Genesis 2:24, "You cling" or cleave "to your wife." The idea of that word is glue – glue. You're literally stuck together.
It is not a – arm's-length relationship, it is not a look-and-see trial. You are glued together. And it also, that word, carries the idea – cleaving carries the idea of pursuing hard after. It is two people unbreakably connected together, glued together, and pursuing hard after each other to be united in mind and will and spirit and body and emotion. The Jewish term for marriage is kiddushin. It means sanctification or consecration. Both of those words mean something completely set apart for special use. It was used to describe something dedicated to God as His exclusive possession, His personal possession.
Jesus said what God has joined together, no man must separate (verse 9).
MacArthur explains:
You can't divide one. One is the indivisible number – one is the indivisible number.
That oneness, that indivisibility is seen in the product of those two, isn't it? Children. The child is the one that comes out of the two. It is an indivisible oneness that manifests itself in the offspring that are the ones that come from the two. Family plays into this, then, by implication. We all understand the destructiveness of the family in divorce.
Later, once they were in the house where they were staying, the disciples asked Jesus again about divorce (verse 10).
He responded, saying that a man who divorces his wife and marries another woman commits adultery against her (verse 11) and that a woman who divorces her husband to marry another man commits adultery (verse 12).
Henry says:
No more is here related of this private conference, that the law Christ laid down in this case–That it is adultery for a man to put away his wife, and marry another; it is adultery against the wife he puts away, it is a wrong to her, a breach of his contract with her, Mark 10:11; Mark 10:11. He adds, If a woman shall put away her husband, that is, elope from him, leave him by consent, and be married to another, she commits adultery (Mark 10:12; Mark 10:12), and it will be no excuse at all for her to say that it was with the consent of her husband. Wisdom and grace, holiness and love, reigning in the heart, will make those commands easy which to the carnal mind may be as a heavy yoke.
Children feature in Mark 10, just as they did in Mark 9.
People were bringing their children to Jesus so that He might touch them, but the disciples rebuked them (verse 13).
We would find that a strange response, but the disciples, still thinking of works-based salvation, disregarded small children because they did not understand Mosaic law nor could they accomplish what was involved in keeping those laws.
MacArthur explains:
So while they had come to salvation by grace, they had imbibed so much of their former system (salvation by works) that they didn't think children fit in anywhere. And, of course, the Lord hadn't apparently said anything to this point about the children, so this is their teaching moment. They strongly protest this group of parents who desired the Lord to bless their babies and pray for their babies, convinced that this would just be an unnecessary, trivial interruption.
And, again, if you just took a Greek New Testament, took the word epitimaō and started in Mark 3 and traced it through Mark 10, you would see that every time it's used, it's a very intense reprimand. So the disciples really let those parents have it …
And that is a very strong word, epitimaō, a compound word intensified again by a preposition as verbs tend to be in the Greek language. Literally, it means they censured them or they reprimanded them. In a noun form, it means punishment. They turned on these parents. Their worldview, their religious worldview, was such that children had no place in the system of religion, no place before God, not until they arrived at the point where they could do the things they needed to do to gain God's favor.
The practice of a Jewish blessing either by a patriarch or a religious elder was widespread throughout history:
There are Old Testament illustrations of how fathers blessed their children. There are a number of them. All through the patriarchal period, fathers blessed their children, Noah blessed Shem and Japheth, and we see that through the patriarchs, through Jacob and passed down to the next generation and the next, Isaac blessing his sons and Jacob blessing his sons, and this was a typical fatherly benediction pronounced on the heads of children.
What was it about? It was a desire, including a prayer, for their spiritual blessing. It was that God would show favor to them. In fact, it was even more specific. The elders used to say that when you pray for your child and you pray blessing on your child, you pray this, that the child would be famous in the law, faithful in marriage, and abundant in good works. Famous in the law, faithful in marriage, and abundant in good works. The father would lay his hands on the child's head, the elders of the synagogue would come together and they would do the same and bless the child, and they would pray for the child.
The Talmud tells us that it was a very customary thing for parents to bring their children, their little children, to be blessed by the elders of the synagogue, and in Judaism, there was a special day set aside for this, the day before the Day of Atonement, the day before Yom Kippur. In fact, they would bring their children that day before praying that, of course, the atonement the next day would be applied to those children.
The children in today's reading were toddlers, little innocents.
Jesus was indignant with the disciples, telling them that they should not stop the children coming to Him because they were part of the kingdom of God (verse 14).
MacArthur tells us:
"He was indignant" – again, a very strong verb, to be angry, to be irate. This is not an insignificant issue, not a minor issue. Jesus doesn't pass over this lightly. He is very angry that they would treat children this way. The parents were not wrong. He did not rebuke the parents. Only the disciples were rebuked for their wrong assumptions and their bad understanding of Scripture.
MacArthur says this is an unconditional promise for children and is not dependent on baptism. This is important for parents who have lost their little ones:
The kingdom of God belongs to such as these. There are no qualifiers there. Okay? There are no caveats there. There are no conditions there. This is so very important. He doesn't say the kingdom of God belongs to these as if somehow these particular babies were in the kingdom. He says the kingdom of God belongs to such as these, meaning the whole category or the whole class of beings to which these babies belong. Literally, the kingdom of God belongs to these kind, babies, infants, little children.
Matthew calls it the kingdom of heaven and says the same thing, it belongs to such as these. Not just to these but to the whole category to which these belong. The kingdom of God belongs to babies. They have a place in the kingdom. They have a part in the kingdom.
What is He talking about, the kingdom? He's talking about the sphere of salvation – the sphere of salvation – same thing He was always talking about. The sphere in which God rules over those who belong to Him, the spiritual domain in which souls exist under His special care.
Now, what's important here is He just said that babies, as a category, have a part in the kingdom. They belong to it, it belongs to them, same thing. Nothing is said about the parents' faith, nothing is said about a covenant as if there was some family covenant. Nothing is said about baptism. Nothing is said about circumcision. Nothing is said about any rite, any ritual, any parental promise, parental covenant, or any national covenant. His words simply and completely engulf all babies. They belong to the kingdom; the kingdom belongs to them.
And if our Lord was ever going to teach infant baptism, this would have been the perfect spot. All He would have to have said was, "These children will possess the kingdom if you baptize them." But He doesn't say that. This was His golden opportunity, but He said nothing, and neither does anybody else in the Bible say anything about infant baptism. This is not about personal faith, either. He doesn't commend the parents' faith. He doesn't commend the babies' faith, which would be nonexistent. He simply says babies belong in the kingdom and the kingdom belongs to them, as a category …
This is not salvation, but this is His special care. And in the event that the child dies, I think the testimony of Scripture is that child receives salvation at the point of death because of God's sovereign grace. Another way to look at it is to understand that all babies that die are elect. They're all saved. Christ's sacrifice is applied to them all.
Jesus was emphatic — 'Truly, I tell you' — that whoever does not receive the kingdom of God as a little child will never enter it (verse 15).
That means that we need to be as little innocents when approaching the Gospel and our Lord.
MacArthur says:
You have to come the way children come – simple, open, trusting, unpretentious, dependent, weak, lacking achievement, humbly. And if you don't come like that, you'll never enter the kingdom.
Henry has an eloquent commentary on that verse:
We must receive the kingdom of God as little children (Mark 10:15; Mark 10:15); that is, we must stand affected to Christ and his grace as little children do to their parents, nurses, and teachers. We must be inquisitive, as children, must learn as children (that is the learning age), and in learning must believe, Oportet discentem credere–A learner must believe. The mind of a child is white paper (tabula rasa–a mere blank), you may write upon it what you will; such must our minds be to the pen of the blessed Spirit. Children are under government; so must we be. Lord, what wilt thou have me to do? We must receive the kingdom of God as the child Samuel did, Speak, Lord, for thy servant heareth. Little children depend upon their parents' wisdom and care, are carried in their arms, go where they send them, and take what they provide for them; and thus must we receive the kingdom of God, with a humble resignation of ourselves to Jesus Christ, and an easy dependence upon him, both for strength and righteousness, for tuition, provision, and a portion.
Jesus took the children in His arms, laid His hands on them and blessed them (verse 16).
Henry says this was a fulfilment of prophecy:
See how he out-did the desires of these parents; they begged he would touch them, but he did more. (1.) He took them in his arms. Now the scripture was fulfilled (Isaiah 40:11), He shall gather the lambs in his arms, and carry them in his bosom. Time was, when Christ himself was taken up in old Simeon's arms, Luke 2:28. And now he took up these children, not complaining of the burthen (as Moses did, when he was bid to carry Israel, that peevish child, in his bosom, as a nursing father bears the sucking child,Numbers 11:12), but pleased with it. If we in a right manner bring our children to Christ, he will take them up, not only in the arms of his power and providence, but in the arms of his pity and grace (as Ezekiel 16:8); underneath them are the everlasting arms. (2.) He put his hands upon them, denoting the bestowing of his Spirit upon them (for that is the hand of the Lord), and his setting them apart for himself. (3.) He blessed them with the spiritual blessings he came to give. Our children are happy, if they have but the Mediator's blessing for their portion. It is true, we do not read that he baptized these children, baptism was not fully settled as the door of admission into the church until after Christ's resurrection; but he asserted their visible church-membership, and by another sign bestowed those blessings upon them, which are now appointed to be conveyed and conferred by baptism, the seal of the promise, which is to us and to our children.
In closing, I wanted to share with you John MacArthur's views on marriage. Like him, I would like to see as many people married as possible.
He says not to wait too long or be too fussy:
… by the way, marriage is the grace of life. And here's a verse all you ladies know, "A man who finds a good wife finds a good thing. A wife is a gift from the Lord," Proverbs 19:14. A wife is the best gift that God can ever give a man; a husband is the best gift that God could ever give a woman. It's the best thing in life. It's the greatest joy in life. It's the greatest fulfillment in life.
The disciples were talking on a very theoretical and pragmatic level. It's not good for man to be what? Alone. It is the grace of life. It is the joy of all joys, the blessing of all blessings. It is the path to fruitfulness, to children, the blessing of children, the blessing of grandchildren, the blessing of family. So He says it's a nice sentiment, but you're made to be married. Find somebody. Don't look for the Messiah, just find somebody.
I keep saying that to girls, you know, the Messiah came and went, you've got to settle for somebody else. Not everybody can receive it. He means not everybody can be fulfilled in a single state. Not everybody – literally, the word means have space or room for that. You need to be married. We say, "Well, if marriage is so hard…."
Well, look, let me tell you how to make a marriage work. Two people perfectly related to Jesus Christ will be perfectly related to each other. Two people who seek to honor Christ will have no problem honoring each other. How do you treat your spouse? You treat your spouse the way you would treat Christ because when you receive that person, you receive Christ. You treat that person the way Christ would treat that person.
People sometimes say to me, "You seem to have a good marriage." I do have a good marriage. I'm ecstatic about the marriage that God has given to me. I love my wife more now than I've ever loved her. I can't even – I don't even know where I stop and she starts. That's the way it is. She has not been married to a perfect man, but she has been married to a man who pursues the things in her life that I believe Christ would want for her. And the same for me. She pursues in my life the things that Christ would want for me. And it's the joy of all joys, it's supreme joy.
And I'll tell you young people, I know some of you are hanging around, waiting for the perfect person to come up. Look, just find somebody in whom Christ lives who desires to serve Christ and don't postpone marriage needlessly. Get married. This is the grace of life. We need more kids in the nursery. The kingdom grows that way.
You know, hanging around until you're 30 years of age, just checking everybody out, guess what – they're checking you out, and they're not thrilled, either, so just find somebody. You're wasting great years, do you understand that? You're wasting great, great years. If I could wish anything for myself, I wish that I had gotten married younger because it's such a wonderful thing, a blessed thing, God-honoring thing. In Christ, your marriage can be anything that Christ wants it to be, if you walk with Him.
You're in the best of circumstances here to have a sanctifying influence. Let me tell you something: It's not good to be single. It's good to have a sanctifying influence in your life right next to you 24 hours a day. And you want a strong believer. Just find one and let that person be a spiritual influence on you.
I could not agree more.
Let us pray for singletons seeking a suitable partner for life's journey.
Marriage is an amazing blessing! I am most grateful for mine; it is a tremendous gift from God.
Britain's veteran television presenter Richard Madeley has a weekly agony uncle column in The Telegraph.
Recently, a 76-year-old lady from Argyll and Bute in Scotland wrote to him complaining about her 73-year-old husband's smoking and drinking.
Excerpts of the letter and Madeley's wise reply follow, emphases mine.
Anon writes:
I am 76 and I don't smoke or drink. My husband is 73: he drinks strong lager every day, he smokes and he takes no exercise whatsoever.
All of this is making me increasingly worried and angry. He is a good man, but I fear that he has deliberately set himself on a path to self-destruction. (Certainly he seems to take no evident pleasure from his habits.) He knows my views on the matter but we have never argued about it.
Richard Madeley begins by asking where the harm is in her husband's habits, as he is in his eighth decade. He tells the woman that she is:
over-worrying a bit about this.
It's not as if your husband is shooting up on class-A drugs every night or downing a whole bottle of whisky before sunset; he is indulging in some pretty mild vices. Yes, smoking is especially harmful, but if he hasn't managed to kick the habit by now I think it's probably a lost cause.
You say that he knows your views on the matter but quietly carries on puffing away and snapping open those tinnies anyway. You also say that you don't argue about it and he doesn't behave objectionably after he has sunk a few.
So my advice? Leave him be. It is not a perfect situation and you are quite right to be concerned about what his habits are doing to his liver and his lungs, but ultimately that is his responsibility, isn't it? Carry on enjoying your own retirement in your own way and let him enjoy his on his terms.
Live and let live. Or, rather, live and let smoke and drink. There are worse things in a marriage, you know.
I couldn't agree more.
This lady should be thanking God for a lasting marriage — and enjoying her husband's company more often. No doubt he was smoking and drinking lager when she married him. If it wasn't a problem then, it shouldn't be one now.
Several years ago, I watched a documentary about Queen Victoria, which included a few little-known facts about her life.
Apparently, Prince Albert was so in love with her during their early years of marriage that he used to put her silk stockings on her in the mornings and remove them at night. How sexy is that? What a splendid marital experience for both.
He also wrote her letters following their quarrels between 1841 and 1861.
They show he was a loving, wise husband. He was also a bit of a psychologist, decades before psychology existed.
The couple's daughter Princess Beatrice destroyed these letters, but not before an unknown person photographed them for the Royal Archives.
They are supposed to be available on a section dedicated to Prince Albert on the Royal Collections Trust website, but I'll be darned if I can find them. If anyone has found them, please do send me the link. Thanks in advance.
On Wednesday, September 22, the Daily Mail had an article about the letters, including a photo of one of them. Excerpts follow, emphases mine.
Queen Victoria was harsh with her children and beat them often when they were young. The Mail summarises one of Albert's letters criticising her lack of love for them:
Albert even lectures Victoria – who bore him nine children during their 21-year marriage – about motherhood and says it is a 'shame' she does not relax and enjoy their company more.
'It is indeed a pity that you find no consolation in the company of your children,' he says.
The man was a genius:
'The root of the difficulty lies in the mistaken notion that the function of a mother is to be always correcting, scolding, ordering them about and organising their activities… 
'It is not possible to be on happy, friendly terms with people you have just been scolding, for it upsets scolder and scolded alike.'
I couldn't agree more.
He wrote telling letters about their relationship, revealing quite a bit about their marriage, even though he loved her dearly.
After one row, Victoria continued following Albert around, venting her vexation with him:
In one letter, in his native German, Albert angrily chides feisty Victoria that she has again 'lost her self-control' and revealed how she followed him 'from room to room' rowing and refusing to back down.
He says: 'You have again lost your self-control quite unnecessarily. I did not say a word which could wound you and I did not begin the conversation, but you have followed me about and continued it from room to room.
'There is no need for me to promise to trust you for it was not a question of trust, but of your fidgety nature, which makes you insist on entering, with feverish eagerness, into details about orders and wishes which, in the case of a Queen, are commands to whomever they may be given.'
He adds angrily: 'I do my duty towards you even though it means that life is embittered by "scenes" when it should be governed by love and harmony.
'I look upon this with patience as a test which has to be undergone, but you hurt me desperately and at the same time do not help yourself.' 
This third one is my favourite and reveals more of his deep human insight:
He writes: 'We cannot, unhappily, bear your bodily sufferings for you – you must struggle with them alone. The moral ones are probably caused by them, but if you were rather less occupied with yourself (if that is possible) and your feelings (if that is possible) and took more interest in the outside world you would find that the greatest help of all.'
The two were first cousins, both born in 1819.
Sadly, Prince Albert died of typhoid fever at the age of 42.
Victoria withdrew from public life such that the press ridiculed her on the year of her Golden Jubilee, 1887. However, it could be that, as Empress of India, a title she requested of Parliament, she preferred spending time with her young servant Abdul Karim, who taught her how to read, speak and write Urdu.
The Telegraph discusses other letters that Prince Albert wrote and their digitisation:
A total of 22,000 documents, prints and photographs from the Royal Archives, the Royal Collection and the Royal Commission for the Exhibition of 1851 have now been digitised for the public to read.
The Prince Albert Digitisation Project was supported by Sir Hugh and Lady Stevenson in honour of Sir Hugh's sister, the late Dame Anne Griffiths, a former librarian and archivist to the Duke of Edinburgh.
Other items of interest include Albert's list of suggested candidate for the vacant role of Master of the Household, annotated by him with the reasons why he considered each man unsuitable: "Too old", "too useful in the Navy", "bad temper" and "French mistress".
Thank goodness these have been preserved for posterity.
And thank goodness for Prince Albert.
Yesterday was Father's Day. I hope that all dads reading had a good day with their children, communicating in some sort of significant way, either in person or by phone.
As ours is a childless household, I was interested to follow coverage of the day on GB News.
Alastair Stewart
Alastair Stewart got a pleasant surprise on his afternoon show, as his daughter, a headmistress, rang in with her good wishes and thanks on behalf of herself and her siblings as well as Mrs Stewart:
Stewart said that he has good relationships with all of his children, but that he and they relate to each other in a very individualised way, making fatherhood that much more special.
He said that he was taken aback that his daughter rang in to the show, at the suggestion of the production team. He wiped away a little tear after the call ended.
Neil Oliver
Archaeologist and television presenter Neil Oliver, also a member of the GB News team, appeared in the studio on Stewart's show and the one that followed, where Father's Day was the main topic.
Riding lessons for a young daughter
Oliver told Stewart that some children have an instinctive attraction to loving certain animals. He told Stewart how his daughter wanted riding lessons because she loved horses. Oliver and his wife thought the girl was too young. One day when the three of them were out, the girl saw horses in a field and spontaneously ran towards them. Oliver and his wife were worried for her safety, but the horses lowered their heads as she approached so that she could hug them. Riding lessons followed shortly afterwards.
His daughter will be entering Edinburgh University this autumn.
The awe of holding a newborn
On the show that followed Alastair Stewart's, Oliver said that holding his children as newborns was one of the most awe-inspiring experiences he could have. He said that holding his tiny babies turned him to jelly. He said that he felt as if his ribcage were floating around in his body, it was such a tremendous experience.
Celebrating together
As Oliver was in London in the studio and his children at home in Scotland, he told them they could celebrate Father's Day together once he returned to Stirling.
He said that he enjoys all the days that most of us regard as greeting card holidays, saying that any day that brings families closer together is worth celebrating.
Proudest accomplishments
Oliver said that his proudest accomplishments in life are being a husband and a father.
He said he knew from a young age that he wanted a wife and children. They make his life complete.
—————————–
I did search on Twitter to see if GB News had posted any of these clips. Alas, no.
Furthermore, Neil Oliver no longer has a Twitter feed.
He deleted his Twitter account in 2016, after harassment from people who want Scottish independence. The Express carried the story in August that year (emphases mine):
The archaeologist, writer and broadcaster, who presents BBC's Coast, said he was forced off social media by the so-called cybernats, disappointing his 40,000 followers.
Mr Oliver says he became a target for abuse and received scores of hate-filled messages after deciding to speak out in favour of the Union.
The Renfrewshire-born broadcaster said: "A great chunk of the response was not just negative but very personal and filled with bile and vicious loathing.
"People made it clear they wished the worst for me. They wished that I would develop cancer and said I deserved to be burnt as a traitor. It was one or two positive comments accompanied by hundreds of hate-fuelled messages" …
"I realised that by having a Twitter identity I had opened a door into my personal life in which strangers could pass at will. The minute I deactivated my account I felt like I had brought my head out of deep water and could breathe easily. It was an almost instantaneous fix."
Mr Oliver said that he was now worried about his three young children being targeted.
In an earlier article from January 2016, Oliver revealed his favourite personal photo to The Express, one of him and his wife as students at Glasgow University.
He told the reporter:
This is a picture of me and my wife Trudi at Glasgow University. l graduated with an MA in archaeology in 1988, and this was at Trudi's graduation in 1990. We were together for a long time, then broke up in our twenties.
It was nothing particularly dramatic, but we were apart for eight years and met again by chance in 2002 after I bumped into her brother. It was as if we'd never been apart and we've been together ever since.
Our daughter Evie and sons Archie and Teddy were all present when we married in Solsgirth, Kinross-shire, on October 10, 2009, exactly 23 years after we first met.
We're very similar people from similar backgrounds. We each had a happy and normal working-class childhood. Trudi grew up in Falkirk mostly, and I was raised in Ayr and Dumfries where my family still live. After several years working as an archaeologist, then I became a newspaper journalist – like Trudi.
Oliver is known for his shoulder-length hair, which he has had since he was 15.
He doesn't dare get it cut:
I've basically had the same haircut since I was 15. When I was at university, quite a lot of men were scruffy with long hair, and I fell into that and fossilised. But Trudi was taken with my long hair. She is my number one fan and likes the way I look.
We'd end up in the divorce courts if I got my hair cut short now! But I've always had people telling me I should get it cut. A TV reviewer from The Guardian recently wrote that whenever I appear on screen she wants to scream, "Get your hair cut, laddie!" Any review I get for a TV show always starts with something like "the Scottish archaeologist with the long flowing locks…"
He missed his family when he was away filming his series:
I miss Trudi and the children when I'm away from our home in Stirling. My job is not onerous in any way, and I enjoy it thoroughly, but being away is the hardest part by far. I've missed a lot of birthdays, school concerts… just family time. I try and minimise how long I'm away. When I'm home I do the school run and I go in from time to time to talk about history.
Although I'm away for long chunks of time, the kids have always had their mum with them 24/7. She has the toughest gig, operating as a single mum for half the year. But, when I am home, it's often for periods of about two months.
He wrote books when at home:
I spent five months of the last year writing my first novel Master Of Shadows in the spare bedroom at home. I had previously had eight non-fiction works published, but I was more nervous about the reaction to this.
Now Neil Oliver has a weekly show on GB News. He told Alastair Stewart that this was a career move he had not anticipated but feels that now is the time, because he has much to say about British society today.
He added that doing a show live is much different from doing a television series, where something can be redone, if necessary. He said he is always nervous before filming. He and Stewart agreed that any presenter who isn't nervous beforehand should probably stop broadcasting.
In closing, it was fascinating to hear Oliver's thoughts on fatherhood, especially as his children are teenagers now.
And who doesn't like a good love story?
Yesterday's post discussed Prime Minister Boris Johnson's third marriage and Catholic Canon Law.
Today's post looks at the way Boris and Carrie Symonds — now Carrie Johnson — were able to keep their plans secret, which is not easy in No. 10, well known for its leaks.
Although his former special adviser Dominic Cummings gave scathing testimony about Boris and Carrie to a parliamentary Select Committee on Wednesday, May 26, by the end of the week, the Prime Minister's fortunes had improved.
Although we are not that happy with aspects of Boris's handling of the pandemic, more of us trust him than we do Cummings:
On Friday, the Independent Advisor on Ministerial Interests Lord Geidt concluded that Boris's renovations on his Downing Street flat did not break the ministerial code:
That day, he was also photographed running for a train. When was the last time any Prime Minister in living memory ran for a train? Scenes like these endear Boris to the British public:
He even waved to a woman who called out, 'Hi, Boris':
Guido Fawkes posted the video. One of Guido's readers responded with a lyric from My Fair Lady:
"Girls come and kiss me, say that you'll miss me
But get me to the church on time"
Little did anyone know how true that was.
Saturday, May 29, began with a good poll, in spite of Cummings's testimony:
Downing Street confirmed wedding day after it happened
There were no announcements from Downing Street of the wedding on Saturday, May 29.
On Sunday, the BBC's political correspondent Nick Eardley wrote (emphases mine):
It can't have been easy to keep yesterday's wedding – between a former journalist and someone who works in public relations – under wraps.
But it seems to have taken almost everyone in Westminster by surprise.
Such was the desire to keep it quiet, Downing Street only officially confirmed it had happened on Sunday morning – the day after the wedding.
The accompanying article stated:
The marriage took place in a "small ceremony" on Saturday afternoon, a Downing Street spokesman said.
The spokesman added that the couple would celebrate again with family and friends next summer, with their honeymoon also delayed until then …
Downing Street did not reveal any details of who was invited and whether any of Mr Johnson's Cabinet colleagues were among the guests …
Musicians were pictured leaving No 10 on Saturday night.
At Westminster Cathedral that day, visitors were asked to leave in the early afternoon:
Members of the public were asked to leave Westminster Cathedral just after 13:30 BST, the Sun reported.
shortly after 1.30pm, confused tourists were ushered out of the building on the basis that it was going into lockdown.
This is a photo of the Johnsons at Downing Street afterwards (another made the front page of The Telegraph). Look at Boris's tie:
Guido Fawkes wrote 'Amoris Laetitia' in his post. This is Latin for 'The Joy of Love' and the title of Pope Francis's exhortation on love in family life.
How events unfolded at Westminster Cathedral
The Telegraph reported that, around 2 p.m. on Saturday:
Miss Symonds, who has since taken her husband's name, swept into the piazza in front of the cathedral in a limousine, wearing a £2,870 embroidered tulle gown but no veil.
Close friends and family and the couple's one-year-old son, Wilfred, were in attendance as they were married by Father Daniel Humphreys, the head of the cathedral.
He was the priest who had baptised their son six months earlier in the same Lady Chapel, an ornately decorated room which hosts morning and evening prayer.
The couple had been instructed by him to ensure that they were both prepared for the marriage "over many months", sources told the Telegraph.
After the ceremony, the guests – understood to include Mr Johnson's siblings Rachel, Jo and Leo Johnson, his father, Stanley, and half-sister Julia – were whisked back to Downing Street.
The first official photograph was released on Sunday morning and showed the couple embracing in the garden. Mr Johnson even appeared to have brushed his famously unruly hair for the occasion, though his tie remained askew.
They opted to hire an external photographer, Rebecca Fulton, rather than using Andrew Parsons, a special adviser who takes pictures of Mr Johnson on official visits. Her prices begin at around £2,300 for a day's wedding shoot – although it is possible the Prime Minister received a bargain rate as the ceremony was so short.
Downing Street reception
The same Telegraph article says that a marquee was already in the Downing Street garden for a prior event:
It had been used days earlier to host a meeting between the Prime Minister and small businesses that had made a net zero commitment.
The atmosphere was relaxed:
the garden decked out with lanterns, bunting and hay bales, which it appeared were being used as seats as well as table legs to hold up a tray of drinks.
Also:
After much speculation about their nuptials, and a save-the-date for July 30, 2022 card sent just six days before they married, people were expecting an elaborate affair. But in the end Mr Johnson's third marriage was a low-key celebration which saw guests dancing to Don McLean's American Pie played by a wandering acoustic fiddle band.
Top secret
The article says that Saturday's wedding took six months of secret planning:
The event was planned in secret over the last six months, and even the small number of guests allowed under Covid restrictions were only told at the last moment, it is understood.
The Daily Mail reported:
The premier is understood to have picked his closest brother Leo – co-presenter of Radio 4 series Future Proofing –to stand by his side as his best man and provide moral support on his big day. 
Fellow Johnson siblings Jo, Julia and Rachel were also in attendance at the small wedding, the premier's third.
Both the bride and groom's mothers joined the summer festival-themed party in the Downing Street garden, but Carrie's father Matthew Symonds was not present. It is not known if he was invited by the couple.
It is also thought that none of Mr Johnson's four grown-up children from his second marriage to the QC Marina Wheeler were there to see their father remarry.
No Cabinet ministers or Tory MPs were thought to have been invited to the top-secret wedding either, the Sun reports.
The couple were expected to spend the rest of the Bank Holiday weekend at Chequers, the Prime Minister's country retreat in Buckinghamshire.
They have chosen to delay their honeymoon until summer 2022, when they will also hold a bigger wedding celebration, according to the Telegraph.
The article says that Carrie rented her dress:
The bride, who hired her £2,870 wedding dress by designer Christos Costarellos for just £45 from MyWardrobeHQ for the day, said she was 'very, very happy'.
In order to keep arrangements low-key, she hired three decoy dresses. The Daily Mail describes her plan:
Carrie Symonds hired three decoy dresses to throw snoops off the scent before her secret marriage to Boris Johnson. 
Prime Minister Boris Johnson's new blushing bride hired the dresses from eco fashion business My Wardrobe HQ and returned the one she settled on for £45 today from Greek designer Christos Costarellos …  
The new Mrs Johnson, 33, often orders clothes to the couple's Downing Street home so wanted to throw snoops off the scent by hiring three other bridal frocks.   
The company she ordered the dresses from only found out they had supplied the wedding dress for the UK's first lady when they saw pictures of the secret wedding. 
Co-founder Sacha Newall told The Times: 'We didn't know what it was for. We were just asked to supply some items. Then we saw what happened this weekend. It was all a bit of a surprise.'
They revealed that Mrs Johnson has asked for four dresses in a variety of shades.  
And it's not the first time Mrs Johnson has worked with the company – she used their services when she was finding a dress to meet the Queen at Balmoral in 2019. 
Ms Newall added that while Carrie isn't particularly into fashion she is making an effort to take an interest. 
She said: 'There is an awareness that as the prime minister's wife she needs to be dressed in a certain way… She doesn't want to feel that she is letting the side down.'  
And the first time Carrie was spotted standing next to Mr Johnson on the steps of Downing Street in her iconic pink Ghost dress, she had rented the frock from My Wardrobe HQ.  
My Wardrobe HQ's business will be going through the roof now. I wish them every success.
How Boris met Carrie
It wasn't only the wedding that was kept under wraps. Even the development of their relationship is rather private.
The first the public had heard of Carrie Symonds was in the summer of 2019, when she and Boris had a row at her home in London, more about which below.
The Telegraph reported that the two have known each other since 2012:
For a relationship that began under the shroud of rumour and has been conducted largely in private, it was only fitting that the marriage of Boris Johnson and Carrie Symonds included the element of secrecy.
The world now knows that the Johnsons' wedding anniversary will forever be May 29 2021. But precisely when their relationship started is a little harder to pin down.
Miss Symonds, a Warwick University graduate who instantly progressed through the ranks of the Conservative Party, is thought to have got to know Mr Johnson when she worked on the 2012 Back Boris campaign for his re-election to become mayor of London. After that experience, she developed a habit of praising his speeches on social media.
It was six years later, in 2018, when Mr Johnson was serving as foreign secretary and Miss Symonds as the party's head of communications, when whispers about their escalating friendship emerged. In February of that year, a ruddy-faced Mr Johnson, then 51, was photographed chatting playfully with a glamorous-looking Miss Symonds, then 29, outside the Tories' Black and White Ball at the Natural History Museum.
A week later, it was reported that the pair enjoyed a Valentine's Day meal at one of Mr Johnson's favourite haunts, Rules, in Covent Garden. The next month there were cocked eyebrows all around Westminster when social media chatter revealed that Mr Johnson, Michael Gove and Sajid Javid, at that time all Cabinet heavyweights, were spotted gyrating to Abba in a room full of drunk millennials at Miss Symonds's 30th birthday party in north London.
"The feeling inside Number 10 at the time was very much along the lines of: 'What on earth were they doing there?'" one former Downing Street aide told The Telegraph later that year …
Another source cattily remarked that, "Carrie is not what you'd describe as a girly girl. She's more of a man's woman. And by that I mean an older man's woman." Yet of the three older, married Cabinet ministers at the party, the rumour mill was only concerned with one.
By September, both Mr Johnson and Miss Symonds moved on from their respective roles – she took up a role with a conservation organisation, while he resigned from the Cabinet in protest at Theresa May's handling of Brexit – and Mr Johnson had announced his divorce from his second wife, Marina Wheeler, after 25 years of marriage.
By now, that rumour mill was churning wildly, and given grist in the form of one particularly juicy morsel of Westminster chatter suggesting Mr Johnson sent a car to collect Miss Symonds from a colleague's wedding when he was still foreign secretary.
The car, it was said, brought her to his grace-and-favour residence, Chevening, and to top it off, the wedding was held at Penshurst Place, Kent, which used to play host to King Henry VIII while he secretly courted his mistress, Anne Boleyn.
Despite an almost 24-year age gap, the burgeoning relationship appeared to make some sense: both were metropolitan and sociable, both had backgrounds in the media (in Miss Symonds's case it was in the family – her estranged father is Matthew Symonds, the co-founder of The Independent; her mother is Josephine Mcaffee, once one of the paper's lawyers), both were on the green side of the Tory party with their mutual friend Zac Goldsmith, and both were undeniably ambitious.
Just how they managed – and still manage – to keep their relationship so private puzzled some observers. But Miss Symonds was well-positioned to ensure discretion: she has friends and connections all over Fleet Street, as well as countless powerful Tory allies.
In 2019, Symonds began getting closer to Boris and his father:
The drip-feed of gossip continued to find its way into the public domain, however. That Miss Symonds had been showing friends mischievous texts she'd received from Mr Johnson. That she called him "Bozzie Bear", and he called her his "otter". That his photograph was her phone screensaver. That Stanley Johnson, Boris's father, joining Miss Symonds on an anti-whaling march in January 2019 was proof things were serious. That Mr Johnson was losing weight and keeping his hair trim not for the electorate but for her. That he and Miss Symonds were "very much in love", and had moved in together in her flat in Camberwell, south London …
Locals in Camberwell, who weren't overcome with joy at the news, remember seeing "the unmistakable, hunched blonde figure of Boris" cycling to and from Miss Symonds' home each day.
They were rarely seen together at public events, however:
The closest thing to an official confirmation, in fact, was Miss Symonds' appearance at Mr Johnson's campaign launch for Conservative leader in June 2019. In a deep red Karen Millen dress, Miss Symonds entered the public eye just months before her partner was favourite to become prime minister.
I read at the time that the dress sold out immediately.
Then came the row:
The pressure clearly told. A few weeks later, police were called to the Camberwell flat after neighbours heard an argument taking place. Helpfully, they had recorded the row and told a newspaper that Miss Symonds could be heard telling Mr Johnson: "You just don't care for anything because you're spoilt. You have no care for money or anything."
However, that blew over quickly.
Shortly afterwards, she moved into Downing Street with him. I have no objection to people living together except when it involves a high-profile person in a high-profile setting. Call me old-fashioned, but it is just wrong. Unfortunately, Boris has now set a precedent:
When Mr Johnson secured the keys to 10 Downing Street, Miss Symonds joined him. Not literally – she stood watching his victory speech on the other side of the camera, rather than just behind him, as Philip May and most other prime ministers' spouses had – but she moved in, and quickly gained a reputation as an influential figure in the Prime Minister's inner circle.
As if to mark the start of a new family, Mr Johnson and Miss Symonds adopted Dilyn, a Jack Russell cross, shortly after taking residence in Downing Street.
Carrie became pregnant. Weeks before she was due to deliver, Boris was hospitalised with coronavirus. He was close to death:
It was to prove not only a national crisis for the Prime Minister, but also a terrifying personal battle. After testing positive for Covid-19, Mr Johnson was taken to intensive care at St Thomas's Hospital, London, in April 2020.
Afterwards, stories circulated about Boris's affair with an American during the 2010 Olympics held in London. Then came Wallpaper-gate. And, now, the couple have married. Carrie Symonds is now officially Carrie Johnson.
History in the making
The last Prime Minister to get married while in office was also a Conservative: Robert Banks Jenkinson — Lord Liverpool. He remarried in 1822.
The Daily Mail stated:
Mr Johnson is the first premier to marry in office in 199 years. He follows in the footsteps of Lord Liverpool, who married Mary Chester in 1822 and was prime minister for 15 years.
Mary Chester was a close friend of his wife Louisa, who died at the age of 54.
One wonders if Boris's original date of July 30, 2022 was planned to deliberately coincide with this 200-year anniversary.
On Saturday, May 29, Prime Minister Boris Johnson married for the third time, on a date kept secret, largely away from the prying eyes of the media.
He and his fiancée — some would say concubine — Carrie Symonds were married in a Catholic ceremony at Westminster Cathedral (not to be confused with Westminster Abbey) in central London.
Because of coronavirus restrictions, only 30 people were in attendance.
The happy couple are pictured here at their reception in the garden of No. 10. James Cleverly MP was not in attendance, by the way:
The wedding provoked controversy regarding Canon Law.
It turns out that Boris was baptised a Catholic in his infancy but was confirmed as an Anglican during his schooldays at Eton.
Carrie Symonds has been a lifelong Catholic. Their son, Wilfred, was baptised a Catholic in 2020.
Catholics in Britain wonder how the couple could be married under Canon Law at Britain's most famous Catholic cathedral.
On Sunday, May 30, a Telegraph article discussed the consternation expressed by British Catholics (emphases mine):
Disgruntled congregants at Westminster Cathedral have asked the resident priest to clarify how the twice-divorced Prime Minister was able to remarry in Catholic church.
Speaking outside the cathedral on Sunday, churchgoers said that they were "confused" over Boris Johnson and Carrie Symonds's wedding on Saturday and said that "doesn't look very well for us" given his history.
One member of the congregation, named only as Maria, who was baptised in the cathedral and has been attending for 70 years, said that she asked the priest for clarification on the rules surrounding divorcees.
Catholic canon law does not permit the marriage of a divorcee whose former spouse is still alive.
Both of Boris's ex-wives are still alive.
This was the response the Telegraph received:
… the church confirmed that as neither his six-year first marriage to Allegra Mostyn-Owen, nor his second 27-year marriage to Marina Wheeler were Catholic ceremonies they are not recognised in the eyes of the church …
A spokesman for Westminster Cathedral said: "The bride and groom are both parishioners of the Westminster Cathedral parish and baptised Catholics.
"All necessary steps were taken, in both Church and civil law, and all formalities completed before the wedding.
"We wish them every happiness."
Hmm.
The article discussed the couple's relationship with the Revd Daniel Humphreys, one of the priests at the cathedral and the officiant at their marriage:
Father Humphreys also baptised their son Wilfred in the chapel where they wed (the Lady Chapel) just six months ago.
The couple were both baptised Catholics, though the Prime Minister renounced his mother's Catholicism when he was confirmed in the Anglican faith whilst at Eton.
It is understood that the couple had been "under instruction" with the priest for "many months" before the ceremony.
On Monday, May 31, the Daily Mail carried the cathedral's statement on the wedding and reported more dissatisfaction among British Catholics, including the following:
On Twitter another user asked: 'If Boris marrying is Westminster Cathedral is true then, as a Catholic, I would like to know why a twice divorced adulterer was able to and my practising Catholic friend who divorced a husband who battered hell out of her had to re-marry in a registry office.'
Conservative Woman had a good article on Canon Law and Boris's wedding written by Roger Watson, a professor of nursing and practising Catholic: 'Johnson's Catholic marriage: How to have your wedding cake and eat it'.
He says:
The unexpected timing was one thing, but when I recognised the portal from which he and his bride emerged after the wedding as that of Westminster Cathedral, I uttered a few words that will extend my time in Purgatory.
I had read a report and was sure that the journalist made a mistake and meant Westminster Abbey. But no, it really was the Roman Catholic Cathedral of the Diocese of Westminster. The newlyweds are both Roman Catholics, apparently. Who knew?
As a Roman Catholic, I was taken aback. Boris, no stranger to matrimony, is twice divorced, and my Church famously and uniquely forbids the remarriage of divorcees in the Church.
I am genuinely surprised that this marriage was permitted under Canon Law. It seems to have nothing to do, as some commentators have said, with 'changing times', 'the need for Catholics to move on' – the 'conservative' Catholics that is – and how, under the populist Pope Francis, we are becoming a different church.
I sense a great deal of sacramental sophistry in arriving at the conclusion that it was acceptable for two adulterers to marry according to the rites of the Roman Catholic Church.
The bottom of the canonical barrel must have been scraped clean. By whatever loophole this marriage is deemed legal, I have known of no another example.
Of course, forgiveness is a significant pillar of the Christian faith. But forgiveness is an aspect of God's justice, and justice is possible only following judgement.
It is largely none of my business but, while a decision has clearly been taken to permit the marriage of Johnson and Symonds, to what extent were they judged suitable candidates to proceed to matrimony under the auspices of the Church of Rome, and what amends did they make for their sins? Sin, of course is not a popular word these days, but sin they did. The facts speak for themselves.
Having 'renounced' his Catholic faith at school, Johnson has sinned by marrying outside the Church, he has sinned by committing adultery and having sex outside marriage. The Church does not formally recognise renouncement of faith, and this was, in fact, his ecclesiastical get-out clause.
It transpires that Ms Symonds often spoke about her Catholic faith. If so, she has sinned by having sex outside marriage and persisting in that relationship.
If the couple were to marry legitimately under Church law, they would both have had to make a confession of these sins and promised to sin no more. That would have meant them living 'as brother and sister' until they were married. Maybe that happened. Who knows?
Watson says there is a larger issue here, one with the Catholic Church in general:
Notwithstanding the legality of the Prime Ministerial wedding, I worry about the marital message this sends to young Catholic men, and men are always the winners where infidelity is concerned.
It suggests to me that they are being given permission to sow their wild oats at liberty; even to try out a few marriages outside the auspices of the Church first. Have some kids, see how that goes. If these fail and you fancy a return to the fold, no impediments will be put in your way.
Ultimately:
There is always great rejoicing at the return of sinners to the fold. I wish the Johnsons well and pray they bring up their son in the Catholic Church.
Agreed.
The comments to the article included several anecdotes about people being unable to marry in the Catholic Church. I have a distant relative who was unable to marry his fiancée in a Catholic ceremony. She was divorced, he was a bachelor and the priest refused them because her ex-husband was still alive. As she was an Episcopalian — who was willing to become Catholic — they married in the Episcopal Church.
As for Canon Law and the rather unorthodox relationship of Symonds living with Johnson at No. 10, one commenter wrote:
I agree and disagree with this article.
With respect to the legality and the question of the divorces; there is not a problem here. We shouldn't be surprised that the Catholic Church values its own marriages and its own laws. It would be a major concession to the secular order if it started giving too much credence to Johnson's previous "marriages". The fact is that marriage – Catholic and non-Catholic – involve a legal form and Johnson's previous marriages simply did not comply with it from a Catholic perspective. The Catholic Church should no more consider them valid than the British courts should have considered Mick Jagger's wedding on the Bali beach valid (which they didn't). We wouldn't expect wedding vows exchanged on a door step in front of a postman to be valid and so there is no reason for the Catholic Church to consider marriages that break its laws to be valid.
Two points should be made clear – the Catholic church does consider Church of England marriages to be valid when they involve non Catholics. The problem is that when Johnson was baptised a Catholic it meant that legal responsibilities came with it from the point of view of the Catholic Church including the need to follow its marriage laws.
I do agree with the article when it states that the wrong marital message is being sent out. Johnson has created scandal by installing a concubine in Downing Street. I am pleased he has now married her and brought this to an end. But the nation has been left with the impression that he simply tumbled out of their shared bed into a taxi to the most prestigious Catholic Church in England and married her just like that. Even if this was not so (who knows), it should have been seen to not have been so with Symonds moving out for a period of time, a public statement or similar. Even now the Catholic Church should be using the opportunity as a teaching moment. Cheating on women, breaking church law are all sins …
The Johnson-Symonds union in a Catholic ceremony seems to be a matter of the Church kowtowing to the powerful.
There can be no other explanation.
I'll have more tomorrow on how the Johnsons kept their wedding plans a secret.
Sadly, Prince Philip, the Duke of Edinburgh, died on Friday, April 9, 2021, exactly two months short of his 100th birthday:
The Queen has lost her best friend. My deepest sympathies to her for the unimaginable loss of her long-time husband and daily confidant. My condolences also go to the Royal Family in their grief.
Young love
The couple first met in 1934, and began corresponding when the Prince was 18 and a cadet in the Royal Navy. Princess Elizabeth was 13 at the time.
She was smitten with him from the start.
Prince Philip served with distinction during the Second World War in the Mediterranean and Pacific fleets.
After the war ended, he could have had a stellar career in the Royal Navy. His superiors praised his clear leadership skills.
However, love intervened and the rest was history.
Born Prince Philip of Greece and Denmark, he renounced his foreign titles and took British citizenship before he and Princess Elizabeth were engaged. He took the surname of his maternal grandparents: Mountbatten.
He and Princess Elizabeth were engaged in July 1947. They married on November 20 that year. Shortly before the wedding, George VI gave him the titles of Duke of Edinburgh (created for him), Earl of Merioneth and Baron Greenwich.
Prince Philip remained in the Royal Navy until July 1951. He retired with the rank of Commander.
Royal succession — and surname
In January 1952, he and the Queen began a tour of the Commonwealth countries. They were in Kenya when news reached them that the Queen's father, George VI, died on February 6 that year.
Although she became Queen immediately upon her father's death, her coronation took place in 1953, as it had to be planned meticulously.
On Coronation Day, he knelt before her, clasped her hands and swore an oath of allegiance to her:
He also had to touch her crown and kiss her on the cheek.
He never had a constitutional role, nor was he ever formally given the title of Royal Consort. The courtiers did not like him, nor did they trust him. They believed his personality to be brash and unbecoming of the Royal household. They shut him out of as much decision making as possible.
When Elizabeth became Queen, the question about her family name arose. Prince Philip suggested that the Royal Family be known as the House of Edinburgh. Upon discovering that suggestion, Queen Mary, Elizabeth's grandmother, wrote to Prime Minister Winston Churchill, who advised the young monarch to issue a royal proclamation saying that the Royal Family would continue to be known as the House of Windsor.
In his inimitable style, Prince Philip complained privately:
I am nothing but a bloody amoeba. I am the only man in the country not allowed to give his name to his own children. [57]
The Queen did nothing until eight years later, in 1960, 11 days before she gave birth to Prince Andrew. She issued an Order in Council declaring that the surname of her and her husband's male-line descendants who are not styled as Royal Highness or titled as prince or princess would be Mountbatten-Windsor.
Pater familias
Prince Philip had to carve a role out for himself. He became the pater familias and, through the years, his role expanded to cover not only his four children but his grandchildren. He listened to their concerns, shared their joys and gave them advice. He knew everything that went on in their lives.
Although the public knew him for speaking as he saw — rather bluntly, on occasion — behind closed doors Prince Philip was known to be a warm, loving man.
He also favoured a more transparent Royal Family. According to the BBC, it was he who encouraged the Queen to make a multi-episode documentary on their daily lives, including those of their four children. It was broadcast in the late 1960s. I remember seeing it in the United States.
When Princess Diana died on August 31, 1997, Prince Philip was the one who kept an eye on the public mood that fateful week. He, the Queen and Princes William and Harry were at Balmoral in Scotland for their summer holiday. When the young princes wanted to attend church, their grandparents took them to the Sunday service on the day of their mother's death. Later in the week, it was Prince Philip who encouraged the boys to walk behind the funeral procession the following Saturday. He said:
If you don't walk, I think you'll regret it later. If I walk, will you walk with me? [93]
One cannot imagine what he thought of Prince Harry's departure for the United States to live a life separate from his closely knit family. I did read that the Royal Family shielded information about the Oprah interview from him.
John F Kennedy's funeral
Prince Philip was in Washington for John F Kennedy's funeral in 1963.
He had a friendly encounter with John Jr, who was still a toddler and known as John-John at the time. The child wondered where his father was, as he had no one with whom to play. The Prince stepped in to fill that gap. In 1965, the British government gave an acre of land at Runnymede to the United States for use as a memorial to JFK:
Funeral arrangements
Prince Philip was self-effacing and did not like a fuss to be made over him.
Therefore, the funeral arrangements will respect his wishes, which is rather convenient, as coronavirus restrictions are still in place. Up to 30 people will be allowed at his funeral, in line with legislation across the nation:
The funeral is scheduled to take place on Saturday, April 17:
It is interesting that Prince Harry will be able to attend when we have a 10-day quarantine in place for arrivals into the UK under coronavirus regulations.
The Sunday Mirror reported on Prince Harry's return to the UK:
He could also be released from quarantine if he gets a negative private test on day five, under the Test to Release scheme.
Given his status as a member of the Royal Family travelling to support the Queen, Harry might be considered exempt from travel restrictions.
Wow. It's nice to know we have a two-tiered quarantine system in place /sarc.
A championship boxer remembers the Prince
Former WBC Heavyweight Champion Frank Bruno MBE posted his memories of meeting Prince Philip. He is at the top left in the following photo:
An Anglican priest remembers the Prince
The Revd Peter Mullen, an Anglican priest, recalled his encounters with Prince Philip for Conservative Woman on April 10 in 'A personal recollection'.
He first met the Prince during his schooldays:
The first time I met the Prince was in connection with his Duke of Edinburgh's Award Scheme which gave a leg up to youngsters from what would now be called the less privileged parts of the country. He paid a visit to the Leeds branch of the Church Lads' Brigade of which, aged fourteen, I was a member. We were in the church hall making things. My task was to make a table lamp. I was hopeless at it.
The Duke got hold of my half-finished creation, held it up to one eye and said, 'I suppose this hole is where the flex goes?'
'I think so, Sir.'
'You think so? I was never any good at this sort of thing either!'
And he was off . . . 
As an adult, Mullen met him on more than one occasion thanks to the Honourable Company of Air Pilots. The Prince was its Grand Master. Mullen served as chaplain.
He recalls:
The Company gave a lunch for him to mark his 80th birthday and I recall how jovial he was, making light of his years: 'I believe I have lasted so long because you people are always toasting my good health, but I don't want to live to be a hundred. Things are dropping off already!'
At another luncheon one of our Liverymen who had his own port wine business presented the prince with Bottle Number One, the first fruits, so to speak. As he left, the duke handed the bottle to me: 'You have this, Peter. Our house floats on the bloody stuff.'
'Well, Sir, now I don't know whether to drink it or frame it.'
'Gerrit down ya neck!'
Prince Philip on MPs
Guido Fawkes came up with a good quote from one of the Prince's trips to Ghana. It concerns MPs. His Ghanaian hosts told him the country had 200 MPs. Prince Philip replied:
That's about the right number. We have 650 and most of them are a complete bloody waste of time.
Incidentally, Parliament will be recalled one day early from Easter recess. On Monday, April 12, MPs and Lords paid tribute to the Prince in their respective Houses:
That afternoon, the House of Commons reconvened to pay their tribute — from 2:30 p.m. until 10 p.m. (good grief).
Speaker Sir Lindsay Hoyle spoke first:
Prime Minister Boris Johnson had this to say:
Boris Johnson, who was invited to the funeral but declined so that another member of the Royal Family can attend, said that he would forego a pint when pub gardens reopen on April 12, out of respect for the Prince. Guido Fawkes, however, thinks that the Duke of Edinburgh would have wanted us to toast his memory, especially at a pub that bears his title in Brixton, south London:
Guido had a second tweet on the subject with another quote from the Prince:
Agreed.
Prince Philip on Australia
This is too funny. For those who are unaware, Australia was established as a place where Britain could send convicts. That was a long time ago, but the nation's original purpose was to serve as a prison: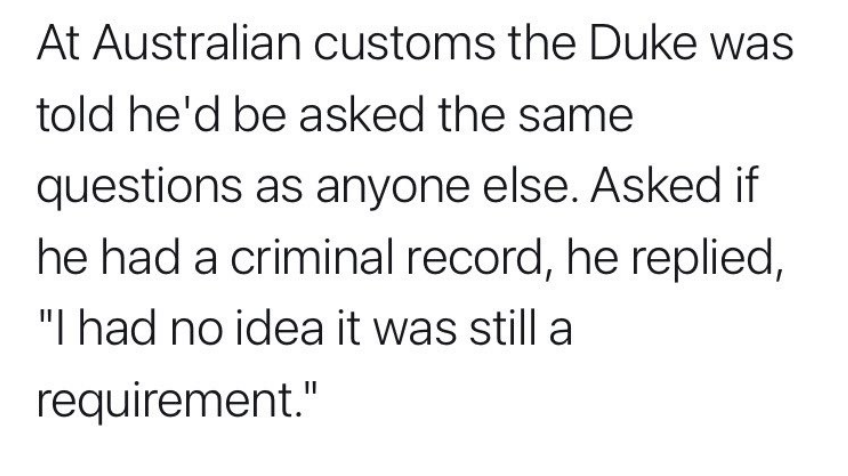 Prince Philip on civil liberties
On a serious note, the 12-minute interview below from 1984 is well worth watching, especially in the coronavirus era.
Prince Philip firmly supported the rights of the individual and believed that the state should serve the individual, not, as in our times, the other way around.
This is from a Thames Television programme originally broadcast on ITV:
I have posted the video below in case the tweets are deleted:
The Prince also said that certain subjects are out of bounds, such as the media and the NHS.
He said that the media are incapable of taking a joke about themselves and, as for the NHS, well, one cannot say anything against it. He didn't necessarily dislike the NHS but thought it was held in too high a regard. Nothing is perfect in this world.
We have been travelling a long road towards the point where we are at present: ruled by the media (they clamoured for coronavirus restrictions) and worship of the NHS. This is how Health Secretary Matt Hancock, Prime Minister Boris Johnson and SAGE have been able to rule our lives. It's been at least 40 years in the making.
BBC coverage on Friday
I was watching BBC Parliament early Friday afternoon, around 1:15, when the programme was interrupted by a broadcast from the BBC News Channel.
I checked the schedule an hour later, which said that the programme would last until 4 p.m. It was still going when I was preparing dinner at 5 p.m.
The final of MasterChef was to have been broadcast that night on BBC1. This was a clip from Thursday's programme:
Pictured are the hosts and judges, chef/restaurateur John Torode on the left and former greengrocer, now television presenter, Gregg Wallace on the right:
BUT:
The BBC News channel was simulcast all afternoon and all night long, not only on BBC Parliament but also on BBC1, to the dismay of MasterChef fans (myself included), and BBC2. BBC4 was suspended for the evening.
I read on social media that the BBC also broadcast continuous coverage of Prince Philip on their radio stations, including Radio 2, knocking out Steve Wright's drive-time show on Friday afternoon.
A friend of mine said that most of the BBC's employees were probably rubbing their hands with glee because it meant an early weekend for them. It's a cynical perspective that could well turn out to be true. We'll find out when someone writes his or her memoirs.
Everyone with a television set receives the BBC News channel. It comes into our homes at no extra charge. There was no need for the BBC to take over every channel for hours on end. By the way, if one had watched two hours of the Prince Philip coverage, as I did, one would have seen and heard everything in its entirety.
The BBC braced themselves for a plethora of complaints; they took the relevant page down on Sunday. Good. I am sure Prince Philip would have objected, too.
As much as I love the Queen, I hope they do not try this when her day comes. God willing, may it be long into the future.
Record-beating prince
Prince Philip established two records as consort to the Queen. He was the longest-serving royal consort in British history. He was also the longest-lived male member of the British royal family.
May he rest in eternal peace with his Maker.
May our gracious Lord grant the Queen, Defender of the Faith, His infinite peace and comfort in the months ahead. May He also bless the Royal Family during this difficult time.
The three-year Lectionary that many Catholics and Protestants hear in public worship gives us a great variety of Holy Scripture.
Yet, it doesn't tell the whole story.
My series Forbidden Bible Verses — ones the Lectionary editors and their clergy omit — examines the passages we do not hear in church. These missing verses are also Essential Bible Verses, ones we should study with care and attention. Often, we find that they carry difficult messages and warnings.
Today's reading is from the English Standard Version with commentary by Matthew Henry and John MacArthur.
36 If anyone thinks that he is not behaving properly toward his betrothed,[a] if his[b] passions are strong, and it has to be, let him do as he wishes: let them marry—it is no sin. 37 But whoever is firmly established in his heart, being under no necessity but having his desire under control, and has determined this in his heart, to keep her as his betrothed, he will do well. 38 So then he who marries his betrothed does well, and he who refrains from marriage will do even better.
39 A wife is bound to her husband as long as he lives. But if her husband dies, she is free to be married to whom she wishes, only in the Lord. 40 Yet in my judgment she is happier if she remains as she is. And I think that I too have the Spirit of God.
———————————————————————————————————————————————-
Last week's entry discussed Paul's advice on marriage and celibacy.
He had been answering questions from the Christians of Corinth on which state was better. Paul replied that both were good, although celibacy afforded the ability to devote oneself entirely to God. Marriage, on the other hand, detracts from that as one is always concerned about pleasing one's spouse, never mind raising one's children.
The English Standard Version of today's verses are a bit vague and read better in the King James Version (emphases mine below):
36 But if any man think that he behaveth himself uncomely toward his virgin, if she pass the flower of her age, and need so require, let him do what he will, he sinneth not: let them marry.
37 Nevertheless he that standeth stedfast in his heart, having no necessity, but hath power over his own will, and hath so decreed in his heart that he will keep his virgin, doeth well.
38 So then he that giveth her in marriage doeth well; but he that giveth her not in marriage doeth better.
39 The wife is bound by the law as long as her husband liveth; but if her husband be dead, she is at liberty to be married to whom she will; only in the Lord.
40 But she is happier if she so abide, after my judgment: and I think also that I have the Spirit of God.
The social convention at the time was for young men and women to marry. Both Jewish and Gentile parents arranged marriages for their children.
Then, as now, to a certain extent, there was always a question mark over the person who chose to remain single.
Matthew Henry says:
It was in that age, and those parts of the world, and especially among the Jews, reckoned a disgrace for a woman to remain unmarried past a certain number of years: it gave a suspicion of somewhat that was not for her reputation.
John MacArthur thinks that verse 36 is addressed to fathers with virgin daughters: try to keep them single, but, if you find they must get married, then allow a wedding.
Henry also reads it that way but allows for another interpretation, one which ties in with last week's verses. His commentary says that Paul could equally be speaking to young adults themselves. 'His virgin' could refer to a celibate man's own virginity:
But I think the apostle is here continuing his former discourse, and advising unmarried persons, who are at their own disposal, what to do, the man's virgin being meant of his virginity.
Henry points out that confirmed bachelors were not looked upon all that kindly:
… it was a common matter of reproach among Jews and civilized heathens, for a man to continue single beyond such a term of years …
Verse 37 appears to lend itself more to fathers with regard to their daughters. If a father finds that his daughter has no desire for marriage, then he does well to keep her celibate.
Ultimately, the father who marries off a daughter who desires a husband and a family does well, but the man who has a daughter wishing to maintain her virginity does better because she can devote her life to the Lord (verse 38).
As MacArthur has pointed out before, celibacy is a gift. Most people have the desire for a sexual relationship with someone else. If a parent does not allow that young person to marry, sexual desire will out in one way or another:
The Spirit of God didn't give her that gift, and that's a gift the Spirit of God gives. If she doesn't have the gift, the father's saying, "Man, it's obvious she doesn't have the gift, all she talks about is this guy. And apparently there's a guy there, or it wouldn't say, "Let them marry." There's a them. Somebody's hanging around. And, you see, he is behaving unfairly toward his daughter, because if he doesn't let her get married, he's going to tempt her to immorality – physically to immorality in her mind and to seduction.
And so, he realizes, "I can't do this to my lovely little daughter. As much as I'd want to devote her to the Lord, there's a guy here, and she's saying, 'Yes, yes, yes,' and I'm saying, 'No, no, no,' and it's not right.
So, dads, hey, it's a super idea if you want to devote your daughter to being single, or your son, but if they get to the age of sexual consciousness, and they require marriage, let them marry. It's no sin. You don't have to keep some vow. We're not in the vow age anymore.
In the concluding verses, Paul turns his thoughts towards widowhood.
Unfortunately, MacArthur skips these verses entirely.
Paul says that it is entirely appropriate for a widow to remarry, provided she has given careful reflection and prayer to that decision (verse 39).
Henry says:
In our choice of relations, and change of conditions, we should always have an eye to God. Note, Marriages are likely to have God's blessing only when they are made in the Lord, when persons are guided by the fear of God, and the laws of God, and act in dependence on the providence of God, in the change and choice of a mate – when they can look up to God, and sincerely seek his direction, and humbly hope for his blessing upon their conduct.
Paul concludes that a widow is better off not remarrying (verse 40). As with the celibates, she can better serve the Lord with no husband, who would divide her interests.
Paul ends by saying that he, too, has the Spirit of God (verse 40). That remark is addressed towards his detractors. Recall the the Corinthians had allied themselves with different pastoral leaders, some of whom were false teachers.
Henry offers this interpretation:
Whatever your false apostles may think of me, I think, and have reason to know, that I have the Spirit of God.
Ultimately:
Note, Change of condition in marriage is so important a matter that it ought not to be made but upon due deliberation, after careful consideration of circumstances, and upon very probable grounds, at least, that it will be a change to advantage in our spiritual concerns.
Agreed.
We should take our time in evaluating a prospective spouse. There is no rush. As the nuns used to say, 'Act in haste. Repent at leisure'.
1 Corinthians 8, which concerns food offered to idols, was read in 2021 as the Epistle on the Fourth Sunday after Epiphany (Year B).
1 Corinthians 9 is about personal freedom in daily activities.
Next time — 1 Corinthians 9:1-7
The three-year Lectionary that many Catholics and Protestants hear in public worship gives us a great variety of Holy Scripture.
Yet, it doesn't tell the whole story.
My series Forbidden Bible Verses — ones the Lectionary editors and their clergy omit — examines the passages we do not hear in church. These missing verses are also Essential Bible Verses, ones we should study with care and attention. Often, we find that they carry difficult messages and warnings.
Today's reading is from the English Standard Version with commentary by Matthew Henry and John MacArthur.
32 I want you to be free from anxieties. The unmarried man is anxious about the things of the Lord, how to please the Lord. 33 But the married man is anxious about worldly things, how to please his wife, 34 and his interests are divided. And the unmarried or betrothed woman is anxious about the things of the Lord, how to be holy in body and spirit. But the married woman is anxious about worldly things, how to please her husband. 35 I say this for your own benefit, not to lay any restraint upon you, but to promote good order and to secure your undivided devotion to the Lord.
——————————————————————————————————————————–
Last week's verses introduced Paul's dissertation on one's marital state, in which he said there was no need to be either single or married in order to serve the Lord.
He continues in that vein here, responding to questions on the subject from the Christians in Corinth.
Those who had been Jewish believed that marriage and family fulfilled God's plan for mankind. On the other hand, the Gentiles, influenced by Greek philosophy, thought that remaining single would allow one to devote one's life entirely to the Lord.
Above all, Paul does not want there to be anxiety about the world's cares conflicting with serving the Lord (verse 32). To that end, he says that an unmarried man has fewer external cares and more ability to please the Lord.
Matthew Henry's commentary says (emphases mine):
Note, It is the wisdom of a Christian so to order his outward affairs, and choose such a condition in life, as to be without distracting cares, that he may attend upon the Lord with a mind at leisure and disengaged. This is the general maxim by which the apostle would have Christians govern themselves. In the application of it Christian prudence must direct. That condition of life is best for every man which is best for his soul, and keeps him most clear of the cares and snares of the world. By this maxim the apostle solves the case put to him by the Corinthians, whether it were advisable to marry? To this he says, That, by reason of the present distress, and it may be in general, at that time, when Christians were married to infidels, and perhaps under a necessity of being so, if married at all: I say, in these circumstances, to continue unmarried would be the way to free themselves from any cares and incumbrances, and allow them more vacation for the service of God. Ordinarily, the less care we have about the world the more freedom we have for the service of God.
Paul goes on to say that a husband is concerned about pleasing his wife and, therefore, has divided interests (verses 33, 34).
John MacArthur cites an example, Luke 14:20:
I think about Luke 14, verse 20, where Jesus was calling people to follow him. And he says to this one guy, "Come and follow Me."
And the guy says, "I have married a wife, and therefore, I cannot come."
I wonder how many times that has happened around the world in the history of the Church, that there have been ministries and opportunities open, but somebody married a wife and couldn't go?
You say, "Well, was it wrong for them to marry?"
No, it wasn't wrong, but maybe it would have been better, if they had the gift of singleness, to have stayed single. And then they wouldn't have had that problem.
Similarly, with women, a single woman thinks more about serving the Lord than a wife, who is equally concerned about pleasing her husband (verse 34). Therefore, the wife, like the husband, has conflicting interests.
MacArthur explains:
what he's saying is that the one who is not married can be separated unto God physically and spiritually. And there are no physical attachments, humanly speaking. There is no need to satisfy the physical. There are no spiritual encumbrances. There is a certain liberty and consecration, and that's what he's talking about.
However, celibacy is a gift. Some people are perfectly happy being single and celibate. Others hope to marry and, in most cases, have children.
Paul had always been single. He had that gift. It allowed him to go wherever and whenever the Holy Spirit directed. Paul planted churches. He travelled throughout Asia Minor and Greece, returning now and then to Jerusalem, from whence he sailed (Caesarea) to preach in Rome, eventually was imprisoned there and died a martyr.
Peter, on the other hand, was married. He and his wife eventually ended up in Rome. They were both imprisoned and, according to early Christian history, died as martyrs.
Peter and Paul met in Rome.
From their life choices, it is apparent that one can serve the Lord whether one is celibate or married.
Paul ends by saying that very thing, not in order to promote one choice over the other but to leave it up to the individual in ordering his life and his ability to serve God.
MacArthur interprets Paul's words as follows:
It isn't that you have to stay single. Even if you have the gift for it, it is not a command, it is not that you must do this or else, it is that you have the option; you have the liberty; you have the freedom. And I'm only telling you for your own good, if you have the gift, you'd be better off to use it.
Also:
And he's saying simply this: if you have the gift of singleness, think about it, because if you ever choose to marry, that's a final choice. And you can't go back unless there is a death.
Henry offers this conclusion:
That condition of life should be chosen by the Christian in which it is most likely he will have the best helps, and the fewest hindrances, in the service of God and the affairs of his own salvation.
Paul has more to say about marriage, to be continued next week.
Next time — 1 Corinthians 7:36-40
The three-year Lectionary that many Catholics and Protestants hear in public worship gives us a great variety of Holy Scripture.
Yet, it doesn't tell the whole story.
My series Forbidden Bible Verses — ones the Lectionary editors and their clergy omit — examines the passages we do not hear in church. These missing verses are also Essential Bible Verses, ones we should study with care and attention. Often, we find that they carry difficult messages and warnings.
Today's reading is from the English Standard Version with commentary by Matthew Henry and John MacArthur.
The Unmarried and the Widowed
25 Now concerning[a] the betrothed,[b] I have no command from the Lord, but I give my judgment as one who by the Lord's mercy is trustworthy. 26 I think that in view of the present[c] distress it is good for a person to remain as he is. 27 Are you bound to a wife? Do not seek to be free. Are you free from a wife? Do not seek a wife. 28 But if you do marry, you have not sinned, and if a betrothed woman[d] marries, she has not sinned. Yet those who marry will have worldly troubles, and I would spare you that.
—————————————————————————————-
Last week's post discussed Paul's instruction not to worry about one's social status with regard to Christianity. The verses before that said that Christian men should not worry about whether they are circumcised.
In today's verses, Paul says that we should not worry whether we are married.
In other words, the Lord knows our status in life and loves us just the way we are.
The word 'betrothed' in verses 25 and 28 does not mean 'engaged to be married'. It means 'virgin women', as illustrated by the same verses from the King James Version:
25 Now concerning virgins I have no commandment of the Lord: yet I give my judgment, as one that hath obtained mercy of the Lord to be faithful.
26 I suppose therefore that this is good for the present distress, I say, that it is good for a man so to be.
27 Art thou bound unto a wife? seek not to be loosed. Art thou loosed from a wife? seek not a wife.
28 But and if thou marry, thou hast not sinned; and if a virgin marry, she hath not sinned. Nevertheless such shall have trouble in the flesh: but I spare you.
In 1 Corinthians 7, Paul is responding to questions that people from that congregation asked him. Marriage was one of them.
John MacArthur explains why (emphases mine):
The Corinthians were asking questions, according to verse 1 of chapter 7, "Concerning the things about which you wrote," Paul is replying to direct questions they were asking. And the question he's answering here is should they get married; is it better to be single, to serve God with a devoted heart and a single mind, or is it necessary to get married like the Jewish traditionalists were saying, in order to fulfill the will of God?
The Jews said you had to be married or you would violate God's command to replenish the earth. And the Gentiles, coming out of a philosophical asceticism would say it's better to be single, and you can devote yourself totally to God. Paul is saying both are good. Some have the gift of singleness, and if they do, that's good. Some do not have the gift of singleness, and it's better for them to marry, and that's good, too.
In verse 25, Paul says that Jesus said nothing about virgins. Paul goes on to say that, in his considered judgement — one that 'by the Lord's mercy is trustworthy' — it is better to remain in the state in which one is (verse 26).
Paul mentions 'distress' (verse 26), which Matthew Henry says means persecution:
Christians, at the first planting of their religion, were grievously persecuted. Their enemies were very bitter against them, and treated them very cruelly. They were continually liable to be tossed and hurried by persecution. This being the then state of things, he did not think it so advisable for Christians that were single to change conditions. The married state would bring more care and cumber along with it (1 Corinthians 15:33, 1 Corinthians 15:34), and would therefore make persecution more terrible, and render them less able to bear it. Note, Christians, in regulating their conduct, should not barely consider what is lawful in itself, but what may be expedient for them.
Similarly, Paul said that the Corinthians who were married should not seek to separate from their spouses nor should those without spouses feel an obligation to get married (verse 27).
Paul went on to say that getting married is not sinful, although being married brings problems of its own (verse 28).
Personally, I do not find being married troublesome, but some married people do have problems and wish they were single again.
However, looking at this with regard to the Corinthians, the dangers of persecution would be magnified in a family situation.
MacArthur explains, looking at Paul's own experiences preaching the Good News:
Now, Paul is speaking of the violence and the distress and the pain and the suffering that can come to anyone who confesses Christ. "It is difficult to be a Christian," Paul is saying, "and it is especially difficult to be a married Christian because of the distress and the violence of the system."
Now, Paul had had many experiences that would help us to understand this. Paul would go into a town, and they would beat him. He would go into another town, and they would stone him. He would go into another town, and they would give him stripes with a whip. He would go into another town, and they would put him in jail. On and on and on through the man's life, there was pain and suffering, pain and suffering.
Now, can you imagine the intensity with which that problem would be magnified if the apostle Paul had had a dear wife at home and a group of little apostles running around the house? Well, that would have been much more complicated, and everything that Paul endured, he would have had in the back of his mind, "But if it happens to me, then who takes care of my wife? And who takes care of my children? And how can I keep doing this while my wife sits home in fear and the constant edge of heartbreak, and my children in fear that their father will never return? I must be home, taking care of them, and nurturing them, and raising them; that's my primary obligation."
Do you see, in the violence of the world in which Paul lived, marriage was a terrible encumbrance to somebody who was a Christian, at least in the sense of the ministry that he had. The Corinthian Christians could well remember what the Corinthian Jews had tried to do to Paul the very time he came to their city.
Now, Paul is saying because of the – notice this – the present or the immediate violence, Paul is anticipating something here. There is a violence that is going to come when the wholesale pagan persecution breaks out, and Paul could see it coming. He knew that a girl married, a guy married and raising children, might suffer the heartbreaking losses that can only come to those who have a family when the persecution broke out. He knew from his own life, as I said, that it was good that no wife and no children needed to weep and live with broken, fearful hearts every time he went somewhere. Hard times were coming to the Church, and Paul was aware of it. Change in the pagan attitude toward Christians was in the wind.
The Roman emperors were not entirely well disposed towards either Judaism or Christianity. Jews had to leave Rome for a time and go into exile. Under Nero, life for Christians was brutal and horrifying:
Nero refined cruelty upon cruelty and continued all manner and style of persecution. He had some Christians sown up in the skins of wild beasts, and then turned over to dogs to be torn into pieces. Others he dressed in garments that were made stiff with wax. He fixed those people to trees and then lit them like candles to light his garden. This occurred throughout the early centuries of the Roman Empire. Erastus, according to Fox's Book of Martyrs, was one of those martyred in the first persecution, and Erastus was the chamberlain or the treasurer of the city of Corinth. What that tells us is that the persecution of Nero extended to Corinth and took the life of one of the men named in the Bible, one of the Christians of Corinth.
Now, Paul knew that this was coming to Corinthians. He could see it on the horizon. And in view of this, he says, "My advice is if you have the gift, stay single." And, people, keep in mind that all of this advice is only to those who have the gift. Because to force somebody to be single who doesn't have the gift is to force them to burn with desire all this life, and that isn't accomplishing anything. But if you have the gift, he is saying, that's the basic supposition of all of this. Don't get married because of the pressure that is coming, the pressure of the system against the believer.
On a related note, MacArthur gave this sermon in 1976, the year of America's Bicentennial. Given that we are now in 2021, he summarised a book about the year 2000:
There is an interesting book entitled The Year 2000, written by Herman Kahn and Anthony Wiener. And in it, this is what they predict for the year 2000. It sounds like they've been reading Matthew 24, except they're not Christians. This is what they predict: invasion and war, civil strife and revolution, famine, disease, persecution by despotism – that is by dictatorship – national disasters, and a depression or economic stagnation, etcetera.
Plus ça change … The more things change, the more they stay the same. I remember all those things happening around the world in 1976, too. Every year, a lay person sounds the death knell online: 'This is it, folks. The Lord is coming. This is what Revelation talked about. We're in those final days'. Clearly, we're progressing towards the end of the world, but it seems as if we still have a long way to go. There are days when I hope I am wrong.
Anyway, MacArthur mentioned the book because:
Those are the predictions of those people who look at the world analytically. And that's precisely what Matthew 24 says. It's a rough world. And being married only complicates it greatly because of the problem of caring for your wife and husband and caring for your children.
Paul has much more to say on marriage. For now, the next few verses that follow were read this year — 2021 — on the Third Sunday after Epiphany (Year B):
29 This is what I mean, brothers: the appointed time has grown very short. From now on, let those who have wives live as though they had none, 30 and those who mourn as though they were not mourning, and those who rejoice as though they were not rejoicing, and those who buy as though they had no goods, 31 and those who deal with the world as though they had no dealings with it. For the present form of this world is passing away.
What Paul means is that we should not get too attached to our spouses, material things or the world in general. At some point, we may lose some or all of them. Therefore, throughout our lives, we should have Christ as our primary focus, because this world is but transitory for us. Our eternity is with Him, forever and ever. Amen.
That said, in closing, I hope that all who celebrated had a very happy St Valentine's Day. Love is a beautiful thing, one of life's great pleasures — and a gift from God.
Next time — 1 Corinthians 7:32-35