You are currently browsing the tag archive for the 'Mary Foy' tag.
To follow this series, it is helpful to read parts 1 and 2.
We left off on Sunday, May 8, 2022. That day, Labour leader Sir Keir Starmer had cancelled an appearance at an Institute for Government event on Monday in advance of the Queen's Speech on Tuesday.
Labour's campaign beer and curry event took place on April 30, 2021. The Sun made it public soon afterwards, but it did not get traction from other papers, namely The Telegraph and the Mail, until January 2022. Durham Constabulary only decided to really investigate it on Friday, May 6, 2022. Starmer took legal advice and cancelled his public appearance on Monday, May 9.
Journalists and pundits noted the length of time between the event, its wider coverage, the internal memo about the event leaked to the Mail on Sunday and Starmer's reaction to the press coverage it received. No one forgot Starmer's spending from December 2021 to May 2022 calling for Boris Johnson's resignation over Downing Street events:
With the shoe being on the other foot, Labour supporters wanted Starmer's event, held in Labour MP Mary Foy's Durham office, to disappear from the public consciousness. Didn't we know there was a war on in Ukraine? Didn't anyone care about the cost of living crisis? Suddenly, breaking coronavirus restriction rules was something no one should care about unless it had to do with Boris and Downing Street.
Mail on Sunday journalist Dan Hodges noted the hypocrisy:
A YouGov poll published on Monday showed that the public thought Starmer should stand down if he gets a fine:
Guido Fawkes has YouGov's breakdown of the public's opinion on both Starmer and Boris. Not surprisingly, more people think that Boris should resign. That said, Conservative voters are more forgiving of Starmer than are Labour voters. That's because most Conservatives believe in repentance.
Guido says a majority of the public think that Starmer broke the rules:
The general public is firmly of the view that Starmer should resign, at 46% agreeing versus 32% opposing. They also comfortably believe Starmer either did definitely or probably break the rules (54%) to probably didn't or definitely didn't (21%).
Guido conducted his own poll on Monday, May 9. Just under 50 per cent thought that the Labour leader — and Leader of the Opposition (LOTO) — should resign using the same standards that he applied to Boris:
Earlier on Monday, Starmer decided to issue a short statement to the media at 4 p.m. that day. By the time Guido closed his poll, there was a half hour left before that small, select event took place.
Guido's post on the poll says (emphases in the original):
With Sir Keir expected to make a statement on Beergate at 4pm today, Guido asked co-conspirators how they'd advise Starmer if they were by his side in the LOTO office over the weekend. Resign right away? Wait for the police investigation? Tough it out…?
Thousands voted, and it turns out readers are divided. Half (49.6%) think Starmer should resign at the podium today – given he called for Boris's resignation the moment the police launched their inquiry – 28.9% think he should resign only if fined, with a further 21.5% saying he should tough it out regardless of the police outcome. Guido's own view is that the latter choice is politically impossible given his approach to Partygate. Demanding Boris and Rishi resign over a birthday cake set the bar incredibly high for his own behaviour – a bar he hasn't met. If he's not going to resign today, then his only real option is to promise he'll go if Durham Police whack him with a fine…
Starmer invited only three journalists to hear his statement.
He said he would resign if fined.
Guido analysed that statement and said there was more to it than one might think:
Seeing as Charles — now Lord — Falconer is advising Starmer, Blairite tactics could come into play:
Sir Keir has just confirmed he will resign in the event of being given a fine, an unprecedented announcement from a Leader of Her Majesty's Loyal Opposition … Guido can see another obvious tactic at play from the pound shop Blair wannabee…
In 2007, when under investigation for the Cash For Honours scandal, Tony Blair's team warned the Metropolitan Police that the PM would have to resign if interviewed under caution, forcing them to back off under such immense political pressure:
Sources close to the inquiry said that there were difficult discussions before a political intermediary made senior detectives aware of the serious implications of treating the Prime Minister as a suspect.
"Make no mistake, Scotland Yard was informed that Mr Blair would resign as Prime Minister if he was interviewed under caution," said a source. "They were placed in a very difficult position indeed."
On Saturday, when Guido exclusively revealed Lord Falconer has been tasked with putting together out Sir Keir's legal defence, he didn't expect Blair's Justice Secretary to copy the tactic used by his old party boss so like-for-like. Unfortunately for Starmer one of his team accidentally explained the quiet bit out loud to ITV's Daniel Hewitt, briefing "it puts some pressure on Durham Police who are being leant on in one direction". Former DPP [Director of Public Prosecutions] Sir Keir knows a thing or two about letting police forces fudge an investigation and letting the culprit get away…
Hmm:
It will be interesting to see how a campaign team can justify alcohol at a notional working event, especially as a few overdid it:
Guido was referring to a Politico article by Alex Wickham, who wrote that he received no denials of the following account containing mentions of drunkenness:
On Tuesday, May 10 — Day 13 of Beergate — the Mail led with Starmer's alleged piling of pressure on Durham police:
That day, fallout followed Starmer's cosy Monday afternoon session with only three journalists.
The Sun's political editor Harry Cole was left out in the cold. 'Lobby' refers to the media:
Guido said this was but another episode in a long-running period in which Labour have not been transparent with the media:
Guido has been tracking this issue for some time:
Guido's campaign to get Labour to publish their shadow cabinet meetings with media proprietors and editors, as pledged following Leveson, seems to be going nowhere, despite repeated promises from Labour HQ to pull their finger out. Yesterday Labour's relationship with press transparency got colder, when Sir Keir invited just three tame broadcasters into the room, blocking any hacks who may have asked difficult questions from attending. GB News' Tom Harwood was told this was due to "limited space". Guido is old enough to remember when the Lobby was collectively outraged when only selected broadcasters were invited by Lee Cain [Boris's former Downing Street Director of Communications] for a briefing… 
Now Guido's spotted another press frontier on which Labour's dropping the ball: publishing press releases. Labour's website hasn't published a press release in over 40 days, the most protracted period of policy publishing paralysis since Starmer took over …
Perhaps not a good look when even the Labour-supporting press is starting to suggest Sir Keir needs some policies to win, not just claims of personal sainthood…
That day, YouGov published a new poll taken on May 5 and 6 that shows the Conservatives were one point below Labour. Other polls still show Labour in the lead, but here is YouGov's take:
Guido wrote:
Margin of error territory as the public no longer perceives Sir Keir as "Mr Rules". One poll so far so will be intrigued to see if this is a trend…
Prince Charles delivered the Queen's Speech that morning for the State Opening of Parliament.
In the afternoon, both the Commons and the Lords began separate debates on the 38 proposed bills in the Queen's Speech.
In the Commons, at least, the week-long debate, called the Humble Address, begins jovially, and it is an honour to be the MP selected to open it.
The lucky MP was Graham Stuart (Conservative), who represents Beverley and Holderness.
He cracked a joke about Keir Starmer as he reviewed Labour's dominance in the North of England prior to the Conservatives' breaking through the Red Wall in 2019 (emphases in purple mine):
Robert [Sir Robert Goodwill], of course, won selection in Scarborough. He then went on to overturn Lawrie Quinn's 3,500 majority, and was, I think, along with my hon. Friend the Member for Shipley (Philip Davies), the only Conservative candidate in the whole of the north of England to take a seat from the Labour party at that election. The Leader of the Opposition must wish it was so today. Instead the only thing opening up for him in the north is a police investigation. [Laughter.]
Guido has the video. Look at Starmer's painfully forced smile:
Stuart had another go when discussing the corruption in his constituency in the 18th and 19th centuries:
Obviously the law did change. Free beer and cash inducements were the electoral controversies then, rather than, say, beer and curry today. Never in the history of human conflict has so much karma come from a korma.
Some time later, it was Boris's turn to speak, introducing the important bills. Labour MPs intervened until he put a stop to them.
Of the energy bill, he said:
The energy Bill will create hundreds of thousands of new green jobs, taking forward this Government's energy security strategy—it is about time this country had one—with £22 billion—[Interruption.] Labour did not want a single nuclear power station. Come on, be honest. Look at them, the great quivering jellies of indecision that they are. Our £22 billion UK Infrastructure Bank is supporting the transition to net zero and vast new green industries, in which our United Kingdom will again lead the world.
Boris quickly moved on to the economy and the Channel crossings of illegal migrants, during which he added a quip:
We are using our new freedoms to control our borders, with a new plan for immigration so that we can fix our broken asylum system, tackle the illegal immigration that undermines the legal immigration that we support and crack down on the vile people smugglers. I know that the Leader of the Opposition—perhaps I should, in deference to his phrase, refer to him as the Leader of the Opposition of the moment—likes to claim he opposes these plans …

Guido has the video, which is much more entertaining than reading the transcript. Boris was at his best:
That evening, The Guardian reported that Labour MPs were already talking about a change in leadership. Speaking personally, so far, Wes Streeting is the strongest candidate they have:
The majority of shadow ministers said they were grimly resigned to Starmer's pledge – but said there were likely to be internal consequences. "I think once you start talking up the prospect of your own resignation you are on dangerous ground," one said.
Another veteran MP, a Starmer loyalist, said they suspected ulterior motives from some shadow cabinet members. "If you fancy Keir's job, this is win-win," they said.
Rule changes pushed through at last year's Labour conference mean a fifth of MPs must nominate any candidate for the party leadership in order for them to be put to a members' postal vote – a higher threshold than under Jeremy Corbyn's leadership and a move that was seen by those on the left as intending to disadvantage their candidates.
One MP said a snap leadership contest would put ascendant shadow cabinet ministers such as Wes Streeting, the shadow health secretary, in an advantageous position. "[Starmer's] disappearance now would obviously benefit the Blairite right – [the mayor of Greater Manchester, Andy] Burnham couldn't stand, Sadiq Khan [the London mayor] couldn't stand, Angela would be out of the picture for the same reason as Keir because if he goes on this she has said she will go too."
If both Starmer and Rayner are forced to resign, there is no obvious interim leader. The most senior members of Starmer's shadow cabinet – Rachel Reeves, the shadow chancellor; Yvette Cooper, the shadow home secretary; David Lammy, the shadow foreign secretary; Streeting; and Lisa Nandy, the shadow levelling up secretary – are all potential candidates in a contest. The party's national executive committee would have to vote to designate an alternative member of the shadow cabinet.
A source close to Starmer said he was relaxed about the ambitions of his shadow cabinet. "I don't think anyone is actively trying to undermine him. It says a lot about our party that there are so many potential candidates – look at the contrast again with the Tories. If people are ambitious, let them be."
An ally of Streeting said: "Wes was on the media batting for Keir three times over the weekend and into Monday. He's one of Keir's most loyal and vocal supporters. After a great set of a local election results there is everything to play for at the next general election thanks to Keir's leadership. This is no time for introspection."
Senior figures in the Labour leader's team are understood to have felt reluctant to advise Starmer he should raise the prospect of his own resignation.
On Wednesday, May 11, The Sun criticised Keir Starmer's response to the Queen's Speech. When responding to Boris on Tuesday, Starmer had no Labour policies to present. He merely criticised the Government at length and ended with this:
It does not have to be this way; it will not always be this way. A Labour Government would tackle the cost of living crisis head on, get Britain growing again after 12 years of failure, and improve public services so that they deliver for the people paying for them. A Labour Government would rise to the moment where this Government have badly failed.
The Sun's editorial, 'Holey agenda', said (bold in the original):
IS Keir Starmer chasing the wrong job?
He has no ideas anyone can detect, as his vacuous response to the Queen's Speech proves. He clearly thinks it's enough to be 'decent' and 'honourable'.
Tribal Labour voters may lap up his preening sanctimony. Millions of others prefer leaders with vision and drive.
You're auditioning for PM, Mr Starmer. Not Archbishop of Canterbury.
That day, digging around, Guido raised the matter of an early pandemic violation in Durham: that of Boris's then-adviser Dominic Cummings at Barnard Castle in the Spring of 2020.
Durham Constabulary said at the time that there was nothing to investigate. They also stated that they did not issue retrospective fines.
As punishment, Boris made Cummings hold a lengthy televised press conference to explain himself. It lasted well over an hour and was most peculiar. At the end, after having asked many questions, one by one, reporters and broadcasters walked up individually to Cummings's table to tell him what they thought of him.
Cummings's press conference was his public penance.
Then again, parts of it were theatre for the public, most of whom didn't know he is friends with many of those journalists, as is his wife. He addressed only one by his full name: Gary Gibbon from Channel 4 News.
Two years on with Starmer — and other Labour MPs in the frame — the Party's ire was rising in Durham.
Mary Foy MP, who hosted the Durham gathering in 2021, had written a lengthy letter to Boris on May 28, 2020 about Cummings, who is pictured below in the background. The letter beneath it is recent. It is from the leader of Durham's Labour Party to Red Wall Conservative MP Richard Holden, who had written to Durham Constabulary a few weeks ago to enquire as to whether they would investigate the 2021 Starmer event:
Mary Foy's letter would have been better addressed to Durham Constabulary. It was up to them, not Boris, to take action against Cummings.
However, Foy took issue with Boris's refusal to sack Cummings. In the event, he resigned a few months later for other reasons and was gone by the end of 2020.
Guido wrote about Foy's letter, which can be viewed in its entirety on his post:
Now that Sir Keir is feeling the heat from his boozy lockdown curry night, Labour MPs are bending over backwards to explain why their leader's Covid rule-breaking is somehow completely different to Boris's, and why it's right that Starmer remains in post provided he isn't fined. One particular MP who might have some trouble with this is none other than the Honourable Member for Durham, Mary Foy…
Foy is probably best known for hosting the Beergate bhuna session in her constituency office, laughing and drinking merrily with her colleagues while the country was still in stage two of lockdown. She then went on to scream at Richard Holden for his asking Durham Police to reinvestigate the event. It turns out, however, that when Durham Police announced they wouldn't fine Dominic Cummings over the infamous Barnard Castle trip, Foy had a few ideas about what should happen next. None of which involved Cummings keeping his job…
Here's what Foy wrote in a public letter to Boris after the Cummings story:
The vast majority of constituents who have contacted me have expressed the view that Mr Cummings' actions have been insensitive and unacceptable at best, and many feel that they warrant further investigation by the police.
While I understand today's decision by Durham Police to take no further action, many of the constituents who have written to me would like Mr Cummings to resign or be sacked. Clearly, whether you stick by him or not is a matter for you, but the perception from my constituents, and I would hazard a guess that this is a common view across the North East, is that you are currently putting the interests of your chief adviser above that of the people of the region and the country as a whole.
Even though Cummings received no fixed penalty, and the police decided they'd take no further action, Foy still took the time to write a two-page letter informing the Prime Minister how upset her constituents are, and politely suggested Cummings lose his job. Presumably her office is inundated with similar letters now, all demanding Sir Keir does the honourable thing…
Labourites criticised Times Radio's Lucy Fisher for mentioning Cummings and Starmer in the same tweet:
However, it would be wrong to think that Durham Constabulary never issued any fines — fixed penalty notices — for coronavirus violations.
On Thursday, May 12, The Times informed us of a fine Durham Constabulary issued to a bereaved woman in November 2020:
Some of Starmer's supporters have assumed that detectives would not issue a fixed-penalty notice because they decided not to take retrospective action against Dominic Cummings, the prime minister's former adviser.
However, the force's approach appeared to harden later in the pandemic and it issued a £10,000 fine to a woman who organised a balloon release in memory of her father-in-law, who died of Covid.
Vicky Hutchinson held the gathering on November 11, 2020, in a field opposite a church in Horden, Co Durham, where Ian Stephenson's funeral was due to take place a few days later. Her £10,000 fine was reduced to £500, based on her ability to pay, when she attended Peterlee magistrates' court on April 23 last year, a week before the Starmer incident.
A court report by The Northern Echo revealed that Hutchinson, in her mid-thirties, had urged friends and family to wear masks and stay socially distanced at the balloon release. It said that police did not attend the gathering of about 30 people and there was no disorder.
However, it appears that there was a retrospective investigation after a complaint. Durham police analysed a livestream video of the event before issuing the fine, the report said.
The approach to Hutchinson's case raises fresh questions about how the Durham force might handle the case of Starmer, who has denied wrongdoing …
Durham police did not respond to requests for comment.
Also on Thursday, Guido returned to Dominic Cummings, specifically what Keir Starmer said about the incident in 2020:
Guido has the quote:
Here's what he said of Cummings back in 2020 – before the police had even launched their investigation:
This was a huge test of the Prime Minister, and he's just failed that test. He hasn't sacked Dominic Cummings, he hasn't called for an investigation, and he's treating the British public with contempt… that's not a reasonable interpretation of the rules, and the Prime Minister knows it. One rule for the Prime Minister's advisers, another rule for everyone else… If I were Prime Minister, I'd have sacked Cummings.
One rule for the Prime Minister's advisers, another for Sir Keir…
And finally, London's Metropolitan Police confirmed that they have now issued more than 100 fines for Downing Street events. Neither Boris nor his wife Carrie received one in this tranche:
Guido wrote:
A month on from their last update on Partygate, paused thanks to the local elections, the Met's confirmed "more than 100″ fixed penalty notices have now been handed out. Downing Street say Boris has not received another fine…
Later that afternoon, GB News's Colin Brazier and his guests discussed the Met's issuing of fines to people who were at Downing Street gatherings.
It's a bit rich for Brazier's contributors to say that the Met want to channel their resources elsewhere. There are few police forces these days, including the Met, who want to investigate actual crime. This massive dispensing of fines also looks rather selective:
There is also the issue of double standards which irritate many members of the public:
Personally, I think the way the pandemic was handled was dystopian. I don't know what to think about these fines. Part of me wants to see all of them refunded and any related criminal record for violations erased.
On the other hand, it seems only right that, if Labour have done wrong, they, too, should be fined.
So far, only the Conservatives have been. The Met have made them look positively criminal. Well, that's par for the course in Labour-controlled London.
I'll update this in due course.
End of series
Yesterday's post reviewed events surrounding Labour leader Sir Keir Starmer and other MPs connected with 2021's campaign meeting, forbidden under that year's coronavirus rules:
Keir Starmer defended Labour's indoor beer and korma event by saying that no other venue was serving food.
Well, they were. However, the problem was that service was outdoors only at that time.
The hotel where Starmer was staying, the Radisson Blu, provided room service, but that would have precluded any other persons gathering in an individual's room.
On the evening of Election Day, Thursday 5, 2022, GB News's Dan Wootton interviewed Red Wall MP Richard Holden, who had written to Durham Constabulary about properly investigating the event:
Holden said that the students who took the videos and photos offered to give Durham police a statement, but their kind offer was refused.
Holden suggested that evidence was being suppressed. He also questioned the fact that people involved had forgotten their diary details for that day.
As for dining, Holden said that, in order to comply with the rules, he had been part of a group eating a fish and chips supper outdoors in Hartlepool in windy conditions.
On Friday, May 6, Durham Constabulary finally issued a statement saying they would investigate the event held on April 30, 2021:
Labour MP Emily Thornberry dismissed the news and said all would be 'fine':
The BBC reported that Durham Constabulary waited until after the election to make an announcement (emphases in purple mine):
The force initially decided that no offence had occurred on 30 April last year, but said it had since received "significant new information".
It added that it had delayed announcing the investigation until after Thursday's local elections.
Sir Keir said he was confident he hadn't broken any Covid rules.
He has faced criticism since he was filmed drinking a bottle of beer while in the constituency office of City of Durham MP Mary Foy.
Speaking to reporters on Friday, he said he had "stopped for something to eat" during meetings, and there was "no party".
"The police obviously have go their job to do – we should let them get on with it," he added.
Starmer took no questions on the matter:
Guido Fawkes resurrected a Starmer tweet from January 31:
Priceless:
The Telegraph's Madeline Grant made an eloquent observation …
… which received these replies:
Later that day, Guido posted about the concerns that Starmer's advisers had with the upcoming investigation:
Guido's post says that a journalist, Ava Evans, heard that Labour MPs would not be doing media rounds for a few days (emphases in the original):
Ava also reports that one Labour MP told her they would not be participating in any media interviews for the next few days, for fear of being asked to defend Sir Keir. His actions were "indefensible" she reports them as saying. Which explains why we are only seeing Emily Thornberry abasing herself in studios…
On Saturday morning, news emerged that Starmer was taking legal advice from Lord Falconer, Tony Blair's close friend who served as Lord Chancellor and Secretary of State for Justice from 2003 to 2007:
Guido reported on the development, an exclusive:
An extremely worried Keir Starmer has tasked Charlie Falconer with putting together a Beergate legal defence team. Labour lawyers have told Starmer that there is a 60% chance that he will escape a fine, however the fining of Sunak over a cake has spooked Starmer that he too could be fined over a beer and curry. The irony of the legal and political situation is exquisitely painful for the barrister politician.
Guido later added an update:
UPDATE: In another irony, Falconer has publicly opined on the situation of politicians breaching laws they voted for in the Guardian:
… true accountability means facing justice in a criminal court. But not in this case – a fixed penalty notice does not bring any sense of justice done to those who paid what was very often a high price for obeying the rules.
Which appears to be a demand that Boris be tried in court for his birthday cake….
One of Guido's readers wondered if Falconer's involvement presented a conflict of interest, given his strong opinions on the matter:
That isn't the only conflict of interest, either. There's also Durham's Police and Crime Commissioner, Joy Allen. Starmer campaigned for her and she won her election to that post:
The Mail on Sunday was able to obtain a leaked memo, Starmer's itinerary for April 30, 2021:
This was the paper's front page: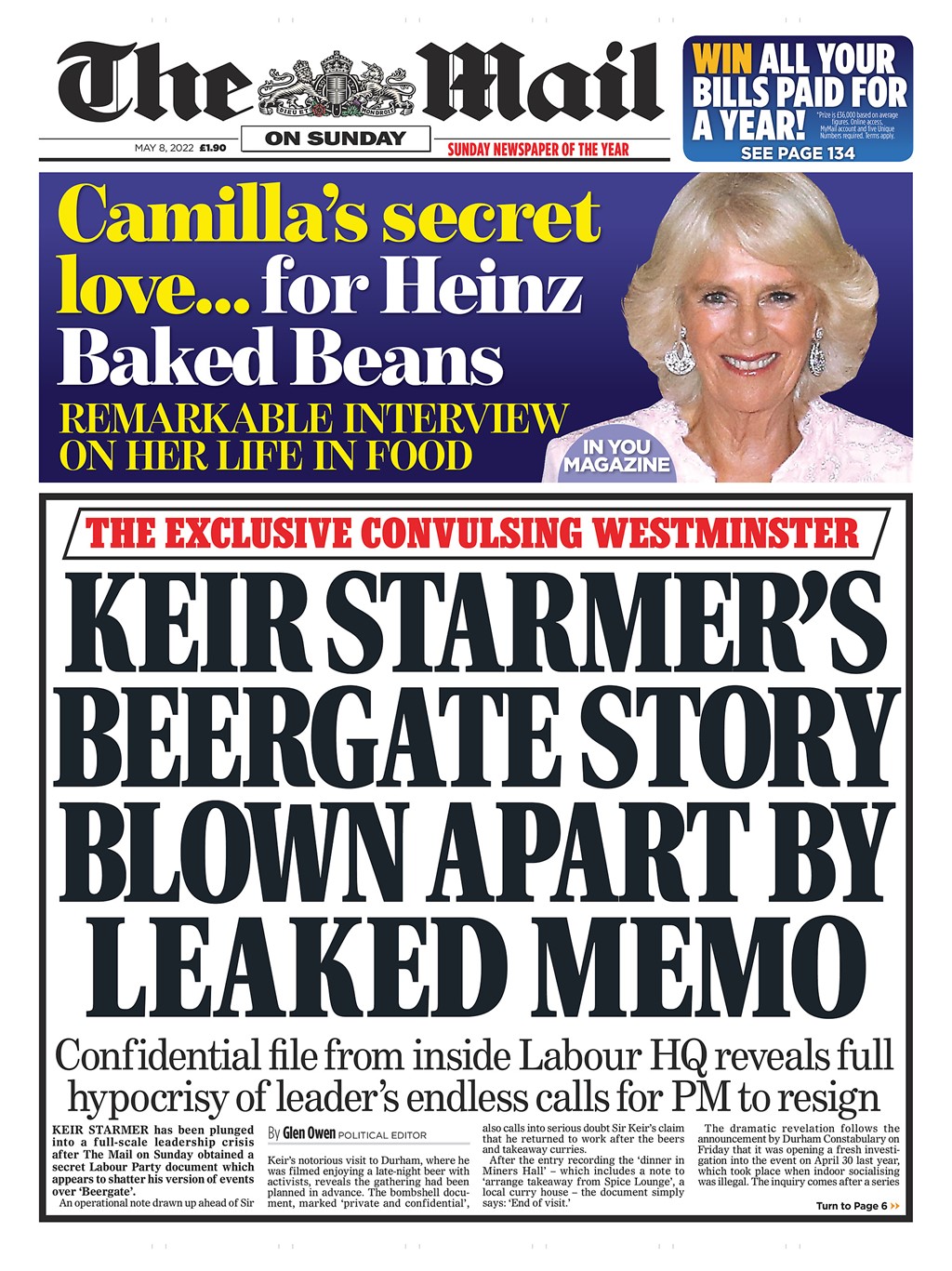 Glen Owen's exclusive for the MoS says:
The bombshell document, marked 'private and confidential', also calls into serious doubt Sir Keir's claim that he returned to work after the beers and takeaway curries.
After the entry recording the 'dinner in Miners Hall' – which includes a note to 'arrange takeaway from Spice Lounge', a local curry house – the document simply says: 'End of visit.'
Spice Lounge did not supply food for the event. Another curry house, The Capital, did.
The paper received the memo from a whistleblower. The itinerary reveals that Angela Rayner MP was scheduled to be present:
The memo – which was passed to this newspaper by a whistleblower – also further undermines Labour's claims that it made 'an honest mistake' when it denied that Deputy Leader Angela Rayner was at the event: it lists 'AR' alongside 'KS' as the two senior politicians anchoring the day's proceedings.
Labour had denied that this was a planned event, but the memo's existence proves that wrong:
… the note – a forward-planning logistics document which is referred to as an 'op note' – makes clear the beer and curries had been planned in advance.
The note says that after a day's campaigning in Hartlepool, Sir Keir's team were due to arrive at the Radisson Blu hotel in Durham at 6.31pm, leaving by 7pm to walk to the Miners Hall.
After recording clips for the media, the note says a 1hr 20mins slot was set aside for 'dinner in Miners Hall with Mary Foy', the local Durham MP. A side note reads: 'YS to arrange takeaway from Spice Lounge'. YS is the acronym for a member of Sir Keir's private office.
The Spice Lounge curry house was closed at the time, with callers being referred to the nearby Capital Indian restaurant. Last week, the Daily Mail spoke to one of the restaurant's delivery drivers, who said he had dropped off a 'big' order of food for at least 15 people, including four bags of curries, rice and naan bread …
The Mail on Sunday has established that the Radisson Blu was serving food when Sir Keir and his party checked in at 6.31pm and continued to do so until 9pm …
The document also refers to four members of the 'MPL' – Met Police Liaison – who were included in the trip, suggesting they are likely to have information useful to the investigation.
Also included on the op note is the line 'Covid Alert Level: National Lockdown', and 'important note: please maintain social distancing of 2m and wear face coverings whilst indoors at all time'.
The leaked document makes clear that Ms Rayner was to play a central role in the day's events …
A Labour source said: 'During a fast-moving campaign, the op note doesn't always keep up with events so it would be wrong to assume that activities occurred at the times originally planned. For example, it's been documented that the takeaway was late'.
This was Starmer's previous denial that the gathering had been planned:
The Sunday Times also had an incriminating article. A source told the paper that some staffers were there only to party and that no work was done afterwards. Pictured below is Mary Foy MP:
It is expected that the investigation will take between four and six weeks:
Allegedly, pictures from the event circulated on Twitter. Those have since been deleted.
Interesting, to say the least:
The aforementioned Sunday Times article said that the Durham Constabulary have opened a major incident room. Angela Rayner's presence appears to have triggered the investigation:
It was the discovery that Rayner had been at the event, despite Labour's original claims, that prompted Durham police to open their investigation. A source close to the force said: "It raises the question about what else we might not have been told the entire truth about."
Officers have set up a major incident room, and up to six detectives will spend the next four to six weeks looking at the potential lockdown breach. They are expected to use questionnaires — similar to the ones used by Scotland Yard to investigate Johnson and the Downing Street scandals — to interrogate those present at the event.
The force said, however, that it did not issue fines retrospectively. When Dominic Cummings was found to have made a 260-mile trip to Barnard Castle in 2020, the force said to take action against him would "amount to treating Mr Cummings differently from other members of the public".
It is unclear whether Scotland Yard's decision to issue retrospective fines over the Downing Street gatherings could force a change of stance.
Mary Foy said:
"Me and my team were working during a very busy period, including facilitating the leader's visit," she said. "I do not believe either I or my office broke any rules, and I will of course fully engage with any police investigation."
Dominic Raab, the Justice Secretary and Deputy Prime Minister, said:
"It's the rank double standards that drive people crazy," Raab told Sky News. "He needs to fess up and answer all of the holes in the account that he gave for that beer-and-curry event in Durham.
"Keir Starmer looks like, I'm afraid, someone who is engaged in complete hypocrisy, complete double standards and I don't think he is going to get past that until he gives a proper account of what happened in Durham."
Here's the video of Raab talking to Sky News:
Jacob Rees-Mogg MP, in charge of Brexit efficiency, told Channel 4's Andrew Neil that one should be extremely careful with hoisted petards:
He does have a way with words.
Guido took a look at what Lord Falconer might say in Starmer's defence:
That said, in February, The Mirror reported that Prime Minister Boris Johnson also hired lawyers over 'Partygate':
The Prime Minister has hired hot shot lawyers to deal with the Met's questions on Partygate.
The Mail reported that Starmer had cancelled his appearance on Monday, May 9, at an Institute for Government event in advance of the Queen's Speech on Tuesday.
Guido tweeted:
Guido's post says:
The public event was scheduled to have included questions from the press and public. This morning, when door-stepped outside his North London home by journalists, a grim faced Starmer refused to say anything and was bundled into a waiting Range Rover. Keir clearly realises that "the police have already investigated this matter and found nothing" will no longer work as a line.
The Institute for Government is funded by the billionaire David Sainsbury, a former Labour minister under Tony Blair, who has backed centrist Labour politicians financially in the past. A statement on the website says only that the event is cancelled, with no explanation given.
The cancellation made the front page of Monday's Daily Mail:
It was the start of another tense week for the Labour leader.
Meanwhile, Boris focused on the Queen's Speech and historic agreements between the UK, Sweden and Finland in case of Russian aggression as a knock-on effect of the Ukraine conflict.
More to follow tomorrow.
My last post on Labour's 2021 election campaign meeting in Durham is a week old.
The intrigue continues and so much more has happened.
It is important to reiterate that while many on social media say it did not break the coronavirus rules …
… there were specific rules for the 2021 election campaign, some of which differed from regulations for households.
Indoor campaign meetings were banned in 2021:
Let's recall how Labour told an untruth about Angela Rayner's not being at the April 30, 2021 event in Durham when she clearly was. Labour had to own up:
The Daily Mail reported that Labour claimed it was an honest mistake (emphases in purple mine):
Labour last night admitted it had lied about an event at which Sir Keir Starmer is alleged to have broken lockdown rules. 
In a sensational U-turn, Labour acknowledged that Angela Rayner was also at the event on April 30 last year at which Sir Keir was filmed enjoying a beer with officials at a time when indoor socialising was banned.
A Labour spokesman said last night: 'Angela was present.' A party source claimed the previous denials had been 'an honest mistake'. 
It directly contradicts assurances given to the Daily Mail over the past three months that Mrs Rayner was 'not there'. 
The admission came only after this newspaper confronted Labour officials with video evidence that Mrs Rayner had joined Sir Keir at an online rally for activists filmed in the Durham offices of Labour MP Mary Foy where the party leader was later seen drinking. 
The extraordinary revelation raises questions about whether Labour's deputy leader also broke lockdown rules.
Recall that, for months, Labour, including Sir Keir Starmer and Angela Rayner, have been braying for Boris Johnson to resign:
Incidentally, once given a fixed penalty notice (fine) for one of the Downing Street events, Boris paid his promptly as did Chancellor Rishi Sunak.
With regard to Durham, their only Conservative MP, Richard Holden, wrote to Durham Constabulary to enquire about Labour's indoor event.
Durham MP Mary Foy, who appears to have hosted the event in her office, took strong exception to Holden's letter. She accosted him in Parliament's Strangers' Bar at the end of April:
Guido Fawkes had the story (emphases in the original):
The pressures of beergate are obviously getting to Labour MPs more than they'd like to admit: Labour MP Mary Foy launched into a furious drunken tirade against Richard Holden in the Strangers' Bar on Tuesday night, after Holden asked Durham Police to reinvestigate Starmer for his lockdown beer drinking. Which isn't exactly surprising, given the infamous event took place in Foy's own constituency office…
Foy allegedly grabbed Holden's arm and hurled so much abuse at him that her staff had to pull her away. Having had a skinful, she growled "how dare you name me and my office in this?" as apologetic staffers tried to calm her down. A witness told the Daily Mail she was "feeling the pressure". Guido can't imagine this morning's revelations about Angela Rayner will do much to soothe her…
Holden threatened to take the matter to the Speaker unless she apologised the following morning. Lo and behold, on Wednesday morning Holden found "I unreservedly apologise for my behaviour on the terrace last night" in his inbox. Holden tells Guido she then went on to talk about how they could work together as Durham MPs …
The Daily Mail reported:
Three witnesses told the Daily Mail that Mary Foy vented her fury at Richard Holden on the Commons terrace on Tuesday night.
She is said to have verbally abused him for asking Durham Police to reopen the investigation into footage of the Labour leader having a beer with officials in her office on April 30, 2021.
Witnesses claim the City of Durham MP grabbed Mr Holden by the arm with both hands and tried to drag him across the terrace before staff restrained her.
Each witness said the former charity worker, 54, appeared to have been drinking heavily when the incident took place at around 10pm as MPs waited for late-night votes.
Goodness me. Being boozed up while waiting to vote on legislation? Unbelievable.
Anyway:
Mr Holden confirmed he had received a written apology from Mrs Foy the following morning. He said: 'Mary has apologised for her totally unacceptable, drunken behaviour on the terrace and I want to leave it at that.'
A Tory source said Mrs Foy's behaviour suggested the 'pressure is showing' on Labour as Durham Police face calls to finally launch a proper investigation into Sir Keir.
Mrs Foy declined to comment on the allegations when contacted yesterday and referred all questions to Labour's press office. A party source confirmed she issued a personal apology.
The source said the pair had been drinking together in a group where there was 'a bit of back and forth on politics generally'.
They added that it was 'incorrect' to say Mrs Foy had grabbed Mr Holden's arm, but did not comment on claims she was drunk.
But several witnesses said they were shocked by the ferocity of her tirade.
More happened that day, Friday, April 29.
BBC Breakfast's review of the newspapers left out the Daily Mail's aforementioned front page with Angela Rayner on it, although reporter Iain Watson later soft-pedalled Labour's claim that it was an honest mistake:
Guido rightly observed that the nation's broadcaster had not afforded the Conservatives such gracious treatment:
When they finally got around to discussing the exposé, political correspondent Iain Watson was at pains to emphasise Labour's absurd line that it was just an "honest mistake", incredibly kind framing Guido's sure Downing Street would not receive. The Metropolitan Police decided to U-turn and investigate No. 10's parties after months of media pressure; now Labour's been caught out, the establishment media is doing its best to downplay the rule-breaking. Labour must be thanking their lucky stars…
At lunchtime, Guido posted Sir Keir's detailed timeline, complete with photos and videos, up North in Hull and Durham:
At the end of the timeline, Guido reminded us of what Angela Rayner had said only a week earlier:
April 20, 2022: Angela Rayner is asked "If Keir Starmer, had been fined for the beer and sandwiches that he had or was perhaps it was just beer. Should he have resigned?" Rayner replies "If Keir Starmer had broken the law, then Yes."
This was the Mail's front page on Saturday, April 30. It was a newsy day, especially with disgraced now-former Conservative MP Neil Parish:
That was also the first anniversary of the event in Durham:
The next day, the Mail on Sunday called Starmer a hypocrite, something a Sky News presenter quizzed him about (video here):
Keir Starmer avoided the BBC that morning. Instead, one of his MPs, David Lammy, went on to chat with Sophie Raworth (videos here and here). By now, the public were catching on that Labour had been obfuscating for nearly five months:
On Tuesday, May 3, The Sun's political editor Harry Cole reported that Starmer's security detail from London's Metropolitan Police were in Durham on the night in question. Hmm:
Cole wrote, in part:
Witnesses suggest dozens of MPs and aides gathered at Miners' Hall, with the police car still there late into the evening.
One bystander who walked past at 11pm said: "The place was still lit up and busy and Keir's car was still outside."
The Sun has also revealed that £200 was spent on takeaway curry for dozens of MPs and aides at the bash.
That day, The Spectator's Patrick O'Flynn wrote that Starmer should be careful about his situation, given he has been running roughshod over Boris, clamouring constantly for his resignation:
… Starmer called for both Johnson and Sunak to quit over their fixed penalty notices despite knowing that the full truth about his own campaign-trail gathering had not come out.
For starters, Labour said its deputy leader Angela Rayner was not at the event when she was. This according to Starmer was a simple 'mistake' made in good faith. But has he ever conceded Johnson could have made simple mistakes in good faith about what constituted unlawful gatherings? Of course not …
Can Starmer be said to have 'come clean' about his own lockdown socialising? Hardly. He is still being evasive now about what exactly the 'work' was that his team supposedly returned to after beer and pizza had been consumed around 10 p.m. on a Friday night …
When Starmer was first questioned about beergate, back in January, he told the BBC's Sophie Raworth: 'If you're trying to persuade anyone that stopping to have some food when you're in the office all day working is a breach of the rules, it's just not going to wash.' Yet hasn't such thinking been at the heart of his own relentless attacks on Johnson?
Starmer the lawyer may think he has winning answers to these questions. Were he a better politician, he would see immediately that he does not. He has been hoisted by his own petard and may soon crash land against some particularly unforgiving ramparts.
The Mail's Stephen Pollard also posted an editorial on Starmer. Pollard, by the way, is a member of the Labour Party. However, he abhors the hypocrisy of Starmer's handling of the Durham event compared with his verbal harassment in the Commons of Boris and Rishi:
… the holes in his story get bigger by the day. Sir Keir also says he had no choice but to eat with his colleagues because he couldn't get a meal at the hotel he was staying in.
The Mail has shown this is nonsense – the hotel made a point of offering room service for law-abiding guests who were following the rules by eating alone in their room. Sir Keir could remove all doubt about the truth of his story if he gave a full account of what happened backed up by evidence. In the absence of such evidence, however, it looks to be no more and no less than a social meal and a drink with colleagues after work – and so not remotely 'necessary'. In other words, illegal under the Tier 2 rules.
The Chancellor, Rishi Sunak, was fined for turning up to a scheduled work meeting in the Cabinet room to find that a gathering was taking place, and not walking out. For that, Labour demanded his resignation. The hypocrisy is breathtaking.
Sir Keir plainly thinks he can keep saying nothing and the fuss will die down. But the one thing voters cannot stomach is a politician who lies – so Sir Keir needs to come clean. It is difficult to imagine why he would let this story fester if he really has done nothing wrong and can prove it by answering questions, so it may well be he is covering up his own lawbreaking.
If that is the case then – on his own merciless standards – surely he must resign.
Or does he believe that the rules don't apply to him?
Also on that day, we found out who took the videos and photos of the Durham event — students at Durham University. The Mail reported that the Met's vehicle piqued their curiosity:
Students who filmed the Labour leader drinking in the office of one of his MPs while indoor socialising was banned also photographed an unfamiliar black Land Rover Discovery parked outside.
If it was one of the official police protection vehicles issued to Sir Keir in his role as a senior politician, it would raise the prospect that officers guarding him can help definitively solve the questions which continue to swirl around the night's events.
One of the students who filmed the gathering at Durham Miners Hall on April 30 last year said: 'We had never seen a black Land Rover parked there before, it really stuck out. We took a picture of it because we were convinced it was the car in which he had been driven there.'
Last night a Metropolitan Police spokesman said: 'We do not comment on protection matters.' Labour did not respond to requests for comment.
Former Scotland Yard Commissioner Dame Cressida Dick was previously forced to defend officers on duty in Whitehall as questions were raised on how potentially lockdown-breaching gatherings were able to take place at a site with a heavy police presence.
Speaking in February, she said the officers were there to provide 'protective security' but refused to be drawn on 'anything they may have seen or heard'.
The Leader of the Opposition is one of a small number of senior politicians given round-the-clock protection by police …
Officers would know everywhere the 'principal' is going during a visit and have a rough idea of timings, a source said last night.
The Mail did not name the students, but Guido knew who one of them was back in January 2022:
On January 18, Guido revealed the student's identity once the images of the Durham event had reached The Sun, The Telegraph and The Mail:
… the person who snapped the incriminating footage – James Delingpole's son, Ivo – is just as angry with the Tories as anyone else. Taking to Instagram yesterday he reacted to the Mail's splash with pleasant surprise:
Bit strange to have a video I filmed… on the front cover of a newspaper. I didn't make any money from it and didn't send it to them, but glad the hypocrisy was outed nonetheless
However he followed up:
It was last year and just outside my university house… I hope this in no way helps the Prime Minister defend himself from critics, and that he gets no respite from the questioning and criticism [he] deserves …

But even that splash in three newspapers didn't stop Starmer. In fact, he doubled down, as we can see in this tweet from January 31:
Returning to last week, Wednesday, May 4, the day before the election, the Mail had the following front page on the seventh day of Beergate. Someone should write a song …
Starmer appeared on ITV1's Good Morning Britain that day. Susanna Reid and Richard Madeley interviewed him. Things did not go spectacularly well, even if Reid is left-of-centre politically:
Guido had the story and video:
For the seventh consecutive day, Starmer is battling the headlines over Beergate. This morning the Sun reports Starmer and Labour aides spent £200 on takeaway food on the night the infamous photo was taken – enough curry to feed 30 people for what Labour still insists was just a quick meal during important campaign work. That line is becoming increasingly untenable, as Starmer's appearance just now on Good Morning Britain attests…
Speaking to Susanna Reid and Richard Madeley, Starmer trotted out the boilerplate excuses Labour have been using for a week, much of which was irrelevant waffle about how many camera pieces he recorded that day. Not once did he deny reports it turned into a £200, 30-person feast …

He recorded some video messages on a laptop – doesn't require 30 people, beer and curry late on a Friday night to do that. When Susanna Reid asked why any of this was actually relevant, Starmer claimed:
We were on the road, at the end of the day, we were in the office preparing. Now, that evening, from memory, we were doing an online event for members… at some point, this was in the evening, everyone is hungry. A takeaway was ordered… in Durham all restaurants and pubs were closed.
Of course, that last part is untrue: hospitality reopened for outdoor service on April 12, and the Durham event took place on April 30. Still, at least Starmer confirmed the police haven't been in touch yet, something he couldn't say yesterday for some reason. If Starmer's finding all this scrutiny unnecessary, Guido would just remind him he called for Rishi to resign last month for singing 'happy birthday'. Or was that just pointless mudslinging?
Guido's tweet about Good Morning Britain had a response about why Labour might not have wanted to put Angela Rayner in the frame until they were forced to:
That day, the Mail's Andrew Pierce looked at the possible people helping Starmer obfuscate. We already know about Mary Foy MP and I covered Joy Allen, the head of Durham Constabulary, in a previous post. She was not at the event.
The others follow — Allen's deputy, the curry house and the other Labour MP for Durham:
PCC Allen's second-in-command is Nigel Bryson, who happens to be a long-standing friend of hers. They met, inevitably, through the Labour Party and she has attracted criticism for appointing him without advertising. Challenged over this failure to vet anyone else, she said: 'I've got somebody who knows everything about me as a candidate… I could go through the process but it would just be possibly going through the motions.' So that's all right then.
The Capital is one of Durham's finest Indian restaurants and this week it emerged its delivery driver had dropped off a '£200' feast for the gathering, including biryanis, tikka masalas, rice and naan breads. The driver initially told the Daily Mail there were '30 or so people' inside – but bizarrely later insisted he had no recollection of making the delivery.
Yet the curry house has been known to have friendly relations with Durham's Labour machine.
In May 2020, during the first lockdown, local MP Foy hailed it for supplying meals to NHS workers and posed for photographs with head chef Syed Islam.
Bordering Foy's constituency is North Durham, with MP Kevan Jones. He has also remained silent about the night in question – and this isn't surprising.
A leading figure in the local Labour community, Jones himself has broken lockdown laws – not once, but twice. The first breach came on May 7, 2020, when he took part in a group photo shoot in his constituency, promoting artwork in praise of the NHS. A noble cause – but the rules about socialising were clear. Jones committed another breach three days later.
A video shows him attending an indoor party for 100-year-old veteran Frederick Herron, allegedly attended by about 40 people. Who would begrudge a hero centenarian a fitting celebration? Nobody – except Starmer and Labour have consistently claimed that the law should have been upheld.
Asked yesterday about his lockdown breaches, Jones said he would 'rather not comment'.
The plot thickened and the intrigue continued.
More tomorrow, beginning with what the papers said on Election Day.