You are currently browsing the tag archive for the 'masks' tag.
Isn't it interesting that the media narrative has changed from wall-to-wall coronavirus coverage to Ukraine?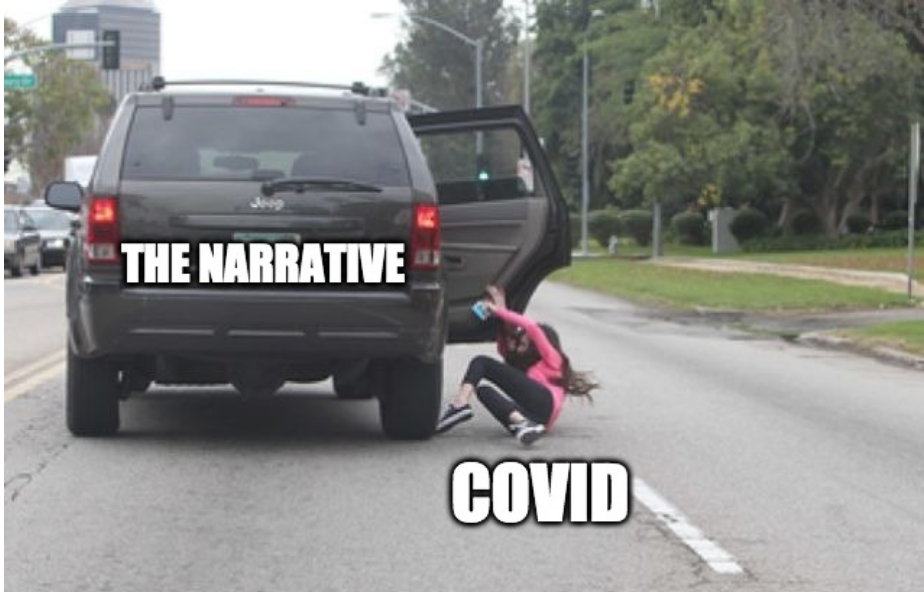 It seems that there is never room for more than one media narrative at a time. Sadly, this is now true even on GB News.
Fortunately, I have a few coronavirus gems from last month.
We must never forget what our notional betters did to us over the past two years.
The UK will hold a formal inquiry, although we do not know when it will start.
On Saturday, February 5, GB News's Neil Oliver delivered a five-star editorial on coronavirus measures in Scotland and other Western nations:
This was the theme:
Well, the narrative certainly changed by the end of the month.
Nonetheless, even as I write, coronavirus measures are still a thing in Scotland. First Minister Nicola Sturgeon has lifted some, with others to go this month. However, it might be some months before all of them disappear north of the border.
This was the state of play in Scotland in early February:
Somehow, Covid still manages to be in our faces – suffocating us bit by bit and all the time.
My children are still required to wear masks at school all day every day – rebreathing their own exhaust fumes for hours at a time.
In Scotland last week, first minister Nicola Sturgeon said her devolved assembly would spend hundreds of thousands of taxpayers' pounds cutting the bottoms off classroom doors so as to improve air flow in schools.
Seriously – that's what she said. Get this: she actually said there's a worry about how much CO2 children are inhaling in improperly ventilated classrooms.
They have to keep the masks on – so that they exist in a permanent cloud of their own, self-generated CO2, held over their mouths and noses like a smothering hand, but rather than let them take off those masks and breathe air like free people should, Sturgeon's proposed solution is to take a saw to the bottom of the classroom doors.
To say you couldn't make it up is an insult to made up things.
The fact that you can open a door to increase ventilation, on account of its hinges, the fact that doors exist in schools at least in part to inhibit the spread of smoke and flames in the event of fire, significantly more of a threat to the lives of children and staff than Covid ever was, has apparently passed Sturgeon by.
But, hey-ho, if there's one thing we've learned after two years, it's that everything is all and only about Covid.
Some days it feels like it always will be.
Covid could and should be behind us, as I have already said, but the powers that be keep pulling it back around until it's front and centre.
[Boris] Johnson announced some sort of an end to restrictions, but still, that air of lives limited, lives controlled, prevails, like the smirking grin that remains after the Cheshire Cat has otherwise disappeared.
And do you want to know why? Because after these two years like no others in our history, Covid is all they've got to explain and to justify everything else.
He took issue with Western governments:
Governments need Covid, and desperately …
All the money we ever had and most of the money we might ever dream of having – they blew the lot on Covid.
And since Covid is all the Governments have got now, by God they're determined to keep it.
Covid, as it turns out, is like a sort of Swiss Army knife, equipped with all sorts of useful little tools for all sorts of jobs, large and small. And meanwhile the evidence of manmade disaster is all around us.
He referred to the Johns Hopkins study that came out a few days beforehand:
A recently published study from the world-renowned Johns Hopkins University, in Baltimore, found lockdowns had had little to zero public health benefits and instead imposed enormous economic and social costs.
Like we didn't know that already, having been there while it was actually happening – but anyway, let's hear it again.
Researchers found lockdowns in Europe and the US lessened the Covid-19 mortality rate by just 0.2 percent.
The authors concluded that lockdown policies are ill founded and should be rejected in future.
Everywhere they were applied – everywhere – lockdowns caused enormous economic and social costs.
He went on to discuss how our various governments 'blew it':
Allow me to summarise those findings even more: Our governments blew it.
Faced with what they told us was the greatest threat to our civilisation in our lifetimes, for a hundred years or more, our governments took a bad thing and, through over-confidence, monumental incompetence and with the dull-eyed stubbornness of mules made it massively worse.
More importantly, when they must have known they were making it worse, they did it again. And again.
Now, rather than take responsibility and own up to their catastrophic failures – maybe say sorry for all the lives ended, lives ruined, lives compromised, a generation of children used like sandbags to protect the vulnerable from a flood, like stab vests worn on the chests of adults – they keep holding up the tattered rags of Covid, like the remnants of a curtain to stop us seeing the reality that lies behind it.
What lies behind that shabby curtain are consequences, and even now those powers that be don't want us looking at them, far less talking about them and thereby understanding the crippling reality of them.
Isn't it convenient that the TPTB now have Ukraine with which to distract us? Thanks, Putin. The news overkill on that is the ultimate distraction.
Oliver then talked about the horrors of quantitative easing:
What they did with money – your money, my money, everybody's money – during the pandemic is what the banks have been doing with money for decades now, and it's largely to blame for the bigger mess we're in now.
Quantitative Easing, they called it – printing money, to you and me.
For decades the tactic applied by the banks, with governments in cahoots, was to print uncountable, unthinkable amounts of money.
"We don't have any money left."
"Well print more, then."
"How much?"
"As much as you like – and keep it coming, I need another super yacht, and so does my mum. No one'll notice. And if they do, say it was Covid."
Imagine a glass of orange squash – a little bit of concentrate, topped up with water.
Tastes like orange, you know how it goes.
Then imagine tipping that glass-full into an empty swimming pool and turning on the taps.
By the time the pool is filled up with water, any orange in the mix is so diluted as to be utterly undetectable.
That, more or less, is what has happened to our money.
The value of our money has been so diluted it is quite literally not worth the paper it's printed on – which probably explains why they don't seem to want to actually print it on paper anymore.
They just add more zeros on their computer screens instead. Look at what they did with some of that pretend money: trillions of pounds worth of debt that will never, ever be repaid.
Billions blown on dodgy PPE, billions handed over as 'Bounce Back Loans' to companies that didn't even exist. Gone.
Those gazillions are gone – and the truly troubling point is that in every way that matters, they didn't really exist in the first place.
Rishi Sunak and Boris Johnson and the like have the gall to say they've got a way to fix the mess.
They might as well try to put out a factory fire by blowing on it.
On account of all that funny money, and then their use of Covid as a hammer to flatten business after business, the economic and financial model we've taken for granted for the last 50 years or more is finally done.
He looked at Covid measures in various countries:
Much of Europe is an interesting watch, to say the least. Austria is a police state now, in all but name, thanks to Covid.
Papers, please! Italy and Germany are much the same.
France would likely go the same way – except President Macron is too properly scared of too many of his own people to go all the way to vaccine mandates.
Instead, he remains committed to making the lives of the unvaccinated as miserable as possible. In Western Australia unvaccinated parents are barred from the hospitals where their children lie sick, dying.
In Canada the GoFundMe organisation has withheld millions of dollars raised in good faith, in support of the truckers protesting vaccine mandates.
What will become of that money, donated by hundreds of thousands of ordinary Canadians, remains unclear.
More and more questions are being asked about the vaccines, all around the world.
Questions about efficacy, about safety, and yet governments like the US, Canada and Australia, as well as here and just about everywhere else continue to dig in, more and more determined to get a needle into every arm on the planet.
Israel is beavering away with injection number four – and the positive cases are spiking in what looks, on the graphs, like a vertical line pointed into space.
With the Covid narrative in tatters now, new weapons of mass distraction are being deployed to stop us thinking too much about the mess.
Enter Putin with his invasion of Ukraine. How timely. In early February, we knew it was coming:
I'd like to say, Don't Mention the War, but of course there's Russia and Ukraine to look forward to as well.
Oliver brought up non-Covid health issues:
There was a GP on the telly last week saying the stress of lockdown is causing heart attacks and strokes.
Well, I never.
He brought up the irony about the silence surrounding all the plastic face masks being dumped into the environment:
Climate crisis and environmental meltdown are back to the fore again – never mind the fact we've dumped trillions of filthy face masks, and Covid tests into that environment, that doesn't seem to matter.
He concluded:
Weapons of mass distraction or not, there'll be no hiding the fuel bills due in a few weeks' time.
People forced to choose between eating and heating tend to behave differently than before.
Energy black hole, Net Zero and its consequences and only pretend money with which to pay for it all.
How much longer can our dear leaders hide behind Covid?
We do a lot of weather forecasting on this channel. I tell you this – there's a storm coming.
Oliver then had Benjamin Loughnane (pron. 'Loknayn') from The Bow Group think tank to discuss the Johns Hopkins study about lockdown. This was also a very good segment:
Richard Tice from the Reform Party also appeared to talk about our leaders' mistakes:
You can see the full show below. Almost all of it concerns coronavirus:
Later in the evening, Mark Dolan presented an excellent editorial on how the media and Government handled the pandemic:
The replies to the tweets were worthwhile, such as this one:
Some of us knew from the beginning that most of the coronavirus measures in Western countries were bogus, but anyone who mentioned that PCRs were picking up old viruses was dismissed as a crank.
Lo, it emerged last month that the intrusive PCR testing was proven to be ineffective in accurately diagnosing coronavirus.
Dolan said (emphases mine):
A major new study confirms that PCR tests are horribly inaccurate. There's a surprise.
According to researchers at the University of Oxford, if you've heard of it, a third of people who tested positive for coronavirus via PCR tests were not contagious and did not need to self-isolate.
The study found that many laboratories are setting the positivity bar very low, meaning they're picking up people, who are – quotes – "a danger to no one".
Hand sanitising is also inconclusive:
Do you remember our blistered skin, in March 2020?
Sing happy birthday twice, as you wash your hands? After which a couple of scientists with half a brain cell, pointed out that the virus is transmitted through the air, via aerosols. No sugar, Sherlock.
Perspex screens in shops — or, in cars, as was the case in France — might not have been a good idea, either:
A report came out in August of last year, suggesting those environmentally catastrophic Perspex screens you see in shops, offices and on TV, may make matters worse.
The Environmental Modelling Group, a panel of 16 SAGE experts, said "There is some epidemiological and mechanistic evidence, that suggests screens could increase risks of aerosol transmission, due to blocking/changing airflow patterns or creating zones of poor air circulation behind screens.
Well done everyone.
The best masks couldn't stop the rise in contagion:
Even where countries have demanded better N95 masks, like Austria, cases have sky rocketed nonetheless.
There was no evidence that vaccine passports stopped the spread:
What about vaccine passports? We're saving lives aren't we?
Except that cases have continued to soar in countries that have implemented these divisive measures, which link your medical status to certain basic rights, freedoms and privileges, including in particular in France and Italy.
The same held true for closing nightclubs:
What about closing nightclubs?
The Welsh first Minister Mark Drakeford, who likes a boogie himself, was able to demonstrate no evidence that closing nightclubs would have an impact on spread.
After two years, our health service is on backlog overload and probably will be until the end of the decade.
Some people's lives are in ruins: closed businesses, relatives' suicides, nervous breakdowns, missed diagnoses of terminal illness. I could go on.
Dolan said:
Two years in which we have incarcerated the healthy, stopped people from going out to work and making a living, closed once viable businesses, wrecked mental health and ignored worse diseases like cancer.
The Telegraph are reporting that up to 87,000 cancer diagnoses may have been missed. And the rest.
If you think Covid is worse than cancer, there is something wrong with you.
But that's been the message of the pandemic response.
'If it's not Covid, they don't care' is something I've heard from so many of you over the last two years.
The famously deadly disease of cancer, that affects all age groups, has been relegated in importance for two years, with tragic consequences that will be with us for years to come, with cases like young mothers who didn't get that lump checked or weren't able to. Well done everyone.
There will be a day of reckoning for what Professor Jay Bhattacharya, one of the most respected medics in the world, has called the biggest public health mistake in history. He's being polite.
Dolan rightly took issue with governments, modellers and the media:
So who's to blame?
Well, weak politicians who panicked in March 2020 and discarded decades of pandemic planning …
I blame the modellers like the randy professor, Professor Pants Down himself, Neil Ferguson, who predicted half a million deaths at the start of the pandemic, which spooked ministers into taking this ruinous path.
Some government scientific advisors predicted 6000 deaths a day if we didn't cancel Christmas …
I blame Sage, who failed to equate economic damage with death.
The University of Bristol have told me that half a million people will die as a result of creating the biggest recession in 300 years. And what about wrecked lives?
It's a question no one has ever been able to answer me. Why is it okay to wreck lives? Of course, it isn't. But wreck them we did. And it's most reprehensible when you think of the needless impact on young people and children, who face vanishing threats from the virus. So who else do I blame?
Well I blame the media …
… I blame the media for offering just one narrative. Lockdowns work, masks work and absolutely everybody's got to have the vaccine.
Now these views are valid, arguably the majority of people and perhaps most scientific professionals think exactly that. No problem. Let's hope you're right, because that's the hell you've put us through.
As data come in from around the world, based upon different approaches, with no obvious difference from where I'm standing, I have my doubts. But remember those press conferences – the Beeb, Sky, ITV – why are we not locking down longer, tougher, harder?
By offering such one-sided coverage of the pandemic, by betting everything on the words of SAGE, and freezing out other scientific voices like Sunetra Guptha, Carl Henegan, Martin Kulldorf and Jay Bhattacharya, the media let us down.
To say that the media have lied to you is a bit strong. But they have not provided the full picture.
And any lawyer will tell you concealing information is tantamount, in its own way, to an untruth.
Shall we be polite and just call it government propaganda? I think that'll do.
I shouldn't name names, but I will. The Mail and the Telegraph are the only papers I can think of that have consistently balanced their reporting and have dared to offer a critique about these debatable lockdowns.
The Guardian is a paper I've always admired and read every day.
But where was their coverage of the Johns Hopkins University report, a meta analysis of 24 studies into lockdown, suggesting the measures saved 0.2% of lives, whilst of course exacting colossal harm.
Not peer reviewed and the study has been done by economists, but worth reporting?
I'd say so.
Sweden got it right. That was something that many of us were criticised for saying offline.
Dolan said:
Sweden have seen a fraction of the economic damage, the societal damage and have had fewer per capita deaths than so many countries that locked down hard.
He concluded:
In the end I think the media have got this wrong – they've backed the wrong horse and they are on the wrong side of history.
So there will be a day of reckoning for their one-sided coverage. But will we ever get an admission of guilt, or dare I say it, an apology? I doubt it.
There will be no contrition. And for all of those well paid and high profile figures in the media – we know who they are – the relentless cheerleaders for these disastrous and, in my view, failed measures, sorry seems to be the hardest word.
Now to the present day.
On Wednesday, March 2, the House of Commons Science and Technology Select Committee gathered oral evidence on coronavirus in a session called 'UK Science, Research and Technology Capability and Influence in Global Disease Outbreaks'. Greg Clark (Conservative) chaired the session.
You can watch it here.
After the first hour, Prof Graham Medley — who exchanged tweets late last year with The Spectator's Fraser Nelson on modelling — gave his oral evidence on SPI-M's modelling of the pandemic. He is SPI-M's chair.
Sorry seemed to be the hardest word for him, too, as he saw no need to apologise for Prof Neil Ferguson's mad models which the Swedes described as 'hysterical'.
Medley told MPs that SPI-M 'didn't have the time' (his words) to calculate the probability or feasibility of their overblown scenarios. They plugged garbage in, and, lo, garbage came out. However, he defended everything. He had no regrets.
Three MPs gently took him to task for the modelling. Labour's Graham Stringer came right out and said that he doesn't trust modelling at all, none of it.
One of the MPs tried to press him on the Twitter exchange with Fraser Nelson. Medley replied:
I wish you wouldn't do that.
In the end, he managed to get himself out of any controversy.
Most of the other MPs wanted to question the person from the behavioural part of SAGE, SPI-B. This person was to have sat along side Medley. However, the SPI-B representative cancelled. How convenient.
Dr Camilla Holten-Møller appeared in the final segment. She is the Chair of the Expert Group for Mathematical Modelling at Statens Serum Institut (SSI) in Denmark. What a breath of fresh air she was.
She admitted that SSI did get one of their models woefully wrong, so they quickly regrouped, studied their mistakes and liaised more closely with university research and clinical groups who provide them with data.
It would be nice if Medley had showed the same candour. As it was, he didn't even look bothered.
I can hardly wait for the formal coronavirus inquiry in the UK. The Science and Technology Select Committee will write a report on this evidence session, as they have with others, and submit it to the Government. The reports will be part of the inquiry process.
Yesterday's post discussed the vote on coronavirus measures — Plan B — for England, which saw a sizeable Conservative rebellion, while most Labour MPs voted with the Government.
Labour is supposed to be the main Opposition party. Yet, their MPs, along with most Conservative MPs, seem to be in lockstep. How sad.
In a late-breaking development to Plan B, self-quarantine rules have been changed to daily testing for seven days. On Tuesday, December 14, Sajid Javid told MPs the following before the Plan B votes, which were split into four divisions (emphases mine below):
Instead of close contacts of confirmed cases or suspected cases having to self-isolate, all vaccinated contacts, irrespective of whether the contact was with an omicron case, will be asked to take lateral flow tests every day for seven days. Regulation No. 1415 allows us to put this plan into action by revoking the omicron-specific provisions for self-isolation.
That's good news.
As for the other three provisions, sadly, all passed.
This is one of the few times when tellers for the divisions — votes — were from the same party:
Here's what happened:
1/ Masks are once again compulsory in public, enclosed spaces, including houses of worship:
2/ Coronavirus vaccines will be required for NHS and social care, including care home, staff by April 2022:
3/ Coronavirus passports will be mandatory for large gatherings and venues:
That said, note the big opposition votes for mandatory vaccines and the vaccine passports. Guido Fawkes has a list of 98 Conservatives who voted against the Government on vaccine passports. Well done, rebels!
Labour Party whips spotted three more, including Sir Desmond Swayne and Bob Seely:
The number of Conservative rebels far exceeded the predicted 81. A few Labour MPs joined in as well as ten of 11 Liberal Democrats. Sir Ed Davey, Lib Dem party leader, was self-isolating with coronavirus. As there is no more remote voting by proxy, as there was during hybrid Commons proceedings this year, he could not register his votes.
Labour's Mary Kelly Foy couldn't vote, either, for the same reason:
By the way, this is how the voting is done as of the middle of 2021. The Commons is modernising with card readers that record votes:
Beware of dubious interpretations of these new rules, as much as millions of us disagree with them.
We need to read the full headlines. The Telegraph says that vaccine passports do not apply to MPs — but, if we read carefully, we see that is only in the House of Commons. They will be subject to the law elsewhere, just like everyone else:
On that story, Scotland's The Herald reports:
Recent social distancing rules in the chamber ended this week. 
Former Tory chief whip Mark Harper, who chairs the lockdown-sceptic Covid Recovery Group, raised a point of order about busy sessions in the chamber being regulated.
He said: "It seems to me, particularly on a Wednesday when we get back to normal, that definition could equally apply to this House of Commons.
"It'd be outrageous if the executive were to attempt to prevent any Member of Parliament attending this House to represent our constituents without first undergoing a medical procedure."
He added: "Your 17th century predecessor, Speaker Lenthall, stood up very effectively against an overmighty executive and it didn't end well for the overmighty executive."
Sir Lindsay replied: "It did lead to the end of the monarchy as well, I might add, for a short period so let's hope we're not quite going back that far."
…
"There is nothing to stop a member coming in to here, you have the right to come to this House unless this House otherwise says so.
"The Government's not been in touch, I don't expect them to be in touch because, as far as I'm concerned, it doesn't apply to members."
The Telegraph's Alison Pearson would disagree with my calling Conservative rebels 'rebels'.
She — perhaps rightly — calls them 'the true Conservatives':
Please don't call the MPs who voted against vaccine passports 'Tory rebels'. In my book, those upstanding men and women are the true Conservatives. Rather, it is those who pushed through this repellently un-British measure, with the help of the Labour Party, who are the traitors to our philosophy …
From head boy of the old school, Sir Graham Brady, to 28-year-old blonde bombshell of the Red Wall Dehenna Davison, via former Royal Air Force engineer Steve Baker (more sense than the entire Cabinet combined) through that lioness Esther McVey, keenly compassionate Sir Charles Walker and Miriam Cates (both rightly devastated by the collateral damage of lockdown) to fearless, principled Nus Ghani and the swashbuckling Sir Desmond Swayne… These are my heroes – and all the rest who dug in their heels on the slippery slope to authoritarianism.
As Cates put it: "The new measures threaten to cement a permanent shift in the balance of power between the Government and the British people that has been brought about by two years of 'hokey-cokey' restrictions on our freedom. This is a shift that is no doubt being celebrated by those on the Left, but it should chill Conservatives to the core."
Unfortunately, after the vote, new, positive data came out about the Omicron variant:
As I was writing this, there landed a fresh blow to the Government's campaign of fear. The first major study found that omicron was likely to be 23 per cent less severe than the delta variant, with those of us who are double-jabbed still enjoying good protection. Far fewer people needed intensive care for omicron, with just five per cent of cases admitted to ICU compared with 22 per cent of delta patients.
Pearson sees this as good news:
By catching and shrugging off the omicron "cold", we could be minimising the risk to those who will always be vulnerable.
Things could always be worse for England. At least it's not Scotland, where First Minister Nicola Sturgeon has put the screws on for Christmas. On Tuesday, The Herald reported Sturgeon as saying there was a 'tsunami' of coronavirus cases in Scotland:
Nicola Sturgeon is urging Scots to limit socialising to a maximum of three households at a time …
The first minister said: "We are not banning or restricting household mixing in law as before. We understand the negative impact this has on mental health and wellbeing."
… "However, if you do plan on socialising – either at home or in indoor public places – we are asking that you limit the number of households represented in your group to a maximum of 3. And make sure you test before you go." 
Sturgeon advised businesses as follows:
For retail, it will include "a return to the kind of protections from the start of the pandemic – like measures to avoid crowding and bottlenecks. This will include physical distancing, measures to control the flow of customers, and protective screens."
For hospitality, "it will mean for example, measures to avoid crowding at bars and between tables, and a reminder of the requirement to collect contact details of customers to help with contact tracing."
The article said that only two people have been hospitalised in Scotland with the Omicron variant, yet:
The first minister said: "The R number associated with Delta is around 1. But the R number for Omicron appears to be well over 2, and possibly above 4."
She added that this was why Scotland was facing a "tsunami" of cases.
Okay. I remain to be convinced. I hope that most Scots are also unconvinced.
This saga will roll on into the New Year, no doubt.
With regard to Omicron, this is where we left off on Monday in the UK — one death:
Guido Fawkes's accompanying post says (emphasis in the original):
Boris has claimed this morning that one hospital patient has died with the Omicron variant, telling cameras "Sadly yes, Omicron is producing hospitalisations, and sadly at least one patient has been confirmed to have died with Omicron." It is not yet known whether the patient had comorbidities...
So far, it is believed that Omicron is a relatively mild variant. The Singaporean Ministry of Health has stated (H/T Guido Fawkes; emphasis mine):
Cases who have been detected around the world have mostly displayed mild symptoms, and no Omicron-related deaths have been reported so far. Common symptoms reported include sore throat, tiredness and cough.
The numbers hospitalised with Omicron are in single digits …
… never mind what Justice Secretary Dominic Raab said on this morning's news round:
Dominic Raab doesn't appear to know how many patients are in hospital with Omicron. Yesterday, Sajid Javid said it was "around ten", with Raab this morning claiming on Sky News that the figure had now jumped up to 250, which would be an alarming leap in just 24 hours. Thirty minutes later on BBC Breakfast, however, Raab inexplicably slashed that number all the way down to 9. The new antiviral treatments are good – they aren't that good.
Regardless, today, after the Government already implemented it last week, MPs voted on Plan B for England. There were four separate divisions (votes). One was on coronavirus passports.
When Tuesday's parliamentary session began, Plan B involved wearing masks in enclosed spaces and public transport as well, working from home as well as a return to quarantine.
When Health Secretary Sajid Javid began his address, he mentioned that quarantine would be less severe. It would now involve daily testing instead of a mandated policy to stay indoors (emphases mine):
At the end of last month, this House passed regulations requiring all close contacts of a suspected or confirmed omicron case to self-isolate for 10 days, but given the increasing dominance of omicron, this approach no longer makes sense for public health purposes and nor is it sustainable for the economy. So we are drawing on the testing capacity that we have built to create a new system of daily testing for covid contacts that has started today. Instead of close contacts of confirmed cases or suspected cases having to self-isolate, all vaccinated contacts, irrespective of whether the contact was with an omicron case, will be asked to take lateral flow tests every day for seven days. Regulation No. 1415 allows us to put this plan into action by revoking the omicron-specific provisions for self-isolation.
Ahead of the official vote, The Telegraph's cartoonist Bob Moran took action on masks on Saturday, December 11:
Not surprisingly, Plan B has begun to wreak havoc with cancellations of international travel and Christmas gatherings in hospitality venues.
At least 80 Conservative MPs were expected to rebel and vote against the Government. On the day, 98 rebelled against the vaccine passport, along with three others spotted by Labour Whips. They included Sir Desmond Swayne and Bob Seely. I plan to discuss the results in another post:
Although a rebellion by Conservatives alone did not stop the Government winning the votes — thanks to Labour! — it should send a clear message to Boris.
Alicia Kearns tweeted that she would vote against coronavirus passports:
People living in England are concerned about the constant moving of goalposts with regard to coronavirus restrictions.
Conservative MPs became angry last week. In his press conference on Wednesday, December 8, when he announced Plan B, Boris mooted the idea of 'a national conversation' about mandatory vaccinations:
The rebel MPs' reaction was immediate:
Guido began compiling his list on December 9. A selection of comments from MPs follows:
Alexander Stafford said "he cannot and will not support mandatory vaccinations", adding that working from home "disproportionately negatively affects younger people and those starting out in their careers".
Douglas Ross said "There is no evidence that vaccine passports stop the spread of Covid" and that since he didn't vote for them in Holyrood, he wouldn't vote for them in Westminster either.
Graham Brady said in the chamber last night that "it's deja vu all over again, isn't it?"
Peter Bone slammed compulsory vaccinations on Newsnight, calling the idea "completely outrageous", and even saying "I'd be the first to say the PM should go" if they were implemented.
Simon Jupp said "I don't support Plan B", called vaccine passports "divisive & discriminatory", and made it clear that he "won't vote for these measures."
Steve Baker insisted it is "vital that the maximum number of Conservative MPs vote against Plan B, whatever our useless Opposition do".
Over the weekend, Steve Baker tweeted that he would be relaunching his Conservative Way Forward movement, open to MPs and the general public. It is meant to restore the Conservative Party to its proper origins rather than a Boris-led Blairite/Labour-lite party:
Sir Edward Leigh MP stated his intention to vote against the Government for the first time during this Parliament:
Mark Harper MP pointed out:
"there is no exit strategy", and asked "why should people at home…do things that people working in Number 10 Downing Street are not prepared to do?" 
The Spectator's Kate Andrews also noted the same thing, comparing the content of December 8's press conference with the others that had preceded it. The Government and scientific advisers have made many poor contradictions and bad comparisons between the UK with a strongly vaccinated population versus one like South Africa's:
The Spectator contrasts what our scientific experts from SAGE put forward compared with the real statistics. SAGE have a lot of explaining to do, yet Boris continues to court their shamefully extreme modelling.
Guido's December 9 poll of the public shows that they are increasingly concerned about scope creep, especially with regard to Plan B:
Guido's post reveals who led the press ('lobby') briefing that day. It was not the Department for Health and Social Care (DHSC):
A poll of 3,170 Guido readers opened earlier has less than one-in-seven believing the government's timing of Plan B yesterday was based on epidemiological reasons, and not politics.
Guido can't say he's surprised. Sources suggest that while a quad meeting was always scheduled for yesterday afternoon, Plan B was not on the table. During the morning the briefings were coming from Downing Street not DHSC, further suggesting the move was more politically than epidemiologically motivated.
William Wragg MP was the first to notice the political end to Plan B — a diversion from the Christmas party debacle — and actually challenged Boris on it last Wednesday at PMQs, only hours before the press conference. Tom Newton Dunn tweeted:
Senior Tory William Wragg challenges Johnson directly during PMQs over if he's bringing in Plan B today, and says "few will be fooled by this diversionary tactic". Johnson doesn't deny, but says: "No decisions will be taken without consulting the Cabinet".
It would have been even better if Sir Keir Starmer, leader of the Opposition had said that, but, alas, he's all on board with further restrictions. If he were Prime Minister, we would have never had Freedom Day on Monday, July 19. We would have been where Scotland and Wales continue to be, still restricted in many ways, with compulsory masks and vaccine passports.
On Monday evening, December 13, Sir Keir somehow got media outlets to televise his support for Plan B. The reason for this baffles me, as he is not in Government.
It does appear as if we have a coalition Conservative-Labour government, because the latter jumps on every coronavirus restriction bandwagon going. The Sun's Trevor Kavanagh told Nigel Farage that this is not a good thing:
According to a GB News poll for Dan Wootton Tonight, the public strongly disapprove of Plan B:
Sadly, we now have Plan B in England: face coverings in enclosed spaces, vaccine passports for large venues/events and mandatory vaccines for NHS/care home staff by April 2022. Self-isolation with daily testing was approved unanimously; there was no division on that motion.
The question remains: do we get another lockdown, i.e. Plan C, in the New Year?
Boris wouldn't dare, would he?
People in England are ready to comply with Government measures on the new Omicron variant.
The measures went into effect at 4 a.m. on Tuesday, November 30 and include compulsory face coverings in shops and on public transport:
Most Britons would like to see more mask mandates in secondary schools:
On that basis, one wonders if theatre and cinema audiences will stay at home over Christmas:
Most of us are following Omicron news:
Mixed public opinion
Despite the uniformity of YouGov's survey results, opinion is more mixed, as GB News discovered when discussing the new measures on Carnaby Street in the heart of London. Everyone had a different opinion:
Mixed messages from Government ministers and advisers
Government ministers are trying to be measured in their assessment of the new variant.
On Wednesday, December 1, the Daily Mail had a round-up of the mixed messaging.
Prime Minister Boris Johnson and Health Secretary Sajid Javid held a press conference on booster shots the afternoon before.
Boris wants people in England to carry on with Christmas plans (emphases mine):
Prime Minister Boris Johnson urged people not to cancel Christmas parties or school nativity plays. He also promised to 'throw everything' at the booster vaccination campaign to tackle the virus's spread.
Sajid Javid is cautious:
There are 'no guarantees' that there won't be a lockdown this Christmas, the Health Secretary warned today.
In an ominous shift in tone from recent days, Sajid Javid insisted another festive shutdown was 'not the plan', but said: 'We can't rule out any particular measure at this point in time because we always have to look at the data and do what we need to protect people.'
He even urged people to take Covid tests before going to Christmas parties and wear facemasks while partying amid mounting fears about the so-called 'Omicron' variant … 
Asked if he would wear a mask if he was at a Christmas party, Mr Javid told Sky News's Kay Burley: 'It depends if I am walking around or sitting down. It depends if I'm eating. People just need to make a decision based on the guidance.'
Elsewhere, Dr Jenny Harries, who heads the ominous sounding UK Health Security Agency, is not keen on group celebrations:
Dr Jenny Harries recommended people reduce the extent to which they socialise this winter – in a hint that restrictions could go further.
Last year, Harries discouraged going to pubs in one of the televised coronavirus briefings, so this comes as no surprise.
Another NHS bigwig also issued a warning to health staff:
Saffron Cordery, deputy chief executive of NHS Providers, which represents NHS trusts, said some NHS organisations had asked staff 'not to mix in big groups' in the run-up to Christmas owing to fears off staff absences.
Understandably, the hospitality industry is concerned about the reaction to Omicron:
Hospitality leaders now fear another hammering to their industry this December. Kate Nicholls, the chief executive of UKHospitality, told Radio 4's Today programme that Saturday's press conference had had a 'chilling effect on consumer confidence'. She warned against 'the threat of a stop-start to the economy again' in the run up to Christmas …
'I think it's driven largely by consumer confiden[ce]. I think there's also a sense of trepidation that their plans might be disrupted again, and so that irrespective of whether there are government controls imposed on the economy, that is having a cooling effect undoubtedly on hospitality.
'We already saw that bookings were subdued this year compared to pre-pandemic levels. And this will clearly have a further adverse impact on our businesses.'
Trouble started for the travel industry almost immediately after last Saturday's press conference:
New curbs on global travel including the addition of 10 countries to the UK's so-called 'red list', a return of testing rules, and quarantine hotels have also spooked travellers – and sparked a wave of cancellations of bookings at airport hotels …
The Arora Group said travellers who stay at hotels at Heathrow, Gatwick and Stansted airports before catching early morning flights are axing their December bookings. They are even suspending corporate events at the four-star Fairmont in Windsor in January due to mounting uncertainty about the spread of the Covid variant, group chairman Surinder Arora said.
He told the Today programme: 'It's been a bit of a rollercoaster ride. Obviously we had the quarantine hotels at the beginning of this year, and then over the past few weeks as we've been trying to return to some kind of normality, most of the hotels have gone back to operating normal commercial hotels.
'And then of course last week we were hit with this new virus, so sadly that's all changed again and the Government's obviously introduced 10 new countries on the red list which means they need a few hotels to go on the quarantine programme.
'Over the last few weeks, when the quarantine finished we were thankful for getting back to some kind of normality. Since this latest news, instead of getting new bookings the guys are getting a lot of cancellations …
'And not just the leisure business, we're getting quite a few bookings cancelled for meetings and events. I know, for instance, some of the larger bookings – we just recently opened our new flagship at the Fairmont in Windsor, and they actually had big large corporates who had bookings in January who are saying "actually, we may want to push it back to further, later in the year to get some more clarity on where we're heading".'
It's all so sad. If only the Government were less cowed by health advisers.
Behavioural scientist Susan Michie and the BBC
Speaking of health advisers, SAGE and Independent SAGE member Susan Michie, an avowed Communist, has been making the rounds on the BBC once again.
In July, one week before our Freedom Day on the 19th — already delayed from June — she disparaged scientists who wanted to lift lockdown:
To behavioural scientists, we are things to be manipulated:
On Monday, November 29, The Times had a scathing, yet accurate, article: 'The BBC has a blind spot over the bias of its Covid expert Susan Michie'.
Excerpts follow:
Professor Susan Michie, of University College London, a super-rich longstanding member of the Communist Party of Britain, was lined up as a main expert to pass judgment on the prime minister's announcement of measures to tackle the new Omicron variant.
Michie, dubbed "Stalin's nanny" when she was a student at Oxford, is often simply introduced as someone who sits on the Sage committee, the government's Scientific Advisory Group for Emergencies.
This doesn't tell the whole story: Michie is part of the Covid-19 Scientific Pandemic Influenza Behaviour team (SPI-B), a sub-group of Sage made up of almost 50 people from many disciplines and backgrounds. In other words, Michie is one voice — and not necessarily the most important — in the room.
She is not a medical doctor or a virologist but a health psychologist. What overarching qualifications she has to pass judgment on air — and so often — on a range of pandemic policies is open to question …
She has tweeted that "China has a socialist, collective system … not an individualistic, consumer-oriented, profit-driven society badly damaged by 20 years of failed neoliberal economic policies".
Michie's revolutionary views — she is said to be dedicated to establishing a socialist order in the UK — are surely relevant when evaluating her critique of pandemic policies.
However, by Wednesday, Susan Michie had appeared three times on the BBC, which every household in Britain has to pay for via the licence 'fee' (tax?):
Guido Fawkes had a video and an article:
Guido cites The Times's second article on the BBC's invitations to Michie (purple emphases mine):
It's not just Guido criticising the corporation's attitude here. In a Times article yesterday, senior Cambridge University clinical research associate Raghib Ali said:
"I think it would have been helpful to say to the viewers there may have been a conflict of interest. I also think scientists' track record should be taken into account. For example Professor Michie's organisation Independent Sage has repeatedly made inaccurate forecasts overestimating infections since July."
Professor Simon Clarke, associate professor in cellular microbiology at Reading University, also said:
"I see nothing wrong with Professor Michie being given air time, but it should be in a more balanced way. But that's not her responsibility to ensure, it's the BBC's."
Only ITV's Good Morning Britain has told the truth about Michie:
So far the only prime time presenter to call out Michie's hardline beliefs for the transparency of viewers is Richard Madeley…
Coronavirus cousins could help combat Covid variants
In better news, a London consortium of scientists posits that the common cold, also a type of coronavirus in some cases, could help fight COVID-19 variants.
On November 30, The Times reported:
Professor James Moon, a consultant cardiologist who last week was named on a list of the world's most influential researchers, is chief investigator of the Covidsortium, a group of researchers from University College London (UCL) and St Bartholomew's Hospital that was assembled before the start of the first UK pandemic wave in March 2020. Showing remarkable foresight and, in research terms, unprecedented speed, Moon and his colleagues recruited 400 hospital staff working with infected patients in a bid to find out how and why some of the health workers might be more susceptible to infection than others. Funding was sourced — initially through a JustGiving campaign, then boosted with a significant contribution from the investment bank Goldman Sachs — in a matter of days.
Within a week they had collected blood, saliva and nasal samples and continuing data from the participants, and produced findings that informed policy from very early in the pandemic. "It is information that has proven impossibly valuable," Moon says. "It provides the only cohort of samples taken before anyone had been infected or had a vaccination or booster."
To date the team has published more than 20 papers, with more in the pipeline, and its attention is turning to Omicron and whether revisions to vaccines will be necessary to defy it …
… clues to how new vaccines might be developed could evolve from the most recent published findings of the Covidsortium, which identified "parts of the virus that might make for a very good vaccine that may be effective against different variants".
Reporting in the journal Nature, the team discovered that blood samples taken from about one in ten of their participants revealed markers that showed they had been exposed to Covid, yet didn't fall ill. Unlike people who are asymptomatic — those infected with Covid but who don't develop symptoms — this small group appeared to evade it altogether, remaining uninfected and without symptoms or a positive test.
What their blood samples did show, however, was that a subset of T-cells known to recognise and react to coronavirus appeared to have been present and poised for action even before the pandemic took hold. And the reason these people seemed to be super-protected could be down to the common cold …
However, this is more complex than catching a cold and thinking that it offers protection against coronavirus:
There are more than 200 cold viruses — none is exactly the same and only about 10 per cent are caused by coronaviruses. The chances of you catching the right cold at the right time to prime your defences is minimal. And even if you did catch the right sort of cold early on, any added resistance it may have provided has probably waned.
Omicron might have been a blessing in disguise, because Covidsortium was planning on disbanding in April 2022. They now plan to continue their research:
Moon says that the team had planned to wind down their research programme next April because immunity would be waning — until last week when Omicron scuppered that. "We are clearly going to have to keep going as our research still has so much relevance," he says. "We have samples from so many people stored in our freezers and they contain so much unique information about their antibodies and T-cells, and the questions that only we can answer are not running out."
I wish them every success.
Let there be light
In further happier news, Parliament's Christmas tree is casting light in the darkness.
The Lord Speaker — John McFall, Lord McFall of Alcluith — is delighted to make up for lost time:
We must make the best of this time, knowing our restrictions could be far worse. We only have to look at the EU to see that: full lockdowns in some countries, with the possibility of mandatory vaccinations in all EU nations.
Christmas has arrived in England.
On Saturday, November 27, 2021, the Parliament Christmas tree arrived from Northumberland and is standing in New Palace Yard:
Here's the video of it being lifted and placed into position:
In other news, scaffolding around the Elizabeth Tower will be coming down over the next six weeks, revealing the newly restored Big Ben. The new colour scheme is actually the original from the Victorian era and will be more colourful:
Juxtaposed against this good news is the new coronavirus variant, Omicron.
Saturday press conference
Prime Minister Boris Johnson wasted no time in giving a press conference on Saturday evening, November 27 (start at 8:19), flanked by Sir Patrick Vallance and Prof Chris Whitty:
Ahh, just like the old days of the near-daily coronavirus briefings …
Boris announced preliminary measures; the return of face coverings came into effect on Tuesday, November 30. These are for the next three weeks (emphases mine):
So yesterday we took steps to protect the UK against the variant coming here from southern African countries – and earlier today added four more countries to the red list.
But we now need to go further and implement a proportionate testing regime for arrivals from across the whole world.
So we are not going to stop people travelling, I want to stress that, we're not going to stop people travelling, but we will require anyone who enters the UK to take a PCR test by the end of the second day after their arrival, and to self-isolate until they have a negative result.
Second, we need to slow down the spread of this variant here in the UK.
Because measures at the border can only ever minimise and delay the arrival of a new variant, rather than stop it altogether.
So in addition to the measures we are already taking to locate those who have been in countries of concern over the last ten days, we will require all contacts of those who test positive – with a suspected case of Omicron – to self-isolate for ten days, regardless of your vaccination status.
We will also go further in asking all of you to help contain the spread of this variant, by tightening up the rules on face coverings in shops and on public transport.
And third – and most importantly – we need to bolster our protections against this new variant.
We don't yet exactly know how effective our vaccines will be against Omicron, but we have good reasons for believing they will provide at least some measure of protection.
And if you are boosted – your response is likely to be stronger.
So it's more vital than ever that people get their jabs, and we get those boosters into arms as fast as possible.
So from today we are going to boost the booster campaign.
We are already planning to do 6 million jabs in England alone over the next three weeks.
The ten red list countries are all in southern Africa: South Africa, Namibia, Lesotho, Botswana, Eswatini (formerly Swaziland), Zimbabwe, Angola, Mozambique, Malawi and Zambia.
Omicron symptoms
Omicron's symptoms are slightly different to those of the previous variants.
On Monday, The Sun reported more, citing Dr Angelique Coetzee, chairwoman of the South African Medical Association. She also has her own private clinic in Pretoria and has seen Omicron patients:
"Their symptoms were so different and so mild from those I had treated before," she said.
"We had one very interesting case, a kid about six years old, with a temperature and a very high pulse rate, and I wondered if I should admit her. But when I followed up two days later, she was so much better.
"What we have to worry about is older, unvaccinated people. If they are not vaccinated, we are going to see many people with a severe form of the disease."
The Omicron strain, or B.1.1.529, is feared to be more transmissible and may be able to avoid vaccines.
It has 50 genetic mutations, most of which have been identified in previous variants, along with three brand-new changes.
Prof Lawrence Young, of Warwick Medical School, said: "This new variant is very worrying. It is the most heavily mutated version we have seen to date.
"This variant carries some changes we've seen previously in other variants but never all together in one virus. It also has novel mutations that we've not seen before.
"Some of the mutations that are similar to changes we've seen in other variants of concern are associated with enhanced transmissibility and with partial resistance to immunity.
"We need laboratory studies to determine whether the antibodies induced by current vaccines are able to block infection with this variant."
Today, another case of the super-strain was identified in the UK – bringing the total to three.
The person tested positive after travelling to Britain from southern Africa where the variant originated.
The individual is no longer in the UK, but the UK Health Security Agency (UKHSA) is carrying out urgent testing in areas they visited when they were likely to have been infectious.
This includes Westminster in central London, officials said.
Two of the original symptoms do not apply to Omicron: loss of smell/taste and breathing problems.
Reaction to restrictions
It is unclear how many people in England will comply with the face covering rules.
Richard Walker, the managing director of the Iceland supermarket chain, said that his staff will not be policing face coverings in their shops. Good man. Co-op have said the same thing with regard to their stores. Excellent news.
Saturday night's GB News commentators had much to say about the return of restrictions.
Mark Dolan said that we comply with restrictions, believing they will end, but, in fact, our compliance only makes them easier to reinstate at the whim of government. He says that Boris wants to be seen to be doing something and is invoking politics rather than science:
Neil Oliver had much more to say, noting: 'With that fear on the wane it was plainly time to cast another spell'. It's an excellent editorial worth reading and sharing:
Oliver says that science and freedom have been consigned to the dustbin over the past 19 months. Excerpts follow:
… Let me put it this way – for a while there, those scientists given the spotlight and the microphone had a good go at driving a single narrative. It almost, almost made sense for a while, in a twisted, not quite right, something funny going on there, sort of a way. Not anymore, though. Now the cracks are starting to show, the wheels coming off the state-sponsored wagon.
I've said all along that this would prove, when all was said and done, to be a tragic lesson in the hubris of some humans – the sort that wear white coats, or that like to give press conferences – which is to say overconfidence from those that said they had all the answers and that everyone else should just shut up and do what they're told. As the months go by, hubris seems more and more like the explanation for so much that has gone awry.
But enough about the virus – whatever it is, wherever it came from and whatever it's doing right now while I speak. Tragically, this process of unlearning science, forgetting, replacing true with false, did not begin with Covid-19. Strange to say, Covid is just a symptom of something much more dangerous – and that is the deliberate dismantling of so much that our ancestors learned and built and handed on to us, in trust. It enabled an acceleration of something we really should have been aware of for years – the taking apart of so much of the world of science and reason and enlightenment, by those who might have been expected and trusted to be its inheritors. Over the last few months, in their efforts to craft a narrative with the power to dupe the unwary, governments, scientists, academics and others have, at best, lost their way, and at worst they have knowingly vacated, walked away from the vast cathedral that has been the home of history, science, culture, beauty, indeed all that is good and worth preserving.
In their hell for leather scramble to grab and then secure powers previously undreamed of, our leaders and their advisors have turned their backs on decades, centuries in fact, of wisdom carefully acquired by the ancestors. Some of those that went before them – in the age of reason, the age of enlightenment – laid the foundations for the civilisation with which we have been blessed.
Those that came after built upon the foundations, carefully and painstakingly furthering our understanding of the world, and of our own species.
They learned many things – the ancestors – by observation, by careful development and application of the scientific method …
All of this learning and wisdom was raised up like a cathedral, or the grandest colosseum. But cathedrals and colosseums depend upon solid foundations. When the power of Rome waned, their great structures fell into disuse. The barbarians, for the most part hardly knew what to make of them, those towering edifices, and so ignored them as they fell into decline – amphitheatres, great bridges, viaducts, aqueducts, entire cities.
It is up to those of us who care to conserve and to maintain the wonders raised by our ancestors, to re-occupy the space made of reason and enlightenment and left vacant by those who have, on account of wishing to push a new ideology that mocks and seeks to undo the past, wandered away into the wilderness of the social justice warriors, of the so-called woke. They have turned their backs on so much that was learned after great effort and often at great cost. That grand and lofty space, that cathedral of our culture and our civilisation, is still there, at least for now, but it requires constant maintenance, and love. Those of us who care should go about the business of looking after the old place. Only then might we continue to benefit from the shelter it has long provided from the cold, confusing world outside.

The full two-hour long show is on YouTube:
The first 45 minutes are devoted to Oliver's editorial and a discussion about Omicron, coronavirus and the vanishing of civil liberties.
The next hour is reminiscent of the classic Oliver from his Coast days on the BBC. There is a new Yorkshire Atlantis, a coastal city that was washed away in a tidal storm in 1362. Sonar images have recently been done and more investigation will take place in the months to come. A number of the structures still exist, so this will be a fascinating discovery.
Another story concerns a farmer in Rutland who discovered a large Roman floor mosaic of the Greek legend, The Iliad, a rather rare cross-cultural find. Archaeologists have uncovered most of it, which is in a field.
From this, one can understand Neil Oliver's respect of our history and our past.
Let's not allow politicians and scientists to obliterate it or our freedoms for the sake of a virus that has a 99.9% recovery rate for the most part, even in the unvaccinated.
Dr Colin Axon, Brunel University's senior lecturer in engineering, has been advising SAGE on ventilation in supermarkets in an effort to minimise the risk of cross-contamination.
On July 17, he said that masks do not help to reduce cross-infection.
The Telegraph reported that he compared masks to 'comfort blankets', saying that wearing one is 'bad behaviour' (emphases mine):
"The public were demanding something must be done, they got masks, it is just a comfort blanket," Dr Axon noted. "But now it is entrenched, and we are entrenching bad behaviour.
Dr Axon added that the effect of mask wearing is too small to be accurately measured:
All around the world you can look at mask mandates and superimpose on infection rates, you cannot see that mask mandates made any effect whatsoever.
The best thing you can say about any mask is that any positive effect they do have is too small to be measured.
Good.
He said that medics have a 'cartoonish' view of the world and do not understand some of the laws of physics:
Medics have this cartoonised view of how particles move through the air – it's not their fault, it's not their domain – they've got a cartoonish view of how the world is.
Once a particle is not on a biological surface it is no longer a biomedical issue, it is simply about physics. The public has only a partial view of the story if information only comes from one type of source. Medics have some of the answers but not a whole view.
Also:
Dr Axon said the public need to be offered a wider view of the science behind face masks, rather than the "partial view" of information being pushed by medics over their effic[acy].
He compared escaping droplets from masks to marbles being thrown at scaffolding:
"The small sizes are not easily understood but an imperfect analogy would be to imagine marbles fired at builders' scaffolding, some might hit a pole and rebound, but obviously most will fly through," he told The Telegraph.
Excellent.
I hope that more scientists and engineers start to speak up about masks.
Freedom Day did go ahead on Monday, July 19, in England.
Prime Minister Boris Johnson, along with Chancellor Rishi Sunak and Health Secretary Sajid Javid, was told at the weekend to self-isolate. Boris went to Chequers and broadcast from there.
At 5 p.m., Boris gave a remote coronavirus briefing while Prof Jonathan Van-Tam and Sir Patrick Vallance were in the Downing Street press conference room.
Nightclubs
It looks as if Covid passports are coming in September for nightclubs and music venues.
As Dan Wootton said on GB News, Freedom Day will be remembered as the day when the Government took more of our freedoms away:
Note that tweet about the Formula One Grand Prix at Silverstone: no vaccine cards accepted, only the NHS app. No smart phone, no entry. That, to me, is also wrong. The Government should not force people to have smart phones.
GB News took a poll on vaccine passports. They had omitted their earlier question on dictatorship:
Reporter Ellie Costello returned to her favourite nightclub, Faces in Essex. She had a ball. She pulled an all-nighter as she gave this update to the GB News breakfast show. She interviewed the owner of Faces who said he was concerned about his obligation to check vaccine passports in future and the possibility they could be faked:
I hope there are enough Conservative MPs to put pressure on Boris not to go down this route:
Travel
Journalist Isabel Oakeshott spoke to Wootton about the draconian self-isolation one has to go when returning from a nearby country such as France, which is on the Amber list. During that 10-day period, one is not allowed to leave one's house — at all. Police or a third party representative of the Government can go to a person's home to make sure he is there:
Supermarkets
Yesterday, on Freedom Day, I did a recce of my high street. Mask wearing was 50/50.
I did not wear a face covering.
I won't be going to the supermarket until later in the week, so cannot speak to that for now.
However, Guido Fawkes's readers compared notes on what their Freedom Day experience was like.
One wrote:
… let me report the depressing experience of shopping in Morrisons this morning. Less than 1% unmasked amongst the customers (2 apart from me). Plenty of staff unmasked, though, behind the checkouts. And I could see they were happy, as their smiling faces were visible.
Another Morrisons shopper said (emphasis mine):
I was also in a Morrisons this morning, ignoring the pleas over the tannoy to 'Be kind and show [you] care'. I decided to be kind to myself and abandon the mask. At first I couldn't see anyone else unmasked, but finally in the milk aisle there was a guy coming the other way, also unmasked. We smiled at each other and nodded like we had just completed a Freemasonry ritual, and went on our way. I wasn't challenged and no-one seemed to care, not that I care what they think anyway.
A Tesco shopper wrote in:
I've just done my start-of-the-week shop at Tesco: normal crowd levels. Most people are still doing their cleaning routines at the entrance. About 75%, including all at the check-outs, remain masked-up. The other 25% were mainly the twenty-somethings with no fear of Covid, either short or long …
And, finally, there was a report about Sainsbury's:
Moving goalposts
Presenter Neil Oliver (the bearded gentleman in the video below) appeared on Wootton's show to say that the Government is controlling the people, when, in fact, this is our country, not theirs.
Wootton pointed out that the Government is continually moving the goalposts in this coronavirus fiasco. Last year, they told us that when we got the vaccines, we would be able to, in Matt Hancock's words, 'Cry Freedom!' Now that we have the vaccines and a majority of the adult population has had the 'jabs', we're still not out of the woods:
In fact, we have less freedom now than we did a year ago.
The cost of coronavirus in England has been immense.
There is no end in sight for some restrictions and, as I wrote earlier in the week, there will be no Freedom Day on July 19, except for theatres and nightclubs.
London
On July 15, The Telegraph's Tanya Gold wrote about London's ongoing ghost town appearance (emphases mine):
It is too early to say that London is dying, but something is wrong with the city and Covid has accelerated it. Certainly, there is a sense that things are slipping out of control …
I was in central London last week, and it felt ever more ominous. Perhaps it was the weather – again, the rain was monstrous. Or perhaps it was the silence: the department stores in Oxford Street were glassy and empty …
What will happen if offices shutter forever, and most people work from home? This will work for the affluent with spare rooms for offices, and gardens; or they might just leave for Amersham and its Britain in Bloom awards stacked on posts. For those renting in inner cities, it won't; employers will pass a business expense onto an employee, one whose home is already small.
Will central London's beautiful buildings become flats? John Lewis [a nationwide department store chain] is moving into housing. Will anyone want to live in them if the city declines?
Restaurants 
On the topic of London, Mark Hix, one of Britain's best chefs, has had to close his two restaurants in the capital.
He has moved back to Dorset and opened a restaurant there.
Hix Soho in Brewer Street is now a taqueria and Tramshed, his old 150-cover restaurant in Shoreditch (East London), will become a furniture showroom.
He wrote about the two establishments for The Telegraph.
The owners of the El Pastor taqueria invited him to visit, which he did:
My strongest feeling was not one of regret, or even missing the time when this place was my flagship, but rather of pleasure at seeing it busy and buzzy again. It has a new lease of life. And therefore I wished them well, especially with the landlord, the same greedy one who had doubled the rent when I was the tenant and began the collapse of my London chain of restaurants because we just couldn't make any money at the rate he was charging.
We have all learnt some important life lessons these past 16 months of Covid. Perhaps the landlord has too in the new business climate it has produced. Most of all, though, what that walk down memory lane did was give me courage.
As for the Tramshed:
I've got a date in my diary to go back to the kitchen at the Tramshed, my old 150-cover restaurant in Shoreditch. It is going to be less return in triumph and more fond farewell, for my presence there is, as the theatre posters put it, 'for one night only'. The guys who have been running it since my business went into administration are moving out and are staging one last hurrah with my help.
Lockdown has killed the place off and it is going to be converted into a furniture showroom of some description. When I took it on in 2012, this handsome building had been used for chemical storage, so I suppose it is a case of back to the future. Which rather neatly sums up my life story since I handed back the keys in March of last year after breaking the news to the staff there that they had lost their jobs.
He foresees a difficult return for hospitality:
I've come back to Dorset, where it all started, and am now building a new future. All being well, on Monday we will be taking one more step towards that with the lifting of all Government restrictions on how we trade, but the hard work of repairing the damage done by Covid has only just begun. The road back to prosperity for the whole hospitality industry remains a long one.
As I write, Hix is taking a brief fishing break in Iceland, a country on the Green list.
However, a question remains over whether he and other restaurant owners will be able to trade freely on Monday with the lifting of restrictions. 
Hospitality chiefs are still trying to interpret what Boris Johnson said on Monday, which sounded to me like a U-turn on what he said on July 5. The Times says that masks and outdoor service are still recommended, as is checking customers in with contact details. That is what is in place today.
Furthermore, coronavirus passports, which the Government had previously denied would be recommended, are, in fact, on the table.
On Wednesday, July 14, The Telegraph reported:
Ministers on Wednesday published delayed sectoral advice for businesses on how to operate when the country moves to step four of the Prime Minister's roadmap out of lockdown next Monday …
The Government was accused of widening the net of companies encouraged to use domestic coronavirus passports, after Boris Johnson initially signalled on Monday that they would be recommended for nightclubs and venues with "large crowds".
The Prime Minister said relevant firms should show "social responsibility" and "make use" of the NHS Covid pass app, which shows proof of double vaccination, a recent negative test or natural immunity, as "a means of entry".
The updated guidance sparked a backlash among Conservative MP and hospitality chiefs, after advice specifically for restaurants, pubs, bars, nightclubs and takeaway services encouraged the use of Covid passports.
It stated: "Consider the use of the NHS Covid pass to reduce the risk of transmission at your venue or event."
So far, only Steve Baker MP (Con) has spoken out against this recommendation:
I am simply astonished that after everything the Prime Minister and Michael Gove said in the past about ID cards that they are advancing this fast down this really quite appalling path.
Kate Nicholls, the head of the industry body UK Hospitality, expressed her disappointment and said:
the guidance for pubs and restaurants was "disappointing" in the wake of a select committee of MPs and a Cabinet Office consultation "acknowledging that this was a very difficult thing to implement in a domestic hospitality setting".
She said ministers needed to provide a "whole suite of guidance" to explain how Covid passports should work in the sector "for us to decide whether we are willing to adopt this on a voluntary basis".
Predicting few businesses would adopt the measure by Monday, from which date the guidance is meant to apply, she said: "I don't think anybody would be able to introduce this on a voluntary basis from Monday until we have clarification."
Ms Nicholls added that "more work is needed by the Government" and warned that there were "real concerns" around equalities legislation, and "practical issues" around the type of testing that qualifies and how businesses should handle customers' personal health data.
This is an unfortunate development.
Transport
Still on the subject of London, the capital's mayor, Sadiq Khan (Lab), a strong opponent of his predecessor Boris Johnson, intends to continue with mask mandates on Transport for London (TfL) vehicles and the Tube as a condition of carriage.
Douglas Murray wrote an editorial for The Telegraph in which he says:
Sadiq Khan, for instance, has tried to look super responsible by insisting that even after the rules for mask-wearing are relaxed masks will be compulsory on public transport in London. Obviously, throughout the pandemic, there have been the rules and there has been what people do. I have seen plenty of people get on the bus with their mask on and then pull it under their chin as soon as they are in their seat. We have become used to the theatre of masks.
But the Mayor of London has ordered Transport for London to enforce mask wearing after July 19, making the prospect of a journey on the London Underground even more enjoyable. Citizens of the capital not only have to pay the highest fares of any commuters in the world for one of the world's worst services, but must now mask up under threat of the London Transport Police if they do not. What a wonderful way to get the capital moving again.
Agreed. It makes no sense, and Khan has complained for months that TfL's finances have been dire since lockdown started last year. It's pure political theatre just to oppose Boris Johnson's government.
Office work
On July 5, the Government encouraged office workers to go back to their workplaces.
This Monday, they backtracked because they got complaints in the media.
The Times has an article about the travel company Tui, which has told its employees they only need to come into the office one day a month, regardless of what happens on July 19.
Other companies have followed suit. However, in the United States, fully-vaccinated employees are expected to be back at their desks by September:
Other businesses adjusting their working practices include KPMG, the accountancy firm, which has told its 16,000 UK staff they should work in the office for up to four days a fortnight. In the US, by way of contrast, Bank of America yesterday followed Goldman Sachs in telling all fully-vaccinated staff to be back at their desks by September.
The policy director of the Institute of Directors says that the Government's advice this month has been confusing:
Roger Barker, policy director at the Institute of Directors, said: "Like everybody else, businesses across the country having been awaiting 'freedom day' with bated breath — but we have had a series of mixed messages and patchwork requirements from government that have dampened enthusiasm.
"Return to work or continue to stay at home. Throw away your masks or continue to wear them. The guidance has done little to dispel that confusion.
"Business leaders are understandably confused as to the legal status that this guidance has and are concerned about vulnerability under health and safety legislation, as well as the validity of their insurance.
"Government needs to inspire confidence in businesses and the workforce that we can all return to work safely."
School
We have little idea of exactly how much school-age children have been suffering over the past year.
One mother and her ex-husband saw how their daughter's scholastic performance had been declining and put her in an independent school, with financial help from both sets of grandparents.
The mother, Mel Sims, told The Telegraph her story, beginning in the Spring of 2020:
My daughter was in Year 5 when the first lockdown brought her education to an abrupt halt. A bright only child, mature for her age because she spends so much time with adults, she'd been doing very well in the classroom. But then the state primary she attends in our village in Essex closed its doors to all but key worker children. I'm a 49-year-old single mother. My daughter's father lives in Durham. I had no choice but to become her full-time teacher.
While some of her friends in private or religious schools were receiving a whole day of live Zoom teaching, my daughter's school was very disappointing. What they did provide was an email every Monday morning, packed with multiple different lessons for parents to print off, somehow quickly get their heads around, then teach to our children as best we could.
My business – a children's play centre – shut down along with the schools, so I was at home. I found myself teaching my daughter from 9.30am until 4.30pm every day. Other than the weekly email, we received no contact from the school, which, like many, lacks funding and has class sizes of 30-plus. My daughter's after-school club, where she mixed with older children, was closed. Extracurricular dance classes went on hold and the swimming pool was shut.
Since Covid, my daughter has received very little or no homework as the teachers seem to feel the children already have enough on their plates. I don't know what happened to her foreign language lessons. My previously high-achieving daughter was starting to fall behind the level she had been at before – not just a little, but dramatically. By the end of each week of lockdown, her maths and English were worse. She'd lost interest in doing better; any desire to excel. It was heartbreaking to see her sliding backwards.
This caused tension between the mother and the school:
Friction began to develop between us and the school, as they resented me trying to push her beyond the slow pace at which her class was moving. Many of the families in our village didn't even have enough computers for their multiple children. My daughter's academic success was riding on all the other local parents' capabilities, and that felt deeply unfair on her.
Schools reopened last autumn then shut down at the end of January 4, 2021 for several weeks. By then, the cumulative negative effect had kicked in:
When the second lockdown arrived, my daughter was in Year 6 [the year before secondary school]. This time, there was at least a school registration every day, which took place over Zoom. But my daughter gained little from it, as everyone on the call was at such different levels both academically and behaviourally. There wasn't the opportunity for much academic input from the teacher and my daughter quickly grew bored.
Fortunately, the girl had passed her 11-plus exams, which opened up more education opportunities. Her parents decided that she would have to go to an independent day school, but, even pooling their savings together, they could not afford school fees of £5,500 per term. With the help of the girl's grandparents, they are able to meet the cost of the new school.
Mel Sims concludes:
We'll all be making big changes. But we'll do so in order that, if schools do close again, our daughter's education will not grind to a halt. The new school staff have already assured me that if we go back into lockdown, exactly the same learning will continue over Zoom, full-time and unaided by parents.
I never thought it would come to this. Pre-pandemic, I'd always believed we didn't need private school; that whatever happened at state school, we could get our daughter through.
School closures have changed all that. Yes, we're paying a price. But I feel we've had to invest in a lockdown-proof education. With so many children off school again even now, as their "bubbles" have burst, it seems we have made the right decision.
Care homes
Recently, Sunrise Senior Living and Gracewell Healthcare, a group which runs 45 private care homes in England and one in Wales, wrote to Sajid Javid, the Secretary of State for the Department for Health and Social Care to ask that mask mandates be relaxed.
On Thursday, July 15, The Telegraph reported that:
some of these measures are now damaging the well-being of care home residents.
The Department for Health and Social Care (DHSC) is expected to issue updated guidance on care homes, and whether or not masks will be mandatory in them, later this week …
"For many residents, a visit from their family member has provided invaluable improvements to their well-being, but the requirement for these visitors to wear a face mask degrades the level of connection and therefore devalues the positive impacts their visits can have.
"This restrictive policy, along with various others from both the DHSC and PHE [Public Health England], should be reconsidered as we approach this next step in England's roadmap out of lockdown."
The letter said the success of the vaccination programme among care home staff and residents meant the majority of homes "are now set to confidently return back to an enhanced degree of normality".
All 46 Sunrise and Gracewell homes have at least 90 per cent of residents vaccinated and all but one have more than 80 per cent of staff jabbed. This is the threshold that the Scientific Advisory Group for Emergencies (Sage) says needs to be met in each setting to provide a minimum level of protection against Covid outbreaks.
Helen Whately MP (Con) oversees social care provision. It is unclear as yet whether she will change any requirements for July 19. The Telegraph quoted her as saying:
I'm also really aware that there will be circumstances I'm expecting to continue in health and social care, clearly, where people will need to continue to wear PPE [personal protective equipment], which includes masks.
Conclusion
I find it concerning that the Left, whether in Parliament, SAGE and elsewhere have caused the Government to backtrack on Freedom Day.
As Douglas Murray says in his aforementioned article:
It is inevitable, perhaps, that politicians like Khan want to score some political points. But again what is so strange is that all the points are scored from that side. Putting aside a few MPs on the Tory benches there is no political pressure on us to go the other way. To do so – to advocate the path of greater risk and greater freedom – is still presented as though it is somehow irresponsible or otherwise risky.
But society is risky. Life is risky. The biggest leap towards normal life has already been taken. It is the success of the mass vaccination programme which this country has rolled out so well. But after that we do not need politicians and private companies policing us ever more. We need to take a different leap. Not into greater safety, but into greater freedom. Our allies and competitors are up for that. The question now is whether Britain is. An awful lot rides on the answer.
I couldn't agree more.