You are currently browsing the tag archive for the 'Massachusetts' tag.
On Monday, January 11, 2021, I listened to the Howie Carr Show to find out the latest on President Trump.
Howie didn't have much news on that score, only wishes from callers hopeful that the US president could rescue his re-election bid.
However, in the final segment, one man from Cape Cod in Massachusetts — a regular summer advertiser on Howie's show and someone whom Howie knows personally — rang in to say that his life has been a shambles since the Washington DC event on January 6.
This successful Massachusetts businessman had rung Howie last week to say that the DC rally had been a wonderful celebration of all things American: tradition, patriotism and friendliness.
This man and the many thousands he was with were not anywhere near the Capitol building. They were some distance away.
Last week, he rang in to tell Howie his story of what a grand day out it was.
Since then, he has been attacked on social media and called every name in the book for having gone to DC last Wednesday.
He told Howie that his wife — 'my beautiful bride' —  has been in tears much of the time and his young daughter has also been severely affected by the verbal attacks by members of the general public.
At one point, uncharacteristically, he broke down in tears. He was unsure for the future of his business, even though his ancestors have lived on the Cape for at least three generations. Everyone knows the family name as being honourable and reputable.
Yet, now, that has all come to an end.
I do not want to mention this man's name for fear of further abuse towards him and his family. Regular listeners of the Howie Carr Show will know this man, even if only by the adverts for his establishment.
He said that money this year is not the problem. It is his reputation.
He has been falsely smeared. He did not know what had been going on at the Capitol that day, yet, his good name — and that of his wife and daughter, who were not in DC — have been besmirched.
May I suggest to everyone who is condemning those who attended last week's Trump rally to step back, take a deep breath and stop accusing everyone — hundreds of thousands of people — of tearing up the Capitol building.
In closing, this is a photo (no source given) of Trump supporters in the Rotunda of the Capitol last Wednesday. In case anyone is wondering, the general public are permitted to see parts of the building. I was in it many decades ago: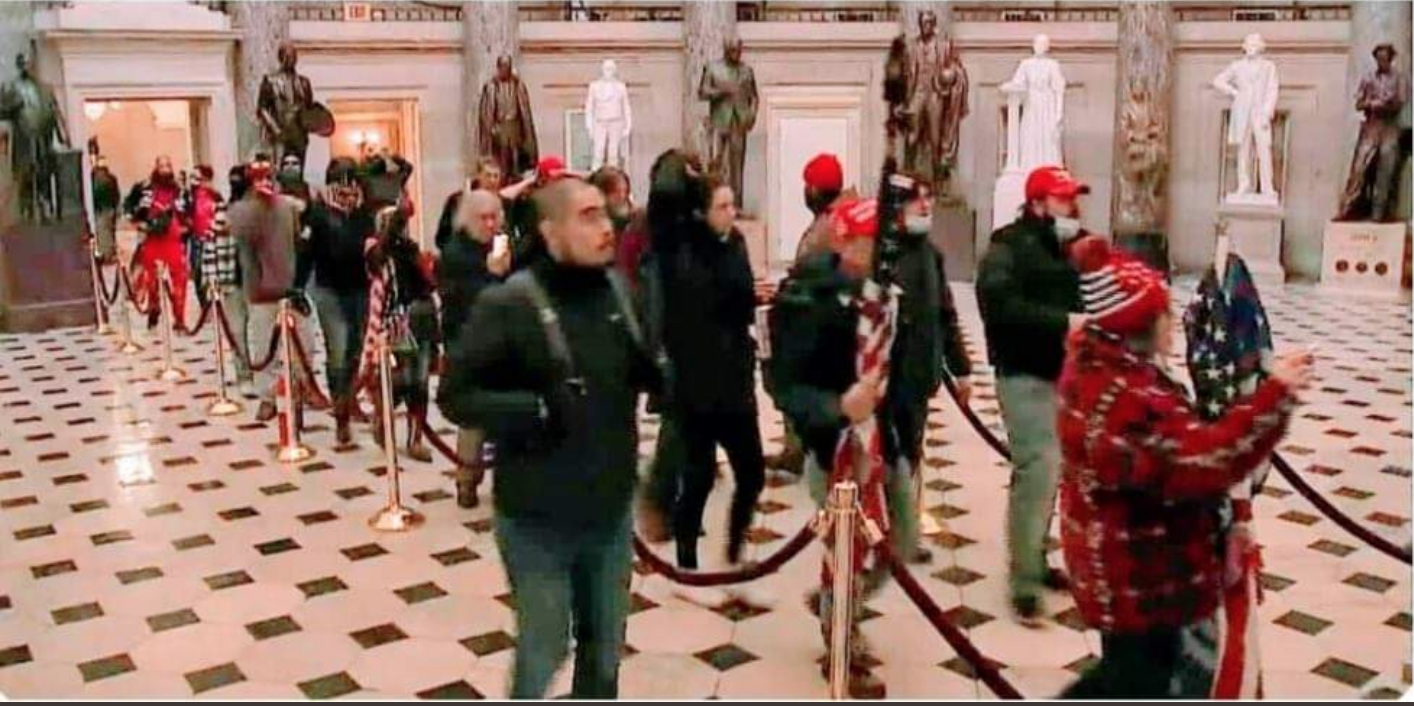 They look pretty lawless, don't they?
If I had a more secular blog, my words would be much stronger.
In conclusion: I hope Trump/Republican detractors stop the hate. Leave people alone. The vast majority went in good faith to support President Trump in his final days in office.
If this businessman's experience is but a snapshot in time, I dread to think what the next four years will bring.
Happy Thanksgiving to all my American readers … 
… wherever you might be experiencing lockdown.
I wish all of you a good day, however different it might be in 2020.
Lately, I've been watching Howie Carr every weekday on YouTube to find out how the election results are going.
Even now, Joe Biden is not yet president-elect. For the media, he is more like the president-select (all credit to Howie).
President Trump still occupies that spot, at least until January 2021, at least.
As I wrote this post, he rightly had a go at General 'Mad Dog' Mattis:
He highlighted Wisconsin's suspicious election results …
… and pointed out a fact about the 27 House races that notional experts said Republicans would lose. Republicans won all 27:
He rightly celebrated the Dow Jones Industrial Average reaching 30,000 for the first time in history. Never let it be said that this was Joe Biden's doing. It was Donald Trump's policies that made this beautiful record landmark possible.
This is the ninth stock market record in 2020 and the 48th of the Trump administration:
President Trump pardoned the Thanksgiving turkey, a tradition that began in the 1860s during Abraham Lincoln's administration when his son made friends with a turkey the Lincolns were planning to eat for Thanksgiving.
This year, a beautiful bird, Corn, came from Ames, Iowa, with his friend Cob — Corn and Cob, corncob — for the ceremony. They returned to Ames afterwards with the farmer who bred them:
Now back to Howie Carr, who also covers the latest coronavirus news on a daily basis.
Pity Americans who have to put up with Dr Anthony Fauci. Even Britons roll their eyes at his advice.
A disgusted English friend of mine scorned Fauci's 'don't kill Granny' advice. I shook my head at 'a quarter of a million deaths', which were revised downward drastically during the summer as being deaths with COVID and not of COVID. There's a big difference:
Back to the 'killing Granny' narrative — this is the other side of the story for many elderly with younger family members:
Too right.
Here's another choice morsel from Fauci:
I would love to know what Fauci is doing for Thanksgiving, but he doesn't have a Twitter account and it is too painful listening to his idiocy.
As I write on Tuesday, Howie has been reading out the American resistance to lockdowns and restrictions from news articles. These detail how the great and the good have been dictating, sometimes under penalty of law, how people like you and me should live our lives with an illness that has the same fatality rates as the flu. Note that this does not mean coronavirus is synonymous with flu.
Never mind Fauci. American governors have become more brazen and authoritarian with every passing day, no more so than at one of the sacrosanct, inviolable national holidays: Thanksgiving Day, which is celebrated this year on Thursday, November 26.
Let us make the rounds, coast to coast, to see what these governors have been doing, starting on what used to be known as the Eastern seaboard.
Massachusetts
Republican — actually, RINO — governor Charlie Baker (Joe Biden calls him Charlie Parker) has been issuing various prohibitions for ages.
This is his advice to the Commonwealth of Massachusetts (as it is officially known) for Thanksgiving, the kick-off to the holiday season, which ends in the US on New Year's Day. I enjoyed the response to Baker's advice — well said:
New York
Let's move somewhat south to New York State.
Howie Carr plays the best clips of Governor Andrew Cuomo.
Cuomo's monologues sound as if they are clips from horror movies until Howie says that they're the governor's pronouncements. Scary.
I don't have any of those audio clips, but Cuomo's tweets about Thanksgiving are unintentionally amusing.
Before I go there, however, let's look back to the beginning of the month, two days before the election on Tuesday, November 3.
There was a massive Trump car rally on the bridge named for his father, Mario Cuomo.
As far as I am concerned, the Governor Mario M Cuomo Bridge will always be the TAPPAN ZEE BRIDGE.
This was held in the rain. I embraced the enthusiasm and wished I could have been there:
The current Gov Cuomo, a Dem, as was his father, does not like the fact that President Trump has been able to announce two coronavirus vaccines:
On Friday, November 20, a group of business owners in Buffalo, upstate near Canada, told sheriffs and one or more notional health inspectors to get lost.
Gateway Pundit reported, in part, that the business owners were in a gym. Gyms are/were currently closed because of the Chi-vi (emphases mine below):
Business owners in Buffalo, New York fed up with Cuomo's authoritarian Covid lockdown orders asserted their Constitutional rights and kicked out sheriffs and "health inspectors" on Friday night.
50 business owners gathered inside of a shuttered gym in Buffalo, New York Friday night when two sheriffs and a so-called 'health inspector' showed up to harass the group in response to an "anonymous tip."
The business owners shouted down and kicked out the health inspector and the told the sheriffs to come back with a warrant.
Well done!
The story comes from the Buffalo News.
This brings us to Thanksgiving.
Cuomo warned New Yorkers to stay at home within their own households, so much so that the New York Post reported that there are big window decals with a photo of Cuomo snooping in people's homes, accompanied by an image of a turkey.
Interestingly, the company that makes the decals is also located in Buffalo:
One upstate company wants Gov. Andrew Cuomo to be the biggest turkey at your Thanksgiving dinner this year.
The Buffalo-based design firm Custom 716 is selling stickers of the governor's face that can be put on a window to make it look like Cuomo is peering inside — presumably to make sure not too many people are there to celebrate the holiday this year.
The sticker is a clear way of ripping Cuomo for demanding that New York families avoid gathering in large groups for the holiday out of fears of spreading COVID-19.
"Great for all gatherings, sure to get laughs, great for your business or your home!" they write about the $10 sticker on their firm's website.
"$10 and I will mail it to you for free, or pick up is available. Located in North Tonawanda, NY," the description reads, offering a promo code allowing customers to bypass the $8.05 shipping and handling fee.
Cuomo has been begging New Yorkers to spend Turkey Day alone, warning the coronavirus's rapid spread has increased in part thanks to small, indoor gatherings in recent months as the weather has turned slightly chillier.
"It's your family, it's your home, it's your table — these are all environments where you feel safe and that's the beauty of Thanksgiving," he said during a phone conference briefing with reporters Thursday.
"Your safe zone is not a safe zone, your safe zone is dangerous this year."
When you hear the audio of him saying that (thanks to Howie), it sends chills down the spine.
Fortunately:
politicians and law enforcement agents across the state … argue it's nearly impossible to enforce caps on indoor, private gatherings.
At the time, Cuomo included himself in that diktat:
However, a few days later, Andrew Cuomo announced big plans for a family get together. Hmm, interesting:
Here's a tweet, including a photo of the snoop decal from Buffalo. Note the 'for thee, but not for me' response from someone living in Governor Pritzker's fiefdom of Illinois (see below):
Howie Carr said on Tuesday, November 24 that Cuomo got so much blow back from New Yorkers that his family's plans for a communal turkey dinner changed. One of his daughters would not be attending (H/T Gateway Pundit):
Aww.
Also:
His daughter, wearing a tee shirt with 'New York tough' emblazoned across it, tweeted:
The Rochester Democrat and Chronicle reported:
New York Gov. Andrew Cuomo abruptly canceled his Thanksgiving plans Monday, less than two hours after revealing he planned to spend the holiday with his mother and two of his daughters.
During a radio interview Monday around 3:45 p.m., Cuomo revealed his "current plan" for the holiday: His 89-year-old mother, Matilda, and two of his three daughters, Michaela and Cara, are planning on joining him in Albany.
…By 5:30 p.m., Cuomo nixed the gathering entirely.
Good.
Hypocrisy is most unbecoming.
New Jersey
Just west of New York, across the Hudson River, New Jersey's governor Phil Murphy was accosted by angry diners when he was eating out with his family and appearing without a mask. New Jersey has had a particularly arduous lockdown.
Remember, Phil Murphy won't have to worry about where his next meal is coming from. The taxpayers are footing his bill:
Murphy, who, Howie Carr says, attended the same high school and college as Massachusetts's Charlie Baker, is still trying to frighten his state's residents:
His wife is at it, too:
I couldn't agree more about the gaslighting.
North Carolina
Moving several hundred miles south, North Carolina's Governor Roy Cooper approves of business closures in Greensboro:
On Monday, November 23, he issued a Thanksgiving sermonette on the 'stay at home' theme, most of which follows. Like the UK, he has a colour-based 'tier' designation:
With that sort of warning, what North Carolina resident could possibly want to go through with (gasp) a family or friend oriented Thanksgiving dinner?
Amazingly, people in North Carolina have not been able to attend church — or any sort of celebration — for nine months. He has the nerve to tell them to keep it up 'just a bit longer' — for November 2021. Good grief:
Governor Cooper has even better news for the run-up to Christmas:
Excellent response.
Illinois
Let's travel around 1,000 miles northwest to Illinois.
Governor JB Pritzker comes from a family of real estate moguls. As one would expect, he can escape Illinois, lovely as it is, to take a break at family properties elsewhere.
Last summer, he defied his own executive order to take part in a protest in Chicago. Pritzker is the man in the blue and white checked shirt in the second photo below:
More recently, Howie Carr said that Pritzker's immediate family have been spotted at their Florida farm which has horses that his children can ride. Howie, now a Florida resident, lives in the vicinity.
Hmm.
A Republican congressman from Illinois called out Pritzker:
Someone replied:
Fortunately, Pritzker's and Illinois's directives, such as these …
… are being ignored. Just look at Chicago's O'Hare airport:
Well done!
Gee, 20 years on, the TSA still have their checkpoint. Why didn't President Trump ever repeal the Patriot Act? 'There's a there there', no doubt.
For those Illinois residents who will not be travelling for Thanksgiving, there is no absolution if you live in Chicago. On November 15, a spokeswoman from Mayor Lori Lightfoot's office said, 'You are the problem; you are putting everyone at risk' (see the 11-second mark):
Yet, anecdotally, the vast majority of Chicagoans are wearing masks:
Speaking of masks:
Chicago — the Windy City — which is also darned chilly at this time of year, is pushing OUTDOOR dining in a TWO-sided tent!
You could not make this advice up:
As for Thanksgiving dinners, Chicago mayor Lori Lightfoot has cancelled them. She is pictured in the photo above with Governor Pritzker at a June 2020 protest. Note that CNN has not shown the official US COVID-19 death count, which is still at 'with' + 'of', as it was last summer:
Interestingly, during lockdown in April, Madame Mayor felt compelled to get her hair cut when she had told ordinary Chicagoans that hairdressing was non-essential. See the Daily Mail report from April 12, complete with photo of her with her hairdresser, no social distancing required.
Washington
Let's leave the Midwest for the West Coast, starting in the most northern state, Washington, home to Seattle, the site of much summer mayhem.
Governor Jay Inslee, who did not oppose said summer mayhem, is now telling Washington residents not to get together for Thanksgiving. This advert is unbelievable:
COVID-19 can find you everywhere! Woo-oo!
Inslee thanks Washington residents for not celebrating one of America's two most historic holidays this year. The reply is excellent:
Oregon
The state immediately south of Washington is Oregon.
There Governor Kate Brown is all in for the deadly coronavirus narrative, especially at Thanksgiving:
On Monday, November 23, she asked for Oregonians to snitch on each other at Thanksgiving.
Hot Air has the story, first reported in the Washington Times. Reporter Jazz Shaw says:
I guess nobody told Oregon Governor Kate Brown about the old rule regarding snitches and stitches. With the holidays fast approaching and an increasing number of citizens growing tired of government mandates forbidding them from gathering with friends and family to celebrate, Brown is concerned that people may simply ignore her orders and gather around the feast table anyway. So what's an autocratic executive to do? The answer is as simple as pumpkin pie. She'd like people to keep an eye out for large gatherings in their neighborhood and call the police if they see any suspiciously large, turkey-related activity going on. That's an idea that's sure to put everyone in the holiday spirit, right? (Washington Times)
This must be one of the snottiest adverts about family ever made. See what you think. A photo of the governor follows (she's not the one with the pink gloves):
Let us not forget that Portland has had mayhem going on since June. Every doggone night for months on end:
California
The most blatant nose-thumbing has come from California's governor Gavin Newsom, who with the co-operation of mayors and county officials has kept the Golden State under lockdown for most of the year, with most counties at the top two highest tier levels during that time.
The status holds true, if not worse, even now:
Meanwhile, Governor Newsom has been releasing prisoners sporadically because they are in danger of catching COVID-19. Forget about law-abiding citizens:
One used to think California voters were being silly in continuing to vote in Democrats.
However, in recent years, a growing number of Americans think that Democrats have won so many elections because of voter fraud:
With regard to the curfew, at least one protest took place. This is from Huntington Beach:
Protests last summer in the state were acceptable to most, but the anti-lockdown and anti-curfew ones attract comment. Fortunately, some can discern the truth:
Newsom has seemingly bought into the mask narrative, even though that policy has not improved his state's figures:
Exactly. Probably more adjusted statistics. We have them in the UK, too.
However, right now, more Californians are interested in Newsom's social life during lockdown:
With regard to masks …
No one cares that the Newsom family is self-isolating for a fortnight:
The tweets kept coming and coming:
Newsom isn't alone, it seems, in rule breaking. Is this the California state legislature? Yes, it is:
By the way, masks are probably not a good conversational topic for Thanksgiving. See this brief exchange:
But I digress.
The three-star French Laundry in Yountville (Napa Valley) is one of the world's most famous restaurants.
In the 1920s, it was used as a French steam laundry, hence the name.
In the 1970s, the then-mayor of Yountville Don Schmitt and his wife Sally turned the building into a restaurant.
In 1994, the French chef Thomas Keller bought the restaurant and made it into the legend it is today.
Friends invited Gavin Newsom to the French Laundry for a birthday celebration on November 6 during California's lockdown.
Talk about 'for me, but not for thee'.
The Daily Caller reported:
Photos show the maskless governor of California dining indoors at one of the highest rated restaurants in the world despite his restrictive coronavirus guidelines for the citizens of California.
Democratic California Gov. Gavin Newsom can be seen dining at the Michelin-starred French Laundry on the evening of November 6, according to photos obtained by Fox LA. The restaurant, located in California's Napa Valley, is considered "the pinnacle of California dining" and has been ranked the best restaurant in the world numerous times, according to various outlets.
Newsom has said the restaurant was outdoors, but FoxLA reported that the room's glass sliding doors had been closed, making the dinner party indoors. Newsom's office did not immediately respond to a request for comment from the Daily Caller News Foundation.
The group was so loud that customers complained:
"While we were there we realized there was a very loud party going on in a room 20 feet from us," the woman who took the photos told FoxLA. "It was a bit annoying since you're spending hard-earned money to go there. It got louder and louder and so they had some sliding glass doors that they were able to close, so then it was a closed-off room but you could still hear them with how loud they were."
She continued: "I just happened to look over and realize hey is that Gavin Newsom, who is that? And I did ask one of the waitresses and she confirmed it was, so I was able to take a couple of photos, I was able to document this especially since nobody was wearing a mask. It was a very large group of people shoulder to shoulder, something that he's always telling us not to do so yeah it was a bit annoying for sure."
Newsom has urged California residents to wear face masks "in between bites" at restaurants and announced Monday that California is "pulling an emergency brake" and mandating the most restrictive tier of coronavirus restrictions for more than two dozen California counties …
The governor also warned that he would announce more COVID restrictions Friday ahead of Thanksgiving.
Newsom apologized Tuesday for attending the dinner party, calling it a "bad mistake" and saying that he became uncomfortable after arriving when he realized that the group was larger than he expected, according to FoxLA.
…
But the woman who took the photos said Newsom did not appear uncomfortable.
"I was surprised because it didn't look like he was uncomfortable being there until the very end until people were looking at him and staring at him as he was leaving the room," she told FoxLA.
Not surprisingly, the dinner made a splash in California's media:
A few days ago, the California IBank had the nerve to tweet this. I applaud the reply:
That is so true.
Words fail me.
On Thanksgiving, when in doubt, eat more and add more butter.
I hope that those celebrating Thanksgiving can enjoy their dinner the best they can — with hearty gratitude. (Things could always be worse.)
How much do Americans learn about Henry David Thoreau in school?
I never read a complete Thoreau work, only excerpts in our high school anthologies. Remember this from Walden? Emphases mine:
I went to the woods because I wished to live deliberately, to front only the essential facts of life, and see if I could not learn what it had to teach, and not, when I came to die, discover that I had not lived. I did not wish to live what was not life, living is so dear; nor did I wish to practise resignation, unless it was quite necessary. I wanted to live deep and suck out all the marrow of life, to live so sturdily and Spartan-like as to put to rout all that was not life, to cut a broad swath and shave close, to drive life into a corner, and reduce it to its lowest terms, and, if it proved to be mean, why then to get the whole and genuine meanness of it, and publish its meanness to the world; or if it were sublime, to know it by experience, and be able to give a true account of it in my next excursion.
What follows is the truth about the man who lived simply — 'deliberately' — along Walden Pond, near Concord, Massachusetts:
I spent hours reading the …
Walden Pond was actually on his friend Ralph Waldo Emerson's property:
Thoreau was not exactly roughing it and eating berries:
Someone from Concord knew this already …
Thoreau did not do his own laundry, a subject of much conversation not only on this particular Twitter thread but also from others elsewhere. Rumours abound about who actually did his laundry, as he gave no clear indication in writing. The following 2013 article from Orion explores the topic in depth:
Probably.
The Orion article explains that household duties were largely divided by sex. Generally speaking, women worked indoors and men worked outdoors.
It posits that even though Thoreau, as a Transcendentalist, did not like the notion of hired servants, he might have made use of his family's servants — i.e. Irish — to do his laundry.
Assuming his mother did his laundry lends itself to a bit of fun:
She also brought him 'donuts', likely to have been drop doughnuts, or fritters, rather than the ring doughnuts we know today:
Thoreau's mum ran a boarding house. His father owned a pencil factory. Thoreau completed his education at Harvard.
If Thoreau were alive today, he'd probably be a bit like this:
Or this ('I am an adult!'):
Thoreau was a frequent lunch and dinner guest at the Emersons' house, although Mrs E apparently got a bit fed up with his freeloading:
She might have done his laundry, too:
Thoreau saw many from that era's literary set and was well known for his melon parties. These people did not live in isolation writing in a garret. Teachers, particularly in secondary school, should make this clear. They all knew each other — just as celebs today all know each other:
True, because he felt superior to the poor:
He was nasty about the Irishman's family from whom he purchased the wooden boards for his cabin:
A 2015 article on Thoreau in the New Yorker has a quote from Walden on the poor:
Unsurprisingly, this thoroughgoing misanthrope did not care to help other people. "I confess that I have hitherto indulged very little in philanthropic enterprises," Thoreau wrote in "Walden." He had "tried it fairly" and was "satisfied that it does not agree with my constitution." Nor did spontaneous generosity: "I require of a visitor that he be not actually starving, though he may have the very best appetite in the world, however he got it. Objects of charity are not guests." In what is by now a grand American tradition, Thoreau justified his own parsimony by impugning the needy. "Often the poor man is not so cold and hungry as he is dirty and ragged and gross. It is partly his taste, and not merely his misfortune. If you give him money, he will perhaps buy more rags with it." Thinking of that state of affairs, Thoreau writes, "I began to pity myself, and I saw that it would be a greater charity to bestow on me a flannel shirt than a whole slop-shop on him."
Here's another quote from the same article on his own superiority — to anyone, in fact:
"Sometimes, when I compare myself with other men," he wrote in "Walden," "it seems as if I were more favored by the gods than they, beyond any deserts that I am conscious of; as if I had a warrant and surety at their hands which my fellows have not, and were especially guided and guarded."
He accidentally started a raging fire in Concord then watched the townspeople frantically try to extinguish it, which might have been the reason for moving to Walden Pond:
It is said that Thoreau's good friend Louisa May Alcott modelled one of her characters on him:
This I did not know:
Similarly, if Louisa May Alcott's mother hadn't up and pulled her family out of the failing Utopia commune Louisa's father had set up, the family would have starved to death. The women in that family worked to keep themselves alive. We would have no "Little Women" without them.
Fortunately, students in Massachusetts, particularly Concord, know about the true Thoreau from school:
I fully agree with this:
I never visited Walden Pond, even though I had opportunities to do so. Friends who lived nearby said it required an early start — in order to get a parking place. Oh, the irony:
Someone really should make a movie about the real Henry David Thoreau, whose real name, incidentally, was David Henry Thoreau:
So would I — and I rarely venture out to the cinema.
It would be a blockbuster hit.
Further reading:
'Why Do We Love Henry David Thoreau?' (New Yorker)
'Six Facts About Henry David Thoreau's Walden' (Books Tell You Why)
February 2019 turned out to be violent for some supporters of President Trump.
Four real hate attacks took place that month.
University
On Tuesday, February 19, a Trump supporter was violently punched in the face at UC Berkeley for manning a stand for conservative students' organisation Turning Point USA (TPUSA). The victim, Hayden Williams, is not a member of TPUSA, but was volunteering for them at the time.
On February 21, Fox News reported (emphases mine):
University of California police want the public's help tracking down a suspect whose brutal alleged assault of a conservative activist on the Berkeley campus was caught on video.
The campus police website said that two men on Tuesday approached a table where the activist was recruiting members to his group, and an argument ensued. The alleged victim, identified by Turning Point USA as Hayden Williams, held up his cell phone and began filming the two men who were allegedly harassing him. One of the two men knocked over the table, police said, and then punched Williams several times, causing injuries to his face. Much of the incident was captured on a witness' cellphone, but it was unclear what, if anything, Williams may have said before the attack.
The suspects had left by the time police arrived.
Although Williams was helping Turning Point USA, he is not actually a member of the group. Williams is campus representative for Leadership Institute, according to Campus Reform, a conservative news site that the institute operates.
A witness told Fox News the recruitment table had a sign that said: "Hate Crime Hoaxes Hurt Real Victims," in reference to the case of "Empire" actor Jussie Smollett, who is accused of staging a bias attack against himself in downtown Chicago last month.
On its website, Campus Reform, which interviewed Williams, reported that the alleged attacker cursed at the activist, calling him a racist and threatened to shoot him.
The Berkeley incident is the latest in a growing series of ideological clashes that have turned violent on college campuses. Conservative groups claim students who lean to the right have been targeted for harassment and even assault over their views.
That evening, Hayden Williams spoke to Sean Hannity about the incident:
TPUSA founder and president Charlie Kirk tweeted:
A few days later, a conservative organisation offered a $50,000 reward to bring the attacker to justice:
Just a few days later, on Friday, March 1, University of California — UC — Police made an arrest. Gateway Pundit reported (italics in the original):
On Friday, Zachary Greenberg was identified and arrested by UC Police — law enforcement booked him into jail at 1 PM.
CBS San Francisco reported that police will formally present the case to the Alameda County District Attorney's Office for consideration of the filing of criminal charges, the university said.
That evening Fox's Laura Ingraham interviewed Hayden Williams and his lawyer, Harmeet Dhillon, who is experienced in representing conservative victims of violence and hate (start at 11:06):
On Saturday, March 2, President Trump welcomed Williams onstage to say a few words. He then praised Williams for being able to 'take a punch', which, he added, the student did 'for all of us'. How true:
Here's the full CPAC segment. Trump also asks Williams to request that Harmeet Dhillon sue the university, the city and the state. Trump had high praise for her:
High school
On Tuesday, February 26, a young man wearing a yellow vest fought to remove a Trump flag from a younger student at a high school in New Mexico:
A Twitter account holder published the school's number, then attempted to call, only to find out the number was not in service:
Someone tweeted the name of the school principal, who did not reply:
Restaurant
That same day, across the nation in Falmouth, Massachusetts, a Brazilian woman who has been in the US illegally for 20 years, was taken into ICE custody following an assault on a young man wearing a MAGA hat in a local Mexican restaurant. The assault had taken place earlier that month, at which time the woman was promptly arrested and released by local police.
After her ICE arrest, she was subsequently released, pending an upcoming hearing on March 20. This story ran and ran on the Howie Carr Show (Boston) last week.
CBS affiliate WBZ in Boston reported (photo at the link):
Police said Rosiane Santos walked by Bryton Turner as he was eating dinner at Casa Vallarta and knocked the hat off his head. She then allegedly confronted him verbally.
Turner recorded video showing some of the confrontation.
Falmouth Police charged Santos with disorderly conduct following the incident earlier this month. On Tuesday, ICE took her into custody.
"Deportation officers with ICE's Fugitive Operations Team arrested Rosiane Santos, an unlawfully present citizen of Brazil, today near Falmouth, Massachusetts," said ICE spokesman John Mohan.
Turner said he was just trying to eat a nice meal when Santos grabbed his hat supporting President Trump.
"It's just a hat at the end of the day," Turner told WBZ after the incident. "I don't really understand why people can't just express themselves anymore, everybody has to get mad."
Santos was later released from ICE custody. She has been ordered to appear before an immigration judge for removal proceedings.
Heavy has two short videos of the incident.
Retail outlet
Also on February 26, an 81-year old New Jersey man was assaulted at a ShopRite store in Franklin Township because he, too, was wearing a MAGA hat. The New York Post reported:
The victim was confronted by an unknown man over the hat just before 3:30 p.m. Monday in Franklin Township in Somerset County, officials said.
County authorities, who are working with local cops on the investigation, would not release any further details.
The injured man, who is a Franklin Township resident, refused medical treatment.
Pathological behaviour, especially towards an elderly man.
Conclusion
Anyone who thinks these attacks are outliers should read the tweet below listing the incidents that occurred between June and August 2018:
The verbal and physical assaults — as well as battery — on Trump supporters are very real, indeed.
Anyone who has watched a Red Sox game at Boston's legendary Fenway Park will have seen the iconic Citgo sign in the background.
It's particularly thrilling when someone hits a home run and, as the ball nears the sign, fans yell out 'See it go!'
The sign is on a building belonging to Boston University. The university intends to sell that property, potentially leaving the sign in limbo.
New owners might take it down or have it moved elsewhere. Despite efforts in 1983, Citgo sign fans have been unable to persuade the Boston Landmarks Commission to grant it landmark status, thereby protecting and ensuring its future.
A petition to grant preservation status now has more than 5,000 signatures. That healthy response has resulted in the Boston Landmarks Commission to vote unanimously to examine the possibility of granting it landmark status. On July 14, 2016, the Boston Preservation Alliance explained:
This is just the first step to designating the sign an official Boston Landmark. Within a few months, another vote by the Landmarks Commission is required, and the Mayor and City Council will need to approve official designation.
You can read more at the Alliance's website and find out more about this American icon.
Never mind that Citgo has been owned by Venezuela's PDVSA — specifically, PDV America, Inc. — for many years. Citgo started life as Cities Service Company in 1910. It was a highly successful corporation that supplied gas and electricity to small public utilities, furnished 100-octane aviation gasoline to bomber jets in England during the Second World War and had many petrol stations across America. The photo at right shows one of them. The sign was a trefoil shape, white with green trim and lettering.
PDVSA did not enter the picture until 1986, with a 50% share in the company, by which time Cities Service had been rebranded as Citgo. In 1990, the Venezuelan state oil company took full ownership through its American subsidiary.
Returning to Boston and the topic at hand, millions of us around the world hope that the Boston Landmarks Commission, the City Council and the Mayor ensure that the Citgo sign remains in situ for many generations to come.
Photo credits: Wikipedia
I have little time for Christians calling for a redistribution of wealth as a 'Christlike' principle. Charity is commonly practised among various world faiths to greater or lesser extents, to the poor and to strangers.
Charity, on its own, does not imply salvation unto eternal life.
As for our own faith, Christ told the Rich Man to give up his possessions which were becoming idolatrous to him. When the Rich Man in his supposed piety could not give these up, Christ left him to his own devices.
St Paul called for charity, but often in contexts meant for fellow church members, not the general populace. He also said that those who do not work shall not eat.
Since the early 1970s, Western welfare systems have become a way of life for some families, in certain cases, spanning three generations as far back as the 1980s.
The taxes — legislated 'charity' — on the part of the wealthy are subsidising many, including those who work at low- to medium-paying jobs. The middle classes in North America and Europe are continuously squeezed for more money at every turn.
More and more people are taking from society without putting anything back in — e.g. the famous 47% from the 2012 elections. The knock-on effect is that other services — insurance premiums — go up, too. Again, the middle classes feel this most acutely. Furthermore, how many elderly have had to budget between food and fuel during winter months? This penury has been going on in Britain since the 1990s.
Meanwhile, we read countless newspaper reports of families on the dole who are taking — sometimes scamming the system — and biting the hand that feeds them.
The latest example cited is the Tsarnaev family of the Boston Bombings on April 15, 2013. On April 29, the Boston Herald reported:
The Tsarnaev family, including the suspected terrorists and their parents, benefited from more than $100,000 in taxpayer-funded assistance — a bonanza ranging from cash and food stamps to Section 8 housing from 2002 to 2012, the Herald has learned.
"The breadth of the benefits the family was receiving was stunning," said a person with knowledge of documents handed over to a legislative committee today.
The Commonwealth of Massachusetts has handed 500 pages of documents concerning the Tsaraev family to the state's House Audit and Oversight Committee. They will be working with the welfare — 'transitional assistance' — authorities to investigate further.
HotAir's Allahpundit asked how this involuntary and mandatory public generosity (those words are mine) could lead to such violence and hatred (emphases mine):
The Tsarnaevs are an interesting mix of mundane social pathologies associated with being poor and bigger ideological pathologies that most poor people never harbor. Allegedly, both mama and papa Tsarnaev were shoplifters. Dzhokhar dealt drugs for spending money, some of which may or may not have been put towards bomb manufacture. Tamerlan received welfare up until 2012, the same year he took off to do God knows what in Russia and long after he and mom supposedly had that phone call in 2011 about "jihad." Instapundit linked this interesting Mickey Kaus piece from 2001 about a terrorism/welfare connection in Europe in which ethnic antagonism causes resentment among immigrants and welfare gives them free time to explore ideology, but I don't know how much that applies to the Tsarnaevs. Dzhokhar, at least, seemed reasonably well integrated at school; "ethnic antagonism" from the public generally was probably less of a factor for them than for European Muslims because they're white, although the anecdote in the update here suggests there may be more to it than meets the eye. And further muddying the waters of causation is the apparent fact that Tamerlan was simply a bad seed, especially towards women. What happens when you throw a radical, domineering personality into an already bad mix?
The Mickey Kaus piece from Slate in 2001 to which Allahpundit refers is useful. This has all happened before. Excerpts follow, more at the link. Emphases in the original:
Here are some suspected terrorists in the news:
Zacarias Moussaoui, the French North African charged with conspiracy in connection with the 9/11 attack, became an Islamic radical living in London "while drawing welfare benefits and studying economics," Newsday reports.
Ahmed Ressam, the member of Algeria's Armed Islamic Group who was arrested crossing the U.S. border with bombs designed to blow up L.A.'s airport, moved to Canada in 1994 where he "survived on welfare payments" and petty crime, according to terrorism expert Peter Bergen.
Metin Kaplan, who heads a German radical Islamist sect suspected of attempting to fly a plane into the Ataturk mausoleum in Turkey, "claimed social [welfare] benefits in Cologne for many years until 2m Deutschmarks ($1.2m) in cash was found in his flat," reports the BBC.
Abu Qatada, the cleric who taught Moussaoui and is accused of having links to al-Qaida agents in six countries, avoided extradition to Jordan on terrorism charges by settling in England, where "[l]ike many other London-based Arab dissidents, [he] has received regular welfare checks from the British government—and government subsidized housing," according to the Washington Post. Abu Qatada's welfare payments were stopped when it was discovered he controlled a secret bank account containing approximately $270,000.
Kaus says that welfare is a way of keeping people isolated in poorer suburbs and cities. I'll get to a few perspectives on that below. He says that work is a much better way of encouraging people to integrate:
Without government subsidies, they would have to overcome the prejudice against them and integrate into the mainstream working culture. Work, in this sense, is anti-terrorist medicine. (And if you work all day, there's less time to dream up ways and reasons to kill infidels.)
Of course, this is not restricted to Muslim terrorists. Riots and wildings seem to have burst out of nowhere over the past few years in England, the United States and France. The most recent wilding was in Chicago's main shopping district on Holy Saturday this year involving 500 youths and only 28 arrests. France's trains are the target of immigrant youths attacking ticket inspectors and robbing passengers. England had a harrowing several days of riots in August 2011.
Most of these youngsters (!) are living off the taxpayer then have the ignominy to demand more from them through crime.
This is an intractable problem.
I'm not really interested in talking about the reasons behind it; we all (should) know what they are. I've discussed Marxism, the Frankfurt School, class struggle, the Fabians, Antonio Gramsci, Cloward-Piven Theory, maintaining voting blocs, materialism and so on.
This is a call, for what it's worth, for welfare reform.
Reform could take decades, because there are too many who have an interest in maintaining what has become a cancerous status quo of state benefits. There are more than the recipients involved.
Inspiration Boost has a graphic of Benjamin Franklin along with his thoughts on the welfare state as he saw it first-hand in the 18th century:
Ace at Ace of Spades explored this, taking into account the terrorism and unrest which welfare seems to breed (language alert in the comments, emphases mine):
I think there's a sociological reason at play too. People will find something in their lives that gives them meaning.
For many people, work does give their lives meaning. Few like work, but most understand the accomplishment of standing on one's own feet and providing for oneself (and one's family).
The welfare state may put food in one's mouth, but it does so at the expense at stripping a sense of accomplishment, belonging, and meaning from the recipient. And that void will be filled by something else. While people do not require meaning, as a strict biological matter, as they require food, water, air, and shelter, they do crave it– it's probably on the level, as far as centrality to one's being, as sex.
I knew an Episcopalian rector who often discussed the meaning that people sensed about their lives. He believed that our searches in life — in addition to salvation, of course — should involve one for meaning: meaningful relationships and meaningful work which help to identify most fully who we are.
Some of Ace's readers said that the Tsarnaevs' money wasn't all that much in the grand scheme of things. Yet, a few others wondered just how many Tsarnaevs there are in America and the rest of the West. Reforming welfare would save money which seems increasingly poorly spent. Our societies see no return from it.
They discussed what welfare really means in reality. Sure, we say that it should be 'a hand up, not a hand out', but when three generations have made a lifestyle of sucking at the public teat, that's hardly the case.
Ace's readers posited that welfare today is protection money — although riots, wildings and terrorism seem to have put paid to that notion.
A few readers were affronted by their supermarket experiences. They searched for bargains and brandished discount coupons. Their shopping trolleys had minced beef when others had cuts of prime steak. One shopper in the juice aisle took advantage of an own-brand BOGOF; she says she saw a woman nearby put an expensive name brand of juice into her own trolley. Ace's reader gently called the woman's attention to the BOGOF. The other woman flashed her EBT (electronic benefits card) and said, 'That means nothing to me'. 
This is theft, friends. Ace's readers are financing this woman as well as the prime steak purchaser.  Yet, the EBT cardholders feel no compunction to live modestly. Hmm.
There is also the notion that welfare, for some, is a form of reparations.
And, for others, it is a form of jizya — a Muslim concept of extorting or taking money from non-Muslims. Ace's reader Hepcat posted this news story from February 2013 involving the radical preacher Anjem Choudary. Emphases in the original from The Sun, except for those in violet:
SCROUNGING hate preacher Anjem Choudary has told fanatics to copy him by going on benefits — urging: "Claim your Jihad Seeker's Allowance."
He cruelly ridiculed non-Muslims who held down 9-to-5 jobs all their lives and said sponging off them made plotting holy war easier.
The Sun secretly filmed him over three meetings also saying leaders such as David Cameron and Barack Obama should be KILLED, grinning as he branded the Queen "ugly" and predicting a "tsunami" of Islamic immigrants would sweep Europe.
"You find people are busy working the whole of their life. They wake up at 7 o'clock. They go to work at 9 o'clock. They work for eight, nine hours a day. They come home at 7 o'clock, watch EastEnders, sleep, and they do that for 40 years of their life. That is called slavery.
"And at the end of their life they realise their pension isn't going to pay out anything, the mortgage isn't going to pay out anything.
"Basically they are going to lose everything, commit suicide. What kind of a life is that, honestly. That is the life of kuffar (non-believer)" …
"Democracy, freedom, secularism, the parliament, all the MPs and the Presidents, all the kuffar's ideas, everything the people worship, we have to believe that they are bad and we have got to reject them.
"Reject them with our tongue. Reject them with our heart. In our heart have hatred towards them."
The French have a solution for the Abu Qatadas of this world. I do not know if this will continue under Hollande, but Chirac and Sarkozy followed the policy of deporting radicals first — then sifting through evidence and hearing appeals later. The Sun reports that that between 2001 and 2010, France deported 129 suspected Islamic extremists. During that same period, the UK deported only nine.
So, if a few reading this post still think there should be more wealth redistribution, they're welcome to it. Only please don't comment here. Your reasoning and your votes are part of the reason we're in the state we find ourselves today.
It's hard to pray for those who hate us and rob us, but, somehow, we must find a way. We must also pray for wisdom — in ourselves and others — to help us overcome this oppressive reality.
The other day I wondered whether we will ever get the truth about what happened in Boston on Monday, April 15, 2013 and the days following.
Those who have been keeping up with live blogs and the news — local and international — have many questions.
On Monday, April 22, an article followed by several hundred comments appeared on Yahoo! News UK: 'Boston Bombs Suspect "Awake and Responding"'.
A commenter, Colin, summarised the many questions armchair newshounds have about the event:
17 questions and contradictions about the Boston bombings unanswered ( here they are )
#1 Why were runners being told that a bomb squad drill was taking place during the Boston Marathon?
#2 Why did authorities deny that a bomb squad drill was being held?
#3 According to The Mirror, the FBI is reportedly "hunting" a 12-strong terrorist "sleeper cell" that Tamerlan and Dzhokhar Tsarnaev were allegedly a part of…
A source close to the investigation said: "We have no doubt the brothers were not acting alone. The devices used to detonate the two bombs were highly sophisticated and not the kind of thing people learn from Google.
#4 CBS News is reporting that the FBI interviewed Tamerlan Tsarnaev back in 2011. The mother of the two Tsarnaev brothers insists that the FBI had been in contact with them for up to five years. At first, the FBI denied any previous contact with the two suspects. Will we ever learn the true scope of the previous relationship between the FBI and the Tsarnaev brothers?
#5 Debka is reporting that the Tsarnaev brothers were "double agents" which had been "hired by US and Saudi intelligence to penetrate the Wahhabi jihadist networks which, helped by Saudi financial institutions, had spread across the restive Russian Caucasian." Could this possibly be true? If so, will the American people be told the truth about these links?
#6 According to their uncle, there were "mentors" that "radicalized" the Tsarnaev brothers. So precisely who were those "mentors"?
#7 What happened during Tamerlan Tsarnaev's trip to Dagestan and Chechnya last year?
#8 Were the Tsarnaev brothers in contact with a rebel leader named Doku Umarov who is known as "Russia's Bin Laden"?
#9 Did Tamerlan Tsarnaev post a video on YouTube last summer that expresses a belief that the 12th Imam, Mahdi, will soon come and that an Islamic army with black flags with arise out of a province in Iran known as Khorasan?
#10 Why aren't we being told that the "pressure cooker bombs" used in the Boston Marathon attacks are very similar to the kind of pressure cooker bombs that are commonly used in the Middle East?…
#11 Initially we were told that Saudi national Abdulrahman Ali Alharbi was a "person of interest" in the case. But now he is scheduled to leave the country with the full blessing of the U.S. government. Why is there such a rush to get him out of the United States?
#12 Why aren't we being told that Abdulrahman Ali Alharbi was photographed with two other Saudis in the vicinity of the Boston marathon bombings?
#13 Why aren't we being told of the shocking familial links that Abdulrahman Ali Alharbi has to known members of al-Qaeda? The following is from research complied by Walid Shoebat…
Many from Al-Harbi's clan are steeped in terrorism and are members of Al-Qaeda. Out of a list of 85 terrorists listed by the Saudi government shows several of Al-Harbi clan to have been active fighters in Al-Qaeda:
#15 Badr Saud Uwaid Al-Awufi Al-Harbi
#73 Muhammad Atiq Uwaid Al-Awufi Al-Harbi
#26 Khalid Salim Uwaid Al-Lahibi Al-Harbi
#29 Raed Abdullah Salem Al-Thahiri Al-Harbi
#43 Abdullah Abdul Rahman Muhammad Al-Harbi (leader)
#60 Fayez Ghuneim Humeid Al-Hijri Al-Harbi
#14 Why did U.S. Secretary of State John Kerry have a private meeting with a Saudi foreign minister shortly after Abdulrahman Ali Alharbi was identified as a potential suspect?
#15 Why did Barack Obama hold an unscheduled meeting with the ambassador from Saudi Arabia shortly after Abdulrahman Ali Alharbi was identified as a potential suspect?
#16 Why did Michelle Obama visit Abdulrahman Ali Alharbi in the hospital?
#17 Why did numerous mainstream media outlets openly suggest that "right-wing extremists" were behind the bombings in the immediate aftermath of the attack?
Colin's questions indicate why people are puzzled and why they are likely to remain so.
It's telling that this is one of the replies Colin received — a quote from 1954 (emphases mine):
'Today the path to total dictatorship in the United States can be laid by strictly legal means, unseen and unheard by the Congress, the President, or the people…
'… outwardly we have a Constitutional government. We have operating within our government and political system, another body representing another form of government, a bureaucratic elite which believes our Constitution is outmoded and is sure that it is the winning side.
'All the strange developments in the foreign policy agreements may be traced to this group who are going to make us over to suit their pleasure.
'This political action group has its own local political support organizations, its own pressure groups, its own vested interests, its foothold within our government, and its own propaganda apparatus.'
-Senator William Jenner 1954
William Ezra Jenner was a US Senator for Indiana at the time he made that statement. He was a Republican and an attorney. His Wikipedia page cites the quotation as follows — with certain points made more strongly:
Today the path to total dictatorship in the U.S. can be laid by strictly legal means, unseen and unheard by Congress, the President, or the people… We have a well-organized political-action group in this country, determined to destroy our Constitution and establish a one-party state… The important point to remember about this group is not its ideology but its organization. It is a dynamic, aggressive, elite corps, forcing its way through every opening, to make a breach for a collectivist one-party state. It operates secretly, silently, continuously to transform our Government without suspecting that change is under way… If I seem to be extremist, the reason is that this revolutionary clique cannot be understood, unless we accept the fact that they are extremist. It is difficult for people governed by reasonableness and morality to imagine the existence of a movement which ignores reasonableness and boasts of its determination to destroy; which ignores morality, and boasts of its cleverness in outwitting its opponents by abandoning all scruples. This ruthless power-seeking elite is a disease of our century… This group … is answerable neither to the President, the Congress, nor the courts. It is practically irremovable.
In 1952, Jenner alleged that the United Nations was infiltrating American education policy. He served in the US Senate until early 1959; these comments of his precluded his being put up for renomination in the 1958 elections. In 1959, he resumed his private law practice and died at the age of 76 in 1985.
The Republicans might not have liked what Jenner had to say.
His successor, Vance Hartke, was a Democrat and stayed in office until 1977.  Were there too many home truths from Jenner, who had allied himself with Joseph McCarthy? At the time, most voters — including Republicans — were no doubt unconvinced or did not wish to know.
In the meantime, my prayers go out to the families and friends of those stricken on Patriots Day 2013 in Boston as well as those who had to leave their homes subsequently during the manhunt. I hope that they soon find the inner calm and answers they need.
On Friday, April 19, 2013, Yahoo!UK had a live blog following events in Boston following the Marathon bombings on Monday, April 15.
Since then, all that day's entries have been erased.
However, at the time, we learned that a 'shelter in place' alert was active in the city. That's a nice term for 'stay indoors — police enforcement'. The MBTA, public transport system of buses, trolleys and subways was shut down, even in the suburbs. Taxi service also came to a halt for a few hours. Sports fixtures — baseball, hockey and basketball — were cancelled. The civil service exam to take place on Saturday, April 20, was also cancelled.
We saw pictures of people being evacuated from their homes in Watertown, some distance away from Back Bay, which was closed off from Trinity Church in Copley Square to and including the Prudential Center on Boylston Street.
Reading the many entries and Tweets reminded me of what people said when America's airspace was closed after 9/11: the terrorists have won. Eventually, this led to extrapolations that such shutdowns would give rise to Sharia law or martial law. Some wonder whether the two are working hand-in-hand.
I do not have an answer, but any time we respond to terrorists or criminal nutcases with lockdowns on the general public, we have a greater problem concerning property rights and civil liberties. Neither Sharia nor martial law respects them.
Triablogue, a confessional blog, examined this recently. Here's an excerpt:
When I was growing up (60s-70s), lockdowns were limited to prisons when inmates rioted. At least that's my recollection.
But more recently, you have school lockdowns when a suspected shooter is on the loose. I understand that authorities wish to contain the area to prevent the suspect from escaping, but in the process they are locking students in with the shooter. I often wonder if that's even legal. Do school administrators (or local police) have the authority to prevent students from exiting the building when they feel–often rightly–that their lives are endangered by hiding huddled in classrooms as the sniper goes from room to room, seeking fresh victims?
Be that as it may, the Boston bombing introduced a citywide lockdown. Hotels were locked down within a certain radius of the crime scene.
What does that mean, exactly? Does that mean there were security guards or policemen stationed at hotel exits? What would happen if you tried to exit the hotel? Would you be arrested? Shot on sight?
Although it maybe convenient for the authorities to declare a lockdown–the better to facilitate their manhunt–is that legal? Doesn't that really assume an undeclared state of martial law, where normal civil liberties are suspended and authorities can impose a curfew on the citizens?
It looks like we're beginning to take lockdowns for granted, as a normal part of life, even though that's extralegal or unconstitutional. When did Americans agree to this? Is this an Act of Congress?
The same questions have gone through my mind. Particularly striking were brief comments on the live blog that said the police hoped people would respond to search requests positively and voluntarily. With regard to martial law implementation, people ask, 'Why Boston?' The answer is that it is a comfortably sized city (just under 1m population) and diverse enough for an experiment.
I also remember the days — also in the 1960s and 1970s — when news broadcasts would include requests from the police to search their premises and neighbourhoods for anything unusual. They also advised using 'common sense' and contacting the police in case they encountered the suspect concerned. Recall that in those days mobile devices didn't exist, so a few men together from the neighbourhood would have to think a bit beforehand about what to do if they suddenly found themselves in a dangerous situation. However, a number of them would have served in the Second World War or the Korean and even the Vietnam Wars. They were trained to confront the enemy.
Then, as now, when seconds matter, the police are only minutes away. That said, the difference between then and now is that there was much less traffic, so the cops could respond sooner. Also, more men owned guns and could have wounded a suspect if necessary without many of today's repercussions.
Now, however, unlike then, we have fewer war veterans and instead are left with a generation of androgynous postmoderns. Playing video games doesn't always lend itself to searching for a real-life human enemy.
One thing that does not change is the criminal's preoccupation with an escape route. As I read the live blog I kept thinking that the younger brother could have been anywhere by early Friday afternoon in Boston. He'd run over his older brother the night before in evading the authorities. It doesn't take that long to drive out of state or even get across the border into Canada.
As it happened, whilst lockdown was in place and the police were doing door-to-door searches — readers, please try to ask for a search warrant before letting the authorities in — the younger brother was still in Watertown, hiding in a boat.
I have read that the area searched in Watertown now looks like a war zone after having had police firing indiscriminately — broken windows, hacked-in doors and other house damage. Who will arrange for that to be fixed and how quickly?  How soon will residents be able to return to their homes?
On Transterrestrial Musings, one of the readers, Dick Eagleson, commented (emphases mine):
… the orgy of police agency self-congratulation I see in the media strikes me as entirely preposterous. So far as I can determine, it was commercial and personal vidcam and smart phone footage that allowed authorities to finger the Tsarnaev brothers and not official cameras.
After their mugs were known, they were found, confronted and a wild shootout ensued in which the police fired hundreds of rounds and still managed to kill only one of the pair and allowed the other, even though wounded, to escape.
Police are getting more militarized in their organization all the time, but not in certain crucial respects. Specifically, the marksmanship and fire discipline of big city police rank and file are appallingly bad. The recent trigger-happy Christopher Dorner pursuit debacle here in L.A. was just prologue to what the Boston-area P.D.'s did in pursuit of the Marathon bombers. The lockdown order was probably the only reason the Boston, Watertown, etc., P.D.'s didn't rack up a collateral damage civilian body count even higher than the LAPD, et al, did out here.
Based on the amount of blood the alert householder later found on his boat before the denouement, the escaped wounded brother had to be leaving a significant blood trail. But the cops seem to have made no effort to follow it, either with criminalist UV gear or with dogs. Instead, they decided to lock down the whole city and still managed not to find the guy until after the lockdown was lifted.
For this they're breaking both arms patting themselves on the back?
Three interesting points about the capture of Tsarnaev the Younger:
1/ The boat, whilst in Watertown, was just outside the lockdown perimeter.
2/ The homeowner found Tsarnaev himself after the lockdown ended, having found the tarp on the boat disturbed.
3/ Thank goodness the man is a cigarette smoker and went out for a 'breath of fresh air', otherwise Tsarnaev might still be on the run.
Sometimes, as my late Londoner grandmother-in-law often said, the old ways are the best.
What Hell Looks Like When It Freezes Over In Massachusetts!
Scott Brown: 52%
Martha Coakley: 47% 
To the Nation: 
In Massachusetts, we've given you the Pilgrims, the Great Awakening Revival of the early 1700s, the American Revolution and now this: the greatest individual political upset of our lifetime. 
It all began here, and the revolution continues. 
We've restored the balance of power. Now, is there anything else we can do for you today? 
Go Brown! Keep on truckin'! — Cape Cod Today Blog Chowder
[picapp align="none" wrap="false" link="term=scott+brown+massachusetts&iid=7596776″ src="c/6/c/4/Scott_Brown_holds_727d.JPG?adImageId=9322133&imageId=7596776″ width="500″ height="352″ /] 
Thank you, Massachusetts, for successfully setting the tone for the November 2010 elections!  You also broke the 46-year Democrat stranglehold, a.k.a. Ted Kennedy's Senate seat. 
The Coakley camp said, 'It's Ted Kennedy's seat'.  Scott Brown said, 'It's the people's seat.'  Spot the difference.  
Ace of Ace of Spades was at Brown's victory party at Boston's Park Plaza Hotel, near Copley Square.  Here's a brief excerpt of what Brown had to say:
"Tonight the Independent Voice of Massachusetts Has Spoken"
Crowd: "Gas up the truck! Gas up the truck!"
"Forty-one! Forty-one! Forty one!" (looking ahead to forty first GOP vote in Senate)
Brown: "This seat belongs to no party, this is the people's seat!
("People's seat! People's seat!")
"I have spoken to Senator Paul Kirk, and he has completed his work as Senator."
("Seat him now! Seat him now!")
"I am ready to go to Washington and begin my work without delay."
The truck reference is to an aging yet well-maintained pickup that Brown owns.  President Obama took a swipe at Brown on Sunday, asking Coakley supporters why he doesn't just buy a new model.  Brown later replied to his own audience saying that, in this economy, many people find it hard to go out and buy new things.
Howie Carr, the doyen of Massachusetts — nay, New England — columnists, explains here in the Boston Herald:
The lesson is clear. The people are mad as hell, and they aren't going to take it anymore.
This isn't an election, it's a movement. We reversed the curse – the Kennedy curse …
Health-care "reform" dead for a generation? Let's keep our fingers crossed. Two generations would be even better. As several callers to my radio show said yesterday, paraphrasing Michelle Obama:
"For the first time in my adult life, I feel proud to be a Massachusetts resident."
… Here's the thing about Martha Coakley: She was trying to sell a product nobody wanted. A quote from Gore Vidal sums her up perfectly: "No talent is not enough."
His fellow columnist at the Herald, Rachelle Cohen, adds:
Then there's the endless flap ginned up by the Democratic National Committee and its hatchet guy in chief Hari Sevugan over whether Brown did or didn't hear someone at a campaign rally yell "shove a curling iron up her butt" about Martha Coakley (and her problematic record in pursuing a child rapist).
The remark is nearly impossible to pick up on the video – which the DNC made sure was up on YouTube. Imagine how utterly impossible it would be to hear if you were Brown himself in the middle of an enthusiastic crowd, trying to finish a speech.
Tempest in a teapot? You think?
… Of course, the DSCC [Democratic Senatorial Campaign Committee] along with the SEIU has poured megabucks into ads attacking Brown. But having "business executives and Wall Street" doing the same in support of Brown, well, that's somehow wrong. Of course, those big Pharma, biotech and insurance company lobbyists Coakley collected contributions from in Washington were somehow different, right?
Yes, it has been an interesting couple of weeks around here.
For readers outside of North America, make no mistake, this by-election galvanised the US, coast to coast. Some sites, like Hot Air and Michelle Malkin, were down from time to time because of all the traffic and comments. 
Jonah Goldberg, in the Los Angeles Times, discusses the implications for Obamacare in the US Senate:
It's impossible to imagine a more direct, and democratic, repudiation of Democratic governance.
Will Democrats get the message? Doubtful. It seems the only way the Democratic leadership can catch a clue is if it is hammered into their pates with a ball-peen hammer…
Perhaps even more telling, Democrats are obsessively blaming their problems on the Senate's filibuster rule. Under the filibuster, it takes 60 senators to get controversial things done. As a result, many of the preferred policies of the left — the "public option," soak-the-rich taxes, etc. — had to be pulled out of the bill in order to win support from moderates like Joe Lieberman (I-Conn.). That's how the Senate is supposed to work. It was designed to cool the passions of the more democratic House.
Nonetheless, it seems every prominent liberal pundit has come out in favor of interring this "undemocratic" impediment to unobstructed Democratic rule. They hated the filibuster before many of them even knew who Scott Brown was, but now that this alleged bumpkin from the sticks looks like he will crash his truck into healthcare reform as the "41st senator," they are becoming positively unglued…
Regardless, the real problem … is a deep contempt for America's political system joined with an abiding sense of entitlement…
As Massachusetts Senate candidate Martha Coakley is learning, the Democrats are unpopular now because they're rightly perceived as arrogant, ideological and fixated on an agenda not supported by the people.
Brown will serve a two-year term, to finish the late Senator Kennedy's term.  Then, he can stand for re-election for a six-year term. Potentially, he could be in the Senate for several years!  So, please pray that he serves the Commonwealth of Massachusetts and the United States well.  His task is just beginning.
As to Kennedy's incredibly long tenure, commenter Gary (January 19, 4:20 p.m.) at Politico says:
Kennedy held this seat for so long, that people forgot how he originally got it. Ted Kennedy was appointed to it after the "Boston machine" changed the law to protect the seat originally won by JFK through nefarious means. Later, Teddy's first real elections were won by sympathy votes cast for his name on behalf of his assinated brothers — Then his own plane crash. By now he was a 2 1/2 term Senator, always hard to beat those. The corruption of the Boston machine plus his name kept him in power in spite of scandals that would have put other Senators into retirement (or prison for manslaughter or rape). Instead of being condemned for his drunken behavior, he was praised by the national press – 24/7 advertising every day of the year. The Democrats still don't realize that Kennedy didn't represent the real people of Massachussetts. Kennedy was imposed and given a coronation. Now the people are taking THEIR seat back. Kerry is next to go.
But, there's just a tiny bit more on this.  Massachusetts has the second highest population of Catholics in America; its neighbour, Rhode Island, has the most.  On Monday, Churchmouse Campanologist criticised Martha Coakley for what she said about conscience clauses in hospitals.  It turns out that issue really did strike a chord with voters, when heard on the radio and read in the press.  Ace of Ace of Spades reports from Brown's victory party (emphasis mine):
… I met Ken [Pittman], the guy who elicited Coakley's response that Catholics maybe shouldn't work in emergency rooms — and probably changed the race by 1 or 2 entire points.
He says that Massachusetts is now open to GOP candidates again.
And, referring to my post of Monday, there was a bit of voter fraud going on.  The Boston Globe has a site which allowed people to briefly record their voting experience, as polls were expected to be crowded.  One person in Malden said that he was told his vote could not be processed until he declared whom he had voted for.  Elsewhere on the web in miscellaneous comments, it transpired that in Andover, people were told to place their votes in a tray for processing (you're supposed to process them there and then with the official watching).  Then, in a press release dated the day before the election but produced on election day, Coakley's team and John Kerry questioned the 'integrity' of the the voting process. Turns out they were using Kerry's own nefarious tips from 2004. But, even better was the community organiser in Lawrence who was telling people about absentee ballots four days after the deadline.  In addition to the woman's great nail job, note that she has inked out Brown's and Kennedy's (Libertarian candidate, no relation) names:
On election day afternoon (so early?), Coakley's camp complained to the DNC (Democratic National Committee) about lack of support.  Politico has more on the Democrats' response (emphasis in the original):
'This memo is a pack full of lies and fantasies — The DNC and the DSCC did everything they were asked and have been involved in the race for several weeks, not just the last one …
'Before the DNC and DSCC got involved there was barely a single piece of paper on what the narrative is on Brown. The candidate in this race and the campaign have been involved in the worst case of political malpractice in memory and they aren't going to be able to spin themselves out of this with a memo full of lies.'
Oh, my! 
If you are interested in town-by-town results, The Boston Globe has them here.   
So, what next for Obamacare, you wonder.  Senator Jim Webb, a Democrat, says the Senate should 'suspend further votes on health care legislation until Senator-elect Brown is seated'. Good, good. There's more at Politico and Hot Air.  
And what next in preparation for November?  Whoever managed Brown's campaign did it perfectly with clean, stick-to-the-issues stuff, making good use of all the latest mobile gadgetry and the internet.  The senator-elect surged from nowhere in just a few weeks.  So, the GOP needs to start work today for its other candidates, with this campaign manager's help.   
In closing, let's enjoy a bit more of Scott Brown's speech, available here:
"Fellow citizens, what happened in this election can happen all over America. We are witnesses, you and I, to the truth that ideals, hard work, and strength of heart can overcome any political machine. We ran a campaign never to be forgotten, and led a cause that deserved and received all that we could give it.
"And now, because of your independence, and your trust, I will hold for a time the seat once filled by patriots from John Quincy Adams to John F. Kennedy and his brother Ted. As I proudly take up the duty you have given me, I promise to do my best for Massachusetts and America every time the roll is called.
"I go to Washington as the representative of no faction or interest, answering only to my conscience and to the people. I've got a lot to learn in the Senate, but I know who I am and I know who I serve.
"I'm Scott Brown,
"I'm from Wrentham,
"I drive a truck, and I am nobody's senator but yours."
Martha Coakley, Massachusetts Attorney General, is the Democratic candidate for the US Senate in the late Ted Kennedy's district.  Let's hope she is not representative of the future of American Catholicism.
Ms Coakley has been active in Massachusetts politics for most of her legal career, and, knowing the area well, I have been reading about her for the last 25 years.  It was once possible to be Coakley-agnostic, but no longer.  
Recently, one of her aides shoved a reporter from The Weekly Standard, knocking him to the ground.  The reporter only wanted to ask Ms Coakley a few questions.
In a radio interview last week, she discouraged the idea of a conscience clause in hospitals.  Think of Catholic hospitals as you read the following:
Ken Pittman [WBSM radio host]: Right, if you are a Catholic, and believe what the Pope teaches that any form of birth control is a sin. Ah, you don't want to do that.

Martha Coakley: No, we have a separation of church and state, Ken, let's be clear.

Ken Pittman: In the emergency room you still have your religious freedom.

Martha Coakley: (…stammering) The law says that people are allowed to have that. You can have religious freedom but you probably shouldn't work in the emergency room.
It's at 8:50 here.  Coakley defends her position by saying there is a separation of church and state.  What the Constitution says is that there will be no mandated religious beliefs, such as a national church (e.g. Church of England).  So, the United States gives — a year ago I would have said 'guarantees' — you the freedom to practice your faith and live up to the tenets of that faith.  It's not a freedom from religion situation as Coakley would have it. Nor is it 'allowing' religious freedom, as she says. Maybe religious freedom just happens on Sundays at Mass, eh, Martha?  I wonder what she would been so cavalier if another faith had been mentioned.  Where are the Catholic clergy on this?  No one, it would seem, has spoken out.  Why?  Maybe it was because she was slow to prosecute paedophile priests in Massachusetts?
We're down to the wire, as the election takes place tomorrow. Polls show Brown leading Coakley by four points in recent opinion polls. This is enough to be swung in Ms Coakley's favour by voting fraud, heaven forbid.  If you are registered in Massachusetts and support Scott Brown (currently a Massachusetts state senator), please make sure you vote tomorrow.