You are currently browsing the tag archive for the 'MasterChef' tag.
As the BBC broadcast coverage of Prince Philip's life on Friday, April 9, the day of his death, the final of MasterChef was postponed.
It was shown on Wednesday, April 14, having been announced only the day before. Shown below are the judges, John Torode and Gregg Wallace:
Here they are with finalists Mike, Alexina and Tom:
Britain's foodies could barely contain themselves:
I don't often write about MasterChef, but this year's final was the best yet. I would challenge the pros in the US edition of Top Chef or the amateurs from MasterChef USA to come up with comparable dishes.
This video shows what the British amateurs cooked:
As ever, the programme began with brief biographies, complete with childhood photos, of each contestant. Their parents also participated in interviews.
Alexina
I've put up some inspirational dishes … It's my competition to lose.
She lives in south London:
We discovered that she is a graduate of the University of Cambridge — Jesus College, in fact:
Only social media followers, however, will know that she volunteers for The Food Chain in London. I recognise one well known chef and restaurateur in the photo, Allegra McEvedy, who is in the black and white blouse:
Mike
We knew early on in the series that one side of Mike's family is Italian.
In the following video, Mike's girlfriend describes how generous they are when it comes to serving dinner:
Mike, from Surrey, enjoys his espressos.
He explained that his grandmother taught him how to cook. He was fascinated watching her and imitated what she did in the kitchen:
Tom
Tom is from Newcastle and, before coronavirus struck, worked in a local restaurant as front of house.
He has always enjoyed cooking:
He often cooks for his parents.
The semi-final
The semi-final took place at London's Le Gavroche, which has two Michelin stars. I have eaten there and will never forget the dining experience. Here, Alexina reproduced a challenging Le Gavroche classic for owner Michel Roux Jr and his senior members of staff:
Michel Roux Jr was impressed with all three finalists, each of whom made some of the restaurant's most challenging dishes. In the next video, we see Mike first, then Alexina, followed by Tom:
Based on that episode, we could hardly wait for the final.
The final
Each of the finalists had to create and prepare three dishes.
Mike prepared a starter of scallop with romanesco, followed by sous-vide lamb with a lamb farce and sweetbread pithivier, served with an unctuous thyme and potato terrine. The jus, a gastrique, was perfect. For dessert, he paid homage to his grandmother with a take on tiramisu:
The tiramisu, in particular, looked mouth-watering:
Mike was disappointed that his pithivier burst on the bottom. Nonetheless, John and Gregg responded with superlatives about his dishes:
unctuous and sweet and sticky and absolutely yummy …
dreamy …
fruity sweetness but still with meatiness …
It's classic, opulent cooking and it's skilful.
Here's the video:
Alexina prepared a Malaysian crab soup with a peanut butter bread stick, a perfectly sautéed bavette of beef, and, as a nod to her grandmother, a rolled baked apple (one long strip), served with gin-soaked blackberries and a herby ice cream:
John and Gregg particularly liked the crab soup, an homage to her brother who loves peanut butter:
Then it was Tom's turn to present his final creative plates of food. This chap was a star from the start.
He prepared three oysters, each in a different style, including one which was deep fried in bread crumbs. He followed this with roast beef and beetroot. Dessert was a tangy lemon-yuzu tart with olive oil ice cream, accentuated with a pinch of salt:
Gregg had a deep food experience tasting it, especially the beef.
The tart and ice cream were works of genius. The tart had black olive meringue on top:
Viewers were bowled over by the quality and imagination of the food. Any of these meals could be served in a top restaurant. Tom's showed Michelin-star quality.
In the end, there could be only one winner, the 17th champion of MasterChef:
Everyone did brilliantly:
I wholeheartedly agree. I also think that all should have had a glass of champagne to share Tom's victory:
Tom enjoyed celebrating his win with John and Gregg. He also enjoyed speaking with his ecstatic mother on the phone, hence his reaction:
I wonder if Tom is back at work, now that lockdown has largely lifted:
Indeed.
Follow Tom on Twitter and browse his website for recipes.
I hope someone offers him a job really quickly. His talent is too good to waste. What a great end to lockdown that would be.
Sadly, Prince Philip, the Duke of Edinburgh, died on Friday, April 9, 2021, exactly two months short of his 100th birthday:
The Queen has lost her best friend. My deepest sympathies to her for the unimaginable loss of her long-time husband and daily confidant. My condolences also go to the Royal Family in their grief.
Young love
The couple first met in 1934, and began corresponding when the Prince was 18 and a cadet in the Royal Navy. Princess Elizabeth was 13 at the time.
She was smitten with him from the start.
Prince Philip served with distinction during the Second World War in the Mediterranean and Pacific fleets.
After the war ended, he could have had a stellar career in the Royal Navy. His superiors praised his clear leadership skills.
However, love intervened and the rest was history.
Born Prince Philip of Greece and Denmark, he renounced his foreign titles and took British citizenship before he and Princess Elizabeth were engaged. He took the surname of his maternal grandparents: Mountbatten.
He and Princess Elizabeth were engaged in July 1947. They married on November 20 that year. Shortly before the wedding, George VI gave him the titles of Duke of Edinburgh (created for him), Earl of Merioneth and Baron Greenwich.
Prince Philip remained in the Royal Navy until July 1951. He retired with the rank of Commander.
Royal succession — and surname
In January 1952, he and the Queen began a tour of the Commonwealth countries. They were in Kenya when news reached them that the Queen's father, George VI, died on February 6 that year.
Although she became Queen immediately upon her father's death, her coronation took place in 1953, as it had to be planned meticulously.
On Coronation Day, he knelt before her, clasped her hands and swore an oath of allegiance to her:
He also had to touch her crown and kiss her on the cheek.
He never had a constitutional role, nor was he ever formally given the title of Royal Consort. The courtiers did not like him, nor did they trust him. They believed his personality to be brash and unbecoming of the Royal household. They shut him out of as much decision making as possible.
When Elizabeth became Queen, the question about her family name arose. Prince Philip suggested that the Royal Family be known as the House of Edinburgh. Upon discovering that suggestion, Queen Mary, Elizabeth's grandmother, wrote to Prime Minister Winston Churchill, who advised the young monarch to issue a royal proclamation saying that the Royal Family would continue to be known as the House of Windsor.
In his inimitable style, Prince Philip complained privately:
I am nothing but a bloody amoeba. I am the only man in the country not allowed to give his name to his own children. [57]
The Queen did nothing until eight years later, in 1960, 11 days before she gave birth to Prince Andrew. She issued an Order in Council declaring that the surname of her and her husband's male-line descendants who are not styled as Royal Highness or titled as prince or princess would be Mountbatten-Windsor.
Pater familias
Prince Philip had to carve a role out for himself. He became the pater familias and, through the years, his role expanded to cover not only his four children but his grandchildren. He listened to their concerns, shared their joys and gave them advice. He knew everything that went on in their lives.
Although the public knew him for speaking as he saw — rather bluntly, on occasion — behind closed doors Prince Philip was known to be a warm, loving man.
He also favoured a more transparent Royal Family. According to the BBC, it was he who encouraged the Queen to make a multi-episode documentary on their daily lives, including those of their four children. It was broadcast in the late 1960s. I remember seeing it in the United States.
When Princess Diana died on August 31, 1997, Prince Philip was the one who kept an eye on the public mood that fateful week. He, the Queen and Princes William and Harry were at Balmoral in Scotland for their summer holiday. When the young princes wanted to attend church, their grandparents took them to the Sunday service on the day of their mother's death. Later in the week, it was Prince Philip who encouraged the boys to walk behind the funeral procession the following Saturday. He said:
If you don't walk, I think you'll regret it later. If I walk, will you walk with me? [93]
One cannot imagine what he thought of Prince Harry's departure for the United States to live a life separate from his closely knit family. I did read that the Royal Family shielded information about the Oprah interview from him.
John F Kennedy's funeral
Prince Philip was in Washington for John F Kennedy's funeral in 1963.
He had a friendly encounter with John Jr, who was still a toddler and known as John-John at the time. The child wondered where his father was, as he had no one with whom to play. The Prince stepped in to fill that gap. In 1965, the British government gave an acre of land at Runnymede to the United States for use as a memorial to JFK:
Funeral arrangements
Prince Philip was self-effacing and did not like a fuss to be made over him.
Therefore, the funeral arrangements will respect his wishes, which is rather convenient, as coronavirus restrictions are still in place. Up to 30 people will be allowed at his funeral, in line with legislation across the nation:
The funeral is scheduled to take place on Saturday, April 17:
It is interesting that Prince Harry will be able to attend when we have a 10-day quarantine in place for arrivals into the UK under coronavirus regulations.
The Sunday Mirror reported on Prince Harry's return to the UK:
He could also be released from quarantine if he gets a negative private test on day five, under the Test to Release scheme.
Given his status as a member of the Royal Family travelling to support the Queen, Harry might be considered exempt from travel restrictions.
Wow. It's nice to know we have a two-tiered quarantine system in place /sarc.
A championship boxer remembers the Prince
Former WBC Heavyweight Champion Frank Bruno MBE posted his memories of meeting Prince Philip. He is at the top left in the following photo:
An Anglican priest remembers the Prince
The Revd Peter Mullen, an Anglican priest, recalled his encounters with Prince Philip for Conservative Woman on April 10 in 'A personal recollection'.
He first met the Prince during his schooldays:
The first time I met the Prince was in connection with his Duke of Edinburgh's Award Scheme which gave a leg up to youngsters from what would now be called the less privileged parts of the country. He paid a visit to the Leeds branch of the Church Lads' Brigade of which, aged fourteen, I was a member. We were in the church hall making things. My task was to make a table lamp. I was hopeless at it.
The Duke got hold of my half-finished creation, held it up to one eye and said, 'I suppose this hole is where the flex goes?'
'I think so, Sir.'
'You think so? I was never any good at this sort of thing either!'
And he was off . . . 
As an adult, Mullen met him on more than one occasion thanks to the Honourable Company of Air Pilots. The Prince was its Grand Master. Mullen served as chaplain.
He recalls:
The Company gave a lunch for him to mark his 80th birthday and I recall how jovial he was, making light of his years: 'I believe I have lasted so long because you people are always toasting my good health, but I don't want to live to be a hundred. Things are dropping off already!'
At another luncheon one of our Liverymen who had his own port wine business presented the prince with Bottle Number One, the first fruits, so to speak. As he left, the duke handed the bottle to me: 'You have this, Peter. Our house floats on the bloody stuff.'
'Well, Sir, now I don't know whether to drink it or frame it.'
'Gerrit down ya neck!'
Prince Philip on MPs
Guido Fawkes came up with a good quote from one of the Prince's trips to Ghana. It concerns MPs. His Ghanaian hosts told him the country had 200 MPs. Prince Philip replied:
That's about the right number. We have 650 and most of them are a complete bloody waste of time.
Incidentally, Parliament will be recalled one day early from Easter recess. On Monday, April 12, MPs and Lords paid tribute to the Prince in their respective Houses:
That afternoon, the House of Commons reconvened to pay their tribute — from 2:30 p.m. until 10 p.m. (good grief).
Speaker Sir Lindsay Hoyle spoke first:
Prime Minister Boris Johnson had this to say:
Boris Johnson, who was invited to the funeral but declined so that another member of the Royal Family can attend, said that he would forego a pint when pub gardens reopen on April 12, out of respect for the Prince. Guido Fawkes, however, thinks that the Duke of Edinburgh would have wanted us to toast his memory, especially at a pub that bears his title in Brixton, south London:
Guido had a second tweet on the subject with another quote from the Prince:
Agreed.
Prince Philip on Australia
This is too funny. For those who are unaware, Australia was established as a place where Britain could send convicts. That was a long time ago, but the nation's original purpose was to serve as a prison: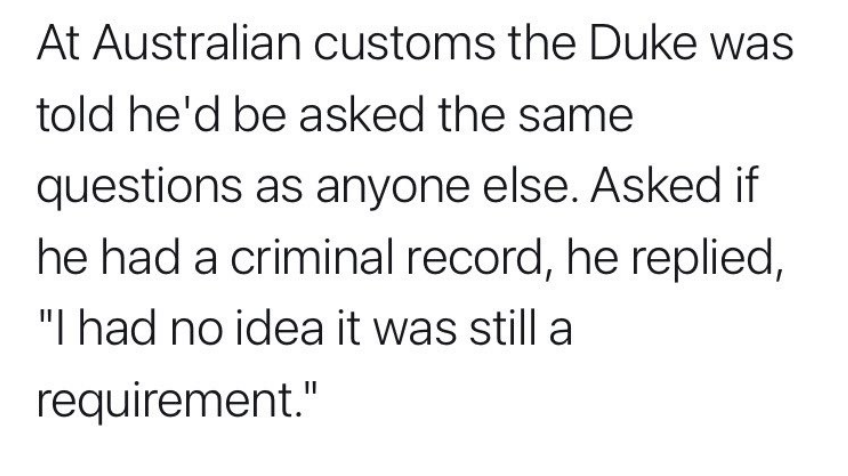 Prince Philip on civil liberties
On a serious note, the 12-minute interview below from 1984 is well worth watching, especially in the coronavirus era.
Prince Philip firmly supported the rights of the individual and believed that the state should serve the individual, not, as in our times, the other way around.
This is from a Thames Television programme originally broadcast on ITV:
I have posted the video below in case the tweets are deleted:
The Prince also said that certain subjects are out of bounds, such as the media and the NHS.
He said that the media are incapable of taking a joke about themselves and, as for the NHS, well, one cannot say anything against it. He didn't necessarily dislike the NHS but thought it was held in too high a regard. Nothing is perfect in this world.
We have been travelling a long road towards the point where we are at present: ruled by the media (they clamoured for coronavirus restrictions) and worship of the NHS. This is how Health Secretary Matt Hancock, Prime Minister Boris Johnson and SAGE have been able to rule our lives. It's been at least 40 years in the making.
BBC coverage on Friday
I was watching BBC Parliament early Friday afternoon, around 1:15, when the programme was interrupted by a broadcast from the BBC News Channel.
I checked the schedule an hour later, which said that the programme would last until 4 p.m. It was still going when I was preparing dinner at 5 p.m.
The final of MasterChef was to have been broadcast that night on BBC1. This was a clip from Thursday's programme:
Pictured are the hosts and judges, chef/restaurateur John Torode on the left and former greengrocer, now television presenter, Gregg Wallace on the right:
BUT:
The BBC News channel was simulcast all afternoon and all night long, not only on BBC Parliament but also on BBC1, to the dismay of MasterChef fans (myself included), and BBC2. BBC4 was suspended for the evening.
I read on social media that the BBC also broadcast continuous coverage of Prince Philip on their radio stations, including Radio 2, knocking out Steve Wright's drive-time show on Friday afternoon.
A friend of mine said that most of the BBC's employees were probably rubbing their hands with glee because it meant an early weekend for them. It's a cynical perspective that could well turn out to be true. We'll find out when someone writes his or her memoirs.
Everyone with a television set receives the BBC News channel. It comes into our homes at no extra charge. There was no need for the BBC to take over every channel for hours on end. By the way, if one had watched two hours of the Prince Philip coverage, as I did, one would have seen and heard everything in its entirety.
The BBC braced themselves for a plethora of complaints; they took the relevant page down on Sunday. Good. I am sure Prince Philip would have objected, too.
As much as I love the Queen, I hope they do not try this when her day comes. God willing, may it be long into the future.
Record-beating prince
Prince Philip established two records as consort to the Queen. He was the longest-serving royal consort in British history. He was also the longest-lived male member of the British royal family.
May he rest in eternal peace with his Maker.
May our gracious Lord grant the Queen, Defender of the Faith, His infinite peace and comfort in the months ahead. May He also bless the Royal Family during this difficult time.
Yesterday's post was about the BBC's MasterChef.
It could be argued that the 2018 amateur series was the best to date.
Today's post has more about the winner and a few inside scoops on the show.
More on Kenny Tutt
The Sun has excellent photos of Kenny Tutt's restaurant quality winning dishes.
When bank manager Tutt beat Dr Nawamin Pinpathomrat and pilot David Crichton in the final, he said:
This whole thing is for my dad. I know he's looking down and been giving me support. It's a special day.
The first quarter hour or so of the final programme presented a segment on each of the finalists' personal lives. Kenny's mother related that her husband and son died when Kenny was a young man. He was close to both, but she said that he and his father were 'joined at the hip'.
Kenny is devoted to his mother, his wife and his two daughters.
Yet, to look at Kenny's characteristically happy face — we dubbed him Mr Smiley — one would never think that he had had two traumatic deaths to make sense of:
I drew two lessons from this.
The first is that we never know what has happened to other people by looking at them. Although far from being as sunny as Kenny, years ago, someone once said to me, 'Nothing bad has ever happened to you'. I was taken aback, thinking how utterly wrong that person was.
The second is that the resilience and positive attitude that Kenny displays are exemplary.
We also found out from his wife Lucy that he got up when it was still dark to practice his dishes and perfect his culinary techniques for the show.
The Radio Times reported:
Speaking about his plans after the competition, the chef said "he would love to get more young people cooking", but that his "ultimate ambition would be to run a high-end gastro Pub". Just save us a seat whenever you open, Kenny.
The Daily Mail told us:
He said: 'I would love to get more young people cooking. I always love to get my girls involved in the kitchen, and my eldest Emily just loves to cook and taste the food. Cooking teaches so much, from science to maths, and allows children to be creative and proud.
'I would also love to write about food and want to put together some great food events, be it supper clubs or private dining. The ultimate ambition would be to run a high-end gastro Pub/B&B.'
The dad-of-two lives happily in Worthing, West Sussex, with his wife Lucy as well as their two children three-year-old Emily and 10-year-old Grace.
The Mail explained how he became interested in cooking:
Kenny started his culinary craft at a young age as he always loved watching his mum cooking up a storm in the kitchen.
The bank manager developed an interest in food from different cultures thanks to his love of travelling across the globe.
The Sun told us what he said before the final:
He said: "My mum always said if you just put a bit of love into it, that generally will make the food taste better.
"I'm just going to give it my best shot, try and have a bit of fun and we'll see what happens."
He said his job with the bank was his first "proper" job – and he's worked there for 15 years.
Kenny says he appeared on MasterChef because he wanted to try something different.
Of course, MasterChef finished filming long before it aired. As with similar televised contests, the winner has to keep the victory a secret until the whole series airs. Add on the six weeks it takes for the show to complete on television and that is a very long period of time.
Mirror TV managed to interview him afterwards:
Speaking to Mirror TV, dad Kenny said that he still "couldn't quite believe" that he had won the competition and described it as "mind-blowing".
"It's an amazing achievement for me, my family and everyone. So yeah, I'm really happy," he said.
Revealing that he managed to keep the result a secret from most of his family and friends, he admitted that he told his wife Lucy and mum the outcome.
"My wife thought I was joking!" he quipped.
Kenny, who is dad to Emily (3) and Grace (10 months) said that he couldn't have done it without his wife's support.
The Mirror asked about the trip to Peru during finals week:
One memorable moment saw a contestant attempt to recreate the Andes mountains out of corn, and another arrange piranha heads on a plate. But was it all work and no play?
"We went out and had a bite to eat, but generally there was a lot of us thinking about what we were going to do next," he told us.
"But yeah, we managed to spend a few hours together here and there which was really time well spent."
His MasterChef experience far exceeded his expectations. The contestants were decent people:
I thought it would be more like competition – dog-eat-dog with people trying to clamber over each other to win and the thing that made it really good was that there wasn't any of that.
We were all the best of friends. And the time the bell rang for us to start cooking we were all in our own little worlds anyway.
Judges John Torode and Gregg Wallace:
were the same in real life as they were on screen: "A couple of great guys".
One thing Kenny hadn't bargained for was the camera and sound crews:
The thing you don't see when you're watching on TV is the things that go on around you when you're filming like cameras and sound. I didn't know about that – you don't even think about it.
It is a bit weird but you quickly get used to it. Once I was used to it it was like they had always been there. They were all great actually – the production crew, camera guys – they all had a great sense of humour.
He also said there was:
a "great atmosphere" on set and said that "everyone was well looked after".
As for his cheerfulness:
To be honest, that was just me – what you see is what you get and I do get a bit excited to be there. I was just a bit like an excited puppy and that comes across.
I mean, I am a pretty happy guy, I've got nothing to be upset about. So I think most people take that as a good thing, but you do get the odd person who is like, 'God, why is he always smiling?'
Well, you know, I'm on a TV show and I'm doing alright, so I'm not not going to be happy about it.
And:
He also said that he hadn't realised he was "quite so animated" from the facial expressions he pulled: "It is quite cringe when you watch it back".
It was all good, Kenny.
He told the Mirror that he was looking forward to relaxing and enjoying the experience before launching into any culinary projects.
Judges' tasting and food waste
Many MasterChef fans wonder if the judges have to taste the dishes cold. They are also interested in what happens to leftover or unused ingredients.
The Sun posted an article which explains everything. In 2012, Gregg Wallace revealed what happens to the unused food and the cooked food:
The raw food gets divided up by the youngsters in the crew — talented young people who've just begun their careers and aren't necessarily earning very much.
The cooked food is devoured by the filming crew. A lot of them carry their own cutlery!
That said, contestants race the film crew to taste each other's dishes:
Chetna Makan, from the 2014 series, told Digital Spy: "It's not just the cameramen who swarm over the food, we (the other contestants) definitely do it too.
"We all run to the food made by whoever got the most compliments. Literally, everybody runs, nearly knocking each other over to have a taste."
As for the judges' tasting, the Sun cited former MasterChef: The Professionals semi-finalist Louisa Ellis, who told Birmingham Live:
The food stays there for a bit after you've finished so they can get good shots of it.
"So it can be cold by the time the judges get to it – especially if you're last to be judged – but they take that into consideration."
The judges are said to get round this by going round and tasting each contestant's food straight from the pot, in scenes which are later edited out.
Narrator India Fisher
India Fisher breaks the mould with her sultry, intense narration of MasterChef. She narrates all of the various series except for the Celebrity editions.
The Sun profiled her on April 13:
The softly-spoken host gives a commentary on the dishes whipped up by the cooks – and always makes them sound as good as they look …
Others have admitted that they'd love India to narrate their lives and describe their cooking successes with equal vigour.
This can be problematic for viewers when she moves on to other projects, such as commercials:
Fans may have noticed that India's voice is affiliated with a number of different brands.
She is the voice of Natwest and has presented a variety of different advertisement campaigns.
Amusingly, her voice has become so synonymous with the show, that fans find it hard to focus when she embarks on a new project.
She also does other voice work:
India is also a broadcasting star, providing voice work for Science Fiction audio dramas including Earthsearch Mindwarp and Doctor Who.
She has also appeared on BBC Radio 4 comedy series Elephants to Catch Eels and Dead Ringers.
As we never see her, the Sun has a photo of her at the top of the article. Mystery solved!
India has been with MasterChef since its relaunch in 2005. Yet, we know little about her. The Sun tells us:
The 43-year-old is an actress and presenter who was born in Stoke-on-Trent, Staffordshire.
She comes from a famous family, as her dad is former MP Mark Fisher.
India is also the step-sister of musician Crispin Hunt and actress Francesca Hunt.
The trophy
The MasterChef trophy and logo were updated in 2012 to reflect a 21st century look.
The Sun explains:
It is made of polished aluminium and mounted on a tiered aluminium base.
Makers of the award, Gaudio, say on their website: "The MasterChef trophy is instantly recognisable and is treasured by winners."
The article also gives updated information on recent winners' activities in the culinary world.
Another series of MasterChef ended on Friday, April 13, 2018.
MasterChef, in all its incarnations — amateur, professional and celebrity — has comprised most of my BBC viewing. The only other programme I watch is Inside the Factory, which is also food oriented. As everything else is either politicised or revisionist, I avoid the rest of the BBC like the plague.
The last time I wrote about the amateur series of MasterChef was in 2013, when Londoner Natalie Coleman won. I was going to write about Ping Coombes in 2014, but a serious family matter intervened.
I remember well the original MasterChef, which Loyd Grossman — originally from Marblehead, Massachusetts — hosted in the 1990s. Grossman also hosted the British edition of Through the Keyhole for many years.
MasterChef underwent a revamp in 2005. The new studio was large (the current one huge), and the challenges became more involved. Chef and restaurateur John Torode and former greengrocer Gregg Wallace became the new co-hosts. Since then, many the winners have gone on to greatness, opening their own gastro-pubs and restaurants. Thomasina Miers, the 2005 winner, is probably the most successful of all the MasterChef winners. She founded and owns the Wahaca chain of restaurants featuring food you won't find outside of Mexico.
Every series has some sort of controversy. 2017's was about the proper pronunciation of chorizo. That year also saw the debut of the market, full of ingredients for the contestants to use. A physician from Watford won: Dr Saliha Mahmood-Ahmed, who now divides her time between hospital work and a cookery career. The doctor had stiff competition in Giovanna Ryan and Steve Kielty:
Now on to the 2018 edition of MasterChef.
The standard of cookery gets higher and higher every year, beginning with the first episode. Successful contestants make and plate restaurant quality dishes. Competent home cooks end up eliminated early on.
This was also the first year that the amateurs went to a foreign country during Finals Week. They spent time in Lima, Peru, cooking for two of the country's top chefs.
The near diplomatic incident
In Knockout Week, Gregg Wallace nearly caused a diplomatic incident when he criticised a Malaysian contestant's chicken rendang because the skin wasn't crispy. On April 4, the London Evening Standard reported:
Wallace sparked a wave of criticism, including from Malaysia's prime minister, after telling Malaysian-born Zaleha Kadir Olpin her chicken rendang dish needed a crispier skin.
"The skin isn't crispy. It can't be eaten but all the sauce is on the skin I can't eat," Wallace said on the BBC show.
His sharp assessment of the dish, which saw Ms Olphin crash out of the show, sparked a rebuke from Malaysia's Prime Minister Najib Razak, who tweeted a picture of the curry dish along with the caption: "Does anyone eat chicken rendang 'crispy'? #MalaysianFood".
Wallace appeared on ITV's Good Morning Britain to explain:
I didn't mean it should be fried, like a fried chicken. What I meant was, it wasn't cooked. And it simply wasn't cooked. It was white and flabby.
It did no good. A Facebook page went up in Malaysia with the title 'Justice for Chicken Rendang' and demands for apologies from judges Torode and Wallace:
One commenter, Jin Wee, wrote online: "As a Malaysian, if I could, I would personally go to the show and rendang their head. Uncultured swine, doesn't know variety of cuisine and claims to be Masterchef?"
The British high commissioner also got involved:
Vicki Treadell, the British high commissioner to Malaysia who was born in the country, tweeted: "Rendang is an iconic Malaysian national dish … It is never crispy & should also not be confused with the fried chicken sometimes served with nasi lemak."
Torode had the final say, with no apology:
I did a whole series on Malaysia. Malaysian food is fantastic. I absolutely love it. I said to her, it wasn't cooked enough, that's what I said.
The Radio Times has more on the incident, including tweets. The magazine gives Torode's exact quote as he was judging the dish:
I think the chicken rendang on the side is a mistake. It hasn't had enough time to cook down and become lovely and soft and fall apart. Instead the chicken itself is just tough and it's not really flavoursome.
Chorizo pronunciation redux
Questions over the pronunciation of chorizo arose again with Portuguese-born Alex, who works in the fashion industry in London. On April 12, the Sun reported:
Alex claims she's from Portugal but some viewers seemed doubtful due to how she pronounced Chorizo.
One tweeted: "Alex on MasterChef tells us she's from Portugal but then she says 'Choritso'…#suspicious."
The Sun included the tweet:
Alex did not make the cut for the final, but as the fourth remaining contestant, did a great job throughout.
Finalists
The final three contestants this year were all men: bank manager Kenny Tutt, airline pilot David Crichton and another physician, Thai-born Dr Nawamin Pinpathomrat, who is currently studying for his PhD at Oxford.
The Radio Times has more on the finalists, including their style of cuisine.
The apple crumble moment
David Crichton made an outstanding crumble in Finals week:
David's apple crumble mille-feuille – layers of puff pastry, filled with caramelised apple and cream custard, with a crumble topping and served with clotted cream ice-cream and a caramel sauce – almost reduced John Torode to tears. The judge called it "fabulous, fantastic and faultless".
The Australian-born Torode speaks as he finds. This crumble brought out a side that viewers had not seen before. The Evening Standard carried the story, peppering the text with tweets.
Torode told David:
"Fabulous, fantastic and faultless," he said as he came close to shedding a tear. "Like honestly, it makes me well up – that is sensational.
"That's what this competition is about where you push yourself to the stage where you make your own puff pastry and take the risk.
"You make a crumble, you make an apple pie, an apple tart, an apple [mille-feuille] and you take it to dizzy heights where it stirs emotion. Restaurant quality absolutely and a credit to you David."
Here are two of the tweets:
Kenny's cauliflower
On April 12, the day before the final, Alex and the three men were tasked with reproducing intricate recipes served at Dinner by Heston Blumenthal.
Chef director Ashley Palmer-Watts devised his takes on these historic dishes with the help of food historians and the team at Hampton Court Palace. Each recipe is 15 pages long.
The four contestants had five hours each to re-create four of the dishes to Palmer-Watts's exacting standards. Each contestant was assigned a different dish. One of his sous-chefs was on hand to supervise and offer advice.
SpouseMouse and I really wanted Kenny to win. We think his bank branch is going to close, and he desperately needs another line of work.
We were furious to find that Palmer-Watts's sous-chef allowed Kenny to leave his cauliflower garnish in the oven. We weren't alone. Digital Spy reported:
People were fuming that poor Kenny wasn't reminded about his cauliflower – especially when fellow contestant Alex had been given a helpful hint earlier…
For whatever reason, the sous-chef muttered:
His cauliflower's still in the oven, so I'm not gonna tell him…
Representative tweets in Digital Spy's article follow:
Not only 'could have' but jolly well 'should have'.
After a nail-biting round with Ashley Palmer-Watts joining John and Gregg in the judging, it was a relief to discover that Kenny was going through to the final.
Torode welled up once again:
Alex narrowly missed out on a spot in the final, but said that she was delighted with how well she'd done.
Judge John Torode got rather emotional when the time came to announce the results – and viewers were very quick to notice:
Alex is standing next to Kenny, awaiting the verdict:
The final
In an online poll, most MasterChef viewers did not expect Kenny Tutt to win the final.
However, win he did and in true style. Metro reported:
The 36-year-old father of two is the 14th amateur cook to claim the prize – beating 55 other hopefuls from the current series to the title after seven weeks of culinary challenges.
He ultimately fought off competition from fellow finalists Nawamin Pinpathomrat and David Crichton to take the title.
And he did it by impressing Gregg Wallace and John Torode with a three-course meal which was described by the judges as 'restaurant-style perfection' and 'make-my-heart-thump fantastic'.
Kenny wanted to present the judges with three courses that showed techniques he had learned at the restaurants where he and the contestants cooked during the series to reflect his MasterChef journey:
Kenny kicked things off with roast scallops, smoked cauliflower, shimeji mushroom and pancetta.
His main course was a Squab pigeon breast and bon-bon, heritage beetroot, baby turnip, spiced cherries, bread sauce and game jus, followed by a bitter chocolate, ale ice-cream, malt tuile and smoked caramel.
The judges were impressed, to say the least:
'Today we watched Kenny coming of age,' Gregg said of his win.
'We have just witnessed Kenny having his best round on MasterChef and he saved it for the final. His starter was a stunningly beautiful dish, it was quality restaurant-style perfection and his main course was even better.'
John said:
I think Kenny's journey has been extraordinary. He has come a long way. His food has got more and more refined and his main course was make-my-heart-thump fantastic!
Kenny said:
I have put my heart and soul into it and it's been an absolute pleasure. It's up there with the happiest days of my life!
More on Kenny and MasterChef tomorrow. This series was so memorable in so many ways.
MasterChef in all its incarnations has become a series my better half and I tend to watch at the weekend. If we watched it during the week, it would just wind us up too much before retiring for the night.
Regardless of whether it's amateur, professional or celebrity, John Torode and Gregg Wallace invariably choose a 'champion' who is pomo or poncy. We root for very few of the winners. Notable exceptions were Thomasina Miers (amateur) and rugby player Phil Vickery (celebrity). MasterChef aficionados might be interested to find out what happened to the amateur winners over the past eight years.
This year's amateur contest, which finished late last week, featured a three-episode run-off between recruitment consultant Dale Williams, 28; solicitor (attorney) Larkin Cen, 28 and credit controller Natalie Coleman, 29.
The Radio Times (May 4-11, 2013, pp. 10-13) featured interviews with all three finalists (as well as with Saira Hamilton, who had lost the week before). Reading what they had to say about food and family was a revelation.
Dale Williams revealed that he and his three sisters found inspiration in their mother's varied home cooking. When they were older, they began taking turns preparing three-course dinners which eventually incorporated an amuse-bouche as well as a cheese course.  In the MasterChef final, we saw that Dale's father, an entrepreneur, has a strong success-oriented work ethic. Dale told the Radio Times that he would like to 'get into food production or the restaurant trade'.
Larkin Cen told the magazine that his family and friends would be surprised to see him behind a stove. He hasn't really cooked, relying on dinners out. However, his parents emigrated to the UK from China and opened up a takeaway restaurant near Bristol. They discouraged Larkin from cooking, insisting that he concentrate on his studies — hence, law school. Yet, he is the third generation in his family to find food captivating; Larkin borrowed a few of his restaurateur grandfather's Chinese recipes for the final. Larkin would like to 'showcase Chinese food on TV'.
Whilst Dale and Larkin's offerings were often inventive and — according to John and Gregg — tasty, they were often inconsistent and skimpy. Larkin shocked us at home when he deep-fried a cod skeleton and served it as a vertical centrepiece on his plate featuring a fish dinner.  It was one of the most hideous things we've ever seen.  Typically of John and Gregg, they oohed and ahhed before tasting it and enthusing some more. Errgh.
Things started going pear-shaped for the two when Michelin-starred chef Marcus Wareing appeared as a guest judge. Larkin had a few problems, among them a sparse main course. Wareing wouldn't even taste his two dishes. How I wished that Larkin had served the cod skeleton monstrosity that day. Dale's dishes didn't meet with Wareing's approval, either.
However, the chef fell in love with Natalie's dinner and dessert. When she walked back to her station, Wareing looked at her with the expression that a father reserves for a beloved daughter. Blink and you would have missed it but it was a rare televisual moment, especially from Wareing.
The Mirror reported (emphases mine):
The 29-year-old Londoner's talent impressed the top chef so much he has invited her to join him at The Berkeley in London's Knightsbridge.
Last night Natalie told how much she is looking forward to her new life in cooking after quitting her job in credit control two weeks ago.
She said: "I want to work in a kitchen and Marcus Wareing taking me on would be a dream come true.
"I think I would be able to nail the final details which would really make me stand out.
"I cooked him chocolate fondant and teal and he praised me – it was one of my highlights of the show.
"He is a two-star chef and he wants perfection and that is the moment I seemed to separate from the two other finalists Larkin and Dale.
"I have a wish list of chefs I want to work with like a child's Christmas list including Nathan Outlaw, Angela Harnett and at Dinner by Heston Blumenthal."
And Wareing is not the only top chef Natalie impressed. She also cooked for Adam Byatt of Trinity in Clapham. Her work in his kitchen so impressed him that he, too, has offered her a job:
'I thought Natalie was a natural, she had a good pallet ['palate', Mail, 'palate'!!], was a tough character and listened really well, Mr Byatt said.
'I have been in contact with Natalie since her time with us and I was extremely proud to see her win Masterchef.
'I am in talks with her around working with us in the future. Every kitchen needs a Natalie.'
From the off, Natalie proved to be a conscientious, careful cook. She did wonders with game and poultry, boning the birds like a pro. Natalie taught herself how to cook and is a big fan of cookery shows.
And — unlike Larkin who never really cooked before this series (and, as such, should not have qualified just yet) — Natalie told the Radio Times she had applied four previous times to MasterChef. They accepted her on this, her fifth attempt. Perseverance pays off.
Although she told the Radio Times she was made redundant last year — around the time she was accepted for MasterChef — another Mirror article said:
Natalie, whose two favourite things in life are food and music, has been working as a credit controller for 12 years and a DJ for five years, before deciding to pursue her dream of a future in cooking.
She added: "I wanted to be a chef when I was 15, but then I went off the idea and wanted to be a PE teacher, then a fire fighter. But my mum said as I was good at maths, I should go and do something in finance. I'm quite good at what I do, but it's not what I love.
Natalie cooked at all hours, mostly for her grandfather, a widower. Chris, age 78, originally from Dublin told the Daily Mail:
'She manages to make everything tasty,' he says. 'But she uses a lot of salt and oil. I tell her if I didn't like it. She cooked something once with . . . how can I explain, it was like sawdust.'
'Oh that stuff,' Chris continues, slapping his thigh with contempt. 'Yes, absolute junk. Useless.
'Sometimes it was ridiculous. One night she came running in at a quarter to midnight. I was just going to bed and she said no, you've got to try this. One day I'd had a three-course dinner by midday.'
The final was the first time Chris had watched the show. 'It's quite good,' he says. 'Your man's a bit over the top, the bald one [Gregg Wallace]. He never uses a word when you can drum a sentence in instead.'
But he felt Natalie was in with a shout. 'I thought she had a fair chance. If they'd been running a book on it, I'd have put a bet on her.'
Natalie is a real East End — self-described 'proper Cockney' — girl. She's lived in Hackney and Chingford. I was sorry to read that some people made fun of her authentic accent. The Independent reported:
"I know some people say I sound like a reject off of EastEnders, but do you know what, I don't actually care.
"I wasn't on MasterMind, I was on MasterChef. Like I said on the show, it's a good job they're judging cooking and not speaking because I wouldn't have got very far."
And, true to her roots, she cooks British classics but with a Continental flair. In fact, this is the first MasterChef where a contestant has won with a roast dinner. SpouseMouse and I were thrilled for the dish and for Natalie:
The 29-year-old impressed judges John Torode and Gregg Wallace with her lobster tail starter accompanied with fennel; a main of roast pork belly with quail's scotch egg, pomme puree and caramelised shallots; and a vanilla panna cotta accompanied by a chocolate tuile, caramelised pears and a trio of hazelnut biscuits.
The inspiration for her main course, she says, came from a traditional British roast. "I don't think anyone's cooked a ponce-d up British roast dinner on a MasterChef final before! But it's the most British dish you can cook apart from fish and chips. I thought: go for it."
Absolutely — it's been something we've longed to see over the years on any of the show's incarnations.
Natalie is only the third woman to win the amateur series. Besides her and restaurateur Thomasina Miers, there is only Shelina Permalloo who won last year's contest. She has a part-time cooking school (in season) in Mauritius.
Natalie knows that a lot of hard work lies ahead. She anticipates 14-hour days and wants to work for top chefs to earn her stripes before striking out on her own. She has the indefatiguable drive and quiet ambition to make it happen.
I hope she will stick with British food classics. She told The Guardian she chose her final menu because:
I wanted to do something really British, because that's what I'm all about.
And scotch eggs are one of her favourites:
You know sometimes when you're out on the weekend, and you just want something just to fill that little gap? My friends go: "Nat, how can you eat scotch eggs?" and I go: "Scotch eggs are amazing!"
Perhaps she'll feature them at the annual BBC Good Food Show in Birmingham in a few weeks' time:
I'm trying out new recipes to demonstrate in June. Also, I'm getting ready to do publicity for a book that's out in October with Larkin and Dale.
MasterChef co-presenter and judge John Torode said:
"I think Natalie is destined for great things," said Torode. "She not only understands finery of great food but she cooks for the people, food that people want to eat. She makes people smile. And she's not fazed by a thing.
"Natalie's got it, she is a very, very clever woman and her food is fantastic."
Message to MasterChef producers: please give us more Natalies (boys, too). Our country needs them!
The latest series of BBC1's MasterChef, hosted by restaurateur John Torode and greengrocer Gregg Wallace, has hit the headlines with viewer accusations of poor kitchen hygiene.
The show's finals will take place next week. Meanwhile, we, too, have also noticed men's perspiration dripping into restaurant or mass catering dishes. Several of the women really should have pulled their hair back as it was hanging over pots and dinner plates.
You can read more about viewer observations on the BBC's Points of View page. I'm less concerned about the different coloured plastic chopping boards than I am in their cleanliness. Over the past several years, today's cooks, domestic science teachers and homemakers have been debating whether a petrochemical chopping board is superior to a wooden one. SpouseMouse and I have always used wooden ones. Our mothers and other antecedents did not have plastic boards in their day. We were always taught that chopping boards had to be cleaned thoroughly although wood has its own built-in disinfectant which kicks in two days later. Therefore, we do not see the merits of petrochemical boards, which do not have this disinfectant property. The key is to wash whatever cutting board one uses properly.
The hair and perspiration are indeed a trial to watch. The makers of MasterChef say that in the professional kitchens, hygiene standards were practiced. (Auntie Beeb is always right.) I'm not so sure. This is not the first time we in the mousehole have seen sweat and hair in places it should not have been. Even at home, I have to watch out for the rare stray hair. If we did have a perspiration problem, we would probably tie bandanas around our foreheads whilst cooking. Comments on the Yahoo! page indicate that in a hot kitchen, chef's toques can make the head quite hot over a period of kitchen service.
Tasting with the same spoon and the licking of fingers also came up in the comments.  The series, whether with semi-professional or amateur contestants, generally lacks good examples for the aspiring cook. In addition to the aforementioned hygiene abominations, we rarely see contestants washing their hands. Nothing ever looks clean.
Meanwhile, at home, I'm careful not to touch my hair or face unless necessary. If I do, I then wash my hands. I don't know how often I wash my hands, countertop and chopping boards in the space of a few hours when cooking. It seems to be a constant. My only sin is tasting with the same spoon, which I do my best to avoid when we're having guests over for dinner.
In many respects, MasterChef — whilst entertaining — really should be showing us a good example. I've thought less and less of the food overall although Gregg and John do bang on about how competent their contestants are. However, a 'good' cook can still poison people with lax hygiene.
It's time for MasterChef to add more information about kitchen hygiene. When I was young, I really trusted television. If I did something I saw on television which turned out to be 'wrong', my defence, honestly spoken, was that I'd seen it on telly. After all, telly people could never be wrong, otherwise they wouldn't be appearing on our screens. Right?
I won't have been the only person assuming that something uncriticised on television is right just because it is being broadcast.
Poor kitchen hygiene can be lethal.
Gregg and John would do well to address hygiene in subsequent by pointing out good examples: 'Sarah's now washing her hands because she's just handled raw chicken'. That should certainly extend to MasterChef's other violations involving hair, perspiration and tasting.