You are currently browsing the tag archive for the 'media' tag.
Yesterday's post was about the Kavanaugh nomination and ritual defamation.
Ritual defamation is a term coined by Laird Wilcox, who researches political fringe movements and is the founder of The Wilcox Collection of Contemporary Political Movements, in the Kansas Collection of Kenneth Spencer Research Library at the University of Kansas.
If you think this is being hypersensitive, here is House Minority Leader Nancy Pelosi (D-California) explaining that the Democrats 'merchandise' lies to the media about Republicans. Of the Wrap-up Smear, she says, 'It's a tactic':
This is what Pelosi says in the video (emphases mine throughout):
It's a self-fulfilling prophecy. You demonize, and then you — we call it the 'wrap up' smear, if you want to talk 'politics'. We call it the 'wrap-up' smear.
You smear somebody, with falsehoods and all the rest, and then you 'merchandise' it. And then you (pointing to the press) write it, and they'll say "See, it's reported in the press, that this, this, this and this…" so they have that validation, that the press reported the 'smear', and then it's called 'the wrap-up smear'.
Now I'm going to 'merchandise' the press' report, on the smear, that we made.
And it's, it's a tactic. And it's self-evident.
Today's post looks at Wilcox's list of extremist traits, which the Democrats and others on the Left, including media, have been displaying since Donald Trump won the 2016 election. One can only hope that, with all its madness, it climaxed with the Kavanaugh nomination to the US Supreme Court, because it really does seem as if demons are everywhere across the pond at the moment.
All of Wilcox's listed traits are pertinent to the climate in America at this time. I have supplemented them with illustrations from the Kavanaugh nomination process. Excerpts follow, so please be sure to read his essay in full:
1. CHARACTER ASSASSINATION.
Extremists often attack the character of an opponent rather than deal with the facts or issues raised. They will question motives, qualifications, past associations, alleged values, personality, looks, mental health, and so on as a diversion from the issues under consideration …
2. NAME-CALLING AND LABELING.
Extremists are quick to resort to epithets (racist, subversive, pervert, hate monger, nut, crackpot, degenerate, un-American, anti-semite, red, commie, nazi, kook, fink, liar, bigot, and so on) to label and condemn opponents in order to divert attention from their arguments and to discourage others from hearing them out. These epithets don't have to be proved to be effective; the mere fact that they have been said is often enough.
3. IRRESPONSIBLE SWEEPING GENERALIZATIONS.
Extremists tend to make sweeping claims or judgments on little or no evidence, and they have a tendency to confuse similarity with sameness. That is, they assume that because two (or more) things, events, or persons are alike in some respects, they must be alike in most respects …
4. INADEQUATE PROOF FOR ASSERTIONS.
Extremists tend to be very fuzzy about what constitutes proof, and they also tend to get caught up in logical fallacies, such as post hoc ergo propter hoc (assuming that a prior event explains a subsequent occurrence simply because of their before and after relationship). They tend to project wished-for conclusions and to exaggerate the significance of information that confirms their beliefs while derogating or ignoring information that contradicts them. They tend to be motivated by feelings more than facts, by what they want to exist rather than what actually does exist. Extremists do a lot of wishful and fearful thinking.
This is what happened to an ordinary American, Thomas Wictor, who tweets on politics. The Left does not like what he has to say, so one or more of their number reported him to the FBI ('thread' should be 'threat'). He's still suspended on Twitter:
5. ADVOCACY OF DOUBLE STANDARDS.
Extremists generally tend to judge themselves or their interest group in terms of their intentions, which they tend to view very generously, and others by their acts, which they tend to view very critically. They would like you to accept their assertions on faith, but they demand proof for yours …
Robert 'Beto' O'Rourke is the Democrat candidate running against incumbent Ted Cruz for US Senate in Texas:
Now back to Judge Kavanaugh:
6. TENDENCY TO VIEW THEIR OPPONENTS AND CRITICS AS ESSENTIALLY EVIL.
To the extremist, opponents hold opposing positions because they are bad people, immoral, dishonest, unscrupulous, mean-spirited, hateful, cruel, or whatever, not merely because they simply disagree, see the matter differently, have competing interests, or are perhaps even mistaken.
7. MANICHAEAN WORLDVIEW.
Extremists have a tendency to see the world in terms of absolutes of good and evil, for them or against them, with no middle ground or intermediate positions. All issues are ultimately moral issues of right and wrong, with the "right" position coinciding with their interests. Their slogan is often "those who are not with me are against me."
8. ADVOCACY OF SOME DEGREE OF CENSORSHIP OR REPRESSION OF THEIR OPPONENTS AND/OR CRITICS.
This may include a very active campaign to keep opponents from media access and a public hearing, as in the case of blacklisting, banning or "quarantining" dissident spokespersons. They may actually lobby for legislation against speaking, writing, teaching, or instructing "subversive" or forbidden information or opinions. They may even attempt to keep offending books out of stores or off of library shelves, discourage advertising with threats of reprisals, and keep spokespersons for "offensive" views off the airwaves or certain columnists out of newspapers. In each case the goal is some kind of information control …
Republican congresswoman Marsha Blackburn represents Tennessee's 7th District and is running for US Senate, but a senior Google engineer deems her a 'terrorist' and 'violent thug':
9. TEND TO IDENTIFY THEMSELVES IN TERMS OF WHO THEIR ENEMIES ARE: WHOM THEY HATE AND WHO HATES THEM.
Accordingly, extremists may become emotionally bound to their opponents, who are often competing extremists themselves. Because they tend to view their enemies as evil and powerful, they tend, perhaps subconsciously, to emulate them, adopting the same tactics to a certain degree. For example, anti-Communist and anti-Nazi groups often behave surprisingly like their opponents. Anti-Klan rallies often take on much of the character of the stereotype of Klan rallies themselves, including the orgy of emotion, bullying, screaming epithets, and even acts of violence …
10. TENDENCY TOWARD ARGUMENT BY INTIMIDATION.
Extremists tend to frame their arguments in such a way as to intimidate others into accepting their premises and conclusions. To disagree with them is to "ally oneself with the devil," or to give aid and comfort to the enemy. They use a lot of moralizing and pontificating, and tend to be very judgmental. This shrill, harsh rhetorical style allows them to keep their opponents and critics on the defensive, cuts off troublesome lines of argument, and allows them to define the perimeters of debate.
This is what happened. I feel sorry for the owner/executive chef:
12. ASSUMPTION OF MORAL OR OTHER SUPERIORITY OVER OTHERS.
Most obvious would be claims of general racial or ethnic superiority–a master race, for example. Less obvious are claims of ennoblement because of alleged victimhood, a special relationship with God, membership in a special "elite" or "class," and a kind of aloof "highminded" snobbishness that accrues because of the weightiness of their preoccupations, their altruism, and their willingness to sacrifice themselves (and others) to their cause. After all, who can bear to deal with common people when one is trying to save the world! Extremists can show great indignation when one is "insensitive" enough to challenge these claims.
13. DOOMSDAY THINKING.
Extremists often predict dire or catastrophic consequences from a situation or from failure to follow a specific course, and they tend to exhibit a kind of "crisis-mindedness" …
14. BELIEF THAT IT'S OKAY TO DO BAD THINGS IN THE SERVICE OF A "GOOD" CAUSE.
Extremists may deliberately lie, distort, misquote, slander, defame, or libel their opponents and/or critics, engage in censorship or repression , or undertake violence in "special cases." This is done with little or no remorse as long as it's in the service of defeating the Communists or Fascists or whomever. Defeating an "enemy" becomes an all-encompassing goal to which other values are subordinate. With extremists, the end justifies the means.
15. EMPHASIS ON EMOTIONAL RESPONSES AND, CORRESPONDINGLY, LESS IMPORTANCE ATTACHED TO REASONING AND LOGICAL ANALYSIS.
Extremists have an unspoken reverence for propaganda, which they may call "education" or "consciousness-raising." Symbolism plays an exaggerated role in their thinking, and they tend to think imprecisely and metamorphically …
16. HYPERSENSITIVITY AND VIGILANCE.
Extremists perceive hostile innuendo in even casual comments; imagine rejection and antagonism concealed in honest disagreement and dissent; see "latent" subversion, anti-semitism, perversion, racism, disloyalty, and so on in innocent gestures and ambiguous behaviors. Although few extremists are clinically paranoid, many of them adopt a paranoid style with its attendant hostility and distrust.
18. PROBLEMS TOLERATING AMBIGUITY AND UNCERTAINTY.
Indeed, the ideologies and belief systems to which extremists tend to attach themselves often represent grasping for certainty in an uncertain world, or an attempt to achieve absolute security in an environment that is naturally unpredictable or perhaps populated by people with interests opposed to their own. Extremists exhibit a kind of risk-aversiveness that compels them to engage in controlling and manipulative behavior, both on a personal level and in a political context, to protect themselves from the unforeseen and unknown. The more laws or "rules" there are that regulate the behavior of others–particularly their "enemies"–the more secure extremists feel.
Think Big Government. Now we know why we have so many nit-picking laws on the books!
19. INCLINATION TOWARD "GROUPTHINK."
Extremists, their organizations , and their subcultures are prone to a kind of inward-looking group cohesiveness that leads to what Irving Janis discussed in his excellent book Victims of Groupthink. "Groupthink" involves a tendency to conform to group norms and to preserve solidarity and concurrence at the expense of distorting members' observations of facts, conflicting evidence, and disquieting observations that would call into question the shared assumptions and beliefs of the group.
Right-wingers (or left-wingers), for example, talk only with one another, read material that reflects their own views, and can be almost phobic about the "propaganda" of the "other side." The result is a deterioration of reality-testing, rationality, and moral judgment. With groupthink, shared illusions of righteousness, superior morality, persecution, and so on remain intact, and those who challenge them are viewed with skepticism and hostility.
We don't need examples for this, do we?
20. TENDENCY TO PERSONALIZE HOSTILITY.
Extremists often wish for the personal bad fortune of their "enemies," and celebrate when it occurs. When a critic or an adversary dies or has a serious illness, a bad accident, or personal legal problems, extremists often rejoice and chortle about how they "deserved" it …
In 2013, the Telegraph had an article detailing leftists rejoicing upon Margaret Thatcher's death. People tweeted that she would burn in Hell, while others announced they were throwing parties.
21. EXTREMISTS OFTEN FEEL THAT THE SYSTEM IS NO GOOD UNLESS THEY WIN.
For example, if they lose an election, then it was "rigged." If public opinion turns against them, it was because of "brainwashing." If their followers become disillusioned, it's because of "sabotage." The test of the rightness or wrongness of the system is how it impacts upon them…
This last one cuts both ways and, today, is hardly extremist on either side. President Trump and his supporters believe that the 2016 system was rigged against him. Everyday Democrats largely believe the system is no good because they do not hold the majority at present. However, as we see from occasional reports on voter fraud, the Left do everything possible to flout voting laws (e.g. sending buses and vans of voters from polling station to polling station on election day).
But, that's okay, because the Kavanaugh SCOTUS farce will wake up an important number of Democrats. The late Andrew Breitbart received a similar political epiphany nearly 30 years ago:
It's important for all of us to identify extremism where it exists, no matter how downplayed it is.
The New York Times is appealing to Americans to help them cover the 2018 mid-term elections:
Hmm.
In 2017, James O'Keefe's Project Veritas revealed a rich seam of anti-Trump and anti-Republican bias at the New York Times:
New Project Veritas video exposes New York Times (October 10)
Project Veritas 'American Pravda' series: second video (October 11)
American Pravda Part III — more from the New York Times (October 17)
American Pravda Part IV — Trump Derangement Syndrome at the New York Times (October 19)
Does anyone think that the New York Times intends to cover the mid-terms with integrity?
Those who are not convinced by the Project Veritas undercover videos might wish to read an article by Eric Zuesse for the Strategic Culture Foundation, 'How the New York Times Lies About Lies: Obama v. Trump as Example'.
Eric Zuesse documents various events of the Obama administration and how the New York Times reported them dishonestly. His article begins with this (emphases mine):
Although the New York Times says that President Donald Trump lies vastly more than did President Barack Obama, the definite liar in that comparison — based on the factual record, to be presented here — is the New York Times itself. It lies in alleging this, which isn't to say that either President lies more frequently than the other, but instead, that the Times's calculation fails to count, at all, but instead altogether ignores, some of President Obama's very worst lies — ones that were real whoppers. These were lies that were essential to his maintaining support among Democrats (such as the owners of this corporation, the NYT, are), and that would keep Democrats' support only if they failed to judge him by his actual decisions and actions (such as the NYT's owners do — or else they secretly know the truth on this, but prevent this truth from being published by their employees). Even to the present day, Obama is evaluated by Democrats on the basis of his lies instead of on the basis of his actions. He's admired for his stated intentions and promises, which were often the opposite of what his consistent actual decisions and actions turned out to be on those very same matters, on which he had, in retrospect, quite clearly lied (though that was covered-up at the time — and still is). 
Zuesse carefully details Obama's biggest lies, which the newspaper ignored. He concludes (emphasis in the original, purple highlights mine):
None of these whoppers was included in the listing that the NYT presented in their 14 December 2017 article "Trump's Lies vs. Obama's".
I am nonpartisan toward persons and toward political parties, and consider all of America's Presidents since 1981 (if not since 1968, but with the exception of Carter) to be and have been loathsome people (not even well-intentioned), but 'news'media such as the New York Times aren't any more trustworthy (nor more honest) than these Presidents have been, and the pontifications from such 'news'media (in both their 'news'-reporting and opinion-pieces) are just propaganda, mixtures of truths with lies — and more and more of the public are coming to recognize this disgusting fact, so these media's pretenses to honesty and trustworthiness are having fewer and fewer believers. But these media claim that fake 'news' comes only from their non-mainstream competitors (some of which are actually far more honest than they). Preserving their cartel is crucial to them. And it's crucial to the people who benefit from this cartel.
I mention this, because, recently, I got into a lively discussion with several people at an event about honest reporting about President Trump. To a man — and all have some of the best private school and university educations in the world — they not only read but believe whatever they read in the New York Times and other similar media outlets. They are not Americans, but they are firmly against the Republican Party and Donald Trump based on established media's lies.
When I mentioned that they might want to peruse a site such as The Daily Caller to get another perspective, they sneered, calling it 'fake news'. They've never even heard of, much less read, The Daily Caller.
This is a very sad state of affairs — great for the New York Times and parlous for those of us seeking objective reporting.
This photo montage speaks for itself.
For those outside of the United States, below are CNN's Don Lemon, MSNBC's Rachael Maddow, CNN's Anderson Cooper and Fox News's Tucker Carlson: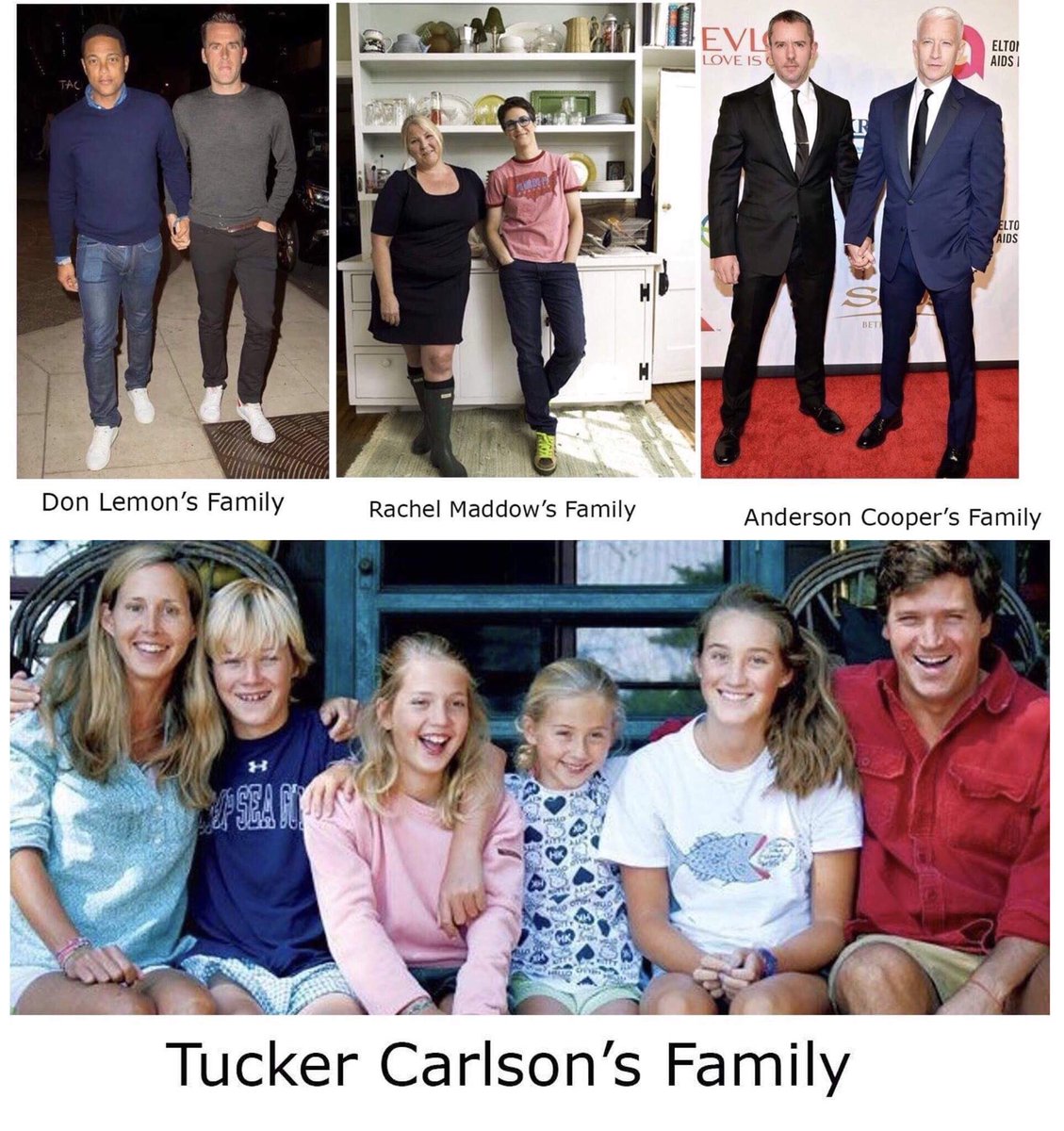 I do not know who put this together, but it speaks a thousand words.
Yesterday's post discussed developments that immediately followed the US-North Korea Singapore Summit held on Monday, June 12, 2018.
Much went on with Secretary of State Mike Pompeo's trip to South-east Asia and the US-Chinese trade war early in July.
Keep in mind this explanatory graphic about the relationship between North Korea and China from The Conservative Treehouse:
On July 7, the US state department's impression of the two nations' talks was different to that of North Korea, according to an unnamed North Korean official who called them 'regrettable'. Townhall reported:
Just hours after Secretary of State Mike Pompeo said that his talks during the past two days with the North Korean government were "productive" and beneficial regarding "central issues," the communist nation's Foreign Ministry categorically disagreed, calling the meetings in Pyongyang "regrettable."
The Associated Press reports that an "unnamed North Korean Foreign Ministry spokesman" claims that the United States "betrayed the spirit of last month's summit between President Donald Trump and North Korean leader Kim Jong Un by making unilateral demands" regarding denuclearization of the Korean peninsula. 
The North Koreans issued a lengthy official statement along those lines, which ended with this:
If the objective situation does not stand in favor of the denuclearization against our wills, this would rather cast a heavy cloud over the atmosphere of developing bilateral relations which had shown its good movement in its beginning.
Should the headwind begin to blow, it would cause a great disappointment not only to the international society aspiring after global peace and security but also to both the DPRK and the U.S. If so, this will finally make each side seek for another choice and there is no guarantee that this will not result into yet another tragedy.
We still cherish our good faith in President Trump.
The U.S. should make a serious consideration of whether the toleration of the headwind against the wills of the two top leaders would meet the aspirations and expectations of the world people as well as the interests of its country.
The Conservative Treehouse pointed out (emphases mine):
Keep in mind that Secretary Pompeo was not permitted to meet with Kim Jong-un.  If our ongoing thesis is accurate it is likely Red Dragon (Chairman Xi) is positioning the DPRK for maximum trade and economic leverage.  It would be against Chinese Chairman Xi Jinping's interests for Pompeo and Kim Jong-un to have a public display of agreement.
Until there is an empirical or factual reason to counter what seems like an obvious geopolitical strategy, we should consider all events through the prism that the primary leadership within the DPRK, the officials controlling Kim, are under the control of China.
The trade confrontation is China's biggest geopolitical risk.  The primary weapon China holds toward demanding terms from the U.S. would be their ability to change the dynamic in North Korea at any given moment.  From this frame-of-reference things begin to make more sense.
On the surface it appears the U.S. is negotiating terms for a denuclearized North Korea; however, under the surface the bigger issue is the ongoing economic confrontation between the U.S. and China.   The DPRK is Red Dragon leverage.
That day, Mike Pompeo had left North Korea for Japan:
He also met with foreign ministers Kong and Kang, from China and South Korea, respectively:
The US-China trade war also attracted attention.
US tariffs on Chinese goods went into effect on July 6. To mask what was really going on in their economy, the Chinese maintained that Americans did not support this policy:
In fact, the truth is that most Americans want tariffs on foreign goods:
The Rasmussen survey of March 12 says:
… 89% of American Adults believe it is at least somewhat important for the United States to have a major manufacturing and industrial base, including 63% who believe it is Very Important. Only eight percent (8%) say it is not very or Not At All Important to keep a manufacturing base at home. (To see survey question wording, click here.)
On July 6, White House Office of Trade and Manufacturing Policy Director Peter Navarro appeared on Fox Business to explain the American view of trade with regard to China. As The Conservative Treehouse explained:
Almost all of the financial media and economic punditry are intentionally obfuscating the underlying nature of China's economic model.
China is a communist central government controlled economic system. Free-market principles do not apply when dealing with China; therefore trade strategies based on 'free markets' cannot succeed against the centralized planning of a communist regime.
Charlie Kirk, founder and president of Turning Point USA, active on university campuses, put it bluntly:
On July 8, Mike Pompeo met with Taro Kono, Minister for Foreign Affairs of Japan and Kang Kyung-wha, Minister of Foreign Affairs of the Republic of Korea in Tokyo. The full State Department transcript of their press conference is here. Interestingly, some of the media correspondents there asked about the 'abductions' by the North Koreans of the Japanese (emphases in the original, video here):
FOREIGN MINISTER KONO: (Via interpreter) …
Now on the question of abduction, from Secretary Pompeo this time around the issue was raised, and I'd like to thank him for raising the issue at the meeting. Regarding the reaction from North Korea, I will refrain from making any comment.
As far as Japan is concerned, the U.S. and North Korean negotiations should advance furthermore, and we'd like to work in tandem with the international community so that Security Council resolution-based sanction can be solidly implemented regarding North Korea.
FOREIGN MINISTER KANG: … On the abduction issue, yes, my president has also raised this in two rounds of discussions with Chairman Kim, and we urge them to engage in bilateral discussions with Japan on this issue. After all, it's a bilateral issue. We also have a couple of our nationals detained in North Korea, so it's an issue that concerns us as well. 
SECRETARY POMPEO: … I did raise the issue of the abduction of Japanese. I've done it at each conversation I've had with my North Korean counterparts, whether it was on my first two trips with Chairman Kim or on this trip with Kim Yong-chul. I've raised it repeatedly. I won't go into any of the details about particular parts of that element of our discussion. Know that it is important to the United States; it's part of our discussions each and every time we interact with our North Korean counterparts. 
Pompeo and US officials also met privately with Kono and his delegation:
On July 9, the South China Morning Post reported that China responded to the imposition of tariffs by the United States with tariffs on American goods going into the country. The main thrust of the article, however, was that the Chinese government thought it would be a good idea to go easy on Trump (emphases mine):
After answering Washington's 25 per cent levy on US$34 billion of Chinese goods with equivalent tariffs on US products, Beijing has directed state media to watch how they report on US President Donald Trump, mainland media sources said.
"It's been said that we should not use aggressive language for Trump," said one of two sources who declined to be named because internal directions often are regarded as confidential information.
Even though Chinese officials and state media have attacked the trade policies of the Trump administration, so far they have not laid blame on the US president or his officials – a move seen as an attempt to avoid antagonising Trump and further complicating negotiations.
While the Beijing directive may not have been issued across the board – two other state media sources said they were not instructed how to write about Trump with regards to trade – it mirrored one of the guidelines on an official propaganda instruction widely circulated on social media.
The edict called on media outlets not to make vulgar attacks on Trump to avoid "making this a war of insults".
Breitbart had more. One way the Chinese are able to criticise Trump is by quoting Westerners:
Reuters' sources also said they were "instructed not to mention the impact of the trade war on Chinese companies" because they don't want to give the impression pressure against China might be working …
"China might need to restrict the market access of American companies. But to purge American companies that are already operating in China might be a very bad idea. Those companies generate jobs and revenue for China. Most Apple products are made in China. To do something to harm American firms that are already operating in China would be very stupid," ventured trade expert Wang Jiangyu of the National University of Singapore.
The Communist Party People's Daily provided an interesting example of the tightrope walked by Chinese media on Wednesday, publishing an article that attacked Trump for accusing China of sabotaging talks with North Korea but using a few Westerners plucked from Twitter at random to do it, rather than editorializing against Trump directly or quoting Chinese social media users.
That day, the tension surrounding Pompeo's meetings with North Korea was still in play. Trump tweeted:
CNBC reported that, after leaving south-east Asia, Pompeo made an unscheduled trip to Kabul, Afghanistan, where he told the media:
"We still have a long ways to go. But that commitment that the North Koreans made, frankly that Chairman Kim personally made to President Trump, remains as when reinforced," he said.
Pompeo also stressed that North Korea's remarks were "mixed," and represented an expression of Kim's continuing "desire to complete the denuclearization to which he is so committed."
Meanwhile, the North Koreans were still committed to strengthening ties with their fellow travellers:
On July 12, Trump received a gracious letter from Kim Jong Un …
… which Big Media ignored:
On July 15, the US and North Korea held meetings to discuss the return of American soldiers' remains, the first since 2009:
Korean media reported:
The North Koreans agreed to transfer the remains already in their possession to the United States on:
July 27, which is the 65th anniv of the Armistice Agreement …
This was another result:
The Premium Times said that the head of the North Korean government occasionally grants amnesty. The last time was in 2015. This year's is part of marking North Korea's 70th anniversary:
The Communist Leadership in Pyongyang would grant amnesty to those convicted of crimes against the state in light of North Korea's 70th anniversary, the state-run KCNA reported on Monday …
Similar to other instances in which amnesty has been granted, it remained unclear exactly which groups the announcement applied to and how many prisoners would be affected.
The following day, the Trump – Putin Helsinki Summit of July 16 included discussions about North Korea and China.
Two days later:
Trump tweeted:
He enjoys solving problems:
His 2020 campaign manager made an excellent point:
Tomorrow's post will cover the most recent developments between the United States, North Korea and China.
Two months ago, after writing about the Singapore Summit of Monday, June 12, 2018, I said I would analyse it the following week, largely because the media will not focus on this historic event:
Other meetings have taken place since then, and it seemed apposite to wait a while to see how things were progressing between the United States and North Korea as well as China.
Most recently, on August 1, Vice President Mike Pence presided over a ceremony and reception of fallen soldiers' remains in Hawaii, part of the Summit agreement.
Going back to the Summit, it was reported that President Trump showed a special video about the United States to President Kim Jong Un and his negotiators:
The following day, North Korea's state-run news bureau reported that Kim accepted Trump's invitation to visit Washington for denuclearisation talks. This was hailed as a 'radical switchover' in relations between the two nations.
On June 13, Trump tweeted:
It wasn't just Fake News. The cancer had spread earlier in the month to other television programmes, such as this one:
In an interview that day, Anthony Scaramucci, Trump's short-lived White House communications director from 2017, focussed on trade:
Despite the positive developments …
… on June 21, Trump renewed the 'national emergency' declaration regarding North Korea for another year. BT.com reported:
In an executive order on Friday, the president extended for one year the so-called "national emergency" with respect to the nuclear-armed nation, authorising economic restrictions against it …
It states that "the existence and risk of proliferation of weapons-usable fissile material" and the actions and policies of the North Korean government "continue to pose an unusual and extraordinary threat to the national security, foreign policy, and economy of the United States".
The national emergency has been in place since 2008 …
Meanwhile, the Pentagon said on Friday evening that it has "indefinitely suspended" a major military exercise with South Korea, known as Freedom Guard and scheduled for August, as well as two Korean Marine exchange training exercises.
Officials had announced on Monday that planning for Freedom Guard had been suspended in line with Mr Trump's decision to halt what he called US "war games" in South Korea.
A Pentagon spokeswoman, Dana W White, said further decisions about military exercises in South Korea "in support of diplomatic negotiations" led by Secretary of State Mike Pompeo will depend on North Korea "continuing to have productive negotiations in good faith".
Air Force veteran Lisa Mei Crowley noted that change was in the air:
Fox News and The Daily Caller also reported on this welcome development, which the US secretary of state acknowledged:
Not surprisingly, 'tensions' were rising in China — North Korea's controller — and defence secretary James Mattis visited the country, with subsequent stops in Japan and South Korea:
Meanwhile, the two Koreas had tensions of their own over human rights legislation.
The White House issued a strong statement about China and tariffs, which reads in part:
To stop China's predatory attacks on America's innovation base, President Trump is instituting a program of tariffs and is considering investment restrictions and strengthened export controls. These tariffs will help pressure the Chinese to stop engaging in unfair practices and fully open up its markets to U.S. products, including U.S. technologies. The correct response from China would be to stop stealing from Americans and give American products a level playing field to compete in China, not to retaliate and reinforce its own position.
Bloomberg asked how prepared China's Xi was for a trade war. Hmm:
Xi Jinping vowed to match Donald Trump blow for blow in any trade war. Now as one gets closer, some in Beijing are starting to openly wonder whether China is ready for the fight — an unusually direct challenge to the leadership of the world's second-largest economy.
In recent weeks, prominent academics have begun to question if China's slowing, trade-dependent economy can withstand a sustained attack from Trump, which has already started to weigh on stock prices. The sentiments are being expressed in carefully worded essays circulated on China's heavily censored internet and — according to interviews in recent days with ministry officials and foreign diplomats who asked not to be identified — repeated in the halls of government offices, too.
The Conservative Treehouse explained:
China has focused so intensely on durable-goods manufacturing, their consumable goods market (food) is dependent; they cannot feed themselves.  The U.S. can survive without exporting food, China cannot survive without importing food.  The U.S. economy can survive without importing durable goods; the Chinese economy cannot survive without exporting durable goods.  This is the unavoidable trade reality.  As a consequence President Trump has all the factual leverage.
June 28 was the 50th anniversary of the Nuclear Non-Proliferation Treaty. Mike Pompeo gave a speech about North Korea and Iran in this regard. Concerning the former, he said:
The next day, controversy arose as to whether North Korea was being honest and Obama's national security advisor tried to make Trump into a chump:
On July 3, Trump refuted Rice and others:
Pompeo had returned to South-east Asia:
According to one South Korean press outlet, Pompeo had with him as a gift for Kim a CD of Elton John's Rocket Man, a song he said he'd never heard. The State Department said that was false:
The State Department kept Americans updated:
On July 6, the other big news item was the US-China trade war. CNBC's Jim Cramer said the American people supported Trump's perspective:
"We simply, as a people, seem to be united that the president's position is wrong. I hear more of that on TV than I hear reality. I think that there are a lot of people [who say], 'Thank you for standing up for us,'" Cramer said on CNBC …
"There are a lot of companies that are doing quite well in the country. And I think if you're going to take on the Chinese you do it from strength. And we have much more strength than they do," he said. "Look at 211,000 jobs on average the last three months, this economy is very strong."
Wall Street trader and Sarge986 President Stephen Guilfoyle agreed. He told Fox News that day:
President Trump's trade policies have China "by the short hairs" and "right where we want them" in the bid to win any impending trade wars.
"They have retail sales in the hole… they've got industrial production in the hole," Guilfoyle said. "The Shanghai Composite [stock index] is down 17 percent year-to-date. We've got these guys where we want them.
News about Pompeo's trip and the trade war circulated, so they will comprise tomorrow's post.
That said, most of the established media wanted to focus on the Mueller probe:
No wonder Trump got shirty about that and the short shrift he received for the Singapore Summit:
At least Asian nations appreciate his sterling efforts:
True. One cannot say better than that.
On Saturday, August 11, 2018, leftists attempted to revive the peculiar melee that occurred in Charlottesville, Virginia, on August 12, 2017.
Meanwhile, on August 11, President Trump hosted his biker supporters at his Bedminster, New Jersey, golf club.
Charlottesville
In Charlottesville this year, the Left showed their true colours once again:
A Unite the Right 2 demonstration took place that day, just as it did last year. However, very few participants must have shown up, because Antifa were the stars of the show.
Antifa verbally abused reporters — ironically, the very people who defend them.
Breitbart reported (language warning in the link):
A crew with the left-wing anarchist group "Antifa" attacked and shouted at a USA Today reporter and photographer during a counter-protest in Washington, D.C. on Sunday.
In a counter-protest to the "Unite the Right 2" protest, Antifa mobs descended on the streets of Washington, D.C., attacking police and threatening onlookers. The Antifa group also threatened and shouted down members of the media, including a USA Today reporter who said she was simply trying to do her job.
Exclusive footage taken by Breitbart News shows two members of Antifa cursing at and shouting down the USA Today reporter, telling her to "Stop taking pictures!"
"Are you going to report how many people they tear-gassed?" the Antifa member shouted at a photographer.
"If we knew," the USA Today reporter responded.
The Antifa members then verbally abused the USA Today reporter with foul language. An AFP (Agence France Presse) photographer was also caught up in the incident:
After the altercation, the USA Today reporter and a photographer with AFP said they were just trying to do their jobs.
Then, there is the curious attitude of NBC towards Antifa then and now in Charlottesville. As NewsBusters reports, last year, their political director and news programme host Chuck Todd (emphases in the original):
used his MSNBC program, MTP Daily to elevate Antifa's violence as a legitimate tactic against the right. He even doubled down and allowed them to use the formerly prestigious Meet the Press as a platform to push their hate and violent methods. Todd has never condemned them.
How ironic, then, that last Saturday night, an Antifa protester shouted foul language at two of Todd's colleagues:
Late Saturday night, NBC News reporter Cal Perry and his crew were in the thick of it as Antifa members ganged up on them and attacked. The next morning, NBC's Sunday Today ignored the attack and suggested the media was simply "heckled" by their assaulters.
On Twitter, Perry was documenting the protesters as they marched through the streets of college town when they started to get "very aggressive with the media" and trying to block their camera shots. "Yeah. We're getting a lot of this. Protesters trying to grab our camera," he responded to one Twitter commenter telling him to "f**k off national media vulture."
NewsBusters included a Cal Perry video and even warned about the language content.
Meanwhile, protesters were also assembling in front of the White House. The NBC reporter there, Garrett Haake, said there was violence in Charlottesville, but instead of showing Perry's video of the altercation involving him and a cameraman, showed their other coverage.
The following day, Chuck Todd ignored the abuse of his colleagues and launched into another anti-Trump diatribe. NewsBusters has the relevant part of the NBC Sunday Today transcript.
This is worth noting:
CNN's Brian Stelter was in no position to be indignant about Antifa's attacks on the media:
Washington DC
On Sunday, the scheduled right-wing protest, beefed up by the media, was, in fact, a damp squib. The violent Left dominated once again. The building in the background, by the way, is the Trump International, formerly the Old Post Office:
Here's more irony about the media, especially CNN, defending Antifa past violence:
Bedminster
Some of President Trump's longest and most loyal supporters are the Bikers for Trump.
Trump welcomed 180 of them to his Bedminster golf club on Saturday:
The Daily Mail has coverage of the event, including photos:
President Donald Trump has met with a group of 180 bikers at his golf club in Bedminster, New Jersey, reveling in the group's loyal support as they bashed the press and recited the Pledge of Allegiance.
The group, made up of veterans and members of the New Jersey chapter of Bikers for Trump, descended on Trump National Golf Club on Saturday in a procession of chrome and roar of exhaust pipes.
Claiming nearly 100,000 members across the country, Bikers for Trump is a major grassroots organization that supports the Trump administration's agenda.
Driving rain at first pushed a planned outdoor photo-op into the club's ballroom, where the White House press pool was ushered in at around 3.30pm and greeted with noisy chants of 'USA, USA!' 
Here, Trump greets the bikers:
When it began raining, Trump opened his clubhouse to his guests:
This video summarises a happy, fun event which served as a generous 'thank you' for their continued support:
Afterwards, Trump tweeted:
Indeed they are Americans who love the Great Republic. May God continue to bless them — and President Trump.