You are currently browsing the tag archive for the 'media' tag.
In the United Kingdom, we had 12 days of wall-to-wall television coverage of the late Queen Elizabeth II and her family, which ended on Monday, September 19, 2022.
The commercial channels broadcast as usual but during the day BBC1, BBC2 and, throughout, the news channels covered her life and what the Royal Family were doing at this time.
GB News dropped all their advertising, substituting a memorial ident instead and, at other times, playing an instrumental version of the National Anthem accompanied by a photo montage of the Queen.
At first, it seemed unimaginable. Yes, our usual programmes were rescheduled for different days at different times, so we adjusted our video recorders to automatically catch up according to that day's television guide.
Yet, the reality of it was that, by the day of the funeral, I'd become quite used to the coverage. GB News had part of their broadcasts showing the live queue — the Elizabeth Line — in Westminster Hall for viewers to watch while listening to interviews in the studio. The Elizabeth Line was never boring. There was always something to see.
By mandating 12 days of mourning, it seems the Queen wanted us to learn something about our constitutional monarchy as a national institution. It seems she wanted us to reset the way we think about it and how we pass that knowledge and history on to the next generation.
This post covers the two days before the Queen's funeral on Monday, September 19, 2022, and looks at what Britons discovered throughout the days of mourning thus far.
What next for the monarchy?
If there were any lessons to be learned in the immediate aftermath of the Queen's death, it was that the monarchy goes on.
Charles became King immediately and had his Accession Ceremony two days later. There were no obstacles. The crown passed to him automatically.
A relieved nation cried, 'God save the King' and 'Hip, hip, hooray'.
On September 14, YouGov took a poll asking if the mourning period would change the way we perceive this ancient institution. Forty-four per cent said they thought it would change the UK in the long term for the better:
Bob Moran, The Telegraph's former cartoonist, was still upset that the Queen did not step in during the pandemic to call the Government to account over the sometimes fatal procedures at care homes, which are allegedy continuing in some of them:
Yet, most people interviewed on television and the clergy giving sermons at the church services remember with gratitude the Queen's message on the night then-Prime Minister Boris Johnson went to St Thomas Hospital in London with coronavirus. Neither the Queen nor we knew it at the time her message was broadcast, but who can forget her closing words about lockdown, borrowed from the wartime Dame Vera Lynn song:
We'll meet again.
The Queen was adamantly pro-vaccine and in 2021 said that people who didn't get it should think of others instead of themselves. I have seen on Mark Steyn's GB News show several people whose loved ones got the vaccine because of her words and later died of complications. The Government is giving each of those families £120,000 in compensation.
However, quibbles with the monarchy go much deeper than the pandemic. On September 15, The Telegraph addressed the issue of how monarchs attempted to stave off republicanism throughout the ages.
The 1990s were the worst years that the Queen saw during her reign. Princes Andrew and Charles divorced, Windsor Castle caught on fire and Princess Diana was killed in a car accident in Paris.
Regardless, the Royal Family regrouped and returned to normality (emphases mine):
"Diana died at the end of August 1997 and by the time of the Queen's golden wedding anniversary that November she was pretty much re-established," says royal biographer Hugo Vickers. Fast forward 15 years, to the Diamond Jubilee, and the Royal family were popular as never before, enjoying a near 50-point lead in polls over anti-monarchists.
Though so much about the British monarchy can appear unchanging, it was a hard-won transformation, relying on careful reflection and updating after the calamities of the 1990s. In making such adjustments, the royal house showed it could learn not just from its own experience, but from the experience of centuries of fluctuating royal fortunes.
In order to keep republicanism at bay, it is essential for the Royal Family to remain visible:
"In this country," says historian Andrew Roberts, author among others of a book on George III, "there are five areas that give Republicanism a chance to move from being a minority fetish into a mainstream threat." The first four are disastrous relationships, religious meddling, political interference and money. But it is perhaps the last and simplest that is the most important: steadfast presence.
"Sheer visibility is tremendously important," says Roberts. That enduring presence accounts for the astonishing popularity of Queen Elizabeth, he thinks, building on the legacy of her mother and father, who made such efforts to be visible to Britons even in the darkest days of the war. And absence has led perhaps to the darkest days of the monarchy, in the years following the death of Prince Albert, when Queen Victoria in her grief almost completely vanished from the public stage.
Centuries ago, money became a huge issue that still waxes and wanes today:
The Peasants' Revolt of 1381 is just the most notable example of a massed uprising at taxes levied by the king (in that case to support the Hundred Years' War). But grumbling about paying for the royal house's upkeep never went away. A key part of the rejuvenation of the House of Windsor's popularity in the 1990s came after the Queen agreed to pay tax. "At one stroke it took away one of the main planks of republicanism," says Roberts. Even today, some anti-monarchists are moaning about the cost of the Queen's funeral, or the income the new Prince of Wales receives from the Duchy of Cornwall, but it has become far easier to defend the Crown on cash-terms. "It's not the most gracious argument in favour of the monarchy," says Roberts, "but the pocketbook is an important one."
We all know what role religion played in British history as driven by Henry VII, Charles I and James II, so there is no need to elaborate further.
Another issue is — or was — the conflict between Parliament and the monarch. In 1649, Charles I made a fatal mistake:
He, though, committed the sin which would become unforgivable for his successors in the centuries to follow: disdaining parliament.
He was tried in Westminster Hall and executed on January 30, 1649, during the English Civil War:
Alienating, then suspending parliament was, of course, not the Stuart king's only problem. But interfering with the nation's political system was becoming an increasingly dangerous game to play. By the time James hot-footed it out of the country to be replaced by William of Orange, the era of kings by "divine right" had given way to kings approved by parliament. The constitutional monarchy had arrived.
Not that all monarchs understood. George III and prime minister Lord Bute impinged upon the supremacy of parliamentary power in the 1760s, drawing fierce criticism. "George became so unpopular in the 1760s that people pelted his carriage with dirt," says Roberts.
George III learned how to recover the situation:
… he learned his lesson and, by the time of his descent into – and recovery from – madness, he had come to be loved for his personal qualities: fidelity to his wife, frugality and piety.
Fast-forwarding to the 20th century, Prime Minister Stanley Baldwin insisted that Edward VIII abdicate. He got his way:
When it came to Wallis Simpson … Edward stayed by his woman and, on Stanley Baldwin's insistence, lost the throne.
Fortunately, George VI and the Queen Mother resolved the constitutional crisis:
George VI and his own queen Elizabeth (the late Queen Mother) were the ideal pair to succeed, setting the formula – visible, dutiful, steadfast – which so characterised their daughter's long reign.
So far, Charles III has been doing the right things, says historian Hugo Vickers:
"of course King Charles will have to be very aware. But his first speech as King dealt immediately with many of them – his new role, what he can and can't do [politically], about the Church of England, because there was talk about him wanting to be a defender of all faiths. It puts things to rest very quickly. It was very effective." The result was an immediate bounce in popular support, with the number of those who think he will make a good king near doubling to 63 per cent.
While republicanism will never die, it is hoped that people will value the monarchy over an elected president:
… from today's vantage point it seems unlikely that could be so serious as to prompt Britons to dispose of the monarchy altogether. Because ultimately, says Roberts, what makes us love it is not the individual, but the institution. "Even when individuals are unpopular, Britons recognise constitutional monarchy is a good idea, being a power above politics and therefore above politicians. And the British people like the idea of politicians not being at the top of the heap."
Well said.
Funeral attire
To find out more about the traditions of the Royal Family's funeral attire, I happened across a Telegraph article written in April 2021, after the Queen's husband, the Duke of Edinburgh, died.
The Royal Family did not always wear black.
In fact, throughout the Middle Ages until 1560, at least, there was a convention of wearing white (emphases mine):
"white mourning" or deuil blanc … deployed by medieval royals and seen in portraits of Mary, Queen of Scots after she lost her father-in-law, mother and husband within months of each other in 1560 …
The modern convention of wearing black began three centuries later, with Queen Victoria upon the death of her husband Prince Albert. However, even she had gold thread spun into her dresses, as one can see in the photograph in the article:
"Mourning dress has been part of European royal culture for centuries, but it reached its peak in the 19th century with the influence of Queen Victoria, who set a standard for the rest of society to follow," says Matthew Storey, curator at Historic Royal Palaces, which holds the Royal Ceremonial Dress collection. "When her beloved husband died in 1861 she abandoned the colourful clothes of her married life and, with the rest of the royal court, adopted black clothing as an outward sign of grief. Her subjects duly followed suit, causing a rush on suppliers of mourning fabric up and down the country."
That was a time when death was something of a societal obsession and there were strict rules around the wearing of "widows' weeds". "Widows were required to wear black, then either white or mauve, for at least three years before being able to return to richly coloured clothing. Victoria chose never to leave mourning and wore her now iconic black dresses and white widow's caps for the rest of her life," Storey continues. There was no concession even at moments of celebration: "She even insisted that her daughter, Princess Alice, had an all black trousseau when she married in 1862."
The mood oscillated from the dour to the unexpectedly glamorous; Victoria often wore her bridal veil with her black dresses and took to wearing a necklace containing a lock of Albert's hair, but she also popularised striking jet jewellery. "Her clothing was anything but dowdy," Storey confirms. "Every example in the collection is exquisitely made and highly embellished, as befitted her status. Victoria may have been a widow, but she was always a queen."

Queen Victoria died in January 1901. Her son, Edward VII, reigned until his death in 1910. His wife, Queen Alexandra, began wearing purple, although black was still the favoured colour:
After Victoria's death, mourning dress became even more opulent. An exhibition at the Metropolitan Museum of Art in New York in 2014, Death Becomes Her: A Century of Mourning Attire, included two exquisitely beautiful embellished purple gowns worn by Queen Alexandra, wife of Edward VII, in the year after her mother-in-law's demise. You'd really only know they denoted mourning if you were familiar with the strict dress codes of grief. And when Edward died, weeks before Royal Ascot in 1910, there was no question of cancelling, but attendees wore magnificent black outfits instead. That year's event is now remembered as Black Ascot.
In 1938, when the Queen Mother's mother, the Countess of Strathmore died, the Queen Mother was weeks away from joining George VI on a state visit to France. At that time, war was looming and Britain was still getting over the abdication of the King's brother, Edward VIII. Under the circumstances, black seemed too gloomy. Something had to be done, so the Queen Mother enlisted the help of her couturier, the incomparable Norman Hartnell:
A black wardrobe simply wouldn't do, as it was imperative to come bearing optimism.
Hartnell was the one who researched earlier monarchs and found the aforementioned portraits of Mary, Queen of Scots:
Within weeks he had scrapped the original colourful outfits intended for the tour and crafted an entirely white set of looks in their place.
"The Queen has taken with her on her state visit to Paris a superb white wardrobe consisting of 12 gowns, seven coats… one cape, eight hats – and a lace parasol," the Telegraph's report from July 20 1938 read. "Created by leading London designer Norman Hartnell, it symbolises the links between the two countries."
The report went on to explain that Hartnell had referenced the French Pompadour look and pannier, as well as English garden florals and Victorian silhouettes. Hartnell had the idea to revive the crinoline after being shown Winterhalter's portraits of Queen Victoria and her family by the new king.
The Queen Mother became a fashion sensation:
Though the reason for the Queen's all-white dressing was sombre, the reception to the wispy, lacy creations was rapturous. "No wardrobe of modern times has created greater interest than the state wardrobe chosen by the Queen for the visit to Paris," another glowing Telegraph review reported, going on to publish sketches of the gowns in glorious detail. The autumn fashion collections shown later that year were heavily influenced by the Queen's "white wardrobe" and her style more generally – Schiaparelli and Molyneux both included tartan as a nod to her Scottish heritage.
The Queen loved her white collection and the style muse status it had bestowed upon her so much that the following year she commissioned Cecil Beaton to photograph her at Buckingham Palace wearing the designs, resulting in a romantically optimistic set of portraits that do little to suggest that the clothes they capture are a symbol of mourning, nor that the Second World War is months away. The floaty, delicate look of Hartnell's designs influenced the Queen Mother's style for the rest of her life.
The Queen Mother's husband, George VI, died in 1952. Although he had a chronic illness, no one expected him to die while Queen Elizabeth II and Prince Philip were on holiday in Kenya. The Queen had no black dress to wear once she got off the plane in London.
Reports differ as to how a black outfit reached her. One Royal historian told GB News that an attendant was on hand when the plane reached Rome for refuelling. The Telegraph has a different account, intimating that she received mourning attire in London:
… when the plane landed, a black dress had to be taken on board for her to change into, an incident that means that no royal reportedly now travels without a black outfit in their luggage, just in case. On alighting the plane, the 25-year-old queen looked elegant yet solemn in her dark coat, brooch and neat hat.
On the day of the funeral, the Queen Mother, the Queen and Princess Margaret wore long silk veils. The Telegraph has a photo of them:
At her father's funeral, eight days later, the new queen, her mother, grandmother Queen Mary and sister Princess Margaret cast ethereal figures in their long black veils, said to be around 18 inches over the face and one and a half yards down the back. "There is no court regulation with regards to them," the Telegraph had written in 1936, "but the practice of wearing them has always been observed at the funeral of a Sovereign."
By the time the former Edward VIII, the Duke of Windsor, died in 1972, only Princess Margaret and the Duchess of Windsor wore a veil. The Queen and her mother opted for the turban, the stylish hat of the day for women:
It was notable, then, that at the funeral of the Duke of Windsor in 1972, the Royal family refrained from wearing veils. The abdicated king's wife, Wallis Simpson, however, sported a couture coat and chiffon veil that Hubert de Givenchy had reportedly stayed up all night to make for her … By contrast, the Queen wore a black version of the turban style hats she loved at the time, adding Queen Mary's Dorset Bow brooch.
When it came time for Prince Philip's funeral, the Royal Family wore black, but the Queen quickly reverted to wearing her usual clothes afterwards.
Who waited to pay respects to the Queen
For many gathering to pay their respects to the Queen, a family death brought back a deep seam of emotion.
Although The Telegraph's Lauren Libbert watched proceedings from the comfort of her home, what she experienced seemed to ring true for a goodly number of those camping outside in the cold:
For me, at 44 and then again at 49, I watched my parents being taken from their home in a coffin and transported to their final resting place at the nearby cemetery. Watching Queen Elizabeth's coffin make its journey from Balmoral to Edinburgh transported me right back to that heart-wrenching, inexplicable gut-punch of a feeling, remembering how it felt to know my beloved parent was inside and I'd never enfold them in my arms again.
It's a sadness that has not gone unnoticed at home. "But you didn't even know the Queen," said my teenage son, noting my smudged eyeliner and tears when watching the news earlier this week.
"I know," I replied. "But I really miss my mum and dad."
He held me, but he was a bit baffled at the connection. Admittedly, so am I.
Other people, whether in the Elizabeth Line, Parliament Square or near Buckingham Palace, were hardcore attendees of other Royal occasions, as The Times reported. Keep in mind that the nightly temperatures turned distinctly autumnal, in the 50s Fahrenheit:
Mary-Jane Willows loves the sound of metal barriers clattering onto the streets of Westminster. "It means everything is getting organised," she says.
It is 10pm on Thursday and Willows, 68, is settling down for a night's sleep in a camping chair just off Parliament Square. She and her crew of royal superfans are zipped into military bivvy bags and wrapped in foil blankets — at that point of the week they were not allowed to use tents or sleeping bags for security reasons.
It is a hardcore existence, but they will endure. Because on Monday, for the Queen's funeral, they will be in the "best spot in the world".
Just half a mile away there is another camp, also in the best spot in the world. They arrived "on site", on the Mall and overlooking Buckingham Palace, the previous Thursday. And they came with "equipment": bin liners and trolleys jammed with Union Jack flags, hand warmers, underwear, first-aid kits, torches, baby wipes, wine gums and corned beef sandwiches. They have been there since.
These two groups are the most dedicated royal watchers on the planet, bound by births, weddings, jubilees and deaths, and held together by WhatsApp groups and meme-sharing. They are always the first ones to arrive, pitching up on virgin pavement, knackered, cold and in it for the long haul.
John Loughrey, 67, and his friends on the Mall, Sky London, 62, and Maria Scott, 51, have done weddings together (Cambridge, Sussex, York, York), births (George, Charlotte, Louis), jubilees (Diamond, Platinum) and deaths (Diana, Princess of Wales; the Queen).
"If you want to be part of the gang you've got to be with the gang," says London. "It's the camaraderie. It's seeing history and being part of it."
However, whether remembering family losses or cadging the best seat in the house, as it were, how do these people view Britain?
Rob Johns, a politics professor at the University of Essex, claims to have the answer.
I'm not so sure.
He interviewed 400 mourners by the time The Guardian interviewed him on Saturday, September 17. Johns said:
… it is less a case of royalists simply wanting to mourn the Queen in person, and more "a collective gathering that is as much about the queue as it is about reaching the end of all the queueing".
This is the part about which I have doubts:
Who would be willing to wait outdoors for as long as 24 hours , braving the elements along the Thames, for a few seconds alongside the Queen's coffin – and why?
Now, as the Queen's lying in state in Westminster approaches its final hours before Monday's state funeral, researchers believe they have found the answer. A narrow majority vote Conservative, almost two-thirds backed remain and most of them are enjoying a feeling of "subdued positivity" as they wait in line for hours.
Really? I don't know how one could wait outdoors in the cold for a day and support EU supremacy over our monarchy.
With history and contemporary background covered, let us move on to what happened last weekend.
September 17
On Saturday, September 17, the King was back at work.
He had successfully completed his visits to the component nations of the United Kingdom during the mourning period under a plan called Operation Spring Tide. It derives its name from a particularly high tide in springtime known as king tide.
ITV reports that there were sub-operations to Spring Tide:
Scotland (Operation Kingfisher), Wales (Operation Dragon) and Northern Ireland (Operation Shamrock).
In London, Operation London Bridge continued apace.
The Queen's state funeral is the first such event to be held since Winston Churchill's in 1965.
However, unlike Churchill's funeral, the Queen's was mammoth by comparison. Police forces from around the UK travelled to London to participate in maintaining order. Only two were exempt.
The numbers of military engaged were also unprecedented.
Operation London Bridge required meticulous logistical planning to make sure everyone in the capital, including visiting heads of state and other dignitaries, were kept safe.
In the morning, the King visited members of the police and military working all hours to make this a success:
He went on a walkabout at the Elizabeth Line to express his appreciation of people's willingness to pay tribute to his late mother. William Prince of Wales and Sophie Countess of Wessex met mourners in other parts of the queue:
Then it was time for the King to return to Buckingham Palace for more meetings and a reception:
Early that evening, the Queen's grandchildren — The Prince of Wales, The Duke of Sussex, Princess Beatrice (Andrew), Princess Eugenie (Andrew), Lady Louise (Edward), Viscount Severn (Edward), Zara Tindall (Anne) and Peter Phillips (Anne) — held a Vigil of the Princes in Westminster Hall. I have added the relevant Royal parent's name in parentheses for clarity.
The aforementioned ITV article says that the events taking place at Westminster Hall were run under Operations Marquee and Feather:
This covers the four days of the Queen's lying-in-state, focusing on the arrangements inside Westminster Hall.
It's expected to begin on Wednesday, September 14, ending on Sunday before her funeral the next day.
Senior royals are also expected to pay their respects once more here, standing guard in a tradition known as the Vigil of the Princes.
It is linked to Operation Feather, the arrangements for the public who are expected to queue in their thousands for an opportunity to see the monarch's coffin as they did 20 years ago for her mother.
Here is the beginning of the grandchildren's Vigil of the Princes. Members of the Royal Family watched from a viewing point on one side of the hall. Once again, the public could file past:
This video from the Royal Family's YouTube channel has the full vigil, which was very moving indeed. Viscount Severn, who is only 14, was so composed for someone so young. As with other videos from this channel, click 'Watch on YouTube' and it should play, at least for the near future. If not, try the link in their tweet:
Here are some close-ups:
This video is of the young Royals filing out afterwards:
The days of mourning at Westminster Hall nearly passed without incident. On Friday, a man suddenly appeared in the queue outside and exposed himself to two women from behind. He jumped into the Thames but quickly got out. Police were on hand to arrest him. The Guardian reported:
… a man appeared at Westminster magistrates court following allegations that two women were sexually assaulted while they were waiting in the queue to see the Queen lying in state.
On Friday evening, a man inside Westminster Hall was arrested after lunging towards the Queen's coffin. The Telegraph reported:
The individual was reportedly taken to the floor by Metropolitan Police officers and arrested.
The Met told ITV: "At 22:00hrs on Friday 16 September officers from the Met's Parliamentary and Diplomatic Protection Command detained a man in Westminster Hall following a disturbance. He was arrested for an offence under the Public Order Act and is currently in custody".
Viewers of the BBC's live stream reported that the feed went down for 10 minutes.
The aforementioned Guardian article says:
Broadcasters showing the procession of mourners cut away from the scene and instead showed the view from outside parliament.
There are always simple ways to set things right. In this case, broadcasters were prepared with a still of the Palace of Westminster.
The Sun's political editor Harry Cole looked at the bigger picture of the mourners and tweeted a poke at the anti-monarchist metropolitan elite:
September 18
Sunday, September 18, put the logistics of Operation London Bridge to the test as 500 heads of state and other dignitaries arrived in London for the Queen's funeral.
As it would have been impossible for all of them to have been driven in separate cars to Buckingham Palace that day and to Westminster Abbey on Monday, the plan was to 'pod' the leaders into private coaches, painted in plain white.
Scheduled pickups of the great and the good at designated points in central London helped the plan run smoothly and safely.
Only Joe Biden was exempt. The Beasts — one operational and one decoy — were here along with his usual security motorcade.
France's Emmanuel Macron arrived with his wife Brigitte early enough to do an incognito walkabout during the afternoon:
Meanwhile, somehow with the permission of Speaker of the House of Commons Sir Lindsay Hoyle, the Chinese were allowed into Westminster Hall. Hoyle had pledged to MPs that they would not be allowed anywhere on the parliamentary estate:
Conservative MPs were less than impressed:
That evening, after a brief shower, a beautiful rainbow appeared, just as a double rainbow did when the flags were lowered to half mast over Buckingham Palace and Windsor Castle on the day of the Queen's death. This must mean something, surely:
The King and Queen Consort held a formal reception for the dignitaries at Buckingham Palace that evening.
Meanwhile, soldiers participating in the funeral were busy polishing medals and sewing on badges:
A few newspapers printed the last photographic portrait of the Queen for Monday's editions. Ranald Mackechnie took the photo in May, a few weeks before her Platinum Jubilee celebrations:
The Telegraph had an article about the portrait. As ever, the Queen's choice of jewelry told the story:
The Queen, who is dressed in a dusky dove blue dress with her hair neatly curled, is wearing her favourite three-strand pearl necklace, pearl earrings and her aquamarine and diamond clip brooches which were an 18th birthday present from her father George VI in 1944.
The two art deco-style pieces, worn one below the other, were made by Boucheron from baguette, oval and round diamonds and aquamarines.
The Queen wore the brooches when she addressed the nation on the 75th anniversary of VE Day in 2020 and for her Diamond Jubilee televised speech in 2012.
The image was taken by photographer Ranald Mackechnie, who also took the Jubilee portrait of the Queen released to mark the start of national festivities of her milestone 70-year reign.
I cannot help but agree with The Star's 'Kingdom United'. Thank you, your Majesty, for these 12 days of mourning:
The Independent was less sure about 'Kingdom United!' They wrote of a 'turning point':
The Guardian showed us a window of a house in Windsor and how the world was descending there and in London:
The i paper also focused on a world farewell:
The Financial Times took a final look at Westminster Hall:
In closing, The Metro published my favourite portrait of the Queen after she was inducted into the Order of the Garter. Pietro Annigoni (1910-1988) painted the portrait in 1955:
It is simply timeless, as is its subject.
I hope to cover the funeral and committal services in their entirety tomorrow.
My series on Prime Minister Boris Johnson's downfall continues.
The first three instalments can be found here, here and here.
Wednesday, July 6, 2022 must have been a sad day for him. By the end of it, 43 Conservative MPs had left Cabinet or ministerial posts.
The haemorrhage continued into Thursday, by which point the number was 51, all of which were resignations bar Michael Gove's sacking, the subject of yesterday's post:
BBC Newsnight rejoices
On Wednesday night, BBC's Newsnight ended with a list of 43 MPs' names, instead of the usual programme credits.
The Daily Mail posted the video along with this report (emphases mine):
A rolling list of names was presented on a black background in the style of an Oscars 'in memoriam' tribute, set to a cover of the Verve's 1997 song by London Grammar.
A faded picture of Mr Johnson was shown behind the names as they were shown, before they finished with a gap, and then the line: 'Boris Johnson – Prime Minister?' 
But the editorial decision was criticised by some viewers on Twitter, who described it as 'simply ludicrous', 'pretty wild' and 'giving up any shred of serious journalism'. 
Others labelled it a 'total LOL-fest' and 'iconic behaviour from Newsnight', while a third tweeted that the rolling list was 'like it's the obits at the Oscars'.
The Newsnight production team, presenter Kirsty Wark and guests must have had the time of their life that evening. They all wanted Boris gone:
Ahead of the list being shown, Wark concluded Newsnight by saying: 'Well that is all from us tonight. On the evening that the resignations from the Johnson government threatened to become a flood, we leave you with the names of the first 43 of them.
'As Nick (Watt) just said, there are already more since we came on air. See you tomorrow to find out who they are, if there are more to come. Goodnight.'
Newsnight and the rest of the BBC have been after Boris ever since his election as Party leader in 2019. The BBC were apoplectic on election night that year, barely able to say that he had won an 80-seat majority, the highest Conservative gain since 1987 under Margaret Thatcher.
Oh, our 'values'!
Brandon Lewis, the then-Secretary of State for Northern Ireland, resigned early Thursday morning.
His letter, like those of many others, played on morality and the violation of Conservative values:
Sorry, it all seems hypocritical to me.
Boris stood down as Conservative Party leader at lunchtime on Thursday.
However, he remains Prime Minister until the Conservative Party membership elects their new leader.
Therefore, he scrambled to fill vacant posts so that there would still be a functioning Government until September 5.
Michelle Donelan's egregious resignation
In this regard, the most egregious resignation had to have been Michelle Donelan's. Boris asked her to be the new Education Secretary. She resigned 35 hours later, the shortest-serving Cabinet member in British history.
On Thursday night The Telegraph reported:
Ms Donelan was promoted to Education Secretary late on Tuesday evening after the shock resignation of Sajid Javid which began the revolt against the PM.  
But just 35 hours later, having failed to persuade Mr Johnson he should step aside for a new leader, she felt left with no choice but to quit herself in the national interest.
Oh, my!
A cynic might say that she took the role for extra taxpayers' money:
She had previously served as universities minister for two years and would have been entitled to a redundancy payment of £7,920 upon leaving that role. 
But her temporary elevation to the Cabinet significantly boosted her pay, meaning she is now in line for a much larger sum of £16,876.
The MP for Chippenham, in Wiltshire, told The Telegraph she doesn't want the money and has asked officials if there is any way they can stop the payment.
She added if that is not possible she will give it all to a local charity in her constituency, though she has not yet decided which one.
Ms Donelan was the shortest-serving Cabinet minister in British history, breaking a 239-year-old record of four days set during the government of Pitt the Younger.
She said quitting her dream job was "extremely difficult" and she was aware of the "moral imperative to prioritise young people as they are heading towards their exams".
Hmm.
Guido Fawkes tweeted about her resignation:
He wrote, in part (emphases his):
Responding to Guido's tweet about her impending pocket-lining, ex-Education Secretary Michelle Donelan has just said she will donate it in full to charity.
Fair play and just as well – £16,800 is around the average annual salary of a teaching assistant…
Good grief.
Remuneration off the charts
Returning to The Telegraph article, our principled Conservatives who resigned were raking in redundancy payments:
She [Donelan] is one of 28 former ministers who quit or were sacked in the coup against Boris Johnson and are set to earn a combined £240,000 in redundancy money. 
I agree with the Opposition MPs here, although they would have taken the money, too, were the shoe on the other foot:
Opposition MPs are urging those who will benefit to forgo the payments at a time when millions of families across the UK are facing a cost of living squeeze.
The remuneration is legitimate:
Members of the Government who leave their posts are automatically legally entitled to a golden goodbye worth a quarter of their ministerial salary.
This is how much was due to each MP who left:
Five Cabinet ministers walked out during the coup against Mr Johnson while a sixth, Michael Gove, was sacked. They will get £16,876 each.
Seven middle-ranking ministers who also quit are in line for £7,920 apiece while 15 from the most junior ranks are entitled to £5,594.
Nice work if you can get it. It reeks of hypocrisy to me.
Bear in mind that an independent board already gave MPs another salary rise. MPs also get their expenses paid. Their meals in Parliament are also subsidised. Who pays for this? The taxpayer.
They can also take advantage of hospitality from outside hosts for sporting and cultural events, which they must declare.
As we say in the UK, they're 'quids in'!
So, no more talk about morality, integrity and values, please!
Boris's new Cabinet
The Telegraph told us about Boris's new Cabinet and ministerial replacements:
Mr Johnson on Thursday appointed a flurry of new Cabinet and junior ministers despite having already announced he was stepping down as PM.
He brought several Tory moderates, including a former opponent over Brexit, into his top team to try and ease fears about him carrying on as a caretaker.
James Cleverly, a loyalist and foreign office minister, was drafted in to become the country's third Education Secretary in just three days.
Kit Malthouse, policing minister, another staunch supporter, was also promoted to take up the vacant role as the Prime Minister's de facto chief of staff.
The most surprising appointment came in the elevation of Greg Clark, a former arch-critic, to replace the sacked Mr Gove as the Levelling Up Secretary.
He was stripped of the Tory whip by Mr Johnson in September 2019 after voting with other rebels to give Parliament the power to block a No Deal Brexit.
Robert Buckland, who was sacked as Justice Secretary by the PM during his reshuffle last September, returns to the top table as Welsh Secretary.
The PM also promoted two junior ministers. Shailesh Vara became Northern Ireland Secretary, while Andrew Stephenson was given a Cabinet seat.
Andrew Stephenson was appointed co-chairman of the Conservative Party, replacing Oliver Dowden, one of the MPs who resigned:
Stephenson has been introducing each of the Party hustings taking place around the nation.
There were more appointments:
No 10 announced a dozen new appointments on Thursday night which included giving Will Quince, an education minister, his old job back less than 36 hours after he quit.
Former soldier Johnny Mercer also got his former role back as Veterans Minister, with the added promotion that he will now attend Cabinet.
I'm really happy about Johnny Mercer's reappointment. He is an ex-serviceman. No MP has worked more tirelessly for veterans than he. In 2021, he felt that the Government was not taking his concerns about veterans seriously enough. I saw him give a passionate speech in Parliament on the subject at the time. He told the Chief Whip that he was going to resign as Veterans Minister. When Boris got wind of the news, he sacked Mercer on April 20 that year.
Re Will Quince, is he getting redundancy cash, too, having resigned then being reappointed?
Boris pledged to be a good caretaker PM:
At a meeting of his new Cabinet on Thursday, the PM insisted he would respect his caretaker status and not try to introduce any radical new policies.
Guido posted a full list of Boris's new team on Friday, July 8. It's a long one. Well done, Boris.
I wasn't the only one to harp on about redundancy payments:
Even if they are temporary, I was happy to see some of the appointments:
Richard Fuller MP to be Economic Secretary to the Treasury;
Brendan Clarke-Smith MP to be a Parliamentary Under Secretary of State at the Department for Education;
Steve Double MP to be a Parliamentary Under Secretary of State Department for Environment, Food and Rural Affairs;
Peter Bone MP to be Deputy Leader of the House of Commons.
Friday's front pages
A dismal week ended on July 8 with Friday morning's front pages, which focussed on Boris's resignation the day before.
Most were negative, because these newspapers wanted Boris — the public face of Brexit — out ever since he got into Downing Street:
Even The Telegraph was ambivalent (Boris is pictured with his son Wilf):
Only two papers were supportive of the Prime Minister.
The Daily Mail was cross with Conservative MPs:
The Daily Express thanked Boris for getting us out of the EU:
Speaking of the EU, here's Guy Verhofstadt's reaction:
Would we have expected anything less?
I'll end with a heartfelt thread from Red Wall MP Mark Jenkinson from Workington:
Jenkinson was also intent on ensuring that Conservative MPs would allow Party members to get their rightful vote on the next leader. Theresa May was the last candidate standing in 2016, so she automatically became PM:
Fortunately, Party members received their ballot papers earlier this month and two-hour hustings have taken place all across the nation, including Northern Ireland, which has a tiny Conservative group of around 300 members.
Meanwhile, Brexit supporters, especially those in Red Wall seats, wanted to know what would happen next. Ensuring that the next leader completes the Brexit process and keeps us out of the EU was a hot topic on the GB News shows that weekend.
More about that next week as the series continues.
Alas, poor Boris.
His downfall started the Monday after the Queen's Platinum Jubilee weekend in early June.
The next few weekday posts will look at what happened and how.
Before going into the full story, however, I would like to explain why replacing Boris does not automatically trigger a general election.
Why there is no general election
In the UK, we elect MPs to represent us. They are up for (re-)election during a general election, although there might be by-elections in the meantime for those who die or are caught up in scandal.
In other words, we do not elect a Prime Minister. The party that wins a clear majority in Parliament puts forward their leader for that post.
Admittedly, the position of Prime Minister has become somewhat presidential in recent years. People gravitated towards Boris in 2019 and voted for a Conservative MP so that he would become PM.
Boris, although deposed, has never lost an election. He was elected Mayor of London twice (two four-year terms). He has never lost an election as MP. He won the Conservative Party's leadership election. He became PM when the Conservatives won the 2019 general election. He also survived a confidence vote in 2022.
One of Guido Fawkes's readers pointed all this out and provided more food for thought:
Each time he won it was in the face of massive media opposition. So was it logical for his MPs to throw him out because the media told them to? It was the Treasury dominated Chancellor [Rishi Sunak] with his string of wrong economic judgements who needed to go.
Now on to the story of Boris's downfall.
'World king'
Boris Johnson, born in New York and raised there as well as in Europe, imagined himself as destined for greatness when he was a child.
On June 10, 2022, UnHerd's Will Lloyd posted an interesting article, 'How Churchill ruined Boris'.
Lloyd tells us that, when Boris was a child, he:
declared he would be "world king" one day. 
At that point, Lloyd says, Boris's father Stanley was philandering. The Johnson family unit was breaking down and his mother had to leave for a while (emphases mine):
The boy's response was to make himself "unhurtable, invincible, somehow safe from the pains of life…", according to his mother when she resurfaced after an eight month disappearance. His desires betrayed his insecurities. If he could not be loved, he would be powerful. 
As a result, the most popular Prime Minister of living memory became his hero:
The armour plate little Boris chose to cover these scars was Winston Churchill. It was always Churchill: Britain's last world king. Absent a mother, he discovered a hero. Self-pity was sublimated into the desire for glory. 
Churchill, who died in 1965, loomed large in the collective post-war British imagination:
Johnson decided to emulate Churchill — "the greatest statesman Britain had ever produced" — and stitch himself into this gold thread. Churchill was a holy presence in post-war childhoods. Boris memorised the captions of Churchill picture books. Fathers read selections from the Great Man's speeches to their sons. Boys in the Sixties imagined themselves piloting Spitfires over green Sussex, as the sonorous, rousing, words of Churchill echoed in their heads. 
Allegedly, by the time he got to Eton, he had set his goal in life, masked under a cloak of joviality as self-preservation:
By Eton his wish was Churchillian. Become Prime Minister. Win. The clown fez he wore for the next 40 years distracted his contemporaries from this ruthless fixity of purpose. 
In 2014, as the fiftieth anniversary of Churchill's death approached, Boris wrote a biography of his hero, The Churchill Factor. The prose is pure Boris:
Churchill is the "beaver who damned the flow of events"; he is "like some burly and hungover butler from the set of Downton Abbey"; he is simultaneously a "crowbar of destiny" and a "hyper-gravitational astral body".
It is no wonder that Boris continued to be attached to his hero in recent years:
Churchill, wrote Johnson, was the "inevitable" Prime Minister. By 1940 there was only one "man for the moment". When Brexit was deadlocked in 2019 Johnson's association with Churchill, the assiduously spade-worked notion that, give or take some hair, they were the same man, cashed out spectacularly. The mantle of inevitability passed to Johnson.  
Like Boris, Churchill also had a troubled childhood:
They are spookily alike, but not due to their maverick political careers, not for the doughy and obvious reasons. You have to go back to the beginning. Churchill suffered through his own version of Johnson's youth of neglect and distress. "Famous men are usually the product of an unhappy childhood", writes Churchill in Marlborough.
Churchill's personal sadness drove his political ambitions, too:
Unhappiness evoked the same ambitions in Churchill as it did in Johnson: the conscious decision to be a classical hero, with all the ruthlessness and coldness such a choice results in. "He is bound to emerge historically as a romantic and glamorous figure", wrote one sympathetic observer of Churchill in the Thirties, "but he is surrounded by corpses." Suicides close to Winston Churchill included a brother-in-law, a former stepfather, a daughter's lover, a former daughter-in-law, a son-in-law and a daughter. Johnson leaves behind two cratered marriages, and anguished relations with his platoon of children. I can picture both men wondering if this is the cost of greatness.
Both men used self-deprecating humour as a shield:
The callousness of Johnson and Churchill was leavened by self-mocking qualities. Their vanity was excused by humorousness.
Older Britons say that Churchill was perfect for winning the war. His role in leading peacetime Britain, however, was quite the opposite. The public deemed him a failure in that regard. So it was with Boris, the man who got us out of the EU then went on a downward leadership spiral:
Now that half his party is trying to slaughter its chief, The Churchill Factor makes for weirdly poignant reading. If Johnson hadn't chosen all this you could almost feel sorry for him. "I think he doesn't really know what he wants," wrote Johnson about Churchill, and himself. They both just wanted more of whatever it was — acclaim usually — whenever they could grasp it. Such behaviour in peacetime, notes Johnson eight years before Partygate, "can be disastrous". 
You become what you pretend to be. Johnson never really thought beyond Churchill the world king, hero of the finest hour, the growl on the radio. By emulating Churchill's optimism, patriotism, and hopefulness, Johnson could finish Brexit, and take his historical place next to the most famous Englishman of all. Once he became Prime Minister, his inner world of make believe appeared congruent with reality at last. Johnson fantasised about monuments to himself, says Dominic Cummings. Johnson bumbled around Number 10, musing that the people would remember him after his death, like a Roman Emperor. Or Churchill.
The version of Winston remembered by Britain, and imitated by Johnson, is a false one. The picture is incomplete. In his last years Churchill said over and over again that he wished he had died in 1945. His beloved Empire was being dismantled. Communists dominated most of the Eurasian landmass. Socialism appeared to be the future of British politics.
Heroes are not supposed to go on. Either they die young, like Alexander did at 32, or their ludicrous self-image cannot be maintained in the face of the reality of the world. After a certain age, failure sets in like frost.  
Imagine, then, if Boris hadn't survived Covid. A Prime Minister sacrificed for his people. All those early pandemic photos of Johnson bouncing unmasked through hospital wards suddenly charged with saintly light. Nothing beatifies, or erases error, quite like death. A romantic-cynical end, but then, as Johnson said: "All romantics need the mortar of cynicism to hold themselves up." 
Instead there is no romance. Only cynicism. He recovered, and received cake in a Tupperware. There will be no Downing Street booze ban, he says, because Churchill needed his brandies during the war. Johnson ends up resembling the post-war Churchill. Not heroic, but hamstrung. Confused and tortured.
Resignation: who was responsible?
On Thursday, July 7, when Boris resigned as leader of the Conservative Party, he became a caretaker Prime Minister.
The media and anti-Boris Conservative MPs finally forced his hand. They had been banging on since late 2021 about the Downing Street 'parties', assailing him, holding him solely responsible.
But what about Simon Case, who was in charge of the Civil Service at that time and continues in that role as I write?
Surely, it was Case's responsibility to manage the civil servants, not Boris's?
Nothing happened to Simon Case. Yet, no one ever mentions him, only Boris.
Hmm.
The same principle holds true for the groping scandal surrounding now-Independent Chris Pincher MP, which, after Partygate, was the straw that broke the camel's back.
Pincher had been Deputy Chief Whip, an appointment that Boris signed. However, even if he hadn't signed that appointment, the Chief Whip could have gone ahead without him. The Chief Whip can have anyone he wants as his deputy. The Prime Minister's signature is a mere formality.
The push to oust Boris is an intriguing one, indeed. I think that someone will revisit this in the years ahead.
Returning to Boris's childhood, on the day Boris resigned, top biographer Tom Bower spoke to GB News's Dan Wootton. Many years ago, I read Bower's biography of the late Robert Maxwell. It was a page-turner, full of detail about his personal life.
Bower's latest biography is Revenge, which is about the Sussexes.
But I digress.
Bower told Wootton that Boris is:
looking for love.
He said that Boris's bout with coronavirus finished him as Prime Minister. He was never the same afterwards.
Bower said that Boris needs a good — i.e. solid — wife and that Carrie is not that person. He does not think their marriage will last.
He also said that Boris surrounded himself with poor advisers.
This is an insightful interview, well worth watching:
Hmm. I hadn't realised that his ex-wife Marina Wheeler is a friend of Dominic Cummings's wife, Mary Wakefield of The Spectator. Talk about wheels within wheels:
Hmm. Boris divorced Marina while she was suffering from cancer. Not a good look.
Boris has imitated his father's poor marital example.
In closing, on the aforementioned Dan Wootton show, a panel discussed who was to blame for Boris's resignation:
Former Boris adviser and loyalist Lord Moylan, top right, said that the attacks from MPs out to get him were:
vicious and manic.
However, Suzanne Evans said that Boris, as a former journalist, should have been able to fend off the relentless media attacks.
I agree with Liz Truss, who said on July 25, that Boris's notional failings were insufficient to require resignation:
Liz Truss has suggested that the Conservative Party ousting Boris Johnson was a mistake, as she campaigns to replace him.
Asked why she did not join the ministers quitting over Mr Johnson'd conduct in the BBC TV debate on Monday evening, the Foreign Secretary said: "I supported Boris for the leadership, I was first Cabinet supporter, I campaigned with him, he did a brilliant job of delivering Brexit and delivering an 80-seat majority.
"Yes, he made mistakes, he admitted he made mistakes, but I didn't think the mistakes he made were sufficient that the Conservative Party should have rejected him. That is my view.
"I'm still working with the Prime Minister, I'm still Foreign Secretary, and I think it's important that I remain in my post. We have very serious issues to deal with on Russia and Ukraine, and I thought it would have been a dereliction of duty to leave my job at that juncture."
Looking beyond Partygate and Chris Pincher, there is no doubt that, post-pandemic, Boris neglected much of the Conservatives' 2019 manifesto for Net Zero, probably because of his wife Carrie.
It is also likely that he underestimated the power of the civil service. Trump had the Swamp. We have the Blob.
It will be fascinating to see how his successor performs in similar circumstances.
More on Boris next week.
While Foreign Secretary Liz Truss continues to dominate the polls in the Conservative Party leadership contest, former Chancellor Rishi Sunak needed a break.
He got two breaks: an interview on GB News and TalkTV's hustings.
GB News
GB News announced last week that Truss would be the guest of a People's Forum on Wednesday, August 10 at 5 p.m. She took questions from the public for an hour. I will have more on that in a separate post.
By contrast, GB News allowed Sunak a private interview with MPs Esther McVey, one of his supporters, and her husband Philip Davies.
The couple host a two-hour current affairs programme every Saturday morning.
The interview aired on Saturday, August 6, and was interspersed with other segments on their two-hour show. Judging from the room, it took place somewhere in the Palace of Westminster.
Philip Davies asked a couple of harder questions but his wife dominated the interview, making her candidate look good.
Rishi defended his Gordon Brown policy of raking in tax and giving it back to the taxpayer in insignificant token amounts:
Sunak said how difficult it was for him to resign as Chancellor. He painted it as a moral dilemma. Never mind that he, like Boris, also received a Fixed Penalty Notice for attending a Downing Street gathering. He just happened to be working in that room at the time, as he did often:
He said that he was against a Christmas 2021 lockdown — which didn't happen, thanks to 101 rebel Conservative MPs — and said he made a special effort to make his opposition known. That said, he would not, like Truss, rule out a future lockdown:
He gave a weak answer on stopping the Channel migrant crossings, which are costing the taxpayer £5 million a day in hotel accommodation. By now, we must be running out of hotel rooms — no joke:
Sunak also said he was appalled by the grooming gangs and said that he would consider introducing a life sentence for child rape and repeated sexual assaults on children.
TalkTV
TalkTV's Tom Newton Dunn presented a Conservative Party hustings in Darlington on Tuesday, August 9, broadcast as a special edition of his evening show:
As this was a Conservative Party event, the format was the same as in Eastbourne on August 5.
Andrew Stephenson MP, the new Party co-chair, gave the introduction.
Tom Newton Dunn introduced himself. It would have been helpful if he had added he leans towards the Liberal Democrats. Incidentally, he regularly loses in the ratings to GB News, although perhaps his Tuesday show bumped him up a notch or two.
Then Angela Sterling, a Conservative councillor from Durham, went up on stage to pledge her support for Sunak (9:56).
Sunak introduced himself to the audience and spoke for several minutes (16:20). From the moment he appeared, it was apparent he was on home turf. Darlington is just north of his constituency. He had many supporters from Teesside, sporting Ready for Rishi shirts and placards.
Fortunately, he didn't make the same mistake he did on July 20 and say the city was in Scotland:
Afterwards, Anne-Marie Trevelyan MP, explained why she was supporting Truss (30:00).
Then Truss introduced herself (35:00).
Sunak's Q&A session began after that (48:32).
Newton Dunn gave him an easy ride. There was only one tough question from a woman who had paid all her National Insurance stamps but was still not getting a full pension. He asked her to email him and said that he would definitely look into the matter for her.
Some say that Sunak received a hard question from the man who asked about Boris, but the audience took care of that by booing him.
However, we can see from this clip that a negative question can irritate Sunak:
Sunak did mention grooming gangs to the audience and repeated what he told Esther McVey and Philip Davies. The audience applause indicated they were pleased, although Newton Dunn looked visibly uncomfortable.
Guido Fawkes has three more highlights, one involving a delicious regional dish, the parmo (emphases his):
Rishi was on home turf this evening in his newly-adopted home of Teesside – "It is so great to be home!". Within his opening speech we got everything from the Darlington Treasury Campus to parmos, and – to be fair – he got a very warm reception.
He even cracked a decent gag: "My parents are staying with us at the moment, and I realised I'd been campaigning a lot when last night I was talking to them – and I started telling them that my dad was a GP and my mum ran the local chemist when I grew up" …
Among Rishi's backers in the audience was none other than co-conspirator favourite Tom Harding – Anna Soubry's former chief of staff who slipped through Sky News' debate vetting and

laid into

Liz

. 

He came armed

with a massive "Ready for Rishi" poster…
Then it was time for Truss's Q&A (1:19:00).
Newton Dunn interrupted Truss from the beginning. She handled the situation well and kept her composure, making quips where she could.
He would not even allow her to take a question from one of her own supporters:
I wouldn't want to make it easy for you.
How petty.
Guido has more. Once again, as it was in Eastbourne, Truss Derangement Syndrome was the order of the day (purple highlights mine):
Last night's husting saw a rather feisty Liz Truss, not least with quite a few barbs at the media
There were at least three digs towards the fourth estate, including over their continued use of the phrase "handouts" in regards to her proposed tax reductions
She also had a minor bust-up with Tom Newton Dunn when

he asked her who was responsible for Boris's downfall

. Multiple members of the audience shouted out "the media", with Liz laughing along and asking "who am I to disagree with this wonderful audience?"
At the end of the session, as

she hugged TND, she jokingly apologised for her barbs

. TND was caught on mic bitterly saying "it's cheap and you know it"
The press isn't happy, even calling her jibes "Trumpian", though every one of Liz's comments were made in a lighthearted way.
Aside from her press scrap she also said she'd vote against continuing the Privilege's Committee investigation into Boris given the hypothetical that MPs were allowed a say
Guido's readers appreciated the video montage of Truss's barbed but witty comments about the media:
Here's Guido's video:
His accompanying post says:
At points during last night's husting it felt like Tom Newton Dunn was getting more of a pasting from Liz than Rishi. During the course of her sit-down interview she – quite rightly – attacked the press for framing her tax cuts as "handouts"; bringing down Boris; proposing a "bizarre" "kangaroo committee" of her, Rishi and the CBI; and for not believing in Britain. Tom was clearly smarting, telling the foreign secretary off when they hugged for her "cheap" attacks. Grow a pair…
I couldn't agree more. Tom Newton Dunn, who, amazingly, was The Sun's Political Editor for many years, is one of the worst offenders.
Although Truss might not have had an easy time of it in Darlington, something positive happened afterwards.
Chris Skidmore was the first backbench MP to switch from Sunak to Truss. He wrote an exclusive editorial for The Telegraph, which the paper summarised:
Chris Skidmore has become the first Conservative MP to publicly switch his backing from Rishi Sunak to Liz Truss in the in the Tory leadership race.
Announcing his defection in an article for The Telegraph, Mr Skidmore said he had became "increasingly concerned" by the Sunak campaign's "consistently changing position" on policy. 
He urged other Tory MPs to join him in switching support to the Foreign Secretary, saying: "It is never too late to make the right decision".
The switch is especially noteworthy as Mr Skidmore, one of the most prominent Tory supporters of Net Zero, is seen as being on the party's liberal wing, while many of Ms Truss's most prominent backers are on the traditionalist Right.
A Truss campaign source claimed the "floodgates could open" now Mr Skidmore, the MP for Kingswood and a former universities minister, had flipped support, with other defections possible later this week.
Red Wall MP Aaron Bell followed suit, explaining his views in an exclusive for The Times. Excerpts follow:
It has been a tough campaign for everybody. There has been a lot of in-depth policy debate about the future of our party and country, much of which has been productive and insightful. And it's important that there has been a contest, because it's right that the candidates have been tested under pressure — we need to know that our next prime minister has what it takes to lead. But there has been a darker side to the campaign too. The blue-on-blue attacks have been bruising and have left me concerned for the good reputation of our party.
Because of this, I have come to the conclusion that, above all, what we need out of this leadership campaign is unity. The whole party — our members, councillors and activists, and MPs — will need to pull together after the division of the past few months. Without that unity we cannot deliver for our party or our country, and we certainly cannot defeat Sir Keir Starmer's Labour Party …
For years, Newcastle-under-Lyme had been taken for granted by the Labour Party and this came to a head in 2019 when, following our vote for Brexit and the ensuing holdup by the political establishment, my constituents turned to the Conservatives …
They watched as big cities and other areas progressed and benefited from serious investment, private and public, while their own town was forgotten and got left behind. In 2019 I pledged, alongside my Conservative colleagues, to turn this around. Indeed, after getting Brexit done, it was to be our government's guiding mission: restoring not only investment but also local pride in towns such as Newcastle …
We need, with increasing urgency, to deliver on our promises to level up. We have two years until the next election, and if we are to have any hope of beating Labour and continuing to be able to deliver for our country, this is an absolute must. That is why I am supporting Liz Truss to be our next prime minister.
Once Tom Tugendhat, my initial choice, was eliminated, I was leaning towards supporting Rishi Sunak. But, having observed the campaign, I now believe that Liz is the best person to unite the party, deliver on our promises to level up, and beat Keir Starmer in the red wall seats.
Well done!
I will feature Liz Truss's GB News appearance tomorrow.
Yesterday's post was about the August 5 Conservative Party leadership hustings at Eastbourne's Winter Garden Theatre.
This seems to be the first leadership contest hustings this time around when there were protesters outside. A few managed to infiltrate proceedings indoors and took some time to be removed.
All of the protesters stand firmly against the Conservative Party.
Niall McCrae, an officer of the Workers of England Union, was one of the outdoor protesters. He was there to protest coronavirus lockdowns.
McCrae wrote about his experience for The Conservative Woman.
An excerpt follows, emphases mine:
ON Friday I went to the Conservative Party leadership hustings at the Winter Gardens in Eastbourne with a number of other members of the local resistance against the Covid regime which has removed fundamental freedoms over the past two and half years. We found ourselves outnumbered by those do not have any interest in the enlightenment value of liberty – as most Conservative Party members do at least nominally. Of 150 anti-Tory campaigners, about half were bearing Socialist Worker Party placards and chanting 'refugees are welcome', while the other half were hard-core Extinction Rebellion 'terrorists' with their accompanying flags and banners who proceeded to disrupt the meeting.
So we found ourselves protesting not only against the Truss and Sunak supporters entering the venue, but also counter-protesting against the shrill sanctimony of people who want more fear and more control. Between their parroted chants led by a man with a megaphone, we asked these middle-class Trotskyists and carbon nihilists whether they cared about older people struggling to heat their homes, or that billions of taxpayers' money was being splurged not on public services but on missiles for Ukraine. Answers came there none. 
Earlier, before the rabble appeared, we had taken pole position outside the hall entrance. The queue was a captive audience for our satirical utterances: 'Welcome to the World Economic Forum puppet show', and 'If the answer is Truss or Sunak, you're asking the wrong question.' 
Eastbourne's Tory MP Caroline Ansell came out, concerned at us being allowed so close to respectable party members and clearly embarrassed by our 'conspiracy' theories about a new world order. Tory MPs would have us pretend that the WEF doesn't exist, despite both candidates for next prime minister having unashamedly signed up to a globalist organisation which is developing a technocracy of digital surveillance and resource rationing. 
The atmosphere remained good-natured and good-humoured. That was until the SWP/XR followers arrived … We were trying to appeal to the Tory members, to talk and to make them aware of our concerns. The SWP mob had nothing but contempt for them. Though police officers were positioned at the entrance, and joined by more, a female XR protester with a flag still got into the building and sat in the doorway. Before she could use glue to cement herself, two security guards managed to drag her out. This did not stop her from another successful dodge through the police line, while we later heard that other XR activists had infiltrated the audience where they disrupted Liz Truss by shouting 'shame on you'.

On Saturday, August 6, The Telegraph reported on the protesters who got indoors. Interestingly, only Liz Truss faced their ire. They did not disturb Rishi Sunak during his time on stage.
This was a case of Truss Derangement Syndrome:
Liz Truss on Friday vowed to crack down on "militant activists" after six Green New Deal Rising protesters disrupted the fourth Tory leadership hustings in Eastbourne.
The Foreign Secretary said she would pass new laws to stop hardline unions and activists "who try and disrupt our democratic process and our essential services".
She had just taken to the stage at The Winter Garden theatre when a female protester interrupted her opening remarks, yelling "shame on you Liz Truss".
As the first woman was collared and led out by security staff, four other demonstrators shouted out from a stage area calling for a "Green New Deal".
One, still clutching an "In Liz We Truss" placard, screamed "we just want fair trade" and "good jobs" at the former trade secretary, insisting "we will win".
A sixth demonstrator turned up during Truss's Q&A session. The Foreign Secretary took his interruption in her stride:
… a young man in a suit, stood up and berated the Foreign Secretary about her climate policies.
He accused Ms Truss of "killing people by licensing new oil and gas" – a reference to her plan to boost North Sea energy to help Britain through the energy crisis.
"I take it as a compliment that I'm so popular with Extinction Rebellion", she said to applause from the audience as he was also ejected by security. It has since been confirmed the group was not Extinction Rebellion but Green New Deal Rising.
She later added: "I'm a believer in freedom to do as you want so long as you don't harm others. One person's freedom should not mean that other people suffer misery."
The host of the hustings joked that the protesters had all "paid their £25 Conservative tax" given that they would have had to sign up as members to enter the venue.
GB News's Dan Wootton happened to be in Eastbourne and interviewed several of the leftist protesters for his show on Monday, August 8:
In his opening Digest, he said that the protesters were trying to scupper democracy and threaten ordinary Britons with whom they disagree.
He deplored the fact that the media ignored the protests. Indeed they did. The first I'd seen how many there were was on his show. I was amazed to see scores of people of all ages with placards, shouting. At least one group was multi-generational: a grandmother, her daughter and her grand-daughter, a baby. You'll see them in the clip below.
One young woman from Green New Deal Rising told Wootton that she was 'fed up'. She seemed angry and said she was there because she was 'a young person'. Wootton asked her how she got in to the Winter Gardens Theatre, and she refused to answer. One of her fellow protesters, a comely lass, politely asked Wootton to leave them alone, if he wouldn't mind. He asked her if she was glad she wasn't arrested but received no reply.
He managed to get a fuller interview with a young man from Just Stop Oil. He was dressed in a long-sleeved white shirt and a tie. Wootton told him, 'You're essentially a Communist'.
Wootton was rightly appalled that the police did nothing to stop the heated protest. While it did not turn physically violent, it could have done so quite easily.
Wootton closed his Digest by showing an interview with local Conservative MP Caroline Ansell, who told him that this was not the Eastbourne she represented. She was wearing a 'Ready for Rishi' badge on her jacket lapel. No doubt, protesters came in from elsewhere on the south coast.
Wootton also spoke with Liz Keegan MP, a Truss supporter. She downplayed the protest and said it was nothing like those one experiences when attending the annual Conservative Party conferences. It is not unusual for people to spit at Conservatives.
Greg Smith MP was less understanding, saying that the protesters disturb the democratic process. He said that the protesters cannot win on the arguments so they try to win on disruption. An excellent point.
Here's Wootton's Digest, which can also be seen on YouTube:
Afterwards, Wootton asked his panel for their thoughts. Daily Express columnist Carole Malone rightly pointed out that the media are always going on about far-right groups but ignore or make excuses for the much more visible radical left, who have taken to the streets regularly since lockdown in 2020, beginning with the protests in June that year — when no one was supposed to be gathering in groups. She said that politicians from all parties need to get tougher with protesters and applauded Liz Truss's proactive stance:
On a brighter note, a number of Boris supporters were in Eastbourne lamenting the loss of the Conservative Party leader. Wootton interviewed several of them who will miss Boris dearly:
As I write, there is no verdict yet from CCHQ as to whether Boris's name will appear on the leadership ballot. If it were, the rules would have to be changed overnight to allow it to happen. More on that once a decision has been made.
John Redwood certainly has a bee in his bonnet over former Chancellor Rishi Sunak.
Unusually, Redwood has been tweeting several times daily in Trumpian style over which candidate — Sunak or Liz Truss — is better as the future leader of the Conservative Party and our new Prime Minister.
He has also continued to keep his readers updated in his eponymous diary.
On July 20, 2022, the final day of Conservative MPs voting for leadership candidates, he tweeted:
Later that day, he wrote a brief diary entry, 'Then there were two':
I am delighted Liz Truss will be in the final with Rishi Sunak. I want a change of economic policy as readers of this site will know. Liz Truss will give us that change. Rishi has accepted Treasury and Bank advice which has given us a high inflation and if unaltered will give us a recession next year. We can do better.
Redwood has been an MP since Margaret Thatcher was Prime Minister. Not only does he understand her monetary policy but also the way Treasury and Bank of England forecasts have gone wrong over the past 40 years. He advised Thatcher in the middle years of her long premiership.
Boris Johnson also understands that the Treasury gets things wrong. In his final PMQs on Wednesday, July 20, he gave advice to his successor, saying (emphases mine):
I love the Treasury, but remember that if we had always listened to the Treasury, we would not have built the M25 or the Channel Tunnel.
That day, the OBR (Office for Budget Responsibility) came out with a revised forecast.
On July 21, Redwood wrote 'Some funny numbers from the Treasury and OBR':
The OBR has had to explain why it was so far out in its forecasts of the deficit and borrowings last year. They have written:
"Our latest forecast for (Central government borrowing) 2021-2 is £48.3bn below the October forecast and £131.2bn below our March 2021 forecast (the Budget)". They accept they underestimate tax revenues by a massive £77bn and overstated state spending by £48.7bn. It should be easier to forecast what you spend when you are running the spending controls.
We can all make mistakes. Forecasting is difficult. What is more difficult to forgive is that this was not the first time they have underestimated the revenues and overstated the deficit. Worse still is they used their precise forecasts of revenue and deficit to tell the Chancellor he needed to raise more taxes to reduce the gap between spending and taxing. It turns out they need not have asked him to do that as the numbers were so much better than the numbers they tried to create with tax rises.  So when I am asked how do we pay for the tax cuts, the first answer is we are so far ahead of plan there is no problem. The second answer is if you cut the right tax rates to a sensible amount you can end up with more growth and more revenue, not less.
The Treasury also needs to come clean about the debt interest. They have been using their current high figure of £83bn which includes index costs on the repayment of inflation linked debt which does not entail making any cash payments before redemption. They use this figure to scare politicians into accepting more austerity to control the debt interest. What they omit to point out is on their definition of debt interest they forecast a collapse in the cost of it to £46.7bn by 2024-5. That is a fall of £36.3bn or 44% in debt interest.
The Treasury has a tradition of overstating deficits when there is good growth and understating them in recession. There is also a danger their policy advice based on very wrong forecasts could drive us unnecessarily into recession.
Redwood tweeted that our current inflation is likely to be temporary:
As soon as Truss and Sunak were the final two contenders in the Conservative Party leadership contest, The Times endorsed Sunak.
Much of the media have also swung behind Sunak, except for the more conservative news outlets which feature more articles on Liz Truss's candidacy and Kemi Badenoch as the future of the Conservative Party, even though she was eliminated from the leadership contest.
Redwood tweeted:
True.
The Remainer media have attacked Truss's proposed policies. Sunak's softness on the EU are why the media back him. They want a return to the EU:
Sunak has been pushing the line that Margaret Thatcher had an initial high tax policy that worked well. Therefore, Sunak is high tax, in a Thatcherite mode. In reality, once Thatcher got new advisers, she began cutting taxes, which brought economic growth.
Redwood tweeted:
Redwood believes that Liz Truss has the Thatcherite economic policy in this contest:
Redwood had more to say about Sunak's performance while he was Chancellor:
I particularly enjoyed this next tweet, in which Redwood compares Sunak to Labour Chancellor Gordon Brown, who later became Prime Minister, succeeding Tony Blair:
Redwood said that he tried to advise Sunak on the economy, but to no avail:
On Friday, July 22, Redwood correctly predicted that Rishi would send a message of panic:
Sure enough, the next day, Rishi said he wanted to declare a state of national emergency:
We can only hope that Redwood is right in saying that panic puts off voters:
Sunak made the statement in Grantham, Margaret Thatcher's home-town. Redwood finds it curious that Sunak never mentioned an interest in Thatcher until this leadership contest:
As I write on Monday afternoon, I will look at that day's BBC debate between the two candidates in a separate post.
Before the debate, Redwood shared his thoughts:
In closing, Redwood reiterates why Liz Truss is the better candidate:
Even though I have no vote in this contest, Liz Truss has accomplished far more in trade deals and foreign policy than Rishi Sunak as Chancellor. His time in No. 11 was disappointing for the most part.
Conservative Party members will receive their ballots early in August, enabling them to vote by post or online. The deadline for them is August 2. A new Prime Minister should be in place by September 5.
Last Friday's post introduced Red Wall MP Lee Anderson, who serves the Ashfield constituency in Nottinghamshire.
I ran across an article about him in the Daily Mail, which published it exactly one month before the 2019 general election.
To set the background, Anderson had switched party membership from Labour to Conservative the year before, largely because of Brexit but also because of radical elements in Labour. Jeremy Corbyn, now an Independent MP, was Labour leader and his followers formed a movement within the party called Momentum. The movement has since lost its, err, momentum, particularly during the leadership challenge which Sir Keir Starmer won in 2020.
The Mail's portrait of Lee Anderson tells us about his situation three years ago. His predecessor Gloria de Piero, for whom he worked, was and currently is a television presenter. She appears on GB News (emphases mine):
A former aide to a Labour frontbencher has defected to the Tories claiming he was hounded out of his old party by far-Left bullies.
Lee Anderson, an ex-miner who worked for MP Gloria de Piero, said he was labelled a 'traitor' by party officials for backing Brexit.
He claims they camped outside his home to spy on him and spread false rumours about his terminally-ill wife.
Now Mr Anderson, a lifelong Labour supporter, is standing as a Tory candidate in Mrs de Piero's old seat, Ashfield in Nottinghamshire.
That seat will be one of the most closely-watched of the election and currently has a Labour majority of just 441.
Mr Anderson, 52, claims the constituency Labour party was taken over by Momentum 'almost overnight' after Jeremy Corbyn was elected leader in 2015.
He claims they started bullying him in the run-up to the Brexit vote in June 2016 labelling him 'treacherous' and a 'traitor' for wanting to leave the EU.
At the time, Mr Anderson's wife Sinead was ill with cystic fibrosis and on a life-support machine awaiting a double lung transplant.
He said: 'It was like being in a crowded room of people who were whispering all the time. Finger-pointing, I'm a freak in the house, the Brexit freak. There was social media bullying, 'traitor', 'Tory-boy', 'scum'. People were camped outside, spying on me.
'At the time my wife was terminally ill and we thought she only had a few months to live. They said I was just using her illness as an excuse not to attend a meeting.'
Mr Anderson claims the party also targeted Mrs de Piero after she tried to oust Mr Corbyn in a failed coup in 2016. She is not standing at the election …
The former Citizens' Advice counsellor said: 'My background is mining and if the pits were still open now, the miners would not be voting Labour …
'You're in a Labour group meeting in Ashfield when really we should be talking about litter, grass-cutting, cemeteries, dog-fouling. They'd want to be talking about Palestine.'
Mr Anderson resigned as Mrs de Piero's office manager 18 months ago and was recruited by the local Conservative party to be a campaigns manager.
His wife's health was transformed following a lung transplant in 2016 and she is now a Tory councillor in Mansfield.
Brexit and Bray

After seeing off the Labour candidate in Ashfield, Anderson went up to London, only to meet with a new, albeit occasional, adversary: Steve Bray, who is rumoured to be paid and housed by unknown benefactors to denounce Brexit every day near the Houses of Parliament.
Everyone thought that the middle-aged man clad in an EU flag or EU tee shirt and hat would have given up his daily shouting after the 2016 referendum. He didn't. Then we thought that he would stop on January 1, 2021, after we officially left the EU. He didn't.
Guido Fawkes captured the moment when Lee Anderson met Steve Bray on June 16, 2021:
Guido reported the scene outside the Red Lion pub near Parliament:
Steve has continued loitering around SW1 to yell at politicos and interrupt interviews. He may have picked off more than he could chew as he tried taking on rottweiler Lee Anderson outside the Red Lion … Anderson rightly repeatedly told Bray to "get a job" and concluded with:
You're nothing but a parasite, a malingerer and a scrounger!
You always know where you stand with Lee Anderson.
Bray quickly threatened legal action against the MP:
Of the threatened legal action, Guido said (red emphases in the original):
… On what grounds, Guido cannot fathom.
If the threat is anything more than a cry for attention, Bray has a decent pot of funds. He's been crowdfunding for 46 weeks in support of his general nuisance-making and has scrounged over £21,000. Anderson tells Guido he "won't be losing any sleep over it"…
Anderson's second encounter with Bray came on November 24 that year, with Bray strangely continuing to accuse Anderson of lying to the people of 'the North':
Anderson told Bray that he had a look at the activist's CV (resumé) and that it was not very impressive. When Bray moved in closer, Anderson told him that his breath was foul. One can imagine that it is:
Guido wrote:
… For some reason, Bray must think he won the exchange, given he uploaded the clip to his own Twitter account…
Responding to Bray's Twitter threat of possible legal action, Guido asked Anderson whether he was concerned. He said "Yes, it keeps me awake every single night. I would love to see the evidence that he has a job though."
Their third meeting took place on March 16, 2022, when Anderson had to shove Bray out of the way so he could get to the Tube. Once again, Bray threatened legal action, this time for assault:
Guido has the story:
Steve Bray is once again pottering around Westminster, shouting at MPs and blabbering about Brexit. And once again, Red Wall rottweiler Lee Anderson was having absolutely none of it…
With Bray squawking about "Russian money" and how he somehow "pays [Anderson's] wages" as an unemployed man who loiters around SW1 all day, Anderson bit back:
I tell you what, Steve, if you'd have been around 100 years ago, you'd have been traveling around the country in a tent. You're nothing but a freak-show.
Lee had to give Bray a small shove out the way to enter the Tube station, at which point Steve lost it. Guido makes that 3-0 to Anderson…
On their most recent encounter — April 20 — Anderson told Bray that he would make a good tramp:
Guido had the video and the dialogue:
Despite the threat of police involvement, Steve Bray is still spending his days floating around Westminster to badger MPs and shout about Brexit. This afternoon, however, Bray once again collided with his nemesis – the Red Wall rottweiler Lee Anderson … Today it was time for the rematch…
Inevitably, it was another knockout win for Lee, who told Bray:
Listen, you're nothing but a parasite. We've established that. You're a scrounger. Why are you here every day dressed like a tramp? … In fact, I'll rephrase that, if you smartened yourself up, you'd make a good tramp.
At one point Bray asked Anderson, "People fund me to do this. Do you know why?". The MP hilariously shot back "Because they're tapped." 4-0 to Anderson…
Steve Bray's daily rants are a nuisance, so much so that, on May 11, Anderson's fellow Red Wall MP Marco Longhi brought his noise up in Parliament as news emerged that parliamentary authorities have been investigating Bray's behaviour.
GB News asked Bray for his reaction. He said:
"You know what these Tories are like. They don't want protests which is why they are stripping away our rights.
"And Marco Longhi and also his best buddy Lee Anderson, they are not happy to see me because they normally try and wind me up but I end up turning it on them.
"Here is the thing about those two – they are going to lose their seats in the next election, so they are just griping for any little bit of press coverage they can get. The less they get the better, to be honest, because they are so insignificant."
The problem is that hardly any witnesses with evidence are coming forward enabling a court case. Bray is playing his long game well, making it impossible to distinguish whether he is harassing people or just a right pain in the proverbial.
There could be a case to be made for breach of the peace. Police are out there every day. Surely they can do something about Steve Bray. Oh, what a fitting name.
Media
Lee Anderson has also shown himself to be a plain speaker when it comes to the media.
On May 24, 2021, he announced that he had torn up his TV licence, necessary to watch anything on television, even though the BBC is the recipient of the annual tax:
He made an impassioned plea to then-Government minister John Whittingdale MP.
Guido wrote:
Co-conspirators' favourite no-nonsense Tory MP Lee Anderson had another barnstorming outing in the Commons yesterday, professing that he has torn up his TV Licence following the Martin Bashir scandal, and the corporation "won't get another penny" out of him "ever". The Ashfield MP told fellow MPs the BBC is "rotten":
In my opinion, the once-great BBC is rotten, and my constituents should not have to pay for a service if they don't use it.
He ended his intervention with a call to the minister to transform the BBC into a subscription service. Whittingdale didn't fully avoid the point, saying "I have no doubt that that is a debate that has already started and will continue." Guido will make sure of it…
Later that year, in the middle of November, he and other MPs who were first elected in 2019 attended a meeting with Boris Johnson about MPs' standards in the wake of the Owen Paterson scandal which saw that MP resign.
Channel 4 interviewed various MPs who gave brief, courteous answers to the reporter. Not Lee Anderson. He simply said:
I'm just the window cleaner, mate.
Here's the video:
On a more serious note, Anderson fought and won a court case against Google, which served a defamatory advert about the MP:
The legal fight took nearly a year to resolve.
Guido has the full story from March 10, 2022, excerpted below:
After nearly a year locked in a legal fight with the tech giants, Red Wall heavyweight fighter Lee Anderson has finally walked away victorious after Google issued a formal High Court apology to the MP for serving a defamatory advert falsely accusing him of protecting a paedophile. An advert which was targeted at Guido readers…
It was bought via Google's programmatic network and was unseen by our commercial representatives, nor indeed ourselves, until it popped up. Google has a near monopoly on this type of advertising, where publishers offload unsold advertising inventory to Google to fill. Scam adverts get through frequently, though this is the first time we have ever seen a defamatory attack via this method …
While the terms of the settlement are confidential, Google finally apologised in court. They also accepted that they should not have allowed this advert to appear. Guido would argue that they were negligent in allowing this advert to appear and they should be held liable for any damages arising in this situation. Guido argued before the case began that we should not be a party to it because we had no knowledge of the advert prior to it appearing in a space that Google had effectively rented and published to without our active involvement. We were akin to the paper supplier to a newspaper, not the printer or publisher. This settlement avoided the arguments being heard, though no doubt lawyers will study this for future cases. 
Lee tells Guido that
I am pleased that Google has publicly apologised in Court and put an end to this very difficult and distressing time for me and my family.
I do however think it is a real shame that it has taken so long for this to happen and that I had to get lawyers involved and threaten Google with legal action to get here.
I want to thank Guido for swiftly taking down this ad once they were made aware and for their ongoing support through a difficult time.
M'learned friends can read and study the official Statement (Anderson v Google). We're just glad that Lee fought and won justice in his battle against the trillion dollar plus Google behemoth…
I'm delighted that Anderson won, too.
Guido's post has Lee Anderson's statement in full.
He is an incredible MP with a niche following of Britons who think he'd make a great Prime Minister. It will never happen, but we can but dream.
More on Lee Anderson soon.
To be continued
It happened, but it happened two years too late.
A third Telegraph journalist has come out against Joe Biden.
Earlier this month, Tim Stanley declared that Trump made the right assessment about Russia.
This week, Nile Gardiner asked whether Europe has finally awakened to the truth about Joe Biden.
Two days later, on March 30, 2022, Allister Heath wrote 'Joe Biden is president in name only but the US establishment refuses to admit it'.
Heath details the chaos of the White House at home and abroad. Emphases mine below.
First, there were his pronouncements about Putin and Russia from last month to the present:
His embarrassingly downgraded role became obvious last week when he suddenly veered off-script during his keynote address in Poland, ad-libbing of Vladimir Putin that "for God's sake, this man cannot remain in power". It was a dramatic escalation, a clear and simple message that no reasonable person could possibly misinterpret, and yet the White House appeared not even to ask him for permission before "clarifying" his statement. Biden's people – who are supposed to work for him, rather than the other way around – immediately denied that he was calling for regime change. They claimed, within seconds of his speech, that the words he uttered didn't actually mean what he obviously intended them to signify.
They were undoubtedly seeking to protect Biden from himself, and to look after US interests, by cancelling an intervention that could have provoked a furious Russian reaction. But it was an astonishing moment none the less, demonstrating that Biden's role is now largely ceremonial: this is a collegiate administration, with an all-powerful Democratic Cabinet and federal bureaucracy. What Biden says should not be taken too seriously. He is not the fount of power, and has a habit of blurting out what colleagues might have been discussing in private.
Time and again in recent days, the President's pronouncements have been "walked back" by those really in charge. Most notably, he wrongly told members of the 82nd Airborne Division that they would be "going to" Ukraine soon; he said America would respond "in kind" were the Russians to use chemical weapons.
His worst blunder came when he claimed prior to Russia's invasion of Ukraine that "it's one thing if it's a minor incursion and then we end up having a fight about what to do and not do". He was then asked whether he was "effectively giving Putin permission to make a small incursion into the country". Biden's answer sent an even more catastrophic message to the Russians: "Good question. That's how it did sound like, didn't it?"
Heath notes that the American media are, unsurprisingly, giving Biden a pass:
… the president isn't really presiding and … America's constitution is once again in deep crisis. It is a scandal.
Mainstream commentators were grumpy at the White House denials, but refused to ask the obvious questions about the president's series of gaffes or to demand an investigation into why this may be happening. Had this been Trump, there would have been calls for the Cabinet to at least consider invoking the 25th amendment to the US constitution relating to whether a president could be considered unfit to remain in office …
There is no excuse for failing to scrutinise and hold to account any president, regardless of party.
Then there are Biden's Afghanistan disaster as well as his intent to turn back the clock with Iran:
On foreign policy, he is seeking to turn the clock back to the time when he was vice president. Biden is proposing a disastrous surrender to Iran on the nuclear issue, and even to remove the Revolutionary Guards' terrorist designation. His withdrawal from Afghanistan was right in theory but catastrophically executed, and helped signal to rogue regimes that the US had gone soft.
Biden has done no better domestically. He began rolling back Trump's successes as soon as he was sworn in.
Now he is considering a radically left tax plan for Americans — taxing unrealised capital gains. Scary. This would affect many middle class taxpayers:
Biden's shocking weakness also helps to explain the disastrous drift of US policy in all other respects. He was supposedly elected as a reasonable centrist, a liberal rather than a woke activist, a traditional Democrat rather than a neo-socialist.
Yet on economics, his latest tax proposal is far worse than anything Jeremy Corbyn dreamt up. Biden wants to tax unrealised capital gains, something that has never been attempted before in this way. He wants to tax wealthy Americans – in reality, not just billionaires but many other entrepreneurs and investors without whose contributions the US economy would collapse – on the basis of the paper increase in their fortunes. This would be a recipe for economic meltdown, a brain drain, capital flight and a massive recession.
Heath concludes that radical advisers behind the scenes are running the show:
The fact that Biden is in office, but not in power, has given his party's hardliners free rein to wreak havoc. His presidency is turning out to be a catastrophe for America, and a calamity for the rest of the world. For how much longer will we have to put up with this travesty?
There's no way back for the time being.
It is hard to imagine that voters preferred Joe Biden to Trump and his 'mean tweets' in 2020, but there we are.
Mid-term elections cannot come soon enough. All being well, Republican control will pave the way for further victory in 2024.
Isn't it interesting that the media narrative has changed from wall-to-wall coronavirus coverage to Ukraine?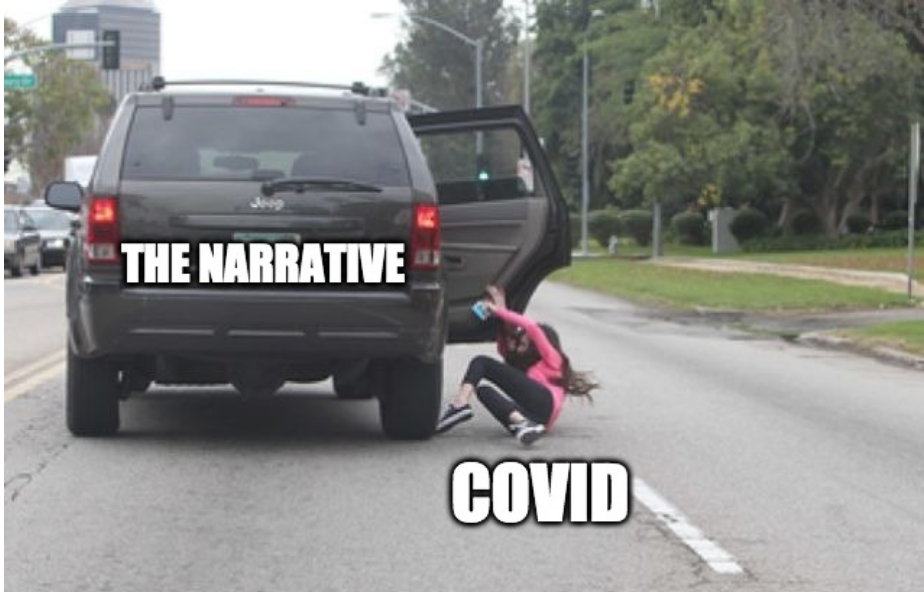 It seems that there is never room for more than one media narrative at a time. Sadly, this is now true even on GB News.
Fortunately, I have a few coronavirus gems from last month.
We must never forget what our notional betters did to us over the past two years.
The UK will hold a formal inquiry, although we do not know when it will start.
On Saturday, February 5, GB News's Neil Oliver delivered a five-star editorial on coronavirus measures in Scotland and other Western nations:
This was the theme:
Well, the narrative certainly changed by the end of the month.
Nonetheless, even as I write, coronavirus measures are still a thing in Scotland. First Minister Nicola Sturgeon has lifted some, with others to go this month. However, it might be some months before all of them disappear north of the border.
This was the state of play in Scotland in early February:
Somehow, Covid still manages to be in our faces – suffocating us bit by bit and all the time.
My children are still required to wear masks at school all day every day – rebreathing their own exhaust fumes for hours at a time.
In Scotland last week, first minister Nicola Sturgeon said her devolved assembly would spend hundreds of thousands of taxpayers' pounds cutting the bottoms off classroom doors so as to improve air flow in schools.
Seriously – that's what she said. Get this: she actually said there's a worry about how much CO2 children are inhaling in improperly ventilated classrooms.
They have to keep the masks on – so that they exist in a permanent cloud of their own, self-generated CO2, held over their mouths and noses like a smothering hand, but rather than let them take off those masks and breathe air like free people should, Sturgeon's proposed solution is to take a saw to the bottom of the classroom doors.
To say you couldn't make it up is an insult to made up things.
The fact that you can open a door to increase ventilation, on account of its hinges, the fact that doors exist in schools at least in part to inhibit the spread of smoke and flames in the event of fire, significantly more of a threat to the lives of children and staff than Covid ever was, has apparently passed Sturgeon by.
But, hey-ho, if there's one thing we've learned after two years, it's that everything is all and only about Covid.
Some days it feels like it always will be.
Covid could and should be behind us, as I have already said, but the powers that be keep pulling it back around until it's front and centre.
[Boris] Johnson announced some sort of an end to restrictions, but still, that air of lives limited, lives controlled, prevails, like the smirking grin that remains after the Cheshire Cat has otherwise disappeared.
And do you want to know why? Because after these two years like no others in our history, Covid is all they've got to explain and to justify everything else.
He took issue with Western governments:
Governments need Covid, and desperately …
All the money we ever had and most of the money we might ever dream of having – they blew the lot on Covid.
And since Covid is all the Governments have got now, by God they're determined to keep it.
Covid, as it turns out, is like a sort of Swiss Army knife, equipped with all sorts of useful little tools for all sorts of jobs, large and small. And meanwhile the evidence of manmade disaster is all around us.
He referred to the Johns Hopkins study that came out a few days beforehand:
A recently published study from the world-renowned Johns Hopkins University, in Baltimore, found lockdowns had had little to zero public health benefits and instead imposed enormous economic and social costs.
Like we didn't know that already, having been there while it was actually happening – but anyway, let's hear it again.
Researchers found lockdowns in Europe and the US lessened the Covid-19 mortality rate by just 0.2 percent.
The authors concluded that lockdown policies are ill founded and should be rejected in future.
Everywhere they were applied – everywhere – lockdowns caused enormous economic and social costs.
He went on to discuss how our various governments 'blew it':
Allow me to summarise those findings even more: Our governments blew it.
Faced with what they told us was the greatest threat to our civilisation in our lifetimes, for a hundred years or more, our governments took a bad thing and, through over-confidence, monumental incompetence and with the dull-eyed stubbornness of mules made it massively worse.
More importantly, when they must have known they were making it worse, they did it again. And again.
Now, rather than take responsibility and own up to their catastrophic failures – maybe say sorry for all the lives ended, lives ruined, lives compromised, a generation of children used like sandbags to protect the vulnerable from a flood, like stab vests worn on the chests of adults – they keep holding up the tattered rags of Covid, like the remnants of a curtain to stop us seeing the reality that lies behind it.
What lies behind that shabby curtain are consequences, and even now those powers that be don't want us looking at them, far less talking about them and thereby understanding the crippling reality of them.
Isn't it convenient that the TPTB now have Ukraine with which to distract us? Thanks, Putin. The news overkill on that is the ultimate distraction.
Oliver then talked about the horrors of quantitative easing:
What they did with money – your money, my money, everybody's money – during the pandemic is what the banks have been doing with money for decades now, and it's largely to blame for the bigger mess we're in now.
Quantitative Easing, they called it – printing money, to you and me.
For decades the tactic applied by the banks, with governments in cahoots, was to print uncountable, unthinkable amounts of money.
"We don't have any money left."
"Well print more, then."
"How much?"
"As much as you like – and keep it coming, I need another super yacht, and so does my mum. No one'll notice. And if they do, say it was Covid."
Imagine a glass of orange squash – a little bit of concentrate, topped up with water.
Tastes like orange, you know how it goes.
Then imagine tipping that glass-full into an empty swimming pool and turning on the taps.
By the time the pool is filled up with water, any orange in the mix is so diluted as to be utterly undetectable.
That, more or less, is what has happened to our money.
The value of our money has been so diluted it is quite literally not worth the paper it's printed on – which probably explains why they don't seem to want to actually print it on paper anymore.
They just add more zeros on their computer screens instead. Look at what they did with some of that pretend money: trillions of pounds worth of debt that will never, ever be repaid.
Billions blown on dodgy PPE, billions handed over as 'Bounce Back Loans' to companies that didn't even exist. Gone.
Those gazillions are gone – and the truly troubling point is that in every way that matters, they didn't really exist in the first place.
Rishi Sunak and Boris Johnson and the like have the gall to say they've got a way to fix the mess.
They might as well try to put out a factory fire by blowing on it.
On account of all that funny money, and then their use of Covid as a hammer to flatten business after business, the economic and financial model we've taken for granted for the last 50 years or more is finally done.
He looked at Covid measures in various countries:
Much of Europe is an interesting watch, to say the least. Austria is a police state now, in all but name, thanks to Covid.
Papers, please! Italy and Germany are much the same.
France would likely go the same way – except President Macron is too properly scared of too many of his own people to go all the way to vaccine mandates.
Instead, he remains committed to making the lives of the unvaccinated as miserable as possible. In Western Australia unvaccinated parents are barred from the hospitals where their children lie sick, dying.
In Canada the GoFundMe organisation has withheld millions of dollars raised in good faith, in support of the truckers protesting vaccine mandates.
What will become of that money, donated by hundreds of thousands of ordinary Canadians, remains unclear.
More and more questions are being asked about the vaccines, all around the world.
Questions about efficacy, about safety, and yet governments like the US, Canada and Australia, as well as here and just about everywhere else continue to dig in, more and more determined to get a needle into every arm on the planet.
Israel is beavering away with injection number four – and the positive cases are spiking in what looks, on the graphs, like a vertical line pointed into space.
With the Covid narrative in tatters now, new weapons of mass distraction are being deployed to stop us thinking too much about the mess.
Enter Putin with his invasion of Ukraine. How timely. In early February, we knew it was coming:
I'd like to say, Don't Mention the War, but of course there's Russia and Ukraine to look forward to as well.
Oliver brought up non-Covid health issues:
There was a GP on the telly last week saying the stress of lockdown is causing heart attacks and strokes.
Well, I never.
He brought up the irony about the silence surrounding all the plastic face masks being dumped into the environment:
Climate crisis and environmental meltdown are back to the fore again – never mind the fact we've dumped trillions of filthy face masks, and Covid tests into that environment, that doesn't seem to matter.
He concluded:
Weapons of mass distraction or not, there'll be no hiding the fuel bills due in a few weeks' time.
People forced to choose between eating and heating tend to behave differently than before.
Energy black hole, Net Zero and its consequences and only pretend money with which to pay for it all.
How much longer can our dear leaders hide behind Covid?
We do a lot of weather forecasting on this channel. I tell you this – there's a storm coming.
Oliver then had Benjamin Loughnane (pron. 'Loknayn') from The Bow Group think tank to discuss the Johns Hopkins study about lockdown. This was also a very good segment:
Richard Tice from the Reform Party also appeared to talk about our leaders' mistakes:
You can see the full show below. Almost all of it concerns coronavirus:
Later in the evening, Mark Dolan presented an excellent editorial on how the media and Government handled the pandemic:
The replies to the tweets were worthwhile, such as this one:
Some of us knew from the beginning that most of the coronavirus measures in Western countries were bogus, but anyone who mentioned that PCRs were picking up old viruses was dismissed as a crank.
Lo, it emerged last month that the intrusive PCR testing was proven to be ineffective in accurately diagnosing coronavirus.
Dolan said (emphases mine):
A major new study confirms that PCR tests are horribly inaccurate. There's a surprise.
According to researchers at the University of Oxford, if you've heard of it, a third of people who tested positive for coronavirus via PCR tests were not contagious and did not need to self-isolate.
The study found that many laboratories are setting the positivity bar very low, meaning they're picking up people, who are – quotes – "a danger to no one".
Hand sanitising is also inconclusive:
Do you remember our blistered skin, in March 2020?
Sing happy birthday twice, as you wash your hands? After which a couple of scientists with half a brain cell, pointed out that the virus is transmitted through the air, via aerosols. No sugar, Sherlock.
Perspex screens in shops — or, in cars, as was the case in France — might not have been a good idea, either:
A report came out in August of last year, suggesting those environmentally catastrophic Perspex screens you see in shops, offices and on TV, may make matters worse.
The Environmental Modelling Group, a panel of 16 SAGE experts, said "There is some epidemiological and mechanistic evidence, that suggests screens could increase risks of aerosol transmission, due to blocking/changing airflow patterns or creating zones of poor air circulation behind screens.
Well done everyone.
The best masks couldn't stop the rise in contagion:
Even where countries have demanded better N95 masks, like Austria, cases have sky rocketed nonetheless.
There was no evidence that vaccine passports stopped the spread:
What about vaccine passports? We're saving lives aren't we?
Except that cases have continued to soar in countries that have implemented these divisive measures, which link your medical status to certain basic rights, freedoms and privileges, including in particular in France and Italy.
The same held true for closing nightclubs:
What about closing nightclubs?
The Welsh first Minister Mark Drakeford, who likes a boogie himself, was able to demonstrate no evidence that closing nightclubs would have an impact on spread.
After two years, our health service is on backlog overload and probably will be until the end of the decade.
Some people's lives are in ruins: closed businesses, relatives' suicides, nervous breakdowns, missed diagnoses of terminal illness. I could go on.
Dolan said:
Two years in which we have incarcerated the healthy, stopped people from going out to work and making a living, closed once viable businesses, wrecked mental health and ignored worse diseases like cancer.
The Telegraph are reporting that up to 87,000 cancer diagnoses may have been missed. And the rest.
If you think Covid is worse than cancer, there is something wrong with you.
But that's been the message of the pandemic response.
'If it's not Covid, they don't care' is something I've heard from so many of you over the last two years.
The famously deadly disease of cancer, that affects all age groups, has been relegated in importance for two years, with tragic consequences that will be with us for years to come, with cases like young mothers who didn't get that lump checked or weren't able to. Well done everyone.
There will be a day of reckoning for what Professor Jay Bhattacharya, one of the most respected medics in the world, has called the biggest public health mistake in history. He's being polite.
Dolan rightly took issue with governments, modellers and the media:
So who's to blame?
Well, weak politicians who panicked in March 2020 and discarded decades of pandemic planning …
I blame the modellers like the randy professor, Professor Pants Down himself, Neil Ferguson, who predicted half a million deaths at the start of the pandemic, which spooked ministers into taking this ruinous path.
Some government scientific advisors predicted 6000 deaths a day if we didn't cancel Christmas …
I blame Sage, who failed to equate economic damage with death.
The University of Bristol have told me that half a million people will die as a result of creating the biggest recession in 300 years. And what about wrecked lives?
It's a question no one has ever been able to answer me. Why is it okay to wreck lives? Of course, it isn't. But wreck them we did. And it's most reprehensible when you think of the needless impact on young people and children, who face vanishing threats from the virus. So who else do I blame?
Well I blame the media …
… I blame the media for offering just one narrative. Lockdowns work, masks work and absolutely everybody's got to have the vaccine.
Now these views are valid, arguably the majority of people and perhaps most scientific professionals think exactly that. No problem. Let's hope you're right, because that's the hell you've put us through.
As data come in from around the world, based upon different approaches, with no obvious difference from where I'm standing, I have my doubts. But remember those press conferences – the Beeb, Sky, ITV – why are we not locking down longer, tougher, harder?
By offering such one-sided coverage of the pandemic, by betting everything on the words of SAGE, and freezing out other scientific voices like Sunetra Guptha, Carl Henegan, Martin Kulldorf and Jay Bhattacharya, the media let us down.
To say that the media have lied to you is a bit strong. But they have not provided the full picture.
And any lawyer will tell you concealing information is tantamount, in its own way, to an untruth.
Shall we be polite and just call it government propaganda? I think that'll do.
I shouldn't name names, but I will. The Mail and the Telegraph are the only papers I can think of that have consistently balanced their reporting and have dared to offer a critique about these debatable lockdowns.
The Guardian is a paper I've always admired and read every day.
But where was their coverage of the Johns Hopkins University report, a meta analysis of 24 studies into lockdown, suggesting the measures saved 0.2% of lives, whilst of course exacting colossal harm.
Not peer reviewed and the study has been done by economists, but worth reporting?
I'd say so.
Sweden got it right. That was something that many of us were criticised for saying offline.
Dolan said:
Sweden have seen a fraction of the economic damage, the societal damage and have had fewer per capita deaths than so many countries that locked down hard.
He concluded:
In the end I think the media have got this wrong – they've backed the wrong horse and they are on the wrong side of history.
So there will be a day of reckoning for their one-sided coverage. But will we ever get an admission of guilt, or dare I say it, an apology? I doubt it.
There will be no contrition. And for all of those well paid and high profile figures in the media – we know who they are – the relentless cheerleaders for these disastrous and, in my view, failed measures, sorry seems to be the hardest word.
Now to the present day.
On Wednesday, March 2, the House of Commons Science and Technology Select Committee gathered oral evidence on coronavirus in a session called 'UK Science, Research and Technology Capability and Influence in Global Disease Outbreaks'. Greg Clark (Conservative) chaired the session.
You can watch it here.
After the first hour, Prof Graham Medley — who exchanged tweets late last year with The Spectator's Fraser Nelson on modelling — gave his oral evidence on SPI-M's modelling of the pandemic. He is SPI-M's chair.
Sorry seemed to be the hardest word for him, too, as he saw no need to apologise for Prof Neil Ferguson's mad models which the Swedes described as 'hysterical'.
Medley told MPs that SPI-M 'didn't have the time' (his words) to calculate the probability or feasibility of their overblown scenarios. They plugged garbage in, and, lo, garbage came out. However, he defended everything. He had no regrets.
Three MPs gently took him to task for the modelling. Labour's Graham Stringer came right out and said that he doesn't trust modelling at all, none of it.
One of the MPs tried to press him on the Twitter exchange with Fraser Nelson. Medley replied:
I wish you wouldn't do that.
In the end, he managed to get himself out of any controversy.
Most of the other MPs wanted to question the person from the behavioural part of SAGE, SPI-B. This person was to have sat along side Medley. However, the SPI-B representative cancelled. How convenient.
Dr Camilla Holten-Møller appeared in the final segment. She is the Chair of the Expert Group for Mathematical Modelling at Statens Serum Institut (SSI) in Denmark. What a breath of fresh air she was.
She admitted that SSI did get one of their models woefully wrong, so they quickly regrouped, studied their mistakes and liaised more closely with university research and clinical groups who provide them with data.
It would be nice if Medley had showed the same candour. As it was, he didn't even look bothered.
I can hardly wait for the formal coronavirus inquiry in the UK. The Science and Technology Select Committee will write a report on this evidence session, as they have with others, and submit it to the Government. The reports will be part of the inquiry process.
On Monday, February 28, 2022, The Telegraph released the findings of their Freedom of Information request concerning modelling that SAGE and other scientists in the UK used to promote the case for 2020's initial lockdown.
The Telegraph reported (emphases mine):
Scientists did not have accurate Covid case numbers, and were unsure of hospitalisation and death rates when they published models suggesting that more than 500,000 people could die if Britain took no action in the first wave of the pandemic, it has emerged.
On March 16 2020, Imperial College published its "Report 9" paper suggesting that failing to take action could overwhelm the NHS within weeks and result in hundreds of thousands of deaths.
Before the paper, the UK coronavirus strategy was to flatten the peak rather than suppress the wave, but after the modelling was made public, the Government made a rapid u-turn, which eventually led to lockdown on March 23.
However SPI-M (Scientific Pandemic Influenza Group on Modelling) minutes released to the Telegraph under a Freedom of Information request show that by March 16, modellers were still "uncertain" of case numbers "due to data limitations".
The minutes show that members were waiting for comprehensive mortality data from Public Health England (PHE) and said that current best estimates for the infection fatality rate, hospitalisation rates, and the number of people needing intensive care were still uncertain.
They also believed that modelling only showed "proof of concept" that lockdowns could help, and warned that "further work would be required".
The team was also encouraged to look for collaborators and resources outside of the infectious diseases network.
Well, that never happened. They stayed within their closely knit group and never ventured outside of it for data sources from other scientists and clinicians.
For the millions of us around the world who had been looking at the data from the Diamond Princess cruise ship in Asia and thinking that coronavirus was no big deal, it was a shock to find that those data had not been considered in the Government's strategy.
Those waiting for a certain hapless modeller's name to appear need wait no longer:
Imperial College held a press briefing about its model on the afternoon of March 16, and on the same day, Boris Johnson ordered the public to avoid pubs, restaurants and non-essential contact and work from home if possible.
At the briefing, Prof Ferguson told journalists that the new conclusions had been reached because "the last few days" had provided "refinements" in the estimates of intensive care demand and hospital surge capacity.
But the minutes now show that SPI-M did not believe the data were complete …
Minutes from the following day, March 17, also show that the Department of Health wanted to know whether Prof Neil Ferguson had referenced other papers in the Imperial model.
And both Imperial and the London School of Hygiene and Tropical Medicine (LSHTM) were asked to renew modelling ahead of a Sage meeting on March 18 which would "include reviewing the commonality of assumptions" and look specifically at a London lockdown, where cases were rising more quickly.
All of Neil Ferguson's predictions, going back to the Millennium, have been wildly wrong. How the Government could not have questioned these figures is beyond me. To make matters worse, the modelling went around the world, including to the US and to Sweden.
Good grief. What a global shambles.
Furthermore, Ferguson couldn't even keep to the rules himself, having visited his mistress who lived on the other side of London to him and his wife.
These modelling inaccuracies went on through 2021. The article has more, but, in short, the minutes recorded that blame for incomplete data belonged to NHS Test and Trace on one occasion, to NHS England on another and Public Health England (PHE) on a third.
Last year, the Government planned to lift the post-Christmas lockdown on June 21 but waited another month. Modellers:
did not use the most up-to-date figures, which was criticised by MPs at the Science and Technology Select Committee.
That means that June 21's Freedom Day could have gone ahead! Instead, we had to wait until July.
Two scientists who have never been invited to share their views on coronavirus with SAGE or the modellers told The Telegraph what they thought. Prof Carl Heneghan and Dr Tom Jefferson are colleagues at the University of Oxford:
Prof Carl Heneghan, the director of the centre for evidence based medicine (CEBM) at the University of Oxford, said: "This has always concerned me about the modelling. Throughout the two years there has been systematic error, consistent over-estimation and a tendency to go directly to the media with conclusions, without validation or peer review.
"It's clear from the SPI-M minutes there were issues with the data, it wasn't robust. And it shows that they should have been looking for additional outside expertise.
"What concerns me is if we don't fix these problems we will end up being bounced back into restrictions or end up spending money in ways that detracts from the healthcare problems at hand."
… Dr Tom Jefferson of the CEBM at Oxford branded the early pandemic modelling "irresponsible".
"They should have said 'I'm sorry, we do not have the data," he said. "Any forecast based on limited data is just a guess, it's unethical and reckless, and we can now see the consequences of this behaviour with people dying because of the destruction of our services."
One of the people just as upset, if not more so, with Neil Ferguson and the other modellers is the MP for the Isle of Wight, Bob Seely.
He has been sounding off on this in Parliament for a few months now. My guess is that he wants modelling to be included in the UK's coronavirus inquiry.
He told The Telegraph:
The arguments for and against lockdown are complex, but what is becoming clear is that the evidence that the Government saw was incomplete and potentially inaccurate.
This is a national scandal. No question about it. The data that petrified politicians was inaccurate.
The Daily Mail also covered this story. The blue sidebar discusses Ferguson's modelling:
The scientific paper published by Professor Ferguson and his colleagues on the Imperial College COVID-19 Response Team was credited for persuading Boris Johnson's Government to ramp up their response to the coronavirus.
The paper, released on March 17, and titled Impact of non-pharmaceutical interventions (NPIs) to reduce COVID19 mortality and healthcare demand, predicted that the Government's original plan to 'mitigate' the outbreak instead of trying to stop it could have led to a quarter of a million people dying.
Using data from Italy and China, the scientists predicted how different Government measures would have different impacts on the outbreaks. 
If no action at all had been taken against the coronavirus it would have claimed 510,000 lives, the team's report said. Had the Government stuck with their strategy of trying to 'mitigate' the spread – allowing it to continue but attempting to slow it down – with limited measures such as home isolation for those with symptoms this number would be roughly halved to 260,000. 
If the strictest possible measures are introduced, the number of deaths over a two-year period will fall below 20,000, the scientists said.
Even reading those numbers in a newspaper report is dumbfounding. They do not make sense.
Returning to Bob Seely, he first started mentioning Ferguson's modelling on December 14, 2021, when MPs were asked to vote on a few new coronavirus measures, including a Christmas lockdown in England because of Omicron, already known to be mild. Fortunately, 101 Conservative rebels voted against the lockdown. As news was emerging about Boris's Christmas party during the previous year's seasonal lockdown and the fact that the Conservatives were tanking in the polls, another year of Yuletide misery would not have gone down well with the public.
This is what Bob Seely said on December 14, 2021, when Health Secretary Savid Javid was at the despatch box during the debate:
I strongly support getting vaccinated. I had my booster jab two weeks ago. I thank all Islanders who are engaged in the vaccination process in my constituency. I congratulate the Government on an ambitious booster programme. When it comes to the vote tonight, I will accept and trust what they say on face masks and on the daily tests, which seem infinitely more sensible than locking people down in hotels. I will not support them on passports or mandatory jabs. Threatening the jobs of 73,000 NHS staff seems an odd way to support the NHS.
I want to raise a wider issue with those on the Front Bench, which has somewhat coloured my judgment. I have heard nothing to reassure me on the following points. I am fed up with dubious forecasts and ridiculous extrapolations the kind of which many hon. Members have talked about. Academics—I am not quoting myself—have talked about Imperial College London's forecast being "hysterical", "inflated", "consistently over-confident", "lurid", "flawed" and "spectacularly wrong". What do the Government have to say about the incredibly questionable extrapolations that they have used?
I am tired of all the leaks. It was leaked that omicron could kill 75,000. It could, but it may not. All these doomsday forecasts, leaked at critical moments, erode public trust.
Thirdly, we are told we have to follow the science. Of course we have to follow the science, but it is a misleading statement as science is shaped by the inputs and by the desired outcome. For example, we had 70 pages of evidence from Scotland on vaccine passports, but there was no evidence to support their value for uptake, so why are we introducing them? We are doing so because of the precautionary principle. That is not science.
One of the most disturbing things is the lack of context for the statistics that have been used. Was that to increase knowledge or to increase fear? My right hon. Friend the Member for New Forest West (Sir Desmond Swayne) said that between 500 and 1,000 people die each day in this country, and people die of flu all the time. It is about putting this information in context, and I fear that the result of too much of this has been to scare people, especially the old and now the young. They are petrified of covid without taking account of more genuine and potentially more damaging threats such as the appalling impact on education.
I will vote against the Government on two of the motions tonight, but my decision to do so has been coloured by the past 18 months of policy, which we need to improve.
On January 5, 2022, Boris Johnson gave Parliament an update on the Omicron variant's effect on health in England.
Seely said:
I congratulate the Prime Minister on his balanced approach, unlike that of others in this House. There is increasing concern among epidemiologists, modellers, oncologists and scientists about the use of modelling and forecasts. Among the comments are that the forecasts we may have been using over the past two years are "almost hysterical," "lurid," "spectacularly wrong," "consistently overconfident" and "substantially inflated." Those comments are from scientists, not journalists or politicians. Does the Prime Minister trust the modelling he is getting, and will the Government consider an inquiry into the use of modelling and forecasts, many of which have been found to be unrelated to reality?
Boris did not like that one bit. I saw the debate.
He replied:
It is important for everybody to understand the limitations of models; they are not forecasts, but mathematical projections based on the data the modellers currently have, particularly when it came to Omicron, about the severity of the disease. That is why, when we feed assumptions about severity that are excessive into the models, we get results that are excessive; that is what my hon. Friend is driving at. Some of the models or calculations are much closer to what is happening now, and models are useful and cannot be dispensed with as we need to have projections, and we in this House should not in any way try to undermine or attack the independent scientists, whose independence is absolutely vital for our ability to handle this disease.
Oh, please!
On January 18, Seely led a motion at a Select Committee chaired by Sir Edward Leigh MP:
I beg to move,
That this House has considered forecasting and modelling during covid-19.
This was a rather heated debate, not so much by Conservatives but by the left-wing MPs responding to Seely's lead contribution.
Excerpts follow:
… Thanks to some questionable modelling that was poorly presented and often misrepresented, never before has so much harm been done to so many by so few based on so little questionable and potentially flawed data.
I believe that the use of modelling is pretty much getting to be a national scandal. That is not just the fault of the modellers; it is how their work was interpreted by public health officials and the media—and yes, by politicians, including the Government, sadly. Modelling and forecasts were the ammunition that drove lockdown and created a climate of manipulated fear. I believe that that creation of fear was pretty despicable and unforgivable. I do not doubt that modelling is important or that there has been some good modelling, but too often it has been drowned out by hysterical forecasts. I am not, as Professor Ferguson implied, one of those with an "axe to grind". I do, however, care about truth and believe that if someone influences policy, as the modellers and Imperial College London have done, they should be questioned. Frankly, they have not been questioned enough.
Above all, I want to understand why Government, parts of the media and the public health establishment became addicted to these doomsday scenarios, and then normalised them in our country with such depressing and upsetting consequences for many. I do not pretend to be an expert; I am not. I defended my own PhD at the end of last year, but it is not in epidemiology and I do not pretend to be particularly knowledgeable about that. But depending on time—I know others want to come in as well—I will quote from 13 academic papers and 22 articles authored by a total of approximately 100 academics.
Seely went into Neil Ferguson's history of poor modelling over the past 20+ years, which had disastrous results for British farmers in earlier epidemics, then the greater populace during coronavirus:
This is a story of three scandals, and the first one took place 21 years ago. In 2001, we faced the foot and mouth emergency. We reacted drastically by slaughtering and burning millions of animals, and farmer suicides and bankruptcies followed. That policy was allegedly heavily influenced by Imperial College modelling and Professor Ferguson. Since foot and mouth, two peer-reviewed studies examined the method behind that particular madness. I quote from them now to show there are practical and ethical questions over modelling going back two decades.
In a 2006 paper, and I apologise for these wordy, long titles, titled "Use and abuse of mathematical models: an illustration from the 2001 foot and mouth disease epidemic in the United Kingdom"—they are not that catchy—the authors confirmed that Ferguson's model
"probably had the most influence on early policy decisions"
and
"specifically, the introduction of the pre-emptive contiguous culling policy".
That is

the mass slaughter of animals near infected farms

. The authors said that the consequences were "severe" and
"the models were not fit for the purpose of predicting the course of the epidemic"
—not a good start. They remain "unvalidated". Their use was "imprudent" and amounted to
"the abuse of predictive models".
Devastatingly, the authors wrote
"The UK experience provides a salutary warning of how models can be abused in the interests of scientific opportunism."
It is difficult to find a more damning criticism of one group of scientists by another.
A 2011 paper, "Destructive tension: mathematics versus experience—the progress and control of the 2001 foot and mouth disease epidemic in Great Britain"—bit of a mouthful—by four academics said the models that supported the culling policy were "severely flawed" and based on flawed data with "highly improbable biological assumptions". The models were
"at best, crude estimations that could not differentiate risk".
That is not a very good "at best". At worst, they were "inaccurate representations".
Sadly, the paper said, impatience for results
"provided the opportunity for self-styled 'experts', including some veterinarians, biologists and mathematicians, to publicise unproven novel options."
Some of the scientific work—some of it modelling, some of it not, with some modelling by Ferguson and some not—was cited as "unvalidated" and "severely flawed", with inaccurate data on "highly improbable assumptions" leading to "scientific opportunism". Is anybody reminded of anything more recent that would suggest the same?
I scroll forward 20 years. As with foot and mouth, with covid we had a nervous Government presented with doomsday scenarios by Imperial—the 500,000 dead prediction—that panicked them into a course of profound action with shocking outcomes. After the lockdown had gone ahead, Imperial publicised on 8 June a study by, I think, seven of them arguing the justification for lockdown. It claimed that non-pharmaceutical interventions saved more than 3 million lives in Europe. Effectively, Imperial marked its own homework and gave itself a big slap on the back.
That work is now being challenged. Because of time, I will quote only a small selection. In a paper entitled, "The effect of interventions on COVID-19", 13 Swedish academics—Ferguson ain't popular in Sweden, I can tell Members that much—said that the conclusions of the Imperial study were not justified and went beyond the data. Regensburg and Leibniz university academics directly refuted Imperial College in a paper entitled "The illusory effects of non-pharmaceutical interventions on COVID-19 in Europe", which said that the authors of the Imperial study
"allege that non-pharmaceutical interventions imposed by 11 European countries saved millions of lives. We show that their methods involve circular reasoning. The purported effects are pure artefacts, which contradict the data. Moreover, we demonstrate that the United Kingdom's lockdown was both superfluous and ineffective."
I am not saying that this stuff is right; I am just saying that there is a growing body of work that is, frankly, taking apart Imperial's. Remember, we spent £370 billion on lockdown that we will never get back. I could continue with other quotes, but I think Members get the flavour.
Moreover, a substantial number of other papers now question not Imperial per se but the worth generally of lockdowns. A pre-print article by four authors, "Effects of non-pharmaceutical interventions on COVID-19: A Tale of Three Models", said:
"Claimed benefits of lockdown appear grossly exaggerated."
In another paper, three authors found no clear, significant benefit of lockdowns on case growth in any country. Other papers continue that theme. I will quote one more, on adults living with kids. Remember: we shut schools because we were scared that kids would come home and infect older people, who would then die. This paper, in The BMJ, found
"no evidence of an increased risk of severe COVID-19 outcomes."
We shut down society and schools just in case, doing extraordinary harm to people's lives, especially young people. I am not a lockdown sceptic, as Ferguson casually describes some of his critics, but I am becoming so. Do you know why, Sir Edward? Because I read the evidence, and there is a growing body of it. In fact, there is one quote that I did not read out. There was a study of lots of countries that had lockdowns and lots that did not, and the data was inconclusive.
The third element of the scandal is the recent modelling. Swedish epidemiologists looked at Imperial's work and compared it with their own experience. Chief epidemiologist Anders Tegnell said of Imperial's work that
"the variables…were quite extreme…We were always quite doubtful".
Former chief epidemiologist Johan Giesecke said Ferguson's model was "almost hysterical". In the House of Lords, Viscount Ridley talked of a huge discrepancy and flaws in the model and the modelling. John Ioannidis from Stanford University said that the "assumptions and estimates" seemed "substantially inflated".
There was a second example last summer. In July 2021, the good Professor Ferguson predicted that hitting 100,000 cases was "almost inevitable". He told the BBC that the real question was whether we got to double that or even higher. That is where the crystal ball starts to fail: we got nowhere near 200,000, and we got nowhere near 100,000. There was nothing inevitable about Professor Ferguson's inevitability, and his crystal ball must have gone missing from the start. In The Times, he blamed the Euros for messing up his modelling because—shock horror—people went to pubs a lot to watch the games during the competition. When the tournament finished—shock horror—they did not. That seems to be the fundamental problem: where reality comes up against models, reality steamrollers them because models cannot cope with the complexity of real life. To pretend that they can and even that they are useful, when so many of them have proved not to be, is concerning.
Ferguson is only one of many people in Independent SAGE especially, but also SAGE, who did not cover themselves in glory. Raghib Ali—a friend of my hon. Friend the Member for Wycombe (Mr Baker), who I am delighted is present—is one of the heroes of covid. He noted that many left-wing SAGE members
"repeatedly made inaccurate forecasts overestimating infections".
Very often, they were falsely described on the BBC.
After a brief intervention of thanks from another Conservative MP, Seely continued, mentioning another member of SAGE who seemed to appear regularly on the BBC:
Just for the record, the communist Susan Michie, who is quoted quite often by the BBC, is not a medical doctor, a virologist or an epidemiologist. She is a health psychologist, so why on earth is she talking about epidemiology?
The third scandal took place this winter. Imperial, the London School of Hygiene and Tropical Medicine and others—I think they included Warwick—predicted 5,000 daily covid deaths, with 3,000 daily deaths as the best-case scenario. They were hopelessly inaccurate, and at this point the tide really begins to turn. Dr Clive Dix, a former vaccine taskforce head, said:
"It's bad science, and I think they're being irresponsible. They have a duty to reflect the true risks, but this just headline grabbing."
As I say, the tide is turning. Oncology professor Angus Dalgleish describes Ferguson's modelling as "lurid predictions" and "spectacularly wrong". The great Carl Heneghan, another scientist who has emerged with great credit for his honesty and fairness of comment, says:
"it's becoming clearer all that ministers see is the worst-case scenario".
Professor Brendan Wren says:
"Dodgy data and flawed forecasts have become the hallmarks of much of the scientific establishment"—
what a damning quote!—
"which has traded almost exclusively in worst-case scenarios…this must stop now."
I agree.
I will wind up in the next two to three minutes—I will speak for no longer than 15 minutes because other people wish to get in, and I am always mindful of that. What is the result of all this? The result, as UCL's Professor Francois Balloux notes, is a
"loss of trust in government and public institutions for crying wolf."
That is just it. We have had hysterical forecasts, models taken out of context, and worst-case scenarios normalised.
In the Army, there is something called the most dangerous course of action, and there is something called the most likely course of action. To sum up in one sentence how we got this wrong, we have effectively taken the most dangerous course of action and collectively—the politicians, media, scientists and health professionals—presented that as the most likely course of action, but it was not. Why did politicians say, "Follow the science" as a way of shutting down debate, when we know that science is complex and that our outputs are dependent on our inputs? It was down to public-health types, whose defensive decision making would only ever cost other people's jobs, other people's health, other people's sanity, other people's education and other people's life chances.
We know that the Opposition supported lockdown from the word go, but a little more opposing might have been helpful. The BBC and the Guardian have been salivating at state control and doomsday scenarios. Against this tsunami of hysteria and fear, thank God for The Spectator, The Telegraph and, yes, the Daily Mail for keeping alive freedom of speech and putting forward an alternative, which is now being increasingly scientifically vindicated. I accept that lockdown was understandable at first—I get that—but I believe the continuation of lockdown after that first summer was an increasingly flawed decision.
In wrapping up, I have some questions. To Professor Ferguson and the doomsday modellers: why are so many of your fellow academics disputing your work and your findings? To the BBC, as our state broadcaster: why did you so rarely challenge Ferguson, SAGE or Independent SAGE? Why did we misrepresent experts, and why did the BBC allow itself to become the propaganda arm of the lockdown state? To the Government: how could we have been so blinkered that we thought that following the science meant shutting down scientific debate? Why did we never use other datasets in contexts with the British people, or even in contexts in which these profound and enormous decisions were made? Why did we think that it was in our nation's interests to create a grotesque sense of fear to manipulate behaviour? SAGE and Independent SAGE kept on getting it wrong. To the public health types, I quote from Professor Angus Dalgleish again:
"Flailing around, wallowing in hysteria, adopting impractical policies and subverting democracy, the Chief Medical Officer is out of his depth. He has to go if we are ever to escape this nightmare."
He is not a journalist; he is an oncologist—a senior oncologist.
Twice in 20 years, we have made some pretty profound and significant errors of judgment, using modelling as a sort of glorified guesswork. I suggest respectfully to the Government that, after foot and mouth and covid, never again should they rely on dubious modelling, regardless of the source and regardless of the best intent. I am sure that Imperial and all these other people do the best that they can, and am very happy to state that publicly. However, why has so much of their work been described—and I will use the words of other academics—as "unvalidated", "flawed", "not fit for purpose", "improbable", "almost hysterical", "overconfident", "lurid", "inflated", "pessimistic", "spectacularly wrong", "fraudulent" and as "scientific opportunism"?
On January 26, the Daily Mail published his speech as an article, which was a great idea. Only political geeks, myself included, watch Parliament in action. This is information the public need to know.
I read the comments following the article. This one caught my eye:
The only accurate data analysis of Covid19 remains the Diamond Princess incident where an entire population were analysed and it showed that Covid19 was not the severe threat to all population that it was made out to be and even more interesting now is that if you rerun the incident again yet pressure that cruise ship population was vaccinated, you get statistically the same results.
Hmm.
To think that millions of 'ordinary' people knew about the Diamond Princess early in 2020, yet very few 'important' people ever brought it up in the media — or in political settings.
It's no wonder that many of us think that we were severely taken advantage of over the past two years.