You are currently browsing the tag archive for the 'media' tag.
Those who missed my series on King Charles III's coronation so far might be interested in reading parts 1 and 2.
Here is GB News's video which captures the events of Saturday, May 6, 2023, from 10:00 a.m. to 2:45 p.m.:
This post discusses what happened after the coronation ceremony at Westminster Abbey and star performances by people involved.
Getting fit like Penny Mordaunt
Among the Heralds of Arms was the Conservative Leader of the House, Penny Mordaunt MP, who is also Lord President of the Privy Council. In her position as Lord President of the Council, she carried the Sword of State, which is large and heavy.
Some years earlier, she had appeared in a reality television series, Splash!, hence the aquatic references in this tweet:
Here she is later on during the ceremony. Note how she positions her legs:
As I mentioned yesterday, her 51-minute holding of the sword was something to behold. A Guardian journalist tried holding a full water jug of similar weight and could only manage eight minutes.
The Telegraph tells us 'How to get arms of steel like Penny Mordaunt' (emphases mine):
The 350-year-old ceremonial blade weighs in at 3.5kg so this was no mean feat – "get her in the Olympics," quipped TV presenter Dan Walker. With the eyes of the world upon her, it's little wonder that Mordaunt, like an athlete training for the Games, had been preparing for this moment for some months.
"[I] will be carrying the Sword of State, which is the heaviest sword," she told a podcast ahead of the Coronation. "It has to be carried at right angles to the body, hence the need to do press-ups – pointing upwards, out in front of you, for some time."
50-year-old Mordaunt revealed that she had taken inspiration from her decade as Royal Navy reservist in training to become the first woman to carry out this important ceremonial role, noting that her experience in the armed forces made her used to "standing for long periods of time, not fainting".
But the strict exercise regime which naval recruits are put through will surely also have provided a framework for Mordaunt's press-up heavy preparations, ensuring her arms were at their strongest for the task.
As one serving naval officer tells me, "in training, we are introduced to an exercise called 'four corners' where we stand rank and file in a gym, then a PT [physical trainer) shouts orders at us to jump and face different corners of the room to carry out exercises like press-ups, star jumps and mountain climbers". Extreme discipline, both mental and physical, is required to endure these sessions.
The officer stresses that this approach is less about focusing on one particular area and instead creating a full body workout; "as well as cardio, it's about functional fitness, calisthenics and using your own body weight."
An easy way to introduce something similar into your own routine if you don't have a naval PT to bark orders at you would be to adopt the 5BX fitness regime, which was designed for the Canadian Air Force in the 1950s. Standing for 'five basic exercises', the 12-minute routine includes press-ups, sit-ups, back extensions, stretching and running on the spot. Both Prince Philip and King Charles have credited it for keeping them trim well beyond their youth.
Although Mordaunt's tailored cape obscured most of her arms, the momentary glimpses we did get showed off enviably honed biceps.
"Many of us watched in awe at the King's Coronation as Penny Mordaunt stood holding the sword for what seemed like an eternity," says personal trainer Caroline Idiens, whose philosophy centres on strength training and the physical and mental wellbeing this can foster, especially in midlife …
Mordaunt, sitting on the front bench for Prime Minister's Questions today, received compliments from the Labour shadow front bench opposite. She smiled and mouthed, 'Thank you'.
Many more compliments followed from all sides of the Commons on Thursday, May 11, when Mordaunt, as Leader of the House, led Business Questions.
What the King likely said in the coach
Many watching the day's events wondered exactly what the King said when he and Camilla arrived five minutes early at the Abbey and were not allowed to leave it until the exact time. You can see the moment in the tweet below:
Even Majesty magazine's editor-in-chief Ingrid Seward said the King 'almost had a bit of a hissy fit'. She spoke with Nigel Farage on his Monday evening show:
That day a lip reader gave The Star his best guess on what the King said. GB News reported on that and what led to it:
King Charles appeared to be grumbling to his wife Camilla as he allegedly said "this is boring" while they waited to enter Westminster Abbey, a lip reading expert claims.
The King and Queen arrived at the Coronation ceremony ahead of schedule and were forced to wait outside in their diamond jubilee state coach.
The Prince and Princess of Wales along with their children Princess Charlotte and Prince Louis were unable to overtake the monarch so joined his procession through [to] the church.
Speaking outside Saint Margaret's church next to the abbey, Dr Guli Francis-Dehqani, the bishop of Chelmsford [and one of the Lords Spiritual in the House of Lords], said that there were a couple of hiccups.
"There were one or two things that didn't go strictly to plan," she said. "I'm not going to embarrass anyone in particular."
While waiting outside the church, King Charles appeared to tell Camilla: "We can never be on time.
"There's always something… this is boring," lip reading expert Jeremy Freeman told the Daily Star.
Now back to the après-coronation.
The procession back to the Palace
The King and Queen left the Abbey in the Gold State Coach.
This is a great video clip of the procession back to Buckingham Palace:
The Princess Royal
Princess Anne, the Princess Royal, was in the group of mounted military behind the Gold State Coach. She had the role of honorary Gold Stick in Waiting, meaning that she was her brother's honorary bodyguard. Gold Stick's responsibility is to protect the monarch.
The various roles of 'stick' and 'rod' date back to Henry VIII. For example, Black Rod, who was also in the coronation, is part of the House of Lords and is the one who summons MPs to the Lords for the State Openings of Parliament.
But I digress.
The Telegraph reported, 'Princess Anne wins praise for being "best rider" on Coronation parade':
The former Olympic rider followed the King and Queen, who were in the Gold State Coach, on horseback during the large military procession back to Buckingham Palace.
Clare Balding, who was commentating on this part of the Coronation for the BBC, said: "I think fair to say she's the best rider on parade; she's a former Olympian, a European Open champion as well, so she knows what she's doing.
"She's riding a horse called Faulkand, looking extremely comfortable en route."
The Princess took part in the historic procession route back to the Palace in her official role as Gold Stick in Waiting and Colonel of the Blues and Royals …
It is understood that the King gave his sister the important Gold Stick in Waiting role in the Coronation ceremony as a thank you for her loyalty and unwavering support.
This was the largest military procession since Winston Churchill's state funeral in 1965.
Prince Harry
After the King and Queen left the Abbey, most of the Royals were waiting for cars.
Prince Harry conversed with the husbands of Princesses Beatrice and Eugenie, Edoardo Mapelli Mozzi and Jack Brooksbank, respectively. Harry sat next to Brooksbank during the ceremony and chatted together during parts of it. At one point, Harry must have said someone's name because Brooksbank smiled and asked 'Who?' The two shared a chuckle.
The levity continued after the ceremony, but the princesses did not seem amused.
That afternoon, GB News reported:
Body language expert Darren Stanton suggested the moment showed the Yorks' daughters being unsure about how to reassure the father-of-two ahead of the biggest royal event in a generation.
Stanton told GB News: "They were trying to include him but there was a bit of an awkwardness in terms of them thinking is that or is that not within protocol.
"It shows that they were trying to include him and make him not feel awkward because he did look awkward walking in without Meghan.
"However, I think generally he is more confident without her."
He continued: "I think there was a little bit of hesitancy, as if they didn't know what to do really."
Stanton added: "They [Beatrice and Eugenie] are a lot more forgiving and less inclined to follow the protocols and things because they grew up with him."
However, Prince Harry was seen chatting to both his cousins' husbands Edoardo Mapelli Mozzi and Jack Brooksbank.
When asked about the Duke's conversation with the pair, Stanton also said: "It's almost like going to a wedding and not knowing anyone but you see someone you may know a little bit and you talk to them so you don't feel as awkward."
But Harry and his wife Meghan Markle are particularly close with both Eugenie and Jack.
Stanton said he did not see a long-term future for the Sussexes as a couple:
It was good of whomever directed them down the aisle to sandwich Harry in between the couples so that he looked less isolated:
David Starkey also noted Harry's awkwardness:
On Monday, May 8, Princess Eugenie clarified the situation on social media:
GB News reported:
The 32-year-old, who is expecting her second child with husband Jack Brooksbank, took to Instagram to express her feelings about the special day.
Eugenie posted a selection of photos from the event, and to the delight of fans, included Prince Harry in the mix.
Writing to her 1.7 million social media followers, she said: "Yesterday meant so much to me, as I'm sure it did to so many watching.
"What a magical celebration for The King, The Queen, our country, and the Commonwealth.
"The day was such a reflection of dedication and service to our country" …
The Princess's choice of pictures which she shared online yesterday, did not go unnoticed by fans.
One person wrote in the comments: "Thank you for showing Prince Harry in your photos. He's been iced out for the most part, so it's nice to see your support."
Another said: "Thank you for your support to Prince Harry and his family."
Returning to the Abbey, it took a while for Harry's car to arrive.
On Monday, news outlets told us that the prince did not go directly to Heathrow to catch his commercial flight back to California.
The Telegraph reported, 'Prince Harry went to Buckingham Palace after the Coronation but didn't see his family':
The Duke of Sussex visited Buckingham Palace during his brief trip to Britain for the Coronation, slipping in and out of the monarchy's headquarters briefly without seeing the Royal family.
The Duke spent less than half an hour at the palace after the end of the Westminster Abbey service on Saturday, The Telegraph has learned.
From there he travelled straight to Heathrow Airport while his family were still occupied with public Coronation duties.
It is understood that the visit was for logistical reasons. It allowed him to take a moment out of the public gaze following the two-hour Abbey service.
He did not join the Royal family for official Coronation portraits and is not known to have seen or spoken to his relatives.
Dan Wootton's GB News show had more. Someone said that the car from the Abbey took him only to the Palace, implying those had been the instructions given to the driver. The 'logistics' involved him getting another car to the airport. Whether the Palace supplied that or Harry made his own arrangements is unknown.
The Prince and Princess of Wales
The Wales came across as a regal couple, which will stand them in good stead in the years to come.
The Princess looked beautiful in her Royal Victorian Order mantle and regalia. She wore Princess Diana's pearl earrings, by the way:
Neither she nor the Duchess of Edinburgh (Sophie Wessex) wore tiaras but rather fancy fascinators instead.
David Starkey remarked on GB News:
I didn't quite understand but on the other hand, it was a tiny nod to the supposed informality and modernity.
"Although quite what is modern about a head dress made of silver bullion, I really do not know.
The Telegraph explains the Princess's attire in 'What the Princess of Wales's Alexander McQueen Coronation gown is really trying to tell us':
Like generations of royal women before her, including Elizabeth II, the Princess of Wales chose to incorporate rose, thistle, daffodil and shamrock motifs representing England, Scotland, Wales and Ireland respectively into the design of her gown. These were included by the Alexander McQueen atelier using silver bullion and thread work embroidery.
In a break with coronation custom, the Princess of Wales wore a headpiece instead of a tiara. Created by milliner Jess Collett in collaboration with Alexander McQueen, the Princess's headpiece is made with silver bullion, crystal and silver thread work three-dimensional leaf embroidery. This simple, rather than bejewelled, choice of headwear alludes to the flower crowns worn by Queen Elizabeth's maids of honour at her 1953 coronation …
The Princess of Wales's jewellery choices were a sentimental nod to the past and female figures whose influence is no doubt important to her. The dazzling George VI Festoon Necklace was made in 1950, commissioned by King George VI for his daughter the then Princess Elizabeth. Her pearl and diamond earrings belonged to Princess Diana who made the Princess of Wales title which Princess Catherine now holds into a globally recognised name.
The inclusion of daffodils, which represent the Welsh element of the Princess's Coronation gown, is a design decision of which Sir Norman Hartnell, the creator of Queen Elizabeth's coronation gown, would likely have been envious.
He wrote in his autobiography, Silver and Gold, of his wrangling with the Garter King of Arms after he was informed that he must use a leek rather than a daffodil to represent Wales on the late Queen's coronation dress.
"'A daffodil!' exclaimed Garter. 'On no account will I give you a daffodil. I will give you the correct emblem of Wales, which is the leek.' The leek I agreed was a most admirable vegetable, full of historic significance and doubtless of health-giving properties, but scarcely noted for its beauty. Could he not possibly permit me to use the more graceful daffodil instead?, Hartnell recalled in the memoir. 'No, Hartnell. You must have the leek,' said Garter, adamant."
On another historical note:
The last Princess of Wales to attend a coronation was in 1902, when the-then Princess Mary wore a pearl encrusted gown with braid detailing to the crowning of her father-in-law King Edward VII.
One hundred and twenty one years later, the Princess of Wales has set a new template with a dress which will be remembered as one of the most important of her lifetime.
Royal commentator Richard Fitzwilliams had nothing but praise for the couple:
Prince Louis, age 4 — the same age as the King was when he saw his mother crowned in 1953 — only had to leave the Abbey once. Young Prince Charles left the ceremony after the Communion portion of the service. Louis was given a break then returned for the conclusion of the ceremony to sing the National Anthem, which he reportedly did with gusto.
This video has clips of the prince at the coronation ceremony and at the flypast, interspersed with other photos of him:
In the procession back to Buckingham Palace, the coach with the Wales family was the one immediately behind the King and Queen's Gold State Coach. The Duke and Duchess of Edinburgh (Wessex) and their children followed the Waleses in the next carriage.
The Wales children certainly enjoyed the opportunity to wave at the crowds:
Andrew Lloyd Webber
On the afternoon of Coronation Day, The Times posted 'Andrew Lloyd Webber on the making of his coronation anthem':
It was over dinner at Highgrove, the King's Gloucestershire estate, just before Christmas that Charles asked Andrew Lloyd Webber a favour. Would he be interested in writing an anthem to be played at the coronation? The only stipulation was that it must be "joyful".
Lloyd Webber, 75, leapt at the "incredible honour" and dropped everything so that he could sit at his piano and write.
The result is Make A Joyful Noise. The song is an adaptation of Psalm 98, which starts "Sing to the Lord a new song, for he has done marvellous things".
The peer, who is best known for writing more than 20 musicals including Cats and The Phantom of the Opera, is distributing the music and lyrics to churches across the country this weekend.
He hopes it will be sung by "people at any occasion where they feel they just want to sing".
The track has also been recorded by boys from the Westminster Abbey Choir School and the abbey's adult choristers, with proceeds to be donated to Age UK and the Royal British Legion at the King's request.
Rain did not dampen spirits
It rained for a significant part of the day, but those outdoors remained resourceful and resolute.
A soldier in one of the marching bands had to empty his tuba of rainwater:
Later that day, The Telegraph had more in '"This is why we're proud to be British" — rain-soaked crowds hail Coronation celebrations':
Royalty. Regalia. Rain. It's what Britain does best.
And so it was with good humour, stoicism, and a phalanx of sturdy umbrellas the London crowds flatly refused to let the weather dampen the celebratory mood as they witnessed the biggest set piece of its kind in 70 years …
Outside the heavens continued to open. After the first hour the quips about Charles's "long rain over us" and cries of "turned out nice again" from the depths of ponchos and umbrellas ought to have been wearing a bit thin. But no.
"This is why we're proud to be British," said Janet Singh, 37, who was with her family on The Mall. "There is no other country on earth where you can see such a dignified display of tradition and pageantry."
The cost to the taxpayer
The taxpayer pays for state occasions, which is why the Government oversaw and advised on the coronation.
This is how much Operation Golden Orb — the code name for Charles's coronation — cost in terms a Briton can understand. What did it cost in comparison to the NHS?
To better understand, the NHS spends a whopping £2,000 every 0.4 seconds.
The cost of the entire coronation of His Majesty King Charles III would fund the NHS for 5 hours: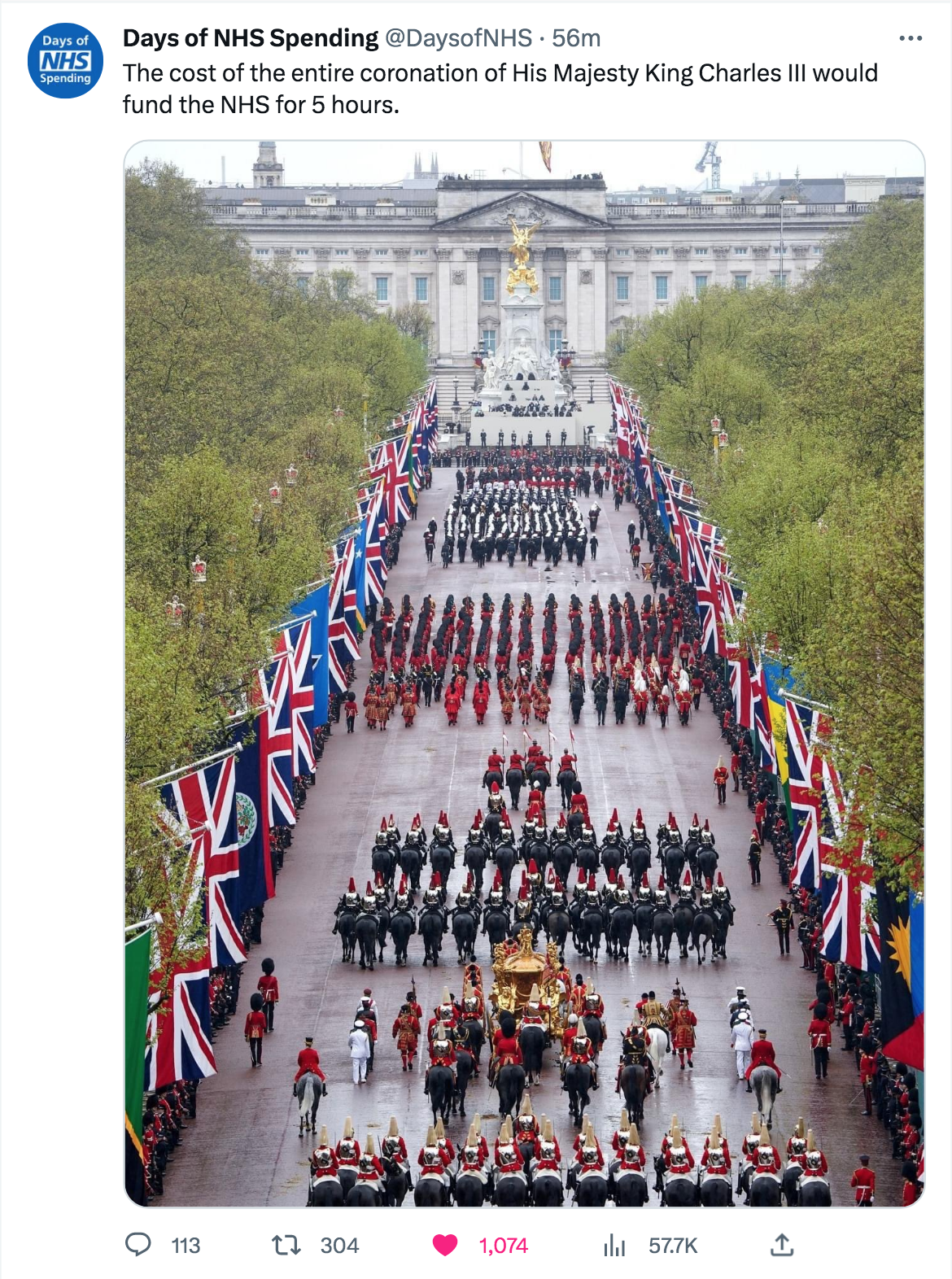 The Queen's funeral was much less expensive. Its cost would have funded the NHS for just over 23 minutes:
Still, a coronation comes along only once in a lifetime these days. I am not sure whether I will live to see William crowned as his father's successor.
Not the first 'modern' coronation
The Telegraph's Allison Pearson informed us that Charles III did not have the first modern coronation.
That distinction belonged to Edward VII in 1902. Interestingly, I did not hear any of the historians or Royal experts bring this up in their commentary:
In fact, monarchy has always used coronations to ensure its survival, with guest lists cannily reflecting the broader shifts in society. In 1902, amid the maharajahs and county councillors (newly included that year to bring in more plebs), were the occupants of what was called "the Loose Box", in which sat Edward VII's, ahem, "female friends". At least King Charles spared us a harem. In keeping with a more democratic UK, he gave a generous allocation of tickets to the youth groups that he has so brilliantly supported and to normal folk who have got the kind of humble gong that means they have done something rather than been somebody …
In 2023:
… the so-called innovations of the ceremony worked, better than anyone could ever have imagined. The Kyrie in Welsh sung by Bryn Terfel, Mount Snowdon in human form. The Ascension Gospel Choir, soul food personified. It was touching to have the Prime Minister, a Hindu, read the Lesson and even more so to observe his wife, Akshata Murty, joining in with Praise, My Soul, The King of Heaven. The gifts given to the King by leaders of other faiths felt like a generous addition to a Christian service, not a subtraction. This was not the narrow, divisive multiculturalism that causes so much harm and offence; here was Great Britain being greater for being proud of everything we share. Everything that makes us us.
Pearson also told us more about the anointing screen:
The moment when King Charles was anointed will long live in the memory. The King undressed to reveal a simple white shirt, then was hidden behind a screen with a Tree of Life embroidered on it with an inscription along the bottom: "All will be well and all manner of things shall be well." The screen was very William Morris, very Charles Windsor: Hearts and Crafts.
The balcony appearance and flypast
There was only one glitch with the procession. Shortly before it turned into The Mall, a horse got spooked, reared up and backed into the crowd:
The Telegraph reported that no one in the crowd was injured, although a police constable was seen limping at the scene. Her fellow officers gave her assistance.
The Wales children took in the procession:
The procession continued along The Mall to huge cheers and Charles was seen waving to fans.
The Prince and Princess of Wales followed with William waving and Prince George was seen looking curiously at the thousands cheering.
Prince Louis had his face pressed close to the glass while Princess Charlotte looked calmly on.
The last stage of the procession was the journey down The Mall then around the Victoria Fountain in front of Buckingham Palace:
When the procession arrived at the Palace, the King went to the gardens to give a Royal salute to the troops on foot and on horseback who took part.
Understandably, it took some time for them to regroup and walk to the back of the Palace in an orderly fashion.
Meanwhile, fans of the Royal Family were no doubt pleased, as this gave them more time to surround the Victoria Fountain and get a better view of the upcoming balcony appearance:
At this point, no one knew if the flypast would take place. Earlier in the day, various types of British aircraft, some of them from the Second World War, took — or tried to take off — from several places around Scotland and England. They would then co-ordinate and fly over the Palace in formation.
At Queen Elizabeth's coronation, the flypast was postponed until around 5 p.m. that day.
For her son's coronation, it was decided that the flypast would go as planned, after 2:30 p.m., but only with helicopters and the incomparable Red Arrows.
This video shows the Royal Family's balcony appearance, the flypast and the second appearance from the King and Queen to the enthusiastic crowd. Prince Louis clearly enjoyed himself:
This is a splendid photo of the Red Arrows over Big Ben and the Elizabeth Tower: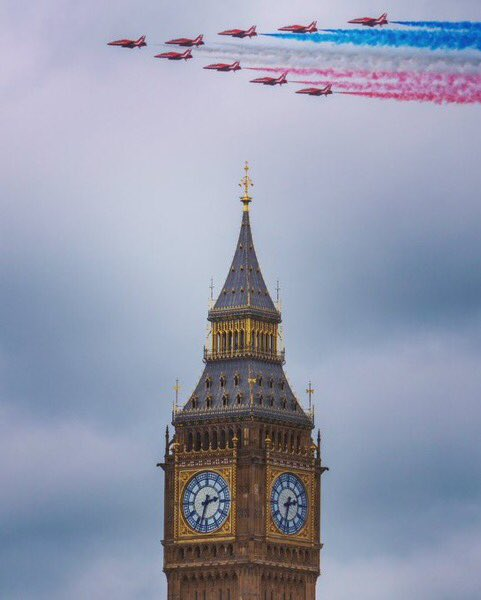 Here's a video of the flypast in full:
On the balcony were the King and Queen, their pages, the Queen's companions, along with the Duke and Duchess of Edinburgh, their children Lady Louise Windsor and James, the Earl of Wessex. Princess Anne and her husband were also present as were the Duke of Kent, Princess Alexandra and the Duke and Duchess of Gloucester.
Sunday papers
Below are the Sunday papers' front pages.
Even The Observer (The Guardian's Sunday edition) led with the coronation:
They showed more respect than The Star:
The Sunday Mirror had a superb photo:
The Sunday Express's photo shows the King's crown off beautifully, as did the Sunday People's:
The Sun's was breathtaking:
Speaking of crowns, Saturday's Sun showed a close up of his and hers:
The Sunday Telegraph's front page photo was the worst. What were they thinking?
This union appears to have been written in the stars for many years:
The Times had the same photo but to lesser effect.
And, finally, even in independently-minded Scotland, the King clearly has fans: 'Charlie is my darling'. These two ladies travelled to London to see him:
And so ended a beautiful and memorable Coronation Day.
But what sort of monarch will King Charles be? Find out tomorrow.
End of series
As Fox News unceremoniously sacked Tucker Carlson on Monday, April 24, 2023, below is a selection of videos of varying lengths for those who miss his top-rated cable news show.
The first is a short clip about Jeffrey Epstein's death and Bill Gates's reaction, as if he never even knew Epstein:
Another short video is of his interview to the young man from Fullsend Podcast, in which Tucker says that news programmes are not there to inform us, not at all. He admits that he should have been more sceptical years ago, however, it was only in the last ten years that the scales finally fell from his eyes. Better late than never:
In this seven-and-a-half minute long video, Tucker tells us that the Biden administration has not revealed any earth-shattering facts about JFK's assassination, even though they pledged to do so. He is certain that the CIA played a large role in that and explains why. He also reminds us that the term 'conspiracy theory' emerged in 1964 — specifically about those querying the assassination — and is now used on a daily basis:
Next, we come to his final editorial on Friday, April 21, 2023, in which he discusses the Biden administration's penalising honest mortgage payers by $40 a month while allowing poorer mortgage payers more leniency. This, he says (tongue in cheek), is done in the name of equity:
That evening, he gave a 20-minute Keynote Address for the Heritage Foundation's 50th Anniversary Celebration:
I highly commend it to everyone.
My thanks go to my reader Katherine who kindly posted the link in my previous post about Tucker and wrote:
Carlson gave an impassioned speech at the Heritage Foundation Friday night, after his last show (when he didn't know it was his last). Among other things he pointed out that the mutilation of children is evil, and that we should all pray daily for an end to the evil.
This is worth showing to one's family. Children will benefit from seeing it. Listening to Tucker is like listening to a classically WASPy dad or uncle at Sunday lunch.
One of the best bits for me is between the 7:00 and 8:30 points, where he talks about truth telling and lies. He says that every time we tell the truth we feel strengthened inside. That is so important for children to know. Conversely, every time we tell a lie we feel weakened and frightened, which he says is what our notional betters are feeling. Therefore, tell the truth. He follows that by saying that he is paid to tell the truth on his nightly Fox News show. Poor man. Little did he know that Friday what would hit him first thing on Monday morning.
He talks about 'faith' at first then launches into the fact that he is an Episcopalian, adding that the denomination has the 'weakest' of theologies. Yet, he advocates praying for ten minutes a day so that the evil in our world disappears.
Tucker is the old school Episcopalian that I remember from my first thirty years of life on this planet. They made America great. They were the ones I met socially and later went to church with. Although he starts a bit slowly, it doesn't take long for Tucker to build momentum.
Afterwards, Heritage president Kevin Roberts sits and talks with him. Tucker says that the most important thing we can do every morning is to tell our family members that we love them, because we do not know what the day will bring. He meant death. He said that we must not fear death and to give it a bit of thought every day, because it will happen to each of us.
He also said that he no longer trusts anything that he cannot touch or smell, from people and pets to books. He made a point of telling the audience to hold on to physical copies of books.
Kevin Roberts told Tucker that if Fox ever sacks him, that he has a place at the Heritage Foundation.
Mr Roberts, that day has now come.
None of us is either good or perfect, but Tucker Carlson's head and heart are where they should be. I look forward to his next career move.
On Monday, April 24, 2023, Fox News unceremoniously sacked the presenter of their top-rated show, Tucker Carlson Tonight.
Only recently, it was the most-watched cable television news show: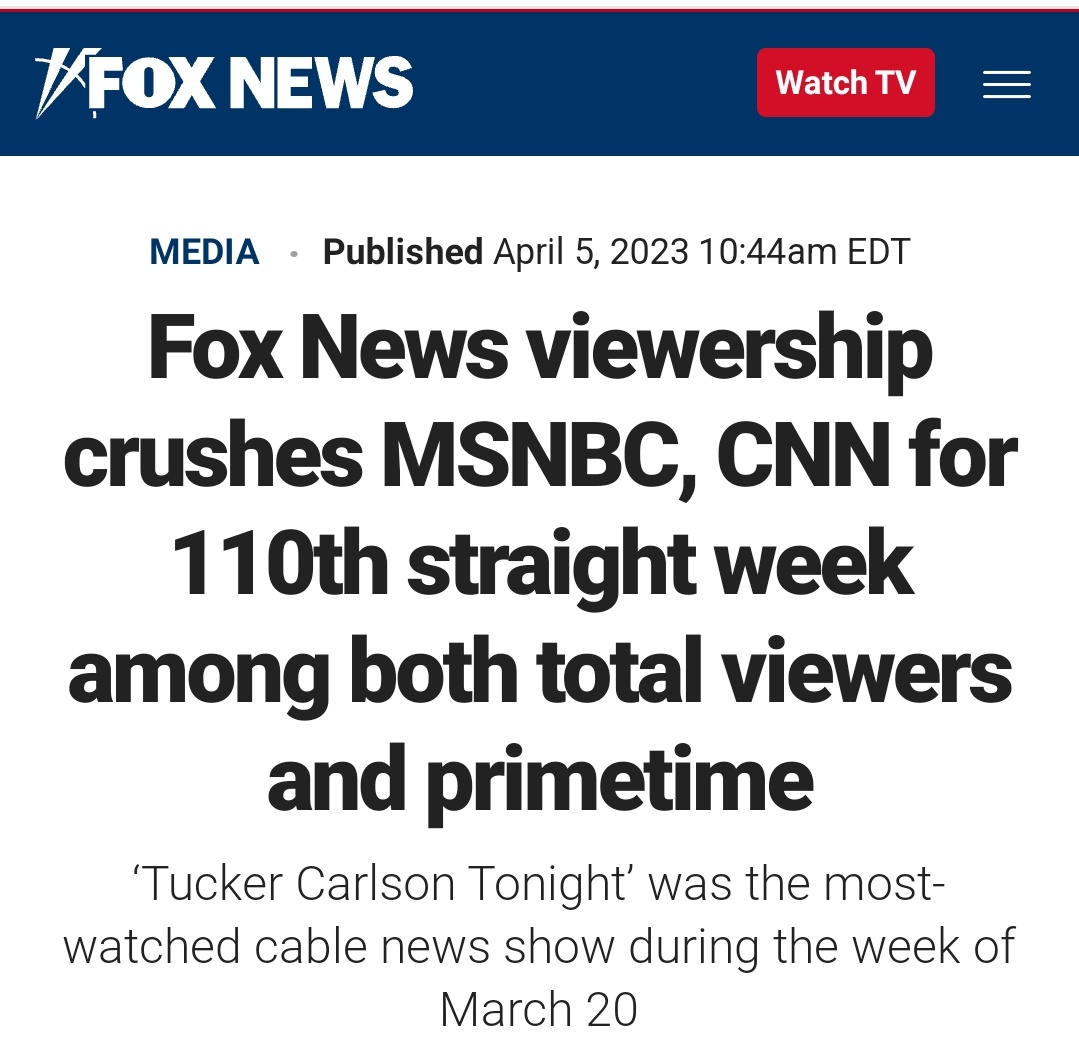 Vanity Fair has the most detail on what happened and possible reasons why Carlson lost his job.
'Tucker Carlson Was Blindsided by Fox News Firing' says (purple emphases mine):
The media world was blindsided by the news that Tucker Carlson and Fox News would be parting ways. So was Carlson. 
On Monday morning, Fox News CEO Suzanne Scott called Carlson and informed him he was being taken off the air, and his Fox News email account was shut off. According to a source briefed on the conversation, Carlson was stunned by his sudden ouster from his 8 p.m. show, the most watched program in cable news last month. Carlson was in the midst of negotiating the renewal of his Fox News contract through 2029, the source said. As of last week, Carlson had told people he expected the contract to be renewed …
The network provided few details in a Monday statement: "Fox News Media and Tucker Carlson have agreed to part ways," it read. "We thank him for his service to the network as a host and prior to that as a contributor."
A Fox News spokesperson declined to comment beyond the press release. Carlson declined to comment.
Details are emerging about Carlson's exit. The Los Angeles Times reported that "Carlson's exit is related to the discrimination lawsuit filed by Abby Grossberg," a producer fired last month, and that the decision to fire Carlson came from Fox Corp. chairman Rupert Murdoch. And The Washington Post reported that Carlson's comments about management, revealed in the defamation case brought by Dominion Voting Systems—which Fox settled last week for $787.5 million—"played a role in his departure."
The Independent reported:
On Monday night, his "Tucker Carlson Tonight" show was instantly replaced with "Fox News Tonight" hosted by Brian Kilmeade, who brushed over Carlson's sudden departure.
"As you probably have heard, Fox News and Tucker Carlson have agreed to part ways," he said.
"I wish Tucker the best. I'm great friends with Tucker and always will be. But right now, it's time for 'Fox News Tonight,' so let's get started."
Vanity Fair reported how the media world around the globe rejoiced at Tucker's departure. However, his views were much more nuanced than his fellow broadcasters give him credit for. Tucker was never keen on Donald Trump and privately criticised the 45th American president's insistence that he won the 2020 election. Tucker was also one of the few presenters anywhere who had people on with views opposite to his own. In addition, he covered news stories no one else would.
The former CNN presenter Brian Stelter wrote for Vanity Fair saying that we might never know why Fox News binned Carlson. Stelter said it looks like 'an execution':
Carlson became, for a couple of years, even bigger than his network. He was said to have a chummy relationship with Fox Corporation CEO Lachlan Murdoch. He was also said to be sharply critical of the women who ran Fox News for Murdoch. Fox staffers believed that Carlson could get away with anything for two main reasons: his friendship with Murdoch and his reliably high ratings …
Not being given a chance to sign off is the television equivalent of an execution.
"Damn," a former Fox producer said to me right after it happened. "It had to be O'Reilly-level bad for him to not even get a goodbye show." You'll recall that Bill O'Reilly, the longtime renter of the 8 p.m. time slot at Fox, was booted in 2017 in the wake of sexual misconduct allegations and revelations about secret settlements. That's not why Carlson is out—in fact, a well-placed network source says Carlson was not the subject of any misconduct investigation. Carlson has many, many flaws, but they're distinct from O'Reilly's flaws.
So what doomed Carlson? Here is a theory. The revelations from Dominion's lawsuit against Fox, which the network settled last week for $787.5 million, were embarrassing for many individuals, including Carlson, whose private emotions about Donald Trump (a "destroyer," a "demonic force") and Fox's own journalists were published for all the world to read. Hundreds of pages of emails and text messages from within Fox were published in Dominion's pre-trial legal filings. But there is a huge number of other pages that remain out of public view. The redactions were voluminous. Only three groups of people know what those pages contain: Dominion's lawyers, Fox's top executives, and obviously the people who were sending and receiving the messages. So what was Carlson saying about, say, Fox News Media CEO Suzanne Scott? What was he texting about the Murdochs? We don't know. We may never know. But this theory may explain why Carlson's top producer and textmate, Justin Wells, was also terminated …
Other potential factors include former producer Abby Grossberg's discrimination lawsuit against the network, which depicted the Tucker Carlson Tonight production environment as a frathouse where "sexist, demeaning comments" were free-flowing. Truth be told, Carlson's exit may always be shrouded in some amount of mystery. Both Fox and Carlson may be incentivized, for financial reasons, to stay semi-peaceful in public.
Where can Tucker Carlson go now? Nowhere. He bears the distinction of having been sacked from all three major news channels in the US: Fox News, CNN and MSNBC. He also worked for PBS briefly in 2004 and 2005, at which time he was still on MSNBC and transitioning to CNN.
It's possible he could return to The Daily Caller, a media outlet that he co-founded in 2010 with Neil Patel, a former college roommate who later worked for Dick Cheney. In June 2020, Carlson sold his third of the stake to Patel and bowed out of it completely.
Perhaps divine providence has called Carlson to take a well-deserved pause from broadcasting. Carlson and his wife, whose father is a priest, are practising Episcopalians. He once said that he loves the liturgy but loathes the politics.
I wish Tucker all the best and hope that he has a renaissance soon.
My lengthy look at The Telegraph's March 2023 series The Lockdown Files concludes today and tomorrow.
My most recent post examined the decline in the communications of British government officials and advisers: from professionalism to infighting.
What can we learn from The Lockdown Files? Several things.
Who else would have published the WhatsApps?
Just days after the first instalment of The Lockdown Files, MPs from the Digital, Culture, Media and Sport Sub-committee on Online Harms and Disinformation interviewed News UK chief operating officer David Dinsmore, Guardian head of news Nick Hopkins, Daily Mirror editor in chief Alison Phillips and DMG Media editor emeritus Peter Wright.
Press Gazette has a good recap of the session, available to view on Parliamentlive.tv.
Had The Telegraph not published the WhatsApps and their context, would any other newspaper have stuck its head above the parapet?
It seems unlikely there would have been such an in-depth examination elsewhere (emphases mine below):
Bosses at Sun and Times publisher News UK, Mail publisher DMG Media, the Mirror and The Guardian have indicated they would have published, or seriously considered publishing, Matt Hancock's Whatsapp messages …
Asked by Labour MP Kevin Brennan whether he would have published Hancock's messages, News UK [Murdoch's media empire] chief operating officer David Dinsmore initially said: "You'd need to ask the editors" …
Asked the same question Nick Hopkins, head of news at The Guardian, told the Digital, Culture, Media and Sport Sub-committee on Online Harms and Disinformation: "I think we would have considered it.
"We'd have looked at the material on its merits. I think we would have probably, if we were going to publish it, done it in a slightly different way."
Daily Mirror editor Alison Phillips, gave a more decisive answer, saying: "I mean, The Telegraph and Isabel Oakeshott do have an anti-lockdown agenda. We didn't – we were on the side of caution in terms of lockdowns.
"However, I do think those Whatsapp messages are in the public interest, and we would have used them."
DMG Media editor emeritus Peter Wright agreed: "I agree with Alison, I think they were very much in the public interest. We don't really know the exact nature of this nondisclosure agreement [binding Oakeshott], which you would have wanted to see.
"But I'm afraid it gives a unique insight into the way government works and how the government handled the pandemic.
"I wouldn't like to be in the position of having turned it away."
Wright did say however that he had some "qualms" about how the story was handled by The Telegraph.
How Government works
As DMG Media editor emeritus Peter Wright said above, The Lockdown Files showed us how the Government works.
On March 6, The Telegraph's Sherelle Jacobs had an excellent article on the subject, 'Like Watergate, The Lockdown Files show how the state really operates. It's chilling':
… perhaps the strongest parallel with Watergate is that our political class has lost its moral credibility. Regardless of one's take on whether No 10 went too far or not far enough in tackling Covid, surely everyone can agree that the state's operations seem suffused with humdrum nihilism. It is there in the amused crusades to "scare the pants" off people. It is in the deadpan mocking of holidaymakers locked up in quarantine ("hilarious"). It is in the remorseless dedication to "the narrative". And it is there in the constant references to public "compliance" as if the public were not self-possessing individuals, or even vulnerable citizens, but rather slaves to a bureaucratic machine.
To be fair, there is a whopping difference between Watergate and The Lockdown Files. The fact is that no crime was committed when the country locked down three times with a reckless disregard for the consequences. Ironically, the only breach of law occurred when members of the ruling class broke their own wretched Covid rules. Nor is there any whiff of a cover-up, save for the row over parties at No 10.
But that difference makes The Lockdown Files all the more disturbing. All excesses of state power that occurred during the pandemic were permitted within the realms of the Western political system; the sovereign may at any time suspend the rule of law for what it deems the greater good. The pandemic merely exposed the workings in extremis of liberal democracy.
The Lockdown Files reveal something even more chilling: namely how the people and the state are in lockstep, as we inch towards a new kind of authoritarianism …
But The Lockdown Files also show how zealously the state threw themselves into implementing draconian measures, once it had decided at HQ that lockdowns were the correct populist call. We have come to learn how Hancock conspired to "sit on" scientists, who he denounced as "wacky" or "loudmouth" for defying the official lines. We must digest the knowledge that civil servants insisted the "fear/guilt factor" was "vital" in "ramping up the messaging" during the dubious third lockdown. Just as unedifying is the revelation that, in the run up to this lockdown, politicians seized on a new variant as a tool to "roll the pitch with". Perhaps most galling is Patrick Vallance's advice that the Government should "suck up the media's miserable interpretation of scientific data" to then "overdeliver" in an atmosphere of cranked up fear.
The question is, how did we get into such a mess? My own view is that the rot at the top is reflective of moral angst below. Modern society is simply unable to grapple with the question of how to balance two things – bare life and quality of life. In that ethical vacuum, politicians can only plot, deflect and wage war for control of "the narrative".
… the Ancient Greeks had two different words for what we simply refer to as life: zoē (the biological fact of life) and bios (the way life is lived). The loss of the distinction reflects how modern society has come to prioritise survival over a life lived with meaning; and how Western governments, in their pursuit of power, come to "place biological life at the centre of… calculations".
This is a dilemma society simply refuses to confront. Journalists are more comfortable examining the parts than the whole. Thus they prefer to pick over Isabel Oakeshott's "betrayal" of Hancock than broach the greatest of philosophical questions. Those pro-lockdowners who are of a more reflective disposition prefer to cogitate on the supposed dark side of freedom than look in the eye humanity's inhuman face. On the other end of the spectrum are the Covid deniers who would rather pretend the virus never existed than admit that preserving a certain quality of life for children might mean allowing significant numbers of elderly deaths.
Not even the greatest living philosophers can show us the way out of the moral maze – and thus political dilemma of our time. Until we face up to this conundrum, we are stuck, and we are blind. And so when something like The Lockdown Files comes along and power shows us that it is both the jailer and the mirror – we will fail to truly see.
The leaders we possibly deserved
Taking Sherelle Jacobs's observations a step further, did we get the leaders we deserved because we cannot think critically and cannot distinguish between surviving and living?
Quite possibly.
The Telegraph's Tim Stanley explains a few practical truths in 'Matt Hancock was the lockdown champion Britain deserved':
… how … did this man of marginal ability and dubious character become health secretary? One answer is that when he took the job, in 2018, it wasn't considered very important. 
The health service was devolved and self-governing; Jeremy Hunt [current Chancellor], Matt's predecessor, limited his day-to-day responsibilities to wearing an NHS badge. Hancock's innovation was to take that badge and stick a rainbow flag on it (because when you're lying on a hospital trolley, bleeding to death, it's a comfort to know that the A&E you're not being treated in is inclusive and diverse).
We have to blame Brexit, too. Leavers, like me, were so obsessed with "getting it done" we were willing to park other issues, like health reform, and vote for a team that wasn't the best. But … Remainers must also take responsibility for opposing Brexit so doggedly that they pushed half the country into the arms of such incompetents. Matt was a Remainer, though it probably wasn't one of his convictions. He hasn't got any of those. Yet.
There's a running theme in the Lockdown Files of Westminster contempt for the so-called "hard-Right" of the Conservative Party, characterised as libertarian, even pro-virus. Enthusiasm for lockdown was about saving lives, absolutely; yet in the deepest recesses of our political id it was also Remainers' Revenge. Not in the sense of it being narrowly motivated by Brexit but because it allowed bureaucrats and experts who felt spurned by populism to re-flex their muscles – and a large number of Britons who felt discombobulated by the politics of the past few years (however they'd voted) to "take back control" via a giant reboot of culture and society. Lockdown was popular. Many people have never left it.
When Boris considered lifting some of the restrictions in the summer of 2020, he was warned that it would be "too far ahead of public opinion", which probably favoured tougher regulations for longer. One might speculate that Matt was the health secretary Britain deserved because he largely did what we wanted. A more thoughtful individual who questioned the science, moved cautiously and visibly U-turned on policies when they didn't work would not have provided the reassurance we craved …
This was the politician who, at the height of his career, opened an empty hospital [a Nightingale] that would never be used – a hollow man in the hollow ward, a saga that leaves one wondering how much of lockdown was necessary and how much was simply a bromide?
Continuing on the same themes is James Rogers, who wrote a March 6 article for Conservative Woman: 'Hancock circus masks Johnson's coup against democracy':
… it is clear that Hancock behaved as he did only because the Johnson government – which became a regime – enabled him. Whitehall had a clear strategy to do whatever it wanted; naysayers would be ignored and cast as paranoid trouble-makers.
The Johnson Regime seized extraordinary powers and escaped all scrutiny, save for castigation by Labour, the BBC and Guardian for being 'too slow to lock down'. They would not take their boots off the people's throats for 18 months, nor would they seek to pacify their minds; they treated us like farm animals, and sadly many of us behaved like sheep.
Fifteen years earlier, even Tony Blair's government acknowledged the need for parliamentary supervision of a government that had invoked emergency powers. When it updated the relevant legislation – Emergency Powers Act 1920 and Civil Defence Act 1948 – it passed the Civil Contingencies Act 2004 (CCA), which imposed a 'triple lock' of conditions that would bind an 'emergency government' to submit its strategies and diktats to parliament every 30 days. Not the Johnson Regime: it swept the CAA aside, and introduced the Coronavirus Bill.
The Johnson government had an 80-seat majority. There would have been no piece of reasonable legislation that it could not have got through. Instead, it chose to avoid parliamentary scrutiny, and govern by ministerial decree for 18 months. What occurred in spring 2020 was a brazen, ultra vires coup.
The justification by Michael Gove and Penny Mordaunt was bizarre. They stated that C-19 was an emergency that demanded bespoke legislation, but since there was sufficient time for it to be drafted, it was not appropriate to use the CCA which applied to immediate emergencies. However, by the same token, the situation was so 'urgent' that only one day could be spared for debating the Coronavirus Bill. (How was a 350-page Bill drafted in five days?)
Rogers raises several pertinent points for the official coronavirus inquiry, which was supposed to have started in March 2023, by the way. Hmm. How's that going? Answer there came none.
Some of his points follow:
1. The Johnson government ignored the Cabinet Office convention that for 'emergency powers' to be invoked, the nation had to be faced with a 'catastrophic emergency'. There was never any 'catastrophe', nor was there any 'emergency', nor any risk of such, only the semblance of such created by the government and MSM. Here is a link to ONS figures on C-19 fatalities in 2020. Deaths from C-19 with NO pre-existing condition (England) 4,169; (Wales) 294. That's fewer than 4,500, with an average age of 82.5 years.
2. The same convention holds that 'emergency powers' must be relinquished as soon as the reason for invoking them diminishes. The Johnson Regime held these powers until autumn 2021. Almost certainly, the government desired to maintain the 'emergency powers' so that it could push through the untested jabs with an 'emergency use authorisation'.
3. The government awarded itself £266billion of our money to spend as it saw fit, with no parliamentary scrutiny whatsoever. Matt Hancock was empowered to use our freedoms to promote his career and an unseen Cabinet Office agenda.
4. The government co-opted the MSM (with more than £500million of our money). They were told not to ask awkward questions at this 'vital time' and complied with enthusiasm.
5. In WWII it was a criminal offence to spread fear, negativity and a defeatist attitude. In 2020-21 it became government policy, one that was prosecuted with great intensity. I know of one person who was so alarmed in spring 2020 that she took her own life.
9. Then came the jabs. In browbeating, bullying and bribing the populace, the government behaved with contempt for medical ethics. It abandoned the principle of 'informed consent', and in mandating jabs for care workers (and attempting the same for NHS staff) the government acted illegally, contravening the Public Health Act 1984 s.45E.
10. Perhaps most worryingly, the government hobbled the courts. In 2020 Simon Dolan's applications for a judicial review of the government's actions were twice tossed out by our judges – the same judges who a year earlier had chastised Johnson's proroguing of the Commons in order to uphold the 'primacy of parliament'.
… What happened in 2020, 2021 and into 2022, can only be regarded as a coup, and it has been habit-forming, as Liz Truss and Kwasi Kwarteng can attest.
Now, in spring 2023, Johnson has walked, never to be held accountable, while the jackass Matt Hancock is being set up as the patsy. The Cabinet Office goons are still pulling the strings. They are giving us Hancock in the hope that if the common man sees his public execution, the government, indeed the whole establishment that brought us a 30-month nightmare, will not be pursued.
What is being released seems carefully controlled with the intention of provoking 'social outrage'. Hancock himself is clearly rattled, and has been demanding immunity from prosecution. However I doubt that anything that shows the Johnson Regime's policies were grossly unscientific will be released. Unless we are shown internal messages or documents that admit that lockdowns didn't work, masks were useless and vaccination was pointless because natural immunity trumped anything a jab could achieve, the 'Hancock Files' are essentially froth …
Hancock will get his comeuppance, I am sure, but the most pressing questions that need answering are: a) Why did the Johnson Regime execute a coup? b) Why was this consistently ultra vires conduct never scrutinised in parliament or by the press? If we do not insist on protecting our democracy, we will lose it – the World Health Organisation will see to that.
Interestingly, parts of the Coronavirus Act 2020 still remain — and would take primary legislation to repeal. Why?
'COVID-19 Response: Living with COVID-19' on the Government's website says:
There are a number of permanent provisions within the Coronavirus Act 2020 which would require new primary legislation in order to repeal. Some of these provisions are still necessary to support the recovery from the pandemic, including:
a. Section 11: Indemnity for health service activity: England and Wales.

This provision ensures that any gaps in indemnity cover for NHS clinical negligence do not delay or prevent ongoing care.

Without this, NHS Resolution would be unable to pay legitimate clinical negligence claims, leaving clinicians exposed to the full cost and patients without compensation.

b. Section 75(1): Disapplication of limit under section 8 of the Industrial Development Act 1982 (IDA).

This provision

ensures that the financial limits set out in section 8 of the IDA do not hinder the allocation of vital Government schemes for businesses such as the Help to Grow scheme, the Automotive Transformation Fund, and the Offshore Wind Manufacturing Investment Scheme (OWMIS).
The Government is committed to removing unnecessary provisions from the statute book as soon as possible and will look for opportunities to do so as the Government's legislative programme proceeds.
Once the Government has received the conclusions of the COVID-19 public inquiry, it will consider whether further changes to public health legislation are needed. The Public Health (Control of Disease) Act 1984 and any outstanding provisions in the Coronavirus Act 2020 would be in scope for this work.
The Government will also work with the Devolved Administrations [Wales, Scotland, Northern Ireland], who have used their specific powers within the Coronavirus Act during the pandemic, to help transition provisions into devolved legislation where necessary.
Also puzzling is what appears to be a further extension of the Coronavirus Act 2020 (Extension of Powers to Act for the Protection of Public Health) Order (Northern Ireland) 2023, 'laid before' the Northern Ireland Assembly — which has not met for many months — on March 23, 2023 and came into force the following day. It was signed by Peter May, 'A senior officer of the Department of Health'. How does that work? The Alteration of Expiry Date section says:
2. Section 48 of, and Schedule 18 to, the Coronavirus Act 2020 do not expire at the time when they would otherwise expire and expire instead on 24th September 2023.
MPs kept in the dark
Hope might lie in a group of Conservative MPs who are either lockdown rebels or did not receive requested information from the Government about the pandemic.
On March 5, The Telegraph posted 'Project Fear's "psychological warfare" must never be repeated, say lockdown rebels':
Sir Charles Walker, who was a leading member of the Covid Recovery Group of Conservative backbenchers, said that he was distressed by the leaked conversations.
"What makes me so angry is the evils and the psychological warfare we deployed against young people and the population, all those behavioural psychologists," he told The Telegraph.
"And there needs to be a reckoning. We need to understand and fully appreciate the damage that those sorts of campaigns did."
Sir Charles lamented Parliament going "missing in action" as most MPs waved through dozens of Covid restrictions with little debate.
He said: "Those voices that raised concerns were just othered. We were positioned as being anti-lockdown, Right-wing headbangers. And actually wanting to do the right thing isn't Right-wing.
"We did terrible things to youngsters. We did terrible things to a large number of people. We need to make sure we never do those things again" …

Craig Mackinlay, the Tory MP for South Thanet, added: "An artificial climate of fear was created, which has led to all the corollary outcomes that many of us, particularly in the Covid Recovery Group, were concerned about.
"Ongoing negative health issues, education issues – and not least the destruction of our economy, as one crackpot idea after another found its way onto the statute book."
Sir John Redwood, another member of the Covid Recovery Group, said the tactics ministers used "always backfire, they always mislead and they don't lead to good government".
Steve Baker, the Northern Ireland Office minister who led revolts against restrictions as a backbencher, retweeted 19 tweets he sent while lockdowns were in place.
His posts set out both the economic and mental health damage caused by restrictions and called for a new Public Health Act, including reform to modelling.
Esther McVey MP laid out her concerns for The Telegraph in 'The inconvenient questions the Covid inquiry must answer':
Who could have guessed that Matt Hancock's WhatsApp messages would be so revealing and painful? The Lockdown Files have laid bare the extent to which ministers, civil servants and scientists were allowing political machinations rather than the scientific evidence to drive the catastrophic moves to inflict lockdowns, masks and more on the nation. My hope now, as co-chair of the all-party parliamentary group on pandemic response and recovery, is that these revelations will prompt the kind of robust debate on Covid policies that we should have had in 2020-21.
One would hope that the official Covid inquiry would provide a platform for that discussion …
But I fear that interrogation may not happen. There is a major risk that we will end up with an inquiry that focuses disproportionately on small details, such as whether a lockdown should have happened a week earlier, rather than the untold damage done to the nation from the best part of two years of restrictions … 
Along with other MPs and peers, I have already urged Baroness Hallett, the chair of the inquiry, to consider a wider range of voices, in order to avoid it being a whitewash. The inquiry needs to go beyond the direct costs of the disease itself and quantify the losses from the unintended, but very real damage that Covid policy has done. It also needs to ask perhaps the least convenient question of all: should we have stuck to the original pandemic plan, which didn't advocate mass lockdowns?
Indeed, I still haven't heard a good answer to the question of why the Pandemic Preparedness Strategy 2011, which was revised in 2014, was seemingly discarded in 2020 without good reason. Lockdowns were never part of the plans or those of 27 other European countries, all of which were published by the European Centre for Disease Control on Feb 5, 2020 …
Moreover, we must not forget that the severity of the disease ended up being much lower than our politicians had made out …
The inquiry might also wish to ask, in light of the revelations in the Lockdown Files, why it seems that the system of government can be manipulated by a couple of overzealous ministers or officials. And it should analyse how much was done just for the sake of appearing to do something, leading to many unnecessary restrictions. These are not easy matters, but they made a great deal of difference when it mattered.
As one of only a handful of Tory MPs who has consistently spoken and voted against Covid restrictions, it has been quite obvious to me that our cure has been worse than the disease. The Covid inquiry should take views like mine seriously, but will it have the courage to do so? I once again urge Baroness Hallett to find the integrity and boldness she needs to assess the policy of lockdown and other mandates honestly and fully.
Jacob Rees-Mogg, who was Leader of the House during the pandemic — as such, a Cabinet member — said that he was unaware of evidence for a reduction in quarantine time.
'Jacob Rees-Mogg: We were denied evidence we needed to make anti-lockdown case' tells us:
Jacob Rees-Mogg has said he was never told that the Chief Medical Officer believed it would be possible to reduce the number of days people had to self-isolate after contact with a positive Covid case …
Reacting on GB News, Mr Rees-Mogg said that he would have argued in favour of a reduction had he known.
The former leader of the House of Commons said four senior ministers made all key Covid decisions and that other Cabinet colleagues were not shown the evidence they needed to make an anti-lockdown case.
Mr Rees-Mogg said: "I was in the Cabinet at the time and I didn't know that Chris Whitty was saying that we could perfectly safely reduce the quarantining period.
"Otherwise I would have been saying: 'Why aren't we doing this?'
"That wasn't what was being briefed to the Cabinet. We were getting briefed that the decision had been made, that it was going to remain; and then it was finally reduced under great pressure.
"The enthusiasm for locking people up was something that was not shared with the rest of the Cabinet – or the evidence!"
He said such decisions were made by a so-called quad of Boris Johnson, the former prime minister; Rishi Sunak, then the chancellor; Mr Hancock; and Michael Gove, then chancellor of the Duchy of Lancaster.
He added: "It was decided by the quad, and I think the then chancellor Rishi Sunak was making the case for easing lockdowns.
"When I spoke to Boris during this period, I was inevitably making the case for easing lockdowns, but I wasn't in the quad.
"There were Cabinet discussions but by the time we got to those discussions, most of those decisions had already been made. We had a pre-Cabinet briefing for those of us who weren't in the quad basically to tell us what had been decided" …
Liz Truss, another Cabinet member at the time, said the same thing last year.
The article continues:
Mr Rees-Mogg agreed with the suggestion that the lockdowns had a "calamitous" impact on the country's mental health and economy.
He said: "I agree. We must never do this again. When it first started, I was not in favour of emergency legislation. I was in favour of the Civil Contingencies Act, which has much greater parliamentary scrutiny, and happens on a UK-wide basis, rather than the devolved authorities.
"The devolved stuff was ridiculous. If you lived on the Welsh border and you went into Wales, you were at risk of being arrested. It caused great confusion. It should have been done on a UK-wide basis, and then it would have required very regular parliamentary votes, whereas we had six-monthly votes to decide whether to extend it or not."
The former Cabinet minister said he had no sympathy for Mr Hancock over the way the WhatsApp messages had come out.
"I think if you're in public life, you must expect that things about you come out into the public arena," he said …
"I'm very against the creeping privacy law – another thing we've got from the human rights courts – because I believe in freedom of speech, and if I've done something or I've said something, people should be entitled to report it.
"And bear in mind politicians spend most of their time – particularly if you look at the WhatsApp things of Matt Hancock – trying to get good impressions of themselves. It's only fair that when there's something critical, it's printed."
Asked whether all MPs are as obsessed with their appearance and how they come across as Mr Hancock, Mr Rees-Mogg said: "I think Matt takes it to an extreme.
"My view in government is that if you do the right thing, if you do a good job, you'll get good PR for it – and that's much more important than painting yourself orange, as some politicians do, to try to appear good."
The media and Project Fear
The media have much for which to answer from the fear that they reinforced day after day, with no contrarian voices. (GB News did not exist at the time.)
On March 4, The Telegraph's Janet Daley wrote, 'The BBC conspired in the campaign of fear that kept Britain locked up':
It wasn't about science, it was about politics. That was obvious as soon as the government began talking about following The Science as if it were a fixed body of revealed truth. Nobody who knows anything about science could say such a thing unless they were engaged in a deliberately misleading campaign of public coercion …
The mass public acceptance of these extraordinary diktats was, initially, not all that surprising. At its outset, this was classed as a temporary emergency. What's a few weeks (of what was exceptionally pleasant sunny weather) out of a lifetime if it serves to protect yourself and others – and, of course, the National Health Service? But it went on and on – and the longer it went on, the more the population appeared to accept it as a new normal. Even when the damage – especially to the young in both educational and psychological terms – was becoming clear, it went on. It is important to try to understand this …
What was most alarming was the alacrity with which the broadcast news media fell into line – with boundless enthusiasm – as they were given a key role in the day to day dissemination of government authority. As the medium through which the official information was conveyed – with, as we now know, often misleading modelling projections and outdated death figures – they went from being public service news media to what the BBC notably has always insisted it is not: state broadcasters. From disinterested journalism to Pravda in a single bound …
If this crisis was as severe as we were being told, wasn't it vitally important that every source of expertise was given a fair hearing? Or was the appearance of unity considered so vital that it overrode everything – even sometimes the facts? Perhaps the worst effect of all this uncritical coverage was that government ministers, having manipulated public opinion into a frenzy of anxiety and potential guilt, then found themselves trapped in the national mood they had created.
How could we not have seen the consequences coming? How could anyone who has raised children not have foreseen the damage that would likely result when developing infants, growing toddlers, and sensitive adolescents were deprived of all that essential contact with the unfamiliar world beyond their own homes? Let alone the hideous fate of those elderly patients who had to die alone and the interminable grief of their loved ones who were forced to miss the final moments and were even denied the comfort of a full funeral.
What on earth was everybody thinking?
Interestingly, that same day, The Times had testimony from educators at all levels about the deleterious changes that lockdown produced in primary school pupils to university students in 'Eerily quiet and sad: how lockdown affected students — by their teachers':
A primary school teacher reported that children had lost the most basic skills:
With so much time spent on screens, handwriting was a challenge: we gave them each a pot of Play-Doh and had "dough disco" sessions, where they squished the dough to music, in order to improve their motor skills sufficiently that they could start writing again. We still hold additional handwriting sessions weekly. Handwriting has become an issue nationally in schools since the pandemic …
In reception class we have placed a huge dressing-up box. If they want to be a princess, they have to do up the buttons on the dress. Ofsted has said that in many schools, children forgot how to eat with a knife or fork or struggled to dress themselves after the pandemic.
We had to re-teach our school expectations such as rules and manners. I wrote a set of behaviour scripts, right down to how to speak to a teacher at the school gate. We taught even the youngest to say "Good morning, how are you?" as a conversation opener.
The secondary school principal said that self-harm was on the rise and that literacy skills had declined:
We quickly noticed telltale signs that both boys and girls had been self-harming — we recorded a 300 per cent increase compared to before the pandemic. Many cut themselves still; my staff have been trained to spot the markers. We try to get help for them.
After two years, much of it spent alone at home on screens, their literacy levels were at rock bottom. We assessed our 1,200 pupils in 2022 and found that 11-year-olds had a reading age of nine. These kids did not have books in their houses during the pandemic. They may have been reading on screens — but that will have been with Instagram and Snapchat notifications pinging and disrupting their focus.
So, teaching the children to read has become our number-one task. I hired a reading tutor who still does nothing but teach reading over six weeks using the phonics system of sounding out letters, which is really the job of a primary school. If kids cannot read properly, every subject — science, maths, history — is beyond them. We soon saw a correlation between this illiteracy and dropping out of school, not turning up to lessons and behaving badly. If you are in a history class and you cannot read, you will kick off to avoid looking like an idiot …
One of the biggest concerns is the slump in the number of children turning up to school, even now. Instead of our pre-pandemic figure of 97 per cent of pupils attending school, the figure has dropped to the low 90s. There are children we struggle to get in even once a fortnight …
I am anxious myself — I am on Sertraline to cope with it. It was sparked by having the responsibility of trying to make the right decisions to keep my kids learning, to give them a future, while also keeping my staff and families safe. Last week as Matt Hancock's WhatsApp messages were revealed I felt sick at the thought that the politicians may not have been giving us accurate information to make the right choices. It makes me feel angry for the children and all they have lost.
The university professor says that his students are withdrawn and quiet:
By the time the Covid generation reached me in my university lectures and seminars, they were a shell of their former selves …
By the time they found their way into my first-year university lectures they were, compared to the students of old, unrecognisable.
Having spent their coming-of-age years online, sitting on Zoom calls and Microsoft Teams, they were now withdrawn and hunkered down. They were nothing like the passionate, vocal and highly engaged students I had become used to teaching for 20 years …
The net result of all this was a Covid generation who were eerily quiet, silent almost, and who often appeared to shun socialising and interacting with others. What used to be a thriving campus felt like a ghost town, while in my lectures and seminars students only rarely raised their hand to ask a question.
… to be honest, I think we've yet to see the full effects of the pandemic in higher education. Increasingly, across the country, there is growing chatter about much larger number of students simply dropping out from their studies, perhaps because they are struggling with the cost of living but also because they are struggling with the transition back to the post-Covid reality.
So, while the pandemic had a very visible impact on my world, it's also clear this impact still has a long way to run.
I will wrap up on The Lockdown Files tomorrow.
I bet the official inquiry won't come remotely close to what the series uncovered.
Yesterday's post introduced Matt Hancock's hunger for absolute control during the coronavirus debacle.
The story, with excerpts from The Telegraph's The Lockdown Files, continues after a brief interlude.
Giles Coren: 'we all broke the rules'
On the afternoon of Wednesday, March 22, broadcaster and Times columnist Giles Coren, son of the late humourist and Punch editor Alan Coren, gave a radio interview in which he said that 'we all broke the rules', meaning during the pandemic.
The subject arose as former Prime Minister Boris Johnson was taking his place at the parliamentary Privileges Committee hearing to defend himself over Partygate.
As a result, Giles Coren trended on Twitter — and not in a good way:
A few of the cleaner tweets follow:
However, this next tweet nails it. Giles Coren doesn't mean average Britons. He's referring to the media class and other privileged oafs:
Which brings me neatly to Matt Hancock.
Hancock wants immunity over care home deaths
On March 4, 2023, Chronicle Live recapped an article from the Mirror about a talk that the former Health and Social Care Secretary gave to a group of top-flight London lawyers about who was to blame for care home deaths (emphases mine):
Matt Hancock told a gathering of city lawyers he should be immune from court action over Covid blunders, The Mirror reports – just days before shocking WhatsApp messages he sent during the pandemic were published.
Mr Hancock said he should not be held personally responsible for failings during the fight against Covid-19, such as the Department of Health and Social Care's failure to safeguard care home residents, simply because he was Secretary of State. Instead he said that "HMG" – the whole Government – should take the blame.
This comes even as prominent campaigners call for the ex-minister to be prosecuted.
He was heard saying that he believes lawyers pursuing him personally "were chasing tabloid headlines". He was speaking to lawyers from firm Mishcon de Reya in a talk over his book, Pandemic Diaries, coming just months after his stint in the I'm A Celebrity jungle.
Mr Hancock has furiously denied claims that his leaked WhatsApp messages show he ignored Chief Medical Officer Chris Whitty's advice to test all people going into care homes.
His department's policy of discharging untested patients into them from hospital was ruled unlawful by the High Court in April in a case brought by Dr Cathy Gardner, who lost her father. At the time of the ruling, union GMB said the department had shown a "callous disregard" for care homes.
The messages leaked to the Daily Telegraph this week by Isabel Oakeshott, journalist and the co-author of Mr Hancock's memoir, show he thought committing to testing people coming into care homes from the community – including staff – didn't "add anything" and "muddies the waters" …
And 12 days ago he held an online question and answer session with top lawyers from Mishcon de Reya and told them it was wrong that a Secretary of State of a department should be held legally responsible for failures and it should be "HMG" instead. Currently, the defendant in any judicial review against a Government department has to be the Secretary of State.
But Mr Hancock said: "I don't think it's an appropriate use of the courts to essentially go chasing tabloid headlines. You know, 'Hancock broke the law' – I didn't break the law." In the Q&A, Mr Hancock also claimed to have "banned alcohol" in his department to stop his team being "more social".
Some of the leaked WhatsApp messages reveal then-aide Gina Coladangelo – who is now his partner – telling him there were drinks in the fridge to celebrate hitting his testing target in May 2020. She wrote, adding a beer glasses emoji: "Drinks cold in fridge at DH. Feel free to open before we are back."
A spokesperson for Mr Hancock confirmed he did not introduce a booze ban until the next January. Mr Hancock also blasted criticism of the Tories' bungled PPE procurement as "offensive" in the Q&A and justified writing off £12billion of PPE, most of it unusable, saying: "I'd rather save lives."
… Meanwhile, activist Gina Miller, leader of the True and Fair Party and who took the Government to court over Brexit, has written to Met Police Chief Sir Mark Rowley calling for Mr Hancock to be prosecuted.
She wrote: "The threshold has been met to investigate Mr Hancock for gross negligence manslaughter… a common law offence that carries a maximum of life imprisonment."
'Mr Vaccine'
As 2020 dragged on for many of us, Hancock was keen for his moment of glory, as The Telegraph related in 'Inside Matt Hancock's desperate bid to be known as 'Mr Vaccine"'.
Emphases mine below:
Matt Hancock feared he would not get credit for the UK's vaccine success and described the speeding up of the jabs rollout as a "Hancock triumph".
The former health secretary's WhatsApp messages show he fought to be the face of Britain's vaccine campaign at the height of the pandemic and became furious if he thought others were getting the credit.
And he was told by his media advisers that fronting Britain's vaccine programme would allow the press and public to "forgive" him for imposing lockdowns and that "politically" he must balance the two. 
However, the Department of Health and Social Care had to work with the Department of Business, Energy and Industrial Strategy (BEIS) on the vaccine procurement.
Hancock was unhappy:
Mr Hancock had already battled with his Cabinet colleagues over who should have overall control of the procurement strategy, and struck an uneasy compromise between the Department of Health and Social Care and the Department of Business, Energy and Industrial Strategy.
The announcement of the Pfizer vaccine made things worse for him:
In November 2020, the Department of Health caught wind that Pfizer was planning an imminent announcement that its vaccine was more than 90 per cent effective against Covid-19.
The Pfizer vaccine was the first to report its interim trial data and went on to be the first to be administered to the public in the UK the following month …
On hearing that the news was about to break, Mr Hancock bemoaned he was not live on camera and worried he would be overshadowed by Alok Sharma, the then business secretary.
The article has a screenshot of the WhatsApps he exchanged with adviser Damon Poole:
Pity I'm not up in the Commons!
I should do a clip
We should pump out the NHS doc
Do No10 know?
When Poole answered in the affirmative, Hancock was eager to do the media round the next morning:
I should DEFINITELY do the round tmrw
Just to reinforce the point, he messaged Poole again:
It MUST NOT be Alok!
On December 8, Hancock appeared on ITV's breakfast show, Good Morning Britain (GMB), to watch the first Britons, a man and a woman, both elderly, get their 'jabs':
… Mr Hancock gave one of his most memorable interviews of the pandemic …
Wiping a tear from his eye, he told the programme it had "been such a tough year for so many people" and he was relieved that people could at last "get on with their lives".
The lady was Margaret Keenan, aged 90 at the time. She received her jab in Coventry.
The man's name was William 'Will' Shakespeare. He was 81 at the time and has since died (nothing to do with the vaccine). When the presenter announced his name, it was hard to know whether Hancock was laughing at it or crying about his step-grandfather who died of Covid (more here).
The frames extracted from that moment don't exactly make for comfortable viewing. Thank goodness someone online captured them for posterity. Don't miss the caption: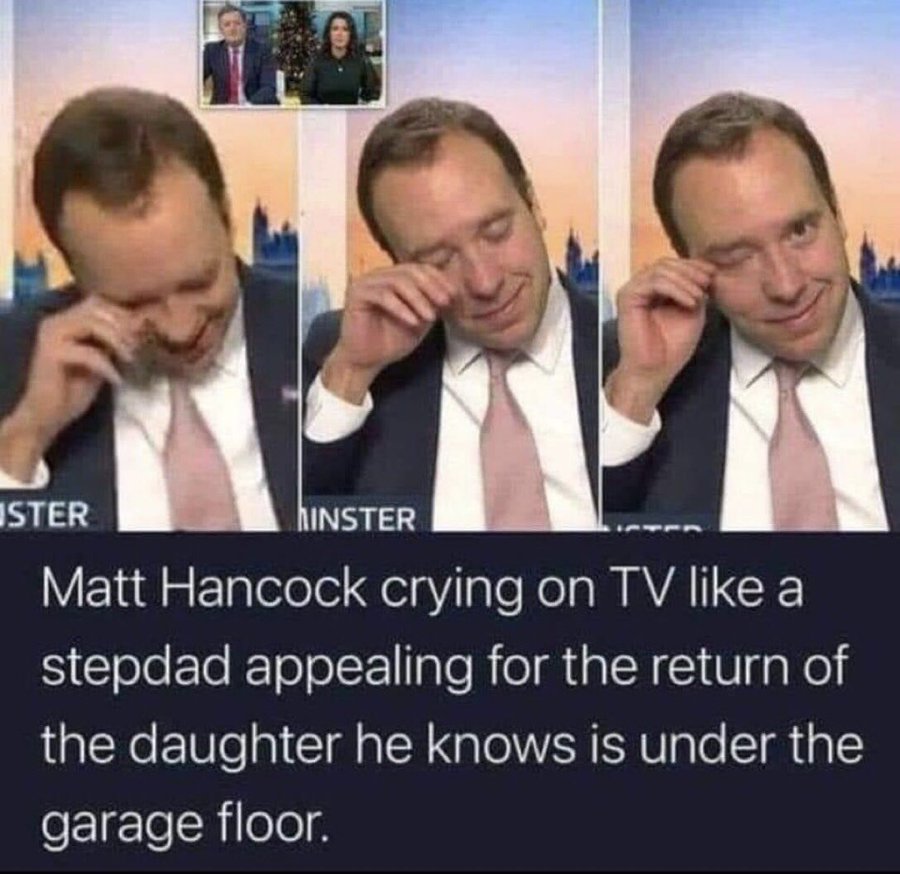 However, there was no immediate big media momentum for Hancock after those initial jabs, even though millions of people watch GMB.
On Boxing Day 2020, Damon Poole WhatsApped Hancock to ask if he had spoken with journalists from the Sunday papers. Poole did not like all the articles about the vaccine, which he called 'this vaccine spray'. As it was the day after Christmas, Hancock hadn't looked at the papers until he heard from Poole:
Now I've seen it. Sure it's not No10?
Poole replied:
I'm pretty sure it's them
MOS [Mail on Sunday]/Times/Tele[graph]
Hancock fired back:
The thing that p—–s me off is the Mail on Sunday links it to Rishi. What's that all about?
The first few days of 2021 proved no better for Hancock's desired media exposure. On January 7, Hancock asked Poole to send him the link to a Mail story with the headline 'Vaccine approval is finally cut from TWENTY days to five'. Poole sent him the link and added:
MHRA [Medicines and Healthcare Regulatory Agency] briefing [I'm] pretty sure
Hancock asked if that was true. Poole said he thought it was and sent him a link to a tweet of the Mail's front page:
Hancock replied:
I CALLED FOR THIS TWO MONTHS AGO. This is a Hancock triumph! And if it IS true we neeed [sic] to accelerate massively.
The Lockdown Files article continues:
The strategy of taking credit for the vaccine, and therefore the impact on lockdown restrictions, was eventually given its own slogan: "Own the exit."
The phrase is repeated several times between Mr Hancock and his aides in the months that followed.
Then, finally, there was success at last. On January 11:
… the day the official vaccine delivery plan was published, Mr Hancock sent Mr Poole screenshots of news articles about his announcement.
Hancock messaged Poole:
These shots are extraordinary. Positive coverage in the Sun AND Mail.
Poole replied:
Keep riding it through to spring – own the exit!
Well, Hancock owned his own exit that June. That's for sure.
'Headless chicken' over vaccines
Not everyone who worked with Hancock would call him 'Mr Vaccine'.
Clive Dix wrote a first-person article for The Telegraph about his experience, 'I worked with Matt Hancock on Covid vaccines – he's a headless chicken':
I worked with Matt Hancock the whole time I was at the Vaccine Taskforce and he was, without doubt, the most difficult of all the ministers because he didn't take time to understand anything.
He was all over the place, a bit like a headless chicken. He often made statements saying "we are going to do X and we want to let the world know about it", but we were dealing with an uncertain situation in bringing the vaccines forward.
The manufacturing process was brand new and any process like this is fraught with problems, which we need to fix as we go along, but normally you would spend two or three years stress-testing something like this.
Hancock was laying down timelines by saying things like "we will vaccinate the whole population", and these timelines drove his behaviour.
Hancock was upset when there was a problem with the AstraZeneca vaccine production:
When we said the AstraZeneca vaccine had manufacturing problems, that is when Hancock panicked. 
He didn't believe us. We were working night and day to make it work and he was turning around and saying: "I have said the UK population will all get vaccinated."
But we couldn't change the nature of the process and he didn't get that. He thought it was like procurement. That is where his behaviour came from. He panicked and that led to them going to India and taking vaccines that had been meant for the developing world.
I thought that ethically it was very wrong to take doses that it had been agreed would go to the developing world just to meet an arbitrary timeline. This is why I ended up resigning, because I could no longer advise a government that acted on these terms.
Nonetheless, the team pressed on with getting doses from India:
Here, we were taking 10 million doses from the developing world just to meet Hancock's timeline and it was a timeline that had just been plucked out of the air. We were still well ahead of the majority of the world, ministers should have been upfront and said that we can vaccinate everyone within a month, but we won't quite hit the timeline. They should have admitted that they were slightly wrong.
I couldn't stop them doing it, because it wasn't my job to make policy decisions about where we get the vaccine from. But I said if this is where you are, then I don't want to advise this government anymore. I didn't resign there and then, but I did resign in March 2021. I didn't want to disrupt the work.
It was all driven for the wrong reasons and then Hancock – rather than put his hands up – blamed the Vaccine Taskforce for stalling.
For him to be sending messages and saying Kate Bingham [head of the Vaccine Taskforce] was not reliable is appalling.
On October 4, 2020, Damon Poole WhatsApped Hancock a link to a Financial Times article: 'Less than half UK population to receive coronavirus vaccine, says task force head'.
Hancock replied that he didn't have a subscription to the paper, which is behind a paywall. He asked Poole:
… is that Kate?
When Poole responded in the affirmative, Hancock messaged back:
If so we absolutely need No10 to sit on her hard. She has view [sic] and a wacky way of expressing them & is totally unreliable. She regards anything that isn't her idea as political interference
Poole messaged back, agreeing, saying he'd had a 'blazing row' with her when he was working at No. 10.
Clive Dix resumes his story, alive with memories of Hancock:
We were working as hard as we could and he thought he could just come in and make a bold statement to the public and tell us that we have got to do it. I don't think he understood the process. He was a loose cannon.
Dix tells us more about how Health and Social Care worked with BEIS. Here, too, Hancock had to have his own way:
The taskforce sat in the Department for Business, Energy and Industrial Strategy (BEIS) and that is where the budget came from. We reported to Alok Sharma and then Nadhim Zahawi came in as vaccines minister. Hancock wanted to get involved and because he was secretary of state, Alok stepped aside.
He was using the vaccine to protect his reputation.
Dix, who was a volunteer, gives us an insight into the wider politics involved:
I had worked for nine months from 4am until midnight without any pay to do this.
It is certainly extraordinary to see how two-faced they are. They were all nice to me to my face but to see what they were saying to Boris Johnson was particularly unpleasant.
It reflects badly on Nadhim and all the civil servants who worked so hard to get this right. In my humble opinion, Hancock was actually the problem.
Hancock hoped to treat French Covid patients
Incredibly, during lockdown, Hancock wanted to appeal to French president Emmanuel Macron to allow his nation's coronavirus patients to be treated in the UK.
With the NHS under pressure, Hancock somehow thought he managed to find spare beds … for the French.
Don't get me wrong. I love the French as much as I love the British and the Americans, in no particular order. They're the three societies I know the best. But this was a step too far.
After all, the Government locked down the UK to save the NHS, right? So how was it that Hancock suddenly found spare beds, especially for patients from other countries?
Meanwhile, British patients with cancer, heart disease and other serious illnesses couldn't get a look in to a doctor, never mind a hospital.
The Telegraph's 'Matt Hancock's secret plan to import French Covid patients' says that, in November 2020:
Matt Hancock planned to bring French Covid patients to the UK for treatment during the second wave of the pandemic, despite national lockdown restrictions in force to protect the NHS.
Messages between the then health secretary, his advisers and Boris Johnson, then the prime minister, show he hoped to offer "spare" intensive care unit beds to Emmanuel Macron to help the French president deal with a major outbreak in his country in November 2020.
At that time, Britain was under a second national lockdown that was sold to the public as necessary to prevent the "medical and moral disaster" of an overwhelmed NHS.
But Downing Street and the Department of Health and Social Care created a secret plan to transfer Covid patients from the busiest French hospitals, bringing more cases of Covid to the UK.
However, that wasn't enough. Hancock also wanted to make the same offer to Italy. The article has screenshots of the relevant WhatsApp messages.
That aside, let's continue with France:
The plan is not thought to have ever been implemented, but Mr Hancock said: "We may need to make a similar offer to Italy," despite exponential increases in Britain's own case numbers.
On Nov 13, Mr Hancock shared with his top advisers a letter that he planned to send to Olivier Veran, the French health minister, offering to import French Covid patients to the UK for treatment.
"I have seen the pressure on your hospitals, and that some patients are being transferred abroad," the letter said. "We have our epidemic largely in the north of England, and some spare capacity in London and the south.
"We could provide some ICU beds to which you could transfer some patients. Would that be helpful to relieve pressure on your most affected regions? Our countries have always stood by each other in times of need."
By this point in the European second Covid wave, the UK was looking to Europe as case numbers exploded in France, Italy and Spain, with a second national lockdown imposed in an attempt to reduce transmission.
France had already been taken off the UK's travel corridor list, meaning that any person travelling to Britain from France was required to quarantine for 14 days or face a fine. By late November, France and Britain had similar rates of the virus, with around 275 cases per 100,000 people.
However, on October 31, Boris stated publicly that the UK had reached capacity:
In an address to the nation on Oct 31, Mr Johnson said that even in the south-west of England, where Mr Hancock had proposed housing French patients, "it is now clear that current projections mean they will run out of hospital capacity in a matter of weeks unless we act".
He said that if new measures were not imposed, the growth of Covid numbers would mean that "doctors and nurses would be forced to choose which patients to treat, who would get oxygen and who wouldn't", adding: "The overrunning of the NHS would be a medical and moral disaster beyond the raw loss of life.
"It is crucial to grasp that this general threat to public health comes not from focusing too much on Covid, but from not focusing enough, from failing to get it under control."
It should be noted that Hancock got this mad idea from a life peer and was immediately swept up by it:
An earlier WhatsApp conversation between Mr Hancock and Mr Johnson about the idea shows it originated with Lord Llewellyn of Steep, who was then serving as Britain's ambassador in Paris.
"I love this idea of Ed Llewellyn's to offer Macron (privately) to treat some of their cases where they have pressure on the health system," Mr Hancock wrote to Mr Johnson on Oct 2, 2020. "Because we have a regional problem we also have regional capacity in East Anglia (Cambridge?) or the SW."
Lord Llewellyn is now serving as the UK's ambassador to Italy. He is a former Downing Street chief of staff, serving in Number 10 under David Cameron.
The mind boggles.
That's enough Matt Hancock for one day.
Don't worry. There's more to come.
Soon.
Yesterday's post looked back at Liz Truss's leadership campaign during the latter half of August 2022.
As September started, most ordinary conservatives were happy to know that Liz was likely to be the next Party leader.
On September 3, the veteran journalist Janet Daley wrote an empathetic column about her for The Telegraph, 'Ignore conventional wisdom: the new prime minister is not doomed'.
CCHQ — Conservative Party headquarters — had not yet finished counting the members' votes, but Daley thought that people would give Liz their support in the face of the cost of living crisis (emphases mine):
Given that virtually everyone in the country accepts that the current dilemma is both desperately urgent and, in the short term, utterly hopeless, Liz Truss will begin her premiership with the lowest possible expectations and, given the inherent fair mindedness of the British population, even a little sympathy …
Whether Daley realised it or not at the time, she hit the proverbial on the head in the second paragraph:
Standing up in the House – or better, at that podium in Downing Street – to address a nation that has been terrified out of its wits by predictions of the devastation that is to come, will look like an act of singular bravery and resolve. Most of the country, apart from sworn partisan enemies (the most pathologically vicious of whom are inside her own party), will be willing her to succeed in whatever terms success can be measured, against the impossible odds. She will not have a honeymoon as such, but she can gain points for rigorous resolve and determination – especially if she seems to be in touch with the justifiable fears of real people. That will be the key to it. Every word, every pronouncement, every policy will have to be communicated with infinite humaneness: genuine compassion for the impact that this crisis is having on daily life and future prospects …
Although this was Daley's prediction at the time, this is how things played out with most fair-minded voters:
Ordinary people who do not have an ideological dog in the fight know that this is uncharted territory. What disagreements there are – and will continue to be – over the right way to proceed will be accepted as reasonable argument and not necessarily discrediting to the sitting government providing that it remains proactive and committed.
I particularly liked the next bit, which posited that, as the year went on, things might turn out to be less gloomy than forecast during the summer:
… there is the possibility of some good (or less bad) news in the coming months. What if the combined efforts and ingenuity of the Western economies produce more optimistic projections for energy subsistence sooner than was expected? Already we hear that gas storage in Europe is exceeding expectations and, as a result, commodity prices are beginning to fall.
However, Daley, for all her brilliance, did not foresee the savage attack from Liz's fellow MPs.
North of the border, Scotland's First Minister Nicola Sturgeon was still seething that Liz had called her an 'attention seeker' during the campaign:
During her premiership, Liz never did contact Nicola Sturgeon.
On Monday, September 5, these were the main news stories. We could rely on The Independent for negative stories about our new Prime Minister: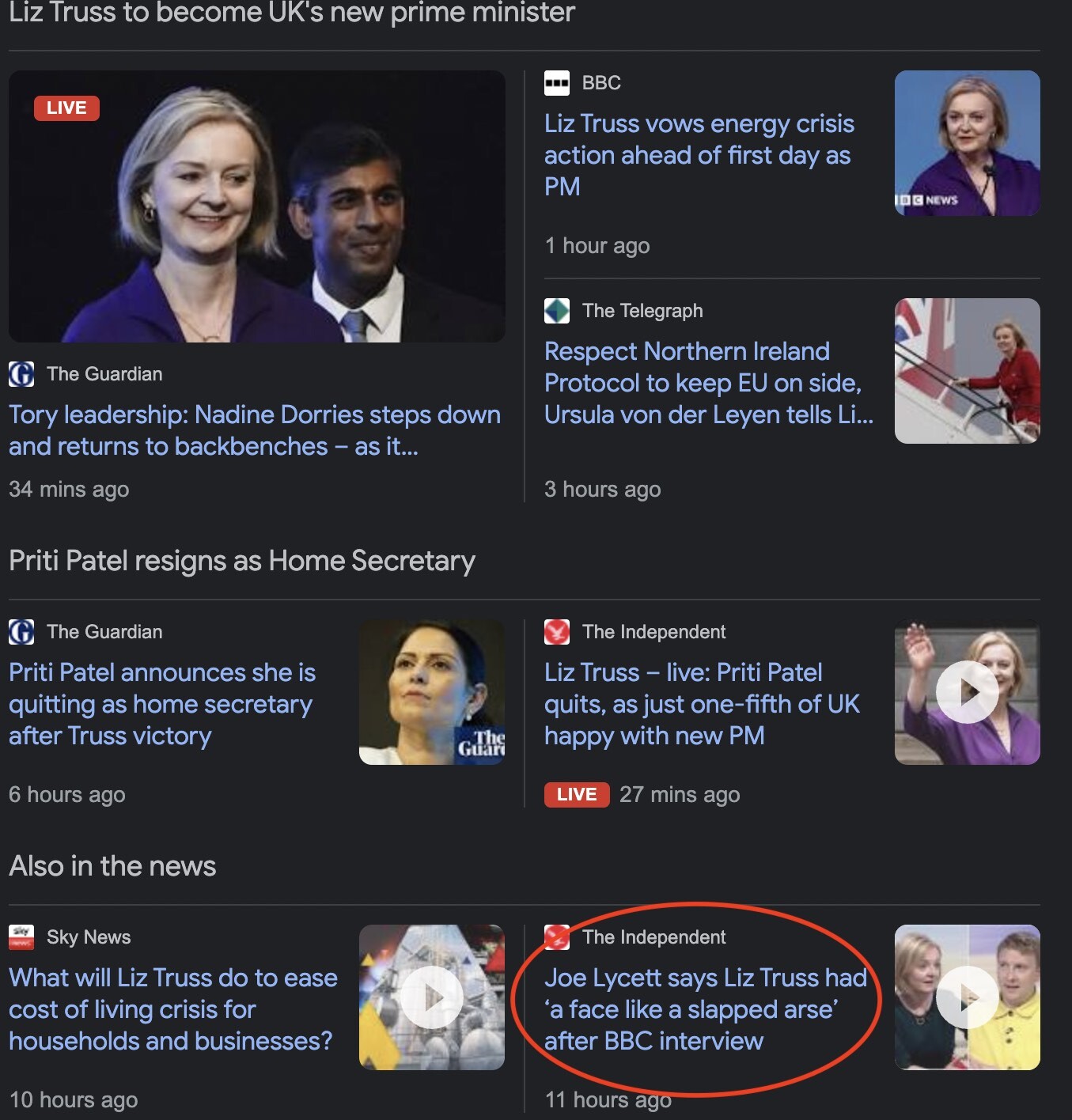 The Mail on Sunday's Dan Hodges was thrilled. He had predicted Liz's ascendancy on Boxing Day 2021:
His article says that Liz's rise began when she replaced Dominic Raab as Foreign Secretary. During his time in post, he said that all ministers (MPs) serving under him were to be called Junior Ministers (JMs) rather than Ministers. The MPs were none too happy with that move.
Then, when Biden's sudden withdrawal from Afghanistan took place in mid-August 2021, Raab was on holiday in the Mediterranean with his family. Boris replaced him with Liz:
On her first day in the job, she issued a note to her officials ordering the JM designation be dropped.
'Liz gets it,' a Minister said. 'She knows how to treat her colleagues properly. It's one of the reasons she's been so successful.'
Spectacularly successful. 2021 has been Liz Truss's year …

She's now in charge of masterminding the final fraught stages of Britain's EU exit.
And – were Boris to suddenly fall beneath a heavily laden wine-and-cheese platter – favourite to replace him in No 10 Downing Street.
At the time Hodges had written his article, Boris was becoming more embroiled in Partygate allegations, which had begun in November 2021.
We thought that Boris had a diverse Cabinet. It was nothing like Liz's, however:
The Mail reported:
Ms Truss is expected to make long-term ally Kwasi Kwarteng chancellor, with Suella Braverman moving to the Home Office and James Cleverly to the Foreign Office.
If selected, Mr Kwarteng would be the fourth non-white chancellor in a row, directly following Sajid Javid, Rishi Sunak and Nadhim Zahawi.
And Ms Braverman would become the third minority home secretary, after Priti Patel and Mr Javid. 
Mr Cleverly, currently the Education Secretary, would become the first ever non-white foreign Secretary.
Cleverly continues in post today under Rishi Sunak, as does Kemi Badenoch, International Trade Secretary and Minister for Women and Equalities:
Would the media — our diversity champions — give her, our third female Conservative PM, any credit? Never:
On a related note, Liz gave us a Health and Social Care Secretary with a fondness for cigars, the likes of which we had not seen since Kenneth Clarke in the 1990s. Here is Thérèse Coffey, one of her close friends, pictured at a Spectator summer party a few years ago:
However, just as important were the people no longer in Cabinet. This is worth noting. Some said later that this is where Liz's premiership became unstuck, that she should have held on to some opponents:
There is expected to be a clear out of Rishi Sunak and his supporters after a bitter blue-on-blue campaign in which he seems almost certain to be defeated.
Into the political wilderness too will go Michael Gove, after serving under the three previous PMs. Dominic Raab, the First Secretary of State, and Boris Johnson himself, are expected to return to the backbenches. Both have question marks over whether they can hold on to their seats at the next election.
I think she did the right thing. We'd seen enough of all of them over the past three years and, in Gove's case, much longer than that.
They would not have been friendly:
Other backbench Conservative MPs were unfriendly, too:
Rishi was unaccustomed to being on the backbenches, and his first opportunity to participate in a debate came that Tuesday afternoon. Guido Fawkes reported:
Backbencher Rishi Sunak making a debate intervention today on "unavoidably small hospitals":
Thank you for accommodating me at a late stage in this debate. I hadn't planned on speaking but this morning I saw the order paper and it turns out I had more time on my hands than I anticipated.
Tuesday's Mail pointed out the Conservatives have had three women PMs. Labour have had none, not even a female Party leader:
We were also entering a new generation of PMs who were younger than we:
Liz's supporters in the media were hopeful:
James Johnson's Politico article said:
The main qualities the public look for from their leaders in the 2020s are honesty, strength and authenticity. It will require care and calibration, but Truss has a path to come closer to these than Starmer.
If she stands in Downing Street on Tuesday and levels with the public about the challenge ahead and tells them to judge her on results in two years' time she will not only create a reputational shield for herself but also have the opportunity to make a novel mark on the public — many of whom will be tuning into her for the first time — as someone who gives it to them straight.
Some have suggested that her more libertarian instincts and views, such as decrying a focus on redistribution, make her unelectable. But voters, especially those new Tory converts in the Red Wall, value consistency — a quality they feel is so lacking in modern politicians — as much as an individual policy position. Focus group attendees praise Thatcher and Blair when asked if there are any politicians they admire not because they agreed with them on everything, but because they felt they held beliefs and stuck with them.
One of Truss' biggest applause lines in one of the early debates was that she is not the slickest media performer, but she gets things done. If she successfully harnesses that sentiment, the ideological gap between her and the public on specific issues or an awkward communication style may matter less …
It could all come undone, of course. Moments in the summer would have been similarly disastrous for Truss in a live election campaign environment. The calibre of her team will be crucial …
There is a pathway for the Conservative Party. If followed, the optimistic scenario for Liz Truss is underpriced.
Like the aforementioned Janet Daley, James Johnson underestimated the opposition on the Conservative backbenches.
After flying back from Aberdeen, the closest airport to Balmoral, Liz gave her first address as Prime Minister. Heavy downpours punctuated the afternoon. The weather, combined with London's rush hour traffic, delayed her. The rain let up long enough for her to give her speech, in which she borrowed a line from Churchill, 'Action this day'. Her husband, Hugh O'Leary, stood on the sidelines:
Liz's first call to a foreign leader was to Volodymyr Zelenskyy to reassure him that the UK would continue to support Ukraine:
One of her economic advisers, Gerard Lyons, was confident that a low-tax economic plan would help to stave off recession:
The cost of living crisis made Wednesday's papers, September 7. These front pages show Liz's husband:
The Telegraph borrowed words from her speech, 'We can ride out the storm':
Wednesday saw Liz's first Prime Minister's Questions (PMQs). This is the full half hour:
She managed to lob a few witty grenades Keir Starmer's way.
To roars of applause from Conservatives, Liz pointed out that there is nothing new about a Labour leader wanting tax rises:
Guido noted that the comment painted Starmer the same colour as his predecessor, the very left-wing Jeremy Corbyn (emphases his):
It only took a free marketeer PM to bring out Starmer's inner Corbynite…
Directing her aim at both Starmer and Corbyn, she asked aloud why Labour can't find a leader who lives outside of north London, home of the metropolitan elite. She also wondered why there had been no female Labour Party leaders (video):
After PMQs ended, Guido said that Liz's Cabinet was more diverse than Labour's shadow team, although you cannot see that in the photo that he posted. He calculated:
… up to seven BAME members: 23% of the total. 
By Guido's reckoning, Labour's shadow cabinet has six ethnic minority members, or a mere 20%.
Meanwhile, Labour continue thrashing the Tories on gender and state school educations. All completely irrelevant, but nonetheless, interesting to note …
That evening, The Telegraph analysed Liz's first full day as PM.
Madeline Grant provided a sketch of PMQs:
Therese Coffey, radiating gung-ho enthusiasm, looked ready to crack out another celebratory cigar. A dazed Suella Braverman wandered into the Chamber via the Westminster Hall route used by most MPs, then remembered she is Home Secretary now and hot-footed it to the "VIP entrance" at the back.
Notable by their absence were Rishi Sunak, and, predictably, Boris Johnson, though Sajid Javid was there …
A huge roar enveloped Liz Truss as she sashayed in, looking sleek in a blue pantsuit – shades of Keeley Hawes in the Bodyguard. The Tory troops, clearly desperate for things to go well, cheered raucously no matter what she said or did. Yet again beating Labour in the identity politics stakes seemed to have sparked particular joy. When Sir Keir Starmer congratulated Truss on her appointment, a Tory backbencher snarled "3-nil!". James Cleverly, the Foreign Secretary, brandished three fingers and jabbed them in the air.
Theresa May also congratulated Truss on becoming Britain's third female prime minister. "Why does she think it is that all three female prime ministers have been Conservative?", she asked. Truss positively beamed at her. "I look forward to calling on her advice," she said. (Oh no).
"There does seem to be an extraordinary inability of the Labour Party to find a female leader," continued Truss, "or indeed a leader who doesn't come from north London." The Tory hordes roared at this, and even Starmer repressed a chuckle.
Her presentation was as wooden as ever:
But her replies were assured, refreshingly direct. There were even a few one-word answers – no to a windfall tax, for instance – a quasi-mythical event in Westminster. It was almost as if the sphinx was at the despatch box. All of this seemed to flummox Keir Starmer, who is more used to spending PMQs trying to prise answers out of Boris Johnson – occasionally wincing as if pulling out his own teeth with a pair of rusty pliers.
Truss's true-blue rhetoric seemed to bring out Starmer's inner Corbyn too. He railed against "excess profits" with the wild-eyed conviction of a politburo member sounding off about Kulaks. "Same old Tories… There is nothing new about the Tory fantasy of trickle-down economics", he scoffed.
The Times's Quentin Letts noted Liz's calm demeanour:
The Tory benches mooed when they saw her but once Truss started answering questions, the composure was striking. Most of all it was the slower pace that one noticed, and the evaporation of most of the performance-venom that tarnished the late Johnson era. Where Boris used to gabble, Truss spoke slowly. The voice, which seems to emanate from near the tip of her nose, was clear. It may pink a little, like a novice musician's recorder, but it is strong enough to cut through a full Commons …
Truss referred to "my chancellor" and "my new health secretary". She was asserting her power. There wasn't a quiver visible in her fingers and she maintained a consistent tempo, andante rather than allegretto. Talking slowly makes you sound more authoritative and means you need not say so much. Helen Hayes (Lab, Dulwich & West Norwood) essayed a zinger. Would the government's response to some report be published by the end of the year? "Yes," said Truss, and she slowly, serenely resumed her seat, suffused with calmness. One should not over-interpret this performance. PMQs debuts usually go well. But the story is not quite conforming to the catastrophists' narrative.
Returning to The Telegraph's articles, Daniel Martin told us that Liz wanted proper dress in Downing Street:
The Prime Minister has made it clear she wants to re-introduce a dress code, with officials told to wear shirts and ties as part of a new, more formal style of government …
One government source said Ms Truss had made her views plain when she arrived back to Admiralty House from her victory party in the City of London, the night before she became Prime Minister.
The source said: "This is all born from Liz coming back from winning and telling the staff in Admiralty House that ties were back."
We also found out that she wanted a leaner operation:
Ms Truss has also ordered a wider operational shake-up at Downing Street, including a new economic unit whose role is to help her take on "Treasury orthodoxy".
She has brought in Matthew Sinclair, the former director of the TaxPayers' Alliance, as her chief economic adviser …
In a bid to strengthen the relationship between Ms Truss and her most important ministers, new offices are being created in Downing Street for both Wendy Morton, the new chief whip, and Thérèse Coffey, the Deputy Prime Minister.
An aide told The Spectator: "We've blown up the No 10 floor plan", saying the idea is to create a leaner, nimbler operation.
Allister Heath was fully behind Liz and her plans:
I'm optimistic about the Truss Government. Yes, of course, nobody can possibly know how well it will do – whether it will outwit the Blob to push through genuine improvements. But it is absurd to state, almost as self-evident fact, that it is bound to collapse, that it cannot last even two years, based in part on an insulting dismissal of the credibility and intellect of all of the members of the new Government.
It is astonishing that pundits with no understanding of economics dismiss the Prime Minister's ability in this area: she actually worked as an economist for Shell (ideal in the current climate) and as an economic director for Cable and Wireless. The first accountant ever in No 10 – she holds the qualification from the Chartered Institute of Management Accountants – she is more financially literate and comfortable with complex policy matters than almost all of those who patronise her. The fact that she is reflexively written off as lightweight, a dilettante even, is more a reflection of the bizarrely misogynistic and classist minds of some of her more extreme critics than of any objective reality.
Kwasi Kwarteng, the Chancellor, holds a PhD in economic history from Cambridge, perhaps the ideal qualification for the moment; his War and Gold and Ghosts of Empire remain timely. Thérèse Coffey, Truss's deputy, is another PhD: in her case, in chemistry, showing how much more intelligent she is than the ignoramuses who hate her.
Suella Braverman, the Home Secretary, is an extremely competent, bright and personable lawyer who drives the Left crazy. Kemi Badenoch holds degrees in engineering and law, and is fiendishly clever. Jacob Rees-Mogg, with his background in finance, is the perfect pick for Business (and Energy), given the technical and intellectual complexity of his mission. Kit Malthouse, the Education Secretary, another accountant, has experience running a medium-sized business; Chris Philp, the Chief Secretary, has a degree in physics.
The list goes on. Of course, some ministers are weaker than others, but the average quality is a great improvement on many past governments. Matthew Sinclair, one of Truss's advisers, is the best free-market economist of his generation in Britain today.
The paradox is that it is a policy that I'm uncomfortable with that is likely to send the Government's poll ratings surging, discrediting its Leftist critics. Truss's energy plan is rightly a big bazooka; it is regrettable that, for a variety of practical and political reasons, she appears to have decided to freeze all energy bills, rather than to opt for targeted subsidies to small firms and the bottom half of earners. The Government's bill will be at least 5 per cent of GDP, with enormous potential liabilities. This is the biggest welfare programme in British history, one that helps the well-off as much as the needy.
But we are where we are. The Government felt that an alternative, non-universal plan could not be targeted correctly, that the cliff-edge from means testing would be too extreme, that the public's allergy to high prices had become too toxic. Truss feared she would be destroyed on arrival if she didn't go for broke. Her gambit is that the scale of this intervention will cripple the Left: it's a statist umbrella protecting her free-market reforms …
Our new Prime Minister likes economic growth, not merely because she values material prosperity, but because she buys into the very idea of progress, of improvement. Boris Johnson agreed in theory, but didn't understand what to do. Unlike Theresa May, Truss is inherently anti-Malthusian: her Chancellor talks of growing the economy, rather than arguing about how to redistribute a stagnant pie, the vanishing "proceeds of growth" taken for granted by David Cameron.
Yes, Truss will address our immediate crisis via costly, short-term policies. But she's deadly serious about principled long-term measures to accelerate the economy by boosting energy output, housebuilding, private investment, scientific innovation and entrepreneurship. It will be tough, but the Twitter Lefties are entirely wrong to be betting so emphatically against her.
The Telegraph's main editorial compared her to Margaret Thatcher:
Opinion polls indicate that Labour's windfall levy is popular, but Ms Truss is right to identify the flaws in this approach. Her declaration that we cannot tax our way to higher growth could have been uttered by the first woman prime minister 30 years ago.
Balancing short-term expediency with long-term economic requirements will require skill and determination. Ms Truss has set out her position and is clearly intent on sticking to her guns, even if the polls are tempting her to abandon them. It was an encouraging start.
The Mail provided us with short takes from the more left-of-centre broadcasters, who also thought Liz did a great job at PMQs. These were not her natural allies.
The BBC's Chris Mason noted:
As Prime Minister's Questions finished, there appeared to be a warm, one-on-one brief chat between Liz Truss and Keir Starmer.
I think Starmer said "well done" to his opponent: all party leaders regularly acknowledge that PMQs is a tough gig …
It felt less personal, much less theatrical and more ideological …
TalkTV's Tom Newton Dunn said:
Liz Truss is not a legendary orator, and some Tory MPs lived in terror at the thought of her robotic despatch box style.
But that was a very strong debut …
The Mail had several more comments, so I will end with this one from the i newspaper's Richard Vaughan:
If Liz Truss's aim for her first PMQs was to kill the usual heat and rancour in the Commons chamber, then she succeeded. It was a solid, no-frills performance.
… Ms Truss's arrival onto the front bench was greeted with cheers, but it was by no means a deafening welcome by backbenchers to their new leader – perhaps a portent of things to come.
On the evidence of her no-nonsense opening appearance in her new role, they would be wise not to underestimate her. Her next trick will be to try and inspire those on the benches behind her.
Aye, there's the rub.
To be continued tomorrow.
This has not been the best Conservative Party Conference, and here's why:
1/ Bombastic Boris is no longer Prime Minister;
2/ Liz Truss is still finding her feet as his successor;
3/ A train strike is taking place on the final day, so a lot of people left before Liz spoke on Wednesday.
On Wednesday morning, October 5, GB News's Darren McCaffrey, a veteran of many party conferences, said that the mood in Birmingham was very low this year, as if, after 12 years, the Conservatives think that their time in Government could be up.
It doesn't help that Labour's Shadow Chancellor Rachel Reeves has been spreading lies about Kwasi Kwarteng's fiscal event, either:
Meanwhile, the people in Boris Johnson's constituency of Uxbridge in west London miss him dearly:
Anyone who missed the controversies of the Conservative Party Conference can catch up here and here.
On Tuesday night, former Conservative adviser Amanda Platell, who writes for the Daily Mail, said she is praying that Liz Truss can actually govern without opposition from her own MPs. Platell described Michael Gove as 'a jackal'. Platell added that the Leader of the Commons, Penny Mordaunt, wasn't a very good employee when she worked for her several years ago:
After Amanda Platell spoke in that clip, it was time for Stanley Johnson, Boris's father, to give his impressions of this year's conference.
He said that he must have been to a different one, because everyone he saw was upbeat and the conference hall was full for Chancellor Kwasi Kwarteng's speech. Stanley Johnson blames the negativity on an ongoing media narrative:
I didn't see this gloom and doom meeting at all. 
When Dan Wootton asked Stanley about Michael Gove, the former Prime Minister's father replied:
I'm not going to talk about wildlife of any kind … I'm going to sing Michael Gove's praises because he has been a really good Secretary of State for the Environment.
Wootton countered:
He stabbed your son in the back.
Stanley said:
I'm not going to talk about it … I'm speaking as an environmentalist.
In another part of the show, Stanley said that he is '100% certain' that Boris will not be back as Conservative Party leader, i.e. Prime Minister.
Robert Buckland's advice to rebels: 'Shut up'
On Tuesday afternoon while listening to GB News, one of the presenters said that the Secretary of State for Wales, the mild mannered Robert Buckland, told Michael Gove to 'shut up'.
Hoping it was true, I searched Wednesday's headlines but saw only that Buckland had issued his advice indirectly, via Global Radio's News Agents podcast, featuring ex-BBC broadcasters Emily Maitlis, Jon Sopel and Lewis Goodall.
Buckland was mild mannered throughout:
The i paper confirms that no direct confrontation took place:
Welsh Secretary Robert Buckland appealed to recently sacked ministers to "shut up" but indicated he wants to see benefits rise in line with inflation, telling Times Radio he believes in supporting "those who genuinely cannot share … In growth and prosperity".
One can only hope that Gove and his Sunak-backing allies got the message.
On Tuesday night, The Telegraph urged MPs to rally behind their new Prime Minister: 'Tories owe Liz Truss their full support' (emphases in purple mine):
Ms Truss has an ambitious set of policies that she set out in the leadership campaign, yet there is now a danger that she will be thwarted at every turn by a fresh coalition of opponents in her own party.
MPs should remember that the Prime Minister won fairly and squarely under the rules after they removed a leader who had delivered an 80-seat majority just three years ago. She did not engineer a coup and, indeed, stayed loyal to Boris Johnson until the end.
Senior backbenchers and former ministers such as Michael Gove and Grant Shapps, who have been in the vanguard of recent criticism, should consider the damage they are doing to the party's re-election prospects. The only beneficiaries are their political opponents.
Conservative values championing a small state, low taxes and deregulation are being replaced by social democratic nostrums that brook no spending cuts and take the same attitude to wealth creators as the Left. The pandemic lockdowns did not help matters by fostering a widespread sense that the state will always step in to help in difficult times, as it has done again with energy bills.
As we have argued consistently, the UK needs a growth strategy, and Ms Truss is at least providing one. The alternative is to manage the nation's decline into a high-tax, low-productivity economy. She needs the full support of the parliamentary party in her endeavour, starting now.
Left-wing lies persist over economic measures
Last week, the Bank of England had to take action to counter what appeared to be an immediate effect of the Chancellor's fiscal event of Friday, September 23.
However, Guido Fawkes cited a report from the Financial Times which said that the economic hiccup originated with the pensions industry.
Note the exposed deception in this Twitter thread:
Yes, I can well imagine that it was Mark Carney's fault. He was Andrew Bailey's predecessor at the Bank of England. Both are worthless, yet the media deifies Carney as some sort of miracle worker.
The left-wing narrative, spun by Shadow Chancellor Rachel Reeves and the media, persists that the taxpayer is being hung out to dry.
Guido wants to correct that narrative, noting that the BBC's Nick Robinson has already apologised for getting it wrong:
Guido's post from Tuesday, October 4, — which includes audio — says (emphases his):
Since the Bank of England announced market operations to purchase gilts last Wednesday, Westminster politicos have been struggling to get their heads round the intricacies of gilt markets. It therefore comes as no surprise to Guido that Nick Robinson was forced into a correction today, after incorrectly repeating the widely tweeted claim that the Bank of England has spent "£65 billion to prop up the markets" …

The claim is somewhat misleading. The Bank of England pledged to buy gilts to the tune of a maximum of £5 billion a day, over two weeks, to assure markets. This means the maximum possible spend was £65 billion, though the actual number will be far smaller. In reality the bank has purchased around £3.66 billion so far, with yesterday's purchases coming in at just £22 million. The smaller purchase signals the Bank is comfortable with the current state of gilt markets as its credible commitment appears to have paid off. Guido appreciates that the BBC this time took the effort to get the facts right…
Shadow Chancellor Rachel Reeves, who should know better as an ex-Bank of England employee, repeated the same line: "The fact the Bank of England had to step in with a £65 billion bailout with taxpayers money is deeply shameful." It is not a fact.
Firstly, the market operation will be nowhere near £65 billion. Secondly, it is not money from taxpayers … with the purchases even having the potential to make a profit* on resale. So her "taxpayers' money" claim is also incorrect. Robbo we can excuse, he only has a PPE degree from Oxford. The Shadow Chancellor, a trained economist, is deliberately and wilfully misrepresenting the facts for political advantage…
*A market source says that marked-to-market the Treasury is currently in profit on the trade.
In the comments, one of Guido's readers clarified what happens with the Asset Purchase Facility — APF — in this case:
It's not from Treasury reserves. Treasury has no reserves. It's not money from taxpayers either. Neither the bank nor Treasury has any taxpayer money.
The Bank has extended a loan to the APF, and credited the APF's account in the Banking Department with an advance. That is then used to pay whoever is selling the Gilts to the APF, which result in a transfer from the APF's account in the Banking Department to a commercial bank's settlement account in the Banking department.
The end result is Gilt assets in the APF balanced by a liability to the Banking department of the Bank of England. The Bank of England has a loan asset to the APF balanced by a liability to the commercial bank.
It's just good old bank lending. As happens a bazillion times every day across the banking system.
Another reader called out the media for lazy journalism:
All MSM are as bad, Sky and ITV actively promote their left-wing Labour bias too, especially activists like Ed Conway and Peston, respectively, are rarely challenged, and the public generally don`t realise they are being lied to and manipulated. Creating hysteria and headlines are more important now than the truth and lazy groupthink "journalists" just follow the herd. Where is the giant good news headline that the £ is now trading higher than before the mini-budget and the euro is below parity with the dollar, no, they prefer reporting negative UK news to deliberately topple this government.
Kwarteng's U-Turn U-turn
Thankfully, Kwarteng has recovered from the shock of having to make an economic U-turn on the 45% rate of tax and, although that is still off the table for now, he is reneging on bringing forward a vote on a more detailed plan on November 23.
On Tuesday evening, The Telegraph reported that he has postponed this to next year:
Crunch votes to implement last week's mini-Budget will not take place until next spring, The Telegraph understands, putting off potential rebellions until 2023.
Many of the tax-cutting measures which Kwasi Kwarteng, the Chancellor, announced last month will not need to be passed in the House of Commons until next March.
That includes bringing forward the 1p cut in the basic rate of income tax and scrapping a planned rise in corporation tax, two of the most costly moves in the package.
It means that Tory rebels hoping to attach amendments to the Finance Bill may have to wait almost six months, potentially buying Liz Truss some political breathing room …
There was confusion on Tuesday as Mr Kwarteng appeared to row back on Downing Street indications on Monday night that he would reveal his new fiscal plan earlier than planned.
Mr Kwarteng said that the so-called "medium-term fiscal plan", which will spell out his approach to bringing down debt and restraining spending, was coming on November 23.
But that appeared to contradict word from his allies 24 hours earlier suggesting the announcement and the Office of Budget Responsibility (OBR) forecast would actually come sooner.
The OBR forecast is another part of the ongoing anti-Truss narrative. Since its inception by then-Chancellor George Osborne over a decade ago, its forecasts have rarely been accurate. Guido regularly posts on how the economy does much better in reality, putting the OBR to shame.
Yet, the OBR is considered as an oracle:
The failure to produce an OBR forecast alongside the mini-Budget was jumped on by economists and critics to partly explain the reaction from the markets.
It is, in fact, useless.
On Tuesday, Kwarteng gave his reasons for the rushed fiscal event. Contrary to what the lefty narrative says, he was not blaming the Queen, just reminding people of the timeline:
Mr Kwarteng on Tuesday also appeared to cast some blame on the "pressure" of the Queen's death for mistakes in his tax-cutting fiscal statement.
He said: "We had a nation in mourning and then, literally, four days after the funeral we had the mini-budget.
"It was a high speed, high-pressure environment and we could, as David Cameron used to say, have prepared the pitch a bit better."
Kwarteng was rightly disappointed that the Government was not given credit for helping out the nation with their winter fuel bills. This is another part of the false lefty narrative that needs exposure:
Speaking at a fringe event at the Conservative conference on Tuesday night, Mr Kwarteng complained that his energy price freeze was getting too little attention because of the 45p tax row.
The Chancellor said: "If you look at the energy intervention, I mean, nobody's talking about the energy intervention.
"That was a huge use of the balance sheet to help people. People were facing bills of potentially £6,000 next year, and we've intervened.
"There's gonna be a limit of £2,500. That's a huge intervention."
Agreed. He did what people bayed for.
He criticised Rishi Sunak's handling of taxpayer's money, turning the former Chancellor's cries of morality back on him:
Mr Kwarteng has also said the Treasury he inherited from Rishi Sunak and Boris Johnson was "unsustainable".
He said: "We were spending billions and billions and billions and raising the money in tax."
"How can that be sustainable, when we have a very, very high tax burden and very low growth? We had to come off that trajectory."
He called himself a "compassionate Conservative" inspired by his mother …
He added: "It's the people's money – we raise it through tax. And if we do that we have a moral obligation to look after it."
Benefits increases
In line with Kwarteng, Liz Truss wants to be careful about taxpayer's money.
Benefits will have to be raised, but the question is by how much.
One tranche of Conservative MPs says that it must be in line with inflation. Another group says it should be in line with salaries.
Early on Tuesday, The Sun reported:
She is under pressure to hike benefits for the poorest after repeatedly refusing to confirm they will go up in line with inflation.
Speaking at the party conference in Birmingham, the PM said: "We face massive challenges as a country and we need to get through this economic crisis and this energy crisis.
"And we need Britain to come out stronger on the other side, and I want to win over hearts and minds in the country, but also amongst my parliamentary colleagues, to make sure that we are able to deliver for the people of Britain" …
Emboldened rebel MPs are now pushing for further changes having forced her to ditch one flagship measure — with efforts now focusing against a real terms cut to Britain's benefits bill.
Even her own Cabinet Ministers are ratcheting up the pressure for Ms Truss to commit to raising benefits with inflation and not wages.
Penny Mordaunt told the Times it "makes sense" to uprate benefits with prices.
The Commons leader said: "I have always supported, whether it's pensions, whether it's our welfare system, keeping pace with inflation."
But Ms Truss insisted no decision had been made, yet reiterated her promise to keep the pensioners' triple lock.
She admitted the reaction to her Growth Plan had not been "absolutely perfect" but insisted it – and the energy – package will help struggling families braced for a gruelling winter.
It includes cutting stamp duty, income tax and capping the price of energy so the typical household will pay no more than £2,500.
Here's The Spectator's list of the benefits rebels hoping for an increase with inflation rather than wages.
Penny Mordaunt was one of Truss's rivals in the leadership contest and the other five — led by Michael Gove — were staunch Sunak supporters:
Penny Mordaunt
Michael Gove
Damian Green
Esther McVey
John Glen
Mel Stride
Who can forget the day MPs eliminated Mordaunt from the leadership contest, leaving Truss and Sunak as the last two standing?
On July 20, Guido wrote about Mordaunt's last ditch appeal:
It turns out Penny Mordaunt's effort to run a "clean" campaign that puts an end to "toxic politics" lasted as long as she thought she had a chance of winning. Now that Liz Truss is the bookies' favourite, and Kemi Badenoch's voters are up for grabs, the Mordaunt camp has other ideas. This morning, Mordaunt tweeted an Allison Pearson Telegraph article headlined "Tory MPs – vote for Rishi Sunak or Liz Truss today and you'll murder the party you love", which went down like a bucket of cold sick with just about everybody. Don't bother trying to find the tweet – she's since deleted it…
Truss wisely made Mordaunt Leader of the House, probably the safest place for her.
The benefits row is likely to erupt after Parliament reconvenes next week. Gove is pictured with Truss:
On Tuesday morning, Guido posted an audio clip of Mordaunt speaking to Times Radio about increasing benefits in line with inflation:
… on Times Radio … Leader of the Commons Penny Mordaunt was busy once again going characteristically off-script, claiming "it makes sense" to commit to the uplift come rain or shine. Michael Gove is – predictably – saying the same. Even DWP Secretary Chloe Smith has been going around saying "protecting the most vulnerable is a big priority for me", which surely signals the way the wind is blowing… 
However, as The Spectator's editor Fraser Nelson points out, Liz Truss is not being stingy in wanting to increase benefits with salaries rather than inflation:
Difficult decisions lie ahead for Liz Truss as she thinks of ways to constrain spending. One option is to increase benefits in line with average salaries (6.2 per cent), rather than CPI inflation (9.9 per cent): why, it might be argued, should someone on welfare see their income rise faster than someone in work? And with public sector wages rising at just 2 per cent, can government really give a near-10 per cent rise to those out of work? …
So she is considering, at very least, uprating benefits by earnings rather than inflation. But if she's ready for a fight, then so are her Tory opponents. Intriguingly, Penny Mordaunt now seems to be among them.
… Truss may struggle to get a lean settlement through the House of Commons. That's why it matters that Mordaunt, the leader of the House of Commons, has declared in favour of increasing welfare by inflation. Such open lobbying by a cabinet member is rare and indicates a collapse in discipline …
Uprating benefits to inflation would be hugely expensive due to the staggering number currently on out-of-work benefits: 5.3 million in total. This figure has yet to be acknowledged by the government (which prefers a more narrow definition of unemployment) and can only be produced by drilling into its website. There's a six-month lag, such is the lack of attention to this figure. But it amounts to 13 per cent of the UK working-age population, rising to 20 per cent in Manchester and Birmingham and 25 per cent in Blackpool. Here's the breakdown, which we keep updated on The Spectator data hub …
Nelson has included The Spectator's graph in the article. It's rather shocking.
He says it is time to get the nation back to work but realises that could be a hard sell for Truss to make:
As I've argued, the real scandal here is the waste of human potential, more than the waste of money. We have a near-record number of vacancies in the UK – about 1.1 million (hence a lot of the pressure to relax immigration rules), and to combine this with near-record levels on welfare is quite a feat. But it's also a very expensive situation and a problem that will not be helped by decreasing the factor by which people would be better-off in work.
This is a complex and difficult argument to make – and one distinguishing feature of Liz Truss's government is that it struggles to have such discussions even with the Tory party, let alone the country …
… this is a pre-rebellion from Mordaunt: she is describing a situation she'd like, not one that exists. By declaring the restoration of cabinet government, are cabinet members taking back control?
I have written this before Liz Truss gives her speech on Wednesday morning, closing the conference.
The question remains as to whether she can stamp her authority on the Cabinet and Conservative rebels. A tired Tom Harwood, who was also at Labour's conference last week, explains the situation on GB News:
I will feature brighter aspects of the conference in tomorrow's post.
On Friday, September 23, 2022, just four days after the Queen's funeral, Chancellor Kwasi Kwarteng delivered a 'fiscal event' designed to kick start the British economy.
In the days leading up to the fiscal event, so-called because it wasn't a full budget, the media and Labour were clamouring for it. However, the nation was in mourning for the late monarch and, accordingly, Parliament was in recess.
Conservative critics — i.e. Brexit critics — asked, 'Where's Liz? Where's the Chancellor? Something must be done!'
Parliament reconvened on that Friday to hear Kwarteng deliver a big, bold and beautiful economic plan, which included the abolition of the 45% upper tax rate.
Even Nigel Farage approved, going back in history to Margaret Thatcher's time as PM:
What happened? The same critics blasted Kwarteng and Prime Minister Liz Truss for their rather Thatcherite plan, designed to reverse the nation's economic course since the Labour days of the early Millennium under Gordon Brown to the present Conservative government:
Small-c conservatives hoped that Boris Johnson would have done this, but it was too big to take on. With the flak Truss and Kwarteng caught, it now appears that Johnson probably feared it would dent his popularity. That's only my guess, but it makes sense.
Mortgage rate fears
I went to a small local event on Saturday, September 24. Before it began, one woman of pensionable age asked, 'Has anybody seen the news today? I didn't have time to look. Has the economy crashed yet?' It was clear she was angry. Other people in attendance responded with jokes about supply-side economics.
Throughout the week, it was nothing but doom and gloom, even on GB News, which offered few correctives. The Labour Party conference took place last week, which did not help.
I went to the shops on Wednesday, September 28. On my walk, I overheard an estate agent talking to an older couple about their mortgage rate fears as a result of the fiscal event. The media had sent out ominous messages about rising interest rates. The estate agent told the couple that the turbulence would be short term and that it was taking place all over Europe — which is true.
On Thursday, September 29, the BBC's Question Time aired. One young woman stoked fears about a hike in interest rates on mortgages, claiming — claiming — that hers was going up to over 10%: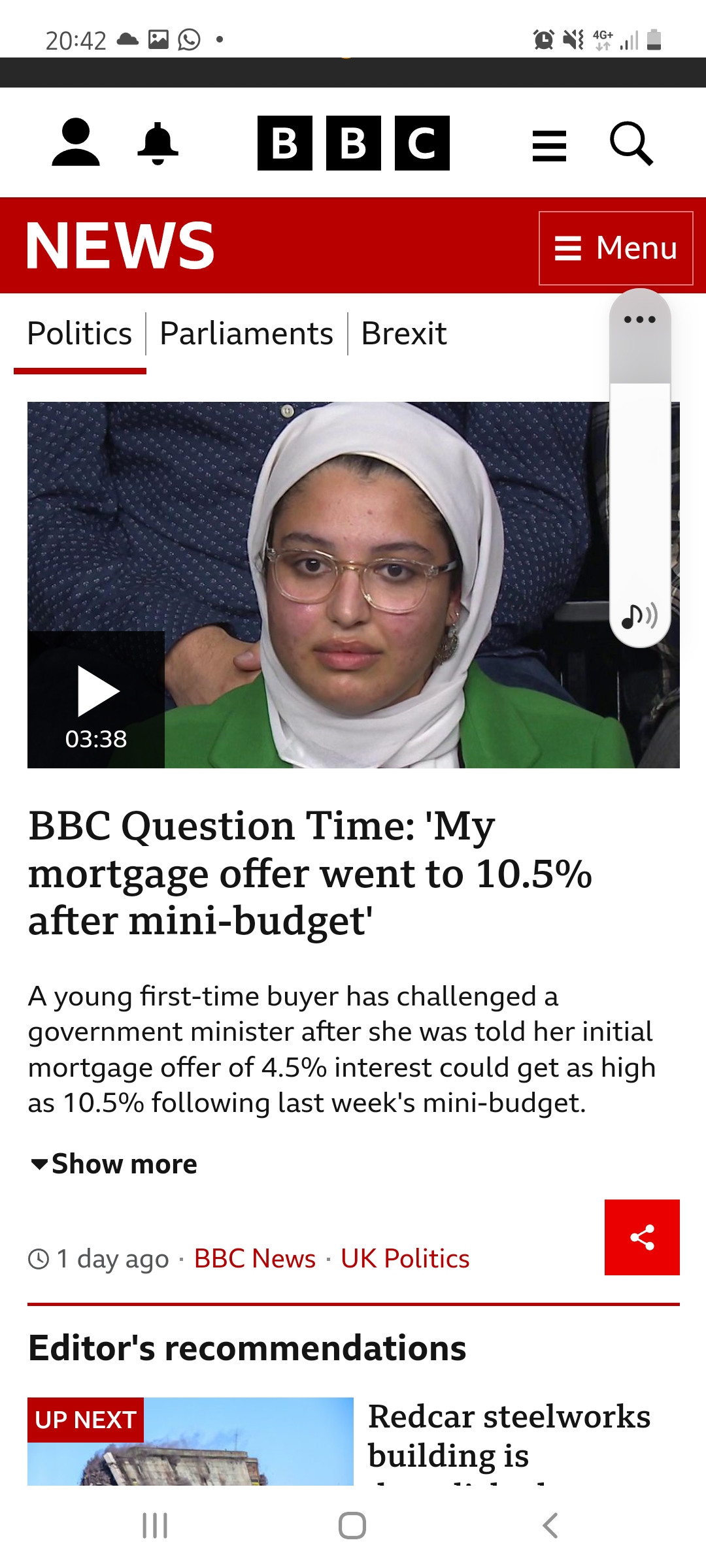 But was this claim true?
Apparently, the claim is false: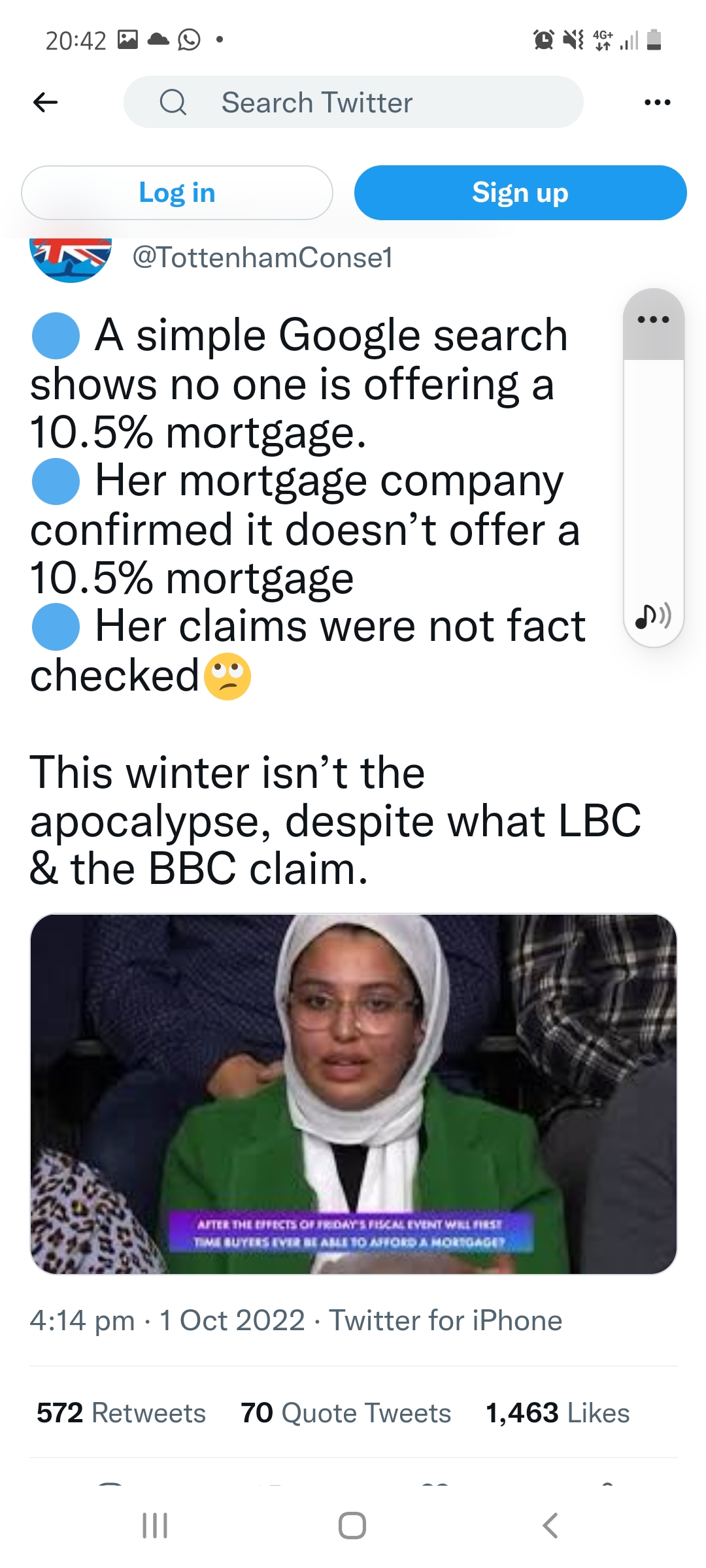 Skipton Building Society said they had not offered a 10%+ mortgage rate for many years: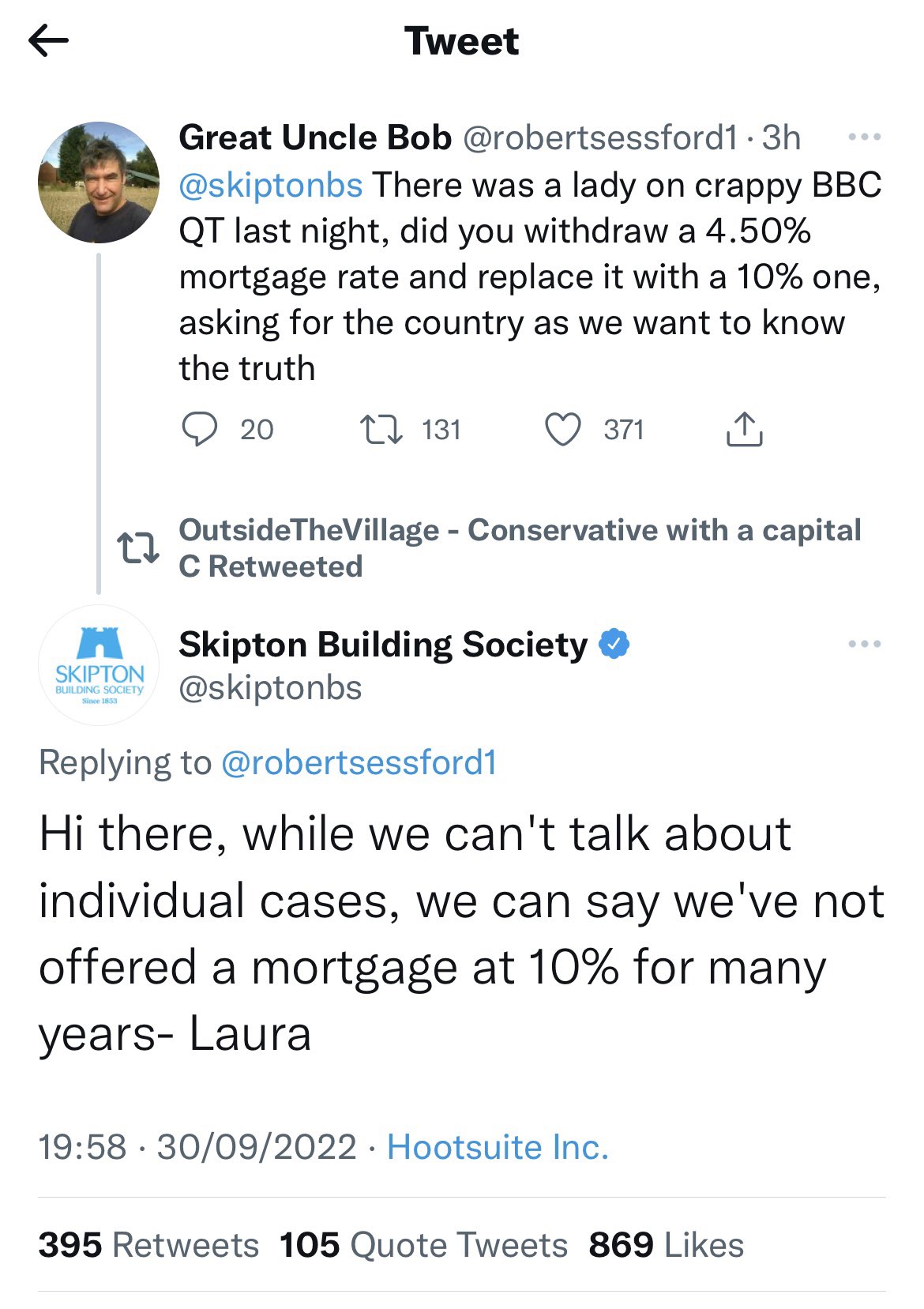 Once again, the Left — including the media — took charge of the Conservative narrative. They're still at it.
Conservative Party conference opens
On Sunday, October 2, the Conservative Party conference began in the UK's Second City, Birmingham, once our industrial capital:
Penny Mordaunt MP, Leader of the House of Commons, paid an excellent tribute to our late Queen, which was followed by a minute's silence and the singing of the National Anthem.
Having seen the first few speeches on GB News, the mood from the MPs speaking was upbeat. However, the mood in the conference hall was sombre.
Rishi Sunak and several of his supporters, prominent MPs, did not attend. Sunak said he wanted to be absent so that Truss 'could own the moment'. Ouch.
Boris Johnson also sent in his regrets.
Earlier that day, Truss appeared on Laura Kuenssberg's Sunday show on BBC1.
Kuenssberg asked her about the abolition of the 45% tax rate. Truss said that was Kwarteng's decision. Oh, dear. Guido Fawkes has the video:
Because the fiscal event had to be done quickly, Truss and Kwarteng did not consult other Cabinet members.
Also, because it was such a departure from the norm, it appeared shocking to Britons expecting more of the same. Truss told Kuenssberg that she and the Chancellor could have communicated it better (see video):
Truss rightly pointed out that 'optics' — rather than reality — dominated the fiscal event:
In the video, Kuenssberg ended by saying that optics were terribly important, implying that they make just as much of an honest representation as does reality. Oh, my days!
Returning to the Conservative Party conference opening day, Michael Gove stuck his oar in, saying that tax cuts are not conservative.
Whaaat?
Former Conservative MP Michael Portillo explained on his GB News show that Gove became an MP during David Cameron's time as Prime Minister and, therefore, has a different take on economics.
The economy wasn't the only issue on MPs' minds. Other of Truss's leadership rivals in this summer's contest for PM were not happy.
As is common with party conferences, smaller events took place outside of the main venue.
Last week, Truss said she would like to see more immigration, something that won't please folks who voted Conservative for the first time in 2019.
On Sunday evening, Trade Secretary Kemi Badenoch — the MP whom conservatives deeply admire — attacked Truss's immigration plans:
Guido has the story, which reveals rifts in the Party (emphases his):
If Liz Truss thought the furore over the 45p rate would distract attention from MPs rebelling on other policy areas, Guido's sorry to disappoint her. At the IEA/TPA DrinkTanks reception last night, guest of honour Kemi Badenoch openly rebuked the PM's plans to let in more immigrants to boost growth. The Trade Secretary ignored any sense of collective responsibility as she told the assembled free marketeers:
Simply taking in numbers to boost GDP while GDP per capita falls is not the right way to do that. We need to look again at resolving our productivity issues and that means using capital better, not just getting cheaper and cheaper labour.
Kemi's brazen and deliberate speech last night all but confirmed The Times' article on Sunday reporting major Cabinet divisions over the plan, with Kemi and Suella Braverman at odds with the PM's preferred free market solution. Like Liz, Guido doesn't have a problem with skilled, legal immigration, it is the illegal immigration which is concerning. It seems Tory Cabinet ministers aren't even pretending to play happy families anymore…
Also that evening, Leader of the House Penny Mordaunt spoke at a small gathering to complain — rightly — about poor Conservative communication over policy making:
She made her views known at an event called 'Conservatives in Communication'.
Sadly, Guido points out:
… host Adam Honeysett-Watts had to tell the crowd to shut up and listen. Unfortunately, most of the attendees were far more interested in guzzling free booze and chatting to each other.
Meanwhile, Truss addressed a group of Conservatives, explaining the need for growth — now. She, too, said that Party communications are lacking:
She is not wrong, and she has to make up for the past two years, consumed by dealing with the pandemic.
The second day of conference brings U-turn on 45% tax rate
Did Michael Gove, the Scot who wants to become PM, exercise his influence once again?
Nothing against Scots, but their politicians do seem to think that people need to be micro-managed, which Gove does, and that we should continue a globalist agenda in, well, nearly everything.
For the first time in years, Gove is not in Cabinet.
That said, he has never supported PMs he has served, going all the way back to David Cameron. This comment comes from one of Guido's readers (purple emphases mine):
Cameron, don't forget Cameron. Gove mortally wounded him too with Brexit. I don't disagree with Gove supporting Brexit obviously but the way he went about it was like a serpent to someone who called him his friend. His whole front line career has been poisonous towards the sitting leader.
At 7:17 a.m., Guido tweeted that Truss and Kwarteng were backing down on abolishing the 45% tax rate:
Kwarteng said he would still be going ahead with the rest of the fiscal event policy.
That U-turn will empower Gove and the Left — again, media included — to control the narrative even more.
Baroness Thatcher would have been so disappointed:
And I know what Thatcher would have done with Gove: withdrawn the Party whip.
Guido says that the reversal came about on Sunday evening and that The Sun had the exclusive:
After The Sun broke the exclusive of conference late last night, the Lobby's just been informed that the government will now not be going ahead with the 45p rate abolition, with a u-turn expected to be announced within the next hour. Just yesterday the press were briefed that Kwasi was to tell conference "We must stay the course. I am confident our plan is the right one."
This morning the course has not been stayed – it has been re-directed in another direction altogether. Kwasi's statement:
From supporting British business to lowering the tax burden for the lowest paid, our Growth Plan sets out a new approach to build a more prosperous economy. However, it is clear that the abolition of the 45p tax rate has become a distraction from our overriding mission to tackle the challenges facing our country. As a result, I'm announcing we are not proceeding with the abolition of the 45p tax rate. We get it, and we have listened. This will allow us to focus on delivering the major parts of our growth package. First, our Energy Price Guarantee, which will support households and businesses with their energy bills. Second, cutting taxes to put money back in the pockets of 30 million hard-working people and grow our economy. Third, driving supply side reforms – including accelerating major infrastructure projects – to get Britain moving.
The move came after crisis talks yesterday between the PM and Chancellor; their hands forced by Tory MPs continuing to state on the record they couldn't vote for the plans, despite an open warning from [new Party chairman, MP] Jake Berry that they'd lose the whip. Gove was at the forefront of the rebellion…
Guido's cartoonist came up with this:
It is unclear how much of this has to come up for a vote in Parliament in order to proceed.
However, it is becoming apparent that a significant number of MPs have not united behind Liz Truss:
If enough Conservative MPs rebel in a vote, the Government could collapse. A collapse could trigger an imminent general election (GE). With the way things are, Labour could win and form a coalition with the other Opposition parties. That would be a disaster, particularly in voting reform if they push through a vote for 16-year-olds and immigrants to vote in a GE. Furthermore, they would probably also want some type of proportional representation to replace the centuries-old first-past-the-post.
Of course, the alternative is that Conservative MPs have another leadership contest, but that would look as if they were incompetent. One MP suggested that Conservative Party members be locked out of that vote altogether, which would anger them deeply.
An hour after Kwarteng announced the U-turn, he was on BBC Radio 4 with Conservative-loathing Nick Robinson. This is so sad:
Then Kwarteng went on Nick Ferrari's LBC breakfast show. Ferrari pressed him to say 'no more U-turns' but the Chancellor repeated, 'I've said what I've said'. Guido has the video:
As a result of the U-turn, the markets were no longer predicting a 6% rise in interest rates, but something slightly lower — 5.5% and 5.75%. Guido is right in saying this is an emotional response:
Sterling was also slightly up, but not hugely:
In closing, let's return to Gordon Brown, who succeeded Tony Blair as PM — without an election, I might add.
Conservative MP Gillian Keegan put the blame squarely on Brown in an interview with Times Radio on Monday morning.
Guido has the story:
Foreign Office Minister Gillian Keegan was spot on when she told Times Radio this morning that the top rate of tax was a political time bomb left behind by Gordon Brown:
I always knew that it was going to be a political problem. I mean, let's be honest, this was a political trap that was set by Gordon Brown in the dying days of his role as PM, right. And I paid the 50% tax. I was in business then. And I remember how devastating it was because actually, it meant you were paying about 65% tax. And there's something in your mind, which is like, really, you know, only 35% for me? And I'm doing all these hours. I was a business person, then it was set as a political trap…. In theory it [the top rate of tax] should never have been there.
There is something immoral about the government taking the majority of your income in tax. It is also a disheartening disincentive; reversing this spiteful tax is the correct policy, though this might perhaps be the wrong time. Getting rid of a political tax that was only set up by Gordon Brown when he knew he was likely to be ousted –to hurt the Tories rather than raise revenue – was the right thing to do. Even the IFS' Paul Johnson thinks in revenue terms "It might plausibly cost nothing at all". The tax was not about raising revenue – it was about political positioning.
Back in Fife, Brown will be rocking in his chair laughing that his tax booby trap, announced only weeks before he left office, and which was expected to cause problems for his successor David Cameron, has finally exploded in the face of a Tory Chancellor. The fuse wire on Brown's time bomb turned out to be 12 years long…
Truss and Kwarteng have learned a lot in the past month.
I do hope that they have learned something from their baptism by fire, especially Truss, for whom I have the greatest empathy. The Queen's death delayed her getting off the ground running. Then when she was finally able to do something, the media attacked her even more for it. Now the Party's MPs are angry with her. Some have already submitted no confidence letters to Sir Graham Brady of the 1922 Committee. The polls have been tanking. Two show voters giving Labour a 30% lead in the polls, something not seen for decades.
No one has even given Truss or the Chancellor a chance.
I will continue to pray for hers and Kwarteng's success against all odds.
They are doing the right thing …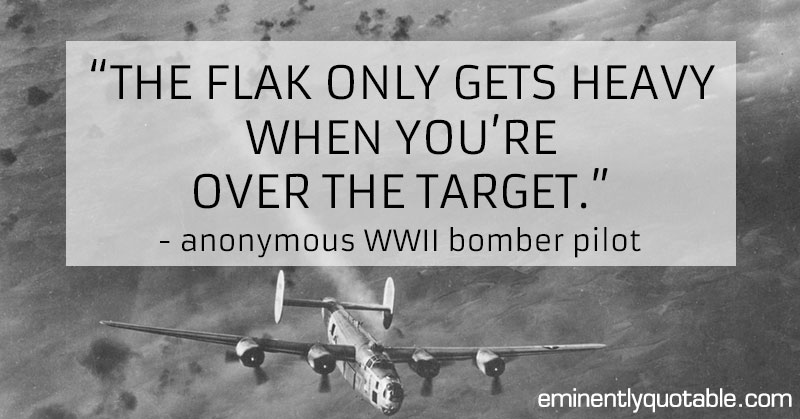 … which is why they are being attacked mercilessly.