You are currently browsing the tag archive for the 'media' tag.
Yesterday's post looked back at Liz Truss's leadership campaign during the latter half of August 2022.
As September started, most ordinary conservatives were happy to know that Liz was likely to be the next Party leader.
On September 3, the veteran journalist Janet Daley wrote an empathetic column about her for The Telegraph, 'Ignore conventional wisdom: the new prime minister is not doomed'.
CCHQ — Conservative Party headquarters — had not yet finished counting the members' votes, but Daley thought that people would give Liz their support in the face of the cost of living crisis (emphases mine):
Given that virtually everyone in the country accepts that the current dilemma is both desperately urgent and, in the short term, utterly hopeless, Liz Truss will begin her premiership with the lowest possible expectations and, given the inherent fair mindedness of the British population, even a little sympathy …
Whether Daley realised it or not at the time, she hit the proverbial on the head in the second paragraph:
Standing up in the House – or better, at that podium in Downing Street – to address a nation that has been terrified out of its wits by predictions of the devastation that is to come, will look like an act of singular bravery and resolve. Most of the country, apart from sworn partisan enemies (the most pathologically vicious of whom are inside her own party), will be willing her to succeed in whatever terms success can be measured, against the impossible odds. She will not have a honeymoon as such, but she can gain points for rigorous resolve and determination – especially if she seems to be in touch with the justifiable fears of real people. That will be the key to it. Every word, every pronouncement, every policy will have to be communicated with infinite humaneness: genuine compassion for the impact that this crisis is having on daily life and future prospects …
Although this was Daley's prediction at the time, this is how things played out with most fair-minded voters:
Ordinary people who do not have an ideological dog in the fight know that this is uncharted territory. What disagreements there are – and will continue to be – over the right way to proceed will be accepted as reasonable argument and not necessarily discrediting to the sitting government providing that it remains proactive and committed.
I particularly liked the next bit, which posited that, as the year went on, things might turn out to be less gloomy than forecast during the summer:
… there is the possibility of some good (or less bad) news in the coming months. What if the combined efforts and ingenuity of the Western economies produce more optimistic projections for energy subsistence sooner than was expected? Already we hear that gas storage in Europe is exceeding expectations and, as a result, commodity prices are beginning to fall.
However, Daley, for all her brilliance, did not foresee the savage attack from Liz's fellow MPs.
North of the border, Scotland's First Minister Nicola Sturgeon was still seething that Liz had called her an 'attention seeker' during the campaign:
During her premiership, Liz never did contact Nicola Sturgeon.
On Monday, September 5, these were the main news stories. We could rely on The Independent for negative stories about our new Prime Minister: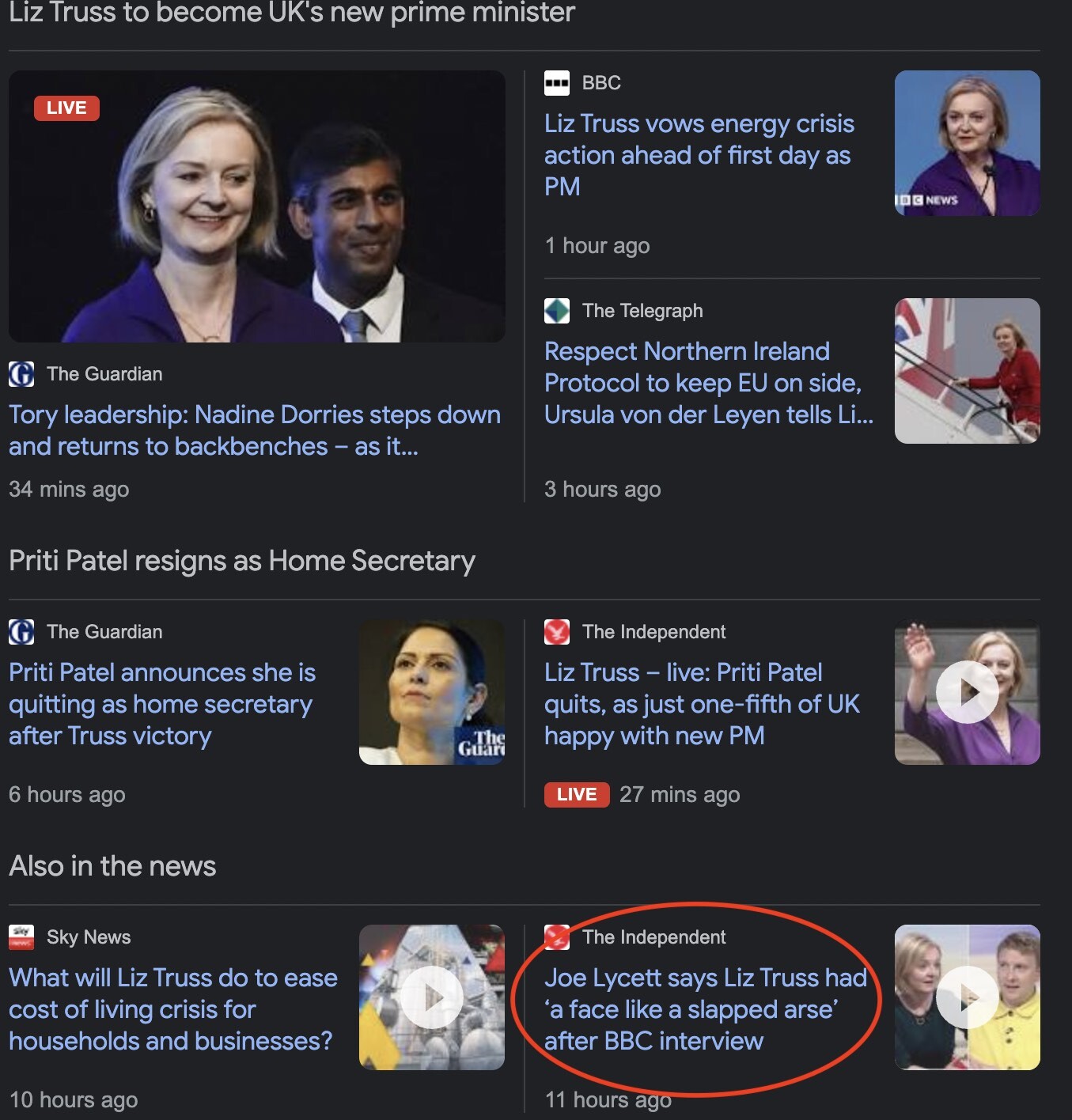 The Mail on Sunday's Dan Hodges was thrilled. He had predicted Liz's ascendancy on Boxing Day 2021:
His article says that Liz's rise began when she replaced Dominic Raab as Foreign Secretary. During his time in post, he said that all ministers (MPs) serving under him were to be called Junior Ministers (JMs) rather than Ministers. The MPs were none too happy with that move.
Then, when Biden's sudden withdrawal from Afghanistan took place in mid-August 2021, Raab was on holiday in the Mediterranean with his family. Boris replaced him with Liz:
On her first day in the job, she issued a note to her officials ordering the JM designation be dropped.
'Liz gets it,' a Minister said. 'She knows how to treat her colleagues properly. It's one of the reasons she's been so successful.'
Spectacularly successful. 2021 has been Liz Truss's year …

She's now in charge of masterminding the final fraught stages of Britain's EU exit.
And – were Boris to suddenly fall beneath a heavily laden wine-and-cheese platter – favourite to replace him in No 10 Downing Street.
At the time Hodges had written his article, Boris was becoming more embroiled in Partygate allegations, which had begun in November 2021.
We thought that Boris had a diverse Cabinet. It was nothing like Liz's, however:
The Mail reported:
Ms Truss is expected to make long-term ally Kwasi Kwarteng chancellor, with Suella Braverman moving to the Home Office and James Cleverly to the Foreign Office.
If selected, Mr Kwarteng would be the fourth non-white chancellor in a row, directly following Sajid Javid, Rishi Sunak and Nadhim Zahawi.
And Ms Braverman would become the third minority home secretary, after Priti Patel and Mr Javid. 
Mr Cleverly, currently the Education Secretary, would become the first ever non-white foreign Secretary.
Cleverly continues in post today under Rishi Sunak, as does Kemi Badenoch, International Trade Secretary and Minister for Women and Equalities:
Would the media — our diversity champions — give her, our third female Conservative PM, any credit? Never:
On a related note, Liz gave us a Health and Social Care Secretary with a fondness for cigars, the likes of which we had not seen since Kenneth Clarke in the 1990s. Here is Thérèse Coffey, one of her close friends, pictured at a Spectator summer party a few years ago:
However, just as important were the people no longer in Cabinet. This is worth noting. Some said later that this is where Liz's premiership became unstuck, that she should have held on to some opponents:
There is expected to be a clear out of Rishi Sunak and his supporters after a bitter blue-on-blue campaign in which he seems almost certain to be defeated.
Into the political wilderness too will go Michael Gove, after serving under the three previous PMs. Dominic Raab, the First Secretary of State, and Boris Johnson himself, are expected to return to the backbenches. Both have question marks over whether they can hold on to their seats at the next election.
I think she did the right thing. We'd seen enough of all of them over the past three years and, in Gove's case, much longer than that.
They would not have been friendly:
Other backbench Conservative MPs were unfriendly, too:
Rishi was unaccustomed to being on the backbenches, and his first opportunity to participate in a debate came that Tuesday afternoon. Guido Fawkes reported:
Backbencher Rishi Sunak making a debate intervention today on "unavoidably small hospitals":
Thank you for accommodating me at a late stage in this debate. I hadn't planned on speaking but this morning I saw the order paper and it turns out I had more time on my hands than I anticipated.
Tuesday's Mail pointed out the Conservatives have had three women PMs. Labour have had none, not even a female Party leader:
We were also entering a new generation of PMs who were younger than we:
Liz's supporters in the media were hopeful:
James Johnson's Politico article said:
The main qualities the public look for from their leaders in the 2020s are honesty, strength and authenticity. It will require care and calibration, but Truss has a path to come closer to these than Starmer.
If she stands in Downing Street on Tuesday and levels with the public about the challenge ahead and tells them to judge her on results in two years' time she will not only create a reputational shield for herself but also have the opportunity to make a novel mark on the public — many of whom will be tuning into her for the first time — as someone who gives it to them straight.
Some have suggested that her more libertarian instincts and views, such as decrying a focus on redistribution, make her unelectable. But voters, especially those new Tory converts in the Red Wall, value consistency — a quality they feel is so lacking in modern politicians — as much as an individual policy position. Focus group attendees praise Thatcher and Blair when asked if there are any politicians they admire not because they agreed with them on everything, but because they felt they held beliefs and stuck with them.
One of Truss' biggest applause lines in one of the early debates was that she is not the slickest media performer, but she gets things done. If she successfully harnesses that sentiment, the ideological gap between her and the public on specific issues or an awkward communication style may matter less …
It could all come undone, of course. Moments in the summer would have been similarly disastrous for Truss in a live election campaign environment. The calibre of her team will be crucial …
There is a pathway for the Conservative Party. If followed, the optimistic scenario for Liz Truss is underpriced.
Like the aforementioned Janet Daley, James Johnson underestimated the opposition on the Conservative backbenches.
After flying back from Aberdeen, the closest airport to Balmoral, Liz gave her first address as Prime Minister. Heavy downpours punctuated the afternoon. The weather, combined with London's rush hour traffic, delayed her. The rain let up long enough for her to give her speech, in which she borrowed a line from Churchill, 'Action this day'. Her husband, Hugh O'Leary, stood on the sidelines:
Liz's first call to a foreign leader was to Volodymyr Zelenskyy to reassure him that the UK would continue to support Ukraine:
One of her economic advisers, Gerard Lyons, was confident that a low-tax economic plan would help to stave off recession:
The cost of living crisis made Wednesday's papers, September 7. These front pages show Liz's husband:
The Telegraph borrowed words from her speech, 'We can ride out the storm':
Wednesday saw Liz's first Prime Minister's Questions (PMQs). This is the full half hour:
She managed to lob a few witty grenades Keir Starmer's way.
To roars of applause from Conservatives, Liz pointed out that there is nothing new about a Labour leader wanting tax rises:
Guido noted that the comment painted Starmer the same colour as his predecessor, the very left-wing Jeremy Corbyn (emphases his):
It only took a free marketeer PM to bring out Starmer's inner Corbynite…
Directing her aim at both Starmer and Corbyn, she asked aloud why Labour can't find a leader who lives outside of north London, home of the metropolitan elite. She also wondered why there had been no female Labour Party leaders (video):
After PMQs ended, Guido said that Liz's Cabinet was more diverse than Labour's shadow team, although you cannot see that in the photo that he posted. He calculated:
… up to seven BAME members: 23% of the total. 
By Guido's reckoning, Labour's shadow cabinet has six ethnic minority members, or a mere 20%.
Meanwhile, Labour continue thrashing the Tories on gender and state school educations. All completely irrelevant, but nonetheless, interesting to note …
That evening, The Telegraph analysed Liz's first full day as PM.
Madeline Grant provided a sketch of PMQs:
Therese Coffey, radiating gung-ho enthusiasm, looked ready to crack out another celebratory cigar. A dazed Suella Braverman wandered into the Chamber via the Westminster Hall route used by most MPs, then remembered she is Home Secretary now and hot-footed it to the "VIP entrance" at the back.
Notable by their absence were Rishi Sunak, and, predictably, Boris Johnson, though Sajid Javid was there …
A huge roar enveloped Liz Truss as she sashayed in, looking sleek in a blue pantsuit – shades of Keeley Hawes in the Bodyguard. The Tory troops, clearly desperate for things to go well, cheered raucously no matter what she said or did. Yet again beating Labour in the identity politics stakes seemed to have sparked particular joy. When Sir Keir Starmer congratulated Truss on her appointment, a Tory backbencher snarled "3-nil!". James Cleverly, the Foreign Secretary, brandished three fingers and jabbed them in the air.
Theresa May also congratulated Truss on becoming Britain's third female prime minister. "Why does she think it is that all three female prime ministers have been Conservative?", she asked. Truss positively beamed at her. "I look forward to calling on her advice," she said. (Oh no).
"There does seem to be an extraordinary inability of the Labour Party to find a female leader," continued Truss, "or indeed a leader who doesn't come from north London." The Tory hordes roared at this, and even Starmer repressed a chuckle.
Her presentation was as wooden as ever:
But her replies were assured, refreshingly direct. There were even a few one-word answers – no to a windfall tax, for instance – a quasi-mythical event in Westminster. It was almost as if the sphinx was at the despatch box. All of this seemed to flummox Keir Starmer, who is more used to spending PMQs trying to prise answers out of Boris Johnson – occasionally wincing as if pulling out his own teeth with a pair of rusty pliers.
Truss's true-blue rhetoric seemed to bring out Starmer's inner Corbyn too. He railed against "excess profits" with the wild-eyed conviction of a politburo member sounding off about Kulaks. "Same old Tories… There is nothing new about the Tory fantasy of trickle-down economics", he scoffed.
The Times's Quentin Letts noted Liz's calm demeanour:
The Tory benches mooed when they saw her but once Truss started answering questions, the composure was striking. Most of all it was the slower pace that one noticed, and the evaporation of most of the performance-venom that tarnished the late Johnson era. Where Boris used to gabble, Truss spoke slowly. The voice, which seems to emanate from near the tip of her nose, was clear. It may pink a little, like a novice musician's recorder, but it is strong enough to cut through a full Commons …
Truss referred to "my chancellor" and "my new health secretary". She was asserting her power. There wasn't a quiver visible in her fingers and she maintained a consistent tempo, andante rather than allegretto. Talking slowly makes you sound more authoritative and means you need not say so much. Helen Hayes (Lab, Dulwich & West Norwood) essayed a zinger. Would the government's response to some report be published by the end of the year? "Yes," said Truss, and she slowly, serenely resumed her seat, suffused with calmness. One should not over-interpret this performance. PMQs debuts usually go well. But the story is not quite conforming to the catastrophists' narrative.
Returning to The Telegraph's articles, Daniel Martin told us that Liz wanted proper dress in Downing Street:
The Prime Minister has made it clear she wants to re-introduce a dress code, with officials told to wear shirts and ties as part of a new, more formal style of government …
One government source said Ms Truss had made her views plain when she arrived back to Admiralty House from her victory party in the City of London, the night before she became Prime Minister.
The source said: "This is all born from Liz coming back from winning and telling the staff in Admiralty House that ties were back."
We also found out that she wanted a leaner operation:
Ms Truss has also ordered a wider operational shake-up at Downing Street, including a new economic unit whose role is to help her take on "Treasury orthodoxy".
She has brought in Matthew Sinclair, the former director of the TaxPayers' Alliance, as her chief economic adviser …
In a bid to strengthen the relationship between Ms Truss and her most important ministers, new offices are being created in Downing Street for both Wendy Morton, the new chief whip, and Thérèse Coffey, the Deputy Prime Minister.
An aide told The Spectator: "We've blown up the No 10 floor plan", saying the idea is to create a leaner, nimbler operation.
Allister Heath was fully behind Liz and her plans:
I'm optimistic about the Truss Government. Yes, of course, nobody can possibly know how well it will do – whether it will outwit the Blob to push through genuine improvements. But it is absurd to state, almost as self-evident fact, that it is bound to collapse, that it cannot last even two years, based in part on an insulting dismissal of the credibility and intellect of all of the members of the new Government.
It is astonishing that pundits with no understanding of economics dismiss the Prime Minister's ability in this area: she actually worked as an economist for Shell (ideal in the current climate) and as an economic director for Cable and Wireless. The first accountant ever in No 10 – she holds the qualification from the Chartered Institute of Management Accountants – she is more financially literate and comfortable with complex policy matters than almost all of those who patronise her. The fact that she is reflexively written off as lightweight, a dilettante even, is more a reflection of the bizarrely misogynistic and classist minds of some of her more extreme critics than of any objective reality.
Kwasi Kwarteng, the Chancellor, holds a PhD in economic history from Cambridge, perhaps the ideal qualification for the moment; his War and Gold and Ghosts of Empire remain timely. Thérèse Coffey, Truss's deputy, is another PhD: in her case, in chemistry, showing how much more intelligent she is than the ignoramuses who hate her.
Suella Braverman, the Home Secretary, is an extremely competent, bright and personable lawyer who drives the Left crazy. Kemi Badenoch holds degrees in engineering and law, and is fiendishly clever. Jacob Rees-Mogg, with his background in finance, is the perfect pick for Business (and Energy), given the technical and intellectual complexity of his mission. Kit Malthouse, the Education Secretary, another accountant, has experience running a medium-sized business; Chris Philp, the Chief Secretary, has a degree in physics.
The list goes on. Of course, some ministers are weaker than others, but the average quality is a great improvement on many past governments. Matthew Sinclair, one of Truss's advisers, is the best free-market economist of his generation in Britain today.
The paradox is that it is a policy that I'm uncomfortable with that is likely to send the Government's poll ratings surging, discrediting its Leftist critics. Truss's energy plan is rightly a big bazooka; it is regrettable that, for a variety of practical and political reasons, she appears to have decided to freeze all energy bills, rather than to opt for targeted subsidies to small firms and the bottom half of earners. The Government's bill will be at least 5 per cent of GDP, with enormous potential liabilities. This is the biggest welfare programme in British history, one that helps the well-off as much as the needy.
But we are where we are. The Government felt that an alternative, non-universal plan could not be targeted correctly, that the cliff-edge from means testing would be too extreme, that the public's allergy to high prices had become too toxic. Truss feared she would be destroyed on arrival if she didn't go for broke. Her gambit is that the scale of this intervention will cripple the Left: it's a statist umbrella protecting her free-market reforms …
Our new Prime Minister likes economic growth, not merely because she values material prosperity, but because she buys into the very idea of progress, of improvement. Boris Johnson agreed in theory, but didn't understand what to do. Unlike Theresa May, Truss is inherently anti-Malthusian: her Chancellor talks of growing the economy, rather than arguing about how to redistribute a stagnant pie, the vanishing "proceeds of growth" taken for granted by David Cameron.
Yes, Truss will address our immediate crisis via costly, short-term policies. But she's deadly serious about principled long-term measures to accelerate the economy by boosting energy output, housebuilding, private investment, scientific innovation and entrepreneurship. It will be tough, but the Twitter Lefties are entirely wrong to be betting so emphatically against her.
The Telegraph's main editorial compared her to Margaret Thatcher:
Opinion polls indicate that Labour's windfall levy is popular, but Ms Truss is right to identify the flaws in this approach. Her declaration that we cannot tax our way to higher growth could have been uttered by the first woman prime minister 30 years ago.
Balancing short-term expediency with long-term economic requirements will require skill and determination. Ms Truss has set out her position and is clearly intent on sticking to her guns, even if the polls are tempting her to abandon them. It was an encouraging start.
The Mail provided us with short takes from the more left-of-centre broadcasters, who also thought Liz did a great job at PMQs. These were not her natural allies.
The BBC's Chris Mason noted:
As Prime Minister's Questions finished, there appeared to be a warm, one-on-one brief chat between Liz Truss and Keir Starmer.
I think Starmer said "well done" to his opponent: all party leaders regularly acknowledge that PMQs is a tough gig …
It felt less personal, much less theatrical and more ideological …
TalkTV's Tom Newton Dunn said:
Liz Truss is not a legendary orator, and some Tory MPs lived in terror at the thought of her robotic despatch box style.
But that was a very strong debut …
The Mail had several more comments, so I will end with this one from the i newspaper's Richard Vaughan:
If Liz Truss's aim for her first PMQs was to kill the usual heat and rancour in the Commons chamber, then she succeeded. It was a solid, no-frills performance.
… Ms Truss's arrival onto the front bench was greeted with cheers, but it was by no means a deafening welcome by backbenchers to their new leader – perhaps a portent of things to come.
On the evidence of her no-nonsense opening appearance in her new role, they would be wise not to underestimate her. Her next trick will be to try and inspire those on the benches behind her.
Aye, there's the rub.
To be continued tomorrow.
This has not been the best Conservative Party Conference, and here's why:
1/ Bombastic Boris is no longer Prime Minister;
2/ Liz Truss is still finding her feet as his successor;
3/ A train strike is taking place on the final day, so a lot of people left before Liz spoke on Wednesday.
On Wednesday morning, October 5, GB News's Darren McCaffrey, a veteran of many party conferences, said that the mood in Birmingham was very low this year, as if, after 12 years, the Conservatives think that their time in Government could be up.
It doesn't help that Labour's Shadow Chancellor Rachel Reeves has been spreading lies about Kwasi Kwarteng's fiscal event, either:
Meanwhile, the people in Boris Johnson's constituency of Uxbridge in west London miss him dearly:
Anyone who missed the controversies of the Conservative Party Conference can catch up here and here.
On Tuesday night, former Conservative adviser Amanda Platell, who writes for the Daily Mail, said she is praying that Liz Truss can actually govern without opposition from her own MPs. Platell described Michael Gove as 'a jackal'. Platell added that the Leader of the Commons, Penny Mordaunt, wasn't a very good employee when she worked for her several years ago:
After Amanda Platell spoke in that clip, it was time for Stanley Johnson, Boris's father, to give his impressions of this year's conference.
He said that he must have been to a different one, because everyone he saw was upbeat and the conference hall was full for Chancellor Kwasi Kwarteng's speech. Stanley Johnson blames the negativity on an ongoing media narrative:
I didn't see this gloom and doom meeting at all. 
When Dan Wootton asked Stanley about Michael Gove, the former Prime Minister's father replied:
I'm not going to talk about wildlife of any kind … I'm going to sing Michael Gove's praises because he has been a really good Secretary of State for the Environment.
Wootton countered:
He stabbed your son in the back.
Stanley said:
I'm not going to talk about it … I'm speaking as an environmentalist.
In another part of the show, Stanley said that he is '100% certain' that Boris will not be back as Conservative Party leader, i.e. Prime Minister.
Robert Buckland's advice to rebels: 'Shut up'
On Tuesday afternoon while listening to GB News, one of the presenters said that the Secretary of State for Wales, the mild mannered Robert Buckland, told Michael Gove to 'shut up'.
Hoping it was true, I searched Wednesday's headlines but saw only that Buckland had issued his advice indirectly, via Global Radio's News Agents podcast, featuring ex-BBC broadcasters Emily Maitlis, Jon Sopel and Lewis Goodall.
Buckland was mild mannered throughout:
The i paper confirms that no direct confrontation took place:
Welsh Secretary Robert Buckland appealed to recently sacked ministers to "shut up" but indicated he wants to see benefits rise in line with inflation, telling Times Radio he believes in supporting "those who genuinely cannot share … In growth and prosperity".
One can only hope that Gove and his Sunak-backing allies got the message.
On Tuesday night, The Telegraph urged MPs to rally behind their new Prime Minister: 'Tories owe Liz Truss their full support' (emphases in purple mine):
Ms Truss has an ambitious set of policies that she set out in the leadership campaign, yet there is now a danger that she will be thwarted at every turn by a fresh coalition of opponents in her own party.
MPs should remember that the Prime Minister won fairly and squarely under the rules after they removed a leader who had delivered an 80-seat majority just three years ago. She did not engineer a coup and, indeed, stayed loyal to Boris Johnson until the end.
Senior backbenchers and former ministers such as Michael Gove and Grant Shapps, who have been in the vanguard of recent criticism, should consider the damage they are doing to the party's re-election prospects. The only beneficiaries are their political opponents.
Conservative values championing a small state, low taxes and deregulation are being replaced by social democratic nostrums that brook no spending cuts and take the same attitude to wealth creators as the Left. The pandemic lockdowns did not help matters by fostering a widespread sense that the state will always step in to help in difficult times, as it has done again with energy bills.
As we have argued consistently, the UK needs a growth strategy, and Ms Truss is at least providing one. The alternative is to manage the nation's decline into a high-tax, low-productivity economy. She needs the full support of the parliamentary party in her endeavour, starting now.
Left-wing lies persist over economic measures
Last week, the Bank of England had to take action to counter what appeared to be an immediate effect of the Chancellor's fiscal event of Friday, September 23.
However, Guido Fawkes cited a report from the Financial Times which said that the economic hiccup originated with the pensions industry.
Note the exposed deception in this Twitter thread:
Yes, I can well imagine that it was Mark Carney's fault. He was Andrew Bailey's predecessor at the Bank of England. Both are worthless, yet the media deifies Carney as some sort of miracle worker.
The left-wing narrative, spun by Shadow Chancellor Rachel Reeves and the media, persists that the taxpayer is being hung out to dry.
Guido wants to correct that narrative, noting that the BBC's Nick Robinson has already apologised for getting it wrong:
Guido's post from Tuesday, October 4, — which includes audio — says (emphases his):
Since the Bank of England announced market operations to purchase gilts last Wednesday, Westminster politicos have been struggling to get their heads round the intricacies of gilt markets. It therefore comes as no surprise to Guido that Nick Robinson was forced into a correction today, after incorrectly repeating the widely tweeted claim that the Bank of England has spent "£65 billion to prop up the markets" …

The claim is somewhat misleading. The Bank of England pledged to buy gilts to the tune of a maximum of £5 billion a day, over two weeks, to assure markets. This means the maximum possible spend was £65 billion, though the actual number will be far smaller. In reality the bank has purchased around £3.66 billion so far, with yesterday's purchases coming in at just £22 million. The smaller purchase signals the Bank is comfortable with the current state of gilt markets as its credible commitment appears to have paid off. Guido appreciates that the BBC this time took the effort to get the facts right…
Shadow Chancellor Rachel Reeves, who should know better as an ex-Bank of England employee, repeated the same line: "The fact the Bank of England had to step in with a £65 billion bailout with taxpayers money is deeply shameful." It is not a fact.
Firstly, the market operation will be nowhere near £65 billion. Secondly, it is not money from taxpayers … with the purchases even having the potential to make a profit* on resale. So her "taxpayers' money" claim is also incorrect. Robbo we can excuse, he only has a PPE degree from Oxford. The Shadow Chancellor, a trained economist, is deliberately and wilfully misrepresenting the facts for political advantage…
*A market source says that marked-to-market the Treasury is currently in profit on the trade.
In the comments, one of Guido's readers clarified what happens with the Asset Purchase Facility — APF — in this case:
It's not from Treasury reserves. Treasury has no reserves. It's not money from taxpayers either. Neither the bank nor Treasury has any taxpayer money.
The Bank has extended a loan to the APF, and credited the APF's account in the Banking Department with an advance. That is then used to pay whoever is selling the Gilts to the APF, which result in a transfer from the APF's account in the Banking Department to a commercial bank's settlement account in the Banking department.
The end result is Gilt assets in the APF balanced by a liability to the Banking department of the Bank of England. The Bank of England has a loan asset to the APF balanced by a liability to the commercial bank.
It's just good old bank lending. As happens a bazillion times every day across the banking system.
Another reader called out the media for lazy journalism:
All MSM are as bad, Sky and ITV actively promote their left-wing Labour bias too, especially activists like Ed Conway and Peston, respectively, are rarely challenged, and the public generally don`t realise they are being lied to and manipulated. Creating hysteria and headlines are more important now than the truth and lazy groupthink "journalists" just follow the herd. Where is the giant good news headline that the £ is now trading higher than before the mini-budget and the euro is below parity with the dollar, no, they prefer reporting negative UK news to deliberately topple this government.
Kwarteng's U-Turn U-turn
Thankfully, Kwarteng has recovered from the shock of having to make an economic U-turn on the 45% rate of tax and, although that is still off the table for now, he is reneging on bringing forward a vote on a more detailed plan on November 23.
On Tuesday evening, The Telegraph reported that he has postponed this to next year:
Crunch votes to implement last week's mini-Budget will not take place until next spring, The Telegraph understands, putting off potential rebellions until 2023.
Many of the tax-cutting measures which Kwasi Kwarteng, the Chancellor, announced last month will not need to be passed in the House of Commons until next March.
That includes bringing forward the 1p cut in the basic rate of income tax and scrapping a planned rise in corporation tax, two of the most costly moves in the package.
It means that Tory rebels hoping to attach amendments to the Finance Bill may have to wait almost six months, potentially buying Liz Truss some political breathing room …
There was confusion on Tuesday as Mr Kwarteng appeared to row back on Downing Street indications on Monday night that he would reveal his new fiscal plan earlier than planned.
Mr Kwarteng said that the so-called "medium-term fiscal plan", which will spell out his approach to bringing down debt and restraining spending, was coming on November 23.
But that appeared to contradict word from his allies 24 hours earlier suggesting the announcement and the Office of Budget Responsibility (OBR) forecast would actually come sooner.
The OBR forecast is another part of the ongoing anti-Truss narrative. Since its inception by then-Chancellor George Osborne over a decade ago, its forecasts have rarely been accurate. Guido regularly posts on how the economy does much better in reality, putting the OBR to shame.
Yet, the OBR is considered as an oracle:
The failure to produce an OBR forecast alongside the mini-Budget was jumped on by economists and critics to partly explain the reaction from the markets.
It is, in fact, useless.
On Tuesday, Kwarteng gave his reasons for the rushed fiscal event. Contrary to what the lefty narrative says, he was not blaming the Queen, just reminding people of the timeline:
Mr Kwarteng on Tuesday also appeared to cast some blame on the "pressure" of the Queen's death for mistakes in his tax-cutting fiscal statement.
He said: "We had a nation in mourning and then, literally, four days after the funeral we had the mini-budget.
"It was a high speed, high-pressure environment and we could, as David Cameron used to say, have prepared the pitch a bit better."
Kwarteng was rightly disappointed that the Government was not given credit for helping out the nation with their winter fuel bills. This is another part of the false lefty narrative that needs exposure:
Speaking at a fringe event at the Conservative conference on Tuesday night, Mr Kwarteng complained that his energy price freeze was getting too little attention because of the 45p tax row.
The Chancellor said: "If you look at the energy intervention, I mean, nobody's talking about the energy intervention.
"That was a huge use of the balance sheet to help people. People were facing bills of potentially £6,000 next year, and we've intervened.
"There's gonna be a limit of £2,500. That's a huge intervention."
Agreed. He did what people bayed for.
He criticised Rishi Sunak's handling of taxpayer's money, turning the former Chancellor's cries of morality back on him:
Mr Kwarteng has also said the Treasury he inherited from Rishi Sunak and Boris Johnson was "unsustainable".
He said: "We were spending billions and billions and billions and raising the money in tax."
"How can that be sustainable, when we have a very, very high tax burden and very low growth? We had to come off that trajectory."
He called himself a "compassionate Conservative" inspired by his mother …
He added: "It's the people's money – we raise it through tax. And if we do that we have a moral obligation to look after it."
Benefits increases
In line with Kwarteng, Liz Truss wants to be careful about taxpayer's money.
Benefits will have to be raised, but the question is by how much.
One tranche of Conservative MPs says that it must be in line with inflation. Another group says it should be in line with salaries.
Early on Tuesday, The Sun reported:
She is under pressure to hike benefits for the poorest after repeatedly refusing to confirm they will go up in line with inflation.
Speaking at the party conference in Birmingham, the PM said: "We face massive challenges as a country and we need to get through this economic crisis and this energy crisis.
"And we need Britain to come out stronger on the other side, and I want to win over hearts and minds in the country, but also amongst my parliamentary colleagues, to make sure that we are able to deliver for the people of Britain" …
Emboldened rebel MPs are now pushing for further changes having forced her to ditch one flagship measure — with efforts now focusing against a real terms cut to Britain's benefits bill.
Even her own Cabinet Ministers are ratcheting up the pressure for Ms Truss to commit to raising benefits with inflation and not wages.
Penny Mordaunt told the Times it "makes sense" to uprate benefits with prices.
The Commons leader said: "I have always supported, whether it's pensions, whether it's our welfare system, keeping pace with inflation."
But Ms Truss insisted no decision had been made, yet reiterated her promise to keep the pensioners' triple lock.
She admitted the reaction to her Growth Plan had not been "absolutely perfect" but insisted it – and the energy – package will help struggling families braced for a gruelling winter.
It includes cutting stamp duty, income tax and capping the price of energy so the typical household will pay no more than £2,500.
Here's The Spectator's list of the benefits rebels hoping for an increase with inflation rather than wages.
Penny Mordaunt was one of Truss's rivals in the leadership contest and the other five — led by Michael Gove — were staunch Sunak supporters:
Penny Mordaunt
Michael Gove
Damian Green
Esther McVey
John Glen
Mel Stride
Who can forget the day MPs eliminated Mordaunt from the leadership contest, leaving Truss and Sunak as the last two standing?
On July 20, Guido wrote about Mordaunt's last ditch appeal:
It turns out Penny Mordaunt's effort to run a "clean" campaign that puts an end to "toxic politics" lasted as long as she thought she had a chance of winning. Now that Liz Truss is the bookies' favourite, and Kemi Badenoch's voters are up for grabs, the Mordaunt camp has other ideas. This morning, Mordaunt tweeted an Allison Pearson Telegraph article headlined "Tory MPs – vote for Rishi Sunak or Liz Truss today and you'll murder the party you love", which went down like a bucket of cold sick with just about everybody. Don't bother trying to find the tweet – she's since deleted it…
Truss wisely made Mordaunt Leader of the House, probably the safest place for her.
The benefits row is likely to erupt after Parliament reconvenes next week. Gove is pictured with Truss:
On Tuesday morning, Guido posted an audio clip of Mordaunt speaking to Times Radio about increasing benefits in line with inflation:
… on Times Radio … Leader of the Commons Penny Mordaunt was busy once again going characteristically off-script, claiming "it makes sense" to commit to the uplift come rain or shine. Michael Gove is – predictably – saying the same. Even DWP Secretary Chloe Smith has been going around saying "protecting the most vulnerable is a big priority for me", which surely signals the way the wind is blowing… 
However, as The Spectator's editor Fraser Nelson points out, Liz Truss is not being stingy in wanting to increase benefits with salaries rather than inflation:
Difficult decisions lie ahead for Liz Truss as she thinks of ways to constrain spending. One option is to increase benefits in line with average salaries (6.2 per cent), rather than CPI inflation (9.9 per cent): why, it might be argued, should someone on welfare see their income rise faster than someone in work? And with public sector wages rising at just 2 per cent, can government really give a near-10 per cent rise to those out of work? …
So she is considering, at very least, uprating benefits by earnings rather than inflation. But if she's ready for a fight, then so are her Tory opponents. Intriguingly, Penny Mordaunt now seems to be among them.
… Truss may struggle to get a lean settlement through the House of Commons. That's why it matters that Mordaunt, the leader of the House of Commons, has declared in favour of increasing welfare by inflation. Such open lobbying by a cabinet member is rare and indicates a collapse in discipline …
Uprating benefits to inflation would be hugely expensive due to the staggering number currently on out-of-work benefits: 5.3 million in total. This figure has yet to be acknowledged by the government (which prefers a more narrow definition of unemployment) and can only be produced by drilling into its website. There's a six-month lag, such is the lack of attention to this figure. But it amounts to 13 per cent of the UK working-age population, rising to 20 per cent in Manchester and Birmingham and 25 per cent in Blackpool. Here's the breakdown, which we keep updated on The Spectator data hub …
Nelson has included The Spectator's graph in the article. It's rather shocking.
He says it is time to get the nation back to work but realises that could be a hard sell for Truss to make:
As I've argued, the real scandal here is the waste of human potential, more than the waste of money. We have a near-record number of vacancies in the UK – about 1.1 million (hence a lot of the pressure to relax immigration rules), and to combine this with near-record levels on welfare is quite a feat. But it's also a very expensive situation and a problem that will not be helped by decreasing the factor by which people would be better-off in work.
This is a complex and difficult argument to make – and one distinguishing feature of Liz Truss's government is that it struggles to have such discussions even with the Tory party, let alone the country …
… this is a pre-rebellion from Mordaunt: she is describing a situation she'd like, not one that exists. By declaring the restoration of cabinet government, are cabinet members taking back control?
I have written this before Liz Truss gives her speech on Wednesday morning, closing the conference.
The question remains as to whether she can stamp her authority on the Cabinet and Conservative rebels. A tired Tom Harwood, who was also at Labour's conference last week, explains the situation on GB News:
I will feature brighter aspects of the conference in tomorrow's post.
On Friday, September 23, 2022, just four days after the Queen's funeral, Chancellor Kwasi Kwarteng delivered a 'fiscal event' designed to kick start the British economy.
In the days leading up to the fiscal event, so-called because it wasn't a full budget, the media and Labour were clamouring for it. However, the nation was in mourning for the late monarch and, accordingly, Parliament was in recess.
Conservative critics — i.e. Brexit critics — asked, 'Where's Liz? Where's the Chancellor? Something must be done!'
Parliament reconvened on that Friday to hear Kwarteng deliver a big, bold and beautiful economic plan, which included the abolition of the 45% upper tax rate.
Even Nigel Farage approved, going back in history to Margaret Thatcher's time as PM:
What happened? The same critics blasted Kwarteng and Prime Minister Liz Truss for their rather Thatcherite plan, designed to reverse the nation's economic course since the Labour days of the early Millennium under Gordon Brown to the present Conservative government:
Small-c conservatives hoped that Boris Johnson would have done this, but it was too big to take on. With the flak Truss and Kwarteng caught, it now appears that Johnson probably feared it would dent his popularity. That's only my guess, but it makes sense.
Mortgage rate fears
I went to a small local event on Saturday, September 24. Before it began, one woman of pensionable age asked, 'Has anybody seen the news today? I didn't have time to look. Has the economy crashed yet?' It was clear she was angry. Other people in attendance responded with jokes about supply-side economics.
Throughout the week, it was nothing but doom and gloom, even on GB News, which offered few correctives. The Labour Party conference took place last week, which did not help.
I went to the shops on Wednesday, September 28. On my walk, I overheard an estate agent talking to an older couple about their mortgage rate fears as a result of the fiscal event. The media had sent out ominous messages about rising interest rates. The estate agent told the couple that the turbulence would be short term and that it was taking place all over Europe — which is true.
On Thursday, September 29, the BBC's Question Time aired. One young woman stoked fears about a hike in interest rates on mortgages, claiming — claiming — that hers was going up to over 10%: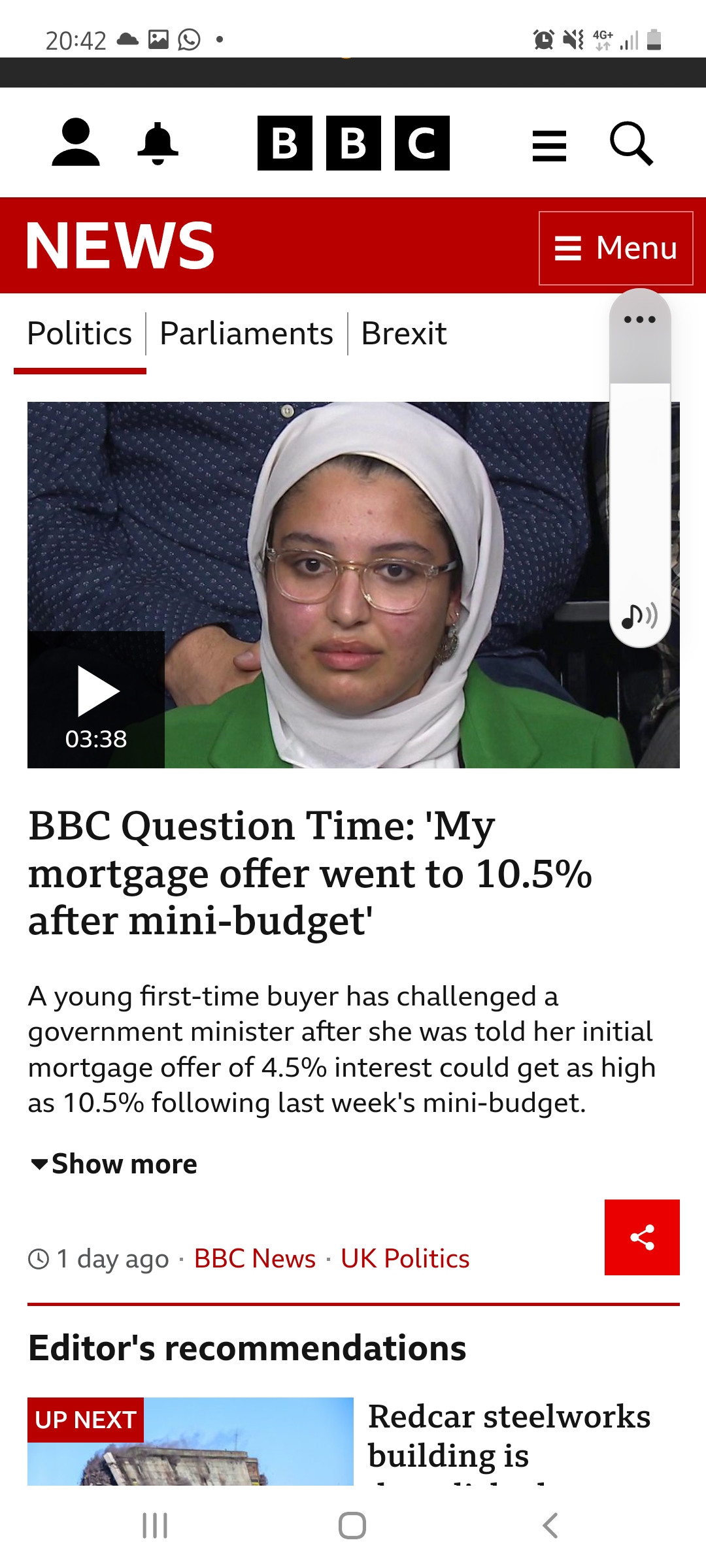 But was this claim true?
Apparently, the claim is false: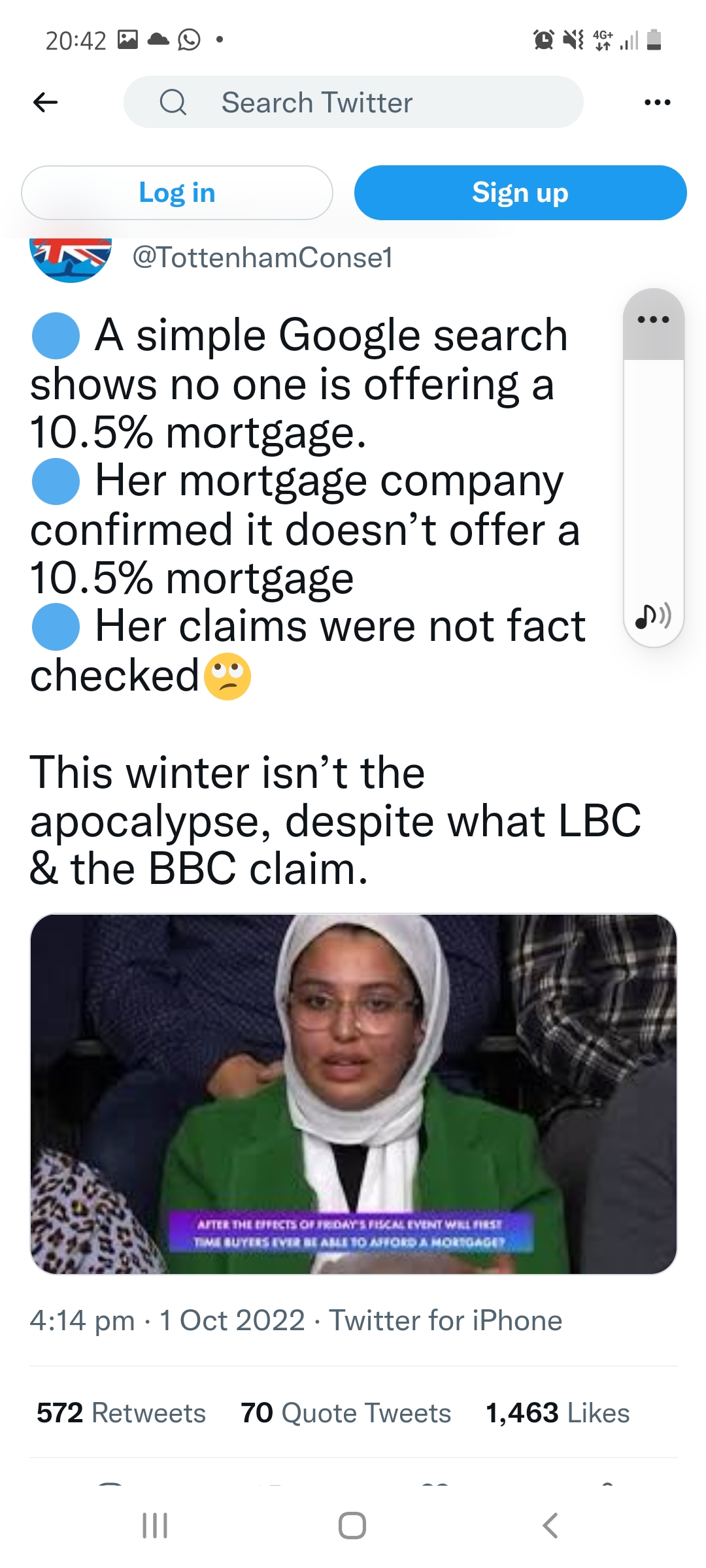 Skipton Building Society said they had not offered a 10%+ mortgage rate for many years: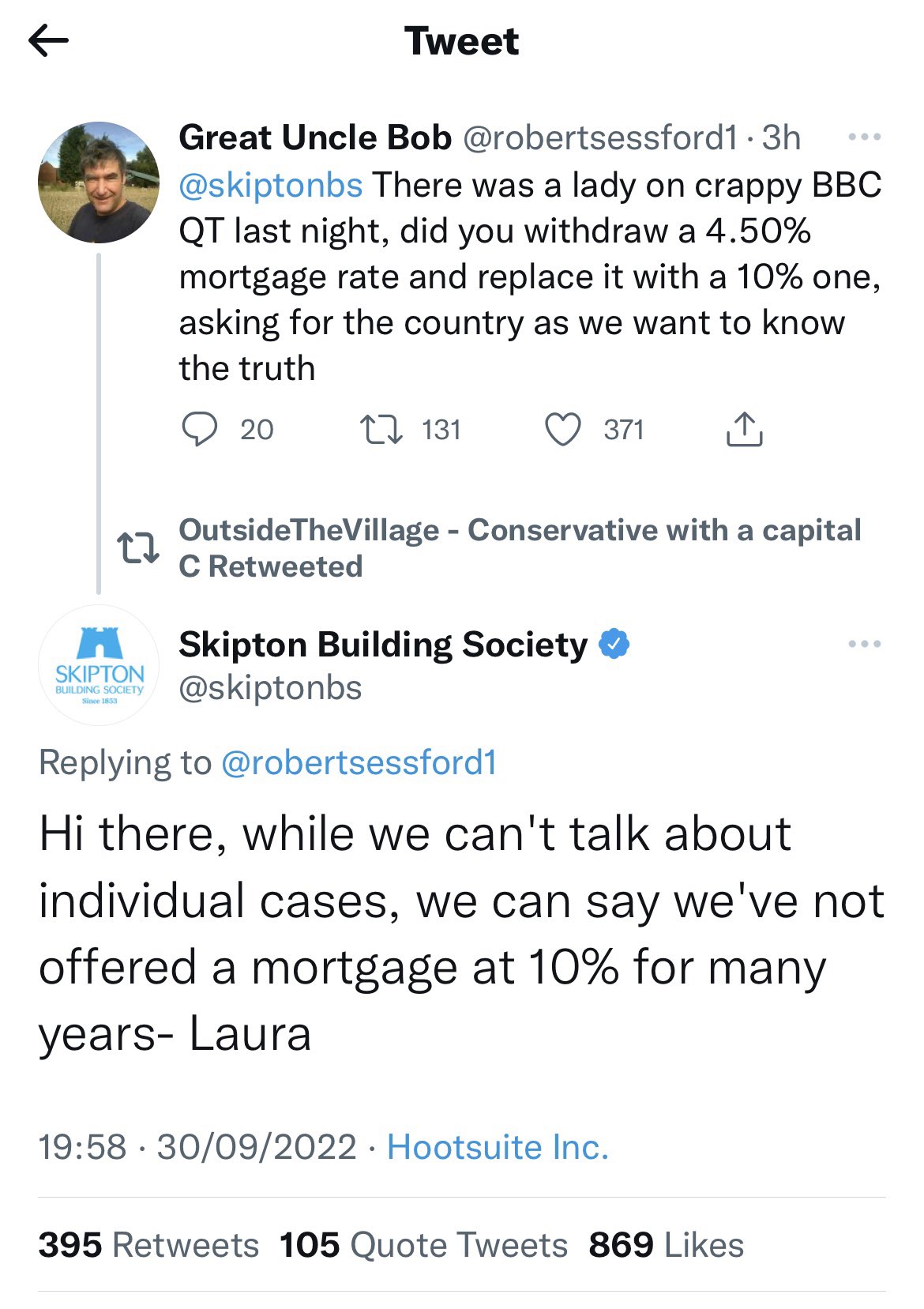 Once again, the Left — including the media — took charge of the Conservative narrative. They're still at it.
Conservative Party conference opens
On Sunday, October 2, the Conservative Party conference began in the UK's Second City, Birmingham, once our industrial capital:
Penny Mordaunt MP, Leader of the House of Commons, paid an excellent tribute to our late Queen, which was followed by a minute's silence and the singing of the National Anthem.
Having seen the first few speeches on GB News, the mood from the MPs speaking was upbeat. However, the mood in the conference hall was sombre.
Rishi Sunak and several of his supporters, prominent MPs, did not attend. Sunak said he wanted to be absent so that Truss 'could own the moment'. Ouch.
Boris Johnson also sent in his regrets.
Earlier that day, Truss appeared on Laura Kuenssberg's Sunday show on BBC1.
Kuenssberg asked her about the abolition of the 45% tax rate. Truss said that was Kwarteng's decision. Oh, dear. Guido Fawkes has the video:
Because the fiscal event had to be done quickly, Truss and Kwarteng did not consult other Cabinet members.
Also, because it was such a departure from the norm, it appeared shocking to Britons expecting more of the same. Truss told Kuenssberg that she and the Chancellor could have communicated it better (see video):
Truss rightly pointed out that 'optics' — rather than reality — dominated the fiscal event:
In the video, Kuenssberg ended by saying that optics were terribly important, implying that they make just as much of an honest representation as does reality. Oh, my days!
Returning to the Conservative Party conference opening day, Michael Gove stuck his oar in, saying that tax cuts are not conservative.
Whaaat?
Former Conservative MP Michael Portillo explained on his GB News show that Gove became an MP during David Cameron's time as Prime Minister and, therefore, has a different take on economics.
The economy wasn't the only issue on MPs' minds. Other of Truss's leadership rivals in this summer's contest for PM were not happy.
As is common with party conferences, smaller events took place outside of the main venue.
Last week, Truss said she would like to see more immigration, something that won't please folks who voted Conservative for the first time in 2019.
On Sunday evening, Trade Secretary Kemi Badenoch — the MP whom conservatives deeply admire — attacked Truss's immigration plans:
Guido has the story, which reveals rifts in the Party (emphases his):
If Liz Truss thought the furore over the 45p rate would distract attention from MPs rebelling on other policy areas, Guido's sorry to disappoint her. At the IEA/TPA DrinkTanks reception last night, guest of honour Kemi Badenoch openly rebuked the PM's plans to let in more immigrants to boost growth. The Trade Secretary ignored any sense of collective responsibility as she told the assembled free marketeers:
Simply taking in numbers to boost GDP while GDP per capita falls is not the right way to do that. We need to look again at resolving our productivity issues and that means using capital better, not just getting cheaper and cheaper labour.
Kemi's brazen and deliberate speech last night all but confirmed The Times' article on Sunday reporting major Cabinet divisions over the plan, with Kemi and Suella Braverman at odds with the PM's preferred free market solution. Like Liz, Guido doesn't have a problem with skilled, legal immigration, it is the illegal immigration which is concerning. It seems Tory Cabinet ministers aren't even pretending to play happy families anymore…
Also that evening, Leader of the House Penny Mordaunt spoke at a small gathering to complain — rightly — about poor Conservative communication over policy making:
She made her views known at an event called 'Conservatives in Communication'.
Sadly, Guido points out:
… host Adam Honeysett-Watts had to tell the crowd to shut up and listen. Unfortunately, most of the attendees were far more interested in guzzling free booze and chatting to each other.
Meanwhile, Truss addressed a group of Conservatives, explaining the need for growth — now. She, too, said that Party communications are lacking:
She is not wrong, and she has to make up for the past two years, consumed by dealing with the pandemic.
The second day of conference brings U-turn on 45% tax rate
Did Michael Gove, the Scot who wants to become PM, exercise his influence once again?
Nothing against Scots, but their politicians do seem to think that people need to be micro-managed, which Gove does, and that we should continue a globalist agenda in, well, nearly everything.
For the first time in years, Gove is not in Cabinet.
That said, he has never supported PMs he has served, going all the way back to David Cameron. This comment comes from one of Guido's readers (purple emphases mine):
Cameron, don't forget Cameron. Gove mortally wounded him too with Brexit. I don't disagree with Gove supporting Brexit obviously but the way he went about it was like a serpent to someone who called him his friend. His whole front line career has been poisonous towards the sitting leader.
At 7:17 a.m., Guido tweeted that Truss and Kwarteng were backing down on abolishing the 45% tax rate:
Kwarteng said he would still be going ahead with the rest of the fiscal event policy.
That U-turn will empower Gove and the Left — again, media included — to control the narrative even more.
Baroness Thatcher would have been so disappointed:
And I know what Thatcher would have done with Gove: withdrawn the Party whip.
Guido says that the reversal came about on Sunday evening and that The Sun had the exclusive:
After The Sun broke the exclusive of conference late last night, the Lobby's just been informed that the government will now not be going ahead with the 45p rate abolition, with a u-turn expected to be announced within the next hour. Just yesterday the press were briefed that Kwasi was to tell conference "We must stay the course. I am confident our plan is the right one."
This morning the course has not been stayed – it has been re-directed in another direction altogether. Kwasi's statement:
From supporting British business to lowering the tax burden for the lowest paid, our Growth Plan sets out a new approach to build a more prosperous economy. However, it is clear that the abolition of the 45p tax rate has become a distraction from our overriding mission to tackle the challenges facing our country. As a result, I'm announcing we are not proceeding with the abolition of the 45p tax rate. We get it, and we have listened. This will allow us to focus on delivering the major parts of our growth package. First, our Energy Price Guarantee, which will support households and businesses with their energy bills. Second, cutting taxes to put money back in the pockets of 30 million hard-working people and grow our economy. Third, driving supply side reforms – including accelerating major infrastructure projects – to get Britain moving.
The move came after crisis talks yesterday between the PM and Chancellor; their hands forced by Tory MPs continuing to state on the record they couldn't vote for the plans, despite an open warning from [new Party chairman, MP] Jake Berry that they'd lose the whip. Gove was at the forefront of the rebellion…
Guido's cartoonist came up with this:
It is unclear how much of this has to come up for a vote in Parliament in order to proceed.
However, it is becoming apparent that a significant number of MPs have not united behind Liz Truss:
If enough Conservative MPs rebel in a vote, the Government could collapse. A collapse could trigger an imminent general election (GE). With the way things are, Labour could win and form a coalition with the other Opposition parties. That would be a disaster, particularly in voting reform if they push through a vote for 16-year-olds and immigrants to vote in a GE. Furthermore, they would probably also want some type of proportional representation to replace the centuries-old first-past-the-post.
Of course, the alternative is that Conservative MPs have another leadership contest, but that would look as if they were incompetent. One MP suggested that Conservative Party members be locked out of that vote altogether, which would anger them deeply.
An hour after Kwarteng announced the U-turn, he was on BBC Radio 4 with Conservative-loathing Nick Robinson. This is so sad:
Then Kwarteng went on Nick Ferrari's LBC breakfast show. Ferrari pressed him to say 'no more U-turns' but the Chancellor repeated, 'I've said what I've said'. Guido has the video:
As a result of the U-turn, the markets were no longer predicting a 6% rise in interest rates, but something slightly lower — 5.5% and 5.75%. Guido is right in saying this is an emotional response:
Sterling was also slightly up, but not hugely:
In closing, let's return to Gordon Brown, who succeeded Tony Blair as PM — without an election, I might add.
Conservative MP Gillian Keegan put the blame squarely on Brown in an interview with Times Radio on Monday morning.
Guido has the story:
Foreign Office Minister Gillian Keegan was spot on when she told Times Radio this morning that the top rate of tax was a political time bomb left behind by Gordon Brown:
I always knew that it was going to be a political problem. I mean, let's be honest, this was a political trap that was set by Gordon Brown in the dying days of his role as PM, right. And I paid the 50% tax. I was in business then. And I remember how devastating it was because actually, it meant you were paying about 65% tax. And there's something in your mind, which is like, really, you know, only 35% for me? And I'm doing all these hours. I was a business person, then it was set as a political trap…. In theory it [the top rate of tax] should never have been there.
There is something immoral about the government taking the majority of your income in tax. It is also a disheartening disincentive; reversing this spiteful tax is the correct policy, though this might perhaps be the wrong time. Getting rid of a political tax that was only set up by Gordon Brown when he knew he was likely to be ousted –to hurt the Tories rather than raise revenue – was the right thing to do. Even the IFS' Paul Johnson thinks in revenue terms "It might plausibly cost nothing at all". The tax was not about raising revenue – it was about political positioning.
Back in Fife, Brown will be rocking in his chair laughing that his tax booby trap, announced only weeks before he left office, and which was expected to cause problems for his successor David Cameron, has finally exploded in the face of a Tory Chancellor. The fuse wire on Brown's time bomb turned out to be 12 years long…
Truss and Kwarteng have learned a lot in the past month.
I do hope that they have learned something from their baptism by fire, especially Truss, for whom I have the greatest empathy. The Queen's death delayed her getting off the ground running. Then when she was finally able to do something, the media attacked her even more for it. Now the Party's MPs are angry with her. Some have already submitted no confidence letters to Sir Graham Brady of the 1922 Committee. The polls have been tanking. Two show voters giving Labour a 30% lead in the polls, something not seen for decades.
No one has even given Truss or the Chancellor a chance.
I will continue to pray for hers and Kwarteng's success against all odds.
They are doing the right thing …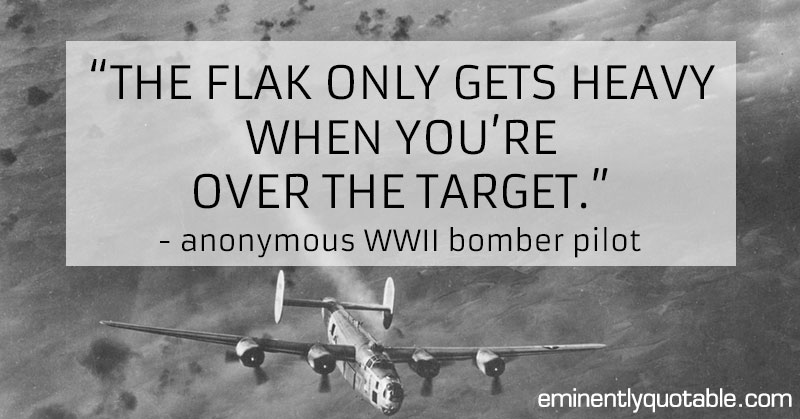 … which is why they are being attacked mercilessly.
In 2017, The Guardian posted a long article: '"London Bridge is down": the secret plan for the days after the Queen's death'.
Halfway through, it says (emphases mine):
The reporting for this article involved dozens of interviews with broadcasters, government officials, and departed palace staff, several of whom have worked on London Bridge directly. Almost all insisted on complete secrecy. "This meeting never happened," I was told after one conversation in a gentleman's club on Pall Mall. Buckingham Palace, meanwhile, has a policy of not commenting on funeral arrangements for members of the royal family.
Royal funeral plans are top secret, which makes the article even more amazing. I don't know how the journalist, Sam Knight, managed it.
Queen Victoria's death
Until Queen Elizabeth II, Queen Victoria was the United Kingdom's longest reigning monarch.
A monarch's death is preceded by an announcement about illness, signifying that the end is near:
"The Queen is suffering from great physical prostration, accompanied by symptoms which cause much anxiety," announced Sir James Reid, Queen Victoria's physician, two days before her death in 1901.
Her longevity produced a shockwave of reaction, particularly as she did not perceive her heir, Edward VII, to be worthy of succession. This suggests a parallel between the Queen and Charles III:
It is not unusual for a country to succumb to a state of denial as a long chapter in its history is about to end. When it became public that Queen Victoria was dying, at the age of 82, a widow for half her life, "astonished grief … swept the country", wrote her biographer, Lytton Strachey. In the minds of her subjects, the queen's mortality had become unimaginable; and with her demise, everything was suddenly at risk, placed in the hands of an elderly and untrusted heir, Edward VII. "The wild waters are upon us now," wrote the American Henry James, who had moved to London 30 years before.
The parallels with the unease that we will feel at the death of Elizabeth II are obvious, but without the consolation of Britain's status in 1901 as the world's most successful country. "We have to have narratives for royal events," the historian told me. "In the Victorian reign, everything got better and better, and bigger and bigger. We certainly can't tell that story today."
George V's death
In a well run monarchical system, a symbiosis exists between monarchs and their subjects:
The bond between sovereign and subjects is a strange and mostly unknowable thing. A nation's life becomes a person's, and then the string must break …
This is what happened when the Queen's grandfather died. Note how George V's physician thought it was important for the news to make the morning rather than the evening newspapers:
"The King's life is moving peacefully towards its close," was the final notice issued by George V's doctor, Lord Dawson, at 9.30pm on the night of 20 January 1936. Not long afterwards, Dawson injected the king with 750mg of morphine and a gram of cocaine – enough to kill him twice over – in order to ease the monarch's suffering, and to have him expire in time for the printing presses of the Times, which rolled at midnight …
"For a little while," wrote Edward VIII, of the days between his father's death and funeral, "I had the uneasy sensation of being left alone on a vast stage."
Other Royal deaths
Sometimes, Royal deaths are unexpected events, leading to differences in who finds out first:
On 6 February 1952, George VI was found by his valet at Sandringham at 7.30am. The BBC did not broadcast the news until 11.15am, almost four hours later …
"It is with the greatest sorrow that we make the following announcement," said John Snagge, the BBC presenter who informed the world of the death of George VI. (The news was repeated seven times, every 15 minutes, and then the BBC went silent for five hours).
Also:
When Princess Diana died at 4am local time at the Pitié-Salpêtrière hospital in Paris on 31 August 1997, journalists accompanying the former foreign secretary, Robin Cook, on a visit to the Philippines knew within 15 minutes.
I do remember watching BBC1's Peter Sissons on the Saturday evening when the Queen Mother died in 2002:
On the BBC, Peter Sissons, the veteran anchor, was criticised for wearing a maroon tie. Sissons was the victim of a BBC policy change, issued after the September 11 attacks, to moderate its coverage and reduce the number of "category one" royals eligible for the full obituary procedure. The last words in Sissons's ear before going on air were: "Don't go overboard. She's a very old woman who had to go some time."
I thought his maroon tie was disrespectful, as was the way he read out that bit of news. It was as if he did not care. That started my dislike of the BBC's treatment of current affairs, which only escalated afterwards.
The Duke of Norfolk
As the Royal Family has been Anglican for centuries, it is ironic that the person they entrust with their funerals and coronations is the highest ranking Catholic layman of the realm, the Duke of Norfolk.
Dukes of Norfolk have been organising these events since 1672:
The 18th Duke of Norfolk, the Earl Marshal, will be in charge. Norfolks have overseen royal funerals since 1672. During the 20th century, a set of offices in St James's Palace was always earmarked for their use.
The current Duke is Edward William Fitzalan-Howard, 65. In April 2022, he ran a red light while talking on his mobile phone. He was found guilty of these traffic violations on September 26 and pleaded not to have his driving licence revoked for six months. His request was refused.
On his role as Earl Marshal, the Daily Mail reports:
Edward William Fitzalan-Howard, 65, became England's most senior peer and the 18th duke following the death of his father Miles in 2002.
For more than 350 years, his ancestors have passed down the ancient office of Earl Marshal – meaning that they are responsible for overseeing funerals for members of the Royal Family, the coronations of Britain's monarchs, and even state openings of parliament. 
And because the office is hereditary, it meant that the peer's grandfather Bernard Fitzalan-Howard, the 16th Duke of Norfolk, was responsible for organising Elizabeth II's Coronation in 1953, the state funeral of Winston Churchill in 1965 and the investiture of Charles as the Prince of Wales in 1969.
Eddie, as he is known to his friends, oversaw the planning and execution of the most majesty send-off of a Sovereign in living memory – as 2,000 VIPs including King Charles and the British royal family emperors, kings and queens, prime ministers, presidents, and members of the public including decorated war heroes, members of the Armed Forces and NHS staff who worked tirelessly during the pandemic attended Westminster Abbey for the state funeral …
… an overwhelming majority of Britons (86%) believe that the Duke of Norfolk did a 'good job' of commemorating the late Monarch. 
The duke began planning the Queen's funeral the week of his father's death 20 years ago, though plans for the service – codenamed Operation London Bridge – have been in place since the 1960s. Eddie held annual meetings in the throne room of Buckingham Palace, working closely with Lieutenant Colonel Anthony Mather, a long-serving member of the royal household who commanded the bearer party at Churchill's funeral, for the first 10 years. In the two decades which followed, the number of people involved swelled from just 20 to 280 in April this year.
Just days before the funeral, the peer explained that the funeral was being held in Westminster Abbey for the first time in more than 200 years – since George II in 1760 – so that 2,000 guests could attend. He also revealed that he extended the Queen's lying in state at Westminster Hall for an extra day 'to allow an additional 85,000 people to file past the coffin'. 
His niece Lady Kinvara Balfour told Tatler magazine: 'In organising the Queen's funeral (and the coronation to come), Uncle Eddie has done a truly outstanding job. What a show of elegance, efficiency and rare precision he has produced for our nation, and the world – just like the late Queen Elizabeth II herself did. He is an incredible father of five, a grandfather too'. 
As for the guilty verdict on his traffic violations:
His Grace The Duke of Norfolk, Edward William Fitzalan-Howard, 65, appeared at Lavender Hill Magistrates Court after being caught by the officers who told the court he appeared to run a red light while not paying attention.
The Duke pleaded guilty to one count of driving his six year-old blue three-litre diesel BMW while using a hand-held device in Battersea Park Road, south-west London on April 7.
The Oxford-educated father of five, who is a descendant of Elizabeth I, was also fined £800, with £350 costs and ordered to pay an £80 victim surcharge.
His Grace received six penalty points for using his mobile phone.
'That means, as you know, you will be disqualified for six months because you have more than twelve points on your licence,' magistrate Judith Way told him.
'We have been advised of the test for exceptional hardship and it is the burden of the defendant to show exceptional hardship,' announced magistrate Judith Way.
Before the ruling was handed down, his Grace had tried to argue it was necessary for him to keep his licence.
The highest-ranking duke in England argued he would suffer 'exceptional hardship' if he was disqualified, highlighting his official duties along with his conservation work to prevent 'nature's complete collapse' and 'the end of mankind'. 
In his hereditary role as Earl Marshal he told the court he is in charge of the coronation of King Charles III and asked for part of the hearing to be held in private in the interests of 'national security', while his legal team told the court he needed to be able to drive to ensure the organisation went smoothly.
His Grace, of Arundel Castle, Arundel, Sussex already has nine penalty points on his driving licence for two speeding offences and this latest conviction means he has been subjected to the minimum six-month ban under totting rules.
Dismissing The Duke's application to keep his licence, Ms Way said: 'We have heard sworn evidence from the defendant.
'We accept this is a unique case because of the defendant's role in society and his role in the King's coronation and even though inconvenience may be caused we do not find exceptional hardship.
'We know the need for security clearance for any driver and we do not think this is insurmountable for his high-profile role.
'We believe the defendant has the means to employ a driver.'
Indeed he does.
Managing the Queen's death rituals
Keeping in mind that The Guardian's article was written in 2017, this was true in the event:
During London Bridge, the Lord Chamberlain's office in the palace will be the centre of operations … The government's team – coordinating the police, security, transport and armed forces – will assemble at the Department of Culture, Media and Sport.
Michelle Donelan, formerly of the Department for Education, is the new Secretary of State for Digital, Culture, Media and Sport.
Someone in that group of officials also had the job of printing tickets for various events:
for invited guests, the first of which will be required for the proclamation of King Charles in about 24 hours time.
Everyone on the conference calls and around the table will know each other. For a narrow stratum of the British aristocracy and civil service, the art of planning major funerals – the solemnity, the excessive detail – is an expression of a certain national competence. Thirty-one people gathered for the first meeting to plan Churchill's funeral, "Operation Hope Not", in June 1959, six years before his death. Those working on London Bridge (and Tay Bridge and Forth Bridge, the Duke of Edinburgh's funeral) will have corresponded for years in a language of bureaucratic euphemism, about "a possible future ceremony"; "a future problem"; "some inevitable occasion, the timing of which, however, is quite uncertain".
Operation London Bridge had been in place for well over 50 years and was regularly updated from then until this month:
The first plans for London Bridge date back to the 1960s, before being refined in detail at the turn of the century. Since then, there have been meetings two or three times a year for the various actors involved (around a dozen government departments, the police, army, broadcasters and the Royal Parks) in Church House, Westminster, the Palace, or elsewhere in Whitehall. Participants described them to me as deeply civil and methodical. "Everyone around the world is looking to us to do this again perfectly," said one, "and we will." Plans are updated and old versions are destroyed. Arcane and highly specific knowledge is shared … The coffin must have a false lid, to hold the crown jewels, with a rim at least three inches high.
Processions were also carefully timed.
After the Queen died, the military personnel involved rehearsed day and night to get everything exactly right.
King Charles III was also involved:
… in the hours after the Queen has gone, there will be details that only Charles can decide. "Everything has to be signed off by the Duke of Norfolk and the King," one official told me … In recent years, much of the work on London Bridge has focused on the precise choreography of Charles's accession. "There are really two things happening," as one of his advisers told me. "There is the demise of a sovereign and then there is the making of a king." Charles is scheduled to make his first address as head of state on the evening of his mother's death.
In the event, he made it the following evening at 6 p.m.
The Throne Room at Buckingham Palace was the site for the Queen's lying at rest before going to Westminster Hall:
In every scenario, the Queen's body returns to the throne room in Buckingham Palace, which overlooks the north-west corner of the Quadrangle, its interior courtyard. There will be an altar, the pall, the royal standard, and four Grenadier Guards, their bearskin hats inclined, their rifles pointing to the floor, standing watch. In the corridors, staff employed by the Queen for more than 50 years will pass, following procedures they know by heart.
It is ironic that The Guardian published an article waxing incandescent over staff redundancies — lay-offs — because this piece makes it abundantly clear that they knew the King would bring in his own staff:
"Your professionalism takes over because there is a job to be done," said one veteran of royal funerals. There will be no time for sadness, or to worry about what happens next. Charles will bring in many of his own staff when he accedes. "Bear in mind," the courtier said, "everybody who works in the palace is actually on borrowed time."
Dying in Scotland
Although the article does not mention it, the Queen's death in Scotland activated Operation Unicorn.
However, that operation dovetailed with London Bridge:
The most elaborate plans are for what happens if she passes away at Balmoral, where she spends three months of the year. This will trigger an initial wave of Scottish ritual. First, the Queen's body will lie at rest in her smallest palace, at Holyroodhouse, in Edinburgh, where she is traditionally guarded by the Royal Company of Archers, who wear eagle feathers in their bonnets. Then the coffin will be carried up the Royal Mile to St Giles's cathedral, for a service of reception …
Thankfully, her coffin was flown back to London. According to this, a train journey would have been difficult to organise if she had travelled by rail:
put on board the Royal Train at Waverley station for a sad progress down the east coast mainline. Crowds are expected at level crossings and on station platforms the length of the country – from Musselburgh and Thirsk in the north, to Peterborough and Hatfield in the south – to throw flowers on the passing train. (Another locomotive will follow behind, to clear debris from the tracks.) "It's actually very complicated," one transport official told me.
Coming by plane also enabled an extra day of viewing at Westminster Hall.
How the media probably found out
Informing the media is also a big part of Royal deaths, especially the Queen's.
Radio and television channels had — and have — their response plans ready.
In the case of the Queen, the following more or less happened:
For many years the BBC was told about royal deaths first, but its monopoly on broadcasting to the empire has gone now. When the Queen dies, the announcement will go out as a newsflash to the Press Association and the rest of the world's media simultaneously. At the same instant, a footman in mourning clothes will emerge from a door at Buckingham Palace, cross the dull pink gravel and pin a black-edged notice to the gates …
The BBC has a special, secret transmission system, RATS:
At the BBC, the "radio alert transmission system" (Rats), will be activated – a cold war-era alarm designed to withstand an attack on the nation's infrastructure. Rats, which is also sometimes referred to as "royal about to snuff it", is a near mythical part of the intricate architecture of ritual and rehearsals for the death of major royal personalities that the BBC has maintained since the 1930s. Most staff have only ever seen it work in tests; many have never seen it work at all. "Whenever there is a strange noise in the newsroom, someone always asks, 'Is that the Rats?' Because we don't know what it sounds like," one regional reporter told me.
Royal experts were at the ready because they were pre-booked a long time ago. Media outlets have had obituaries ready to go, with only minor updates for the death to be added:
All news organisations will scramble to get films on air and obituaries online. At the Guardian, the deputy editor has a list of prepared stories pinned to his wall. The Times is said to have 11 days of coverage ready to go. At Sky News and ITN, which for years rehearsed the death of the Queen substituting the name "Mrs Robinson", calls will go out to royal experts who have already signed contracts to speak exclusively on those channels. "I am going to be sitting outside the doors of the Abbey on a hugely enlarged trestle table commentating to 300 million Americans about this," one told me.
Radio stations were also prepared with suitable music:
For people stuck in traffic, or with Heart FM on in the background, there will only be the subtlest of indications, at first, that something is going on. Britain's commercial radio stations have a network of blue "obit lights", which is tested once a week and supposed to light up in the event of a national catastrophe. When the news breaks, these lights will start flashing, to alert DJs to switch to the news in the next few minutes and to play inoffensive music in the meantime. Every station, down to hospital radio, has prepared music lists made up of "Mood 2" (sad) or "Mood 1" (saddest) songs to reach for in times of sudden mourning. "If you ever hear Haunted Dancehall (Nursery Remix) by Sabres of Paradise on daytime Radio 1, turn the TV on," wrote Chris Price, a BBC radio producer, for the Huffington Post in 2011. "Something terrible has just happened."
Incredibly, all television presenters wore black immediately:
… there will be no extemporising with the Queen. The newsreaders will wear black suits and black ties. Category one was made for her. Programmes will stop. Networks will merge. BBC 1, 2 and 4 will be interrupted and revert silently to their respective idents – an exercise class in a village hall, a swan waiting on a pond – before coming together for the news. Listeners to Radio 4 and Radio 5 live will hear a specific formulation of words, "This is the BBC from London," which, intentionally or not, will summon a spirit of national emergency …
According to one former head of BBC news … The rehearsals for her are different to the other members of the family, he explained. People become upset, and contemplate the unthinkable oddness of her absence. "She is the only monarch that most of us have ever known," he said. The royal standard will appear on the screen. The national anthem will play. You will remember where you were …
The passing of the Queen will be monumental by comparison. It may not be as nakedly emotional, but its reach will be wider, and its implications more dramatic. "It will be quite fundamental," as one former courtier told me.
And so it turned out to be.
Media broadcasts
I'm still wrapping my head around 12 days of continuous news coverage focusing on the Queen.
Somehow, it never got boring.
That is because there were seven decades of historic reign to cover, as well as the years between 1926 — the year of the Queen's birth — and 1952, when she succeeded George VI:
… there will be an almighty psychological reckoning for the kingdom that she leaves behind. The Queen is Britain's last living link with our former greatness – the nation's id, its problematic self-regard – which is still defined by our victory in the second world war. One leading historian, who like most people I interviewed for this article declined to be named, stressed that the farewell for this country's longest-serving monarch will be magnificent. "Oh, she will get everything," he said. "We were all told that the funeral of Churchill was the requiem for Britain as a great power. But actually it will really be over when she goes."
… The second Elizabethan age is likely to be remembered as a reign of uninterrupted national decline, and even, if she lives long enough and Scotland departs the union, as one of disintegration. Life and politics at the end of her rule will be unrecognisable from their grandeur and innocence at its beginning. "We don't blame her for it," Philip Ziegler, the historian and royal biographer, told me. "We have declined with her, so to speak."
The obituary films will remind us what a different country she inherited. One piece of footage will be played again and again: from her 21st birthday, in 1947, when Princess Elizabeth was on holiday with her parents in Cape Town. She was 6,000 miles from home and comfortably within the pale of the British Empire. The princess sits at a table with a microphone. The shadow of a tree plays on her shoulder. The camera adjusts three or four times as she talks, and on each occasion, she twitches momentarily, betraying tiny flashes of aristocratic irritation. "I declare before you all that my whole life, whether it be long or short, shall be devoted to your service, and the service of our great imperial family to which we all belong," she says, enunciating vowels and a conception of the world that have both vanished.
Conclusion
In summary:
London Bridge is the Queen's exit plan. "It's history," as one of her courtiers said. It will be 10 days of sorrow and spectacle in which, rather like the dazzling mirror of the monarchy itself, we will revel in who we were and avoid the question of what we have become.
It was an incredible time which galvanised the United Kingdom:
"I have to be seen to be believed," is said to be one of her catchphrases. And there is no reason to doubt that her funeral rites will evoke a rush of collective feeling. "I think there will be a huge and very genuine outpouring of deep emotion," said Andrew Roberts, the historian. It will be all about her, and it will really be about us. There will be an urge to stand in the street, to see it with your own eyes, to be part of a multitude. The cumulative effect will be conservative. "I suspect the Queen's death will intensify patriotic feelings," one constitutional thinker told me, "and therefore fit the Brexit mood, if you like, and intensify the feeling that there is nothing to learn from foreigners."
That is quite true. The conclusion that most of us drew from television coverage was that no one does monarchy and ritual quite like Britain. We are still the greatest in that regard.
On Monday, September 19, four million television viewers tuning in from around the world to pay their respects agreed.
In the United Kingdom, we had 12 days of wall-to-wall television coverage of the late Queen Elizabeth II and her family, which ended on Monday, September 19, 2022.
The commercial channels broadcast as usual but during the day BBC1, BBC2 and, throughout, the news channels covered her life and what the Royal Family were doing at this time.
GB News dropped all their advertising, substituting a memorial ident instead and, at other times, playing an instrumental version of the National Anthem accompanied by a photo montage of the Queen.
At first, it seemed unimaginable. Yes, our usual programmes were rescheduled for different days at different times, so we adjusted our video recorders to automatically catch up according to that day's television guide.
Yet, the reality of it was that, by the day of the funeral, I'd become quite used to the coverage. GB News had part of their broadcasts showing the live queue — the Elizabeth Line — in Westminster Hall for viewers to watch while listening to interviews in the studio. The Elizabeth Line was never boring. There was always something to see.
By mandating 12 days of mourning, it seems the Queen wanted us to learn something about our constitutional monarchy as a national institution. It seems she wanted us to reset the way we think about it and how we pass that knowledge and history on to the next generation.
This post covers the two days before the Queen's funeral on Monday, September 19, 2022, and looks at what Britons discovered throughout the days of mourning thus far.
What next for the monarchy?
If there were any lessons to be learned in the immediate aftermath of the Queen's death, it was that the monarchy goes on.
Charles became King immediately and had his Accession Ceremony two days later. There were no obstacles. The crown passed to him automatically.
A relieved nation cried, 'God save the King' and 'Hip, hip, hooray'.
On September 14, YouGov took a poll asking if the mourning period would change the way we perceive this ancient institution. Forty-four per cent said they thought it would change the UK in the long term for the better:
Bob Moran, The Telegraph's former cartoonist, was still upset that the Queen did not step in during the pandemic to call the Government to account over the sometimes fatal procedures at care homes, which are allegedy continuing in some of them:
Yet, most people interviewed on television and the clergy giving sermons at the church services remember with gratitude the Queen's message on the night then-Prime Minister Boris Johnson went to St Thomas Hospital in London with coronavirus. Neither the Queen nor we knew it at the time her message was broadcast, but who can forget her closing words about lockdown, borrowed from the wartime Dame Vera Lynn song:
We'll meet again.
The Queen was adamantly pro-vaccine and in 2021 said that people who didn't get it should think of others instead of themselves. I have seen on Mark Steyn's GB News show several people whose loved ones got the vaccine because of her words and later died of complications. The Government is giving each of those families £120,000 in compensation.
However, quibbles with the monarchy go much deeper than the pandemic. On September 15, The Telegraph addressed the issue of how monarchs attempted to stave off republicanism throughout the ages.
The 1990s were the worst years that the Queen saw during her reign. Princes Andrew and Charles divorced, Windsor Castle caught on fire and Princess Diana was killed in a car accident in Paris.
Regardless, the Royal Family regrouped and returned to normality (emphases mine):
"Diana died at the end of August 1997 and by the time of the Queen's golden wedding anniversary that November she was pretty much re-established," says royal biographer Hugo Vickers. Fast forward 15 years, to the Diamond Jubilee, and the Royal family were popular as never before, enjoying a near 50-point lead in polls over anti-monarchists.
Though so much about the British monarchy can appear unchanging, it was a hard-won transformation, relying on careful reflection and updating after the calamities of the 1990s. In making such adjustments, the royal house showed it could learn not just from its own experience, but from the experience of centuries of fluctuating royal fortunes.
In order to keep republicanism at bay, it is essential for the Royal Family to remain visible:
"In this country," says historian Andrew Roberts, author among others of a book on George III, "there are five areas that give Republicanism a chance to move from being a minority fetish into a mainstream threat." The first four are disastrous relationships, religious meddling, political interference and money. But it is perhaps the last and simplest that is the most important: steadfast presence.
"Sheer visibility is tremendously important," says Roberts. That enduring presence accounts for the astonishing popularity of Queen Elizabeth, he thinks, building on the legacy of her mother and father, who made such efforts to be visible to Britons even in the darkest days of the war. And absence has led perhaps to the darkest days of the monarchy, in the years following the death of Prince Albert, when Queen Victoria in her grief almost completely vanished from the public stage.
Centuries ago, money became a huge issue that still waxes and wanes today:
The Peasants' Revolt of 1381 is just the most notable example of a massed uprising at taxes levied by the king (in that case to support the Hundred Years' War). But grumbling about paying for the royal house's upkeep never went away. A key part of the rejuvenation of the House of Windsor's popularity in the 1990s came after the Queen agreed to pay tax. "At one stroke it took away one of the main planks of republicanism," says Roberts. Even today, some anti-monarchists are moaning about the cost of the Queen's funeral, or the income the new Prince of Wales receives from the Duchy of Cornwall, but it has become far easier to defend the Crown on cash-terms. "It's not the most gracious argument in favour of the monarchy," says Roberts, "but the pocketbook is an important one."
We all know what role religion played in British history as driven by Henry VII, Charles I and James II, so there is no need to elaborate further.
Another issue is — or was — the conflict between Parliament and the monarch. In 1649, Charles I made a fatal mistake:
He, though, committed the sin which would become unforgivable for his successors in the centuries to follow: disdaining parliament.
He was tried in Westminster Hall and executed on January 30, 1649, during the English Civil War:
Alienating, then suspending parliament was, of course, not the Stuart king's only problem. But interfering with the nation's political system was becoming an increasingly dangerous game to play. By the time James hot-footed it out of the country to be replaced by William of Orange, the era of kings by "divine right" had given way to kings approved by parliament. The constitutional monarchy had arrived.
Not that all monarchs understood. George III and prime minister Lord Bute impinged upon the supremacy of parliamentary power in the 1760s, drawing fierce criticism. "George became so unpopular in the 1760s that people pelted his carriage with dirt," says Roberts.
George III learned how to recover the situation:
… he learned his lesson and, by the time of his descent into – and recovery from – madness, he had come to be loved for his personal qualities: fidelity to his wife, frugality and piety.
Fast-forwarding to the 20th century, Prime Minister Stanley Baldwin insisted that Edward VIII abdicate. He got his way:
When it came to Wallis Simpson … Edward stayed by his woman and, on Stanley Baldwin's insistence, lost the throne.
Fortunately, George VI and the Queen Mother resolved the constitutional crisis:
George VI and his own queen Elizabeth (the late Queen Mother) were the ideal pair to succeed, setting the formula – visible, dutiful, steadfast – which so characterised their daughter's long reign.
So far, Charles III has been doing the right things, says historian Hugo Vickers:
"of course King Charles will have to be very aware. But his first speech as King dealt immediately with many of them – his new role, what he can and can't do [politically], about the Church of England, because there was talk about him wanting to be a defender of all faiths. It puts things to rest very quickly. It was very effective." The result was an immediate bounce in popular support, with the number of those who think he will make a good king near doubling to 63 per cent.
While republicanism will never die, it is hoped that people will value the monarchy over an elected president:
… from today's vantage point it seems unlikely that could be so serious as to prompt Britons to dispose of the monarchy altogether. Because ultimately, says Roberts, what makes us love it is not the individual, but the institution. "Even when individuals are unpopular, Britons recognise constitutional monarchy is a good idea, being a power above politics and therefore above politicians. And the British people like the idea of politicians not being at the top of the heap."
Well said.
Funeral attire
To find out more about the traditions of the Royal Family's funeral attire, I happened across a Telegraph article written in April 2021, after the Queen's husband, the Duke of Edinburgh, died.
The Royal Family did not always wear black.
In fact, throughout the Middle Ages until 1560, at least, there was a convention of wearing white (emphases mine):
"white mourning" or deuil blanc … deployed by medieval royals and seen in portraits of Mary, Queen of Scots after she lost her father-in-law, mother and husband within months of each other in 1560 …
The modern convention of wearing black began three centuries later, with Queen Victoria upon the death of her husband Prince Albert. However, even she had gold thread spun into her dresses, as one can see in the photograph in the article:
"Mourning dress has been part of European royal culture for centuries, but it reached its peak in the 19th century with the influence of Queen Victoria, who set a standard for the rest of society to follow," says Matthew Storey, curator at Historic Royal Palaces, which holds the Royal Ceremonial Dress collection. "When her beloved husband died in 1861 she abandoned the colourful clothes of her married life and, with the rest of the royal court, adopted black clothing as an outward sign of grief. Her subjects duly followed suit, causing a rush on suppliers of mourning fabric up and down the country."
That was a time when death was something of a societal obsession and there were strict rules around the wearing of "widows' weeds". "Widows were required to wear black, then either white or mauve, for at least three years before being able to return to richly coloured clothing. Victoria chose never to leave mourning and wore her now iconic black dresses and white widow's caps for the rest of her life," Storey continues. There was no concession even at moments of celebration: "She even insisted that her daughter, Princess Alice, had an all black trousseau when she married in 1862."
The mood oscillated from the dour to the unexpectedly glamorous; Victoria often wore her bridal veil with her black dresses and took to wearing a necklace containing a lock of Albert's hair, but she also popularised striking jet jewellery. "Her clothing was anything but dowdy," Storey confirms. "Every example in the collection is exquisitely made and highly embellished, as befitted her status. Victoria may have been a widow, but she was always a queen."

Queen Victoria died in January 1901. Her son, Edward VII, reigned until his death in 1910. His wife, Queen Alexandra, began wearing purple, although black was still the favoured colour:
After Victoria's death, mourning dress became even more opulent. An exhibition at the Metropolitan Museum of Art in New York in 2014, Death Becomes Her: A Century of Mourning Attire, included two exquisitely beautiful embellished purple gowns worn by Queen Alexandra, wife of Edward VII, in the year after her mother-in-law's demise. You'd really only know they denoted mourning if you were familiar with the strict dress codes of grief. And when Edward died, weeks before Royal Ascot in 1910, there was no question of cancelling, but attendees wore magnificent black outfits instead. That year's event is now remembered as Black Ascot.
In 1938, when the Queen Mother's mother, the Countess of Strathmore died, the Queen Mother was weeks away from joining George VI on a state visit to France. At that time, war was looming and Britain was still getting over the abdication of the King's brother, Edward VIII. Under the circumstances, black seemed too gloomy. Something had to be done, so the Queen Mother enlisted the help of her couturier, the incomparable Norman Hartnell:
A black wardrobe simply wouldn't do, as it was imperative to come bearing optimism.
Hartnell was the one who researched earlier monarchs and found the aforementioned portraits of Mary, Queen of Scots:
Within weeks he had scrapped the original colourful outfits intended for the tour and crafted an entirely white set of looks in their place.
"The Queen has taken with her on her state visit to Paris a superb white wardrobe consisting of 12 gowns, seven coats… one cape, eight hats – and a lace parasol," the Telegraph's report from July 20 1938 read. "Created by leading London designer Norman Hartnell, it symbolises the links between the two countries."
The report went on to explain that Hartnell had referenced the French Pompadour look and pannier, as well as English garden florals and Victorian silhouettes. Hartnell had the idea to revive the crinoline after being shown Winterhalter's portraits of Queen Victoria and her family by the new king.
The Queen Mother became a fashion sensation:
Though the reason for the Queen's all-white dressing was sombre, the reception to the wispy, lacy creations was rapturous. "No wardrobe of modern times has created greater interest than the state wardrobe chosen by the Queen for the visit to Paris," another glowing Telegraph review reported, going on to publish sketches of the gowns in glorious detail. The autumn fashion collections shown later that year were heavily influenced by the Queen's "white wardrobe" and her style more generally – Schiaparelli and Molyneux both included tartan as a nod to her Scottish heritage.
The Queen loved her white collection and the style muse status it had bestowed upon her so much that the following year she commissioned Cecil Beaton to photograph her at Buckingham Palace wearing the designs, resulting in a romantically optimistic set of portraits that do little to suggest that the clothes they capture are a symbol of mourning, nor that the Second World War is months away. The floaty, delicate look of Hartnell's designs influenced the Queen Mother's style for the rest of her life.
The Queen Mother's husband, George VI, died in 1952. Although he had a chronic illness, no one expected him to die while Queen Elizabeth II and Prince Philip were on holiday in Kenya. The Queen had no black dress to wear once she got off the plane in London.
Reports differ as to how a black outfit reached her. One Royal historian told GB News that an attendant was on hand when the plane reached Rome for refuelling. The Telegraph has a different account, intimating that she received mourning attire in London:
… when the plane landed, a black dress had to be taken on board for her to change into, an incident that means that no royal reportedly now travels without a black outfit in their luggage, just in case. On alighting the plane, the 25-year-old queen looked elegant yet solemn in her dark coat, brooch and neat hat.
On the day of the funeral, the Queen Mother, the Queen and Princess Margaret wore long silk veils. The Telegraph has a photo of them:
At her father's funeral, eight days later, the new queen, her mother, grandmother Queen Mary and sister Princess Margaret cast ethereal figures in their long black veils, said to be around 18 inches over the face and one and a half yards down the back. "There is no court regulation with regards to them," the Telegraph had written in 1936, "but the practice of wearing them has always been observed at the funeral of a Sovereign."
By the time the former Edward VIII, the Duke of Windsor, died in 1972, only Princess Margaret and the Duchess of Windsor wore a veil. The Queen and her mother opted for the turban, the stylish hat of the day for women:
It was notable, then, that at the funeral of the Duke of Windsor in 1972, the Royal family refrained from wearing veils. The abdicated king's wife, Wallis Simpson, however, sported a couture coat and chiffon veil that Hubert de Givenchy had reportedly stayed up all night to make for her … By contrast, the Queen wore a black version of the turban style hats she loved at the time, adding Queen Mary's Dorset Bow brooch.
When it came time for Prince Philip's funeral, the Royal Family wore black, but the Queen quickly reverted to wearing her usual clothes afterwards.
Who waited to pay respects to the Queen
For many gathering to pay their respects to the Queen, a family death brought back a deep seam of emotion.
Although The Telegraph's Lauren Libbert watched proceedings from the comfort of her home, what she experienced seemed to ring true for a goodly number of those camping outside in the cold:
For me, at 44 and then again at 49, I watched my parents being taken from their home in a coffin and transported to their final resting place at the nearby cemetery. Watching Queen Elizabeth's coffin make its journey from Balmoral to Edinburgh transported me right back to that heart-wrenching, inexplicable gut-punch of a feeling, remembering how it felt to know my beloved parent was inside and I'd never enfold them in my arms again.
It's a sadness that has not gone unnoticed at home. "But you didn't even know the Queen," said my teenage son, noting my smudged eyeliner and tears when watching the news earlier this week.
"I know," I replied. "But I really miss my mum and dad."
He held me, but he was a bit baffled at the connection. Admittedly, so am I.
Other people, whether in the Elizabeth Line, Parliament Square or near Buckingham Palace, were hardcore attendees of other Royal occasions, as The Times reported. Keep in mind that the nightly temperatures turned distinctly autumnal, in the 50s Fahrenheit:
Mary-Jane Willows loves the sound of metal barriers clattering onto the streets of Westminster. "It means everything is getting organised," she says.
It is 10pm on Thursday and Willows, 68, is settling down for a night's sleep in a camping chair just off Parliament Square. She and her crew of royal superfans are zipped into military bivvy bags and wrapped in foil blankets — at that point of the week they were not allowed to use tents or sleeping bags for security reasons.
It is a hardcore existence, but they will endure. Because on Monday, for the Queen's funeral, they will be in the "best spot in the world".
Just half a mile away there is another camp, also in the best spot in the world. They arrived "on site", on the Mall and overlooking Buckingham Palace, the previous Thursday. And they came with "equipment": bin liners and trolleys jammed with Union Jack flags, hand warmers, underwear, first-aid kits, torches, baby wipes, wine gums and corned beef sandwiches. They have been there since.
These two groups are the most dedicated royal watchers on the planet, bound by births, weddings, jubilees and deaths, and held together by WhatsApp groups and meme-sharing. They are always the first ones to arrive, pitching up on virgin pavement, knackered, cold and in it for the long haul.
John Loughrey, 67, and his friends on the Mall, Sky London, 62, and Maria Scott, 51, have done weddings together (Cambridge, Sussex, York, York), births (George, Charlotte, Louis), jubilees (Diamond, Platinum) and deaths (Diana, Princess of Wales; the Queen).
"If you want to be part of the gang you've got to be with the gang," says London. "It's the camaraderie. It's seeing history and being part of it."
However, whether remembering family losses or cadging the best seat in the house, as it were, how do these people view Britain?
Rob Johns, a politics professor at the University of Essex, claims to have the answer.
I'm not so sure.
He interviewed 400 mourners by the time The Guardian interviewed him on Saturday, September 17. Johns said:
… it is less a case of royalists simply wanting to mourn the Queen in person, and more "a collective gathering that is as much about the queue as it is about reaching the end of all the queueing".
This is the part about which I have doubts:
Who would be willing to wait outdoors for as long as 24 hours , braving the elements along the Thames, for a few seconds alongside the Queen's coffin – and why?
Now, as the Queen's lying in state in Westminster approaches its final hours before Monday's state funeral, researchers believe they have found the answer. A narrow majority vote Conservative, almost two-thirds backed remain and most of them are enjoying a feeling of "subdued positivity" as they wait in line for hours.
Really? I don't know how one could wait outdoors in the cold for a day and support EU supremacy over our monarchy.
With history and contemporary background covered, let us move on to what happened last weekend.
September 17
On Saturday, September 17, the King was back at work.
He had successfully completed his visits to the component nations of the United Kingdom during the mourning period under a plan called Operation Spring Tide. It derives its name from a particularly high tide in springtime known as king tide.
ITV reports that there were sub-operations to Spring Tide:
Scotland (Operation Kingfisher), Wales (Operation Dragon) and Northern Ireland (Operation Shamrock).
In London, Operation London Bridge continued apace.
The Queen's state funeral is the first such event to be held since Winston Churchill's in 1965.
However, unlike Churchill's funeral, the Queen's was mammoth by comparison. Police forces from around the UK travelled to London to participate in maintaining order. Only two were exempt.
The numbers of military engaged were also unprecedented.
Operation London Bridge required meticulous logistical planning to make sure everyone in the capital, including visiting heads of state and other dignitaries, were kept safe.
In the morning, the King visited members of the police and military working all hours to make this a success:
He went on a walkabout at the Elizabeth Line to express his appreciation of people's willingness to pay tribute to his late mother. William Prince of Wales and Sophie Countess of Wessex met mourners in other parts of the queue:
Then it was time for the King to return to Buckingham Palace for more meetings and a reception:
Early that evening, the Queen's grandchildren — The Prince of Wales, The Duke of Sussex, Princess Beatrice (Andrew), Princess Eugenie (Andrew), Lady Louise (Edward), Viscount Severn (Edward), Zara Tindall (Anne) and Peter Phillips (Anne) — held a Vigil of the Princes in Westminster Hall. I have added the relevant Royal parent's name in parentheses for clarity.
The aforementioned ITV article says that the events taking place at Westminster Hall were run under Operations Marquee and Feather:
This covers the four days of the Queen's lying-in-state, focusing on the arrangements inside Westminster Hall.
It's expected to begin on Wednesday, September 14, ending on Sunday before her funeral the next day.
Senior royals are also expected to pay their respects once more here, standing guard in a tradition known as the Vigil of the Princes.
It is linked to Operation Feather, the arrangements for the public who are expected to queue in their thousands for an opportunity to see the monarch's coffin as they did 20 years ago for her mother.
Here is the beginning of the grandchildren's Vigil of the Princes. Members of the Royal Family watched from a viewing point on one side of the hall. Once again, the public could file past:
This video from the Royal Family's YouTube channel has the full vigil, which was very moving indeed. Viscount Severn, who is only 14, was so composed for someone so young. As with other videos from this channel, click 'Watch on YouTube' and it should play, at least for the near future. If not, try the link in their tweet:
Here are some close-ups:
This video is of the young Royals filing out afterwards:
The days of mourning at Westminster Hall nearly passed without incident. On Friday, a man suddenly appeared in the queue outside and exposed himself to two women from behind. He jumped into the Thames but quickly got out. Police were on hand to arrest him. The Guardian reported:
… a man appeared at Westminster magistrates court following allegations that two women were sexually assaulted while they were waiting in the queue to see the Queen lying in state.
On Friday evening, a man inside Westminster Hall was arrested after lunging towards the Queen's coffin. The Telegraph reported:
The individual was reportedly taken to the floor by Metropolitan Police officers and arrested.
The Met told ITV: "At 22:00hrs on Friday 16 September officers from the Met's Parliamentary and Diplomatic Protection Command detained a man in Westminster Hall following a disturbance. He was arrested for an offence under the Public Order Act and is currently in custody".
Viewers of the BBC's live stream reported that the feed went down for 10 minutes.
The aforementioned Guardian article says:
Broadcasters showing the procession of mourners cut away from the scene and instead showed the view from outside parliament.
There are always simple ways to set things right. In this case, broadcasters were prepared with a still of the Palace of Westminster.
The Sun's political editor Harry Cole looked at the bigger picture of the mourners and tweeted a poke at the anti-monarchist metropolitan elite:
September 18
Sunday, September 18, put the logistics of Operation London Bridge to the test as 500 heads of state and other dignitaries arrived in London for the Queen's funeral.
As it would have been impossible for all of them to have been driven in separate cars to Buckingham Palace that day and to Westminster Abbey on Monday, the plan was to 'pod' the leaders into private coaches, painted in plain white.
Scheduled pickups of the great and the good at designated points in central London helped the plan run smoothly and safely.
Only Joe Biden was exempt. The Beasts — one operational and one decoy — were here along with his usual security motorcade.
France's Emmanuel Macron arrived with his wife Brigitte early enough to do an incognito walkabout during the afternoon:
Meanwhile, somehow with the permission of Speaker of the House of Commons Sir Lindsay Hoyle, the Chinese were allowed into Westminster Hall. Hoyle had pledged to MPs that they would not be allowed anywhere on the parliamentary estate:
Conservative MPs were less than impressed:
That evening, after a brief shower, a beautiful rainbow appeared, just as a double rainbow did when the flags were lowered to half mast over Buckingham Palace and Windsor Castle on the day of the Queen's death. This must mean something, surely:
The King and Queen Consort held a formal reception for the dignitaries at Buckingham Palace that evening.
Meanwhile, soldiers participating in the funeral were busy polishing medals and sewing on badges:
A few newspapers printed the last photographic portrait of the Queen for Monday's editions. Ranald Mackechnie took the photo in May, a few weeks before her Platinum Jubilee celebrations:
The Telegraph had an article about the portrait. As ever, the Queen's choice of jewelry told the story:
The Queen, who is dressed in a dusky dove blue dress with her hair neatly curled, is wearing her favourite three-strand pearl necklace, pearl earrings and her aquamarine and diamond clip brooches which were an 18th birthday present from her father George VI in 1944.
The two art deco-style pieces, worn one below the other, were made by Boucheron from baguette, oval and round diamonds and aquamarines.
The Queen wore the brooches when she addressed the nation on the 75th anniversary of VE Day in 2020 and for her Diamond Jubilee televised speech in 2012.
The image was taken by photographer Ranald Mackechnie, who also took the Jubilee portrait of the Queen released to mark the start of national festivities of her milestone 70-year reign.
I cannot help but agree with The Star's 'Kingdom United'. Thank you, your Majesty, for these 12 days of mourning:
The Independent was less sure about 'Kingdom United!' They wrote of a 'turning point':
The Guardian showed us a window of a house in Windsor and how the world was descending there and in London:
The i paper also focused on a world farewell:
The Financial Times took a final look at Westminster Hall:
In closing, The Metro published my favourite portrait of the Queen after she was inducted into the Order of the Garter. Pietro Annigoni (1910-1988) painted the portrait in 1955:
It is simply timeless, as is its subject.
I hope to cover the funeral and committal services in their entirety tomorrow.
My series on Prime Minister Boris Johnson's downfall continues.
The first three instalments can be found here, here and here.
Wednesday, July 6, 2022 must have been a sad day for him. By the end of it, 43 Conservative MPs had left Cabinet or ministerial posts.
The haemorrhage continued into Thursday, by which point the number was 51, all of which were resignations bar Michael Gove's sacking, the subject of yesterday's post:
BBC Newsnight rejoices
On Wednesday night, BBC's Newsnight ended with a list of 43 MPs' names, instead of the usual programme credits.
The Daily Mail posted the video along with this report (emphases mine):
A rolling list of names was presented on a black background in the style of an Oscars 'in memoriam' tribute, set to a cover of the Verve's 1997 song by London Grammar.
A faded picture of Mr Johnson was shown behind the names as they were shown, before they finished with a gap, and then the line: 'Boris Johnson – Prime Minister?' 
But the editorial decision was criticised by some viewers on Twitter, who described it as 'simply ludicrous', 'pretty wild' and 'giving up any shred of serious journalism'. 
Others labelled it a 'total LOL-fest' and 'iconic behaviour from Newsnight', while a third tweeted that the rolling list was 'like it's the obits at the Oscars'.
The Newsnight production team, presenter Kirsty Wark and guests must have had the time of their life that evening. They all wanted Boris gone:
Ahead of the list being shown, Wark concluded Newsnight by saying: 'Well that is all from us tonight. On the evening that the resignations from the Johnson government threatened to become a flood, we leave you with the names of the first 43 of them.
'As Nick (Watt) just said, there are already more since we came on air. See you tomorrow to find out who they are, if there are more to come. Goodnight.'
Newsnight and the rest of the BBC have been after Boris ever since his election as Party leader in 2019. The BBC were apoplectic on election night that year, barely able to say that he had won an 80-seat majority, the highest Conservative gain since 1987 under Margaret Thatcher.
Oh, our 'values'!
Brandon Lewis, the then-Secretary of State for Northern Ireland, resigned early Thursday morning.
His letter, like those of many others, played on morality and the violation of Conservative values:
Sorry, it all seems hypocritical to me.
Boris stood down as Conservative Party leader at lunchtime on Thursday.
However, he remains Prime Minister until the Conservative Party membership elects their new leader.
Therefore, he scrambled to fill vacant posts so that there would still be a functioning Government until September 5.
Michelle Donelan's egregious resignation
In this regard, the most egregious resignation had to have been Michelle Donelan's. Boris asked her to be the new Education Secretary. She resigned 35 hours later, the shortest-serving Cabinet member in British history.
On Thursday night The Telegraph reported:
Ms Donelan was promoted to Education Secretary late on Tuesday evening after the shock resignation of Sajid Javid which began the revolt against the PM.  
But just 35 hours later, having failed to persuade Mr Johnson he should step aside for a new leader, she felt left with no choice but to quit herself in the national interest.
Oh, my!
A cynic might say that she took the role for extra taxpayers' money:
She had previously served as universities minister for two years and would have been entitled to a redundancy payment of £7,920 upon leaving that role. 
But her temporary elevation to the Cabinet significantly boosted her pay, meaning she is now in line for a much larger sum of £16,876.
The MP for Chippenham, in Wiltshire, told The Telegraph she doesn't want the money and has asked officials if there is any way they can stop the payment.
She added if that is not possible she will give it all to a local charity in her constituency, though she has not yet decided which one.
Ms Donelan was the shortest-serving Cabinet minister in British history, breaking a 239-year-old record of four days set during the government of Pitt the Younger.
She said quitting her dream job was "extremely difficult" and she was aware of the "moral imperative to prioritise young people as they are heading towards their exams".
Hmm.
Guido Fawkes tweeted about her resignation:
He wrote, in part (emphases his):
Responding to Guido's tweet about her impending pocket-lining, ex-Education Secretary Michelle Donelan has just said she will donate it in full to charity.
Fair play and just as well – £16,800 is around the average annual salary of a teaching assistant…
Good grief.
Remuneration off the charts
Returning to The Telegraph article, our principled Conservatives who resigned were raking in redundancy payments:
She [Donelan] is one of 28 former ministers who quit or were sacked in the coup against Boris Johnson and are set to earn a combined £240,000 in redundancy money. 
I agree with the Opposition MPs here, although they would have taken the money, too, were the shoe on the other foot:
Opposition MPs are urging those who will benefit to forgo the payments at a time when millions of families across the UK are facing a cost of living squeeze.
The remuneration is legitimate:
Members of the Government who leave their posts are automatically legally entitled to a golden goodbye worth a quarter of their ministerial salary.
This is how much was due to each MP who left:
Five Cabinet ministers walked out during the coup against Mr Johnson while a sixth, Michael Gove, was sacked. They will get £16,876 each.
Seven middle-ranking ministers who also quit are in line for £7,920 apiece while 15 from the most junior ranks are entitled to £5,594.
Nice work if you can get it. It reeks of hypocrisy to me.
Bear in mind that an independent board already gave MPs another salary rise. MPs also get their expenses paid. Their meals in Parliament are also subsidised. Who pays for this? The taxpayer.
They can also take advantage of hospitality from outside hosts for sporting and cultural events, which they must declare.
As we say in the UK, they're 'quids in'!
So, no more talk about morality, integrity and values, please!
Boris's new Cabinet
The Telegraph told us about Boris's new Cabinet and ministerial replacements:
Mr Johnson on Thursday appointed a flurry of new Cabinet and junior ministers despite having already announced he was stepping down as PM.
He brought several Tory moderates, including a former opponent over Brexit, into his top team to try and ease fears about him carrying on as a caretaker.
James Cleverly, a loyalist and foreign office minister, was drafted in to become the country's third Education Secretary in just three days.
Kit Malthouse, policing minister, another staunch supporter, was also promoted to take up the vacant role as the Prime Minister's de facto chief of staff.
The most surprising appointment came in the elevation of Greg Clark, a former arch-critic, to replace the sacked Mr Gove as the Levelling Up Secretary.
He was stripped of the Tory whip by Mr Johnson in September 2019 after voting with other rebels to give Parliament the power to block a No Deal Brexit.
Robert Buckland, who was sacked as Justice Secretary by the PM during his reshuffle last September, returns to the top table as Welsh Secretary.
The PM also promoted two junior ministers. Shailesh Vara became Northern Ireland Secretary, while Andrew Stephenson was given a Cabinet seat.
Andrew Stephenson was appointed co-chairman of the Conservative Party, replacing Oliver Dowden, one of the MPs who resigned:
Stephenson has been introducing each of the Party hustings taking place around the nation.
There were more appointments:
No 10 announced a dozen new appointments on Thursday night which included giving Will Quince, an education minister, his old job back less than 36 hours after he quit.
Former soldier Johnny Mercer also got his former role back as Veterans Minister, with the added promotion that he will now attend Cabinet.
I'm really happy about Johnny Mercer's reappointment. He is an ex-serviceman. No MP has worked more tirelessly for veterans than he. In 2021, he felt that the Government was not taking his concerns about veterans seriously enough. I saw him give a passionate speech in Parliament on the subject at the time. He told the Chief Whip that he was going to resign as Veterans Minister. When Boris got wind of the news, he sacked Mercer on April 20 that year.
Re Will Quince, is he getting redundancy cash, too, having resigned then being reappointed?
Boris pledged to be a good caretaker PM:
At a meeting of his new Cabinet on Thursday, the PM insisted he would respect his caretaker status and not try to introduce any radical new policies.
Guido posted a full list of Boris's new team on Friday, July 8. It's a long one. Well done, Boris.
I wasn't the only one to harp on about redundancy payments:
Even if they are temporary, I was happy to see some of the appointments:
Richard Fuller MP to be Economic Secretary to the Treasury;
Brendan Clarke-Smith MP to be a Parliamentary Under Secretary of State at the Department for Education;
Steve Double MP to be a Parliamentary Under Secretary of State Department for Environment, Food and Rural Affairs;
Peter Bone MP to be Deputy Leader of the House of Commons.
Friday's front pages
A dismal week ended on July 8 with Friday morning's front pages, which focussed on Boris's resignation the day before.
Most were negative, because these newspapers wanted Boris — the public face of Brexit — out ever since he got into Downing Street:
Even The Telegraph was ambivalent (Boris is pictured with his son Wilf):
Only two papers were supportive of the Prime Minister.
The Daily Mail was cross with Conservative MPs:
The Daily Express thanked Boris for getting us out of the EU:
Speaking of the EU, here's Guy Verhofstadt's reaction:
Would we have expected anything less?
I'll end with a heartfelt thread from Red Wall MP Mark Jenkinson from Workington:
Jenkinson was also intent on ensuring that Conservative MPs would allow Party members to get their rightful vote on the next leader. Theresa May was the last candidate standing in 2016, so she automatically became PM:
Fortunately, Party members received their ballot papers earlier this month and two-hour hustings have taken place all across the nation, including Northern Ireland, which has a tiny Conservative group of around 300 members.
Meanwhile, Brexit supporters, especially those in Red Wall seats, wanted to know what would happen next. Ensuring that the next leader completes the Brexit process and keeps us out of the EU was a hot topic on the GB News shows that weekend.
More about that next week as the series continues.
Alas, poor Boris.
His downfall started the Monday after the Queen's Platinum Jubilee weekend in early June.
The next few weekday posts will look at what happened and how.
Before going into the full story, however, I would like to explain why replacing Boris does not automatically trigger a general election.
Why there is no general election
In the UK, we elect MPs to represent us. They are up for (re-)election during a general election, although there might be by-elections in the meantime for those who die or are caught up in scandal.
In other words, we do not elect a Prime Minister. The party that wins a clear majority in Parliament puts forward their leader for that post.
Admittedly, the position of Prime Minister has become somewhat presidential in recent years. People gravitated towards Boris in 2019 and voted for a Conservative MP so that he would become PM.
Boris, although deposed, has never lost an election. He was elected Mayor of London twice (two four-year terms). He has never lost an election as MP. He won the Conservative Party's leadership election. He became PM when the Conservatives won the 2019 general election. He also survived a confidence vote in 2022.
One of Guido Fawkes's readers pointed all this out and provided more food for thought:
Each time he won it was in the face of massive media opposition. So was it logical for his MPs to throw him out because the media told them to? It was the Treasury dominated Chancellor [Rishi Sunak] with his string of wrong economic judgements who needed to go.
Now on to the story of Boris's downfall.
'World king'
Boris Johnson, born in New York and raised there as well as in Europe, imagined himself as destined for greatness when he was a child.
On June 10, 2022, UnHerd's Will Lloyd posted an interesting article, 'How Churchill ruined Boris'.
Lloyd tells us that, when Boris was a child, he:
declared he would be "world king" one day. 
At that point, Lloyd says, Boris's father Stanley was philandering. The Johnson family unit was breaking down and his mother had to leave for a while (emphases mine):
The boy's response was to make himself "unhurtable, invincible, somehow safe from the pains of life…", according to his mother when she resurfaced after an eight month disappearance. His desires betrayed his insecurities. If he could not be loved, he would be powerful. 
As a result, the most popular Prime Minister of living memory became his hero:
The armour plate little Boris chose to cover these scars was Winston Churchill. It was always Churchill: Britain's last world king. Absent a mother, he discovered a hero. Self-pity was sublimated into the desire for glory. 
Churchill, who died in 1965, loomed large in the collective post-war British imagination:
Johnson decided to emulate Churchill — "the greatest statesman Britain had ever produced" — and stitch himself into this gold thread. Churchill was a holy presence in post-war childhoods. Boris memorised the captions of Churchill picture books. Fathers read selections from the Great Man's speeches to their sons. Boys in the Sixties imagined themselves piloting Spitfires over green Sussex, as the sonorous, rousing, words of Churchill echoed in their heads. 
Allegedly, by the time he got to Eton, he had set his goal in life, masked under a cloak of joviality as self-preservation:
By Eton his wish was Churchillian. Become Prime Minister. Win. The clown fez he wore for the next 40 years distracted his contemporaries from this ruthless fixity of purpose. 
In 2014, as the fiftieth anniversary of Churchill's death approached, Boris wrote a biography of his hero, The Churchill Factor. The prose is pure Boris:
Churchill is the "beaver who damned the flow of events"; he is "like some burly and hungover butler from the set of Downton Abbey"; he is simultaneously a "crowbar of destiny" and a "hyper-gravitational astral body".
It is no wonder that Boris continued to be attached to his hero in recent years:
Churchill, wrote Johnson, was the "inevitable" Prime Minister. By 1940 there was only one "man for the moment". When Brexit was deadlocked in 2019 Johnson's association with Churchill, the assiduously spade-worked notion that, give or take some hair, they were the same man, cashed out spectacularly. The mantle of inevitability passed to Johnson.  
Like Boris, Churchill also had a troubled childhood:
They are spookily alike, but not due to their maverick political careers, not for the doughy and obvious reasons. You have to go back to the beginning. Churchill suffered through his own version of Johnson's youth of neglect and distress. "Famous men are usually the product of an unhappy childhood", writes Churchill in Marlborough.
Churchill's personal sadness drove his political ambitions, too:
Unhappiness evoked the same ambitions in Churchill as it did in Johnson: the conscious decision to be a classical hero, with all the ruthlessness and coldness such a choice results in. "He is bound to emerge historically as a romantic and glamorous figure", wrote one sympathetic observer of Churchill in the Thirties, "but he is surrounded by corpses." Suicides close to Winston Churchill included a brother-in-law, a former stepfather, a daughter's lover, a former daughter-in-law, a son-in-law and a daughter. Johnson leaves behind two cratered marriages, and anguished relations with his platoon of children. I can picture both men wondering if this is the cost of greatness.
Both men used self-deprecating humour as a shield:
The callousness of Johnson and Churchill was leavened by self-mocking qualities. Their vanity was excused by humorousness.
Older Britons say that Churchill was perfect for winning the war. His role in leading peacetime Britain, however, was quite the opposite. The public deemed him a failure in that regard. So it was with Boris, the man who got us out of the EU then went on a downward leadership spiral:
Now that half his party is trying to slaughter its chief, The Churchill Factor makes for weirdly poignant reading. If Johnson hadn't chosen all this you could almost feel sorry for him. "I think he doesn't really know what he wants," wrote Johnson about Churchill, and himself. They both just wanted more of whatever it was — acclaim usually — whenever they could grasp it. Such behaviour in peacetime, notes Johnson eight years before Partygate, "can be disastrous". 
You become what you pretend to be. Johnson never really thought beyond Churchill the world king, hero of the finest hour, the growl on the radio. By emulating Churchill's optimism, patriotism, and hopefulness, Johnson could finish Brexit, and take his historical place next to the most famous Englishman of all. Once he became Prime Minister, his inner world of make believe appeared congruent with reality at last. Johnson fantasised about monuments to himself, says Dominic Cummings. Johnson bumbled around Number 10, musing that the people would remember him after his death, like a Roman Emperor. Or Churchill.
The version of Winston remembered by Britain, and imitated by Johnson, is a false one. The picture is incomplete. In his last years Churchill said over and over again that he wished he had died in 1945. His beloved Empire was being dismantled. Communists dominated most of the Eurasian landmass. Socialism appeared to be the future of British politics.
Heroes are not supposed to go on. Either they die young, like Alexander did at 32, or their ludicrous self-image cannot be maintained in the face of the reality of the world. After a certain age, failure sets in like frost.  
Imagine, then, if Boris hadn't survived Covid. A Prime Minister sacrificed for his people. All those early pandemic photos of Johnson bouncing unmasked through hospital wards suddenly charged with saintly light. Nothing beatifies, or erases error, quite like death. A romantic-cynical end, but then, as Johnson said: "All romantics need the mortar of cynicism to hold themselves up." 
Instead there is no romance. Only cynicism. He recovered, and received cake in a Tupperware. There will be no Downing Street booze ban, he says, because Churchill needed his brandies during the war. Johnson ends up resembling the post-war Churchill. Not heroic, but hamstrung. Confused and tortured.
Resignation: who was responsible?
On Thursday, July 7, when Boris resigned as leader of the Conservative Party, he became a caretaker Prime Minister.
The media and anti-Boris Conservative MPs finally forced his hand. They had been banging on since late 2021 about the Downing Street 'parties', assailing him, holding him solely responsible.
But what about Simon Case, who was in charge of the Civil Service at that time and continues in that role as I write?
Surely, it was Case's responsibility to manage the civil servants, not Boris's?
Nothing happened to Simon Case. Yet, no one ever mentions him, only Boris.
Hmm.
The same principle holds true for the groping scandal surrounding now-Independent Chris Pincher MP, which, after Partygate, was the straw that broke the camel's back.
Pincher had been Deputy Chief Whip, an appointment that Boris signed. However, even if he hadn't signed that appointment, the Chief Whip could have gone ahead without him. The Chief Whip can have anyone he wants as his deputy. The Prime Minister's signature is a mere formality.
The push to oust Boris is an intriguing one, indeed. I think that someone will revisit this in the years ahead.
Returning to Boris's childhood, on the day Boris resigned, top biographer Tom Bower spoke to GB News's Dan Wootton. Many years ago, I read Bower's biography of the late Robert Maxwell. It was a page-turner, full of detail about his personal life.
Bower's latest biography is Revenge, which is about the Sussexes.
But I digress.
Bower told Wootton that Boris is:
looking for love.
He said that Boris's bout with coronavirus finished him as Prime Minister. He was never the same afterwards.
Bower said that Boris needs a good — i.e. solid — wife and that Carrie is not that person. He does not think their marriage will last.
He also said that Boris surrounded himself with poor advisers.
This is an insightful interview, well worth watching:
Hmm. I hadn't realised that his ex-wife Marina Wheeler is a friend of Dominic Cummings's wife, Mary Wakefield of The Spectator. Talk about wheels within wheels:
Hmm. Boris divorced Marina while she was suffering from cancer. Not a good look.
Boris has imitated his father's poor marital example.
In closing, on the aforementioned Dan Wootton show, a panel discussed who was to blame for Boris's resignation:
Former Boris adviser and loyalist Lord Moylan, top right, said that the attacks from MPs out to get him were:
vicious and manic.
However, Suzanne Evans said that Boris, as a former journalist, should have been able to fend off the relentless media attacks.
I agree with Liz Truss, who said on July 25, that Boris's notional failings were insufficient to require resignation:
Liz Truss has suggested that the Conservative Party ousting Boris Johnson was a mistake, as she campaigns to replace him.
Asked why she did not join the ministers quitting over Mr Johnson'd conduct in the BBC TV debate on Monday evening, the Foreign Secretary said: "I supported Boris for the leadership, I was first Cabinet supporter, I campaigned with him, he did a brilliant job of delivering Brexit and delivering an 80-seat majority.
"Yes, he made mistakes, he admitted he made mistakes, but I didn't think the mistakes he made were sufficient that the Conservative Party should have rejected him. That is my view.
"I'm still working with the Prime Minister, I'm still Foreign Secretary, and I think it's important that I remain in my post. We have very serious issues to deal with on Russia and Ukraine, and I thought it would have been a dereliction of duty to leave my job at that juncture."
Looking beyond Partygate and Chris Pincher, there is no doubt that, post-pandemic, Boris neglected much of the Conservatives' 2019 manifesto for Net Zero, probably because of his wife Carrie.
It is also likely that he underestimated the power of the civil service. Trump had the Swamp. We have the Blob.
It will be fascinating to see how his successor performs in similar circumstances.
More on Boris next week.
While Foreign Secretary Liz Truss continues to dominate the polls in the Conservative Party leadership contest, former Chancellor Rishi Sunak needed a break.
He got two breaks: an interview on GB News and TalkTV's hustings.
GB News
GB News announced last week that Truss would be the guest of a People's Forum on Wednesday, August 10 at 5 p.m. She took questions from the public for an hour. I will have more on that in a separate post.
By contrast, GB News allowed Sunak a private interview with MPs Esther McVey, one of his supporters, and her husband Philip Davies.
The couple host a two-hour current affairs programme every Saturday morning.
The interview aired on Saturday, August 6, and was interspersed with other segments on their two-hour show. Judging from the room, it took place somewhere in the Palace of Westminster.
Philip Davies asked a couple of harder questions but his wife dominated the interview, making her candidate look good.
Rishi defended his Gordon Brown policy of raking in tax and giving it back to the taxpayer in insignificant token amounts:
Sunak said how difficult it was for him to resign as Chancellor. He painted it as a moral dilemma. Never mind that he, like Boris, also received a Fixed Penalty Notice for attending a Downing Street gathering. He just happened to be working in that room at the time, as he did often:
He said that he was against a Christmas 2021 lockdown — which didn't happen, thanks to 101 rebel Conservative MPs — and said he made a special effort to make his opposition known. That said, he would not, like Truss, rule out a future lockdown:
He gave a weak answer on stopping the Channel migrant crossings, which are costing the taxpayer £5 million a day in hotel accommodation. By now, we must be running out of hotel rooms — no joke:
Sunak also said he was appalled by the grooming gangs and said that he would consider introducing a life sentence for child rape and repeated sexual assaults on children.
TalkTV
TalkTV's Tom Newton Dunn presented a Conservative Party hustings in Darlington on Tuesday, August 9, broadcast as a special edition of his evening show:
As this was a Conservative Party event, the format was the same as in Eastbourne on August 5.
Andrew Stephenson MP, the new Party co-chair, gave the introduction.
Tom Newton Dunn introduced himself. It would have been helpful if he had added he leans towards the Liberal Democrats. Incidentally, he regularly loses in the ratings to GB News, although perhaps his Tuesday show bumped him up a notch or two.
Then Angela Sterling, a Conservative councillor from Durham, went up on stage to pledge her support for Sunak (9:56).
Sunak introduced himself to the audience and spoke for several minutes (16:20). From the moment he appeared, it was apparent he was on home turf. Darlington is just north of his constituency. He had many supporters from Teesside, sporting Ready for Rishi shirts and placards.
Fortunately, he didn't make the same mistake he did on July 20 and say the city was in Scotland:
Afterwards, Anne-Marie Trevelyan MP, explained why she was supporting Truss (30:00).
Then Truss introduced herself (35:00).
Sunak's Q&A session began after that (48:32).
Newton Dunn gave him an easy ride. There was only one tough question from a woman who had paid all her National Insurance stamps but was still not getting a full pension. He asked her to email him and said that he would definitely look into the matter for her.
Some say that Sunak received a hard question from the man who asked about Boris, but the audience took care of that by booing him.
However, we can see from this clip that a negative question can irritate Sunak:
Sunak did mention grooming gangs to the audience and repeated what he told Esther McVey and Philip Davies. The audience applause indicated they were pleased, although Newton Dunn looked visibly uncomfortable.
Guido Fawkes has three more highlights, one involving a delicious regional dish, the parmo (emphases his):
Rishi was on home turf this evening in his newly-adopted home of Teesside – "It is so great to be home!". Within his opening speech we got everything from the Darlington Treasury Campus to parmos, and – to be fair – he got a very warm reception.
He even cracked a decent gag: "My parents are staying with us at the moment, and I realised I'd been campaigning a lot when last night I was talking to them – and I started telling them that my dad was a GP and my mum ran the local chemist when I grew up" …
Among Rishi's backers in the audience was none other than co-conspirator favourite Tom Harding – Anna Soubry's former chief of staff who slipped through Sky News' debate vetting and

laid into

Liz

. 

He came armed

with a massive "Ready for Rishi" poster…
Then it was time for Truss's Q&A (1:19:00).
Newton Dunn interrupted Truss from the beginning. She handled the situation well and kept her composure, making quips where she could.
He would not even allow her to take a question from one of her own supporters:
I wouldn't want to make it easy for you.
How petty.
Guido has more. Once again, as it was in Eastbourne, Truss Derangement Syndrome was the order of the day (purple highlights mine):
Last night's husting saw a rather feisty Liz Truss, not least with quite a few barbs at the media
There were at least three digs towards the fourth estate, including over their continued use of the phrase "handouts" in regards to her proposed tax reductions
She also had a minor bust-up with Tom Newton Dunn when

he asked her who was responsible for Boris's downfall

. Multiple members of the audience shouted out "the media", with Liz laughing along and asking "who am I to disagree with this wonderful audience?"
At the end of the session, as

she hugged TND, she jokingly apologised for her barbs

. TND was caught on mic bitterly saying "it's cheap and you know it"
The press isn't happy, even calling her jibes "Trumpian", though every one of Liz's comments were made in a lighthearted way.
Aside from her press scrap she also said she'd vote against continuing the Privilege's Committee investigation into Boris given the hypothetical that MPs were allowed a say
Guido's readers appreciated the video montage of Truss's barbed but witty comments about the media:
Here's Guido's video:
His accompanying post says:
At points during last night's husting it felt like Tom Newton Dunn was getting more of a pasting from Liz than Rishi. During the course of her sit-down interview she – quite rightly – attacked the press for framing her tax cuts as "handouts"; bringing down Boris; proposing a "bizarre" "kangaroo committee" of her, Rishi and the CBI; and for not believing in Britain. Tom was clearly smarting, telling the foreign secretary off when they hugged for her "cheap" attacks. Grow a pair…
I couldn't agree more. Tom Newton Dunn, who, amazingly, was The Sun's Political Editor for many years, is one of the worst offenders.
Although Truss might not have had an easy time of it in Darlington, something positive happened afterwards.
Chris Skidmore was the first backbench MP to switch from Sunak to Truss. He wrote an exclusive editorial for The Telegraph, which the paper summarised:
Chris Skidmore has become the first Conservative MP to publicly switch his backing from Rishi Sunak to Liz Truss in the in the Tory leadership race.
Announcing his defection in an article for The Telegraph, Mr Skidmore said he had became "increasingly concerned" by the Sunak campaign's "consistently changing position" on policy. 
He urged other Tory MPs to join him in switching support to the Foreign Secretary, saying: "It is never too late to make the right decision".
The switch is especially noteworthy as Mr Skidmore, one of the most prominent Tory supporters of Net Zero, is seen as being on the party's liberal wing, while many of Ms Truss's most prominent backers are on the traditionalist Right.
A Truss campaign source claimed the "floodgates could open" now Mr Skidmore, the MP for Kingswood and a former universities minister, had flipped support, with other defections possible later this week.
Red Wall MP Aaron Bell followed suit, explaining his views in an exclusive for The Times. Excerpts follow:
It has been a tough campaign for everybody. There has been a lot of in-depth policy debate about the future of our party and country, much of which has been productive and insightful. And it's important that there has been a contest, because it's right that the candidates have been tested under pressure — we need to know that our next prime minister has what it takes to lead. But there has been a darker side to the campaign too. The blue-on-blue attacks have been bruising and have left me concerned for the good reputation of our party.
Because of this, I have come to the conclusion that, above all, what we need out of this leadership campaign is unity. The whole party — our members, councillors and activists, and MPs — will need to pull together after the division of the past few months. Without that unity we cannot deliver for our party or our country, and we certainly cannot defeat Sir Keir Starmer's Labour Party …
For years, Newcastle-under-Lyme had been taken for granted by the Labour Party and this came to a head in 2019 when, following our vote for Brexit and the ensuing holdup by the political establishment, my constituents turned to the Conservatives …
They watched as big cities and other areas progressed and benefited from serious investment, private and public, while their own town was forgotten and got left behind. In 2019 I pledged, alongside my Conservative colleagues, to turn this around. Indeed, after getting Brexit done, it was to be our government's guiding mission: restoring not only investment but also local pride in towns such as Newcastle …
We need, with increasing urgency, to deliver on our promises to level up. We have two years until the next election, and if we are to have any hope of beating Labour and continuing to be able to deliver for our country, this is an absolute must. That is why I am supporting Liz Truss to be our next prime minister.
Once Tom Tugendhat, my initial choice, was eliminated, I was leaning towards supporting Rishi Sunak. But, having observed the campaign, I now believe that Liz is the best person to unite the party, deliver on our promises to level up, and beat Keir Starmer in the red wall seats.
Well done!
I will feature Liz Truss's GB News appearance tomorrow.
Yesterday's post was about the August 5 Conservative Party leadership hustings at Eastbourne's Winter Garden Theatre.
This seems to be the first leadership contest hustings this time around when there were protesters outside. A few managed to infiltrate proceedings indoors and took some time to be removed.
All of the protesters stand firmly against the Conservative Party.
Niall McCrae, an officer of the Workers of England Union, was one of the outdoor protesters. He was there to protest coronavirus lockdowns.
McCrae wrote about his experience for The Conservative Woman.
An excerpt follows, emphases mine:
ON Friday I went to the Conservative Party leadership hustings at the Winter Gardens in Eastbourne with a number of other members of the local resistance against the Covid regime which has removed fundamental freedoms over the past two and half years. We found ourselves outnumbered by those do not have any interest in the enlightenment value of liberty – as most Conservative Party members do at least nominally. Of 150 anti-Tory campaigners, about half were bearing Socialist Worker Party placards and chanting 'refugees are welcome', while the other half were hard-core Extinction Rebellion 'terrorists' with their accompanying flags and banners who proceeded to disrupt the meeting.
So we found ourselves protesting not only against the Truss and Sunak supporters entering the venue, but also counter-protesting against the shrill sanctimony of people who want more fear and more control. Between their parroted chants led by a man with a megaphone, we asked these middle-class Trotskyists and carbon nihilists whether they cared about older people struggling to heat their homes, or that billions of taxpayers' money was being splurged not on public services but on missiles for Ukraine. Answers came there none. 
Earlier, before the rabble appeared, we had taken pole position outside the hall entrance. The queue was a captive audience for our satirical utterances: 'Welcome to the World Economic Forum puppet show', and 'If the answer is Truss or Sunak, you're asking the wrong question.' 
Eastbourne's Tory MP Caroline Ansell came out, concerned at us being allowed so close to respectable party members and clearly embarrassed by our 'conspiracy' theories about a new world order. Tory MPs would have us pretend that the WEF doesn't exist, despite both candidates for next prime minister having unashamedly signed up to a globalist organisation which is developing a technocracy of digital surveillance and resource rationing. 
The atmosphere remained good-natured and good-humoured. That was until the SWP/XR followers arrived … We were trying to appeal to the Tory members, to talk and to make them aware of our concerns. The SWP mob had nothing but contempt for them. Though police officers were positioned at the entrance, and joined by more, a female XR protester with a flag still got into the building and sat in the doorway. Before she could use glue to cement herself, two security guards managed to drag her out. This did not stop her from another successful dodge through the police line, while we later heard that other XR activists had infiltrated the audience where they disrupted Liz Truss by shouting 'shame on you'.

On Saturday, August 6, The Telegraph reported on the protesters who got indoors. Interestingly, only Liz Truss faced their ire. They did not disturb Rishi Sunak during his time on stage.
This was a case of Truss Derangement Syndrome:
Liz Truss on Friday vowed to crack down on "militant activists" after six Green New Deal Rising protesters disrupted the fourth Tory leadership hustings in Eastbourne.
The Foreign Secretary said she would pass new laws to stop hardline unions and activists "who try and disrupt our democratic process and our essential services".
She had just taken to the stage at The Winter Garden theatre when a female protester interrupted her opening remarks, yelling "shame on you Liz Truss".
As the first woman was collared and led out by security staff, four other demonstrators shouted out from a stage area calling for a "Green New Deal".
One, still clutching an "In Liz We Truss" placard, screamed "we just want fair trade" and "good jobs" at the former trade secretary, insisting "we will win".
A sixth demonstrator turned up during Truss's Q&A session. The Foreign Secretary took his interruption in her stride:
… a young man in a suit, stood up and berated the Foreign Secretary about her climate policies.
He accused Ms Truss of "killing people by licensing new oil and gas" – a reference to her plan to boost North Sea energy to help Britain through the energy crisis.
"I take it as a compliment that I'm so popular with Extinction Rebellion", she said to applause from the audience as he was also ejected by security. It has since been confirmed the group was not Extinction Rebellion but Green New Deal Rising.
She later added: "I'm a believer in freedom to do as you want so long as you don't harm others. One person's freedom should not mean that other people suffer misery."
The host of the hustings joked that the protesters had all "paid their £25 Conservative tax" given that they would have had to sign up as members to enter the venue.
GB News's Dan Wootton happened to be in Eastbourne and interviewed several of the leftist protesters for his show on Monday, August 8:
In his opening Digest, he said that the protesters were trying to scupper democracy and threaten ordinary Britons with whom they disagree.
He deplored the fact that the media ignored the protests. Indeed they did. The first I'd seen how many there were was on his show. I was amazed to see scores of people of all ages with placards, shouting. At least one group was multi-generational: a grandmother, her daughter and her grand-daughter, a baby. You'll see them in the clip below.
One young woman from Green New Deal Rising told Wootton that she was 'fed up'. She seemed angry and said she was there because she was 'a young person'. Wootton asked her how she got in to the Winter Gardens Theatre, and she refused to answer. One of her fellow protesters, a comely lass, politely asked Wootton to leave them alone, if he wouldn't mind. He asked her if she was glad she wasn't arrested but received no reply.
He managed to get a fuller interview with a young man from Just Stop Oil. He was dressed in a long-sleeved white shirt and a tie. Wootton told him, 'You're essentially a Communist'.
Wootton was rightly appalled that the police did nothing to stop the heated protest. While it did not turn physically violent, it could have done so quite easily.
Wootton closed his Digest by showing an interview with local Conservative MP Caroline Ansell, who told him that this was not the Eastbourne she represented. She was wearing a 'Ready for Rishi' badge on her jacket lapel. No doubt, protesters came in from elsewhere on the south coast.
Wootton also spoke with Liz Keegan MP, a Truss supporter. She downplayed the protest and said it was nothing like those one experiences when attending the annual Conservative Party conferences. It is not unusual for people to spit at Conservatives.
Greg Smith MP was less understanding, saying that the protesters disturb the democratic process. He said that the protesters cannot win on the arguments so they try to win on disruption. An excellent point.
Here's Wootton's Digest, which can also be seen on YouTube:
Afterwards, Wootton asked his panel for their thoughts. Daily Express columnist Carole Malone rightly pointed out that the media are always going on about far-right groups but ignore or make excuses for the much more visible radical left, who have taken to the streets regularly since lockdown in 2020, beginning with the protests in June that year — when no one was supposed to be gathering in groups. She said that politicians from all parties need to get tougher with protesters and applauded Liz Truss's proactive stance:
On a brighter note, a number of Boris supporters were in Eastbourne lamenting the loss of the Conservative Party leader. Wootton interviewed several of them who will miss Boris dearly:
As I write, there is no verdict yet from CCHQ as to whether Boris's name will appear on the leadership ballot. If it were, the rules would have to be changed overnight to allow it to happen. More on that once a decision has been made.