You are currently browsing the tag archive for the 'media' tag.
An American named Chaziel Sunz used to belong to Black Lives Matter some years ago.
In 2017, he made a 15-minute video about the movement having been 'infiltrated' and controlled by 'Soros and Clinton'. He warned blacks not to play into the desire of them and the Democrat Party who want a civil war.
He said that left-wing movements, such as BLM and Antifa, are 'bogus' and are preying upon people's emotions. Those in charge of them want a fully divided right and left. He also said this is another reason why gun control is such a big deal with the Democrats. They want everyone unarmed for a reason.
Sunz asked that people put any race issues they have to a side and approach this issue with a clear head: don't fall into the trap of a civil war.
He also said that the Las Vegas attack, which had taken place on October 1 that year, was a far-Left act, purposely against those attending the country music festival.
I only saw this video a few days ago. Apparently, it's been taken down several times since 2017:
If this is removed, Gateway Pundit have another copy of it with this key quote:
Chaziel Sunz: They got us working for them. How they get us is they playing us emotionally… They getting anybody who basically doesn't like Donald Trump to fight for war that is being started on American turf very, very soon. And they want us to be a part of their side. What I'm trying to get the black population to understand, and this is critical, is the movement has been compromised… BLM is not actually a black organization and never was… If you have any kind of brain you know BLM is endorsed by the Soros and Clinton family.
Chaziel Sunz made another video earlier that year, just after the Manchester bombing in England in May. Even though it's three years old, now is an apposite time to watch it. He accuses the media of ginning up falsely emotional reactions to news events. Again, he asks us not to get too emotional about these things. If we want to pray, fine, but he said that a lot of people are making money out of false sympathy when these attacks occur:
He's not a Trump fan, in case anyone is wondering.
He does want unity in a time when manipulation is rife.
I hope he has been talking with community groups about his experiences and knowledge from his time as a left-wing activist.
What on earth is going on?
Until the deplorable death of George Floyd, most of us were told we must social distance because of coronavirus.
Now a few Western countries have been breaking that rule to protest by the thousands as well as set fires and loot.
The media have their role to play in this, too.
From former reporter Adam Housley and his Twitter followers:
Incredibly, some — not all — nurses are the common point in the Venn diagram of coronavirus and protests. Don't they have patients?
On the other end of the spectrum, we have General Mattis calling President Trump divisive because he wants to stop Washington DC from becoming an ashtray:
Remember the early days of the Trump administration? The Left didn't like Mattis. Now he's their best friend:
And what about the average guys and gals who aren't doing triage or serving in the military?
They're being told by their notional betters that they are wrong to want to hug their grandchildren, attend a funeral or go to church. Such people are called 'Grandma Killers'.
Protesting, rioting, setting streets alight and looting during a pandemic are perfectly acceptable alternatives to these people. Here's a great thread from journalist Drew Holden with a gimlet eye on his peers:
Drew Holden then brings in a few Dem governors before returning to journalists and political activists:
These are two of the replies he received. I fully agree with the sentiments:
Ian Miles Cheong, the managing editor of Human Events, is always worth a read.
Here's footage of 'peaceful' demonstrators in Seattle:
He came to this conclusion:
However, people are afraid to not support the protests, possibly like the aforementioned nurses.
Mollie Hemingway from The Federalist highlighted this poll from Emerson:
Tucker Carlson tells us not to surrender to the mob. True.
On the other hand, we need to be aware that some looters and vandals are being released from police custody:
Incredible.
Equally incredible is that churches cathedrals were vandalised across the nation. Some cathedrals now require extensive repair, as the Catholic News Agency reported on Monday, June 1 (emphases mine):
Catholic churches and cathedrals in several cities were among the buildings damaged in the protests and riots that occurred nationwide over the past week.
Church buildings in California, Minnesota, New York, Kentucky, Texas, and Colorado were attacked. Many of the defaced or damaged churches were cathedrals. The Cathedral Basilica of the Immaculate Conception in Denver sustained permanent damage.
Vandals repeatedly struck the Denver cathedral on multiple nights of the protests and riots over the weekend. The church building and rectory were spray painted with the slogans "Pedofiles" [sic], "God is dead," "There is no God," along with other anti-police, anarchist, and anti-religion phrases and symbols.
Gates surrounding the cathedral were damaged, and tear gas that was fired to disperse the protests leaked into the rectory. The doors to the cathedral are believed to have been permanently damaged by the vandalism and will reportedly need to be replaced.
Three bags of rocks were collected from the parking lot, but the cathedral's most valuable windows were unharmed. Other windows on the cathedral's campus were shattered.
St. Patrick's Cathedral in New York City was tagged with various graffiti, including profanities, "No justice, no peace," "BLM" (Black Lives Matter) "NYPDK." The name of George Floyd was also written on the stairs outside the cathedral …
Sickening.
One of the strangest journalistic twists was the invitation from the New York Times to Senator Tom Cotton (R-Arkansas) to write an editorial about the riots. He nails it:
Yes, they did apologise for it, in a way:
Ultimately:
The Federalist's Sean Davis had a go at their reporters. The responses are good, too:
In 2019, only 10 blacks died at the hands of the police. The United States has approximately 325 million people. Meanwhile, 48 police officers were fatally wounded, according to FBI data.
In 2015, under Obama's presidency, the number of blacks dying at the hands of the police was three times higher.
Tucker Carlson has the details of the ten deaths in the video below. The details of the cases come from the Washington Post. In only two of the cases, an officer was criminally charged. In the other cases, the suspects had attacked or assaulted police officers in various ways, including firing a taser and driving at full speed after them.
In 2018, over 7,000 blacks in America were murdered — no police involvement. So, that's one police murder for every 700 committed by civilians, often people they knew.
I would encourage everyone — especially those living outside of the United States — to watch Tucker run through the statistics and share them with their friends and family:
Bottom line: factually, there's no need to riot.
As a final thought, here are two great videos from a Trump supporter, who says it's time for Americans to put away their divisions and, together, embrace patriotism. Language warning, but well worth watching:
Yet, despite all this — coronavirus and riots — maybe America is poised for a swift economic recovery this year:
As the president is so fond of saying: 'The best is yet to come'.
I certainly hope so, for America's — and Donald Trump's — sake.
As was true with coronavirus, Trump's impeachment, Brexit and everything else, the media are driving their own narrative with the protests and riots concerning the death of George Floyd.
Let's remember that the US Constitution has not changed. Here's President Trump's newish press secretary Kayleigh McEnany:
Oddly, the New York Times agrees:
Yet, in general, the media are standing up for, if not promoting, violence on streets across the United States:
Politely put.
In addition to the media, we have public officials, such as the Chair of New York City Council health committee. Here are a few of his tweets, which include coronavirus commentary:
Earlier in the year, he tweeted about Chinese New Year, in spite of the coronavirus threat, which he downplayed at the time:
The governor of North Carolina joined a local protest but had the gall to tell President Trump that, for social distancing purposes, he would have to downsize the already-booked Republican National Convention this summer:
Then there are those defending America — National Guardsmen — who feel compelled to take a knee for the protesters, so they can be left alone. Or is it that they would rather not be there?
And that sort of thing leads to this (too sad to post). It took place in London, encouraged by a mother who should know better.
I am glad someone posted about that video. He has a long thread about this and has added two more videos. Excerpts follow:
He drops a name in his thread, then continues:
He should have briefed them before they went out that day — and obeyed the rules himself.
Continuing with the thread:
Kneel before no one, especially when they might be lawbreakers:
Well said.
Perhaps you have seen scenes like this on the news during the past several days:
In fact, yes, someone did hurt a dog — a rescue puppy in Memphis. Unthinkable:
Some equally unbelievable things happened with regard to law enforcement and justice:
Active and retired policemen have been shot and, in some cases, killed in these riots.
I hope this officer recovers:
At least they made an arrest:
Sadly, this retired police captain from St Louis died. He was working in his friend's pawn shop at the time:
Then there were the Catholic and Episcopal clergy upset with President Trump. I won't go into the Episcopal side of things in this post, but the Catholic archbishop was outraged that the First Couple went to visit the Shrine of Pope John XXIII.
Such visits are normally booked well in advance for security reasons. It's unlikely the Trumps just turned up.
But, there's a little more to the archbishop's story — hypocrisy:
As for the visit to St John's Episcopal Church in Lafayette Square, it turns out that the Pentagon advisor who resigned is a Democrat donor:
Tucker Carlson has called out the rest of the media for spinning these 'protests' like crazy when many of them turn into riots and looting:
Indeed.
Fortunately, the public are getting clued up:
Indeed, messaging will be key this year.
Meanwhile, let's stop trusting our media outlets.
I'll have more on the protests tomorrow.
Overnight, at the end of May, social distancing disappeared in big cities in the United States once the riots over George Floyd started.
Social distancing then disappeared in Paris and London the following week, as those cities had sympathy protests for the same cause.
It is a strange development:
This is how twisted the logic gets. Mark D Levine chairs the New York City Council health committee:
All of a sudden, it was acceptable for tens of thousands of protesters to gather together.
Yet, at the same time, a large family cannot share dinner together in a restaurant:
And it is against the law for more than ten people to attend a funeral:
These are the conversations taking place with regard to funerals versus protests. There is an unbelievable lack of empathy with this man, who is mourning the loss of his own mother:
Uh oh.
Reread the last sentence of that final tweet.
Online journalists, such as Mark Levin, also think that the coronavirus lockdown was a ruse, ginned up by the media:
Here is The Federalist's Sean Davis:
This is from an eye doctor, retinal specialist Dr Brian C Joondeph:
Dr Joondeph writes (emphases mine):
… these riots have unintentionally shown us that Trump rallies are safe and that the Chinese virus is no longer a serious threat. Mail in ballots are dead too since if people can leave their homes to loot and riot, they can leave their homes to vote.
Notice how quickly concern about cities and states opening too quickly has been forgotten as thousands take to the streets, in contradiction to everything the smart set has been advocating. This is lost, or willfully ignored by the media, now focused back on Trump's latest tweet.
Completely agree.
Social distancing is done and dusted:
Time now, whether in the US, England or France, to open everything up — pronto.
Last week, a number of essays and interviews about lockdown appeared in Britain.
There are still people who think that it can be lifted as quickly as it was imposed in so many countries. As we have seen across much of the Free World, as it used to be called, lifting lockdown must be done in stages, otherwise, we might have a second spike in coronavirus cases.
Here in the UK, Prime Minister Boris Johnson followed the Swedish model until the evening of Monday, March 23, when he announced lockdown.
Was it because of Professor Neil Ferguson's (dodgy) numbers? Was it media pressure as they asked daily for a lockdown 'like Germany, like Italy'? In time, we will find out why. Perhaps Boris did not want to be labelled a mass murderer, as he surely would have, if he did not succumb.
Here are the British fatality figures from COVID-19 compared with other pandemics over the past 112 years: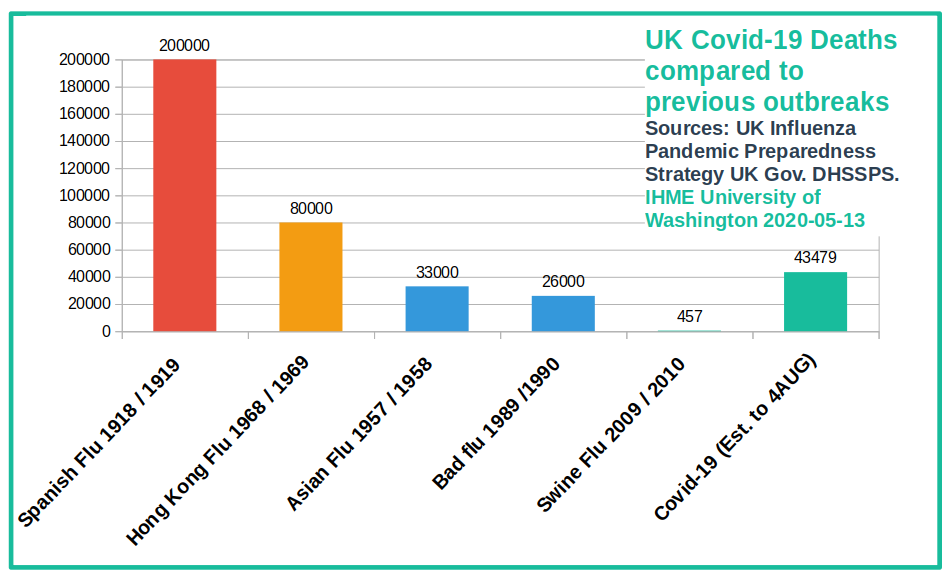 Did we lockdown in 1918 and 1919 for the Spanish Flu with 200,000 deaths when our population was smaller? No.
Did we do it for the Hong Kong flu in 1968 and 1969 with 80,000 deaths, again when the population was smaller than today? No.
Therefore, it makes little sense that we did so in 2020 with a larger UK population and 43,479 projected deaths.
Lionel Shriver, an American author (We Need to Talk about Kevin), who lives in the UK, provides current worldwide death statistics from other causes in 'This is not a natural disaster, but a manmade one', which she wrote for The Spectator on May 16. Emphases mine below:
For maintaining a precious sense of proportion, check out some other annual global fatalities: influenza, up to 650,000. Typhoid fever, up to 160,000. Cholera, up to 140,000. Malaria, 620,000 in 2017, almost all in Africa (so who cares, right?). In 2018, tuberculosis, developing treacherous antibiotic resistance, killed 1.5 million people. Why haven't we closed down the whole world for TB?
I couldn't agree more.
She expresses my deepest reservations here:
I am steeped in dread. I foresee months, if not years, of inane gesturing towards 'safety' that makes no appreciable difference to the nation's health, but does manage to 1) ruin everyone's enjoyment; 2) perpetuate the socially poisonous notion that one's neighbour is a threat to one's very life; 3) maintain an atmosphere of the extraordinary, in which the state may violate civil rights at will; 4) lay waste to what little might otherwise have remained of this country's economy. The lockdown has been bad enough. Post-lockdown could be worse.
Shriver understands. Forget 'science', this will be the reality:
With narrow profit margins, restaurants can't survive serving a fraction of their previous clientele. Half of all UK pubs are already kaput, and the other half will soon go under if lone customers self-isolate over their drinks like sullen alcoholics. Plenty of manufacturing won't function with employees so far apart. The arts are finished.
What she says about London is bang on the button:
West End theatres with audiences a third their former size will close. The Albert Hall is also looking at social-distancing bankruptcy, as well as considering the banning of intervals because the loos will have to be shut (sounds relaxing). The Royal Opera House's streaming of Swan Lake without a live audience makes no money.
Oh, and transport! In London, social distancing is expected to reduce Tube passenger numbers by 90 per cent. Five million people daily ride the Tube, or used to, so how are the other 4.5 million meant to get around? By bicycle. Right. Now, I can assure you that pre-Covid it was already a nightmare to cycle in the capital, as chocka with two-wheelers as the old Shanghai. But forget buses, allowed to carry 15 per cent of their previous ridership. We're told that to get into a sparsely populated lift, we may have to make a reservation on an app. But never fear. I guess we could always throw ourselves off the balcony instead. Why, with the masky, glovey, get-away-from-me future we're all facing, taking that shortest route to the pavement starts to appeal.
Then there is the 14-day quarantine of incoming air passengers from other countries. France is implementing the same policy and, oddly, the French think it's a good idea:
Worst of all, lest some sector somewhere still struggles back to solvency, we'll now order air passengers from abroad to 'quarantine' for a solid fortnight straight off the plane. Because passengers can promise to quarantine themselves in a particular location, this policy comes with obvious enforcement problems. Quarantines will either be roundly ignored (so what's the point?), or they'll require extravagant police resources to keep rapping on doors to ensure some visiting Canadian didn't nip out for a litre of milk. What this policy is guaranteed to achieve is the total devastation of both the British tourist industry and British airlines, especially since the business travel on which aviation depends will evaporate.
On Sunday, May 17, The Spectator posted another article: Claire Fox's 'My fears about the "new normal"'. It explores how we are beginning to view the return to freedom in England during our partial lockdown lift as well as at the resistance to lockdown lifting:
The present lifting of restrictions – despite being mild to the point of mealy-mouthed – is opposed with similar howls of caution; each minor freedom we are granted is treated as a dangerous act of rashness. This approach indicates a deeper estrangement from freedom than merely a pragmatic shrug of acceptance of short-term measures.
In this context, I fear that the 'new normal' will involve a new attitude to freedom. Already, culturally, you can feel a shift. I find myself grateful to be given access to public parks, to be allowed to take more exercise (when normally I would take none). Going to the shop for a non-essential birthday present last week, I was as furtive as a would-be criminal. And in all the discussions on post-Covid life, basic freedoms are treated as something that we need permission for: a piecemeal, rules-based, government allowance, handed down and punitively policed if we dare over-step the mark, whether it is by a clandestine meeting with mates or a sly assignation with a lover.
The left are more worried about lifting lockdown than conservatives are. Who gets nearly all the media attention? The left.
Fox rightly points out that we are going to have to wean ourselves off the overriding concern over COVID-19 deaths and start looking at what else has been going on in our society over the past two months: serious health conditions and suicide among them.
The tension between the left and conservatives reveals how each group views God-given liberties, which Western governments are supposed to defend. Instead, we are now experiencing discussions in the media about freedom versus safety. Fox says:
My nervousness is that for many the value du jour is safety rather than freedom.
The state's role in keeping its citizens safe has historically created familiar tensions in weighing freedom versus security. Most recently, civil liberties activists internationally raised concerns that policies introduced to keep people safe from the threat of jihadi terrorism have resulted in widescale illiberal incursions into the rule of law, privacy and free expression. But in dealing with Covid, there's an added element. When those who resist lifting lockdown cite what-if doomsday scenarios, they posit freedom itself as the enemy of safety: liberty itself is presented as threatening lives …
Is it really such a stark choice as: dead or safe? Alive or free? In fact, we owe our own freedoms to others who put their safety and lives on the line. Every freedom fighter – whether Hong Kong democracy activists, Kurdish fighters who defeated Isis, or those we remembered on the VE Day anniversary – all took on totalitarian states and risked their lives and safety in the fight for free societies.
…reorganising life around safety as an end goal feeds on subjective, free-floating feelings of insecurity and can rob us of the confidence to live free lives. And that is my greatest dread: that we lose the habit of living freedom. Like the apocryphal released prisoner who misses the routine and security of jail so much that he contrives to be re-arrested, is there a danger that we become institutionalised into withdrawing from the undoubted demands that freedom makes of us?
The government has made physical exercise almost mandatory during this lockdown. But freedom, too, is a muscle that needs to be exercised, or it will atrophy. But exercising freedom is no easy ride, and can be as painful metaphysically as the most strenuous workout. To exercise our freedom as autonomous citizens we have to make difficult decisions, use our judgement, live with the uncertainty of knowing there are no preordained outcomes. It's a risky business: we will invariably make mistakes that we'll be held responsible for; we will sometimes take the wrong road and have to live with the consequences, with no-one to blame but ourselves. Relieved of many of these dilemmas during this extraordinary period of having our liberty curtailed, it is perhaps understandable that many of us rather dread entering the fray of freedom.
Several weeks ago, I saw a BBC interview of a Chinese family coming out of lockdown. The mother said that they valued a draconian lockdown because the State was protecting their health. She said that safety trumped liberty (as much as can be had in China). How soon will it be until we have a sizeable number of Britons saying the same thing?
But who wants to be cooped up — accomplished in a five-minute announcement on television — when it robs our lives of meaning?
Fox concludes:
So if we are to have a 'new normal', can it aim to embed within it freedom's historic role as a virtue worth dying for, and make its clarion call the joyous rewards of a free society that makes life worth living. Being able to love who we want; read, write and think what we want; associate with who we want; vote for what we want – all this and so much more allows us to be agents of our own destiny, to write our own life story rather than being bit part characters in someone else's story.
If the Covid narrative insists on a new normal, let's ensure the script contains Goethe's quote that 'freedom and life are earned by those alone who conquer them each day anew'. Despite the grim tragedy of recent months, we need to make freedom central to the Covid storyline to ensure that there's at least some chance of a happy ending to this tragedy.
On May 17, the BBC interviewed a retired Justice of the Supreme Court, Lord Sumption, who offered similar, salient arguments against lockdown, which he said should be lifted now, as there is no need for it. He said that he has been obeying lockdown rules, because the law obliges it, but, if the pubs were open — even crowded ones — he would go to one. Similarly, he said, if theatres were open, he would attend a performance. He spoke of the many negatives of lockdown to health and civil liberties. At the end, the interviewer asked him what he had been doing during lockdown. He replied that he would not say because he did not want to be verbally attacked by the BBC!
This is definitely worth watching (eight minutes in length):
There was a time, back in early March, when I thought the Conservatives were on our side.
I hope I am wrong in doubting them. We'll see what happens in the weeks to come.
On Saturday, May 16, I tuned into France's news channel BFMTV to see how the nation's partial reopening went.
President Emmanuel Macron got an earful from medical professionals at La Pitié-Salpêtrière, the Paris hospital he visited on Friday, May 15. Late last week, he announced that, at this year's Bastille Day ceremonies, health professionals and first responders would be honoured with medals commemorating their work during the coronavirus crisis. On Friday, as Macron was leaving, a health professional told him that he didn't want any medal. Macron snapped back:
If you don't want it, don't take it.
It was a rough visit. A group of nurses listened to what he had to say, then one spoke up, bluntly demanding more pay and more recognition. Macron said that he was giving them a bonus for their work over the past two months, but she retorted that was not enough. She demanded a pay rise for all nurses, which is fair enough. They are on relatively low pay, not far from minimum wage.
Going back a few years when the erstwhile Conservative prime minister François Fillon (serving under Nicolas Sarkozy from 2007-2012) visited a care home during his tenure, he was able to hold a calm, considered conversation with the workers there, who were all CGT union members:
Allow me a small digression from Macron. François Fillon should have been France's president after François Hollande. Unfortunately, the media put the boot into him for corruption, just as he was at a massive height in the popularity polls in January 2017, the year Macron was elected president.
In March 2020, Fillon was sentenced to two years in prison, with an additional three years suspended sentence. His wife was given a suspended three-year prison term and a fine of €375,000. (Source: Le Point.) Trumped up (no pun intended) or what? Something stinks there. The Fillons are a dignified couple who have kept to themselves over the years. They are low-profile people and devout Catholics.
This was François Fillon's agenda for France in 2017: ending bureaucracy, sorting out France's problems and restoring the pride in being French. In short: make France great again. Does that sound familiar?
How sad that it didn't happen and might never happen. Who will accomplish this now?
I agree with the tweet below that the framing of François Fillon is truly a shame for France.
The video is from 2017:
These replies say that Fillon's three-year plan, summarised above, was simply swept — balayé– under the carpet (by left-wing media, which started with one outlet and spread rapidly to the others):
Returning to the present day, a Parisian MP from France Insoumise (Unbowed France) says that it is urgent for Macron to say how soon the pay increase will be delivered and how much it will be. The second tweet includes one from health minister Olivier Véran, commenting on the 'passionate' feedback from the nurses:
Macron has been the latest French president to further shrink the nation's health system, following Nicolas Sarkozy (Conservative) and François Hollande (Socialist), both in terms of hospital beds and other measures. Hospital masks were in short supply during the height of the coronavirus crisis. French housewives banded together from their homes to sew fabric masks for nurses. While those were technically useless, nonetheless, nurses were grateful for any protection whilst awaiting proper face coverings.
Early Saturday afternoon, BFMTV reported on the mask shortage, discovered in January 2020. However, it was too late, even with Macron's government's requisitioning every surgical mask in France. They were the wrong type of masks, but they would have to do. Hospital and care workers were desperate.
One physician working on the front line in Lyon died because he did not have the right type of mask. He caught coronavirus and, despite treatment in Marseille, never recovered. His widow and two daughters are suing the hospital where he worked. I can't see how that will work, because every hospital experienced the same mask shortage.
Currently, there are enough masks for people living in France, who have been strongly encouraged to wear one outdoors. These are not proper coronavirus masks, but they will have to do.
It appears that Macron now has to get on with his promised reform — improvement — of a beleaguered health system. Here's an inside look at his control room:
The replies to this tweet featuring an LREM MP are interesting. The MP says that a centralised health system doesn't work, but the replies say that the system has been sclerotic for some time, Macron has ignored calls for improvement and there are too many hospital administrators and/or politicians involved rather than medical professionals. The response I've included below says that Germany spends far less money than France and has better performing hospitals, with four times more intensive care beds:
However, another BFMTV journalist reported that Macron is facing a crisis in other aspects of French society, including the gilets jaunes (yellow jackets). They are still protesting in some cities on Saturdays, although not in as great a number as before the coronavirus crisis:
Making matters worse, Macron's political party, LREM, no longer has an absolute majority in parliament:
Ten of his MPs have left to form their own party with ten other MPs — Ecologie, démocratie, solidarité:
It is unclear whether that will have any impact on the second round of local elections, rescheduled for June 28:
However, one commentator said that Macron's success as president will largely depend on how he and his government handle the coronavirus crisis this year. He has a few years left in his first term, which ends in 2022.
Meanwhile, during the first weekend of partial reopening, BFMTV reminded viewers that they are not allowed to travel further than 100km from home. They also cannot not leave the house to visit anyone, including relatives, unless they are going to drop something off. Visiting second homes is also forbidden. The French are allowed to travel to work, to school, to a child minder, for a funeral, for a medical appointment, for recreational purposes (limited at this point) or to shops that are open:
Late last week, some beaches in France opened so that people could have a new way of exercising. For now, reopening beaches is up to individual mayors. As the virus is still active, the beaches are 'dynamic', meaning that sitting or sunning oneself is strictly forbidden. Fishing is also forbidden. Beachgoers can walk, swim and surf. A one-way system is in place with an entrance and an exit:
The second tweet says, 'This increasing surveillance is seriously getting on my nerves':
Interior minister Christophe Castaner visited a beach in Normandy that was preparing to reopen. He said that everyone visiting beaches had to respect the rules in place, otherwise they will be closed. He hopes that beaches will reopen fully during the summer:
For those who miss culture, small museums, with hygiene restrictions in place, may reopen:
Driving schools can also open. There is no social distancing in the car, so the car windows must be open at all times during the lesson. Those taking virtual instruction are socially distanced. Driving tests can begin in June, provided there is no second wave of coronavirus:
Those worried about the impact of more drivers on the environment need not be too concerned. During lockdown, there was only a 7% decrease in particulates. That is surprising:
At 2 p.m. on Saturday afternoon, Lourdes reopened, even if there are no dine-in restaurants. It will attract locals until travel restrictions are lifted:
Speaking of health and healing, coronavirus testing continues. In Brittany, a new cluster of infections was discovered at an abattoir:
Elsewhere in France, new infections were found in schools that reopened last week. Those schools are now closed:
One Frenchman might have a future solution to school closures. He is developing a fabric that kills coronavirus. This video shows his chair and desk covers:
Where schools remained open, this is what the scene looked like outdoors. Recess must have been fun (not). This is so SAD, beyond belief:
France's medical agency has found that 500 medications are harmful in treating coronavirus. Incredibly, hydroxychloroquine is among them. This has to be the establishment's figurative poke in the eye at Prof Didier Raoult, Marseille's champion in treating patients with the drug combined with azithromycin:
The article says, in part:
Hydroxychloroquine (Plaquenil) represents the majority of adverse cardiac reactions, in 141 out of 159 cases. Cardiac reactions comprise 69% of those reported, versus 44% where Kaletra (an antiretroviral combining lopinavir and ritonavir) is used …
The number of deaths linked to hydroxychloroquine in hospital remains at four. In view of these risks, the health agency advises that these drugs, when used against Covid-19, must be used as a priority only in the context of ongoing clinical trials.
In general, provided there is no sizeable second wave of infections, more businesses will be able to open at the beginning of June.
Philippe Etchebest, who is a chef, restaurateur, television celebrity and MOF (maître ouvrier de France), says that restaurants must reopen as soon as possible, because the government cannot afford to keep them closed. The subsidies are 'colossal':
Last month, Etchebest said that partial reopening will not work. Social distancing — e.g. halving the number of tables — will not bring in enough revenue. Perhaps he will be employing one of these social distancing methods:
Recently, the loathsome globalist Jacques Attali said that restaurateurs must change their business model.
Etchebest took strong objection to that, saying that he is neither a grocer nor a wine merchant. Those replying to this tweet also criticised Attali, saying he should shut up for once or retire to a nursing home. The quote from Attali on the internet is interesting:
The internet represents a danger to those in the know and those who decide things, because it gives access to information outside of received knowledge.
Bravo, Philippe:
Attali was one of Emmanuel Macron's early mentors. Go figure.
No wonder the French are angry.
Last week, a few British polling companies took the pulse of the nation with regard to coronavirus.
But first, let's look at an international poll from Morning Consult of G7 countries and their leaders' popularity during the pandemic. Congratulations, Boris Johnson — far above the others in popularity!
Returning to Britain, here are the results from a YouGov/Sky News poll. Keir Starmer, incidentally, is Labour's new leader:
This is the poll in more detail. Dr Chris Whitty is the UK's chief medical adviser; Sir Patrick Vallance is the chief scientific adviser; Dominic Raab, Secretary of State for Foreign and Commonwealth Affairs, is Boris's deputy; Matt Hancock is Secretary of State for Health and Social Care; Sir Keir Starmer is the new leader of the Labour Party:
The next one is Survation's poll on trusted sources of information during the coronavirus crisis. Note that the media come lowest, well below that of despised politicians and local government, regardless of the fact that most Britons get their information from broadcast and print media:
Here is a poll from YouGov for Reuters Institute and Oxford University:
Here's one from a Twitter user. Comments follow (DM is the Daily Mail):
One radio talk show host thinks the British public are too stupid to understand media. I try not to use the word delusional, but this is delusional:
The British government are actually doing a great job in managing the coronavirus outbreak. The NHS has not been overwhelmed.
Before the crisis started, according to the Global Health Security Index, the US was rated first in the world for handling a pandemic. The UK was rated second:
Have both the US and the UK been too scrupulous in recording deaths, as — according to some graphs — both countries have the world's highest fatalities? We shall see, once this is over.
Otherwise, sure, there have been ongoing issues with obtaining PPE, BUT is that the government's fault? Aren't NHS procurement managers in charge of that? Ditto care homes, which are either privately owned or council run.
Never mind that, though. Obtaining PPE has been a problem for nearly every nation during this pandemic.
Below are photos of German medics. The BBC often asks, 'Why can't the UK be like Germany?'
Hello, BBC. Germany has a PPE shortage, too:
Despite that and despite lockdown, the British support Boris and his team. This was as of April 21, published on April 26:
Regardless of the government's careful managing of this crisis, the media dig deep every day to report only bad news. Largely, they are still hurting over Brexit, which will no doubt dominate media narratives once coronavirus is over. The negative coronavirus stories are an extension of anti-Brexit narratives:
The BBC is the only channel to broadcast the government's daily coronavirus briefings. As is customary in other nations doing these daily updates, reporters from across the country are allowed to ask questions afterwards:
Health Secretary Matt Hancock, other government ministers and the medical officers have to face a lot of awful questions. Last week, the BBC's health editor Hugh Pym asked whether the government was 'ashamed' of its coronavirus response:
People like Pym, who smile and smirk simultaneously, are the lowest of the low. They use their gotcha questions on early evening newscasts:
On Monday, April 27, Hancock got fed up with ITV's political editor Robert Peston's continuous, verbose questions. Hancock replied with a terse 'No':
Here's the deal with Peston:
Here's another example, this time from the BBC:
And another:
And another. This is BBC Newsnight's Emily Maitlis with Labour's Peter Mandelson — Baron Mandelson — who held several cabinet positions under Tony Blair and Gordon Brown when they were Prime Minister:
But I digress. Back now to the daily coronavirus briefings.
On Monday, April 27, the government began taking at least one question a day from the general public:
Robert Peston does not like this:
Actually, Robert, the first question chosen and read out on April 27 was relevant to many Britons.
That day, the independent polling company the government uses to select the questions chose one from a grandmother who wanted to know how much longer she would have to wait to kiss and hug her grandchildren. Honestly, I nearly welled up. Much better than taking questions from Peston, Pym and the like.
On Tuesday, April 28, they had two enquiries from the public — one read out loud from another grandmother about childminding her grandchildren and a short video from a mother asking when her son on the coronavirus isolation list could return to school. The lad has cystic fibrosis and autism:
Unfortunately, Matt Hancock had to let all three ladies down gently. It was/is still too early to say.
Interestingly, Peston didn't ask a question on Tuesday. Perhaps he's miffed that Britons are getting their own very real concerns aired? As is said in the news trade: 'Developing …'
News emerged several days ago that human testing began at Oxford University on a vaccine for COVID-19. Suppose it succeeds, which we all hope it will. Will this be the sort of questioning the government will receive? Although humorous, it's not far off the mark. Click on image to enlarge:
Actually, something just as strange happened when the vaccine news was announced. A woman with a PhD, whom the media referred to as Doctor — implying a medic — appeared in the media. She said she would be ashamed if Oxford succeeded!
She was made to appear as if she were from the university, when, in fact, she's at what used to be the city's polytechnic, now called Oxford Brookes. They are two very different institutions:
It is not unusual for the BBC to interrupt any Conservative politician, whether on television or radio. On Friday, April 24, Matt Hancock appeared on Radio 4's Today programme:
The clip below shows ITV's Piers Morgan, co-host of Good Morning Britain, having a go at Matt Hancock, not even allowing him to finish a sentence. Breathtaking arrogance, and worth a watch:
Piers should clam up — and tone down his tweets. Good Morning Britain's ratings have been tanking during the coronavirus crisis (more here):
On April 16, during the daily coronavirus briefing, Channel 4's Alex Thomson asked if the government was trying to kill the elderly. Sitting at home viewing, my far better half and I were astonished. Guido Fawkes has the story:
At the more serious end of broadcasting, Channel 4 News' Alex Thomson last night was on a quest for culpability. His crass question at the Downing Street briefing basically accused Hancock and his advisers of choosing to kill off old people to prioritise protecting the young.
We stopped watching Channel 4 News years ago. It got too left-wing in its bias. Here's another example from Guido's article, involving Home Secretary Priti Patel (emphasis in the original):
Earlier in the week, Channel 4 News' reporter repeatedly demanded from Priti Patel an apology. This type of performance isn't holding power to account or about purely eliciting information. It is gotcha journalism and because journalists at the press conferences are asking their questions through the prism of establishing political culpability, they are getting defensive responses. It would be better to leave that to the opposition in parliament and leave the made-for-social-media infotainment to Piers. It might also arrest the dramatic drop in public confidence in the news media…
Therefore, is it any wonder that former Labour MP for Vauxhall in London tweeted:
Yes, there should be a root and branch review and reform of the alleged 'nation's most trusted' broadcaster. The annual licence fee per household is £145. It is a mandatory charge. As such, some Britons call it a tax.
I have a lot more to say about the media's handling of coronavirus. More to follow at some point.
On Friday April 18, a news story from the BBC about an NHS procurement director circulated on the BBC news channel.
The man, unnamed, wanted to contact Burberry and Barbour directly to obtain much-needed PPE.
I heard it reported more than once. The story even popped up on the national coronavirus briefing at the weekend.
On Saturday, April 19, the Mail on Sunday's deputy political editor Harry Cole exposed the BBC story as FAKE NEWS.
Click on the image below or here to read the article in full:
Incidentally, Sarah Smith (pictured), who presented the story is the daughter of the late Labour leader John Smith, who died in May 1994. (Tony Blair succeeded him.) Her mother is a life peer: Baroness Smith of Gilmorehill. But I digress.
As Harry Cole says, the story got several airings on the BBC News channel, then, suddenly, there was nothing more. A newsreader read a retraction at 7:10 a.m. on Saturday.
Unbeknownst to Cole — and most of the viewing public, myself included — the BBC retracted the story on its website late on Friday, the same day it appeared:
The 'correction' says, in part:
We should clarify that the person concerned is not the boss of an NHS trust but is part of a network of organisations helping to source personal protective equipment for some NHS trusts.
The mistake was caused by a misunderstanding of the person's role in the fight against the pandemic.
Cole was able to find out the identity of the mystery man, who works at The Oxford Academic Health Science Network, which is currently helping to source PPE:
He was later identified by the BBC News at One as 'senior health expert' Paul Durrands. Mr Durrands, who has a doctorate in philosophy and molecular plant pathology …
Since 2011:
he has been the chief operating officer of the Oxford Academic Health Science Network, a publicly funded 'innovation exchange'.
It is understood he has been helping NHS trusts seek PPE, but is not and never has been a major NHS trust boss. He did not respond to requests for comment last night.
The BBC are not on the government's side unless it's a Labour one.
They have really pushed the boat out in their anti-Conservative coronavirus coverage, which never covers anything good the government has done thus far.
One gets only noxious narratives from the BBC and, now, fake news. Yet, they have a special segment a few afternoons a week wherein a reporter debunks various online fake news items about the coronavirus. They should take a close look at themselves in the mirror first.
It is a pity that every British household is obliged to pay an annual licence fee to keep this broken outfit going.
For the past few days, news of New York State's coronavirus crisis has been updated daily by the BBC.
But do they have a crisis or not?
Does the United States have a coronavirus crisis?
American lawyer Robert Barnes has crunched the numbers and found them wanting:
In New York, it appears that things are relatively normal (see second tweet):
Is it worth tanking the economy for this pandemic?
Why aren't we in a similar panic over other deaths?
Bubonic plague, thought to have died out centuries ago, is making a resurgence in California. Now THAT's something to worry about:
The restrictions on personal and civil liberties will be problematic, mark my words.
Thank goodness that President Trump can see this:
Even so, there will be damage:
People will not look favourably on the panic created by politicians and the media over coronavirus:
They will begin to suspect something else is going on:
What about the flu season? Compare those tens of thousands of annual deaths with coronavirus:
Agree. It is pretty stupid to cripple Western economies for coronavirus.
Finally, though, people are questioning authority. Thank you.
By the time the coronavirus hysteria is over, there will be even less public trust of politicians or the media than there was before this started.
Good. May they be held accountable for frightening the public into submission.