You are currently browsing the tag archive for the 'media' tag.
On Wednesday, August 18, 2021, a retired CIA man, Douglas London, wrote an article for Just Security: 'CIA's Former Counterterrorism Chief for the Region: Afghanistan, Not An Intelligence Failure — Something Much Worse':
Douglas London is that former counterterrorism chief. He worked for the CIA for 34 years. Nowadays, he teaches at Georgetown University, is a non-resident fellow at the Middle East Institute and is author of the book The Recruiter, which details the changes in the CIA post-9/11.
Excerpts follow, emphases mine.
Until his retirement in 2019, he was responsible for preparing security assessments for President Trump about Afghanistan. He volunteered in the same capacity for then-candidate Joe Biden.
Withdrawal — how and when?
He writes that the American withdrawal from Afghanistan has long been predicated with 'what-if' scenarios (emphasis in the original, those in purple mine):
The U.S. Intelligence Community assessed Afghanistan's fortunes according to various scenarios and conditions and depending on the multiple policy alternatives from which the president could choose. So, was it 30 days from withdrawal to collapse? 60? 18 months? Actually, it was all of the above, the projections aligning with the various "what ifs."  Ultimately, it was assessed, Afghan forces might capitulate within days under the circumstances we witnessed, in projections highlighted to Trump officials and future Biden officials alike.
He says that Biden and Trump viewed withdrawal differently, citing Biden's speech of August 16 (emphases mine):
In his prepared remarks on Monday, President Biden stated, "But I always promised the American people that I will be straight with you.  The truth is: This did unfold more quickly than we had anticipated." That's misleading at best. The CIA anticipated it as a possible scenario.
By early 2018, it was clear President Trump wanted out of Afghanistan regardless of the alarming outcomes the intelligence community cautioned. But he likewise did not want to preside over the nightmarish scenes we've witnessed. Then-Secretary of State Mike Pompeo was the principal architect of America's engagement with the Taliban that culminated with the catastrophic February 2020 withdrawal agreement, terms intended to get the president through the coming elections. Pompeo championed the plan despite the intelligence community's caution that its two key objectives– securing the Taliban's commitment to break with al-Qa'ida and pursue a peaceful resolution to the conflict — were highly unlikely.
Douglas London outlines the various scenarios:
Scenarios for an orderly withdrawal ranged from those in which the United States retained roughly 5,000 troops and most of the existing forward military and intelligence operating bases, to what was determined to be the minimum presence of around 2,500 troops maintaining the larger bases in greater Kabul, Bagram, Jalalabad and Khost, as well as the infrastructure to support the bases we would turn over to Afghan partners. The larger of these two options was judged more likely to prevent Afghanistan's collapse for 1-2 years and still provide for a degree of continued U.S. counterterrorism pressure; the smaller footprint was more difficult to assess but allowed flexibility for the United States to increase or further reduce its presence should circumstances rapidly deteriorate. (It would be valuable if commentators and news coverage included a greater appreciation of how such contingency-based assessments work rather than conflating assessments.)
Initially, even a "Kabul only" option included the retention of the sprawling U.S. Bagram Air Base and other intelligence facilities in the greater capital area through which the United States could project force, maintain essential logistical, intelligence and medical support to Afghan operated bases, and retain some technical intelligence collection and counterterrorist capability across the country. But without any U.S. military and intelligence presence beyond the Embassy in Kabul, faced with a Taliban military and propaganda offensive, and undermined by Ghani's fractious relationship with his own national political partners, the intelligence community warned the government could dissolve in days. And so it went.
Ambassador Zalmay Khalilzad, a questionable special representative
Ambassador Zalmay Khalilzad was America's special representative during the Trump administration's negotiations.
In 2018, he was a private citizen who had contacts with a number of Afghans. Douglas London said that the intelligence community did not trust him because he was:
dabbling on his own in 2018 with a variety of dubious Afghan interlocutors against whom the intelligence community warned, trying opportunistically to get "back inside." Undaunted, his end around to Pompeo and the White House pledging to secure the deal Trump needed which the president's own intelligence, military and diplomatic professionals claimed was not possible absent a position of greater strength, was enthusiastically received. Our impression was that Khalilzad was angling to be Trump's Secretary of State in a new administration, were he to win, and would essentially do or say what he was told to secure his future by pleasing the mercurial president, including his steady compromise of whatever leverage the United States had to incentivize Taliban compromises.
Because the withdrawal plan was popular with voters in 2020, the Biden camp also endorsed it:
Moreover, from my perspective, they appeared to believe that negative consequences would be at least largely owned by Trump, the GOP, and Khalilzad, whose being left in place, intentionally or not, allowed him to serve even more so as a fall guy. For the candidate, who had long advocated withdrawal, the outcome was, as it had been with Trump, a foregone conclusion despite what many among his counterterrorism advisors counselled. President Biden himself has said as much in terms of his mind being made up.
There was a rather naïve confidence among Biden's more influential foreign policy advisors that the Taliban's best interests were served by adhering to the agreement's main points. Doing so, they argued, would guarantee the U.S. withdrawal, and leave room for more constructive engagement, possibly even aid, should the Taliban come to power.
The Taliban's PR offensive
Meanwhile, the Taliban were becoming more aware of the importance of a PR offensive aimed at the West:
The Taliban learned a great deal about the utility of PR since 2001, and maximized their access to Western media as highlighted by Taliban deputy and Haqqani Taliban Network leader Sirajuddin Haqqani's apparently ghost written New York Times OpEd. The reality, of course, as the intelligence community long maintained, was that the Taliban's control over the country was predicated on isolation from the rest of the world, rather than integration. International recognition, global financial access, and foreign aid were not going to influence how the Taliban would rule.
Also:
Momentum the Taliban needed to secure their adversaries' cooperation was facilitated by a robust propaganda machine that, in many instances, successfully manipulated the media into positive, disproportional coverage from the outset of their offensive in casting their conquest as inevitable. Neither the Afghan government nor the United States could ever effectively counter the Taliban's persistent and savvy media efforts given the need to protect sources and methods, legal restraints, and an unfortunate lack in investment and imagination.
For Afghan politicians, money talks
Greasing palms is part of Afghan life among those in power locally and regionally. Money can also determine one's political alliances, which can be fluid:
U.S. policy makers were also cautioned that the broad coalition of Afghan politicians, warlords and military leaders across the country benefiting from the money and power that came with a sustained U.S. presence were likely to lose confidence and hedge their bets were U.S. military forces and intelligence personnel to withdraw. Further, that President Ashraf Ghani's stubborn resistance to the Afghan political practice of buying support and his dismantling of the warlords' private armies would weaken their incentives to support the government. Switching sides for a better deal or to fight another day is a hallmark of Afghan history. And U.S. policy to impose an American blueprint for a strong central government and integrated national army served only to enable Ghani's disastrous and uncompromising stewardship.
On that topic, Britain's talkRADIO has been interviewing another seasoned American counterintelligence specialist, Malcolm Nance, who said that, over the past year at least, the Taliban were co-opting other Afghans, including those from the country's Western-backed army.
He said that it did not have to be that way, since he went into Afghanistan in November 2001. The US could have done the job in short order, had Bush II not switched priorities to Iraq:
Keeping the money aspect in mind, Douglas London describes how the 2021 debacle unfolded. Al Qa'ida also played a part:
The clock began to accelerate when US military and intelligence elements withdrew from Kandahar on May 13, and thereafter closed remaining forward operating bases and "lily pads," the term used for temporary staging areas under U.S. or coalition control. By the time Bagram was closed on July 1, the United States and NATO had also departed Herat, Mazar I Sharif, Jalalabad, Khost and other locations I am not at liberty to name. The Taliban was moving in even as we were packing up. They were quite likely joined by the many al-Qa'ida members (some of whom had enjoyed Iranian sanctuary),-if not direct operational support, augmented further by recently released comrades the Taliban set free from Afghan detention at Bagram and elsewhere.
Policy makers were also aware of the Taliban's effective use of a parallel "shadow government" structure maintained since losing power that provided for reliable lines of communication with local elders across the provinces, as well as government authorities, often owing to shared family or clan connections. To an American it might be surprising, but it was nothing out of the ordinary for an Afghan military commander or police chief to be in regular contact even with those faced daily in combat.
The Taliban was thus well positioned to negotiate and buy rather than fight their way to successive conquests, itself an Afghan tradition. Moreover, the Taliban was prepared to quickly rule and provide services in the territories coming under its control. And by prioritizing the periphery to secure borders and the lines of communication required to sustain an insurgency, striking first from where they were defeated in 2001, the Taliban clearly learned from history, whereas we still have not. But where did the money come from to finance this campaign?
Persuading low level government fighters and functionaries to turnover their weapons and abandon their posts was well within the Taliban's means, but it was undoubtedly more expensive securing the cooperation of senior officials with the authority to surrender provincial capitals. Layer on that the need to pay the surge of their own fighters, many of them essentially part-time and seasonal. Payroll and care for the families of fighters killed and wounded is often the greatest expense for the Taliban and its terrorist partner groups, and in Afghanistan, likewise the most important incentive to attract fighters.
Where Taliban money comes from
The Taliban finance themselves from a variety of sources, from drug trafficking to donations from other foreign countries:
The Taliban's finances are complicated, more so by a structure which is not monolithic, and heavily dependent on the vast international criminal network operated by the Haqqani Taliban Network in the East, and somewhat autonomous regional commanders in the West. Revenues are variously drawn from taxes imposed on locals, narcotics trafficking, foreign donations-largely from Arab Gulf countries, real estate (some of which is abroad), the extortion of mining companies operating in areas under their control–many of which are Chinese government parastatals, and other foreign governments. Pakistan has long been a principal backer, but Russia and Iran increased their investments to court the group in recent years. Moreover, both benefited decidedly from the Taliban's swift, bloodless conquest that expeditiously purged and humiliated the United States, and minimized what might have been a violent, prolonged fight that increased regional instability and the flow of refugees.
Dichotomy between US Department of Defense and CIA
Douglas London noted the disparity of opinion between the Department of Defense and the CIA:
… in grading their own homework, the U.S. defense establishment only exacerbated the problem. While it's little surprise the Department of Defense was unwilling to objectively evaluate the resolve and capacity of those they trained, equipped, and advised to resist a forthcoming Taliban offensive, their rose-colored depictions of achievement over 20 years flew in the face of reality, and was consistently challenged by the CIA's more gloomy, albeit realistic projections.
Conclusion
He concludes:
… there was no intelligence failure by the agency in warning either Trump or Biden as to how events would play out. Operating in the shadows and "supporting the White House" will prevent the intelligence community from publicly defending itself. But the failure was not due to any lack of warning, but rather the hubris and political risk calculus of decision makers whose choices are too often made in their personal and political interest or with pre-committed policy choices, rather than influenced by (sometimes inconvenient) intelligence assessments and the full interests of the country.
It is difficult to see how the Afghanistan debacle can ever be rectified now, especially after 20 years.
As to what happens going forward, unfortunately, the grim possibilities are endless.
More on Afghanistan tomorrow.
Last Friday's post was about Matt Hancock's fall from grace as Health Secretary as featured on the front page of The Sun.
The Queen had lost confidence in him before then, as my post explains, covered in another front page feature, in The Times.
Hancock's final 48 hours as health secretary were pivotal, not only for his political but also his personal life.
Thursday, June 24
The Sun allegedly contacted Hancock to ask him if he had any comment before they published the compromising photo of him in a steamy embrace with a female aide.
Hancock went home that evening and dropped a life-changing bombshell on his wife and youngest child. 
On Sunday, the Mail reported (emphases mine):
Mother-of-three Martha was reportedly blissfully unaware of her husband's infidelity until he broke the news to her on Thursday night when it became clear the footage would be published the next day.  
And he reportedly even woke up the couple's youngest child, aged eight, to tell him he was leaving. 
How unspeakably cruel.
My commiserations to both — as well as to his two other children.
Apparently, Hancock is serious:
Friday, June 25
On Friday, YouGov and Savanta ComRes took snap polls to test public opinion on The Sun's revelations about Hancock.
It was clear that this representative portion of the public were deeply unhappy and thought he should resign.
These were YouGov's results:
Savanta ComRes found that 46% of Conservative voters thought Hancock should resign:
The full video of Hancock's illicit embrace became available online.
A number of newspaper columnists expressed their disgust with Hancock's hypocrisy.
The Telegraph's Emily Hill wrote:
Four days after Freedom Day failed to dawn, what fun it is for the masses who must continue to abide by the Minister's absurd rules to see this! Dancing inside at a wedding – verboten. Nightclubs – verboten. Standing at the bar in a pub talking to perfect strangers – verboten. It's as if they don't want the young and fit and healthy to mate anymore. Sex privileges, it seems, are reserved for middle-aged men in Westminster while the rest of us can only watch, helpless, wondering how much their cheating is costing the taxpayer.
… But it is now the afternoon and Hancock has merely cancelled his appearance at a vaccine centre while Grant Shapps [Secretary of State for Transport] was sent out to inform us: "First of all, I think the actual issue is entirely personal for Matt Hancock." Seconds later he stated: "whatever the rules are, the rules will have to be followed" in relation to the ministerial code. This makes hypocrites of much of the Government, not to mention every world leader who flouted social distancing rules so publicly at the G7 summit.
The Telegraph's Alison Pearson pointed out how much the British public has sacrificed in personal relationships over the past year and a bit because of Hancock's restrictions:
Thousands of people posted reactions on social media. Some were bitterly mocking the official mantras: "Hands, Face, Back to My Place". "Saving Lives, Shagging Wives".
Others were simply devastating: "I wasn't even allowed to kiss my dying father because of Hancock."
The anger and disbelief were palpable. Was this really the minister who told us on the 17th May that, after fourteen months of physical and emotional self-denial, we were free to hug our loved ones, when, a fortnight earlier, he'd been giving mouth-to-mouth to some glamorous chum he'd put on the public payroll? Knowing Hancock, he'd call it First Aide.
We are all humble sinners and a man or woman's private peccadillos shouldn't disqualify them from doing their job. But no such understanding or humanity – not a sliver of mercy – has been shown by the Secretary of State or this Government to members of the public who have broken often cruel and arbitrary rules. Remember how we watched in horror as police arrested a retired nurse as she tried to drive her 97-year-old mother away from a care home. Hundreds of thousands of people have departed this life without a last touch or kiss from their best beloveds because the restrictions forbade it so relatives sobbed in the carpark because Matt Hancock said it must be so. Almost 30,000 children have been put on anti-depressants yet just one positive test (without any Covid symptoms) can still send an entire year group home to self-isolate for ten lonely days. Parents know this is insanity, but they must suck it up because that prating popinjay Hancock tells them it's vital to keep us "safe"…
If I had a gasket left to blow it would have exploded when Culture and Sports minister John Whittingdale explained this week how up to 3,000 Uefa officials will be allowed to arrive in the UK, without quarantine, for the Euro semis and finals. "We've always said that for some people who are important…", said the hapless minister, accounting for the fact that normal people would be held to different standards.
"All animals are equal but some animals are more equal than others." I never ever thought George Orwell's satirical take in Animal Farm on an arrogant, unaccountable elite patronising the masses would apply in our country. More fool me. We're all in this together, eh, Matt? …

Trust me, it's not closed. There are millions of us, and we are raging now, and we will not allow it to be closed. If the Government permits one law for Hancock and "important people" and another for the rest of us then it is morally bankrupt. Boris must act this very day to restore the people's faith, to prove that we haven't been mugs.
Fraser Nelson, also writing for the Telegraph, pointed out how Hancock insisted on following his draconian rules, therefore, he should not expect privacy now:
Mr Hancock has always been one of the most emphatic for the rules. In internal government debates, he has invariably pushed for the toughest restrictions and wanted 10-year jail sentences as a penalty for trying to dodge draconian quarantine rules. "I make no apologies for the strength of these measures," he said: they'd target a "minority who don't want to follow the rules." Who, presumably, he thinks, deserve everything coming their way. When two women were fined by police for walking together, Mr Hancock was unforgiving. "Every time you try to flex the rules,' he said, "that could be fatal" …
This is the irony in his request on Friday for "privacy for my family on this personal matter" now. There is no doubt his family deserves it. But a great many other families would have been grateful for more privacy over the last 15 months. Instead, the Tory Government decided to legislate for what people do in their own homes. And in so doing, set up a system where people came to worry that they'd be reported to the police – perhaps by their neighbours – if they stretched the rules by inviting children over to play in their back gardens. Greater Manchester Police issued a statement boasting that they had raided a family home to break up a child's birthday party.
Sweden managed to fight back two Covid waves while respecting privacy and civil liberty. There are bans on mass gatherings, and a rule of eight for public places. But no rules would apply inside anyone's property, where they had sovereignty. Government would not come through your front door: in Sweden, your home is your castle. It wasn't so long ago when this respect for privacy summed up civic life in Britain.
When Mr Hancock started issuing advice on where we should hug (embracing outside, he said, was better than inside) alarm bells ought to have been ringing in Number 10. It was a sign that the Government machine had gone way out of control, losing any sense of its remit or boundaries. Number 10 should have stepped in, and perhaps asked for a study on the efficacy of the intrusions or work of Project Fear: the blood-curdling posters showing Covid victims on their deathbeds. If there was no proof that the campaign was making a difference, they could have been told to change tack …
Paul Waugh of HuffPost dug up a quote from April 2020 (and a 2021 photo), showing how dictatorial Hancock was:
Conservatives in Parliament began complaining about Hancock. Christopher Hope, writing for the Telegraph, reported:
Baroness Foster of Oxton, a Tory peer, accused Mr Hancock on Twitter of having "used emergency powers to impose these punitive restrictions leading to horrendous consequences across society without debate yet ignored them himself & at work!"
Backbench Conservative MPs contacted their whips about the Health Secretary. One texted: "You don't need me to tell you what I think." Another said that "children have missed out in so many ways" and that Mr Hancock's behaviour was "so hypocritical", while a third MP said the Government "is looking ridiculous now, I am sorry to say".
Oddly, the Shadow (Opposition) Health Minister Jonathan Ashworth was silent.
The day ended with The Sun's Harry Cole appearing on the BBC's Newsnight:
Saturday, June 26
The Telegraph had running live coverage of the Hancock debacle. Excerpts follow.
Coverage began at 9:01 a.m.:
Tory MPs urged Boris Johnson to "pull the plug" on Mr Hancock and expressed their frustration to party whips over the Health Secretary's "hypocritical" behaviour …
A senior government source said public reaction was being monitored and could determine Mr Hancock's fate.
At 9:30:
The Telegraph understands Mr Hancock had no idea the camera existed when it captured him kissing adviser Gina Coladangelo, and government sources said it was "unheard of" for cameras to be installed in ministers' offices.
It raises the possibility that the camera was deliberately placed by someone with access to his office with the intention of catching the pair cheating on their spouses and breaking Covid rules. It is the first time a Cabinet minister has been filmed in their own office without their knowledge.
In a further twist, the Department of Health and Social Care's offices use CCTV cameras made by the Chinese company Hikvision, which is banned in the US because of national security concerns.
At 10:20:
A healthcare company which employs as a senior director the brother of the aide Matt Hancock was pictured kissing has insisted it had never benefited from the connection to the Health Secretary.
Reports suggested Roberto Coladangelo, strategy director at Partnering Health Limited (PHL Group), was the brother of Gina Coladangelo, a familial connection later confirmed.
At 11:06:
The Health Secretary is under mounting political pressure this morning after a video was published of him hugging and embracing Gina Coladangelo, a non-executive director in his department, in early May.
At the time, hugging and socialising indoors with people outside one's household was banned.
But according to The Sun, they have been "all over each other" again this week in the same ninth-floor office of the Department of Health and Social Care.
At 11:19:
Duncan Baker, Conservative MP for North Norfolk, has called for Matt Hancock to resign.
Mr Baker, who was elected in 2019, is believed to be the first Tory MP to openly call for Mr Hancock to go and told his local newspaper the Eastern Daily Press: "In my view people in high public office and great positions of responsibility should act with the appropriate morals and ethics that come with that role …
"I will not in any shape condone this behaviour and I have in the strongest possible terms told the Government what I think."
Duncan Baker was not alone. Three other Conservative MPs spoke out against Hancock — Esther McVey, William Wragg and Sir Christopher Chope:
Sir Christopher told the Dorset paper, the Daily Echo:
"I think that he should resign rather than be sacked because this should actually be an issue for him and his conscience.
"One of the benefits of having been around for a long time is that I've seen this sort of thing before and the strength of feeling is such, within the party and outside,  that this will not simply go away. 
"The sooner he resigns the better so we can have a new secretary for health who commands public respect.
"Hancock is finished.
"The sooner he goes the sooner he can be rehabilitated."
That afternoon, Hancock and Prime Minister Boris Johnson had a conversation. Hancock wrote a letter of resignation. Boris responded with a written reply:
Around 6 p.m., Hancock announced his resignation via a personal video:
Shadow Health Secretary Jonathan Ashworth said that Boris should have sacked Hancock:
However, given Boris's philandering, that would have been hypocritical.
Also, Hancock will now return to the backbenches. Boris will want to keep him sweet. Even I can figure that out.
Around two hours later, it was announced that Sajid Javid would be Hancock's replacement. Javid has been Home Secretary and Chancellor of the Exchequer, so he will be comfortable with another post in the Cabinet.
This means that Boris's expected reshuffle will not now take place until perhaps later in the year. A smart move:
This thread summarises Javid's career. He is the son of a bus driver. His teachers told him that he should pursue television set repair as a career. Were they ever wrong:
Dominic Cummings was quick to react, blaming Boris's wife Carrie for the appointment. She had at one time worked for Javid. Cummings said he himself had 'tricked' Boris into firing Javid from Her Majesty's Treasury (HMT):
Sky News's Beth Rigby appeared outside of No. 10 late on Saturday:
Beth has some nerve. She was suspended from Sky News for a few months for having revelled in a non-coronavirus-compliant way at her colleague Kay Burley's 60th birthday party evening in central London:
Sunday, June 27
Newspaper editors must have been pulling out their hair in changing their front pages for Sunday.
The Sun went for a play on words (matt paint):
The Mirror had the same idea, adding that his aide has quit her job, too:
The Times had a front page article adding that Hancock used a personal Gmail account to conduct Department of Health business. Apparently it's done now, but any of those emails are subject to FOIA requests with regard to Government business. It also means that the Government might not be able to get a trail of all of his activity with regard to contracts:
The Express said that Conservative donors threatened to stop contributions if Hancock stayed in office:
I will stop there for now.
The Sunday articles and news programmes had much more to explore.
For now, it looks as if Sajid Javid has a more libertarian approach to handling the virus and wants restrictions lifted as soon as practicable.
Matt Hancock, Secretary of State for Health and Social Care, could well experience the worst weekend of his life.
The Queen has her say
On Thursday, June 24, The Times featured an article on its front page about Prime Minister Boris Johnson meeting the Queen in person for their weekly meeting for the first time since lockdown in March 2020.
It says (emphases mine):
Matt Hancock has had a difficult few weeks. And while his line manager may have contributed to his woes, his ultimate boss has seemingly taken pity on him.
The Queen told Boris Johnson, at their first in-person meeting in 15 months: "I've just been talking to your secretary of state for health — poor man. He came to privy council. He's full of . . ."
"Full of beans!" the prime minister interjected, in the clip filmed by broadcasters in the private audience room at Buckingham Palace yesterday.
"He thinks that things are getting better," said the Queen, to which Johnson responded: "They are."
… In a 1992 documentary to mark her 40th year on the throne she said that by meeting prime ministers she helped to take a weight off their shoulders. "They unburden themselves or tell me what is going on . . . and sometimes I can help in some way as well," she said.
The media were allowed to film the first few minutes of their meeting. This was shown on BBC Breakfast:
It's telling that the Queen chose to say that on camera.
Hancock's affair
On Friday, The Sun featured a worldwide exclusive featuring Hancock, husband and father of three:
Normally, I would not comment on extramarital affairs, however, Hancock has left us in lockdown for 16 months and counting. Yet, here he is violating his own rules. For thee, but not for me.
The Sun's political editor Harry Cole broke the story:
Excerpts from Cole's article follow:
He cheated on his wife with Gina Coladangelo, 43, who he hired last year with taxpayers' money, as Covid gripped Britain.
Mr Hancock, 42, and millionaire lobbyist Gina were caught on camera in a steamy clinch at his Whitehall office.
Whistleblowers revealed the Health Secretary had been ­spotted cheating on his wife of 15 years with married Ms ­Coladangelo.
He was seen kissing her at the Department of Health's London HQ during office hours last month as the mutant strain began spreading.
And today, Mr Hancock apologised for his actions, saying: "I accept that I breached the social distancing guidance in these circumstances.
"I have let people down and am very sorry.
Is Hancock going to resign? No, he is not:
I remain focused on working to get the country out of this pandemic, and would be grateful for privacy for my family on this personal matter.
There should be no mercy shown for this egregious hypocrisy.
A year ago, Prof Neil 'Dodgy Modelling' Ferguson entertained his mistress, who travelled across London to spend an afternoon with him at the height of the pandemic. Ferguson resigned from SAGE, although he has been readmitted as a member.
At the time of Ferguson's resignation, Hancock said that it was the right thing to do:
Guido Fawkes has the dialogue from Hancock's interview with Kay Burley of Sky News. She, too, was a coronavirus restrictions violator and was suspended from Sky News for several months:
Matt Hancock: "I think he took the right decision to resign"
Kay Burley: "You wouldn't have fought to keep him?"
Hancock: "That's just not possible in these circumstances"
Guido also said that Hancock supported a police investigation:
Guido notes that when government Covid advisor Neil Ferguson broke the government's social distancing rules to hook up at the start of lockdown, Hancock said he was both right to resign, and backed any police action necessary.
Returning to Harry Cole's article:
Last night, a friend of the Health Secretary said: "He has no comment on personal matters. No rules have been broken."
Mr Hancock was pictured embracing his aide. The image was from just after 3pm on May 6 — as the rest of Westminster was engrossed by the local elections.
We did not yet have a relaxation on hugging at that time. That happened 13 days later.
A whistleblower tipped off Cole. Hancock:
is seen in his distinctive ninth-floor office inside the sprawling Department of Health building, which is a stone's throw from the Houses of Parliament.
During the pandemic, the office has provided the backdrop to his Zoom appearances on TV — including the Andrew Marr Show.
Mr Hancock is seen checking the corridor is clear before closing the door and then leaning on it to ensure he cannot be disturbed.
Ms Coladangelo then walks towards him and the pair begin their passionate embrace.
According to a whistleblower, who used to work at the department, the pair have regularly been caught in clinches together.
The source said: "They have tried to keep it a secret but everyone knows what goes on inside a building like that …
"I'm just amazed he was so brazen about it as he was the Secretary of State.
"It has also shocked people because he put her in such an important, publicly-funded role and this is what they get up to in office hours when everyone else is working hard."
The office where the tryst happened is where Mr Hancock famously hangs his Damien Hirst portrait of the Queen.
Unfortunately, the Government is defending Hancock:
The lunchtime press briefing on Friday indicated that Boris:
considers the matter closed.
By the way, Hancock has an Instagram account. This was one of his posts:
You couldn't make it up:
One wonders if this woman has any involvement in keeping us in restrictions:
It also emerged she had accompanied Mr Hancock to confidential meetings with civil servants and visited No10. Sunday Times sources revealed at the time: "Before Matt does anything big, he'll speak to Gina. She knows everything."
She began working for the Department of Health and Social Care (DHSC) in September 2020:
In September, Mr Hancock appointed her as a non-executive director at DHSC, making her a powerful member of the department's oversight board.
It hit the headlines as there was no public record of the appointment, which was set to see her earn at least £15,000 of taxpayers' money, potentially rising by a further £5,000.
The role makes her responsible for "overseeing and monitoring performance" — in effect, scrutinising matters of concern to Mr Hancock.
A DHSC spokesman said the appointment was "made in the usual way and followed correct procedure".
It is also understood that since April, she has had a parliamentary pass, giving her unregulated access to the Palace of Westminster.
It bears her husband's surname, which she does not use professionally, and is sponsored by Lord Bethell, the hereditary peer, health minister and former lobbyist.
I am sorry to read about Lord Bethell's involvement. Until now, I respected him. I hope the House of Lords asks questions of him next week.
However, she also worked for Hancock in the early stages of the pandemic:
Mr Hancock secretly appointed her to his department as an unpaid adviser on a six-month contract in March last year.
It appears that, six months later, her appointment became official.
Both the woman and Hancock studied together at Oxford, where they read PPE (Philosophy, Politics and Economics):
The pair first met at Oxford University in the early 2000s but Mr Hancock went on to wed Martha Hoyer Millar in 2006.
Chumocracy
There is an interesting history behind the associations Hancock has in this affair.
Many call it 'chumocracy'.
Hancock
This is a biography from Hancock's website:
Before entering politics he worked as an economist at the Bank of England, and for his family tech industry.
Matt is married to Martha and has three young children. He is the first MP in modern times to win a horse race, having raced to victory at the Newmarket July Course in August 2012. He is an avid cricketer and plays for the Lords & Commons Cricket team. Matt once played the most northerly game of cricket on record, and succumbed to frostbite en route to the Pole. He retains all his fingers.
He certainly has retained all of his fingers.
A lengthy article in the Daily Mail tells us about his formative years:
Mr Hancock was born in Chester where he went to the exclusive private school the King's School.
He did his A-levels in maths, physics, computing and economics before doing computing at West Cheshire College.
Like numerous Conservative MPs before him, he studied PPE at Exeter College, Oxford – where he graduated with a first.
It was at the elite university that he realised he had dyslexia, which he only opened up about in recent years.
He later did an MPhil in economics at Christ's College, Cambridge, before turning to politics in 1999 when he joined the Tories.
Hancock's woman and her husband
The Sun's article says:
Mother-of-three Ms Coladangelo is communications director at Oliver Bonas, the fashion and lifestyle store founded by her husband Oliver Tress.
She is also a director and major shareholder at lobbying firm Luther Pendragon, which offers clients a "deep understanding of the mechanics of government".
The Daily Mail has more:
Mr Bonas opened his first store on London's Fulham Road in 1993 with handbags and jewellery he had brought from Hong Kong where his parents lived.
Speaking to the Independent in September 2015, he said: 'I'd been bringing presents back for friends and they were really popular so I thought, 'I wonder if I can make a go of this?' And to my amazement it just worked.' Bonas was the surname of his then girlfriend Anna Bonas, who is the cousin of Prince Harry's former girlfriend Cressida Bonas, and he told how 'she very kindly hasn't demanded that I changed it'.
Hancock's wife
Mrs Hancock's family history is one of privilege:
Mrs Hancock works as an osteopath and is believed to practice at a clinic in Notting Hill, West London.
She is the granddaughter of Frederick Millar, 1st Baron Inchyra – a British diplomat and Ambassador to West Germany.
Mrs Hancock is also the great granddaughter of the 1st Viscount Camrose, a Welsh newspaper publisher.
Her father, Alastair Millar, was Secretary of The Pilgrim Trust between 1980 and 1996.
The trust is responsible for supplying grants, predominately to preservation projects for historically significant buildings or artifacts. Nowadays, around £2million is divvied out by the trust each year.
Conclusion
Matt Hancock has annoyed me greatly for the past 16 months.
This parody of his testing regime is not far from the truth: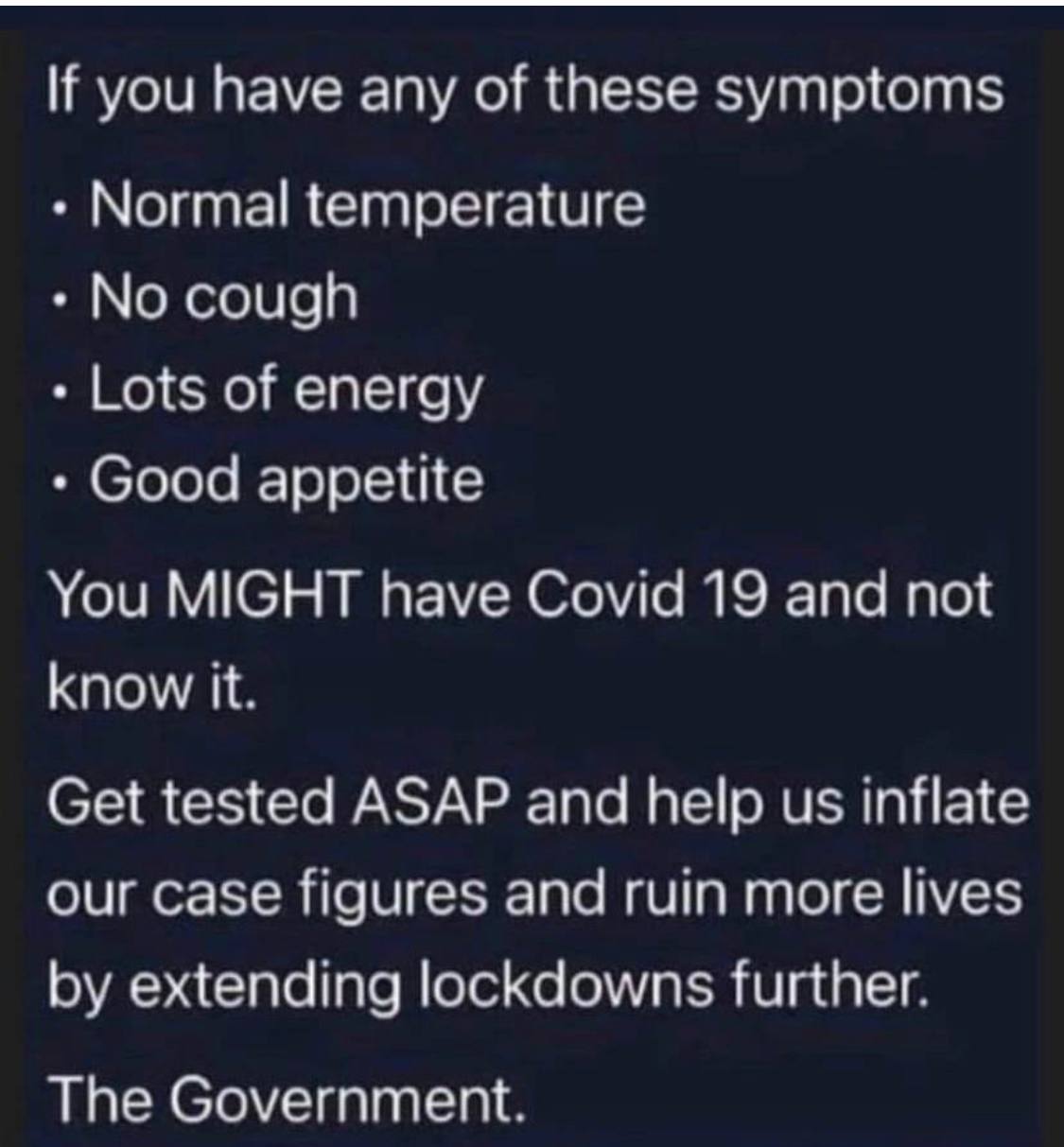 In England, we have lost billions of days of our normal lives:
This was the daily death total for June 23, 2021 (Chief Medical Officer Prof Chris Whitty is pictured):
Here are the death statistics from the past 16 months. Note that most coronavirus deaths are not 'from' the virus but 'with' it:
1. Heart Disease 205,000 (0.31% of the population)
2. Cancer 182,000 (0.25%)
3. Covid 128,000 (0.18%)
4. Dementia 82,000 (0.12%)
5. Stroke 46,000 (0.07%)
6. Diabetes 32,000 (0.05%)
An article on Reaction — 'Hypocritical Hancock: Don't hug your granny but you can hug Gina' — makes the following points about the Secretary of State's affair:
We don't know if anyone was taking morality lessons from Hancock back in September. But the question raises itself once again – is it one rule for you, Matt Hancock, and another for everyone else?
The government has been using its draconian Covid social distancing and travel restrictions to restrict and police morality. While the public may well overlook his private relationships as none of their business, voters are unlikely to stomach hypocrisy.
Number 10 is, so far, silent on the Hancock scandal. The Prime Minister hates morality plays and the invasion of private lives. That's not what this is about though. It's about a leading figure in the government imposing extraordinary restrictions on the rest of us while carrying on inside the Department of Health.
I look forward to an Urgent Question or two in the House of Commons next week.
It's unlikely many of my readers are old enough to remember transactional analysis (TA), a method of psychoanalytical therapy from the 1960s and 1970s which involved role-playing mind games.
The Canadian psychiatrist Eric Berne developed it in the 1950s. Ultimately, the goal was to produce in the patient the outlook of 'I'm OK, you're OK'.
In a comments section on one of the many blogs I read, someone linked to an article from 2016, 'American Narratives: The Rescue Game', which posits that today's identity politics involve TA mind games. The topic discussed is racism in the United States, although, as the author John Michael Greer says, it can be done with any identity politics cause.
Excerpts follow, emphases mine.
Greer describes what is called the Rescue Game:
There's a school of psychology called transactional analysis, which focuses on interactions between people rather than the vagaries of the individual psyche. Transactional analysis covers a lot of ground, but I want to focus on just one of its themes here: the theory of interpersonal games.
An interpersonal game, like most other games, has a set of rules and some kind of prizes for winners. In a healthy interpersonal game, the rules and the prizes are overt: that is, if you ask the players what they are, you can pretty much count on an honest answer. As this stops being true—as more of the rules and prizes become covert—the game becomes more and more dysfunctional. At the far end of the spectrum are those wholly dysfunctional games in which straight talk about the rules and payoffs is utterly taboo.
The accepted mainstream narrative about race in America today can best be described as one of those latter category of wholly dysfunctional games. Fortunately, it's a game that was explored in quite a bit of detail by transactional analysts in the 1960s and 1970s, so it won't be particularly difficult to break the taboo and speak about the unspeakable. Its name? The Rescue Game.
There are three roles in the Rescue Game — Victim, Persecutor and Rescuer:
The first two roles are allowed one move each: the Victim's move is to suffer, and the Persecutor's move is to make the Victim suffer. The Rescuer is allowed two moves: to sympathize with the Victim and to punish the Persecutor. No other moves are allowed, and no player is allowed to make a move that belongs to a different role.
That may seem unduly limited. It's not, because when a group of people is assigned a role, all their actions are redefined as the move or moves allotted to that role. In the Rescue Game, in other words, whatever a Victim does must be interpreted as a cry of pain. Whatever a Persecutor does is treated as something that's intended to cause pain to a Victim, and whatever a Rescuer does, by definition, either expresses sympathy for a Victim or inflicts well-deserved punishment on a Persecutor. This is true even when the actions performed by the three people in question happen to be identical. In a well-played Rescue Game, quite a bit of ingenuity can go into assigning every action its proper meaning as a move.
What's more, the roles are collective, not individual. Each Victim is equal to every other Victim, and is expected to feel and resent all the suffering ever inflicted on every other Victim in the same game. Each Persecutor is equal to every other Persecutor, and so is personally to blame for every suffering inflicted by every other Persecutor in the same game. Each Rescuer, in turn, is equal to every other Rescuer, and so may take personal credit for the actions of every other Rescuer in the same game. This allows the range of potential moves to expand to infinity without ever leaving the narrow confines of the game.
Even worse:
There's one other rule: the game must go on forever. The Victim must continue to suffer, the Persecutor must continue to persecute, and the Rescuer must continue to sympathize and punish. Anything that might end the game—for example, any actual change in the condition of the Victim, or any actual change in the behavior of the Persecutor—is therefore out of bounds. The Rescuer also functions as a referee, and so it's primarily his or her job to see that nothing gets in the way of the continuation of the game, but all players are expected to help out if that should be necessary.
Sadly, politicians and social activists play this game with real issues and real people who are enduring real problems.
Greer describes how the game plays out, something we read about or see every day in the media:
Like most games, this one has an opening phase, a middle period of play, and an endgame, and the opening phase is called "Pin the Tail on the Persecutor." In this initial phase, teams of Victims bid for the attention of Rescuers by displaying their suffering and denouncing their Persecutors, and the winners are those who attract enough Rescuers to make up a full team. In today's America, this phase of the game is ongoing, and a great deal of rivalry tends to spring up between teams of Victims who compete for the attention of the same Rescuers. When that rivalry breaks out into open hostilities, as it often does, the result has been called the Oppression Olympics—the bare-knuckle, no-holds-barred struggle over which group of people gets to have its sufferings privileged over everyone else's.
The middle phase:
is called "Show Trial." This has two requirements, which are not always met. The first is an audience willing to applaud the Victims, shout catcalls at the Persecutors, and cheer for the Rescuers on cue. The second is a supply of Persecutors who can be convinced or coerced into showing up to play the game. A Rescue Game in which the Persecutors don't show quickly enters the endgame, with disadvantages that will be described shortly, and so getting the Persecutors to appear is crucial …
However their presence is arranged, once the Persecutors arrive, the action of the game is stereotyped. The Victims accuse the Persecutors of maltreating them, the Persecutors try to defend themselves, and then the Victims and the Rescuers get to bully the Persecutors into silence, using whatever means are allowed by local law and custom.
At some point, either there are no more Persecutors or people get bored with the game and leave it. The game then enters a new, and final, phase:
At this point the action shifts to the endgame, which is called "Circular Firing Squad." In this final phase of the game, the need for a steady supply of Persecutors is met by identifying individual Victims or Rescuers as covert Persecutors. Since players thus accused typically try to defend themselves against the accusation, the game can go on as before—the Victims bring their accusations, the newly identified Persecutors defend themselves, and then the Victims and Rescuers get to bully them into silence.
We recognise the pattern, which is a daily narrative for current affairs outlets, turning real issues that require real solutions — e.g. race — into some sort of gamesmanship.
Greer gives two more uses of the Rescue Game — in sexual identity and Marxist politics:
I first encountered the concept of the Rescue Game, in fact, by way of a pamphlet lent to my wife by her therapist sister-in-law, which used it as the basis for an edgy analysis of class conflicts within the lesbian community. From there to the literature on transactional analysis was a short step, and of course it didn't hurt that I lived in Seattle in those years, where every conceivable form of the Rescue Game could be found in full swing. (The most lively games of "Circular Firing Squad" in town were in the Marxist splinter parties, which I followed via their monthly newspapers; the sheer wallowing in ideological minutiae that went into identifying this or that party member as a deviationist would have impressed the stuffing out of medieval scholastic theologians.)
Nationwide, the Rescue Game looks like this:
With impressive inevitability, in fact, every question concerning privilege in today's America gets turned into a game of "Pin the Tail on the Persecutor," in which one underprivileged group is blamed for the problems affecting another underprivileged group, and some group of affluent white people show up to claim the Rescuer's role. That, in turn, leads to the third issue I want to consider here, which is the question of who benefits most from the habit of forcing all discussion of privilege in today's America into the straitjacket of the Rescue Game.
Ultimately, there is only one winner in any form of these Rescue Games, and that is the Rescuer:
It's only fair to note that each of the three roles gets certain benefits, though these are distributed in a very unequal fashion. The only thing the people who are assigned the role of Persecutor get out of it is plenty of negative attention. Sometimes that's enough—it's a curious fact that hating and being hated can function as an intoxicant for some people—but this is rarely enough of an incentive to keep those assigned the Persecutor's role willing to play the game for long.
The benefits that go to people who are assigned the role of Victim are somewhat more substantial. Victims get to air their grievances in public, which is a rare event for the underprivileged, and they also get to engage in socially sanctioned bullying of people they don't like, which is an equally rare treat. That's all they get, though. In particular, despite reams of the usual rhetoric about redressing injustices and the like, the Victims are not supposed to do anything, or to expect the Rescuers to do anything, to change the conditions under which they live. The opportunities to air grievances and bully others are substitutes for substantive change, not—as they're usually billed—steps toward substantive change.
The vast majority of the benefits of the game, rather, go to the Rescuers. They're the ones who decide which team of Victims will get enough attention from Rescuers to be able to start a game. They're the ones who enforce the rules, and thus see to it that Victims keep on being victimized and Persecutors keep on persecuting. Nor is it accidental that in every Rescue Game, the people who get the role of Rescuers are considerably higher on the ladder of social privilege than the people who get given the roles of Victims and Persecutors.
Greer ends his article with this:
Perhaps, dear reader, you find it hard to imagine why affluent white people would want to keep everyone else so busy fighting one another that they never notice who benefits most from that state of affairs. Perhaps it hasn't occurred to you that giving the underprivileged the chance to air their grievances and engage in a little socially sanctioned bullying is a great deal less inconvenient for the affluent than actually taking action to improve the lives of the underprivileged would be. Such thoughts seemingly never enter the minds of most Americans; I'll leave it to you to figure out why.
Speaking from personal experience, everyone I know who empathises with similar Rescue Games in the UK is in line for a whopping great pension, often from the public sector, and lives in a large house, often in a gated community.
It's time we, the general public, ignored all of these media-fuelled narratives, which only serve the Rescuers' purposes, and focus on creating a better world for our fellow citizes, in whatever small way we can.
It's been quite apparent that the BBC were anxious to attack the Conservative government at every turn prior to May's elections.
Other media outlets also promoted the same stories.
Some accounts were reported inaccurately. They weren't exactly fake news, but either details were omitted or added, with any corrections placed on less visited web pages.
The Sir James Dyson story from the BBC is a case in point.
In early 2020, when coronavirus had every Western country in a tailspin, the Government were negotiating with British vacuum machine and hand dryer company owner/founder Sir James Dyson on the manufacture of ventilators. Dyson said that his company could develop the technology and do the job. Dyson is based in Singapore, so he wanted to make sure that, if his employees had to come to the UK, their wages would not incur tax in Britain.
By April 24, 2020, new ventilators were no longer needed. The Government no doubt thanked Dyson for his kind offer, and that was the end of the story.
However, the media resurrected the story one year later. This is how it was seen by a Twitter user in April 2021. Dyson is pictured with one of his amazing hand dryers, which really work:
On April 21, Guido Fawkes reported on the handling of the story and recalled that MPs — including Labour, especially Sir Keir Starmer — agreed that taxation of foreign companies' employees who manufactured critical clinical equipment, such as ventilators, would be waived during the first few months of the pandemic:
Guido's post says (emphases in the original):
This morning the BBC reveal texts between the PM and James Dyson, in which Boris promised to "fix" a tax issue to prevent Dyson's employees having to pay extra if they came here to make Covid ventilators during what was a national emergency. The Treasury changed the rules to mean any days worked by foreign employees towards the national Covid effort wouldn't be counted by HMRC between March and June 2020. Only an hysterical partisan would take issue with this, here's Labour's line this morning:
"These are jaw-dropping revelations. Boris Johnson is now front and centre of the biggest lobbying scandal in a generation, and Tory sleaze has reached the heart of Downing Street."
A gigantic volte-face given Labour repeatedly praised the ventilator response – a response the tax changes aimed to bolster. The changes were openly put to parliament and applied to non-tax-resident doctors and engineers who would otherwise have had negative tax implications for helping in the fight against Covid. VAT and customs duties on vital medical equipment were also waived. In April 2020, Rachel Reeves said the government needed to "strain every sinew and utilise untapped resources in UK manufacturing, to deliver essential equipment to frontline workers". A week later, Starmer praised everyone involved in the effort to get ventilators:
Even Tony Blair (Labour) thought that this year's furore was a load of cobblers:
Last year, Dyson and Prime Minister Boris Johnson had exchanged text messages about the taxation issue. Boris defended the texts. On April 23, this was Guido's Quote of the Day. Boris said:
If you think that there's anything remotely dodgy, or rum, or weird, or sleazy about trying to secure more ventilators at a time of a national pandemic, and doing everything in your power to do that…then I think that you're out of your mind.
On April 26, the BBC had to issue a retraction. They had added fake news to the story (emphases in purple mine):
Various outlets, Wednesday 21 April 2021
In our coverage of texts he had sent to the Prime Minister we referred in various outlets to Sir James Dyson as a prominent Conservative supporter or said he backed the Conservatives.
Sir James says this is factually incorrect.
We are happy to set the record straight.
26/04/2021
However, for some, the story did not end there. It is unclear whether the BBC reported the next item or where it originated. On Tuesday, May 4, two days before the UK's local and regional elections, some Scots were angry to find out that Boris's brother is a company director for Dyson Technical Training Limited. Perhaps it was a coincidence, perhaps not. In any event, plenty of people on the Left have their high-status connections, too.
Jo Johnson was appointed to that post on February 18, 2020:
But I digress.
Returning to the BBC, on Wednesday, May 12, the broadcaster was forced to make a further retraction of its Dyson coverage:
Guido has the full story.
The BBC stated (emphases mine):
We accept that Sir James Dyson is not a prominent Conservative supporter as was stated in some of our coverage of his text messages with the Prime Minister. The James Dyson Foundation made a charitable gift to support the Wiltshire Engineering Festival for school children. We accept that this does not signal affiliation to any political party and we would like to put the record straight. Sir James also raised concerns about the accuracy of other aspects of our reporting. We wish to make clear that Sir James contacted Number 10 in response to the Prime Minister's direct request to him for assistance in relation to the urgent need for ventilators and incurred costs of £20 million which his company voluntarily absorbed in trying to assist in the national emergency. His text messages to the Prime Minister were also later sent to officials. We are sorry that these facts were not always reflected in our coverage, and we apologise for not doing so.
Dyson responded:
The BBC now acknowledges that it was wrong and has issued an apology – which I accept. To justify its claim that I am a "prominent Conservative supporter" the BBC shamefully twisted our charitable gift to school children to suit their political narrative. The Prime Minister asked Dyson to help at a time of crisis, in the national interest, and we did just that. We dropped everything and focused on the national effort. Far from any gain, the project cost us £20 million – a sum we voluntarily bore. I am proud of the efforts of every Dyson person who contributed and we would do precisely the same again. It was deeply disappointing, for me and for the hundreds of Dyson people who gave it their all, to have our efforts developing an emergency ventilator mischaracterised and used for political mudslinging.
To think that everyone in Britain with a television set is forced to pay annually for the BBC's fake news or be fined — perhaps even sentenced to jail, as has happened in the past — is shameful.
I have several more examples of the Beeb's 'stories' to explore in future posts.
The UK's local elections will take place on Thursday, May 6, 2021.
Labour have been casting shade on Prime Minister Boris Johnson during the past few weeks over his handling of the coronavirus crisis and the refurbishment of the Downing Street flat. As one would expect, the left-leaning media are having a field day.
On Wednesday, April 28, after Labour leader Sir Keir Starmer verbally attacked Boris at the despatch box during PMQs (Prime Minister's Questions), Boris let rip by listing all the Conservative government's achievements on Brexit and coronavirus over the past 16 months. The fact that he could rattle everything off in just under two minutes is impressive. Even better, it looks as if our pre-COVID Boris is back. The Conservative MP for West Bromwich East in the West Midlands tweeted:
Here are two more Conservative achievements:
The media are dead wrong when they say that 'Boris is on the ropes':
Here is a more recent poll, taken earlier this week:
Last weekend, the papers were full of stories about what Boris allegedly said before reluctantly announcing a third lockdown around Christmas. He denies having spoken these words, and Labour made a big deal about this earlier this week in Parliament. The public, however, view it in a more nuanced way:
Then we come to the refurbishment of the flat in Downing Street. It is alleged that Boris received funds from a Conservative Party donor to top up the statutory £30k maximum from the taxpayer. The public aren't that interested:
I've seen photographs of one of the redecorated rooms. It looks very Turkish, including the pictures. Although some might find a deep red patterned wallpaper with matching sofa agreeable, it's not the sort of room most people could stay in for long because it is too 'busy'. There is no solid pastel shade anywhere. The next occupant will be busy redecorating it, at taxpayers' expense, to look more neutral.
That has been the work of First Fiancée Carrie Symonds (the 'y' is a long 'i', as in 'Simon'), who does not strike most of us as a true Conservative. If Conservatives have any complaint, it's been that she seems to be running the Government via Boris.
Douglas Murray wrote a great article which appeared today in The Spectator: 'Carrie Symonds and the First Girlfriend problem'.
Unlike the United States, European countries have a tradition whereby leaders' spouses take a back seat where politics is concerned. They stay out of the limelight. This is probably the first time in living memory where a British partner of a Prime Minister has been involved in decision making.
Murray explains:
There is no getting around the fact that there is a problem with Carrie Symonds, which it is probably best to have out now.
In 2019 our Prime Minister came in with a significant and clear mandate. Covid has added significantly to his workload. But for many of us he seemed the perfect — even the only — man for the hour. Yet as that hour has gone on, problems of his own creation keep appearing. Too many of them originate from the sway — even terror — his younger companion seems to exert over him.
Carrie Symonds herself is a perfectly nice, intelligent person who successfully worked her way through Conservative campaign headquarters. But she is having too great an impact on the course of government. There are issues the Prime Minister avoids because she does not favour them. And there are others — principally green issues — which he appears to adopt to satisfy her. The feeling is growing that the First Girlfriend wants political power without the trouble of having to run for office, and to wield it without any resulting criticism. This is not a sustainable state of affairs …
It is not just policy she seeks to influence. The First Girlfriend seems to have a desire to be involved in all personnel issues. Her principal ambition seems to be for her friends to make up all the central control flanks around the Prime Minister. This was one of the main causes of Dominic Cummings's exit from Downing Street last year …
It seems no Carrie-related issue is ever too minor to distract the PM. Last year she made him stop a Cobra meeting at the height of the Covid crisis. The urgent cause was her demand that the PM make an official complaint to the Times newspaper over a story claiming that Carrie's affections for the couple's Jack Russell, Dilyn, had cooled in the year since the couple adopted him …
… the trap laid by Carrie and her defenders is clear. Say that Carrie has gained political influence only because of who her boyfriend is, and you will be accused of being envious of powerful, successful women who have made it in their own right. 'Carrie is an expert in politics,' one well-briefed source recently told the media. And she may well be. But that is not why she is sleeping in No. 10.
In the UK anyone who wishes to have political power should run for elected office. The emergent Office of First Lady is clearly a source of tension in Downing Street, and is already responsible for an unprecedented number of interventions in policy areas that affect our country. We hear nothing from the Prime Minister on issues he was elected on, and far too much on ones that Carrie happens to favour. The Prime Minister may have need of a First Girlfriend, but the country does not.
A year ago, I was wondering why Boris's priorities were changing. Was it because of coronavirus or Carrie?
Twelve months on, I have my answer.
As far as local elections go, however, the Carrie problem is unlikely to affect voters' opinions. Those determined to vote Conservative will carry on regardless of Carrie.
As I wrote last week, the fawning media coverage of Prince Philip's death, especially by the BBC, was appalling in its hypocrisy.
They were rarely nice and respectful to him during his long life. It was disgusting to see BBC reporters suddenly in black, notionally fighting back tears. For decades, they and other media outlets treated this man terribly, so much so that, for many years, I wondered why the Queen had married the Prince. No one I knew could explain why. Eventually, I had to do my own research to learn more about him.
Re media knavery, here's a case in point. In 2019, the BBC's veteran radio presenter and, more recently, host of Mastermind, John Humphreys told of his slanging match with Prince Philip in 1975 during a Royal visit to Mexico. There was a mix-up over what vehicle each was to have been travelling in. That's what he remembered about Prince Philip.
Humphreys then proceeded to voice his regret about not having an exclusive interview with the Queen. The Sun (link above) reported (emphases mine):
John, who left Radio 4's Today last month, was speaking to BBC colleague Justin Webb at an event organised by Intelligence Squared.
The retired newshound, famous for his tough grillings, also admitted he twice begged the Queen, 93, to do an interview — but said she replied: "Nope."
She also told him that if she was ever to do such a chat, it would "certainly not be with you".
John said: "I have wanted to sit there and say, 'With me this morning is Her Majesty The Queen.'
"She has probably met more powerful people than anyone else. And there's the gossip, you know what I mean?"
Good for the Queen for seeing through John Humphreys. Such an interview would have been all about him.
Last week, MPs and Peers in Westminster spent time remembering Prince Philip. So did representatives in the devolved assemblies in Scotland and Northern Ireland.
One young MLA from Northern Ireland said that she 'never really appreciated' Prince Philip until he died, at which point she discovered all sorts of interesting details about his life that she had never heard before.
Well, yes, the media hid all that from the British public.
The only time Prince Philip was in the news was when he made one of his famous 'gaffes' on a trip. News presenters would ask the royal reporters if said gaffes would cause a diplomatic incident or harm trade relations with the country in question.
The satirical magazine Private Eye referred to the Prince as Phil the Greek. One would expect that from a satirical magazine. However, the news media were no better.
Even on May 4, 2017, when the 95-year-old Prince announced he would be standing down from public life, coverage was lukewarm, including in The Telegraph.
These are the principal facts from the article, mixed in with the usual negatives:
The Duke of Edinburgh is Patron, President or a member of over 780 organisations, with which he will continue to be associated, although he will no longer play an active role by attending engagements …
The Duke of Edinburgh has spent 25 days so far this year carrying out public engagements – more than the Duke and Duchess of Cambridge and the Queen.
Philip's appearances out and about with the monarch in the public eye since the start of 2017 have ranged from feeding an elephant at ZSL Whipsnade Zoo to attending the unveiling of a national memorial on Horse Guards Parade.
Solo engagements by the 95-year-old also included opening the new Warner Stand at Lord's Cricket Ground in London on Wednesday and meeting actor Tom Cruise at a Buckingham Palace dinner to mark the 75th anniversary of the Outward Bound Trust in March.
The article also had a section called 'The Prince in numbers':
Here are some facts about Prince Philip:
Total number of solo engagements – 22,191
Total number of solo overseas visits – 637 (Commonwealth countries – 229 visits to 67 countries / other countries 408 visits to 76 countries)
Total number of speeches given – 5,493
Total number of patronages – 785 organisations
Presentation of colours – 54
Number of service appointments – 32
Number of books authored – 14
Oddly, the best tribute that day came from Jeremy Corbyn MP, who led the Labour Party at that time. Corbyn is hardly known for his royalist sentiments, but he recognised the Prince's service over so many decades:
I would like to pay tribute to Prince Philip following his decision to retire from public service.
He has dedicated his life to supporting the Queen and our country with a clear sense of public duty.
His Duke of Edinburgh's Award scheme has inspired young people for more than 60 years in over 140 nations.
We thank Prince Philip for his service to the country and wish him all the best in his well-earned retirement.
On July 8, 2020, CheatSheet listed the Prince's most famous 'gaffes' and pointed the finger at him for his globalist perspectives regarding overpopulation, complete with a video:
Back in 1988, the duke brought up overpopulation when speaking to the German news agency Deutsche Press Agentur about reincarnation.
"In the event that I am reincarnated, I would like to return as a deadly virus, to contribute something to solving overpopulation," The Telegraph quoted Philip saying at the time.
A few different versions of the quote have circulated during the coronavirus outbreak. Another published version claims the queen's husband said: "If I were reincarnated I would wish to be returned to earth as a killer virus to lower human population levels."
Prince Philip has never shied away from his feelings about overpopulation. In 2008, he said he believed it was one of the biggest challenges in conservation before offering his thoughts on what should be done about it.
And prior to that, the Duke of Edinburgh told People Magazine: "Human population growth is probably the single most serious long-term threat to survival. We're in for a major disaster if it isn't curbed–not just for the natural world, but for the human world. The more people there are, the more resources they'll consume, the more pollution they'll create, the more fighting they'll do…If it isn't controlled voluntarily, it will be controlled involuntarily by an increase in disease, starvation, and war."
It was left to ordinary people — not journalists — to tell the world about the Prince and his life. Did you know, for example, that Prince Philip held the Queen's hand while she gave birth to Prince Edward in 1964? Very, very few fathers did that in the 1960s.
This is an excellent Twitter thread about his life on the occasion of his 99th birthday last June:
Last Monday, a number of MPs said that they had participated in the Duke of Edinburgh's Award Scheme when they were young. A few of them said that the programme — comprised of arduous Bronze, Silver and Gold levels — gave them the confidence to run for public office. It also encouraged physical activity and spurred Lady (Tanni) Grey-Thomas to become an award-winning Paralympian — now a crossbench life peer in the House of Lords. She explains the programme in more detail in this short video:
The residents of the South Pacific island of Tanna must have been sad to know that the man whom they viewed as their messiah had departed this mortal coil. They believed that he would settle among them:
What we did not know was that Prince Philip, once he found out he was so revered, kept in touch with the islanders, sent them gifts and also met privately with a delegation of them at Windsor Castle.
On Sunday, April 18, The Telegraph reported on this unusual story, excerpted below:
In the Sixties, when Vanuatu was an Anglo-French colony known as the New Hebrides, it is believed that tribesmen would have set eyes on a portrait of Prince Philip alongside the Queen (whom he had married in 1947) hanging in various official buildings – and decided that this handsome young man in the Naval uniform was the very same ancestor of their god.
This belief that the Duke was a prodigal son of the island was reinforced when coincidentally he and the Queen made an official visit to the New Hebrides in 1974. A warrior named Chief Jack Naiva, who died in 2009, was one of the paddlers of a war canoe that greeted the Royal Yacht Britannia.
"I saw him standing on the deck in his white uniform," Chief Jack is on record as saying. "I knew then that he was the true messiah."
Ever since, villagers have prayed to the British monarch daily. They ask for his blessing on the banana and yam crops they grow in the fertile volcanic soil and have held on to the fervent belief that one day he will return to the island and unite the nations of England and Tanna …
Largely cut off from the world with limited electronic communications, the islanders were only made aware of the Duke of Edinburgh's death last Friday when a worker from a nearby spa resort made a journey on Saturday afternoon to break the news to them. It was reported that one tribeswoman immediately burst into tears, while the men fell silent as they tried to comfort their children.
When the Duke retired from public duties in May 2017, villagers only found out several days later after a visit by a Reuters journalist. The village chief Jack Malia said then that the islanders were still holding on to the hope that the Duke would visit.
"If he comes one day, the people will not be poor, there will be no sickness, no debt and the garden will be growing very well," he said through an interpreter at the local Nakamal – a traditional meeting place where the tribesman gather at night to swap stories and drink highly intoxicating kava.
The same drink was cracked open to celebrate the 89th birthday of the Duke of Edinburgh on June 10, 2010 – the date he was initially prophesied to return to the island and live alongside villagers in a straw hut, hunting the wild pigs that are abundant on the island and adopting the local traditional dress which, for males, is nothing but a large grass sheath …
Discovered in 1774 by Captain James Cook, in 1906 the islands became the New Hebrides, jointly administered by Britain and France until independence in 1980. Even after his visit in 1974, the Prince was not aware of the legend surrounding him until John Champion, the British Resident Commissioner in the New Hebrides, told him a few years later.
Ever since, he has always taken the esteem with which he is held by the people of Tanna extremely seriously. Over the years he has exchanged various gifts with the islanders. Tanna elders once sent Prince Philip a "nal nal" wooden hunting club. He in turn sent them back a photograph of himself holding the club – which has become a cherished religious icon on the island alongside other photographs of the Duke.
In 2007, a delegation of five islanders visited Britain in the hope of an audience with Prince Philip as part of a Channel 4 documentary called Meet the Natives. The filmmakers took the men to stay with Prince Philip's friend Sir Humphrey Wakefield at Chillingham castle in Northumberland. Sir Humphrey, whose daughter Mary Wakefield is married to Boris Johnson's former chief advisor Dominic Cummings, took the Tanna tribesmen on a hunting trip and invited them to various black tie dinners.
At one of the dinners where another friend of the Duke, Lord Haddington, was in attendance, he assured the visitors: "If he had a moment, he would love to meet you, I'm sure."
The Duke was good to his word and eventually hosted the men for a private reception at Windsor Castle, which the film crew was not invited to attend. Once they had returned to Tanna, the delegation relayed the somewhat cryptic message they said they had been given by the Duke of Edinburgh to their chief – "When it is warm, I will send a message. At the moment, it is cold in England."
… In 2018, the Prince of Wales followed in his father's footsteps and visited Vanuatu where he was made an honorary high chief. During the ceremony, he was presented with local gifts and garlands of flowers and took a sip of specially brewed Royal Kava, which had last been consumed when Prince Philip visited in 1974.
In the tradition of the Malvatumauri Council of Chiefs, the heir to the throne took part in a series of rituals before being given the high chief name of Mal Menaringmanu.
In closing, on April 18, the leader of Sinn Féin apologised for the IRA's assassination of Prince Philip's uncle, Lord Mountbatten, in 1979. He is shown on the left in this photo, standing next to his nephew:
The Independent reported that party leader Mary Lou McDonald told Times Radio:
My job, and I think that Prince Charles and others would absolutely appreciate this, my job is to lead from the front, now, in these times.
I believe it is all our jobs to ensure that no other child, no other family, no matter who they are, suffers the same trauma and heartbreak that was all too common on all sides of this island and beyond.
I have an absolute responsibility to make sure that no family faces that again and I am happy to reiterate that on the weekend that your Queen buried her beloved husband.
Better late than never, but not surprising in timing.
One does wonder if this apology — take it for what it is — would have been made sooner had media coverage of the Prince been more positive while he was alive.
Nonetheless, even left-leaning nationalists in the Stormont assembly in Northern Ireland praised the Queen and Prince Philip for their visits and for helping to reconcile both sides of the political aisle to bring peace to what is still a troubled nation.
Tomorrow's post, all being well, will cover the highlights of the Prince's funeral.
Sadly, Prince Philip, the Duke of Edinburgh, died on Friday, April 9, 2021, exactly two months short of his 100th birthday:
The Queen has lost her best friend. My deepest sympathies to her for the unimaginable loss of her long-time husband and daily confidant. My condolences also go to the Royal Family in their grief.
Young love
The couple first met in 1934, and began corresponding when the Prince was 18 and a cadet in the Royal Navy. Princess Elizabeth was 13 at the time.
She was smitten with him from the start.
Prince Philip served with distinction during the Second World War in the Mediterranean and Pacific fleets.
After the war ended, he could have had a stellar career in the Royal Navy. His superiors praised his clear leadership skills.
However, love intervened and the rest was history.
Born Prince Philip of Greece and Denmark, he renounced his foreign titles and took British citizenship before he and Princess Elizabeth were engaged. He took the surname of his maternal grandparents: Mountbatten.
He and Princess Elizabeth were engaged in July 1947. They married on November 20 that year. Shortly before the wedding, George VI gave him the titles of Duke of Edinburgh (created for him), Earl of Merioneth and Baron Greenwich.
Prince Philip remained in the Royal Navy until July 1951. He retired with the rank of Commander.
Royal succession — and surname
In January 1952, he and the Queen began a tour of the Commonwealth countries. They were in Kenya when news reached them that the Queen's father, George VI, died on February 6 that year.
Although she became Queen immediately upon her father's death, her coronation took place in 1953, as it had to be planned meticulously.
On Coronation Day, he knelt before her, clasped her hands and swore an oath of allegiance to her:
He also had to touch her crown and kiss her on the cheek.
He never had a constitutional role, nor was he ever formally given the title of Royal Consort. The courtiers did not like him, nor did they trust him. They believed his personality to be brash and unbecoming of the Royal household. They shut him out of as much decision making as possible.
When Elizabeth became Queen, the question about her family name arose. Prince Philip suggested that the Royal Family be known as the House of Edinburgh. Upon discovering that suggestion, Queen Mary, Elizabeth's grandmother, wrote to Prime Minister Winston Churchill, who advised the young monarch to issue a royal proclamation saying that the Royal Family would continue to be known as the House of Windsor.
In his inimitable style, Prince Philip complained privately:
I am nothing but a bloody amoeba. I am the only man in the country not allowed to give his name to his own children. [57]
The Queen did nothing until eight years later, in 1960, 11 days before she gave birth to Prince Andrew. She issued an Order in Council declaring that the surname of her and her husband's male-line descendants who are not styled as Royal Highness or titled as prince or princess would be Mountbatten-Windsor.
Pater familias
Prince Philip had to carve a role out for himself. He became the pater familias and, through the years, his role expanded to cover not only his four children but his grandchildren. He listened to their concerns, shared their joys and gave them advice. He knew everything that went on in their lives.
Although the public knew him for speaking as he saw — rather bluntly, on occasion — behind closed doors Prince Philip was known to be a warm, loving man.
He also favoured a more transparent Royal Family. According to the BBC, it was he who encouraged the Queen to make a multi-episode documentary on their daily lives, including those of their four children. It was broadcast in the late 1960s. I remember seeing it in the United States.
When Princess Diana died on August 31, 1997, Prince Philip was the one who kept an eye on the public mood that fateful week. He, the Queen and Princes William and Harry were at Balmoral in Scotland for their summer holiday. When the young princes wanted to attend church, their grandparents took them to the Sunday service on the day of their mother's death. Later in the week, it was Prince Philip who encouraged the boys to walk behind the funeral procession the following Saturday. He said:
If you don't walk, I think you'll regret it later. If I walk, will you walk with me? [93]
One cannot imagine what he thought of Prince Harry's departure for the United States to live a life separate from his closely knit family. I did read that the Royal Family shielded information about the Oprah interview from him.
John F Kennedy's funeral
Prince Philip was in Washington for John F Kennedy's funeral in 1963.
He had a friendly encounter with John Jr, who was still a toddler and known as John-John at the time. The child wondered where his father was, as he had no one with whom to play. The Prince stepped in to fill that gap. In 1965, the British government gave an acre of land at Runnymede to the United States for use as a memorial to JFK:
Funeral arrangements
Prince Philip was self-effacing and did not like a fuss to be made over him.
Therefore, the funeral arrangements will respect his wishes, which is rather convenient, as coronavirus restrictions are still in place. Up to 30 people will be allowed at his funeral, in line with legislation across the nation:
The funeral is scheduled to take place on Saturday, April 17:
It is interesting that Prince Harry will be able to attend when we have a 10-day quarantine in place for arrivals into the UK under coronavirus regulations.
The Sunday Mirror reported on Prince Harry's return to the UK:
He could also be released from quarantine if he gets a negative private test on day five, under the Test to Release scheme.
Given his status as a member of the Royal Family travelling to support the Queen, Harry might be considered exempt from travel restrictions.
Wow. It's nice to know we have a two-tiered quarantine system in place /sarc.
A championship boxer remembers the Prince
Former WBC Heavyweight Champion Frank Bruno MBE posted his memories of meeting Prince Philip. He is at the top left in the following photo:
An Anglican priest remembers the Prince
The Revd Peter Mullen, an Anglican priest, recalled his encounters with Prince Philip for Conservative Woman on April 10 in 'A personal recollection'.
He first met the Prince during his schooldays:
The first time I met the Prince was in connection with his Duke of Edinburgh's Award Scheme which gave a leg up to youngsters from what would now be called the less privileged parts of the country. He paid a visit to the Leeds branch of the Church Lads' Brigade of which, aged fourteen, I was a member. We were in the church hall making things. My task was to make a table lamp. I was hopeless at it.
The Duke got hold of my half-finished creation, held it up to one eye and said, 'I suppose this hole is where the flex goes?'
'I think so, Sir.'
'You think so? I was never any good at this sort of thing either!'
And he was off . . . 
As an adult, Mullen met him on more than one occasion thanks to the Honourable Company of Air Pilots. The Prince was its Grand Master. Mullen served as chaplain.
He recalls:
The Company gave a lunch for him to mark his 80th birthday and I recall how jovial he was, making light of his years: 'I believe I have lasted so long because you people are always toasting my good health, but I don't want to live to be a hundred. Things are dropping off already!'
At another luncheon one of our Liverymen who had his own port wine business presented the prince with Bottle Number One, the first fruits, so to speak. As he left, the duke handed the bottle to me: 'You have this, Peter. Our house floats on the bloody stuff.'
'Well, Sir, now I don't know whether to drink it or frame it.'
'Gerrit down ya neck!'
Prince Philip on MPs
Guido Fawkes came up with a good quote from one of the Prince's trips to Ghana. It concerns MPs. His Ghanaian hosts told him the country had 200 MPs. Prince Philip replied:
That's about the right number. We have 650 and most of them are a complete bloody waste of time.
Incidentally, Parliament will be recalled one day early from Easter recess. On Monday, April 12, MPs and Lords paid tribute to the Prince in their respective Houses:
That afternoon, the House of Commons reconvened to pay their tribute — from 2:30 p.m. until 10 p.m. (good grief).
Speaker Sir Lindsay Hoyle spoke first:
Prime Minister Boris Johnson had this to say:
Boris Johnson, who was invited to the funeral but declined so that another member of the Royal Family can attend, said that he would forego a pint when pub gardens reopen on April 12, out of respect for the Prince. Guido Fawkes, however, thinks that the Duke of Edinburgh would have wanted us to toast his memory, especially at a pub that bears his title in Brixton, south London:
Guido had a second tweet on the subject with another quote from the Prince:
Agreed.
Prince Philip on Australia
This is too funny. For those who are unaware, Australia was established as a place where Britain could send convicts. That was a long time ago, but the nation's original purpose was to serve as a prison: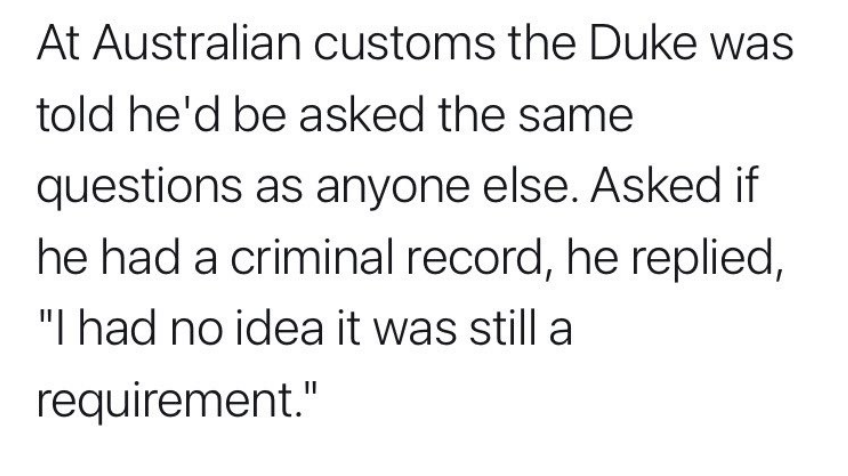 Prince Philip on civil liberties
On a serious note, the 12-minute interview below from 1984 is well worth watching, especially in the coronavirus era.
Prince Philip firmly supported the rights of the individual and believed that the state should serve the individual, not, as in our times, the other way around.
This is from a Thames Television programme originally broadcast on ITV:
I have posted the video below in case the tweets are deleted:
The Prince also said that certain subjects are out of bounds, such as the media and the NHS.
He said that the media are incapable of taking a joke about themselves and, as for the NHS, well, one cannot say anything against it. He didn't necessarily dislike the NHS but thought it was held in too high a regard. Nothing is perfect in this world.
We have been travelling a long road towards the point where we are at present: ruled by the media (they clamoured for coronavirus restrictions) and worship of the NHS. This is how Health Secretary Matt Hancock, Prime Minister Boris Johnson and SAGE have been able to rule our lives. It's been at least 40 years in the making.
BBC coverage on Friday
I was watching BBC Parliament early Friday afternoon, around 1:15, when the programme was interrupted by a broadcast from the BBC News Channel.
I checked the schedule an hour later, which said that the programme would last until 4 p.m. It was still going when I was preparing dinner at 5 p.m.
The final of MasterChef was to have been broadcast that night on BBC1. This was a clip from Thursday's programme:
Pictured are the hosts and judges, chef/restaurateur John Torode on the left and former greengrocer, now television presenter, Gregg Wallace on the right:
BUT:
The BBC News channel was simulcast all afternoon and all night long, not only on BBC Parliament but also on BBC1, to the dismay of MasterChef fans (myself included), and BBC2. BBC4 was suspended for the evening.
I read on social media that the BBC also broadcast continuous coverage of Prince Philip on their radio stations, including Radio 2, knocking out Steve Wright's drive-time show on Friday afternoon.
A friend of mine said that most of the BBC's employees were probably rubbing their hands with glee because it meant an early weekend for them. It's a cynical perspective that could well turn out to be true. We'll find out when someone writes his or her memoirs.
Everyone with a television set receives the BBC News channel. It comes into our homes at no extra charge. There was no need for the BBC to take over every channel for hours on end. By the way, if one had watched two hours of the Prince Philip coverage, as I did, one would have seen and heard everything in its entirety.
The BBC braced themselves for a plethora of complaints; they took the relevant page down on Sunday. Good. I am sure Prince Philip would have objected, too.
As much as I love the Queen, I hope they do not try this when her day comes. God willing, may it be long into the future.
Record-beating prince
Prince Philip established two records as consort to the Queen. He was the longest-serving royal consort in British history. He was also the longest-lived male member of the British royal family.
May he rest in eternal peace with his Maker.
May our gracious Lord grant the Queen, Defender of the Faith, His infinite peace and comfort in the months ahead. May He also bless the Royal Family during this difficult time.
President Trump has given three interviews in mid-March. More on those below.
Americans clearly miss him and his clear-cut, sensible policies. Joe Biden's administration is reversing many of them. Remember the manufacturing plants that were going to stay in the United States? Ford has now reneged and is going back to its original plan of moving one of its plants from Ohio to Mexico:
In other news, it took more than two months for the media, led by the original source, the Washington Post, to retract the story about Trump's phone conversation with Georgia's secretary of state about the election. WaPo finally retracted their false quotes attributed to the former president on Tuesday, March 16:
RedState has an excellent article about this further example of fake news (emphases mine below):
The alleged contents of this conversation had been part of the national conversation ever since January 9 when Washington Post reporter Amy Gardner published a story claiming, based on a single anonymous source, that President Trump had attempted to pressure Ms. Watson into creating evidence of fraud where all right-thinking people know that all voting in Georgia, especially in Fulton County, was totally on the up-and-up. The story blew up. It slid neatly into the Pantheon of Evil Acts By Trump worshiped by the left, the media, and NeverTrump. Through the miracle of journalisming, something we lay folks can't be expected to understand, the anonymously sourced story was quickly and independently confirmed by NBC, ABC, USA Today, PBS, and CNN.
When President Trump was impeached after leaving office for giving a speech on the National Mall on January 6, this unsourced, though now multiply "corroborated," allegation found its way into the "impeachment brief" submitted by the House "impeachment managers," see page 10 if you care to wade through this dross. And, they, relying upon that integrity and sense of fair play for which progressives are famous, even used it in their impeachment arguments …
One final note. If the Daily Caller or Free Beacon or even the Washington Examiner had pulled a bullsh** stunt like this, they would be out of business (read The Washington Post Doesn't Deserve to Exist After Making up Trump Quotes to Own the Orange Man). Facebook and Twitter would have de-platformed them by now (read Based on Brian Stelter's Own Arguments, CNN and Washington Post Should Be Deplatformed). They would be ritually sacrificing staffers to try to keep advertisers from fleeing, and they would still fail. The Washington Post and Amy Gardner will simply move ahead. They will continue to sling wild conspiracy theories based on uncorroborated single sources, and they will continue to be treated as though they are serious newsgathering organizations.
Trump quickly compiled quotes from all the journalists condemning WaPo — including one from Glenn Greenwald, not a fan of his by any stretch of the imagination. When clicking that Telegram link, click on 'Context' to view in its entirety. It is easier just to visit his website's announcement with all the quotes.
On Saturday, March 20, at Mar-a-Lago, he made reference to Joe Biden's tripping on the airplane stairs and quickly added that he himself won the election by more than 75 million votes:
That Trump won is very likely to be true. On March 19, Howie Carr interviewed Jonathan Allen, one of the authors of Lucky: How Joe Biden Barely Won The Presidency. At the 8 minute point of the interview, Allen tells Carr that Trump lost within 43,000+ votes in three states. Peter Navarro, who wrote three reports for Trump on the 2020 election results, maintained that only six counties needed recounts, yet the swampy advisers around Trump said not to pursue the matter. After all, they have careers to preserve.
Former Democrat — now proud Republican — Georgia state congressman Vernon Jones was a guest of President Trump's at Mar-a-Lago twice in one week:
On Monday, March 22, Harris Faulkner of Fox News interviewed Trump. They discussed the border situation and Biden's reversal of his policies:
Trump is clearly concerned about the Second Amendment (guns), packing the Supreme Court and the weakness of Mitch McConnell, now the Senate Minority Leader.
There was also this:
On Tuesday, March 23, Trump gave an interview to Greg Kelly of Newsmax, wherein he discussed the 'gross incompetence' of the border situation, Operation WarpSpeed and more:
Biden's fall also came up for discussion. Trump said he had 'expected it':
James O'Keefe of Project Veritas was Trump's guest at Mar-a-Lago on March 23:
Rep. Madison Cawthorn (R-North Carolina), elected in 2020, was Trump's guest the following day:
And, finally, on Thursday, March 25, Laura Ingraham of Fox News interviewed him. This interview, which is 26 minutes long, is excellent. It covers the recent policy changes that have happened since Biden took office, including his first press conference that day, and ends with a discussion about Trump's social media plans. Trump seems less sure about a new social media platform, saying that it would be rather complicated and that he enjoys his current communication streams on his website and Telegram.
The former president says he has been relaxing, yet keeping busy. It certainly looks like it.