You are currently browsing the tag archive for the 'media' tag.
At the weekend, suddenly, a new American media narrative appeared: family separation of illegal aliens at the US border.
Anyone who is anyone chimed in about the 'heartless policy' of the Trump administration, including — but not limited to — former first ladies Laura Bush and Michelle Obama, Laura Bush's brother-in-law (former presidential candidate) Jeb Bush and Senator (former presidential candidate) Ted Cruz. Massachusetts governor Charlie Baker decided not to send the National Guard to help patrol the southern border.
Even First Lady Melania Trump notionally had something to say, although her thoughts were expressed through her spokeswoman with the goal of bringing about revised immigration legislation.
On Monday, June 18, 2018, the Daily Mail posted an exposé of a Texas facility for incoming illegals. Well, those in the facility entered illegally and immigration officials are treating them as humanely as possible given their status. They are only there for a few days.
However, this is not exactly a Trump administration policy. It is one from prior administrations that is continuing today until the Democrats come to the table and work out a reasonable immigration bill with Republicans.
Please note that what everyone is in an uproar about are processing facilities only, the same way Ellis Island was a century ago for … legal immigrants.
The commentary to this video with Hillary Clinton is instructive:
The video — originally from Mediaite — was posted by a YouTube user in September 2017. An excerpt from the YouTuber's commentary follows. Emphases mine:
This clip isn't quite what Mediaite presents it as, though. She's talking here about the migrant crisis in 2014, when parents in Central America sent their kids north, frequently unaccompanied, to cross the U.S. border. They were *recent* arrivals, often intercepted by Border Patrol and sent to detention facilities immediately upon entering the U.S. The case for legalizing DREAMers rests on the fact that they're not recent — they're fully (or mostly) assimilated into American culture, sometimes not even speaking the language of their country of birth fluently. Reportedly even Steve Bannon drew a distinction between DREAMers and other illegals during his time in the White House: "Trump was never in favor of repealing DACA," said a source close to the president, who also said that keeping the program is in line with the immigration stance of Bannon, whose counsel Trump closely heeds. Bannon's economic nationalist view is very much rooted in culture, and so eliminating DACA wouldn't be a priority for him because "these kids have been here and they're going to schools here," the source said. "They're Americans. They understand the culture."
On June 16, the GOP reminded Americans that the Obama administration wanted the child migration crisis kept quiet. Note the date on the video below — 2014. Yes, children were sleeping in cages then:
The video description reads:
On CNN, Representative Henry Cuellar (D-TX) admits that the Obama Administration tried to keep the children migrant crisis on the southern border quiet.
There are a number of considerations surrounding children who show up at the border. Some are accompanied by an adult, but many are not. Not all of the adults accompanying the children are actually family members. What if they are being trafficked?
Did Department of Homeland Security Secretary Kirstjen Nielsen wait too long to address the questionable narrative? By the time she spoke, the media and other anti-Trumpers had embraced it. It spread like wildfire. She should have had a statement prepared to give on television as soon as the news stories began. Why did she wait until Sunday, June 17 to address the issue? Fox News reported:
The head of the Department of Homeland Security bashed the media Sunday for their reporting on the increasingly volatile immigration controversy, writing in a string of tweets: "We do not have a policy of separating families at the border. Period."
Secretary Kirstjen Nielsen added: "This misreporting by Members, press & advocacy groups must stop. It is irresponsible and unproductive. As I have said many times before, if you are seeking asylum for your family, there is no reason to break the law and illegally cross between ports of entry."
The second sentence in the tweet below is the real issue — illegal entry:
The tweets below are from her Monday press conference (see full transcript):
Also:
If President Trump was upset with Nielsen a few weeks ago, he must surely be furious now. On May 11, US News reported:
President Donald Trump unloaded on Homeland Security Secretary Kirstjen Nielsen at a heated Cabinet meeting this week, railing against her for failing to stop illegal border crossings.
Trump, who has grown increasingly frustrated by a spike in border apprehensions and legal setbacks, blamed Nielsen Wednesday for failing to do enough to stop them, according to people familiar with the exchange.
Nielsen, one person said, tried to explain the issues were complex and that the department's powers were limited by a slew of legal restrictions. She told the president her team was doing everything it could, but the president was left unconvinced.
The episode, first reported by The New York Times, left Nielsen on the verge of resignation, according to the paper, which also said Nielsen, the former deputy White House chief of staff, had drafted — but not submitted — a resignation letter.
The department pushed back against that characterization.
Homeland Security spokesman Tyler Houlton said in a tweet that, "The @nytimes article alleging that the Secretary drafted a resignation letter yesterday and was close to resigning is false."
Illegal immigration was always an issue for President Trump:
This is what an actual facility for young illegals looks like as of June 15, 2018:
You can read more about Casa Diego and other children's facilities at Breitbart: 'PHOTOS: Inside Shelter for Illegal Alien Children Separated from Parents'. Please read the article and look at the pictures. Excerpts follow:
The Department of Health and Human Services hosted Breitbart News and other media on a tour of a facility in El Cajon, California, on Friday where migrant children are being sheltered after being separated from their parents.
The children are separated from their parents — or, to be precise, from the adults accompanying them, who may or may not be their parents — when their parents cross the southern U.S. border illegally and are caught and detained.
Previously, under the "catch-and-release" policy, the adults would be released. Under the "zero tolerance" policy of the Trump administration, the adults are being detained and prosecuted. Children cannot be incarcerated with them.
However, families that arrive together at legal ports of entry and apply for asylum status are generally not split up and are permitted to stay in the U.S. pending the adjudication of their applications (which can take several years).
It is important to remember that much of this kerfuffle about 'cages' started with a reporter from Playboy magazine:
On Thursday, CNN analyst and Playboy reporter Brian Karem shouted at White House Press Secretary Sarah Huckabee Sanders: "These people have nothing. They come to the border with nothing and you throw children in cages." None of the reporters in the briefing room corrected him.
A non-profit organisation, Southwest Key, is in charge of these facilities, which are well equipped and clean. Casa Diego is for boys aged 6 to 17. They received schooling on the premises. A recreation area is also on site:
The goal is "reunification": letting each child depart with a legal guardian.
Some 90% of the children at the shelter arrived at the border without adults; the other 10% were separated from the adults accompanying them. Once the children arrive — usually brought by U.S. Border Patrol agents — they are greeted in the "intake" office, where they receive any urgent medical care, are assigned a case worker, and are given food, a shower, and new clothing. They are also given toiletries and lessons in hygiene — literally how to flush a toilet, brush their teeth, and operate the shower, which some of the children may have never seen in their lives …
They have limited access to telephones to call relatives, both in the U.S. and abroad. They receive therapy, both as individuals and in group sessions. They enjoy field trips to local museums, parks, and the zoo, where they can explore the city beyond the shelter. And they also have social activities, including a recent "prom" for which they dressed up.
Girls come from another facility and share some of Casa Diego's services.
In conclusion:
"Cages," these are not. What is immediately striking about the facility is the enthusiasm and care of the staff who work there.
No doubt, I will post on this subject again in future.
Just time for a quick post today.
I do not know where this hoarding (billboard) is, but please note and remember the last three lines (image courtesy of 8chan):
If the Democrats hate America, chances are they hate you, too.
Even if you've voted for them all your life.
The US Constitution has been gradually eroded over the past century.
It's getting worse, up to the point where the decisions of the American voters and the Electoral College are being undermined (origin of graphic unknown):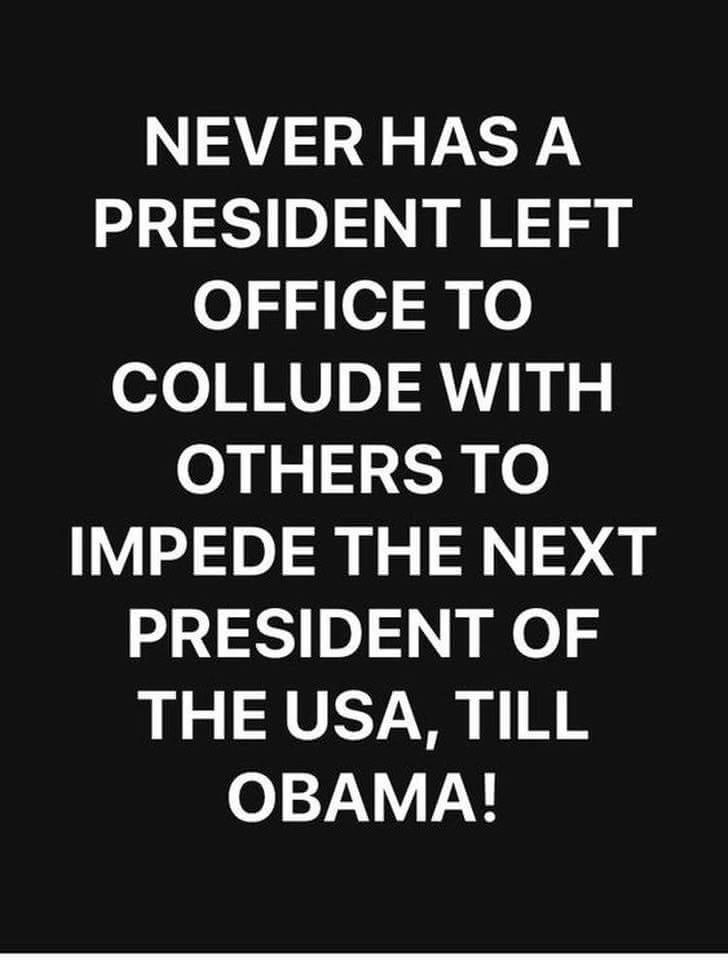 An article posted today at FrontPageMagazine explains it all.
Bruce Thornton's 'Dangerous Times for the Constitution and Freedom' is well worth reading in full. Thornton is a Shillman Journalism Fellow at the David Horowitz Freedom Center.
Excerpts follow, emphases mine:
While We the People distract ourselves with porn stars and royal weddings, the cracks in our Constitutional order continue to multiply and widen.
Evidence continues to mount that a sitting president, Barack Obama, colluded in using the nation's security and surveillance apparatus to subvert the campaign and then presidency of a legitimately elected candidate and president. This effort consisted of numerous illegalities: a mole planted in Donald Trump's campaign; a FISA warrant granted on the basis of false opposition research paid for by his rival; the outgoing president's expansion of the number of people allowed to unmask the identity of Americans mentioned in passing during surveillance; a rogue FBI director, James Comey, who illegally usurped prosecutorial powers to exonerate a felonious Hillary Clinton; and other FBI agents colluding in the plot to damage Trump. And don't forget a Deputy Attorney General appointing the close friend of the fired and disgraced Comey as a special counsel to investigate the non-crime of "collusion," an investigation that has gone on for a year with nothing to show but a handful of indictments resulting from dubious perjury traps.
To quote Bob Dole, "Where's the outrage" at these attacks on the Constitution?
Outrage is surely warranted. These assaults on the rule of law and accountability to the people are akin to the catalogue of "repeated injuries and usurpations, all having in direct object the establishment of an absolute Tyranny over these States," published in the Declaration of Independence. Yet our "watch-dog" media in the main have become the publicists for this attack on the foundations of our freedom, as they flack for the political party that long has resented the limitation of power enshrined in the Constitution. Only a few Cassandras, notably FOX News' Sean Hannity, are trying to alert the citizenry to the coming conflagration that if unchecked could leave the architecture of our freedom in smoking ruins.
In fact, what we are witnessing in the deep-state Democrats' undermining of divided government, check and balances, and government accountability, is the culmination of a process begun over a century ago …
For a century, progressives have been undermining the Constitution as they seek to expand and concentrate government power at the cost of freedom …
… If we allow those guilty of abusing the power of the state for partisan gain to get away with it, we will embolden even more enemies of freedom to do the same as soon as they get the opportunity. It is up to we the people to demand that Mueller's inquisition come to an end, and that the true miscreants who have abused their power be investigated, indicted, tried, and punished. Only then will the fabric of the Constitution begin to be restored, and our freedom rearmored.
The article explains how various government programmes and policies dating from the First World War era have gradually made Americans a less free people living in a less free society. Even a vote is no longer sacrosanct.
It's time Americans reclaimed their Constitution.
Please send letters or postcards to your public servants — representatives and senators — about specific issues, urging them to vote on them in a way that restores the Great Republic.
The future of the United States — and the world — depends on it.
The American actress Roseanne Barr has long been an advocate for children. Having worked in Hollywood for so long, she knows that many young stars have been molested and drugged.
She wants it stopped, which is one of the reasons she supports President Donald Trump.
On Passover — Saturday, March 31 — she tweeted:
President Trump has freed so many children held in bondage to pimps all over this world. Hundreds each month. He has broken up trafficking rings in high places everywhere. notice that. I disagree on some things, but give him benefit of doubt-4 now.
I happened to read it hours after it was posted. She did catch flak for it, and tweeted about Passover being synonymous with freedom from slavery. Unfortunately, she has taken both tweets down and is now focussing on her newly revived eponymous sitcom.
That day, CNN reported about that and an older Barr tweet in which she wanted to hear from Q because she had information to give (emphases mine):
"The Storm," as Newsweek, Mediaite and others have explained, alleges that high-profile Democrats and other famous people are involved in child sex-trafficking rings, and that Trump is breaking them up and arresting those involved in their operation. The theory has been traced to the online message board 4Chan, where an anonymous user known as "QAnon," or simply "Q," has propagated the theory.
Uh, keep up, CNN. Q has been on 8chan for some time now.
Anyway:
Twitter users concerned about Barr's involvement in such theories quickly pointed to past tweets by her that would further explain her involvement in the theory. In November, Barr tweeted, "Who is Q?" The Daily Beast reported. The actress added hours later, "tell Qanon to DM me in the next 24 hours."
Of course, many media outlets picked up on this, but Q provided the CNN link (message 1061):
What a coincidence.
https://www.cnn.com/2018/03/31/politics/roseanne-barr-conspiracy-tweets/index.html
Q
Many headlines were identical. How does that happen organically? It can't. I posted about Mockingbird last week, pointing out that someone researched the word for March 26, which was 'gamble'.
Someone on 8chan grabbed a screenshot from March 31:
Roseanne's eponymous — and highly popular sitcom — originally ran from 1988 to 1997. Nearly everyone I knew watched it. I tried, but it wasn't my cuppa. My late widowed mother never watched it, either.
For those living outside of the United States, these tweets give you an idea of the show and how happy millions of viewers are to see it return:
The new series premiered on Tuesday, March 27, 2018 with such phenomenal ratings that it was renewed for another series on March 30! In the meantime, Trump rang to congratulate her:
Think about how many Americans Roseanne reaches on television (and Twitter). Her returning character is a Trump supporter. Connecting the dots, we can see how many minds she can influence. As a Tablet magazine article pointed out:
… Roseanne is the first decent argument that Donald Trump has had in the culture business since he got elected. It's even more powerful coming from a comedian like Roseanne who, bless her soul, may be the single most important feminist symbol in America, relevant because she belongs not to the moneyed and privileged chattering vanguards but to the working class. Roseanne herself knows Trump, and appears to personally dislike him.
Wrong:
Continuing with the article:
But she's given him this arguably undeserved gift because she also agrees with him on several key issues, like trade and political correctness. She also understands that Trump plugs in to the frustrations of millions of Americans who've been getting shafted for nearly three decades now with neither Democrats nor traditional Republicans doing much to help them out.
Almost for certain, the success of the new season of Roseanne will lead many bien pensants to call the comedian a crackpot or worse …
Indeed:
Here's the exchange between Roseanne and the New York Times (Roseanne's responses in bold):
Considering that Trump opposes many of the principles that you and Roseanne Conner have stood for, how can you support him?
No, he doesn't, I don't think he does. I don't think so at all. I think he voices them quite well.
I'm thinking of abortion rights, same-sex marriage rights, labor protections —
He doesn't oppose same-sex marriage.
He doesn't favor it. He has not come out in favor of it.
He does. Yes, he does. He has said it several times, you know, that he's not homophobic at all.
What about labor union protections and blue collar workers, and
What do you mean, the — oh, let's not get into this.
[A representative for Ms. Barr interjected: "You don't have to get into it. We can move on."]
Well, you know, it's —
Yes, let's do.
A question people wonder about.
Well, I think working-class people were pissed off about Clinton and NAFTA, so let's start there. That's what broke all the unions and we lost all our jobs, so I think that's a large part of why they voted for Trump because they didn't want to see it continue, where our jobs are shipped away. So, it's more, why did people support shipping our jobs away?
Now, let's take this one stage further.
Although she won't tweet about Q anymore, Big Media have plastered it all over television and the internet that Roseanne Barr knows about Q.
How long before Q goes mainstream?
For that, we have the unwitting media and the very much plugged-in Roseanne Barr to thank.
Expect millions more red pills to be dispensed this year, which will make The Storm that much easier for many Americans to understand once it breaks.
In closing, here's a great quote from an 8channer:
If you told me in 1989 that Donald Trump, Roseanne Barr, and James Woods would save the world with what I knew as (NES/Atari260) hooked up to the phone line and a color TV…. I'd tell you that you were nuts.
yet here we are.
Indeed we are!
In November 2017, I wrote about the CIA's Operation Mockingbird, which ran from the 1950s until the mid-1970s.
In principle, it's over. However, as with so many other CIA programmes — e.g. MK-Ultra — it probably got another name. MK-Ultra was the name for mind conditioning between the 1950s and 1970s. The Church Committee put an end to both MK-Ultra and Mockingbird.
Does anyone think that the CIA really stopped both of those? Or did they end in name only?
On Tuesday, March 27, 2018, an eagle-eyed contributor to the Q-related Great Awakening board on Reddit put together that morning's headlines (photo below, courtesy of michaelst2256):
The media allegedly receive their talking points at 4 a.m. Operation Mockingbird is so called because it is the only bird to sing at night, specifically bachelors looking for a mate.
Try this with headlines you see and news broadcasts you hear. Nearly every media outlet runs with the same set of stories and buzzwords each day. I've seen this for years. It was good of this man to put together an image as proof.
On March 8, 2018, Bob Woodward — who broke the Watergate scandal with his journalist partner Carl Bernstein — gave an interview to Newsweek in which he discussed his investigation of the Nixon administration, today's journalism and the way the media reports on President Donald Trump.
It's a good interview and worth reading for those of us old enough to remember Woodward and Bernstein's reporting for the Washington Post in the early 1970s.
Woodward teaches an online MasterClass in journalism and is writing a book about Trump.
The Newsweek interviewer asked Woodward about the media's reporting on the Trump administration. He replied (emphases mine):
First of all, journalists can always do better. Myself at the top of the list. I don't think journalism is failing at all in the Trump era. But we have a lot of work to do. A number of reporters have at times become emotionally unhinged about it all, one way or the other. Look at MSNBC or Fox News, and you will see those continually either denigrating Trump or praising him. I think the answer is in the middle, and in this class I talk about how it's important to get your personal politics out. It's destructive to become too politicized. The emotion should be directed at doing more work, not some feeling or personal conclusion.
Townhall picked up on 'emotionally unhinged' and posted excerpts an article written for The Guardian by Jill Abramson, former executive editor of the New York Times. Abramson detailed the clear possibilities of Democrats flipping Republican seats this year. She ended with this:
It's easy to look at what's happening in Washington DC and despair. That's why I carry a little plastic Obama doll in my purse. I pull him out every now and then to remind myself that the United States had a progressive, African American president until very recently. Some people find this strange, but you have to take comfort where you can find it in Donald Trump's America.
Abramson is long past snowflake age. I pity her.
Another Townhall article which discussed Woodward's 'emotionally unhinged' comment illustrated a few of the media's reporting failures in recent months:
With a laser focus on the increasingly shoddy Russia collusion story, the serial errors in the reporting of this White House, and the inability to report on simple photo ops, like feeding coy fish with the Japanese prime minister–one could arguably say that the media has failed.
ABC News' Brian Ross totally botched dates in his report about former National Security Adviser Michael Flynn being ordered to make contact with the Russians. The news network reported that it had occurred while Donald Trump was a candidate when in fact; it was after he had won the election and this was a run-of-the-mill diplomatic groundwork exercise that occurs with any incoming administration. The report tanked the markets and it took ABC News several hours to correct—and people say Trump's Twitter account is irresponsible.
The latest media cycle involves Stormy Daniels instead of the upcoming talks with North Korea. Yet, people continue to rely on Big Media for news.
Woodward could criticise his fellow journalists a bit more and actively encourage them to report facts instead of fake news. He, too, is suffering from Trump Derangement Syndrome in a less obvious way.
Meanwhile, it's up to Americans to keep apprised of special elections going on this year prior to the all important mid-terms. Scott Presler, a young Trump activist, tweets regularly about these elections. The next will be on Tuesday, March 13, in Pennsylvania's 18th district, where Rick Saccone (R) will face off against Conor Lamb (D).
As for spot-on news and analysis, check out The Conservative Treehouse as well as the following Twitter feeds: TheLastRefuge2 (The Conservative Treehouse), Larry Schweikart and Dan Bongino, who appears on Fox News and does his own podcasts.
The hugely historic news of March 8, 2018, is that President Donald Trump will be meeting with North Korea's Kim Jong Un by May to discuss denuclearisation:
Earlier in the day, Trump met with a delegation from South Korea:
South Korea's national security adviser, Chung Eui-Yong, issued a statement through the White House, excerpted below:
7:11 P.M. EST
CHUNG: Good evening. Today, I had the privilege of briefing President Trump on my recent visit to Pyongyang, North Korea. I'd like to thank President Trump, the Vice President, and his wonderful national security team, including my close friend, General McMaster.
I explained to President Trump that his leadership and his maximum pressure policy, together with international solidarity, brought us to this juncture. I expressed President Moon Jae-in's personal gratitude for President Trump's leadership.
I told President Trump that, in our meeting, North Korean leader Kim Jong-un said he is committed to denuclearization. Kim pledged that North Korea will refrain from any further nuclear or missile tests. He understands that the routine joint military exercises between the Republic of Korea and the United States must continue. And he expressed his eagerness to meet President Trump as soon as possible.
President Trump appreciated the briefing and said he would meet Kim Jong-un by May to achieve permanent denuclearization.
This is some of the best news we could have hoped for. Of course, it will take time and a great deal of care, as General Jack Keane told Fox News's Lou Dobbs:
Senator Lindsay Graham issued the following statement:
Media reaction
Not surprisingly, Fox News was positive:
CNN's talking points yesterday revolved around pron (intentional typo) star Stormy Daniels and civilian Donald Trump about something that might or might not — she says it didn't — happen over a decade ago.
That said, there was some coverage:
The CNN jerks look like they did on Election Night in 2016:
This must have been a difficult moment:
Former Arkansas governor Mike Huckabee — father of press secretary Sarah Sanders and a former GOP presidential candidate reacted:
Yes, we are used to CNN's — and other media outlets — useless analysis and predictions:
Overseas reaction
On Friday, March 9, I listened to an excellent interview on RMC — French radio — on the political talk show, Les Grandes Gueules (The Big Mouths). Although all the commentators and both hosts are left-of-centre, only one said he was 'suspicious' of Trump's motives, i.e. a lead-in to war. Everyone else gave him credit — albeit reluctantly — for his willingness to negotiate. The final comment was from one of the panellists who said that it takes a tough man to negotiate with someone like Kim Jong Un. Dictators and tyrants, he said, listen only to force. It's true. The nearly unanimous conclusion was that Trump should be applauded in this instance (a big deal considering that Les Grandes Gueules, bar one, do not like Trump at all).
Trump received a huge compliment from Australia:
Q was right
Q was right in saying to watch the news this week. Q had been dropping his/their 'breadcrumbs' for some time now.
From February 15 (message 765):
Watch the water.
Q
Two photos have been circulating on 8chan's Q research boards. Someone there combined them. One is from Clinton's time in office (1990s) and the other is from March 5. Look at the water in the paintings behind those assembled. Also note that the North Korean — Kim's father (?) — and Clinton are sitting in the older photo but Kim Jong Un is standing in the newer one:
On March 6, someone posted the new photo. Q responded (message 846):
Water.
Why is this event BIG?
What does it signify?
Why is NK out of the news?
As The World Turns.
Q
That day's headline in some papers was about denuclearisation, based on South Korea's discussion with their northern neighbour. Someone on 8chan posted the New York Times headline about it. Q responded, indicating that North Korea is being watched from the sky (message 864):
Wait & see.
Re_read drops – you have more than you know.
Eyes in the SKY.
SUM of ALL FEARS //\\
Q
There are a few more Q messages about North Korea, but message 888 from March 9 indicates that things are moving forward in the right direction:
Thank you Kim.
Deal made.
Clowns out.
Strings cut.
We took control.
Iran next.
Q
By the way, this is a satellite photo of North Korea. Notice the near universal darkness contrasting with the light in South Korea:
How it happened
In a nutshell, Trump spent a lot of time last year discussing unfair trade policies with China, which is highly dependent on slave labour and natural resources from North Korea.
Trump wants to break the Chinese control over North Korea. He wants North Korea to trade with South Korea and Japan instead.
Trump also implemented tariffs on March 8 on foreign imports, except for those from Mexico and Canada. That would include Chinese steel. Whilst the US does not buy much steel directly from China, China sells a lot of their steel to other countries. The US then purchases steel from those nations.
There might have been a military operation that took place in North Korea late last year which, if true, could have disrupted their nuclear operations. On September 19, Business Insider reported:
Defense Secretary Jim Mattis hinted that the United States still had military options left for dealing with North Korea, but did not elaborate when asked for details Monday …
… according to Mattis, the Pentagon has a few tricks up its sleeve that wouldn't involve the decimation of Seoul.
When asked whether there was "any military option the US can take with North Korea that would not put Seoul at grave risk," Mattis responded, "Yes, there are, but I will not go into details" …

So what does Mattis have in mind? He wouldn't say, but he did let slip one interesting comment.
"Just to clarify, you said that there were possible military options that would not create a grave risk to Seoul," a reporter said later. "Are we talking kinetic options as well?"
"Yes, I don't want to go into that," Mattis said, agreeing that his closely held military option involved kinetic action, a euphemism to describe lethal military force.
The Last Refuge — Sundance from The Conservative Treehouse — explains the Trump Doctrine simply and clearly. This thread is about not only North Korea but worldwide strategies. Highly recommended reading. Excerpts follow, emphases mine:
3. Just because western media doesn't understand how President Trump executes a geopolitical strategy based on economic leverage, that doesn't mean adversaries are not fully aware of the effectiveness of the approach.
4. The Trump Doctrine has two avenues toward dealing with national security adversaries.
5. The first route is direct assignment of responsibility toward the enablers: see China for North Korea; The Gulf States for Qatar (Sunni extremism); Russia for Syrian terrorism (Assad); and Pakistan for Afghanistan (Taliban); as recent examples.
6. However, when the geopolitical threat stems directly from the enabler, and not the enabled, the Trump Doctrine has a distinctly different & far more encompassing, approach.
7. Route two goes through leveraging regional allies and partners. (TWO THREATS, China and Russia) See ASEAN and India for ¹China; and France, Poland, Baltic States for ²Russia.
8. In each case: China, Russia and Iran, unlike Western media, these powers assemble volumes of research to assist them in understanding the most likely sequence of events President Trump will take.
9. When we say volumes of research, we indeed mean hundreds of people researching and drafting position documents based upon every scintilla of every deal Donald J Trump has engaged in.
10. These states fully understand how President Trump intends to utilize economic leverage toward his next national security focus. As soon as President Trump mentions a strategy for a foe, all international adversaries immediately began road-mapping their defense.
16. For the North Korean problem, Japan, South-Korea and India are all economically leveraged against China by President Trump [via favorable trade and market access opportunities.]
18. The U.S. military is not the leverage, the military helps creates leverage. The leverage itself is economic. Financial interests are always the best leverage to use because inherent within the fundamental principles of economics is "self-interest".
20. Everyone knows the first North Korean missile test was conducted during Bill Clinton's presidency. That was over 20 years ago.
21. What President Trump was able to do with the approach he took with North Korea is jaw-droppingly smart. Stunningly so. Economic leverage works.
23. The review of the enhanced sanctions against N-Korea should be incorporated with the larger issue of policy toward the DPRK's enabler, China.
33. When it comes to the use of economic leverage to create U.S. national security outcomes, well, we are learning at the knee of an economic master player. The media will now do everything they can to stop people from realizing how effective President Trump is…
What to ignore from media this weekend
Please note that last point from The Last Refuge's Twitter thread.
The media will tell you this weekend that Trump is acting impulsively. That is untrue. He has known for decades about the dangers of nuclearisation and unfair trade. He said the same things then that he is now.
He discussed unfair trade on Oprah's show in the early 1980s and said he would run for president only if things got really bad. Well, by the grace of God, he's in the White House now:
In 1999, Britain's Channel 4 picked up an interview from NBC's Meet the Press wherein Trump discussed the dangers of North Korea's nuclear arsenal. We have Clinton to thank for that, by the way:
In conclusion, Trump has taken no impulsive decisions. He has known and understood the situation for many years.
—————————————————————————————-
In other news, the deadline for renegotiating DACA — Monday, March 5 — came and went with nary a peep from Democrats so desperate to maintain Obama's Dreamer plan.
There is only time for a short post today.
Late last year, President Donald Trump explained why he tweets:
Something must be done about the Fake News Media.
It is regrettable that so many of us trust these notional news outlets.
At least Trump keeps us apprised of what is going on. That said, only 50% of CPAC Republicans polled in late February agree:
Trump's tweets convey more information than traditional presidential fireside chats. Well done! Keep 'em coming!
As one digs deeper into the Florida school shooting on Valentine's Day 2018, one finds strange things involving Marjory Stoneman Douglas High School in Parkland.
At the weekend, I wrote that I hadn't even intended to post on this topic but decided to do so once people began clamouring for gun control and ignoring mental health issues, including the effect that SSRIs can have on the mind. I followed up with another post on the media attention certain young people received. My post from Friday, February 23, had recent news about the media narrative as well as more contributing factors to mass shootings, one of which is the absence of fathers in today's family structure.
One of my readers, George True, posted an excellent comment revealing anomalies about this shooting. He kindly gave me permission to post it below. I am most grateful for this opportunity. Emphases mine below:
There are so many things wrong with this entire affair that it just screams coverup. In no particular order :
TPTB had already decided within two days after the shootings that the building where it occurred would be demolished and rebuilt, at a cost of some 30 million dollars. WTH??? And they apparently had already been assured that federal funds would be made available to cover the bulk of the cost. What?? How could they possibly know that so quickly? And who gets to make such a quick and cavalier decision to destroy a perfectly good $30M asset that the taxpayers paid for and in fact own? At best this is a harebrained decision based on nothing but 'feeelings'. At worst, it is a deliberate plot to destroy forensic evidence lest it lead to a different conclusion.
What in the world is the Secret Service doing conducting active shooter training in recent weeks at ANY school, let alone this particular school? Their job, their ONLY job, is to protect the president and certain other high government politicians and political candidates.
Multiple people present said there were multiple shooters. Why are these witness statements not being seriously and exhaustively investigated? Why are they being dismissed out of hand, or even ignored altogether? Is this perhaps why the building is off limits pending immediate demolition, so that it cannot yield evidence that there was more than one shooter?
In his court appearance, the alleged shooter had a deer in the headlights look on his face. As though he had no idea or recollection what happened or how he got there. Churchmouse has done a yeoman's job of covering The Issue That Must Not Ever Be Mentioned. Namely, the common thread of SSRI's in every school shooting since Columbine. It has absolutely been known for many years now that SSRI's actually ALTER the developing brains of adolescents. It has also been known that SSRI's will CAUSE violent homicidal, and suicidal impulses in a small but significant subset of teenagers and young men under the age of 25. In a nation of over 300 million, if this subset is only one percent, that is still 30,000 troubled 'yutes' on SSRI's who are ticking time bombs.
In recent days , Q Anon has said that the MK Ultra program is still alive and well today. But they no longer refer to it by that name, as that was merely the program name during its early experimental stage. Q Anon infers that the program has progressed far beyond that in sophistication since those days. The thousand yard stare on the alleged shooter's face suggests someone who is a product of both SSRI's and MK Ultra mind conditioning.
The immediate full-court press by the media against guns is too well orchestrated and coordinated to be anything but a pre-planned campaign all ready and waiting for the right incident. It is not grass roots – it is quite obviously astro-turf, and it has Soros fingerprints all over it.
These are just a few things that come to mind that raise many, many red flags about this incident. Just like the Las Vegas shooting last Autumn, there is much here that is being hidden, along with intentional misdirection and deliberate disinformation on the part of public officials and their running dog Media syncophants.
Don't be fooled by what you saw or heard on Sunday news shows about gun control being the solution to mass shootings.
I, too, have the same questions and suspicions about this tragedy which took 17 lives and injured 14 others.
Will we ever find out the truth?
This will not be my last post on the subject. More revelations came to light over the weekend about Broward County officials and school policies.
In closing, thank you, George, for allowing me to share your comment for those who might have missed it. Thank you for also being such a supportive and insightful reader.