You are currently browsing the tag archive for the 'metropolitan elite' tag.
Yesterday's post covered Nicola Sturgeon's resignation as First Minister of Scotland on February 15 and the reasons for it.
The story continues.
More reaction
When Jacinda Ardern stood down in New Zealand, British conservatives wondered if Sturgeon would follow suit.
After all, the metropolitan elite adored both female 'saints', mothers of their respective nations.
On Thursday, February 16, The Telegraph's Jenny Hjul pointed out (emphases mine):
In her eight-plus years as Scotland's First Minister, Sturgeon has been loved and loathed in equal measure at home, something she acknowledged in her press conference. But beyond her domain, she has been regarded in many circles as an almost saintly presence, a pioneer of progressive causes, and a beacon of pure, strong leadership.
To the frustration of her critics in Scotland, she has been able to pull the wool over the eyes of London liberals in particular and garnered a good press over her botched handling of everything from Covid to the fall-out from Brexit.
In her parting, parallels will no doubt be drawn with that other recent quitter, and Sturgeon idol, Jacinda Ardern. Like the former premier of New Zealand, the SNP leader's attempt to portray her departure as an honourable exit will be taken at face value by those who understand little of the domestic politics that have made her position untenable in the long-term.
Sturgeon, like Ardern, banged on about running out of steam, about the pressures of the job and the constant scrutiny. And she flagged up what she saw as her achievements ("Scotland is a fairer country"), while regretting that she could not bring more rationality to politics. "If all parties were to take this opportunity to try to de-polarise public debate just a bit," she pleaded.
This is rich indeed from a politician who has thrived not just on driving divisions between Scotland and the rest of the UK but on polarising opinion north of the border.
Far from being democracy's champion, her party has shut down dissenting voices while claiming to represent the whole of Scotland. Under her tenure, Scotland has become all but a one-party state, with many public bodies, and civic and cultural organisations captured by SNP groupthink.
Sturgeon said her decision to stand down had crystallised over the past few weeks, perhaps since Ardern's resignation showed that even great (by their own reckoning) leaders have their limits. But more likely it is because her grip has gone – over her party, which is divided and growing rebellious, and her country, which is further away than ever from voting Yes …
To her wider fan club, she may have relinquished her crown with grace, but to those who know her better it is her final face-saving gesture.
The Gender Recognition Reform Bill, which the British government vetoed by using Section 35 provisions for the first time, has caused a split within the Scottish National Party. On Thursday, February 16, The Times reported that Party members' views are divided on the legislation:
The Scottish government has until April 17 to decide whether to appeal against the UK government's veto of the legislation, which would allow people to self-identify their gender and lower the age of transition to 16.
The SNP's ruling national executive committee will meet tonight to decide the rules and timetable for the leadership contest, raising the prospect that there may not be a new first minister in place before the key call has to be made …
"I think it dies in its current form," a senior SNP source said. "The sensible approach would be [for the new leader] to get round the table [with the UK government] and find a compromise on the bill."
The party is split on the bill, meaning whatever happens it will be controversial. Opening talks with Conservative ministers will anger those who lobbied for the bill to be pushed through with little compromise.
However, there is a significant number of elected representatives and grassroots members who are concerned about fighting a court case when a recent poll found that 50 per cent of voters in Scotland back the UK government's position …
Mixed reactions
When Liz Truss was Prime Minister, she labelled Nicola Sturgeon an 'attention seeker' and, as such, someone to be ignored. She never contacted Sturgeon.
Rishi Sunak was different and got in touch soon after he entered No. 10. He was rather gushing on her departure:
President Trump, on the other hand, viewed Sturgeon differently:
The day she resigned, he posted a statement on his 2024 campaign website:
Good riddance to failed woke extremist Nicola Sturgeon of Scotland! This crazed leftist symbolizes everything wrong with identity politics. Sturgeon thought it was OK to put a biological man in a women's prison, and if that wasn't bad enough, Sturgeon fought for a "Gender Recognition Reform Bill" that would have allowed 16-year-old children to change their gender without medical advice. I built the greatest Golf properties in the World in Scotland, but she fought me all the way, making my job much more difficult. The wonderful people of Scotland are much better off without Sturgeon in office!
Catalogue of failures
Is Trump right?
While he is no fan of the former US president, Scottish Conservatives leader Douglas Ross would agree with those sentiments.
On the morning of February 15, the sun was shining in the north east of Scotland, where Ross, an MP and MSP, was campaigning for candidates in an upcoming by-election. The sun was shining:
That was at 9:46. In just over an hour, the sun would shine even brighter with the unexpected news of Sturgeon's resignation.
The following tweet represents the political disconnect among the Scottish public between those who thought Sturgeon was a disaster and those who thought she was a saint:
I will certainly miss First Minister's Questions which always began with a Sturgeon-Ross face-off. In the last two sessions, Sturgeon was unable to answer Ross's question about sexual identity — 12 times, no less.
The evening that she resigned, Ross wrote in The Telegraph about her catalogue of failures:
She is, rightly, regarded as a formidable politician. But equally, it's hard to dispute that, by obsessing over independence, she has always governed in the nationalist interest, rather than the national interest.
Any rational analysis of her record as First Minister would have to conclude that it's one of failure.
On education, the policy area she asked to be judged on, it's dismal. Scotland tumbled so far down the international league tables that we were withdrawn from them to save face.
For a self-avowed "progressive", Nicola Sturgeon's abject failure to eradicate the poverty-related attainment gap, as promised, is a damning indictment of her reign.
Then, there's the increased violence in our classrooms and the first teacher strikes in almost 40 years.
On her watch, Scotland's NHS is on its knees with record waiting times for treatment and burnt-out, exhausted staff. The root cause is dismal workforce planning by successive SNP health secretaries, including Nicola Sturgeon who cut the number of funded places for homegrown medical students at Scottish universities.
Similarly, on transport, the ledger is grim. The ferries scandal is the most egregious case of wasteful public spending in the devolution era, with the latest cost estimates (£450 million) showing it's set to overtake the Scottish Parliament building as a money pit.
But it's about so much more than taxpayers' cash being squandered. It bears two other hallmarks of the Sturgeon government: remote Scotland being an afterthought and secrecy.
Meanwhile, the death toll on two of Scotland's vital trunk roads, the A9 and A96, continues to rise while the SNP, in thrall to the anti-car Greens, drag their heels on long-standing promises to expand the dual carriageways, and our trains remain over-priced and unreliable under nationalised ScotRail.
The First Minister has grown increasingly out of touch with the public mood in recent months, leaving her successor with dilemmas over whether to ditch or amend flawed policies, such as the National Care Service, the Deposit Return Scheme and, of course, gender self-ID.
By tying herself in knots over the latter, she was left in the absurd position of being unable to refer to a double rapist as a man.
That, coupled with her dismissal – indeed, smearing – of those who warned that her Gender Recognition Reform (Scotland) Bill threatened women and girls' safety betrayed her "I know best" arrogance.
Arguably, Nicola Sturgeon's greatest failing is Scotland's drug death epidemic, which has mushroomed to such an extent under her that fatality rates are now the worst in Europe by an enormous margin.
"We took our eye off the ball" was her slip-of-the-tongue mea culpa for those appalling statistics. But it could, and should, serve as her wider epitaph.
Coronavirus measures
Ross did not mention, or perhaps he agreed with, Sturgeon's draconian coronavirus policies.
From the start, she did things more radically than Boris Johnson. For whatever reason, the BBC televised her lengthy lunchtime coronavirus press conferences throughout the UK, when her policies pertained only to Scotland.
Her right-hand woman was Devi Sridhar, an American public health researcher who is the chair of global public health at the University of Edinburgh. The BBC frequently interviewed Sridhar for all the UK to see and hear, a subtle attempt to get every other Briton on board with Scotland's draconian policies.
In April 2020, the SNP's then-Westminster leader Ian Blackford MP wrote to Boris to delay full Brexit because of the pandemic.
On Sunday, April 5, The Express reported:
In his letter, Mr Blackford urges Mr Johnson to seek an extension to the current transition period in a bid to focus resources and efforts on tackling the pandemic – claiming failure to do would be "beyond reckless". He added: "We are not asking you to change your views on Brexit – we are simply asking you to recognise reality."
"This isn't about fighting old battles or rehearsing old arguments – it's about recognising the needs of people right now."
Fortunately, Boris ignored him.
However, that same day proved that the SNP was not whiter than white. Sturgeon's chief medical officer Dr Catherine Calderwood had already broken lockdown restrictions twice by travelling to her weekend home from Edinburgh.
Sturgeon did not act and even initially refused Calderwood's resignation.
If she had stayed then Ms Sturgeon and, probably the British government too, would have had to face the fact that for many politicians, the media and for huge sections of a terrified and angry general public, it will be this doctor – and not the nation's battle against a killer virus – who would have become the main issue. Dr Calderwood would have been the story, not coronavirus. And in the harsh world of politics, that's what ultimately counts.
She admitted that not once but twice she drove the 40-odd miles to her second home at a time when she is on our TV screens and in our newspapers constantly urging the rest of the population to stay at home and not to go off on non-essential trips to the countryside.
Whichever way you cut it, and although the First Minister insisted that she still depended on this lady's medical support, her foolish actions threatened to drive a coach and horses through the official advice – advice that Dr Calderwood helped draw up – on which the nation depends to beat this virus.
Ms Sturgeon was extraordinarily generous in refusing initially to accept Dr Calderwood's offer to resign and for insisting, somewhat ingenuously, that everyone makes mistakes. That is true, of course, but the reality is that for this senior official, this was no ordinary slip-up.
On the contrary, on two successive weekends Dr Calderwood decided to get into her car and do what she's been telling the rest of us not to do – and take a non-essential trip away from the city of Edinburgh to her holiday home in the Fife seaside village of Earlsferry. Trips that earned her an official and extraordinary warning from the police …
Moreover, what is already sticking in the craw of many people is that this is someone who has been a firm advocate of the severe restrictions imposed on the rest of the population who has decided to ignore them to visit her second home.
That this second home is in one of Scotland's most expensive seaside villages, much favoured by Edinburgh's better-off classes, will also not be lost on her critics.
SNP politicians said the doctor had to go, at which point Sturgeon relented:
She hoped that would have enabled the doctor to hang onto her position albeit in a backroom role but I'm certain that this experienced politician would have known that it was a hopeless situation.
That view was magnified by the ferocious level of protests she received from leading SNP politicians who said they were reflecting serious unease amongst the party faithful about Dr Calderwood's behaviour.
The hypocrisy of it all!
That month, an allegation surfaced that England was stealing Scotland's PPE supplies, a claim which Sturgeon retracted mid-month but, according to one Conservative MSP, allowed to continue spreading north of the border. On April 15, The Express reported (with a video of one of her press conferences):
At Ms Sturgeon's daily briefing, she promised to seek urgent clarity on reports that Scottish care homes were being given a lower priority for supplies of personal protective equipment. Claims of PPE priority for England surfaced on Monday and came from Donald Macaskill, the head of Scottish Care, which is the body representing private care homes in Scotland. He told BBC Radio Scotland the UK's four largest suppliers had said they were not sending to Scotland and instead prioritising "England, the English NHS and then English social care providers".
Andrew Neil mocked the First Minister of Scotland and tweeted: "Nicola Sturgeon told GMB [Good Morning Britain] that she accepts assurances that NHS England did not demand PPE suppliers give preference over Scotland …"
Jamie Greene, Scottish Conservative MSP for West Scotland tweeted: "They're still spouting the story, contrary to the language now being used by the FM, Health Secretary, and Clinical Director.
"If you're going to manufacture a grievance, at least coordinate it. Even their target audience is boring of the needless (dangerous) scaremongering."
UK Health Secretary Matt Hancock spoke to health ministers from different UK nations on Tuesday afternoon and insisted it had not instructed any company to prioritise PPE for one nation over the others.
Sturgeon often wanted to appear to be ahead of the curve as a means of scoring political points targeting Boris's policies for England. Unfortunately, he caved in all too often and followed suit.
On April 23, The Mail reported:
Ms Sturgeon has repeatedly gazumped Number 10 during the coronavirus crisis as she has moved on key issues before ministers in London. 
Previous examples include announcing a ban on large social gatherings, closing schools and saying that the original three week lockdown would be extended. 
That article laid out Sturgeon's plans to reopen Scotland soon.
Three days later, she was unable to give any further clarity, despite her announcement. As the reply says, when Boris hesitated, he was accused of obfuscation while Sturgeon was praised for her notional transparency:
Incredibly, on May 5, Sturgeon was pictured shaking hands with Bill Gates. It was okay for them, when no one else was allowed to do so. And look how close they were to each other. More hypocrisy:
Then it emerged that, like Boris, who at least had the excuse of attending Brexit transition meetings, Sturgeon also missed COBRA meetings about the pandemic. In fact, she missed six of them. This came from one of the Scottish papers: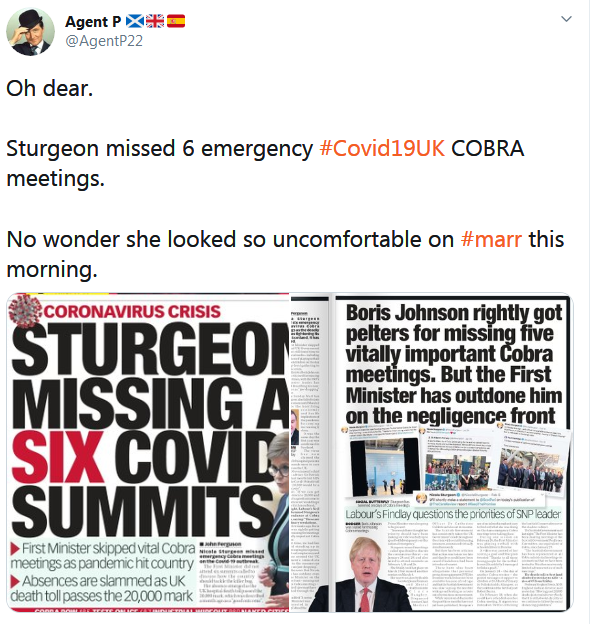 England and Wales effectively re-opened by early July, although with masks, social distancing and some visiting restrictions in place. Scotland lagged behind.
Already on July 10, it was becoming clear that Scotland's coronavirus policies were not working, as Tom Harwood wrote in The Telegraph:
Looking at Nicola Sturgeon's polling popularity it's easy to forget that the Scottish First Minister presided over a care home coronavirus death rate double that of England. It's easy to miss the fact that Scotland has been significantly behind England when it comes to the rate of testing too. As Labour's Shadow Scottish Secretary Ian Murray told a private zoom meeting at the end of May, "all of these things in Scotland are in a lot of instances worse than what's happening in England but Boris gets the blame and not Nicola Sturgeon."
How then has she managed to get away with it all so unscathed?
One answer is simple. The Westminster media bubble is so often so busy naval gazing that politicians elsewhere in the country escape the scrutiny placed on No 10. Few in the Westminster village are concerned with what's going on 400 miles north in Holyrood. This obviously allows much Scottish scandal to slide under the radar when it comes to national attention. But this explanation is to downplay the cunning strategy of the SNP Government, and its not so secret weapon. Nationalism.
Sure enough, on July 12, Sturgeon announced she was considering a mandatory quarantine of all English visitors to Scotland. Guido has the video:
On July 23, The Spectator published 'Nicola Sturgeon's care homes catastrophe':
Nicola Sturgeon is fond of telling Scots that the prevalence of Covid-19 is 'five times lower' in Scotland than in England. Or at least she was, until the Office for Statistics Regulation released a statement calling her data source 'unclear' and adding that 'we do not yet have evidence to support the validity of these comparisons'. The SNP has been retailing the notion that Sturgeon's response to the pandemic far outstrips that of Boris Johnson. The public may be on her side, but the facts are not.
… In England and Wales, deaths in care homes have accounted for 28 per cent of all fatalities involving coronavirus. In Scotland, the figure is 47 per cent. English and Welsh homes have lost 3.7 per cent of their residents to the virus while homes in Scotland have lost 5.6 per cent. This is all the more remarkable since the care home population south of the border is almost 12 times the size of that in Scotland.
One explanation is the SNP government's hive-like mentality. Dissenting views were pushed aside or ignored altogether …
Far from supplying an exemplar for others to follow, the Scottish Government has demonstrated the consequences of wrong-headed policy-making, spurning of expert counsel, and a failure to be transparent. The case for a public inquiry into what went wrong in Scotland's care homes, and in the decision-making at the top of government, is surely undeniable. With Covid-19 apparently under control at present, now is the optimal time to review policies and processes in case a second wave is looming down the line.
On July 31, Sturgeon announced a travel ban between Scotland and the north west of England:
She announced on the BBC:
I am today advising, strongly advising, people in Scotland to avoid travel to the areas affected in England… and also to ask people from these areas from these areas not to travel to Scotland.
Guido noted:
1,892 years on, Hadrian would be delighted she's picking up where he left off…
On August 5, Sturgeon effectively locked down the City of Aberdeen, although she did allow people to go to work and educational institutions. According to one person, this was because one bar was not following the rules:
On October 1, Sturgeon was slow to act on then-SNP MP Margaret Ferrier (now an Independent), who travelled by train from London to Scotland and back again, even though she knew she had the virus. By the time this appeared, Ian Blackford had suspended the whip:
The whole of the UK knew about Margaret Ferrier, who remains an Independent to this day. People were angry:
On October 7, Sturgeon announced a semi-lockdown, although she said schools would remain open and adults could leave the house:
On October 11, Sturgeon's government was failing to use its full testing capacity. It was only using half:
While hospitality establishments in England and Wales had been serving alcohol indoors since the summer and, later in 2020, with food only, Scotland opted to ban strong drink altogether until October 27 that year. Devi Sridhar probably played a role in that, too:
On November 23, Sturgeon closed the Scottish border to the rest of the UK.
Guido told us:
This weekend, in what must have been a dream come true to nationalists, Scotland closed its border to the rest of the UK. The move came as the most densely populated parts of Scotland moved into 'Tier 4' – lockdown in all but name. It is currently illegal for anyone from the rest of the UK to enter the country without a reasonable excuse. Scots are also forbidden from traveling to other parts of the UK. A dream come true for the more extreme SNP supporters.
People who enter or leave Scotland illegally are now being hit with £60 fines. Travel within Scotland is also restricted, with those living in Nicola's Tier 3 or 4 areas prohibited from leaving their local authority without a reasonable excuse. Guido gets the feeling some political tribes are secretly enjoying this pandemic…
On December 17, Sturgeon got stroppy with the Scottish Mail's political editor Mike Blackley for asking whether the self-isolation time could be cut, as was planned in the rest of the UK.
Sturgeon shot back:
Yeah, because that'd really help 'cause that would spread infections even further and that would not be doing any favours to businesses.
Guido has the video:
On December 22, Sturgeon was photographed maskless chatting to two women at a pub. They did not have masks, either, but at least they were eating, so had an excuse. Sturgeon apologised only because she was sorry she got caught:
The story caused quite a stir:
The following day, Sturgeon apologised in Holyrood:
She said she was kicking herself harder than her worst critic would:
The author of the Scottish blog Lily of St Leonards pointed out the hypocrisy not only of the mask violation but, more importantly, Sturgeon's criticism of Boris's continuation of Brexit negotiations:
Sturgeon is not merely a hypocrite about masks, she is also a hypocrite about transition periods.
Imagine if Sturgeon had been given her wish and there had been an independence referendum in 2018 and she had won it. There would have been a transition period. Let's say it was due to end in March 2020. Scottish Independence Day would have been April the First. Would Sturgeon have really extended the transition period because of the Covid outbreak? But what if she had extended it and Scotland had continued to receive money from the Treasury? When would the transition period end? When we no longer needed the money? It's another word for never.
While condemning the British Government for not extending the transition period with the EU due to Covid, Sturgeon is still planning an independence referendum for 2021. If we must extend the transition period because of Covid, why does she suppose it is sensible to have a referendum on breaking up Britain? We have had four years to prepare for leaving the EU. Sturgeon doesn't even have a plan for independence that takes into account the economic damage of 2020.
Brexit is massively easier to achieve than Scottish separatism. It doesn't involve setting up a new state. It merely involves us returning to what we had been for centuries until the early 1970s.
The winter saw a resumption of semi-lockdowns throughout the UK, in England as well as in the devolved nations.
Schools had to close just as pupils and students returned from Chrismas holidays in January.
It was thought that President Trump, having lost to Joe Biden, would be taking a golfing trip in Scotland in order to avoid handing over the presidency to him. Sturgeon put her foot down.
On January 5, NPR reported:
Scotland First Minister Nicola Sturgeon says President Trump wouldn't be allowed to visit Scotland to golf during its pandemic lockdown, responding to speculation that Trump might travel to a Scottish golf resort rather than attend President-elect Joe Biden's inauguration.
"We are not allowing people to come in to Scotland without an essential purpose right now and that would apply to him, just as it applies to anybody else," Sturgeon said after being asked about Trump on Tuesday. "Coming to play golf is not what I would consider to be an essential purpose."
Sturgeon was responding to questions spurred by a report in the Scottish newspaper The Sunday Post, which cited a source at Prestwick Airport as saying the facility has been told a U.S. military Boeing 757 aircraft will arrive on Jan. 19, the day before Trump's term expires and Biden is inaugurated …
As for the chance that Trump might use an international trip to one of his golf resorts to avoid the handover of power, Sturgeon said she has not been told of any of Trump's travel plans.
In the event, the whole world knows that Trump stayed in Washington …
Also on January 5, Scotland had not decreased the required number of days for self-isolation, as Guido reminded us:
On 22nd December, England's Covid rules changed so infected individuals can stop isolating after seven days rather than ten, so long as they test negative on day six and seven. Six days ago Wales followed suit, and a day later Northern Ireland copied the change. Leaving one obvious outlier…
It now looks like Sturgeon will confirm the cut, with a statement expected later today and her deputy John Swinney saying yesterday that their administration is "actively considering" reducing the self-isolation period.
Meanwhile, the vaccine rollout began.
On January 28, The Mail reported that Sturgeon sided with the EU in saying that the UK had too many vaccine doses and the EU too few:
Nicola Sturgeon was accused of taking the EU's side in the bitter vaccine row today as she vowed to publish details of the UK's supplies despite Boris Johnson ordering her to keep them secret.
In an extraordinary move, the First Minister risked undermining Britain's position, with Brussels heaping pressure on firms to give the bloc a bigger share of the stocks. 
Despite the PM warning that the information must be confidential to protect the rollout, Ms Sturgeon told Holyrood she will release it from next week 'regardless of what they say'. 
The timing of Ms Sturgeon's intervention was particularly provocative given that it came as Mr Johnson was on an official visit to Scotland to make the case for the Union. 
Tory MPs vented fury at Ms Sturgeon – who wants Scotland to be independent and rejoin the bloc – saying she is 'obviously more inclined to help the EU than she is the UK'. 
Tory MP Peter Bone told MailOnline: 'The simple truth is she has a tendency to support the EU rather than the United Kingdom.
'It is wrong, her behaviour. I would have thought she would praise the success of the UK because Scotland shares in that. If she was in the EU and not part of the UK she would still be waiting for her vaccines. Get behind the UK government and stop playing petty politics.' 
The row erupted as tensions between Britain and Brussels over vaccine supplies escalated again as the EU warned drug companies it will use all legal means to block the export of jabs from the continent unless manufacturers deliver the shots they have promised.
The EU's vaccination rollout continues to lag far behind the UK's, with the bloc now desperately scrambling to boost supplies – but deliveries have slowed due to production problems.
Brussels has publicly slammed AstraZeneca for failing to deliver on its contract with the bloc and has even asked the firm to divert jabs from Britain. 
Now it has emerged that European Council President Charles Michel has said in a letter to four EU leaders that the EU should explore legal means to ensure it receives the jabs it has bought.
On March 9, the Scottish Sun reported that Sturgeon was relaxing social gatherings — provided they were small, outdoors and close to home:
NICOLA Sturgeon has confirmed plans to allow four adults from two households to meet outdoors from Friday.
The First Minister also revealed older children can mix again in groups …
"And, in addition, we will make clear in our guidance that this will allow for social and recreational purposes, as well as essential exercise.
"Meeting will be possible in any outdoor space, including private gardens.
"But please, do stick to the new rules. Gatherings must be a maximum of four people, from two households. And you should only go indoors if that is essential in order to reach a back garden, or to use the toilet.
"And, for now, please stay as close to home as possible.
"We hope to be in a position to relax – at least to some extent – travel restrictions within Scotland in the weeks ahead, but it is not safe to do so just yet."
By April 2021, with the UK's schools still closed, Sturgeon was planning a phased re-opening in Scotland. In 2020, there were problems in marking exams with so much of the school year out the window. To be fair, other UK nations implemented similar policies with similar disastrous results. In 2021, Sturgeon stipulated that no exams were to be set. Understandable, but teachers needed some sort of assessment for pupils and came up with something called the Alternative Certification Model, which allowed teachers to mark pupils on what they observed in class. Sturgeon did not like the proposal and offered no alternative solution, leaving head teachers to come up with their own plans while trying to avoid the word 'exam':
At that time, booze and most hospitality was once again off the menu. Although Sturgeon followed Wales's Prif Weinidog (First Minister) in relaxing some restrictions, hospitality was not one of them:
This was less than a month before local and national elections (for Wales, Scotland and Northern Ireland) took place.
On April 13, Guido Fawkes noted that Scottish hospitality was suffering badly (red emphases his):
Sadly for Scotland's hospitality sector, Guido's tip-off that the Scottish government was to bring forward its unlocking of hospitality didn't materialise. Last night, Scotland's hospitality sector was warning the two-week lag north of the border would cost up to £20 million…
While Sturgeon often boasted at her televised briefings that Scotland had the best plan and the lowest infection rate as a result, it turned out that she was wrong.
On April 30, Guido posted that Scotland had the highest infection rates per capita in the UK:
Guido told us:
Statistics from the ONS this afternoon reveal Scotland is lagging significantly behind England, Wales and Northern Ireland in their Covid prevalence rate. Wales has the lowest rates by far, with one case per 1,570; followed by England's 1,010; and Northern Ireland's 940. Scotland, however, is well behind the rest of the country's progress, at one in every 640. Sturgeon's so-called 'good pandemic' has always been a smokescreen of spin, rather than epidemiological success…
On May 21, Sturgeon forgot to be politically correct and call the Indian variant by another name:
Guido observed:
A rule which apparently never applied to the Kent variant in the first place…
The Spectator thought along the same lines:
… newly appointed health secretary Hamza Yousaf was on hand to claim that 'a reason why we are calling it the April-02' variant is because it is 'important for us not to allow this virus to divide us as communities and people.'
Clearly the SNP feel no such qualms about doing so with the people of Kent.
On May 27, Boris's former adviser Dominic Cummings explained to a parliamentary select committee how Sturgeon sabotaged UK-wide coronavirus COBRA meetings.
Nicola Sturgeon undermined the UK's four-nations approach to tackling the coronavirus crisis by "babbling" about high-level meetings, Dominic Cummings has claimed.
Boris Johnson's former senior adviser accused the first minister of undermining meetings of Cobra, the disasters committee, by announcing the outcome of discussions at media briefings.
Sturgeon held her televised briefings daily at 12.15pm during the pandemic, so they were often directly after a UK-wide crisis meeting.
Cummings told the Westminster science and technology committee and health and social care committee that the online Cobra meetings became shams because other participants feared what Sturgeon would say on TV. This resulted in decisions not being made because of distrust, he added.
"The last Cobra meeting I can even remember downstairs in the Cobra room was essentially a Potemkin [fake] meeting because it was with the DAs [devolved administrations] and what happened was, as soon as we had these meetings, Nicola Sturgeon would just go straight out and announce what she wanted," Cummings said.
"So you had these completely Potemkin meetings without anyone actually digging into the reality in detail, because everybody thought, as soon as the meeting is finished, everyone's going to just pop up on TV and start babbling."
On June 1, Sturgeon said that the scheduled reopening of Scotland could be delayed because not enough people had been vaccinated. Once these people get hold of maximum control, they don't give it up easily:
On June 9, Sturgeon backed out of a Scotland-specific coronavirus inquiry, as did Mark Drakeford for Wales. A UK-wide inquiry would go ahead instead:
Guido pointed out that the SNP's May 2021 local/devolved election manifesto had promised one (because of the high rates of care home deaths):
Both Mark Drakeford and Nicola Sturgeon are facing backlash after seemingly cowering out of conducting their own, nation-specific Covid inquiries. Despite it being in the SNP manifesto, Sturgeon is now being warned not to break the pledge after backtracking away from the commitment. The SNP manifesto promised a Scotland-specific inquiry "as soon as possible after the election", however the first minister's spokesman told the press on Sunday that the government "was yet to decide whether Scotland needed an inquiry at all, insisting she would first wait to see the terms of reference of a proposed UK-wide probe instead." As slippery as a Sturgeon…
In Wales, Mark Drakeford didn't commit to an inquiry in his election manifesto, and is sticking to his refusal. Being pressed during first minister's questions yesterday, he told Tory leader Andrew RT Davies that the UK-wide inquiry being set up by the PM would be sufficient.
On June 29, Sturgeon had another travel ban in place between Scotland and the north west of England. Manchester's mayor Andy Burnham forced her to overturn it. She never consulted him on the matter.
Burnham called the ban hypocritical:
Guido explained:
… Health secretary Humza Yousaf confirmed in Holyrood today that the ban between Scotland and Manchester, Bolton and Salford will lift tomorrow. Sturgeon brought in the ban without approaching Burnham and without consultation. Mad with power…
Yousaf claims the restrictions are being removed "due to changes in the epidemiological position for those areas." The ban on travel between Scotland and Blackburn will remain in place, however. Guido imagines locals in Blackburn won't be too keen to travel to Scotland anyhow, given it's experiencing its largest Covid wave since the start of the pandemic…
On August 3, Sturgeon began lifting restrictions throughout Scotland. However, as Guido reported, some would stay in place for quite a while:
… the "number of mitigation measures" include
Mask mandates

which Sturgeon expects will 'likely (…) be mandated in law for some time to come."

An ongoing requirement for indoor hospitality venues to collect the contact details of customers.
Sturgeon added:
It is important to be clear that it does not signal the end of the pandemic or a return to life exactly as we knew it before Covid struck.
On August 25, Sturgeon announced that Scotland would be conducting its own coronavirus inquiry, independent of the UK-wide one. A change of heart from what she said earlier.
Nicola Sturgeon has said Scotland will launch its own judge-led public inquiry into the handling of the pandemic by the end of the year …
One of its central aims will be to investigate "events causing public concern" — specifically the excessive death rate in Scottish care homes.
Sturgeon and Jeane Freeman, the former health secretary, have both admitted that discharging 1,300 elderly people from hospitals into care homes without robust testing at the start of the pandemic had been a mistake. More than 3,000 people died in care homes, a third of all the deaths in Scotland …
Sturgeon said the Scottish government would continue to liaise with the UK government about its own inquiry.
Did that ever take place? I don't know. Certainly, no questions that I've heard have been asked in Holyrood.
Eventually, Scotland re-opened, long after England and some time after Wales.
Conclusion
From this litany of errors, including nationalism, hypocrisy and power-grabbing, we can see that Nicola Sturgeon was — and is — no saint.
More to follow on her other mistakes next week.
In the United Kingdom, we had 12 days of wall-to-wall television coverage of the late Queen Elizabeth II and her family, which ended on Monday, September 19, 2022.
The commercial channels broadcast as usual but during the day BBC1, BBC2 and, throughout, the news channels covered her life and what the Royal Family were doing at this time.
GB News dropped all their advertising, substituting a memorial ident instead and, at other times, playing an instrumental version of the National Anthem accompanied by a photo montage of the Queen.
At first, it seemed unimaginable. Yes, our usual programmes were rescheduled for different days at different times, so we adjusted our video recorders to automatically catch up according to that day's television guide.
Yet, the reality of it was that, by the day of the funeral, I'd become quite used to the coverage. GB News had part of their broadcasts showing the live queue — the Elizabeth Line — in Westminster Hall for viewers to watch while listening to interviews in the studio. The Elizabeth Line was never boring. There was always something to see.
By mandating 12 days of mourning, it seems the Queen wanted us to learn something about our constitutional monarchy as a national institution. It seems she wanted us to reset the way we think about it and how we pass that knowledge and history on to the next generation.
This post covers the two days before the Queen's funeral on Monday, September 19, 2022, and looks at what Britons discovered throughout the days of mourning thus far.
What next for the monarchy?
If there were any lessons to be learned in the immediate aftermath of the Queen's death, it was that the monarchy goes on.
Charles became King immediately and had his Accession Ceremony two days later. There were no obstacles. The crown passed to him automatically.
A relieved nation cried, 'God save the King' and 'Hip, hip, hooray'.
On September 14, YouGov took a poll asking if the mourning period would change the way we perceive this ancient institution. Forty-four per cent said they thought it would change the UK in the long term for the better:
Bob Moran, The Telegraph's former cartoonist, was still upset that the Queen did not step in during the pandemic to call the Government to account over the sometimes fatal procedures at care homes, which are allegedy continuing in some of them:
Yet, most people interviewed on television and the clergy giving sermons at the church services remember with gratitude the Queen's message on the night then-Prime Minister Boris Johnson went to St Thomas Hospital in London with coronavirus. Neither the Queen nor we knew it at the time her message was broadcast, but who can forget her closing words about lockdown, borrowed from the wartime Dame Vera Lynn song:
We'll meet again.
The Queen was adamantly pro-vaccine and in 2021 said that people who didn't get it should think of others instead of themselves. I have seen on Mark Steyn's GB News show several people whose loved ones got the vaccine because of her words and later died of complications. The Government is giving each of those families £120,000 in compensation.
However, quibbles with the monarchy go much deeper than the pandemic. On September 15, The Telegraph addressed the issue of how monarchs attempted to stave off republicanism throughout the ages.
The 1990s were the worst years that the Queen saw during her reign. Princes Andrew and Charles divorced, Windsor Castle caught on fire and Princess Diana was killed in a car accident in Paris.
Regardless, the Royal Family regrouped and returned to normality (emphases mine):
"Diana died at the end of August 1997 and by the time of the Queen's golden wedding anniversary that November she was pretty much re-established," says royal biographer Hugo Vickers. Fast forward 15 years, to the Diamond Jubilee, and the Royal family were popular as never before, enjoying a near 50-point lead in polls over anti-monarchists.
Though so much about the British monarchy can appear unchanging, it was a hard-won transformation, relying on careful reflection and updating after the calamities of the 1990s. In making such adjustments, the royal house showed it could learn not just from its own experience, but from the experience of centuries of fluctuating royal fortunes.
In order to keep republicanism at bay, it is essential for the Royal Family to remain visible:
"In this country," says historian Andrew Roberts, author among others of a book on George III, "there are five areas that give Republicanism a chance to move from being a minority fetish into a mainstream threat." The first four are disastrous relationships, religious meddling, political interference and money. But it is perhaps the last and simplest that is the most important: steadfast presence.
"Sheer visibility is tremendously important," says Roberts. That enduring presence accounts for the astonishing popularity of Queen Elizabeth, he thinks, building on the legacy of her mother and father, who made such efforts to be visible to Britons even in the darkest days of the war. And absence has led perhaps to the darkest days of the monarchy, in the years following the death of Prince Albert, when Queen Victoria in her grief almost completely vanished from the public stage.
Centuries ago, money became a huge issue that still waxes and wanes today:
The Peasants' Revolt of 1381 is just the most notable example of a massed uprising at taxes levied by the king (in that case to support the Hundred Years' War). But grumbling about paying for the royal house's upkeep never went away. A key part of the rejuvenation of the House of Windsor's popularity in the 1990s came after the Queen agreed to pay tax. "At one stroke it took away one of the main planks of republicanism," says Roberts. Even today, some anti-monarchists are moaning about the cost of the Queen's funeral, or the income the new Prince of Wales receives from the Duchy of Cornwall, but it has become far easier to defend the Crown on cash-terms. "It's not the most gracious argument in favour of the monarchy," says Roberts, "but the pocketbook is an important one."
We all know what role religion played in British history as driven by Henry VII, Charles I and James II, so there is no need to elaborate further.
Another issue is — or was — the conflict between Parliament and the monarch. In 1649, Charles I made a fatal mistake:
He, though, committed the sin which would become unforgivable for his successors in the centuries to follow: disdaining parliament.
He was tried in Westminster Hall and executed on January 30, 1649, during the English Civil War:
Alienating, then suspending parliament was, of course, not the Stuart king's only problem. But interfering with the nation's political system was becoming an increasingly dangerous game to play. By the time James hot-footed it out of the country to be replaced by William of Orange, the era of kings by "divine right" had given way to kings approved by parliament. The constitutional monarchy had arrived.
Not that all monarchs understood. George III and prime minister Lord Bute impinged upon the supremacy of parliamentary power in the 1760s, drawing fierce criticism. "George became so unpopular in the 1760s that people pelted his carriage with dirt," says Roberts.
George III learned how to recover the situation:
… he learned his lesson and, by the time of his descent into – and recovery from – madness, he had come to be loved for his personal qualities: fidelity to his wife, frugality and piety.
Fast-forwarding to the 20th century, Prime Minister Stanley Baldwin insisted that Edward VIII abdicate. He got his way:
When it came to Wallis Simpson … Edward stayed by his woman and, on Stanley Baldwin's insistence, lost the throne.
Fortunately, George VI and the Queen Mother resolved the constitutional crisis:
George VI and his own queen Elizabeth (the late Queen Mother) were the ideal pair to succeed, setting the formula – visible, dutiful, steadfast – which so characterised their daughter's long reign.
So far, Charles III has been doing the right things, says historian Hugo Vickers:
"of course King Charles will have to be very aware. But his first speech as King dealt immediately with many of them – his new role, what he can and can't do [politically], about the Church of England, because there was talk about him wanting to be a defender of all faiths. It puts things to rest very quickly. It was very effective." The result was an immediate bounce in popular support, with the number of those who think he will make a good king near doubling to 63 per cent.
While republicanism will never die, it is hoped that people will value the monarchy over an elected president:
… from today's vantage point it seems unlikely that could be so serious as to prompt Britons to dispose of the monarchy altogether. Because ultimately, says Roberts, what makes us love it is not the individual, but the institution. "Even when individuals are unpopular, Britons recognise constitutional monarchy is a good idea, being a power above politics and therefore above politicians. And the British people like the idea of politicians not being at the top of the heap."
Well said.
Funeral attire
To find out more about the traditions of the Royal Family's funeral attire, I happened across a Telegraph article written in April 2021, after the Queen's husband, the Duke of Edinburgh, died.
The Royal Family did not always wear black.
In fact, throughout the Middle Ages until 1560, at least, there was a convention of wearing white (emphases mine):
"white mourning" or deuil blanc … deployed by medieval royals and seen in portraits of Mary, Queen of Scots after she lost her father-in-law, mother and husband within months of each other in 1560 …
The modern convention of wearing black began three centuries later, with Queen Victoria upon the death of her husband Prince Albert. However, even she had gold thread spun into her dresses, as one can see in the photograph in the article:
"Mourning dress has been part of European royal culture for centuries, but it reached its peak in the 19th century with the influence of Queen Victoria, who set a standard for the rest of society to follow," says Matthew Storey, curator at Historic Royal Palaces, which holds the Royal Ceremonial Dress collection. "When her beloved husband died in 1861 she abandoned the colourful clothes of her married life and, with the rest of the royal court, adopted black clothing as an outward sign of grief. Her subjects duly followed suit, causing a rush on suppliers of mourning fabric up and down the country."
That was a time when death was something of a societal obsession and there were strict rules around the wearing of "widows' weeds". "Widows were required to wear black, then either white or mauve, for at least three years before being able to return to richly coloured clothing. Victoria chose never to leave mourning and wore her now iconic black dresses and white widow's caps for the rest of her life," Storey continues. There was no concession even at moments of celebration: "She even insisted that her daughter, Princess Alice, had an all black trousseau when she married in 1862."
The mood oscillated from the dour to the unexpectedly glamorous; Victoria often wore her bridal veil with her black dresses and took to wearing a necklace containing a lock of Albert's hair, but she also popularised striking jet jewellery. "Her clothing was anything but dowdy," Storey confirms. "Every example in the collection is exquisitely made and highly embellished, as befitted her status. Victoria may have been a widow, but she was always a queen."

Queen Victoria died in January 1901. Her son, Edward VII, reigned until his death in 1910. His wife, Queen Alexandra, began wearing purple, although black was still the favoured colour:
After Victoria's death, mourning dress became even more opulent. An exhibition at the Metropolitan Museum of Art in New York in 2014, Death Becomes Her: A Century of Mourning Attire, included two exquisitely beautiful embellished purple gowns worn by Queen Alexandra, wife of Edward VII, in the year after her mother-in-law's demise. You'd really only know they denoted mourning if you were familiar with the strict dress codes of grief. And when Edward died, weeks before Royal Ascot in 1910, there was no question of cancelling, but attendees wore magnificent black outfits instead. That year's event is now remembered as Black Ascot.
In 1938, when the Queen Mother's mother, the Countess of Strathmore died, the Queen Mother was weeks away from joining George VI on a state visit to France. At that time, war was looming and Britain was still getting over the abdication of the King's brother, Edward VIII. Under the circumstances, black seemed too gloomy. Something had to be done, so the Queen Mother enlisted the help of her couturier, the incomparable Norman Hartnell:
A black wardrobe simply wouldn't do, as it was imperative to come bearing optimism.
Hartnell was the one who researched earlier monarchs and found the aforementioned portraits of Mary, Queen of Scots:
Within weeks he had scrapped the original colourful outfits intended for the tour and crafted an entirely white set of looks in their place.
"The Queen has taken with her on her state visit to Paris a superb white wardrobe consisting of 12 gowns, seven coats… one cape, eight hats – and a lace parasol," the Telegraph's report from July 20 1938 read. "Created by leading London designer Norman Hartnell, it symbolises the links between the two countries."
The report went on to explain that Hartnell had referenced the French Pompadour look and pannier, as well as English garden florals and Victorian silhouettes. Hartnell had the idea to revive the crinoline after being shown Winterhalter's portraits of Queen Victoria and her family by the new king.
The Queen Mother became a fashion sensation:
Though the reason for the Queen's all-white dressing was sombre, the reception to the wispy, lacy creations was rapturous. "No wardrobe of modern times has created greater interest than the state wardrobe chosen by the Queen for the visit to Paris," another glowing Telegraph review reported, going on to publish sketches of the gowns in glorious detail. The autumn fashion collections shown later that year were heavily influenced by the Queen's "white wardrobe" and her style more generally – Schiaparelli and Molyneux both included tartan as a nod to her Scottish heritage.
The Queen loved her white collection and the style muse status it had bestowed upon her so much that the following year she commissioned Cecil Beaton to photograph her at Buckingham Palace wearing the designs, resulting in a romantically optimistic set of portraits that do little to suggest that the clothes they capture are a symbol of mourning, nor that the Second World War is months away. The floaty, delicate look of Hartnell's designs influenced the Queen Mother's style for the rest of her life.
The Queen Mother's husband, George VI, died in 1952. Although he had a chronic illness, no one expected him to die while Queen Elizabeth II and Prince Philip were on holiday in Kenya. The Queen had no black dress to wear once she got off the plane in London.
Reports differ as to how a black outfit reached her. One Royal historian told GB News that an attendant was on hand when the plane reached Rome for refuelling. The Telegraph has a different account, intimating that she received mourning attire in London:
… when the plane landed, a black dress had to be taken on board for her to change into, an incident that means that no royal reportedly now travels without a black outfit in their luggage, just in case. On alighting the plane, the 25-year-old queen looked elegant yet solemn in her dark coat, brooch and neat hat.
On the day of the funeral, the Queen Mother, the Queen and Princess Margaret wore long silk veils. The Telegraph has a photo of them:
At her father's funeral, eight days later, the new queen, her mother, grandmother Queen Mary and sister Princess Margaret cast ethereal figures in their long black veils, said to be around 18 inches over the face and one and a half yards down the back. "There is no court regulation with regards to them," the Telegraph had written in 1936, "but the practice of wearing them has always been observed at the funeral of a Sovereign."
By the time the former Edward VIII, the Duke of Windsor, died in 1972, only Princess Margaret and the Duchess of Windsor wore a veil. The Queen and her mother opted for the turban, the stylish hat of the day for women:
It was notable, then, that at the funeral of the Duke of Windsor in 1972, the Royal family refrained from wearing veils. The abdicated king's wife, Wallis Simpson, however, sported a couture coat and chiffon veil that Hubert de Givenchy had reportedly stayed up all night to make for her … By contrast, the Queen wore a black version of the turban style hats she loved at the time, adding Queen Mary's Dorset Bow brooch.
When it came time for Prince Philip's funeral, the Royal Family wore black, but the Queen quickly reverted to wearing her usual clothes afterwards.
Who waited to pay respects to the Queen
For many gathering to pay their respects to the Queen, a family death brought back a deep seam of emotion.
Although The Telegraph's Lauren Libbert watched proceedings from the comfort of her home, what she experienced seemed to ring true for a goodly number of those camping outside in the cold:
For me, at 44 and then again at 49, I watched my parents being taken from their home in a coffin and transported to their final resting place at the nearby cemetery. Watching Queen Elizabeth's coffin make its journey from Balmoral to Edinburgh transported me right back to that heart-wrenching, inexplicable gut-punch of a feeling, remembering how it felt to know my beloved parent was inside and I'd never enfold them in my arms again.
It's a sadness that has not gone unnoticed at home. "But you didn't even know the Queen," said my teenage son, noting my smudged eyeliner and tears when watching the news earlier this week.
"I know," I replied. "But I really miss my mum and dad."
He held me, but he was a bit baffled at the connection. Admittedly, so am I.
Other people, whether in the Elizabeth Line, Parliament Square or near Buckingham Palace, were hardcore attendees of other Royal occasions, as The Times reported. Keep in mind that the nightly temperatures turned distinctly autumnal, in the 50s Fahrenheit:
Mary-Jane Willows loves the sound of metal barriers clattering onto the streets of Westminster. "It means everything is getting organised," she says.
It is 10pm on Thursday and Willows, 68, is settling down for a night's sleep in a camping chair just off Parliament Square. She and her crew of royal superfans are zipped into military bivvy bags and wrapped in foil blankets — at that point of the week they were not allowed to use tents or sleeping bags for security reasons.
It is a hardcore existence, but they will endure. Because on Monday, for the Queen's funeral, they will be in the "best spot in the world".
Just half a mile away there is another camp, also in the best spot in the world. They arrived "on site", on the Mall and overlooking Buckingham Palace, the previous Thursday. And they came with "equipment": bin liners and trolleys jammed with Union Jack flags, hand warmers, underwear, first-aid kits, torches, baby wipes, wine gums and corned beef sandwiches. They have been there since.
These two groups are the most dedicated royal watchers on the planet, bound by births, weddings, jubilees and deaths, and held together by WhatsApp groups and meme-sharing. They are always the first ones to arrive, pitching up on virgin pavement, knackered, cold and in it for the long haul.
John Loughrey, 67, and his friends on the Mall, Sky London, 62, and Maria Scott, 51, have done weddings together (Cambridge, Sussex, York, York), births (George, Charlotte, Louis), jubilees (Diamond, Platinum) and deaths (Diana, Princess of Wales; the Queen).
"If you want to be part of the gang you've got to be with the gang," says London. "It's the camaraderie. It's seeing history and being part of it."
However, whether remembering family losses or cadging the best seat in the house, as it were, how do these people view Britain?
Rob Johns, a politics professor at the University of Essex, claims to have the answer.
I'm not so sure.
He interviewed 400 mourners by the time The Guardian interviewed him on Saturday, September 17. Johns said:
… it is less a case of royalists simply wanting to mourn the Queen in person, and more "a collective gathering that is as much about the queue as it is about reaching the end of all the queueing".
This is the part about which I have doubts:
Who would be willing to wait outdoors for as long as 24 hours , braving the elements along the Thames, for a few seconds alongside the Queen's coffin – and why?
Now, as the Queen's lying in state in Westminster approaches its final hours before Monday's state funeral, researchers believe they have found the answer. A narrow majority vote Conservative, almost two-thirds backed remain and most of them are enjoying a feeling of "subdued positivity" as they wait in line for hours.
Really? I don't know how one could wait outdoors in the cold for a day and support EU supremacy over our monarchy.
With history and contemporary background covered, let us move on to what happened last weekend.
September 17
On Saturday, September 17, the King was back at work.
He had successfully completed his visits to the component nations of the United Kingdom during the mourning period under a plan called Operation Spring Tide. It derives its name from a particularly high tide in springtime known as king tide.
ITV reports that there were sub-operations to Spring Tide:
Scotland (Operation Kingfisher), Wales (Operation Dragon) and Northern Ireland (Operation Shamrock).
In London, Operation London Bridge continued apace.
The Queen's state funeral is the first such event to be held since Winston Churchill's in 1965.
However, unlike Churchill's funeral, the Queen's was mammoth by comparison. Police forces from around the UK travelled to London to participate in maintaining order. Only two were exempt.
The numbers of military engaged were also unprecedented.
Operation London Bridge required meticulous logistical planning to make sure everyone in the capital, including visiting heads of state and other dignitaries, were kept safe.
In the morning, the King visited members of the police and military working all hours to make this a success:
He went on a walkabout at the Elizabeth Line to express his appreciation of people's willingness to pay tribute to his late mother. William Prince of Wales and Sophie Countess of Wessex met mourners in other parts of the queue:
Then it was time for the King to return to Buckingham Palace for more meetings and a reception:
Early that evening, the Queen's grandchildren — The Prince of Wales, The Duke of Sussex, Princess Beatrice (Andrew), Princess Eugenie (Andrew), Lady Louise (Edward), Viscount Severn (Edward), Zara Tindall (Anne) and Peter Phillips (Anne) — held a Vigil of the Princes in Westminster Hall. I have added the relevant Royal parent's name in parentheses for clarity.
The aforementioned ITV article says that the events taking place at Westminster Hall were run under Operations Marquee and Feather:
This covers the four days of the Queen's lying-in-state, focusing on the arrangements inside Westminster Hall.
It's expected to begin on Wednesday, September 14, ending on Sunday before her funeral the next day.
Senior royals are also expected to pay their respects once more here, standing guard in a tradition known as the Vigil of the Princes.
It is linked to Operation Feather, the arrangements for the public who are expected to queue in their thousands for an opportunity to see the monarch's coffin as they did 20 years ago for her mother.
Here is the beginning of the grandchildren's Vigil of the Princes. Members of the Royal Family watched from a viewing point on one side of the hall. Once again, the public could file past:
This video from the Royal Family's YouTube channel has the full vigil, which was very moving indeed. Viscount Severn, who is only 14, was so composed for someone so young. As with other videos from this channel, click 'Watch on YouTube' and it should play, at least for the near future. If not, try the link in their tweet:
Here are some close-ups:
This video is of the young Royals filing out afterwards:
The days of mourning at Westminster Hall nearly passed without incident. On Friday, a man suddenly appeared in the queue outside and exposed himself to two women from behind. He jumped into the Thames but quickly got out. Police were on hand to arrest him. The Guardian reported:
… a man appeared at Westminster magistrates court following allegations that two women were sexually assaulted while they were waiting in the queue to see the Queen lying in state.
On Friday evening, a man inside Westminster Hall was arrested after lunging towards the Queen's coffin. The Telegraph reported:
The individual was reportedly taken to the floor by Metropolitan Police officers and arrested.
The Met told ITV: "At 22:00hrs on Friday 16 September officers from the Met's Parliamentary and Diplomatic Protection Command detained a man in Westminster Hall following a disturbance. He was arrested for an offence under the Public Order Act and is currently in custody".
Viewers of the BBC's live stream reported that the feed went down for 10 minutes.
The aforementioned Guardian article says:
Broadcasters showing the procession of mourners cut away from the scene and instead showed the view from outside parliament.
There are always simple ways to set things right. In this case, broadcasters were prepared with a still of the Palace of Westminster.
The Sun's political editor Harry Cole looked at the bigger picture of the mourners and tweeted a poke at the anti-monarchist metropolitan elite:
September 18
Sunday, September 18, put the logistics of Operation London Bridge to the test as 500 heads of state and other dignitaries arrived in London for the Queen's funeral.
As it would have been impossible for all of them to have been driven in separate cars to Buckingham Palace that day and to Westminster Abbey on Monday, the plan was to 'pod' the leaders into private coaches, painted in plain white.
Scheduled pickups of the great and the good at designated points in central London helped the plan run smoothly and safely.
Only Joe Biden was exempt. The Beasts — one operational and one decoy — were here along with his usual security motorcade.
France's Emmanuel Macron arrived with his wife Brigitte early enough to do an incognito walkabout during the afternoon:
Meanwhile, somehow with the permission of Speaker of the House of Commons Sir Lindsay Hoyle, the Chinese were allowed into Westminster Hall. Hoyle had pledged to MPs that they would not be allowed anywhere on the parliamentary estate:
Conservative MPs were less than impressed:
That evening, after a brief shower, a beautiful rainbow appeared, just as a double rainbow did when the flags were lowered to half mast over Buckingham Palace and Windsor Castle on the day of the Queen's death. This must mean something, surely:
The King and Queen Consort held a formal reception for the dignitaries at Buckingham Palace that evening.
Meanwhile, soldiers participating in the funeral were busy polishing medals and sewing on badges:
A few newspapers printed the last photographic portrait of the Queen for Monday's editions. Ranald Mackechnie took the photo in May, a few weeks before her Platinum Jubilee celebrations:
The Telegraph had an article about the portrait. As ever, the Queen's choice of jewelry told the story:
The Queen, who is dressed in a dusky dove blue dress with her hair neatly curled, is wearing her favourite three-strand pearl necklace, pearl earrings and her aquamarine and diamond clip brooches which were an 18th birthday present from her father George VI in 1944.
The two art deco-style pieces, worn one below the other, were made by Boucheron from baguette, oval and round diamonds and aquamarines.
The Queen wore the brooches when she addressed the nation on the 75th anniversary of VE Day in 2020 and for her Diamond Jubilee televised speech in 2012.
The image was taken by photographer Ranald Mackechnie, who also took the Jubilee portrait of the Queen released to mark the start of national festivities of her milestone 70-year reign.
I cannot help but agree with The Star's 'Kingdom United'. Thank you, your Majesty, for these 12 days of mourning:
The Independent was less sure about 'Kingdom United!' They wrote of a 'turning point':
The Guardian showed us a window of a house in Windsor and how the world was descending there and in London:
The i paper also focused on a world farewell:
The Financial Times took a final look at Westminster Hall:
In closing, The Metro published my favourite portrait of the Queen after she was inducted into the Order of the Garter. Pietro Annigoni (1910-1988) painted the portrait in 1955:
It is simply timeless, as is its subject.
I hope to cover the funeral and committal services in their entirety tomorrow.
On Monday, August 1, 2022, a hustings took place in Exeter.
The event was two hours long. Sky News filmed it, and the moderator was Sebastian Payne, the Financial Times's Whitehall editor:
The sound quality is not the best. There are lots of echoes.
The venue was full. Some supporters made their allegiances known Trump rally style, either by waving 'Ready for Rishi' placards or by wearing 'Liz for Leader' tee shirts.
The event began with a couple of videos from Conservative MPs.
Then Penny Mordaunt appeared on stage to pledge her support for Liz Truss (video clip here):
Liz took the stage afterwards (17:38 in the video) and introduced her platform.
Afterwards, Liam Fox went on stage (33:34), announcing that he would be backing Rishi Sunak.
Liz's Q&A came after that (45:00), taking questions from the audience and Sebastian Payne.
She was much more relaxed than she had been at previous events over the past two weeks. She has a sense of humour. She gesticulated in a natural way. She was conversational.
When an audience member asked if she would favour another lockdown, she gave a simple answer — 'No'. She explained that, during the pandemic, her Cabinet responsibilities lay in areas other than health and that when presented with past measures, she said others told her they were already 'a fait accompli'. Liz said she always favours the least amount of intervention:
Liz also lobbed a zinger at Scotland's First Minister Nicola (Neverendum) Sturgeon (SNP) by saying that she should was an 'attention seeker' who should be ignored. She got a huge round of applause.
This raised a stink the next day, including on GB News, but I understood it in the context of having another independence referendum eight years after the first 'once in a generation' one:
GB News has the quote (emphases mine):
Liz Truss has claimed it is best to ignore "attention seeker" Nicola Sturgeon.
The Conservative Party leadership candidate criticised Scotland's First Minister before ruling out a second independence referendum.
Ms Truss, speaking at a hustings event in Exeter, referenced growing up in Paisley before saying: "I feel like I'm a child of the union, I really believe we're a family and we're better together and I think the best thing to do with Nicola Sturgeon is ignore her."
Tory members cheered and applauded the comment, with the Foreign Secretary adding: "She's an attention seeker, that's what she is.
"What we need to do is show the people of Scotland, Northern Ireland and Wales what we're delivering for them and making sure that all of our Government policies apply right across the United Kingdom."
She replied "no, no, no" when asked about another independence referendum in Scotland if she becomes prime minister.
SNP MP Chris Law, posting on Twitter with a link to Ms Truss's remarks, said: "The only reason why Scotland needs independence. Utter contempt from the future PM."
Rishi Sunak has also ruled out having a second referendum on Scottish independence should be become Prime Minister.
He said: "I am clear that another referendum is the wrong priority at the worst possible moment.
"The SNP are wrong to try and tear the country apart when we should be pulling together. Why aren't they talking about the drugs crisis in Scotland or how we can get more money into Scottish workers' pockets?
"Just as I want to be more accountable to people in every corner of the United Kingdom, so too does the SNP need to be more accountable for their responsibilities."
That night, comedians on GB News's Headliners joked about the SNP's utter irresponsibility north of the border. Leo Kearse is Scottish and gives the full story of the disappearing billions. He says that Westminster should audit the Scottish Government:
Earlier, on Dan Wootton's show, 90% of viewers agreed with Liz on Nicola Sturgeon with regard to a second referendum:
In short, Liz came across as the continuity candidate. People who liked Boris will find an appropriate comfort level with her.
Then it was Rishi's turn to take questions (1:17:00).
Both candidates received warm applause for their policies, but some applauded only for their preferred candidate.
Rishi left the stage with a clean slate.
However, Liz got into trouble over the next 24 hours for saying that she would reform public sector pay. I took her to mean civil servants, but people got anxious and critical over teachers and NHS staff.
Liz said she would cut public sector pay outside of London, but wouldn't keeping their pay the same or upping it a pledge to 'levelling up'?
Years ago, Labour's Harriet Harman tried the same thing:
The Financial Times article that Guido Fawkes cites explains why what Liz's proposal is problematic.
Journalist Stephen Bush begins by disingenuously putting on the frighteners …
Liz Truss has promised to save £11bn a year by cutting pay for public sector workers — including civil servants, teachers and nurses — outside London and the South-East.
… before clarifying that it would take several years for the proposed plan to be rolled out to all public sector workers:
The foreign secretary said she would introduce regional pay boards that would set wages for civil servants working outside London in line with local labour market conditions and living costs. Her campaign said the regional pay would initially be introduced for new civil service recruits, but if successful would be rolled out over a number of years to all public sector workers.
From that, it is obvious that the FT want Rishi Sunak to win.
This is why public sector pay is difficult to reform:
Now, it's true to say that, in real terms, a secondary school teacher in Torridge in north Devon or Cannock Chase in Staffordshire is paid more in real terms than they are in St Albans or Hackney. And this is true across the public sector. In real terms, a public sector worker would be economically better off working in Don Valley in South Yorkshire than if they were working in the centre of Manchester.
But of course, it is also true to say that we find it easier to recruit secondary schoolteachers, GPs, firefighters and police officers in St Albans, Hackney or Manchester than we do in Don Valley, Cannock Chase or Torridge …
The policy suggestion does the rounds every so often and it founders on the same basic problem: you can't cut salaries in the places you struggle to recruit. Given that the UK state (rather like the UK as a whole) faces considerable difficulties in recruiting enough workers it is highly unlikely that the policy will succeed now.
 … What might matter is if enough Conservative members see this policy as an electorally disastrous idea they need to avoid.
One thing that would be welcome is reforming or getting rid of unnecessary posts in the public sector. Liz favours this, too:
I'll come back to that in a moment.
Polling
Stephen Bush's article gave more evidence that he and the FT are Ready for Rishi, so to speak.
Based on polling, Bush is worried that Liz might be winning:
Every scrap of data suggests Liz Truss is ahead of Rishi Sunak, and that Sunak failed to really change the dynamic of the race in any of the televised debates.
Although both Ben Wallace and Tom Tugendhat have ideological and policy reasons to endorse Truss over Sunak, it helps, of course, when everything suggests that to help Truss is to help yourself. Unless her campaign finds a way to implode or the polls are wildly out of kilter.
Now, of course, the big known unknown in this leadership election is just how big Liz Truss's lead actually is. YouGov's polls have shown the foreign secretary enjoying a 24 point lead over Rishi Sunak (opens a new window) among Tory members. The gap suggested by Opinium has been a narrower one. Its latest snap poll showed (opens a new window) Tory voters thought Truss did better in the television debate last week by 47-38.
Now another pollster, Techne, has tried its hand at a poll of the Conservative supporters (opens a new window), who comprise Tory voters that are also activists. The result is, again, a Truss lead, but not a very large one.
I wouldn't sweat this too much, frankly. What unites the various polls (Liz Truss is winning all of them) is more important than what divides them (the exact size of Liz Truss's opinion poll lead). It's possible that some error or event on the part of Truss's campaign may hand Sunak a victory, and it's possible that all the polls are wrong. Given all that, the implied 10 per cent probability of a Sunak victory suggested by the prediction website Metaculus (opens a new window) seems about right to me. But of course, if Truss's lead is only five points, this "cut public sector pay in places with greater shortages" wheeze may well prove catastrophic for her chances.
Guido has more on the Techne results.
Another interesting poll appeared on August 1. Redfield & Wilton Strategies results show that Liz Truss could just beat Labour's Keir Starmer in being perceived to be a better potential Prime Minister. Rishi, on the other hand, would lose to Starmer — 40% to 33%:
Why are all the metropolitan elite coming out for Rishi? They know he would lose and put the Conservatives out of office for years!
On Tuesday, August 2, YouGov came out with a poll also showing stonking results for Liz:
Polling took place between July 29 and August 2:
Guido also posted about the polls and another pro-Rishi publication, The Times:
Guido then posted the YouGov poll:
I couldn't agree more about voting anxiety. This reminds me of the 2019 contest between the totalitarian Jeremy Hunt and Boris 'Sunlit Uplands' Johnson.
Guido explained the stark differences between the two polls:
The Times claimed — wrongly — that Liz Truss's team commissioned the more favourable YouGov poll. Guido notes that the newspaper has since changed its copy. Good:
And someone confirmed the hypothesis that media supporting Rishi want the Conservatives to lose:
On Wednesday, August 3, YouGov published an all-party poll. After months of the Conservatives trailing Labour by a large margin, there is now only one percentage point between the two!
Amazing!
Guido wrote (red emphases his):
The YouGov poll of Tory members showing Liz looking to take two-thirds of the vote for leader was not the only surprising poll result. YouGov's regular voting intention survey has the Tories on 34% (+2 from 21-22 July), just a point behind Labour on 35% (-4). Is this an outlier?
YouGov themselves say "This shrinking of Labour's lead from 7 points to 1 point is a sharp move, but changes are either within the margin of error or close to it. It will be worth waiting to see whether further polls replicate the extent of this narrowing of the gap before we can be certain of a Tory recovery."
Yet, an IPSOS-Mori poll from Monday shows Rishi in the lead.
The Evening Standard reported:
As the 160,000 members of the Tory party prepare to start voting in the Tory leadership contest from Monday, the exclusive survey by Ipsos shows that 49 per cent of Conservative backers said the former Chancellor would make a good premier compared to 40 per cent for rival Liz Truss.
Among Conservative voters in the 2019 general election, Mr Sunak enjoys an even bigger lead over the Foreign Secretary with 49 per cent saying Mr Sunak has what it takes for the top job compared to 35 per cent for Ms Truss.
Among the general public, just over a third of people said Mr Sunak would make a good Prime Minister compared to just 24 per cent for Ms Truss.
Conservative Home's poll of its readers did not show Rishi on their chart. This is because he resigned as Chancellor and is no longer in the Cabinet:
The perils of policy on the hoof
Now that we have covered the good news, let us return to Liz's public sector statement, which is the first real blunder she has made in her campaign.
Not surprisingly, Team Rishi jumped on it.
On Tuesday, August 2, Guido reported that a Red Wall mayor is also unhappy:
Team Rishi has slammed Liz Truss over her policy announcement last night that she can save up to £8.8 billion by replacing National Pay Boards with Regional Pay Boards. This sum immediately raised eyebrows given the total Civil Service salary budget is around £16.5 billion. The footnotes of the press release specified this figure is "the potential savings if the system were to be adopted for all public sector workers in the long term," allowing her opponents to spin the policy as one of cutting nurses' and teachers' pay in the Red Wall while improving the pay packets of those in London and the South East. Tees Valley Metro Mayor Ben Houchen is not happy:
There is simply no way you can do this without a massive pay cut for 5.5m people including nurses, police officers and our armed forces outside London.
Liz Truss's campaign is explicit that their savings target is only possible 'if the system were to be adopted for all public sector workers'.
This is a ticking time bomb set by team Truss that will explode ahead of the next general election.
Just one mistake like this can help Rishi win over Conservative Party members:
Rishi doubles down by calling the policy "a gift to the Labour Party and Keir Starmer. Her plan would punish hard working nurses, police officers and soldiers across the country, including in the Red Wall just before a General Election". Rishi was already reportedly performing better among Southern members – can this latest attack help him claw back up North?
Liz and her team quickly backtracked but said it was a 'wilful misrepresentation' of the policy:
UPDATE: Team Truss say
Over the last few hours there has been a wilful misrepresentation of our campaign. Current levels of public sector pay will absolutely be maintained. Anything to suggest otherwise is simply wrong. Our hard-working frontline staff are the bedrock of society and there will be no proposal taken forward on regional pay boards for civil servants or public sector workers.
Under fire from Rishi she drops the policy. So we now have the status quo of a national pay rate for civil servants.
Another member of Liz's team told Guido that the policy will not be taken forward. Nonetheless:
Team Rishi are absolutely loving this, joking "The lady is for turning"…
Yes, one can imagine.
On GB News Tuesday afternoon, a number of presenters and pundits, some of whom think Liz either should or could win (there is a difference), thought that she made a terrible mistake with this.
One said that making policy up on the hoof was a 'dangerous' thing to do and could turn the contest against her.
However, Team Liz were ready to fire back at Rishi, accusing him of more U-turns during this campaign than at a driving test centre.
Note that only one of Liz's U-turns happened during the campaign. The other three happened when she was a young adult. The same cannot be said of Rishi:
Guido has the full story, which begins with this:
Hours after a brief campaign blip from Team Liz, which involved a somewhat humiliating climbdown from their regional pay boards policy, they've finally pulled their finger out for some return fire on the topic of u-turns. Team Rishi has spent the morning on cloud nine, joking that it turns out "The lady is for turning", and accusing Liz of having a Mayite 'Dementia Tax' moment. In return Liz Truss's team have compiled a list, which they allege shows Rishi has performed "more u-turns than a DVLA test centre". A spokesperson for Liz says:
This is all a bit rich coming from Sunak's backers when they stayed schtum on the steady stream of u-turns from Rishi over the recent weeks. He's flip-flopped on tax cuts, VAT, grammar schools, China , EU regulations, Northern Ireland protocol and planning to name a few.
Before Monday's debate, Liz issued a letter to Conservative Party members, which can be read in full here. It has way too many 'I's, which someone should have reworded.
An excerpt follows:
… If you work hard, do the right thing, save your money, or start your own business, then I am on your side.
And you can trust me to deliver. I have delivered trade deals, faced down Putin's Russia, and got on with sorting the Northern Ireland Protocol. I am honest and straight talking. I do what I say I will and I know what it takes to get things done. 
We cannot continue to have business-as-usual and I have a bold plan to get our economy back on track.
We must reject orthodoxy, the voices of decline and unleash Britain's potential in line with Conservative values. 
I will lower taxes to spark economic growth and reward people for working hard. I will seize the full opportunities of Brexit, and level up in a Conservative way. I will defend freedom at home and abroad, and keep Britain safe. 
I will ensure the police do more to crack down on real crimes, and raise defence spending. I will stand up for free speech, and protect single sex spaces for our young women. And I will abolish Soviet top-down housing targets. I know from being a councillor that local people are best-placed to deliver the housing we need. 
To win in 2024, we must work relentlessly to deliver on our promises. 
Now is the time to be bold … 
That is how Liz came across in the debate, so I was happy to see The Telegraph endorse her candidacy that night:
Ballots delayed to next week
The Party members' ballots were to have arrived this week.
However, a security issue has caused a delay, therefore, they will not be sent until next week.
Nigel Farage tweeted:
The Telegraph's Ben Riley-Smith got the scoop on the ballots. Furthermore, members can now vote only once, not twice as planned — excellent:
This might turn out to be a blessing in disguise for Liz.
A week is a long time in politics, so by the time the ballots arrive, Liz's public sector policy blunder is likely to be old news.
Even better, however, is the platform that GB News will give her on Wednesday, August 10, just as the ballots arrive:
I do not have details as to how the event was arranged nor do I know whether Rishi was invited to appear on a separate programme.
The next debate was on Sky News on Thursday, August 4. More about that in a separate post.
My series on Red Wall MP Lee Anderson from Ashfield continues.
Those who missed the previous three instalments of his profile can read them here, here and here.
Lee Anderson nearly always has something useful to contribute to debates in the House of Commons.
He is also no stranger to controversy, either.
Ian Lavery MP
He has a particular dislike for Labour MP Ian Lavery, who used to head the National Union of Mineworkers (NUM), of which Anderson was once a member.
In Part 1, I introduced Anderson's animosity towards Lavery, which has to do with £165,000 that the Labour MP received years ago from the NUM. Anderson, like other NUM members, believes that Lavery should return the money to the miners.
On Wednesday, June 15, Anderson raised the matter of the money again during the debate about the upcoming nationwide rail strike.
Guido Fawkes has the story and the video:
It was Guido's most read and shared story of June 16:
Guido wrote (emphases in the original):
Another vintage Commons clash last night between Lee Anderson and Ian Lavery, with Anderson once again accusing Lavery of "stealing money" from the miners, and Lavery getting so upset he actually asked Deputy Speaker Nigel Evans to "protect" him from Anderson. Not a demand Evans took to kindly…
Anderson: Does he think that any Opposition Member who has received a donation from the RMT should put that money in a pot to help people who suffer during next week's rail strike? Does he also think that other MPs who have stolen money from the mineworkers—165 grand in the case of the hon. Member for Wansbeck (Ian Lavery) —should pay it back?
After eventually convincing Anderson to withdraw the remark, Evans turned his attention to Lavery:
Lavery: On a point of order, Mr Deputy Speaker. You have been in the Chair three times when the hon. Member for Ashfield (Lee Anderson) has made allegations. He withdraws his ridiculous remark and consistently comes back to say it again. As Deputy Speaker, you are not protecting the likes of myself. I need your protection.
Evans: Order. Do not make allegations against the Chair, ever. You saw how I treated Mr Anderson. You just leave it with me—I don't need lectures on how to do my job.
All this happening in the mother of all parliaments, rather than the school playground. At least it was entertaining…
Earlier this year, in the February 8 debate, Cost of Living and Food Insecurity, Anderson tried unsuccessfully to intervene in Lavery's contribution. One wonders if he was going to ask about Lavery's NUM money:
Lavery: I want to put some human context into this debate. I saw on social media this weekend a comment by a single parent. She said:
"It's difficult to imagine without experiencing it is how tiring being skint is. How you're so utterly consumed by financial hardship that it affects every decision you make on a daily basis. It takes up every thought and you can't escape. No wonder there is a mental health crisis".
Anderson: Will the hon. Gentleman give way?
Lavery: That comes from a single parent and it sets the tone for this debate. The country is badly fractured and, sadly, broken. Kids cannot eat and pensioners cannot eat, yet sales of luxury yachts have gone through the roof.
Anderson: Will the hon. Gentleman give way?
Lavery: And then we look at the other end of the political spectrum, where we see 14 million people in this country, the sixth richest economy on this planet, living in poverty.
Anderson: Will the hon. Gentleman give way?
Lavery: UK wages are at the lowest they have been and they are a 15-year standstill. Wages are gone and energy bills are going through the roof—I will come on to that. Poverty is a political choice. Hunger is a political choice. I am sick and tired of debates in this place where people from all parts are basically reducing hungry and cold families and individuals to mere balance sheet statistics—count them as human beings. The debate often gets dragged into whether this is absolute poverty or relative poverty.
Anderson: Will the hon. Gentleman give way?
Lavery: That does not matter to people who are suffering greatly in our communities. If they are sitting at the table with nothing to eat in the morning or at teatime at night, they are not aware of whether they are in abject poverty, absolute poverty, relative poverty or overall poverty. They might not even know that they are in poverty, but they know they are hungry. I think we will all probably have experienced being behind the person in the local newsagent who has the key to put £5 on their electricity bill—
Anderson: Will the hon. Gentleman give way?
Then things kicked off:
Deputy Speaker Nigel Evans: Order. I do not believe Mr Lavery is going to give way, so please save your voice for the rest of the speech. [Interruption.]
Order. What did the Member say?
Other MPs: He said, "Coward."
Deputy Speaker: Please withdraw that word.
Anderson: Mr Deputy Speaker, I am sure that the hon. Member is not a coward.
Deputy Speaker: Thank you.
Lavery: Mr Deputy Speaker, that has taken out a minute and a half of my time, but thank you very much for allowing me to continue. I am far from a coward, by the way …
Lavery finished his speech. Later in the debate, however, he raised a point of order about Anderson (emphases mine):
Lavery: On a point of order, Mr Deputy Speaker. I would like your advice about the intimidation that I seem to be getting from the Member for Ashfield (Lee Anderson). The last couple of times I have been in the Chamber, there have been some absolutely terrible remarks. I am sure you remember, Mr Deputy Speaker, the last time he had to return and apologise. How can this be stopped? How can we tackle it? If Members do not want to give way, they do not have to, but they should not suffer abuse as a result.
Deputy Speaker: I thank the hon. Gentleman for his point of order. I was in the Chair the very last time this happened. That is why I intervened to say that the hon. Gentleman was not giving way. I could not hear what the hon. Member for Ashfield said, because I was talking when he said it, and he then withdrew it. However, Mr Speaker made it absolutely clear at the beginning of today's sitting, after what happened on the streets of London yesterday, that we must all be temperate in the language we use, not only in the Chamber but outside it. I hope that all right hon. and hon. Members will take that on board before they stand up, and even when they make sedentary interventions, and that they are very temperate in the language they use.
Anderson then directed his interventions towards other Labour MPs.
One recommended collective bargaining. Anderson, who was a Labour Party member until 2018, intervened:
The hon. Gentleman mentions collective bargaining, but will he say how successful that was in the 1970s, when the lights were out?
True!
Another Labour MP recommended more nuclear power. Anderson said:
My hon. Friend talks about nuclear power. It is quite interesting, actually, because I wonder if he can recall that, in 1997, the Labour manifesto said, "We can see no economic case for the building of any new nuclear power stations." Does he think now, moving on 20-odd years, that they regret that?
Crime
Lee Anderson is, to paraphrase Tony Blair, 'tough on crime, tough on the causes of crime'.
On June 8, 2021, during the Police, Crime Sentencing and Courts Bill debate, he spoke frankly about the travelling community:
We have a big problem in Ashfield with the travelling community. They come two or three times a year. I did my own poll of about 2,000 constituents, and 95% agreed with me that the Travellers were creating a massive problem—crime was going up, pets were going missing, antisocial behaviour was going through the roof and properties were getting broken into. My constituents do not want them in our area anymore. That was a survey of 2,000 people, and that was the response from 95% of them. That evidence from my area is a bit more compelling than the petition the hon. Gentleman mentioned, which has probably been signed by 100,000 Travellers.
A Labour MP, Bambos Charalambous, said the problems in Ashfield arose because of inadequate housing provision.
Later on, Anderson said:
We have already established that in places where Traveller communities set up, such as Ashfield, crime goes up; we know that there is a direct correlation between Travellers being in the area and crime going up. Does the hon. Gentleman think that crime will come down if we have a permanent site in Ashfield?
Undeterred by the throwaway answers he was receiving, Anderson intervened once again in Charalambous's speech:
At the beginning, the hon. Gentleman made an interesting point about Romani Gypsies coming here more than 500 years ago, but the Gypsy encampments that we are talking about in places such as Ashfield are not the traditional, old-fashioned Gypsies sat there playing the mandolin, flogging lucky heather and telling fortunes. The Travellers I am talking about are more likely to be seen leaving your garden shed at 3 o'clock in the morning, probably with your lawnmower and half of your tools. That happens every single time they come to Ashfield. Does he agree that there is some confusion on the Opposition side as to who these people actually are?
Charalambous replied that there were many misconceptions about the various traveller communities, which were unhelpful.
Anderson made his final intervention a short time afterwards:
About five years ago, we had Travellers come to a car park in my village and they left a load of rubbish there, which cost the council over £1,000 to clean up. A few weeks later, they came back again, left another load of rubbish that cost another £1,000. I got that fed up with the local council that I hired a JCB and put two concrete blocks there, to stop the Travellers coming back and to keep the beauty spot tidy, and I got a £100 fixed penalty notice from my local Labour authority. Does the hon. Gentleman think that that was the right course of action?
Charalambous said that it was the local council's responsibility to take action, not individuals.
On May 11, 2022, after this year's Queen's Speech, MPs discussed the subject again in the Preventing Crime and Delivering Justice debate. The plan to send migrants to Rwanda was also announced that day.
Anderson delivered a speech on public protests, which have gone out of control over the past few years. At times, the police looked as if they are aiding and abetting the protesters:
Nobody should feel unsafe on the streets or in their home, which is why preventing crime is probably the most important part of this Queen's Speech. Each time we debate the subject in this place, the Labour party seems to side with the criminals. I am not sure why that is, but it seems to happen every single time. The Queen's Speech serves as a reminder to everyone that the Conservatives are the only party that is serious about law and order in the UK.
The vast majority of decent, hard-working people in this country will welcome the new public order Bill. Every week we see mindless people who have nothing better to do than wreak havoc on our streets, motorways and petrol stations. Frankly, the hard-working people of this country are fed up to the back teeth of these people disrupting lives and destroying property.
When I have been out and about, I have seen people gluing themselves to property, digging up lawns, throwing paint and performing zombie-like dances in the middle of the road with no regard for the decent, hard-working people of this country. [Interruption.] … These people have no regard for the decent, hard-working people of this country, and their guerrilla tactics are disrupting emergency workers and putting lives at risk. The public have had enough.
We were pretty good at handing out fines during lockdown. We dished out big fines, some justified and some not, and I hope the Government will consider handing out bigger fines to these public nuisances who think it is a good idea to damage petrol stations. I suggest a £10,000 fine, going up to 20 grand. That will teach them. Going back to their mum and dad with a 10 grand fine might be the deterrent they need.
Let us remind ourselves of what the Conservative party has been up to in government. We are recruiting 20,000 new police officers, and there are already more than 13,000 new police officers on our streets, making our streets safer. We have enshrined the Police, Crime, Sentencing and Courts Act 2022 in law, giving the police extra powers to prevent crime and keep dangerous criminals off our streets. The Act stops the automatic early release of dangerous, violent and sexual offenders, widens the scope of police powers such as stop and search, and places a legal duty on local authorities to work together with fire and rescue services, the police and criminal justice agencies. Labour voted against the Act, and I will tell the House what else Labour voted against: everything in the Act.
In Ashfield we are really benefiting from a Conservative Government. We have just had £550,000 from the safer streets fund, with which we are putting up CCTV in some really dodgy areas of my town. This will make women and young girls feel safe. There will be safe hotspots where they can reach out for help. It is wonderful news for one of the most deprived areas of my constituency. We are using the fund to put up new security gates to secure alleyways, which are antisocial behaviour hotspots. The funding is making residents feel safe in their own home. It is real action. On top of that, we have new police officers in the Operation Reacher teams in Eastwood and Ashfield, which are going out to take the most undesirable people off our streets and lock them up.
The police had always been a little frustrated that the sentencing has not been enough for these criminals, but we have sorted that with the 2022 Act. People will be locked up for longer, and so they should be. It makes people in Ashfield and Eastwood feel safer, it makes me feel safer and it makes my family feel safer. When these criminals are arrested and taken through the court system, it is only right that they should be put away for as long as possible to make us all feel safe.
Labour also has no ideas about the illegal crossings by dinghies and boats coming over the channel. Labour Members seem to be confused, as they do not know the difference between an economic migrant and a genuine asylum seeker, which is a shame. My constituents in Ashfield would put them right. If Labour Members come up to my Wetherspoons in Kirkby, my constituents will tell them the difference—they are pretty good at it.
An SNP MP intervened to say that the Home Office considers most of those coming illegally over the Channel as refugees.
Anderson replied:
I thank the hon. Lady for her intervention and I think that what she describes is the fault of the old, failing asylum system; when people get here, they know how to fill the forms out and they have these lefty lawyers who say, "Put this, this and this." So they fill the forms out and, hey presto, about 80% get asylum status, and it is wrong. It is a burden on the taxpayer, these people are abusing the system. It is a bit like some benefit cheats—they do it, don't they? They abuse the system, saying that they are disabled when they are not. [Interruption.] Yes, they do. Come on, let's be right about it.
Make no mistake: if that lot on the Opposition Benches got in power, perish the thought, this Rwanda plan would be scrapped within five minutes. They want to see open borders. They want to let anybody in. [Interruption.] However, I welcome the sensible comments on food bank use made by the hon. Member for St Helens North (Conor McGinn), who is not in his place. I would welcome any Opposition Member coming to visit my local food bank in Ashfield, where I help out on a regular basis. We have a great project in place at the moment.
You can read more about Anderson's food bank controversy in Part 3.
Free speech at universities
Last week, on July 12, Anderson participated in the debate on the Higher Education (Freedom of Speech) Bill. He rightly took strong exception to the metropolitan elite:
Now then, if we control what students in universities can listen to, we are controlling what they can think and the type of person they will become. That may work in places such as North Korea and, possibly, within the Labour party, but it has no place in our society. The Bill will strengthen free speech and academic freedom at universities. It is not the job of the Labour party or anybody else to control who we listen to. The champagne socialists, the Islington elite and the trade unions may agree with the Labour party, but most of the country do not. We fought and won a war to protect our freedoms, and freedom of speech, to my mind, is the most important freedom that we have.
Let us not forget that universities are there to supply our great country with scientists, mathematicians, doctors, lawyers, school teachers, nurses and so on, not to provide us with state-sponsored political activists who have only one opinion or one goal in life. Our young people should be able to flourish at university and be open to all kinds of debate. Let them make their own mistakes, form their own opinions and ask their own questions. We should not dictate who they can and cannot listen to.
By voting against this Bill, Labour is saying that our university students are not capable of making up their own minds. It is a bit like the Brexit debate when it told my residents in Ashfield and Eastwood that they were thick, they were stupid, they were racist and they did not know what they were voting for. Well, that ended well! It ended up with my standing here tonight.
We know that free speech is being shut down in universities in this country. Professor Jo Phoenix was due to give a talk at Essex University about placing transgender women in women's prisons. Students threatened to barricade the hall. They complained that Ms Phoenix was a transphobe who was likely to engage in hate speech. A flyer with an image of a gun and text reading "Shut the **** up" was circulated. The university told Ms Phoenix and the event was postponed.
What about the human rights lawyer Rosa Freedman, a radical feminist law professor, whose event was cancelled amid allegations of transphobia? She received a passive aggressive email from a University of Reading student who called her views on gender politics "problematic" and warned her to "choose her words carefully". Selina Todd, an Oxford University professor, had her invitation to a conference celebrating women withdrawn owing to pressure from trans activists who had threatened to disrupt the event.
It is a real shame that we have to legislate to allow free speech, but the biggest shame is that Labour Members will vote against the Bill and subsequently vote against free speech. Perhaps they should all come off Twitter, throw their Guardian newspapers away, leave the Tea Room, and get out there and speak to the millions of voters they lost at the last election. Let us have some free speech on the doorstep and perhaps that lot on the Opposition Benches will finally realise that they have nothing in common with the very people they expect to vote for them. Thank you very much, Mr Deputy Speaker; that is me done.
The next MP to speak was from Labour. That MP disliked being told he was against free speech. He ended by saying:
If this legislation were needed, I would support it, but I do not think that it is needed, because, as has already been said, the legislation is already in place. We know the reason why, because we have had it explained. We just had a great example of it from the hon. Member for Ashfield. This is actually about trying to use the so-called woke agenda in a political manner. It is amplifying the message, so we get a situation where anyone who dares to question what happens or who votes against this Bill tonight is said to be against freedom of speech.
Anderson intervened to say:
I thank the right hon. Gentleman for the important points that he is making in the Chamber tonight, but the most important thing I want to thank him for is mentioning the word "Ashfield". That is the first time ever in this Chamber that a Labour politician has mentioned the word "Ashfield", so I thank him for that.
Immigration
Lee Anderson likes hard-working immigrants but, along with most other Britons, objects to people coming to the UK illegally then complaining about living in three-star hotels with three square meals a day.
On July 19, 2021, during a Nationality and Borders Bill debate, he related the story of a man he once knew, Janis Bite, who came to the UK from Latvia:
Now then, Janis Bite was 13 years old and living in Latvia at the start of World War Two. Two years later, the Nazis came. Their request was simple: one male member from each family to go and fight the Russians. It was either Janis, his dad or his younger brother, so Janis went to the Russian front and witnessed the horrors of war in temperatures of minus 40.
When the war ended in 1945, Janis was classed as a displaced person—a refugee. Imagine that. He could not go back to Latvia, because he had been sent straight to Siberia and that is where they sent his dad, so Janis was given two more choices: the US or the UK. So he came to the UK to a small village in Derbyshire, where he and other refugees were housed in Nissen huts in army barracks. He did not complain or whinge or moan about the barracks or set fire to the barracks or make TikTok videos. In fact, they were so grateful to the UK that they all volunteered to work in the fields at local farms picking potatoes and other seasonal vegetables for no pay. Janis met a girl in the village, he fell in love and he later married. He worked hard all his life and had three sons, one of them being Alan in Ashfield. Janis loved his football. He became a British citizen and loved this country. He even went on to meet our Queen. Janis is no longer with us, but his story makes me feel incredibly proud of our great country and its willingness to help people from all over the world.
A Conservative MP asked Anderson if Janis Bite would have been affronted by the misguided, generous way the Home Office treats illegal immigrants.
Anderson responded:
I thank my right hon. Friend for his comments. That is absolutely right. I spoke to Janis's family last week in Ashfield, and they made exactly that point. I will feed that back to them when I get back to Ashfield this weekend.
We have always been a welcoming and tolerant country that has reached out to genuine refugees from all over the world, but just like Janis's family in Ashfield, most people in the UK do not accept that people travelling here from France in dinghies are genuine asylum seekers—[Interruption.] They are not genuine asylum seekers. We know that many of them have been trafficked with a clear instruction on how to claim asylum once they get here. That is because our asylum system is not fit for purpose, and this Bill stops that.
The Labour party and the Opposition want to bring back free movement. They dislike our points-based immigration system, and now they are going to vote against a Bill that protects our borders and helps us deport foreign murderers and rapists. They will always vote against the British people. This new Bill will ensure that people in genuine need, like Janis all those years ago, get the help they need, and the greedy lawyers and the human traffickers will be told, "No more." We owe it to people such as Janis who are suffering today to ensure that we have a fairer system that offers genuine refugees a safe haven. This Bill does that.
We have nothing to be ashamed of in this country. We are a kind, tolerant and welcoming country. That is proven by the number of people who risk their lives every single day to get here. If Janis's family can see that the current situation is unacceptable, surely the Opposition should see that too.
I give a massive thanks to the Home Secretary, who has stuck to her guns. She has listened to the British people and delivered. Opposition MPs want to travel into reality. I will offer this opportunity to all of you now sitting there now with those glazed expressions on your face: come down to Ashfield, come speak to some real people in my towns and villages, and the message you will get will be completely different from the message you are feeding into this House. I am here because of you lot and the attitudes you had in 2019. We are getting tough on crime, we are getting tough on immigration and we are getting tough on law and order.
Well said!
I'm still not finished with Lee Anderson's policy stances. More to come next week.
Last week, I posted a series on the effect of London's metropolitan elite on England's voters in 2015 and 2019.
Those who missed it can read Parts 1, 2 and 3.
On December 12, 2019, a surprising number of staunch Labour voters in the North and the Midlands lent their votes to the Conservatives for the first time.
Those constituencies in England that switched from Labour to Conservative either for the first time or for the first time in decades are known as the Red Wall.
The Conservative MPs who represent them are local people familiar with the issues that concern their constituents.
These MPs are a far cry from the Sir Bufton Tuftons from days of yore.
When the new intake took their seats in the House of Commons, spirits were high on Conservative benches as the UK exited the European Union.
In debates in January 2020, we heard them discuss the hopes they had for Boris Johnson's levelling up plan concerning rail, roads and industry.
What follows is what is on the minds of Red Wall voters and their MPs.
Tax
Five days before Chancellor Rishi Sunak presented his dynamic budget to the House on Wednesday, January 16, 2020, a pollster surveyed Red Wall voters for their views on taxation.
Guido Fawkes has a graph and summary of the poll results: 36% wanted cuts to council tax; 29% wanted cuts to income tax and 22% wanted cuts on fuel duty.
However, Guido found that the voters surveyed contradicted themselves (red emphases in the original):
According to Opinium Research for Lansons, 42% of the famed 'Red Wall' new Tory voters state the priority measure they would like to see for this afternoon is a rise in their take-home pay being introduced in the Budget – an income tax cut in other words. That is because 41% of the new Tory voters think taxes are too high and errr, 40% of the same new Tory voters think government spending is too low. Workington, we have a problem….
If the coronavirus is an economic hit on the scale of the credit crisis, a temporary halving of VAT to 10% would incentivise spending, immediately and effectively….
Sadly, because of coronavirus, most of Rishi's budget had to be binned.
Levelling up
In September 2020, Conservative MPs created a taskforce to level up, i.e. reduce regional inequalities between the North as well as the Midlands versus the South.
The BBC reported that these poorer constituencies now have Conservative MPs:
A report produced for the taskforce says Conservatives now hold more seats in the lowest paid areas than Labour …
In the 2019 election the Conservatives won a number of seats across the Midlands and the north of England previously considered to be Labour strongholds, also known as 'the red wall' …
Now this new group, the "levelling up taskforce" – which includes many of the new "red wall" MPs – is urging the government to set itself three key tests as part of its drive to reduce geographical inequality.
It says those areas that have seen the lowest growth in earnings, should see earnings rise faster than they have in recent years; areas with the worst unemployment rate should converge with the national average; and areas with the lowest employment rate should also catch up with the national average.
It also calls on the government to set out geographical analysis of how tax and spending changes impact different areas …
Analysis produced by the Onward think tank for the new group found that of the bottom quarter of seats in Britain with the lowest earnings, more are now held by the Conservatives (77) than Labour (74).
The following month, Northern Red Wall MPs formed a new group to ensure that Boris Johnson keeps his campaign promises:
The BBC reported:
… the 35-strong Tory group say they want to ensure the government delivers.
It includes several MPs who won seats in traditional Labour heartlands – the so-called "Red Wall" – at last year's general election.
Paul Howell, who won Tony Blair's old seat, in Sedgefield, Simon Fell, the MP for Barrow-in-Furness and Sara Britcliffe, who at 24 became the youngest Conservative MP when she won Hyndburn, in Lancashire, are among those who have signed up to the group provisionally named the Northern Research Group.
Ms Britcliffe said: "I don't need to join a group to speak up for Hyndburn but I have also the responsibility of making sure that we do deliver on our promise."
The group's leader Jake Berry, who has been the Conservative MP for Rossendale and Darwen since 2010, said it was not "about giving government a bad time".
He told BBC Radio 4's The Week in Westminster: "There are arguments that we collectively as northern MPs make together, to create a compelling case for the government to invest in the north".
These include "making sure that this government delivers on its promise to 'level up' the north, deliver that Northern Powerhouse and create wealth across the north of England," he added.
"We don't form a government unless we win the north."
Mr Berry is the former minister for Northern Powerhouse, which was set up by former Chancellor George Osborne to redress the North-South economic imbalance, and to attract investment into northern cities and towns.
The problem with levelling up is that some of the local councils most in need of funds are Labour-run. As I have been writing this post on Friday afternoon, February 25, 2022, I have heard Philip Davies, who represents Shipley, tell his fellow MPs that Bradford Council has not even put together a bid in order to get levelling up funds from the Government. Other Red Wall MPs had similar complaints.
This took place during a Private Members' Bill debate on the Local Authority Boundaries Bill, urging reviews of local council boundaries and making such changes easier. Kemi Badenoch, the minister representing the Government, said that the bill would need significant rewording in order to be considered. She will work with Robbie Moore, also a Red Wall MP, to revise his proposed legislation.
Bradford Council is not the only Labour council that has been under the spotlight.
In October 2020, another Red Wall MP, Chris Clarkson, made known his concerns about Andy Burnham, the Mayor of Manchester.
That brought about a furious backlash from Angela Rayner on the Labour benches. She allegedly called him 'scum' …
… and was given a dressing down by Deputy Speaker Dame Eleanor Laing.
Paying for coronavirus
In March 2021, a pollster asked Red Wall voters how they wanted the Government to handle the cost of coronavirus.
Most Red Wall voters opposed higher taxes, preferring lower spending instead:
Guido's accompanying post says:
Research from Public First's Rachel Wolf has revealed that when asked to choose between higher taxes, borrowing, or spending cuts, a plurality of the public back spending cuts over the other options. Tax rises are most popular with high social status white collar 'AB' voters, and least popular with working class 'DE' voters, who overwhelmingly back spending cuts. Working class constituents in the red wall aren't typical Islington socialists…
Also:
The other finding is that people are less opposed to taxes they think they don't have to pay, and more opposed to taxes they think they do have to pay. In reality this translates to taxes they have to pay directly. Any tax that is indirect on business still has an economic cost that is borne in the end by individuals, for example dividend taxes reduce your pension income, business rates and carbon taxes increase consumer prices. The more taxes are understood, the less popular they become.
True. We have tax rises coming, so there will be dissatisfaction in these constituencies.
Net Zero
Another plan that will not go down well is the drive to reach Net Zero. The cost is upwards of £1.5 trillion:
This tweet from 2021 encapsulates the thinking of Red Wall MPs (ignore Michael Fabricant, who was commenting on the wrong thread). Click on the image to see all the comments, especially from Jackie Doyle-Price, who mentions the metropolitan elite:
Minimum wage
In November 2021, Rishi Sunak presented a more sombre budget as the nation was still grappling with coronavirus.
One of the more positive points was his commitment to raising the national minimum wage.
On the face of it, it would seem to appeal to Red Wall voters. However, The Spectator's Patrick O'Flynn was less sure, asking if Sunak understood them properly. Raising the minimum wage does not lift those in more responsible positions. In fact, the latter have been earning less over recent years (emphases in purple mine):
In his recent Budget, the Chancellor committed the government to several eye-catching policies, including a big uplift in the minimum wage, these days rebranded as the 'national living wage'. But something that went unremarked upon was reaffirmation of a target of raising the minimum wage as a share of average pay.
A 6.6 per cent uplift this year would, said Sunak, keep the government 'on track for our target of two-thirds of median earnings by 2024.' Many Tory MPs beamed with happiness, no doubt thinking this would further bolster the working-class parts of their new electoral coalition. But will it?
According to the OECD, the UK minimum wage was worth 34 per cent of mean earnings and 41 per cent of median earnings in the year 2000. It has since risen steadily as a share of these averages, hitting 48 per cent of mean earnings and 58 per cent of median earnings in 2020.
Think about how this must feel to workers on roughly median earnings. Two decades ago they earned two-and-a-half times as much as minimum wage workers. Now they earn less than twice as much. By 2024, Sunak has decreed that minimum wage workers in entry level roles will be earning two-thirds of the amount that median earners do. This will represent a massive compression of wages within a single generation.
For those working people who put in a lot of effort in their schooldays compared to their more idle classmates, or who perhaps underwent apprenticeships on very low earnings at the start of their careers, this is highly unlikely to feel like progress.
When you consider the extra responsibilities higher-earning working class jobs typically entail compared to minimum wage roles – and the fact that various welfare entitlements may further reduce the net advantage – this government policy is coming close to rendering the entire hardworking ethos pointless.
This issue of earnings relativities between different grades of workers has long been a highly sensitive one in industrial relations, often more so than the level of raw pay per se. Indeed, it was the cause of countless strikes in the 1970s.
Instead of anticipating a celebratory mood among new working-class Tory voters, ministers should be on the lookout for restlessness and resentment. Indeed, the former Downing Street pollster James Johnson has already spotted the first stirrings of this in focus groups with participants grumbling that too much help is being directed to those at the very bottom.
Sunak has no parallel policy of ensuring that median earnings catch up as a proportion of the top 10 or 1 per cent of earners. In other words, his approach defies logic. Those in the modest middle of the pay scale have every reason to feel victimised …
One can't help feeling that Margaret Thatcher and her advisers had an altogether better innate understanding of what makes the ambitious working classes and lower middle classes tick than Boris Johnson's administration. Which is why her flagship policy of bringing in the right-to-buy their council houses at a discount scored an electoral bullseye with aspirational voters …
If Tory MPs in red wall seats think this policy is going to delight many of their constituents then I predict that they are about to be disabused of that notion.
It is still too early to tell what most Red Wall voters think of a rise in the minimum wage, but Patrick O'Flynn's arguments make sense.
Guido Fawkes agrees with O'Flynn and thinks that Red Wall voters would benefit from a reduction in basic income tax rates. Guido took issue with an article in Politico. 'UC' stands for Universal Credit:
Sleaze
In November 2021, the then-MP for North Shropshire, Owen Paterson, faced accusations of sleaze via his lobbying. He was forced to resign the seat he had long held. A Liberal Democrat won the by-election.
Some Conservative MPs tried to save Paterson from a 30-day suspension. However, Red Wall MPs were not among them. They objected to having a whipped vote to give Paterson a reprieve. Some voted against the Government, and rightly so.
The rest of the nation also disapproved. This was the beginning of low polling results for Conservatives. It wasn't long afterwards that Labour began leading in the weekly polls. They still do.
Not only did Red Wall MPs disapprove, so did their voters, as the Daily Mail explained:
Boris Johnson is struggling to contain mounting fury on Tory benches today as a poll laid bare the damage inflicted by his bungled effort to save ally Owen Paterson from punishment for lobbying.
Research by YouGov carried out in the wake of the dramatic Commons vote to suspend the standards system showed the Tory poll lead plunging by five points.
The party is now just one point ahead of Labour, after dropping from 39 per cent to 36 per cent in a week, while Keir Starmer has seen a boost to 35 per cent, according to the survey in The Times.
Education Secretary Nadhim Zahawi tried to cool the growing backlash among MPs this morning, admitting that the government 'made a mistake' in retrospectively tying Mr Paterson's case to wider reforms.
Meanwhile, a blame game is in full swing over who was responsible for the meltdown – which culminated last night when Mr Paterson resigned from the Commons after the PM cut him loose. His exit was made official this morning when he was appointed Steward and Bailiff of the Manor of Northstead – the traditional way for MPs to quit the House.
As well as a wave of anger about Mr Johnson's lack of judgment, many Tories have been pointing the finger at chief whip Mark Spencer, saying he should have realised that the tactic would not 'fly'. One MP told MailOnline that Mr Spencer had not done his job properly. 
'If the PM was told about the extent of disatisfaction then he wouldn't have pushed it,' they said. 'You could tell there was a problem because the whips were literally running around the Commons.'
Mr Johnson's media advisers are thought to have warned that the tactics were high-risk, but those pushing the political benefits of shoring up Mr Paterson and reforming the standards regime won the internal argument.  
The premier is said to be 'p****d off' that the crisis has distracted from the progress being made on climate change at the Cop26 conference in Glasgow. Senior MPs said he was also 'livid' about triumphalist interviews by Mr Paterson in which he claimed he would not change anything about his past behaviour. 
One Conservative MP who spoke to The Mail said:
'I had two marginal male MPs from Red Wall seats in tears looking at their social media feed, looking at their emails coming in after the vote, going 'what the hell have we done?'.'
… 'The chat on the WhatsApp groups is that the whips can stick their whipping up their a***. It's now every man for himself,' they said.
Chief Whip Mark Spencer recently became the new Leader of the House as Jacob Rees-Mogg moved to a new Cabinet position for Brexit opportunities.
Latest news
Many Red Wall MPs were incensed to learn of the Downing Street parties during lockdown.
Some began joining forces on January 18, 2021, when Boris apologised to Parliament:
As someone tweeted, this could have been about damage limitation for themselves:
Boris met with his own MPs that evening:
Lee Anderson is a former Labour councillor. He often confronts Labour benches with their own dismal record in local and national government.
The Red Wall MPs' plot to write letters of no confidence to Sir Graham Brady became known as the Pork Pie Plot, because their alleged leader, Alicia Kearns, represents Rutland and Melton. Melton Mowbray is home to England's famous pork pies.
Steven Swinford, The Times's political editor, spoke with a member of Cabinet who found the rebellion a disgrace:
The Red Wall plot to remove Boris Johnson – with Tory MPs meeting to discuss submitting letters – is not going down well in Cabinet
'It's pretty sickening. They were only elected because of him. Most of them are a load of —-ing nobodies. It's nuts'
Hmm:
With the current situation in Ukraine, the Pork Pie Plot seems like a long time ago. Then again, a week is a long time in politics.
The next thing Red Wall residents can look forward to is a Northern branch of Conservative Party Headquarters in Leeds, which is not part of the Red Wall, but it's close enough. Pictured is Party chairman Oliver Dowden MP:
Guido Fawkes wrote that this had been a promise from Government since 2020:
The Tories look set to imminently boost their red wall presence – and given recent polling, not a moment too soon. A party source tells Guido that their long-awaited Leeds campaign headquarters – first announced by Amanda Milling way back in September 2020 – is set to open in mere weeks …
… staff are already at work following a prolonged recruitment drive and the project will get up to full steam when work-from-home guidance is lifted. Another source suggested given recent events the party will be keen for the moment to be noticed by the media. Guido looks forward to Dowden's forthcoming ribbon-cutting…
I will have more on the Red Wall coming soon: profiles of those MPs with the most spark.
As I discussed in Parts 1 and 2 last week, it is no accident that the Conservatives won the general elections of 2015 and 2019 thanks to the left-leaning metropolitan elite.
In 2015, this is what people wanted from MPs (emphases mine):
Here's what we require of our politicians:
(1) honesty
(2) probity
(3) the ability to listen to their constituents
(4) the ability to put the needs of their constituents before the interests of big business, the aristocracy or the establishment.
Tick all four boxes and I don't care where you were born, where you were schooled or where you live. The problem is finding anybody who'll tick those boxes.
The comment came from a Guardian article from May 20, 2015 on the metropolitan elite. It was published two weeks after the general election, which David Cameron won comfortably.
In my first two instalments of this series, I posted several comments from the article.
Here is one more of note, remarking that the metropolitan elite are driving Labour supporters into voting Conservative, or Tory:
The left just suffered the biggest defeat in a generation. A left largely run– in fact almost exclusively run- by university educated professional metropolitan people or "metropolitan elites".
You would have thought this would be a time for humility a moment of reflection on why they lost. Nope, just back to banging the same drum we were right everyone else was wrong. This is the kind of attitude that drives people into the arms of the Tory party, the under current of contempt for the people the left claim to speak out for.
And you call other people narrow minded.
It's this astonishing hubris which will drive the left into the ground over the coming years. If this election hasn't taught them a lesson nothing will.
By December 12, 2019, those two comments proved to be prophetic.
Something revolutionary happened: the transformation of the Red Wall (former Labour) seats, or constituencies, in England.
That transformation gave Prime Minister Boris Johnson a most unexpected 80-seat majority in the House of Commons.
It was so stunning that it caught the eye of at least one American commentator:
On Friday, December 13, the day after the election, the Daily Mail reported:
Boris Johnson hailed the political 'earthquake' that has given him a 'mandate to get Brexit done' today as he marched his new blue-collar Tory army towards a staggering election landslide.
After laying waste to Labour's 'red wall' of Leave-backing strongholds, the PM said he had been given a 'powerful' vote of confidence by the British people and vowed to 'rise to the challenge' …
In England the Conservatives polled 47.1 per cent to Labour's 34.3 per cent, and in Wales they were supported by an impressive 36.1 per cent.
By contrast Mr Corbyn [Jeremy Corbyn, Labour leader] looks to have stewarded his party to its worst performance since 1935 and plunged it into a seething civil war – despite his allies vainly claiming earlier that high turnout might have helped him pull off a surprise. 
In an address to staff at CCHQ afterwards, Mr Johnson said: 'We must understand now what an earthquake we have created. 
'The way in which we have changed the political map in this country. 
'We have to grapple with the consequences of that. We have to change our own party. We have to rise to the level of events. We have to rise to the challenge that the British people have given us.' 
The Conservatives pulled off a massive coup by securing the symbolic swing constituency of Workington, overturning a 3,000 majority to triumph by 4,000 votes with a 10 per cent swing. 
They also overturned an 8,000 majority to rip the former mining area of Blythe Valley in Northumberland from Labour's grip for the first time ever. The party's candidate won by 700 votes after securing an incredible 10.2 per cent swing in what was theoretically only 85th on the target list. 
There were jaw-dropping gains in Bishop Auckland – which had never elected a Conservative MP in 134 years – and Tony Blair's old stronghold of Sedgefield.
Left-wing 'Beast of Bolsover' Dennis Skinner was ejected from the seat he has held since 1970, as Mr Johnson flipped huge swathes of the country from deep red to Tory blue.  
Other fortresses to fall included Leigh, Darlington, Wakefield, Stockton South, Redcar – which saw a 15.5 per cent swing – Peterborough, Wrexham and the Vale of Clywd. 
As the political map was redrawn in a few tumultuous hours, places like Jarrow, Houghton & Sunderland South, Sunderland Central, and Newcastle Upon-Tyne Central saw enormous movements from Labour to the Conservatives – although the party clung on. 
A pattern was emerging of Brexit Party candidates draining votes from Labour in its northern heartlands, while Tory support held steady …

After the Blythe Valley result was declared, flabbergasted ex-chancellor George Osborne said: 'We never thought we'd get Blythe Valley …
'There's a Conservative candidate in Hexham who I heard a couple of days ago saying 'we are going to win Blythe valley' and I thought he was always a bit optimistic, this guy. But he was right and that is a pretty spectacular win.' 
Ian Levy, the mental health worker who won the seat for the Tories, said in his victory speech: 'I would like to thank Boris.' 
The first big Labour scalp claimed by the Tories was shadow environment secretary Sue Hayman, who lost Workington. 
Labour's Gareth Snell predicted his own defeat ahead of the result in another former stronghold, Stoke-on-Trent Central, saying: 'I'm going to lose badly and this is the start of 20 years of Tory rule.' 
All the Tory Remainer rebels who stood as independents, including David Gauke and Dominic Grieve, failed to win seats.
And Labour defectors to the Lib Dems Chuka Umunna and Luciana Berger fell short. 
Former Labour MP John Mann was correct when he said that his party had lost because they did not listen to their supporters. This is from The Sun:
Mr Mann said the Labour leader had "arrogantly" taken for granted Labour voters in the Red Wall of its traditional strongholds in the North and Midlands …
He said what happened in his old seat of Bassetlaw, a Labour seat since 1935 that now has a Tory MP, sums up what he claimed was the "arrogance" of those around Corbyn.
"They didn't let a local candidate stand, they then removed candidate that was selected, they imposed their own Corbynite candidate and he got humiliated – incredibly predictable.
"That sums up their arrogance – they've taken working class voters in the North and Midlands for granted."
Mr Mann said it was time for Labour to start listening and to elect a leader who understands the party's traditional voters.
"People have made their mind up and if Labour doesn't learn their lesson, the Labour party might as well not exist," he said.
"It's going to require a leader that understands where people are coming from and understands the issues and then starts talking to those people.
"If that doesn't go Labour is finished as a political force in this country and it needs a leader who understands that."
Very true. It is unclear as to whether Sir Keir Starmer is that leader.
Former Labour party member and current Mail on Sunday columnist Dan Hodges — the son of actress and former Labour MP Glenda Jackson — predicted a strong Conservative majority, even though pollsters had not. Hodges said, 'Labour lost because the Corbynites hated working Britain':
On Tuesday, December 17, a new electoral map appeared. Its caption says, 'The "Red Wall" is now a pile of rubble':
From the start, many of the Red Wall MPs showed how different they are from the conventional Conservative backbenchers. They are feisty, prepared to speak out and have a good memory for Labour disasters — local, regional or national.
Some of these new MPs grew up on council estates. None has an Oxbridge degree. Some were the first in their families to attend university.
Some have prior experience of running a business. Similarly, others worked in the private sector. Unlike the metropolitan elite, they did not go into politics or the civil service straight from university.
One thing has been clear from 2019 onward: they want to help their constituents by responding to their needs and concerns. Furthermore, they are local — not parachuted in from London.
One of the Red Wall MPs, Ben Bradley, who represents Mansfield — and was elected in the 2017 general election — explained why the Conservatives won so handily:
Bradley says that Labour have turned their attention from working for a living to giving handouts to their constituents, something that a lot of Britons don't want to see happen. Bradley is correct, because this is the line that Labour take in Parliament — nothing about jobs, only money:
Bradley is correct to say that people want hope — and, may I add, the dignity that goes with being self-sufficient in working for a living:
He also points out that Labour criticised Leavers in the Brexit referendum:
Bradley concludes by saying the Conservatives have a lot of work ahead of them to hold onto these votes:
The Red Wall seats defined a new source of Conservative support, more evidence that the English are moving away from Labour. A 2021 Intelligence Squared debate put forward the following proposal (H/T to one of my readers):
'We've lost the trust of working people.' Those were the words of Labour leader Keir Starmer in early May, neatly summing up the reason his party lost the Hartlepool by-election as well as many of the local elections across the country. Labour MP Khalid Mahmood promptly quit the front bench, complaining that the party has been captured by 'a London-based bourgeoisie'. Former Labour prime minister Tony Blair joined in the chorus of despair, saying that the party is being 'defined by the "woke" Left'. Labour, it is clear, is now completely out of touch with its traditional voters – older, working-class people without degrees, who live in small towns and industrial heartlands and want to see a more robust defence of their country, its history and culture. They feel Boris Johnson and the Tories better understand their values and concerns. Without the support of these voters Labour can never win power again.
Although Labour have been more popular in the polls over the past three months with Boris's lockdown parties at Downing Street, there is still no guarantee that people will actually vote for them in the next general election.
Voters should not forget this photo from June 2, 2020, showing Keir Starmer and his deputy Angela Rayner:
Millions of us would do well to remember that photo in future. Bookmark it and save it for the day when the next general election is declared in a couple of years' time.
Although this series ends here, I will have a separate set of posts on the most dynamic Red Wall MPs.
Stay tuned. They don't do boredom.
Yesterday's post examined Britain's metropolitan elite and the unwitting effect they had on the 2015 general election, handing the Conservative Prime Minister David Cameron another term with a clear majority of seats, surpassing the magic number of 326 to end up with 331!
At that point, Cameron no longer needed the Liberal Democrats in coalition. The Conservatives were fully in charge.
David Cameron
Cameron fulfilled two Conservative pledges:
1/ To resolve the 1977 West Lothian Question and EVEL — English Votes for English Laws — the Government made a change to a standing order in Parliament so that:
a new law could no longer be imposed only on England by a majority of all MPs if a majority of English MPs were opposed. However, a proposed new law could still be vetoed by a majority of all MPs even if a majority of English MPs were in favour. 
This was abolished in 2021, a move with which I disagreed and instigated by a Scot, Levelling Up Minister Michael Gove, whom I do not trust at all. His reasoning was that the measures:
had "added complexity and delay to the legislative process" and that their removal would allow all MPs to be represented equally.[9]
I watched that debate. Why should another nation have its MPs 'represented equally' where English laws are concerned? English MPs cannot vote on another nation's laws.
That said, so far, Scotland's SNP MPs are careful to leave their benches when laws for England and Wales are debated.
2/ A referendum on leaving the European Union was scheduled for June 23, 2016. Fifty-two per cent of British voters opted for Brexit.
Although he said that he would abide by the referendum result, David Cameron resigned on Friday, June 24, that year at 9:30 a.m.
He and his wife Samantha honestly did not think the British would vote to leave. According to some news reports, Samantha spent much of the night in tears while watching the returns come in.
Theresa May
Theresa May became Conservative leader and Prime Minister in the summer of 2016.
Having previously branded the Conservatives 'the nasty party' at an annual party conference a few years before, she had big plans to improve opportunities for everyone living in Britain.
Although she was a Remainer, she pledged to abide by the referendum result. She appointed good Conservative MPs to her Brexit team, and Boris Johnson became Foreign Secretary.
The Opposition benches said that she had no mandate, so she held a general election in June 2017. Two trusted aides told her that polling showed that the Conservatives would do well. Furthermore, the controversial Jeremy Corbyn was Labour leader. It sounded as if May and her party were shoo-ins. In the end, there was a hung Parliament and May brokered a confidence and supply arrangement with Northern Ireland's Democratic Unionist Party (DUP), led by Arlene Foster at the time.
Things began to unravel further in the summer of 2018. May's Brexit team had come up with a sensible, considered plan to leave the EU. May held a meeting at Chequers, the prime ministerial weekend estate, to discuss the plan. Unbeknownst to her colleagues, she had a compromise plan ready to discuss which superseded the Brexit team's plan. She told her ministers that if they did not agree to her compromise plan, later rumoured to have been developed with German input from someone working for Angela Merkel, they were free to leave the country estate at their own expense. It was shocking and resulted in several resignations from the Brexit team. Boris Johnson resigned as Foreign Secretary.
By January 2019, May could get nowhere in Parliament with Brexit votes, even with her compromise. I began watching BBC Parliament in earnest at that time and haven't stopped. We really do have a load of virtue-signalling troughers from the metropolitan elite in both Houses. But I digress.
On May 24, 2019, Theresa May announced that she would resign as Conservative Party leader on June 7. That triggered a leadership election by the party members. May stayed on as PM until July 24, the day after Boris Johnson became the new leader of the Conservatives. Today, May serves on the backbenches, representing the constituency of Maidenhead, a delightful Home Counties town bordering the Thames.
Boris Johnson
Boris gave his first speech at the despatch box, all guns blazing. I watched it on television. He had a go at Labour, alleging that one of their MPs had been involved in corruption while serving on the Greater London Assembly many years before. A PM couldn't get better than this.
However, Brexit was the major issue, and he was presiding over the hung Parliament from the 2017 election, with Arlene Foster's DUP providing confidence and supply to Conservative policies. Try as he might, Boris could get nowhere with the Opposition benches.
Brexit negotiations with the EU resumed on August 28, 2019, the same day that Boris attempted to prorogue (adjourn) Parliament from September 10 to October 14. He claimed that the prorogation would cover all the party conferences normally held during that time. However, court cases arose in the Supreme Court in England, presided over by Baroness Hale, she of the spider brooch (Guido's story involves a later controversy, unrelated to the prorogation):
'Spiderwoman' Hale's decision forced Parliament to reconvene on September 3. It will come as no surprise that attempting to get Brexit votes through the House of Commons became even more difficult. On September 4, the Benn Act, a bill to block a no-deal Brexit passed. At that point, Boris proposed a motion to hold a general election on October 15. It failed to command two-thirds approval from MPs.
In addition, several Remainer Conservative MPs had the party whip removed at that time, which made matters worse. Although some had the whip restored, the Conservatives no longer had a working majority.
As a result, Parliament was dissolved in October 2019, with an election called for December 12 that year.
What voters thought
Whether Leavers or Remainers, more people began paying close attention to the goings-on in Parliament.
Leavers knew that, while Boris was flawed, he was on their side with regard to getting Brexit done. After delay upon delay in Parliament from June 2016 to October 2019, that was all that mattered.
Remainers wanted a second referendum to confirm (ahem) the first vote. In other words, they wanted to overturn the 2016 vote.
Leavers felt increasingly betrayed by Parliamentarians. However, Brexit was also beginning to have an effect on their personal lives: relationships broke down, family feuds began and working life became strained.
England was becoming a highly divided and divisive place, exacerbated by print and broadcast media alike. Leavers felt alienated and betrayed.
The fallout between 2015 and 2019
I'm returning briefly to the comments left on the 2015 Guardian article I cited yesterday: 'The metropolitan elite: Britain's new pariah class', which appeared on May 22, two weeks after the general election.
What people felt about the metropolitan elite did not change in the four years that followed. Voters were disappointed.
One Guardian commenter remembered the unity during the Thatcher era as the Iron Lady began closing mines (emphases mine):
We have a situation amongst the majority of the "lower classes" which is this:
If you dare to offer a "lefty" opinion you are automatically assumed to be a rich metro elite type, with no experience of the real world.
If you dare to offer a "right" opinion you are immediately branded a racist, ignoramus.
Does no one else see the division this has caused?
Remember when the gay rights groups went to help the miners? Can you imagine that happening today? – They'd be sniping at each other over these perceived differences, instead of recognising their similarities and fighting together against a common enemy.
We are all exactly where they want us, and until we recognise that- the real elite have won and will carry on winning- regardless of what colour they pin to their (old boys) ties.
Another went back further in time, putting forward post-war Prime Minister Clement Attlee as a man of duty:
… the most effective Labour Prime Minister by far was Clement Attlee: the son of a well-off London solicitor, educated at Haileybury and Oxford, served with distinction as a junior officer in WW1 and reached the rank of Major. Though not a patrician, you'd hardly have called him a man of the people, and I suspect that he would have felt under no obligation to put on glottal stops or pretend that he liked football (though he had actually played it in his youth).
The point is that perhaps aided by attending Haileybury – the public school that specialised in training boys up for the Indian Civil Service – he had an intense, deeply ingrained sense of his duty to the nation and particularly to the less well-off part of it, which carried him through all the vicissitudes of setting up the Welfare State in a bankrupt, exhausted country with an empire to get rid of. He knew what had to be done, and he was determined to do it, and what focus groups or the media thought about it was of no consequence to him.
… where there is no vision the people perish. Without a thoroughgoing analysis of the state we're in and a thought-through programme for putting it right, such as it had in 1945, Labour is simply wasting its own time and everyone else's and might as well shut up shop now.
People dislike when MPs are not local, especially when a well-heeled Londoner represents a disadvantaged Northern constituency:
It's ridiculous that these parachuted-in pillocks can hold office in northern constituencies when many of them will secretly smirk about it being "grim up north" every time they're sat in some trendy London wine-bar.
Someone had a solution to candidate selection:
We need to stop north-London PPE [Philosophy, Politics and Economics] graduates from pretty much automatically getting into Westminster. Anyone who's interested in being a politician does that PPE degree, then works for a think-tank or as a political advisor then a junior minister and so on.
Candidates should be elected from people who live in individual constituencies, who have done proper jobs and who genuinely wish to fight for their communities. In this system George Osborne, Nick Clegg and Ed Miliband would not be able to stand in northern constituencies; they'd have to run in the cities and towns where they actually lived. Generally speaking, that would mean a borough of London – Oh, wait Chukka Umunna and Ed Miliband live in the same borough? Tough! Only one of them can stand for Labour. What's that; several of the Tory cabinet live in the same town in rural Oxfordshire? Oh dear, only one of them can stand. And in order to prevent parachuting candidates in, they'd have to live there for at least five years prior to being selected.
The whole political system in this country lacks any legitimacy. The people who are affected the most by politics are the people who are the least engaged in it …
This issue also affects London. One person wrote about Labour's David Lammy:
Lammy is my MP and I like him, but I do have a slight problem: according to the Tory leaflet through the door pre-election, he doesn't live in Tottenham, his constituency, he lives in Crouch End, which is rather met-elity itself. Not to mention giving the option of a state secondary school you'd actually want your kids to go to.
If the Tories were lying I apologise.
One reader understood why people resented the metropolitan elite:
I totally get the hatred of the "metropolitan elite". The assumption that you, as someone who is not a member of that class, will have no idea what they are talking about whether it is art, literature, politics, whatever and, by extension, you are an idiot. It's bloody infuriating!!
It's essential for the media not to leave London:
Aside from John Harris I know of no other Guardian columnist that sets foot out of London – or even North London.
Tell a lie – Polly [Toynbee] is in Brighton for her Arts Festival.
That's the nature of metropolitan elites – write about those less well-off but be sure never to meet any.
Also:
Metropolitan elite means people living in London who are unnatural and out of touch with the rest of the country. This is nothing new. The medieval word for a Londoner was "cock's egg"' (cockney) which also described something unnatural and out of touch.
I did not know that!
Other readers noted the petty, controlling interference that the metropolitan elite display:
Different people will have different reasons for disliking the ME. One of these must surely be the neopuritanism they espouse, which means you're always looking over your shoulder worrying whether you've exhibited the wrong attitude, e.g. insufficient enthusiasm about gay marriage or a penchant for Top Gear.
On that topic:
Metropolitan elite who work in media, government, academia, charities, and NGOs from the National Trust to Oxfam and the Royal Society. These tend to coalesce on gay marriage, "safe" places, "islamophobia" issues, pro-EU sentiment, pro-Obama and catastrophic climate change. Just watch the BBC for any length of time.
Another said:
I personally feel this miring of everything in semantics does little to describe the current rot in UK politics. It would be better to use a historical example – I personally think referring to these people as "The Marie Antoinette Class" is more appropriate. It illustrates just how out of touch they really are with the current reality of life for British working people.
Even worse, they don't really seem to be British at heart:
What has happened (maybe?) is that the elite in the UK (England specifically) has become more like other countries – urban and bourgeois, rather than rural and aristocratic – and without the aspiration to ennoble themselves that the previous industrial bourgeois had (by marrying their wealth into the old order's titles). What we have now is a class of educated professional people who share urban liberal-middle-class values that are much more like those of their equivalents in other European countries than they are many of their own compatriots.
Another reader also noticed the lack of Britishness:
One explanation could be that many young educated people in Europe were brought up to feel European (or even global) than from a particular country or region. Programs like ERASMUS and the increasing cheapness and availability of travel have opened up the horizons of many smart and educated individuals. This is definitely causing a class divide with those who remain rooted and patriotic. Combine that with the growing phenomenon of elitism in all societal institutions (you need a degree to do anything these days), then you inevitably get more of group A in all positions of power.
I can't tell whether this is a good thing (or even inevitable) or not. The "metropolitan elite" would probably find themselves thinking that they are better than group B, who are quagmired in small mindedness and petty issues. Then you have group B, made up largely of working class people, who are feeling disenfranchised and silenced (the elite would probably condescendingly refer to it as "feeling left behind"). It's like a soft Russian revolution, and look what happened that time when they let their "betters" look after them. I think a healthy society needs to always listen to both sides, whenever you start thinking "you know best" and ignore the plebs who "don't know any better", well, then you get the Star Wars prequels.
Globalism alienates:
There is hardly any difference in the political parties communications, only semantics. The nation state is dying and Universalism is taking over through the multinational corporations & global organisations.
One reader gave us the education profiles of the main political players of 2015 and the Labour years:
They are all cut from the same cloth…a ll that differentiates them is how they divvy up and pork barrel the the trolls tax contributions.
Cameron: Philosophy, Politics and Economics (PPE) at Brasenose College, Oxford
Miliband: Corpus Christi College at the University of Oxford, and the London School of Economics
Clegg: University of Cambridge, the University of Minnesota, College of Europe
Farage: Dulwich College, a public school (private), and stockbroker….
Mandelson: Philosophy, Politics and Economics at St Catherine's College, Oxford
Blair: St John's College, Oxford…and various private schools
Brown: University of Edinburgh, History (as the son of CoS [Church of Scotland] Minister he is definitely middle class)
The list is not exclusive…….but the stench is unmistakable……
At least voters know where they stand with the Conservatives:
This is why the Tories won the election. So the PM is posh and privileged. He knows it and we know it.
Someone complimented Cameron's approach to EVEL:
What people object to, at a gut level, is getting a clever-dick, hypocritical answer to their concerns.
For example, Labour's position on EVEL is transparently self-serving and relies on a lot of chin-scratching about complicated constitutional niceties. In contrast Cameron's proposition, that it is only fair for England to have self-determination on the same issues which Scotland does, is an uncomplicated statement of a simple principle, even if it is of course equally self-serving.
So people see Labour as putting self-interest first and talking down to them about constitutions, on the one hand, and on the other they see Cameron espousing a simple principle which they see as being on their side.
It's no surprise Labour end up on the wrong side of so many arguments.
Interestingly, someone brought up Boris:
Londoners are not much interested in the politics of power, influence, wealth and class envy. For many, social justice might mean the mortgage paid off so they can fund their care home one day. Love him or hate him, Boris Johnson recognised and tapped into this and that's why they voted Boris Johnson Mayor. Twice. London actually gave an early indicator for the national mood.
Labour, on the other hand, cannot relate to most people. The second sentence gave me a chuckle:
I am still angry that Ed wasn't able to put his view across more forcefully.
He is very fond of the third chapter of The Working Classes And Their Struggle For A Cohesive Understanding Of Dialectical Materialism Within A Framework Of Sonambulant Artifice And Prolapsed Thinking and yet people still didn't think he understood what life is like on a Council estate or in a factory.
It beats me.
Someone else agreed, saying that Labour were interested only in themselves:
Labour's metropolitan political class – and believe me, they are ABSOLUTELY the worst, an utter ideological and moral vacuum compared to, say, the Lib Dems or the centrist strain of the Tory Party – are utterly without allegiance to anyone but their own caste.
What voters want(ed)
One reader provided a profile of the ideal MP:
Here's what we require of our politicians:
(1) honesty
(2) probity
(3) the ability to listen to their constituents
(4) the ability to put the needs of their constituents before the interests of big business, the aristocracy or the establishment.
Tick all four boxes and I don't care where you were born, where you were schooled or where you live. The problem is finding anybody who'll tick those boxes.
Little did that person know that a bevy of Conservative candidates could tick those boxes in 2019.
To be continued next week.
By chance, last week I read an article from May 20, 2015 in The Guardian about the general election result earlier that month: 'The metropolitan elite: Britain's new pariah class'.
Labour lost, leaving the metropolitan elite scratching their heads and wondering why.
Zoe Williams's article has three pages of comments, which are illuminating. The general public revealed why Conservatives won not only in 2015 but even more convincingly with an 80-seat majority in 2019.
Of course, in between those two elections was the one held in 2017, whereby Prime Minister (PM) Theresa May barely scraped by with a slim majority which caused her major problems in getting Brexit legislation passed in the first half of 2019. She resigned during the summer, and Boris Johnson became party leader, thereby succeeding her as PM. He held an election on December 12 that year, primarily to break the Brexit deadlock. It was one of the best things he ever did.
What is the metropolitan elite?
Zoe Williams, who has been writing for The Guardian for decades, defines the metropolitan elite through interviews with other people which makes up the article.
The characteristics that tie the metropolitan elite together are working in London, living in an upper-middle class bubble, going to a public (private boarding) school; having an Oxford degree (especially in Philosophy, Politics and Economics); making a close network of friends from school and university; finding employment in politics, the civil service, law, the media and academia. They ensure their children follow the same route.
No one's definition is perfect. Each needs another element added to it.
Williams concludes that an exact definition doesn't really matter, because it is fluid, but the reality is that this group has caused the ethos of Parliament to change through the years (emphases mine):
The meaning of "metropolitan elite" is not fixed. It will change in the mouth of whoever says it, and it will take on the shape of the person to whom, for whatever combination of reasons, it is thrown at and sticks. But the anger is real: parliament, as the last century understood it, represented the people to the state. Parliament now represents the state to the people. And maybe "metropolitan" is a way to say that, and to give it a face.
Background to the 2015 election
Below is a summary of the highlights of the 2015 election.
Conservatives and Liberal Democrats
David Cameron was PM at the time, part of a coalition government with the Lib Dems. Nick Clegg was deputy PM.
Clegg ran as the Lib Dem candidate as he was party leader at the time.
Cameron was getting a lot of heat about holding a Brexit referendum. Nigel Farage, leader of UKIP at the time, piled on the pressure. Referenda are not a British thing and Cameron could have happily ignored it were it not for the fact that a Conservative victory depended upon granting voters a Brexit referendum.
There was also much talk at the time about English Votes for English Laws, or EVEL: the inappropriateness of allowing Scottish MPs to vote on English laws when English MPs have not been able to vote on Scottish laws since devolution in 1999. MPs from Wales and Northern Ireland can also vote on English laws, but the issue mainly concerns Scotland, since many laws apply equally to England and Wales. EVEL — arising from the West Lothian Question of 1977 — was another issue Cameron had to address in the campaign. As such, it became part of the Conservative manifesto that year.
Labour
Ed Miliband was Labour's leader at the time.
Emily Thornberry
The snobbish aspect of the metropolitan elite, which Labour embodies so well, came to light during the World Cup in 2014. Emily Thornberry MP experienced a combination of bemusement and outrage upon seeing that someone would have the audacity to display St George's flags, representing England, outside their home. What's more, there was a white van parked in the driveway. Oh, the horror!
She tweeted a photo of the house and captioned it: 'Image from #Rochester'
The offending home was in Rochester, Kent, where a by-election was being held in November that year. The owner of the house said that he put three St George's flags up during the World Cup and decided to leave them flying from an upstairs window.
On November 14, the BBC reported that Thornberry resigned from the shadow front bench as a result of the tweet (bold in the original here):
Emily Thornberry has resigned from Labour's front bench after sending a tweet during the Rochester and Strood by-election which was branded "snobby".
The shadow attorney general apologised for the message, which showed a terraced house with three England flags, and a white van parked outside.
UKIP said she had "sneered, and looked down her nose at a white van in Strood with the cross of St George on it".
Labour leader Ed Miliband was "angry" at her, a senior figure told the BBC.
The resident of the house, Dan Ware, said Ms Thornberry – the MP for Islington South and Finsbury – was a "snob".
"I've not got a clue who she is – but she's a snob," he told the Sun. "We put the flags up for the World Cup (in 2014) and will continue to fly them."
Even today, everyone who loves England remembers Thornberry's attitude towards our nation's flag. Ed Miliband was right to have been angry at the time. It must have lost Labour votes in certain constituencies:
The Independent had more:
Three hours later she apologised, after Ed Miliband intervened and the Labour leader made it "very clear" that he believes people should be able to fly the England flag without feeling ashamed.
Following her resignation, Labour has revealed that Thornberry had spoken to Mr Miliband a second time.
"Ed and Emily had a second conversation. She thought the right thing to do was to resign. Ed agreed," the source said.
Her tweeted apology received strong reactions, among them the following:
Simon Danczuk, who was the Labour MP for Rochdale at the time, could see the elitist London-centric outlook at work:
Everyone will know exactly what she meant by that comment. I think she was being derogatory and dismissive of the people. We all know what she was trying to imply.
I've talked about this previously. It's like the Labour party has been hijacked by the north London liberal elite and it's comments like that which reinforce that view.
In the end, Mark Reckless won the by-election which was held because he wanted to change party affiliation from Conservative to UKIP. Nigel Farage had told him to do the right thing by asking his constituents. Reckless became the second UKIP MP to serve in the House of Commons when he joined Douglas Carswell that year. Carswell also had to hold a by-election in his constituency before Farage would allow him into UKIP.
Ed Miliband
Returning to Labour, a month before the by-election, Ed Miliband proposed a mansion tax, aimed primarily at Londoners.
However, a Londoner from Dartmouth Park in Kentish Town, Dan Carrier, wrote an article for The Guardian in October 2014, saying that not everyone living in a house in North London was necessarily wealthy: 'My house in the middle of Ed Miliband's street'.
It so happens that Ed Miliband and his family moved into the street where Mr Carrier grew up. In 2014, his parents still lived in the same house and he had the good fortune to be able to buy a home just a few doors down.
The Carriers and the Milibands are two very different classes of people:
In many ways our road is a typical London street: a mixture of Victorian terraces, some grand double-fronted villas and a postwar apartment block. More recently, however, it has had national media attention, prompted by the arrival a few years ago of Ed Miliband and his family. When they decamped from Primrose Hill, the move produced a swathe of articles describing my neighbourhood as a place of leafy-lefty-intellectual-middle-class types. The road I grew up on, and moved back to, has become shorthand for the gentrification of north London. The gap between the property haves and have-nots has never been starker, and housing is set to be a defining issue of the next general election. Ours is just one street, but it could be anywhere in the capital.
Carrier described many of his neighbours, who were working- or middle-class, hardly of the metropolitan elite. As such, a mansion tax would have been devastating:
Under the proposed system, many of Ed's neighbours could face large bills.
The newcomers, however, were flush with cash:
One recently arrived couple, both on six-figure salaries, asked not to be named. Being able to buy a property in this neighbourhood these days, it seems, is enough to single you out for unwanted attention.
They say they moved here because of "the large houses, and the fact it's not chi-chi like Hampstead or Primrose Hill. You see neighbours at the weekends, they're not all out at their country homes. You don't see Fortnum's vans pull up." Dartmouth Park is not yet Mayfair, in other words – not a comparison my parents' generation would have felt compelled to make. "It feels like a real street, with real people."
In the end, there was no mansion tax because Labour lost the election, thankfully.
By the way, Ed's house has two kitchens in it. One is for the nanny and the children. The other is for Ed and his wife.
Ed Miliband could have taken some advice on the PR front. The lesser of his campaign sins was jamming a bacon sandwich into his mouth, further proof that no one should be photographed eating. The greater sin, however, was imitating Moses by erecting a stone listing five Labour Party goals, dubbed the Ed Stone. Oh, my, how we laughed at such hubris.
The election was held on Thursday, May 7.
Miliband resigned as Labour Party leader on Friday, May 8, a position he had held since September 2010.
By May 10, the Ed Stone was nowhere to be seen.
That day, The Guardian reported:
A case of champagne is among the rewards being offered by tabloids and rightwing pundits in return for the whereabouts of the so-called "Ed Stone".
The 10 commandments-style tablet, engraved with five promises and unveiled in the final days before the election, was meant to symbolise how Ed Miliband would keep his pledges and restore trust in politics.
But the gimmick was perhaps the greatest gift Miliband gave to his opponents – and the mockery shows no signs of letting up even after his resignation and the quiet disappearance of the stone.
An 8ft 6in-high, two-ton limestone hulk is not the easiest thing to hide. But the stone, which was rumoured to have cost up to £30,000, is proving remarkably elusive and Labour sources are staying tight-lipped.
The Mail has offered a case of champagne to any reader who has information that "leads to the discovery of the Ed Stone". The Sun has set up a dedicated "Ed Stone hotline" for tips about the stone's whereabouts.
But without any apparent success in locating the real thing, the Sun also offered its readers a chance to win a full-size replica of "the Labour loser's laughable slab".
It was only on January 16, 2016, that we found out what happened to the slab. The Guardian reported:
The Ed Stone was broken up shortly after the general election, it has been revealed, putting an end to eight months of speculation about its whereabouts.
Two party officials, speaking on condition of anonymity, told Bloomberg News that the stone had been destroyed in the weeks following 7 May 2015.
Shortly before the election, David Cameron tweeted that there would be chaos with Ed Miliband (pictured with Ed Balls on the left):
Miliband is still an MP.
The Ed Stone might not have survived, but one of his lasting legacies as Energy Minister from Labour's time in power has: the green levy on home heating fuel, which is more than the VAT. The Conservatives should scrap the levy. Perhaps they will when the cost of gas for the home reaches breaking point and people get sufficiently irritated with Net Zero.
I wrote two posts about the 2015 election. In the second, I wrote about the 'historic upset the pollsters missed':
Even the most accurate poll — the exit poll — slightly underestimated the final total. The Conservatives won a clear majority of seats, surpassing the magic number of 326 to end up with 331!
David Cameron no longer needed a coalition government.
Today, Nick Clegg works in California for Facebook and has just received a huge promotion as president of global affairs for parent company Meta, taking on some of Mark Zuckerberg's former responsibilities.
What the public thought
In 2015, the public made it abundantly clear that they preferred a Conservative government.
The readers' responses to Zoe Williams's article about the metropolitan elite made some excellent points. I read them all.
One person said that the Conservatives' policies appeal more to the average Briton:
The election was won by the Tories less because they represent the views of more people than any other party than because their policies offended fewer people than those of any other party. The widespread and insidious disenchantment with politicians stems from this disconnect and it just happens that at the moment the Tory message is marginally less unpopular than a whole range of unpopular messages – probably because the Tory demographic is a currently a bit wider than that of Labour.
Another said that Labour had deserted the working class for the middle class:
A large section of the working class of this country still can't box their way out of this ingrained deference to the ruling class. The existence of the royal family and the institution of the monarchy is the guarantor of that deference. But they do not feel the same deference to the 'metropolitan elite' and this fact has been nicely used by right wing media to undermine urban liberalism and split the working class vote. The Labour party will have difficulty fighting its way out of this conundrum so long as they exclude working class representatives in favour of middle-class ones, black or white.
The working class feel ignored:
Labour are more and more removed from working class people … The divide is growing -hence the growth in UKIP in traditional labour areas. The metropolitan elite – useless Ed is one of them – have failed to understand and address the concerns of their traditional voting base in far too many areas.
Someone said that the Labour Party was synonymous with the metropolitan elite:
If the Labour Party (or the metropolitan elite that provides it`s talking heads) thinks that simply stealing the Conservatives`s clothes or repositioning themselves on Europe is going to work – forget it. At the moment the terms "Labour Party" and "metropolitan elite" are interchangeable and are synonymous with what us plebs would call "being out of touch". Can the Labour Party learn how to talk to us again?….They`d better, and quickly because at present we`re all listening to the Tories and UKIP …
Another reader said the same thing:
I say this as a northern working class boy …
Until we have a left wing party led and organised by the working class, I'm a Tory. All you people still voting Labour when these people are in charge of the party are fools – they've tricked you into believing they represent you, but actually you're just useful to them to legitimise their marginal differences compared to their blue friends in the next street.
Two people even had a go at Zoe Williams:
Zoe Williams. Godolphin and Latymer School, Oxbridge, lives in Camberwell, brays, wrote a tedious feminist piece about why she married the father of her kids after a decade as if anyone cared, spouts by-numbers liberal-lefty discourse every week in the Graun.
I don't loathe the metropolitan elite. It's just a shame there are so many of them clogging up the national media, the political scene, academia, the arts, public policy, etc. when they represent such an infinitesimal cadre of people. So much for the 'diversity' they so often chirrup about.
Also:
YOU, Zoe W, are most certainly a member of that elite. How else do you get on What The Papers Say on Sky television?
This comment seemed to unknowingly say the most about what would happen in December 2019. Britain was — and is — becoming more nationalistic, but not as a Union, only as separate parts:
Events in Scotland and the victory of the SNP and the rise of UKIP, particularly in Northern heartlands, have raised questions about the leadership of a working class party by a group of North London academics and politicians. However the real event is the battle of ideas about what a Labour Party should represent as the North London hegemony over policy has dissolved. The Blairites are in the news on the TV every day attempting to solve the problem of hegemony by a return to the centre. Both the SNP and UKIP have shown that there is no way back as both Scotland and large swathes of England are staunch nationalist. The rest of England, with the collapse of Lib Dems, is dark and lite tint blue Tory, and as such a distinct Englishness has temporarily been established. This Englishness is different from that of the UKIP North and certainly different from that of the Scottish nationalism of the SNP. The hegemonic moment of North London has in the words of Tom Nairn come face to face with the break up of Britain. Dr. Eamon O'Doherty
And, lo, it turned out to be …
More to come tomorrow.