You are currently browsing the tag archive for the 'Michael Gove' tag.
'No one is remotely indispensable'.
So were the words of Boris Johnson as he stood in front of Downing Street in the early afternoon of Thursday, July 7, 2022, to announce that he was standing down as Conservative leader. He said that he planned to stay on as Prime Minister until a new leader is chosen.
Boris's resignation speech
The Prime Minister's speech is just over six minutes long:
Knowing how quickly the leadership contests moved in 2016 (David Cameron to Theresa May) and in 2019 (May to Johnson), we are likely to see a new party leader in place before Parliament's summer recess. Regardless of what news outlets say, it no longer takes two or three months. The timing — i.e. summer resignations in all three cases — will accelerate because of recess.
Guido has the transcript of Boris's speech, excerpts of which follow (I've put in punctuation, paragraphs and emphases):
It is now clearly the will of the parliamentary Conservative party that there should be a new leader of that party and, therefore, a new Prime Minister and I have agreed with Sir Graham Brady, the chairman of our backbench MPs [the 1922 Committee], that the process of choosing that new leader should begin now and the timetable will be announced next week.
And I have today appointed a cabinet to serve – as I will – until a new leader is in place.
So I want to say to the millions of people who voted for us in 2019 – many of them voting Conservative for the first time — thank you for that incredible mandate, the biggest Conservative majority since 1987, the biggest share of the vote since 1979.
And the reason I have fought so hard for the last few days to continue to deliver that mandate in person was not just because I wanted to do so but because I felt it was my job, my duty, my obligation to you to continue to do what we promised in 2019, and of course I am immensely proud of the achievements of this government …
He went on to list Brexit, the coronavirus vaccine rollout, coming out of lockdown the earliest of any other Western nation and showing leadership with regard to Ukraine.
He clearly regretted that he had to stand down:
If I have one insight into human beings it is that genius and talent and enthusiasm and imagination are evenly distributed throughout the population but opportunity is not, and that is why we need to keep levelling up, keep unleashing the potential of every part of the United Kingdom. And if we can do that in this country, we will be the most prosperous in Europe.
And in the last few days I have tried to persuade my colleagues that it would be eccentric to change governments when we are delivering so much and when we have such a vast mandate and when we are actually only a handful of points behind in the polls, even in mid term after quite a few months of pretty unrelenting sledging, and when the economic scene is so difficult domestically and internationally. And I regret not to have been successful in those arguments and, of course, it is painful not to be able to see through so many ideas and projects myself.
But as we've seen at Westminster, the herd is powerful and when the herd moves, it moves and,
my friends, in politics no one is remotely indispensable.
And our brilliant and Darwinian system will produce another leader equally committed to taking this country forward through tough times, not just helping families to get through it but changing and improving our systems, cutting burdens on businesses and families and – yes – cutting taxes, because that is the way to generate the growth and the income we need to pay for great public services.
And to that new leader I say, whoever he or she may be, I will give you as much support as I can and, to you the British people, I know that there will be many who are relieved but perhaps quite a few who will be disappointed. And I want you to know how sad I am to give up the best job in the world, but them's the breaks.
I want to thank Carrie and our children, to all the members of my family who have had to put up with so much for so long. I want to thank the peerless British civil service for all the help and support that you have given, our police, our emergency services and, of course, our NHS who at a critical moment helped to extend my own period in office, as well as our armed services and our agencies that are so admired around the world and our indefatigable Conservative Party members and supporters whose selfless campaigning makes our democracy possible.
I want to thank the wonderful staff here at Number Ten and, of course, at Chequers and our fantastic protforce detectives – the one group, by the way, who never leak.
And, above all, I want to thank you the British public for the immense privilege you have given me.
And I want you to know that from now until the new Prime Minister is in place, your interests will be served and the government of the country will be carried on.
Being Prime Minister is an education in itself. I have travelled to every part of the United Kingdom and, in addition to the beauty of our natural world, I have found so many people possessed of such boundless British originality and so willing to tackle old problems in new ways that I know that even if things can sometimes seem dark now, our future together is golden.
Thank you all very much.
Boris delivered his speech in a normal, matter-of-fact way, which was good, especially given the circumstances.
Now that he has resigned from the Conservative leadership, some ministers are willing to come back into Government for the interim period.
As such, Boris held a Cabinet meeting at 3 p.m. today:
Those who read my post from yesterday will recall that I had not expected to cover this development until next week at the earliest.
However, yesterday afternoon into this morning was pure political carnage.
Wednesday, July 6
Junior ministerial resignations continued to pour in throughout the day, into the night.
Mid-afternoon, Boris held a second online meeting with Conservative MPs:
Guido has the story (emphases in red his):
In a sign of a continuing effort to hold on to his job, the PM has held a second meeting of Tory MPs in his parliamentary office, just 19 hours after his last meeting. Last night's turnout was said to be around 80 – today's turnout is said to have fallen to around 30. A loyalist MP spins that the PM was in a "buoyant mood and keen to get on with the job". Presumably he was just happy his PMQs slagging was over and done with…
Boris apparently pointed to polls narrowing to "about five points" and left his reduced coterie of supporters under no doubt that "he's going nowhere… no chance of stepping aside". We'll see what the 1922 Committee has to say about that this evening…
Guido's mole concluded that "Basically the current challenge is all about personality and not policy. It's a coup attempt before recess" The timetable observation is, at least, objectively correct…
At 3 p.m., Boris appeared for 90 minutes before the Liaison Committee, which is comprised of all the MPs who head Select Committees.
They grilled him on his performance and whether he would resign.
I've never seen anything like it. You can watch the proceedings using the link below:
These were the topics of discussion and the names of the MPs questioning him. Sir Bernard Jenkin chaired the session. Conservative MPs Tobias Ellwood and Jeremy Hunt might have their eyes on the leadership. Boris defeated Hunt in the 2019 contest:
All were brusque, including Bernard Jenkin, sadly.
That said, in May, Jenkin did write to the Leader of the House, Mark Spencer, to express his disappointment that some Government ministers were not appearing as scheduled before Select Committees:
The Liaison Committee were vipers. They were on the attack relentlessly.
Boris stood his ground. He reminded one MP that, in 2019, he had more than doubled the number of sitting Conservative MPs:
He also stated that he did not want another unnecessary general election when he had a clear mandate from the electorate to carry out. You can see how nasty Bernard Jenkin got in this short exchange:
Huw Merriman went so far as to send Sir Graham Brady, Chair of the 1922 Committee, a letter of no confidence during the session:
Meanwhile, Guido Fawkes and his team were busy updating Wednesday's list of resignations.
The 1922 Committee was — perhaps still is — considering a rule change allowing for more than a 12-month gap between votes of confidence in a Prime Minister. Pathetic.
Guido has the story (purple emphases mine):
There are some reports that the 1922 Committee may move in the next 24 hours-or-so to dispose of the PM. Bloomberg is reporting that "The Tory backbench 1922 Committee will meet at 5 p.m. Wednesday and will discuss changing the rules to allow another party-leadership ballot. If there is a majority opinion in favor, a ballot could be held as soon as next week." James Forsyth of the Spectator reports rule change or not, a senior committee member tells him "they now favour a delegation going to Johnson to tell him that it is over and that they will change the rules to allow another vote if he doesn't quit".
Guido's post has a list the 1922's executive members and whether or not they favour this rule change.
Later on, the 1922 decided not to change the rules — for now — because they will be holding their executive election on Monday, July 11:
Guido reported:
Surprisingly the 1922 executive has decided against changing the rules to allow a second vote of no confidence in the PM. Instead executive elections will go ahead on Monday, 2pm to 4pm. 
Critics of the prime minister are organising a slate of candidates who are expected to win a majority of places, given most backbenchers voted to oust Johnson in last month's vote. They are then expected to endorse a rule change.
During the afternoon, it was rumoured that the Chief Whip, Chris Heaton-Harris, was going to tell Boris that time was up.
Boris was hemhorrhaging support. The resignations were coming thick and fast from junior ministers. This is how it is done. The same thing happened when Labour wanted rid of Jeremy Corbyn as leader:
I used to like most of the Conservative MPs. Given what happened yesterday, I am not so sure anymore.
Those who have gone down in my estimation include former Equalities Minister Kemi Badenoch; Lee Rowley; Liam Fox; Red Wall MPs Dehenna Davison, Jacob Young and Jo Gideon; Ed Argar and former Welsh Secretary Simon Hart.
And that's not counting the rest of them that Guido has named, including those from Tuesday.
The only one I'm willing to give a pass to is Lee Anderson.
The hubris and hypocrisy got worse.
Attorney General Suella Braverman appeared on Robert Peston's show on ITV that night to announce her withdrawal of support for Boris. I really had expected better of her, especially as Peston has been anti-Boris for years. To add insult to injury, she went on to announce on his show that she would be running for leader:
Cabinet members visit Boris
Just before 5 p.m. a small Cabinet delegation visited Boris in Downing Street.
Guido wrote:
A Cabinet delegation of Nadhim Zahawi, Grant Shapps, Brandon Lewis, Simon Hart and Michelle Donelan are currently waiting in Downing Street to tell Boris the jig is up, and it's time for him to step down. Kwasi Kwarteng has also reportedly lost confidence. Beginning of the end…
Note Michelle Donelan's name in that list. Boris had just made her Education Secretary after Nadhim Zahawi moved into the Chancellor's role.
What did Michelle Donelan do? She resigned after 36 hours in the role:
Yes, of course, she got a pay out — one of £16,876.25:
The others got pay outs, too. I read that the total for ministers who resigned is over £120,000.
That's not a Conservative plan, by the way.
That's how the system works.
The caboose
Just before midnight, the final resignation of the day rolled in, that of Gareth Davies, making him the 35th that day. There were ten more from Monday as well as Michael Gove, summarily sacked. It's hard to disagree with the person comparing this to Trump:
Michael Gove
It was time for this duplicitous man to go. I never trusted him and never will.
When he turned from supporting Boris in the 2016 leadership campaign to start his own before supporting Theresa May, he stabbed him in both the front and the back.
One thing we have learned during Boris's premiership is that he — Boris — is one to forgive.
He made Gove part of his Cabinet in various high profile roles.
On Wednesday, Gove decided to tell Boris to resign:
Gove, most recently the Levelling Up minister, was conspicuous by his absence in the House of Commons. He missed Prime Minister's Questions:
News emerged at 9:30 that Boris sacked Gove — via a telephone call:
I will be very disappointed if Gove returns to a Government role. He is a Scot who, in my opinion, is too young at the age of 54 to appreciate the Union fully, and he does not have the Englishman's best interests at heart.
I've never heard him say anything about England other than to do away with English Votes for English Laws (EVEL) in 2021. As the then-Chancellor of the Duchy of Lancaster, he deemed it unnecessary in Parliament. It was a quick, quiet moment in the Commons. I do wonder why it went unchallenged by English MPs.
Yet, the English are the ones who have been overlooked the most over the past 25 years, beginning with Tony Blair, a quasi-Scot who pumped our Government and media full of many more Scots, e.g. Gordon Brown, to name but one. My apologies to Scottish readers, whom I admire greatly, but it is true.
Christian Calgie from Guido's team explains that Boris might have sacked Gove because, unlike the Cabinet secretaries who had descended upon him earlier, Gove allegedly told Boris to resign:
By the end of Wednesday, it became clear that Boris was not about to leave:
Guido reported:
Guido has had it confirmed by a PM ultra loyalist that Boris Johnson is not resigning tonight, and is understood to be planning a reshuffle. The news will spark further senior cabinet resignations…
According to reports, Boris sat down individual members of the Cabinet – including those involved in the coup – and cited his 2019 mandate, as well as the belief the government needs to spend the summer focusing on the economy and not a leadership election …
I watched four hours of analysis on GB News on Wednesday, beginning with Nigel Farage …
… and concluding with Dan Wootton, who had a great interview with Boris's father Stanley Johnson (see the 1 hour 15 mark, or, if the GB News clock shows, 10:21). Stanley is a big supporter of his son, which was heartening to see:
Thursday, July 7
Conservative ministers continued to resign en masse on Thursday morning, July 7.
Guido has a timeline of resignations and other events of the day.
Just before 9 a.m., Chancellor Nadhim Zahawi sent Boris a formal letter requesting his resignation.
Just after 9 a.m., Defence Secretary Ben Wallace — also thought to be a candidate for Conservative leader — tweeted MPs to say that they should make use of the 1922 Committee to get rid of Boris:
At 9:07 a.m., news emerged that Boris agreed to resign as Conservative Party leader. I agree that the next demand from the braying hypocrite hyenas in the media will be a call for a general election. Disgusting:
Guido reported:
Chris Mason has been told the PM has agreed with Graham Brady that he will resign, allowing a Tory leadership race to take place ahead of the Tory Party conference in October. A letter has been written. He'll quit as Tory leader today. Guido's frankly not sure how Boris can stay on for the summer with so many ministerial holes in his government…
Perhaps we can get by with fewer ministers, as someone said in Parliament this morning.
I hope that Boris's Cabinet meeting at 3 p.m. went well.
Not everyone has been happy with the coup so far. Former Conservative Prime Minister John Major is fuming. It's interesting he never reacted like that about David Cameron or Theresa May:
In brighter news, Boris's loyal friend from Ukraine rang him with his condolences and thanks:
1457: PM has spoken to Zelensky on the phone. Finished the call by praising him: "You're a hero, everybody loves you."
Yes, well, I wished our MPs loved Boris as much as President Zelenskyy does.
Ladies and gentlemen, this was a coup.
It was for a ridiculous reason, too: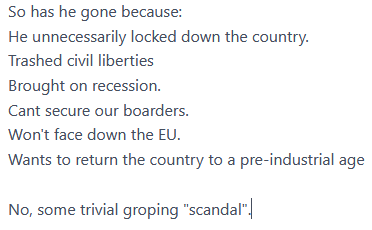 Don't forget: this was ALL ABOUT BREXIT.
More to follow next week.
Yesterday's post discussed the first three days of the Conservative Party Conference.
Today's entry will look at Prime Minister Boris Johnson's speech on Wednesday, October 6, 2021.
It was still content-light, but at least he explained what 'levelling up' is. More on that below.
But first, let's look at what happened the night before, the last opportunity for MPs and the party faithful to get together on the dance floor.
Tuesday, October 5, after hours
Pensions minister Thérèse Coffey had a great time as the temporary £20 Universal Credit boost came to an end.
A cold fish at the despatch box at the best of times, Coffey showed us a different side of herself as she, a chemist by training, belted out 'Time of My Life' from Dirty Dancing (video credit to the Daily Mail):
The Mail reported (emphases mine):
The cabinet minister in charge of Universal Credit was slammed today for belting out Time of My Life at a boozy Conservative party Conference karaoke bash hours before cutting payments to six million people.
Work and Pensions Secretary Therese Coffey enthusiastically belted out the 1987 power ballad from the film Dirty Dancing in a duet with fellow Will Quince – a former welfare minister.
It came as a £20-per-week Covid uplift payment was removed from UC for families across the UK.
The Government has pressed ahead with the cut despite concerns – including from Tory backbenchers – that hundreds of thousands of people will be plunged into poverty.
From today, no assessments will include the uplift, meaning that from October 13 – a week later – no payments will be received that include the extra money.
I don't know what I think about removal of the £20 uplift. The Government always said in Parliament that it was temporary and stated months ago that it would end in October 2021. I feel for those families. On the other hand, the last thing I want to see is Universal Basic Income, and if this £20 were maintained, it would have been a slippery slope along that road.
Furthermore, there are plenty of job vacancies and salaries are going up. Note the decrease in people clicking on the vacancies, however. Hmm:
Two other MPs, Levelling Up minister Michael Gove, in the process of divorcing his wife, and Tom Tugendhat, danced together. Guido referred to this season's Strictly Come Dancing:
It was only a few weeks ago that Gove spent the early hours of one morning dancing in a nightclub in Aberdeen, his home town.
The Mail reported:
Michael Gove has been spotted rocking the dance floor again – this time busting moves to Whitney Houston's I Wanna Dance With Somebody and belting out Bonnie Tyler's Total Eclipse Of The Heart at the Tory party conference. 
One hilarious clip shows the Levelling Up Secretary, 54, arm in arm with Tom Tugendhat as he throws his finest shapes to a cover of the 1987 hit while wearing a suit and tie – just a month after his infamous night out in Aberdeen.  
Newly-single Mr Gove, and Mr Tugendhat, MP for Tonbridge and Malling, are seen taking turns to spin each other as they go all out at the gathering – which is not usually known as a hotbed of hedonism. 
In a second clip shared by The Sun, Gove can be seen passionately singing along to Bonnie Tyler's hit 1983 anthem with his mouth wide open, hands interlocked with an unidentified woman in front of him.
Meanwhile, at another Conference party event, Liz Truss danced to Beyonce (video credit to Guido Fawkes):
Wednesday, October 6
Wednesday was Boris's big day.
He abandoned his diet temporarily:
Guido Fawkes has the calorific coffee order:
Sat in the conference exhibition hall ahead of Boris's speech Guido was astonished to overhear the Speccie's Katy Balls being told by a barista that Boris's aides turned up at his stall yesterday to fetch the boss a coffee. The coffee order in question was a stomach-churning triple shot flat white, with extra caramel syrup with three sugars – an astonishing departure from the diet Carrie supposedly put him on after his Covid hospital trip.
Later, an appreciative crowd gave their Party leader a standing ovation:
Guido has the full text of Boris's speech, which was not much shorter than Keir Starmer's last week but was delivered in half the time: 45 minutes compared with 90.
Before going into Boris's speech, Keir Starmer's speechwriter dived in to say that his went on 'absolutely' too long:
Guido reported that Philip Collins, Starmer's speechwriter (and Tony Blair's), said the policy sections were 'a bit baggy' (red emphases in the original, purple one mine):
Philip Collins, the man who drafted Sir Keir's epic 90-minute address at Labour Conference last week, has admitted the speech "absolutely" went on too long – and even claimed the sections on policy (such that they were) were "a little bit baggy" and yes, "boring". This is a speech he wrote only a week ago…
Speaking on Politico's Westminster Insider Podcast, Collins said:
"It's always the same bits […] the policy bits are very, very difficult to bring to life. If you don't include them, everybody will write that you have nothing to say, that you're empty […] those bits, if I'm critical, could have been tighter, could have been more compressed. I think they were a bit long, a little bit baggy."
Which in view of criticisms of Boris that his conference speech was light on policy detail, suggests he made the right call. Collins, who was also Tony Blair's wordsmith, goes on to say that while he thought Starmer handled the inevitable heckles well, the interruptions and subsequent applause ("people enjoyed it far too much!") contributed to the running time, claiming Starmer "was getting standing ovations for things that were just basically boring lines that were meant to just take you to the next stage of the speech". "It got ridiculous", Collins said…
Returning to Boris, Guido also has videos of his speech.
It was clear that Boris, a former journalist, penned the words himself.
He opened with an amusing put-down of former Labour leader Jeremy Corbyn, recalling the 2019 election:
Isn't it amazing to be here in person, the first time we have met since you defied the sceptics by winning councils and communities that Conservatives have never won in before – such as Hartlepool. In fact it's the first time since the general election of 2019 when we finally sent the corduroyed communist cosmonaut into orbit where he belongs …
Then he threw in a joke about Michael Gove:
The Mail was on hand to give us Gove's reaction:
Prime Minister Boris Johnson later referenced Mr Gove's disco moves at his conference speech today, branding him 'Jon Bon Govi' – prompting the minister to turn bright red.
Here's Guido's video:
Boris said:
… for months we have had one of the most open economies and societies and on July 19 we decided to open every single theatre and every concert hall and night club in England and we knew that some people would still be anxious, so we sent top government representatives to our sweatiest boîtes de nuit to show that anyone could dance perfectly safely and wasn't he brilliant my friends? Let's hear it for Jon Bon Govi, living proof that we, you all, represent the most jiving, hip, happening and generally funkapolitan party in the world.
Tom Harwood, a Guido alum now working for GB News, gives us tweeted highlights.
Despite the rise in National Insurance tax, Boris insisted that Britain would move towards a low-tax economy:
Boris then had a go at Labour:
He then went on to slam Insulate Britain, which had blocked the roads for ten consecutive days at that point (12 as I write):
He discussed immigration from Afghanistan and Hong Kong …
… adding:
We are doing the right and responsible thing and, speaking as the great grandson of a Turk who fled in fear of his life, I know that this country is a beacon of light and hope for people around the world, provided they come here legally, provided we understand who they are and what they want to contribute, and that is why we took back control of our borders and will pass the borders bill, because we believe there must be a distinction between someone who comes here legally and someone who doesn't, and, though I have every sympathy with people genuinely in fear of their lives, I have no sympathy whatever with the people traffickers who take thousands of pounds to send children to sea in frail and dangerous craft. And we must end this lethal trade. We must break the gangsters' business model.
He made reference to 2022's general election in France and the newly-conservative outlook on the EU and immigration from our Brexit negotiator:
And is it not a sublime irony that even in French politics there is now a leading centre right politician calling for a referendum on the EU. Who is now calling for France to reprendre le controle?? It's good old Michel Barnier. That's what happens if you spend a year trying to argue with Lord Frost, the greatest frost since the great frost of 1709.
Boris then illustrated what he means by 'levelling up'. Different areas of England will get solutions to their specific needs:
I will tell you what levelling up is. A few years ago they started a school not far from the Olympic park, a new school that anyone could send their kids to in an area that has for decades been one of the most disadvantaged in London. That school is Brampton Manor academy and it now sends more kids to Oxbridge than Eton. And if you want proof of what I mean by unleashing potential and by levelling up, look at Brampton Manor, and we can do it.
There is absolutely no reason why the kids of this country should lag behind, or why so many should be unable to read and write or do basic mathematics at the age of 11. And to level up – on top of the extra £14 bn we're putting into education and on top of the increase that means every teacher starts with a salary of £30k – we are announcing a levelling up premium of up to £3000 to send the best maths and science teachers to the places that need them most.
And above all we are investing in our skills, skills, folks. Our universities are world beating. I owe everything to my tutors and they are one of the great glories of our economy, but we all know that some of the most brilliant and imaginative and creative people in Britain – and some of the best paid people in Britain – did not go to university. And to level up you need to give people the options, the skills that are right for them. And to make the most of those skills and knowledge and to level up you need urgently to plug all the other the gaps in our infrastructure that are still holding people and communities back.
As I've been saying over this wonderful conference to you when I became leader of this party, there were only, can you remember, what percentage of households had gigabit broadband when you were so kind as to make me leader? 7 percent, only 7 percent, and by the new year that will be up to 68 per cent. Thanks to Rishi's super-deduction the pace is now accelerating massively as companies thrust the fibre-optic vermicelli in the most hard to reach places.
On that topic, he had a witty go at Scotland's Ian Blackford MP, a multi-millionaire who gives the impression he has nothing. This bit is about the remote video connections Parliament had during the pandemic:
It's wonderful, for years SNP leader Ian Blackford has been telling the Commons that he is nothing but a humble crofter on the Isle of Skye. Well, now we have fibre optic broadband of very high quality that we can inspect the library or is it perhaps the billiard room of Ian Blackford's croft. And that is levelling up in action.
Boris wants to get Britons back in the office:
And my friends it is not good enough just to rely on Zoom. After decades of ducked decisions, our national infrastructure is way behind some of our key competitors.
It is a disgrace that you still can't swiftly cross the Pennines by rail, a disgrace that Leeds is the largest city in Europe with no proper metro system, a waste of human potential that so many places are not served by decent bus routes. Transport is one of the supreme leveller-uppers and we are making the big generational changes shirked by previous governments.
We will do Northern Powerhouse rail. We will link up the cities of the Midlands and the North. We will restore those sinews of the union that have been allowed to atrophy: the A1 north of Berwick and on into Scotland, the A75 in Scotland that is so vital for the links with Northern Ireland and the rest of the country, the North Wales corridor. And we will invest in our roads, unblocking those coagulated roundabouts and steering-wheel-bending traffic lights, putting on 4000 more clean green buses made in this country, some of them running on hydrogen.
And as we come out of Covid, our towns and cities are again going to be buzzing with life because we know that a productive workforce needs that spur that only comes with face to face meetings and water cooler gossip.
If young people are to learn on the job in the way that they always have and must, we will and must see people back in the office. And that is why we are building back better with a once in an a century £640bn pound programme of investment.
And by making neighbourhoods safer, by putting in the gigabit broadband, by putting in the roads and the schools and the healthcare, we will enable more and more young people everywhere to share the dream of home ownership, the great ambition of the human race that the left always privately share but publicly disparage.
And we can do it.
He discussed rewilding Britain:
We are going to re-wild parts of the country and consecrate a total of 30 per cent to nature. We are planting tens of millions of trees.
Otters are returning to rivers from which they have been absent for decades. Beavers that have not been seen on some rivers since Tudor times, massacred for their pelts, and now back. And if that isn't conservatism, my friends I don't know what is.
Build back beaver.
And though the beavers may sometimes build without local authority permission, you can also see how much room there is to build the homes that young families need in this country.
He talked about the housing crisis and the importance of home ownership, especially for the young:
He praised the success of the coronavirus vaccine rollout and the contribution of private enterprise:
He wittily criticised Labour's reluctance to accept the Government's pandemic strategy:
Boris discussed the Labour Party conference and Sir Keir Starmer. This is classic Boris:
Did you see them last week, did you watch them last week in Brighton? Hopelessly divided I thought they looked.
Their leader looked like a seriously rattled bus conductor, pushed this way and that by, not that they have bus conductors any more, unfortunately, like a seriously rattled bus conductor pushed this way and that by a Corbynista mob of Sellotape-spectacled sans-culottes or the skipper of a cruise liner that has been captured by Somali pirates desperately trying to negotiate a change of course and then changing his mind.
He discussed getting a trade deal with the United States, especially our export of British beef:
He touched on AUKUS …
… and Labour's opposition to that alliance:
He also addressed political correctness, which, frankly, has only worsened under this Government. He really does need to tackle it, so I hope he means what he says here. On a lighter note, he mentioned Michael Gove again:
We are led by our values, by the things we stand for. And we should never forget that people around the world admire this country for its history and its traditions. They love the groovy new architecture and the fashion and the music and the chance of meeting Michael in the disco. But they like the way it emerges organically from a vast inherited conglomerate of culture and tradition. And we Conservatives understand the need for both and how each nourishes the other. And we attack and deny our history at our peril. And when they began to attack Churchill as a racist I was minded to ignore them. It is only 20 years ago since BBC audiences overwhelmingly voted him the greatest Briton of all time, because he helped defeat a regime after all that was defined by one of the most vicious racisms the world has ever seen.
But as time has gone by it has become clear to me that this isn't just a joke. They really do want to re-write our national story starting with Hereward the Woke. We really are at risk of a kind of know-nothing cancel culture, know-nothing iconoclasm. And so we Conservatives will defend our history and cultural inheritance, not because we are proud of everything, but because trying to edit it now is as dishonest as a celebrity trying furtively to change his entry in Wikipedia, and its a betrayal of our children's education.
He closed by paying tribute to England footballers, Emma Radacanu and Team GB's Olympians and our Paralympians, who did so well this year:
The spirit of our Olympians. It is an incredible thing to come yet again in the top four, a formidable effort for a country that has only 0.8 per cent of the world's population … but when we come second in the Paralympics as well – that shows our values, not only the achievement of those elite athletes but a country that is proud to be a trailblazer.
To judge people not by where they come from but by their spirit and by what is inside them.
That is the spirit that is the same across this country, in every town and village and city that can be found. That can be found in the hearts and minds of kids growing up everywhere.
And that is the spirit we are going to unleash.
The crowd loved every minute:
Tom Harwood interviewed party members afterwards, all of whom gave Boris's speech rave reviews:
I could go into the pundits' analyses, but why bother? So many are disgruntled Remainers, still licking their wounds over Brexit, which means that they will attack any Conservative policy.
As a former boss of mine used to say: 'Onwards and upwards!'
The Conservative Party Conference took place in Manchester from Sunday, October 3 through Wednesday, October 6, 2021.
It was the first one since 2019, which was two months before their victory in the December 12 election that year.
UK in crisis
This year's conference took place during the ongoing petrol supply problems and shock record-breaking hikes in gas futures on Tuesday and Wednesday:
On top of that, on Wednesday, Reuters reported that the UK's petroleum regulator rejected Shell's plans to redevelop the Jackdaw gasfield in the North Sea (emphases in purple mine):
"We're disappointed by the decision and are considering the implications," a Shell spokesperson said.
It was unclear on what grounds the Offshore Petroleum Regulator for Environment and Decommissioning (OPRED) refused to approve the environmental statement for the field's development.
The Department for Business, Energy and Industrial Strategy, under whose umbrella OPRED operates, did not immediately reply to a request for comment.
Maddening.
The supply chain crisis for food continues. On Wednesday, The Times reported The National Pig Association warned retailers that 120,000 pigs would have to be slaughtered because of a lack of butchers. Some pig farmers are closing down altogether.
Some supermarkets are also suffering from empty shelves. Tesco, however, is bucking the trend. The Times reported that the supermarket chain is:
often highest up the pecking order when it comes to suppliers committing to make the business a priority …
Good for them.
Conference theme disappointing
The conference theme was … Build Back Better.
How awful.
Here it is draped across Central Station Manchester:
The Conservatives riffed on this in a Bake Off-style event. Pictured with Prime Minister Boris Johnson is Home Secretary Priti Patel:
Having listened to some of the speeches and read excerpts from others, they were all light in content. Most of them were pep rally or visionary statements rather than what plans Cabinet ministers have for the nation.
As The Telegraph's Madeline Grant wrote:
Never at a Tory Conference has so little been said, by so many, to so few.
Sunday, October 3
As the conference opened, rumours circulated about three unnamed Labour MPs thinking of crossing the aisle to the Conservatives, as the Mail on Sunday reported:
Guido Fawkes had more on the story (emphases in red Guido's):
… this is due to disillusionment with Starmer's leadership, with the MPs already having opened up "lines of communication" with Tory whips. In related news, a senior Labour MP was spotted by a co-conspirator chatting with two Mail on Sunday hacks and three senior Tory advisors at a conference bar last night…
The day's big event, according to The Spectator, was the drinks party that the 1922 Committee of backbenchers held, sponsored by ConservativeHome. Interestingly, a long-time Labour MP for north-west London — Barry Gardiner — was in attendance:
… the main focus of the night was the 1922 drinks with ConservativeHome in a room stuffed full of parliamentary talent and, for some reason, Barry Gardiner.
Strangely, Boris did not appear, leaving a gap which Chancellor of the Exchequer Rishi Sunak ably filled (video):
While Johnson was not scheduled to make an appearance here, Prime Ministers have traditionally done so in the past to pay tribute to their colleagues. His 'disappointing' absence – in the words of one disgruntled backbencher – left a vacuum for Sunak to fill, in a room full of MPs who will presumably one day decide who Johnson's successor should be.
The Chancellor leapt to the stage to tell fellow Tories about what he was most looking forward too at conference: Michael Gove dancing, the PM running in a full suit (not just a shirt) and 'machine like message discipline from every single one of you – and that means you too Cabinet.' He added that 'I've got your back' to anxious MPs in the room and that 'for the record I too am a low tax conservative' – welcome words for those party donors who Mr S[teerpike, columnist] understands attended a 'tense' meeting earlier at the Midland, amid considerable unease at the recent NI [National Insurance] hike.
In such circumstances, perhaps it's understandable that Boris would stay away.
According to The Telegraph, senior Conservatives have warned Boris not to dream up any more future tax hikes:
Earlier that day, Boris gesticulated wildly at the BBC's Andrew Marr, saying, 'You have no fiercer opponent to tax rises than me'. This probably means more tax rises are on the way:
The Spectator has more on the interview.
On tax hikes, Sir Desmond Swayne MP told talkRADIO's Julia Hartley-Brewer the raw truth. He added that lower taxes will enable greater economic growth:
Another event that Boris avoided was the one by the Tory Reform Group (TRG), which wants the Conservatives to move closer to the centre politically. They are Remainers. The Spectator reported:
Theresa May's former deputy Damian Green welcomed attendees …
Green, a mainstay of various causes on the left-ish wing of the party over the past two decades, told activists that it was their task to 'make sure that the voice of moderate conservatism, centre-right conservatism is as strong as possible within the party' – a job 'never more important than today because there are times when I slightly feel that it is only people like us that stop this party drifting back to being seen as the nasty party.' A tacit rejoinder to Priti Patel perhaps?
But then it was time for the speaker and the great white hope of Tory moderation. Tom Tugendhat, the chairman of the Foreign Affairs Select Committee, took to the stage to ecstatic applause and, like Green, was under no illusions about the awesome responsibility he and his One Nation caucus members share – to keep the Conservative party effectively sane …
There was also ample time for several potshots at the current Tory leader Boris Johnson, with whom Tugendhat is said to enjoy a wary relationship.
Foreign Secretary Liz Truss, tipped to be a future Party leader, also made the rounds that day (video):
The fringes were packed last night as Tory ministers did the rounds. Liz Truss, the darling of the free market think tanks, appeared at the Think Tent equipped with a magnificent blow dry and an applause-winning speech which castigated cancel culture as 'fundamentally wrong.' That and other jibes at identity politics in her conference address lead the Daily Mail this morning to ask whether she is in fact the new Mrs Thatcher.
Several reporters wrote about her new hairdo, which, to me, didn't look much different from the old one.
Returning to the mysterious Labour people who might want to change parties, here's Manchester mayor Andy Burnham, a former Labour MP, heaping praise on Michael Gove, the minister in charge of Boris's levelling up programme. Burnham spoke to Trevor Phillips on Sky News that morning. Hmm:
Neither Andy Burnham nor Barry Gardiner is a Conservative. Crossing the aisle for ideals they don't believe in seems a rather rash way of getting their own back at Keir Starmer.
Boris made four appearances at conference that day, including one for the Scottish Conservatives. Guido captured his wit along with audio:
The PM warned of a "crackpot coalition" between the SNP and Labour – "the only way they could" kick the Tories out.
He described the Labour conference as "a total rabble", saying it had the air to him of "a seriously rattled bus conductor" facing an "insurrection on the top deck of the bus", or the "captain of a Mediterranean cruise ship facing insurrection by a bunch of Somali pirates".
Douglas Ross MP/MSP also addressed Scottish Conservatives. As party leader in Scotland, he wants to position the party as that of the nation's working class. It's a good move, as The Spectator reported:
Like all good fables, Douglas Ross's speech at Tory conference had a beginning, middle and end. Act One detailed the many iniquities of the SNP, from their dysfunctional vaccine passport scheme to their Hate Crime Act, and most of all their agitation for Scotland to break away from the UK. Act Two took the sword to Labour, bemoaned its abandonment of working-class voters and its internal divisions over the constitution. Theirs was not the party to take on the SNP. Only one party was and it was the subject of Act Three, in which Ross deepened a theme begun under Ruth Davidson's leadership: the Scottish Conservatives as the party of the Scottish working-class.
He hit all the familiar notes about the SNP's failings in government, the ones that never seem to stick longer than two or three news cycles and are invariably forgotten about by the next election. He also hinted at an interesting theme that, if teased out carefully, could come into greater play. It is the perception, no longer wholly limited to unionists, that Nicola Sturgeon is a bit… off. Out of touch. Superior. Maybe even a bit of a snob.
In other news, last week, Labour's Angela Rayner called Conservatives 'Tory scum'. Feisty Dehenna Davison MP, representing Bishop Auckland as the constituency's first Conservative, had 'Tory Scum' badges made.
This harks back to 1948, when Aneurin 'Nye' Bevan said the Conservatives were 'lower than vermin'. Following that, the Conservatives formed the Vermin Club. Club member Margaret Roberts — who would become Margaret Thatcher — also had 'Tory Vermin' badges made, as Nigel Farage told Dehenna Davison on GB News:
Party chairman Oliver Dowden pledged that the Conservatives would do away with ugly new housing developments by strengthening planning laws.
He also assured the public that they would have turkeys for Christmas, referring to ongoing supply chain problems.
Monday, October 4
Monday opened with the latest ConservativeHome popularity poll.
Liz Truss is at the top. Other MPs pictured are (left to right) Defence Secretary Ben Wallace, Leader of the House Jacob Rees-Mogg, Chancellor Rishi Sunak and Education Secretary Nadhim Zahawi:
Guido analysed the results, excerpted below:
The turn round in her fortunes from last year when she was being tipped to be sacked from the Cabinet is quite something. Liz is one of the increasingly rare consistently free market voices around the Cabinet table…
Rishi Sunak is down by some 10 points and moves from second to fifth place. Rishi's tax hikes have clearly taken the gloss off him with the true blue believers. 
Grant Shapps [Transport] and Priti Patel are bumping along the bottom in barely positive approval territory. Shapps has been doing fairly well with the incredibly difficult transport brief. Patel is suffering because she has failed to do the seemingly impossible – stop the cross channel migrants. Tory activists are unforgiving, they don't want excuses, they want results.
It was the turn of Rishi Sunak to address the party faithful.
A rise in council tax would not go down well. Meanwhile, protesters pelted Sir Iain Duncan Smith MP with a traffic cone:
Some at conference are disappointed with Sunak, whose budget comes up in a few weeks' time. Steve Baker MP is pictured in the second tweet:
Boris was out and about in Greater Manchester. He spoke to an interviewer about policing and said that the Government needs to change its culture, which has become misogynistic, particularly in light of the Sarah Everard murder earlier this year, committed by … a policeman, who recently received a life sentence.
In other news, Justice Secretary Dominic Raab plans to reform UK human rights legislation and do away with the ties to EU human rights legislation we are still under.
With regard to the Labour mystery, Manchester's mayor, Andy Burnham, had a conversation with Levelling Up minister Michael Gove, whom he had praised the day before. The Mail reported that Burnham was also due to address Conservatives at a fringe event sponsored by Transport for the North the following day. Hmm.
The cervix question that appeared at Labour's conference was also brought up with Conservatives. Dominic Raab responded by bringing up both misogyny and misandry in a highly confused way (video):
Two MPs decided to have a bit of fun with the issue as they drove to Manchester together:
Guido recapped their amusing exchange:
Health-conscious Conservative MPs Marco Longhi and Lee Anderson don't want to fanny about when it comes to their well-being. Marco, according to their road-trip video, made sure to receive a cervix exam before heading to conference this week. Always better to be safe than sorry…
Why is it that no one ever asks if women have a prostate gland?
On the subject of health, Desmond Swayne told Julia Hartley-Brewer why he is firmly against vaccine passports:
Lord Frost (pictured on the right) threatened the EU over the post-Brexit trade issues with Northern Ireland. Outside of the conference, pig farmers protested over the inability to get their stock to market. Boris had said that government cannot solve every issue, referring to the supply chain problem. He also told British businesses to hike staff salaries, which did not go down well, either:
I think they should give the meat away. A lot of poor families would appreciate it.
Tuesday, October 5
Boris began the day with an interview to LBC's Nick Ferrari. Extinction Rebellion offshoot Insulate Britain had blocked some of Britain's roads for the ninth consecutive day.
Despite injunctions from Priti Patel's Home Office, their human blockades continue.
Boris told Ferrari they are 'irresponsible crusties' (video). The question remains whether Extinction Rebellion gets any Government funding:
Dominic Raab confirmed in his speech that he would be reform the Human Rights Act to free it from EU hackles.
Guido's post includes a quote and this summary:
They will detach it from the ECHR, enabling quicker deportations of convicted criminals and swifter action on domestic abusers …
Raab's successor at the Foreign Office, Liz Truss, confirmed a trip to India later this month, ahead of COP26 in Glasgow in November.
Guido had a chat with her:
Among other topics, the foreign secretary confided in Guido she was finding the new department's mandarins to be "a bit 'Yes, Minister'"…
Rishi Sunak addressed the Northern Powerhouse Leaders' Lunch.
Guido says:
Sunak claimed that there is a "new age of optimism" in the north thanks to Red Wall Tories, and heaped them with praise for "helping to change our party and change our country". "In me, you have a Chancellor who is going to be with you every step of the way," he added.
See? I told you these speeches were content-free.
Later in the day, he appeared at a fringe event where he was asked about the cost of Net Zero. This was his alarming answer:
Health Secretary Sajid Javid promised another reform of the NHS, which mostly involves digitisation. I can think of more pressing NHS concerns and agree with Guido:
… pouring in taxpayers' money without checking how it's being spent isn't enough. That cash needs to be put to good use. Reviewing the eye-watering pay packets of some NHS diversity managers would be a start…
The Telegraph's Christopher Hope interviewed Oliver Dowden, who is thinking about resurrecting the singing of the National Anthem at conference, calling it a 'splendid idea'.
Hope also took the opportunity to present Dowden with a 'Tory Scum' badge, which he put on and said he would wear for the duration of the interview. Hope suggested he wear it until the end of conference.
This video shows the badge exchange. Hope gives us more information on the aforementioned Vermin Club:
Guido says that the badges were most popular. Dehenna Davison had to order more:
Many conference-goers have spent the last couple of days asking Davison for one of her badges, only to be disappointed upon being told she'd run out. Good news however, after Davison put in an emergency order for 400 more given their popularity…
The most outrageous session of the day — and a British first — was an address by the Prime Minister's wife to Party faithful. No Prime Minister's spouse — we've had two husbands in that role — has ever made a party political address until now:
Never mind the subject matter: was it the right thing for Carrie Johnson to do — even if she is a very good public speaker? Boris watched from a distance.
Polling stable
I'll review Boris's closing speech in tomorrow's post.
Post-conference polling is stable. YouGov's was taken on Tuesday and Wednesday:
Sir Desmond Swayne explained to Julia Hartley-Brewer that Boris's popularity and the lack of ideas from the Opposition have buoyed the Conservatives:
What Government should do next
Health Secretary Sajid Javid needs to keep a gimlet eye on NHS spending, especially on things like this:
Guido says:
The NHS is recruiting a supplier to deliver "compassionate conversations training" to 14,000 front facing NHS staff in a publicly funded contract worth a mind-boggling £3 million. The contract tender, which was published yesterday and closes on 5 November 2021, says the aim is to equip NHS staff with "the skills they need to handle challenging situations with compassion whilst ensuring they feel able to look after their own wellbeing if needed". Guido assumed that doctors were already taught about the importance of a good bedside manner…
It's almost ludicrous to think that this weekend Javid promised a forensic review of the NHS's management and leadership whilst the NHS continues to recklessly splash cash on diversity roles. Just six months ago Guido revealed that the NHS was hiring eight more 'diversity, equality and inclusion managers' across the country, with salaries up to as much as a whopping £62,000. If Javid is going to cut down those waiting list times he needs to focus taxpayers' money on the clinical front line, not nonsense make-work contracts and diversity roles…
Guido says it is also time for Boris to reconsider the current Government moratorium on fracking:
If Boris wants to energise Britain, domestic gas production should be part of that mix; it would provide energy security when Britain's energy needs are being threatened by the Russians and the the French. Boris is now in a position to do something glorious, to stop pussy-footing around and leave no stone unturned or unfracked. So get on with it…
This is what Boris had to say on the subject while he was Mayor of London:
I won't be holding my breath on either of those propositions.
Tomorrow: Boris's keynote speech
Boris Johnson is now into his third year as Prime Minister.
On Wednesday and Thursday, September 15 and 16, he reshuffled some of his cabinet and ministerial posts, signalling that he is more than halfway through his premiership. In other words, this will be the major reshuffle to lead the Conservatives into the next general election.
I hope that Boris does not go for a 2023 election, unless it is late in the year. The coronavirus crisis will have put much of the Conservative manifesto agenda on hold for two years. As such, not much has been accomplished to date, as Andrew Neil, who recently resigned from GB News, says:
Boris has appointed more Leave ministers as well as more minority and female ministers, which will not matter to most small-c conservatives:
Highlights of the reshuffle follow.
Dominic Raab no longer Foreign Secretary
It looks as if dithering over Afghanistan while holidaying in Crete has finished Dominic Raab's days as Foreign Secretary. He had to do the walk of shame after his demotion:
That said, Boris has found a new job for him as Justice Secretary.
Raab will also continue to be Deputy Prime Minister, a role he handled extremely well in April 2020, when Boris was hospitalised with coronavirus.
Defence Secretary Ben Wallace defended his fellow MP and the move in an interview with BBC Breakfast:
Wallace said of Raab: "Dominic is by trade a lawyer, he started his life in the Foreign Office as a human rights lawyer and he's gone to the Ministry of Justice, which is actually a very, very important role and a role he desperately understands."
Liz Truss becomes new Foreign Secretary
Former Trade Secretary Liz Truss replaces Dominic Raab as Foreign Secretary, with Anne-Marie Trevelyan taking her place.
Post-Brexit, Truss has made various trade deals with other nations, notably Australia and Japan.
She also remains minister for women and equalities.
Truss is popular with grassroots conservatives and her name has often been mentioned as a future party leader and Prime Minister.
She succeeded not only in trade but also in refusing wokery in 2020 …
… and in 2021, as Guido Fawkes reported on June 16 (emphases mine):
Liz Truss tells Times Radio most people aren't interested in the culture war…
"My role as equality minister is to make sure everybody in Britain is treated equally regardless of their sex, their sexuality and their race. What we have seen over the past few years is the development of identity politics where there has been division created. People are described as being members of a group rather than for their own personal, individual humanity and dignity… We have just launched for example a big data project looking where are the gaps in education, employment and enterprise across the country, and how we can fix those. That is the approach we need to take… I think some of the identity politics we have seen focus on symbolism over real results has been divisive… I think most people aren't interested in this so–called culture war, what they're interested in is, "Am I being given a fair chance? Do I have a good chance of getting a job? Am I treated fairly by public services?" And that's why I think our equality agenda should focus on, those bread and butter issues that are of concern to everyone in the country."
She is consistently among the most popular of the Cabinet members. This survey is from March 2021:
She can even ably dodge camera equipment during an interview:
Nadine Dorries moves from Health and Social Care to Culture Secretary
In what is hoped to please grassroots small-c conservative voters, Nadine Dorries now heads Digital, Culture, Media and Sport (DCMS), replacing Oliver Dowden, who, as new co-chairman of the Conservative Party, will formulate a strategy for the next general election.
Most of these grassroots supporters are fed up with the BBC. Will Dorries take on Auntie Beeb?
I do not put much stock in that possibility. Resurrecting Dorries's tweets from several years ago are no indication of her current willingness to oppose the BBC on anything much:
The BBC have just appointed a firmly left-wing executive editor of BBC News, Jess Brammar. At least one Conservative MP, Brendan Clarke-Smith, was unhappy about the possibility of her appointment back in August:
I will not be holding my breath for Dorries to take her on, although others in the left-wing and anti-Brexit political establishment are angry about Dorries's appointment, as Guido Fawkes reports; he has screenshots of her past tweets (emphasis in the original):
She's been in the job for 17 hours and is already annoying all the right people… 
John Whittingdale returns to backbenches
I have doubts about Dorries because one of the DCMS ministers, John Whittingdale, was supposed to take on the BBC in 2016 and never did. He also washed his hands of removing free TV licences for most over-75s, saying it was a decision for the BBC. Is this why he got the sack?
During the Euro 2020 soccer tournament this year, Whittingdale told Kay Burley of Sky News that travel restrictions were lifted for 'important' people associated with the matches:
Speaking on Sky News, John Whittingdale was asked why players, officials and others coming to London for the Euros final on 11 July should be allowed in without self-isolating.
He said: "We've always said that for some people who are important, players, for instance …"
The presenter, Kay Burley, interrupted him, saying: "So people who want to go on holiday are not important. Is that what you're saying?"
Whittingdale's last pronouncement, standing in for his boss Oliver Dowden, was about a proposed mandate to make all BBC and ITV output 'distinctively British'. That was on September 16. It will be interesting to see whether Nadine Dorries will insist on it.
Newsnight argument over Dorries
Nadine Dorries was the subject of an argument between Conservative MP Charles Walker and former Conservative MP, Remainer Anna Soubry, who lost her seat in December 2019.
By the way, this was Anna Soubry with Nigel Farage either just before or just after the Brexit referendum in June 2016: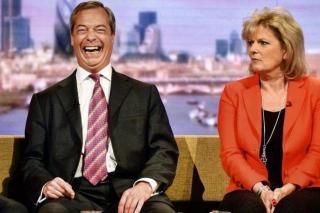 But I digress.
The discussion between Soubry and Charles Walker took place on the BBC's Newsnight on September 15:
Here's the video, with Labour MP Peter Kyle sitting at the desk with presenter Emily Maitlis:
Guido Fawkes has the highlights:
Nadine Dorries provided the biggest clash, as the eternally bitter Soubry ranted that her appointment "actually says everything that's wrong and rotten about this prime minister's stewardship of this country". Charles Walker had some thoughts:
"Nadine Dorries has been a health minister, a minister of state, at an incredibly difficult time for the department of health; has been an extremely good minister for mental health; and really to come onto this programme and just trash her like that is just not a very nice thing to do to be perfectly honest"
Responding to Soubry's claim that people don't really care about reshuffles in the real world, Walker pointed out "Why is it the lead story on Newsnight, and why are you appearing on Newsnight?" Why indeed…
However, there is a personal reason why Anna Soubry is angry with Nadine Dorries.
On July 1, 2016, one week after David Cameron stood down as Prime Minister and Conservative Party leader because of the Brexit referendum result, tensions were running high not only in the Commons but also among the public.
Soubry went out near Parliament to address her fellow Remain supporters. Dorries tweeted that Soubry was under the influence. Soubry demanded that Dorries retract the tweet. The Times has the full story, which ends with this:
Update (25.07.2016): Following publication of this article, Nadine Dorries MP has withdrawn her tweet about passing Anna Soubry MP leaving the bar before she attended a rally of Remain supporters in central London. Ms Soubry has confirmed that she had not drunk any alcohol before speaking at the event.
Another reason why I am doubtful about Nadine Dorries is because she did not question the Government's coronavirus restrictions when she was at Health and Social Care. Does she really believe everything she hears? Here she responds to Conservative Woman's co-founder Kathy Gyngell. Dorries and her mother had the virus at the same time, and her mother recovered first. Even so, not questioning lockdown earns her a black mark from me:
At least she supported Brexit.
Michael Gove moves to Housing, no longer Chancellor of the Duchy of Lancaster
Michael Gove, who is in the process of a divorce and was a recent party boy in an Aberdeen nightclub, is no longer the Chancellor of the Duchy of Lancaster.
Stephen Barclay, formerly Chief Secretary to the Treasury, replaces him in that post. Simon Clarke replaces Barclay in the Treasury role.
Michael Gove replaces Robert Jenrick at the Ministry of Housing, Communities and Local Government and is in charge of Boris's 'levelling up' agenda.
A first attempt at a new acronym for the department has produced DULL:
Guido reports on the problems with acronyms for government departments in general:
The Sun's Harry Cole reports the initial proposal for a new "Department for the Union and Levelling Up" is no longer a flyer after realisations its acronym, 'DULU', sounds too much like "Dull". It's a shame a change was needed, given it was pointed out yesterday that Michael Gove the first MHCLG Secretary with all the letters of the department in his name…
Guido will leave it up to cleverer minds to work out an acronym that includes all the letters of Gove's new remit (MHCLG + Union + Levelling Up + Elections) though it's not the worst reshuffle acronym problem encountered by a PM. As Alan Johnson recounts, in 2005 Tony Blair came up with a plan to rename the department for Trade and Industry as the "Department of Productivity, Energy, Industry and Science". Thankfully Johnson was used to it by that point however – he'd already been Minister for Higher Education and Lifelong Learning, and headed up the Sexual Health Advisory Group…
Although this looks like a demotion for Gove, it involves a hefty budget with pan-govermental reach, something that should definitely appeal to him:
New Education Secretary
Nadhim Zahawi, formerly in charge of the coronavirus vaccine rollout, is the new Education Secretary, replacing Gavin Williamson, who likely got the sack because of the school exams fiasco during the coronavirus crisis.
Zahawi has achieved the British dream, having arrived in the UK as a child refugee who could not speak English:
Other appointments
Guido Fawkes has full reshuffle information for September 15 and 16.
Some MPs have transferred to other departments:
Others will be returning to the backbenches:
Jesse Norman tweeted that he was happy to return to the backbenches:
The new role for Nigel Adams is said to be a 'fixer' appointment in order to get things done:
More information and analysis can be found at The Guardian, The Telegraph, GB News , The Spectator and The Times (here, here and here).
House of Lords
Reshuffles can affect the House of Lords, too.
Fortunately, two of the stars there are still in place.
Baroness Evans
Baroness Evans, composed and competent, will remain as Leader of the House of Lords.
Lord Frost
Lord Frost will remain Cabinet Office Minister for Europe, in charge of EU negotiations and changes to relevant legislation:
On September 16, Guido wrote about Frost's plans to rid the UK of EU laws (emphases in the original):
Lord Frost has announced the government's plans to finally capitalise on the freedoms of Brexit and remove the "special status" of all individual EU laws still on the UK's statute books. There are also plans to invest heavily artificial intelligence, transport, and farming over the Parliament. Now if we just pair deregulation with lower taxes we may actually get somewhere…
Speaking on the reforms this afternoon, Lord Frost said:
"From rules on data storage to the ability of businesses to develop new green technologies, overbearing regulations were often conceived and agreed in Brussels with little consideration of the UK national interest.
"We now have the opportunity to do things differently and ensure that Brexit freedoms are used to help businesses and citizens get on and succeed."
Lord Frost will begin with a review of so-called "retained EU law" – the huge amount of EU legislation still on the UK's statute books; removing its special status so it's no longer a distinct category of UK domestic law, and ensuring all courts have the full ability to depart from EU case law. He describes it as finalising the process of "restoring this sovereign Parliament". There's a reason he's popular with the Tory membership…
Guido's post has more detail, much of which involves digitalising everything from share (stock) certificates and driving licences.
Hmm. I hope that when his proposals reach MPs that they are not taken too far. First, not everyone is online. Secondly, think of the hacking opportunities this could provide. Finally, and perhaps most importantly, digitalisation can lead quickly to establishing a Chinese-style social credit score.
One thing I did like was this:
Permitting the voluntary printing of the Crown Stamp on pint glasses and reviewing the EU ban on markings and sales in imperial units and legislating in due course, none of which were possible within the EU.
Robert Peston's misguided predictions
Sometimes, it is better to wait for the final outcome rather than tweet silly predictions:
On September 16, Guido noted witheringly of ITV's Robert Peston:
While yesterday may not have been great for Dominic Raab, at least he can take solace in the fact he had a better reshuffle than Robert Peston. ITV's senile senior political reporter spent all day tweeting every thought process, speculation and briefing with the acumen and insight of a first-year politics student.
Guido's article lists Peston's tweets. Perhaps ITV should buy him a new crystal ball.
Conclusion
I still think that most Conservative MPs are half-hearted. It's a shame that Boris did not promote any of the 2019 intake, especially the feisty ones from the North of England.
Fortunately, last week's horrible poll results have been reversed. Participants were polled during the reshuffle days of September 15 and 16:
Onwards and upwards to Boris's promised 'sunlit uplands', I hope.
It would be difficult to overstate how much England has been stomped on over the past 30 years and more.
Britons are told that England does not exist; it is merely a collection of regions.
The English are told there is 'no appetite' for an English Parliament.
Britons are taught in school to ignore and even hate England.
Right now, I am looking at one of my high school textbooks, an anthology. Its title? England in Literature.
I read it in a class called 'English', oddly enough.
England is the only nation of the four in the United Kingdom without its own Parliament, which many of us living here would love to have, just as the other three nations have their own assemblies. However, our notional betters have told us that this would be impossible. Years ago, it was reported there was 'no appetite' for it. Yet, the people living in England have never been asked to vote on such a proposition, unlike the inhabitants of Scotland, Wales and Northern Ireland.
Now, to borrow an English expression, we have a spanner in the works: the continued success of England in Euro 2020.
On July 4, the Telegraph's Nick Timothy wrote an opinion piece: 'England has been denied the voice it deserves by elites who would rather Englishness didn't exist'.
It has this subtitle:
England has its own unique and complex identity, and it should have a parliament of its own, too
I couldn't agree more, although, these days, part of me thinks it would add a layer of bureaucracy and expense. That said, it would be worth the price.
For the past few weeks, England football fans have been singing the 1996 hit song Three Lions (Football's Coming Home) written by comedians David Baddiel and Frank Skinner, with music by the Lightning Seeds. Recalling England's World Cup win 30 years earlier, it was written for the 1996 European Championships:
Nick Timothy encapsulates the mood of England supporters perfectly:
The football fans singing "it's coming home!", while anxiously anticipating the pain of another England disappointment, manage to reconcile two seemingly contradictory English traits: boisterous triumphalism and private self-doubt.
The way the English feel about not only football but the nation itself is at loggerheads with elites who live in this part of our Sceptred Isle.
Timothy elaborates (emphases mine):
… the English do have traits and tendencies, just like any other nationality. And yet, for many English elites, England's identity is something best denied. It is, they believe, too dangerous, too embarrassing, or too exclusive. Even those now debating what they call "Englishness" are doing so, they admit, with reluctance.
Among them, a common contrivance is to pretend that English culture is, as one commentator puts it, "thin", an identity that "has arisen not because of a positive movement to adopt the identity, but scorn for other forms of collective belonging". Another pundit asks, "what is England now, other than sports teams and Shakespeare?"
Englishness is very different to that of the distinct identities of the other three nations that make up the United Kingdom, but those who wish to suppress it are doing so successfully, thus far:
They seem to hope that if "Englishness" must be appeased, they can make sure that whatever follows is an elite-led project in which they can keep everything civilised.
I am not sure exactly where 'civilised' would be violated were Englishness to be celebrated. For years, we have been told to avoid any national pride, unlike the Welsh and the Scots. It is perfectly acceptable for nationally-oriented political parties such as Plaid Cymru and the Scottish National Party (SNP) to exist. Yet, no such party currently exists in England.
Elites in England fear we would break out in violence. Perhaps this is a leftover from the tiny pockets of extremists from the 1970s and early 1980s. Those groups have since faded into history and hardly speak for 99.9% of the population of England which, today, is highly diverse, particularly in our big cities. However, it is not as if the other nations of the UK don't have their extremist groups, although Wales might be an outlier there.
Looking back further, England has her own undeniable history and culture, as Timothy points out:
England is the mother of parliaments. It is the land of Shakespeare and Dickens, Elgar and Holst, the Beatles and Stones, the Cotswolds and Cumbrian hills, London and Liverpool, Oxford and Cambridge. It is Stonehenge and St Paul's, football and cricket, the local church and village pub, Isaac Newton and Isambard Kingdom Brunel.
It is cream teas and Cheddar cheese, a pint of bitter and a cup of tea, farms and factories, honest coppers and straight judges. It is the Wars of the Roses and the Reformation, Roundheads and Cavaliers, rebellions and strikes, Industrial Revolution and a Glorious Revolution. It is the home of Magna Carta, Locke and Burke, Churchill and Attlee, and long lines of kings and queens …
From philosophy to science, inventions to the arts, English culture is rich with significance.
Therefore:
It is needlessly destructive to ignore, denigrate or misrepresent it.
Sharing a common identity, as promoted in Scotland and Wales, can be healthy:
Shared identity is what allows us to recognise familiarity in strangers, and that familiarity, psychologists attest, encourages trust and solidarity and the willingness to make sacrifices for others. You and I might never have met, but we have language, places, habits, customs and shared history, culture and stories to help us to trust one another. This shared national identity means we can look beyond the narrower identities – racial, religious, regional, whatever – that can divide us.
The only time the English can truly celebrate their identity is when it comes to national sports teams — football, primarily, but also rugby and cricket. Contrary to what the elites say about national identity, it works remarkably well:
The English football team is multiracial and at ease with itself. The cricket team – who are world champions – are multiracial and multi-religious. And as the football song shows, it is collective memories ("'cause I remember…") and our shared attachment to place ("it's coming home") that bring us together.
One aspect of the display of national identity during football tournaments is the flag. For England, this is the flag of St George, a red cross on a white background. The only time it is even vaguely acceptable in the eyes of the elites is during this time.
Through the past 30 years, England football fans have draped large ones outside the windows of their homes or flown smaller ones from their cars or vans. Ironically, in a year in which England has been so successful in football, I have only seen two or three so far. Perhaps those who used to fly the flag have been psychologically intimidated over the years by talking heads on the media.
Nick Timothy says it wasn't always this way:
In the 1966 World Cup final, England fans held up the Union Flag; by the 1996 European Championships semi-final – played before Scottish devolution – England fans were flying the cross of St George without causing a stir.
Moving back to the original subject of an English parliament, Timothy points out the problem of not having one. The issue is that MPs from the devolved governments can end up determining English legislation:
Devolution to Scotland and Wales but not to England means Scottish, Welsh and Northern Irish voters decide the government of England. A UK government elected by mainly English voters thinking of issues that are devolved elsewhere makes no sense to Scotland, Wales and Northern Ireland. If one day we end up with a UK government elected with no English majority, but expected to determine policies in England that are devolved elsewhere, we will face a constitutional crisis.
"English votes on English laws" does not resolve this issue.
In fact, the Chancellor for the Duchy of Lancaster, Michael Gove, who is Scottish, plans to abolish English votes on English laws, known as EVEL.
A June 16 post from a Scottish site, Jaggy.blog, explains how EVEL came to be:
The newly revealed plan by the Cabinet Office Minister, Michael Gove, to scrap English Votes for English Laws will be welcomed by fellow Unionists who felt this 'Evel' act rubbed salt in Scottish rebels' wounds after the 2014 referendum. Actually, it was more of a desperate ploy by David Cameron to counter the threat of UKIP before he could work up the courage to call a referendum on EU membership.
It would seem that the reason Gove is planning to revoke EVEL is because the Conservatives have a majority of 78 in the House of Commons, thereby enabling them to overrule any opposition from the SNP, the third largest party in Parliament.
Gove's move is seen as something that would preserve the Union. This I personally doubt, but here is the reasoning:
Zealously spearheading the UK Government's efforts to save the Union, Mr Gove told The Times today that Evel has outlived its usefulness:
Ultimately, it's a convention which arose out of a set of circumstances after the 2014 [Scottish independence] referendum, where you had a coalition government and so on. We've moved on now, so I think it's right to review where we are on it. The more we can make the House of Commons and Westminster institutions work for every part of the UK and every party in the UK, the better.
The less said about Michael Gove, the better. His reasoning is illogical, but he won't care. He has no love for England, either.
Would the SNP be able to restrain themselves and not vote on English laws? Back in the 1990s, it used to be a matter of honour whereby they would not do so. After all, English MPs cannot vote on Scottish laws, because that legislation has been handled in Holyrood since 1999.
Therefore, as Nick Timothy says, the only way to resolve this is by creating an English Parliament:
… there can be no return to the unitary state of old. The only sustainable remaining solution is an English parliament and English government within a federal UK, supported by a political culture that respects and cherishes pride in England and shows a more serious commitment to the government of England's regions. We have a lot to take pride in, and as the football team is showing, there are many more shared memories – of triumph, hopefully, rather than disaster – still to be made.
Sadly, a shared culture and geography is unlikely to make that happen anytime soon.
For now, we must lie back and consider the Three Lions — and the possibility that they could win Euro 2020.
In closing, there is nothing shameful about England or the English. They have given me the best years of my life.
The English, Welsh and Scottish election results from Thursday, May 6, were mostly complete on Saturday, May 8.
Brief analyses of results
Various pundits gave analyses of the results.
However, before going into those, this is the change in voting among NHS and other health workers from Labour to Conservative. I've never seen anything like it:
Guido Fawkes says that Labour no longer represents the working class:
Andrew Neil of The Spectator summarised a Wall Street Journal article about the elections:
Andrew Neil himself says this is a 'watershed' moment:
Mark Wallace of Conservative Home says that, locally, even Labour councillors acknowledge that voters are bullish on Boris:
Dan Hodges interviewed several people in various towns in the North East. Most were bullish on Boris and the Conservatives. In Middlesbrough (emphases mine):
It's here that one of the nation's largest vaccination centres has been established, and the local residents filing out into car park E after receiving their jabs have a different perspective to the Prime Minister's critics.
'Boris is doing what he could,' Louisa tells me. 'It's a very difficult situation. He's been fantastic.' 
Victoria Newell agrees: 'I think he's done a fantastic job. The whole vaccination programme has been really well managed.'
Some Labour strategists have been pointing to the vaccination success as the primary reason for Tory buoyancy in the polls. 
One Shadow Minister told me: 'People are getting their jabs, the sun's out and the pubs are open again. They're going to do well.'
Dan Hodges visited Redcar, which used to have a huge steelworks, long gone. He then went to other parts of the Tees Valley:
The Redcar works may be gone but, as you head towards Stockton, the giant cooling towers of the Billingham manufacturing works punch up through the skyline, while the drive out of Darlington brings you face to face with the monolithic new Amazon warehouse that employs more than 1,000 staff. 
And this is what Boris – and [Tees Valley mayor Andy] Houchen – are betting their political lives on. That they can turn around decades of 'managed decline' under Labour and get the nation's economic engine room motoring again.
Back in Hartlepool, the voters have started delivering their verdict. And again, another fashionable Westminster 'narrative' is running head-first into the British people.
You can't currently buy a pint inside The Rossmere Pub on Balmoral Road, but you can cast a ballot.
And builder Geoff Rollinson is planning to deliver his for Boris. 'He's been amazing. I love him,' he tells me. 'What have Labour done for this town in over 50 years? Boris has pumped billions into furlough, he's given people here a wage. Labour would never have done that.'
Outside Mill House Leisure Centre, Mark Robinson delivers the same message. 'I voted Conservative,' the charity worker tells me. 'Boris is trying to get the job done.'
What about the furore over sleaze and bodies? 'I wouldn't want to be in his shoes with Covid and all the stuff he's had to deal with. I think he's doing his best.'
English council wrap-up
Most of the English county council results were tabulated by Saturday night. There were big gains for the Conservatives:
The biggest news was the loss of a Labour majority of Durham County Council — the first in over a century:
English mayoral elections
I'm of two minds about regional mayors, a relatively recent development using up more taxpayer money.
Former Labour MP Andy Burnham won a comfortable re-election in Manchester.
In the Tees Valley, Conservative Ben Houchen also won a decisive re-election:
Houchen told The Spectator in March that he was eager to rebuild the steel industry in the region but is finding a certain UK Government department difficult:
'I've said to Boris himself, I've said to No. 10 and Rishi and the five new colleagues that I've got in Westminster: there's nowhere left to hide now,' he explains. 'It's a strong Tory government. Loads of Tory MPs in the region, a regional Tory mayor (at least for a couple of months), so there's no one left to blame any more. We either really deliver something different in the next four years, or people will go back to voting for other parties.'
… His re-election campaign is based on a new project: to 'bring steelmaking back to Teesside' with electric arc furnace technology. It's seen in America and elsewhere as the future of the steel industry, he says — but not in Westminster, where he regards the Theresa May-created department of Business, Energy and Industrial Strategy (BEIS) as part of the problem, since it clings to the declinist view of the steel industry.
'The biggest problem with the steel industry in the UK is Whitehall,' he says. 'The UK steel policy and the BEIS team are absolutely useless.' Successive governments, he says, have failed British steelmaking for 40 years. 'It has become a sticking plaster. Oh, British Steel's fallen over, how do we rescue it? Oh, now south Wales is in trouble, how do we rescue it?' There's too much worrying about failure, he says, and not enough planning for success. 'It's never: what do we want the steel industry to look like? What can we do as a developed nation when we're having to compete with places like China?'
… He admits that his various schemes have 'raised eyebrows' but puts it in part down to Teesside Tories being a slightly different breed. 'This isn't a one-size fits all,' he says. 'I would say Conservatives in this region are much more practical. I don't remember having a discussion with any Tory in Teesside about free market economics and right-wing politics. It's very much pragmatic.'
In the West Midlands, his Conservative counterpart Andy Street also won a second term, defeating former Labour MP Liam Byrne by 54% to 46%:
In London, Labour's Sadiq Khan was re-elected for a second term, but by a narrower margin than expected. His first preference votes were down by 130,000 from 2016:
Given the fact that the Conservative candidate Shaun Bailey got so little media coverage — and, oddly, no support from his own party — he did remarkably well, winning boroughs in the South West of the capital along with Labour-dominated Brent & Harrow as well as Ealing & Hillingdon (see map) in the North West. (In 2016, Khan won Brent & Harrow comfortably.) Bailey also won Croydon and Sutton to the South:
Bailey arrived at City Hall for the final count on Saturday evening:
Labour still dominate the London Assembly. Bailey will retain his seat there:
London is beginning to vote Conservative again because of the high crime rates under Sadiq Khan's leadership. On the day the results were announced, there was a stabbing at Selfridges in Oxford Street. Unthinkable:
In Cambridgeshire and Peterborough, Labour defeated the Conservatives:
Labour held on to Bristol, with Greens in second place:
Labour MP Tracy Brabin has been elected as the first mayor of West Yorkshire. I hope that she will have to resign her Parliamentary seat as a result.
Scotland
Scotland's SNP are just one seat of an overall majority.
Nicola Sturgeon has been re-elected to Holyrood and remains First Minister.
Independence referendum redux
Naturally, the Sunday news shows raised the matter of a second independence referendum with UK Cabinet minister Michael Gove, who has the rather grand political title of Chancellor of the Duchy of Lancaster. He plainly told Sophy Ridge of Sky News:
Gove, himself a Scot and being interviewed in Glasgow, rightly pointed out that, when the first independence referendum was held — the one that was supposed to be 'once in a generation' — the SNP had an overall majority in Holyrood under Alex Salmond:
Over to the east coast of Scotland, in Edinburgh, Nicola Sturgeon, having campaigned this year on no second independence referendum because of coronavirus, is now game for one:
One of Guido Fawkes's readers, someone with a Scottish surname, laid out his plan for the next independence referendum. This is excellent, especially the bit about stopping the Barnett formula three years before the referendum. Enough English financing of Scotland, especially as it was supposed to be a temporary measure — in 1979:
I would allow a referendum. On the date of my choosing. Voters must be over 18 and resident in Scotland for the previous 5 years. Why on earth Boris allowed Wales and Scotland to extend their franchises beats me, children vote, students vote TWICE. My referendum will be in 3 years time and to help voters decide I'm stopping the Barnett formula at midnight tonight and any English infrastructure spending in Scotland so they get a clear idea of their economic muscle. Scotland will leave the union with all the SNO's own debts and 10% of the UK National debt. Scottish 'ministers' and council leaders will not be allowed to travel overseas or Zoom with foreign politicians without permission of my Secretary of State. English, Welsh and N Irish students will no longer qualify for grants or loans to attend Scottish universities and Scottish students will pay foreign student fees to study outside Scotland. The NHS in England and Wales will be closed to Scottish residents. Etc. Etc. Three years. Then Orkney and Shetland will be offered the chance to be UK dependant territories with tax haven and Freeport status. Etc. Etc.
Even the BBC's Andrew Marr, himself a Scot, knows that England helps to finance Scotland. Sturgeon refused to admit it on Sunday morning:
Apparently, now that the election is over, the SNP plan to put their case for independence forward in foreign capitals. I hope they will not be using Barnett consequentials to finance their flights:
Scottish blogger Effie Deans wonders how well other countries will receive Scotland's plan for secession. It did not work well for Catalonia:
The UK Government has a plan to counteract the SNP's independence goal — give money directly from London (Westminster) to Scottish councils, bypassing Holyrood:
There have been complaints of coronavirus funds going from Westminster to Scotland and not being allocated locally to ease the damage done by the pandemic. Furthermore, nearly £600,000 seems to be unaccounted for in SNP funds, as can be seen in the Private Eye article below:
Results
Now on to the results. The SNP needed 65 seats for a majority:
One of the regional BBC shows in Wales or Northern Ireland said on Sunday that this was the SNP's 'best ever result', but it is not:
The fly in the ointment was Aberdeen West (see Balmoral below), which the Scottish Conservatives managed to hold on to with an increased majority from 900 to 3,000, probably thanks to George Galloway's new All for Unity Party:
They were pleased with their wins, which also included re-election in constituencies along the border with England:
And what happened to Alex Salmond's brand new Alba Party? There was no predicted 'supermajority'. Alba won no seats:
Interestingly, a poll in the SNP's favoured newspaper, The National, polled readers on May 4. Alba was mentioned favourably more than once in the polling. Forty-nine per cent of those polled were planning on voting for Alba on their list (peach coloured) ballot. Alex Salmond was also the most impressive independence campaigner next to Nicola Sturgeon (43% to 46%).
Wales
Last, but not least, is Wales, which everyone knew would largely vote Labour, as is their wont.
Prif Weinidog (First Minister) Mark Drakeford won re-election.
Like the Scots, they are 1 seat short of a majority.
This is their Senedd (Senate) result:
That said, Labour's vote share is up, and so is the Conservatives', as predicted on Election Day:
Guido Fawkes has a summary.
It is unlikely Wales will push for independence any time soon.
Houses of Parliament
On Tuesday, the formal reopening of the Houses of Parliament will take place.
Her Majesty the Queen will give her speech which outlines the Government's agenda in the House of Commons for the coming months.
More on that this week.
Yesterday's post detailed the first day of Brexmas — Christmas Eve 2020 — when the UK and the EU signed the deal to end the transition period and move on to a future outside of EU control.
MPs and the Lords were preparing to vote on the deal on Wednesday, December 30, in a special recall of both Houses of Parliament.
The Brexit referendum in 2016 attracted more voters and two of the largest campaign donations in British history.
The days between Christmas and December 30 seemed like a long wait. We were in lockdown, to various extents, at the time. However, Leavers were able to get an idea of how MPs thought about the new trade agreement, which is a treaty. A summary of practical considerations for Britons can be found here.
We also garnered snippets from journalists on some of the deal/treaty provisions.
Natasha Clark, who writes about politics for The Sun, tweeted:
Some pointed out a few downsides. There are concerns about British financial services operating overseas, the performing arts and, equally important, international security:
That said, Sir John Redwood MP was optimistic:
Even better, the hardline Brexit group, the European Research Group (ERG), was all in for the deal:
The ERG issued a three-page statement of support on Tuesday, December 29, concluding:
Our overall conclusion is that the Agreement preserves the UK's sovereignty as a matter of law and fully respects the norms of international sovereign-to-sovereign treaties. The "level playing field" clauses go further than in comparable trade agreements, but their impact on the practical exercise of sovereignty is likely to be limited if addressed by a robust government. In any event they do not prevent the UK from changing its laws as it sees fit at a risk of tariff countermeasures, and if those were unacceptable the Agreement could be terminated on 12 months' notice.
Even Labour — and Opposition — leader Sir Keir Starmer said that he would back the deal (starting at 1:30):
Sixty per cent of Conservative Home readers considered the deal a win.
On the morning of December 30, Graham Stringer, a Labour MP, said that Parliament should support the deal:
However, MPs from Northern Ireland thought differently. They have to abide by the EU rules because they border the Republic of Ireland. MSN Money published a fuller statement from the DUP (Democratic Unionist Party), which reads in part (emphases mine):
Whilst we accept that this agreement does bring about zero tariff and quota arrangements between the United Kingdom and the European Union thus removing many goods from attracting tariffs between Great Britain and Northern Ireland, the fact remains that this agreement does not assist Northern Ireland in the context of having to operate under the Northern Ireland Protocol.
When Parliament is recalled on Wednesday we will vote against this agreement. We will do so as a point of principle and not because we supported a no deal option. A free trade deal is better than no deal but for Northern Ireland this deal does not undo the detrimental aspects of the Protocol.
Understandably many in Great Britain will be able to support these arrangements as applied to Great Britain but sadly for Northern Ireland we will be governed by the arrangements in the Protocol. While Northern Ireland will remain in the UK customs territory and we are out of the Common Agricultural Policy and the Common Fisheries Policy we will be aligned with the EU for manufactured goods and food and animal products alongside other EU imposed restraints.
The removal of a so-called cliff edge on 1 January will be welcomed but more work will be required to ensure that we can maintain free flowing business supply lines from Great Britain into Northern Ireland. To that end we will continue to work with the Government to mitigate against those damaging practical outcomes flowing from the Protocol.
It was a long day in the House of Commons. When bringing in the motion, Speaker of the House, Sir Lindsay Hoyle, mistakenly referred to the Chancellor of the Duchy of Lancaster, Michael Gove, by his first name:
Leader of the Opposition Starmer said that not voting for the agreement was akin to voting 'no deal':
Prime Minister Boris Johnson introduced the new legislation. Scotland's SNP Westminster leader Ian Blackford stuck his oar in, but Boris wasn't having it:
Even the Speaker of the House told Blackford to not intervene — not once, but twice — as time was short. However, Blackford, as always, persisted in interrupting with the same broken record he always plays. I enjoyed when Boris called Blackford's party the Scottish Nationalist Party. It's Scottish National Party, but Boris knew and said 'nationalist … with a small "n"':
Blackford persisted, causing the Speaker to ask him a third time to stop intervening:
Not surprisingly, Scotland's SNP voted against the agreement, the subject of the EU Future Relationship Bill. Gove, also a Scot, called them out in his summation speech before the vote. This is one for the archives. It was pointed yet witty. This was Gove at his best (even though I don't trust the man):
The SNP's Ian Blackford and Stuart O'Grady are on the far right in the video:
Going back to Boris's introduction of the bill. After he spoke, Keir Starmer gave his response as Leader of the Opposition. When he urged his MPs to vote for the agreement, an indignant Theresa May rose to speak her mind. Labour and the other Opposition parties had opposed her deal throughout 2019, leading to her resignation as PM.
The second clip below — 'May's finest moment' — is from 2019. Labour MP Rupa Huq had accused her of 'parliamentary ejaculation'. May said that if Huq 'looked more closely' she would find that she (May) was incapable of such a thing:
On December 30, May was upset with Starmer for not having voted for her deal in 2019. Starmer had called Boris's agreement 'thin' — meaning not enough integration with the EU. May pointed out that if he had voted for her deal the previous year, he would not have had that complaint, 'so I will take no lectures from the Leader of the Opposition on this deal':
When it came time for the vote, 37 Labour MPs rebelled, with three having to resign their shadow front bench posts. One of them, Helen Hayes, is pictured below:
The Mirror reported:
Moments after the result of the vote was declared, frontbencher Helen Hayes announced she had quit her role.
She tweeted: "I'm grateful to all who've contacted me on the EU Future Relationship Bill.
"I can't vote for this damaging deal & have abstained today.
"With much sadness & regret I've offered my resignation as Shadow Cabinet Office Minister. It's been a privilege to serve."
MP for Gower, South Wales, Tonia Antoniazzi said it was "with the deepest regret" she was resigning as a parliamentary aide to the Shadow Scotland and Work and Pensions teams …
Florence Eshalomi, MP for Vauxhall, South London, quit as a whip – a frontbencher responsible for enforcing the leader's power.
She said: "This Bill was rushed and a 'no deal' is the worst outcome for the country but I cannot support the bill and I have abstained.
"I have offered my resignation as an Opposition Whip."
The resignations are a blow for Mr Starmer's bid to reposition the party.
He ordered Labour MPs to back the agreement, believing Labour needed to show voters in its traditional heartlands – most of which overwhelmingly backed Leave in the 2016 referendum – that it has heeded the result.
Urging MPs to back the deal, Mr Starmer told the Commons: "This is a simple vote with a simple choice – do we leave the transition period with the treaty negotiated with the EU or do we leave with no deal?
"Labour will vote to implement this treaty today to avoid no-deal and to put in place a floor from which we can build a strong future relationship with the EU."
It didn't matter much in the end, because the EU Future Relationship Bill passed with 'a stonking majority', as Guido Fawkes put it:
AYES 521
NOES 73
The vote lists aren't out yet, however we can assume around 40 rebels abstained.
PARLY had a further breakdown:
The Conservatives must have been relieved to be able to tweet this — after four and a half years:
The bill was quickly rushed to the House of Lords, which had to debate and vote on it.
Nigel Farage watched the proceedings on BBC Parliament:
A vast majority of the Lords are Remainers.
However, I hope that Farage did not miss Kate Hoey's — Baroness Hoey of Lylehill and Rathlin in the County of Antrim's — tribute to him in the Lords. I saw it and couldn't believe she mentioned him in the Valley of the Remainers, but she did. I was delighted:
The Lords debated for the rest of the night, then voted.
The Queen's Royal Assent was the final step.
One reporter had a very long day:
Royal Assent was granted shortly after midnight on New Year's Eve:
Shortly afterwards, the Daily Mail carried a report with rare, behind-the-scenes photos:
Boris Johnson has heralded a 'new beginning in our country's history' after his Brexit trade deal was signed into law, setting the stage for a smooth divorce from the EU tonight.
The Prime Minister thanked MPs and peers for rushing the Bill through Parliament in just one day so it could take effect at exactly 11pm this evening when the UK's transition period ends.  
At 12.25am, Commons Speaker Sir Lindsay Hoyle told MPs that the EU (Future Relationship) Act 2020, had been granted royal assent by the Queen. 
It enshrines in legislation the trade agreement finally negotiated between London and Brussels last week following more than four years of wrangling since the referendum. 
Shortly before Her Majesty gave the Act her seal of approval, a bullish Mr Johnson marked out a new chapter for Britain, which first joined the bloc in 1973.
He said in a statement: 'I want to thank my fellow MPs and peers for passing this historic Bill and would like to express my gratitude to all of the staff here in Parliament and across Government who have made today possible.
'The destiny of this great country now resides firmly in our hands.
'We take on this duty with a sense of purpose and with the interests of the British public at the heart of everything we do.
'11pm on December 31 marks a new beginning in our country's history and a new relationship with the EU as their biggest ally. This moment is finally upon us and now is the time to seize it.'
More on that and what it means for Boris Johnson's premiership tomorrow.
Last week proved to be another emotive and passionate one in the House of Commons with regard to coronavirus and Brexit.
This post concerns coronavirus.
On Monday, September 14, Prime Minister Boris Johnson's Rule of Six, which he announced on September 9, came into effect. It sounds rather Chinese.
It means that people living in England cannot meet in groups of greater than six, indoors or outdoors. If we do, according to him, we 'will be breaking the law'.
He also introduced a new platoon to keep us in line: COVID marshals, to remind us of existing coronavirus rules in England — 'hands, face, space'.
Recall that Boris said after the December 2019 election that we now have the People's Government. Hmm.
The UK government is copying a Belgian idea. The Rule of Six reduced their second spike.
Increasingly, Britons have been looking back at Sweden, which refused to lock down. Fraser Nelson is the editor of The Spectator. Chris Whitty is our Chief Medical Officer; in May, he said that coronavirus was harmless for most people and most of us would never get it:
Michael Gove MP, a Cabinet minister and Chancellor of the Duchy of Lancaster, made matters worse when he confirmed that under-12s were part of the Rule of Six, unlike in Scotland and Wales, where under-12s are not. With life getting back to normal as school has started again, this came as a blow to many families:
The Telegraph reported that the Cabinet was split on the proposals (emphases mine):
… one senior Tory source said that "half the Cabinet" had doubts about the so-called 'rule of six', and it was "pretty hard to find a Conservative member of Parliament who agrees with all of this".
The COVID marshals are also a problem for police and local councils:
Meanwhile, Mr Johnson's plan for coronavirus marshals to help enforce the six-person rule was unraveling as police derided them as "Covid Wombles" and councils said they were a "gimmick".
Downing Street admitted councils would not be given any money to pay for the marshals, suggesting volunteers could do the job, and said it would be up to individual local authorities to decide whether they actually wanted them.
It got worse, as curfews were mooted:
The Government has discussed going even further with new lockdown restrictions, and has drawn up "a well-developed proposal" for a nationwide curfew which was discussed at ministerial level.
My head spun.
Then the ministerial snitch crowd appeared on weekend news programmes to say that people must tell on their neighbours if they are seen to be violating the Rule of Six:
Political journalist Isabel Oakeshott rightly responded:
I couldn't agree more. This is supposed to be the People's Government, isn't it?
History will not look kindly on 2020 with regard to the measures taken to combat the virus:
I was wrong.
Home Secretary Priti Patel said that people should not even talk when they see friends in the street, even at a distance (audio here, thanks to Guido Fawkes, and there's video, too):
Yebbut, if you DO report what appears to be criminal activity, allegedly, the police do not want to know. Here is a printscreen of a set of comments on a Guido Fawkes thread. I call your attention to the last two. Police would rather pick on mums and their children. Ironically, that was posted on the anniversary of the Battle of Britain. Go figure.
A mild-mannered man from Buckingham called talkRADIO to say he would not comply with the Rule of Six because the Government had gone too far.
So did a lady from Brighton, saying that the Rule of Six was about:
control. They're trying to see how much they can get away with.
Another talkRADIO host, Julia Hartley-Brewer, had a go at Roy Lilley, former NHS Trust chairman. She said:
We are being scared into thinking we have to give up our civil liberties when that won't save lives. Being sensible will save lives.
The Telegraph's Salley Vickers wrote of the restrictions on her and her loved ones:
I would rather risk dying and have the joy of their company than lose that vital contribution to my own happiness.
With the festive season only several weeks away, the Daily Mail's Peter Hitchens told talkRADIO's Mike Graham that the Rule of Six has:
made Christmas an arrestable offence.
Another Daily Mail journalist, Bel Mooney, wrote an editorial for Conservative Woman saying that she was surprised at the amount of resistance she received when she wrote that she would be defying the Rule of Six at Christmas:
… in response to Matt Hancock's sudden, arbitrary and illogical 'rule of six' diktat, I wrote a strong opinion piece (at the request of my newspaper) headlined 'NO, NO, NO! I'm having Christmas for 14 – and no puffed-up Covid marshal will stop me'.
As you might expect, there was a huge response. I never look online, and am not on Twitter (I expect there was a lot of poison swilling around out there). I am talking about emails to me and the newspaper. What interested me was the fact that, if I am to be honest, the antis outnumbered the pros. I didn't expect that from Mail readers.
You can never tell with Mail readers, though. They're a tricky lot.
Oxford University's Professor Carl Heneghan and honorary research fellow Tom Jefferson wrote an article for The Spectator against the Rule of Six, saying that Boris must bin it:
At Oxford University's Centre for Evidence Based Medicine, we have spent years trawling through the scientific evidence on the effects of measures such as distancing on respiratory viral spread. We are not aware of any study pointing to the number six. If it's made up, why not five or seven? …
Northern Ireland has taken a more measured approach and not announced any changes to how many people can meet. These disagreements in policy reveal how decisions are being made without evidence. It seems that somebody in government sat in a cabinet office room and said six is a good idea and nobody disagreed …
The problems with policy stem from the current cabinet's vast inexperience: the Health Secretary has been in post for just over two years now; the PM and the Chief Medical Officer a year. The Joint Biosecurity Centre is overseen by a senior spy who monitors the spread of coronavirus and suppresses new outbreaks. Add to this mix the new chair of the National Institute for Health Protection, who similarly has little or no background in healthcare. Our leaders amount to little more than a Dad's Army of highly paid individuals with little or no experience of the job at hand.
This inexperience leads to rash decisions and arbitrary policies.
One example is that entire areas can be locked down if they have 50 cases per 100,000 people. Yet the recognised alert threshold for 'regular' acute respiratory infections is 400 cases per 100,000.
Lord Sumption, who has been speaking out against lockdown this year, said that the Rule of Six will be unenforceable. I hope he is right:
Tom Tugendhat (Tunbridge and Malling, Con) expressed his concerns about the new rule and rightly wanted MPs to vote on it and similar measures:
It's unlikely that the House of Lords can help, either. They already have a full schedule. We should thank Lord Lamont for raising the issue of consulting the public, however. 'SI' means 'statutory instrument':
Monday, September 14
Behind the scenes and well outside of Parliament, an email emerged dated May 23, wherein Chief Scientific Adviser Sir Patrick Vallance stated he had pushed the most for March's lockdown:
Guido Fawkes has the full text of the email. I am not sure how Sir Patrick thinks that a vaccine will achieve herd immunity, though.
In the first of the debates on the Brexit-related Internal Market Bill, Charles Walker MP (Broxbourne, Con) prefaced his comments by expressing his dismay about the Rule of Six, the lack of consultation with Parliament and the fining of Jeremy Corbyn's brother Piers at the anti-lockdown rally on Saturday, September 12.
Thank you, Charles Walker:
This is short and well worth watching:
Tuesday, September 15
Secretary of State for Health and Social Care Matt Hancock poled up to make a statement to MPs about the Rule of Six and testing.
Excerpts follow:
There are signs that the number of cases in care homes and the number of hospitalisations is starting to rise again, so last week we acted quickly, putting in place new measures—the rule of six, which came into force yesterday. We do not do this lightly, but the cost of doing nothing is much greater.
Testing also has a vital part to play. Everyone in this House knows that we are doing more testing per head of population than almost any other major nation, and I can tell the House that we have now carried out over 20 million tests for coronavirus in this country. As we expand capacity further, we are working round the clock to make sure that everyone who needs a test can get a test. The vast majority of people who use our testing service get a test that is close to home, and the average distance travelled to a test site is now just 5.8 miles —down from 6.4 miles last week; but the whole House knows that there are operational challenges, and we are working hard to fix them.
We have seen a sharp rise in people coming forward for a test, including those who are not eligible.
Jonathan Ashworth (Leicester South, Lab/Co-op), speaking for the opposition, said:
I am grateful for advance sight of the Secretary of State's answer. That was decent of him.​
Yesterday LBC revealed that there were no tests available in covid hotspots, including Rochdale, Pendle and Bradford. Over the weekend in Bolton, where infections are the highest in the country, a mobile testing centre failed to turn up. Meanwhile, in Bury hundreds queued for five hours for a test. In Walsall, a father with his sick child travelled 76 miles to an appointment in Wales, only to find on arrival that tests had run out. Increasing numbers of teachers and pupils are not in school. In hospitals, operations are cancelled while NHS staff are stuck in limbo, waiting for tests.
The Secretary of State blames increased demand, but when tracing consistently fails to reach 80% of contacts, when less than 20% of those with symptoms self-isolate properly and there is a lack of financial security, infections rise. When schools reopen and people return to workplaces and social distancing becomes harder, infections rise. Extra demand on the system was inevitable. Why did he not use the summer to significantly expand NHS lab capacity and fix contact tracing?
Just as demand is increasing, the ability to process tests is diminishing. Post-graduate students working in the Lighthouse labs are returning to university, so why did the Secretary of State not plan for the inevitable staff shortages in the Lighthouse labs? Those commercial pillar 2 labs, The Sunday Times revealed at the weekend, have a huge backlog of 185,000 tests. Thursday's data revealed that 65,709 test results were not returned by the end of the week. Care home residents now wait an average of 83 hours for their result. The Prime Minister promised us a 24-hour turnaround for results, so what is going on? What is the current backlog and what is the timeframe for clearing it?
We were promised a world-beating system, so why are we sending tests to Germany and Italy for processing? But, most importantly, people want to know when they will get a test and when this mess will be fixed. Today there will be thousands of ill people trying to book a test, only to be told none is available. When will people be able to book a test online again, or has the online booking system been deliberately disabled? When will ill people no longer have to travel hundreds of miles for a test that should be available on their doorstep? When will pupils and teachers out of school get access to testing, so they can get back to school? When will NHS staff have access to regular testing, so they can focus on their patients and not be sitting at home?
We are at a perilous moment. Imperial College estimates the virus is doubling every seven to eight days. We all want to avoid further restrictions or another national lockdown, but when testing and contact tracing break down, the growth of the virus cannot be tracked. The Prime Minister promised us whack-a-mole, but instead his mallet is broken. The Secretary of State is losing control of the virus; he needs to fix testing now.
Many MPs — from both Opposition and Conservative benches — said that their constituents could not get tests.
Even the Speaker of the House tweeted that his constituents were having similar problems:
The testing situation is shocking — as Terry-Thomas used to say in the Boulting Brothers films: 'An absolute shower!'
On the upside, the British coronavirus jobs situation is improving, thank goodness (more from Guido here):
Wednesday, September 16
Deputy Labour Leader Angela Rayner (Ashton-under-Lyne) stood at the Opposition despatch box for Prime Minister's Questions (PMQs), as Sir Keir Starmer was self-isolating:
She did a good job.
She began by saying:
Many people in the Chamber will think that the battle of Britain is today, but actually we marked the 80th anniversary of those veterans yesterday, and I want to put on record our thanks to all those who fought for our country in the past.
I want to start by reading to the Prime Minister a message that I have received from a man called Keir. Keir was not able to go to work today and his children could not go to school because his family had to wait for their coronavirus test results, despite the Prime Minister's promise of results within 24 hours. Keir was able to do the right thing and self-isolate and work from home, but other people are not in this position, and many of them are the very people who were getting us through this crisis, such as the care workers, who I used to work alongside before I was elected to this House. The Prime Minister once earned £2,300 an hour; can he tell us the average hourly rate of a care worker in this country?
Boris was singularly unimpressed, although he had a neutral expression on his face, even when discussing Starmer:
I congratulate the hon. Lady on her elevation. She speaks of the constituent Keir, and I can tell her that—allegedly, apparently—he has had a negative test, and I do not know quite why he is not here. But 89% of those who have in-person tests get them the next day, and we are working very fast to turn around all the test requests that we get. I think that most people looking at the record of this country in delivering tests across the nation will see that that compares extremely well with any other European country. We have conducted more testing than any other European country, and that is why we are able to deliver tests and results in 80% of cases where we know the contacts.
The hon. Lady asks about care homes, and I can tell the House that today we are launching the winter care home action plan. She is right to raise the issue of care homes, and we are concerned about infection rates in care homes, but we will do everything we can to ensure that care homes and their workers are protected.
On the hon. Lady's final point, I am proud that it is this Government who have instituted the national living wage to ensure that every worker in this country, including care home workers, is paid substantially more, thanks to the care and the work of the people of this country.
Boris listened attentively and responded sensitively to all the points that Angela Rayner raised until this point, which came several minutes in, when she said:
Infections are rising. The testing system is collapsing. When you are the Prime Minister, you cannot keep trying to blame other people for your own incompetence. We have the highest death toll in Europe, and we are on course for one of the worst recessions in the developed world. This winter, we are staring down the barrel of a second wave, with no plan for the looming crisis. People cannot say goodbye to their loved ones. Grandparents cannot see their grandchildren. Frontline staff cannot get the tests that they need. And what was the top priority for the covid war Cabinet this weekend? Restoring grouse shooting.
I suppose that is good news for people like the Prime Minister's friend who paid for a luxury Christmas getaway to a Caribbean island and funded his leadership campaign, and just so happens to own two grouse moor estates. So Prime Minister, is this really your top priority?
The Prime Minister answered:
While the Labour Opposition have been consistently carping from the sidelines throughout this crisis and raising, frankly, issues that are tangential, if not scare stories about what is going on, we are getting on with delivering for the British public. We are not only massively ramping up. She has not contested any of my statistics today about the extent to which this country is now testing more than any other European country.
She has not disputed the massive acceleration in our programme. [Interruption.] I will answer the substance of her question, thank you very much. We are getting on with delivering on the priorities of the British people: getting us through this covid crisis; delivering on making our country safer, bringing forward measures to stop the early release of dangerous sexual and violent offenders, which I hope she will support; strengthening our Union, which in principle Opposition Front Benchers should support; and building more homes across this country and more affordable homes across this country, which she should support. That is in addition to recruiting more doctors and more nurses, and building more hospitals.
I do not think anybody is in any doubt that this Government are facing some of the most difficult dilemmas that any modern Government have had to face, but every day we are helping to solve them, thanks to the massive common sense of the British people, who are getting on with delivering our programme and our fight against coronavirus. It is with the common sense of the British people that we will succeed, and build back better and stronger than ever before.
If only.
That day, news of an upcoming curfew in London emerged.
Apparently, the British people don't have much common sense, after all.
Currently, London has some of the fewest new coronavirus cases (i.e. positive tests, little hospitalisation):
Guido rightly wrote (emphases in the original here):
If this afternoon's splash from the Evening Standard is true, it is a step too far. The London director of Public Health England (yes, the organisation is still limping on for now, despite the Health Secretary announcing its abolition back in August) has issued a "curfew alert" to the capital through the newspaper, saying residents could face a mandatory curfew if Covid cases continue to rise. A ridiculous suggestion that should be forcefully opposed.
Shutting pubs, bars, restaurants, and just about everything else at an arbitrary hour will obviously do nothing to stop the spread of coronavirus. If anything, the move will be counter-productive – compressing the same number of customers into a shorter time and making social distancing harder still. Or pushing social gatherings into homes not bars, which are thought to be more likely to spread the virus. This no doubt ineffective PHE [Public Health England] nannying should have been dumped when the organisation was. The government need to remember there is a limit to people's compliance. This might just hit it.
As I write early on Tuesday, September 22, Boris is planning to bring in an England-wide curfew for pubs and restaurants on Thursday. As if the virus will know the difference between a 10 p.m. closing time versus the usual one of 11 p.m. The mind boggles.
Thursday, September 17
Matt Hancock appeared again with another update on coronavirus.
This time, it was about measures taken on lockdown in the North East of England. This includes strict adherence to household bubbles, table service only in hospitality venues and a curfew between 10 p.m. and 5 a.m.:
Once again, he was straining every sinew, an expression he has been using since March:
The battle against coronavirus is not over, and while we strain every sinew to spring free of its clutches, with winter on the horizon we must prepare, bolster our defences and come together once again against this common foe.
Then he announced upcoming plans to make everyone using A&E (Accident and Emergency) departments to make a booking! Good grief:
… we are working to get patients the right care in the right place, by expanding the role of NHS 111. During the peak of this pandemic, we saw millions of people using NHS 111, on the phone or online, to get the best possible advice on coronavirus, helping them to stay safe and, where possible, to stay out of hospital, where they could have unknowingly spread the virus. It is crucial that, ahead of winter, we use this window of opportunity to seek out what worked and build on it, so we provide a better service for patients and protect the NHS. Of course, no one will ever be turned away from our emergency departments in the most serious of cases; however, we have worked with the royal colleges, the NHS and others to develop a better, quicker and more clinically appropriate service for patients by using NHS 111 first.
This is how it works. We will invest £24 million to increase call-handling capacity and to make sure there are more clinicians on hand to provide expert advice and guidance, and we will build on our trials to make NHS 111 a gateway to the emergency care system, providing a first port of call for patients. In future, rather than having to queue in an emergency ward, we are testing that people should call NHS 111 first to book an appointment with whoever can give them the most appropriate care, whether it is a GP, a specialist consultant, a pharmacist, a nurse or community services. Of course if they need to go to the emergency department, NHS 111 will be able to book them into an appropriate time slot. We want to see this approach lead to shorter waiting times and better availability of appointments for patients. We will consult on how its performance is best measured, and, with successful pilots, we will roll out NHS 111 First to all trusts from December.
This is the bit that galled me the most:
The purpose of 111 First is to improve access, including in terms of inequalities in the NHS, by ensuring that people get the right treatment in the right place and easier access if they do need to go to an emergency department, because the emergency ​department will know that they are coming. It is commonplace now in almost every part of our life to let people know that we are coming. If we are going to do something as important as visit an emergency department, it will help both the patient seeking treatment and the NHS to let them know that they are coming first. That is the principle behind 111 First. It sits alongside 999, which anybody should call in a serious incident.
'People's government', my eye.
Nor is the NHS the people's health service.
If you have a serious injury, you or your loved ones could be losing life- or limb-saving time by calling 111 or 999.
Based on what I read during the March lockdown, calling 111 was life-threatening. Children calling on behalf of elderly parents were told, 'If your relative is not turning blue, do the best you can.'
Calling the ambulance service on 999 generally produced this result: 'We're overloaded. If you can take your relative to hospital yourself, please do so.'
Over the past few months, I have heard NHS senior executives give testimony to Select Committees. They do not want patients coming in to a hospital, to a GP surgery — anywhere on NHS property.
An absolute shower!
Speaking of absolute showers, Baroness Harding — Dido Harding, a former jockey and failed business consultant/corporate director — gave testimony to a Select Committee, the Commons Science and Technology Committee, led by Greg Clark MP (Tunbridge Wells, Con).
Wow. It was car-crash television on BBC Parliament.
Baroness Harding is, inexplicably, the director of NHS Test and Trace programme.
Greg Clark is no slouch. He pressed and pressed the same question. Did she not anticipate the increase of demand for tests after lockdown lifted?
Finally, she gave the answer.
The Independent reported:
Demand for coronavirus tests is three to four times the number available, the director of NHS test and trace has admitted.
Baroness Dido Harding, who told MPs there was capacity to carry out 242,817 tests a day, said the "sizeable" rise in demand had been unexpected.
Boris Johnson has pledged to raise capacity to 500,000 by next month – but Baroness Harding's estimates suggest that even that figure would not be enough to satisfy demand.
Even then:
despite images of queues outside Covid-19 drive-in centres, the testing tsar said: "I strongly refute that the system is failing."
She put the blame on SAGE …
Baroness Harding insisted current capacity had been based on modelling provided by the government's Scientific Advisory Group for Emergencies (Sage) and suggested that around a quarter of those seeking tests did not have symptoms.
… and the testing laboratories:
Quizzed by the committee chair and former Tory minister Greg Clark on the current issues in the system, she said that the "constraint" in the testing was in processing and laboratories.
On Friday, Sir Jeremy Farrar, a SAGE member and director of the Wellcome Trust, hit back.
The Telegraph reported:
Sir Jeremy Farrar, the director of the Wellcome Trust, who sits on the Government's Scientific Advisory Group for Emergencies, said the body had given "clear advice" that a fully functioning test, track and trace system should be in place …
Responding to her comments on social media, Sir Jeremy said he had personally warned that a growing testing crisis was looming.
"Interesting to be blaming Sage," he wrote on Twitter. "Has been clear, and in the advice, that the UK faced an inevitable increase in community transmission and cases after the summer and needed a fully functional and trusted test, track and trace in place."
Sir Jeremy posted his comments from a BBC interview with Andrew Marr in June, in which he warned of a "nasty rebound" if steps were not taken to improve testing. He also re-posted an article from May in which he warned that lifting restrictions was difficult even with a fully working testing programme in operation.
The testing crisis deepened on Friday when it emerged that children at four out of five schools are staying at home because they cannot get a test …
This coronavirus business will only get worse. Watch and wait.
Part 2 concerns the Brexit-related Internal Market Bill.
On Thursday, February 27, 2020, the Government announced that a No Deal Brexit is still being considered.
It should be noted that the Government does not use the words 'No Deal' anymore. However, for the sake of simplicity, I will continue to do so.
Michael Gove, the Chancellor of the Duchy of Lancaster, took questions in the Commons yesterday, principally on trade talks with the EU:
Liz Truss, the international trade secretary, was meeting with Robert Lighthizer, trade representative from the United States that day.
On February 26, an article in The Telegraph (paywall) said that the parameters of negotiations between the EU and the UK have been changing. The Guardian has an excerpt from the article, further excerpted below (emphases mine):
Earlier this month, Mr Johnson said "early progress" on agreements over financial services and personal data protection would be "a test of the constructive nature of the negotiating process".
But pledges in the political declaration to reach an agreement on financial services by June 2020, and on data by the end of December, were dropped by Brussels when the EU's negotiating mandate was published.
Government sources said that meant Mr Johnson was fully entitled to ignore elements of the political declaration. Britain will refuse to sign up to EU rules on state aid, and will not build any infrastructure to deal with customs declarations on goods crossing from the mainland to Northern Ireland despite EU demands that they must exist.
Yesterday (Thursday), Michael Gove announced the publication of a new, 30-page document, The Future Relationship with the EU: The UK's Approach to Negotiations.
Left-leaning politicians and pundits are dismayed and critical, however, it appears to be consistent with what Prime Minister Boris Johnson and his government have been saying since last year:
– Michael Gove confirmed that the UK will not be under the control of the EU Court of Justice when implementing state aid.
– The Government could walk away from talks with the EU as early as June, if they are not productive. If so, at that point, the Government would focus on domestic arrangements to leave the EU in an orderly manner as possible.
– There is particular concentration on the part of the UK to avoid any alignment with or subjugation to the EU or EU institutions, especially the EU Court of Justice.
The last point is critical when it comes to the EU Arrest Warrant. The Guardian reported this exchange in Parliament (emphases in the original):
Gove was vague when discussing the forthcoming customs arrangements in Northern Ireland, so, no change there.
This was EU negotiator Michel Barnier's response to the UK's new document:
The Guardian reported that another EU official said that the planned June reassessment of talks is in line with the EU's expectations (emphases in purple mine):
Responding to the government's announcement that it may abandon trade talks with the EU if there is not enough progress by June, the European commission spokeswoman Dana Spinant told reporters at a briefing:
In relation to any timeline that was referred to by the UK side today, there is a mid-year rendezvous in June to assess where we are with the negotiations.

So this is probably a very fair timeline to take by the UK prime minister for a rendezvous in which we take stock of the future and chances for a deal, what type of deal.
Asked whether the EU was preparing for the failure to reach a deal, she said it would be "premature to speculate" about the result of those negotiations.
The following Twitter thread, excerpted, comes from the man who heads the Eurasia Group consultancy. He also teaches at the prestigious Sciences Po. His analyses have been quite reliable, so far. 'Bxl' means Brussels:
David GH Frost is one of Boris Johnson's chief advisers:
As anticipated, there will not be enough time to negotiate specific, line-by-line agreements:
It is unclear at this time how damaging this will be to the future of the European Union:
He concludes that the UK will have to align with another nation.
We'll see what happens.
Ultimately, the UK would like to finalise a deal by September 2020.
For my British readers, a documentary well worth watching is the BBC's Laura Kuenssberg's one on Brexit and Boris.
The Brexit Storm Continues: Laura Kuenssberg's Inside Story is very well made, indeed:
Laura gives us behind the scenes footage of herself with the press corps, her BBC colleagues and, best of all, leading Conservative and Labour politicians discussing Boris's first 100 days.
There is some amazing and interesting footage, including a few seconds of the Prime Minister's bare shins. He wears short socks. Perhaps it is time for Carrie Symonds to buy him a few pairs of knee-length ones for televised interviews.
It is obvious that the BBC loathe Boris and it looks as if Laura is no different. They were all rather nasty to top adviser Dominic Cummings at No. 10 in preparing for an interview with Boris.
Speaking more broadly, Laura seemed to think Boris was taking foolhardy gambles with Brexit and the election. Well, we know how the election turned out. We'll find out about Brexit in the New Year.
Contrary to the negative replies from Labour supporters to her tweet above, she is neither a Conservative nor a conservative. She's a canny journalist doing her job, and it's paying off. This documentary bears her name.
All of that aside, viewers will be able to see the offices of Jacob Rees-Mogg and Michael Gove as they welcome Laura for interviews. They will also be able to watch short exchanges with Steve Baker. I enjoyed the little snippet of the BBC trailing Baker and fellow MP Mark Francois after the Saturday, October 19 session in the House. As it was all a bit hard going, Baker asks Francois if he would fancy a drink. The cameras stop just before the two cross the road to repair to a pub.
I am not a BBC news fan, and I don't trust any of their reporters or presenters, but for anyone missing politics over the holiday period, this documentary is well worth watching.