You are currently browsing the tag archive for the 'Mike Pence' tag.
James O'Keefe's Project Veritas team released a third American Pravda video on the New York Times on October 17, 2017.
You can see previous videos by clicking the American Pravda link above.
The third video features an interview with Desiree Shoe, senior home page editor. She's an American who works in London. The interviewers are British. Considering that she is married, she's a bit flirty with them (plays with her hair a lot). Must be the accents.
That aside, there is much Trump Derangement Syndrome:
If you don't want to watch the 13-minute video, Project Veritas have a summary of the interview and Shoe's quotes. Excerpts follow.
We discover that Trump is good for getting new subscribers to the paper. The NYT have labelled this phenomenon the 'Trump bump':
The New York Times senior homepage editor goes on to explain the positive effect of Trump's victory: "Since the election, like you know…Speaking on, you know, for The New York Times, our subscriptions have sky-rocketed since…I mean, they call it the Trump bump."
When asked if the NYT is turning itself into a 'click paper', she responds:
I mean, you're not wrong. Like, I would love to be able to speak my mind completely about…If I ever leave the Times I'll go back to you guys and tell you exactly what I think. But, I mean, there's stuff like…And this is what I was trying to say is like the last couple years it's changed for the bad.
Shoe admits that the paper does lean leftward:
The New York Times is not…I mean, it's widely understood to be liberal-leaning. But, American newspapers are not supposed to claim a bias, they're supposed to be objective.
That sounds reasonable, but clearly, she is adamantly against President Donald Trump:
I feel like Trump is…is just a…is sort of an idiot in a lot of ways. Just an oblivious idiot.
Going back to 2016:
I think one of the things that maybe journalists were thinking about is like…Oh, if we write about him, about how insanely crazy he is and how ludicrous his policies are, then maybe people will read it and be like, oh wow, we shouldn't vote for him.
That said, Shoe opposes impeachment because she really loathes Mike Pence:
If you impeach him, then Pence becomes President, Mike Pence, who's f***ing horrible…I think maybe, possibly worse than Trump.
He's extremely, extremely religious. He [Pence] at one point backed a bill that hinted at conversion therapy for gay people…Which is like electrocution, stuff like that.
(Sigh.)
After the video came out, Shoe quickly protected her Twitter account. Someone created an archive.
Shoe has worked for the NYT since 2009. To date, there has been no fallout from this video. However, it is interesting to see, once again, that the paper's ethical guidelines on impartiality are being violated.
Enough bad news for one week.
Let's look at the solar eclipse as seen at the White House.
The day before, First Lady Melania Trump wore a dress suggesting the sun's rays:
On Monday, August 21, 2017, she wore black:
President Donald Trump dared to look at the sun — momentarily:
The First Couple then donned appropriate eyewear:
First Son Barron, 11, joined his parents:
Vice President Mike Pence was at the Naval Observatory:
Attorney General Jeff Sessions marvelled at the sight of the eclipse:
Here's a dramatic photo:
The solar eclipse had one detractor. What on earth is wrong with these people?
Someone said this was the best eclipse ever. Clever.
The eclipse was visible from coast to coast, from Madras, Oregon to Columbia, South Carolina. Melissa Chan wrote about more about the event for Time:
The rare celestial spectacle on Aug. 21 has a trajectory exclusive to the U.S. for the first time since the nation's birth in 1776. It's also the first total eclipse of the sun that will be visible from the contiguous U.S. since 1979.
For those who do not know, 1776 was the year of American independence.
The Atlantic examined the biblical significance of eclipses as signs of judgement in both the Old and the New Testament, notably at the Crucifixion.
Eclipses are far from being rare occurrences. The Atlantic article says they take place every year and a half. What makes them rare is that they occur in different places, so one is likely to see only one or two in a lifetime. The eclipse of 2010 was visible in the South Pacific. Perhaps some of my readers saw it.
The Atlantic points out that eclipses provoke powerful reactions:
Eclipse viewers are susceptible to emotional responses to solar eclipses, whether they view them as natural phenomena or heavenly wonders. Feelings of fear and awe fall along the same spectrum, and the splendor of astronomical events can sometimes blur the lines.
An Infowars reporter, Millie Weaver, has been crossing the United States doing reports on Flyover Country. She was in Spring City, Tennessee for the eclipse. This is a wonderful video which explores the beauty — and unity — that she and people from the South experienced:
Afterwards, she interviewed two university students from Alabama (near the end of the video). One quipped about the sun being returned to them because Trump negotiated a deal. It turns out that, centuries ago, rulers would tell their people that they could have the sun back after an eclipse if they did what they were told to do.
Americans who missed this eclipse don't have long to wait for the next one. It will be on April 8, 2024 and will be visible from Maine to Texas, via the industrial heartland states of New York, Pennsylvania, Ohio and Indiana.
It is quite possible that Trump will be the first American president to be in office during two solar eclipses in the US.
You can read more about the 2017 eclipse at Time and at the NASA site.
In several countries, Father's Day is celebrated on the third Sunday in June. In 2017, it took place on June 18.
Father's Day history
This special day for dads started in the United States, however, contrary to what we might think, it was not a greeting cards company invention. The Sun reports:
There are a few stories with regards to the beginning of Father's Day.
According to one tale, it first began because of a woman named Grace Golden Clayton from Fairmount, West Virginia.
An orphan, Grace lobbied her local Methodist ministers for a church service to honour fathers in 1908.
The story goes that she was inspired to do this after a mining disaster killed 362 local men.
Their deaths orphaned more than 1,000 children and Grace wanted to pay tribute to the children's dead fathers – as well as her own.
Another story involves the daughter of a civil war veteran, Sonora Smart Dodd, from Arkansas.
While listening to a sermon for Mother's Day, Sonora became convinced of the need to celebrate dads too.
She then campaigned to her religious leaders for a special service dedicated to fathers.
In 1966, President Johnson designated that the third Sunday in June should be Father's Day.
Six years later, the Father's Day was made a permanent national holiday in the US, when, in 1972, President Richard Nixon signed it into law.
It is great to know that the origins were connected with women churchgoers who lobbied their clergymen for recognition of paters familias.
Even in the notionally patriarchal 19th and 20th centuries, fathers were not considered as worthy as mothers of having their own special day.
President Trump
President Donald Trump and his family spent Father's Day at Camp David, their first stay at this presidential retreat near Washington, DC.
Although the First Family were low-key in their tweets about the President — see here and here — a Trump supporter found two photos perfect for his Father's Day:
Vice President Pence
Vice President Mike Pence and his family spent part of last week in their home state of Indiana.
New pets
Whilst there, they bought two new pets, a kitten:
and a puppy. The latter was a present to the Vice President:
Hazel and Harley join the other Pence pets, including the popular rabbit, Marlon Bundo:
I say 'popular', because BOTUS, as the media have dubbed Bundo, overshadowed both Ivanka Trump and HR McMaster on May 9, when the Pences welcomed military families at the Vice President's office. Webgrio has a great set of photographs and an accompanying article, excerpts of which follow:
Ivanka Trump had some competition for attention at the White House Tuesday – and they matched in white with black spots.
The first daughter, wearing a polka dotted dress, spoke to a group of military families for an event marking National Military Appreciation Month, hosted by Vice President Mike Pence and his wife, Karen.
Upstaging Ivanka in the audience of small children was the Pence family pet: the white bunny with black spots, Marlon Bundo …
Karen Pence tweeted a photo of herself about to enter an event with military families at the White House – and she brought a special guest, the BOTUS, Marlon Bundo …
White House National Security Advisor H.R. McMaster spoke at the event after Ivanka Trump saying, "OK, that's the toughest act to follow.' But then the rabbit appeared …
The article says that even Pence couldn't hold the children's interest after his wife left with BOTUS in her arms.
BOTUS Bundo trended heavily on Twitter that week:
BOTUS is the subject of a colouring book which made its way as far as the Asia-Pacific:
Let's hope the Pence menagerie can make friends with the bees at the Vice President's residence:
A time to remember
For the Pences, Father's Day was a time to remember.
Karen Pence tweeted an old family photo:
The Vice President honoured his late father:
A Pence supporter chose to remember the Scalise family, who spent Father's Day in the hospital. Congressman Steve Scalise was the primary victim of a crazed man from Illinois who, on Wednesday, June 14, fired a gun at Republicans practising for the annual Congressional baseball game, a charity event. Scalise is expected to be in hospital for weeks as he recovers from a damaging bullet to the pelvis.
I will have more soon on the man who attempted to take the life of Congressman Scalise.
Interestingly, the Illinois man's family will have no more Father's Days as law enforcement officers intervened and — rightly — fatally shot him.
Life is precious and God-given. Therefore, let's make every day a time to honour and remember our parents. We never know what tomorrow will bring.
On Friday, May 12, 2017 President Donald Trump and First Lady Melania Trump hosted a reception for active-duty troops, their spouses and mothers at the White House.
Mother's Day was on May 14 in the US, and Mrs Trump's speech touched on that beautifully:
As everyone in this room knows, mother is a title that claims your heart and changes your life forever. In fact, it has been said that having a child means allowing your heart to walk around outside of your body.
She added:
For the mothers of someone who has or is serving our country, this must be especially true …
However, I have no idea what kind of different challenges each of you must face as the parent of a soldier. And while you stand with many other parents, so strong and so proud, I am sure that you sometimes march on this journey alone. While your sons and daughters are away serving so selflessly, having a community share even some of that burden must make all the difference in the world.
I want to know – I want you to know, you're among that community today and we are all so proud to be part of it with you. I also want to say thank you for all that you do, for your selflessness and for your own sacrifice on behalf of our country. Let today's celebration with this community of strong and selfless moms be a first step in building the relationships and – and in your knowing that my husband and I, along with the vice president and Mrs. Pence and everyone here at the White House, hold you close in our hearts and thoughts each and every day.
Here's the video:
.
I hope they were able to see the White House Movie Theater, which was opened to the public for the first time that day.
It's heartening to see the Trump White House give the military and their families such deep consideration.
April was the Month of the Military Child and May is Military Appreciation Month in the United States, so the Trumps and the Pences have been holding a number of events for service personnel, their families and veterans.
I do not understand how people still cannot see that the current administration is working for the benefit of all Americans.
Follow the White House site and Twitter feeds to see all the news that Big Media fail to report to the American public.
Hundreds of thousands of people attended the March for Life in Washington, DC on Friday, January 27, 2017. This year's theme was 'The Power of One'.
Local Marches for Life took place around the nation, and a Marche pour la Vie in France attracted tens of thousands of people.
The exact number of participants in Washington is not yet known. However, that is unimportant.
For the first time, a vice president addressed the pro-life crowd. Presidents Ronald Reagan and George W Bush telephoned in to the march during their tenure but never appeared in person.
Mike Pence said, in part:
I'm deeply humbled to stand before you today. I'm deeply humbled to be the first vice president of the United States to ever have the privilege to attend this historic event.
More than 240 years ago, our founders wrote words that have echoed through the ages.
They declared these truths to be self-evident that we are, all of us, endowed by our Creator with certain unalienable rights, and that among these are life, liberty, and the pursuit of happiness.
44 years ago, our Supreme Court turned away from the first of these timeless ideals.
But today, three generations hence, because of all of you, and the many thousands that stand with us in marches like this all across the nation, life is winning again in America.
That is evident in the election of pro-life majorities and the Congress of the United States of America. But it is no more evident, in any way, than in the historic election of a president who stands for a stronger America, a more prosperous America, and a president who, I proudly say, stands for the right to life – President Donald Trump.
President Trump actually asked me to be here with you today. He asked me to thank you for your support, for your stand for life, and for your compassion for the women and children of America.
President Donald Trump could not attend. He held a meeting and press conference with British Prime Minister Theresa May. However, he sent this message:
Another speaker at the event, Christian talk-show host Eric Metaxas, explained Trump's position to The Atlantic:
He's been shockingly, and perhaps even ironically, the most pro-life president in the history of the republic. He is widely perceived as being anything but a social conservative. Somebody who has had three wives and who has been pro-choice most of his life … is not the kind of person you would expect to advocate for the unborn. But he's 70 years old. I think he has a sense of the weight of his new position.
The Atlantic article also stated:
In just his first week, Trump has signaled that he will be loyal to the pro-life movement, whose members arguably helped him carry the White House. The March for Life showed that he's not just amenable to pro-life policies—he's aligning his White House with the culture of the pro-life movement, as well.
Trump's senior counsellor Kellyanne Conway — the first woman to ever manage a winning presidential campaign in the United States — also spoke. Conway turned 50 on Inauguration Day. She is a married mother of four. Despite her hectic work schedule and responsibilities, she loves when her children call her 'mommy'. None dare call this fearless woman — who gives interviews that male Trump advisers won't — a feminist!
I am a wife, a mother, a Catholic, Counselor to the president of the United States of America and, yes, I am pro-life.
It is such an honor to stand with the vice president of the United States. And with so many leaders, families and students from places near and far, to defend the unborn. Your courage, your conviction, your resolve and your faith are impressive and consequential. This is a new day, a new dawn for life …
It is no coincidence that the first right cited in the Declaration of Independence is the right to life. It is a right. It is not a privilege. It is not a choice. It is God-given. It is unique and it is beautiful. This dismissive notion of out of sight, out of mind is over.
Science and medicine have joined religion and morality in causing many Americans to rethink just how fragile and how triumphant human life truly is.
Other speakers included Cardinal Timothy Dolan of New York, Sen. Joni Ernst (R-IA), Rep. Mia Love (R-UT), Rep. Chris Smith (R-NJ), Benjamin Watson, Tight End for the Baltimore Ravens, Abby Johnson, Former Planned Parenthood Director and founder of "And Then There Were None", Karyme Lozano, Mexican telenovela star, and Bishop Vincent Mathews Jr., President at Church of God In Christ World Missions.
Look — no Democrats.
Every time we kill a child, all of us suffer. We lose a little of ourselves and a whole lot of our future. We strip a child from their God-given potential when we, as a society, accept abortion as health care. My fellow Americans, we cannot accept what might have been. We won't know what might have been if we allow an organization to convince our pregnant women that they have no choice but to abort the life and the potential within them.
The night before, Pence met with pro-life leaders:
Earlier on Thursday, LifeNews.com reported that Trump bashed the media, predicting little to no coverage of the march:
Trump first slammed the media in an interview with ABC News. Then today during his address to the Republican Leadership Retreat, Trump said that the March for Life will have hundreds of thousands of people but the mainstream media will barely cover it if it all.
"You know, the press never gives them the credit that they deserve. They'll have three hundred, four hundred, five hundred, six hundred thousand people, you won't even read about it," he said …
"When other people show up, you read big-time about it, right?" Trump asked the crowd, referring to the pro-abortion Women's March …
Trump also defended his decision to sign the Mexico City Policy, defunding International Planned Parenthood.
March for Life president Jeanne Mancini dismissed queries about crowd size. LifeNews.com reported (emphases mine below):
Mancini immediately dismissed any comparison to last week's Women's March on Washington, saying that the organizers were not concerned with crowd size or likes on social networks. Instead, Mancini said that the only number that she was concerned about was abortion's death toll over the 44 years since the Roe vs. Wade decision.
"The only number I care about, and the only number that we all care about is – 58 million. Since 1973, 58 million Americans have died as a result of abortion. We stand here today for them – for the little innocent children who have lost their lives to abortion. We also stand here for the mothers who regret their abortion decision."
I remember back in 1973 when women who supported Roe v Wade told me that very few women would seek abortions. I wonder what they think now that the number of aborted American babies is the size of a nation.
(We also have a figure in the tens of millions here in the UK.)
Now times are changing.
The Catholic League's Bill Donohue wrote 'March for Life Scares Death Industry', which is an excellent article. Donohue says that Trump is sure to appoint a Supreme Court Justice who is pro-life. Last week:
the House passed a bill introduced by Rep. Chris Smith ensuring that the Hyde Amendment, which bans federal abortion funding, will be made permanent, thus vitiating the need for annual reapproval; the bill now goes to the Senate for a vote. On January 12, Rep. Steve King introduced a House bill that would ban an abortion after the baby's heartbeat is detected.
He says that some states are also rethinking abortion:
Last year, Louisiana passed seven new laws restricting abortion. Texas introduced 17 new civil rights laws protecting children in the womb, and 2017 will see at least some of them enacted.
Kentucky just passed two pro-life laws, one of which bans abortions after 20 weeks. Just this month, lawmakers in Florida, New Mexico and Tennessee introduced bills that would also ban abortions after 20 weeks; New Jersey filed a similar bill last month. Moreover, Missouri legislators refiled 14 pro-life bills this month. And Iowa is considering a bill to defund Planned Parenthood.
Another worthwhile article is at American Thinker. 'Obama and the Marxist/Communist View of Marriage and Abortion', which appeared in 2012, is less about him than it is left-wing history from the 19th and 20th centuries, from Marx through to American communists in the 1950s. An excerpt follows:
The Bolsheviks advocated abortion.  It was one of the first things they legalized.  By the early 1920s, Bolshevik Russia had the most liberal abortion policies in the world.  And what happened?  Just like divorce, abortion exploded.  In fact, the proliferation in abortions was so bad that it shocked even Planned Parenthood founder Margaret Sanger during a trip to Russia in 1934.  By the 1970s, when America was just getting around to legalizing abortion, the Soviet Union was averaging over 7 million abortions per year — dwarfing the very worst rates in America post-Roe v. Wade.  The direct effect of this on the Russian population has been staggering.
For the record, Russia's horrific abortion rates are common in communist countries, which to this day lead the world in abortions.
Marx, to my knowledge, did not deal with abortion — to think he would in the mid-19th century is unrealistic.  However, his disciples in the international communist movement a century later certainly did — including here in America.  To cite just one example, Whittaker Chambers noted how abortion "was a commonplace of Party life."  He honestly and painfully wrote about his wife's first pregnancy, when she had to plead for the life of their unborn child.  The blessed birth of that child changed Chambers completely, particularly regarding his views on God.  Interestingly, the termination of an unborn life was no mystery to Chambers' nemesis, Alger Hiss.  Hiss's wife, Priscilla, who aided him in his treason, had an abortion before she met him (for the record, it devastated her).
A final article worth reading on the subject is 'Marxism and Abortion', which recaps a 1988 article by an Australian Communist, Rebecca Albury, for The Tribune, the official newspaper for the Communist Party of Australia. It explains much of why Communists see no value in family. Excerpts follow, so please be sure to read all of it:
A Marxist believes that personality and human value are imparted by the external and economic environment, not by any inherent spiritual value, or even by biological processes.
The humanity of the fetus depends upon how the mother perceives the "social relationship" that exists between them. If the mother desires to keep the baby, then she "fantasizes" it into becoming a human being. But, if she does not want the pregnancy, "it is something else entirely." Her opinion of the fetus thereby denies it of personhood.
According to Albury, "Material conditions of life change, and so do moral values." This means that, to a Marxist, the unborn baby may be a human being for a time, but may then become depersonified and rendered 'pre-human,' all because his or her mother began to think differently about him or her.
That's incredible. I now better understand how Communist regimes can go on killing sprees. They do not look at fellow human beings but rather at what they perceive as depersonalised objects.
This particularly struck me, because we Westerners have been pounded with this egregious message since the 1960s:
Material conditions of life change, and so do moral values.
Parents and church leaders would do well to make sure that youngsters in their care or congregations understand the background to modern immorality, abortion and the people who have supported both throughout modern history.
The Trump transition begins. There's even a new website!
Warmest congratulations go to Kellyanne Conway, the Trumpwhisperer, who is the first woman to manage a victorious presidential campaign in the United States. She was responsible for refining Trump's stump speeches and for putting the kibosh on his excessive tweeting. No one else could do that! Furthermore, her internal polls were spot on. Conway is one tough tigress, make no mistake. She is also married, a mother of four and a practising Catholic.
Also noteworthy is that Hillary Clinton spent nearly twice as much money per vote as Trump and lost: $8.80 to $4.57. Trump has decisively proven you do not need big money to win an election!
President-elect Donald Trump and his wife Melania flew to Washington DC on Thursday, November 10 to meet with the Obamas as well as top Republican congressional leaders Paul Ryan and Mitch McConnell.
Vice President-elect Mike Pence was also in Washington. He met with his outgoing counterpart Joe Biden, in what Pence described as a 'warm reception'. Pence also had a telephone conversation with British Foreign Secretary Boris Johnson, who tweeted:
Just spoken to US VP-elect @mike_pence. We agreed on importance of the special relationship & need to tackle global challenges together
Trump's son-in-law — Ivanka's husband — Jared Kushner was also with the Trumps. During their private meetings, he spent time with White House chief of staff Denis McDonough, who gave him a tour of the Rose Garden. Kushner has been a close adviser to his father-in-law throughout the campaign and is expected to remain so after the inauguration.
Trump and Obama had a 90-minute discussion, far exceeding Trump's expectations.
Melania and Michelle shared tea together, discussed raising children and talked about what it is like to live in the White House.
The Mail has a great set of photos from the day.
Afterwards, Trump tweeted:
A fantastic day in D.C. Met with President Obama for first time. Really good meeting, great chemistry. Melania liked Mrs. O a lot!
Questions have been asked about the Trumps' entrance by a side door and the two couples not posing together for a photo in front of the White House. Things were different eight years ago with Bush 43 (i.e. 43rd president):
Breitbart had more on the matter:
White House Press Secretary Josh Earnest refused to explain the details of the decision but denied the story.
"Not true," he said, during the White House press conference, when asked about the report. He also denied that the lack of a photo opportunity had anything to do with First Lady Michelle Obama not wanting to be photographed with the Trump family. He argued that it was not a "snub" of the Trumps, but rather a different strategy of press access.
The press pool was allowed into the Oval Office on Thursday, to photograph Trump and Obama together after their 90-minute meeting. The two men met alone, with no staffers present.
But Obama snubbed the press by telling Trump not to answer any of their questions after the meeting.
"Here's a good rule. Don't answer any questions," Obama said to Trump after reporters shouted questions at the pair.
Despite the pleasantries exchanged between the two political foes, Earnest specified afterwards that Obama still believed that Trump was unsuitable to be president …
Earnest's remarks contrasted with Obama's welcome of Trump at the White House, promising to meet the standards set by President George W. Bush …
Earnest hinted that the White House might release a photo of the two couples meeting.
Independent Bernie Sanders pledged his support to Trump. The Daily Caller reported:
"Donald Trump tapped into the anger of a declining middle class that is sick and tired of establishment economics, establishment politics and the establishment media," Sanders said. "People are tired of working longer hours for lower wages, of seeing decent paying jobs go to China and other low-wage countries, of billionaires not paying any federal income taxes and of not being able to afford a college education for their kids – all while the very rich become much richer" …
In his statement Sanders went on to say: "To the degree that Mr. Trump is serious about pursuing policies that improve the lives of working families in this country, I and other progressives are prepared to work with him …"
The Democrats' wounds are still raw. Despite Big Media's attempted character assassination of Trump and the voter fraud — which is why his popular vote isn't higher — he prevailed once again. (Are we sick and tired of winning, ladies and gentlemen? Never!)
Business Insider reports that the Democratic Party is in disarray.
It looks very likely that the DNC will replace current interim chair Donna Brazile. A White House staffer yelled at her for being 'part of the problem' in Hillary Clinton's loss.
Politico reports:
No party leader calls have been set to map out a plan ahead, and no signal has come from the White House or from Clinton's team about what comes next. The phone lines were silent, only slowly picking up, and escalating to a fever pitch as the defeated nominee prepared her morning speech and interim DNC chairwoman Donna Brazile sat on the silent 9:00 Acela [train] from New York to Washington.
The Washington Post says that Minnesota Muslim congressman Keith Ellison or former Vermont governor Howard Dean are tipped to lead the DNC. The Huffington Post says Brazile could stay on until March, however, based on the aforementioned yelling:
Thursday's meeting shows at least some party officials want fresh blood at the top.
Early in the morning of Wednesday, November 9, Clinton's team had to get pervy John Podesta to address campaign workers. This is because Clinton had been weeping 'inconsolably', according to Ed Klein author of the recent book on the Clintons, Guilty As Sin. Klein appeared on a radio show later that morning and said:
"She couldn't stop crying.
"Her friend said — her female friend from way, way, back — said that it was even hard to understand what she was saying, she was crying so hard.
"This is Hillary we're talking about," Klein said.
Clinton appeared two hours later dressed like Batman's The Penguin in black and purple. Earlier, Podesta had told everyone to go home. Yet, after Hillary spoke, there was applause. I read somewhere that the delay allowed travel time for a new audience of those closest to her: big wigs.
The New York Times has highlights of her concession speech and Obama's remarks.
Before I go into detail on the protests — all previously organised, none are 'organic' (spontaneous) like Big Media are telling you — Sundance at The Conservative Treehouse has a theory about Obama/Clinton and the demonstrations and riots taking place:
If the ridiculous election protests continue again tonight, then President Obama has not called them off.  That means he and Clinton received no substantive assurances, and are worried about being held to account – prosecuted and investigated.
If the ridiculous election protest do not happen again tonight, then President Obama has called them off.  That means he and Clinton feel more comfortable they will not be held to account – prosecuted and investigated …
Ultimately the Machiavellian political gamesmanship then evolves toward how does Obama/Clinton "feel" about the success of their initial probing for terms.
Demonstrations and riots around the US continued the night of November 10.
After this post, I will be mentioning them as little as I can. They do not deserve the oxygen of publicity, to borrow Margaret Thatcher's phrase.
However, I do want everyone to understand what is happening here.
Americans should note that there are laws on riots — 18 U.S. Code § 2101 — as being criminal rather than examples of freedom of speech. In part:
(a) Whoever travels in interstate or foreign commerce or uses any facility of interstate or foreign commerce, including, but not limited to, the mail, telegraph, telephone, radio, or television, with intent—
(1) to incite a riot; or
(2) to organize, promote, encourage, participate in, or carry on a riot; or
(3) to commit any act of violence in furtherance of a riot; or
(4) to aid or abet any person in inciting or participating in or carrying on a riot or committing any act of violence in furtherance of a riot;
and who either during the course of any such travel or use or thereafter performs or attempts to perform any other overt act for any purpose specified in subparagraph (A), (B), (C), or (D) of this paragraph— [1]
Shall be fined under this title, or imprisoned not more than five years, or both.
I would not hold my breath expecting anyone to be prosecuted. However, after the inauguration, watch for this law to be enforced in future.
The demonstrators in Austin, Texas, who marched not far from the state capitol building, arrived by bus:
Not only that, but they were paid.
At least one ad appeared on Craigslist: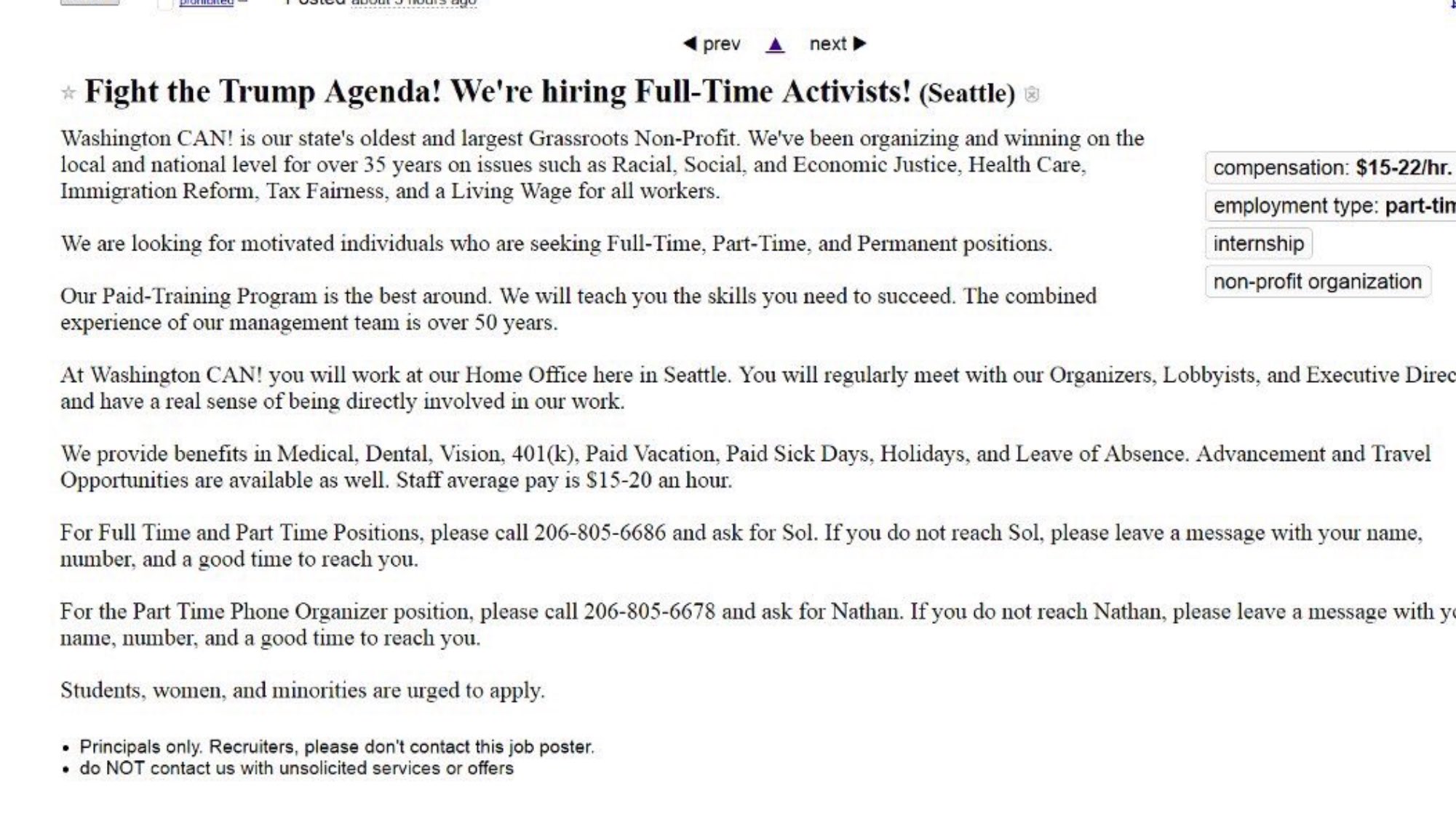 Here's another Craigslist ad, this one for Manhattan, from a European television network (I'm curious):
Earlier on November 10, a panellist on Fox and Friends actually asked if George Soros was funding these demos and riots. This is good, because Big Media never do this. In case the YouTube in the previous link is removed, The_Donald reproduced the exchange:
Brian: "There were no protests for Al Gore, there were no protests for John Kerry, there were no protests for Mitt Romney. What's going on?"
Steve: "Well, back then, George Soros wasn't funding these things. Is he behind this? Don't know!"
Many people say that when Soros dies, all this seditious activity — explained here in detail — will die with him. Not true. His children are every bit as committed to it as he is. One also appears to be involved with the Clinton Spirit Cooking dinners.
Breitbart reported that MoveOn.org — Soros's flagship activist organisation — has anti-Trump protests and riots going on all over America. Amazingly, people actually contribute to MoveOn.
A wide network of organisations affiliated with MoveOn are involved.
In March, after the cancellation of Trump's rally in Chicago, Independent Sentinel listed several groups allied with MoveOn and added:
The billionaire George Soros and other liberal donors bankroll a new $15 million campaign to mobilize Latinos and other immigrants this fall, hoping to channel outrage at  Donald J. Trump and other Republicans into a surge of votes for Democratic candidates in November …
And now that has failed on a national scale, they have today's violent protests, such as this riot in Portland, Oregon. (More here.) If these anarchists and maladjusted folks aren't driving sceptical Americans into the Trump — and gun — camp, I don't know who is.
Below is a list of planned protests from ANSWER (Act Now to Stop War and End Racism). You can also read more here:
Another group to watch for is Socialist Alternative, one of whose directors is a union man, born and bred in Britain, who has lived in Chicago for many years. They, too, have a list of demonstrations.
A number of the protesters are carrying professionally printed signs. One of The_Donald's contributors has seen some that read revcom.us on the bottom, indicating another Soros-funded communist organisation.
It also looks as if Aaron Black — featured in this James O'Keefe Project Veritas video about bird dogging (inciting Trump supporters to violence) — is part of the protest mix. He makes sure everyone is kitted out with signs and whatever else they need. He is supposed to be a background man and says no one should be able to easily identify him at protests.
On Chicago's West Side, a man was dragged out of his car at an intersection and was brutally assaulted. This post has a YouTube video of young men pulling a motorist out of his vehicle, beating him up, stealing items from his car — all abetted by a woman shouting instructions nearby. This tweet has a video of what happened next: the young men got into the car, the man was able to grab onto a door frame and they all sped off around the corner, with the man holding on for dear life. The Chicago Tribune caught up with him afterwards (photo at link). Emphases mine below:
David Wilcox, 49, said he was about to turn left from Kedzie Avenue to Roosevelt Road around 1 p.m. Wednesday when a black sedan pulled up and scraped the right side of his Pontiac Bonneville.
"I stopped and parked. And I asked if they had insurance, and the next thing that I knew they were beating the s— out of me," Wilcox said Thursday …
"They were beating me to have me let go of the car," Wilcox said. "The guy went to 70 and 80 mph. If I let go, I was dead. He slowed to 45. … He tried to push the door open. …So he stepped on it again.
"He stepped up back to 70 and 80, swerved again," Wilcox said. "The wheels on my side left the ground, up to 2 inches. … Then he slowed down. I was looking at oncoming traffic. He probably slowed to about 45. God was watching over for me. I rolled about five or seven times into the oncoming traffic lanes.
"There was a parole officer with a gun and bulletproof vest," he added. "He turned left, and he told me just sit down and wait for the police to come."
Wilcox filled out a police report, but no one was reported in custody Thursday afternoon. Police said they were investigating the beating and who made the "politically divisive" statements in the video.
I wonder if he got his car back. It should have DNA.
Pray for David Wilcox's recovery. He must be undergoing trauma, even if it doesn't show.
If that is not a hate crime, I do not know what is. They could have killed him, directly or indirectly. This got little to no coverage outside of Chicago!
In California, a female high school student near San Francisco was beat up by another classmate — also a girl — for supporting Trump online:
Cellphone video captured the moment a female student attacked sophomore Jade Armenio.
"This girl comes up to me and she said, 'Do you hate Mexicans?' and I was like, 'no,' and she said, 'You support Trump. You hate Mexicans.'"
Armenio says the girl hit her, threw her to the ground, pulled out her earrings and hair. She was left with a bloody nose and scratches and bruises …
The princip[al] of Woodside High School issued a statement that reads in part the recorded incident was investigated in conjunction with law enforcement and appropriate disciplinary action has been taken …
Armenio['s] parents say they are keeping her out of school until they know she'll be safe.
Let's pray for her, too.
Meanwhile, a story that did get nationwide coverage turned out to be false. A university student in Lafayette, Indiana, accused two Trump supporters of tearing off her hijab and stealing her wallet. Thankfully, she confessed to a lie. She should be charged:
The story made national headlines and was featured in The New York Times, The Huffington Post and other national media outlets. Messages of love and support were found all over UL Lafayette's campus after news of the attack spread.
It's unclear whether the student will face charges for filing a false police report.
In closing, here is an interesting exchange from 2013. The_Donald calls it 'the tweet that started it all':
You can't stump the Trump!
And, finally, a great summary of the past few weeks, also from The_Donald:
Protests aside, the next four years are going to be an exciting — and positive — time for all Americans. Trump has a Republican Congress and Senate to help him to restore the Great Republic. Outspoken radio show host Michael Savage says:
God's hand is all over this election.
I truly believe it is.
MAGA!
Last Tuesday, the two vice presidential candidates took part in their one debate of the campaign season.
The Guardian posted a good article about their Catholic origins on October 4, several hours before the debate. A summary follows.
I always say, 'Tell me what you are/were and I can better understand you.' By 'what', I mean religious upbringing. Whatever we have learned about religion at home has shaped our lives: attitudes, mores and so on.
Both Tim Kaine (Democrat) and Mike Pence (Republican) grew up in Irish Catholic households where obligatory Mass attendance was adhered to and where the Kennedys were revered.
Each man had a religious epiphany of sorts during young adulthood.
Tim Kaine
When he was 21, Kaine went on a nine-month mission to Honduras in 1980. The country had just returned to civilian rule in 1979, after years of political instability and conflict with neighbouring El Salvador. The Jesuits there were promoting liberation theology, which promotes social justice over the kingdom of God. Kaine embraced liberation theology and said that his time in Honduras was a 'turning point' for him.
Although traditional Catholics have difficulty accepting social justice cloaked in religion, Kaine's outlook is shared by a sizeable proportion of American Catholics today:
Back in Virginia, where Kaine attends a historically African American Catholic church, the Democratic nominee has also had a run-in with his local bishop, a conservative named Francis DiLorenzo of Richmond. When Kaine said at a Human Rights Campaign gala dinner last month that he believed the Catholic church could change its position against same-sex marriage, DiLorenzo quickly issued a press statement saying the church's 2,000-year position on marriage was "unchanged and resolute", despite rumblings on the campaign trail.
"Kaine is really falling in line with the majority of American Catholics who believe same-sex marriage should be legal and who – perhaps – have more complex views on abortion laws than culture warriors would have us believe," said Michael O'Loughlin, national correspondent for American magazine, a Catholic publication.
This translates as follows:
Like other Catholic Democrats, Kaine has said he is personally opposed to abortion but supports a woman's right to choose the termination of pregnancy. When he served as governor of Virginia, Kaine oversaw 11 executions, despite his own stated objection to the death penalty, which is also opposed by the church.
The social gospel
There seems to be a movement today whereby not only Catholics, but mainstream Protestants as well, view left-wing politics as being in line with the New Testament, hence the continuing popularity of the social gospel, to which many clergy also adhere.
The social gospel has a long and chequered history, no matter how 'nice' some of its adherents have been:
The origins of 'social justice' — you might be surprised
Communism and the Protestant 'social gospel' — a long history
The left-wing origins of 'What would Jesus do?'
The Methodists, Alinsky and Hillary Clinton
I will never forget the following words, which come from the 1953 Committee on Un-American Activities of the U.S. House of Representatives, which I discussed in my aforementioned post on the origins of 'social justice' (emphases in the original):
Deceit was a major policy of Communist propaganda and activity:  'They made fine gestures and honeyed words to the church people … '

Please pay attention, readers! The Bible comes first. Social justice can mask a lot of Satan's finest work.
Mike Pence
Pence calls himself an 'evangelical Catholic'.
He became born again at university:
it was the introduction in college to a group of young evangelical Christians who espoused a much more personal and direct relationship with Jesus that led the Indiana native to become a born-again Christian.
His conversion happened at a Christian music festival in Kentucky. "I gave my life to Jesus Christ and that's changed everything," he has told reporters.
However, Wikipedia says he continued to go to Mass and met his wife at a Catholic church. He was also a Catholic youth minister. In 1994, he self-identified as Catholic. In 1995, however, Pence and his family joined a large Evangelical congregation, Grace Evangelical Church. In 2013, he explained that they were 'kind of looking for a church'.
So, it would appear that he is attending a Protestant church whilst remaining a Catholic.
Senior social justice warriors in the Catholic Church find Pence's stances problematic:
As governor of Indiana, Pence – one of the most staunchly conservative politicians in the US today – had a high-profile run-in with the archbishop of Indianapolis last year following a disagreement over the church's support of Syrian refugees who were settling in Indiana. Archbishop Joseph Tobin ultimately ignored Pence's effort to block the refugees and asked for Catholic charities to assist them. Later, Pence ordered state agencies in Indiana to cut off aid to Syrian refugees, claiming they posed a security risk.
But Tobin, who is considered a more social-justice-minded archbishop, dismissed Pence's remarks, and said in what could have been interpreted as a dig at Pence: "[Helping refugees] is an essential part of our identity as Catholic Christians, and we will continue this life-saving tradition."
Pence, who has signed every abortion bill to cross his desk since he became governor, has made Indiana a lightning rod for controversy.
"If we see Pence not as a Catholic, but as a Republican evangelical Protestant, they are very much opposed to bringing in Syrian refugees, and it makes total sense," said Andrew Chesnut, the Bishop Walter Sullivan chair in Catholic studies at Virginia Commonwealth University.
Pence got into trouble with both left-of-centre Indiana residents and Evangelical pastors with his statewide Religious Freedom Restoration Act. It was meant to allow business owners to operate within their conscience by refusing business to LGBT persons. The uproar was so great — from individuals and corporations alike — that Pence watered down the bill. In April 2015, USA Today reported:
Senate President Pro Tem David Long, in unveiling the revised law, said it will "unequivocably state that Indiana's (religious freedom) law does not and will not be able to discriminate against anyone, anywhere at any time."
The amendment means that for the first time an Indiana law will include the language "sexual orientation" and "gender identity."
After that, Evangelical pastors felt betrayed. The Guardian says:
he was accused by evangelical pastors of abusing their trust.
Pence's 'evangelical Catholic' self-identification is confusing for some:
"During the John Paul years, being 'evangelical Catholic' meant being firmly Catholic but with a preaching instinct. We didn't mean someone who left the church and became evangelical and then tried to put Humpty Dumpty together again," said John Allen, a veteran Vatican reporter.
However, conservative Protestants could find voting for Donald Trump less unsettling with Pence on the ticket:
Pence's views – which some have described as fundamentalist Christian – may assuage their concerns.
We can but see in the early hours of November 9 when the result will be announced.
If Big Media tell you a Democrat had a bad night, believe them.
It rarely happens.
I watched some of the vice presidential debate in the early hours of the morning (UK time). Donald Trump's running mate Mike Pence sounded good, looked good and was in command of facts. He presented himself as sensible and steady.
Hillary Clinton's running mate Tim Kaine had poor optics and presented fewer good arguments. He was a mix of emotion and Alinsky's Rules for Radicals.
I was pleasantly surprised to wake up this morning to find that the crème de la crème of left-wing Big Media agreed with little old Deplorable me.
The Guardian featured pundits and their verdicts in '"It wasn't a pretty night for Tim Kaine": reaction to the vice-presidential debate'. Of course, they are on Hillary's side, but even they couldn't help but notice Kaine failed.
Richard Woolffe, author and contributor to the paper's US site said:
It wasn't a pretty night for the Democratic veep pick. He interrupted too often and smiled too little. He was forced to repeat Trump's worst insults. He looked and sounded too hot, where his rival looked and sounded too sincere.
Kate Aronoff, who writes for In These Times, criticised the Democratic Party:
This was a disappointing night for the Clinton campaign. While Pence kept his cool, Kaine tried to imitate Joe Biden's interruption-heavy performance against Paul Ryan in 2012 – without half his charisma. Kaine's biggest downfall, though, may not have been about tone …
More than the "intelligence surge" Kaine and Clinton keep pushing, the Democratic party needs a surge in imagination, to do more than play defense against attacks from across the aisle and propose transformative solutions, in line with the pain many Americans today are facing. That was sorely missing tonight. 
Carla Sorey-Reed of Reed & Associates and Women Uninterrupted wrote:
At the start, when asked what made him a good candidate for the vice-presidency, Kaine faltered. Looking down, he rushed a heavily scripted first answer, told through the filter of Clinton's point of view, that took too long and strained to connect back to the question. Kaine directed his entire answer off camera, which greatly reduced his engagement with the television audience.
Jamie Weinstein of The Daily Caller told us:
Kaine attempted to act like a bulldog Tuesday night but instead came across as a nipping chihuahua …
Whatever the accuracy of Kaine's attacks on Trump – and make no mistake, they were often accurate – Kaine's style was excessive. By throwing out so many issues in one breath, he made his rhetorical assault hard for viewers to follow. He also made it easy for Pence to ignore him with a shake of the head – a nonverbal "there you go again" …
By contrast, Pence was calm and cool. He methodically hammered home the Trump campaign's positive themes – let's get America's economy moving again, let's put American workers first, let's bring back American jobs, let's project strength in the world, America needs change …
Pence won the debate by a landslide, and it's hard to imagine there will be many in the media who will even attempt to claim otherwise …
Weinstein thought Trump might be jealous of Pence's polished performance, but no:
Another Guardian article, 'The vice-presidential debate: what we learned', gives the main highlights (emphases in the original):
The first and only vice-presidential debate of 2016 is in the can.
• It was punchy, not a bit flat, it moved fast, covered a lot of policy ground, and featured Virginia senator Tim Kaine going after Donald Trump's jugular like a bloodthirsty terrier while Indiana governor Mike Pence projected, mostly, a demeanor of steely calm and determined focus …
Each side accused the other of running a campaign of insults. An "avalanche of insults," Pence called it.
At which Kaine rattled off about 16 insulting things Trump had said and accused Trump of having "kind of a personal mount Rushmore" of dictators he likes.
"Oh please," Pence replied. "Did you work on that one a long time? Because it had a lot of creative lines."
"See if you can defend any of them," Kaine retorted, pointing out that he was merely repeating verbatim things Trump had said …
• Two different world views were on display. Pence: "You've got to err on the side of the safety of the American people." Kaine: "By trashing all Syrians? By trashing all Muslims?"
Kaine employed the usual tactic of interrupting and talking over his opponent. Nearly every left-wing candidate does this, not only in the US but also in the UK and in France (as well as other countries). Sadly, it is a new norm.
The debate took place at Longwood University in Farmville, Virginia. CBS's Elaine Quijano moderated.
She is a news presenter and panel moderator on CBSN:
This was her first time as debate moderator. She did a great job. The Hollywood Reporter has more:
After the two vice presidential candidates continued to interrupt each other in their answers, Quijano broke in: "Gentlemen, the people cannot understand either one of you when you speak over each other. I would please ask you to wait until the other is finished."
Twitter users went online to applaud her for her stern rebuke …
The Conservative Treehouse had a good analysis of the debate — and the vice-presidential role itself. Excerpts follow:
The first test of a presidency is who they select for a Vice Presidential running mate. The single most important characteristic in that role is "stability".
The Vice-Presidential nominee cannot be that creepy/sketchy guy at the end of the bar who hits on your 20-year-old daughter…. or worse.  Unfortunately, Senator Tim Kaine broke the cardinal rule: his behavior made the debate uncomfortable, weird and awkward.
… The Clinton team had a perfectly scripted plan of attack.  The canned narrative was to wedge Pence in a corner and sell the VP-candidate as not defending Donald Trump.
Remember, they simply repeat the road map they learned from Alinsky: "Isolate, Ridicule, Marginalize".   To wit Kaine had one objective, focus on the "isolation" objective.
However, Governor Pence artfully defended Trump; and not only defended the positions of the campaign, but factually embraced the campaign message as his own.  In essence, Pence provided no daylight for the Alinsky wedge.  Pence's approach made the isolation angle impossible …
Kaine's desperation grew more visible, and as a direct consequence his creepy meter quotient increased exponentially.  A massive stability failure.
Governor Mike Pence presented his positions and himself as abundantly loyal, thoughtful gracious, wise and exceptionally stable.  Mike Pence is the guy you want as your neighbor.  Perfect.  The perfect characteristics needed in a Veep candidate.
I hope a lot of voters watched this. It is rather unusual for a vice presidential debate to have so much riding on it, but, then again, 2016 is no ordinary election year.
In closing, Eric Trump (one of Ivana's three children) did an excellent job answering Clinton News Network questions. They even complimented him! But how many times does he have to repeat his answer about tax returns?? Three or four.
Anyway, here are five minutes of brilliance from a political neophyte. You can't stump a Trump: