You are currently browsing the tag archive for the 'Mike Pence' tag.
Thursday, May 10, 2018, was a busy day for President Trump.
It began in the early hours with the welcome home to three Americans who had been detained in North Korea.
It ended with a rally in Elkhart, Indiana, where Trump set the tone for the 2018 mid-term elections.
At the rally, Trump quipped about the long day:
"At 2.a.m. early this morning and by the way I got back to the White House at 4:30 a.m. and somebody said, 'Oh that's ok you can just cancel Indiana tonight.' I said, you just don't know the people of Indiana. I don't have the courage to cancel," he added.
The COO of Donald J. Trump for President was there:
Elkhart is near South Bend, which is home to the University of Notre Dame. The small city is best known for the production of RVs (recreational vehicles). Elkhart still has a small-town look, including a traditional Main Street.
It was a good location for a Trump rally, as the greater South Bend area is known as Michiana, encompassing this part of northern Indiana and the southwestern border with Michigan. It is also fairly close (by American standards) to Chicago. Elkhart is readily accessible by rail, which further added to its appeal.
Incidentally, Obama also liked Elkhart:
While Michiana is filled with Democrat voters, 7,000 Trump fans were inside North Side Middle School's auditorium for the rally, with 10,000 listening to proceedings outdoors.
You can get a full perspective of the packed venue here. To be one of the lucky ones inside a Trump rally, you need to get there early, even 24 hours in advance. Heaven only knows where everyone parked. Yet, people were patient, and some probably made new friends. Meanwhile, the media were setting up their equipment inside the auditorium.
Traffic warnings and road closures made the news. Obama had been in South Bend twice before during his tenure (2009 and 2016), so locals are used to presidential disruption. Protesters were also present.
Regardless of political preference, some local residents made sure they could get a view of the airport when Trump arrived. Local businesses also put up displays welcoming the president; Democrat or Republican, it is 'an honour'.
Local lawmakers either attended or spoke at the rally.
Trump arrived at South Bend International Airport shortly after 6 p.m.
The NBC affiliate, located at Notre Dame, posted a video of Air Force One:
Meanwhile, back in Elkhart, one woman was delighted that CNN's Jim Acosta took a photo of her:
Not everyone was so enthusiastic about CNN, however:
The crowd was revved.
Vice President Mike Pence, former governor of Indiana, attended. He and his wife Karen flew in on Air Force Two:
The crowd gave him a rousing ovation:
He addressed the audience:
He pointed to the jobs success in Elkhart:
And introduced the president:
Before state office holders and Pence spoke, the rally, which started at 7 p.m., began in the traditional way:
Trump began speaking at 7:29 p.m.
Highlights follow. Each tweet linked below has a video clip.
The president acknowledged the crowd:
He spoke about the world's renewed respect for the United States:
.@POTUS: "We are unlocking new opportunities for prosperity and for peace. All of these changes are happening because America is being respected again."
He discussed North Korea:
.@POTUS: "On June 12th, in Singapore, I'll be meeting with Kim Jong Un to pursue a future of peace and security for the world."
.@POTUS: "You know what gets you into nuclear wars and you know what gets you into other wars? Weakness."
Jobs:
Trump: "Here at home. The great news keeps rolling in. 3.3 million new jobs since the election."
Record employment for blacks:
.@POTUS: "African American unemployment has reached the lowest level in the history of our country."
.@POTUS: "We believe that a strong nation must have strong borders."
.@POTUS: "We have pride in our history and respect for our great American flag."
.@POTUS: "We want trade deals that are fair and, by the way, reciprocal."
The new embassy in Jerusalem, which opened on Monday, May 14:
.@POTUS: "Next week we will finally open the American Embassy in Jerusalem."
And Iran:
.@POTUS: "We're putting the harshest, strongest, most stringent sanctions on Iran."
He also criticised Joe Donnelly, the state's Democrat senator for that district who refused to vote for the tax cut and Obamacare repeal.
Trump invited the Republican candidate for Senate onto the platform:
CBS affiliate WSBT had a good summary of the rally speeches, including soundbites from Mike Braun's:
… he said "one of the neatest experiences of my life is spending 30 minutes riding with the president. You wouldn't believe the advice you get."
But also told the crowd he's a businessman and an outsider just like the President — who he calls "his inspiration."
"When I started this journey, almost a year ago, I traveled the states, spent a lot of time in the north. Wanted to make sure this was going to end up with a good result," said Braun. "Wouldn't have done it if I wasn't inspired by what this man did in 2016. He cleared the field systematically and really that was the inspiration for doing it."
Braun said he will "retire Joe Donnelly."
Local reporter Taurean Small from ABC57 summarised Trump's talking points well:
The rally ended at 8:30 p.m.:
Here is RSBN's video of the rally:
Their reporters were happy (The Conservative Treehouse has more videos from them):
Then it was time for President Trump to return to Washington.
This was the motorcade on the way back to the airport:
And finally, as Mike and Karen Pence headed downstate to Indianapolis:
He tweeted Fox News's video of his hour-long speech along with his thanks for the crowd's enthusiasm:
Trump is off and running for MAGA candidates this year. As the year progresses, he will have even more great news to report.
Early in the morning of Thursday, May 10, 2018 (US time), three American citizens arrived on US soil after having been held captive in North Korea.
It was a stunning, historic event not only for them, but also for Secretary of State Mike Pompeo and, certainly, President Donald Trump:
CNN reported (emphases mine):
The Americans — Kim Dong Chul, Kim Hak-song and Kim Sang Duk, also known as Tony Kim — were freed while Pompeo was on a visit to the North Korean capital of Pyongyang to discuss President Trump's upcoming summit with North Korean leader Kim Jong Un …
The three men issued a joint statement thanking Trump.
"We would like to express our deep appreciation to the United States government, President Trump, Secretary Pompeo, and the people of the United States for bringing us home," the trio said in the statement which the State Department supplied to journalists traveling with Pompeo.
Kim Dong Chul has been in North Korean custody since late 2015, but the other two detainees were arrested last spring, after Trump's inauguration as tensions between Washington and Pyongyang were beginning to ramp up.
The White House has often brought up their cases when discussing North Korea issues. As both sides began laying the groundwork for the Trump and Kim's meeting — which would be the first-ever between a sitting US President and North Korean leader — the Trump administration made it clear that releasing the three Americans would be viewed as a gesture of good will.
Aboard the plane leaving North Korea, Pompeo said he was "thrilled to have them back."
Pompeo told the small contingent of reporters traveling with him that the detainees appear to be in good health, or at least as healthy as can be considering the circumstances surrounding their detention …
The state-run Korea Central News Agency said that Kim decided to release the Americans at Trump's suggestion. It added that Pompeo and Kim "reached a satisfactory consensus on the issues discussed" and described the talks as "very beneficial."
Press pool releases, courtesy of Hunter Walker White House Correspondent Yahoo News, were as follows.
This was the order of arrival:
According to staff, at about 2:00 a.m., Vice President Pences helicopter will arrive at Andrews first followed by POTUS. Mike Pompeos plane will come next followed by a medical plane bearing the freed Americans.
The President and First Lady arrived shortly after 2 a.m. on May 10:
Marine One landed at Andrews Air Force Base at approximately 2:18 a.m.
President Trump and First Lady Melania Trump disembarked at about 2:22 am and walked into the terminal. The President didnt respond to shouted questions about whether he had any message ahead of the returnees arrival or whether he had spoken with Kim Jong Un.
Mike Pompeos plane is due to land imminently. —
Trump waited for the appropriate time to leave Marine One. Note the Tylenol® and Diet Coke on the cabinet:
As for the returning Americans:
After coming to Andrews and meeting with the President, the returnees will be going on to Walter Reed for further evaluation and medical treatment. The White House is referring any questions about their medical condition to the State Department.
Reuters has a 41-minute video of the planes landing and the subsequent welcome home for the three men.
The event was carried live around the world, especially South Korea:
Going back to the landings, Mike Pompeo energetically dashed down the steps:
Later, one of the released prisoners gave him a heartfelt hug:
In another tweet, the Washington Post's Anna Fifield added:
Kim Dong-chul … was detained a year before the 2016 election so he probably didn't know until yesterday that Donald Trump is president.
President and Mrs Trump boarded the plane carrying the three men:
They spoke to the men:
And helped guide them to the door:
Then it was time to disembark:
I cannot begin to imagine the joy and relief they must have felt:
Afterwards:
Not to be forgotten was someone Obama's State Department — under John Kerry — did not care much about and told his parents there was not much they could do. Thanks to Rex Tillerson and President Trump, North Korea released Otto Warmbier, who had been in a coma for over a year in prison. He died on June 19, 2017, six days after he arrived back home in Ohio:
Who can say better than this? This is a short, excellent White House video compilation, by the way:
Vice President Mike Pence received three insights into the detainees' experience.
The first was his and his wife Karen's conversations with the men:
Another came from Mike Pompeo:
The third came when one of the three handed Pence a note with verses from Psalm 126 on the reverse. Note that their faith never faltered. Below is the index card (full image courtesy of The Conservative Treehouse):
The Conservative Treehouse has more (emphasis in the original):
Kim Dong Chul, Kim Sang Duk, Kim Hak Soon are the names of the three detainees who were released.  Two of the captives, Hak-Soon and Sang Duk, belong to the Pyongyang Univ of Science & Technology and were detained in Apr & May 2017: they had been held for a year. The third, Kim Dong Chul, is an ordained minister held since 2015 when he was commuting from China and was serving a 10-year sentence on espionage charges.
In closing, the White House released a pleasantly bi-partisan set of statements applauding the release of the detainees. Media kudos are also included.
I'll leave you with the first statement:
The Family of Freed American Tony Kim: "We are very grateful for the release of our husband and father, Tony Kim, and the other two American detainees. We want to thank all of those who have worked toward and contributed to his return home. We also want to thank the President for engaging directly with North Korea. Mostly, we thank God for Tony's safe return."
May God bless the three released Americans and their families richly.
May He also abundantly bless all those who secured their release.
Some reading this would be delighted if President Donald Trump were toppled from office.
With the recent revelations during the past two weeks, it does not appear as if this will happen (thank goodness), but the coup is real.
In July, I wrote about a South African — now American — Evangelical pastor who held a 24/7 prayer vigil at his church praying for Trump's safety.
Pastor Rodney Howard-Browne is no tin-foil hat wearer. The danger is real.
Cascade Free Zone has an excellent article, 'The Deep State Coup', which is brilliantly written and informative. I highly recommend it.
Brief excerpts and a summary follow. Emphases mine below.
The coup has been going on since the November 8, 2016 election. The means and accusations were in place long before then — e.g. the Russian dossier. Note that the dossier is still in active play and old accusations about Trump and women are making the news cycle once again. Impeachment stories feature strongly as do news items about the president's mental state.
Now:
We are approaching the end of the first-phase of the coup. This is a non-military coup, but what we are witnessing clearly fits the definition of "the overt seizure of the state by an elite within the state apparatus".
Renowned patriot author and speaker Matt Bracken, in a series of postings and interviews, has outlined the basic mechanics of the coup.   Central figures include former FBI director James Comey and the Independent Counsel Robert Mueller, assistant US Attorney General Rod Rosenstein and current  acting director of the FBI Andrew McCabe.  Motivation for all of them is self-preservation.  As we have learned Clinton-World was a very corrupt place and the list of self-serving deals and those who benefited from them includes all of the key plotters.  None of them believed there was any chance Hillary would lose and leave them exposed.  She did.  They are.
Here is an illustration of the plot:
The Special Counsel investigation of Russian collusion — led by Robert Mueller — has not found the president guilty of anything.
Meanwhile, several Democrats have found themselves embroiled in impropriety.
So have law enforcement organisations, such as the FBI:
Americans of a certain generation have to strip away the years of propaganda indoctrination that the FBI are "the good guys" and look closely at what they do. The DOJ are their partners in all this, together they are the muscle of the Deep State plotters.
As for the wiretapping — the word the New York Times used in a headline — of Trump Tower last year:
This was clearly an illegal use of the most powerful wiretapping tool in the US law enforcement arsenal. FISA warrants were created to help prevent terrorism, not to ensure election of Deep State approved candidates. It has been criminally misused by the Obama administration to spy on political opponents and blackmail them with the illicitly obtained knowledge.
This goes further than deposing Trump. This is meant to also prevent his successor, Vice President Mike Pence, from taking his place:
the Deep State agenda is not merely to remove Trump, but also to remove Pence, Ryan, McConnell and whoever else stands in their way. Discussion of "do-over elections" is a serious topic there, as is simply removing every person until a flexible insider is found to run things.
Good grief. If that isn't a totalitarian notion, what is?
There are minor — yet seemingly powerful — players, too. Saul Montes-Bradley has a good Twitter thread, excerpted below, spelling edited (photos in the thread):
(3) Two major events occupied out time last year during the campaign: The Clinton investigation over Hillary's corrupt and felonious handling of her office as Secretary of State, and the,"Steele Dossier," that abhorrent and at times sophomoric attempt to besmirch candidate Trump.
(6) I have tried to keep abreast of events as they developed, from the collusion of a venal press with the DNC, to the shenanigans of FBI agents in the Mueller probe.
(8) But it is much, much worse.
And all is coming together now.
Let's bring a few more names to the forefront.
Does anyone remember Aaron Zebley? …
(9) Zebley was Mueller's Chief of Staff at the FBI before becoming a Senior Counselor in the National Security Division at the Department of Justice.
Before that he was Special Agent of the FBI in the Counterterrorism Division for seven years.
(10) In between his two tours at the FBI, Zebley served as an Assistant US Attorney (AUSA) in the National Security and Terrorism Unit in Alexandria, Virginia.
If he is any measure, no wonder the fight against terrorism was an utter failure for years!
(11) In March 2014, he joined the law firm Wilmer Hale. "Aaron's experience at the FBI, DoJ and the US Attorney's Office will add to our internal investigations, crisis management and cybersecurity capabilities," crowed his new managing partner …
wilmerhale.com/pages/publicat…
(12) Guess who this upstanding shyster represented there?
Justin Cooper …
(13) Yep.
The cretin who set up the Hilldebeast private email server in her basement and then took a hammer to the blackberries she claimed she did not use!
The one who handled classified information without a security clearance.
(14) … [Zebley] … went from defending Cooper to the Russia investigation under Mueller, working with McCabe and Strzok, who were supposed to have investigated Cooper…
Go figure.
(15) There's always room for a couple more … in this caper.
Enter Andrew Weissman, for one.
(16) … he returned to the Bureau in 2015 (amazing how many of these vermin found their way back to the bureau in 2015, isn't it.)
This time as Chief of the Criminal Division's Fraud Section.
Fraud, mind you.
(20) There are quite a number more.
Like Jeannie Rhea, a shyster in Mueller's team, who defended Ben Rhodes, finally a focus of the investigation into the "unmasking" caper.
She and 8 others donated to the Hilldebeast's campaign.
(21) Or Rudy Contreras, judge who presided over @GenFlynn's plea agreement without telling anybody he was on the FISA court that authorized the tapping of Trump's phones and God knows why, suddenly remembered and recused himself.
ONE DAY AFTER THE PLEA.
Did he find religion?
(22) And then of course, there's good 'ol Bruce Ohr, former Associate Deputy Attorney General, AND Director of the Organized Crime Drug Enforcement Task Forces.
"Former" since Trump demoted him four days ago …
(23) Why was he demoted?
Oh, well, he forgot to declare a minor detail to the House Permanent Select Committee on Intelligence (HPSCI) investigating a tiny thingy called the "Trump Dossier."
What did he forget?
(24) Nothing much. Just that he had "ties" to Fusion GPS and its founder, Glenn Simpson.
It gets better. Simpson had introduced him to Christopher Steele (though some sources he has known Steele for 10 years!).
(25) Steele, yes, the chap who concocted that abomination paid for by the DNC to smear candidate Trump.
Ohr met with Steele SEVERAL TIMES during the campaign, just as this thing was going on, and back with Simpson soon after the election.
What a coincidence!
(26) In fact, Simpson and Ohr met "around Thanksgiving" to discuss "the anti-Trump dossier, the Russia investigation and what Simpson considered the "distressing development of Trump's victory."
Distressing, indeed. And after all that work, too!
(27) But that's not all.
Who was working with Steele in the cooking of the infamous dossier but Ohr's better half, his wife, Nellie.
What do you know, SHE was HIRED by Fusion GPS in 2016!
Her area of expertise? You guessed it: Russia, Russia Russia.
(28) Ohr didn't declare any of this. Oops! Forgot.
It was discovered by the HPSCI, but only after threatening Director Wray and Deputy Dog Rosenstein with finding them in contempt …
(29) And this in spite of the obstruction of … Adam Schiff, who tried every which way to stop the committee.
Uncharacteristically, he is now silent over this.
Cat ate his tongue.
(30) Who else had his nose in this?
Peter Strzok … who interrogated @GenFlynn without a lawyer and without disclosing his conflicts of interest.
(31) Now, as the Dimms like to remind us, there is under Federal law the crime of conspiracy to perform a criminal act.
Indeed, if it turns out that these band of 3rd world misfits conspired to undermine the investigation into the Clinton mishandling of classified information
(32) AND to pervert the 2016 elections AND to undermine the legitimately elected President of the United states, while endangering the country creating conflicts with foreign powers…
(33) …not to mention other beauties like egregious violations of the Hatch Act, lying to Congress, falsifying information…they should be in a world of trouble …
(34) Meanwhile, five have already been demoted or suspended pending investigation, one has been recused and, suddenly, it looks as if the … charge against @GenFlynn might well end up dismissed as the only evidence against him is the tainted word of a felon.
Poisoned fruit
(35) What upsets me the most, especially today, is that the FBI these vermin corrupted into a political police doing the dirty job of the DNC, neglected its counter espionage functions and endangered us all.
(37) I said months ago that the Dimms may come to regret ever having demanded this investigation.
It looks like that was an understatement.
They swallowed the hook, line and sinker.
Amateur hour is over.
Somebody WAS looking.
FINIS
Ultimately, the coup will fail. In fact, it looks as if many of the players are imploding. More will follow suit.
We can only hope that they are fully investigated and, where possible, prosecuted and sentenced.
Yesterday's post discussed the events that took place Friday, December 1, 2017.
Today's entry serves as an update on the weekend's news. I won't be recapping much of what I wrote about Friday, so you might want to read that post before continuing here.
ABC's Brian Ross
ABC's veteran reporter Brian Ross was suspended for four weeks without pay for his fake news of Friday that caused the US stock market to dip for an hour:
President Donald Trump was delighted:
But he was not yet finished:
Former Arkansas governor Mike Huckabee, father of Press Secretary Sarah Huckabee Sanders, is a past Republican presidential candidate and former Fox News show host:
This lawyer and writer for The Federalist listed more of Ross's huge blunders:
Mueller investigation — Peter Strzok
One of Robert Mueller's top investigators has been sacked from his team investigating the Trump campaign's notional Russian collusion:
One could not make this up:
You can read clips from more articles on that subject here (image courtesy of a Reddit contributor).
Trump chimed in:
Advice came in for the new FBI director, Christopher Wray:
Judicial Watch has been keen for the McAuliffe/Clinton scandal to be investigated:
Their November 21 article begins with this summary:
(Washington, DC) – Judicial Watch today released 79 pages of Justice Department documents concerning ethics issues related to FBI Deputy Director Andrew McCabe's involvement with his wife's political campaign. The documents include an email showing Mrs. McCabe was recruited for a Virginia state senate race in February 2015 by then-Virginia Lieutenant Governor Ralph Northam's office.
The news that Clinton used a private email server broke five days later, on March 2, 2015. Five days after that, former Clinton Foundation board member and Democrat party fundraiser, Virginia Governor Terry McAuliffe, met with the McCabes. She announced her candidacy on March 12. Soon afterward, Clinton/McAuliffe-aligned political groups donated nearly $700,000 (40% of the campaign's total funds) to McCabe's wife for her campaign.
Most Trump supporters knew about that during the 2016 campaign, but it got little media coverage.
Judicial Watch's Tom Fitton has been doing great work in exposing Swamp scandals. See here, here and here.
This is very serious. Can one imagine a Republican getting away with such a thing?
Where's the justice?
Lieutenant General Michael Flynn has been made to look like a criminal for lying to the FBI, but we have senior US officials — present and former — who have committed crimes. The American people are told there is nothing to see.
Congressman Steve Smith (R-Georgia) summarised the situation well:
Trump is, rightly, on the warpath:
Is he having a go at his Attorney General Jeff 'Sleepy' Sessions?
Sleepy will be leaving soon, probably early in 2018.
His immediate recusal from this probe, because it was connected with the Trump campaign and he was part of the campaign, caused a lot of grief for a lot of people, including the spring-summer campaign manager Paul Manafort, whom the Mueller team treated terribly — including a middle-of-the-night FBI raid on his and his wife's home while they were asleep.
What Manafort has been indicted for isn't even related to the Trump campaign but to work he did in Ukraine years before.
See how justly Manafort has been treated:
Obama still acts as if he's in office
But wait, there's more.
Never has there been a US president who hasn't let his successor be in charge.
But not Obama:
Even if he was only referring to climate change, he should do the decent thing.
On December 2, the Washington Examiner reported:
While speaking to a group of business leaders in Paris, former President Barack Obama said there is a "temporary absence of American leadership" when it comes to tackling climate change.
"I grant you that at the moment we have a temporary absence of American leadership on the issue," the former president noted, which was met with laughter from the room full of French former ministers and CEOs at the invite-only event, according to Reuters.
Obama also recently visited China:
Swamp tries to trap CIA director Pompeo
On December 2, the CIA director Mike Pompeo — a Trump appointee — was a guest at the Reagan National Defense Forum.
TrumpSoldier has a detailed Twitter thread on Pompeo's appearance, video clips and still photos included. A summary with most of the tweets follows. I corrected a few original typos below.
The Reagan National Defense Forum (RNDF) sounds conservative until one looks at who is on the steering committee (see point 4), including the CEO/Publisher of the Washington Post, a few Obama appointees, anti-Trump Republican senator John McCain and former Clinton adviser and CIA director Leon Panetta. Fox News's Bret Baier conducted an interview on stage with Pompeo and Panetta (emphases mine below):
5) Mike Pompeo was going into swamp territory and now everything makes sense to me as you will soon see.
6) The slogan for the RNDF is "Investing in Peace Through Strength" I like Peace through Strength but the "investing" part sets off alarm bells. I am not going to investigate who funds them but I imagine it's not pretty.
7) The RNDF is an organization that is run by active and retired swamp creatures whose main purpose is influencing and shaping policy.
8) Mike sat down with Panetta and his lackey Bret Baier for an hour and they discussed world events from a security perspective. It was light hearted and fun and that is all part of the set up.
9) Mike Pompeo is relaxed, joking and having fun. Panetta even tries to connect with him as "two Italians". Bret's ambush questions are strategically placed for maximum effect.
10) The Triggering!
Baier asks Mike Pompeo about Saudi Arabia: Panetta and decades of swamp failure are brought face to face with the dramatic sudden success of Trump Administration Foreign Policy.
11) Everything was jovial up to this point (at about 30 minutes in) Panetta's reactions became really serious and concerned and his responses became lectures. An old swamp thing cut off from power flailing for relevance.
12) The Soft Ball
Baer asks Mike Pompeo how he shares intelligence with Trump.
No real answer, by the way. Good.
14) The Ambush!
Mike Pompeo asked about #FakeNews stores regarding the mental state of President Trump: "It's Absurd" (watch and listen closely)
15) Remember everyone is laughing and having a good time up to this point and on cue as the question is asked Panetta laughs. It was the perfect set up!
16) You can see the moment when Mike senses the trap he licks his lips and smiles ever so slightly. He is ready!
17) Mike breaks character, reveals his power level, and suddenly kills the room! Panetta nervously begins laughing some more to try to lighten the mood. I would have loved to see Baier's face as he absorbed this stare. I guarantee he looked down and away.
18) The next order of business to to try to get Pompeo to listen to the wisdom of a "very concerned" Panetta regarding the danger of #TrumpTweets
19) #TrumpTweets are Dangerous!
Mike Pompeo doesn't think so. He uses them strategically.
In fact, The Hill reported on this interview:
CIA Director Mike Pompeo said on Saturday that President Trump's Twitter habits have actually helped his agency gather and understand intelligence …
 "I've actually seen it help us," he said. "I have seen things the president has put on his Twitter account actually have a real-world impact on our capacity to understand what's going on in other places in the world."
"That is, our adversaries responded to those tweets in ways that were helpful to us to understand command and control issues, who's listening to what messages, how those messages are resonating around the world."
Back now to the Twitter thread. Baier was eager to pursue this line of questioning, even though Pompeo wanted to move on to other topics. Panetta also pressed Pompeo on Trump's tweets, expressing 'concern'.

22) Note Mike's body language and comments he really is trying to politely end the conversation but they keep pushing…
23) THE KILL
CIA Director Mike Pompeo reminds old swamp creature (Leon Panetta) that he is a failure and irrelevant.
24) After you are done laughing consider how deadly serious this was. It was a carefully orchestrated trap completely scripted and gamed out in advance and Mike came up aces!
25) Pompeo's ruthless defense of Donald Trump speaks volumes about his loyalty and dedication to the cause. His defense of #TrumpTweets confirms that they are highly strategic and coordinated with the CIA. This frightens everyone… but us.
No doubt this week's narrative will be about Trump's mental health again.
The Left's dirty game
For over a year, the media and other Democrats have been saying that it was wrong for the Trump team to speak to the Russians prior to the inauguration.
It is legal and something that every president-elect's transition team does.
As for contact with Russia during the campaign, to date, Mueller's team has found nothing, except for the abortive meeting with the Russian lawyer. Donald Trump Jr, Paul Manafort and Jared Kushner left soon after it started. President Trump was unaware of it at the time.
My post yesterday listed three meetings that campaign advisers to then-candidate Obama had with Hamas and FARC. When he was still president-elect in January 2009, he met with the president of Mexico.
The Democrats — including the media — are being very dishonest with this anti-Trump narrative which is dividing the country.
In January 2017, Obama's press secretary Mark Toner said there was no problem with the Trump team speaking with the Russian ambassador:
That text comes from the transcript of January 13. This is what precedes it:
QUESTION: — reports starting yesterday, but then more of them this morning, about contact between the incoming national security advisor and the Russian ambassador. I'm just wondering, from the State Department's point of view, is this something that's of concern at all? Or – I'll just leave it there and then follow up.
MR TONER: Again, not necessarily – I've seen the reports. I don't think they've been confirmed or corroborated yet. But that's – as he's part of the transition team, that's really for them to speak to in how they are engaging. I mean —
QUESTION: Right, but —
MR TONER: — the president-elect is also engaged on his own with many world leaders.
Lt Gen Michael Flynn
Now a word about the embattled Lt General Michael Flynn.
On Saturday, December 2, Trump tweeted:
And:
The Conservative Treehouse has a good analysis and timeline of Flynn and the Russian ambassador, including Flynn's dismissal. Excerpts follow (emphases in the original):
Many people have asked the question why would Michael Flynn have lied about talking to Russian Ambassador Sergey Kislyak in the first place?
It's a great question.
The Occam's Razor answer is the toxic political environment that existed in January 2017, where the administration was being hammered by a tsunami of media narratives and political opposition claiming that any scintilla of contact with anything Russian meant that Putin and Trump were "colluding" BFFs,…. and Flynn didn't want to fuel that nonsense.
That's really the only reason to mislead about Russian contacts.
And/or once Vice-President Mike Pence made the statement that Flynn had no contact with anyone from Russia etc. any contradictory statement from Flynn would make Pence appear compromised; so Flynn had to stick to it without clarification.
Sunday January 15th – VP-elect Mike Pence appears on Face The Nation. [Transcript Here] …
[*NOTE* Notice the narrative questioning at the time (early Jan) was framed that 'any contact' with Russians was evidence of meddling/election-collusion with Russians.]
•Friday January 20th – Inauguration
•Tuesday January 24th – Lt. Gen. Mike Flynn was interviewed at the WH by the FBI.  [Either Flynn contradicts Pence, or he tells a lie, those were his options.]
Afterwards, having received a report of the interview, Department of Justice (DOJ) employee, Sally Yates — since fired — had discussions about Flynn with other senior Obama holdovers still working there. This was what brought about the charge that Flynn lied to the FBI.
Another part of this story is that Flynn had talked to the Russian ambassador in December 2016 about the sanctions that Obama had imposed on Russia.
The following comes from The Last Refuge, the founder and author of The Conservative Treehouse (emphases mine below):
11. So on December 29th, sanctions day, Flynn spoke to Russian Ambassador Sergey Kislyak… Essentially, saying 'chill out, we'll get through this' etc.
14. We arrive at Sunday January 15th. VP-Elect Mike Pence appears on Sunday talks to discuss political stuff and the Trump administration.
15. On that Sunday 1/15/17 Pence appeared on CBS Face the nation (John Dickerson)
16. What does Dickerson start off with? Of course – The Vast Russian Hacking Election conspiracy: "did any advisor or anybody in the Trump campaign have any contact with the Russians who were trying to meddle in the election?"
17. Amid the questioning, there is no distinction between *BEFORE* the election, and during the President-Elect transition period (ie. *AFTER* the election). It's just one long framed question about "contact" and "collusion" etc.
18. And with that framework VP-Elect Pence says: "Of course not. And I think to suggest that is to give credence to some of these bizarre rumors that have swirled around the candidacy."
19. VP-Pence says "of course not", ie NO CONTACT. In doing so, and without pointing out the transition team would have ordinary and customary contact, Pence has now painted Flynn into a corner.
20. Flynn has had contact (ordinary and appropriate contact), but VP-Elect Pence gave an emphatic: "Of course not."
22. The January 24th [FBI] interview is where the "Flynn Lied" to the FBI came from.
23. At the time of the interview the media cycle was filled with intelligence leaks. During that interview Flynn had two options: Option #1) tell investigators he did have conversations with Kislyak in December – and as a consequence contradict VP Pence.
24. Option #2) tell investigators he did not have conversations with the Russians (Kislyak) and align with VP Pence statement a week prior.
Option #1 puts the criticism and Russia story on VP Pence for lying to CBS. (He didn't, because the question was vague on timing but that didn't matter amid the frenzy) and as an outcome weaken the incoming administration 4 days after inauguration.
26. Option #2 puts himself at risk; but protects VP Pence and avoids the immediacy of a narrative against the White House and new administration.
27. Likely Flynn knew the FBI was up to no good because they probably already knew the answer to the question (wiretapping). But these decisions were about politics amid the frenzied media swarm. The downstream sh[*]t-storm on Pence would have been brutal.
28. The very next day, Wed Jan 25th, Sally Yates (DOJ) gets an after action report on the FBI questioning of Flynn.
37. Note the presumption here is that Flynn had lied to VP Pence. However, there is nothing to indicate that angle/aspect is or was actually correct. Specifically, there is ample evidence the 'lie to Pence', evolved from a storyline -driven by necessity- to save face for Pence.
38. The administration was now boxed in. Flynn lied to protect Pence's political posture/integrity/position, (ie. Military Leadership Training 101: never compromise your leadership), but was now confronted by Sally Yates. FUBAR!!
Conclusion — thus far
It seems this past weekend served, in part, as a watershed moment.
As I write, Trump's Twitter account has over 43m subscribers. Imagine factoring in millions of others, e.g. yours truly, who don't subscribe but check it at least once a day.
Tens of millions of people are reading and passing his tweets along to millions more every day.
Over time, that's a lot of red pills being handed out.
Trump is taking this time to get the American people psychologically prepared for The Storm / the Silent War.
I have read several online commenters saying that they never realised how corrupt America is until they read about the Strzok dismissal and the crookedness of this Mueller investigation which, so far, has cost around $5m in taxpayer money.
Meanwhile, actual criminals who served at federal level are on the loose. Where's the DOJ? Where's the justice?
James O'Keefe's Project Veritas team released a third American Pravda video on the New York Times on October 17, 2017.
You can see previous videos by clicking the American Pravda link above.
The third video features an interview with Desiree Shoe, senior home page editor. She's an American who works in London. The interviewers are British. Considering that she is married, she's a bit flirty with them (plays with her hair a lot). Must be the accents.
That aside, there is much Trump Derangement Syndrome:
If you don't want to watch the 13-minute video, Project Veritas have a summary of the interview and Shoe's quotes. Excerpts follow.
We discover that Trump is good for getting new subscribers to the paper. The NYT have labelled this phenomenon the 'Trump bump':
The New York Times senior homepage editor goes on to explain the positive effect of Trump's victory: "Since the election, like you know…Speaking on, you know, for The New York Times, our subscriptions have sky-rocketed since…I mean, they call it the Trump bump."
When asked if the NYT is turning itself into a 'click paper', she responds:
I mean, you're not wrong. Like, I would love to be able to speak my mind completely about…If I ever leave the Times I'll go back to you guys and tell you exactly what I think. But, I mean, there's stuff like…And this is what I was trying to say is like the last couple years it's changed for the bad.
Shoe admits that the paper does lean leftward:
The New York Times is not…I mean, it's widely understood to be liberal-leaning. But, American newspapers are not supposed to claim a bias, they're supposed to be objective.
That sounds reasonable, but clearly, she is adamantly against President Donald Trump:
I feel like Trump is…is just a…is sort of an idiot in a lot of ways. Just an oblivious idiot.
Going back to 2016:
I think one of the things that maybe journalists were thinking about is like…Oh, if we write about him, about how insanely crazy he is and how ludicrous his policies are, then maybe people will read it and be like, oh wow, we shouldn't vote for him.
That said, Shoe opposes impeachment because she really loathes Mike Pence:
If you impeach him, then Pence becomes President, Mike Pence, who's f***ing horrible…I think maybe, possibly worse than Trump.
He's extremely, extremely religious. He [Pence] at one point backed a bill that hinted at conversion therapy for gay people…Which is like electrocution, stuff like that.
(Sigh.)
After the video came out, Shoe quickly protected her Twitter account. Someone created an archive.
Shoe has worked for the NYT since 2009. To date, there has been no fallout from this video. However, it is interesting to see, once again, that the paper's ethical guidelines on impartiality are being violated.
Enough bad news for one week.
Let's look at the solar eclipse as seen at the White House.
The day before, First Lady Melania Trump wore a dress suggesting the sun's rays:
On Monday, August 21, 2017, she wore black:
President Donald Trump dared to look at the sun — momentarily:
The First Couple then donned appropriate eyewear:
First Son Barron, 11, joined his parents:
Vice President Mike Pence was at the Naval Observatory:
Attorney General Jeff Sessions marvelled at the sight of the eclipse:
Here's a dramatic photo:
The solar eclipse had one detractor. What on earth is wrong with these people?
Someone said this was the best eclipse ever. Clever.
The eclipse was visible from coast to coast, from Madras, Oregon to Columbia, South Carolina. Melissa Chan wrote about more about the event for Time:
The rare celestial spectacle on Aug. 21 has a trajectory exclusive to the U.S. for the first time since the nation's birth in 1776. It's also the first total eclipse of the sun that will be visible from the contiguous U.S. since 1979.
For those who do not know, 1776 was the year of American independence.
The Atlantic examined the biblical significance of eclipses as signs of judgement in both the Old and the New Testament, notably at the Crucifixion.
Eclipses are far from being rare occurrences. The Atlantic article says they take place every year and a half. What makes them rare is that they occur in different places, so one is likely to see only one or two in a lifetime. The eclipse of 2010 was visible in the South Pacific. Perhaps some of my readers saw it.
The Atlantic points out that eclipses provoke powerful reactions:
Eclipse viewers are susceptible to emotional responses to solar eclipses, whether they view them as natural phenomena or heavenly wonders. Feelings of fear and awe fall along the same spectrum, and the splendor of astronomical events can sometimes blur the lines.
An Infowars reporter, Millie Weaver, has been crossing the United States doing reports on Flyover Country. She was in Spring City, Tennessee for the eclipse. This is a wonderful video which explores the beauty — and unity — that she and people from the South experienced:
Afterwards, she interviewed two university students from Alabama (near the end of the video). One quipped about the sun being returned to them because Trump negotiated a deal. It turns out that, centuries ago, rulers would tell their people that they could have the sun back after an eclipse if they did what they were told to do.
Americans who missed this eclipse don't have long to wait for the next one. It will be on April 8, 2024 and will be visible from Maine to Texas, via the industrial heartland states of New York, Pennsylvania, Ohio and Indiana.
It is quite possible that Trump will be the first American president to be in office during two solar eclipses in the US.
You can read more about the 2017 eclipse at Time and at the NASA site.
In several countries, Father's Day is celebrated on the third Sunday in June. In 2017, it took place on June 18.
Father's Day history
This special day for dads started in the United States, however, contrary to what we might think, it was not a greeting cards company invention. The Sun reports:
There are a few stories with regards to the beginning of Father's Day.
According to one tale, it first began because of a woman named Grace Golden Clayton from Fairmount, West Virginia.
An orphan, Grace lobbied her local Methodist ministers for a church service to honour fathers in 1908.
The story goes that she was inspired to do this after a mining disaster killed 362 local men.
Their deaths orphaned more than 1,000 children and Grace wanted to pay tribute to the children's dead fathers – as well as her own.
Another story involves the daughter of a civil war veteran, Sonora Smart Dodd, from Arkansas.
While listening to a sermon for Mother's Day, Sonora became convinced of the need to celebrate dads too.
She then campaigned to her religious leaders for a special service dedicated to fathers.
In 1966, President Johnson designated that the third Sunday in June should be Father's Day.
Six years later, the Father's Day was made a permanent national holiday in the US, when, in 1972, President Richard Nixon signed it into law.
It is great to know that the origins were connected with women churchgoers who lobbied their clergymen for recognition of paters familias.
Even in the notionally patriarchal 19th and 20th centuries, fathers were not considered as worthy as mothers of having their own special day.
President Trump
President Donald Trump and his family spent Father's Day at Camp David, their first stay at this presidential retreat near Washington, DC.
Although the First Family were low-key in their tweets about the President — see here and here — a Trump supporter found two photos perfect for his Father's Day:
Vice President Pence
Vice President Mike Pence and his family spent part of last week in their home state of Indiana.
New pets
Whilst there, they bought two new pets, a kitten:
and a puppy. The latter was a present to the Vice President:
Hazel and Harley join the other Pence pets, including the popular rabbit, Marlon Bundo:
I say 'popular', because BOTUS, as the media have dubbed Bundo, overshadowed both Ivanka Trump and HR McMaster on May 9, when the Pences welcomed military families at the Vice President's office. Webgrio has a great set of photographs and an accompanying article, excerpts of which follow:
Ivanka Trump had some competition for attention at the White House Tuesday – and they matched in white with black spots.
The first daughter, wearing a polka dotted dress, spoke to a group of military families for an event marking National Military Appreciation Month, hosted by Vice President Mike Pence and his wife, Karen.
Upstaging Ivanka in the audience of small children was the Pence family pet: the white bunny with black spots, Marlon Bundo …
Karen Pence tweeted a photo of herself about to enter an event with military families at the White House – and she brought a special guest, the BOTUS, Marlon Bundo …
White House National Security Advisor H.R. McMaster spoke at the event after Ivanka Trump saying, "OK, that's the toughest act to follow.' But then the rabbit appeared …
The article says that even Pence couldn't hold the children's interest after his wife left with BOTUS in her arms.
BOTUS Bundo trended heavily on Twitter that week:
BOTUS is the subject of a colouring book which made its way as far as the Asia-Pacific:
Let's hope the Pence menagerie can make friends with the bees at the Vice President's residence:
A time to remember
For the Pences, Father's Day was a time to remember.
Karen Pence tweeted an old family photo:
The Vice President honoured his late father:
A Pence supporter chose to remember the Scalise family, who spent Father's Day in the hospital. Congressman Steve Scalise was the primary victim of a crazed man from Illinois who, on Wednesday, June 14, fired a gun at Republicans practising for the annual Congressional baseball game, a charity event. Scalise is expected to be in hospital for weeks as he recovers from a damaging bullet to the pelvis.
I will have more soon on the man who attempted to take the life of Congressman Scalise.
Interestingly, the Illinois man's family will have no more Father's Days as law enforcement officers intervened and — rightly — fatally shot him.
Life is precious and God-given. Therefore, let's make every day a time to honour and remember our parents. We never know what tomorrow will bring.
On Friday, May 12, 2017 President Donald Trump and First Lady Melania Trump hosted a reception for active-duty troops, their spouses and mothers at the White House.
Mother's Day was on May 14 in the US, and Mrs Trump's speech touched on that beautifully:
As everyone in this room knows, mother is a title that claims your heart and changes your life forever. In fact, it has been said that having a child means allowing your heart to walk around outside of your body.
She added:
For the mothers of someone who has or is serving our country, this must be especially true …
However, I have no idea what kind of different challenges each of you must face as the parent of a soldier. And while you stand with many other parents, so strong and so proud, I am sure that you sometimes march on this journey alone. While your sons and daughters are away serving so selflessly, having a community share even some of that burden must make all the difference in the world.
I want to know – I want you to know, you're among that community today and we are all so proud to be part of it with you. I also want to say thank you for all that you do, for your selflessness and for your own sacrifice on behalf of our country. Let today's celebration with this community of strong and selfless moms be a first step in building the relationships and – and in your knowing that my husband and I, along with the vice president and Mrs. Pence and everyone here at the White House, hold you close in our hearts and thoughts each and every day.
Here's the video:
.
I hope they were able to see the White House Movie Theater, which was opened to the public for the first time that day.
It's heartening to see the Trump White House give the military and their families such deep consideration.
April was the Month of the Military Child and May is Military Appreciation Month in the United States, so the Trumps and the Pences have been holding a number of events for service personnel, their families and veterans.
I do not understand how people still cannot see that the current administration is working for the benefit of all Americans.
Follow the White House site and Twitter feeds to see all the news that Big Media fail to report to the American public.
Hundreds of thousands of people attended the March for Life in Washington, DC on Friday, January 27, 2017. This year's theme was 'The Power of One'.
Local Marches for Life took place around the nation, and a Marche pour la Vie in France attracted tens of thousands of people.
The exact number of participants in Washington is not yet known. However, that is unimportant.
For the first time, a vice president addressed the pro-life crowd. Presidents Ronald Reagan and George W Bush telephoned in to the march during their tenure but never appeared in person.
Mike Pence said, in part:
I'm deeply humbled to stand before you today. I'm deeply humbled to be the first vice president of the United States to ever have the privilege to attend this historic event.
More than 240 years ago, our founders wrote words that have echoed through the ages.
They declared these truths to be self-evident that we are, all of us, endowed by our Creator with certain unalienable rights, and that among these are life, liberty, and the pursuit of happiness.
44 years ago, our Supreme Court turned away from the first of these timeless ideals.
But today, three generations hence, because of all of you, and the many thousands that stand with us in marches like this all across the nation, life is winning again in America.
That is evident in the election of pro-life majorities and the Congress of the United States of America. But it is no more evident, in any way, than in the historic election of a president who stands for a stronger America, a more prosperous America, and a president who, I proudly say, stands for the right to life – President Donald Trump.
President Trump actually asked me to be here with you today. He asked me to thank you for your support, for your stand for life, and for your compassion for the women and children of America.
President Donald Trump could not attend. He held a meeting and press conference with British Prime Minister Theresa May. However, he sent this message:
Another speaker at the event, Christian talk-show host Eric Metaxas, explained Trump's position to The Atlantic:
He's been shockingly, and perhaps even ironically, the most pro-life president in the history of the republic. He is widely perceived as being anything but a social conservative. Somebody who has had three wives and who has been pro-choice most of his life … is not the kind of person you would expect to advocate for the unborn. But he's 70 years old. I think he has a sense of the weight of his new position.
The Atlantic article also stated:
In just his first week, Trump has signaled that he will be loyal to the pro-life movement, whose members arguably helped him carry the White House. The March for Life showed that he's not just amenable to pro-life policies—he's aligning his White House with the culture of the pro-life movement, as well.
Trump's senior counsellor Kellyanne Conway — the first woman to ever manage a winning presidential campaign in the United States — also spoke. Conway turned 50 on Inauguration Day. She is a married mother of four. Despite her hectic work schedule and responsibilities, she loves when her children call her 'mommy'. None dare call this fearless woman — who gives interviews that male Trump advisers won't — a feminist!
I am a wife, a mother, a Catholic, Counselor to the president of the United States of America and, yes, I am pro-life.
It is such an honor to stand with the vice president of the United States. And with so many leaders, families and students from places near and far, to defend the unborn. Your courage, your conviction, your resolve and your faith are impressive and consequential. This is a new day, a new dawn for life …
It is no coincidence that the first right cited in the Declaration of Independence is the right to life. It is a right. It is not a privilege. It is not a choice. It is God-given. It is unique and it is beautiful. This dismissive notion of out of sight, out of mind is over.
Science and medicine have joined religion and morality in causing many Americans to rethink just how fragile and how triumphant human life truly is.
Other speakers included Cardinal Timothy Dolan of New York, Sen. Joni Ernst (R-IA), Rep. Mia Love (R-UT), Rep. Chris Smith (R-NJ), Benjamin Watson, Tight End for the Baltimore Ravens, Abby Johnson, Former Planned Parenthood Director and founder of "And Then There Were None", Karyme Lozano, Mexican telenovela star, and Bishop Vincent Mathews Jr., President at Church of God In Christ World Missions.
Look — no Democrats.
Every time we kill a child, all of us suffer. We lose a little of ourselves and a whole lot of our future. We strip a child from their God-given potential when we, as a society, accept abortion as health care. My fellow Americans, we cannot accept what might have been. We won't know what might have been if we allow an organization to convince our pregnant women that they have no choice but to abort the life and the potential within them.
The night before, Pence met with pro-life leaders:
Earlier on Thursday, LifeNews.com reported that Trump bashed the media, predicting little to no coverage of the march:
Trump first slammed the media in an interview with ABC News. Then today during his address to the Republican Leadership Retreat, Trump said that the March for Life will have hundreds of thousands of people but the mainstream media will barely cover it if it all.
"You know, the press never gives them the credit that they deserve. They'll have three hundred, four hundred, five hundred, six hundred thousand people, you won't even read about it," he said …
"When other people show up, you read big-time about it, right?" Trump asked the crowd, referring to the pro-abortion Women's March …
Trump also defended his decision to sign the Mexico City Policy, defunding International Planned Parenthood.
March for Life president Jeanne Mancini dismissed queries about crowd size. LifeNews.com reported (emphases mine below):
Mancini immediately dismissed any comparison to last week's Women's March on Washington, saying that the organizers were not concerned with crowd size or likes on social networks. Instead, Mancini said that the only number that she was concerned about was abortion's death toll over the 44 years since the Roe vs. Wade decision.
"The only number I care about, and the only number that we all care about is – 58 million. Since 1973, 58 million Americans have died as a result of abortion. We stand here today for them – for the little innocent children who have lost their lives to abortion. We also stand here for the mothers who regret their abortion decision."
I remember back in 1973 when women who supported Roe v Wade told me that very few women would seek abortions. I wonder what they think now that the number of aborted American babies is the size of a nation.
(We also have a figure in the tens of millions here in the UK.)
Now times are changing.
The Catholic League's Bill Donohue wrote 'March for Life Scares Death Industry', which is an excellent article. Donohue says that Trump is sure to appoint a Supreme Court Justice who is pro-life. Last week:
the House passed a bill introduced by Rep. Chris Smith ensuring that the Hyde Amendment, which bans federal abortion funding, will be made permanent, thus vitiating the need for annual reapproval; the bill now goes to the Senate for a vote. On January 12, Rep. Steve King introduced a House bill that would ban an abortion after the baby's heartbeat is detected.
He says that some states are also rethinking abortion:
Last year, Louisiana passed seven new laws restricting abortion. Texas introduced 17 new civil rights laws protecting children in the womb, and 2017 will see at least some of them enacted.
Kentucky just passed two pro-life laws, one of which bans abortions after 20 weeks. Just this month, lawmakers in Florida, New Mexico and Tennessee introduced bills that would also ban abortions after 20 weeks; New Jersey filed a similar bill last month. Moreover, Missouri legislators refiled 14 pro-life bills this month. And Iowa is considering a bill to defund Planned Parenthood.
Another worthwhile article is at American Thinker. 'Obama and the Marxist/Communist View of Marriage and Abortion', which appeared in 2012, is less about him than it is left-wing history from the 19th and 20th centuries, from Marx through to American communists in the 1950s. An excerpt follows:
The Bolsheviks advocated abortion.  It was one of the first things they legalized.  By the early 1920s, Bolshevik Russia had the most liberal abortion policies in the world.  And what happened?  Just like divorce, abortion exploded.  In fact, the proliferation in abortions was so bad that it shocked even Planned Parenthood founder Margaret Sanger during a trip to Russia in 1934.  By the 1970s, when America was just getting around to legalizing abortion, the Soviet Union was averaging over 7 million abortions per year — dwarfing the very worst rates in America post-Roe v. Wade.  The direct effect of this on the Russian population has been staggering.
For the record, Russia's horrific abortion rates are common in communist countries, which to this day lead the world in abortions.
Marx, to my knowledge, did not deal with abortion — to think he would in the mid-19th century is unrealistic.  However, his disciples in the international communist movement a century later certainly did — including here in America.  To cite just one example, Whittaker Chambers noted how abortion "was a commonplace of Party life."  He honestly and painfully wrote about his wife's first pregnancy, when she had to plead for the life of their unborn child.  The blessed birth of that child changed Chambers completely, particularly regarding his views on God.  Interestingly, the termination of an unborn life was no mystery to Chambers' nemesis, Alger Hiss.  Hiss's wife, Priscilla, who aided him in his treason, had an abortion before she met him (for the record, it devastated her).
A final article worth reading on the subject is 'Marxism and Abortion', which recaps a 1988 article by an Australian Communist, Rebecca Albury, for The Tribune, the official newspaper for the Communist Party of Australia. It explains much of why Communists see no value in family. Excerpts follow, so please be sure to read all of it:
A Marxist believes that personality and human value are imparted by the external and economic environment, not by any inherent spiritual value, or even by biological processes.
The humanity of the fetus depends upon how the mother perceives the "social relationship" that exists between them. If the mother desires to keep the baby, then she "fantasizes" it into becoming a human being. But, if she does not want the pregnancy, "it is something else entirely." Her opinion of the fetus thereby denies it of personhood.
According to Albury, "Material conditions of life change, and so do moral values." This means that, to a Marxist, the unborn baby may be a human being for a time, but may then become depersonified and rendered 'pre-human,' all because his or her mother began to think differently about him or her.
That's incredible. I now better understand how Communist regimes can go on killing sprees. They do not look at fellow human beings but rather at what they perceive as depersonalised objects.
This particularly struck me, because we Westerners have been pounded with this egregious message since the 1960s:
Material conditions of life change, and so do moral values.
Parents and church leaders would do well to make sure that youngsters in their care or congregations understand the background to modern immorality, abortion and the people who have supported both throughout modern history.
The Trump transition begins. There's even a new website!
Warmest congratulations go to Kellyanne Conway, the Trumpwhisperer, who is the first woman to manage a victorious presidential campaign in the United States. She was responsible for refining Trump's stump speeches and for putting the kibosh on his excessive tweeting. No one else could do that! Furthermore, her internal polls were spot on. Conway is one tough tigress, make no mistake. She is also married, a mother of four and a practising Catholic.
Also noteworthy is that Hillary Clinton spent nearly twice as much money per vote as Trump and lost: $8.80 to $4.57. Trump has decisively proven you do not need big money to win an election!
President-elect Donald Trump and his wife Melania flew to Washington DC on Thursday, November 10 to meet with the Obamas as well as top Republican congressional leaders Paul Ryan and Mitch McConnell.
Vice President-elect Mike Pence was also in Washington. He met with his outgoing counterpart Joe Biden, in what Pence described as a 'warm reception'. Pence also had a telephone conversation with British Foreign Secretary Boris Johnson, who tweeted:
Just spoken to US VP-elect @mike_pence. We agreed on importance of the special relationship & need to tackle global challenges together
Trump's son-in-law — Ivanka's husband — Jared Kushner was also with the Trumps. During their private meetings, he spent time with White House chief of staff Denis McDonough, who gave him a tour of the Rose Garden. Kushner has been a close adviser to his father-in-law throughout the campaign and is expected to remain so after the inauguration.
Trump and Obama had a 90-minute discussion, far exceeding Trump's expectations.
Melania and Michelle shared tea together, discussed raising children and talked about what it is like to live in the White House.
The Mail has a great set of photos from the day.
Afterwards, Trump tweeted:
A fantastic day in D.C. Met with President Obama for first time. Really good meeting, great chemistry. Melania liked Mrs. O a lot!
Questions have been asked about the Trumps' entrance by a side door and the two couples not posing together for a photo in front of the White House. Things were different eight years ago with Bush 43 (i.e. 43rd president):
Breitbart had more on the matter:
White House Press Secretary Josh Earnest refused to explain the details of the decision but denied the story.
"Not true," he said, during the White House press conference, when asked about the report. He also denied that the lack of a photo opportunity had anything to do with First Lady Michelle Obama not wanting to be photographed with the Trump family. He argued that it was not a "snub" of the Trumps, but rather a different strategy of press access.
The press pool was allowed into the Oval Office on Thursday, to photograph Trump and Obama together after their 90-minute meeting. The two men met alone, with no staffers present.
But Obama snubbed the press by telling Trump not to answer any of their questions after the meeting.
"Here's a good rule. Don't answer any questions," Obama said to Trump after reporters shouted questions at the pair.
Despite the pleasantries exchanged between the two political foes, Earnest specified afterwards that Obama still believed that Trump was unsuitable to be president …
Earnest's remarks contrasted with Obama's welcome of Trump at the White House, promising to meet the standards set by President George W. Bush …
Earnest hinted that the White House might release a photo of the two couples meeting.
Independent Bernie Sanders pledged his support to Trump. The Daily Caller reported:
"Donald Trump tapped into the anger of a declining middle class that is sick and tired of establishment economics, establishment politics and the establishment media," Sanders said. "People are tired of working longer hours for lower wages, of seeing decent paying jobs go to China and other low-wage countries, of billionaires not paying any federal income taxes and of not being able to afford a college education for their kids – all while the very rich become much richer" …
In his statement Sanders went on to say: "To the degree that Mr. Trump is serious about pursuing policies that improve the lives of working families in this country, I and other progressives are prepared to work with him …"
The Democrats' wounds are still raw. Despite Big Media's attempted character assassination of Trump and the voter fraud — which is why his popular vote isn't higher — he prevailed once again. (Are we sick and tired of winning, ladies and gentlemen? Never!)
Business Insider reports that the Democratic Party is in disarray.
It looks very likely that the DNC will replace current interim chair Donna Brazile. A White House staffer yelled at her for being 'part of the problem' in Hillary Clinton's loss.
Politico reports:
No party leader calls have been set to map out a plan ahead, and no signal has come from the White House or from Clinton's team about what comes next. The phone lines were silent, only slowly picking up, and escalating to a fever pitch as the defeated nominee prepared her morning speech and interim DNC chairwoman Donna Brazile sat on the silent 9:00 Acela [train] from New York to Washington.
The Washington Post says that Minnesota Muslim congressman Keith Ellison or former Vermont governor Howard Dean are tipped to lead the DNC. The Huffington Post says Brazile could stay on until March, however, based on the aforementioned yelling:
Thursday's meeting shows at least some party officials want fresh blood at the top.
Early in the morning of Wednesday, November 9, Clinton's team had to get pervy John Podesta to address campaign workers. This is because Clinton had been weeping 'inconsolably', according to Ed Klein author of the recent book on the Clintons, Guilty As Sin. Klein appeared on a radio show later that morning and said:
"She couldn't stop crying.
"Her friend said — her female friend from way, way, back — said that it was even hard to understand what she was saying, she was crying so hard.
"This is Hillary we're talking about," Klein said.
Clinton appeared two hours later dressed like Batman's The Penguin in black and purple. Earlier, Podesta had told everyone to go home. Yet, after Hillary spoke, there was applause. I read somewhere that the delay allowed travel time for a new audience of those closest to her: big wigs.
The New York Times has highlights of her concession speech and Obama's remarks.
Before I go into detail on the protests — all previously organised, none are 'organic' (spontaneous) like Big Media are telling you — Sundance at The Conservative Treehouse has a theory about Obama/Clinton and the demonstrations and riots taking place:
If the ridiculous election protests continue again tonight, then President Obama has not called them off.  That means he and Clinton received no substantive assurances, and are worried about being held to account – prosecuted and investigated.
If the ridiculous election protest do not happen again tonight, then President Obama has called them off.  That means he and Clinton feel more comfortable they will not be held to account – prosecuted and investigated …
Ultimately the Machiavellian political gamesmanship then evolves toward how does Obama/Clinton "feel" about the success of their initial probing for terms.
Demonstrations and riots around the US continued the night of November 10.
After this post, I will be mentioning them as little as I can. They do not deserve the oxygen of publicity, to borrow Margaret Thatcher's phrase.
However, I do want everyone to understand what is happening here.
Americans should note that there are laws on riots — 18 U.S. Code § 2101 — as being criminal rather than examples of freedom of speech. In part:
(a) Whoever travels in interstate or foreign commerce or uses any facility of interstate or foreign commerce, including, but not limited to, the mail, telegraph, telephone, radio, or television, with intent—
(1) to incite a riot; or
(2) to organize, promote, encourage, participate in, or carry on a riot; or
(3) to commit any act of violence in furtherance of a riot; or
(4) to aid or abet any person in inciting or participating in or carrying on a riot or committing any act of violence in furtherance of a riot;
and who either during the course of any such travel or use or thereafter performs or attempts to perform any other overt act for any purpose specified in subparagraph (A), (B), (C), or (D) of this paragraph— [1]
Shall be fined under this title, or imprisoned not more than five years, or both.
I would not hold my breath expecting anyone to be prosecuted. However, after the inauguration, watch for this law to be enforced in future.
The demonstrators in Austin, Texas, who marched not far from the state capitol building, arrived by bus:
Not only that, but they were paid.
At least one ad appeared on Craigslist: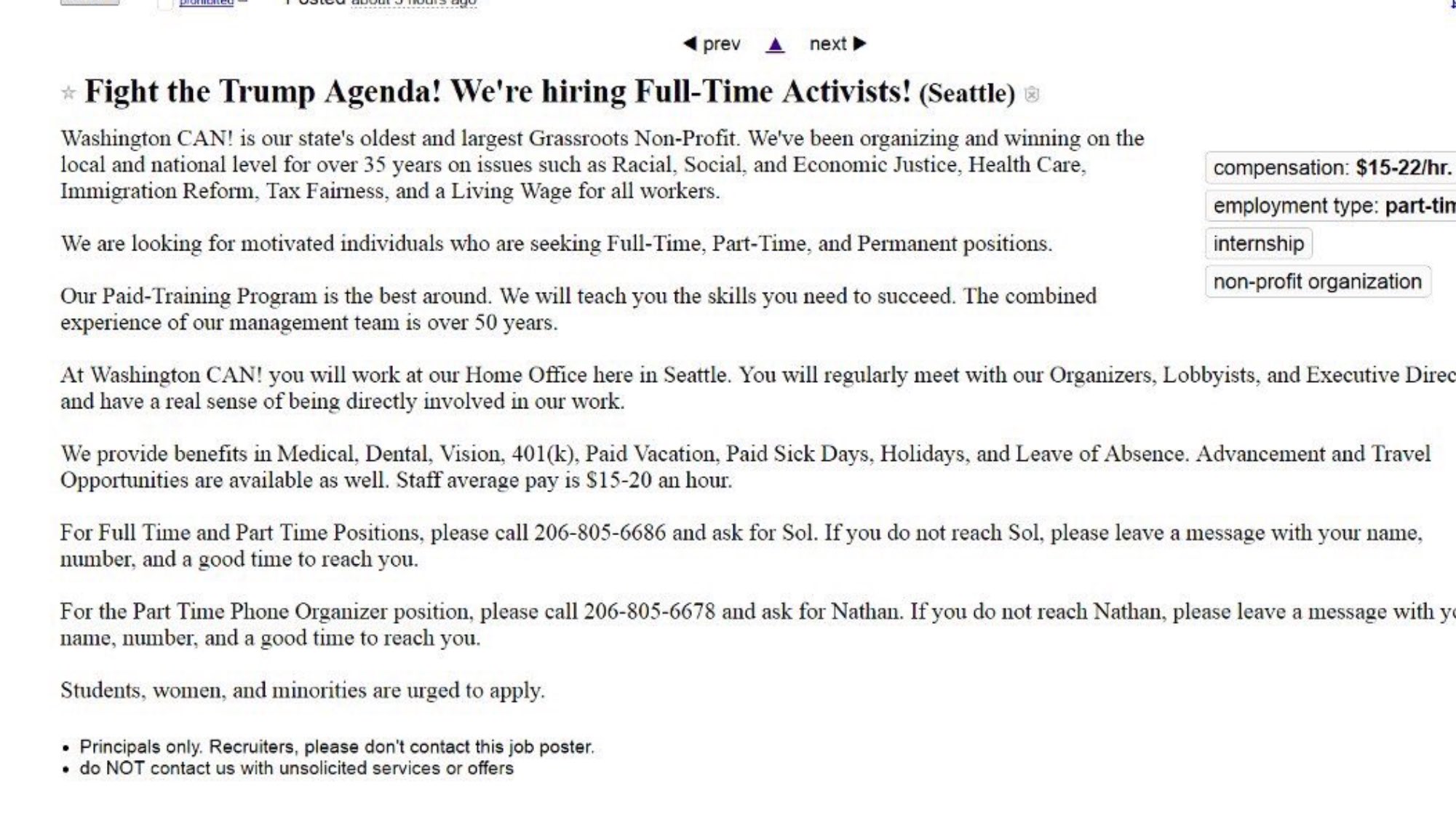 Here's another Craigslist ad, this one for Manhattan, from a European television network (I'm curious):
Earlier on November 10, a panellist on Fox and Friends actually asked if George Soros was funding these demos and riots. This is good, because Big Media never do this. In case the YouTube in the previous link is removed, The_Donald reproduced the exchange:
Brian: "There were no protests for Al Gore, there were no protests for John Kerry, there were no protests for Mitt Romney. What's going on?"
Steve: "Well, back then, George Soros wasn't funding these things. Is he behind this? Don't know!"
Many people say that when Soros dies, all this seditious activity — explained here in detail — will die with him. Not true. His children are every bit as committed to it as he is. One also appears to be involved with the Clinton Spirit Cooking dinners.
Breitbart reported that MoveOn.org — Soros's flagship activist organisation — has anti-Trump protests and riots going on all over America. Amazingly, people actually contribute to MoveOn.
A wide network of organisations affiliated with MoveOn are involved.
In March, after the cancellation of Trump's rally in Chicago, Independent Sentinel listed several groups allied with MoveOn and added:
The billionaire George Soros and other liberal donors bankroll a new $15 million campaign to mobilize Latinos and other immigrants this fall, hoping to channel outrage at  Donald J. Trump and other Republicans into a surge of votes for Democratic candidates in November …
And now that has failed on a national scale, they have today's violent protests, such as this riot in Portland, Oregon. (More here.) If these anarchists and maladjusted folks aren't driving sceptical Americans into the Trump — and gun — camp, I don't know who is.
Below is a list of planned protests from ANSWER (Act Now to Stop War and End Racism). You can also read more here:
Another group to watch for is Socialist Alternative, one of whose directors is a union man, born and bred in Britain, who has lived in Chicago for many years. They, too, have a list of demonstrations.
A number of the protesters are carrying professionally printed signs. One of The_Donald's contributors has seen some that read revcom.us on the bottom, indicating another Soros-funded communist organisation.
It also looks as if Aaron Black — featured in this James O'Keefe Project Veritas video about bird dogging (inciting Trump supporters to violence) — is part of the protest mix. He makes sure everyone is kitted out with signs and whatever else they need. He is supposed to be a background man and says no one should be able to easily identify him at protests.
On Chicago's West Side, a man was dragged out of his car at an intersection and was brutally assaulted. This post has a YouTube video of young men pulling a motorist out of his vehicle, beating him up, stealing items from his car — all abetted by a woman shouting instructions nearby. This tweet has a video of what happened next: the young men got into the car, the man was able to grab onto a door frame and they all sped off around the corner, with the man holding on for dear life. The Chicago Tribune caught up with him afterwards (photo at link). Emphases mine below:
David Wilcox, 49, said he was about to turn left from Kedzie Avenue to Roosevelt Road around 1 p.m. Wednesday when a black sedan pulled up and scraped the right side of his Pontiac Bonneville.
"I stopped and parked. And I asked if they had insurance, and the next thing that I knew they were beating the s— out of me," Wilcox said Thursday …
"They were beating me to have me let go of the car," Wilcox said. "The guy went to 70 and 80 mph. If I let go, I was dead. He slowed to 45. … He tried to push the door open. …So he stepped on it again.
"He stepped up back to 70 and 80, swerved again," Wilcox said. "The wheels on my side left the ground, up to 2 inches. … Then he slowed down. I was looking at oncoming traffic. He probably slowed to about 45. God was watching over for me. I rolled about five or seven times into the oncoming traffic lanes.
"There was a parole officer with a gun and bulletproof vest," he added. "He turned left, and he told me just sit down and wait for the police to come."
Wilcox filled out a police report, but no one was reported in custody Thursday afternoon. Police said they were investigating the beating and who made the "politically divisive" statements in the video.
I wonder if he got his car back. It should have DNA.
Pray for David Wilcox's recovery. He must be undergoing trauma, even if it doesn't show.
If that is not a hate crime, I do not know what is. They could have killed him, directly or indirectly. This got little to no coverage outside of Chicago!
In California, a female high school student near San Francisco was beat up by another classmate — also a girl — for supporting Trump online:
Cellphone video captured the moment a female student attacked sophomore Jade Armenio.
"This girl comes up to me and she said, 'Do you hate Mexicans?' and I was like, 'no,' and she said, 'You support Trump. You hate Mexicans.'"
Armenio says the girl hit her, threw her to the ground, pulled out her earrings and hair. She was left with a bloody nose and scratches and bruises …
The princip[al] of Woodside High School issued a statement that reads in part the recorded incident was investigated in conjunction with law enforcement and appropriate disciplinary action has been taken …
Armenio['s] parents say they are keeping her out of school until they know she'll be safe.
Let's pray for her, too.
Meanwhile, a story that did get nationwide coverage turned out to be false. A university student in Lafayette, Indiana, accused two Trump supporters of tearing off her hijab and stealing her wallet. Thankfully, she confessed to a lie. She should be charged:
The story made national headlines and was featured in The New York Times, The Huffington Post and other national media outlets. Messages of love and support were found all over UL Lafayette's campus after news of the attack spread.
It's unclear whether the student will face charges for filing a false police report.
In closing, here is an interesting exchange from 2013. The_Donald calls it 'the tweet that started it all':
You can't stump the Trump!
And, finally, a great summary of the past few weeks, also from The_Donald:
Protests aside, the next four years are going to be an exciting — and positive — time for all Americans. Trump has a Republican Congress and Senate to help him to restore the Great Republic. Outspoken radio show host Michael Savage says:
God's hand is all over this election.
I truly believe it is.
MAGA!