You are currently browsing the tag archive for the 'Nadhim Zahawi' tag.
Yesterday's post introduced Matt Hancock's hunger for absolute control during the coronavirus debacle.
The story, with excerpts from The Telegraph's The Lockdown Files, continues after a brief interlude.
Giles Coren: 'we all broke the rules'
On the afternoon of Wednesday, March 22, broadcaster and Times columnist Giles Coren, son of the late humourist and Punch editor Alan Coren, gave a radio interview in which he said that 'we all broke the rules', meaning during the pandemic.
The subject arose as former Prime Minister Boris Johnson was taking his place at the parliamentary Privileges Committee hearing to defend himself over Partygate.
As a result, Giles Coren trended on Twitter — and not in a good way:
A few of the cleaner tweets follow:
However, this next tweet nails it. Giles Coren doesn't mean average Britons. He's referring to the media class and other privileged oafs:
Which brings me neatly to Matt Hancock.
Hancock wants immunity over care home deaths
On March 4, 2023, Chronicle Live recapped an article from the Mirror about a talk that the former Health and Social Care Secretary gave to a group of top-flight London lawyers about who was to blame for care home deaths (emphases mine):
Matt Hancock told a gathering of city lawyers he should be immune from court action over Covid blunders, The Mirror reports – just days before shocking WhatsApp messages he sent during the pandemic were published.
Mr Hancock said he should not be held personally responsible for failings during the fight against Covid-19, such as the Department of Health and Social Care's failure to safeguard care home residents, simply because he was Secretary of State. Instead he said that "HMG" – the whole Government – should take the blame.
This comes even as prominent campaigners call for the ex-minister to be prosecuted.
He was heard saying that he believes lawyers pursuing him personally "were chasing tabloid headlines". He was speaking to lawyers from firm Mishcon de Reya in a talk over his book, Pandemic Diaries, coming just months after his stint in the I'm A Celebrity jungle.
Mr Hancock has furiously denied claims that his leaked WhatsApp messages show he ignored Chief Medical Officer Chris Whitty's advice to test all people going into care homes.
His department's policy of discharging untested patients into them from hospital was ruled unlawful by the High Court in April in a case brought by Dr Cathy Gardner, who lost her father. At the time of the ruling, union GMB said the department had shown a "callous disregard" for care homes.
The messages leaked to the Daily Telegraph this week by Isabel Oakeshott, journalist and the co-author of Mr Hancock's memoir, show he thought committing to testing people coming into care homes from the community – including staff – didn't "add anything" and "muddies the waters" …
And 12 days ago he held an online question and answer session with top lawyers from Mishcon de Reya and told them it was wrong that a Secretary of State of a department should be held legally responsible for failures and it should be "HMG" instead. Currently, the defendant in any judicial review against a Government department has to be the Secretary of State.
But Mr Hancock said: "I don't think it's an appropriate use of the courts to essentially go chasing tabloid headlines. You know, 'Hancock broke the law' – I didn't break the law." In the Q&A, Mr Hancock also claimed to have "banned alcohol" in his department to stop his team being "more social".
Some of the leaked WhatsApp messages reveal then-aide Gina Coladangelo – who is now his partner – telling him there were drinks in the fridge to celebrate hitting his testing target in May 2020. She wrote, adding a beer glasses emoji: "Drinks cold in fridge at DH. Feel free to open before we are back."
A spokesperson for Mr Hancock confirmed he did not introduce a booze ban until the next January. Mr Hancock also blasted criticism of the Tories' bungled PPE procurement as "offensive" in the Q&A and justified writing off £12billion of PPE, most of it unusable, saying: "I'd rather save lives."
… Meanwhile, activist Gina Miller, leader of the True and Fair Party and who took the Government to court over Brexit, has written to Met Police Chief Sir Mark Rowley calling for Mr Hancock to be prosecuted.
She wrote: "The threshold has been met to investigate Mr Hancock for gross negligence manslaughter… a common law offence that carries a maximum of life imprisonment."
'Mr Vaccine'
As 2020 dragged on for many of us, Hancock was keen for his moment of glory, as The Telegraph related in 'Inside Matt Hancock's desperate bid to be known as 'Mr Vaccine"'.
Emphases mine below:
Matt Hancock feared he would not get credit for the UK's vaccine success and described the speeding up of the jabs rollout as a "Hancock triumph".
The former health secretary's WhatsApp messages show he fought to be the face of Britain's vaccine campaign at the height of the pandemic and became furious if he thought others were getting the credit.
And he was told by his media advisers that fronting Britain's vaccine programme would allow the press and public to "forgive" him for imposing lockdowns and that "politically" he must balance the two. 
However, the Department of Health and Social Care had to work with the Department of Business, Energy and Industrial Strategy (BEIS) on the vaccine procurement.
Hancock was unhappy:
Mr Hancock had already battled with his Cabinet colleagues over who should have overall control of the procurement strategy, and struck an uneasy compromise between the Department of Health and Social Care and the Department of Business, Energy and Industrial Strategy.
The announcement of the Pfizer vaccine made things worse for him:
In November 2020, the Department of Health caught wind that Pfizer was planning an imminent announcement that its vaccine was more than 90 per cent effective against Covid-19.
The Pfizer vaccine was the first to report its interim trial data and went on to be the first to be administered to the public in the UK the following month …
On hearing that the news was about to break, Mr Hancock bemoaned he was not live on camera and worried he would be overshadowed by Alok Sharma, the then business secretary.
The article has a screenshot of the WhatsApps he exchanged with adviser Damon Poole:
Pity I'm not up in the Commons!
I should do a clip
We should pump out the NHS doc
Do No10 know?
When Poole answered in the affirmative, Hancock was eager to do the media round the next morning:
I should DEFINITELY do the round tmrw
Just to reinforce the point, he messaged Poole again:
It MUST NOT be Alok!
On December 8, Hancock appeared on ITV's breakfast show, Good Morning Britain (GMB), to watch the first Britons, a man and a woman, both elderly, get their 'jabs':
… Mr Hancock gave one of his most memorable interviews of the pandemic …
Wiping a tear from his eye, he told the programme it had "been such a tough year for so many people" and he was relieved that people could at last "get on with their lives".
The lady was Margaret Keenan, aged 90 at the time. She received her jab in Coventry.
The man's name was William 'Will' Shakespeare. He was 81 at the time and has since died (nothing to do with the vaccine). When the presenter announced his name, it was hard to know whether Hancock was laughing at it or crying about his step-grandfather who died of Covid (more here).
The frames extracted from that moment don't exactly make for comfortable viewing. Thank goodness someone online captured them for posterity. Don't miss the caption: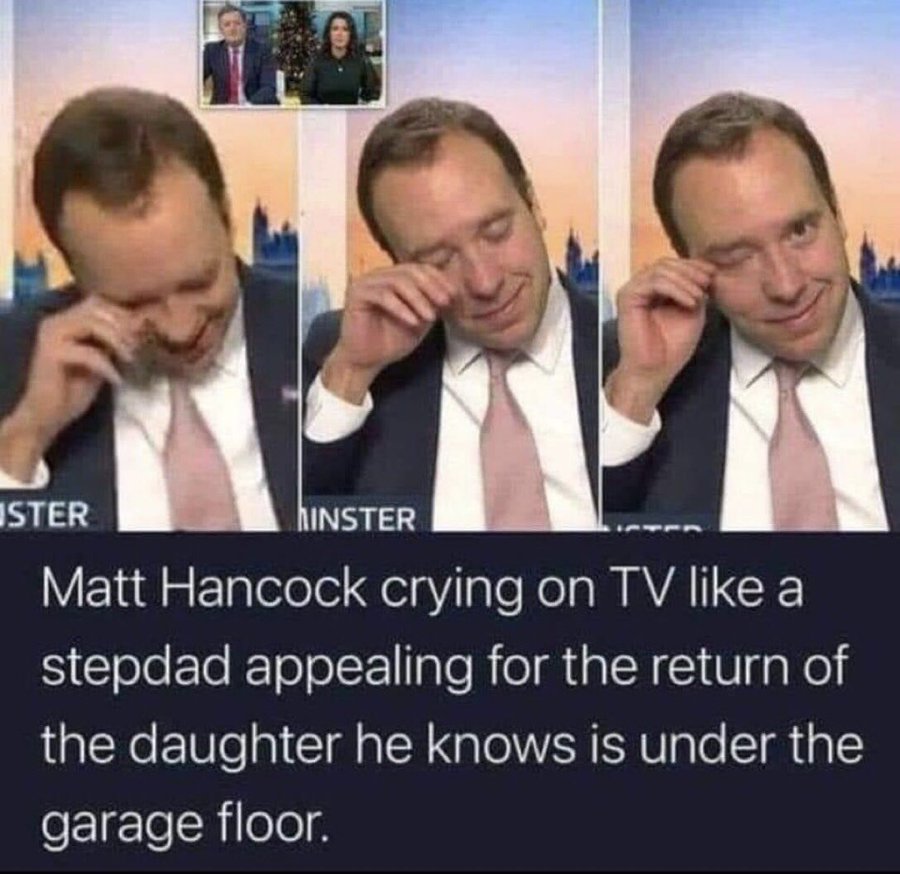 However, there was no immediate big media momentum for Hancock after those initial jabs, even though millions of people watch GMB.
On Boxing Day 2020, Damon Poole WhatsApped Hancock to ask if he had spoken with journalists from the Sunday papers. Poole did not like all the articles about the vaccine, which he called 'this vaccine spray'. As it was the day after Christmas, Hancock hadn't looked at the papers until he heard from Poole:
Now I've seen it. Sure it's not No10?
Poole replied:
I'm pretty sure it's them
MOS [Mail on Sunday]/Times/Tele[graph]
Hancock fired back:
The thing that p—–s me off is the Mail on Sunday links it to Rishi. What's that all about?
The first few days of 2021 proved no better for Hancock's desired media exposure. On January 7, Hancock asked Poole to send him the link to a Mail story with the headline 'Vaccine approval is finally cut from TWENTY days to five'. Poole sent him the link and added:
MHRA [Medicines and Healthcare Regulatory Agency] briefing [I'm] pretty sure
Hancock asked if that was true. Poole said he thought it was and sent him a link to a tweet of the Mail's front page:
Hancock replied:
I CALLED FOR THIS TWO MONTHS AGO. This is a Hancock triumph! And if it IS true we neeed [sic] to accelerate massively.
The Lockdown Files article continues:
The strategy of taking credit for the vaccine, and therefore the impact on lockdown restrictions, was eventually given its own slogan: "Own the exit."
The phrase is repeated several times between Mr Hancock and his aides in the months that followed.
Then, finally, there was success at last. On January 11:
… the day the official vaccine delivery plan was published, Mr Hancock sent Mr Poole screenshots of news articles about his announcement.
Hancock messaged Poole:
These shots are extraordinary. Positive coverage in the Sun AND Mail.
Poole replied:
Keep riding it through to spring – own the exit!
Well, Hancock owned his own exit that June. That's for sure.
'Headless chicken' over vaccines
Not everyone who worked with Hancock would call him 'Mr Vaccine'.
Clive Dix wrote a first-person article for The Telegraph about his experience, 'I worked with Matt Hancock on Covid vaccines – he's a headless chicken':
I worked with Matt Hancock the whole time I was at the Vaccine Taskforce and he was, without doubt, the most difficult of all the ministers because he didn't take time to understand anything.
He was all over the place, a bit like a headless chicken. He often made statements saying "we are going to do X and we want to let the world know about it", but we were dealing with an uncertain situation in bringing the vaccines forward.
The manufacturing process was brand new and any process like this is fraught with problems, which we need to fix as we go along, but normally you would spend two or three years stress-testing something like this.
Hancock was laying down timelines by saying things like "we will vaccinate the whole population", and these timelines drove his behaviour.
Hancock was upset when there was a problem with the AstraZeneca vaccine production:
When we said the AstraZeneca vaccine had manufacturing problems, that is when Hancock panicked. 
He didn't believe us. We were working night and day to make it work and he was turning around and saying: "I have said the UK population will all get vaccinated."
But we couldn't change the nature of the process and he didn't get that. He thought it was like procurement. That is where his behaviour came from. He panicked and that led to them going to India and taking vaccines that had been meant for the developing world.
I thought that ethically it was very wrong to take doses that it had been agreed would go to the developing world just to meet an arbitrary timeline. This is why I ended up resigning, because I could no longer advise a government that acted on these terms.
Nonetheless, the team pressed on with getting doses from India:
Here, we were taking 10 million doses from the developing world just to meet Hancock's timeline and it was a timeline that had just been plucked out of the air. We were still well ahead of the majority of the world, ministers should have been upfront and said that we can vaccinate everyone within a month, but we won't quite hit the timeline. They should have admitted that they were slightly wrong.
I couldn't stop them doing it, because it wasn't my job to make policy decisions about where we get the vaccine from. But I said if this is where you are, then I don't want to advise this government anymore. I didn't resign there and then, but I did resign in March 2021. I didn't want to disrupt the work.
It was all driven for the wrong reasons and then Hancock – rather than put his hands up – blamed the Vaccine Taskforce for stalling.
For him to be sending messages and saying Kate Bingham [head of the Vaccine Taskforce] was not reliable is appalling.
On October 4, 2020, Damon Poole WhatsApped Hancock a link to a Financial Times article: 'Less than half UK population to receive coronavirus vaccine, says task force head'.
Hancock replied that he didn't have a subscription to the paper, which is behind a paywall. He asked Poole:
… is that Kate?
When Poole responded in the affirmative, Hancock messaged back:
If so we absolutely need No10 to sit on her hard. She has view [sic] and a wacky way of expressing them & is totally unreliable. She regards anything that isn't her idea as political interference
Poole messaged back, agreeing, saying he'd had a 'blazing row' with her when he was working at No. 10.
Clive Dix resumes his story, alive with memories of Hancock:
We were working as hard as we could and he thought he could just come in and make a bold statement to the public and tell us that we have got to do it. I don't think he understood the process. He was a loose cannon.
Dix tells us more about how Health and Social Care worked with BEIS. Here, too, Hancock had to have his own way:
The taskforce sat in the Department for Business, Energy and Industrial Strategy (BEIS) and that is where the budget came from. We reported to Alok Sharma and then Nadhim Zahawi came in as vaccines minister. Hancock wanted to get involved and because he was secretary of state, Alok stepped aside.
He was using the vaccine to protect his reputation.
Dix, who was a volunteer, gives us an insight into the wider politics involved:
I had worked for nine months from 4am until midnight without any pay to do this.
It is certainly extraordinary to see how two-faced they are. They were all nice to me to my face but to see what they were saying to Boris Johnson was particularly unpleasant.
It reflects badly on Nadhim and all the civil servants who worked so hard to get this right. In my humble opinion, Hancock was actually the problem.
Hancock hoped to treat French Covid patients
Incredibly, during lockdown, Hancock wanted to appeal to French president Emmanuel Macron to allow his nation's coronavirus patients to be treated in the UK.
With the NHS under pressure, Hancock somehow thought he managed to find spare beds … for the French.
Don't get me wrong. I love the French as much as I love the British and the Americans, in no particular order. They're the three societies I know the best. But this was a step too far.
After all, the Government locked down the UK to save the NHS, right? So how was it that Hancock suddenly found spare beds, especially for patients from other countries?
Meanwhile, British patients with cancer, heart disease and other serious illnesses couldn't get a look in to a doctor, never mind a hospital.
The Telegraph's 'Matt Hancock's secret plan to import French Covid patients' says that, in November 2020:
Matt Hancock planned to bring French Covid patients to the UK for treatment during the second wave of the pandemic, despite national lockdown restrictions in force to protect the NHS.
Messages between the then health secretary, his advisers and Boris Johnson, then the prime minister, show he hoped to offer "spare" intensive care unit beds to Emmanuel Macron to help the French president deal with a major outbreak in his country in November 2020.
At that time, Britain was under a second national lockdown that was sold to the public as necessary to prevent the "medical and moral disaster" of an overwhelmed NHS.
But Downing Street and the Department of Health and Social Care created a secret plan to transfer Covid patients from the busiest French hospitals, bringing more cases of Covid to the UK.
However, that wasn't enough. Hancock also wanted to make the same offer to Italy. The article has screenshots of the relevant WhatsApp messages.
That aside, let's continue with France:
The plan is not thought to have ever been implemented, but Mr Hancock said: "We may need to make a similar offer to Italy," despite exponential increases in Britain's own case numbers.
On Nov 13, Mr Hancock shared with his top advisers a letter that he planned to send to Olivier Veran, the French health minister, offering to import French Covid patients to the UK for treatment.
"I have seen the pressure on your hospitals, and that some patients are being transferred abroad," the letter said. "We have our epidemic largely in the north of England, and some spare capacity in London and the south.
"We could provide some ICU beds to which you could transfer some patients. Would that be helpful to relieve pressure on your most affected regions? Our countries have always stood by each other in times of need."
By this point in the European second Covid wave, the UK was looking to Europe as case numbers exploded in France, Italy and Spain, with a second national lockdown imposed in an attempt to reduce transmission.
France had already been taken off the UK's travel corridor list, meaning that any person travelling to Britain from France was required to quarantine for 14 days or face a fine. By late November, France and Britain had similar rates of the virus, with around 275 cases per 100,000 people.
However, on October 31, Boris stated publicly that the UK had reached capacity:
In an address to the nation on Oct 31, Mr Johnson said that even in the south-west of England, where Mr Hancock had proposed housing French patients, "it is now clear that current projections mean they will run out of hospital capacity in a matter of weeks unless we act".
He said that if new measures were not imposed, the growth of Covid numbers would mean that "doctors and nurses would be forced to choose which patients to treat, who would get oxygen and who wouldn't", adding: "The overrunning of the NHS would be a medical and moral disaster beyond the raw loss of life.
"It is crucial to grasp that this general threat to public health comes not from focusing too much on Covid, but from not focusing enough, from failing to get it under control."
It should be noted that Hancock got this mad idea from a life peer and was immediately swept up by it:
An earlier WhatsApp conversation between Mr Hancock and Mr Johnson about the idea shows it originated with Lord Llewellyn of Steep, who was then serving as Britain's ambassador in Paris.
"I love this idea of Ed Llewellyn's to offer Macron (privately) to treat some of their cases where they have pressure on the health system," Mr Hancock wrote to Mr Johnson on Oct 2, 2020. "Because we have a regional problem we also have regional capacity in East Anglia (Cambridge?) or the SW."
Lord Llewellyn is now serving as the UK's ambassador to Italy. He is a former Downing Street chief of staff, serving in Number 10 under David Cameron.
The mind boggles.
That's enough Matt Hancock for one day.
Don't worry. There's more to come.
Soon.
My series on Boris Johnson's downfall continues.
Those who missed them can catch up on Parts 1, 2, 3 and 4.
Also of interest are:
Developing news: how long can Boris last as PM? (July 5-6)
Boris stays as PM for now but stands down as Conservative leader: 'When the herd moves, it moves' (July 6-7)
On July 8, Bloomberg had an interesting article: 'Boris Johnson's Downfall: The Inside Story of How His Government Collapsed'.
It states:
This account of how the Johnson administration unraveled is based on conversations with senior members of his inner circle, cabinet ministers, political advisers, civil servants and Tory MPs who were present at the key moments and spoke to Bloomberg News on condition of anonymity.
The journalists who wrote it say (emphases mine):
… the man that Johnson's inner circle blame for his downfall is Rishi Sunak, the former chancellor, who triggered that final, frantic act that ultimately forced the prime minister to quit.
Boris, being a survivor, stayed true to character. He survived a Conservative MP vote of confidence held the Monday after the Queen's Platinum Jubilee celebrations the first weekend in June 2022. Then the Chris Pincher groping scandal broke, but he was not worried. In early July:
Johnson had spent last weekend largely ignoring the latest scandal raging around him.
There was another slew of allegations in the newspapers, this time related to what Johnson had known about the claims of sexual harassment against an MP who the prime minister had promoted to a senior party post. 
But Johnson had grown accustomed to riding out controversy, from his efforts in November to extricate an ally who breached lobbying rules, to the lockdown parties, the investigation into whether he misled Parliament and the resignation of his own ethics adviser.
His judgment, and that of his No. 10 team, was that revelations relating to his former chief whip Chris Pincher, damaging and unseemly though they were, did not pose an existential threat. 
That Sunday evening, July 3, Boris headed next door:
to Sunak's flat in No. 11 Downing Street for one of their regular weekend dinners.
Johnson's team had been wary of a potential leadership challenge from Sunak for months and suspected that he would already have moved against the prime minister if he hadn't been fined over lockdown parties himself.
That night was businesslike, focused on plans for a new economic strategy and a joint speech. Sunak briefly mentioned his unease at the handling of the Pincher situation, but people close to both men said the meeting was good-natured and there was no hint of the coming storm.
Meanwhile:
Elsewhere in London though, Health Secretary Sajid Javid was discussing his own concerns about the Pincher case with his own advisers and starting to think he might decide to resign.
The week began normally:
No. 10 remained bullish throughout Monday despite the growing furor as Javid watched and waited.
On Tuesday, a Cabinet meeting took place (Bloomberg has a photo of it). There were signs that things could unravel quickly:
… there were ashen faces around the Cabinet table on Tuesday morning as ministers gathered to discuss Sunak's plans for tackling rampant inflation. Johnson uber-loyalist [and Culture Secretary] Nadine Dorries told the room that the "dogs of hell" would be unleashed if Johnson was removed.
One Cabinet minister who spoke to Bloomberg that day warned that Johnson might be in real trouble. He had had an unspoken contract with the Conservative Party since surviving a confidence vote among his own MPs in early June, the minister said: he could remain in place only if the scandals stopped.
That compact had lasted barely a month.
Later that day:
Around 5 p.m., at a meeting in the prime minister's office in Parliament, Javid told Johnson he was resigning. Johnson felt the announcement an hour later could be weathered by appointing a strong replacement.
But nine minutes after Javid published his resignation, Sunak also quit. And this blow came without warning.
Suddenly, Johnson was facing a rout.
A person with knowledge of Javid's plans said that his team had had no meaningful contact with Sunak's advisers before the double resignation, but they suspect that the then-chancellor got wind of what was coming and accelerated his own plans. A person with knowledge of Sunak's thinking said there had been no collusion.
Sunak had worked in the Treasury for Javid when the latter was Chancellor from 2019 to February 2020. They were good friends.
The resignations became a game of whack-a-mole:
As the prime minister rushed to replace two key ministers, a wave of more junior officials announced that they too were abandoning his government.
Nadhim Zahawi became the new Chancellor and Steve Barclay succeeded Javid as Health Secretary:
Nadhim Zahawi and Steve Barclay were recruited late on Tuesday to solve the most immediate problem and Johnson's advisers believed that both men were determined to take their jobs seriously. They understood that they had buy-in from Zahawi, the chancellor, for a new tax-cutting agenda to be announced imminently, though a person close to Zahawi says he made no such commitment.
All the same, as Johnson and his advisers surveyed the damage on Wednesday morning, they could tell that the situation was critical. 
That's when [Levelling-Up Secretary Michael] Gove demanded his meeting. To Johnson's aides, the timing seemed designed to inflict maximum pain.
Boris sacked Gove later on Wednesday, the only firing he made. He did it via a telephone call.
At that point:
the number of officials quitting his government climbed past 50.
That evening must have been a long one for Boris:
He returned to No. 10 after 6 p.m. for a series of meetings with his senior ministers.
Chief Whip Chris Heaton Harris advised Johnson that he no longer had the numbers to prevent Tory MPs from removing him, but that he would remain loyal. Trade Secretary Anne-Marie Trevalyan and arch Brexiteer Jacob Rees-Mogg also made clear they would stay supportive. Deputy Prime Minister Dominic Raab told Johnson he would not resign, changing for a formal white-tie event and then leaving via a side entrance.
Other meetings were more difficult.
Home Secretary Priti Patel had an emotional and teary meeting with the premier where she told him he had to go. A spokesman for Patel wasn't able to comment on the details of the conversation. 
Transport Secretary Grant Shapps, who kept a spreadsheet of Johnson supporters, agreed that the numbers were against them. Policing minister Kit Malthouse delivered a long monologue about how it was over. An exasperated Johnson told Malthouse that if he was going to resign, he should just do it. 
Malthouse had worked for Boris ever since the latter was Mayor of London.
Also:
Welsh Secretary Simon Hart was the only one who threatened to quit, handing Johnson a resignation letter and telling him that if he was not gone by the morning it would be published.
The most difficult meeting was with Zahawi who looked visibly awkward, according to one witness, as he told the prime minister that he too thought he should quit. The meeting left Johnson's aides suspecting that Zahawi had simply been preparing for his own tilt at the top job.
Correct. Zahawi did not get far with his campaign.
The meetings lasted into the night:
Towards the end of the night, Johnson gathered his closest aides in his office to assess the damage.
No. 10 policy chief Andrew Griffith was the most determined to battle on, along with Nigel Adams, a minister and old friend of Johnson. Heaton Harris, the party enforcer, had accepted the situation but was staying in the bunker to the end.
Together they rehearsed arguments for and against resigning, as they briefed the media that he would not quit and appoint a new Cabinet. The reality was that no one was accepting jobs.
Political commentators, eager for Boris to go, compared him with Donald Trump:
Johnson told his team that he didn't want to spark a constitutional crisis by clinging to office.
"I can't do this," he told them. "It's all too ghastly. It's not me."
Eventually, he went to the Downing Street flat to see his wife and retire for the night:
As he went up the stairs to his Downing Street flat to see his wife, Carrie, the decision was becoming clear in his mind. Carrie did not advise him either way and insisted it had to be his own decision, according to a person with knowledge of the conversation.
On Thursday, July 7:
Johnson woke early on Thursday and drafted a resignation speech to read out to his staff at their 7.30 a.m. meeting.
He announced his resignation in front of No. 10 early that afternoon.
That evening, The Spectator team held their annual garden party, a major highlight of the political year. Something always happens and this one was no different:
Johnson's communications chief Guto Harri got into a blazing and public row with Gove adviser Josh Grimstone, who accused Harri of briefing against his boss.
A Sunak aide spotted Harri and went over for a hug. According to people present, a smiling Sunak, standing next to her, asked Harri: "Don't I get one?"
"You want a hug?" Harri said in disbelief, knowing that the former chancellor had made no contact with Johnson since his shock resignation. Harri had spent his week fighting to save the prime minister, Sunak was aiming to replace him, and in front of London's political elite, the two men shared an awkward embrace.
Guido Fawkes has more (Guto Harri is on the right and the magazine's Katy Balls is in the background):
His post says the argument went all the way back to Gove's desertion of Boris in the 2016 leadership election, leaving Boris out of the race that year (emphases in the original):
… Leadership candidates Rishi Sunak, Nadhim Zahawi and Tom Tugendhat worked the crowd. Later in the evening as things were winding down the Spectator's Katy Balls mischeviously introduced Josh Grimstone, the newly unemployed former Special Adviser to Michael Gove, to soon-to-be unemployed Guto Harri, the Prime Minister's Director of Communications. Josh definitely had something to communicate to Guto about Gove's late night sacking the night before…
Josh firmly protested that his boss had been loyal to the PM, that he personally loved Boris and that both Gove and himself had been nothing but loyal. He accused Guto of sacking Gove out of spite and attempting, unfairly, to make it look like Gove had been sacked for disloyalty. Guto was sceptical about Josh's protestations of innocence and insistence that his boss had been loyal. The toing and froing went on in front of a silently listening audience that included Guido, Tim Shipman and Steve Swinford. Neither of the protagonists backed down from their position. Grimstone said Guto's behaviour was a "f***ing disgrace".
Guto eventually retorted that it was Gove's fault that in 2016, when he betrayed Boris, the country was as a result put into 3 years of dismal turmoil under Theresa May. Guto's stance seemed to be that even if it was true that he had been loyal of late, Gove had it coming to him for the 2016 trauma that he inflicted on the party and country. Unresolved and unreconciled Grimstone broke off leaving hushed onlookers uncertain that the summary justice of last night was entirely justified by recent events. Guto seemed relaxed and satisfied that it was amends for the sin of the past. 
But that wasn't the only verbal dust-up that evening.
On the BBC's Question Time, Tony Blair's spin doctor Alastair Campbell and The Telegraph's Tim Stanley, who once ran for MP as a Labour candidate, argued about who was worse in terms of being economical with the truth, Tony Blair for the illegal war in Iraq or Boris Johnson with a piece of cake during lockdown. Campbell is on the left in the photo:
Guido has the video:
A few days later on July 11, Stanley wrote an article about it for The Telegraph: 'My TV encounter showed everything that is wrong with the Left':
I'm not a friend of Boris Johnson: my most recent contact was a Christmas card that I'm sure was signed by someone else. This didn't stop Alastair Campbell from calling me part of the same "corrupt class" on Question Time, a grim experience I didn't enjoy but my editor says I've got to address.
Around the five-minute mark, I was invited to give my take on Boris's resignation – and Campbell butted in with the first of many attacks on my profession and character. Afterwards, a producer said: "How long have you known Alastair?" I replied: "I've never met him before." Given how he spoke to me, many people assumed we had a feud going back decades.
No, he was just horrible, and the nastiness was camera ready. Campbell was nice as pie before the recording; he gave me a cheery goodbye after. My conclusion is that he's an act. When he launched his on-air assault, I was shocked and considered walking off; I couldn't take a whole hour of this. Instead, I pulled a one-liner out of the bag, noting that the Blair government took us into a war that cost thousands of lives, while Boris ate some cake.
The point was that Boris might have been chaotic, but it's often the best organised regimes that make the biggest mistakes.
The line was hardly Oscar Wilde; the audience was furious that I appeared to make light of the Downing Street parties. I thought my career was over, and was wondering if Lidl might be hiring. But what I couldn't see till I watched the show back was that Campbell shrugged away the reference to Iraq as if it were mundane. It was an ugly moment. By not bursting into tears, I think I came out better.
What irritates me about some people on the Left is that they talk about mental health and kindness yet they treat their opponents like dirt, not giving a damn how it might make them feel – and if a Conservative hits back, they act like we have crossed a line that doesn't apply to them …
And I wasn't trying to defend Boris on Question Time, just explain his thinking. I have my own views, of course; but in that format I try to put both sides of a story, so the audience can make up its mind. I often find that Left-wing panellists can't process this. They claim to be empathetic yet have zero interest in how other people think. It will be the Tory party that will produce the first non-white prime minister and how will the Left respond? They'll call them a "racist".
That night on Dan Wootton's GB News show, opinions about Boris's successor flew in thick and fast.
Former Conservative Home Secretary and later Brexit Party MEP Anne Widdecombe was adamant that the next Party leader be firmly committed to completing the Brexit process. We still have the Northern Ireland Protocol and French fishing difficulties to deal with:
Opinions swirled around the time it should take Boris to vacate Downing Street.
Someone in the know told the Daily Mail that Theresa May — a Remainer — should be caretaker PM. GB News reported:
While Mr Johnson is expected to stay on until Prime Minister, he could choose to relinquish his duties with immediate effect.
In which case an interim Tory leader would be appointed, who would in turn also become the caretaker Prime Minister.
And former Prime Minister Ms May, who held office between 2016 and 2019, could reportedly make a dramatic return to No.10.
A report in the Daily Mail said: "She knows the ropes and the security stuff, she's a party woman through and through, she's definitely not interested in standing for it herself and would be credible.
"She is uniquely placed."
Thank goodness that didn't happen.
Another Remainer, former Conservative Prime Minister John Major, apparently told the 1922 Committee, headed by Sir Graham Brady, to get rid of Boris pronto. Edwina Currie, a former MP who served with him in Parliament at the same time and who was Major's mistress between 1984 and 1988, said that the former PM was being 'a bit of a prat':
The 2021 Conservative candidate for Mayor of London, Shaun Bailey, agreed. He would have made a great mayor, by the way:
However, biographer Tom Bower explained that Boris and Carrie had no other home, therefore, he would stay at Downing Street until such time as the couple buy a house:
And what about Carrie?
A lot of conservatives blame her for Boris going off the boil with a libertarian-Conservative manifesto to focus on damagingly expensive Net Zero policies, never mind the gaudy refurbishment of the Downing Street flat, allegedly paid for by a Party donor.
The day Boris resigned, The Telegraph's Celia Walden wrote 'The Carrie conundrum: What next for the Prime Minister's wife?'
Over the past two years and 11 months our outgoing First Lady has certainly garnered criticism – some unfair, some fair. And already commentators are saying that Carrie "helped blow it for Boris". But it is surely her husband's sociopathic behaviour over the past few days, weeks and months – and what has been described not as Boris's downfall but his "clownfall" – that will have been most brand-damaging. So how easy will it be for Carrie to rid herself of that toxicity, and what next for the Prime Minister's wife? …
Before Carrie became involved with Boris, and his special brand of bedlam, the daughter of Matthew Symonds, co-founder of the The Independent, and lawyer Josephine McAfee was described as "controlled" and "confident".
Politics may have seemed a world away from the creative fields she immersed herself in at the University of Warwick – where she studied theatre and art history – but after a stint working for Zac Goldsmith, who was MP for Richmond at the time, Carrie moved on to the Conservative party's press office, where she quickly rose through the ranks, working on her future husband's re-election campaign, when he ran for Mayor of London in 2012, before becoming the youngest director of communications for the party at just 29.
That a woman who forged a career in the business of public perception – and was credited with taking charge of the Prime Minister's image (and weight) after they first got together in 2019 – could go on to make the series of missteps Carrie made at No 10 remains baffling today.
It may always have been strenuously denied that the PM's wife played any part in the prioritising of dogs over humans for evacuation from Afghanistan, but it was without a doubt the First Lady who oversaw No 10's controversial maximalist redesign. It was she who picked out the infamous gaudy wallpaper estimated to cost £840 a roll and, as I write, Twitter is alive with memes about the one "burning question" that remains: "Now that the Prime Minister has finally resigned what happens to Carrie's gold wallpaper?"
Because of this, reports that the Johnsons planned to build a £150,000 treehouse for their son at Chequers (but were stopped when police raised security concerns) prompted some to interpret this as "yet more Carrie". Which might have been unfair. But then there was Carrie's involvement in partygate.
The Sue Gray inquiry was told that it was she who was keen to throw a party during the first lockdown and "offered to bring cake" – so these cannot be written off as "sexist", "misogynistic" slurs along with the rest. And while other First Wives have been busy out in Ukraine, shaking Zelensky's hand, Carrie has been notably low profile in recent months, presumably acting on advice from spin doctors.
… according to Craig Oliver, former director of politics and communications for David Cameron: "Leaving No 10 could be the making of Carrie. She's an intelligent woman, interested in a lot of issues. Being the PM's wife has an inevitable chilling effect on what you can do and say. She'll now be free to speak her mind." 
Lord Ashcroft, whose biography, First Lady: Intrigue at the Court of Carrie and Boris Johnson, was published in March, describes Carrie as "an impressive person – with a high-level career in politics and a record of campaigning on animal rights and the environment". Another political writer, meanwhile, assures me that any toxicity will be shrugged off with characteristic ease both by Boris and his wife. "He will be a very successful ex-Prime Minister. His star quality is shoulders above any of the others and he will become very rich on the back of it. So very shortly, everything will settle down, and she will be glad to have left the fishbowl."
… although Carrie is clearly a political animal, it seems likely that she'll choose to concentrate next on animal rights campaigning, perhaps deepening her involvement with The Aspinall Foundation, for whom she has worked as head of communications since 2021 – which in itself is in a period of transition. Every PR knows that charity work is the best "brand rehab" there is, and her passion for the cause isn't in doubt.
We can but see.
There was more to come with Mr and Mrs Johnson: their belated wedding celebration, which they weren't able to have earlier because of the pandemic.
More to come tomorrow.
Before discussing the latest developments among the candidates for Conservative Party leader, let's look at the weather here in England.
The weather presenters have been going on for a week about how hot it's going to get here. From the beginning, they forecasted 40°C temps, roughly 100°F. Weather maps have been given a deep red colour, as if we're going to burn alive.
Monday and Tuesday were going to be the hottest days of the week. Monday's high was 38°C, reported in only five places, two of which were airports, so I discount those.
The other three were Cambridge University Botanical Gardens, Cavendish, Suffolk and a village called Sancton Downham.
One of Guido Fawkes's readers posted a photo of the Cambridge location, which makes it suspect. The first photo shows the area when the weather station was first installed. The photo on the right shows what the area looks like today: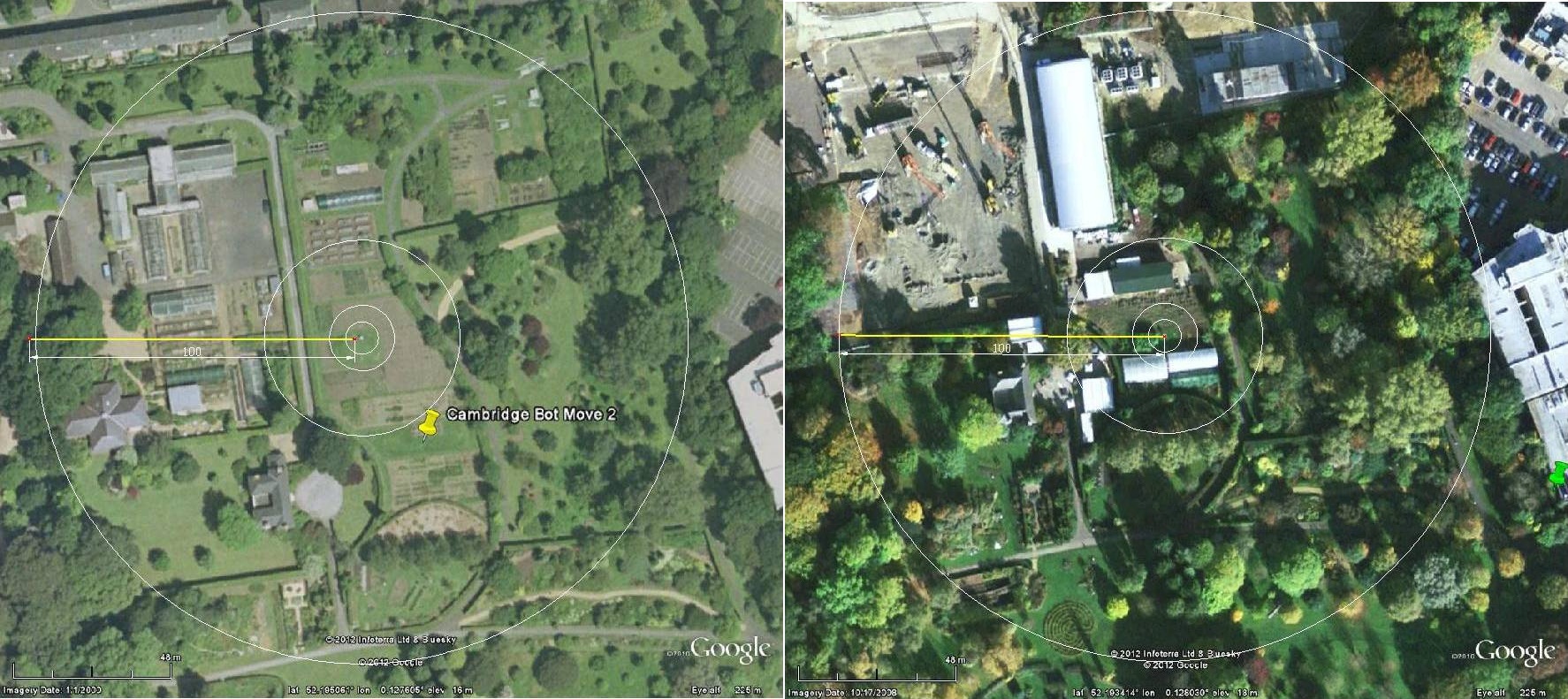 Guido's reader commented (emphases in purple mine):
… the siting of Stevenson screens is crucial when recording temperature change. As I type the Cambridge station is now recording the highest temperature in the UK but it has been surrounded by new buildings which invalidates its scientific accuracy. It certainly must not be used to claim all time highs.
The unit and sensors should also be positioned in open space away from any nearby potential sources of heat such as buildings, airports and brick walls, where free circulation of air can occur, and over a natural surface, grass is recommended as other surfaces such as concrete can cause significant error leading to all time high temperatures being recorded inaccurately.
Was it warm yesterday? Yes.
Was it pleasant? Of course. I did some heavy duty gardening.
I do not understand why the British panic over summer temperatures, especially since most of them go to scorching hot climes on holiday. This graphic sums it up well: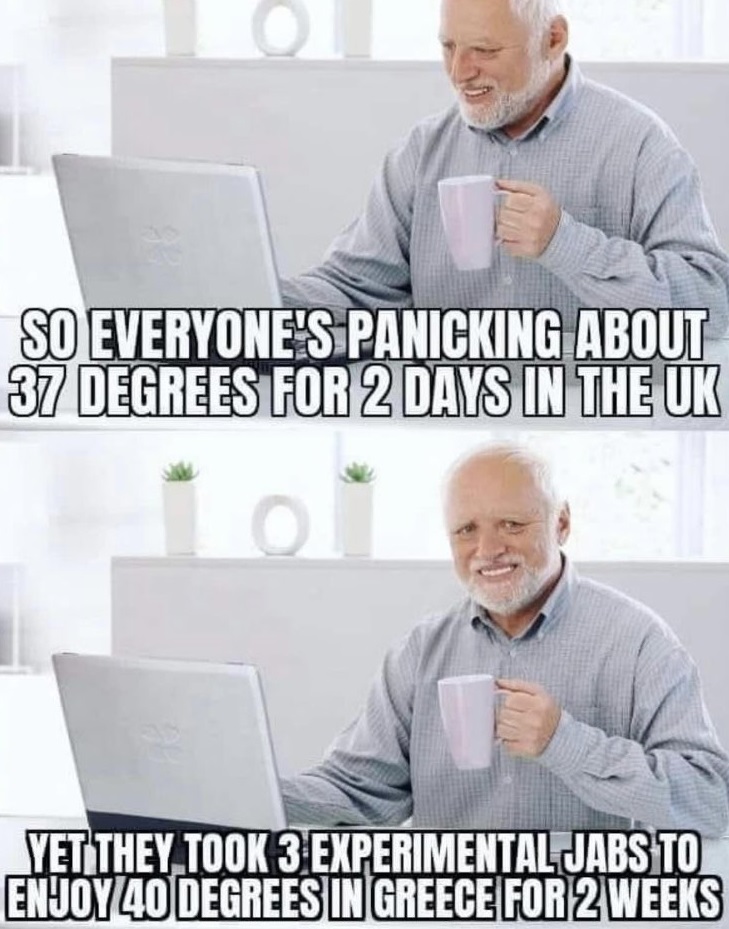 It's hard not to agree with this university lecturer, who wonders how ever created an Empire when we are such Moaning Minnies about heat. Were the British made up of sterner stuff in the 18th and 19th centuries? Perhaps so:
Now on to the Conservative Party leadership contest.
Monday's vote: Tugendhat's out
Conservative MPs voted again on Monday, July 18, 2022.
Tom Tugendhat, our Army superhero, was eliminated from the contest:
Was this his mode of transport home?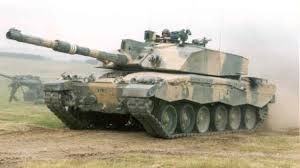 Here's Tom in an Army sweater:
He made a video thanking his supporters:
Guido Fawkes gives us Tom's main statement:
I have been overwhelmed by the response we have received across the country. People are ready for a clean start and our party must deliver on it and put trust back into politics.
No doubt the ladies at Mumsnet enjoyed it:
The final four
Going into Tuesday, these were the final four candidates:
Guido has Monday's vote tally. Results went down as well as up (red emphases his):
Rishi Sunak – 115 (+14)

Penny Mordaunt – 82 (-1)

Liz Truss – 71 (+7)

Kemi Badenoch – 58 (+9)

Tom Tugendhat – 31 (-1)

OUT
Penny's lost support, Kemi is still in contention. Liz is now second favourite at the bookies. All to play for…
Guido had more analysis later in the day:
Whilst tonight's leadership vote-off is unsurprising in that sense, the way the votes have gone for the remaining candidates are much more interesting.
Penny has gone down one vote, totally stalling. While she still leads Liz Truss, this trajectory will kill her momentum. Kemi has done very well; gaining nine backers to Truss's seven. While tonight's result in terms of eliminating Tugendhat may have been predictable, the remaining results make the final two more uncertain than ever. Though Rishi is now guaranteed a space in the final two…
The next vote took place on Tuesday afternoon. I will have an analysis of the results on Wednesday.
Conservative Party members see things differently
After Conservative MPs whittle their choices down to two candidates, the Party will send ballots out to members to vote for their choice, with a new leader — and new Prime Minister — to be in place by September 5, when Parliament reconvenes.
Note the latest polling from the Grantham and Stamford Conservative Association, which I featured last week. Kemi Badenoch was — and is — still in the lead. Rishi Sunak comes in a rather distant third:
Guido says:
The slick Rishi machine has to move the dial with the membership in a big way…
Rishi Sunak
Rishi is in a bit of a pickle, which gives Labour a lot of ammunition should he be our next Prime Minister.
The pandemic turned a lot of Britons into supporters of big state government, as Lord Hannan points out:
On May 26, the then-Chancellor announced a handout of £400 to all households in order to help them with rising energy costs:
The financial support has now been distributed.
Is it a good plan? Guido reported on the reaction from various think tanks.
The one from Taxpayers' Alliance resonated with me most:
The TaxPayers' Alliance isn't impressed either, claiming the move is "little more than the government taking with one hand and giving with the other". Chief Executive John O'Connell said:
Taxes are the single biggest bill families face and these huge handouts will see politicians hoovering up the incomes of struggling taxpayers, creating a cost of government crisis. If the chancellor wants to boost growth and help households, he can deliver both right now by bringing forward the planned income tax cut and slashing costly levies on energy bills.
But that was not all.
Rishi outlined other plans, altogether resulting in a £15bn bailout:
Guido has a summary:
As expected, Rishi has fired up the money printer once again to combat inflation. The Treasury claims it'll cost £15 billion, with £5 billion a year supposedly coming from the newly-announced windfall tax "energy profits levy". Here's what to expect:
Windfall tax on oil and gas companies.

Projected to raise £5 billion a year.
One-off 'cost of living payment' of £650 to approximately 8 million means-tested households.

 Two lump sum payments directly to bank accounts.
Households already receiving winter fuel allowance will also get a one-off payment of £300.
Those on disability payments will also get of £150.

Many of those in receipt of this payment will also be eligible for the £650 sum, bringing their total support to £800.
Universal grant of £400 to all households.

 Doubling the £200 energy bill loan, and turning it into a full grant.
Rishi boasted when making the announcement that his plan is more generous than that proposed by Labour's Rachel Reeves. The levy will raise £5 billion a year, and this will cost £15 billion. The difference will have to be financed by borrowing repaid by taxpayers…
People were shocked.
Labour won this round.
In Parliament, Shadow Chancellor Rachel Reeves said:
We pushed for the windfall tax. They've adopted it.
We said the buy now pay later scheme was wrong. Now they've ditched it.
This government is out of ideas, out of touch and out of time.
When it comes to the big issues facing the country, Mr Speaker, the position is now clear:
We lead. They follow.
Former Labour leader Jeremy Corbyn, who was Boris's opponent in the 2019 general election, was also pleased:
This was Jeremy Corbyn's plan in Labour's 2019 manifesto. It included a windfall tax:
Taxes in Britain are now at a 70-year high. Who was Prime Minister then? Labour's Clement Attlee:
Lord Hannan, a former MEP, fears this will be a permanent development. He might well be right, unfortunately:
The plan made two front pages:
Cabinet members reacted the following day, including Jacob Rees-Mogg:
According to The Times, Rees-Mogg raised concerns in Cabinet yesterday, suggesting "the package would be better funded by reducing government spending on infrastructure projects." The paper puts BEIS Secretary Kwasi Kwarteng in this camp as well, with him telling allies he's particularly concerned by BP's announcement that it's reviewing its plans to invest in the North Sea. Guido agrees with the anonymous cabinet minister who said "The politics of this is just so bad. We voted against it, we marched the whole party up the hill and are now taking them back down again. It looks like we're being dictated to by Labour"…
Conservative MP John Redwood said that taxation does not equal prosperity:
On May 28, Lord Hannan wrote an excellent editorial for The Telegraph, 'The Tories have almost wholly given up on conservative principles. What a tragic waste'.
Excerpts follow:
The Tories have almost wholly given up on conservative principles. They used to argue that lower taxes stimulate growth and so lead, in the long run, to higher revenue; that countries, like families, should live within their means; that individuals spend their money more wisely than state bureaucrats; that arbitrary and complicated taxes are as much a deterrent to investment as high taxes. Not any more …
When George Osborne imposed a one-off tax on energy firms in 2011, the Treasury Red Book predicted that it would bring in £2 billion. Instead, oil companies cut their North Sea investments and tax revenues fell.
Again, Johnson and Sunak know this. As recently as three months ago, the Chancellor was telling us that the "obvious impact of a windfall tax would be to deter investment". Both men understand that the only way out of our present predicament is through growth. Both understand that the way to achieve higher growth is to cut spending, scrap regulations, remove trade barriers, and ensure sound money. But these things are usually unpopular in the short term, and that seems to be their chief consideration.
We are thus in a negative feedback loop. When voters see the Conservatives, supposedly the party of fiscal responsibility, spraying cash around, they conclude that there must be plenty of depth left in the Government's reservoir. When they see a Tory Chancellor promising to bring in extra revenue by hiking corporation tax – despite the experience of cutting corporation tax rates from 2011 and seeing revenues surge – they naturally believe him. All this then heaps pressure on ministers to spend even more …
It was all so unnecessary. Outside the EU, Britain could have become freer and more competitive. We had a Conservative Government with an 80-seat majority, for Heaven's sake. We could have scrapped Brussels regulations, flattened and simplified taxes, embraced global markets, slimmed the civil service, decentralised powers and broken cartels. We could, in short, have made this the most attractive place in the world to do business.
Yes, the pandemic was an unforeseeable distraction – though, even then, some reforms could have been pursued. But nearly a year has passed since the end of the restrictions in Britain, and it is now depressingly clear that there is no plan to make use of our opportunities. After all their talk of buccaneering Britain, our leaders have shied away from almost every difficult economic decision. What a waste. What a tragic, needless waste.
Of course, Nadhim Zahawi is our current Chancellor. For how long remains to be seen. However, it will be difficult for him or his successor to roll back on Rishi's plan. Labour won't allow it. Either way, it will play to Labour's advantage between now and the next general election.
Let us look at more recent developments.
When Rishi resigned as Chancellor, the press gathered outside the Sunak mews house in Kensington, London.
The Infosys heiress Mrs Sunak, in the tradition of other politicians, brought reporters mugs of tea:
One reporter expressed his appreciation:
Boris Johnson had only just stood down as Party leader when Rishi declared his candidacy to succeed him. Note that Channel 4's poll participants still wanted Boris to stay in No. 10:
'Ready for Rishi' launched on July 8, complete with a video on his family's arrival in Southampton on the southern coast of England. Rishi was born there:
Not surprisingly, Rishi's promo did not include this clip from a 2001 documentary he participated in as a student at Winchester, one of the nation's top public (very private) schools. This is from the BBC's Middle Classes: Their Rise and Sprawl, shown in March 2001.
Rishi glibly says he doesn't know any working class people. His father looks on admiringly:
Bim Afolami MP, who is one of Rishi's supporters, defended his friend's quick launch. Afolami said that all the video clips were there for his team to sort through and compile in 24 hours. Afolami said that it was not unusual that Rishi arranged for his campaign website in …. 2020:
Staunch Boris loyalist Nadine Dorries told Dan Wootton on GB News that Rishi was able to launch his campaign because he wasn't at work:
Wootton asked whether Rishi was 'too duplicitous' to be PM:
Ninety-two per cent of those responding to his poll said YES:
Patrick Christys added to the doubt that many have about Sunak, from the timing of his campaign launch to his Boris backstabbing:
At the launch of the candidates' contest, the public reacted negatively to Rishi.
One person was incredulous that both Boris and Rishi received Fixed Penalty Notices for Partygate, yet Boris had to resign only for Rishi to run as his successor:
Another predicts that the Conservatives will lose the next general election. The Opposition will fire too much ammunition Rishi's way:
This chap objects to all of the top candidates:
I will leave it there for now.
More to come tomorrow, including an analysis of Tuesday's vote.
Yesterday's post introduced the ongoing Conservative Party leadership contest.
Today's post will discuss what happened on Wednesday and lead up to Thursday afternoon's vote, the result of which will appear tomorrow.
Before Wednesday's vote
Guido Fawkes wrote the following on the morning of Wednesday, July 13, before the first round of voting (red emphases his, purple ones mine):
Good morning. Six of the eight remaining Tory leadership candidates face an uphill battle throughout the day, as they attempt to reach the 30-MP threshold required in the first knockout round of the contest at 6pm. Rishi now has 48 backers, meaning he can basically sit back and relax for at least the next two rounds, though that hasn't stopped him adding Steve Barclay to his list of supporters this morning. Penny Mordaunt also has the 30 required. The other six, not so much…
All eyes are on Jeremy Hunt and Suella Braverman as the ones most likely not make it, though one of Hunt's backers told Guido last night they believe they have the requisite support. They also described rumours that Gavin Williamson is instructing Rishi backers to temporarily support other candidates like Hunt and Kemi, so Rishi doesn't have to face Liz in the final two, as utter rubbish, though members of other campaign teams believe it is absolutely happening. With Sajid, Shapps and Priti now out of the race, there are 30 newly floating MPs up for grabs…
News overnight includes a policy-light interview with Rishi in The Telegraph, who's trying to get the press back onside after yesterday's scenes at his campaign launch. He says he'll run the economy like Thatcher if he wins. Tom Tugendhat committed to spending 3% of GDP on defence last night.  Penny has used a Times op-ed to commit to supporting families as PM. Stay tuned for her campaign launch at 10.30 this morning…
And:
from now on candidates can also vote for themselves…
Candidates experienced highs and lows, as covered below.
Nadhim Zahawi
When Boris Johnson appointed Nadhim Zahawi as Chancellor of the Exchequer on July 5, it was remarked that he is the first Chancellor with facial hair in 65 years:
Before Harold Macmillan, we have to go back another few decades to find another bearded Chancellor:
Zahawi appears to be the man who convinced Boris that he should stand down as leader of the Conservative Party. On Thursday, July 7, the Daily Mail reported:
Boris Johnson will finally announce his resignation today – but is lining up a 'unity Cabinet' as he battles to stay in Downing Street for months longer.
The PM admitted defeat in the wake of a shattering intervention from Nadhim Zahawi, who was only appointed on Tuesday night following Rishi Sunak's departure. He told Mr Johnson that his situation is 'not sustainable'.
Two days later, on Saturday, news emerged that HMRC (Her Majesty's Revenue and Customs) were investigating Zahawi's tax situation. Hmm:
Zahawi said on a Sunday morning news programme that, if elected Party leader, he would release his tax returns. He complained of being set upon, something Boris knows only too well:
On Tuesday, July 12, he launched his campaign video in which he tells his life story. He arrived in England from Iran with his parents. He started school not knowing a word of English. Fast forward to the past two years and he was able to live his dream. He headed the coronavirus vaccine rollout and went on to become Education Secretary. Today, he is Chancellor. Amazing:
On Wednesday morning, he told LBC's Nick Ferrari that, if elected leader, he would give Boris a Cabinet post:
Guido has the video and concluded:
He's the second leadership contender to make such a pledge after Suealla Braverman. Clearly Zahawi sees some benefit in associating himself with Boris. A swift change of tone considering he was calling for Boris's resignation just a few days ago…
Agreed, but there is no way that a former Prime Minister would take a Cabinet post.
Later on Wednesday morning, someone hacked Zahawi's campaign website and redirected it to Penny Mordaunt's. Penny's website also seemed to have issues:
They are not the only ones, however, as Guido reported that Rishi Sunak's site is banned on the Parliamentary estate:
Website woes are a common theme throughout the leadership campaign, Rishi's site is blocked in Parliament as "insecure" and candidates have had their domain registration timings scrutinised. Turns out this stuff is hard to do right…
Jeremy Hunt
Conservatives either love or loathe Jeremy Hunt.
He served as Health Secretary and then as Foreign Secretary, until Boris sacked him in July 2019.
Hunt ran against Boris in the 2019 leadership contest. In one appearance during that campaign, he said his wife was Japanese. She quickly corrected him and reminded him that she is Chinese.
I wonder if he said that on purpose, because …
During the pandemic, as a backbencher, Hunt proposed Chinese-style lockdowns and mandatory vaccines for healthcare staff.
Nadine Dorries MP recalled a conversation with Hunt in July 2020:
On Christmas Day in 2021, the Mail reported that Hunt's wife presents Chinese state-sponsored television programmes, broadcast on Sky TV from London:
The wife of former Cabinet Minister Jeremy Hunt presents a TV show for China's state-run media that has been accused of 'whitewashing' the Communist Party's human rights abuses.
Lucia Guo, who has three children with the former Health Secretary and Foreign Secretary, appears on China Hour, a series broadcast on Sky TV that showcases Chinese culture to a UK audience.
It is made by the state-owned China International TV Corporation and British-based Dove Media, in partnership with the Communist regime's tourist office in London.
The programme has featured reports on the effectiveness of China's pandemic response and about the beauty of the Xinjiang region without mentioning it is the site of 're-education' camps for its persecuted Muslim Uighur population. 
Ms Guo, who is originally from the city of Xi'an in central China, hosts a feature on the show called Signature Flowers of China. 
It has been broadcast since September and is also available on YouTube.
Human rights campaigners at the US research institute Freedom House last year accused China Hour of being part of the Chinese Communist Party's international media web.
The programme has been praised in Beijing for its viewing figures while its reports on the pandemic have been credited with 'playing a unique role in communicating the Chinese narration of the epidemic to the world'.
On March 13, 2020, three days before the UK's first lockdown, Hunt wanted all British schools closed.
Although Hansard has all of Jeremy Hunt's contributions to parliamentary debates, in May 2022, he tried to walk back his promotion of Chinese-style pandemic measures.
Someone put this graphic together around May 21, a significant date for Hunt, as you will see below: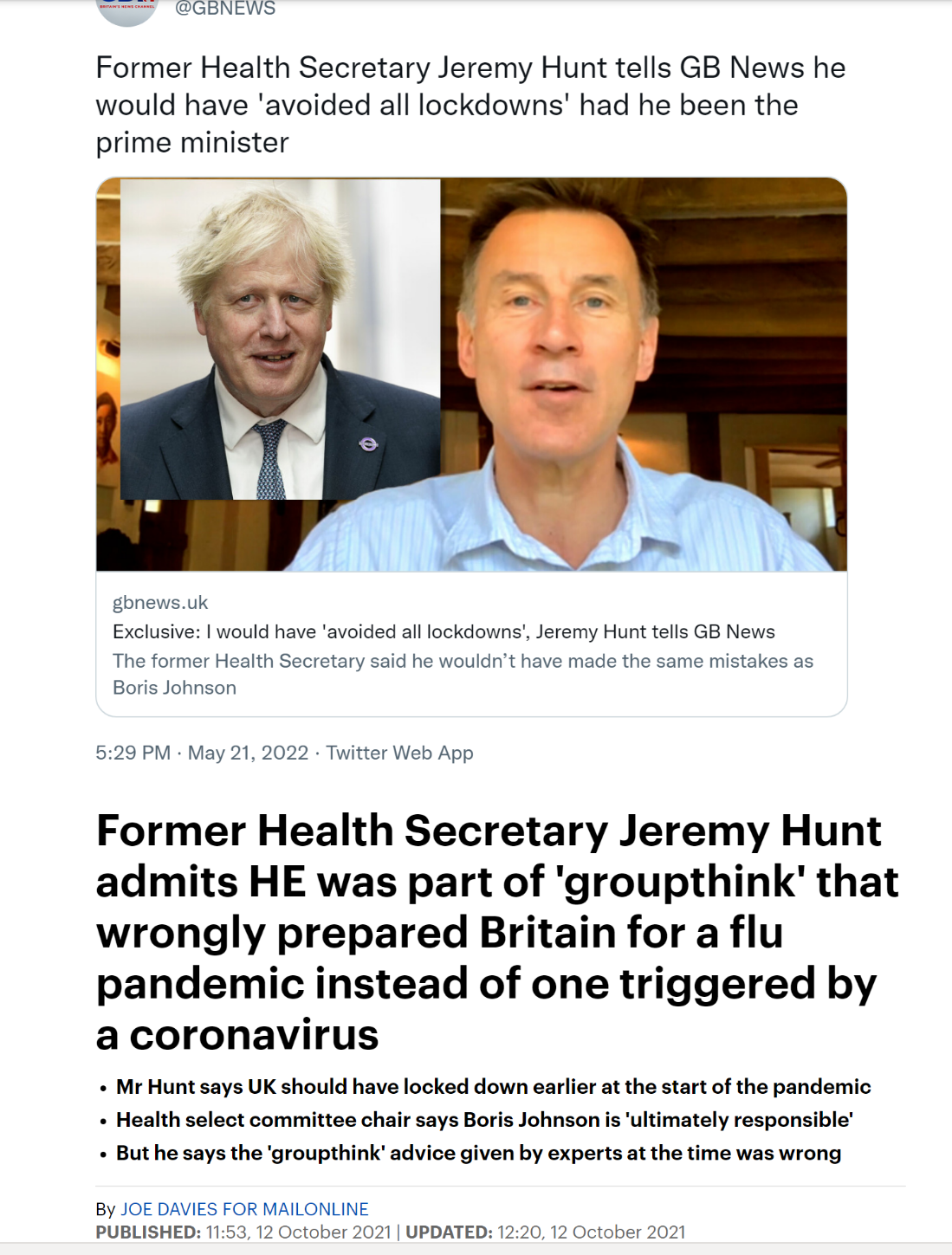 The next day, May 22, he appeared on Sophy Ridge's Sky News programme to say that he did not want to see a Conservative leadership contest:
Guido posted the video and this comment:
Maybe Hunt is one of these Tories who thinks it might be good to lose the next election? He could become leader of the opposition…
That day, a number of letters to the editor appeared in The Sunday Times. The week before, he had written an article for the paper outlining how he would reform the NHS.
A retired GP wrote the Times to point out that Hunt had ample time as Health Secretary some years before, yet he took no action:
What a nerve! Jeremy Hunt tells us "How I would fix the NHS" (News Review, last week) — but he was the longest-serving health secretary in British history and has a huge responsibility for the NHS being in this parlous state.
He did nothing to increase the capacity of our hospitals, which has resulted in ambulances queueing outside A&E departments, unable to discharge their patients. He pledged that by 2025 we would be self-sufficient in "homegrown" doctors, but a lack of planning has resulted in a huge shortage of NHS staff in all sectors. He went out of his way to alienate junior doctors, causing the unprecedented strike of 2014. He did nothing to integrate the NHS with social care.
This is the man who could replace the fool we now have as prime minister. Heaven help us.
One week later, on May 28, an article in the Mail suggested that Hunt had a plan to topple Boris:
Boris Johnson's Cabinet allies have accused supporters of former Health Secretary Jeremy Hunt of mounting a secret pub plot to oust the Prime Minister.
They suspect MPs who attended a dinner at an upmarket bar in West London called The Surprise last week were scheming to trigger a Tory leadership challenge.
The event, held the night before Sue Gray's report into Partygate was published, was hosted by Devon MP Mel Stride, a former campaign chief for Michael Gove who is seen by the Johnson camp as a rebel ringleader.
Also in attendance was long-serving Ludlow MP Philip Dunne, a key ally of Mr Hunt.
The article has two familiar names, in addition to Hunt's. Those MPs entered the current leadership contest:
Of the 16 MPs known to have been there and who voted in the 2019 leadership election, just three backed Mr Johnson.
Five backed Mr Hunt, who is widely expected to mount a leadership bid if a contest is called, while six supported Mr Gove, who is not expected to enter another contest …
Politicians at the dinner strongly denied they were scheming against Mr Johnson and accused his allies of 'paranoia'.
They pointed to the fact that Boris arch-loyalist Grant Shapps – who has himself been tipped as an outside bet for the leadership –addressed the meeting.
But a Cabinet ally of Mr Johnson said: 'Mel Stride is a Goveite looking for a new horse to hitch his wagon to. Many of the people he invited to the pub backed Gove or Hunt last time – including Dunne, who is running Hunt's latest bid.
'Any MP considering backing Hunt must be a masochist yearning for the kind of thrashing we sustained in 2017 and longing for the humiliation of a very long spell on the Opposition benches.
'Without Boris, we will be handing the next Election to a Labour-SNP coalition. But then, some of our pro-Remain MPs and those who think they were naturally destined for high office, are too bitter to care' …
Trade Minister Penny Mordaunt, considered a potential future Tory leadership contender, condemned behaviour at No 10 as 'shameful', telling the Portsmouth News she was 'angry' that people blocking 'reasonable requests to relax [Covid] restrictions, were at the same time ignoring the rules'.
I agree with whoever said that without Boris, the next election will go to a Labour-SNP coalition. Yet, here we are, sadly.
By June 6, the story of Hunt's yearning to be the next Conservative Party leader grew traction, especially with GB News presenters.
Neil Oliver threw his characteristic diplomacy away in this tweet:
Bev Turner shared a Hunt anecdote, wherein he advocated paying domestic staff low salaries:
Someone from Hong Kong confirmed the Chinese way of paying peanuts to domestic staff:
A Conservative Party member chimed in with disgust:
Adam Brooks, the publican who appears on Dan Wootton's show was grateful that Boris was at the helm during the pandemic:
Now let's look at what Jeremy Hunt told Nadine Dorries, Secretary of State for Digital, Culture, Media and Sport, back in July 2020:
Ben Leo, who works on Dan Wootton's show, tracked Hunt down in front of his house on July 9 to follow up. This is an excellent video. Readers won't be surprised to find out that Hunt said absolutely nothing:
Now let us fast forward to last weekend.
GB News viewers were aghast to find out that Esther McVey, an MP many of us admired up to that point, cast her support for Hunt, as did her husband Philip Davies:
Why would a no-nonsense, straight-talking Conservative back Jeremy Hunt?
The answer came on Sunday, July 10, when Hunt announced that, if elected leader, Esther McVey would become Deputy Prime Minister.
Guido posted the video:
She must be stupid if she believes that, I thought. It's like a would-be Romeo trying to seduce a girl. Promise her anything to get her to submit …
Just look at the man's eyes. He often looks like this:
Guido tweeted:
That's me done with McVey and Davies. I liked him, too. No longer.
On Monday, July 11, Dan Wootton warned that Conservative MPs could destroy the Party if either Rishi Sunak or Jeremy Hunt become leader:
He is not wrong in that assessment.
First round voting results
Sir Graham Brady, chairman of the 1922 Committee of Conservative backbench MPs, declared the results of the first round of voting shortly after 5 p.m.
Nadhim Zahawi, the new Chancellor, and Jeremy Hunt were eliminated from the contest:
Conservatives around the nation breathed a sigh of relief at Hunt's elimination from the race.
Perhaps Hunt should have taken a cue when the top of the bell he was ringing flew off, nearly hitting a bystander:
As for Zahawi, he posted a lengthy letter: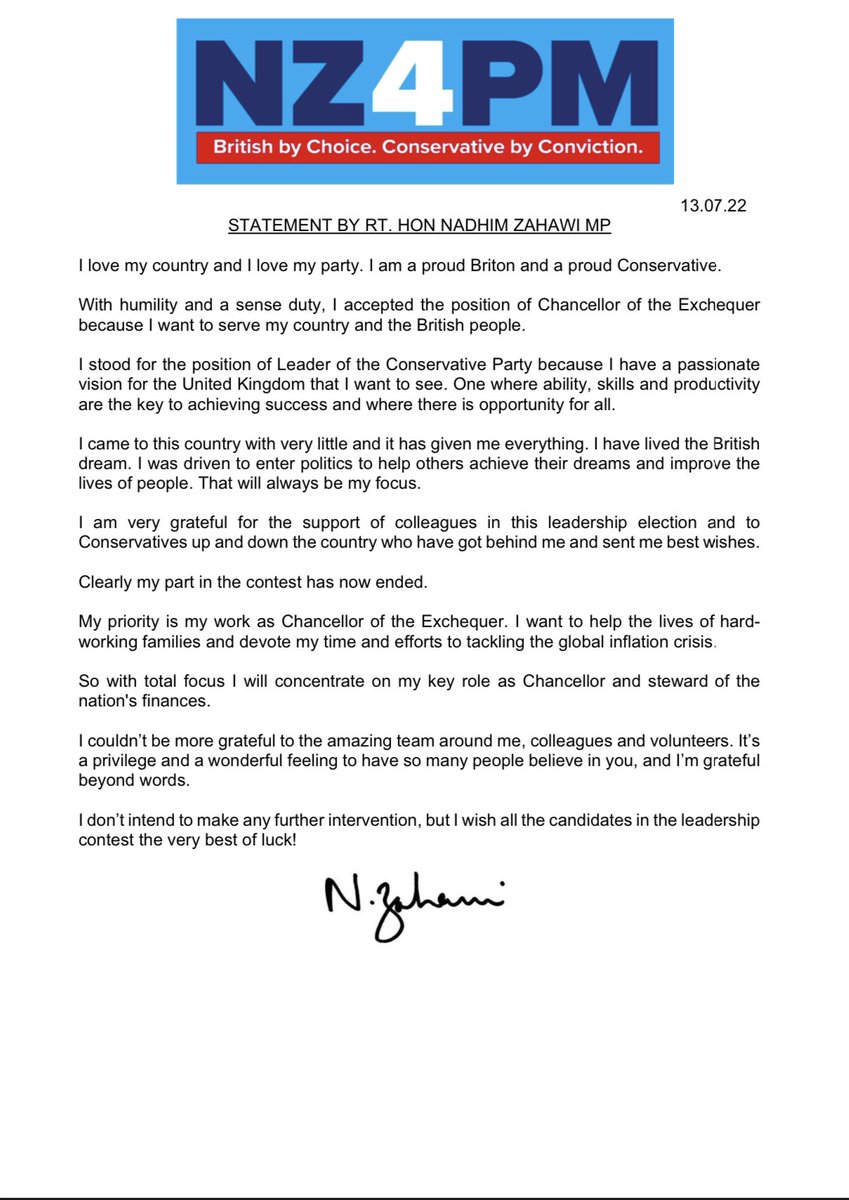 He has a lot on his plate, so perhaps it is best that he focuses on recovering some of the millions that fraudsters took during the pandemic. Those people stole taxpayers' money:
He should also do something about road fuel tax:
Meanwhile, Jeremy Hunt pledged his support for front runner Rishi Sunak:
And then there were six
As Wednesday closed, we were left with six candidates going into Thursday:
Kemi Badenoch, someone around whom most Conservatives could rally, had just over 50 MPs supporting her.
Tom Tugendhat, rather surprisingly, considering that he has a high profile, had fewer than 50.
Suella Braverman, another candidate who makes most Conservative Party members happy, has just over 40.
I think that Braverman and/or Tugendhat will lose on Thursday. Tugendhat is another one who deserves to go.
Guido summed up Wednesday's activity. Highlights follow.
Rishi Sunak could be losing momentum:
… After hogging the limelight with his campaign launch yesterday,

today he resumed being the punching bag of choice for all other candidates

.
Faced some

horrible polling from all quarters, which shows he basically stands no chance of winning among the members if he gets through to the final two

.
Penny Mordaunt did well:
A great day for Penny –

if she wins the contest, today will undoubtedly be viewed as the day she secured the victory

…
Received a major boost from

YouGov polling

that shows,

should she get through to the final two, she'd smash every other candidate

.

Remains a comfortable second among MP backers.
Liz Truss survives another day:
Vowed to halt green levies

Continued her campaign as

the 'Boris continuity candidate'

.
Suella Braverman is unlikely to make it through past Thursday's voting.
Kemi Badenoch does not want tax cuts but has gained support:
Continues to gain support

, not least with her former employers at The Spectator.
Kemi is also opposed to the current form of the dreaded Online Safety Bill, the debates on which could not be completed before summer recess, as the Northern Ireland Protocol Bill, quite rightly, took priority. There is also the debate on confidence in the Government on Monday, which should be interesting: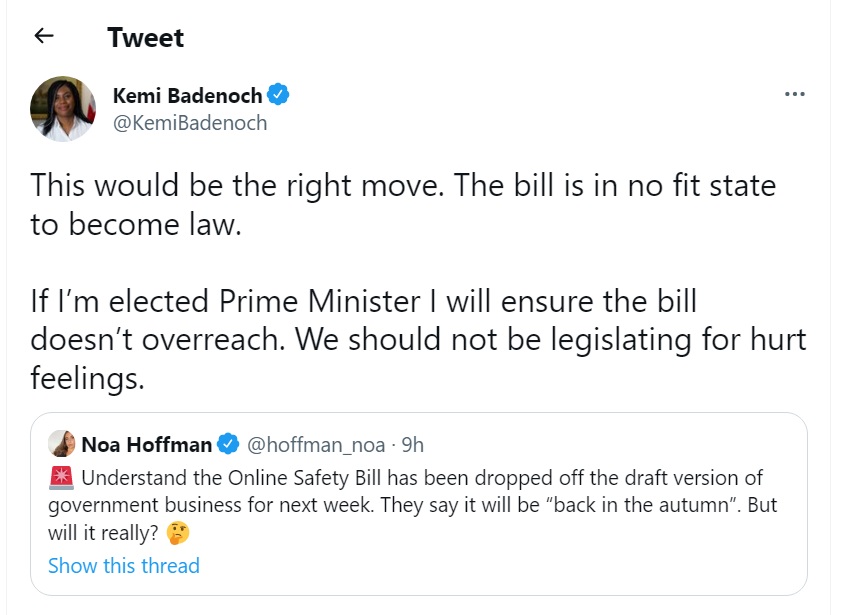 Thursday, before the vote
Guido summed up the state of play on Thursday, July 14. An excerpt follows:
In a few months' time, what will people remember of Jeremy Hunt's 2022 leadership campaign? Nothing, obviously. Seemingly just 18 MPs realised he was running one at all, which is odd as he needed 20 to get on the ballot in the first place. As Sky's Sam Coates asked last night: what exactly does Rishi gain from being endorsed by this competition's biggest loser? He certainly won't gain all of Hunt's supporters – many of them are now angry that Hunt went with Rishi, and not Tugendhat. Mind you, there was already anger towards Hunt from Team Penny, who endorsed him in 2019, as it was very clear he was never considering returning the favour this time around. Et tu, Jeremy…
Today should, in theory, be Truss's day in the spotlight. Her campaign launches bright and early in Smith Square, in two hours' time. They'll be delighted with The Mail splash this morning, which is blatantly campaigning for Liz and telling the right to unite behind her to defeat Rishi. The same front page carries a briefing from someone in the Truss camp accusing Penny of telling lies about her trans stance. Lord Frost has also just taken to the airwaves to slam Penny's record in government, saying she was so rubbish as his deputy he had to ask the PM to move her during the Northern Ireland negotiations…
Yes, this was a damning moment for Penny.
Guido has the video …
… and the quote:
To be honest I'm quite surprised that she is where she is in this leadership race. She was my deputy, notionally more than really, in the Brexit talks last year… I felt she did not master the detail that was necessary in the negotiations last year. She wouldn't always deliver tough messages to the European Union when that was necessary… she wasn't always visible. Sometimes I didn't even know where she was. I'm afraid this became such a problem that after six months I had to ask the Prime Minister to move her on… from the basis of what I saw I would have grave reservations about [Mordaunt].
Guido says that Lord Frost isn't the only one critical of her, either:
On Tuesday, CityAM published damning claims from Department for International Trade sources alleging Penny was "missing for months" as a trade minister and wasn't reliable – something Guido's ministerial sources later confirmed themselves…
As the day unfolded, Rishi tried to make his resignation and leadership candidacy appear sudden, failing to mention that he had his website domain registered in 2020:
On a lighter note, Tom Tugendhat will rue this photo of 'Tom a tart':
Oh, well, he's likely to be out by the end of the day, anyway.
It is unfortunate that so many members of the public cannot identify the next Conservative leader:
Meanwhile, among the party membership, here's the latest from Grantham & Stamford Conservative Association. I am surprised that Mordaunt is doing so well. At least Badenoch is in second place:
Today's vote began at 11:30 and closed at 3 p.m. All being well, I will have an analysis of the results tomorrow.
Candidates for the Conservative Party leadership race began putting their hats in the ring last weekend.
Many of those MPs are promising everything, and pundits are having a field day in the press:
While it is true to say that a lot of them are alike — yet not all — in policies, let us look at the diversity among the original 11 candidates:
Among those original 11, we had five women and six minority candidates.
No one can say today, as Theresa May did many years ago, that the Conservatives are the 'nasty party':
The Conservatives had no quotas. These MPs merely had to come forward and declare their interest in the leadership contest.
As I write in the early afternoon of Wednesday, July 13, we now have eight candidates.
Four are women and four are from racial minorities:
Brexit Leaver and former Labour MP Kate Hoey, now an unaffiliated Baroness in the House of Lords, told Mark Steyn of GB News how pleased she is that the Conservatives managed to accomplish what Labour only talk about:
How the winner is chosen
Late on Monday, Sir Graham Brady, chairman of the 1922 Committee of backbench MPs, announced the Conservative Party leadership rules. The loud voice heard in the background is none other than the daily disrupter, Steve Bray:
Darren McCaffrey of GB News has more:
The goal is to have a new Prime Minister in place by September 5, when Parliament returns from summer recess.
Conservative MPs will participate in a series of voting rounds between now and July 21, when Parliament goes into summer recess. The final two MPs on the list will then spend the next several weeks going around the country to campaign to Conservative Party members.
Party members will receive a ballot with the final two names and vote for their choice.
GB News has more on how the voting will proceed, beginning on Wednesday, July 13:
Sir Graham said the first ballot will be conducted on Wednesday with candidates required to obtain backing from a minimum of 20 MPs.
In the second ballot, on Thursday, MPs are required to obtain support from 30 MPs in order to progress to the next round, accelerating to the final two as soon as possible.
Disillusionment and a wish for Boris to return
Conservative voters, including those who are not Party members, are disillusioned about this contest.
Many wish that Boris Johnson's name were on the ballot. This petition to 'reinstate' him 'as Prime Minister' has garnered 15,000 signatures in only a few days. However, Boris is still Prime Minister, just not the leader of the Conservative Party.
Neil Oliver, not a Boris supporter, by the way, tweeted that the leadership decision has already been made:
It is rumoured that Bill Gates arrived in England just before Boris resigned. If true, that would not come as a surprise:
Bob Moran, the former Telegraph cartoonist, hit the nail on the head as he expressed the sentiment of many of those who voted Conservative in 2019. We also need an outsider to win so that we have some fresh thinking in Downing Street:
A number of the candidates have ties with the World Economic Forum. One is known to be friends with Bill Gates. Ideally, we would have transparency in this area:
Former Chancellor Rishi Sunak has been in the lead since the contest began. He was one of the first two main Cabinet members to announce his resignation last week. Former Health Secretary Sajid Javid was the first.
It has come to light that the photo of the Downing Street drinks party held during lockdown in 2020 was taken from No. 11, where Rishi Sunak worked. Some people think that Boris's then-adviser Dominic Cummings played a part in getting those photos released to the press. Did Rishi know?
Sajid Javid declared his candidacy, possibly taking a pop at Rishi Sunak's slick candidacy operation.
On Monday, July 11, GB News reported:
Former Health Secretary Sajid Javid addressed media gathered at Westminster this afternoon, outlining his leadership bid.
Mr Javid said "I don't have a ready made logo or slick video ready to go", adding: "I have a passion and desire to get Britain on the right course."
Acknowledging his resignation last week, Mr Javid said "Five days ago I stood up in Parliament and I spoke from the heart and I believe I spoke in the national interest."
Former Prime Minister Boris Johnson endured a series of scandals throughout his premiership, most recently Partygate and the allegations against Chris Pincher.
Addressing the ongoing investigations, the former Health Secretary said: "We need a leader who makes credible promises."
He added that "our party has lost its way".
Javid bowed out late on Tuesday. No one was disappointed:
Rishi, on the other hand, seems to have had his candidacy in mind for some time, since 2020. Interesting:
Note his professional campaign logo in the upper left hand corner of this tweet:
Guido Fawkes has a critique of the various logos, some of which have been rushed to market, as it were.
To make matters worse, rumours have circulated about infighting and dirty tricks among Conservative MPs. The public have taken note:
The Sun's political editor, Harry Cole, tweeted:
On that note, is it possible that Conservative Party members might not even get a vote should one of the final two winners concede to the other? That is what happened in 2016, when Theresa May became PM. Andrew Bridgen MP thinks this is a possibility:
Voting records
This graphic (credit here) shows how the candidates have voted in Parliament on various issues:
Candidates who bowed out
Let us look at the candidates who have bowed out thus far.
Sajid Javid
Conservative voters thought that Sajid Javid was a safe pair of hands as Health Secretary until he started laying out his coronavirus wish list. Only last month, Desmond Swayne MP pointed out the online job advert for a national manager of coronavirus passports:
On July 10, Javid appeared on a Sunday news programme.
He promised tax cuts. No surprise there. It was also unconvincing, considering the tax burden we have been under the past several months, possibly higher than we would have had under Labour's Jeremy Corbyn:
Javid also discussed his non-dom status, which is curious, as he was born in Rochdale:
On Tuesday, July 12, broadcasting from Northern Ireland, Mark Steyn said this about Javid's bowing out of the race:
Rehman Chishti
Rehman Chishti had an even more lacklustre campaign.
He was still on the fence last Saturday, proving that dithering gets one nowhere quick:
He declared on Sunday. Unfortunately, the photo is not a good one:
He dropped out on Tuesday:
Grant Shapps
Transport Secretary Grant Shapps declared his candidacy on Saturday, making much of his loyalty to Boris (Nadhim Zahawi is pictured below):
He appeared on Sky News on Sunday morning.
Meanwhile, viewers and voters rooted round to find out more about Shapps's parliamentary career.
Cabinet of Horrors has a fascinating profile of him, the first half of which follows (emphases mine):
Grant Shapps resigned as a minister in 2015 following revelations of his involvement with a bullying scandal that had led to a young Conservative Party activist taking their own life. Few would have imagined he could ever be reappointed to cabinet, still less to a more senior role. But in July 2019 Boris Johnson replaced the hapless and incompetent Chris Grayling as Transport Minister with someone even more discredited: Grant Shapps.
Then again, Shapps is no stranger to the art of reinvention. Indeed, he has proved remarkably inventive with his own identity.
In 2012, one of his constituents noticed that, while working as an MP, Shapps had also been peddling get-rich-quick-schemes online under the assumed names 'Michael Green' and 'Sebastian Fox'. The schemes, marketed by Shapps' company How To Corp under such titles as 'Stinking Rich 3', promised unwary punters that they could make large amounts of money very rapidly if they followed 'Michael Green's' instructions.  These included the instruction to recruit more punters to sell get-rich-quick schemes to the public – a classic feature of pyramid-selling schemes.
Shapps at first attempted to deny this, saying: 'Let me get this absolutely clear… I don't have a second job and have never had a second job while being an MP. End of story.' He also threatened to sue the constituent who had uncovered what he had been up to. Days later, he was forced to admit the truth, though he did this in a characteristically slippery manner, saying that he had 'over-firmly denied' the story.
One might think that being exposed as a liar, a huckster and a bully would have led to an immediate end to Shapps' career in politics. Instead, he was demoted from cabinet but handed a more junior ministerial portfolio and allowed to continue as co-chair of the Conservative Party.
On Sky News's Sunday news programme, Shapps presented his credentials.
He was squeaky clean. Hmm:
He took credit for Boris's resignation as party leader. Really?
He promised a tax cut:
He said he was relaxed about identity issues:
And he was sure he had the numbers:
Then, suddenly, he didn't.
Oh, well. Too bad.
Conservative Party voters name their candidates
Since the weekend, various polls have been conducted of rank and file Party members.
The results go against the MPs' wishes.
This is where MPs are as voting opens on Wednesday afternoon. I'll post results tomorrow:
A Conservative Home poll (image credit here) shows that Party members want either Penny Mordaunt or Kemi Badenoch to win. Rishi Sunak is a distant third on 12.1% support:
The next poll shows the wishes of Conservative members in Mrs Thatcher's birthplace of Grantham, part of the Grantham and Stamford constuency. They are not fans of Rishi Sunak, either:
However, Rishi does top another poll of Conservative and other voters. Note the Don't Know (read Boris?) percentage:
Some dispute the results. However, as someone points out, this could have to do with name recognition from news programmes and the papers:
I'll have more on today's vote tomorrow.
'No one is remotely indispensable'.
So were the words of Boris Johnson as he stood in front of Downing Street in the early afternoon of Thursday, July 7, 2022, to announce that he was standing down as Conservative leader. He said that he planned to stay on as Prime Minister until a new leader is chosen.
Boris's resignation speech
The Prime Minister's speech is just over six minutes long:
Knowing how quickly the leadership contests moved in 2016 (David Cameron to Theresa May) and in 2019 (May to Johnson), we are likely to see a new party leader in place before Parliament's summer recess. Regardless of what news outlets say, it no longer takes two or three months. The timing — i.e. summer resignations in all three cases — will accelerate because of recess.
Guido has the transcript of Boris's speech, excerpts of which follow (I've put in punctuation, paragraphs and emphases):
It is now clearly the will of the parliamentary Conservative party that there should be a new leader of that party and, therefore, a new Prime Minister and I have agreed with Sir Graham Brady, the chairman of our backbench MPs [the 1922 Committee], that the process of choosing that new leader should begin now and the timetable will be announced next week.
And I have today appointed a cabinet to serve – as I will – until a new leader is in place.
So I want to say to the millions of people who voted for us in 2019 – many of them voting Conservative for the first time — thank you for that incredible mandate, the biggest Conservative majority since 1987, the biggest share of the vote since 1979.
And the reason I have fought so hard for the last few days to continue to deliver that mandate in person was not just because I wanted to do so but because I felt it was my job, my duty, my obligation to you to continue to do what we promised in 2019, and of course I am immensely proud of the achievements of this government …
He went on to list Brexit, the coronavirus vaccine rollout, coming out of lockdown the earliest of any other Western nation and showing leadership with regard to Ukraine.
He clearly regretted that he had to stand down:
If I have one insight into human beings it is that genius and talent and enthusiasm and imagination are evenly distributed throughout the population but opportunity is not, and that is why we need to keep levelling up, keep unleashing the potential of every part of the United Kingdom. And if we can do that in this country, we will be the most prosperous in Europe.
And in the last few days I have tried to persuade my colleagues that it would be eccentric to change governments when we are delivering so much and when we have such a vast mandate and when we are actually only a handful of points behind in the polls, even in mid term after quite a few months of pretty unrelenting sledging, and when the economic scene is so difficult domestically and internationally. And I regret not to have been successful in those arguments and, of course, it is painful not to be able to see through so many ideas and projects myself.
But as we've seen at Westminster, the herd is powerful and when the herd moves, it moves and,
my friends, in politics no one is remotely indispensable.
And our brilliant and Darwinian system will produce another leader equally committed to taking this country forward through tough times, not just helping families to get through it but changing and improving our systems, cutting burdens on businesses and families and – yes – cutting taxes, because that is the way to generate the growth and the income we need to pay for great public services.
And to that new leader I say, whoever he or she may be, I will give you as much support as I can and, to you the British people, I know that there will be many who are relieved but perhaps quite a few who will be disappointed. And I want you to know how sad I am to give up the best job in the world, but them's the breaks.
I want to thank Carrie and our children, to all the members of my family who have had to put up with so much for so long. I want to thank the peerless British civil service for all the help and support that you have given, our police, our emergency services and, of course, our NHS who at a critical moment helped to extend my own period in office, as well as our armed services and our agencies that are so admired around the world and our indefatigable Conservative Party members and supporters whose selfless campaigning makes our democracy possible.
I want to thank the wonderful staff here at Number Ten and, of course, at Chequers and our fantastic protforce detectives – the one group, by the way, who never leak.
And, above all, I want to thank you the British public for the immense privilege you have given me.
And I want you to know that from now until the new Prime Minister is in place, your interests will be served and the government of the country will be carried on.
Being Prime Minister is an education in itself. I have travelled to every part of the United Kingdom and, in addition to the beauty of our natural world, I have found so many people possessed of such boundless British originality and so willing to tackle old problems in new ways that I know that even if things can sometimes seem dark now, our future together is golden.
Thank you all very much.
Boris delivered his speech in a normal, matter-of-fact way, which was good, especially given the circumstances.
Now that he has resigned from the Conservative leadership, some ministers are willing to come back into Government for the interim period.
As such, Boris held a Cabinet meeting at 3 p.m. today:
Those who read my post from yesterday will recall that I had not expected to cover this development until next week at the earliest.
However, yesterday afternoon into this morning was pure political carnage.
Wednesday, July 6
Junior ministerial resignations continued to pour in throughout the day, into the night.
Mid-afternoon, Boris held a second online meeting with Conservative MPs:
Guido has the story (emphases in red his):
In a sign of a continuing effort to hold on to his job, the PM has held a second meeting of Tory MPs in his parliamentary office, just 19 hours after his last meeting. Last night's turnout was said to be around 80 – today's turnout is said to have fallen to around 30. A loyalist MP spins that the PM was in a "buoyant mood and keen to get on with the job". Presumably he was just happy his PMQs slagging was over and done with…
Boris apparently pointed to polls narrowing to "about five points" and left his reduced coterie of supporters under no doubt that "he's going nowhere… no chance of stepping aside". We'll see what the 1922 Committee has to say about that this evening…
Guido's mole concluded that "Basically the current challenge is all about personality and not policy. It's a coup attempt before recess" The timetable observation is, at least, objectively correct…
At 3 p.m., Boris appeared for 90 minutes before the Liaison Committee, which is comprised of all the MPs who head Select Committees.
They grilled him on his performance and whether he would resign.
I've never seen anything like it. You can watch the proceedings using the link below:
These were the topics of discussion and the names of the MPs questioning him. Sir Bernard Jenkin chaired the session. Conservative MPs Tobias Ellwood and Jeremy Hunt might have their eyes on the leadership. Boris defeated Hunt in the 2019 contest:
All were brusque, including Bernard Jenkin, sadly.
That said, in May, Jenkin did write to the Leader of the House, Mark Spencer, to express his disappointment that some Government ministers were not appearing as scheduled before Select Committees:
The Liaison Committee were vipers. They were on the attack relentlessly.
Boris stood his ground. He reminded one MP that, in 2019, he had more than doubled the number of sitting Conservative MPs:
He also stated that he did not want another unnecessary general election when he had a clear mandate from the electorate to carry out. You can see how nasty Bernard Jenkin got in this short exchange:
Huw Merriman went so far as to send Sir Graham Brady, Chair of the 1922 Committee, a letter of no confidence during the session:
Meanwhile, Guido Fawkes and his team were busy updating Wednesday's list of resignations.
The 1922 Committee was — perhaps still is — considering a rule change allowing for more than a 12-month gap between votes of confidence in a Prime Minister. Pathetic.
Guido has the story (purple emphases mine):
There are some reports that the 1922 Committee may move in the next 24 hours-or-so to dispose of the PM. Bloomberg is reporting that "The Tory backbench 1922 Committee will meet at 5 p.m. Wednesday and will discuss changing the rules to allow another party-leadership ballot. If there is a majority opinion in favor, a ballot could be held as soon as next week." James Forsyth of the Spectator reports rule change or not, a senior committee member tells him "they now favour a delegation going to Johnson to tell him that it is over and that they will change the rules to allow another vote if he doesn't quit".
Guido's post has a list the 1922's executive members and whether or not they favour this rule change.
Later on, the 1922 decided not to change the rules — for now — because they will be holding their executive election on Monday, July 11:
Guido reported:
Surprisingly the 1922 executive has decided against changing the rules to allow a second vote of no confidence in the PM. Instead executive elections will go ahead on Monday, 2pm to 4pm. 
Critics of the prime minister are organising a slate of candidates who are expected to win a majority of places, given most backbenchers voted to oust Johnson in last month's vote. They are then expected to endorse a rule change.
During the afternoon, it was rumoured that the Chief Whip, Chris Heaton-Harris, was going to tell Boris that time was up.
Boris was hemhorrhaging support. The resignations were coming thick and fast from junior ministers. This is how it is done. The same thing happened when Labour wanted rid of Jeremy Corbyn as leader:
I used to like most of the Conservative MPs. Given what happened yesterday, I am not so sure anymore.
Those who have gone down in my estimation include former Equalities Minister Kemi Badenoch; Lee Rowley; Liam Fox; Red Wall MPs Dehenna Davison, Jacob Young and Jo Gideon; Ed Argar and former Welsh Secretary Simon Hart.
And that's not counting the rest of them that Guido has named, including those from Tuesday.
The only one I'm willing to give a pass to is Lee Anderson.
The hubris and hypocrisy got worse.
Attorney General Suella Braverman appeared on Robert Peston's show on ITV that night to announce her withdrawal of support for Boris. I really had expected better of her, especially as Peston has been anti-Boris for years. To add insult to injury, she went on to announce on his show that she would be running for leader:
Cabinet members visit Boris
Just before 5 p.m. a small Cabinet delegation visited Boris in Downing Street.
Guido wrote:
A Cabinet delegation of Nadhim Zahawi, Grant Shapps, Brandon Lewis, Simon Hart and Michelle Donelan are currently waiting in Downing Street to tell Boris the jig is up, and it's time for him to step down. Kwasi Kwarteng has also reportedly lost confidence. Beginning of the end…
Note Michelle Donelan's name in that list. Boris had just made her Education Secretary after Nadhim Zahawi moved into the Chancellor's role.
What did Michelle Donelan do? She resigned after 36 hours in the role:
Yes, of course, she got a pay out — one of £16,876.25:
The others got pay outs, too. I read that the total for ministers who resigned is over £120,000.
That's not a Conservative plan, by the way.
That's how the system works.
The caboose
Just before midnight, the final resignation of the day rolled in, that of Gareth Davies, making him the 35th that day. There were ten more from Monday as well as Michael Gove, summarily sacked. It's hard to disagree with the person comparing this to Trump:
Michael Gove
It was time for this duplicitous man to go. I never trusted him and never will.
When he turned from supporting Boris in the 2016 leadership campaign to start his own before supporting Theresa May, he stabbed him in both the front and the back.
One thing we have learned during Boris's premiership is that he — Boris — is one to forgive.
He made Gove part of his Cabinet in various high profile roles.
On Wednesday, Gove decided to tell Boris to resign:
Gove, most recently the Levelling Up minister, was conspicuous by his absence in the House of Commons. He missed Prime Minister's Questions:
News emerged at 9:30 that Boris sacked Gove — via a telephone call:
I will be very disappointed if Gove returns to a Government role. He is a Scot who, in my opinion, is too young at the age of 54 to appreciate the Union fully, and he does not have the Englishman's best interests at heart.
I've never heard him say anything about England other than to do away with English Votes for English Laws (EVEL) in 2021. As the then-Chancellor of the Duchy of Lancaster, he deemed it unnecessary in Parliament. It was a quick, quiet moment in the Commons. I do wonder why it went unchallenged by English MPs.
Yet, the English are the ones who have been overlooked the most over the past 25 years, beginning with Tony Blair, a quasi-Scot who pumped our Government and media full of many more Scots, e.g. Gordon Brown, to name but one. My apologies to Scottish readers, whom I admire greatly, but it is true.
Christian Calgie from Guido's team explains that Boris might have sacked Gove because, unlike the Cabinet secretaries who had descended upon him earlier, Gove allegedly told Boris to resign:
By the end of Wednesday, it became clear that Boris was not about to leave:
Guido reported:
Guido has had it confirmed by a PM ultra loyalist that Boris Johnson is not resigning tonight, and is understood to be planning a reshuffle. The news will spark further senior cabinet resignations…
According to reports, Boris sat down individual members of the Cabinet – including those involved in the coup – and cited his 2019 mandate, as well as the belief the government needs to spend the summer focusing on the economy and not a leadership election …
I watched four hours of analysis on GB News on Wednesday, beginning with Nigel Farage …
… and concluding with Dan Wootton, who had a great interview with Boris's father Stanley Johnson (see the 1 hour 15 mark, or, if the GB News clock shows, 10:21). Stanley is a big supporter of his son, which was heartening to see:
Thursday, July 7
Conservative ministers continued to resign en masse on Thursday morning, July 7.
Guido has a timeline of resignations and other events of the day.
Just before 9 a.m., Chancellor Nadhim Zahawi sent Boris a formal letter requesting his resignation.
Just after 9 a.m., Defence Secretary Ben Wallace — also thought to be a candidate for Conservative leader — tweeted MPs to say that they should make use of the 1922 Committee to get rid of Boris:
At 9:07 a.m., news emerged that Boris agreed to resign as Conservative Party leader. I agree that the next demand from the braying hypocrite hyenas in the media will be a call for a general election. Disgusting:
Guido reported:
Chris Mason has been told the PM has agreed with Graham Brady that he will resign, allowing a Tory leadership race to take place ahead of the Tory Party conference in October. A letter has been written. He'll quit as Tory leader today. Guido's frankly not sure how Boris can stay on for the summer with so many ministerial holes in his government…
Perhaps we can get by with fewer ministers, as someone said in Parliament this morning.
I hope that Boris's Cabinet meeting at 3 p.m. went well.
Not everyone has been happy with the coup so far. Former Conservative Prime Minister John Major is fuming. It's interesting he never reacted like that about David Cameron or Theresa May:
In brighter news, Boris's loyal friend from Ukraine rang him with his condolences and thanks:
1457: PM has spoken to Zelensky on the phone. Finished the call by praising him: "You're a hero, everybody loves you."
Yes, well, I wished our MPs loved Boris as much as President Zelenskyy does.
Ladies and gentlemen, this was a coup.
It was for a ridiculous reason, too: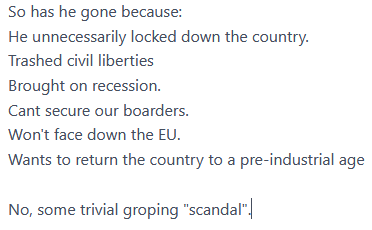 Don't forget: this was ALL ABOUT BREXIT.
More to follow next week.
Tuesday, July 5, 2022 proved to be a memorable day for Boris Johnson for all the wrong reasons.
Last weekend, details emerged of Conservative MP Chris Pincher's inebriated groping of another man at the Carlton Club in London's St James. The Carlton Club is the private members club for Conservatives. Chris Pincher had been a Government minister and Deputy Chief Whip.
Lest anyone think the furore about Chris Pincher and blaming Boris for it is about cleaning up government, the end goal remains: get rid of Boris because Boris represents Brexit.
Chris Pincher
Chris Pincher has been a Conservative MP since 2010, the year David Cameron became Prime Minister.
Theresa May gave him his first ministerial role, that of Comptroller of the Household, in 2017. A few months later, she appointed him Treasurer of the Household, the next move up from Comptroller of the Household. In 2018, he then became Deputy Chief Whip, which is a role given by the Chief Whip, not the Prime Minister.
Boris Johnson gave Pincher other ministerial roles. I watched him at the despatch box regularly as Minister of State for Europe and the Americas and Minister of State for Housing. In February 2022, he once again became Treasurer of the Household, a Boris appointment, and Deputy Chief Whip, a Chief Whip appointment.
Then the Carlton Club scandal broke, with Pincher freely admitting in writing what he had done. He has had the Conservative Party whip removed, although he remains an MP for now.
The question from Boris's enemies is how much blame should the Prime Minister carry.
It looks to me as if it all started with Theresa May, especially as he resigned his 2017 appointment as Comptroller of the Household when sexual misconduct allegations involving MPs swirled into a scandal that year. Pincher was accused of misconduct at the time by then-MP Tom Blenkinsop and Olympic rower Alex Story.
Shortly afterwards, in January 2018, Pincher became Deputy Chief Whip, so the Whip's office is partly responsible, too.
On July 5, the veteran journalist and columnist Charles Moore explained in The Telegraph how the Whips Office selection process works (purple emphases mine):
The coverage of the row about Chris Pincher, the allegedly groping and confessedly drunk former deputy chief whip, suffers from a false premise. It is said that Boris Johnson appointed him. This is true only in a formal sense. I feel that lobby [press corps] journalists should have made this clear.
This custom is not just a reflection of the fact that any prime minister pays less attention to junior appointments than to Cabinet-level ones. It is also – and mainly – because the whips are a law unto themselves. The idea is that they will know best how to achieve the necessary geographical and ideological spread to look after all sections of the party. The Chief Whip is therefore free – "100 per cent" in the words of one former chief to me – to appoint whoever he thinks fit. This seems sensible: how on earth would a prime minister know that level of detail about who's who in the parliamentary party? Backbenchers would be suspicious of a whips' office filled with a prime minister's favourites.
Each prime minister sees the government chief whip's list before it is announced and is free to comment on it, but the chief decides. So Boris Johnson would have been breaking the unwritten rules if he had either forbidden or insisted on Mr Pincher's appointment. If it can be shown that he did the latter, he is in a bit of trouble on the issue. If not, then not.
Lord McDonald
Until July 5, I had never heard of the life peer Baron McDonald of Salford, or Simon to his friends.
Lord McDonald was the Permanent Under-Secretary to the Foreign and Commonwealth Office between 2015 and 2020.
On July 5, he wrote to Kathryn Stone OBE, the Parliamentary Commissioner for Standards for the House of Commons.
Guido Fawkes posted a copy of the letter, which takes issue with a BBC report of complaints made against Pincher and says that, indeed, allegations had been raised against the MP in 2019.
Two brief excerpts of his letter follow.
In the summer of 2019, after Pincher received his first ministerial appointment (at the Foreign and Commonwealth Office) under Boris Johnson:
… a group of officials complained to me about Mr Pincher's behaviour. I discussed the matter with the relevant official at the Cabinet Office … An investigation upheld the complaint; Mr Pincher apologised and promised not to repeat the inappropriate behaviour. There was no repetition at the FCO before he left seven months later.
The BBC had changed the text of their present-day article about whether Boris knew or not.
Lord McDonald's letter says:
Mr Johnson was briefed in person about the initiation and outcome of the investigation. There was a "formal complaint". Allegations were "resolved" only in the sense that the investigation was completed; Mr Pincher was not exonerated. To characterise the allegations as "unsubstantiated" is therefore wrong.
I am aware that it is unusual to write to you and simultaneously publicise the letter. I am conscious of the duty owed to the target of an investigation but I act out of my duty towards the victims. Mr Pincher deceived me and others in 2019 …
He tweeted the text of his letter:
Hmm.
Could there be any bad blood between McDonald and Boris?
Downing Street claims that Boris forgot about the investigation into Pincher.
A commenter on Guido's post about this claim makes pertinent points:
I find it strange that the criticism is of the appointment of Pincher as Deputy Chief Whip in February. He wasn't promoted from the backbenches, he was already a minister in the Dept of Levelling Up. If he was unsuitable for ministerial office in Feb, he must have been unsuitable in Jan, so why the focus on the Feb appointment?
Lord MacDonald is another nasty CS mandarin in the Philip Ruttnam mould. His letter is very carefully phrased but disingenuous. If he was unhappy for Pincher to continue as a minister in the FCO for seven months after the 2019 complaint, what did he do about it? If he was content with the arrangement, then clearly the matter was indeed resolved.
Pincher was first appointed to the Whips' Office by Theresa May. Is anyone in the MSM questioning her judgement?
Gordon Rayner's Telegraph article, 'Lord McDonald: The former civil servant who "never saw eye to eye" with Boris Johnson' has an account of what happened between the peer and Boris, the then-Foreign Secretary during Theresa May's premiership:
A former civil servant publicly accusing a Prime Minister of lying is a rare event, but Baron McDonald of Salford is unlikely to have had any pangs of guilt about calling out the man who effectively ended his career.
During his time as Boris Johnson's Permanent Under-Secretary at the Foreign Office, Lord McDonald – or Sir Simon, as he was then – was suspected by Mr Johnson of running a spying operation and orchestrating damaging leaks about the then foreign secretary.
Mr Johnson believed that media stories accusing him of being lazy and failing to attend properly to his red boxes of ministerial papers were being briefed by Lord McDonald's department. When the Foreign Office merged with the Department for International Development, Mr Johnson, by then Prime Minister, saw to it that Lord McDonald was squeezed out.
So when he had the chance to expose Mr Johnson's Downing Street operation for what he says is a lie over the Chris Pincher affair – an undeniably important intervention – he is unlikely to have spent much time wrestling with his conscience.
Does Brexit enter into this? You bet it does:
"They never saw eye to eye," said one former minister. "Simon never made a secret of the fact that he was a strong Remainer and he has always had big issues with Brexit."
Another insider said:
"So it does feel a little bit as though Simon has been waiting three years to get his revenge, and has finally had his chance, notwithstanding the fact that what he says may well be true."
Lord McDonald took early retirement in September 2020. Since then, he has spoken freely:
In March last year Lord McDonald, 61, was interviewed by the think tank UK In a Changing Europe, when he said he was one of three senior civil servants on a Downing Street "s— list" who were "all for the high jump".
He said that he was "one of those that were soaked" by former Downing Street adviser Dominic Cummings' threat of a "hard rain" falling on Whitehall …
Mr Johnson softened the blow by giving Lord McDonald a peerage, not an automatic appointment for retiring civil servants. But it has not prevented him from criticising the Prime Minister since then.
So now we know.
It is unlikely that Gordon Rayner's article will be getting any traction in the media. Will GB News pick it up? I hope so.
McDonald's letter sends Conservative MPs flying in all directions
Note that McDonald tweeted his letter at 7:30 a.m., just the right time to dictate the news narrative for the day.
And so it proved.
For those in the political bubble, BBC Radio 4's Today show is required listening.
Guido has a summary of what happened. Deputy PM and Justice Secretary Dominic Raab gave an interview, followed by Lord McDonald (emphases in the original):
… Following ex-Foreign Office Permanent Secretary Sir Simon McDonald's bombshell letter this morning, Dominic Raab had the task once again of spinning the latest unsustainable No.10 line to the press. Through plenty of coughing and spluttering, Raab insisted on the Today Programme that 
Aside from the Westminster rumour mill, any allegation that had resulted in formal disciplinary action… whilst there was inappropriate behaviour [from Pincher], it didn't trip the wire into disciplinary action… the individual who made the complaint did not want formal disciplinary action taken.
Just minutes later, McDonald appeared on Today himself to once again take a sledgehammer to No.10's line that Boris wasn't briefed on Pincher's behaviour in person in 2019, and Raab's claims that since no "further disciplinary action" was taken, the matter was resolved:
I disagree with that, and I dispute the use of the word 'resolved'… the complaint was upheld… Number 10 have had five full days to get the story correct, and that still has not happened… it's sort of telling the truth and crossing your fingers at the same time and hoping people aren't too forensic in their subsequent questioning.
In a matter of hours, the line has gone from "it's not true" to "the PM didn't know of any formal complaints". Chaos.
In Downing Street that morning, a Cabinet meeting took place. Why cameras were allowed, I have no idea. What a silly thing to do, especially when all hell was breaking loose:
At lunchtime in the House of Commons, Michael Ellis, Minister for the Cabinet Office, had to answer an Urgent Question (UQ) from Labour's Deputy Leader Angela Rayner about what Boris knew of Pincher:
This is the most succinct quote from Ellis:
As I have articulated, there was an exercise in the Foreign and Commonwealth Office on the matter, which I believe went on for several weeks. I need to confirm the details, because I had insufficient time to do so this morning, but as I say, there was an exercise, and it concluded to the satisfaction of all involved. That was within the Department and, it appears to me, before the Prime Minister was made aware.
One of Guido's readers sums the matter up as follows:
1. Pincher's conduct in 2019 was investigated and did not result in disciplinary action in 2019.
2. Independent advice was sought from Simon McDonald and the Cabinet Office propriety and ethics team, which also did not result in any form of disciplinary action.
3. The victim in 2019 DID NOT WANT aany disciplinary action against Pincher.
4. Pincher's appointment to government had followed all set procedures, including oversight by an independent QC. Until this point, as Pincher had kept a clean disciplinary record up, there was no reason to block his appointment to government.
Boris would have no grounds to refuse Pincher's appointment as there were no official disciplinary action against him up to that point, which is in line with the rules set out in Westminster.
All this drama over whether Boris knew of Pincher's indescretions would not have changed anything in terms of his appointment to government as he had satisfied all the requirements in terms of pedigree (appointed by two PMs and vetting).
The Opposition benches were full for Ellis and the UQ.
Watching at home, I nearly applauded when Peter Bone got his chance to speak:
Recently, at a Brexit opportunities debate here, there were no Liberal Democrats and virtually no Labour Members. The only time they turn up here is to bash Boris. Does my right hon. and learned Friend think that our constituents in Northamptonshire, which we both represent, are more concerned about an MP they have never heard about, or the biggest tax reduction in decades, which will happen tomorrow?
Ellis replied:
My hon. Friend hits the nail on the head, as usual. As he points out, Labour Members have made frequent requests for business in this House to be about not what our constituents primarily care about, but personalities. They do not raise the issue of policies, because when they do, they lose. Instead, they focus on personalities, and that has been the drive of the past six months.
Guido covered MPs' reaction to the events of the day:
Number 10's spin operation today after the McDonald letter has, unsurprisingly, gone down like a cup of cold sick with the Tory benches, including amongst Boris loyalists. Guido's spoken to several MPs following the lobby briefing and Michael Ellis's Urgent Question response, and they all agreed it was a "disaster". One said it was "the last days of Rome"…
There were also raised eyebrows – and that's putting it mildly – over No.10's decision to allow cameras in to the Cabinet meeting this morning …
Where, one might ask, is the counter-attack? What is Downing Street doing to get on the front foot? What is CCHQ doing? MPs who are hardcore supporters of the Prime Minister are fed up. Trying to push the "biggest tax cut" talking point today won't work to set the agenda when you put up the same taxes only a few months ago. If the government wants to shift the media's focus on to the economy, what will they do that Starmer won't? Tory MPs want a sense of purpose and direction, rather than constantly ricocheting at the hands of the media from one minor negative process story to another, that the general public doesn't really care about… 
Chancellor and Health Secretary resign
Worse was to come later that afternoon.
Health Secretary Sajid Javid tendered his resignation, followed by Chancellor Rishi Sunak minutes later.
Some pundits say there was no connection between the resignations.
Others say that the two men are friends and agreed on a plan.
GB News covered the resignations and analysis all evening long. It was a good move. The shows were excellent.
In other news, Theresa May was at the opera with her husband Philip and friends:
Returning to GB News, the resignations happened just before Nigel Farage's show at 7 p.m. Not surprisingly, Farage thinks that Boris should resign, something he has said many times before and will continue to say for weeks, if not months:
Farage used Guido's video of that day's Cabinet meeting:
Discussion continued on Mark Steyn's show at 8 p.m. By the end of the show one hour later, Boris had appointed Steve Barclay as the new Health Secretary:
Dan Wootton came on at 9 p.m.:
By the time his show was halfway through, Nadhim Zahawi became the new Chancellor of the Exchequer. The conversation between him and Boris in No. 10 was a long one. Apparently, Zahawi was eager to relinquish his role as Education Secretary and really wanted the No. 11 job. Michelle Donelan is the new Education Secretary, having been Minister of State for Higher and Further Education from 2020 to 2022.
Boris deflected a crisis within three hours.
Guido has an ongoing list of other Cabinet resignations, which are, as I write, for minor posts. Red Wall MP Jonathan Gullis, once a staunch Boris supporter, was among that number. It should be noted that the main Cabinet appointees are still in place.
Unfortunately, during that time, Lord Frost, usually a voice for sanity, fell for the McDonald bait. He wrote an article for The Telegraph, 'It is time for Boris Johnson to go':
I resigned from the Government on a matter of principle. On Tuesday, Sajid Javid and Rishi Sunak did the same. Other Cabinet Ministers now need to consider whether they are truly happy with the current direction of travel.
Boris Johnson's place in history is secure. He will be one of the past century's most consequential prime ministers. If he leaves now, before chaos descends, that reputation is what will be remembered. If he hangs on, he risks taking the party and the Government down with him. That's why it is time for him to go. If he does, he can still hand on to a new team, one that is determined to defend and seek the opportunities of Brexit, one that is able to win the next election convincingly. That is in the Conservative Party's interest, in Leave voters' interest, and in the national interest. It needs to happen.
PMQs on July 6 could have been worse. It was more of the same from the Opposition. On the Conservative benches, which were packed, only Tim Loughton, Gary Sambrook and David Davis (once again) rebelled, all saying that Boris should resign.
After PMQs, Sajid Javid was granted a statement about his resignation. Boris remained seated behind the despatch box. Javid put a big emphasis on 'integrity'. He said that, for him, 'loyalty and integrity' were at loggerheads over the past few months, hence his resignation. He could no longer defend the indefensible, from Partygate to Pincher, especially to his constituents. He told his former Cabinet colleagues that not doing 'something' — i.e. resigning — would look bad. Boris left immediately afterwards to jeers of 'Byeee, Boooris' from the Opposition benches.
Lee Anderson withdraws support
In an unexpected development, Red Wall MP Lee Anderson has withdrawn his support for Boris:
Guido has the full text of Anderson's letter, excerpted below:
With A Heavy Heart.
I have remained loyal to the Prime Minister since being elected in 2019.
However my position has changed over the past few days since the incident which led to the Deputy Chief Whip losing the party whip …
I do not hold a position I can resign from so the only thing I can do is make my feelings known to my constituents and party members. This statement may upset some people and I am sure some people will be delighted with the demise of our PM but I have a job to do and I must do it with a clear conscience.
My focus has always been my constituents many of whom are friends, family and neighbours and my loyalty to them is paramount.
Finally, I will do all I can to make sure our party wins the next election to form a Government of low taxation and who will be tough on illegal immigration as I feel we could have done better, that said the thought of a Labour Government terrifies me so please keep the faith.
I hope that explains my position.
Perhaps he will throw his hat into the ring when the leadership contest begins in due course.
Meanwhile, Conservative voters are fuming
At home, Conservative voters are perplexed by the actions of what is supposed to be an orderly, no-nonsense Government. Most do not know who Chris Pincher is. They are interested in what Boris and his team are doing to improve our lives which, at the moment, isn't much.
This is what we have at present, ably stated by a Guido Fawkes reader:
Boris Johnson is now into his third year as Prime Minister.
On Wednesday and Thursday, September 15 and 16, he reshuffled some of his cabinet and ministerial posts, signalling that he is more than halfway through his premiership. In other words, this will be the major reshuffle to lead the Conservatives into the next general election.
I hope that Boris does not go for a 2023 election, unless it is late in the year. The coronavirus crisis will have put much of the Conservative manifesto agenda on hold for two years. As such, not much has been accomplished to date, as Andrew Neil, who recently resigned from GB News, says:
Boris has appointed more Leave ministers as well as more minority and female ministers, which will not matter to most small-c conservatives:
Highlights of the reshuffle follow.
Dominic Raab no longer Foreign Secretary
It looks as if dithering over Afghanistan while holidaying in Crete has finished Dominic Raab's days as Foreign Secretary. He had to do the walk of shame after his demotion:
That said, Boris has found a new job for him as Justice Secretary.
Raab will also continue to be Deputy Prime Minister, a role he handled extremely well in April 2020, when Boris was hospitalised with coronavirus.
Defence Secretary Ben Wallace defended his fellow MP and the move in an interview with BBC Breakfast:
Wallace said of Raab: "Dominic is by trade a lawyer, he started his life in the Foreign Office as a human rights lawyer and he's gone to the Ministry of Justice, which is actually a very, very important role and a role he desperately understands."
Liz Truss becomes new Foreign Secretary
Former Trade Secretary Liz Truss replaces Dominic Raab as Foreign Secretary, with Anne-Marie Trevelyan taking her place.
Post-Brexit, Truss has made various trade deals with other nations, notably Australia and Japan.
She also remains minister for women and equalities.
Truss is popular with grassroots conservatives and her name has often been mentioned as a future party leader and Prime Minister.
She succeeded not only in trade but also in refusing wokery in 2020 …
… and in 2021, as Guido Fawkes reported on June 16 (emphases mine):
Liz Truss tells Times Radio most people aren't interested in the culture war…
"My role as equality minister is to make sure everybody in Britain is treated equally regardless of their sex, their sexuality and their race. What we have seen over the past few years is the development of identity politics where there has been division created. People are described as being members of a group rather than for their own personal, individual humanity and dignity… We have just launched for example a big data project looking where are the gaps in education, employment and enterprise across the country, and how we can fix those. That is the approach we need to take… I think some of the identity politics we have seen focus on symbolism over real results has been divisive… I think most people aren't interested in this so–called culture war, what they're interested in is, "Am I being given a fair chance? Do I have a good chance of getting a job? Am I treated fairly by public services?" And that's why I think our equality agenda should focus on, those bread and butter issues that are of concern to everyone in the country."
She is consistently among the most popular of the Cabinet members. This survey is from March 2021:
She can even ably dodge camera equipment during an interview:
Nadine Dorries moves from Health and Social Care to Culture Secretary
In what is hoped to please grassroots small-c conservative voters, Nadine Dorries now heads Digital, Culture, Media and Sport (DCMS), replacing Oliver Dowden, who, as new co-chairman of the Conservative Party, will formulate a strategy for the next general election.
Most of these grassroots supporters are fed up with the BBC. Will Dorries take on Auntie Beeb?
I do not put much stock in that possibility. Resurrecting Dorries's tweets from several years ago are no indication of her current willingness to oppose the BBC on anything much:
The BBC have just appointed a firmly left-wing executive editor of BBC News, Jess Brammar. At least one Conservative MP, Brendan Clarke-Smith, was unhappy about the possibility of her appointment back in August:
I will not be holding my breath for Dorries to take her on, although others in the left-wing and anti-Brexit political establishment are angry about Dorries's appointment, as Guido Fawkes reports; he has screenshots of her past tweets (emphasis in the original):
She's been in the job for 17 hours and is already annoying all the right people… 
John Whittingdale returns to backbenches
I have doubts about Dorries because one of the DCMS ministers, John Whittingdale, was supposed to take on the BBC in 2016 and never did. He also washed his hands of removing free TV licences for most over-75s, saying it was a decision for the BBC. Is this why he got the sack?
During the Euro 2020 soccer tournament this year, Whittingdale told Kay Burley of Sky News that travel restrictions were lifted for 'important' people associated with the matches:
Speaking on Sky News, John Whittingdale was asked why players, officials and others coming to London for the Euros final on 11 July should be allowed in without self-isolating.
He said: "We've always said that for some people who are important, players, for instance …"
The presenter, Kay Burley, interrupted him, saying: "So people who want to go on holiday are not important. Is that what you're saying?"
Whittingdale's last pronouncement, standing in for his boss Oliver Dowden, was about a proposed mandate to make all BBC and ITV output 'distinctively British'. That was on September 16. It will be interesting to see whether Nadine Dorries will insist on it.
Newsnight argument over Dorries
Nadine Dorries was the subject of an argument between Conservative MP Charles Walker and former Conservative MP, Remainer Anna Soubry, who lost her seat in December 2019.
By the way, this was Anna Soubry with Nigel Farage either just before or just after the Brexit referendum in June 2016: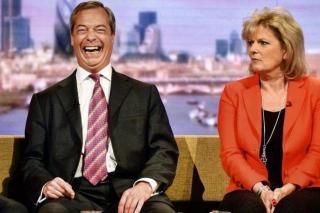 But I digress.
The discussion between Soubry and Charles Walker took place on the BBC's Newsnight on September 15:
Here's the video, with Labour MP Peter Kyle sitting at the desk with presenter Emily Maitlis:
Guido Fawkes has the highlights:
Nadine Dorries provided the biggest clash, as the eternally bitter Soubry ranted that her appointment "actually says everything that's wrong and rotten about this prime minister's stewardship of this country". Charles Walker had some thoughts:
"Nadine Dorries has been a health minister, a minister of state, at an incredibly difficult time for the department of health; has been an extremely good minister for mental health; and really to come onto this programme and just trash her like that is just not a very nice thing to do to be perfectly honest"
Responding to Soubry's claim that people don't really care about reshuffles in the real world, Walker pointed out "Why is it the lead story on Newsnight, and why are you appearing on Newsnight?" Why indeed…
However, there is a personal reason why Anna Soubry is angry with Nadine Dorries.
On July 1, 2016, one week after David Cameron stood down as Prime Minister and Conservative Party leader because of the Brexit referendum result, tensions were running high not only in the Commons but also among the public.
Soubry went out near Parliament to address her fellow Remain supporters. Dorries tweeted that Soubry was under the influence. Soubry demanded that Dorries retract the tweet. The Times has the full story, which ends with this:
Update (25.07.2016): Following publication of this article, Nadine Dorries MP has withdrawn her tweet about passing Anna Soubry MP leaving the bar before she attended a rally of Remain supporters in central London. Ms Soubry has confirmed that she had not drunk any alcohol before speaking at the event.
Another reason why I am doubtful about Nadine Dorries is because she did not question the Government's coronavirus restrictions when she was at Health and Social Care. Does she really believe everything she hears? Here she responds to Conservative Woman's co-founder Kathy Gyngell. Dorries and her mother had the virus at the same time, and her mother recovered first. Even so, not questioning lockdown earns her a black mark from me:
At least she supported Brexit.
Michael Gove moves to Housing, no longer Chancellor of the Duchy of Lancaster
Michael Gove, who is in the process of a divorce and was a recent party boy in an Aberdeen nightclub, is no longer the Chancellor of the Duchy of Lancaster.
Stephen Barclay, formerly Chief Secretary to the Treasury, replaces him in that post. Simon Clarke replaces Barclay in the Treasury role.
Michael Gove replaces Robert Jenrick at the Ministry of Housing, Communities and Local Government and is in charge of Boris's 'levelling up' agenda.
A first attempt at a new acronym for the department has produced DULL:
Guido reports on the problems with acronyms for government departments in general:
The Sun's Harry Cole reports the initial proposal for a new "Department for the Union and Levelling Up" is no longer a flyer after realisations its acronym, 'DULU', sounds too much like "Dull". It's a shame a change was needed, given it was pointed out yesterday that Michael Gove the first MHCLG Secretary with all the letters of the department in his name…
Guido will leave it up to cleverer minds to work out an acronym that includes all the letters of Gove's new remit (MHCLG + Union + Levelling Up + Elections) though it's not the worst reshuffle acronym problem encountered by a PM. As Alan Johnson recounts, in 2005 Tony Blair came up with a plan to rename the department for Trade and Industry as the "Department of Productivity, Energy, Industry and Science". Thankfully Johnson was used to it by that point however – he'd already been Minister for Higher Education and Lifelong Learning, and headed up the Sexual Health Advisory Group…
Although this looks like a demotion for Gove, it involves a hefty budget with pan-govermental reach, something that should definitely appeal to him:
New Education Secretary
Nadhim Zahawi, formerly in charge of the coronavirus vaccine rollout, is the new Education Secretary, replacing Gavin Williamson, who likely got the sack because of the school exams fiasco during the coronavirus crisis.
Zahawi has achieved the British dream, having arrived in the UK as a child refugee who could not speak English:
Other appointments
Guido Fawkes has full reshuffle information for September 15 and 16.
Some MPs have transferred to other departments:
Others will be returning to the backbenches:
Jesse Norman tweeted that he was happy to return to the backbenches:
The new role for Nigel Adams is said to be a 'fixer' appointment in order to get things done:
More information and analysis can be found at The Guardian, The Telegraph, GB News , The Spectator and The Times (here, here and here).
House of Lords
Reshuffles can affect the House of Lords, too.
Fortunately, two of the stars there are still in place.
Baroness Evans
Baroness Evans, composed and competent, will remain as Leader of the House of Lords.
Lord Frost
Lord Frost will remain Cabinet Office Minister for Europe, in charge of EU negotiations and changes to relevant legislation:
On September 16, Guido wrote about Frost's plans to rid the UK of EU laws (emphases in the original):
Lord Frost has announced the government's plans to finally capitalise on the freedoms of Brexit and remove the "special status" of all individual EU laws still on the UK's statute books. There are also plans to invest heavily artificial intelligence, transport, and farming over the Parliament. Now if we just pair deregulation with lower taxes we may actually get somewhere…
Speaking on the reforms this afternoon, Lord Frost said:
"From rules on data storage to the ability of businesses to develop new green technologies, overbearing regulations were often conceived and agreed in Brussels with little consideration of the UK national interest.
"We now have the opportunity to do things differently and ensure that Brexit freedoms are used to help businesses and citizens get on and succeed."
Lord Frost will begin with a review of so-called "retained EU law" – the huge amount of EU legislation still on the UK's statute books; removing its special status so it's no longer a distinct category of UK domestic law, and ensuring all courts have the full ability to depart from EU case law. He describes it as finalising the process of "restoring this sovereign Parliament". There's a reason he's popular with the Tory membership…
Guido's post has more detail, much of which involves digitalising everything from share (stock) certificates and driving licences.
Hmm. I hope that when his proposals reach MPs that they are not taken too far. First, not everyone is online. Secondly, think of the hacking opportunities this could provide. Finally, and perhaps most importantly, digitalisation can lead quickly to establishing a Chinese-style social credit score.
One thing I did like was this:
Permitting the voluntary printing of the Crown Stamp on pint glasses and reviewing the EU ban on markings and sales in imperial units and legislating in due course, none of which were possible within the EU.
Robert Peston's misguided predictions
Sometimes, it is better to wait for the final outcome rather than tweet silly predictions:
On September 16, Guido noted witheringly of ITV's Robert Peston:
While yesterday may not have been great for Dominic Raab, at least he can take solace in the fact he had a better reshuffle than Robert Peston. ITV's senile senior political reporter spent all day tweeting every thought process, speculation and briefing with the acumen and insight of a first-year politics student.
Guido's article lists Peston's tweets. Perhaps ITV should buy him a new crystal ball.
Conclusion
I still think that most Conservative MPs are half-hearted. It's a shame that Boris did not promote any of the 2019 intake, especially the feisty ones from the North of England.
Fortunately, last week's horrible poll results have been reversed. Participants were polled during the reshuffle days of September 15 and 16:
Onwards and upwards to Boris's promised 'sunlit uplands', I hope.
On Thursday, September 9, the Scottish parliament voted in a motion to implement vaccine passports for the nation, beginning October 1:
Patrick Harvie's Greens, who are in a new alliance with the governing SNP, changed their minds about vaccine passports and decided to vote in favour of them:
Some of the MSPs lost their internet connection during the vote. That does not matter, because they, along with MSPs voting from home, can let the moderator know and she will allow them to cast their vote in person or over the telephone. Those votes are broadcast in the chamber.
The incident gives me a chance to show you the interior of Holyrood, where MSPs meet:
The day before the Holyrood vote, MPs in Westminster debated the implemention vaccine passports for England.
Nadhim Zahawi, the vaccines minister, gave a statement about the plans. It did not go well for him.
MPs — including his fellow Conservatives — quoted his previous statements in which he said the passports would not be implemented domestically.
William Wragg (Con), a member of the awkward squad of backbenchers, chided Zahawi (emphases mine):
What a load of rubbish. I do not believe that my hon. Friend believes a word he just uttered, because I remember him stating very persuasively my position, which we shared at the time, that this measure would be discriminatory. Yet he is sent to the Dispatch Box to defend the indefensible. We in this House seem prepared to have a needless fight over this issue. It is completely unnecessary. We all agree that people should be encouraged to have the vaccine, and I again encourage everybody to do so, but to go down this route, which is overtly discriminatory, will be utterly damaging to the fabric of society.
Zahawi replied:
I am grateful to my hon. Friend, who has made his view clear to me on many occasions. It pains me to have to take a step like this, which we do not take lightly, but the flipside to that is that if we do not and the virus causes super-spreader events in nightclubs and I have to stand at the Dispatch Box and announce to the House that we have to close the sector, that would be much more painful to me.
Mark Harper, another Conservative who has opposed coronavirus restrictions, voiced his disapproval:
I have to say that I agree with the Chairman of the Public Administration and Constitutional Affairs Committee, my hon. Friend the Member for Hazel Grove (Mr Wragg). The Minister set out earlier this year that this policy was discriminatory. He was right then and that remains the case. It is a discriminatory policy. The vaccines are fantastically effective at reducing hospitalisation and death. They are very much less effective in reducing transmission of the Delta variant. This is a pointless policy with damaging effects. I am afraid that the Minister is picking an unnecessary fight with his own colleagues. I say to him that the Government should think again. The Leader of the House has been clear that we do not believe—the Government do not believe—that this policy is necessary for us to meet here in a crowded place. Let us not have one rule for Members of Parliament and another rule for everybody else. Drop this policy.
Zahawi replied, saying he hoped the vaccine passports would be temporary:
This is not something that we enter into lightly, but it is part of our armoury to help us transition over the winter months from pandemic to endemic status. I hope to be able to stand at this Dispatch Box very soon after that and be able to share with the House that we do not need to do this any more as we will be dealing with the virus through an annual vaccination programme.
An SNP MP hoped there would be proportionality:
I pay tribute to all those involved in the vaccination programme. It has been extraordinary. In Scotland, we have 4.1 million adults with a first dose and almost 4 million with a second dose, which means that north of 90% of all adults have had at least one dose. It is a fantastic result across the UK since last December, but the pandemic is not over. Lives are still at risk and the pressures on the NHS are very real, so we in Scotland are introducing a vaccine passport, but, broadly, it will be limited to nightclubs, outdoor standing events with more than 4,000 people and any event with more than 10,000 people. While the rules in England may be slightly different, I hope that they are as proportionate as that.
Zahawi said that more details would be forthcoming.
Zahawi's voice faltered several times during the debate:
It pains me to have to stand at the Dispatch Box and implement something that goes against the DNA of this Minister and his Prime Minister, but we are living through difficult and unprecedented times. As one of the major economies of the world, our four nations have done an incredible job of implementing the vaccination programme. This is a precautionary measure to ensure that we can sustainably maintain the opening of all sectors of the economy.
A Liberal Democrat MP, Munira Wilson, picked up on Zahawi's delivery:
I almost feel sorry for the Minister because he really is struggling to defend this policy. However, he has failed to answer the fundamental question posed by my right hon. Friend the Member for Orkney and Shetland (Mr Carmichael) about this deeply illiberal, discriminatory and unnecessary policy: will this House get a vote on the implementation of covid vaccine passports—yes or no?
Zahawi answered:
There will be appropriate parliamentary scrutiny, as I have said today and in the past.
Not one MP approved of the proposed policy measure in the debate.
On Friday, September 10, news emerged that, if implemented, vaccine passports could open the way for sweeping powers. They could eventually become a national ID 'card'. The Telegraph's Madeline Grant tweeted:
The Telegraph's news that day cited an article from The Sun saying that we might have to have a vaccine passport to go to the pub:
Britons could be required to show vaccine passports at more businesses, the Culture Secretary has suggested amid reports the Prime Minister is preparing to unleash a "toolbox" of contingency measures. 
The Government is set to push ahead with mandatory Covid certification for nightclubs at the end of the month.
But The Sun reports that this will be widened to include other venues such as stadiums and pubs, which will be announced next week by Boris Johnson as part of plans to control the virus through the autumn and winter. 
Oliver Dowden told Sky News: "We will be looking at bringing in certification for nightclubs at end of the month.
"If there is a need to further extend that certification according to the public health need, we will look at doing so but we're always reluctant to impose more restrictions on businesses unless we really need to."
However, having voted in the unpopular increase in National Insurance contributions and the poll result showing a Labour lead for the first time since January, the Government reconsidered their stance on vaccine passports.
On Sunday, September 12, Health Secretary Sajid Javid appeared on the BBC's Andrew Marr Show to say that vaccine passports in England will not be going ahead. I would add 'for now', because this Government is on a right merry-go-round with regard to coronavirus policies:
Mark Harper MP welcomed the news:
Even Public Health England (PHE) statistics show two inoculations (I use the term advisedly) offer little protection:
TalkRADIO's Julia Hartley-Brewer points out that vaccine passports cannot save lives and are discriminatory:
Yet, Scotland's First Minister Nicola Sturgeon insists the decision to implement them north of the border is the right thing to do:
However, one of Scotland's coronavirus advisers, behavioural psychologist Stephen Reicher implied that England, not Scotland, made the right decision:
Guido Fawkes has a quote from Reicher (emphases in the original):
They are a double edged sword. Passports accelerate uptake in the willing but accentuate opposition in the sceptical. They increase safety but can increase complacency.
Quite a departure from Sturgeon's claim that they "have part to play". At least she insisted they were "a very limited scheme"…
Scotland could still backtrack on vaccine passports, as their September 9 vote was on a motion only, not legislation:
It is good to see that politicians are taking note of the public mood — for once.