You are currently browsing the tag archive for the 'Nadhim Zahawi' tag.
Boris Johnson is now into his third year as Prime Minister.
On Wednesday and Thursday, September 15 and 16, he reshuffled some of his cabinet and ministerial posts, signalling that he is more than halfway through his premiership. In other words, this will be the major reshuffle to lead the Conservatives into the next general election.
I hope that Boris does not go for a 2023 election, unless it is late in the year. The coronavirus crisis will have put much of the Conservative manifesto agenda on hold for two years. As such, not much has been accomplished to date, as Andrew Neil, who recently resigned from GB News, says:
Boris has appointed more Leave ministers as well as more minority and female ministers, which will not matter to most small-c conservatives:
Highlights of the reshuffle follow.
Dominic Raab no longer Foreign Secretary
It looks as if dithering over Afghanistan while holidaying in Crete has finished Dominic Raab's days as Foreign Secretary. He had to do the walk of shame after his demotion:
That said, Boris has found a new job for him as Justice Secretary.
Raab will also continue to be Deputy Prime Minister, a role he handled extremely well in April 2020, when Boris was hospitalised with coronavirus.
Defence Secretary Ben Wallace defended his fellow MP and the move in an interview with BBC Breakfast:
Wallace said of Raab: "Dominic is by trade a lawyer, he started his life in the Foreign Office as a human rights lawyer and he's gone to the Ministry of Justice, which is actually a very, very important role and a role he desperately understands."
Liz Truss becomes new Foreign Secretary
Former Trade Secretary Liz Truss replaces Dominic Raab as Foreign Secretary, with Anne-Marie Trevelyan taking her place.
Post-Brexit, Truss has made various trade deals with other nations, notably Australia and Japan.
She also remains minister for women and equalities.
Truss is popular with grassroots conservatives and her name has often been mentioned as a future party leader and Prime Minister.
She succeeded not only in trade but also in refusing wokery in 2020 …
… and in 2021, as Guido Fawkes reported on June 16 (emphases mine):
Liz Truss tells Times Radio most people aren't interested in the culture war…
"My role as equality minister is to make sure everybody in Britain is treated equally regardless of their sex, their sexuality and their race. What we have seen over the past few years is the development of identity politics where there has been division created. People are described as being members of a group rather than for their own personal, individual humanity and dignity… We have just launched for example a big data project looking where are the gaps in education, employment and enterprise across the country, and how we can fix those. That is the approach we need to take… I think some of the identity politics we have seen focus on symbolism over real results has been divisive… I think most people aren't interested in this so–called culture war, what they're interested in is, "Am I being given a fair chance? Do I have a good chance of getting a job? Am I treated fairly by public services?" And that's why I think our equality agenda should focus on, those bread and butter issues that are of concern to everyone in the country."
She is consistently among the most popular of the Cabinet members. This survey is from March 2021:
She can even ably dodge camera equipment during an interview:
Nadine Dorries moves from Health and Social Care to Culture Secretary
In what is hoped to please grassroots small-c conservative voters, Nadine Dorries now heads Digital, Culture, Media and Sport (DCMS), replacing Oliver Dowden, who, as new co-chairman of the Conservative Party, will formulate a strategy for the next general election.
Most of these grassroots supporters are fed up with the BBC. Will Dorries take on Auntie Beeb?
I do not put much stock in that possibility. Resurrecting Dorries's tweets from several years ago are no indication of her current willingness to oppose the BBC on anything much:
The BBC have just appointed a firmly left-wing executive editor of BBC News, Jess Brammar. At least one Conservative MP, Brendan Clarke-Smith, was unhappy about the possibility of her appointment back in August:
I will not be holding my breath for Dorries to take her on, although others in the left-wing and anti-Brexit political establishment are angry about Dorries's appointment, as Guido Fawkes reports; he has screenshots of her past tweets (emphasis in the original):
She's been in the job for 17 hours and is already annoying all the right people… 
John Whittingdale returns to backbenches
I have doubts about Dorries because one of the DCMS ministers, John Whittingdale, was supposed to take on the BBC in 2016 and never did. He also washed his hands of removing free TV licences for most over-75s, saying it was a decision for the BBC. Is this why he got the sack?
During the Euro 2020 soccer tournament this year, Whittingdale told Kay Burley of Sky News that travel restrictions were lifted for 'important' people associated with the matches:
Speaking on Sky News, John Whittingdale was asked why players, officials and others coming to London for the Euros final on 11 July should be allowed in without self-isolating.
He said: "We've always said that for some people who are important, players, for instance …"
The presenter, Kay Burley, interrupted him, saying: "So people who want to go on holiday are not important. Is that what you're saying?"
Whittingdale's last pronouncement, standing in for his boss Oliver Dowden, was about a proposed mandate to make all BBC and ITV output 'distinctively British'. That was on September 16. It will be interesting to see whether Nadine Dorries will insist on it.
Newsnight argument over Dorries
Nadine Dorries was the subject of an argument between Conservative MP Charles Walker and former Conservative MP, Remainer Anna Soubry, who lost her seat in December 2019.
By the way, this was Anna Soubry with Nigel Farage either just before or just after the Brexit referendum in June 2016: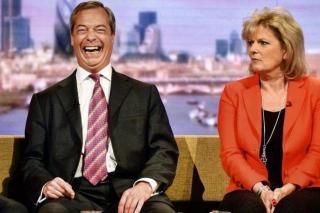 But I digress.
The discussion between Soubry and Charles Walker took place on the BBC's Newsnight on September 15:
Here's the video, with Labour MP Peter Kyle sitting at the desk with presenter Emily Maitlis:
Guido Fawkes has the highlights:
Nadine Dorries provided the biggest clash, as the eternally bitter Soubry ranted that her appointment "actually says everything that's wrong and rotten about this prime minister's stewardship of this country". Charles Walker had some thoughts:
"Nadine Dorries has been a health minister, a minister of state, at an incredibly difficult time for the department of health; has been an extremely good minister for mental health; and really to come onto this programme and just trash her like that is just not a very nice thing to do to be perfectly honest"
Responding to Soubry's claim that people don't really care about reshuffles in the real world, Walker pointed out "Why is it the lead story on Newsnight, and why are you appearing on Newsnight?" Why indeed…
However, there is a personal reason why Anna Soubry is angry with Nadine Dorries.
On July 1, 2016, one week after David Cameron stood down as Prime Minister and Conservative Party leader because of the Brexit referendum result, tensions were running high not only in the Commons but also among the public.
Soubry went out near Parliament to address her fellow Remain supporters. Dorries tweeted that Soubry was under the influence. Soubry demanded that Dorries retract the tweet. The Times has the full story, which ends with this:
Update (25.07.2016): Following publication of this article, Nadine Dorries MP has withdrawn her tweet about passing Anna Soubry MP leaving the bar before she attended a rally of Remain supporters in central London. Ms Soubry has confirmed that she had not drunk any alcohol before speaking at the event.
Another reason why I am doubtful about Nadine Dorries is because she did not question the Government's coronavirus restrictions when she was at Health and Social Care. Does she really believe everything she hears? Here she responds to Conservative Woman's co-founder Kathy Gyngell. Dorries and her mother had the virus at the same time, and her mother recovered first. Even so, not questioning lockdown earns her a black mark from me:
At least she supported Brexit.
Michael Gove moves to Housing, no longer Chancellor of the Duchy of Lancaster
Michael Gove, who is in the process of a divorce and was a recent party boy in an Aberdeen nightclub, is no longer the Chancellor of the Duchy of Lancaster.
Stephen Barclay, formerly Chief Secretary to the Treasury, replaces him in that post. Simon Clarke replaces Barclay in the Treasury role.
Michael Gove replaces Robert Jenrick at the Ministry of Housing, Communities and Local Government and is in charge of Boris's 'levelling up' agenda.
A first attempt at a new acronym for the department has produced DULL:
Guido reports on the problems with acronyms for government departments in general:
The Sun's Harry Cole reports the initial proposal for a new "Department for the Union and Levelling Up" is no longer a flyer after realisations its acronym, 'DULU', sounds too much like "Dull". It's a shame a change was needed, given it was pointed out yesterday that Michael Gove the first MHCLG Secretary with all the letters of the department in his name…
Guido will leave it up to cleverer minds to work out an acronym that includes all the letters of Gove's new remit (MHCLG + Union + Levelling Up + Elections) though it's not the worst reshuffle acronym problem encountered by a PM. As Alan Johnson recounts, in 2005 Tony Blair came up with a plan to rename the department for Trade and Industry as the "Department of Productivity, Energy, Industry and Science". Thankfully Johnson was used to it by that point however – he'd already been Minister for Higher Education and Lifelong Learning, and headed up the Sexual Health Advisory Group…
Although this looks like a demotion for Gove, it involves a hefty budget with pan-govermental reach, something that should definitely appeal to him:
New Education Secretary
Nadhim Zahawi, formerly in charge of the coronavirus vaccine rollout, is the new Education Secretary, replacing Gavin Williamson, who likely got the sack because of the school exams fiasco during the coronavirus crisis.
Zahawi has achieved the British dream, having arrived in the UK as a child refugee who could not speak English:
Other appointments
Guido Fawkes has full reshuffle information for September 15 and 16.
Some MPs have transferred to other departments:
Others will be returning to the backbenches:
Jesse Norman tweeted that he was happy to return to the backbenches:
The new role for Nigel Adams is said to be a 'fixer' appointment in order to get things done:
More information and analysis can be found at The Guardian, The Telegraph, GB News , The Spectator and The Times (here, here and here).
House of Lords
Reshuffles can affect the House of Lords, too.
Fortunately, two of the stars there are still in place.
Baroness Evans
Baroness Evans, composed and competent, will remain as Leader of the House of Lords.
Lord Frost
Lord Frost will remain Cabinet Office Minister for Europe, in charge of EU negotiations and changes to relevant legislation:
On September 16, Guido wrote about Frost's plans to rid the UK of EU laws (emphases in the original):
Lord Frost has announced the government's plans to finally capitalise on the freedoms of Brexit and remove the "special status" of all individual EU laws still on the UK's statute books. There are also plans to invest heavily artificial intelligence, transport, and farming over the Parliament. Now if we just pair deregulation with lower taxes we may actually get somewhere…
Speaking on the reforms this afternoon, Lord Frost said:
"From rules on data storage to the ability of businesses to develop new green technologies, overbearing regulations were often conceived and agreed in Brussels with little consideration of the UK national interest.
"We now have the opportunity to do things differently and ensure that Brexit freedoms are used to help businesses and citizens get on and succeed."
Lord Frost will begin with a review of so-called "retained EU law" – the huge amount of EU legislation still on the UK's statute books; removing its special status so it's no longer a distinct category of UK domestic law, and ensuring all courts have the full ability to depart from EU case law. He describes it as finalising the process of "restoring this sovereign Parliament". There's a reason he's popular with the Tory membership…
Guido's post has more detail, much of which involves digitalising everything from share (stock) certificates and driving licences.
Hmm. I hope that when his proposals reach MPs that they are not taken too far. First, not everyone is online. Secondly, think of the hacking opportunities this could provide. Finally, and perhaps most importantly, digitalisation can lead quickly to establishing a Chinese-style social credit score.
One thing I did like was this:
Permitting the voluntary printing of the Crown Stamp on pint glasses and reviewing the EU ban on markings and sales in imperial units and legislating in due course, none of which were possible within the EU.
Robert Peston's misguided predictions
Sometimes, it is better to wait for the final outcome rather than tweet silly predictions:
On September 16, Guido noted witheringly of ITV's Robert Peston:
While yesterday may not have been great for Dominic Raab, at least he can take solace in the fact he had a better reshuffle than Robert Peston. ITV's senile senior political reporter spent all day tweeting every thought process, speculation and briefing with the acumen and insight of a first-year politics student.
Guido's article lists Peston's tweets. Perhaps ITV should buy him a new crystal ball.
Conclusion
I still think that most Conservative MPs are half-hearted. It's a shame that Boris did not promote any of the 2019 intake, especially the feisty ones from the North of England.
Fortunately, last week's horrible poll results have been reversed. Participants were polled during the reshuffle days of September 15 and 16:
Onwards and upwards to Boris's promised 'sunlit uplands', I hope.
On Thursday, September 9, the Scottish parliament voted in a motion to implement vaccine passports for the nation, beginning October 1:
Patrick Harvie's Greens, who are in a new alliance with the governing SNP, changed their minds about vaccine passports and decided to vote in favour of them:
Some of the MSPs lost their internet connection during the vote. That does not matter, because they, along with MSPs voting from home, can let the moderator know and she will allow them to cast their vote in person or over the telephone. Those votes are broadcast in the chamber.
The incident gives me a chance to show you the interior of Holyrood, where MSPs meet:
The day before the Holyrood vote, MPs in Westminster debated the implemention vaccine passports for England.
Nadhim Zahawi, the vaccines minister, gave a statement about the plans. It did not go well for him.
MPs — including his fellow Conservatives — quoted his previous statements in which he said the passports would not be implemented domestically.
William Wragg (Con), a member of the awkward squad of backbenchers, chided Zahawi (emphases mine):
What a load of rubbish. I do not believe that my hon. Friend believes a word he just uttered, because I remember him stating very persuasively my position, which we shared at the time, that this measure would be discriminatory. Yet he is sent to the Dispatch Box to defend the indefensible. We in this House seem prepared to have a needless fight over this issue. It is completely unnecessary. We all agree that people should be encouraged to have the vaccine, and I again encourage everybody to do so, but to go down this route, which is overtly discriminatory, will be utterly damaging to the fabric of society.
Zahawi replied:
I am grateful to my hon. Friend, who has made his view clear to me on many occasions. It pains me to have to take a step like this, which we do not take lightly, but the flipside to that is that if we do not and the virus causes super-spreader events in nightclubs and I have to stand at the Dispatch Box and announce to the House that we have to close the sector, that would be much more painful to me.
Mark Harper, another Conservative who has opposed coronavirus restrictions, voiced his disapproval:
I have to say that I agree with the Chairman of the Public Administration and Constitutional Affairs Committee, my hon. Friend the Member for Hazel Grove (Mr Wragg). The Minister set out earlier this year that this policy was discriminatory. He was right then and that remains the case. It is a discriminatory policy. The vaccines are fantastically effective at reducing hospitalisation and death. They are very much less effective in reducing transmission of the Delta variant. This is a pointless policy with damaging effects. I am afraid that the Minister is picking an unnecessary fight with his own colleagues. I say to him that the Government should think again. The Leader of the House has been clear that we do not believe—the Government do not believe—that this policy is necessary for us to meet here in a crowded place. Let us not have one rule for Members of Parliament and another rule for everybody else. Drop this policy.
Zahawi replied, saying he hoped the vaccine passports would be temporary:
This is not something that we enter into lightly, but it is part of our armoury to help us transition over the winter months from pandemic to endemic status. I hope to be able to stand at this Dispatch Box very soon after that and be able to share with the House that we do not need to do this any more as we will be dealing with the virus through an annual vaccination programme.
An SNP MP hoped there would be proportionality:
I pay tribute to all those involved in the vaccination programme. It has been extraordinary. In Scotland, we have 4.1 million adults with a first dose and almost 4 million with a second dose, which means that north of 90% of all adults have had at least one dose. It is a fantastic result across the UK since last December, but the pandemic is not over. Lives are still at risk and the pressures on the NHS are very real, so we in Scotland are introducing a vaccine passport, but, broadly, it will be limited to nightclubs, outdoor standing events with more than 4,000 people and any event with more than 10,000 people. While the rules in England may be slightly different, I hope that they are as proportionate as that.
Zahawi said that more details would be forthcoming.
Zahawi's voice faltered several times during the debate:
It pains me to have to stand at the Dispatch Box and implement something that goes against the DNA of this Minister and his Prime Minister, but we are living through difficult and unprecedented times. As one of the major economies of the world, our four nations have done an incredible job of implementing the vaccination programme. This is a precautionary measure to ensure that we can sustainably maintain the opening of all sectors of the economy.
A Liberal Democrat MP, Munira Wilson, picked up on Zahawi's delivery:
I almost feel sorry for the Minister because he really is struggling to defend this policy. However, he has failed to answer the fundamental question posed by my right hon. Friend the Member for Orkney and Shetland (Mr Carmichael) about this deeply illiberal, discriminatory and unnecessary policy: will this House get a vote on the implementation of covid vaccine passports—yes or no?
Zahawi answered:
There will be appropriate parliamentary scrutiny, as I have said today and in the past.
Not one MP approved of the proposed policy measure in the debate.
On Friday, September 10, news emerged that, if implemented, vaccine passports could open the way for sweeping powers. They could eventually become a national ID 'card'. The Telegraph's Madeline Grant tweeted:
The Telegraph's news that day cited an article from The Sun saying that we might have to have a vaccine passport to go to the pub:
Britons could be required to show vaccine passports at more businesses, the Culture Secretary has suggested amid reports the Prime Minister is preparing to unleash a "toolbox" of contingency measures. 
The Government is set to push ahead with mandatory Covid certification for nightclubs at the end of the month.
But The Sun reports that this will be widened to include other venues such as stadiums and pubs, which will be announced next week by Boris Johnson as part of plans to control the virus through the autumn and winter. 
Oliver Dowden told Sky News: "We will be looking at bringing in certification for nightclubs at end of the month.
"If there is a need to further extend that certification according to the public health need, we will look at doing so but we're always reluctant to impose more restrictions on businesses unless we really need to."
However, having voted in the unpopular increase in National Insurance contributions and the poll result showing a Labour lead for the first time since January, the Government reconsidered their stance on vaccine passports.
On Sunday, September 12, Health Secretary Sajid Javid appeared on the BBC's Andrew Marr Show to say that vaccine passports in England will not be going ahead. I would add 'for now', because this Government is on a right merry-go-round with regard to coronavirus policies:
Mark Harper MP welcomed the news:
Even Public Health England (PHE) statistics show two inoculations (I use the term advisedly) offer little protection:
TalkRADIO's Julia Hartley-Brewer points out that vaccine passports cannot save lives and are discriminatory:
Yet, Scotland's First Minister Nicola Sturgeon insists the decision to implement them north of the border is the right thing to do:
However, one of Scotland's coronavirus advisers, behavioural psychologist Stephen Reicher implied that England, not Scotland, made the right decision:
Guido Fawkes has a quote from Reicher (emphases in the original):
They are a double edged sword. Passports accelerate uptake in the willing but accentuate opposition in the sceptical. They increase safety but can increase complacency.
Quite a departure from Sturgeon's claim that they "have part to play". At least she insisted they were "a very limited scheme"…
Scotland could still backtrack on vaccine passports, as their September 9 vote was on a motion only, not legislation:
It is good to see that politicians are taking note of the public mood — for once.
Monday, July 19, 2021, will not be the long-awaited Freedom Day in England, just an unlocking for larger gatherings and venues, including theatres, nightclubs and strip clubs.
Mask wearing will still be 'expected'.
In his coronavirus briefing on Monday, July 12, Prime Minister Boris Johnson no longer used the words 'terminus' or 'irreversible'. In fact, he warned about the winter months ahead.
Health Secretary Sajid Javid had announced the very same in his statement to the Commons earlier that afternoon.
At this point, I doubt that we will see any semblance of pre-coronavirus normality until next year. We might even have to have coronavirus passports. Here is the minister in charge of the vaccination programme, Nadhim Zahawi:
Incidentally, French president Emmanuel Macron announced his plans for such passports on Monday for France. He also suggested that vaccinations could be made mandatory if there is not enough take up.
The Telegraph summarised the position in England (emphases mine):
People will be expected to continue wearing masks in indoor spaces, a stricture that will no doubt remain a requirement of entry for shops and hospitality venues as well as being mandated on public transport. Companies eager for their staff to return to the office have been left in an impossible position by ambiguous guidance about working from home. Employees are not being told to stay away but nor are they expected to go to work.
Since Mr Johnson previously said it was "now or never" to end these restrictions, the inescapable conclusion is that it is to be never. If they are to be requirements now, in the middle of summer, how will they not be in the autumn and winter when the number of Covid and flu cases will rise? Some scientists, indeed, have argued that distancing and face coverings should be made permanent.
In the Commons, the Health Secretary, Sajid Javid, confirmed the new tone, saying that next Monday would not be a terminus after all but another step on the road back to normality, though with no indication of when that might be.
If there are good public health reasons for this circumspection then let ministers say so and produce the evidence to justify it. If, however, the four tests set for a full reopening have been met – as Mr Javid told MPs they had been – then let it happen. Worryingly, however, the pledge of an "irreversible" course out of lockdown is no longer being heard.
It is, of course, to be welcomed that Stage 4 of the road map will be implemented next Monday. But for as long as ministerial pronouncements seeking to influence how we should behave stay in place, "Freedom Day" will remain some way off.
The Telegraph's Sherelle Jacobs wrote an excellent editorial on the subject: 'Boris Johnson has lost his nerve and condemned us to Covid no-man's land'.
She points out that, despite the stellar vaccine rollout, the Government's response to the virus is essentially the same as it was early in 2020:
I do not envy the Prime Minister. He is having to make decisions in the face of violent resistance from scientists who have strayed far beyond their proper roles as apolitical advisers. It is, however, astonishing that 16 months and 45 million vaccinations later, our basic approach to Covid is still no more sophisticated than it was in March 2020.
She sees the NHS as the tail wagging the British dog, which, by the way, is also true in the devolved nations (Scotland, Wales and Northern Ireland):
… No 10's priority appears to remain to "protect the NHS" at all costs. Restrictions are still deemed to be a vital tool to prevent ICUs becoming overwhelmed. Far from Britain breaking free, one can only conclude that our liberties will be tethered to ICU capacity indefinitely, with the Government loosening and tightening the reins as Covid fluctuates with the seasons.
The Government may think that it has public opinion on its side. Recent polling suggests that a sizeable proportion of the population would be happy for some restrictions to remain forever, even once the threat of Covid has faded …
The only answer is reforming the NHS:
There is one obvious way out of this. If the NHS is so precious that it is in danger of being overwhelmed even after one of the most comprehensive vaccination programmes in history, then the priority now must be to reform the service to make it fit for purpose. Germany, for instance, with its insurance-based model, has more than four times as many critical care beds per capita as Britain.
The NHS has become the new secular national religion in Britain.
Applauding it last year over so many Thursday nights at 8 o'clock has put it on a pedestal it might not wholly deserve:
The NHS has become Britain's all-consuming project, the millstone around its neck and the cloying source of confected national pride. Its hold over the country is so powerful that even a so-called libertarian Conservative PM decided this week to risk sacrificing our ordinary freedoms rather than dare to reform it.
She adds an interesting fact about NHS financing in 1948, when it was founded:
As noble as the idea behind the NHS might have been, it is founded on delusions about Britain's finances. (Indeed Westminster initially partly bankrolled it with foreign money, splitting 1940s Marshall aid between its domestic healthcare dreams and ailing colonial dominions).
We cannot go on like this forever, even though some would like to do so:
… the downsides of lockdowns are becoming too enormous to ignore. Their effectiveness is limited in free Western countries plagued by widespread low-level non-compliance and inadequate infection control in care homes and hospitals. Contrastingly, the damage lockdowns cause is limitless – from decimating mental health to destroying children's education. It is extraordinary that, even now, Johnson only pays lip service to this inescapable truth.
The biggest problem for the foreseeable future will be masks, especially as the Government says they are 'expected' in crowded, enclosed spaces. What does that really mean?
Another Telegraph article, by The Spectator's Anglo-American Kate Andrews, offers a suggestion to make things clearer:
Boris Johnson's message last night was that he 'expects and recommends' that people continue to wear masks in 'crowded' and 'enclosed' spaces, or where you come into contact with strangers: a vague, yet seemingly large request. The message could be far more simple: be aware of your surroundings and make an informed decision. This would be a real breakaway from our Covid lifestyles, and a return to the notion of personal responsibility.
The continuation of masks and compliance in this regard could be interpreted in a sinister way:
Perhaps the mask debate playing out now is the one we should have had in the first place. After the Government's most senior medical and scientific advisers spent months last spring telling the public not to buy or wear masks, the rule changed to mandate them on public transport, punishable by fines. Did we need to criminalise people for not wearing a mask, or might guidance have done the trick? But even now, the push for guidance often reveals itself as a push to keep emergency laws — not to be clearer with the public, but to be harsher.
There has been consensus throughout the pandemic that the British public have been wonderful: thoughtful and willing to uphold their social contract to strangers, to protect the lives of the vulnerable and elderly. Now, as their freedoms are set to be returned, that consensus is breaking. It seems when some were praising the public, they were really praising the rules that hovered over them.
Perhaps so. It is a sobering thought.
In any event, July 19 will not be Freedom Day by any stretch of the imagination. It will certainly not affect me personally, especially if I am still expected to wear a face covering.
I had been looking forward to going out for a long, languorous, maskless lunch in London next month. That will have to wait, probably until 2022.
My series on minority MPs in the Conservative Party continues.
In case you've missed the earlier posts in this series, here they are: parts 1, 2, 3, 4 and 5.
Today's post covers the two minority MPs who were elected during Theresa May's snap general election of June 2017.
Bim Afolami (Hitchin and Harpenden)
Bim Afolami represents the leafy Hertfordshire constituency of Hitchin and Harpenden, far enough from London to be in the countryside yet a close enough for a daily commute to and from the capital.
I always enjoy hearing what Afolami has to say in Parliament. He speeches are eloquent, considered and, above all, sensible.
Afolami was born in the Home County of Berkshire to a Nigerian father, employed as a consultant physician for the NHS. His mother works as a pharmacist.
Afolami attended Eton College and University College, Oxford, where he read Modern History. While at Oxford, he worked as a librarian for the Oxford Union Society and played football for the university team.
He worked as a lawyer prior to entering politics. His employers included the prestigious law firm Freshfields and the banking corporation HSBC.
In 2017, Hitchin and Harpenden's MP Peter Lilley stood down. Afolami was selected as the Conservative candidate.
Afolami was a Remainer, however, during his time in Parliament, he voted the Brexit line most of the time.
He has been a member of several parliamentary committees.
He has also had positions as Parliamentary Private Secretary in the Department of Transport, International Development, International Trade and the Department for Work and Pensions.
Currently, he chairs the All-Party Parliamentary Group on Credit Unions and is a Commissioner for the Financial Inclusion Commission.
Afolami is married with three children.
He describes Winston Churchill as his 'biggest hero'.
Kemi Badenoch (Saffron Walden)
Kemi Badenoch also reveres Winston Churchill, along with Margaret Thatcher.
She, too, has Nigerian roots and spent her formative years there before returning to England.
She represents the constituency of Saffron Walden in Essex, which, not surprisingly, includes the ancient town of the same name. The town of Saffron Walden was known not only for its wool production but also for its cultivation of saffron in the 16th and 17th centuries. That happy combination of industry enabled the town to develop dyes as well as provide the condiment for use in food.
Olukemi Olufunto Adegoke was born in Wimbledon, London. Her father is a GP and her mother a professor of physiology. As her mother obtained teaching positions overseas, Kemi lived in both the United States and Nigeria. She returned to England at the age of 16 to complete her A levels and attend university.
She has worked in computing for most of her career. She obtained a law degree in 2009 and went on to work as an associate director of private bank and wealth manager Coutts and was a director for The Spectator.
Kemi joined the Conservative Party in 2005.
In 2012, she married Hamish Badenoch and took his surname.
In 2015, she served on the London Assembly after Suella Fernandes Braverman had to give up her seat, since she had just been elected to Parliament.
In 2017, Kemi Badenoch succeeded Sir Alan Haslehurst as MP for Saffron Walden with a healthy majority.
In her maiden speech, she explained how she became a conservative: failing nationalised electricity and water provision during her years in Nigeria. Wow.
She also said that Brexit was the 'greatest vote ever'.
If you want to feel uplifted about Britain and conservatism, this video is definitely worth five-and-a-half minutes of your time:
She currently holds two positions, to which Prime Minister Boris Johnson appointed her in 2020: Exchequer Secretary to the Treasury and Parliamentary Under Secretary of State (Minister for Equalities) in the Department for International Trade.
The latter position has seen her come up against stiff opposition from the Opposition benches last year when it emerged that minorities were more affected by coronavirus. The protests in June exacerbated the issue.
On June 4, an SNP MP, Alison Thewliss, had the gall to intimate that Badenoch had little understanding of the black community.
Badenoch politely responded that she objected to Thewliss's 'confected outrage'.
As former Labour MP — now Baroness Hoey in the House of Lords — put it:
Guido Fawkes posted a video of the exchange and commented (emphasis in the original):
Today's BAME Urgent Question was never going to be one Parliament's more tranquil sessions given the ongoing Black Lives Matter protests. Kemi Badenoch gave a feisty performance, scolding left-wing white MPs for telling her how to feel as a black person. Her slap down of SNP MP Alison Thewliss, who conflated all black Britons with recent immigrants, is worth a watch…
The BBC also attacked her response.
On June 6, Badenoch wrote an article for the Daily Mail, which said, in part (emphases mine):
The disproportionate impact of the Covid-19 pandemic on black and minority ethnic people has been one of the most troubling aspects of the pandemic – and the Government was right to seek the expert guidance of Professor Kevin Fenton, an eminent black physician at Public Health England, to examine the issue. 
So when, as Equalities Minister, I stood up in the Commons to discuss his review and its conclusions, I expected tough questions. 
This, after all, has been a week of heightened emotion about racial divisions. Unfortunately, clumsy attempts at scrutiny by some MPs and commentators unintentionally risk inflaming racial tensions. 
Updating Parliament on the review, Labour MPs repeated racially charged claims such as: 'Being black is a death sentence.' 
One SNP MP conflated all black people with recent immigrants. This language does nothing to calm tensions at a time when politicians need to set an example. 
Far more irresponsible though, was the BBC's coverage of the debate – with the headline: 'Minister rejects systemic racism claims'. I did no such thing. 
In fact, the phrase 'systemic racism' was not used once in the debate. The BBC report was shared on social media thousands of times and believed because it was from a trusted source. This is incredibly harmful. 
By implying that a black Minister has, out of hand, rejected racism as a factor, the hard work done by many ethnic minorities in Government, the NHS and Public Health England is discredited, trust is lost and race relations become worse. 
Yes, there are gaps in PHE's review. By its nature, it highlights what we don't know and must investigate further. 
We will build on this work, engaging with individuals and organisations within communities, to protect lives in this pandemic … 
We need to be more circumspect; we need real journalism, not campaigning. 
We must address prejudice but this is impossible if our national broadcaster, politicians and commentators play a social media game to achieve outrage rather than enlightenment. 
We must combat the real inequities in society, but we do everyone a disservice if we give in to culture warriors whose relevance depends on inflaming tensions. 
By hijacking the Government's work to improve the lives of BAME people, those spoiling for a fight are sacrificing the hope of so many young people for little more than clicks, likes and retweets. 
In October, Badenoch volunteered to take part in a vaccine trial:
Moving to the present day — February 2021 — issues have arisen with minorities reluctant to get vaccinated when the time comes. Personally, I do not blame them. There is a lot we do not know about their long-term effects, particularly the mRNA vaccines. So that minorities would feel more reassured, the Government appointed Nadhim Zahawi MP to oversee vaccine rollout in the UK. His brief includes visiting minority communities to encourage uptake:
In January, minority MPs from both sides of the aisle took part in a video to promote the vaccine programme.
Badenoch was criticised for not having taken part. She said it was because she was participating in the aforementioned vaccine trial:
Let's return to last year.
In October 2020, Badenoch spoke in Parliament about Black History Month in the UK. She said that she was taken aback by something her daughter said:
That month, she participated in a Spectator discussion debunking various socio-political left-wing theories and promoting conservatism.
This triggered a severe reaction from the Left in November.
Several radical left-wing academics took issue with what she said:
Guido Fawkes provided the exhaustive list along with the radical positions of each academic, explaining the background (red emphases in the original, those in purple mine):
Equalities minister Kemi Badenoch sent Twitter's wokesters and academia's race baiters into meltdown a fortnight ago when her savaging of "Critical Race Theory" (CRT) went viral, with 2.4 million views. Guido's since picked up on an open letter doing the rounds in nutty left-wing academic circles, who – unable to take on the substance of what Badenoch argues – have chosen instead to misrepresent her words. Aside from their attacks on the substance of Kemi's words – incorrectly claiming she wants "the banning of certain ideas or schools of thought" and that she misunderstands history and CRT – the mostly former-polytechnic-based academics now claim CRT has "scientific principles" behind their ideology. Eugenicists, phrenologists and Marxists have argued the same for decades...
Looks like Kemi's on pretty sound ideological ground…
I wish Kemi Badenoch all the very best in holding her ground so consistently.
Tomorrow's post concludes this series.
Yesterday's post looked at the beginning of today's modern Conservative Party in the late 20th and early 21st century, including Boris Johnson's diverse family history.
Since 2010, the Conservatives have added to their number of accomplished MPs, people who have really achieved something in their lives before they entered Parliament.
The list of MPs whose immediate ancestry includes parents from Asia and Africa continues below.
The Cameron years: May 2010 – June 2016
In the 2010 election, when David Cameron became Prime Minister, several more Conservative MPs of colour took their places in Parliament.
Most are still serving today, listed below.
Rehman Chishti (Gillingham and Rainham)
Rehman Chishti was born in Pakistan on October 4, 1978.
At the time, his father, Abdul Rehman Chishti, was Federal Adviser on religious affairs to the Prime Minister of Azad Kashmir, the region where the Chishtis lived. This was during the time when Zulfikar Ali Bhutto was Pakistan's prime minister. In 1978, Chishti's father left Pakistan for the UK, where he became an imam. Shortly afterwards, a military coup overthrew the Bhutto government. General Zia-uk-Haq led the coup and later executed Bhutto.
It was not until 1984 that Mrs Chishti was able to join her husband in Kent, taking with her their elder daughter and young Rehman. From that point, life resumed a sense of normality for the family. Rehman Chisti attended local schools, then read law at University of Wales Aberystwyth. He supplemented his income by working summer jobs in retail in Kent.
In 2001, he became a barrister, having been called to the Bar of England and Wales by Lincoln's Inn in London. He prosecuted and defended cases in Magistrates' and Crown courts.
During the years when Labour was in power, he worked as an advisor for Zulfikar Ali Bhutto's daughter, Benazir Bhutto, after her tumultuous term as Pakistan's prime minister had ended. Chishti held this position between 1999 and 2007.
In 2006, he decided to switch his affiliation from Labour to Conservative and served as advisor on diversity to Francis Maude, who led the Conservatives at that time.
He won his first election as MP for Gillingham and Rainham in 2010, having been lauded by both Labour and Conservative publications as being a rising star in Parliament.
Since then, he has held three notable appointments: Vice Chairman of the Conservative Party for Communities (2018), Prime Ministerial Trade Envoy to Pakistan (2017-2018) and Prime Minister's Special Envoy for Freedom of Religion or Belief (2019-2020).
Helen Grant (Maidstone and The Weald)
Another MP serving Kent is Helen Grant.
Helen Grant was born in Willesden (London) in 1961. Her mother is English and her father a Nigerian, an orthopaedic surgeon.
Helen's parents split up when she was a young child. Her father later emigrated to the United States. Helen and her mother moved to Carlisle, in the north-West of England, where she was raised by her mother, her grandmother and her great-grandmother. They lived on a council estate.
She excelled in sports at secondary school and decided to read law at university. She later opened her own law practice, Grants Solicitors, which specialises in family law.
She was a member of the Labour Party between 2004 and 2006, but quickly grew disillusioned:
It was almost looking in the biscuit barrel, not liking the look of the biscuits, and slamming the lid shut.[6]
In 2006, she joined the Conservative Party. That year, she helped the Conservatives devise a policy on family breakdown, co-authoring the Social Justice Policy Group Report 'State of the Nation – Fractured Families' published in December 2006, and the follow-up solutions report 'Breakthrough Britain' published in July 2007.[8]
Grant became the first mixed-race/black female MP, succeeding the formidable Anne Widdecombe, who stood down for the 2010 election.
Helen Grant married her husband Simon in 1991. They have two sons, one of whom served in the Royal Marines.
Kwasi Kwarteng (Spelthorne)
Kwasi Kwarteng, who represents Spelthorne in Surrey, is familiar to anyone who has followed Brexit and the Government department BEIS (Business, Energy and Industrial Strategy).
Kwasi Kwarteng's parents emigrated from Ghana in the 1960s when both of them were students. His mother became a barrister and his father an economist in the Commonwealth Secretariat.
Kwarteng was a brilliant student. As a boy, he attended Colet Court, the feeder school for St Paul's School. Kwarteng went one better. He attended Eton.
At Eton, he was a King's Scholar and received the school's most prestigious award: the Newcastle Scholarship. He read classics and history at Trinity College, Cambridge, earning a First in both subjects.
During his time at Cambridge, he appeared on University Challenge during the first season when the BBC resurrected the show in 1994. I saw it. The episode that he was on aired in 1995 and raised eyebrows. Kwarteng pressed the buzzer to answer the question, then forgot the answer. Exasperated, he spontaneously uttered the 'f-word'. The production team was unable to censor it in time.
Guido Fawkes has the details:
This photo of a resulting newspaper article comes from Guido. Moderator Jeremy Paxman is pictured:
After earning his degree at Cambridge, Kwarteng was awarded a Kennedy Scholarship from Harvard. After studying there, he returned to Cambridge to earn a PhD in economic history.
He then had a busy career, combining work with journalism. He was a columnist for The Daily Telegraph and worked at investment banks, among them JPMorgan Chase. He also wrote and co-authored books on history and business.
At the time he won his first election as MP for Spelthorne, a local paper described him as a:
black Boris.
Kwarteng was an ardent supporter of Brexit and Boris Johnson. He also thinks that Britain's welfare state needs to be pared back.
Kwarteng has held a variety of positions in Government and is the first black MP — and the first Conservative MP — to be appointed as a Secretary of State.
He is also a member of the Privy Council.
Priti Patel (Witham)
Priti Patel has been Home Secretary since Boris Johnson became Prime Minister in 2019.
She held various Government posts prior to that appointment.
Priti Patel was born in London in 1972. Her paternal grandparents were from Gujurat, India, then emigrated to Uganda. They owned a shop in Kampala.
In the 1960s, the Patels' son and his wife — Priti's parents — emigrated to England, settling in Hertfordshire, where they built up a successful chain of newsagents. The family are Hindu.
Unlike a few of the other MPs profiled above, Priti never flirted with the Labour Party. She was a firm fan of Margaret Thatcher, who, in her words:
had a unique ability to understand what made people tick, households tick and businesses tick. Managing the economy, balancing the books and making decisions—not purchasing things the country couldn't afford".[8]
Patel was always interested in politics. After completing her degree in economics at Keele University in Staffordshire, she studied British government and politics at the University of Essex.
She began her career working in the Conservative Central Office. As she was interested in seeing the UK leave the EU, she left for two years to head the office of the Referendum Party, headed by the late tycoon Sir James Goldsmith. That was between 1995 and 1997. Goldsmith's party did not win many votes. We still have the campaign video tape, which Goldsmith's campaigners sent to certain constituencies he had hoped to carry. Goldsmith died two months after the election.
Patel returned to the Conservatives, working for party leader William Hague in his press office.
In 2006, she became the Prospective Parliamentary Candidate for the staunchly Conservative constituency of Witham in Essex. By 2010, she was well known and won election handily.
She became part of the 'class of 2010', also known as 'the new Right'. She and her fellow 'classmates' Kwasi Kwarteng, Liz Truss, Dominic Raab and Chris Skidmore co-authored Britannia Unchained, which took strong exception to the welfare state. One of the book's more controversial statements is:
once they enter the workplace, the British are among the worst idlers in the world.
I don't fully agree with that, but I do worry about the effect that lockdown and furlough are having on our collective psyche in that regard.
Priti Patel is married and has one child, a son.
Alok Sharma (Reading West)
In 2010, Alok Sharma won Reading West with a majority of 6,004 after Labour MP, Martin Salter retired.
Alok Sharma was born to a Hindu family in Agra, India, in 1967. Five years later, he and his parents settled in Reading, Berkshire, where Alok's father became very involved in Conservative Party politics and helped to establish the Conservative Parliamentary Friends of India.
The Sharmas sent their son to local schools, including the well-respected Reading Blue Coat School in Sonning, Berkshire. Alok moved to the north-West for university, earning a BSc in Applied Physics with Electronics in 1988.
However, Alok's interests extended beyond science. He later qualified as a chartered accountant with Deloitte, Haskins & Sells in Manchester. He went on to work as a corporate financial advisor for other firms, leading to posts not only on London but also in Stockholm and Frankfurt. He advised clients on cross-border mergers and acquisitions, listings and restructurings.[8]
Sharma has held several posts as Minister of State and Secretary of State.
He is currently the President for the climate change conference COP26, which the UK will host in 2021. Sharma is currently a full member of Boris Johnson's Cabinet Office.
Sharma married a Swedish lady, with whom he has two daughters.
Nadhim Zahawi (Stratford-on-Avon)
Nadhim Zahawi is best known for his current post as Parliamentary Under-Secretary for COVID-19 Vaccine Deployment in the UK.
He is second-best known for co-founding the international polling company YouGov with Stephan Shakespeare. Zahawi served as YouGov's CEO from 2005 to 2010.
Zahawi was born to Iraqi Kurdish parents in Bagdad in 1967. In 1976, when Saddam Hussein began his rule over Iraq, the Zahawis moved to London, where Nadhim attended independent day schools.
Nadhim earned a BSc in Chemical Engineering from the University of London.
However, immediately after university, Zahawi's interests lay with the Kurds. He worked on their behalf from 1991 to 1994.
In 1994, he was elected as a local Conservative councillor for Putney in south-West London. He held that post until 2006.
In 2010, he gained the attention of the local Conservative association in Stratford-on-Avon and became their prospective parliamentary candidate. He has been re-elected three times since: 2015, 2017 and 2019.
Zadawi has held two Parliamentary Under-Secretary of State posts, the first for Children and Families and the second for Business and Industry.
Zadawi and his wife are keen horse riders. They co-own a riding school. Their children attend university in the United States.
Sajid Javid
Sajid Javid was also among the 2010 intake. I will cover his life story this week, as it is worth a separate post.
Conclusion
Had I not been watching BBC Parliament so often, I would not have read the life experiences of many of our MPs.
I had watched the maiden speeches of those who entered Parliament in 2019, however, I had missed those of the MPs who came before them.
One can imagine that Boris, given that his paternal great-grandfather was lynched in Turkey, would appreciate every element of life experience and intelligence that this intake of MPs brings to the House of Commons.