You are currently browsing the tag archive for the 'Nadine Dorries' tag.
After the gloomy opening of the Conservative Party Conference this year, dominated by U-turns, rebels and division, I promised good news.
Liz Truss's closing speech
Prime Minister Liz Truss gave an excellent closing speech and, despite the train strike that day, the conference hall in Birmingham appeared to be filled.
Her speech is 36 minutes long, but it went by very quickly indeed:
I watched a bit of GB News on Wednesday afternoon. One of their reporters interviewed Party members leaving conference. Nearly all said that they were 'pleasantly surprised' and reassured by what the new Prime Minister had to say.
Writing for The Telegraph, veteran journalist Patrick O'Flynn concluded, 'Liz Truss might just have rescued her premiership' (emphases in purple mine):
Strip away the depressing context surrounding Ms Truss's speech, of backbench rebellions and media pile-ons, and what we heard and saw was a well-crafted address that attempted to place her culturally on the side of "normal working people" – especially in the private sector. More notably, she has positioned herself firmly against an "anti-growth coalition" whose members she characterised as being driven from north London town houses to BBC studios to preach "more tax, more regulation, more meddling".
"They don't understand the British people. They don't understand aspiration," she said, adding: "The real heroes are the people who go out to work, take responsibility and aspire to a better life for themselves and their families and I am on their side."
This was an attempt to glue back together an old alliance between a female prime minister and her natural supporters: that which existed between Margaret Thatcher and "our people". So was a key message towards the end of the speech. Not the grandiose "the lady is not for turning" which had after all been made untenable by the U-turn on top rate tax, but the more sober phrase "we must stay the course".
Guido Fawkes has the transcript, excerpted below.
Truss began by thanking Andy Street, the Conservative mayor of Birmingham, which is the United Kingdom's second largest city. She praised Teesside's mayor, Ben Houchen, as he transforms the North East of England.
She acknowledged that we are in difficult days:
Together, we have mourned the death of Queen Elizabeth II, the rock on which modern Britain was built.
We are now in a new era under King Charles III.
We are dealing with the global economic crisis caused by Covid and by Putin's appalling war in Ukraine.
In these tough times, we need to step up.
I am determined to get Britain moving, to get us through the tempest and put us on a stronger footing as a nation.
I am driven in this mission by my firm belief in the British people.
She said she would not meddle in our personal affairs but resolve the concerns that unite us:
… I'm not going to tell you what to do, or what to think or how to live your life.
I'm not interested in how many two-for-one offers you buy at the supermarket, how you spend your spare time, or in virtue signalling.
I'm not interested in just talking about things, but actually in doing things.
What I'm interested in is your hopes and fears that you feel every day.
Can you get a good job locally?
Is it safe to walk down the high street late at night?
Can you get a doctor's appointment?
I know how you feel because I have the same hopes and fears.
I want what you want.
I have fought to get where I am today.
I have fought to get jobs, to get pay rises and get on the housing ladder.
I have juggled my career with raising two wonderful daughters.
I know how it feels to have your potential dismissed by those who think they know better.
She then related an anecdote from her childhood, which may over-40s will recognise:
I remember as a young girl being presented on a plane with a "Junior Air Hostess" badge.
Meanwhile, my brothers were given "Junior Pilot" badges.
It wasn't the only time in my life that I have been treated differently for being female or for not fitting in.
It made me angry and it made me determined.
Determined to change things so other people didn't feel the same way.
This I did not know:
I stand here today as the first Prime Minister of our country to have gone to a comprehensive school.
She gently reminded her audience that the Government has already addressed the fuel price crisis. The cap is £2,500:
Let's remember where we were when I entered Downing Street.
Average energy bills were predicted to soar above £6,000 a year.
We faced the highest tax burden that our country had had for 70 years.
And we were told that we could do nothing about it.
I did not accept that things had to be this way.
Around that point, two protesters waved a Greenpeace banner (Guido has the video):
They would have had to sign up to be Party members in order to get in, just as the protesters did who infiltrated the Party leadership hustings in July and August.
Conservative men quickly took the banner away. The women had a spare to unfurl. That too, was swifly removed.
Truss quipped:
Now later on in my speech my friends I am going to talk about the anti-growth coalition.
But I think they arrived in the hall a bit too early, they were meant to come later on.
We will get onto them in a few minutes.
She paused while security removed the women from the conference hall.
She concluded on the fuel price cap:
We made sure that the typical household energy bill shouldn't be more than around £2,500 a year this winter and next.
We followed up with immediate action to support businesses over the winter.
We are determined to shield people from astronomically high bills.
So much so, that we are doing more in this country to protect people from the energy crisis than any other country in Europe.
Our response to the energy crisis was the biggest part of the mini-Budget.
Later, she borrowed one of Michelle Obama's phrases from the 2008 presidential campaign:
We need to fund the furthest behind first.
And for too long, the political debate has been dominated by the argument about how we distribute a limited economic pie.
Instead, we need to grow the pie so that everyone gets a bigger slice.
That is why I am determined to take a new approach and break us out of this high-tax, low-growth cycle.
She also used John McCain's 'my friends' in addressing the audience, more than the transcript references. That, too, came from the 2008 presidential campaign:
When the government plays too big a role, people feel smaller.
High taxes mean you feel it's less worthwhile working that extra hour, going for a better job or setting up your own business.
That, my friends, is why we are cutting taxes.
We have already cut Stamp Duty, helping people on the housing ladder – especially first-time buyers.
We are reversing the increase in National Insurance from next month.
We are keeping corporation tax at 19%, the lowest in the G20.
We are helping 31 million working people by cutting the basic rate of income tax …
The fact is that the abolition of the 45p tax rate became a distraction from the major parts of our growth plan.
That is why we are no longer proceeding with it.
I get it and I have listened.
She reiterated pledges for post-Brexit and post-pandemic Britain.
She made a good point about Western complacency, something I have been saying for years:
One of the reasons we are facing this global crisis is because collectively the West did not do enough.
We became complacent.
We did not spend enough on defence.
We became too dependent on authoritarian regimes for cheap goods and energy.
And we did not stand up to Russia early enough.
We will make sure this never happens again.
She pledged continued support for Ukraine, which earned her a standing ovation.
Then it was time for her to talk about the anti-growth coalition — the metropolitan elite — which was lengthy. This was her opening:
I will not allow the anti-growth coalition to hold us back.
Labour, the Lib Dems and the SNP…
…The militant unions, the vested interests dressed up as think-tanks…
…The talking heads, the Brexit deniers and Extinction Rebellion and some of the people we had in the hall earlier.
The fact is they prefer protesting to doing.
They prefer talking on Twitter to taking tough decisions.
They taxi from North London townhouses to the BBC studio to dismiss anyone challenging the status quo.
From broadcast to podcast, they peddle the same old answers.
It's always more taxes, more regulation and more meddling.
Wrong, wrong, wrong.
Guido has the video:
She praised our unsung heroes:
My friends, does this anti-growth coalition have any idea who pays their wages?
It's the people who make things in factories across our country.
It's the people who get up at the crack of dawn to go to work.
It's the commuters who get trains into towns and cities across our country.
I'm thinking of the white van drivers, the hairdressers, the plumbers, the accountants, the IT workers and millions of others up and down the UK.
The anti-growth coalition just doesn't get it.
This is because they don't face the same challenges as normal working people.
She concluded:
We cannot give in to those who say Britain can't grow faster.
We cannot give in to those who say we can't do better.
We must stay the course.
We are the only party with a clear plan to get Britain moving.
We are the only party with the determination to deliver.
Together, we can unleash the full potential of our great country.
That is how we will build a new Britain for a new era.
A strong cross-party coalition, helped powerfully by the media, is clearly trying to do away with Truss's premiership.
These were her YouGov ratings before her speech:
Keep in mind that YouGov was founded by former Chancellor, Nadhim Zahawi, who was caretaker during the leadership contest over the summer.
Guido wrote:
If memory serves Guido correctly, [former Labour leader] Jeremy Corbyn managed a minus 60 net approval rating at his worst. Liz has a net approval rating of minus 59. Guido is told it is the lowest rating ever recorded of a Conservative Party leader. Her speech today needs to be the beginning of a turnaround.
Borrowing from the 1960s protest tune: all we are say-ing, is give Truss a chance …
Truss, with the help of Party whips, has finally been able to complete the rest of her parliamentary appointments.
Guido said:
The Government's reshuffle is finally coming to a close, as appointments to a number of Parliamentary Private Secretary (PPS) positions gave been confirmed. Co-conspirators will recall the whips had been experiencing some difficulty in recruiting enough parliamentary bag-carriers, though they have now managed to fill each position. Even if the vast majority are eager 2019ers…
The Government also seems to have granted whips greater individual responsibility for departments, with specific roles also listed. If recent trends are anything to go by, the government could use all the help to party discipline it can muster.
Having mustard keen 2019 MPs in on the act can only be a good thing. Most of them are from Red Wall seats, so their minds will be focused on growth and other Truss objectives, many of which dovetail with their own.
Other high points — Foreign Secretary Cleverly and Home Secretary Braverman
Other well-received speeches came from Foreign Secretary James Cleverly and Home Secretary Suella Braverman, both of whom appeared on Tuesday, October 4.
Here is a short clip from James Cleverly's speech:
Cleverly's speech is at the 2:05:00 mark in this video. Braverman's comes before, beginning at 1:35:00:
Suella Braverman said many of the same things that her predecessor Priti Patel did as Home Secretary. We can but wait and see what happens.
One of the big problems in processing migrants without papers, such as those who come across the Channel in dinghies, is that they are hard to trace to their true countries of origin.
Another issue is that many in the civil service who are assigned to the Home Office are pro-immigration. Patel tried her best to counter them, but they stood firm, citing EU laws under which we are still beholden. The Brexit process continues. There wasn't enough time to renegotiate everything we should have, e.g. the Dublin Agreement. As we are no longer in the EU, we are no longer subject to that agreement whereby migrants have to apply for asylum in the first safe country they are in — in our case, France. We have to draw up a new agreement along the same lines, which will require EU co-operation.
On top of that, during Theresa May's time as PM, a modern slavery law came into force in the UK. In short, anyone claiming to have been a modern slave is automatically allowed to stay here. No proof is required.
With that burden, we can also add human rights charities and their lawyers who effectively scuppered the first UK flight to Rwanda last summer. It never happened. Everyone's case was challenged before take-off, leaving an empty aircraft.
Euronews reported on that part of Braverman's speech:
In a Tuesday evening speech at the Conservative Party's autumn conference in Birmingham, immigration minister Suella Braverman said that people who arrive by unauthorised means should not be allowed to claim asylum in the UK and she doubled down on contentious plans to send some asylum-seekers on a one-way trip to Rwanda.
However, Braverman acknowledged that a legal challenge to the policy means it's unlikely anyone will be deported to the east African country this year. 
"We need to find a way to make the Rwanda scheme work," said Braverman.
"We cannot allow a foreign court to undermine the sovereignty of our borders," she continued, to cheers and applause from the audience.
"A few months ago the European Court of Human Rights in Strasbourg did just that. By a closed process, with an unnamed judge, and without any representation by the UK. A European Court overruled our Supreme Court. And as a result our first flight to Rwanda was grounded. We need to take back control."
She didn't say how the government intends to 'take back control'. The European Court of Human Rights is not part of the EU, and membership is not affected by Brexit …
Braverman said many migrants were "leaving a safe country like France and abusing our asylum system," adding that she wanted to work more closely with French authorities "to get more out of our partnership."
"We've got to stop the boats crossing the Channel," she said, to more applause.
So far this year, 30,000 migrants have crossed the Channel:
The one advantage that Braverman has over Patel is that she is a lawyer, so she will be finely attuned to legal turns of phrase.
Those interested can read more of her views in this article from The Telegraph.
Quentin Letts, The Times's political sketchwriter, concluded:
the day belonged to Braverman. As bids for popularity go, it wasn't particularly subtle or cerebral. Effective, though.
Proper membership cards make comeback
In an eco-friendly move under Boris Johnson, the Conservative Party began issuing paper certificates instead of plastic membership cards.
Thankfully, those days are over, for lifetime Party members at least:
Guido reports:
Tory party Chair Jake Berry has just confirmed the return of plastic membership cards for lifetime Tory members, replacing the much-maligned 'membership certificates' introduced by Amanda Milling back in 2020. At the time, Milling introduced the paper certificates to save the environment, or something like that. Even MPs were upset; Michael Fabricant complained the certificate wouldn't fit in his trinket box of membership cards and hair clips. Jane Stevenson pointed out they could just be made of card instead. Now the debate has been put to rest – Berry's bringing the real deal back, having just revealed the move at a fringe event this morning. Expect to see the cards' triumphant return from January.
That ends the positive conference news.
Kwarteng's U-turn U-turn U-turn
Chancellor Kwasi Kwarteng did a third U-turn on bringing forward his more detailed fiscal event plans.
It appears that he will be going ahead with presenting them to Parliament on November 23 after all:
Or is it October 23?
Mel Stride, who supported Rishi Sunak in the leadership contest and heads the Treasury Select Committee, says that it will be October 23. So did the Financial Times, apparently. They, too, supported Sunak.
Hmm. I sense mischief making.
Guido reports:
Except Kwasi later insisted on GB News that it definitely wasn't moving:
'Shortly' is the 23rd. People are reading the runes […] it's going to be the 23rd.
"People reading the runes" in this case including the Chair of the Treasury Select Committee. Liz herself later said it's coming in November, and Treasury Civil Servants were told in a team meeting this morning that anything to the contrary was just "press speculation". Guido understands, however, that the people reading the runes are onto something: the Treasury is still considering adjusting the date after all…
Kwasi must stick to his guns and stop the U-turns.
Rebel, rebel …
The rebels were active throughout the conference.
Michael Gove
On Wednesday's Dan Wootton Tonight show on GB News, panellists were split on whether Sunak-supporting Michael Gove should have the whip removed.
The Daily Express's Carole Malone said that Truss should have given Gove a Cabinet post so that he would have made less mischief. However, Wootton countered by saying that Gove always undermines the Prime Ministers he has worked for in Cabinet.
Someone who wasn't on the show and thinks Gove should have the whip removed is Nigel Farage. I fully agree with him. We saw the trouble that rebel Conservatives made for Theresa May and Boris Johnson in 2019 over Brexit. David Gauke was one of them. Boris had the whip removed and we did not see him again after the 2019 general election; his Conservative association deselected him:
Grant Shapps
Grant Shapps, another Sunak supporter, has been working in tandem with Michael Gove to thwart Truss's leadership.
He has made no secret of his threat to go to Sir Graham Brady, chairman of the 1922 Committee, with a letter of no confidence — not only from himself but other MPs:
On Tuesday, October 4, he told Times Radio:
I want Liz to succeed. So I'm hoping that she can turn us around, I think there is a window of opportunity for her to do it. I'm cheering her on, if you like, to succeed. Y'know, in the end I don't think members of parliament, Conservatives, if they see the polls continue as they are, are going to sit on their hands. A way would be found to make that change. You know, it's important, not for members of parliament, but for the country, still two years to go to another election, that we have good, stable, sensible, smart government in place doing things that are required for the people in this country. So of course that could happen. In the meantime, I hope Liz can turn this around.
'A way would be found' means urging Brady to change the rules whereby a PM could be ousted sooner than 12 months of assuming the Party leadership.
Shapps had the gall to suggest Truss had ten days to turn around her leadership!
Nadine Dorries
Nadine Dorries was the Secretary of State for Digital, Culture, Media and Sport while Boris was PM.
When he stood down as party leader, she was gutted. She had at least one defender:
She stayed loyal beyond the end of his premiership, perhaps embarrassingly so: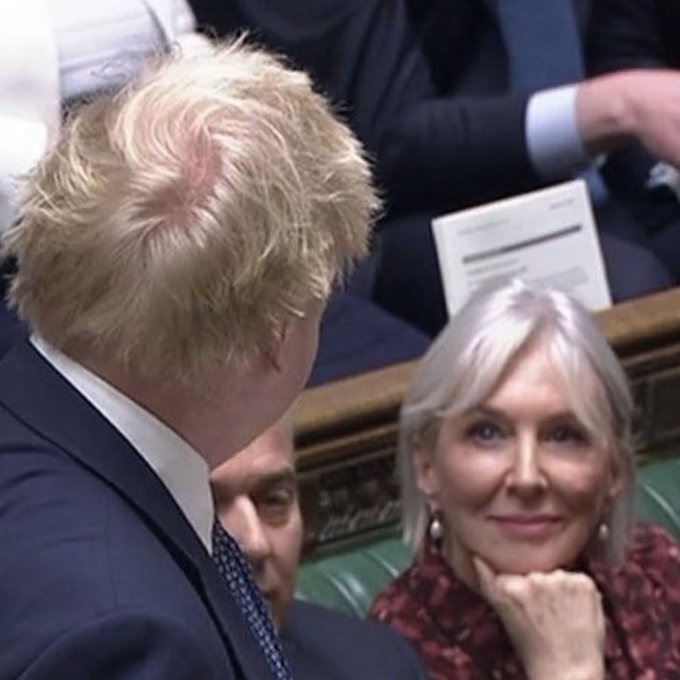 She had a lot to say when he stood down as Party leader:
In the end, she didn't run for Party leadership:
Dorries resigned from Cabinet on Tuesday, September 6. Boris was in his final hours as PM that day, when he and Truss flew separately to Balmoral to see the Queen.
Guido posted Dorries's letter to Boris, commenting:
She added that while Liz had offered her the chance to continue, she's stepping down anyway.
She is now unhappy that her Online Safety Bill might be kicked into the long grass. Millions of us certainly hope so. It is deeply embedded in censorship, principally the 'legal but harmful' clause.
On Monday, October 3, Dorries said that Truss should hold a general election. Utter madness, all because her censorship legislation is up for cancellation. Even madder is the fact that she was a Truss supporter.
The Spectator had the story:
To inspire one Nadine Dorries tweet may be regarded as a misfortune, to inspire two looks like carelessness. Less than 24 hours after the former Culture Secretary criticised Truss for appearing to blame her Chancellor for the 45p tax debacle, she's back at it again. Frustrated by Truss's decision to junk much of the Johnson agenda from 2019, the high priestess of online harms took to her favourite medium of Twitter to write:
Widespread dismay at the fact that 3 years of work has effectively been put on hold. No one asked for this. C4 sale, online safety, BBC licence fee review – all signed off by cabinet all ready to go, all stopped. If Liz wants a whole new mandate, she must take to the country.
The repeated criticisms are all the more interesting, given the importance of Dorries and other Johnson loyalists in ensuring that Truss made the final two earlier this summer. Dorries was something of an unruly attack dog, savaging Truss's opponent Rishi Sunak at ever opportunity …
Guido posted Dorries's tweet …
and wrote:
We appear to be at the "everybody losing their mind" stage of Conservative Party conference a day early.
The next day, she seemed to walk back what she said by citing Boris's support of Truss. This is a clip of her interview with LBC radio's Iain Dale:
Embarrassing.
Benefits rebels
Truss-backer Sir Iain Duncan Smith is now opposing her in wanting benefits increased in line with inflation:
Guido has the video:
Iain Duncan Smith has added his voice to the chorus of rebels piling on Liz to raise benefits with inflation. Speaking at a ConservativeHome fringe the former Work and Pensions Secretary argued giving to the poorest was a more efficient way of going for growth, as they would spend it quicker. He's had a quick change in tune since backing Liz for leader…
That sounds very cynical, indeed.
Kemi Badenoch
Trade Secretary Kemi Badenoch, the popular Party leadership candidate for British voters, openly opposed Truss's bid for even more migration.
It is hard to disagree with Badenoch. Even so, as a Cabinet minister, perhaps she should have held back from expressing them publicly.
She aired her views on Sunday evening:
At the IEA/TPA DrinkTanks reception last night, guest of honour Kemi Badenoch openly rebuked the PM's plans to let in more immigrants to boost growth. The Trade Secretary ignored any sense of collective responsibility as she told the assembled free marketeers:
Simply taking in numbers to boost GDP while GDP per capita falls is not the right way to do that. We need to look again at resolving our productivity issues and that means using capital better, not just getting cheaper and cheaper labour.
Kemi's brazen and deliberate speech last night all but confirmed The Times' article on Sunday reporting major Cabinet divisions over the plan, with Kemi and Suella Braverman at odds with the PM's preferred free market solution. Like Liz, Guido doesn't have a problem with skilled, legal immigration, it is the illegal immigration which is concerning. It seems Tory Cabinet ministers aren't even pretending to play happy families anymore…
45% tax rate rebels
Prominent Conservative Cabinet members disagree with Truss and Kwarteng over their Sunday night U-turn on abolishing the 45% upper tax rate.
Home Secretary Suella Braverman seemed to accuse Conservative MPs of forcing the change in plan, going so far as to claim it was 'a coup':
Guido has a photo of Braverman, along with Jacob Rees-Mogg and Simon Clarke, two other Cabinet members who want the upper rate abolished:
Simon Clarke agrees with Braverman's assessment of 'a coup':
Guido has more:
Jacob Rees-Mogg was also quick to voice his disappointment at the scrapped cut at a fringe event this afternoon, although he claimed to recognise the politics of the move. This all comes in the context of public cabinet battles over benefits, and Penny Mordaunt's attacks on government comms. Meanwhile backbench agitators continue briefing out plans to rebel, with some now even claiming they're holding "crisis" talks about Liz's leadership. Truss has been PM for 28 days. Not quite the honeymoon period she would've hoped for…
Wow. For Jacob Rees-Mogg to speak out about his disappointment is surprising. He is normally respectful of parliamentary boundaries and procedure.
There is a way to get rid of this tax rate. I will have more on that next week.
James Cleverly warns Cabinet rebels to 'shut up'
In much the same way that Welsh Secretary Robert Buckland did, Foreign Secretary James Cleverly warned Cabinet rebels to 'shut up':
On Wednesday, October 5, Guido reported:
James Cleverly has diplomatically warned Cabinet colleagues to shut up after yesterday's day of chaos, in which collective responsibility broke down on everything including the 45p u-turn, immigration numbers and uprating benefits in line with inflation. Speaking on the BBC this morning ahead of Liz's big speech, the foreign secretary warned:
All Cabinet colleagues ultimately are going to have to abide by collective responsibility… I think it's always better and easier to feed ideas, particularly when you're in government and have access to the Chancellor and the PM, feed your ideas directly into the centre of the system…
On TimesRadio he also implied yesterday's comments from Braverman, Mordaunt and Clarke – among others – were inappropriate. Guido hears Cleverly's speechwriter had to edit a swear word out of the Foreign Secretary's speech earlier this week; we can only imagine how many expletives Cleverly wanted to use in response to yesterday's farce…
Conclusion
Here endeth the news about the Conservative Party Conference.
MPs must give Truss a chance. She has gone through the hardest beginning to her premiership of any PM in known history.
She deserves time to lead us. With everyone against her, she must be doing something right.
She is representing British voters' interests. That is only right and fair.
It's difficult winning against Andrew Neil, the longtime BBC political presenter who was the leading face of GB News for a month in 2021 and who currently has his own Friday evening show on Channel 4.
When it comes to grilling politicians, no one does it better than he.
Rishi Sunak agreed to subject himself to Neil's unfailing command of the facts. So far, Liz Truss — as did Boris Johnson — has not committed to the same.
Neil's interview
Sunak appeared with Neil on Friday, July 29, 2022, to put forth his case for becoming the next leader of the Conservative Party and, by extension, the United Kingdom's next Prime Minister.
Having watched the Q&A session, I thought that Rishi did a good job.
However, there was a real dissonance between what he said his policies involved and what Neil said they did.
As such, it made for awkward viewing. Who was telling the truth? I was left none the wiser.
At times, I was focusing on Neil's hair, which he has dyed a dark brown. His natural colour is ginger.
Rishi presented himself as the sensible, cautious candidate with regard to tax and the deficit:
Rishi defended raising taxes to fund the NHS. He did well in preventing his irritability from showing, but a vulnerability did slip out here:
Neil accused him of being 'consistently inconsistent' with regard to tax reform, but Rishi said that's how it works:
Hmm.
Neil asked Rishi about his wife's non-dom status. The former Chancellor gave a short reply, saying that she addressed it. This did not satisfy me, but then I don't have a vote in this contest:
Yes, there are family obligations here, it would seem. Those appear to involve his in-laws.
Neil was surprised at Rishi's answer about curbing the number of refugees. What Neil doesn't realise is that legal immigrants and their children take a much different view on migration than the British metropolitan elite.
Neil also managed to squeeze in Rishi's televised statement from his teenage years in 2001 in which he said he had no working class friends:
Neil concluded by reiterating that Liz Truss was still welcome to appear on his show.
I did not really know what to make of this half-hour broadcast.
Only the Mail had any commentary on it.
One article with more dialogue from the programme is 'Sunak is forced to deny he has shown a "lack of consistency" on VAT to Andrew Neil'.
An excerpt follows:
Veteran broadcaster Andrew Neil said Mr Sunak's approach of tightening fiscal policy risks recession in an interview on Channel 4.
The Tory leadership hopeful replied: 'No, if you look at what's happening around the world, it's inflation that is slowing economies down. It's rising interest rates that are already putting a brake on economic activity.
'And my concern is that I want to get to grips with inflation as quickly as possible because inflation makes everybody poorer. It erodes people's living standards.'
He also insisted his policy to hike national insurance thresholds was 'undoubtedly, objectively progressive' when Neil suggested it penalised workers.
'It's an entirely progressive measure,' Mr Sunak said. 'Raising thresholds means that those with the broadest shoulders contribute the most.'
The heated exchange resulted in Neil saying that the OECD has said that Mr Sunak's plans will result in a recession for the UK economy – which the former Chancellor disputed. 
It came as Mr Sunak sat down with the fearless interviewer Mr Neil on Channel Four – after frontrunner Liz Truss refused to do the same.
Mr Neil once again extended the hand to come on his show to the Foreign Secretary – saying the 'invitation is still open'.
The Southampton-born millionaire repeated his claims that tax rises were necessary for paying for Covid measures and said that he did not want to pass debt onto future generations.
He said that it would be the 'easiest thing in the world' to cut taxes to aide his leadership campaign but that he thought it was not the responsible thing to do.
Mr Neil hit out at Mr Sunak's wife's non-dom status which hit the papers earlier this year but the former Chancellor attempted to draw a line under the line of questioning, saying that he was the one running for office – not his partner.
The line of questioning made Mr Sunak visibly uncomfortable as he tried to move on from the scandal.
The tax cuts intended to fund the NHS were another line with Mr Neil used to attack Mr Sunak – as the interviewer quoted suggestions that the waiting lists on the NHS will reach 10 million in the next two years.
Mr Sunak attempted to distance himself from the Conservative's record on health after the fierce Scot tried to pin the NHS's problems on him – saying that he has left Government to change course on the NHS.
He added that he wanted to set up over 100 'elective surgery hubs' to bring down the backlog. 
Henry Deedes examined the optics of the interview: 'The ex-chancellor sat awkwardly, like a man about to undergo an enema'.
Excerpts follow:
We immediately saw Sunak sat behind a desk, his hands placed slightly awkwardly on top of each other. Across his mouth was smeared a distinctly uncomfortable grin. He looked like a man nervously waiting to undergo an enema …
Tax was the main topic, namely why Rishi as chancellor made us pay so much of it. Sunak said he wanted to pay down the cost of the pandemic rather than saddle our grandchildren with all that debt. 'I'd like to give people all these nice things – don't you think that'd make my life easier?' he pleaded.
Rishi kept calling Neil by his first name. Most of his replies began with a chummy 'look, Andrew'. Doubtless his spin doctors thought familiarity might soften the old brute. It didn't.
Neil kept coming at him over tax rises. A Bren gun with ceaseless ammunition. Pop, pop, pop. 
Why had he frozen the income tax threshold? Why had he left comfortable pensioners alone? Why were so many people paying the top rate? Unfortunately for Sunak, Neil is that rare thing in journalism – someone who actually understands economics …
Talk turned toward the NHS. Neil pointed out that waiting lists were up, despite the gazillions of pounds which get thrown at the Health Service every year. 'These are complex issues, Andrew,' Rishi mansplained.
Yes, yes, said Neil. But it had gotten worse on the Government's watch. 'Andrew, I left the Government,' pleaded Rishi. 
'Yes, but only a few days ago,' barked Neil. Sunak's answer to the NHS backlog was to set up a task force. Yes, that should do it!
There was mention of a recent video which surfaced of Sunak in which he told an interviewer he didn't know any working class people. 
Bit odd for someone who claims to come from such a modest background. 'I grew up working in my mother's pharmacy,' Sunak reasoned. 'We know all that,' sighed Neil witheringly.
He seemed to think Sunak's 'umble roots were a tad overplayed. Especially since he was schooled at Winchester. Neil's intellect of course was forged and honed at Paisley Grammar.
A brief tit-for-tat developed over Lady Sunak's non-dom tax status. 'I'm the one running for office, not my wife,' said Rishi. His voice lowered a bit at this point. He shot Neil a steely look as if to say 'Let's leave her out of this, shall we?' Respect.
We were now out of time. To be fair to Sunak he was still standing. But only just.
Incidentally, his opponent Liz Truss had given Neil's offer of an interview a wide swerve. 'Her choice, of course,' said Neil, voice laced with irritation. Chicken? Jolly wise, I'd say…
More scrutiny
Last week, Rishi's policies and personal life came under more scrutiny.
A Mail headline from April 24 resurfaced about his lavish Yorkshire home, which has a heated pool and will soon have a new gym and tennis courts. Incidentally, he has other homes, including a pricey mews house in London:

Just a little over a year ago, on July 2, 2021, Asia Financial reported that Rishi wanted more trade between the UK and China:
UK Chancellor of the Exchequer Rishi Sunak called for a "mature and balanced relationship" with China that helps British firms to exploit "the potential of a fast-growing financial services market with total assets worth £40 trillion" ($55 trillion) in a speech on Thursday July 1 …
Sunak set out alternative plans for an independent financial services policy for the UK and spent more time discussing opportunities in China than the US, which is the UK's most important bilateral partner.
He attempted to frame the opportunity to sell financial services to China within a context of maintaining principles such as openness and commitment to a rules-based order.
"Too often, the debate on China lacks nuance," Sunak said. "Some people on both sides argue either that we should sever all ties or focus solely on commercial opportunities at the expense of our values. Neither position adequately reflects the reality of our relationship with a vast, complex country, with a long history."
Sunak highlighted the appeal of China's financial services market for UK firms, as well as the need to cooperate on global issues like health, ageing, climate and biodiversity.
He seemed to effectively offer China the opportunity to agree different financial services terms with the UK than the EU, now that Brexit has arrived without a deal on mutual recognition of standards across Europe – which was the former target of "equivalence" of regulation.
Hmm. Interesting. His father-in-law's Infosys has an office in China.
A year later, on July 25, after China's Global Times endorsed him as the next Conservative Party leader, he walked back his support and claimed Liz Truss was the greater supporter of the Communist nation.
Guido Fawkes reported (red emphases his):
It's unsurprising, given his tacit endorsement from the Chinese propaganda arm Global Times, that Rishi has decided to go in hard on the country's security threat this morning. Declaring the Chinese Communist Party "the largest threat to Britain and the world's security and prosperity this century", Sunak attacks Liz for "[rolling] out the red carpet" and turning "a blind eye to China's nefarious activity and ambitions". He calls for a new NATO alliance to be set up to counter it the threat, and pledges to close all 30 Confucius centres, which teach Mandarin in the UK and are thought to be used as fronts by the Chinese intelligence services.
In response Team Truss returned fire last night, using Iain Duncan Smith to call the policy "surprising" and asking where Sinophobe Sunak has been for the last two years. Her team points to the above Sunak's endorsement by Global Times, and says he has been consistently soft on China …
In response, a Truss ally bluntly tells Guido that Sunak's team are "moronic", given not only was Truss responsible for childcare policy as an education minister, universities policy was run out of the business department at the time. David Willets was the BIS minister responsible, who – whilst yet to declare in this leadership election – has backed Sunak's tax rises. 
Guido also exposed the fact that the Artichoke Trust received £1,234,682 through Cultural Recovery Grants during the pandemic, when Rishi was Chancellor.
The Artichoke Trust puts out 'art' like this:
Clearly, not much scrutiny took place during the pandemic. No doubt, the Treasury were all in a rush to send out grants — taxpayers' money — to all and sundry.
On Tuesday, July 26, Rishi did a huge tax U-turn, imitating his rival Liz Truss.
Only days before, Rishi told Liz that it would be 'immoral' to lower taxes, yet, here he was at the beginning of last week reversing that to sound more like his rival:
Guido rightly asked why Rishi did not cut VAT on energy bills when he was Chancellor. Oddly, he now advocates the policy:
This is what the former Chancellor said in February 2022:
Guido has more on his February comments here.
On July 27, the Mail on Sunday had an article about his U-turn, saying he was 'under pressure' since the BBC debate of July 25 (emphases in purple mine):
This morning, Truss ally Kwasi Kwarteng, the Business secretary, welcomed Mr Sunak's 'late to the party' change on taxes.
He told Times Radio: 'I think he's under a lot of pressure. That's why we see all these statements: he was the person who said the VAT cut would disproportionately benefit rich families and now he's saying that a VAT cut on energy bills is the right thing.
'He was saying that tax cuts were a fairytale, now he is proposing an unfunded tax cut.
'There comes a time in campaigns when people are under a lot of pressure, he clearly felt under a lot of pressure in the debate and he wanted to get out on the front foot and interrupt Liz.'
But Transport Secretary Grant Shapps, an ally of Rishi Sunak, defended the former chancellor's plan. He rejected the suggestion that Mr Sunak is 'flip-flopping' and said the £4.3 billion policy is sensible as it would not add to inflation.
Put to him that it is a 'flip-flop', Mr Shapps said: 'If he hadn't produced £37 billion of support, about £1,200 to the hardest-up households already – if he hadn't done any of that and then suddenly did it then you would have a point.
'But he has, he has been providing all this support, now he is saying "Here's something that won't add to inflation that would save every person watching your programme £160 off their energy bills" – I think that's worthwhile.'
Last night No10 insiders told the Daily Mail that Mr Sunak's plan was something Boris Johnson tried to implement to ease the burden on consumers – but was blocked by his then chancellor.
'Boris begged him to do it – but he wouldn't budge', said the source. 'It's astonishing that he's now claiming it as his own policy.'
Meanwhile new polling shows that the rising cost of living and handling of the NHS could cost the Tories the most votes at the next election.
The Mail on Sunday's Anna Mikhailova pointed out that Rishi hardly had a long-term career in business, despite his own claims.
Nigel Farage picked up on her tweet and called Rishi 'a fraud':
Farage had elaborated on his GB News show the day before, Monday, July 25. He pointed out that Rishi included a clip of him in his campaign video on immigration. He doubted Sunak's sincerity on China and ended by saying, 'Well, I guess that leaves us with Liz Truss':
By July 27, the bookies gave Liz Truss an 83% chance of winning the leadership contest.
That night, Dan Wootton said that 'Fishy' Rishi's tax U-turn was 'too little, too late':
John Sergeant, who reported for the BBC for decades, said that the former Chancellor appeared 'rattled':
Political commentator Patrick O'Flynn said that many intelligent politicians weren't very good at politics, Rishi being a case in point:
On Thursday, July 28, Lord Ranger, a Rishi supporter, said that if the Conservative Party members do not choose the former Chancellor as leader, they are racists.
Dan Wootton responded by pointing out that this Conservative leadership contest has been the most diverse in history:
That includes Labour, too, by the way.
Wootton said, in part:
It was still only a matter of time before Team Rishi Sunak blamed his imploding campaign on racism.
Forget the fact that Kemi Badenoch was a surprise favourite among the party membership before being booted out by MPs for being too daring and different.
Forget the fact that Liz Truss is a woman who went to a Leeds comprehensive.
Nope, Sunak's failure is nothing to do with his big state/high tax agenda, which saw him increase our tax burden to the highest it's been in 70 years.
Nothing to do with his globalist posturing and desire to cosy up to China by making the Communist country our market of choice, as revealed in bombshell leaked Treasury documents reported in The Times today.
Nothing to do with the fact he backstabbed Boris Johnson – the man to whom he owes his career – plotting his leadership campaign, all the while pretending to be his loyal Chancellor.
No, no, no, no it's down to racism.
Conservative donor and Fishy Rishi supporter Lord Ranger told Indian news network Bharat Tak: "If people reject him, it will be a bad name for the party and the country because this will be perceived as racist.
"And so there is pressure on them to prove that here race does not matter.
"Calibre matters, and Rishi's calibre is above everyone. I am optimistic that people here will be fair and will not reject anyone on the basis of race."
Lord Ranger, I can assure you the Conservative members are not rejecting Rishi based on race.
They're rejecting him based on policies and a lack of loyalty too.
As my colleague and friend Calvin Robinson tweeted in response: "'Vote for me because I am brown,' is bad enough 'if you don't you're a racist' is even worse.
"This divisive, toxic rhetoric is straight from the Leftist guidebook on Critical Race Theory and should have no place in the Conservative Party or the government of this great nation."
Former Cabinet member Michael Gove's ex-wife Sarah Vine, who writes for the Daily Mail, said that Rishi stabbed Boris in the front:
On Friday, July 28, a Techne poll showed that Liz was gaining ground over Rishi:
That morning, Defence Secretary Ben Wallace put the boot into Rishi's decision to resign as Chancellor:
Wallace told Sky News:
Wallace: Let's look at that Friday afternoon – I think it was a Friday – what if the markets had crashed? What if the Home Secretary had done that and there was a terrorist attack? What would the public think, they would never forgive us for that… I don't think people needed to walk out, the public would see that as a government not thinking about the job in hand.
The multi-year settlement [for the Department of Defence] that we got was not what the Treasury had wanted, they wanted a one-year settlement – this was back in 2019 I think – and it was vital that we got a multi-year settlement, and the PM effectively asserted his authority and made all that to happen…
Interviewer: But Mr Sunak was not in support?
Wallace: Not that I remember.
Cut the right taxes like not proceed with corporation tax rises helps growth. When Rishi was Chancellor he cut entrepreneurial relief – he cut the relief we give to entrepreneurs who've invested in this country, invested in businesses – that's not a way to help create either wealth or indeed growth.
Wallace had more to say. He said that, as Secretary of State for Defence, he did not have the 'luxury' of resigning, a pointed barb at Rishi, who, he intimated, should have stayed on as Chancellor:
Wallace pledged his support for Liz Truss.
Meanwhile, Rishi's team claimed someone was leaking official documents:
Rishi allegedly asked Simon Case, the head of the civil service, to get involved.
Guido reported:
What leaks might Rishi be upset about? The Treasury documents which completely undermined his pledge to "scrap or reform EU laws in 100 days" is a strong bet. Earlier this month, just after promising to review all of the remaining 2,400 EU laws on the statute book, Bloomberg revealed the Treasury had – under Rishi's leadership – written to Liz Truss to claim that reforming EU taxes was desirable but probably not deliverable until 2026. Last time Guido checked, that wasn't quite within 100 days. Brexit Opportunities Minister Jacob Rees-Mogg even responded by claiming it was "a surprising promise as the Treasury under his leadership was insisting that taxation was exempt from the removal of EU law." What was it Rishi said about "fairytale promises"?
UPDATE: Now a spokesperson for Liz Truss says:
We condemn the leaking of Government documents and papers. Neither campaign condones leaks of material and will not use documents it receives. Furthermore, both campaigns will report any such leaks to the Cabinet Secretary who may take action directly, or via the Police, against the individuals involved in perpetrating such leaks or receiving and not reporting material. We understand leak investigations will be carried out without fear or favour.
Word around Whitehall is that Simon Case is livid, demanded both camps issue a statement and has called in police to investigate the China leaks.
On Saturday, July 30, things got worse for Team Rishi. He had to give away tickets to what had been a £20 per person hustings event:
Then, Tom Tugendhat, he of the military service, endorsed Liz Truss:
Oh, dear.
While all that was going on, staff at the Mail on Sunday (MoS) were preparing its copy.
Late on Saturday in one of the MoS pieces, Boris loyalist Nadine Dorries MP further reinforced the notion that Rishi is not a man of the people. She wrote about a tweet she'd sent out a few days before commenting on his expensive attire:
I wanted to highlight Rishi's misguided sartorial style in order to alert Tory members not to be taken in by appearances in the way that happened to many of us who served with the Chancellor in Cabinet. The assassin's gleaming smile, his gentle voice and even his diminutive stature had many of us well and truly fooled.
I wish to stress it's not the case that I believe a rich man or woman – even if their father-in-law is one of the richest men on an entire continent – cannot be Prime Minister of this great country. But they do have to possess good judgment, understand the lives of others, have empathy, compassion and know how to fill a car with petrol and pay for it at a till.
Rishi's father was a GP, his mother a pharmacist. He attended a public school where the annual fees are about £36,000. They were in the top two per cent income bracket of all earners in the UK. To describe his background as humble is yet another indication of poor judgment.
Rishi will never know what it is like to feel scared, broke and hopeless, without a safety net provided by wealthy parents. He has never had to lie awake at night, worrying about how to pay the bills. A bailiff will never knock on his door …
Too right.
Dorries said that Boris was not best pleased when he found out that Rishi is now pledging to cut VAT on energy bills, something she said Boris begged him to do as Chancellor:
… Rishi says he wants to cut VAT on energy bills. However, Boris had been pleading with him to introduce this measure for two years as the PM had been convinced that such a cut could provide immediate relief to families.
In a speech on Thursday, Boris commented with a hint of uncustomary sarcasm: 'Turns out it was easier than we thought!'
Rishi was the classic dog in the manger as Chancellor. Whenever Boris sought him out to discuss serious issues, Rishi was always polite but unforthcoming. Never a team player.
Another MoS article revealed photos of a young Rishi Sunak at an exclusive nightclub in London's fashionable Mayfair.
Reporter Michelle Bromley included photos, writing about the young man and his then-fiancée, now wife, the Infosys heiress Akshata Murty, who lived in California in 2008:
Despite living 5,400 miles apart, the couple regularly flew back and forth across the Atlantic.
These photographs show how they spent an evening with friends at the Whisky Mist nightclub in London.
Ms Murty is seen with a cocktail while Mr Sunak (who says he's teetotal and 'a total Coca-Cola addict') generously bought all the drinks that night for the couple's friends.
At the time, the club off Park Lane was popular with the young Prince Harry and celebrities such as Beyoncé and Leonardo DiCaprio. Many years later, Tesla tycoon Elon Musk met his second wife, actress Talulah Riley, there.
Whisky Mist was apparently named after an incident during which a tipsy Queen Victoria thought she'd spotted a stag in the fog from the window of Balmoral Castle.
Friends with Mr Sunak and his girlfriend that night recall how many of the guests were focused on Ms Murty because of her family's fabulous wealth.
Her father founded global IT giant Infosys.
Mr Sunak was described by a female reveller as 'the most attentive boyfriend you have ever seen' and as 'someone who would ask a lot of questions but not give too much away about himself'.
Not long before, he had been to Africa where he met some of Barack Obama's relatives. He was photographed with them while holding a copy of the future US president's book, Dreams From My Father: A Story Of Race And Inheritance.
The picture was posted on Mr Sunak's Facebook page. Mr Obama used his book as a primer to introduce himself to the American people as he campaigned in 2008 to become the first black US president.
Fourteen years on, the young Briton captivated by that book is campaigning to become Britain's first Prime Minister of Asian heritage – and of America's greatest ally.
Nadine Dorries is right. Rishi Sunak will never have to worry about anything significant in his life.
The Sunday Telegraph said that Conservative MPs criticised Dorries for retweeting a photoshopped image showing Rishi as Brutus wielding a knife at Johnson's Julius Caesar's back. The original tweet is at the link.
The MoS also reported that some of the MPs supporting Rishi have serious doubts about his campaign:
Conservative MPs backing Rishi Sunak have privately admitted 'It's over' as panic sets into his leadership campaign.
Insiders told The Mail on Sunday that some supporters were refusing to do campaigning events for the former Chancellor.
MPs are said to be getting cold feet after Defence Secretary Ben Wallace and former leadership rival Tom Tugendhat threw their support behind Liz Truss in quick succession.
However, other MPs backing Mr Sunak insisted he was doing well with Tory members, and said private polling showed Ms Truss's supporters had been easily convinced to switch their support to him.
As this week opened, Dan Wootton's Monday poll showed that GB News viewers thought that his tax U-turn was still too little, too late:
That polling ran while Rishi and Liz were at a hustings in Exeter, more about which tomorrow.
I hope the former Chancellor, whose mother owned a pharmacy, does not get anywhere near Downing Street, except as a visitor: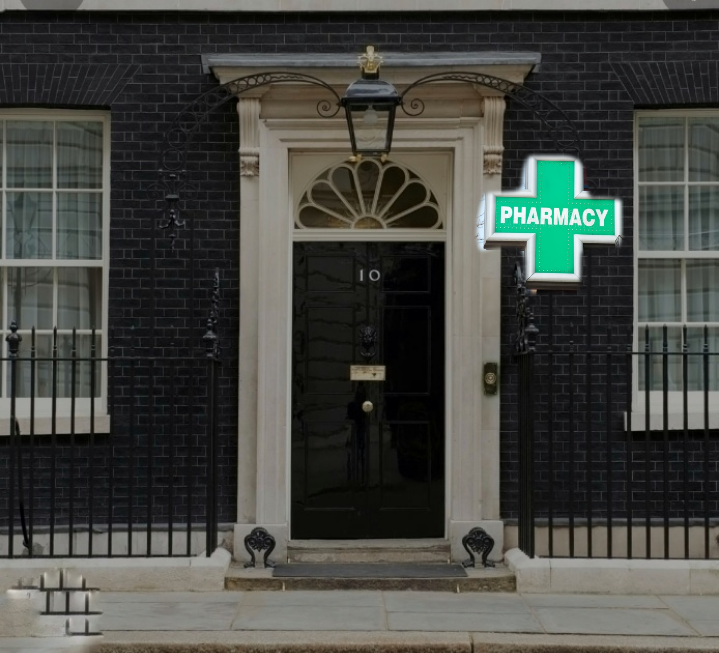 Why anyone wants Rishi to be the next occupant of No. 10 escapes me. Convince me — someone, anyone — why he should be our next Prime Minister.
Before I get to the latest round of voting in the Conservative Party leadership contest, here's an update on our weather.
Tuesday was quite warm. Allegedly, temperatures reached over 40°C for the 'first time ever'. I do wonder, because I remember a day or two in the mid-1990s when we reached 100°F. Furthermore, my reader dearieme wrote in to say that Greenwich recorded 100°F way back in 1911.
I say 'allegedly' because temperature readings came from airports. Certainly, it was at least 38°C.
Everyone in the media was banging on about how many people would die. Yet, cold weather kills many more than does hot weather.
That should not need pointing out, but The Lancet has just published a new study on winter deaths:
In the UK, on average, 791 people die from heat, compared with 60,753 every winter:
Guido Fawkes summarised the findings and concluded (red emphases his, purple ones mine):
With 60,000 annual deaths due to the cold compared to 800 resulting from extreme heat, Guido can only hope that rising average temperatures will save more lives in the future, as a real demonstration of climate justice in action. Always see the sunny side…
I agree. One would think activists would hope for hotter days. Warm weather saves lives.
In any event, it rained in southern England Tuesday night. Wednesday morning was quite cool. Temperatures are now back to normal.
Crisis averted — for the most part.
That said, there was a spate of fires because of dry weather, including a terrible blaze in a village east of London that lasted for hours. It was breezy, so the firefighters had a horrible job on their hands. My prayers go to the residents of that village and those elsewhere who have lost their homes and property.
Wednesday's vote
On Wednesday morning, we had three candidates left. Political geeks hoped for a three-way tie, which would have forced an immediate run-off:
Guido wrote:
At 4 pm today we will learn who the final two are. MPs vote from 1 pm to 3 pm, though we're still not clear whether they'll vote for the candidate they want to win, or the candidate Grand Marshall Gavin Williamson has told them to vote for. Kemi Badenoch's 59 ex-backers won't have had a moment's silence since she got knocked out yesterday. If this were a TV drama, today would be a fantastic half-time series final. 
… If that wasn't enough excitement, we also get Boris's last PMQs proper. His attendance may be a bit awkward, however, given he's already said his goodbyes and bowed out during last week's session, implying he may be unavailable to do today. Now his No. 10 team will be having to come up with more perorations and Starmer put-downs. Will the Tories clap him out? 
… there's the numerical possibility all candidates could tie on 119 votes each. Already Sir Graham's had to draw up contingency plans for an emergency re-vote tomorrow if such an event [occu]rs. There are concerns Westminster could be facing an imminent popcorn shortage…
In the end, while the vote was close, Penny Mordaunt lost.
Rishi Sunak had the most votes — 137 — and Liz Truss came in second:
Membership ballots
Meanwhile, 3,500+ disgruntled Conservative Party members are demanding that Prime Minister Boris Johnson's name be added to their ballots.
On Wednesday, July 20, Guido reported:
More than 3,500 Conservative Party Members have written to the Conservative Party Chairman demanding Boris Johnson is allowed to compete in the forthcoming leadership election. The petition, launched by Conservative Post, claims "our first choice has been removed without our involvement" and has the backing of prominent party figures like Lord Cruddas and David Campbell Bannerman … Guido understands it has at least annoyed CCHQ by clogging their phone lines…

The petition does say a lot about the sentiment within the Tory grassroots, just as they are about to choose the next Prime Minister. Thousands of members have signed up to a letter that describes how morale is low, with grievances arising at a Parliamentary party with a "vested interest" against Boris. No doubt such strong feelings towards Boris, and those who ousted him, could prove an interesting dynamic in the election. The Tory members share a similar belief to the Labour Party: Boris is a vote winner.
CCHQ plans to send ballots to Conservative Party members out the first week in August. Online voting is also available. Members will receive security codes for online votes.
Members may vote more than once, should they change their minds, although only their most recent vote will count.
A debate on the BBC between the top two candidates is scheduled for Monday evening.
One of Rishi Sunak's backers had told Guido that, if the ballots are available too early, his candidate might fare poorly. With ballots going out after the debate, that is no longer a concern. Yet, it is worth noting:
One Sunak backer told Guido this could be especially damaging to their preferred candidate should he make the final two, given he knows all too well he faces an uphill battle among members to win over support – not least proved by this afternoon's YouGov poll. Sunak's key strategy is to win members over with his ability to perform during the regional debates and hustings, as his team believes he proved he could do during the TV debates. The fear is that if CCHQ sends ballots out at the very start of the debate – and opens electronic voting at the same time – the vast majority of members will return their forms immediately, not giving Sunak time to win over doubters. 
Even MPs supporting rival camps worry that while their candidate might benefit from this CCHQ timetable, there's an essential need to "kick the tyres" on the final two candidates to make sure there isn't a repeat of only discovering Theresa May's inability to communicate come the election. Expect this row to take off the moment the final two are confirmed on Thursday…
Early signs that Rishi won't win
At this juncture, it looks unlikely that Rishi Sunak will win the Conservative membership contest.
A YouGov poll published on Tuesday, July 19, shows that every other candidate would beat him:
Think of it this way: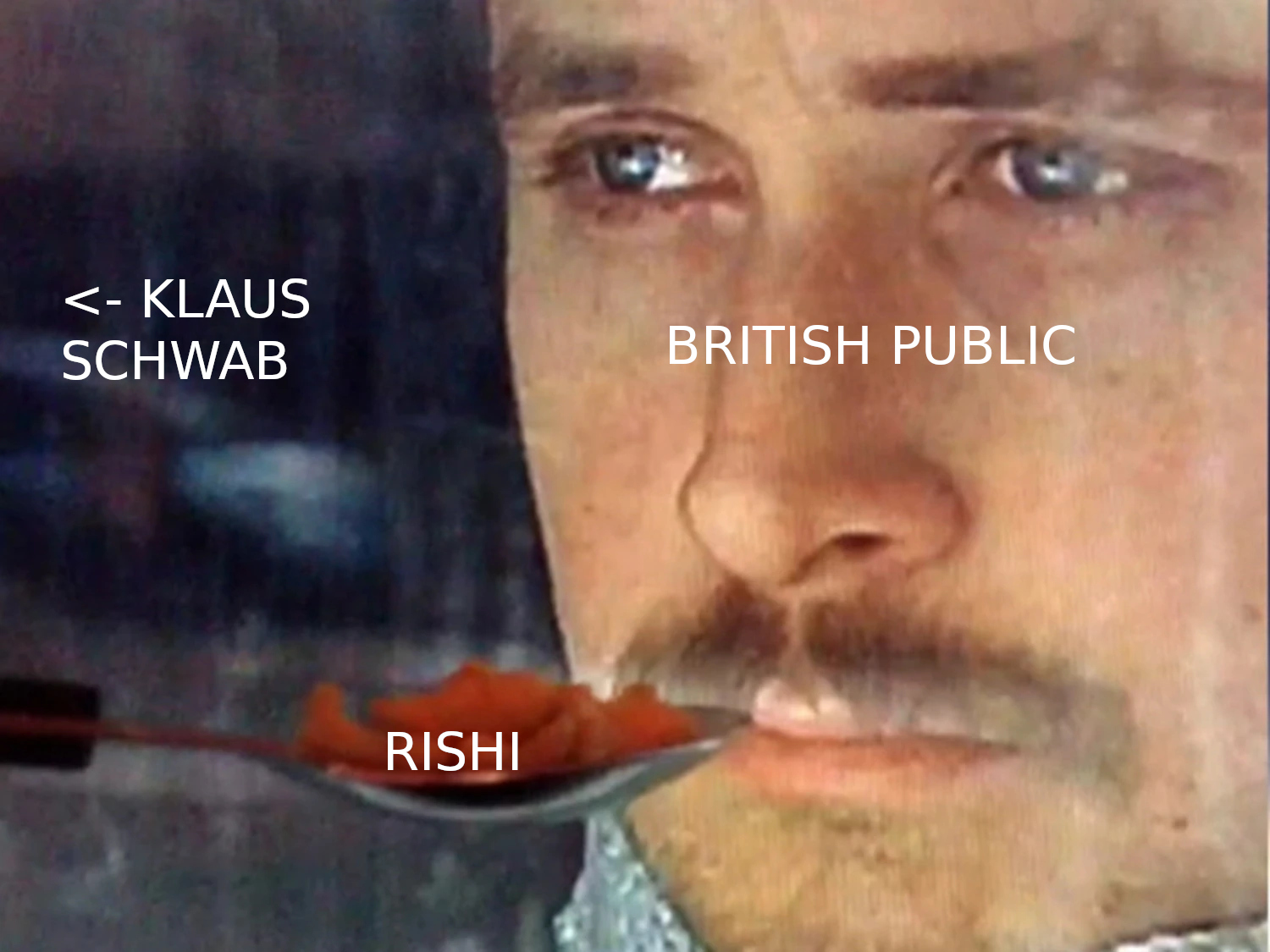 Why Rishi could lose
After Rishi resigned as Chancellor, Nadine Dorries, the Secretary of State for Digital, Culture, Media and Sport, appeared on GB News to give us the lowdown on Rishi. She told Dan Wootton that he didn't work very hard:
She alleged that neglecting his duties gave him a lot of time to prepare his leadership candidacy:
Another MP who thinks that Rishi did not do a good job as Chancellor is John Redwood: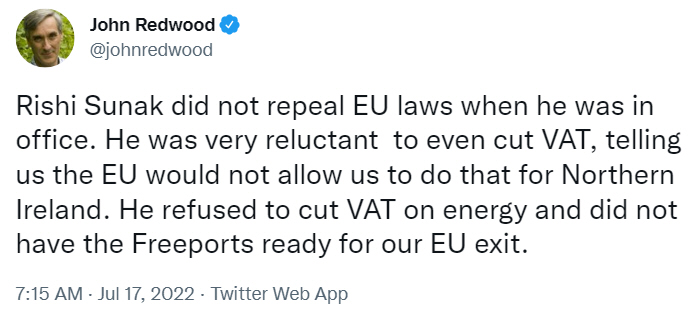 Returning to Nadine Dorries, the public had been disgruntled with Rishi prior to her interview, largely because of his financial and immigration situation, as GB News explains:
his stock has taken a tumble recently following disclosures that his wife had non-dom status for tax purposes and he held on to his US green card while serving in Government.
She suspects that Boris's former adviser Dominic Cummings has a hand in Rishi's candidacy:
Ms Dorries also warned about Mr Sunak's relationship with former Downing Street adviser Dominic Cummings.
She said: "His support for Rishi is off the scale.
"I think it's only because Dominic wants to be back at the heart and that should be a terrifying thought for anybody."
Dorries, probably Boris's staunchest supporter, told Wootton that the Prime Minister should not have been ousted as Party leader:
… the 65-year-old went on to say that "the Remain establishment, Labour and Putin were the three that wanted him out the most."
Referring to the Prime Minister, Ms Dorries added: "He got us through Covid, he lifted the restrictions, he delivered Brexit, so many policies I could just list them forever, all of these have been delivered."
Wootton also had a panel discussion about whether Rishi was trustworthy. One participant said that Rishi should have done his job rather than plot against Boris:
People will not forget his disloyalty:
Early in the contest, The Sunday Times took a poll of the British public and Conservative voters as to whom should succeed Boris. Together, 'Don't know' and 'None of the above' totalled 58 per cent; read 'Boris'. Also note the response from Pippa Crerar of the Labour-friendly Mirror:
A poll that YouGov took for The Sunday Times, conducted on July 12 and 13, showed that Rishi would lose against any of the remaining candidates: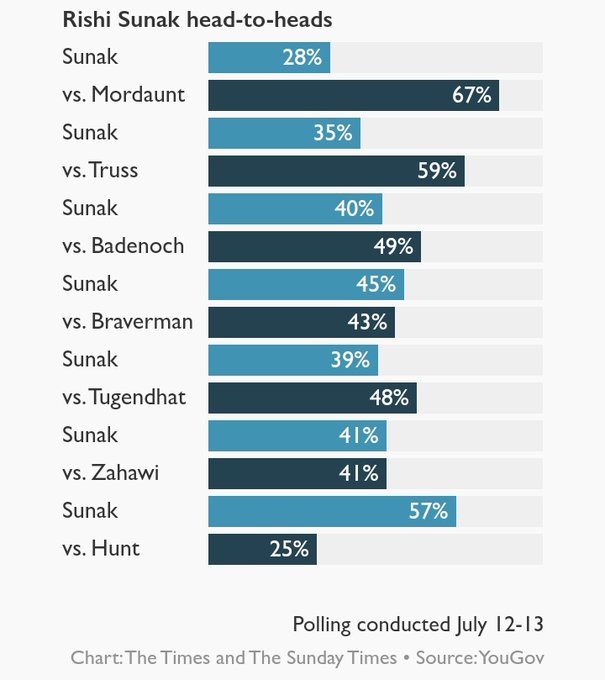 Rishi launched his campaign on July 12. Oddly, he took questions from television news reporters but none from newspapers, except from The Sun's Harry Cole. Cole had to embarrass him into it:
Rishi's campaign message of unity did not go down well with the public:
Dan Wootton had another editorial and discussion on Rishi that evening. Wootton called him 'a big state globalist assassin' and said that Conservative Party members would not back him:
Here's the video:
In the panel discussion, the Revd Calvin Robinson called the former Chancellor 'a socialist':
The next day, Wootton had more, urging MPs to listen to Party members when voting:
GB News has a transcript of his editorial, in which he said:
So all week the usual suspects in the political establishment and the MSM, especially the BBC, ITV News and Sly News, have been trying to convince you that Rishi Sunak was the inevitable candidate to replace Boris Johnson as Conservative Party leader and thus become the Prime Minister of this great country.
As ever, they've been selling you a load of utter piffle cooked up in the Westminster bubble.
But, from the moment Boris was brutally deposed in that completely unnecessary coup, I've been telling you there's zero chance Tory Party members – many of whom are horrified about the treatment of the Prime Minister – will elect the knife-wielding ex-Chancellor …
Tory grandees might think Sunak can win it, but he won't.
Spiked's Brendan O'Neill fears that Sunak is, at heart, a technocrat who does not care about the people:
Body language analyst Judi James says that Rishi's delivery is awful, from his speech patterns to his awkward gestures. She says that it would not take long for his insincerity to turn into smugness:
Guido discovered that Rishi's earliest backers among MPs were Remainers:
A drilldown of the MPs supporting him this afternoon shows that only 30% of Rishi's supporters backed Brexit in 2016.
Hmm.
On July 14, Lord Moylan appeared on Michelle Dewberry's GB News show to say that Sunak is 'deeply unpopular' among Party members. He also said that Conservatives will pay the price for getting rid of Boris, as he could win elections:
Here's the full video:
Dan Wootton was not letting up on Rishi:
That night, his guests discussed the top candidates, agreeing on 'Anybody but Rishi':
Here's the video:
Boris also urged MPs to back 'anyone but Rishi'.
On July 15, The Mail reported:
Boris Johnson is pushing for failed Tory leadership candidates to back 'anyone but Rishi' Sunak, it was claimed today, amid reports that the whole team at 10 Downing Street 'hates' the former chancellor for causing the PM's downfall.
Johnson, who announced last week that he will step down as party leader when his replacement is decided, has said he will not publicly endorse any candidate or get involved in the increasingly bitter leadership race.
However, Johnson has reportedly made clear in private discussions with failed leadership hopefuls that Sunak should not be his successor.
Citing a source close to one such conversation, The Times said Johnson appeared to be most enthusiastic about his Foreign Secretary Liz Truss becoming Prime Minister.
That day, Bev Turner and her guests discussed the likelihood of Rishi or the other candidates being able to win an election:
While people thought that Kemi Badenoch was 'too young' to progress in the contest, she is actually older than Rishi:
Look how far ahead Kemi was in the Conservative Home poll of July 16. Note that Rishi was in fourth place:
It will be hard for Rishi to shake off public opinion.
A poll done for the Mail on Sunday of July 17 shows that 41 per cent of participants think that he is out of touch with voters:
That's Rishi Sunak.
I would enjoy knowing what his real ambitions are for the future. Becoming Prime Minister would be a stepping stone for something that probably only he, his wife and his in-laws know about.
I do not have a vote in this contest, but if I did, I'd cast it for Liz Truss.
In closing, Dan Wootton started a poll last night asking GB News viewers who their choice was for the next Conservative leader. Halfway through his show, he announced that tens of thousands (he cited two different figures) of viewers had participated.
These were the results halfway through his show:
Boris Johnson 49%
Penny Mordaunt 22%
Liz Truss 15%
Rishi Sunak 14%
Bring back Boris — about whom more will follow in another post. His last PMQs was terrific.
Before discussing the latest developments among the candidates for Conservative Party leader, let's look at the weather here in England.
The weather presenters have been going on for a week about how hot it's going to get here. From the beginning, they forecasted 40°C temps, roughly 100°F. Weather maps have been given a deep red colour, as if we're going to burn alive.
Monday and Tuesday were going to be the hottest days of the week. Monday's high was 38°C, reported in only five places, two of which were airports, so I discount those.
The other three were Cambridge University Botanical Gardens, Cavendish, Suffolk and a village called Sancton Downham.
One of Guido Fawkes's readers posted a photo of the Cambridge location, which makes it suspect. The first photo shows the area when the weather station was first installed. The photo on the right shows what the area looks like today: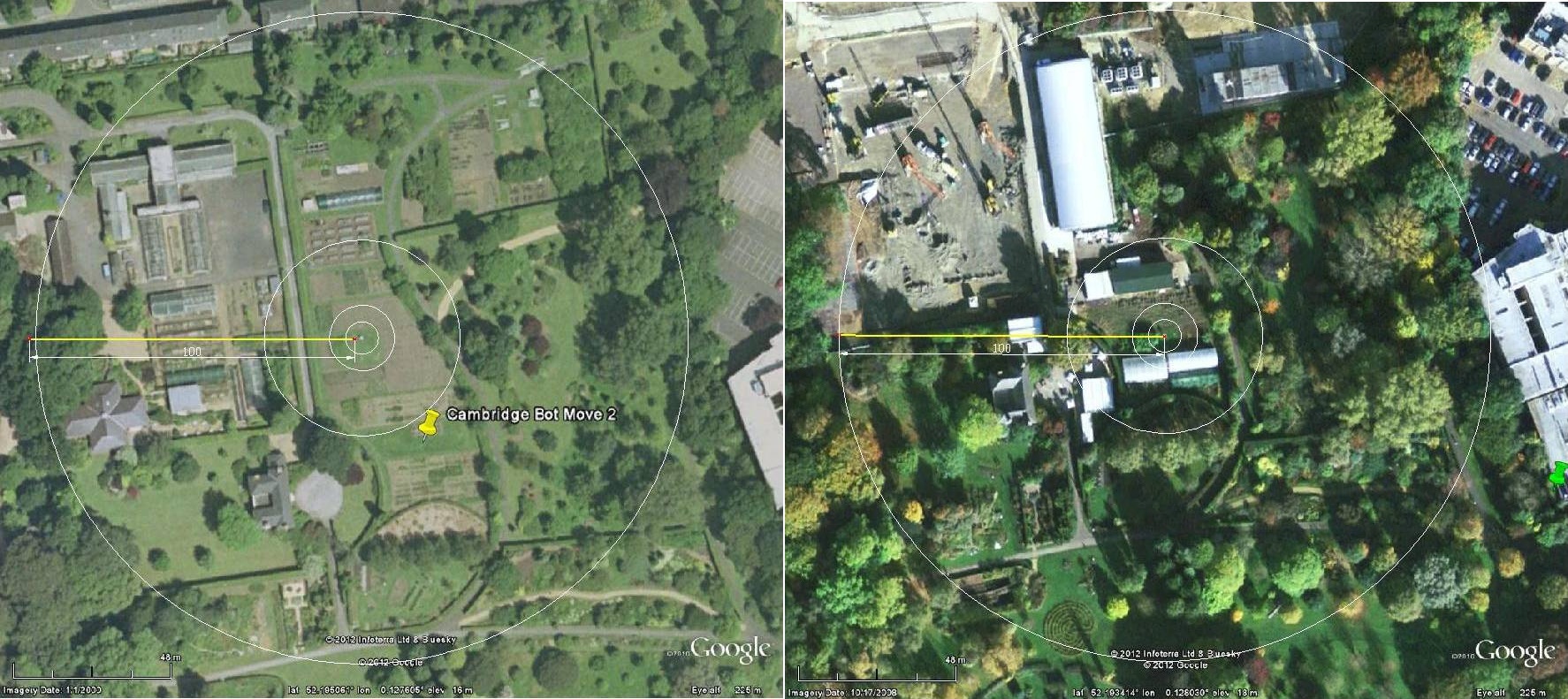 Guido's reader commented (emphases in purple mine):
… the siting of Stevenson screens is crucial when recording temperature change. As I type the Cambridge station is now recording the highest temperature in the UK but it has been surrounded by new buildings which invalidates its scientific accuracy. It certainly must not be used to claim all time highs.
The unit and sensors should also be positioned in open space away from any nearby potential sources of heat such as buildings, airports and brick walls, where free circulation of air can occur, and over a natural surface, grass is recommended as other surfaces such as concrete can cause significant error leading to all time high temperatures being recorded inaccurately.
Was it warm yesterday? Yes.
Was it pleasant? Of course. I did some heavy duty gardening.
I do not understand why the British panic over summer temperatures, especially since most of them go to scorching hot climes on holiday. This graphic sums it up well: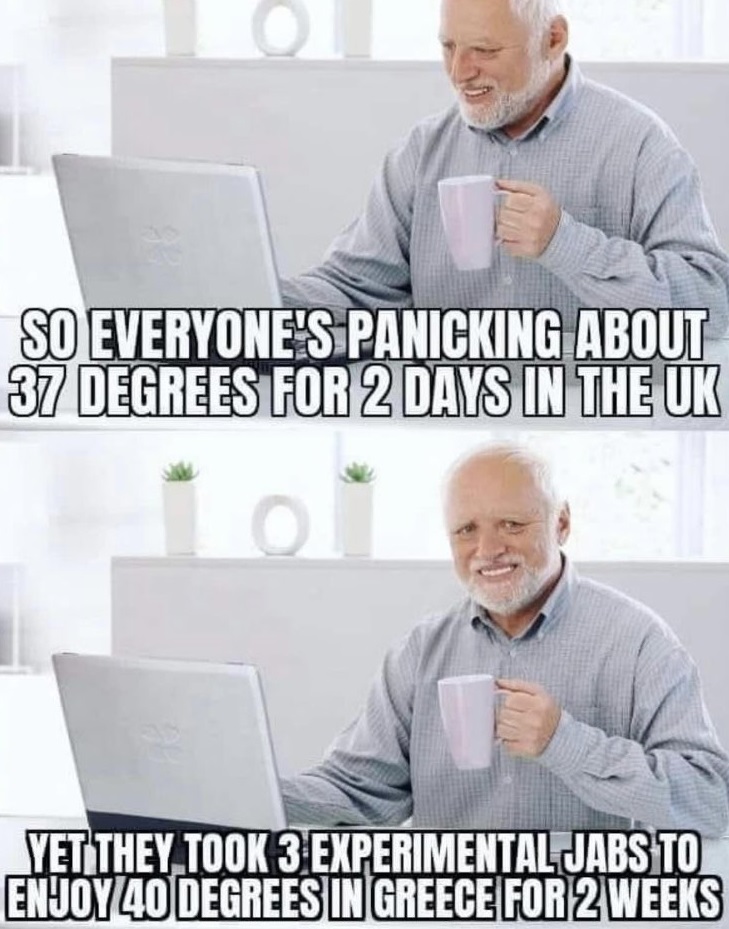 It's hard not to agree with this university lecturer, who wonders how ever created an Empire when we are such Moaning Minnies about heat. Were the British made up of sterner stuff in the 18th and 19th centuries? Perhaps so:
Now on to the Conservative Party leadership contest.
Monday's vote: Tugendhat's out
Conservative MPs voted again on Monday, July 18, 2022.
Tom Tugendhat, our Army superhero, was eliminated from the contest:
Was this his mode of transport home?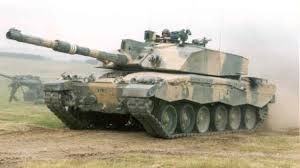 Here's Tom in an Army sweater:
He made a video thanking his supporters:
Guido Fawkes gives us Tom's main statement:
I have been overwhelmed by the response we have received across the country. People are ready for a clean start and our party must deliver on it and put trust back into politics.
No doubt the ladies at Mumsnet enjoyed it:
The final four
Going into Tuesday, these were the final four candidates:
Guido has Monday's vote tally. Results went down as well as up (red emphases his):
Rishi Sunak – 115 (+14)

Penny Mordaunt – 82 (-1)

Liz Truss – 71 (+7)

Kemi Badenoch – 58 (+9)

Tom Tugendhat – 31 (-1)

OUT
Penny's lost support, Kemi is still in contention. Liz is now second favourite at the bookies. All to play for…
Guido had more analysis later in the day:
Whilst tonight's leadership vote-off is unsurprising in that sense, the way the votes have gone for the remaining candidates are much more interesting.
Penny has gone down one vote, totally stalling. While she still leads Liz Truss, this trajectory will kill her momentum. Kemi has done very well; gaining nine backers to Truss's seven. While tonight's result in terms of eliminating Tugendhat may have been predictable, the remaining results make the final two more uncertain than ever. Though Rishi is now guaranteed a space in the final two…
The next vote took place on Tuesday afternoon. I will have an analysis of the results on Wednesday.
Conservative Party members see things differently
After Conservative MPs whittle their choices down to two candidates, the Party will send ballots out to members to vote for their choice, with a new leader — and new Prime Minister — to be in place by September 5, when Parliament reconvenes.
Note the latest polling from the Grantham and Stamford Conservative Association, which I featured last week. Kemi Badenoch was — and is — still in the lead. Rishi Sunak comes in a rather distant third:
Guido says:
The slick Rishi machine has to move the dial with the membership in a big way…
Rishi Sunak
Rishi is in a bit of a pickle, which gives Labour a lot of ammunition should he be our next Prime Minister.
The pandemic turned a lot of Britons into supporters of big state government, as Lord Hannan points out:
On May 26, the then-Chancellor announced a handout of £400 to all households in order to help them with rising energy costs:
The financial support has now been distributed.
Is it a good plan? Guido reported on the reaction from various think tanks.
The one from Taxpayers' Alliance resonated with me most:
The TaxPayers' Alliance isn't impressed either, claiming the move is "little more than the government taking with one hand and giving with the other". Chief Executive John O'Connell said:
Taxes are the single biggest bill families face and these huge handouts will see politicians hoovering up the incomes of struggling taxpayers, creating a cost of government crisis. If the chancellor wants to boost growth and help households, he can deliver both right now by bringing forward the planned income tax cut and slashing costly levies on energy bills.
But that was not all.
Rishi outlined other plans, altogether resulting in a £15bn bailout:
Guido has a summary:
As expected, Rishi has fired up the money printer once again to combat inflation. The Treasury claims it'll cost £15 billion, with £5 billion a year supposedly coming from the newly-announced windfall tax "energy profits levy". Here's what to expect:
Windfall tax on oil and gas companies.

Projected to raise £5 billion a year.
One-off 'cost of living payment' of £650 to approximately 8 million means-tested households.

 Two lump sum payments directly to bank accounts.
Households already receiving winter fuel allowance will also get a one-off payment of £300.
Those on disability payments will also get of £150.

Many of those in receipt of this payment will also be eligible for the £650 sum, bringing their total support to £800.
Universal grant of £400 to all households.

 Doubling the £200 energy bill loan, and turning it into a full grant.
Rishi boasted when making the announcement that his plan is more generous than that proposed by Labour's Rachel Reeves. The levy will raise £5 billion a year, and this will cost £15 billion. The difference will have to be financed by borrowing repaid by taxpayers…
People were shocked.
Labour won this round.
In Parliament, Shadow Chancellor Rachel Reeves said:
We pushed for the windfall tax. They've adopted it.
We said the buy now pay later scheme was wrong. Now they've ditched it.
This government is out of ideas, out of touch and out of time.
When it comes to the big issues facing the country, Mr Speaker, the position is now clear:
We lead. They follow.
Former Labour leader Jeremy Corbyn, who was Boris's opponent in the 2019 general election, was also pleased:
This was Jeremy Corbyn's plan in Labour's 2019 manifesto. It included a windfall tax:
Taxes in Britain are now at a 70-year high. Who was Prime Minister then? Labour's Clement Attlee:
Lord Hannan, a former MEP, fears this will be a permanent development. He might well be right, unfortunately:
The plan made two front pages:
Cabinet members reacted the following day, including Jacob Rees-Mogg:
According to The Times, Rees-Mogg raised concerns in Cabinet yesterday, suggesting "the package would be better funded by reducing government spending on infrastructure projects." The paper puts BEIS Secretary Kwasi Kwarteng in this camp as well, with him telling allies he's particularly concerned by BP's announcement that it's reviewing its plans to invest in the North Sea. Guido agrees with the anonymous cabinet minister who said "The politics of this is just so bad. We voted against it, we marched the whole party up the hill and are now taking them back down again. It looks like we're being dictated to by Labour"…
Conservative MP John Redwood said that taxation does not equal prosperity:
On May 28, Lord Hannan wrote an excellent editorial for The Telegraph, 'The Tories have almost wholly given up on conservative principles. What a tragic waste'.
Excerpts follow:
The Tories have almost wholly given up on conservative principles. They used to argue that lower taxes stimulate growth and so lead, in the long run, to higher revenue; that countries, like families, should live within their means; that individuals spend their money more wisely than state bureaucrats; that arbitrary and complicated taxes are as much a deterrent to investment as high taxes. Not any more …
When George Osborne imposed a one-off tax on energy firms in 2011, the Treasury Red Book predicted that it would bring in £2 billion. Instead, oil companies cut their North Sea investments and tax revenues fell.
Again, Johnson and Sunak know this. As recently as three months ago, the Chancellor was telling us that the "obvious impact of a windfall tax would be to deter investment". Both men understand that the only way out of our present predicament is through growth. Both understand that the way to achieve higher growth is to cut spending, scrap regulations, remove trade barriers, and ensure sound money. But these things are usually unpopular in the short term, and that seems to be their chief consideration.
We are thus in a negative feedback loop. When voters see the Conservatives, supposedly the party of fiscal responsibility, spraying cash around, they conclude that there must be plenty of depth left in the Government's reservoir. When they see a Tory Chancellor promising to bring in extra revenue by hiking corporation tax – despite the experience of cutting corporation tax rates from 2011 and seeing revenues surge – they naturally believe him. All this then heaps pressure on ministers to spend even more …
It was all so unnecessary. Outside the EU, Britain could have become freer and more competitive. We had a Conservative Government with an 80-seat majority, for Heaven's sake. We could have scrapped Brussels regulations, flattened and simplified taxes, embraced global markets, slimmed the civil service, decentralised powers and broken cartels. We could, in short, have made this the most attractive place in the world to do business.
Yes, the pandemic was an unforeseeable distraction – though, even then, some reforms could have been pursued. But nearly a year has passed since the end of the restrictions in Britain, and it is now depressingly clear that there is no plan to make use of our opportunities. After all their talk of buccaneering Britain, our leaders have shied away from almost every difficult economic decision. What a waste. What a tragic, needless waste.
Of course, Nadhim Zahawi is our current Chancellor. For how long remains to be seen. However, it will be difficult for him or his successor to roll back on Rishi's plan. Labour won't allow it. Either way, it will play to Labour's advantage between now and the next general election.
Let us look at more recent developments.
When Rishi resigned as Chancellor, the press gathered outside the Sunak mews house in Kensington, London.
The Infosys heiress Mrs Sunak, in the tradition of other politicians, brought reporters mugs of tea:
One reporter expressed his appreciation:
Boris Johnson had only just stood down as Party leader when Rishi declared his candidacy to succeed him. Note that Channel 4's poll participants still wanted Boris to stay in No. 10:
'Ready for Rishi' launched on July 8, complete with a video on his family's arrival in Southampton on the southern coast of England. Rishi was born there:
Not surprisingly, Rishi's promo did not include this clip from a 2001 documentary he participated in as a student at Winchester, one of the nation's top public (very private) schools. This is from the BBC's Middle Classes: Their Rise and Sprawl, shown in March 2001.
Rishi glibly says he doesn't know any working class people. His father looks on admiringly:
Bim Afolami MP, who is one of Rishi's supporters, defended his friend's quick launch. Afolami said that all the video clips were there for his team to sort through and compile in 24 hours. Afolami said that it was not unusual that Rishi arranged for his campaign website in …. 2020:
Staunch Boris loyalist Nadine Dorries told Dan Wootton on GB News that Rishi was able to launch his campaign because he wasn't at work:
Wootton asked whether Rishi was 'too duplicitous' to be PM:
Ninety-two per cent of those responding to his poll said YES:
Patrick Christys added to the doubt that many have about Sunak, from the timing of his campaign launch to his Boris backstabbing:
At the launch of the candidates' contest, the public reacted negatively to Rishi.
One person was incredulous that both Boris and Rishi received Fixed Penalty Notices for Partygate, yet Boris had to resign only for Rishi to run as his successor:
Another predicts that the Conservatives will lose the next general election. The Opposition will fire too much ammunition Rishi's way:
This chap objects to all of the top candidates:
I will leave it there for now.
More to come tomorrow, including an analysis of Tuesday's vote.
Yesterday's post introduced the ongoing Conservative Party leadership contest.
Today's post will discuss what happened on Wednesday and lead up to Thursday afternoon's vote, the result of which will appear tomorrow.
Before Wednesday's vote
Guido Fawkes wrote the following on the morning of Wednesday, July 13, before the first round of voting (red emphases his, purple ones mine):
Good morning. Six of the eight remaining Tory leadership candidates face an uphill battle throughout the day, as they attempt to reach the 30-MP threshold required in the first knockout round of the contest at 6pm. Rishi now has 48 backers, meaning he can basically sit back and relax for at least the next two rounds, though that hasn't stopped him adding Steve Barclay to his list of supporters this morning. Penny Mordaunt also has the 30 required. The other six, not so much…
All eyes are on Jeremy Hunt and Suella Braverman as the ones most likely not make it, though one of Hunt's backers told Guido last night they believe they have the requisite support. They also described rumours that Gavin Williamson is instructing Rishi backers to temporarily support other candidates like Hunt and Kemi, so Rishi doesn't have to face Liz in the final two, as utter rubbish, though members of other campaign teams believe it is absolutely happening. With Sajid, Shapps and Priti now out of the race, there are 30 newly floating MPs up for grabs…
News overnight includes a policy-light interview with Rishi in The Telegraph, who's trying to get the press back onside after yesterday's scenes at his campaign launch. He says he'll run the economy like Thatcher if he wins. Tom Tugendhat committed to spending 3% of GDP on defence last night.  Penny has used a Times op-ed to commit to supporting families as PM. Stay tuned for her campaign launch at 10.30 this morning…
And:
from now on candidates can also vote for themselves…
Candidates experienced highs and lows, as covered below.
Nadhim Zahawi
When Boris Johnson appointed Nadhim Zahawi as Chancellor of the Exchequer on July 5, it was remarked that he is the first Chancellor with facial hair in 65 years:
Before Harold Macmillan, we have to go back another few decades to find another bearded Chancellor:
Zahawi appears to be the man who convinced Boris that he should stand down as leader of the Conservative Party. On Thursday, July 7, the Daily Mail reported:
Boris Johnson will finally announce his resignation today – but is lining up a 'unity Cabinet' as he battles to stay in Downing Street for months longer.
The PM admitted defeat in the wake of a shattering intervention from Nadhim Zahawi, who was only appointed on Tuesday night following Rishi Sunak's departure. He told Mr Johnson that his situation is 'not sustainable'.
Two days later, on Saturday, news emerged that HMRC (Her Majesty's Revenue and Customs) were investigating Zahawi's tax situation. Hmm:
Zahawi said on a Sunday morning news programme that, if elected Party leader, he would release his tax returns. He complained of being set upon, something Boris knows only too well:
On Tuesday, July 12, he launched his campaign video in which he tells his life story. He arrived in England from Iran with his parents. He started school not knowing a word of English. Fast forward to the past two years and he was able to live his dream. He headed the coronavirus vaccine rollout and went on to become Education Secretary. Today, he is Chancellor. Amazing:
On Wednesday morning, he told LBC's Nick Ferrari that, if elected leader, he would give Boris a Cabinet post:
Guido has the video and concluded:
He's the second leadership contender to make such a pledge after Suealla Braverman. Clearly Zahawi sees some benefit in associating himself with Boris. A swift change of tone considering he was calling for Boris's resignation just a few days ago…
Agreed, but there is no way that a former Prime Minister would take a Cabinet post.
Later on Wednesday morning, someone hacked Zahawi's campaign website and redirected it to Penny Mordaunt's. Penny's website also seemed to have issues:
They are not the only ones, however, as Guido reported that Rishi Sunak's site is banned on the Parliamentary estate:
Website woes are a common theme throughout the leadership campaign, Rishi's site is blocked in Parliament as "insecure" and candidates have had their domain registration timings scrutinised. Turns out this stuff is hard to do right…
Jeremy Hunt
Conservatives either love or loathe Jeremy Hunt.
He served as Health Secretary and then as Foreign Secretary, until Boris sacked him in July 2019.
Hunt ran against Boris in the 2019 leadership contest. In one appearance during that campaign, he said his wife was Japanese. She quickly corrected him and reminded him that she is Chinese.
I wonder if he said that on purpose, because …
During the pandemic, as a backbencher, Hunt proposed Chinese-style lockdowns and mandatory vaccines for healthcare staff.
Nadine Dorries MP recalled a conversation with Hunt in July 2020:
On Christmas Day in 2021, the Mail reported that Hunt's wife presents Chinese state-sponsored television programmes, broadcast on Sky TV from London:
The wife of former Cabinet Minister Jeremy Hunt presents a TV show for China's state-run media that has been accused of 'whitewashing' the Communist Party's human rights abuses.
Lucia Guo, who has three children with the former Health Secretary and Foreign Secretary, appears on China Hour, a series broadcast on Sky TV that showcases Chinese culture to a UK audience.
It is made by the state-owned China International TV Corporation and British-based Dove Media, in partnership with the Communist regime's tourist office in London.
The programme has featured reports on the effectiveness of China's pandemic response and about the beauty of the Xinjiang region without mentioning it is the site of 're-education' camps for its persecuted Muslim Uighur population. 
Ms Guo, who is originally from the city of Xi'an in central China, hosts a feature on the show called Signature Flowers of China. 
It has been broadcast since September and is also available on YouTube.
Human rights campaigners at the US research institute Freedom House last year accused China Hour of being part of the Chinese Communist Party's international media web.
The programme has been praised in Beijing for its viewing figures while its reports on the pandemic have been credited with 'playing a unique role in communicating the Chinese narration of the epidemic to the world'.
On March 13, 2020, three days before the UK's first lockdown, Hunt wanted all British schools closed.
Although Hansard has all of Jeremy Hunt's contributions to parliamentary debates, in May 2022, he tried to walk back his promotion of Chinese-style pandemic measures.
Someone put this graphic together around May 21, a significant date for Hunt, as you will see below: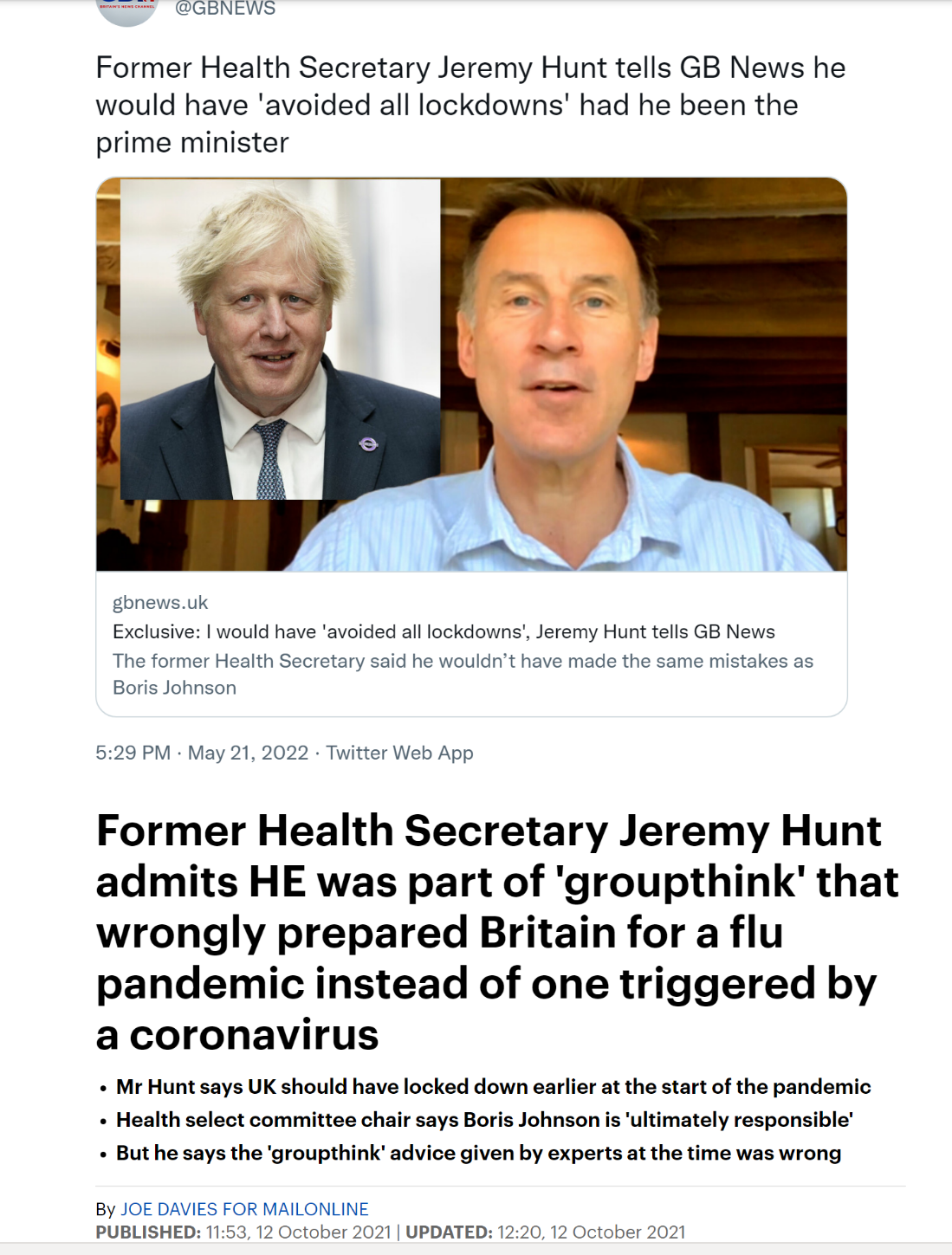 The next day, May 22, he appeared on Sophy Ridge's Sky News programme to say that he did not want to see a Conservative leadership contest:
Guido posted the video and this comment:
Maybe Hunt is one of these Tories who thinks it might be good to lose the next election? He could become leader of the opposition…
That day, a number of letters to the editor appeared in The Sunday Times. The week before, he had written an article for the paper outlining how he would reform the NHS.
A retired GP wrote the Times to point out that Hunt had ample time as Health Secretary some years before, yet he took no action:
What a nerve! Jeremy Hunt tells us "How I would fix the NHS" (News Review, last week) — but he was the longest-serving health secretary in British history and has a huge responsibility for the NHS being in this parlous state.
He did nothing to increase the capacity of our hospitals, which has resulted in ambulances queueing outside A&E departments, unable to discharge their patients. He pledged that by 2025 we would be self-sufficient in "homegrown" doctors, but a lack of planning has resulted in a huge shortage of NHS staff in all sectors. He went out of his way to alienate junior doctors, causing the unprecedented strike of 2014. He did nothing to integrate the NHS with social care.
This is the man who could replace the fool we now have as prime minister. Heaven help us.
One week later, on May 28, an article in the Mail suggested that Hunt had a plan to topple Boris:
Boris Johnson's Cabinet allies have accused supporters of former Health Secretary Jeremy Hunt of mounting a secret pub plot to oust the Prime Minister.
They suspect MPs who attended a dinner at an upmarket bar in West London called The Surprise last week were scheming to trigger a Tory leadership challenge.
The event, held the night before Sue Gray's report into Partygate was published, was hosted by Devon MP Mel Stride, a former campaign chief for Michael Gove who is seen by the Johnson camp as a rebel ringleader.
Also in attendance was long-serving Ludlow MP Philip Dunne, a key ally of Mr Hunt.
The article has two familiar names, in addition to Hunt's. Those MPs entered the current leadership contest:
Of the 16 MPs known to have been there and who voted in the 2019 leadership election, just three backed Mr Johnson.
Five backed Mr Hunt, who is widely expected to mount a leadership bid if a contest is called, while six supported Mr Gove, who is not expected to enter another contest …
Politicians at the dinner strongly denied they were scheming against Mr Johnson and accused his allies of 'paranoia'.
They pointed to the fact that Boris arch-loyalist Grant Shapps – who has himself been tipped as an outside bet for the leadership –addressed the meeting.
But a Cabinet ally of Mr Johnson said: 'Mel Stride is a Goveite looking for a new horse to hitch his wagon to. Many of the people he invited to the pub backed Gove or Hunt last time – including Dunne, who is running Hunt's latest bid.
'Any MP considering backing Hunt must be a masochist yearning for the kind of thrashing we sustained in 2017 and longing for the humiliation of a very long spell on the Opposition benches.
'Without Boris, we will be handing the next Election to a Labour-SNP coalition. But then, some of our pro-Remain MPs and those who think they were naturally destined for high office, are too bitter to care' …
Trade Minister Penny Mordaunt, considered a potential future Tory leadership contender, condemned behaviour at No 10 as 'shameful', telling the Portsmouth News she was 'angry' that people blocking 'reasonable requests to relax [Covid] restrictions, were at the same time ignoring the rules'.
I agree with whoever said that without Boris, the next election will go to a Labour-SNP coalition. Yet, here we are, sadly.
By June 6, the story of Hunt's yearning to be the next Conservative Party leader grew traction, especially with GB News presenters.
Neil Oliver threw his characteristic diplomacy away in this tweet:
Bev Turner shared a Hunt anecdote, wherein he advocated paying domestic staff low salaries:
Someone from Hong Kong confirmed the Chinese way of paying peanuts to domestic staff:
A Conservative Party member chimed in with disgust:
Adam Brooks, the publican who appears on Dan Wootton's show was grateful that Boris was at the helm during the pandemic:
Now let's look at what Jeremy Hunt told Nadine Dorries, Secretary of State for Digital, Culture, Media and Sport, back in July 2020:
Ben Leo, who works on Dan Wootton's show, tracked Hunt down in front of his house on July 9 to follow up. This is an excellent video. Readers won't be surprised to find out that Hunt said absolutely nothing:
Now let us fast forward to last weekend.
GB News viewers were aghast to find out that Esther McVey, an MP many of us admired up to that point, cast her support for Hunt, as did her husband Philip Davies:
Why would a no-nonsense, straight-talking Conservative back Jeremy Hunt?
The answer came on Sunday, July 10, when Hunt announced that, if elected leader, Esther McVey would become Deputy Prime Minister.
Guido posted the video:
She must be stupid if she believes that, I thought. It's like a would-be Romeo trying to seduce a girl. Promise her anything to get her to submit …
Just look at the man's eyes. He often looks like this:
Guido tweeted:
That's me done with McVey and Davies. I liked him, too. No longer.
On Monday, July 11, Dan Wootton warned that Conservative MPs could destroy the Party if either Rishi Sunak or Jeremy Hunt become leader:
He is not wrong in that assessment.
First round voting results
Sir Graham Brady, chairman of the 1922 Committee of Conservative backbench MPs, declared the results of the first round of voting shortly after 5 p.m.
Nadhim Zahawi, the new Chancellor, and Jeremy Hunt were eliminated from the contest:
Conservatives around the nation breathed a sigh of relief at Hunt's elimination from the race.
Perhaps Hunt should have taken a cue when the top of the bell he was ringing flew off, nearly hitting a bystander:
As for Zahawi, he posted a lengthy letter: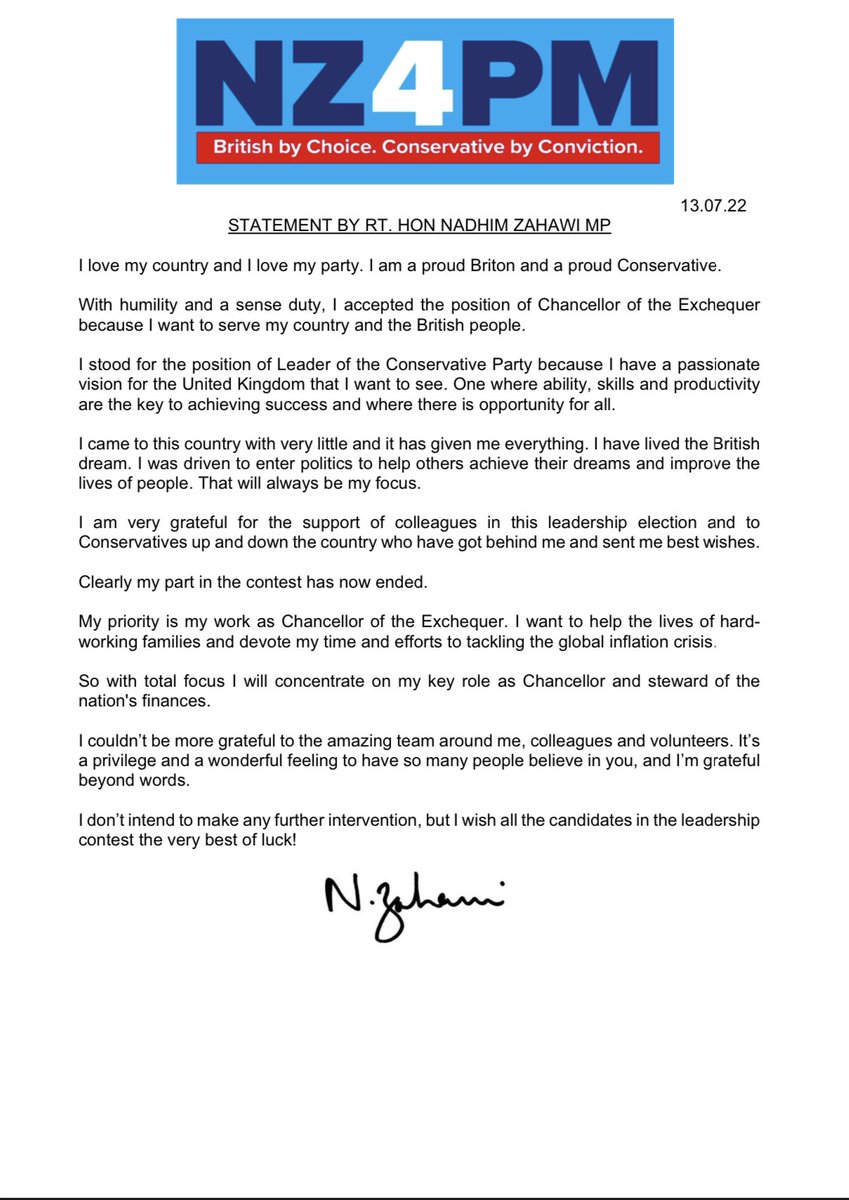 He has a lot on his plate, so perhaps it is best that he focuses on recovering some of the millions that fraudsters took during the pandemic. Those people stole taxpayers' money:
He should also do something about road fuel tax:
Meanwhile, Jeremy Hunt pledged his support for front runner Rishi Sunak:
And then there were six
As Wednesday closed, we were left with six candidates going into Thursday:
Kemi Badenoch, someone around whom most Conservatives could rally, had just over 50 MPs supporting her.
Tom Tugendhat, rather surprisingly, considering that he has a high profile, had fewer than 50.
Suella Braverman, another candidate who makes most Conservative Party members happy, has just over 40.
I think that Braverman and/or Tugendhat will lose on Thursday. Tugendhat is another one who deserves to go.
Guido summed up Wednesday's activity. Highlights follow.
Rishi Sunak could be losing momentum:
… After hogging the limelight with his campaign launch yesterday,

today he resumed being the punching bag of choice for all other candidates

.
Faced some

horrible polling from all quarters, which shows he basically stands no chance of winning among the members if he gets through to the final two

.
Penny Mordaunt did well:
A great day for Penny –

if she wins the contest, today will undoubtedly be viewed as the day she secured the victory

…
Received a major boost from

YouGov polling

that shows,

should she get through to the final two, she'd smash every other candidate

.

Remains a comfortable second among MP backers.
Liz Truss survives another day:
Vowed to halt green levies

Continued her campaign as

the 'Boris continuity candidate'

.
Suella Braverman is unlikely to make it through past Thursday's voting.
Kemi Badenoch does not want tax cuts but has gained support:
Continues to gain support

, not least with her former employers at The Spectator.
Kemi is also opposed to the current form of the dreaded Online Safety Bill, the debates on which could not be completed before summer recess, as the Northern Ireland Protocol Bill, quite rightly, took priority. There is also the debate on confidence in the Government on Monday, which should be interesting: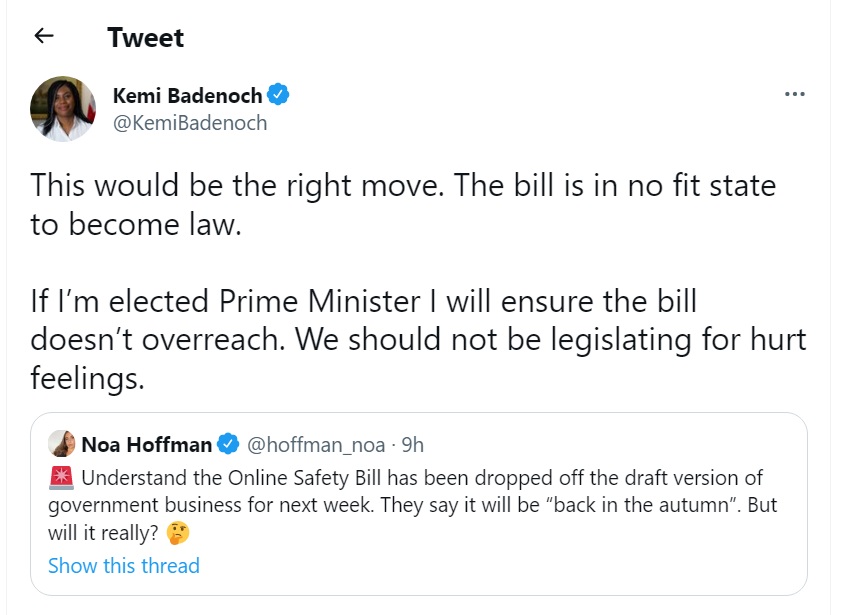 Thursday, before the vote
Guido summed up the state of play on Thursday, July 14. An excerpt follows:
In a few months' time, what will people remember of Jeremy Hunt's 2022 leadership campaign? Nothing, obviously. Seemingly just 18 MPs realised he was running one at all, which is odd as he needed 20 to get on the ballot in the first place. As Sky's Sam Coates asked last night: what exactly does Rishi gain from being endorsed by this competition's biggest loser? He certainly won't gain all of Hunt's supporters – many of them are now angry that Hunt went with Rishi, and not Tugendhat. Mind you, there was already anger towards Hunt from Team Penny, who endorsed him in 2019, as it was very clear he was never considering returning the favour this time around. Et tu, Jeremy…
Today should, in theory, be Truss's day in the spotlight. Her campaign launches bright and early in Smith Square, in two hours' time. They'll be delighted with The Mail splash this morning, which is blatantly campaigning for Liz and telling the right to unite behind her to defeat Rishi. The same front page carries a briefing from someone in the Truss camp accusing Penny of telling lies about her trans stance. Lord Frost has also just taken to the airwaves to slam Penny's record in government, saying she was so rubbish as his deputy he had to ask the PM to move her during the Northern Ireland negotiations…
Yes, this was a damning moment for Penny.
Guido has the video …
… and the quote:
To be honest I'm quite surprised that she is where she is in this leadership race. She was my deputy, notionally more than really, in the Brexit talks last year… I felt she did not master the detail that was necessary in the negotiations last year. She wouldn't always deliver tough messages to the European Union when that was necessary… she wasn't always visible. Sometimes I didn't even know where she was. I'm afraid this became such a problem that after six months I had to ask the Prime Minister to move her on… from the basis of what I saw I would have grave reservations about [Mordaunt].
Guido says that Lord Frost isn't the only one critical of her, either:
On Tuesday, CityAM published damning claims from Department for International Trade sources alleging Penny was "missing for months" as a trade minister and wasn't reliable – something Guido's ministerial sources later confirmed themselves…
As the day unfolded, Rishi tried to make his resignation and leadership candidacy appear sudden, failing to mention that he had his website domain registered in 2020:
On a lighter note, Tom Tugendhat will rue this photo of 'Tom a tart':
Oh, well, he's likely to be out by the end of the day, anyway.
It is unfortunate that so many members of the public cannot identify the next Conservative leader:
Meanwhile, among the party membership, here's the latest from Grantham & Stamford Conservative Association. I am surprised that Mordaunt is doing so well. At least Badenoch is in second place:
Today's vote began at 11:30 and closed at 3 p.m. All being well, I will have an analysis of the results tomorrow.
Boris Johnson is now into his third year as Prime Minister.
On Wednesday and Thursday, September 15 and 16, he reshuffled some of his cabinet and ministerial posts, signalling that he is more than halfway through his premiership. In other words, this will be the major reshuffle to lead the Conservatives into the next general election.
I hope that Boris does not go for a 2023 election, unless it is late in the year. The coronavirus crisis will have put much of the Conservative manifesto agenda on hold for two years. As such, not much has been accomplished to date, as Andrew Neil, who recently resigned from GB News, says:
Boris has appointed more Leave ministers as well as more minority and female ministers, which will not matter to most small-c conservatives:
Highlights of the reshuffle follow.
Dominic Raab no longer Foreign Secretary
It looks as if dithering over Afghanistan while holidaying in Crete has finished Dominic Raab's days as Foreign Secretary. He had to do the walk of shame after his demotion:
That said, Boris has found a new job for him as Justice Secretary.
Raab will also continue to be Deputy Prime Minister, a role he handled extremely well in April 2020, when Boris was hospitalised with coronavirus.
Defence Secretary Ben Wallace defended his fellow MP and the move in an interview with BBC Breakfast:
Wallace said of Raab: "Dominic is by trade a lawyer, he started his life in the Foreign Office as a human rights lawyer and he's gone to the Ministry of Justice, which is actually a very, very important role and a role he desperately understands."
Liz Truss becomes new Foreign Secretary
Former Trade Secretary Liz Truss replaces Dominic Raab as Foreign Secretary, with Anne-Marie Trevelyan taking her place.
Post-Brexit, Truss has made various trade deals with other nations, notably Australia and Japan.
She also remains minister for women and equalities.
Truss is popular with grassroots conservatives and her name has often been mentioned as a future party leader and Prime Minister.
She succeeded not only in trade but also in refusing wokery in 2020 …
… and in 2021, as Guido Fawkes reported on June 16 (emphases mine):
Liz Truss tells Times Radio most people aren't interested in the culture war…
"My role as equality minister is to make sure everybody in Britain is treated equally regardless of their sex, their sexuality and their race. What we have seen over the past few years is the development of identity politics where there has been division created. People are described as being members of a group rather than for their own personal, individual humanity and dignity… We have just launched for example a big data project looking where are the gaps in education, employment and enterprise across the country, and how we can fix those. That is the approach we need to take… I think some of the identity politics we have seen focus on symbolism over real results has been divisive… I think most people aren't interested in this so–called culture war, what they're interested in is, "Am I being given a fair chance? Do I have a good chance of getting a job? Am I treated fairly by public services?" And that's why I think our equality agenda should focus on, those bread and butter issues that are of concern to everyone in the country."
She is consistently among the most popular of the Cabinet members. This survey is from March 2021:
She can even ably dodge camera equipment during an interview:
Nadine Dorries moves from Health and Social Care to Culture Secretary
In what is hoped to please grassroots small-c conservative voters, Nadine Dorries now heads Digital, Culture, Media and Sport (DCMS), replacing Oliver Dowden, who, as new co-chairman of the Conservative Party, will formulate a strategy for the next general election.
Most of these grassroots supporters are fed up with the BBC. Will Dorries take on Auntie Beeb?
I do not put much stock in that possibility. Resurrecting Dorries's tweets from several years ago are no indication of her current willingness to oppose the BBC on anything much:
The BBC have just appointed a firmly left-wing executive editor of BBC News, Jess Brammar. At least one Conservative MP, Brendan Clarke-Smith, was unhappy about the possibility of her appointment back in August:
I will not be holding my breath for Dorries to take her on, although others in the left-wing and anti-Brexit political establishment are angry about Dorries's appointment, as Guido Fawkes reports; he has screenshots of her past tweets (emphasis in the original):
She's been in the job for 17 hours and is already annoying all the right people… 
John Whittingdale returns to backbenches
I have doubts about Dorries because one of the DCMS ministers, John Whittingdale, was supposed to take on the BBC in 2016 and never did. He also washed his hands of removing free TV licences for most over-75s, saying it was a decision for the BBC. Is this why he got the sack?
During the Euro 2020 soccer tournament this year, Whittingdale told Kay Burley of Sky News that travel restrictions were lifted for 'important' people associated with the matches:
Speaking on Sky News, John Whittingdale was asked why players, officials and others coming to London for the Euros final on 11 July should be allowed in without self-isolating.
He said: "We've always said that for some people who are important, players, for instance …"
The presenter, Kay Burley, interrupted him, saying: "So people who want to go on holiday are not important. Is that what you're saying?"
Whittingdale's last pronouncement, standing in for his boss Oliver Dowden, was about a proposed mandate to make all BBC and ITV output 'distinctively British'. That was on September 16. It will be interesting to see whether Nadine Dorries will insist on it.
Newsnight argument over Dorries
Nadine Dorries was the subject of an argument between Conservative MP Charles Walker and former Conservative MP, Remainer Anna Soubry, who lost her seat in December 2019.
By the way, this was Anna Soubry with Nigel Farage either just before or just after the Brexit referendum in June 2016: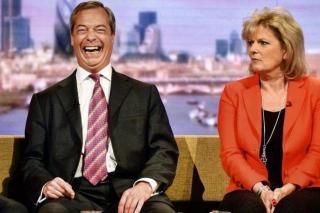 But I digress.
The discussion between Soubry and Charles Walker took place on the BBC's Newsnight on September 15:
Here's the video, with Labour MP Peter Kyle sitting at the desk with presenter Emily Maitlis:
Guido Fawkes has the highlights:
Nadine Dorries provided the biggest clash, as the eternally bitter Soubry ranted that her appointment "actually says everything that's wrong and rotten about this prime minister's stewardship of this country". Charles Walker had some thoughts:
"Nadine Dorries has been a health minister, a minister of state, at an incredibly difficult time for the department of health; has been an extremely good minister for mental health; and really to come onto this programme and just trash her like that is just not a very nice thing to do to be perfectly honest"
Responding to Soubry's claim that people don't really care about reshuffles in the real world, Walker pointed out "Why is it the lead story on Newsnight, and why are you appearing on Newsnight?" Why indeed…
However, there is a personal reason why Anna Soubry is angry with Nadine Dorries.
On July 1, 2016, one week after David Cameron stood down as Prime Minister and Conservative Party leader because of the Brexit referendum result, tensions were running high not only in the Commons but also among the public.
Soubry went out near Parliament to address her fellow Remain supporters. Dorries tweeted that Soubry was under the influence. Soubry demanded that Dorries retract the tweet. The Times has the full story, which ends with this:
Update (25.07.2016): Following publication of this article, Nadine Dorries MP has withdrawn her tweet about passing Anna Soubry MP leaving the bar before she attended a rally of Remain supporters in central London. Ms Soubry has confirmed that she had not drunk any alcohol before speaking at the event.
Another reason why I am doubtful about Nadine Dorries is because she did not question the Government's coronavirus restrictions when she was at Health and Social Care. Does she really believe everything she hears? Here she responds to Conservative Woman's co-founder Kathy Gyngell. Dorries and her mother had the virus at the same time, and her mother recovered first. Even so, not questioning lockdown earns her a black mark from me:
At least she supported Brexit.
Michael Gove moves to Housing, no longer Chancellor of the Duchy of Lancaster
Michael Gove, who is in the process of a divorce and was a recent party boy in an Aberdeen nightclub, is no longer the Chancellor of the Duchy of Lancaster.
Stephen Barclay, formerly Chief Secretary to the Treasury, replaces him in that post. Simon Clarke replaces Barclay in the Treasury role.
Michael Gove replaces Robert Jenrick at the Ministry of Housing, Communities and Local Government and is in charge of Boris's 'levelling up' agenda.
A first attempt at a new acronym for the department has produced DULL:
Guido reports on the problems with acronyms for government departments in general:
The Sun's Harry Cole reports the initial proposal for a new "Department for the Union and Levelling Up" is no longer a flyer after realisations its acronym, 'DULU', sounds too much like "Dull". It's a shame a change was needed, given it was pointed out yesterday that Michael Gove the first MHCLG Secretary with all the letters of the department in his name…
Guido will leave it up to cleverer minds to work out an acronym that includes all the letters of Gove's new remit (MHCLG + Union + Levelling Up + Elections) though it's not the worst reshuffle acronym problem encountered by a PM. As Alan Johnson recounts, in 2005 Tony Blair came up with a plan to rename the department for Trade and Industry as the "Department of Productivity, Energy, Industry and Science". Thankfully Johnson was used to it by that point however – he'd already been Minister for Higher Education and Lifelong Learning, and headed up the Sexual Health Advisory Group…
Although this looks like a demotion for Gove, it involves a hefty budget with pan-govermental reach, something that should definitely appeal to him:
New Education Secretary
Nadhim Zahawi, formerly in charge of the coronavirus vaccine rollout, is the new Education Secretary, replacing Gavin Williamson, who likely got the sack because of the school exams fiasco during the coronavirus crisis.
Zahawi has achieved the British dream, having arrived in the UK as a child refugee who could not speak English:
Other appointments
Guido Fawkes has full reshuffle information for September 15 and 16.
Some MPs have transferred to other departments:
Others will be returning to the backbenches:
Jesse Norman tweeted that he was happy to return to the backbenches:
The new role for Nigel Adams is said to be a 'fixer' appointment in order to get things done:
More information and analysis can be found at The Guardian, The Telegraph, GB News , The Spectator and The Times (here, here and here).
House of Lords
Reshuffles can affect the House of Lords, too.
Fortunately, two of the stars there are still in place.
Baroness Evans
Baroness Evans, composed and competent, will remain as Leader of the House of Lords.
Lord Frost
Lord Frost will remain Cabinet Office Minister for Europe, in charge of EU negotiations and changes to relevant legislation:
On September 16, Guido wrote about Frost's plans to rid the UK of EU laws (emphases in the original):
Lord Frost has announced the government's plans to finally capitalise on the freedoms of Brexit and remove the "special status" of all individual EU laws still on the UK's statute books. There are also plans to invest heavily artificial intelligence, transport, and farming over the Parliament. Now if we just pair deregulation with lower taxes we may actually get somewhere…
Speaking on the reforms this afternoon, Lord Frost said:
"From rules on data storage to the ability of businesses to develop new green technologies, overbearing regulations were often conceived and agreed in Brussels with little consideration of the UK national interest.
"We now have the opportunity to do things differently and ensure that Brexit freedoms are used to help businesses and citizens get on and succeed."
Lord Frost will begin with a review of so-called "retained EU law" – the huge amount of EU legislation still on the UK's statute books; removing its special status so it's no longer a distinct category of UK domestic law, and ensuring all courts have the full ability to depart from EU case law. He describes it as finalising the process of "restoring this sovereign Parliament". There's a reason he's popular with the Tory membership…
Guido's post has more detail, much of which involves digitalising everything from share (stock) certificates and driving licences.
Hmm. I hope that when his proposals reach MPs that they are not taken too far. First, not everyone is online. Secondly, think of the hacking opportunities this could provide. Finally, and perhaps most importantly, digitalisation can lead quickly to establishing a Chinese-style social credit score.
One thing I did like was this:
Permitting the voluntary printing of the Crown Stamp on pint glasses and reviewing the EU ban on markings and sales in imperial units and legislating in due course, none of which were possible within the EU.
Robert Peston's misguided predictions
Sometimes, it is better to wait for the final outcome rather than tweet silly predictions:
On September 16, Guido noted witheringly of ITV's Robert Peston:
While yesterday may not have been great for Dominic Raab, at least he can take solace in the fact he had a better reshuffle than Robert Peston. ITV's senile senior political reporter spent all day tweeting every thought process, speculation and briefing with the acumen and insight of a first-year politics student.
Guido's article lists Peston's tweets. Perhaps ITV should buy him a new crystal ball.
Conclusion
I still think that most Conservative MPs are half-hearted. It's a shame that Boris did not promote any of the 2019 intake, especially the feisty ones from the North of England.
Fortunately, last week's horrible poll results have been reversed. Participants were polled during the reshuffle days of September 15 and 16:
Onwards and upwards to Boris's promised 'sunlit uplands', I hope.
See Part 1 in this series about the anger in Britain over lockdown.
One or two tweets below might have salty language. The rest do not.
There is much anger by a proportion of the population at the government:
MPs, except for one, are largely silent on the subject. Luckily, John Redwood has been an MP for decades. He might be our only hope:
Most are like Conservative MP Nadine Dorries, however. She was one of the first MPs to get coronavirus. Her aged mother, who also had it, helped her recover. I was sorry to see her tweet this:
Yesterday, I left off on masks. On Thursday, June 4, Transport Secretary Grant Shapps said they would be mandatory on all public transport in England. Health Secretary Matt Hancock repeated the order the following day:
Someone in the know saw this coming in April (never mind the reply):
This is so irrational. Earlier this year, the WHO advised against it:
Exactly.
I'm looking forward to the first lawsuit when someone is unable to breathe on public transport:
The above advice applies to England.
Wales, Northern Ireland and Scotland are on their own track.
However, Scotland is no better:
This is what they are doing in Singapore. Simon Dolan, incidentally, is suing the British government over lockdown. Good man:
It seems masks are only the beginning. In the UK, we haven't fully got off the ground with the track-and-trace app.
More from Simon Dolan about Singapore:
Track-and-trace is also getting up people's noses:
Then there's the R rate that SAGE and Chief Medical Officer Chris Whitty discuss daily on the coronavirus briefings:
But that's nothing compared to the wacky modelling from Imperial College's Prof Neil Ferguson which brought about lockdown:
Yet, at least one London hospital is ignoring masks and social distancing:
Shouldn't only the vulnerable be sheltered?
Picking up on the railway platform, here's the latest on international transport …
… and the latest on public conveniences:
Why doesn't any of this make sense?
Similar madness holds true for local buses:
Meanwhile, unlike protestors around the world complaining during coronavirus about the death of an American ex-convict thousands of miles away, when you're Piers Corbyn (pictured with the policewoman in a mask), an eccentric weather forecaster as well as the brother of the last Labour leader, and say that climate change is caused by the sun's activity and you're protesting lockdown with like-minded people, you can be arrested twice at Hyde Park in London:
The sheer hypocrisy of it all is mind boggling.
More tomorrow.