You are currently browsing the tag archive for the 'Neil Oliver' tag.
For many, Christmas as they know it ended at midnight on December 26.
Most people will be heading back to work on Monday.
Yet, there is a reason for the old song The Twelve Days of Christmas, because that is how long the actual season is.
An Anglican priest of the High Church tradition explains to presenter Calvin Robinson in the following GB News video that, when many people think Christmas has ended, it has only just begun. This 45-minute programme, which includes carols from an Anglican church choir, explores the true religious meaning of the season. It's well worth watching:
Epiphany is on January 6, so there is still plenty of time to celebrate and contemplate our Saviour's birth until then.
Furthermore, we in the UK are blessed with a thoughtful Yuletide convention. Because Christmas Day fell on a Saturday this year, Monday, December 27, is a bank holiday. We get a long weekend of celebration and relaxation.
The Queen delivered her traditional address to the nation on December 25. This year, the theme was her loss of Prince Philip, who loved her dearly and was her best friend. The old film clips show her face light up when he joins her at various functions. It's a beautiful, spontaneous reaction. Our monarch said that she is looking forward to celebrating her Platinum Jubilee year in 2022:
The Queen always includes a Christian message. This year was one of enduring faith, one that promotes leadership:
Neil Oliver delivered a thoughtful Christmas message which will appeal to all, believers and non-believers alike. He reflects philosophically on the story of the Christ Child and the meaningful traditions that have emanated from it. This is a must-see:
Oliver also had a round-up of the Greatest Britons he interviewed in 2021. This will restore one's faith in humanity:
A few days ago, I wrote about the Revd William Pearson-Gee's impassioned video about keeping churches open during the Christmas period during the current coronavirus panic over Omicron. Watch his hands; the intensity is palpable:
Mr Pearson-Gee's Buckingham Parish Church has its own YouTube channel with all its main services.
Here is the church's Service of Nine Lessons and Carols for 2021:
The next video was one of their Christmas services which starts with a charming Christingle service and ends with the liturgy for Holy Communion. Mr Pearson-Gee includes Christmas prayers in the second service, making it all the more meaningful:
I hope that these videos, be they religious or secular, help us better appreciate the Christmas season.
On Sunday, December 19, 2021, the Revd Will Pearson-Gee gave a heartfelt extemporaneous sermon at his church in Buckingham, England, part of the Diocese of Oxford.
Last weekend, it was unclear whether some sort of Yuletide lockdown would be implemented in England, possibly including churches. In 2020, churches were closed for months. The Government deemed them to be 'non-essential services'. The Church of England hierarchy were complicit in that decision.
If lockdown were reimposed the way it had been last year, Mr Pearson-Gee clearly stated that he would not be playing that game again at Buckingham Parish Church.
This short must-see video went viral:
High Churchman Calvin Robinson responded:
I saw it on Wednesday, December 22, on GB News, thanks to Mark Steyn who was filling in for Nigel Farage. Steyn's introduction could be a sermon, too, as it directs us to the transcendent, the living God, something the Church of England should have done last year:
Steyn also interviewed Pearson-Gee (from 12:21 to 20:00). I highly recommend watching it:
The vicar said that Zoom worked well in the early months of the pandemic, but it was only ever a temporary solution.
Once churches were allowed to reopen, he said that the elderly spearheaded a renewed fellowship in the congregation.
He graciously did not criticise the Archbishop of Canterbury for last year's spiritual failings in the Church of England, saying that Justin Welby has a very hard job to do.
He also said that he knew Christians in Iraq who risked their lives going to worship, but they took that risk because their faith was so important:
If only we felt the same way.
Pearson-Gee has a lot going on at Buckingham Parish Church, including three different Sunday services — something to suit everyone's liturgical tastes:
His daughter helps him out with Twitter:
Was Will Pearson-Gee always a devout Christian?
No.
Incredibly, he returned to the Church after his first wife and son were killed in a car accident. Mark Steyn mentioned this after his interview with the vicar ended.
Such a tragic event would have put most people off church and God forever, but Pearson-Gee saw things differently.
In March 2014, he discussed his testimony with Premier Christianity. I would highly recommend that unbelievers and agnostics read about his journey of faith which led him to seek ordination.
Excerpts follow, emphases in purple mine:
It was back in 1996 that my world fell apart. My wife, Anna, had gone out with our two children, Eleanor (two) and Jamie (three). It was a really hot summer's day in July and she took them down to Bournemouth to the seaside.
On the way back (for reasons that we'll never know) her car crossed over the centre white line on a narrow bit of a road, and was hit head on by an articulated lorry carrying 40 tonnes of very large rocks. Anna and Jamie, who were on the same side of the car, were crushed and killed instantly. My daughter Eleanor, quite amazingly, was able to be removed from the car wreckage by a Royal Marine Officer travelling in the car behind. She was literally unmarked, which I've always thought was a little bit of a miracle considering the combined collision was about 90 miles an hour. But she survived. Obviously it was a devastating shock for me, but I had my little girl to look after.
I was confronted by their bodies in the mortuary some hours later. They were in quite a mess and it took the mortician a while to make them presentable for identification. They pulled back the white sheets and I ranted, and I screamed, and I wept. Then I looked at them, and I thought, 'This cannot be the end.' There was so much life, particularly in my little boy ? he was such a handful. I just couldn't believe it was the end of him and so I thought, 'Where have they gone? Where are they now?'
At the time I was definitely a 'nominal' Christian. I believed there was some higher power, some greater being beyond myself that I could call upon and might listen to me, but I really had no idea about God's character or whether he cared about me …
Then my eye was drawn to a very simple crucifix on the wall of the mortuary. It was a sign of the Christian faith to which I had been exposed since I was a child. It's like a penny dropped, and it suddenly became not just a cross, but a sign of hope for me. I then realised that if there was all this talk about resurrection and life after death, I needed to find out more about it. I managed to meet up with a Christian, also with my local vicar, and there was a Catholic priest who came into my life who had real expertise in helping people recover from child death. It was this cumulative effect that opened my eyes to the fact my wife and child were somewhere better, they were in heaven, and therefore if I wanted to see them again I needed to get myself right with God. That was a long process in itself.
This is why Pearson-Gee is not angry with God. It is an interesting perspective:
People sometimes ask me if I felt like blaming God. During my early time of grief, through counselling groups, I came across a lot of other people who were suffering and mainly they just blamed God. But to me it didn't make sense that God had just got out of bed one morning and said, 'Who am I going to strike down today?' … Where do you draw the line with him intervening and stopping things going on? In a way, you'd be expecting him to upturn the laws of nature every single nanosecond of the day around the world, and then what kind of world would we be living in? So I don't blame God.
I think God permitted that crash to take place, but 'in all things God works for the good', and I've really clung on to that. … in a funny sort of way the fact it has happened has brought me huge blessings … I've got a lovely wife, I've got three more kids including another son, I've got the most wonderful faith, my wife is a Christian. We know that whatever the world throws at us now, we have this wonderful eternal life waiting for us. Life is good. I know it's not always going to be great and there will be trials and tribulations, but following Jesus is just such an amazing adventure.
Pearson-Gee wrote a brief autobiography for the Buckingham Parish Church website, which is also interesting (emphases mine):
I arrived in Buckingham just in time for Easter 2010 having moved from Oxford where I did my theological training (at Wycliffe Hall) and served my curacy (at St Andrew's Church).
I enjoyed a full career in the Army serving all over the world as an infantry officer in the Coldstream Guards before leaving to join my brother's printing company where I spent 6 happy years.  During this time I started to go to a newly planted church which showed me something that I had never seen before: an Anglican church pulsating with life and growing in size and depth.  Intrigued, I became more and more involved in its incredibly exciting mission and began to sense that ordination might be what God wanted me to pursue.  I think I was the most surprised of all when I arrived at Wycliffe Hall to start my training!
He mentioned the fatal car accident, adding:
That dreadful event really did change my life in more ways that I could have imagined and illustrates the truth in Paul's words in Romans 8:28 "And we know that in all things God works for the good of those who love him, who have been called according to his purpose."  My story surrounding this tragedy is here if you'd like to read it – if you do, I hope you find it an encouragement. Also, here is an article in Christianity Magazine that tells the story.
I am now married to Lucia and between us we have 4 children – Eleanor from my first marriage – and 3 of our own. I must say that I feel a little like Job who lost so much but was then restored by the Lord and had even more. We even called one of our daughters Jemima (as did Job).
Jemima — Mimi — helps her father with Twitter.
This is what motivates Pearson-Gee's ministry:
I suppose what really motivates me in my ministry is sharing the good news that is Jesus Christ. It was this same, unchanging good news that pulled me out of the mire and gave me so much hope after my tragedy. I am passionate about making this good news accessible to everyone and will do all I can to make the Church (that is the people of God – Christians) welcoming to those who are – like I was once – lost.
That's so moving, especially as we approach Christmas.
————————————————————————————–
Normally, I would have ended the post there.
However, the next few posts will involve Christmas readings, so I will close with two secular news items.
The first concerns Northern Ireland, which will reimpose coronavirus restrictions on December 27. Sammy Wilson MP (DUP) is none too happy but turned his disappointment into a little take on 'Hark the Herald Angels Sing':
"Hark the herald angels ping," the East Antrim MP tweeted.
"Robin Swann won't let us do a thing. No more parties, work at home. In the streets you cannot roam
"Omni is far worse than the delta curse. Stay at home. Or they'll be far worse to come."
It upset a number of politicians in Northern Ireland, who branded him a 'moronic fool':
The second item is Neil Oliver's take on our covidian Christmas this year, wrapping lockdown and economic ruin into 'Twas the Night before Christmas and Dickens's A Christmas Carol. Wry, witty and pointed, it's worth watching:
With that — the spiritual and the secular — may I wish all my readers a very happy Christmas. May you be blessed despite State restrictions.
In the UK, coronavirus vaccine boosters progress apace.
This advert is showing at cinemas around the country. It features Prof Chris Whitty, Chief Medical Officer: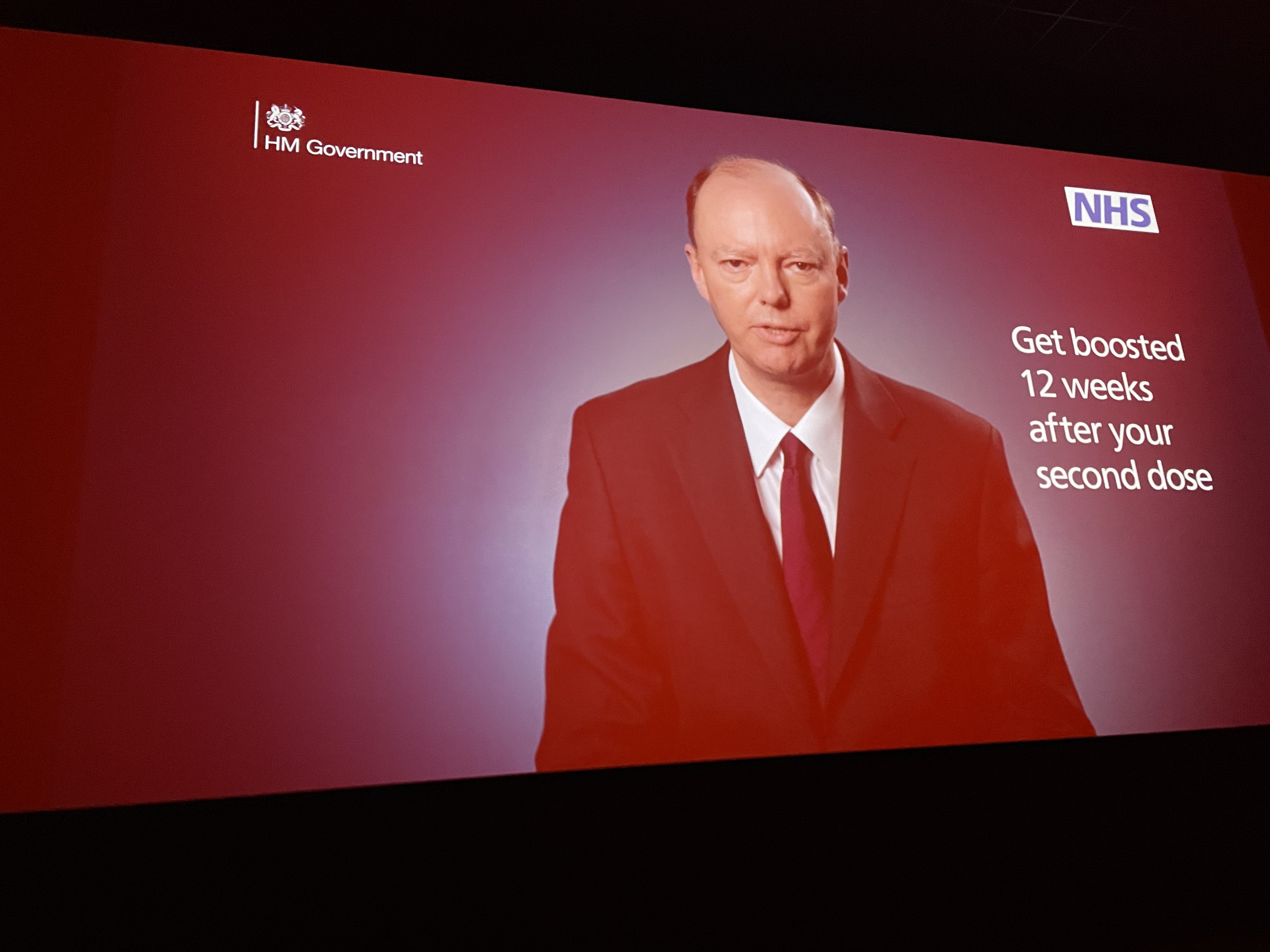 Scary.
It is reminiscent of 1984: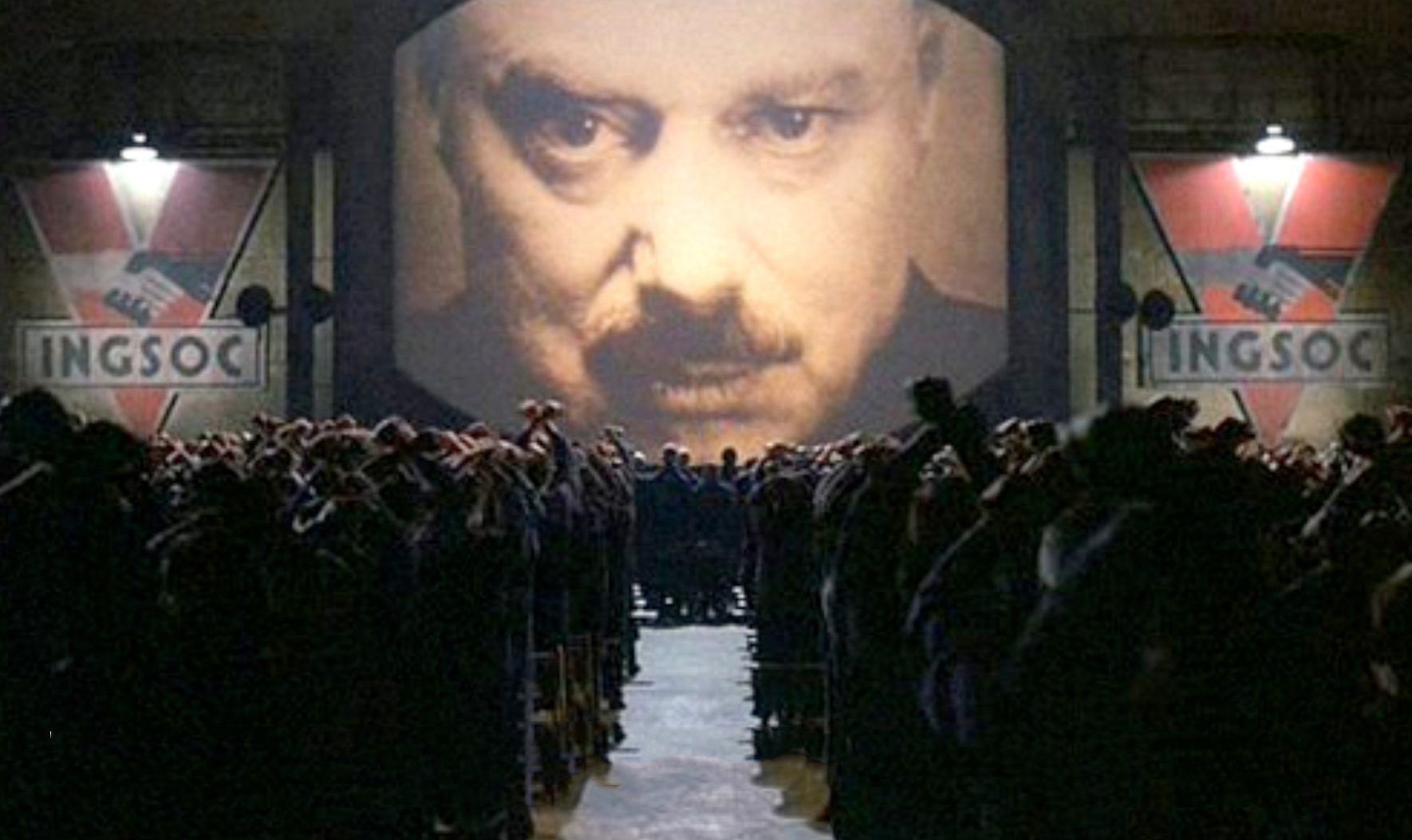 Someone else posted those images a few days ago.
Here's another: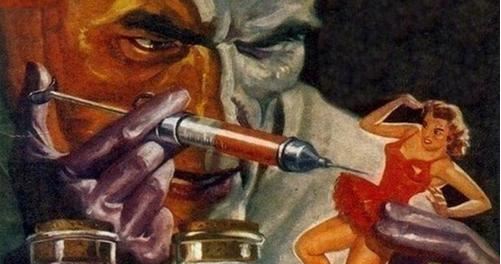 On Saturday, December 18, Neil Oliver of GB News interviewed Dr Robert W Malone about the vaccines and the boosters (33-43 minutes in):
Malone discusses his involvement in mRNA vaccine technology from its inception in the late 1980s and development into the 1990s. He now looks at these vaccines from a regulatory perspective.
He, along with a number of other physicians and scientists, e.g. Dr Pierre Kory, does not think that the coronavirus vaccines have been developed in a conventional manner.
Furthermore, he does not think they should be:
1/ given to children;
2/ given to people with normally functioning immune systems;
3/ mandated.
In other words, if he is correct, most of us reading this post should never have had the coronavirus vaccines or boosters.
Malone thinks that those should have been reserved only for the immuno-compromised, but admits that, even with that caveat, he's having second thoughts about that group as well.
Hmm.
In June, Linked In suspended his account for his views on the vaccines:
In 2022, the UK is likely to get legislation prohibiting 'hateful anti-vaccine' (MPs' words) articles and opinions. A few other countries already have such laws:
Note how the BBC fits in:
Congratulations to Neil Oliver and GB News for giving Dr Malone much needed air time.
Christmas has arrived in England.
On Saturday, November 27, 2021, the Parliament Christmas tree arrived from Northumberland and is standing in New Palace Yard:
Here's the video of it being lifted and placed into position:
In other news, scaffolding around the Elizabeth Tower will be coming down over the next six weeks, revealing the newly restored Big Ben. The new colour scheme is actually the original from the Victorian era and will be more colourful:
Juxtaposed against this good news is the new coronavirus variant, Omicron.
Saturday press conference
Prime Minister Boris Johnson wasted no time in giving a press conference on Saturday evening, November 27 (start at 8:19), flanked by Sir Patrick Vallance and Prof Chris Whitty:
Ahh, just like the old days of the near-daily coronavirus briefings …
Boris announced preliminary measures; the return of face coverings came into effect on Tuesday, November 30. These are for the next three weeks (emphases mine):
So yesterday we took steps to protect the UK against the variant coming here from southern African countries – and earlier today added four more countries to the red list.
But we now need to go further and implement a proportionate testing regime for arrivals from across the whole world.
So we are not going to stop people travelling, I want to stress that, we're not going to stop people travelling, but we will require anyone who enters the UK to take a PCR test by the end of the second day after their arrival, and to self-isolate until they have a negative result.
Second, we need to slow down the spread of this variant here in the UK.
Because measures at the border can only ever minimise and delay the arrival of a new variant, rather than stop it altogether.
So in addition to the measures we are already taking to locate those who have been in countries of concern over the last ten days, we will require all contacts of those who test positive – with a suspected case of Omicron – to self-isolate for ten days, regardless of your vaccination status.
We will also go further in asking all of you to help contain the spread of this variant, by tightening up the rules on face coverings in shops and on public transport.
And third – and most importantly – we need to bolster our protections against this new variant.
We don't yet exactly know how effective our vaccines will be against Omicron, but we have good reasons for believing they will provide at least some measure of protection.
And if you are boosted – your response is likely to be stronger.
So it's more vital than ever that people get their jabs, and we get those boosters into arms as fast as possible.
So from today we are going to boost the booster campaign.
We are already planning to do 6 million jabs in England alone over the next three weeks.
The ten red list countries are all in southern Africa: South Africa, Namibia, Lesotho, Botswana, Eswatini (formerly Swaziland), Zimbabwe, Angola, Mozambique, Malawi and Zambia.
Omicron symptoms
Omicron's symptoms are slightly different to those of the previous variants.
On Monday, The Sun reported more, citing Dr Angelique Coetzee, chairwoman of the South African Medical Association. She also has her own private clinic in Pretoria and has seen Omicron patients:
"Their symptoms were so different and so mild from those I had treated before," she said.
"We had one very interesting case, a kid about six years old, with a temperature and a very high pulse rate, and I wondered if I should admit her. But when I followed up two days later, she was so much better.
"What we have to worry about is older, unvaccinated people. If they are not vaccinated, we are going to see many people with a severe form of the disease."
The Omicron strain, or B.1.1.529, is feared to be more transmissible and may be able to avoid vaccines.
It has 50 genetic mutations, most of which have been identified in previous variants, along with three brand-new changes.
Prof Lawrence Young, of Warwick Medical School, said: "This new variant is very worrying. It is the most heavily mutated version we have seen to date.
"This variant carries some changes we've seen previously in other variants but never all together in one virus. It also has novel mutations that we've not seen before.
"Some of the mutations that are similar to changes we've seen in other variants of concern are associated with enhanced transmissibility and with partial resistance to immunity.
"We need laboratory studies to determine whether the antibodies induced by current vaccines are able to block infection with this variant."
Today, another case of the super-strain was identified in the UK – bringing the total to three.
The person tested positive after travelling to Britain from southern Africa where the variant originated.
The individual is no longer in the UK, but the UK Health Security Agency (UKHSA) is carrying out urgent testing in areas they visited when they were likely to have been infectious.
This includes Westminster in central London, officials said.
Two of the original symptoms do not apply to Omicron: loss of smell/taste and breathing problems.
Reaction to restrictions
It is unclear how many people in England will comply with the face covering rules.
Richard Walker, the managing director of the Iceland supermarket chain, said that his staff will not be policing face coverings in their shops. Good man. Co-op have said the same thing with regard to their stores. Excellent news.
Saturday night's GB News commentators had much to say about the return of restrictions.
Mark Dolan said that we comply with restrictions, believing they will end, but, in fact, our compliance only makes them easier to reinstate at the whim of government. He says that Boris wants to be seen to be doing something and is invoking politics rather than science:
Neil Oliver had much more to say, noting: 'With that fear on the wane it was plainly time to cast another spell'. It's an excellent editorial worth reading and sharing:
Oliver says that science and freedom have been consigned to the dustbin over the past 19 months. Excerpts follow:
… Let me put it this way – for a while there, those scientists given the spotlight and the microphone had a good go at driving a single narrative. It almost, almost made sense for a while, in a twisted, not quite right, something funny going on there, sort of a way. Not anymore, though. Now the cracks are starting to show, the wheels coming off the state-sponsored wagon.
I've said all along that this would prove, when all was said and done, to be a tragic lesson in the hubris of some humans – the sort that wear white coats, or that like to give press conferences – which is to say overconfidence from those that said they had all the answers and that everyone else should just shut up and do what they're told. As the months go by, hubris seems more and more like the explanation for so much that has gone awry.
But enough about the virus – whatever it is, wherever it came from and whatever it's doing right now while I speak. Tragically, this process of unlearning science, forgetting, replacing true with false, did not begin with Covid-19. Strange to say, Covid is just a symptom of something much more dangerous – and that is the deliberate dismantling of so much that our ancestors learned and built and handed on to us, in trust. It enabled an acceleration of something we really should have been aware of for years – the taking apart of so much of the world of science and reason and enlightenment, by those who might have been expected and trusted to be its inheritors. Over the last few months, in their efforts to craft a narrative with the power to dupe the unwary, governments, scientists, academics and others have, at best, lost their way, and at worst they have knowingly vacated, walked away from the vast cathedral that has been the home of history, science, culture, beauty, indeed all that is good and worth preserving.
In their hell for leather scramble to grab and then secure powers previously undreamed of, our leaders and their advisors have turned their backs on decades, centuries in fact, of wisdom carefully acquired by the ancestors. Some of those that went before them – in the age of reason, the age of enlightenment – laid the foundations for the civilisation with which we have been blessed.
Those that came after built upon the foundations, carefully and painstakingly furthering our understanding of the world, and of our own species.
They learned many things – the ancestors – by observation, by careful development and application of the scientific method …
All of this learning and wisdom was raised up like a cathedral, or the grandest colosseum. But cathedrals and colosseums depend upon solid foundations. When the power of Rome waned, their great structures fell into disuse. The barbarians, for the most part hardly knew what to make of them, those towering edifices, and so ignored them as they fell into decline – amphitheatres, great bridges, viaducts, aqueducts, entire cities.
It is up to those of us who care to conserve and to maintain the wonders raised by our ancestors, to re-occupy the space made of reason and enlightenment and left vacant by those who have, on account of wishing to push a new ideology that mocks and seeks to undo the past, wandered away into the wilderness of the social justice warriors, of the so-called woke. They have turned their backs on so much that was learned after great effort and often at great cost. That grand and lofty space, that cathedral of our culture and our civilisation, is still there, at least for now, but it requires constant maintenance, and love. Those of us who care should go about the business of looking after the old place. Only then might we continue to benefit from the shelter it has long provided from the cold, confusing world outside.

The full two-hour long show is on YouTube:
The first 45 minutes are devoted to Oliver's editorial and a discussion about Omicron, coronavirus and the vanishing of civil liberties.
The next hour is reminiscent of the classic Oliver from his Coast days on the BBC. There is a new Yorkshire Atlantis, a coastal city that was washed away in a tidal storm in 1362. Sonar images have recently been done and more investigation will take place in the months to come. A number of the structures still exist, so this will be a fascinating discovery.
Another story concerns a farmer in Rutland who discovered a large Roman floor mosaic of the Greek legend, The Iliad, a rather rare cross-cultural find. Archaeologists have uncovered most of it, which is in a field.
From this, one can understand Neil Oliver's respect of our history and our past.
Let's not allow politicians and scientists to obliterate it or our freedoms for the sake of a virus that has a 99.9% recovery rate for the most part, even in the unvaccinated.
Yesterday's post introduced COP26, to be held in Glasgow for two weeks, starting this coming Sunday.
Today's post looks at what British pundits think of the conference.
The British have had no end of preaching from Parliament on climate change. We have been told that we must scrap our gas boilers for inefficient heat pumps. We need to take fewer holidays, especially by air. We must stop eating so much meat. Schoolchildren are suffering from 'eco-anxiety', a word just added to one dictionary published in the UK.
The cost of all this 'greenery' leaves us with more anxiety. As with coronavirus, the cure is worse than the disease (emphases mine):
This week, Johnson unveiled his Net Zero strategy to turn Britain green by 2050 – but was warned by the Treasury that taxes and consumer costs could rise to cover the estimated £1trillion bill.
Meanwhile, our elites are flying around everywhere, Prime Minister Boris Johnson among them.
On October 24, the Mail on Sunday examined Boris's trips by air during May's local election campaign in England. Of course, as Prime Minister, his time is precious. However, to tell the rest of us that we have to watch our use of planes for annual holidays is simply hypocritical:
Boris Johnson has been accused of hypocrisy after it emerged he pumped out 21 tonnes of CO2 in just two weeks flying on his billionaire friend's private jet while lecturing about climate change.
The prime minister travelled more than 1,200 miles on JCB tycoon Lord Bamford's jet in the fortnight leading up to May's local elections.
At least two more journeys were made in the businessman's helicopter, according to The Sunday Mirror.
If he had travelled by train, Johnson would have used up a fraction of the CO2, while a car would take a year to produce the same emissions as the £47million Gulfstream jet spews out in just one hour.
It comes as the prime minister prepares to welcome global leaders to Glasgow for the Cop26 climate summit.
Last month, he called on his UN counterparts to 'blow out the candles of a world on fire' and tackle climate change together in a powerful speech in New York.
Greenpeace's chief scientist Dr Doug Parr said: 'Prime Ministerial actions have consequences far beyond those of any Hollywood star or royal, and Prime Ministerial hypocrisy is deeply corrosive of public trust.'
The flights on the Gulfstream G650 jet would have released around 21.2 tonnes of CO2, the third of a person's annual emissions …
To offset those journeys alone, 130 trees would have to be planted.
On the polling day for the local elections, Johnson appeared virtually at Germany's Petersberg Climate Dialogue where he urged leaders to propose more than 'hot air' to help prevent climate change.
He said: 'I'll be seeking commitments from the G7 members to use their voices and their votes, wherever and whenever possible to support the transition to net zero (carbon emissions), kickstart a green industrial revolution, and build economies that withstand whatever our changing climate throws at us.'
But the day after he stepped on to a private helicopter to open a Coventry school then boarded a private jet to the North East after the by-election win in Hartlepool.
Speaking of flights and climate change, the Mail's Dan Hodges had more that day on COP26:
The whole purpose of COP26 was meant to promote global environmental sustainability.
Instead, it is being turned into a catwalk for the green showboating of the global elite.
Or, in the case of Japan, showplaneing. Last week it emerged that a specially configured Boeing 777 had been flown 6,000 miles (without passengers) solely to see whether the pilots would prefer to use Prestwick or Edinburgh airports when the official Japanese delegation arrives.
It's also been announced that when the runway of choice has been chosen, special measures will be put in place to ensure arriving dignitaries can be whisked speedily to their destinations.
How nice for them!
It's less nice for commuters in and around Glasgow:
Unfortunately, COP26 has become so bloated that nearby roads will become gridlocked, so leaders will be ferried to their hotels along the Clyde Expressway, which has been turned into a VIP lane.
In addition to rail workers going on strike during the conference, bus workers are also expected to do the same:
The Unite union, with a commendable eye to the main chance, has announced that more than 1,300 bus workers will use the conference to go on strike over pay.
Dan Hodges thinks that Boris should cancel COP26, because a) the timing isn't right with coronavirus and b) it's too hypocritical:
Pressing ahead with COP26 while the globe is still struggling to contain Covid is the equivalent of forcing someone back into a burning building to carry on removing the asbestos.
Yes, the threat from global warming represents a real and present danger. But this morning, Covid and its economic impact are a more imperative one.
In order to tackle environmental challenges, people are going to be asked to make significant sacrifices.
And that will involve politicians – and the burgeoning green lobby and their sponsors – taking public opinion with them.
But instead of showing families that they have a plan for saving their planet, our leaders again seem intent on giving the impression they reside on an entirely different one.
COP26 is about to replace Davos as the event that most gratuitously frames the arrogance, hypocrisy and entitlement of the global ruling class.
Their gigantic jets will descend upon Prestwick.
And they will alight and tell us how we each need to reduce our global environmental footprint.
Their motorcades will speed along their exclusive expressway.
And they will get out, then inform us we have to do our bit by walking our kids to school. They will assemble for their plush banquet.
And after dessert and coffee, they'll retire to put the finishing touches to speeches that lecture us about eating sustainably.
Worst of all, they think no one will notice their green doublespeak.
That this grotesque 'do as I say, not as I do' grandstanding will pass everyone by amid a kaleidoscope of polar bears, Greta Thunberg and homilies about our grandchildren.
Which might actually be the optimum outcome.
As for us plebs on the sidelines:
… those concerned about where the next booster jab is coming from, or how they will cope with soaring fuel prices, will blink and miss this UN imitation of The Fyre Festival.
Because if they don't, those same people aren't going to be happy.
As I've written before, a dangerous disconnect is opening up.
Between those who believe that everyone has bought into their liberal, environmental consensus and those who want a recognition that we live in a complex world of competing priorities, not all of which revolve around the level of carbon emissions in 2050.
Neil Oliver, of the popular programme Coast and current host of a GB News weekend show, wrote a column for The Times last Sunday from the average Briton's point of view, especially during the coronavirus crisis. Scotland, incidentally, recently brought in vaccine passports:
Assorted world leaders together with thousands of hangers-on are coming to Glasgow to talk about how us proles have managed to set fire to planet Earth. Things are so bad here on the third rock from the sun that it will be nothing less than miraculous if anything other than a cinder is orbiting our star by the time they turn up, in their private jets and chauffeured cars, for two weeks of po-faced pontificating at the SECC.
That the Covid restrictions afflicting everyone else's life will be relaxed for the blow-ins should come as no surprise to anyone who's been paying any attention at all for the better part of the past two years. They won't need vaccine passports, for they are special while we are most certainly not. They have world-saving business to attend to while we have only lives to lead and more CO2-exhaling, dwindling food supply eating, resource-consuming weans to knock out from our overproductive loins.
A fleet of electric Jaguar Land Rover cars are at the disposal of the very best of them. It seems a day trip to Gleneagles may be on the agenda, but apparently limited charging ports at the luxury hotel and spa mean that generators dependent on the burning of old chip pan oil are to be sourced from elsewhere — on hand to top up the batteries and avoid any unwarranted delays for the panjandrums.
That all of the business of Cop26 could have been conducted via planet-sparing video calls will be apparent to anyone who has endured countless of same during the past months. Not one of the heads of state, far less any of the delegates, actually needs to move from his or her home office. All of the fossil fuel required for their journeys to Scotland might have remained unburnt, the atmosphere spared the release of all that carbon dioxide.
But no, as has so often been the case in recent, revelatory months, some animals' business is infinitely more important than that of others. Scum like us can remain at home and talk into computer screens, but those that matter really do have to travel for hundreds of thousands of collective miles so they might enjoy one another's company and thereby get so much more done.
Oliver then moves on to heat pumps, which are ruinously expensive for most people and do not work when the temperature falls below 4°C:
They don't work, they are ruinously expensive to install, require wholesale remodelling of houses — if not demolition and rebuilding from scratch — cost arms and legs to run, and deliver lukewarm water for tepid radiators and cold showers.
Boris and Carrie Antoinette in No 10 are presumed to think that heat pumps are absolutely the way ahead. Since we are the great unwashed after all and, as previously noted, it's already way too late for the likes of us to start showering anyway.
I am yet to read about our capo di tutti i capi and her husband revealing any imminent plans to lead by example and install, at their own expense, heat pumps of their own, but I freely admit that I do miss some headlines here and there.
There are so many excellent replies to the following tweet, that it's worth clicking on it and reading them. Here's one that mentions another bugbear of mine, meat eating:
I will be delighted when COP26 is over. I do not live anywhere near Glasgow but am eager to see a stop to this parliamentary pontificating over changing our behaviours to accommodate what might or might not be an improvement in climate.
All of these measures are a tax on the poor and middle class people.
Freedom Day did go ahead on Monday, July 19, in England.
Prime Minister Boris Johnson, along with Chancellor Rishi Sunak and Health Secretary Sajid Javid, was told at the weekend to self-isolate. Boris went to Chequers and broadcast from there.
At 5 p.m., Boris gave a remote coronavirus briefing while Prof Jonathan Van-Tam and Sir Patrick Vallance were in the Downing Street press conference room.
Nightclubs
It looks as if Covid passports are coming in September for nightclubs and music venues.
As Dan Wootton said on GB News, Freedom Day will be remembered as the day when the Government took more of our freedoms away:
Note that tweet about the Formula One Grand Prix at Silverstone: no vaccine cards accepted, only the NHS app. No smart phone, no entry. That, to me, is also wrong. The Government should not force people to have smart phones.
GB News took a poll on vaccine passports. They had omitted their earlier question on dictatorship:
Reporter Ellie Costello returned to her favourite nightclub, Faces in Essex. She had a ball. She pulled an all-nighter as she gave this update to the GB News breakfast show. She interviewed the owner of Faces who said he was concerned about his obligation to check vaccine passports in future and the possibility they could be faked:
I hope there are enough Conservative MPs to put pressure on Boris not to go down this route:
Travel
Journalist Isabel Oakeshott spoke to Wootton about the draconian self-isolation one has to go when returning from a nearby country such as France, which is on the Amber list. During that 10-day period, one is not allowed to leave one's house — at all. Police or a third party representative of the Government can go to a person's home to make sure he is there:
Supermarkets
Yesterday, on Freedom Day, I did a recce of my high street. Mask wearing was 50/50.
I did not wear a face covering.
I won't be going to the supermarket until later in the week, so cannot speak to that for now.
However, Guido Fawkes's readers compared notes on what their Freedom Day experience was like.
One wrote:
… let me report the depressing experience of shopping in Morrisons this morning. Less than 1% unmasked amongst the customers (2 apart from me). Plenty of staff unmasked, though, behind the checkouts. And I could see they were happy, as their smiling faces were visible.
Another Morrisons shopper said (emphasis mine):
I was also in a Morrisons this morning, ignoring the pleas over the tannoy to 'Be kind and show [you] care'. I decided to be kind to myself and abandon the mask. At first I couldn't see anyone else unmasked, but finally in the milk aisle there was a guy coming the other way, also unmasked. We smiled at each other and nodded like we had just completed a Freemasonry ritual, and went on our way. I wasn't challenged and no-one seemed to care, not that I care what they think anyway.
A Tesco shopper wrote in:
I've just done my start-of-the-week shop at Tesco: normal crowd levels. Most people are still doing their cleaning routines at the entrance. About 75%, including all at the check-outs, remain masked-up. The other 25% were mainly the twenty-somethings with no fear of Covid, either short or long …
And, finally, there was a report about Sainsbury's:
Moving goalposts
Presenter Neil Oliver (the bearded gentleman in the video below) appeared on Wootton's show to say that the Government is controlling the people, when, in fact, this is our country, not theirs.
Wootton pointed out that the Government is continually moving the goalposts in this coronavirus fiasco. Last year, they told us that when we got the vaccines, we would be able to, in Matt Hancock's words, 'Cry Freedom!' Now that we have the vaccines and a majority of the adult population has had the 'jabs', we're still not out of the woods:
In fact, we have less freedom now than we did a year ago.
Yesterday was Father's Day. I hope that all dads reading had a good day with their children, communicating in some sort of significant way, either in person or by phone.
As ours is a childless household, I was interested to follow coverage of the day on GB News.
Alastair Stewart
Alastair Stewart got a pleasant surprise on his afternoon show, as his daughter, a headmistress, rang in with her good wishes and thanks on behalf of herself and her siblings as well as Mrs Stewart:
Stewart said that he has good relationships with all of his children, but that he and they relate to each other in a very individualised way, making fatherhood that much more special.
He said that he was taken aback that his daughter rang in to the show, at the suggestion of the production team. He wiped away a little tear after the call ended.
Neil Oliver
Archaeologist and television presenter Neil Oliver, also a member of the GB News team, appeared in the studio on Stewart's show and the one that followed, where Father's Day was the main topic.
Riding lessons for a young daughter
Oliver told Stewart that some children have an instinctive attraction to loving certain animals. He told Stewart how his daughter wanted riding lessons because she loved horses. Oliver and his wife thought the girl was too young. One day when the three of them were out, the girl saw horses in a field and spontaneously ran towards them. Oliver and his wife were worried for her safety, but the horses lowered their heads as she approached so that she could hug them. Riding lessons followed shortly afterwards.
His daughter will be entering Edinburgh University this autumn.
The awe of holding a newborn
On the show that followed Alastair Stewart's, Oliver said that holding his children as newborns was one of the most awe-inspiring experiences he could have. He said that holding his tiny babies turned him to jelly. He said that he felt as if his ribcage were floating around in his body, it was such a tremendous experience.
Celebrating together
As Oliver was in London in the studio and his children at home in Scotland, he told them they could celebrate Father's Day together once he returned to Stirling.
He said that he enjoys all the days that most of us regard as greeting card holidays, saying that any day that brings families closer together is worth celebrating.
Proudest accomplishments
Oliver said that his proudest accomplishments in life are being a husband and a father.
He said he knew from a young age that he wanted a wife and children. They make his life complete.
—————————–
I did search on Twitter to see if GB News had posted any of these clips. Alas, no.
Furthermore, Neil Oliver no longer has a Twitter feed.
He deleted his Twitter account in 2016, after harassment from people who want Scottish independence. The Express carried the story in August that year (emphases mine):
The archaeologist, writer and broadcaster, who presents BBC's Coast, said he was forced off social media by the so-called cybernats, disappointing his 40,000 followers.
Mr Oliver says he became a target for abuse and received scores of hate-filled messages after deciding to speak out in favour of the Union.
The Renfrewshire-born broadcaster said: "A great chunk of the response was not just negative but very personal and filled with bile and vicious loathing.
"People made it clear they wished the worst for me. They wished that I would develop cancer and said I deserved to be burnt as a traitor. It was one or two positive comments accompanied by hundreds of hate-fuelled messages" …
"I realised that by having a Twitter identity I had opened a door into my personal life in which strangers could pass at will. The minute I deactivated my account I felt like I had brought my head out of deep water and could breathe easily. It was an almost instantaneous fix."
Mr Oliver said that he was now worried about his three young children being targeted.
In an earlier article from January 2016, Oliver revealed his favourite personal photo to The Express, one of him and his wife as students at Glasgow University.
He told the reporter:
This is a picture of me and my wife Trudi at Glasgow University. l graduated with an MA in archaeology in 1988, and this was at Trudi's graduation in 1990. We were together for a long time, then broke up in our twenties.
It was nothing particularly dramatic, but we were apart for eight years and met again by chance in 2002 after I bumped into her brother. It was as if we'd never been apart and we've been together ever since.
Our daughter Evie and sons Archie and Teddy were all present when we married in Solsgirth, Kinross-shire, on October 10, 2009, exactly 23 years after we first met.
We're very similar people from similar backgrounds. We each had a happy and normal working-class childhood. Trudi grew up in Falkirk mostly, and I was raised in Ayr and Dumfries where my family still live. After several years working as an archaeologist, then I became a newspaper journalist – like Trudi.
Oliver is known for his shoulder-length hair, which he has had since he was 15.
He doesn't dare get it cut:
I've basically had the same haircut since I was 15. When I was at university, quite a lot of men were scruffy with long hair, and I fell into that and fossilised. But Trudi was taken with my long hair. She is my number one fan and likes the way I look.
We'd end up in the divorce courts if I got my hair cut short now! But I've always had people telling me I should get it cut. A TV reviewer from The Guardian recently wrote that whenever I appear on screen she wants to scream, "Get your hair cut, laddie!" Any review I get for a TV show always starts with something like "the Scottish archaeologist with the long flowing locks…"
He missed his family when he was away filming his series:
I miss Trudi and the children when I'm away from our home in Stirling. My job is not onerous in any way, and I enjoy it thoroughly, but being away is the hardest part by far. I've missed a lot of birthdays, school concerts… just family time. I try and minimise how long I'm away. When I'm home I do the school run and I go in from time to time to talk about history.
Although I'm away for long chunks of time, the kids have always had their mum with them 24/7. She has the toughest gig, operating as a single mum for half the year. But, when I am home, it's often for periods of about two months.
He wrote books when at home:
I spent five months of the last year writing my first novel Master Of Shadows in the spare bedroom at home. I had previously had eight non-fiction works published, but I was more nervous about the reaction to this.
Now Neil Oliver has a weekly show on GB News. He told Alastair Stewart that this was a career move he had not anticipated but feels that now is the time, because he has much to say about British society today.
He added that doing a show live is much different from doing a television series, where something can be redone, if necessary. He said he is always nervous before filming. He and Stewart agreed that any presenter who isn't nervous beforehand should probably stop broadcasting.
In closing, it was fascinating to hear Oliver's thoughts on fatherhood, especially as his children are teenagers now.
And who doesn't like a good love story?
On Sunday evening, June 13, 2021, Andrew Neil's GB News channel (Freeview 236) launched in the UK.
Andrew Neil has had a long career in broadcast and print journalism, having helped launch Sky News in the UK. He presented political programmes for the BBC for many years and is also chairman of The Spectator.
The satirical magazine Private Eye refers to him as Brillo because of his hair.
The channel began broadcasting at 8 p.m., with a one-hour introduction from Neil laying out the agenda and introducing the viewing audience to its presenters and regional reporters:
Neil was broadcasting from London, rather than his home in the south of France, as he has done during the pandemic for Spectator TV.
My far better half and I watched this and one hour of Dan Wootton's show, which followed at 9 p.m.:
Dan Wootton's show had a few glitches, with guests' online connections dropping and a synch problem between video and audio.
Nonetheless, the channel's first night ratings were good:
Their audience share was treble that of Sky News:
Guido Fawkes posted a summary of the reviews in the press. Incidentally, Guido's Tom Harwood resigned a few months ago to become the Westminster correspondent for GB News.
Guido's post says, in part (emphases in the original):
It's all systems go for GB News. Opening with a one hour mission statement from Chairman Brillo (from a tiny, under-lit set which someone on Twitter described as looking like "the inside of a PlayStation"), the fledging news channel finally started broadcasting at 8pm last night. Inevitably, there were teething problems: dodgy cuts, out of sync audio, odd camera angles etc etc. Dark clothes against a dark set just doesn't work visually. Television is hard.
The aesthetic problems will undoubtedly be ironed out over time. For now, the initial reaction from social media and the punditry went about as you'd expect; Owen Jones tried to dunk on it, the Telegraph gave it four stars. Here's the full round-up:
The Guardian wasted no time in writing it off. No doubt reviewer Stuart Jeffries beamed ear-to-ear as he called it "utterly deadly stuff", and declared he "give[s] it a year" before it's taken off-air. He gave it one star, obviously.
The Times were

more generous

: three stars for a channel which "may yet bite", though marking it down for the obvious technical shortcomings. A running theme amongst most reviews…
The Telegraph's four star review praised its "no sneering" attitude, and that in spite of the glitches, "GB News is already speaking [the] language" of those frustrated by lockdown. They also made the point that opening with Dan Wootton was probably a mistake, given his opening diatribe about lockdown: "What the channel cried out for was the firmest hand on the tiller from the go. If you were unsure about GB News's claims of impartiality, you needed Brazier or McCoy to take your hand on the first night. Wootton will have scared a few nervous horses" …
GB News were pleased to say launch night saw them average 164,400 viewers with Sky News garnering only 57,000 viewers. Can they surpass Sky News regularly?
I hope so. My better half thought it was too amateurish. As Guido says, 'Television is hard', especially on launch night. I will definitely be tuning in when BBC Parliament is showing a rerun.
Speaking of Parliament, Conservative MP David Jones liked it:
The channel also has half-hourly weather forecasts from the Met Office:
A live stream is on their website. Selected videos are posted there and on YouTube.
GB News took well over a year to reach its launch:
Their signature tune came first:
Investors had to be found:
Britons were eager for a news channel that represents their interests:
On January 28, 2021, Dan Wooton left talkRADIO for GB News.
A week later, people were attempting to boycott a channel that hadn't even launched, including Jolyon Maugham, director of the Good Law Project:
This was Andrew Neil's response:
At that time, Neil wrote an article for The Express explaining why he was launching a new channel (emphases mine):
I'm proud to be the chairman of GB News and, as you may have read, I have left the BBC after 25 years to host a nightly programme on the channel.
I'm doing it because I believe the direction of news debate in Britain is increasingly woke and out of touch with the majority of its people.
I believe our national conversation has become too metropolitan, too southern and too middle-class.
Some journalists and commentators seem too confident that their liberal-left assumptions must surely be shared by every sensible person in the land.
But many of those same sensible people are fed up.
They feel left out and unheard.
There's a restlessness, a sense that they're being talked down to; that much of the media no longer reflects their values or shares their concerns.
GB News is aimed squarely at those people.
The Mail's Michael Crick empathised and had a go at Jolyon Maugham:
The channel began attracting broadcasting talent: Sky News's Colin Brazier, Channel 4's Liam Halligan, the BBC's Simon McCoy, conservative commentator Mercy Muroki and Times Radio's Gloria De Piero (also a former Labour MP and presenter on an ITV breakfast show).
By April 27, Rupert Murdoch decided not to launch a similar rival channel, News UK:
At least one journalist is rankled that GB News has overseas funding:
On May 21, Press Gazette revealed more about GB News:
The channel's director of news, John McAndrew, is a 25-year industry veteran who has worked for the BBC, Sky News, ITN and NBC.
Interviewed by Press Gazette three days ahead of the channel's launch, he said: "My view of our channel, and certainly how it's going to be, is that it will be a very warm, inclusive channel where disagreements will be had, tough subjects will absolutely be taken on, but they'll be taken on in a classy and courteous fashion.
"What this won't be is a hate-filled divisive shout-fest that some people seem to have characterised it as, which is 180 degrees away from where we want to be."
Speaking to the FT Future of News conference Neil revealed that GB News plans to launch in other countries after the UK and has been looking at Spain and Eastern Europe. He said: "They will be distinctive news channels for distinctive markets. We still believe news is national."
On May 25, Ryan Bourne from the Cato Institute wrote a column for Conservative Home about the channel:
… it's perfectly within the Ofcom rules to build a news channel that will run different stories or perspectives – and Neil wants to run "good news" stories and shift away from assuming every problem has a government solution. You are allowed to hire, as GB News has, card-carrying conservatives, ex-Labour MPs or people from outside of London with very different assumptions in thinking about what news is important. And, yes, you are free to have colourful presenters with attitude to liven up discussions, provided you still showcase various perspectives.
Why, then, are some on the left so afraid of this pluralism? Maybe they don't accept biases exist on other news channels (Channel 4 News, really?), and so think any stated attempt to counter them is retrogressive. Perhaps they simply fear a politically strengthened conservatism. For others, no doubt, there is a concern that the Government's mooted appointment of Paul Dacre to Ofcom is a precursor to watering down impartiality rules as well.
But given that no such policy has been signalled, and we have not yet seen GB News in action, we must judge them at their word. Neil himself thinks, rightly, that a "British Fox" riding roughshod over Ofcom rules just wouldn't be successful. "Overwhelmingly, Brits value impartiality and accuracy and, during recent years, in fact, the proportion of Brits thinking the BBC and ITV provide an impartial service has fallen." GB News is keen to harness that particular audience, yes. But having spoken to numerous staffers, they are determined to avoid political bias, and to be robust in providing respectful disagreement more broadly too.
The Evening Standard's Insider posted an in-depth article on June 10. Susannah Butter's piece covers a lot of ground, including on the channel's investors.
This seems to have been the initial title (h/t Guido Fawkes reader who posted it):

Susannah Butter interviewed Andrew Neil, who had returned from France and was quarantining:
Neil is speaking to me from quarantine in West London, having recently returned from his house in the Cote d'Azur where he has been for the past year with his wife, Swedish engineer and communications executive Susan Nilsson, 52. They married in 2015 and Neil has 14 godchildren but no children of his own. He is straight-talking if occasionally gently cantankerous, saying he only agreed to speak because I "caught him at a weak moment" – and he wants to get one thing clear: GB News is not the British Fox News. "That is an easy, inaccurate shorthand for what we are trying to do. In terms of format we are like Fox but we won't be like Fox in that they come from a hard right disinformation fake news conspiracy agenda. I have worked too long and hard to build up a journalistic reputation to consider going down that route." There is a "strong editorial charter written into everybody's contracts saying that if they spread fake news and conspiracy theories they will face disciplinary action". Neil's hope is not to destroy the other channels, more to provide variety and raise the bar. "We are in a competitive environment they know that. I suspect [our rival TV channels] will up their game, that's fine, the only winner is the viewer."
This is how the channel began:
GB News was not Neil's idea – the founders are Andrew Cole and Mark Schneider who both come from a business background – but Neil has been wanting to do something like this for a long time …
Cole and Schneider contacted Neil last summer when he was "in the middle of rather, err, meandering negotiations with the BBC". His interview show had been cancelled and Politics Live was taken off air; he has said that "what [the BBC] did was unnecessary and I left with a heavy heart… but what's done is done." By September he was convinced because he "rather liked the idea of being chairman as well as prime time presenter. At The Spectator, my pride and joy, I have a business angle too, as chairman".
Early hires include former Associate Editor of The Sun Dan Wootton and The Apprentice's Michelle Dewberry, who was a vocal Brexit supporter.
Piers Morgan will not be joining the GB News lineup, at least for now:
"It would be nice to have him," says Neil who is in discussions with Morgan about joining and adds diplomatically: "But he's got his own idea of what he is worth and we have a slightly different idea of what he's worth. He is in a lucky situation because ITV are continuing to pay him a tonne of money so he doesn't have to do anything in the short run. I don't think he's going to go anywhere else in the UK. If he has a huge American offer that's a different matter. No one in the UK can compete with that but if he's going to do more UK news TV I hope it will be with us."
The channel will have a regular five-minute feature called 'Woke Watch':
Neil enjoys its alliterative title and says while he is "poking fun", he is seriously concerned about its implications. "Cancel culture is insidious, it stands against everything we have stood for since the enlightenment onwards and that is why it is serious," he says. "The original meaning of woke was somebody who was aware of social justice issues and who can complain about that? But it is not about social justice anymore, it is about conformity of thinking and it exists in many of our elite institutions from NGOs to the National Trust and parts of our media. Of course it is making huge inroads into our places of higher education. It is not the view of the British people but if it is the view of all these elites in favour of it could become very powerful."
… He takes a breath. "Look this is a five minute segment in an hour long show but it will be an important part of the output. Humour is a good weapon especially when you are up against po-faced people who take themselves too seriously."
The channel's output will target those living outside Britain's metropolitan areas:
GB News aims to attract two kinds of viewers, people who already watch the news and "may be a bit unhappy with the existing channels" and people who have stopped watching or don't. "GB News will be more non-metropolitan than existing channels, more provincial which is a good thing. The provincial voice has not been powerful enough in Britain. We are for people who think the existing channels don't quite represent how they see things."
Neil discussed the channel's investors:
Neil says they were overwhelmed with offers of funding but were selective about which ones they accepted. He wants to talk about their leading investor, the Discovery Channel, but money has also come from Sir Paul Marshall, a Brexiteer hedge fund manager and founder of the Right-leaning opinion site UnHerd, and Legatum, a Dubai-based investment firm. Legatum's chairman Christopher Chandler, a New Zealand-born billionaire and international financier, is a partner of Legatum Group, a funder of the separate Legatum Institute, a Mayfair-based think tank which is dedicated to finding "pathways to prosperity" and was one of the most prominent advocates for a hard Brexit.
Neil will only say that he "didn't want any sovereign wealth fund money". "I didn't want stuff from Abu Dhabi or Qatar. I said I'd take Norwegian wealth fund money because I don't think we would be worrying about them but they weren't offering. And I was reluctant to take money from investors who see themselves as the next Rupert Murdoch because I have already had one Rupert Murdoch in my life. That ended 26 years ago and I have never seen him since. At this stage in my life I am not having another one."
Neil, quite rightly, does not understand why people would object to the name GB News:
"I am not sure why calling it GB News would be awkward," he says, responding to those who have objected to the name. "We are British, I am British; I don't think there is any embarrassment in it. Indeed it is the opposite, we are proud to be British. We will be fair and accurate but we won't start out from that default position among the incumbents that whatever Britain does must be useless. That was heightened by the Brexit debate and we don't want to reflect that. We will report all the faults and weaknesses of this country but we also take a certain pride in being British and our successes, the vaccine rollout being one example."
All this patriotism is well and good but doesn't Neil now live mainly in France? "This is my country, just because I don't live here full time anymore doesn't mean I don't care," he says.
Neil's regular one-hour show will also have a segment called 'Media Watch':
"All journalists get things wrong and it is important that we move to put them right quickly and put our hands up and apologise. We have a go at politicians for not admitting their mistakes and then we do the same thing." GB News will not be immune from Media Watch.
The channel will not be featuring a blockbuster interview immediately:
They have actually decided against launching with a big interview, "because then the story becomes the interview and I would much rather the story becomes the channel, we will get to the interview". "Times Radio launched with a big interview with Boris Johnson. We've decided not to go down that route."
Neil is not yet ready to retire:
It all sounds like a lot of work – does Neil ever want to retire? "You are right. Lockdown has made me appreciate the virtues of retirement or at least semi-retirement more than I thought I might. I thought I had one more big gig in me and this is it. If we can make a success of GB News that's when I'll declare victory and go home." I doubt he would disappear though. He says: "I would continue to do the odd bit of TV and writing and I certainly want to keep going with The Spectator. It's quite good at some stage to get to a situation where you can do whatever you want to do from wherever you want to be."
I ask Neil, one of the best interviewers in the business, if I have left anything out? "I think you know more than enough," he says. "Can I go now?"
Although Neil very much enjoyed his 25 years at the BBC and was particularly grateful to the help and support from the staffers there, he has objected to some of the recent programming output. On May 30, The Express reported:
Mr Neil has never shied away from controversy on or off screen during his time at the broadcaster.
Never was this more clear than when he called the BBC out – while working for the broadcaster – for airing a specially crafted version of Horrible Histories, using archive episodes to create a song to mark the day the UK left the EU …
Mr Neil commented: "This is anti-British drivel of a high order.
"Was any of the licence fee used to produce something purely designed to demean us?"
On June 11, Simon McCoy discussed his departure from the BBC and revealed that he voted Leave in the 2016 Brexit referendum. The Telegraph reported:
"People had whiplash by 2 o'clock. Because for three hours it was: 'Oh, he's leaving, the A4 Royal watcher, how sad.' And then, 'The b—–'s going to GB News! What a right-wing gammon.'" He gives a mock sigh. "I was rather enjoying a couple of hours of adulation."
Some valiantly tried to give McCoy the benefit of the doubt, but hang on: "I think it's interesting that people think: 'He's gone to GB News to balance it out because he's a leftie BBC journalist.' I'm certainly not." He's even willing to lay his cards on the table: yes, Simon McCoy voted Leave …
When he talks about Brexit, it's in measured tones. "We're a Brexit country. I do think we need to embrace it and, for all its faults, we've got to make it work."
He joined GB News partly because he fancied the challenge: "I loved the BBC; the job was great, but I just thought, 'Here I am, nearly 60 – do I want to stay here, probably not getting any further? Or do I want to try something new?'"
And he also has a conviction, after 15 years at Sky News and 17 years at the BBC, that those news providers are focusing on the wrong things. "If you watch other bulletins you'll know very much what's happening in Idlib or Tel Aviv or Washington. This is about the UK," he says.
"Rather than obsessing with what's happening abroad, let's just look at what's happening within the UK. While I don't want to sound jingoistic or insular or Little Englander, I think we could all benefit from just knowing about our own country a little more."
Neil Oliver, a Scot who presents television programmes on archaeology, is fiercely pro-Union and a vocal critic of the SNP's First Minister Nicola Sturgeon. He will have his own GB News show. The Express carried the story:
Last month, the BBC's veteran presenter of a string of history shows, Mr Oliver, was announced as having joined the lineup.
The archaeologist and historian has become a central voice in Scottish politics and, like Andrew Neil who he will work alongside, is a fierce critic of Nicola Sturgeon.
He has previously accused the Scottish First Minister of "making a fool of Scotland" and said she had made him "sick to my stomach"…
He talked of history being viewed as the lifetime of a person, and that people today are the children of this person, in this case, the British Isles.
This was vital to understanding how interwoven the devolved nations are, he argued, and explained: "More and more we dare to patronise the place, treat the person like a doddery old soul who cannot cope alone, who might even need to be taken into care.
"To me, the truth is altogether different. This place, these islands have taken care of us since a time beyond the reach of memory. Treated properly, they will continue to do so …
"The story of the British Isles is one every single one of us should know and give thanks for."
On June 2, The Express reported:
The freelance archaeologist will host a new weekly current affairs and interview programme. Mr Oliver's show will focus on "the people from all walks of life who make Britain great", according to the announcement put out by the broadcaster …
Commenting on joining GB News, Mr Oliver said: "My career has always been driven by my fascination with people, whether it's trying to understand ancient people through archaeology or living ones through journalism.
"Debate in this country has been stifled for so long that GB News feels like opening a window and letting some fresh air, fresh perspectives and fresh voices.
"I never imagined my career would take this turn but I'm hugely excited that it has" …

Before the 2014 independence referendum, Mr Oliver stated in an interview with The Herald, that he was "proud of Britain".
He also noted his dislike of the forthcoming referendum, saying he found "this kind of internecine squabbling puts my teeth on edge. I would rather that it would just go away – or that it had never happened".
He went on to say that he "liked the status quo".
As a result of his comments, when he was appointed President of the National Trust for Scotland, thousands signed petitions calling on him to resign.
In December 2020, Mr Oliver reasserted his apparent personal opposition to Scottish independence, describing the uncertainty caused by the prospect of a second referendum as a "cancerous presence".
Neil Oliver appeared on Sunday:
On the launch day of GB News, The Express reported that a spokesman for the channel alleged that the BBC was trying to restrict their access to news footage:
Britain's public service broadcaster was attempting to "ambush" and "damage" Sunday's launch of the right-leaning television channel, a spokesperson for GB News has claimed. A GB News spokesman said: "This is an ambush by the BBC designed to damage the launch of GB News. It is an attempt to protect their dominance of UK news broadcasting.
"We will fight it.
"And our launch continues."
This has happened before when the Press Association said in 2010 it was unable to access footage from "single-camera assignments" that were categorised as coming under the ownership of the UK Broadcast Pool.
The UK Broadcast Pool comprises the BBC, Sky News and ITN.
The launch was successful.
True to their pledge, GB News is focusing on what matters to Britons, such as this lady from Birmingham:
In closing, Tom Harwood says that GB News are aware of enhancements that need to be made, including the addition of a live stream on YouTube:
I'm thrilled to bits for GB News and do intend to become a regular viewer.