You are currently browsing the tag archive for the 'Nevada' tag.
On Monday, December 14, while the London area worried about moving into severe coronavirus tiers on Wednesday, electors from the 50 US states voted for the next leader of the free world.
Joe Biden won the Electoral College vote 306-232 with no faithless electors, however, the vote still has to be ratified on January 6, 2021, by the new Congress.
Biden gave an acceptance speech, riffing Margaret Thatcher's of many years ago which featured the Prayer of St Francis:
Guido Fawkes reported that Senate Majority Leader Mitch McConnell (R-Kentucky) acknowledged Biden's December 14 win:
Our country has officially a President-elect & a Vice President-elect… The Electoral College has spoken… Today, I want to congratulate President-elect Joe Biden.
Newsmax, the new network for disgruntled Fox News viewers, will now refer to the Democrat as President-elect Biden, even though reporters and presenters will continue to cover Team Trump's election battles.
It will be interesting to see what happens on January 6:
That is what the Trump supporters' Stop the Steal coalition hopes will happen. They said as much in their press conference after the electors voted and Mitch McConnell announced his congratulations to Biden and Harris:
McConnell doesn't want any Republicans countering the Electoral College result:
However, Rep. Mo Brooks (R-Alabama) is ready:
Brooks explained his position as follows:
I'm quite confident that if we only counted lawful votes cast by eligible American citizens, Donald Trump won the Electoral College, and we should not be counting illegal votes and putting in an illegitimate President of the United States.
President Trump is not wrong:
Would Mike Pence be ready to defend the Republic on January 6? He has that power, if he chooses to use it:
But, let's go back to Monday. A lot happened.
Earlier that day …
President Trump's adviser and speech writer Stephen Miller (with the dark tie below) spoke about an 'alternative slate' of electors:
Miller probably meant this:
I do not know if this would work or not, but former New York City police commissioner Bernard Kerik says:
The New York Times has a map that shows the result from each state.
In Nevada, Georgia and Pennsylvania, the electors' votes went to Biden.
However, Right Side Broadcasting (RSBN) showed a different result for Nevada:
Gateway Pundit reported that Georgia and Pennsylvania — much larger votes — also voted for the incumbent (emphases mine):
Electors in Georgia and Pennsylvania also cast procedural ballots for Trump while the states continue to be contested.
Procedural ballots are cast in states where the result is contested.
Yet, as I mentioned above, the NYT map shows that Biden won those states.
Trouble for Michigan's Republican electors
Meanwhile, appointed Republican — GOP — electors in Michigan were not allowed to vote. They could not even get in the building.
Gateway Pundit reported and included tweets:
A group of GOP electors on Monday arrived at the Michigan State Capitol to cast their votes for President Trump …
The police would not allow the Republicans in:
'The electors are already here, they've been checked in,' the police said as they blocked access to the Capitol.
The police told the Republican electors:
If you have a problem, you can contact the Governor's office.
Gateway Pundit stated that a Trump elector asked for the Sergeant at Arms. The police replied that he was in a meeting.
With that, the police directed the electors to Governor Gretchen Whitmer's office. She's a Democrat, by the way:
The Republican electors explained that they wanted to vote because Michigan's result is in dispute and under investigation (see below):
Meanwhile — Michigan: audit of Antrim County voting equipment
However, other big news took place in Michigan that day. A state judge, Kevin J Elsenheimer, ordered the release of the results of the December 4 audit of Dominion voting machines in Antrim County. (If you've ever visited Traverse City, famed for its annual Cherry Festival held in July, you've been in Antrim County.)
This is a big victory for Team Trump. As The Election Wizard explains:
The results had been shielded by a protective order, but this morning, Judge Elsensheimer removed that order, clearing the way for the audit results to go public.
The judge further ordered that the case move to the discovery phase and mentioned the case could go to trial by April of 2021.
The hearing was conducted by ZOOM and streamed live on YouTube this morning.
The release of the report is a major victory for President Trump and his supporters, who have called into question the Dominion machines.
However, the journey from December 4 to the 14th was an uneasy one for Constitutional Attorney Matthew DePerno of the DePerno Law Firm, who represented William Bailey, a member of the team who audited the county's voting equipment.
Gateway Pundit reported that Bailey and his team looked at everything:
the 16 Dominion voting machines, tabulators, thumb drives, related software and the Clerk's 'master tabulator' used in the November elections in Antrim County, MI.
The audit — inspection — resulted in a 'collection' and took eight hours:
With 16 CF cards (similar to SIM cards), 16 thumb drives, and forensic images of the Dominion voting machines in hand, the IT team was escorted to the local Antrim County Airport by two Antrim County Sheriff vehicles, where they boarded their jet plane with evidence in hand.
On the morning of December 5 — the following day — Matthew DePerno received a worrying phone call about a previous legal case about which he'd never had a complaint:
Mr. DePerno received a call from the MI State Bar warning him that they have opened an investigation into a case he tried over a year ago in Lapeer, MI.
In case anyone wonders if Lapeer is near Antrim County, it is in the opposite direction: south east central. Antrim County is in the north west.
The caller told DePerno that the State Bar of Michigan had requested 6,000 pages of documents related to the case that had never had a single complaint filed about it. DePerno told Gateway Pundit that the call might have been 'an act of intimidation' on the part of Michigan's Attorney General, Dana Nessel.
On December 9, DePerno and his client William Bailey awaited the forensic results from the election equipment inspection. While they awaited the outcome, DePerno discovered that he was named in a legal motion regarding Antrim County. It was a protection order filed by AG Dana Nessel to prevent the results of the investigation being made public.
The following day, DePerno filed an emergency order with the aforementioned state judge, Kevin J Elsenheimer, to lift the protection order, which the judge granted on Monday, December 14.
What an ordeal.
Here's a tweet with a summary of the findings:
Also, on the same topic:
One can only hope that Team Trump can use this information in their legal pursuits.
Georgia Dems gear up for January state run-off
Democrats in Georgia are gearing up for the state senate run-off in early January 2021.
On December 14, Newsmax reported that failed gubernatorial candidate Stacey Abrams was ready:
Former Georgia gubernatorial candidate Stacey Abrams, now the founder of the voting rights organization Fair Fight, said that Democrats are prepared to win the Senate runoff race in January, and that 1.2 million absentee ballots have already been requested.  
"We know from the numbers that we're in a good place; 1.2 million absentee ballots have been requested thus far," Abrams told CNN's Jake Tapper on "State of the Union." "Just to put that into context, 1.3 million were requested for all of the general election."
It is so sad that the United States has sunk this low. I never would have expected it.
Ongoing violence has its part to play
Political violence has been part of America's urban life since the summer. Granted, it hasn't been taking place everywhere, but it's been endemic in Portland, Oregon, and Seattle, Washington. Other sporadic outbursts of violence have occurred in other American cities, including Washington, DC, and towns, such as Kenosha, Wisconsin.
A former Democrat, who is a retired lawyer, commented on this year's violence on a website for ex-Dems, ex-Hillary supporters. While I disagree with most of it, the first two lines reminded me of what the Bolsheviks must have thought a little over a century ago:
For violence solves nothing, so they say.
But it does change the status quo, in ways words never can…
Think about that, then consider one possibility why the Supreme Court might not want anything to do with defending President Trump. This tweet comes from someone who seems to have an inside track on the election:
However, there is no need to be as senior as a Supreme Court Justice to receive threats:
Therefore, it seemed almost natural that the election would have gone to Joe Biden, because those committing the violence are like so many neighbourhood bullies. Sadly, they are much more serious.
Conclusion
For nearly a century, there has been a saying in Europe:
When America sneezes, the rest of the world catches a cold.
Good grief, please keep this corruption away from our shores. Thank goodness we have handwritten paper ballots and far fewer mail-in ballots.
Millions of us support President Trump even if we are thousands of miles away.
Just to keep everyone updated: President Donald Trump has not conceded.
On Friday, December 4, Sean Hannity spoke with former New York City mayor Rudy 'America's Mayor' Giuliani about vote discrepancies in the contested states, beginning with Nevada:
Giuliani said that when someone brings a civil lawsuit, the judge assumes that the allegations are 'true and correct', yet 'the judge' — US state unspecified — 'did just the opposite' (emphases mine):
Now, we can get it reversed but he's accomplished what he wants to accomplish.
He's delayed things, and, I'm sorry to say, he's a Democrat. And you can't tell me he's made this decision based his on legal knowledge unless he really didn't go to law school.
On a motion to dismiss, you have to assume that every allegation we make is true, and then say it doesn't violate the law.
Later on, you get to make a motion for summary judgement … we get a chance for a hearing.
The reason I went to the state legislatures, Sean, is because I saw what the courts were doing, and I wanted to go around them …
The Georgia court wouldn't have allowed those courts to put those witnesses up. The legislature did. In Michigan, the same thing.
We had two Democrat judges and they weren't allowing us to put witnesses up. But, I was able to get some of the witnesses up there because I went to the legislature.
Now, the simple fact is, we don't need courts.
The United States Constitution gives sole power to the state legislatures to decide presidential elections.
In fact, if we go back to the Founding Fathers, they would tell us that we're making a mistake.
This should be thrown right back to the House of Representatives and to the Senate — in each state — and they should hold hearings, they should make factual determinations, and they should decide what the right voter count is.
President Trump sounded off against Governor Kemp of Georgia:
Giuliani had a photo of the suitcases full of ballots in Georgia; I posted a video on Friday:
In Wisconsin, the state's supreme court threw out a Trump lawsuit: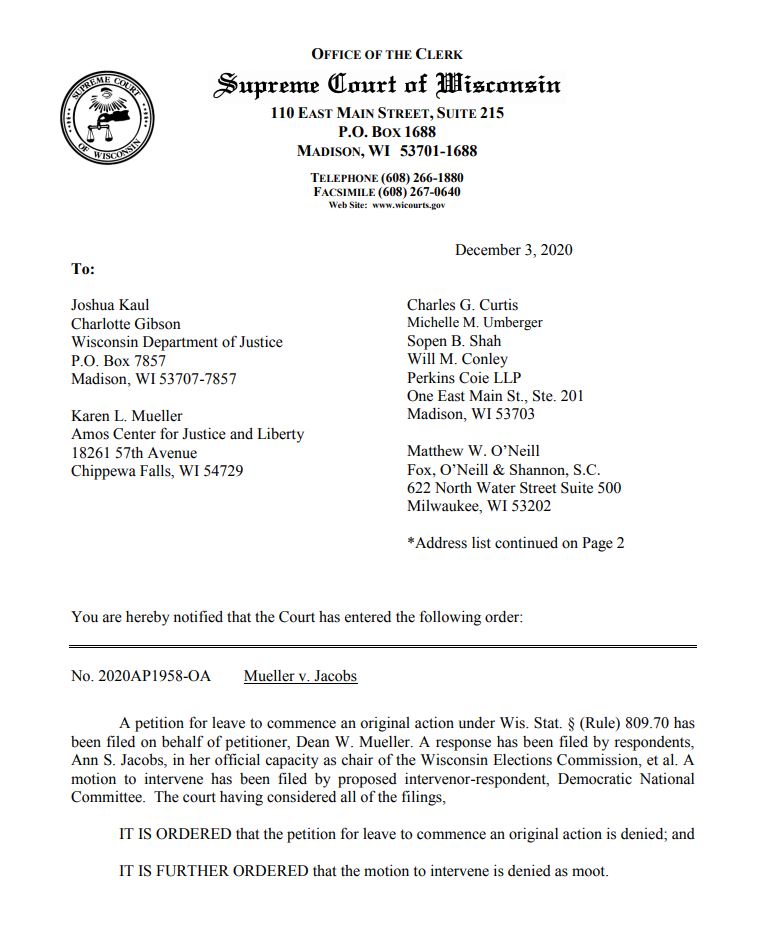 On Friday, December 4, the Daily Mail reported:
A divided Wisconsin Supreme Court on Thursday refused to hear President Donald Trump's lawsuit attempting to overturn his loss to Democrat Joe Biden in the battleground state, sidestepping a decision on the merits of the claims and instead ruling that the case must first wind its way through lower courts.
In another blow to Trump, two dissenting conservative justices questioned whether disqualifying more than 221,000 ballots as Trump wanted would be the proper remedy to the errors he alleged.
The defeat on a 4-3 ruling was the latest in a string of losses for Trump's post-election lawsuits. Judges in multiple battleground states have rejected his claims of fraud or irregularities.
Trump asked the Wisconsin Supreme Court to disqualify more than 221,000 ballots in the state's two biggest Democratic counties, alleging irregularities in the way absentee ballots were administered. His lawsuit echoed claims that were earlier rejected by election officials in those counties during a recount that barely affected Biden's winning margin of about 20,700 votes.
Trump's attorney Jim Troupis said he would immediately file the case in circuit court and expected to be back before the Supreme Court 'very soon.'
However, a hearing will take place in Wisconsin on December 11.
The Gateway Pundit reported:
Wisconsin Republicans will convene a public hearing on the 2020 election irregularities on December 11th. 'Mil' below is Milwaukee County:
Who would have ever thought voter fraud could take place in the land of touristy 'Food, Cheese, Gifts' (a ginormous sign I saw in my youth on trips to Wisconsin)?
Meanwhile, in Arizona, the state's Speaker of the House declined requests to overturn the certification of the vote count. In short:
It's so much easier to do nothing at all. However, doing nothing at all against the Democrats will have severe repercussions for the Great Republic:
It gets worse. Gateway Pundit continues to produce evidence that C h i n a was printing bogus ballots for the election. They have been following this story since November 28.
On December 5, they reported about a video, which has been properly translated into English (emphases in the original):
In the video a caller is heard requesting a bulk order of ballots to ship to the United States.
Here is the video with the translation.
FYI- Our Mandarin speaker confirmed the translation is accurate.
The order was reportedly for 5 million votes.
Two readers noticed that at the 0.54 second mark you can see "Charlotte County Florida" on the ballots …
Here are templates of the Mississippi counterfeit ballots printed in China.
Gateway Pundit have been talking to a former insider, Vinness A. Ollervides, the source for their information:
Here is the video:
On Saturday, President Trump held a successful afternoon rally in Valdosta, Georgia, for the Republican candidates in the state's run-off election early in January 2021. You can read more about it here. The candidates spoke briefly, while the audience voiced their support for the president with cries of 'Fight for Trump':
Elsewhere, President Trump's supporters are also fighting for him:
The battle continues, so, as my late grandfather used to say, 'Don't give up the ship!'
The 2020 Nevada caucus took place on Saturday, February 22.
The results were clear for President Trump and Bernie Sanders.
Republican caucus
On Friday, February 21, President Trump ended a whirlwind tour of Western states with a noonday rally in Las Vegas:
Trump's campaign manager Brad Parscale has been tabulating the demographic make-up of those attending the president's 2020 rallies. These were the results for the Nevada rally, attendance at which was not limited to Nevada residents. Out of state Trump supporters also attended:
The next day, the result was overwhelming for the incumbent:
According to these tweets, Parscale will continue to examine and target Nevada's demographics in the run-up to November:
Democrat caucus
Bernie Sanders's victory brought out naysayers on the Left, two of whom suggested that their much-despised — by them — incumbent would be a better choice than the socialist from Vermont. MSNBC's Chris Matthews said, 'Perhaps Trump would be better':
Let's remind ourselves that President Trump is not a natural Republican:
But, I digress.
Sanders's win was declared on Saturday evening, when it was still a projection:
As with the Iowa caucus, final results emerged two days later, because of the same issues that beset the Democrats in Iowa:
Sanders won 40.5% of the final (second round) Nevada caucus votes, with Joe Biden on 18.9% and Pete Buttigieg on 17.3%. Bernie walked away with 24 Nevada delegates, Biden nine and Buttigieg three.
Former Democrat US Senator Harry Reid now thinks the state should have a primary rather than a caucus:
Interestingly, before the caucus, Reid said he would not endorse the winner:
Another interesting development was a drop in the number of minorities taking part:
Is Sanders a viable candidate?
It's hard to say at the moment whether Bernie Sanders is a viable candidate in the long run.
The United States has 47 primaries to follow. (The New Hampshire primary was held after the Iowa caucus.) Super Tuesday, when a number of states will conduct their primaries on March 3, should prove decisive for Democrats who are struggling to secure delegates. One-third of delegates will be in play that day.
Sanders wasted no time after his time in Nevada to push forward his admiration of socialism, namely that of Fidel Castro.
Obama, along with other prominent Democrats, has condemned Sanders's brand of left-wing politics. This is somewhat hypocritical.
Remember this?
Their condemnation comes because Sanders's vision for America is theirs, but, contrary to him, they want to progress more slowly, e.g. according to the boiling frog analogy. They want Americans to sleepwalk into it, by which time it would be too late to extract themselves from it.
Sanders is unlikely to win many delegates in South Carolina (seen to be Biden country) or Florida (resolutely anti-Castro). However, more urban- and university-focussed states could see him continue his success.
As President Trump said on Sunday, February 23:
Well, I think it was a great win for Bernie Sanders. We'll see how it all turns out. They've got a lot of winning to do. I hope they treat him fairly. Frankly, I don't care who I run against. I just hope they treat him fairly. I hope it's not going to be a rigged deal because there's a lot of bad things going on. And I hope it's not going to be one of those. So we'll see what happens.
But I congratulate Bernie Sanders. And if it's going to be him, he certainly has a substantial lead. We'll see what happens.
Indeed. The Democratic National Convention this summer will be telling. Will Sanders be denied once again, as he was in 2016?
Last week, I wrote about Jill Stein's divisive petitions for recounts in Wisconsin, Michigan and Pennsylvania — states which Donald Trump won.
Michigan's Attorney General Bill Schuette tweeted the following information on December 6:
Many of us were surprised no one in authority in Michigan said this in the first place. Stein got approximately 1% of the vote in every state. She never had legal standing.
Anyway:
TRO — temporary restraining order.
And:
An ABC affiliate in Michigan, WLOX, has an excellent summary from the Associated Press of what happened in the Stein recount states, some of which is referred to below.
Wisconsin
As of December 5, 23 of 72 counties have finished their recount. In those counties, Trump gained 105 votes and Hillary Clinton lost 41 votes. Overall, Trump won by approximately 22,000 votes.
On Friday, December 9, a federal judge will hear a lawsuit filed last week by a Trump voter and two super PACs seeking to stop the recount.
Michigan
In addition to the tweets from AG Schuette, Trump won Michigan by approximately 10,700 votes.
This was the state's third recount. The first two caused the delay in Michigan posting the election result for several days.
The Conservative Treehouse (CTH) discusses the difficulty of counting votes in Detroit:
If anyone thought a Michigan ballot recount was going to end up being a net positive for Hillary Clinton, they are intellectually disconnected from understanding the reality of how fraudulent the most democrat precincts are in Wayne County (Detroit) Michigan.
CTH cites an article from the Detroit News that states:
Michigan's largest county voted overwhelmingly for Democratic candidate Hillary Clinton, but officials couldn't reconcile vote totals for 610 of 1,680 precincts during a countywide canvass of vote results late last month.
Most of those are in heavily Democratic Detroit, where the number of ballots in precinct poll books did not match those of voting machine printout reports in 59 percent of precincts, 392 of 662.
According to state law, precincts whose poll books don't match with ballots can't be recounted. If that happens, original election results stand. 
As to who pays for this utter waste of time and resources, although the Republican-majority Michigan legislature just approved a measure requiring candidates who won less than 5% of the vote to pay the cost of the recount, Democrats point out this measure came into play after Stein filed for the recount. They do not think she should have to pay for it. The cost would be in the millions of dollars. Stein has the money. She can pay and she should. That is why she was raising funds on Thanksgiving Day.
Pennsylvania
If Michigan's recount is called off, it looks as if Pennsylvania's would be, too.
So far, Trump's lead there has shrunk by about 20,000 votes. He now leads Clinton by 44,000 votes. The margin is still enough to avoid a recount of the entire state. If such a recount had to proceed, it would probably not be finished in time for the Electoral College vote on December 19.
Pennsylvania law states that one must have concrete evidence that voting irregularity occurred. Stein merely stated that the state's election system is 'a national disgrace'. Well, anyone can say that. The recounts in certain counties went ahead, however, based on petitions from Pennsylvanians about their local districts.
The Billy Penn site reports that little changed in Philadelphia's recount:
The great Philadelphia recount has ended, and Hillary Clinton got five more votes than she had in her previous total …
Donald Trump's number stayed the same, as did the totals for Independent candidate Gary Johnson and the Green Party's Jill Stein after the City Commissioners Office recounted votes in 75 of Philadelphia's more than 1600 voting divisions. The recount had been launched by 250-plus Philadelphia residents answering the call of Stein, who asked for three petitioners in each of Pennsylvania's voting district to file recounts to assist in her attempts to get a statewide recount through a Commonwealth Court and then Federal Court lawsuit.
Stein's camp had planned on using the district-level recounts as possible evidence for hacking or fraud. The recount turned up no instances of fraud or hacking here, City Commissioner Al Schmidt said, emphasizing the difficulty of hacking voting machines that aren't connected to the internet …
The five extra votes for Clinton, he said, came from paper provisional or absentee ballots that were undetected by the optical scanner that counted votes in the days following the election. Schmidt said this can happen when people don't mark their choices clearly on paper ballots or, ridiculous as it sounds, use a green highlighter instead of a pen or pencil …
On Monday, December 5, Stein announced in front of Trump Tower that she was going to file a federal lawsuit for a statewide recount in Pennsylvania. This will be heard on Friday, December 9. The Michigan decision might well have an impact on the result in the Pennsylvania hearing. However, if Stein wins the case, a statewide recount would begin.
Nevada
The Independent candidate Rocky De La Fuente, who finished in Nevada with under 1% of the vote, has paid $14,000 for a partial recount, mostly affecting Las Vegas's 92 precincts. The other eight precincts are elsewhere in the state.
If the total recount shows a 1% discrepancy for De La Fuente or Clinton, a statewide recount goes ahead. The partial recount is expected to be complete by the end of the week.
————————————————————————————
I'll provide a final update when it becomes available.