You are currently browsing the tag archive for the 'New Year's Day' tag.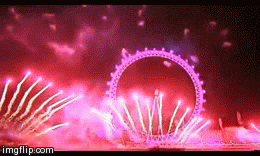 Happy New Year to all my readers!
May 2019 be a year of blessings, comfort, health and prosperity!
On a serious note, traditionally, January 1 is the feast of the Circumcision and Naming of Christ Jesus, about which you can read more below:
January 1 – Feast of the Circumcision of Christ (2010)
New Year's Day: the Circumcision — and Naming — of Christ Jesus
The stained glass window at left, depicting our Lord's circumcision, is probably the only one of its kind in existence. It was originally made in the mid-15th century for the Crutched Friars in Cologne, Germany, and is now displayed in the Cloisters Museum in Manhattan. You can read more about it below:
New Year's greetings — and the Feast of the Circumcision
It is always interesting to contemplate how closely the Holy Family obeyed Jewish laws and traditions. Surely, given that Jesus is Messiah, they did not need to, but they did — because they loved God and they wanted to obey Him.
The greatest sign of obedience was the Crucifixion, the ultimate, all-sufficient sacrifice that Jesus made for our sins.
For all the 'fun' we might be having at this time, may we be always mindful of our all-loving Creator who sent His Only Begotten Son to us to humble Himself as Saviour and Redeemer.
Before exploring the first feast day of the year, I would like to wish all my readers a very happy, healthy and prosperous 2018!
Traditionally, January 1 was a Holy Day of Obligation in the Church and, until recently, that continued in the Roman Catholic Church.
In following from the birth of Christ on Christmas Day, January 1 would have been — in Church calendar terms — the day He was circumcised according to Jewish law, Luke 2:21:
21 And at the end of eight days, when he was circumcised, he was called Jesus, the name given by the angel before he was conceived in the womb.
Over the years, where circumcision was considered taboo, other commemorations have replaced it, such as Solemnity of Mary the Mother of God.
However, a case can certainly be made for retaining a commemoration of the Circumcision, as it was the first time Jesus shed His precious blood, a foretelling of the Crucifixion. These posts explain more. The second one gives evidence that this feast day was also commemorated in the oldest Protestant denominations:
January 1 – Feast of the Circumcision of Christ
New Year's Day: the Circumcision — and Naming — of Christ Jesus
As for the stained glass depiction, I am most grateful to my reader undergroundpewster who sent me two links about it last year:
The Circumcision window is currently in the Cloisters Museum in Manhattan. Originally made in Cologne, Germany ca. 1460–70 for the Kreuzbrüder ("Crutched Friars"). The Cloisters (http://www.metmuseum.org/visit/met-cloisters) is a way for us in the States to view a bit of old Europe without having to get a passport.
Window details at (http://www.ipernity.com/doc/laurieannie/35821507)
The ipernity.com link is a copy of the Cloisters' description, where you can also see a full view of the stained glass window. What I have posted above — the mohel and the Christ Child — is a detail of a larger scene:
A mitred high priest sitting on a throne supports the Christ child on his lap with a draped hand. Two male figures kneel before him. The elder — bald, bearded and dressed in rich robes — holds a knife in his right hand as he initiates the circumcision. His young assistant, graced with golden curls but more modestly attired, holds a broad metalwork charger. The glance and gesture of the Christ child identifies the standing female in a white wimple and robes of blue as his mother, the Virgin, who witnesses the event. The cool palette underscores the solemnity of the rite.
Hmm. I thought that the mohel's assistant was Joseph. Joseph went with Mary to present the Christ Child in the Temple a few weeks later. But who am I to argue with art experts?
The Cloisters acquired the window in 2003. It is likely to be the only one depicting this event.
In closing, I wish you all the very best for the year ahead. May God bless you abundantly.
Sorry to be late to the party with this item, but it was in our two-week Christmas issue of the Radio Times, Britain's foremost television (and radio) guide.
In the 17-30 December 2016 issue, the back page interview was with Prime Minister Theresa May, also the MP for Maidenhead. She answered a variety of questions from reporter Michael Hodges. Excerpts and a summary follow.
On Christmas Day, she and her husband Philip go to church. Afterwards, they meet up with friends for a drink, then it's off to an ecumenical lunch for the elderly, where May takes time to talk with her constituents.
The Mays return home where the Prime Minister roasts a goose for Christmas dinner. They haven't had turkey for several years. Although others consider goose to be extremely fatty, May points out:
if you keep the fat, it makes wonderful roast potatoes for quite a long time thereafter.
Absolutely. We also have goose at Christmas, partly for that reason, and for the unctuous stock from the wings.
May, a practising Anglican, lent the Radio Times a photo of herself as a girl with her late father, the Revd Hubert Brasier. She told Michael Hodges what Christmas past was like:
Throughout my life I have been going to Midnight Mass on Christmas Eve and church on Christmas Day morning. As a child I had to wait until my father had finished his services before I could open my presents.
It felt like a very long wait. Others I knew would be able to open their presents first thing in the morning.
I'm an only child and my mother played the organ. So I would sit alongside her while my father was taking the service.
The interview did not mention that May's parents died within a year of each other. Her father died just as she completed her studies at Oxford and her mother several months later. It can't have been easy for her, especially with no siblings for support:
When you first lose your parents, Christmas is hugely, hugely important. Now I enjoy Christmas with my husband Philip and we keep up the tradition of going to church. But, of course, it does remind me of my parents.
During her childhood, she watched only the BBC, until:
one day, my mother managed to jiggle the aerial and we got ITV and I saw Robin Hood. That music and Richard Greene as Robin Hood really grabbed me.
This is the iconic theme to which May refers:
May's other television favourites included early series of The Avengers with Diana Rigg, then Joanna Lumley, although:
I have never had a female role model — I've always just got on with doing what I am doing.
As an adult, she watched the 'very evocative' Das Boot. These days, she enjoys Scandinavian dramas Borgen and The Bridge. Christmas Day favourites include Doctor Who and David Suchet as Poirot.
She doesn't take recommendations for television viewing:
My advisers don't tell me what to watch on the television — I watch what I want to watch.
May ended the interview by saying she had no idea a year ago that she would be Prime Minister today.
What follows is her four-minute New Year's message. If her father was as eloquent a speaker as his daughter is, he must have been a splendid vicar. May speaks of the change that Brexit will bring this year but also of the unity of the four nations of the United Kingdom and the shared values and experiences that make us one people:
This is very similar to the first speech she gave as Prime Minister outside No. 10.
She and Donald Trump will get on well. Of that, I have no doubt.
Perhaps this is not a coincidence after all. Perhaps the financial calendar we received was printed or edited after November 8, 2016 to include this quote for January 2017:
"As long as you're going to be thinking away, think big."   (Donald Trump)
This photo from Jose Graterol Designs is an example of thinking big. It shows the company's decoration of the Mar-a-Lago ballroom for Trump's New Year's Eve do in Palm Beach.
This tweet shows the bar in the Trump International Hotel — the Old Post Office — in Washington DC. Mr and Mrs Reince Priebus are on the right in the photo.
Priebus later tweeted:
Trump tweeted:
It is encouraging to see God and blessings mentioned again in a New Year's political message.
Nigel Farage opened his greeting by saying that if one had put a £10 accumulator on both Brexit and a Trump victory, one would have won £24m! He is highly optimistic about 2017, however, he said we mustn't feel complacent after the British and American success in 2016:
Some supporters, such as this Latino in Florida, had an all-out New Year's Trumpfest.
One commentator for American Thinker wrote:
Happy New Year to you all. It's going to be a new day here in the nation's capital and, I hope, around the country and world.
Hers is an excellent article well worth reading in full. I will come back to it in an upcoming post.
One of the comments that followed expressed the significance of Trump's organising his cabinet away from Washington (emphases mine):
… Trump has already sent a message to the movers and shakers inside the beltway but I doubt if they caught it. The message is Trump has been wheeling and dealing from Trump Tower in New York which should send a chill down the spine of Washington, DC. Incorporated. The message is that everything inside the beltway is not that important after all … On January 20th Trump will be inaugurated and officialdom in DC will wish they had only Russian hackers with which to deal. Trump will use his office to force Congress to do their jobs for the first time in many years. Congress has spent the last 20 years doing the bidding of corporate America and it shows. Trump will also put the bureaucrats in their place. Trump will order a hiring freeze and massive tax cuts for individuals, businesses and corporations. I suspect that in a few short weeks Washington will get a wake up call and it won't be at 3 AM. All the fake news will be replaced with what those in Washington will view as earthshaking developments. The interlude after the election provided the main stream media and official Washington one last opportunity to redeem themselves. But the MSM and establishment couldn't resist showing their true colors for the last time. Now, it's Trump's turn.
However, Big Media do not understand. Ross Douthat, a regular columnist for The New York Times, still seems stumped by Trump's victory:
EVERY January I write a column exploring my faulty analysis and failed prophecies from the preceding year. After last year's installment, in which I explained how I had underestimated a certain celebrity tycoon, I received a note from Trump Tower — a clipping of the column, scrawled over with a markered note:
Thank you – Now I will work to get you to go a little bit further. Best wishes, Donald Trump.
A year has spun past since then, and whatever comes of the Trump presidency, he can claim at least one promise kept. That column described Trump as a remarkable political phenomenon who nonetheless could not win the Republican nomination, let alone become the president. Now just as he predicted, I must go further: Mea culpa, he could, he has, and I was wrong again.
But my error was different this year than last. In 2015 I underestimated the man himself: Before he descended the Trump Tower escalator into history, I had no idea that he had the savvy, the discipline, or the stamina to run an effective populist campaign.
By the time the actual primary voting began, though, I had a clear-enough handle on the nature of his populist appeal. What I misjudged in 2016 wasn't Trump; it was the strength of the institutional forces standing between him and the presidency …
… my intellect and experience were wrong, and Trump's Napoleonic intuitions were correct: The Republicans were all low-energy men underneath, and the liberal elites were as vulnerable to him as the Cameron Tories and Blairites were to Brexit.
Yes, this will be the running theme of 2017. And what was the end result? Trump trumped them all — and will continue to do so.
Sensible people in other countries will watch with interest.
More voters in Western countries — the French, the Dutch and, one hopes, the Germans — will want anti-globalist political leaders.
There is no guarantee that they will get them, but a rejection of the elites will become more popular this year.
Someone from south central Pennsylvania replied to Douthat:
Trump will not be gone in four years, he will be re-elected by a larger majority. The elites of both parties still don't understand that their constant fattening at the public trough while the middle class evaporated and the poor became poorer and lost hope was the reason Donald Trump was elected and will be President for eight years. There was a clear choice between Obama / Hillary's Socialist economic decay and America for the illegal aliens, vs Trump's vision of an"America for Americans" and a strong U. S./ economy to be achieved by cutting business taxes so businesses would repatriate overseas profits to the U. S., cutting taxes, getting rid of excess regulations stifling American businesses, discouraging the entry of illegal aliens, encouraging industry (NOT government!) to provide more good jobs by improving the economic climate, by NOT punishing job creators in the private sector. Mr. Trump's campaign was supported by the citizens of America's heartland and American patriots, many of whom came out to vote for the first time or switched parties because they were tired of the party of the "working man" being the party of the elites and the socially odd.
How true.
Returning to the Trump quote at the top of this post and the exhortation to think big, a reader of The Conservative Treehouse had this to say. Although I was already on my own in the 1980s, living and working far from home, this mirrors my own Trump experience, which I can voice openly only online:
I can remember Donald Trump very well, from when I was a young man – a teenager in the 1980s. It was a time when you could see the positive spirit in America. It dripped from everything. People were proud, the economy was strong – people had options and choices in their lives. Being successful was not a dirty word – and it seemed as if anyone could achieve it – through work. That was always what I was taught, and that seemed to me to be the American Dream.
Trump was well known then, and to me, he represented that simple dream. Yes, he had a little bit to get started with, but so do a lot of people. Not everyone, but a lot do. A lot squander their opportunities.
I liked Trump then, and I like him now. When I saw him then (which was more rare), he seemed soft-spoken, sensible, direct – and proud of his accomplishments. I never saw a reason why he shouldn't be. That's always been my take.
So – I always liked the Donald …
The Conservative Treehouse (CTH) has two excellent posts here and here. Be sure to read the comments which are packed with videos and pictures from Trump's campaign.
Trump pulled a blinder with his rallies. They were a political epiphany for many.
Trump risked his life and his health to reach as many Americans as he could.
One CTH reader recalled the horror of the cancelled rally in Chicago in March 2016:
I was for Trump from day one but this rally was a seminal moment for me. I stood in line for hours. I was way up front. I felt so happy to be there and was having a blast with the people around me. I could hardly wait to see Trump in person. It was going to be awesome! But it wasn't.
Instead of watching Trump speak I watched thugs rip signs out of peaceful peoples hands. I saw verbal/physical assaults and had to listen to those savages cheer when the rally was postponed. Afterwards I sat trapped in my car in the parking garage with my windows rolled up and doors locked while those scumbags blocked the exits. Then I had to drive past them flipping me off and throwing stuff at my car when the cops finally let us out two hours later. I had to endure all this simply because I wanted to hear a campaign speech. On the way home I made a solemn vow that I would do everything I could to get Trump elected and I never looked back …
I think it was during the second half of the primary (I can't remember) Trump said … "I will always tell you the truth". The first time he said this I burst out crying. I started to cry before I could figure out what the hell I was crying about. After years of being lied to by the other side and "our side" I was stunned. His words touched me.
I believed him. I still believe him.
MAGA and Happy New Year!!
There are people all over the West who still believe the lies from Big Media. I will begin exposing these soon, because some took place over the Christmas period.
To my fellow Britons, the French commentators I listen to on radio and anyone else who is 'scared' by a 'literal Hitler', stop paying so much attention to Big Media!
Look at other sources of news and analysis, too, if you truly are interested in what is happening politically in the United States: The Conservative Treehouse, The_Donald (independent), Hillary is 44 (an ex-Democrat from 2008) and No Quarter (another ex-Democrat from 2008, Trump-neutral but a former CIA man with excellent geopolitical analyses).
There isn't a more self-sacrificing man on the world stage today than Donald Trump. Time will bear this out. This is what we can expect in less than three weeks' time:
President-elect Trump is cutting short the usual inaugural parade and limiting the number of balls so he can hit the ground running.
That indicates to me he will start working the afternoon of his inauguration. The world can hardly wait.
New Year's Day was traditionally the Feast of the Circumcision of Christ.
The stained glass representation of the event is probably one of a kind. I don't know the name or location of the church.
The Circumcision represents the first shedding of our Lord's blood for mankind. Read more about it below in my post from 2010:
January 1 – Feast of the Circumcision of Christ
My post from 2013 explains that the traditional Protestant denominations recognised this day, along with the Catholic Church:
New Year's Day: the Circumcision — and Naming — of Christ Jesus
Today, it is largely ignored — or rededicated, which is what the Catholics did:
Solemnity of Mary the Mother of God
In the midst of our celebrations with families and friends, let us remember that New Year's Day is also
Happy New Year to all my readers!
2016 proved to be the year of the impossible made possible.
The Brexit vote, the Cubs winning the World Series after 108 years and Donald Trump's election are only three such examples. We lived through ground-breaking history this year.
Many people — especially agnostics — commented online that the Hand of God was all over various events that took place. Some of those people returned to the Church. Others, previously unchurched, converted. (The best anecdotal evidence can be found in comments at The_Donald.)
2017 looks even more exciting with regard to change and a break with the past. Light will shine on darkness. Those guilty of lying, malfeasance and indecency will be exposed and shamed. Many God-fearing people will be stunned by what they see in the news. The evil of the past revealed — and the power of the good to come — will cause scoffers to repent.
Therefore, I look forward to the New Year for the first time in decades.
I pray that divine grace and the wisdom of the Holy Spirit imbue and guide each of us in the year ahead. May God bless us all.
The New Year is undoubtedly the most popular time of the year to take stock of the present and view of anticipate the future.
Millions of people around the world make resolutions concerning their habits and behaviour. We want to improve. Whether this happens in reality is another story.
Whilst the New Year fills some with hope, for others, it is dread. Worries about employment, money and housing predominate. Relationships with family and friends may change and not always for the better. Loss of a loved one may be a real possibility for some of us.
We do not know what this year will bring. We may fail dismally in our resolutions. We might experience an unfortunate event. Let us pray for each other that these things do not happen, or, if they do, that their effect is mitigated.
One door closes. Another door opens. May God sustain us with His grace in whatever this year brings. May we always remember that Christ Jesus is present in our lives. Whatever happens, let us turn to Him for comfort.
Finally, may we be thankful for our blessings where and when we find them. Things could always be much worse.
A very happy New Year to my readers and subscribers! May 2016 be a year of contentment, good health and prosperity for all of you!
Until the second half of the 20th century January 1 was known as the Feast of the Circumcision. The infant Jesus would have been circumcised at this time, eight days after His birth, in accordance with Jewish law.
Today, January 1 is known as the Naming of Jesus, the Holy Name of Jesus or the Solemnity of Mary the Mother of God.
My past posts explain more about these feast days, past and present:
January 1 – Feast of the Circumcision of Christ
New Year's Day: the Circumcision — and Naming — of Christ Jesus
Solemnity of Mary the Mother of God
They provide a theological and historical perspective that is often neglected today.
Happy New Year to all my readers, commenters and subscribers!
A warm welcome is also extended to my newest subscribers!
The tabs at the top of my homepage cover several topics, each divided into a different page.
Those interested in all things religious, including explanatory and expository posts for the Church Year might find Christianity / Apologetics of interest.
Readers interested in easy-to-prepare meals and unconventional approaches to health might appreciate Recipes / Health / History.
Those who find the prevailing modern worldview bemusing might enjoy the posts on Marxism / Communism, some of which are Church-related.
In closing, I pray that 2015 holds many blessings and much tranquillity for all of us.
New Year's Day is the feast of the Circumcision and Naming of Jesus Christ in the Anglican Communion.
Lutheran denominations still observe the Feast of Circumcision, although some churches now refer to it as The Name of Jesus.
In the Catholic Church the feast day's name changed during Vatican II, becoming the Octave of the Nativity. In 1969, it became known as the Solemnity of Mary, the Mother of God.
In the Anglican Book of Common Prayer, the readings for January 1 are used until Epiphany, January 6. Click on the link to read them in full in the second half of the post. The Collect is as follows, emphasis mine:
Almighty God, who madest thy blessed Son to be circumcised, and obedient to the law for man; Grant us the true Circumcision of the Spirit; that, our hearts, and all our members, being mortified from all worldly and carnal lusts, we may in all things obey thy blessed will; through the same thy Son Jesus Christ our Lord. Amen.
I wish all my readers a blessed, happy, healthy and prosperous 2015.
Happy New Year!