You are currently browsing the tag archive for the 'NHS' tag.
Sadly, Prince Philip, the Duke of Edinburgh, died on Friday, April 9, 2021, exactly two months short of his 100th birthday:
The Queen has lost her best friend. My deepest sympathies to her for the unimaginable loss of her long-time husband and daily confidant. My condolences also go to the Royal Family in their grief.
Young love
The couple first met in 1934, and began corresponding when the Prince was 18 and a cadet in the Royal Navy. Princess Elizabeth was 13 at the time.
She was smitten with him from the start.
Prince Philip served with distinction during the Second World War in the Mediterranean and Pacific fleets.
After the war ended, he could have had a stellar career in the Royal Navy. His superiors praised his clear leadership skills.
However, love intervened and the rest was history.
Born Prince Philip of Greece and Denmark, he renounced his foreign titles and took British citizenship before he and Princess Elizabeth were engaged. He took the surname of his maternal grandparents: Mountbatten.
He and Princess Elizabeth were engaged in July 1947. They married on November 20 that year. Shortly before the wedding, George VI gave him the titles of Duke of Edinburgh (created for him), Earl of Merioneth and Baron Greenwich.
Prince Philip remained in the Royal Navy until July 1951. He retired with the rank of Commander.
Royal succession — and surname
In January 1952, he and the Queen began a tour of the Commonwealth countries. They were in Kenya when news reached them that the Queen's father, George VI, died on February 6 that year.
Although she became Queen immediately upon her father's death, her coronation took place in 1953, as it had to be planned meticulously.
On Coronation Day, he knelt before her, clasped her hands and swore an oath of allegiance to her:
He also had to touch her crown and kiss her on the cheek.
He never had a constitutional role, nor was he ever formally given the title of Royal Consort. The courtiers did not like him, nor did they trust him. They believed his personality to be brash and unbecoming of the Royal household. They shut him out of as much decision making as possible.
When Elizabeth became Queen, the question about her family name arose. Prince Philip suggested that the Royal Family be known as the House of Edinburgh. Upon discovering that suggestion, Queen Mary, Elizabeth's grandmother, wrote to Prime Minister Winston Churchill, who advised the young monarch to issue a royal proclamation saying that the Royal Family would continue to be known as the House of Windsor.
In his inimitable style, Prince Philip complained privately:
I am nothing but a bloody amoeba. I am the only man in the country not allowed to give his name to his own children. [57]
The Queen did nothing until eight years later, in 1960, 11 days before she gave birth to Prince Andrew. She issued an Order in Council declaring that the surname of her and her husband's male-line descendants who are not styled as Royal Highness or titled as prince or princess would be Mountbatten-Windsor.
Pater familias
Prince Philip had to carve a role out for himself. He became the pater familias and, through the years, his role expanded to cover not only his four children but his grandchildren. He listened to their concerns, shared their joys and gave them advice. He knew everything that went on in their lives.
Although the public knew him for speaking as he saw — rather bluntly, on occasion — behind closed doors Prince Philip was known to be a warm, loving man.
He also favoured a more transparent Royal Family. According to the BBC, it was he who encouraged the Queen to make a multi-episode documentary on their daily lives, including those of their four children. It was broadcast in the late 1960s. I remember seeing it in the United States.
When Princess Diana died on August 31, 1997, Prince Philip was the one who kept an eye on the public mood that fateful week. He, the Queen and Princes William and Harry were at Balmoral in Scotland for their summer holiday. When the young princes wanted to attend church, their grandparents took them to the Sunday service on the day of their mother's death. Later in the week, it was Prince Philip who encouraged the boys to walk behind the funeral procession the following Saturday. He said:
If you don't walk, I think you'll regret it later. If I walk, will you walk with me? [93]
One cannot imagine what he thought of Prince Harry's departure for the United States to live a life separate from his closely knit family. I did read that the Royal Family shielded information about the Oprah interview from him.
John F Kennedy's funeral
Prince Philip was in Washington for John F Kennedy's funeral in 1963.
He had a friendly encounter with John Jr, who was still a toddler and known as John-John at the time. The child wondered where his father was, as he had no one with whom to play. The Prince stepped in to fill that gap. In 1965, the British government gave an acre of land at Runnymede to the United States for use as a memorial to JFK:
Funeral arrangements
Prince Philip was self-effacing and did not like a fuss to be made over him.
Therefore, the funeral arrangements will respect his wishes, which is rather convenient, as coronavirus restrictions are still in place. Up to 30 people will be allowed at his funeral, in line with legislation across the nation:
The funeral is scheduled to take place on Saturday, April 17:
It is interesting that Prince Harry will be able to attend when we have a 10-day quarantine in place for arrivals into the UK under coronavirus regulations.
The Sunday Mirror reported on Prince Harry's return to the UK:
He could also be released from quarantine if he gets a negative private test on day five, under the Test to Release scheme.
Given his status as a member of the Royal Family travelling to support the Queen, Harry might be considered exempt from travel restrictions.
Wow. It's nice to know we have a two-tiered quarantine system in place /sarc.
A championship boxer remembers the Prince
Former WBC Heavyweight Champion Frank Bruno MBE posted his memories of meeting Prince Philip. He is at the top left in the following photo:
An Anglican priest remembers the Prince
The Revd Peter Mullen, an Anglican priest, recalled his encounters with Prince Philip for Conservative Woman on April 10 in 'A personal recollection'.
He first met the Prince during his schooldays:
The first time I met the Prince was in connection with his Duke of Edinburgh's Award Scheme which gave a leg up to youngsters from what would now be called the less privileged parts of the country. He paid a visit to the Leeds branch of the Church Lads' Brigade of which, aged fourteen, I was a member. We were in the church hall making things. My task was to make a table lamp. I was hopeless at it.
The Duke got hold of my half-finished creation, held it up to one eye and said, 'I suppose this hole is where the flex goes?'
'I think so, Sir.'
'You think so? I was never any good at this sort of thing either!'
And he was off . . . 
As an adult, Mullen met him on more than one occasion thanks to the Honourable Company of Air Pilots. The Prince was its Grand Master. Mullen served as chaplain.
He recalls:
The Company gave a lunch for him to mark his 80th birthday and I recall how jovial he was, making light of his years: 'I believe I have lasted so long because you people are always toasting my good health, but I don't want to live to be a hundred. Things are dropping off already!'
At another luncheon one of our Liverymen who had his own port wine business presented the prince with Bottle Number One, the first fruits, so to speak. As he left, the duke handed the bottle to me: 'You have this, Peter. Our house floats on the bloody stuff.'
'Well, Sir, now I don't know whether to drink it or frame it.'
'Gerrit down ya neck!'
Prince Philip on MPs
Guido Fawkes came up with a good quote from one of the Prince's trips to Ghana. It concerns MPs. His Ghanaian hosts told him the country had 200 MPs. Prince Philip replied:
That's about the right number. We have 650 and most of them are a complete bloody waste of time.
Incidentally, Parliament will be recalled one day early from Easter recess. On Monday, April 12, MPs and Lords paid tribute to the Prince in their respective Houses:
That afternoon, the House of Commons reconvened to pay their tribute — from 2:30 p.m. until 10 p.m. (good grief).
Speaker Sir Lindsay Hoyle spoke first:
Prime Minister Boris Johnson had this to say:
Boris Johnson, who was invited to the funeral but declined so that another member of the Royal Family can attend, said that he would forego a pint when pub gardens reopen on April 12, out of respect for the Prince. Guido Fawkes, however, thinks that the Duke of Edinburgh would have wanted us to toast his memory, especially at a pub that bears his title in Brixton, south London:
Guido had a second tweet on the subject with another quote from the Prince:
Agreed.
Prince Philip on Australia
This is too funny. For those who are unaware, Australia was established as a place where Britain could send convicts. That was a long time ago, but the nation's original purpose was to serve as a prison: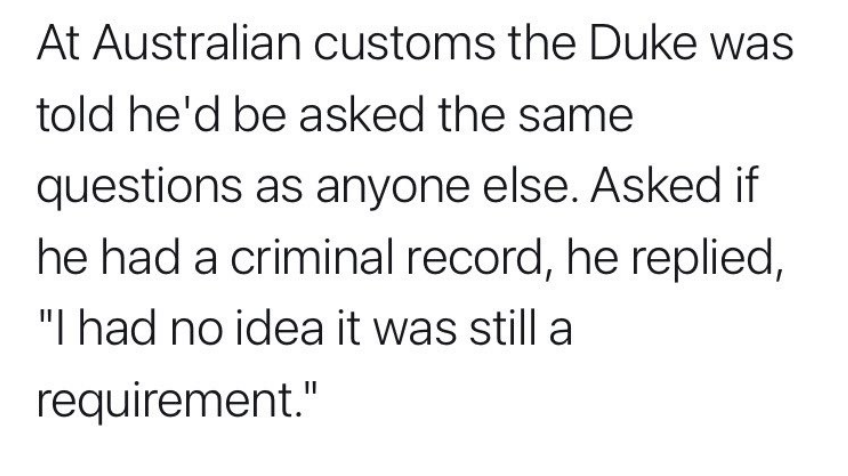 Prince Philip on civil liberties
On a serious note, the 12-minute interview below from 1984 is well worth watching, especially in the coronavirus era.
Prince Philip firmly supported the rights of the individual and believed that the state should serve the individual, not, as in our times, the other way around.
This is from a Thames Television programme originally broadcast on ITV:
I have posted the video below in case the tweets are deleted:
The Prince also said that certain subjects are out of bounds, such as the media and the NHS.
He said that the media are incapable of taking a joke about themselves and, as for the NHS, well, one cannot say anything against it. He didn't necessarily dislike the NHS but thought it was held in too high a regard. Nothing is perfect in this world.
We have been travelling a long road towards the point where we are at present: ruled by the media (they clamoured for coronavirus restrictions) and worship of the NHS. This is how Health Secretary Matt Hancock, Prime Minister Boris Johnson and SAGE have been able to rule our lives. It's been at least 40 years in the making.
BBC coverage on Friday
I was watching BBC Parliament early Friday afternoon, around 1:15, when the programme was interrupted by a broadcast from the BBC News Channel.
I checked the schedule an hour later, which said that the programme would last until 4 p.m. It was still going when I was preparing dinner at 5 p.m.
The final of MasterChef was to have been broadcast that night on BBC1. This was a clip from Thursday's programme:
Pictured are the hosts and judges, chef/restaurateur John Torode on the left and former greengrocer, now television presenter, Gregg Wallace on the right:
BUT:
The BBC News channel was simulcast all afternoon and all night long, not only on BBC Parliament but also on BBC1, to the dismay of MasterChef fans (myself included), and BBC2. BBC4 was suspended for the evening.
I read on social media that the BBC also broadcast continuous coverage of Prince Philip on their radio stations, including Radio 2, knocking out Steve Wright's drive-time show on Friday afternoon.
A friend of mine said that most of the BBC's employees were probably rubbing their hands with glee because it meant an early weekend for them. It's a cynical perspective that could well turn out to be true. We'll find out when someone writes his or her memoirs.
Everyone with a television set receives the BBC News channel. It comes into our homes at no extra charge. There was no need for the BBC to take over every channel for hours on end. By the way, if one had watched two hours of the Prince Philip coverage, as I did, one would have seen and heard everything in its entirety.
The BBC braced themselves for a plethora of complaints; they took the relevant page down on Sunday. Good. I am sure Prince Philip would have objected, too.
As much as I love the Queen, I hope they do not try this when her day comes. God willing, may it be long into the future.
Record-beating prince
Prince Philip established two records as consort to the Queen. He was the longest-serving royal consort in British history. He was also the longest-lived male member of the British royal family.
May he rest in eternal peace with his Maker.
May our gracious Lord grant the Queen, Defender of the Faith, His infinite peace and comfort in the months ahead. May He also bless the Royal Family during this difficult time.
On Wednesday, January 27, 2021, Prime Minister Boris Johnson held a televised coronavirus briefing, announcing that the number of COVID-19 deaths in the UK had reached 100,000.
He pronounced it 'a grim milestone'.
A friend of mine living in France thinks that the British must be dropping like flies from coronavirus. Who could blame her, given not only the reporting in the media but also the Government's own disingenuous narrative?
It was known by the summer of 2020 that British deaths were recorded as COVID-19 even if the primary cause was a longer, underlying disease. If the deceased had a positive COVID-19 test result in the month before death, COVID-19 was one of the causes on the death certificate. Even when COVID-19 was shown as a secondary or tertiary cause of death, the death was counted as a COVID-19 fatality.
This situation led to the question of death 'of' or 'with' coronavirus. Dying 'of' coronavirus would mean that COVID-19 was the primary cause of death. Dying 'with' it would mean that it was another factor, but not the primary cause, which could have been cancer, heart disease or Alzheimer's.
Conservative Woman had an article about this: 'Why the "grim milestone" of 100,000 Covid deaths is nonsense' wherein James Delingpole helpfully pointed to another article and set of statistics explaining his position:
… I heartily recommend this most excellent deep-dive by Simon Elmer of Architects for Social Housing. (Which is where you'll find those ONS charts I mentioned near the beginning). It covers things like the dubious way the government calculates its Covid deaths (such as the fact that even if you die of cancer or Alzheimer's or anything else, it still gets whacked down as Covid if it's within 28 days of one of those dodgy, oversensitive PCR tests); and the way influenza, historically a reliable annual culler of the old and infirm, has mysteriously vanished from the statistics, almost as if – imagine! – thousands of flu deaths are now being misrepresented as Covid deaths.
Before I go there, here is a chart with data from ONS — the Office for National Statistics — showing that 2020's deaths were not unusual. The last time they were that high was in 2008. The graph, which charts deaths from 1960 to 2020, is not mine. I found it at Lockdown Sceptics in a comment:
Now on to Simon Elmer's 'Lies, Damned Lies and Statistics: Manufacturing the Crisis' at Architects for Social Housing. It is a long and thorough post with a table of contents.
Simon Elmer begins, in part, with this:
As always — although we appear to have forgotten it along with everything else we knew about the world in which we live — the old adage about 'lies, damned lies and statistics' holds true to this greatest of all lies, the manufacturing of the coronavirus crisis. What I want to do in this article, in contrast, is look at the figures for the mortality rates, places and causes of death in England in 2020 that are slowly being published by the Office for National Statistics in 2021, and discuss what they can tell us about what really happened last year. The figures aren't conclusive, as the changes to disease taxonomy, protocols for filling in death certificates, criteria for recording deaths, and the flawed testing programme mean we'll never know how many people actually died from COVID-19 in the UK in 2020; but if we analyse these figures accurately and in their context, it is possible to see some way through the deception to the reality they conceal.
The first section — '1. Laying the Foundations' — begins with the recording of deaths last year from the pandemic onwards. The author includes a screenshot of a death certificate illustrating my earlier point about causes of death:
Elmer explains how recording of deaths changed last year:
Given these five changes, 1) to disease taxonomy, 2) to the criteria for attributing a death to COVID-19, 3) to identifying the underlying cause of death on a death certificate, 4) to identifying infection with SARS-CoV-2, and 5) to identifying the clinical presence of COVID-19 — all but one of which were in place before the end of March, 2020 — how do we establish how many people actually died of COVID-19 in the UK or, to the contrary, how many deaths from cancer, heart disease, dementia, diabetes, influenza and the other primary causes of death in the UK have been incorrectly diagnosed and/or recorded as 'COVID-19 deaths'?
The second section — '2. Competing Causes of Death' — elaborates further and includes illustrative charts:
In July 2020, the Office for National Statistics published data on 'Pre-existing conditions of people who died with COVID-19'. To qualify as such, a pre-existing health condition must appear on the death certificate either below COVID-19 in Part 1, and therefore in the causal chain leading to death, or in Part 2, and therefore as a contributing cause to death, if COVID-19 is mentioned in Part 1. Alternatively, if COVID-19 is mentioned in Part 2 of the death certificate, a pre-existing health condition must appear as the underlying cause of death in Part 1.
Following these definitions, the ONS reported that, of the 50,335 deaths attributed to COVID-19 in England and Wales between March and June 2020, 45,859, 91.1 per cent, had at least one pre-existing health condition, with a mean average of 2.1 conditions for those aged 0 to 69 years of age and 2.3 for those aged 70 years and over. The accompanying dataset recorded that, in the 4 months between March and June 2020, the most common 'main' pre-existing health condition recorded on death certificates in England and Wales was dementia and Alzheimer's disease, with 12,869 deaths constituting 25.6 per cent of all deaths attributed to COVID-19.
By a 'main' pre-existing condition the ONS means the condition that is most likely to cause death in the absence of COVID-19. How they derive this is complicated, and I won't go into it here; but they take their lead from the World Health Organisation's rules for identifying the 'underlying cause' of death, which as we have seen have been changed to ensure that COVID-19 always appears on death certificates in this category, and in doing so excludes everything appearing above Part 1.
After dementia and Alzheimer's disease, ischaemic heart diseases — meaning those causing stroke through a blood clot or other blockage — were the next most common, with 5,002 death certificates recording it as the 'main pre-existing health condition' constituting 9.9 per cent of all deaths attributed to COVID-19. This was followed by influenza and pneumonia, which were present as the main condition on 4,582 death certificates. Of the 50,335 deaths attributed to COVID-19, 4,476 had no main pre-existing health condition on the death certificate, just 8.9 per cent of the total.
But that's not all. When recording all pre-existing health conditions, their presence on the death certificates of 'COVID-19 deaths' is even higher, with 13,840 deaths attributed to COVID-19 having dementia and Alzheimer's disease also listed, 11,029 deaths having influenza and pneumonia, and 9,820 having diabetes.
However, in the middle of 2020, the ONS stopped recording pre-existing conditions that could have caused death (emphases mine):
… since July no other data on the pre-existing health conditions, main and common, of people whose deaths have been officially attributed to COVID-19 has been published by the Office for National Statistics. I've written to the ONS to ask when they will update their records, and they responded that they are hoping to do so in February 2021. Why they stopped doing so in July I will leave to you to judge; but when these figures are published I shall add them to this article.
The third section — '3. Evidence for Lockdown Deaths' — explores what happened as the National Health Service became the National Covid Service, stopping or slowing procedures for non-coronavirus diseases. This gives a monthly rundown on the detrimental impact of not treating people with heart conditions and cancer. The conclusion is that lockdown and the focus of the NHS on coronavirus has been dangerous for millions of people:
… policies which are not only having a devastating impact on the lives of nearly 68 million people but, according to these reports, have already caused the deaths of tens of thousands of UK citizens and will continue to kill tens of thousands more, for as long as these restrictions are imposed by the Government, enforced by the police and complied with by the public.
The next section — '4. Recovering the Dead' — explains why we will never know the true number of people who died from coronavirus.
With regard to deaths in care homes since March 2020:
… there were 26,202 excess deaths in care homes over the same period. Here, however, 20,574 were attributed to COVID-19, largely on the say-so of the private companies running the homes and without a corroborating medical diagnosis, leaving 5,628 excess deaths. That's a total of 41,861 deaths above the 5-year average unaccounted for.
… in April 2020, the Care Quality Commission, the regulator of health and social care in England, introduced what it called a 'new way' to understand whether COVID-19 was 'involved in the death' of someone in a care home. This merely requires a statement from the care home provider that COVID-19 was 'suspected' as the cause of death, and which 'may or may not' correspond to a medical diagnosis, a positive RT-PCR test result for SARs-CoV-2, or even be reflected in the death certificate. It's by this criteria that 20,574 deaths in care homes were attributed to COVID-19 in 2020.
The author reaches the following conclusion:
… given that the deceased are now gone, and their falsified death certificates are all we have left of the causes of their deaths, how can we find evidence for the manufacture of tens of thousands of 'COVID-19 deaths' from their cremated and buried bodies? This is the task of reparation and remembrance with which any true account of 2020 must begin if it is to recover the truth about their deaths from the lies in which they have been shrouded.
The fifth section looks at mortality rates in the UK since 1941 and has accompanying statistics and charts with ONS data.
The next section — '6. What Happened to the Excess Deaths?' — states:
Given the deliberate inaccuracy of the criteria for attributing a death to COVID-19, largely dependent upon a positive test using an RT-PCR test at thresholds where it can identify so-called 'cases' of COVID-19 from fragments of dead coronavirus, it is almost impossible that these thousands of 'lost' deaths, and the thousands more caused by lockdown, have not been misdiagnosed and/or incorrectly recorded as 'COVID-deaths'. But how do we corroborate this thesis with facts?
On 14 January, Public Health England published its analysis of ONS figures on deaths over a shorter timeframe, between 21 March, 2020 and 1 January, 2021, the period under which England has been under various degrees of lockdown restrictions. These show that, even with the WHO's instructions to medical practitioners that COVID-19 must always be listed as the 'underlying cause' of death, a total of 7,511 excess deaths in which other health conditions were listed as such were recorded as 'COVID-19 deaths'.
… deaths from heart diseases, cerebrovascular diseases, other circulatory diseases, dementia and Alzheimer's disease, urinary diseases, liver diseases, and from causes other than COVID-19, numbered 11,013 over the 5-year average; yet 5,057 of these were listed as 'COVID-deaths'. Even when deaths from the underlying cause were below the 5-year average, as they were for cancer, acute respiratory infections, chronic lower respiratory diseases, other respiratory diseases and Parkinson's disease, 2,454 deaths were still registered as 'COVID-19 deaths'.
Nearly 75 per cent of excess deaths in which dementia and Alzheimer's disease were listed as the underlying cause were still recorded as 'COVID-19 deaths'; over 41 per cent of excess deaths from urinary diseases; nearly 40 per cent of excess deaths from cerebrovascular diseases; 41 per cent of excess deaths disease from other circulatory diseases; 33 per cent of excess deaths from heart diseases; and 31 per cent of excess deaths from liver diseases. While over 50 per cent of excess deaths from all other causes other than COVID-19 were still recorded as COVID-19 deaths.
We should remember that, if COVID-19 had been listed as the 'underlying cause' on any of these death certificates, they would all have been recorded as 'COVID-19 deaths' by the Office for National Statistics; yet for all these other underlying causes their appearance on the death certificate wasn't enough to overcome the changes to the ONS criteria for compiling statistics on mortality in the UK. If not quite proof, this is further evidence of a deliberate and very successful attempt to falsify the official tally of 'COVID-19' deaths.
How could this have happened?
The most logical answer to that question is the changes to disease taxonomy, protocol on completing death certificates, criteria for attributing a death to COVID-19, the false positives produced by the RT-PCR testing programme, and the equation of such a positives with symptoms of COVID-19. To this end, the guidelines for death certification from the World Health Organisation about what defines a COVID-19 death are decisive: 'A death due to COVID-19 may not be attributed to another disease (e.g. cancer)'. Given these changes — which unlike the deaths from COVID-19 truly can be called 'unprecedented' — we'll never know how many people actually died of the disease; but these figures give us some indication of the percentage of deaths misdiagnosed as such. What we do know is that, throughout 2020 and into 2021, the British Heart Foundation, the Institute of Cancer Research, the Alzheimer's Society, the British Medical Journal and other organisations monitoring the nation's medical treatment, health and mortality have all recorded and predicted huge increases in deaths from the withdrawal and reduction of medical care under lockdown restrictions.
The final section has conclusions.
While coronavirus has to be taken seriously, 2020 seems to be the first year in living memory when the general public were forced to pay attention to human mortality, even if the death rates are well within the norm for any given year:
In 2004, for example, the rate of mortality (1,163.0 per 100,000 of the population) was as high above what it was in 2020 (1,043.5) as last year was above 2019 (925.0), which had the lowest rate ever. The year before that, 2003, it was even higher (1,232.1). So the exaggerated claims of an unprecedented rise in mortality rate from 2019 to 2020 is not borne out by the facts. What was different was how, after a period of sustained fall, this rise on overall mortality was explained to a public previously unaware of mortality rates, and what this suddenly increased awareness of our mortality has been used to justify.
The vast majority of the people dying have been elderly:
84 per cent of the deaths attributed to COVID-19 in 2020, over 68,000 deceased, were of people aged 70 years and over. 61 per cent were aged 80 years and over, the average life expectancy in the UK. Around 90 per cent had at least one pre-existing health condition, with most having two.
It is not surprising.
Nor did lockdown help the elderly dying of other causes:
To put these figures into context, in 2020 there were 9,189,000 people aged 70 years and over in the UK, and 412,408 of them, 4.48 per cent, died of causes not attributed to COVID-19. 0.7 per cent of them officially died of COVID-19. It wouldn't take much to push a population of such elderly and frail people into a life-threatening situation. Lock them up for months on end. Deny them human contact on pain of arrest and fines they couldn't hope to pay. Withdraw medical treatment. Quarantine their carers. Terrorise them with propaganda about a civilisation-ending disease. Order them to stay at home and avoid the contact of other people like the plague. Tell them hospitals standing empty are on the verge of being overwhelmed. Turn medical centres into places to fear, the breeding grounds of a deadly new disease. That should be more than enough. It has been more than enough. Then, change the medical protocol and criteria for identifying and recording the cause of their deaths, and against all the evidence against its fitness for such use, employ a medically meaningless test to turn traces of a virus that presents no threat to 80 per cent of the population into proof of infection and cause of death. This is how a crisis has been manufactured. This is how a virus is being used to justify the programmes and regulations of the UK biosecurity state.
Simon Elmer says that the UK Government has no qualms about prolonging this dire state of affairs:
The truth is that there was never a question of whether this Government would impose another lockdown on the UK in 2021. Lockdown isn't a consequence of the failure of coronavirus-justified programmes and regulations: it's the product of their success in implementing the UK biosecurity state. After a brief summer recess under the system of tiered restrictions, the following winter will see the lockdown of the UK imposed again under newly notifiable diseases from new viruses and new strains, new protocols for certification and new criteria for deaths, the new medical categorisation of new cases which, like the present ones, present little or no threat to public health, but which like it will be used to enforce new technologies, new programmes and new regulations. This is the 'New Normal' we were promised, and it's being built on a foundation of lies, damned lies and statistics.
Sometimes, things are not what they seem.
The 100,000+ coronavirus deaths in the UK are but one example.
Further reading — ONS statistics:
Annual deaths and mortality rates, 1938 to 2020 (provisional)
Coronavirus (COVID-19) Infection Survey, UK: 29 January 2021
Britain's coronavirus hero, Sir Captain Tom Moore, 100, died in hospital in England on Tuesday, February 2, 2021.
He entered hospital with pneumonia but, sadly, contracted coronavirus whilst there:
It proved fatal for the centenarian who tirelessly raised tens of millions of pounds for the NHS and, in the process, became a Guinness World Record fundraiser (see photo):
Bedford Hospital issued the following statement:
His family were more than satisfied with the care he received in Bedford Hospital.
Guido Fawkes posted their statement in its entirety:
It is with great sadness that we announce the death of our dear father, Captain Sir Tom Moore.
We are so grateful that we were with him during the last hours of his life; Hannah, Benjie and Georgia by his bedside and Lucy on FaceTime. We spent hours chatting to him, reminiscing about our childhood and our wonderful mother. We shared laughter and tears together.
The last year of our father's life was nothing short of remarkable. He was rejuvenated and experienced things he'd only ever dreamed of.
Whilst he'd been in so many hearts for just a short time, he was an incredible father and grandfather, and he will stay alive in our hearts forever.
The care our father received from the NHS and carers over the last few weeks and years of his life has been extraordinary. They have been unfalteringly professional, kind and compassionate and have given us many more years with him than we ever would have imagined.
Over the past few days our father spoke a great deal about the last 12 months and how proud he felt at being able to leave behind the growing legacy of his Foundation.
We politely ask for privacy at this time so we can grieve quietly as a family and remember the wonderful 100 years our father had.
Thank you.
Sir Captain Tom Moore received many warm tributes:
It was on July 17, 2020, that the Queen bestowed a socially-distanced knighthood upon him at Windsor Castle.
Prime Minister Boris Johnson issued a statement expressing his condolences:
The British Army posted a short video remembering one of their most energetic veterans:
The Royal Navy issued a final naval wish:
The Royal Air Force expressed condolences:
The Ministry of Defence also issued a statement:
The Americans also expressed their condolences:
I found out about Captain Sir Tom Moore's death on BBC Parliament:
Last Spring, the 99-year-old veteran raised money for the NHS by walking around his garden 100 times in anticipation of his upcoming birthday. He had no idea how his efforts would capture the nation's imagination:
He far surpassed his initial £1000 goal tens of millions of times over:
He completed his 100th lap of his garden well in time for his birthday (click on tweet to see video):
When he turned 100, he received a memorable flypast from pilots based at RAF Coningsby. It featured a Hawker Hurricane and a Spitfire of the Royal Air Force's Battle of Britain Memorial Flight (click on tweet to see video):
On VE Day last year, ITV showed a documentary of Sir Captain Tom's memories of his wartime service in Burma.
When Dame Vera Lynn died last year, he said that her beautiful songs kept up his morale:
On New Year's Eve in London, he was celebrated in the capital's fireworks display:
Now he can rejoin his beloved Pamela, who predeceased him:
In closing, here is Captain Sir Tom Moore reading from his book, One Hundred Steps, with his grandson. Note how he wanted everything to be perfect, a lesson many of us can learn, myself included:
As he was so fond of saying:
Tomorrow will be a good day.
Eternal rest grant unto him, O Lord, and let perpetual light shine upon him. May his soul and all the souls of the faithful departed, through the mercy of God, rest in peace. Amen.
On Monday, January 18, 2021, former Supreme Court Justice Lord Sumption appeared on Julia Hartley-Brewer's talkRADIO show to discuss the perils of lockdown:
From early last year, Lord Sumption has been a calm, rational opponent of lockdown.
Breitbart has a summary of the three-minute interview clip. Excerpts follow, emphases mine.
I am pleased that his stance has not changed:
Lord Sumption, who last month branded lockdowns "profoundly immoral" and "useless", told talkRADIO's Julia Hartley-Brewer on Monday: "We are in the process of turning a public health crisis into an economic, social, and educational disaster.
"We didn't have to do this. One of the problems is that the government has never been prepared at least to acknowledge that it is necessary to weigh up one thing against another. We cannot have both: lockdown and a prosperous economy. The fact is that no country ever managed to reduce deaths by making itself poorer."
He warned that this will have a long-term, generational effect:
Lord Sumption continued: "What we have is a lot of people in this country that because they are frightened, or in the case of the government because they are manipulative, are only prepared to look at part of what is actually a very complicated problem.
"You can't just look at it as a public health issue because it's a major economic issue. I'm not talking just about the prosperity of businesses, I'm talking about jobs, and how a generation of young people entering the job market is entering a void and the consequences of that are terrible.
"It's going to live with them for years and years. Long after we've forgotten about COVID, they'll be suffering from the consequences of this. The problem is that emotion is a tool for avoiding difficult choices and the idea that there are no difficult choices — in this case, that the answer is simply to lock down — is frankly absurd."
Using independent sources, Breitbart supports Lord Sumption's views about the economy and about the effect on NHS services in other areas:
A survey conducted by the Federation of Small Businesses (FSB) found that it is expected that around a quarter of a million small businesses will collapse as a result of the lockdown this year.
Reports since the beginning of the lockdowns have also revealed the cost to the nation's wider wellbeing as NHS hospitals prioritised COVID care and cancelled other services, including a fall in chemotherapy attendance and early cancer referrals, and people dying on transplant waiting lists. There has also been a rise in people feeling depressed or suicidal.
The following graph shows that lockdown was — and is — not necessary. It shows deaths in England between 1971 and 2020. There was hardly an uptick last year:
LBC's talk radio show presenter Maajid Nawaz has also been an outspoken opponent of lockdown.
Last Sunday, he put together an exhaustive thread — excerpts of which follow — about the dangers of lockdown worldwide, especially for children:
Lockdown is made for the middle class a) who have houses with gardens and b) who never have to worry about losing their jobs — public sector employees:
Ten months on, this is a never-ending downward spiral, where the rules change every few weeks and are often contradictory. More on that in another post.
As most of England is now in either Tier 2 or Tier 3, including London (in the latter), some scientists are clamouring for previously approved Christmas gatherings to be cancelled.
This is the exchange that took place on Wednesday, December 16, the day when London and surrounding areas entered Tier 3. Communist Susan Michie, a member of SAGE and independent SAGE, told Good Morning Britain that we should cancel Christmas this year and replace it with extra 'bank holidays' next year. She's a smooth talker. Laura Perrins, an ex-barrister who co-edits Conservative Woman, saw right through this:
Well, London mayor Sadiq Khan has cancelled the capital's New Year fireworks. The Tube will also stop running at 12:30 a.m. this year.
Laura Perrins had a lot to tweet on Wednesday from her article that day, 'Matt Hancock wants to ruin your Christmas. It's sheer cruelty'. Excerpts follow, emphases mine:
YOU'RE making your list, you're checking it twice and Matt Hancock is deciding whether you've been naughty or nice. Yes, once again the government have decided to inflict more psychological damage on the population by putting in doubt the Christmas relaxation of rules which will 'allow' you to spend some time with your family. The anxiety that this causes, the dread, the cruelty: that is the point of this latest government move. 
At the time of writing it looks as if (for once) Boris Johnson will hold his nerve and not hand over complete control to Matt Hancock and the 'scientists' who seem to run the country. All this anxiety has been triggered because the BMJ published an editorial saying that the rules 'allowing' you to see your family at Christmas are a 'major error' which would cause the health service to be overwhelmed. As usual you have to sacrifice your basic freedoms so that the NHS can do the job you pay them a great deal to do. All must be sacrificed, it seems, for 'our' NHS. 
Even if Johnson does hold his nerve this time, it should be said every day that Matt Hancock is a dangerous man who has set out to destroy this country. Some people think I am too strong in my language. I am not. 
What the government are doing is evil. You need to understand that. They are destroying thousands of businesses, thousands of jobs in arts and culture, they have closed pubs and restaurants as a way of crushing your spirit. Meeting your friends down the pub is uniquely British, speaking to them in the flesh, arguing with them over a pint; these are the small joys that ordinary people look forward to. This is something that the elite in the media and politics, and certainly the scientists, simply do not understand. They're all right, Jack. What's a trip to the pub anyway – that's for the little people. 
This tweet from Camilla Tominey caught my eye yesterday. 
She is right – this landlord has had his business wiped out 'in the blink of an eye'. Destroying the livelihoods of so many in the blink of an eye is something that used to happen only in communist Russia. It is not quite a knock on the door in the middle of the night, but it is not far off. Oh, but don't worry, they will get compensation from the government, you tell me. That is not the point. This landlord runs a business, he wants to provide this service, I have no doubt he takes pride in providing this service, it's not just the money he wants. It's his sense of dignity in a job well done.
This is why I believe that any future legal cases should claim this entire Covid government strategy is a breach Article 3 of the Human Rights Act which states that no one shall be subjected to torture or to inhuman or degrading treatment or punishment.
Perrins ended her article with thoughts on Dickens's A Christmas Carol:
In the great Christian story of redemption, A Christmas Carol, Scrooge famously did not observe Christmas. In addition, he hated anyone who did. He refused a generous invite to share the Christmas meal from his nephew. This was rightly seen as cruel, mean, mean-spirited and immoral. Scrooge was incapable of any joy or love. Matt Hancock wants to ruin your Christmas. He wants you to uninvite the relations you have invited to share your Christmas meal. Hancock, like Scrooge, is mean, mean-spirited and cruel. Ignore him. Keep Christmas as you will.
I wish you and yours every comfort and joy this Christmas. Know in the New Year that we at TCW will not rest until every last mask is burnt and 2m sign is peeled off the pavement. Anything less is defeat. 
Excellent!
On Tuesday, December 15, she opined on the type of people who love lockdown. Someone from Scotland responds:
In case anyone thinks Labour would be any better on Christmas celebrations, their party leader Sir Keir Starmer also wants celebrations on the feast day of Christ's birth scrapped:
This came up at Wednesday's PMQs (Prime Minister's Questions).
Fortunately, Prime Minister Boris Johnson echoed the words of one of his cabinet ministers, Chief Secretary to the Treasury Steve Barclay:
Guido Fawkes reported Steve Barclay told Radio 4's Today programme on Tuesday that Britons should (emphases in the original):
"try and minimise their contacts" in the week before Christmas. Yet still sticking to the four nation, five day relaxation. For now…
Barclay also advised that when families gather they do so "in a way that isn't the maximum of what the rules require but the minimum that they as a family need to do."
That means that Transport Secretary Grant Shapps's subsidy of public transport is still on …
… and Conservative rebel MP Mark Harper — one of the good guys — can rest easy:
Returning to public transport, anyone travelling to London will be greeted with Christmas cheer:
Bob Moran has been doing some great political cartoons for the Telegraph mocking lockdown. He's found a fan in Daily Mail columnist Peter Hitchens:
I hope that Bob Moran — and Peter Hitchens — have a happy Christmas.
Here's Bob at work:
Here are the Models, mocking Chief Medical Officer Prof Chris Whitty and Chief Scientific Officer Sir Patrick Vallance:
Jokes aside — and as necessary as they are right now — it is alarming to think about how a three-week lockdown turned into one that lasted over nine months.
I wrote a few weeks ago here that this is the wildest conspiracy ever. We've moved beyond 'theory'. We're living it:
As regular readers of mine know, my principal worry is the economy.
Here's Klaus 'Great Reset' Schwab, the Founder and Executive Chairman of the World Economic Forum, discussing the COVID-19 group that will address — and, in his mind, solve — all the problems of coronavirus and the world in general. Business, he says, will be a big part of this. Be afraid, be very afraid. This is what he's actually saying:
In closing, let's return to London.
Deaths are normal for this year. This is a five-year chart:
London's hospitals are not overly burdened either, especially compared with 2018 and 2019:
And why do we not receive any information from the Department for Health and Social Care about a prophylaxis for COVID-19? Instead, we're pushed into taking a vaccine with messenger RNA. Revolutionary, for sure, but can we be certain it will work and is safe?
One wonders what will happen next year.
Yesterday's post summed up the week's coronavirus news in the UK.
It was all rather interesting, ranging from vaccine distribution in Coventry to Sky News's Kay Burley being sent to Coventry and back to London — for a six-month suspension. Gosh. Talk about 'being sent to Coventry', i.e. ostracised.
More snippets from this week follow in the coronavirus crisis.
Remember medical statistics history — Prof Carl Heneghan
Prof Carl Heneghan from Oxford warns that we should not forget statistics pre-Covid. Let us cast our minds back to one year ago, 2019:
Most respiratory infections have gone down from this time last year.
COVID-19 is the only new addition with a dramatic upward spike.
An American physician speaks out
Dr Brian Lenzkes, an internist from San Diego, California, offered an interesting thread on coronavirus censorship in the medical community.
But, first, let me begin with the following madness which he rightly exposed. Influenza has disappeared? Pull the other. A San Diego County health official says so — because people are wearing masks:
Yet, there are no tests for flu.
Dr Lenzkes has excellent tweets about diet and coronavirus, among them the following thread about censorship on the subject:
Note the fifth tweet:
Meanwhile, non-COVID patients are losing their well-being
In Britain, the National Health Service has become the National Covid Service (NCS).
Many patients with other serious conditions are losing out on critical care. This lady has lost her sight because of the NCS:
WHY?
Surely, after over 70 years, the NHS, sorry, NCS, can — and should — do much better.
Helen is only one of thousands who have gone without the care they needed.
The unvaccinated deserve nothing?
The chairman of the Oxted and Limpsfield (Surrey) RAFA — Royal Air Force Association — tweeted that those without the coronavirus vaccine should be denied service. In his opinion, there is no excuse:
Wow.
Many of us recall when the RAF fought for our freedom:
A London plumbing firm could mandate the vaccine for customers
Disappointingly, some service providers plan to discriminate against the unvaccinated.
This is Charlie Mullins, who heads London's famous plumbing firm, Pimlico Plumbers. He gave this interview from his second home in Marbella:
Meanwhile, in Canada …
On Wednesday, December 9, the deputy premier of Ontario made a statement about coronavirus vaccines.
They are not mandatory, but if you don't get vaccinated, your life will not return to normal:
However, the vaccine does not guarantee immunity
In any case, the vaccines do not guarantee immunity. They purport only to make the coronavirus episode less severe, much like the flu vaccine. Isn't there a preventive solution, e.g. Vitamin D supplements, natural summer sunshine, a good diet, that could prevent the virus taking hold? I think we should be told:
In the US, overall death figures are low
Yes, despite what we read in the media, in 2020, the United States has a low overall death toll compared with previous years:
This woman is indignant over the lockdown(s) which have seen many shops in the Palisades Center in West Nyack, New York close (occasional language alert):
Londoners could be entering the dreaded Tier 3
The same nihilistic restrictions are going on in England, with the threat of London entering Tier 3.
This was yesterday's headline in the London Evening Standard:
In conclusion
This is about the size of it. 'Submit and obey'? Not on your Nelly:
Let's remember:
In conclusion, the aforementioned Dr Lenzkes quoted the late Rod Serling from the original Twilight Zone:
It's interesting that some did not think the warnings were strong enough:
Rod Serling and others warned the way they were able to do — based on their knowledge at the time.
Why do we ignore history?
On the evening of October 31, 2020, the English received a Halloween trick rather than a treat.
Prime Minister Boris Johnson held a press conference to announce that England would be going into a second nationwide lockdown on Thursday, November 5.
How ironic that the Government chose November 5, Guy Fawkes Night, when, in 1605, Fawkes and group of his mates tried to blow up Parliament. This is England's night for fireworks and bonfires remembering that Fawkes and his pals were imprisoned and that traitors will never succeed. But I digress.
The Chief Medical Officer, Prof Chris Whitty, and Chief Scientific Officer, Sir Patrick Vallance, accompanied Boris. They showed yet another alarming set of statistics, an incomplete set of hospitals (showing 29 out of a total of 482) and updated heat maps showing that even regions of England with low rates of 'infection' were in potential danger if 'no action' were taken:
At the time of the press conference, half of the country, including London, had been in either one of the two new designations, Tier 2 or Tier 3. People in those tiers were told that it would take a few weeks to see any tangible decrease in the R ('infection') rate. Action was being taken.
Yet, Boris — urged by SAGE, of which Whitty and Vallance are members — did not bother to wait to see if the numbers in Tiers 2 and 3 were decreasing. He went straight for another national lockdown.
Once again, Boris circumvented presenting the plan to Parliament first for scrutiny. He claimed it was so urgent that he had no time for that.
What made matters worse is that an unknown someone leaked the lockdown plan to the media. MPs were in recess at the time. They returned to the Commons on Monday, November 2.
Speaker of the House Sir Lindsay Hoyle was not happy.
No. 10 launched a enquiry with regard to the leak. The police might get involved, if necessary.
The Daily Mail has a full timeline of events from Friday, October 30. Excerpts follow, emphases mine:
Furious Speaker Lindsay Hoyle today demanded a personal apology if a Cabinet minister is found to have leaked the PM's lockdown plan.
The Commons chief read the riot act to the government after the bombshell news spilled over the weekend, rather than being announced to Parliament first …
'I expect the Prime Minister to keep the House updated on his leak inquiry,' he said.
'I also hope that if the leaker is identified and if a member of this House, that member will make a full apology to the House for the discourteous and unacceptable behaviour.'
Separately, science chief Patrick Vallance is facing a backlash over a grim off-the-record briefing to reporters on Friday afternoon, in which he underlined SAGE's push for an immediate lockdown – alongside figures suggesting more than 85,000 people could die this winter.
Sir Patrick's office insist his briefing on Friday afternoon was just a regular off the record discussion with journalists, and dismiss the idea he was pre-empting any government move …
Sir Patrick suggested to reporters that it was too late for a two-week circuit breaker, and a four-week lockdown similar to that introduced in France was the best way to control the R number.  
Mr Johnson had still been wavering on the issue that morning, when Foreign Secretary Dominic Raab was sent out to defend the local 'Tiers' system on the airwaves.
But, confronted with Sir Patrick and Chris Whitty's dire predictions he set the wheels in motion on a month-long lockdown. 
Within hours the tentative decision taken by the elite group was leaked to the Daily Mail and Times – before the full Cabinet had been informed – in an apparent effort to prevent the PM changing his mind. 
By Saturday morning the BBC's political editor Laura Kuenssberg was giving details of two key documents that were shown to the 'quad' [core group of decision makers], a controversial prediction that the daily death toll would hit 4,000 a day and that NHS hospitals would be overwhelmed. 
There has since been criticism that the 4,000 a day projection was already out of date. It was produced by experts from the University of Cambridge and Public Health England who have since revised their numbers and lowered the possible numbers of deaths. 
Nevertheless, both slides formed a key part of the data finally officially presented on Saturday night, when a livid Mr Johnson brought forward his announcement after a call with his clueless wider Cabinet.
A formal leak inquiry has now been launched to find the culprit – with claims that just 15 people, including Sir Patrick, chief medical officer Chris Whitty and NHS England head Sir Simon Stevens were in the meeting.
There have even been dark threats that the police could be called in to find who undermined the PM's approach …
A former Cabinet minister told MailOnline that the behind-the-scenes manoeuvring over the lockdown was 'very odd'.
They suggested that the intervention from Sir Patrick could have been part of an effort to 'bounce' the PM. 'It does sound like a bounce. If he was briefing people in advance he was obviously trying to build up a head of steam behind the notion of a lockdown,' they said …
The MP said the figures being used to support the lockdown move, including claims that deaths could hit 4,000 a day, were questionable
'The figures don't appear to have been updated to reflect the true state of affairs,' they said …
Mr Johnson will today try to head off a mounting Tory revolt against his nationwide lockdown by warning coronavirus deaths this winter could otherwise by double the first wave. MPs have been raging at the 'evil' new rules, likening them to something from a 'totalitarian regime'.
On Tuesday, November 3, Whitty and Vallance appeared before the Science and Technology Select Committee, headed by the estimable MP, Greg Clark.
The Telegraph details the reasons why they were asked to appear at such short notice: spurious statistics given at Saturday's press conference used to justify a second lockdown.
The two physicians faced questions not only from Clark but also the other MPs who sit on that committee:
That link is still working, so, while there is no transcript, you can watch the proceedings, which last a little over two hours.
It was an engrossing session and, based on the replies to that tweet, no doubt many lockdown sceptics tuned in to watch:
What follows are highlights of the Select Committee hearing. MPs asked good questions:
An MP was able to get Whitty and Vallance to admit that they had not taken the effect of the tier system into account before the press conference last Saturday:
Greg Clark did an excellent job of chairing the hearing:
The duo explained that the reason they pushed for a lockdown was because R >1 across England, even in regions which are in the Medium (no tier) range. I disagree that this means 'cases are doubling'; they are not:
Graham Stringer (Lab) is one of my favourite MPs. He said that Saturday's alarmist graphs scared the public. Vallance's response follows:
Jeremy Hunt (Con) also asked about the projected 4,000 deaths:
The duo were also asked about the subtle blame they were putting on university students as being part of the cause of the increase in R. They quickly walked back the insinuation:
The duo were asked whether it might be a good idea to have an economist on SAGE to present the economic damage of lockdowns. Whitty seemed more open to this than Vallance, who was vehemently opposed. He said that SAGE were not responsible for economic modelling and said that was the remit of the Treasury:
The replies to the next tweet mention soundbites on other questions:
Around halfway through, it was apparent that the duo were uncomfortable with the probing nature of MPs' questions. Vallance glared at one point.
Chris Whitty is shown below:
When asked about the test and trace system in place, they said that it works best at the beginning of a pandemic when cases are just beginning to climb rather than later on. The Government has put a huge emphasis on our test and trace system. As such, it is viewed as being essential by MPs and the public:
They were asked about excess deaths taking place because of all the emphasis being put on COVID-19:
There is doubt that much of the NHS was overrun, even at the height of the pandemic:
Later on, talk turned to the ban on public worship and outdoor sports for children which come into effect today. The two admitted that their 'evidence' about closing houses of worship was 'anecdotal'. When pressed, Whitty said that he would not answer theological questions. When Greg Clark pursued the subject of outdoor sports for children, Whitty refused to say it was a low-risk activity that would help keep youngsters in better health.
Not everyone was happy with the line of questioning, although it was much better than I'd expected.
Barrister Francis Hoar had submitted questions to the select committee which were not asked. I, too, would like answers to these but think the discussion would have taken up much of the two hours:
The following day, Chris Whitty sent a letter to Greg Clark retracting a statement he had made earlier about infection rates in the over-60s in Liverpool:
The following statement is correct:
Based on the admittedly bogus data, it seems incongruous that we should have a second England-wide lockdown:
Nonetheless, after a debate in Parliament on Wednesday, October 4, MPs voted overwhelmingly — 516-38 — for a second lockdown:
I am pleased to say that, during the debate, several MPs from both sides of the aisle pressed the Government for a change of tack on banning public worship and certain outdoor sports, including for children. Unfortunately, the Government refused to budge.
Guido Fawkes has a list of the MPs who voted No. Four of those were from Northern Ireland's Democratic Unionist Party (DUP); sadly, I did not see Jim Shannon's name among their number.
Clearly, there weren't enough rebels, but I am most grateful for those who stood up for their principles — and for us.
On November 5, Chancellor of the Exchequer Rishi Sunak delivered a statement to Parliament announcing an extension to his original furlough scheme:
Lockdown ends on December 2, at which point the Government with local officials, including the NHS, will decide what regions need to return to the Tier system.
On Monday, October 12, 2020, Prime Minister Boris Johnson announced a three-tier system for England in an attempt to make new coronavirus restrictions easier to understand:
He delivered a statement in Parliament and later addressed the nation. In the video clips below, Chief Medical Officer Prof Chris Whitty is on the left and Chancellor of the Exchequer Rishi Sunak is on the right:
These plans run for the next six months:
Earlier that day, Chief Medical Officer Prof Chris Whitty, Chief Scientific Officer Sir Patrick Vallance and Deputy Chief Medical Officer Prof Jonathan Van-Tam presented an update. It is unnerving when SAGE (Scientific Advisory Group for Emergencies) members make an announcement of upcoming health policy before the Prime Minister or the Secretary of State for Health and Social Care, Matt Hancock. They did this on September 21 as well, against a Government backdrop. They have official permission to do so, but it is unsettling to see. It looks as if they are in charge. Perhaps they are.
Hmm.
I very much agree with this tweet about SAGE members who are physicians, such as the aforementioned three men (emphases mine below):
'Drs' go into epidemiology and PH because they want the same salary as the frontline grafters without the hours, stress or risk.
So, how accurate were Sir Patrick Vallance's alarming projections from September? Not very accurate at all, as many people in England suspected three weeks ago, and deaths are thankfully minimal compared to springtime statistics:
The SAGE members spoke on Monday morning. Boris addressed MPs that afternoon.
The Conservative MP for Wakefield, Imran Ahmad Khan, rightly pointed out that a Conservative government should let citizens make informed choices for themselves:
As Conservatives, we often speak of levelling up. However, now is the time to level with the British people. There is no silver bullet. All measures to stop the spread of covid have painful effects on our economy, social lives and mental wellbeing. Voices on the Opposition Benches believe that British people are incapable of understanding complex issues such as Brexit. The Conservative party is the champion of individuals' rights to make autonomous decisions without state interference. Will the Prime Minister double down on our party's historic commitment to invest greater trust in the individual to decide what is best for themselves?
Boris gave his standard communitarian response:
Indeed, and I hope that the individual will also recognise that the risk that we carry—he or she carries—is not just to ourselves, but to the whole of the community because, in the end, we are all potential vectors of this disease and we may bring it inadvertently to someone who is more vulnerable than ourselves. That is the risk. That is why we are bringing in these measures, why we have had the package of measures that we have had throughout this pandemic, and why we now need to intensify them in some local areas now.
Boris answered over 100 questions in two hours. The session ended just before 6 p.m.
He addressed the nation on television at 7 p.m.
The adjournment debate in Parliament that evening revealed that the National Health Service would be more aptly named the National Covid Service.
Labour's Fleur Anderson, who represents Putney in south west London, spoke about the continued closure of the Urgent Care unit at Queen Mary's Hospital in Roehampton. Excerpts follow:
In August 1997, Queen Mary's Hospital, which is in Roehampton, ended its A&E service, and has since had a minor injuries unit, which the trust gave a gold-standard accreditation in November last year. So there is no A&E service in my constituency. The minor injuries unit was upgraded to an urgent treatment centre, with a GP added to the excellent nurse practitioner staff, earlier this year. In a normal year, the centre serves 16,000 to 18,000 people, so it is a vital service in our community.
During the peak of the pandemic, the decision was taken to temporarily close the service because of a lack of space for social distancing and to be able to adhere to Government guidelines, and also to move the staff to other areas that needed them more. The pharmacy for out-patients has only recently been closed, and at very short notice. Of course I understand, as do local residents, that changes had to made and that health services had to adapt. I fully appreciate that our NHS managers had to make some extremely difficult decisions on service provision as they faced the prospect of being overwhelmed, which they are now facing again, with the second wave. The continued closure makes us in Roehampton feel overlooked, and it is putting additional pressures on NHS services at Teddington, the walk-in centre at Kingston, St George's Hospital A&E and local GP surgeries. I am concerned that this will cause untold long-term damage to the health and wellbeing of our community.
I have been asked, "What about the person with the dislocated shoulder, the chest pain, the allergic reaction?" They all need to be assessed and stabilised urgently, but at the moment they are being turned away. I have met the chief executive of the hospital trust and raised these issues. I asked her to assure me that the centre would be reopened as soon as it was safe to do so, but she has not confirmed when it will reopen, if at all. That is very ​worrying. I hope to hear from the Minister this evening that he will support the trust in making plans to reopen the walk-in urgent treatment centre. 
I would like briefly to explain the impacts that the closure is having on local people. Anyone who goes to where the minor injuries unit used to be is asked to travel far away to the Teddington walk-in centre, to Kingston A&E or to St George's A&E in Tooting. Those bus journeys can take an hour, which can result in painful journeys or in many people not making the journey, not being seen and not being treated. I am sure the Minister will agree that an hour on public transport is an unacceptably long journey time when there is a really good hospital right there in Roehampton, but it is just not open for walk-in urgent care. One of my constituents wrote to me this week to say:
"I took my elderly father, who is nearly 90 years old, to Queen Mary's just over a month ago, because he had cut his fingers quite badly and they were bleeding. The kind staff there had helped us when my father had a similar problem last year and they knew how to bandage his fingers because he has very thin skin…Because the Centre was closed, we had to go all the way to Kingston Hospital which was quite stressful. While his treatment there was good, it would have been far easier if we could have gone somewhere more local to him as my father isn't used to travelling that far."
Also, some patients are unable to travel or should not travel. An example is patients with diabetic foot ulcers, who should keep their activity to a minimum to allow ulcers to heal. At the same time, if they have an infection, it needs treating immediately as it could deteriorate rapidly leading to the need for amputation. That is one group of patients who are not getting the care they need because the urgent treatment centre and the pharmacy are not open. There is an obvious health risk to people needing to travel further if they are seriously ill.
There is also an increased risk of covid infection through asking people to travel greater distances by public transport during the pandemic, especially when they are unwell or chronically ill. They could have an underlying condition, which might be the reason they are going to the urgent care centre in the first place. That would make them more susceptible to the effects of covid-19. Closing the pharmacy is having the effect of delaying patients receiving treatment, as they are now being referred to their GP by the clinics. If they cannot immediately get an appointment with their GP, this can lead to delays of up to 48 hours before starting their treatment. That is another impact.
There is also a knock-on effect on services in other places. The fact that 16,000 to 18,000 people a year used to be treated at Queen Mary's is putting pressure on St George's and Kingston, along with the increasing demand at the moment. GP surgery appointments are already at a premium, and this demand will only worsen as the difficult winter months approach. Even before the pandemic, it was reported that over 11 million patients had to wait more than 21 days for a GP appointment. In my constituency, there are 14 main surgeries and three branch practices. My team has called round all the local GP services. Several are still only doing appointments over Zoom, and in one local medical centre, a member of staff begged for the urgent care centre to reopen due to the pressure its closure is causing for GP surgeries.​
Increased demand for overstretched GP surgeries with finite resources ultimately means fewer local people's conditions or illnesses receiving treatment, and even more concerningly, serious and urgent illnesses such as cancer being missed and going undiagnosed. It is cancer diagnosis that I am particularly concerned about. As the Minister knows, lots of cancers are diagnosed when people present at hospital with a symptom. With the doors of the urgent treatment centre still closed, many cancers that might otherwise have been spotted will have been missed …
Edward Argar, Minister for Health, responded on behalf of the Government:
… I am conscious that the trust has yet to set out a firm commitment to a reopening date, but I join the hon. Lady in saying that I hope it will set out its future plans as soon as possible. I am conscious that she has met the trust's chief executive, Jacqueline Totterdell, to discuss these issues and plans for the reopening of the urgent treatment centre. Although that reopening date is still to be confirmed, I understand that the trust and local commissioners are undertaking work to agree a new covid-secure model of care before reopening, which is the right approach.
The hon. Lady highlighted not only the urgent treatment centre but its role in helping early diagnosis and treatment of cancers. I completely understand and recognise her concerns about the impact of the pandemic on cancer services and the importance of ensuring that cancers do not go undiagnosed. The NHS is working to restore the full operation of all cancer services, with local delivery plans being delivered by cancer alliances. Systems will be working with GPs and the public locally to increase the number of people coming forward and being referred with suspected cancer to at least pre-pandemic levels—I will come on to the performance of her local trust in a moment.
To support that, systems will help to ensure sufficient diagnostic capacity in covid-19-secure environments, through the use of independent sector facilities and the development of community diagnostic hubs and a rapid diagnostic centre. The hon. Lady is right to highlight that diagnostic capability is a considerable challenge, not least because, to put it perhaps a little bluntly, many diagnostic tests are very close and personal, and the equipment used is intimate in terms of looking inside the human body. The cleaning and infection control measures that are necessary between each patient make it challenging to see as many patients as would have been the case before the pandemic.
That last sentence worried my far better half, who asked, 'Does that mean they weren't cleaning between patients before coronavirus?'
After discussing cancer services, Argar discussed the Urgent Care pharmacy in question:
The hospital pharmacy is absolutely vital for people being able to have timely access to the medicines they need and being able to get them on site. Although people using it will have been treated and advised in hospital, they can none the less get very helpful advice from the pharmacy as well, so I share her view about the importance of that. As I have said, I include that in my offer to her—to discuss that with her and with the chief executive. I will endeavour to do that later this week …
I simply reiterate that I share the hon. Lady's view that, where services for perfectly good and legitimate clinical reasons have been temporarily closed or altered, it is extremely important that they are reopened as soon as trusts are able to do so and, where in the future any changes are proposed, that they are subject to the usual full public consultation, engagement and consideration. I do not want to see temporary measures becoming permanent by default, and she can read that as perhaps an expression of my view on what is happening in Roehampton …
I hope that I have been able to offer the hon. Lady some reassurances today. I thank her for securing the debate, and I very much look forward to meeting her …
Fleur Anderson was reassured. I hope that Queen Mary's Hospital gets back to full service soon.
The content of that debate was alarming.
Apologies for the digression, but this is the state of play for the NHS, or should I say NCS, not only in Roehampton but all over the nation. It is an absolute shambles.
Tuesday, October 13 — the almighty SAGE, no evidence needed
On Tuesday, October 13, Treasury Minister Steve Barclay laid out the Chancellor's expanded plans for financial support during the continuing coronavirus crisis.
The 10 p.m. curfew for pubs was also voted on later that day.
Mel Stride, the Conservative MP representing Central Devon, asked for scientific evidence about the curfew:
My right hon. Friend and the Chancellor of the Exchequer have done a great deal to support the economy, but there has to be a careful balance struck between protecting against the virus and avoiding further economic destruction. With ​that in mind, what scientific evidence has the Treasury received that closing pubs at 10 pm gets that balance right?
Steve Barclay did not answer the question and inadvertently pointed out SAGE's woefully inaccurate modelling (see graph at the top of the post):
We have to balance the evidence that the Government receive from a range of quarters. My right hon. Friend will recall that when the initial advice from the Scientific Advisory Group for Emergencies was put forward, the Government came forward with a range of measures, such as the rule of six and the curfew. Indeed, if we look at the projections that were made at that time, we see that we could potentially have had 49,000 or so daily cases by 14 October when in actual fact the figure on that date was 12,872. That indicates the fact that the package of measures put in place by the Prime Minister and the Chancellor of the Exchequer have had an influence. However, listening to the SAGE advice, it is recognised that we need to go further and that is why the tiered approach has been set out.
Mike Wood (Con, Dudley South) sounded the alarm about pubs in his West Midlands constituency:
A tenth of pubs have not reopened since lockdown in March while two thirds were already trading at a loss, even before restricted opening times, mandatory table service and the new restrictions announced yesterday. Will my right hon. Friend look at the support that is available for pubs that are not yet compelled to close, but are legally prevented from operating economically, and in particular state aid limits that threaten to prevent 10,000 pubs from receiving the support they need? Without that support, many thousands of pubs will close their doors and never reopen.
Barclay responded:
… Ultimately, that is why the Chancellor set out the wider package of support, recognising the concerns he speaks of with the tax deferrals, the loans, the business rate support and the measures on VAT, which are targeted at the sector because of the very real concerns he correctly articulates.
Bob Seely (Con, Isle of Wight) asked for evidence that compels swimming pools and gyms to close in some areas under the new restrictions:
Is there any specific evidence that swimming pools and gyms are centres for covid transmission? Has any research been done into rising obesity and unfitness levels, and has any research been done into rising unemployment caused by the closure of gyms and pools that is now happening in parts of the UK?
Barclay reiterated that those sectors were part of the reason for the Chancellor's expanded support package. Again, he could not provide any scientific evidence:
In some ways, that is slightly more of a Health question than a Treasury question, but I recognise that there is read-across from those businesses into the economy. In short, the opinion of the chief medical officer and the chief scientific officer is that those businesses do carry significantly more risk, which is why they have been harder hit in the guidance that has been issued.
What if it turned out that Whitty and Vallance were as wrong about that as they are with their astronomically mistaken 'case' projections?
I fully agree with the assessment of Sir Edward Leigh (Con, Gainsborough):
It is not surprising that more and more Members are calling for more Government support, because the Government are forcing more and more businesses, particularly in the hospitality sector, out of business. The Chief Secretary says that his priority is to help business. The best way to help businesses is to let them get on and do business. We are going bankrupt as a nation—there will not be the money to pay for the NHS or pensions. What is the Treasury doing to row back against other parts of the Government and insist that we must allow British business to operate? He did not answer the question from the Chairman of the Select Committee, my right hon. Friend the Member for Central Devon (Mel Stride)—what is the scientific evidence for pubs closing at 10 o'clock? Is he leading the fight to help Britain to stay in business?
Barclay replied:
With respect, I did answer it. I pointed to the projection given by the chief medical officer and chief scientific adviser at that time, the SAGE guidance and the fact that the package of measures put in place by the Prime Minister has resulted in a lower infection risk. The CMO and others would recognise that this is a range of measures. My right hon. Friend says that the Government have gone too far and that there is no evidence for the curfew. The tenor of most of the questions one gets is that we have not moved far enough and should be taking more drastic actions. That speaks ​to the fact that this is a balanced judgment. One needs to look at the range of measures we are taking, and that is what I would refer him to.
After that, MPs debated then voted on all the new coronavirus measures. All passed, including the 10 p.m. curfew for pubs across the nation.
Matt Hancock delivered the statement which opened the debate.
He took strong exception to the Great Barrington Declaration:
Some people have set out this more relaxed approach, including those in the so-called Great Barrington declaration. I want to take this argument head on, because on the substance, the Great Barrington declaration is underpinned by two central claims and both are emphatically false. First, it says that if enough people get covid, we will reach herd immunity. That is not true. Many infectious diseases never reach herd immunity, such as measles, malaria, AIDS and flu, and with increasing evidence of reinfection, we should have no confidence that we would ever reach herd immunity to covid, even if everyone caught it. Herd immunity is a flawed goal without a vaccine, even if we could get to it, which we cannot.
Well, not all of us get flu every year, and, in the wide scheme of things, COVID-19 has a 99% survival rate.
I agree with Hancock's second point about the impossibility of isolating older members in multi-generational households.
However, overall, Hancock really is in thrall to SAGE. They must be relishing the power they have over him:
John Redwood (Con, Wokingham) asked a simple question:
How long do the scientists think we will need these lockdowns for, and what is their exit plan?
Hancock had no real answer. The one he gave proves that lockdowns do not work. So much for SAGE advice:
We have seen the exit plan from local lockdowns. For instance, in Leicester, where we had a firm local lockdown, the case rate came right down. We lifted that and we have sadly seen it start to rise again. The case rate is determined by the amount of social mixing, and it reduces during a lockdown. In some parts of the country where the case rate has continued to rise, there is an argument for further ensuring that we do not reach the level of contact that is at the root of the virus spreading. The challenge is how to calibrate the lockdown to get the virus under control while doing the minimum damage to the economy and to education.
Huw Merriman (Con, Bexhill and Battle) pointed out the futility of a 10 p.m. curfew, as everyone pours out into the street and onto public transport at the same time:
The Secretary of State talks about a regulation on pubs closing at 10 o'clock, which has been in force for four weeks. There may be some undoubted positives for health, but we see some negatives with people amassing together on public transport and in the streets. Do the positives outweigh the negatives, as far as the science is concerned?
More waffle from Barclay, I'm sorry to say.
You can see some of Shadow Health Secretary Jonathan Ashworth's reply to Barclay in the video below. Ashworth says that the Government have not gone far enough, even if he opposes another full lockdown, or circuit-breaker, as it is now called.
The debate continued.
Addressing Matt Hancock, Dr Andrew Murrison (Con, Southwest Wiltshire), who is a physician, cautioned him against being closed-minded and advised looking at other voices in the medical world, including those of those who say that lockdown serves little purpose and should be confined to the vulnerable only:
I support these restrictions with a heavy heart. On balance, I will be supporting the Government this evening, but I want to make just a few quick points.
I would be very careful about subscribing to the Vallance/Whitty orthodoxy that informed these regulations, while not at all examining very carefully respectable bodies of medical opinion to the contrary. I would cite particularly the Heneghan/Sikora/Gupta line. It is important that the Secretary of State and his ministerial team address those things head-on and treat them with the respect that they deserve …
We need to be careful about groupthink, confirmation bias, a thin evidential basis and uncertainty masquerading as certainty. There is a huge margin of uncertainty with all this, and we all need to develop a level of humility in our attitudes towards dealing with this crisis. That is why I shall be supporting the Government this evening …
In all this, we simply do not know and we are learning all the time. We have to accept, I think, the expertise of those advising Ministers and that we have experts for a reason, but there is an alternative view. Unless we get a vaccine—goodness me, I hope we do—I think we may find that the cure is worse than the disease in terms of lives lost directly to covid, incidental lives lost to other common diseases—stroke, heart attack and particularly cancer—loss of liberty, loss of livelihood and the compete trashing of our economy. That is what is at stake. I do not envy the Secretary of State in his work.
Labour's John Spellar (Warley) made excellent points. I agree with every one of them:
There is a huge principle to be debated here. At the heart of it is the false dichotomy posed again by the Secretary of State today ​between hospitality and the economy and jobs, as though hospitality were not part of the real economy and millions of jobs did not depend on it. Tell that to the workers and businesses owners in pubs and clubs, restaurants and cafes, hotels and wedding venues, theatres and cinemas, betting shops, bingo halls and casinos and gyms, all of which are facing really hard times and challenges. They are facing closures, ruin and job losses on a massive scale. At the same time, as we heard earlier, Treasury support is weakening and the Chancellor of the Exchequer is not only losing the cost of support but suffering a major loss of revenue.
Unfortunately, the approach seems to be driven less by deep analysis and more by the dreaded doctrine of "something must be done". This is something; therefore we must do this irrespective of proportionality, outcome or impact. But this time it is even worse. It seems to be "something needs to be seen to be done" without any cost-benefit analysis or considering the impact on a beleaguered industry and a workforce facing mass redundancies. Accordingly, I and many other Members are unclear about the basis, either at a local or national level, of these proposals. The Chief Secretary talked earlier of anecdotes. I want a bit more than anecdotes.
Sir Richard Leese, the leader of Manchester City Council, rightly said on Radio 4 today that a far better way than closures and curfews is to give powers to local councils to take rapid action to shut down non-compliant venues. In my authority of Sandwell, which has an enviable contact rate of 85% led by the excellent public health director Dr McNally, we have had one case linked to a hospitality venue, and that was early on in the pandemic in a pub in Smethwick. The Express & Star, our evening newspaper, investigated and found that across the Black Country, which is home to 1.25 million people, there have been just 10 such incidences of covid, again all early in the pandemic.
In his opening speech, the Secretary of State did not give an indication of how long he thinks this can go on. It could last almost indefinitely unless we develop a vaccine, an event that, as the Prime Minister candidly admitted yesterday, is uncertain and would not be 100% effective. One of the tests of an exit strategy is considering how we contain the virus if we are not able to eliminate it, as we have had to do with major diseases throughout history and as many of parts of the world still have to do today.
Steve Baker (Con, Wycombe) brought up the economic damage done and his support for the Great Barrington Declaration. He said that the Government must find a middle way:
… three problems. The first is that a vaccine may not come. The second is that a vaccine may not be effective. The third is that all this is propped up on quantitative easing and ultra-cheap credit. Indeed, now we are reading in the newspapers about negative interest rates, and this is why I declared the interest. I think you have to have a peculiarly high level of economic education to believe that we can head towards £745 billion of QE and ultra-low or negative interest rates and that all this will not be a problem. I will not say any more about it. I think it will be a problem, and it is precarious indeed that the Government's strategy is propped up on such a monetary policy …
Personally, I think that privately the Government are a little more optimistic about the AstraZeneca vaccine, which my right hon. Friend the Prime Minister mentioned, ​but here is the thing: even suppose the Government had vaccinated the public with a successful, safe vaccine by Easter or possibly the summer, that still leaves our economy and Government spending propped up on ultra-cheap credit. The problem with that is that the Bank of England has told us on the Treasury Committee that if inflation comes in it will have to, under its mandate, fight inflation. That would effectively mean pulling the plug on Government spending. This is precarious indeed …
For the reasons that I have given, I am convinced that the Government must find an alternative strategic plan between the Great Barrington declaration and where we are today.
All Government measures passed in the votes that night.
Labour's mixed messages
Meanwhile, Labour's shadow cabinet are all over the shop.
On Tuesday, Jonathan Ashworth opposed a national lockdown, while saying that the Government were not going far enough with measures:
However, Labour leader Keir Starmer announced on national television that he wants a national lockdown, as Guido Fawkes points out (emphases in the original):
Why does Keir Starmer support imposing a national lockdown on areas with low Covid incidence whilst opposing regional lockdowns on areas with high Covid incidence? Whatever side of the argument you are on, surely it is clear that being on both sides of the argument at the same time makes no sense logically? Unless it is pure political opportunism…
Ashworth said, rightly that a national lockdown "would be disastrous for society… but I don't believe anyone in the house is proposing that…" Hours later Starmer proposed precisely that…
Tiered lockdown: public money from taxpayers or private enterprise?
In closing, this is what is allegedly happening in Essex, which is just to the east of London. This is puzzling, because Essex has low positive test rates.
Adam Brooks is a publican:
Essex Council deny that money is involved. The councillor giving the following statement said that the Council is doing it for health, not financial, reasons:
Fair enough.
The leader of the Council issued this video announcement, which was not well received by Essex residents (read the replies):
Essex aside, on the subject of lockdown money, Laura Dodsworth has written a lengthy article for Spiked, 'There's a financial incentive for councils to lock down'.
She stands by her article:
She explains that Liverpool Council made sure they received commitment to a financial package from the Government before entering Tier 3:
Liverpool mayors Steve Rotheram and Joe Anderson said that they did not agree with some aspects of the Tier 3 lockdown, but were aware that government would bring in rules 'with or without them'. And so rather than argue forcefully against lockdown, they negotiated to secure the best financial package possible.
This policy is not without its drawbacks:
The new funding package for councils is designed to alleviate the pain of lockdown, to sugar the pill. But the structure of the funding might end up providing local authorities with the ingredients to make lockdown cake indefinitely. It is specifically intended to support more testing, including door-to-door testing, sometimes with help from the military. But more testing leads to more cases. More cases lead to more lockdowns.
… the funding is also going towards enforcement of lockdown regulations and self-isolation, which there are fines for breaching. That, in turn, raises more funds – the revenue from fixed-penalty notices, whether they are issued by local police, environmental-health officers or new Covid marshals, goes into local-authority coffers. In theory, the lockdown fixed-penalty fines should be going straight back into public health (as littering fines would go towards the environment). But, in reality, revenue from fines is not always that well ring-fenced in local authorities.
Liverpool Council is nearly broke:
Back in April, Liverpool council warned it was facing bankruptcy. It's easy to appreciate that local leaders are anxious to secure funds to deal with the ongoing lockdown crisis. I am not suggesting that councils and local politicians would make calculated decisions to push areas into lockdown. But the road to hell is paved with good intentions. This financial model has the potential to become a vicious circle. Seasoned disaster-planner Lucy Easthope tells me: 'There is a tendency in reactive disaster funding to create dependency and to actively avoid thinking through the long-term harms and over-reliance [on emergency funds].'
Allegedly, London is likely to be next:
It will be interesting to see how this turns out in the months to come. I hope that the Treasury have terms and conditions attached to this funding.
The end of the road for England's pubs?
Since the smoking ban in 2007 and the financial crisis the following year, the number of pubs decreased from 50,000 to 39,000 in the UK. That was as of 2018.
Because of the earlier lockdown this year, more have no doubt closed — for good.
The new coronavirus regulations began on Wednesday, October 14:
Below is a video of the 'last hurrah', as my parents' generation would have called it, in Liverpool, before Tier 3 regulations set in.
Regardless of what one thinks of the video, according to the pie chart, when workplaces and schools/universities are factored in, according to Public Health England, hospitality accounts only for 3 per cent of coronavirus 'case' sources:
Not all pubs have to close, but in order to stay open, they must serve 'a substantial meal', as in New York City. A packet of crisps or pork scratchings will not do. The Pub Curmudgeon said that the Government have not precisely defined the term 'substantial meal', which could be problematic.
Meanwhile, Adam Brooks, the aforementioned publican from Essex, has given an interview to Spiked:
More to come tomorrow on how his business has fared during the coronavirus crisis.
Last week proved to be another emotive and passionate one in the House of Commons with regard to coronavirus and Brexit.
This post concerns coronavirus.
On Monday, September 14, Prime Minister Boris Johnson's Rule of Six, which he announced on September 9, came into effect. It sounds rather Chinese.
It means that people living in England cannot meet in groups of greater than six, indoors or outdoors. If we do, according to him, we 'will be breaking the law'.
He also introduced a new platoon to keep us in line: COVID marshals, to remind us of existing coronavirus rules in England — 'hands, face, space'.
Recall that Boris said after the December 2019 election that we now have the People's Government. Hmm.
The UK government is copying a Belgian idea. The Rule of Six reduced their second spike.
Increasingly, Britons have been looking back at Sweden, which refused to lock down. Fraser Nelson is the editor of The Spectator. Chris Whitty is our Chief Medical Officer; in May, he said that coronavirus was harmless for most people and most of us would never get it:
Michael Gove MP, a Cabinet minister and Chancellor of the Duchy of Lancaster, made matters worse when he confirmed that under-12s were part of the Rule of Six, unlike in Scotland and Wales, where under-12s are not. With life getting back to normal as school has started again, this came as a blow to many families:
The Telegraph reported that the Cabinet was split on the proposals (emphases mine):
… one senior Tory source said that "half the Cabinet" had doubts about the so-called 'rule of six', and it was "pretty hard to find a Conservative member of Parliament who agrees with all of this".
The COVID marshals are also a problem for police and local councils:
Meanwhile, Mr Johnson's plan for coronavirus marshals to help enforce the six-person rule was unraveling as police derided them as "Covid Wombles" and councils said they were a "gimmick".
Downing Street admitted councils would not be given any money to pay for the marshals, suggesting volunteers could do the job, and said it would be up to individual local authorities to decide whether they actually wanted them.
It got worse, as curfews were mooted:
The Government has discussed going even further with new lockdown restrictions, and has drawn up "a well-developed proposal" for a nationwide curfew which was discussed at ministerial level.
My head spun.
Then the ministerial snitch crowd appeared on weekend news programmes to say that people must tell on their neighbours if they are seen to be violating the Rule of Six:
Political journalist Isabel Oakeshott rightly responded:
I couldn't agree more. This is supposed to be the People's Government, isn't it?
History will not look kindly on 2020 with regard to the measures taken to combat the virus:
I was wrong.
Home Secretary Priti Patel said that people should not even talk when they see friends in the street, even at a distance (audio here, thanks to Guido Fawkes, and there's video, too):
Yebbut, if you DO report what appears to be criminal activity, allegedly, the police do not want to know. Here is a printscreen of a set of comments on a Guido Fawkes thread. I call your attention to the last two. Police would rather pick on mums and their children. Ironically, that was posted on the anniversary of the Battle of Britain. Go figure.
A mild-mannered man from Buckingham called talkRADIO to say he would not comply with the Rule of Six because the Government had gone too far.
So did a lady from Brighton, saying that the Rule of Six was about:
control. They're trying to see how much they can get away with.
Another talkRADIO host, Julia Hartley-Brewer, had a go at Roy Lilley, former NHS Trust chairman. She said:
We are being scared into thinking we have to give up our civil liberties when that won't save lives. Being sensible will save lives.
The Telegraph's Salley Vickers wrote of the restrictions on her and her loved ones:
I would rather risk dying and have the joy of their company than lose that vital contribution to my own happiness.
With the festive season only several weeks away, the Daily Mail's Peter Hitchens told talkRADIO's Mike Graham that the Rule of Six has:
made Christmas an arrestable offence.
Another Daily Mail journalist, Bel Mooney, wrote an editorial for Conservative Woman saying that she was surprised at the amount of resistance she received when she wrote that she would be defying the Rule of Six at Christmas:
… in response to Matt Hancock's sudden, arbitrary and illogical 'rule of six' diktat, I wrote a strong opinion piece (at the request of my newspaper) headlined 'NO, NO, NO! I'm having Christmas for 14 – and no puffed-up Covid marshal will stop me'.
As you might expect, there was a huge response. I never look online, and am not on Twitter (I expect there was a lot of poison swilling around out there). I am talking about emails to me and the newspaper. What interested me was the fact that, if I am to be honest, the antis outnumbered the pros. I didn't expect that from Mail readers.
You can never tell with Mail readers, though. They're a tricky lot.
Oxford University's Professor Carl Heneghan and honorary research fellow Tom Jefferson wrote an article for The Spectator against the Rule of Six, saying that Boris must bin it:
At Oxford University's Centre for Evidence Based Medicine, we have spent years trawling through the scientific evidence on the effects of measures such as distancing on respiratory viral spread. We are not aware of any study pointing to the number six. If it's made up, why not five or seven? …
Northern Ireland has taken a more measured approach and not announced any changes to how many people can meet. These disagreements in policy reveal how decisions are being made without evidence. It seems that somebody in government sat in a cabinet office room and said six is a good idea and nobody disagreed …
The problems with policy stem from the current cabinet's vast inexperience: the Health Secretary has been in post for just over two years now; the PM and the Chief Medical Officer a year. The Joint Biosecurity Centre is overseen by a senior spy who monitors the spread of coronavirus and suppresses new outbreaks. Add to this mix the new chair of the National Institute for Health Protection, who similarly has little or no background in healthcare. Our leaders amount to little more than a Dad's Army of highly paid individuals with little or no experience of the job at hand.
This inexperience leads to rash decisions and arbitrary policies.
One example is that entire areas can be locked down if they have 50 cases per 100,000 people. Yet the recognised alert threshold for 'regular' acute respiratory infections is 400 cases per 100,000.
Lord Sumption, who has been speaking out against lockdown this year, said that the Rule of Six will be unenforceable. I hope he is right:
Tom Tugendhat (Tunbridge and Malling, Con) expressed his concerns about the new rule and rightly wanted MPs to vote on it and similar measures:
It's unlikely that the House of Lords can help, either. They already have a full schedule. We should thank Lord Lamont for raising the issue of consulting the public, however. 'SI' means 'statutory instrument':
Monday, September 14
Behind the scenes and well outside of Parliament, an email emerged dated May 23, wherein Chief Scientific Adviser Sir Patrick Vallance stated he had pushed the most for March's lockdown:
Guido Fawkes has the full text of the email. I am not sure how Sir Patrick thinks that a vaccine will achieve herd immunity, though.
In the first of the debates on the Brexit-related Internal Market Bill, Charles Walker MP (Broxbourne, Con) prefaced his comments by expressing his dismay about the Rule of Six, the lack of consultation with Parliament and the fining of Jeremy Corbyn's brother Piers at the anti-lockdown rally on Saturday, September 12.
Thank you, Charles Walker:
This is short and well worth watching:
Tuesday, September 15
Secretary of State for Health and Social Care Matt Hancock poled up to make a statement to MPs about the Rule of Six and testing.
Excerpts follow:
There are signs that the number of cases in care homes and the number of hospitalisations is starting to rise again, so last week we acted quickly, putting in place new measures—the rule of six, which came into force yesterday. We do not do this lightly, but the cost of doing nothing is much greater.
Testing also has a vital part to play. Everyone in this House knows that we are doing more testing per head of population than almost any other major nation, and I can tell the House that we have now carried out over 20 million tests for coronavirus in this country. As we expand capacity further, we are working round the clock to make sure that everyone who needs a test can get a test. The vast majority of people who use our testing service get a test that is close to home, and the average distance travelled to a test site is now just 5.8 miles —down from 6.4 miles last week; but the whole House knows that there are operational challenges, and we are working hard to fix them.
We have seen a sharp rise in people coming forward for a test, including those who are not eligible.
Jonathan Ashworth (Leicester South, Lab/Co-op), speaking for the opposition, said:
I am grateful for advance sight of the Secretary of State's answer. That was decent of him.​
Yesterday LBC revealed that there were no tests available in covid hotspots, including Rochdale, Pendle and Bradford. Over the weekend in Bolton, where infections are the highest in the country, a mobile testing centre failed to turn up. Meanwhile, in Bury hundreds queued for five hours for a test. In Walsall, a father with his sick child travelled 76 miles to an appointment in Wales, only to find on arrival that tests had run out. Increasing numbers of teachers and pupils are not in school. In hospitals, operations are cancelled while NHS staff are stuck in limbo, waiting for tests.
The Secretary of State blames increased demand, but when tracing consistently fails to reach 80% of contacts, when less than 20% of those with symptoms self-isolate properly and there is a lack of financial security, infections rise. When schools reopen and people return to workplaces and social distancing becomes harder, infections rise. Extra demand on the system was inevitable. Why did he not use the summer to significantly expand NHS lab capacity and fix contact tracing?
Just as demand is increasing, the ability to process tests is diminishing. Post-graduate students working in the Lighthouse labs are returning to university, so why did the Secretary of State not plan for the inevitable staff shortages in the Lighthouse labs? Those commercial pillar 2 labs, The Sunday Times revealed at the weekend, have a huge backlog of 185,000 tests. Thursday's data revealed that 65,709 test results were not returned by the end of the week. Care home residents now wait an average of 83 hours for their result. The Prime Minister promised us a 24-hour turnaround for results, so what is going on? What is the current backlog and what is the timeframe for clearing it?
We were promised a world-beating system, so why are we sending tests to Germany and Italy for processing? But, most importantly, people want to know when they will get a test and when this mess will be fixed. Today there will be thousands of ill people trying to book a test, only to be told none is available. When will people be able to book a test online again, or has the online booking system been deliberately disabled? When will ill people no longer have to travel hundreds of miles for a test that should be available on their doorstep? When will pupils and teachers out of school get access to testing, so they can get back to school? When will NHS staff have access to regular testing, so they can focus on their patients and not be sitting at home?
We are at a perilous moment. Imperial College estimates the virus is doubling every seven to eight days. We all want to avoid further restrictions or another national lockdown, but when testing and contact tracing break down, the growth of the virus cannot be tracked. The Prime Minister promised us whack-a-mole, but instead his mallet is broken. The Secretary of State is losing control of the virus; he needs to fix testing now.
Many MPs — from both Opposition and Conservative benches — said that their constituents could not get tests.
Even the Speaker of the House tweeted that his constituents were having similar problems:
The testing situation is shocking — as Terry-Thomas used to say in the Boulting Brothers films: 'An absolute shower!'
On the upside, the British coronavirus jobs situation is improving, thank goodness (more from Guido here):
Wednesday, September 16
Deputy Labour Leader Angela Rayner (Ashton-under-Lyne) stood at the Opposition despatch box for Prime Minister's Questions (PMQs), as Sir Keir Starmer was self-isolating:
She did a good job.
She began by saying:
Many people in the Chamber will think that the battle of Britain is today, but actually we marked the 80th anniversary of those veterans yesterday, and I want to put on record our thanks to all those who fought for our country in the past.
I want to start by reading to the Prime Minister a message that I have received from a man called Keir. Keir was not able to go to work today and his children could not go to school because his family had to wait for their coronavirus test results, despite the Prime Minister's promise of results within 24 hours. Keir was able to do the right thing and self-isolate and work from home, but other people are not in this position, and many of them are the very people who were getting us through this crisis, such as the care workers, who I used to work alongside before I was elected to this House. The Prime Minister once earned £2,300 an hour; can he tell us the average hourly rate of a care worker in this country?
Boris was singularly unimpressed, although he had a neutral expression on his face, even when discussing Starmer:
I congratulate the hon. Lady on her elevation. She speaks of the constituent Keir, and I can tell her that—allegedly, apparently—he has had a negative test, and I do not know quite why he is not here. But 89% of those who have in-person tests get them the next day, and we are working very fast to turn around all the test requests that we get. I think that most people looking at the record of this country in delivering tests across the nation will see that that compares extremely well with any other European country. We have conducted more testing than any other European country, and that is why we are able to deliver tests and results in 80% of cases where we know the contacts.
The hon. Lady asks about care homes, and I can tell the House that today we are launching the winter care home action plan. She is right to raise the issue of care homes, and we are concerned about infection rates in care homes, but we will do everything we can to ensure that care homes and their workers are protected.
On the hon. Lady's final point, I am proud that it is this Government who have instituted the national living wage to ensure that every worker in this country, including care home workers, is paid substantially more, thanks to the care and the work of the people of this country.
Boris listened attentively and responded sensitively to all the points that Angela Rayner raised until this point, which came several minutes in, when she said:
Infections are rising. The testing system is collapsing. When you are the Prime Minister, you cannot keep trying to blame other people for your own incompetence. We have the highest death toll in Europe, and we are on course for one of the worst recessions in the developed world. This winter, we are staring down the barrel of a second wave, with no plan for the looming crisis. People cannot say goodbye to their loved ones. Grandparents cannot see their grandchildren. Frontline staff cannot get the tests that they need. And what was the top priority for the covid war Cabinet this weekend? Restoring grouse shooting.
I suppose that is good news for people like the Prime Minister's friend who paid for a luxury Christmas getaway to a Caribbean island and funded his leadership campaign, and just so happens to own two grouse moor estates. So Prime Minister, is this really your top priority?
The Prime Minister answered:
While the Labour Opposition have been consistently carping from the sidelines throughout this crisis and raising, frankly, issues that are tangential, if not scare stories about what is going on, we are getting on with delivering for the British public. We are not only massively ramping up. She has not contested any of my statistics today about the extent to which this country is now testing more than any other European country.
She has not disputed the massive acceleration in our programme. [Interruption.] I will answer the substance of her question, thank you very much. We are getting on with delivering on the priorities of the British people: getting us through this covid crisis; delivering on making our country safer, bringing forward measures to stop the early release of dangerous sexual and violent offenders, which I hope she will support; strengthening our Union, which in principle Opposition Front Benchers should support; and building more homes across this country and more affordable homes across this country, which she should support. That is in addition to recruiting more doctors and more nurses, and building more hospitals.
I do not think anybody is in any doubt that this Government are facing some of the most difficult dilemmas that any modern Government have had to face, but every day we are helping to solve them, thanks to the massive common sense of the British people, who are getting on with delivering our programme and our fight against coronavirus. It is with the common sense of the British people that we will succeed, and build back better and stronger than ever before.
If only.
That day, news of an upcoming curfew in London emerged.
Apparently, the British people don't have much common sense, after all.
Currently, London has some of the fewest new coronavirus cases (i.e. positive tests, little hospitalisation):
Guido rightly wrote (emphases in the original here):
If this afternoon's splash from the Evening Standard is true, it is a step too far. The London director of Public Health England (yes, the organisation is still limping on for now, despite the Health Secretary announcing its abolition back in August) has issued a "curfew alert" to the capital through the newspaper, saying residents could face a mandatory curfew if Covid cases continue to rise. A ridiculous suggestion that should be forcefully opposed.
Shutting pubs, bars, restaurants, and just about everything else at an arbitrary hour will obviously do nothing to stop the spread of coronavirus. If anything, the move will be counter-productive – compressing the same number of customers into a shorter time and making social distancing harder still. Or pushing social gatherings into homes not bars, which are thought to be more likely to spread the virus. This no doubt ineffective PHE [Public Health England] nannying should have been dumped when the organisation was. The government need to remember there is a limit to people's compliance. This might just hit it.
As I write early on Tuesday, September 22, Boris is planning to bring in an England-wide curfew for pubs and restaurants on Thursday. As if the virus will know the difference between a 10 p.m. closing time versus the usual one of 11 p.m. The mind boggles.
Thursday, September 17
Matt Hancock appeared again with another update on coronavirus.
This time, it was about measures taken on lockdown in the North East of England. This includes strict adherence to household bubbles, table service only in hospitality venues and a curfew between 10 p.m. and 5 a.m.:
Once again, he was straining every sinew, an expression he has been using since March:
The battle against coronavirus is not over, and while we strain every sinew to spring free of its clutches, with winter on the horizon we must prepare, bolster our defences and come together once again against this common foe.
Then he announced upcoming plans to make everyone using A&E (Accident and Emergency) departments to make a booking! Good grief:
… we are working to get patients the right care in the right place, by expanding the role of NHS 111. During the peak of this pandemic, we saw millions of people using NHS 111, on the phone or online, to get the best possible advice on coronavirus, helping them to stay safe and, where possible, to stay out of hospital, where they could have unknowingly spread the virus. It is crucial that, ahead of winter, we use this window of opportunity to seek out what worked and build on it, so we provide a better service for patients and protect the NHS. Of course, no one will ever be turned away from our emergency departments in the most serious of cases; however, we have worked with the royal colleges, the NHS and others to develop a better, quicker and more clinically appropriate service for patients by using NHS 111 first.
This is how it works. We will invest £24 million to increase call-handling capacity and to make sure there are more clinicians on hand to provide expert advice and guidance, and we will build on our trials to make NHS 111 a gateway to the emergency care system, providing a first port of call for patients. In future, rather than having to queue in an emergency ward, we are testing that people should call NHS 111 first to book an appointment with whoever can give them the most appropriate care, whether it is a GP, a specialist consultant, a pharmacist, a nurse or community services. Of course if they need to go to the emergency department, NHS 111 will be able to book them into an appropriate time slot. We want to see this approach lead to shorter waiting times and better availability of appointments for patients. We will consult on how its performance is best measured, and, with successful pilots, we will roll out NHS 111 First to all trusts from December.
This is the bit that galled me the most:
The purpose of 111 First is to improve access, including in terms of inequalities in the NHS, by ensuring that people get the right treatment in the right place and easier access if they do need to go to an emergency department, because the emergency ​department will know that they are coming. It is commonplace now in almost every part of our life to let people know that we are coming. If we are going to do something as important as visit an emergency department, it will help both the patient seeking treatment and the NHS to let them know that they are coming first. That is the principle behind 111 First. It sits alongside 999, which anybody should call in a serious incident.
'People's government', my eye.
Nor is the NHS the people's health service.
If you have a serious injury, you or your loved ones could be losing life- or limb-saving time by calling 111 or 999.
Based on what I read during the March lockdown, calling 111 was life-threatening. Children calling on behalf of elderly parents were told, 'If your relative is not turning blue, do the best you can.'
Calling the ambulance service on 999 generally produced this result: 'We're overloaded. If you can take your relative to hospital yourself, please do so.'
Over the past few months, I have heard NHS senior executives give testimony to Select Committees. They do not want patients coming in to a hospital, to a GP surgery — anywhere on NHS property.
An absolute shower!
Speaking of absolute showers, Baroness Harding — Dido Harding, a former jockey and failed business consultant/corporate director — gave testimony to a Select Committee, the Commons Science and Technology Committee, led by Greg Clark MP (Tunbridge Wells, Con).
Wow. It was car-crash television on BBC Parliament.
Baroness Harding is, inexplicably, the director of NHS Test and Trace programme.
Greg Clark is no slouch. He pressed and pressed the same question. Did she not anticipate the increase of demand for tests after lockdown lifted?
Finally, she gave the answer.
The Independent reported:
Demand for coronavirus tests is three to four times the number available, the director of NHS test and trace has admitted.
Baroness Dido Harding, who told MPs there was capacity to carry out 242,817 tests a day, said the "sizeable" rise in demand had been unexpected.
Boris Johnson has pledged to raise capacity to 500,000 by next month – but Baroness Harding's estimates suggest that even that figure would not be enough to satisfy demand.
Even then:
despite images of queues outside Covid-19 drive-in centres, the testing tsar said: "I strongly refute that the system is failing."
She put the blame on SAGE …
Baroness Harding insisted current capacity had been based on modelling provided by the government's Scientific Advisory Group for Emergencies (Sage) and suggested that around a quarter of those seeking tests did not have symptoms.
… and the testing laboratories:
Quizzed by the committee chair and former Tory minister Greg Clark on the current issues in the system, she said that the "constraint" in the testing was in processing and laboratories.
On Friday, Sir Jeremy Farrar, a SAGE member and director of the Wellcome Trust, hit back.
The Telegraph reported:
Sir Jeremy Farrar, the director of the Wellcome Trust, who sits on the Government's Scientific Advisory Group for Emergencies, said the body had given "clear advice" that a fully functioning test, track and trace system should be in place …
Responding to her comments on social media, Sir Jeremy said he had personally warned that a growing testing crisis was looming.
"Interesting to be blaming Sage," he wrote on Twitter. "Has been clear, and in the advice, that the UK faced an inevitable increase in community transmission and cases after the summer and needed a fully functional and trusted test, track and trace in place."
Sir Jeremy posted his comments from a BBC interview with Andrew Marr in June, in which he warned of a "nasty rebound" if steps were not taken to improve testing. He also re-posted an article from May in which he warned that lifting restrictions was difficult even with a fully working testing programme in operation.
The testing crisis deepened on Friday when it emerged that children at four out of five schools are staying at home because they cannot get a test …
This coronavirus business will only get worse. Watch and wait.
Part 2 concerns the Brexit-related Internal Market Bill.
There were so many insights on coronavirus last week that I couldn't fit them all in.
On Friday, I summarised Michael P Senger's article about China's role in the coronavirus crisis.
More information follows:
Rather sagely, a lady replied:
As did another:
The day before, there was the confession from a Facebook whistleblower about online political persuasion:
The article, dated September 14, features quotes from former Facebook data scientist Sophie Zhang.
The article states (emphases mine):
The 6,600-word memo, written by former Facebook data scientist Sophie Zhang, is filled with concrete examples of heads of government and political parties in Azerbaijan and Honduras using fake accounts or misrepresenting themselves to sway public opinion. In countries including India, Ukraine, Spain, Brazil, Bolivia, and Ecuador, she found evidence of coordinated campaigns of varying sizes to boost or hinder political candidates or outcomes, though she did not always conclude who was behind them.
"In the three years I've spent at Facebook, I've found multiple blatant attempts by foreign national governments to abuse our platform on vast scales to mislead their own citizenry, and caused international news on multiple occasions," wrote Zhang, who declined to talk to BuzzFeed News. Her LinkedIn profile said she "worked as the data scientist for the Facebook Site Integrity fake engagement team" and dealt with "bots influencing elections and the like."
She added:
I have personally made decisions that affected national presidents without oversight, and taken action to enforce against so many prominent politicians globally that I've lost count.
The BuzzFeed article continues:
The memo is a damning account of Facebook's failures. It's the story of Facebook abdicating responsibility for malign activities on its platform that could affect the political fate of nations outside the United States or Western Europe. It's also the story of a junior employee wielding extraordinary moderation powers that affected millions of people without any real institutional support, and the personal torment that followed.
"I know that I have blood on my hands by now," Zhang wrote.
According to the article, Facebook allegedly delayed taking action on the following:
It took Facebook's leaders nine months to act on a coordinated campaign "that used thousands of inauthentic assets to boost President Juan Orlando Hernandez of Honduras on a massive scale to mislead the Honduran people." Two weeks after Facebook took action against the perpetrators in July, they returned, leading to a game of "whack-a-mole" between Zhang and the operatives behind the fake accounts, which are still active.
In Azerbaijan, Zhang discovered the ruling political party "utilized thousands of inauthentic assets… to harass the opposition en masse." Facebook began looking into the issue a year after Zhang reported it. The investigation is ongoing.
Zhang and her colleagues removed "10.5 million fake reactions and fans from high-profile politicians in Brazil and the US in the 2018 elections."
In February 2019, a NATO researcher informed Facebook that "he'd obtained Russian inauthentic activity on a high-profile U.S. political figure that we didn't catch." Zhang removed the activity, "dousing the immediate fire," she wrote.
In Ukraine, Zhang "found inauthentic scripted activity" supporting both former prime minister Yulia Tymoshenko, a pro–European Union politician and former presidential candidate, as well as Volodymyr Groysman, a former prime minister and ally of former president Petro Poroshenko. "Volodymyr Zelensky and his faction was the only major group not affected," Zhang said of the current Ukrainian president.
Zhang discovered inauthentic activity — a Facebook term for engagement from bot accounts and coordinated manual accounts— in Bolivia and Ecuador but chose "not to prioritize it," due to her workload. The amount of power she had as a mid-level employee to make decisions about a country's political outcomes took a toll on her health.
After becoming aware of coordinated manipulation on the Spanish Health Ministry's Facebook page during the COVID-19 pandemic, Zhang helped find and remove 672,000 fake accounts "acting on similar targets globally" including in the US.
In India, she worked to remove "a politically-sophisticated network of more than a thousand actors working to influence" the local elections taking place in Delhi in February. Facebook never publicly disclosed this network or that it had taken it down.
The BuzzFeed article reports that Facebook's spokesperson Liz Bourgeois said:
It's highly involved work that these teams do as their full-time remit. Working against coordinated inauthentic behavior is our priority, but we're also addressing the problems of spam and fake engagement. We investigate each issue carefully, including those that Ms. Zhang raises, before we take action or go out and make claims publicly as a company.
BuzzFeed says that it did not reproduce Ms Zhang's full text because it contains personal information.
The article added:
In her post, Zhang said she did not want it to go public for fear of disrupting Facebook's efforts to prevent problems around the upcoming 2020 US presidential election, and due to concerns about her own safety. BuzzFeed News is publishing parts of her memo that are clearly in the public interest.
"I consider myself to have been put in an impossible spot – caught between my loyalties to the company and my loyalties to the world as a whole," she said. "The last thing I want to do is distract from our efforts for the upcoming U.S. elections, yet I know this post will likely do so internally."
Zhang said she turned down a $64,000 severance package from the company to avoid signing a nondisparagement agreement. Doing so allowed her to speak out internally, and she used that freedom to reckon with the power that she had to police political speech.
"There was so much violating behavior worldwide that it was left to my personal assessment of which cases to further investigate, to file tasks, and escalate for prioritization afterwards," she wrote.
That power contrasted with what she said seemed to be a lack of desire from senior leadership to protect democratic processes in smaller countries. Facebook, Zhang said, prioritized regions including the US and Western Europe, and often only acted when she repeatedly pressed the issue publicly in comments on Workplace, the company's internal, employee-only message board.
"With no oversight whatsoever, I was left in a situation where I was trusted with immense influence in my spare time," she wrote. "A manager on Strategic Response mused to myself that most of the world outside the West was effectively the Wild West with myself as the part-time dictator – he meant the statement as a compliment, but it illustrated the immense pressures upon me."
A former Facebook engineer who knew her told BuzzFeed News that Zhang was skilled at discovering fake account networks on the platform.
The second half of the article is also worth reading — and circulating.
Michael P Senger, the author of the article I cited on Friday, tweeted coronavirus-related news about Pennsylvania's continued lockdown:
Note that China was mentioned.
The title of Stacy Rudin's article for the American Institute for Economic Research (AIER) is 'Federal Court Holds "Stay at Home" Orders and Mandatory Business Closures Unconstitutional'.
Excerpts follow, emphases mine:
For six months, Americans in 43 states have lived under unprecedented executive orders restricting freedoms as basic as whether they can work, leave their homes, and expose their faces in public. These mandates are not duly enacted laws — they are orders issued by one of the three branches of government. They constitute a system of one-person rule — something none of us expected could ever happen in the United States — and no one, apart from the 43 newfound state dictators, is sure when it will expire.
Today, after six months of this, a Pennsylvania Federal Court in Butler County v. Wolf reviewed the indefinite "emergency" restrictions imposed by the executive branch of Pennsylvania government, declaring limitations on gathering size, "stay-at-home orders," and mandatory business closures unconstitutional. Refusing to accept the alleged need for a "new normal," the Court stated that an "independent judiciary [is needed] to serve as a check on the exercise of emergency government power."
About time. The Judicial Branch is coming to save us.
The article is worth circulating. It goes into American history, beginning with the Constitution in the 18th century and citing President Lincoln in the 19th.
The Pennslyvania Federal Court stated:
There is no question that our founders abhorred the concept of one-person rule. They decried government by fiat. Absent a robust system of checks and balances, the guarantees of liberty set forth in the Constitution are just ink on parchment.
Furthermore:
In times of crisis, even a vigilant public may let down its guard over its constitutional liberties only to find that liberties, once relinquished, are hard to recoup and that restrictions — while expedient in the face of an emergency situation — may persist long after immediate danger has passed.
The AIER article went on to say:
We cannot allow our freedom to become "ink on parchment." Many of our governors seek to do just that — they won't even designate an endpoint to their "emergency" powers. When does the "emergency" end? This should be easy to say — X number of deaths per million, X number of deaths over X number of weeks — yet they will not say it. They want us to live under the constant threat of house arrest and livelihood deprivation, even though all we ever agreed to was a two-week effort to "flatten the curve." We never agreed to an indefinite or permanent "new normal," or to do whatever our wise governor dreams up and declares necessary to "eliminate infections."
The article thanked Judge Stickman, speaking for the Pennsylvania Federal Court:
Thank you, Judge Stickman, for recognizing our predicament, and for taking the first step towards restoring our freedom today by reminding those with authoritarian leanings that "governors cannot be given carte blanche to disregard the Constitution for as long as the medical problem persists." The response to an emergency cannot undermine our system of constitutional liberties, or the system of checks and balances protecting those liberties. Liberty before "governor-guaranteed safety" — this is the American way, famously stated by Benjamin Franklin: "Those who would give up essential liberty, to purchase a little temporary safety, deserve neither liberty nor safety."
Pennsylvania's Governor Wolf appeared to back down (italics in the original):
Incredibly, Governor Wolf responded that his stay-at-home orders are "not actually orders at all, but merely recommendations," and that they are constitutional because they do not "shock the conscience."
Yet, the article's author says:
I'm willing to bet that Pennsylvania citizens would beg to differ.
The Court's decision stated that large populations were never quarantined (some local populations, e.g. St Louis, were during the Spanish Flu).
Not only that, the judges traced the origin of the virus to China:
In analyzing the constitutionality of "lockdowns," the Court first traced the origin of the concept to its source — Wuhan, China — and recognized that population-wide lockdowns are "unprecedented in American law." Even during the Spanish Flu, the deadliest pandemic in history by far, "nothing remotely approximating lockdowns were imposed." Although the United States has faced many epidemics and pandemics, "there have never previously been lockdowns of entire populations — much less for lengthy and indefinite periods of time." Quarantines are legally recognized, but refer to the isolation of sick people and those known to have been directly exposed to sick people. They are statutorily limited to the duration of the incubation period of the disease — a period which Governor Wolf's "lockdown" plainly exceeded.
Not only have lockdowns never been imposed in American history, but they are not even mentioned in recent pandemic management guidance offered by the Centers for Disease Control and Prevention ("CDC"). In its 2017 guidelines for managing pandemics, the CDC recommends numerous protective measures such as hand washing, limited-duration school closures, and cancellations of mass gatherings, but nothing "even approximating the imposition of statewide (or even community-wide) stay at home orders or the closure of all ['non-essential'] businesses." Even for pandemics of "Very High Severity," the CDC recommends only voluntary isolation of sick persons and their household members. "This is a far, far cry from a statewide lockdown such as the one imposed by [Governor Wolf's] stay-at-home order."
The article goes on to discuss small and medium business issues, which are of primary importance today. The court decided, in their own words (emphasis here in the original):
The Constitution cannot accept the concept of a 'new normal' where the basic liberties of the people can be subordinated to open-ended emergency mitigation measures. Rather, the Constitution sets certain lines that may not be crossed, even in an emergency. Actions taken by Defendants crossed those lines. It is the duty of the Court to declare those actions unconstitutional.
In related news Daniel Levitt, who works for tech firms in Silicon Valley, tweeted:
Ah, but increased testing is taking care of that issue. Hmm.
A podcast host from Ohio found that the WHO never stated that quarantine stopped influenza. Coronavirus is not influenza, yet it seems to share some of the same characteristics. Even more interesting is that, with the presence of COVID-19, influenza — the big worry of the cold weather season — seems to have disappeared south of the Equator.
Interesting:
It's all a bit of a mystery, but Kyle Lamb goes on to answer questions:
Does Kyle Lamb know more than our respective chief scientific officers? Perhaps. Perhaps not. In any event, he has gone further by probing the subject, which is more than our chief scientific officers have done.
Meanwhile, in the UK, an NHS GP pleads with Prime Minister Boris Johnson to change course on lockdowns. Here's yet another newspaper article mentioning a time period of a fortnight (yawn).
I pity the remaining vulnerable, especially the elderly. Click the image to see the article in full:
I could not agree more.
Message to the NHS: get on with it! You've had since May.

Since the summer, England's Nightingale Hospitals have been stood down for lack of use:
What will happen? A repeat of March and April?
My head is spinning at the prospect.
Once again, private care will turn out to be no better:
Good grief.
Then there is the matter of testing.
This thread is about the North East of England. The author is Professor of Industrial Economics Nottingham University Business School and states clearly that he is expressing his own views:
Sunderland is in the latest coronavirus hotspot area.
Understandably, residents are anxious to get PCR tests.
Yet, the queue was two miles long at the local testing centre:
The queues are for people who have booked a test:
It's the same in London, as per Tom Copley, the Deputy Mayor of London for Housing. Again, you need a code (obtained online) in order to get a test:
After all these months, this is unbelievable, especially from a notionally Conservative government.
As Tim Worstall said on September 17:
You've had 6 months to get testing sorted out. It's possible to do basic tests – basic note – for £1 a piece with reagent dosed paper hankies.
Also:
… seriously, why do we give, or have taken from us, 35% of everything to a structure that can't even manage this?
I could not agree more.
In closing, Dr Li-Meng Yan, a physician and virologist who also holds a PhD, is a Chinese whistleblower who worked at a WHO lab in Hong Kong. She is now out of the country in a secret location but has given at least two interviews in the past week.
The first was on Friday, September 11, on ITV's Loose Women, a lunchtime chat show in Britain:
She explained that she had access to a lot of secret information about COVID-19 and could no longer keep quiet, even if it meant losing her social credit score, which she did. She said she had been warned at the outset 'not to cross the line' because 'she could be disappeared'. She said that the Chinese government deleted everything about her that had appeared online. One wonders if her bank account was also frozen. It happens.
She told the show's panel that the virus was engineered in a lab and that it is not a natural virus.
She said that the Chinese government has downplayed her role in Hong Kong and is discrediting her.
The panel asked her why China would do such a thing and she replied that she had no insight into the government's 'evil thinking', then added that whatever they did 'worked': meaning — although she left this unstated — illness, death, panic, lockdown and economic damage.
I am glad that Loose Women interviewed her, because the show gets good ratings. Consequently, a lot of women in Britain will have found out more about the Chi-vi, as I call it.
On Tuesday, September 15, she appeared on Fox News's Tucker Carlson Tonight, to present the same details:
Tucker wasn't quite sure what to think. He acknowledged he does not have the scientific background to probe further.
A tip of the hat to my cyberfriend Wolf for the next part of this story.
Dr Yan, along with three other researchers, published a scientific paper on Monday, September 14: 'Unusual Features of the SARS-Cov-2 Genome Suggesting Sophisticated Laboratory Modification Rather Than Natural Evolution and Delineation of Its Probable Synthetic Route'.
This is the introduction (emphases mine):
Yan, Li-Meng; Kang, Shu; Guan, Jie; Hu, Shanchang
The COVID-19 pandemic caused by the novel coronavirus SARS-CoV-2 has led to over 910,000 deaths worldwide and unprecedented decimation of the global economy. Despite its tremendous impact, the origin of SARS-CoV-2 has remained mysterious and controversial. The natural origin theory, although widely accepted, lacks substantial support. The alternative theory that the virus may have come from a research laboratory is, however, strictly censored on peer-reviewed scientific journals. Nonetheless, SARS-CoV-2 shows biological characteristics that are inconsistent with a naturally occurring, zoonotic virus. In this report, we describe the genomic, structural, medical, and literature evidence, which, when considered together, strongly contradicts the natural origin theory. The evidence shows that SARS-CoV-2 should be a laboratory product created by using bat coronaviruses ZC45 and/or ZXC21 as a template and/or backbone. Building upon the evidence, we further postulate a synthetic route for SARS-CoV-2, demonstrating that the laboratory-creation of this coronavirus is convenient and can be accomplished in approximately six months. Our work emphasizes the need for an independent investigation into the relevant research laboratories. It also argues for a critical look into certain recently published data, which, albeit problematic, was used to support and claim a natural origin of SARS-CoV-2. From a public health perspective, these actions are necessary as knowledge of the origin of SARS-CoV-2 and of how the virus entered the human population are of pivotal importance in the fundamental control of the COVID-19 pandemic as well as in preventing similar, future pandemics.
ZeroHedge posted excerpts from the paper, which is way above my pay grade. The article ends with a reminder from ZeroHedge that they were suspended from Twitter months ago for alleging the same theory:
As a reminder, Zero Hedge was banned from Twitter on Jan 31 for making just this allegation, following a hit-piece written by an alleged pedophile (who was later fired for plagiarism) and countless so-called "scientists" screaming that our take was fake news and nothing but propaganda. Five months later Twitter admitted it had made a mistake, stating "we made an error in our enforcement action in this case."
Speaking of Twitter, on September 15, ZeroHedge also reported that Dr Yan's Twitter account was quickly suspended, days after she created it this month (emphases in the original):
On Sunday afternoon we asked how long before the twitter account of the "rogue" Chinese virologist, Dr. Li-Meng Yan, who yesterday "shocked" the world of establishment scientists and other China sycophants, by publishing a "smoking gun" scientific paper demonstrating that the Covid-19 virus was manmade, is "silenced."
We now have the answer: less than two days. A cursory check of Dr Yan's twitter page reveals that the account has been suspended as of this moment …
If Yan was wrong, why not just let other scientists respond in the open to the all too valid arguments presented in Dr. Yan's paper? Isn't that what "science" is all about? Why just shut her up?
Because if we have already crossed the tipping point when anyone who proposes an "inconvenient" explanation for an established "truth" has to be immediately censored, then there is little that can be done to salvage the disintegration of a society that once held freedom of speech as paramount …
We hope Twitter will provide a very reasonable and sensible explanation for this unprecedented censorship.
Indeed.
Back now to the contents of the paper that Dr Yan co-authored.
US Army Colonel Lawrence Sellin (Ret.) explained it in layman's terms for the Gateway Pundit: 'Dr. Lawrence Sellin: The Unequivocal Evidence Chinese Scientist Dr. Li-Meng Yan Provides Proof COVID-19 was Created by China's Military'.
Dr Sellin gives us the overview, which is still scientific (emphases in the original):
China has claimed that a bat coronavirus named RaTG13 is the closest relative to the COVID-19 virus, but RaTG13 is not actually a virus because no biological samples exist. It is only a genomic sequence of a virus for which there are now serious questions about its accuracy.
Dr. Yan suggests that RaTG13 may have been used to divert the world's attention away from the true source of the COVID-19 pandemic.
She claims that the COVID-19 virus originated in laboratories overseen by China's People's Liberation Army, using bat coronaviruses ZC45 and/or ZXC21 collected from Zhoushan, China and used as the viral "backbone" for genetic engineering.
Those bat coronaviruses were originally isolated and characterized between July 2015 and February 2017 under the supervision of the Third Military Medical University (Chongqing, China) and the Research Institute for Medicine of Nanjing Command (Nanjing, China).
The article goes on to explain how the receptor binding motif (RBM), which defines the coronavirus' ability to bind to the specific human angiotensin converting enzyme-2 receptor (ACE2) underwent genetic manipulation.
That critical segment of the COVID-19 virus is bounded by two "restriction sites" not found in any related bat coronaviruses, which allow researchers to easily splice, that is, cut and paste components of other viruses into the viral backbone.
The presence of those restriction sites is a known marker for genetic manipulation.
Furthermore, the COVID-19 virus contains a furin polybasic cleavage site with an amino acid sequence of proline-arginine-arginine-alanine or PRRA that facilitates membrane fusion between the virus and the human cell and widely known for its ability to enhance pathogenicity and transmissibility.
Such a sequence is not found in any other related bat coronavirus and, so far, there is no natural evolutionary pathway identified that could explain the appearance of that PRRA segment.
In contrast, techniques for the artificial insertion of such a furin polybasic cleavage site by genetic engineering have been used for over ten years.
Dr. Yan and her colleagues note that the two arginine amino acids in that PRRA segment are coded by the nucleotide sequence CGG-CGG, which rarely appears in tandem and strongly suggests that this furin cleavage site is the result of genetic engineering.
In addition, the presence of a "FauI" restriction site at the furin polybasic cleavage site is also an indication of genetic manipulation.
Goodness me. We have these scientific allegations and all the UK government is thinking of is a second lockdown.
It is sad that we will not be reading or hearing about this paper in the media. Once again, please circulate the links with family and friends. Thank you.