You are currently browsing the tag archive for the 'NHS' tag.
The Conservative Party Conference took place in Manchester from Sunday, October 3 through Wednesday, October 6, 2021.
It was the first one since 2019, which was two months before their victory in the December 12 election that year.
UK in crisis
This year's conference took place during the ongoing petrol supply problems and shock record-breaking hikes in gas futures on Tuesday and Wednesday:
On top of that, on Wednesday, Reuters reported that the UK's petroleum regulator rejected Shell's plans to redevelop the Jackdaw gasfield in the North Sea (emphases in purple mine):
"We're disappointed by the decision and are considering the implications," a Shell spokesperson said.
It was unclear on what grounds the Offshore Petroleum Regulator for Environment and Decommissioning (OPRED) refused to approve the environmental statement for the field's development.
The Department for Business, Energy and Industrial Strategy, under whose umbrella OPRED operates, did not immediately reply to a request for comment.
Maddening.
The supply chain crisis for food continues. On Wednesday, The Times reported The National Pig Association warned retailers that 120,000 pigs would have to be slaughtered because of a lack of butchers. Some pig farmers are closing down altogether.
Some supermarkets are also suffering from empty shelves. Tesco, however, is bucking the trend. The Times reported that the supermarket chain is:
often highest up the pecking order when it comes to suppliers committing to make the business a priority …
Good for them.
Conference theme disappointing
The conference theme was … Build Back Better.
How awful.
Here it is draped across Central Station Manchester:
The Conservatives riffed on this in a Bake Off-style event. Pictured with Prime Minister Boris Johnson is Home Secretary Priti Patel:
Having listened to some of the speeches and read excerpts from others, they were all light in content. Most of them were pep rally or visionary statements rather than what plans Cabinet ministers have for the nation.
As The Telegraph's Madeline Grant wrote:
Never at a Tory Conference has so little been said, by so many, to so few.
Sunday, October 3
As the conference opened, rumours circulated about three unnamed Labour MPs thinking of crossing the aisle to the Conservatives, as the Mail on Sunday reported:
Guido Fawkes had more on the story (emphases in red Guido's):
… this is due to disillusionment with Starmer's leadership, with the MPs already having opened up "lines of communication" with Tory whips. In related news, a senior Labour MP was spotted by a co-conspirator chatting with two Mail on Sunday hacks and three senior Tory advisors at a conference bar last night…
The day's big event, according to The Spectator, was the drinks party that the 1922 Committee of backbenchers held, sponsored by ConservativeHome. Interestingly, a long-time Labour MP for north-west London — Barry Gardiner — was in attendance:
… the main focus of the night was the 1922 drinks with ConservativeHome in a room stuffed full of parliamentary talent and, for some reason, Barry Gardiner.
Strangely, Boris did not appear, leaving a gap which Chancellor of the Exchequer Rishi Sunak ably filled (video):
While Johnson was not scheduled to make an appearance here, Prime Ministers have traditionally done so in the past to pay tribute to their colleagues. His 'disappointing' absence – in the words of one disgruntled backbencher – left a vacuum for Sunak to fill, in a room full of MPs who will presumably one day decide who Johnson's successor should be.
The Chancellor leapt to the stage to tell fellow Tories about what he was most looking forward too at conference: Michael Gove dancing, the PM running in a full suit (not just a shirt) and 'machine like message discipline from every single one of you – and that means you too Cabinet.' He added that 'I've got your back' to anxious MPs in the room and that 'for the record I too am a low tax conservative' – welcome words for those party donors who Mr S[teerpike, columnist] understands attended a 'tense' meeting earlier at the Midland, amid considerable unease at the recent NI [National Insurance] hike.
In such circumstances, perhaps it's understandable that Boris would stay away.
According to The Telegraph, senior Conservatives have warned Boris not to dream up any more future tax hikes:
Earlier that day, Boris gesticulated wildly at the BBC's Andrew Marr, saying, 'You have no fiercer opponent to tax rises than me'. This probably means more tax rises are on the way:
The Spectator has more on the interview.
On tax hikes, Sir Desmond Swayne MP told talkRADIO's Julia Hartley-Brewer the raw truth. He added that lower taxes will enable greater economic growth:
Another event that Boris avoided was the one by the Tory Reform Group (TRG), which wants the Conservatives to move closer to the centre politically. They are Remainers. The Spectator reported:
Theresa May's former deputy Damian Green welcomed attendees …
Green, a mainstay of various causes on the left-ish wing of the party over the past two decades, told activists that it was their task to 'make sure that the voice of moderate conservatism, centre-right conservatism is as strong as possible within the party' – a job 'never more important than today because there are times when I slightly feel that it is only people like us that stop this party drifting back to being seen as the nasty party.' A tacit rejoinder to Priti Patel perhaps?
But then it was time for the speaker and the great white hope of Tory moderation. Tom Tugendhat, the chairman of the Foreign Affairs Select Committee, took to the stage to ecstatic applause and, like Green, was under no illusions about the awesome responsibility he and his One Nation caucus members share – to keep the Conservative party effectively sane …
There was also ample time for several potshots at the current Tory leader Boris Johnson, with whom Tugendhat is said to enjoy a wary relationship.
Foreign Secretary Liz Truss, tipped to be a future Party leader, also made the rounds that day (video):
The fringes were packed last night as Tory ministers did the rounds. Liz Truss, the darling of the free market think tanks, appeared at the Think Tent equipped with a magnificent blow dry and an applause-winning speech which castigated cancel culture as 'fundamentally wrong.' That and other jibes at identity politics in her conference address lead the Daily Mail this morning to ask whether she is in fact the new Mrs Thatcher.
Several reporters wrote about her new hairdo, which, to me, didn't look much different from the old one.
Returning to the mysterious Labour people who might want to change parties, here's Manchester mayor Andy Burnham, a former Labour MP, heaping praise on Michael Gove, the minister in charge of Boris's levelling up programme. Burnham spoke to Trevor Phillips on Sky News that morning. Hmm:
Neither Andy Burnham nor Barry Gardiner is a Conservative. Crossing the aisle for ideals they don't believe in seems a rather rash way of getting their own back at Keir Starmer.
Boris made four appearances at conference that day, including one for the Scottish Conservatives. Guido captured his wit along with audio:
The PM warned of a "crackpot coalition" between the SNP and Labour – "the only way they could" kick the Tories out.
He described the Labour conference as "a total rabble", saying it had the air to him of "a seriously rattled bus conductor" facing an "insurrection on the top deck of the bus", or the "captain of a Mediterranean cruise ship facing insurrection by a bunch of Somali pirates".
Douglas Ross MP/MSP also addressed Scottish Conservatives. As party leader in Scotland, he wants to position the party as that of the nation's working class. It's a good move, as The Spectator reported:
Like all good fables, Douglas Ross's speech at Tory conference had a beginning, middle and end. Act One detailed the many iniquities of the SNP, from their dysfunctional vaccine passport scheme to their Hate Crime Act, and most of all their agitation for Scotland to break away from the UK. Act Two took the sword to Labour, bemoaned its abandonment of working-class voters and its internal divisions over the constitution. Theirs was not the party to take on the SNP. Only one party was and it was the subject of Act Three, in which Ross deepened a theme begun under Ruth Davidson's leadership: the Scottish Conservatives as the party of the Scottish working-class.
He hit all the familiar notes about the SNP's failings in government, the ones that never seem to stick longer than two or three news cycles and are invariably forgotten about by the next election. He also hinted at an interesting theme that, if teased out carefully, could come into greater play. It is the perception, no longer wholly limited to unionists, that Nicola Sturgeon is a bit… off. Out of touch. Superior. Maybe even a bit of a snob.
In other news, last week, Labour's Angela Rayner called Conservatives 'Tory scum'. Feisty Dehenna Davison MP, representing Bishop Auckland as the constituency's first Conservative, had 'Tory Scum' badges made.
This harks back to 1948, when Aneurin 'Nye' Bevan said the Conservatives were 'lower than vermin'. Following that, the Conservatives formed the Vermin Club. Club member Margaret Roberts — who would become Margaret Thatcher — also had 'Tory Vermin' badges made, as Nigel Farage told Dehenna Davison on GB News:
Party chairman Oliver Dowden pledged that the Conservatives would do away with ugly new housing developments by strengthening planning laws.
He also assured the public that they would have turkeys for Christmas, referring to ongoing supply chain problems.
Monday, October 4
Monday opened with the latest ConservativeHome popularity poll.
Liz Truss is at the top. Other MPs pictured are (left to right) Defence Secretary Ben Wallace, Leader of the House Jacob Rees-Mogg, Chancellor Rishi Sunak and Education Secretary Nadhim Zahawi:
Guido analysed the results, excerpted below:
The turn round in her fortunes from last year when she was being tipped to be sacked from the Cabinet is quite something. Liz is one of the increasingly rare consistently free market voices around the Cabinet table…
Rishi Sunak is down by some 10 points and moves from second to fifth place. Rishi's tax hikes have clearly taken the gloss off him with the true blue believers. 
Grant Shapps [Transport] and Priti Patel are bumping along the bottom in barely positive approval territory. Shapps has been doing fairly well with the incredibly difficult transport brief. Patel is suffering because she has failed to do the seemingly impossible – stop the cross channel migrants. Tory activists are unforgiving, they don't want excuses, they want results.
It was the turn of Rishi Sunak to address the party faithful.
A rise in council tax would not go down well. Meanwhile, protesters pelted Sir Iain Duncan Smith MP with a traffic cone:
Some at conference are disappointed with Sunak, whose budget comes up in a few weeks' time. Steve Baker MP is pictured in the second tweet:
Boris was out and about in Greater Manchester. He spoke to an interviewer about policing and said that the Government needs to change its culture, which has become misogynistic, particularly in light of the Sarah Everard murder earlier this year, committed by … a policeman, who recently received a life sentence.
In other news, Justice Secretary Dominic Raab plans to reform UK human rights legislation and do away with the ties to EU human rights legislation we are still under.
With regard to the Labour mystery, Manchester's mayor, Andy Burnham, had a conversation with Levelling Up minister Michael Gove, whom he had praised the day before. The Mail reported that Burnham was also due to address Conservatives at a fringe event sponsored by Transport for the North the following day. Hmm.
The cervix question that appeared at Labour's conference was also brought up with Conservatives. Dominic Raab responded by bringing up both misogyny and misandry in a highly confused way (video):
Two MPs decided to have a bit of fun with the issue as they drove to Manchester together:
Guido recapped their amusing exchange:
Health-conscious Conservative MPs Marco Longhi and Lee Anderson don't want to fanny about when it comes to their well-being. Marco, according to their road-trip video, made sure to receive a cervix exam before heading to conference this week. Always better to be safe than sorry…
Why is it that no one ever asks if women have a prostate gland?
On the subject of health, Desmond Swayne told Julia Hartley-Brewer why he is firmly against vaccine passports:
Lord Frost (pictured on the right) threatened the EU over the post-Brexit trade issues with Northern Ireland. Outside of the conference, pig farmers protested over the inability to get their stock to market. Boris had said that government cannot solve every issue, referring to the supply chain problem. He also told British businesses to hike staff salaries, which did not go down well, either:
I think they should give the meat away. A lot of poor families would appreciate it.
Tuesday, October 5
Boris began the day with an interview to LBC's Nick Ferrari. Extinction Rebellion offshoot Insulate Britain had blocked some of Britain's roads for the ninth consecutive day.
Despite injunctions from Priti Patel's Home Office, their human blockades continue.
Boris told Ferrari they are 'irresponsible crusties' (video). The question remains whether Extinction Rebellion gets any Government funding:
Dominic Raab confirmed in his speech that he would be reform the Human Rights Act to free it from EU hackles.
Guido's post includes a quote and this summary:
They will detach it from the ECHR, enabling quicker deportations of convicted criminals and swifter action on domestic abusers …
Raab's successor at the Foreign Office, Liz Truss, confirmed a trip to India later this month, ahead of COP26 in Glasgow in November.
Guido had a chat with her:
Among other topics, the foreign secretary confided in Guido she was finding the new department's mandarins to be "a bit 'Yes, Minister'"…
Rishi Sunak addressed the Northern Powerhouse Leaders' Lunch.
Guido says:
Sunak claimed that there is a "new age of optimism" in the north thanks to Red Wall Tories, and heaped them with praise for "helping to change our party and change our country". "In me, you have a Chancellor who is going to be with you every step of the way," he added.
See? I told you these speeches were content-free.
Later in the day, he appeared at a fringe event where he was asked about the cost of Net Zero. This was his alarming answer:
Health Secretary Sajid Javid promised another reform of the NHS, which mostly involves digitisation. I can think of more pressing NHS concerns and agree with Guido:
… pouring in taxpayers' money without checking how it's being spent isn't enough. That cash needs to be put to good use. Reviewing the eye-watering pay packets of some NHS diversity managers would be a start…
The Telegraph's Christopher Hope interviewed Oliver Dowden, who is thinking about resurrecting the singing of the National Anthem at conference, calling it a 'splendid idea'.
Hope also took the opportunity to present Dowden with a 'Tory Scum' badge, which he put on and said he would wear for the duration of the interview. Hope suggested he wear it until the end of conference.
This video shows the badge exchange. Hope gives us more information on the aforementioned Vermin Club:
Guido says that the badges were most popular. Dehenna Davison had to order more:
Many conference-goers have spent the last couple of days asking Davison for one of her badges, only to be disappointed upon being told she'd run out. Good news however, after Davison put in an emergency order for 400 more given their popularity…
The most outrageous session of the day — and a British first — was an address by the Prime Minister's wife to Party faithful. No Prime Minister's spouse — we've had two husbands in that role — has ever made a party political address until now:
Never mind the subject matter: was it the right thing for Carrie Johnson to do — even if she is a very good public speaker? Boris watched from a distance.
Polling stable
I'll review Boris's closing speech in tomorrow's post.
Post-conference polling is stable. YouGov's was taken on Tuesday and Wednesday:
Sir Desmond Swayne explained to Julia Hartley-Brewer that Boris's popularity and the lack of ideas from the Opposition have buoyed the Conservatives:
What Government should do next
Health Secretary Sajid Javid needs to keep a gimlet eye on NHS spending, especially on things like this:
Guido says:
The NHS is recruiting a supplier to deliver "compassionate conversations training" to 14,000 front facing NHS staff in a publicly funded contract worth a mind-boggling £3 million. The contract tender, which was published yesterday and closes on 5 November 2021, says the aim is to equip NHS staff with "the skills they need to handle challenging situations with compassion whilst ensuring they feel able to look after their own wellbeing if needed". Guido assumed that doctors were already taught about the importance of a good bedside manner…
It's almost ludicrous to think that this weekend Javid promised a forensic review of the NHS's management and leadership whilst the NHS continues to recklessly splash cash on diversity roles. Just six months ago Guido revealed that the NHS was hiring eight more 'diversity, equality and inclusion managers' across the country, with salaries up to as much as a whopping £62,000. If Javid is going to cut down those waiting list times he needs to focus taxpayers' money on the clinical front line, not nonsense make-work contracts and diversity roles…
Guido says it is also time for Boris to reconsider the current Government moratorium on fracking:
If Boris wants to energise Britain, domestic gas production should be part of that mix; it would provide energy security when Britain's energy needs are being threatened by the Russians and the the French. Boris is now in a position to do something glorious, to stop pussy-footing around and leave no stone unturned or unfracked. So get on with it…
This is what Boris had to say on the subject while he was Mayor of London:
I won't be holding my breath on either of those propositions.
Tomorrow: Boris's keynote speech
Last weekend, the biggest news in Britain was a proposed permanent tax rise on National Insurance (NI) to finance the NHS backlog from coronavirus, then social care.
The NHS needs £10bn within the coming months to begin to take care of the missed appointments, treatments and operations caused by coronavirus. In 2025, the revenue will go towards social care, legislation for which is non-existent at present.
For a low-tax party, the Conservatives have managed to increase taxes to their highest level since the Second World War. Britain has had Conservative prime ministers since 2010:
This is the current situation:
The TaxPayers' Alliance posted a petition against the NI tax rise:
The TaxPayers' Alliance has been keeping a gimlet eye on public sector expenditures, including 'golden goodbyes' for senior civil servants.
On Sunday, September 5, the Telegraph's Christopher Hope reported (emphases mine):
More than 1,000 senior civil servants have received six-figure "golden goodbyes" worth over £100 million since MPs passed a law five years ago to outlaw them, The Telegraph can disclose …
The Enterprise Act – which was passed into law in May 2016 – expressly put a £95,000 cap on exit payments in the public sector.
However, it was not actually implemented until Nov 2020. It was in place for just three months before a court challenge overturned it.
This has allowed senior civil servants to continue to pocket payments of more than £100,000 each.
Analysis by the TaxPayers' Alliance of severance payments in departmental annual reports in 2017/18, 2018/19 and 2019/20, as well as including those reports filed so far for 2020/21, found 1,032 civil servants had received the sums.
In the most recent year The Treasury – which is in charge of the policy – was one of the biggest offenders handing £100,000 payouts to seven civil servants.
Returning to the NI tax rise, Hope retweeted the link to his article on Tuesday:
On Monday, September 6, it appeared that a number of Conservative MPs would rebel on Wednesday, the 8th, when the vote on the measure was held.
Christopher Hope reported on the fact that this tax is likely to affect low-income earners much more than the wealthy:
One Cabinet minister described it as "a tax raid on supermarket workers and nurses so the children of Surrey homeowners can receive bigger inheritances" …
Former minister and Tory MP Jake Berry told the BBC that the rise would disproportionately affect working people "on lower wages than many others in the country", who would end up "paying tax to support people to keep hold of their houses in other parts of the country where house prices may be much higher".
Robert Halfon, chairman of the education select committee, and a former deputy chairman of the party, added that "it's going to hit the low paid, then I think that would cause me huge worries".
On Tuesday, the day when Boris Johnson introduced the proposal to MPs, various think tanks said the same thing. Paul Johnson of the Institute for Fiscal Studies said why NI was being targeted instead of, say, income tax. Both employer and employee will pay a quick and consistent source of revenue:
A levy of 1.25% on employee earnings and on employer wage costs (so a 2.5% overall increase in the tax rate on earnings), will raise £14 billion a year. The extension of this levy to those over state pension age and to dividends is welcome, but this remains a tax which will be overwhelmingly borne by workers with very little coming from pensioners. This continues a trend seen over many decades of the burden of tax being shifted towards earnings. The creation of an entirely new tax will mean yet more quite unnecessary complexity.
CAPX had more on tax disparity, especially for young people, and public sector inefficiency:
… raising NI has been called a 'reverse Robin Hood' tax. The beneficiaries of hikes to NICs would be the already wealthy and their relatives, especially as you don't have to pay NI on income from investments or rental properties.
Meanwhile a 1% rise would see the average earner's tax bill go up by £204 and those earning over £50,000 a year will pay an extra £404 a year. Worst of all, unlike income tax, those on the very lowest wages still have to pay NI. That particularly rankles coming from a party that has spent so long talking about 'taking the lowest paid out of tax' by increasing the personal allowance …
As set out in a previous Adam Smith Institute paper, social care is already cursed with being run by inefficient government bodies. With staff shortages, an ageing population and an inundated NHS, this is a sector facing myriad problems that a tax hike alone won't get near solving. As the ASI's Eamonn Butler puts it, throwing money at the sector without fixing its underlying problems is 'like pouring oil into a rusty engine – it still gets you nowhere'.
That said, if you are going to raise money for the sector, there are some obvious places to look before raising taxes on working age people. We could start by means-testing some of the universal benefits given to pensioners, such as free bus passes and the Winter Fuel Allowance. If the Government is determined to fund it through NICs, at least change the system so that working pensioners pay it as well.
Sadly, as The Sun's Harry Cole tweeted, this tax will only increase:
Worst of all, at the moment, NI revenue doesn't stay segregated. It is used for all and sundry expenditures, as the i paper's Mark Wallace pointed out:
It isn't an "insurance" scheme at all. It's just a second income tax.
There is no "pot" being paid into, no "contributions" in any meaningful sense, and no deal by which what you pay in buys you the benefits that are supposedly purchased. When you "pay in", your money just goes into general taxation, to be spent on whatever the government of the day wants …
At best, the money you pay goes back out of the door in the form of pensions and benefits to an earlier generation of workers. Fulfilling the salesman's promise with the fees of new customers is a Ponzi scheme tactic that Bernie Madoff himself would recognise.
As well as being immoral, this framing distorts our political debate. The confusion makes NI easier to exploit than plain old income tax – as YouGov found in a recent poll, raising the former is sizeably more popular than raising the latter.
Prior to Boris's announcement to MPs, the Government issued MPs with the plan for health and social care funding:
He also sent a detailed letter to the First Ministers of Scotland, Wales and Northern Ireland, whose nations will also benefit from this revenue.
In his statement to MPs, he explained why he broke his party's manifesto commitment not to raise NI contributions:
He concluded his statement with this:
After all the extraordinary actions that have been taken to protect lives and livelihoods over the last 18 months, this is the right, reasonable and fair approach, enabling our amazing NHS to come back strongly from the crisis; tackling the covid backlogs; funding our nurses; making sure that people get the care and treatment they need, in the right place, at the right time; and ending a chronic and unfair anxiety for millions of people and their families up and down this country. I commend this statement to the House.
Sir Keir Starmer, Labour leader, gave the Opposition's response, which was negative. Labour, incidentally, were in power for 13 years — 1997 to 2010 — and never came up with a social care plan, needed then as much as it is needed now.
Boris Johnson responded:
He added:
Let us be in no doubt: if we did what we have heard from the Labour party over the past few weeks, we would still be in lockdown, because the right hon. and learned Gentleman opposed coming out of stage 4; we would have absolutely nothing by way of dealing with the NHS backlogs; and after decades of inertia from the Labour party we would have absolutely no way of dealing with the anxiety of millions of families across this country who face the prospect of catastrophic social care costs.
This Government are dealing with those things—we are dealing with all of them. We are getting on with it. We are taking the decisive action. We are doing it all together. This is the Government who get on and deal with the people's priorities; this is the Government who tackle social care; and, indeed, this is the party of the NHS.
The House of Commons voted on the NI increase on the following day, September 8.
That morning, some in the business world grumbled (Rishi Sunak, Chancellor of the Exchequer, pictured below):
Health Secretary Sajid Javid vowed to make every penny count …
… however, the NHS plans to press on with hiring more useless managers who earn much more than the Prime Minister:
By the time the debate before the vote took place, most Conservative MPs had calmed down.
The New Statesman, a Labour-supporting magazine, explained why:
What has changed? The main thing is the Tory sense of pragmatism that has seen the party shapeshift, change leaders and directions time and again to electoral advantage. One Conservative MP says they understand that this health and social care levy is a "flagship policy" of the government – not one they can rebel on lightly without inflicting serious harm on their own brand. A cynic might also wonder if rumours of a cabinet reshuffle before Conservative Party conference … have helped to inspire loyalty in the Conservative ranks.
There is a second factor that has influenced those on the back benches. Conservative MPs have reluctantly concluded that they will be in a weak position to ask for more money for the NHS in their constituencies if they oppose a levy designed to raise funds for it. Tory MPs are competing against each other for money from the towns fund, levelling-up fund, and for a piece of the pie in new funding for NHS hospitals. They know their negotiating hand is weakened if they rebel.
The third factor in squeezing the rebellion is, quite simply, that Tory MPs think the Prime Minister's plan is better than they had initially feared. The proposal was first reported over the weekend, before the government had decided the final details of the policy, leaving critics time to get ahead of the story without anyone from No 10 making the case for it. Expanding the national insurance levy to include pensioners in work has done something to allay Tory fears that this is an unfair tax on younger people, as has the dividends tax hike.
In the end, the NI increase was voted in comfortably — 319 to 208:
Only five Conservative MPs voted against the bill:
However, 37 Conservatives abstained.
The public are divided on increasing NI, according to Opinium (more here):
However, YouGov's poll results were much closer:
It will be interesting to see what happens in 2025, when the NI increase is shifted from the NHS to social care, because the NHS always demand more money:
And what happens if Labour are in charge again someday?
I might not like it, but I hope this works, for Conservatives and the UK.
Both houses of Parliament returned from summer recess today.
The Commons debated on whether to raise tax on National Insurance (Social Security, to my American readers) by 1% to meet 'social care' needs. I put that in quotes because, as ITV's Robert Peston wrote on Sunday, September 5, there is no social care programme from the Conservatives yet, so proceeds from the tax increase will be used for the NHS, post-pandemic. Emphases in purple mine:
Election manifestos are contracts with voters. Under our parliamentary system, their promises are supposed to be broken only in exceptional and extreme circumstances.
Boris Johnson's manifesto, his contract with us that he effectively signed in December 2019, said "I guarantee we will not raise the rate of income tax, VAT or National Insurance".
… barring a full-scale cabinet revolt that forces a climbdown – he will break that guarantee, with a rise of 1.25% in the rates of national insurance paid by employees and employers to raise more than £10bn a year.
So does the Covid-19 crisis, and its deleterious impact on the public finances, represent the kind of crisis that most people would see as rendering the manifesto null and void, as in effect triggering what in business would be called a "force majeure" clause? …

Strikingly, I cannot find a single member of Boris Johnson's cabinet who argues national insurance should rise …

This does not look like laser-like targeted help, a rare example of benign hypothecation. For most ministers, the NI rise is billions being poured into a huge and fuzzy health-and-care black hole, without even the fig leaf of a half-plan to ensure the money is spent properly.
Spending the money properly is an important consideration. The NHS, laudable as it is in principle, needs looking at with regard to how it runs on a day-to-day basis.
Last week, an NHS blog post for senior management made the rounds in the UK. Guido Fawkes picked up on it today.
Amazingly, it was written by a senior manager at the Nursing and Midwifery Council. She has a degree in American Studies.
Perhaps I'm dated, but aren't nurses and midwives there to care for patients' health and new mothers' wellbeing?
If tax has to be raised, then let us ensure it is spent on patient care.
Returning to Robert Peston's article, here are the three reasons why government ministers are concerned about this tax rise:
On the one hand, it is supposed to put the social care system – long-term care for the elderly and frail – on a sustainable financial footing.
Which would be all very well, except there has been no published government report on Johnson's watch of the social care sector's needs, despite his assurance that such a plan exists.
Second, most of the new billions will be going in the first few years to the NHS, to help it catch up with the backlog of millions of operations, procedures and treatments, that have been delayed by the invasion of Covid-19 …
Third, ministers and the PM's MPs recognise that national insurance is not necessarily the fairest tax to use to raise funds for services that are predominantly of use to the oldest, since it isn't levied on those who reach retirement age, and is levied even on young people with very low earnings.
This matters, given that both the financial crisis of 2007-9 and the Covid-19 crisis had the most damaging economic impact on young people, and the finances of the older generation largely improved.
Johnson wants to be seen as a One Nation PM.
But in taxing the young disproportionately, he looks like someone penalising younger Labour voters to protect older Tory ones.
Incidentally, today's debate on the National Insurance Contributions Bill was unrelated to the proposed tax rise:
Returning to financing the NHS with a rise in National Insurance: an increase of 1% sounds small, but it isn't. The first tweet is from the Economics Editor for the Financial Times. James McKintosh is from The Wall Street Journal:
No one interviewed on GB News — whether Liberal Democrat, Labour-leaning journalists or Conservatives — thought that raising tax on National Insurance was a good idea.
On Sunday morning, Dehenna Davison, the first Conservative MP for Bishop Auckland in the north of England, held up a copy of the 2019 party manifesto which clearly says that the main three taxes will not be increased. Arlene Foster, former DUP MP, must be happy she's out of Westminster:
Guido Fawkes has come up with more opposition:
Robert Peston says that Boris is likely to get his way and use a cabinet reshuffle as a threat to comply:
The rumours of a Thursday reshuffle may be the PM's Stalin-lite threat to colleagues to back him or risk demotion or even exile to the backbenches.
But even without that threat, Johnson's not in serious trouble. Remember he picked his cabinet for loyalty not backbone.
Boris is gambling on Keir Starmer's weakness as Leader of the Opposition.
However, Starmer won't always be Labour leader. The next one will remember this and pin it on low-taxation Conservatives at the next election; we can be sure of that:
Johnson will get his tax. And whether he likes it or not, it will always have his name on it.
Boris, a keen student of history, would do well to remember what happened to Bush I when he ran for re-election in 1992. In 1988, he promised 'no new taxes'. Taxes went up under his watch. Bill Clinton won in 1992 with 'It's the economy, stupid' and served two terms.
My message to Boris is 'Danger, Will Robinson. Danger'.
Monday, July 19, 2021, will not be the long-awaited Freedom Day in England, just an unlocking for larger gatherings and venues, including theatres, nightclubs and strip clubs.
Mask wearing will still be 'expected'.
In his coronavirus briefing on Monday, July 12, Prime Minister Boris Johnson no longer used the words 'terminus' or 'irreversible'. In fact, he warned about the winter months ahead.
Health Secretary Sajid Javid had announced the very same in his statement to the Commons earlier that afternoon.
At this point, I doubt that we will see any semblance of pre-coronavirus normality until next year. We might even have to have coronavirus passports. Here is the minister in charge of the vaccination programme, Nadhim Zahawi:
Incidentally, French president Emmanuel Macron announced his plans for such passports on Monday for France. He also suggested that vaccinations could be made mandatory if there is not enough take up.
The Telegraph summarised the position in England (emphases mine):
People will be expected to continue wearing masks in indoor spaces, a stricture that will no doubt remain a requirement of entry for shops and hospitality venues as well as being mandated on public transport. Companies eager for their staff to return to the office have been left in an impossible position by ambiguous guidance about working from home. Employees are not being told to stay away but nor are they expected to go to work.
Since Mr Johnson previously said it was "now or never" to end these restrictions, the inescapable conclusion is that it is to be never. If they are to be requirements now, in the middle of summer, how will they not be in the autumn and winter when the number of Covid and flu cases will rise? Some scientists, indeed, have argued that distancing and face coverings should be made permanent.
In the Commons, the Health Secretary, Sajid Javid, confirmed the new tone, saying that next Monday would not be a terminus after all but another step on the road back to normality, though with no indication of when that might be.
If there are good public health reasons for this circumspection then let ministers say so and produce the evidence to justify it. If, however, the four tests set for a full reopening have been met – as Mr Javid told MPs they had been – then let it happen. Worryingly, however, the pledge of an "irreversible" course out of lockdown is no longer being heard.
It is, of course, to be welcomed that Stage 4 of the road map will be implemented next Monday. But for as long as ministerial pronouncements seeking to influence how we should behave stay in place, "Freedom Day" will remain some way off.
The Telegraph's Sherelle Jacobs wrote an excellent editorial on the subject: 'Boris Johnson has lost his nerve and condemned us to Covid no-man's land'.
She points out that, despite the stellar vaccine rollout, the Government's response to the virus is essentially the same as it was early in 2020:
I do not envy the Prime Minister. He is having to make decisions in the face of violent resistance from scientists who have strayed far beyond their proper roles as apolitical advisers. It is, however, astonishing that 16 months and 45 million vaccinations later, our basic approach to Covid is still no more sophisticated than it was in March 2020.
She sees the NHS as the tail wagging the British dog, which, by the way, is also true in the devolved nations (Scotland, Wales and Northern Ireland):
… No 10's priority appears to remain to "protect the NHS" at all costs. Restrictions are still deemed to be a vital tool to prevent ICUs becoming overwhelmed. Far from Britain breaking free, one can only conclude that our liberties will be tethered to ICU capacity indefinitely, with the Government loosening and tightening the reins as Covid fluctuates with the seasons.
The Government may think that it has public opinion on its side. Recent polling suggests that a sizeable proportion of the population would be happy for some restrictions to remain forever, even once the threat of Covid has faded …
The only answer is reforming the NHS:
There is one obvious way out of this. If the NHS is so precious that it is in danger of being overwhelmed even after one of the most comprehensive vaccination programmes in history, then the priority now must be to reform the service to make it fit for purpose. Germany, for instance, with its insurance-based model, has more than four times as many critical care beds per capita as Britain.
The NHS has become the new secular national religion in Britain.
Applauding it last year over so many Thursday nights at 8 o'clock has put it on a pedestal it might not wholly deserve:
The NHS has become Britain's all-consuming project, the millstone around its neck and the cloying source of confected national pride. Its hold over the country is so powerful that even a so-called libertarian Conservative PM decided this week to risk sacrificing our ordinary freedoms rather than dare to reform it.
She adds an interesting fact about NHS financing in 1948, when it was founded:
As noble as the idea behind the NHS might have been, it is founded on delusions about Britain's finances. (Indeed Westminster initially partly bankrolled it with foreign money, splitting 1940s Marshall aid between its domestic healthcare dreams and ailing colonial dominions).
We cannot go on like this forever, even though some would like to do so:
… the downsides of lockdowns are becoming too enormous to ignore. Their effectiveness is limited in free Western countries plagued by widespread low-level non-compliance and inadequate infection control in care homes and hospitals. Contrastingly, the damage lockdowns cause is limitless – from decimating mental health to destroying children's education. It is extraordinary that, even now, Johnson only pays lip service to this inescapable truth.
The biggest problem for the foreseeable future will be masks, especially as the Government says they are 'expected' in crowded, enclosed spaces. What does that really mean?
Another Telegraph article, by The Spectator's Anglo-American Kate Andrews, offers a suggestion to make things clearer:
Boris Johnson's message last night was that he 'expects and recommends' that people continue to wear masks in 'crowded' and 'enclosed' spaces, or where you come into contact with strangers: a vague, yet seemingly large request. The message could be far more simple: be aware of your surroundings and make an informed decision. This would be a real breakaway from our Covid lifestyles, and a return to the notion of personal responsibility.
The continuation of masks and compliance in this regard could be interpreted in a sinister way:
Perhaps the mask debate playing out now is the one we should have had in the first place. After the Government's most senior medical and scientific advisers spent months last spring telling the public not to buy or wear masks, the rule changed to mandate them on public transport, punishable by fines. Did we need to criminalise people for not wearing a mask, or might guidance have done the trick? But even now, the push for guidance often reveals itself as a push to keep emergency laws — not to be clearer with the public, but to be harsher.
There has been consensus throughout the pandemic that the British public have been wonderful: thoughtful and willing to uphold their social contract to strangers, to protect the lives of the vulnerable and elderly. Now, as their freedoms are set to be returned, that consensus is breaking. It seems when some were praising the public, they were really praising the rules that hovered over them.
Perhaps so. It is a sobering thought.
In any event, July 19 will not be Freedom Day by any stretch of the imagination. It will certainly not affect me personally, especially if I am still expected to wear a face covering.
I had been looking forward to going out for a long, languorous, maskless lunch in London next month. That will have to wait, probably until 2022.
On the evening of Saturday, June 26, many Britons were relieved that Prime Minister Boris Johnson appointed a new Secretary of State for Health and Social Care so soon after Matt Hancock's resignation.
Although lockdown supporters say that Sajid Javid has no experience in health, that is why many of us think he is a good choice. He will give the department a fresh pair of eyes and a new perspective, one that isn't tied to SAGE or 'our NHS', which has become a cult religion over the past 16 months (March 2020 – June 2021).
Since the pandemic began, it has become very difficult being able to see a general practitioner (GP) in person.
The Telegraph's Ross Clark wrote (emphases mine):
… many patients struggle to get a doctor to see them even at the surgery. Hancock's vision of us all consulting medical staff via smartphone app doesn't allow for the fact that, according to Ofcom, only 55 percent of the over-65s – ie those who need the NHS the most – use a smartphone. Even if it did, it ignores the views of cancer specialists who have warned that cancer is often diagnosed via subtle changes in a patient's appearance – something you can't capture by uploading a photograph of a spot.
Hopefully, the new health secretary will bring a keen eye to Hancock's failures and won't shy away from tackling vested interests so that we can a real doctor, in real life, when we need to.
GB News covered the appointment on their Sunday morning programme:
TalkRADIO's Julia Hartley-Brewer also thought Javid's appointment was good news:
Mark Harper MP of the Covid Recovery Group (CRG) in Parliament tweeted his congratulations:
The Sunday Times said that Carrie Johnson, who once worked for Javid in government, was influential in getting him the job:
The Mayor of London appeared on Andrew Marr's show on Sunday to congratulate a fellow son of a bus driver (video here):
This confused Deputy Labour Leader Angela Rayner, who also said 'fragrant' instead of 'flagrant' in an interview this week:
Later that day, Times journalist Steven Swinford was told that the security camera in Hancock's former office — now Javid's — had been turned off:
Monday's front page of the Telegraph reported a positive outlook from the new Health Secretary:
That morning, Javid gave an interview to Sky News expressing his desire for a quick lifting of coronavirus restrictions:
However, as Guido Fawkes pointed out, Javid has voted with the Government on continuing restrictions (emphasis in the original):
Co-conspirators will be relieved to hear that given hitherto he has voted in favour of every lockdown. Javid also confirmed the notorious camera lurking in his new office has now been disabled, though not by him personally…
Late Monday afternoon, Javid delivered his first statement in Parliament as Health Secretary. Excerpts from Hansard follow, emphases mine.
He stated the positives about the vaccine rollout, beginning with a brief tribute to Hancock:
I want to take this opportunity to pay tribute to my predecessor, my right hon. Friend the Member for West Suffolk (Matt Hancock), who has worked hard throughout all these testing times. He achieved a great amount in the work that he did, and I know that he will have more to offer in public life. I wish him the very best.
There remains a big task ahead of us to restore our freedoms—freedoms that, save in the gravest of circumstances, no Government should ever wish to curtail. My task is to help to return the economic and cultural life that makes this country so great, while, of course, protecting life and our NHS. That task has been made all the more difficult by the delta variant, which we now know makes up some 95% of new cases in the UK. Not only does it spread more easily, but the evidence points to a higher risk of those who have not been vaccinated needing hospital treatment, compared with the previously dominant alpha variant.
This narrowing of the race between the virus and the vaccine led to this Government's difficult decision to pause step 4 on our road map until 19 July. We are using this extra time to protect as many people as we can. When the Government took that decision on 14 June, more than 4.3 million over-40s had had a first dose but not a second. The figure is now down to 3.2 million people over 40. We can all be reassured by how many more people are getting the life-saving opportunity that a vaccine offers.
At this two-week review point, I want to update the House on our progress on our road map to freedom. Our aim is that around two thirds of all adults in this country will have had both doses by 19 July. We are bringing forward second doses, and bringing forward our target for first doses too, so we can meet that 19 July goal. Vaccine uptake remains sky-high. We have seen that age is no barrier to enthusiasm for getting the jab: as of this weekend, more than half of adults under 30 have taken up the chance to be vaccinated—including, in the past couple of weeks, all three of my own adult children.
Our vaccines are working, including against the delta variant. The latest modelling from Public Health England shows that they have saved more than 27,000 lives and have prevented more than 7 million people from getting covid-19. We know that, after a single dose of vaccine, the effectiveness is lower against the new delta variant, at around a 33% reduction in symptomatic disease, but two doses of the vaccine are just as effective against hospital admission with the delta variant as with the alpha variant.
The jabs are making a difference in our hospitals, too. In January, people over 65 who were vaccinated earlier in our programme made up the vast majority of hospital admissions; the latest data shows that that group now makes up less than a third. While cases now are ticking up, the number of deaths remains mercifully low, and we will continue to investigate how our vaccines are breaking that link between cases, hospitalisations and deaths. I am also encouraged by new data just today from Oxford University's mix and match trial, which shows that a mixed schedule of jabs, such as getting the AstraZeneca jab first and the Pfizer second, could give our booster vaccination programme more flexibility and possibly even some better immune responses …
I spent my first day as Health Secretary—just yesterday—looking at the data and testing it to the limit. While we decided not to bring forward step 4, we see no reason to go beyond 19 July because, in truth, no date we choose comes with zero risk for covid. We know we cannot simply eliminate it; we have to learn to live with it. We also know that people and businesses need certainty, so we want every step to be irreversible. Make no mistake: the restrictions on our freedoms must come to an end. We owe it to the British people, who have sacrificed so much, to restore their freedoms as quickly as we possibly can, and not to wait a moment longer than we need to.
With the numbers heading in the right direction, all while we protect more and more people each day, 19 July remains our target date. The Prime Minister has called it our terminus date. For me, 19 July is not only the end of the line, but the start of an exciting new journey for our country. At this crucial moment in our fight back against this pandemic, we must keep our resolve and keep on our road map to freedom so that together we can beat this pandemic and build back better. It is a task that I am deeply honoured to lead and one I know will succeed. I commend this statement to the House.
Shadow Health Secretary Jonathan Ashworth (Lab) responded for the Opposition, pointing out that Javid's optimism might be misguided:
Can I just say at the outset that, despite our fierce political differences, my dealings with the previous Secretary of State, the right hon. Member for West Suffolk (Matt Hancock), were always courteous, respectful and professional, and I wish him well in resolving his personal difficulties.
I welcome the right hon. Member for Bromsgrove (Sajid Javid) to his place and thank him for advance sight of his statement. He will find working with the NHS and social care staff both inspirational and rewarding, and I hope he will agree to make arrangements for them to receive a fair pay rise and not the real-terms pay cut that is currently pencilled in.
Today, the Secretary of State has let it be known that the 19 July reopening will effectively go ahead. He told the news this morning that there is "no going back" and that lifting restrictions will be "irreversible". A word to the wise: I have responded to a lot of these statements these past 15 months, and I remember Ministers telling us there was "nothing in the data" to suggest that 21 June would not go ahead. I remember children returning to school for one day before the January lockdown. I remember, "It will all be over by Christmas". I remember, "We will send it packing in 12 weeks".
Well, we have seen around 84,000 cases in the past week—an increase of around 61%. Today, we have seen the highest case rate since January. If these trends continue, we could hit 35,000 to 45,000 cases a day by 19 July. That will mean more long covid—the Secretary of State did not mention more long covid—and it will mean more disruption to schooling. For some, it will mean hospitalisation, and we know that even after two doses, someone can catch and transmit the virus, so what is he going to do to push infections down? Vaccination will do it eventually, but not in the next four weeks.
I want to see an end to restrictions and our constituents want to see an end to restrictions, but I hope the Secretary of State's confidence today about 19 July does not prove somewhat premature or even, dare I say it, hubristic. Can he confirm that by "irreversible" he is ruling out restrictions this winter? Has he abandoned the plan that the previous Secretary of State and officials were drawing up for restrictions this winter? …
Javid responded, without addressing possible winter restrictions:
… With all the data I saw yesterday—I sat down and discussed it with the experts and my colleagues—it is very clear that we are heading in the right direction, and I am very confident about that date of 19 July …
Lucy Allan (Con), who has voiced her scepticism about coronavirus restrictions before, asked about the terminus date:
Can my right hon. Friend confirm that 19 July will mark the end of the road map out of lockdown, that "terminus" means the end of the line, not an interchange, and that it is his intention that all restrictions will be lifted on that date?
Javid replied:
… As she will have heard in my statement, it is absolutely our intention to have step 4 commence on 19 July and to remove restrictions and start returning to normal. She asked me specifically about all restrictions, or which restrictions. It is certainly our intention to remove restrictions, but as we follow the data in the coming days, we will set out more in due course.
Jim Shannon (DUP), a staunch Anglican, asked about loosening restrictions on church worship:
… If we are aiming for progression and moving away from restrictions such as the wearing of masks, may I ask when people will be able to attend worship and sit in churches self-distanced, without wearing a mask, just as diners can sit in a restaurant self-distanced without a mask? If we are going to have parity, then I believe that churches should have parity with restaurants.
Javid gave a reassuring reply:
I thank the hon. Gentleman for his remarks. I agree with him that as we move towards removing restrictions and step 4, we should take seriously into account what he said about people attending churches and the restrictions that they currently face. That is certainly my intention.
John Redwood (Con) asked whether Javid would look into improvements in ventilation and cleaning for various types of establishments to improve the air flow. Javid said that he would do so.
Theresa Villiers (Con) also asked about church, specifically singing hymns:
… Now that thousands of people are allowed to gather together at a football match to shout and cheer as much as they want, is it not time that we allowed congregations in church to sing hymns together?
Javid responded positively, which is more than Hancock ever did when asked similar questions:
I can tell my right hon. Friend that that is certainly what I would like to see and it is certainly my intention to allow that to happen as soon as possible. When it does, I hope we can sing a hymn together.
Richard Drax (Con) asked how long it would take before people could see their GPs in person again.
It looks as if Javid will address that issue, which Hancock did not much care about, insisting that phone and video conferences were highly successful:
My hon. Friend has raised an important issue. Even before I had this job, that issue came up again and again when I was a constituency MP just like him, and I absolutely understand it. It has especially been raised by older members of my constituency; people have brought this issue up where they are perhaps not as familiar with technology and they want that face-to-face meeting. I have already asked for advice on that and I will write to him on it, if I may.
Liam Fox (Con) asked for more data to be made public:
… As for the data we get, it is not just about the number of infections—it is about who is infected, what age they are, whether they have pre-existing conditions, and whether they have been offered a vaccine, but have refused. It is not just about hospitalisations and how many people are in hospital. How long have they been hospitalised compared with the figures for previous parts of the pandemic? How many of them require extra care and how many are in intensive care units? We need to understand much better how the Government are reaching their decisions. The British people are not stupid, and Parliament needs to be taken into the Government's confidence much more. I trust, given the previous examples of how he has conducted himself, that my right hon. Friend can do that.
Javid replied:
… On his important point about data, I saw the data in the Department for the first time yesterday. I saw the detail that it provides and how granular it is. I was impressed with that data, so I can give my right hon. Friend reassurance that the Government are looking at the data, and are absolutely taking it into account. I would also like to find a way to make sure that we can share as much of that data as possible so that others can benefit from it, and I will certainly look at ways in which we can do just that.
Dr Ben Spencer (Con) asked about winter measures:
… Does he share my concerns regarding this winter, when we predict that an increase in covid hospitalisations may be superimposed on normal NHS winter pressures? Can he confirm that plans and preparations are being put in place now to support our NHS in what may be a very difficult winter indeed?
Javid responded in the affirmative:
My hon. Friend is right to raise this issue. I can absolutely confirm that plans are being put in place. A huge amount of work was done by my predecessor and, of course, I will continue that work—just yesterday, I had meetings on winter plans. I can give my hon. Friend the absolute assurance, not just on vaccinations but on dealing with the backlog, that there are plans in place, and in due course I will come to the House and set them out.
Huw Merriman (Con) asked about a return to international travel, especially for those who have had two vaccinations.
Javid said:
First, my hon. Friend will know that, in terms of 19 July and the restrictions that will be removed, we are focusing on domestic restrictions. He knows that, separately, we also take very seriously the border controls, the border restrictions and the so-called traffic light system. In terms of making any further decision on that, he will know that it is kept under constant review on a very regular basis, and it is something that I intend to sit down and discuss with my right hon. Friend the Transport Secretary as soon as I can.
Mark Harper (Con) pressed Javid with a question on winter restrictions:
… I welcome my right hon. Friend's tone and his intent to get us back to normal, but let me pick up on his earlier answer to our hon. Friend the Member for Runnymede and Weybridge (Dr Spencer). There are those in government, from documents that I have seen, who are preparing the ground for the return of restrictions in the autumn and the winter. Will he rule out the use of lockdowns and restrictions in the winter as a mechanism for managing covid, and look at alternatives to ensure that the NHS is able to deal with us getting back to normal?
Javid answered:
… I am very happy to meet with him to discuss the issues in more detail and listen to his views. He should know that it is my intention, and the Government's intention, as I have said from day one on this job, to remove all restrictions as quickly as possible.
Steve Brine (Con) asked about the disruptive self-isolation rules following positive test results, especially for schoolchildren:
… I am looking for a change in policy as much as a change in tone. I return him to the subject of education. Estimates suggest that a quarter of a million children are missing school today due to precautionary isolations, the vast majority of them sequential due to the bubbles that they are caught in. Under the current rules, 10 days of isolation is then unavoidable, even with a negative PCR test. Have our young people not suffered enough? Are we really going to continue to do this to ourselves? Is this not an area, given the availability and reliability of testing now, where I might find the change of policy that I am looking for?
Javid replied:
Other hon. Members have rightly raised this very important issue, and my hon. Friend is right to draw attention to it once again. It is something that I have focused on from day one on the job. That is why I have asked for fresh advice on it. As he knows, that decision was made with the data that was available at the time. Clearly, data is changing all the time, and we must ensure that we keep that under review for exactly the reasons that he has just set out. As I say, I have asked for advice on that and will hopefully be able to say more on it as soon as possible.
This is what journalists and the public picked up from that debate.
The Sun's Deputy Political Editor Kate Ferguson tweeted about the terminus date …
… and singing in church:
GB News was a bit more cautious:
The Telegraph's Alison Pearson gave Javid five suggestions for improvement, including sacking SAGE and publishing COVID-19 recovery data with the public:
… It was pure speculation by Sage that led to the cancellation of Freedom Day on June 21. Subsequent figures have shown that we are not seeing any sign of hospitalisations for Covid "rocketing" or "surging" as we were warned two weeks ago. On the contrary, NHS England currently has just 1,445 Covid patients (one per cent of all beds). The rolling seven-day average of deaths after a positive test with Covid is 17. Sir John Bell, regius professor of medicine at Oxford, says the vaccines are holding up really well against variants. Asked about the large number of "cases", he said, "This is trivial, actually. Most who test positive are under 30 and they don't get very sick." Sir John is clearly far too sane to qualify as a government adviser. Maybe have a word with him?
As for publishing the recovery data:
Matt Hancock promised he would last summer; the slippery eel never did. We are among the only countries in the world not to trust its people with positive information from which they can calculate their own risk. Please stop infantilising us.
The Telegraph's Jeremy Warner has hope that, by working together, Javid and Chancellor of the Exchequer Rishi Sunak can turn this parlous situation around:
Like the new Health Secretary, Sunak has always been at the libertarian end of the debate on lockdown, as he must given his interest in a functioning, tax generating economy. So unusually, we for now have a Chancellor and a Health Secretary who are actually on the same page. The Prime Minister should enjoy the harmony while it lasts. The Treasury and Health department are not natural bedfellows.
On the other hand, Bob Moran, the Telegraph's cartoonist and a coronavirus sceptic, was unimpressed:
Someone picked up on 'Build Back Better':
However, author Carl Vernon, also a coronavirus sceptic, was positive:
I tend to agree with him.
As Sajid Javid has worked for some of the world's greatest investment banks, I hope that he will cast a gimlet eye over all of the data and ask probing questions of SAGE when they make recommendations on continuing restrictions.
I wish our new Health Secretary all the best.
Since last week's delay to the UK's reopening — Freedom Day — the spotlight has fallen on Matt Hancock, Secretary of State for Health and Social Care.
Last Wednesday, June 16, Dominic Cummings, Prime Minister Boris Johnson's former special adviser, released WhatsApp messages from last year in the initial weeks of the pandemic. Boris allegedly called Hancock 'hopeless'. Cummings is pictured in the following tweet:
When asked on Wednesday if he was 'hopeless', Hancock replied, 'I don't think so':
Cummings released his WhatsApp screenshots in plenty of time for Prime Minister's Questions that day, which gave Labour leader Keir Starmer ammo. However, Starmer ignored posing the following questions:
According to Guido Fawkes, it would not have been necessary to run these by the Speaker of the House beforehand, either:
Cummings included images of the WhatsApp messages in a lengthy article on Substack. Having read it, it appears to be part of the evidence he was asked to give to one of the Select Committees that recently interviewed him (emphases mine):
I was wondering about the issue of publishing private WhatsApp messages. 
1) No10 and Hancock are openly lying even about what was briefed on-the-record, so clearly nothing is beyond their attempted rewriting of history.
2) To further their lies, PM/Hancock are spinning distorted versions of my messages from internal WhatsApp groups to the PM's favoured stooges such as Playbook Wiki.
3) Hancock challenged me at the Select Committee to provide evidence and said my failure to publish anything was 'telling' evidence that my account was false.
4) The Select Committee has asked me to provide evidence and clearly what MPs see the public should also see — transparency on covid is crucial.
Clearly the government cannot reasonably complain about me publishing evidence. Given this I will publish some internal messages. There are many more I could publish but below and in future I will publish only ones that further the question of 'what went wrong and how do we learn'. I won't publish private messages just to embarrass the PM or others. My goal is to force the system to face reality and change, not to embarrass people for the sake of it.
On Wednesday, June 16, the House voted to extend restrictions to July 19. Off-Guardian examined the debate, particularly the parts that would appear to restrict NHS care to those who took the vaccine:
They're talking about the idea the NHS could prioritise care for people who've been "vaccinated" over those who refuse the "vaccine".
The unvaxxed, in this situation, would be blamed for "putting the NHS under strain" or putting "healthcare heroes at risk". They would be called irresponsible, and receive either delayed care, limited care, no care at all, or be expected to pay some kind of extra fee.
The idea of limiting healthcare for certain people based on lifestyle is not at all new. In the past, smoking, obesity and alcoholism have all been the subject of either research or even local schemes on elective surgery. But, should an unvaxxed ban or limit ever be put in place, it would be the first hard-and-fast, nationwide example. And would set a pretty terrifying precedent that could in the future apply to all kinds of diet, lifestyle or even political choices.
Remember the (totally false) argument that beef is bad for the planet? Or that the NHS should stop serving meat in their hospitals? It's not hard to see that evolve into vegans getting preferential healthcare, or meat-eaters having to pay premiums, is it?
Of course, all that is a long ways down the road (hopefully). For now, it's only a vague allusion in one parliament session. But, even if the discussion never blooms into real legislation, it's certainly yet another example of the state attempting to bully and coerce vaccination.
And the fact nobody in the house of commons seemed even a little shaken up by the idea of a segregated NHS should be a cause for concern moving forward.
The same topic from the same debate appeared in an article on Conservative Woman: 'Hancock pulls the plug on the National Health Service':
Let us remember that when the NHS was brought into being in July 1948, its purpose was to provide universal, comprehensive and free health care, based on clinical need. This ideal of providing a quality service for all, regardless of ability to pay, has been shaken by the NHS's bizarre self-insulating response to Covid-19 and its persistent lack of moral integrity in dutifully obeying orders. It has capitulated into being a de facto Covid-19 service, to the exclusion of all else.
Now we are being told that the future of medicine in the UK will be a vaccine apartheid, with those who have had the jab worthy of treatment, and those who have not, for whatever reason, put to the back of the queue or worse, left to their own devices. This is triage in extremis, and a path well-trodden by eugenicistsand war criminals.
We should not be misled into thinking this could never happen here: who could have foreseen the diktats meted out by a 'Conservative' government? It is only a small step between the current denial of access to the unvaccinated to public places, sports events and travel (which appears to have public support) and their progressive scapegoating and exclusion from other public realms, including medicine.
If previously legally protected rights are arbitrarily withdrawn from them, where and when will it stop? Who is to judge? Matthew Hancock or Boris Johnson?
On June 18, Lockdown Sceptics posted a letter from an NHS GP, Dr Helen Westwood, a member of HART, who wrote to her MP, Sir Graham Brady, chairman of the 1922 Committee (Conservative backbenchers). Dr Westwood is worried about mandating vaccines for NHS personnel. An excerpts of her letter follow:
Dear Sir Graham,

I refer to my earlier correspondence dated March 2nd and April 26th regarding the concerns I have about the COVID-19 vaccination program.

I am grateful to you for raising these concerns with the Minister for COVID-19 Vaccine Deployment. Sadly Mr Zahawi seems to be either unwilling or unable to respond to my questions. Perhaps he is just delaying until the vaccine rollout has reached the whole adult population as it is due to imminently.

Mr Zahawi said in his letter to you that "the UK currently operates a system of informed consent for vaccinations". Clearly the current proposals to make vaccinations compulsory for care home workers and possibly frontline NHS workers is completely counter to this. If a medical intervention is mandated for one group in society why not others? What about visitors to care homes? Delivery drivers? Shop workers? The list will go on and on.

I would like to draw your attention again to Article 6 of the Universal Declaration on Bioethics and Human Rights. It states that "any preventive, diagnostic and therapeutic medical intervention is only to be carried out with the prior, free and informed consent of the person concerned, based on adequate information. The consent should, where appropriate, be express and may be withdrawn by the person concerned at any time and for any reason without disadvantage or prejudice". If an individual is being coerced into undergoing vaccination, through fear of losing their livelihood, then they are not giving "free and informed consent". In effect, the person administering the vaccine in such circumstances is committing the criminal offence of Assault and Battery. We know that the pharmaceutical companies have been granted legal indemnity by the Government but what indemnity does the vaccinator have in this situation?
In my opinion to ask anyone to undergo a medical intervention for the benefit of others is profoundly unethical. Population immunity, achieved through high vaccine take-up, is a by-product rather than the primary reason for immunising an individual. This ethical problem is particularly pertinent to the arguments given for rolling the program out to children, but is also relevant to the majority of healthy working-age adults. The mortality risk from COVID-19 in this cohort is lower than that for seasonal influenza …
Conservative Woman also ran a column from a health care worker lamenting the likely mandatory vaccines for her occupation:
If you think I am irresponsible to choose not to have a vaccine that has never been proven to stop transmission (and STILL keeps us in restrictions), then you must also think that everything I have done, and been proud of, is also irresponsible – that I should have gloved my hand before holding a man dying in front of me; should have held off and waited for the fire brigade when confronted with a burning car; should have fiddled around wasting time to put a plastic mask on a child's face before resuscitating them instead of putting my own mouth over theirs to get air to their tiny lungs more quickly. Sanctimony is rife in those that have settled into armchairs whilst watching the TV and tapping abuse into their Facebook accounts.
I will lose my current job under the care-home mandatory vaccination plans …
And there is support for mandatory vaccines in plumbing, too. This is from London's leading plumbing firm, Pimlico Plumbers. Its owner, Charlie Mullins, is on the right in the photo:
Conservative Woman's Michael Fahey rightly had a go at him, too, in 'Vaccine twaddle from a right Charlie':
One of his catchphrases as he bids to get those 'selfish people' jabbed is that having the vaccine is 'a no brainer'. Charlie Mullins, for those who don't know, is the boss of Pimlico Plumbers and has gained some notoriety in the last few months for suggesting that his employees who refused the vaccine would not be allowed to continue in their job. Given the lofty platform of the media, he has now raised this to 'everyone must be vaccinated'. He obviously believes he is far more important than he actually is and that people will listen to him because he's an OBE rather than a plumber from Sarf London. For some inexplicable reason, he thinks we're living in the Dark Ages, fighting a plague that will kill you as soon as look at you rather than a virus that only seriously affects the vulnerable, all of whom have now been vaccinated anyway. He is oblivious to the fact that survival rates are extraordinarily high across all age ranges, and has swallowed every scare story that the government has thrown out …
I predicted in my last TCW article that this is where we would be going. That throughout the next four weeks senior figures in politics, the media and jumped-up 'celebrities' would be everywhere, laying the blame for the delay firmly at the door of those who had refused the vaccine. For example the Tory former minister Dr Liam Fox said the other day that the UK could not wait for those who had refused a vaccine. He said: 'What we cannot have is the country being held to ransom by any groups who have been offered a vaccine but have chosen not to take – that is utterly unacceptable.'
This line of thinking is wrong and unhelpful. If Liam Fox and Charlie Mullins believe so much in the efficacy of the vaccine, they will know that those who needed to be jabbed have been jabbed. The country should be allowed to reopen with all restrictions gone and those who have not taken the vaccine should not have their freedoms and livelihoods ripped away from them because people like Mullins thinks they should. I very much hope that if he sacks any employees who don't want the jab, they take him to court for unfair dismissal. It is completely wrong to deprive someone of a job or ordinary life and interaction because you believe that they represent a danger, when in actually fact they are no more dangerous than a goldfish to a great white shark.
On Sunday, June 20, news emerged that Hancock withheld crucial positive data about vaccine efficacy from Boris Johnson, which might have allowed a reopening on June 21. The Queen, incidentally, was at Royal Ascot, one of her favourite annual racing events:
On Monday, June 21, The Slog posted an excellent article which includes information about Hancock's career before he became an MP (emphases in purple mine):
Matthew Hancock's own immediate family represents the final piece in this jigsaw: Hancock is an accomplished techie born and raised in the software family that created Border Business Systems. One of its specialities is the provision of profiling data for unsolicited direct marketing to consumer prospects. I have skin in this to the extent that I left the marketing profession in 2000 primarily because I had grave doubts about personal data getting into the wrong hands, and was less than impressed with the ethics of those engaged in it. The internet explosion has only excerbated the surveillance problem this so very clearly represents.
The point is that Hancock is a talented data-miner who worked at BBS to good effect throughout his youth; and one feature of the vaccine marketing we have seen is aggressive email and phone direct marketing of 'the Jab' designed to hype the safety of the formulations involved and disguise any and all negative safety issues. A recent Inquiry declared the methods used "totalitarian". They are also amoral.
Everywhere one looks in the Hancock Files, there are smelly things. Public contract records show that the company Topwood (owned by his sister) was awarded a place in the Shared Business Services framework as a potential supplier for NHS local trusts in 2019, the year after Mr Hancock became health secretary. In March 2020, he declared he had acquired more than 15% of Topwood. It then went on to win £300,000 of business from NHS Wales.
There is now a drive for Britons to share their personal NHS data for research and planning purposes. Here is the opt-out page. I did see an extension to September 2021, but cannot find that page now. Therefore, opting out should be done as soon as practicable.
The Slog goes on to say (emphases mine):
He lied to the Commons about vaccine approvals, he shed crocodile tears on the BBCNews; he tried to make political capital out of the death of a step-grandfather from Covid, his relationship with whom was obviously exaggerated; his use of lachrymose appeals is both risible and an insult to the voters; he lied about the development of vaccines "purely for the most vulnerable"; he remains devious on the subject of vaccine deaths and side-effects; a High Court judge ruled that he "acted unlawfully in not divulging the winners of Covid19 contracts"; and immediately after his promotion to Health Secretary, Hancock accepted £32,000 from the chairman of a think-tank which wants to scrap the NHS, also accepting £5,000 from the director of a private nursing firm which supplies agency workers to the health service.
Yet he is still there. Johnson (whatever he says in public) would love to fire him….but Hancock's Great Reset network renders him bombproof. That network includes Mrs Johnson…and together, they made Dom Cummings history.
Where does all of this end? Will it ever end?
Last year around this time, my far better half said this will go on and on because the Government are unable to admit they made a terrible mistake. How awful.
The next crisis will be economic, particularly with regard to office space and vacant retail premises:
There is talk in Government that working from home could be made mandatory:
I certainly hope that will not come to pass, because British cities are ghost towns at the moment. Restricting people to their homes in perpetuity will be an economic and mental health disaster.
This week, Prime Minister Boris Johnson postponed Freedom Day from June 21 to July 19, 2021.
Although a vote on this passed comfortably on Wednesday, June 16 — 489 to 60 — the number of rebel MPs, mostly Conservative, increased compared with previous votes on coronavirus restrictions. This page shows who voted No.
Boris and Matt Hancock might want to rethink their dependence on the lefty scientists of SAGE, but will they?
SAGE are effectively running this nation … into the ground.
Chesham & Amersham by-election upset
In addition, on Thursday, June 17, the Conservatives lost a by-election in Chesham & Amersham in leafy Buckinghamshire, not far from London. It had been a safe Conservative seat since the 1970s. A journalist from the Financial Times tweeted that he was sure they would win it once again:
In reality, it was a hat made out of fabric. Jim Pickard took three small bites of it, washed down with water. Sensible, as it could have been made in the world's largest manufacturing country (no prizes for guessing correctly). H/T Guido Fawkes:
Now they have a Liberal Democrat MP, the lady pictured below standing next to party leader Ed Davey MP. The reply to the tweet blames the win on local opposition to a high speed railway (HS2) and to extending lockdown:
However, the Lib Dems never really opposed HS2:
The by-election took place because Dame Cheryl Gillan MP died on April 4. Despite a long term illness, she was an active participant in parliamentary debates until the end.
According to a Guido Fawkes reader, this was the vote tally on Thursday compared with 2019's general election:
2019 results:
Conservative 30,850
Lib Dems 14,627
Labour 7,166
2021 Votes:
Conservative 13,489
Lib Dems 21,517
Labour 622
The only consolation is that the Labour vote sank like a stone:
Coronavirus cases rise in Cornwall after G7 summit
The virus lives and is on the rise in Cornwall:
In addition to the G7 and half term, another factor could be the warm weather last Sunday, attracting people to beaches.
Guido Fawkes has maps and the figures (emphasis in the original):
Last week, both St. Ives and the Carbis Bay area had two positive cases respectively. Now, St. Ives has 36 cases, and Carbis Bay has 15. That's a 1,700% increase in the former, and a 650% rise in the latter…
One of Guido's readers replied that a hotel and university are responsible (emphases mine below):
Tosh. The rise in St Ives/Carbis Bay happened before G7 kicked off and was down to the staff in one hotel and is linked back to the plastic University at the top of Penryn.
Cases, however, are only positive tests. Not all should require hospitalisation.
Wednesday's vote in Parliament
On Wednesday, June 16, Matt Hancock opened the debate on coronaivirus restrictions in the House of Commons.
He said, in part:
Thanks to the protection of the vaccination programme, huge advances in treatments like dexamethasone, which was discovered a year ago today, and the resolve of the British people in following the rules that this House has laid down, we have been able to take the first three steps on our road map, removing restrictions and restoring colour to the nation, but we have always said that we would take each step at a time and look at the data and our four tests before deciding whether to proceed. The regulations before the House today put into effect our decision to pause step 4 on our roadmap until 19 July. Before outlining the regulations that will put this into effect, I would like to set out why we made this difficult but essential decision.
Unfortunately, there has been a significant change since we started on our journey down the road map in February. A new variant has given the virus extra legs, both because it spreads more easily and because there is some evidence that the risk of hospitalisation is higher than for the alpha variant, which was, of course, previously dominant in this country. The delta variant now accounts for 96% of new cases. The number of cases is rising and hospitalisations are starting to rise, too—they are up 48% over the past week. The number of deaths in England is thankfully not rising and remains very low, but, as I told the House on Monday, we do not yet know the extent to which the link between hospitalisations and deaths has been broken, so we propose to give the NHS a few more crucial weeks to get those remaining jabs into the arms of those who need them.
Mark Harper (Con) intervened:
Can I just ask my right hon. Friend what we expect to achieve in the four weeks? I think I am right in saying that there are 1.3 million people in priority groups one to nine who have yet to have a second dose of the vaccination. The good point is that that means we have vaccinated 96% of people in those groups, but I just wonder—after four weeks, I doubt that we will get to 100%, so there will still be a significant number of people in those groups not vaccinated with two doses, and at that point, there is still going to be some risk. My worry, and the worry of others, is that we are going to get to this point in four weeks' time and we will just be back here all over again extending the restrictions. That is what we are concerned about.
Hancock said he was sure that four weeks would be sufficient. He's said that before.
Steve Baker (Con) also intervened:
Is not the problem with the two-week checkpoint that it creates another moment of hope for people who still feel even these restrictions very acutely, and that if we create hope and then shift the goalposts again, people will continue to deepen their despair? What will he say to those people?
Hancock said the public understood the reasons for the delay.
After Hancock finished speaking, it was the turn of the Shadow Health Secretary Jonathan Ashworth (Lab) to respond.
Ashworth largely agreed with the Government's extension to Freedom Day, but he rightly posed questions, such as this one:
Will we continue wearing masks?
At which point, Desmond Swayne (Con), who wears a silk scarf instead of a mask, shouted:
No!
Steve Brine (Con), former Public Health minister, intervened, recalling a bad flu year:
The right hon. Gentleman is right: we had a battle royal with influenza in the first year that I was in the job, but the difference was that we did not have any non-pharmaceutical interventions. Our interventions were about the take-up of the vaccine—yes, for children as well as for adults, especially the vulnerable. One of our chief advisers, the deputy chief medical officer then, one Professor Chris Whitty, never suggested masks, let alone closing schools—just a really good roll-out of the flu vaccine. We lost 22,000 people that year. Never were those numbers rolled on BBC News; never did we know the R number, but there was a point where we accepted an element of risk in society. I guess that was the point of my earlier intervention on the hon. Gentleman: what element of risk is he prepared to accept? Because that is what it comes down to—our own mortality is part of the human condition.
Ashworth replied, in part:
I do not want to see it done by some of the wider restrictions and lockdowns that we have heard about. That is why I would be interested to know whether the Department has developed plans for restrictions this winter and whether the Secretary of State has been discussing that with Whitehall colleagues.
Mark Harper intervened again:
On the point about the restrictions, I know that those discussions are going on because I have seen documents from within Government with very detailed suggestions about what measures may continue. I asked the Secretary of State about this when he was in the Commons earlier this week, and he did not rule out bringing in restrictions this winter. That is partly why some Conservative Members are very concerned and why we are not going to vote for these regulations today. However, I want to take the right hon. Gentleman back to his comments on what Chris Hopson said about the fact that the NHS is very busy at the moment. There is a danger here. I am very sympathetic to colleagues who work in the NHS, who have done a fantastic job, but we cannot get to a point where we restrict and manage society in order to manage NHS waiting lists. That is not the right way round. The NHS is there to serve society. If we need to enable it to do that, we have to think of a way of doing it other than putting restrictions on the rest of society. That is not a sustainable or a desirable position, but it is the logical consequence of what Chris Hopson was saying earlier this month.
Here's the video, which begins with Ashworth sitting down to give way to Harper:
Ashworth replied, beginning with this:
Even though we will find ourselves in different Lobbies this evening, I think there is more in common between us than perhaps one might expect. I do not want restrictions to remain in place for any longer than they need to. I want to move to a system where we are trying to push down covid infection rates by, yes, rolling out vaccination as far and as fast as possible to everybody, but also putting in place the proper framework so that those who are ill or a contact of someone who has been ill with covid is able to isolate themselves.
He took more interventions from Conservative MPs, then concluded:
The House is being asked to extend these restrictions, but there are a number of pressing issues. First, many of us have been contacted by business people in our constituencies who are deeply concerned about the extension of these restrictions. For my constituency in Leicester, which has been living under a form of restrictions more severe than other parts of the country, other than perhaps parts of Greater Manchester, this has been particularly devastating. I hope that the Government will be putting in place full support for businesses such as mine in Leicester and Greater Manchester and elsewhere.
The second issue, which we have touched on a little bit, is whether these restrictions will ever end, or whether the Prime Minister has trapped us in Hotel California, where we can never leave. He has talked about 19 July as the terminus date, but the explanatory notes themselves say that the four tests will apply on 19 July, and that these four weeks will be used to gather more data.
Hancock said later on that July 19 is still the terminus date and that data would be examined in two weeks' time.
The general debate took off from there, with Sir Desmond Swayne (Con), the original rebel, the first to speak. He criticised SAGE and one of its members, Susan Michie, the Communist:
I never believed that it was proportionate, even from the outset, for Ministers to take such liberties with our liberty. I always thought that it was wrong for them to take our freedoms, even though they believed that they were acting in our best interests in an emergency, but by any measure that emergency has now passed and yet freedoms are still withheld and the Government will not allow us to assess for ourselves the risks that we are prepared to encounter in our ordinary, everyday lives. The Government do not trust the people whom they govern.
Many members of SAGE—a misnomer if ever there was one—have been out busily undermining public morale. One of them even shared her dystopian vision that we must all remain masked and distanced in perpetuity—a shocking, horrible prospect. The fact is that once the consequences of this virus in terms of their financial and health impacts have long been addressed, the moral impact will remain. The Government have set a disastrous precedent in terms of the future of liberty on these islands. I could understand it if we were a communist party, but this is the party that inherited the true wisdom of the Whig tradition. This is the party of Margaret Thatcher, who said that liberty was indivisible. This is the party that only recently elected a leader whom we believed was a libertarian. There is much on which we are going to have to reflect.
Here is the video of his remarks:
Smoking also came up in the debate:
Sir Charles Walker (Con), another early rebel, spoke. He wants a reform of SAGE. Excerpts follow:
I wish to try to be constructive about how we can improve SAGE. As you know, Mr Deputy Speaker, SAGE has huge power over our lives. It has power over whom we hug and hold. It has power over which businesses open and which businesses close. In essence, it has power over who keeps their job and who loses their job. We, too, in this place have great power, but our power is matched by accountability.
Accountability is very important in the exercising of power, so I want to suggest some reforms to SAGE—some quite technical reforms. First, there is a need for greater financial transparency from members of SAGE in line with that expected of Members of Parliament. For example, I think when we look at SAGE members, we should be able to see what their annual income is—not only from their substantive job, but from their pensions accrued or the pensions they might well be in receipt of. This is something that is freely available for all Members of Parliament. I think we should also know and constituents should know if they have any significant shareholdings in companies, in the same way that our constituents know if we have significant shareholdings in companies. We could also look at whether they get other forms of income—from rent, for example …
… in the case of young people, many SAGE experts say that young people should be working from home. We know that young people are now tied to their small kitchen table or in their bedroom in miserable environments—the new dark satanic mills—and working endless hours in appalling circumstances, because people with nice gardens and comfortable homes think that is what they should be doing.
There should also be far greater personal accountability. There should be no more, "Here is Sir Mark Walport—of SAGE, but here in a personal capacity". Nonsense! He is there because he is a member of SAGE. We should also have elections to SAGE, so we could see Sir Mark Walport, Professor Susan Michie, John Edmunds and regular talking heads in our TV studios challenged by people with a different perspective—people such as Professor Karol Sikora, Professor Paul Dolan, who is an expert on human behaviour and quality of life, and Professor Ellen Townsend, who has a huge interest in the welfare of children and adolescents who are now being plagued by anxiety and eating disorders …
So here it is: full financial disclosure from members of SAGE and full elections, or they advise the Government, and if they do not want to do that, but want to advise TV studios, they do that, but they do not do both.
Here is the video of his speech in full:
Graham Stringer (Lab), also a rebel, spoke next. He rightly said that MPs do not have enough scientific data to make an informed decision about restrictions. Excerpts follow:
As ever, it is an honour to follow the hon. Member for Broxbourne (Sir Charles Walker). On his interesting point about SAGE, we could do with full disclosure from the Government about all the facts that they have available to them on covid. In the Science and Technology Committee this morning, we were told that vaccinations have saved 14,000 lives. I have no doubt that that is an accurate figure, but there are many figures that have not been given. As we said the last time we debated this issue, only one side of the equation is given. Let me ask this question: how many lives have been lost in order to save capacity in the NHS? When it comes to looking at people untested and untreated for cancer, heart disease and other diseases, we will find that the figures are of a similar, if not greater, magnitude than the number of people who have died from covid …
There is a great deal more information that we require in order to make a rational decision about whether the lockdown should continue. I agree with the right hon. Member for New Forest West (Sir Desmond Swayne) that what we have here is the Government asking for emergency powers when there is no longer an emergency …
The Government have refused on a number of occasions to give out that information. They have run a campaign to scare people into accepting their decisions …
One of the things that has annoyed me most in the last 15 months is when the Prime Minister and the Secretary of State for Health and Social Care say, "We instruct you"—meaning the population—"to do various things," when there is nothing in the legislation that would give the Secretary of State or the Prime Minister the ability to instruct individuals. We live in a liberal democracy in which we pass laws that are enforced by the police, and then the courts make a decision if there is a prosecution, not one in which the Secretary of State acts like some kind of uniformed Minister of the Interior.
I will vote against the regulations today. We need a more direct debate on the issue and we need what Members have searched for—a straightforward comparison, with real statistics, of what risks everybody faces.
Steve Baker (Con) agreed with Mark Harper about society and the NHS:
I refer the House to the declarations that I have made relating to the Covid Recovery Group.
No one can deny the brilliance of the Government's—the NHS's—vaccination programme. By mid-April, the over-50s and the vulnerable had had their first vaccination, and overwhelmingly they have now had their second. That is reflected in the Office for National Statistics antibody data, which shows extraordinary levels for anyone over 50. Antibodies are there in that population, which is vulnerable to the disease.
That brings me to the best case that the Government could make for the regulations before the House, which is that the ability of the NHS to provide other healthcare could be compromised by admissions from a younger population, because a small percentage of a big number is still a big number. But the huge problem with that is that it concedes the point that our liberties can be used to manage the capacity of the NHS. I cannot concede that. As my right hon. Friend the Member for Forest of Dean (Mr Harper) said, that is not the way in which we should be going as a society. If the restrictions that we are extending had been proposed for that purpose in the past, we would never have accepted them.
In Wycombe, people have of course been dutifully washing their hands, covering their faces and keeping social distancing rules, yet early in this pandemic, I remember one dear, sweet, older lady was beside herself with anxiety at the thought of having to go about her ordinary life with her face covered, and look at us now, taking it for granted. This is not normal. This is the dystopia that I stood here and forecast on the day we went into lockdown …
One of the most important things that we have learned from Mr Cummings' leaked WhatsApp messages is that it seems that the Government have been significantly influenced by polling. I fear we have had a real doom loop here between polling and policy making, which has driven us into a disastrous position. We now must not tolerate lockdowns being perpetually on the table. We must not tolerate a situation going on where we and the police are unclear about what the law is and how it should be applied. Imagine that you can hug but not dance—what madness is this? We cannot tolerate a situation any more in which a Government social scientist told the author of the book "A State of Fear" that the Government had used unethical techniques of behavioural science to deliver a policy which he said, in his own words, "smacks of totalitarianism".
We have transformed this society for the worst. We have it put in place a culture and habits that will take years to shake off and that distance people from one another and diminish their quality of life and the quality of relationships that they have with one another. High streets are in danger of becoming haunted alleyways. We are in danger of hollowing out and destroying the entertainment industry—much of what makes life worth living. Today's vote will go through—it is a foregone conclusion—but as my right hon. Friend the Member for New Forest West (Sir Desmond Swayne) implied, if the Conservative party does not stand for freedom under the rule of law, in my view, it stands for nothing. We have got to have a turning point. We have got to recapture a spirit of freedom.
Mark Harper spoke later on, at which point the Labour benches were empty. It is important for Britons reading this post to look at what he has uncovered. The Government continue to be dishonest not only with MPs but also the public:
Well said!
Please also note the following about winter. Meanwhile, Democrat-run New York and California are now open:
May our merciful God help the UK out of this unholy mess.
On Monday, June 7, 2021, Parliament returned after Whitsun (Pentecost) recess.
Matt Hancock, Secretary of State for Health and Social Care, gave the House of Commons an update on coronavirus.
Lee Anderson MP (Conservative, Ashfield) asked about the wokery in the NHS:
Guido Fawkes has the video in which Anderson said:
Now then, I see that our NHS has published its very own woke alphabet, which includes terms such as "white fragility" for the letter W. Not only is this a load of nonsense, but it is very divisive. Does my right hon. Friend agree that the vast majority of our brilliant NHS staff are more interested in keeping the nation healthy than in learning the ABC of wokery?
Matt Hancock replied:
Yes, I agree with my hon. Friend. He puts it well. This so-called glossary appeared on the NHS website. I have raised it with the NHS and it has been taken down.
This is the link to the NHS Glossary A-Z. It is indeed down.
I am so grateful for the 2019 intake of Conservative MPs from the North of England. They tell it like it is.
Sadly, Prince Philip, the Duke of Edinburgh, died on Friday, April 9, 2021, exactly two months short of his 100th birthday:
The Queen has lost her best friend. My deepest sympathies to her for the unimaginable loss of her long-time husband and daily confidant. My condolences also go to the Royal Family in their grief.
Young love
The couple first met in 1934, and began corresponding when the Prince was 18 and a cadet in the Royal Navy. Princess Elizabeth was 13 at the time.
She was smitten with him from the start.
Prince Philip served with distinction during the Second World War in the Mediterranean and Pacific fleets.
After the war ended, he could have had a stellar career in the Royal Navy. His superiors praised his clear leadership skills.
However, love intervened and the rest was history.
Born Prince Philip of Greece and Denmark, he renounced his foreign titles and took British citizenship before he and Princess Elizabeth were engaged. He took the surname of his maternal grandparents: Mountbatten.
He and Princess Elizabeth were engaged in July 1947. They married on November 20 that year. Shortly before the wedding, George VI gave him the titles of Duke of Edinburgh (created for him), Earl of Merioneth and Baron Greenwich.
Prince Philip remained in the Royal Navy until July 1951. He retired with the rank of Commander.
Royal succession — and surname
In January 1952, he and the Queen began a tour of the Commonwealth countries. They were in Kenya when news reached them that the Queen's father, George VI, died on February 6 that year.
Although she became Queen immediately upon her father's death, her coronation took place in 1953, as it had to be planned meticulously.
On Coronation Day, he knelt before her, clasped her hands and swore an oath of allegiance to her:
He also had to touch her crown and kiss her on the cheek.
He never had a constitutional role, nor was he ever formally given the title of Royal Consort. The courtiers did not like him, nor did they trust him. They believed his personality to be brash and unbecoming of the Royal household. They shut him out of as much decision making as possible.
When Elizabeth became Queen, the question about her family name arose. Prince Philip suggested that the Royal Family be known as the House of Edinburgh. Upon discovering that suggestion, Queen Mary, Elizabeth's grandmother, wrote to Prime Minister Winston Churchill, who advised the young monarch to issue a royal proclamation saying that the Royal Family would continue to be known as the House of Windsor.
In his inimitable style, Prince Philip complained privately:
I am nothing but a bloody amoeba. I am the only man in the country not allowed to give his name to his own children. [57]
The Queen did nothing until eight years later, in 1960, 11 days before she gave birth to Prince Andrew. She issued an Order in Council declaring that the surname of her and her husband's male-line descendants who are not styled as Royal Highness or titled as prince or princess would be Mountbatten-Windsor.
Pater familias
Prince Philip had to carve a role out for himself. He became the pater familias and, through the years, his role expanded to cover not only his four children but his grandchildren. He listened to their concerns, shared their joys and gave them advice. He knew everything that went on in their lives.
Although the public knew him for speaking as he saw — rather bluntly, on occasion — behind closed doors Prince Philip was known to be a warm, loving man.
He also favoured a more transparent Royal Family. According to the BBC, it was he who encouraged the Queen to make a multi-episode documentary on their daily lives, including those of their four children. It was broadcast in the late 1960s. I remember seeing it in the United States.
When Princess Diana died on August 31, 1997, Prince Philip was the one who kept an eye on the public mood that fateful week. He, the Queen and Princes William and Harry were at Balmoral in Scotland for their summer holiday. When the young princes wanted to attend church, their grandparents took them to the Sunday service on the day of their mother's death. Later in the week, it was Prince Philip who encouraged the boys to walk behind the funeral procession the following Saturday. He said:
If you don't walk, I think you'll regret it later. If I walk, will you walk with me? [93]
One cannot imagine what he thought of Prince Harry's departure for the United States to live a life separate from his closely knit family. I did read that the Royal Family shielded information about the Oprah interview from him.
John F Kennedy's funeral
Prince Philip was in Washington for John F Kennedy's funeral in 1963.
He had a friendly encounter with John Jr, who was still a toddler and known as John-John at the time. The child wondered where his father was, as he had no one with whom to play. The Prince stepped in to fill that gap. In 1965, the British government gave an acre of land at Runnymede to the United States for use as a memorial to JFK:
Funeral arrangements
Prince Philip was self-effacing and did not like a fuss to be made over him.
Therefore, the funeral arrangements will respect his wishes, which is rather convenient, as coronavirus restrictions are still in place. Up to 30 people will be allowed at his funeral, in line with legislation across the nation:
The funeral is scheduled to take place on Saturday, April 17:
It is interesting that Prince Harry will be able to attend when we have a 10-day quarantine in place for arrivals into the UK under coronavirus regulations.
The Sunday Mirror reported on Prince Harry's return to the UK:
He could also be released from quarantine if he gets a negative private test on day five, under the Test to Release scheme.
Given his status as a member of the Royal Family travelling to support the Queen, Harry might be considered exempt from travel restrictions.
Wow. It's nice to know we have a two-tiered quarantine system in place /sarc.
A championship boxer remembers the Prince
Former WBC Heavyweight Champion Frank Bruno MBE posted his memories of meeting Prince Philip. He is at the top left in the following photo:
An Anglican priest remembers the Prince
The Revd Peter Mullen, an Anglican priest, recalled his encounters with Prince Philip for Conservative Woman on April 10 in 'A personal recollection'.
He first met the Prince during his schooldays:
The first time I met the Prince was in connection with his Duke of Edinburgh's Award Scheme which gave a leg up to youngsters from what would now be called the less privileged parts of the country. He paid a visit to the Leeds branch of the Church Lads' Brigade of which, aged fourteen, I was a member. We were in the church hall making things. My task was to make a table lamp. I was hopeless at it.
The Duke got hold of my half-finished creation, held it up to one eye and said, 'I suppose this hole is where the flex goes?'
'I think so, Sir.'
'You think so? I was never any good at this sort of thing either!'
And he was off . . . 
As an adult, Mullen met him on more than one occasion thanks to the Honourable Company of Air Pilots. The Prince was its Grand Master. Mullen served as chaplain.
He recalls:
The Company gave a lunch for him to mark his 80th birthday and I recall how jovial he was, making light of his years: 'I believe I have lasted so long because you people are always toasting my good health, but I don't want to live to be a hundred. Things are dropping off already!'
At another luncheon one of our Liverymen who had his own port wine business presented the prince with Bottle Number One, the first fruits, so to speak. As he left, the duke handed the bottle to me: 'You have this, Peter. Our house floats on the bloody stuff.'
'Well, Sir, now I don't know whether to drink it or frame it.'
'Gerrit down ya neck!'
Prince Philip on MPs
Guido Fawkes came up with a good quote from one of the Prince's trips to Ghana. It concerns MPs. His Ghanaian hosts told him the country had 200 MPs. Prince Philip replied:
That's about the right number. We have 650 and most of them are a complete bloody waste of time.
Incidentally, Parliament will be recalled one day early from Easter recess. On Monday, April 12, MPs and Lords paid tribute to the Prince in their respective Houses:
That afternoon, the House of Commons reconvened to pay their tribute — from 2:30 p.m. until 10 p.m. (good grief).
Speaker Sir Lindsay Hoyle spoke first:
Prime Minister Boris Johnson had this to say:
Boris Johnson, who was invited to the funeral but declined so that another member of the Royal Family can attend, said that he would forego a pint when pub gardens reopen on April 12, out of respect for the Prince. Guido Fawkes, however, thinks that the Duke of Edinburgh would have wanted us to toast his memory, especially at a pub that bears his title in Brixton, south London:
Guido had a second tweet on the subject with another quote from the Prince:
Agreed.
Prince Philip on Australia
This is too funny. For those who are unaware, Australia was established as a place where Britain could send convicts. That was a long time ago, but the nation's original purpose was to serve as a prison: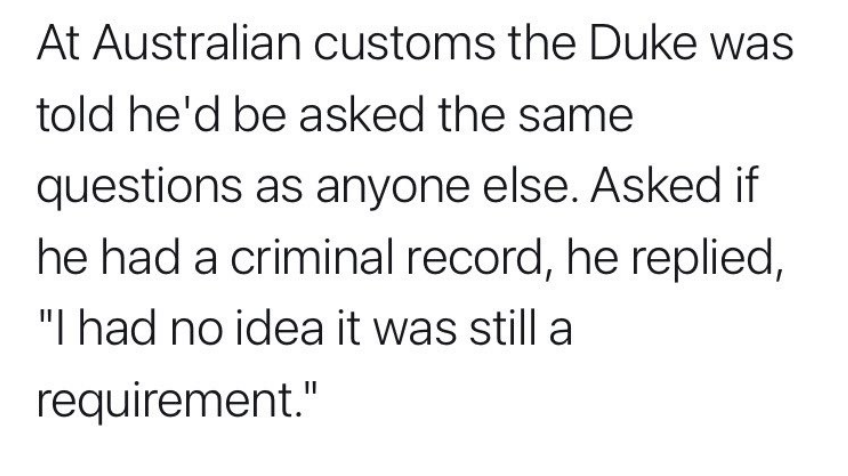 Prince Philip on civil liberties
On a serious note, the 12-minute interview below from 1984 is well worth watching, especially in the coronavirus era.
Prince Philip firmly supported the rights of the individual and believed that the state should serve the individual, not, as in our times, the other way around.
This is from a Thames Television programme originally broadcast on ITV:
I have posted the video below in case the tweets are deleted:
The Prince also said that certain subjects are out of bounds, such as the media and the NHS.
He said that the media are incapable of taking a joke about themselves and, as for the NHS, well, one cannot say anything against it. He didn't necessarily dislike the NHS but thought it was held in too high a regard. Nothing is perfect in this world.
We have been travelling a long road towards the point where we are at present: ruled by the media (they clamoured for coronavirus restrictions) and worship of the NHS. This is how Health Secretary Matt Hancock, Prime Minister Boris Johnson and SAGE have been able to rule our lives. It's been at least 40 years in the making.
BBC coverage on Friday
I was watching BBC Parliament early Friday afternoon, around 1:15, when the programme was interrupted by a broadcast from the BBC News Channel.
I checked the schedule an hour later, which said that the programme would last until 4 p.m. It was still going when I was preparing dinner at 5 p.m.
The final of MasterChef was to have been broadcast that night on BBC1. This was a clip from Thursday's programme:
Pictured are the hosts and judges, chef/restaurateur John Torode on the left and former greengrocer, now television presenter, Gregg Wallace on the right:
BUT:
The BBC News channel was simulcast all afternoon and all night long, not only on BBC Parliament but also on BBC1, to the dismay of MasterChef fans (myself included), and BBC2. BBC4 was suspended for the evening.
I read on social media that the BBC also broadcast continuous coverage of Prince Philip on their radio stations, including Radio 2, knocking out Steve Wright's drive-time show on Friday afternoon.
A friend of mine said that most of the BBC's employees were probably rubbing their hands with glee because it meant an early weekend for them. It's a cynical perspective that could well turn out to be true. We'll find out when someone writes his or her memoirs.
Everyone with a television set receives the BBC News channel. It comes into our homes at no extra charge. There was no need for the BBC to take over every channel for hours on end. By the way, if one had watched two hours of the Prince Philip coverage, as I did, one would have seen and heard everything in its entirety.
The BBC braced themselves for a plethora of complaints; they took the relevant page down on Sunday. Good. I am sure Prince Philip would have objected, too.
As much as I love the Queen, I hope they do not try this when her day comes. God willing, may it be long into the future.
Record-beating prince
Prince Philip established two records as consort to the Queen. He was the longest-serving royal consort in British history. He was also the longest-lived male member of the British royal family.
May he rest in eternal peace with his Maker.
May our gracious Lord grant the Queen, Defender of the Faith, His infinite peace and comfort in the months ahead. May He also bless the Royal Family during this difficult time.
On Wednesday, January 27, 2021, Prime Minister Boris Johnson held a televised coronavirus briefing, announcing that the number of COVID-19 deaths in the UK had reached 100,000.
He pronounced it 'a grim milestone'.
A friend of mine living in France thinks that the British must be dropping like flies from coronavirus. Who could blame her, given not only the reporting in the media but also the Government's own disingenuous narrative?
It was known by the summer of 2020 that British deaths were recorded as COVID-19 even if the primary cause was a longer, underlying disease. If the deceased had a positive COVID-19 test result in the month before death, COVID-19 was one of the causes on the death certificate. Even when COVID-19 was shown as a secondary or tertiary cause of death, the death was counted as a COVID-19 fatality.
This situation led to the question of death 'of' or 'with' coronavirus. Dying 'of' coronavirus would mean that COVID-19 was the primary cause of death. Dying 'with' it would mean that it was another factor, but not the primary cause, which could have been cancer, heart disease or Alzheimer's.
Conservative Woman had an article about this: 'Why the "grim milestone" of 100,000 Covid deaths is nonsense' wherein James Delingpole helpfully pointed to another article and set of statistics explaining his position:
… I heartily recommend this most excellent deep-dive by Simon Elmer of Architects for Social Housing. (Which is where you'll find those ONS charts I mentioned near the beginning). It covers things like the dubious way the government calculates its Covid deaths (such as the fact that even if you die of cancer or Alzheimer's or anything else, it still gets whacked down as Covid if it's within 28 days of one of those dodgy, oversensitive PCR tests); and the way influenza, historically a reliable annual culler of the old and infirm, has mysteriously vanished from the statistics, almost as if – imagine! – thousands of flu deaths are now being misrepresented as Covid deaths.
Before I go there, here is a chart with data from ONS — the Office for National Statistics — showing that 2020's deaths were not unusual. The last time they were that high was in 2008. The graph, which charts deaths from 1960 to 2020, is not mine. I found it at Lockdown Sceptics in a comment:
Now on to Simon Elmer's 'Lies, Damned Lies and Statistics: Manufacturing the Crisis' at Architects for Social Housing. It is a long and thorough post with a table of contents.
Simon Elmer begins, in part, with this:
As always — although we appear to have forgotten it along with everything else we knew about the world in which we live — the old adage about 'lies, damned lies and statistics' holds true to this greatest of all lies, the manufacturing of the coronavirus crisis. What I want to do in this article, in contrast, is look at the figures for the mortality rates, places and causes of death in England in 2020 that are slowly being published by the Office for National Statistics in 2021, and discuss what they can tell us about what really happened last year. The figures aren't conclusive, as the changes to disease taxonomy, protocols for filling in death certificates, criteria for recording deaths, and the flawed testing programme mean we'll never know how many people actually died from COVID-19 in the UK in 2020; but if we analyse these figures accurately and in their context, it is possible to see some way through the deception to the reality they conceal.
The first section — '1. Laying the Foundations' — begins with the recording of deaths last year from the pandemic onwards. The author includes a screenshot of a death certificate illustrating my earlier point about causes of death:
Elmer explains how recording of deaths changed last year:
Given these five changes, 1) to disease taxonomy, 2) to the criteria for attributing a death to COVID-19, 3) to identifying the underlying cause of death on a death certificate, 4) to identifying infection with SARS-CoV-2, and 5) to identifying the clinical presence of COVID-19 — all but one of which were in place before the end of March, 2020 — how do we establish how many people actually died of COVID-19 in the UK or, to the contrary, how many deaths from cancer, heart disease, dementia, diabetes, influenza and the other primary causes of death in the UK have been incorrectly diagnosed and/or recorded as 'COVID-19 deaths'?
The second section — '2. Competing Causes of Death' — elaborates further and includes illustrative charts:
In July 2020, the Office for National Statistics published data on 'Pre-existing conditions of people who died with COVID-19'. To qualify as such, a pre-existing health condition must appear on the death certificate either below COVID-19 in Part 1, and therefore in the causal chain leading to death, or in Part 2, and therefore as a contributing cause to death, if COVID-19 is mentioned in Part 1. Alternatively, if COVID-19 is mentioned in Part 2 of the death certificate, a pre-existing health condition must appear as the underlying cause of death in Part 1.
Following these definitions, the ONS reported that, of the 50,335 deaths attributed to COVID-19 in England and Wales between March and June 2020, 45,859, 91.1 per cent, had at least one pre-existing health condition, with a mean average of 2.1 conditions for those aged 0 to 69 years of age and 2.3 for those aged 70 years and over. The accompanying dataset recorded that, in the 4 months between March and June 2020, the most common 'main' pre-existing health condition recorded on death certificates in England and Wales was dementia and Alzheimer's disease, with 12,869 deaths constituting 25.6 per cent of all deaths attributed to COVID-19.
By a 'main' pre-existing condition the ONS means the condition that is most likely to cause death in the absence of COVID-19. How they derive this is complicated, and I won't go into it here; but they take their lead from the World Health Organisation's rules for identifying the 'underlying cause' of death, which as we have seen have been changed to ensure that COVID-19 always appears on death certificates in this category, and in doing so excludes everything appearing above Part 1.
After dementia and Alzheimer's disease, ischaemic heart diseases — meaning those causing stroke through a blood clot or other blockage — were the next most common, with 5,002 death certificates recording it as the 'main pre-existing health condition' constituting 9.9 per cent of all deaths attributed to COVID-19. This was followed by influenza and pneumonia, which were present as the main condition on 4,582 death certificates. Of the 50,335 deaths attributed to COVID-19, 4,476 had no main pre-existing health condition on the death certificate, just 8.9 per cent of the total.
But that's not all. When recording all pre-existing health conditions, their presence on the death certificates of 'COVID-19 deaths' is even higher, with 13,840 deaths attributed to COVID-19 having dementia and Alzheimer's disease also listed, 11,029 deaths having influenza and pneumonia, and 9,820 having diabetes.
However, in the middle of 2020, the ONS stopped recording pre-existing conditions that could have caused death (emphases mine):
… since July no other data on the pre-existing health conditions, main and common, of people whose deaths have been officially attributed to COVID-19 has been published by the Office for National Statistics. I've written to the ONS to ask when they will update their records, and they responded that they are hoping to do so in February 2021. Why they stopped doing so in July I will leave to you to judge; but when these figures are published I shall add them to this article.
The third section — '3. Evidence for Lockdown Deaths' — explores what happened as the National Health Service became the National Covid Service, stopping or slowing procedures for non-coronavirus diseases. This gives a monthly rundown on the detrimental impact of not treating people with heart conditions and cancer. The conclusion is that lockdown and the focus of the NHS on coronavirus has been dangerous for millions of people:
… policies which are not only having a devastating impact on the lives of nearly 68 million people but, according to these reports, have already caused the deaths of tens of thousands of UK citizens and will continue to kill tens of thousands more, for as long as these restrictions are imposed by the Government, enforced by the police and complied with by the public.
The next section — '4. Recovering the Dead' — explains why we will never know the true number of people who died from coronavirus.
With regard to deaths in care homes since March 2020:
… there were 26,202 excess deaths in care homes over the same period. Here, however, 20,574 were attributed to COVID-19, largely on the say-so of the private companies running the homes and without a corroborating medical diagnosis, leaving 5,628 excess deaths. That's a total of 41,861 deaths above the 5-year average unaccounted for.
… in April 2020, the Care Quality Commission, the regulator of health and social care in England, introduced what it called a 'new way' to understand whether COVID-19 was 'involved in the death' of someone in a care home. This merely requires a statement from the care home provider that COVID-19 was 'suspected' as the cause of death, and which 'may or may not' correspond to a medical diagnosis, a positive RT-PCR test result for SARs-CoV-2, or even be reflected in the death certificate. It's by this criteria that 20,574 deaths in care homes were attributed to COVID-19 in 2020.
The author reaches the following conclusion:
… given that the deceased are now gone, and their falsified death certificates are all we have left of the causes of their deaths, how can we find evidence for the manufacture of tens of thousands of 'COVID-19 deaths' from their cremated and buried bodies? This is the task of reparation and remembrance with which any true account of 2020 must begin if it is to recover the truth about their deaths from the lies in which they have been shrouded.
The fifth section looks at mortality rates in the UK since 1941 and has accompanying statistics and charts with ONS data.
The next section — '6. What Happened to the Excess Deaths?' — states:
Given the deliberate inaccuracy of the criteria for attributing a death to COVID-19, largely dependent upon a positive test using an RT-PCR test at thresholds where it can identify so-called 'cases' of COVID-19 from fragments of dead coronavirus, it is almost impossible that these thousands of 'lost' deaths, and the thousands more caused by lockdown, have not been misdiagnosed and/or incorrectly recorded as 'COVID-deaths'. But how do we corroborate this thesis with facts?
On 14 January, Public Health England published its analysis of ONS figures on deaths over a shorter timeframe, between 21 March, 2020 and 1 January, 2021, the period under which England has been under various degrees of lockdown restrictions. These show that, even with the WHO's instructions to medical practitioners that COVID-19 must always be listed as the 'underlying cause' of death, a total of 7,511 excess deaths in which other health conditions were listed as such were recorded as 'COVID-19 deaths'.
… deaths from heart diseases, cerebrovascular diseases, other circulatory diseases, dementia and Alzheimer's disease, urinary diseases, liver diseases, and from causes other than COVID-19, numbered 11,013 over the 5-year average; yet 5,057 of these were listed as 'COVID-deaths'. Even when deaths from the underlying cause were below the 5-year average, as they were for cancer, acute respiratory infections, chronic lower respiratory diseases, other respiratory diseases and Parkinson's disease, 2,454 deaths were still registered as 'COVID-19 deaths'.
Nearly 75 per cent of excess deaths in which dementia and Alzheimer's disease were listed as the underlying cause were still recorded as 'COVID-19 deaths'; over 41 per cent of excess deaths from urinary diseases; nearly 40 per cent of excess deaths from cerebrovascular diseases; 41 per cent of excess deaths disease from other circulatory diseases; 33 per cent of excess deaths from heart diseases; and 31 per cent of excess deaths from liver diseases. While over 50 per cent of excess deaths from all other causes other than COVID-19 were still recorded as COVID-19 deaths.
We should remember that, if COVID-19 had been listed as the 'underlying cause' on any of these death certificates, they would all have been recorded as 'COVID-19 deaths' by the Office for National Statistics; yet for all these other underlying causes their appearance on the death certificate wasn't enough to overcome the changes to the ONS criteria for compiling statistics on mortality in the UK. If not quite proof, this is further evidence of a deliberate and very successful attempt to falsify the official tally of 'COVID-19' deaths.
How could this have happened?
The most logical answer to that question is the changes to disease taxonomy, protocol on completing death certificates, criteria for attributing a death to COVID-19, the false positives produced by the RT-PCR testing programme, and the equation of such a positives with symptoms of COVID-19. To this end, the guidelines for death certification from the World Health Organisation about what defines a COVID-19 death are decisive: 'A death due to COVID-19 may not be attributed to another disease (e.g. cancer)'. Given these changes — which unlike the deaths from COVID-19 truly can be called 'unprecedented' — we'll never know how many people actually died of the disease; but these figures give us some indication of the percentage of deaths misdiagnosed as such. What we do know is that, throughout 2020 and into 2021, the British Heart Foundation, the Institute of Cancer Research, the Alzheimer's Society, the British Medical Journal and other organisations monitoring the nation's medical treatment, health and mortality have all recorded and predicted huge increases in deaths from the withdrawal and reduction of medical care under lockdown restrictions.
The final section has conclusions.
While coronavirus has to be taken seriously, 2020 seems to be the first year in living memory when the general public were forced to pay attention to human mortality, even if the death rates are well within the norm for any given year:
In 2004, for example, the rate of mortality (1,163.0 per 100,000 of the population) was as high above what it was in 2020 (1,043.5) as last year was above 2019 (925.0), which had the lowest rate ever. The year before that, 2003, it was even higher (1,232.1). So the exaggerated claims of an unprecedented rise in mortality rate from 2019 to 2020 is not borne out by the facts. What was different was how, after a period of sustained fall, this rise on overall mortality was explained to a public previously unaware of mortality rates, and what this suddenly increased awareness of our mortality has been used to justify.
The vast majority of the people dying have been elderly:
84 per cent of the deaths attributed to COVID-19 in 2020, over 68,000 deceased, were of people aged 70 years and over. 61 per cent were aged 80 years and over, the average life expectancy in the UK. Around 90 per cent had at least one pre-existing health condition, with most having two.
It is not surprising.
Nor did lockdown help the elderly dying of other causes:
To put these figures into context, in 2020 there were 9,189,000 people aged 70 years and over in the UK, and 412,408 of them, 4.48 per cent, died of causes not attributed to COVID-19. 0.7 per cent of them officially died of COVID-19. It wouldn't take much to push a population of such elderly and frail people into a life-threatening situation. Lock them up for months on end. Deny them human contact on pain of arrest and fines they couldn't hope to pay. Withdraw medical treatment. Quarantine their carers. Terrorise them with propaganda about a civilisation-ending disease. Order them to stay at home and avoid the contact of other people like the plague. Tell them hospitals standing empty are on the verge of being overwhelmed. Turn medical centres into places to fear, the breeding grounds of a deadly new disease. That should be more than enough. It has been more than enough. Then, change the medical protocol and criteria for identifying and recording the cause of their deaths, and against all the evidence against its fitness for such use, employ a medically meaningless test to turn traces of a virus that presents no threat to 80 per cent of the population into proof of infection and cause of death. This is how a crisis has been manufactured. This is how a virus is being used to justify the programmes and regulations of the UK biosecurity state.
Simon Elmer says that the UK Government has no qualms about prolonging this dire state of affairs:
The truth is that there was never a question of whether this Government would impose another lockdown on the UK in 2021. Lockdown isn't a consequence of the failure of coronavirus-justified programmes and regulations: it's the product of their success in implementing the UK biosecurity state. After a brief summer recess under the system of tiered restrictions, the following winter will see the lockdown of the UK imposed again under newly notifiable diseases from new viruses and new strains, new protocols for certification and new criteria for deaths, the new medical categorisation of new cases which, like the present ones, present little or no threat to public health, but which like it will be used to enforce new technologies, new programmes and new regulations. This is the 'New Normal' we were promised, and it's being built on a foundation of lies, damned lies and statistics.
Sometimes, things are not what they seem.
The 100,000+ coronavirus deaths in the UK are but one example.
Further reading — ONS statistics:
Annual deaths and mortality rates, 1938 to 2020 (provisional)
Coronavirus (COVID-19) Infection Survey, UK: 29 January 2021