You are currently browsing the tag archive for the 'Nice' tag.
Socca — a crepe-like pancake made from chickpea flour — is associated with the city of Nice.
Margo Lestz, who lives there, wrote an interesting article about it, 'The Superfood of Nice, southern France: Socca', for The Good Life France.
She tells us that socca batter was first used as a weapon rather than as a foodstuff:
Legend has it that the recipe for socca was discovered when the Turks attacked the city of Nice in 1543. When they ran out of ammunition, the Niçois mixed hot oil with chickpea soup and poured it down off the top of the walls and onto the heads of the invaders. Apparently, it stopped the invading Turks in their tracks and when the defenders licked their fingers they thought – "Hey, this stuff is pretty good! We could probably even sell it!"
At the turn of the 20th century, vendors went along the coastal thoroughfares with portable ovens on wheels to sell this large pancake, which can serve several people:
These could be taken to the port in the early morning for the fishermen, then later in the day, rolled over to where other labourers were working. It was a nourishing and inexpensive Niçois fast food.
Socca is a perfect gluten-free treat that can be eaten with one's fingers or a fork.
Socca'nnes
Fortunately, during our recent stay in Cannes, I did not have to journey to Nice to try it. The city's Marché Forville has a socca stand run by Socca'nnes. The chap pictured here and a lady run it. She takes the orders. He does the cooking.
It doesn't take long for the socca to bake in what looks like a huge portable pizza oven that is blazing hot. The huge pan is coated with olive oil and heated before the batter is ladled on. You can watch the chickpea flour batter batter bubble up and brown on top to make it a bit crispy. The interior is moist and unctuous.
The lady cuts the huge pancake into several portions, then cuts each one further into Chicago box cut squares. (Actually, this is a Sicilian method of portioning pizza.) My far better half and I shared a portion at lunchtime. It truly was filling, so I can understand socca's popularity.
My only complaint was that it did not have enough salt. I asked for some, and the lady said the batter had enough salt in it already. Uh huh. I declined the offer of additional black pepper.
Each portion was €2.50.
Socca'nnes is at Marché Forville from Tuesday through Sunday all year round. They also have an at-home service available on Mondays and after 4 p.m. on market days. Find out more here.
Socca Chips
Our experience with socca actually started with Socca Chips, which are sold in Cannes supermarkets.
A restaurateur by the name of Luc Salsedo invented Socca Chips. Not wishing for any leftover batter to go to waste, he began experimenting by making wafer-thin chips. He tested various flavour combinations with his customers.
He began making them commercially in 2014 in Saint André de la Roche, just outside of Nice. The three varieties — plain, garlic and rosemary — have been so successful that he closed his restaurant the following year to devote his time to Socca Chips.
Socca Chips has a short video demonstrating how real socca is made. At the end, you can see the comparison between the socca on the plate and the chips in the bowl:
This next video features a 2017 clip from France 3 Côte d'Azur's popular programme, Enquêtes de région. It shows Luc Salsedo making Socca Chips deliveries to specialist food shops in Nice and ends with his manufacturing plant. The shopkeepers say that everyone loves Socca Chips. One man says that he no longer eats potato crisps because Socca Chips are much better in every way:
We agree. In fact, we also prefer them to tortilla chips.
One small complaint: not enough salt!
We prefer the garlic ones to the plain, although the former could use a touch more garlic. We did not try the rosemary ones.
A 120g bag serves four people as a snack. Prices range from €3.89 to €4.17 a bag, depending on the supermarket. They were cheapest at Carrefour.
In closing, this short video features specialities from Nice. Socca appears at the beginning and at 4:28 Luc Salsedo grants the film crew a tour of parts of his factory. You won't see how the chips are made, though, which is probably a closely guarded secret:
I wish we had had room in our luggage to bring back more Socca Chips! Unfortunately, they are not yet sold in the UK!
Whilst it is wise to refrain from labelling an attack 'terrorist' until we have the facts, the media are distorting and denying various aspects of the recent attacks in Europe, particularly Germany.
Foreign Secretary Boris Johnson came under attack from The Guardian and Liberal Democrat foreign affairs spokesman Tom Brake for saying that the recent Munich mall attack on Friday, July 22, was related to terrorism.
In fact, this is what he said from New York where he met with US Secretary of State John Kerry (emphases mine):
If, as seems very likely, this is another terrorist incident, then I think it proves once again that we have a global phenomenon and a global sickness that we have to tackle both at the source – in the areas where the cancer is being incubated in the Middle East – and also of course around the world.
That quote comes from the same Guardian article that accuses Johnson of jumping the gun in labelling the Munich incident as terror-related. Nine people died. The attacker, an 18-year-old German of Iranian extraction, then killed himself.
Since then, the name of the attacker — Ali Sonboly — has been distorted to David Ali Sonboly. That is a BBC link, but I have also seen it on other news outlets where it sometimes appears as Ali David Sonboly. Thankfully, a BBC viewer tweeted in response that the perpetrator's name is, in fact, Ali Davood Sonboly.
Note the progression from Ali Sonboly to David Ali Sonboly or Ali David Sonboly, when his real name was Ali Davood Sonboly.
You know, we cannot call this what it is or call the attackers by their right names because people might be offended.
The result will be that low info viewers, of which the BBC have many, will be under the impression that this lad was someone he wasn't. These viewers take the BBC at their word.
I know a lot of people who believe that BBC reports are completely trustworthy because they were 40 or 50 years ago. Folks, the BBC have moved on since then, ever leftward, ever economical with the truth. Their report on Debbie Wasserman Schultz's resignation on Sunday, July 24, was but another example.
On July 18, three days before Sonboly's attack in Munich, another adolescent — an 'unaccompanied' 17-year-old Afghan asylum seeker who had been living with a foster family in Germany — went on a rampage on a train in northern Bavaria. He took an axe and a knife to 20 passengers. Three were seriously hurt and one sustained 'light injuries'. All four were from the same family — tourists from Hong Kong who had been enjoying a delightful holiday prior to the attack, including the wedding of an immediate family member in Britain.
The '17-year old' (he looked older), whom police shot dead soon afterwards, was reported to have shouted:
"Allahu Akbar" before the attack and investigators believed he had a become 'self-radicalised' Muslim.
The same report, from The Mirror, has a video of him wherein IS claimed responsibility:
The teenage ISIS terrorist who launched the terrifying axe attack has been named by Bild as Riaz Khan Ahmadzai, also known as Muhammad Riyad, and he left a suicide note revealing chilling details of his plot, it was reported …
Although police have yet to confirm his identity, a video released by ISIS claims to show him delivering a speech in Pashto to the camera while holding a knife.
The video calls him 'a soldier of the Islamic State who carried out the Wurzburg attack'.
The video appears to show Riyad saying he would 'slaughter infidels' with the knife he holds up to the camera.
He says: "I am a soldier of the caliphate and I am going to carry out an suicide attack in Germany.
"O Kufar, the time has passed when you would come to our homeland and kill our men, our women and our children. And your apostate rulers were silent about these massacres …
The rest of the quote is at the link. A Shanghai paper has more information with links to other media reports.
On Sunday, July 24, a 21-year-old Syrian refugee killed a 45-year-old pregnant Polish lady with a machete in southern Germany. He argued with her around 4:30 p.m. then hacked her to death. He also injured two other people. German authorities imply it was a lone wolf attack, nothing more. They also said that others in the vicinity should not feel threatened. The man is in police custody. Deutsche Presse-Agentur reported on Monday that the two were colleagues and worked in a restaurant. Authorities are unclear when the man arrived in Germany. This was the third act of violence in Germany within 10 days.
The fourth took place that evening. A 27-year old Syrian who had been refused asylum in Germany — and admission to a music festival because he had no ticket — lashed out in the Bavarian town of Ansbach. He had a rucksack with metal items in it used in 'wood manufacturing', as authorities put it. He blew himself up outside a local wine bar, the impact of which injured 12 people, three of whom are in serious condition. Few in authority wish to comment further as I write on Monday, although Bavarian interior minister, Joachim Herrmann, said (emphasis in the original):
it was likely the attack was the work of an "Islamist" suicide bomber.
Yet (emphases mine):
Bavarian police said it was unclear if the attacker was Islamist.
The attacker was due to be deported to Bulgaria and had received two deportation orders, the most recent of which was on July 13. Bulgaria was his first safe country of entry.
Patrons of the wine bar were initially told the explosion was caused by a gas leak!
Pity Bavaria, which has had to take in so many refugees and migrants, particularly during the past year.
On Thursday, July 21, the day before the Munich attack, Konstantin Richter wrote a guest post for The Guardian. He gave more information about the train attacker and migration to Germany in general. Excerpts follow:
There are almost 70,000 unaccompanied children living in Germany, and he happened to be one of them. For two weeks prior to the attack he'd been staying with a foster family. He had also started an internship at a local bakery. In the best of all possible worlds, he would have gone from intern to trainee and then to certified German baker. He could have been a role model …
When Germany's Willkommenskultur (welcome culture) was still in full swing, its advocates argued that Isis would not dare to target a nation that generously opened its borders to those in need. They also thought refugees coming to Germany would feel such enormous gratitude that they couldn't possibly turn against their host country. Truth be told, I thought so too, but it doesn't sound right any more.
The refugees who entered Germany had high hopes. Smugglers told them they'd prosper and find jobs instantly. Now they are languishing in asylum-seeker centres and struggling with bureaucracy, uncertain whether they can stay at all. Many of them are young men who are homesick, angry and frustrated, and extremists are deliberately visiting their homes because they know they are fertile ground for recruiting.
… advocates of Willkommenskultur have been on the losing side of the public debate since the events that unfolded in Cologne on New Year's Eve. They'd be well advised to acknowledge that the open-door asylum policy was overly idealistic, and that they underestimated some of the challenges posed by mass migration.
Meanwhile in France, a policewoman in Nice is at loggerheads with the French government over a report a central government department asked her to prepare concerning the attack on Bastille Day, July 14.
In an interview to a Sunday newspaper, Sandra Bertin said she was in charge of the CCTV room that night. She did not see any national police on duty where the lorry entered the Promenade des Anglais, where the attack with the lorry took place. Local police were unarmed. Bertin says that had they been better armed — like the national police — they would have had a decent chance at stopping the lorry by shooting at the tyres.
National police were stationed further along and were able to stop the lorry by shooting at the windscreen. By then, for 84 people, it was too late.
The next day — Friday — Bertin filed a report, by request, to the CSU (Centre for Urban Supervision), a department of the Interior Ministry but not that of the Interior Minister himself, Bernard Cazeneuve.
She had a difficult telephone conversation with someone who 'harrassed' her for an hour asking for specific details of the scene, including the position of the national police. Eventually, Bertin was able to get permission to compile a written report:
"I told her I would only write what I had seen. Perhaps the national police were there, but I didn't see them on the cameras," Bertin said.
Bertin, who, incidentally, is secretary general of a Nice public servants union, sent her report electronically.
A few days later, the antiterrorist branch visited her office requesting that she destroy the CCTV tapes she had from that night. She said in her newspaper interview that was because they feared the public might see the tapes.
Officials in Nice have refused to destroy them.
Paris public prosecutor François Molins, whose office is overseeing the investigation, says that the officials visiting Bertin's office only wanted to see the evidence for themselves.
Interior Minister Cazeneuve said he and his office had no direct involvement in these events. Bertin might be asked to submit to questioning by him or a representative. Even worse, he is suing her for defamation over 'serious accusations' she allegedly made against him.
There is a party-political aspect to this. The administration is Socialist. The Agglomeration of Nice is run by the right-of-centre Les Républicains, led locally by Nice's long-time mayor Christian Estrosi.
From the off, Estrosi said the police protection was woefully inadequate on July 14.
On Tuesday, July 26, a Catholic Mass was brutally interrupted in a town near Rouen in Normandy. Two men, armed with knives, entered the church at Saint-Etienne-du-Rouvray shouting 'Daesh!' A subsequent report said, 'Allah akbar!' One man had a beard, the other was wearing a prayer cap. They took five people hostage and slit the throat of the priest celebrating morning Mass. He died. A nun, Sister Danielle, was able to slip out of the church and call police. Security forces arrived quickly and fatally shot the two men. The article from l'Internaute (linked to above) said this was 'very likely' a 'terrorist attack'. (It is the sort of attack that takes place on churches in Muslim-majority countries.)
Honest reporting. It will be interesting to see what the major French newspapers say. Let's hope they do not name the attackers 'Antoine' and 'Jean-Pierre'.
Except if it is Maxime, as in Maxime Hauchard, now Abu Abdullah al-Faransi, who — possibly still in Syria since 2013, according to The Mirror — indirectly collaborated in this gruesome act with Adel Kermiche, according to the Daily Mail.
L'Internaute had a live column of what happened in the immediate aftermath. The priest was 86-year-old Revd Jacques Hamel, ordained in 1958. Someone would have to be pathological to murder an elderly priest, especially in such a horrifying manner. A nun who was helping him at the altar was seriously injured. Some of the other hostages also required medical treatment. Police told those living in the immediate vicinity to stay indoors.
Word of the attack soon reached those at the Catholic World Youth Day events being held in Krakow. The Pope, who is in in the Polish city, expressed his 'pain and horror'. Archbishop LeBrun of Rouen returned to France and his Vicar General took his place in Krakow. The Vicar General went to the scene of the attack immediately. François Hollande and Bernard Cazeneuve arrived shortly afterwards.
The live report states that this church was on the target list of Sid Ahmed Ghlam, 24, the extremist who intended to murder Catholics coming out of Sunday Mass in April 2015 in suburban Paris. Instead, he murdered fitness instructor Aurélie Châtelain who was in her car consulting her computer in Villejuif, just outside Paris. Then Ghlam ran into a spot of bother. He accidentally shot himself in the leg and was bleeding profusely. He drove his own car for some distance, before ringing the emergency services! Police arrived on the scene and arrested him.
Hamel was an active participant in the regional Christian-Muslim dialogue efforts. Mohammed Karabila, president of the regional Muslim organisation, said he was 'alarmed' to hear the news of his Christian friend, someone who gave his life serving others: 'We are all dumbfounded at the mosque. Our prayers go to his family and to the Catholic community.'
I wrote this shortly after the attack. More news has emerged, notably that one of the attackers, who wore an electronic tag, was allowed to roam freely on weekday mornings. The tag was switched off as usual before he left his parents' home the day of the attack. The Telegraph has a live column, and other news outlets around the world have rightly given this story the attention it deserves.
————————————————————————
These issues with the media and state security forces affect more countries than Germany and France. Belgium's security police and intelligence departments also have their problems.
The media, however, would do well by telling people the truth.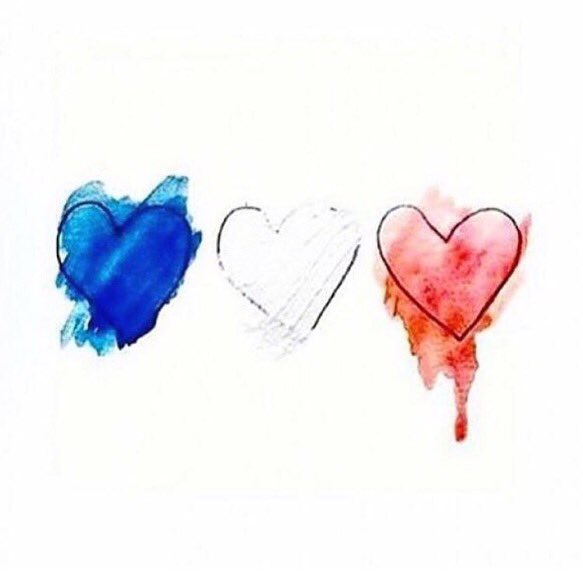 As I write on the afternoon of Friday, July 15, 2016, an analysis of Nice's Bastille Day attack is unfolding on RMC (French radio).
Nice-Matin is running a live column of developments since last night. Eighty-four people died and at least 18 were seriously injured.
After much deliberation, today's Tour de France stage will go ahead as planned. Various riders, including Chris Froome, have tweeted their condolences.
The film of the killer in the rented lorry mowing people down on the Promenade des Anglais was horrifying. How could a human being could do this? How can people commit such cold-blooded extremist attacks?
Along with millions of others around the world, my heart and thoughts go out to the victims of the Nice attack, their families and friends. Not just today, but in the weeks and months ahead.
I have borrowed the image above from Maina Sage's tweet. Ms Sage is an MP from French Polynesia.
Nice-Matin published a first hand account from one of their journalists, Damien Allemand, who happened to be in the vicinity as the horror unfolded. He was out to celebrate France's national holiday that night, hoping to enjoy the fireworks along with the rest of the crowd. Excerpts follow, translation and emphases mine:
It was a cool evening. The ambiance was good, the fireworks pretty neat, kids skimming pebbles on the water … In short, it was a cool evening.
The Prom' was thick with people. Like every July 14th. I chose to spend the evening on the beach at the High-Club, at the point where the Prom' becomes a pedestrian thoroughfare. At the end of the show, we all got up at the same time. Going towards the staircase, crushed like sardines. I was zigzagging between people to reach my scooter, parked just outside.
In the distance, a noise. Screams. My first thought: some clever clogs tried to set off his own firework and it failed … But no. A fraction of a second later, an enormous white lorry was going at breakneck speed swerving to mow down as many people as possible. 
This deathmobile passed within metres of me and I hadn't even realised it. I saw bodies flying like bowling pins. Hearing those screams, that howling, is something I will never forget. I was paralysed with fear. I couldn't move. I followed the vehicle with my eyes. Around me, it was pandemonium. People running, shouting, crying. Then I realised what was happening. And I ran along with them.
Around him he heard people shouting at each other to seek shelter, to not stand in certain places — and one man asking, 'Where's my son? Where's my son?'
Suddenly, it was over:
The Prom' was deserted. No noise. No sirens. No cars. I went back to see where the lorry had gone.
The journalist then encountered a man in his 50s. Breathless, the man said:
There are dead people everywhere.
And:
He was right. Just behind him, lifeless bodies and limbs every five metres. Blood. Moaning. The beach attendants were the first on the scene. They brought water to the injured and placed towels over those for whom there was no hope.
The journalist wanted to help, but, once again, he was paralysed with fear. Then he had a moment of panic, imagining the lorry might turn around and come back, until he saw that the vehicle was stationary, its windscreen full of bullet holes:
I hadn't heard any gunshots. Only screams. And, now, crying. A lot of crying.
He retraced his steps towards his scooter. He rode past the carnage. By then, the ambulances were starting to arrive. He concluded:
This evening was one of horror.
RMC's coverage has featured a lot of interviews with security officials, police, government officials and eyewitnesses. The talk show hosts and their panellists have been asking how something like this could happen when France has been in a state of emergency since November 13, 2015, the night of the Paris attacks.
During the afternoon it emerged that the man was able to access the Promenade des Anglais because he said he was delivering ice for the festivities. He then ploughed through the traffic barrier. No signs of ice were in the lorry.
The killer, whom police shot dead, had a criminal record for petty crime. He wasn't thought to be a radical, and people in his neighbourhood to the north of Nice said he had not really observed Ramadan last month, nor was he particularly religious.
He was a 31-year-old Frenchman who was born in Tunisia. RMC's reports said that he was recently divorced from his wife and had three children. He had been working as a courier for the past year but his employer had suspended him for falling asleep at the wheel, which caused an accident.
The lorry involved in the carnage was a rented one. The man was said to have been 'depressed'. At 13:32 BST today, it emerged that his name was Mohamed Lahouaiej Bouhlel and that he had a pistol as well as two 'long weapons'.
His victims were not only from Nice or France. Two Americans, a Russian, a Ukranian and an Armenian are also among the dead.
Another subject arose in the radio conversation. Do authorities crack down on aberrant imams, like the one in France who says that people who listen to music are monkeys and pigs? Opinion was divided. A crackdown could drive radicalism more underground than it currently is. On the other hand, the pundits said, a case could be made that France has to take a harder line against elements in their society that oppose secularism — laïcité.
For now, there are no answers. IS might claim responsibility at some point, but they haven't thus far.
It is too early to tell, but this could be an attack similar to the Germanwings plane crash in 2015, undertaken by someone who was mentally unstable at the time.
N.B.: This is being published on the afternoon of July 15 BST based on the information available at this time. More facts will come to light via the authorities and the media in the coming days.
UPDATE – Saturday, July 16 – The Guardian reports:
Islamic State has claimed responsibility for the truck attack in Nice that killed 84 people, injured more than 200 and brought carnage to a Bastille Day fireworks celebration on Thursday night. 
In a statement on Saturday, the news agency Amaq, which supports Isis, said: "The person who carried out the operation in Nice, France, to run down people was one of the soldiers of Islamic State. He carried out the operation in response to calls to target nationals of states that are part of the coalition fighting Islamic State."
… The claim of responsibility, which came 36 hours after the attack, will increase pressure on French authorities investigating the massacre. No evidence was presented to support the claim that Lahouaiej-Bouhlel had been acting in Isis's name. 
———————————————————————
I had hoped to write another edition of Brexit Chronicles. Under the circumstances, that can wait until next week.
Near the end of her life, Queen Victoria visited Nice several times.
Nice-Matin reported recently on the Grandmother of Europe's trips to the city. Their article brought several interesting details to light.
The Niçois were honoured to welcome the monarch, who travelled as Lady Balmoral. After all, Victoria ruled over nearly one-quarter of the world's population.
Contrary to the popular image of a morose woman, she was known locally for her engaging personality. She is said to have attended village fêtes, enjoyed an occasional glass of wine, visited museums, toured the old quarter of the city and befriended the Catholic priests, the Pénitents Rouges, who still have a community and the Saint-Suaire chapel in the old city where one can attend Latin Mass each Sunday. (The chapel is so named — suaire means perspiration — because it housed the shroud of Turin for many years.)
By 1895, she was visiting the city so frequently that the great and the good of Nice decided she needed her own private residence.
If that sounds over the top, bear in mind that she travelled with a grand entourage, among whom was her Scottish companion Mr Brown. Approximately 70 people travelled with her, including a dozen Bengal Lancers, her personal bodyguards. You can imagine how much luggage they had.
Plans were drawn up for construction of a palace for the Queen. The Excelsior Regina was built in the hilly and pleasant Cimiez district, north of the city centre.
The noted architect Biasini was in charge of the residence located on the Boulevard de Cimiez. The first stone was laid in 1896. He and everyone else involved hoped to complete the building by the time Queen Victoria visited later in the year. In the event, the Regina was unfinished and she stayed at the Grand Hotel that autumn.
In 1897, everything was ready. Victoria stayed at the Regina three times: 1897, 1898 and 1899. No expense was spared. Biasini included much decorative detail in his design, including a grand marble staircase. He also installed a private lift, a new luxury at the time. The building had six storeys and an ample garden where the Royal entourage could enjoy tennis and croquet. The Queen had all of the west wing to herself: 70 rooms. Surrounded by palm trees, it was soon known as the most fashionable place on the Côte d'Azur.
After Victoria's death, the Regina Excelsior became a residence for other royal families visiting Nice and for commoners able to afford the prices! The rooms were subsequently converted into luxury flats. One of the gardens still has a marble statue of the Queen.
Queen Victoria's last visit to Nice was to have been in 1901. However, she died on January 22 that year. On her deathbed she said:
If only I were in Nice, I would get better.
Today, Nice still has an Avenue Reine Victoria and a Victoria Pavillion complete with statue at the Cimiez Hospital.
Even though she took tea only if one of her own attendants prepared it rather than a local, the people of Nice considered Victoria their favourite monarch.
Located in Vieux Nice (the old part of town) is the cathedral, which is named after Ste Réparate (St Reparata), a Roman martyr who lived during the reign of the Emperor Decius (249-251 AD).
The cathedral is open for a few hours every day, including Mass or special services.  I had only a chance for a quick peek on two occasions.  On the first, evening Mass had just ended before 6 o'clock.  I just had time to visit the altars on the right hand side before I heard a great rattling of keys and a woman's voice in the distance calling only once, 'Mesdames, messieurs …'  A lady was waiting by the side door with a large ring of ancient keys, impatiently waiting to lock up.
The second time was a couple of days later on the feast of St John the Baptist (June 24), when I slipped in at lunchtime to see several priests in golden robes praying a special set of devotions to him.  It could have been part of the Divine Office, I'm not sure.  I had a brief look pewside at the altars on the other side of the cathedral.  These have large statues in ancient glass display cases.  They are quite dramatic, and I like drama in my Catholic statuary.
The cathedral won't be to everyone's taste, but I loved it.  It's dark and traditional, except for the area around the main altar, which has been adapted to host concerts and liturgies requiring a fair number of people in front of the congregation.
A large oil painting of Ste Réparate is on the side with the glass cases.  The side altar in the middle is dedicated to her.  The painting shows her about to be beheaded by a Roman centurion.  According to the story, she was already a Christian at the age of 11.  It was at this age that Decius's soldiers arrested and tortured her for her faith.  They tossed her into a furnace when she refused to renounce her faith.  However, Réparate's body did not burn.  So, they decided to behead her.
It should be noted that the painting shows her as a young woman, not as a girl.  Some sources say that Réparate was 20 when she was martyred.
Réparate's soul ascended to heaven in the form of a dove. (This also happened to St Scholastica, St Benedict's sister, a few hundred years later.)  It is said that her remains were placed in a boat in Cesarea (Palestine) which was blown 'by the breath of angels' to the Baie des Anges (Bay of Angels) in Nice, accompanied by roses, lilies and palm fronds.
Interestingly, Eusebius, who recorded all the martyrdoms from the 3rd century, made no mention of Réparate.  However, Bede's martyrology of the 9th century includes her.  This might be because a great devotion to Réparate had spread around Europe, particularly Italy.  She was the sole patron saint of Florence until 1298, and the former cathedral there was named after her.  She now shares co-patron saint status with St Zenobius.
St Reparate is the patron saint of Nice, although, sadly, I only found this out once I returned home. She is also venerated in Le Puy Sainte Réparade (13610), near Aix en Provence.  Her feast day is October 8. 
I couldn't find out any further information about the cathedral, but here are two further observations for your travel files.  First, be sure to look at the confessional on the right hand side of the cathedral.  The penitent's area is completely open!  Second, after your visit, be sure to visit the square around the cathedral.  There is a fantastic place (see the right side of the photograph where the red awnings are) which has about 40 different flavours of ice cream, many of which are quite exotic.
Although I referred to this chapel in my previous entry regarding Latin Mass in Cannes, it seemed worthy of a separate entry for anyone travelling to Nice who wishes to hear the Extraordinary, or Tridentine, Rite. 
If you do wish to hear the traditional Latin Mass with Gregorian chant during your stay in Nice, go to the old part of the city — Vieux Nice — and walk to the end of the Cours Saleya, where the market stalls are during the week.  There you will find the Chapelle du Saint-Suaire, where this Mass is celebrated every Sunday and special feast days at 10 a.m.  We weren't in Nice on a Sunday, otherwise I would have gone, but I have noted it for our next visit.
The chapel is so named as it housed the shroud of Turin for a number of years in the 16th century. 
If you are unable to attend Mass, the chapel is open every Tuesday afternoon from 2:30 – 5:30 for guided tours.
Who would have thought of Cannes as the logical place to hear Latin Mass?
Yet, that's what my better half discovered when we were there a couple of weeks ago whilst we were looking for the Marché Forville.  I was a few steps behind him when he spotted the notice on the Chapelle de la Misericorde which stated that the Tridentine Rite, which dates from 1570 under Pius V, was said every Sunday at 6 p.m.  (UPDATE — JUNE 2013: This Mass is now held at 9:30 a.m.)
We poled up about five minutes beforehand on Sunday, June 21.  Only one lady wore a mantilla and one other had her head covered.  Most people had their own missals, but, happily, there were booklets with Latin-French translations of the whole Mass in every pew.  These were provided courtesy of the Chapelle du Saint-Suaire in Nice, where you can hear the sung Tridentine Rite every Sunday at 10 a.m.
There were about 15 people when we arrived.  By the time Mass started a few minutes later, there were probably 30.  The chapel is small and old, with a proper raised pulpit.  It dates from the 16th century, and whilst elegant, it is a humble structure, primarily for the market traders at Forville.  Mass in French is held every Monday at 8:30 a.m. and the chapel is open every weekday morning.  The bells ring on the hour, by the way.
Anyway, back to Mass.  The priest — possibly from Saint-Suaire in Nice — wore the traditional vestments that you would associate with the Extraordinary Rite: a bass-viol chasuble over an alb which had a beautiful eight inches of delicate eyelet lace embroidery, which must have been done by hand.  He was assisted by a layman in his thirties and two little altar boys, dressed traditionally except for their trainers (tennis shoes)!  We thought that maybe they were his sons.  It was reassuring to see three generations represented at the altar.  The boys weren't old enough yet to grasp the importance of the Tridentine Rite and how easily we lost it, long before they were born.  The man helped them out, though, silently, yet quite intently, to make sure they did the right things at the right time.
The congregation was silent and reverent.  All ages were there, including young children, which puts paid to the notion that only old people and reactionaries are interested in the Tridentine Rite.  It seemed that half attended the Mass regularly and others, like us, were visitors.
The priest went through the prayers quite quickly, so it was difficult keeping up, which surprised both my husband and me.  We thought that we'd know where we were.  The Epistle and Gospel readings were in French as was the homily.  These were all said slowly enough for all of us to understand.  It was the Feast of the Sacred Heart that Sunday, so the priest described how Christ appeared to St Margaret Mary Alacoque mandating a devotion to the Sacred Heart.  It was the first time I had ever heard the story from the pulpit, which added to the significance of the occasion.
Communion was taken kneeling at the altar rail and distributed traditionally by the priest with the layman holding the paten.
Did we have the impression that we had been to Mass?  Most definitely.  There is no comparison between Mass in the vernacular and the Tridentine Rite, especially with the Last Gospel from the Book of St John read at the end.  It was an experience we won't soon forget.  I'm so grateful and happy that we went, and I would certainly go again on my next visit to Cannes.