You are currently browsing the tag archive for the 'Nicola Sturgeon' tag.
So much happened in the UK this week that it is hard to find the time and the space to write about it all.
Conservative leadership contest
Liz Truss's campaign continues to motor ahead, gaining powerful MPs' backing.
On Wednesday, August 3, a new Conservative Home poll appeared, its results matching those of polling companies, e.g. YouGov. Liz is 32 points ahead:
Conservative Home's Paul Goodman analysed his site's results and YouGov's (emphases mine):
Granted, neither can be proved right or wrong: as our proprietor has it, a poll is a snapshot, not a prediction. If our survey is correct, all that follows is that Truss would win the contest, were it held now, by 32 points among those who have declared their hand.
However, if we and YouGov are right it is very hard to see how Sunak recovers in the month or so between the opening and closing of the poll. For even if during that time he won over that 16 per of undecideds and others, Truss would still beat him by 58 per cent to 42 per cent.
In short, if our survey is correct he would have to add to that 16 per cent of don't knows and others some nine per cent of Truss's supporters – i.e: persuade them to switch.
This seems most unlikely if YouGov's question about certainty of intention is taken into account. For it finds that 83 per cent of Truss voters and 70 per cent of Sunak voters have made their minds up.
What odds would you give on Sunak winning over all those don't knows and others (from our survey), and then adding to that pile over half of Truss's soft support (using YouGov's figure)? I would say that they are very long indeed …
Those interested in events slightly further back will recall that Boris Johnson beat Jeremy Hunt by 66 per cent to 34 per cent during the leadership election of 2019.  That's exactly the same margin as the Truss-Sunak forced choice I spell out above from our new survey.
One way of looking at Conservative leadership election as matters stand might be to forget the thrills and spills, hype and blunders – such as Truss's yesterday over regional public sector pay.
And stick instead to the simple thought that the Tory membership divides right-of-party-centre to left-of-party-centre by about two to one and so, all other things being equal, the leadership candidate perceived to be right-wing than the other will win by a margin about two to one.
Finally, Opinium promises a Conservative members poll next week, and it has tended recently to find better results for Sunak than ours or YouGovs.
The YouGov poll from August 3 showed that Britons believe Truss is better than Sunak on the main issues:
Liz gained another supporter in former Health Secretary Sajid Javid, who was also Boris Johnson's first Chancellor from the summer of 2019 through to February 2020, at which point Rishi Sunak took over.
Sunak worked for Javid when the latter was Chancellor. Javid mentored his younger MP friend:
However, the dynamic changed when Chancellor Sunak locked horns with Health Secretary Javid during the pandemic in 2021.
… those who know both men say there are more prescient personal and political reasons behind Javid's decision [to back Truss].
They say that tensions emerged after Javid was brought back into the government as health secretary. Sunak regarded the NHS as a bottomless drain on resources and was exasperated by what he saw as Javid's failure to spearhead fundamental reform of the health service.
Javid for his part was frustrated with the highhanded manner in which the Treasury dealt with the Department of Health and its refusal to countenance the type of spending he believed was necessary to tackle treatment backlogs coming out of the pandemic. He felt that Sunak had not shown the loyalty that he had when the power dynamics were reversed.
There are now significant policy differences as well. When Javid threw his hat in for the leadership he set out a tax-cutting agenda broadly similar to that proposed by Truss. He proposed cutting national insurance and reversing the planned corporation tax rise while Sunak stuck to his policies as chancellor.
One ally said Javid sincerely believes that only by kick-starting growth through tax cuts can public services be properly funded. They said it would have been "odd" if Javid had backed Sunak, given their different and genuinely held views on how to deal with Britain's economic uncertainties.
This is what Javid had to say about Truss in his article for The Times:
"I fought for strong fiscal rules in our last manifesto," he wrote. "But the circumstances we are in require a new approach. Over the long term, we are more likely to be fiscally sustainable by improving trend growth.
"Only by getting growth back to pre-financial crisis levels can we hope to support the high-quality public services people rightly expect."
In a direct attack on Sunak, he said: "Some claim that tax cuts can only come once we have growth. I believe the exact opposite — tax cuts are a prerequisite for growth. Tax cuts now are essential. There are no risk-free options in government. However, in my view, not cutting taxes carries an even greater risk."
He added: "With only two years before the next election, there has been a temptation to just 'get the barnacles off the boat' and avoid any short-term political pain for long-term national gain.
"We must reject that. As a nation we are sleepwalking into a big-state, high-tax, low-growth, social democratic style model which risks us becoming a middle-income economy by the 2030s with the loss of global influence and power" …
A senior Truss campaign source described Javid's endorsement as the "big one for us".
They added: "The bigger beasts of the party are uniting behind Liz because they believe in her vision for the economy. We can't have the Treasury orthodoxy and tired status quo. They believe she will turn things around in time for the next election by getting on and delivering quickly in No10."
On Wednesday, August 3, Truss and Sunak canvassed separately in Wales before meeting up for a televised hustings in Cardiff later in the day.
A Conservative Welsh Senedd (Senate) member, James Evans, changed his mind about Sunak and decided to support Truss instead. He got a lot of flak in response to his tweet:
Truss's former party, the Liberal Democrats, criticised her for taking a helicopter around Wales to get to the various Conservative associations there. Pictured is the Lib Dem leader Sir Ed Davey:
Guido Fawkes points out that the Lib Dems are suffering an attack of sour grapes — and hypocrisy (red emphases his):
… Rishi's been known to use them, so why should Liz be confined to the rail network…
i News were the ones to reveal Liz's chartering this afternoon, juxtaposing the decision against her backing of net-zero carbon emissions by 2050. The LibDems were only too happy to butt in, providing a quote for the copy that it "makes a complete mockery of her promises on Net Zero. It's clear that she is not serious on climate change." This quote came from Vera Hobhouse rather than Sir Ed Davey himself, who surely wouldn't mind the coverage…
Guido's sure Sir Ed's decision not to provide the comment has little to do with the fact that, in 2013 as Energy Secretary, he hitched a ride in the helicopter of EDF boss Henri Proglio, after handing him a nuclear deal at double the going rate for electricity. The decision raised objections from Friends of the Earth at the time, who said it "confirms how close the Big Six energy firms are to our decision-makers."  A source close to Liz Truss calls the political attack "the usual sanctimonious hypocrisy from the LibDems". Sir Ed may need to refuel his own spin machine…
While in Wales, Truss took the opportunity to have a go at First Minister Mark Drakeford (Labour), calling him:
the low energy version of Jeremy Corbyn.
Bullseye!
John McTernan, who advised Tony Blair between 2005 and 2007, wrote in UnHerd why Labour should be afraid of Truss.
I've seen John McTernan on GB News and he knows whereof he speaks.
He explains Truss's strengths:
One of her overlooked strengths is that she has been on a political journey. Changing your mind is often thought of as a weakness in politicians, whereas in reality an unchanging commitment to ideology is one of their most eccentric habits. In normal life, we change our minds frequently and without fuss. As economist Paul Samuelson said, in a line so good it is often attributed to Keynes: "Well when events change, I change my mind. What do you do?" In itself, changing their mind humanises a politician — a particular asset in a time of popular revolt against out-of-touch elites.
But, more than that, making a political journey shows character. Three of the most significant politicians of the Blair era — John Reid, Alan Milburn, and David Blunkett — were great New Labour reformers who had started on the hard Left. Their politics had been tempered and strengthened by their journey. Liz Truss was brought up on the Left and attended anti-nuclear peace camps with her mother. She then became a Liberal Democrat activist, famously demanding an end to the monarchy to Paddy Ashdown's discomfort. And when a Tory Cabinet minister she backed Remain not Leave, though she is now a passionate Brexiteer. Those surprised that Tory party members overwhelmingly see a former Remainer as the best defender of Brexit need to remember their New Testament: "There will be more rejoicing in heaven over one sinner who repents than over ninety-nine righteous persons who do not need to repent." The redemption narrative is one of our most powerful stories: she who once was blind, but now can see.
The fact Liz Truss has been on a political journey also makes her a powerful communicator. Some of the most persuasive arguments in politics are based on empathy rather than angry disagreement. Liz Truss knows why voters find progressive policies attractive, which can strengthen the persuasive power of her arguments for people to change their views. And her speaking style is clear and simple. The listener readily understands what she thinks and believes. Her opponents who too readily dismiss her as simplistic are missing the point. Politics is not a mathematical equation — a ten-point plan won't beat a five-point plan 10-5. The messages and policies that win are those that connect with the heart as much as the head.
The Truss agenda is straightforward. The educational system is failing kids. Grammar schools would identify and help some bright working-class and minority children. The cost-of-living crisis is hitting wallets and purses. A tax cut would give money back to the public. Energy prices are spiking. Pausing the green levy would reduce prices. Now, there are good arguments against each of these policies, but they are superficially strong one-liners. It takes time to explain how grammar schools distort the education of the vast majority of pupils who don't get into them, or to make the case that there is a danger that tax cuts lead to more inflation. The arguments against Liz Truss's policies are strong but they need to be explained. And, as the old political saying goes, "when you're explaining, you're losing".
… One of the best jokes in the US TV show Veep comes when Selina Myers uses the slogan "continuity with change" for her Presidential campaign. It works because it is bizarrely true — and it is true because that is what most voters want. They're not revolutionaries, they're realists.
The Truss offer is continuity with the spirit of Johnson and Brexit while meeting the demands of the voters who were, and are, angry with the status quo. That anger has been the fuel of politics since the Global Financial Crisis — it was there in Brexit, in the Scottish independence referendum, in the rise of Corbyn, and in Boris Johnson's 2019 landslide. The fact that such competing and conflicting political forces can harness that same anger signals that there is an underlying volatility in British politics that can be channelled in different directions by strong and intelligent leadership.
It is in leadership that Labour must contest most convincingly. Liz Truss will likely be undone by events. The cost-of-living crisis is of such a scale that it is hard to see any of her policies — or any of Rishi Sunak's — that will be more than a drop in the ocean. To win, Keir Starmer must learn from New Labour [Tony Blair's government]. Attack the new Prime Minister and her government, but don't nit-pick. The critique must be based on a vision of hope and a positive project that positions Labour once more as the "political wing of the British people". Otherwise, Keir Starmer risks being just one more man, in a long line of men, who have underestimated Liz Truss at their peril. After all, there are no accidental Prime Ministers, and like the rest, Truss has guile, will and talent.
Guido Fawkes adds another point:
… Truss will be the Tories' third female PM to Labour's big fat nought …
Exactly. And Conservatives didn't need to have all-women shortlists, either, unlike Labour.
For Conservative Party member Toby Young, General Secretary of the Free Speech Union, Truss's strength lies in opposing another lockdown, which she said 'No' to on Monday night in Exeter:
Also in Exeter, on Monday, Truss said that First Minister Nicola Sturgeon (SNP) was an 'attention seeker' who should be ignored. Again, I'm pretty sure Truss meant that with regard to appeals for a second independence referendum.
The Telegraph's Alan Cochrane, who lives in Scotland, said that some would sincerely welcome those words: 'Amen to that! Liz Truss finally puts the boot into Nicola Sturgeon':
It is easy to sympathise with Liz Truss's presumably exasperated and outspoken statement that the best way to deal with Nicola Sturgeon was to ignore her. 
After watching, listening and responding to this ambitious politician for more than 20 years, ignoring her is something I'd rather have been doing than countering every one of her largely lame-brained arguments for breaking up Britain.
Furthermore, the First Minister is every bit the "attention seeker" that the Foreign Secretary portrays her as – most especially when she dons her "Mother of Scotland" role and seeks to insist that she, and only she, speaks for the whole of Scotland. 
The truth, of course, is that she speaks only for her party and government, neither of which commands an overwhelming majority of Scottish opinion …
… while Ms Truss is being assailed for her choice of words by the Nationalists and those faint hearts who seek a peaceful political life, there will be more than a few who will shout "Amen to that!" when she talks of Ms Sturgeon's perpetual attention seeking.
Furthermore, a great deal more candour from Westminster in its dealings with the SNP is long overdue. Far too long. Successive UK administrations have bent over backwards not to be seen as provoking the cause of independence when the truth is that it is already on a life support system, with a fast declining appeal to the Scottish people.
The fact is that Ms Truss knows that she cannot just ignore the devolved Scottish Government and its leader. But she is to be commended for putting the boot in. It's about time someone did.
While Truss and Sunak were in Wales, Iain Duncan Smith MP was north of the border in Scotland.
He was at an event for Scottish Conservatives in Stirling, in Scotland's central belt.
The former work and pensions secretary backtracked on comments made by Truss that Nicola Sturgeon, the first minister, should be "ignored" as he criticised the UK government's approach towards the Union.
"I don't want to ignore her," he said. "What I want to do is to let the world know just exactly why Scotland is suffering so much under this incompetent regime at Holyrood. The truth is, it is a disaster: everything from health, the police, the railways — they can't even build ships sometimes on time and on budget."
He's not exaggerating. It's the raw truth.
The MP wants the next PM to have greater powers of scrutiny over the way Scotland's SNP government is run. They get billions from taxpayers in the Barnett Formula and waste it. No one, not even Scots, has any idea where the money goes.
He said:
I am desperate for greater powers for scrutiny. It is only scrutiny that unearths all this nonsense and … that the weaker scrutiny up here has allowed the Nationalists to get away with it. So I am going to take that straight back and talk to her about it and see what we could do.
Not surprisingly, the SNP were furious and, as usual, blamed Westminster:
Kirsten Oswald, the SNP deputy leader at Westminster, said: "This is an utterly ridiculous suggestion, showing that even the Tories are out of ideas for how to fix the broken Westminster system. It is not the SNP's job to explain why Westminster control is increasingly making life more difficult for the people of Scotland — even if the Tories are out of excuses.
"The job of SNP MPs in Westminster is to stand up for Scotland against a UK government choosing to ignore our interests at every turn. That is what they will continue to do."
Duncan Smith justified his desire for scrutiny saying that SNP MPs are part of the Scottish government, too:
… Duncan Smith said: "We need to turn the tables on them and start saying, 'Well, can we have a period of question time for you lot to talk about what you are doing in Scotland as the devolved administration?'
"And start examining some of this stuff because they're not just SNP protesters down in parliament, they are actually part of the government up here."
Meanwhile, Rishi Sunak told the audience in Cardiff that Truss was wrong about her public sector pay reform and tried to scare Welsh Conservatives into thinking that Truss was going to cut the pay of every single public sector worker in Wales:
However, Sunak got himself into a bit of hot water when he 'misspoke' on wind turbines at the event:
On Thursday, August 4, Guido reported:
Rishi's team has said he "misspoke" during the hustings last night when it appeared he'd u-turned on his opposition to new onshore wind. At the Wales' husting, Sunak was asked "will you be bold enough to scrap the embargo on onshore wind in England?", replying "So, yes, in a nutshell." This appeared totally contradictory to one of his previous policy announcements:
Wind energy will be an important part of our strategy, but I want to reassure communities that as prime minister I would scrap plans to relax the ban on onshore wind in England, instead focusing on building more turbines offshore,
Team Liz immediately leapt on his words as sign of yet another u-turn from Rishi, alleging it was his eleventh campaign u-turn.
This morning Team Rishi, asked to justify his words, bluntly replied "he misspoke". Much like Britain under Rishi's actual wind energy policy, he's losing fans rapidly…
Sunak is also being economical with the truth when he says that he personally came up with the idea of British freeports, which were first mooted in an early Margaret Thatcher manifesto for the Conservatives:
However, Rishi managed to get two notable endorsements, one from former Conservative Party leader Michael Howard and Nigel Lawson, who was Chancellor under Margaret Thatcher. He is also Nigella Lawson's father.
Guido has more:
Finally got an endorsement from Nigel Lawson himself, who writes in The Telegraph that Rishi is

"the only candidate who understands Thatcherite economics" …



Michael Howard opened for Rishi at Wales' Tory husting last night, saying he can provide the leadership needed "not only in this country, but across the wider western world"
Lawson must have felt obliged to endorse Sunak, given that the latter has a photo of him in his office.
Sunak was over the moon about Lawson's Telegraph article:
Boris looms large
Prime Minister Boris Johnson still looms large in the psyche of British voters.
Normally, we are all too happy when a Prime Minister stands down. When Margaret Thatcher's MPs booted her out, we breathed a sigh of relief. We'd had enough of Tony Blair when he left No. 10 to Gordon Brown. We didn't care too much about David Cameron's resignation, although we did think he was petty-minded for resigning the morning after the Brexit referendum result. And we were only too happy for Theresa May to go, although we did feel sorry for her as she cried at the Downing Street podium.
However, Boris is a different kettle of fish.
The August 3 YouGov poll showed that a) most Conservative Party members thought their MPs made a mistake in getting him to resign as Party leader and b) he would make a better PM than either Truss or Sunak:
In response to the aforementioned Welsh Senedd member's tweet, someone responded with this:
Incredibly, as ballots are currently being posted to Conservative Party members, Alex Story, the leader of the Bring Back Boris campaign, still thinks there is time to add Boris's name to the list of candidates.
He spoke to Nigel Farage on Wednesday, August 3:
He said that 14,000 members of the public wrote to Conservative Party headquarters after Boris stood down as leader.
He added that most Boris supporters knew he was economical with the truth, but they felt that his ouster was forced.
Nigel Farage countered by saying that 40% of Conservative voters wanted Boris to leave. Furthermore, he could no longer command the support of his MPs.
Story responded by saying that Boris will be like 'Lazarus [rising] from the dead … something romantic and quirky'.
That's one way of putting it, I suppose.
It is highly unlikely that Boris's name will be on the ballot, but … one cannot fault Story and Lord Cruddas for trying on the public's behalf.
More news next week.
On Monday, August 1, 2022, a hustings took place in Exeter.
The event was two hours long. Sky News filmed it, and the moderator was Sebastian Payne, the Financial Times's Whitehall editor:
The sound quality is not the best. There are lots of echoes.
The venue was full. Some supporters made their allegiances known Trump rally style, either by waving 'Ready for Rishi' placards or by wearing 'Liz for Leader' tee shirts.
The event began with a couple of videos from Conservative MPs.
Then Penny Mordaunt appeared on stage to pledge her support for Liz Truss (video clip here):
Liz took the stage afterwards (17:38 in the video) and introduced her platform.
Afterwards, Liam Fox went on stage (33:34), announcing that he would be backing Rishi Sunak.
Liz's Q&A came after that (45:00), taking questions from the audience and Sebastian Payne.
She was much more relaxed than she had been at previous events over the past two weeks. She has a sense of humour. She gesticulated in a natural way. She was conversational.
When an audience member asked if she would favour another lockdown, she gave a simple answer — 'No'. She explained that, during the pandemic, her Cabinet responsibilities lay in areas other than health and that when presented with past measures, she said others told her they were already 'a fait accompli'. Liz said she always favours the least amount of intervention:
Liz also lobbed a zinger at Scotland's First Minister Nicola (Neverendum) Sturgeon (SNP) by saying that she should was an 'attention seeker' who should be ignored. She got a huge round of applause.
This raised a stink the next day, including on GB News, but I understood it in the context of having another independence referendum eight years after the first 'once in a generation' one:
GB News has the quote (emphases mine):
Liz Truss has claimed it is best to ignore "attention seeker" Nicola Sturgeon.
The Conservative Party leadership candidate criticised Scotland's First Minister before ruling out a second independence referendum.
Ms Truss, speaking at a hustings event in Exeter, referenced growing up in Paisley before saying: "I feel like I'm a child of the union, I really believe we're a family and we're better together and I think the best thing to do with Nicola Sturgeon is ignore her."
Tory members cheered and applauded the comment, with the Foreign Secretary adding: "She's an attention seeker, that's what she is.
"What we need to do is show the people of Scotland, Northern Ireland and Wales what we're delivering for them and making sure that all of our Government policies apply right across the United Kingdom."
She replied "no, no, no" when asked about another independence referendum in Scotland if she becomes prime minister.
SNP MP Chris Law, posting on Twitter with a link to Ms Truss's remarks, said: "The only reason why Scotland needs independence. Utter contempt from the future PM."
Rishi Sunak has also ruled out having a second referendum on Scottish independence should be become Prime Minister.
He said: "I am clear that another referendum is the wrong priority at the worst possible moment.
"The SNP are wrong to try and tear the country apart when we should be pulling together. Why aren't they talking about the drugs crisis in Scotland or how we can get more money into Scottish workers' pockets?
"Just as I want to be more accountable to people in every corner of the United Kingdom, so too does the SNP need to be more accountable for their responsibilities."
That night, comedians on GB News's Headliners joked about the SNP's utter irresponsibility north of the border. Leo Kearse is Scottish and gives the full story of the disappearing billions. He says that Westminster should audit the Scottish Government:
Earlier, on Dan Wootton's show, 90% of viewers agreed with Liz on Nicola Sturgeon with regard to a second referendum:
In short, Liz came across as the continuity candidate. People who liked Boris will find an appropriate comfort level with her.
Then it was Rishi's turn to take questions (1:17:00).
Both candidates received warm applause for their policies, but some applauded only for their preferred candidate.
Rishi left the stage with a clean slate.
However, Liz got into trouble over the next 24 hours for saying that she would reform public sector pay. I took her to mean civil servants, but people got anxious and critical over teachers and NHS staff.
Liz said she would cut public sector pay outside of London, but wouldn't keeping their pay the same or upping it a pledge to 'levelling up'?
Years ago, Labour's Harriet Harman tried the same thing:
The Financial Times article that Guido Fawkes cites explains why what Liz's proposal is problematic.
Journalist Stephen Bush begins by disingenuously putting on the frighteners …
Liz Truss has promised to save £11bn a year by cutting pay for public sector workers — including civil servants, teachers and nurses — outside London and the South-East.
… before clarifying that it would take several years for the proposed plan to be rolled out to all public sector workers:
The foreign secretary said she would introduce regional pay boards that would set wages for civil servants working outside London in line with local labour market conditions and living costs. Her campaign said the regional pay would initially be introduced for new civil service recruits, but if successful would be rolled out over a number of years to all public sector workers.
From that, it is obvious that the FT want Rishi Sunak to win.
This is why public sector pay is difficult to reform:
Now, it's true to say that, in real terms, a secondary school teacher in Torridge in north Devon or Cannock Chase in Staffordshire is paid more in real terms than they are in St Albans or Hackney. And this is true across the public sector. In real terms, a public sector worker would be economically better off working in Don Valley in South Yorkshire than if they were working in the centre of Manchester.
But of course, it is also true to say that we find it easier to recruit secondary schoolteachers, GPs, firefighters and police officers in St Albans, Hackney or Manchester than we do in Don Valley, Cannock Chase or Torridge …
The policy suggestion does the rounds every so often and it founders on the same basic problem: you can't cut salaries in the places you struggle to recruit. Given that the UK state (rather like the UK as a whole) faces considerable difficulties in recruiting enough workers it is highly unlikely that the policy will succeed now.
 … What might matter is if enough Conservative members see this policy as an electorally disastrous idea they need to avoid.
One thing that would be welcome is reforming or getting rid of unnecessary posts in the public sector. Liz favours this, too:
I'll come back to that in a moment.
Polling
Stephen Bush's article gave more evidence that he and the FT are Ready for Rishi, so to speak.
Based on polling, Bush is worried that Liz might be winning:
Every scrap of data suggests Liz Truss is ahead of Rishi Sunak, and that Sunak failed to really change the dynamic of the race in any of the televised debates.
Although both Ben Wallace and Tom Tugendhat have ideological and policy reasons to endorse Truss over Sunak, it helps, of course, when everything suggests that to help Truss is to help yourself. Unless her campaign finds a way to implode or the polls are wildly out of kilter.
Now, of course, the big known unknown in this leadership election is just how big Liz Truss's lead actually is. YouGov's polls have shown the foreign secretary enjoying a 24 point lead over Rishi Sunak (opens a new window) among Tory members. The gap suggested by Opinium has been a narrower one. Its latest snap poll showed (opens a new window) Tory voters thought Truss did better in the television debate last week by 47-38.
Now another pollster, Techne, has tried its hand at a poll of the Conservative supporters (opens a new window), who comprise Tory voters that are also activists. The result is, again, a Truss lead, but not a very large one.
I wouldn't sweat this too much, frankly. What unites the various polls (Liz Truss is winning all of them) is more important than what divides them (the exact size of Liz Truss's opinion poll lead). It's possible that some error or event on the part of Truss's campaign may hand Sunak a victory, and it's possible that all the polls are wrong. Given all that, the implied 10 per cent probability of a Sunak victory suggested by the prediction website Metaculus (opens a new window) seems about right to me. But of course, if Truss's lead is only five points, this "cut public sector pay in places with greater shortages" wheeze may well prove catastrophic for her chances.
Guido has more on the Techne results.
Another interesting poll appeared on August 1. Redfield & Wilton Strategies results show that Liz Truss could just beat Labour's Keir Starmer in being perceived to be a better potential Prime Minister. Rishi, on the other hand, would lose to Starmer — 40% to 33%:
Why are all the metropolitan elite coming out for Rishi? They know he would lose and put the Conservatives out of office for years!
On Tuesday, August 2, YouGov came out with a poll also showing stonking results for Liz:
Polling took place between July 29 and August 2:
Guido also posted about the polls and another pro-Rishi publication, The Times:
Guido then posted the YouGov poll:
I couldn't agree more about voting anxiety. This reminds me of the 2019 contest between the totalitarian Jeremy Hunt and Boris 'Sunlit Uplands' Johnson.
Guido explained the stark differences between the two polls:
The Times claimed — wrongly — that Liz Truss's team commissioned the more favourable YouGov poll. Guido notes that the newspaper has since changed its copy. Good:
And someone confirmed the hypothesis that media supporting Rishi want the Conservatives to lose:
On Wednesday, August 3, YouGov published an all-party poll. After months of the Conservatives trailing Labour by a large margin, there is now only one percentage point between the two!
Amazing!
Guido wrote (red emphases his):
The YouGov poll of Tory members showing Liz looking to take two-thirds of the vote for leader was not the only surprising poll result. YouGov's regular voting intention survey has the Tories on 34% (+2 from 21-22 July), just a point behind Labour on 35% (-4). Is this an outlier?
YouGov themselves say "This shrinking of Labour's lead from 7 points to 1 point is a sharp move, but changes are either within the margin of error or close to it. It will be worth waiting to see whether further polls replicate the extent of this narrowing of the gap before we can be certain of a Tory recovery."
Yet, an IPSOS-Mori poll from Monday shows Rishi in the lead.
The Evening Standard reported:
As the 160,000 members of the Tory party prepare to start voting in the Tory leadership contest from Monday, the exclusive survey by Ipsos shows that 49 per cent of Conservative backers said the former Chancellor would make a good premier compared to 40 per cent for rival Liz Truss.
Among Conservative voters in the 2019 general election, Mr Sunak enjoys an even bigger lead over the Foreign Secretary with 49 per cent saying Mr Sunak has what it takes for the top job compared to 35 per cent for Ms Truss.
Among the general public, just over a third of people said Mr Sunak would make a good Prime Minister compared to just 24 per cent for Ms Truss.
Conservative Home's poll of its readers did not show Rishi on their chart. This is because he resigned as Chancellor and is no longer in the Cabinet:
The perils of policy on the hoof
Now that we have covered the good news, let us return to Liz's public sector statement, which is the first real blunder she has made in her campaign.
Not surprisingly, Team Rishi jumped on it.
On Tuesday, August 2, Guido reported that a Red Wall mayor is also unhappy:
Team Rishi has slammed Liz Truss over her policy announcement last night that she can save up to £8.8 billion by replacing National Pay Boards with Regional Pay Boards. This sum immediately raised eyebrows given the total Civil Service salary budget is around £16.5 billion. The footnotes of the press release specified this figure is "the potential savings if the system were to be adopted for all public sector workers in the long term," allowing her opponents to spin the policy as one of cutting nurses' and teachers' pay in the Red Wall while improving the pay packets of those in London and the South East. Tees Valley Metro Mayor Ben Houchen is not happy:
There is simply no way you can do this without a massive pay cut for 5.5m people including nurses, police officers and our armed forces outside London.
Liz Truss's campaign is explicit that their savings target is only possible 'if the system were to be adopted for all public sector workers'.
This is a ticking time bomb set by team Truss that will explode ahead of the next general election.
Just one mistake like this can help Rishi win over Conservative Party members:
Rishi doubles down by calling the policy "a gift to the Labour Party and Keir Starmer. Her plan would punish hard working nurses, police officers and soldiers across the country, including in the Red Wall just before a General Election". Rishi was already reportedly performing better among Southern members – can this latest attack help him claw back up North?
Liz and her team quickly backtracked but said it was a 'wilful misrepresentation' of the policy:
UPDATE: Team Truss say
Over the last few hours there has been a wilful misrepresentation of our campaign. Current levels of public sector pay will absolutely be maintained. Anything to suggest otherwise is simply wrong. Our hard-working frontline staff are the bedrock of society and there will be no proposal taken forward on regional pay boards for civil servants or public sector workers.
Under fire from Rishi she drops the policy. So we now have the status quo of a national pay rate for civil servants.
Another member of Liz's team told Guido that the policy will not be taken forward. Nonetheless:
Team Rishi are absolutely loving this, joking "The lady is for turning"…
Yes, one can imagine.
On GB News Tuesday afternoon, a number of presenters and pundits, some of whom think Liz either should or could win (there is a difference), thought that she made a terrible mistake with this.
One said that making policy up on the hoof was a 'dangerous' thing to do and could turn the contest against her.
However, Team Liz were ready to fire back at Rishi, accusing him of more U-turns during this campaign than at a driving test centre.
Note that only one of Liz's U-turns happened during the campaign. The other three happened when she was a young adult. The same cannot be said of Rishi:
Guido has the full story, which begins with this:
Hours after a brief campaign blip from Team Liz, which involved a somewhat humiliating climbdown from their regional pay boards policy, they've finally pulled their finger out for some return fire on the topic of u-turns. Team Rishi has spent the morning on cloud nine, joking that it turns out "The lady is for turning", and accusing Liz of having a Mayite 'Dementia Tax' moment. In return Liz Truss's team have compiled a list, which they allege shows Rishi has performed "more u-turns than a DVLA test centre". A spokesperson for Liz says:
This is all a bit rich coming from Sunak's backers when they stayed schtum on the steady stream of u-turns from Rishi over the recent weeks. He's flip-flopped on tax cuts, VAT, grammar schools, China , EU regulations, Northern Ireland protocol and planning to name a few.
Before Monday's debate, Liz issued a letter to Conservative Party members, which can be read in full here. It has way too many 'I's, which someone should have reworded.
An excerpt follows:
… If you work hard, do the right thing, save your money, or start your own business, then I am on your side.
And you can trust me to deliver. I have delivered trade deals, faced down Putin's Russia, and got on with sorting the Northern Ireland Protocol. I am honest and straight talking. I do what I say I will and I know what it takes to get things done. 
We cannot continue to have business-as-usual and I have a bold plan to get our economy back on track.
We must reject orthodoxy, the voices of decline and unleash Britain's potential in line with Conservative values. 
I will lower taxes to spark economic growth and reward people for working hard. I will seize the full opportunities of Brexit, and level up in a Conservative way. I will defend freedom at home and abroad, and keep Britain safe. 
I will ensure the police do more to crack down on real crimes, and raise defence spending. I will stand up for free speech, and protect single sex spaces for our young women. And I will abolish Soviet top-down housing targets. I know from being a councillor that local people are best-placed to deliver the housing we need. 
To win in 2024, we must work relentlessly to deliver on our promises. 
Now is the time to be bold … 
That is how Liz came across in the debate, so I was happy to see The Telegraph endorse her candidacy that night:
Ballots delayed to next week
The Party members' ballots were to have arrived this week.
However, a security issue has caused a delay, therefore, they will not be sent until next week.
Nigel Farage tweeted:
The Telegraph's Ben Riley-Smith got the scoop on the ballots. Furthermore, members can now vote only once, not twice as planned — excellent:
This might turn out to be a blessing in disguise for Liz.
A week is a long time in politics, so by the time the ballots arrive, Liz's public sector policy blunder is likely to be old news.
Even better, however, is the platform that GB News will give her on Wednesday, August 10, just as the ballots arrive:
I do not have details as to how the event was arranged nor do I know whether Rishi was invited to appear on a separate programme.
The next debate was on Sky News on Thursday, August 4. More about that in a separate post.
On Thursday afternoon and evening, I watched GB News's wall-to-wall commentary on the Queen's Platinum Jubilee. It has been excellent.
GB News is available worldwide, live and on video.
Nigel Farage was in London for Trooping the Colour and said that the parade and the enthusiasm of everyone he met elsewhere was very moving, indeed:
Retired Royal correspondent Michael Cole, who had watched the Coronation in 1953 as a little boy on his family's brand new television set, told Farage that he felt the same way:
Continuing on from Thursday's post on the Platinum Jubilee, likely to be a one-off event in British history, here is the marvellous flypast that took place after Trooping the Colour:
That evening, the Queen symbolically set off the beacon lighting around the UK and Commonwealth nations:
This video shows how the lighting unfolded at Windsor Castle …
… and here we can see them lit up around the world:
On Friday morning, June 3, a Service of Thanksgiving for the Queen's 70-year reign took place at St Paul's Cathedral in the City of London.
The evening before, Buckingham Palace announced that the Queen would not be attending, having suffered 'discomfort' after Trooping the Colour. She made a second appearance on the balcony to acknowledge the military personnel and officers participating.
However, the BBC commentators told us that she was watching the broadcast as it unfolded on television.
Interestingly, Queen Victoria arrived for her Diamond Jubilee at St Paul's Cathedral in 1897 only to find out that she could not exit her carriage because of ill health. When everyone inside found out, they all — clergy included — went outside to conduct the service there:
The Times's Valentine Low wrote the following about Elizabeth II:
The Queen may not have been able to take part in the Trooping the Colour ceremony on Horse Guards, but she takes her role as Colonel-in-Chief very seriously. Her decision to make that extra appearance was prompted by the same motivation that saw her make a last-minute appearance at the opening of the Elizabeth line: her unwavering sense of duty.
The Queen will be extremely disappointed at not going to St Paul's. She has a sincere religious belief, and takes her role as head of the Church of England seriously too …
For the moment, the jubilee remains all about the Queen: wherever she is.
Personally, I would have had the Service of Thanksgiving at St George's Chapel at Windsor Castle. The Queen returned to the castle after lunch with the Royal Family following Trooping the Colour.
The Sussexes attended the lunch at Buckingham Palace. They did not appear on the balcony as they are not working members of the Royal Family.
However, once at Windsor, where Archie and Lilibet stayed while their parents were in London, the Queen finally got to meet her newest great-grandchild:
The Daily Mail article has the order of the Service of Thanksgiving, which was traditional and dignified in all the best Church of England ways. Why can't more C of E services be like that?
St Paul's Cathedral also has the Order of Service as it was printed for those attending:
Crowds had gathered outside by 6 a.m. in the limited space Paternoster (Our Father) Square affords:
Attending these services as invited guests or military guard requires a bladder of steel and optimum decorum. Waiting for everyone to arrive takes longer than the actual service.
Today's service welcomed as guests the charity sector, military cadets, Girl Guides, Boy Scouts, Commonwealth dignitaries, the military, politicians past and present as well as the extended Royal Family.
The public sector were there, too:
Outside were a military guard as well as military representatives from the Commonwealth nations. They had to stand perfectly still as the guests filed into the cathedral.
Here is another set of guards inside:
Musicians played traditional music. The Royal Marines provided the brass accompaniment. The Royal Air Force played the closing fanfare introducing the National Anthem, which concluded the service. Everyone sang his/her heart out. I've never heard anything like it:
Former Prime Ministers were in attendance: Sir John Major, Tony Blair, Gordon Brown and David Cameron. Brown and Cameron brought their respective wives, Sarah and Samantha.
Members of the Cabinet, including Defence Secretary Ben Wallace, Foreign Secretary Liz Truss and Home Secretary Priti Patel, attended.
Opposition leaders Sir Keir Starmer and Sir Ed Davey were there, along with Scotland's First Minister Nicola Sturgeon and her husband.
London Mayor Sadiq Khan and his wife also attended.
Prime Minister Boris Johnson got a huge and prolonged cheer when he arrived at the cathedral, accompanied by wife Carrie.
These photos show Boris and Carrie in the main photo. On the top right are the Camerons and on the bottom right are the Blairs, Tony and Cherie:
The only others who got louder cheers were the Sussexes …
… and the Cambridges:
I have read media reports that the Johnsons and the Sussexes were booed. I watched the proceedings on television. What I heard were most definitely cheers for both couples.
A royal expert commenting on the service said that, where the Queen is concerned:
nothing happens by chance.
Therefore, we can conclude that the fact that the Sussexes arrived by private car and got their own mini-procession down the aisle of St Paul's was an instruction from the Queen (see second tweet):
The couple sat near the front, next to Princesses Beatrice and Eugenie, who were with their husbands.
The minor Royals arrived in a large black coach (bus). It took ages for them to file in, as they shook hands with a long line of Anglican clergy, including the Bishop of London, the Right Revd and Right Hon Dame Sarah Mulally, who had a lucrative career prior to entering the priesthood.
The clergy wore elaborate crimson and gold copes which were created for George V's Silver Jubilee service in 1935. Most of them looked as good as new.
Yeoman Warders (Beefeaters) from the Tower of London stood behind them. They were on official duty guarding those inside the cathedral.
You can see both below:
Prince Edward and the Duchess of Wessex brought along their children. I really like Sophie. So does the Queen:
Prince Charles and the Duchess of Cornwall were the last to arrive:
By now, readers might be wondering who the gentleman wearing ermine is.
He is the Lord Mayor of London — the City of London, that is. This is a rotating one-year position and the new Lord Mayor assumes his responsibilities beginning every autumn at the Lord Mayor's Show, a parade in the City, which is the oldest part of London and still serves as the financial district.
The Lord Mayor of London is in charge of the City and, in that district, is second in power only to the Queen. Therefore, Prince Charles is subordinate to him while within those boundaries.
For centuries, until the Great Fire of 1666, that part of London was the capital, outside of Westminster, which was some distance away.
Everyone lived and worked there unless they had responsibilities at the heart of government in Westminster, which was most easily accessed by boat along the Thames.
Everywhere else that is now very much a part of the capital was a rural suburb until a few hundred years ago.
From that, we can better understand the importance of the Lord Mayor of London's historical role.
The Lord Mayor has several swords, now ceremonial, that he uses. However, each sword has its own role. Today's was the sword of state. If the Queen had been in attendance, he would have worn his most important sword.
The Lord Mayor's assistant also carries a sword and wears a mink hat for ceremonial occasions:
You can see him outside the cathedral, hands resting on the sword, just immediately to the left of the main entrance:
Returning to the service, these chairs were for Prince Charles and the Duchess of Cornwall:
Prince William and the Duchess of Cambridge sat right next to them in ordinary chairs:
Here is a view of what the congregation saw — the main altar, the choirmaster and the men and boys choir:
Boris Johnson delivered the New Testament reading, Philippians 4:4-9, which one can imagine that the Queen selected personally, as it truly gave us a message about our present circumstances and the transition of the monarchy. We are to think on higher things — and not worry:
Rejoice in the Lord always; again I will say, Rejoice. Let your gentleness be known to everyone. The Lord is near. Do not worry about anything, but in everything by prayer and supplication with thanksgiving let your requests be made known to God. And the peace of God, which surpasses all understanding, will guard your hearts and your minds in Christ Jesus. Finally, beloved, whatever is true, whatever is honourable, whatever is just, whatever is pure, whatever is pleasing, whatever is commendable, if there is any excellence and if there is anything worthy of praise, think about these things. Keep on doing the things that you have learned and received and heard and seen in me, and the God of peace will be with you.
The Archbishop of York, the Right Revd Stephen Cottrell, gave the sermon, as the Archbishop of Canterbury has coronavirus, along with Prince Andrew.
The Archbishop of York's sermon began with a brief discourse on how seriously the Queen took her Christian duties and ended on a lighter note with references to her favourite pastime, horse racing, particularly apposite as the Derby is on Saturday. Her Majesty is not expected to attend:
Children from the Commonwealth took turns in giving the prayer intercessions.
After the service, guests went to the Guildhall for lunch:
Meanwhile, Britons up and down the land gathered for street parties:
Thankfully, it was another reasonable day in London, dry and partly cloudy.
On Saturday evening, another spectacular concert in the style of those for the Golden and Diamond Jubilees will take place in front of Buckingham Palace.
On Sunday, a celebratory pageant will take place in the same location.
I plan to have more posts next week on the importance of the Queen's 70-year reign as well as the many social and political changes during that time.
It came as no surprise that the Conservatives fared poorly in the 2022 local elections on Thursday, May 5.
England
In England, the major headline was that the Liberal Democrats lived up to their slogan of 'Winning here' for the first time in quite a while.
They were the big beneficiaries of English votes where local councillors stood this year (many councils held elections in 2021):
Labour's big wins were in London, where they won three longstanding Conservative councils for the first time: Westminster, Wandsworth and Barnet.
It will be interesting to see how these London boroughs fare under Labour. In Lambeth, council tax for a Band D property is £1,502 per annum. Under the Conservatives, Wandsworth's was £800 per annum. Guido has a photo of a street in each of those council areas, where one can see a discernable difference in low-spend, high service council delivery.
Here's a Twitter exchange on the subject, focusing on Wandsworth:
The Croydon Council mention is interesting. It went from Labour to Conservative on Thursday, something I thought I'd never see.
Outside of London, Labour had little traction, especially in Red Wall areas, with the exception of the newly created Cumberland council.
Guido Fawkes has a good analysis, excerpted below (emphases in the original):
Whilst it was obviously terrible for the Tories that they lost nearly 500 seats, now all the votes are in and the dust has settled, did Labour advance as the Tories retreated? They actually did relatively poorly.
Labour's electoral performance outside their M25 enclave saw them gain just 22 councillors across England. That's it. While the Tories' results were obviously weak – although not at their worst expectations – any attempts to spin the numbers will have to contend with the fact that the LibDems, the Greens, and even independent candidates gained more net seats than Labour. Labour's wins in London will be small beer when it comes to a general election …
Winning a net gain of just 22 councillors, and gaining control of the same number of councils as the LibDems, is not a strong showing. William Hague managed to do better in 2001, when the Tories won 120 seats and 5 councils – a consolation prize for getting pummelled in the general election the same day. 
Even within the capital, however, there are warning signs for Labour. While they pop champagne over wins in Westminster, Barnet, and Wandsworth, their losses in Croydon and Harrow to the Tories, and Tower Hamlets to Lutfur Rahman [Independent] should raise a few eyebrows. Losing Tower Hamlets to a man who was temporarily banned from office over corruption isn't exactly promising…
For the Conservatives, the most damaging losses were in previously loyal areas now called the Blue Wall, e.g. the Home Counties just outside of London, the south coast and parts of the West Country.
Late on Friday, The Guardian reported (purple emphases mine):
Boris Johnson's leadership is facing fresh peril after senior Conservatives blamed him for losing swaths of the party's southern heartlands to the Liberal Democrats and flagship London boroughs to Labour.
In a punishing set of local elections for the Tories, the party lost about 400 council seats, ceding control of Westminster and Wandsworth in London to Labour for the first time since the 1970s, and plunging to its worst position in Scotland for a decade.
Conservative MPs and council leaders questioned Johnson's leadership, demanding action to tackle the cost of living crisis and rebuild trust in the wake of the Partygate scandal after a damaging series of losses across the "blue wall" in Somerset, Kent, Oxfordshire and Surrey.
However, the scale of the Tory backlash was tempered by a mixed picture for Labour, which showed progress, but not enough yet to suggest a landslide for Keir Starmer in a general election. A BBC projection for a general election based on Friday's results put Labour on 291 seats, the Conservatives on 253, the Lib Dems on 31 and others on 75.
Labour had a very strong result in London and took some southern councils such as Worthing, Crawley and Southampton …
The Lib Dems also had a clearly successful election night in England, adding at least 189 seats. They took control of the new unitary authority in Somerset, previously a Tory stronghold, edged out the Conservatives in Portsmouth, and pushed them out of control in West Oxfordshire. The Greens also performed well, winning 81 seats – more than doubling their number of councillors – as voters also turned to independents and residents' associations.
Going back to Tuesday, May 3, Conservative Party chairman Oliver Dowden MP alleged that Labour and the Lib Dems had a 'pact', whereby Labour did not put forward a candidate in every council election, deferring to the Lib Dems in order to win against the Conservatives. This is because England uses FPTP (First Past The Post) voting.
Pictured are the Lib Dems' Ed Davey on the left and Labour's Keir Starmer on the right:
Guido has the story along with a video of a Lib Dem woman who confirms such a plan:
There are clearly tactical Lib-Lab stand downs going on around the country. Tory chairman Oliver Dowden claims that in the South West, Labour are standing candidates in 61% of seats compared to 97% in 2018. In the South East, Labour are standing candidates in 88% of seats compared to 99% in 2018.  In the North East, the LibDems are standing in just 56% of seats, down from 78% four years ago. Labour is standing in 99% of seats in the area. "These shifts", claims Dowden, "are far too substantial to be a mere coincidence". In response Starmer says "There is no pact, everybody knows there is no pact" …

This LibDem organiser in Cumbria gives the game away about what is happening at local level. Labour-supporting Neal Lawson and Clive Lewis have been arguing for years that an unfair 'First Past the Post' system splits the 'progressive vote' and prevents the 'progressive majority' from winning.
It stands to reason that the total left-of-centre vote will be split, given on average two candidates from Labour, the LibDems or the Greens are running against just one right-of-centre candidate in England.  According to new research from Electoral Reform Society front-group "Politics for the Many", in 43.8% of wards there is one Tory standing against candidates from all three of the progressive 'left' parties. In 35.5% of wards where there is one Tory candidate, there are two 'left' candidates. According to the research, in almost 3,000 council seats up for grabs, there are only 15 wards in the whole of England where there are more right-of-centre parties standing than left parties.
Labour and LibDem strategists know this; they are looking on these locals as a trust-building exercise and a dry run for the general election…
The Telegraph confirmed this pact on Friday, May 6:
If Sir Keir is to get the keys to Number 10, it may be thanks to a deal struck after election day with another party – which is why the Liberal Democrat performance on Thursday is so interesting.
Seven years ago, the party was all but wiped out as voters punished Nick Clegg for his coalition with David Cameron. The political toxicity has clung on in the years since then.
But there were signs of real green shoots for the Lib Dems on Thursday. Their victory in Hull, taking the council from Labour, was the stand-out early result. 
The relentless targeting of Blue Wall Tory seats – often in rural southern constituencies they believe have been "taken for granted" by the Conservatives – also achieved notable wins.
By now, Labour realisea that it is relatively easy for a Conservative area to go for the Lib Dems at some point, much more than it would be to vote in Labour candidates.
A good illustration of this is in St Albans, Hertfordshire, which, over the past several years, has gone from True Blue to Yellow-Orange, including their MP:
A lot of Lib Dem councils stay that way. This is largely because a) the Lib Dems know how to get out the vote and b) residents get to know the Lib Dem candidates better for that reason:
Conservatives would do well to study St Albans and find out where they've gone wrong.
On that note, one Conservative MP who does realise the value of getting out the vote is Bob Blackman, who has represented Harrow East since 2010.
On Sunday, May 8, he told GB News's The Political Correction that Harrow became a Conservative council on Thursday because he and other Conservatives went out once a week to canvass residents on council services. Their dogged determination worked.
Blackman says that, as far as he is concerned, the next election campaign has already begun, hence more canvassing. Other Conservative MPs should follow his example.
Devolved nations
Each of the devolved nations has a form of proportional representation rather than FPTP. This is why they are very much left-of-centre.
This is how the Single Transferable Vote works:
Wales
Welsh Labour were highly successful. In Wales, First Minister Mark Drakeford runs his nation's Labour Party, so there is no Keir Starmer influence.
As such, Welsh Labour wiped out the last council under Conservative control: Monmouthshire.
Scotland
Scottish Labour also performed well, placing the Conservatives in third place for the first time in ten years.
Nicola Sturgeon's Scottish National Party (SNP) remains the top party, however.
Late on Friday, the Daily Mail reported:
Nicola Sturgeon has said she is 'thrilled' with the results coming out of the local elections in Scotland after her party increased its share of councillors.
The leader of the SNP told Sky News that the results sent a 'clear message' to Boris Johnson and the Tories.
She said: 'We are the largest party in more councils today than we were yesterday – we've won the election and we've won the election by a country mile.
'I think it's the eighth consecutive election win under my leadership of the SNP or after 15 years in government so it is a stupendous result for the SNP and sends the clearest possible message to Boris Johnson and the Tories.'
She said the SNP was still the largest party in Glasgow, despite some Labour gains.
However Sir Keir's party came very close to taking the city council, adding five councillors for a total of 36.
The SNP, meanwhile, shed two seats for a total of 37.
Sturgeon said Labour benefited a lot from Tory's Partygate scandal, adding: 'Labour threw the kitchen sink at Glasgow… and yet they still can't defeat the SNP, so I think there's still some reflection perhaps needed on Labour's behalf.'
All councils up for election in Scotland have now declared their votes.
The SNP gained the most new councillors with 23, followed by the Lib Dems with 20 and Labour 19.
The Green Party gained 15 while the Conservatives lost a total of 61.
Northern Ireland
For the first time in its 101-year history, the Northern Ireland Assembly now has a Sinn Féin majority, even though 58% of the votes in that nation went to Unionist parties. Here's the UK's Deputy Prime Minister Dominic Raab (video here):
As with Wales and Scotland, Northern Ireland's Assembly is free to make its own laws in a number of areas. Oddly enough, that did not extend to abortion laws, which Westminster (the UK Government) imposed on the province by fiat in 2021:
But I digress.
Under the aforementioned Single Transferable Vote system, Sinn Féin won more first preference votes than did the Unionist parties.
This result propels Deputy First Minister Michelle O'Neill to First Minister. She has been Vice President of Sinn Féin for a few years now.
The Democratic Unionist Party (DUP), which had control previously, now refuses to form a coalition government — power-sharing executive — unless and until Boris Johnson's government rectifies the damaging anomalies in the post-Brexit Northern Ireland Protocol.
Until a power-sharing executive is formed, Michelle O'Neill cannot take up her duties as First Minister.
Most Britons associate Sinn Féin not only with past terrorism but also with Irish re-unification, which will surely be on the cards within the next five years.
On Thursday, the party played a blinder, as the Daily Mail reported last Friday:
Neither Sir Jeffrey Donaldson's party or the Ulster Unionists have yet agreed to join a power-sharing executive in which Sinn Fein would be able to nominate the First Minister. 
They have argued that a win for Sinn Fein would lead to a referendum on Irish reunification. But Sinn Fein has run its campaign on the cost-of-living crisis.
Conclusion
The Conservatives are only now reacting after the horse bolted months ago.
They should have been out campaigning over the past few weeks, MPs included.
Only now are they coming up with possible solutions which should have been discussed on the hustings.
On Friday, May 6, the Daily Mail reported that Boris Johnson is considering a summer reshuffle to tackle the cost of living crisis. Hmm.
Over the weekend, a number of Conservative MPs began asking the Government for tax cuts.
Chancellor Rishi Sunak promises to look 'at all the options'.
Good luck with that. There isn't much time before the 2024 elections.
Isn't it interesting that the media narrative has changed from wall-to-wall coronavirus coverage to Ukraine?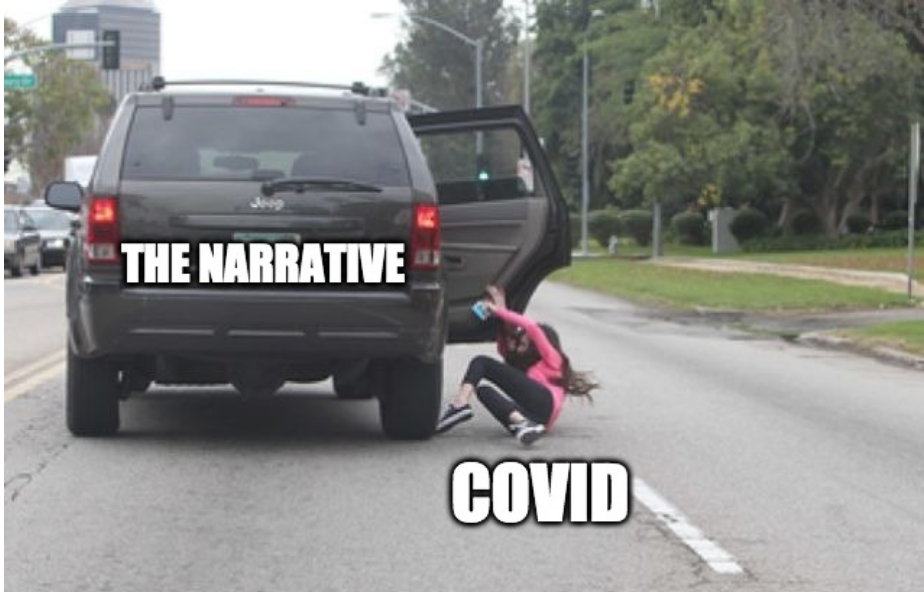 It seems that there is never room for more than one media narrative at a time. Sadly, this is now true even on GB News.
Fortunately, I have a few coronavirus gems from last month.
We must never forget what our notional betters did to us over the past two years.
The UK will hold a formal inquiry, although we do not know when it will start.
On Saturday, February 5, GB News's Neil Oliver delivered a five-star editorial on coronavirus measures in Scotland and other Western nations:
This was the theme:
Well, the narrative certainly changed by the end of the month.
Nonetheless, even as I write, coronavirus measures are still a thing in Scotland. First Minister Nicola Sturgeon has lifted some, with others to go this month. However, it might be some months before all of them disappear north of the border.
This was the state of play in Scotland in early February:
Somehow, Covid still manages to be in our faces – suffocating us bit by bit and all the time.
My children are still required to wear masks at school all day every day – rebreathing their own exhaust fumes for hours at a time.
In Scotland last week, first minister Nicola Sturgeon said her devolved assembly would spend hundreds of thousands of taxpayers' pounds cutting the bottoms off classroom doors so as to improve air flow in schools.
Seriously – that's what she said. Get this: she actually said there's a worry about how much CO2 children are inhaling in improperly ventilated classrooms.
They have to keep the masks on – so that they exist in a permanent cloud of their own, self-generated CO2, held over their mouths and noses like a smothering hand, but rather than let them take off those masks and breathe air like free people should, Sturgeon's proposed solution is to take a saw to the bottom of the classroom doors.
To say you couldn't make it up is an insult to made up things.
The fact that you can open a door to increase ventilation, on account of its hinges, the fact that doors exist in schools at least in part to inhibit the spread of smoke and flames in the event of fire, significantly more of a threat to the lives of children and staff than Covid ever was, has apparently passed Sturgeon by.
But, hey-ho, if there's one thing we've learned after two years, it's that everything is all and only about Covid.
Some days it feels like it always will be.
Covid could and should be behind us, as I have already said, but the powers that be keep pulling it back around until it's front and centre.
[Boris] Johnson announced some sort of an end to restrictions, but still, that air of lives limited, lives controlled, prevails, like the smirking grin that remains after the Cheshire Cat has otherwise disappeared.
And do you want to know why? Because after these two years like no others in our history, Covid is all they've got to explain and to justify everything else.
He took issue with Western governments:
Governments need Covid, and desperately …
All the money we ever had and most of the money we might ever dream of having – they blew the lot on Covid.
And since Covid is all the Governments have got now, by God they're determined to keep it.
Covid, as it turns out, is like a sort of Swiss Army knife, equipped with all sorts of useful little tools for all sorts of jobs, large and small. And meanwhile the evidence of manmade disaster is all around us.
He referred to the Johns Hopkins study that came out a few days beforehand:
A recently published study from the world-renowned Johns Hopkins University, in Baltimore, found lockdowns had had little to zero public health benefits and instead imposed enormous economic and social costs.
Like we didn't know that already, having been there while it was actually happening – but anyway, let's hear it again.
Researchers found lockdowns in Europe and the US lessened the Covid-19 mortality rate by just 0.2 percent.
The authors concluded that lockdown policies are ill founded and should be rejected in future.
Everywhere they were applied – everywhere – lockdowns caused enormous economic and social costs.
He went on to discuss how our various governments 'blew it':
Allow me to summarise those findings even more: Our governments blew it.
Faced with what they told us was the greatest threat to our civilisation in our lifetimes, for a hundred years or more, our governments took a bad thing and, through over-confidence, monumental incompetence and with the dull-eyed stubbornness of mules made it massively worse.
More importantly, when they must have known they were making it worse, they did it again. And again.
Now, rather than take responsibility and own up to their catastrophic failures – maybe say sorry for all the lives ended, lives ruined, lives compromised, a generation of children used like sandbags to protect the vulnerable from a flood, like stab vests worn on the chests of adults – they keep holding up the tattered rags of Covid, like the remnants of a curtain to stop us seeing the reality that lies behind it.
What lies behind that shabby curtain are consequences, and even now those powers that be don't want us looking at them, far less talking about them and thereby understanding the crippling reality of them.
Isn't it convenient that the TPTB now have Ukraine with which to distract us? Thanks, Putin. The news overkill on that is the ultimate distraction.
Oliver then talked about the horrors of quantitative easing:
What they did with money – your money, my money, everybody's money – during the pandemic is what the banks have been doing with money for decades now, and it's largely to blame for the bigger mess we're in now.
Quantitative Easing, they called it – printing money, to you and me.
For decades the tactic applied by the banks, with governments in cahoots, was to print uncountable, unthinkable amounts of money.
"We don't have any money left."
"Well print more, then."
"How much?"
"As much as you like – and keep it coming, I need another super yacht, and so does my mum. No one'll notice. And if they do, say it was Covid."
Imagine a glass of orange squash – a little bit of concentrate, topped up with water.
Tastes like orange, you know how it goes.
Then imagine tipping that glass-full into an empty swimming pool and turning on the taps.
By the time the pool is filled up with water, any orange in the mix is so diluted as to be utterly undetectable.
That, more or less, is what has happened to our money.
The value of our money has been so diluted it is quite literally not worth the paper it's printed on – which probably explains why they don't seem to want to actually print it on paper anymore.
They just add more zeros on their computer screens instead. Look at what they did with some of that pretend money: trillions of pounds worth of debt that will never, ever be repaid.
Billions blown on dodgy PPE, billions handed over as 'Bounce Back Loans' to companies that didn't even exist. Gone.
Those gazillions are gone – and the truly troubling point is that in every way that matters, they didn't really exist in the first place.
Rishi Sunak and Boris Johnson and the like have the gall to say they've got a way to fix the mess.
They might as well try to put out a factory fire by blowing on it.
On account of all that funny money, and then their use of Covid as a hammer to flatten business after business, the economic and financial model we've taken for granted for the last 50 years or more is finally done.
He looked at Covid measures in various countries:
Much of Europe is an interesting watch, to say the least. Austria is a police state now, in all but name, thanks to Covid.
Papers, please! Italy and Germany are much the same.
France would likely go the same way – except President Macron is too properly scared of too many of his own people to go all the way to vaccine mandates.
Instead, he remains committed to making the lives of the unvaccinated as miserable as possible. In Western Australia unvaccinated parents are barred from the hospitals where their children lie sick, dying.
In Canada the GoFundMe organisation has withheld millions of dollars raised in good faith, in support of the truckers protesting vaccine mandates.
What will become of that money, donated by hundreds of thousands of ordinary Canadians, remains unclear.
More and more questions are being asked about the vaccines, all around the world.
Questions about efficacy, about safety, and yet governments like the US, Canada and Australia, as well as here and just about everywhere else continue to dig in, more and more determined to get a needle into every arm on the planet.
Israel is beavering away with injection number four – and the positive cases are spiking in what looks, on the graphs, like a vertical line pointed into space.
With the Covid narrative in tatters now, new weapons of mass distraction are being deployed to stop us thinking too much about the mess.
Enter Putin with his invasion of Ukraine. How timely. In early February, we knew it was coming:
I'd like to say, Don't Mention the War, but of course there's Russia and Ukraine to look forward to as well.
Oliver brought up non-Covid health issues:
There was a GP on the telly last week saying the stress of lockdown is causing heart attacks and strokes.
Well, I never.
He brought up the irony about the silence surrounding all the plastic face masks being dumped into the environment:
Climate crisis and environmental meltdown are back to the fore again – never mind the fact we've dumped trillions of filthy face masks, and Covid tests into that environment, that doesn't seem to matter.
He concluded:
Weapons of mass distraction or not, there'll be no hiding the fuel bills due in a few weeks' time.
People forced to choose between eating and heating tend to behave differently than before.
Energy black hole, Net Zero and its consequences and only pretend money with which to pay for it all.
How much longer can our dear leaders hide behind Covid?
We do a lot of weather forecasting on this channel. I tell you this – there's a storm coming.
Oliver then had Benjamin Loughnane (pron. 'Loknayn') from The Bow Group think tank to discuss the Johns Hopkins study about lockdown. This was also a very good segment:
Richard Tice from the Reform Party also appeared to talk about our leaders' mistakes:
You can see the full show below. Almost all of it concerns coronavirus:
Later in the evening, Mark Dolan presented an excellent editorial on how the media and Government handled the pandemic:
The replies to the tweets were worthwhile, such as this one:
Some of us knew from the beginning that most of the coronavirus measures in Western countries were bogus, but anyone who mentioned that PCRs were picking up old viruses was dismissed as a crank.
Lo, it emerged last month that the intrusive PCR testing was proven to be ineffective in accurately diagnosing coronavirus.
Dolan said (emphases mine):
A major new study confirms that PCR tests are horribly inaccurate. There's a surprise.
According to researchers at the University of Oxford, if you've heard of it, a third of people who tested positive for coronavirus via PCR tests were not contagious and did not need to self-isolate.
The study found that many laboratories are setting the positivity bar very low, meaning they're picking up people, who are – quotes – "a danger to no one".
Hand sanitising is also inconclusive:
Do you remember our blistered skin, in March 2020?
Sing happy birthday twice, as you wash your hands? After which a couple of scientists with half a brain cell, pointed out that the virus is transmitted through the air, via aerosols. No sugar, Sherlock.
Perspex screens in shops — or, in cars, as was the case in France — might not have been a good idea, either:
A report came out in August of last year, suggesting those environmentally catastrophic Perspex screens you see in shops, offices and on TV, may make matters worse.
The Environmental Modelling Group, a panel of 16 SAGE experts, said "There is some epidemiological and mechanistic evidence, that suggests screens could increase risks of aerosol transmission, due to blocking/changing airflow patterns or creating zones of poor air circulation behind screens.
Well done everyone.
The best masks couldn't stop the rise in contagion:
Even where countries have demanded better N95 masks, like Austria, cases have sky rocketed nonetheless.
There was no evidence that vaccine passports stopped the spread:
What about vaccine passports? We're saving lives aren't we?
Except that cases have continued to soar in countries that have implemented these divisive measures, which link your medical status to certain basic rights, freedoms and privileges, including in particular in France and Italy.
The same held true for closing nightclubs:
What about closing nightclubs?
The Welsh first Minister Mark Drakeford, who likes a boogie himself, was able to demonstrate no evidence that closing nightclubs would have an impact on spread.
After two years, our health service is on backlog overload and probably will be until the end of the decade.
Some people's lives are in ruins: closed businesses, relatives' suicides, nervous breakdowns, missed diagnoses of terminal illness. I could go on.
Dolan said:
Two years in which we have incarcerated the healthy, stopped people from going out to work and making a living, closed once viable businesses, wrecked mental health and ignored worse diseases like cancer.
The Telegraph are reporting that up to 87,000 cancer diagnoses may have been missed. And the rest.
If you think Covid is worse than cancer, there is something wrong with you.
But that's been the message of the pandemic response.
'If it's not Covid, they don't care' is something I've heard from so many of you over the last two years.
The famously deadly disease of cancer, that affects all age groups, has been relegated in importance for two years, with tragic consequences that will be with us for years to come, with cases like young mothers who didn't get that lump checked or weren't able to. Well done everyone.
There will be a day of reckoning for what Professor Jay Bhattacharya, one of the most respected medics in the world, has called the biggest public health mistake in history. He's being polite.
Dolan rightly took issue with governments, modellers and the media:
So who's to blame?
Well, weak politicians who panicked in March 2020 and discarded decades of pandemic planning …
I blame the modellers like the randy professor, Professor Pants Down himself, Neil Ferguson, who predicted half a million deaths at the start of the pandemic, which spooked ministers into taking this ruinous path.
Some government scientific advisors predicted 6000 deaths a day if we didn't cancel Christmas …
I blame Sage, who failed to equate economic damage with death.
The University of Bristol have told me that half a million people will die as a result of creating the biggest recession in 300 years. And what about wrecked lives?
It's a question no one has ever been able to answer me. Why is it okay to wreck lives? Of course, it isn't. But wreck them we did. And it's most reprehensible when you think of the needless impact on young people and children, who face vanishing threats from the virus. So who else do I blame?
Well I blame the media …
… I blame the media for offering just one narrative. Lockdowns work, masks work and absolutely everybody's got to have the vaccine.
Now these views are valid, arguably the majority of people and perhaps most scientific professionals think exactly that. No problem. Let's hope you're right, because that's the hell you've put us through.
As data come in from around the world, based upon different approaches, with no obvious difference from where I'm standing, I have my doubts. But remember those press conferences – the Beeb, Sky, ITV – why are we not locking down longer, tougher, harder?
By offering such one-sided coverage of the pandemic, by betting everything on the words of SAGE, and freezing out other scientific voices like Sunetra Guptha, Carl Henegan, Martin Kulldorf and Jay Bhattacharya, the media let us down.
To say that the media have lied to you is a bit strong. But they have not provided the full picture.
And any lawyer will tell you concealing information is tantamount, in its own way, to an untruth.
Shall we be polite and just call it government propaganda? I think that'll do.
I shouldn't name names, but I will. The Mail and the Telegraph are the only papers I can think of that have consistently balanced their reporting and have dared to offer a critique about these debatable lockdowns.
The Guardian is a paper I've always admired and read every day.
But where was their coverage of the Johns Hopkins University report, a meta analysis of 24 studies into lockdown, suggesting the measures saved 0.2% of lives, whilst of course exacting colossal harm.
Not peer reviewed and the study has been done by economists, but worth reporting?
I'd say so.
Sweden got it right. That was something that many of us were criticised for saying offline.
Dolan said:
Sweden have seen a fraction of the economic damage, the societal damage and have had fewer per capita deaths than so many countries that locked down hard.
He concluded:
In the end I think the media have got this wrong – they've backed the wrong horse and they are on the wrong side of history.
So there will be a day of reckoning for their one-sided coverage. But will we ever get an admission of guilt, or dare I say it, an apology? I doubt it.
There will be no contrition. And for all of those well paid and high profile figures in the media – we know who they are – the relentless cheerleaders for these disastrous and, in my view, failed measures, sorry seems to be the hardest word.
Now to the present day.
On Wednesday, March 2, the House of Commons Science and Technology Select Committee gathered oral evidence on coronavirus in a session called 'UK Science, Research and Technology Capability and Influence in Global Disease Outbreaks'. Greg Clark (Conservative) chaired the session.
You can watch it here.
After the first hour, Prof Graham Medley — who exchanged tweets late last year with The Spectator's Fraser Nelson on modelling — gave his oral evidence on SPI-M's modelling of the pandemic. He is SPI-M's chair.
Sorry seemed to be the hardest word for him, too, as he saw no need to apologise for Prof Neil Ferguson's mad models which the Swedes described as 'hysterical'.
Medley told MPs that SPI-M 'didn't have the time' (his words) to calculate the probability or feasibility of their overblown scenarios. They plugged garbage in, and, lo, garbage came out. However, he defended everything. He had no regrets.
Three MPs gently took him to task for the modelling. Labour's Graham Stringer came right out and said that he doesn't trust modelling at all, none of it.
One of the MPs tried to press him on the Twitter exchange with Fraser Nelson. Medley replied:
I wish you wouldn't do that.
In the end, he managed to get himself out of any controversy.
Most of the other MPs wanted to question the person from the behavioural part of SAGE, SPI-B. This person was to have sat along side Medley. However, the SPI-B representative cancelled. How convenient.
Dr Camilla Holten-Møller appeared in the final segment. She is the Chair of the Expert Group for Mathematical Modelling at Statens Serum Institut (SSI) in Denmark. What a breath of fresh air she was.
She admitted that SSI did get one of their models woefully wrong, so they quickly regrouped, studied their mistakes and liaised more closely with university research and clinical groups who provide them with data.
It would be nice if Medley had showed the same candour. As it was, he didn't even look bothered.
I can hardly wait for the formal coronavirus inquiry in the UK. The Science and Technology Select Committee will write a report on this evidence session, as they have with others, and submit it to the Government. The reports will be part of the inquiry process.
England had a relatively better coronavirus Christmas season than Wales or Scotland.
Prime Minister Boris Johnson decided against moving from the current Plan B restrictions, in place until January 26, 2022, to Plan C, which would have resembled the approach our socialist mainland neighbours have imposed on their residents.
As such, a number of Scots visited Newcastle and Carlisle to celebrate Hogmanay, the last day of the old year: New Year's Eve. The Scots celebrate through to January 2, an annual bank holiday there. Edinburgh has the best Hogmanay celebrations, but First Minister Nicola Sturgeon cancelled them this year.
The Welsh also journeyed across the border to England to ring in the New Year.
We were happy to have both nations share in our fun.
On January 2, The Sunday Times reported (emphases mine):
Several hours before the famous new year countdown in Times Square, New York, young Scottish revellers were counting down the seconds to midnight at bars in Times Square, Newcastle.
Party-goers fled Scotland, where nightclubs were shut and tougher socialising restrictions were in place, desperate for a big blowout. In the west of England, a similar exodus of young people from Wales boosted the numbers of clubbers in Chester, Bristol and other towns and cities across the border.
In the late afternoon on New Year's Eve, groups of friends spilled out of Newcastle station, dragging wheelie cases behind them, girls freshly spray-tanned, hair in rollers, and boys clutching plastic bags full of cans.
One, with his arms around the shoulders of a group of friends, declared they were here for "a party". Hailing from towns and cities across Scotland, most were in their late teens and early twenties. Many had spent successive birthdays in lockdown and were not prepared to do the same for a second New Year's Eve.
While the UK government had allowed new year celebrations to continue, Scotland's first minister, Nicola Sturgeon, ordered nightclubs to shut for three weeks to limit the spread of the Omicron variant, and Edinburgh's world-famous Hogmanay celebrations were cancelled.
"It's boring in Scotland, all the nightclubs are shut — what are we going to do in Scotland?" said Brian, 25, from Edinburgh. Lily Owen, 19, a student from Edinburgh, was visiting Newcastle for the first time with a group of friends. "There's clubs here, it's open, it's a no-brainer: we're going to go," she said.
Aimee Stuart, 22, had also come to England with friends, "because Nicola Sturgeon has banned us from going out". They had paid about £200 each for the trip — and they were not worried about Covid. "I've just had it, so it's fine," Stuart said. "And we're all double-vaccinated."
It has been interesting to note how the media narrative is beginning to change from a pro-restriction one to a more Swedish-style one.
On January 2, news emerged that epidemiologist Prof Mark Woolhouse OBE from the University of Edinburgh once again advocated a Swedish-style approach, which he had done in September 2020.
The Guardian obtained excerpts from Woolhouse's forthcoming book, The Year the World Went Mad: A Scientific Memoir, and published them:
Rather than imposing blanket lockdowns across the nation, the government should have adopted measures designed to make contacts safe, Woolhouse maintains. "You can see from the UK data that people were reducing their contacts with each other as cases rose and before lockdown was imposed. That, coupled with Covid-safe measures, such as masks and testing, would have been sufficient to control spread."
Largely voluntary behaviour change worked in Sweden and it should have been allowed to progress in the UK, argues Woolhouse. Instead, we plumped for an enforced national lockdown, in part because, for the first time in history, we could. Enough business is now done online to allow large parts of society to function fairly well – through video conferences and online shopping. "But it was a lazy solution to a novel coronavirus epidemic, as well as a hugely damaging one," he adds.
However, Woolhouse is at pains to reject the ideas of those who advocated the complete opening up of society, including academics who backed the Barrington Declaration which proposed the Covid-19 virus be allowed to circulate until enough people had been infected to achieve herd immunity.
"This would have led to an epidemic far larger than the one we eventually experienced in 2020," says Woolhouse. "It also lacked a convincing plan for adequately protecting the more vulnerable members of society, the elderly and those who are immuno-compromised."
Instead, the country should have put far more effort into protecting the vulnerable. Well over 30,000 people died of Covid-19 in Britain's care homes. On average, each home got an extra £250,000 from the government to protect against the virus, he calculates. "Much more should have been spent on providing protection for care homes," says Woolhouse, who also castigates the government for offering nothing more than a letter telling those shielding elderly parents and other vulnerable individuals in their own homes to take precautions.
The nation could have spent several thousand pounds per household on provision of routine testing and in helping to implement Covid-safe measures for those shielding others and that would still have amounted to a small fraction of the £300bn we eventually spent on our pandemic response, he argues. Indeed, Woolhouse is particularly disdainful of the neglect of "shielders", such as care home workers and informal carers. "These people stood between the vulnerable and the virus but, for most of 2020, they got minimal recognition and received no help."
Britain spent a fortune on suppressing the virus and will still be servicing the debt incurred for generations to come, he adds. "By contrast, we spent almost nothing on protecting the vulnerable in the community. We should and could have invested in both suppression and protection. We effectively chose just one."
And Woolhouse is emphatic that further lockdowns are not the way to deal with future waves of Covid-19. "Lockdowns aren't a public health policy. They signify a failure of public health policy," he states.
Instead, the country needs, very quickly, not to be surprised by new variants and not to respond each one in an ad hoc fashion. "We should agree a sliding scale of interventions and trigger points for implementing them. With omicron it all feels a bit chaotic. We need better planning and preparation for when the next variant arrives, as it surely will."
Woolhouse is having a poke at the Conservatives there. He would be better off posting that to Nicola Sturgeon and Mark Drakeford (Wales's First Minister). They have maintained much more stringent restrictions than England from 2020 to the present.
Another piece about adopting a Swedish-style strategy appeared in The Guardian on January 2. Larry Elliott wrote about Boris's new change of tack in an attempt to reduce his current hero to zero reputation.
Elliott writes:
Government policy towards Covid-19 has come full circle. For now, at least, England has returned to the Swedish way of dealing with the pandemic. Tough, officially imposed lockdowns are out. Trusting the people to do the sensible thing is back in.
Whether this approach will survive the expected surge in hospitalisations from Christmas and New Year revelries remains to be seen. Boris Johnson is the master of the screeching U-turn and with the number of infections hitting new records pressure on Downing Street to act is growing. We have been here before.
Back in the early days of the pandemic the prime minister was minded to copy Sweden, a country that imposed few restrictions and decided early on that it needed to learn to live with the virus.
The prime minister's flirtation with the "Swedish experiment" was brief, and at the end of March 2020 a draconian lockdown was imposed. Ministers knew this would have a dire impact on the economy but felt the risk of the NHS being overwhelmed left them no choice.
A paper published in the online journal Scientific Reports last year examined what would have happened had Britain followed the Swedish approach. Even assuming the public here would have been as willing to adhere to non-mandatory recommendations as the Swedes (a pretty big assumption) the UK death rate would have at least doubled.
This time, the decision is a lot less clearcut, not least because vaccines are providing protection from the virus. The news from South Africa, one of the countries where Omicron first surfaced, has also been encouraging. While more transmissible, the new variant has resulted in fewer hospitalisations and deaths. Case numbers, after rising rapidly, have started to decline.
A degree of caution is needed when comparing the two countries, because South Africa has a much younger population than Britain, and it is summer rather than the middle of winter there. Even so, it is clear the government has set a high bar for imposing further restrictions.
The prime minister's weakened political position is one reason the government has gone Swedish. The risk of causing serious damage to the economy when it is looking particularly vulnerable is another, because this is going to be a tough year for the British public. Inflation is rising, interest rates are going up, and energy bills are expected to rocket in the spring just as Rishi Sunak's increase in national insurance contributions comes into force.
The cumulative effect is a whopping cut to living standards. According to the Resolution Foundation thinktank the average household is going to be £1,000 a year worse off. Those on the lowest incomes will be especially hard hit by soaring gas and electricity bills.
In the circumstances, it is easy to see why the government is reluctant to add to the economic pain by imposing tougher restrictions to slow the spread of the Omicron variant. Fresh curbs mean slower growth and a hit to the public finances. They would also test the resilience of the labour market.
Good news. I, like many others of a libertarian bent, foresaw these disasters nearly two years ago in March 2020.
Let Scotland and Wales continue mired in socialist control, which is doing little to alleviate coronavirus numbers.
Meanwhile, may England lead the way out of this pandemic.
In a few months' time, we'll find out which approach was the correct one. I suspect England's, provided it turns out to be a more libertarian one, will have been proven the right thing to do.
I suspect that Omicron is providential. Whilst I would not advocate throwing drinks and nibbles parties, how many people have had it and not know it?
In that respect, it could be good for building up herd immunity the old fashioned way.
Yesterday's post discussed the vote on coronavirus measures — Plan B — for England, which saw a sizeable Conservative rebellion, while most Labour MPs voted with the Government.
Labour is supposed to be the main Opposition party. Yet, their MPs, along with most Conservative MPs, seem to be in lockstep. How sad.
In a late-breaking development to Plan B, self-quarantine rules have been changed to daily testing for seven days. On Tuesday, December 14, Sajid Javid told MPs the following before the Plan B votes, which were split into four divisions (emphases mine below):
Instead of close contacts of confirmed cases or suspected cases having to self-isolate, all vaccinated contacts, irrespective of whether the contact was with an omicron case, will be asked to take lateral flow tests every day for seven days. Regulation No. 1415 allows us to put this plan into action by revoking the omicron-specific provisions for self-isolation.
That's good news.
As for the other three provisions, sadly, all passed.
This is one of the few times when tellers for the divisions — votes — were from the same party:
Here's what happened:
1/ Masks are once again compulsory in public, enclosed spaces, including houses of worship:
2/ Coronavirus vaccines will be required for NHS and social care, including care home, staff by April 2022:
3/ Coronavirus passports will be mandatory for large gatherings and venues:
That said, note the big opposition votes for mandatory vaccines and the vaccine passports. Guido Fawkes has a list of 98 Conservatives who voted against the Government on vaccine passports. Well done, rebels!
Labour Party whips spotted three more, including Sir Desmond Swayne and Bob Seely:
The number of Conservative rebels far exceeded the predicted 81. A few Labour MPs joined in as well as ten of 11 Liberal Democrats. Sir Ed Davey, Lib Dem party leader, was self-isolating with coronavirus. As there is no more remote voting by proxy, as there was during hybrid Commons proceedings this year, he could not register his votes.
Labour's Mary Kelly Foy couldn't vote, either, for the same reason:
By the way, this is how the voting is done as of the middle of 2021. The Commons is modernising with card readers that record votes:
Beware of dubious interpretations of these new rules, as much as millions of us disagree with them.
We need to read the full headlines. The Telegraph says that vaccine passports do not apply to MPs — but, if we read carefully, we see that is only in the House of Commons. They will be subject to the law elsewhere, just like everyone else:
On that story, Scotland's The Herald reports:
Recent social distancing rules in the chamber ended this week. 
Former Tory chief whip Mark Harper, who chairs the lockdown-sceptic Covid Recovery Group, raised a point of order about busy sessions in the chamber being regulated.
He said: "It seems to me, particularly on a Wednesday when we get back to normal, that definition could equally apply to this House of Commons.
"It'd be outrageous if the executive were to attempt to prevent any Member of Parliament attending this House to represent our constituents without first undergoing a medical procedure."
He added: "Your 17th century predecessor, Speaker Lenthall, stood up very effectively against an overmighty executive and it didn't end well for the overmighty executive."
Sir Lindsay replied: "It did lead to the end of the monarchy as well, I might add, for a short period so let's hope we're not quite going back that far."
…
"There is nothing to stop a member coming in to here, you have the right to come to this House unless this House otherwise says so.
"The Government's not been in touch, I don't expect them to be in touch because, as far as I'm concerned, it doesn't apply to members."
The Telegraph's Alison Pearson would disagree with my calling Conservative rebels 'rebels'.
She — perhaps rightly — calls them 'the true Conservatives':
Please don't call the MPs who voted against vaccine passports 'Tory rebels'. In my book, those upstanding men and women are the true Conservatives. Rather, it is those who pushed through this repellently un-British measure, with the help of the Labour Party, who are the traitors to our philosophy …
From head boy of the old school, Sir Graham Brady, to 28-year-old blonde bombshell of the Red Wall Dehenna Davison, via former Royal Air Force engineer Steve Baker (more sense than the entire Cabinet combined) through that lioness Esther McVey, keenly compassionate Sir Charles Walker and Miriam Cates (both rightly devastated by the collateral damage of lockdown) to fearless, principled Nus Ghani and the swashbuckling Sir Desmond Swayne… These are my heroes – and all the rest who dug in their heels on the slippery slope to authoritarianism.
As Cates put it: "The new measures threaten to cement a permanent shift in the balance of power between the Government and the British people that has been brought about by two years of 'hokey-cokey' restrictions on our freedom. This is a shift that is no doubt being celebrated by those on the Left, but it should chill Conservatives to the core."
Unfortunately, after the vote, new, positive data came out about the Omicron variant:
As I was writing this, there landed a fresh blow to the Government's campaign of fear. The first major study found that omicron was likely to be 23 per cent less severe than the delta variant, with those of us who are double-jabbed still enjoying good protection. Far fewer people needed intensive care for omicron, with just five per cent of cases admitted to ICU compared with 22 per cent of delta patients.
Pearson sees this as good news:
By catching and shrugging off the omicron "cold", we could be minimising the risk to those who will always be vulnerable.
Things could always be worse for England. At least it's not Scotland, where First Minister Nicola Sturgeon has put the screws on for Christmas. On Tuesday, The Herald reported Sturgeon as saying there was a 'tsunami' of coronavirus cases in Scotland:
Nicola Sturgeon is urging Scots to limit socialising to a maximum of three households at a time …
The first minister said: "We are not banning or restricting household mixing in law as before. We understand the negative impact this has on mental health and wellbeing."
… "However, if you do plan on socialising – either at home or in indoor public places – we are asking that you limit the number of households represented in your group to a maximum of 3. And make sure you test before you go." 
Sturgeon advised businesses as follows:
For retail, it will include "a return to the kind of protections from the start of the pandemic – like measures to avoid crowding and bottlenecks. This will include physical distancing, measures to control the flow of customers, and protective screens."
For hospitality, "it will mean for example, measures to avoid crowding at bars and between tables, and a reminder of the requirement to collect contact details of customers to help with contact tracing."
The article said that only two people have been hospitalised in Scotland with the Omicron variant, yet:
The first minister said: "The R number associated with Delta is around 1. But the R number for Omicron appears to be well over 2, and possibly above 4."
She added that this was why Scotland was facing a "tsunami" of cases.
Okay. I remain to be convinced. I hope that most Scots are also unconvinced.
This saga will roll on into the New Year, no doubt.
The Conservative Party Conference took place in Manchester from Sunday, October 3 through Wednesday, October 6, 2021.
It was the first one since 2019, which was two months before their victory in the December 12 election that year.
UK in crisis
This year's conference took place during the ongoing petrol supply problems and shock record-breaking hikes in gas futures on Tuesday and Wednesday:
On top of that, on Wednesday, Reuters reported that the UK's petroleum regulator rejected Shell's plans to redevelop the Jackdaw gasfield in the North Sea (emphases in purple mine):
"We're disappointed by the decision and are considering the implications," a Shell spokesperson said.
It was unclear on what grounds the Offshore Petroleum Regulator for Environment and Decommissioning (OPRED) refused to approve the environmental statement for the field's development.
The Department for Business, Energy and Industrial Strategy, under whose umbrella OPRED operates, did not immediately reply to a request for comment.
Maddening.
The supply chain crisis for food continues. On Wednesday, The Times reported The National Pig Association warned retailers that 120,000 pigs would have to be slaughtered because of a lack of butchers. Some pig farmers are closing down altogether.
Some supermarkets are also suffering from empty shelves. Tesco, however, is bucking the trend. The Times reported that the supermarket chain is:
often highest up the pecking order when it comes to suppliers committing to make the business a priority …
Good for them.
Conference theme disappointing
The conference theme was … Build Back Better.
How awful.
Here it is draped across Central Station Manchester:
The Conservatives riffed on this in a Bake Off-style event. Pictured with Prime Minister Boris Johnson is Home Secretary Priti Patel:
Having listened to some of the speeches and read excerpts from others, they were all light in content. Most of them were pep rally or visionary statements rather than what plans Cabinet ministers have for the nation.
As The Telegraph's Madeline Grant wrote:
Never at a Tory Conference has so little been said, by so many, to so few.
Sunday, October 3
As the conference opened, rumours circulated about three unnamed Labour MPs thinking of crossing the aisle to the Conservatives, as the Mail on Sunday reported:
Guido Fawkes had more on the story (emphases in red Guido's):
… this is due to disillusionment with Starmer's leadership, with the MPs already having opened up "lines of communication" with Tory whips. In related news, a senior Labour MP was spotted by a co-conspirator chatting with two Mail on Sunday hacks and three senior Tory advisors at a conference bar last night…
The day's big event, according to The Spectator, was the drinks party that the 1922 Committee of backbenchers held, sponsored by ConservativeHome. Interestingly, a long-time Labour MP for north-west London — Barry Gardiner — was in attendance:
… the main focus of the night was the 1922 drinks with ConservativeHome in a room stuffed full of parliamentary talent and, for some reason, Barry Gardiner.
Strangely, Boris did not appear, leaving a gap which Chancellor of the Exchequer Rishi Sunak ably filled (video):
While Johnson was not scheduled to make an appearance here, Prime Ministers have traditionally done so in the past to pay tribute to their colleagues. His 'disappointing' absence – in the words of one disgruntled backbencher – left a vacuum for Sunak to fill, in a room full of MPs who will presumably one day decide who Johnson's successor should be.
The Chancellor leapt to the stage to tell fellow Tories about what he was most looking forward too at conference: Michael Gove dancing, the PM running in a full suit (not just a shirt) and 'machine like message discipline from every single one of you – and that means you too Cabinet.' He added that 'I've got your back' to anxious MPs in the room and that 'for the record I too am a low tax conservative' – welcome words for those party donors who Mr S[teerpike, columnist] understands attended a 'tense' meeting earlier at the Midland, amid considerable unease at the recent NI [National Insurance] hike.
In such circumstances, perhaps it's understandable that Boris would stay away.
According to The Telegraph, senior Conservatives have warned Boris not to dream up any more future tax hikes:
Earlier that day, Boris gesticulated wildly at the BBC's Andrew Marr, saying, 'You have no fiercer opponent to tax rises than me'. This probably means more tax rises are on the way:
The Spectator has more on the interview.
On tax hikes, Sir Desmond Swayne MP told talkRADIO's Julia Hartley-Brewer the raw truth. He added that lower taxes will enable greater economic growth:
Another event that Boris avoided was the one by the Tory Reform Group (TRG), which wants the Conservatives to move closer to the centre politically. They are Remainers. The Spectator reported:
Theresa May's former deputy Damian Green welcomed attendees …
Green, a mainstay of various causes on the left-ish wing of the party over the past two decades, told activists that it was their task to 'make sure that the voice of moderate conservatism, centre-right conservatism is as strong as possible within the party' – a job 'never more important than today because there are times when I slightly feel that it is only people like us that stop this party drifting back to being seen as the nasty party.' A tacit rejoinder to Priti Patel perhaps?
But then it was time for the speaker and the great white hope of Tory moderation. Tom Tugendhat, the chairman of the Foreign Affairs Select Committee, took to the stage to ecstatic applause and, like Green, was under no illusions about the awesome responsibility he and his One Nation caucus members share – to keep the Conservative party effectively sane …
There was also ample time for several potshots at the current Tory leader Boris Johnson, with whom Tugendhat is said to enjoy a wary relationship.
Foreign Secretary Liz Truss, tipped to be a future Party leader, also made the rounds that day (video):
The fringes were packed last night as Tory ministers did the rounds. Liz Truss, the darling of the free market think tanks, appeared at the Think Tent equipped with a magnificent blow dry and an applause-winning speech which castigated cancel culture as 'fundamentally wrong.' That and other jibes at identity politics in her conference address lead the Daily Mail this morning to ask whether she is in fact the new Mrs Thatcher.
Several reporters wrote about her new hairdo, which, to me, didn't look much different from the old one.
Returning to the mysterious Labour people who might want to change parties, here's Manchester mayor Andy Burnham, a former Labour MP, heaping praise on Michael Gove, the minister in charge of Boris's levelling up programme. Burnham spoke to Trevor Phillips on Sky News that morning. Hmm:
Neither Andy Burnham nor Barry Gardiner is a Conservative. Crossing the aisle for ideals they don't believe in seems a rather rash way of getting their own back at Keir Starmer.
Boris made four appearances at conference that day, including one for the Scottish Conservatives. Guido captured his wit along with audio:
The PM warned of a "crackpot coalition" between the SNP and Labour – "the only way they could" kick the Tories out.
He described the Labour conference as "a total rabble", saying it had the air to him of "a seriously rattled bus conductor" facing an "insurrection on the top deck of the bus", or the "captain of a Mediterranean cruise ship facing insurrection by a bunch of Somali pirates".
Douglas Ross MP/MSP also addressed Scottish Conservatives. As party leader in Scotland, he wants to position the party as that of the nation's working class. It's a good move, as The Spectator reported:
Like all good fables, Douglas Ross's speech at Tory conference had a beginning, middle and end. Act One detailed the many iniquities of the SNP, from their dysfunctional vaccine passport scheme to their Hate Crime Act, and most of all their agitation for Scotland to break away from the UK. Act Two took the sword to Labour, bemoaned its abandonment of working-class voters and its internal divisions over the constitution. Theirs was not the party to take on the SNP. Only one party was and it was the subject of Act Three, in which Ross deepened a theme begun under Ruth Davidson's leadership: the Scottish Conservatives as the party of the Scottish working-class.
He hit all the familiar notes about the SNP's failings in government, the ones that never seem to stick longer than two or three news cycles and are invariably forgotten about by the next election. He also hinted at an interesting theme that, if teased out carefully, could come into greater play. It is the perception, no longer wholly limited to unionists, that Nicola Sturgeon is a bit… off. Out of touch. Superior. Maybe even a bit of a snob.
In other news, last week, Labour's Angela Rayner called Conservatives 'Tory scum'. Feisty Dehenna Davison MP, representing Bishop Auckland as the constituency's first Conservative, had 'Tory Scum' badges made.
This harks back to 1948, when Aneurin 'Nye' Bevan said the Conservatives were 'lower than vermin'. Following that, the Conservatives formed the Vermin Club. Club member Margaret Roberts — who would become Margaret Thatcher — also had 'Tory Vermin' badges made, as Nigel Farage told Dehenna Davison on GB News:
Party chairman Oliver Dowden pledged that the Conservatives would do away with ugly new housing developments by strengthening planning laws.
He also assured the public that they would have turkeys for Christmas, referring to ongoing supply chain problems.
Monday, October 4
Monday opened with the latest ConservativeHome popularity poll.
Liz Truss is at the top. Other MPs pictured are (left to right) Defence Secretary Ben Wallace, Leader of the House Jacob Rees-Mogg, Chancellor Rishi Sunak and Education Secretary Nadhim Zahawi:
Guido analysed the results, excerpted below:
The turn round in her fortunes from last year when she was being tipped to be sacked from the Cabinet is quite something. Liz is one of the increasingly rare consistently free market voices around the Cabinet table…
Rishi Sunak is down by some 10 points and moves from second to fifth place. Rishi's tax hikes have clearly taken the gloss off him with the true blue believers. 
Grant Shapps [Transport] and Priti Patel are bumping along the bottom in barely positive approval territory. Shapps has been doing fairly well with the incredibly difficult transport brief. Patel is suffering because she has failed to do the seemingly impossible – stop the cross channel migrants. Tory activists are unforgiving, they don't want excuses, they want results.
It was the turn of Rishi Sunak to address the party faithful.
A rise in council tax would not go down well. Meanwhile, protesters pelted Sir Iain Duncan Smith MP with a traffic cone:
Some at conference are disappointed with Sunak, whose budget comes up in a few weeks' time. Steve Baker MP is pictured in the second tweet:
Boris was out and about in Greater Manchester. He spoke to an interviewer about policing and said that the Government needs to change its culture, which has become misogynistic, particularly in light of the Sarah Everard murder earlier this year, committed by … a policeman, who recently received a life sentence.
In other news, Justice Secretary Dominic Raab plans to reform UK human rights legislation and do away with the ties to EU human rights legislation we are still under.
With regard to the Labour mystery, Manchester's mayor, Andy Burnham, had a conversation with Levelling Up minister Michael Gove, whom he had praised the day before. The Mail reported that Burnham was also due to address Conservatives at a fringe event sponsored by Transport for the North the following day. Hmm.
The cervix question that appeared at Labour's conference was also brought up with Conservatives. Dominic Raab responded by bringing up both misogyny and misandry in a highly confused way (video):
Two MPs decided to have a bit of fun with the issue as they drove to Manchester together:
Guido recapped their amusing exchange:
Health-conscious Conservative MPs Marco Longhi and Lee Anderson don't want to fanny about when it comes to their well-being. Marco, according to their road-trip video, made sure to receive a cervix exam before heading to conference this week. Always better to be safe than sorry…
Why is it that no one ever asks if women have a prostate gland?
On the subject of health, Desmond Swayne told Julia Hartley-Brewer why he is firmly against vaccine passports:
Lord Frost (pictured on the right) threatened the EU over the post-Brexit trade issues with Northern Ireland. Outside of the conference, pig farmers protested over the inability to get their stock to market. Boris had said that government cannot solve every issue, referring to the supply chain problem. He also told British businesses to hike staff salaries, which did not go down well, either:
I think they should give the meat away. A lot of poor families would appreciate it.
Tuesday, October 5
Boris began the day with an interview to LBC's Nick Ferrari. Extinction Rebellion offshoot Insulate Britain had blocked some of Britain's roads for the ninth consecutive day.
Despite injunctions from Priti Patel's Home Office, their human blockades continue.
Boris told Ferrari they are 'irresponsible crusties' (video). The question remains whether Extinction Rebellion gets any Government funding:
Dominic Raab confirmed in his speech that he would be reform the Human Rights Act to free it from EU hackles.
Guido's post includes a quote and this summary:
They will detach it from the ECHR, enabling quicker deportations of convicted criminals and swifter action on domestic abusers …
Raab's successor at the Foreign Office, Liz Truss, confirmed a trip to India later this month, ahead of COP26 in Glasgow in November.
Guido had a chat with her:
Among other topics, the foreign secretary confided in Guido she was finding the new department's mandarins to be "a bit 'Yes, Minister'"…
Rishi Sunak addressed the Northern Powerhouse Leaders' Lunch.
Guido says:
Sunak claimed that there is a "new age of optimism" in the north thanks to Red Wall Tories, and heaped them with praise for "helping to change our party and change our country". "In me, you have a Chancellor who is going to be with you every step of the way," he added.
See? I told you these speeches were content-free.
Later in the day, he appeared at a fringe event where he was asked about the cost of Net Zero. This was his alarming answer:
Health Secretary Sajid Javid promised another reform of the NHS, which mostly involves digitisation. I can think of more pressing NHS concerns and agree with Guido:
… pouring in taxpayers' money without checking how it's being spent isn't enough. That cash needs to be put to good use. Reviewing the eye-watering pay packets of some NHS diversity managers would be a start…
The Telegraph's Christopher Hope interviewed Oliver Dowden, who is thinking about resurrecting the singing of the National Anthem at conference, calling it a 'splendid idea'.
Hope also took the opportunity to present Dowden with a 'Tory Scum' badge, which he put on and said he would wear for the duration of the interview. Hope suggested he wear it until the end of conference.
This video shows the badge exchange. Hope gives us more information on the aforementioned Vermin Club:
Guido says that the badges were most popular. Dehenna Davison had to order more:
Many conference-goers have spent the last couple of days asking Davison for one of her badges, only to be disappointed upon being told she'd run out. Good news however, after Davison put in an emergency order for 400 more given their popularity…
The most outrageous session of the day — and a British first — was an address by the Prime Minister's wife to Party faithful. No Prime Minister's spouse — we've had two husbands in that role — has ever made a party political address until now:
Never mind the subject matter: was it the right thing for Carrie Johnson to do — even if she is a very good public speaker? Boris watched from a distance.
Polling stable
I'll review Boris's closing speech in tomorrow's post.
Post-conference polling is stable. YouGov's was taken on Tuesday and Wednesday:
Sir Desmond Swayne explained to Julia Hartley-Brewer that Boris's popularity and the lack of ideas from the Opposition have buoyed the Conservatives:
What Government should do next
Health Secretary Sajid Javid needs to keep a gimlet eye on NHS spending, especially on things like this:
Guido says:
The NHS is recruiting a supplier to deliver "compassionate conversations training" to 14,000 front facing NHS staff in a publicly funded contract worth a mind-boggling £3 million. The contract tender, which was published yesterday and closes on 5 November 2021, says the aim is to equip NHS staff with "the skills they need to handle challenging situations with compassion whilst ensuring they feel able to look after their own wellbeing if needed". Guido assumed that doctors were already taught about the importance of a good bedside manner…
It's almost ludicrous to think that this weekend Javid promised a forensic review of the NHS's management and leadership whilst the NHS continues to recklessly splash cash on diversity roles. Just six months ago Guido revealed that the NHS was hiring eight more 'diversity, equality and inclusion managers' across the country, with salaries up to as much as a whopping £62,000. If Javid is going to cut down those waiting list times he needs to focus taxpayers' money on the clinical front line, not nonsense make-work contracts and diversity roles…
Guido says it is also time for Boris to reconsider the current Government moratorium on fracking:
If Boris wants to energise Britain, domestic gas production should be part of that mix; it would provide energy security when Britain's energy needs are being threatened by the Russians and the the French. Boris is now in a position to do something glorious, to stop pussy-footing around and leave no stone unturned or unfracked. So get on with it…
This is what Boris had to say on the subject while he was Mayor of London:
I won't be holding my breath on either of those propositions.
Tomorrow: Boris's keynote speech