You are currently browsing the tag archive for the 'Nicola Sturgeon' tag.
It's hard to know where to begin with this year's Christmas news, much of which is disappointing, to say the least.
That said, there is a bright Christmas message here, so please read on.
Scotland legislation latest
On Thursday, December 22, the Scottish Parliament — or Assembly, as I still call it — passed legislation for Gender Recognition Reform, specifically to grant Gender Recognition Certificates (GRCs).
The bill passed in the SNP-controlled government 86-39 with no abstentions. Only two Conservative MSPs voted for it. The rest were SNP (Scottish National Party), Scottish Greens (SNP coalition partners), Scottish Labour and Scottish Liberal Democrat MSPs.
The final contributions were largely made on the basis of feelings. Wednesday's transcript shows that every Conservative motion proposing greater controls over who can apply for a GRC and under what conditions was defeated. Debate had also taken place on Tuesday in an attempt to rush this through before Christmas break.
The Scottish Parliament thought this so important that it even cancelled their annual Christmas carol service, which, this year, was to feature Ukrainian refugees living just outside of Edinburgh.
A pro-independence — though not a pro-SNP — Scot who lives in England, the Revd Stuart Campbell, summed up the legislation in one of his Wings Over Scotland posts, 'On the hush-hush' (emphases mine):
The last few days have been perhaps the most turbulent in the entire history of the modern Scottish Parliament. Proceedings have been suspended repeatedly, members of the public thrown out and threatened with arrest, filibusters attempted, carol services cancelled, tempers frayed and sittings going on until the wee small hours.
All of this has happened in the service of the policy that the SNP has made its flagship priority for the last two years and more – the destruction not only of women's rights, but of the very CONCEPT of a woman …
So you'd imagine the party would have been tweeting about it constantly, keeping its supporters informed about all the dramatic events and the progress of the bill, if only to reassure them that they were determined to get it passed before the Christmas break come what may …
But there wasn't one solitary word about the thing it just spent three solid days forcing into law. And since it was a thing that most of its own voters, and indeed a huge majority of all Scots, were opposed to, readers might be forgiven for thinking that they just wanted it all kept as quiet as possible, as if they were ashamed.
We suspect, and very much hope, that their wish may not be granted.
The Revd Mr Campbell means that the Secretary of State for Scotland in Westminster might refuse to present the Bill for King's Assent. Let's hope so.
Another Wings over Scotland post explains what the Bill actually does:
… one of the most regressive, dangerous and frankly absurd pieces of legislation the modern world has ever seen. Last week, [First Minister Nicola Sturgeon's] government successfully managed to get the word 'woman' redefined from an adult human female to anyone to who has a piece of paper that says they are one.
Should obtaining this piece of paper involve a rigorous, measured process that takes psychological and criminal history into serious consideration and prioritises the safety of women and children, this would be permissible to the socially liberal. Alas though, the new GRA has shamelessly scrapped all safeguarding measures. For a man to legally become a woman now – and be entitled to access all female-only facilities, be it changing rooms or prisons, all he has to do is 'live as' a woman (whatever the hell that means) for three months followed by a three-month 'reflection period'.
TRA-adjacent politicians have nowhere to hide with this now. They can no longer deny that sex-based rights will be grievously compromised and that predators and fetishists now have ease of access to women (and children's) spaces, from bathrooms to sports teams.
In another post, Campbell linked to Tuesday's proceedings where a Conservative MSP tried to raise an amendment calling for greater scrutiny of sex offenders wishing to change gender. Unfortunately, 64 SNP/Green/Lib Dem MSPs voted it down. In 'The Disgraces of Scotland', Campbell wrote:
The events marked simply and unquestionably the most shameful and contemptible moment in the history of the Scottish Parliament since 1707.
1707 was the year when the Act of Union was established between England and Scotland.
He also pointed out that voting down the amendment resulted in:
ceding the moral high ground to the Scottish Conservatives …
Anyone who knows the Scots knows that anything Conservative is unpopular there. That said, the Scottish Conservatives are the official opposition party in Edinburgh.
It should be noted that anyone aged 16 1/2 and over can apply for a GRC. It would appear that no formal medical diagnosis will be required with this new legislation.
Campbell's readers have much to say on the matter. Some say this is a deleterious influence from American pressure groups. Others say that women will be in great danger.
Both are likely possibilities.
None of the MSPs supporting the Bill thinks that women will have any problem with sex offenders or deviants. However, a British substack begs to differ. 'This Never Happens' is a lengthy catalogue of gender-changers around the world who have committed horrific crimes, many of a sexual nature. Another site with a similar catalogue can be found here.
It is ironic that a woman is in charge of Scotland and she has overseen this legislation. In fact, she has supported it from beginning to end.
Scotland, like Canada, was such a beautiful country once upon a time. When I say 'beautiful', I'm referring to people. Another spirit — the devil — is moving through both nations.
One positive outcome is that the Scottish Conservatives can use this legislation to their advantage during the next election cycle. Unlike the SNP, Scottish Labour and Scottish Lib Dems, they alone voted en masse against it, showing that they are the true defenders of women and girls.
An UnHerd columnist, Joan Smith, says that this will come soon to England, should Labour win the next general election:
The man sitting next to you on a tram in Edinburgh, or turning up for a women-only swimming session, may self-identify as a woman — and the law will support him every step of the way. Centuries-old assumptions about what is real, about what people see in front of them, are being overturned. And it's coming to Westminster as well, if Sir Keir Starmer follows through on his proposal to 'update' the 2004 Gender Recognition Act.
We have less than two years before a Labour government comes to power, weighed down by promises to import the idiocy (I'm being polite here) of self-ID to the rest of the UK. Two years, in other words, to watch what happens when politicians reject biology, common sense and the imperative to protect women against male violence. 
In the meantime, prisons, hospitals and refuges outside Scotland will face the headache of what to do when a man with a Scottish Gender Recognition Certificate (GRC) — obtained with far fewer safeguards than elsewhere in the UK — demands access to women-only spaces. The prospect of expensive litigation is terrifying, but women's organisations on both sides of the border are already preparing for the fight of their lives.
So crazed are MSPs by this ideology that on Tuesday evening they voted down an amendment that would have placed barriers in the way of convicted sex offenders who seek to apply for a GRC, complete with a new female name. They even rejected an amendment — proposed by Michelle Thomson, an SNP MSP who has waived anonymity to reveal her own experience of being raped when she was fourteen years old — that would have paused the process of acquiring a certificate for men charged with sexual offences.
This is an extremely troubling development. Let's not forget that the SNP-Green government has pressed ahead with the legislation even after Lady Haldane's judgment established last week that a GRC changes someone's legal sex for the purposes of the 2010 Equality Act. Scottish women are now expected to accept that any man standing in front of them, waving a piece of paper, is a woman — even if they're in court and the man is accused of raping them. 
It's clear that a bill that was supposedly purely administrative has hugely expanded the number of individuals who can apply for a GRC, with catastrophic effects on women's rights.
The rest of the UK is about to find out what it's like living alongside a country in which observable sex no longer has any meaning. Welcome to Scotland, where the word 'woman' will now soon include any man who fancies it.
Conservatives in England and Wales can take heart from this for the general election in two years' time, pointing to their colleagues north of the border. Who are the great defenders of women and girls? It certainly won't be Labour.
Woman arrested for silent prayer
On December 6, a pro-life supporter from Worcestershire was arrested for praying silently in Birmingham in an exclusion zone around an abortion clinic.
Here is the video of her arrest:
A fundraiser is open for her:
BirminghamLive filed their report on Tuesday, December 20:
A woman has been charged with breaching an exclusion zone outside a Birmingham abortion clinic. Isabel Vaughan-Spruce, aged 45, from Malvern in Worcestershire, was arrested near the BPAS Robert Clinic in Kings Norton on December 6.
She was later charged with breaking a Public Space Protection Order, said by Birmingham City Council to have been introduced to ensure "people visiting and working there have clear access without fear of confrontation". Vaughan-Spruce will appear at Birmingham Magistrates' Court on February 2 next year.
A West Midlands Police spokesperson said: "Isabel Vaughan-Spruce, aged 45 from Geraldine Road, Malvern, was arrested on December 6 and subsequently charged on December 15 with four counts of failing to comply with a Public Space Protection Order (PSPO). She was bailed to appear at Birmingham Magistrates Court on February 2 2023."
The police must feel threatened by prayer, especially that of the silent sort.
On Friday, December 23, UnHerd 's Mary Harrington gave her thoughts on the arrest:
It's customary in these situations to decry the breach of liberal norms involved in arresting someone not for doing something wrong but merely thinking. But if, as I've suggested elsewhere, all politics is now post-liberal, that means it's once again explicitly the case that state power is aligned with a widely-shared moral order. 
This is a drum I've been banging for a little while, for contra the fond imaginings of some liberals we never really stopped ordering power to sacred values. After all, it's not really possible to have a functioning polity otherwise. This, I argued shortly before the pandemic, is why hate crime laws appeared a scant few years after the abolition of blasphemy laws: they are blasphemy laws. We've just updated what we considered blasphemous …
…  Vaughan-Spruce's arrest makes it clear that the zone surrounding an abortion centre is treated as sacred in a way that's evidently no longer meaningfully the case (at least as far as the European court is concerned) of a church. She is an activist and director of March for Life UK, and has been previously arrested for protesting against abortion. But this in no way diminishes the growing sense that the activity being protected is also increasingly treated as sacred …
We have sacralised autonomy to such an extent that laws uphold women's right to it, even at the cost of another radically dependent life. And the issue is growing ever more moralised, as evidenced by the fact that even thinking disapproving thoughts about this radical commitment to individual autonomy is now treated as blasphemous, in zones where its most extreme sacrifices are made. 
Wherever you stand on the practical issues surrounding abortion, this is indisputably a profound statement on the relative values we accord to freedom, care and dependency — one with profound ramifications for how we see the weak and helpless in any context. That the practice is taking on sacramental colouring, for a religion of atomisation, should give us all pause.
Indeed.
House of Lords Archbishop of Canterbury debate on asylum
On December 9, the House of Lords gave the Archbishop of Canterbury his annual debate. This year, the subject was the UK's asylum and refugee policy.
I hope that readers will understand if I do not excerpt his speech here. They are free to read it for themselves.
We have taken in a record annual number of illegal migrants crossing the Channel this year, expected to be over 50,000.
We have also taken in large numbers of legitimate refugees and asylum seekers. We have also given visas to many thousands of legal migrants this year, particularly from Africa and Asia, namely India and Hong Kong.
UnHerd had a good analysis of what Welby said and our current predicament:
The Archbishop says he aims to support action that would "prevent small boats from crossing the channel", but he also stresses that the UK is not taking many refugees and should take many more. 
Astonishingly, he dismisses the provision our country has made to welcome Hong Kong residents — well over 100,000 to date and many more to come — by saying "and that, by the way, is not asylum but financial visas". It may not involve an application for asylum as such, but it clearly involves flight from oppression. Welby also draws the wrong conclusion from the fact that developing countries host many more refugees than developed countries. This is much cheaper than settlement in the West and makes return more likely. Developed countries should help pay the costs, and the UK leads the way in this regard.
The control Welby claims to support does not presently exist. The small boats cannot safely be turned around in the Channel and France will not accept their immediate return. The Rwanda plan is a rational (if imperfect) attempt to address the problem, removing asylum-seekers to a safe third country, where they will be protected, yet the Archbishop decries the plan on the grounds that it outsources our responsibilities. This makes no sense, for the UK not only accepts that Rwanda must comply with international standards, but also commits to funding the protection of those who prove to be refugees. Welby asserts that the plan has failed to deter. Indeed, because it has not yet been tried at all. 
The UK has good reason to resettle in safe third countries those who enter unlawfully on small boats, which would discourage others from (dangerous) unlawful entry and restore control of our borders. The historic tradition on which the Archbishop relies is alive and well in the provision our government has made, with wide public support, for temporary protection for Ukrainians escaping Russian aggression and for resettlement of the new Huguenots, the Hong Kong residents seeking to escape the oppressive reach of the Chinese Communist state. 
Lord Lilley — former Conservative MP Peter Lilley — posed the conundrum of loving one's neighbour and not being able to accommodate everyone, especially those who arrive under false pretences:
This issue raises very difficult dilemmas for Christians. Being a very inadequate Christian myself, I take up the challenge from the most reverend Primate the Archbishop with trepidation: to try to formulate principles for governing our policy on asylum and migration. Not having direct access to the mind of God like the most reverend Primate the Archbishop, I seek those principles in the Bible.
I recall that our Lord said that the essence of Christianity is to love God and love our neighbour as ourselves. When asked who our neighbour is, he gave the parable of the good Samaritan, when a Samaritan helps a Jew—from which I deduce that our neighbour is not just the person next door to us and not necessarily a member of our own nation; it can be anyone. The first principle I therefore deduce is that, although charity begins at home, as a lot of my constituents used to tell me, it does not necessarily end at home. I am at one with the most reverend Primate the Archbishop on that.
Secondly, the Samaritan did what he practically could. We may be called on to help anyone we practically can, but we cannot help everyone. Again, the most reverend Primate the Archbishop recognised that and it is important that we recognise that our responsibilities are finite, in this respect.
Thirdly, when the Levite and the Jewish priest reached their destination, I have no doubt that they deplored how, owing to years of austerity, there had been insufficient spending on police and the health service to prevent the problem arising in the first place or to treat the person, instead of leaving it to the passing Samaritan. Therefore, my third principle is that, to be a good Samaritan, you have to give care, help and so on at your expense. We, as politicians, may have to take decisions on behalf of others but, in doing so, we should have consideration for the impact we are having on others and not imagine we are being virtuous when we do good at their expense.
The first principle is that charity begins at home, in how we treat people who have come to settle here. When I was a child, mass immigration into this country was just beginning. The parish in which I lived asked each family to link up with a migrant family, many of whom were lonely, isolated and, at worst, facing hostility. My family was linked up to a delightful Mauritian couple, whom we would invite to supper every few weeks. We became good friends. That was done by parishes across south London. I would love to hear from Bishops who have not yet spoken about what the churches are doing today to help integrate those who are here in our society and to be the good Samaritans to our neighbours from abroad.
But charity does not end at home. I pay tribute to those tens of thousands of people who opened their homes to families fleeing the bombing in Ukraine, while their menfolk remained to fight for their country. We should not imagine we are sharing in being good Samaritans if we throw open the doors of our country to everybody because, if we do that, we are doing good at others' expense. We are, in effect, saying that migrants, be they legal or illegal, asylum seekers or otherwise, through housing benefit and social housing, will have access to rented and social homes. We all have our own homes, so we will not be affected. Therefore, more young people will have to wait at home or live in cramp bed-sitters for longer, because of what we, as legislators, think we are doing generously, without taking the impact on others into account.
The second principle is that our neighbour can be anyone, but it cannot be everyone. Millions of people want to come here. Look at the impact of the green card system the Americans operate, when they make 30,000 visas to the US available to certain countries and say, "Anyone can apply; there is a ballot." Some 9% of the population of Albania applied when they heard about that being offered to them, as did 11% of the Armenian and 14% of the Liberian populations. These were only the people who heard about it and responded. The potential number who would like to come to America or Europe, if we open these so-called direct routes, would be enormous. Will we say to those who apply, at an embassy or some place abroad, that they would have the same legal rights, and opportunities to appeal or for judicial review if things are turned down? If so, potentially millions of people would join the queue. It would not shorten but lengthen it, so we have to restrict and to prioritise.
I submit to noble Lords that the priority should not be the boat people. They are not coming by boat from Basra, Somalia or Eritrea; they are coming from France, Belgium and Germany. Why are they coming here rather than staying in those safe countries? They are three or four times as likely to be rejected there. France, in the last year before the pandemic, forcibly repatriated 34,000 people. I find some strange double standards being applied here. There are no criticisms of France for being much stricter than us or of us for being much laxer than them, but one or the other must be the case.
I am coming to an end. If it is morally and legally right for the French to try to prevent people leaving their shores, and for us to pay and support the French in so doing, it should be morally and legally right for us to return them. If they cannot be returned, it is reasonable to try to deter them by saying, "If you come here, you will go to Rwanda. You always have the opportunity to stay in France." I submit that we do not always consider these opportunities.
Later on, the Archbishop of York, the Right Revd Stephen Cottrell, spoke, an excerpt of which follows. The transcript hardly does his indignation justice. He ripped right into Lord Lilley:
I say to the noble Lord, Lord Lilley, that everyone is our neighbour. Of course, we cannot take everybody, but that makes it even more important that we have a fair system for everyone.
Dehumanising language promotes fear. Threat of destitution is used as a deterrent. Children are treated as if they are adults. Yet in our own country, among our own people, in our churches, other faith groups and communities, some things have gone well, such as the Homes for Ukraine scheme, where many people have found a home, other family members have joined them, and people have been able to get work. This is really good.
But why has our response to people fleeing other conflicts been different? Currently, the definition of family in our asylum system would not allow someone to join their sibling even if they were the last remaining relative, and being able to work and contribute is a long way off. The tragedy of our system lies in its exceptionalism, meaning that people receive differential treatment usually because of their country of origin. That underpins the Nationality and Borders Act, and I fear that further legislative action will be the same.
But we could learn from what is happening in our communities. The noble Lord, Lord Lilley, asked us directly about integration. I do not know where to begin. In hundreds of parishes and schools, and in other faith communities up and down our country, that is what we are doing—in English language classes, in befriending and in teaching people. I would be the first to admit that there are lots of things about the Church of England that could be better, but that is something that we are doing, alongside others, and it shows the best of British.
We need a system that will simply provide safe and legal routes for everyone to have equal opportunities to apply for asylum. All I am saying is that I think that would be good for us, as well as for the people who are fleeing unimaginable conflict and evil.
Finally, when it comes to being able to work, the Church of England, alongside the Refugee Council and the Government's own Migration Advisory Committee, is a long-standing supporter of the Lift the Ban campaign.
I say all this—like many of us, I would wish to say more, but the most reverend Primate the Archbishop of Canterbury said most of it—as winter arrives, and it is cold, and a cost of living crisis will inevitably affect the British people's capacity to be hospitable. I say simply that a functioning asylum system is not a threat to our social cohesion as some fear or predict, but a dysfunctional, unfair one is.
As every small child knows at this time of the year, as the noble Lord, Lord Cormack, mentioned, Mary and Joseph came looking for somewhere to stay, but there was no room at the inn. Saying no, accusing those who are being hospitable of being naive, or passing the buck are easy, but saying yes, with a fair and equal system for everyone, opens up blessings for everyone.
A week later, Cottrell featured in an article in The Telegraph: 'Forgive my "predictable leftie rant" on asylum, says Archbishop of York'.
It seems he knew he was out of order with Lord Lilley, who deserved the same courtesy as the peers agreeing with the Archbishop. It was good for Lord Lilley to speak politely on behalf of the British public.
Britons are paying upwards of £7 million a day just to house those crossing the Channel.
GB News's Mark Steyn and his guest hosts have been covering the topic nearly every night:
Taxpayers are deeply upset, especially during our cost of living crisis, which is causing many to choose between food and fuel.
Combine that with taxpayers' personal expenses for Net Zero, and we are heading for disaster:
Red Wall Conservative MP Jonathan Gullis tried unsuccessfully to raise a Private Member's Bill to get illegal migrants to Rwanda sooner rather than later:
Hotels across England are being taken over by companies working for the Home Office to house the Channel-crossers:
Hospitality workers in those hotels are losing their jobs as the aforementioned companies install their own staff to manage them:
The December 22 show also featured the seemingly intractable problem:
Former Sun editor Kelvin MacKenzie then swung by to weigh in on how much migrants are costing Britons.
The Home Office — read 'civil servants' — must do something now.
It's obvious people are watching GB News, because they beat BBC News for the first time ever on December 14:
Onwards and upwards!
House of Commons recess debate
On Tuesday, December 20, the House of Commons held its Christmas recess debate.
Normally, these are rather jolly affairs where MPs air wish lists for their constituencies for the New Year. However, this year's contributions were rather grim, including those from Conservative MPs.
Once again, providentially, I tuned in at the right time to hear the member for Don Valley, Conservative MP Nick Fletcher. He closed his speech saying the following, the first part of which came as news to me:
Finally, Christian friends across the House tried to secure a Backbench debate on Christmas and Christianity, but by all accounts we were not successful. While I have this moment, I want to remind those in this place, and anyone who cares to watch, that although Christmas is celebrated in many ways across the world, the real reason is the birth of our saviour, Jesus Christ. He was sent as a saviour, and with the promise that whoever believes in him will have eternal life. I do not want anyone ever to forget that. Merry Christmas everybody.
Jim Shannon, a Democratic Unionist Party MP (i.e. from Northern Ireland), was one of the last MPs to speak. A devout Anglican — yes, they still exist — he gave a beautiful speech on the meaning of the season, most of which follows:
It is no secret that I love this time of year—I may have mentioned that a time or three in this House. There are so many things to love about Christmas: time with family; good food; fellowship; and, for me, the singing of an old Christmas carol as we gather in church. But the most wonderful thing about Christmas for me is the hope that it holds. I wish to speak this year about the Christ in Christmas, because, too often, we miss that. It would be good this year to focus on what Christmas is really all about. I ask Members to stick with me on this one.
The message of Christmas is not simply the nativity scene that is so beautifully portrayed in schools and churches throughout this country, but rather the hope that lies in the fact that the baby was born to provide a better future for each one of us in this House and across the world. What a message of hope that is; it is a message that each one of us needs. No matter who we are in the UK, life is tough. The past three years have been really, really tough—for those who wonder how to heat their homes; for those who have received bad news from their doctor; for those whose children have not caught up from the covid school closures; for those who mourn the loss of a loved one; for those who mourn the breakdown of a family unit; and for those who are alone and isolated. This life is not easy, and yet there is hope. That is because of the Christmas story. It is because Christ came to this world and took on the form of man so that redemption's plan could be fulfilled. There is hope for each one of us to have that personal relationship with Christ that enables us to read the scriptures in the Bible and understand that the creator, God, stands by his promises.
I want to quote, if I may, from four Bible texts. To know that
"my God will meet all your needs according to the riches of his glory in Christ Jesus."
That is from Philippians 4:19.
To trust that
"I am the Lord that heals you."
To believe that
"all things are possible."
That is Matthew 17:20.
We can be comforted by Psalm 147:3:
"He heals the brokenhearted, And binds up their wounds."
Isaiah 41:10 says:
"So do not fear, for I am with you; do not be dismayed, for I am your God. I will strengthen you and help you; I will uphold you with my righteous right hand."
The strength for today and bright hope for tomorrow come only when we understand who Christ is. One of my favourite Christmas passages is actually not the account of his birth, but the promise of who he is. We all know this:
"For to us a Child shall be born, to us a Son shall be given; And the government shall be upon His shoulder, And His name shall be called Wonderful Counsellor, Mighty God, Everlasting Father, Prince of Peace."
In a world where our very foundation seems to be shifting, how awesome it is to know that this our God is only a prayer away. A group of people come to the House of Commons two or three times a week, and pray for Parliament. I have to say how important it is to have those prayers.
As we think of this passing year—something that many of us do—we think about what has happened and perhaps look forward to 2023 with renewed hope for the future. I think we should look forward with hope; we have to do that. We should always try to be positive. In this passing year, my mind goes to the loss of Her Majesty the Queen. Many of us felt that so deeply, and yet her passing also carried the message of hope, because of Christ. I quoted this when we had the tributes to Her Majesty. It is important, I think, to put it on the record again.
The wonderful message that the Queen gave in one of her cherished Christmas messages—this one was in 2014—was crystal clear:
"For me, the life of Jesus Christ, the prince of peace, whose birth we celebrate today, is an inspiration and an anchor in my life."
That was Her Majesty talking.
"A role model of reconciliation and forgiveness, he stretched out his hands in love, acceptance and healing. Christ's example has taught me to seek to respect and value all people of whatever faith or none."
It is my firm belief that this true message of Christmas is what can bring hope and healing to a nation that can seem so fractured. When I look at the headlines, I sometimes despair, but that is also when I most enjoy my constituency work, and getting to see glimpses of community spirit and goodness that are done daily and yet are rarely reported. Her Majesty's speech in 2016 reflected that, when she said:
"Billions of people now follow Christ's teaching and find in him the guiding light for their lives. I am one of them because Christ's example helps me to see the value of doing small things with great love, whoever does them and whatever they themselves believe."
At that point, Conservative MP John Hayes intervened:
It is heart-warming and refreshing to hear the hon. Gentleman's plain and confident affirmation of his faith, and our faith too. By the way he speaks, he encourages all of us to reflect on the Judeo-Christian foundations on which our society and our civilisation are built, and I just wanted to thank him for that.
Jim Shannon thanked John Hayes before continuing:
The right hon. Gentleman is most kind. I am giving just a slight reminder of what Christmas is about. I think we all realise that, but sometimes it is good to remind ourselves of it. The example of Christ is one of humility, coming to the earth as a vulnerable baby, and of purpose, as we see the gold given that symbolises royalty, the frankincense to highlight his deity and myrrh to symbolise his purposeful death to redeem us all.
I am a strong advocate in this House for freedom of religion or belief, as the Leader of the House knows. She is always very kind; every week, when I suggest something that should be highlighted, she always takes those things back to the Ministers responsible. I appreciate that very much, as do others in this House. I am proud to be associated with that wonderful cause, and as long as God spares me I will speak for the downtrodden of my own faith and others. I speak for all faiths, because that is who I am, and so do others in this House with the same belief.
At the same time, however, like Her late Majesty, I am proud to be a follower of Christ. At this time of year I simply want the House to know the hope that can be found in Christ, not simply at Christmas, but for a lifetime. The babe of Bethlehem was Christ on the cross and our redeemer at the resurrection, and that gives me hope and offers hope for those who accept him and it.
From the bottom of my heart, Mr Deputy Speaker, I thank you in particular, since you have presided over this speech and the past few hours. I thank Mr Speaker and all the other Deputy Speakers, with all the things that are happening to them, the Clerks and every staff member in this place for the tremendous job they do and the graceful spirit in which everything has been carried out in the last year. I thank right hon. and hon. Members, who are friends all—I say that honestly to everyone.
I thank my long-suffering wife, who is definitely long-suffering, and my mum—
At that point, Shannon broke down in tears.
Leader of the House Penny Mordaunt stepped in quickly and graciously while Shannon composed himself:
The hon. Gentleman has often summed up how people feel, particularly at this time of year. I know he has had losses over the past few years, and he always manages to sum up the feeling of this House. Many Members in this debate have spoken about constituents or family they have lost, and we appreciate his bringing up these issues, as I appreciate all Members' doing so. There will be some people thinking about spending Christmas apart from family they are not able to see, or having suffered those losses. I thank him and we are all willing him strength as he continues his speech.
After a pause, Shannon resumed and concluded:
I thank the Leader of the House for that. I mentioned my long-suffering wife; we have been married 34 years, so she is very long-suffering, and that is probably a good thing, because we are still together. My mum is 91 years old and I suspect she is sitting watching the Parliament channel right now to see what her eldest son is up to and what he is saying, so again that is something.
I also thank my staff members. I told one of my Opposition colleagues last week that I live in a woman's world, because I have six girls in my office who look after me and make sure I am right …
Lastly, I thank my Strangford constituents, who have stuck by me as a councillor, as a Member of the Legislative Assembly and as a Member of Parliament in this House. This is my 30th year of service in local government and elsewhere. They have been tremendously kind to me and I appreciate them. I want to put on record what a privilege it is to serve them in this House and to do my best for them.
I wish everyone a happy Christmas, and may everyone have a prosperous, peaceful and blessed new year, as we take the example of Christ and act with humility and purpose in this place to effect the change that we all want and that is so needed in our nation—this great United Kingdom of Great Britain and Northern Ireland, always better together.
Mr Deputy Speaker Nigel Evans said:
Your mother and wife will be as proud of you as we all are, Jim. [Hon. Members: "Hear, hear!] As a person of faith, I thank you very much for putting the Christ back into Christmas in your speech. We come now to the wind-ups.
When acknowledging MPs' contributions in the debate, Penny Mordaunt said:
The hon. Member for Strangford (Jim Shannon) should never have to apologise for mentioning Christ in this place—especially at Christmas. We are in a place where the architecture is designed to turn our faces to God. I thank him for his Christmas message.
And, finally — best Christmas wishes to Mark Steyn
In closing, hearty Christmas wishes to Mark Steyn who is recovering from two successive heart attacks:
He is recovering in France but told viewers more on December 19. Incredibly, the first heart attack happened before he presented one of his nightly shows on the self-styled People's Channel. He presented it anyway. Wow:
The GB News host suffered the first one "without recognising" the symptoms, before hosting his show on The People's Channel.
Speaking on his current absence from GB News, Steyn said: "I'm too medicated to manage artful evasions.
"I had two heart attacks. Because I didn't recognise the first one, as such, the second one was rather more severe."
The experienced broadcaster spoke about the shocking ordeal, saying he "doesn't look right", looking back at images of himself presenting the Mark Steyn show during the first heart attack.
Speaking on SteynOnline, he said: "The good news is that the first one occurred when I was in London. If you get a chance to see that day's Mark Steyn Show, with hindsight, I don't look quite right in close-ups.
"By not recognising it as a heart attack, I deftly avoided being one of those stories we feature on the show every couple of nights about people in the UK calling emergency and being left in the street for 15 hours before an ambulance shows up.
"I had a second heart attack in France. With Audrey [his wife?] helping me in the ambulance, she told me I was 15 minutes from death."
The presenter also revealed he would remain in France over Christmas and New Year as he is unable to leave medical care and return to New Hampshire.
GB News viewers will be sending Mark every best wish for a speedy recovery — and a healthy, happy New Year! We look forward to seeing him on the airwaves soon!
Thus far, most of my series on Matt Hancock has focused on his handling of the coronavirus pandemic.
Those who missed them can catch up on parts 1, 2, 3 and 4.
Even though the vaccine was about to be distributed throughout the UK, people in England were frustrated by the restrictions which the Government had imposed indefinitely. Effectively, we had had a Christmas lockdown, with more restrictions that came in on Boxing Day. As I covered in my last post, even at the end of the year, Hancock could not say when they would be lifted.
This post covers the first half of 2021 with excerpts from Hancock's Pandemic Diaries as serialised in the Mail along with news I had collected during that time. Pandemic Diaries entries come from this excerpt, unless otherwise specified.
Vaccines and side-effects
Former Times journalist Isabel Oakeshott co-authored Pandemic Diaries. On December 7, The Spectator posted her impressions of Hancock and the pandemic.
This is what she had to say about the vaccine policy (emphases mine):
The crusade to vaccinate the entire population against a disease with a low mortality rate among all but the very elderly is one of the most extraordinary cases of mission creep in political history. On 3 January 2021, Hancock told The Spectator that once priority groups had been jabbed (13 million doses) then 'Cry freedom'. Instead, the government proceeded to attempt to vaccinate every-one, including children, and there was no freedom for another seven months. Sadly, we now know some young people died as a result of adverse reactions to a jab they never needed. Meanwhile experts have linked this month's deadly outbreak of Strep A in young children to the weakening of their immune systems because they were prevented from socialising. Who knows what other long-term health consequences of the policy may emerge?
Why did the goalposts move so far off the pitch? I believe multiple driving forces combined almost accidentally to create a policy which was never subjected to rigorous cost-benefit analysis. Operating in classic Whitehall-style silos, key individuals and agencies – the JCVI, Sage, the MHRA – did their particular jobs, advising on narrow and very specific safety and regulatory issues. At no point did they all come together, along with ministers and, crucially, medical and scientific experts with differing views on the merits of whole-population vaccination, for a serious debate about whether such an approach was desirable or wise.
The apparent absence of any such discussion at the top of government is quite remarkable. The Treasury raised the occasional eyebrow at costs, but if a single cabinet minister challenged the policy on any other grounds, I've seen no evidence of it.
In Hancock's defence, he would have been crucified for failing to order enough vaccines for everybody, just in case. He deserves credit for harnessing the full power of the state to accelerate the development of the Oxford/AstraZeneca jab. He simply would not take no or 'too difficult' for an answer, forcing bureaucratic regulators and plodding public health bodies to bend to his will. He is adamant that he never cut corners on safety, though the tone of his internal communications suggest that in his hurtling rush to win the global race for a vaccine, he personally would have been willing to take bigger risks. I believe he would have justified any casualties as sacrifices necessary for the greater good. Fortunately (in my view) his enthusiasm was constrained by medical and scientific advisers, and by the Covid vaccine tsar Kate Bingham, who was so alarmed by his haste that at one point she warned him that he might 'kill people'. She never thought it was necessary to jab everyone and repeatedly sought to prevent Hancock from over-ordering. Once he had far more than was needed for the initial target group of elderly and clinically vulnerable patients, he seems to have felt compelled to use it. Setting ever more ambitious vaccination rollout targets was a useful political device, creating an easily understood schedule for easing lockdown and allowing the government to play for time amid the threat of new variants. The strategy gave the Conservatives a big bounce in the polls, which only encouraged the party leadership to go further.
Now on to side-effects:
Given the unprecedented speed at which the vaccine was developed, the government might have been expected to be extra careful about recording and analysing any reported side-effects. While there was much anxiety about potential adverse reactions during clinical trials, once it passed regulatory hurdles, ministers seemed to stop worrying. In early January 2021, Hancock casually asked Chris Whitty 'where we are up to on the system for monitoring events after rollout' …
Not exactly reassuringly, Whitty replied that the system was 'reasonable' but needed to get better. This exchange, which Hancock didn't consider to be of any significance, is likely to be seized on by those with concerns about vaccine safety.
January 2021
On January 2, Hancock hoped to ease red tape allowing NHS physicians to come out of retirement to be part of the vaccination drive:
On January 3, The Conservative Woman's co-editor and qualified barrister Laura Perrins blasted the Government for keeping Britons under 'humiliating and undignified treatment':
Schools reopened in England on Monday, January 4. They closed again by the end of the day.
Monday, January 4:
Millions of children returned to school today, only to be told schools are closing again tomorrow. After sleeping on it, Boris agreed we have no choice but to go for another national lockdown.
On Thursday, January 7, Hancock appeared before the Health and Social Care Select Committee to answer questions about lockdown. He came across as arrogant, in my opinion:
A message from a friend tipping me off that straight-talking cricket legend Sir Geoffrey Boycott is very unhappy about the delay in the second dose. He's a childhood hero of mine, so I volunteered to call him personally to explain. I rang him and made the case as well as I could, but it was clear he was far from persuaded.
That morning, Guido Fawkes's cartoonist posted his ghoulish perspective on Hancock: 'A nightmare before vaccination'. It was hard to disagree:
A bunch of GPs are refusing to go into care homes where there are Covid cases. Apparently there are cases in about a third of care homes, meaning many residents aren't getting vaccinated. Evidently I was naive to think £25 a jab would be enough of an incentive. We may have to use the Army to fill the gap.
Not only is [Sir Geoffrey] Boycott in the Press having a go at me; now [former Speaker of the House of Commons] Betty Boothroyd is kicking off as well. Given that I personally ensured she got her first jab fast, it feels a bit rich. It's particularly miserable being criticised by people I've grown up admiring and went out of my way to help, but welcome to the life of a politician.
On Wednesday, January 13, Hancock still had no answer as to when restrictions would be lifted. Many of us thought he was enjoying his power too much:
Friday, January 15:
An extraordinary row with Pfizer bosses, who are trying to divert some of our vaccine supply to the EU!
When I got to the Cabinet Room, the PM practically had smoke coming out of his ears. He was in full bull-in-a-china-shop mode, pacing round the room growling.
What really riled him was the fact that only last night he was speaking to Pfizer CEO Albert Bourla, and Bourla made no mention of it! I was wary: when the PM is in this mood, he can really lash out. I knew I'd need to be as diplomatic as possible if I wanted to avoid getting caught in the crossfire.
Monday, January 18:
Pfizer has relented. Following a robust exchange between Bourla and the PM, lo and behold, they've located an 'emergency supply', which is now heading our way.
On Tuesday, January 19, Hancock got coronavirus and had to self-isolate. This was his second bout. The first one was earlier in 2020:
Julia Hartley-Brewer of talkRADIO posed an interesting question about re-infection and T-cells. Hmm:
[Social Care minister] Helen Whately wants to find a way of allowing indoor visits again. I'm hardline on this: we cannot have Covid taking off in care homes again.
Monday, January 25:
The EU health commissioner has tweeted that 'in the future' any company that produces vaccines in the EU will have to provide 'early notification' if they want to sell it to a third-party country. In other words, they'll need permission. Totally desperate stuff! They're doing it purely because they screwed up procurement.
Tuesday, January 26:
Today we reached a really grim milestone in the pandemic: more than 100,000 deaths in this country. So many people grieving; so much loss.
Wednesday, January 27:
A humiliating climbdown from the EU, who clearly realised their 'export ban' wouldn't end well. It followed frantic diplomacy on our side, plus our lawyers confirming that they wouldn't be able to block our supply anyway. What a ridiculous waste of time and energy.
Tonight I'm doing a night shift at Basildon Hospital [in Essex]. Front-line staff are still under horrendous pressure, and the best way for me to understand is to see it for myself.
Thursday, January 28:
The night shift has left me completely drained. I don't know how they do it day in and day out: heroic. I donned full PPE, and got stuck in, helping to turn patients and fetch and carry. In intensive care, I watched a man consent to being intubated because his blood oxygen levels weren't sustainable.
He spoke to the doctor, who said: 'We want to put a tube in, because we don't think you'll make it unless we do that.'
His chances of waking up were 50:50. He knew that. It was an unbelievably awful moment. He reluctantly agreed, and within a minute he was flat out on the ventilator. The doctor next to me said: 'I don't think we'll see him again.'
When my shift was over, I went down to the rest area. One of the registrars told me he'd just had to phone the wife of the patient to say he'd been intubated.
'We're doing this, we all know it's our duty, we're coping with a second wave — but we can't have a third,' he said. Then he burst into tears.
That day, an article appeared in Spiked about the Government's censorship of lockdown sceptics. 'Shouldn't we "expose" the government rather than its critics?' says:
It's true 'lockdown sceptics' have made mistakes. But the government's survival depends on none of us ever understanding that lockdown sceptics are not in charge – it is.
… they're gunning for people like Sunetra Gupta, the professor of theoretical epidemiology at Oxford University … 
Pre-Covid, I would estimate 97 per cent of the population couldn't have picked Matt Hancock out of a police line-up if he had just mugged them. So when he stood up in the House of Commons, last January, to state that 'the Chinese city of Wuhan has been the site of an outbreak of 2019-nCoV', there was no reason to doubt him when he said 'the public can be assured that the whole of the UK is always well-prepared for these types of outbreaks'. In February, he explained 'our belts and braces approach to protecting the public' and insisted that 'the clinical advice about the risk to the public has not changed and remains moderate'.
On 23 March, he made a complete volte-farce. (That was not a typo.) The 'risk to the public' wasn't 'moderate' at all. 'It is incredibly important that people stay more than two metres away from others wherever they are or stay at home wherever possible', he told the Today programme, adding those who weren't doing so were 'very selfish'. Four days later, Hancock tested positive for coronavirus. Seven days after that (3 April), he opened the Nightingale hospital ('a spectacular and almost unbelievable feat'), while 'blowing his nose' and not appearing 'to be at 100 per cent'. Two days after that, he threatened to change the rules again so that people who weren't ill couldn't go outside at all: 'If you don't want us to have to take the step to ban exercise of all forms outside of your own home, then you've got to follow the rules' …
We'll skip over Hancock's botching of track and trace, the dodgy private contracts he's had a hand in rewarding, how he breaks the rules he makes for us while cracking jokes about it, or his intervention into the debate about whether scotch eggs constitute a 'substantial meal'.
In the autumn of 2020, pubs could only open if they served a plate of food. Why, I do not know.
The article mentions Hancock's tears on Good Morning Britain as he watched the first two people get the first doses of the vaccine. Then:
Days later, all this 'emotion' had gone down well, so Hancock did more of it – in parliament – announcing that his step-grandfather had died of Covid-19. ('He was in a home and he had Alzheimer's – the usual story', Hancock's father told the Daily Mail. 'It was just a few weeks ago.')
'Beware of men who cry', Nora Ephron once wrote. 'It's true that men who cry are sensitive to and in touch with feelings, but the only feelings they tend to be sensitive to and in touch with are their own.' Was Hancock crying because he was devastated that his step-grandfather was not kept alive long enough to receive the vaccine (suffering from Alzheimer's – so it would not be a leap to fear – bewildered, confused, and very likely denied the comfort of the touch of anyone he loved for most of the year)? Or was it because the political survival of the Conservative government depends on being proved right about lockdown – and that depends on one thing: the vaccine …
Hancock told the Spectator that Covid-19 will never be eradicated. But he sees no reason for his extraordinary powers as health secretary to cease even if – by some miracle – it does. In late November, Hancock told a Commons health and science committee that he wants to end the British culture of 'soldiering on'. Having built a 'massive diagnostics capacity', he said, 'we must hold on to it. And afterwards we must use it not just for coronavirus, but everything. In fact, I want to have a change in the British way of doing things, where if in doubt, get a test. It doesn't just refer to coronavirus, but to any illness that you might have.'
The idea that we would continue to test, track and trace healthy people who have cold symptoms is so psychotic it's a struggle to understand whether the man is even aware of how many people weren't tested for cancer last year. The only hero in this context is Professor Sunetra Gupta. All she's done is express her fears that lockdown – long-term – will do more harm than good – which is what she believes. In China, Zhang Zhan was also worried that people were dying and the government didn't want anyone to know about it, so she tried her best to warn everyone in society that more people were going to die if nothing was done. If China had been honest about the outbreak from the start, maybe, just maybe, 100,000 lives would have been saved from Covid-19 here …
Maybe anyone who shares Gupta's fears are 'fringe cranks', but 'fringe cranks' have as much right to say what they think as anyone else. And especially when the government has stripped us of all our rights to do pretty much anything else, while refusing to reveal when – if ever – our rights will be returned. This isn't China. It's Britain. And we do things differently here. Or at least we used to – in those halcyon days when none of us had a clue who Matt Hancock was …
Scandalous behaviour by certain care home operators, who are unscrupulously using staff with Covid. Inspectors have identified no fewer than 40 places where this is happening.
Wow. I am shocked. It underlines why we need to make jabs mandatory for people working in social care. The PM supports me on this.
February 2021
Monday, February 1:
A YouGov poll suggests 70 per cent of Britons think the Government is handling the vaccine rollout well, while 23 per cent think we're doing badly. I forwarded it to [NHS England chief executive] Simon Stevens.
'Who the heck are the 23 per cent, for goodness' sake!!' he replied.
I don't know. Maybe the same 20 per cent of people who believe UFOs have landed on Earth? Or the five million Brits who think the Apollo moon landings were faked?
Thursday, February 4:
Tobias Ellwood [Tory MP] thinks GPs are deliberately discouraging patients from using vaccination centres so they get their jabs in GP surgeries instead. I'm sure he's right. That way, the GPs make more money.
On Saturday, February 6, The Telegraph reported that Hancock wanted to 'take control of the NHS'. Most Britons would agree that something needs to be done — just not by him:
On Sunday, February 7, The Express's Health and Social Affairs editor said a specialist thought that the Government was using virus variants to control the public. Many would have agreed with that assessment:
Monday, February 8:
We've now vaccinated almost a quarter of all adults in the UK!
I've finally, finally got my way on making vaccines mandatory for people who work in care homes.
Because of that, a lot of employees resigned from their care home posts and have gone into other work, especially hospitality.
A poll that day showed that the public was happy with the Government's handling of the pandemic. John Rentoul must have looked at the wrong line in the graph. Rishi Sunak, then Chancellor, came out the best for shaking the magic money tree:
On Tuesday, February 9, Hancock proposed 10-year jail sentences for people breaking travel restrictions. This referred to people travelling from 'red list' countries, but, nonetheless, pointed to a slippery slope:
The Conservative Woman's co-editor and qualified barrister Laura Perrins pointed out a logic gap in sentencing:
Spiked agreed with Perrins's assessment in 'Matt Hancock is behaving like a tyrant':
Health secretary Matt Hancock announced new, staggeringly authoritarian enforcement measures in the House of Commons today.
Passengers returning from one of the 33 designated 'red list' countries will have to quarantine in government-approved hotels from next week. Anyone who lies on their passenger-locator form about whether they have visited one of these countries faces imprisonment for up to 10 years. As the Telegraph's assistant head of travel, Oliver Smith, has pointed out, this is longer than some sentences for rape (the average sentence is estimated to be eight years).
In addition, passengers who fail to quarantine in hotels when required to do so will face staggering fines of up to £10,000.
This is horrifying. Of course, we need to take steps to manage the arrival of travellers from countries with high levels of infection, particularly since different variants of Covid have emerged. But to threaten people with a decade behind bars or a life-ruining fine for breaching travel rules is a grotesque abuse of state power.
During the pandemic, we have faced unprecedented attacks on our civil liberties. We have been ordered to stay at home and have been banned from socialising under the threat of fines. But this latest move is the most draconian yet …
… we have now reached the stage where a 10-year sentence is considered an appropriate punishment for lying on a travel form.
Matt Hancock is behaving like a tyrant.
Meanwhile, Hancock's fellow Conservative MPs wanted answers as to when lockdown would end. The Mail reported:
Furious Tories savaged Matt Hancock over a 'forever lockdown' today after the Health Secretary warned border restrictions may need to stay until autumn — despite figures showing the UK's epidemic is firmly in retreat.
Lockdown-sceptic backbenchers took aim at Mr Hancock when he unveiled the latest brutal squeeze aimed at preventing mutant coronavirus strains getting into the country …
… hopes the world-beating vaccine roll-out will mean lockdown curbs can be significantly eased any time soon were shot down today by Mr Hancock, who unveiled the latest suite of border curbs and warned they could last until the Autumn when booster vaccines will be available.  
As of Monday travellers from high-risk 'red list' countries will be forced to spend 10 days in 'quarantine hotels', and all arrivals must test negative three times through gold-standard PCR coronavirus tests before being allowed to freely move around the UK. Anyone who lies about whether they have been to places on the banned list recently will face up to 10 years in prison. 
The fallout continued the next day. See below.
Wednesday, February 10:
Meg Hillier [Labour MP], who chairs the Public Accounts Committee, has started an infuriating campaign accusing 'Tory ministers' of running a 'chumocracy' over PPE contracts. How pitifully low. I'm incandescent.
What Meg fails to acknowledge is that when the pandemic kicked off, of course we had to use the emergency procedure for buying, which allows officials to move fast and not tender everything for months.
And when people got in contact [about] PPE, of course we forwarded on the proposals for civil servants to look at.
Even the Labour Party were getting involved — it was a national crisis and these leads have proved invaluable.
[Shadow Chancellor] Rachel Reeves wrote to Michael Gove at the time, complaining that a series of offers weren't being taken up. Officials looked into her proposals, too.
I'm even more offended because I used to respect Meg. It's so offensive for a supposedly grown-up politician to bend the truth in this way.
Labour's Deputy Leader Angela Rayner was angry at the Conservatives. What else is new?
This story has not gone away. There was a debate about it in the Commons this month.
Fallout continued from February 9 over Hancock's never-ending lockdown.
His fellow Conservative, Sir Charles Walker MP, gave an interview saying that Hancock was 'robbing people of hope'. He was also appalled by the prospect of a 10-year prison term for travelling from a red list country:
With regard to lockdowns, recall that at the end of 2020, Hancock said that only the vulnerable needed vaccinating, then we could all, in his words, 'Cry freedom'. In the space of a few weeks, he had a change of tune:
Thursday, February 11:
So here we are, in the depths of the bleakest lockdown, with the virus still picking off hundreds of victims every week, and Test and Trace officials have been having secret talks about scaling back. Unbelievable!
I told them there was no way they should stand down any lab capacity, but I'm told they're getting a very different signal from the Treasury.
Friday, February 12:
The Left never ceases to amaze. The bleeding hearts who run North West London CCG (one of many health quangos nobody will miss when they're abolished) have taken it upon themselves to prioritise vaccinating asylum seekers. They have fast-tracked no fewer than 317 such individuals — 'predominantly males in their 20s and 30s'.
So, while older British citizens quietly wait their turn, we are fast-tracking people who aren't in high-risk categories and may not even have any right to be here?
Meanwhile, some of our vaccine supply has met an untimely end. I'd just reached the end of a tricky meeting when a sheepish-looking official knocked on my office door. He'd been dispatched to inform me that half a million doses of the active ingredient that makes up the vaccine have gone down the drain.
Some poor lab technician literally dropped a bag of the vaccine on the floor. Half a million doses in one dropped bag! I decided not to calculate how much Butter Fingers has cost us. Mistakes happen.
On February 22, CapX asked, 'Why isn't Matt Hancock in jail?'
It was about Labour's accusations about procurement contracts for the pandemic. The article comes out in Hancock's favour:
On Thursday, Mr Justice Chamberlain sitting in the High Court ruled that Matt Hancock had acted unlawfully by failing to to publish certain procurement contracts …
It is worth noting that there was no suggestion in Mr Justice Chamberlain's judgment that Matt Hancock had any personal involvement in the delayed publication. The judgment was made against the Health Secretary, but in his capacity as a Government Minister and legal figurehead for his Department, rather than as a private citizen. In fact, the failure to publish was actually on the part of civil servants in the Department who, in the face of the pandemic, saw a more than tenfold increase in procurement by value and struggled to keep up.
Indeed, on the Andrew Marr Show on Sunday, Mr Hancock did not apologise for the unlawful delays, saying it was "the right thing to do" to prioritise getting the PPE to the frontline rather than ensuring timely transparency returns. I wonder how many of those calling for Mr Hancock's imprisonment would rather he had published the contracts in the required timeframe even if it meant there was less PPE available for NHS workers.
As a general rule, we should be able to see how the Government spends our money, what it is spent on and to whom it is given. Transparency improves governance. It is right that the Secretary of State is under a legal duty to publish contracts such as those at the heart of this case. However, this case – and the way it has been reported – is likely to have a much more invidious impact than simply improving transparency in public procurement policy.
Opposition politicians and activists have attacked the Government with claims that it has been using procurement during the pandemic as a way to funnel money to its political supporters and donors. It is certainly true that the sums spent by the Government have been large, and have been spent quickly.
What is certainly not true is that Mr Justice Chamberlain in his judgment gave any credence to this line of attack. He accepted evidence from an official at the Department of Health and Social Care that the delay was due to increased volume in contracts and lack of staff. However, that has not stopped figures linking the judgment to the attack line, such as Shadow Health Secretary Jonathan Ashworth who tweeted that the delay was 'Cronyism'. In fact, there was no evidence to suggest that was so.
Vanishingly few people will read Mr Justice Chamberlain's judgment in full, or even in part. Most people will only see the headlines in the press. Coupled with tweets such as those by Mr Ashworth, the public at large is likely to come to the conclusion that a court has found against the Government for cronyism, when that is not the case. And this will likely fuel further resentment that the Cabinet are not serving decades behind bars.
Justice must be done and it must be seen to be done. Justice has been done in this case – the Secretary of State has been found to have acted unlawfully – but too many lack the ability and willingness to see.
Sunday, February 28:
A potentially dangerous new variant — which we think originated in Brazil — has been identified in the UK, but we can't find Patient Zero. Whoever it is failed to provide the correct contact details when they took their Covid test, so we don't know who or where they are. Cue a frantic search.
March 2021
Monday, March 1:
When a lab technician first spotted the new variant, we didn't even know which part of the country the positive test had come from. Since then, thanks to some fancy sequencing and a high-quality data system, we've been able to identify the batch of home-test kits involved, and narrowed it down to just 379 possible households. We're now contacting every single one.
Tuesday, March 2:
The net's closing. We now know that the PCR test was processed at 00.18hrs on Valentine's Day and went to the lab via a mailing centre in Croydon [south London].
Thursday, March 4:
Test and Trace have found Patient Zero! He was on the shortlist of 379 households and eventually returned calls from officials at 4 pm yesterday.
Apparently, he tried to register his test but got the details wrong. We now know his name and age (38) and that he has been very ill. He claims not to have left his house for 18 days.
This is extremely good news: assuming he's telling the truth, he has not been out and about super-spreading. What amazing detective work.
Friday, March 5:
Covid deaths have nearly halved within a week. The vaccine is clearly saving lives.
On Saturday, March 6, The Conservative Woman's Laura Perrins, a qualified barrister, pointed out that mandatory vaccinations — she was probably thinking of health workers — is 'criminal battery':
Wednesday, March 10:
Can you imagine if we hadn't bothered to set up a contact tracing system? And if we'd decided it was all too difficult and expensive to do mass testing? Would we ever have been forgiven if we'd failed to identify clusters of cases or new variants?
No — and rightly so. Yet a cross-party committee of MPs has come to the conclusion that Test and Trace was basically a gigantic waste of time and money. I felt the red mist descend.
Yesterday, we did 1.5 million tests — in a single day! No other European country has built such a capability.
Thursday, March 11 (see photo):
The Test and Trace row is rumbling on, as is a ridiculous story about me supposedly helping a guy who used to be the landlord of my local pub in Suffolk land a multi-million-pound Covid contract. As I've said ad nauseam, I've had nothing to do with awarding Covid contracts. I find these attacks on my integrity incredibly hurtful.
The story rumbles on in Parliament, including in a debate this month.
Oh well, at least [retired cricketer, see January's entries] Geoffrey Boycott is happy. He texted me to say he'd got his second dose. He seems genuinely grateful. I resisted the temptation to tell him that good things come to those who wait.
Tuesday, March 16:
To my astonishment, hotel quarantine is working. There's a weird new variant from the Philippines, but the two cases we've identified have gone no further than their Heathrow airport hotel rooms.
Wednesday, March 17:
Today was my son's birthday. We had breakfast together, but there was no way I could join the birthday tea with family. I hope to make it up to him — to all of them — when all this is over.
On Tuesday, March 23, the first anniversary of lockdown, Boris did the coronavirus briefing. Below is a list of all the Cabinet members who had headed the briefings in the previous 12 months. I saw them all:
On Wednesday, March 24, Hancock announced the creation of the sinister sounding UK Health Security Agency. SAGE member Dr Jenny Harries is at its helm:
Tuesday, March 30:
How did Covid start? A year on, we still don't really know, and there's still an awful lot of pussyfooting around not wanting to upset the Chinese.
No surprise to learn that the Foreign Office has 'strong views on diplomacy' — in other words, they won't rock the boat with Beijing and just want it all to go away.
Sometime in March, because magazine editions are always a month ahead, the publisher of Tatler, Kate Slesinger, enclosed a note with the April edition, which had Boris's then-partner/now-wife Carrie Symonds on the cover. It began:
As I write this letter, the Prime Minister has just announced an extension to the nationwide lockdown, to be reviewed at around the time this Tatler April issue goes on sale — an opportune moment for us to be taking an in-depth look into the world of Carrie Symonds, possibly the most powerful woman in Britain right now.
April
On April 5, a furious Laura Perrins from The Conservative Woman tweeted that Hancock's policies were 'absolute fascism', especially as we had passed the one year anniversary of lockdown and restrictions on March 23:
Note that lateral flow tests, as Hancock tweeted above, were free on the NHS. The programme continued for a year.
The civil service seems determined to kill off the Covid dogs idea, which is so much more versatile than normal testing and really worthwhile. The animals are amazing – they get it right over 90 per cent of the time – but officials are being very tricky.
We should have started training dogs months ago and then sending them to railway stations and other busy places, where they could identify people who probably have Covid so they can then get a conventional test.
Unfortunately, even though I've signed off on it, the system just doesn't buy it.
So far we've done a successful Phase 1 trial, but Phase 2, which costs £2.5 million, has hit the buffers. The civil service have come up with no fewer than 11 reasons to junk the idea.
That's one idea I actually like. It sounds great.
On Friday, April 16, someone posted a video of Hancock breezing into No. 10. He had his mask on outside for the cameras, then whisked it off once he entered. Hmm. The person posting it wrote, 'The hypocrisy and lies need to stop!'
That day, the BBC posted that Hancock had financial interests in a company awarded an NHS contract — in 2019:
Health Secretary Matt Hancock owns shares in a company which was approved as a potential supplier for NHS trusts in England, it has emerged.
In March, he declared he had acquired more than 15% of Topwood Ltd, which was granted the approved status in 2019.
The firm, which specialises in the secure storage, shredding and scanning of documents, also won £300,000 of business from NHS Wales this year.
A government spokesman said there had been no conflict of interest.
He also said the health secretary had acted "entirely properly".
But Labour said there was "cronyism at the heart of this government" and the party's shadow health secretary Jonathan Ashworth has asked the head of the civil service to investigate whether Mr Hancock breached the ministerial code.
Public contract records show that the company was awarded a place in the Shared Business Services framework as a potential supplier for NHS local trusts in 2019, the year after Mr Hancock became health secretary.
The MPs' register did not mention that his sister Emily Gilruth – involved in the firm since its foundation in 2002 – owns a larger portion of the shares and is a director, or that Topwood has links to the NHS – as first reported by the Guido Fawkes blog and Health Service Journal.
Labour leader Sir Keir Starmer said: "Matt Hancock has to answer the questions… He can't pretend that the responsibility lies elsewhere."
But he said he was "not suggesting" the health secretary had broken any rules.
Here's photographic proof of share ownership:
Saturday, April 17:
Prince Philip's funeral. The Queen sat alone in a pew, in widow's weeds and a black face mask. Looking at her in her grief, I felt an intense internal conflict, almost an anguish, between the overwhelming sense of duty I have had to save lives on the one hand and the painful consequences of my own decisions on the other. Out of duty, out of an abundance of caution, and to show leadership, the Queen took the most proper approach. It was humbling, and I felt wretched.
Monday, April 19:
The police rang to warn me that anti-vaxxers are planning a march on my London home. They suggested I liaise with [my wife] Martha so she can tell me if it's happening.
Great that they spotted it, but asking my wife to keep an eye out of the window while a baying horde descends on the family home is not exactly British policing at its finest. I asked for more support. Then I went home to make sure I was there if it kicked off, but there was no sign of anyone.
A policeman explained that the anti-vaxxers had posted the wrong details on social media so were busy protesting a few streets away. What complete idiots.
Thursday, April 22:
Boris has completely lost his rag over Scotland.
He's got it into his head that Nicola Sturgeon is going to use vaccine passports to drive a wedge between Scotland and the rest of the UK and is harrumphing around his bunker, firing off WhatsApps like a nervous second lieutenant in a skirmish.
He's completely right: Sturgeon has tried to use the pandemic to further her separatist agenda at every turn.
Now the Scottish government is working on its own system of vaccine certification, which might or might not link up with what's being developed for the rest of the UK.
On April 26, the vaccine was rolled out to the general population. Hancock is pictured here at Piccadilly Circus:
I cannot tell you how many phone calls and letters we got in the ensuing weeks. Not being early adopters of anything, we finally succumbed in early July, again a few months later and at the end of the year for the booster.
On April 29, Hancock and Deputy Medical Officer Jonathan Van-Tam had a matey vaccination session together, with 'JVT', as Hancock called him, doing the honours:
May
Saturday, May 1:
Another outright death threat today in my inbox that said simply: 'I am going to kill you.' Lovely. The threats from online anti-vaxxers are getting far more frequent and violent.
As a result, I'm now being assessed for the maximum level of government security.
Tuesday, May 4:
Today, I was out campaigning for the local elections in Derbyshire. Gina [Coladangelo, adviser] drove me up. My relationship with Gina is changing.
Having spent so much time talking about how to communicate in an emotionally engaged way, we are getting much closer.
On Wednesday, May 12, the London Evening Standard interviewed Hancock. 'Matt Hancock: Let's put our year of hell behind us' is more interesting now than it was then:
Matt Hancock today struck his most upbeat note yet on easing many of the remaining lockdown restrictions next month, with Britain set to be "back to life as normal" within a year.
The Health Secretary, who has been one of the most powerful voices arguing for lockdown to save thousands of lives, stressed that the Government would lay out the low risks of further Covid-19 infections if, as expected, it presses ahead with the final relaxation stage in June.
"Our aim on the 21st is to lift as many of the measures/restrictions as possible," he told the Standard's editor Emily Sheffield in a studio interview aired today for its online London Rising series to spur the city's recovery from the pandemic. "We've been putting in place all these rules that you'd never have imagined — you're not allowed to go and hug who you want," while adding he hadn't seen his own mother since July and he was looking forward to hugging her.
"I am very gregarious," he added, "and I really want to also get back to the verve of life. For the last year, we have had people literally asking ministers, 'Who can I hug?'"
Mr Hancock also criticised as "absolutely absurd" protests outside AstraZeneca's offices in Cambridge, where demonstrators have been calling for the pharmaceutical giant to openly licence its vaccine. He stressed that the Oxford/AstraZeneca jabs were already being offered to many countries "around the world" at cost price.
During the interview, for the business and tech section of London Rising, he admitted being too busy to keep a diary of the year's extraordinary events.
He also said he hadn't had time to help with the housework as he was "working full-time" on the pandemic and that he had spent more hours than he cared to remember in his home "red room" office, which went viral.
In a boost for going back to offices, he admitted that he was now back at Whitehall, adding: "I get most of my work done there."
… He also said he had not heard Mr Johnson say he was prepared to see "bodies pile high" rather than order another lockdown, a phrase the Prime Minister has denied using, saying: "No I never heard him talk in those terms." But he admitted there were very lengthy, serious debates and "my job is to articulate the health imperative".
He added: "By this time next year, large swathes of people will have had a booster jab. That means we'll be able to deal with variants, not just the existing strains, and I think we'll be back to life as normal."
In the interview, Mr Hancock also:
Warned that another pandemic hitting the UK was "inevitable"

and "we've got to be ready and more ready than last time. Hence, we are making sure we have got vaccines that could be developed in 100 days and the onshore manufacturing" and that health chiefs would be better equipped to defeat it …

Told how he hoped that England's Chief Medical Officer Professor Chris Whitty, his deputy Professor Jonathan Van-Tam, and chief scientific adviser Sir Patrick Vallance are "properly thanked" for their work

in steering the country through the crisis. Pressed on whether they should be elevated to the Lords, he said:

"That's a matter for Her Majesty the Queen"

…
Backed Boris Johnson, enjoying a "vaccines bounce" which is believed to have contributed to Tory success in the recent elections, to be Tory leader for a decade.
Indeed, the Queen did reward Whitty, Van-Tam and Vallance with knighthoods.
Boris seemed invincible at that point, until Partygate emerged in November that year. Someone was out to get him. They succeeded.
Four days later, on May 16, Wales Online reported 'Matt Hancock sets date for next lockdown announcement; he also says local lockdowns are not ruled out'. This is interesting, as he seemed to walk back what he told the Evening Standard:
Health Secretary Matt Hancock has confirmed the date for the next lockdown lifting announcement by the Government, but has said local lockdowns 'have not been ruled out'.
Speaking on Sky News this morning Mr Hancock said their strategy was to continue with the lockdown lifting roadmap as planned, but said they would be monitoring the data very closely.
He said there had been just over 1,300 cases of the Indian variant detected in the country so far, with fears it could be 50% more infectious than Kent Covid.
Mr Hancock said: "It is becoming the dominant strain in some parts of the country, for instance in Bolton and in Blackburn." But he said it has also been detected 'in much lower numbers' in other parts of the country …
He added: "We need to be cautious, we need to be careful, we need to be vigilant."
Asked if lockdown lifting could be reversed he said: "I very much hope not." but on local lockdowns he said: "We haven't ruled that out."
Mr Hancock said: "We will do what it takes to keep the public safe as we learn more about this particular variant and the virus overall."
The Health Secretary said an announcement on the next stage of lockdown lifting would be made on June 14 …
It was thought at the time that lockdown would be lifted on June 21.
Wednesday, May 26:
Dominic Cummings has told a select committee I should have been fired 'for at least 15-20 things, including lying to everybody on multiple occasions'.
Apparently I lied about PPE, lied about patients getting the treatment they needed, lied about this and lied about that.
Later, the PM called. 'Don't you worry, Matt. No one believes a word he says. I'm sorry I ever hired him. You're doing a great job — and history will prove you right. Bash on!'
I went to bed thinking, 'Thank goodness I kept vaccines out of Dom's destructive hands or that would have been a disaster like everything else he touched.'
I watched that session. Everyone was at fault except for Dominic Cummings. Anyone who presents himself in such a way is probably not all he seems.
Thursday, May 27:
When I got into work, I heard that the Prof [Whitty] had called my private office volunteering to support me in public if need be.
This spectacular vote of confidence meant the most.
Shortly before I headed home, [Defence Secretary] Ben Wallace sent a nice message asking if I was OK. 'The Cummings evidence can be summed up as the 'ramblings of a tw*t',' he said.
Also:
Of all the many accusations Dom Cummings has hurled at me, the media seem most interested in his claims that I lied about the arrangements surrounding hospital discharges into care homes at the beginning of the pandemic.
Annoyingly, it was only after this evening's [Downing Street] press conference that I received some very pertinent PHE [Public Health England] data. They analysed all the Covid cases in care homes from January to October last year and found that just 1.2 per cent could be traced back to hospitals.
The vast majority of infections were brought in from the wider community, mainly by staff.
Overall, England did no worse at protecting care home residents than many countries, and better than some — including Scotland, where [Nicola] Sturgeon's team has been responsible for decision-making. Regardless, the awfulness of what the virus did to people in care homes around the world will stay with me for the rest of my life.
That day, YouGov published the results of a poll asking if Hancock should resign. Overall, 36% thought he should and 31% thought he should remain in post:
Saturday, May 29:
Boris and Carrie got married at Westminster Cathedral. I'm not entirely sure how much the PM's mind was on his future with his beloved, though, because this afternoon he was busy texting me about the latest Covid data.
'Lower cases and deaths today. So definitely ne panique pas,' I told him.
Then again, perhaps he's just very good at multi-tasking and can examine infection graphs, pick bits of confetti off his jacket and give his new bride doe-eyed looks all at the same time.
Sunday, May 30:
'Keep going, we have seen off Cummings's bungled assassination,' Boris messaged cheerfully.
It was lunchtime and the PM didn't appear to be having any kind of honeymoon, or even half a day off.
Nevertheless, that day, the Mail on Sunday reported that the Conservatives were beginning to slip in the polls and had more on Cummings's testimony to the select committee:
The extraordinary salvo launched by Mr Cummings during a hearing with MPs last week appears to be taking its toll on the government, with a new poll suggesting the Tory lead has been slashed by more than half. 
Keir Starmer tried to turn the screw today, accusing Mr Johnson and his ministers of being busy 'covering their own backs' to combat the Indian coronavirus variant.
The Labour leader said 'mistakes are being repeated' as the Government considers whether to go ahead with easing restrictions on June 21.
'Weak, slow decisions on border policy let the Indian variant take hold,' he said.
'Lack of self-isolation support and confused local guidance failed to contain it.
'We all want to unlock on June 21 but the single biggest threat to that is the Government's incompetence' …
Mr Cummings, the Prime Minister's former adviser, told MPs on Wednesday that 'tens of thousands' had died unnecessarily because of the Government's handling of the pandemic and accused Mr Hancock of 'lying' about testing for care home residents discharged from hospital – a claim he denies. 
Separately, the Sunday Times highlighted an email dated March 26 from social care leaders warning Mr Hancock that homes were being 'pressured' to take patients who had not been tested and had symptoms.
Lisa Lenton, chair of the Care Provider Alliance at the time, told Mr Hancock managers were 'terrified' about 'outbreaks'.
'The following action MUST be taken: All people discharged from hospital to social care settings (eg care homes, home care, supported living) MUST be tested before discharge,' she wrote.
However, the government's guidance on testing was not updated until April 15.
Instructions issued by the Department of Health and the NHS on March 19 2020 said 'discharge home today should be the default pathway', according to the Sunday Telegraph – with no mention of testing …  
An insider told the Sun on Sunday on the spat between Mr Johnson and Mr Hancock: 'Boris returned from convalescence at Chequers when he heard the news. He was incensed. 
'Matt had told him point blank tests would be carried out. He couldn't understand why they hadn't been. For a moment he lost it with Matt, shouting "What a f***ing mess".
'At least three ministers told Boris Matt should be sacked.'
However, Mr Johnson refused to axe Mr Hancock reportedly saying that losing the health secretary during a pandemic would be 'intolerable'.  
Sir Keir said the situation in care homes had been a 'betrayal', adding: 'We may never know whether Boris Johnson said Covid "was only killing 80-year olds" when he delayed a second lockdown.
'What we do know is that the man charged with keeping them safe showed callous disregard for our elderly, as he overlooked the incompetence of his Health Secretary.'
June
Tuesday, June 1:
For the first time since last summer, there were no Covid deaths reported yesterday. We really are coming out of this.
Things might have looked good for Hancock at the beginning of the month, but the mood would sour rapidly.
England's 2021 reopening on June 21 looked as if it would not happen. Not surprisingly, members of the public were not happy.
On June 6, Essex publican Adam Brooks tweeted Hancock's words about personal responsibility back at him, calling him a 'liar':
Brooks, who owned two pubs at the time, followed up later, threatening that the hospitality industry would issue another legal challenge to coronavirus restrictions:
The next day, June 7, The Sun sounded the death knell for a reopening on June 21:
BRITS' holiday hopes have been dashed AGAIN as Matt Hancock warns that the new variants are the "biggest challenging" to our domestic freedom.
The Health Secretary told MPs that restoring international travel is an "important goal" – but is one that will be "challenging and hard."
Health Secretary Mr Hancock said the return to domestic freedom must be "protected at all costs".
It comes after he confirmed that over-25s in England will be invited to receive their Covid jabs from Tuesday as the Delta variant "made the race between the virus and this vaccination effort tighter".
Matt Hancock told the Commons this afternoon: "Restoring travel in the medium term is an incredibly important goal.
"It is going to be challenging, it's going to be hard because of the risk of new variants and new variants popping up in places like Portugal which have an otherwise relatively low case rate.
"But the biggest challenge, and the reason this is so difficult, is that a variant that undermines the vaccine effort obviously would undermine the return to domestic freedom.
"And that has to be protected at all costs."
The Health Secretary added: "No-one wants our freedoms to be restricted a single day longer than is necessary.
"I know the impact that these restrictions have on the things we love, on our businesses, on our mental health.
"I know that these restrictions have not been easy and with our vaccine programme moving at such pace I'm confident that one day soon freedom will return."
This comes as desperate Brits have flooded airports as they race against the clock to get back to the UK before Portugal is slapped onto the amber travel list.
The next day, nutritionist Gillian McKeith tweeted her disgust with Hancock:
On Wednesday, June 9, the Health and Social Care Select Committee, which former Health Secretary Jeremy Hunt headed, posed questions to Hancock in a coronavirus inquiry session:
On Thursday, June 10, The Guardian reported that Dominic Cummings would tell all about coronavirus as well as Brexit on his new Substack:
Dominic Cummings is planning to publish a paid-for newsletter in which subscribers can learn about his time inside Downing Street.
Boris Johnson's former top aide has launched a profile on Substack, a platform that allows people to sign up to newsletter mailing lists.
In a post on the site, Cummings said he would be giving out information on the coronavirus pandemic for free, as well as some details of his time at Downing Street.
However, revelations about "more recondite stuff on the media, Westminster, 'inside No 10', how did we get Brexit done in 2019, the 2019 election etc" will be available only to those who pay £10 a month for a subscription …
It follows Cummings taking aim at Boris Johnson, Matt Hancock, and the government in general as part of evidence given last month to the health and social care select committee and the science and technology committee.
Cummings, who left Downing Street after a behind-the-scenes power struggle in November last year, accused the health secretary of lying, failing on care homes and "criminal, disgraceful behaviour" on testing.
However, the parliamentary committees said Cummings's claims would remain unproven because he had failed to provide supporting evidence.
On Friday, June 11, Labour MP Graham Stringer — one of the few Opposition MPs I admire — told talkRADIO's Julia Hartley-Brewer that 'things went badly wrong' on Hancock's watch and that the Health Secretary should not have 'blamed scientific advice':
On Monday, June 14, talkRADIO's Mike Graham told listeners forced to cancel a holiday to sue Hancock, Transport Secretary Grant Shapps, SAGE and 'every single one of them, personally', otherwise 'they will think they've won':
[Lingerie tycoon] Baroness (Michelle) Mone has sent me an extraordinarily aggressive email complaining that a company she's helping isn't getting the multi-million-pound contracts it deserves.
She claims the firm, which makes lateral flow test kits, 'has had a dreadful time' trying to cut through red tape and demanded my 'urgent help' before it all comes out in the media.
'I am going to blow this all wide open,' she threatened.
In essence, she's not at all happy that a U.S. company called Innova has secured so many contracts while others 'can't get in the game'. She claims test kits made by the company she's representing, and by several others, have all passed rigorous quality control checks but only Innova is getting the business.
'This makes it a monopoly position for Innova, who to date have received £2.85 billion in orders,' she complained.
By the end of the email, she seemed to have worked herself into a complete frenzy and was throwing around wild accusations. 'I smell a rat here. It is more than the usual red tape, incompetence and bureaucracy. That's expected! I believe there is corruption here at the highest levels and a cover-up is taking place . . . Don't say I didn't [warn] you when Panorama or Horizon run an exposé documentary on all this.'
She concluded by urging me to intervene 'to prevent the next bombshell being dropped on the govt'. I read the email again, stunned. Was she threatening me? It certainly looked that way.
Her tests, I am told, have not passed validation — which would explain why the company hasn't won any contracts. I will simply not reply. I won't be pushed around by aggressive peers representing commercial clients.
In December 2022, Baroness Mone announced that she would be taking a leave of absence from the House of Lords. Her Wikipedia entry states:
Mone became a Conservative life peer in 2015. From 2020 to 2022, in a series of investigative pieces, The Guardian reported that Mone and her children had secretly received £29 million of profits to an offshore trust from government PPE contracts, which she had lobbied for during the COVID-19 pandemic. The House of Lords Commissioner for Standards and National Crime Agency launched investigations into Mone's links to these contracts in January 2022. Mone announced in December 2022 that she was taking a leave of absence from the House of Lords "to clear her name" amid the allegations.
Also that day came news that, after Parliament voted on coronavirus restrictions that week — June 21 having been postponed to July 19 — the NHS waiting list was much larger than expected. It was thought to be 5 million but was actually 12 million:
LBC reported:
The Health Secretary told the NHS Confederation conference that up to 12.2 million people are in need of elective procedures delayed due to the pandemic.
This includes 5.1m people already on waiting lists.
Health bosses believe there could be as many as 7.1m additional patients who stayed away from hospitals because of the risk of Covid-19.
Mr Hancock told the NHS conference that there is "another backlog out there" and that he expected the numbers to rise even further.
NHS leaders have warned the backlog could take five years to clear …
Prof Chris Whitty, England's chief medical officer, said the current wave of cases would "definitely translate into further hospitalisations".
On Saturday, June 19, a YouTube video appeared, which has since been deleted. These are my notes on it:
June 19, coronavirus: 24 mins in — Matt Hancock says unvaccinated will not receive health treatment if NHS is overwhelmed, also mentioned are Birmingham deaths, FOIA Pfizer vaccine information forwarded to Special Branch re Warwickshire and four Birmingham hospitals; Mark Sexton, ex police constable – YouTube.
I have no idea what ensued.
On Friday, June 25, Dominic Cummings posted this article on his Substack: 'More evidence on  how the PM's & Hancock's negligence killed people'.
It's quite lengthy, but begins as follows:
Below is some further evidence including a note I sent on 26 April regarding how we could shift to Plan B with a serious testing system.
It helps people understand what an incredible mess testing was and why care homes were neglected. Hancock had failed terribly. The Cabinet Office did not have the people it needed to solve the problem. Many were screaming at me that Hancock was failing to act on care homes and spinning nonsense to the Cabinet table while thousands were dying in care homes.
There are clearly errors in my note but the fact that *I* had to write it tells you a lot about how the system had collapsed. As you can see it is a draft for a document that needed to exist but didn't because Hancock had not done his job properly and was absorbed in planning for his press conference at the end of April, not care homes and a serious plan for test-trace.
The Sunday Times's Tim Shipman summed up the article with Boris Johnson's impressions of test and trace:
Returning to Hancock, it was clear that he would have to go, but no one expected his departure would be so dramatic.
To be continued tomorrow.
My series on Matt Hancock MP continues.
Those who missed them can catch up on parts 1 and 2.
Today's post takes us further into the late Spring up to the early autumn of 2020. The Government's policy on coronavirus held the UK hostage at home, for varying amounts of time, depending on what part of the country one lived in.
Testing centres popped up around the country. Hancock, who was Health Secretary at the time, urged everyone to go to one of these centres to find out if they had the virus. The narrative was that the asymptomatic could still have it and transmit it to someone else. What a load of cobblers. As Mike Yeadon, who used to work for Pfizer said, if you're ill, you'll know about it.
A mobile phone app also appeared: Test and Trace. Another load of rubbish, which was very expensive. Surprisingly, many Britons with smartphones used it. Another good reason for not having a smartphone.
Imperial College's SAGE modeller, Prof Neil Ferguson, was discovered to have broken lockdown with his mistress, who lived on the other side of London.
In May, news emerged that Boris's top adviser Dominic Cummings slipped off from London with his wife and son to Barnard Castle, County Durham. As penance, Boris made Cummings give a 90-minute press conference in the Downing Street Rose Garden. Excruciating.
England's Independence Day was declared on the Fourth of July. Then-Chancellor Rishi Sunak's hospitality plan, Eat Out to Help Out, started a short while later, boosting restaurant sales.
During this time, the borders were open and people could travel freely. The problem were the sudden embargos which interrupted holidays at inconvenient hours of the day. Britons were often told to return home from a European country, mostly France and Spain, at midnight or 4 a.m.
However, it wouldn't be long before the long tentacles of SAGE would find more doom and gloom in the autumn.
More extracts from Matt Hancock and Isabel Oakeshott's Pandemic Diaries, serialised in the Mail, continue, with news items I bookmarked from the time. Emphases mine below.
May 2020
Amazingly, Hancock managed to achieve his testing goal of 100,000, which seemed impossible when he announced it only a month earlier.
These are the principal extracts from the Mail for the entries below, unless otherwise indicated.
Friday, May 1:
We did it, and with a very comfortable margin. 122,347 tests! Let the naysayers put that in their pipe and smoke it! I'd be lying if I didn't say I enjoyed my moment, given how desperately certain people were willing me to fail.
Then-Prime Minister Boris Johnson was fascinated by Australia's low rate of infection. Little did he know at the time that Australia would go into a prolonged lockdown lasting months.
Sunday, May 3:
We still haven't figured out what to do about borders. [Dominic] Raab, [Grant] Shapps and Sunak all want to keep the borders open. Crucially, they're supported by the Prof [Chief Medical Officer Chris Whitty]. On the other side, Priti Patel and I are in favour of far tougher measures, as is Boris.
Scotland's First Minister Nicola Sturgeon was enjoying her power over her people, starring in daily briefings which the BBC televised. She gave her briefings at lunchtime. The UK government gave theirs in the early evening.
Monday, May 4:
Tonight, Nicola Sturgeon announced a 'summer push to elimination [of Covid]', a policy which has about as much hope of working as Chairman Mao's attempt to eliminate sparrows by getting the Chinese population to bang pots and pans.
Much as I'm sure Nicola would love to build a Trump-style wall between her fiefdom and the rest of Great Britain, we're all in this together. One person who's clearly not keen on a hermit lifestyle is Prof Neil Ferguson [who was advising the Government on its Covid response]. 
I wasn't particularly sympathetic when I heard he'd been caught breaking the rules [by meeting with his lover]. He's issued a grovelling apology, but it was obvious he couldn't continue to act as a Government adviser.
Ferguson resigned from SPI-M, SAGE's modelling team, but was reinstated in 2021.
The care home situation continued to loom large. Infections and deaths were ever present. Furthermore, families were rightly distressed by having to press up against a window to see their elderly loved ones, a situation that persists in some care homes even today.
Boris suggested that Hancock hire Kate Bingham, a venture capitalist with a background in pharmaceuticals, as the head of the Vaccine Taskforce.
Also on May 4, we discovered that Good Morning Britain's star presenter Piers Morgan was a 'Government-designated essential worker'. His test was negative, but he was experiencing symptoms, so he stayed off air for a few more days. The Mail reported that Hancock tweeted his best wishes before Morgan got the results of his test:
Mr Hancock, who had his own battle with coronavirus and who has previously clashed with the GMB host on the ITV morning show, tweeted that he hoped if Mr Morgan did test positive for Covid-19 that the symptoms would be mild. 
On May 7, Hancock announced that Baroness Dido Harding would head the Test and Trace programme:
On May 9, the Mail on Sunday reported that Boris and Cabinet members were clashing with the beleaguered Health Secretary:
Matt Hancock is living on 'borrowed time' as Health Secretary following clashes with the three most powerful members of the Government over the Covid crisis, The Mail on Sunday has been told.
Mr Hancock is understood to have pleaded 'give me a break' when Boris Johnson reprimanded him over the virus testing programme – leading to open questioning within Downing Street over Mr Hancock's long-term political future.
His run-in with Mr Johnson follows battles with both Rishi Sunak and Michael Gove over the best strategy for managing the pandemic.
Shortly after Mr Johnson returned to work at No 10 a fortnight ago, he and Mr Johnson had a tense exchange about the the Health Department's 'grip' on the crisis, during which Mr Hancock said to the Prime Minister, in what has been described as a 'petulant' tone: 'That's not fair – give me a break.'
He is also being blamed in some Government quarters – or scapegoated, according to his allies – for not moving quickly enough to do more to protect care homes from the epidemic. 
On Wednesday, May 13, Hancock announced a new genomics initiative in order to better understand the virus:
People are starting to blame us for discharging elderly people from hospital into residential settings without testing them properly, before we introduced strict rules. The evidence simply doesn't bear that out: care home outbreaks rose sharply long after we had enough tests to put that right.
That day, a Labour peer was mystified as to why the Government did not know how much PPE there was:
Friday, May 22:
Westminster is abuzz with claims that Cummings broke lockdown rules, going to stay with his parents while he had Covid, which looks like a mega breach.
Saturday, May 23:
Downing Street called asking if I'd do some media [to support Cummings], but I'm uneasy. Despite all the reassurances, it feels off.
In the end, I issued a supportive tweet, saying he was right to find childcare for his toddler when both he and his wife were getting ill.
[Former Chancellor] George Osborne messaged me this evening warning me not to stick my neck out for Cummings again. 'Lie low' was his advice.
Sunday, May 24:
I spent much of the day fielding angry messages, many of them questioning why the PM is still standing up for Cummings. The answer is that he rules through fear and intimidation, squashing those who dare to challenge him or get in his way.
Monday, May 25:
Cummings tried to draw a line under the Barnard Castle affair by holding a press conference in the Downing Street garden. He sat behind a table, squinting awkwardly into the sun, looking like a sulky teenager who'd been sent outside to do his work for disrupting the class.
Afterwards, I found myself feeling strangely sorry for Boris.
Cummings has only one setting – divide and destroy – and now the boss is having to say some pretty stupid things as he machetes his way through the resulting mess.
The only thing for it was to keep backing Cummings – silence from me would only create an unhelpful story – so this evening I tweeted that I welcome the fact that Cummings 'has provided substantive answers to all the questions put to him'. Apparently it got me some credit in No 10, but I can't say I felt good about it.
Away from the Cummings s*** show, we had a Cabinet meeting to discuss plans for easing restrictions. It was a bizarre Cabinet, held on Zoom without a single mention of the Cummings-shaped elephant in the room. 
In fact, an absurd amount of bandwidth was occupied by a discussion about whether – when we allow two households to get together outside – people should be permitted to walk through a house to get to a friend's garden. 
It's fine by me, but are people going to ask whether they will also be able to go inside to use the loo? 'If they're quick and disinfect the handle?' the Prof replied.
Who could believe that under a Conservative government, the long arm of the State would find its way into people's loos?
On Tuesday, May 26, a Sky News reporter called out to Hancock asking if he was going to sack Cummings. Ermm, it wasn't Hancock's responsibility, only Boris's:
June 2020
Thursday, June 4:
Boris messaged me at 6.43am saying he was 'going quietly crackers' about not testing enough people. He told me he sees it as our 'Achilles heel'. He was in a proper flap. 'What is wrong with our country that we can't fix this?' he complained. 
I tried to calm him down. 'Don't go crackers,' I said. 'We now have the biggest testing capacity in Europe.' Tempting as it was, I refrained from saying we did this against the obstruction of his own No 10 operation.
Wednesday, June 17:
In an embarrassingly crude power grab, [European Commission President] Ursula von der Leyen is trying to wrest control of vaccine research and procurement from EU member states.
Never mind that health is a matter for individual countries: the woman who once sent German army units on manoeuvres with broomsticks – because they didn't have any rifles – wants to move responsibility for scientific development and manufacture into the sticky paws of Brussels bureaucrats.
I may have voted to Remain, but it's enough to make a Brexiteer out of anyone.
Friday, June 19:
A massive blow-up with Kate [Bingham, head of the Vaccine Taskforce]. She simply doesn't see the need to order 100 million doses of the Oxford vaccine – she wants 30 million – and can't seem to grasp almost everyone may want or need it.
I warned her during today's meeting that if we don't get our ducks in a row on this one, we risk a complete car crash.
She pushed back hard. But with the other elected Ministers on my side, I won the argument [for buying 100 million doses].
'I'm not happy with that meeting,' Kate snapped afterwards. 'Nor me,' I replied.
'We will create a guide for you to explain what we are doing – there are enormous risks with this,' she said, as if I don't spend all my time thinking about how to save lives.
Kate pressed on, claiming that the technology that underpins the vaccine Oxford is working on [Astra-Zeneca] 'is neither proven nor scaled', and that she has 'an expert team who are working round the clock, pushing hard'.
I told her: 'We need to have tried everything feasibly possible to accelerate delivery. I've been asking the same question over and over again and not yet had a satisfactory answer – hence my frustration.'
This only seemed to wind her up further, prompting a mini-lecture about the dangers of trying to go too far too fast.
'The worse case is we kill people with an unsafe vaccine,' she said. 'We need to tone the comms to register the fact this is risky and unproven.'
If there's one thing I can't stand, it's being patronised.
On Wednesday, June 24, Hancock, riding high as the chap in charge of the nation's health, appeared on Robert Peston's ITV current affairs show:
July 2020
July 4 was Independence Day from coronavirus in England.
However, separate regulations applied in Leicester, which still had a high rate of infection. Even so, nothing was stopping them travelling elsewhere to socialise or shop:
On Sunday, July 5, Hancock expressed concern over high infection rates and overcrowded working conditions in certain factories in Leicester. It seems he was thinking of certain textile factories operating like sweatshops:
Monday, July 6:
The Vaccine Taskforce have consistently argued that we only need to back three [vaccine] brands. My view is that, to hedge our bets, we need more. Any one of the vaccines could fail in clinical trials.
Fortunately, Rishi and Steve Barclay at the Treasury are totally onside.
Wednesday, July 8:
Rishi's announced a new Eat Out To Help Out initiative. I did my best to sound supportive, but in truth I'm worried that it might backfire and lead to a spike in cases.
In my box tonight was one particularly startling note relating to the way Covid has been getting into care homes. The main takeaway is that the virus is primarily being brought in by staff, not by elderly people who've been discharged from hospital.
This explains a lot, including why the rise in care home deaths came so much later than would have been the case if hospital discharges were the primary cause. We must ban staff movement between care homes, fast.
On Friday, July 17, news emerged that deaths from natural causes were being classified as coronavirus deaths because of a previous positive test. A retired journalist had the story:
He pointed out that Public Health England (PHE) never announced how they were tabulating deaths. Scotland, of course, tabulated theirs differently:
The question remains: how many 'Covid' deaths were true Covid deaths?
Saturday, July 25:
Anyone coming back from Spain from midnight tonight will have to self-quarantine for 14 days. This is very bad news for a lot of British holidaymakers.
Department for Transport officials kept pushing for 24 hours' notice for the Spain decision, which I thought was curious – Grant Shapps is normally an 'action this day' Minister – until I discovered that Grant and his family had just flown there on holiday. The officials were trying, perhaps too hard, to protect their Minister.
In Cobra meetings, Nicola Sturgeon's political games have become incredibly debilitating and significantly limit scope for open discussion. She sits like a statue, lips pursed like the top of a drawstring bag, only jolting into life when there's an opportunity to say something to further the separatist cause.
The minute someone presses 'End Meeting', you can almost hear her running for a lectern so she can rush out an announcement before we make ours. We now chew over big decisions elsewhere and relegate formal meetings to rubber-stamping exercises.
Monday, July 27:
Downing Street is in a semi-panic about a second wave.
Tuesday, July 28:
Sturgeon is on manoeuvres again, trying to persuade us all to sign up to her impossible and anti- scientific zero-Covid plan.
Sure, we'd all love zero Covid, but that's about as realistic as a bagpipe-playing unicorn.
She just wants to look and sound tough, then blame us when her policies don't work.
I can hardly bear to watch her on TV any more.
Wednesday, July 29:
Testing is a continuing concern. We still haven't sorted procurement for what Boris calls 'Operation Moonshot'. The idea is to carry out literally millions of Covid tests a day to keep the economy going.
Officials say we mustn't eliminate staff movement across care homes because it might lead to a shortage of staff. Yet research shows the risk of outbreaks in care homes doubles if carers are coming and going.
On Thursday, July 30, Bradford was experiencing a high rate of coronavirus. Hancock put restrictions in place.
This was Bradford Council's message:
Hancock's restrictions prohibited people meeting up at each other's homes:
SkyNews had a report on the story:
Fortunately, for them, it might have felt like an eternity but it was temporary.
What wasn't temporary was his announcement earlier that day that GP appointments would have to take place remotely. This is still in place today, causing untold distress to millions of Britons.
The Guardian reported:
All GP appointments should be done remotely by default unless a patient needs to be seen in person, Matt Hancock has said, prompting doctors to warn of the risk of abandoning face-to-face consultations.
In a speech setting out lessons for the NHS and care sector from the coronavirus pandemic, the health secretary claimed that while some errors were made, "so many things went right" in the response to Covid-19, and new ways of working should continue.
He said it was patronising to claim that older patients were not able to handle technology.
The plan for web-based GP appointments is set to become formal policy, and follows guidance already sent to GPs on having more online consultations.
But the Royal College of GPs (RCGP) hit back, saying it would oppose a predominantly online system on the grounds that both doctors and patients benefited from proper contact.
They don't seem to think so now, do they?
The article continues:
Addressing the Royal College of Physicians in London, Hancock noted the huge increase in online consultations as much of the NHS closed its doors to focus on the crisis. In the four weeks to mid-April, 71% of routine GP appointments were done remotely against 25% in the same period a year before.
Outlining what he said were the ways the pandemic had demonstrated the need for greater uses of technology in healthcare, Hancock said that before the coronavirus, "there was a view advanced by some which held that anyone over the age of 25 simply could not cope with anything other than a face-to-face appointment".
He said: "Of course there always has to be a system for people who can't log on. But we shouldn't patronise older people by saying they don't do tech."
The rise in online consultations had been welcome, he argued, especially in rural areas. "So from now on, all consultations should be tele-consultations unless there's a compelling clinical reason not to," Hancock said.
"Of course, if there's an emergency, the NHS will be ready and waiting to see you in person – just as it always has been. But if they are able to, patients should get in contact first – via the web or by calling in advance."
Sure, Matt.
What a disaster that policy has proven to be.
The month seemed to end on a positive note with regard to agency staff working in multiple care homes.
Good news on banning staff movement in care homes. After I blew my top, officials got the message.
August
By August, even though England was open and people were socialising again, rules were still in place. They caused a lot of confusion, including in Government. Only Boris had mastered them.
Monday, August 3:
To ram home his point about how complicated the Covid rules have got, Boris went round the [Cabinet] table asking everyone to set them out simply. We had endless different answers, and he got them all right. 
'I hope colleagues feel I have justified my general reputation for mastery of detail by being RIGHT this morning about the rules. It's two households inside and six outside,' he said triumphantly.
Boris was eager for people to get back to work. He saw self-administered tests — lateral flow tests — as the answer.
Friday, August 7:
Boris is having a sugar rush about DIY Covid testing, which he believes could lead us to what's he's dubbed – in emphatic capital letters – 'COVID FREEDOM DAY'. I have no idea who he's been talking to, but he's very fired up.
He thinks rapid home tests are the way to 'get Whitehall and the whole British army of bludgers and skivers' back to the office and 'douse all remaining embers of the disease'. Today, I'm on a short break in Hay-on-Wye. When we got to the pub, there was great excitement. I'm not used to people recognising me, so the universal recognition is a bit of a shock. Something I'll have to get used to, I suppose.
The following year, everyone would know who he was — and not just in the UK. How happy I am that The Sun released that photo of him and his girlfriend. It went viral, worldwide.
Hancock announced the end of Public Health England, which, strangely enough, still seems to be around.
Tuesday, August 18:
[Hancock has announced plans to abolish Public Health England.] On reflection, I should have been more brutal earlier. It wasn't fit for purpose, and I should have cleared out senior figures who blocked the expansion of testing, basically because they didn't want the private sector involved.
In response, Angela Rayner [deputy Labour leader] has been tweeting the usual tripe about Tories wanting to privatise the NHS by stealth. Does anyone seriously listen to this c**p any more?
The truth is, we wouldn't stand a chance of winning this fight against Covid if it wasn't for support from business. From manufacturing tests to developing the vaccine, the private sector – alongside the NHS and academia – has been critical to the fight.
Friday, August 21:
Border enforcement is a mess. Everyone who flies in to the UK has to fill out a passenger locator form, which they're supposed to hand to officials on arrival at the airport, but half the time the documents go straight in the bin.
We can blame compulsory masks for secondary school pupils on Nicola Sturgeon. The UK government fears the woman.
Tuesday, August 25:
Nicola Sturgeon blindsided us by suddenly announcing that when schools in Scotland reopen, all secondary school pupils will have to wear masks in classrooms. In one of her most egregious attempts at oneupmanship to date, she didn't consult us. The problem is that our original guidance on face coverings specifically excluded schools.
Cue much tortured debate between myself, Education Secretary Gavin Williamson and No 10 about how to respond.
Much as Sturgeon would relish it, nobody here wants a big spat with the Scots. So, U-turn it is.
Amazing — and not in a good way.
Boris was worried about the British economy, and rightly so.
Wednesday, August 26:
I was minding my own business, when suddenly, ping! Ping! Boris sprang into life. It was 6.29am. He veered off the reservation, suddenly going off on one about how the virus isn't really killing many people any more so 'how can we possibly justify the continuing paralysis?'
He noted that an 80-year-old now has a six per cent chance of dying, which he didn't think was enough to justify what we're doing.
'If I were an 80-year-old and I was told that the choice was between destroying the economy and risking my exposure to a disease that I had a 94 per cent chance of surviving, I know what I would prefer,' he argued.
This exchange, which continued on WhatsApp pretty much all morning, was more than a little stressful, given that it represented a fundamental challenge to our entire pandemic response.
I'm not quite sure what he expected – that the Chief Medical Officer, Chief Scientific Adviser, Cummings and I would all suddenly throw our hands up and say: 'You know what, you're right, this whole thing has been a huge mistake. Let's ditch everything we're doing and pretend none of it ever happened'?
Fortunately, after a few hours he ran out of both statistics and steam. All the same, I sense a very definite shift in attitude. Something has unsettled him. Who has he been on holiday with?
By the next day, Boris had gone back to normal.
Thursday, August 27:
Overnight, Boris's creeping suspicion that everything we're doing has been a catastrophic over-reaction has evaporated as quickly as it appeared, to be replaced by annoyance at the discovery that there is a supply/demand gap for testing. 
In fact, we are a victim of our own success. Our advertising campaign encouraging more people to come forward for tests has been a bit too effective, and now we're overwhelmed.
Saturday, August 29:
Boris has started going on about 'freedom passes'. I think he envisages some sort of app that would allow anyone who can prove they're negative to get back to normal. I can see the appeal, but I can also see the likely furore over anything resembling 'Papers, please'.
Covid cases are rocketing in France. 'We need to draw lessons pronto,' Boris said, asking if the French have tried local lockdowns or whether it is 'a case of the whole frog getting slowly boiled?'
September 2020
Wednesday, September 2:
Test and Trace is now identifying more than half of new cases. 'It's like the system actually works!' I messaged Dido Harding [head of Test and Trace] excitedly. 'Who would have guessed!!' she replied.
Hancock talked about a vaccine in a coronavirus briefing.
Tuesday, September 8:
I got a blast from No 10 about talking up the vaccine yesterday. Other than Boris, nobody there has ever really believed we can make it happen. In reality, their scepticism suits me, because it means they're not meddling. The last thing I need is Cummings interfering or the project going through the Cabinet Office mincer.
Restriction tiers across England were looming. An example would be the aforementioned restrictions in Leicester and the north of England where coronavirus was prevalent.
Tuesday, September 15:
The PM is still dithering over restriction tiers, a classic Boris battle between head and heart.
Thursday, September 17:
Cases are growing. Sage [the Scientific Advisory Group for Emergencies] thinks we need a two-week 'circuit-breaker'. Boris seemed confused, doing that thing he does, emphatically verbalising the arguments for and against out loud – alarming everyone as they try to work out where he's going to land.
Friday, September 18:
We are now at 6,000 new Covid infections a day in England alone, nearly double the figure last week.
By 10pm, No 10 had done a complete about-turn. They now want tougher local lockdowns and more warnings about what happens if people don't follow the rules. Apparently the PM wants to explain that we have to balance Covid with other health and economic factors. 
Well, no s***. What's really infuriating is that the people who want action to control the virus didn't insist on me being there [at meetings] to press the point.
Monday, September 21:
Boris is torn. Everyone's getting heavy with him, from the Prof to Sage, who say there will be 'catastrophic consequences' if we don't act now. They've proposed a two-week circuit-breaker.
Friday, September 25:
An alarming note from the modelling people who advise Sage. They say the epidemic is 'close to breaching the agreed reasonable worst-case scenario'. Meanwhile, public finances are a horror show – from April to August, the figure borrowed was £173.7 billion. 
Rishi has clearly been using these figures to freak out the PM. But the only sustainable way to get the economy back on track is to defeat the virus, not pretend it's gone away.
Saturday, September 26:
We've spent millions promoting the [NHS Covid] app, including buying wraparound ads in loads of publications. Just as I was allowing myself a moment of satisfaction at a job well done – or at least not ballsed up – there came news of fresh horror. A major glitch has emerged: the app can't take data from NHS Covid tests.
I sat very still, trying to absorb the full implications of the fact that we've just spent tens of millions of pounds of taxpayers' money on an NHS app that… doesn't link to the NHS. Which genius thought it would not need to do this, first and foremost? Which other genius signed it off on this basis?
Given the multiple overlapping responsibilities of the various quangos involved, Whitehall's institutional buck-passing and the involvement of two mega tech companies (Google and Apple), we just didn't know.
What I did know was the buck stopped with me, and it was probably time to adopt the brace position. I prayed that word of this hideous blunder would not reach Cummings, but that was of course too much to hope. Naturally he went nuts when he found out, and I can't say I blame him.
I find this sort of screw-up personally mortifying. Should I have asked such a basic and obvious question? I took it for granted that we would link our own app up to our own tests. Never assume!
To be continued tomorrow.
My two previous posts about the Queen's death in Scotland are here and here.
Thanks to the Queen's and Princess Anne's Operation Unicorn plan for the monarch's death in Scotland, we saw their capital and the monarchy depicted magnificently.
Unicorn ticked all the boxes, especially at St Giles' Cathedral in Edinburgh.
A filmmaker could not have done better — and that was the Queen's intention.
History of St Giles' Cathedral
The Times has an excellent history of St Giles' Cathedral, the High Kirk: 'Beauty and peace of St Giles' make it a fitting place to lie at rest for Queen Elizabeth II'.
Excerpts follow, emphases mine:
St Giles' Cathedral in Edinburgh, High Kirk of the Church of Scotland, where the Queen will lie at rest, has been at the centre of Scottish history for more than 800 years. It has seen war, violence, rebellion and desecration, never more so than during the Reformation, when it was stripped to the bone by the firebrand Calvinist John Knox.
Kings and queens have left their mark on it down the ages. From it, Elizabeth's Stewart forebears in particular have tried at various stages to impose their religious beliefs on an unwilling and recalcitrant Scottish people.
Charles I gave it cathedral status in 1633 but when he insisted on introducing a common prayer book, based on the English order of worship, he provoked a riot, famously culminating in a tirade from a market trader called Jenny Geddes, who hurled a stool at the dean, forcing him to end the service abruptly.
It is also a place of beauty, its architecture lovingly restored, its 15th-century crown steeple one of Edinburgh's most distinctive landmarks — described by a historian as "a serene reminder of the imperial aspirations of the late Stewart monarchs". Here, in 1416, a graceful pair of storks made their nest, an event hailed as a portent of peace at a time of civic strife. Not until March 2020, when three birds nested at the Knepp Estate in Sussex, would storks return to Britain.
No one quite knows why the church, as it originally was, took its name from St Giles, the patron saint of lepers, but in its early days it was seen as a place with healing powers. The arm bone of the saint was brought as a relic from France, and at one stage the church had no fewer than 50 altars for those who came to pray for salvation. In the aftermath of the disastrous Battle of Flodden in 1513, when most of the Scottish nobility, and their king, James IV, were killed, Bishop Gavin Douglas held a requiem mass, a powerful act of mourning and renewal.
Knox was less forgiving. He ordered workmen to clear stone altars and monuments from the church. Precious items used in pre-Reformation worship were sold. The church was whitewashed, its pillars painted green, and St Giles's arm was hurled into the Nor' Loch. In 1558 Knox published his First Blast of the Trumpet Against the Monstrous Regiment of Women, a polemical work attacking female monarchs, and arguing that rule by women is contrary to the Bible …
The Queen will lie at peace in a place of singular beauty, close to the elegant Thistle Chapel, with which she was so familiar. Created by the great Scottish architect Robert Lorimer in 1909, it was the place where she, as senior member of the ancient Order of the Thistle, Scotland's equivalent to the Order of the Garter, welcomed new members, 16 in number, appointed on her personal recommendation.
The cathedral's interior is now a place of colour, its crown steeple is gilded with gold, its stained glass windows filter in the daylight, thanks to a renewal appeal, headed by the late financier Sir Angus Grossart, which led to the conservation of the medieval tower, the restoration of the stained glass windows, and the moving of the altar to the centre of the building. A thanksgiving service in the presence of the Princess Royal in January 2011 marked the conclusion of the project.
September 12, continued
In covering the events of Monday, September 12, 2022 in Edinburgh, I left off with the service at St Giles' Cathedral.
Afterwards, mourners were already queuing to pay their respects:
The Guardian reports that former Prime Minister Boris Johnson gave an interview to the BBC's Fiona Bruce that day. She asked him what his final meeting with the Queen at Balmoral on Tuesday, September 6, was like:
Johnson said: "In that audience, she had been absolutely on it. She was actively focused on geopolitics, on UK politics, quoting statesmen from the 50s, it was quite extraordinary.
"She seemed very bright, very focused. She was clearly not well. I think that was the thing that I found so moving when I heard about her death on Thursday, I just thought how incredible that her sense of duty had kept her going in the way that it had, and given how ill she obviously was, she could be so bright and so focused. It was a pretty emotional time."
Johnson gave a memorable tribute to the Queen in parliament on Friday, the day after her death. He told the broadcaster that her death was a "colossal" thing for him and that he felt a "slightly inexplicable access of emotion".
Shortly after 5:30 p.m., the King and Queen Consort arrived at Holyrood, Scotland's parliament, not far from the Palace of Holyroodhouse (emphases in the original):
King Charles and Camilla, Queen Consort have processed into the Scottish parliament in Holyrood, as trumpets played in the background.
They had met political leaders from Scotland beforehand, including first minister, Nicola Sturgeon, Labour leader, Anas Sarwar, and leader of the Conservative party, Douglas Ross.
Presiding officer, Alison Johnstone, opened the session and paid tribute to the Queen, who was there for the assembly's first session in 1999.
Two minutes' silence is now being held. Sturgeon will shortly move a motion of condolence.
She recounted an amusing anecdote from one of her visits to Balmoral:
I did, however, experience one rather tense moment at Balmoral. My husband and I were with the Queen before dinner when the drawing room light started to flicker. To my great alarm … my husband suddenly leapt up and darted across the room. Peter had spotted the cause of the flickering light, one of the Queen's young corgis, a beautiful pup called Sandy was eating through a lamp switch. Thankfully tragedy was adverted, not before a ticking off from his mistress.
Sturgeon, the woman who refused to deliver a message of loyalty on the occasion of the Platinum Jubilee, then waxed lyrical:
I deeply valued the time I spent alone with the Queen. Her words of wisdom, counsel, and humour will stay in my heart for the rest of my life …
The Queen has been intrinsic to the story of modern Scotland, from the opening of the Forties oil pipeline, to the Forth bridge, the Queensferry Crossing, three Commonwealth Games, she was present at so many of our iconic moments. She was a true and steadfast friend of this parliament.
Our nation is in mourning today for a Queen whose loss we have not yet begun to come to terms with. We are deeply honoured by the presence today of His Majesty King Charles III and the Queen Consort. Your Majesty, we stand ready to support you as you continue your own life of service and build on the extraordinary legacy of your mother. Queen Elizabeth, Queen of Scots, we are grateful for her life, may she now rest in peace.
After Sturgeon spoke, the other Party leaders had their turns: Douglas Ross from the Conservatives, Anas Sarwar from Labour and Patrick Harvie from the Greens.
Patrick Harvie's remarks once again revealed how far left he is. He praised all the social advances made during the Queen's reign — more than enough for most people — then said that much more needed to be done. He sounded ungrateful.
Harvie evidently did not want to meet the King. He sent the Greens' deputy leader Lorna Slater instead.
The session concluded with an address from the King:
Wearing a kilt, he stands and says:
I know that the Scottish parliament and the people of Scotland share with me a profound sense of grief at the death of my beloved mother. Through all the years of her reign, the Queen, like so many generations of our family before her, found in the hills of this land, and in the hearts of its people, a haven and a home.
My mother felt as I do, the greatest admiration for the Scottish people, for their magnificent achievements and their indomitable spirit. It was the greatest comfort for her to know, in turn, the true affection in which she was held. The knowledge of that depth and abiding bond must be a solace as we mourn the life of incomparable service.
If I might paraphrase the words of the great Robert Burns, my dear mother was the friend of man, the friend of truth, the friend of age, and guide of youth. Few hearts like hers with virtue warned, few heads with knowledge so informed.
While still very young, the Queen pledged herself to serve her country and her people and to maintain the principles of constitutional government. As we now mark with gratitude a promise most faithfully fulfilled, I am determined with God's help and with yours to follow that inspiring example.
The title of Duke of Rothesay and the other Scottish titles which I have had the honour of carrying for so long, I now pass to my eldest son, William, who I know will be as proud as I have been to bear the symbols of this ancient kingdom.
I take up my new duties with thankfulness for all that Scotland has given me, with resolve to seek always the welfare of our country and its people, and with wholehearted trust in your goodwill and good counsel as we take forward that task together.
The King and Camilla, Queen Consort, then leave the chamber while the bagpipes are being played.
By the time that the Holyrood session ended, mourners were entering St Giles' Cathedral to pay their respects.
The Vigil of the Princes took place that evening, with the Royal Family returning to St Giles' from Holyroodhouse.
The Vigil of the Princes was devised for George V's funeral in 1936. His four sons stood at his casket for a short time. It took place in Westminster Hall at 12:15 a.m. on January 28 that year, after it closed to the public.
In 2002, the Queen Mother's grandsons participated in a similar vigil in Westminster Hall.
For the first time, this silent ceremony included a woman. The Princess Royal, being one of the Queen's four children, participated in it at St Giles'.
This time, the public were able to see them in their solemn ten-minute vigil:
They have chosen not to be armed with swords, as they have the right to do so.
Charles stands at the head of the coffin, the crown behind him on top of it. He and his siblings, facing outwards, bow their heads. They are stood next to the Royal Company of Archers. Camilla is sat off to the side alongside Sophie, Countess of Wessex.
Prince Andrew and Princess Anne can be seen with their eyes closed.
Members of the public are still filing past the coffin.
It was incredibly moving. Two videos follow:
The Royals then returned to Holyroodhouse to spend the night.
The Queen lay at rest in the cathedral until early Tuesday afternoon, at which point staff and the military prepared for her casket to be put in the hearse for the journey back to London.
People queued all night. By the time the viewing closed on Tuesday, 26,000 people paid their respects. They were of all ages and included quite a few children, some dressed in their school uniforms.
The Guardian had a report on the mourners at the close of Monday:
Many thousands of people are waiting for hours in long queues through central Edinburgh to see the Queen lying in rest at St Giles' Cathedral, with some facing a wait until early morning before they pass the coffin.
Mourners queueing in George Square, an early Georgian square now part of the University of Edinburgh, have been waiting for over three hours, with the line six to eight people abreast in places.
The Scottish government responded by increasing the number of lines at the security checkpoint on George IV Bridge, dramatically increasing the numbers of people being cleared to move on to the cathedral. Officials estimate that up to 6,000 people per hour were being allowed through.
Aaron Kelly, 32, a psychotherapist originally from Belfast, who lives close to George Square, had been timing his wait on iPhone. It had clocked up three hours and five minutes by about 8.15pm. He felt it was essential to be there.
"This is a moment in history and I think the Queen has done so much for the nation; it just felt it was apt to come and pay our final respects," he said.
Behind him stood Corey Docherty, 14, and his mother, Mary, and their friend Janis. After travelling from the Glasgow area, and with school tomorrow, he faced getting home after midnight. Docherty has visited Balmoral, Buckingham Palace and Clarence House, the king's former residence in London.
"It's just the most famous royal family in the world," he said. Of the new king, he said: "He's the king. We must support him. He has waited 73 years."
Norman Davenport, 68, who recently retired after 18 years as an officer in the RAF reserve and before then 20 years as an army reservist, began queueing for the cathedral at 2pm on Monday, in good time for it to open to the public at 5.30pm, and arrived there by around 7pm. By 8.30pm, he was in George Square for a rest and a sandwich.
The queen was honorary air commodore of his RAF reserve unit, 603 (City of Edinburgh) Sqdn. He had met her twice. "I have a huge connection with her, from that point of view, as a personal thing. She was my sovereign, my commander in chief, my honorary air commodore."
The City of Edinburgh Council's website had a helpful list of guidelines for mourners.
The Guardian's Murdo MacLeod has an excellent photo compilation of the long queue as it grew throughout the night.
September 13
On Tuesday morning, September 13, The Guardian had an update on the mourners:
Tens of thousands of people, including royalists, "soft republicans" and the plain curious, have queued through the night in Edinburgh to view the Queen's coffin lying at rest.
The queues stretched several kilometres from St Giles' Cathedral on the Royal Mile – with the route winding past security checks, Scotland's national museum, Edinburgh university's student union and library on George Square, then on to The Meadows, a tree-lined park on the city's south side – in an event without modern parallel in Scotland.
Over Monday night, the queues were eight to 10 people abreast in places, with mourners and well-wishers – helped by dry and temperate weather – waiting more than five hours to reach the Queen's coffin.
At 5am on Tuesday, they queued in the open for more than hour to view the coffin, which was guarded by four green-garbed members of the Royal Company of Archers, each holding an upright bow, and four police officers wearing white gloves.
The Scottish government expects the queue – remarkable in its size – to grow again on Tuesday morning, before public viewing ends at 3pm. At about 5pm, the Queen's coffin will be taken by hearse to Edinburgh airport, accompanied by Princess Anne, the Princess Royal, then flown by military aircraft to RAF Northolt, before being driven to Buckingham Palace …
Victoria, 53, an artist, and her daughter Grace, 20, an art and philosophy student, woke up at 3.45am to come from Linlithgow, West Lothian, by train. Both women said they had an emotional response to the Queen's death, which contradicted their republican sympathies.
"We're not royalists but it has been a very strange thing, to be affected by the Queen dying," Victoria said. "And Grace was very affected too, so we thought: 'Let's go.'
"From a political point of view, I'm just a bit confused because it's what I'm against politically, but I just felt an emotional desire to come. I wasn't expecting to feel this way" …
Brian Todd, 51, who had joined the Royal Navy at 16 before serving as a fire fighter, and his partner, Allison Pearson, 55, a property manager, travelled from Livingston, West Lothian, getting up at 3.30am. They said they were monarchists, born to monarchist parents …
For Todd, originally from County Durham, the three days of events in Scotland attached to the Queen's death at Balmoral – events which began with the funeral cortege's slow 170-mile drive through eastern Scotland to Edinburgh on Sunday – were significant and resonant.
"Scotland needed this as well," he said. "Everything seems to be London-centric and set down south. It's not great that the queen has passed away, but it has been great for Scotland. At least we can say we did her proud. It's not just about London."
Meanwhile, at Holyroodhouse, the King and Queen Consort were preparing for a day in Northern Ireland while Princess Anne steeled herself to accompany her mother's casket on a flight back to London to rest overnight at Buckingham Palace. Her husband, Vice Admiral Sir Tim Laurence, accompanied her.
The plan was for the King and Queen Consort to arrive at Buckingham Palace in time to meet his mother's casket.
At 12:15, the Scottish Government reported on the visitors at St Giles':
The queue was still long, but by the end of the viewing, everyone was accommodated at St Giles':
The King and Queen Consort touched down in Belfast shortly after noon that day:
At 12:30 p.m., the King and Queen Consort had arrived at the official Royal residence in Northern Ireland, Hillsborough Castle, which had a huge crowd waiting to greet them.
The Royal couple did a walkabout before viewing an exhibition about the Queen's long association with Northern Ireland.
The Guardian reported that the crowd chanted 'God save the King':
He and the Queen Consort Camilla were greeted by delighted crowds. He went along the line smiling and laughing and receiving flowers for over five minutes.
"I spoke to him and he spoke back!" yelled one woman in delight as he passed.
The Daily Mail has a video of well-wishers, including a corgi:
The floral tributes were many.
Just before 1:30, the King met the new Northern Ireland Secretary, Chris Heaton-Harris, inside the castle.
The Northern Ireland Assembly, which meets at Stormont in Belfast, gathered at the castle to present official condolences to the monarch. This took place a short time after the King's meeting with the Northern Ireland Secretary.
The Assembly's speaker, Alex Maskey MLA, opened proceedings:
Maskey, a Sinn Féin member of the assembly, directly addressed the political context of the changes in Northern Ireland during Queen Elizabeth's lifetime, saying:
On the walls of parliament building in Stormont are images from two of Queen Elizabeth's visits during the coronation year 1953 and the second for the diamond jubilee in 2012. It is extraordinary to consider how much social and political change Queen Elizabeth witnessed in the time between those visits, and indeed throughout her long reign. Yesterday an assembly of Unionists, Republicans, nationalists met to pay tribute to the late Queen. When she first came to the throne, no one would have anticipated an assembly so diverse and inclusive.
Also:
It was notable that neither the speaker of the Northern Ireland assembly, Sinn Féin's Alex Maskey, nor the new King, shied away from talking about the history of Northern Ireland or the long years of conflict, and Maskey alluded to the current stalemate.
Maskey said that at one point it would have been unthinkable for someone "from my own background and political tradition" being in the position to deliver this address. He said:
… Queen Elizabeth was not a distant observer in the transformation and progress of relationships between these islands. She proudly demonstrated that individual acts of positive leadership can help break down barriers and encourage reconciliation. Queen Elizabeth showed that a small but significant gesture – a visit, a handshake, crossing the street or speaking a few words of Irish can make a huge difference and change attitudes and build relationships. Her recognition of both British and Irish citizens as well as the wider diversity of our community was undoubtedly significant.
Of course, such acts of leadership do not come without risks, or the need for courage and determination to see them through. I represent the elected assembly of a society which has struggled with the legacy of our past and how to move on from it without leaving those who have suffered behind.
During her visit to Dublin, Queen Elizabeth said that whatever life throws at us, our individual responses will be all the stronger for working together and sharing that load. Let us all pay heed to that. As we remember Queen Elizabeth's positive leadership, let us all reflect that such leadership is still needed. And let us be honest with ourselves enough to recognise that too often, that leadership has been lacking when it has been most required.
Maskey's reference to 'a handshake' recalled the time she shook Martin McGuinness's hand in 2012. She was wearing gloves. McGuinness was a pivotal figure in the IRA, which was responsible for assassinating one of the Queen's relatives, Lord Moutbatten, in 1979.
The King responded to Maskey's speech:
Charles says that his mother, the Queen, was aware of her own role, saying:
My mother felt deeply the significance of the role she has played in bringing together those who history had separated, and extending a hand to make possible the healing of long-held hurts.
He said he would dedicate himself to a similar role, saying:
At the very beginning of her life of service, she made a pledge to dedicate herself to her country and her people and to maintain the principles of constitutional government.
This promise she kept with steadfast faith.
Now with that shining example for me, and with God's help, I take up my new duties resolved to seek the welfare of all the inhabitants of Northern Ireland.
He recalled Lord Mountbatten's death:
King Charles thanked Northern Ireland for the condolences, and said that his mother never ceased to pray for the best of times for its people, "whose sorrows our family had felt", in a reference to the death of Lord Mountbatten in 1979.
Here is the video:
Then, the King met Northern Ireland's political leaders. The Guardian has photos of him with DUP (Democratic Unionist Party) leader Sir Jeffrey Donaldson MP, Northern Ireland Assembly speaker Alex Maskey, Alliance Party leader Naomi Long and Sinn Féin vice president Michelle O'Neill, who is the most senior member of the Assembly.
At the end of the Royal couple's visit, the King experienced pen problems once more as he signed the visitors' book. This time, it was more than a misplaced tray of pens. His fountain pen was well and truly leaking. The Queen Consort helped to dry it with a handkerchief, which ended up soaked with ink. Sky News has a subtitled version:
The Daily Mail's description reads:
'Can't bear this bloody thing!' King Charles frustrated by leaking pen, but Queen Consort Camilla saves the day. This is the moment King Charles blasts a leaking pen that threatens to ruin his mood just hours after the new monarch was warmly embraced by the people of Northern Ireland during his inaugural trip as monarch. King Charles III, sitting inside the royal residence of Hillsborough Castle appeared visibly frustrated as he tried wiping off dripping ink during a book signing towards the end of his visit. Charles complained about the faulty instrument he was using to sign his name, pronouncing he 'can't bear this bloody thing' as he briskly turned on his heels and left the room flanked by aides. The leaky pen was swiftly replaced by flustered courtiers before Queen Consort Camilla sat down to sign the book herself from inside the historic residence.
Afterwards, the Royal couple returned to Belfast for a Service of Reflection at St Anne's Cathedral (Anglican).
It was very moving, as have been all the religious services for the late Queen. You can find the Order of Service here.
Clergy representing Northern Ireland's main Christian denominations all participated.
Alex Maskey MLA read Philippians 4: 4-9:
Rejoice in the Lord always; again I will say, rejoice. Let your gentleness be known to everyone. The Lord is near. Do not worry about anything, but in everything by prayer and supplication with thanksgiving let your requests be made known to God. And the peace of God, which surpasses all understanding, will guard your hearts and your minds in Christ Jesus. Finally, beloved, whatever is true, whatever is honourable, whatever is just, whatever is pure, whatever is pleasing, whatever is commendable, if there is any excellence and if there is anything worthy of praise, think about these things. Keep on doing the things that you have learned and received and heard and seen in me, and the God of peace will be with you.
Also notable was the prayer before the sermon for its use of 'felicity', a word I have not heard in decades:
O Lord, our heavenly Father, high and mighty, King of kings and Lord of lords, the only ruler of princes, who from your throne beholds all who dwell upon earth; grant to us understanding of your will and thankfulness of heart for the life and reign of our most beloved Queen, and to her everlasting joy and felicity, through Jesus Christ our Lord. Amen.
The Most Reverend John McDowell, Archbishop of Armagh and Primate of All Ireland delivered the sermon, which was gentle in tone yet hard hitting in content when it came to reconciliation.
To me, this was the best sermon of all from the Services of Reflection.
Excerpts follow:
In the Name of the Father and of the Son and of the Holy Spirit. In anim a Athair, agus a Mhic agus a Spiorad Naomh. Amen.
For many of us in the United Kingdom there were two people whose deaths we could never imagine. Our own and the Queen's. I think that is one of the reasons why the death of Queen Elizabeth was literally felt so keenly by so many people when the news broke on Thursday afternoon. It was as though the nation's collective grief was gathered up in those remarkable words of Christopher Marlowe's:
"If I had wept a sea of tears for her, it would not ease the sorrow I sustain".
And if that was how those of us felt who were her adopted family through her coronation oath, how much more profound must that feeling of loss be to those of the Queen's blood family; those who knew her best and loved her most; Your Majesty, our prayers will be with you and your family for a long time to come.
St Paul could be a bit of a gloomy old moralist at times and some of the injunctions contained in his letters are far from easy to put into practice. It is pretty difficult to "have no anxiety about anything". But I would dare to suggest that for the family of the late Queen and for millions of others, there will be no difficulty whatsoever, when she comes to mind, in following St Paul's command to think on "whatever is true, whatever is just, whatever is pure, whatever is lovely, whatever is gracious and whatever is worthy of praise".
There were many other words used about the late Queen during her long reign. Faithfulness, care, dutifulness, love and devotion. All of these could be employed to describe her relationship with Northern Ireland (with patience binding them all together) but paying attention especially to what she said most recently, the word which I think will be most associated with Queen Elizabeth and Ireland, north and south, is reconciliation.
It is a great New Testament word and it is a great civic word; and it is a hard word. So hard in the religious sense that it was beyond the power of humanity to achieve, and God himself had to give it to us as a gift in his Son. And as a disciple of Jesus Christ, Queen Elizabeth followed where Jesus led as women often have in the elusive and unfinished work of reconciliation here in Ireland.
For where the Master is, there will his servant be also.
It has always been love's way that in order to rise, she stoops; so the bowing of her head in respect was far more powerful than much grander gestures would have been. Love listens far more than she speaks, so a few words in an unfamiliar language and a judicious sentence or two of heartfelt regret and wisdom said far more than ceaseless volubility. Love never rushes into anything for fear of overwhelming the beloved, but when the moment is right she walked the few steps between two Houses of Prayer in Enniskillen alongside the beloved, in encouragement and affection. Although love is easily injured, she keeps no record of wrongs and extends the open hand of sincerity and friendship, with courage, to create an environment and an atmosphere where reconciliation has a chance.
And love never fails; for where the Master is there will his servant be also.
Reconciliation is about the restoration of broken relationships. And the word should never be cheapened by pretending it is an easy thing to achieve. By and large in the work of reconciliation most of our victories will be achieved quietly and in private: and most of our humiliations will be in public.
Reconciliation requires the greatest of all religious virtues, love; and it requires the greatest of all civic virtues, courage. But as the great apostle of reconciliation says: "What you have learned and received and heard and seen in me, do; and the God of peace will be with you" …
It is only an impression, but it seemed to me that in the last years of her reign the tone and content of the Queen's broadcasts became more overtly religious and perhaps a little more personal. On Christmas Day 2017 she said this:
Although we are capable of great acts of kindness, history teaches us that we sometimes need saving from ourselves – from our recklessness and greed. God sent into the world a unique person – neither a philosopher or a general, important as they are; but a saviour with the power to forgive. Forgiveness lies at the heart of the Christian faith. It can heal broken families, it can restore friendships and it can reconcile divided communities. It is in forgiveness that we feel the power of God's love.
At her baptism Elizabeth Alexandra Mary was signed on her forehead with the sign of sacrifice; the cross. And for 96 years in a life which was a prodigy of steady endeavour she offered herself, her soul and body, as a living sacrifice to the God who loves her with an everlasting love.
So, I want to finish by reminding you of those final words spoken by Mr Valiant for Truth in Bunyan's Pilgrim's Progress, some of which the Queen herself used in her very first Christmas televised broadcast in 1957:
Then he said, I am going to my Fathers, and though with great difficulty I am got hither, yet now I do not repent me of all the trouble I have been at to arrive where I am. My sword I give to him who shall succeed me in my pilgrimage, and my courage and skill to him that can get it. My marks and scars I carry with me, that I have fought his battles who will now be my Rewarder. When the Day that he must go hence was come, many accompanied him to the riverside, into which as he went he said, Death where is thy sting; and as he went down deeper he said, Grave where is thy victory? So he passed over, and the trumpets sounded for him on the other side.
All these words I have offered from an unworthy heart.
God save the King
Oecumenical prayers followed.
Two verses of the National Anthem followed:
God save our gracious King,
Long live our noble King,
Thy choicest gifts in store
On him be pleased to pour,
To sing with heart and voice,
God save the King.
The service closed with a Celtic blessing.
The Belfast News Letter has a collection of photos from the service, leading with one of Prime Minister Liz Truss sitting next to Ireland's Taoiseach (pron. 'Tee-shuck') — Prime Minister — Micheal (pron. 'Mee-hull') Martin.
According to television reports, various politicians, including Truss and Martin, spent a long time in the cathedral talking after the service.
The Daily Mail reported that Truss and Martin will meet after the Queen's funeral on Monday, September 19:
Liz Truss is expected to hold talks with Irish premier Micheal Martin about Northern Ireland's Brexit political impasse when he visits London for the Queen's funeral.
They are expected to meet after the Taoiseach represents Ireland at the Westminster Abbey ceremony on Monday …
It comes after Mr Martin suggested the Queen's death was an opportunity to 'reset' relations between Britain and Ireland following bitter Brexit disputes.
Northern Ireland is currently gripped by heightened political tensions at Stormont and between the UK and Irish governments over post-Brexit arrangements for Northern Ireland. 
Sinn Fein became the largest party at the assembly in May's election but the DUP has refused to restore the power-sharing executive until the Northern Ireland Protocol of the UK/EU Brexit deal is replaced.
Ms Truss is also threatening to push ahead with legislation at Westminster to scrap key elements of the Protocol if negotiations with the EU on revamping trade rules continue to stall.
This has caused a furious response from both Dublin and Brussels, with the bloc launching fresh legal action against the UK.
After greeting clergy and other dignitaries, the King and Queen Consort returned to Belfast Airport to return to RAF Northolt in north west London.
The Daily Mail has a video showing the amazing crowds in Belfast and Hillsborough:
Back in Edinburgh, the military attending during the Queen's lying in state at St Giles' carefully placed her coffin in the hearse to go to Edinburgh Airport.
Princess Anne and her husband were there to accompany it.
People lined the roads on the way to the airport.
The Daily Mail has an article with many photographs showing the Princess and her husband making the sorrowful six-hour journey from Balmoral to Edinburgh on Sunday. Undertakers William Purves, which have been operating since the 19th century, provided the service. They followed up with a second article with more photos.
At least the ride to Edinburgh Airport was much shorter.
The number on the RAF aircraft, a C-17 Globemaster — also used to transport our military home from Afghanistan — was ZZ177, or Liz. Note that the Scottish Crown was removed, as it stays in Scotland: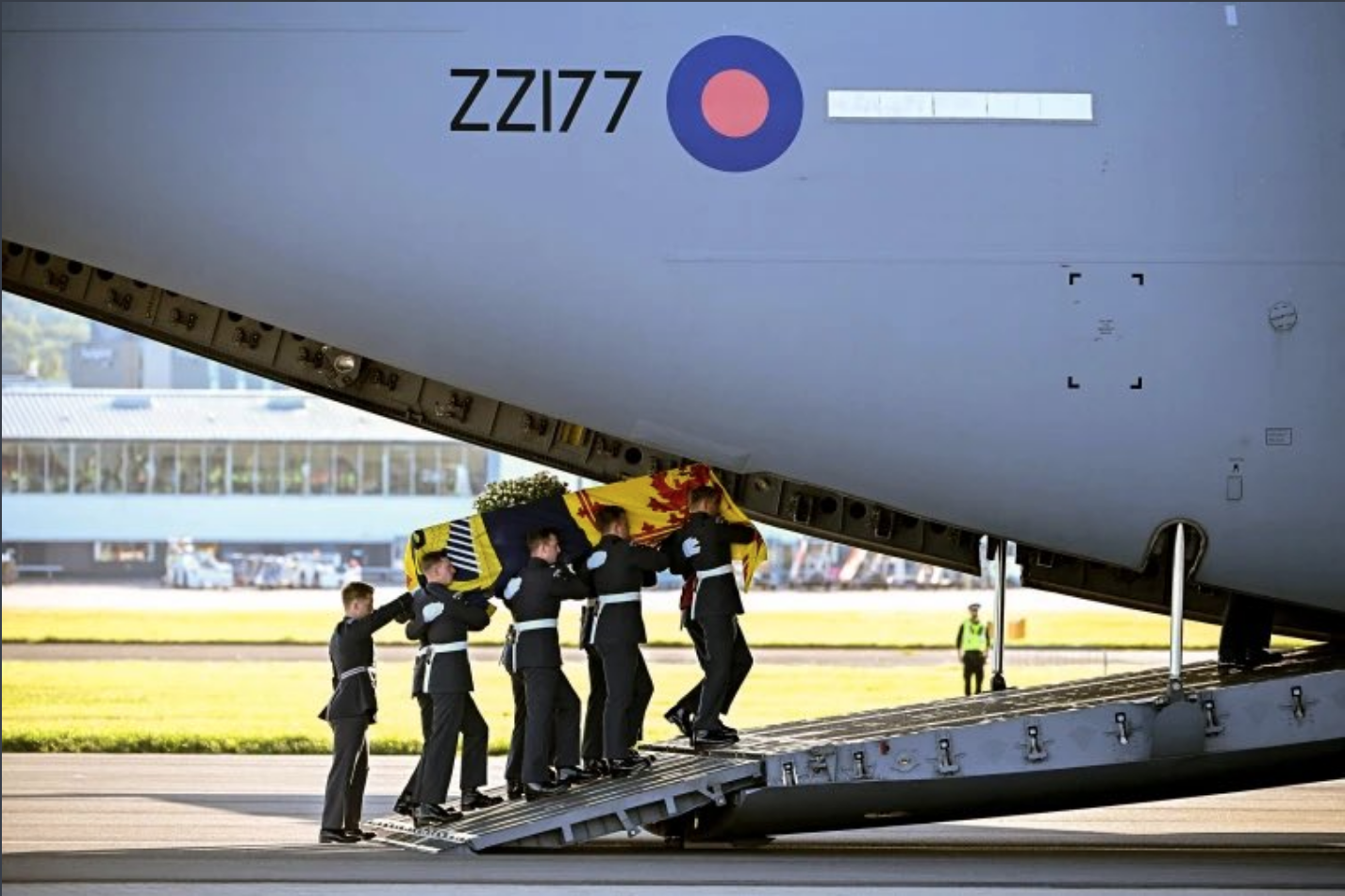 As Princess Anne and her husband prepared for takeoff, the King and Queen Consort arrived in London.
Crowds gathered around Buckingham Palace to welcome them.
The flight with the Queen's casket landed at RAF Northolt just after 7 p.m. Liz Truss and a senior Anglican clergyman, who offered a blessing, were present.
Crowds lined the route on the way into the capital. Rod Stewart's wife Penny Lancaster was outside RAF Northolt as a special constable, keeping order. You could not make this up:
The 51-year-old, who is married to crooner Rod Stewart, began working as a special constable last year and earlier confirmed she would be working during the Queen's funeral on Monday.
On Tuesday evening she was pictured engaging and marshalling expectant crowds and helping a wheelchair user.
The cortege arrived at Buckingham Palace an hour later:
The Queen's casket rested in the Bow Room of the palace overnight before moving to Westminster Hall on Wednesday.
On Wednesday, September 13, the Mail reported on the statement the Princess posted online after she reached London on Tuesday evening:
The Princess Royal has paid tribute to her mother and said it had been 'an honour and a privilege' to accompany the Queen on her final journeys as she travelled with the monarch's coffin back to London.
Princess Anne, the late monarch's only daughter, told how she was 'fortunate to share the last 24 hours of my dearest mother's life'.
She said the love and respect shown to the Queen on her journey from Balmoral to Edinburgh and onto London had been 'both humbling and uplifting'.
Anne also thanked the nation for the 'support and understanding offered to my dear brother Charles' as he takes on his duties as King.
She ended her statement with the words: 'To my mother, The Queen, thank you.' 
More will follow beginning next Monday, continuing on with Wednesday's events in London, Friday's trip to Wales and the Queen's funeral.
This has been an incredible period not only in British history, but also the world's.
We are experiencing the end of an era.
Yesterday's post introduced the significance of Scotland to Queen Elizabeth II.
In it, I mentioned that, after the 1707 Acts of Union, the history of Scotland began to be romanticised through the efforts of Queen Victoria, Prince Albert as well as Walter Scott's novels.
Romantic history
A royal historian told GB News that Prince Albert was quite taken by the countryside in Aberdeenshire, which reminded him of his native Rhineland.
He and Victoria had an amazing love life, according to a television documentary I saw many years ago. In the early days, at least, he used to dress and undress her. Her silk stockings were a favourite part of the ritual.
After Albert died in 1861, Victoria moved up to Balmoral for a time and became close friends with one of his servants, John Brown, a Scot. A film about their relationship, Mrs Brown, made its debut in 1997.
In 1863, courtiers and the Royal Family thought that Brown could rehabilitate the mourning Queen. Instead, he began controlling her daily life at her holiday idyll.
In time, rumours about the extent of their relationship began circulating not only among her inner circle but also in London, where a republican sentiment began growing in her absence. Courtiers and the Royal Family changed tack, this time urging Brown to get the widowed Queen back to the capital to make public appearances.
Brown followed orders, although his and Victoria's relationship was never the same afterwards.
On the other hand, her resumption of public appearances quelled restive republicans.
Brown remained a loyal servant, foiling an assassination attempt on the Royal Family. In 1883, he contracted pneumonia. Victoria visited him in his room and apologised for not having been a better friend. Brown died a short time later and left behind a diary, which, allegedly, has disappeared.
Victoria's two main courtiers, Sir Henry Ponsonby and Sir William Jenner, found it and read it. Only they knew what happened to it afterwards. One of them said later on that the then-Prince of Wales — Edward VII — was so resentful of Brown that he threw a bust of the man over the palace wall in London after his death.
At Balmoral, John Brown is immortalised in two paintings which hang in the drawing room where Queen Elizabeth II received Boris Johnson and Liz Truss on Tuesday, September 6, 2022.
On September 7, The Times helpfully told us more about the room's features, including the paintings which flank the fireplace (emphases mine):
Victoria and John Brown, her servant and close friend after the death of Prince Albert, feature twice in the room's paintings. To the left of the mantelpiece they appear in Sir Edwin Landseer's chalk and pastel drawing Sunshine: Balmoral in 1860 or Death of the Royal Stag. Albert stands proudly in the foreground with a gun over his shoulder, dogs at his heel and a stag at his feet. In the background Victoria sits side-saddle on a horse led by Brown, her ghillie.
To the right is Gilbert Sprague's copy of another Landseer painting of Victoria, in mourning as she sits on her pony Flora outside Osborne House, her retreat on the Isle of Wight. Victoria commissioned the original in 1861 after Albert's death, telling Landseer that she wished to be depicted "as I am now, sad and lonely, seated on my pony, led by Brown, with a representation of Osborne".
Queen Elizabeth also experienced the magic of Scotland that her forebears helped to create.
As a child, she remembered happy days at Glamis Castle then Balmoral. As an adult, she associated possibly her happiest memories with Balmoral. There, the love of her life, Prince Philip, proposed to her. The happy couple also spent their honeymoon there.
On September 8, The Times published an insightful article: 'Balmoral gave Elizabeth the chance to feel "free"', excerpted below:
Scotland played a large and emotional part in Elizabeth's life. Her happiest memories were of the childhood days she spent with "Granny Strathmore"— Cecilia Bowes-Lyon, Countess of Strathmore and Kinghorne, who was also her godmother — at Glamis Castle.
At the family home in Angus she enjoyed parties, children's theatre after tea, and visits to nearby Cortachy Castle, owned by Lord Airlie, where she once "borrowed" the young David Ogilvie's little blue pedal car, much to his fury. At Balmoral, she felt she could be "normal" — almost a housewife, like ordinary people; it took her into another world. "Here I can be free," she told a friend once.
Not that it was exactly ordinary; there were certain traditions. A piper played every morning before breakfast, and, when guests were staying, there would be pipers at dinner. The ladies would depart after the meal, leaving the men to talk over the brandy.
There were shooting parties, with the Queen and her dogs driving out to join the guns at lunch, then "picking up": her dogs retrieving the birds they had shot. "She was an ace picker-up," recalled one friend. Back at the house the first duty would be to feed the dogs.
She insisted on doing the washing-up after picnics, when Philip managed the barbecue and she did the rest. Those picnics — some of them in the evening, in one or other of the huts in the grounds of the estate, always kept open, and often used by members of the public — were famous occasions, remembered by guests long after for their combination of relaxed informality and perfectly organised routine.
Then it would be back to the castle. What one friend noticed, however, was that, as soon as Elizabeth walked through the door of Balmoral Castle, she became Queen again. This was the royal residence, and there was no mistaking who was in charge.
The Queen also enjoyed an annual week-long stay in Edinburgh at the Palace of Holyroodhouse. The city's Lord Provost would deliver the keys to the palace to her in the Ceremony of the Keys and a closing ceremony of her returning them to him took place upon her departure.
She would visit St Giles' Cathedral, probably the only Presbyterian cathedral in existence, and, beginning in the late 1990s, Holyrood, the Scottish parliament.
The independence movement strengthened by an SNP government has grown leaps and bounds since I last visited Scotland 30 years ago.
It is difficult to pin down what exactly the SNP expect as an independent nation, including where they stand on the monarchy. Although First Minister Nicola Sturgeon praised the Queen in death, she was less forthcoming in June during the Platinum Jubilee weekend:
After the scandal surrounding Prince Andrew, she said that there should be a "debate" about the future of the monarchy; she notably failed to deliver a message of loyalty at the time of the Platinum Jubilee; and she did nothing to contradict a statement from the Green Party, her allies in government, which accused the monarchy of "holding back" progress.
However:
None of that has diluted the Queen's affection for Scotland, and her pride in her Scottish connections. As Sir Charles Fraser, who was purse bearer at the Palace of Holyroodhouse for nearly 20 years, commented: "Over many conversations with the Queen, she always spoke of her love for Scotland and her commitment to her Scottish ancestry. Throughout her reign she gave us leadership and hope, where others have failed."
Incidentally, former Royal servants say that all of them enjoyed being at Balmoral and could hardly wait for their annual stay there. It seems that it was as delightful for them as it was for the Queen. 
Monday, September 12
In my preceding post, I wrote about a young woman getting arrested on Sunday, September 11, near St Giles' Cathedral for an anti-monarchy poster with an obscenity written on it. This happened during the proclamation of Charles III as the new King.
People in England were upset about it, but Scotland has its own speech laws which are much stricter than ours:
Guido Fawkes thought that the arrest was overkill. I tend to agree but, then again, I don't know anything about Scottish policing (emphases his):
The 22-year-old woman who was arrested after holding up this anti-monarchy placard at St Giles' Cathedral has been charged "in connection with a breach of the peace" and is reportedly due to appear at Edinburgh Sheriff Court today. Amid the emotional royalist fervour, the country is feeling it is even more important to stand up for universal and enduring values. The Free Speech Union has expressed concern that the protester been arrested for voicing anti-monarchist views during the Proclamation of King Charles III yesterday.  Defenders of free speech know that if they don't stand up for views with which they disagree or even find offensive, they're not defending free speech. Whatever your views on the monarchy, this protester has a right to hers.
… The Free Speech Union has already reached out to the protester to offer their assistance.
That day, Guido reported that the SNP's deputy leader John Swinney expressed surprising pro-monarchy views. He sounded like a Conservative:
Guido said that, on Sunday, Swinney said he watched the broadcast of Charles III's Accession Ceremony in London:
I thought that when I watched the accession council in London yesterday because right at the heart of it was the significance of Scotland's place within the Union and the extraordinary significance that was attached to that and the declarations and commitments that the King made and the fact the Secretary of State for Scotland, the First Minister of Scotland, the Lord Advocate of Scotland, the Lord President of the Court of Session in Scotland, were signatories to the documents which essentially facilitate the accession.
On Monday, Swinney went further:
This morning, Swinney went even further in irritating the most ardent of Scottish nationalists, stating the SNP would continue to have the UK monarch be Head of State in the event of independence, as they promised during the 2014 referendum:
The monarch should be the head of state of an independent Scotland. It's what we argued in the referendum in 2014 and it's what we will continue to argue.
Will the death of the Queen accidentally cause a cooling of temperatures in the Scottish independence debate?
That is part of what Operation Unicorn — the days of mourning in Scotland — was designed to do.
For much of Monday, the Queen continued lay in rest at the Palace of Holyroodhouse. This allowed staff to pay their respects in quiet privacy from Sunday afternoon onwards.
Senior members of the Royal Family, such as Princess Anne, were there awaiting the arrival of King Charles. Upon his and the Queen Consort's arrival, the Lord Provost would go to conduct the Ceremony of the Keys.
Meanwhile, in the morning, King Charles was in London, addressing both Houses of Parliament in the ancient Westminster Hall, adjacent to the Houses of Parliament.
Westminster Hall was built by William the Conqueror's son, William Rufus (William II) in 1097. It is the largest hall of its kind in Europe. The beamed ceilings were added in 1399 when Richard II had the pillars removed so that everyone inside could see what was going on. On the two occasions when the Palace of Westminster caught on fire or when it was bombed during the Second World War, the first priority of firefighters is to save Westminster Hall over the parliamentary palace.
The building has been used throughout the ages as Parliament, as court for the trials of Charles I and the real Guido Fawkes (a traitor) but has also been the venue for coronation banquets. It is still used by both houses of Parliament and is open to the public on important occasions when it is used for the lying in state of distinguised politicians such as Winston Churchill (1965) and members of the Royal Family. The Queen Mother was the last person to lie in state there. I went to pay my respects to her in 2002. The Queen is lying in state there as I write.
The Queen also spoke there on her Silver Jubilee (1977), her Golden Jubilee (2002) and her Diamond Jubilee (2012). A beautiful stained glass window commemorating her Diamond Jubilee is installed on one side of the hall.
Charles's visit was of historical significance and not only because he is the United Kingdom's first King in 70 years.
Both Speakers — of the Lords and of the Commons — wore their dress robes, which are gilded. Their respective serjants of arms brought each House's mace up to the appropriate Speaker and laid them down on a raised platform.
The Speakers stood across from each other below the raised platform on which Charles was due to speak. The maces were covered with a black cloth, indicating not only mourning but also that they were subservient to the Sovereign.
Peers and MPs, as well as staff members, were in attendance.
The Speaker of the Lords, Lord McFall spoke first to extend his and the Lords' sympathy to the King.
The life peer, a Scot, is a testament to the progress people can make in modern Britain:
Sir Lindsay Hoyle spoke next for the Commons, reminding the new monarch of the increased powers of Parliament since the Glorious Revolution of 1688. The King smiled wryly:
Then it was time for the King to address the room:
The Telegraph's summary has the key points of his speech:
We gather today in remembrance of the remarkable span of the Queen's dedicated service to her nations and peoples.
While very young her late Majesty pledged herself to serve her country and her people and to maintain the precious principles of constitutional government which lie at the heart of our nation.
This vow she kept with unsurpassed devotion. She set an example of selfless duty which, with God's help and your counsels, I am resolved faithfully to follow.
The King had already met with senior Government ministers, including Liz Truss, over the weekend at Buckingham Palace. Shadow (Opposition) ministers also met with him:
After the event at Westminster Hall ended, a reception was held, but the King and Queen Consort did not attend as they were due to fly to Edinburgh.
While the Royal couple were on their way, people lined up along Edinburgh's Royal Mile:
Once Charles and Camilla arrived at Holyroodhouse, they and other members of the Royal Family assembled to be led by members of Scottish regiments for the procession to St Giles' Cathedral, for a service of remembrance.
I know from first hand experience that it is a long walk and did not envy the Royals who did walk behind the hearse, especially on the cobbled road.
The Royals who walked were the Queen's children: the King, the Princess Royal, Prince Andrew and the Prince Edward. Vice Admiral Sir Tim Laurence, Princess Anne's husband, also walked with them.

Prince Andrew was not allowed to wear his military uniform. He appeared in morning dress with his military medals.
A young heckler shouted at Prince Andrew in reference to sexual allegations with an underage girl, was quickly tackled by a member of the public, then police dragged him to his feet and arrested him:
He was arrested for breach of the peace:
The SNP had toughened up that law in 2010:
The procession up the ancient road was deeply moving, like something out of a film.
Prince Charles wore the green sash and star of the Order of the Thistle.
The Queen's coffin was draped in the Royal Standard of Scotland.
The Guardian's diary for the day added:
The Queen's coffin is … dressed with a wreath of flowers consisting of white spray roses, white freesias, white button chrysanthemums, dried white heather from Balmoral, spray eryngium, foliage, rosemary, hebe, and pittosporum.
The hearse is flanked by a bearer party found by the Royal Regiment of Scotland and the King's Body Guard for Scotland.
The cortege arrived at St Giles' shortly after 3 p.m. Watching the procession, I do not think they allowed enough time.
Heralds and Pursuivants of Scotland stood outside the cathedral door to receive the Queen for one last time. The Guardian has a magnificent photo of their uniforms.
The Crown of Scotland (see photo) was placed on the Queen's casket before the service.
Here is a photo of the military bearer party dressed in kilts placing the casket on the catafalque in the cathedral.
The Guardian reported (emphases theirs):
At the beginning of the service of thanksgiving for the Queen, Reverend Calum MacLeod welcomed the royal family, "representatives of our nation's life" and "people whose lives were touched by the Queen in so many unforgettable ways".
Among those attending the service are the prime minister, Liz Truss, as well as Scotland's first minister, Nicola Sturgeon.
Unfortunately, there is no video of the service, which was very well done and oecumenical.
The Order of Service is here.
Nicola Sturgeon read Ecclesiastes 3:1-15. We know the first several verses well but here are the next:
What gain have the workers from their toil? I have seen the business that God has given to everyone to be busy with. He has made everything suitable for its time; moreover, he has put a sense of past and future into their minds, yet they cannot find out what God has done from the beginning to the end. I know that there is nothing better for them than to be happy and enjoy themselves as long as they live; moreover, it is God's gift that all should eat and drink and take pleasure in all their toil. I know that whatever God does endures forever; nothing can be added to it, nor anything taken from it; God has done this, so that all should stand in awe before him. That which is, already has been; that which to be, already is; and God seeks out what has gone by.
The Church of Scotland has a transcript of the sermon that the Right Revd Dr Iain Greenshields preached:
Excerpts follow:
Death has been overcome, these are the words of hope expressed and centered around Jesus who died and rose again.
And this is clearly something that Her Majesty Queen Elizabeth acknowledged and personally embraced.
These last few days, as tributes to her Majesty have poured in and we have watched images of her on screen from her earliest years, capturing that remarkable life, yet now beginning to sink in that she is gone from us – "gone home" to express her own words.
Today, we gather in this place of worship and throughout the nation, to express our thanks to God, for her Majesty Queen Elizabeth's extraordinary life.
We are united in sorrow at the death of our Monarch, but we are also so aware that His Majesty King Charles and all his family are not just grieving the loss of their Queen, but their mother, grandmother and great-grandmother too.
Her Majesty Queen Elizabeth began her reign, like King Solomon by asking for wisdom, something that she demonstrated in large measure and to which was added duty, honour, commitment, and faith.
These are the words that we reach for today to describe the life and reign of Queen Elizabeth, whose passing is mourned not only in her native land but across the Commonwealth and the world, as has been so evident to us in recent days.
Most of us cannot recall a time when she was not our monarch.
Committed to the role she assumed in 1952 upon the death of her beloved father, she has been a constant in all of our lives for over 70 years.
She was determined to see her work as a form of service to others and she maintained that steady course until the end of her life.
People who were in her company always felt that they were being listened to carefully and attentively and with compassion.
She possessed a sharp, intelligent mind, with amazing recall, a kindly heart and a gentle sense of humour.
She understood the breadth of world affairs and also cared about what happened to all of her people.
And although sometimes buffeted by events around her, she continued resolutely and cheerfully fulfilled her responsibilities …
Much has been said about the Queen's contribution to the life of the United Kingdom and the Commonwealth which meant so much to her.
But here in Scotland we acknowledge with gratitude her deep links with our land and its people.
Her love of the Balmoral estate is well known and being there latterly brought her great comfort.
There she was valued as a neighbour and a friend and there she drew strength and refreshment during the summer months.
She was active in the life of civic Scotland, travelling across the country to support numerous causes, entertaining guests at Holyrood Palace and presiding at ceremonial events, many of which took place in this Church.
Here she received the Scottish crown in 1953, an event vividly memorialised in the painting by the Orcadian artist Stanley Cursiter.
Her links with the Scottish churches were also deep and lasting.
She was the Supreme Governor of the Church of England, but she worshipped in the Church of Scotland here north of the border, at Canongate Kirk and especially at Crathie Kirk where she took her pew each Sunday morning, prevented from doing so latterly only by infirmity.
She perceived little difficulty in belonging to two Churches and appreciating the strength of each.
It is clearly evident and without doubt that the Queen's Christian faith was genuine, and often gave clear and sincere expression in those remarkable Christmas broadcasts.
She spoke unashamedly of her trust in God and of the example and teaching of Jesus Christ whom she sought to follow as best she could – indeed, of that faith she said she had no regret …
Today we mourn her passing but we also celebrate the long and happy reign that we experienced with her.
And we pray God's blessing upon King Charles who will surely draw strength from his mother's example and the many affectionate tributes of these days and from our assurance to him as a Church of our steadfast prayers at all times and of our unstinting support to him as was offered to his mother, the Queen.
The Cathedral's website has more about the Queen's visits.
The service lasted an hour and ended at 4:15.
The Royal party then returned to Holyroodhouse.
However, their day was far from over.
The King met with Nicola Sturgeon. He and the Queen Consort then went to Holyrood to visit the Scottish parliament where MSPs delivered a motion of condolence.
At 7:20 that evening, the senior Royals returned to St Giles' for the Vigil of the Princes. It would be the first time that a female — Princess Anne — would take part.
More on that tomorrow.
It is probably no coincidence that the Queen spent her final months at Balmoral in the north east of Scotland, near Aberdeen.
Scotland, especially the eastern half of the country, is romantic in all senses of the word.
The Queen had many fond memories of her summers there.
Therefore, she and the Princess Royal — Princess Anne — devised Operation Unicorn, to be activated in case she should die in Scotland. It was a great success not only for her Scottish subjects but for all of us watching in the United Kingdom and around the world.
A brief history
The last monarch to die in Scotland was James V in 1542.
He and his family were Catholic. His infant daughter Mary Queen of Scots succeeded him. Regents governed Scotland while she was young. She was forced to abdicate in 1567 and was beheaded in England in 1587.
Mary's son, James VI of Scotland, succeeded her in 1567. He, too, had regents until he reached majority age. Elizabeth I of England died in 1603 and, unmarried, had no successors. As James was the great-great-grandson of Henry VII, he had a rightful claim not only to the Scottish throne but also those in England and Ireland.
In the Union of England and Scotland Act 1603, the three kingdoms came under James's rule. In England and Ireland, he was known as James I. His 22-year reign is known as the Jacobean era.
Interestingly, he returned to Scotland only once during that time, in 1617. He styled himself King of Great Britain and Ireland, only modified in the past century to replace Ireland with Northern Ireland.
Having the same monarch but the ability to maintain respective laws and customs allowed Scotland and England the flexibility to trade with each other without a complete union. Successive monarchs discussed union, but the two governments and the clergy vehemently disagreed on how to implement one.
By the 1690s, the whole of Europe was in a severe economic slump. In 1698, the Company of Scotland Trading to Africa and the Indies received permission to raise capital through public subscription. The Company decided to invest in the Darién Scheme. This far-sighted investment involved establishing a trading post at Darién Bay on the Isthmus of Panama — where the Panama Canal is today — to engage in commerce with the Far East. The colony was to be called New Caledonia, or New Scotland.
Unfortunately, the Darién Scheme proved to be a disaster. The wealthy Scots who invested in it lost their money and Scotland's economy collapsed.
The Act of Settlement 1701 decreed that the monarch of England and Ireland would be a Protestant member of the House of Hanover. This meant that no more descendants of Charles I could accede to the throne. Anne acceded to the throne in 1702, reigning over not only those two countries but also Scotland. In a speech to the English parliament, she said that a union was absolutely necessary.
England and Scotland continued to be divided on political union, which affected trade and the status of Scots living in England once the English parliament passed the Alien Act 1705, which made them 'foreign nationals'.
That year, with Queen Anne pressing for a resolution, negotiations between the two countries' respective parliaments and commissioners began anew. The Act of Union passed the Scottish parliament first on January 16, 1707. The Scottish peer Lord Queensberry was instrumental in its passage by 110 votes to 69. The English parliament passed the Acts shortly thereafter. This resulted in the Acts of Union 1707. Most of these 25 acts are economic in nature. One provided for the establishment of the Church of Scotland, which is Presbyterian. It is called the kirk. Another act guaranteed the continued practice of Scottish law north of the border.
While the English were happy about the new legislation, Scottish residents were somewhat angry with Lord Queensberry. This dissatisfaction carries on today with the independence movement, led by the Scottish National Party (SNP), the third largest party in the UK parliament in Westminster. Tony Blair wanted Scotland, Wales and Northern Ireland to be devolved in order for his Labour Party to dominate politics in the first two of those nations. Little did he realise that the SNP would eclipse Labour in Scotland under the leadership of Alex Salmond and, afterwards, Nicola Sturgeon, the current First Minister.
Returning to 1707, however, Scotland began to flourish. Visitors to Edinburgh can clearly see that in New Town, where Princes Street is. Behind Princes Street are streets full of stately Georgian houses. Scotland began to contribute greatly to the good of the United Kingdom in medicine, architecture, philosophy and the arts.
During the Victorian era, between the Queen and Prince Albert and the romantic novels of Walter Scott, a mythological aura began to rest over the country, creating the romantic atmosphere we know today, whether in the capital city of Edinburgh or in the countryside.
This was the Scotland that Elizabeth II became acquainted with, thanks to her mother Elizabeth Bowes-Lyon, whose father, Lord Glamis (pron. 'Glahms') and the 14th Earl of Strathmore and Kinghorne, was Scottish.
Therefore, it is no wonder that she would want to spend her last months and hours at her beloved Balmoral knowing that Operation Unicorn would proceed in all its glory.
And what a beautifully poignant few days they were this week.
September 9
On Friday, September 9, the day after the Queen's death was announced, Scotland closed its courts and lowered its flags for their esteemed monarch.
The Times reported that First Minister Nicola Sturgeon praised the Queen, saying:
"Millions around the world will share their grief but only they will feel the loss of a mother and grandmother," she said.
"The Queen was unflinching in her dedication to duty, unwavering in her commitment to public service and unmatched in her devotion to the people of this country and the wider Commonwealth.
"We are all saddened by today's news and will come together in the days ahead to mourn.
"But it is right and proper that we celebrate the unparalleled contribution she made in her 70 years as sovereign."
The first minister added that Scotland "was special to her and she was special to Scotland" as she spoke of the Queen's love of Balmoral, where she spent her final days.
The article goes on to say:
The Queen maintained a deep affection for Scotland throughout her life, having spent much time as a young princess with her parents at Balmoral or her maternal grandparents at Glamis Castle, Angus.
She gave her first public speech in Aberdeen in 1944, when she opened a home for the British Sailors' Society while still a teenager.
After acceding to the throne in 1952, she maintained the royal family's tradition of holidaying at Balmoral every summer.
Although most Scots support the monarchy, those who oppose it are hardly thin on the ground. As last weekend unfolded, I hoped that Operation Unicorn would help them understand more about the significance of the monarchy and Queen Elizabeth II in particular.
September 10
On Saturday, the Royals at Balmoral were dressed semi-formally in black. The Mail reported that they viewed the tributes at the estate and at nearby Crathie Kirk. Their photo captions read:
Lady Louise Windsor, Sophie, Countess of Wessex, Prince Andrew, Duke of York, Prince Edward, Earl of Wessex and Anne, Princess Royal wave to the public outside Balmoral Castle on Saturday
The teary-eyed Countess of Wessex, Sophie studies the floral tributes and loving messages left to her mother-in-law, the Queen, at Crathie Kirk church near Balmoral on Saturday
However, one Scottish businesswoman in the Highlands was happy when the Queen died. The Mail reported that the locals dealt with her before police arrived:
A fish and chip shop owner who celebrated the Queen's death with a bottle of champagne, shouting 'Lizard Liz is dead' has had her restaurant windows smashed in.
A photo of the vandalism was shared to Twitter on Saturday night showing the front of the shop with a shattered window and a hole in the middle. 
Angry locals also vandalised the property on Thursday evening when they pelted the store front with eggs and ketchup.
Jaki Pickett, who runs Jaki's Fish and Chip Shop in Muir of Ord, Highlands in Scotland held up a chalkboard that read 'London Bridge has fallen' with a smiley face.
She posted the now-deleted clip of her happily celebrating the Queen's death on Facebook, but it caused huge outrage with locals who blasted Ms Pickett for disrespecting the late monarch …
A Police Scotland spokesperson said: 'Officers received a report of damage to a property in the Seaforth Road area of Muir of Ord, which is thought to have happened between 7.30pm on Friday, 9 September, and 10.30am on Saturday, 10 September, 2022.
'Enquiries are ongoing to establish the circumstances.'
Police Scotland were also called to the shop on Thursday evening after it was targeted by angry residents in Muir of Ord who egged the windows.
Pictures showed broken eggshells on the ground and egg mess over the shop windows, while ketchup was splattered on a bench.
Videos circulating on social media show residents surrounding the restaurant on Thursday evening, where owner Ms Pickett was seen driving away from the area with a police escort while locals booed her for her shameless Facebook post.
A Police Scotland spokesperson said: 'Shortly after 8.30pm on Thursday, 8 September officers attended at a business in the Seaforth Road area of Muir of Ord following a report of a large crowd gathered in the area.
'Officers remained at the scene to ensure the safety of all present and the group subsequently dispersed peacefully.
'No further police action has been required.'
Earlier, in London, at the special session of the House of Commons, an SNP MP, Joanna Cherry KC, spoke of the Queen's Scottish lineage (emphases mine):
It is very humbling to follow so many great speeches. On my own behalf and on behalf of my Edinburgh South West constituents, I too rise to honour the memory of our late Queen. Much has been said of her dedication and her service, but I want to concentrate on her love of Scotland and the love of many Scots for her.
As the Queen died at Balmoral, and is to be taken first to the palace of Holyroodhouse and then to St Giles' Cathedral in Edinburgh, Scotland will be the centre of the world's attention over the next few days. That is breaking with tradition, but those were the Queen's wishes, and Scotland is honoured by them. The last monarch to die in Scotland was James V, who died at Falkland in 1542. He was, of course, the father of Mary, Queen of Scots, and it was her son James VI who presided over the union of the Crowns. Mary, Queen of Scots is the ancestor of all the Stuarts and, indeed, all the Hanoverians who followed. Elizabeth Stuart, the daughter of James VI, married one of the German electors, and with the demise of the last Stuart monarch in 1714, Elizabeth's grandson succeeded to the British throne. That is the Hanoverian line, and it can be traced directly back to Scotland's Stuarts. Our late Queen was keenly aware of that—perhaps that is why she chose Stuart names for her first two children, Charles and Anne. And, of course, her mother was a Scot.
In 1953, after her coronation, the first place our late Queen visited was Edinburgh, and throughout her reign, she returned to Scotland for important events and, indeed, chose my country to be centre stage during state visits. In 1962, she chose Scotland for the state visit of the King of Norway; in 2010—very memorably for many people of my faith—she chose Holyrood for the state visit of Pope Benedict XVI; and, of course, she officially opened Scotland's Parliament when it was reconvened in 1999.
Our late Queen embodied the union of the English and Scottish Crowns, which of course is quite different from the Union of the Parliaments and predates it by over 100 years. At a time of change, there are many in my country—particularly younger people—who might prefer a republic to a constitutional monarchy, but that did not in any way prevent the affection our late Queen held for Scotland from being returned in equal measure. Sadly, I never had the privilege of meeting Her Majesty Queen Elizabeth, the Queen of Scots, but earlier this year I did have the privilege of meeting our new King. We spoke of Scotland, and I was left in no doubt that he shared his mother's abiding love of my country.
As such, before I resume my seat, in honour of his late mother, I want to recite just a few words of Burns' poetry that I believe may be a favourite of the King:
"Farewell to the mountains, high-cover'd with snow,
Farewell to the straths and green vallies below;
Farewell to the forests and wild-hanging woods,
Farewell to the torrents and loud-pouring floods.
My heart's in the Highlands, my heart is not here,
My heart's in the Highlands, a-chasing the deer;
Chasing the wild-deer, and following the roe,
My heart's in the Highlands, wherever I go."
May she rest in peace.
Sunday, September 11
Princess Anne had the solemn duty of escorting her mother's casket from Balmoral, near Ballater, Aberdeenshire, to Edinburgh's Palace of Holyroodhouse, the official Royal residence in Scotland.
The cortege passed slowly through Ballater, Aberdeen, Dundee and Perth. Many Scots lined the roads in silence to bow in respect.
The Queen's casket was covered in her standard with a wreath of white flowers, her favourites. Among them were delicate sweet peas. It was a beautiful last memory for her subjects.
Watching her on television, I do not know how the Princess Royal managed to stay so stoic. The journey began mid-morning and lasted well into the afternoon.
Meanwhile, in Edinburgh's Old Town, where the magnificent castle is, the proclamation of Charles III was declared.
Metro reported that a young green-haired woman held up an anti-monarchy sign with an obscenity on it and was arrested:
A woman was arrested holding an anti-monarchy sign in Edinburgh today, before the Queen's cortege arrived in the city.
She was detained outside St Giles' Cathedral, where the monarch's coffin is due to be held from tomorrow after spending the night at the Palace of Holyroodhouse.
Moments before the proclamation of Charles III as new king this afternoon, a demonstrator appeared in the crowd opposite the Mercat Cross …
Officers appeared behind her and took her away, prompting the crowd to applaud.
One man shouted: 'Let her go, it's free speech,' while others yelled: 'Have some respect.'
A police spokesman said a 22-year-old woman was arrested 'in connection with a breach of the peace'.
This started an online debate about whether protest of the monarchy is freedom of speech. Surely, it is, although others say it depends on how far it goes:
That narrow thoroughfare going down the Royal Mile from the castle was teeming with people and continued to be until the late afternoon of Monday, September 12.
Metro's article on the protest continues but with a focus on the proclamation and all who wanted to pay their respects:
It came on the day thousands lined the streets to watch the Queen's coffin arrive in Edinburgh, where she will stay before continuing the journey to her final resting place.
Countless tearful well-wishers turned out to pay their respects to the late monarch as her hearse made the 175-mile journey from Balmoral.
But some hecklers were heard booing among the crowds gathered in Scotland's capital to hear the proclamation of Charles.
The Lord Lyon King of Arms gave a speech before declaring 'God save the King', which the crowd repeated.
A Sunday Times article discusses the complex feelings Scots have about the monarchy: 'She adored Scotland but the Union will wobble without her'.
Reading it made me appreciate why the Queen wanted Operation Unicorn to proceed.
Excerpts follow:
"She came here to die in the Highlands," said Elizabeth Strachan, 69, who grew up near the Balmoral Estate. "This is her homeland. It is the place she knows."
Over the long years of the Queen's reign, the United Kingdom's collective identity has changed markedly. Scottish independence went from a fringe cause to the centre of the political debate.
Some believed she gave people a feeling of Britishness, which hampered the vote for separation, that her soft power pushed together a fragmenting nation. Others believed she was viewed as being above the debate and the nationalist cause moved forward regardless.
A poll this May by British Future, a think tank, found that more than 36 per cent of Scots thought the end of the Queen's reign would be the right time to abolish the monarchy.
How will the accession of King Charles III change things? Is the political union separate, in voters' minds, to the monarchical one? And if it is, can it remain that way?
Alex Salmond, the former first minister and leader of the SNP during the 2014 referendum, thinks the impact of her death on politics will be "on the margins". He said: "Her presence did not stop the rise of Scottish nationalism over the last 70 years of her great reign so her passing will not change its direction either." Salmond, who is a privy counsellor and attended yesterday's accession council, shared the Queen's love of horseracing and has spoken warmly of her.
Still, the smallest remarks she made about the Union generated big headlines. In 1977, before a vote on the establishment of an assembly in Edinburgh, she made a speech emphasising how she was crowned Queen of all four nations. Ahead of the 2014 referendum vote, she said to a wellwisher: "I hope people will think very carefully about the future."
[Then-Prime Minister] David Cameron later told Michael Bloomberg, the former New York mayor, that the Queen "purred down the line" when she found out about the "no" result. Salmond was invited for breakfast at Balmoral the next morning.
"The Queen was absolutely furious, the angriest I'd ever seen her," said Salmond. "I don't think she was trying to stop the rise of Scottish nationalism. She wasn't dyed in the wool for the political union but I think she was dyed in the wool for the union of the Crown. She understood well the difference."
Cameron has admitted his comments were "a terrible mistake" …
Nicola Sturgeon, the first minister, has been firm in her support of the Queen and the monarchy. In May of this year she reiterated that the royal family would continue to rule regardless of a "yes" or a "no" vote.
Scottish nationalists do not all agree. Chris McEleny, general secretary of the Alba Party, which Salmond now leads, said in a statement: "If the people of the rest of the UK wish to have King Charles as their head of state then good luck to them, but there should be zero countenance of that absurdity in an independent Scotland" …
Sandra Fagan, 66, drove to Balmoral from Perth with her mother, daughter, and grandson — four generations spanning four monarchs.
Sandra's father was a "red-hot" SNP supporter, shouting at the television that it was "all about England". "But when it came to royalty and the Queen it was different. He wanted different laws for Scotland but never a different head of state. Believing in the monarchy is spiritual, it has nothing to do with separatism, which you argue about over the dinner table" …
Graham and Susan Cameron, their son, Callum, 27, and dog, "Her Royal Highness" Tia Cameron, drove 85 miles from Buckie to lay flowers at the Balmoral gates on Friday morning.
"I'm not a monarchist," said Susan, 58, "but she was like a mother to all of us. She's been a constant through a relentless period of change, tying us all together. It is a relief to have Charles — it means the monarchy goes on" …
It was in Scotland that Prince Philip mooted the idea of their marriage, where the couple spent their honeymoon and later, where the family found out about the death of Diana, Princess of Wales.
The royal property portfolio is sprawling, worth £261.5 million and including Charles's Birkhall, the Queen's beloved Craigowan Lodge, both on Balmoral, the Palace of Holyroodhouse in Edinburgh, Dumfries House in Cumnock and the Castle of Mey in Caithness.
Balmoral was said to be the Queen's favourite. She was a "neighbour", said David Cobban, 56, the owner of a gift shop in the nearby town of Ballater, who grew up on the Balmoral Estate. The Queen spoke with residents in Doric, the northeast Scots dialect, and wore country clothes much like their own.
"Up here the relationship with the royal family is more intimate," said Cobban. "They come here so they can be as normal as they can be."
I will continue with another post about Scotland tomorrow. The television coverage was compelling.
So much happened in the UK this week that it is hard to find the time and the space to write about it all.
Conservative leadership contest
Liz Truss's campaign continues to motor ahead, gaining powerful MPs' backing.
On Wednesday, August 3, a new Conservative Home poll appeared, its results matching those of polling companies, e.g. YouGov. Liz is 32 points ahead:
Conservative Home's Paul Goodman analysed his site's results and YouGov's (emphases mine):
Granted, neither can be proved right or wrong: as our proprietor has it, a poll is a snapshot, not a prediction. If our survey is correct, all that follows is that Truss would win the contest, were it held now, by 32 points among those who have declared their hand.
However, if we and YouGov are right it is very hard to see how Sunak recovers in the month or so between the opening and closing of the poll. For even if during that time he won over that 16 per of undecideds and others, Truss would still beat him by 58 per cent to 42 per cent.
In short, if our survey is correct he would have to add to that 16 per cent of don't knows and others some nine per cent of Truss's supporters – i.e: persuade them to switch.
This seems most unlikely if YouGov's question about certainty of intention is taken into account. For it finds that 83 per cent of Truss voters and 70 per cent of Sunak voters have made their minds up.
What odds would you give on Sunak winning over all those don't knows and others (from our survey), and then adding to that pile over half of Truss's soft support (using YouGov's figure)? I would say that they are very long indeed …
Those interested in events slightly further back will recall that Boris Johnson beat Jeremy Hunt by 66 per cent to 34 per cent during the leadership election of 2019.  That's exactly the same margin as the Truss-Sunak forced choice I spell out above from our new survey.
One way of looking at Conservative leadership election as matters stand might be to forget the thrills and spills, hype and blunders – such as Truss's yesterday over regional public sector pay.
And stick instead to the simple thought that the Tory membership divides right-of-party-centre to left-of-party-centre by about two to one and so, all other things being equal, the leadership candidate perceived to be right-wing than the other will win by a margin about two to one.
Finally, Opinium promises a Conservative members poll next week, and it has tended recently to find better results for Sunak than ours or YouGovs.
The YouGov poll from August 3 showed that Britons believe Truss is better than Sunak on the main issues:
Liz gained another supporter in former Health Secretary Sajid Javid, who was also Boris Johnson's first Chancellor from the summer of 2019 through to February 2020, at which point Rishi Sunak took over.
Sunak worked for Javid when the latter was Chancellor. Javid mentored his younger MP friend:
However, the dynamic changed when Chancellor Sunak locked horns with Health Secretary Javid during the pandemic in 2021.
… those who know both men say there are more prescient personal and political reasons behind Javid's decision [to back Truss].
They say that tensions emerged after Javid was brought back into the government as health secretary. Sunak regarded the NHS as a bottomless drain on resources and was exasperated by what he saw as Javid's failure to spearhead fundamental reform of the health service.
Javid for his part was frustrated with the highhanded manner in which the Treasury dealt with the Department of Health and its refusal to countenance the type of spending he believed was necessary to tackle treatment backlogs coming out of the pandemic. He felt that Sunak had not shown the loyalty that he had when the power dynamics were reversed.
There are now significant policy differences as well. When Javid threw his hat in for the leadership he set out a tax-cutting agenda broadly similar to that proposed by Truss. He proposed cutting national insurance and reversing the planned corporation tax rise while Sunak stuck to his policies as chancellor.
One ally said Javid sincerely believes that only by kick-starting growth through tax cuts can public services be properly funded. They said it would have been "odd" if Javid had backed Sunak, given their different and genuinely held views on how to deal with Britain's economic uncertainties.
This is what Javid had to say about Truss in his article for The Times:
"I fought for strong fiscal rules in our last manifesto," he wrote. "But the circumstances we are in require a new approach. Over the long term, we are more likely to be fiscally sustainable by improving trend growth.
"Only by getting growth back to pre-financial crisis levels can we hope to support the high-quality public services people rightly expect."
In a direct attack on Sunak, he said: "Some claim that tax cuts can only come once we have growth. I believe the exact opposite — tax cuts are a prerequisite for growth. Tax cuts now are essential. There are no risk-free options in government. However, in my view, not cutting taxes carries an even greater risk."
He added: "With only two years before the next election, there has been a temptation to just 'get the barnacles off the boat' and avoid any short-term political pain for long-term national gain.
"We must reject that. As a nation we are sleepwalking into a big-state, high-tax, low-growth, social democratic style model which risks us becoming a middle-income economy by the 2030s with the loss of global influence and power" …
A senior Truss campaign source described Javid's endorsement as the "big one for us".
They added: "The bigger beasts of the party are uniting behind Liz because they believe in her vision for the economy. We can't have the Treasury orthodoxy and tired status quo. They believe she will turn things around in time for the next election by getting on and delivering quickly in No10."
On Wednesday, August 3, Truss and Sunak canvassed separately in Wales before meeting up for a televised hustings in Cardiff later in the day.
A Conservative Welsh Senedd (Senate) member, James Evans, changed his mind about Sunak and decided to support Truss instead. He got a lot of flak in response to his tweet:
Truss's former party, the Liberal Democrats, criticised her for taking a helicopter around Wales to get to the various Conservative associations there. Pictured is the Lib Dem leader Sir Ed Davey:
Guido Fawkes points out that the Lib Dems are suffering an attack of sour grapes — and hypocrisy (red emphases his):
… Rishi's been known to use them, so why should Liz be confined to the rail network…
i News were the ones to reveal Liz's chartering this afternoon, juxtaposing the decision against her backing of net-zero carbon emissions by 2050. The LibDems were only too happy to butt in, providing a quote for the copy that it "makes a complete mockery of her promises on Net Zero. It's clear that she is not serious on climate change." This quote came from Vera Hobhouse rather than Sir Ed Davey himself, who surely wouldn't mind the coverage…
Guido's sure Sir Ed's decision not to provide the comment has little to do with the fact that, in 2013 as Energy Secretary, he hitched a ride in the helicopter of EDF boss Henri Proglio, after handing him a nuclear deal at double the going rate for electricity. The decision raised objections from Friends of the Earth at the time, who said it "confirms how close the Big Six energy firms are to our decision-makers."  A source close to Liz Truss calls the political attack "the usual sanctimonious hypocrisy from the LibDems". Sir Ed may need to refuel his own spin machine…
While in Wales, Truss took the opportunity to have a go at First Minister Mark Drakeford (Labour), calling him:
the low energy version of Jeremy Corbyn.
Bullseye!
John McTernan, who advised Tony Blair between 2005 and 2007, wrote in UnHerd why Labour should be afraid of Truss.
I've seen John McTernan on GB News and he knows whereof he speaks.
He explains Truss's strengths:
One of her overlooked strengths is that she has been on a political journey. Changing your mind is often thought of as a weakness in politicians, whereas in reality an unchanging commitment to ideology is one of their most eccentric habits. In normal life, we change our minds frequently and without fuss. As economist Paul Samuelson said, in a line so good it is often attributed to Keynes: "Well when events change, I change my mind. What do you do?" In itself, changing their mind humanises a politician — a particular asset in a time of popular revolt against out-of-touch elites.
But, more than that, making a political journey shows character. Three of the most significant politicians of the Blair era — John Reid, Alan Milburn, and David Blunkett — were great New Labour reformers who had started on the hard Left. Their politics had been tempered and strengthened by their journey. Liz Truss was brought up on the Left and attended anti-nuclear peace camps with her mother. She then became a Liberal Democrat activist, famously demanding an end to the monarchy to Paddy Ashdown's discomfort. And when a Tory Cabinet minister she backed Remain not Leave, though she is now a passionate Brexiteer. Those surprised that Tory party members overwhelmingly see a former Remainer as the best defender of Brexit need to remember their New Testament: "There will be more rejoicing in heaven over one sinner who repents than over ninety-nine righteous persons who do not need to repent." The redemption narrative is one of our most powerful stories: she who once was blind, but now can see.
The fact Liz Truss has been on a political journey also makes her a powerful communicator. Some of the most persuasive arguments in politics are based on empathy rather than angry disagreement. Liz Truss knows why voters find progressive policies attractive, which can strengthen the persuasive power of her arguments for people to change their views. And her speaking style is clear and simple. The listener readily understands what she thinks and believes. Her opponents who too readily dismiss her as simplistic are missing the point. Politics is not a mathematical equation — a ten-point plan won't beat a five-point plan 10-5. The messages and policies that win are those that connect with the heart as much as the head.
The Truss agenda is straightforward. The educational system is failing kids. Grammar schools would identify and help some bright working-class and minority children. The cost-of-living crisis is hitting wallets and purses. A tax cut would give money back to the public. Energy prices are spiking. Pausing the green levy would reduce prices. Now, there are good arguments against each of these policies, but they are superficially strong one-liners. It takes time to explain how grammar schools distort the education of the vast majority of pupils who don't get into them, or to make the case that there is a danger that tax cuts lead to more inflation. The arguments against Liz Truss's policies are strong but they need to be explained. And, as the old political saying goes, "when you're explaining, you're losing".
… One of the best jokes in the US TV show Veep comes when Selina Myers uses the slogan "continuity with change" for her Presidential campaign. It works because it is bizarrely true — and it is true because that is what most voters want. They're not revolutionaries, they're realists.
The Truss offer is continuity with the spirit of Johnson and Brexit while meeting the demands of the voters who were, and are, angry with the status quo. That anger has been the fuel of politics since the Global Financial Crisis — it was there in Brexit, in the Scottish independence referendum, in the rise of Corbyn, and in Boris Johnson's 2019 landslide. The fact that such competing and conflicting political forces can harness that same anger signals that there is an underlying volatility in British politics that can be channelled in different directions by strong and intelligent leadership.
It is in leadership that Labour must contest most convincingly. Liz Truss will likely be undone by events. The cost-of-living crisis is of such a scale that it is hard to see any of her policies — or any of Rishi Sunak's — that will be more than a drop in the ocean. To win, Keir Starmer must learn from New Labour [Tony Blair's government]. Attack the new Prime Minister and her government, but don't nit-pick. The critique must be based on a vision of hope and a positive project that positions Labour once more as the "political wing of the British people". Otherwise, Keir Starmer risks being just one more man, in a long line of men, who have underestimated Liz Truss at their peril. After all, there are no accidental Prime Ministers, and like the rest, Truss has guile, will and talent.
Guido Fawkes adds another point:
… Truss will be the Tories' third female PM to Labour's big fat nought …
Exactly. And Conservatives didn't need to have all-women shortlists, either, unlike Labour.
For Conservative Party member Toby Young, General Secretary of the Free Speech Union, Truss's strength lies in opposing another lockdown, which she said 'No' to on Monday night in Exeter:
Also in Exeter, on Monday, Truss said that First Minister Nicola Sturgeon (SNP) was an 'attention seeker' who should be ignored. Again, I'm pretty sure Truss meant that with regard to appeals for a second independence referendum.
The Telegraph's Alan Cochrane, who lives in Scotland, said that some would sincerely welcome those words: 'Amen to that! Liz Truss finally puts the boot into Nicola Sturgeon':
It is easy to sympathise with Liz Truss's presumably exasperated and outspoken statement that the best way to deal with Nicola Sturgeon was to ignore her. 
After watching, listening and responding to this ambitious politician for more than 20 years, ignoring her is something I'd rather have been doing than countering every one of her largely lame-brained arguments for breaking up Britain.
Furthermore, the First Minister is every bit the "attention seeker" that the Foreign Secretary portrays her as – most especially when she dons her "Mother of Scotland" role and seeks to insist that she, and only she, speaks for the whole of Scotland. 
The truth, of course, is that she speaks only for her party and government, neither of which commands an overwhelming majority of Scottish opinion …
… while Ms Truss is being assailed for her choice of words by the Nationalists and those faint hearts who seek a peaceful political life, there will be more than a few who will shout "Amen to that!" when she talks of Ms Sturgeon's perpetual attention seeking.
Furthermore, a great deal more candour from Westminster in its dealings with the SNP is long overdue. Far too long. Successive UK administrations have bent over backwards not to be seen as provoking the cause of independence when the truth is that it is already on a life support system, with a fast declining appeal to the Scottish people.
The fact is that Ms Truss knows that she cannot just ignore the devolved Scottish Government and its leader. But she is to be commended for putting the boot in. It's about time someone did.
While Truss and Sunak were in Wales, Iain Duncan Smith MP was north of the border in Scotland.
He was at an event for Scottish Conservatives in Stirling, in Scotland's central belt.
The former work and pensions secretary backtracked on comments made by Truss that Nicola Sturgeon, the first minister, should be "ignored" as he criticised the UK government's approach towards the Union.
"I don't want to ignore her," he said. "What I want to do is to let the world know just exactly why Scotland is suffering so much under this incompetent regime at Holyrood. The truth is, it is a disaster: everything from health, the police, the railways — they can't even build ships sometimes on time and on budget."
He's not exaggerating. It's the raw truth.
The MP wants the next PM to have greater powers of scrutiny over the way Scotland's SNP government is run. They get billions from taxpayers in the Barnett Formula and waste it. No one, not even Scots, has any idea where the money goes.
He said:
I am desperate for greater powers for scrutiny. It is only scrutiny that unearths all this nonsense and … that the weaker scrutiny up here has allowed the Nationalists to get away with it. So I am going to take that straight back and talk to her about it and see what we could do.
Not surprisingly, the SNP were furious and, as usual, blamed Westminster:
Kirsten Oswald, the SNP deputy leader at Westminster, said: "This is an utterly ridiculous suggestion, showing that even the Tories are out of ideas for how to fix the broken Westminster system. It is not the SNP's job to explain why Westminster control is increasingly making life more difficult for the people of Scotland — even if the Tories are out of excuses.
"The job of SNP MPs in Westminster is to stand up for Scotland against a UK government choosing to ignore our interests at every turn. That is what they will continue to do."
Duncan Smith justified his desire for scrutiny saying that SNP MPs are part of the Scottish government, too:
… Duncan Smith said: "We need to turn the tables on them and start saying, 'Well, can we have a period of question time for you lot to talk about what you are doing in Scotland as the devolved administration?'
"And start examining some of this stuff because they're not just SNP protesters down in parliament, they are actually part of the government up here."
Meanwhile, Rishi Sunak told the audience in Cardiff that Truss was wrong about her public sector pay reform and tried to scare Welsh Conservatives into thinking that Truss was going to cut the pay of every single public sector worker in Wales:
However, Sunak got himself into a bit of hot water when he 'misspoke' on wind turbines at the event:
On Thursday, August 4, Guido reported:
Rishi's team has said he "misspoke" during the hustings last night when it appeared he'd u-turned on his opposition to new onshore wind. At the Wales' husting, Sunak was asked "will you be bold enough to scrap the embargo on onshore wind in England?", replying "So, yes, in a nutshell." This appeared totally contradictory to one of his previous policy announcements:
Wind energy will be an important part of our strategy, but I want to reassure communities that as prime minister I would scrap plans to relax the ban on onshore wind in England, instead focusing on building more turbines offshore,
Team Liz immediately leapt on his words as sign of yet another u-turn from Rishi, alleging it was his eleventh campaign u-turn.
This morning Team Rishi, asked to justify his words, bluntly replied "he misspoke". Much like Britain under Rishi's actual wind energy policy, he's losing fans rapidly…
Sunak is also being economical with the truth when he says that he personally came up with the idea of British freeports, which were first mooted in an early Margaret Thatcher manifesto for the Conservatives:
However, Rishi managed to get two notable endorsements, one from former Conservative Party leader Michael Howard and Nigel Lawson, who was Chancellor under Margaret Thatcher. He is also Nigella Lawson's father.
Guido has more:
Finally got an endorsement from Nigel Lawson himself, who writes in The Telegraph that Rishi is

"the only candidate who understands Thatcherite economics" …



Michael Howard opened for Rishi at Wales' Tory husting last night, saying he can provide the leadership needed "not only in this country, but across the wider western world"
Lawson must have felt obliged to endorse Sunak, given that the latter has a photo of him in his office.
Sunak was over the moon about Lawson's Telegraph article:
Boris looms large
Prime Minister Boris Johnson still looms large in the psyche of British voters.
Normally, we are all too happy when a Prime Minister stands down. When Margaret Thatcher's MPs booted her out, we breathed a sigh of relief. We'd had enough of Tony Blair when he left No. 10 to Gordon Brown. We didn't care too much about David Cameron's resignation, although we did think he was petty-minded for resigning the morning after the Brexit referendum result. And we were only too happy for Theresa May to go, although we did feel sorry for her as she cried at the Downing Street podium.
However, Boris is a different kettle of fish.
The August 3 YouGov poll showed that a) most Conservative Party members thought their MPs made a mistake in getting him to resign as Party leader and b) he would make a better PM than either Truss or Sunak:
In response to the aforementioned Welsh Senedd member's tweet, someone responded with this:
Incredibly, as ballots are currently being posted to Conservative Party members, Alex Story, the leader of the Bring Back Boris campaign, still thinks there is time to add Boris's name to the list of candidates.
He spoke to Nigel Farage on Wednesday, August 3:
He said that 14,000 members of the public wrote to Conservative Party headquarters after Boris stood down as leader.
He added that most Boris supporters knew he was economical with the truth, but they felt that his ouster was forced.
Nigel Farage countered by saying that 40% of Conservative voters wanted Boris to leave. Furthermore, he could no longer command the support of his MPs.
Story responded by saying that Boris will be like 'Lazarus [rising] from the dead … something romantic and quirky'.
That's one way of putting it, I suppose.
It is highly unlikely that Boris's name will be on the ballot, but … one cannot fault Story and Lord Cruddas for trying on the public's behalf.
More news next week.
On Monday, August 1, 2022, a hustings took place in Exeter.
The event was two hours long. Sky News filmed it, and the moderator was Sebastian Payne, the Financial Times's Whitehall editor:
The sound quality is not the best. There are lots of echoes.
The venue was full. Some supporters made their allegiances known Trump rally style, either by waving 'Ready for Rishi' placards or by wearing 'Liz for Leader' tee shirts.
The event began with a couple of videos from Conservative MPs.
Then Penny Mordaunt appeared on stage to pledge her support for Liz Truss (video clip here):
Liz took the stage afterwards (17:38 in the video) and introduced her platform.
Afterwards, Liam Fox went on stage (33:34), announcing that he would be backing Rishi Sunak.
Liz's Q&A came after that (45:00), taking questions from the audience and Sebastian Payne.
She was much more relaxed than she had been at previous events over the past two weeks. She has a sense of humour. She gesticulated in a natural way. She was conversational.
When an audience member asked if she would favour another lockdown, she gave a simple answer — 'No'. She explained that, during the pandemic, her Cabinet responsibilities lay in areas other than health and that when presented with past measures, she said others told her they were already 'a fait accompli'. Liz said she always favours the least amount of intervention:
Liz also lobbed a zinger at Scotland's First Minister Nicola (Neverendum) Sturgeon (SNP) by saying that she should was an 'attention seeker' who should be ignored. She got a huge round of applause.
This raised a stink the next day, including on GB News, but I understood it in the context of having another independence referendum eight years after the first 'once in a generation' one:
GB News has the quote (emphases mine):
Liz Truss has claimed it is best to ignore "attention seeker" Nicola Sturgeon.
The Conservative Party leadership candidate criticised Scotland's First Minister before ruling out a second independence referendum.
Ms Truss, speaking at a hustings event in Exeter, referenced growing up in Paisley before saying: "I feel like I'm a child of the union, I really believe we're a family and we're better together and I think the best thing to do with Nicola Sturgeon is ignore her."
Tory members cheered and applauded the comment, with the Foreign Secretary adding: "She's an attention seeker, that's what she is.
"What we need to do is show the people of Scotland, Northern Ireland and Wales what we're delivering for them and making sure that all of our Government policies apply right across the United Kingdom."
She replied "no, no, no" when asked about another independence referendum in Scotland if she becomes prime minister.
SNP MP Chris Law, posting on Twitter with a link to Ms Truss's remarks, said: "The only reason why Scotland needs independence. Utter contempt from the future PM."
Rishi Sunak has also ruled out having a second referendum on Scottish independence should be become Prime Minister.
He said: "I am clear that another referendum is the wrong priority at the worst possible moment.
"The SNP are wrong to try and tear the country apart when we should be pulling together. Why aren't they talking about the drugs crisis in Scotland or how we can get more money into Scottish workers' pockets?
"Just as I want to be more accountable to people in every corner of the United Kingdom, so too does the SNP need to be more accountable for their responsibilities."
That night, comedians on GB News's Headliners joked about the SNP's utter irresponsibility north of the border. Leo Kearse is Scottish and gives the full story of the disappearing billions. He says that Westminster should audit the Scottish Government:
Earlier, on Dan Wootton's show, 90% of viewers agreed with Liz on Nicola Sturgeon with regard to a second referendum:
In short, Liz came across as the continuity candidate. People who liked Boris will find an appropriate comfort level with her.
Then it was Rishi's turn to take questions (1:17:00).
Both candidates received warm applause for their policies, but some applauded only for their preferred candidate.
Rishi left the stage with a clean slate.
However, Liz got into trouble over the next 24 hours for saying that she would reform public sector pay. I took her to mean civil servants, but people got anxious and critical over teachers and NHS staff.
Liz said she would cut public sector pay outside of London, but wouldn't keeping their pay the same or upping it a pledge to 'levelling up'?
Years ago, Labour's Harriet Harman tried the same thing:
The Financial Times article that Guido Fawkes cites explains why what Liz's proposal is problematic.
Journalist Stephen Bush begins by disingenuously putting on the frighteners …
Liz Truss has promised to save £11bn a year by cutting pay for public sector workers — including civil servants, teachers and nurses — outside London and the South-East.
… before clarifying that it would take several years for the proposed plan to be rolled out to all public sector workers:
The foreign secretary said she would introduce regional pay boards that would set wages for civil servants working outside London in line with local labour market conditions and living costs. Her campaign said the regional pay would initially be introduced for new civil service recruits, but if successful would be rolled out over a number of years to all public sector workers.
From that, it is obvious that the FT want Rishi Sunak to win.
This is why public sector pay is difficult to reform:
Now, it's true to say that, in real terms, a secondary school teacher in Torridge in north Devon or Cannock Chase in Staffordshire is paid more in real terms than they are in St Albans or Hackney. And this is true across the public sector. In real terms, a public sector worker would be economically better off working in Don Valley in South Yorkshire than if they were working in the centre of Manchester.
But of course, it is also true to say that we find it easier to recruit secondary schoolteachers, GPs, firefighters and police officers in St Albans, Hackney or Manchester than we do in Don Valley, Cannock Chase or Torridge …
The policy suggestion does the rounds every so often and it founders on the same basic problem: you can't cut salaries in the places you struggle to recruit. Given that the UK state (rather like the UK as a whole) faces considerable difficulties in recruiting enough workers it is highly unlikely that the policy will succeed now.
 … What might matter is if enough Conservative members see this policy as an electorally disastrous idea they need to avoid.
One thing that would be welcome is reforming or getting rid of unnecessary posts in the public sector. Liz favours this, too:
I'll come back to that in a moment.
Polling
Stephen Bush's article gave more evidence that he and the FT are Ready for Rishi, so to speak.
Based on polling, Bush is worried that Liz might be winning:
Every scrap of data suggests Liz Truss is ahead of Rishi Sunak, and that Sunak failed to really change the dynamic of the race in any of the televised debates.
Although both Ben Wallace and Tom Tugendhat have ideological and policy reasons to endorse Truss over Sunak, it helps, of course, when everything suggests that to help Truss is to help yourself. Unless her campaign finds a way to implode or the polls are wildly out of kilter.
Now, of course, the big known unknown in this leadership election is just how big Liz Truss's lead actually is. YouGov's polls have shown the foreign secretary enjoying a 24 point lead over Rishi Sunak (opens a new window) among Tory members. The gap suggested by Opinium has been a narrower one. Its latest snap poll showed (opens a new window) Tory voters thought Truss did better in the television debate last week by 47-38.
Now another pollster, Techne, has tried its hand at a poll of the Conservative supporters (opens a new window), who comprise Tory voters that are also activists. The result is, again, a Truss lead, but not a very large one.
I wouldn't sweat this too much, frankly. What unites the various polls (Liz Truss is winning all of them) is more important than what divides them (the exact size of Liz Truss's opinion poll lead). It's possible that some error or event on the part of Truss's campaign may hand Sunak a victory, and it's possible that all the polls are wrong. Given all that, the implied 10 per cent probability of a Sunak victory suggested by the prediction website Metaculus (opens a new window) seems about right to me. But of course, if Truss's lead is only five points, this "cut public sector pay in places with greater shortages" wheeze may well prove catastrophic for her chances.
Guido has more on the Techne results.
Another interesting poll appeared on August 1. Redfield & Wilton Strategies results show that Liz Truss could just beat Labour's Keir Starmer in being perceived to be a better potential Prime Minister. Rishi, on the other hand, would lose to Starmer — 40% to 33%:
Why are all the metropolitan elite coming out for Rishi? They know he would lose and put the Conservatives out of office for years!
On Tuesday, August 2, YouGov came out with a poll also showing stonking results for Liz:
Polling took place between July 29 and August 2:
Guido also posted about the polls and another pro-Rishi publication, The Times:
Guido then posted the YouGov poll:
I couldn't agree more about voting anxiety. This reminds me of the 2019 contest between the totalitarian Jeremy Hunt and Boris 'Sunlit Uplands' Johnson.
Guido explained the stark differences between the two polls:
The Times claimed — wrongly — that Liz Truss's team commissioned the more favourable YouGov poll. Guido notes that the newspaper has since changed its copy. Good:
And someone confirmed the hypothesis that media supporting Rishi want the Conservatives to lose:
On Wednesday, August 3, YouGov published an all-party poll. After months of the Conservatives trailing Labour by a large margin, there is now only one percentage point between the two!
Amazing!
Guido wrote (red emphases his):
The YouGov poll of Tory members showing Liz looking to take two-thirds of the vote for leader was not the only surprising poll result. YouGov's regular voting intention survey has the Tories on 34% (+2 from 21-22 July), just a point behind Labour on 35% (-4). Is this an outlier?
YouGov themselves say "This shrinking of Labour's lead from 7 points to 1 point is a sharp move, but changes are either within the margin of error or close to it. It will be worth waiting to see whether further polls replicate the extent of this narrowing of the gap before we can be certain of a Tory recovery."
Yet, an IPSOS-Mori poll from Monday shows Rishi in the lead.
The Evening Standard reported:
As the 160,000 members of the Tory party prepare to start voting in the Tory leadership contest from Monday, the exclusive survey by Ipsos shows that 49 per cent of Conservative backers said the former Chancellor would make a good premier compared to 40 per cent for rival Liz Truss.
Among Conservative voters in the 2019 general election, Mr Sunak enjoys an even bigger lead over the Foreign Secretary with 49 per cent saying Mr Sunak has what it takes for the top job compared to 35 per cent for Ms Truss.
Among the general public, just over a third of people said Mr Sunak would make a good Prime Minister compared to just 24 per cent for Ms Truss.
Conservative Home's poll of its readers did not show Rishi on their chart. This is because he resigned as Chancellor and is no longer in the Cabinet:
The perils of policy on the hoof
Now that we have covered the good news, let us return to Liz's public sector statement, which is the first real blunder she has made in her campaign.
Not surprisingly, Team Rishi jumped on it.
On Tuesday, August 2, Guido reported that a Red Wall mayor is also unhappy:
Team Rishi has slammed Liz Truss over her policy announcement last night that she can save up to £8.8 billion by replacing National Pay Boards with Regional Pay Boards. This sum immediately raised eyebrows given the total Civil Service salary budget is around £16.5 billion. The footnotes of the press release specified this figure is "the potential savings if the system were to be adopted for all public sector workers in the long term," allowing her opponents to spin the policy as one of cutting nurses' and teachers' pay in the Red Wall while improving the pay packets of those in London and the South East. Tees Valley Metro Mayor Ben Houchen is not happy:
There is simply no way you can do this without a massive pay cut for 5.5m people including nurses, police officers and our armed forces outside London.
Liz Truss's campaign is explicit that their savings target is only possible 'if the system were to be adopted for all public sector workers'.
This is a ticking time bomb set by team Truss that will explode ahead of the next general election.
Just one mistake like this can help Rishi win over Conservative Party members:
Rishi doubles down by calling the policy "a gift to the Labour Party and Keir Starmer. Her plan would punish hard working nurses, police officers and soldiers across the country, including in the Red Wall just before a General Election". Rishi was already reportedly performing better among Southern members – can this latest attack help him claw back up North?
Liz and her team quickly backtracked but said it was a 'wilful misrepresentation' of the policy:
UPDATE: Team Truss say
Over the last few hours there has been a wilful misrepresentation of our campaign. Current levels of public sector pay will absolutely be maintained. Anything to suggest otherwise is simply wrong. Our hard-working frontline staff are the bedrock of society and there will be no proposal taken forward on regional pay boards for civil servants or public sector workers.
Under fire from Rishi she drops the policy. So we now have the status quo of a national pay rate for civil servants.
Another member of Liz's team told Guido that the policy will not be taken forward. Nonetheless:
Team Rishi are absolutely loving this, joking "The lady is for turning"…
Yes, one can imagine.
On GB News Tuesday afternoon, a number of presenters and pundits, some of whom think Liz either should or could win (there is a difference), thought that she made a terrible mistake with this.
One said that making policy up on the hoof was a 'dangerous' thing to do and could turn the contest against her.
However, Team Liz were ready to fire back at Rishi, accusing him of more U-turns during this campaign than at a driving test centre.
Note that only one of Liz's U-turns happened during the campaign. The other three happened when she was a young adult. The same cannot be said of Rishi:
Guido has the full story, which begins with this:
Hours after a brief campaign blip from Team Liz, which involved a somewhat humiliating climbdown from their regional pay boards policy, they've finally pulled their finger out for some return fire on the topic of u-turns. Team Rishi has spent the morning on cloud nine, joking that it turns out "The lady is for turning", and accusing Liz of having a Mayite 'Dementia Tax' moment. In return Liz Truss's team have compiled a list, which they allege shows Rishi has performed "more u-turns than a DVLA test centre". A spokesperson for Liz says:
This is all a bit rich coming from Sunak's backers when they stayed schtum on the steady stream of u-turns from Rishi over the recent weeks. He's flip-flopped on tax cuts, VAT, grammar schools, China , EU regulations, Northern Ireland protocol and planning to name a few.
Before Monday's debate, Liz issued a letter to Conservative Party members, which can be read in full here. It has way too many 'I's, which someone should have reworded.
An excerpt follows:
… If you work hard, do the right thing, save your money, or start your own business, then I am on your side.
And you can trust me to deliver. I have delivered trade deals, faced down Putin's Russia, and got on with sorting the Northern Ireland Protocol. I am honest and straight talking. I do what I say I will and I know what it takes to get things done. 
We cannot continue to have business-as-usual and I have a bold plan to get our economy back on track.
We must reject orthodoxy, the voices of decline and unleash Britain's potential in line with Conservative values. 
I will lower taxes to spark economic growth and reward people for working hard. I will seize the full opportunities of Brexit, and level up in a Conservative way. I will defend freedom at home and abroad, and keep Britain safe. 
I will ensure the police do more to crack down on real crimes, and raise defence spending. I will stand up for free speech, and protect single sex spaces for our young women. And I will abolish Soviet top-down housing targets. I know from being a councillor that local people are best-placed to deliver the housing we need. 
To win in 2024, we must work relentlessly to deliver on our promises. 
Now is the time to be bold … 
That is how Liz came across in the debate, so I was happy to see The Telegraph endorse her candidacy that night:
Ballots delayed to next week
The Party members' ballots were to have arrived this week.
However, a security issue has caused a delay, therefore, they will not be sent until next week.
Nigel Farage tweeted:
The Telegraph's Ben Riley-Smith got the scoop on the ballots. Furthermore, members can now vote only once, not twice as planned — excellent:
This might turn out to be a blessing in disguise for Liz.
A week is a long time in politics, so by the time the ballots arrive, Liz's public sector policy blunder is likely to be old news.
Even better, however, is the platform that GB News will give her on Wednesday, August 10, just as the ballots arrive:
I do not have details as to how the event was arranged nor do I know whether Rishi was invited to appear on a separate programme.
The next debate was on Sky News on Thursday, August 4. More about that in a separate post.
On Thursday afternoon and evening, I watched GB News's wall-to-wall commentary on the Queen's Platinum Jubilee. It has been excellent.
GB News is available worldwide, live and on video.
Nigel Farage was in London for Trooping the Colour and said that the parade and the enthusiasm of everyone he met elsewhere was very moving, indeed:
Retired Royal correspondent Michael Cole, who had watched the Coronation in 1953 as a little boy on his family's brand new television set, told Farage that he felt the same way:
Continuing on from Thursday's post on the Platinum Jubilee, likely to be a one-off event in British history, here is the marvellous flypast that took place after Trooping the Colour:
That evening, the Queen symbolically set off the beacon lighting around the UK and Commonwealth nations:
This video shows how the lighting unfolded at Windsor Castle …
… and here we can see them lit up around the world:
On Friday morning, June 3, a Service of Thanksgiving for the Queen's 70-year reign took place at St Paul's Cathedral in the City of London.
The evening before, Buckingham Palace announced that the Queen would not be attending, having suffered 'discomfort' after Trooping the Colour. She made a second appearance on the balcony to acknowledge the military personnel and officers participating.
However, the BBC commentators told us that she was watching the broadcast as it unfolded on television.
Interestingly, Queen Victoria arrived for her Diamond Jubilee at St Paul's Cathedral in 1897 only to find out that she could not exit her carriage because of ill health. When everyone inside found out, they all — clergy included — went outside to conduct the service there:
The Times's Valentine Low wrote the following about Elizabeth II:
The Queen may not have been able to take part in the Trooping the Colour ceremony on Horse Guards, but she takes her role as Colonel-in-Chief very seriously. Her decision to make that extra appearance was prompted by the same motivation that saw her make a last-minute appearance at the opening of the Elizabeth line: her unwavering sense of duty.
The Queen will be extremely disappointed at not going to St Paul's. She has a sincere religious belief, and takes her role as head of the Church of England seriously too …
For the moment, the jubilee remains all about the Queen: wherever she is.
Personally, I would have had the Service of Thanksgiving at St George's Chapel at Windsor Castle. The Queen returned to the castle after lunch with the Royal Family following Trooping the Colour.
The Sussexes attended the lunch at Buckingham Palace. They did not appear on the balcony as they are not working members of the Royal Family.
However, once at Windsor, where Archie and Lilibet stayed while their parents were in London, the Queen finally got to meet her newest great-grandchild:
The Daily Mail article has the order of the Service of Thanksgiving, which was traditional and dignified in all the best Church of England ways. Why can't more C of E services be like that?
St Paul's Cathedral also has the Order of Service as it was printed for those attending:
Crowds had gathered outside by 6 a.m. in the limited space Paternoster (Our Father) Square affords:
Attending these services as invited guests or military guard requires a bladder of steel and optimum decorum. Waiting for everyone to arrive takes longer than the actual service.
Today's service welcomed as guests the charity sector, military cadets, Girl Guides, Boy Scouts, Commonwealth dignitaries, the military, politicians past and present as well as the extended Royal Family.
The public sector were there, too:
Outside were a military guard as well as military representatives from the Commonwealth nations. They had to stand perfectly still as the guests filed into the cathedral.
Here is another set of guards inside:
Musicians played traditional music. The Royal Marines provided the brass accompaniment. The Royal Air Force played the closing fanfare introducing the National Anthem, which concluded the service. Everyone sang his/her heart out. I've never heard anything like it:
Former Prime Ministers were in attendance: Sir John Major, Tony Blair, Gordon Brown and David Cameron. Brown and Cameron brought their respective wives, Sarah and Samantha.
Members of the Cabinet, including Defence Secretary Ben Wallace, Foreign Secretary Liz Truss and Home Secretary Priti Patel, attended.
Opposition leaders Sir Keir Starmer and Sir Ed Davey were there, along with Scotland's First Minister Nicola Sturgeon and her husband.
London Mayor Sadiq Khan and his wife also attended.
Prime Minister Boris Johnson got a huge and prolonged cheer when he arrived at the cathedral, accompanied by wife Carrie.
These photos show Boris and Carrie in the main photo. On the top right are the Camerons and on the bottom right are the Blairs, Tony and Cherie:
The only others who got louder cheers were the Sussexes …
… and the Cambridges:
I have read media reports that the Johnsons and the Sussexes were booed. I watched the proceedings on television. What I heard were most definitely cheers for both couples.
A royal expert commenting on the service said that, where the Queen is concerned:
nothing happens by chance.
Therefore, we can conclude that the fact that the Sussexes arrived by private car and got their own mini-procession down the aisle of St Paul's was an instruction from the Queen (see second tweet):
The couple sat near the front, next to Princesses Beatrice and Eugenie, who were with their husbands.
The minor Royals arrived in a large black coach (bus). It took ages for them to file in, as they shook hands with a long line of Anglican clergy, including the Bishop of London, the Right Revd and Right Hon Dame Sarah Mulally, who had a lucrative career prior to entering the priesthood.
The clergy wore elaborate crimson and gold copes which were created for George V's Silver Jubilee service in 1935. Most of them looked as good as new.
Yeoman Warders (Beefeaters) from the Tower of London stood behind them. They were on official duty guarding those inside the cathedral.
You can see both below:
Prince Edward and the Duchess of Wessex brought along their children. I really like Sophie. So does the Queen:
Prince Charles and the Duchess of Cornwall were the last to arrive:
By now, readers might be wondering who the gentleman wearing ermine is.
He is the Lord Mayor of London — the City of London, that is. This is a rotating one-year position and the new Lord Mayor assumes his responsibilities beginning every autumn at the Lord Mayor's Show, a parade in the City, which is the oldest part of London and still serves as the financial district.
The Lord Mayor of London is in charge of the City and, in that district, is second in power only to the Queen. Therefore, Prince Charles is subordinate to him while within those boundaries.
For centuries, until the Great Fire of 1666, that part of London was the capital, outside of Westminster, which was some distance away.
Everyone lived and worked there unless they had responsibilities at the heart of government in Westminster, which was most easily accessed by boat along the Thames.
Everywhere else that is now very much a part of the capital was a rural suburb until a few hundred years ago.
From that, we can better understand the importance of the Lord Mayor of London's historical role.
The Lord Mayor has several swords, now ceremonial, that he uses. However, each sword has its own role. Today's was the sword of state. If the Queen had been in attendance, he would have worn his most important sword.
The Lord Mayor's assistant also carries a sword and wears a mink hat for ceremonial occasions:
You can see him outside the cathedral, hands resting on the sword, just immediately to the left of the main entrance:
Returning to the service, these chairs were for Prince Charles and the Duchess of Cornwall:
Prince William and the Duchess of Cambridge sat right next to them in ordinary chairs:
Here is a view of what the congregation saw — the main altar, the choirmaster and the men and boys choir:
Boris Johnson delivered the New Testament reading, Philippians 4:4-9, which one can imagine that the Queen selected personally, as it truly gave us a message about our present circumstances and the transition of the monarchy. We are to think on higher things — and not worry:
Rejoice in the Lord always; again I will say, Rejoice. Let your gentleness be known to everyone. The Lord is near. Do not worry about anything, but in everything by prayer and supplication with thanksgiving let your requests be made known to God. And the peace of God, which surpasses all understanding, will guard your hearts and your minds in Christ Jesus. Finally, beloved, whatever is true, whatever is honourable, whatever is just, whatever is pure, whatever is pleasing, whatever is commendable, if there is any excellence and if there is anything worthy of praise, think about these things. Keep on doing the things that you have learned and received and heard and seen in me, and the God of peace will be with you.
The Archbishop of York, the Right Revd Stephen Cottrell, gave the sermon, as the Archbishop of Canterbury has coronavirus, along with Prince Andrew.
The Archbishop of York's sermon began with a brief discourse on how seriously the Queen took her Christian duties and ended on a lighter note with references to her favourite pastime, horse racing, particularly apposite as the Derby is on Saturday. Her Majesty is not expected to attend:
Children from the Commonwealth took turns in giving the prayer intercessions.
After the service, guests went to the Guildhall for lunch:
Meanwhile, Britons up and down the land gathered for street parties:
Thankfully, it was another reasonable day in London, dry and partly cloudy.
On Saturday evening, another spectacular concert in the style of those for the Golden and Diamond Jubilees will take place in front of Buckingham Palace.
On Sunday, a celebratory pageant will take place in the same location.
I plan to have more posts next week on the importance of the Queen's 70-year reign as well as the many social and political changes during that time.
It came as no surprise that the Conservatives fared poorly in the 2022 local elections on Thursday, May 5.
England
In England, the major headline was that the Liberal Democrats lived up to their slogan of 'Winning here' for the first time in quite a while.
They were the big beneficiaries of English votes where local councillors stood this year (many councils held elections in 2021):
Labour's big wins were in London, where they won three longstanding Conservative councils for the first time: Westminster, Wandsworth and Barnet.
It will be interesting to see how these London boroughs fare under Labour. In Lambeth, council tax for a Band D property is £1,502 per annum. Under the Conservatives, Wandsworth's was £800 per annum. Guido has a photo of a street in each of those council areas, where one can see a discernable difference in low-spend, high service council delivery.
Here's a Twitter exchange on the subject, focusing on Wandsworth:
The Croydon Council mention is interesting. It went from Labour to Conservative on Thursday, something I thought I'd never see.
Outside of London, Labour had little traction, especially in Red Wall areas, with the exception of the newly created Cumberland council.
Guido Fawkes has a good analysis, excerpted below (emphases in the original):
Whilst it was obviously terrible for the Tories that they lost nearly 500 seats, now all the votes are in and the dust has settled, did Labour advance as the Tories retreated? They actually did relatively poorly.
Labour's electoral performance outside their M25 enclave saw them gain just 22 councillors across England. That's it. While the Tories' results were obviously weak – although not at their worst expectations – any attempts to spin the numbers will have to contend with the fact that the LibDems, the Greens, and even independent candidates gained more net seats than Labour. Labour's wins in London will be small beer when it comes to a general election …
Winning a net gain of just 22 councillors, and gaining control of the same number of councils as the LibDems, is not a strong showing. William Hague managed to do better in 2001, when the Tories won 120 seats and 5 councils – a consolation prize for getting pummelled in the general election the same day. 
Even within the capital, however, there are warning signs for Labour. While they pop champagne over wins in Westminster, Barnet, and Wandsworth, their losses in Croydon and Harrow to the Tories, and Tower Hamlets to Lutfur Rahman [Independent] should raise a few eyebrows. Losing Tower Hamlets to a man who was temporarily banned from office over corruption isn't exactly promising…
For the Conservatives, the most damaging losses were in previously loyal areas now called the Blue Wall, e.g. the Home Counties just outside of London, the south coast and parts of the West Country.
Late on Friday, The Guardian reported (purple emphases mine):
Boris Johnson's leadership is facing fresh peril after senior Conservatives blamed him for losing swaths of the party's southern heartlands to the Liberal Democrats and flagship London boroughs to Labour.
In a punishing set of local elections for the Tories, the party lost about 400 council seats, ceding control of Westminster and Wandsworth in London to Labour for the first time since the 1970s, and plunging to its worst position in Scotland for a decade.
Conservative MPs and council leaders questioned Johnson's leadership, demanding action to tackle the cost of living crisis and rebuild trust in the wake of the Partygate scandal after a damaging series of losses across the "blue wall" in Somerset, Kent, Oxfordshire and Surrey.
However, the scale of the Tory backlash was tempered by a mixed picture for Labour, which showed progress, but not enough yet to suggest a landslide for Keir Starmer in a general election. A BBC projection for a general election based on Friday's results put Labour on 291 seats, the Conservatives on 253, the Lib Dems on 31 and others on 75.
Labour had a very strong result in London and took some southern councils such as Worthing, Crawley and Southampton …
The Lib Dems also had a clearly successful election night in England, adding at least 189 seats. They took control of the new unitary authority in Somerset, previously a Tory stronghold, edged out the Conservatives in Portsmouth, and pushed them out of control in West Oxfordshire. The Greens also performed well, winning 81 seats – more than doubling their number of councillors – as voters also turned to independents and residents' associations.
Going back to Tuesday, May 3, Conservative Party chairman Oliver Dowden MP alleged that Labour and the Lib Dems had a 'pact', whereby Labour did not put forward a candidate in every council election, deferring to the Lib Dems in order to win against the Conservatives. This is because England uses FPTP (First Past The Post) voting.
Pictured are the Lib Dems' Ed Davey on the left and Labour's Keir Starmer on the right:
Guido has the story along with a video of a Lib Dem woman who confirms such a plan:
There are clearly tactical Lib-Lab stand downs going on around the country. Tory chairman Oliver Dowden claims that in the South West, Labour are standing candidates in 61% of seats compared to 97% in 2018. In the South East, Labour are standing candidates in 88% of seats compared to 99% in 2018.  In the North East, the LibDems are standing in just 56% of seats, down from 78% four years ago. Labour is standing in 99% of seats in the area. "These shifts", claims Dowden, "are far too substantial to be a mere coincidence". In response Starmer says "There is no pact, everybody knows there is no pact" …

This LibDem organiser in Cumbria gives the game away about what is happening at local level. Labour-supporting Neal Lawson and Clive Lewis have been arguing for years that an unfair 'First Past the Post' system splits the 'progressive vote' and prevents the 'progressive majority' from winning.
It stands to reason that the total left-of-centre vote will be split, given on average two candidates from Labour, the LibDems or the Greens are running against just one right-of-centre candidate in England.  According to new research from Electoral Reform Society front-group "Politics for the Many", in 43.8% of wards there is one Tory standing against candidates from all three of the progressive 'left' parties. In 35.5% of wards where there is one Tory candidate, there are two 'left' candidates. According to the research, in almost 3,000 council seats up for grabs, there are only 15 wards in the whole of England where there are more right-of-centre parties standing than left parties.
Labour and LibDem strategists know this; they are looking on these locals as a trust-building exercise and a dry run for the general election…
The Telegraph confirmed this pact on Friday, May 6:
If Sir Keir is to get the keys to Number 10, it may be thanks to a deal struck after election day with another party – which is why the Liberal Democrat performance on Thursday is so interesting.
Seven years ago, the party was all but wiped out as voters punished Nick Clegg for his coalition with David Cameron. The political toxicity has clung on in the years since then.
But there were signs of real green shoots for the Lib Dems on Thursday. Their victory in Hull, taking the council from Labour, was the stand-out early result. 
The relentless targeting of Blue Wall Tory seats – often in rural southern constituencies they believe have been "taken for granted" by the Conservatives – also achieved notable wins.
By now, Labour realisea that it is relatively easy for a Conservative area to go for the Lib Dems at some point, much more than it would be to vote in Labour candidates.
A good illustration of this is in St Albans, Hertfordshire, which, over the past several years, has gone from True Blue to Yellow-Orange, including their MP:
A lot of Lib Dem councils stay that way. This is largely because a) the Lib Dems know how to get out the vote and b) residents get to know the Lib Dem candidates better for that reason:
Conservatives would do well to study St Albans and find out where they've gone wrong.
On that note, one Conservative MP who does realise the value of getting out the vote is Bob Blackman, who has represented Harrow East since 2010.
On Sunday, May 8, he told GB News's The Political Correction that Harrow became a Conservative council on Thursday because he and other Conservatives went out once a week to canvass residents on council services. Their dogged determination worked.
Blackman says that, as far as he is concerned, the next election campaign has already begun, hence more canvassing. Other Conservative MPs should follow his example.
Devolved nations
Each of the devolved nations has a form of proportional representation rather than FPTP. This is why they are very much left-of-centre.
This is how the Single Transferable Vote works:
Wales
Welsh Labour were highly successful. In Wales, First Minister Mark Drakeford runs his nation's Labour Party, so there is no Keir Starmer influence.
As such, Welsh Labour wiped out the last council under Conservative control: Monmouthshire.
Scotland
Scottish Labour also performed well, placing the Conservatives in third place for the first time in ten years.
Nicola Sturgeon's Scottish National Party (SNP) remains the top party, however.
Late on Friday, the Daily Mail reported:
Nicola Sturgeon has said she is 'thrilled' with the results coming out of the local elections in Scotland after her party increased its share of councillors.
The leader of the SNP told Sky News that the results sent a 'clear message' to Boris Johnson and the Tories.
She said: 'We are the largest party in more councils today than we were yesterday – we've won the election and we've won the election by a country mile.
'I think it's the eighth consecutive election win under my leadership of the SNP or after 15 years in government so it is a stupendous result for the SNP and sends the clearest possible message to Boris Johnson and the Tories.'
She said the SNP was still the largest party in Glasgow, despite some Labour gains.
However Sir Keir's party came very close to taking the city council, adding five councillors for a total of 36.
The SNP, meanwhile, shed two seats for a total of 37.
Sturgeon said Labour benefited a lot from Tory's Partygate scandal, adding: 'Labour threw the kitchen sink at Glasgow… and yet they still can't defeat the SNP, so I think there's still some reflection perhaps needed on Labour's behalf.'
All councils up for election in Scotland have now declared their votes.
The SNP gained the most new councillors with 23, followed by the Lib Dems with 20 and Labour 19.
The Green Party gained 15 while the Conservatives lost a total of 61.
Northern Ireland
For the first time in its 101-year history, the Northern Ireland Assembly now has a Sinn Féin majority, even though 58% of the votes in that nation went to Unionist parties. Here's the UK's Deputy Prime Minister Dominic Raab (video here):
As with Wales and Scotland, Northern Ireland's Assembly is free to make its own laws in a number of areas. Oddly enough, that did not extend to abortion laws, which Westminster (the UK Government) imposed on the province by fiat in 2021:
But I digress.
Under the aforementioned Single Transferable Vote system, Sinn Féin won more first preference votes than did the Unionist parties.
This result propels Deputy First Minister Michelle O'Neill to First Minister. She has been Vice President of Sinn Féin for a few years now.
The Democratic Unionist Party (DUP), which had control previously, now refuses to form a coalition government — power-sharing executive — unless and until Boris Johnson's government rectifies the damaging anomalies in the post-Brexit Northern Ireland Protocol.
Until a power-sharing executive is formed, Michelle O'Neill cannot take up her duties as First Minister.
Most Britons associate Sinn Féin not only with past terrorism but also with Irish re-unification, which will surely be on the cards within the next five years.
On Thursday, the party played a blinder, as the Daily Mail reported last Friday:
Neither Sir Jeffrey Donaldson's party or the Ulster Unionists have yet agreed to join a power-sharing executive in which Sinn Fein would be able to nominate the First Minister. 
They have argued that a win for Sinn Fein would lead to a referendum on Irish reunification. But Sinn Fein has run its campaign on the cost-of-living crisis.
Conclusion
The Conservatives are only now reacting after the horse bolted months ago.
They should have been out campaigning over the past few weeks, MPs included.
Only now are they coming up with possible solutions which should have been discussed on the hustings.
On Friday, May 6, the Daily Mail reported that Boris Johnson is considering a summer reshuffle to tackle the cost of living crisis. Hmm.
Over the weekend, a number of Conservative MPs began asking the Government for tax cuts.
Chancellor Rishi Sunak promises to look 'at all the options'.
Good luck with that. There isn't much time before the 2024 elections.