You are currently browsing the tag archive for the 'Nigel Farage' tag.
Just as they did with their exposé of the parliamentary expenses scandal in 2009, The Telegraph's journalists have excelled themselves with their exploration of the Government's handling of coronavirus in The Lockdown Files.
Don't miss my first and second entries, which include reaction from sources elsewhere.
The Telegraph's focus on Friday, March 3, was on policing and quarantining holidaymakers.
Boris's sister speaks
Rachel Johnson, Boris's sister, wrote about how she and their father were tracked down during the pandemic in 'As police pursued my father during Covid lockdown, my lonely mother endured care home prison':
She talks about her brother's handling of the pandemic and her own views (emphases mine):
… I opposed lockdowns on a cellular level. Still do. I have to accept that ultimately schools were closed, the entire population pretty much incarcerated in their own homes, with our sick, vulnerable, frail and elderly people rotting in solitary for months and months on end, and it was all signed off by him.
And I admit that I've been cheered to see that the Hancock cache of WhatsApps – which The Telegraph, via Isabel Oakeshott, has done such a majestic public service in revealing – shows him in his truer colours when it came to all the generally pointless non-pharmaceutical interventions we had to put up with for far too long.
He was much more of a sceptic than a zealot, they show, often bounced into U-turns or Covid-sanitary fascism by being presented with selective fatality graphs and other data dashboards in order that he did what either Hancock or Cummings – gibbering control freaks, both – wanted.
She describes a visit from the police and being spied on by a national newspaper, ending with her mother's loneliness in isolation:
The plight of those in care homes fills me with the most unquenchable rage, even to this day. Many still have visiting restrictions and a Covid mentality. My widowed mother ended up in one, and even from June 2021 residents were isolated in their rooms for 10 days minimum if anyone in the home had tested positive.
Before June, though, my mother lived on her own with a carer. When I called her or Zoomed her, she would whisper: "I'm lonely." It broke my heart.
I continued to see her, even though she was not in my ludicrous "bubble" as she had a carer. I took her Christmas dinner in 2020. It was against the rules and the laws or whatever. In my view, that was immaterial.
Every Covid restriction broke the laws of nature, and nothing and nobody – and I mean nobody – was going to tell me not to see my mother on her last Christmas on Earth.
The price of freedom is eternal vigilance, and I completely support Isabel Oakeshott's bravery in showing us how the sausage of doom was made.
It must never, ever, happen again.
Boris's and Rachel's mother died in 2021.
Most of us in the UK remember the news story from November 2020 about the woman who attempted to take her mother out of a care home only to find that the police swarmed around them in a car park. Her daughter, Leandra Ashton, who filmed the incident, talked about what a painful moment that was for her mother and grandmother. Police arrested her mother and took her grandmother back to the care home. Dr Renee Hoenderkamp, a GP, is the other lady in the interview with GB News's Patrick Christys:
Dr Hoenderkamp shares her experience when she spoke to doctors who did not want to listen to her:
It should be noted that over the course of the pandemic, Dr Hoenderkamp changed her mind about coronavirus measures, e.g. masks. The first tweet is part of a long thread:
How Boris's libertarian instinct disappeared
On Thursday, March 2, we discovered how Boris changed his common sense attitude towards the pandemic in 'Lee Cain and James Slack – the media advisers who helped shape the decisions that changed our lives':
WhatsApp messages sent between Boris Johnson and his ministers show the extent to which media advisers were able to influence policy during the coronavirus pandemic.
In June 2020, for example, the then prime minister considered ending some lockdown restrictions early – but dropped the idea after "Slackie and Lee" said it was "too far ahead of public opinion".
He was referring to James Slack and Lee Cain, his two most important media advisers at the time. Here we take a closer look at the two former journalists who had the prime minister's ear.
The article says that Lee Cain was remarkably powerful in No. 10 in 2020:
Mr Cain's influence within Number 10 was such that when the Prime Minister was in hospital with Covid in April 2020, colleagues said – only half-jokingly – that Mr Cain was left "running the country".
His official role was as the then prime minister's director of communications. However, WhatsApp exchanges have shown that Mr Cain's remit went beyond advising on communications and involved helping to decide the policies themselves …
When Chris Heaton-Harris, then the rail minister, suggested to Mr Johnson in May 2020 that the border with France could be reopened, Mr Cain intervened.
He wrote: "Quarantine surely an essential part of any exit strategy – and opening up a flank to an entire continent would seem to leave a substantial hole. Public will think (rightly) we are potty. Overwhelming support for tougher action at our borders!!"
It was Cain who suggested kowtowing to Nicola Sturgeon on masks. He planted doubt in Boris's mind, saying that she might be right:
In Aug 2020, when Mr Johnson asked ministers and officials for their views on whether face masks were necessary in schools, Mr Cain told him: "Considering Scotland has just confirmed it will [impose them] I find it hard to believe we will hold the line. At a minimum I would give yourself flex and not commit to ruling it out …
"Also why do we want to have the fight on not having masks in certain school settings?"
His pivotal role in government raised eyebrows among some former colleagues who had not seen him as a high-flyer in his previous jobs.
Sturgeon's mask policy — later Boris's — came up Thursday night on GB News with Patrick Christys, Neil Oliver and Prof. David Paton lamenting how much damage it did to children:
The article says that Cain had previously worked for The Sun and The Mirror before going into public relations. He began working on the Vote Leave (Brexit) campaign in 2016, which brought him into contact with Dominic Cummings. Interestingly, he had previously applied to be part of the Britain Stronger in Europe campaign but lost out. He claimed he was primarily interested in a political career.
After the successful Brexit referendum result, Cain worked for Andrea Leadsom MP then for Boris when he was Foreign Secretary. Even after Boris resigned that post in the summer of 2018, Cain remained loyal, working for Boris without remuneration. He was confident great things were in store for him.
Ultimately, he ran afoul of Mrs Johnson and set up his own PR firm:
He left Downing Street, together with Mr Cummings, in Nov 2020 after losing what was widely regarded as a power struggle with Mr Johnson's wife, Carrie. He later set up his own corporate communications firm.
James 'Slackie' Slack was the third member of the trio who advised Boris on policy:
Along with Mr Cain and Mr Cummings, he was never far from the prime minister's side and his input helped to shape key decisions dictating people's freedoms.
Like the prime minister himself, Mr Slack had no background in science, behavioural psychology or even public relations – but Mr Johnson would rarely make a move without first consulting "Slackey", "Caino" and "Dom".
… It was he who updated the waiting world on Mr Johnson's condition as he fought for his life in intensive care.
Along with Mr Cain, he helped to shape lockdown policy by expressing concern that lifting restrictions too soon would be too far ahead of public opinion.
In a similar vein, he told ministers and advisers on March 8 2020 that the newly-imposed first national lockdown was out of kilter with public opinion.
He wrote that: "I think we're heading towards general pressure over why our measures are relatively light touch compared to other countries. Also why we aren't isolating/screening people coming back from Italy. We'll need to explain very calmly that we're doing what actually works."
The Telegraph has screenshots of various WhatsApp messages discussing coronavirus measures.
Slack entered the Downing Street orbit in 2016 when he was the political editor of the Daily Mail. Theresa May had just become Prime Minister and hired him in February 2017 to be her official spokesman in order to improve her public image.
After May's departure, Boris retained Slack:
regarding him as a safe, trustworthy pair of hands. Mrs May rewarded him for his loyal service to her with a CBE in her resignation honours list.
Slack got on well with reporters, which was another plus, then:
He briefly succeeded Mr Cain as No 10 director of communications – a political role, rather than a Civil Service posting – at the start of 2021.
His time in Downing Street ended soon afterwards:
Mr Slack's Downing Street career came to an unexpectedly shameful end, when The Telegraph revealed he held his leaving party in April 2021 on the eve of the late the Duke of Edinburgh's funeral.
Mr Slack, who had moved back into journalism as deputy editor of The Sun, issued a public apology for his behaviour.
Laughing at quarantined holidaymakers
Another pivotal personality in the pandemic was Simon Case, a career civil servant who worked for then-Prime Ministers David Cameron and Theresa May before taking a break to be Prince William's Private Secretary between 2018 and 2020.
As I recall, Prince William highly recommended Case to Boris Johnson. In August 2020, Boris appointed Simon Case as Cabinet Secretary and Head of the Home Civil Service. Case continues in that post today under Rishi Sunak.
In the UK, civil servants have long been called 'mandarins', which explains this story, 'Top mandarin mocked holidaymakers "locked up" in Covid quarantine hotel rooms'. It, too, has several screenshots of WhatsApp conversations.
The article begins:
Those unlucky enough to be caught up in Britain's pandemic-era quarantine hotel policy likened it to being held prisoner.
Messages seen by The Telegraph show that ministers and officials shared the sentiment and joked about passengers being "locked up" in "shoe box" rooms.
In February 2021, Simon Case, the country's most senior civil servant, was in WhatsApp contact with Matt Hancock, the then health secretary, as Britain began a forced quarantine for returning holidaymakers.
On February 16, 2021, Case asked Hancock how many people had been 'locked up' in hotels the day before. Hancock responded:
None. But 149 chose to enter the country and are now in Quarantine Hotels due to their own free will!
To which Case replied:
Hilarious
The Telegraph shared experiences from those quarantined:
Those on the receiving end of the quarantine policy described the misery of being held captive in tiny hotel rooms.
"It feels like I'm in Guantanamo Bay," one woman who was forced to spend 10 days in a government-approved hotel told The Telegraph at the time. "I honestly believe this would destroy most people's sanity."
Another furious traveller said: "It's total abuse. It has abused basically every single human right that we have."
In January 2021, Matt Hancock had convinced Boris as well as Case and other senior officials that toughening up travel rules with £10,000 fines was the way to go:
Mr Hancock said it was "BRILLIANT" when he saw reports of people being stopped by police at airports, while Boris Johnson, the prime minister, said news of a traveller being fined £10,000 for breaking quarantine rules was "superb".
The enforcement of the quarantine rules, including severe punishments for those who broke them, became a major priority for Mr Hancock in the next weeks …
The next month, Mr Hancock shared a story with Mr Johnson directly about two people who were fined £10,000 for failing to quarantine after returning to the UK from Dubai.
Officials had scrambled to put the quarantine policy together amid rising concern in the Government about positive cases slipping into Britain from "red list" countries.
Mr Hancock and Mr Case expressed concern that no single government department had control of the border, describing the situation as "mad" and something the prime minister needed to fix.
Later, doubt arose as to whether the quarantine policy actually worked:
The hotel quarantine policy itself has since been criticised in reports by two parliamentary committees, which said it wasted taxpayers' money without restricting the spread of Covid.
In a report last April [2022], the transport select committee that "using case numbers as an indicator, there is no evidence that the requirement for travellers from certain countries to quarantine at a hotel, rather than at a location of their choice, has improved the UK's coronavirus situation compared with other European countries".
In a submission to the public accounts committee, the Cabinet Office said the Government was unable to determine how successful the quarantine policy had been because "it is difficult to isolate the effects of one of a number of interventions from the other ones".
The committee concluded that the Government "does not know whether it achieved value for money from the £486 million that it spent implementing measures".
One tour operator tweeted his disgust at Case's and Hancock's cavalier response to quarantined passengers, which affected his own business and others:
Hancock encouraged heavy-handed policing
We knew from the beginning that Matt Hancock wanted police to get tough with normal people trying to survive the pandemic in 2020, but another article has more detail, '"Get heavy with police" to enforce lockdown, Matt Hancock told ministers'.
Here, too, Simon Case had some involvement. On August 28, 2020, he WhatsApped Hancock:
Blimey! Who is actually delivering enforcement?
Hancock replied:
I think we are going to have to get heavy with the police
The article explains:
The leaked messages also show that the pair again returned to their fears that police were failing to crack down on alleged lockdown breaches.
However, the police were heavy-handed from the beginning of lockdown in March 2020, with each police force in England deciding how far to go with fines and arrests:
Heavy-handed policing was one of the most controversial issues of the pandemic and saw members of the public fined for going for a walk with a cup of coffee, leaving home "without a lawful reason" and taking part in vigils and protests.
Many of the 118,000 fines were challenged in court and overturned, and officers were later criticised for "Orwellian" tactics that included the use of drones, roadblocks and helicopters to catch rule-breakers.
Meanwhile, in Downing Street, things were very different late in December 2020:
The Telegraph can reveal that Mr Johnson took the decision to create a Tier 4 alert level, effectively cancelling Christmas for 16 million people, while a lockdown party was taking place in the same building.
Timestamps on messages from Mr Case and Mr Hancock, who attended the meeting remotely, show that the "Covid-O" meeting to decide the policy coincided with a Number 10 Christmas party on Dec 18, 2020.
Fines subsequently reviewed
I was very happy to read on Thursday that all the fines issued at the height of the pandemic have since been reviewed, with many rescinded.
'How Covid turned Britain into a curtain-twitcher's paradise' tells us more:
Blameless citizens complained that a family get-together would merit a knock at the door from police, but that they showed no such interest if a burglary was reported.
By March 2022, police forces in England and Wales had issued 118,978 fixed penalty notices for breaches of Covid restrictions.
Fines were issued for uncovered mouths and noses in public places, for failing to self-isolate, for meeting too many friends at once, for having a picnic, for going home after entering the country, and much else besides.
Coronavirus regulations changed more than 60 times over the course of the pandemic, meaning many officers struggled to keep up with the latest iteration of the rules and fines were issued unlawfully.
At the time, senior police officers were understood to be concerned about what they were being asked to do. Having spent years building up trust with communities that were in some cases suspicious of the police, they privately expressed fears that long-term damage would be done to their ability to police by consent.
Early on in the pandemic, Derbyshire Police, which turned out to be one of the most draconian forces of the period, set the tone by pouring black dye into a Peak District beauty spot known as the Blue Lagoon to discourage people from going there for exercise.
The same force deployed drones to spy on people exercising away from their local area, and two women drinking coffee while on a walk together were fined £200 each after their hot drinks were deemed to be "a picnic".
Their fines were later withdrawn and they received an apology – but the damage was done as far as public opinion was concerned.
A report by HM Inspector of Constabulary in 2021 accepted that there had been "a reduced service" in some areas of policing as "some forces increased the number of crimes they decided not to investigate because they were unlikely to be solved" and reduced in-person visits to registered sex offenders …
The low point came in March 2021 during an open air vigil for Sarah Everard, the marketing executive who was abducted and murdered by an off-duty police officer, at which four people were arrested for breaching Covid regulations.
A High Court judge later found that police had breached the human rights of the organisers of the vigil, in particular the right to freedom of speech and assembly …
The House of Commons joint committee on human rights concluded that a "significant number" of fines had been wrongly issued, but that many people felt too intimidated to challenge them.
MPs were so concerned about the heavy-handed approach of some police forces, and the wildly differing interpretations of the rules across different forces, that the committee recommended a review of every fine issued.
It discovered that when people who had been issued with fixed penalty notices opted to take the matter to court, rather than simply paying the fine uncontested, the Crown Prosecution Service (CPS) found that around a quarter of the charges were incorrect.
Even more extraordinary was the CPS's disclosure, in 2021, that every prosecution brought under the Coronavirus Act had been unlawful.
The Act was set up to allow the authorities to detain any "potentially infectious" person who refused to take a Covid test, and a CPS review found that all 270 charges under the legislation had been withdrawn when they got to court, or overturned after innocent people were convicted.
However, the fine mentality has affected policing long-term:
There is evidence that this push for ever-greater numbers of fines for petty offences has permanently affected the police's mentality.
Chief Superintendent Simon Ovens, of the Metropolitan Police's Roads and Transport Policing Command, told a meeting of the London Assembly last year that Transport for London was targeting one million speeding prosecutions in the capital each year, compared with the 130,000 issued from fixed speed cameras in 2018.
Rather than targeting road safety and fewer deaths and injuries on the roads, the police were targeting enforcement – a reversal of the Peelian principle that success should be measured in a lack of crime, not an increase in arrests.
Lockdown — and Covid fines — also adversely affected courts:
Already facing an inevitable backlog of cases because of the closure of public buildings, courts found themselves dealing with the extra caseload generated by Covid fines when they reopened after lockdown.
In November last year, Max Hill, the director of public prosecutions for England and Wales, disclosed that almost 75,000 defendants were awaiting trial, up from 70,200 in August 2020, meaning the post-Covid backlog of cases has increased rather than being gradually reduced.
The Government's target is to reduce the waiting list to 53,000 cases by March 2025, which may seem unambitious – but even that target is in danger because of a squeeze on public spending, said Mr Hill …
Clare Waxman, the Victims' Commissioner for London, said the courts system was "still in crisis" and the delays were having a "devastating" effect on victims.
Former police chief objects to Government policy
During parliamentary debates on lockdown policing, the topic of enforcement arose occasionally. MPs who spoke up said that the police were often confused about what and when to enforce something related to the pandemic. Furthermore, were these actually laws or mere guidance?
On Friday, March 3, The Telegraph published an article on this subject, 'Former police chief rejects Matt Hancock's Covid "marching orders" in leaked WhatsApp texts':
After a meeting on Jan 10, 2021, shortly after another lockdown had begun, Mr Hancock wrote to Mr Case about a meeting in Downing Street with senior police officers on enforcement, with the message finishing by saying: "The plod got their marching orders."
Reacting to the latest exposé on Friday morning, Sir Peter Fahy, the chief constable of Greater Manchester Police between 2008 and 2015, said: "Lots of people in the police service won't be surprised at the tone of these remarks.
"They were faced with an unprecedented situation, this legislation was rushed out, it was confused, it had poor definitions in it, there was this constant confusion between what was legislation and what was guidance; often it seemed ministers themselves didn't understand the impact of the legislation."
Sir Peter suggested he would not have rolled over had he been called into Number 10 and told to get tough.
"No, the conversation would be 'sorry the legislation is not clear enough, the definitions are not clear enough, we're trying to do our best but you've not given us the powers to enforce the legislation'… I know those were the messages going back into Government as police were trying to do their best," he told BBC Radio 4's Today programme.
But the former officer of 34 years said "police were stuck in the middle" as some members of the public wanted stronger enforcement while others "felt it was turning into a police state".
Police forces were repeatedly criticised for being over-zealous during the Covid crisis, prompting Neil Basu, then the Met Police assistant commissioner, to warn in this newspaper at the time that "how we police this pandemic will be remembered for many years to come".
Nigel Farage targeted
In 'Can we lock up "pub hooligan" Nigel Farage, asked Hancock's team', we discover how they relented:
Matt Hancock's team asked if they could "lock up" Nigel Farage after he tweeted a video of himself at a pub in Kent, WhatsApp messages have revealed.
On July 4, 2020, the leader of the Brexit Party shared a video of himself drinking his "first proper pint in 103 days" at The Queens Head pub in Downe Village.
A fortnight earlier, Mr Farage had been filmed attending a Donald Trump rally in Tulsa, Oklahoma. At the time, anyone entering England from abroad was required to quarantine at home for 14 days or face a fine of at least £1,000.
Messages seen by The Telegraph have revealed that Mr Hancock asked his team to contact the Home Office to see whether they were "considering" pursuing Mr Farage for the apparent breach.
At 4.28pm that day, Mr Hancock messaged the "MH top team" WhatsApp group with a link to a Sky News report claiming Mr Farage had breached quarantine rules. "We need to discuss urgently", he said.
The group chat, which included his special advisers and senior officials, quickly sprang into action.
Jamie Njoku-Goodwin, at this time one of Mr Hancock's aides, replied: "Does he count as a pub hooligan? Can we lock him up?"
A senior civil servant also responded to ask whether he "needed anything" and suggested that this might be a matter for Priti Patel, then home secretary.
The police are operationally independent of the Home Office. Despite this, Mr Hancock instructed his team to contact Ms Patel's private office …
Three minutes later, Mr Njoku-Goodwin responded to say that he had "just spoken to HO [Home Office] spads". He said: "Sounds like we need to get PHE to do one of their 'spot checks' and prove that he isn't at home."
Mr Hancock then requested that Mr Farage's case was dealt with "like any other" and that any enforcement action was taken by the Home Office, not the Department of Health.
At the time, Mr Farage insisted he had not broken the rules because he had already completed the 14-day isolation period and tested negative, tweeting a photo of him in a pub with the caption: "Sorry to disappoint you. Cheers!"
But the former Ukip leader told The Telegraph on Thursday that he believes he was in fact in breach, saying: "If I was being honest with you, after the first set of lockdowns I wasn't really prepared for some little pipsqueak like Matt Hancock to tell me how to live my life, quite frankly.
"That photo was taken when I came back from America, on the day the pubs opened. It was pretty nip and tuck … which means I probably was in breach. I'm probably a Covidiot."
Mr Farage said he had three visits from the police during the pandemic. "The idea that headmaster Hancock was after me – I love it," he said.
Farage opened his March 2 GB News show with the story:
Piers Morgan another Government obsession
According to Isabel Oakeshott, to whom Hancock turned over 100,000 WhatsApp messages in compiling his Pandemic Diaries, Piers Morgan was another Government obsession, which I find strange as he was pro-lockdown, pro-masks and pro-vaccines at the beginning. Apparently, he changed his mind partway through:
Contrarian Prof Carl Heneghan speaks
Oxford physician and researcher Prof Carl Heneghan, a Covid contrarian, has been one of my heroes throughout the pandemic.
He wrote an article for The Telegraph's Lockdown Files about his experience with Downing Street in late 2020, 'I warned that second lockdown data was wrong — but I was ignored':
It was a Saturday morning when I was asked if I could Zoom into Downing Street for 1 pm.
I was in the midst of a morning shift in urgent care – having just walked out of a care home with a seriously unwell patient, I was a little flustered, to put it mildly.
My role has never been to make the decisions, but to ensure that the decisions are based on the best available evidence. In this case, though, it was vital that decisions affecting the whole of society were made on accurate information.
I work with a great team, who forensically look at the data and notice details that most overlook. We met daily, and it had become clear that the slides leaked to the BBC on estimated Covid deaths and that would later be presented at the government press conference were out of date and the reported deaths were way too high.
I spent Saturday informing advisers that there needed to be a better understanding at the heart of the Government.
While several others on that call were also trying to aid the understanding of the data, the message was clear – the Government was about to lock down again, based on the wrong information.
I couldn't help but think that the public won't forgive you when they find out they are being fed a narrative of fear based on untruths.
But nothing changed. By Saturday night, the Downing Street press conference went ahead. "Unless we act, we could see deaths in this country running at several thousand a day," said the PM. The second lockdown was announced that evening.
Heneghan contacted the health editor of The Telegraph who published an article shortly after the second lockdown was announced.
Heneghan also got in touch with Dr Raghib Ali, a new Covid Government adviser at the time:
He organised a second call with Downing Street late on Sunday.
The Lockdown Files reveal that the Prime Minister told his WhatsApp group that I'd said "the death modelling you have been shown is already very wrong", as it was out of date, having been drawn up three weeks previously.
However, it did not make a blind bit of difference:
By Nov 6,  Downing Street insisted the incorrect death toll data was "a mistake". The error in the graphs made the numbers too high, but by then it was too late to change course. The second lockdown had already begun. 
How terrible when a government cannot admit the greater mistake of lockdown.
Hancock still aggrieved by The Lockdown Files
Matt Hancock says he still feels betrayed by his former book collaborator, Isabel Oakeshott.
Since The Lockdown Files have appeared, someone posted this 2022 tweet of his wherein he says that even when data bring challenges, the final outcome is always better with them than without: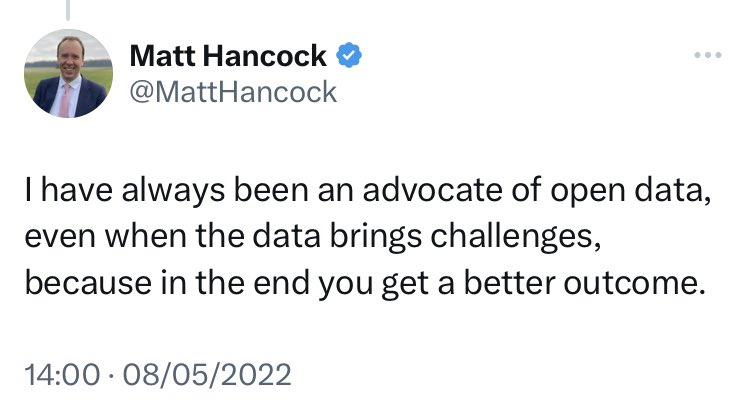 That's something he should keep in mind now, rather than licking his wounds.
On Thursday, Oakeshott told Hancock, via Julia Hartley-Brewer's TalkTV show, that this story is much bigger than he. It's about an entire nation's suffering:
Hartley-Brewer tweeted about Hancock and betrayal. She received an apposite response:
On Thursday afternoon, Oakeshott issued a formal statement on the betrayal issue, which is well worth reading:
Much in our nation could well take decades, if ever, to recover from — in my words — Hancock's disastrous and dictatorial policies.
However, GB News's Patrick Christys said that 'failings extended much further beyond Matt Hancock':
On Thursday, author Lionel Shriver told Jacob Rees-Mogg how sorry she feels for the many children adversely affected by lockdown. It was World Book Day. As such, many schoolchildren dressed up as their favourite literary characters:
The left hand WhatsApp exchange below shows what a farce it was to lock down an entire nation. The mortality rates were quite low overall. When the elderly died, most of them were well into their 80s. People under 35 rarely died. As for Edwina Currie, she single-handedly tanked Britain's egg market in the late 1980s with her salmonella scare:
No doubt, many of us could rail on and on about this. I have done over the past three years.
On the other hand, no words can express the betrayal we — and those in many other Western countries — experienced from elected representatives who are notionally our public servants.
More to follow next week.
My most recent post discussed Liz Truss's commitment to libertarianism and the part she played in her own downfall.
At the end, I mused whether she would still be in office were she a man. Having thought about it some more, I do believe that would have been the case. Truss has better morals than Boris Johnson and more integrity than Rishi Sunak. Furthermore, she is far more trustworthy than our de facto Prime Minister, Chancellor Jeremy Hunt. She has flaws. They have flaws.
It is curious that all of them, men, are given a pass. Truss, an honest woman, was not afforded that opportunity.
Let us look at who was out to finish Liz Truss's premiership.
The media
During the summer Conservative Party leadership campaign, most papers — right and left — came out in favour of Rishi Sunak.
Only the Daily Mail and The Telegraph consistently supported Truss. Truss also saw The Sun as a friendly paper, particularly its political editor Harry Cole.
Broadcast media also largely favoured Sunak. Only GB News supported Truss for the most part.
Why that was is unclear.
One could point to Truss's U-turns, evident as soon as the leadership campaign for Party members' votes started, but most of the media — print and broadcast — were already in the tank for Sunak when Conservative MPs were still voting in July.
On November 16, veteran columnist Andrew Gimson wrote about the media outlets covering Parliament, known as the 'lobby': 'Lobby journalism holds power to account. But it's often cruel, trivial — and unfair'.
Guido Fawkes liked what he had to say:
Gimson's article for ConservativeHome discussed the attacks on other Conservative ministers in Rishi Sunak's Cabinet. Suella Braverman, Home Secretary once again, is one of them and Justice Secretary/Deputy Prime Minister Dominic Raab is another.
Gimson says that journalists find their witch hunts as exhiliarating as blood sports (emphases mine):
Hunting is reckoned to improve the health of the fox population.
That is not, however, why people want to hunt them. They yearn to do so because it is a wonderful, exhilarating sport.
Forget for a moment any impulse to moralise. High-minded theories are all very well. Politics as actually practised is a blood sport.
Dominic Raab, Gavin Williamson and Suella Braverman are or were the most recent quarry, closely preceded by Liz Truss and Kwasi Kwarteng, before which a blond beast rampaged across the political landscape for three years with excited members of the Westminster lobby in close pursuit.
Four of the six were hunted down, while Raab and Braverman have so far (with intermissions) survived, but might at any moment find themselves once more in mortal danger.
The lobby is trained and ready at a moment's notice to follow any scent, no matter how faint, rival correspondents for different newspapers acting as a pack of hounds, each leaping at whichever politician is the hunted animal, drawing blood and emboldening the others to fresh frenzies of aggression …
It is impossible, if one is a lobby correspondent at Westminster, to stand aside from the full-blown crisis which rages, and any case, few experiences are more exhilarating than to be in at the death of a Prime Minister.
Every journalist, indeed everyone in the slightest bit interested in politics, will remember the first time he or she witnessed such a drama: in my case I was lucky enough in November 1990 to be in the Press Gallery to watch the fatal resignation speech delivered by Sir Geoffrey Howe, and 19 days later was in the crammed Committee Corridor on the evening it was announced amid almost unbearable excitement that Margaret Thatcher had fallen four votes – four votes! – short of beating Michael Heseltine by the necessary margin in the first round.
Such crises becomes all-consuming. You surrender yourself to the experience, and nothing else seems to matter. If you are a reporter, your news editor and editor demand constant reports from the front, and you want to distinguish yourself by revealing dramatic new charges, whether solid or flimsy, against the embattled minister, rather than just repeating what your rivals have said.
Such work requires the ruthless expertise to spot in an instant the two or three words in some dreary speech or answer which can be held to constitute a new development. The lobby are brilliant at this: they see the new angle, the incriminating admission, where a normal person would notice nothing.
News becomes an artificial commodity, an esoteric language only comprehensible to highly intelligent and practised correspondents, who translate it into the latest thrilling episode of a story which is intelligible to the dimmest of us, for it is as old as history: will the ruler live or die?
This question of life and death simplifies everything, and lends it a personal flavour. Does one like the look of whichever minister is just then being hunted, and hope he or she will get away? Or would one much rather see him or her bumped off?
The tyranny of the story extends to the comment pages. Leading articles and columns are written for or against the hunted person, most likely against, for it is much easier to write a vivid piece denouncing a politician for being disreputable than to compose a vivid defence.
In order to purify public life, the offending minister must be drummed out of it. Nothing which might serve this noble end is too cruel to be said; too piffling to be taken down and repeated.
Let the victim and his or her family cope as best they can. It would be wrong to spare them the full blast of public disgust. We find ourselves in a primitive world where human sacrifice is demanded; not in a rational one where events can be weighed and assigned their due importance, or unimportance …
There is a deep satisfaction to be derived from getting rid of a Prime Minister, so deep that we have in recent years got rid of three. For a short time, very short in the case of Liz Truss, we allow them to triumph, before restoring equality, for which all democracies have a deep yearning, by dragging them down with brutal abruptness to our own level …
What the lobby does, or helps Conservative politicians to do, is the modern version of an ancient and savage tradition. All else is forgotten while the tribe slays its chief.
And no tribe is better at slaying its chiefs than the Conservative Party.
Afterwards, some enemies of the prey express their empathy for the slain, such as Jenny Murray did for Truss on October 27 in The Mail. Murray's headline read 'I never expected to feel sorry for Liz Truss' and, upon closer inspection, she doesn't really feel sorry at all. She uses the piece to lick her own wounds after retiring from the BBC at the age of 70:
I was not sorry to see her go. Her short time in power was a disaster.
I'd known her professionally for a good few years and had often found her a bit weird with her oddly truncated speech patterns, bizarre facial expressions and apparent lack of emotional intelligence. She was no public speaker and I certainly never saw her as Prime Ministerial material.
In that I was right, but despite her self-serving, unapologetic final speech and her typically arrogant and selfish, 'Well at least I've been Prime Minister!' goodbye, I can't help sympathising with what she has to face next.
As an ordinary constituency MP, she'll join what I have dubbed, from bitter personal experience, the 'Once I Was Hot, But Now I'm Not,' club. I know she'll be asking herself, 'Who am I now?'
It's two years since I left the job that defined me for 33 years. I was Jenni Murray, presenter of Radio 4's Woman's Hour.
It had been my greatest ambition since childhood. I'd presented Newsnight and Today, but the moment I heard the announcer first say on Monday, September 14, 1987, 'And now Woman's Hour, with Jenni Murray' remains the most thrilling of my life.
I loved every minute of those 33 years and, unlike Liz Truss, I was not forced out of my position (though even when you leave a top job of your own volition, it doesn't stop others speculating). I made the choice to leave as my 70th birthday came and went.
So, nothing like Liz Truss after all. The rest of Murray's lengthy column is all about herself. Sickening.
On a positive note, I was surprised to read that Andrew Neil, normally a supporter of the status quo, supported Truss and Kwarteng's mini-budget just after it was announced in Parliament:
After 12 years of Tory government we finally get a Tory budget. Yesterday's not-so-mini-budget was a watershed event, taking the country in a new economic direction and creating clear blue water between government and opposition.
The Tory faithful couldn't quite believe it. Labour struggled to grapple with its implications. The political dividing lines will now be starker and fiercer than they've been for a generation.
No more tax rises by stealth (or, more recently, in plain sight). Or endless, futile tinkering with the minutiae of spending and taxation to give voters a false impression of constructive activity. Or the relentless doling out of taxpayers' dosh to whatever fashionable vested interests managed to catch ministers' attention.
Instead, Prime Minister Liz Truss and her Chancellor, Kwasi Kwarteng, junked all of that in favour of one overriding economic priority: higher economic growth. Many of the verities of Britain's economic establishment have been slaughtered in the process …
Scrapping next April's planned rise in corporation tax (on businesses' profits) won't win any popularity contests outside company boardrooms. But an essential part of Britain's post-Brexit future is surely to be a magnet for foreign investment. Whacking up the country's key business tax was a strange way of going about it …
New ways require new justifications. The Treasury estimates that abolishing the 45 per cent top rate of income tax will cost £2 billion a year.
This is a typically static official calculation. If it results in more top earners declaring their income in Britain, then it could soon more than pay for itself.
Ditto bankers' bonuses. The cap is a relic of EU regulation. Banks simply increased pay to compensate for reduced bonuses, thereby making their compensation costs more fixed and less flexible.
Frankfurt, Paris and Amsterdam have tried hard to lure our financial services away from the City since Brexit, with only limited success. Bonuses in those centres are still capped. London now has the advantage.
And, remember, with the new top rate of tax at an internationally competitive 40 per cent, every £1 million banker's bonus is £400,000 more for schools and hospitals …
… for more than a decade now I've watched chancellors take tough, painful decisions on tax and spending based on OBR borrowing forecasts that turned out to be huge over-estimates, so much so that in retrospect neither the tax rises nor spending cuts were necessary.
Indeed, as Truss attempts to take the country in a new, less orthodox direction, I'd argue that it's a blessing that she's been able to do so unencumbered by the OBR's dubious forecasting.
We'll get the OBR's latest workings in two months anyway, when it might have a better idea of what 2023 will look like. Nor are we entirely in the dark. The Treasury says the tax cuts and energy price cap measures will increase borrowing this year from £162 billion to £234 billion — an extra £72 billion.
The IFS thinks we'll still be borrowing £100 billion a year through the middle years of the decade.
These figures have spooked the markets. The pound continued its decline against the dollar after Kwarteng's statement and the yield (or interest rate) on short-term government debt rose to close to 4 per cent, making it a lot more expensive to borrow than only two years ago, when it was 0.4 per cent.
These are real constraints on the Government's ability to borrow even more. A falling pound merely fuels inflation, especially when it comes to imported energy, which is priced in dollars.
Interest rates are already rising. If excessive government borrowing forces them even higher, that will merely choke off the economic growth the Government so desperately seeks.
There's another factor at work here. The global currency and debt markets have had a 'down' on Britain for some time. It's not clear why. Britain's debt-to-GDP ratio is among the lowest in the G7 club of big economies. Our budget deficit is on a par with many other major economies. Economic growth is anaemic — as it is everywhere, from the Eurozone to America to China.
I suspect it's a Brexit hangover. The publications global market players read most closely include the New York Times, the Economist, the Financial Times and leading European papers such as Le Monde and the Frankfurter Allgemeine Zeitung. All — and others like them — have been relentlessly negative about Britain since the 2016 referendum …
It is said she's taking a great gamble. That's true. But sticking with the failed policies of the recent past was probably an even a bigger gamble. The stakes are certainly high.
If by this time next year the economy is still in the doldrums, then it's not just Truss who will be finished. So will any prospect of the Tories winning the next election.
Read it and weep. We are back to square one.
There is much that the media didn't tell us about the global picture of economic pandemonium.
Early in the week following Kwarteng's mini-budget, US mortgage rates went up to 7%:
The EU's average deficit is worse than the UK's: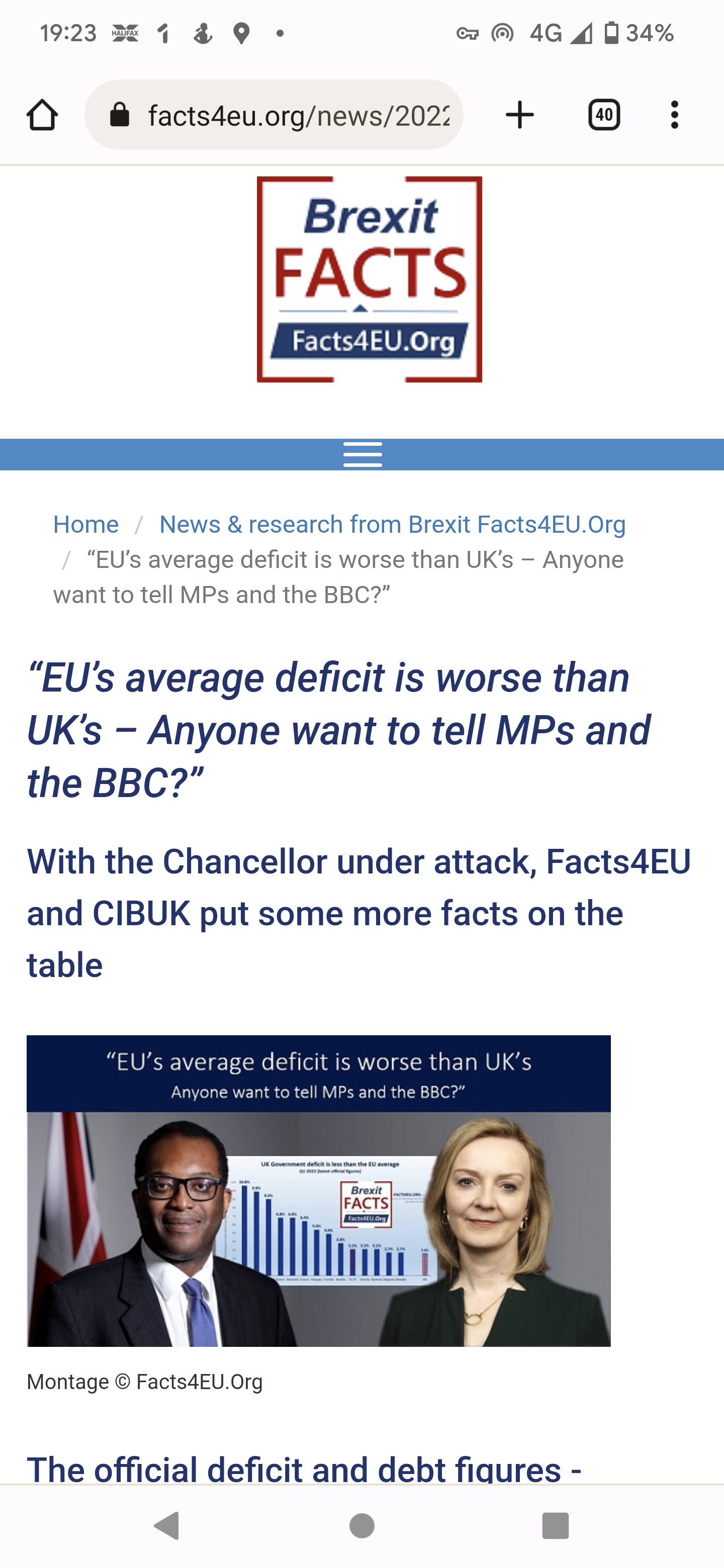 At the end of October, by which time Truss had gone, inflation in the Euro zone increased to 10.7% as growth slowed:
At the beginning of November, a Fed hike caused sterling to trade below £1.13 against the dollar:
And, finally, within three weeks of becoming Prime Minister, Rishi Sunak made new spending commitments, pledging billions to the world. This graphic appeared on November 7: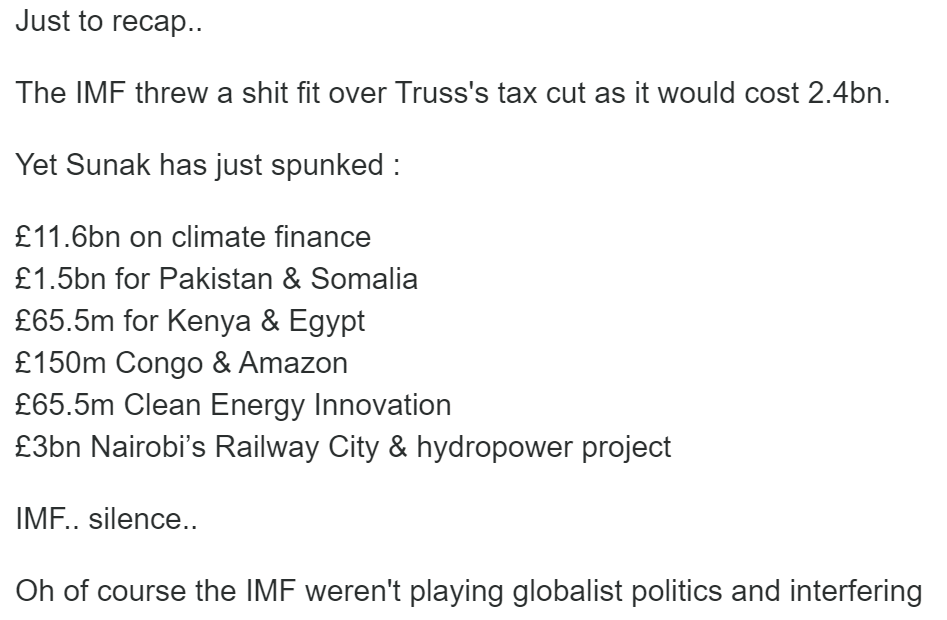 Objection from the media came none.
Conservative MPs
On October 20, in the immediate aftermath of Truss's stoic resignation, The Sun gave us the reaction from three Conservative MPs:
Responding to today's bombshell announcement, former minister and Red Wall poster boy Neil O'Brien tweeted: "The next PM must return to the national conservatism represented by our election winning 2019 manifesto and put us back on the side of normal working people."
If anyone was going to have done that, it would have been Truss, for whom Party members voted in the majority. Sunak and Hunt certainly aren't on the side of 'normal working people': tax 'em until the pips squeak.
Next up was Steve Baker, now an apologetic Northern Ireland Minister:
Brexit hardman Steve Baker urged colleagues that whatever the result, "we must accept and back the new Prime Minister".
Millions of us wish he had shown the same allegiance towards Truss.
The only one to say anything complimentary was Greg Hands, who served as an International Trade Minister:
He said:
A dignified exit as Prime Minister from Liz Truss. A difficult day for the country, the Party and for Liz personally.
She wasn't long as PM, but served at the Cabinet table longer than any of her three predecessors. She has long served the country – and I wish her very well.
At least Truss wasn't removed from the top table Chinese-style:
On October 27, one week after Truss's resignation, The Telegraph's Matthew Lynn said that backbench Conservatives just could not bring themselves to support Truss's economic plan, which Kwasi Kwarteng fronted.
In other words, Conservative MPs shy away from libertarianism, even though I think it would do the UK a lot of good:
The timing, to put it mildly, was unfortunate. It was a difficult transformation to pull off at the best of times, but against the backdrop of rising inflation and an out-of-control dollar, it was doubly difficult. 
Truss's programme did not have the necessary support within the Parliamentary Conservative Party either. Massive opposition from Labour, the Scottish Nationalists, and the Twitter mob was to be expected. 
But very few MPs were willing to support the plan, and without that backing it was always going to be hard to push through. Even before it got on to the genuinely difficult stuff – investment zones, planning reform, the green belt – the opposition was overwhelming. 
The Bank of England
Matthew Lynn points the finger of blame at the Bank of England (BoE):
… the real failure of Trussonmics may well have been the fault of the Bank of England. As Narayana Kocherlakota, a former President of the Minneapolis Fed, and now Professor of Economics at New York's Rochester University, argued in an opinion piece for Bloomberg this week, it was the Bank's failure to support the gilt market that killed the plan. 
"The way the Truss government collapsed should concern all who support democracy," he warned. 
In his Bloomberg article of October 26, Narayana Kocherlakota defended Truss and criticised the BoE:
Markets didn't oust Truss, the Bank of England did — through poor financial regulation and highly subjective crisis management.
… Truss won the leadership of the Conservative Party, which the UK electorate had voted into power, by promising a range of deep tax cuts and government spending increases. Whatever one might think of her policies, they were her mandate. I agree with the many observers who expected them to lead to higher inflation, higher interest rates and quite possibly higher unemployment. But such adverse outcomes take months and years to play out. Her government fell in a matter of weeks. How could this happen?
The common wisdom is that financial markets "punished" Truss's government for its fiscal profligacy. But the chastisement was far from universal. Over the three days starting Sept. 23, when the Truss government announced its mini-budget, the pound fell by 2.2% relative to the euro, and the FTSE 100 stock index declined by 2.2% — notable movements, but hardly enough to bring a government to its knees.
The big change came in the price of 30-year UK government bonds, also known as gilts, which experienced a shocking 23% drop. Most of this decline had nothing to do with rational investors revising their beliefs about the UK's long-run prospects. Rather, it stemmed from financial regulators' failure to limit leverage in UK pension funds. These funds had bought long-term gilts with borrowed money and entered derivative contracts to the same effect — positions that generated huge collateral demands when prices fell and yields rose. To raise the necessary cash, they had to sell more gilts, creating a doom loop in which declining prices and forced selling compounded one another.
The Bank of England, as the entity responsible for overseeing the financial system, bears at least part of the blame for this catastrophe. As a result of its regulatory failure, it was forced into an emergency intervention, buying gilts to put a floor on prices. But it refused to extend its support beyond Oct. 14 — even though its purchases of long-term government bonds were fully indemnified by the Treasury. It's hard to see how that decision aligned with the central bank's financial-stability mandate, and easy to see how it contributed to the government's demise.
The way the Truss government collapsed should concern all who support democracy. The prime minister was seeking to fulfill her campaign promises. She was thwarted not by markets, but by a hole in financial regulation — a hole that the Bank of England proved strangely unwilling to plug.
Two days before Truss resigned, Daniel Lacalle wrote an article for Mises Wire: 'The Bank of England Made Liz Truss a Scapegoat'.
Lacalle points out that economic turmoil was worldwide, something not reported widely in the British media. No surprise there:
I find it astonishing that not one of the so-called experts that have immediately placed the cause of the British market volatility on Liz Truss's budget have said anything about the collapse of the yen and the need for Bank of Japan intervention, which has been ongoing for two weeks.
Why did so many people assume the Truss minibudget was the cause of volatility when the euro, the yen, the Norwegian krone, and most emerging market currencies have suffered a similar or worse depreciation versus the US dollar this year? What about the bond market? This is the worst year since 1931 for bonds all over the world, and the collapse in prices of sovereign and private bonds in developed and emerging market economies is strikingly similar as those of the UK fixed income peers.
He blames British pension funds' liability-driven investing (LDI) strategies on the abuse of quantitative easing (QE) over the years. Who was in charge of that? The BoE.
Lacalle wrote while Truss was still Prime Minister:
British pension funds are not selling sovereign bonds because of lack of trust in this or another government's budget. They are selling negative-yielding sovereign bonds because they jumped wholeheartedly into the debt bubble created by artificially cheap money believing that central banks would keep fixed income prices elevated with constant repurchases.
British pension funds' unfunded liabilities are not a problem caused by the mini budget nor solely a UK problem. It was an enormous problem in 2019–20 disguised by insane currency printing. Unfunded global liabilities for state pension funds in the US were already $783 billion in 2021 and rose to $1.3 trillion in 2022 according to Reason Foundation. The funded ratio of state pensions was just 85 percent in 2021 and has fallen below 75 percent in 2022.
What happened in the years of negative rates and massive currency printing? Pension funds used liability-driven investing (LDI) strategies. Most LDI mandates used derivatives to hedge inflation and interest rate risk. And what happens when inflation kicks in and rates rise? "As interest rates have risen, the notional value of some of the derivatives held in LDI portfolios has fallen. The result: increased collateral calls. The speed at which rates have risen means some pension plans have had to liquidate portfolios to meet collateral calls" according to the Investment Association's latest report in September and Brian Croce at Pensions and Investment.
The total assets in LDI strategies almost quadrupled to £1.6 trillion ($1.8 trillion) in the ten years through 2021. Nearly two-thirds of Britain's defined benefit pension schemes use LDI funds, according to TPR and Reuters. Liz Truss and Kwasi Kwarteng are not to blame for this insanity. The policy of negative real rates and massive liquidity injection of the Bank of England is. Kwarteng and Truss are only to blame for believing that the party of policies of spending and printing defended by almost all mainstream Keynesian economists should work even when the music stopped …
Liz Truss and Kwasi Kwarteng are not to blame for the insanity of the past years or Rishi Sunak's ultra-Keynesian budgets. They are only to blame for believing that another dose of Keynesian deficit insanity would not harm.
Mr. Kwarteng's demise is just a casualty delivered by the modern monetary theory crowd and the monetary laughing gas city to justify that the problem was a ludicrous tax cut not years of currency printing and deficit increases.
What has happened in the UK or Japan is likely to happen soon in the eurozone, which accumulated more than twelve billion euro of negative-yielding bonds in the years of cheap money and reckless stimulus plans.
Liz Truss is not to blame for twenty years of monetary insanity and fiscal irresponsibility. She is to blame for a budget that increases spending without cutting unnecessary expenses.
The irony of it all is that the defenders of monster deficits and borrowing if it comes from bloating the size of government feel vindicated. It was the evil tax cuts!
The political analysis of the mini budget is astonishing. No one in the UK parliament sees any need to cut spending it seems, yet those expenses are consolidated and annualized, which means that any change in the economic cycle leads to larger fiscal imbalances as receipts are cyclical and, with it, more currency printing. The assumption that raising taxes will generate perennial annual increases in receipts no matter what happens to the economic cycle can only be defended by a bureaucrat.
Well, Rishi Sunak and Jeremy Hunt are those bureaucrats.
There are global players in pension fund management, BlackRock being one of them, as The Conservative Woman revealed on October 27:
BlackRock is heavily involved in the charity sector, managing over £4.5billion for more than 3,000 UK charities alone. 'Sustainability', food security and renewable energy rank very highly in their priorities in that sector.
The role of BlackRock in the recent selling off of derivatives by UK pension funds, said to be behind the triggering of a fall in sterling following the ill-fated Kwasi Kwarteng mini-Budget, is an intriguing one. BlackRock executives would defend their actions by stating they were merely protecting clients who were financially overcommitted in that sector and that pension fund managers ought to have known the risks involved in leveraged investment strategies in the first place, and that there is far more to that type of riskier investment than just following trends. Either way the political fallout was profound, triggering a chain of events which led to the fall of Prime Minister Liz Truss. BlackRock executive defends pensions strategy that fuelled UK crisis
Interestingly, Jeremy Hunt has appointed a BlackRock executive who is pro-Net Zero and anti-Brexit as one of his chief advisers:
A business with the financial resources of BlackRock will naturally attract well-connected people to its payroll. People such as Rupert Harrison, chief of staff to Chancellor George Osborne from 2006 to 2015. An opponent of Brexit, he tweeted in July 2017 that 'the rest of Europe is booming and we're not'.
Intriguingly, Harrison is now one of new Chancellor Jeremy Hunt's most senior advisers. On the surface, Hunt seemed to have been parachuted in from nowhere, having failed in two leadership elections and spending more than two years on the back benches, yet from the moment he was appointed he already had a highly expert team, including Harrison, ready to start at once and acting promptly with great self-assurance as though he knew he already had the backing of those who really matter.
However, Conservative Party members are unhappy with Hunt and Sunak's economic policy based on higher taxes, which are, in reality, much higher than they read on paper. This poll is from November 29:
Guido Fawkes wrote (emphases his):
The Tory membership doesn't support their own government's economic policy, according to the latest Conservative Home panel poll. Opposition stands at 48.78% and support at 41.87%. 9.35% don't know. 
It can't come as much surprise. As Rishi's supporters point out, he was warning of the consequences of Liz Truss's policies during the summer contest, and the membership still voted for Liz's low tax package. Support at 41.87 is actually 0.8% lower than Rishi received from the members during the summer…
Let us return to the BoE.
In the December 2022/January 2023 issue of The Critic, Jon Moynihan published 'How the Bank broke the Government', which refers to Narayana Kocherlakota's aforementioned article for Bloomberg and expands on the use of LDIs in pension fund management:
Kocherlakota's view was that the Bank of England was responsible for the crisis, through "poor financial regulation and highly subjective crisis management". Outside the UK chatterati, this view is widely supported.
The beef against the mini-budget was that it spooked the market. But virtually all of the policy announcements made by Kwasi Kwarteng on the day were not new; they had been pledged during the Truss campaign or — in the case of the energy price guarantee — confirmed shortly after her arrival in Downing Street. 
Sure, the mini-budget stated that clarifying how all the spending/lowered tax revenue would be paid for was to be put off until the later financial statement, due some weeks later. But the only new thing was the change to the top rate of income tax from 45 per cent to 40 per cent. 
Given the well-known dynamic impact of lowered tax rates, this change would arguably have been revenue neutral or even beneficial; even without any dynamic benefit, it could have cost at most £2 billion in tax revenue. That is a rounding error compared to the amounts already absorbed by the market and a fraction of the costs Rishi Sunak has accepted at COP 27 — to which the markets have reacted entirely complacently. It is just not credible to blame the mini-budget for the market turmoil.
Moynihan explains more about how LDIs work:
The prime obligation of a pension fund is to match its assets (the money it uses to make payments) to its liabilities (the payments it expects make to its pensioners over the years). For a fund to be as sure as it can that it will be able to pay its future pension liabilities, it buys assets whose coupons and maturity match its (actuarially expected) future pension payments.
So far, all well and good. The problem is with LDI funds. These, like so many pension funds these days, use gilts to accomplish that matching (in a popular meme of the past couple of decades, "gentlemen prefer bonds"). However, in addition the idea has been sold that they can goose up their returns a bit, to compensate for the low yields they are getting on their gilts. 
This little bit of extra profit is accomplished by borrowing some further money, short-term, and with it buying long, higher-yielding assets — either real assets, or derivatives. It's a well-known and always risky bet on interest rate movements; in some markets it's known as the "Carry Trade"; in the Japanese markets it's known as the "Widow Maker". It's entirely inappropriate for "safe" pension funds. 
If rates move against the bet, the bet sours. To cover the risk they are taking, the funds are required to give over their other assets (the gilts) as collateral to the bank that lent them the money. 
When the bet sours, the bank that lent them the money "calls the collateral", selling off the gilts in order to repay the borrowing … a wave of such sales can destabilise the gilts market and create a disorderly environment, as happened in late September 2022.

Some would say that the Bank of England should have known all of this and not allowed such risk to be taken by this huge market in LDI funds. Some would raise an eyebrow at the news that until the middle of 2022, the Bank of England itself held 100 per cent of its £5 billion pension fund in just one single LDI Fund, and therefore blithely seemed to believe it was OK for such risks to be taken (their 100 per cent recently was reduced to a scarcely less concerning 82 per cent).
For whatever reason, the Bank and other regulators did allow LDI funds to become more and more the fashion … The total value of liabilities hedged with LDI strategies was $1.8 trillion in 2021, around half of the total of LDI funds in the world, a sure sign that the Bank Of England had been far too lenient in allowing LDIs to flourish in the UK. That is Strike One.

Why then did the LDI funds start collapsing specifically in late September? It starts with the rapid appearance this year of inflation, caused in no small part — as the Bank has finally admitted — by the bank's excessive growth of the money supply in recent years. As inflation consequently shot up, so, all year, did gilt yields rise, putting increasing pressure on those rickety LDI funds. That is Strike Two against the BoE for its role in worsening inflation in the UK, leading to this instability.
Two days before Kwarteng delivered his mini-budget, Saxo Bank and Deutsche Bank correctly predicted a fall in sterling.
Saxo predicted:
"If the BoE fails to hike 75 basis points, let's shield our eyes for what is going to happen to the pound here." (They were predicting a fall in sterling, which duly happened. Low sterling leads to higher inflation leads to higher gilt yields.) 
Deutsche Bank said that the BoE needed a 'hawkish response'. It never materialised.
In the end:
Both Deutsche and Saxo were right. Only days after the Bank failed to step up to the 75 basis points mark, sterling momentarily dropped to $1.04, just as Deutsche had predicted — yet for reasons that remain to be explained, the drop was blamed on the mini-budget, not on the Bank's failure to sufficiently raise rates. The failure to raise rates enough, two days before the mini-budget, is Strike Three.
In addition, the BoE announced a fortnight-long programme of selling £40 billion of gilts, which ended in mid-October.
In other words, it moved from QE to QT, quantitative tightening.
Reuters noted the BoE was the first central bank to do that, at least in recent years. Bloomberg called the move 'historic' for the same reason:
In 2013, all it had taken was the Fed to announce it was doing less QE — not stopping, just doing less — for the markets to go into a "Taper Tantrum".
Ever since, most central banks have been cautious not to move too fast in shutting down their QE. But not the BoE. Why did it see itself as in a position to be the first in the world to take this very risky step, aware as they were that the mini-budget was about to be announced?
Not surprisingly, the markets responded:
… market participants move fast to get ahead: they quickly sell their own bonds before their value is hammered by the BoE sales. Yields immediately go up and the price of bonds immediately falls. Which is why it was — Strike Four — stupid for the central bank to announce its moves ahead of time: it's like the time that Gordon Brown announced he was selling all our gold, and the price collapsed so he made much less from the sale. But now the LDI pension funds started to get really hammered: as the market moved to dump gilts, the price of gilts fell and fell — this is still before the mini-budget — and collateral calls began to come thick and fast on the LDI funds.
The doom loop began:
And even more collateral calls then came in, and we were in an accelerating doom loop. All this was happening as the mini-budget was announced, and the lazy financial press, not seeing what had happened earlier, blamed the rout in the gilts market on the mini-budget. But it was started by the Bank of England's earlier decision to go full tonto QT. Strike Five.
Cue the headlines that Liz Truss 'crashed the economy', to borrow Labour's words, which they are still using in Parliament:
The Prime Minister is accused the following day of destroying the economy.
The BoE backtracked immediately, announcing it would move from QT back to QE:
The Bank of England, of course, immediately announces that it is not after all going to sell £40 billion of gilts — it is going to buy £60 billion of them — back from QT to QE in a blink of the eye. 
Of course, by then, it was too late for Truss and Kwarteng. Their collective goose was well and truly cooked:
… by now the gods of havoc have been unleashed. Truss's enemies in the Conservative party get to work, using the mini-budget narrative to undo the mini-budget, to oust the Chancellor, and finally to oust the Prime Minister herself. Job Done. 
The BoE defended its actions:
The post-mortem speech by the Bank's director for financial stability, entitled "Risks from leverage: how did a small corner of the financial industry threaten financial stability?" makes for interesting reading; in this telling, the Bank staved off a crisis from what, for anyone, would have been an unexpected direction, dealing more than adequately with the non-bank sector. If anything, the director claims, the UK was ahead of the curve!
As for the current Sunak-Hunt government, Jon Moynihan has also noted the presence of David Cameron's Chancellor and the former BlackRock executive:
George Osborne and Rupert Harrison, late of BlackRock, the UK's second largest provider of LDI funds, are now advising the new government.
Moynihan ends his article by pointing out that the BoE's governor, Andrew Bailey, has the nickname of 'Lullaby' because he tended to doze off during meetings in a prior position:
As head of the Financial Conduct Authority from 2016 to 2020, he saw first-hand the sort of shenanigans firms and funds will get up to if, pressed by smooth talking salesmen, they are given the freedom to act as they will.
It has been alleged that while in that role, Bailey "dozed off" during meetings over a pensions scandal. Now, the organisation he runs is accused of being asleep at the wheel on LDI pension funds, not to mention on inflation, the currency, the stability of markets.
It looks like the BoE's laxity led to the fall of a government:
All that led to the end of a government, in a way that will continue to reverberate, to the detriment of many people's view of democracy in this country, for decades to come.
What the British think
Only last week, on November 23, IPSOS published a poll saying that politicians are the least trustworthy of working Britons. Pictured alongside Rishi is a very young Piers Morgan when he edited The Mirror. Journalists have a trustworthiness rating of 29%, compared to politicians in general at 12%:
Guido has the full chart of occupations participants were asked to rank in order of trustworthiness:
Hardly unsurprisingly, public trust in politicians to tell the truth has fallen to its lowest level ever, according to the latest Ipsos poll. Just 12% of the public now trusts politicians to tell the truth, lower than advertising executives (14%) and government ministers (16%).
Unfortunately for journalists they don't fare much better, at just 29% – one percent above estate agents…
Nurses and doctors ranked the highest at 89% and 85%, respectively.
Television news readers ranked at 58%, above clergy/priests and the man in the street, both of which tied on 55%.
Conclusion
On November 22, roughly one month after Truss resigned, Dan Wootton did a follow up on GB News.
Nigel Farage told him:
Hunt was the coup. Sunak is little more than a puppet.
Wootton also interviewed Ranil Jayawardena, who served as Secretary of State for DEFRA, the Department of Environment, Food and Rural Affairs. He was very gracious and didn't want to get into any controversies. Wootton, who was a big Truss supporter, wanted to know how both of them were faring. He said that they were fine.
I'm including the nine-minute interview here just so you can hear Ranil Jayawardena's voice. He should record audio books in his retirement. Someone in the comments to the video said that he sounds like Boris. He sounds a thousand times better than Boris. This is received pronunciation, rarely heard today in such mellifluous tones:
The Liz Truss saga ends here.
I fear the worst, for the Conservative Party and for the British.
End of series
My most recent post on Liz Truss left off with the beginning of the end in her final week as Conservative Party leader.
Friday, October 14
Her sacking of Kwasi Kwarteng and installation of Jeremy Hunt as Chancellor on Friday, October 14, meant only one thing — her end was nigh:
Liz Truss's first Chancellor Kwasi Kwarteng: what he expected, what he got instead (October 13, 14)
Liz Truss and Kwasi Kwarteng illustrate that one DAY is a long time in politics (October 13, 14)
The Times's headline on the morning of the 14th said that Conservative MPs were already plotting to install Rishi Sunak and Penny Mordaunt in Truss's place. One of them would be Prime Minister and the other would be Chancellor or Foreign Secretary:
The article also said (purple emphases mine):
Truss and Kwasi Kwarteng, the chancellor, are expected within days to make a humiliating climbdown over corporation tax in an effort to calm the markets and see off a mounting revolt.
Indeed, that is what Truss announced at her disastrous press conference that afternoon. By then, Jeremy Hunt was already Chancellor:
It was hard to believe, especially as Ireland's corporation tax is half that: 12.5%. What is to stop businesses in Northern Ireland from moving south of the border?
Liz prefaced the announcement with:
This is difficult.
Guido Fawkes has the video and another quote preceding her announcement about corporation tax:
It is clear that parts of our mini-Budget went further and faster than markets were expecting… so the way we are delivering has to change…
He concluded (emphases his):
The mother of all U-turns…
Later in the afternoon, Wendy Morton, the Chief Whip, summoned Conservative MPs to an online call with the Deputy Prime Minister Thérèse Coffey.
One hundred of them dialled in. Coffey allegedly kept staring at her notes:
Saturday, October 15
Saturday's papers were scathing.
The Daily Mail asked, 'How much more can she (and the rest of us) take?'
The i paper led with 'Tory MPs tell Truss: "It's over"':
The Telegraph's Tom Harris wrote about the symbiotic relationship between the Prime Minister and the Chancellor from Margaret Thatcher's time to Truss's.
When that relationship goes wrong in a big way, it's nearly always bad news for the PM, although there are exceptions:
When a prime minister loses a long-serving chancellor and ally – as Margaret Thatcher did when Nigel Lawson walked out of her government in 1989 – the political ramifications are enormous. In Thatcher's case, that event signalled the beginning of her long defeat. When a prime minister loses a friend too, it becomes, as Liz Truss stated in her press conference, "not an easy" personal moment. 
Their closeness also makes it impossible for Truss to distance herself from the mess left at the Treasury. It is not clear which policy Kwarteng implemented that the prime minister was so unhappy with that she had to fire him. In 1989, Lawson resigned over his objection to the prime minister's reliance on her economic adviser, Sir Alan Walters, but there were already disagreements between Numbers 10 and 11 over whether Britain should join the European Exchange Rate Mechanism. 
[John Major's Norman] Lamont was fired over his handling of Britain's departure from the same institution. Javid resigned over personnel issues. Rishi Sunak's reasons for resigning were similar, though in his case the personnel issue involved the then prime minister himself.
In Jeremy Hunt, Liz Truss might be given a chance to form the kind of reassuring, mutually supportive – and, crucially, stable – relationship with her chancellor that good government demands. It would be foolish, however, to assume that when such a relationship breaks down, it is always the chancellor who is next to go.
The Telegraph's Camilla Tominey looked at the backbench Conservative MPs, wondering how Conservative they actually were. I was glad to see that she mentioned Alicia Kearns, who does not seem very Conservative to me.
Tominey's article shows that a significant number of Conservative backbenchers do not hold traditional Conservative Party values:
Never underestimate the Conservative Party's unparalleled ability to turn the gun on itself when coming under enemy fire. As the pot shots continued to rain thick and fast on Liz Truss's troubled premiership, what did the Tories decide to do? With Labour's help, they elected Alicia Kearns as chair of the Foreign Affairs Select Committee.
For those unfamiliar with Ms Kearns, she is the former Amnesty International activist who led the so-called "Pork Pie Plot" to oust Boris Johnson over partygate. Despite having been an MP for all of five minutes, the 34-year-old, who won the safe seat of Rutland and Melton in 2019 (hence the pork pie theme) decided that the Conservatives' wisest move was to remove the man who secured the party's biggest election win since 1987. Well, dip me in jellied pork stock and cover me in hot-crust pastry, that went swimmingly!
Having declared last year that she came into Parliament with "one legislative change I wanted to deliver, which was to ban conversion therapy", inexperienced Kearns now occupies one of the most influential posts in the House of Commons.
Her first intervention? Following hot on the heels of her fellow chair, Mel Stride, of outspoken Treasury select committee fame, she used a radio interview on Thursday night to urge the Prime Minister to reverse the tax-cutting measures in the mini-Budget.
I've got nothing personally against Ms Kearns – she is clearly a thoughtful and intelligent woman. But if she isn't for cutting tax, then what on earth is she doing in the Tory party, let alone now apparently in the running to enter a future Conservative Cabinet?
One former minister was this week quoted as saying: "Everything [the Government] are doing is everything that I don't believe in." Why, then, is that senior politician – apparently so opposed to spending controls and economic growth – not currently residing on Sir Keir Starmer's shadow front bench or drinking Remaineraid with Sir Ed Davey?
As former Brexit negotiator Lord Frost put it on Thursday: "There are too many … social democrats operating under Conservative cover."
It is one thing to be a broad church, but the Tories are currently taking on the mantle of a Blue Labour cult.
Not only are many of them perfectly comfortable with taxing people more, despite the tax burden being at its highest in 70 years, but they are also apparently as opposed to fracking as Ed Miliband. They seem to love the status quo and appear happy to watch Britain slowly sink into decline – along with their own party.
Tominey says that Liz Truss's platform was clasically Conservative, and so was the one upon which Alicia Kearns was elected.
These are the MPs who will determine the outcome of Brexit and the next election. Both are in peril.
Tominey rightly lays the blame at the feet of former PM David Cameron, a wet who wanted a different type of Conservative MP:
David Cameron's decision to introduce open primaries in the late 2000s, which saw wannabe MPs selected by non-members as well as members, was perhaps the most obvious mistake. The Conservatives ended up with "yellow" Tories in its ranks, such as Sarah Wollaston, who later defected to the Liberal Democrats.
Funnily enough, Sarah Wollaston is no longer an MP. Others like her, most of whom had the whip removed, were defeated or chose not to run in 2019.
This is the issue:
But more broadly, by inviting people with no background in Conservative politics to stand for Parliament, they ended up with people with no Tory backbone either. Holding successive snap elections only made the selection process less rigorous and open to people high on ambition and low on ideology.
This is a problem for the next general election. GEs depend upon local activists — party members — who are willing to canvass door-to-door:
We now have the Sunak squadders, calling for people to keep less of their wages, for businesses to pay more in corporation tax and for benefits to be linked to inflation, Corbyn-style …
Conservatives have become so detached from reality that they actually believe this will help them to win the next general election – even though it promises to prompt a mass walkout by the very grass-roots activists they rely on to run a campaign.
However, Tominey says that Rishi Sunak's coronavirus handouts have also altered the public perception of the role of the state. We can but see how this will play in 2024 or early 2025 when the next GE comes along.
Monday, October 17
On Monday, October 17, Leader of the House Penny Mordaunt had to stand in for Truss during a debate. Opposition MPs accused Truss of hiding under a desk.
Mordaunt had to deny that more than once, saying that Truss had a 'very genuine reason' for not being present.
I don't often feel sorry for Penny Mordaunt, but I did that day:
However, one Labour MP, Andrew Gwynne, tweeted that Liz Truss was the victim of a 'coup' — his word — and that Jeremy Hunt was the acting PM: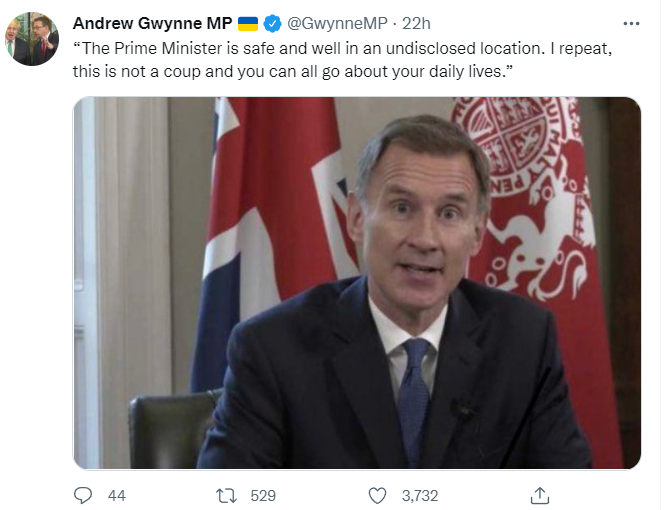 On Tuesday, October 18, The Times explained why Truss did not turn up at the despatch box the day before:
For much of the day Truss was conspicuous by her absence. She refused to respond to a question by Sir Keir Starmer in the Commons, prompting accusations from Labour that she was "frit". Penny Mordaunt, the leader of the Commons, answered questions in her stead. She said that the prime minister had "a very good reason" for her absence but refused to explain further, prompting misplaced speculation that Truss had resigned.
That reason for her absence turned out to be a meeting with Sir Graham Brady, the chairman of the backbench 1922 Committee. Sources said that the meeting was routine and had been arranged before Kwarteng's dismissal. But the issue of her leadership, and a potential revolt by Tory MPs, was said to have been discussed.
One source on the committee said there were a "number of views" on the way ahead but that there were concerns that an immediate move to defenestrate the prime minister could further destabilise the markets.
"The question is whether it is more damaging to create further uncertainty by getting rid of the prime minister when the chancellor [Hunt] appears to have settled the markets," said an MP on the committee.
Some Tory MPs believe that with the unravelling of her tax-cutting agenda and signature energy policy she is finished politically. Sir Charles Walker became the fifth Conservative MP to publicly call for her to go, saying her position was "untenable".
A senior Conservative source added: "It's the biggest unforced humiliation for a British government since Suez. Eden did the decent thing and resigned."
"The trouble is there is no consensus for who should replace her," said one former backer of Rishi Sunak. "And the last thing we need now is to be seen to be causing more uncertainty on the financial markets."
Monday night was grim.
On the subject of a coup, Nigel Farage agreed that Jeremy Hunt was in charge, and that this was a 'globalist coup':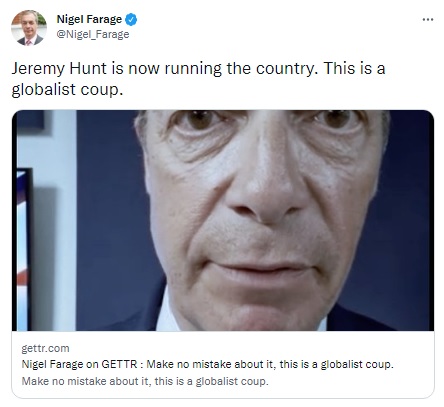 On his GB News show that night, Dan Wootton also said that there had been a coup. He agreed that the unpopular Hunt was in charge and that no one liked him, except for the Establishment. He said that if the Conservatives allowed this to continue, then they deserve to lose the next GE:

Truss surfaced to give an interview to the BBC's Chris Mason, wherein she apologised for the mini-budget. She said:
First of all, I do want to accept responsibility and say sorry for the mistakes that have been made. I wanted to act, to help people with their energy bills, to deal with the issue of high taxes, but we went too far and too fast. I have acknowledged that.
Tuesday, October 18
Tuesday's headlines were deeply discouraging for her. Nearly all had photos of her alongside Hunt:
The new biography of Truss, Out of the Blue, was not even ready for publication. Someone photoshopped the cover with a remainder sticker on it, saying, 'Reduced for quick sale — please just take it':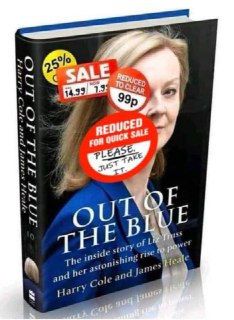 The Sun's political editor, Harry Cole, one of the book's co-authors, posted an article about the MPs plotting against her:
TORY plotters dubbed the "Balti Bandits" carved up Liz Truss's future last night over a korma and bhuna feast, The Sun reveals.
Leading rebel Mel Stride hosted more than a dozen "miserable" Conservative MPs in his large House of Commons office for an Indian takeaway – with the PM's fate also on the table.
Ex-Ministers John Glen, Nick Gibb, Mark Garnier and Shailesh Vara tucked into "lashings of curry and naan" ordered in by Mr Stride, alongside outspoken backbencher Simon Hoare. 
2019 intake MPs Angela Richardson and Simon Baynes were also said to have joined the "poppadum plot" – but sources say the meeting ended with "no credible solution" to their woes …
Contenders include ex-Chancellor Rishi Sunak, Defence Secretary Ben Wallace, new Chancellor Jeremy Hunt and Commons Leader Penny Mordaunt – but given the party is deeply split, the plotters admitted the chances of a rapid "coronation" of a new PM were "almost zero."
One attendee told The Sun: "the vast majority of attendees were Rishi Sunak supporters, but there were Penny people too. It was not a Rishi thing." 
On Tuesday evening, Truss had another group angry with her — her own supporters in the European Research Group, the pro-Brexit group of backbench Conservative MPs.
The Telegraph's Tim Stanley wrote about it, as he was there in the corridor for Truss's meeting with them:
Liz Truss launched her fightback at 6pm in Committee Room 11. The meeting was actually set for 5pm; Commons voting ran late so Mark Francois advised us hacks to go away and come back later, but I hung around on the suspicion that the moment we left, Liz would slip out of her hiding place in the roof of the lift and jog, unseen, into the Room …
These are the true believers: if they're angry at Liz for anything, it's for not keeping the mini-Budget …
What we saw of her on TV on Monday night, interviewed by Chris Mason, did not spark confidence as she uttered that dread word "sorry", thus accepting personal responsibility for blunders past and future. It is the mark of an "honest politician", she said, to admit mistakes. That's true, but it's also a dead giveaway for a not-very-good one, trying to turn a repeated error into a display of moral virtue. As Samuel Johnson might have said, "Honesty is the last refuge of the incompetent".
… She bobbed into view in a dark blue dress and black tights – fresh-faced, one suspects, from a good night's sleep. Instinctively, I stood: she might be a PM, but she's still a lady. I earnt a cheeky nod. Those who can't fathom the rise of Ms Truss haven't met her. She has a way of compromising you, of making you think you're on her side, and it's the most fun side of the room to be on.
The ERG roared as she entered. She entertained them behind a closed door for about 45 minutes. Then she left, followed by Mr Francois who told us it was "a very positive meeting".
The PM evidently spoke about Northern Ireland and her commitment to raising defence spending by the end of the decade, which is ambitious for a woman who could be out of office by Friday. And he noted that David Canzini, the clever political operative, was with her, an eminence so grise, none of us had noticed he'd gone in.
No 10 confirmed it: he was hired as of that morning.
Too little too late. That might have been Canzini's shortest job.
Wednesday, October 19
On Wednesday, October 19, Guido Fawkes posted that the Reform Party — formerly the Brexit Party — was climbing in the polls. The photo shows their chairman, businessman Richard Tice:
Guido's post said, in part:
Guido can reveal that in the 48 hours before close of play yesterday afternoon, the old Brexit Party received almost 1000 new £25 membership sign-ups. That new five-figure cash boost was joined by 300 members registering a new interest in standing as a party candidate at the next election. The first time the Tories dipped below Labour in the polls – September 2021 – Reform saw one in 10 Tory voters switching to them. Can they continue capitalising on Liz's woes? …

It's not just Reform benefitting from the dire state of No. 10. Last night the LibDems revealed five new donors, each giving £50,000 to the party, one of whom is a former Tory donor. While the last 36 hours have been calmer for Truss, it does feel like the ship has sprung one too many leaks to be repaired by a strong PMQs performance…
Wednesday was another fateful day. Home Secretary Suella Braverman resigned, then a confusing scene took place in the voting lobby over a division (vote) on fracking, which resulted in more chaos when it was unclear whether Wendy Morton had resigned as Chief Whip:
Liz Truss's final 24 hours: Suella Braverman's resignation, question over Whips' resignations (October 19)
Truss appointed Grant Shapps, former Transport Secretary, in Braverman's place:
Holy mole, guacamole!
Nigel Farage repeated 'coup' in his tweet about the news:
As with Hunt, Truss had to scrape the barrel.
The Telegraph reported that, like Hunt, Shapps was not a Truss supporter:
It is a remarkable turnaround for Mr Shapps, the transport secretary under Boris Johnson who went on to become a prominent supporter of Ms Truss's leadership rival Rishi Sunak.
Only on Monday night, Mr Shapps was telling a theatre audience that he believed Ms Truss had a "Mount Everest to climb" to remain in power.
"I don't think there's any secret she has a mountain, a Mount Everest to climb," he told Matt Forde's podcast. "What she needs to do is like threading the eye of a needle with the lights off."
Now he is one of her most senior ministers – and another example of the way a weakened Ms Truss is being forced to offer olive branches to the Sunak supporters she had previously shunned.
Not only was Mr Shapps questioning her chances of success until as early as this week – he was working proactively to get rid of her.
Mr Shapps has been viewed in Westminster as one of the leaders of the opposition to Truss's libertarian policies.
He spoke up at the Tory party conference in Birmingham earlier this month against her plans to scrap the 45p rate of income tax, and warned that Ms Truss had "10 days" to turn things around or MPs "might as well roll the dice and elect a new leader".
This is what the aforementioned Camilla Tominey was lamenting in Conservative MPs. Some of the recent ones have no appreciation of or allegiance to Conservative values. Shapps was a Cameronian MP.
The article also discussed Shapps's famous spreadsheets which appear to work as well as the 1922 Committee in making or breaking a Prime Minister:
The veteran MP – known by some as the "Duracell Bunny" for his enthusiasm – is also well-known for his "Star Wars" spreadsheet, with which he has spent the past few weeks recording the views of MPs on Ms Truss and her plans.
Mr Shapps used an earlier version of his famous spreadsheet to lead a rebellion against Theresa May, and also utilised its information to help guide Boris Johnson into Downing Street.
The spreadsheet is said to contain more than 6,000 historical "data points" from previous conversations with MPs.
It was rumoured that he had been in contact with Mr Johnson and Mr Sunak to see if they would join an effort to oust Ms Truss. And some rebel MPs claimed he had even offered himself up as a caretaker prime minister.
Let us not forget that Shapps himself is hardly a paragon of virtue:
… unfortunately for Mr Shapps, some elements of his past may make a shot at No 10 less than likely – not least the Michael Green saga.
This was an alter-ego he employed to enable him to run a series of get-rich-quick schemes on the internet while he was an MP.
Mr Shapps originally denied he had a second job, and threatened legal action against a constituent who said he had. But he was forced to admit practising business under a pseudonym in March 2015.
All this happened while he was Tory chairman, in charge of David Cameron's efforts to win the 2015 election.
He was demoted soon after to aid minister, and resigned from that role after claims he had ignored repeated allegations of bullying involving the Tories' youth organiser. It was said the alleged bullying, which took place on the party's RoadTrip 2015 campaign, may have caused one party member to commit suicide.
On Wednesday evening, Camilla Tominey reprised her warning about un-Conservative MPs and their takeover of the Government. She, too, used the word 'coup':
… the departure of Suella Braverman as home secretary speaks to a bigger problem for Liz Truss than sheer optics.
In sacking two key allies on the Right, only for them to be replaced by opponents more to the Left of the party, the Prime Minister is increasingly looking like the victim of a Conservative coup.
It is certainly ironic that the former home secretary, in post for just 43 days, first used that word to describe those who plotted against Ms Truss's original plan to link benefit to wages rather than inflation. 
With that, and most of her mini-Budget up in flames thanks to a rebellion by the moderates, Jeremy Hunt now appears to be the de facto Prime Minister.
He will now be joined by his fellow Sunakite Grant Shapps, who despite being rejected from Ms Truss's original cabinet, has now been appointed to replace Mrs Braverman at the Home Office.
Braverman, at one point, had headed the aforementioned European Research Group:
… her swift exit from one of the highest posts in public office will anger her European Research Group supporters.
It was only on Tuesday evening that Ms Truss was said to have charmed the backbench group of Eurosceptics with her honest, straight-talking approach.
They are unlikely to take kindly to their former chairman, a darling of the grassroots, being ejected in such unseemly fashion.
Mrs Braverman, a Conservative leadership candidate herself over the summer, received the longest standing ovation at the Tory Party conference two weeks ago.
Fortunately, Rishi Sunak re-appointed Braverman as Home Secretary. He probably realised he had to, in order to keep Party members on side.
Returning to Wednesday, October 19, The Telegraph posted an article stating that Conservative backbenchers were asking Labour for help in ousting Truss. Unbelievable:
Rebel Tories have been asking Labour MPs to help them overthrow Liz Truss, The Telegraph has been told.
Conservative backbenchers are growing increasingly frustrated with the Prime Minister's leadership, but currently lack any mechanisms to remove her given the one-year immunity she has from a no confidence vote.
As things stand, the only way to oust Ms Truss would be to change the rules – which is a decision that only the executive of the 1922 committee of backbenchers can make – or if she resigns of her own volition.
One Labour MP told The Telegraph: "Tories are speaking to us saying 'this is a complete nightmare and there is no way out'. We are being asked 'can't you do something about her?'"
The MP, who said their colleagues have reported similar experiences, said they were approached by one Red Wall MP whose constituency was in the north and another MP who is a member of the One Nation group of moderates …
A Labour source said: "There is very little Labour can do. Even a vote of no confidence doesn't have the constitutional standing that it used to. The Tory party are the ones that elected her, they need to get rid of her."
The paper's Michael Deacon wrote that Conservative MPs were entirely to blame for the mess. Furthermore, he said, they risked angering Party members, the campaigning activists, if they pushed ahead with a rule change saying that the members would no longer be able to vote for future Party leaders. The members elected Truss over Sunak in August:
This week, The Telegraph reported that Tory MPs want to bar members from voting in future leadership elections. Supposedly the reason is to speed up the process of choosing a leader. But this is blatantly a smokescreen. Quite plainly, MPs just want to prevent the members from landing them with another turkey like Truss.
Many members are appalled by this suggestion. And so they should be. Such a plan is not just arrogant and undemocratic, it's delusional. Because party members aren't to blame for the current mess.
Tory MPs are.
After all, who put Truss on the ballot paper in the first place? Tory MPs. No fewer than 113 of them, in fact. A third of the parliamentary party. Out of an initial field of 11 candidates for the leadership, Truss was the MPs' second favourite.
Unlike the MPs, however, the party members weren't allowed to choose between the initial field of 11. If they had been, it's extremely unlikely that they would have chosen Truss. They'd have been far more likely to choose Penny Mordaunt or Kemi Badenoch, to name just two. In fact, if the MPs had deigned to ask them, I suspect that the greatest number of members would have wanted their leader to be Boris Johnson – the person they chose to be leader in the first place.
The truth is, the members voted for Truss simply because they didn't want to vote for Rishi Sunak. In leadership contests, they're only ever given two candidates to choose from. And why? Because Tory MPs don't trust them. They fear that, if presented with a wide-open field, party members will choose the "wrong" candidate. Funny how things turn out.
All things considered, then, it seems clear that, if anyone should be barred from voting in leadership contests, it should be Tory MPs. In future, just leave it to the wiser judgment of the members instead.
That night, The Telegraph posted an article by Lord Frost saying that the Party was moving towards a status quo, if not anti-Brexit, stance, going all the way back to David Cameron's time as Prime Minister, with George Osborne as Chancellor and Philip Hammond in the same post under Theresa May:
… the Government is implementing neither the programme Liz Truss originally advocated nor the 2019 manifesto. It is going in a completely different direction. We are back to Osbornomics, the continuity Hammond view of the world. There is no shred of a mandate for this. It's only happening because the Truss Government messed things up more badly than anyone could have imagined, and enabled a hostile takeover by its opponents …
… the correct account of the past few weeks is the simplest. Truss tried to deliver worthwhile reforms and set the country onto a much-needed new direction. I supported this policy direction and still do. But it was rushed and bungled. The markets were spooked. The mistakes were opportunistically seized on by her opponents to undermine her leadership, to blame Brexit, and to stop the party getting out of the social democratic tractor beam of the past few years. And now, under pressure, the Prime Minister has reversed tack completely.
The risk now is that we lose for a generation the opportunity to do anything better. Every time the PM defends her approach, she denounces the policies on which she was chosen. The danger is that necessary and correct reforms are discredited.
Frost held that Truss was ultimately responsible for her own downfall.
As such, she had to go:
We are where we are. I am very sorry about it, because I had such high hopes. Whatever happens to her ministers or the stability of the Government in the next few days, Truss just can't stay in office for one very obvious reason: she campaigned against the policies she is now implementing. However masterfully she now implements them – and it doesn't seem that it will be very masterfully – it just won't do. She said she wouldn't U-turn, and then she did. Her fate is to be the Henry VI of modern politics – a weak figurehead, unable to control the forces around her, occasionally humiliated, and disposed of when she has become inconvenient. Better to go now.
As for her successor and the Party:
Then the party must do two things: avoid making the economic situation even worse by repeating the policies of the Cameron government in totally different circumstances; and recover some political legitimacy for carrying on – because in our system legitimacy does matter.
Thursday, October 20
After 44 days, Liz Truss resigned as Conservative Party leader on Thursday, October 20.
She served as Prime Minister for 50 days, beating George Canning's record of 118 days. Also a Conservative, he died of tuberculosis in 1827.
She remained PM until Rishi Sunak succeeded her:
Liz Truss's final 24 hours: Suella Braverman's resignation, question over Whips' resignations (October 19)
Liz Truss's final 24 hours: fallout over Braverman and Morton, no tears in exit speech (October 19, 20)
Rishi Sunak becomes Prime Minister: a momentous morning of historic significance (October 24, 25)
How Rishi Sunak won the Conservative Party leadership contest — part 1 (October 20, 21, 25)
How Rishi Sunak won the Conservative Party leadership contest — part 2 (October 21, 26, 27)
How Rishi Sunak won the Conservative Party leadership contest — part 3 (October 22-24, 27, 28)
On Thursday morning, The Telegraph posted a Planet Normal podcast in which Lord Frost said he could see Brexit being reversed:
In the wide-ranging discussion, Lord Frost also said that he could see a future where Brexit is reversed. 
"Brexit was about giving us the power to do things ourselves and to give responsibility back to British ministers, British governments. And they've shown that many of them are not up to the job in the last year or two."
"I can easily see a situation where Keir Starmer gets in. We drift back closer into the single market and go back into the Customs Union. And then everyone says why are we in these things where we don't get a say in them? Wouldn't it be better to be a member? So I can easily see how it could happen. And the way you stop it happening is to prove, while we have the levers of power, that we can do things differently and better. And at the moment we're not making a very good job of that, unfortunately."
Little did Truss know that, the day before, she had stood at the despatch box for her last PMQs:
She resigned early on Thursday afternoon. Thankfully, she didn't cry, unlike Theresa May, who broke down at the podium (Guido has the video):
Sterling began surging the second Truss finished her announcement:
In less than 24 hours, the Conservative Party website deleted her presence from their home page (Guido has the before and after screenshots):
It was a sad ending to a sad episode of British parliamentary history.
Next week, I will look at who, besides Truss herself, was also responsible for it.
Truss is currently spending time in her own constituency and has not yet appeared on the backbenches, an alien place for someone who had been a minister of state for most of her career.
My most recent post on Liz Truss examined her first two weeks in office as Conservative Party leader and Prime Minister, from September 6th through the 16th.
Things had started out so well. Ironically, Jeremy Hunt, who is now Chancellor, told ITV's political editor Robert Peston on September 7 that Truss would be 'formidable'. An amazing endorsement from someone who was her natural ally:
Hmm. Did he know anything at that point? We'll probably never know.
On September 20, The Sun's political editor Harry Cole was delighted to announce his and James Heale's book on Truss, Out of the Blue, which later had to have hastily written chapters added to it:
Yes, it is still coming out by Christmas — November 24, to be precise:
King Charles and COP27
Liz saw King Charles on Sunday, September 18, the day before the Queen's funeral. It was not their usual day to meet, but the Royal Family went into private mourning until the end of September:
On Saturday, October 1, The Times reported that Liz had asked the King not to attend COP27, which ran between November 6 and 18, despite an invitation from the organisers.
This was a good move, in my opinion, as climate change, or whatever it's being called this week, has turned highly political.
The article said (emphases mine):
The King, a passionate environmental campaigner, has abandoned plans to attend next month's Cop27 climate change summit after Liz Truss told him to stay away.
He had intended to deliver a speech at the meeting of world leaders in Egypt.
Had she remained PM, Liz would not have attended, either:
Truss, who is also unlikely to attend the Sharm el-Sheikh gathering, objected to the King's plans during a personal audience at Buckingham Palace last month.
There were no hard feelings between the Palace and No. 10:
… a Downing Street source claimed the audience had been cordial and there had "not been a row".
No doubt he was expecting it:
A senior royal source said: "It is no mystery that the King was invited to go there. He had to think very carefully about what steps to take for his first overseas tour, and he is not going to be attending Cop."
They said the decision was made on the government's advice and was "entirely in the spirit of being ever-mindful as King that he acts on government advice".
In the end, the King held a reception at Buckingham Palace for world leaders before they flew to the summit. In light of that, this was rather interesting:
Charles is still determined to make his presence felt there, and how he will do that is "under active discussion". A senior royal source said: "Just because he is not in physical attendance, that doesn't mean His Majesty won't find other ways to support it."
A source who knows Charles said he would be "personally disappointed" to miss it and was "all lined up to go", with several engagements planned around his Sustainable Markets Initiative (SMI) which aims to persuade businesses to invest in environmentally friendly initiatives.
Public v parliamentary opinion
In late September, a poll showed that Truss was ahead of Labour's Keir Starmer in Red Wall seats, boosting the Conservatives by eight points:
Admittedly, that was before Kwasi Kwarteng's fiscal event, or mini-budget, of Friday, September 23.
That said, I will go out on a limb and say that most conservative voters thought that Kwarteng's — Truss's — plan was the right one. My better half and I thought it was refreshingly libertarian.
However, Conservative MPs vehemently disagreed with the public and started writing in to Sir Graham Brady, the chairman of the 1922 Committee, the all-powerful group that Margaret Thatcher dubbed 'the men in grey suits'.
On September 26, the Northern Echo reported:
A former Tory minister MP has told Sky News the new Prime Minister is "f*****" and the party are already looking to bring her down following Friday's mini-budget.
The MP said: "They are already putting letters in as they think she will crash the economy. The tax cuts don't matter as all noise anyway – mainly reversing back to the status quo this year …
Another Tory MP told the broadcaster that Friday's announcement – which included reversing a 1.25% hike in National Insurance – had been a "s***show".
Note that MPs were siding with the Bank of England. Very establishmentarian of them:
"The issue is government fiscal policy is opposite to Bank of England monetary policy – so they are fighting each other. What Kwasi [Kwarteng] gives, the Bank takes away."
The mood among Conservative 'wets', to borrow Thatcher's name for such weaklings, only escalated.
At Liz's one — and only — appearance before the 1922 Committee on Thursday, October 13, Robert Halfon, a wet, told Truss she had 'trashed the past ten years'.
Liz Truss was accused by a senior MP of trashing "the last ten years" of Conservative government as her party turned on its new leader over the mini-budget.
Robert Halfon, a former minister who chairs the education select committee, unleashed a furious attack on her financial measures, saying they disproportionately benefited the wealthy and meant she had abandoned "workers' conservatism".
Anything but, however:
According to an MP present, Halfon told Truss in a meeting of the 1922 Committee of backbenchers — her first as prime minister — that "in the last ten years we had the living wage, a focus on apprenticeships and skills", contrasting that with "bankers' bonuses, benefits cuts and now cuts to affordable housing targets".
His intervention came after Truss tried to assuage Conservative MPs by saying she had "shielded families and businesses from bills of up to £6,000 this winter and for the winter ahead, while Labour has no plan beyond the next six months".
The meeting did not go well. Halfon seemed to voice other MPs' concerns:
… a Tory MP who has been in the Commons for more than a decade said: "It was the worst 1922 I've ever been to." They added: "With each tough question she looked like she'd had the wind knocked out of her — the 31st of October could finish her off on the basis of the reception she got in that room."
Halloween — who schedules these things? — was supposed to be the day Kwasi was going to set out more detail behind his fiscal event. Liz's friend and neighbour in Greenwich was on hand to support her:
Thérèse Coffey, the deputy prime minister, told reporters outside the 1922 meeting that the chancellor would meet MPs before presenting his medium-term plan on Halloween, stressing that engagement was key.
In the event, Truss had to sack Kwarteng and appoint (ahem) the aforementioned Jeremy Hunt as Chancellor. He delivered his shocking budget on Thursday, November 17, to Prime Minister Rishi Sunak's approval. Sunak nodded several times during the presentation.
Returning to The Times's article of October 13, what other wets said presaged the future:
Even those who back the prime minister expect some sort of climbdown. One MP said: "She will have to unwind everything fiscal in the statement. They have to backtrack. There is no alternative. They've done it on the 45p and they'll have to do it on the rest.
"Then if we are still 20 points behind in the polls we will have to change leader. We are cold-blooded like that."
Another admitted there was "definitely still a big split between her and the Rishi [Sunak] side of the party". Asked if Truss would have to perform another U-turn, they said: "Ultimately, I suppose it depends if she's leveraged into that position by our own party, but it's all by those with 20,000 majorities."
Hmm … Hmm.
However, one Rishi Sunak supporter — Esther McVey — is deeply unhappy over his Chancellor's budget:
On Tuesday, November 22, McVey rightly tore the budget apart in ConservativeHome, saying that Hunt's tax rises are 'socialist measures' that are 'punishing Conservative voters':
… It wasn't helped by the Chancellor's statement being such a pendulum swing from the Liz Truss / Kwasi Kwarteng mini budget. People went from thinking they were getting their taxes cut to seeing them hiked.
The Autumn Statement was clearly an over-correction to that mini-budget. Going from one extreme to the other is hardly reassuring for people. A middle ground was needed: an acceptance of Conservative principles, with a costed plan and the accompanying narrative to reassure the markets.
Instead, Hunt delivered his statement with a doom and gloom that would have appropriate were the country on the brink of financial collapse. However, despite some serious challenges, things are not so dire that we had to have such excessive medicine.
For instance, the ten-year gilt yield – the interest rate the Government must pay on a new decade-long loan – was 3.14 per cent, whereas, even before the notorious mini-Budget in late September, that same yield was much higher at 3.49 per cent.
Britain is no more indebted than other comparable countries. Our national debt (albeit too high) stands at 97 per cent of GDP, whereas France, Canada and the US stands at 115 per cent, 116 per cent and 132 per cent respectively. Across the G7, only Germany has lower levels of government debt than the UK.
So when I stood up in the House of Commons at PMQs the day before the budget and said –
Given that we have the highest burden of taxation in living memory, it is clear that the Government's financial difficulties are caused by overspending and not due to undertakings. Does the Deputy Prime Minster therefore agree, if the government has got enough money to proceed with HS2 at any cost then it has sufficient money not to increase taxes, if however, it has so little money it has to increase taxes (which is the last thing for a conservative government to do) then it doesn't have sufficient money for HS2 [High Speed Rail 2]?
So can I gently urge the Deputy Prime Minister not to ask Conservative MPs to support any tax rises, unless and until, this unnecessary vanity project is scrapped, because I for one won't support them.
– it was to remind everyone there are better choices for our Conservative government than hiking up taxes.
In fact, given that unprecedented tax burden, any self-respecting Conservative would instinctively know that the answer is to spend less. Dropping HS2 – an out-of-date white elephant, costing north of £150 billion which (as Andrew Gilligan revealed on my show on GB News) the Ministers themselves know will deliver less economic benefit than the cost of it – would have been an ideal place to start. That would certainly have been more desirable than increasing taxes on hard-working families who are already feeling the severe pain of higher energy prices and increased mortgage payments.
If a Conservative government with a sizeable majority – in a time of financial pressure – won't cut public expenditure to start living within our means, then when on earth will that ever happen? …
Parliament is debating Jeremy Hunt's budget this week. In Monday's proceedings, a number of Conservative MPs spoke out against it.
Liz's U-turn on windfall tax
On October 12, two days before she sacked her friend and neighbour Kwasi Kwarteng, she appeared to do a U-turn on 'no new taxes' by allowing an announcement for a new levy on green energy firms.
Her ally, then-Business (BEIS) Secretary Jacob Rees-Mogg, defended the move and claimed it was not a windfall tax:
Guido Fawkes reported (emphases his):
The government has announced a new plan to impose a multi-billion pound levy on green energy firms to fund support to consumers. Renewable and nuclear electricity generators in England and Wales will now have their revenues capped after windfall tax-hating Liz Truss seemingly bowed to pressure to limit profits. The announcement came from BEIS last night, which is calling the new policy a "Cost-Plus-Revenue Limit" and spinning that it isn't in any way a windfall tax "as it will be applied to 'excess revenues' as opposed to profits". If it walks like a tax, swims like a tax and quacks like a tax…
The latest backtracking on free market values by the government comes just 41 days after Liz Truss told party members at the London husting that they could read her lips, and there would be no new taxes under her leadership …
On Today this morning, Rees-Mogg tried performing a Jedi mind trick, saying "this is not a windfall tax…this is rationalising the market"…
Despite the government's denial that the new revenue limit is a tax, the boss of RWE – the third biggest renewable power generator in Britain – has told The Times the move "is a de facto 'windfall tax' on low-carbon generators that, if not designed and implemented correctly, could have severe negative consequences for investment in the renewable and wider energy market and so for the energy transition."
Guido warned that Labour's support for the new levy is not a good sign:
Ed Miliband welcoming the policy with open arms should give the government sufficient pause for thought before it buys its own spin…
The mystery of Liz signing UK up to EU's PESCO
Early in October, Liz did a strange thing, considering she is a staunch Brexit supporter.
She attended the first ever meeting of the European Political Community in Prague. The European Political Community is Emmanuel Macron's brainchild.
This group is made up of EU member countries, yet, somehow Liz got an invitation. No one knows for certain.
However, she went.
She met with Macron on Thursday, October 6, in an effort to get the Channel dinghy crossing issue resolved.
GB News reported:
Liz Truss hailed Emmanuel Macron as a "friend" on Thursday, as the two countries signalled that a new agreement could be close to tackle small-boat crossings in the Channel.
The pair met at the first summit of the European Political Community in Prague, a gathering pushed for by the French president.
There, the pair said they looked forward to "an ambitious package of measures this autumn" to address issue of migration across the Channel.
And in a sign that Ms Truss hopes to improve relations with Mr Macron, she had no hesitation in labelling him a "friend", just weeks after refusing to do so …
Mr Macron later suggested it was a "problem" if Britain could not call itself a friend of France.
But Prime Minister Ms Truss adopted a different tone ahead of a meeting with Mr Macron in Prague on Thursday.
She told broadcasters: "I work very, very closely with President Macron and the French government and what we're talking about is how the UK and France can work more closely together to build more nuclear power stations and to make sure that both countries have energy security in the future.
"We're both very clear the foe is Vladimir Putin, who has through his appalling war in Ukraine threatened freedom and democracy in Europe and pushed up energy prices which we're now all having to deal with."
Asked if he was then a friend, Ms Truss said: "He is a friend."
The bi-lateral meeting between the two leaders, which took place towards the end of the day, appeared to signal some progress on the issues of migration and energy, both areas Ms Truss had raised as priorities ahead of the summit.
"Thank you for being here," Mr Macron told the PM when they met.
It also emerged that the two countries have agreed to hold a joint summit next year to "take forward a renewed bilateral agenda", in a further sign of the desire for warmer relations between the two countries.
On migration, a joint statement said the leaders "agreed to deepen cooperation on illegal migration within the bounds of international law, to tackle criminal groups trafficking people across Europe, ending in dangerous journeys across the Channel".
But the big, and secret, news was that Liz had signed the UK up to the EU's PESCO — Permanent Structured Co-operation — which is a military initiative.
Nigel Farage announced the move on his GB News show as soon as he had heard.
On Friday, October 7, The Express said that the move could affect British armed forces by dragging them into an EU army:
The Prime Minister has been warned not to allow the UK to be dragged into an EU Army by accident after she signed a military deal this week at Emmanuel Macron's European Political Community (EPC) summit in Prague. The decision to go into part of the PESCO has alarmed some Brexiteers who fear it could undermine the UK's sovereignty.
Former defence minister Sir Gerald Howarth, a leading Brexiteer has led the campaign to resist joining PESCO for many years.
He said: "This is very serious and we must be very careful. The issue around PESCO is that the structures are permanent.
"We must not sign up to anything which undermines our sovereignty and where we do not have a veto.
"Second, we must not do anything that undermines NATO. If we have learnt anything over the last few months is that we need NATO for the defence of western values and Europe against our enemies which at the moment is clearly Russia."
Even if this has to do with Ukraine, and enables us to move troops and military equipment more easily, it still raises questions:
At the EPC meeting on Thursday, the EU member states voted unanimously to allow the UK to join the the mobility project that would allow the UK to move troops and military equipment more quickly.
The UK Government decided to enter the strand in case Britain is called upon as a NATO ally to defend the Baltic states from a Russian invasion.
However, staunch Brexiteer Mark Francois MP was relaxed about it:
One senior Brexiteer, former Armed Forces Minister, Mark Francois, who now chairs the powerful group of Tory Brexiteers the European Research Group (ERG), said he believes that the move was the right one.
He said: "As we are outside the EU, we can opt in to individual PESCO projects if they have merit and looking at how we could speed up reinforcing the Baltic States from the UK, across internal EU borders, may well have military advantages.
"However, it is NATO that remains the bedrock of our security, especially in deterring further Russian adventurism and we should never forget that."
On October 9, David Kurten, a former London Assembly member and founder of the Heritage Party, said that signing the UK up to PESCO was a betrayal of Brexit:
One month ago, the aforementioned Sir George Howarth appeared on Farage to say that we still do not know what part of PESCO Liz signed us up to. He was clearly concerned, saying that the implications could be important, especially as none of the countries involved has a veto. The EU calls all the shots:
Today, one month on, we are none the wiser about our involvement in PESCO.
Someone must know what's going on. In fact, a lot of people probably do know.
Liz's final week
All of Liz's opponents, whether on the right or the left, told us that Liz and Kwasi, joined at the hip politically, had to go.
Project Fear started as soon as Kwasi delivered his mini-budget on September 23.
On September 27, Bloomberg told us that UK markets had lost $500 billion in combined value since Liz Truss became PM. Really?
'Investor confidence' means international markets, ergo part of the Establishment.
Also at that time, former Conservative Chancellor George Osborne, who served under David Cameron, stuck the boot in.
On September 29, a comment from an UnHerd reader appeared in response to one of their articles, beginning with 'Is this the end for Liz Truss?':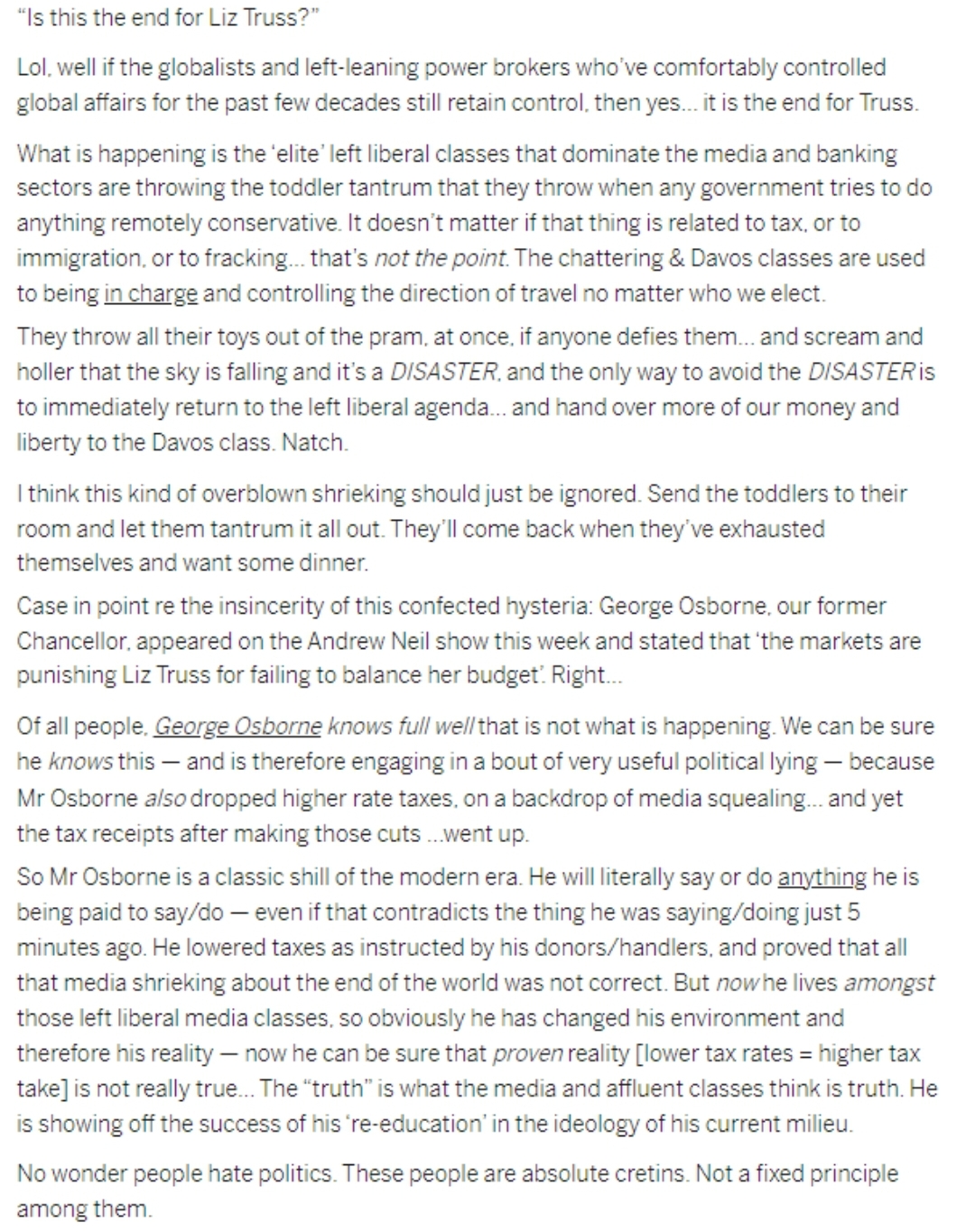 Osborne features heavily in it. The reader quotes him saying, 'The markets are punishing Liz Truss for failing to balance her budget'.
The UnHerd reader says:
Right.
Of all people, George Osborne knows full well that is not what is happening. We can be sure he knows this — and is therefore engaging in a bout of very useful political lying — because Mr Osborne also dropped higher rate taxes [the 50% rate], on a backdrop of media squealing … and yet the tax receipts after making those cuts … went up.
So Mr Osborne is a classic shill of the modern era …
As to whether Liz would have to go, the reader supplies the answer at the top of his message:
… well, if the globalists and left-leaning power brokers who've comfortably controlled global affairs for the past few decades still retain control, then yes … it is the end for Truss …
… It doesn't matter if that thing is related to tax, or to immigration, or to fracking … that's not the point. The chattering and Davos classes are used to being in charge and controlling the direction of travel no matter who we elect.
Speaking of such people, on Wednesday, October 12, King Charles greeted Liz with, 'Dear, oh dear', while the press were still there to record it for posterity:
What did he know and when?
The beginning of the end came two days later on Friday, October 14, when Liz sacked Kwasi and appointed (ahem) Jeremy Hunt as Chancellor. This was the shortest and most painful press conference — she only took four questions — in living memory. She looked like a rabbit in the headlamps or a hostage being forced at gunpoint to read out a message:
As soon as she announced it, we knew Hunt was, at that point, the de facto Prime Minister.
Hours later, The Telegraph reported:
Mr Hunt, a former foreign secretary, took the helm at the Treasury following the sacking of Kwasi Kwarteng over the mini-Budget fiasco. Ms Truss turned to him even though the pair have strongly disagreed on economic policy.
Mr Hunt, also an ex-health secretary, endorsed Rishi Sunak for the Tory leadership after being voted out of the race in July, saying: "This is the wrong time for populist crowd-pleasing and the right time for honesty."
He will hold huge power over a weakened Prime Minister, raising the likelihood that much of her growth plan will now be axed. Allies said that he would act as her "chief executive".
Mr Hunt ran for the Conservative leadership on a platform of slashing corporation tax to 15 per cent to boost growth but also opposed cuts to personal levies such National Insurance and income tax, with which Ms Truss still intends to press ahead.
His appointment was announced moments before the Prime Minister unveiled her U-turn on corporation tax at a press conference. She ditched what had been a core leadership pledge, meaning the rate companies pay on their profits will go up from 19 to 25 per cent in April. It means she has reverted to the plan put in place by Mr Sunak when he was chancellor.
Quelle surprise!
Conservative Party members had voted Liz Truss in largely on her economic policy.
The elites took out her Chancellor. Soon afterwards, they came for her in the form of Conservative MPs and the 1922 Committee. It was a grand game of political chess, not seen since Margaret Thatcher was removed from office in 1990.
To be continued on Friday.
At midday on Wednesday, October 20, 2022, Liz Truss did a good job at Prime Minister's Questions (PMQs).
She looked normal and bouncy, like the woman we saw in the Conservative Party leadership hustings only a few weeks ago. She was good at the despatch box, including against the leader of the Opposition, Labour's Keir Starmer.
Afterwards, I thought, 'Phew. Looks like a drama-free day for once'.
By mid-afternoon, all hell broke loose and continued into the evening.
Suella Braverman
Suella Braverman was doing a great job as Home Secretary.
Liz Truss appointed her on September 6.
Many outsiders do not know that Braverman is of mixed race, born to parents of Kenyan and Mauritian heritage.
On September 7, ice cream moguls Ben & Jerry were quick to criticise her plans to stem immigration:
The Telegraph reported (purple emphases mine):
Ice cream company Ben & Jerry's is facing criticism for publishing a to-do list for Suella Braverman, the new Home Secretary, suggesting she should "scrap the Rwanda plan" and take dessert breaks.
The firm's UK Twitter account tweeted a message of congratulations to Ms Braverman, accompanied with the image of a list including various objectives for her first day in the role on September 7, such as to "introduce safe routes to the UK for people seeking asylum" and "lift the ban and give people seeking asylum the right to work" …
It came as Ms Braverman made her first speech to Home Office staff on Wednesday, after which it was suggested that she could seek joint beach patrols with the French to help prevent Channel migrant crossings as part of any deal to continue UK funding …
On Wednesday in an address to a packed out atrium of Home Office staff, Ms Braverman said that tackling the Channel migrant crisis was going to be one of her "clear priorities" as she told them she was going to "develop some obsessions."
"This is not just a manifesto pledge, people are dying," she said, as she promised to take a "firmer line" against people traffickers. It was one of three priorities alongside making streets safer through a back-to-basics approach to crime with the extra 20,000 officers and counter-terrorism …
Braverman, who is a barrister, has a brilliant mind but takes time out for mindless entertainment:
Asked on Wednesday by Home Office staff what she does to unwind, she said that other than spending time with her family, it's "trash TV" and singles out Married at First Sight, Love Island and First Dates.
Home Office officials appeared relaxed about Braverman's appointment, with one source in the department telling the journalist Nicola Kelly: "Anyone — Suella included — would be better than what we've had."
Braverman became the first practising Buddhist to be appointed to the Cabinet and took her oath of office when appointed an MP on the Dhammapada, one of the best known Buddhist scriptures.
The new home secretary, born Sue-Ellen Cassiana Fernandes to a mother from Mauritius and a father from Kenya, married Rael Braverman in 2018 in a ceremony in the House of Commons.
He said that she invited him to the Houses of Parliament as their first date and the couple have told how their shared love of politics is what "allowed their romance to blossom".
They have two children, aged three and one, and Braverman became the first cabinet minister to go on maternity leave.
It was a huge deal. I remember watching her in Parliament on the day before she went on maternity leave. She was grateful for that opportunity:
As Attorney General, she banned diversity training in her department when she returned from maternity leave.
On August 4, 2022, the Mail reported:
Mrs Braverman, the Government's chief legal adviser, has scrapped diversity and inclusion training in her department having discovered that hundreds of her lawyers spent 1,900 hours on the woke lectures last year.
Speaking to Talk TV yesterday, she said: 'I looked at the training materials and I was very sad at what very intelligent, fair-minded, professional people were being taught.
'This training stuff was based on a premise that someone like me, an Asian woman from a working-class background, must necessarily be a victim, must necessarily be oppressed, must necessarily be a victim of white privilege and white fragility.'
She said that rather than uniting people, it divides them by cohorts 'based on different kinds of grievances'.
'I don't think it's the right way to spend taxpayers' money, I don't think it's the right way to use vital civil service resource when we've got a Passport Office that needs to work harder on delivering passports and we've got a DVLA that needs to be quicker at issuing driving licences,' she added.
Her first achievement was to be in post during the Queen's funeral events, which went superbly.
Her second was to order an urgent enquiry into why June's scheduled flight to Rwanda had to be abandoned.
On October 15, The Telegraph told us of the results:
A company owned by a lawyer who helped block the Government's Rwanda deportation flight was given taxpayers' money to train immigration advisers, The Telegraph can disclose.
More than £100,000 was awarded to HJT Training – a firm run by two barristers at the chambers which grounded a flight to the African country in June.
A Home Office source said Suella Braverman, the Home Secretary, had instructed civil servants to undertake an "urgent review" of the contract, amid claims from Tory MPs the quango responsible for overseeing immigration advice could have been hijacked by activism.
HJT Training and the quango – the Office for the Immigration Services Commissioner (OISC) – both denied there was any conflict of interest and they are not accused of any wrongdoing …
Two of HJT Training's four directors – Mark Symes and David Jones – are barristers at Garden Court Chambers.
On June 14, the chambers secured injunctions at an emergency hearing before the Court of Appeal which prevented a plane from removing asylum seekers to Rwanda.
Mr Symes, who is listed on Companies House as having a "significant control" in HJT Training, was a member of the team.
Mr Jones did not act in the case. Garden Court Chambers said the asylum seekers they were representing all "had strong cases for asylum in the UK" and their stories demonstrated the "inhumanity in the Rwanda policy".
Her third achievement was deporting 11 Albanians shortly after they crossed the Channel in small vessels.
On October 18, The Guardian reported concerns from human rights groups, but this is the nub of the story:
The Albanians are thought to have arrived in the UK last week and were taken from Manston in Ramsgate where the Home Office processes small boat arrivals, to Stansted airport from where they were put on a plane back to Albania on Wednesday. It is thought to be the first time small boat arrivals have been put on a plane directly from Manston.
Her fourth achievement was seeing the Public Order Bill debated and passed in the Commons that day:
Her closing remarks in that debate will be remembered for some time to come:
When I was the Attorney General, I went to court to establish that it is not a human right to commit criminal damage. The Court of Appeal agreed with me in the Colston statue case that serious and violent disorder crosses a line when it comes to freedom of expression. That is common sense to the law-abiding majority.
Since 1 October alone, the Metropolitan police have made over 450 arrests linked to Just Stop Oil, and I welcome this, but more must be done. That is why I welcome the fact that, today, Transport for London has succeeded in securing an injunction to protect key parts of the London roads network. That is an important step forward in the fight against extremists. However, these resources are vital and precious, and this has drained approximately 2,000 officer days at the Met already. Those are resources that are not dealing with knife crime and are not dealing with violence against women and girls.
I am afraid to say—and I will come to a close soon—that that is why it was a central purpose of the Police, Crime, Sentencing and Courts Bill, now an Act, to properly empower the police in face of the protests, yet Opposition Members voted against it. Had Opposition Members in the other place not blocked these measures when they were in the Police, Crime, Sentencing and Courts Bill, the police would have already had many of the powers in this Bill and the British people would not have been put through this grief. Yes, I am afraid that it is the Labour party, the Lib Dems, the coalition of chaos, the Guardian-reading, tofu-eating wokerati and, dare I say, the anti-growth coalition that we have to thank for the disruption we are seeing on our roads today. I urge Opposition MPs and Members of the other place to take this second chance, do the right thing, respect the rights of the law-abiding majority and support this Bill.
The bill passed: 283 to 234.
The next day, Wednesday, I tuned in to GB News late that afternoon to find out that Braverman had resigned or been sacked:
As such, Braverman holds the record for being the shortest-serving Home Secretary at 43 days.
The next shortest-serving was fellow Conservative Donald Somervell at 62 days, says The Guardian:
Somervell held the post from May to July 1945 in Winston Churchill's caretaker government before it was defeated in a general election.
Truss will have the shortest record as a serving Prime Minister when she leaves next week.
Grant Shapps, former Transport Secretary, replaced Braverman as Home Secretary. It is hard to imagine that he could do the job.
Nigel Farage said that this was a coup:
You could not make this up.
Guido Fawkes reported, alluding to her Public Order Bill closing speech (emphases his):
The Guardian gets the scoop that Suella Braverman is out as Home Secretary "at the behest of the Chancellor".
Sources claimed the move was at the behest of the new chancellor, Jeremy Hunt, who has taken over control of the government's economic response following Truss's disastrous mini-budget, but who they claimed was now "pulling the strings".
A major victory for tofu lovers everywhere…
UPDATE: Reports suggesting she was fired for breaching the ministerial code, after handling sensitive documents on a private phone. Chaos…
Anyone wondering if they are part of what Braverman called the 'tofu wokerati' can take a Times quiz and find out for sure.
Not surprisingly, I came in the middle with mostly 'B' answers to the multiple-choice questions:
Borderline. You know, in your heart, that the wokerati are a real and dangerous thing and definitely not some made-up term chucked about by a desperate home secretary. Come on! You know tofu is bad, nicely crisped or not. You're just too wrapped up in seeming "reasonable" and with "seeing both sides of things". Yes, your monthly mortgage repayments have gone up so much that you've had to sell one of your children … Come on. Time to get off the fence.
Braverman quickly posted her letter of resignation online:
Patrick Christys analysed it on GB News, pointing out the fourth paragraph, particularly the second sentence:
It is obvious to everyone that we are going through a tumultuous time. I have concerns about the direction of this government. Not only have we broken key pledges that were promised to our voters, but I have had serious concerns about this Government's commitment to honouring manifesto commitments, such as reducing overall migration numbers and stopping illegal migration, particularly the small boat crossings.
While Braverman went on to speak at a Diwali reception sponsored by the India Global Forum that evening, the political animals among us were dissecting what really happened:
Boris Johnson's former adviser Dominic Cummings said that what Braverman did was not a sacking offence. 'OFF-SEN' is shorthand for Official-Sensitive and 'CABOFF' is Cabinet Office:
Former Conservative MP Anne Widdecombe told Dan Wootton the same thing that evening:
The Guardian dissected Braverman's letter paragraph by paragraph; excerpts follow, bold emphases theirs:
What she said
Earlier today, I sent an official document from my personal email to a trusted parliamentary colleague as part of policy engagement, and with the aim of garnering support for government policy on migration. This constitutes a technical infringement of the rules … nevertheless it is right for me to go.
What she meant
Braverman devoted the top two paragraphs of her letter – less than half – to addressing the issue she said she was resigning over, making clear she realised she had broken the ministerial code by storing government documents on a personal device and sending those to a "trusted parliamentary colleague". She left herself little wriggle-room and wholly accepted the mistake. It means in the future she will be able to say she stepped down swiftly and try to brush away suggestions about her being unfit to rejoin the government.
What she said
Pretending we haven't made mistakes, carrying on as if everyone can't see that we have made them, and hoping that things will magically come right is not serious politics. I have made a mistake; I accept responsibility; I resign.
What she meant
Not hard to work out what she is referring to here. The parallel between Braverman taking responsibility for her mistake and Truss being accused of refusing to acknowledge the pain caused by her mini-budget is plain to see. Truss has recently said she takes responsibility for the chaos caused. If she were to follow the logic set out by the former home secretary in this paragraph, she would need to resign.
The analysis also addressed Truss's brief letter of acknowledgement:
Liz Truss's reply
I accept your resignation and respect the decision you have made. It is important that the ministerial code is upheld, and that Cabinet confidentiality is respected.
What she meant

Significantly shorter in length and far from gushing about Braverman's performance as home secretary, Truss ensures that it is known the home secretary is stepping down squarely because of her breach of the ministerial code. Given she still has no ethics adviser, this is a quick decision the prime minister must have come to but she is keen to make sure there is no ambiguity.
Readers will be left with the impression there is no love lost between the two women.
The Telegraph reported that there was more to the story than a breach of the ministerial code. The two women had a row over immigration on Tuesday night, with Jeremy Hunt on hand.
Note that the Office for Budget Responsibility wants more migration, which isn't surprising, as they are left-leaning:
The fuse for Suella Braverman's resignation was lit on Tuesday night when she had a heated face-to-face row with Liz Truss and Jeremy Hunt, her new Chancellor, over their demands to soften her stance on bringing down immigration.
Friends said the Home Secretary was appalled that they wanted her to announce a liberalisation of immigration to make it easier for the Office for Budget Responsibility (OBR) to say the Government would hit its growth targets – a key plank in Mr Hunt's strategy to restore market confidence.
"Suella said, this is insane, why are we trying to appease the OBR? Is everything getting thrown out the window?" said one of her allies …
Within 24 hours of her "fiery" 90-minute meeting with the Prime Minister and Mr Hunt, Ms Braverman had been forced to resign after being accused of breaching the ministerial code on two counts for sending official documents to another MP from her personal email …
It now poses a threat to the future of the Prime Minister after Ms Braverman used her resignation letter to say she had "concerns" about the direction of the Government and the breaches of its manifesto commitments on immigration.
However, the most incendiary was a coded attack on Ms Truss's integrity in which the Prime Minister's former leadership rival said "the business of government relies upon people accepting responsibility for their mistakes" …
It had been intended at the start of the week that Ms Braverman would set out the new immigration policy on Thursday with a meeting of the Cabinet's home affairs committee, with Mr Hunt, Therese Coffey, the Deputy Prime Minister, and other senior ministers due to finalise the plans on Wednesday lunchtime.
However, Mrs Braverman never attended the meeting after sending an email on Wednesday morning intended for Sir John Hayes, the chairman of the Common Sense group of Tory MPs, containing Government documents about immigration.
The Home Secretary accidentally clicked on the wrong drop-down tab on her email and sent the document from her personal email address to a staffer who works for Tory MP Andrew Percy.
Mr Percy then complained to Wendy Morton, the Government's Chief Whip, who reported the leak to the Cabinet Office, before Prime Minister's Questions on Wednesday.
Simon Case, the Cabinet Secretary, investigated and rapidly concluded Ms Braverman had broken the ministerial code on two counts.
One was on part 2.14 of the code, the "security of government business". That section says "ministers have an important role to play in maintaining the security of Government business".
The other was 2.3, "collective responsibility". That states "the internal process through which a decision has been made, or the level of Committee by which it was taken should not be disclosed".
Ms Truss then confronted Ms Braverman with the findings. She made clear what should follow from ministerial rule breaches, according to allies, leaving Ms Braverman to resign.
There is a dispute over the nature of the documents that she emailed. Ms Braverman maintains it was a draft written ministerial statement (WMS), due for publication imminently and much of which had already been briefed to MPs.
Downing Street sources were, however, incensed by the claim that it was only a WMS which was made public. Instead, the sources said it was the contents of a sensitive internal policy document that Ms Braverman had passed on.
Allies of Ms Braverman said she was told by Ms Truss that if the Government defended her, it would be at risk of "salami slicing" by critics trying to pick off ministers.
"Liz says: 'If you stay, we'll have to defend you and it will salami slice our credibility. For your own sake you should go'," said one ally.
"Suella thought 'are you serious, you're not even going to defend anyone over anything?' She said: 'Fine, if you won't stand up for me, I'll go'."
The row meant that Ms Truss had to pull out of a visit to a venue near London. Ministers briefed privately that she was detained on a "national security issue".
Within two hours Ms Braverman had quit …
Allies of Ms Braverman said she was in a minority in Cabinet in her attempts to resist liberalising migration to boost growth and the arrival of Mr Hunt as Chancellor appeared to reinforce that majority. In his leadership bid in 2019, he vowed to abandon Mrs May's immigration target of tens of thousands …
Ms Braverman's refusal to accept an "open borders migration policy" with India proved one flashpoint – and was blamed by critics for delaying efforts to secure a trade deal with the second most populous nation in the world …
Migration has already hit a new high as more than one million foreign nationals were allowed to live, work or study in the UK in a year for the first time.
Wendy Morton
As if Braverman's departure wasn't enough during the day, there was more to come with Labour's motion in the Commons that evening, Ban on Fracking for Shale Gas Bill.
Although the debate was about banning fracking, the results of the vote were one of confidence in Liz Truss's premiership. As such, Conservative MPs were told there was a three-line whip. There are Conservative MPs who would love a fracking ban.
The Commons was noisy on both sides of the chamber during the debate. I watched the last hour or so.
At the end, Graham Stuart, the Minister for Climate, responded on behalf of the Government. He sowed doubt as to whether this was a whipping matter for Conservatives:
It is a great pleasure to wind up this debate, to which there have been so many excellent contributions from across the House. Perhaps not for the first time, the right hon. Member for Doncaster North (Edward Miliband)—he is an extremely clever man, for whom I have a great deal of respect—has been a little bit too clever by half. Perhaps if more drafting had gone into this, instead of seizing the Order Paper we could have had a different style—[Interruption.] It was an attempt to seize the Order Paper. Quite clearly, this is not a confidence vote—[Interruption.] Obviously, this is not a confidence vote; it is an attempt—[Interruption.]
Conservative MP Andrew Percy intervened:
The Minister is absolutely right about the green revolution, in which our region in the Humber is playing such a big part. I ask him to reflect on the speeches that have been made today. If this was a clear vote on whether or not we should have fracking, I would be in the Lobby with the Opposition …
Labour's Ed Miliband, who was leading his party's motion, then asked for clarification:
For the guidance of the House, the Minister said something very important from the Dispatch Box: he said that this is not a confidence motion. I think Conservative Members want to know, because if he confirms that statement, they can vote for our motion in the safe knowledge that they can be confident in the current Prime Minister. Will he confirm that?
Stuart said he had already given the answer more than once. Another Labour MP intervened to ask for clarification.
Then another Conservative MP, Ruth Edwards, intervened:
I really need to press the Minister on this question of a confidence vote. Many of us have been told today by our Whips that if we vote for, or abstain from voting against, this motion, we will lose the Whip. Will he please confirm whether that is the case?
Stuart replied:
That is a matter for party managers, and I am not a party manager.
… the deregulatory side of the growth package is under threat, with Tory MPs wary of relaxing planning laws and seeking solid guarantees that fracking has local support before going ahead. Ms Truss's difficulty is that on all these issues she could face rebellions and her beleaguered position makes it harder to persuade her party to support government policy.
Tonight's Labour procedural vote on fracking, which was originally said to be a confidence matter, was a case in point. Although the Government won, the chaos surrounding the vote only reinforced the sense of a parliamentary party now edging towards open mutiny.
The division — the vote — went on for longer than usual. Madam Deputy Speaker, Dame Eleanor Laing, asked the Serjeant at Arms to investigate the No lobby.
After the results were read, showing that the Government's stance on fracking only with local approval prevailed, the Shadow Leader of the House, Thangham Debbonaire, raised a point of order:
On a point of order, Madam Deputy Speaker. There are very strong rumours that the Government Chief Whip has apparently resigned. I wonder if it is possible to get some clarity—[Interruption.] More than rumours—[Interruption.] Well, if Government Front Benchers want to say no. I seek your guidance, Madam Deputy Speaker, on whether or not that can be confirmed, given that this is a matter of parliamentary discipline?
Laing said she had not been informed of any Government resignations.
Then Liberal Democrat MP Tim Farron asked whether this was actually a vote of confidence:
On a point of order, Madam Deputy Speaker. I wonder whether you could clarify that the Minister closing the debate we have just had from the Dispatch Box informed his colleagues that it was not a vote of confidence, when we saw earlier, in writing from the Government Deputy Chief Whip, that it was. Could it be possible that Government Members voted in the Division just now without any clarity on what it was actually they were voting for?
Laing replied:
I thank the hon. Gentleman for his point, which of course is not a point of order for the Chair. My concern is that what is said on the Order Paper is correct and accurate, and it is. I thank the hon. Gentleman for the point he raises, but it is not one on which I can judge. Ministers are responsible for their own words.
Then Labour's Chris Bryant raised a point of order:
On a point of order, Madam Deputy Speaker. I urge you to launch an investigation into the scenes outside the entrance to the No Lobby earlier. As you know, Members are expected to be able to vote without fear or favour and the behaviour code, which is agreed by the whole House, says that there shall never be bullying or harassment of Members. I saw Members being physically manhandled into another Lobby and being bullied. If we want to stand up against bullying in this House of our staff, we have to stop bullying in this Chamber as well, don't we? [Interruption.]
Laing replied:
Order. We are talking about behaviour. We will have a little bit of good behaviour for a moment on both sides of the House.
The hon. Gentleman raises an important matter about behaviour. He knows better than anyone else that we have an extremely good system for investigating allegations of bullying, intimidation or bad behaviour. If the hon. Gentleman cares to bring evidence and facts to me, I will make sure that the matter is properly investigated. Of course, we must have decorous behaviour at all times, so we will now proceed quietly and politely.
Later that evening, The Guardian reported:
Amid chaotic scenes in the Commons, it was reported that Wendy Morton, the chief whip, and her deputy, Craig Whittaker, had left the government. However, after hours of confusion Downing Street released a statement saying the two "remain in post" …
The change of personnel in the second of the four great offices of state came on a frantic day which also saw a series of Tory MPs, including Truss's net zero tsar, rebel in a fracking vote, another U-turn over the pensions triple lock, and a mauling from Keir Starmer at prime minister's questions.
After the government won a vote to defeat a Labour motion to ban fracking, the Labour MP Chris Bryant told the Commons in a point of order that he had seen some Tory members "physically manhandled" by ministers into voting for the government.
Just after midnight on Thursday morning, The Telegraph reported on the chaos around the No lobby.
Things did not look good for the Prime Minister:
The Chief Whip was forced out of Government and then reinstated on Wednesday night, capping off a day of chaos for Liz Truss after a confidence vote descended into allegations of backbenchers being manhandled through the lobby. 
It had been reported earlier in the evening that Wendy Morton, one of Liz Truss's closest allies, had been ousted and that her deputy, Craig Whittaker, quit in protest at her treatment.
But hours later the position was reversed, with a No 10 spokesman issuing a statement to say that the "chief and deputy chief whip remain in post".
Downing Street sources insisted Ms Morton resigned, but some MPs claimed that she marched out of the Chamber during the vote on fracking before being sacked by Ms Truss.
Meanwhile, Jacob Rees-Mogg, the Business Secertary, insisted that "this is a Government that is functioning well."
It came at the end of a day of high drama in Westminster, which saw confusion reign over whether or not Conservative MPs would lose the whip for rebelling over a Labour opposition day debate on fracking.
The motion, which was defeated, would have guaranteed Commons time to debate a new law to ban fracking once and for all.
The vote meant that Ms Truss faced a showdown with rebellious MPs, many of whom have openly expressed their opposition to her plans to lift the moratorium on fracking.
But the Prime Minister ordered backbenchers to support the contentious policy – a high risk strategy given the already mutinous mood within the party.
On Wednesday morning, Tory MPs were told by the whips' office that the vote was a "100 per cent hard three line whip".
The message from Mr Whittaker went on to say: "This is not a motion on fracking. This is a confidence motion in the Government.
"I know this is difficult for some colleagues, but we simply cannot allow this. We are voting no and I reiterate, this is a hard three line whip with all slips withdrawn."
If a vote is being treated as a matter of confidence in the Government, it usually means that MPs who vote against it would be expelled from the Conservative Party and have to sit as independent candidates.
Throughout the afternoon, a string of senior Tory MPs broke ranks to declare that they would be prepared to "face the consequences" of voting against the Government.
Truss's Net Zero tsar, Chris Skidmore, said he would rebel:
Several other Conservative MPs echoed his sentiment.
When it came time to vote on the motion:
Tory backbenchers remained completely in the dark as to whether they would lose the whip for voting against the Government or not.
The scenes must have been unbelievable:
It was at this point that the mayhem appeared to reach boiling point, with Labour's Chris Bryant claiming that Tories were "physically manhandled" into the "no" lobby.
Ms Truss was reportedly yelled at by rebel MPs as she went through the lobby. Meanwhile, Mr Whittaker was reportedly overheard saying: "I am f***ing furious and I don't give a f*** any more."
According to some reports, Ms Morton resigned and left the Chamber as the voting was taking place, with Ms Truss grabbing her arm in an attempt to persuade her to reconsider. The Prime Minister then left the lobby trailing behind Ms Morton, and in the chaos, did not manage to vote herself.
While the Government won the vote, there were no fewer than 40 Tory abstentions – including Kwasi Kwarteng, who was sacked as chancellor on Friday, Theresa May, former prime minister, and Ms Truss herself.
I saw a later report that said that Truss voted but her pass card did not work, which was why her vote did not immediately show.
Chris Bryant alleged that Cabinet members were involved in the chaos:
It was unclear how many of the 40 abstentions were because MPs were unavoidably away from Parliament – Boris Johnson, for example, is currently on holiday – or because they were abstaining as a point of principle.
Mr Bryant told Sky News that Cabinet ministers Therese Coffey and Mr Rees-Mogg were among a group of senior Tories who were putting pressure on Conservative MPs to vote against the Labour motion on fracking.
"There was a bunch of Conservative Members obviously completely uncertain whether they were allowed to vote with the Labour or against it," he said.
"There was a group including several Cabinet ministers who were basically shouting at them. At least one member was physically pulled through the door into the voting lobby. That is completely out of order.
"I know that Therese Coffey was in the group. I know that Jacob Rees-Mogg was in the group and there were others as well. The group all moved forward with one member."
Other MPs were also upset at the lack of clarity:
One furious MP said they felt the Government had deliberately tried to trick backbenchers into supporting it with the mix-up over whether the vote was a confidence matter. They said this amounted to a "breach of trust" between No 10 and MPs that would be almost impossible to repair.
Another senior Tory MP put the confusion down to a "cock up" between No 10 and the whips office and said the confidence vote was in fact meant to be attached to the Government's motion, and not the one tabled by Labour …
One senior Tory MP appeared to sum up the mood in the party and said the past 24 hours had been "beyond comedy", adding: "You couldn't make it up if you spent 20 years trying to write this. The greatest author in the world couldn't make it up."
Business Secretary Jacob Rees-Mogg attempted to shed light on the situation:
Speaking to Sky News after the vote had ended, Mr Rees Mogg said he did not know whether Ms Morton was still in post or not, saying: "I am not entirely clear on what the situation is with the Chief Whip."
He explained that the confusion arose over whether the Commons vote on fracking was a confidence vote because of a message sent by a "junior official in 10 Downing Street", suggesting they did not have the authority to do so.
Asked whether the Government "blinked" and U-turned on the confidence vote over fears of losing it, he told Sky News: "I don't think that's a fair way of looking at it. I think what happened was that, late in the day, a junior official at 10 Downing Street sent a message through to the front bench that it was not a vote of confidence and nobody else was aware of that.
"The whips were not aware of that, I was not aware of that and most members thought that it was a vote of confidence. It was simply one of those unfortunate miscommunications that occasionally happens."
He added: "It's one of the issues you always face in government that people say they speak for Downing Street without having actually ever bothered to get the authority of the Prime Minister and unfortunately on this occasion it fed through immediately to the floor of the house."
The conversation about the vote continued on Thursday, culminating in Liz Truss's resignation.
More about this debacle will follow in my post on Monday.
Yesterday's post introduced the sad saga of Prime Minister Liz Truss and her first Chancellor Kwasi Kwarteng over their fateful fiscal event of Friday, September 23, 2022.
My post ended with the market turmoil and negativity up to Friday, September 30.
Many of us hoped that his plan would work. After all, the market turmoil is global, for different reasons in different Western countries.
What motivates Kwarteng
On Wednesday, September 28, Rachel Sylvester wrote an interesting profile of Kwarteng for The Times, complete with photos of him and Truss from their earlier days as MPs. One from 2013 shows them together at a book awards event and another from 2018 has them enjoying a picnic at that year's Hay literary festival.
Excerpts follow, emphases mine.
Kwarteng was pleased with his fiscal event and believed the market's jitters were temporary:
So sure was he of his plan that he smiled as he announced that he was abolishing the cap on bankers' bonuses introduced by David Cameron in 2014.
Within hours the pound had tanked, but Kwarteng doubled down, promising that he had "more to come". As the markets reacted to the UK's biggest tax cuts in 50 years, the pound fell to a record low against the dollar. One senior figure in the City described the fiscal statement to me as "economically reckless". Yet the chancellor did not blink, with an ally suggesting that this was just "the City boys playing fast and loose with the economy" and insisting, "It will settle."
Although it is unclear what Kwarteng thinks today, he and Truss were allies dating back at least a decade:
At 47, Kwarteng is the same age as Liz Truss and is one of her closest political allies. Earlier this year, he moved into a house just down the road from her in Greenwich and now they are neighbours in Downing Street. His appointment as chancellor was one of the first decisions she made when it became clear that she was likely to win the Tory leadership contest. Truss and Kwarteng have been working for weeks on their "shock and awe" shake-up of taxes, including changes to stamp duty and the abolition of the top 45p rate of income tax. The blueprint has been in their dreams for years …
His allies say his politics have also evolved. In 2012 the chancellor was one of a group of free marketeers – including Truss – who published a pamphlet called Britannia Unchained, which described British workers as "among the worst idlers in the world" and railed against a "bloated state, high taxes and excessive regulation". He has since distanced himself from the controversial text.
His parents arrived in England from Ghana. Both received a first-class education and had top-flight careers:
An only child, Akwasi Addo Alfred Kwarteng was born in Waltham Forest, northeast London, in 1975. His parents had come to Britain as students in the Sixties. His father, Alfred, an economist for the Commonwealth Secretariat, was educated in Ghana at an Anglican school with a Winchester-educated English headmaster. His mother, Charlotte, a successful barrister, was an admirer of Margaret Thatcher. "It was a self-reliance thing," Kwarteng once explained. She instilled in her son a ferocious work ethic and education was of fundamental importance to the family.
When his father was posted to Switzerland, Kwasi was sent at the age of eight to board at the fee-paying Colet Court – now St Paul's Juniors – in southwest London. He admits it was probably too young to be separated from his parents but he not only survived, he thrived. He won a scholarship to Eton where friends recall a "lanky malcoordinated" but hard-working teenager who was determined to make the most of the opportunity he had been given.
Like Boris Johnson, Kwarteng played the wall game – a brutal mixture of football and rugby. "He's so tall that he was a great addition to any team," one fellow pupil recalls.
Kwarteng is not attracted to identity politics:
Kwarteng never expressed his desire to be "world king" in the way that Johnson did. "I was slightly surprised when he went into politics," says a contemporary from Eton and Cambridge. "He wasn't in a political activist circle at university. People sometimes think one Etonian is just like another, but Boris and Kwasi are very different. Boris wants to rule the world; Kwasi wants to solve problems, rather than just being in power for the sake of it. He's not going to go out there to break rules. Kwasi does listen to people and wants to discuss ideas" …

Kwarteng's 2011 book Ghosts of Empire is a far more nuanced analysis than the rose-tinted version of British history favoured by Tory traditionalists. He rejects the "sterile debate" over whether "empire was a good or bad thing" and concludes, "Much of the instability in the world is a product of its legacy of individualism and haphazard policymaking." According to those who know him well, the chancellor is uncomfortable with "culture war" politics and describes his own philosophy as "relentless pragmatism". One aide insists, "He is sometimes lazily pigeonholed as a ruthless, black and white free market ideologue. It is true that he is a low-tax Conservative. He's a free marketeer, but there are occasions when the state does need to intervene." In 2019, the chancellor told a Tory party conference event: "There's nothing [better] to convert someone from being a radical free marketeer to seeing the virtues of government action than making them an energy minister."
He focused on his studies at Trinity College, Cambridge:
"As a student he was charismatic and a bit chaotic," says a friend from that time. "He was scholarly. The everyday run of things didn't worry him. He would be immersed in his books."
He began meeting the great and the good in the Conservative Party:
… the future chancellor was spotted by Dr John Casey, an English fellow and legendary figure among Conservative thinkers, who invited him to his dining club, the Michael Oakeshott Society. There Kwarteng met Tory politicians and journalists such as Norman Lamont, Geoffrey Howe, Norman Tebbit and Charles Moore. Casey insists it was never a political society: "It is devoted to intelligent conversation and strong views don't go with that.
"He has a first-rate mind and a first-rate personality," Casey continues. "He is intellectually and personally equipped to be chancellor. He's a cultured man, an intellectual – there are very few in politics. He's not like anybody else; he's himself."
After Cambridge, Kwarteng won a Kennedy scholarship to Harvard. When he finished his time there, he returned to Cambridge to earn a doctorate in economic history, after which the City of London beckoned:
He then worked as a fund manager at the bank JP Morgan and at Odey Asset Management, run by the Brexit-backing investor Crispin Odey, as well as chairing the Bow Group, a conservative think tank.
His political career began afterwards:
In 2005 he stood as the Conservative candidate for Brent East, coming third, before being elected as MP for the safe Tory seat of Spelthorne in Surrey in 2010, the same year as Truss entered politics. He spent several years on the back benches after criticising coalition policies including the help-to-buy scheme. "He's genuinely clever, with a very strong academic, scholarly mind," one old friend says. "But that academic, scholarly mind meant he was happy to speak out against David Cameron and George Osborne and didn't really worry about the consequences."
Kwarteng understands the importance of a Prime Minister and Chancellor working closely together:
For now, Kwarteng and Truss are united on economic policy. The chancellor tells colleagues that his role is to support the PM, explaining: "I will facilitate; I won't emasculate." One ally says, "Kwasi was completely disillusioned with the battles between No 10 and No 11 under Rishi and Boris. When No 10 and No 11 are at war, nothing works. Kwasi will deliver what the prime minister wants. She is the first lord of the treasury, Kwasi is the second lord of the treasury. That will change the entire mood and approach of government. The institutions will try to break No 10 and No 11 apart, but they underestimate the strength of the relationship between Kwasi and Liz."
Hmm. Interesting.
British public gaslit
The last week of September was one of news about unfunded tax cuts, the Bank of England stepping in to calm the UK markets, how Kwarteng and Truss didn't bother to communicate their economic plan and how awful everything was.
On Friday, September 30, Tom Harwood, GB News's political correspondent and Guido Fawkes alum, put things into perspective, rightly saying that the media were gaslighting Britons:
That day, The Telegraph's Matthew Lynn wrote, 'There's no such thing as unfunded tax cuts — it's our money':
It is hard to imagine that three simple words could be quite so lethal. But over the last few days "unfunded tax cuts" have been held responsible for the potential destruction of the British economy, and, come to think of it, the global financial system as well.
We are told that the Government's £45bn package of cuts announced last week have crashed the currency markets, sent mortgage rates soaring, and left the stock market to keel over and die. Any government crazy enough to even attempt unfunded tax cuts can expect to be evicted from office within days if not hours. 
Tosh. Although the phrase has become ubiquitous, we should be a lot more cautious about how we use it. In reality, tax cuts don't need to be funded, for the same reason that staying home instead of going out to dinner doesn't need to be 'funded', and nor does opting to spend Christmas with your parents rather than flying off to Mauritius need to be 'funded' either.
It isn't spending. It is simply taking less of your citizen's money. It is state spending that needs to be 'funded', and not its opposite – and until we get that straight, and change the language we use, we will never be able to have a grown-up debate about how to manage our economy.
If Kwasi Kwarteng had a grand for every time our broadcasters, newspapers, a think tank, or indeed a growing legion of City analysts, used the term "unfunded tax cuts", or UTCs as we should probably call them, he'd have enough money to wade into the markets and send sterling back over the two dollar mark. The phrase probably has its own emoji by now, just to make it easier to discuss on WhatsApp (some sort of variant of the scowling face, I'd imagine).
Ever since the pound started falling modestly against the dollar on Monday – because after all "crashing" seems a slightly extreme term for a downwards correction of less than 10pc – the phrase has dominated the headlines.
According to just about every think tank, constant broadcasts from the BBC, dozens of newspaper analysts, the IMF, and just about every major City bank, not to mention a small army of retired central bankers, it was the Chancellor's decision to cut a few taxes without announcing accompanying decisions on reducing spending that led immediately to a dramatic sell-off in sterling and a rise in bond yields that could only be controlled by emergency intervention by the Bank of England. 
A quick Google search yields 28,000 mentions of the phrase, and that is without even counting social media. According to the credit ratings agency Moody's "large unfunded tax cuts are credit negative" while according to the former Bank Governor Mark Carney "the message of financial markets is that there is a limit to unfunded spending and unfunded tax cuts in this environment."
And yet, in reality, we should be a lot more careful about the language we use. We can leave aside the point that the "unfunded" parts of last Friday's fiscal package amount to no more than a few billion pounds, a trivial sum give the size of state spending, and that by far the largest part of it was made up of the energy support package that all sides of the political spectrum had been calling for. The more important point is this: we shouldn't ever describe tax cuts as "unfunded".
By definition a tax cut is not spending any money. It is simply a decision to take less from a particular group of people in one particular way …
Next, the term ignores the possibility that tax cuts might pay for themselves …
Finally, and perhaps most importantly, it concedes the argument before it has even begun. "Unfunded" is a boo word, and even more so when you put the inevitable "reckless" in front of it. The language deliberately skews opinion against a reform of the tax system. Even worse, it is used by banks and broadcasters who pretend they are staying neutral – when in reality they are anything but. 
… fundamentally it is only state spending that needs to be funded – not leaving more money in the pockets of long-suffering taxpayers. If we could be a little clearer about that we might be able to have a slightly more sane debate about how much tax the government should be raising and how – instead of hysterical catastrophizing about UTCs.
On Saturday, October 1, The Sun rightly defended the Truss-Kwarteng plan, citing other Western economies' woes: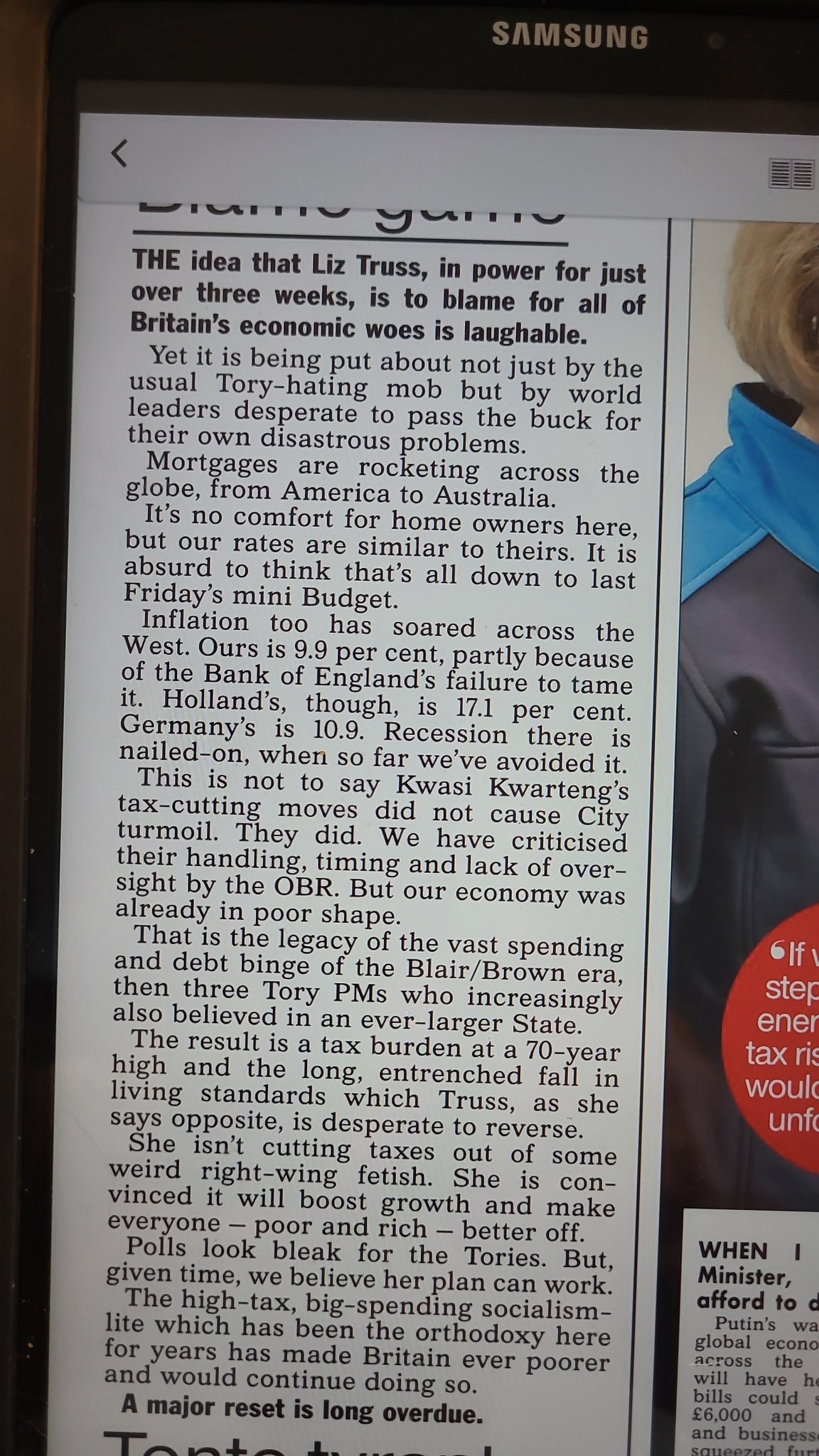 On Sunday, October 2, GB News's and The Telegraph's Liam Halligan, formerly of Channel 4 News, was on the money when he said that the market meltdown was the fault of quantitative easing (QE):
… This week of financial turmoil has left millions frightened and angry.
While Kwarteng's statement sparked last week's alarming debt repricing, it was by no means the underlying cause. There are far bigger forces at play …
… what we saw last week was just the beginning of a long-term shift away from over a decade of ultra-low interest rates and quantitative easing. We've indulged in ultra-loose monetary policy since the 2008/09 financial crisis – a necessary emergency measure, which ossified into a lifestyle choice.
And now, the obvious excesses, dangers – and crass stupidity – of this policy, are coming home to roost.
Since that financial crisis, the Bank of England has created hundreds of billions of pounds of QE money, as have similarly aligned central banks, which have blown huge asset price bubbles in stocks, bonds and property.
QE has helped governments borrow cheaply, while making the rich even richer – which is why, having begun as a £50 billion temporary measure to inject liquidity into bombed-out banks, it has morphed, thirteen years on, into an £895 billion monster.
The early tranches of QE stayed largely within the financial system – so didn't cause serious inflation. But the Covid-era variant, funding furlough and an avalanche of business support loans, has fed directly into the real economy – helping to explain today's inflation predicament.
This is an inconvenient truth that no-one wants to admit – certainly not the likes of the International Monetary Fund and central bankers who oversaw QE. Better to blame an incoming Tory government ­– one led by a politically vulnerable Prime Minister, with only lukewarm support from her own MPs.
… the idea that this "unfunded cut crashed the pound" is preposterous. Yet that is now the accepted political narrative – that a greed-driven Tory policy collapsed sterling and sent 10-year gilt yield surging as fears swirled of government insolvency, sending higher borrowing costs rippling across the economy, damaging hard-working families and firms.
What I suspect happened is that global currency traders, understanding the top tax cut was politically tin-eared, could see ministers were in for a kicking. With the Government introducing a potentially expensive energy price cap, the moment seemed right to start shorting – that is, betting against – the pound, knowing the media would pile in.
When that happened on Asian markets on Monday, and we woke to a plunging currency, I was astonished that ministers fell silent – given the strength of the arguments on their side …
For now, the Bank of England's intervention on Wednesday – buying gilts to rein in borrowing costs – seems to have worked. By Friday, the pound was back where it was pre-statement, the 10-year yield having retreated from over 4.5pc to around 4.0pc.
But the City and Wall Street moneymen, having loaded pension schemes with billions of pounds of debt, yet again have the upper hand – effectively forcing the UK authorities to restart the QE asset-boosting machine. This cannot end well.
"Tory tax cuts". It's such an easy and convenient scapegoat. The truth is we're in for a sustained period of painful adjustment – one which our political and media class must urgently start to explain.
The Times's Robert Colvile pointed out the global aspects of market turmoil, driven in part by the United States:
The markets were already primed to punish the UK, he [Albert Edwards of Société Générale] argues, because of the Bank of England's decision the previous day to raise rates at a slower rate than the US and to keep trying to dispose of the assets accumulated under quantitative easing. So Kwasi Kwarteng's decision to throw in a few more tax cuts just gave an extra push to a boulder that was already rolling …
Admittedly, the attempts of some in government to blame last week's rout in the markets entirely on global factors strained credulity. But they did have the core of a point. A year ago the Bank of England believed interest rates would stay below 1 per cent. A month ago they were set to top out at 3 per cent. By the time Kwarteng got to his feet, the expected peak had risen to 5 per cent — soaring over 6 per cent at the height of last week's panic.
Now, some of that rise in September was probably due to anxieties about the new government. But it was also driven, yes, by global factors — in particular decisions made in Washington. Even if Kwarteng had replaced his planned statement with a lusty rendition of the Marseillaise, mortgage-holders would still be facing eye-popping jumps in interest rates. For example, at that 6 per cent rate a typical UK mortgage would, according to the Resolution Foundation, cost an excruciating £4,800 a year extra — but £3,800 of that was already on the way before Friday's speech. The age of cheap money is over not just for Britain but for everyone.
Over the past three years, a number of conservatives must have wondered why Boris Johnson never delved deeper into economic policy. A letter to The Telegraph gives a possible explanation — global forces at work:
SIR – It takes great strength of character and conviction to stand up and face a baying mob, especially a political one. Liz Truss and Kwasi Kwarteng have my admiration.
I always wondered why Boris Johnson did not attempt to enact some of his early policies after Brexit, for which he had great public support. Perhaps he understood how the pro-EU and socialist contingents in Parliament and the wider political world would react, and was fully aware of the force that would be against him.
I wish Ms Truss and Mr Kwarteng good luck. They have shown enough courage in their beliefs to see this challenge through.
Conservative Party Conference
The Conservative Party Conference opened on Sunday, October 3, in Birmingham.
That day, The Times reported that Kwarteng had requested Cabinet ministers to cut expenditure in their respective departments:
Kwasi Kwarteng has told ministers to make cuts in their departments and warned them "we have a duty to live within our means".
The chancellor has asked cabinet ministers to send him their "proposals to support growth" by the end of the month.
He is also launching a reprioritisation, efficiency and productivity review across the public sector, which will re-examine "existing spending commitments" and repurpose budgets to deliver the government's "core priorities", including growth.
I wrote about the conference, including Truss's and Kwarteng's U-turn on abolishing the 45% tax rate, the prominent Conservative MPs in disarray, the rebels and Truss's closing speech.
On Monday, October 3, the duo pulled out of a fringe event, which cost £3,000 a ticket:
Nigel Farage, looking on from the outside, predicted a Labour rout in the next general election:
Meanwhile, Guido Fawkes kept us apprised of market movements, which weren't nearly as alarming as expected that week:
He rightly criticised Labour's shadow chancellor Rachel Reeves for stirring the pot unnecessarily:
On Wednesday, October 5, as the conference closed, Guido wrote (emphases his):
The Bank of England has been easing off its interventions in the gilt market, leaving Rachel Reeves's hyperbolic attack lines exposed for their inaccuracies. Julian Jessop points out the fact the Bank did not have to buy any gilts again today, leaving total purchases stable at £3.66 billion. A tad short of the £65 billion she repeatedly claims. This is a further sign market jitters have been effectively mitigated, far from Labour's claims of an "economic crash". As a trained economist and former Bank of England employee, Rachel really must know better. Her sums were out by a factor of 17…
At the weekend, while anti-Conservative pundits were still banging on about the 45% tax rate, which Truss and Kwarteng did a U-turn on …
… The Telegraph's Ambrose Evans-Pritchard pointed out that gas prices were already falling, indicating that 'Liz Truss may be winning her gamble on the energy price cap after all':
Plummeting global gas prices have slashed the cost of the UK's energy price cap and may ultimately reduce the monthly subsidy to zero, greatly alleviating the strain on Government borrowing.
NatWest Markets estimates that the price guarantee would cost approximately £30bn over the first six months based on current futures contracts, half the £60bn figure assumed by the Treasury and the rating agencies …
While NatWest remains wary of gilts after the mini-budget and the bond shock last month, it said pessimism over the UK's public finances may have gone too far. Gilts may no longer be a one-way bet for traders …
Goldman Sachs thinks European wholesale prices may fall a further 40pc by late winter. Average energy bills in the UK would in that case fall to £2,000 or less.
The Government could put its cheque book back in the drawer.
Douglas McWilliams, from the Centre of Economics and Business Research, says that the public finances are in better shape than widely-supposed.
An odd week that began well
By Monday, October 10, things appeared to be looking up for Truss and Kwarteng.
Mel Stride MP, chairman of the Treasury Select Committee and not one of their best friends, was satisfied that the then-Chancellor agreed to review his economic plan on Halloween rather than in November:
Tuesday, October 11, was a red-letter day.
The head of JP Morgan said that Truss deserved a chance:
Guido wrote:
… Speaking last night from London with US broadcaster CNBC, Dimon backed Liz's tax plans and hammered home the need for laser-like focus on growth – adding he'd "love to hear that out of their mouth every time a president or prime minister speaks"…
It'll take time to execute the policies and kind of drive growth and what's important … [but] there's a lot of things the UK has going for it and proper strategies to get it growing faster … then it can accomplish some of the other objectives it wants to accomplish too […] I would like to see the new Prime Minister, the new Chancellor, be successful […] I think every government should be focusing on growth. I would love to hear that out of their mouth every time a president or prime minister speaks.
Another proud member of the Pro-Growth Coalition. Although he did warn the US will likely tip into recession in about 6 months…
The IMF did an about-face, as The Telegraph reported:
Kwasi Kwarteng's tax cutting mini-Budget will help Britain to be the fastest growing major economy this year at the cost of higher long-term inflation, the International Monetary Fund (IMF) has said.
Strong momentum at the end of 2021 means UK economic growth will outpace the rest of the G7 this year. Tax cuts announced in the mini-Budget are expected to lift it even higher than the IMF's current forecast of 3.6pc, which was published on Tuesday but finalised before the Chancellor announced his plans …
The paper's Ambrose Evans-Pritchard wrote, 'Rejoice: we may be very close to Fed capitulation':
Not only is the Fed rushing through jumbo rises of 75 points each meeting, it is also draining global dollar liquidity with $95bn a month of quantitative tightening (QT). It has never done the two together before. And it does not understand how QE/QT actually works, as admitted cheerfully by one Ben Bernanke, Nobel Prize laureate as of yesterday …
Ben Bernanke flagged the dangers of a strong dollar and the capital exodus from emerging markets yesterday. Without naming the British gilt market, he said financial stress in the international system was building up and posed a threat. "We really have to pay close attention," he said. 
On Wednesday, October 12, it was noted that a Federal Reserve hike in interest rates took place before Kwarteng's economic statement:
Furthermore, the US was also experiencing an unusual increase in mortgage rates, meaning that the UK was not the only country with that problem:
On Thursday, October 13, Truss had her weekly meeting with King Charles, who greeted her with 'Dear, oh dear' while the press were there:
What did he know?
He would have heard Foreign Secretary James Cleverly defend Truss and Kwarteng on that day's news round. The poor man.
The Telegraph has a running diary of what went on that morning. This is the summary:
James Cleverly has warned it would be a "disastrously bad idea" to replace Liz Truss as Prime Minister.
Ms Truss is under intense pressure from some of her own MPs to abandon her economic plan following a market backlash to the measures set out in the mini-Budget.
The Prime Minister's leadership is being questioned after little more than a month in the job, with some Tory MPs already considering who could replace her.
ConservativeHome's editor Paul Goodman was also on the airwaves. He told BBC Radio 4 that some Conservative MPs had suggestions for Truss's and Kwarteng's replacement:
The former Tory MP told BBC Radio 4's Today Programme: "All sorts of different people are talking about all sorts of different things because the Conservative backbenchers are casting around for a possible replacement for Kwasi Kwarteng, even for a possible replacement for Liz Truss.
"All sorts of names are being thrown about, Rishi Sunak, even Boris Johnson, Kit Malthouse, Sajid Javid.
"But one idea doing the rounds is that Penny Mordaunt and Rishi Sunak, who, after all, between them got pretty much two-thirds of the votes of MPs, come to some kind of arrangement and essentially take over."
The King probably also knew that Truss and Kwarteng were going to do a U-turn on corporation tax, which they planned to lower to 19%, as it is in Ireland:
On Wednesday, at PMQs, Truss stood by the cut:
What we are doing is simply NOT putting up corporation tax. It's not a tax cut, we're just not raising corporation tax. And I feel that it would be wrong, in a time when we are trying to attract investment into our country, at a time of global economic slowdown, to be raising taxes. Because it will bring less revenue in.  And the way that we are going to get the money to fund our National Health Service… is by having a strong economy with companies investing and creating jobs.
On Thursday, October 13, Guido wrote:
What a difference 24 hours makes: this lunchtime The Sun broke the news that Truss "is considering raising Corporation Tax next year in spectacular mini-Budget U-turn". A source tells Harry Cole that while the U-turn is being seriously considered, it wouldn't be back up to the 25% proposed by Rishi before leaving the Treasury.
An unpleasant surprise for Kwarteng
Meanwhile, Kwarteng was in Washington at the annual IMF meeting.
Guido's post had an update:
Channel 4 doorstepped him on his way in, where he said "I'll be coming out with a statement on 31st October and I'm not going to pre-empt that." As The Speccie's James Forsyth points out, if the markets are now pricing in a U-turn, and the government decides against one, they'll likely be in a worse position than they were 24 hours ago…
On Friday, October 14, we woke up to the news that Kwarteng was summoned back to London, under the guise that emergency budget negotiations had to take place. The IMF meeting was to last into the weekend:
This could mean only one thing — that his time as Chancellor was over.
Guido reported that Mel Stride was happy that Kwarteng's economic package was about to be shot to bits:
… one source quoted in the Financial Times claims "Almost everything in the Budget is now up for grabs" …
For those who enjoyed the excitement of tracking Priti Patel's flight back to the UK ahead of her sacking by Theresa May, you can follow Kwasi's flight in real time here …
Mel Stride, Chair of the Treasury Select Committee, spoke on the Today Programme and welcomed a U-Turn. He called it a "powerful" signal to markets and added the government's "fiscal credibility is now firmly back on the table". He added the Conservative party should give the government "more time" and space to "rest". How generous…
Sterling and bond markets had rallied following the first reports of a U-turn, which only adds on the pressure for more reversals. Elsewhere in the markets, today is the final day of the Bank of England's gilt operations. Although gilt markets appeared steady this morning, the real test will come on Monday…
A Downing Street source tried to downplay Kwarteng's return:
Kwarteng had scrambled to take the last commercial flight from Dulles Airport to Heathrow:
The next bit of news was that Truss was going to hold a press conference that afternoon.
Guido wrote:
Liz is set to U-turn on the corporation tax freeze at 2pm this afternoon. It's rumoured she'll whack it all the way up to 25% in the spring. Kwasi won't be appearing alongside her…
Speculation began on who the new Chancellor would be. The Sun's political editor Harry Cole tweeted the following in the hours before the press conference, indicating Jeremy Hunt:
Cabinet members were correct about Jeremy Hunt:
King Charles approved the following appointments from Truss:
Nigel Farage was rightly furious about a Remainer assuming the post of Chancellor:
Harry Cole got a copy of Truss's letter to Kwarteng, thanking him for his hard work:
The nation now had a new dream team. This seconds-long video is a must-see. The UK is doomed:
I'll go into Truss's press conference tomorrow.
In short, it was absolutely dire and lasted only eight minutes, which included four questions, one of which was from Harry Cole. His face is a picture:
I'll have more tomorrow on how shocked Kwarteng must have been as well as what this means for Truss's premiership.
A new biography of Elizabeth the Queen Mother is out just in time for Christmas.
It is Gareth Russell's Do Let's Have Another Drink.
Subtitles differ. One says:
The Singular Wit and Double Measures of Queen Elizabeth the Queen Mother
Another reads:
The Dry Wit and Fizzy Life of Queen Elizabeth the Queen Mother.
Most British adults connect the Queen's mother with her favourite tipple: gin and Dubonnet.
The Times reviewed the new book on October 11, 2022. Excerpts from the article follow, emphases mine.
N.B.: This is not the usual fairy tale Royal story, so expect real life to creep in now and then.
Belief in ghosts
It appears that the Queen Mother's belief in ghosts gave her resilience. Hmm:
If the Queen Mother did have an inner core of steel, it isn't hard to see where it came from. Her childhood in Glamis Castle, one of Scotland's most rambling and supposedly haunted piles, didn't just give her a lifelong belief in ghosts (she attended her last exorcism at the age of 99, when she persuaded a local priest to shoo away the unquiet spirit of George VI, or maybe Diana, from a bedroom in Sandringham), but also a group of male friends who were mostly killed in the First World War before she was 18. "I think of my 20 best friends in 1914," she reminisced, decades later. "Only five came back."
Among those who died was one of her brothers. Three other brothers suffered for years with what was then called shell-shock — post-traumatic stress disorder. Russell's account of those years occupies very little of his book, but it's by far the most compelling part. And it explains a lot about this most misunderstood of national matriarchs. She may have been an old soak, but she put the backbone into a royal family that was floundering when she joined it.
Suitors and courtship
When Elizabeth Bowes-Lyon was born in England in 1900, royal families were meant to intermarry.
Although she came from nobility — being the daughter of Claude Bowes-Lyon, Lord Glamis (pron. 'Glahms') and, later, the 14th Earl of Strathmore and Kinghorne in the Peerage of Scotland — she was not considered suitable to marry a future king.
At least one European royal made her bias known towards the noble's daughter in the early 20th century:
When her brother-in-law, the Duke of Kent, married Princess Marina of Greece, for instance, Marina (descended from the Russian and Greek royal families) made little attempt to hide her disdain for Elizabeth, a mere Scottish earl's daughter whom she took to describing as a "common little Scotch tart".
Elizabeth was an adorable girl who grew up to be a fetching young woman.
She had a few serious suitors when she grew up and she rejected Prince Albert, Duke of York, who wanted to make her his wife:
She certainly turned down two proposals of marriage from Bertie. That, however, was more because she was dallying between another prince (the King of Serbia's nephew, Prince Paul of Yugoslavia) and such eligible British bachelors as Henry "Chips" Channon …
UGH! A book of Channon's letters was released earlier this year. Talk about sex addicts:
… (who, oddly enough, had slept with Prince Paul when both were at Oxford) and the dashing Captain James Stuart, who had won the Military Cross in the First World War.
The story of how Bertie — the future George VI — and Elizabeth became engaged is a bit more nuanced than we would have thought.
The book says that Bertie's mother, Queen Mary of Teck, rearranged Elizabeth's love life accordingly:
George V's wife, the indomitable Queen Mary, had decided that the gregarious, charming Elizabeth would be perfect for introverted, stammering Bertie, and simply wouldn't take no for an answer, even if her son did. Somehow, she fixed it so that the dashing Captain Stuart received an offer of an extraordinarily well-paid job with an oil company in Oklahoma, requiring him to sail for America immediately.
Amazing.
Stuart apparently knew it, too:
According to Russell, he later told friends: "That bitch Queen Mary ruined my life."
Wikipedia says that Queen Mary visited Glamis Castle to meet the girl who stole his son's heart:
Prince Albert, Duke of York—"Bertie" to the family—was the second son of King George V. He initially proposed to Elizabeth in 1921, but she turned him down, being "afraid never, never again to be free to think, speak and act as I feel I really ought to".[18] When he declared he would marry no other, his mother, Queen Mary, visited Glamis to see for herself the girl who had stolen her son's heart. She became convinced that Elizabeth was "the one girl who could make Bertie happy", but nevertheless refused to interfere.[19] At the same time, Elizabeth was courted by James Stuart, Albert's equerry, until he left the Prince's service for a better-paid job in the American oil business.[20]
It seems that Queen Mary had no objection to Bertie marrying what would have been known as 'a commoner', although Elizabeth appeared to have reservations about entering Royal life:
Eventually, in January 1923, Elizabeth agreed to marry Albert, despite her misgivings about royal life.[23] Albert's freedom in choosing Elizabeth, not a member of a royal family, though the daughter of a peer, was considered a gesture in favour of political modernisation; previously, princes were expected to marry princesses from other royal families.[24] They selected a platinum engagement ring featuring a Kashmir sapphire with two diamonds adorning its sides.[25]
The couple were married at Westminster Abbey and Elizabeth, who became the Duchess of York, became ill during the Scottish leg of their honeymoon:
They married on 26 April 1923, at Westminster Abbey. Unexpectedly,[26] Elizabeth laid her bouquet at the Tomb of the Unknown Warrior on her way into the abbey,[27] in memory of her brother Fergus.[28] Elizabeth became styled Her Royal Highness The Duchess of York.[29] Following a wedding breakfast at Buckingham Palace prepared by chef Gabriel Tschumi, the new Duchess and her husband honeymooned at Polesden Lacey, a manor house in Surrey owned by the wealthy socialite and friend Margaret Greville. They then went to Scotland, where she caught "unromantic" whooping cough.[30]
Tenacity
Elizabeth was certainly tenacious.
Russell's book purports that Edward VIII — David — said that Elizabeth really wanted to marry him, not Bertie, and, as a result, held a grudge against Wallis Simpson:
… the great feud of Elizabeth's life – with Wallis Simpson and her husband David, who was briefly King Edward VIII before abdicating, having given his brother Bertie, Elizabeth's husband (and henceforth King George VI), just 72 hours' notice of his intentions. Those who take Elizabeth's side say that her anger was due to the unbearable pressure this placed on the already insecure Bertie. However, according to David (later the Duke of Windsor, spewing bile from his lavish exile in France), Elizabeth's anger was entirely down to her having wanted to marry him, not Bertie.
He would have said that, wouldn't he?
In 1936, with Edward VIII's abdication, Elizabeth became Queen Consort, a title she held until George VI died. She also became the first and last Empress Consort of India, a title she held until 1947, when Partition took place.
Russell's book says that the Queen Consort — and later, the Queen Mother — the public saw was not the same person behind closed doors:
Russell's book — a "life told through 101 anecdotes", as he calls it (one for each year of his subject's life) — paints an entertaining and, one feels, mostly honest picture of a woman who divided opinion more than is often realised by those who knew her only as "the nation's granny". She was definitely a granny (and before that a wife and mother) with claws. The socialite Stephen Tennant, who knew her when she was plain Elizabeth Bowes-Lyon, wrote that "she looked everything she was not . . . Behind the veil, she schemed and vacillated, hard as nails." Even Russell, who bends over backwards to be fair, admits that she possessed "an Olympian ability to hold a grudge".
Russell writes that the Queen Mother used Queen Mary's tactics to despatch Princess Margaret's divorced lover, Peter Townsend, in the 1950s:
… she colluded in sending Group Captain Townsend to a pointless job in Brussels to get him out of Princess Margaret's life.
There might have been more tenacity on display, as the Queen Mother once said she managed to get rid of written evidence of John Brown's relationship with Queen Victoria:
the Queen Mother once told friends that she had burnt documentary evidence of Queen Victoria not only having an affair with her Scottish servant John Brown, but also secretly marrying him …
… since Russell's book derives its title and subtitle ("The Singular Wit and Double Measures of Queen Elizabeth the Queen Mother"), plus a considerable amount of its content, from the Queen Mother's legendary ability to consume industrial quantities of alcohol, you do wonder whether she really did apply the paraffin and Swan Vestas to Victoria's private papers one dark night in Balmoral. Or was it just the gin and Dubonnet talking?
We'll never know, just as we'll never know what happened to Brown's diary, which was never located after Victoria's death.
There is obviously something to this John Brown story. After Queen Elizabeth II died, I pointed out the two portraits of him at Balmoral, only one of which features one of Victoria's husband Prince Albert. Osborne House on the Isle of Wight, which was another of Victoria's residences and the one Prince Albert designed, also has a prominent portrait of Brown and Victoria, which you can see in this Telegraph article.
What other sources say
Other illuminating pieces of the puzzle of the Queen Mother's personality have come to light over the years.
Influencing King Charles III
It's hard to imagine that King Charles III's views on certain things might have come from his grandmother, but a recent documentary says she had a big part to play in his early life.
In 2021, The Express featured an article on the influence the Queen Mother exercised over King Charles III's life as discussed in a documentary, The Queen Mother, which aired that year:
The Queen Mother's influence in Prince Charles' early life "created an antipathy" with his parents, according to royal commentators. Queen Elizabeth II and Prince Philip's plans for their son were reportedly repeatedly "undermined" by the older royal. Channel 5 documentary, 'The Queen Mother', discussed how her close relationship with her grandson drove a wedge between the prince and his mother and father.
Lady Colin Campbell told viewers: "The word in the family is that she undermined the relationship between Charles and his parents in a rather destructive way.
"She would always encourage him in his hypersensitivities.
"While the Queen and Prince Philip were trying to toughen him up for what the future held.
"This created an antipathy."
Historical biographer Sarah Gristwood explained: "Maybe there was a sense that the Queen Mother wanted to pass on to the future king the vision of monarchy that she felt she and her husband had developed.
"So I guess she would have had a particular eye on the forming of the future king."
Royal experts think this would have started in his early childhood when Princess Elizabeth lived with Prince Philip in Malta, where he was stationed with the Royal Navy:
Royal commentator Wesley Kerr added: "She would spend a lot of time in his nursery when Princess Elizabeth was away, not least in Malta with her husband.
"I think that's a really powerful relationship for him through his whole life and a very powerful influence."
The Queen Mother also tried to influence where young Charles would attend school:
Prince Philip had chosen Gordonstoun, an austere boarding school in Scotland, for his son.
According to biographer Angela Levin, the Queen Mother tried to persuade her daughter and son-in-law to send Charles to Eton, but they refused.
I should have watched that documentary.
Criticism after Diana's death 'upset' the Queen Mother
In 2009, 12 years after Princess Diana's death and seven years after the Queen Mother's death, friends of the latter said that criticism of her daughter 'hugely upset' her.
Keep in mind that the Queen and Prince Philip were minding Princes William and Harry at Balmoral while their mother was on holiday in August 1997. When news broke of Diana's tragic death, the Royal couple initially decided to protect the boys by keeping them in Scotland, safe and out of the public eye.
They were right to have that instinct. Central London, where I worked, was one great cesspool of emotion, the first the nation had ever seen. It was alarming, because some of these mourners were full of rage and did not hide their feelings about the accident being 'the Royals' fault'. I kept my head down on the Tube going in and, at night, returning home to outer London. It was awful.
The Sunday Telegraph featured an article on the subject, published on September 26, 2009:
Friends of Queen Elizabeth have … revealed her shock at the public outpouring of grief over the Princess' death.
Sir Michael Oswald and his wife Lady Angela Oswald said Queen Elizabeth felt angry and defensive that her elder daughter was so widely criticised for her actions in the aftermath of the Princess's fatal car crash in Paris in the summer of 1997 …
… Lady Angela said: "The Queen was criticised for two things. One was taking the boys [Princes William and Harry] to church [on the day the Princess died]. But they wanted to go to church. If you are a Christian and your mother has been killed, it is a comfort going to church.
"The other thing was that people expected the Queen to abandon her two grandsons – whose mother had just been killed – and go to London to mourn with people who had never even met the Princess.
"If you stand back and think about it, it is an extraordinarily selfish attitude. Queen Elizabeth was hugely upset by the criticism of her daughter because she has always admired her so much. It was such a cruel criticism and it was unfair."
Sir Michael, now 75, an Old Etonian and former manager of the Royal Studs, was Queen Elizabeth's racing manager from 1970 to her death in 2002 aged 101. His wife, the daughter of the 5th Marquess of Exeter, was one of her ladies in waiting for 21 years from 1981.
… following the publication of William Shawcross's official biography of Queen Elizabeth, Sir Michael and Lady Angela spoke exclusively to The Sunday Telegraph – with the knowledge of Buckingham Palace – about their decades of royal service. Even though they both unfailing called her "ma'am" out of respect, they clearly considered Queen Elizabeth a close and loyal friend.
Sadness over Charles's divorce
The couple said that the Queen Mother was devastated to learn of Charles's and Diana's divorce.
Lady Angela said:
"The one time I remember her losing her smile for any length of time was for a fortnight in 1991, or 1992, at Birkhall [her Scottish home] after she had been informed that the marriage of the Prince and Princess of Wales was effectively over.
"Normally with the bad things in life, she managed to pass by on the other side and not notice. But she had been made aware what unhappiness there was in the marriage. She was so sad, so tense and so obviously unhappy in herself.
"There was a very close bond between Queen Elizabeth and the Prince of Wales. She was of a generation that felt that anything that went on in a marriage was private between the couple. So it is certainly fair to say that she would have been deeply shocked when private feelings and thoughts were broadcast worldwide" [a reference to Diana, Princess of Wales's Panorama interview in 1995, in which she claimed the marriage was "crowded" because of her husband's affair with the then Camilla Parker Bowles].
Drinking habits exaggerated
The Queen Mother's drinking habits were often featured in the press or joked about.
Here is a 1987 photo of her at a pub in London's East End:
One case in point was in 2019, when Nigel Farage visited Australia. The Guardian reported him as joking about it then, 17 years after her death:
The Brexit party leader was laudatory about the Queen – "an amazing, awe-inspiring woman, we're bloody lucky to have her" – but abused her son, grandson and mother.
"When it comes to her son, when it comes to Charlie Boy and climate change, oh dear, oh dear, oh dear. Her mother, Her Royal Highness the Queen's mother was a slightly overweight, chain-smoking gin drinker who lived to 101 years old. All I can say is Charlie Boy is now in his 70s … may the Queen live a very, very long time."
I don't recall that the Queen Mother smoked. Maybe she did, but, if so, she likely gave it up. After all, her husband, George VI, died of lung cancer.
The aformentioned Oswalds told The Sunday Telegraph that the Queen Mother had a daily routine but never overindulged:
Queen Elizabeth, they insist, was never a heavy drinker, usually enjoying a single gin and Dubonnet before lunch, a single Martini before dinner and wine with her meal. Far from drinking too much, they said she was constantly alert and that her memory for people and stories was incredible.
She lived to 101. That's a good enough secret of longevity for me.
As for the horses:
Although Queen Elizabeth loved horse racing, she never had a bet.
Lady Angela said that the Queen Mother the public saw was the lady she knew:
Her life was full of laughter and sparkle.
I feel so privileged to have spent so much time with her. When I was with her at a reception, I sometimes 'lost' her because of her lack of height. But I could always tell quickly where she was because of the joyful expressions of the people who were talking to her. They looked different because they were so thrilled to be speaking to her. The wave of affection was tangible – and it went both ways. People loved Queen Elizabeth and she really did love them.
Conclusion
As with anyone else, the Queen Mother was complex. She was far from a caricature, and it is rather sad that many people still think of her as such.
We would do well to remember that she and George VI never left London during the Second World War. Their daughters went only as far as Windsor Castle during those years. They remained on our shores.
The family stayed together with the British people through thick and thin.
That is how and why Queen Elizabeth II had such an abiding sense of service and duty to the United Kingdom and the Commonwealth.
On Friday, September 23, 2022, just four days after the Queen's funeral, Chancellor Kwasi Kwarteng delivered a 'fiscal event' designed to kick start the British economy.
In the days leading up to the fiscal event, so-called because it wasn't a full budget, the media and Labour were clamouring for it. However, the nation was in mourning for the late monarch and, accordingly, Parliament was in recess.
Conservative critics — i.e. Brexit critics — asked, 'Where's Liz? Where's the Chancellor? Something must be done!'
Parliament reconvened on that Friday to hear Kwarteng deliver a big, bold and beautiful economic plan, which included the abolition of the 45% upper tax rate.
Even Nigel Farage approved, going back in history to Margaret Thatcher's time as PM:
What happened? The same critics blasted Kwarteng and Prime Minister Liz Truss for their rather Thatcherite plan, designed to reverse the nation's economic course since the Labour days of the early Millennium under Gordon Brown to the present Conservative government:
Small-c conservatives hoped that Boris Johnson would have done this, but it was too big to take on. With the flak Truss and Kwarteng caught, it now appears that Johnson probably feared it would dent his popularity. That's only my guess, but it makes sense.
Mortgage rate fears
I went to a small local event on Saturday, September 24. Before it began, one woman of pensionable age asked, 'Has anybody seen the news today? I didn't have time to look. Has the economy crashed yet?' It was clear she was angry. Other people in attendance responded with jokes about supply-side economics.
Throughout the week, it was nothing but doom and gloom, even on GB News, which offered few correctives. The Labour Party conference took place last week, which did not help.
I went to the shops on Wednesday, September 28. On my walk, I overheard an estate agent talking to an older couple about their mortgage rate fears as a result of the fiscal event. The media had sent out ominous messages about rising interest rates. The estate agent told the couple that the turbulence would be short term and that it was taking place all over Europe — which is true.
On Thursday, September 29, the BBC's Question Time aired. One young woman stoked fears about a hike in interest rates on mortgages, claiming — claiming — that hers was going up to over 10%: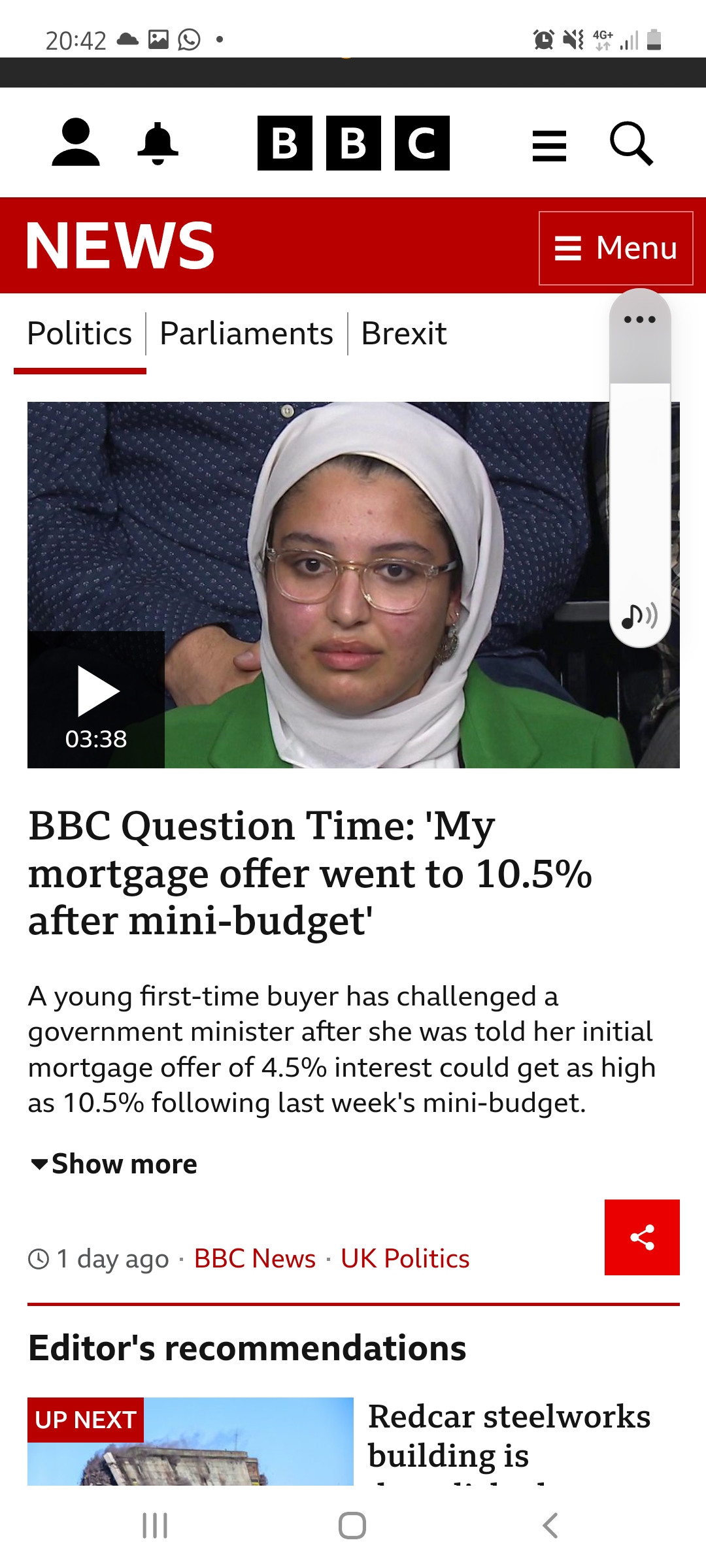 But was this claim true?
Apparently, the claim is false: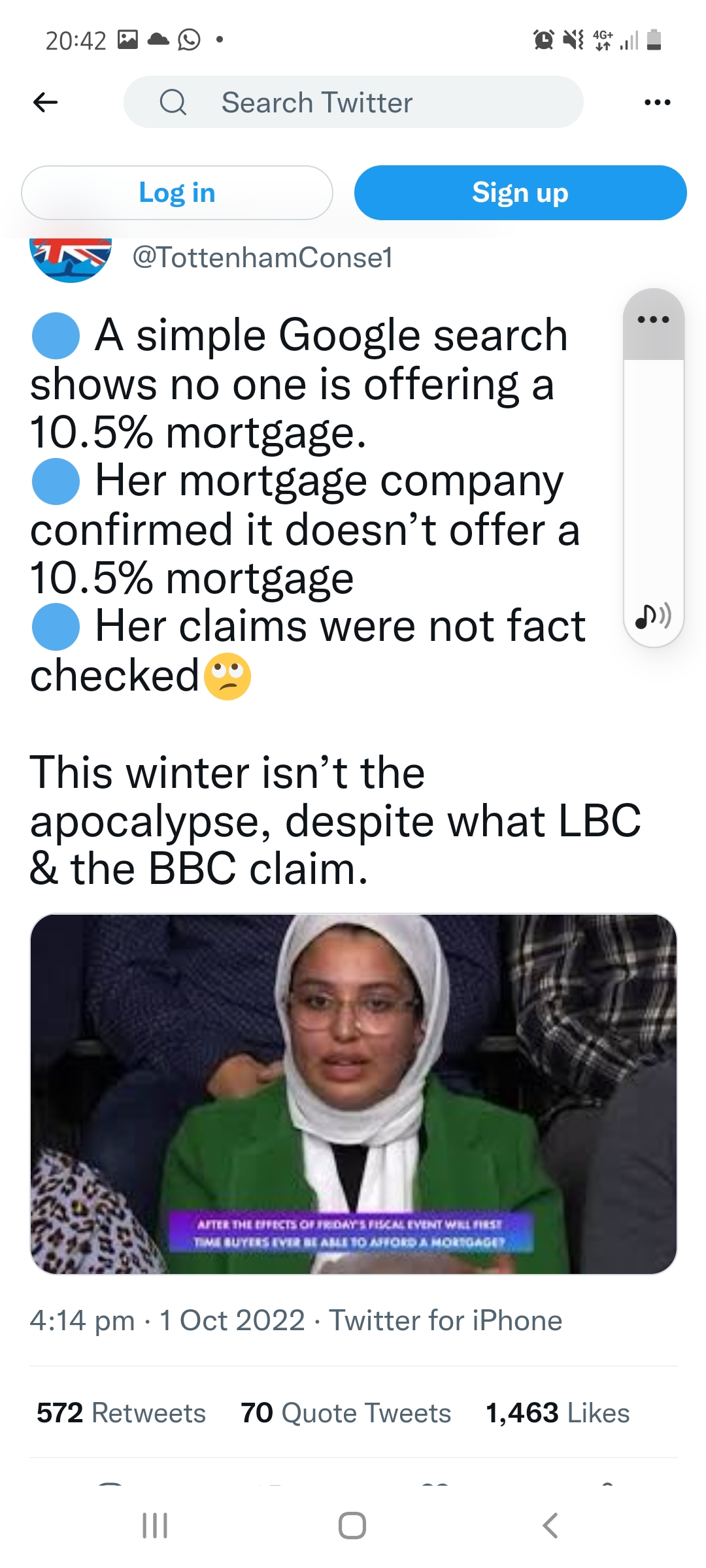 Skipton Building Society said they had not offered a 10%+ mortgage rate for many years: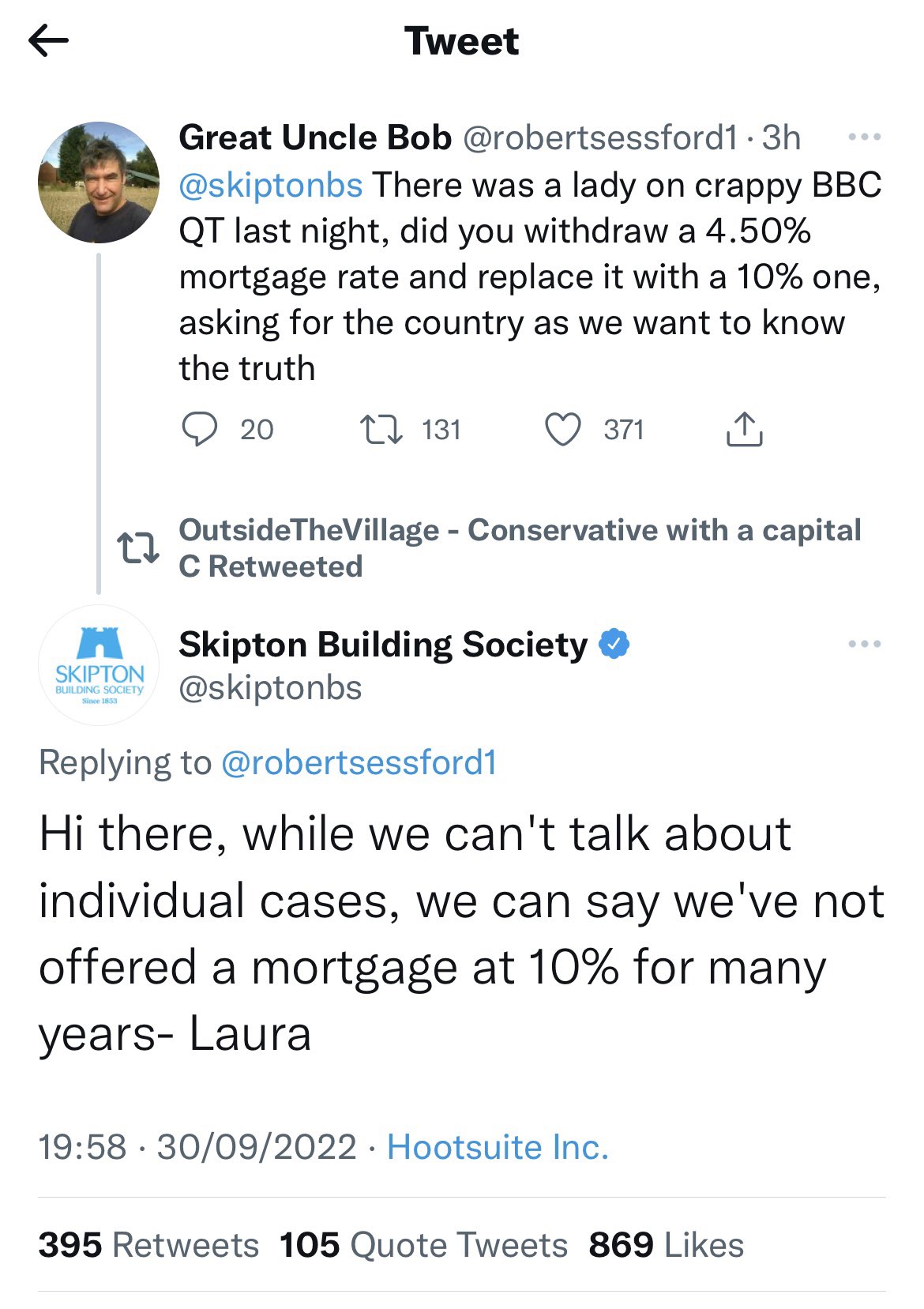 Once again, the Left — including the media — took charge of the Conservative narrative. They're still at it.
Conservative Party conference opens
On Sunday, October 2, the Conservative Party conference began in the UK's Second City, Birmingham, once our industrial capital:
Penny Mordaunt MP, Leader of the House of Commons, paid an excellent tribute to our late Queen, which was followed by a minute's silence and the singing of the National Anthem.
Having seen the first few speeches on GB News, the mood from the MPs speaking was upbeat. However, the mood in the conference hall was sombre.
Rishi Sunak and several of his supporters, prominent MPs, did not attend. Sunak said he wanted to be absent so that Truss 'could own the moment'. Ouch.
Boris Johnson also sent in his regrets.
Earlier that day, Truss appeared on Laura Kuenssberg's Sunday show on BBC1.
Kuenssberg asked her about the abolition of the 45% tax rate. Truss said that was Kwarteng's decision. Oh, dear. Guido Fawkes has the video:
Because the fiscal event had to be done quickly, Truss and Kwarteng did not consult other Cabinet members.
Also, because it was such a departure from the norm, it appeared shocking to Britons expecting more of the same. Truss told Kuenssberg that she and the Chancellor could have communicated it better (see video):
Truss rightly pointed out that 'optics' — rather than reality — dominated the fiscal event:
In the video, Kuenssberg ended by saying that optics were terribly important, implying that they make just as much of an honest representation as does reality. Oh, my days!
Returning to the Conservative Party conference opening day, Michael Gove stuck his oar in, saying that tax cuts are not conservative.
Whaaat?
Former Conservative MP Michael Portillo explained on his GB News show that Gove became an MP during David Cameron's time as Prime Minister and, therefore, has a different take on economics.
The economy wasn't the only issue on MPs' minds. Other of Truss's leadership rivals in this summer's contest for PM were not happy.
As is common with party conferences, smaller events took place outside of the main venue.
Last week, Truss said she would like to see more immigration, something that won't please folks who voted Conservative for the first time in 2019.
On Sunday evening, Trade Secretary Kemi Badenoch — the MP whom conservatives deeply admire — attacked Truss's immigration plans:
Guido has the story, which reveals rifts in the Party (emphases his):
If Liz Truss thought the furore over the 45p rate would distract attention from MPs rebelling on other policy areas, Guido's sorry to disappoint her. At the IEA/TPA DrinkTanks reception last night, guest of honour Kemi Badenoch openly rebuked the PM's plans to let in more immigrants to boost growth. The Trade Secretary ignored any sense of collective responsibility as she told the assembled free marketeers:
Simply taking in numbers to boost GDP while GDP per capita falls is not the right way to do that. We need to look again at resolving our productivity issues and that means using capital better, not just getting cheaper and cheaper labour.
Kemi's brazen and deliberate speech last night all but confirmed The Times' article on Sunday reporting major Cabinet divisions over the plan, with Kemi and Suella Braverman at odds with the PM's preferred free market solution. Like Liz, Guido doesn't have a problem with skilled, legal immigration, it is the illegal immigration which is concerning. It seems Tory Cabinet ministers aren't even pretending to play happy families anymore…
Also that evening, Leader of the House Penny Mordaunt spoke at a small gathering to complain — rightly — about poor Conservative communication over policy making:
She made her views known at an event called 'Conservatives in Communication'.
Sadly, Guido points out:
… host Adam Honeysett-Watts had to tell the crowd to shut up and listen. Unfortunately, most of the attendees were far more interested in guzzling free booze and chatting to each other.
Meanwhile, Truss addressed a group of Conservatives, explaining the need for growth — now. She, too, said that Party communications are lacking:
She is not wrong, and she has to make up for the past two years, consumed by dealing with the pandemic.
The second day of conference brings U-turn on 45% tax rate
Did Michael Gove, the Scot who wants to become PM, exercise his influence once again?
Nothing against Scots, but their politicians do seem to think that people need to be micro-managed, which Gove does, and that we should continue a globalist agenda in, well, nearly everything.
For the first time in years, Gove is not in Cabinet.
That said, he has never supported PMs he has served, going all the way back to David Cameron. This comment comes from one of Guido's readers (purple emphases mine):
Cameron, don't forget Cameron. Gove mortally wounded him too with Brexit. I don't disagree with Gove supporting Brexit obviously but the way he went about it was like a serpent to someone who called him his friend. His whole front line career has been poisonous towards the sitting leader.
At 7:17 a.m., Guido tweeted that Truss and Kwarteng were backing down on abolishing the 45% tax rate:
Kwarteng said he would still be going ahead with the rest of the fiscal event policy.
That U-turn will empower Gove and the Left — again, media included — to control the narrative even more.
Baroness Thatcher would have been so disappointed:
And I know what Thatcher would have done with Gove: withdrawn the Party whip.
Guido says that the reversal came about on Sunday evening and that The Sun had the exclusive:
After The Sun broke the exclusive of conference late last night, the Lobby's just been informed that the government will now not be going ahead with the 45p rate abolition, with a u-turn expected to be announced within the next hour. Just yesterday the press were briefed that Kwasi was to tell conference "We must stay the course. I am confident our plan is the right one."
This morning the course has not been stayed – it has been re-directed in another direction altogether. Kwasi's statement:
From supporting British business to lowering the tax burden for the lowest paid, our Growth Plan sets out a new approach to build a more prosperous economy. However, it is clear that the abolition of the 45p tax rate has become a distraction from our overriding mission to tackle the challenges facing our country. As a result, I'm announcing we are not proceeding with the abolition of the 45p tax rate. We get it, and we have listened. This will allow us to focus on delivering the major parts of our growth package. First, our Energy Price Guarantee, which will support households and businesses with their energy bills. Second, cutting taxes to put money back in the pockets of 30 million hard-working people and grow our economy. Third, driving supply side reforms – including accelerating major infrastructure projects – to get Britain moving.
The move came after crisis talks yesterday between the PM and Chancellor; their hands forced by Tory MPs continuing to state on the record they couldn't vote for the plans, despite an open warning from [new Party chairman, MP] Jake Berry that they'd lose the whip. Gove was at the forefront of the rebellion…
Guido's cartoonist came up with this:
It is unclear how much of this has to come up for a vote in Parliament in order to proceed.
However, it is becoming apparent that a significant number of MPs have not united behind Liz Truss:
If enough Conservative MPs rebel in a vote, the Government could collapse. A collapse could trigger an imminent general election (GE). With the way things are, Labour could win and form a coalition with the other Opposition parties. That would be a disaster, particularly in voting reform if they push through a vote for 16-year-olds and immigrants to vote in a GE. Furthermore, they would probably also want some type of proportional representation to replace the centuries-old first-past-the-post.
Of course, the alternative is that Conservative MPs have another leadership contest, but that would look as if they were incompetent. One MP suggested that Conservative Party members be locked out of that vote altogether, which would anger them deeply.
An hour after Kwarteng announced the U-turn, he was on BBC Radio 4 with Conservative-loathing Nick Robinson. This is so sad:
Then Kwarteng went on Nick Ferrari's LBC breakfast show. Ferrari pressed him to say 'no more U-turns' but the Chancellor repeated, 'I've said what I've said'. Guido has the video:
As a result of the U-turn, the markets were no longer predicting a 6% rise in interest rates, but something slightly lower — 5.5% and 5.75%. Guido is right in saying this is an emotional response:
Sterling was also slightly up, but not hugely:
In closing, let's return to Gordon Brown, who succeeded Tony Blair as PM — without an election, I might add.
Conservative MP Gillian Keegan put the blame squarely on Brown in an interview with Times Radio on Monday morning.
Guido has the story:
Foreign Office Minister Gillian Keegan was spot on when she told Times Radio this morning that the top rate of tax was a political time bomb left behind by Gordon Brown:
I always knew that it was going to be a political problem. I mean, let's be honest, this was a political trap that was set by Gordon Brown in the dying days of his role as PM, right. And I paid the 50% tax. I was in business then. And I remember how devastating it was because actually, it meant you were paying about 65% tax. And there's something in your mind, which is like, really, you know, only 35% for me? And I'm doing all these hours. I was a business person, then it was set as a political trap…. In theory it [the top rate of tax] should never have been there.
There is something immoral about the government taking the majority of your income in tax. It is also a disheartening disincentive; reversing this spiteful tax is the correct policy, though this might perhaps be the wrong time. Getting rid of a political tax that was only set up by Gordon Brown when he knew he was likely to be ousted –to hurt the Tories rather than raise revenue – was the right thing to do. Even the IFS' Paul Johnson thinks in revenue terms "It might plausibly cost nothing at all". The tax was not about raising revenue – it was about political positioning.
Back in Fife, Brown will be rocking in his chair laughing that his tax booby trap, announced only weeks before he left office, and which was expected to cause problems for his successor David Cameron, has finally exploded in the face of a Tory Chancellor. The fuse wire on Brown's time bomb turned out to be 12 years long…
Truss and Kwarteng have learned a lot in the past month.
I do hope that they have learned something from their baptism by fire, especially Truss, for whom I have the greatest empathy. The Queen's death delayed her getting off the ground running. Then when she was finally able to do something, the media attacked her even more for it. Now the Party's MPs are angry with her. Some have already submitted no confidence letters to Sir Graham Brady of the 1922 Committee. The polls have been tanking. Two show voters giving Labour a 30% lead in the polls, something not seen for decades.
No one has even given Truss or the Chancellor a chance.
I will continue to pray for hers and Kwarteng's success against all odds.
They are doing the right thing …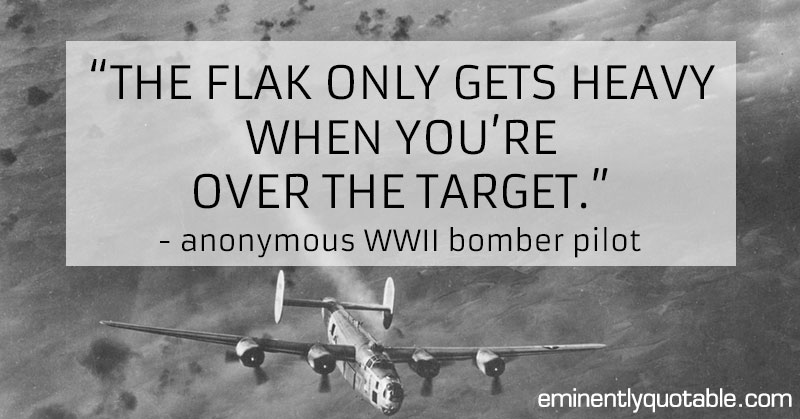 … which is why they are being attacked mercilessly.
So much happened in the UK this week that it is hard to find the time and the space to write about it all.
Conservative leadership contest
Liz Truss's campaign continues to motor ahead, gaining powerful MPs' backing.
On Wednesday, August 3, a new Conservative Home poll appeared, its results matching those of polling companies, e.g. YouGov. Liz is 32 points ahead:
Conservative Home's Paul Goodman analysed his site's results and YouGov's (emphases mine):
Granted, neither can be proved right or wrong: as our proprietor has it, a poll is a snapshot, not a prediction. If our survey is correct, all that follows is that Truss would win the contest, were it held now, by 32 points among those who have declared their hand.
However, if we and YouGov are right it is very hard to see how Sunak recovers in the month or so between the opening and closing of the poll. For even if during that time he won over that 16 per of undecideds and others, Truss would still beat him by 58 per cent to 42 per cent.
In short, if our survey is correct he would have to add to that 16 per cent of don't knows and others some nine per cent of Truss's supporters – i.e: persuade them to switch.
This seems most unlikely if YouGov's question about certainty of intention is taken into account. For it finds that 83 per cent of Truss voters and 70 per cent of Sunak voters have made their minds up.
What odds would you give on Sunak winning over all those don't knows and others (from our survey), and then adding to that pile over half of Truss's soft support (using YouGov's figure)? I would say that they are very long indeed …
Those interested in events slightly further back will recall that Boris Johnson beat Jeremy Hunt by 66 per cent to 34 per cent during the leadership election of 2019.  That's exactly the same margin as the Truss-Sunak forced choice I spell out above from our new survey.
One way of looking at Conservative leadership election as matters stand might be to forget the thrills and spills, hype and blunders – such as Truss's yesterday over regional public sector pay.
And stick instead to the simple thought that the Tory membership divides right-of-party-centre to left-of-party-centre by about two to one and so, all other things being equal, the leadership candidate perceived to be right-wing than the other will win by a margin about two to one.
Finally, Opinium promises a Conservative members poll next week, and it has tended recently to find better results for Sunak than ours or YouGovs.
The YouGov poll from August 3 showed that Britons believe Truss is better than Sunak on the main issues:
Liz gained another supporter in former Health Secretary Sajid Javid, who was also Boris Johnson's first Chancellor from the summer of 2019 through to February 2020, at which point Rishi Sunak took over.
Sunak worked for Javid when the latter was Chancellor. Javid mentored his younger MP friend:
However, the dynamic changed when Chancellor Sunak locked horns with Health Secretary Javid during the pandemic in 2021.
… those who know both men say there are more prescient personal and political reasons behind Javid's decision [to back Truss].
They say that tensions emerged after Javid was brought back into the government as health secretary. Sunak regarded the NHS as a bottomless drain on resources and was exasperated by what he saw as Javid's failure to spearhead fundamental reform of the health service.
Javid for his part was frustrated with the highhanded manner in which the Treasury dealt with the Department of Health and its refusal to countenance the type of spending he believed was necessary to tackle treatment backlogs coming out of the pandemic. He felt that Sunak had not shown the loyalty that he had when the power dynamics were reversed.
There are now significant policy differences as well. When Javid threw his hat in for the leadership he set out a tax-cutting agenda broadly similar to that proposed by Truss. He proposed cutting national insurance and reversing the planned corporation tax rise while Sunak stuck to his policies as chancellor.
One ally said Javid sincerely believes that only by kick-starting growth through tax cuts can public services be properly funded. They said it would have been "odd" if Javid had backed Sunak, given their different and genuinely held views on how to deal with Britain's economic uncertainties.
This is what Javid had to say about Truss in his article for The Times:
"I fought for strong fiscal rules in our last manifesto," he wrote. "But the circumstances we are in require a new approach. Over the long term, we are more likely to be fiscally sustainable by improving trend growth.
"Only by getting growth back to pre-financial crisis levels can we hope to support the high-quality public services people rightly expect."
In a direct attack on Sunak, he said: "Some claim that tax cuts can only come once we have growth. I believe the exact opposite — tax cuts are a prerequisite for growth. Tax cuts now are essential. There are no risk-free options in government. However, in my view, not cutting taxes carries an even greater risk."
He added: "With only two years before the next election, there has been a temptation to just 'get the barnacles off the boat' and avoid any short-term political pain for long-term national gain.
"We must reject that. As a nation we are sleepwalking into a big-state, high-tax, low-growth, social democratic style model which risks us becoming a middle-income economy by the 2030s with the loss of global influence and power" …
A senior Truss campaign source described Javid's endorsement as the "big one for us".
They added: "The bigger beasts of the party are uniting behind Liz because they believe in her vision for the economy. We can't have the Treasury orthodoxy and tired status quo. They believe she will turn things around in time for the next election by getting on and delivering quickly in No10."
On Wednesday, August 3, Truss and Sunak canvassed separately in Wales before meeting up for a televised hustings in Cardiff later in the day.
A Conservative Welsh Senedd (Senate) member, James Evans, changed his mind about Sunak and decided to support Truss instead. He got a lot of flak in response to his tweet:
Truss's former party, the Liberal Democrats, criticised her for taking a helicopter around Wales to get to the various Conservative associations there. Pictured is the Lib Dem leader Sir Ed Davey:
Guido Fawkes points out that the Lib Dems are suffering an attack of sour grapes — and hypocrisy (red emphases his):
… Rishi's been known to use them, so why should Liz be confined to the rail network…
i News were the ones to reveal Liz's chartering this afternoon, juxtaposing the decision against her backing of net-zero carbon emissions by 2050. The LibDems were only too happy to butt in, providing a quote for the copy that it "makes a complete mockery of her promises on Net Zero. It's clear that she is not serious on climate change." This quote came from Vera Hobhouse rather than Sir Ed Davey himself, who surely wouldn't mind the coverage…
Guido's sure Sir Ed's decision not to provide the comment has little to do with the fact that, in 2013 as Energy Secretary, he hitched a ride in the helicopter of EDF boss Henri Proglio, after handing him a nuclear deal at double the going rate for electricity. The decision raised objections from Friends of the Earth at the time, who said it "confirms how close the Big Six energy firms are to our decision-makers."  A source close to Liz Truss calls the political attack "the usual sanctimonious hypocrisy from the LibDems". Sir Ed may need to refuel his own spin machine…
While in Wales, Truss took the opportunity to have a go at First Minister Mark Drakeford (Labour), calling him:
the low energy version of Jeremy Corbyn.
Bullseye!
John McTernan, who advised Tony Blair between 2005 and 2007, wrote in UnHerd why Labour should be afraid of Truss.
I've seen John McTernan on GB News and he knows whereof he speaks.
He explains Truss's strengths:
One of her overlooked strengths is that she has been on a political journey. Changing your mind is often thought of as a weakness in politicians, whereas in reality an unchanging commitment to ideology is one of their most eccentric habits. In normal life, we change our minds frequently and without fuss. As economist Paul Samuelson said, in a line so good it is often attributed to Keynes: "Well when events change, I change my mind. What do you do?" In itself, changing their mind humanises a politician — a particular asset in a time of popular revolt against out-of-touch elites.
But, more than that, making a political journey shows character. Three of the most significant politicians of the Blair era — John Reid, Alan Milburn, and David Blunkett — were great New Labour reformers who had started on the hard Left. Their politics had been tempered and strengthened by their journey. Liz Truss was brought up on the Left and attended anti-nuclear peace camps with her mother. She then became a Liberal Democrat activist, famously demanding an end to the monarchy to Paddy Ashdown's discomfort. And when a Tory Cabinet minister she backed Remain not Leave, though she is now a passionate Brexiteer. Those surprised that Tory party members overwhelmingly see a former Remainer as the best defender of Brexit need to remember their New Testament: "There will be more rejoicing in heaven over one sinner who repents than over ninety-nine righteous persons who do not need to repent." The redemption narrative is one of our most powerful stories: she who once was blind, but now can see.
The fact Liz Truss has been on a political journey also makes her a powerful communicator. Some of the most persuasive arguments in politics are based on empathy rather than angry disagreement. Liz Truss knows why voters find progressive policies attractive, which can strengthen the persuasive power of her arguments for people to change their views. And her speaking style is clear and simple. The listener readily understands what she thinks and believes. Her opponents who too readily dismiss her as simplistic are missing the point. Politics is not a mathematical equation — a ten-point plan won't beat a five-point plan 10-5. The messages and policies that win are those that connect with the heart as much as the head.
The Truss agenda is straightforward. The educational system is failing kids. Grammar schools would identify and help some bright working-class and minority children. The cost-of-living crisis is hitting wallets and purses. A tax cut would give money back to the public. Energy prices are spiking. Pausing the green levy would reduce prices. Now, there are good arguments against each of these policies, but they are superficially strong one-liners. It takes time to explain how grammar schools distort the education of the vast majority of pupils who don't get into them, or to make the case that there is a danger that tax cuts lead to more inflation. The arguments against Liz Truss's policies are strong but they need to be explained. And, as the old political saying goes, "when you're explaining, you're losing".
… One of the best jokes in the US TV show Veep comes when Selina Myers uses the slogan "continuity with change" for her Presidential campaign. It works because it is bizarrely true — and it is true because that is what most voters want. They're not revolutionaries, they're realists.
The Truss offer is continuity with the spirit of Johnson and Brexit while meeting the demands of the voters who were, and are, angry with the status quo. That anger has been the fuel of politics since the Global Financial Crisis — it was there in Brexit, in the Scottish independence referendum, in the rise of Corbyn, and in Boris Johnson's 2019 landslide. The fact that such competing and conflicting political forces can harness that same anger signals that there is an underlying volatility in British politics that can be channelled in different directions by strong and intelligent leadership.
It is in leadership that Labour must contest most convincingly. Liz Truss will likely be undone by events. The cost-of-living crisis is of such a scale that it is hard to see any of her policies — or any of Rishi Sunak's — that will be more than a drop in the ocean. To win, Keir Starmer must learn from New Labour [Tony Blair's government]. Attack the new Prime Minister and her government, but don't nit-pick. The critique must be based on a vision of hope and a positive project that positions Labour once more as the "political wing of the British people". Otherwise, Keir Starmer risks being just one more man, in a long line of men, who have underestimated Liz Truss at their peril. After all, there are no accidental Prime Ministers, and like the rest, Truss has guile, will and talent.
Guido Fawkes adds another point:
… Truss will be the Tories' third female PM to Labour's big fat nought …
Exactly. And Conservatives didn't need to have all-women shortlists, either, unlike Labour.
For Conservative Party member Toby Young, General Secretary of the Free Speech Union, Truss's strength lies in opposing another lockdown, which she said 'No' to on Monday night in Exeter:
Also in Exeter, on Monday, Truss said that First Minister Nicola Sturgeon (SNP) was an 'attention seeker' who should be ignored. Again, I'm pretty sure Truss meant that with regard to appeals for a second independence referendum.
The Telegraph's Alan Cochrane, who lives in Scotland, said that some would sincerely welcome those words: 'Amen to that! Liz Truss finally puts the boot into Nicola Sturgeon':
It is easy to sympathise with Liz Truss's presumably exasperated and outspoken statement that the best way to deal with Nicola Sturgeon was to ignore her. 
After watching, listening and responding to this ambitious politician for more than 20 years, ignoring her is something I'd rather have been doing than countering every one of her largely lame-brained arguments for breaking up Britain.
Furthermore, the First Minister is every bit the "attention seeker" that the Foreign Secretary portrays her as – most especially when she dons her "Mother of Scotland" role and seeks to insist that she, and only she, speaks for the whole of Scotland. 
The truth, of course, is that she speaks only for her party and government, neither of which commands an overwhelming majority of Scottish opinion …
… while Ms Truss is being assailed for her choice of words by the Nationalists and those faint hearts who seek a peaceful political life, there will be more than a few who will shout "Amen to that!" when she talks of Ms Sturgeon's perpetual attention seeking.
Furthermore, a great deal more candour from Westminster in its dealings with the SNP is long overdue. Far too long. Successive UK administrations have bent over backwards not to be seen as provoking the cause of independence when the truth is that it is already on a life support system, with a fast declining appeal to the Scottish people.
The fact is that Ms Truss knows that she cannot just ignore the devolved Scottish Government and its leader. But she is to be commended for putting the boot in. It's about time someone did.
While Truss and Sunak were in Wales, Iain Duncan Smith MP was north of the border in Scotland.
He was at an event for Scottish Conservatives in Stirling, in Scotland's central belt.
The former work and pensions secretary backtracked on comments made by Truss that Nicola Sturgeon, the first minister, should be "ignored" as he criticised the UK government's approach towards the Union.
"I don't want to ignore her," he said. "What I want to do is to let the world know just exactly why Scotland is suffering so much under this incompetent regime at Holyrood. The truth is, it is a disaster: everything from health, the police, the railways — they can't even build ships sometimes on time and on budget."
He's not exaggerating. It's the raw truth.
The MP wants the next PM to have greater powers of scrutiny over the way Scotland's SNP government is run. They get billions from taxpayers in the Barnett Formula and waste it. No one, not even Scots, has any idea where the money goes.
He said:
I am desperate for greater powers for scrutiny. It is only scrutiny that unearths all this nonsense and … that the weaker scrutiny up here has allowed the Nationalists to get away with it. So I am going to take that straight back and talk to her about it and see what we could do.
Not surprisingly, the SNP were furious and, as usual, blamed Westminster:
Kirsten Oswald, the SNP deputy leader at Westminster, said: "This is an utterly ridiculous suggestion, showing that even the Tories are out of ideas for how to fix the broken Westminster system. It is not the SNP's job to explain why Westminster control is increasingly making life more difficult for the people of Scotland — even if the Tories are out of excuses.
"The job of SNP MPs in Westminster is to stand up for Scotland against a UK government choosing to ignore our interests at every turn. That is what they will continue to do."
Duncan Smith justified his desire for scrutiny saying that SNP MPs are part of the Scottish government, too:
… Duncan Smith said: "We need to turn the tables on them and start saying, 'Well, can we have a period of question time for you lot to talk about what you are doing in Scotland as the devolved administration?'
"And start examining some of this stuff because they're not just SNP protesters down in parliament, they are actually part of the government up here."
Meanwhile, Rishi Sunak told the audience in Cardiff that Truss was wrong about her public sector pay reform and tried to scare Welsh Conservatives into thinking that Truss was going to cut the pay of every single public sector worker in Wales:
However, Sunak got himself into a bit of hot water when he 'misspoke' on wind turbines at the event:
On Thursday, August 4, Guido reported:
Rishi's team has said he "misspoke" during the hustings last night when it appeared he'd u-turned on his opposition to new onshore wind. At the Wales' husting, Sunak was asked "will you be bold enough to scrap the embargo on onshore wind in England?", replying "So, yes, in a nutshell." This appeared totally contradictory to one of his previous policy announcements:
Wind energy will be an important part of our strategy, but I want to reassure communities that as prime minister I would scrap plans to relax the ban on onshore wind in England, instead focusing on building more turbines offshore,
Team Liz immediately leapt on his words as sign of yet another u-turn from Rishi, alleging it was his eleventh campaign u-turn.
This morning Team Rishi, asked to justify his words, bluntly replied "he misspoke". Much like Britain under Rishi's actual wind energy policy, he's losing fans rapidly…
Sunak is also being economical with the truth when he says that he personally came up with the idea of British freeports, which were first mooted in an early Margaret Thatcher manifesto for the Conservatives:
However, Rishi managed to get two notable endorsements, one from former Conservative Party leader Michael Howard and Nigel Lawson, who was Chancellor under Margaret Thatcher. He is also Nigella Lawson's father.
Guido has more:
Finally got an endorsement from Nigel Lawson himself, who writes in The Telegraph that Rishi is

"the only candidate who understands Thatcherite economics" …



Michael Howard opened for Rishi at Wales' Tory husting last night, saying he can provide the leadership needed "not only in this country, but across the wider western world"
Lawson must have felt obliged to endorse Sunak, given that the latter has a photo of him in his office.
Sunak was over the moon about Lawson's Telegraph article:
Boris looms large
Prime Minister Boris Johnson still looms large in the psyche of British voters.
Normally, we are all too happy when a Prime Minister stands down. When Margaret Thatcher's MPs booted her out, we breathed a sigh of relief. We'd had enough of Tony Blair when he left No. 10 to Gordon Brown. We didn't care too much about David Cameron's resignation, although we did think he was petty-minded for resigning the morning after the Brexit referendum result. And we were only too happy for Theresa May to go, although we did feel sorry for her as she cried at the Downing Street podium.
However, Boris is a different kettle of fish.
The August 3 YouGov poll showed that a) most Conservative Party members thought their MPs made a mistake in getting him to resign as Party leader and b) he would make a better PM than either Truss or Sunak:
In response to the aforementioned Welsh Senedd member's tweet, someone responded with this:
Incredibly, as ballots are currently being posted to Conservative Party members, Alex Story, the leader of the Bring Back Boris campaign, still thinks there is time to add Boris's name to the list of candidates.
He spoke to Nigel Farage on Wednesday, August 3:
He said that 14,000 members of the public wrote to Conservative Party headquarters after Boris stood down as leader.
He added that most Boris supporters knew he was economical with the truth, but they felt that his ouster was forced.
Nigel Farage countered by saying that 40% of Conservative voters wanted Boris to leave. Furthermore, he could no longer command the support of his MPs.
Story responded by saying that Boris will be like 'Lazarus [rising] from the dead … something romantic and quirky'.
That's one way of putting it, I suppose.
It is highly unlikely that Boris's name will be on the ballot, but … one cannot fault Story and Lord Cruddas for trying on the public's behalf.
More news next week.
On Monday, August 1, 2022, a hustings took place in Exeter.
The event was two hours long. Sky News filmed it, and the moderator was Sebastian Payne, the Financial Times's Whitehall editor:
The sound quality is not the best. There are lots of echoes.
The venue was full. Some supporters made their allegiances known Trump rally style, either by waving 'Ready for Rishi' placards or by wearing 'Liz for Leader' tee shirts.
The event began with a couple of videos from Conservative MPs.
Then Penny Mordaunt appeared on stage to pledge her support for Liz Truss (video clip here):
Liz took the stage afterwards (17:38 in the video) and introduced her platform.
Afterwards, Liam Fox went on stage (33:34), announcing that he would be backing Rishi Sunak.
Liz's Q&A came after that (45:00), taking questions from the audience and Sebastian Payne.
She was much more relaxed than she had been at previous events over the past two weeks. She has a sense of humour. She gesticulated in a natural way. She was conversational.
When an audience member asked if she would favour another lockdown, she gave a simple answer — 'No'. She explained that, during the pandemic, her Cabinet responsibilities lay in areas other than health and that when presented with past measures, she said others told her they were already 'a fait accompli'. Liz said she always favours the least amount of intervention:
Liz also lobbed a zinger at Scotland's First Minister Nicola (Neverendum) Sturgeon (SNP) by saying that she should was an 'attention seeker' who should be ignored. She got a huge round of applause.
This raised a stink the next day, including on GB News, but I understood it in the context of having another independence referendum eight years after the first 'once in a generation' one:
GB News has the quote (emphases mine):
Liz Truss has claimed it is best to ignore "attention seeker" Nicola Sturgeon.
The Conservative Party leadership candidate criticised Scotland's First Minister before ruling out a second independence referendum.
Ms Truss, speaking at a hustings event in Exeter, referenced growing up in Paisley before saying: "I feel like I'm a child of the union, I really believe we're a family and we're better together and I think the best thing to do with Nicola Sturgeon is ignore her."
Tory members cheered and applauded the comment, with the Foreign Secretary adding: "She's an attention seeker, that's what she is.
"What we need to do is show the people of Scotland, Northern Ireland and Wales what we're delivering for them and making sure that all of our Government policies apply right across the United Kingdom."
She replied "no, no, no" when asked about another independence referendum in Scotland if she becomes prime minister.
SNP MP Chris Law, posting on Twitter with a link to Ms Truss's remarks, said: "The only reason why Scotland needs independence. Utter contempt from the future PM."
Rishi Sunak has also ruled out having a second referendum on Scottish independence should be become Prime Minister.
He said: "I am clear that another referendum is the wrong priority at the worst possible moment.
"The SNP are wrong to try and tear the country apart when we should be pulling together. Why aren't they talking about the drugs crisis in Scotland or how we can get more money into Scottish workers' pockets?
"Just as I want to be more accountable to people in every corner of the United Kingdom, so too does the SNP need to be more accountable for their responsibilities."
That night, comedians on GB News's Headliners joked about the SNP's utter irresponsibility north of the border. Leo Kearse is Scottish and gives the full story of the disappearing billions. He says that Westminster should audit the Scottish Government:
Earlier, on Dan Wootton's show, 90% of viewers agreed with Liz on Nicola Sturgeon with regard to a second referendum:
In short, Liz came across as the continuity candidate. People who liked Boris will find an appropriate comfort level with her.
Then it was Rishi's turn to take questions (1:17:00).
Both candidates received warm applause for their policies, but some applauded only for their preferred candidate.
Rishi left the stage with a clean slate.
However, Liz got into trouble over the next 24 hours for saying that she would reform public sector pay. I took her to mean civil servants, but people got anxious and critical over teachers and NHS staff.
Liz said she would cut public sector pay outside of London, but wouldn't keeping their pay the same or upping it a pledge to 'levelling up'?
Years ago, Labour's Harriet Harman tried the same thing:
The Financial Times article that Guido Fawkes cites explains why what Liz's proposal is problematic.
Journalist Stephen Bush begins by disingenuously putting on the frighteners …
Liz Truss has promised to save £11bn a year by cutting pay for public sector workers — including civil servants, teachers and nurses — outside London and the South-East.
… before clarifying that it would take several years for the proposed plan to be rolled out to all public sector workers:
The foreign secretary said she would introduce regional pay boards that would set wages for civil servants working outside London in line with local labour market conditions and living costs. Her campaign said the regional pay would initially be introduced for new civil service recruits, but if successful would be rolled out over a number of years to all public sector workers.
From that, it is obvious that the FT want Rishi Sunak to win.
This is why public sector pay is difficult to reform:
Now, it's true to say that, in real terms, a secondary school teacher in Torridge in north Devon or Cannock Chase in Staffordshire is paid more in real terms than they are in St Albans or Hackney. And this is true across the public sector. In real terms, a public sector worker would be economically better off working in Don Valley in South Yorkshire than if they were working in the centre of Manchester.
But of course, it is also true to say that we find it easier to recruit secondary schoolteachers, GPs, firefighters and police officers in St Albans, Hackney or Manchester than we do in Don Valley, Cannock Chase or Torridge …
The policy suggestion does the rounds every so often and it founders on the same basic problem: you can't cut salaries in the places you struggle to recruit. Given that the UK state (rather like the UK as a whole) faces considerable difficulties in recruiting enough workers it is highly unlikely that the policy will succeed now.
 … What might matter is if enough Conservative members see this policy as an electorally disastrous idea they need to avoid.
One thing that would be welcome is reforming or getting rid of unnecessary posts in the public sector. Liz favours this, too:
I'll come back to that in a moment.
Polling
Stephen Bush's article gave more evidence that he and the FT are Ready for Rishi, so to speak.
Based on polling, Bush is worried that Liz might be winning:
Every scrap of data suggests Liz Truss is ahead of Rishi Sunak, and that Sunak failed to really change the dynamic of the race in any of the televised debates.
Although both Ben Wallace and Tom Tugendhat have ideological and policy reasons to endorse Truss over Sunak, it helps, of course, when everything suggests that to help Truss is to help yourself. Unless her campaign finds a way to implode or the polls are wildly out of kilter.
Now, of course, the big known unknown in this leadership election is just how big Liz Truss's lead actually is. YouGov's polls have shown the foreign secretary enjoying a 24 point lead over Rishi Sunak (opens a new window) among Tory members. The gap suggested by Opinium has been a narrower one. Its latest snap poll showed (opens a new window) Tory voters thought Truss did better in the television debate last week by 47-38.
Now another pollster, Techne, has tried its hand at a poll of the Conservative supporters (opens a new window), who comprise Tory voters that are also activists. The result is, again, a Truss lead, but not a very large one.
I wouldn't sweat this too much, frankly. What unites the various polls (Liz Truss is winning all of them) is more important than what divides them (the exact size of Liz Truss's opinion poll lead). It's possible that some error or event on the part of Truss's campaign may hand Sunak a victory, and it's possible that all the polls are wrong. Given all that, the implied 10 per cent probability of a Sunak victory suggested by the prediction website Metaculus (opens a new window) seems about right to me. But of course, if Truss's lead is only five points, this "cut public sector pay in places with greater shortages" wheeze may well prove catastrophic for her chances.
Guido has more on the Techne results.
Another interesting poll appeared on August 1. Redfield & Wilton Strategies results show that Liz Truss could just beat Labour's Keir Starmer in being perceived to be a better potential Prime Minister. Rishi, on the other hand, would lose to Starmer — 40% to 33%:
Why are all the metropolitan elite coming out for Rishi? They know he would lose and put the Conservatives out of office for years!
On Tuesday, August 2, YouGov came out with a poll also showing stonking results for Liz:
Polling took place between July 29 and August 2:
Guido also posted about the polls and another pro-Rishi publication, The Times:
Guido then posted the YouGov poll:
I couldn't agree more about voting anxiety. This reminds me of the 2019 contest between the totalitarian Jeremy Hunt and Boris 'Sunlit Uplands' Johnson.
Guido explained the stark differences between the two polls:
The Times claimed — wrongly — that Liz Truss's team commissioned the more favourable YouGov poll. Guido notes that the newspaper has since changed its copy. Good:
And someone confirmed the hypothesis that media supporting Rishi want the Conservatives to lose:
On Wednesday, August 3, YouGov published an all-party poll. After months of the Conservatives trailing Labour by a large margin, there is now only one percentage point between the two!
Amazing!
Guido wrote (red emphases his):
The YouGov poll of Tory members showing Liz looking to take two-thirds of the vote for leader was not the only surprising poll result. YouGov's regular voting intention survey has the Tories on 34% (+2 from 21-22 July), just a point behind Labour on 35% (-4). Is this an outlier?
YouGov themselves say "This shrinking of Labour's lead from 7 points to 1 point is a sharp move, but changes are either within the margin of error or close to it. It will be worth waiting to see whether further polls replicate the extent of this narrowing of the gap before we can be certain of a Tory recovery."
Yet, an IPSOS-Mori poll from Monday shows Rishi in the lead.
The Evening Standard reported:
As the 160,000 members of the Tory party prepare to start voting in the Tory leadership contest from Monday, the exclusive survey by Ipsos shows that 49 per cent of Conservative backers said the former Chancellor would make a good premier compared to 40 per cent for rival Liz Truss.
Among Conservative voters in the 2019 general election, Mr Sunak enjoys an even bigger lead over the Foreign Secretary with 49 per cent saying Mr Sunak has what it takes for the top job compared to 35 per cent for Ms Truss.
Among the general public, just over a third of people said Mr Sunak would make a good Prime Minister compared to just 24 per cent for Ms Truss.
Conservative Home's poll of its readers did not show Rishi on their chart. This is because he resigned as Chancellor and is no longer in the Cabinet:
The perils of policy on the hoof
Now that we have covered the good news, let us return to Liz's public sector statement, which is the first real blunder she has made in her campaign.
Not surprisingly, Team Rishi jumped on it.
On Tuesday, August 2, Guido reported that a Red Wall mayor is also unhappy:
Team Rishi has slammed Liz Truss over her policy announcement last night that she can save up to £8.8 billion by replacing National Pay Boards with Regional Pay Boards. This sum immediately raised eyebrows given the total Civil Service salary budget is around £16.5 billion. The footnotes of the press release specified this figure is "the potential savings if the system were to be adopted for all public sector workers in the long term," allowing her opponents to spin the policy as one of cutting nurses' and teachers' pay in the Red Wall while improving the pay packets of those in London and the South East. Tees Valley Metro Mayor Ben Houchen is not happy:
There is simply no way you can do this without a massive pay cut for 5.5m people including nurses, police officers and our armed forces outside London.
Liz Truss's campaign is explicit that their savings target is only possible 'if the system were to be adopted for all public sector workers'.
This is a ticking time bomb set by team Truss that will explode ahead of the next general election.
Just one mistake like this can help Rishi win over Conservative Party members:
Rishi doubles down by calling the policy "a gift to the Labour Party and Keir Starmer. Her plan would punish hard working nurses, police officers and soldiers across the country, including in the Red Wall just before a General Election". Rishi was already reportedly performing better among Southern members – can this latest attack help him claw back up North?
Liz and her team quickly backtracked but said it was a 'wilful misrepresentation' of the policy:
UPDATE: Team Truss say
Over the last few hours there has been a wilful misrepresentation of our campaign. Current levels of public sector pay will absolutely be maintained. Anything to suggest otherwise is simply wrong. Our hard-working frontline staff are the bedrock of society and there will be no proposal taken forward on regional pay boards for civil servants or public sector workers.
Under fire from Rishi she drops the policy. So we now have the status quo of a national pay rate for civil servants.
Another member of Liz's team told Guido that the policy will not be taken forward. Nonetheless:
Team Rishi are absolutely loving this, joking "The lady is for turning"…
Yes, one can imagine.
On GB News Tuesday afternoon, a number of presenters and pundits, some of whom think Liz either should or could win (there is a difference), thought that she made a terrible mistake with this.
One said that making policy up on the hoof was a 'dangerous' thing to do and could turn the contest against her.
However, Team Liz were ready to fire back at Rishi, accusing him of more U-turns during this campaign than at a driving test centre.
Note that only one of Liz's U-turns happened during the campaign. The other three happened when she was a young adult. The same cannot be said of Rishi:
Guido has the full story, which begins with this:
Hours after a brief campaign blip from Team Liz, which involved a somewhat humiliating climbdown from their regional pay boards policy, they've finally pulled their finger out for some return fire on the topic of u-turns. Team Rishi has spent the morning on cloud nine, joking that it turns out "The lady is for turning", and accusing Liz of having a Mayite 'Dementia Tax' moment. In return Liz Truss's team have compiled a list, which they allege shows Rishi has performed "more u-turns than a DVLA test centre". A spokesperson for Liz says:
This is all a bit rich coming from Sunak's backers when they stayed schtum on the steady stream of u-turns from Rishi over the recent weeks. He's flip-flopped on tax cuts, VAT, grammar schools, China , EU regulations, Northern Ireland protocol and planning to name a few.
Before Monday's debate, Liz issued a letter to Conservative Party members, which can be read in full here. It has way too many 'I's, which someone should have reworded.
An excerpt follows:
… If you work hard, do the right thing, save your money, or start your own business, then I am on your side.
And you can trust me to deliver. I have delivered trade deals, faced down Putin's Russia, and got on with sorting the Northern Ireland Protocol. I am honest and straight talking. I do what I say I will and I know what it takes to get things done. 
We cannot continue to have business-as-usual and I have a bold plan to get our economy back on track.
We must reject orthodoxy, the voices of decline and unleash Britain's potential in line with Conservative values. 
I will lower taxes to spark economic growth and reward people for working hard. I will seize the full opportunities of Brexit, and level up in a Conservative way. I will defend freedom at home and abroad, and keep Britain safe. 
I will ensure the police do more to crack down on real crimes, and raise defence spending. I will stand up for free speech, and protect single sex spaces for our young women. And I will abolish Soviet top-down housing targets. I know from being a councillor that local people are best-placed to deliver the housing we need. 
To win in 2024, we must work relentlessly to deliver on our promises. 
Now is the time to be bold … 
That is how Liz came across in the debate, so I was happy to see The Telegraph endorse her candidacy that night:
Ballots delayed to next week
The Party members' ballots were to have arrived this week.
However, a security issue has caused a delay, therefore, they will not be sent until next week.
Nigel Farage tweeted:
The Telegraph's Ben Riley-Smith got the scoop on the ballots. Furthermore, members can now vote only once, not twice as planned — excellent:
This might turn out to be a blessing in disguise for Liz.
A week is a long time in politics, so by the time the ballots arrive, Liz's public sector policy blunder is likely to be old news.
Even better, however, is the platform that GB News will give her on Wednesday, August 10, just as the ballots arrive:
I do not have details as to how the event was arranged nor do I know whether Rishi was invited to appear on a separate programme.
The next debate was on Sky News on Thursday, August 4. More about that in a separate post.