You are currently browsing the tag archive for the 'Northern Ireland' tag.
The past week was a newsy one in the UK.
We had Boris's hearing before the Privileges Committee and Matt Hancock being stung by a fake consultancy.
However, it all began on Monday, March 20, and continued on Wednesday with the approval of the Stormont Brake Statutory Instrument of the Windsor Framework for Northern Ireland.
The Windsor Framework replaces the Brexit Northern Ireland Protocol, which everyone knew was imperfect and this new framework replaces it. According to the Government, it renders the Northern Ireland Protocol Bill unnecessary.
However, it seems to Northern Ireland's Democratic Unionist Party (DUP) that it goes too far in favouring the EU. Who can forget the beaming smile on Ursula von der Leyen's face when she signed it alongside Rishi Sunak at the end of February? She knew she had the cat by the tail. Unfortunately, Rishi is still in the dark, as is most of Parliament:
The only vote on it in Parliament was on Wednesday, March 22, 2023. It should be emphasised that was not a vote on the Framework as a whole but only on one statutory instrument (SI) of it, the Stormont Brake.
Rishi overly promoted the Stormont Brake, which, in principle, grants a veto to the Northern Ireland Assembly via the UK Government of new EU acts or rules that it disagrees with.
I cannot see it working as smoothly as specified below. The EU holds the better hand of cards here.
This Twitter thread comes via Jess Sargeant, senior researcher at the Institute for Government, beginning with the flowchart:
The Northern Ireland Assembly, once it reconvenes (the DUP are resisting for the time being), will have a new Windsor Framework Democratic Scrutiny Committee to inform MLAs' (assembly members') decisions on pulling the Brake:
The Brake can be triggered by 30 MLAs from two parties. The Secretary of State (SoS) for Northern Ireland, who sits in Parliament, then reviews the proposed trigger. If the SoS finds it valid, he then liaises with the EU:
In principle, any resolution must have 'cross-community' support in Northern Ireland before being implemented, unless there are exceptional circumstances:
The DUP oppose it as do members of the ERG (Parliament's European Research Group), but it has majority support among MPs:
On Tuesday, March 21, the ERG interviewed the SoS for Northern Ireland, Chris Heaton-Harris MP, a 90-minute session available on parliamentlive.tv. Heaton-Harris could barely look the MPs in the eye as he maintained that voting on the SI (Stormont Brake) was but one of many votes. Perhaps inconveniently for him, a civil servant sitting next to him said that Downing Street would consider a majority vote on the SI proof that MPs approved of the Windsor Framework.
Here is some background on that session from Monday, March 20. Heaton-Harris is on the left of the photo with the ERG's Sir Bill Cash MP on the right:
Guido Fawkes tells us that the ERG wanted to interview Rishi Sunak rather than Heaton-Harris (emphases in the original):
Northern Ireland Secretary Chris Heaton-Harris will appear in front of the European Scrutiny Committee tomorrow afternoon, just a day before MPs vote on the Stormont Brake element of the Windsor Framework Brexit deal in the House of Commons. The Committee's chair, Sir Bill Cash, had previously invited Rishi Sunak, with Cash accusing the PM of dodging scrutiny by repeatedly skipped the invitation. As a compromise, he's sent Heaton-Harris as his loyal lieutenant… 
With the DUP voting against the deal, and the ERG expected to announce their own verdict tomorrow – also not looking positive – it won't be smooth sailing for wise-cracking Heaton-Harris. Stay tuned…
More background from the morning of Tuesday, March 21 follows. The ERG session with Heaton-Harris took place in the afternoon.
A small but vocal opposition bloc was building. Pictured below are Sir Bill Cash, DUP leader Sir Jeffrey Donaldson and Rishi:
Guido's post said, in part:
Tory MPs speaking to Guido say they nonetheless expect the Tory rebellion to be "soft", and "they'll have to have uncovered something pretty bad for a lot of people to vote against it". The Telegraph has heard similarly, with one MP saying the group were "genuinely torn"…
The ERG's Legal Advisory Committee's review of the Windsor Framework can be found here. Although it is 137 pages long, the first 28 pages are the immediately relevant ones. As opponents of the Windsor Framework point out, the Green (customs) lane won't become greener as Rishi said, but rather pinker, as the report states on page 13 (purple emphases mine):
Before coming to the specifics of how the "green lane" would operate as regards movements of goods which would fall within it, it should first be pointed out that there will continue to be many goods moving from Great Britain to Northern Ireland which will fall outside the scope of the "green lane" arrangements and will therefore be subject to the full panoply of EU external border checks, even though those goods are not going to be exported into the Republic or elsewhere in the EU. Businesses within Northern Ireland acquiring goods from Great Britain which intend to sell their products within Northern Ireland, elsewhere in the United Kingdom or to the rest of the world will continue to be damaged by these controls and duties while receiving no conceivable benefit from the NI Protocol arrangements.
The general position will remain that, outside the specific accommodations, EU customs laws will apply to the movement of goods from Great Britain to Northern Ireland (this internal movement is treated as an "importation"26) and to importations of goods from the rest of the world. In other words, there is a customs border, within UK territory, across the Irish Sea, and the EU's rather than the UK's external customs duties will apply to imports from the rest of the world. Importantly, goods which are to be used by businesses in Northern Ireland for "commercial processing" will be subject to EU customs duties, unless the business or the type of processing falls within a specific exemption.
This is why, since Brexit, most British businesses will not ship to Northern Ireland. Big corporations, such as supermarkets, do and will continue to do so, but even British retail chains (e.g. department stores) are not willing to put up with the paperwork and specific knowledge required to ship to Northern Ireland. It's just too much hassle.
For that and many other reasons, the ERG chair Mark Francois called the Framework's Stormont Brake 'practically useless':
Commercial Chancery Barrister Steven Barrett explains why the Stormont Brake could result in 'huge and ongoing fines' for the UK:
The EU can calculate any perceived industry losses if the Brake is applied:
The fines could extend from year to year:
Therefore, the Brake might never be applied:
The ERG's Mark Francois stated:
The star chamber's [the aforementioned report's] principal findings are: that EU law will still be supreme in Northern Ireland; the rights of its people under the 1800 Act of Union are not restored; the green lane is not really a green lane at all; the Stormont brake is practically useless and the framework itself has no exit, other than through a highly complex legal process.'
Thought so.
That evening, another prominent Brexit supporter, Jacob Rees-Mogg, said on his GB News show that he would not be supporting the Government in the vote on the Stormont Brake on the afternoon of Wednesday, March 22:
This was his Moggologue that evening, and the transcript:
Rees-Mogg said that the Government's view, based on a very short summary of the Framework, differs to the ERG's report, which comes much closer to the EU-focused reality:
… everybody has to look through it in detail and that's what's been done by the committee set up by Mark Francois, the chairman of the European Research Group, which went to really strong legal advisers to see.
What was actually happening and what they came up with was not the same as the view given by His Majesty's government.
Indeed, it was closer to the view that was in fact given by the European Commission.
So the Government claimed that 1700 pages of EU laws are disapplied.
The report found no EU laws will be disapplied or removed from Northern Ireland.
We were told that the jurisdiction of the European Court would be disapplied.
The report found Northern Ireland will remain subject to the European Commission and the European Court of Justice, as was said to me by a very senior member of the DUP, European Union law remains a major part of Northern Ireland's settlement and in certain areas outranks UK law.
So we were told that the deal would restore Northern Ireland's place in the Union and safeguard sovereignty. Because this is what it's about. We voted to leave as one United Kingdom, not as Great Britain, and then separately.
Northern Ireland and we are one people.
Under the Act of Union of 1800, we were told that there would be green lanes and you know what a green lane is.
When you come back from your holidays, you go through a green lane and nobody stops you.
But the green lane to Northern Ireland requires 21 pieces of information to be given.
So what was it at that line in Macbeth that may apply to the Windsor framework, the multitudinous Irish Sea and Canadine?
The green one is made red. And last of all, the Stormont brake, which is what we're actually voting on tomorrow, is said to be hard to use.
But even then we've been told that though the vote technically is on the brake, we're actually voting on the whole of the protocol. So even if the brake is good, we're being asked to vote on the bits that are not good.
And the Guardian angels of unionism, the DUP, have said that it's not good enough. So that's the position we're in. We are facing a vote tomorrow.
I will not find it possible to support His Majesty's Government in this vote …
Rees-Mogg then interviewed a KC (King's Counsel) who is a specialist in EU law. He said much the same thing …
… as did former Conservative Home Secretary and former Brexit Party MEP Anne Widdecombe:
On the morning of Wednesday, March 22, The Telegraph reported that Boris Johnson MP would vote against the Stormont Brake SI:
The former prime minister said in a statement to this newspaper that the proposals would keep the province "captured by the EU legal order" and were "not acceptable".
Mr Johnson is expected to interrupt his appearance during the House of Commons Privileges Committee hearing on partygate to vote when the division bell rings …
Mr Johnson told The Telegraph: "The proposed arrangements would mean either that Northern Ireland remained captured by the EU legal order – and was increasingly divergent from the rest of the UK – or they would mean that the whole of the UK was unable properly to diverge and take advantage of Brexit.
"That is not acceptable. I will be voting against the proposed arrangements today. Instead, the best course of action is to proceed with the Northern Ireland Protocol Bill, and make sure that we take back control."
The decision sees Mr Johnson reprise the role he adopted during the final year of Theresa May's premiership, when he put himself at the front of a group of Tory MPs voting against her Brexit proposals. 
A few hours later, Liz Truss said she would also be voting against the SI:
That afternoon, MPs divided — voted — on the SI, which won over nearly all of the Commons. Only 29 MPs voted No, among them the nine DUP MPs:
MPs had very little time to consider the Windsor Framework. There was Rishi's speech to Parliament after it had been agreed, so, 90 minutes. Then there was the 90-minute debate about the SI, which, in reality, was Downing Street's way of approving the whole Framework. Ergo, three hours of discussion about our national sovereignty with regard to Northern Ireland.
On Thursday, March 23, former DUP leader, Arlene — now Baroness — Foster wrote about this parlous state of affairs for The Express:
The Prime Minister promised a vote on the Windsor Framework deal, and this was it – all 90 minutes of it.
The Stormont brake is the central selling point of the agreement between the Government and the European Union to remedy the defects of the NI Protocol.
The idea is that if the Assembly activates the Stormont Brake, then the Government will decide whether to veto whichever new European law has been foisted on the people of Northern Ireland without their say so.
The chances of the Government actually vetoing new European law is next to negligible. As pointed out by the legal opinion of the ERG the Stormont brake is worse than useless because the bar has been set so high and there must be a willingness by the Government to actually trigger the veto – not likely on current experience.
The Government has shown itself in fear of the European Union starting a trade war regardless of how unlikely that is and so they continue to appease the EU's outrageous demands.
It is plain as the nose on your face that the Windsor Agreement was oversold as something it was not.
It was an improvement on the NI protocol, I absolutely acknowledge that, but it falls short of dealing with all the problems. And the Prime Minister and his cheerleaders would have been far better suited to have been honest with us all instead of trying to spin us into the willing suspension of disbelief.
We were told by the PM that the Irish sea border has gone – it clearly hasn't – but this claim in the latest Government infographic has been downgraded to… wait for it… " removes any sense of a border in the Irish sea"… You really couldn't make it up.
How refreshing it would have been if the Prime Minister had announced his deal by saying, "I have moved the negotiations forward, I have made some wins. I recognise it doesn't deal with all the problems, but I will keep working with European colleagues to monitor the issues".
Instead we were treated to spin on a scale not seen since the justification of the Iraq war!
Let's have a look at the reality of the deal:
Firstly, the Stormont Brake is not a veto, no matter what the hapless NI Secretary of State says. The current version is an attempt to put a veneer of consent on the fact that European law will still apply in my part of the United Kingdom.
The mechanism could be strengthened by the Government, because after all Parliament is sovereign, but my guess is that they will not want to upset Brussels.
The Windsor Framework does not deal with the recent decision of the Supreme Court which stated that the Protocol suspended the internal UK trade element of the Acts of Union.
Again, the Government could remedy this element by passing a simple piece of legislation as the later law will take precedence – will they do that? – it would go a long way to dealing with the constitutional aspects of the Protocol.
Another of the elements of the Windsor Framework was the construction of green lanes and red lanes. Sounds good you may think – anything going to NI for final destination from GB will go through the green lane and anything transiting through to the Republic of Ireland will go through the red lane.
However, it is not that simple as there are still forms to be completed to go through the green lane and there is still not full clarity about what goes through the green lanes.
One of the hauliers in NI has described the green lane under the Windsor Framework as not really green but pink, i.e. a lighter version of the red lane!
And what about those manufacturers in NI who only serve the UK market – do they have to abide by EU rules even though their goods are not going to the EU?
As you can see there are many important questions still to be answered and dealt with, but it appears the Prime Minister just wants to push on and prioritise good relations in Europe over internal constitutional issues.
Many who supported Brexit see this Framework as a gateway back into the EU.
Alex Story explained in his article for The Express, 'Sunak capitulated — this is step one to UK's craven re-joining of the EU':
Sunak's Windsor Framework breaks up the United Kingdom. It creates a border that did not exist and that no one wanted.
In effect, Sunak chose subjugation and humiliation.
He didn't kick the can into the long grass so much as build a framework for our eventual and full capitulation.
Accepting no divergence between the United Kingdom and a sclerotic European Union is tantamount to climbing back onto the Titanic to hear the band strike up a tune one last time.
A country unable to pass her own laws to serve her own people according to their needs is not sovereign.
In the short term, given the mess that is the Conservative Party and the duplicity of the Labour Party, there is little doubt that the Government will get its way – by hook or by crook.
Accepting humiliation once, however, is a sure way of guaranteeing we will suffer more indignities at ever decreasing time intervals until, in the end, our heads bowed, we will be forced to re-join on extraordinarily onerous terms. The French will have it no other way.
By choosing short term expediency instead of solid principles, the Government is telling us that our country no longer matters to it.
If this sounds like an exaggeration, it is worth remembering that beyond the empty rhetoric and the torrent of dishonesties we hear daily lies a graveyard of broken promises and discarded pledges.
The jam is always promised for tomorrow.
Our borders are none existent; Our children are under attack in their schools and in their towns; Our police are no longer concerned about real crimes such as burglaries, assaults, and grooming.
Our Government no longer knows how to govern and is desperate to delegate the arduous task to a non-democratic body beyond our shores …
And a country unable to govern itself cannot long survive …
Sunak, to his very small electorate, promised competence.
From the point of view of a marketing exercise, the Windsor Framework and the deception it carried had a certain panache.
But, what the big print giveth, the small print taketh.
In this case, the small print points to one of the greatest acts of abject surrender to a foreign power we have ever witnessed.
Sunak is ensuring the constant interference of the European Union into our internal affairs.
And, lo, so he has.
On Friday, March 24, Foreign Secretary James Cleverly and European Commission Vice President Maros Sefcovic formally adopted the Windsor Framework:
Guido's post says:
Sefcovic is in London today to formally adopt the agreement, after MPs voted in favour of the Stormont Brake element on Wednesday. The one and only time they'll get to do so…
Speaking just before rubberstamping the deal, Cleverly said:
By formally approving the Windsor Framework, we are delivering on our commitment to provide stability and certainty for Northern Ireland. The Framework is the best deal for Northern Ireland, safeguarding its place in the Union and protecting the Belfast (Good Friday) Agreement. I look forward to further effective cooperation with the EU on key issues, such as security and energy.
DUP leader Sir Jeffrey Donaldson is still vowing not to return to power-sharing in Northern Ireland though…
Good for him and the DUP.
This will end up being as divisive as Brexit, because the other main parties in Stormont are ready to resume power-sharing.
Those who missed my first post on Red Wall MP Miriam Cates can find it here.
Today's post continues a profile of the MP for Penistone and Stocksbridge in South Yorkshire.
Levelling up
Miriam Cates is interested in giving the more rural parts of Britain the same advantages as the more urban areas. This is what levelling up means.
On Wednesday, November 9, 2022, she spoke in the Levelling Up Rural Britain debate with a focus on public transport. An excerpt follows, emphases mine:
My constituents share many of the challenges of urban areas, such as the rising cost of living and access to affordable family housing, but we also face some unique disadvantages that highlight the pressing need to include rural Britain in the levelling-up agenda. To state the obvious, and as other Members have said, the lower population density of rural places means that service models that work in urban areas are much less viable in our communities. My right hon. Friend the Member for Ludlow (Philip Dunne) and the hon. Member for Westmorland and Lonsdale (Tim Farron) put this eloquently. The metrics that are used to describe the viability of urban services just do not work in rural areas; they have to have special cases.
I want to speak particularly about bus services, which over recent months have declined significantly in my constituency. Residents of Stocksbridge, Grenoside, Chapeltown, High Green, Ecclesfield, Wharncliffe Side, Oughtibridge and other villages have seen services reduced or even disappearing altogether, cutting people off from jobs, education, training, healthcare and leisure.
The impact on everyday life cannot be overstated. The old are left stranded at bus stops, the young arrive late for school and workers are forced to pay for taxis to get to work. Local employers offering good jobs have told me of their difficulty in recruiting because their premises are no longer served by bus. The vision of levelling up is to spread opportunity evenly around the country, but it really does not matter how much opportunity there is if people cannot get to it.
What has gone wrong in South Yorkshire, particularly rural South Yorkshire, and how can we fix it? Services were struggling even before covid, but the post-pandemic environment has been a perfect storm for rural bus services in South Yorkshire. From my meetings with Stagecoach and First Bus, it is clear that patronage has fallen sharply at the same time as fuel costs have increased.
I was pleased to be successful over the summer in persuading the Government to release a third round of the covid bus recovery grant. But, crucially, the South Yorkshire Mayoral Combined Authority's bus service improvement plan bid failed completely, which resulted in our region's receiving not a single penny while neighbouring authorities in Manchester, Derbyshire and Nottinghamshire received tens of millions of pounds.
I am grateful to the Bus Minister, my hon. Friend the Member for North West Durham (Mr Holden), for meeting me this morning to discuss the issue, but I urge the Minister responding to this debate, my hon. Friend the Member for North East Derbyshire (Lee Rowley), to press this matter with his Government colleagues. My constituents pay the same taxes as everybody else. It is not their fault that our combined authority's bid did not meet an acceptable standard.
Things may look bleak, but I believe there are some glimmers of hope. We have had local successes with the new No. 25 and No. 26 routes around Penistone and a new service connecting Northern College with Barnsley. Those services have reconnected isolated villages and are based on an innovative small bus model pioneered by the excellent South Pennine Community Transport.
In Stocksbridge and Deepcar, we have plans to use our towns fund to commission new buses to help residents to travel around our towns—for anyone who has not been there, Stocksbridge is incredibly steep and people absolutely need a bus to get back up the hill. We are also progressing with plans to restore a passenger rail service along the Upper Don valley and we have a levelling-up fund bid to improve the Penistone line.
However, we need to accept that a one-size-fits-all approach to public transport just does not work. Rural services will never be as profitable as urban routes, but, if they are designed sensibly around what communities actually want, if they are regular and reliable with easy-to-understand timetables, they can be self-sustaining, as we have seen with our new routes. Ultimately, levelling up rural transport requires a localism agenda, putting commissioning in the hands of local people—our town, parish and local councils—and with a funding model that recognises the unique challenges of rural life.
Considering that levelling up was in the 2019 Conservative Party manifesto, Lee Rowley, representing the Government, provided a somewhat disappointing response at the end of the debate:
… My hon. Friend the Member for North Devon (Selaine Saxby), along with my hon. Friends the Members for Witney (Robert Courts), for Redditch (Rachel Maclean), for Penistone and Stocksbridge (Miriam Cates), for Penrith and The Border (Dr Hudson) and for Meon Valley (Mrs Drummond), among others, raised the point about connectivity, be it of the physical kind, in terms of buses and public transport, or the virtual kind, in terms of broadband. They are absolutely right to advocate on the challenges that this brings. We all know that there have been challenges associated with buses in the past few years. When the level of decrease of passenger use is so profound as it has been with covid, of course we want to try to work through how we can support rural communities. That is no different in my constituency. We have to try to look at the innovative solutions that my hon. Friend the Member for Redditch highlighted with regards to a demand response to travel, while also ensuring that people have good quality bus services over the long term …
Sex education
Lately, Miriam Cates has been outspoken about sex education in English schools. She has put up with a lot for rightly pointing out that children are learning things at school that should be off limits.
On Thursday, June 30, she was granted a backbench business debate on relationship and sex education [RSE] materials in schools:
I beg to move,
That this House has considered relationship and sex education materials in schools …
Let me start with a health warning: my speech is not suitable for children. That is sadly ironic, given that all of the extreme and inappropriate material I am about to share has already been shared with children in our schools. As a former biology teacher, I have delivered my fair share of sex education. Teaching the facts of life often comes with more than a little embarrassment for teachers and pupils alike. I remember teaching about reproduction when I was about 30 weeks pregnant with my first baby. One child asked me if my husband knew I was pregnant. Another, having watched a video on labour and birth, commented, "Miss, that's really gonna hurt, you know."
Just as children do not know about photosynthesis or the digestive system without being taught, neither do they know the facts of reproduction. Thus, it is important that children are taught clearly and truthfully about sex. Of course, there is a lot more to sexual relationships than just anatomy. Many people believe that parents should take the leading role in teaching children about relationships, since one of the main duties of parenting is to pass on wisdom and values to children. Nevertheless, in some families parents cannot or do not teach children about relationships, and it is also sadly the case that the internet now presents children with a vast array of false and damaging information about sex.
There is widespread consensus that schools do have a role to play in relationships and sex education. That is why the Government chose to make the teaching of relationships and sex education compulsory in all secondary schools from September 2020. According to the guidance, the aim was to help children
"manage their academic, personal and social lives in a positive way."
Less than two years later, my right hon. Friend the Education Secretary has written to the Children's Commissioner asking her for help in supporting schools to teach RSE because we know that the quality of RSE is inconsistent.
The Education Secretary is right that the teaching of sex education is inconsistent. Unlike maths, science or history, there are no widely adopted schemes of work or examinations, so the subject matter and materials vary widely between schools. However, inconsistency should be the least of the Education Secretary's concerns when we look at the reality of what is being taught. Despite its good intentions, the new RSE framework has opened the floodgates to a whole host of external providers who offer sex education materials to schools. Now, children across the country are being exposed to a plethora of deeply inappropriate, wildly inaccurate, sexually explicit and damaging materials in the name of sex education. That is extremely concerning for a number of reasons.
First, if we fail to teach children clearly and factually about relationships, sex and the law they will be exposed to all sorts of risks. For example, if sex is defined as, "anything that makes you horny or aroused"—the definition offered by the sex education provider, School of Sexuality Education—how does a child understand the link between sex and pregnancy? Sex Education Forum tells children they fall into one of two groups: menstruators or non-menstruators. If a teenage girl's periods do not start, what will she think? How does she know that is not normal? How does she know to consult a doctor? How will she know she is not pregnant? Will she just assume she is one of the non-menstruators?
The book for teachers, "Great Relationships and Sex Education", suggests an activity for 15-year-olds in which children are given prompt cards and have to say whether they think certain types of sexual acts are good or bad. How do the children know what acts come with health risks, or the risk of pregnancy or sexually transmitted infections? If we tell children that, "love has no age"—the slogan used in a Diversity Role Models resource—do we undermine their understanding of the legal age of consent? Sex education provider Bish Training informs children that:
"Most people would say that they had a penis and testicles or a clitoris and vagina, however many people are in the middle of this spectrum with how their bodies are configured."
As a former biology teacher, I do not even know where to start with that one.
As adults, we often fail to remember what it is like to be a child and we make the mistake of assuming that children know more than they do. Children have all sorts of misconceptions. That is why it is our responsibility to teach them factually, truthfully and in age-appropriate ways, so that they can make informed decisions.
Another concern relates to the teaching of consent. Of course it is vital to teach about consent. The Everyone's Invited revelations make that abundantly clear. But we must remember that, under the law, children cannot consent to sex. Sex education classes conducted by the group It Happens Education told boys of 13 and 14 that the law
"is not there to…punish young people for having consensual sex"
and said:
"It's just two 14 year olds who want to have sex with each other who are consensually having sex."
It is not hard to see the risks of this approach, which normalises and legitimises under-age sex. Not only are children legally not able to consent; they also do not have the developmental maturity or capacity to consent to sexual activity—that is the point of the age of consent.
The introduction of graphic or extreme sexual material in sex education lessons also reinforces the porn culture that is damaging our children in such a devastating way. Of course it is not the fault of schools that half of all 14-year-olds have seen pornography online—much of it violent and degrading—but some RSE lessons are actively contributing to the sexualisation and adultification of children. The Proud Trust has produced a dice game encouraging children to discuss explicit sexual acts, based on the roll of a dice. The six sides of the dice name different body parts—such as anus, vulva, penis and mouth—and objects. Two dice are thrown and children must name a pleasurable sexual act that can take place between the two body parts. The game is aimed at children of 13 and over.
Sexwise is a website run and funded by the Department of Health and Social Care and recommended in the Department for Education's RSE guidance. The website is promoted in schools and contains the following advice:
"Maybe you read a really hot bit of erotica while looking up Dominance and Submission…Remember, sharing is caring".
Sex education materials produced by Bish Training involve discussion of a wide range of sexual practices—some of them violent. This includes rough sex, spanking, choking, BDSM and kink. Bish is aimed at young people of 14 and over and provides training materials for teachers.
Even when materials are not extreme, we must still be careful not to sexualise children prematurely. I spoke to a mother who told me how her 11-year-old son had been shown a PowerPoint presentation in a lesson on sexuality. It was setting out characteristics and behaviours and asking children to read through the lists and decide whether they were straight, gay or bisexual. Pre-pubescent 11-year-olds are not straight, gay or bisexual—they are children.
Even School Diversity Week, a celebration of LGBTQIA+ promoted by the Just Like Us group, leads to the sexualisation of children. Of course schools should celebrate diversity and promote tolerance, but why are we doing that by asking pre-sexual children to align themselves with adult sexual liberation campaigns? Let us not forget that the + includes kink, BDSM and fetish …
Even primary schools are not immune from using inappropriate materials. An "All About Me" programme developed by Warwickshire County Council's Respect Yourself team introduces six and seven-year-olds to "rules about touching yourself". I recently spoke to a mother in my constituency who was distraught that her six-year-old had been taught in school about masturbation. Sexualising children and encouraging them to talk about intimate details with adults breaks down important boundaries and makes them more susceptible and available to sexual predators, both on and offline.
Another significant concern is the use of RSE to push extreme gender ideology. Gender ideology is a belief system that claims that we all have an innate gender, which may or may not align with our biological sex. Gender ideology claims that, rather than sex being determined at conception and observed at birth, it is assigned at birth, and that doctors sometimes get it wrong.
Gender theory sadly has sexist and homophobic undertones, pushing outdated gender stereotypes and suggesting to same-sex-attracted adolescents that, instead of being gay or lesbian, they may in fact be the opposite sex. Gender theory says that if someone feels like a woman, they are a woman, regardless of their chromosomes, their genitals, or, in fact, reality.
Gender ideology is highly contested. It does not have a basis in science, and no one had heard of it in this country just 10 years ago. Yet, it is being pushed on children in some schools under the guise of RSE, with what can only be described as a religious fervour. Department for Education guidance states that schools should
"not reinforce harmful stereotypes, for instance by suggesting that children might be a different gender",
and that:
"Resources used in teaching about this topic must…be…evidence based."
Yet a video produced by AMAZE and used in schools suggests that boys who wear nail varnish or girls who like weight lifting might actually be the opposite sex. Resources by Brook claim:
"'man' and 'woman' are genders. They are social ideas about how people who have vulvas and vaginas, and people who have penises and testicles should behave".
Split Banana offers workshops to schools where children learn ideas of how gender is socially constructed and explore links between the gender binary and colonialism. A Gendered Intelligence workshop tells children that:
"A woman is still a woman, even if she enjoys getting blow jobs."
Just Like Us tells children that their biological sex can be changed. PSHE Association resources inform children that people whose gender matches the sex they were assigned at birth are described as cisgender.
Gender theory is even being taught to our very youngest children. Pop'n'Olly tells children that gender is male, female, both or neither. The Introducing Teddy book, aimed at primary school children, tells the story of Teddy, who changes sex, illustrated by the transformation of his bow tie into a hair bow. The Diversity Role Models primary training workshop uses the "Gender Unicorn", a cartoon unicorn who explains that there is an additional biological sex category called "other".
Numerous resources from numerous sex education providers present gender theory as fact, contrary to DFE guidance. However, it is not just factually incorrect resources that are making their ways into schools; visitors from external agencies are invited in to talk to children about sex and relationships, sometimes even without a teacher present in the room.
Guidance says that, when using external agencies, schools should check their material in advance and
"conduct a basic online search".
However, a social media search of organisations such as Diversity Role Models reveals links to drag queens with highly sexualised, porn-inspired names, or in the case of Mermaids, the promotion of political activism, which breaches political impartiality guidelines.
In some cases, children are disadvantaged when they show signs of dissent from gender ideology, as we saw in the recent case, reported in the press, of a girl who was bullied out of school for questioning gender theory. I have spoken to parents of children who have been threatened with detention if they misgender a trans-identifying child or complain about a child of the opposite sex in their changing rooms. I have heard from parents whose child's RSE homework was marked down for not adhering to this new creed. 
Children believe what adults tell them. They are biologically programmed to do so; how else does a child learn the knowledge and skills they need to grow, develop and be prepared for adult life? It is therefore the duty of those responsible for raising children—particularly parents and teachers—to tell them the truth. Those who teach a child that there are 64 different genders, that they may actually be a different gender to their birth sex, or that they may have been born in the wrong body, are not telling the truth. It is a tragedy that the RSE curriculum, which should help children to develop confidence and self-respect, is instead being used to undermine reality and ultimately put children in danger. 
Some may ask what harm is being done by presenting those ideas to children, and, of course, it is right to teach children to be tolerant, kind and accepting of others. However, it is not compassionate, wise, or legal to teach children that contested ideologies are facts. That is indoctrination, and it is becoming evident that that has some concerning consequences …
There has been a more than 4,000% rise in the referrals of girls to gender services over the last decade, and a recent poll of teachers suggests that at least 79% of schools now have trans-identifying children. That is not a biological phenomenon. It is social contagion, driven by the internet and reinforced in schools.
The Bayswater Support Group, which provides advice and support for parents of trans-identifying children, reports a surge of parents contacting them after their children are exposed to gender content in RSE lessons and in assemblies. A large proportion of parents say their child showed no sign of gender distress until either a school assembly or RSE lessons on those topics. Children who are autistic, who are same-sex attracted, who do not conform to traditional gender stereotypes, or who have mental health conditions are disproportionately likely to identify as trans or non-binary.
In fact, children who tell a teacher at school that they are suffering from gender distress are then often excluded from normal safeguarding procedures. Instead of involving parents and considering wider causes for what the child is feeling and the best course of action, some schools actively hide the information from parents, secretly changing a child's name and pronouns in school, but using birth names and pronouns in communications with parents.
One parent of a 15-year-old with a diagnosis of Asperger's syndrome said she discovered that without her knowledge, her daughter's school had started the process of socially transitioning her child, and has continued to do so despite the mother's objections. Another mother said:
"It's all happened very quickly and very unexpectedly after teaching at school during year seven and eight. As far as I can understand the children were encouraged to question the boundaries of their sexual identity as well as their gender identity. Her friendship group of eight girls all adopted some form of LGBTQ identity—either sexual identity or gender identity. My daughter's mental health has deteriorated so quickly, to the point of self harm and some of the blame is put on me for not being encouraging enough of my daughter's desire to flatten her breasts and for puberty blockers."
As my hon. Friend the Member for East Worthing and Shoreham (Tim Loughton) said, some parents have been referred to social services when they have questioned the wisdom of treating their son as a girl or their daughter as a boy.
Socially transitioning a child—changing their name and pronouns, and treating them in public as a member of the opposite sex—is not a neutral act. In her interim report on gender services for children, paediatrician Dr Hilary Cass remarks that although social transition
"may not be thought of as an intervention or treatment,"
it is
"an active intervention because it may have significant effects on a child or young person's psychological functioning."
The majority of adolescents who suffer from gender dysphoria grow out of it, but instead of safeguarding vulnerable children, schools are actively leading children down a path of transition. If a child presented with anorexia and a teacher's response was to hide that from parents, celebrate the body dysmorphia and encourage the child to stop eating, that would be a gross safeguarding failure. For a non-medical professional to make a diagnosis of gender dysphoria, exclude the child's parents and encourage the child to transition is just such a failure.
In some schools, children are not only taught about the concept of gender theory but signposted to information about physical interventions. Last year, sixth-formers at a grammar school sent a newsletter to girls as young as 11, detailing how to bind their breasts to "look more masculine" and outlining how surgery can remove tissue if it hurts too much. Also, schools have played a major role in referrals to gender identity clinics, where children are sometimes set on a path to medical and surgical transition.
I was really pleased to see the Health Secretary announce today that he is commissioning a more robust study of whether treatment at such clinics improves children's lives or leads to later problems or regret, because schools may think that they are being kind, but the consequences of full transition—permanent infertility, loss of sexual function and lifelong health problems—are devastating, as has become clear following the case of Keira Bell.
Anyone hearing for the first time what is going on in schools might reasonably ask, "How can this be allowed?" The answer is that it is not allowed. DFE guidance tells schools:
"Resources used in teaching about this topic must always be age-appropriate and evidence-based. Materials which suggest that non-conformity to gender stereotypes should be seen as synonymous with having a different gender identity should not be used and you should not work with external agencies or organisations that produce such material."
However, many teachers just do not have the time to look into the background of every group that provides sex education resources, and when faced with teaching such difficult and sensitive topics, they understandably reach for ready-made materials, without investigating their source.
Furthermore, those teachers who are aware of the harms are sometimes afraid to share their concerns. A lot of teachers have written to me about this situation, with one writing:
"I left my job in a Primary School after we were asked to be complicit in the 'social transitioning' of a 7 year old boy. This was after Gendered Intelligence came into the school and delivered training."
Relationship and sex education in this country has become a Wild West. Anyone can set themselves up as a sex education provider and offer resources and advice to schools. Imagine if someone with no qualifications could set themselves up as a geography resource provider, insert their own political beliefs on to a map of the world—perhaps they would put Ukraine inside the Russian border—and then sell those materials for use in schools. I do not believe that some of these sex education groups should have any place in our educational system.
Indeed, the guidance says that schools should exercise extreme caution when working with external agencies:
"Schools should not under any circumstances work with external agencies that take or promote extreme political positions or use materials produced by such agencies."
Yet all the organisations that I have mentioned today, and many others, fall foul of the guidance. What is more, the Government are actually funding some of these organisations with taxpayers' money. For example, The Proud Trust received money from the tampon tax, and EqualiTeach and Diversity Role Models have received money from the DFE as part of anti-bullying schemes. We have created the perfect conditions for a safeguarding disaster, whereby anyone can set up as an RSE provider and be given access to children, either through lesson materials or through direct access to classrooms.
Yet parents—those who love a child most and who are most invested in their welfare—are being cut out. In many cases, parents are refused access to the teaching materials being used by their children in school. This was highlighted by the case of Clare Page, which was reported at the weekend. She complained about sex education lessons that were being taught in her child's school by an organisation called the School of Sexuality Education. Until this year, that organisation's website linked to a commercial website that promoted pornography. Mrs Page's daughter's school refused to allow the family to have a copy of the material provided in lessons, saying it was commercially sensitive.
Schools are in loco parentis. Their authority to teach children comes not from the state and not from the teaching unions, but from parents. Parents should have full access to the RSE materials being used by their children. We have created this safeguarding disaster and we will have to find the courage to deal with it for the sake of our children …
… there are strong parallels here with grooming practices, and I have no doubt that children will be more susceptible to being groomed as a result of the materials they are being exposed to.
How have we gone so wrong? We seem to have abandoned childhood. Just as in the covid pandemic when we sacrificed young for old, our approach to sex education is sacrificing the welfare and innocence of children in the interests of adults' sexual liberation. In 2022, our children are physically overprotected. They have too little opportunity to play unsupervised, to take responsibility and to mature and grow wise, yet at the same time they are being exposed to adult ideologies, being used as pawns in adults' political agendas and at risk of permanent harm. What kind of society have we created where teachers need to undertake a risk assessment to take pupils to a local park, but a drag queen wearing a dildo is invited into a library to teach pre-school children?
Parents do not know where to turn, and many I have spoken to tell me how they complain to schools and get nowhere. Even the response from the DFE comes back the same every time telling parents that, "Where an individual has concerns, the quickest and most effective route to take is to raise the issue directly with the school." The complaints system is circular and schools are left to mark their own homework.
Ofsted does not seem willing or able to uphold the DFE's guidance. Indeed, it may be contributing to the problem. It was reported last week that Ofsted cites lack of gender identity teaching in primary schools as a factor in whether schools are downgraded. There is a statutory duty on the Department to review the RSE curriculum every three years, so the first review is due next year. I urge the Minister to bring forward that review and conduct it urgently. I understand that the Department is in the process of producing guidance for schools on sex and gender, so will Minister tell us when that will be available? …

The DFE should consider creating a set of accredited resources, with regulatory oversight by Ofqual, and mandating that RSE be taught only by subject specialists. The Department has previously said in correspondence that it is
"investing in a central package to help all schools to increase the confidence and quality of their teaching practice in these subjects, including guidance and training resources to provide comprehensive teaching in these areas in an age-appropriate way."
Can the Minister say when that package will be ready?
In the light of the Cass review interim report, the Department must write to schools with clear guidance about socially transitioning children, the law on single-sex facilities and the imperative to include parents in issues of safeguarding. The Department should also conduct a deep dive into the materials being used in schools, the groups that provide such materials and their funding sources …
… it is the Department for Education that imposed the mandatory requirement for schools to deliver RSE, so it is fundamentally the responsibility of the Department to ensure that schools are equipped and held accountable to deliver it well.
I look forward to hearing from the Minister how the Department plans to clean up this mess and give our children the protection they deserve.
Afterwards, Labour MP Lloyd Russell-Moyle (Brighton Kemptown) spoke. Keep his name in mind, because this was the start of an unheard-of incident in another debate in January 2023:
… Where I disagree, I am afraid, is on some of the hon. Member's examples. I did not plan to say this, but during the pandemic, my second cousin—a 15-year-old boy—died in a tragic accident of auto-asphyxiation. It devastated the family, as can be imagined, and happened in the pandemic when we were only allowed six people at the funeral. If he had been taught about risky sex acts—he was 15, not a pre-pubescent child—and how to make sure he did things safely, rather than just learning something from the internet that then led to the end of his life, he might still be around and his family might not be devastated. So, actually, because of that personal experience I do have a problem with saying that we should not teach any of this to our children.
The hon. Member picks out examples of the dice or whatever that might sound frivolous, and I cannot judge how exactly things played out in those schools—she might well be right that it was played out by some teachers incorrectly—but the principle of learning about things before people are legally able to do them but when they are physically able to engage in them, which 15-year-olds are, I am afraid, could have been lifesaving.
My sister, who is a teacher in Essex, has worked hard to try and incorporate some of those teaching methods into the school's RSHE, focused on an age-specific approach and on stories of people such as my cousin and others, so we can talk about the dangers of some of these things. We cannot know about the dangers of things if we do not talk about them, or if we say that they are just things that families need to talk about. I am afraid most families will not do that because those kinds of things are darn embarrassing to talk about—but also because you never think your child will do something like that. I disagree with that element of what we heard today. I do agree that there needs to be oversight and I do agree that there need to be checks to make sure that we are not just promoting risky activities; we need to be talking about the risks of risky activities. Then, when people are of age, they can make their own choices.
I want to reflect on the things I was planning to say in this debate in the last few seconds I have. The UK Youth Parliament ran a campaign for years to try to get RSHE better taught. Elements of the campaign were about emotions and relationships, and it was also about LGBT inclusive education—and that does include T. We have seen the Fédération Internationale de Natation ruling that competitors will not be able to swim unless they transitioned before they were 12, so we are in a difficult and complex world that we have to navigate. Broad-brush bans from the Department are unhelpful; we need to be content specific and school specific. The Department needs to show more leadership, but we cannot exclude talking about trans people or these complex issues in schools because that, I am afraid, would be very dangerous.
Later on, Northern Ireland's Jim Shannon (Democratic Unionist Party, Strangford) sided with Miriam Cates:
… Relationships and sex education is an essential issue, and a crucial topic for young people to understand. We must all realise that there is a time and a place for relationships and sex education in schools. However, underpinning that is the right of a family to pass on their morals and values, and not to be undermined by teachers who do not know individual children and cannot understand the family dynamic.
I am clear about what I want to see when it comes to sex education: no young person should be unaware of how their body works, but similarly, no teacher nor programme should seek to circumnavigate the right of a family to sow into their child's life what they see is needed. That is especially the case in primary school children—I think of innocence lost …
… a worrying number of schools across the United Kingdom have felt it necessary to teach children not only about sex, but about gender identity and trans issues. Conservatives for Women has said that children are being encouraged from as young as primary school to consider whether they have gender identity issues that differ from their biology—being male or female—as the hon. Member for Penistone and Stocksbridge outlined. That leaves children confused for no other reason than the misunderstanding, and it makes them believe that they should be looking at their own gender issues. My humble opinion—I am putting it clearly on the record—is that children in primary schools are too young to be taught sex education at that level …
It is crucial that we do not unduly influence young people or pupils' innocent minds by teaching extreme sex and gender legislation. I have seen some material taught in Northern Ireland, such an English book that refers to glory holes, sexual abuse of animals and oral sex. That book was taught to a 13-year-old boy, whose parents were mortified whenever they saw it, and the young boy had little to no understanding of what was going on. I wrote to the Education Minister in Northern Ireland, asking how that book could ever be on a curriculum and what possible literary benefit—there is none—could ever outweigh the introduction of such concepts.
There needs to be a greater emphasis on the line between what is appropriate to be taught at school and at home, and a greater respect for parents and what they want their children to be taught. Family values should be at the core of a child's adolescence education, as it is of a sensitive nature and needs to be treated carefully, with respect and compassion.
Robin Walker replied for the Government:
I congratulate my hon. Friend the Member for Penistone and Stocksbridge (Miriam Cates), along with my hon. Friend the Member for Thurrock (Jackie Doyle-Price) and the hon. Member for Canterbury (Rosie Duffield), on securing today's debate …
I have listened carefully to some of the examples that have been given by Conservative and Opposition Members, in particular those cited by my hon. Friend the Member for Penistone and Stocksbridge. There is no doubt that some of those things are totally unsuitable for school-age children: "age is only a number" is clearly an unsuitable phrase to be used in the context of consent, and the Department has been clear that the Proud Trust's dice game is unacceptable for use as a school resource. I have to say that, despite a lot of coverage of that particular issue, we are unaware of any individual cases in which that game has been used in schools.
… To support teachers to deliver in the classroom, we have run expert-led teacher training webinars that covered pornography, domestic abuse and sexual exploitation—topics that teachers told us they find difficult to teach. We also published additional guidance to schools on tackling abuse, harassment, and other sensitive topics.
It has been almost three years since the Department published statutory guidance on relationship, sex and health education, and almost two years since relationship education became a compulsory subject for all schools and relationship and sex education became a compulsory subject for all secondary schools. As has been acknowledged, primary schools can choose to teach sex education in order to meet the needs of their pupils, but if they do so, they must consult with parents on their policy and grant parents an automatic right to withdraw their child from sex education lessons …
At the heart of RSHE is the need to keep children healthy, happy and safe. The hon. Member for Brighton, Kemptown (Lloyd Russell-Moyle) gave a very powerful example of where more education could make a difference in terms of safety. I sympathise with his deep hurt …
The Ofsted review of sexual abuse in schools and colleges found that online forms of sexual abuse are increasingly prevalent, with 88% of girls and 49% of boys reporting being sent unwanted sexual images and 80% of girls and 40% of boys pressured to provide sexual images of themselves. The review also showed that children, even in primary schools, are accessing pornography and sharing nude images. We want to make sure that children receive appropriate teaching in schools on topics that are relevant to their lived experience, rather than going online to educate themselves. Through the RSHE curriculum, pupils will be taught about online relationships, the implications of sharing private or personal data—including images—online, harmful content and contact, cyber bullying, an overreliance on social media and where to get help and support for issues that unfortunately occur online. Through the topic of internet safety and harms, pupils will be taught to become discerning customers of information and to understand how comparing oneself with others online can have an impact on one's own body image. The Department is reviewing its guidance on teaching online safety in schools, which supports teachers to embed teaching about online safety into subjects such as computing, RSHE and citizenship. The guidance will be published in the autumn of this year. The Online Safety Bill will also ensure that children are better protected from pornographic content, wherever it appears online.
The statutory RSHE guidance sets out the content that we expect children to know before they complete each phase of education. We have, however, been clear that our guiding principles for the development of the statutory guidance were that all the compulsory subject content must be age-appropriate and developmentally appropriate. It must be taught sensitively and inclusively, with respect for the backgrounds and beliefs of pupils and parents, while always with the aim of providing pupils with the knowledge they need. Given the need for a differentiated approach and the sensitive and personal nature of many of the topics within the RSHE curriculum, it is important that schools have the flexibility to design their own curricula, so that it is relevant and appropriate to the context of their pupils. The Department's policy, therefore, has been to trust the expertise of schools to decide the detail of the content that they teach and what resources they use.
As mentioned previously, we have made a commitment in the White Paper to strengthen our guidance in this respect. We will also review and update that guidance regularly—at least every three years. We are confident that the majority of schools are capable of doing this well and have been successful in developing a high-quality RSHE curriculum that is appropriate to the needs of their pupils, but, in the context of this debate, it is clear that that is not always the case and that there are genuine concerns about many of the materials that have been used.
I stress that allowing schools the flexibility to make their own decisions about their curricula does not mean that they should be unaccountable for what they teach. Schools are required by law to publish their RSHE policies and to consult parents on them. As their children's primary educators, parents should be given every opportunity to understand the purpose and content of what their children are being taught. In the RSHE statutory guidance, which all schools must have regard to, we have set out a clear expectation for schools to share examples of resources with parents. Schools are also bound by other legal duties with regard to the delivery of the wider curriculum. All local authority maintained schools are required to publish the content of their school curriculum, including the details of how parents or other members of the public can find out more about the curriculum that the school is following. There is a parallel requirement in academy trust model funding agreements for each academy to publish the same information on its website. It is our intention that that should form part of the new standards for academies.
… We are clear that schools can show parents curriculum materials, including resources provided by external organisations, without infringing an external provider's copyright in the resource. For example, it is perfectly possible for a school to invite parents into the school to view materials on the premises. Although of course we have to be mindful of not overburdening schools with repeated requests, we do expect schools to respond positively to all reasonable requests from parents to share curriculum material. We therefore expect schools to share RSHE content and materials with parents openly and transparently, where requested. We are clear that they should not enter into any contracts with third parties that seek to restrict them from sharing RSHE resources with parents.
… To help schools to make the best choices, the Department published the non-statutory guidance, "Plan your relationships, sex and health curriculum". That sets out practical advice for schools on a number of topics, including using externally produced resources. Indeed, my hon. Friend the Member for Penistone and Stocksbridge quoted from it.
… We are working with the Equality and Human Rights Commission to ensure that we are giving the clearest possible guidance to schools on transgender issues. We will hold a full public consultation on the draft guidance later this year. Given the complexity of the subject, we need to get this right and we want to take full account of the review being conducted by Dr Hilary Cass.
I realise that my hon. Friend the Member for Penistone and Stocksbridge will need time to respond, so I conclude by saying that I hear very clearly the concerns that have been expressed. As a parent of both a girl and a boy, I know that we need to address these issues and to do so in a way that can reassure parents but continue to deliver high-quality relationships, sex and health education.
Miriam Cates concluded:
I thank the Minister for his response. I am looking forward to seeing the consultation on the guidance. I thank everybody who contributed today. This has been a very good debate. We have had some surprising areas of agreement. I think that most of us have agreed that this is a very important topic. The key phrase that has come out is "age appropriate". I personally do not think that it should be up to schools, teachers or, potentially, parents to have to decide that. I think that we need child development experts on the case to determine which materials are suitable for which time.
I will conclude by reflecting on the speech from my hon. Friend the Member for Thurrock (Jackie Doyle-Price). Family is key to this, and parents' values and parents' choice are so important. We must never teach relationships and sex education in schools outside the context of respecting parents' choice and parents' values. Parents are the people who love and are most invested in children, and theirs are the views that we should most take into account.
I saw that debate on BBC Parliament. My shock at the time has not diminished, even when sharing the Hansard transcript with you.
As for Lloyd Russell-Moyle, things came to a head between him and Miriam Cates in January. More on that next week.
Mark Steyn's British fans have been lamenting his departure from GB News a few weeks ago.
However, we have reason to celebrate, because his replacement, Conservative MP Jacob Rees-Mogg, had a splendid debut with his State of the Nation show on Monday, February 27, 2023. Rees-Mogg has somewhat of a cult following among British conservatives. :
He has represented North East Somerset since 2010 and regularly walks about his constituency, both town and country, at the weekends to find out what's on voters' minds: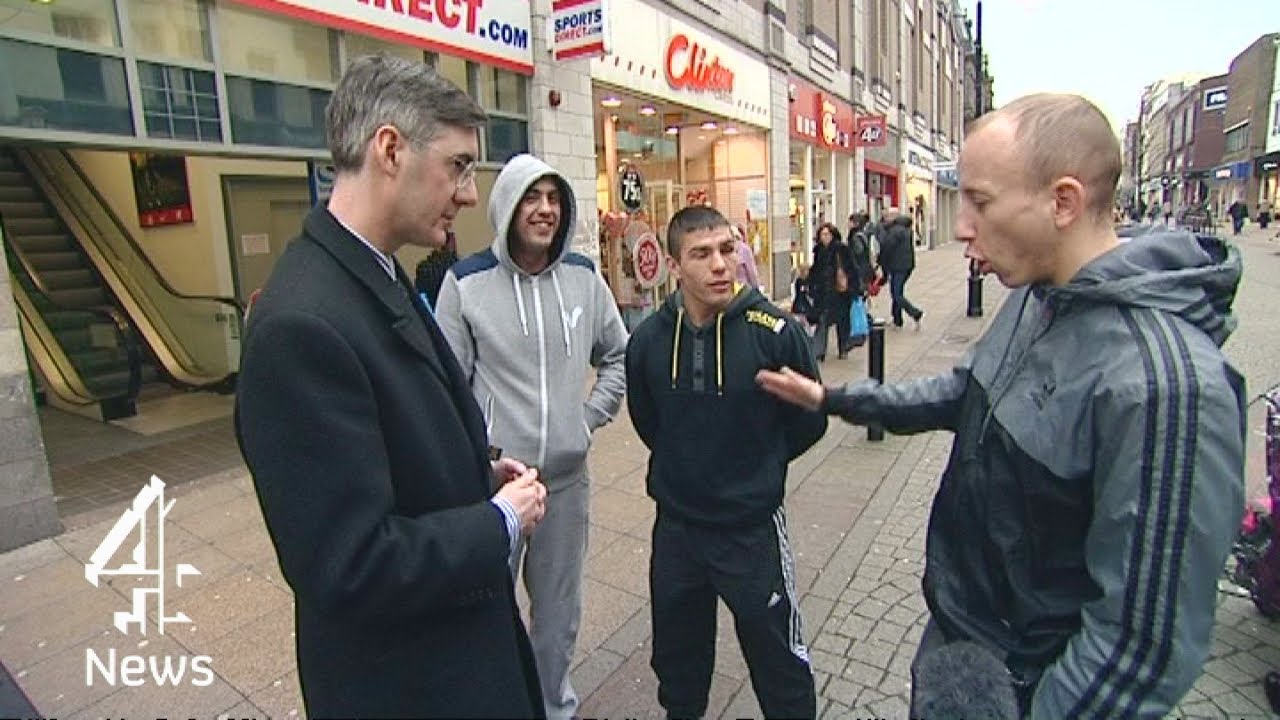 Piers Morgan's show runs concurrently on TalkTV in the 8 p.m. timeslot.
Granted, Monday was Rees-Mogg's first night, but he managed to beat both Morgan and Sky News between 8 and 9 that evening:
In fact, the traditionally-minded MP had twice as many viewers as Morgan.
Guido Fawkes gives us the BARB ratings (red emphases his):
Jacob took in an average of 79,200 viewers for the hour. Piers, meanwhile, took in a mere 35,300. More than doubling Morgan's average throughout the show.
In fact, Rees-Mogg beat Sky News, which scored 64,700. Jacob and Piers will face off again tonight – rest assured, Guido will be checking the figures again. Beaten by a part-time presenter, oh Piers…
Well done!
Here are the segments from last night's programme.
Fortuitously, it was a historic day for the UK, as Prime Minister Rishi Sunak and European Commission president Ursula von der Leyen presented the new Windsor Framework for Northern Ireland that afternoon. King Charles also met Ms von der Leyen, which was controversial, as the monarch does not get involved in matters political.
It is unclear at the moment whether this will be a suitable replacement for the Northern Ireland Protocol in our post-Brexit nation.
Rees-Mogg opened with the story in his Moggologue:
Here's the Moggologue in full:
Lee Anderson, the outspoken Red Wall MP who is now deputy chairman of the Conservative Party, was Rees-Mogg's first guest. They discussed another news item of the day, which was that the first female Speaker of the House of Commons, Labour's Betty Boothroyd, died at the age of 93. Anderson and Boothroyd both came from working class homes. Anderson said that Boothroyd inspired him to pursue a career in politics:
They also discussed the Windsor Framework, which Anderson sees as a positive replacement for the Northern Ireland Protocol:
Rees-Mogg asked Anderson what it was like switching from the Labour Party to the Conservatives. He said that, while the party switch was easy, because he worked in local government in Ashfield as a Labour councillor and for then-MP Gloria De Piero, some of his friends and family found the decision hard to take, although, he added, a fair number of them voted for him in the general election in 2019:
Here's the segment in full:
Veteran Conservative MP David Davis was up next. He was the Secretary of State for Exiting the European Union from 2016 to 2018. He viewed Rishi's Windsor Framework positively and thinks that Brexit is mostly 'done' now:
You can see more of that interview here:
The segment of the evening was a three-way exchange between Rees-Mogg, retired Labour MP Stephen Pound and historian David Starkey on the King's association, no matter how vague, with the Windsor Framework. All agreed he should have sat on the sidelines and not met von der Leyen, as the Queen would have done. I could have listened to another several minutes of their discussion:
Here's the full video:
The show ended with a segment about the rewriting — i.e. censorship — of Ian Fleming's James Bond novels. Joining Pound and Starkey was Toby Young:
Here's the full interview:
State of the Nation, which airs Monday through Thursday evenings, will be good not only for GB News but also for the Conservative Party, bringing a bit of Parliament to television. Jacob Rees-Mogg is an eminently sensible man.
In December 2022, the then-GB News presenter Mark Steyn suffered two heart attacks within days of each other.
The first one he ignored, because he had never suffered a heart attack and didn't recognise the symptoms.
The second occurred when he and a female friend were in France. Fortunately, he got to the hospital just in time. Fifteen minutes more and he would have died.
While he recuperated in France — there was no chance of his returning to Canada, doctors said — some of GB News's sharpest hosts stepped in to sub for him between 8 and 9 p.m. They told viewers that Mark was on the mend, until the end of January, at which point they mentioned him no more.
Don't mention the vaccines
Then, late on Monday, February 6, 2023, Guido Fawkes posted that Mark would not be returning to GB News. The news channel's CEO wanted to make Steyn liable for any Ofcom fines they received over his segments that criticised the coronavirus vaccine:
Guido tells us, complete with the relevant video clip (emphases in red his):
Mark Steyn has quit GB News on fairly bad terms after a protracted leave of absence owing to his health. A few weeks ago Guido picked up that the channel had been trying to formalise Steyn's contract, having operated on a fairly ad hoc basis since starting his show. Part of trying to get him on board as a properly contracted presenter was also an attempt to rein in his output, given that in a rather short space of time he'd managed to spark two separate Ofcom investigations into claims made on his show.
GBN offered him a new contract to sign, otherwise he'd face termination. It now looks like Steyn is declining to sign the new contract, so he's out.
In a video put out on his website today, Mark doesn't hold back on his opinion of the channel's CEO Angelos Frangopoulos, ranting about the terms of the new contract that would have made him financially liable for any fines imposed on GB News by Ofcom because of his show's output. He also calls Frangopoulos an "habitual liar". Shame – Steyn managed to consistently beat Piers's view count…
After a few months, Mark Steyn Show regularly trounced Piers Morgan's TalkTV show Monday through Thursday in the same time slot.
GB News has been scrupulous about offering both sides of any story on their shows in order to avoid censure from Ofcom. This entails having a left-wing guest oppose the host's centrist or conservative perspective.
In 2022, Press Gazette reported on the channel's potential Ofcom violations. I'll start with the story from August 8, with the communications regulator's examination of two segments, one on Nigel Farage's evening show and one from a morning show with Patrick Christys, who now hosts a three-hour afternoon slot Monday through Friday:
The first two investigations by broadcast regulator Ofcom into GB News have ended with no rebukes, keeping the TV channel's record clean as it enters its 15th month.
Critics feared the opinion-led news channel would rub up poorly against the UK's strict impartiality rules, a problem not faced by broadcasters in the US such as Fox News.
But by balancing views from presenters and guests across its schedule, GB News has avoid any Ofcom rebukes despite airing some strident views on Covid-19 lockdowns and vaccines. Two Ofcom investigations into GB News TV and radio broadcasts remain ongoing.
In October 2022, complaints about Mark Steyn's show were still ongoing:
Ofcom has opened an investigation into an episode of Mark Steyn's 4 October programme on GB News after it received 411 complaints from viewers about comments made by author and journalist Dr Naomi Wolf in relation to Covid-19 vaccines.
Ofcom said: "Specifically, our investigation will consider whether this programme broke our rules designed to protect viewers from harmful material."
Wolf was banned from Twitter last year for spreading unfounded theories about vaccines.
Ofcom is already investigating Steyn's show for a potential breach of standards on 21 April when he claimed people who had a Covid-19 booster vaccine were three times more likely to die than those who had two doses or fewer.
Press Gazette says that the April 21 episode was removed from YouTube:
In a monologue that day, Steyn said: "Why aren't we talking about this? It seems, if the booster shot is making it thrice as likely that you're going to be deadsville, that they're going to carrying you out by the handles, why aren't we talking about that?"
Fact-checking charity Full Fact said the figures used by Steyn were "broadly accurate" but that he was "wrong to claim the booster 'increases your chances of hospitalisation and death'".
Interestingly:
No Ofcom investigations have yet been started into rival TalkTV, which Rupert Murdoch's News UK launched in April.
The Guardian had more, especially about Dr Matthew Sweet, who was interviewed on the BBC and had been monitoring Steyn's show for soundbites that criticised the vaccines. Steyn often mentioned Sweet:
The latest investigation relates to an interview with the author Naomi Wolf in which she claimed women were being harmed by Covid-19 vaccines as part of an effort to "to destroy British civil society".
Ofcom said it would investigate whether the programme broke "rules designed to protect viewers from harmful material" after receiving more than 400 complaints from members of the public.
In the interview, which was originally broadcast on 4 October, Wolf also compared doctors' support for the vaccine rollout to the behaviour of the medical profession in Nazi Germany and described herself as the "last remaining independent journalist" willing to question this.
She was being interviewed on the Mark Steyn Show, which has repeatedly raised doubts over the safety of vaccines. Steyn's claims that the jabs cause "every conceivable kind of damage" have been disputed by factchecking websites. He is already the subject of a separate Ofcom investigation over previous comments about vaccination.
Wolf began as a prominent feminist writer but in recent years her career has taken a hit after she wrote a book partly based on a misunderstanding of English court records. Since then she has veered into the world of conspiracy theories about the impact of 5G telephone masts and the coronavirus vaccine.
Presenter Matthew Sweet, whose BBC interview exposed the flaw in Wolf's book, has since kept tabs on her work and GB News's coverage of the pandemic and accused the channel of repeatedly "broadcasting misinformation about vaccines and presenting conspiracy theorists as legitimate experts on medical matters".
In a letter to Sweet tweeted last month, GB News insisted that at no point had Steyn's programme adopted an "anti-vax" approach. Instead it said he was conducting probing journalism in the face of people who want GB News to be "more supportive of government policy".
As I wrote in my post last week on Big Brother Watch's exposé of Government departments' surveillance of politicians' and journalists' Twitter accounts during the pandemic, the one thing one cannot do is criticise the vaccines.
The best of Mark Steyn's GB News output
Having watched nearly every Mark Steyn show once he began broadcasting weeknights in January 2022, I bookmarked the most notable ones.
Any interested readers should view the videos sooner rather than later. YouTube have already removed some of Steyn's GB News output.
Ratings
It took a while for people to tune into Steyn, which was no fault of his. He did a memorable series in March 2022 in Ukraine and told us that he was partly of Ukranian descent. He hoped to return when the war was over. You can read more about those programmes here.
At the end of that month, he had a special edition on the second anniversary of the first coronavirus lockdown, March 23, 2020. It's a good thing I described the content, because YouTube removed the video for the usual reasons.
Then on Monday, May 16, Mark hit the jackpot, beating TalkTV's Piers Morgan for the first time in the 8 to 9 p.m. slot. Mark wasn't the only ratings star that night — all the GB News evening shows beat TalkTV's:
The following day, Guido wrote:
The slow motion collapse in ratings of Talk TV is astounding. Until now, Piers Morgan has always held his lead in his slot against Mark Steyn on GB News. Last night Steyn beat Morgan for the first time…
And it would not be the last time, either. In fact, it became a regular occurrence.
Coronavirus
On Wednesday, January 12, 2022, Steyn interviewed Lord Ridley — Matt Ridley — about the coronavirus lab leak (30:00 – 40:00):
In February, he covered the Canadian truckers' protest in Ottawa against mandated vaccines:
He also interviewed a Canadian policewoman about the protests:
On April 21, he cited UK government data which said that people over 50 who had three jabs were five times more likely to get the virus: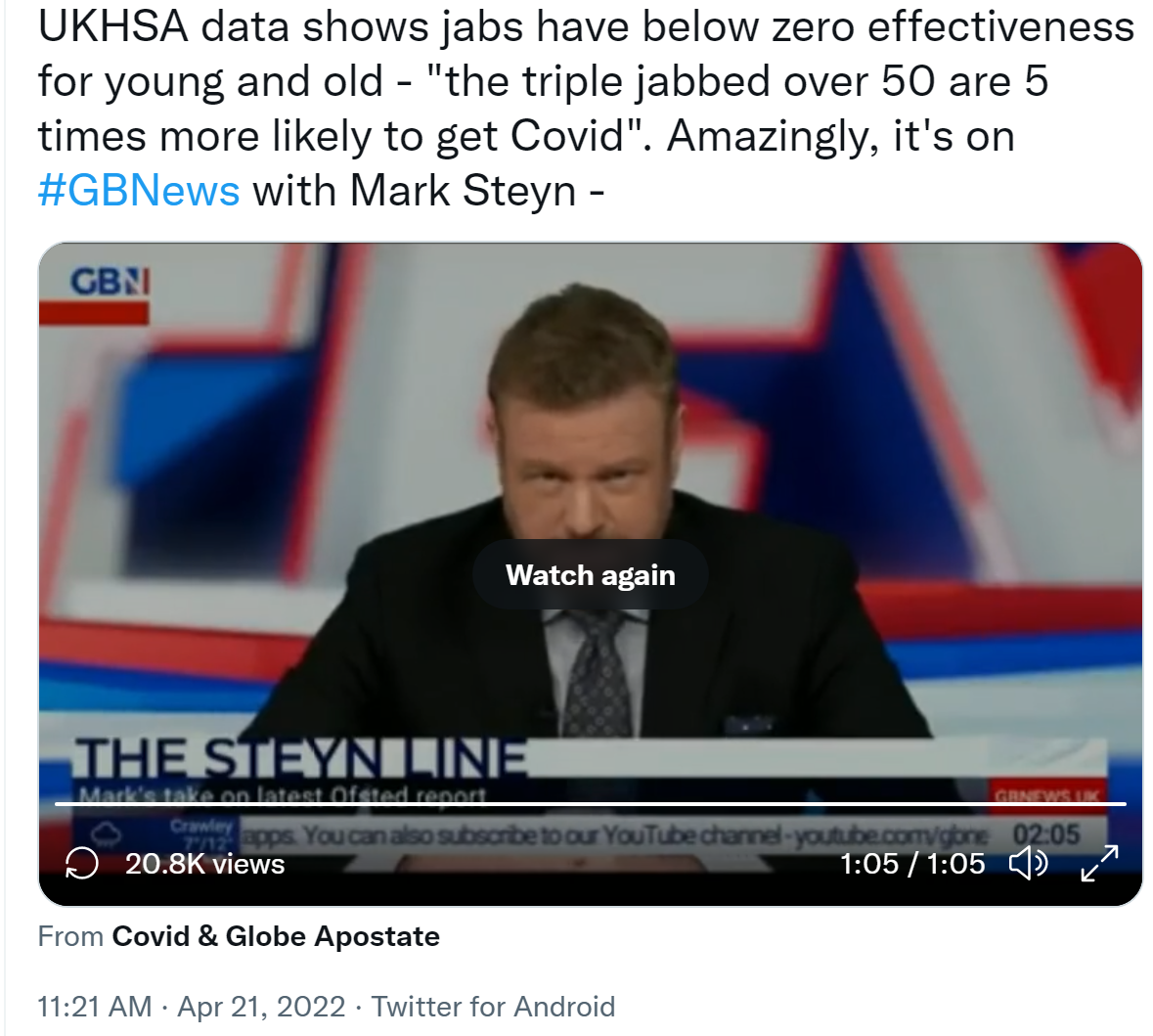 On Monday, May 9, he interviewed vaccine victims:
On May 11, he interviewed people who became seriously ill after taking the Astra Zeneca vaccine. No wonder it's no longer on the Government's vaccine list.
This man got a blood clot on the brain:
This lady suffered blood clots on her liver and lungs:
That day, Laura Perrins from The Conservative Woman waxed lyrical about Steyn's show. I, too, was a bit ambivalent about him many years ago, but as she pointed out:
It is true that a few decades ago he was considered an Establishment journalist; he has written for all your mainstream Right-wing publications. But he had long left that scene by the time I had my political awakening.
Anyway, somehow I stumbled across him, Praise be the Lord. The more I started listening, the more I read, I thought: 'Goodness gracious, hold the phone, shut the front door, this guy is the Real Deal.' This guy knows that we are being had by the political and media establishment and he is not afraid to say it …
Not only is Steyn the best-dressed, most-polished, most-sophisticated of all the presenters on TV, he says what you are thinking. For the last week or two he has been giving a voice to those the MSM have shamefully ignored – families who have lost loved ones through the 'safe and effective' non-vaccine vaccine.
… While Piers 'Lock Me Down Harder, Daddy' Morgan is interviewing Bruce Jenner, Steyn is pointing out that the lockdown has caused economic damage and inflation that the MPs like to ignore.
He also points out that when the Conservatives tell you they are getting a hold on illegal immigration, they are lying to you, they are lying to your face, dear reader.
So, do yourself a favour and watch Mark Steyn, Monday-Thursday, 8pm on GB News.
You can also catch up on YouTube when they haven't censored him for 'disinformation'. This is not a man who could ever be bought or sold for any price. I say again, Mark Steyn is the Real Deal.
The following day, news emerged that the WHO wanted nations to sign up to their pandemic treaty which would supercede national sovereignty. Unbelievable. Steyn said, 'The permanent abnormal staggers on':
On Tuesday, May 17, he talked about the WHO's involvement in the pandemic:
One week later, he interviewed a fellow broadcaster, Andrew Griffiths, who experienced serious side effects after getting the vaccine:
The Powers That Be tried to stir up fear over what is now called MPOX. On May 25, Steyn discussed Natalie Winters' findings for the National Pulse about an alleged link to the Wuhan lab:
Steyn had more on that and other topics on June 1, calling it 'the controlled demolition of the free world':
That was an exceptional show. Former ONS statistician Jamie Jenkins, one of Mark's regulars, alleged that the UK government had not collected any official statistics on vaccine injuries:
Claire Hibbs returned to discuss her injuries and the lack of compensation from the Government:
On June 16, he discussed the disastrous economic results of lockdown with Leilani Dowding:
Other Steyn broadcasts of note
In May 2022, he tapped into Canada's Rebel News output on Davos: excellent and entertaining.
On July 12, he was the only broadcaster to cover the July 12 celebrations in Northern Ireland in a non-confrontational way.
He interviewed Baroness Hoey — former Labour MP Kate Hoey — on her love for Northern Ireland and the United Kingdom:
He also spoke at length with the former leader of the Democratic Unionist Party, now-Baroness, Dame Arlene Foster:
These are just tasters. More to follow tomorrow.
No stranger to controversy
Mark Steyn has never been a stranger to controversy. Thank goodness.
Going way back in my Mark Steyn bookmarks, in 2004, he reviewed Mel Gibson's The Passion of the Christ, an incredible but much-criticised film, for The Spectator (full text here):
… Those who believe in Christ the Redeemer are booming, and Mel Gibson has made a movie for them. If Hollywood was as savvy as it thinks it is, it would have beaten him to it. But it isn't so it didn't. And as most studio execs have never seen an evangelical Christian except in films where they turn out to be paedophiles or serial killers, it's no wonder they're baffled by The Passion's success …
… Mel Gibson was driven by his own passion to make a movie that speaks to millions of people. As I said a couple of weeks back, if it's not the Jesus movie you'd have made, then go make your own. I saw it on a Monday night full house – a rare event in itself – and the crowd was rapt and eerily hushed, except for the occasional sob. It's true that if you don't believe that Christ's death on the cross is the central event in His time on earth then Mel's telling won't convince you and the film will look, as it does to Christopher Hitchens, like an S&M flayfest. One can regard this as a criticism of Gibson. On the other hand, all manner of movies – Star Wars, X-Men – leave you cold if you're not already a devotee. For millions of people, Mel Gibson shows them their Jesus and their salvation.
In 2009, Steyn wrote an article for Canada's Macleans about the danger that political correctness and censorship (i.e. 'hate speech') pose to human lives — the Fort Hood massacre (full text here):
… the old refrain echoes through the corridors of power: vigorous honest free speech will lead to mass murder unless we subject it to "reasonable limits."
Actually, the opposite is true: a constrained and regulated culture policed by politically correct enforcers leads to slaughter. I'm not being speculative here, as Commissar Lynch [Jennifer Lynch, Q.C., Canada's censor at the time] is about my murderous prose style. It's already happened, just a couple of weeks back. Thirteen men and women plus an unborn baby were gunned down at Fort Hood by a major in the U.S. Army. Nidal Hasan was the perpetrator, but political correctness was his enabler, every step of the way. In the days that followed, the near parodically absurd revelations piled up like an overripe satire …

Instead, asked "Who ya gonna believe—The Celebrate Diversity Handbook or your lyin' eyes?", more and more of us plump for the former, if only for a quiet life. Commissar Lynch has it exactly backwards: it's the craven submission to political correctness, the willingness to leave your marbles with the Diversity Café hat-check girl, that leads to death—real death, with real corpses, from Texas to Ontario.
It's amazing that the hot topics really have not changed since the Millennium. It's been the same-old, same-old for over 20 years now.
To be continued tomorrow
As I need something positive to think about while awaiting Chancellor Jeremy Hunt's awful budget on Thursday, November 17, here is a retrospective on Liz Truss's rise to power, however short-lived.
The Conservative Party leadership campaign dominated the latter half of July and all of August.
By Tuesday, August 16, like the Telegraph's Tim Stanley, I, too, had watched every hustings up to that point.
Who could have guessed that, in an extraordinary turn of events, both she and Rishi Sunak would be in No. 10 within weeks of each other?
Reporting on what happened north of the border in Perth, Stanley wrote:
The hustings had become so repetitive, I know the speeches by rote. Rishi grew up in a pharmacy, Liz sat on a planning committee. My only pleasure has been waiting for the day they cross their wires and Rishi announces he grew up on a planning committee and Liz that she sat on a pharmacy.
But on Tuesday we were in Scotland, so the script was rewritten. Lots of references to whisky, gas and Nicola Sturgeon, who Liz once said we should ignore, so Rishi said: "I don't just want to ignore [her], I want to take her on and beat her!" Big clap for that …
"I grew up in a small business," he said. And the cream for your burn, sir, can be found on the fourth aisle.
Liz did a much better job of showing that she knew she was in Scotland, referencing Adam Smith, JK Rowling and salmon fishing – and reminding us that she understood what poverty was because she grew up in a recession in Paisley in the 1980s (when the Tories were in power) and later in Leeds in the 1990s (ditto). 
In fairness to Liz, she meant local councils, not the Government.
The Mail highlighted the disagreement Liz and Rishi had on taxes:
Miss Truss has pledged to reverse the national insurance hike to help struggling families, but has not ruled out offering further support. But Mr Sunak said the right way to help people with higher energy bills is through direct support.
He told the hustings: 'The tax cuts that Liz is proposing are worth about £1,700 to someone on her income. For someone working very hard on the national living wage, it's worth about a quid a week …'
On Wednesday, August 17, the duo were in Northern Ireland, where, yes, there is a Conservative Party. It has around 600 members. I had no idea.
The Guardian had unearthed an old video of her saying that the British weren't very good workers. The Mail said that she defended her remarks to the press in Northern Ireland:
Pressed by reporters in Northern Ireland today whether she believes British workers are not working hard enough, Ms Truss replied: 'What I believe is that we need more skills in our country, we need more capital investment in our country, we need more opportunity in our country. That is what I would deliver as prime minister …
She added : 'I'm fundamentally on the side of people who work hard, who do the right thing. Those are the people I want back.'
Conservatives did not object to Liz's views (emphases mine):
Despite the furore, Ms Truss was delivered a major boost today with the latest ConservativeHome poll showing she is firmly on track for victory on September 5. She was 60 per cent to 28 per cent ahead of Rishi Sunak in a survey of activists.
The Belfast hustings was the only uncomfortable one of the campaign. It was clear neither candidate had any grasp of Northern Ireland or people's concerns:
The furthest Liz could connect with the small group of Conservative members was to say that she knew that a 'woman is a woman', for which she received applause (somewhere around the 12-minute mark). Near the end of her Q&A, a man expressed concern about abortion, which was foisted on them by Westminster. He asked about the fairness of that, since Northern Ireland has its own Assembly. She bristled at the question and brusquely replied that all the devolved nations had to have the same health policies (somewhere between 32 and 35 minutes in).
Rishi's intro and Q&A followed Liz's.
The London Evening Standard had an excellent report from Rebecca Black following the hustings at the Culloden Hotel on the outskirts of Belfast:
The Brexit protocol, the Stormont Assembly, the health service, abortion, foreign policy and support for the party in Northern Ireland were among the issues raised …
Martin Craigs said he remained undecided after hearing their pitches.
He said he felt their content in terms of Northern Ireland had been "very weak".
"They're sitting on the fence, this isn't the audience they're playing to, the audience they're playing to are the 160,000 Conservative members, and there are very few of them in Northern Ireland, but they obviously have to go to all corners of the UK to be seen to be democratic," he told the PA news agency.
"I might actually not vote at all because I think the performance has been so poor."
Matthew Robinson, chairman of the Northern Ireland Conservatives, welcomed the candidates' visit and paid tribute to the commitment they were showing to the region.
He said he had been holding back on deciding who to vote for, but based on what he heard at the hustings he would back Ms Truss.
"I think she outlined an unwavering commitment to what we do locally here as a political force," he said.
"I'm not just encouraged but excited about what we can achieve together during her hopeful premiership."
David Trimble's widow said that, just before he died, he wanted to make sure he voted for Liz. Lord Trimble had originally been a member of the Ulster Unionist Party (UUP) but became a Conservative in 2007. The following year, a voting alliance was created between the UUP and Conservatives in Northern Ireland.
The Standard reported on Lady Trimble's article in the Telegraph in which she supported Liz. The Stormont Assembly has not been meeting for several months now:
The powersharing structures Lord Trimble helped create in the landmark 1998 agreement are currently in limbo, with the DUP blocking the creation of a governing executive in protest at Brexit's Northern Ireland Protocol.
Lady Trimble wrote: "I believe that in this contest, Liz Truss has the best record and a viable plan to protect our Union and Northern Ireland's integral place within it.
"I know David thought the same.
"One of the last things he did before we lost him was to ask his son to collect his voting papers so he could vote for Liz.
"He was adamant that she was what the country needed and I agree.
"She has already proven her resolve and bravery in the face of opposition to our most valuable asset, and I am confident that my husband's legacy, peace in Northern Ireland, will be safe with her."
Lady Trimble, born Daphne Orr, is an academic who served as a member of the Equality Commission for Northern Ireland and the Northern Ireland Human Rights Commission.
Another article in the Standard showed that Liz understood the difficulty with the post-Brexit Protocol:
The Foreign Secretary also said she would not accept any compromises on a renegotiated Northern Ireland Protocol as prime minister if it meant key UK demands were not met.
She made the comments during a visit to Belfast, where she and Rishi Sunak were quizzed by Tory members during a hustings event.
She told party members that until the Northern Ireland Protocol is sorted, Stormont will not be back up and running.
The Standard's Rebecca Black wrote a separate article on the abortion question:
Abortion laws in the region were liberalised in 2019 in laws passed by Westminster at a time when the power-sharing government at Stormont had collapsed.
During a Conservative Party leadership hustings event at the Culloden Hotel on the outskirts of Belfast, Ms Truss was asked if she would abolish abortion in Northern Ireland, "ending infanticide", or let the people of the region have their say on the issue.
She responded to applause [for the man, not her]: "I'm afraid I don't agree with you.
"We are a United Kingdom and we need all of our laws to apply right across the United Kingdom – that is what being a union is."
Rishi's highlight of the hustings was about Liz's £50 billion black hole:
Rishi Sunak has warned that Tory leadership rival Liz Truss's tax plans would add £50 billion to borrowing while failing to give direct support to the most vulnerable in society, as the cost-of-living crisis deepened.
The former chancellor said the Foreign Secretary would be guilty of "moral failure" if she does not focus on the nation's poorest, and warned her policies could further stoke inflation.
Ms Truss instead insisted "taxes are too high and they are potentially choking off growth", as she promised an emergency budget to tackle the situation.
On Thursday, August 18, the eminently sensible Lord Moylan told GB News that he was voting for Liz because Rishi's economic plans did not make sense:
On Saturday, August 20, Sir John Redwood MP criticised the pro-Rishi media:
Redwood laid out his Thatcherite economic plan for Liz in that day's Telegraph:
Britain's fiscal rules should be ripped up by Liz Truss if she wins the Conservative leadership race, one of her key allies has said.
Sir John Redwood, who served as the head of Margaret Thatcher's Downing Street policy unit and is tipped to return to government if Ms Truss wins, said she should abandon the practice of targeting a set percentage of GDP for national debt and the deficit.
He also called for a review of both the Bank of England and Office for Budget Responsibility (OBR), and suggested the Foreign Secretary should be inspired by Mrs Thatcher in removing utilities and transport from state control.
Since 1997, fiscal rules have been announced by chancellors during Budget statements in an attempt to control government spending.
They usually set a restriction on the proportion of national debt or deficit as a percentage of economic output.
But in an interview with The Telegraph, Sir John said the practice is a hangover from EU fiscal regulation agreed between member states at the Maastricht conference in 1992, and does not encourage economic growth or limit inflation.
"I think having a fiscal rule, which is a variant of state debt as a percentage of GDP, and the public deficit as a percentage of GDP in any given year, is not really the right couple of rules for the two targets you're trying to meet," he said.
The Tory backbencher said ministers should maintain "sensible controls over growth in public spending and in public debt" by instead monitoring the amount of money paid by the Treasury to lenders in interest payments.
In a coded rebuke to Rishi Sunak, who was the chancellor until last month, he added: "You have to elect governments that take controlling public finances seriously, and they then have to take them seriously.
"If you have a government that doesn't take controlling public finances seriously, it won't matter what your fiscal rules say, as we know from recent past experience," he said.
Sir John is expected to be appointed as a Treasury minister in Ms Truss's government and is understood to have helped shape her thinking on economic issues during the campaign …
Sir John said he had not had "any discussions" with Ms Truss about taking a role if she wins the contest, but told The Telegraph he would accept a job if he was offered one.
The Times also thought that Liz would give Redwood a role. One campaign source said:
"There are a lot of crumpled up bits of paper. I've been in three meetings about the cabinet and it keeps changing."
Among the names on the pieces of paper: Iain Duncan Smith, who is heading back to cabinet, and John Redwood, who was last a minister 27 years ago and is earmarked for a junior Treasury post.
This weekend Truss will take a team of her senior aides to Chevening, the grace and favour home in Kent which she enjoys as foreign secretary, with the aim of getting people and policies more firmly nailed down.
In the past few days she has repeatedly told her team "no complacency". As an ally puts it more prosaically: "No f***-ups, basically."
Sadly, Liz never offered Redwood a role. If she had, she might still be Prime Minister today.
The Times was also wrong about Iain Duncan Smith, who was not part of Liz's Cabinet, either.
Also on August 20, the Mail's Dan Hodges wrote that Rishi's campaign was effectively over because of his mansplaining:
It was the moment Rishi Sunak's leadership campaign started to unravel. Actually, it was one of 20 moments. 'Please let me respond,' Liz Truss chided, as her opponent butted in during their first head- to-head TV debate. 'Absolutely, let Liz Truss respond,' the BBC's moderator Sophie Raworth was forced to interject.
Sunak didn't. Time and again he talked over his rival, interrupting and silencing her. It was a strategy his team seemed to think would put Truss on the defensive.
They were wrong …
… the damage was done. Sunak was branded a 'Mansplainer'.
To some, this episode provided further evidence of Sunak's poor political tradecraft. But he'd actually fallen into a well-prepared trap.
'We were ready for him!' one Truss campaign ally told me. 'For years, Liz has been patronised by men who are a bit full of themselves. She's not going to just stand there and take it.'
In 15 days' time, Britain will have our third woman Prime Minister. And unlike her predecessors, Liz Truss isn't going to be shy of reminding people of it.
Let us recall that only the Conservatives have had female Party leaders, all of whom were Prime Minister.
By contrast, Labour have yet to elect a woman leader.
On August 21, The Sunday Times told us what Labour-to-Conservative voters in Oldham thought of the two candidates:
If Rishi Sunak (the ferret) and Liz Truss (the budgie) had put a glass to the wall of the room in Oldham where ten swing voters gathered by Public First, all of whom voted Conservative in the last general election, were sharing their impressions of the Tory leadership hopefuls, they would have blushed. But mostly not with pride.
They had been asked to say which animal, item of clothing or single word would best describe each of the candidates (Truss was also a "bunny rabbit", for the record). As someone who has posed for photos atop a tank and astride a motorbike during her cabinet career, she might have been surprised to hear herself described as "mumsy", "dull as dishwater", a "cardigan", "Jemima Puddle-Duck" and, possibly worst of all, an "unknown".
Sunak would have heard that he was a "suit" a "backstabber" and a "traitor" (to Boris Johnson, that is) and he would have certainly regretted wearing a pair of £490 suede Prada shoes to visit a Teesside building site as he did last month. This did not go down well at all with many of these C2DE (aka working class) voters. It suggested, said Rachel, 33, a bar worker, that he was so rich he had "no respect for money"; after all a building site, she said, is going to be messy. She said "quite a lot of people were upset" by it, especially those struggling to make ends meet. "I certainly couldn't afford to buy a £500 pair of shoes," she said.
Matthew, 40, who works in the oil trade, asked how Sunak could possibly relate to low-wage people. The group wondered what his PR advisers were thinking, allowing it to happen. It was quite simple, said Mandy, an educator in a prison: "If you are going to an area where . . . people are on the minimum wage, don't wear £500 shoes."
But there was happier news for Sunak when it came to which of the two leadership candidates they preferred. Five chose Sunak, compared with three for Truss while two didn't know, though by the end of the discussion a couple had changed to "don't know".
Sunak, according to those who picked him, had a higher profile due to the furlough scheme during lockdown. Jodie, 33, a school administrator, said she associated him with helping people during that period. "I had never heard of Liz Truss before this race, but Rishi Sunak . . . we've seen him in action. He's helped out, like, working class people."
Mandy, however, who chose Truss, said the foreign secretary had been growing as a force in the "background" for some time now. She mentioned the "scandals" involving Sunak. This was a reference to a recent video in which he boasted to Conservative party members in Kent of taking money from deprived urban areas in order to give it to other parts of the country …
That day, Guido Fawkes revealed that Rishi's team broke down Liz's £50 billion black hole, which is actually tax savings.
Even now, with Thursday's Rishi-Hunt budget in view, Guido still appears to be correct in his assessment:
Guido also thought that the Conservatives would win the next general election:
Guido's post has Rishi's breakdown of Liz's black hole. This is Guido's analysis of Liz's savings for the taxpayer (emphases his):
According to figures just released by the Rishi campaign, taxpayers will get a net saving of £48.3 billion in reduced taxes under Liz as Prime Minister compared to Rishi. This is a similar figure to calculations made by the Guardian newspaper. This is intended to be an attack line, the argument Rishi is making is that Liz will have to choose between tax cuts or handouts. When you consider that this is equivalent to some £2,000 per taxpayer you will understand what Liz means when she says she wants to "help people in a Conservative way" …
In the Rishi campaign's press release the tax savings are described as "costs". This approach hasn't been seen since 2010, when Gordon Brown would point to any tax saving proposed by the opposition and demand to know from Cameron and Osborne what spending would be cut. It is a mindset that considers the public's money to belong to the government and any income not taxed to be a "cost". Guido's not sure why Liam Booth-Smith, Rishi's policy guru, ever thought this orthodox Brownian line of attack would appeal to Tory members…
By Monday, August 22, with a week and a half left to go in the seemingly endless campaign, Rishi's poll ratings were tanking.
The Guardian warned that Labour found that Liz could boost the Conservatives in the polls, which Labour had been leading for several months by that point. They still are in the lead.
However, the paper said that any poll boost would be short lived:
Tory leadership frontrunner Liz Truss could give the government a double-figure bounce in the polls once she is installed in No 10, according to internal Labour analysis.
A memo drawn up by Keir Starmer's director of strategy, Deborah Mattinson, claimed the foreign secretary could dramatically improve Conservative fortunes.
The document, dated 18 August and leaked to the Guardian, comes amid speculation that Truss could be tempted to capitalise on the upswing and call a snap general election.
However, the research also suggests that any improvement in the government's position could be very short-lived, with voters already concerned about aspects of Truss's character.
"Our focus groups suggest that as voters get to know Truss better they like her less," it says. "Serious negatives – untrustworthiness, inauthenticity, U-turns, lack of grip – are starting to cut through suggesting that any bounce may be very short-lived."
Meanwhile, Rishi allegedly scoffed at the idea he would take a post in Liz's Cabinet. That day, The Times reported on his interview with BBC Radio 2:
Truss has said that she would offer Sunak a cabinet job if she were to win. The Times reported at the weekend that she is considering asking him to become health secretary.
Sunak appeared to scoff at the prospect today, however, suggesting he did not want to serve in a cabinet in which he and the prime minister would disagree on "the big things".
Liz's poll results were buoyant. An Italian firm, Techne, cut their teeth in the UK on this campaign:
In the end, the result was much closer, although Liz still had a clear majority.
However, on the same day, a GB News Peoples Poll (Peoples Poll being the name of the polling organisation) showed that Britons overwhelmingly prefer Labour's Keir Starmer as the next Prime Minister, viewing Liz Truss as 'untrustworthy':
A poll exclusively commissioned by GB News has found that British people would prefer Keir Starmer to be Prime Minister over both Rishi Sunak and Liz Truss.
41 percent of the 1,235 Brits polled said they would be more likely to vote for a Labour Party led by Keir Starmer than the Conservatives led by Liz Truss, who received 22 percent of the vote.
And Rishi Sunak, also standing to become the next Tory leader and Prime Minister, only fared one percent better than Ms Truss when compared with Sir Keir, who received a share of 40 percent of the poll.
In both cases, 28 percent of people said they didn't know who they would prefer, with nine percent preferring not to say.
The results raise questions about the popularity of both candidates, with the Conservatives faring better in a straight contest with Labour.
When asked which party they would vote for if there was a General Election tomorrow, Labour came out on top with 31 percent.
But the margin between the two parties was a lot smaller than between the leaders, with 20 percent voting Conservative …
When asked to give one word they associated with Liz Truss, Brits' top answer was "untrustworthy".
Unfortunately for Ms Truss, second most popular answer was "useless", with the even less flattering "idiot" in third.
On Monday, August 29, the anti-Liz media went into a tizz when she declined an interview with the BBC's Nick Robinson.
Liz Truss has pulled out of a BBC interview with Nick Robinson because she can "no longer spare the time".
Ms Truss, the Tory leadership front-runner, committed to the primetime sit-down interview with Mr Robinson, who presents the Today programme, on Aug 18.
But the Foreign Secretary now appears to have changed her mind as the race to succeed Boris Johnson enters its final week. Rishi Sunak, her leadership rival, was interviewed by Mr Robinson on Aug 10 …
Mr Sunak has taken part in nine one-on-one broadcast interviews throughout the leadership campaign, including three appearances on the Today programme.
Ms Truss has done two such interviews, including the Today programme, when she was interviewed at the start of the head-to-head stage of the contest, and the People's Forum show on GB News.
A bigger controversy that day was that Liz was preparing to cut VAT. She never did, but someone should, because VAT is an EU law. Here is smoked salmon king Lance Forman's wise opinion, saying that the people who object to a VAT cut are on the Left:
On the penultimate day of Conservative Party member voting, Liz pledged to revive Conservative grassroots activism, but readers of ConservativeHome were unimpressed.
One of the comments read:
This and other similar pieces of rhetoric just prove to me that it's all about strategies to win elections rather than a coherent, well thought-out set of policies that will benefit the country in both the short- and long-term, much the same as some of the statements made by both candidates in this "leadership" election.
Surely we are capable of better?
Yes, we are capable of better.
On the last day of members voting, Wednesday, August 31, The Telegraph asked readers who should be in and out of Liz's Cabinet.
Interestingly, everyone the readers wanted out are in Rishi Sunak's Cabinet. Priti Patel is the only exception. And, Alok Sharma is still COP26 president, although he is not in Cabinet.
In conclusion, within weeks, we went back to the same old, same old thing.
I still have a few more items about Liz Truss to cover. Stay tuned.
My two previous posts about the Queen's death in Scotland are here and here.
Thanks to the Queen's and Princess Anne's Operation Unicorn plan for the monarch's death in Scotland, we saw their capital and the monarchy depicted magnificently.
Unicorn ticked all the boxes, especially at St Giles' Cathedral in Edinburgh.
A filmmaker could not have done better — and that was the Queen's intention.
History of St Giles' Cathedral
The Times has an excellent history of St Giles' Cathedral, the High Kirk: 'Beauty and peace of St Giles' make it a fitting place to lie at rest for Queen Elizabeth II'.
Excerpts follow, emphases mine:
St Giles' Cathedral in Edinburgh, High Kirk of the Church of Scotland, where the Queen will lie at rest, has been at the centre of Scottish history for more than 800 years. It has seen war, violence, rebellion and desecration, never more so than during the Reformation, when it was stripped to the bone by the firebrand Calvinist John Knox.
Kings and queens have left their mark on it down the ages. From it, Elizabeth's Stewart forebears in particular have tried at various stages to impose their religious beliefs on an unwilling and recalcitrant Scottish people.
Charles I gave it cathedral status in 1633 but when he insisted on introducing a common prayer book, based on the English order of worship, he provoked a riot, famously culminating in a tirade from a market trader called Jenny Geddes, who hurled a stool at the dean, forcing him to end the service abruptly.
It is also a place of beauty, its architecture lovingly restored, its 15th-century crown steeple one of Edinburgh's most distinctive landmarks — described by a historian as "a serene reminder of the imperial aspirations of the late Stewart monarchs". Here, in 1416, a graceful pair of storks made their nest, an event hailed as a portent of peace at a time of civic strife. Not until March 2020, when three birds nested at the Knepp Estate in Sussex, would storks return to Britain.
No one quite knows why the church, as it originally was, took its name from St Giles, the patron saint of lepers, but in its early days it was seen as a place with healing powers. The arm bone of the saint was brought as a relic from France, and at one stage the church had no fewer than 50 altars for those who came to pray for salvation. In the aftermath of the disastrous Battle of Flodden in 1513, when most of the Scottish nobility, and their king, James IV, were killed, Bishop Gavin Douglas held a requiem mass, a powerful act of mourning and renewal.
Knox was less forgiving. He ordered workmen to clear stone altars and monuments from the church. Precious items used in pre-Reformation worship were sold. The church was whitewashed, its pillars painted green, and St Giles's arm was hurled into the Nor' Loch. In 1558 Knox published his First Blast of the Trumpet Against the Monstrous Regiment of Women, a polemical work attacking female monarchs, and arguing that rule by women is contrary to the Bible …
The Queen will lie at peace in a place of singular beauty, close to the elegant Thistle Chapel, with which she was so familiar. Created by the great Scottish architect Robert Lorimer in 1909, it was the place where she, as senior member of the ancient Order of the Thistle, Scotland's equivalent to the Order of the Garter, welcomed new members, 16 in number, appointed on her personal recommendation.
The cathedral's interior is now a place of colour, its crown steeple is gilded with gold, its stained glass windows filter in the daylight, thanks to a renewal appeal, headed by the late financier Sir Angus Grossart, which led to the conservation of the medieval tower, the restoration of the stained glass windows, and the moving of the altar to the centre of the building. A thanksgiving service in the presence of the Princess Royal in January 2011 marked the conclusion of the project.
September 12, continued
In covering the events of Monday, September 12, 2022 in Edinburgh, I left off with the service at St Giles' Cathedral.
Afterwards, mourners were already queuing to pay their respects:
The Guardian reports that former Prime Minister Boris Johnson gave an interview to the BBC's Fiona Bruce that day. She asked him what his final meeting with the Queen at Balmoral on Tuesday, September 6, was like:
Johnson said: "In that audience, she had been absolutely on it. She was actively focused on geopolitics, on UK politics, quoting statesmen from the 50s, it was quite extraordinary.
"She seemed very bright, very focused. She was clearly not well. I think that was the thing that I found so moving when I heard about her death on Thursday, I just thought how incredible that her sense of duty had kept her going in the way that it had, and given how ill she obviously was, she could be so bright and so focused. It was a pretty emotional time."
Johnson gave a memorable tribute to the Queen in parliament on Friday, the day after her death. He told the broadcaster that her death was a "colossal" thing for him and that he felt a "slightly inexplicable access of emotion".
Shortly after 5:30 p.m., the King and Queen Consort arrived at Holyrood, Scotland's parliament, not far from the Palace of Holyroodhouse (emphases in the original):
King Charles and Camilla, Queen Consort have processed into the Scottish parliament in Holyrood, as trumpets played in the background.
They had met political leaders from Scotland beforehand, including first minister, Nicola Sturgeon, Labour leader, Anas Sarwar, and leader of the Conservative party, Douglas Ross.
Presiding officer, Alison Johnstone, opened the session and paid tribute to the Queen, who was there for the assembly's first session in 1999.
Two minutes' silence is now being held. Sturgeon will shortly move a motion of condolence.
She recounted an amusing anecdote from one of her visits to Balmoral:
I did, however, experience one rather tense moment at Balmoral. My husband and I were with the Queen before dinner when the drawing room light started to flicker. To my great alarm … my husband suddenly leapt up and darted across the room. Peter had spotted the cause of the flickering light, one of the Queen's young corgis, a beautiful pup called Sandy was eating through a lamp switch. Thankfully tragedy was adverted, not before a ticking off from his mistress.
Sturgeon, the woman who refused to deliver a message of loyalty on the occasion of the Platinum Jubilee, then waxed lyrical:
I deeply valued the time I spent alone with the Queen. Her words of wisdom, counsel, and humour will stay in my heart for the rest of my life …
The Queen has been intrinsic to the story of modern Scotland, from the opening of the Forties oil pipeline, to the Forth bridge, the Queensferry Crossing, three Commonwealth Games, she was present at so many of our iconic moments. She was a true and steadfast friend of this parliament.
Our nation is in mourning today for a Queen whose loss we have not yet begun to come to terms with. We are deeply honoured by the presence today of His Majesty King Charles III and the Queen Consort. Your Majesty, we stand ready to support you as you continue your own life of service and build on the extraordinary legacy of your mother. Queen Elizabeth, Queen of Scots, we are grateful for her life, may she now rest in peace.
After Sturgeon spoke, the other Party leaders had their turns: Douglas Ross from the Conservatives, Anas Sarwar from Labour and Patrick Harvie from the Greens.
Patrick Harvie's remarks once again revealed how far left he is. He praised all the social advances made during the Queen's reign — more than enough for most people — then said that much more needed to be done. He sounded ungrateful.
Harvie evidently did not want to meet the King. He sent the Greens' deputy leader Lorna Slater instead.
The session concluded with an address from the King:
Wearing a kilt, he stands and says:
I know that the Scottish parliament and the people of Scotland share with me a profound sense of grief at the death of my beloved mother. Through all the years of her reign, the Queen, like so many generations of our family before her, found in the hills of this land, and in the hearts of its people, a haven and a home.
My mother felt as I do, the greatest admiration for the Scottish people, for their magnificent achievements and their indomitable spirit. It was the greatest comfort for her to know, in turn, the true affection in which she was held. The knowledge of that depth and abiding bond must be a solace as we mourn the life of incomparable service.
If I might paraphrase the words of the great Robert Burns, my dear mother was the friend of man, the friend of truth, the friend of age, and guide of youth. Few hearts like hers with virtue warned, few heads with knowledge so informed.
While still very young, the Queen pledged herself to serve her country and her people and to maintain the principles of constitutional government. As we now mark with gratitude a promise most faithfully fulfilled, I am determined with God's help and with yours to follow that inspiring example.
The title of Duke of Rothesay and the other Scottish titles which I have had the honour of carrying for so long, I now pass to my eldest son, William, who I know will be as proud as I have been to bear the symbols of this ancient kingdom.
I take up my new duties with thankfulness for all that Scotland has given me, with resolve to seek always the welfare of our country and its people, and with wholehearted trust in your goodwill and good counsel as we take forward that task together.
The King and Camilla, Queen Consort, then leave the chamber while the bagpipes are being played.
By the time that the Holyrood session ended, mourners were entering St Giles' Cathedral to pay their respects.
The Vigil of the Princes took place that evening, with the Royal Family returning to St Giles' from Holyroodhouse.
The Vigil of the Princes was devised for George V's funeral in 1936. His four sons stood at his casket for a short time. It took place in Westminster Hall at 12:15 a.m. on January 28 that year, after it closed to the public.
In 2002, the Queen Mother's grandsons participated in a similar vigil in Westminster Hall.
For the first time, this silent ceremony included a woman. The Princess Royal, being one of the Queen's four children, participated in it at St Giles'.
This time, the public were able to see them in their solemn ten-minute vigil:
They have chosen not to be armed with swords, as they have the right to do so.
Charles stands at the head of the coffin, the crown behind him on top of it. He and his siblings, facing outwards, bow their heads. They are stood next to the Royal Company of Archers. Camilla is sat off to the side alongside Sophie, Countess of Wessex.
Prince Andrew and Princess Anne can be seen with their eyes closed.
Members of the public are still filing past the coffin.
It was incredibly moving. Two videos follow:
The Royals then returned to Holyroodhouse to spend the night.
The Queen lay at rest in the cathedral until early Tuesday afternoon, at which point staff and the military prepared for her casket to be put in the hearse for the journey back to London.
People queued all night. By the time the viewing closed on Tuesday, 26,000 people paid their respects. They were of all ages and included quite a few children, some dressed in their school uniforms.
The Guardian had a report on the mourners at the close of Monday:
Many thousands of people are waiting for hours in long queues through central Edinburgh to see the Queen lying in rest at St Giles' Cathedral, with some facing a wait until early morning before they pass the coffin.
Mourners queueing in George Square, an early Georgian square now part of the University of Edinburgh, have been waiting for over three hours, with the line six to eight people abreast in places.
The Scottish government responded by increasing the number of lines at the security checkpoint on George IV Bridge, dramatically increasing the numbers of people being cleared to move on to the cathedral. Officials estimate that up to 6,000 people per hour were being allowed through.
Aaron Kelly, 32, a psychotherapist originally from Belfast, who lives close to George Square, had been timing his wait on iPhone. It had clocked up three hours and five minutes by about 8.15pm. He felt it was essential to be there.
"This is a moment in history and I think the Queen has done so much for the nation; it just felt it was apt to come and pay our final respects," he said.
Behind him stood Corey Docherty, 14, and his mother, Mary, and their friend Janis. After travelling from the Glasgow area, and with school tomorrow, he faced getting home after midnight. Docherty has visited Balmoral, Buckingham Palace and Clarence House, the king's former residence in London.
"It's just the most famous royal family in the world," he said. Of the new king, he said: "He's the king. We must support him. He has waited 73 years."
Norman Davenport, 68, who recently retired after 18 years as an officer in the RAF reserve and before then 20 years as an army reservist, began queueing for the cathedral at 2pm on Monday, in good time for it to open to the public at 5.30pm, and arrived there by around 7pm. By 8.30pm, he was in George Square for a rest and a sandwich.
The queen was honorary air commodore of his RAF reserve unit, 603 (City of Edinburgh) Sqdn. He had met her twice. "I have a huge connection with her, from that point of view, as a personal thing. She was my sovereign, my commander in chief, my honorary air commodore."
The City of Edinburgh Council's website had a helpful list of guidelines for mourners.
The Guardian's Murdo MacLeod has an excellent photo compilation of the long queue as it grew throughout the night.
September 13
On Tuesday morning, September 13, The Guardian had an update on the mourners:
Tens of thousands of people, including royalists, "soft republicans" and the plain curious, have queued through the night in Edinburgh to view the Queen's coffin lying at rest.
The queues stretched several kilometres from St Giles' Cathedral on the Royal Mile – with the route winding past security checks, Scotland's national museum, Edinburgh university's student union and library on George Square, then on to The Meadows, a tree-lined park on the city's south side – in an event without modern parallel in Scotland.
Over Monday night, the queues were eight to 10 people abreast in places, with mourners and well-wishers – helped by dry and temperate weather – waiting more than five hours to reach the Queen's coffin.
At 5am on Tuesday, they queued in the open for more than hour to view the coffin, which was guarded by four green-garbed members of the Royal Company of Archers, each holding an upright bow, and four police officers wearing white gloves.
The Scottish government expects the queue – remarkable in its size – to grow again on Tuesday morning, before public viewing ends at 3pm. At about 5pm, the Queen's coffin will be taken by hearse to Edinburgh airport, accompanied by Princess Anne, the Princess Royal, then flown by military aircraft to RAF Northolt, before being driven to Buckingham Palace …
Victoria, 53, an artist, and her daughter Grace, 20, an art and philosophy student, woke up at 3.45am to come from Linlithgow, West Lothian, by train. Both women said they had an emotional response to the Queen's death, which contradicted their republican sympathies.
"We're not royalists but it has been a very strange thing, to be affected by the Queen dying," Victoria said. "And Grace was very affected too, so we thought: 'Let's go.'
"From a political point of view, I'm just a bit confused because it's what I'm against politically, but I just felt an emotional desire to come. I wasn't expecting to feel this way" …
Brian Todd, 51, who had joined the Royal Navy at 16 before serving as a fire fighter, and his partner, Allison Pearson, 55, a property manager, travelled from Livingston, West Lothian, getting up at 3.30am. They said they were monarchists, born to monarchist parents …
For Todd, originally from County Durham, the three days of events in Scotland attached to the Queen's death at Balmoral – events which began with the funeral cortege's slow 170-mile drive through eastern Scotland to Edinburgh on Sunday – were significant and resonant.
"Scotland needed this as well," he said. "Everything seems to be London-centric and set down south. It's not great that the queen has passed away, but it has been great for Scotland. At least we can say we did her proud. It's not just about London."
Meanwhile, at Holyroodhouse, the King and Queen Consort were preparing for a day in Northern Ireland while Princess Anne steeled herself to accompany her mother's casket on a flight back to London to rest overnight at Buckingham Palace. Her husband, Vice Admiral Sir Tim Laurence, accompanied her.
The plan was for the King and Queen Consort to arrive at Buckingham Palace in time to meet his mother's casket.
At 12:15, the Scottish Government reported on the visitors at St Giles':
The queue was still long, but by the end of the viewing, everyone was accommodated at St Giles':
The King and Queen Consort touched down in Belfast shortly after noon that day:
At 12:30 p.m., the King and Queen Consort had arrived at the official Royal residence in Northern Ireland, Hillsborough Castle, which had a huge crowd waiting to greet them.
The Royal couple did a walkabout before viewing an exhibition about the Queen's long association with Northern Ireland.
The Guardian reported that the crowd chanted 'God save the King':
He and the Queen Consort Camilla were greeted by delighted crowds. He went along the line smiling and laughing and receiving flowers for over five minutes.
"I spoke to him and he spoke back!" yelled one woman in delight as he passed.
The Daily Mail has a video of well-wishers, including a corgi:
The floral tributes were many.
Just before 1:30, the King met the new Northern Ireland Secretary, Chris Heaton-Harris, inside the castle.
The Northern Ireland Assembly, which meets at Stormont in Belfast, gathered at the castle to present official condolences to the monarch. This took place a short time after the King's meeting with the Northern Ireland Secretary.
The Assembly's speaker, Alex Maskey MLA, opened proceedings:
Maskey, a Sinn Féin member of the assembly, directly addressed the political context of the changes in Northern Ireland during Queen Elizabeth's lifetime, saying:
On the walls of parliament building in Stormont are images from two of Queen Elizabeth's visits during the coronation year 1953 and the second for the diamond jubilee in 2012. It is extraordinary to consider how much social and political change Queen Elizabeth witnessed in the time between those visits, and indeed throughout her long reign. Yesterday an assembly of Unionists, Republicans, nationalists met to pay tribute to the late Queen. When she first came to the throne, no one would have anticipated an assembly so diverse and inclusive.
Also:
It was notable that neither the speaker of the Northern Ireland assembly, Sinn Féin's Alex Maskey, nor the new King, shied away from talking about the history of Northern Ireland or the long years of conflict, and Maskey alluded to the current stalemate.
Maskey said that at one point it would have been unthinkable for someone "from my own background and political tradition" being in the position to deliver this address. He said:
… Queen Elizabeth was not a distant observer in the transformation and progress of relationships between these islands. She proudly demonstrated that individual acts of positive leadership can help break down barriers and encourage reconciliation. Queen Elizabeth showed that a small but significant gesture – a visit, a handshake, crossing the street or speaking a few words of Irish can make a huge difference and change attitudes and build relationships. Her recognition of both British and Irish citizens as well as the wider diversity of our community was undoubtedly significant.
Of course, such acts of leadership do not come without risks, or the need for courage and determination to see them through. I represent the elected assembly of a society which has struggled with the legacy of our past and how to move on from it without leaving those who have suffered behind.
During her visit to Dublin, Queen Elizabeth said that whatever life throws at us, our individual responses will be all the stronger for working together and sharing that load. Let us all pay heed to that. As we remember Queen Elizabeth's positive leadership, let us all reflect that such leadership is still needed. And let us be honest with ourselves enough to recognise that too often, that leadership has been lacking when it has been most required.
Maskey's reference to 'a handshake' recalled the time she shook Martin McGuinness's hand in 2012. She was wearing gloves. McGuinness was a pivotal figure in the IRA, which was responsible for assassinating one of the Queen's relatives, Lord Moutbatten, in 1979.
The King responded to Maskey's speech:
Charles says that his mother, the Queen, was aware of her own role, saying:
My mother felt deeply the significance of the role she has played in bringing together those who history had separated, and extending a hand to make possible the healing of long-held hurts.
He said he would dedicate himself to a similar role, saying:
At the very beginning of her life of service, she made a pledge to dedicate herself to her country and her people and to maintain the principles of constitutional government.
This promise she kept with steadfast faith.
Now with that shining example for me, and with God's help, I take up my new duties resolved to seek the welfare of all the inhabitants of Northern Ireland.
He recalled Lord Mountbatten's death:
King Charles thanked Northern Ireland for the condolences, and said that his mother never ceased to pray for the best of times for its people, "whose sorrows our family had felt", in a reference to the death of Lord Mountbatten in 1979.
Here is the video:
Then, the King met Northern Ireland's political leaders. The Guardian has photos of him with DUP (Democratic Unionist Party) leader Sir Jeffrey Donaldson MP, Northern Ireland Assembly speaker Alex Maskey, Alliance Party leader Naomi Long and Sinn Féin vice president Michelle O'Neill, who is the most senior member of the Assembly.
At the end of the Royal couple's visit, the King experienced pen problems once more as he signed the visitors' book. This time, it was more than a misplaced tray of pens. His fountain pen was well and truly leaking. The Queen Consort helped to dry it with a handkerchief, which ended up soaked with ink. Sky News has a subtitled version:
The Daily Mail's description reads:
'Can't bear this bloody thing!' King Charles frustrated by leaking pen, but Queen Consort Camilla saves the day. This is the moment King Charles blasts a leaking pen that threatens to ruin his mood just hours after the new monarch was warmly embraced by the people of Northern Ireland during his inaugural trip as monarch. King Charles III, sitting inside the royal residence of Hillsborough Castle appeared visibly frustrated as he tried wiping off dripping ink during a book signing towards the end of his visit. Charles complained about the faulty instrument he was using to sign his name, pronouncing he 'can't bear this bloody thing' as he briskly turned on his heels and left the room flanked by aides. The leaky pen was swiftly replaced by flustered courtiers before Queen Consort Camilla sat down to sign the book herself from inside the historic residence.
Afterwards, the Royal couple returned to Belfast for a Service of Reflection at St Anne's Cathedral (Anglican).
It was very moving, as have been all the religious services for the late Queen. You can find the Order of Service here.
Clergy representing Northern Ireland's main Christian denominations all participated.
Alex Maskey MLA read Philippians 4: 4-9:
Rejoice in the Lord always; again I will say, rejoice. Let your gentleness be known to everyone. The Lord is near. Do not worry about anything, but in everything by prayer and supplication with thanksgiving let your requests be made known to God. And the peace of God, which surpasses all understanding, will guard your hearts and your minds in Christ Jesus. Finally, beloved, whatever is true, whatever is honourable, whatever is just, whatever is pure, whatever is pleasing, whatever is commendable, if there is any excellence and if there is anything worthy of praise, think about these things. Keep on doing the things that you have learned and received and heard and seen in me, and the God of peace will be with you.
Also notable was the prayer before the sermon for its use of 'felicity', a word I have not heard in decades:
O Lord, our heavenly Father, high and mighty, King of kings and Lord of lords, the only ruler of princes, who from your throne beholds all who dwell upon earth; grant to us understanding of your will and thankfulness of heart for the life and reign of our most beloved Queen, and to her everlasting joy and felicity, through Jesus Christ our Lord. Amen.
The Most Reverend John McDowell, Archbishop of Armagh and Primate of All Ireland delivered the sermon, which was gentle in tone yet hard hitting in content when it came to reconciliation.
To me, this was the best sermon of all from the Services of Reflection.
Excerpts follow:
In the Name of the Father and of the Son and of the Holy Spirit. In anim a Athair, agus a Mhic agus a Spiorad Naomh. Amen.
For many of us in the United Kingdom there were two people whose deaths we could never imagine. Our own and the Queen's. I think that is one of the reasons why the death of Queen Elizabeth was literally felt so keenly by so many people when the news broke on Thursday afternoon. It was as though the nation's collective grief was gathered up in those remarkable words of Christopher Marlowe's:
"If I had wept a sea of tears for her, it would not ease the sorrow I sustain".
And if that was how those of us felt who were her adopted family through her coronation oath, how much more profound must that feeling of loss be to those of the Queen's blood family; those who knew her best and loved her most; Your Majesty, our prayers will be with you and your family for a long time to come.
St Paul could be a bit of a gloomy old moralist at times and some of the injunctions contained in his letters are far from easy to put into practice. It is pretty difficult to "have no anxiety about anything". But I would dare to suggest that for the family of the late Queen and for millions of others, there will be no difficulty whatsoever, when she comes to mind, in following St Paul's command to think on "whatever is true, whatever is just, whatever is pure, whatever is lovely, whatever is gracious and whatever is worthy of praise".
There were many other words used about the late Queen during her long reign. Faithfulness, care, dutifulness, love and devotion. All of these could be employed to describe her relationship with Northern Ireland (with patience binding them all together) but paying attention especially to what she said most recently, the word which I think will be most associated with Queen Elizabeth and Ireland, north and south, is reconciliation.
It is a great New Testament word and it is a great civic word; and it is a hard word. So hard in the religious sense that it was beyond the power of humanity to achieve, and God himself had to give it to us as a gift in his Son. And as a disciple of Jesus Christ, Queen Elizabeth followed where Jesus led as women often have in the elusive and unfinished work of reconciliation here in Ireland.
For where the Master is, there will his servant be also.
It has always been love's way that in order to rise, she stoops; so the bowing of her head in respect was far more powerful than much grander gestures would have been. Love listens far more than she speaks, so a few words in an unfamiliar language and a judicious sentence or two of heartfelt regret and wisdom said far more than ceaseless volubility. Love never rushes into anything for fear of overwhelming the beloved, but when the moment is right she walked the few steps between two Houses of Prayer in Enniskillen alongside the beloved, in encouragement and affection. Although love is easily injured, she keeps no record of wrongs and extends the open hand of sincerity and friendship, with courage, to create an environment and an atmosphere where reconciliation has a chance.
And love never fails; for where the Master is there will his servant be also.
Reconciliation is about the restoration of broken relationships. And the word should never be cheapened by pretending it is an easy thing to achieve. By and large in the work of reconciliation most of our victories will be achieved quietly and in private: and most of our humiliations will be in public.
Reconciliation requires the greatest of all religious virtues, love; and it requires the greatest of all civic virtues, courage. But as the great apostle of reconciliation says: "What you have learned and received and heard and seen in me, do; and the God of peace will be with you" …
It is only an impression, but it seemed to me that in the last years of her reign the tone and content of the Queen's broadcasts became more overtly religious and perhaps a little more personal. On Christmas Day 2017 she said this:
Although we are capable of great acts of kindness, history teaches us that we sometimes need saving from ourselves – from our recklessness and greed. God sent into the world a unique person – neither a philosopher or a general, important as they are; but a saviour with the power to forgive. Forgiveness lies at the heart of the Christian faith. It can heal broken families, it can restore friendships and it can reconcile divided communities. It is in forgiveness that we feel the power of God's love.
At her baptism Elizabeth Alexandra Mary was signed on her forehead with the sign of sacrifice; the cross. And for 96 years in a life which was a prodigy of steady endeavour she offered herself, her soul and body, as a living sacrifice to the God who loves her with an everlasting love.
So, I want to finish by reminding you of those final words spoken by Mr Valiant for Truth in Bunyan's Pilgrim's Progress, some of which the Queen herself used in her very first Christmas televised broadcast in 1957:
Then he said, I am going to my Fathers, and though with great difficulty I am got hither, yet now I do not repent me of all the trouble I have been at to arrive where I am. My sword I give to him who shall succeed me in my pilgrimage, and my courage and skill to him that can get it. My marks and scars I carry with me, that I have fought his battles who will now be my Rewarder. When the Day that he must go hence was come, many accompanied him to the riverside, into which as he went he said, Death where is thy sting; and as he went down deeper he said, Grave where is thy victory? So he passed over, and the trumpets sounded for him on the other side.
All these words I have offered from an unworthy heart.
God save the King
Oecumenical prayers followed.
Two verses of the National Anthem followed:
God save our gracious King,
Long live our noble King,
Thy choicest gifts in store
On him be pleased to pour,
To sing with heart and voice,
God save the King.
The service closed with a Celtic blessing.
The Belfast News Letter has a collection of photos from the service, leading with one of Prime Minister Liz Truss sitting next to Ireland's Taoiseach (pron. 'Tee-shuck') — Prime Minister — Micheal (pron. 'Mee-hull') Martin.
According to television reports, various politicians, including Truss and Martin, spent a long time in the cathedral talking after the service.
The Daily Mail reported that Truss and Martin will meet after the Queen's funeral on Monday, September 19:
Liz Truss is expected to hold talks with Irish premier Micheal Martin about Northern Ireland's Brexit political impasse when he visits London for the Queen's funeral.
They are expected to meet after the Taoiseach represents Ireland at the Westminster Abbey ceremony on Monday …
It comes after Mr Martin suggested the Queen's death was an opportunity to 'reset' relations between Britain and Ireland following bitter Brexit disputes.
Northern Ireland is currently gripped by heightened political tensions at Stormont and between the UK and Irish governments over post-Brexit arrangements for Northern Ireland. 
Sinn Fein became the largest party at the assembly in May's election but the DUP has refused to restore the power-sharing executive until the Northern Ireland Protocol of the UK/EU Brexit deal is replaced.
Ms Truss is also threatening to push ahead with legislation at Westminster to scrap key elements of the Protocol if negotiations with the EU on revamping trade rules continue to stall.
This has caused a furious response from both Dublin and Brussels, with the bloc launching fresh legal action against the UK.
After greeting clergy and other dignitaries, the King and Queen Consort returned to Belfast Airport to return to RAF Northolt in north west London.
The Daily Mail has a video showing the amazing crowds in Belfast and Hillsborough:
Back in Edinburgh, the military attending during the Queen's lying in state at St Giles' carefully placed her coffin in the hearse to go to Edinburgh Airport.
Princess Anne and her husband were there to accompany it.
People lined the roads on the way to the airport.
The Daily Mail has an article with many photographs showing the Princess and her husband making the sorrowful six-hour journey from Balmoral to Edinburgh on Sunday. Undertakers William Purves, which have been operating since the 19th century, provided the service. They followed up with a second article with more photos.
At least the ride to Edinburgh Airport was much shorter.
The number on the RAF aircraft, a C-17 Globemaster — also used to transport our military home from Afghanistan — was ZZ177, or Liz. Note that the Scottish Crown was removed, as it stays in Scotland: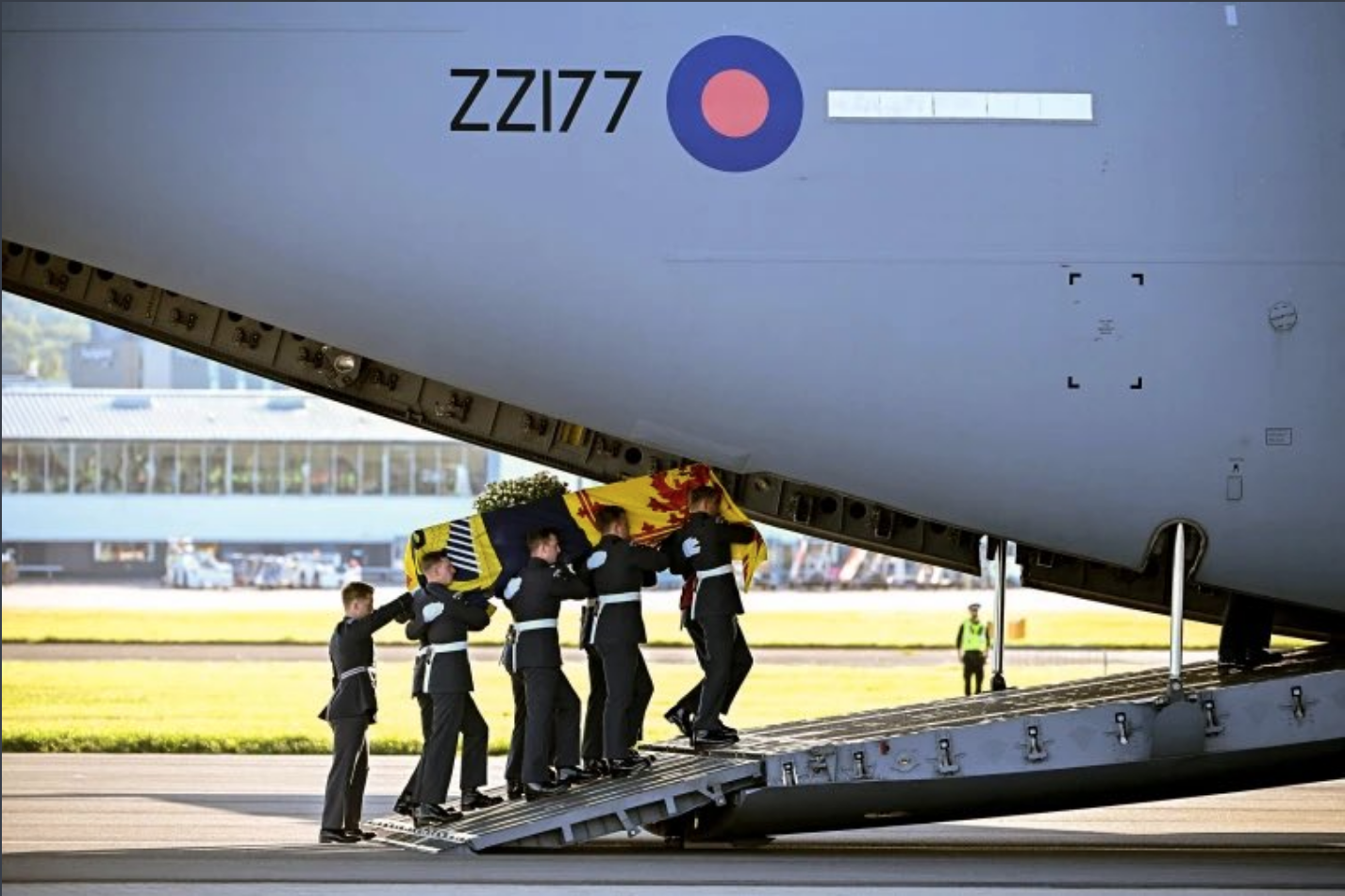 As Princess Anne and her husband prepared for takeoff, the King and Queen Consort arrived in London.
Crowds gathered around Buckingham Palace to welcome them.
The flight with the Queen's casket landed at RAF Northolt just after 7 p.m. Liz Truss and a senior Anglican clergyman, who offered a blessing, were present.
Crowds lined the route on the way into the capital. Rod Stewart's wife Penny Lancaster was outside RAF Northolt as a special constable, keeping order. You could not make this up:
The 51-year-old, who is married to crooner Rod Stewart, began working as a special constable last year and earlier confirmed she would be working during the Queen's funeral on Monday.
On Tuesday evening she was pictured engaging and marshalling expectant crowds and helping a wheelchair user.
The cortege arrived at Buckingham Palace an hour later:
The Queen's casket rested in the Bow Room of the palace overnight before moving to Westminster Hall on Wednesday.
On Wednesday, September 13, the Mail reported on the statement the Princess posted online after she reached London on Tuesday evening:
The Princess Royal has paid tribute to her mother and said it had been 'an honour and a privilege' to accompany the Queen on her final journeys as she travelled with the monarch's coffin back to London.
Princess Anne, the late monarch's only daughter, told how she was 'fortunate to share the last 24 hours of my dearest mother's life'.
She said the love and respect shown to the Queen on her journey from Balmoral to Edinburgh and onto London had been 'both humbling and uplifting'.
Anne also thanked the nation for the 'support and understanding offered to my dear brother Charles' as he takes on his duties as King.
She ended her statement with the words: 'To my mother, The Queen, thank you.' 
More will follow beginning next Monday, continuing on with Wednesday's events in London, Friday's trip to Wales and the Queen's funeral.
This has been an incredible period not only in British history, but also the world's.
We are experiencing the end of an era.
The Conservative Party leadership contest hustings ended in London's Wembley Arena on Wednesday, August 31.
Did it last too long? We think so only because we are having a cost of living crisis with more Project Fear pumped into our brains every day. Critics should remember that Parliament is in summer recess anyway. If things were normal with the economy, crime levels and the NHS, we wouldn't have minded so much.
Remember, if this had been a Labour leadership contest, no one would have moaned. The media would have bent over backwards justifying it.
What I do mind, however, is that Parliament will be meeting only for a short time in September then adjourning so that the Conservatives, Labour and the Lib Dems can scuttle off to their respective Party conferences. Surely, parliamentary business can continue in the Chamber during September. Not every MP needs to be at a conference every day. Most of them are held on weekends, and Parliament does not meet on Fridays, so there is no reason why the Commons cannot meet during September.
Back to the hustings.
London
I'll start with the last one in London, which was excellent:
Nick Ferrari, the host of the morning show on LBC (radio), was the moderator.
The sound quality was good as was the music. It was highly professional and everyone looked as if they enjoyed being there.
The Conservative audience was diverse: all ethnic groups and all age groups. There were even a few hipsters present.
The first hour was not filmed. Author, national wit, Celebrity Gogglebox star and former Conservative MP Gyles Brandreth, 74, opened proceedings. I wish I could have seen him. Amazingly, he broke his elbow the day before in Fife, Scotland, but still showed up at Wembley Arena the next day.
In the video, Nick Ferrari comes on at 4:13 to introduce the format, which is consistent with the other Conservative Party hustings. 
At this point in the contest, Liz Truss was seen by pollsters and bookmakers to be way ahead of Rishi Sunak, so the introductory theme was one of unity, meaning: no hard feelings, folks, our next job is to defeat Keir Starmer's Labour.
That is the message Iain Duncan Smith MP gave in his endorsement for Liz Truss (6:09), reminding the audience that:
she cut her political teeth in London.
Greenwich, to be precise.
Liz Truss's campaign video followed (13:41), then she appeared on stage, coming out like a winner and invoking the England Lionesses' ladies football win at the Euros, talking about an 'aspiration nation' and pronouncing London:
the greatest city on earth.
After Liz finished her speech, Michael Gove was next (26:08). He endorsed Rishi.
Gove also spoke about unity and had kind — penitential? — words for Boris, which met with a resounding wall of applause. He thanked Boris for 'the biggest vaccine rollout in Europe' and for being the first to support Ukraine at the end of February:
Boris, thank you for your service.
Rishi rushed on to the stage after his cringeworthy Underdog campaign video played (34:44).
The crowd went wild with cries of 'Rishi, Rishi' (36:00). His parents were in the audience and the cameras got several shots of them when their son was on stage. They sat between Rishi's wife and Michael Gove.
He said:
We value who you are not what you are.
He paid Liz credit for being:
a proud and passionate Conservative.
In his speech, he mentioned tackling the decades-old problem of grooming gangs and said he would get to grips with public safety and illegal migration.
Then it was time for Liz to answer Nick Ferrari's and the audience's questions (51:33).
Afterwards came Rishi's turn (1:25:00).
Andrew Stephenson, the co-chairman of the Conservative Party closed proceedings (1:58:26) and asked the two candidates back on stage for a final momentary appearance.
With that, the 12th and final hustings came to a close.
The Telegraph has a good recap. Emphases mine below.
Liz has had a good campaign:
… the past seven weeks have seen momentum firmly swing towards Liz Truss, and it would be a major political shock if Mr Sunak were be unveiled as the next prime minister on Monday.
Polling suggests the Foreign Secretary has a lead of around 30 points among Tory members, who have been drawn to her promises to immediately cut taxes and instigate radical economic reform.
By and large, she has also been better received at the hustings events that have taken place around the country, routinely winning applause for her positions on National Insurance, fracking and transgender issues.
Around 6,000 Conservative Party members attended the London hustings and heard Gyles Brandreth's introduction:
Gyles Brandreth, the broadcaster and former Tory MP whose arm is in a sling, has just given a speech to the Wembley Arena crowd.
"How exciting it is that two people who are intelligent, committed, capable, passionate about their country are actually ready to give service," he said.
"So whatever the result is it's going to be a great result for the United Kingdom. And whatever the result is at the end of this election, we are going to come together and support whoever the victor is to the hilt! No question of that."
He closed with a poem:
From quiet homes and first beginning
Out to the undiscovered ends,
There's nothing worth the wear of winning
But laughter and the love of friends.
Peter Booth, the chairman of the National Convention, appeared next, giving the audience guidelines on asking their questions.
The video misses out a lone protester, angry about energy charges:
A protester has just run in front of the stage – a man in a dark suit holding a sign that said dontpay.uk, writes Tony Diver, our Whitehall Correspondent, from Wembley Arena.
He was escorted out immediately by two security guards as he ran in front of cameras.
Liz put a lot of blame for London's woes on Mayor Sadiq Khan's shoulders:
Liz Truss tells the hustings it is impossible for Britain to succeed with London but it has been "let down by Sadiq Khan".
"Sadiq Khan is anti-everything – he's anti-car, he's anti-business, he's anti-opportunity and he is holding London back. And I don't believe those people who say London is a Labour city. No, it is not. London is a city where people opportunities and they want to get on in life.
"And that's what we can deliver, and we can make London Conservative again."
Sound familiar?
Nationally:
Ms Truss warns we all face dark times, vowing to reverse National Insurance and impose a moratorium on the green levy, while keeping corporation tax low.
These are her pledges:
I would be honoured to be your prime minister, first of all to deliver for the United Kingdom, to deliver an election victory for the Conservatives in 2024, and to make London a Conservative city again.
The applause for Rishi was greater than it was for Liz:
The cheers in the room are significantly louder and longer for Rishi than Liz. Audience members are on their feet and chanting his name, writes Tony Diver, our Whitehall Correspondent.
"Thank you! Thank you, Wembley!" Mr Sunak responds, after entering to The Weeknd's Blinding Lights.
He pledged an ethical approach, if elected:
He promises to lead an administration "with integrity and decency at the heart of everything we do".
Nick Ferrari tried to box Liz into a corner over domestic issues. She ably answered:
I'm the Foreign Secretary and my job is to focus on key foreign affairs issues.
She pledged that there would be no new taxes in her Government.
She also ruled out energy rationing.
She said that she would not refurbish the Downing Street flat:
Liz Truss responds that as a Yorkshirewoman, she believes in "value for money and not buying new things if you've got things that are perfectly good to use".
"I don't think I'm going to have time to think about the wallpaper or the flooring."
The papers largely picked up on her possible moratorium for 'smart motorways', those without a hard shoulder for emergencies:
Asked if she will restore hard shoulders to motorways and change speed limits from mandatory to advisory, Ms Truss replies: "I absolutely think that we need to review them and stop them if they are not working as soon as possible.
"And all the evidence I have suggests they're not working. We need to be prepared to look at that. I do believe that the smart motorways experiment hasn't worked."
Rishi defended his windfall tax, which the big companies can avoid if they prove they will invest more in the UK:
We've got it in place, but as I said in the situation that we're in it was the right thing to do, and I'm glad I did it, to be honest.
He also said that his plan to tackle inflation was the correct one:
I can guarantee that it will fall far faster with my plan than it will with anyone else's.
He, too, criticised Sadiq Khan:
Crime has become "intolerable" in London, adds Rishi Sunak, and "the first thing we need to do is hold to account Sadiq Khan for his failings".
"If you are prepared as a Mayor to do the right things… For example, stop and search. It's an effective policing tactic".
Unlike Liz, who was relieved not to have to stand up for audience questions, Rishi stood up and worked the stage.
He brought up ethics again:
In a sentence, does he think Boris Johnson was hard done by? "When it comes to those ethical issues, we can't be on the wrong side of them. We need to set a clear direction from the top, I would reappoint an ethics adviser because it sends a strong signal from the top."
The Telegraph's article ends with:
Liz Truss seems like a dead cert to become prime minister on Tuesday, and elements of Rishi Sunak's comments tonight shied away from the personal attacks that have characterised this bitter blue-on-blue campaign to lavish praise on his rival.
The cheers and chants at Wembley Arena tonight – far louder for Mr Sunak than the Foreign Secretary – told a different story from the grassroots polling, which suggests she has a lead of around 30 percentage points …
Boris Johnson's successor is likely to find themselves facing even greater challenges, and must also unite a party fractured by weeks of public division and disagreement.
Veteran political sketch writer Quentin Letts had this to say in The Times:
Surveying a throbbing crowd of 7,000 Tory activists, Sunak gasped "thank you!" nine times, the stage lights bouncing blindingly off his grinning ivories. He strode the large stage like an American presidential candidate and, for a man who must have seen predictions that he will be slaughtered when the result is announced on Monday, maintained an amazing level of pitch and thrust.
He even had an emotive card up his sleeve when he announced that his "two people who inspired me to go into public service are actually here tonight — my mum and dad". Jolly proud they looked, too. Rishi thanked his "loving, kind wife — you know what you mean to me, you chose to give up your high heels and take a chance on the short kid with a backpack". The crowd, audibly more pro-Sunak than some of the regional hustings, shouted: "Reeshi! Reeshi!"
Truss entered to strains of Taylor Swift's Change but her tactics for the evening were more cautious, playing down the clock. She was less sprightly in the opening spiels but came to life more in the questions that followed. In her opening remarks she pushed her voice hard, making it sound more strident and bunged-up. A reply to a question on Israel flew off the bat and had a Sunak supporter clapping hard. She also dealt firmly with some fluff about what sort of limousine she wanted and how she might decorate the No 10 flat. Where her campaign has succeeded with Tory activists has been in its simplicity: the basic message, whacked time and again, of lower taxes and a smaller state.
And so the campaign ends. What a festival for SW1 wonks it has been, allowing for oodles of analysis and fake crossness. The rest of the country, enjoying (lucky devils) their August, has possibly taken less notice of the contest. Sunak, smoother, more fluent, more the establishment's idea of a PM, started it as favourite. He ended last night by replaying that dreadful tough-Cockney video film about him being the underdog …
The Wembley crowd's questions were about smart motorways and advisory speed limits …, trans rights, gas prices for companies, corporate tax dodging, Ukraine, childcare costs, property prices and, commendably, the future of West End theatre.
Like Quentin Letts, I haven't gone into too many policy proposals because whoever gets in will be hit hard with reality.
There is an illusion that Party members of any stripe are being let into an honest discussion about what they want to see in a new Government. I do not believe this is what actually happens:
As evidence, let's cast our minds back to July 2019 and Boris Johnson's campaign.
He was going to ask the Queen if she wanted a new yacht to replace Britannia, which is now moored as a museum:
He also said that Sadiq Khan needed to go. Khan was re-elected in 2021. The Conservatives, for whatever reason, gave no support to their candidate Shaun Bailey. I cannot fathom why not, since Boris was Khan's predecessor. Shaun Bailey is a level-headed Conservative.
This is from the July 18, 2019 edition of The Express. Note the mention of housing and accompanying infrastructure, too. None of this happened, perhaps because of the pandemic. Even so, it shows how empty campaign promises are:
The Tory frontrunner savaged Mr Khan out of nowhere, branding him "useless" and "invertebrate" and "not a patch on the old guy." The onslaught was woven into Mr Johnson's wider solution to a question that had been posed on monocultural housing policies. A member of the audience asked the former London Mayor: "How will you ensure the Government's housing policies don't lend themselves into creating ethnic categories inadvertently?"
Without hesitation, Mr Johnson blasted: "You build fantastic housing in the right place.
"And you put in superb transport infrastructure so you can create mixed communities where there are high quality jobs.
"And if you look at the disasters of planning in the '60s and '70s where monocultural estates were built, it's because there simply wasn't the transport infrastructure.
"Look around London and look at the estates outside London – you can see exactly what went wrong."
That said, in the end, Boris did deliver on these pledges:
Other hustings
I purposely didn't cover half the hustings in separate posts, leaving off with the August 11 one in Cheltenham.
A summary of the others follows.
Perth
The next one took place in Perth, Scotland, on August 16. It was unfortunate that pro-independence supporters ruined it with verbally violent posters, throwing eggs and by spitting on older Scottish Conservative members. The SNP denied any involvement.
The Mail had a summary of what the candidates said:
Liz Truss tonight vowed to 'never, ever let our family be split up' as the Tory leadership frontrunner insisted she would not allow another Scottish independence referendum if she becomes prime minister.
Speaking at the latest Conservative hustings event in Perth, the Foreign Secretary promised to battle Nicola Sturgeon's 'agenda of separatism' as she condemned the First Minister and her SNP government for having 'let down' Scottish voters.
Ms Truss accused the SNP of ignoring issues such as schools, hospitals and public transport as they chase another Scottish independence referendum.
Her rival for the Tory leadership, Rishi Sunak, also used tonight's hustings to take a swipe at Ms Sturgeon, as he vowed to 'call out' the Scottish Government's record on drug and alcohol abuse.
He claimed it was 'completely barmy' for the SNP to be agitating for a 'divisive and unecessary constitutional referendum' amid the cost-of-living crisis. 
Ms Truss and Mr Sunak addressed Tory members inside Perth Concert Hall after reports of ugly scenes outside the hustings venue earlier in the evening.
Conservative Party co-chair Andrew Stephenson demanded Ms Sturgeon 'unequivocally condemn' the 'vile behaviour' of Scottish independence campaigners.
Belfast
The candidates converged on Belfast the next day, Wednesday, August 17:
I felt very sorry for the Northern Ireland Conservatives gathered there. The party only has 300 members, and they have no voice in Westminster.
A clear disconnect emerged between the candidates and the Party members. Everyone looked uncomfortable.
For that reason, this hustings is well worth watching.
It became apparent that neither Liz nor Rishi understands the Conservative Northern Ireland mindset. I'm no expert, but even I could have dealt with some of those issues better than they did.
The moment that sticks in my mind was when someone asked why Westminster is foisting abortion clinics on Northern Ireland. Liz matter-of-factly — and rather coldly — responded that the rest of the UK has them, so Northern Ireland has to have them, too.
Abortion is far from being the norm there, and, as Northern Ireland has a devolved government, it should have been their decision, not Parliament's.
Madeline Grant summarised the disconnect in The Telegraph:
Some English Conservatives might be surprised to learn of the existence of their fellow party members across the Irish Sea, let alone that they had a vote in the leadership contest. Yet seatless and marooned from CCHQ – and perhaps because of this – Ulster Tories are the ultimate Tories. This wasn't your average Home Counties cakewalk, there were questions on more intractable subjects than you'd get elsewhere – abortion, China, the perils of a cashless society. Some of the questioners began with a little intro about how long they'd been party members, reminiscent of Alcoholics Anonymous.
A flamboyant chap in a maroon vest had made a journey almost as ponderous as Truss's own political leap from Lib Dem republican to Tory monarchist – he'd moved to South Antrim after heading up 'Conservatives Abroad' in South Korea. Making a similarly unexplained leap, he proceeded to compare the fight against abortion in Northern Ireland to Britain's fight against the slave trade in the 19th century. Would Liz "be a modern day William Wilberforce, and end abortion and infanticide in Northern Ireland?" he asked. Truss politely declined to take up the mantle.
Unlike Madeline Grant, I did not find the Belfast hustings amusing in the slightest. It was the saddest one of the lot.
Verdict: Must do better.
Manchester
On Friday, August 19, our candidates were back on the mainland for the hustings in Manchester, which Alastair Stewart from GB News moderated (start at 6:30):
Alastair Stewart is a television veteran and knows what questions to ask:
He won high praise from Liz:
Rishi's campaign team launched his second campaign film, The Underdog, at this hustings. It was so awful, I wanted to slip through the floor in embarrassment for him.
He told his family story and said that Conservative values were 'patriotism, family, service, hard work':
He turned defensive (again) when he told Stewart that he was winning the war on inflation and being responsible with borrowing:
He told an audience member, 'We're standing up to Russian aggression':
Liz said that the police must fight crime, not patrol tweets:
She also said that left-wing politics dominates today's socio-political debates:
Rishi, too, was tired of leftist dominance — and Manchester's mayor, former Labour MP Andy Burnham. GB News reported:
Rishi Sunak has vowed to take on the "lefty woke culture that seems to want to cancel our history, our values and our women."
… Speaking to the audience, Mr Sunak pledged to "restore trust by delivering on the things that matter to people".
He continued: "That's why I've set out a plan to finally start reforming the NHS so that we can talk less about how much money we can put into it and more in the healthcare that we want to get out of it.
"It's why I want to take on this lefty woke culture that seems to want to cancel our history, our values and our women.
"And it's why we need to restore trust of communities right here by calling out the failures of the Labour mayor Andy Burnham because it simply isn't good enough.
"Just look at the record, a police force that was put into special measures, the highest rates of knife crimes almost across the UK."
He also talked about illegal migration, details of which are available on his website:
"… I've set out a radical plan to finally get to grips with illegal migration.
"Because for too long we've turned on our TV screens and seen the scenes of people coming here on boats illegally and it is wrong."
His comments come days after the number of migrants to have crossed the Channel so far this year passed 21,000.
Another GB News article about the hustings has more:
He said: "I want to move away from the European definition of what an asylum seeker is, because it is too broad and it gets exploited by lefty lawyers.
"When people shouldn't be here we must be able to send them back, it's as simple as that.
Was the next bit a dig at Liz, our Foreign Secretary and former Secretary of State for International Trade?
"We've got to toughen up our foreign policy. At the moment we have a situation, I found it bonkers, we will go to a country, we'll talk to them about a trade deal we want to do with them, but also potentially be giving them actual foreign aid.
"But at the same time we don't say to them 'hang on, you need to take back your failed asylum seekers', that's clearly wrong."
Liz also had something to say about illegal immigration:
Promoting the much maligned Rwanda policy, which saw its first planned flight grounded on the tarmac, Ms Truss vowed to expand the scheme to other countries if she was elected as Prime Minister.
She said: "What we need to find is a permanent home for those people.
"The way to solve this issue is to find a way of making sure there is a long term home for people who are involved in illegal immigration.
"The real issue is at present people are able to get on the phone to their lawyers when they get on a plane and evade being sent to Rwanda and that is the issue we have to fix, that is about the ECHR."
The candidates are not miles apart.
Liz also discussed her vision for the North:
What I want to see is a successful north of England where everyone has opportunities and we link up the great cities of the north.
From Liverpool to Manchester to Leeds and beyond and also of course Bradford.
And that's why I want to build Northern Powerhouse rail and I want those opportunities to be powered by enterprise and business unleashing investment right across the country.
I want us to make the M62 the superhighway to success.
Unfortunately for Rishi, his attempts at being a man of the people failed, as the Mail reported:
Asked at the hustings event how, as a Southampton football club fan, he could get back to 'winning ways' in the battle to become Boris Johnson's replacement, Mr Sunak attempted to make light of his woes.
But his effort at friendly banter with the Manchester audience saw him blunder in his football knowledge.
'I'm going to be unpopular for saying it here – starting by beating United this weekend!,' Mr Sunak told the event.
It was quickly noted how Southampton are not due to play Manchester United until 27th August and would, in fact, be playing Leicester City this weekend.
Mr Sunak's own goal came just two days after he was mocked for claiming to always enjoy a McDonald's breakfast wrap when out with his daughters – despite the item having not been on sale since March 2020.
Yet, the former chancellor's campaign was handed a boost tonight when Michael Gove backed him to be the next Conservative leader.
Mr Gove, the former Levelling Up secretary who was sacked by Mr Johnson last month, accused Ms Truss of taking a 'holiday from reality' with her vow to tackle the cost-of-living crisis by prioritising tax cuts.
Birmingham
On August 23, Times Radio's John Pienaar, formerly of the BBC, moderated the hustings in Birmingham, the UK's second largest city:
Chancellor Nadhim Zahawi went on stage to endorse Liz.
Liz then went on stage (5:36) and embraced him to big applause and cheers from the audience.
Andrew Mitchell followed her by announcing his support for Rishi (16:34). Rishi's newer campaign film, The Underdog, was played.
Rishi then pledged to continue levelling up the Midlands, as he has been doing (21:47).
Of his speech, Pienaar said (33:01):
That was punchy!
Someone in the audience booed when Liz took to the stage for her Q&A (33:49).
Pienaar gave her a hard time in the beginning, but she got a huge round of applause from the audience. 
Recall that The Times came out for Rishi almost immediately in July.
However, Rishi also had his beefs with Pienaar. He looked irritated (yet again) and said (1:06:00):
John, you're acting as if this is already over.
He went on to explain how well his furlough programme worked during the pandemic (1:18:00).
On the subject of Scottish independence, he said that nationalism (1:34:00):
is a romantic ideal.
Then he complained:
There's not been a single question about tax!
He then expanded on corporation tax and the largest companies. He became really agitated in an oddly friendly way.
This tells us tax is his main consideration, nothing else, no matter what he says.
The man is a technocrat.
Guido Fawkes had an excellent round up of sound bites, starting with Liz (emphases his):
If you want a flavour of the current state of Tory hustings, last night in Birmingham Liz Truss came out with the following two statements within 60 seconds of each other: "I'm not a massive fan of mice", and asked how she'd feel in the event of having to launch a nuclear weapons strike, "I think it's an important duty of the PM and I'm ready to do that." A casually blasé statement committing the UK to potential nuclear armageddon…
Also:
Suggesting she won't replace the government ethics adviser, saying: "The PM needs to take responsibility – you cannot outsource ethics to an adviser"
Suggesting she would redirect this year's £12 billion extra funding for the NHS into social care
Asked why she cut funds to the Environment agency as DEFRA secretary she said "I think there's a way with the way utilities are regulated. We were one of the first countries to regulate and privatise utilities but the world has moved on since then… some of those regulators get mission creep, they don't necessarily keep the market as properly as they should. I certainly think it's the case that water companies need to be better are stopping leaks, I think they should be better at dealing with pollution and we need to sort that out." Sounds a lot like Guido's story last Friday that she believes in a single utilities regulator…
As for Rishi:
Rishi's answers last night were less alarming albeit equally newsworthy. Primarily, he refused to commit to voting for Liz's proposed emergency budget should he lose, saying it is a hypothetical question. He reiterated his belief that her tax cut plans will result in "millions of people facing destitution." …
Rishi suggested UK aid programmes should be cut in countries that refuse to accept deportations of "failed asylum seekers" from Britain.
Rishi spoke movingly of yesterday's horrific shooting of a nine-year-old in Liverpool, saying he reacted by calling his wife, and daughter who is the same age as the victim. Rishi says the government needs to finish the Tories' 2019 policy of recruiting 20,000 policemen.
Let's go to the Rishi-supporting Times for their journalists' verdicts.
Daniel Finkelstein said:
Liz Truss is far better speaking without notes and, having delivered the same remarks over and over, she no longer needs them. Both her opening remarks and her answers to what will have been familiar questions were much better than in the early stages of the campaign. There were even flashes of the humour she shows in private …
But, however good Truss may now be, she still trails Sunak, who is just a better performer. Particularly in his answers, he was fluent, tough and compelling. His opening comments about the flaws in the Truss plan — suggesting it would leave many people destitute — were particularly arresting.
… Whoever wins, their policies have to appeal to those who are not Conservatives and need to actually work.
Winner: Rishi Sunak
Katy Balls said:
The state of the Tory leadership contest can be summed up in the video that welcomed Rishi Sunak to the stage. Last week, his team changed it from the montage played in the earlier hustings. It now has a Ray Winstone-style gangster voice boom that the former chancellor is the underdog — and the country loves an underdog. It points to Sunak's dilemma: if the polls are correct, only something drastic can change the state of play.
Although he was well received in the hall, with some of the loudest cheers, it's hard to pinpoint a "change moment" from the display. He again depicted himself as the only candidate willing to tell people hard truths about the economy. He tried again to invoke the spirit of Thatcher by pointing out that many of those who had worked with the late prime minister were backing his plan …
It helped Truss that she focused on her own plans. She came across as confident and assured. This also played well to a party growing tired of blue-on-blue. As the frontrunner, she needs only to hold the line — and she did that.
Winner: Liz Truss
Patrick Maguire said that both won but in different ways:
So how did Truss fare? As a rubber-chicken circuit speaker, just fine. They loved the answers on grammar schools, wokery and nukes. But as a prospective PM? On the biggest question — what to do about rampant inflation and crippling energy costs — Truss was revealingly unrevealing. Cagey, even. Asked how pensioners and the poor would be shielded from the coming storm, she said only that she would "look at" helping them. How to fund social care once Sunak's £13 billion national insurance hike is scrapped? "General taxation." Her cure for the mouse infestation in the Commons — "more cats" — was more detailed and offered with a good deal more enthusiasm.
Sunak attacked her economics with the kamikaze self-confidence that is likelier than not to lose him this race. It's telling. He is as sure as Ted Heath was that he will, in time, be vindicated by his rival's demise. Sunak is embracing the inevitable. Has Truss? She sounded as if she could not admit to herself — let alone the country — that compromise is coming.
Winner: on the clapometer, Truss. But Sunak won the argument.
Norwich
On Thursday, August 25, talkRADIO's Julia Hartley-Brewer moderated the TalkTV hustings in Norwich in East Anglia.
Hartley-Brewer had a great set of questions for the candidates. One wonders if some came from her and TalkTV's listeners:
While she was preparing her questions, Guido says that some Conservative MPs were annoyed with Rishi:
Allies of Liz's have slammed Rishi over his "scorched earth" policy, saying it risks destroying chances of bringing the party back together again when the contest is over. They accuse him of "behaving like a wounded stoat" and "framing us as Tory scum" over the course of the campaign. Given he said the likely next PM's plans would lead to mass homelessness, they're arguably correct…
Guido also included a photo of Rishi at his mother's former pharmacy in Southampton. Stefan Rousseau is an incomparable photographer:
His mother was a chemist you know…
I just checked Rousseau's Twitter feed, and here's the exterior of the pharmacy:
The Telegraph had a running commentary on the candidates' day and the hustings.
This was the day after Rishi's criticism of coronavirus policy appeared in The Spectator:
He had more difficulties when he went on BBC Radio 4's The World at One:
On whether he will quit if he loses the leadership vote, Mr Sunak told BBC Radio 4's World at One earlier today: "Absolutely not. Of course not.
"And I would dispute the characterisation. I'm working incredibly hard going around the country talking about my ideas for the future, and actually having a very positive reception where I'm going, and I think there's everything left to play for.
"There's still weeks to run in this campaign, and that's why I'm continuing to give it everything I've got."
Meanwhile, Liz visited a food manufacturing plant:
Liz Truss has been out and about in Norwich today, visiting Condimentum Ltd at the Food Enterprise Park in Norwich. 
Ms Truss told reporters at the factory near the Norfolk city that tax cuts and boosting energy supply were the key to addressing the cost-of-living crunch.
I think they make Colman's Mustard there.
Now on to the hustings.
The co-chairman of the Conservative Party defended the length of the leadership campaign:
Andrew Stephenson, chairman of the Conservative Party, addresses the Norwich audience. He defends the leadership contest amid criticism that it has dragged on for too long. 
Health Secretary Steve Barclay came out in support of Rishi.
Rishi said that levelling up is for all corners of the UK:
Levelling up is not just about big cities and the north – it is for everyone, including right here in east Anglia, he says and receives a round of applause.
Work and Pensions Secretary Therese Coffey declared her support for Liz:
She ends her introduction by saying: "Back Liz for leader, you can trust her to deliver."
As Liz, the MP for South West Norfolk, was on home turf, she got a standing ovation:
Huge applause and a standing ovation for Liz Truss as she takes the stage, who is the MP for South West Norfolk so this is very much home turf for her. 
"We have travelled around the entire United Kingdon but there is nothing better than being back in my adopted county of Norfolk," she says, and the audience break out into applause once again.
Rishi had to answer a question about lockdown:
Rishi Sunak defends his interview in the Spectator, saying one of the most "tragic" aspects of lockdown was the damage to children of school closures. 
He said it is always important to have an honest discussion about "trade-offs", adding: "If something sounds too good to be true it probably is".
Hartley-Brewer presented each candidate with the same series of quick-fire questions.
These were Rishi's answers:
Can you name a single public service that works well? The furlough scheme.
Macron, friend or foe? Friend
Mask mandates or no mask mandates? No mask mandates
Is a trans woman a woman? No
Who would you rather be stuck in a lift with, Keir Starmer or Nicola Sturgeon? Take the stairs
If not you, who would be a better PM, Boris Johnson or Liz Truss? Liz Truss
Hartley-Brewer had to get tough with a heckler:
Rishi Sunak is heckled by an audience member and Julia Hartley-Brewer intervenes telling him to "Sit down, Sir!"
Meanwhile another audience member asks about housing supply. Rishi Sunak says we need to overcome our aversion to "flat pack" housing.
He says he wants to help young people get on the housing ladder much faster by "turbo-charging" a scheme that allows first time buyers to purchase a home with a small deposit.
I can't believe he still peddles his daughters' concern for the environment when he's just had a full-size swimming pool installed at his home. Egregious:
Rishi Sunak tells the audience that the only thing his daughters ask him about is: "Daddy, what are you going to do for the environment?"
Then it was Liz's turn.
Hartley-Brewer asked her about lockdown:
I did question lockdown, Liz Truss says. 
"Clearly in retrospect, we did do too much. It was too draconian. I don't think we should have closed schools," she said. "A lot of children have ended up suffering."
She adds: "I can assure you that I would never impose a lockdown if I am selected as PM."
These were Liz's answers to the quick-fire questions:
Name me a single public service that works well: Our education system has got a hell of a lot better in the last ten years. 
Macron, friend or foe? The jury's out. If I become PM I will judge him on deeds not words
Mask mandates or no mask mandates? No mask mandates
Is a trans woman a woman? No
Who would you rather be stuck in a lift with, Keir Starmer or Nicola Sturgeon? I think Nicola Sturgeon. I'd hope to persuade her to stop being a separatist by the time we got to the ground floor.
If not you, who would be a better PM, Boris Johnson or Liz Truss? Boris Johnson
Hartley-Brewer asked her about unisex changing rooms at Marks & Spencer:
"M&S is a shop, they can decide their policies as they see fit," Ms Truss said. "I have been to the bra fitting service in M&S and it is behind a curtain. No one has ever tried to open the curtain while I am in there."
Liz explained why she does not want asylum seekers to work:
The Foreign Secretary says we also have huge numbers of people who are "economically inactive" and it should be our "first port of call" to get those people into work.
The reason why we don't allow asylum seekers to work is because the UK will become "even more of a magnate" for people to travel here illegally, she adds.
Good answer.
Liz reiterated her support for Net Zero.
Media outlets picked up on the candidates' responses to the 'stuck in a lift' question:

Their divergent answers on Emmanuel Macron also made the news.
Liz got both barrels, from Labour and Conservatives alike. The BBC reported:
… she was asked if Mr Macron was a "friend or foe" of the UK at a Tory leadership hustings.
She added that if elected PM she would judge him on "deeds not words".
But Labour's David Lammy accused Ms Truss of "a woeful lack of judgement", saying she had insulted one of "Britain's closest allies".
Ms Truss, widely seen as the clear front-runner to be the next Conservative leader and prime minister, made the remark at the penultimate leadership hustings in Norwich, to loud applause.
Her comment came at the end of the hustings during a series of "quickfire questions" posed by the host, TalkTV's Julia Hartley-Brewer.
When asked the same question Mr Sunak said Mr Macron was a "friend".
One Conservative minister said Ms Truss's comments had "completely undermined our relationship with France", calling her a "faux Thatcher", a reference to the infamously Eurosceptic former Tory prime minister.
In a tweet, former foreign minister Alistair Burt said Ms Truss has made a "serious error" and should have struck a more diplomatic tone.
Former Conservative minister Gavin Barwell also questioned Ms Truss's comment saying: "You would have thought the foreign secretary was aware we are in a military alliance with France."
Guido reported Macron's reaction:
Macron replies to Liz's comments on the French President at last night's husting:
"The United Kingdom is a friendly nation, regardless of its leaders, sometimes in spite of its leaders"
As for the 'better Prime Minister' question, Guido says:
When asked whether Rishi or Boris would be a better PM, Liz emphatically shot back "Boris". Not unsurprising, though rather awkward given Rishi was asked the same question of Liz and graciously chose his opponent…
Conclusion
So, here we are, at long last.
At 12:30 p.m, on Monday, September 5, Sir Graham Brady of the 1922 Committee announced that Liz Truss will be our new Prime Minister. She will meet the Queen at Balmoral on Tuesday, at which point she will form a new Government. More on that later this week.
Liz Truss is our third Party leader in six years.
Conservative MPs must stop the regicide and support her premiership.
Picking up from where I left off yesterday with Dan Wootton's GB News poll on the next Conservative Party leader, 60,000 people responded and 49 per cent said that Boris Johnson should be the next one.
On Thursday, Wootton remarked:
The Prime Minister's swashbuckling and energetic PMQs farewell today just emphasised that point further.
Boris participated in his final Prime Minister's Questions on Wednesday, July 20, 2022, just under three years since he first stood behind the despatch box as Prime Minister.
It was one of Boris's best performances and can be viewed here. Hansard's transcript is here.
Highlights follow, emphases mine.
Labour's Sir Keir Starmer had a go at the leadership contest, particularly last week's debates and the refusal of a third debate on Sky News. The debates were a bit spiky at times, but pretty tame overall.
Boris replied:
I am not following this thing particularly closely, but my impression is that there has been quite a lot of debate already, and I think the public have ample opportunity to view the talent, any one of which—as I have said before—would, like some household detergent, wipe the floor with the right hon. and learned Gentleman. Today happens to be just about the anniversary of the exit from lockdown last year, and do you remember what he said? He said—[Interruption.] No, I am going to remind him. He said it was "reckless". It was because we were able to take that decision, supported by every single one of those Conservative candidates, opposed by him, that we had the fastest economic growth in the G7 and we are now able to help families up and down the country. If we had listened to him, it would not have been possible, and I do not think they will be listening to him either.
Starmer had a go at Rishi Sunak's accusation of Liz Truss's proposed tax cuts as 'fantasy economics'.
Boris said:
Well, Labour know all about fantasy economics, because they have already committed to £94 billion of extra tax and spending, which every household in this country would have to pay for to the tune of about £2,100. It is thanks to the former Chancellor's management of the economy—thanks to this Government's management of the economy—that we had growth in May of 0.5%. We have more people in paid employment than at any time in the history of this country. I am proud to be leaving office right now with unemployment at or near a 50-year low. When they left office, it was at 8%. That is the difference between them and us.
Then Starmer quoted Liz Truss's criticism of Rishi's economic policy for its lack of growth.
Boris answered:
I think that everybody would agree that what we saw in the last two and a half years was because of the pandemic, with the biggest fall in output for 300 years, which this Government dealt with and coped with magnificently by distributing vaccines faster than any other European Government—faster than any other major economy—which would not have been possible if we had listened to the right hon. and learned Gentleman. That is why we have the fiscal firepower that is necessary to help families up and down the country, making tax cuts for virtually everybody paying national insurance contributions. There is a crucial philosophical difference between Labour and the Conservatives: under Labour, families on low incomes get most of their income from benefits; under us, they get most of it from earnings, because we believe in jobs, jobs, jobs. That is the difference.
Starmer went on to quote Penny Mordaunt on Britain's sluggish public services.
Boris said:
… This is the Government who are investing £650 billion in infrastructure, skills and technology. He talks about public services; what really matters to people in this country right now is getting their appointments and their operations, fixing the covid backlogs—that is what we are doing—and fixing the ambulances. That is what he should be talking about. That is why we voted through and passed the £39 billion health and care levy, which Labour opposed. Every time something needs to be done, Labour Members try to oppose it. He is a great pointless human bollard. That is what he is.
Starmer referred to Kemi Badenoch's criticism of Rishi's handling of covid loans.
Boris replied:
This is one of the last blasts from Captain Hindsight, at least to me. They were the party, I remember, that was so desperate for us to be hiring their friends—they wanted a football agent and a theatrical costumier to supply personal protective equipment. Do you remember, Mr Speaker? We had to get that stuff at record speed. We produced £408 billion-worth of support for families and for businesses up and down the country. The only reason we were able to do it at such speed was that we managed the economy in a sensible and moderate way. Every time Labour has left office, unemployment has been higher. The Opposition are economically illiterate, and they would wreck the economy.
You can read more on Guido Fawkes about Labour's hilarious — well, it would be were it not so tragic — attempts to get the Government to employ their friends for pandemic related equipment.
Starmer went on for another few minutes about the nation being an utter shambles at the moment.
That is true in many instances, but Boris cited the good things that the Conservatives have accomplished over the past three years:
What does it say about the right hon. and learned Gentleman that no one can name a single policy, after three years, of the Opposition apart from putting up taxes? He is one of those pointless plastic bollards you find around a deserted roadworks on a motorway. We got Brexit done; he voted against it 48 times. We got this country fast out of covid, in spite of everything, when he would have kept us in lockdown. We are fixing social care, when the Opposition have no plan and no ideas of their own. We are now bringing forward measures, in the face of strikes, to outlaw wildcat strikes.
I can tell the House why the Leader of the Opposition does that funny wooden flapping gesture—it is because he has the union barons pulling his strings from beneath. That is the truth—£100 million.
We have restored our democracy and our independence. We have got this country through covid. I am proud to say that when it comes to tackling climate change or sticking up for Ukraine, we have led the world on the international stage. I want to thank my friends and colleagues on these Benches for everything they have done.
Guido posted the video of that portion, which is Boris at his best. Viewers will also get the mood of the Chamber, which was very noisy indeed:
After Starmer had finished, it was the turn of Ian Blackford from the Scottish National Party (SNP). As ever, he criticised the Government and put in yet another plug for a second independence referendum:
Boris said:
That is not what I observe. The right hon. Gentleman talks about records; I point to the fastest vaccine roll-out in Europe, the lowest unemployment for at or near 50 years as I have said, the lowest youth unemployment, and the fastest growth in the G7 last year, in spite of everything. As for the Scottish nationalists' record, look at where they are. I am afraid to say that Scottish school standards are not what they should be, because of the failure of the SNP. It is failing people who are tragically addicted to drugs in Scotland, and the people of Scotland are facing another £900 million in tax because of the mismanagement of the SNP.
True. All of it.
Blackford ranted once more on partygate. Incidentally, he is a multi-millionaire who likes to paint himself as a humble crofter.
Boris replied:
On the personal abuse stuff, I think the right hon. Gentleman is talking a load of tosh, but when he has retired to his croft—which may be all too soon—I hope that he will reflect on his long-running campaign to break up the greatest country in the world. I hope that he will reflect on the pointlessness of what he is trying to do, and think instead about the priorities of the people of Scotland, which are all the issues that he thought were trivial: education, crime, and the burden of taxation that the SNP is unnecessarily placing on the people of Scotland.
After Blackford sat down, Sir Ed Davey, leader of the Liberal Democrats, had his say. He indirectly accused Boris of being ambitious and 'tyrannical'. He asked whether Boris would now be devoting time to completing his book on Shakespeare. He also said there should be a general election.
Boris answered:
Polonius—that's who the right hon. Gentleman is; he needs more matter with less art. The only thing we need to know is that if there were to be a general election, the Liberal Democrats would rightly get thrashed, because that would be the moment when the public looked with horror at what the Liberal Democrats' policies really are and all those rural voters would discover the massive green taxes that they would like to apply. The only risk is that there could be some kind of crackpot coalition between those guys on the Labour Benches, the Lib Dems and the Scottish nationalists to put that into effect. That is what we must prevent.
Felicity Buchan, a Conservative who represents London's Kensington constituency, expressed her concerns about rising crime under the current Mayor of London (Sadiq Khan).
Referring to himself, Boris replied:
London once had a Mayor who cut crime by 25%, cut the murder rate by 30% and built twice as many affordable homes as the current incumbent. What London needs is another Conservative Mayor.
Another Liberal Democrat, Scotland's Jamie Stone (Caithness, Sutherland and Easter Ross) wanted a freeport in his Highlands constituency.
Boris said:
I can confirm that we are committed to funding two new green freeports in Scotland to the tune of £52 million. That would not be possible, of course, if the SNP got its way and we returned to the EU.
Boris defined levelling up:
It is not just inequality; it is inequality of opportunity, and that is what levelling up addresses.
A Labour MP moaned about the railways in the north of England.
Boris replied:
Actually, this Government are responsible for three new high-speed lines, including Northern Powerhouse Rail, which no previous Government have done.
Boris gave his advice with regard to hot weather when an MP asked about disposable barbeques and Chinese sky lanterns:
The key thing is for people to behave responsibly with the use of these things. It is clearly insane to take a disposable barbecue on to dry grass.
Another SNP MP, Dr Philippa Whitford, talked about poverty in Scotland, ending with a plug for independence.
Boris said:
Actually, we increased the living wage across the whole of the UK by £1,000, we made sure that people on universal credit got their tax bills cut by £1,000, and over the last couple of weeks we have cut national insurance contributions by an average of £330. It was because of the Union that we were able to support families up and down the country, in Scotland, with the furlough and other payments, to the tune of £408 billion.
One of the nicest contributions came from Conservative MP Andrew Bowie, who represents West Aberdeenshire and Kincardine:
May I thank my right hon. Friend for his commitment to Scotland and the entire United Kingdom over his years in Downing Street? I also thank him and my right hon. Friend the Secretary of State for Scotland for improving and increasing the visibility and involvement of the UK Government in Scotland over the past three years. Does my right hon. Friend the Prime Minister agree that whoever takes his job, and whatever comes next, the United Kingdom will always be stronger together than it ever would be apart?
Boris replied:
That was brilliantly put; I could not have put it better myself.
Then a young Labour MP asked about the slow compensation for Windrush victims.
Boris said:
Actually, I think more people have got compensation. I renew my apologies to the Windrush generation for what they have suffered, but we have greatly increased the compensation available. We have paid out, I think, more than £51 million. We are working with voluntary groups to ensure that people get what they are entitled to. I may say that Labour has never apologised for its own part in the Windrush scandal.
An MP from Northern Ireland accused the Government of ruining relationships between Ulster and the Republic.
Boris replied:
I completely disagree with that. The whole objective of the Northern Ireland (Protocol) Bill that we have passed is to support the balance and symmetry of the Belfast/Good Friday arrangements. I was very pleased that the Bill advanced to the House of Lords with no amendments.
GB News has more on the legislation:
A Conservative MP, Crispin Blunt, is not my favourite. However, here is where I agree with him. He paid a splendid tribute to Boris:
In recalling the situation that the Prime Minister inherited in July 2019, of a Parliament with a majority determined to frustrate the result of the 2016 referendum, led by a Speaker who was just slightly partial—the seemingly impossible situation he found—does my right hon. Friend understand that he has the gratitude of my constituents, who can identify the wood from the trees, and of myself, for his leadership over the last three years?
Boris replied:
I am very grateful to my hon. Friend. There is a fair amount of wood on the Opposition Benches and I think that is why we will prevail at the next general election.
Another SNP MP banged on about a second independence referendum.
Boris said:
This is the country that secured furlough and that delivered the vaccine across the whole of the UK, while the SNP gets on with overtaxing to the tune of £900 million—that is how much they are overtaxing in Scotland. And we had a referendum in 2014.
Another SNP MP complained spitefully about Boris being a nobody and about the honours list he might draw up before he leaves office.
Boris answered:
I am sure that everybody who has served this Government loyally and well deserves recognition of some kind, but as for the honours list, I am afraid the hon. Gentleman will have to contain his excitement.
Conservative MP Sir Edward Leigh was the last to speak. He, too, paid Boris tribute for the past three years:
On behalf of the House, may I thank the Prime Minister—[Interruption.] On behalf of the House, may I thank the Prime Minister for his three-year record of service? On behalf of some of the most vulnerable people in the country, can I thank him for his insistence on rolling out the AstraZeneca jab, which has saved thousands of lives around the world? On behalf of the 17.4 million people who voted Brexit, may I thank him for restoring people's faith in democracy? On behalf of northern towns, may I thank him for his commitment to levelling up? And most of all, on behalf of the people of Ukraine, may I thank him for holding high the torch of freedom and ensuring that that country is not a vassal state? For true grit and determination, keep going and thank you.
Boris replied, giving his closing remarks and advice for the future PM:
I thank my right hon. Friend, and I want to use the last few seconds to give some words of advice to my successor, whoever he or she may be.
No. 1: stay close to the Americans; stick up for the Ukrainians; stick up for freedom and democracy everywhere. Cut taxes and deregulate wherever you can to make this the greatest place to live and invest, which it is. I love the Treasury, but remember that if we had always listened to the Treasury, we would not have built the M25 or the Channel Tunnel. Focus on the road ahead, but always remember to check the rear-view mirror. And remember, above all, it is not Twitter that counts; it is the people that sent us here.
And yes, the last few years have been the greatest privilege of my life. It is true that I helped to get the biggest Tory majority for 40 years and a huge realignment in UK politics. We have transformed our democracy and restored our national independence, as my right hon. Friend says. We have helped—I have helped—to get this country through a pandemic and helped save another country from barbarism. Frankly, that is enough to be going on with. Mission largely accomplished—for now.
I want to thank you, Mr Speaker. I want to thank all the wonderful staff of the House of Commons. I want to thank all my friends and colleagues. I want to thank my right hon. Friend the Member for Ross, Skye and Lochaber (Ian Blackford). I want to thank everybody here. And hasta la vista, baby. [Applause.]
Here's the 'Hasta la vista, ba-by' video — a must-see:
The Conservatives gave him a standing ovation, with everyone applauding him, except for Theresa May, who merely stood.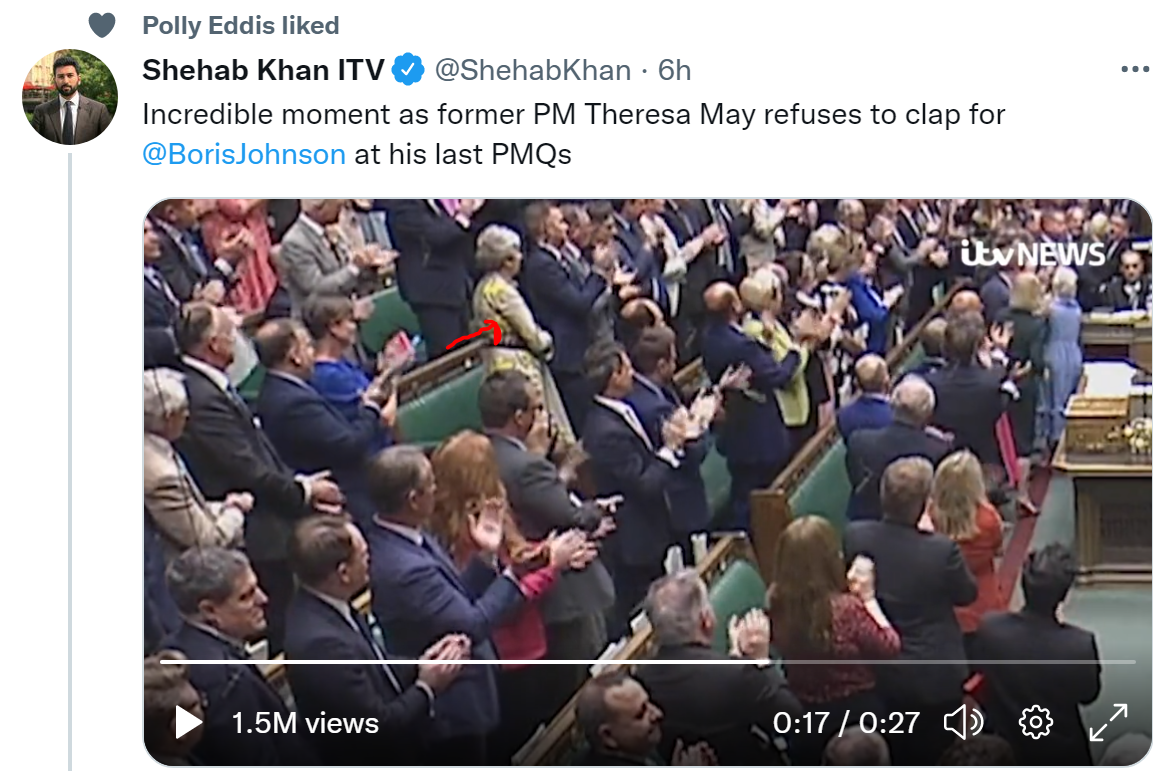 The Opposition either sat in silence or walked out.
One of Guido's readers wrote:
Lack of class from opposition MPs who can't possibly give a polite round of applause for a political opponent.
I agree. On the other hand, they hate Boris because he represents Brexit.
In Guido's comments on the same post, someone said that Boris was Britain's 'worst ever PM', which garnered this response, rightly pointing out the greater moral failings of Tony Blair, John Major and Theresa May as well as today's world leaders:
What, even worse than a Prime Minister who took the UK into an illegal war which resulted in the deaths of millions as well as thousands of UK soldiers and for which the UK is still feeling reverberations in the form of terrorist attacks? What a worse PM than a Prime Minister who signed the UK up to the Maastricht Treaty without putting it to the British people in the form of a referendum? What worse than a Prime Minister who put forward the idea of making the elderly sell their homes to pay for Health Care …
But instead listened to the people and secured an 80 seat majority to leave the EU (admittedly still leaving a lot to do). Invested in Vaccine development and procurement to ensure the UK had enough supplies for every citizen, and that the UK was at the front of the queue, and didnt go overboard on Covid restrictions, not when you look at what other countries got up to, namely Canada, China and France with Macron's "I want to punish those that won't get vaccinated" this after he was responsible for sowing Vaccine doubt simply because the Vaccine was developed in the UK – but then Johnson commited a crime so heinous – he had a piece of Birthday cake brought to him buy his wife – and that's 'your' worst Prime Minister, lol …
Journalist and former Conservative adviser Amanda Platell said she wept after PMQs:
Boris will be missed for his powerful performances at the despatch box …
… and Labour know it. One of their former advisers admits that's why Boris had to go:
Keir Starmer was often petty and unpleasant towards Boris:
That is because he knows Boris can win elections. In fact, earlier this week, Starmer was so frustrated with the Prime Minister that he insulted him on a podcast.
Starmer's deputy leader Angela Rayner said on Monday, July 18, that she would be happy with either Truss or Sunak as his successor. At the time she gave this interview, five candidates were still in the race:
I'm quite happy with any one of them. Because the one thing, and I kind of could see it… [Boris] had this, like, teflon coating… It's like a little magic. Where he was able to get through to the public and get through to the places that I actually don't see any of the five candidates that are standing having at the moment… Boris had so much going for him. He got an 80-seat majority and the country was really behind him… the five that we've got now I don't think have got that…
Here's the video:
Boris's former adviser Dominic Cummings thinks that Boris, like Arnie, will be back, if the next Conservative leader is too lacklustre:
As I wrote yesterday, thousands of voters do not want until then. Dan Wootton's viewers think that Boris's name should be on the ballot going out to Conservative Party members early in August:
Wootton's poll follows on from the ongoing petition by Party members to have Boris's name on the ballot:
The petition is being spearheaded by Lord Cruddas of Shoreditch, the Tory donor, and David Campbell Bannerman, a former Conservative Euro MP:
The Mail also has a report on the petition.
GB News interviewed David Campbell Bannerman on Thursday, July 21:
However, Labour are planning a rearguard action to prevent Boris from ever being Party leader again.
They hope to depose him as MP for Uxbridge and South Ruislip in west London:
On Thursday, July 21, GB News reported:
Boris Johnson could be forced to face a by-election if he is found to have lied to Parliament and is handed a suspension for 10 or more sitting days.
The Privileges Committee is examining whether the Prime Minister committed a contempt of Parliament by misleading MPs over the Partygate scandal.
Commons Speaker Sir Lindsay Hoyle [Labour] confirmed that the committee's findings would fall within the remit of the Recall of MPs Act, following advice from a leading lawyer.
That would mean that a suspension of 10 or more sitting days, or 14 calendar days, would trigger a recall petition.
If at least 10 percent of voters in Mr Johnson's Uxbridge and South Ruislip seat demand a by-election he would lose his place as an MP, but would be eligible to stand again in the contest.
The cross-party committee also published advice from the Clerk of the Journals, Eve Samson, the Commons' expert on parliamentary privilege, which suggested that whether or not Mr Johnson intended to mislead MPs was not a factor that needed to be considered.
But she said that intent could be seen as an "aggravating factor" when considering penalties …
The MPs intend to call Mr Johnson to give oral evidence in public in the autumn, under oath.
The committee has already said that whistleblowers will be able to give evidence about the Prime Minister anonymously.
Mr Johnson has also been ordered to hand over a cache of documents to the MPs investigating whether he lied to Parliament with his partygate denials.
The committee wrote to the Prime Minister and Cabinet Secretary Simon Case demanding details relevant to its inquiry.
On Friday, July 22, Guido posted on the upcoming inquiry, saying (emphases in red his):
While the committee will now disregard the PM's intent, the Clerk's report does say that can feed into deciding a sanction. This is all, in the understated words of The Telegraph, "a departure from precedent"…
It seems the Speaker's also got in on the act of changing rules. The Privileges Committee's announcement yesterday said Hoyle has ruled that "any suspension of the requisite length (10 sitting days or 14 calendar days) ) following on from a report from that Committee will attract the provisions of the Recall of MPs Act". Previously only recommendations of suspension from the Standards Committee would apply the recall act. Now the PM faces a by-election being forced by [Labour MP Harriet] Harman. Tory MPs are now having to fight back on his behalf, launching a petition to scrap the investigation altogether in light of his resignation…
For now, let's remember the happier times of earlier this week.
Boris held his final Cabinet meeting on Tuesday, July 19:
Despite the heat, Guido reports that there were no refreshments or food:
… there were a few presents, and a round of applause for the PM. Nigel Adams also gave a speech commending Boris's time in office, followed by a school photo.
Boris was gi[ven] a six-set first edition of Churchill's war books; surprisingly not something the ex-PM's biographer didn't already own. Guido also learns Boris was given wines that reflected significant dates in his life and political career: 1964, 2008, 2012 and 2019. He also got wine from other countries that mean a lot to him, including Ukraine and Greece …
Here's the Cabinet photo:

I hope all goes well for the Prime Minister in the weeks to come.
No doubt if Labour try to get at him, he'll find a way out.
All being well, I'll have a post next week on what really happened leading to his ouster.
To my amazement, last week, I agreed with a Labour MP.
So did Andrew Billen, a serious veteran investigative journalist.
On Tuesday, June 28, 2022, in response to a plea from Lisa Nandy MP to keep local nightclubs open, he wrote in The Times:
I find myself in agreement with Lisa Nandy when she says that nightclubs play an important role in the identity of a city.
During his youth, however, he didn't care much for nightclubs:
To be honest, if I ended up in any one of them my evening had gone terribly wrong. Having a part missing from my soul, I could not see the point of places where the booze was too nasty and too pricey to drink, the music too loud to talk over, and as soon as you got anywhere with a girl, then a steel worker would ask them to dance. It would have helped, I supposed, if I had liked the music, but I don't think I did, although with BBC Four and a glass of wine on Friday nights it now carries a ghostly appeal.
I agreed with the friend of a friend who one night surveyed what he could through the cigarette fog and declared that he would "rather be in a wood".
Billen came of age in Sheffield. Below he answers a question which I have long pondered (emphases mine below):
Ah, it takes only a quick trawl through the website of my old paper The Star and the groovier looking Yorkshire Live, and the memories of 1980s Sheffield nightclubs come trickling back …
As a soft southerner I could not at first understand why on a freezing night South Yorkshire lads and lasses never wore a coat. It had to be carefully explained to me that if you left your anorak in the cloakroom by the time you had queued and collected it the bird or bloke you had been chatting up would have copped off with an opportunist predator whose outer layer was a T-shirt.
A "role in the identity" of Sheffield? On a February night, Sheffield nightclubs were definitional.
The Times article has more reminiscences from other journalists about their clubbing days.
In the late 1970s, I went to discos, one locally and others with university friends when we were on holiday together. This was in the US and once in Acapulco. The clubs were pretty tame, and, not surprisingly, the local one was great for meeting up with other classmates one saw less frequently.
They were great fun. I never had a bad time. If I did, it's no longer in my memory bank.
Why are nightclubs important right now? In our post-pandemic era, it is said that young people have increasing mental health problems.
The same day that The Times article appeared, so did one in The Telegraph about mental health and combatting arthritis: 'In self-pitying Britain, the greatest heresy is to say: Cheer up!'
Judith Woods writes:
We live in a changed world, however, where it is now considered emotionally coercive to tell anyone to lighten up, buck up or call time on the self-indulgent pity party. Instead of raising each other up with sarky humour (as is the British way), we are expected to defeat our demons solo. A striking feature of our age is the monetisation of low mood. Business is brisk for mindfulness courses, gratitude journals and wellness retreats. You can buy "You Got This" slogan t-shirts and even "optimistic" scented candles, if you think burning money would make you feel less glum.
Social media, which is built on narcissism, positively promotes the right to feel bleak, regardless of how self-defeating pessimism can be. The current mantra beloved of influencers and Love Islanders alike is "you do you". Online, such language has the superficial ring of affirmation, but in truth it is an isolationist abdication of responsibility towards those in urgent need of a pep talk.
What really does help Eeyores isn't the kindness of strangers in cyberspace but an injection of Tiggerishness from friends in real life. People need people, not pamphlets …
On July 3, Zoe Strimpel wrote a piece for The Telegraph on young people's mental health issues: 'Youth is no longer the best time of life'.
It appears that university students can no longer cope with the ups and downs of everyday life:
Young people are encouraged to view every aspect of their lives through the prism of mental health. A survey of students by the charity Humen, found that half felt that "mental health difficulties" had harmed their university experience; 57 per cent of students had sought out university mental health services.
This is astonishing. When I was a student in the early 2000s, I don't recall anyone seeking help from the university, though presumably some did and good on them. We had ups and downs, sure, but the thought wouldn't have occurred to us, partly because we assumed ups and downs were part of the package. Most of us, despite some challenges – I was sleepless, miserable and anxious during finals, which I therefore nearly fluffed – muddled through and had a great time.
It's not that I think students are making up their anxieties; they've also had to cope with the pandemic. But I can't help but feel that the world is conspiring to make, and then keep, them low. Rather than urging them to test their powers – we are often more resilient than we think – their environment tells them to monitor any mental ill-health zealously, promising that it is waiting, poised, to help …
But perhaps the answer does not lie in ever-more "awareness". Perhaps it lies in encouragement, positivity and expressing confidence in young people's estimable – but currently downtrodden – powers.
I couldn't agree more.
Although young people who are truly suffering mental health problems would be the last to want to — or should — go to a nightclub, perhaps it's an idea for those who are just feeling a bit down, the sort of whom one would enquire, 'Why so glum, chum?'
Returning to The Times article, clubbing teaches us valuable life skills — and challenging rituals — as Sean O'Neill, who grew up in Northern Ireland, recalls:
… in provincial Mid Ulster at the beginning of the 1980s, entertainment options for 17-year-olds were in short supply. So every weekend we trekked 11 miles to Clubland in Cookstown. There really was nowhere else to go.
There was a ritual. We cadged a lift and headed first to the Black Horse pub for a couple of underage pints of lager and lime before joining the queue in the rain (in my mind it was always raining) for the club.
A cursory frisk from the doorman and in we went, straight to the bar where we necked rum and black or Bacardi and Coke to pluck up courage for the next phase. As boys, that involved circling the dancefloor — quite literally lap after lap — while the girls danced to the hits of the day, from Shakin' Stevens, Ottawan, Imagination and, worst of all in my book, Duran Duran.
I was an NME reader. I might be tempted on to the floor by the Human League or Soft Cell, but generally I regarded myself as above this barbarian mating ritual …
Much of the great Saturday night out was spent securing a lift home. In between trying to speak to girls and inquire if they wanted a) a dance and b) a Pernod (which according to local legend had aphrodisiac qualities), you had to spot people who had a car and were sober enough to drive it.
If we failed to find a driver, closing time had us thumbing. With the Troubles still raging, that required some preplanning. As Catholics we had to have a cover story in case the lift was offered by "the other side". In an instant you might have to switch from being Sean O'Neill to Ashley Robinson.
Wherever you got your lift there was one more problem: the police checkpoints. It wasn't a question of police brutality but the perils of smartarsery when stopped.
"Can I have your name please?" a policewoman asked one night of a stotious friend in the back seat.
"Why, have you not got one of your own?" came the retort.
"Right, lads, everybody out of the vehicle."
From that account, we can see that clubbing involves learning about life and other people. It takes one's mind off oneself, even if only for an evening once a week.
If I had children, I would have definitely encouraged them to go clubbing. I'd probably even have given them spending money to do so. Mating rituals — including the highs and lows of acceptance and rejection — are important.
On June 29, The Telegraph's Ed Cumming filed a report, 'In praise of the sticky, sweaty local nightclub'.
Unfortunately, many nightclubs have closed, especially during the pandemic:
How to revive Britain's struggling towns? Investment in property or infrastructure? Some urban beautification, perhaps? No. The answer has been under our feet all along, covered in sticky carpet. That is what Lisa Nandy thinks, anyway. Yesterday, the shadow secretary of state for levelling up suggested that the key to unlocking the country's economic potential could be reopening its nightclubs.
"Every town has lost a nightclub that they feel strongly about, that was part of our history and our heritage," Nandy, 42, told Times Radio. These are the engines of culture, she said. Without the music clubs in Wigan, where she is MP, bands like the Verve might never have got started.
… the Bad Provincial Nightclub is a cornerstone of British identity. And according to the ONS, more than 30 per cent of Britain's registered clubs have shut since 2010, from 10,000 down to fewer than 7,000.
This is a precipitous rate of decline. Rising prices and stricter licensing laws have made it harder for clubs to operate. They have become housing, shops or offices, or other businesses that reflect a more expensive and less hedonistic era. In some cases, they have been demolished brick by brick, and exist only as a ghostly Google listing and in the collective memory of people who went there.
These clubs form a vital societal function. Stop anyone in the street in Britain and they will have a memory of a now-defunct venue from their childhood …
While the names varied, these places had much in common. They were fundamentally naff, usually pretentious, where the aspiration to provide a chic night out was at odds with reality …
It is curious that some of the most memorable experiences of our adolescence take place in such unpromising surroundings. In the gathering dusk of your life, you may be borne back to a long-defunct pit called something like Freddy's or Brooklyn, where you drank three-for-a fiver alcopops and enjoyed an amorous fumble.
Cumming says that young people learn a lot from clubbing:
These clubs were training grounds for other vital adult skills: how to lie about your age, how to manage limited resources for drinks, food and transport, how to deal with people who looked a bit fighty. How to dress, or not, depending on your desired effect. They were masterclasses in rejection …
Letting in a few underage punters has always been core to the provincial nightclub's appeal. Unlike the flailing on the dancefloor, getting in was a delicate tango. The venues needed the business; you needed the access. Longing, preparation and disappointment, punctuated by a few moments of euphoria and terror: life in miniature.
True — all of it. On the other hand, there were also lots of laughs, another element of 'life in miniature'.
It is sad that we are encouraging our young people to turn in on themselves and avoid the unknown:
One of the theories behind their demise is that supermarkets offer even cheaper deals on booze. But there's no jeopardy in getting wrecked at home. A night out at one of these clubs was a play in miniature. There was hubris and catharsis …
Too right.
Feeling glum, chum?
Get out and enjoy a nightclub. That's my advice to the young.
Last week, I posted the first part of my defence of a constitutional monarchy.
Today's post concludes that defence of the UK's system of government, the Queen being our Head of State.
Longest reigning monarch?
Since I wrote the first part of this series, the Queen became one of the world's longest-serving monarchs.
On June 12, 2022, the Mail on Sunday reported (emphases mine):
The Queen has reached an incredible new milestone after becoming the world's second longest reigning monarch.
Her Majesty, 96, will overtake Thailand's King Bhumibol Adulyadej, who reigned for 70 years and 126 days between 1946 and 2016, from today.
Earlier this month, the Queen surpassed Johan II of Liechtenstein, who reigned for 70 years and 91 days, until his death in February 1929. 
Louis XIV of France remains the longest-reigning monarch, with a 72-year and 110-day reign from 1643 until 1715, while the Queen's stint on the throne now stands at 70 years and 126 days, equal to King Bhumibol Adulyadej's.
The milestone comes as Her Majesty celebrated her Platinum Jubilee last week, with four days of parades, street parties, and other events, after officially reaching the milestone on February 6 this year.
But — and it's a BIG BUT — two days later, on June 14, the Daily Mail posted an article proclaiming, 'Queen is the world's longest actively reigning monarch, royal expert claims':
Although it's widely reported she holds little interest in breaking records, her astonishing reign would only be beaten in length by King Louis XIV of France.
Known as Louis the Great, the French ruler became king at the tender age of four following the death of his father Louis XIII, and he ruled from 14 May 1643 to 1 September 1715.
According to the record books, only Louis XIV, or 'The Sun King', ruled for longer than the Queen.
But royal biographer Hugo Vickers says Her Majesty may be able to lay claim to being the world's longest actively serving monarch by virtue of the fact the French monarch did not fully ascend the throne when he was aged four.
Although he was crowned King Louis XIV from May 1643, he technically served under his mother Queen Anne's regency for eight years, owing to his tender age. 
In a letter sent to the Times, Mr Vickers writes: 'In Louis XIV's reign, there was a regency between May 14, 1643, and September 7, 1651, until he reached the age of 13.
'Hence, while he may have been king the longest, our Queen is unquestionably the longest actively reigning monarch in the world.'
Sour republicanism
Republicans, i.e. anti-monarchists, are a dour lot.
Cromwell had Charles I beheaded and banned Christmas celebrations, so it was a relief when, after England's Civil War, Charles II ascended the throne in 1660. That period in British history is called the Restoration.
The anniversary of the Restoration is on May 29:
Maypoles, music and gaiety were also banned. The Calvinistic Puritans were the Taliban of their time.
Like the Taliban, they ruled for the people's 'own good':
The article that barrister Francis Hoar cites says, in part:
The seventeenth century Puritans did not impose their austere rules purely for the sake of it … Their banning of Maypoles and Christmas and football was ultimately about top-down, rationalistic social control to the end of spiritual and ethical purity, an attempt to eliminate anything untidy, spontaneous, and in particular to impose their own (extremely unpopular) ideas within the cultural and social vacuum thereby created.
Moving to the present day, in 1977, pundits predicted that few in Britain cared about the Queen's Silver Jubilee, especially with the Sex Pistols' caustic God Save the Queen being banned from the airwaves but purchased in record stores such that the single sold out.
Columnist Rod Liddle remembered the mood well. That year, he, too, was caught up in punk and republicanism. On June 5, 2022, he wrote an article for The Sunday Times: 'As a teenage punk, I sneered at the Queen. Sadly, the music is almost over':
I enjoyed the Queen's Silver Jubilee immensely, shouting out horrible things about our monarch on stage with my punk band at a "Stuff the Jubilee" gig in a pleasant suburb of Middlesbrough. We were in a tent, erected with great magnanimity by the organisers slap bang in the middle of the proper, official Silver Jubilee celebration, with its stalls of cakes and beer wagons and plates bearing pictures of her Maj.
It may have been HM's Silver Jubilee, but 1977 was also the year of punk, even if its impact on the charts was marginal. It is often suggested that punk was a left-wing phenomenon, but in truth it was far from it — even if one or two of the bands, such as the Clash, later proclaimed their left-wing credentials for the benefit of the very liberal hippy music press. In truth, punk at its core was energetically poujadist. It was lower-middle-class kids who were tired of, or bored with, the sclerotic institutions in our country — the big record companies, the civil service, the BBC, the aristocracy and so on.
It was individualistic, not communitarian. It had no great quarrel with capitalism, only with capitalism done badly. It saw Great Britain as stagnating and it wanted change. It had no time for the unions either — it was the unions that boycotted the pressing of the Sex Pistols' second single, God Save the Queen.
The Queen represented continuity, much as did Jim Callaghan's hobbled government. We didn't want that and nor did the newish leader of the opposition [Margaret Thatcher], who was also lower middle class, despised outdated institutions such as the trade unions and the BBC, and was for individualism …
As for 2022, with age, Liddle has had a change of heart:
This weekend's celebrations are very different. Never before have we craved continuity quite as much as we do now, faced with an array of existential threats from which you can take your pick as to which is the most pressing: newly belligerent Russia, China's quest for world domination, radical Islam, climate change, weird viruses …
Under a lesser monarch our disaffection with the royal institution — and, as a corollary, with our own history as a nation — might have spilt over long before. But she ruled with a dignity, duty and dexterity that precluded such an eventuality.
I wish I'd remembered, while standing on stage in that tent 45 years ago, the words of an old hippy: "Don't it always seem to go that you don't know what you've got 'til it's gone."
Returning to 1977, in a retrospective for the Queen's Platinum Jubilee, The Telegraph pointed out that people turned out in the millions to celebrate her Silver Jubilee, proving that republicanism was as unpopular then as it is now:
Elizabeth II has demonstrated that, in fact, the monarchs do possess a power: an unactivated power, one that a partisan, career-politician president would hastily trigger – and divide us – but which the Queen handles judiciously. She uses the authority of her office to carry out and promote public duty. And, refreshingly, she simply gets on with things – no grumbling, no complaint.
When the country celebrated her Silver Jubilee, in 1977, the cynics predicted a washout: what was the relevance of royalty in an age of strikes and national decline, they asked? In the end, one republican rally, on Blackheath, attracted just five people and was cancelled. Millions turned out to celebrate the Queen, with such passion that it surprised even her: I had "no idea", she told a lady in waiting, that the people valued her so much.
On May 30, 2022, the left-wing New Statesman tried to rally its readers around republicanism, but the magazine's Twitter thread was unimpressive:
The magazine suggests eco-warrior David Attenborough as someone around whom we could all rally — heaven forfend! Ugh!
There can never be a charismatic republican leader, because that is an oxymoron.
And, no, we can't have Boris, either. Although he's probably not much of a republican, when he was a boy, he announced to his family:
he would be "world king" one day. 
On Friday, June 3, some broadcasters picked up booing outside of St Paul's Cathedral as he and his wife arrived for the Queen's Service of Thanksgiving:
Boris was booed only on one side of the cathedral's exterior. This is why the BBC did not pick up the sound on the day, whereas some other networks did. It depended on where their film and sound crews were located:
The culprit was a Frenchman:
I do hope that M. Jacquemin did not have the bad grace to take advantage of Boris's Special Status scheme, granting — to as many EU citizens as cared to apply — official leave to remain in the United Kingdom post-Brexit.
Finally, let none of us think that doing away with the British monarchy will resolve child poverty — or even pay for the NHS:
All we would get would be President Blair — UGH:
How awful that would be.
Ireland loves our Queen
Given Britain's fractious relationship over the centuries which caused the Emerald Isle to achieve independence in 1921, one would expect that the Irish would want no further reminders of the monarch.
In another retrospective for the Platinum Jubilee, The Times published a series of historic milestones about the Queen.
Regarding an independent Ireland, the article says:
Northern Ireland has been a key feature of her reign, during which the Troubles have erupted, calmed and simmered. This conflict hit close to home in 1979 with the IRA's murder of her cousin, Earl Mountbatten of Burma. Time heals many wounds but forgiveness is a choice. So it was, in 2012, she shook the hand of Martin McGuinness, the former IRA man who was then deputy first minister in the province. Queen or not, it was an act of which many would not have been capable.
It came as a direct consequence of her successful state visit to Ireland the year before, the first by a reigning British monarch since independence. The events were examples of where she has perhaps done her greatest work: as a stateswoman.
The Irish were indeed delighted to have the Queen visit in 2011. A 2010 article from the Irish Independent reported that many towns and villages requested that she pay them a visit:
THE British Ambassador to Ireland has revealed he has received dozens of letters from towns and villages across the country inviting Queen Elizabeth to various events.
As speculation grows over a visit by the British monarch, the ambassador Julian King said his government was committed to a visit.
He said he was encouraged by the response among Irish people. Mr King was speaking to reporters in Muckross House during a visit to Killarney, Co Kerry, after accepting an invitation from the chairman of the board of trustees, Marcus Treacy.
Her popularity in Ireland continues. On her Platinum Jubilee weekend, an Irish poll showed that the Queen was more popular than past or present Irish presidents. The Queen scored a 50% approval rating compared to everyone else who scored 40+ per cent or lower.
Unfortunately, this clip from Mark Steyn's GB News show doesn't show the poll graphic, but the aforementioned Royal expert Hugo Vickers explained the Queen's enduring popularity and the hope he has for her successor:
The enduring Commonwealth
The Queen is credited for creating the Commonwealth of Nations affiliated with Britain and/or the Crown.
Any of these nations can pull out of the Commonwealth voluntarily. Neither the Queen nor the British Government can forbid them from doing so.
Australia is once again considering renouncing the Queen as their Head of State. However, we must remember that they have important ties with China that might be persuading them in that direction. The same is happening in the West Indies. Money talks.
Similarly, a nation that has not been part of the British Empire may apply successfully to become a member of the Commonwealth. Rwanda is one such country. It was originally a Belgian trust territory that had been a German colony until the First World War.
A nation can also leave the Commonwealth and rejoin at a later date. The Gambia left in 2013 and rejoined in 2018.
In November 2021, Barbados removed the Queen as its head of state but remains a Commonwealth member.
A Forbes article from December 2021 explains the permutations of this group of nations:
… Queen Elizabeth II currently serves as the Head of State of Antigua and Barbuda, Australia, Bahamas, Belize, Canada, Grenada, Jamaica, New Zealand, Papua New Guinea, Saint Kitts and Nevis, Saint Lucia, Saint Vincent and the Grenadines, Solomon Islands and Tuvalu.
These Queen-led nations are known as "Commonwealth Realms," which are distinct from the broader 54-nation Commonwealth of nations that have some connection to Great Britain, but do not necessarily have the Queen as Head of State.
The Queen's role as Head of State is largely ceremonial, and she is represented in each country by a governor-general who carries out the Queen's day-to-day duties.
In addition to Barbados:
The last country to remove the Queen as Head of State was Mauritius in 1992, and other Caribbean countries that have removed the Queen are Guyana, Trinidad and Tobago and Dominica, which all removed the Queen in the 1970s.
Participation in the Commonwealth is voluntary, and in response to Barbados's decision to remove the Queen, Buckingham Palace said in a statement: "This is a matter for the government and people of Barbados."
Monarchy — an eminently sensible way forward
The Revd Marcus Walker, whose thoughts have graced my 'What's on Anglican priests' minds' series, wrote a thoughtful piece for The Critic this month.
In it, he points to the great strengths of the British monarchy:
He begins by giving us the sour republican narrative:
The State Opening of Parliament last month saw three narratives promulgated at the same time by very different people, all of which (deliberately or not) betray a fundamental lack of understanding of monarchy.
The first, by the Left, saw an attempt to heap ridicule on the rituals of the ceremony: of the procession of the Imperial State Crown, of the uniforms worn by those involved.
The second, by a more centrist kind of commentator, asked whether it was fair or just to have as our Head of State a woman of 96 who is no longer able physically to take part in major ceremonies.
The third, by the pro-Putin end of the Right, saw continued attacks on Prince Charles, whom they seem to have anathematised because he likes the environment. The political categorisation is a tad crude, and I'm sure you've seen overt and covert republicans using all of these lines over the last few years.
He explains why those narratives are so misguided:
What's interesting about these attacks is that they unintentionally highlight the strength of monarchy, not its weakness. The ritual is not meaningless; it unveils layers of history. The Commons slamming the door in the face of Black Rod tells of the struggles between Parliament and the King which have been settled in our constitutional framework of the Crown in Parliament.
The Crown has the history of the nation woven into it, bearing within its frame St Edward the Confessor's sapphire, the Black Prince's ruby, the Stuart sapphire, and the Cullinan diamond.
Each tells a little bit of the past that brought us to today. In the chamber we have elected parliamentarians, peers, senior judges, bishops: an interweaving of the different perspectives and professions which collectively set the political culture. This will change over the years as the nation changes, and this too will be good.
Ritual is not empty; it tells a story, and all nations have their rituals and their stories. If you are embarrassed by monarchical ritual, I caution you not to cross the Channel and find yourself in Paris for Bastille Day or Moscow for Victory Day. Losing your monarch does not remove your need for ritual and story. What you lose, though, is an embodiment of that story.
He asks us to consider the life cycle that the monarchy represents. A life cycle is something all of us can understand and appreciate:
The human realities of life, death, love, marriage, childbirth (and betrayal, hurt, and divorce) are at the core of the strength of monarchy. They are experiences we all share.
Monarchy, no matter how set-up in trappings of ritual, is a profoundly human institution. Its rhythms are human, as are its failings …
So why not be rid of the Crown and its rituals? Because they hold the space at the centre of our national life, preventing it from being held by a politician. No Trumps for us, no preening Macrons, no sour-faced Putins, no German Steinmeier with his terrible legacy of appeasing Russia. The centre holds, while the political world swirls around it.
Over this month we will be celebrating the Queen's personal achievements across her 70-year reign, but we will also be celebrating the institution which she has embodied these many years, and doing so by marking in great state that most natural and human of all things: the passing of time.
I will have more on how society has changed over the past 70 years next week and how the Queen has adapted to those changes during her marvellous reign.