You are currently browsing the tag archive for the 'party' tag.
Following on from my news items of November 21, I have more, this time on Thanksgiving, crossword puzzles, technology and health.
Thanksgiving everywhere!
It is hard to disagree with Jordan Cracknell, the American wife of Olympic rower James Cracknell.
On November 22, 2022, she wrote an article for Metro: 'Thanksgiving is a holiday that all Brits need in their lives'.
I couldn't agree more, and I wouldn't restrict it to the UK, either.
The problem is turkey, which the British associate with Christmas dinner. The other problem is the lack of sausage links — chipolatas — which the British associate with turkey and are absent from Thanksgiving dinner.
Not surprisingly, when Mrs Cracknell took her husband to his first Thanksgiving dinner in 2019 at a friend's house:
he grumbled about 'the bastardisation of British dishes'.
Oh, yes. My far better half thought similarly three decades ago.
Now things are different, in both our households. James Cracknell's reaction sums up that of those Britons who taste Thanksgiving dinners and become converts:
By the time we'd eaten, he was in awe of the 'un-Britishly moist and juicy' turkey.
Indeed. Americans can definitely roast turkey to perfection.
His wife writes:
Now, I am firmly of the belief that this American holiday needs to become a British fixture.
Of course, the United States celebrates Thanksgiving in honour of our earliest settlers who learned from the Native Americans to cultivate the land and local livestock. That partnership and its bounty was the focus of the feast. The settlers gave thanks to God for that first harvest.
Admittedly, in Florida, initially settled by the Spanish, the menu might not include turkey. However, most Americans follow the New England menu celebrated in Massachusetts in the 1620s: turkey and corn being mainstays.
Jordan Cracknell explains what Americans give thanks for today. Her second paragraph below explains why I prefer Thanksgiving to Christmas (emphases mine):
Sometimes it can just be having gratitude for being able to see relatives, who might have travelled thousands of miles across the US. Other times we give thanks for our health.
It is as simple and lovely as that, and unlike Christmas there's no exchange of presents. A positive and non-materialistic holiday, where all the family get together, is something that seems to be missing from the British annual calendar …
I'm one of around 166,000 Americans living in the UK, and in my experience, other US expats would also be hard-pressed to give up the holiday …
Since being here, I have managed to convince a handful of UK friends to mark the day by inviting them to dinner. Going in with an open mind, they too have enjoyed it.
Thanksgiving is now James' favourite US holiday, and not just because of the food. 'It just makes sense to have two major holidays back-to-back to spend with family,' he says. 'Why try and fit it all in over Christmas where inevitably someone gets disappointed?'
I agree – and there are also a lot of benefits to having a holiday where the focus is merely on giving thanks and spending time with your family.
She is the descendant of one of those first settlers in Massachusetts who arrived on the Mayflower and learned from the Wampanoags (pron. 'Wom-pa-nogs') how to cultivate the land. As she says:
My ancestors would have starved to death without the help of the Wampanoag people.
True!
There are two other advantages to Thanksgiving, for me, anyway. First, turkey is out of the way for another year, enabling us to eat goose at Christmas. Secondly, it is the start of the holiday season, so we start decorating the house for Christmas in the days that follow.
The Telegraph's new Cross Atlantic crossword
Speaking of things American, The Telegraph is introducing a new crossword puzzle called Cross Atlantic.
The article says that The Telegraph was the first British paper to feature crosswords, an American creation. That was around 100 years ago:
It is that rare treat: a new puzzle, to be published every weekend and daily online, in our own Telegraph, a newspaper that knows a thing or two about the genre, having delivered its first crossword to readers almost a century ago, years before Fleet Street rivals cottoned on. The name of the new game gives a hint of its origins: American crosswords whose clues engagingly blend wordplay, odd definitions, colloquialisms, general knowledge and current affairs, stretching and testing the brain without the forbidding challenge that the cryptic grid presents to the uninitiated (and which, in the 1940s, prompted Bletchley Park to use the Telegraph crossword as a test to recruit new code-breakers).
The article shows the first Telegraph crossword, which is splendidly symmetrical and a joy to behold, unlike the new Cross Atlantic, which looks ugly by comparison. I can do the original puzzle, which has quick rather than the cryptic clues that are so characteristic of British newspaper crosswords.
My British readers will be interested to know that the geeky comedian Dave Gorman already sets the paper's cryptic crosswords and offers this advice to neophytes like me:
The formulations are unavoidable. The most frequent are hints that an anagram may be involved – using words like 'unsettled' that indicate other parts of the clue are anagrams of the answer. Then there are substitutes for letters. For example, 'sailor' often indicates the use of 'AB' for Able Bodied. Most solutions blend several such elements in directing the reader to a single answer.
I am lost already. I would not connect the word 'sailor' with the terms 'AB' or 'Able Bodied'.
Anyway:
To the inexperienced, says Gorman, all this can seem impossibly complicated, not to say convoluted – an off-putting ritual only for those initiated into its dark arts.
But there is a shortcut, he says, a way that smug solvers rarely mention. This is the fact that each clue contains a simple, straightforward pointer to the whole answer. What surrounds it are small elements of the whole. But if you can find that critical definition, usually at the beginning or end of the clue, you can leap straight to guessing at the answer. Then, says Gorman, 'you can work backwards', to confirm your guess using the other elements of the clue.
Take a poser of which Dave is extremely proud. The elements are as follows: sea eagles are known as ernes. 'Min' is an abbreviation of minimum, or smallest. Golf, as military folk know, is the letter 'G' in the Nato alphabet. And a way, or path, is also a course.
Again, that would not even enter my head.
Continuing on:
Armed with all that, try deciphering the clue: Eagles on the smallest golf course.
Did you get it?
No, I did not.
Here's the solution:
ERNES+THE+MIN+G+WAY. Which may still look baffling. But that's before you add the clue to the whole answer and the number of letters:
Writer eagles on the smallest golf course (6,9) = Ernest Hemingway.
Gorman says that 'it's far from being the best clue I've written but the discovery of it – the idea that a real person's name can also quite sensibly be rendered as a meaningful sentence – is somewhat delightful. There's no wrestling it into submission, adding an initial of something here or the last letter of something there. So it feels like it's been hiding in plain sight for ever. It's like discovering a fossil on a Dorset beach – the setter doesn't invent a clue, they find it.'
I'll leave cryptic crosswords there. Life is too short.
Old technology fans
On Wednesday, November 23, The Guardian had a fascinating article about fans of old technology, from 100-year-old typewriters to Atari. A number of the people interviewed would have been too young to experience the initial rush when these items first appeared.
The comments were equally fascinating. I read them all. It's amazing what people still enjoy and why.
Definitely an article to enjoy on Black Friday, while the rest of the family is out Christmas shopping.
The 'big night out' returns
Thankfully, after two years of pandemic fears, the big night out has returned.
This is the complete opposite to staying in with old tech.
On Saturday, November 19, The Times reported that disco-style skating rinks are this year's hot venue for Christmas parties:
This month has seen the arrival of Flipper's, a vast rink in a disused power station in west London, large enough to house 1,800 guests. Whatever you do, though, don't call it a roller disco — it is a roller "boogie palace", insists the venue, which has become one of the hottest places to host a Christmas party this year …
And it is not the only new skate venue to open in recent months. Two new rinks have opened in Manchester, including Paradise Skate World, which has seen Christmas bookings flood in. It's billed as an intergalactic experience, with tunnels you whizz through on the dancefloor and the option to hire "space visors".
"The obvious route was to go down the retro 1980s style, but we didn't want to regurgitate old ideas," says Chris Legh, the co-founder, who was also behind Junkyard Golf Club, another so-called "competitive socialising" format. This is the term used to describe a phenomenon of the past decade which has transformed the nightlife of many towns. Instead of going out drinking with your friends, you take part in some low-level sporting competition: ping-pong, crazy golf, cricket nets or axe-throwing …
Flipper's is co-owned by Liberty Ross, the model and daughter of Ian "Flipper" Ross, who founded the original rollerskating nightclub in Los Angeles in the late 1970s. It was swifty dubbed "Studio 54 on wheels" because it attracted Prince, Robin Williams, Elton John, Nile Rodgers, Cher and other hard-partying celebrities. It lasted until 1981 before it shut down …
At Flipper's it costs £22.50 for a two-hour session for an adult, including the hire of skates in a funky electric-blue suede.
Legh has another theory as to why rollerskating has become the new party craze: "If you are in charge of your Christmas party and you only have a £30-a-head budget, do you really want to spend £20 of it throwing drinks down your throat? Because so many young people don't drink now, there is still quite a bit of discretionary spending, and skating feels active and wholesome.
"For a couple of hours, it is escapism from the digital world," he adds. "Sure, people will take photos and post them on Instagram, but you can't be on WhatsApp while you're skating."
Partying deplored in 1922
Every generation thinks it is the first to decry partying.
To the finger-waggers, any and every party is bad, especially where seemingly endless alcohol and — gasp! — cigarettes are involved.
On November 23, The Times dug out an article on the topic from its 1922 archive: 'What cocktails, cigarettes and unhealthy meals meant for "society girls"'.
In reality, most socialites, then and now, get parties out of their system early on and settle down with a husband and a family.
But there's always someone, then and now, who wants to make them out to be physical and psychological wrecks.
Such was the case with Dr Agnes Savill, who delivered a lecture on partying socialites a century ago:
Dr Agnes Savill delivered a lecture on "The Dangers of Society to Health" at the Institute of Hygiene last evening. She said that the development of communities was found in the earliest stages of human society, and this gathering together of families to share a common life had many advantages, provided the individuals concerned were of a high grade and had a sound organization.
… the girl who could command her parents' wealth left school for a life of continual excitement which resulted in mental and physical deterioration …
"I have seen some of these girls after a few years of society life aged by ten years and, before the age of twenty, as worn out and nerve-tired as if they were forty.
The hectic life of continual excitement, the absence of all repose, all time for meditation, the perpetual change, the cigarette smoking, irregular and unhealthy meals — no wonder these girls become the prey of disease. And though the physical consequences are disastrous, even of greater importance is the evil effect of this life upon the character.
"Society life is responsible for deficient sleep and consequent deterioration of the nervous system. It encourages the pernicious habit of the too-frequent cigarette. It encourages the girls to take cocktails and whiskies-and-sodas, which ruin their digestion, impair their livers, and upset the nervous system, and it encourages them to take rich foods, which upset the rhythm of the body.
"The ill-health of modern society girls is in a measure the fault of their parents, who have it in their hands to postpone the downfall of our modern civilization."
My diagnosis of Dr Savill? She was deeply envious, as are all killjoys — then and now — who wish to restrain us, young and old, from having a bit of fun.
Most socialites have taken great care of themselves throughout their lives. Very few deteriorate. They cannot. They are in the public eye all the time.
Online gambling 'addiction' damaging young adults
Unlike cocktails, ciggies and rich food, there is a serious phenomenon affecting some twenty-somethings, especially young men on low incomes: the lure of online gambling.
I first read about this phenomenon in a French newsweekly earlier this year. Young lads place bets on sporting events, most often football fixtures, often prompted by frequent texts from gambling firms. Enough young men are going into debt and are sometimes driven to suicide because of it to be a worry.
In fact, the French government is currently running an advert about the lure of online gambling, showing some of the texts those who bet often receive. I've seen them on M6. If they were in English, they'd be something along the lines of:
Hi there, haven't heard from you in a while. Fancy a flutter?
The more the recipient ignores the messages, the more frequent they become, driven by algorithms.
The Times has a good article from November 22 on what is happening in the UK, especially in England. It says that victims also come from the middle classes. Furthermore, young women are also affected:
Health bosses urged betting firms to "think hard about the human cost behind their profits" after a 42 per cent annual rise in demand for NHS gambling clinics was revealed.
Doctors said more patients were attending A&E after losing all their money in online betting sprees. NHS gambling clinics are full of "young men in football shirts" who have fallen foul of "predatory tactics" by betting firms, including a boom in addictive "in-play" sports betting.
The health service will announce tomorrow that it has opened clinics in Southampton and Stoke, adding to a national network of five commissioned in 2019. Figures seen by The Times show that 599 patients have been referred to the service in the past six months, a 42 per cent increase on the same period last year and up 65 per cent from 2020-21.
The clinics offer addiction therapy, including medication usually given to opioid users to reduce cravings. Patients can be sent by GPs or hospitals or self-refer and usually spend several months in treatment. One in three have attempted suicide; 57 per cent report thinking they would be better off dead. There are more than 400 gambling-related suicides a year in England.
Matthew Gaskell, a consultant psychologist and clinical lead at NHS Northern Gambling Service, said that almost all the patients it saw were hooked on online gambling, including in-play betting, which allows fans to bet on every aspect of a live game. He said: "People start gambling as soon as they wake up in the morning; they're gambling in the shower, gambling while they're driving to work. The NHS is picking up the tab.
"There has been an increase in people turning up at A&E in crisis, in a state of suicide. People are completely desperate, begging for help and seeing suicide as a genuine escape." The service opened in 2019 and has clinics in Leeds, Manchester and Sunderland.
With football's World Cup going on as I write, one can only imagine the damage.
The article profiles a 34-year-old woman who developed an online slot machine addiction at the age of 24:
Jennifer, a young mother, spent weeks in hospital and lost custody of her children after her gambling addiction triggered a mental breakdown.
Jennifer — a pseudonym because she did not want to reveal her real name — began gambling a decade ago aged 24, and became addicted to online slot machines, feeling trapped "in a never-ending spiral with no escape".
By 2019 Jennifer had £40,000 of debt and was declared bankrupt. Her mental health collapsed and she was admitted to hospital, with social services taking control of her children …
She has not placed a bet for two years. She said: "The group therapy made me realise there's gambling addicts from all walks of life. By giving me the tools to manage gambling addiction, I've had the platform to rebuild my life financially and it means the world to me to be with my kids again as a happy family."
The article briefly mentioned two young men who took their lives, one of whom was an English teacher:
Jack Ritchie, 24, an English teacher, killed himself in 2017 after six years of battling his addiction to gambling.
Joshua Jones, 23, a talented jazz musician, leapt to his death from a ninth-floor balcony in 2015 after an addiction that culminated in him gambling all his money away and even selling his prized trombone.
I'm not the world's biggest fan of betting shops, but at least, I would imagine, they have some human control. Men who frequent betting shops often have a group of mates they meet up with there. They might tell their friend that he's been betting too much too often. The staff behind the counter are also likely to have a kind word with someone they see a bit too frequently.
Feet rule knees and hips
On November 19, The Times had an instructive article on the importance of our feet and how they affect other parts of our body.
While this is intended mostly for women, sedentary men would do well to pay attention, too:
According to Dalton Wong, the founder of Twenty-Two Training and who has worked with a host of celebrities including Jennifer Lawrence and Olivia Colman, stretching and strengthening the lower limbs can prevent pain in the feet and postural problems elsewhere in the body. Yet most of us neglect to focus on strengthening the 29 muscles of the foot and ankle.
"I am seeing an increasing number of clients coming in with hip, lower-back and knee issues that can be traced back to weakness and instability of their foot and ankle," Wong says. "What so many don't realise is that if you are not working your foot muscles enough, then it is reflected further up the body as ankle, knee and hip joints don't work well." Anatomically, these interconnecting body parts, joints and muscles that work together to perform particular movements are referred to as the kinetic chain. "Our toes, feet, ankles, lower legs, knees, upper legs, hips, pelvis and spine are all part of the body's lower kinetic chain," Wong says. "If one part is weak or out of kilter it has the potential to affect the rest of the chain."
A strong, healthy foot has a moderately high arch, minimal overpronation — rolling inwards — and some natural spreading of the toes. There are four layers of muscle and soft tissue in the feet that help to lock them into position and keep us upright. A team of Harvard researchers writing in the British Journal of Sports Medicine described how the foot has an intertwining central "core" of muscles that work to maintain a naturally raised arch, providing us with the stability needed to hold us in good posture or to support even the most basic movement patterns, such as walking. It follows that misuse of these muscles through, say, lots of sitting or the wearing of ill-fitting shoes can play havoc with foot performance and structure. For starters, too little strength of muscles in the feet can lead to decreased ankle mobility. "If your ankles are stiff and inflexible, you will be less able to transfer weight from foot to foot in a walking or running stride," says Lucinda Meade, a physiotherapist at Twenty-Two Training.
We should be able to flex our toes easily:
Big toe mobility is particularly important for better balance and gait. "If you can't bend and flex the big toe, your posture and functional movement will deteriorate," Meade says. "We should be moving all of our toes, especially our big toes, freely for at least 15 minutes every day."
Walking around in bare feet is also helpful:
Wong recommends that his clients perform some weekly workouts barefoot. "We spend so little time without shoes that even 20-30 minutes a couple of times a week going barefoot is helpful for strengthening the feet," he says. Not that you should ditch shoes for workouts overnight. "It takes time to strengthen the muscles in the feet, so build up your barefoot time gradually, starting with 5-10 minutes daily," Wong says.
Your ability to walk around in bare feet is dictated not just by the feet but by the strength of your glutes in supporting the pelvis and hips, and if these muscles are not strong enough the inside of the foot will collapse if you suddenly go shoeless, Wong says.
At the very least, practise some foot moves for ten minutes each day. "Setting aside some time for your feet will pay huge dividends," Wong says. "And if your feet are tired or tight, roll them on a cold bottle of water to release the fascia underneath the foot."
The article has simple foot exercises that anyone can do.
Who knew the role feet played in governing the body? I certainly didn't.
Egg news latest
And finally, barely a day goes by without a story about Britain's notional egg shortage. My last news post had an article about egg substitutes.
On Tuesday, November 22, The Telegraph reported that supermarkets will be rationing eggs and that the shortage is expected to last six months.
The second sentence below irritated me:
Both M&S and Morrisons have confirmed its customers are now limited to two boxes each. A spokesperson for Morrisons, which only sells British eggs, said the rationing followed "unprecedented demand" at the end of last week.
The reason for 'unprecedented demand' came from the media, blasting news of a 'shortage' here, there and everywhere.
At my supermarket, egg prices have remained relatively static for around two years: £1.10 for six, then $1.20 and, only within the past few weeks, £1.40.
Someone's not getting paid properly — the farmers:
… farmers are grappling with double-digit inflation in the price of feed and soaring energy costs to store eggs. The National Farmers' Union has warned the supply chain issues causing egg shortages on supermarket shelves could last until next summer …
Farmers who are currently making a loss on eggs are not reinvesting in new flocks of hens, leading to a shortage for shoppers.
Robert Gooch, of the British Free Range Egg Producers Association, said the egg shortages would last until "retailers pay a fair price to farmers" …
Ioan Humphreys, a fourth generation farmer in Wales, has 32,000 birds, for which the cost of feed has risen from £250 a tonne last year to £400 today. Meanwhile his electric bill on the farm has more than tripled.
But since December, Mr Humphreys has only received a 5p increase from retailers for each dozen eggs he sells them and is operating at a loss.
He said: "I have got to sell them even if at a loss to get some money in.
"Retailers are blaming bird flu for the shortages, but I haven't culled one bird from my flock this year. There are shortages on the shelves because farmers are not being paid fairly by supermarkets."
An M&S spokesperson said the company had provided "additional support, including for animal feed" to help suppliers manage rising costs. Meanwhile Sainsburys said it had increased the amount it paid to its own-brand egg packers, not directly to farmers, by 40pc in the past year.
A spokesman for Asda said the supermarket was "working hard" with its egg suppliers to resolve industry challenges.
Tesco and Ocado did not respond to requests for comment.
——————————————————————————————————-
In conclusion, I hope that my American readers had an enjoyable turkey day and that they've got plenty left over to enjoy this weekend.
This is the penultimate instalment of Boris Johnson's downfall.
Earlier ones can be found here: parts 1, 2, 3, 4 and 5.
Before I get to the heart of the matter, one of Boris's former aides, Cleo Watson, wrote about her time in Downing Street for the September 2022 issue of the high society magazine Tatler: 'Exclusive: how PM's former aide had to "nanny" him through lockdown'.
Cleo Watson tells the story of how she went from working on Obama's 2012 campaign to the Vote Leave one that preceded the 2016 Brexit referendum. As she worked with Dominic Cummings on the latter, he asked her if she would like to work at Downing Street when Boris became Prime Minister.
She accepted but had no idea what fate awaited her. Who knew then about the pandemic, which she had to get Boris through: frequent coronavirus testing, recovering from his near-death viral experience with nourishing drinks rather than Diet Coke and putting up with his silly, schoolboy jokes.
Then there was Dilyn, his and Carrie's Welsh rescue terrier, which they acquired in 2019. Dilyn never was properly house-trained and left little surprises in Downing Street and at the prime ministerial weekend retreat, Chequers.
Watson has just finished writing her first novel, Whip!, a fictionalised account of what life is like in Downing Street. It is scheduled to be published in 2023.
One thing that struck me is just how pervasive Dominic Cummings was during his time there.
She describes what the penitential press conference he had to give in May 2020 after his forbidden trip to County Durham during lockdown was like (emphases mine):
Dom's 'eye test' itself led to moments of strange humour as we struggled to respond to the public anger it caused. Remember his press conference in the rose garden? What you didn't see was the group of advisers loitering behind the cameras, clutching ourselves with worry. Dom's natural sunny attitude …
'Sunny attitude'? Surely some sarcasm there, methinks:
… seemed to be waning, so halfway through I took to standing directly in his eyeline, bent over like a tennis linesman, gesticulating for him to sit up straight and, if not smile, be tolerant and polite when responding to the repetitive questions being fired at him.
She left around the same time as Cummings, in November 2020:
As so many in politics know, the end comes sooner or later – generally sooner, if you're employed by this prime minister. (Although I suppose he's had karma returned with interest recently.) The end for me came in November 2020, about two weeks after Dom's hurried departure.
These were her final moments with Boris:
The PM had been isolating after his latest 'ping' and he and I finally reunited in the Cabinet room, where we had an exchange that I am sure may have been familiar to many of his girlfriends. Him: 'Ho hum, I'm not sure this is working any more.' Me: 'Oh, OK, you seem to be trying to break up with me. I'll get my things.' Him: 'Aargh… I don't know… yes, no, maybe… wait, come back!' I suppose it went a little differently. He said a lot of things, the most succinct being: 'I can't look at you any more because it reminds me of Dom. It's like a marriage has ended, we've divided up our things and I've kept an ugly old lamp. But every time I look at that lamp, it reminds me of the person I was with. You're that lamp.' A lamp! At least a gazelle has a heartbeat. Still, he presumably knows better than most how it feels when a marriage breaks up.
So I left No 10 – without a leaving party, contrary to what has been reported. What actually happened is that we agreed to go our separate ways and I went to the press team to say goodbye. The PM, unable to see a group of people and not orate, gave a painful, off-the-cuff speech to a bewildered clutch of advisers and I left shortly after.
More work followed, then came a holiday in Barbados:
I was asked to work on the COP26 climate change summit (quite cleansing for the brand after Vote Leave and Johnson's No 10), which took place in Glasgow in November 2021. It was a brutal year, no less dogged by Covid than the previous one, and I was lucky enough to top it off with a recovery holiday in Barbados in December.
The sun, the sea, the cocktail bar… Welcome to paradise. Except something was off. I couldn't put my finger on it, but whenever I was indoors at Cobblers Cove, the lovely hotel my husband, Tom, and I were staying at, I had a strange, uneasy feeling that I'd been there before. Where had I seen muted green print on jolly green print on rattan before? The place had been revamped by none other than Lulu Lytle, of the Downing Street flat fame.
Downing Street stays with a person, not unlike memories of an ex:
It's often the way that looking at a period of your life later on can frame it as much happier than it really was. It's like remembering the good times with an ex. You'll smell or hear something that nearly knocks you over with a wave of nostalgia and before you know it, you're thinking: 'I wonder what they're doing now…'
I'm very fortunate in that I know exactly what they're doing and what I'm missing out on. Yes, you get the chance to serve the country and on an individual level you can change people's lives. But there is also the constant work that gets gobbled up by the news cycle. The gut-busting effort behind every speech that flops. The policy that gets torn to shreds. The constant lurk of an MP rebellion. From the moment you're awake, you're on your phone(s).
These days I'll be walking my dog (far too big to be used as a handheld prop now) and delighted – literally delighted – to be picking up after him rather than dealing with the latest catastrophe I can see playing out just a couple of miles away.
I've weaned myself off my phone, cancelled my newspaper subscriptions and studiously avoided social media. I've really understood what burnout means. It has taken months to recover …
Now on to the final weeks of Boris and his wife Carrie.
The thing that sticks most in my mind is that awful — and awfully expensive — refurb of the Downing Street flat.
The next occupant will want to rip it all out and start again with something quiet and tasteful.
Boris must have thought he would be there for years. Otherwise, why would he have agreed to it?
Another disappointment for them must have been not being able to use Chequers for their big wedding party.
The couple married in 2021 at Westminster Cathedral (Catholic), but because of coronavirus restrictions, could have only a small number back to Downing Street to celebrate.
They had looked forward to having a big party at Chequers. Unfortunately, once Boris resigned as Party leader, he became a caretaker PM and was refused permission.
Fortunately, Lord and Lady Bamford of construction equipment manufacturer JCB fame lent their sprawling Gloucestershire estate to the Johnsons:
On Wednesday, July 27, GB News reported:
The Prime Minister and his wife are said to be planning on hosting family and friends at 18th-century Daylesford House, in Gloucestershire, this weekend.
A huge white marquee topped with bunting had been erected in the property's expansive grounds on Wednesday, with staff going in and out amid apparent party preparations.
Owned by Lord Bamford, the Grade I-listed mansion has been found as a replacement to Chequers – where the Johnsons had originally planned to host the party.
The Tory peer, chairman of construction equipment manufacturer JCB, has donated millions to the Conservative Party …
Lord Bamford is covering at least some of the cost of the party, the Mirror reported, quoting unnamed sources.
No 10 declined to comment on the "private matter".
The Johnsons decided on a unique celebration.
Reporters from The Mail were on hand earlier on Saturday, July 30, to find out more:
Guests at Boris and Carrie Johnson's wedding party are set to dine in style on South African street food at the Cotswolds retreat of Tory mega-donor Lord Bamford today.
Caterers from eco-friendly BBQ eatery Smoke and Braai were spotted setting up shop on the grounds at Daylesford House on Friday in advance of the fanfare.
Around 200 guests including a dozen Conservative MPs will gather at the idyllic, Gloucestershire Grade I-listed mansion for drinks from 5.30pm.
Grass-fed locally sourced meat will be the mainstay of the food menu in line with Mrs Johnson's well-known commitment to green causes, The Telegraph reported.
At least three street food outlets were pictured arriving at the gorgeous countryside manor house on Friday afternoon, with helicopters heard amassing above …
Daylesford House is the 18th-century home of Lord Bamford, 76, the founder of construction giant JCB and one of the Conservative party's most prolific donors.
The billionaire Bamfords, who gave £4million to the party in the run-up to the 2019 general election, after handing £100,000 to the Vote Leave campaign, stepped in to fill hosting duties after furore surrounded the Johnsons' prior plans to hold their wedding party at Chequers.
Lady Bamford and Carrie, in particular, joined forces to orchestrate today's proceedings, the newspaper reported.
The South African street food menu is set to include lime and mint-infused pineapple, skin-on fries, cherry wood-smoked pork with honey and mustard slaw, and Aberdeen Angus ox cheeks.
South Africa's answer to the barbecue, a braai is typically the setting for an hours-long cookout in which all are welcome. 
The Telegraph told us that Steve Bray, the braying anti-Brexit chap from College Green near Parliament, was a short distance away. The article has a photo of him.
Caterers and entertainers could not miss him:
… they were greeted by Steve Bray, an activist known as the "Stop Brexit Man", who had positioned himself at one of the entrances holding a banner which read: "Corrupt Tory Government. Liars, cheats and charlatans. Get them out now."
The article told us more about the menu:
Rum punch is also available to guests, as well as barbecue chicken and beef with salad. Handmade ice-cream from a family run dairy farm in the Peak District is also being served, adding to the laid back atmosphere at Daylesford House, Gloucestershire …
Mrs Johnson is thought to have worked closely with Lady Bamford to organise the event and set the theme of a South African-style barbecue laid on by Corby-based Smoke and Braai, with the 200 guests served from eco-friendly street food trucks amid hay bale benches.
On the menu is grass-fed British beef braai boerewors rolls, masa corn tortilla tacos, smoked barbacoa lamb and what was described as "ancient grain salad" …
Adding to the festival atmosphere, for dessert there is ice-cream courtesy of Dalton's Dairy, a family-run dairy farm in the Peak District which produces handmade ice creams, including wild strawberries and cream, pineapple, and amaretto and black cherry.
The guest list included MPs, singers and millionaires:
The guests, who include several Conservative MPs, began to arrive at the estate at around 5pm. Australian actress and singer Holly Valance, who is married to British property developer Nick Candy, was also pictured arriving at the estate in a Rolls Royce.
Mr Johnson's younger sister, Rachel Johnson, was seen arriving via the back entrance, as did the Prime Minister's father, Stanley Johnson, who arrived alongside a female companion.
Nadine Dorries and Jacob Rees-Mogg were also among the first guests to arrive.
Other politicians in attendance included Ben Wallace, the Defence Secretary; Jake Berry, who previously served as minister for the Northern Powerhouse; Amanda Milling, the MP for Cannock Chase; and John Whittingdale, the former culture secretary.
More elusive and camera shy guests preferred to arrive by helicopter, landing on a helipad positioned in the grounds of the estate. They were then ferried to the garden party in a black Range Rover.
The Mail on Sunday had more, complete with lots of photographs:
Boris and Carrie Johnson danced the night away at their festival-style wedding party in the Cotswolds last night, with the bride wearing a £3,500 dress that was rented for £25. 
Carrie opted to stick to her sustainable fashion principles with the dress by designer Savannah Miller, the older sister of actress Sienna.
The floor-length, halter-neck gown named Ruby has an original price tag of £3,500 but is available for a day rate of £25 on London-based website Wardrobe HQ, which Carrie, 34, has been using for more than three years.
Meanwhile, the festivities started with Boris joining Carrie on the dancefloor for their first dance to Neil Diamond's Sweet Caroline – chosen because Carrie's full first name is Caroline. 
They were joined by friends and family at the picturesque venue that sits within 1,500 acres and boasts stunning amenities including a heart-shaped orchard, painstakingly manicured gardens, an 18th century orangery and a luxurious pool. 
For anyone wondering if this Daylesford is related to the eponymous organic food brand, it is, indeed:
Lady Carole Bamford OBE, became famous for launching Daylesford Organic Farm, based in the private village but with farm shops across London.
Daylesford House, which is just a mile from Lord and Lady Bamford's organic farm of the same name, boasts 1,500 acres of manicured gardens including pristine lawns, an 18th-century orangery and a secret garden – complete with octagonal swimming pool, shell grotto and alfresco pizza oven.
The article had more on the Bamfords and their involvement with the Conservative Party:
Downing Street has refused to comment on the occasion, stating it does not discuss private events which do not involve taxpayer funds or ministerial declarations.
Beyond cash handouts, the Tories have also benefited from repeated press conferences staged at JCB's Staffordshire headquarters.
Boris Johnson made his headline-grabbing Brexit stunt at the factory as part of his general election bid in 2019.
The global digger manufacturer paid him £10,000 just three days before he smashed through a brick wall in a JCB digger.
Beyond politics, the Bamfords hold sway with a long list of British elites, including their friends the Prince of Wales and Duchess of Cornwall.
Lady Bamford, whose precise age is unknown, sits on JCB's board of directors and was awarded in OBE in 2006 for services to children and families.
A former air hostess, Lady Bamford OBE married Sir Anthony in 1974.
They have four children and a haul of houses around the world in addition to a prolific car collection worth tens of millions of pounds.
The article beneath it, by Adam Solomons, had more about Steve Bray's presence. One photo shows a policeman seemingly asking him to leave. Bray alleged that his friend was arrested:
So-called 'Stop Brexit Man' Steve Bray flouted the tight guest list for Boris and Carrie Johnson's wedding party to conduct a solo protest yesterday after a friend and fellow campaigner was allegedly arrested nearby.
Photographer Sylvia Yukio Zamperini was taken away in a police car after turning up close to opulent party venue Daylesford House, Gloucestershire, Mr Bray claimed.
In a Facebook post this evening, he wrote: 'I was supposed to meet Sylvia […] but she called me. She was searched by Police.
'A police van and car passed me 20 minutes ago. She was crying and waving frantically from the back of the car. She's been arrested.'
He added in a subsequent tweet: 'Police using dirty tactics.'
Gloucester Constabulary did not respond to a MailOnline request for clarification or comment this afternoon.
The notorious Parliament demonstrator put out an appeal for urgent legal help on Sylvia's behalf.
Ms Yukio Zamperini has been Bray's right-hand woman throughout years of noisy campaigning in and around the parliamentary estate over the past six years.
Describing herself as a 'proud European', she often shoots footage of Bray's flags and banners.
Sylvia travelled to the gorgeous Cotswolds wedding venue from Birmingham, with Steve commuting from London. 
They were supposed to meet close to Daylesford House, but Sylvia had reportedly already been arrested. 
Bray also posted a video in which he spoke to a local police officer, who'd warned him that loud amplifiers set up to disrupt the party would be confiscated.
The unidentified officer, who Bray's followers noted was polite and respectful, said he was giving 'Stop Brexit Man' a 'pre-pre-warning' in the event he tried to sabotage the postponed wedding party.
The infamous campaigner tells the policeman: 'Look what these guys have done to our lives. I don't care if it's a wedding party.'
Guido Fawkes has a video of Boris and Carrie dancing to Sweet Caroline, which young Wilf interrupted. Carrie picked him up and swayed from side to side. Of Boris, Guido says:
Some questionable dad dancing moves from Boris there.
On August 6, The Telegraph's Gordon Rayner had more in 'Inside Boris and Carrie Johnson's secret wedding party':
The bride wore a gold mini dress, the groom wore a baggy cream suit and the guests wore expressions of mild bemusement.
At the Prime Minister's wedding celebration, Sweet Caroline had been chosen for the first dance as a romantic tribute to Caroline Johnson, better known as Carrie – but her husband seemed to think he was at an England football match, where the song has become a fan favourite.
His dad-dancing at the couple's wedding celebration last weekend was more "let's all have a disco", as sports crowds chant, than "how can I hurt when holding you", in the words of Neil Diamond's song.
The moment, however, was entirely in keeping with the eccentricity of the whole event, held in the middle of a field where guests had no escape from the speeches, the South African street food or the bitching about Rishi Sunak.
It featured slut-drops, congas, rum punch, hay bales, a steel band and Jacob Rees-Mogg, but without an actual wedding for the guests to attend, it was an event that appeared not to know quite what it was trying to be …
The Prime Minister, who had worn a charcoal suit on what was his third wedding day last year, struggled to pull off the Man From Del Monte look, wearing a cream suit with trousers that needed taking up and a jacket that appeared too long for his body.
Mrs Johnson, 34, had greeted guests earlier in the day wearing a £3,500 halter-neck Ruby wedding gown by Savannah Miller, the designer, which she had rented for £25 a day. However, by the time the first dance happened at 8.30pm, she had changed into a shimmering gold mini dress with a plunging neckline that was more disco diva than blushing bride.
Neither she nor the 58-year-old Prime Minister looked comfortable dancing in front of their guests. They may have been relieved when their two-year-old son Wilfred, dressed in a navy blue sailor suit, toddled across to them halfway through the dance and became the centre of attention, as he was twirled around on the hips of his parents …
The event officially ended at 11.30pm, although many guests, with long journeys home, had already left by then.
Ms Johnson said the party was held in "a magical flower-filled field", but other guests whispered that the party had the vibe of a failed pop festival, complete with portable lavatories …
Before the dancing, the guests were treated to a succession of speeches, starting with Ms Johnson, followed by Carrie Johnson – whose words were "full of affection" for her husband – and finishing with the Prime Minister himself, who stood with one hand in his trouser pocket and the other clutching A4 sheets of notes.
In a defiant and typically joke-filled speech, Mr Johnson told his guests that he had received "masses of letters to resign, mostly from my closest family", according to The Times.
He went on: "There are many opportunities, which lead to disasters, and disasters can lead to new opportunities, including to opportunities for fresh disasters."
He also described the mass ministerial resignations that forced him to resign as: "The greatest stitch-up since the Bayeux Tapestry."
The guest list was light on parliamentarians, partly because so many of them had turned on the Prime Minister only days before. Only the most ultra-loyal Johnsonites received an invitation.
As a former head of communications for the Conservatives, Mrs Johnson knows all about messaging. She was keen to put the word out that her dress was rented, because she is keen to promote sustainable fashion, and that the food on offer was eco-friendly because the catering firm buys its ingredients from local farmers.
But the messaging was somewhat undermined by the reality of the event. Guests arrived in a steady stream of Range Rovers, Rolls-Royces and other gas guzzlers, with some even arriving by helicopter.
By choosing to hold their party in such a rural location, the couple ensured that it had the largest possible carbon footprint. In only a matter of weeks, though, worrying about political mis-steps will cease to be much of a concern for them.
The party — especially with Bray's presence — would make a great film for television. You could not make this up.
On August 2, Telegraph reporter Rosie Green poured cold water on Carrie's renting of dresses. I'm including this as a caution for women thinking it's a failsafe solution: 'Renting a dress sounds like a good idea — until you face the logistics'.
She went through the process herself, which sounds tiresome:
I book appointments at the places offering "trying on" services (Front Row, Harrods and Selfridges) and let them know which dresses I would like to road test.
At the My Wardrobe HQ pop up concession at Harrods, although the manager was friendly and helpful, disappointingly only one of the four pieces I had requested was there. Then the dress I had loved on screen wouldn't do up. Hmm.
Thankfully I found another wonderful gown by the same designer which fits beautifully (the same size weirdly). But at £1,861 to buy and with a long train that looked perfect for stepping on I was worried about incurring damage. Another dress I loved had a broken zip …
I leave for my next appointment at Front Row to meet one of its founders and to try on a selection of dresses, but when I arrive at the showroom she is not there and the doors are locked. I am stumped. I can't get through on the phone. I later discovered she had her handbag snatched by a man on a motorbike. Front Row confirms they'll send the dresses to my home instead. In the meantime, I get a message from Selfridges saying my requested dress (the only one on the website I found suitable) is not available as it is being repaired. Hmm.
I head home to Oxfordshire a little dispirited. So I start delving deeper into By Rotation and discover that they act as a middle man between the renter and the owner. This means the clothes are kept by their owners and so effectively you are reliant on Sandra from Surrey or Carla from Cheshire posting you their gown. This makes me very nervous.
There's more, so I'll skip to the chase:
Then, on the day I'm expecting the My Wardrobe dress to arrive, I'm told I have to pick it up from Harrods. I have a minor heart attack. I tell them I live in Oxfordshire and not only is it impractical but the cost of the return train ticket to London would be more than the rental. They arrange for it to be couriered and it arrives the morning of the event.
According to UPS the Front Row dresses are stuck at the depot. Then they are officially AWOL. Renting has not been stress free. Buying my dress is now feeling like a much more attractive proposition …
… my advice if you're planning to rent would be to get your choices a few days before you need them. Try them on first, and always have a back-up plan.
Would I hire a wedding dress this way, like Carrie did? No way. My nerves couldn't take it.
On another cautionary note, provocative dance moves can prove difficult as one ages.
Guido Fawkes found a 2018 Celebrity Big Brother clip with Boris's sister Rachel boasting about how Liz Hurley taught her one of these dance moves then demonstrating it.
Unfortunately for Rachel, 56, things didn't go so well with it at her brother and sister-in-law's party, as she wrote in her Spectator diary of August 6:
The Season has ended and – apart from The Spectator's summer bash of course – the two bang-up parties of July were discos in the Cotswolds. They do things differently there. At Jemima Goldsmith's I danced so hard in high heels with a selection of her handsome young swains that I suspect the double hip replacement will be sooner rather than later. At Carrie and Boris's Daylesford wedding do in a magical flower-filled field we all busted out our best moves. I was taught the slut-drop by Liz Hurley years ago in Nick Coleridge's party barn in Worcestershire. She demonstrated how to collapse to the floor like a broken deckchair on the count of three. My problem at Daylesford was getting up again – not a challenge shared by my sister-in-law. She could win a Commonwealth gold hands-down in this particular high-risk dance move. I'd kicked off my shoes (to save on physio bills later) but still ripped off a big toenail during the conga. Conclusion: I can no longer slut-drop but I can still name-drop for Britain till the cows come home.
Sometimes I feel as if I live in another world.
Anyway, by early August, the party was over for Boris.
Although he surpassed Theresa May's tenure at No. 10 on August 5 …
… Boris faces a hearing by the parliamentary Privileges Committee in September, led by Labour's Harriet Harman.
Note that Boris's opposite number, Keir Starmer, gets away with multiple violations. Yet, Boris will be quizzed on whether he knowingly — rather than accidentally — misled Parliament over a piece of cake in a Tupperware container:
To make matters worse, Conservative MP Bernard Jenkin is on that committee. He is not one of Boris's biggest fans:
The topic came up on Dan Wootton's GB News show on August 8. Nearly 75% of his viewers thought the committee hearing would be a witch hunt:
Panellist Christine Hamilton agreed:
Boris's supporters among the general public were eager to get his name on the Conservative Party leadership ballot along with Liz Truss's and Rishi Sunak's. The fight on that still continues. The best they can hope for now is a change in the Conservative Party rules. I will have more on that in a separate post. The feeling for Boris continues to run deeply among many voters.
On Friday, August 12, a reporter asked Boris why he was not taking calls from Rishi Sunak:
Boris said:
That's one of those Westminster questions that doesn't change the price of fish…
He quickly deflected to move the discussion towards resolving the cost of energy crisis and said that the future would be very bright.
On Saturday, August 13, Jacob Rees-Mogg, Minister of State for Brexit Opportunities and Government Efficiency, gave an interview on GB News to two of his fellow Conservative MPs, Esther McVey and her husband Philip Davies.
In this segment, he explains why Boris has always had his support, dating back to 2016. His only criticism is that the Government could have handled the economy better post-pandemic:
As for Boris coming back as PM, Rees-Mogg said it was highly unlikely. The Telegraph reported:
"Nobody's come back having lost the leadership of the party since Gladstone," Mr Rees-Mogg replied. "And I just don't think in modern politics, the chance of coming back is realistic.
"Lots of people think they're going to be called back by a grateful nation which is why Harold MacMillan waited 20 years before accepting his peerage… Life just isn't like that."
Rees-Mogg also explained why Boris was hounded out of office:
In the interview, Mr Rees-Mogg claimed that Mr Johnson's downfall was partly the result of anti-Brexit campaigners – even though a number of Brexiteer MPs, such as Steve Baker, called for his resignation.
Mr Rees-Mogg said: "There's a lot of people who resent the fact we left the European Union. And therefore to bring down the standard bearer of Brexit was a triumph for them."
In August, Boris and Carrie took a summer holiday in Slovenia.
He no sooner returned than he jetted off again, this time to Greece, for reasons to be explored tomorrow.
Following on from yesterday's UK news in brief, the fallout continued into the weekend.
The Opposition
Some viewers of parliamentary proceedings thought that last Wednesday's PMQs was tense.
Guido Fawkes said that Boris looked 'rattled' as Keir Starmer asked Boris some difficult questions:
Boris came across rather rattled at PMQs today as a calm Keir Starmer attacked the PM on a number of topics, including why Allegra Stratton resigned, Rwanda and his reported comments about the BBC during last night's 1922 meeting.
When questioned by Labour's Keir Starmer, at one point, Boris said:
He must be out of his tiny mind!
Guido has the video:
The day before, in responding to Boris's second apology for the fine — for pedants, fixed penalty notice — for a Downing Street gathering, Starmer took the opportunity to mention a constituent of Michael Fabricant, the Conservative MP for Lichfield, who thought there should be a bar in Downing Street (see yesterday's post).
Guido Fawkes has the story.
This is what Starmer said (emphases mine throughout, except for Guido's in red):
This morning I spoke to John Robinson, a constituent of the hon. Member for Lichfield, and I want to tell the House his story.
When his wife died of covid, John and his family obeyed the Prime Minister's rules. He did not see her in hospital; he did not hold her hand as she died. Their daughters and grandchildren drove 100 miles up the motorway, clutching a letter from the funeral director in case they were questioned by the police. They did not have a service in church, and John's son-in-law stayed away because he would have been the forbidden seventh mourner. Does the Prime Minister not realise that John would have given the world to hold his dying wife's hand, even if it was just for nine minutes? But he did not, because he followed the Prime Minister's rules—rules that we now know the Prime Minister blithely, repeatedly and deliberately ignored. After months of insulting excuses, today's half-hearted apology will never be enough for John Robinson. If the Prime Minister had any respect for John, and the millions like him who sacrificed everything to follow the rules, he would resign. But he will not, because he does not respect John, and he does not respect the sacrifice of the British public. He is a man without shame.
When I heard that, I couldn't imagine what Starmer was going to say about Fabricant. Fortunately, he said nothing about the MP. Starmer used the constituent's story to make a point about Boris's breaking the rules during coronavirus restrictions.
However, it is not the done thing to interfere in or visit someone else's constituency without letting the relevant MP know.
Guido discovered that John Robinson had his unfortunate lockdown experience published in The Guardian's letters page on April 14. His letter reads much the way Starmer presented it to the Commons, although it ended with this:
Johnson flouted his own laws and rules. He partied his way through them. Am I angry? Anger doesn't even touch the sides of how I feel about this pathetic excuse for a man, and I suspect that the majority of us little people share my views, will never forget and will never forgive.
Even so, it seems to me that Starmer had some nerve to contact him.
Fabricant appeared on GB News on Wednesday, April 20. He said:
The saddest thing of all, I think, is the way Keir Starmer and other politicians have chosen to weaponise the personal tragedies endured by people like John Robinson and you know I would have thought, actually, that was pretty beneath them.
Me, too.
Imagine if a Conservative MP had done that. Labour would have banged on about it for weeks, if not months.
Migration and the Rwanda policy
The Archbishop of Canterbury used his Easter 2022 sermon to rail against the Home Office's plan to transfer illegal immigrants, especially those crossing the English Channel from France, to Rwanda for processing.
The Archbishop may also take issue with Denmark, which is pursuing the same policy. We pipped them to the post, but, apparently, Rwanda can capably deal with any number of migrants and for more than one country:
Guido reminded readers that the EU were also considering Rwanda as far back as 2019:
An awkward moment this morning for all the lefty hacks and opposition MPs who've turned their noses at the government's illegal migrant plans, as Denmark has announced it is also now outlining plans to send adult asylum seekers to Rwanda. The Archbishop of Canterbury will need to have a lie-down…
In a statement released this morning, Danish Immigration Minister Mattias Tesfaye confirmed the country has entered discussions with the Rwandan government:
Our dialogue with the Rwandan government includes a mechanism for the transfer of asylum seekers… [the deal will] ensure a more dignified approach than the criminal network of human traffickers that characterises migration across the Mediterranean today …
In 2019 then-European Commissioner Neven Mimica also announced a similar plan for the EU:
While in #Rwanda, happy to announce a 10M€ project to support efforts of the Government to receive and provide protection to about 1500 #refugees and asylum-seekers who are currently being held in detention centres in #Libya.
When the PM announced the Rwanda policy he predicted many other countries will soon follow suit – this is much sooner than expected though…
Our deal with Rwanda isn't due to start for another few weeks, but it's already had an effect on the Channel-crossers, as some Red Wall MPs have noticed:
Correct, but it's working before it's even started.
Bassetlaw's MP tweeted:
The Daily Mail article about migrant men in France is a must-read:
Standing beside a row of shabby, small shelters amid a hum from massive industrial units and passing lorries, Hamid Karimi, 34, sums it up: 'I'm not going to the UK if afterwards I'm sent to Rwanda. I'm staying here. I'm not going to Rwanda.'
Others in the group nod in agreement. Referring to the Prime Minister, one jokes: 'Johnson go to Rwanda!'
Boris Johnson has said the scheme drawn up by Home Secretary Priti Patel will serve as a 'very considerable deterrent' – and that appears to be the case here.
Announcing the Rwanda scheme on April 14, the PM said tens of thousands of asylum seekers who arrive in the UK by 'irregular routes', such as small boats or hiding in lorries, will be sent 4,000 miles to the African nation.
Arrivals will be processed and screened in the UK, with those deemed suitable flown to Rwanda on planes chartered by the Government. 
They will be then given accommodation and the opportunity to apply for asylum there – but cannot return to the UK. The change in tack from Hamid and his fellow Iranians is one adopted by many migrants in northern France since the announcement.
A few miles away, near another camp in Calais, a group of mostly Sudanese men told of their fear of being beaten or even killed if they are sent to Rwanda.
'We came from Africa – we don't want to go back,' said Mohammed Noor, 34. 'Nobody wants to go to Rwanda. If I go, I will finish my life. In Rwanda I won't get a good life. I have come here for Europe and for the UK.'
… The Government wants the first flights to leave next month. Channel crossings have continued in their hundreds since the announcement, but early indications show that numbers are in decline. On April 14, 562 crossed in small boats. On Tuesday, the figure was 263.
It is too early to say if the apparent decline is a result of the plan, but ministers will certainly hope so. They say the policy is intended to 'take back control of illegal immigration' and undermine people traffickers who profit from it. 
The decline continues:
Yes, it is possible that the weather — wind — could have been a factor, but the Mail's article supports the premise that the deterrent is working.
However, Home Secretary Priti Patel has run into trouble with civil servants — 'mandarins' — assigned to her department. They do not want to implement the Rwanda plan:
Guido has an exclusive on the 'rebellion', complete with screenshots of anonymous tweets from upset civil servants:
Home Office civil servants used an officially organised online consultation this afternoon to discuss the recently-announced Rwanda policy, asking how to potentially block the move, comparing themselves to Nazis "only obeying orders", proposed going on strike and questioned how to deal with their mental health in light of the policy. It shows conclusive evidence of the scale of left-wing opposition facing Patel and the government from within the civil service. It follows news from the weekend that Patel had to issue a ministerial direction to force the policy through …
This is the scale of opposition Priti Patel is facing at the moment from the enemies within, despite her and her fellow ministers being the only people in the department with democratic mandates. While Jacob Rees-Mogg and Simon Clarke are publicly promising to cull the number of civil servants, Guido can see a very obvious place the start…
On April 21, The Guardian reported that Matthew Rycroft, permanent secretary to the Home Office, attempted to reassure civil servants that they will not be breaking international law or be guilty of racism if they send migrants with unsuccessful refugee status claims to Rwanda:
Amid growing anger from the department's workforce, Matthew Rycroft, the permanent secretary, faced questions at an online staff meeting asking if the home secretary's policy of giving people a one-way ticket to Kigali was racist, while others demanded to know if the new policy was within international law.
Rycroft told staff they had to implement ministers' decisions, and reminded them of the civil service's neutral role, sources said.
The scheduled online meeting was held the day after it emerged that Home Office staff had threatened to strike and had drawn comparisons to working for the Third Reich over Patel's plan.
One source said Rycroft was "bullish" about the government's claim that the nationality and borders bill would not have to be passed into law before the policy could be implemented.
The article says that Rycroft did not sign off the plan initially, hence, as Guido wrote, Patel's ministerial direction to do so:
It emerged on Sunday that Rycroft had refused to sign off Patel's plans, claiming that he could not be sure it would provide value for money to the taxpayer. However, sources said he was "fully supportive" of the policy in the online meeting while flanked by other officials. He criticised leaks of the questions posed by staff, saying it was a breach of the civil service code.
This is the principal sentence from the ministerial direction:
I am therefore formally directing you as Accounting Officer to take forward this scheme with immediate effect, managing the identified risks as best you can.
Brendan Clarke-Smith, the Conservative MP for Bassetlaw, tweeted his empathy for the Home Secretary:
On Monday, April 26, during Home Office questions in Parliament, Marco Longhi, Conservative (and Red Wall) MP representing Dudley North, asked for the Rwanda plan to proceed. Tom Pursglove MP assured him that it would.
The human traffickers must be stopped. By the way, Labour have no alternative plan. They just don't like this one:
There is another wrinkle to this saga. Guido reports that the Home Office is fending off criticism that some journalists were not allowed to be part of the press corps on the Government's recent trip to Rwanda:
Guido's post says, in part:
Guardian, Mirror and Financial Times hacks are complaining in Press Gazette that they were "blocked" from attending Priti's Rwanda trip this month, with the Guardian going as far as to accuse the Home Office of trying to "avoid public scrutiny" …
Strangely, however, Guardian hacks were actually invited on the trip… their reporter just happened to fall ill right before leaving.
The Guardian put forward a substitute journalist, but the Home Office declined the offer.
Ultimately, only so many reporters can go:
Guido's departmental co-conspirator says the whole row is "silly", as they can't offer tickets to everyone, everywhere, at all times. They also point out how both the BBC and PA were on-hand throughout the entire trip – so those that couldn't attend could get straight wire copy. In fact, even the picture used in the Press Gazette report came from PA…
It's 'get Boris' time
It is becoming painfully obvious for those who voted Conservative in 2019 that the police are not applying the coronavirus rules equally.
As I have said before, Prime Minister Boris Johnson is the only government leader in the UK to receive a fixed penalty notice for his birthday 'party' — if you can call a 10-minute gathering of staff and a closed Tupperware container of cake a party.
Chancellor Rishi Sunak also received a fixed penalty notice for being at the same gathering.
Meanwhile, no one in Wales, Scotland or Northern Ireland has received anything more than a polite reminder from the police.
So, let's look at Labour.
In May 2021, we had a local election in England along with regional elections in Wales and Scotland. We will be having local elections this May as well, including a regional election in Northern Ireland.
Going back to last year, there were coronavirus-specific campaign requirements and restrictions. Pictured is Labour leader Keir Starmer at the Labour offices in Durham at the end of April 2021:
On May 1, 2021, The Sun reported on Starmer's visit:
LABOUR have dismissed an election 'booze row' after Sir Keir Starmer enjoyed a beer after a day on the campaign trail.
He was seen mixing with party workers in a constituency office in Durham on Friday night …
Tory co-chair Amanda Milling said: "Keir Starmer has continually and rightly called for people to follow the rules designed to keep us safe, but it's now in question whether he is following them himself.
"People will rightly be asking questions about this."
But a Labour source tonight said: "This is pathetic. The Tories' clearly haven't read their own rules."
The local police concluded that there was nothing to investigate. Last weekend, some people wondered whether Durham's Police and Crime Commissioner was present at the gathering:
Richard Holden, the Red Wall MP who represents Durham North, wrote to the Chief Constable of the Durham Constabulary to ask whether the coronavirus restrictions during the campaign had been followed in this particular instance:
Last Sunday morning, Starmer told the BBC's Sophie Raworth that he had nothing more to add about the gathering.
On Monday, April 25, Guido contacted the press officer for Durham Police and Crime Commissioner Joy Allen. The response he received did not put the matter to rest in his opinion:
Following Holden's letter, multiple social media users began questioning whether Durham Police and Crime Commissioner Joy Allen – a longstanding Starmer supporter – was at the event, and whether that could have played a role in the police force's decision to find in the Labour leader's favour. Following the rumours, Guido contacted her press office…
The Office of the Durham Police and Crime Commissioner has been informed that neither Joy Allen, the then candidate for Durham PCC, or Nigel Bryson, attended the event involving Kier [sic] Starmer during his visit to Durham at the last local election.
Leaving aside the phrase "has been informed" rather than a first-person denial, Guido's intrigued by the formal implication this is being considered a local election event, rather than a business meeting. As the rules stated at the time, campaigners could only go indoors "to meet the committee room organiser in order to collect election literature or drop off telling slips…"
It is against the law to meet socially indoors with anyone not in your household or support bubble.
Did Starmer's own Police and Crime Commissioner just accidentally dob him in?
Nothing more will happen. Apart from Richard Holden's constituency, Durham is Labour, through and through.
Meanwhile, Keir Starmer is deeply disappointed that London's Metropolitan Police will not issue further fixed penalty notices until after local elections in early May:
What does the average Briton think about what has been dubbed 'partygate'? A co-presenter of GB News's The Political Correction said on Sunday that people were tired of hearing about it:
If we're fed up with it, imagine the confusion in Ukraine where, believe it or not, a Times reporter asked a woman there what she thought about Boris's birthday party plight.
On Monday, April 25, Guido reported:
From today's Times:
The details of Carrie Johnson's birthday cake "ambush" were explained to them slowly, and when they understood the full extent of the scandal, they said they did not much care.
"Niet. niet." Raisa said. "I don't know about this birthday party. That seems to be normal human behaviour. But he was the first man who stood with us and helped us in our struggle. He is the best, I tell you, the best, the best, the best."
Conclusion
Opposition MPs have been railing against Boris since he became Prime Minister in 2019, generally attaching some superlative such as 'worst' to their opinions.
Veteran reporter and broadcaster Colin Brazier, who presents an excellent show on GB News, suggests that we could always have had a worse leader. What about Oliver Cromwell, who was born on April 25, 1599?
Local elections take place on Thursday, May 5. We'll see what the fallout looks like then.
Sometimes things are not as they appear.
Badgering Boris Johnson to resign over the Downing Street parties during lockdown is an attempt to overturn Brexit.
It is also a sign of envy on the part of the journalists, most of whom are Remainers, attacking him verbally. What journalist — and Boris was one of them for many years — doesn't have an 'If I ruled the world' fantasy? Boris has achieved that dream. They have not.
Here is former Conservative MP Michael Heseltine, a prominent Remainer, saying that Boris's departure could reopen the possibility of re-entering the European Union:
It's misleading the house, it's misleading the people and it's misleading the whole country in a general election because if it were to be established that the PM has been lying then that is going to open a can of worms because very large numbers of people – now the majority of people – believe that the Brexit case was actually a pack of lies… now if he proves to be a liar – to the public, to parliament – what does that do for the very large numbers of people who think it is a catastrophic misjudgement to have severed our good relationships with our European neighbours.
Meanwhile, the general public doesn't care about the parties, especially his birthday party: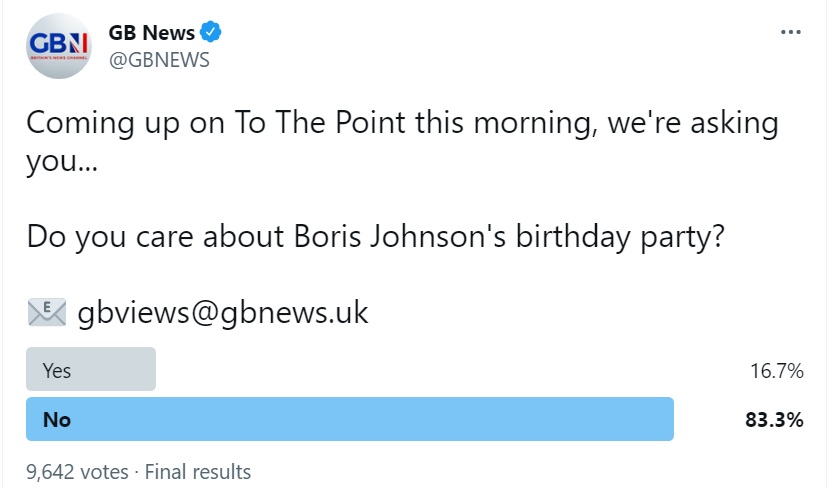 Police investigation
The eminent civil servant Sue Gray had been preparing a report on the Downing Street parties.
Then, the Metropolitan Police stepped in. On Tuesday, January 25, 2022, Commissioner Dame Cressida Dick told the London Assembly, headed by Mayor Sadiq Khan of the news. As such, the Met informed Sue Gray to issue only a summary report so as not to interfere with their own investigation.
GB News has a summary of the social events. Most but not all of them took place at Downing Street, nor did Boris attend all of them (emphases mine):
The Metropolitan Police will investigate a "number of events" alleged to have taken place in Downing Street, Commissioner Dame Cressida Dick has said.
Dame Cressida declined to say which alleged parties are being investigated, nor would she put a timeline on when officers could detail their findings.
The gatherings were already under investigation by senior official Sue Gray, and the Cabinet Office said her work continues.
Here is a list of the alleged gatherings, which in several cases have been admitted to.
– May 15 2020: Downing Street garden party …
– May 20 2020: BYOB garden party …
– June 19 2020: Birthday party for Boris Johnson …
– November 13 2020: Leaving party for senior aide …
– November 13 2020: Johnsons' flat party …
– November 25 2020: Treasury drinks …
– November 27 2020: Second staff leaving do …
– December 10 2020: Department for Education party …
– December 11 2020: Wine fridge delivered to Downing Street for staff's 'wine-time Fridays' …
Mr Johnson was said to have attended a "handful" of these gatherings.
– December 14 2020: Party featuring Tory London mayoral candidate Shaun Bailey and staff …
– December 15 2020: Downing Street quiz …
– December 16 2020: Department for Transport party …
– December 17 2020: Cabinet Office "Christmas party" …
– December 17 2020: Leaving drinks for former Covid Taskforce head …
– December 18 2020: Christmas party at Downing Street …
Mr Johnson's spokeswoman, Allegra Stratton, quit after being filmed joking about it with fellow aides at a mock press conference.
– Run-up to Christmas 2020 …
– April 16 2021: Drinks and dancing the night before the Duke of Edinburgh's funeral …
The Telegraph quoted a No 10 spokesman as saying Mr Johnson was not in Downing Street that day and is said to have been at Chequers.
Strangely, at the time, no one cared:
Now everyone does.
Downing Street has not helped. They are now denying there was a cake:
On January 25, the Paymaster General, Michael Ellis MP, drew the short straw and had to answer an Urgent Question (UQ) from Labour's deputy leader Angela Rayner (pictured in the top left photo):
This was the UQ:
To ask the Chancellor of the Duchy of Lancaster to make a statement on the status of the investigation into Downing Street parties following the statement from the Commissioner of the Metropolitan Police.
I felt very sorry for Ellis, who had to reply for the Chancellor of the Duchy of Lancaster, absent from the chamber. The transcript makes for grim reading.
Sir Edward Leigh, one of the first MPs to speak, tried to put things into perspective but to no avail:
When Europe stands on the brink of war and there is a cost of living crisis, can we please have a sense of proportion over the Prime Minister's being given a piece of cake in his own office by his own staff?
The verbal attacks were many and vicious.
Ellis was able to put one Scottish MP, Pete Wishart (SNP), in his place.
Wishart asked:
Does the Paymaster General not think that it would be a good idea to set up a police special operations unit room in No. 10 Downing Street, because, while the police are looking at this case, they could perhaps look at cash for honours, cash for access, personal protective equipment for pals, paid advocacy, breaking the ministerial code, and all the other general Tory badness?
Ellis responded:
I have to say that a quick Google analysis of the SNP would not be particularly edifying. Despite noises off, this Prime Minister is focused on what matters to the British people and it is right that those matters conclude in an orderly way.
On Friday, January 28, news emerged that the Met told Sue Gray not to publish her report in full:
That day, The Guardian reported that a comedian issued a fake Sue Gray report:
The comedian Joe Lycett, who apparently caused chaos and "mass panic" in government when he tweeted a fake version of Sue Gray's "partygate" report, has said his social media stunt was motivated by anger after the death of a close friend during the first lockdown.
Lycett tweeted a parody Gray report with a fake Cabinet Office letterhead, titled: "A summary of my main findings", captioning his tweet: "BREAKING: Leaked Sue Gray report reveals shocking abuse of rules. Hard to see how the PM can cling on after this."
He later shared a message that he said came "from someone who works for a cabinet minister. Source verified."
The message, purportedly from someone who works in parliament, read: "Your tweet this morning was read as an actual serious leak from Sue Gray's report. U had MP staff literally running around panicking from what it said. Panic dialling MPs like we need to discuss this right now."
On Saturday, January 29, Steven Swinford of The Times reported that Sue Gray was just putting the finishing touches on her report when the Metropolitan Police intervened.
Swinford's first sentence drew me in. It's hard not to like an article that begins with this:
Sue Gray had been looking forward to a holiday.
It is unclear why the Met intervened when they did:
The timing of her intervention is said to have surprised Gray and her team of investigators. She had been in discussions with the Met for weeks, sharing information as she went along. Yet the force had declined to get involved until the point when her report was almost completed and ready for publication …
"She's in a horrible position," a Whitehall source said. "The delay just creates an air of conspiracy. Sue's integrity is at risk here. If a partial report is produced it will look like she's been got at. She just wants a holiday, she feels like she's had enough of it. Very few people could do what she does but she just wants to be on the other side of this one."
Some think that the Met's intervention could be good news for Boris:
Johnson's critics and supporters agreed that the Met's intervention strengthened his position. One cabinet minister said: "Sue Gray cannot prejudice the Metropolitan Police's investigation. It would be insane if she went ahead and published the details. The longer this goes on, the more ridiculous it looks. The prime minister is out of the danger zone, the worst is over."
Or is he?
Sue Gray 'update'
On Monday, January 31, Sue Gray issued a summary — termed an 'update' — of her report.
Guido Fawkes has the update in full.
Gray concluded:
a number of these gatherings should not have been allowed to take place or to develop in the way that they did. There is significant learning to be drawn from these events which must be addressed immediately across Government. This does not need to wait for the police investigations to be concluded.
At 3:30, Boris addressed MPs (see full transcript of the session). He said that he was sorry and that changes would be made in Downing Street.
He concluded with this:
First, it is time to sort out what Sue Gray rightly calls the "fragmented and complicated" leadership structures of Downing Street, which she says
"have not evolved sufficiently to meet the demands"
of the expansion of No. 10. We will do that, including by creating an Office of the Prime Minister, with a permanent secretary to lead No. 10.
Secondly, it is clear from Sue Gray's report that it is time not just to review the civil service and special adviser codes of conduct, wherever necessary, to ensure that they take account of Sue Gray's recommendations, but to make sure that those codes are properly enforced. Thirdly, I will be saying more in the coming days about the steps we will take to improve the No. 10 operation and the work of the Cabinet Office, to strengthen Cabinet Government, and to improve the vital connection between No. 10 and Parliament.
Mr Speaker, I get it and I will fix it. I want to say to the people of this country: I know what the issue is. [Hon. Members: "No!"] Yes. [Hon. Members: "You!"] It is whether this Government can be trusted to deliver. And I say yes, we can be trusted—yes, we can be trusted to deliver. We said that we would get Brexit done, and we did. We are setting up freeports around the whole United Kingdom. I have been to one of them today that is creating tens of thousands of new jobs. We said we would get this country through covid, and we did. We delivered the fastest vaccine roll-out in Europe and the fastest booster programme of any major economy, so that we have been able to restore people's freedoms faster than any comparable economy. At the same time, we have been cutting crime by 14%, building 40 new hospitals and rolling out gigabit broadband, and delivering all the promises of our 2019 agenda, so that we have the fastest economic growth of the G7. We have shown that we have done things that people thought were impossible, and that we can deliver for the British people. [Interruption.] I remind those on the Opposition Benches that the reason we are coming out of covid so fast is partly because we doubled the speed of the booster roll-out.
I can tell the House and this country that we are going to bring the same energy and commitment to getting on with the job, to delivering for the British people, and to our mission to unite and level up across this country. I commend this statement to the House.
It did not go down well with the Opposition benches, nor some of the Conservative MPs.
Theresa May was deeply unhappy:
She said:
The covid regulations imposed significant restrictions on the freedoms of members of the public. They had a right to expect their Prime Minister to have read the rules, to understand the meaning of the rules—and, indeed, those around them him to have done so, too—and to set an example in following those rules. What the Gray report does show is that No. 10 Downing Street was not observing the regulations they had imposed on members of the public, so either my right hon. Friend had not read the rules, or did not understand what they meant—and others around him—or they did not think the rules applied to No. 10. Which was it?
The SNP's Westminster leader, Ian Blackford, followed the former Prime Minister. He cited two of Boris's contradictions and ended with this:
Nobody—nobody—believed him then, and nobody believes you now, Prime Minister. That is the crux. No ifs, no buts; he has wilfully misled Parliament.
Blackford broke two rules there. First, he said 'you'. Secondly, he said 'wilfully misled'.
The Speaker of the House, Sir Lindsay Hoyle, interrupted him:
Order. It would be acceptable to say "inadvertently misled the House", but "misled the House" is not acceptable. The right hon. Member must withdraw that comment.
Blackford doubled down, concluding:
… the public know that this is a man they can no longer trust. He is being investigated by the police. He misled the House. He must now resign.
The exchange between him and the Speaker continued for some time. Blackford refused to withdraw his remark.
At that point, the Speaker was ready to suspend him, but Blackford left voluntarily:
Order. Under the power given to me by Standing Order No. 43, I order the right hon. Member to withdraw immediately from the House—
Another MP said:
He has left anyway!
Here's the video:
Hoyle concluded:
It's all right; we do not need to bother. Let us move on.
Aaron Bell MP spoke later on. Although he is Conservative, he made a good point, asking if Boris was trying to make a fool of him for obeying the restrictions at a family funeral:
Not surprisingly, the Mirror (Labour) picked up on it:
Boris was at the despatch box for a little over two hours.
That evening, he met with a group of Conservative MPs, wherein he pledged to reform how Downing Street operates. Guido's colleague Christian Calgie said it went well:
Meanwhile, Labour MPs and the media hit the bar:
Incidentally, while Boris was giving his afternoon statement to Parliament, one of the bars there re-opened for business.
The next day, Mark Harper MP gave a good interview to Julia Hartley-Brewer at talkRADIO:
Labour's Chinese spy story ignored
In mid-January, news emerged that a Chinese operative had donated £500,000 over a period of several years to a Labour MP. Yet, apart from GB News, no one in the media was — or is — talking about that (Labour leader Sir Keir Starmer is pictured, not the MP involved):
Subplots
There are two important subplots running through this sorry saga: Boris's mention of Labour leader Keir Starmer's record as Director of Public Prosecutions (DPP) with regard to Jimmy Savile (a celebrity paedophile) and the revelation of ghastly text messages by members of London's Metropolitan Police, casting doubt on the force's investigation of the Downing Street parties.
Metropolitan Police
The Metropolitan Police are investigating the Downing Street parties, which is interesting, since the organisation said initially that they would not be doing so, as the events happened too long ago.
One wonders, however, how credible any investigation would be since Commissioner Dame Cressida Dick has come under fire for her leadership. Some constables in the Met have been texting violent and vicious messages that are misogynistic and hateful.
Although Dame Cressida cannot be expected to know everything that her constables are doing, these text messages could cast doubt on the credibility of the investigation.
Furthermore, it is interesting that Dame Cressida announced the Met's investigation of Downing Street at a meeting of the London Assembly, headed by the capital's mayor Sadiq Khan (Labour).
Sir Jimmy Savile
On Monday, January 31, Boris gave the House of Commons an update on Sue Gray's inquiry into the Downing Street parties.
The Metropolitan Police allowed the civil servant to write a summary report pending their own inquiry, which is still ongoing.
As such, there is no conclusion as to whether Boris should resign.
However, Labour and the other Opposition parties have been pushing for Boris to stand down for weeks now.
On Monday, in response to Boris's statement, Labour leader Sir Keir Starmer said:
Conservative Members can heap their reputation, the reputation of their party, and the reputation of this country on the bonfire that is the Prime Minister's leadership, or they can spare the country a Prime Minister totally unworthy of his responsibilities. It is their duty to do so. They know better than anyone how unsuitable he is for high office. Many of them knew in their hearts that we would inevitably come to this one day and they know that, as night follows day, continuing his leadership will mean further misconduct, cover-up and deceit. Only they can end this farce. The eyes of the country are upon them. They will be judged by the decisions they take now.
Boris replied:
There is a reason why the right hon. and learned Gentleman said absolutely nothing about the report that was presented by the Government and put in the Library of this House earlier today. That is because the report does absolutely nothing to substantiate the tissue of nonsense that he has just spoken—absolutely nothing. Instead, this Leader of the Opposition, a former Director of Public Prosecutions—although he spent most of his time prosecuting journalists and failing to prosecute Jimmy Savile, as far as I can make out—chose to use this moment continually to prejudge a police inquiry. That is what he chose to do. He has reached his conclusions about it. I am not going to reach any conclusions, and he would be entirely wrong to do so. I direct him again to what Sue Gray says in her report about the conclusions that can be drawn from her inquiry about what the police may or may not do. I have complete confidence in the police, and I hope that they will be allowed simply to get on with their job. I do not propose to offer any more commentary about it, and I do not believe that he should either.
The Speaker objected:
Boris's mention of Starmer's failure to get the Crown Prosecution Service (CPS) to investigate Savile ran all week long. Conservative MPs also objected to it. It is unclear why that is; after all these years, someone needed to speak up:
Boris's opponents call it a 'far-right conspiracy theory', although Starmer was in charge of the CPS at the time Savile's activities came to light. Starmer even issued an apology for the oversight at the time:
More recently, when Starmer ran for the Labour leadership, he said:
Hear me out: I had 8,000 staff for five years as the director of public prosecutions. And I acted, I hope, in the right way with them, which is when they had victories I celebrated victories on their behalf, I picked up awards on their behalves. When they made mistakes, I carried the can. I never turn on my staff and you should never turn on your staff… I will carry the can for mistakes of any organisation I lead.
Starmer's biography states he was responsible for all criminal prosecutions in England and Wales:
Leader of the House, Jacob Rees-Mogg rightly defended Boris's remark on Thursday, February 3:
In any event, that day, four Downing Street staffers resigned.
Munira Mirza, who had worked for Boris for 14 years — since he was Mayor of London — was the most prominent. The former policy chief said that she took strong objection to her boss's mention of Savile:
Guido posted part of Mirza's resignation letter:
I believe it was wrong for you to imply this week that Keir Starmer was personally responsible for allowing Jimmy Savile to escape justice. There was no fair or reasonable basis for that assertion. This was not the usual cut and thrust of politics; it was an inappropriate and partisan reference to a horrendous case of child sex abuse. You tried to clarify your position today but, despite my urging, you did not apologise for the misleading impression you gave.
In a second post, Guido said that Boris asked Mirza to hold off until he gave a briefing to the media. The briefing only caused her to confirm her resignation:
When the pool clip came without an apology, more of a clarification, she confirmed her resignation via an email which concluded:
Even now, I hope you find it in yourself to apologise for a grave error of judgement made under huge pressure. I appreciate that our political culture is not forgiving when people say sorry, but regardless, it is the right thing to do. It is not too late for you but, I'm sorry to say, it is too late for me.
The public do not understand what the problem is with the mention of Starmer's indirect failure to investigate Savile:
Furthermore, we all understand that Boris wasn't implying that Starmer was personally responsible. However, he was the head of the CPS, so he bore responsibility for it, as Boris told the media:
Let's be absolutely clear, I'm talking not about the Leader of the Opposition's personal record when he was DPP and I totally understand that he had nothing to do personally with those decisions. I was making a point about his responsibility for the organisation as a whole.
Too right.
One of Guido's readers summarised what Boris was saying in Parliament and to the press. It concerns double standards, wherein Starmer expects the Prime Minister to take responsibility for Downing Street activities but not for his own sins of omission at the CPS. This is a good get-out rationale from Guido's reader paraphrasing Boris:
I was not aware of event X being organised or taking place, and so while I apologise it happened under my watch and plan to change systems to avoid such events in future, it is not reasonable for me to resign over it. That is entirely consistent with the Leader of the Opposition's own behaviour while DPP over the Savile issue.
In any event, three more Downing Street staffers resigned after Mirza did, including Martin Reynolds, who issued the email about one of the parties, requesting that people bring their own alcoholic beverages:
It is unclear why the other three left. Some say that they are afraid of being investigated. Others say it was an excuse for Boris to clean house.
Of the three additional resignations, GB News reported:
Martin Reynolds is one of the most senior officials in No 10 but had largely avoided the limelight until the emergence of his email inviting colleagues to "socially-distanced drinks" during England's first coronavirus lockdown.
As Boris Johnson's principal private secretary, he played a key role advising the Prime Minister on a wide range of issues, but resigned from the role on Thursday alongside three other senior Downing Street aides …
Mr Johnson's former adviser Dominic Cummings previously said the influence wielded by the principal private secretary within Downing Street was not widely appreciated.
"The PPS exercises far more influence and actual power over many issues than Cabinet ministers," Mr Cummings said.
"He can nudge policy, he can nudge vital appointments (real power). He can and does walk into the PM's office and exclude all political people 'on security grounds'."
A leaked photograph of the Prime Minister and officials drinking in the No 10 garden on May 15 2020 – five days before the "bring your own booze" event that Mr Reynolds invited colleagues to – showed the PPS sitting at the same table as Mr Johnson …
Mr Reynolds offered his resignation on Thursday alongside Downing Street chief of staff Dan Rosenfield, hours after policy aide Munira Mirza and director of communications Jack Doyle both quit.
A No 10 spokeswoman said: "Dan Rosenfield offered his resignation to the Prime Minister earlier today, which has been accepted.
"Martin Reynolds also informed the Prime Minister of his intention to stand down from his role as principal private secretary and the Prime Minister has agreed to this.
"He has thanked them both for their significant contribution to government and No 10, including work on the pandemic response and economic recovery.
"They will continue in their roles while successors are appointed, and recruitment for both posts is under way."
As I write on Friday morning, an aide to Munira Mirza has also resigned:
Tom Harwood adds that Chancellor Rishi Sunak has been keeping his distance from the Prime Minister and did not defend the remark about Keir Starmer and the Jimmy Savile case.
One of the commenters makes an excellent point about civil servants finding the Savile remark more offensive than what happened to 60+ million people for … a virus:
Those people live in their own bubble.
Interestingly, Boris has appointed an MP rather than a civil servant to succeed Mirza. Andrew Griffith represents the Arundel constituency on the south coast of England. He seems to have a truly Conservative voting record.
Therefore, it seems as if Boris is cleaning house, which can only be a good thing for him. The civil servants do not seem to have been doing him many favours.
In more positive news for the Conservatives, Anna Firth won the by-election in Southend West, served by Sir David Amess until he was stabbed to death last October:
Because of the nature of Sir David's death, Labour and the Liberal Democrats did not put up candidates to run against Anna Firth, although minor political parties did.
Therefore, although she won 86% of the vote, only 24% of the electorate went to the polls.
The party debacle is far from over. This will run and run and run.
When Boris Johnson won the December 2019 general election, the Conservative theme of which was 'Get Brexit Done', he said that he was grateful for the votes from former Labour constituencies, noting that those votes were 'on loan' to his party.
How true and how wise of him to recognise that, a gift which gave him a stonking majority of 80, the highest for the Conservatives in 33 years.
Boris was Prime Minister prior to that election, having been elected as Conservative Party leader in July that year after Theresa May's resignation.
He should have known the knives would be out for him. He had unsuccessfully tried to prorogue Parliament that September. He ended up having to apologise to the Queen after Baroness Hale, she of the spider brooch and a Remainer, ruled against it.
With all that in mind, one would have thought that Boris could be more aware of the optics surrounding his premiership moving forward. Remainers — the Left and the media — have had a beady eye on him and Downing Street.
Boris's majority is now 74: whip withdrawn from three MPs, two by-election losses to the Liberal Democrats (Chesham and Amersham, North Shropshire), one win from Labour in Hartlepool last year and one defection (Christian Wakeford).
Furthermore, it is worth noting that Boris's resounding popularity with the public (until recently) is not reflected in the parliamentary Conservative Party.
Unlike Labour, the Conservatives do not hesitate to depose their leader. They got rid of Margaret Thatcher in the autumn of 1990. The 'wets' she so roundly criticised for their lack of political backbone proved they had spines after all.
Therefore, a Conservative Prime Minister faces threats from without and within.
The Opposition and the media want the UK to re-enter the European Union. The Conservatives have disgruntled candidates, past and present, who want to lead the party in a more conventional, less maverick, style. None of these groups is friendly to Boris Johnson's premiership and would love nothing more than to see it brought down.
On Friday, January 14, 2022, the veteran journalist and author Charles Moore wrote a perceptive column for The Telegraph on Boris's travails with lockdown parties: 'For all his faults, there is no other Tory politician who has Boris Johnson's political reach'.
Moore's editorial appeared two days after Boris apologised at the beginning of PMQs (Prime Minister's Questions). He said (emphases mine):
Mr Speaker, I want to apologise. I know that millions of people across this country have made extraordinary sacrifices over the last 18 months. I know the anguish that they have been through, unable to mourn their relatives and unable to live their lives as they want or to do the things they love. I know the rage they feel with me and with the Government I lead when they think that in Downing Street itself the rules are not being properly followed by the people who make the rules.
Though I cannot anticipate the conclusions of the current inquiry, I have learned enough to know that there were things that we simply did not get right, and I must take responsibility. No. 10 is a big department, with the garden as an extension of the office, which has been in constant use because of the role of fresh air in stopping the virus. When I went into that garden just after 6 o'clock on 20 May 2020, to thank groups of staff before going back into my office 25 minutes later to continue working, I believed implicitly that this was a work event, but with hindsight, I should have sent everyone back inside. I should have found some other way to thank them, and I should have recognised that even if it could be said technically to fall within the guidance, there would be millions and millions of people who simply would not see it that way—people who suffered terribly, people who were forbidden from meeting loved ones at all, inside or outside—and to them, and to this House, I offer my heartfelt apologies. All I ask is that Sue Gray be allowed to complete her inquiry into that day and several others, so that the full facts can be established. I will of course come back to this House and make a statement.
Sue Gray, an eminent civil servant, is still investigating the May 20, 2020 gathering and several others held in Downing Street during the lockdown periods in England. She could be some time.
On January 12, Opposition leaders and MPs piled on Boris. To an extent, I agree with them. Boris set the rules. Boris gave us the rules, either by himself or through his ministers, on television during the coronavirus briefings. Now he says he was unaware of them or should have been more mindful of them?
However, Downing Street is also a Crown property, meaning that it is exempt from certain laws that apply elsewhere across the country.
That said, the Queen scrupulously abided by the coronavirus restrictions during her husband's funeral in April 2021. She sat alone. She was masked. It was tragic to see.
Yet, the overall design of the demands for Boris to resign over the parties — remember, he is still innocent until proven guilty — is to banjax Brexit and get rid of his attempts to make Britain a better place to live. This includes the expiry of most of the remaining Plan B coronavirus restrictions, on schedule for January 26, 2022. Their expiry puts the UK on course to be the freest Western nation in this regard.
Moving on to Charles Moore's editorial on the parties, the eminent journalist asks:
… I wonder, once the righteous anger had passed, how good it would feel for the country if the head of government had been ejected on this issue.
We may now be moving nearer to normality in relation to Covid-19. The Government, which was too draconian earlier on, now seems broadly on the right track, pushing back against scientists and social engineers in love with semi-permanent lockdown. Isn't it better to stick to this course, without the self-indulgence of political convulsion? The international comparisons are quite favourable to Britain. We are not facing the collapse of the Government's main policy. If anything, we are beginning to see its success.
Then there is the question as to how the news about these parties leaked from No. 10 or elsewhere. Boris's former adviser, Dominic Cummings, is behaving like a vengeful jilted lover, referring to the Prime Minister as 'the trolley', careering all around the place. Does he bear any responsibility for these leaks? We should be told.
Of Cummings, Moore says:
I have a lot of sympathy with Dominic Cummings's frustrations with Boris when he worked for him in Downing Street, but none with his attempt to prove him unfit for office by waging a continuous media campaign. 
If the two fell out, there will be fault on both sides, but the benefit of the doubt must go to the executive who is elected, not to the adviser who no longer advises.
As for sitting MPs railing against Boris, Moore says they represented the party when they ran for office; in most cases, they were not elected on their personal merit.
Moore was not to know of Christian Wakeford's crossing the aisle just before PMQs on Wednesday, January 19. Wakeford sat right behind Keir Starmer, in full view of Boris.
Bury South, Wakeford's Red Wall constituency, now has a Labour MP, with no say from his voters about this.
Moore says:
In the age of Twitter, many MPs seem to think they are in Parliament because of their own sturdy independent-mindedness and bear no responsibility to the collective.
Actually, no. Almost all of them are there because of the party label they hold – the regiment, if you like, in which they have chosen to serve. They need to understand that the regiment will come under constant attack, and they cannot survive individually if they crumple under each bombardment.
Until Wakeford's defection, which is a serious matter in the House of Commons, a growing group of Conservative MPs were moving actively against Boris, especially through writing letters to Sir Graham Brady, head of the 1922 Committee. If he receives 54 letters against Boris, he can hold a vote of no confidence. Fortunately, Wakeford's perfidious crossing the aisle was so shocking that those MPs have settled down, deciding to lie low for the time being. It is rumoured that some have since withdrawn their letters to the 1922 Committee.
Moore recaps Boris's political history from the time he served two terms as Mayor of London, a job he performed admirably. Boris has had similar successes since then, including being the face of the Brexit referendum in 2016:
For all Boris's evident faults – so evident that Conservative MPs knew most of them when they chose him – his record of advancing his party is almost unspotted. Twice managing to become Mayor of London – a very unTory city – he then won the EU referendum, thus accumulating the electoral capital to lead his party when Mrs May failed. He won a commanding majority at the ensuing general election on the proposition that he would get Brexit done and crush Jeremy Corbyn's Labour Party. The May era proved that no one else could do that.
I realise that gratitude is not a strong emotion in politics, and the polls are bad now, but Tory MPs should at least recognise that such skills are not easily replicated. The leading contenders if Boris falls – Rishi Sunak, Liz Truss and Michael Gove – are all able politicians, but none has exhibited anything like Boris's reach. This man has come close to political death before – when Michael Gove denounced him after the referendum and when he failed as Foreign Secretary.
He has also come close to actual death – when he got Covid in the early days of the plague. But he has a way of surviving and reviving. These skills deserve respect from the party he leads. If they try to kick him out, they create a definite split for an indefinite benefit, possibly provoking the third general election in five years. Who needs that?
Precisely. There is no other leader who has the reach with the general public like Boris Johnson.
It will take some time for Boris to recover. This will be as difficult for him as recovering from coronavirus was in the Spring of 2020. It seemed to take him several months, even if he said otherwise that year. He looked and sounded tired and worn down for a long time.
The same will hold true now. The public didn't mind when Boris tried to unconventionally foil opposition to Brexit, because we knew he was fighting on our behalf.
However, these parties took place at a time when we could not see other family members outside of our homes. We could not visit relatives in care homes. We could not be with them in hospital for any reason. We could not even get into some Accident & Emergency wards for urgent care. We were deprived of Christmas and other religious celebrations. We could not get married. We could not bury with the comfort of family around us. We could not sit on the grass in the park to soak up warm sunshine in May 2020. We couldn't even sit on a park bench. Nor could we speak out against these restrictions or the 'science' behind them. We were ordered to stay at home and stay away from the workplace in order to save lives. We were constantly warned about 'killing Granny', a disgusting proposition and accusation.
The Government and advisers took us for fools, as if we were brainless. It is therefore amazing that we have the ability to hold down jobs and pay their overly inflated salaries and pensions. Then, at the end of last year, we found out that some of those advisers received New Year's Honours for stopping us from living life in the way God intended, in a free society. It all stinks to high heaven.
Therefore, it is appalling to discover that, while we were cooped up at home, Downing Street was holding these parties.
Boris has betrayed the public the way he betrayed his wives. It was callous and cruel, in the same way that marital infidelity is.
That is what angers the public. Boris turned against us. How does a betrayed wife ever trust her husband again? This is what Boris will have to work on with us, 'straining every sinew', to borrow a favourite, albeit silly, Conservative turn of phrase.
Still, with all that in mind, we must keep in mind Charles Moore's warning. If Boris goes, Brexit could be in trouble. Don't believe Labour when they say that Brexit is a 'done deal' and they won't try to reverse it:
One must ask who stands to benefit from the blond defenestration being talked of. Lord Adonis, the Remainer whose frankness is so helpful to the other side, tweeted this week: "If Boris goes, Brexit goes." That is the idea. That is the constant motivation of a minority of unreconciled Tory MPs and a majority of the Great and the Good in the Civil Service, academia, the law, the House of Lords and the BBC, which is carefully managing this current story for the political effect it has always wanted.
Christian Wakeford is sure he's done the right thing by moving to the Opposition benches, sidling up to Labour without a by-election. It will be interesting to see what his Jewish constituents make of his new alliance with an anti-Semitic party, supposedly cleaned up now. It will be just as interesting to see who the Labour candidate for Bury South is at the next general election. I won't be putting any money on Wakeford's selection.
What we need now is patience, watching Boris like a hawk in the coming months — especially with local elections this May — but giving him the space to repent through his actions by returning to One Nation Conservativism.
This month, August 2021, my far better half and I went up to London.
We made two trips, our first since March 12, 2020, 11 days before lockdown.
While there were not as many people milling around, there were enough to be reassuring.
A ground report follows.
Trains
We took a mainline commuter train to and from the capital.
We did not wear masks, although more than half of the passengers did.
Everyone seemed to be minding his own business, so no one had a go at us or the other maskless passengers.
Where we went
Our first journey covered the Embankment going to a private venue for a party. Going back, we returned via Fleet Street.
The eateries about which I had worried so much for 16 months are, in large part, still there, which amazes me with so many people working from home.
The only shuttered establishments I saw was a dry cleaners and a small Thai restaurant which had gone out of business sometime since 2020. Other than that, everything else was in operation.
Our second trip covered the Euston Road and the West End going to our final destination. Coming back, we went via Piccadilly Circus, through Soho, then down Tottenham Court Road and Grafton Street, returning to the Euston Road.
Once again, restaurants and cafés were open, which I found a surprising, yet welcome, sight.
Quite a few Britons were in the streets, milling around and shopping.
Venues
We went to private venues.
The first, along the Embankment, requested that we mask up in common areas, such as corridors and the conveniences.
No one had a mask on in the room where we attended a cocktail party.
We went to a second venue in central London for lunch. No masks were required anywhere, although those who wished to wear one could do so.
We did stop into a shop to get watch batteries replaced. As it was a small shop, customers were requested to cover their faces, which we did.
Conversation
Our friends were as relieved to be unmuzzled as were we.
The most common lockdown activities were gardening and frequent runs to the supermarket, if only to leave the house.
On the way back on the train last week from our second trip, the luncheon, a maskless thirty-something man sat across from us.
I made a deprecatory comment on a coronavirus article I had read in that day's Evening Standard. The man picked up on it and the three of us shared our sceptical views on the 'crisis' for the rest of our journey.
When we alighted, he said that he purposely sat across from us because he prefers to be with maskless passengers.
Conclusion
While this is a short post, I wanted to let everyone know that London is up and running again.
It was great to be in the Big Smoke once more and see that life is returning to normal. We, too, feel normal now that we can resume our regular trips and social events.