You are currently browsing the tag archive for the 'pastor' tag.
On Friday, September 1, 2017, President Donald Trump proclaimed that Sunday would be a National Day of Prayer in the United States for those affected by Hurricane Harvey — victims, first responders and rescuers:
Trump's pastor friends are behind him laying on hands in prayer. Pastor Robert Jeffress is on the left with the red tie.
Trump also thanked the first responders and rescuers doing so much to mitigate Harvey's ravaging effects.
Trump spoke then signed the proclamation (3:08 mark above). The White House has a transcript of his proclamation, most of which follows:
Americans have always come to the aid of their fellow countrymen — friend helping friend, neighbor helping neighbor, and stranger helping stranger — and we vow to do so in response to Hurricane Harvey. From the beginning of our Nation, Americans have joined together in prayer during times of great need, to ask for God's blessings and guidance. This tradition dates to June 12, 1775, when the Continental Congress proclaimed a day of prayer following the Battles of Lexington and Concord, and April 30, 1789, when President George Washington, during the Nation's first Presidential inauguration, asked Americans to pray for God's protection and favor.
When we look across Texas and Louisiana, we see the American spirit of service embodied by countless men and women. Brave first responders have rescued those stranded in drowning cars and rising water. Families have given food and shelter to those in need. Houses of worship have organized efforts to clean up communities and repair damaged homes. Individuals of every background are striving for the same goal — to aid and comfort people facing devastating losses. As Americans, we know that no challenge is too great for us to overcome.
As response and recovery efforts continue, and as Americans provide much needed relief to the people of Texas and Louisiana, we are reminded of Scripture's promise that "God is our refuge and strength, a very present help in trouble." Melania and I are grateful to everyone devoting time, effort, and resources to the ongoing response, recovery, and rebuilding efforts. We invite all Americans to join us as we continue to pray for those who have lost family members or friends, and for those who are suffering in this time of crisis.
NOW, THEREFORE, I, DONALD J. TRUMP, President of the United States of America, do hereby proclaim September 3, 2017, as a National Day of Prayer for the Victims of Hurricane Harvey and for our National Response and Recovery Efforts. We give thanks for the generosity and goodness of all those who have responded to the needs of their fellow Americans. I urge Americans of all faiths and religious traditions and backgrounds to offer prayers today for all those harmed by Hurricane Harvey, including people who have lost family members or been injured, those who have lost homes or other property, and our first responders, law enforcement officers, military personnel, and medical professionals leading the response and recovery efforts. Each of us, in our own way, may call upon our God for strength and comfort during this difficult time. I call on all Americans and houses of worship throughout the Nation to join in one voice of prayer, as we seek to uplift one another and assist those suffering from the consequences of this terrible storm.
The Left went mad.
They complained of mixing church and state. Unlike France, the United States does not prohibit the mixing of church and state. The United States grants the freedom for people to practise their own religion and says there will be no state religion. For more information on church and state in America, see 'Church, state and the First Amendment', which I wrote earlier this year.
They accused Trump of intimating that people who were non-Christian could not participate. Does he have to draw them a picture every time he speaks? Everyone was encouraged to participate in their own way: 'all faiths and religious traditions and backgrounds'.
The aforementioned Pastor Jeffress gave an interview to Judge Jeanine Pirro of Fox News on November 2. He is grateful that God gave America Donald Trump:
I read somewhere last week that President Trump might not be a religious president, but he is a prayerful one. That works for me.
In July 2012 — the year of Obama's re-election — there was the 714-PROJECT for America, which was a general — not presidential — call to prayer and meditation based on 2 Chronicles 7:14. That verse was useful then and continues to be so now:
I think of that verse often, not only for the US, but also for other nations, including the UK.
However, it does not take a national day of prayer for the faithful to bow their heads and ask for God's blessing (the date of the tweet shows here as November 3 but is actually November 2):
Breitbart has a good article on previous National Days of Prayer. Excerpts follow.
As Trump said, Washington was the first to make such a proclamation:
"No people can be bound to acknowledge and adore the Invisible Hand which conducts the affairs of men more than those of the United States," Washington declared in his first Inaugural Address, the first words uttered by a president of the United States.
It is therefore hardly surprising that when the first Congress passed a resolution on September 25, 1789, calling upon Washington to proclaim a National Day of Prayer, the Father of His Country issued a proclamation to all Americans that November 26, 1789, would be a day to "offer our prayers and supplications to the Great Lord and Ruler of Nations, and beseech him to pardon our national and other transgressions."
"Whereas it is the duty of all Nations to acknowledge the providence of Almighty God, to obey his will, to be grateful to his benefits, and humbly to implore his protection and favor," Washington's proclamation begins, then encourages Americans to pray in their churches and homes on the designated day …
John Adams, the second president, made two: in 1798 and 1799. He asked for a day of:
solemn humiliation, fasting, and prayer.
From James Madison — the fourth president — onwards, every president proclaimed that at least one day be a National Day of Prayer.
This was not a rare occurrence.
In 1863, Abraham Lincoln proclaimed March 30 to be a:
Day of National Humiliation, Fasting, and Prayer.
He announced:
Whereas it is the duty of nations as well as of men to owe their dependence upon the overruling power of God, to confess their sins and transgressions in humble sorrow, yet with assured hope that genuine repentance will lead to mercy and pardon, and to recognize the sublime truth, announced in the Holy Scriptures and proven by all history, that those nations only are blessed whose God is the Lord; I do hereby request all the people to abstain on that day from their ordinary secular pursuits, and to unite at their several places of public worship and their respective homes in keeping the day holy to the Lord and devoted to the humble discharge of the religious duties proper to that solemn occasion.
The proclamations of national days of prayer continued until 1952.
In 1952, President Harry S Truman's and Congress's intentions were good, however, instituting the first Thursday of May as the National Day of Prayer in perpetuity became a day viewed by most as a time when the president's favourite pastors go to the White House for prayer and breakfast. It is no longer an exceptional occasion which captures most Americans' hearts. It should, but, as the decades pass, it just looks too institutionalised.
It's better to retain that and, when necessary, add special National Days of Prayer for specific events.
Various presidents after Truman have done so. Prior to President Trump, the last to do so was George W Bush after 9/11 in 2001.
Obama had no specially designated National Days of Prayer.
Thank goodness that President Trump is resuming the tradition.
To those who do not understand a national call to prayer, Breitbart explains:
all the Establishment Clause forbids is the government officially adopting a national religion or coercing Americans to participate in a religious activity that violates their conscience.
This is what would be unconstitutional:
ordering Americans to attend church to pray this Sunday and threatening them with federal prison if they refuse …
These National Days of Prayer are appeals:
issuing a proclamation that encourages all Americans who are willing to offer prayers that accord with their individual conscience is entirely constitutional.
The Left questioned whether Trump went to church on Sunday.
Yes, he did.
He attended St John's Episcopal Church — the Church of the Presidents — which is in Lafayette Square, very close to the White House:
As the Trumps left after the service, the president answered a question from the press:
In case that video gets deleted, here are three tweets: first, second and third.
It was great to see tweets from others who participated in this National Day of Prayer at their own local churches:
Hurricane Harvey presented a perfect opportunity to unite the country and bring people closer to God through an officially proclaimed National Day of Prayer.
Last week, supporters of President Donald Trump had to endure much negativity.
There were the melées in Charlottesville and Boston, the media and others on the Left denouncing him, continued calls for his removal from office and so on.
Then there are the conversations that we have with people — friends and acquaintances. For my circle, Trump isn't sophisticated enough. One Englishman actually said to me just a few days ago:
Trump isn't very bright. He appeals only to the unsophisticated — like people in Boise, Idaho.
He was refuted pretty quickly on that one, let me tell you.
Anyway, with all of this rubbish going on, Trump's (previously) scheduled rally in Phoenix, Arizona on Tuesday, August 22, 2017 came at the perfect time.
The videos
Those interested can view everything — from supporters' interviews to the guest speakers to Trump's speech — below. Thank you, RSBN:
The following video from Fox 10 in Phoenix is of Trump's one hour and seventeen minute speech:
If you have never seen a Trump rally, it's worth watching. They're all good — and all on YouTube.
Arizona Republicans spoke as did Alveda King, Martin Luther King's niece who is very much pro-life.
The Rev Franklin Graham — Billy's son — opened proceedings with a prayer. (Alveda King is on the right in black and purple.) This really is an amazing prayer on so many levels. RSBN also pans the crowd so you can see how many thousands are there:
Speaking of crowds, someone did a great time lapse video of the queue of people waiting to get in to the Phoenix Convention Center. It was a hot day, with temps over 100° F (40°+ C). People get to Trump's evening rallies early in the morning and are outdoors all day long:
Trump tweeted that there were 15,000.
They were probably in line before Trump left Washington DC. Upon arrival in Arizona, Trump visited the US Border Protection and ICE teams in Yuma:
They told him about their daily work and the dangers they face. Trump discussed the visit in his speech.
Speech highlights
Although the teleprompter was up and running, Trump diverged from it with his trusty Sharpie-written notes and quotes. Trump is nearly always better without a teleprompter.
Trump began by thanking his supporters in Arizona and reminding them that he did his first ever rally there, during the Republican candidate debate season. He also thanked the speakers who preceded him.
He spent several minutes recapping his three statements about Charlottesville, which I covered here last week. N.B.: Although Trump did not say it, Charlottesville was a paid-for, false flag event on both sides.
Trump was amazed that the media did not mention he has 'a home there'. It is where Trump Winery is located.
He said that the media were to blame for stirring up division in America. He said they reported only parts of stories, particularly those related to him. They take selective quotes from his statements. He wondered if the media even liked America because they seem to be so against the interests of the American people.
He did give credit to Fox News, namely Fox and Friends (morning show) and Sean Hannity (late night show). He watches both:
He also said he did not like it when the media smeared his supporters:
He also said that there was a lot of news they never cover, such as America's failing education system and gang violence:
Between 32 and 35 minutes in, CNN and MSNBC shut off their cameras. Trump could see this, because their red camera lights went on. He mentioned it.
This is what happened at MSNBC. Notice the test pattern. (Surely, being a 'Trash Man' is a good thing. The trash man — dustman in the UK — removes rubbish.) Rachel Maddow wasn't sure yet what was going on:
Trump talked about his 1m+ new jobs which would help to unify the nation and end the current division. He said that he wanted prosperity for all:
Trump went on to review his many achievements during the first seven months of his presidency, which I've also written about.
Although his infrastructure project has started, some CEOs from his advisory panel resigned after Charlottesville, because they did not think his statements went far enough. He disbanded the group:
He criticised Congress (and the Senate) for failing to pass legislation to repeal Obamacare. He said he had not given up and also pledged the largest tax reform 'in 30 years':
The tweets below are reactions from the elitist neo-con never-Trumper Bill Kristol (Trump complimented General Kelly, moved from Homeland Security to Chief of Staff) and conservative pundit, the pro-Trump Laura Ingraham:
Trump rightly had a go at local governments and universities bowing to pressure from Antifa to have Confederate and other statues of past American leaders removed. He told them not to touch those of George Washington. Removal takes place in the middle of the night, incidentally:
Around this time:
Trump spoke about renegotiating NAFTA. The first round of talks took place at the end of last week and ran through the weekend:
He signalled that he was sick and tired of the advice from outsiders:
He had a few closing soundbites, including:
Trump then concluded his speech:
Reactions
As ever, Trump pleased his supporters.
A Canadian had a righteous blast at CNN's Jim Acosta. Thank you:
CNN responded with a programme about impeaching Trump featuring their usual leftist experts, Deep Staters and Democrats.
A New York City radio show host measured Trump's speech by noting the Left's hysteria. Responses mentioned the CNN feature about impeachment:
There was also this scandalous CNN commentary on black Trump supporters, including the Secretary of Housing and Urban Development, retired brain surgeon Dr Ben Carson:
Terrible. Now that is racist, even if Mr Boykin is himself black. That's CNN, folks.
Indeed it is.
NBC's White House reporter tweeted:
People at home were blown away:
You bet.
In closing, here's the verdict of Trump's longtime supporter, Pastor Mark Burns:
Amen, Pastor Burns. MAGA!
And so he should.
All week long, the media have told us all about the Far Right people in Charlottesville, but nothing about the violent Alt-Left who were there. I wrote about Antifa and others yesterday.
To recap, this Charlottesville thing was a set-up designed to bring President Donald Trump down. The Far Right and the Far Left were actors and pawns used — and paid — by powerful Trump enemies. I explained why earlier in the week.
President Donald Trump made a statement on Saturday, August 12, 2017 rightly condemning both sides — while the melée was still going on. Big Media weren't happy because he said the Left as well as the Right were involved in the violence. He made another statement on Monday, August 14, focussing on the Right. No one was happy, including his supporters. On Tuesday, August 15 at Trump Tower — because the White House is being renovated — he took the gloves off.
The interruptions from reporters were epic and uncalled for. A black Trump-supporting talk show host rightly pointed out:
Apparently …
One can imagine the president was well and truly fed up.
How many statements does he need to make about this?
So, he asked the media, 'What about the Alt-Left?' That occurs about halfway through this video, which is only part of the press conference, which was supposed to be about his new infrastructure policies, which is why Trump was flanked by newly married treasury secretary Steven Mnuchin and transportation secretary Elaine Chao. Instead, it was mostly about Charlottesville. Watch the body language and note the welcome absence of a teleprompter:
Elaine Chao looks on in admiration. She's married to do-nothing Senate Majority Leader Mitch McConnell (R-Kentucky).
This is the next part, which is about violent activists pulling down Confederate statues. Trump asks where it will stop and if Washington and Jefferson are next:
Asking how far these unhinged radicals will go led to a confrontation between Trump and the always complaining, ever-interrupting Jim Acosta from CNN, who, as I said yesterday, needs his press pass pulled — permanently. In fact, CNN should be suspended indefinitely from press briefings:
The White House issued a summary of talking points about the press conference. Particularly enjoyable is the bullet point that reads (emphases mine below):
The media reacted with hysteria to the notion that counter-protesters showed up with clubs spoiling for a fight, a fact that reporters on the ground have repeatedly stated.
Hilarious — and so true.
The Daily Wire, not necessarily a pro-Trump site, enjoyed it. It was vintage Trump — the man so many voted for — for sure. Excerpts follow from 'Trump's Epic Presser Clarifies Three Truths That Have Driven The MSM Insane' (emphases of numbered items in the original):
During a fiery question and answer session with the leftwing media Tuesday afternoon, President Trump arrived loaded for bear. The presser was vintage Trump. Combative, oftentimes hilarious, and filled with deeply satisfying moments that sometimes happen when Trump is at his best, moments when stark truths are finally said out loud, and by the President of the United States, no less.
… Trump appeared to enjoy every moment of the hostile back and forth. Moreover, he had three truths he wanted to communicate to the American people, and so that is exactly what he did and we are now a better country for it.
1. "Not all of those people were neo-Nazis."
Trump again blasted the white supremacists in Charlottesville, and he also tore into the man charged with driving his car into a group of Antifa counter-protesters as a "disgrace to his family and country … a murderer."
However, Trump also pointed out that not everyone who protested that day against the removal of Gen. Robert E. Lee's statue is a racist …
The media's response to this truth has been unhinged. They are claiming Trump believes there are good people in the white supremacist movement. This despite the fact he made clear — without being asked — that this is exactly what he did not mean:
I'm not talking about the neo-Nazis and the white nationalists, because they should be condemned totally. But you had many people in that group other than neo-Nazis and white nationalists.

And the press has treated them absolutely unfairly. Now, in the other group also, you had some fine people, but you also had troublemakers.
2. "Are we going to take down statues to George Washington?"
Although Trump made clear that he believes, and appropriately so, that the decision to remove statues should be left to local governments, he also made another clarifying point: Where does this madness end? …

Acosta kept saying, 'No, sir. No, sir,' but I've seen this many times before in my lifetime: mission creep — smoking bans being a primary example.
Back to the article, which also suggests mission creep:
Quite hilariously the disingenuous is pretending Trump is insane for lumping together Lee with Jefferson and Washington, even though the calls from the Left to memory-hole our slave-owning Founding Fathers, to remove their statues and tributes, have been floated for more than a decade.
Where will it end?
Lincoln was serious about freeing the slaves and shipping them back to Africa. West Virginia is lousy with tributes to Klansman (and Democrat) Robert Byrd. Ulysses Grant owned slaves. Franklin Roosevelt interned the Japanese.
The media can pretend the Left's Taliban-ish crusade for historical purity is not real, but it is, and Americans know it.
3. "There was violence on both sides."
This is, without question, the most important point the president made, and he made it repeatedly.
Post-Charlottesville, the MSM's shameless propaganda push, their audacious and coordinated attempt to write the culpability of Antifa out of Saturday's riot is not only Orwellian, it is (and this is by design) dangerous. The media obviously wants Antifa motivated and out there, wants their own personal army of Brownshirts fanning out across the country to break heads, not just of Nazis but of everyday Trump supporters, of anyone on the Right who dares hold an unacceptable opinion.
Trump was having none of it:
What I'm saying is this. You had a group on one side and you had a group on the other, and they came at each other with clubs and it was vicious and it was horrible. And it was a horrible thing to watch.

But there is another side. There was a group on this side, you can call them the Left. You've just called them the Left — that came violently attacking the other group. So you can say what you want, but that's the way it is. …

I think there's blame on both sides. … I have no doubt about it, and you don't have any doubt about it either. And if you reported it accurately, you would say [so].
The article concludes:
Today, he dragged the media's favorite leftwing supremacists out into the spotlight.
Trump's taking hell for it, but he is doing the only moral thing — telling the truth.
Indeed, and Trump supporters are most grateful. I hope this happens more often. I really do. Chief of Staff General John F Kelly was also there standing to Steven Mnuchin's left, and it is unclear whether he disapproved of Trump's truth telling or if he was annoyed with the media. He looked out, he looked down, but was enigmatic. By contrast, Mnuchin was trying to suppress a grin every now and then.
Whatever the case with the lying media:
From the Christian Post article:
While some, like Charlottesville Mayor Mike Signer, have claimed that there is a "direct line" between the events in Charlottesville and the choices Trump made in his 2016 presidential campaign, conservative African-American clergy members, scholars and political activists decried such an argument in a Monday press conference at the National Press Club.
Organized by The Center of Urban Renewal and Education (CURE), a Washington, D.C.-based nonprofit think tank founded by conservative political commentator and activist Star Parker, the press conference was originally scheduled for the purpose of praising the Trump administration's plan to revitalize inner cities. But given the events of last weekend — where clashes between white supremacists and counter-protesters became deadly — Charlottesville and the related issue of racial conflict dominated much of the talk in the news conference …
The Rev. Derek McCoy, CURE's executive vice president who also directs the CURE National Clergy Network, was the first to respond to the question.
"One thing you need to understand — you are saying that the president is the instigator and I think that is absolutely wrong. No, it is not disingenuous," McCoy asserted. "The president made his comments and we are not standing up here to say that we are best friends with everything the president does but he is in an office that we all respect. … If we are looking about how we can move our country forward, we are trying to make sure that we do that collectively together."
Corrogan Vaughn, a political activist who ran against Democrat Rep. Elijah Cummings of Maryland in the 2016 election, argued that those in the media who blame Trump for the racial tension in the United States are trying to turn Trump into a "villain."
"Don't make our commander in chief a villain when in actuality it is more the villainess of the media in terms of making something where nothing is," Vaughn stated.
Well said.
Who are more credible, these good people or the lying media?
On Tuesday, July 11, 2017, after the G20 and before President Donald Trump's trip to Paris for Bastille Day, the Trump administration met with a group of Evangelical pastors who are members of the Office of Public Liaison.
Later, they were invited into the Oval Office to meet President Trump. Among them were Pastor Rodney Howard-Browne of Revival Ministries International and his wife Adonica.
The group prayed over the president.
Pastor Howard-Browne has got to know Trump over the past year or so, and he is also well acquainted with certain American politicians.
The following day, he received shocking news from a Congressman who has been in office since 1996. The two met privately for three hours that night.
The Congressman revealed to Howard-Browne that 'news on the Hill' is that a bi-partisan plot to 'immobilise' Trump is in the making.
And, there have been rumblings in the media that this is true. Here is a video of CNN's Wolf Blitzer interviewing John Brennan, Former Director, Central Intelligence Agency and James Clapper, Former Director of National Intelligence. The three appeared together recently at the Aspen (Colorado) Security Forum:
An accompanying article on Zero Hedge says that Brennan told Blitzer (emphases mine):
if the White House tries to fire special counsel Robert Mueller, government officials should refuse to follow the president['s] orders, as they would be – in his view – "inconsistent" with the duties of the executive branch …
"That Republicans, Democrats are going to see that the future of this government is at stake and something needs to be done for the good of the future," Brennan told CNN's Wolf Blitzer at the Aspen Security Forum, effectively calling for a coup against the president should Trump give the order to fire Mueller.
Meanwhile, Pastor Howard-Browne relayed to his congregation what the Congressman told him. You can see what he said in this clip from Infowars which also features an interview with him that aired on Wednesday, July 26:
Howard-Browne told CBN (Christian Broadcasting Network, founded by the Rev Pat Robertson) of the story but they were afraid to run with it.
Howard-Browne is originally from South Africa and became a naturalised American citizen several years ago. He believes it is his civic duty to speak out and ask for people to support Trump, especially via prayer.
Howard-Browne told Jones that if he took no action, he would feel obliged to renounce his American citizenship!
If only more Americans felt that way!
On Monday, July 24, Infowars posted an article about the pastor's conversation with the congressman:
"He said there is a plot on Capitol Hill to take the president out, I said you mean by impeachment or by indictment – he said no, to take him out, he will be removed suddenly from office," said Howard-Browne, before adding, "you can read between the lines".
Howard-Browne said the congressman used the word 'immobilised'.
Also:
The Congressman, who the pastor revealed had been in office since 1996, went on to tell Howard-Browne "there's nothing we can do to stop it."
Howard-Browne said there is always something we can do to stop it and started a two-week prayer vigil at his church. He said there are people there praying for Trump, day and night.
He urged all Americans to pray for the president from the privacy of their own homes — and to let people know about the attempted coup.
Howard-Browne understands, that, if it occurs, this removal from office, would take place within the next several weeks, no later than September.
Pastor Howard-Browne has informed the appropriate authorities.
Let's get praying, folks. We are not out of the woods yet. There are more battles to be fought before Trump can settle comfortably into the White House.
In 2012, I posted a series of excerpts from articles on Resurrection theology from James A Fowler's Christ In You Ministries site, which had several excellent and uplifiting sermons about the meaning of Easter.
Revd Fowler, a pastor of the Neighborhood Church in Fallbrook, California, has also had a teaching ministry in several countries around the world. The articles cited below can be found on Christ In You's Miscellaneous Articles.
His articles remind us of the importance of the Resurrection, not only on Easter, but the whole year through. I hope you will enjoy his perspective as much as I did. I have also included a Lutheran point of view which is similar to Fowler's:
Remembering the reality of the risen Christ
Are we bypassing the risen Christ?
A call for Resurrection theology
Christianity IS the Risen Christ
Unlocking the meaning of the Gospel
The extension of the risen Christ
A Lutheran application of Resurrection theology
By the way, Eastertide ends on Ascension Day. We have four more Sundays during which to contemplate our Lord's Resurrection and make that joy a part of our daily lives.
On Thursday, March 30, 2017, The Daily Caller reported that, during his brief trip to Turkey, the US Secretary of State, Rex Tillerson, visited the wife of a Protestant pastor who is currently in a Turkish prison.
Tillerson had no previous plan to meet with Norine Brunson. His scheduled event was a meeting with Recep Tayyip Erdogan.
In November 2016, Turkish authorities imprisoned the Revd Andrew Brunson on suspicion of terrorism.
The Daily Caller explains:
The Brunsons, who have worked in Turkey for 23 years as missionaries, were detained by Turkish authorities in October and held for deportation. Norine was released shortly after, but Andrew was kept in jail and accused of being part of a terrorist organization.
Which terrorist organization is unclear. Turkish authorities have not disclosed that information or anything else about its supposed case.
Brunson has been in a prison in Izmir since November and has had limited contact with his lawyers and Norine. The case against Brunson appears to be part of a larger crackdown against anyone who the Erdogan regime arbitrarily deems an enemy …
Erdogan's enemy list includes Christians.
How Mrs Brunson came to meet Rex Tillerson in Ankara is somewhat supernatural. Mr Brunson (emphases mine):
had told her that he felt that God had told him she would meet America's top diplomat.
And it turned out that he was right.
"On Monday, Andrew told me he felt the Lord had said I would meet with Sec of State Tillerson. On Tuesday, I was told by the embassy and another senator that the meeting would NOT happen. I decided to come to Ankara anyway and arrived last night," Norine Brunson wrote on Facebook Thursday, just after she met for 20 minutes with Tillerson.
That is amazing.
Details of how the meeting came to pass are unknown. The State Department is not commenting on the matter or on the Brunsons.
However, the fact that Tillerson met with Mrs Brunson is significant:
Jordan Sekulow, the executive director of the American Center for Law and Justice (ACLJ), says that Tillerson's meeting with Norine Brunson is a positive development in the case to help free Andrew.
"This is a powerful sign that the Trump Administration is taking the plight of this wrongfully imprisoned U.S. citizen very seriously," said Sekulow, who is working to help free the pastor.
Let us keep the Brunsons in our prayers and thank the Lord that Rex Tillerson met with Mrs Brunson. May God continue to bless all three of them.
I wrote more than once that the hand of God was all over last year's election.
This year, I believe that the hand of God is all over the Trump administration.
This incredible news story goes some way in proving that.
Friday, January 20, marked the beginning of the Don of a new era for the United States.
As many have said, it is always darkest before the Don.
What follows are highlights of not only Inauguration Day but the whole weekend.
Far from being austere, as many of us expected, it was wall-to-wall activity from dawn to dusk!
Before the post unfolds, let's remember that:
It is possible because Big Media are — and have been — plain contrary. That's an archaic use of contrary, but, in that sense, it means stubborn and resistant to reason.
All credit to Bill Mitchell, he boarded the Trump Train just before or after the Republican National Convention. Even though he objected to Pepe the Frog, the unofficial Trump mascot, he duly apologised on Twitter. Pepe gained traction with Hillary Clinton, who even lambasted the cartoon frog in a campaign speech.
Bill Mitchell hosts and presents YourVoice™ Radio, likely to become more popular over the next four years.
Even more interesting is this quote from Pastor Robert Jeffress, a big Trump supporter:
Thursday, January 19
January 19 was a busy day for the Trump family.
Flight from La Guardia to Joint Base Andrews
Donald Trump's flight with his family, including his two sisters and brother, would be the last one he would take before becoming president.
Fox 10 Phoenix has a great video of the plane landing at Andrews. The interesting bit starts at 10:55 when someone on board tells ten-year-old Barron to leave the plane first. Not surprisingly, Barron, unusually wearing his hair over his forehead, is reluctant. The future first couple disembark at the 13:00 point. The extensive motorcade departs at 17:07, complete with a first-responder truck and an ambulance. The black Chevy Suburban vans are reinforced just like armoured cars:
Inauguration Luncheon
Once in DC, the Trumps went to the Trump International Hotel (The Old Post Office), where the incoming president held an Inauguration Luncheon to honour Republican Party leaders:
Welcome Celebration at the Lincoln Memorial
That afternoon, the Make America Great Again Welcome Celebration took place in front of the massive — and grand — Lincoln Memorial, which is considerably larger than one imagines. Seeing it in person is awe-inspiring.
A variety of musical acts, including splendid military bands, performed. Trump gave a speech before a display from Grucci Fireworks ended the event in the early evening. Unfortunately, the last two displays let the whole thing down. 'USA' appeared as 'USR' and the American flag was, sadly, a blur. It is a pity, because their fireworks show before that was excellent.
This short video from Dan Scavino, Director of Social Media, gives a great summary of the event, including the fireworks. From left to right are Tiffany Trump (mother is Marla Maples Trump), Ivanka (Ivana Trump), the first couple, granddaughter Kai (Donald Jr's daughter), Donald Jr (Ivana) with his wife Vanessa and son, then to the far right, Eric (Ivana) and his wife:
The first couple contemplated the larger than life statue of Abraham Lincoln:
The event ended with the new first couple thanking their supporters. Never mind the sentiment from a Twitter user. I wanted to show you just how 'yuuge' Lincoln's statue is:
The Daily Mail has a comprehensive article, complete with photos and a video, about the concert and Trump's address at the end, just before the fireworks.
Interestingly, Trump had a special meeting afterwards with a 23-year-old single father, Shane Bouvet, from Illinois who had given an interview to the Washington Post just days before. Trump saw the article and made sure he could meet the man, who is struggling to make ends meet. The billionaire had a private conversation with Bouvet and gave him a cheque for $10,000.
Campaign donors dinner
However, the evening had only just begun. A dinner to thank campaign donors took place afterwards at DC's majestic Union Station. Both the Trumps and the Pences attended and addressed their guests.
Mike Pence opened his remarks by saying the administration would repeal and replace Obamacare. Trump (2:59) said that choosing Mike Pence was one of the best decisions he's ever made. He then went on to talk about the amazing election results where Republicans won in states they had lost forever. He mentioned Iowa. They had not won there since 1952. He then spoke about his cabinet nominees. The high point, however, was when he thanked Kellyanne Conway (18:28), the first successful female presidential campaign manager in American history. (I don't understand what these feminists were protesting at the weekend in DC. Surely, Kellyanne's success and the many women employees at the Trump Organization prove them wrong.)
Then it was time to turn in for some rest. The Pences returned to their house in Chevy Chase, Maryland, which they rented and moved to soon after the election.
The first couple and family members spent the night at Blair House, a complex of four buildings for guests of the president.
The photo below shows Ivanka and her husband Jared Kushner at Blair House. Kushner will play a principal role as a presidential adviser. Both are practising Jews. Ivanka converted before her wedding. Kushner recently gave up holdings in his family real estate firm to be able to take on his new role:
Inauguration Day
Early in the morning, preparations for the inauguration ceremony began.
Meanwhile, Bikers For Trump were arriving in Washington, DC to form 'a wall of meat' in case the new president needed protection. Days earlier, Clinton family friend Dominic Puopolo, 51, was arrested by Miami Beach police for saying that he would be at the inauguration to 'kill President Trump'.
This photo shows Donald Trump ready to leave Blair House in Washington, DC early in the morning of January 20. Trump's granddaughter Kai (Donald Jr's daughter) and Chief of Staff Reince Priebus, former head of the Republican Party, are to the right of Trump:
Church service
From there, it was on to a morning service on Friday at St John's Church (Episcopal) — known as the Church of the Presidents — in Lafayette Square, near the White House. The rector, the Reverend Dr. Luis León, greeted the first couple in front of the church.
They were joined by family and prominent well wishers. The first couple are on the far left centre of the photo. The Pences are in the lower left-hand corner:
The aforementioned Pastor Jeffress delivered the sermon:
Meeting at the White House
The first couple left St John's for the White House, where they had coffee with the Obamas:
Melania Trump gave a large gift from Tiffany & Co to Michelle Obama. Presenting a gift is a tradition from an incoming first lady to a departing one.
Afterwards, it was on to the Capitol building for the swearing-in ceremony:
Inauguration ceremony
Trump quipped at the donor's dinner the night before that he didn't care if it rained on Inauguration Day, because at least people would see that his hair was real!
The incoming president awaited his cue inside the Capitol building:
All living former presidents are invited to attend the inauguration and are seated near the front. Former presidents Jimmy Carter and wife Rosalyn, William Jefferson Clinton and Hillary and George W Bush (Bush II) and Laura were in attendance.
George H W Bush (Bush I) and Barbara sent in their acceptance but were hospitalised days earlier. On Tuesday, January 10, he sent Trump a cordial, witty letter of regret.
Although Bush II tweeted the following earlier, at the swearing-in ceremony, he joked ad nauseam with the Clintons, seated next to him and Laura, signifying to the television viewer that he was closer to them than to Trump, his fellow Republican. But we all knew that the Bushes were NeverTrumpers because they said so.
Despite Trump's sincerity, here's the hypocrisy of it all. Dan Scavino Jr, rightly, took it sincerely. Then, the live coverage rolled and something else entirely was on display. Trump, no doubt, expected something different based on this (Bush I was the 41st president, by the way):
These were the prayers offered before the inauguration by clergy who were principal Trump supporters:
The Revd Franklin Graham did not hesitate to say there is only one God:
Please note:
Here is the swearing-in by Chief Justice John Roberts. The first couple's son, Barron, 10, is to the right of the first lady. She held two closed Bibles, the Lincoln Bible (bottom) and Trump's own, a gift from his mother (top):
Entertainment Weekly reports that Trump's inauguration received the second highest television ratings for that event. Top-rated was Obama's first swearing-in, which 37.8m Americans watched in 2009. Trump's audience was 30.6m. However, Heavy points out that, in 1981, 41.8m people watched Ronald Reagan's first inauguration. That places Obama in second place and Trump in third. Definitive online viewing figures are unavailable at this time.
Important lines from the inaugural speech included the following. First, on the elites, several of whom were present. Politico reported:
"Their victories have not been your victories," he said. "Their triumphs have not been your triumphs and while they celebrated in our nation's capital, there was little to celebrate for struggling families all across our land. That all changes starting right here and right now because this moment is your moment. It belongs to you." He also made a promise: "This American carnage stops right here and stops right now."
Also these (see here, here and here):
What truly matters is not which party controls our government, but whether our government is controlled by the people.
January 20th 2017, will be remembered as the day the people became the rulers of this nation again.
The forgotten men and women of our country will be forgotten no longer. From this moment on, it's going to be America First.
The closing lines were the following:
To Americans: You will never be ignored again. Your voice, your hopes and your dreams will define our American destiny. Your courage and goodness and love will forever guide us along the way.
Together we will make America strong again. We will make America wealthy again. We will make America proud again. We will make America safe again – and yes, together, WE WILL MAKE AMERICA GREAT AGAIN!
However, most important were Trump's mentions of God, including:
We will be protected by God.
You can view the full speech here or here. You can find the transcript here and here.
WND's Garth Kant wrote of the contrast between Trump and his predecessor with regard to the inauguration speech:
Trump mentioned himself just three times in the 1,400 words he delivered in his speech lasting 16 minutes and 20 seconds. He referred to the American people 45 times.
By comparison, Obama, as is his wont, mentioned himself 207 times in 84 minutes while campaigning for Hillary during a November speech ostensibly about her.
And, to make sure it was crystal clear that there has been a sea change not just in style but also in substance, Trump emphatically uttered the Obama administration's three forbidden words: "radical Islamic terrorism," which, he promised, "we will eliminate from the face of the earth."
Kant channelled JFK's Camelot:
However, the speech wasn't just about ending American erosion. It was about a bright new beginning. Just as did Kennedy, Trump envisioned a promising future. One in which:
"We will bring back our jobs. We will bring back our borders. We will bring back our wealth. And we will bring back our dreams.

"We will build new roads, and highways, and bridges, and airports, and tunnels, and railways all across our wonderful nation.

"We will get our people off of welfare and back to work – rebuilding our country with American hands and American labor."
One could arguably call it Kenndyesque.
Kant was most complimentary of the first daughter but couldn't say enough about the new first lady:
This was grace personified.
A stately, poised, and stunning elegance were certainly part of it. But there was more. It wasn't just what she was wearing. It was her bearing. Her perfectly poised demeanor.
And the crowd could clearly sense it, even if they could no more articulate it than to say "wow" over and over, which was what so many were doing.
She was a regal presence.
There was nobility.
Not because of her new station in life, but because of her carriage. The way she carried herself. Full of poise and grace.
Congressional Lunch
Before lunch, President Trump had work to attend to at the Capitol, signing his cabinet nominations into law. Speaker of the House Paul Ryan (R, WI) is standing next to Barron. At the front are Senate Majority Leader Mitch McConnell (R, KY) and, on the right, House Minority Leader Nancy Pelosi (D, CA):
Trump spoke at the lunch and was gracious enough to publicly acknowledge his opponent Hillary Clinton, present with Bill. Trump's daughter Tiffany sat at their table. You can see all the speeches here.
The DAR (Daughters of the American Revolution) once again lent their Eagle Lectern for use at the luncheon.
Inaugural parade
The Trumps walked for two minutes in the inaugural parade:
After the walk along Pennsylvania Avenue, the motorcade drove up to the White House, where the Trumps, Pences and family members disembarked and walked to the reviewing stand.
Barron probably found the two-hour event overwhelming at times (I would have), but he enjoyed himself:
The military bands played and marched past, as did a myriad of high school and university bands and special groups representing American history and service.
One of the those groups was the Navajo Code Talkers. Only two were able to make it to the parade. One of my readers, the author of the Pacific Paratrooper blog, wrote about their invaluable role in the Pacific during the Second World War. Well worth a read.
The Talledega College Marching Tornado Band from Alabama participated for the first time. Talledega is an all black college founded by two former slaves after the Civil War. Their band director received threats when he said the college wanted to perform in the parade. Since then, they have received more than $1m in donations which will be dedicated to the band's needs. Talledega are a special band, because the college has no football team, so they rely on band contests and big parades such as this.
The full video of the parade is below. New York Military Academy, Trump's alma mater, are at 2:03. Talledega are at 2:09. The Navajo Code Talkers are at 2:14. Virginia Military Institute closed the parade.
But, for Barron, the big highlight was the Rural Tractor Brigade (2:22:00), magnificently souped up. Look at his face (2:23:00). He beams and says, 'Yesss!' At 2:24:00, it looks as if Mike Pence sees the lad's enthusiasm. He probably thought, 'We've got to get him to Indiana for a tractor ride!' (Separate tractor video here.)
After the parade
President Trump was eager to do some work before attending the evening's events:
The Daily Mail has more.
Inaugural balls
The president and first lady — and the Pences — attended three inaugural balls.
Two took place at the Walter E. Washington Convention Center. The other was held at the National Building Museum.
Donald Trump Jr, his wife Vanessa and daughter Kai were ready to go:
This video shows President Trump and First Lady Melania at one of the balls dancing to My Way:
At the Armed Services Ball, the Trumps and Pences danced with military personnel (starts at 2:21):
There was also a magnificent cake for all to enjoy:
You can read press pool reports here and here.
First lady and first daughters attire
Melania Trump's stunning inauguration outfit was a Ralph Lauren creation.
The first lady co-designed her striking silk crepe inaugural ballgown with Hervé Pierre, former creative director at Carolina Herrera. This stunning creation will help him launch his own couture house.
Pierre told Women's Wear Daily:
"It was an amazing experience!" he continued, noting that Trump's contributions were technical as well as aesthetic. "She knows what she likes. Our conversations were, and are, very easy. She knows about fashion, as a former model. She is aware about constructions, so we have already the same vocabulary when it comes to designing a dress."
Ivanka Trump's sparkling gown came from Carolina Herrera's fashion house. Tiffany Trump purchased her gown from a Hollywood design house, Simin Couture. Ladies will enjoy full size photos and the article in the Daily Mail.
Saturday, January 21
Newspapers from around the world featured the inauguration on their front pages.
Saturday was a day of prayer and work for President Trump.
Prayer came first.
National Prayer Service
The National Prayer Service was held at the National Cathedral (Episcopal) in Washington, DC.
It featured 26 religious leaders. Most were Christian. Others came from world faiths such as Judaism and Islam as well as more diverse groups, such as the Navajo Nation.
The following are short videos and photos from the service:
This girl, Marlana Van Hoose, was born blind and given only a year to live. The video below is from the service. She received a standing ovation afterwards — led by the First Lady!
Marlana is a committed Christian, firm in her faith. God has blessed her with a beautiful voice. She praises Him in song splendidly. She is yet another argument against abortion. May God bless her parents for giving her life and good, loving care.
In the next photo we see the Trumps and the Pences in the front row. May God bless them and keep them safe in the years ahead.
Sunday, January 22
On a lighter note, one of Trump's grandsons feels at home in the White House:
Later, there was serious work to attend to:
The Conservative Treehouse has an excellent post on this group of people, most of whom hold no political office (emphases in the original):
This afternoon President Trump and Vice-President Pence participated in swearing in the White House Senior Staff.  These are officials who represent the office of the President.  For the first time in modern political history, these are mostly ordinary citizen staff members from outside public office….
…A representative staff of outsiders, reflecting a
representative government for outsiders… Forgotten no more.
President Donald Trump has only selected a group of 30 people for commission to act as officers of the President and representatives of the White House.  Together with their families, the official ceremony to pledge an oath to their office took place this afternoon.
Then:
Like millions around the world, I am praying in thanksgiving for the new president's safe inauguration. We were very worried something would prevent it from taking place.
Now we look ahead, remaining prayerful for success.
How blessed America is! How blessed the world is!
If my people, who are called by my name, will humble themselves and pray and seek my face and turn from their wicked ways, then I will hear from heaven, and I will forgive their sin and will heal their land.                      2 Chronicles 7:14
In His infinite mercy, God heard our prayers and acknowledged our repentance by giving us Donald Trump. Those were words I never thought I would write, yet, here we are.
Some of my American readers might be familiar with Dutch Sheets.
Sheets has his own ministry and is working towards 'awakening', which, along with 'restoring' and 'reclaiming', is a term Ted Cruz often used during his rallies in primary season.
It is a dog whistle for theocracy and Dominionism — Christians taking over the government.
Bad!
Therefore, it is with reservation that I am summarising and excerpting Dutch Sheets's reasons why he is voting for Donald Trump. He makes it clear that these are his personal views, not those of Dutch Sheets Ministries.
Much of his essay of October 21 resonated strongly with me, and I hope it does with you as well. Please take the time to read it in full and pass it along to conservative Christian friends and family.
First, he has strong reservations about Trump with regard to personality and past deeds which have diminished during the post-convention campaign season.
That said, Sheets and I agree that both of us know what we are voting against.
This is why I am posting so many anti-Hillary pieces in order to reveal the extant evil in the Democratic Party. I am doing this because Big Media will not. They want Americans — especially the uninformed — to think that everything is sweetness and light.
Sheets says (emphases mine):
this election is not nearly as much about who I am for, as it is who and what I am against; and frankly, even with my initial concerns, the decision has never been easier.
He strongly objects to Obama and his administration:
One of the most devastating occurrences in America in our lifetimes, ranking up with The Supreme Court's decisions of Roe vs. Wade and Engel vs. Vitale (the removal of prayer from schools), was the election of Barack Obama. I gave a strong warning about what would happen to our nation if he was elected. Sadly, it has all come to pass: a continued liberalization and empowerment of the judicial system in America; a weakened economy (our national debt has doubled in 7 years to $19 TRILLION!)[1]; further moral deterioration, along with a rebellion to and mockery of God (does anyone remember the White House lit up in the colors of the LGBT movement after marriage was re-defined by the Supreme Court?
If that wasn't an "in your face" to God and those of us who "cling to their God, guns and religion" by the man who mockingly said it, I don't know what could ever be!); increased violence; a weakened position in the world, along with a weakened military; the advance of radical Islamist terrorism; a setback in race relations; and more. I rejoice that our nation has been able to elect our first black president. I am deeply saddened, however, that it was Barack Obama.
I could not agree more.
Electing Hillary Clinton, Sheets says, will finish the work Obama and his administration started:
Hillary is pro-abortion, including partial-birth abortion, the most insidious evil of the last century; will raise taxes while continuing out-of-control spending; will further weaken our military; is for completely open borders[2]; is pro-gay marriage; supports Obamacare; has no respect for our Judeo-Christian heritage; sells influence; and is a proven liar. Do not be fooled—she will completely finish what Obama started.
He goes on to say that the effect will be nearly irreversible. If anything can be undone from 12 years of Democrats at the top, it will take decades.
He recognises that another Clinton White House is not just 'four more years' and makes this appeal to 'conscience' and stay-at-home voters:
I also want to make an appeal to those who say their conscience won't allow them to vote for either Trump or Clinton, so they simply won't vote at all. I sincerely respect your convictions, but in this election, that argument fails the logic test (as does voting for someone who cannot possibly win). Trump's potential negative developments do not come close to the magnitude of those Hillary would produce.
We simply cannot—regardless of our concerns regarding Trump—allow all the above-mentioned consequences to happen. I respectfully appeal to you to turn your "conscience" and "principles" toward the unborn, your children, grandchildren, and the destiny of this nation.
Sheets believes Trump has repented over the past decade and offers this evidence:
To see how Trump would actually lead, I would challenge you to look at those with whom he has surrounded himself: Pence; Carson; Huckabee; Giuliani; Christie; Gingrich; Palin; trusted generals; law enforcement officials; border patrol officials; evangelical leaders of all races; and otherwise, ethical, conservative leaders. What does this tell us? It is probably the greatest indicator of who Trump now is, clearly making the case that he has changed his moral ways over the past 10 years, as he claims.
I personally believe he has changed. I also believe God has gripped his heart for the nation, and is in the process of further transforming Mr. Trump. God has certainly allowed him to be humbled. Of course, the statements made by Trump on the video released from 2005 were despicable. However, if we reject him because of the sins of his past, we would also have to reject Abraham, King David, Rahab, "the woman at the well", Mary Magdalene—all adulterers in their unrighteous past. And don't forget murderers like the Apostle Paul. A lot of formerly despicable people will be in Heaven! And a lot of them, by the way, became great leaders and champions for God. Some changed the world.
These associations also tell us that Trump's stated conservative bent is genuine, and they state that he is wise enough to know what he doesn't know! I believe Trump is showing us that he will function, if elected president, as any wise businessperson does: find qualified people who know how to get the job done, as in the above examples, and empower them to do it. I like those whom he is signaling to us would be those leaders. They are proven, trustworthy and honorable. If you cannot vote for Trump, vote for them.
Indeed. Well said.
Sheets goes on to say that voting against something or someone is a valid reason to vote. He then lists around 20 policies and groups to vote against. All are valid, including these:
• Vote against the unethical, biased, lying and untrustworthy media. (We will never reclaim America until we reject their influence. They may be the single greatest obstacle to America's recovery.)
• Vote against the silencing of the Church. (Only the totally naive do not see this coming quickly.)
• Vote against revising our history and the loss of our Judeo-Christian heritage.
• Vote against the politicization and exploitation of racism, and the polarizing of America.
He has a special message for pastors, which I share 100%.
Sheets tells clergy:
Pastors, if you've ever made a stand, make one now—it may be your last chance. Tell your people the truth…clearly. Pray and fast!
I am truly annoyed to see a third election cycle when practically NO conservative clergy are speaking up about the great danger America faces in a few months' time if Hillary Clinton is elected president. There are many retired pastors and former military chaplains whose websites have incredible followings. They should be saying something to their readers!
Instead, they treat this year as if nothing is happening and carry on with the same old stuff, some of which really is 'stuff' — i.e. of little importance to potential converts — which they have been going on about for years.
Sheets closes with a message for Christians:
To all Believers, if you agree with what I have written, forward it to all of your friends and family members. Most of them hear only from a hypocritical, lying media, which is now the propaganda arm of the liberal agenda. Speak up. Appeal to them to read this and think about it.
And vote!
Vote for a future, one that includes what you love and believe in. Trump has flaws, but Hillary will be fatal.
You can bet your boots that Hillary is fatal.
Trump is the only logical choice for president.
Read, reflect, pray and vote. America's future depends on it.
—————————————————————————————
I don't remember where I got the following graphic, but it does reflect what 'conscience' voters are thinking: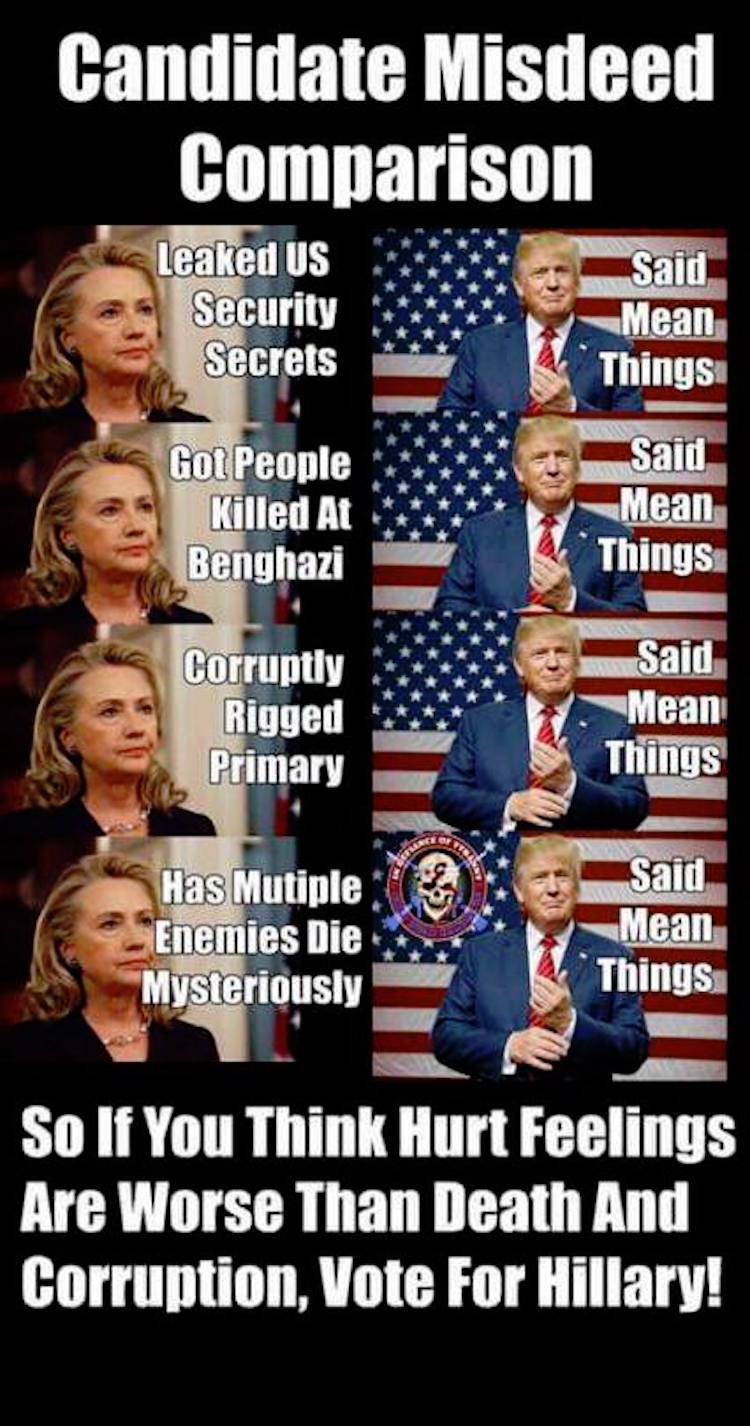 J Vernon McGee (1904-1988) was a pastor, author and radio show host.
He received his Bachelors in Theology from Columbia Theological Seminary and went on to earn a Masters and a Doctorate from Dallas Theological Seminary.
He was ordained into the Presbyterian Church in the United States (PCUS), which eventually merged with the United Presbyterian Church in the United States of America to form the present day PCUSA in 1983.
McGee served at four PCUS churches in the southern United States before he and his family moved to Pasadena, California, where he took a position at the Lincoln Avenue Presbyterian Church.
In 1949, he was appointed pastor of the Church of the Open Door in Los Angeles, California. There he became an independent Evangelical pastor.
The church is now in Glendale, California because of earthquake damage to the original building, which had to be razed. The Church of the Open Door is best known for its 'Jesus Saves' neon sign which is now on top of the Ace Hotel in Los Angeles.
McGee retired from the Church of the Open Door in 1970. In 1967, he had begun a radio programme called Thru the Bible. After retirement, he continued the broadcasts, which cover every book of the Bible.
He was also a well known public speaker. During that time, McGee was suffering from cancer. That said, his death in 1988 was brought on by a heart problem, thought to have been resolved in 1965.
Today, his ministry continues and broadcasts of Thru the Bible can be heard around the world in more than 100 languages. In North America, over 800 radio stations broadcast it and, elsewhere, one can enjoy the programme via radio, shortwave, and the Thru the Bible ministries website.
Without further ado, let us move on to McGee's application of Matthew 7:6 in real life.
Here is the verse (ESV):
Do not give dogs what is holy, and do not throw your pearls before pigs, lest they trample them underfoot and turn to attack you.
Some may find the KJV more familiar:
Give not that which is holy unto the dogs, neither cast ye your pearls before swine, lest they trample them under their feet, and turn again and rend you.
Now for McKee's anecdote. This is helpful for reprobates who have turned their lives around with the help of divine grace and the Holy Spirit. Their problem comes from mockers who remember their past (emphasis mine):
I remember a Tennessee legislator friend of mine who was a heavy drinker. He was wonderfully converted and is a choice servant of God today. The other members of the legislature knew how he drank. Then they heard he "got religion," as they called it. One day this fellow took his seat in the legislature, and his fellow-members looked him over. Finally, someone rose, addressed the chairman of the meeting and said, "I make a motion that we hear a sermon from Deacon So-and-So." Everyone laughed. But my friend was equal to the occasion. He got to his feet and said, "I'm sorry, I do not have anything to say. My Lord told me not to cast my pearls before swine." He sat down, and they never ridiculed him anymore. (McGee, J V: Thru the Bible Commentary:  Nashville: Thomas Nelson)
A good answer to remember should the occasion arise!
Continuing an occasional series on quotes from the Reformed Baptist preacher, Charles Haddon Spurgeon, today's post concerns his insights on Matthew 7:6.
Previous entries on Spurgeon's sayings include ambition, eternity and unity, growing old as well as reconciliation and strained relationships.
Spurgeon would have used the King James Version of Matthew 7:6:
Give not that which is holy unto the dogs, neither cast ye your pearls before swine, lest they trample them under their feet, and turn again and rend you.
The ESV has this version:
Do not give dogs what is holy, and do not throw your pearls before pigs, lest they trample them underfoot and turn to attack you.
Precept Austin has put together a helpful set of commentary and translation on Matthew 7:6. Spurgeon's thoughts — as well as Charles Simeon's — are there. I covered Simeon's on Tuesday of this week. Both agree that there is a time and a place for a certain manner and depth of preaching.
Spurgeon advised (emphases mine):
There are some holy enjoyments, some gracious experiences, some deep doctrines of the Word of God, which it would be out of place to speak of before certain profane and unclean persons. They would only make a jest of them; perhaps they might persecute you on account of them. No; holy things are for holy men; and as of old the crier in the Grecian temple was wont to say, before the mysteries were performed, "Far hence, ye profane!" so sometimes, before we enter into the innermost circle of Christian converse, it would be well for us to notice who is listening.
——————–
Zeal should always be tempered by prudence. There are times when it would be treason to truth to introduce it as a topic of conversation,-when men are in such a frame of mind that they will be sure rather to cavil at it than to believe it. Not only speak thou well, but speak thou at the right time, for silence is sometimes golden. See that thou hast thy measure of golden silence as well as of silver speech.
——————–
When men are evidently unable to perceive the purity of a great truth, do not set it before them. They are like mere dogs, and if you set holy things before them they will be provoked to "turn again and rend you": holy things are not for the profane. "Without are dogs": they must not be allowed to enter the holy place. When you are in the midst of the vicious, who are like "swine," do not bring forth the precious mysteries of the faith, for they will despise them, and "trample them under their feet" in the mire. You are not needlessly to provoke attack upon yourself, or upon the higher truths of the gospel. You are not to judge, but you are not to act without judgement. Count not men to be dogs or swine; but when they avow themselves to be such, or by their conduct act as if they were such, do not put occasions in their way for displaying their evil character. Saints are not to be simpletons; they are not to be judges, but, also, they are not to be fools.
Great King, how much wisdom thy precepts require! I need thee, not only to open my mouth, but also at times to keep it shut.
——————–
It is a pity to talk about some of the secrets of our holy faith in any and every company. It would be almost, profane to speak of them in the company of profane men. We know that they would not understand us; they would find occasion for jest and ridicule, and therefore our own reverence for holy things must cause us to lay a finger on our lips when we are in the presence of profane persons. Do not let us, however, carry out one precept to the exclusion of others. There are dogs that eat of the crumbs that fall from the master's table. Drop them a crumb. And there are even swine that may yet be learned; to whom the sight of a pearl might give some inkling of a better condition of heart. Cast not the pearls before them, but you may show them to them sometimes when they are in as good a state of mind as they are likely to be in. It is ours to preach the gospel to every creature; that is a precept of Christ, and yet all creatures are not always in the condition to hear the gospel. We must choose our time. Yet even this I would not push too far. We are to preach the gospel in season and out of season.
Oh! that we may be able to follow precepts as far as they are meant to go, and no further.
Spurgeon spoke to such a wide variety of people — not only in a church or at outdoor appearances, but also in small, conversational settings — that he would have been able to discern who could and could not receive Gospel truths and in what measure.
As with Simeon, he is advising us to assess our audience carefully, even among friends and family. It is important that we not open the Christian faith to ridicule or violence. Let us leave alone those who might react against our speech and wait for an opportune time, as God wills it to His divine purpose.
Next week I will feature an application of Matthew 7:6 in conversation. It's a true story and one to keep in mind.