You are currently browsing the tag archive for the 'Patrick Christys' tag.
Before discussing the latest developments among the candidates for Conservative Party leader, let's look at the weather here in England.
The weather presenters have been going on for a week about how hot it's going to get here. From the beginning, they forecasted 40°C temps, roughly 100°F. Weather maps have been given a deep red colour, as if we're going to burn alive.
Monday and Tuesday were going to be the hottest days of the week. Monday's high was 38°C, reported in only five places, two of which were airports, so I discount those.
The other three were Cambridge University Botanical Gardens, Cavendish, Suffolk and a village called Sancton Downham.
One of Guido Fawkes's readers posted a photo of the Cambridge location, which makes it suspect. The first photo shows the area when the weather station was first installed. The photo on the right shows what the area looks like today: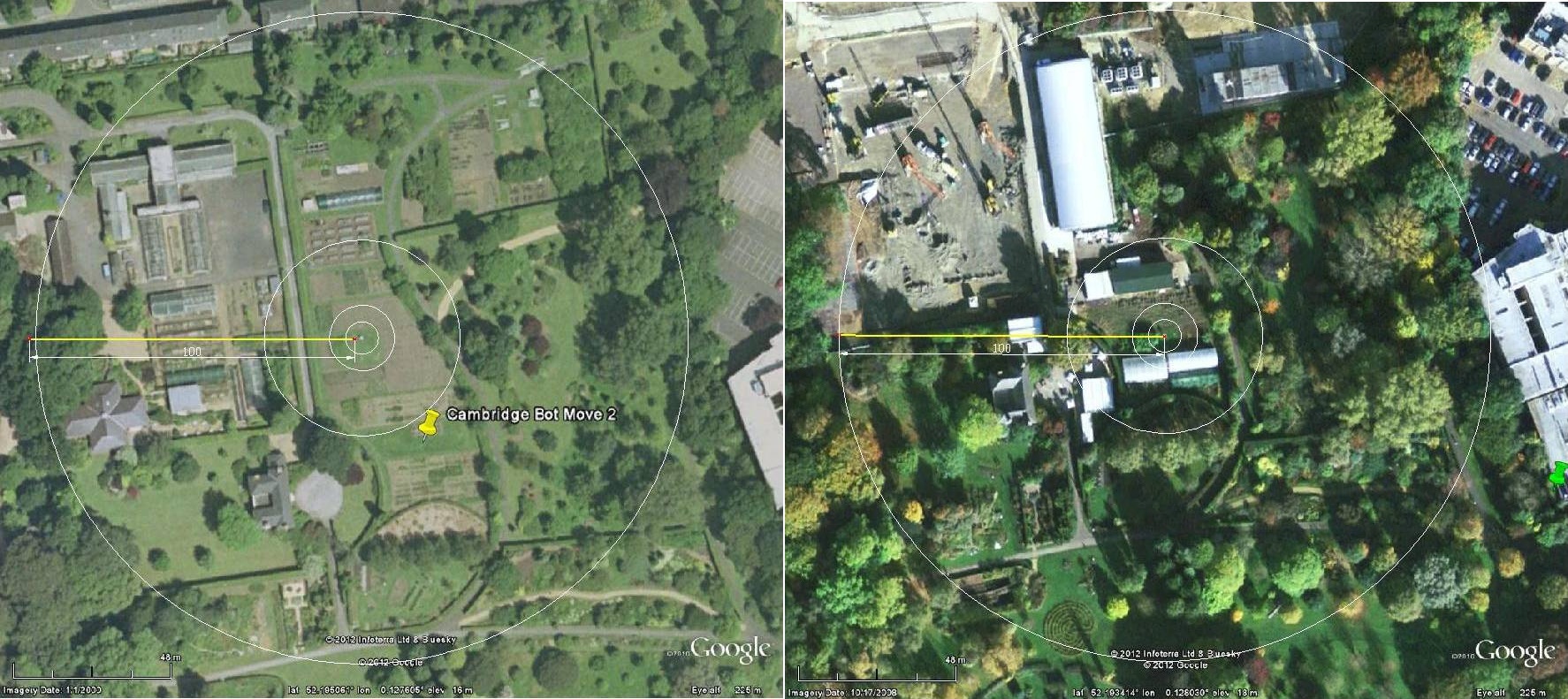 Guido's reader commented (emphases in purple mine):
… the siting of Stevenson screens is crucial when recording temperature change. As I type the Cambridge station is now recording the highest temperature in the UK but it has been surrounded by new buildings which invalidates its scientific accuracy. It certainly must not be used to claim all time highs.
The unit and sensors should also be positioned in open space away from any nearby potential sources of heat such as buildings, airports and brick walls, where free circulation of air can occur, and over a natural surface, grass is recommended as other surfaces such as concrete can cause significant error leading to all time high temperatures being recorded inaccurately.
Was it warm yesterday? Yes.
Was it pleasant? Of course. I did some heavy duty gardening.
I do not understand why the British panic over summer temperatures, especially since most of them go to scorching hot climes on holiday. This graphic sums it up well: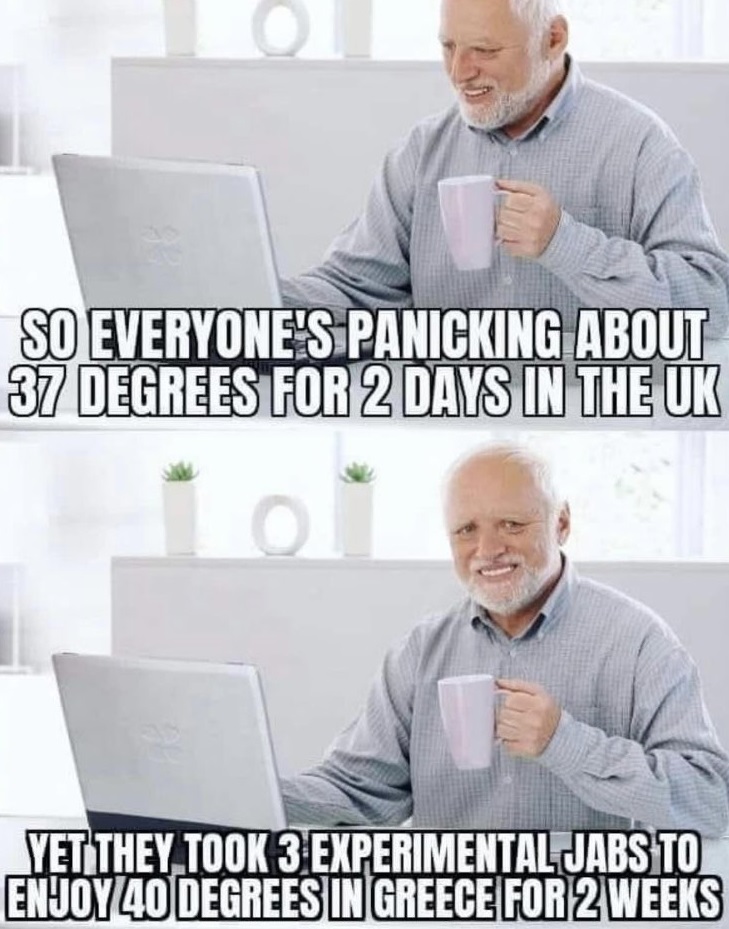 It's hard not to agree with this university lecturer, who wonders how ever created an Empire when we are such Moaning Minnies about heat. Were the British made up of sterner stuff in the 18th and 19th centuries? Perhaps so:
Now on to the Conservative Party leadership contest.
Monday's vote: Tugendhat's out
Conservative MPs voted again on Monday, July 18, 2022.
Tom Tugendhat, our Army superhero, was eliminated from the contest:
Was this his mode of transport home?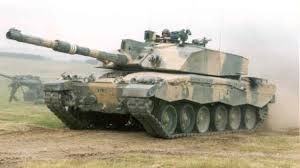 Here's Tom in an Army sweater:
He made a video thanking his supporters:
Guido Fawkes gives us Tom's main statement:
I have been overwhelmed by the response we have received across the country. People are ready for a clean start and our party must deliver on it and put trust back into politics.
No doubt the ladies at Mumsnet enjoyed it:
The final four
Going into Tuesday, these were the final four candidates:
Guido has Monday's vote tally. Results went down as well as up (red emphases his):
Rishi Sunak – 115 (+14)

Penny Mordaunt – 82 (-1)

Liz Truss – 71 (+7)

Kemi Badenoch – 58 (+9)

Tom Tugendhat – 31 (-1)

OUT
Penny's lost support, Kemi is still in contention. Liz is now second favourite at the bookies. All to play for…
Guido had more analysis later in the day:
Whilst tonight's leadership vote-off is unsurprising in that sense, the way the votes have gone for the remaining candidates are much more interesting.
Penny has gone down one vote, totally stalling. While she still leads Liz Truss, this trajectory will kill her momentum. Kemi has done very well; gaining nine backers to Truss's seven. While tonight's result in terms of eliminating Tugendhat may have been predictable, the remaining results make the final two more uncertain than ever. Though Rishi is now guaranteed a space in the final two…
The next vote took place on Tuesday afternoon. I will have an analysis of the results on Wednesday.
Conservative Party members see things differently
After Conservative MPs whittle their choices down to two candidates, the Party will send ballots out to members to vote for their choice, with a new leader — and new Prime Minister — to be in place by September 5, when Parliament reconvenes.
Note the latest polling from the Grantham and Stamford Conservative Association, which I featured last week. Kemi Badenoch was — and is — still in the lead. Rishi Sunak comes in a rather distant third:
Guido says:
The slick Rishi machine has to move the dial with the membership in a big way…
Rishi Sunak
Rishi is in a bit of a pickle, which gives Labour a lot of ammunition should he be our next Prime Minister.
The pandemic turned a lot of Britons into supporters of big state government, as Lord Hannan points out:
On May 26, the then-Chancellor announced a handout of £400 to all households in order to help them with rising energy costs:
The financial support has now been distributed.
Is it a good plan? Guido reported on the reaction from various think tanks.
The one from Taxpayers' Alliance resonated with me most:
The TaxPayers' Alliance isn't impressed either, claiming the move is "little more than the government taking with one hand and giving with the other". Chief Executive John O'Connell said:
Taxes are the single biggest bill families face and these huge handouts will see politicians hoovering up the incomes of struggling taxpayers, creating a cost of government crisis. If the chancellor wants to boost growth and help households, he can deliver both right now by bringing forward the planned income tax cut and slashing costly levies on energy bills.
But that was not all.
Rishi outlined other plans, altogether resulting in a £15bn bailout:
Guido has a summary:
As expected, Rishi has fired up the money printer once again to combat inflation. The Treasury claims it'll cost £15 billion, with £5 billion a year supposedly coming from the newly-announced windfall tax "energy profits levy". Here's what to expect:
Windfall tax on oil and gas companies.

Projected to raise £5 billion a year.
One-off 'cost of living payment' of £650 to approximately 8 million means-tested households.

 Two lump sum payments directly to bank accounts.
Households already receiving winter fuel allowance will also get a one-off payment of £300.
Those on disability payments will also get of £150.

Many of those in receipt of this payment will also be eligible for the £650 sum, bringing their total support to £800.
Universal grant of £400 to all households.

 Doubling the £200 energy bill loan, and turning it into a full grant.
Rishi boasted when making the announcement that his plan is more generous than that proposed by Labour's Rachel Reeves. The levy will raise £5 billion a year, and this will cost £15 billion. The difference will have to be financed by borrowing repaid by taxpayers…
People were shocked.
Labour won this round.
In Parliament, Shadow Chancellor Rachel Reeves said:
We pushed for the windfall tax. They've adopted it.
We said the buy now pay later scheme was wrong. Now they've ditched it.
This government is out of ideas, out of touch and out of time.
When it comes to the big issues facing the country, Mr Speaker, the position is now clear:
We lead. They follow.
Former Labour leader Jeremy Corbyn, who was Boris's opponent in the 2019 general election, was also pleased:
This was Jeremy Corbyn's plan in Labour's 2019 manifesto. It included a windfall tax:
Taxes in Britain are now at a 70-year high. Who was Prime Minister then? Labour's Clement Attlee:
Lord Hannan, a former MEP, fears this will be a permanent development. He might well be right, unfortunately:
The plan made two front pages:
Cabinet members reacted the following day, including Jacob Rees-Mogg:
According to The Times, Rees-Mogg raised concerns in Cabinet yesterday, suggesting "the package would be better funded by reducing government spending on infrastructure projects." The paper puts BEIS Secretary Kwasi Kwarteng in this camp as well, with him telling allies he's particularly concerned by BP's announcement that it's reviewing its plans to invest in the North Sea. Guido agrees with the anonymous cabinet minister who said "The politics of this is just so bad. We voted against it, we marched the whole party up the hill and are now taking them back down again. It looks like we're being dictated to by Labour"…
Conservative MP John Redwood said that taxation does not equal prosperity:
On May 28, Lord Hannan wrote an excellent editorial for The Telegraph, 'The Tories have almost wholly given up on conservative principles. What a tragic waste'.
Excerpts follow:
The Tories have almost wholly given up on conservative principles. They used to argue that lower taxes stimulate growth and so lead, in the long run, to higher revenue; that countries, like families, should live within their means; that individuals spend their money more wisely than state bureaucrats; that arbitrary and complicated taxes are as much a deterrent to investment as high taxes. Not any more …
When George Osborne imposed a one-off tax on energy firms in 2011, the Treasury Red Book predicted that it would bring in £2 billion. Instead, oil companies cut their North Sea investments and tax revenues fell.
Again, Johnson and Sunak know this. As recently as three months ago, the Chancellor was telling us that the "obvious impact of a windfall tax would be to deter investment". Both men understand that the only way out of our present predicament is through growth. Both understand that the way to achieve higher growth is to cut spending, scrap regulations, remove trade barriers, and ensure sound money. But these things are usually unpopular in the short term, and that seems to be their chief consideration.
We are thus in a negative feedback loop. When voters see the Conservatives, supposedly the party of fiscal responsibility, spraying cash around, they conclude that there must be plenty of depth left in the Government's reservoir. When they see a Tory Chancellor promising to bring in extra revenue by hiking corporation tax – despite the experience of cutting corporation tax rates from 2011 and seeing revenues surge – they naturally believe him. All this then heaps pressure on ministers to spend even more …
It was all so unnecessary. Outside the EU, Britain could have become freer and more competitive. We had a Conservative Government with an 80-seat majority, for Heaven's sake. We could have scrapped Brussels regulations, flattened and simplified taxes, embraced global markets, slimmed the civil service, decentralised powers and broken cartels. We could, in short, have made this the most attractive place in the world to do business.
Yes, the pandemic was an unforeseeable distraction – though, even then, some reforms could have been pursued. But nearly a year has passed since the end of the restrictions in Britain, and it is now depressingly clear that there is no plan to make use of our opportunities. After all their talk of buccaneering Britain, our leaders have shied away from almost every difficult economic decision. What a waste. What a tragic, needless waste.
Of course, Nadhim Zahawi is our current Chancellor. For how long remains to be seen. However, it will be difficult for him or his successor to roll back on Rishi's plan. Labour won't allow it. Either way, it will play to Labour's advantage between now and the next general election.
Let us look at more recent developments.
When Rishi resigned as Chancellor, the press gathered outside the Sunak mews house in Kensington, London.
The Infosys heiress Mrs Sunak, in the tradition of other politicians, brought reporters mugs of tea:
One reporter expressed his appreciation:
Boris Johnson had only just stood down as Party leader when Rishi declared his candidacy to succeed him. Note that Channel 4's poll participants still wanted Boris to stay in No. 10:
'Ready for Rishi' launched on July 8, complete with a video on his family's arrival in Southampton on the southern coast of England. Rishi was born there:
Not surprisingly, Rishi's promo did not include this clip from a 2001 documentary he participated in as a student at Winchester, one of the nation's top public (very private) schools. This is from the BBC's Middle Classes: Their Rise and Sprawl, shown in March 2001.
Rishi glibly says he doesn't know any working class people. His father looks on admiringly:
Bim Afolami MP, who is one of Rishi's supporters, defended his friend's quick launch. Afolami said that all the video clips were there for his team to sort through and compile in 24 hours. Afolami said that it was not unusual that Rishi arranged for his campaign website in …. 2020:
Staunch Boris loyalist Nadine Dorries told Dan Wootton on GB News that Rishi was able to launch his campaign because he wasn't at work:
Wootton asked whether Rishi was 'too duplicitous' to be PM:
Ninety-two per cent of those responding to his poll said YES:
Patrick Christys added to the doubt that many have about Sunak, from the timing of his campaign launch to his Boris backstabbing:
At the launch of the candidates' contest, the public reacted negatively to Rishi.
One person was incredulous that both Boris and Rishi received Fixed Penalty Notices for Partygate, yet Boris had to resign only for Rishi to run as his successor:
Another predicts that the Conservatives will lose the next general election. The Opposition will fire too much ammunition Rishi's way:
This chap objects to all of the top candidates:
I will leave it there for now.
More to come tomorrow, including an analysis of Tuesday's vote.
News events from the past ten days have been strange, indeed.
That they are happening all at the same time shows that truth is stranger than fiction.
This is like something out of a dystopian film.
Neil Oliver's editorial
On Saturday, July 2, Neil Oliver presented his weekly editorial on GB News:
He said that the supposed new world utopia is not working. He discussed possible Chinese social credit scores coming to the West and the increasing government control over our lives. He talked about racism from progressives towards their perceived 'wrong kind' of minorities who believe in conservatism, such as Justice Clarence Thomas on the overturning of Roe v Wade. He showed us the clip of Boris Johnson and Justin Trudeau joking about the size of their jets at a time when Western governments are discouraging their citizens from flying — anywhere. He looked at the hypocrisy of the Glastonbury music festival, with environmentalist youths leaving behind them a load of plastic rubbish all over the massive field where it was held. He talked about how people were increasingly unable to put food on the table and asked why this was in the 21st century, a time when we have never been so advanced as a society:
It makes no sense.
He said that the elites want:
the poor to become poorer, the hungry to become hungrier and the cold to become colder.
He concluded:
… here's the hardest pill to swallow: it's not supposed to make sense. This is planned, done on purpose. It's supposed to make us do what we are told. It's supposed to make us stop asking impertinent questions and just submit to The Man. It's supposed to divide us, one from another, until everyone feels alone. It's supposed to make us scared, angry, cold, hungry and sick to death. 
Sri Lanka
Sri Lanka has turned into a dystopia, the kind that Neil Oliver spoke of in his editorial.
The Express summarised the situation, caused by a debt crisis (emphases mine):
Unrest has been ongoing for several months over a debt crisis that has crippled the economy.
Reserves have been drained to minimum levels and the country has defaulted on several debts, meaning it is now struggling to secure essential imports like medicines and fuel.
The south Asian nation has been plagued by sky-high inflation, rolling blackouts and mile-long queues to secure essential goods.
Sporadic protests began in late March, but have since galvanised huge support from the wider public.
Last week, after months of shortages of nearly everything in the country, protesters stormed the presidential palace and the prime minister's residence, both of which are in the capital Colombo:
The homes of President Gotabaya Rajapaksa and Prime Minister Ranil Wickremesinghe have been occupied by local people furious with their leadership for throwing them into a staggering economic crisis …
They have since occupied the building, making themselves at home by using the pool and kitchen.
Sri Lankan police had attempted to use tear gas and water cannon to disperse the crowds, but they have remained defiant and are still refusing to leave.
The Express has several pictures of protesters occupying the presidential palace.
Although the president and prime minister have since resigned, protesters remain sceptical:
some are sceptical of the legitimacy of the resignations.
In a late-night announcement on Saturday, President Rajapaksa said he will step down on Wednesday.
But under Sri Lanka's constitution, his resignation can only formally be accepted when he resigns by letter to the Speaker, which has not happened yet.
Protesters have said they will continue to occupy official buildings until both have officially stepped down.
The country's political parties have resolved that, once both the president and the prime minister formally step down, the speaker would take the role of acting president before parliament votes for a new president on July 20.
On Monday, July 11, Dan Wootton discussed the situation, saying that much of the unrest had been sparked by green policymaking. The president's drive to turn Sri Lanka into an organic-only country with no fertiliser has led to widespread food shortages. The pertinent part is in the first minute and a bit of this video:
Dutch farmers
Meanwhile, another chilling news story emerged, this time from the Netherlands, that of farmers protesting against possible confiscation of their land.
This, too, bears out what Neil Oliver discussed on July 2.
The EU has decreed that nitrogen emissions must be cut. They blame farmers.
Dutch farmers have been protesting against their government's latest policy on nitrogen emission reductions, which, if Prime Minister Mark Rutte gets his way will put many of them out of business.
This was the scene on Friday, July 8:
Below are some of the replies to that tweet:
The Dutch, like most European peoples, are unarmed. The authorities prefer it that way:
Imagine if the government took away the land that you and generations before you had farmed, with either dairy cows or crops. It's unthinkable, but it is a real threat for these men and women:
In reality, there is no emissions problem in the Netherlands. This is about something else — control:
How interesting that the BBC hasn't covered it:
On July 7, Tucker Carlson interviewed the Dutch lawyer Eva Vlaardingerbroek, who is also a regular guest on GB News.
The Vigilant Fox has the video of her talking to Tucker as well as a transcript.
She said:
what this is about is the Dutch government stealing our farmers' land, and they're doing this under the guise of the made-up nitrogen crisis. And that is basically going to put most of these farmers completely out of business.
And thankfully, the Dutch farmers aren't having it. So they're going out in the streets, they're blocking distribution centers, they've blocked the high roads, they are fighting back! And they're right to do so; this is their life's work. They're really at their wit's end. They're devastated by what the government is doing, and it's very clear that the government is not doing this because of a nitrogen crisis, they're doing this because they want these farmers' land, and they want it to house new immigrants.
They also want it because the farmers are obviously standing in their way of The Great Reset plans that they have for us. Farmers are hard-working, God-fearing, and especially self-sufficient people that are just standing in the way of their globalist agenda. And it's driving a lot of these farmers even to something like suicide. So really, there's only one term that we can use for the things that our government and their Premier Mark Rutte is doing right now, and that is communism.
Scary.
Tucker, like most of us, tried to wrap his head around this:
So messing with the food supply tends to cause food crises and then famines. You're seeing this in the developing world, thanks to climate activism and the war in Ukraine. Are normal Dutch citizens who aren't farmers worried about what happens when you shut the farms down?
Eva said that the Dutch public understand what is happening:
Absolutely! They understand it. 'No farmers, no food,' and that's why the farmers have blocked these distribution centers because within a matter of a couple of hours, we saw that the supermarkets were empty, and ordinary citizens understand this.
She says the Dutch government either doesn't understand the consequences of what is happening or they really do want to destroy farming:
The problem is that the state doesn't seem to understand this, or it's what they want. And the police have responded in an incredibly violent way. So as you guys have seen, now, they have even shot at a 16 year-old-boy. These are not things that you should see in free Western countries, especially not targeted towards peaceful protesters, but it's happening.
She explained the red handkerchief she was wearing and said that similar nefarious events could happen in other Western nations:
Everyone around the world, and especially you in America, should be supporting our Dutch farmers because this could be happening to you. It's actually the very reason why I'm wearing this handkerchief right now. It's become the symbol of these farmers' resistance, and they're doing it so courageously, and they have the manpower to do it, so they really deserve your full support.
This Dutch farmer agrees with the assessment that the Dutch government wants the land. He says that it is in order to make the whole of the Netherlands one urban sprawl. You could not make this up:
It seems this is a World Economic Forum idea:
Eva gave an interview to Rebel News and confirmed the link with the WEF:
Once farmland is built on, it cannot easily be reclaimed for crops or grazing:
It sounds like fascism — corporations aligning with governments for control over the people:
Unfortunately, the British government — Conservative! — is trying the same thing in England by politely offering to buy farmers' land. Amazing, at a time when we have so little food security:
On Monday, June 11, Neil Oliver appeared on Dan Wootton's GB News show to discuss the unrest both the Netherlands and Sri Lanka.
Oliver said that Sri Lanka has also been affected by green policies which have been responsible for shortages plunging the country into crisis. He surmises that the governments have been told what to do. He doubts whether politicians will listen to the people and referenced Canada's trucker protests earlier this year as a case in point. Trudeau froze some protesters' bank accounts in response. Wootton responded by saying that the media were ignoring what has been going on in both Sri Lanka and the Netherlands. Oliver said that this will become so big in time that the media can no longer ignore it.
To be fair, the replies to this tweet do indicate that the BBC and Sky News have been covering these stories for the past few days.
Allow me to point out that the World Economic Forum had big plans for Sri Lanka, predicting an economic boom by 2025:
These green policies are hurting people, and it is time they were stopped:
On Monday, June 11, Patrick Christys of GB News spoke to Jeroen Van Maanen of the Dutch Dairy Farmers' Association. Van Maanen has been on GB News a lot over the past few days. He said that the government has different emissions targets, depending on the region. If this law is not stopped, he, for one, will not be able to continue farming. He also said that the government forbids using technological innovations to reduce emissions. Unbelievable. Like Eva, he stated that this is about the government buying land to house refugees:
Christys then spoke to energy analyst Andy Mayer, who said that misguided green policies are going to become problematic across Europe first, then other Western nations. Mayer said that the EU law on emissions originated in the UN. Like Tucker Carlson, Christys had a hard time wrapping his head around governments that seemingly wanted their farmers to go out of business. Mayer said that political leaders are so obsessed with reaching environmental targets that they are making terrible decisions. He said that the Netherlands exports £100m of farm products per year. Here in the UK we get a lot of produce from the Dutch all year round. Mayer says the grand plan is to have food in the West grown in other countries. Sheer madness, when we can see the result of this right now in Ukraine as Putin has prevented their grain from being harvested:
Returning to the Netherlands, it is heartening to see the farmers protest into the night:
Eva also spoke with Mark Steyn on Monday evening. Well done, GB News, for keeping this story going:
Shinzo Abe assassination
When it wasn't governments controlling their people, it was a madman settling an imagined score last week.
On Friday, July 8, Japan's former prime minister Shinzo Abe, 67, was campaigning for a political candidate in his party and was shot in the city of Nara:
He died soon afterwards:
What happened with security at the event?
Donald Trump's supporters remember how close he was to Abe:
Boris Johnson also admired Abe:
When Abe's death was announced, Boris sent a message of condolence in English and Japanese:
Abe had a long relationship with the UK. Here are photos of him with our past three Prime Ministers:
The gunman had served in the Japanese navy.
The Express reported:
A number of makeshift weapons were said to have been discovered at the home of Tetsuya Yamagami, 41, who was arrested after the attack.
The navy veteran was thought to have had improvised devices, including the one used in Friday's killing, by taping steel pipes together.
The gunman held Abe responsible for his (the gunman's) mother's bankruptcy. She happened to belong to South Korea's Unification Church, the Moonies, and gave them a large donation. The gunman believed that Abe had connections to the same group. Apparently, he thought that Abe somehow influenced his mother to give her large donation.
Hmm. There is no information about security at the event, only about it being heightened in the days that followed, culminating on July 10:
The assassination has shaken Japan – a country where political violence is rare and gun ownership tightly controlled.
Mr Abe was speaking during an event for his former party, the Liberal Democrats, ahead of upper house elections.
Security was heightened as voters went to the polls yesterday and party leaders avoided mingling with crowds during their final hours of campaigning.
Abe's traditional funeral ceremony, the tsuya, was held on Monday, July 11. It was a small gathering, led by his tearful widow Akie, 60, and attended by former prime ministers and American officials.
Boris Johnson's ousting
Finally, at the beginning of last week, Boris Johnson was abruptly and unexpectedly ousted as leader of the Conservative Party, although he remains Prime Minister for now.
On Saturday, July 10, Neil Oliver had a pertinent editorial on Boris, saying that our MPs do not care about us, we the people. We are in their way. We count for nothing in their eyes. He was appalled by the party atmosphere surrounding Boris's resignation and took exception with former Prime Minister John Major's suggestion that Boris should be removed immediately from No. 10. He also criticised another former Conservative MP, Michael Heseltine, for saying that, with Boris's departure, Brexit is now over. (Brexit was the largest plebiscite in British history.) He then went on to rightly criticise MPs for the damage done to British society with lockdown and Net Zero policies. They are now our masters, no longer our servants:
I will have more on what allegedly happened to Boris and profiles of Conservative MPs who are campaigning to succeed him as leader.
Dystopian events
That so many strange events could happen at the same time strikes me as dystopian.
I've never experienced a news cycle like last week's.
Let us hope this is not a regular occurrence.
Continuing my series on Red Wall MPs and, most recently, Lee Anderson, this post gives his positions on various topics in British life.
Those who missed previous instalments can read about his adventures and opinions in Parts 1, 2, 3 and 4.
Rail strikes
This week, England has been crippled by a series of rail strikes, one every other day, which means that on the days there are no strikes, it is still fruitless trying to travel by rail.
On Monday, June 20, 2022, the House of Commons held a debate, Industrial Action on the Railway.
Lee Anderson was the last MP called to speak. He asked the following question of Grant Shapps, Transport Secretary (emphases mine):
This strike is a real kick in the teeth for hard-working taxpayers, who have dug deep over the past 18 months to keep this industry alive. Does my right hon. Friend agree that the Labour party—the spineless party opposite—should grow a backbone and condemn these strikes?
Grant Shapps replied:
That is an appropriate place to end. My hon. Friend is absolutely right. People have dug deep—that is exactly what they have done; it was £600 per household. People are furious. They paid out that money to make sure that nobody lost their jobs, and what thanks have they got? Where is the reward? Where is the "thank you" for keeping the railway going? It is a strike that will put people out of pay and hit people's pockets once again, and Labour Members cannot even find their way to say, "We condemn the strikes." It is a disgrace.
Immigration
On Wednesday, June 15, Home Secretary Priti Patel made a statement about the fact that the June 14 flight to Rwanda with scheduled deportees never took off. There were originally 37 people who were to be deported. Because of last minute legal delays, only a handful boarded the charter flight and, by 11 p.m., even they were taken off.
The Opposition parties hate the idea of sending illegals to Rwanda for processing. Strange that, as it is called the Switzerland of Africa.
Labour, the Lib Dems and Scotland's SNP have all said during debates about illegal migration that people can legitimately come to the UK from France. Such a statement implies that France is not a safe country.
In the June 15 debate, Migration and Economic Development Partnership with Rwanda, Lee Anderson asked Priti Patel:
Just when you think this place cannot get any dafter, you turn up and listen to the rubbish that the Opposition are coming out with today. Is the Home Secretary aware of the sniggering, smugness and delight shown on the out-of-touch Opposition Benches about the cancelled Rwanda flight? Will she please advise me? I need some travel advice—I am going away this summer. Is France a safe country to go to?
Priti Patel replied:
For the benefit of the British people, the public, I have in my hand just four pages with a list of Opposition Members making exactly that point with glee—basically wanting the policy to fail, condemning it and saying all sorts of things without coming up with alternative solutions.
My hon. Friend is absolutely right about France as a safe country. This is a fundamental principle of working with our colleagues more broadly—[Interruption.] Those on the Opposition Front Bench have already had their chance to speak. These are safe countries and there are people who are effectively picking to come to the UK. That is something we have to stop by going after the people smugglers and breaking up their business model.
Moral failings of Tony Blair versus Boris Johnson
Also on June 15, Boris Johnson lost his latest ethics adviser, Lord Geidt, who suddenly resigned.
This month, for whatever reason, Tony Blair became a member of the prestigious Order of the Garter, an honour the Queen decides independently.
On GB News, Patrick Christys asked a panel who was less ethical, Boris or Blair. Lee Anderson was one of the participants. He said that he had canvassed his constituents in Ashfield, Northamptonshire, and all said that Blair was less ethical. Anderson said there is no comparison between a Prime Minister being presented with cake and one who got us into a highly costly war in Iraq. The second tweet shows Blair with his spin doctor Alastair Campbell at the time:
The full discussion follows:
Labour
Anderson was a member of the Labour Party until 2018, when he switched to the Conservatives.
He has no praise for Labour MPs, especially Deputy Leader Angela Rayner. On May 22, she was angry with Chancellor Rishi Sunak for giving more aid to Ukraine.
The Daily Mail reported:
The party's deputy leader sparked outrage after she told the Chancellor on Twitter to 'do one' – a slang insult meaning 'get lost'.
The message was posted in response to a weekly No 11 newsletter from Mr Sunak, in which he detailed an additional £40 million of aid for Ukraine.
It is not the first time the senior Labour figure has landed herself in hot water for her remarks about those on the other side of the Commons. The former care worker resorted to calling senior Conservatives 'a bunch of scum, homophobic, racist, misogynistic, absolute pile of… banana republic… Etonian … piece of scum' in a foul-mouthed tirade at last year's Labour party conference.
Lee Anderson made his views known:
Lee Anderson, Tory MP for Ashfield, accused Ms Rayner of behaving pathetically after the latest controversial outburst.
He said: 'I don't know what it is about Angela Rayner and the Left that have it in for successful people running the country, surely it's much better for successful people who are successes in business to hold the purse strings of the country rather than somebody whose only claim to fame is dishing out insults.
'She is someone throughout her career who has made childish insults against Conservative politicians and now she's having a go at Rishi, who by the way is one of the most polite politicians you'll ever wish to meet. He's a real gentleman, regardless of your politics.'
Green energy policies
As is the case in most European countries, the prices of home fuel and petrol have gone through the roof.
On January 3, Nigel Farage asked Anderson for his views on what the UK should do. Anderson said that while it was imperative that we leave the planet in better shape for the next generation, he and his Ashfield constituents think that some of Boris's Net Zero policies need to be wound back. Furthermore, he wants us, rightly, to use our own energy sources during our transition period to Net Zero:
Two months later, Anderson appeared on Farage's Talking Pints segment of his show. They discussed the necessity of energy independence, which the UK can easily achieve. Instead, the Government prefers a policy of importing coal and gas from Russia:
You can see the full interview here, where Anderson says:
We should be selling gas to the rest of Europe!
The BBC
Anderson remains a firm supporter of Boris Johnson and wants him to be allowed to get on with his job. He accuses the BBC of conducting a witch hunt against the Prime Minister.
This interview took place the day after Boris survived a Conservative vote of confidence. Anderson laid his dislike of the BBC's tactics on the line. This is short, sharp and to the point:
Guido Fawkes wrote (emphases in the original):
Lee Anderson provided daytime fireworks as he confronted the BBC over anti-Boris bias live on the channel. He also called them "quite sad" over their refusal to let the Boris leadership question drop, accusing them of spearheading a witchhunt. Agree or not, it was great TV…
Not surprisingly, it was Guido's most popular post that day:
That night, the question of a BBC witch hunt popped up on Dan Wootton's GB News show:
Wootton invited Anderson on to discuss the issue with left-wing pundit Nina Myskow, who defended the BBC. Anderson said that his constituents supported Boris. He invited Myskow to speak with his constituents to hear their views. She replied, although not in this clip, that she never travels north of Selfridges:
Russia
On April 27, Anderson was disappointed not to have made the list of 287 MPs that Russia sanctioned.
He wrote a letter to the Russian ambassador to the UK to ask that his name be added to the list:
Crime
Lee Anderson has been outspoken against crime. I posted some of his perspectives last week.
During his candidacy in the autumn of 2019, he proposed creating forced labour camps for noisy council tenants:
After Winston Churchill's statue was desecrated in June 2020, during the pandemic and 'mostly peaceful' protests, Anderson gave a brief interview to a young independent reporter. He ended by saying:
You wouldn't be stood here today, young man, talking to me if it wasn't for Churchill.
On March 16, 2021, Anderson participated in the Crime Bill debate. Highlights follow:
Here's another, courtesy of Guido:
Ashfield's straight-talking MP Lee Anderson gave the Labour Party both barrels last night in the Crime Bill debate. Effusively supporting the Bill, no-nonsense Anderson took aim at what he sees as Labour's hypocritical positions:
I find it strange that Labour are talking about tougher sentences for crimes against women, yet in December they were trying to stop us deporting foreign rapists. One Labour MP said we should not deport these criminals in December as it was too close to Christmas. I disagree. I thought it was a great Christmas present.
Guido is fairly sure that the residents of Ashfield will be in overwhelming agreement. For such a short speech, many shots were fired – rounding off on some Labour politicians' attitude to the law…
Seven months later, his fellow Conservative MP Robbie Moore led a debate on the sexual exploitation of young girls by a certain demographic. Sadly, the 'grooming gang' phenomenon is growing to the extent that it is said to be present in every town in the UK.
Moore focused his attention on Bradford.
Guido points out that none of the three Labour MPs for Bradford bothered to show up for the debate.
Anderson contributed and, as one would expect, has strong views on what should happen to such politicians:
Away from the noise of the Budget, earlier this week Conservative MP Robbie Moore led a Commons debate on child sexual exploitation across Bradford, calling for a "Rotherham-style inquiry" into the scandal and claiming it had been "swept under the carpet" by the local authorities. Although the debate only attracted small number of MPs – none of the three Labour MPs for Bradford bothered to appear, despite two previously claiming they would – there was one booming voice lending his support to Moore's campaign: the Honourable Member for Ashfield, Lee Anderson. Asking Moore to give way twice so he could give the Chamber a piece of his mind, Anderson said:
The only way that we know the full scale of these vile crimes in Bradford is for a full Rotherham-style… investigation, and would he also agree with me that certain local politicians on the council, and the mayor, should hang their heads in shame.
Once this inquiry takes place, and we get to the bottom of this, and these grooming gangs are put away where they rightly belong in prison, then the next call will be these lazy politicians – and they need locking up too.
Even Moore sounded a bit surprised by Lee's fury…
Guido has the video:
Anderson's no-nonsense speech might have been partly due to his appointment to the Women and Equalities Committee in May 2021:
Guido wrote:
Guido learns that parliament's wokest committee – the Women and Equalities Committee – is to welcome two new, perhaps unexpected, members: Philip Davies and Lee Anderson. Philip Davies is making a, no doubt, welcome return after having served on it in 2016 – where he made headlines calling for the word "women" to be removed from the Committee's name. Lee Anderson is a co-conspirator favourite: from saying nuisance tenants should be forced to live in tents; to recently ranting that he's torn up his licence fee. Confirming the appointment, Lee told Guido:
The great women of Ashfield have been the backbone of my community for hundreds of years with barely any recognition.
Yes the men have worked down the pits and gone off to war but its our women that have kept everything together.
The women in communities like Ashfield need a voice in Parliament and anyone who knows me will tell you that I am a firm believer in better rights for women. I am a modern man with a modern outlook who is keen to speak up for the women in my community.
They deserve to be on a level playing field with us men which is not always the case. I will still open doors for women and give up my seat on public transport as I am a gentleman first and a politician second, but you can be assured that I will be fighting on all fronts for the women of Ashfield.
Both men will no doubt relish the appointments, which they richly deserve. Guido sends his warmest congratulations to the pair. Chapeau to the 1922 Committee on the wit and wisdom of their appointments.
Returning to politicians, on November 9, he had a go at convicted Labour MPs and recommended that they should work as a condition of their licence:
This morning in Parliament, straight-talking Lee Anderson told Deputy Prime Minister Dominic Raab exactly how he thinks the government should solve labour shortages:
Prisoners and ex-offenders out on licence should help fill the labour shortage and […] on release, all prisoners – including ex-Labour MPs – should be ready for work and starting work should be a condition of their licence.
Guido has the video:
Nutritious meals on the cheap
As I wrote in my third post on Lee Anderson, he took a lot of unnecessary stick in May 2022 for saying that people can make nutritious meals for only 30 pence per portion.
He revealed that he, too, had been a single parent for many years and lived scrimping and saving. He still got pilloried.
On May 26, however, the Mail profiled a partnered mother of three who makes meals for 29 pence a portion.
Was there any criticism of her from other media outlets, such as the BBC? No, there was not.
Such double standards. Such hypocrisy.
Conclusion
Regrettably, I have run out of Lee Anderson anecdotes.
He is my favourite MP. I would love to see him as the next Conservative leader, if not Prime Minister.
Sadly, that will not happen. He is not Establishment enough and never will be.
I hope that he is re-elected as MP for Ashfield and wish him all the best in his Parliamentary career.
We need more MPs like him.
A profile of another Red Wall MP will appear next week.
The painting above is by Paolo Uccello and can be viewed at the Musée André Jacquemart in Paris. You can read more about it and the legend it depicts here.
St George's Day is April 23, but you'd never know it in most parts of England.
Saturday came and went, as have other St George's Days. This year it seemed as if only GB News and the Conservative Party remembered our patron saint.
On Friday, April 22, Patrick Christys had harsh words for self-loathing Englishmen. His is an excellent editorial. Not surprisingly, he got a lot of nasty comments:
Red Wall MP Brendan Clarke-Smith of Bassetlaw started Saturday with a happy greeting:
On Saturday afternoon, GB News's Nana Akua said she is proud to be English. She also pointed out that Britons seem to know the date of all the UK's patron saints' feast days except for St George's. How true. Hers was also an excellent editorial. Fortunately, she got a lot of compliments:
That evening, Neil 'The Coast Guy' Oliver, a Scot, discussed the overall malaise that the British have over their nationality:
Why this is I cannot figure out, but it's been around for decades. I encountered it when I first moved here. It's a pernicious disgrace that gets worse by the year.
Excerpts of Oliver's editorial follow, emphases mine:
Personally, I've had more than enough of the message.
It is no accident that our past, our shared past, is being used as the stick with which to beat us. To seek to do as much is a well-worn tactic. If a people can be made ashamed of the figures from their past – those who, by their efforts and endeavours, brought us to where we are today – then the moral legitimacy of the present is undermined and then destroyed. It is in this way that those of us who take pride in Britain and Britishness are made to keep our heads down and to shut up.
Today is St George's Day, of course. St George, patron saint of England, was from territory we know now as Turkey. He died in Palestine and is also the patron saint chosen by the people of Georgia, the Lithuanians, the Maltese, the Portuguese and the Venetians.
He was a Christian martyr but most clearly he stands for the necessity to face adversity in defence of the innocent and helpless. Symbols matter, and as a symbol, George is a good one. I like to see all of the patron saints remembered and celebrated – Andrew, Patrick and David too.
I am a Scot, but a British Scot. I have said this many times and I will keep on saying it. Because it is the whole of Britain that I love most dearly of all. It is all one place to me, united and made whole by a history that is deep beyond the reach of memory. Long before there was an England, or a Scotland, or a Wales there was a long island called Britain, or at least a name that sounded a lot like Britain.
Few places have histories longer than ours, histories as rich and complex. This has been a consequence of how much our predecessors achieved. Few nations even attempted to reach so far around the world. British history is long and convoluted on account of how much was accomplished. There is no denying the dynamism of Britain and the British. That those who went before us did so much to shape the modern world means our history is, inevitably, riven with good and with bad – with achievements and with mistakes. So much has been done in our name. And there has, let us not forget, long been a substantial and necessary body of opinion heartily and enthusiastically criticising our own past behaviour. This has been appropriate, but it is worth pointing out that we were rightly critical of ourselves long before the present campaign to tear the old place down in its entirety.
More by luck than good judgment, and mostly by means of the magic carpet provided by making television, I have seen a great deal of Britain. I have been around the coast many times. I have been back and forth across the interior. I have seen the landscape from the sky, from the cockpit of fighter jets, vintage biplanes and microlights. I have been on its encircling waters in kayaks, battleships and just about anything in between that floats, and under its waters in scuba gear and a nuclear submarine.
I have had a thorough look around. Long before the end I realised it was all one place, that the national borders drawn across it had no meaning for me and were invisible anyway.
I love this place. But I also believe in it …
Those whose agenda it is to run down Britain want nothing less than that it might cease to exist in any recognisable form, so that it might be replaced with something utterly different. It's worth noting that those those who demand a national apology from Britain, are not in the business of accepting apologies and moving on. To apologise to those who hate what Britain has been is only to offer our throats to the wolf.
As well as the place, I love the people of Britain. In my travels around the place, I have experienced nothing but welcome – in England, Ireland, Wales and at home in Scotland. The British people I love are those whose voices have been silenced and ignored of late – those who want only to go honestly about their business, paying their dues and trying to make something good of themselves and of the patch of the world in which they live. That Britain has fostered people like those – millions of them, silent witnesses all – is, on its own, the justification for the continued celebration of Britain.
Every day I meet people like that – unsung and, most recently, told that they are products of something innately bad, that they need to feel ashamed of themselves and of their sense of themselves.
The world plainly needs Britain – or at least the idea of Britain. Every day now, more and more people arrive on our shores – invited and uninvited. Britain is still a bright light in a darkening world and attracts those who can see a better life is available for the taking here. In fact, Britain is so strong at heart that she even weathers the incompetent leadership with which she is burdened from time to time.
In order to love someone, or someplace, completely, it is necessary to accept the good and the bad. I love this place – and in loving it I accept our history is shot through with dark as well as light. The time for crawling on our knees to those unforgiving individuals and organisations that seek only to punish, without any hope of redemption, is past.
Let's lift up our chins and look the rest of the world straight in the eye, as is our right, and our hard won inheritance from the ancestors.
Well said!
About 20 years ago, there was an informal online campaign to get a new patron saint for England. Why? What is wrong with St George? These were left-leaning individuals politically. Ironically, they said that George wasn't 'English enough'. They took issue with his Turkishness. Most strange.
On Sunday morning, The Political Correction had on Dr Gavin Ashenden, who used to be one of the Queen's chaplains. He has since become a Roman Catholic and is a layman.
He told presenter (and former politician) Arlene Foster that England's original patron saint was St Edmund, king and martyr.
He was England's patron saint until the 14th century and died defending the English people valiantly from the Vikings.
However, around the time that the Royal Family instituted the Order of the Garter, they were looking for another saint, for whatever reason.
St George was chosen, he said, for his chivalric virtues. Ashenden explained that the dragon is a symbol for evil. The devil is depicted as a dragon in Revelation. Therefore, through his brave, virtuous life of faith, George was slaying evil in a way. George died a martyr under Diocletian.
Ashenden said the fact that George was from Anatolia was immaterial. It was his bravery, character and faith that the English loved.
Ashenden said that people took Christianity very seriously in the Middle Ages. They loved God and they respected the law, which they considered was God-given through their rulers.
He added that one of the popes of that era reduced violence and war by decreeing that battle could take place only on days when no prominent saint's day was celebrated. At the time, holy days comprised about 30 per cent of the year. What a great idea that was. We should devise something similar today.
You can see Dr Ashenden's interview on his website. The first segment is about St George and is around four minutes long.
Incidentally, April 23 is also Shakespeare's birthday.