You are currently browsing the tag archive for the 'Philip Davies' tag.
This is the penultimate instalment of Boris Johnson's downfall.
Earlier ones can be found here: parts 1, 2, 3, 4 and 5.
Before I get to the heart of the matter, one of Boris's former aides, Cleo Watson, wrote about her time in Downing Street for the September 2022 issue of the high society magazine Tatler: 'Exclusive: how PM's former aide had to "nanny" him through lockdown'.
Cleo Watson tells the story of how she went from working on Obama's 2012 campaign to the Vote Leave one that preceded the 2016 Brexit referendum. As she worked with Dominic Cummings on the latter, he asked her if she would like to work at Downing Street when Boris became Prime Minister.
She accepted but had no idea what fate awaited her. Who knew then about the pandemic, which she had to get Boris through: frequent coronavirus testing, recovering from his near-death viral experience with nourishing drinks rather than Diet Coke and putting up with his silly, schoolboy jokes.
Then there was Dilyn, his and Carrie's Welsh rescue terrier, which they acquired in 2019. Dilyn never was properly house-trained and left little surprises in Downing Street and at the prime ministerial weekend retreat, Chequers.
Watson has just finished writing her first novel, Whip!, a fictionalised account of what life is like in Downing Street. It is scheduled to be published in 2023.
One thing that struck me is just how pervasive Dominic Cummings was during his time there.
She describes what the penitential press conference he had to give in May 2020 after his forbidden trip to County Durham during lockdown was like (emphases mine):
Dom's 'eye test' itself led to moments of strange humour as we struggled to respond to the public anger it caused. Remember his press conference in the rose garden? What you didn't see was the group of advisers loitering behind the cameras, clutching ourselves with worry. Dom's natural sunny attitude …
'Sunny attitude'? Surely some sarcasm there, methinks:
… seemed to be waning, so halfway through I took to standing directly in his eyeline, bent over like a tennis linesman, gesticulating for him to sit up straight and, if not smile, be tolerant and polite when responding to the repetitive questions being fired at him.
She left around the same time as Cummings, in November 2020:
As so many in politics know, the end comes sooner or later – generally sooner, if you're employed by this prime minister. (Although I suppose he's had karma returned with interest recently.) The end for me came in November 2020, about two weeks after Dom's hurried departure.
These were her final moments with Boris:
The PM had been isolating after his latest 'ping' and he and I finally reunited in the Cabinet room, where we had an exchange that I am sure may have been familiar to many of his girlfriends. Him: 'Ho hum, I'm not sure this is working any more.' Me: 'Oh, OK, you seem to be trying to break up with me. I'll get my things.' Him: 'Aargh… I don't know… yes, no, maybe… wait, come back!' I suppose it went a little differently. He said a lot of things, the most succinct being: 'I can't look at you any more because it reminds me of Dom. It's like a marriage has ended, we've divided up our things and I've kept an ugly old lamp. But every time I look at that lamp, it reminds me of the person I was with. You're that lamp.' A lamp! At least a gazelle has a heartbeat. Still, he presumably knows better than most how it feels when a marriage breaks up.
So I left No 10 – without a leaving party, contrary to what has been reported. What actually happened is that we agreed to go our separate ways and I went to the press team to say goodbye. The PM, unable to see a group of people and not orate, gave a painful, off-the-cuff speech to a bewildered clutch of advisers and I left shortly after.
More work followed, then came a holiday in Barbados:
I was asked to work on the COP26 climate change summit (quite cleansing for the brand after Vote Leave and Johnson's No 10), which took place in Glasgow in November 2021. It was a brutal year, no less dogged by Covid than the previous one, and I was lucky enough to top it off with a recovery holiday in Barbados in December.
The sun, the sea, the cocktail bar… Welcome to paradise. Except something was off. I couldn't put my finger on it, but whenever I was indoors at Cobblers Cove, the lovely hotel my husband, Tom, and I were staying at, I had a strange, uneasy feeling that I'd been there before. Where had I seen muted green print on jolly green print on rattan before? The place had been revamped by none other than Lulu Lytle, of the Downing Street flat fame.
Downing Street stays with a person, not unlike memories of an ex:
It's often the way that looking at a period of your life later on can frame it as much happier than it really was. It's like remembering the good times with an ex. You'll smell or hear something that nearly knocks you over with a wave of nostalgia and before you know it, you're thinking: 'I wonder what they're doing now…'
I'm very fortunate in that I know exactly what they're doing and what I'm missing out on. Yes, you get the chance to serve the country and on an individual level you can change people's lives. But there is also the constant work that gets gobbled up by the news cycle. The gut-busting effort behind every speech that flops. The policy that gets torn to shreds. The constant lurk of an MP rebellion. From the moment you're awake, you're on your phone(s).
These days I'll be walking my dog (far too big to be used as a handheld prop now) and delighted – literally delighted – to be picking up after him rather than dealing with the latest catastrophe I can see playing out just a couple of miles away.
I've weaned myself off my phone, cancelled my newspaper subscriptions and studiously avoided social media. I've really understood what burnout means. It has taken months to recover …
Now on to the final weeks of Boris and his wife Carrie.
The thing that sticks most in my mind is that awful — and awfully expensive — refurb of the Downing Street flat.
The next occupant will want to rip it all out and start again with something quiet and tasteful.
Boris must have thought he would be there for years. Otherwise, why would he have agreed to it?
Another disappointment for them must have been not being able to use Chequers for their big wedding party.
The couple married in 2021 at Westminster Cathedral (Catholic), but because of coronavirus restrictions, could have only a small number back to Downing Street to celebrate.
They had looked forward to having a big party at Chequers. Unfortunately, once Boris resigned as Party leader, he became a caretaker PM and was refused permission.
Fortunately, Lord and Lady Bamford of construction equipment manufacturer JCB fame lent their sprawling Gloucestershire estate to the Johnsons:
On Wednesday, July 27, GB News reported:
The Prime Minister and his wife are said to be planning on hosting family and friends at 18th-century Daylesford House, in Gloucestershire, this weekend.
A huge white marquee topped with bunting had been erected in the property's expansive grounds on Wednesday, with staff going in and out amid apparent party preparations.
Owned by Lord Bamford, the Grade I-listed mansion has been found as a replacement to Chequers – where the Johnsons had originally planned to host the party.
The Tory peer, chairman of construction equipment manufacturer JCB, has donated millions to the Conservative Party …
Lord Bamford is covering at least some of the cost of the party, the Mirror reported, quoting unnamed sources.
No 10 declined to comment on the "private matter".
The Johnsons decided on a unique celebration.
Reporters from The Mail were on hand earlier on Saturday, July 30, to find out more:
Guests at Boris and Carrie Johnson's wedding party are set to dine in style on South African street food at the Cotswolds retreat of Tory mega-donor Lord Bamford today.
Caterers from eco-friendly BBQ eatery Smoke and Braai were spotted setting up shop on the grounds at Daylesford House on Friday in advance of the fanfare.
Around 200 guests including a dozen Conservative MPs will gather at the idyllic, Gloucestershire Grade I-listed mansion for drinks from 5.30pm.
Grass-fed locally sourced meat will be the mainstay of the food menu in line with Mrs Johnson's well-known commitment to green causes, The Telegraph reported.
At least three street food outlets were pictured arriving at the gorgeous countryside manor house on Friday afternoon, with helicopters heard amassing above …
Daylesford House is the 18th-century home of Lord Bamford, 76, the founder of construction giant JCB and one of the Conservative party's most prolific donors.
The billionaire Bamfords, who gave £4million to the party in the run-up to the 2019 general election, after handing £100,000 to the Vote Leave campaign, stepped in to fill hosting duties after furore surrounded the Johnsons' prior plans to hold their wedding party at Chequers.
Lady Bamford and Carrie, in particular, joined forces to orchestrate today's proceedings, the newspaper reported.
The South African street food menu is set to include lime and mint-infused pineapple, skin-on fries, cherry wood-smoked pork with honey and mustard slaw, and Aberdeen Angus ox cheeks.
South Africa's answer to the barbecue, a braai is typically the setting for an hours-long cookout in which all are welcome. 
The Telegraph told us that Steve Bray, the braying anti-Brexit chap from College Green near Parliament, was a short distance away. The article has a photo of him.
Caterers and entertainers could not miss him:
… they were greeted by Steve Bray, an activist known as the "Stop Brexit Man", who had positioned himself at one of the entrances holding a banner which read: "Corrupt Tory Government. Liars, cheats and charlatans. Get them out now."
The article told us more about the menu:
Rum punch is also available to guests, as well as barbecue chicken and beef with salad. Handmade ice-cream from a family run dairy farm in the Peak District is also being served, adding to the laid back atmosphere at Daylesford House, Gloucestershire …
Mrs Johnson is thought to have worked closely with Lady Bamford to organise the event and set the theme of a South African-style barbecue laid on by Corby-based Smoke and Braai, with the 200 guests served from eco-friendly street food trucks amid hay bale benches.
On the menu is grass-fed British beef braai boerewors rolls, masa corn tortilla tacos, smoked barbacoa lamb and what was described as "ancient grain salad" …
Adding to the festival atmosphere, for dessert there is ice-cream courtesy of Dalton's Dairy, a family-run dairy farm in the Peak District which produces handmade ice creams, including wild strawberries and cream, pineapple, and amaretto and black cherry.
The guest list included MPs, singers and millionaires:
The guests, who include several Conservative MPs, began to arrive at the estate at around 5pm. Australian actress and singer Holly Valance, who is married to British property developer Nick Candy, was also pictured arriving at the estate in a Rolls Royce.
Mr Johnson's younger sister, Rachel Johnson, was seen arriving via the back entrance, as did the Prime Minister's father, Stanley Johnson, who arrived alongside a female companion.
Nadine Dorries and Jacob Rees-Mogg were also among the first guests to arrive.
Other politicians in attendance included Ben Wallace, the Defence Secretary; Jake Berry, who previously served as minister for the Northern Powerhouse; Amanda Milling, the MP for Cannock Chase; and John Whittingdale, the former culture secretary.
More elusive and camera shy guests preferred to arrive by helicopter, landing on a helipad positioned in the grounds of the estate. They were then ferried to the garden party in a black Range Rover.
The Mail on Sunday had more, complete with lots of photographs:
Boris and Carrie Johnson danced the night away at their festival-style wedding party in the Cotswolds last night, with the bride wearing a £3,500 dress that was rented for £25. 
Carrie opted to stick to her sustainable fashion principles with the dress by designer Savannah Miller, the older sister of actress Sienna.
The floor-length, halter-neck gown named Ruby has an original price tag of £3,500 but is available for a day rate of £25 on London-based website Wardrobe HQ, which Carrie, 34, has been using for more than three years.
Meanwhile, the festivities started with Boris joining Carrie on the dancefloor for their first dance to Neil Diamond's Sweet Caroline – chosen because Carrie's full first name is Caroline. 
They were joined by friends and family at the picturesque venue that sits within 1,500 acres and boasts stunning amenities including a heart-shaped orchard, painstakingly manicured gardens, an 18th century orangery and a luxurious pool. 
For anyone wondering if this Daylesford is related to the eponymous organic food brand, it is, indeed:
Lady Carole Bamford OBE, became famous for launching Daylesford Organic Farm, based in the private village but with farm shops across London.
Daylesford House, which is just a mile from Lord and Lady Bamford's organic farm of the same name, boasts 1,500 acres of manicured gardens including pristine lawns, an 18th-century orangery and a secret garden – complete with octagonal swimming pool, shell grotto and alfresco pizza oven.
The article had more on the Bamfords and their involvement with the Conservative Party:
Downing Street has refused to comment on the occasion, stating it does not discuss private events which do not involve taxpayer funds or ministerial declarations.
Beyond cash handouts, the Tories have also benefited from repeated press conferences staged at JCB's Staffordshire headquarters.
Boris Johnson made his headline-grabbing Brexit stunt at the factory as part of his general election bid in 2019.
The global digger manufacturer paid him £10,000 just three days before he smashed through a brick wall in a JCB digger.
Beyond politics, the Bamfords hold sway with a long list of British elites, including their friends the Prince of Wales and Duchess of Cornwall.
Lady Bamford, whose precise age is unknown, sits on JCB's board of directors and was awarded in OBE in 2006 for services to children and families.
A former air hostess, Lady Bamford OBE married Sir Anthony in 1974.
They have four children and a haul of houses around the world in addition to a prolific car collection worth tens of millions of pounds.
The article beneath it, by Adam Solomons, had more about Steve Bray's presence. One photo shows a policeman seemingly asking him to leave. Bray alleged that his friend was arrested:
So-called 'Stop Brexit Man' Steve Bray flouted the tight guest list for Boris and Carrie Johnson's wedding party to conduct a solo protest yesterday after a friend and fellow campaigner was allegedly arrested nearby.
Photographer Sylvia Yukio Zamperini was taken away in a police car after turning up close to opulent party venue Daylesford House, Gloucestershire, Mr Bray claimed.
In a Facebook post this evening, he wrote: 'I was supposed to meet Sylvia […] but she called me. She was searched by Police.
'A police van and car passed me 20 minutes ago. She was crying and waving frantically from the back of the car. She's been arrested.'
He added in a subsequent tweet: 'Police using dirty tactics.'
Gloucester Constabulary did not respond to a MailOnline request for clarification or comment this afternoon.
The notorious Parliament demonstrator put out an appeal for urgent legal help on Sylvia's behalf.
Ms Yukio Zamperini has been Bray's right-hand woman throughout years of noisy campaigning in and around the parliamentary estate over the past six years.
Describing herself as a 'proud European', she often shoots footage of Bray's flags and banners.
Sylvia travelled to the gorgeous Cotswolds wedding venue from Birmingham, with Steve commuting from London. 
They were supposed to meet close to Daylesford House, but Sylvia had reportedly already been arrested. 
Bray also posted a video in which he spoke to a local police officer, who'd warned him that loud amplifiers set up to disrupt the party would be confiscated.
The unidentified officer, who Bray's followers noted was polite and respectful, said he was giving 'Stop Brexit Man' a 'pre-pre-warning' in the event he tried to sabotage the postponed wedding party.
The infamous campaigner tells the policeman: 'Look what these guys have done to our lives. I don't care if it's a wedding party.'
Guido Fawkes has a video of Boris and Carrie dancing to Sweet Caroline, which young Wilf interrupted. Carrie picked him up and swayed from side to side. Of Boris, Guido says:
Some questionable dad dancing moves from Boris there.
On August 6, The Telegraph's Gordon Rayner had more in 'Inside Boris and Carrie Johnson's secret wedding party':
The bride wore a gold mini dress, the groom wore a baggy cream suit and the guests wore expressions of mild bemusement.
At the Prime Minister's wedding celebration, Sweet Caroline had been chosen for the first dance as a romantic tribute to Caroline Johnson, better known as Carrie – but her husband seemed to think he was at an England football match, where the song has become a fan favourite.
His dad-dancing at the couple's wedding celebration last weekend was more "let's all have a disco", as sports crowds chant, than "how can I hurt when holding you", in the words of Neil Diamond's song.
The moment, however, was entirely in keeping with the eccentricity of the whole event, held in the middle of a field where guests had no escape from the speeches, the South African street food or the bitching about Rishi Sunak.
It featured slut-drops, congas, rum punch, hay bales, a steel band and Jacob Rees-Mogg, but without an actual wedding for the guests to attend, it was an event that appeared not to know quite what it was trying to be …
The Prime Minister, who had worn a charcoal suit on what was his third wedding day last year, struggled to pull off the Man From Del Monte look, wearing a cream suit with trousers that needed taking up and a jacket that appeared too long for his body.
Mrs Johnson, 34, had greeted guests earlier in the day wearing a £3,500 halter-neck Ruby wedding gown by Savannah Miller, the designer, which she had rented for £25 a day. However, by the time the first dance happened at 8.30pm, she had changed into a shimmering gold mini dress with a plunging neckline that was more disco diva than blushing bride.
Neither she nor the 58-year-old Prime Minister looked comfortable dancing in front of their guests. They may have been relieved when their two-year-old son Wilfred, dressed in a navy blue sailor suit, toddled across to them halfway through the dance and became the centre of attention, as he was twirled around on the hips of his parents …
The event officially ended at 11.30pm, although many guests, with long journeys home, had already left by then.
Ms Johnson said the party was held in "a magical flower-filled field", but other guests whispered that the party had the vibe of a failed pop festival, complete with portable lavatories …
Before the dancing, the guests were treated to a succession of speeches, starting with Ms Johnson, followed by Carrie Johnson – whose words were "full of affection" for her husband – and finishing with the Prime Minister himself, who stood with one hand in his trouser pocket and the other clutching A4 sheets of notes.
In a defiant and typically joke-filled speech, Mr Johnson told his guests that he had received "masses of letters to resign, mostly from my closest family", according to The Times.
He went on: "There are many opportunities, which lead to disasters, and disasters can lead to new opportunities, including to opportunities for fresh disasters."
He also described the mass ministerial resignations that forced him to resign as: "The greatest stitch-up since the Bayeux Tapestry."
The guest list was light on parliamentarians, partly because so many of them had turned on the Prime Minister only days before. Only the most ultra-loyal Johnsonites received an invitation.
As a former head of communications for the Conservatives, Mrs Johnson knows all about messaging. She was keen to put the word out that her dress was rented, because she is keen to promote sustainable fashion, and that the food on offer was eco-friendly because the catering firm buys its ingredients from local farmers.
But the messaging was somewhat undermined by the reality of the event. Guests arrived in a steady stream of Range Rovers, Rolls-Royces and other gas guzzlers, with some even arriving by helicopter.
By choosing to hold their party in such a rural location, the couple ensured that it had the largest possible carbon footprint. In only a matter of weeks, though, worrying about political mis-steps will cease to be much of a concern for them.
The party — especially with Bray's presence — would make a great film for television. You could not make this up.
On August 2, Telegraph reporter Rosie Green poured cold water on Carrie's renting of dresses. I'm including this as a caution for women thinking it's a failsafe solution: 'Renting a dress sounds like a good idea — until you face the logistics'.
She went through the process herself, which sounds tiresome:
I book appointments at the places offering "trying on" services (Front Row, Harrods and Selfridges) and let them know which dresses I would like to road test.
At the My Wardrobe HQ pop up concession at Harrods, although the manager was friendly and helpful, disappointingly only one of the four pieces I had requested was there. Then the dress I had loved on screen wouldn't do up. Hmm.
Thankfully I found another wonderful gown by the same designer which fits beautifully (the same size weirdly). But at £1,861 to buy and with a long train that looked perfect for stepping on I was worried about incurring damage. Another dress I loved had a broken zip …
I leave for my next appointment at Front Row to meet one of its founders and to try on a selection of dresses, but when I arrive at the showroom she is not there and the doors are locked. I am stumped. I can't get through on the phone. I later discovered she had her handbag snatched by a man on a motorbike. Front Row confirms they'll send the dresses to my home instead. In the meantime, I get a message from Selfridges saying my requested dress (the only one on the website I found suitable) is not available as it is being repaired. Hmm.
I head home to Oxfordshire a little dispirited. So I start delving deeper into By Rotation and discover that they act as a middle man between the renter and the owner. This means the clothes are kept by their owners and so effectively you are reliant on Sandra from Surrey or Carla from Cheshire posting you their gown. This makes me very nervous.
There's more, so I'll skip to the chase:
Then, on the day I'm expecting the My Wardrobe dress to arrive, I'm told I have to pick it up from Harrods. I have a minor heart attack. I tell them I live in Oxfordshire and not only is it impractical but the cost of the return train ticket to London would be more than the rental. They arrange for it to be couriered and it arrives the morning of the event.
According to UPS the Front Row dresses are stuck at the depot. Then they are officially AWOL. Renting has not been stress free. Buying my dress is now feeling like a much more attractive proposition …
… my advice if you're planning to rent would be to get your choices a few days before you need them. Try them on first, and always have a back-up plan.
Would I hire a wedding dress this way, like Carrie did? No way. My nerves couldn't take it.
On another cautionary note, provocative dance moves can prove difficult as one ages.
Guido Fawkes found a 2018 Celebrity Big Brother clip with Boris's sister Rachel boasting about how Liz Hurley taught her one of these dance moves then demonstrating it.
Unfortunately for Rachel, 56, things didn't go so well with it at her brother and sister-in-law's party, as she wrote in her Spectator diary of August 6:
The Season has ended and – apart from The Spectator's summer bash of course – the two bang-up parties of July were discos in the Cotswolds. They do things differently there. At Jemima Goldsmith's I danced so hard in high heels with a selection of her handsome young swains that I suspect the double hip replacement will be sooner rather than later. At Carrie and Boris's Daylesford wedding do in a magical flower-filled field we all busted out our best moves. I was taught the slut-drop by Liz Hurley years ago in Nick Coleridge's party barn in Worcestershire. She demonstrated how to collapse to the floor like a broken deckchair on the count of three. My problem at Daylesford was getting up again – not a challenge shared by my sister-in-law. She could win a Commonwealth gold hands-down in this particular high-risk dance move. I'd kicked off my shoes (to save on physio bills later) but still ripped off a big toenail during the conga. Conclusion: I can no longer slut-drop but I can still name-drop for Britain till the cows come home.
Sometimes I feel as if I live in another world.
Anyway, by early August, the party was over for Boris.
Although he surpassed Theresa May's tenure at No. 10 on August 5 …
… Boris faces a hearing by the parliamentary Privileges Committee in September, led by Labour's Harriet Harman.
Note that Boris's opposite number, Keir Starmer, gets away with multiple violations. Yet, Boris will be quizzed on whether he knowingly — rather than accidentally — misled Parliament over a piece of cake in a Tupperware container:
To make matters worse, Conservative MP Bernard Jenkin is on that committee. He is not one of Boris's biggest fans:
The topic came up on Dan Wootton's GB News show on August 8. Nearly 75% of his viewers thought the committee hearing would be a witch hunt:
Panellist Christine Hamilton agreed:
Boris's supporters among the general public were eager to get his name on the Conservative Party leadership ballot along with Liz Truss's and Rishi Sunak's. The fight on that still continues. The best they can hope for now is a change in the Conservative Party rules. I will have more on that in a separate post. The feeling for Boris continues to run deeply among many voters.
On Friday, August 12, a reporter asked Boris why he was not taking calls from Rishi Sunak:
Boris said:
That's one of those Westminster questions that doesn't change the price of fish…
He quickly deflected to move the discussion towards resolving the cost of energy crisis and said that the future would be very bright.
On Saturday, August 13, Jacob Rees-Mogg, Minister of State for Brexit Opportunities and Government Efficiency, gave an interview on GB News to two of his fellow Conservative MPs, Esther McVey and her husband Philip Davies.
In this segment, he explains why Boris has always had his support, dating back to 2016. His only criticism is that the Government could have handled the economy better post-pandemic:
As for Boris coming back as PM, Rees-Mogg said it was highly unlikely. The Telegraph reported:
"Nobody's come back having lost the leadership of the party since Gladstone," Mr Rees-Mogg replied. "And I just don't think in modern politics, the chance of coming back is realistic.
"Lots of people think they're going to be called back by a grateful nation which is why Harold MacMillan waited 20 years before accepting his peerage… Life just isn't like that."
Rees-Mogg also explained why Boris was hounded out of office:
In the interview, Mr Rees-Mogg claimed that Mr Johnson's downfall was partly the result of anti-Brexit campaigners – even though a number of Brexiteer MPs, such as Steve Baker, called for his resignation.
Mr Rees-Mogg said: "There's a lot of people who resent the fact we left the European Union. And therefore to bring down the standard bearer of Brexit was a triumph for them."
In August, Boris and Carrie took a summer holiday in Slovenia.
He no sooner returned than he jetted off again, this time to Greece, for reasons to be explored tomorrow.
While Foreign Secretary Liz Truss continues to dominate the polls in the Conservative Party leadership contest, former Chancellor Rishi Sunak needed a break.
He got two breaks: an interview on GB News and TalkTV's hustings.
GB News
GB News announced last week that Truss would be the guest of a People's Forum on Wednesday, August 10 at 5 p.m. She took questions from the public for an hour. I will have more on that in a separate post.
By contrast, GB News allowed Sunak a private interview with MPs Esther McVey, one of his supporters, and her husband Philip Davies.
The couple host a two-hour current affairs programme every Saturday morning.
The interview aired on Saturday, August 6, and was interspersed with other segments on their two-hour show. Judging from the room, it took place somewhere in the Palace of Westminster.
Philip Davies asked a couple of harder questions but his wife dominated the interview, making her candidate look good.
Rishi defended his Gordon Brown policy of raking in tax and giving it back to the taxpayer in insignificant token amounts:
Sunak said how difficult it was for him to resign as Chancellor. He painted it as a moral dilemma. Never mind that he, like Boris, also received a Fixed Penalty Notice for attending a Downing Street gathering. He just happened to be working in that room at the time, as he did often:
He said that he was against a Christmas 2021 lockdown — which didn't happen, thanks to 101 rebel Conservative MPs — and said he made a special effort to make his opposition known. That said, he would not, like Truss, rule out a future lockdown:
He gave a weak answer on stopping the Channel migrant crossings, which are costing the taxpayer £5 million a day in hotel accommodation. By now, we must be running out of hotel rooms — no joke:
Sunak also said he was appalled by the grooming gangs and said that he would consider introducing a life sentence for child rape and repeated sexual assaults on children.
TalkTV
TalkTV's Tom Newton Dunn presented a Conservative Party hustings in Darlington on Tuesday, August 9, broadcast as a special edition of his evening show:
As this was a Conservative Party event, the format was the same as in Eastbourne on August 5.
Andrew Stephenson MP, the new Party co-chair, gave the introduction.
Tom Newton Dunn introduced himself. It would have been helpful if he had added he leans towards the Liberal Democrats. Incidentally, he regularly loses in the ratings to GB News, although perhaps his Tuesday show bumped him up a notch or two.
Then Angela Sterling, a Conservative councillor from Durham, went up on stage to pledge her support for Sunak (9:56).
Sunak introduced himself to the audience and spoke for several minutes (16:20). From the moment he appeared, it was apparent he was on home turf. Darlington is just north of his constituency. He had many supporters from Teesside, sporting Ready for Rishi shirts and placards.
Fortunately, he didn't make the same mistake he did on July 20 and say the city was in Scotland:
Afterwards, Anne-Marie Trevelyan MP, explained why she was supporting Truss (30:00).
Then Truss introduced herself (35:00).
Sunak's Q&A session began after that (48:32).
Newton Dunn gave him an easy ride. There was only one tough question from a woman who had paid all her National Insurance stamps but was still not getting a full pension. He asked her to email him and said that he would definitely look into the matter for her.
Some say that Sunak received a hard question from the man who asked about Boris, but the audience took care of that by booing him.
However, we can see from this clip that a negative question can irritate Sunak:
Sunak did mention grooming gangs to the audience and repeated what he told Esther McVey and Philip Davies. The audience applause indicated they were pleased, although Newton Dunn looked visibly uncomfortable.
Guido Fawkes has three more highlights, one involving a delicious regional dish, the parmo (emphases his):
Rishi was on home turf this evening in his newly-adopted home of Teesside – "It is so great to be home!". Within his opening speech we got everything from the Darlington Treasury Campus to parmos, and – to be fair – he got a very warm reception.
He even cracked a decent gag: "My parents are staying with us at the moment, and I realised I'd been campaigning a lot when last night I was talking to them – and I started telling them that my dad was a GP and my mum ran the local chemist when I grew up" …
Among Rishi's backers in the audience was none other than co-conspirator favourite Tom Harding – Anna Soubry's former chief of staff who slipped through Sky News' debate vetting and

laid into

Liz

. 

He came armed

with a massive "Ready for Rishi" poster…
Then it was time for Truss's Q&A (1:19:00).
Newton Dunn interrupted Truss from the beginning. She handled the situation well and kept her composure, making quips where she could.
He would not even allow her to take a question from one of her own supporters:
I wouldn't want to make it easy for you.
How petty.
Guido has more. Once again, as it was in Eastbourne, Truss Derangement Syndrome was the order of the day (purple highlights mine):
Last night's husting saw a rather feisty Liz Truss, not least with quite a few barbs at the media
There were at least three digs towards the fourth estate, including over their continued use of the phrase "handouts" in regards to her proposed tax reductions
She also had a minor bust-up with Tom Newton Dunn when

he asked her who was responsible for Boris's downfall

. Multiple members of the audience shouted out "the media", with Liz laughing along and asking "who am I to disagree with this wonderful audience?"
At the end of the session, as

she hugged TND, she jokingly apologised for her barbs

. TND was caught on mic bitterly saying "it's cheap and you know it"
The press isn't happy, even calling her jibes "Trumpian", though every one of Liz's comments were made in a lighthearted way.
Aside from her press scrap she also said she'd vote against continuing the Privilege's Committee investigation into Boris given the hypothetical that MPs were allowed a say
Guido's readers appreciated the video montage of Truss's barbed but witty comments about the media:
Here's Guido's video:
His accompanying post says:
At points during last night's husting it felt like Tom Newton Dunn was getting more of a pasting from Liz than Rishi. During the course of her sit-down interview she – quite rightly – attacked the press for framing her tax cuts as "handouts"; bringing down Boris; proposing a "bizarre" "kangaroo committee" of her, Rishi and the CBI; and for not believing in Britain. Tom was clearly smarting, telling the foreign secretary off when they hugged for her "cheap" attacks. Grow a pair…
I couldn't agree more. Tom Newton Dunn, who, amazingly, was The Sun's Political Editor for many years, is one of the worst offenders.
Although Truss might not have had an easy time of it in Darlington, something positive happened afterwards.
Chris Skidmore was the first backbench MP to switch from Sunak to Truss. He wrote an exclusive editorial for The Telegraph, which the paper summarised:
Chris Skidmore has become the first Conservative MP to publicly switch his backing from Rishi Sunak to Liz Truss in the in the Tory leadership race.
Announcing his defection in an article for The Telegraph, Mr Skidmore said he had became "increasingly concerned" by the Sunak campaign's "consistently changing position" on policy. 
He urged other Tory MPs to join him in switching support to the Foreign Secretary, saying: "It is never too late to make the right decision".
The switch is especially noteworthy as Mr Skidmore, one of the most prominent Tory supporters of Net Zero, is seen as being on the party's liberal wing, while many of Ms Truss's most prominent backers are on the traditionalist Right.
A Truss campaign source claimed the "floodgates could open" now Mr Skidmore, the MP for Kingswood and a former universities minister, had flipped support, with other defections possible later this week.
Red Wall MP Aaron Bell followed suit, explaining his views in an exclusive for The Times. Excerpts follow:
It has been a tough campaign for everybody. There has been a lot of in-depth policy debate about the future of our party and country, much of which has been productive and insightful. And it's important that there has been a contest, because it's right that the candidates have been tested under pressure — we need to know that our next prime minister has what it takes to lead. But there has been a darker side to the campaign too. The blue-on-blue attacks have been bruising and have left me concerned for the good reputation of our party.
Because of this, I have come to the conclusion that, above all, what we need out of this leadership campaign is unity. The whole party — our members, councillors and activists, and MPs — will need to pull together after the division of the past few months. Without that unity we cannot deliver for our party or our country, and we certainly cannot defeat Sir Keir Starmer's Labour Party …
For years, Newcastle-under-Lyme had been taken for granted by the Labour Party and this came to a head in 2019 when, following our vote for Brexit and the ensuing holdup by the political establishment, my constituents turned to the Conservatives …
They watched as big cities and other areas progressed and benefited from serious investment, private and public, while their own town was forgotten and got left behind. In 2019 I pledged, alongside my Conservative colleagues, to turn this around. Indeed, after getting Brexit done, it was to be our government's guiding mission: restoring not only investment but also local pride in towns such as Newcastle …
We need, with increasing urgency, to deliver on our promises to level up. We have two years until the next election, and if we are to have any hope of beating Labour and continuing to be able to deliver for our country, this is an absolute must. That is why I am supporting Liz Truss to be our next prime minister.
Once Tom Tugendhat, my initial choice, was eliminated, I was leaning towards supporting Rishi Sunak. But, having observed the campaign, I now believe that Liz is the best person to unite the party, deliver on our promises to level up, and beat Keir Starmer in the red wall seats.
Well done!
I will feature Liz Truss's GB News appearance tomorrow.
Yesterday's post introduced the ongoing Conservative Party leadership contest.
Today's post will discuss what happened on Wednesday and lead up to Thursday afternoon's vote, the result of which will appear tomorrow.
Before Wednesday's vote
Guido Fawkes wrote the following on the morning of Wednesday, July 13, before the first round of voting (red emphases his, purple ones mine):
Good morning. Six of the eight remaining Tory leadership candidates face an uphill battle throughout the day, as they attempt to reach the 30-MP threshold required in the first knockout round of the contest at 6pm. Rishi now has 48 backers, meaning he can basically sit back and relax for at least the next two rounds, though that hasn't stopped him adding Steve Barclay to his list of supporters this morning. Penny Mordaunt also has the 30 required. The other six, not so much…
All eyes are on Jeremy Hunt and Suella Braverman as the ones most likely not make it, though one of Hunt's backers told Guido last night they believe they have the requisite support. They also described rumours that Gavin Williamson is instructing Rishi backers to temporarily support other candidates like Hunt and Kemi, so Rishi doesn't have to face Liz in the final two, as utter rubbish, though members of other campaign teams believe it is absolutely happening. With Sajid, Shapps and Priti now out of the race, there are 30 newly floating MPs up for grabs…
News overnight includes a policy-light interview with Rishi in The Telegraph, who's trying to get the press back onside after yesterday's scenes at his campaign launch. He says he'll run the economy like Thatcher if he wins. Tom Tugendhat committed to spending 3% of GDP on defence last night.  Penny has used a Times op-ed to commit to supporting families as PM. Stay tuned for her campaign launch at 10.30 this morning…
And:
from now on candidates can also vote for themselves…
Candidates experienced highs and lows, as covered below.
Nadhim Zahawi
When Boris Johnson appointed Nadhim Zahawi as Chancellor of the Exchequer on July 5, it was remarked that he is the first Chancellor with facial hair in 65 years:
Before Harold Macmillan, we have to go back another few decades to find another bearded Chancellor:
Zahawi appears to be the man who convinced Boris that he should stand down as leader of the Conservative Party. On Thursday, July 7, the Daily Mail reported:
Boris Johnson will finally announce his resignation today – but is lining up a 'unity Cabinet' as he battles to stay in Downing Street for months longer.
The PM admitted defeat in the wake of a shattering intervention from Nadhim Zahawi, who was only appointed on Tuesday night following Rishi Sunak's departure. He told Mr Johnson that his situation is 'not sustainable'.
Two days later, on Saturday, news emerged that HMRC (Her Majesty's Revenue and Customs) were investigating Zahawi's tax situation. Hmm:
Zahawi said on a Sunday morning news programme that, if elected Party leader, he would release his tax returns. He complained of being set upon, something Boris knows only too well:
On Tuesday, July 12, he launched his campaign video in which he tells his life story. He arrived in England from Iran with his parents. He started school not knowing a word of English. Fast forward to the past two years and he was able to live his dream. He headed the coronavirus vaccine rollout and went on to become Education Secretary. Today, he is Chancellor. Amazing:
On Wednesday morning, he told LBC's Nick Ferrari that, if elected leader, he would give Boris a Cabinet post:
Guido has the video and concluded:
He's the second leadership contender to make such a pledge after Suealla Braverman. Clearly Zahawi sees some benefit in associating himself with Boris. A swift change of tone considering he was calling for Boris's resignation just a few days ago…
Agreed, but there is no way that a former Prime Minister would take a Cabinet post.
Later on Wednesday morning, someone hacked Zahawi's campaign website and redirected it to Penny Mordaunt's. Penny's website also seemed to have issues:
They are not the only ones, however, as Guido reported that Rishi Sunak's site is banned on the Parliamentary estate:
Website woes are a common theme throughout the leadership campaign, Rishi's site is blocked in Parliament as "insecure" and candidates have had their domain registration timings scrutinised. Turns out this stuff is hard to do right…
Jeremy Hunt
Conservatives either love or loathe Jeremy Hunt.
He served as Health Secretary and then as Foreign Secretary, until Boris sacked him in July 2019.
Hunt ran against Boris in the 2019 leadership contest. In one appearance during that campaign, he said his wife was Japanese. She quickly corrected him and reminded him that she is Chinese.
I wonder if he said that on purpose, because …
During the pandemic, as a backbencher, Hunt proposed Chinese-style lockdowns and mandatory vaccines for healthcare staff.
Nadine Dorries MP recalled a conversation with Hunt in July 2020:
On Christmas Day in 2021, the Mail reported that Hunt's wife presents Chinese state-sponsored television programmes, broadcast on Sky TV from London:
The wife of former Cabinet Minister Jeremy Hunt presents a TV show for China's state-run media that has been accused of 'whitewashing' the Communist Party's human rights abuses.
Lucia Guo, who has three children with the former Health Secretary and Foreign Secretary, appears on China Hour, a series broadcast on Sky TV that showcases Chinese culture to a UK audience.
It is made by the state-owned China International TV Corporation and British-based Dove Media, in partnership with the Communist regime's tourist office in London.
The programme has featured reports on the effectiveness of China's pandemic response and about the beauty of the Xinjiang region without mentioning it is the site of 're-education' camps for its persecuted Muslim Uighur population. 
Ms Guo, who is originally from the city of Xi'an in central China, hosts a feature on the show called Signature Flowers of China. 
It has been broadcast since September and is also available on YouTube.
Human rights campaigners at the US research institute Freedom House last year accused China Hour of being part of the Chinese Communist Party's international media web.
The programme has been praised in Beijing for its viewing figures while its reports on the pandemic have been credited with 'playing a unique role in communicating the Chinese narration of the epidemic to the world'.
On March 13, 2020, three days before the UK's first lockdown, Hunt wanted all British schools closed.
Although Hansard has all of Jeremy Hunt's contributions to parliamentary debates, in May 2022, he tried to walk back his promotion of Chinese-style pandemic measures.
Someone put this graphic together around May 21, a significant date for Hunt, as you will see below: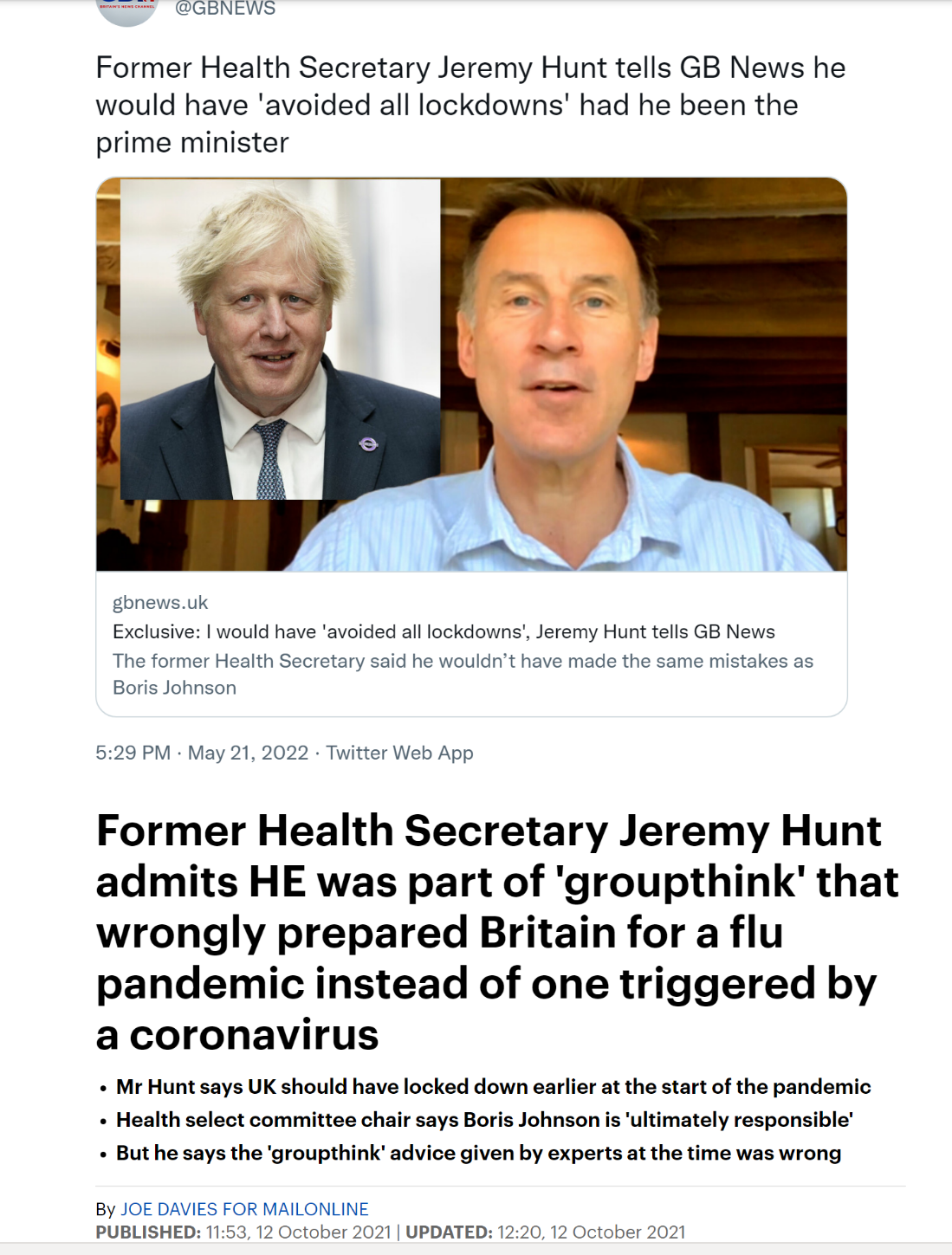 The next day, May 22, he appeared on Sophy Ridge's Sky News programme to say that he did not want to see a Conservative leadership contest:
Guido posted the video and this comment:
Maybe Hunt is one of these Tories who thinks it might be good to lose the next election? He could become leader of the opposition…
That day, a number of letters to the editor appeared in The Sunday Times. The week before, he had written an article for the paper outlining how he would reform the NHS.
A retired GP wrote the Times to point out that Hunt had ample time as Health Secretary some years before, yet he took no action:
What a nerve! Jeremy Hunt tells us "How I would fix the NHS" (News Review, last week) — but he was the longest-serving health secretary in British history and has a huge responsibility for the NHS being in this parlous state.
He did nothing to increase the capacity of our hospitals, which has resulted in ambulances queueing outside A&E departments, unable to discharge their patients. He pledged that by 2025 we would be self-sufficient in "homegrown" doctors, but a lack of planning has resulted in a huge shortage of NHS staff in all sectors. He went out of his way to alienate junior doctors, causing the unprecedented strike of 2014. He did nothing to integrate the NHS with social care.
This is the man who could replace the fool we now have as prime minister. Heaven help us.
One week later, on May 28, an article in the Mail suggested that Hunt had a plan to topple Boris:
Boris Johnson's Cabinet allies have accused supporters of former Health Secretary Jeremy Hunt of mounting a secret pub plot to oust the Prime Minister.
They suspect MPs who attended a dinner at an upmarket bar in West London called The Surprise last week were scheming to trigger a Tory leadership challenge.
The event, held the night before Sue Gray's report into Partygate was published, was hosted by Devon MP Mel Stride, a former campaign chief for Michael Gove who is seen by the Johnson camp as a rebel ringleader.
Also in attendance was long-serving Ludlow MP Philip Dunne, a key ally of Mr Hunt.
The article has two familiar names, in addition to Hunt's. Those MPs entered the current leadership contest:
Of the 16 MPs known to have been there and who voted in the 2019 leadership election, just three backed Mr Johnson.
Five backed Mr Hunt, who is widely expected to mount a leadership bid if a contest is called, while six supported Mr Gove, who is not expected to enter another contest …
Politicians at the dinner strongly denied they were scheming against Mr Johnson and accused his allies of 'paranoia'.
They pointed to the fact that Boris arch-loyalist Grant Shapps – who has himself been tipped as an outside bet for the leadership –addressed the meeting.
But a Cabinet ally of Mr Johnson said: 'Mel Stride is a Goveite looking for a new horse to hitch his wagon to. Many of the people he invited to the pub backed Gove or Hunt last time – including Dunne, who is running Hunt's latest bid.
'Any MP considering backing Hunt must be a masochist yearning for the kind of thrashing we sustained in 2017 and longing for the humiliation of a very long spell on the Opposition benches.
'Without Boris, we will be handing the next Election to a Labour-SNP coalition. But then, some of our pro-Remain MPs and those who think they were naturally destined for high office, are too bitter to care' …
Trade Minister Penny Mordaunt, considered a potential future Tory leadership contender, condemned behaviour at No 10 as 'shameful', telling the Portsmouth News she was 'angry' that people blocking 'reasonable requests to relax [Covid] restrictions, were at the same time ignoring the rules'.
I agree with whoever said that without Boris, the next election will go to a Labour-SNP coalition. Yet, here we are, sadly.
By June 6, the story of Hunt's yearning to be the next Conservative Party leader grew traction, especially with GB News presenters.
Neil Oliver threw his characteristic diplomacy away in this tweet:
Bev Turner shared a Hunt anecdote, wherein he advocated paying domestic staff low salaries:
Someone from Hong Kong confirmed the Chinese way of paying peanuts to domestic staff:
A Conservative Party member chimed in with disgust:
Adam Brooks, the publican who appears on Dan Wootton's show was grateful that Boris was at the helm during the pandemic:
Now let's look at what Jeremy Hunt told Nadine Dorries, Secretary of State for Digital, Culture, Media and Sport, back in July 2020:
Ben Leo, who works on Dan Wootton's show, tracked Hunt down in front of his house on July 9 to follow up. This is an excellent video. Readers won't be surprised to find out that Hunt said absolutely nothing:
Now let us fast forward to last weekend.
GB News viewers were aghast to find out that Esther McVey, an MP many of us admired up to that point, cast her support for Hunt, as did her husband Philip Davies:
Why would a no-nonsense, straight-talking Conservative back Jeremy Hunt?
The answer came on Sunday, July 10, when Hunt announced that, if elected leader, Esther McVey would become Deputy Prime Minister.
Guido posted the video:
She must be stupid if she believes that, I thought. It's like a would-be Romeo trying to seduce a girl. Promise her anything to get her to submit …
Just look at the man's eyes. He often looks like this:
Guido tweeted:
That's me done with McVey and Davies. I liked him, too. No longer.
On Monday, July 11, Dan Wootton warned that Conservative MPs could destroy the Party if either Rishi Sunak or Jeremy Hunt become leader:
He is not wrong in that assessment.
First round voting results
Sir Graham Brady, chairman of the 1922 Committee of Conservative backbench MPs, declared the results of the first round of voting shortly after 5 p.m.
Nadhim Zahawi, the new Chancellor, and Jeremy Hunt were eliminated from the contest:
Conservatives around the nation breathed a sigh of relief at Hunt's elimination from the race.
Perhaps Hunt should have taken a cue when the top of the bell he was ringing flew off, nearly hitting a bystander:
As for Zahawi, he posted a lengthy letter: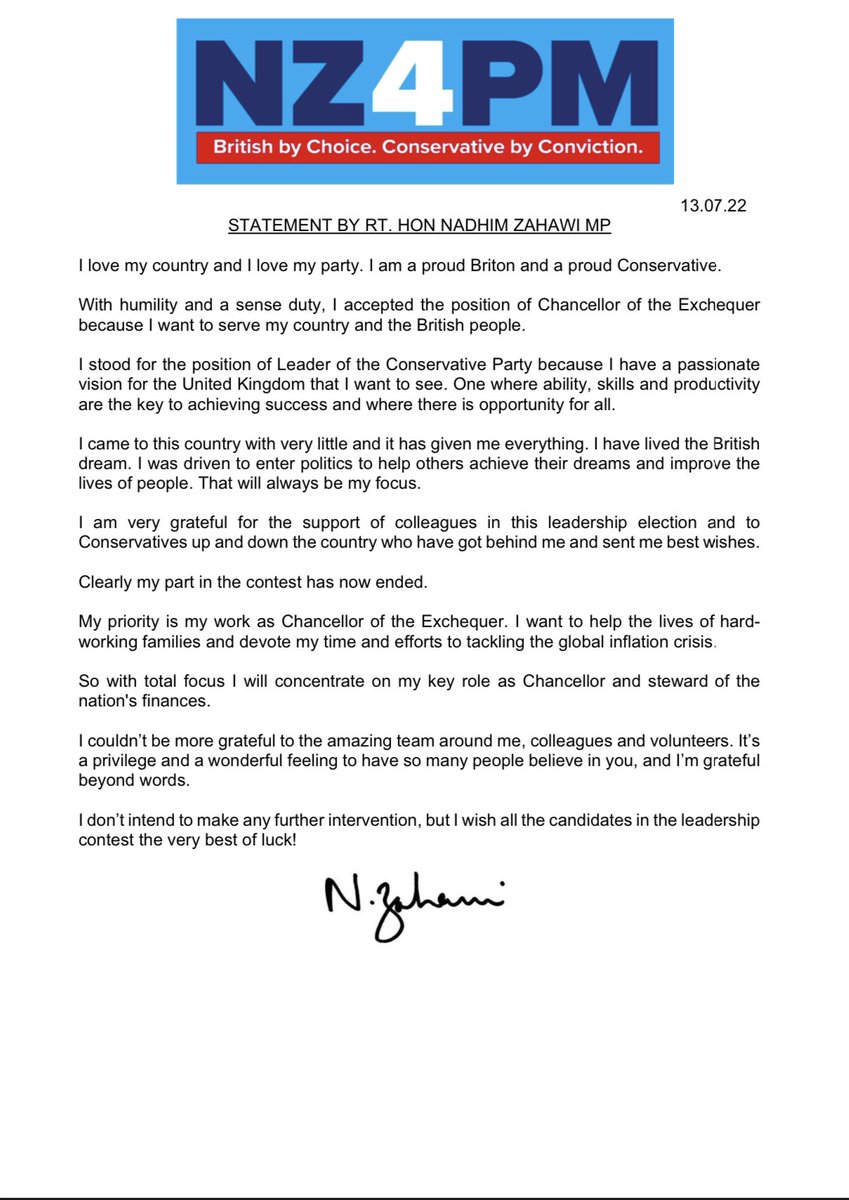 He has a lot on his plate, so perhaps it is best that he focuses on recovering some of the millions that fraudsters took during the pandemic. Those people stole taxpayers' money:
He should also do something about road fuel tax:
Meanwhile, Jeremy Hunt pledged his support for front runner Rishi Sunak:
And then there were six
As Wednesday closed, we were left with six candidates going into Thursday:
Kemi Badenoch, someone around whom most Conservatives could rally, had just over 50 MPs supporting her.
Tom Tugendhat, rather surprisingly, considering that he has a high profile, had fewer than 50.
Suella Braverman, another candidate who makes most Conservative Party members happy, has just over 40.
I think that Braverman and/or Tugendhat will lose on Thursday. Tugendhat is another one who deserves to go.
Guido summed up Wednesday's activity. Highlights follow.
Rishi Sunak could be losing momentum:
… After hogging the limelight with his campaign launch yesterday,

today he resumed being the punching bag of choice for all other candidates

.
Faced some

horrible polling from all quarters, which shows he basically stands no chance of winning among the members if he gets through to the final two

.
Penny Mordaunt did well:
A great day for Penny –

if she wins the contest, today will undoubtedly be viewed as the day she secured the victory

…
Received a major boost from

YouGov polling

that shows,

should she get through to the final two, she'd smash every other candidate

.

Remains a comfortable second among MP backers.
Liz Truss survives another day:
Vowed to halt green levies

Continued her campaign as

the 'Boris continuity candidate'

.
Suella Braverman is unlikely to make it through past Thursday's voting.
Kemi Badenoch does not want tax cuts but has gained support:
Continues to gain support

, not least with her former employers at The Spectator.
Kemi is also opposed to the current form of the dreaded Online Safety Bill, the debates on which could not be completed before summer recess, as the Northern Ireland Protocol Bill, quite rightly, took priority. There is also the debate on confidence in the Government on Monday, which should be interesting: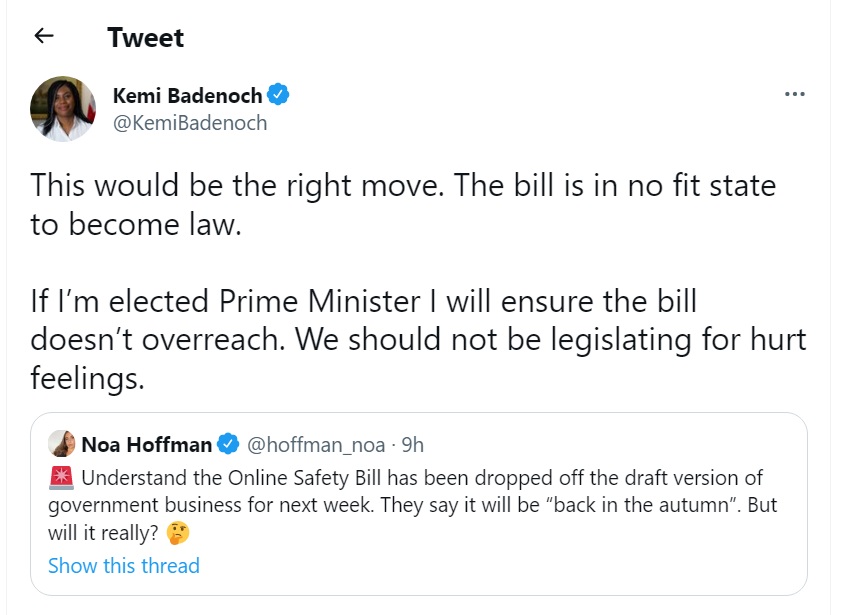 Thursday, before the vote
Guido summed up the state of play on Thursday, July 14. An excerpt follows:
In a few months' time, what will people remember of Jeremy Hunt's 2022 leadership campaign? Nothing, obviously. Seemingly just 18 MPs realised he was running one at all, which is odd as he needed 20 to get on the ballot in the first place. As Sky's Sam Coates asked last night: what exactly does Rishi gain from being endorsed by this competition's biggest loser? He certainly won't gain all of Hunt's supporters – many of them are now angry that Hunt went with Rishi, and not Tugendhat. Mind you, there was already anger towards Hunt from Team Penny, who endorsed him in 2019, as it was very clear he was never considering returning the favour this time around. Et tu, Jeremy…
Today should, in theory, be Truss's day in the spotlight. Her campaign launches bright and early in Smith Square, in two hours' time. They'll be delighted with The Mail splash this morning, which is blatantly campaigning for Liz and telling the right to unite behind her to defeat Rishi. The same front page carries a briefing from someone in the Truss camp accusing Penny of telling lies about her trans stance. Lord Frost has also just taken to the airwaves to slam Penny's record in government, saying she was so rubbish as his deputy he had to ask the PM to move her during the Northern Ireland negotiations…
Yes, this was a damning moment for Penny.
Guido has the video …
… and the quote:
To be honest I'm quite surprised that she is where she is in this leadership race. She was my deputy, notionally more than really, in the Brexit talks last year… I felt she did not master the detail that was necessary in the negotiations last year. She wouldn't always deliver tough messages to the European Union when that was necessary… she wasn't always visible. Sometimes I didn't even know where she was. I'm afraid this became such a problem that after six months I had to ask the Prime Minister to move her on… from the basis of what I saw I would have grave reservations about [Mordaunt].
Guido says that Lord Frost isn't the only one critical of her, either:
On Tuesday, CityAM published damning claims from Department for International Trade sources alleging Penny was "missing for months" as a trade minister and wasn't reliable – something Guido's ministerial sources later confirmed themselves…
As the day unfolded, Rishi tried to make his resignation and leadership candidacy appear sudden, failing to mention that he had his website domain registered in 2020:
On a lighter note, Tom Tugendhat will rue this photo of 'Tom a tart':
Oh, well, he's likely to be out by the end of the day, anyway.
It is unfortunate that so many members of the public cannot identify the next Conservative leader:
Meanwhile, among the party membership, here's the latest from Grantham & Stamford Conservative Association. I am surprised that Mordaunt is doing so well. At least Badenoch is in second place:
Today's vote began at 11:30 and closed at 3 p.m. All being well, I will have an analysis of the results tomorrow.
Last week, I posted a series on the effect of London's metropolitan elite on England's voters in 2015 and 2019.
Those who missed it can read Parts 1, 2 and 3.
On December 12, 2019, a surprising number of staunch Labour voters in the North and the Midlands lent their votes to the Conservatives for the first time.
Those constituencies in England that switched from Labour to Conservative either for the first time or for the first time in decades are known as the Red Wall.
The Conservative MPs who represent them are local people familiar with the issues that concern their constituents.
These MPs are a far cry from the Sir Bufton Tuftons from days of yore.
When the new intake took their seats in the House of Commons, spirits were high on Conservative benches as the UK exited the European Union.
In debates in January 2020, we heard them discuss the hopes they had for Boris Johnson's levelling up plan concerning rail, roads and industry.
What follows is what is on the minds of Red Wall voters and their MPs.
Tax
Five days before Chancellor Rishi Sunak presented his dynamic budget to the House on Wednesday, January 16, 2020, a pollster surveyed Red Wall voters for their views on taxation.
Guido Fawkes has a graph and summary of the poll results: 36% wanted cuts to council tax; 29% wanted cuts to income tax and 22% wanted cuts on fuel duty.
However, Guido found that the voters surveyed contradicted themselves (red emphases in the original):
According to Opinium Research for Lansons, 42% of the famed 'Red Wall' new Tory voters state the priority measure they would like to see for this afternoon is a rise in their take-home pay being introduced in the Budget – an income tax cut in other words. That is because 41% of the new Tory voters think taxes are too high and errr, 40% of the same new Tory voters think government spending is too low. Workington, we have a problem….
If the coronavirus is an economic hit on the scale of the credit crisis, a temporary halving of VAT to 10% would incentivise spending, immediately and effectively….
Sadly, because of coronavirus, most of Rishi's budget had to be binned.
Levelling up
In September 2020, Conservative MPs created a taskforce to level up, i.e. reduce regional inequalities between the North as well as the Midlands versus the South.
The BBC reported that these poorer constituencies now have Conservative MPs:
A report produced for the taskforce says Conservatives now hold more seats in the lowest paid areas than Labour …
In the 2019 election the Conservatives won a number of seats across the Midlands and the north of England previously considered to be Labour strongholds, also known as 'the red wall' …
Now this new group, the "levelling up taskforce" – which includes many of the new "red wall" MPs – is urging the government to set itself three key tests as part of its drive to reduce geographical inequality.
It says those areas that have seen the lowest growth in earnings, should see earnings rise faster than they have in recent years; areas with the worst unemployment rate should converge with the national average; and areas with the lowest employment rate should also catch up with the national average.
It also calls on the government to set out geographical analysis of how tax and spending changes impact different areas …
Analysis produced by the Onward think tank for the new group found that of the bottom quarter of seats in Britain with the lowest earnings, more are now held by the Conservatives (77) than Labour (74).
The following month, Northern Red Wall MPs formed a new group to ensure that Boris Johnson keeps his campaign promises:
The BBC reported:
… the 35-strong Tory group say they want to ensure the government delivers.
It includes several MPs who won seats in traditional Labour heartlands – the so-called "Red Wall" – at last year's general election.
Paul Howell, who won Tony Blair's old seat, in Sedgefield, Simon Fell, the MP for Barrow-in-Furness and Sara Britcliffe, who at 24 became the youngest Conservative MP when she won Hyndburn, in Lancashire, are among those who have signed up to the group provisionally named the Northern Research Group.
Ms Britcliffe said: "I don't need to join a group to speak up for Hyndburn but I have also the responsibility of making sure that we do deliver on our promise."
The group's leader Jake Berry, who has been the Conservative MP for Rossendale and Darwen since 2010, said it was not "about giving government a bad time".
He told BBC Radio 4's The Week in Westminster: "There are arguments that we collectively as northern MPs make together, to create a compelling case for the government to invest in the north".
These include "making sure that this government delivers on its promise to 'level up' the north, deliver that Northern Powerhouse and create wealth across the north of England," he added.
"We don't form a government unless we win the north."
Mr Berry is the former minister for Northern Powerhouse, which was set up by former Chancellor George Osborne to redress the North-South economic imbalance, and to attract investment into northern cities and towns.
The problem with levelling up is that some of the local councils most in need of funds are Labour-run. As I have been writing this post on Friday afternoon, February 25, 2022, I have heard Philip Davies, who represents Shipley, tell his fellow MPs that Bradford Council has not even put together a bid in order to get levelling up funds from the Government. Other Red Wall MPs had similar complaints.
This took place during a Private Members' Bill debate on the Local Authority Boundaries Bill, urging reviews of local council boundaries and making such changes easier. Kemi Badenoch, the minister representing the Government, said that the bill would need significant rewording in order to be considered. She will work with Robbie Moore, also a Red Wall MP, to revise his proposed legislation.
Bradford Council is not the only Labour council that has been under the spotlight.
In October 2020, another Red Wall MP, Chris Clarkson, made known his concerns about Andy Burnham, the Mayor of Manchester.
That brought about a furious backlash from Angela Rayner on the Labour benches. She allegedly called him 'scum' …
… and was given a dressing down by Deputy Speaker Dame Eleanor Laing.
Paying for coronavirus
In March 2021, a pollster asked Red Wall voters how they wanted the Government to handle the cost of coronavirus.
Most Red Wall voters opposed higher taxes, preferring lower spending instead:
Guido's accompanying post says:
Research from Public First's Rachel Wolf has revealed that when asked to choose between higher taxes, borrowing, or spending cuts, a plurality of the public back spending cuts over the other options. Tax rises are most popular with high social status white collar 'AB' voters, and least popular with working class 'DE' voters, who overwhelmingly back spending cuts. Working class constituents in the red wall aren't typical Islington socialists…
Also:
The other finding is that people are less opposed to taxes they think they don't have to pay, and more opposed to taxes they think they do have to pay. In reality this translates to taxes they have to pay directly. Any tax that is indirect on business still has an economic cost that is borne in the end by individuals, for example dividend taxes reduce your pension income, business rates and carbon taxes increase consumer prices. The more taxes are understood, the less popular they become.
True. We have tax rises coming, so there will be dissatisfaction in these constituencies.
Net Zero
Another plan that will not go down well is the drive to reach Net Zero. The cost is upwards of £1.5 trillion:
This tweet from 2021 encapsulates the thinking of Red Wall MPs (ignore Michael Fabricant, who was commenting on the wrong thread). Click on the image to see all the comments, especially from Jackie Doyle-Price, who mentions the metropolitan elite:
Minimum wage
In November 2021, Rishi Sunak presented a more sombre budget as the nation was still grappling with coronavirus.
One of the more positive points was his commitment to raising the national minimum wage.
On the face of it, it would seem to appeal to Red Wall voters. However, The Spectator's Patrick O'Flynn was less sure, asking if Sunak understood them properly. Raising the minimum wage does not lift those in more responsible positions. In fact, the latter have been earning less over recent years (emphases in purple mine):
In his recent Budget, the Chancellor committed the government to several eye-catching policies, including a big uplift in the minimum wage, these days rebranded as the 'national living wage'. But something that went unremarked upon was reaffirmation of a target of raising the minimum wage as a share of average pay.
A 6.6 per cent uplift this year would, said Sunak, keep the government 'on track for our target of two-thirds of median earnings by 2024.' Many Tory MPs beamed with happiness, no doubt thinking this would further bolster the working-class parts of their new electoral coalition. But will it?
According to the OECD, the UK minimum wage was worth 34 per cent of mean earnings and 41 per cent of median earnings in the year 2000. It has since risen steadily as a share of these averages, hitting 48 per cent of mean earnings and 58 per cent of median earnings in 2020.
Think about how this must feel to workers on roughly median earnings. Two decades ago they earned two-and-a-half times as much as minimum wage workers. Now they earn less than twice as much. By 2024, Sunak has decreed that minimum wage workers in entry level roles will be earning two-thirds of the amount that median earners do. This will represent a massive compression of wages within a single generation.
For those working people who put in a lot of effort in their schooldays compared to their more idle classmates, or who perhaps underwent apprenticeships on very low earnings at the start of their careers, this is highly unlikely to feel like progress.
When you consider the extra responsibilities higher-earning working class jobs typically entail compared to minimum wage roles – and the fact that various welfare entitlements may further reduce the net advantage – this government policy is coming close to rendering the entire hardworking ethos pointless.
This issue of earnings relativities between different grades of workers has long been a highly sensitive one in industrial relations, often more so than the level of raw pay per se. Indeed, it was the cause of countless strikes in the 1970s.
Instead of anticipating a celebratory mood among new working-class Tory voters, ministers should be on the lookout for restlessness and resentment. Indeed, the former Downing Street pollster James Johnson has already spotted the first stirrings of this in focus groups with participants grumbling that too much help is being directed to those at the very bottom.
Sunak has no parallel policy of ensuring that median earnings catch up as a proportion of the top 10 or 1 per cent of earners. In other words, his approach defies logic. Those in the modest middle of the pay scale have every reason to feel victimised …
One can't help feeling that Margaret Thatcher and her advisers had an altogether better innate understanding of what makes the ambitious working classes and lower middle classes tick than Boris Johnson's administration. Which is why her flagship policy of bringing in the right-to-buy their council houses at a discount scored an electoral bullseye with aspirational voters …
If Tory MPs in red wall seats think this policy is going to delight many of their constituents then I predict that they are about to be disabused of that notion.
It is still too early to tell what most Red Wall voters think of a rise in the minimum wage, but Patrick O'Flynn's arguments make sense.
Guido Fawkes agrees with O'Flynn and thinks that Red Wall voters would benefit from a reduction in basic income tax rates. Guido took issue with an article in Politico. 'UC' stands for Universal Credit:
Sleaze
In November 2021, the then-MP for North Shropshire, Owen Paterson, faced accusations of sleaze via his lobbying. He was forced to resign the seat he had long held. A Liberal Democrat won the by-election.
Some Conservative MPs tried to save Paterson from a 30-day suspension. However, Red Wall MPs were not among them. They objected to having a whipped vote to give Paterson a reprieve. Some voted against the Government, and rightly so.
The rest of the nation also disapproved. This was the beginning of low polling results for Conservatives. It wasn't long afterwards that Labour began leading in the weekly polls. They still do.
Not only did Red Wall MPs disapprove, so did their voters, as the Daily Mail explained:
Boris Johnson is struggling to contain mounting fury on Tory benches today as a poll laid bare the damage inflicted by his bungled effort to save ally Owen Paterson from punishment for lobbying.
Research by YouGov carried out in the wake of the dramatic Commons vote to suspend the standards system showed the Tory poll lead plunging by five points.
The party is now just one point ahead of Labour, after dropping from 39 per cent to 36 per cent in a week, while Keir Starmer has seen a boost to 35 per cent, according to the survey in The Times.
Education Secretary Nadhim Zahawi tried to cool the growing backlash among MPs this morning, admitting that the government 'made a mistake' in retrospectively tying Mr Paterson's case to wider reforms.
Meanwhile, a blame game is in full swing over who was responsible for the meltdown – which culminated last night when Mr Paterson resigned from the Commons after the PM cut him loose. His exit was made official this morning when he was appointed Steward and Bailiff of the Manor of Northstead – the traditional way for MPs to quit the House.
As well as a wave of anger about Mr Johnson's lack of judgment, many Tories have been pointing the finger at chief whip Mark Spencer, saying he should have realised that the tactic would not 'fly'. One MP told MailOnline that Mr Spencer had not done his job properly. 
'If the PM was told about the extent of disatisfaction then he wouldn't have pushed it,' they said. 'You could tell there was a problem because the whips were literally running around the Commons.'
Mr Johnson's media advisers are thought to have warned that the tactics were high-risk, but those pushing the political benefits of shoring up Mr Paterson and reforming the standards regime won the internal argument.  
The premier is said to be 'p****d off' that the crisis has distracted from the progress being made on climate change at the Cop26 conference in Glasgow. Senior MPs said he was also 'livid' about triumphalist interviews by Mr Paterson in which he claimed he would not change anything about his past behaviour. 
One Conservative MP who spoke to The Mail said:
'I had two marginal male MPs from Red Wall seats in tears looking at their social media feed, looking at their emails coming in after the vote, going 'what the hell have we done?'.'
… 'The chat on the WhatsApp groups is that the whips can stick their whipping up their a***. It's now every man for himself,' they said.
Chief Whip Mark Spencer recently became the new Leader of the House as Jacob Rees-Mogg moved to a new Cabinet position for Brexit opportunities.
Latest news
Many Red Wall MPs were incensed to learn of the Downing Street parties during lockdown.
Some began joining forces on January 18, 2021, when Boris apologised to Parliament:
As someone tweeted, this could have been about damage limitation for themselves:
Boris met with his own MPs that evening:
Lee Anderson is a former Labour councillor. He often confronts Labour benches with their own dismal record in local and national government.
The Red Wall MPs' plot to write letters of no confidence to Sir Graham Brady became known as the Pork Pie Plot, because their alleged leader, Alicia Kearns, represents Rutland and Melton. Melton Mowbray is home to England's famous pork pies.
Steven Swinford, The Times's political editor, spoke with a member of Cabinet who found the rebellion a disgrace:
The Red Wall plot to remove Boris Johnson – with Tory MPs meeting to discuss submitting letters – is not going down well in Cabinet
'It's pretty sickening. They were only elected because of him. Most of them are a load of —-ing nobodies. It's nuts'
Hmm:
With the current situation in Ukraine, the Pork Pie Plot seems like a long time ago. Then again, a week is a long time in politics.
The next thing Red Wall residents can look forward to is a Northern branch of Conservative Party Headquarters in Leeds, which is not part of the Red Wall, but it's close enough. Pictured is Party chairman Oliver Dowden MP:
Guido Fawkes wrote that this had been a promise from Government since 2020:
The Tories look set to imminently boost their red wall presence – and given recent polling, not a moment too soon. A party source tells Guido that their long-awaited Leeds campaign headquarters – first announced by Amanda Milling way back in September 2020 – is set to open in mere weeks …
… staff are already at work following a prolonged recruitment drive and the project will get up to full steam when work-from-home guidance is lifted. Another source suggested given recent events the party will be keen for the moment to be noticed by the media. Guido looks forward to Dowden's forthcoming ribbon-cutting…
I will have more on the Red Wall coming soon: profiles of those MPs with the most spark.