You are currently browsing the tag archive for the 'Piers Morgan' tag.
Just as they did with their exposé of the parliamentary expenses scandal in 2009, The Telegraph's journalists have excelled themselves with their exploration of the Government's handling of coronavirus in The Lockdown Files.
Don't miss my first and second entries, which include reaction from sources elsewhere.
The Telegraph's focus on Friday, March 3, was on policing and quarantining holidaymakers.
Boris's sister speaks
Rachel Johnson, Boris's sister, wrote about how she and their father were tracked down during the pandemic in 'As police pursued my father during Covid lockdown, my lonely mother endured care home prison':
She talks about her brother's handling of the pandemic and her own views (emphases mine):
… I opposed lockdowns on a cellular level. Still do. I have to accept that ultimately schools were closed, the entire population pretty much incarcerated in their own homes, with our sick, vulnerable, frail and elderly people rotting in solitary for months and months on end, and it was all signed off by him.
And I admit that I've been cheered to see that the Hancock cache of WhatsApps – which The Telegraph, via Isabel Oakeshott, has done such a majestic public service in revealing – shows him in his truer colours when it came to all the generally pointless non-pharmaceutical interventions we had to put up with for far too long.
He was much more of a sceptic than a zealot, they show, often bounced into U-turns or Covid-sanitary fascism by being presented with selective fatality graphs and other data dashboards in order that he did what either Hancock or Cummings – gibbering control freaks, both – wanted.
She describes a visit from the police and being spied on by a national newspaper, ending with her mother's loneliness in isolation:
The plight of those in care homes fills me with the most unquenchable rage, even to this day. Many still have visiting restrictions and a Covid mentality. My widowed mother ended up in one, and even from June 2021 residents were isolated in their rooms for 10 days minimum if anyone in the home had tested positive.
Before June, though, my mother lived on her own with a carer. When I called her or Zoomed her, she would whisper: "I'm lonely." It broke my heart.
I continued to see her, even though she was not in my ludicrous "bubble" as she had a carer. I took her Christmas dinner in 2020. It was against the rules and the laws or whatever. In my view, that was immaterial.
Every Covid restriction broke the laws of nature, and nothing and nobody – and I mean nobody – was going to tell me not to see my mother on her last Christmas on Earth.
The price of freedom is eternal vigilance, and I completely support Isabel Oakeshott's bravery in showing us how the sausage of doom was made.
It must never, ever, happen again.
Boris's and Rachel's mother died in 2021.
Most of us in the UK remember the news story from November 2020 about the woman who attempted to take her mother out of a care home only to find that the police swarmed around them in a car park. Her daughter, Leandra Ashton, who filmed the incident, talked about what a painful moment that was for her mother and grandmother. Police arrested her mother and took her grandmother back to the care home. Dr Renee Hoenderkamp, a GP, is the other lady in the interview with GB News's Patrick Christys:
Dr Hoenderkamp shares her experience when she spoke to doctors who did not want to listen to her:
It should be noted that over the course of the pandemic, Dr Hoenderkamp changed her mind about coronavirus measures, e.g. masks. The first tweet is part of a long thread:
How Boris's libertarian instinct disappeared
On Thursday, March 2, we discovered how Boris changed his common sense attitude towards the pandemic in 'Lee Cain and James Slack – the media advisers who helped shape the decisions that changed our lives':
WhatsApp messages sent between Boris Johnson and his ministers show the extent to which media advisers were able to influence policy during the coronavirus pandemic.
In June 2020, for example, the then prime minister considered ending some lockdown restrictions early – but dropped the idea after "Slackie and Lee" said it was "too far ahead of public opinion".
He was referring to James Slack and Lee Cain, his two most important media advisers at the time. Here we take a closer look at the two former journalists who had the prime minister's ear.
The article says that Lee Cain was remarkably powerful in No. 10 in 2020:
Mr Cain's influence within Number 10 was such that when the Prime Minister was in hospital with Covid in April 2020, colleagues said – only half-jokingly – that Mr Cain was left "running the country".
His official role was as the then prime minister's director of communications. However, WhatsApp exchanges have shown that Mr Cain's remit went beyond advising on communications and involved helping to decide the policies themselves …
When Chris Heaton-Harris, then the rail minister, suggested to Mr Johnson in May 2020 that the border with France could be reopened, Mr Cain intervened.
He wrote: "Quarantine surely an essential part of any exit strategy – and opening up a flank to an entire continent would seem to leave a substantial hole. Public will think (rightly) we are potty. Overwhelming support for tougher action at our borders!!"
It was Cain who suggested kowtowing to Nicola Sturgeon on masks. He planted doubt in Boris's mind, saying that she might be right:
In Aug 2020, when Mr Johnson asked ministers and officials for their views on whether face masks were necessary in schools, Mr Cain told him: "Considering Scotland has just confirmed it will [impose them] I find it hard to believe we will hold the line. At a minimum I would give yourself flex and not commit to ruling it out …
"Also why do we want to have the fight on not having masks in certain school settings?"
His pivotal role in government raised eyebrows among some former colleagues who had not seen him as a high-flyer in his previous jobs.
Sturgeon's mask policy — later Boris's — came up Thursday night on GB News with Patrick Christys, Neil Oliver and Prof. David Paton lamenting how much damage it did to children:
The article says that Cain had previously worked for The Sun and The Mirror before going into public relations. He began working on the Vote Leave (Brexit) campaign in 2016, which brought him into contact with Dominic Cummings. Interestingly, he had previously applied to be part of the Britain Stronger in Europe campaign but lost out. He claimed he was primarily interested in a political career.
After the successful Brexit referendum result, Cain worked for Andrea Leadsom MP then for Boris when he was Foreign Secretary. Even after Boris resigned that post in the summer of 2018, Cain remained loyal, working for Boris without remuneration. He was confident great things were in store for him.
Ultimately, he ran afoul of Mrs Johnson and set up his own PR firm:
He left Downing Street, together with Mr Cummings, in Nov 2020 after losing what was widely regarded as a power struggle with Mr Johnson's wife, Carrie. He later set up his own corporate communications firm.
James 'Slackie' Slack was the third member of the trio who advised Boris on policy:
Along with Mr Cain and Mr Cummings, he was never far from the prime minister's side and his input helped to shape key decisions dictating people's freedoms.
Like the prime minister himself, Mr Slack had no background in science, behavioural psychology or even public relations – but Mr Johnson would rarely make a move without first consulting "Slackey", "Caino" and "Dom".
… It was he who updated the waiting world on Mr Johnson's condition as he fought for his life in intensive care.
Along with Mr Cain, he helped to shape lockdown policy by expressing concern that lifting restrictions too soon would be too far ahead of public opinion.
In a similar vein, he told ministers and advisers on March 8 2020 that the newly-imposed first national lockdown was out of kilter with public opinion.
He wrote that: "I think we're heading towards general pressure over why our measures are relatively light touch compared to other countries. Also why we aren't isolating/screening people coming back from Italy. We'll need to explain very calmly that we're doing what actually works."
The Telegraph has screenshots of various WhatsApp messages discussing coronavirus measures.
Slack entered the Downing Street orbit in 2016 when he was the political editor of the Daily Mail. Theresa May had just become Prime Minister and hired him in February 2017 to be her official spokesman in order to improve her public image.
After May's departure, Boris retained Slack:
regarding him as a safe, trustworthy pair of hands. Mrs May rewarded him for his loyal service to her with a CBE in her resignation honours list.
Slack got on well with reporters, which was another plus, then:
He briefly succeeded Mr Cain as No 10 director of communications – a political role, rather than a Civil Service posting – at the start of 2021.
His time in Downing Street ended soon afterwards:
Mr Slack's Downing Street career came to an unexpectedly shameful end, when The Telegraph revealed he held his leaving party in April 2021 on the eve of the late the Duke of Edinburgh's funeral.
Mr Slack, who had moved back into journalism as deputy editor of The Sun, issued a public apology for his behaviour.
Laughing at quarantined holidaymakers
Another pivotal personality in the pandemic was Simon Case, a career civil servant who worked for then-Prime Ministers David Cameron and Theresa May before taking a break to be Prince William's Private Secretary between 2018 and 2020.
As I recall, Prince William highly recommended Case to Boris Johnson. In August 2020, Boris appointed Simon Case as Cabinet Secretary and Head of the Home Civil Service. Case continues in that post today under Rishi Sunak.
In the UK, civil servants have long been called 'mandarins', which explains this story, 'Top mandarin mocked holidaymakers "locked up" in Covid quarantine hotel rooms'. It, too, has several screenshots of WhatsApp conversations.
The article begins:
Those unlucky enough to be caught up in Britain's pandemic-era quarantine hotel policy likened it to being held prisoner.
Messages seen by The Telegraph show that ministers and officials shared the sentiment and joked about passengers being "locked up" in "shoe box" rooms.
In February 2021, Simon Case, the country's most senior civil servant, was in WhatsApp contact with Matt Hancock, the then health secretary, as Britain began a forced quarantine for returning holidaymakers.
On February 16, 2021, Case asked Hancock how many people had been 'locked up' in hotels the day before. Hancock responded:
None. But 149 chose to enter the country and are now in Quarantine Hotels due to their own free will!
To which Case replied:
Hilarious
The Telegraph shared experiences from those quarantined:
Those on the receiving end of the quarantine policy described the misery of being held captive in tiny hotel rooms.
"It feels like I'm in Guantanamo Bay," one woman who was forced to spend 10 days in a government-approved hotel told The Telegraph at the time. "I honestly believe this would destroy most people's sanity."
Another furious traveller said: "It's total abuse. It has abused basically every single human right that we have."
In January 2021, Matt Hancock had convinced Boris as well as Case and other senior officials that toughening up travel rules with £10,000 fines was the way to go:
Mr Hancock said it was "BRILLIANT" when he saw reports of people being stopped by police at airports, while Boris Johnson, the prime minister, said news of a traveller being fined £10,000 for breaking quarantine rules was "superb".
The enforcement of the quarantine rules, including severe punishments for those who broke them, became a major priority for Mr Hancock in the next weeks …
The next month, Mr Hancock shared a story with Mr Johnson directly about two people who were fined £10,000 for failing to quarantine after returning to the UK from Dubai.
Officials had scrambled to put the quarantine policy together amid rising concern in the Government about positive cases slipping into Britain from "red list" countries.
Mr Hancock and Mr Case expressed concern that no single government department had control of the border, describing the situation as "mad" and something the prime minister needed to fix.
Later, doubt arose as to whether the quarantine policy actually worked:
The hotel quarantine policy itself has since been criticised in reports by two parliamentary committees, which said it wasted taxpayers' money without restricting the spread of Covid.
In a report last April [2022], the transport select committee that "using case numbers as an indicator, there is no evidence that the requirement for travellers from certain countries to quarantine at a hotel, rather than at a location of their choice, has improved the UK's coronavirus situation compared with other European countries".
In a submission to the public accounts committee, the Cabinet Office said the Government was unable to determine how successful the quarantine policy had been because "it is difficult to isolate the effects of one of a number of interventions from the other ones".
The committee concluded that the Government "does not know whether it achieved value for money from the £486 million that it spent implementing measures".
One tour operator tweeted his disgust at Case's and Hancock's cavalier response to quarantined passengers, which affected his own business and others:
Hancock encouraged heavy-handed policing
We knew from the beginning that Matt Hancock wanted police to get tough with normal people trying to survive the pandemic in 2020, but another article has more detail, '"Get heavy with police" to enforce lockdown, Matt Hancock told ministers'.
Here, too, Simon Case had some involvement. On August 28, 2020, he WhatsApped Hancock:
Blimey! Who is actually delivering enforcement?
Hancock replied:
I think we are going to have to get heavy with the police
The article explains:
The leaked messages also show that the pair again returned to their fears that police were failing to crack down on alleged lockdown breaches.
However, the police were heavy-handed from the beginning of lockdown in March 2020, with each police force in England deciding how far to go with fines and arrests:
Heavy-handed policing was one of the most controversial issues of the pandemic and saw members of the public fined for going for a walk with a cup of coffee, leaving home "without a lawful reason" and taking part in vigils and protests.
Many of the 118,000 fines were challenged in court and overturned, and officers were later criticised for "Orwellian" tactics that included the use of drones, roadblocks and helicopters to catch rule-breakers.
Meanwhile, in Downing Street, things were very different late in December 2020:
The Telegraph can reveal that Mr Johnson took the decision to create a Tier 4 alert level, effectively cancelling Christmas for 16 million people, while a lockdown party was taking place in the same building.
Timestamps on messages from Mr Case and Mr Hancock, who attended the meeting remotely, show that the "Covid-O" meeting to decide the policy coincided with a Number 10 Christmas party on Dec 18, 2020.
Fines subsequently reviewed
I was very happy to read on Thursday that all the fines issued at the height of the pandemic have since been reviewed, with many rescinded.
'How Covid turned Britain into a curtain-twitcher's paradise' tells us more:
Blameless citizens complained that a family get-together would merit a knock at the door from police, but that they showed no such interest if a burglary was reported.
By March 2022, police forces in England and Wales had issued 118,978 fixed penalty notices for breaches of Covid restrictions.
Fines were issued for uncovered mouths and noses in public places, for failing to self-isolate, for meeting too many friends at once, for having a picnic, for going home after entering the country, and much else besides.
Coronavirus regulations changed more than 60 times over the course of the pandemic, meaning many officers struggled to keep up with the latest iteration of the rules and fines were issued unlawfully.
At the time, senior police officers were understood to be concerned about what they were being asked to do. Having spent years building up trust with communities that were in some cases suspicious of the police, they privately expressed fears that long-term damage would be done to their ability to police by consent.
Early on in the pandemic, Derbyshire Police, which turned out to be one of the most draconian forces of the period, set the tone by pouring black dye into a Peak District beauty spot known as the Blue Lagoon to discourage people from going there for exercise.
The same force deployed drones to spy on people exercising away from their local area, and two women drinking coffee while on a walk together were fined £200 each after their hot drinks were deemed to be "a picnic".
Their fines were later withdrawn and they received an apology – but the damage was done as far as public opinion was concerned.
A report by HM Inspector of Constabulary in 2021 accepted that there had been "a reduced service" in some areas of policing as "some forces increased the number of crimes they decided not to investigate because they were unlikely to be solved" and reduced in-person visits to registered sex offenders …
The low point came in March 2021 during an open air vigil for Sarah Everard, the marketing executive who was abducted and murdered by an off-duty police officer, at which four people were arrested for breaching Covid regulations.
A High Court judge later found that police had breached the human rights of the organisers of the vigil, in particular the right to freedom of speech and assembly …
The House of Commons joint committee on human rights concluded that a "significant number" of fines had been wrongly issued, but that many people felt too intimidated to challenge them.
MPs were so concerned about the heavy-handed approach of some police forces, and the wildly differing interpretations of the rules across different forces, that the committee recommended a review of every fine issued.
It discovered that when people who had been issued with fixed penalty notices opted to take the matter to court, rather than simply paying the fine uncontested, the Crown Prosecution Service (CPS) found that around a quarter of the charges were incorrect.
Even more extraordinary was the CPS's disclosure, in 2021, that every prosecution brought under the Coronavirus Act had been unlawful.
The Act was set up to allow the authorities to detain any "potentially infectious" person who refused to take a Covid test, and a CPS review found that all 270 charges under the legislation had been withdrawn when they got to court, or overturned after innocent people were convicted.
However, the fine mentality has affected policing long-term:
There is evidence that this push for ever-greater numbers of fines for petty offences has permanently affected the police's mentality.
Chief Superintendent Simon Ovens, of the Metropolitan Police's Roads and Transport Policing Command, told a meeting of the London Assembly last year that Transport for London was targeting one million speeding prosecutions in the capital each year, compared with the 130,000 issued from fixed speed cameras in 2018.
Rather than targeting road safety and fewer deaths and injuries on the roads, the police were targeting enforcement – a reversal of the Peelian principle that success should be measured in a lack of crime, not an increase in arrests.
Lockdown — and Covid fines — also adversely affected courts:
Already facing an inevitable backlog of cases because of the closure of public buildings, courts found themselves dealing with the extra caseload generated by Covid fines when they reopened after lockdown.
In November last year, Max Hill, the director of public prosecutions for England and Wales, disclosed that almost 75,000 defendants were awaiting trial, up from 70,200 in August 2020, meaning the post-Covid backlog of cases has increased rather than being gradually reduced.
The Government's target is to reduce the waiting list to 53,000 cases by March 2025, which may seem unambitious – but even that target is in danger because of a squeeze on public spending, said Mr Hill …
Clare Waxman, the Victims' Commissioner for London, said the courts system was "still in crisis" and the delays were having a "devastating" effect on victims.
Former police chief objects to Government policy
During parliamentary debates on lockdown policing, the topic of enforcement arose occasionally. MPs who spoke up said that the police were often confused about what and when to enforce something related to the pandemic. Furthermore, were these actually laws or mere guidance?
On Friday, March 3, The Telegraph published an article on this subject, 'Former police chief rejects Matt Hancock's Covid "marching orders" in leaked WhatsApp texts':
After a meeting on Jan 10, 2021, shortly after another lockdown had begun, Mr Hancock wrote to Mr Case about a meeting in Downing Street with senior police officers on enforcement, with the message finishing by saying: "The plod got their marching orders."
Reacting to the latest exposé on Friday morning, Sir Peter Fahy, the chief constable of Greater Manchester Police between 2008 and 2015, said: "Lots of people in the police service won't be surprised at the tone of these remarks.
"They were faced with an unprecedented situation, this legislation was rushed out, it was confused, it had poor definitions in it, there was this constant confusion between what was legislation and what was guidance; often it seemed ministers themselves didn't understand the impact of the legislation."
Sir Peter suggested he would not have rolled over had he been called into Number 10 and told to get tough.
"No, the conversation would be 'sorry the legislation is not clear enough, the definitions are not clear enough, we're trying to do our best but you've not given us the powers to enforce the legislation'… I know those were the messages going back into Government as police were trying to do their best," he told BBC Radio 4's Today programme.
But the former officer of 34 years said "police were stuck in the middle" as some members of the public wanted stronger enforcement while others "felt it was turning into a police state".
Police forces were repeatedly criticised for being over-zealous during the Covid crisis, prompting Neil Basu, then the Met Police assistant commissioner, to warn in this newspaper at the time that "how we police this pandemic will be remembered for many years to come".
Nigel Farage targeted
In 'Can we lock up "pub hooligan" Nigel Farage, asked Hancock's team', we discover how they relented:
Matt Hancock's team asked if they could "lock up" Nigel Farage after he tweeted a video of himself at a pub in Kent, WhatsApp messages have revealed.
On July 4, 2020, the leader of the Brexit Party shared a video of himself drinking his "first proper pint in 103 days" at The Queens Head pub in Downe Village.
A fortnight earlier, Mr Farage had been filmed attending a Donald Trump rally in Tulsa, Oklahoma. At the time, anyone entering England from abroad was required to quarantine at home for 14 days or face a fine of at least £1,000.
Messages seen by The Telegraph have revealed that Mr Hancock asked his team to contact the Home Office to see whether they were "considering" pursuing Mr Farage for the apparent breach.
At 4.28pm that day, Mr Hancock messaged the "MH top team" WhatsApp group with a link to a Sky News report claiming Mr Farage had breached quarantine rules. "We need to discuss urgently", he said.
The group chat, which included his special advisers and senior officials, quickly sprang into action.
Jamie Njoku-Goodwin, at this time one of Mr Hancock's aides, replied: "Does he count as a pub hooligan? Can we lock him up?"
A senior civil servant also responded to ask whether he "needed anything" and suggested that this might be a matter for Priti Patel, then home secretary.
The police are operationally independent of the Home Office. Despite this, Mr Hancock instructed his team to contact Ms Patel's private office …
Three minutes later, Mr Njoku-Goodwin responded to say that he had "just spoken to HO [Home Office] spads". He said: "Sounds like we need to get PHE to do one of their 'spot checks' and prove that he isn't at home."
Mr Hancock then requested that Mr Farage's case was dealt with "like any other" and that any enforcement action was taken by the Home Office, not the Department of Health.
At the time, Mr Farage insisted he had not broken the rules because he had already completed the 14-day isolation period and tested negative, tweeting a photo of him in a pub with the caption: "Sorry to disappoint you. Cheers!"
But the former Ukip leader told The Telegraph on Thursday that he believes he was in fact in breach, saying: "If I was being honest with you, after the first set of lockdowns I wasn't really prepared for some little pipsqueak like Matt Hancock to tell me how to live my life, quite frankly.
"That photo was taken when I came back from America, on the day the pubs opened. It was pretty nip and tuck … which means I probably was in breach. I'm probably a Covidiot."
Mr Farage said he had three visits from the police during the pandemic. "The idea that headmaster Hancock was after me – I love it," he said.
Farage opened his March 2 GB News show with the story:
Piers Morgan another Government obsession
According to Isabel Oakeshott, to whom Hancock turned over 100,000 WhatsApp messages in compiling his Pandemic Diaries, Piers Morgan was another Government obsession, which I find strange as he was pro-lockdown, pro-masks and pro-vaccines at the beginning. Apparently, he changed his mind partway through:
Contrarian Prof Carl Heneghan speaks
Oxford physician and researcher Prof Carl Heneghan, a Covid contrarian, has been one of my heroes throughout the pandemic.
He wrote an article for The Telegraph's Lockdown Files about his experience with Downing Street in late 2020, 'I warned that second lockdown data was wrong — but I was ignored':
It was a Saturday morning when I was asked if I could Zoom into Downing Street for 1 pm.
I was in the midst of a morning shift in urgent care – having just walked out of a care home with a seriously unwell patient, I was a little flustered, to put it mildly.
My role has never been to make the decisions, but to ensure that the decisions are based on the best available evidence. In this case, though, it was vital that decisions affecting the whole of society were made on accurate information.
I work with a great team, who forensically look at the data and notice details that most overlook. We met daily, and it had become clear that the slides leaked to the BBC on estimated Covid deaths and that would later be presented at the government press conference were out of date and the reported deaths were way too high.
I spent Saturday informing advisers that there needed to be a better understanding at the heart of the Government.
While several others on that call were also trying to aid the understanding of the data, the message was clear – the Government was about to lock down again, based on the wrong information.
I couldn't help but think that the public won't forgive you when they find out they are being fed a narrative of fear based on untruths.
But nothing changed. By Saturday night, the Downing Street press conference went ahead. "Unless we act, we could see deaths in this country running at several thousand a day," said the PM. The second lockdown was announced that evening.
Heneghan contacted the health editor of The Telegraph who published an article shortly after the second lockdown was announced.
Heneghan also got in touch with Dr Raghib Ali, a new Covid Government adviser at the time:
He organised a second call with Downing Street late on Sunday.
The Lockdown Files reveal that the Prime Minister told his WhatsApp group that I'd said "the death modelling you have been shown is already very wrong", as it was out of date, having been drawn up three weeks previously.
However, it did not make a blind bit of difference:
By Nov 6,  Downing Street insisted the incorrect death toll data was "a mistake". The error in the graphs made the numbers too high, but by then it was too late to change course. The second lockdown had already begun. 
How terrible when a government cannot admit the greater mistake of lockdown.
Hancock still aggrieved by The Lockdown Files
Matt Hancock says he still feels betrayed by his former book collaborator, Isabel Oakeshott.
Since The Lockdown Files have appeared, someone posted this 2022 tweet of his wherein he says that even when data bring challenges, the final outcome is always better with them than without: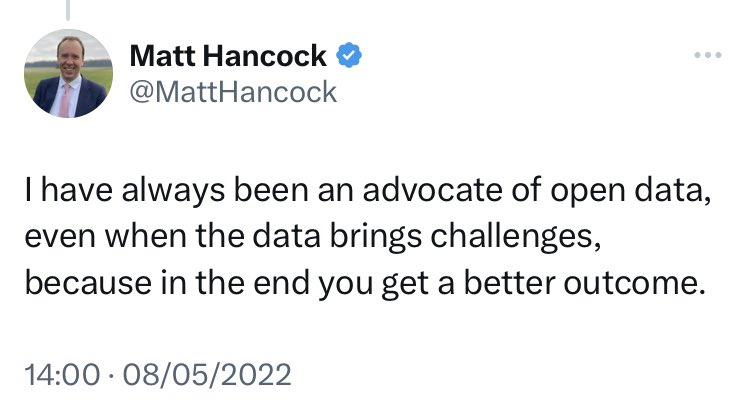 That's something he should keep in mind now, rather than licking his wounds.
On Thursday, Oakeshott told Hancock, via Julia Hartley-Brewer's TalkTV show, that this story is much bigger than he. It's about an entire nation's suffering:
Hartley-Brewer tweeted about Hancock and betrayal. She received an apposite response:
On Thursday afternoon, Oakeshott issued a formal statement on the betrayal issue, which is well worth reading:
Much in our nation could well take decades, if ever, to recover from — in my words — Hancock's disastrous and dictatorial policies.
However, GB News's Patrick Christys said that 'failings extended much further beyond Matt Hancock':
On Thursday, author Lionel Shriver told Jacob Rees-Mogg how sorry she feels for the many children adversely affected by lockdown. It was World Book Day. As such, many schoolchildren dressed up as their favourite literary characters:
The left hand WhatsApp exchange below shows what a farce it was to lock down an entire nation. The mortality rates were quite low overall. When the elderly died, most of them were well into their 80s. People under 35 rarely died. As for Edwina Currie, she single-handedly tanked Britain's egg market in the late 1980s with her salmonella scare:
No doubt, many of us could rail on and on about this. I have done over the past three years.
On the other hand, no words can express the betrayal we — and those in many other Western countries — experienced from elected representatives who are notionally our public servants.
More to follow next week.
Anyone who missed previous entries in this series can find them here, here and here.
Every time I read about Prince Harry, I cannot help but think of the story of Jacob and Esau.
Mess of pottage
Esau sold his birthright for a mess of pottage (Genesis 25:29-34). Harry, too, sold his place in the Royal Family for ephemeral media coverage. Who knows what will happen to him in future years?
Like Jacob and Esau (Genesis 27:41), Princes William and Harry are embroiled in a feud, one which the current Prince of Wales is handling with dignity. All being well, in time, perhaps they will mend fences, as Jacob and Esau did (Genesis 33).
The expression 'mess of pottage' is still used today (emphases in purple mine):
A mess of pottage is something immediately attractive but of little value taken foolishly and carelessly in exchange for something more distant and perhaps less tangible but immensely more valuable. The phrase alludes to Esau's sale of his birthright for a meal ("mess") of lentil stew ("pottage") in Genesis 25:29–34 and connotes shortsightedness and misplaced priorities.
It seems pertinent because on January 20, 2023, The Telegraph featured an article, 'Meghan stays in the shadows as Prince Harry flies solo on Spare publicity blitz':
"We're like salt and pepper," Meghan opined in an interview. "We always move together" …
But, since Christmas, Prince Harry has been left to soak up the limelight alone.
As he embarked on an unprecedented publicity blitz to promote his memoir, Spare, this month, Meghan has remained below the radar – and sent a clear message: This is Harry's project, not mine …
While the Duchess has backed her husband to the hilt over this deeply personal outpouring, she was not quite the driving force behind the project that many have assumed.
Sources suggest that media-savvy Meghan was slightly more circumspect about the concept of a memoir and may have raised gentle concerns about whether it was the right move.
A January 23 article in the New York Post reported on the article:
Prince Harry's wife Meghan Markle had previously expressed worries that his recent bombshell memoir "Spare" could ruffle the wrong feathers.
The former actress, 41, had raised "gentle concerns" about the book, wondering if it was the "right move," sources recently told the Telegraph.
Meanwhile, on Saturday, January 21, The Express reported 'Royal Family news: Palace have "pulled a blinder" as Harry and Meghan "plan" destroyed':
The Royal Family have "pulled a blinder" by not publicly responding to the recent bombshell claims from Prince Harry and Meghan Markle, with an expert destroying the Sussex's "ill-conceived game plan" …
More than a week after Harry's book was released, both Buckingham Palace and Kensington Palace have yet to make any comment on the claimes made by the prince.
Edward Coram-James, a PR, reputation and crisis management expert and CEO of Go Up, claimed this shows the Royal Family had a strong "game plan" in place and were prepared for any such accusations, while blasting Harry and Meghan's strategy as "ill-conceived".
He told Express.co.uk: "What should the Royal Family do in response to these claims? In a word: nothing. They have pulled a blinder.
"The biggest mistake that they could make would be to respond to any of the allegations. They are simply not serious enough allegations to warrant them breaching their long held code of silence.
"Breaching that silence will imply guilt. Remaining silent gives an air of maturity and remaining above the fray.
"The Royal family have had a game plan and, unlike the Sussexes, whose game plan has appeared ill-conceived and often strayed from, the royals have toed the line throughout."
Mr Coram-James poured cold water over the accusations made by Harry in his book, adding the Royal Family have only taken a "mild bruising" and "never came close to being on the receiving end of any knock out blows".
He continued: "The Royal Family know that it will all blow over soon enough, as the news cycle moves on and today's news becomes old hat.
A scathing, painfully accurate Spare review
My reader Katherine sent in two articles from Dominic Green about Spare. Thank you, Katherine!
These are the best yet.
'The Tragedy of Prince Harry' is Dominic Green's scathing, painfully accurate review of the book for The Washington Free Beacon. I cannot commend it more highly to my readers. It's long and captivating from the start.
As such, I will excerpt it as briefly as possible:
This is not Prince Harry's autobiography. It is a biography of a character called "Prince Harry," assembled from conversations with the real Harry by a ghostwriter, J.R. Moehringer. It is to autobiography as one of those Philip Roth novels where the main character is called "Philip Roth" are to fiction, only less tedious. It is fascinating in its way, though not in the way the real Harry intends. It is a collaboration between two unequal partners, one an accomplished ventriloquist, the other believing that he has finally found his voice.
Harry recorded the audiobook, so he knows exactly what is in Spare. He wants us to know that animals give him spirit messages from the beyond. These are usually sent by his late mother Diana, Princess of Wales, who died violently in 1996, when Harry was 12 and his older brother William was 15. The messages begin when Harry is 14. He and William are on safari in Botswana, eating dinner in their tent, when a leopard appears. "Everyone froze," Harry says. "Except me."
"I took a step towards it. … I was thinking about Mummy. That leopard was clearly a sign from her, a messenger she'd sent to say, 'All is well. And all will be well.'"
The leopard lied. Harry is not well. He and William are traumatized by Diana's death. Their father, now Charles III, struggles to comfort them, and sends them to boarding school. Harry refuses to believe that Diana is dead. He tells himself that she is hiding in a Swiss chalet, and she comes to him in his dreams. Soon, Harry is binge-drinking and smoking weed. Smoking a fat one with his mates in a bathroom at Eton, perhaps Britain's top boarding school, Harry looks out on the moonlit grounds and meets his spirit animal …
Green provides the passage from Spare, which involves a fox. Harry sees it as a portent some years later:
In 2008, more than a decade later, Captain Harry Wales, now serving as a gunner on an Apache helicopter in Helmand Province, Afghanistan, is camped for the night, drinking hot chocolate and watching the radio. Around one in the morning, a flurry of messages about "Red Fox" come through …
Green gives us the relevant paragraphs then continues:
An Australian magazine had got hold of the story that Harry was in Helmand. He was a target for the Taliban, so his superiors decided to extract him, for his own safety and that of his fellow soldiers. At 24, his active military career was over. The Army made the "spare" a leader, and valued his talents. It gave him a purpose for the first time, and kept him busy enough to forget his sorrows.
The ensuing years see Harry floundering:
Nearly a decade will pass until he meets Meghan Markle in 2016. These are the lost years. The spirit animals fall silent, and Harry self-medicates. He drinks and smokes weed every day. He does coke, magic mushrooms, ayahuasca, and LSD in an effort to lift the veil of reality and stroke the lost leopard. He falls out of night clubs, too drunk to walk. He picks fights with photographers and his own bodyguard. He has panic attacks whenever he meets the public. He stays in Courteney Cox's house when she is away, drinks loads of tequila, takes loads of mushrooms, and hallucinates that her toilet is speaking to him.
Harry does not explain why Courteney Cox's talking toilet was a hallucination, but the spirit animals are real. At this point in his life, he cannot explain anything to himself. He is so overwhelmed with loss and grief that he cannot recall his mother. He is trapped in a "red mist," a rage that he directs at his feeble father Charles, his scheming stepmother Camilla, his cold, conformist brother William, and above all at the British press, which he blames for his mother's death.
Diana is a leopard, Harry is a fox. Charles is a cowardly lion. William has surrendered his "autonomy," so he doesn't get an animal at all. Kate is the bitch who takes William away from Harry. Alone, he unravels further. By 2013, he cannot control his panic attacks and agoraphobia.
Harry is tormented by the death of his mother, which seems to dictate his reality.
Green tells us the truth about Diana, a name that means 'huntress', yet the huntress turned into the hunted:
After divorcing Charles and leaving the royal security envelope, Diana fell in love with an Egyptian playboy, Dodi al-Fayed. It was a Fayed chauffeur who crashed that car in Paris, by speeding downhill into the underpass so fast that the Mercedes limo took off, hit one side of the underpass, then ricocheted across into a concrete pillar. Three of the four passengers died. The survivor was the bodyguard who, being a mere mortal, had worn his seatbelt.
Harry cannot name al-Fayed; he calls him "Mummy's friend." He does not mention that Diana dumped William and Harry in Scotland with the grandparents, so she could pursue her summer romance with Dodi. Nor does he mention Mummy's earlier lover, Dr. Hasnat Khan, whom she smuggled into the Kensington Palace apartment she shared with William and Harry. Like Oedipus, Harry is blind to Mummy's true nature. Diana manipulated the press, too. Before she was taken from Harry, she abandoned him.
Princess Diana was hunted by the jackals, but the Diana she was named for, the Greek goddess, was the huntress. She pursued fame in revenge for Charles's faithlessness, staging teary confessionals for the cameras and driving the pack of paps at him and his family. Charles retaliated with his own staged confessions. Harry now retaliates with his. The Windsors survived Edward VIII's dalliances with Wallis Simpson and Hitler. They survived Charles and Diana's war for public sympathy. They will survive Harry's assault, too. But will he?
Harry is sure that Meghan never 'googled' him and that it was just a sublime coincidence that she wore his mother's favourite perfume, but Green reminds us of the facts:
Meghan's childhood friend insists that Meghan was an avid reader of royal biographies, especially about Diana. Meghan was photographed outside Buckingham Palace when she visited London as a teenager. When William married Kate, Meghan blogged about the "pomp and circumstance surrounding the Royal Wedding," and the "endless conversations about Princess Kate."
A 2014 photo shows Meghan, sitting in an airport with her laptop, reading about Elizabeth II. In Tom Bower's recent book Revenge, Meghan's former business adviser Gina Nelthorpe-Cowne attests that Meghan told her, "I've googled Harry. I've gone deeply into his life." Harry tells us that he googles Meghan as he falls in love, but he insists that she, like Diana, is entering the royal circus as a naif. His first "marathon" Instagram session with her happens to fall on what would have been Diana's 55th birthday. Who is the naif here?
Harry has followed in his mother's sad footsteps:
Harry and Meghan flee from Britain because they believe that his family is colluding with the press against them …
For the first time, Harry must fend for himself. Like Diana, he has left the royals' state-funded and highly professional security envelope …
When their children are born, Diana is in the room too. At night, when Meghan and the kids are asleep, Harry slips out and gets high on his own. The clear night sky over Montecito reminds him of the stars over Africa. The Red Fox communes with the spirit of the leopard, but he is never safe. There is no clarity in this freedom. There is no real guidance, either. Meghan, his savior, is pushing him back into the limelight.
Harry must fund his family's security or risk bringing Diana's fate upon Meghan and his children. The only way to save them is to sacrifice himself: to sell his story, to seek out the hated camera, to sit with the hated journalists, to dissolve himself in the flashbulbs, to be lost forever in their refractions, and join his mother. "Keeping people tuned to the show, that was the thing."
Like Hamlet, Harry has now hoist himself on his own petard, the hot wind of his rage and resentment. Like Hamlet, he will fall on his own poisoned sword. Harry, his father's dim, damaged, delusional, doomed "darling boy," has sold his family and his soul. Meghan and Moehringer have served him on a platter, like a roast swan at a royal banquet. There is no return after this, only the final act of the tragedy.
On January 19, the Wall Street Journal published Green's article about Harry's personal beliefs and how they tie in with those of his contemporaries with regard to Christianity: 'Prince Harry's Pagan Progress'.
This, too, is excellent. Excerpts follow:
Harry's father, King Charles III, may be supreme governor of the Church of England, but when it comes to the inner life, Harry, who was born in 1984, is a typical millennial. Pew Research reported in 2010 that Americans 18 to 29 were "considerably less religious than older Americans." Twenty-six percent of millennials said they had no religious affiliation, and they were also less likely to pray every day than members of Generation X (41% vs. 54%). Yet the percentage of millennials claiming "absolute certainty" in God's existence (53%) wasn't far off the figures for baby boomers (59%) and Generation X (55%) when they were young.
For Harry's grandmother Elizabeth II, personal faith was indistinguishable from her constitutional duty. King Charles describes himself as a "committed Anglican Christian," and Harry says he set a "deeply religious" example and "prayed every night." Harry attended church regularly as a child, obligatory given the Windsor family's alliance with the church.
Harry was 12 when his mother died in a car crash in Paris. The Christian rites at her funeral in Westminster Abbey couldn't console him. His only regular contact with the Bible came when a teacher, punishing teenage misdemeanors, delivered "a tremendous clout, always with a copy of the New English Bible." This, Harry writes, "made me feel bad about myself, bad about the teacher, and bad about the Bible."
Instead, Harry turned to the animal world:
At around 15, Harry experienced a ritual induction into manhood. Guided by Sandy, a family retainer, he shot a stag. Sandy slit the dying animal's throat and belly and told Harry to kneel. "I thought we were going to pray," the prince writes. Instead, Sandy pushed Harry's head inside the carcass and held it there. "After a minute I couldn't smell anything, because I couldn't breathe. My nose and mouth were full of blood, guts, and a deep, upsetting warmth."
"So this," Harry tells himself, "is death." Yet he's ecstatic. "I wasn't religious," Harry writes, "but this 'blood facial' was, to me, baptismal." Finally, he has lived the "virtues" that had been "preached" to him since childhood. Culling the herd is being "good to Nature" and "good to the community." Managing nature is "a form of worship," and environmentalism is "a kind of religion" for his father. For the first time Harry feels "close to God."
This pagan rebirth carries strong symbolic overtones for Harry. Monarchy is a survival from the earliest times. So is the hunt, with its symbolic echoes of religion's roots in animal sacrifice and seasonal rites. The Windsors live in urban captivity, but their spiritual home is the Scottish Highlands, where the stag is the monarch of the glen. Diana shared her name with the Greek goddess of the hunt—and Harry writes that she was "hunted" to her death, the cameras still "shooting, shooting, shooting" as she lay trapped in the wreckage.
Green concludes:
Harry's narrative of resurrection bears formal resemblance to the Gospels, but its content owes more to Carl Jung, Joseph Campbell and the Californian gospel of self-care. His neopagan progress is that of many millennials—especially those who, like Harry, are white men with no college education. By 2017, Pew found that 38% of Americans 30 to 49 were "spiritual but not religious." Sixty-seven percent of the unchurched were "absolutely certain" of God's existence, and 24% "fairly certain." Fifty-seven percent prayed "at least daily," but 76% "never" participated in group study or prayer. Like Harry, they are solitary and syncretic, inward travelers with no direction home.
'Faustian bargain'
On January 9, UnHerd posted an article about Spare: 'Prince Harry's Faustian Bargain'.
Its author, Darran Anderson, says:
… The most telling line, which reaches towards the heart of the matter, comes back to the Faustian nature of fame and particularly the media's gaze and how that can distort, "After many, many years of lies being told about me and my family, there comes a point where, going back to the relationship between, certain members of the family and the tabloid press, those certain members have decided to get in the bed with the devil" … Again and again, in his recollections in interviews and writing, Prince Harry comes back to the media as a baleful destructive force in his life …
What is particularly illustrative and sympathetic about Prince Harry's relationship with fame is that it was not chosen. In the traditional Faustian transaction, the would-be genius or celebrity sells their soul, knowing that the cost is damnation and believing that the gains will be worth it. With the royals, fame is hereditary, which is as much of a curse as a blessing. The transaction is one-sided. No deal is made and yet the individual assumes precisely the same debt. In a world, even a country, where children are born into horrendous poverty and deprivation, it's difficult to have sympathy for someone born into immense privilege. Yet it is warranted, given that child we watched walking along forlorn at his mother's funeral did not choose any of this.
The problem is that Prince Harry is now a man and no longer a lost boy. Though he has chosen an arguably noble route of walking away from an environment that had shunned him, and he has the right to speak his mind and tell his own story, he has not walked away from fame. Sympathy, like any resource, is finite …
It is even more understandable to wish to escape the glare of the lens that played a part in the death of a beloved parent. Having chosen Meghan and America, Prince Harry had the chance to transcend fame and to effectively defeat the presence that has seemingly haunted his life. He could go semi-privately into any number of ventures. Harry was not, after all, a signatory to the Faustian pact. One of the most tragic aspects to what has been unfolding is not just the painful reality of a family schism, but rather that at the brink of escape, Harry decided to return to the table to sign the contract.
… The point where sympathy dissipates is with this issue of fame, the courting of it rather than the walking away. This is where the public's role in the Faustian bargain comes in. This is what differentiates celebrities from the rest of us, the point of departure, and the judgement can and may well be merciless. By aiming for the echo chamber of the terminally online and the patronage of the American establishment, the wider sympathy is lost. It is especially frustrating as the prince had a chance to get out.
Harry's case is not helped by a mixed tone of grievance and sanctimony. One moment, he is referring to the killing of Afghan militants as a game of chess, the next he is engaging in flagellation about his previous lack of social consciousness. At its worst, it seems distasteful and condescending, the opposite of a spiritual confessional. It undoes the undoubtedly brave work of speaking about trauma, autonomy, or even his right to speak. As George Orwell put it, "Autobiography is only to be trusted when it reveals something disgraceful", but here even the disgrace feels performative. It feels grubby and out of touch, both too intimate and too remote. It feels, in other words, like fame …
Summer of 2019: too much PDA
Returning to the summer of 2019, where I left off, articles were circulating about the inability of the couple to keep their hands off each other in public.
On August 11 that year, The Sun reported:
MEGHAN Markle and Prince Harry's friends have "stopped inviting" the couple to dinner parties because they "frown upon their PDAs", insiders have claimed.
According to the Mail on Sunday, the Duke and Duchess of Sussex make a point of sitting together at events – even if their host has seated them separately.
Meghan's excuse was that she finds dinner party etiquette:
too "exclusive" and "traditional".
Tough. You sit where your hosts seat you. In Britain, it often means splitting up couples at table to enliven conversation. No one with any manners minds that.
Harry's friends found his wife's American attitudes tiresome:
Along with ignoring the seating plans, insiders have also claimed that the Duchess is openly affectionate with her husband on these occasions which causes Harry's friends to "roll their eyes" at her "American ways".
What's more, Harry's inner circle has "stopped inviting her to dinner" over the "frowned upon" PDAs (public displays of affection) at the dinner table.
The Sun lays out dinner party etiquette for the uninitated. This would be useful for the Duchess:
While it might not seem like THAT big a deal to sit next to your partner at a party, the high society occasions Meghan and Harry have been attending ask guests to follow the three rules of "placement".
To avoid sounding too "common" or American, the first rule is that "placement" must be pronounced the French way which involves emphasising each of the three syllables.
The second rule dictates that couples should NOT sit together in case any affectionate behaviour puts others off their meal.
And in order to truly grasp the rules of "placement", guests must always sit where they have been asked to achieve the perfect, balanced high society table.
'Snubbing protocol'
And there was more.
Meghan wanted to hold Harry's hand when it was clearly not the done thing:
Shortly after she married into the Royal Family last year, Prince Harry refused to hold Meghan's hand at a royal event out of respect for The Queen.
Because she wore jeans to Wimbledon in 2019, she could not enter the Royal Box:
An insider claimed Meghan was a "nightmare" during the visit when her security guards infamously BANNED guests from taking photos of her and her casual attire meant she wasn't allowed to watch the action from the Royal Box.
They told The Times: "They couldn't invite her into the Royal Box because she was wearing jeans."
On August 19, the Mail reported on what the editor of Majesty, Ingrid Seward, had to say about the Sussexes' protocol breaches:
Ingrid Seward, editor of Majesty magazine, suggested that the Sussexes' attempts to move away from tradition might 'bother' the Duke of Cambridge, 35.
Appearing on Saturday's Channel 5's documentary William & Harry: Princes At War?, Ingrid suggested that Harry and Meghan had 'snubbed protocol' in a way that was unexpected from royals.
She said: 'I would think it might bother William a little bit, because he might see the way that Harry and Meghan do things as being detrimental to the business of the monarchy as a whole.'
The couple have faced a growing backlash over the summer over their privacy demands, including holding a top secret christening for son Archie and refusing to tell the public who his godparents are …
Critics have hit out at Meghan recently for 'considering herself more of an A-lister than a member of the royal family', after she selected a handful of celebrity friends for the cover of Vogue.
Speaking about Harry and Meghan 'snubbing protocol', Ingrid said: 'It wasn't done in a very royal way, or the way we'd come to expect.'
The 'eco-lecturers' and their private jet flights
Between August and September 2019, the Sussexes took several trips on private jets.
There is nothing wrong with that other than Prince Harry used one of those flights to deliver a lecture in Italy on how everyone had to cut back on air travel in order to save the environment.
On August 15, The Sun reported on Piers Morgan's disgust at the couple's hypocrisy. At the time, he was still co-presenting Good Morning Britain. The British public were also disgusted:
PIERS Morgan has criticised Meghan Markle and Prince Harry after they took a private jet to Ibiza for a six day break – despite the Duke warning of the "terrifying" effects of climate change.
The GMB presenter, who has previously criticised the couple, took to Twitter following the news where he made a dig at the Sussexes.
Sharing an article about their trip, he wrote: "Saving the planet, one private jet at a time."
Many were in agreement with Piers, dubbing the "eco-warrior" couple hypocrites following the holiday.
One wrote: "You're absolutely correct, virtue signalling and full hypocrisy!!"
Another agreed adding: "Utterly ludicrous! If you're going to take private jets, fine but then don't preach about climate change. Hopeless!" …
According to local reports Harry and Meghan flew to Ibiza with their son Archie Harrison to celebrate her 38th birthday on August 4.
The jet created seven times more C02 per person than any one of nine daily scheduled flights from London to the Spanish holiday isle.
Harry and Meghan, who took baby son Archie, landed in Ibiza on Tuesday last week – along with publicly-funded Met Police protection officers.
Five Spanish security officers then whisked them to their secluded luxury private villa.
The family returned to the UK on Monday.
It was the second time that the prince had used a private jet in two weeks after he flew to Sicily to attend the Google Camp to deliver a "barefoot speech" on saving the environment the week before.
But Harry has been accused of hypocrisy over his use of private jets following his speeches urging everyone to "take action" on climate change.
In a post on his SussexRoyal Instagram site in July, he wrote: "With nearly 7.7 billion people inhabiting this Earth, every choice, every footprint, every action makes a difference."
… Buckingham Palace refused to comment on the Ibiza trip.
On August 19, the Mail reported on another private jet trip, to Nice:
The Duke and Duchess of Sussex were embroiled in another hypocrisy row today after being pictured leaving the south of France over the weekend in a fourth trip by private jet in just 11 days.
Prince Harry and Meghan, who have been outspoken on environmental issues in recent months, generated an estimated seven times the emissions per person compared to a commercial flight when flying home from Nice.
Photographs of the royal couple and three-month-old Archie showed the family stepping on board the Cessna 680 Citation Sovereign jet on Saturday at about 3pm local time, having arrived in France three days earlier.
Royal experts said the British public do not want to be 'lectured on climate change by those who don't do follow their own advice', while MPs said the trips do not 'fit with their public image' they project as eco-warriors.
The couple are believed to have visited the £15million palatial home of Castel Mont-Alban owned by Sir Elton John and his husband David Furnish overlooking the Promenade des Anglais during their holiday to the French Riviera.
The trip to Nice came shortly after Harry and Meghan, who married in May last year, had returned by private jet to the UK from Ibiza after a six-night break on the Spanish island to mark the Duchess's 38th birthday.
Veteran royal watcher Phil Dampier gave his views about the anger of Britons about the flights and the Sussexes' behaviour as a whole:
They are not unique – other royals have taken private jets, but they have been criticised over the years as well.
I certainly don't believe they are getting a bad press because the British public are racist.
It is simply that people don't like to be lectured on climate change by those who don't do follow their own advice.
Some families slave away all year to afford one nice holiday and they shouldn't be made to feel guilty about harming the planet when Harry and Meghan are swanning about in luxury.
It's really sad to see all the goodwill that people had towards this couple disappear in such a short space of time.
They really need to understand quickly the damage they are doing and take steps to turn it around.
They could start by taking on some of the 1500 patronages of the Queen and Prince Philip, and get out there and do some run-of-the-mill royal jobs and shake a few hands.
Meghan gives the impression she wants to live like a Hollywood star protected by publicists, agents and lawyers and that's not how the royal family works.
It only survives because there is give and take and the public- who are paying for it – want it to succeed.
If they lose the public's support they are in trouble.
Sir Elton John stepped in to stop the turbulence, as it were.
The Mail reported:
Sir Elton John today confirmed he had paid for the Duke and Duchess of Sussex to fly to and from his £15million mansion in Nice by private jet for a holiday 'inside the safety and tranquillity of our home'.
The 72-year-old singer claimed he had ensured Prince Harry and Meghan's flights to and from the French Riviera last week were carbon neutral by making the 'appropriate contribution' to a carbon footprint fund.
That angered people all the more. Who among us can do that?
More flights followed until early September.
The Africa tour
That autumn, the Sussexes toured southern Africa, an official trip of goodwill towards the Commonwealth countries.
They left behind strained relations with their Palace staff.
Even Africa, a place the Queen thought the couple would enjoy, considering Harry's Sentebale charity was there, could not bring them happiness or escape:
While there, they gave an interview to ITV's Tom Bradby, who also interviewed Harry about Spare in January 2023. Where they are concerned, Bradby is more a friend than an objective reporter.
The interview with Bradby aired in October 2019, while the then-Duke and Duchess of Cambridge were touring Pakistan, another initiative to show goodwill towards the Commonwealth.
Valentine Low, author of 2022's Courtiers, wrote:
The first real intimation the public had that all was not well in Meghan's world came in October 2019, when ITV released a trailer for its documentary, Harry & Meghan: an African Journey. As Meghan spoke to Tom Bradby in a garden in Johannesburg, she spoke about how she had struggled with life in the spotlight as a newlywed and as a new mother. Almost as if she were trying to hold back tears, she said she had found it hard and added, "And also, thank you for asking, because not many people have asked if I'm OK. But it's a very real thing to be going through behind the scenes."
The trailer came out while William and Kate were on a tour of Pakistan. The resulting coverage inevitably overshadowed reporting of the last day of the Cambridges' tour. The Cambridge team was not happy and saw it as a deliberate attempt to knock the Cambridges out of the headlines. Relations between the two households became quite tense.
When the documentary came out, it also showed how far Harry and William had drifted apart. Asked by Bradby about the rift between him and William, Harry chose not to deny it, but said instead, "We are certainly on different paths at the moment, but I will always be there for him, as I know he will always be there for me."
William, back home after the Pakistan tour, appears to have been taken aback at such a stark portrayal of his brother and sister-in-law's unhappiness. He realised they were in crisis. The day after the documentary aired, William whatsapped his brother to ask if he could come and see him. This put Harry and Meghan into a spin. What should they do? Initially, Harry was in favour. Then he spoke to his brother again and asked him who he would tell. William explained that he would have to clear his schedule, which would mean telling his private secretary. At that point, Harry said don't come. He was so concerned that William's team would leak the visit to the press that he would rather they did not come than risk it getting into the papers. It highlighted once again the dysfunction at the heart of so many royal relationships and that members of the royal family so rarely pick up the phone and speak to each other directly.
The final months
The Times featured several excerpts from Valentine Low's Courtiers, one of which explained the time before the African tour through to the beginning of 2020:
As one senior source put it, when they gave an interview in the autumn to Tom Bradby of ITV News in South Africa "they had made it clear that they were finding it very difficult. They were anxious and excited to chart their own course, knowing that they had more flexibility as they were not in the line of succession."
Moves were already afoot to create their own website with the help of the American PR company Sunshine Sachs. The site was originally intended to promote their charitable foundation, but later to explain — when the time came — how they planned to branch out on their own.
As they took an extended break with their son, Archie, now eight months, in Canada, the negotiations over their plans began to take shape. Harry originally contacted the Prince of Wales just before Christmas about spending more time in North America but was told he needed to come up with a thought-out plan, the London Evening Standard reported. When he sent a draft proposal to Prince Charles early in the new year he was told more time was needed to think through the complex implications, particularly over funding.
A source told The Times: "It reached an impasse where his father said, 'We need to have these conversations in person. This is not something we can negotiate over email.'"
That much was agreed, but Harry also wanted to talk to his grandmother.
"He wanted to go and see the Queen," a source said. "He has been communicating with her on the phone throughout. He wanted to see her, not to negotiate with her but to talk to her grandson to granny, to say, 'This is how we have come to this.'" It was intended to be a gesture of respect, rather than an attempt to open negotiations with her.
He called her suggesting that he visit her at Sandringham when he returned home. "She says, 'Yes, love to see you, come and see me,'" the source said.
Then came what has been described as a "classic" move from the Palace.
"A message was conveyed: 'Oh, sorry, misunderstanding, she might have said she was available, but actually she is not available.'" Harry, it seemed, had fallen victim to family politics. The source said this was, in part, because the family were worried that he would use anything she said in their meeting as a negotiating tactic. Nothing, apparently, could have been further from the truth. But the result was that Harry was angry and upset at the rebuff.
By the time he and Meghan were back home, their press team was aware that The Sun was on to a story about their plans to spend more time in Canada. It prompted anxious negotiations between the Sussexes and the rest of the family about how to proceed. Should they sweat it out and say nothing, in the knowledge that such delicate negotiations are best conducted out of the public eye? Or should they release a statement and thereby try to set the agenda? The matter was taken out of their hands when the story appeared in Wednesday's paper under the headline "We're orf again".
Never fans of the tabloid press, Harry and Meghan were incandescent. "They were so angry," said the source.
The final instalment will come tomorrow.
What a sad story. It seems to get more desperate by the day and will not end well.
On Tuesday, July 26, the UK's fledgling news channel TalkTV scheduled a Conservative Party leadership debate with The Sun for 6 p.m.:
Kate McCann was the moderator.
She was to have been joined by Guido Fawkes alumnus Harry Cole, The Sun's political editor, but he had coronavirus:
TalkTV asked for questions from viewers, as well as their audience, half of whom had voted Conservative in 2019.
It promised to be a debate quite unlike the ones on Channel 4 and the BBC:
With The Sun involved, one knew that the candidates would get hard-hitting questions rather than boring ones from the media establishment.
In the opening round, Kate McCann gave the candidates 60 seconds each to present themselves and their platform.
Rishi Sunak did well …
… even if he was still in Tony Blair mode and sounded like Labour's Keir Starmer …
… but Liz Truss had to glance at her notes:
Then it was on to the questions.
It was gratifying to see that the audience members, both in person and remotely, asked them of the candidates directly.
The first one came from John Hughes in Birmingham, who spoke remotely. He is a cancer patient and said that, since the pandemic, he has had a very difficult time getting the care and the support he needs. He said that a cancer charity has been helping him but the NHS and Macmillan Cancer Support nurses have not been available:
Rishi said that it was good that John was getting the support he needed. John retorted that he was not getting the support he needed. Rishi corrected himself.
Rishi gave a long answer, which did not respond to the question.
Sunak said that he had been criticised for raising national insurance contributions to tackle the NHS backlog and fund social care reform, but that it was a "brave decision" and the right thing to do.
Liz said that she would reform the NHS, reducing layers of management so that the focus could be on patient care rather than bureaucracy:
I want to see fewer layers of management in the National Health Service and less central direction because I simply don't think that people can sit there in Whitehall and direct everything that happens in local communities across our country.
It seemed that John preferred her answer to Rishi's. At least Liz offered a plan. Kate McCann asked John what he thought. He said that:
he remained unconvinced by their answers and stated that the Conservative Party had been given 12 years to fix the NHS.
The next question came from a member of the studio audience. A lady said that she was used to buying steak several times a week, however, the price has gone up so much that she can no longer afford to buy meat of any kind. She asked whether she should become vegetarian:
The Times reported:
The debate then moved on to the cost of living, with Gemma from Manchester, a Sun reader, telling the candidates about the rising cost of meat in supermarkets and asking if more people should go vegetarian to save money.
Rishi said:
he would ensure that prices came down by "making sure that the supermarkets and all the other people in the supply chain are being fair in how they price these things [and that] no one is taking advantage of the situation to pass on price rises."
Surely, although I agree with the principle, if everyone in the supply chain is being fairly remunerated, prices will go up even further.
Liz told Gemma that becoming vegetarian was 'a choice' and one that the Government leaves to individuals.
I understood what Gemma meant by asking about vegetarianism, because with this year's price rises, it does seem as if that is the end game.
Bloomberg's Alex Wickham summed up this refreshing debate well:
For once, we had real people asking about real problems.
However, the candidates reverted to a subject with which they were more comfortable — tax cuts.
As the i paper's Hugo Gye pointed out, it seemed as if Rishi and Liz still couldn't connect with the audience as well as a certain Prime Minister — Boris Johnson:
Harry Cole, watching from home, tweeted this at 6:27 p.m.:
The Times reported:
The candidates' response quickly turned to the economy, with Truss saying that Sunak's manifesto-breaking tax rises had been "morally wrong" as she accused the former chancellor of having policies which are "making us less competitive" as a country.
Sunak said that tackling inflation remained his priority but suggested that some businesses were also profiteering from the cost of living crisis. He said he would ensure that prices came down by "making sure that the supermarkets and all the other people in the supply chain are being fair in how they price these things [and that] no one is taking advantage of the situation to pass on price rises."
Sunak also defended his plans to increase corporation tax. He said: "I think it's entirely reasonable to ask the largest companies in this country, just the top 10 per cent of companies, to pay a bit more because they're received a lot of help during the pandemic."
Truss countered by telling Sunak: "You've made it worse". "Companies have a choice about whether they invest in the UK or whether they invest elsewhere. Rishi's policies are making us less competitive," she said.
The Mail's Henry Deedes described other exchanges between the candidates and the optics. Rishi still looked vexed when Liz contradicted him. Liz almost fell into the same trap this time (emphases mine):
Rishi seemed to have eased a little on the caffeine since the night before.
He'd also rediscovered his manners and used his opening spiel to wish his opponent a happy birthday. Truss, 47 yesterday, shot him an icicle smile. 
The Foreign Secretary wore a purple dress the colour of a Cadbury's Dairy Milk wrapper. Très snazzy. She went into a brief monologue about how her upbringing was more modest than Sunak's. 'I know what it looks like when economic times are hard,' she said. Rishi bit down and resisted making a tart response. There was a bit of early tit-for-tat, but nothing that required Kate to pull them apart. The candidates had a brief struggle over who had the stronger family connections to the NHS. 'My father was GP,' said Rishi. 'Well, my mother was nurse!' countered Liz. 
Tempers frayed whenever Truss began to discuss her economic plans. Rishi's blood pressure would visibly spike, his eyes flickering from side to side as if to say: 'Leave the maths to me, luv.' 
Once again their main beef was over taxes – Liz wants to cut them, Rishi thinks it's unaffordable to do so. 
He accused Truss of funding her cuts by saddling future generations with more debt. 'That's not true, that's not true!' Liz retorted, shaking her head crossly. 
Kate McCann was doing an excellent job as moderator, keeping everything going at a rolling pace which made it interesting. I was settling into an unusual comfort zone, which I normally don't do when watching debates.
Just after 6:30 p.m., Kate asked Liz a question.
While Liz was speaking, viewers at home could hear a soft rocking noise, possibly a perspex podium against the floor.
Seconds later, there was a crash of perspex on the floor.
Viewers saw this:
The Telegraph's Tim Stanley was also watching from home and describes what happened:
It was one of the strangest, most shocking moments in TV history. Liz Truss was in the middle of denouncing Russia with her characteristic tics – her hands gripping that invisible tea tray for dear life – when there was an almighty crash off-screen.
"Oh my God!" Liz covered her mouth. Then she stepped towards the camera.
Turns out that poor Kate McCann, the talented journalist and host, had fainted.
Rishi also went to Kate's aid, but we didn't see that.
We didn't know what had happened.
The Mail reported:
A loud noise caused the clearly worried Foreign Secretary to hold her face in shock as she exclaimed: 'Oh my God!'. Ms Truss was then seen leaving her podium and walking towards where Miss McCann had been standing.
The broadcast feed was swiftly cut, with viewers shown the message: 'We're sorry for the disruption to this programme. We're working hard to fix the issue and will return to normal programming soon.'
Stanley wrote:
For 25 excruciating minutes, viewers speculated if a light had fallen, a bomb had gone off, or Boris Johnson had rushed the stage demanding to be heard – all the while that producers tried to carry on as normal by cutting to a promo for their other shows.
What were they thinking? That this was a great chance to promote their product? We're lucky they didn't try to flog us some diamante earrings …
… debating tax policy is exactly how Liz would want to spend her birthday – and though the evening took an alarming turn, the gods did her a favour by having the camera focused on her when Kate passed out. Liz's instinct to run towards the disaster did her credit, a reminder that whatever her job, she is first and foremost a mum.
And her mother was a nurse!
Just before 7 p.m., when the debate would have ended:
TalkTV put on two talking heads who calmly discussed what we'd been watching – vegetarian options, clown doctors – without substantial reference to the one bit we were all shouting at the telly about: "What the hell just happened?!"
It was surreal: the commercial equivalent of Soviet TV cutting from the coup against Gorbachev to 72 hours of Swan Lake. Thankfully, Twitter was still reporting the news: Kate was ok. By then it was 7pm and time for Piers Morgan's landmark show on Ukraine – at which point what was probably TalkTV's largest ever audience, all 250 of us, turned off.
Kate, you're a star and your peers wish you the very best.
Henry Deedes said:
Doctor's orders were that she was done for the evening. It must have been frustrating for Team Rishi, who are running out of time. The former chancellor has agreed to be interviewed by that fearsome rottweiler of an interviewer, Andrew Neil, on Channel 4 on Friday. For politicians, such encounters rarely end well.
The candidates spent the remaining half hour talking to the studio audience:
Kate received many supportive messages.
Harry Cole tweeted:
BBC Newsnight's Nicholas Watt complimented Kate on her moderation of the debate:
The candidates also sent their best wishes, saying they would like to return to finish the debate:
I hope the debate is rescheduled — and agree that it should pick up where it left off:
Harry Cole is an excellent journalist.
That night, The Sun reported that, after all these days of insisting his tax plan was the right thing to do, Rishi decided to do an about-face and cut VAT on energy bills.
But has he stolen Work and Pensions Minister Thérèse Coffey's idea? Hmm:
Polling results must have been eating away at the former Chancellor.
The Telegraph also carried the story on its front page for Wednesday:
The Mail alleges that this was Boris's plan but Rishi wouldn't allow it:
Rishi Sunak makes a desperate bid to claw back lost ground in the Tory leadership race today by promising a £4billion VAT cut on energy bills just hours after he and his rival Liz Truss led tributes to TalkTV presenter Kate McCann after she fainted live on air.
The former chancellor has repeatedly refused to match rival Liz Truss on cutting taxes, labelling her plans a 'fairytale' and insisted such cuts must wait until inflation is curbed.
But today he pledges to scrap the 5 per cent VAT rate levied on domestic energy bills for a year.
Last night No10 insiders told the Daily Mail that this plan was something Boris Johnson tried to implement to ease the burden on consumers – but was blocked by Mr Sunak.
'Boris begged him to do it – but he wouldn't budge', said the source. 'It's astonishing that he's now claiming it as his own policy.'
A source close to Liz Truss's campaign told The Telegraph: 'It's good that Rishi has finally woken up and decided to offer something to people struggling with the rising cost of living.
'However, this feels like a screeching U-turn from someone who has spent the last few weeks of the leadership campaign branding everyone else's tax cuts immoral and fairytales.'
The article states that this was also Labour's policy:
Mr Sunak's energy bill tax move, which would save an average household £160, has been Labour Party policy for nearly a year, and Mr Sunak voted against the proposal in the Commons in January.
He told the Commons in February that the policy would 'disproportionately benefit wealthier households'.
He added: 'This would become a permanent £2.5billion Government subsidy… when we are trying to rebuild the public finances.'
This month he argued that tax cuts are 'immoral because there is nothing noble or good about racking up bills on the country's credit card that we then pass on to our children and grandchildren'.
One can understand his point, but when the Work and Pensions Minister and the Prime Minister both want it, it's the right thing to do.
I read only this week that VAT is an EU tax. Therefore, we can scrap it.
No one ever mentions that VAT is an EU tax. Why not?
The Mail says:
Until yesterday [Wednesday] Mr Sunak had refused to consider tax cuts before autumn 2023, the earliest point when a 1p cut in the basic rate of income tax could come in.
Autumn 2023 would be way too late, especially if our next general election is held in May 2024.
The Telegraph reported that Rishi's team denied a U-turn:
The Sunak camp denied there had been a U-turn, adding that the tax cut was "a tool that was always in our arsenal".
"We didn't use it back in spring because the size of the jump of the bills was way bigger, and it wouldn't have touched the sides," a source said. "This is a response to latest estimates that suggest the rise might be £100-200 more than anticipated."
For me, this volte face comes too late in the contest, because Rishi was adamant in three debates that he would not cut taxes.
As such, in Truss we trust.
———————————————————–
UPDATE — Guido Fawkes posted TalkTV's ratings for Tuesday night. The debate's 'off air' message beat Piers Morgan's show by far:
Morgan tweeted McCann, who has since recovered:
On Wednesday, July 27, the i paper reported ructions at TalkTV about the interruption of the debate, with staff asking why it didn't continue with another presenter:
Rupert Murdoch's TalkTV is holding an inquest into why there was no "plan B" to keep its Prime Ministerial debate on air after presenter Kate McCann fainted.
Presenters at TalkTV and its sister radio station were said to be ready and able to jump in and replace the stricken presenter during the abandoned live broadcast, i has been told.
As panic spread, executives asked Rishi Sunak and Liz Truss to remain at their podiums at the Ealing studio, normally used for Piers Morgan's nightly programme, while they considered their options.
However it was decided that stunned viewers would continue to be shown a recorded message saying normal programming would resume, rather than restart with a new presenter.
Trouble began behind the scenes when planned co-presenter Harry Cole was forced to pull out on the morning of the debate after contracting Covid.
An insider said: "Tom Newton Dunn (presenter of TalkTV's 7pm news show) would have stepped up to co-present but the bosses wanted Kate to front it solo as a showcase for her."
McCann, Talk's political editor, was said to be "nervous" at fronting the high-profile event but had shown no sign of ill health, even during the broadcast's first half hour.
The source said: "It was very sudden. She crashed forward into the podium. That was the loud bang viewers heard."
Truss, speaking on camera at the moment, said "oh my god" and rushed over towards McCann. At that point, with the clock showing 6.31pm, the channel cut from the debate.
"Rishi also rushed over. He knelt on the floot and held Kate's hand, he was very comforting," the insider said.
Faced with a crisis playing out live on TV and social media, some in the building believed that the show must go on.
"There were plenty of experienced on-screen talent already there who felt they could have taken over. They could have winged it."
"All the News UK bigwigs were there. There was a panicked pow-wow. Some said 'who can we get to fill in?' but they decided against it."
Instead the candidates were asked to stay in the studio and take questions informally from The Sun readers in the audience.
The insider added: "Today there is an inquest into why there wasn't a Plan B to keep the debate on air. It's a given for any serious broadcast channel" …

The incident gave a brief boost to TalkTV's struggling ratings. The channel has recorded zero viewers at low points in its schedules and Piers Morgan's flagship show has even been beaten by rival GB News on occasions.
The screen message telling viewers TalkTV was off air was watched by one of the channel's highest ever audiences.
Some 141,000 people tuned in, numbers comparable to Morgan's opening week on Talk in April before his figures tumbled.
The debate peaked with 183,000 viewers tuning in shortly after its 6pm start. However Talk's numbers dropped across the night with Morgan's programme dropping to 14,000 viewers at its conclusion.
Despite the lure of the debate, Sky News, BBC News and GB News all recorded a greater audience than TalkTV across the whole of primetime, according to Barb data.
Insiders said this would disappoint NewsUK's bosses who had hoped to relaunch TalkTV off the back of the debate, which was shared with sister title, The Sun …
The podium "crash" even gave TalkTV what it has been seeking since it launched three months ago – highly-shareable viral content that creates a buzz on social media.
On this occasion though, that content, seized upon by media rivals including the BBC, was unintended.
After a long winter lockdown that began on the evening of Saturday, December 19, 2020, England began reopening on Monday, April 12, 2021.
This was a bit like Groundhog Day. We saw the same scenes last June and July. The only difference was the weather:
Gyms
Let's get the serious business out of the way first, then we can have some fun.
Gyms were allowed to reopen their interiors to customers.
TalkRADIO broadcast from a pub in London on Monday morning and interviewed a gym owner from Surrey:
Barbers and hairdressers
While some rushed to the pub at midnight, others went to get their hair done:
Other customers waited until daylight:
It was the same further north:
Piers Morgan went to top-drawer stylist Daniel Galvin for his haircut:
Actor Daniel Brocklebank had a good Monday:
However, not everyone is in a rush to return for a Spring shearing. Some are enjoying the lockdown look:
Shops of the 'non-essential' variety
Department stores and other 'non-essential' shops were able to reopen.
Once again, it was a bright day for Primark. This was the scene in Birmingham's Bullring in the city centre:
Unfortunately, for Debenhams, where financial troubles started before the coronavirus crisis, it was a bittersweet day:
I'd never thought they would close. That leaves John Lewis as the last nationwide chain of department stores. How sad.
One record shop customer had a therapeutic experience:
Charity shops were also allowed to reopen:
Thank goodness. I have a few donations to make — all wrapped up pre-COVID.
Pubs and restaurants
Pubs and restaurants were allowed to reopen outdoors.
In some places, such as London's Soho, streets were closed to traffic in order to accommodate customers:
Pubgoers queued for a midnight opening. This was the scene in Coventry in the West Midlands:
In London, journalists from The Sun waited until their working day ended on Monday evening:
One wonders how many people used the paper's Beer Matt as a beer mat:
Renowned historian and author Simon Sebag Montefiore enjoyed coffee in London:
At the end of the day …
London's Evening Standard reported on Tuesday that the capital came 'back with a bang':
That's great to see.
Best of luck to everyone in the retail, beauty, gym and hospitality industry! May this be the last doggone lockdown!
In case anyone missed them, here are Parts 1, 2, 3 and 4 of this series about the British public's suspicion over the continuing coronavirus lockdown.
The June protests vexed Britons who were trying to do the right thing: staying at home and social distancing when outdoors.
All of a sudden, that flew out the window. Protesters had pride of place, yet, the rest of us still had to obey the social distancing guidelines.
That rankled, especially as we had been told we were selfish because we wanted to hug our loved ones who didn't live with us. Think of grandparents and grandchildren.
What about people who just needed to get outdoors in the fresh air by themselves?
What about children who longed to see their friends? This former barrister and co-editor of Conservative Woman nails it:
And what about the people who freaked out over a very limited reopening of schools on Monday, June 1?
What about the average law-abiding person?
Yes, those people are 'the problem'. We are made to feel guilty through no fault of our own.
The frustrating hypocrisy of it all:
Then we had Piers Morgan taking issue with Boris's top adviser for trying to care for his little boy and with Labour MP Barry Gardiner for attending the demonstrations. Yet, Piers applauded his own son for taking part in the protests:
But I digress.
There was no social distancing during the protests. In fact, some police officers in London were assaulted.
However, even though Health Secretary Matt Hancock advised that the rules be kept in place over the weekend of June 6 and 7:
… the lack of social distancing was acceptable:
It was for a cause.
Health 'experts' said so — 1,200 of them, in fact:
Tucker Carlson had an excellent editorial on this on Friday, June 5. Anyone complaining about social distancing and protests is 'the problem', not the protesters and rioters. Well worth a watch. You could not make this up:
But what about the people told to leave London parks because they were sunbathing by themselves? What about Piers Corbyn who was arrested twice for advocating against lockdown? Where were the Metropolitan Police during the protests? On hand, but either taking a knee or standing by doing nothing:
Boris didn't do anything, either. We have a Home Secretary. He could have got in touch with her.
This is what he issued on Saturday, June 6, the day of yet another protest in London over an American who died on home soil in Minneapolis, Minnesota:
'The evils of fascism'. Don't make me laugh, Prime Minister.
Things were no better in Northern Ireland …
… or Scotland, where thousands were expected to attend a protest on Glasgow Green:
The Labour leader, Sir Keir Starmer, was a bit slow on the riots. Didn't he know that American cities were being destroyed and shops across the country looted? President Trump never stopped peaceful assembly:
Anyway, there is some good news in all of this. More people in the public eye have noticed that continuing lockdown in the UK is a bad idea:
Unfortunately, a number of 'senior figures' from the NHS do not see it that way, primarily because of the close proximity of protesters in early June. That is not the fault of the British public and is likely to make them even angrier. They were not among the protesters. They are eager to get back to work.
In fact, said 'senior figures' will probably make the British public all the more suspicious about the protests. Were they timed to prevent lifting of lockdown? We'll never know.
In any event, this concludes this series with a few key points to keep in mind:
It's going to be a long, hot, tense summer here in the UK.
Last week, a few British polling companies took the pulse of the nation with regard to coronavirus.
But first, let's look at an international poll from Morning Consult of G7 countries and their leaders' popularity during the pandemic. Congratulations, Boris Johnson — far above the others in popularity!
Returning to Britain, here are the results from a YouGov/Sky News poll. Keir Starmer, incidentally, is Labour's new leader:
This is the poll in more detail. Dr Chris Whitty is the UK's chief medical adviser; Sir Patrick Vallance is the chief scientific adviser; Dominic Raab, Secretary of State for Foreign and Commonwealth Affairs, is Boris's deputy; Matt Hancock is Secretary of State for Health and Social Care; Sir Keir Starmer is the new leader of the Labour Party:
The next one is Survation's poll on trusted sources of information during the coronavirus crisis. Note that the media come lowest, well below that of despised politicians and local government, regardless of the fact that most Britons get their information from broadcast and print media:
Here is a poll from YouGov for Reuters Institute and Oxford University:
Here's one from a Twitter user. Comments follow (DM is the Daily Mail):
One radio talk show host thinks the British public are too stupid to understand media. I try not to use the word delusional, but this is delusional:
The British government are actually doing a great job in managing the coronavirus outbreak. The NHS has not been overwhelmed.
Before the crisis started, according to the Global Health Security Index, the US was rated first in the world for handling a pandemic. The UK was rated second:
Have both the US and the UK been too scrupulous in recording deaths, as — according to some graphs — both countries have the world's highest fatalities? We shall see, once this is over.
Otherwise, sure, there have been ongoing issues with obtaining PPE, BUT is that the government's fault? Aren't NHS procurement managers in charge of that? Ditto care homes, which are either privately owned or council run.
Never mind that, though. Obtaining PPE has been a problem for nearly every nation during this pandemic.
Below are photos of German medics. The BBC often asks, 'Why can't the UK be like Germany?'
Hello, BBC. Germany has a PPE shortage, too:
Despite that and despite lockdown, the British support Boris and his team. This was as of April 21, published on April 26:
Regardless of the government's careful managing of this crisis, the media dig deep every day to report only bad news. Largely, they are still hurting over Brexit, which will no doubt dominate media narratives once coronavirus is over. The negative coronavirus stories are an extension of anti-Brexit narratives:
The BBC is the only channel to broadcast the government's daily coronavirus briefings. As is customary in other nations doing these daily updates, reporters from across the country are allowed to ask questions afterwards:
Health Secretary Matt Hancock, other government ministers and the medical officers have to face a lot of awful questions. Last week, the BBC's health editor Hugh Pym asked whether the government was 'ashamed' of its coronavirus response:
People like Pym, who smile and smirk simultaneously, are the lowest of the low. They use their gotcha questions on early evening newscasts:
On Monday, April 27, Hancock got fed up with ITV's political editor Robert Peston's continuous, verbose questions. Hancock replied with a terse 'No':
Here's the deal with Peston:
Here's another example, this time from the BBC:
And another:
And another. This is BBC Newsnight's Emily Maitlis with Labour's Peter Mandelson — Baron Mandelson — who held several cabinet positions under Tony Blair and Gordon Brown when they were Prime Minister:
But I digress. Back now to the daily coronavirus briefings.
On Monday, April 27, the government began taking at least one question a day from the general public:
Robert Peston does not like this:
Actually, Robert, the first question chosen and read out on April 27 was relevant to many Britons.
That day, the independent polling company the government uses to select the questions chose one from a grandmother who wanted to know how much longer she would have to wait to kiss and hug her grandchildren. Honestly, I nearly welled up. Much better than taking questions from Peston, Pym and the like.
On Tuesday, April 28, they had two enquiries from the public — one read out loud from another grandmother about childminding her grandchildren and a short video from a mother asking when her son on the coronavirus isolation list could return to school. The lad has cystic fibrosis and autism:
Unfortunately, Matt Hancock had to let all three ladies down gently. It was/is still too early to say.
Interestingly, Peston didn't ask a question on Tuesday. Perhaps he's miffed that Britons are getting their own very real concerns aired? As is said in the news trade: 'Developing …'
News emerged several days ago that human testing began at Oxford University on a vaccine for COVID-19. Suppose it succeeds, which we all hope it will. Will this be the sort of questioning the government will receive? Although humorous, it's not far off the mark. Click on image to enlarge:
Actually, something just as strange happened when the vaccine news was announced. A woman with a PhD, whom the media referred to as Doctor — implying a medic — appeared in the media. She said she would be ashamed if Oxford succeeded!
She was made to appear as if she were from the university, when, in fact, she's at what used to be the city's polytechnic, now called Oxford Brookes. They are two very different institutions:
It is not unusual for the BBC to interrupt any Conservative politician, whether on television or radio. On Friday, April 24, Matt Hancock appeared on Radio 4's Today programme:
The clip below shows ITV's Piers Morgan, co-host of Good Morning Britain, having a go at Matt Hancock, not even allowing him to finish a sentence. Breathtaking arrogance, and worth a watch:
Piers should clam up — and tone down his tweets. Good Morning Britain's ratings have been tanking during the coronavirus crisis (more here):
On April 16, during the daily coronavirus briefing, Channel 4's Alex Thomson asked if the government was trying to kill the elderly. Sitting at home viewing, my far better half and I were astonished. Guido Fawkes has the story:
At the more serious end of broadcasting, Channel 4 News' Alex Thomson last night was on a quest for culpability. His crass question at the Downing Street briefing basically accused Hancock and his advisers of choosing to kill off old people to prioritise protecting the young.
We stopped watching Channel 4 News years ago. It got too left-wing in its bias. Here's another example from Guido's article, involving Home Secretary Priti Patel (emphasis in the original):
Earlier in the week, Channel 4 News' reporter repeatedly demanded from Priti Patel an apology. This type of performance isn't holding power to account or about purely eliciting information. It is gotcha journalism and because journalists at the press conferences are asking their questions through the prism of establishing political culpability, they are getting defensive responses. It would be better to leave that to the opposition in parliament and leave the made-for-social-media infotainment to Piers. It might also arrest the dramatic drop in public confidence in the news media…
Therefore, is it any wonder that former Labour MP for Vauxhall in London tweeted:
Yes, there should be a root and branch review and reform of the alleged 'nation's most trusted' broadcaster. The annual licence fee per household is £145. It is a mandatory charge. As such, some Britons call it a tax.
I have a lot more to say about the media's handling of coronavirus. More to follow at some point.
Sooner than expected, I am writing about the Sandringham summit, held on Monday, January 13, 2020, to provide a way forward for the Duke and Duchess of Sussex in their disroyalty.
Present at Sandringham were the Queen and Princes Charles, William and Harry. Contrary to earlier reports, the Duchess, in Canada, did not participate via telephone. The Daily Mail reported that aides issued a brief statement to that effect:
The Sussexes decided that it wasn't necessary for the duchess to join.
Afterwards, the Queen issued a statement:
That would seem the most sensible solution.
No commercialisation of the Sussex titles, either. (I don't care what arrangements are in place at present.) The Queen issues titles, and they are not the property of recipients.
The Queen's statement reads as follows (emphases mine):
Today my family had very constructive discussions on the future of my grandson and his family.
My family and I are entirely supportive of Harry and Meghan's desire to create a new life as a young family. Although we would have preferred them to remain full-time working Members of the Royal Family, we respect and understand their wish to live a more independent life as a family while remaining a valued part of my family.
Harry and Meghan have made clear that they do not want to be reliant on public funds in their new lives.
It has therefore been agreed that there will be a period of transition in which the Sussexes will spend time in Canada and the UK.
These are complex matters for my family to resolve, and there is some more work to be done, but I have asked for final decisions to be reached in the coming days.
ENDS
Political pundit Guido Fawkes wrote, using a Brexit term (emphasis in the original):
Looks like an orderly transition to a Canada Plus model…
His readers, however, are sorely disappointed.
So am I.
However, the monarch is much wiser than her subjects. Her statement is probably not all it seems on the surface. She might want to take the venom out of events from the past week and let the wound begin to heal. She probably also wants to avoid a Princess Diana situation: different circumstances, granted, but the same reaction from certain quarters, which turned Prince Harry's mother into a martyr figure.
Whilst journalist and television presenter Piers Morgan was as disappointed as I, a few of his readers think the Queen could be playing the long game:
On Monday, January 13, British GQ posted an interview with Piers Morgan:
In 2017, Morgan supported Prince Harry's choice of future wife. He wrote an article for the Daily Mail: 'PIERS MORGAN: Hearty congratulations, Harry, you picked a real keeper'.
Excerpts follow from the British GQ article (emphases in purple mine).
Contrary to what he thought in 2017 and 2018, Morgan believes the Duchess is a threat to the monarchy:
GQ: You have engaged in some very personal and sometimes vicious arguments over Meghan and Harry over the past few days. Did you feel passionately about this before the news about them broke or did it just get out of hand?
Piers Morgan: I've felt strongly about this for about 18 months, ever since I could see the way the wind was blowing. The truth about Meghan Markle is that she's a social climbing piece of work and all the people rushing to her defence have not, I've noticed, had any personal dealings with her. The number of people she has used and then cut loose is long and illustrious and involves almost her entire family, most of her oldest friends, most of Harry's best male friends and now she's trying to extricate Harry from the royal family. I think she represents a clear and present danger to the future of the monarchy and I don't say that lightly. If you are going to have two renegade celebrity part-time royals bestriding the globe cashing in on their royal status, I think that could accelerate an atmosphere of republicanism that can be very dangerous to the existence of the monarchy. There are very important issues here and I think it's something people should be emotive about if they, like me, value the monarchy and the royal family.
He objects to the Sussexes wanting all the benefits of being Royals without having to put in any of the day-to-day duties:
I noticed you have focused on the Queen in these discussions.
The Queen's a 93-year-old woman who has been on the throne for over six decades – she's probably the most respected world leader of modern times. She's recently had to put up with a scandal involving her middle son, whom she's had to effectively fire; her husband is 98 and suffering serious health issues. So she's got enough on her plate without these two upstarts deciding they're going to rewrite the way the royal family conducts itself with their new agenda. Nobody wants a progressive royal family, nobody wants a woke royal family. This is entirely driven by Meghan Markle, who has turned Harry, I'm afraid, into a simpering doormat and the result is fairly cataclysmic. They want to leave the royal family on their terms where they get to keep all the good bits – the taxpayer-funded security and travel, the free mansion which was refurbished at our expense – but they don't want to do the Wednesday duty at a community centre in Stoke. That's not going to wash.
He explains why he changed his mind about the Duchess:
Do you think the mainstream media have been fair in their scrutiny of Meghan and Harry?
PM: Yes, I wrote a lot of very positive things about Meghan Markle. Then a number of stories began appearing about the way she had ghosted people. Look, I was a very minor ghosting. I thought we were good friends. She tweeted we were good friends – tweets she has now deleted. She was the one who reached out to me for media advice so I did and I thought we got on very well, but the moment she met Prince Harry, bang! And she's done that to many people. She is a social climbing cut-and-runner. I fear what will happen to Harry.
He says that what the Sussexes are doing is not what the Royal Family is about:
How do you think the future royal relationships will pan out and could it help the royals in the long run?
You can't be half royal and half not. You can't take public money and flog your status off to commercial entities. I don't see how this works. They are entitled to lead any life they want to lead, but they are not entitled to be a drain on the British taxpayer. Also, why is Meghan Markle a global star? It's because she married into the British royal family and I think the public will take a very dim view of somebody coming into our royal family for three years and then buggering off and fleecing everything off the back of her royal status. You can't be a part-time royal and not do the dirty work that goes with it. If they want to give up all their free stuff and pay for everything themselves then good luck to them, but even then if she makes tens of millions of dollars it won't be because of her acting work, it will be because she married Prince Harry.
In his Daily Mail column published the same day, Morgan listed the reasons why he went off the Duchess.
However, going back further, he cites his column on the Sussexes' wedding and reminds us of how much the British public looked forward to it (emphases mine):
From the moment Meghan Markle came on the royal scene, and it was revealed she was from a mixed-race background, she was welcomed with warm open tolerant arms by a wonderfully multi-cultural and diverse modern Britain that was thrilled to finally see a non-white member of the Royal Family.
She was showered with almost universal praise, especially when the engagement was announced.
The media, in particular, was unanimous in its verdict that this was a great thing for the country. In fact, I haven't seen a press so united in joy for anything royal since Diana first became Charles's girlfriend.
This extraordinary tidal wave of goodwill continued through to the big wedding in May 2018, which by common consent was a triumph.
As I wrote myself in the Daily Mail the following day, 'it mixed the best of traditional British pomp and majesty with large dollops of Markle Sparkle and the result was a biracial, Hollywood-fused union of very different cultures that worked magnificently well.'
True! People were thrilled. Royal fans lined the streets of Windsor that day, even if they had little hope of seeing the new Royal couple.
He is criticising the Duchess — and the Duke — for the following:
… her erratic conduct – and Harry's – since the wedding, which has been spectacularly ill-advised;
… hypocritical of Meghan to have a $500,000 celebrity-fuelled baby-shower party in New York, including a lift on George Clooney's jet, on the same day she and Harry tweeted a plea for people to think of the poor;
… they went to such ridiculous lengths to hide basic details of their baby Archie's birth from the public that pays for much of their lavish lives;
… appalling when Meghan's bodyguards stopped members of the same public taking her photo at Wimbledon;
… she refused to meet President Trump during his UK state visit, despite being the only American member of the Royal Family;
… dreadfully two-faced of her and Harry to preach about the need to watch every carbon-footprint, as they jumped on Sir Elton John's private jet every ten minutes;
… she ended a tour of poverty-strewn parts of South Africa by moaning about her own 'struggle';
… their incessant war with the media, throwing hysterical abuse-laden warnings and lawsuits out like confetti, so pathetically thin-skinned and self-defeating given how much positive press they've also enjoyed;
… the way they're treated the Queen so deplorable and cruel, given her age (93), the fact her 98-year-old husband Philip has been so ill, and the recent enormous stress she has suffered over having to fire her own son Andrew over the Jeffrey Epstein scandal …
He concludes, in part:
The reality is that Meghan and Harry have brought this ugly situation entirely on themselves …
Here is one more self-inflicted injury by the Sussexes:
The youngsters complaining about the media were too young to remember the press drubbing that the Duchess of Cambridge — Kate — received when she got engaged to Prince William. Her mother was also ridiculed for having been a former airline attendant. A few years ago, the Duchess and her mother were criticised for having young Prince George stay at the Middleton home now and then so that he could spend time with his maternal grandparents.
She got her media flak, but she rose above it. Now she can do no wrong:
As Morgan says:
That is definitely true.
Before then, there were Charles's girlfriends from the early 1970s, all roundly sniped at in the press.
Princess Anne was similarly criticised during the same time period.
So did Princess Anne's first husband. The media called him 'Foggy', not just once or twice but often. So often, in fact, that to this day, I do not remember his real name.
Before that, there was Princess Margaret — the Queen's sister — who suffered a barrage of negative press during her adult life, from the 1950s to her death in 2002.
Conclusion: Meghan Markle is NOT the only Royal who has ever been criticised in the media. Others suffered far worse for no compelling reasons at all.
More tomorrow on other commentators' reactions to the Sussexes.
In the meantime, for anyone compiling pub quiz stumpers, here's one for you:
Q. What was Prince Harry's last public engagement as a senior Royal?
A. The official draw at Buckingham Palace on January 16, 2020, for the Rugby League World Cup, which will be hosted in the UK in 2021.
Of course, that could well be subject to change in the years to come, but it's good for the time being.
A few years ago, we all had high hopes for Prince Harry and Meghan Markle.
Around the time of their wedding, it was thought that the Queen was going to make them Royal 'ambassadors' to the Commonwealth countries, which would have been splendid.
Now, their latest announcement on leaving the UK to live somewhere in North America — likely Canada — has divided admirers of the Royal Family, including the Duke and Duchess of Sussex.
This looks like disloyalty — perhaps disroyalty. It is not a good look.
This move reminds many of us of Edward VIII's abdication in 1936 in favour of the American divorcée, Wallis Simpson. Talk to any Briton who is over the age of 60 and, even if they were not alive at the time, they will tell you that abdication is a very big deal and destabilising for the Royal Family, even if only temporarily.
The former Ms Markle — real first name Rachel — is also a divorcée:
This is how the New York Post reported the story on Thursday, January 9:
Many of us hope that the Queen steps in and, along with Prince Charles, lays down the law to these two. They want to commercialise the Sussex titles. Yet, they are but temporary holders — renters — of them, not their perpetual owners. The Queen lent the Sussex titles to them. She can surely take them away.
Did the couple think this over carefully? One wonders. It will bring all sorts of issues:
Yes, things in future might not be all they seem at the moment.
The question of the public purse is also a valid one, mainly with regard to security, as they receive personal upkeep from Prince Charles (Duchy of Cornwall, 95%) and the Queen (Sovereign Grant, 5%):
The Queen had Frogmore Cottage on the Windsor estate refurbished for the Sussexes at the cost of £2.4m. She also threw a rightly lavish wedding for them, also costing millions. Now they want to split their time between the UK and Canada. This rankles:
This will be a hot topic in the months to come, even though the couple are not on the Civil List. The following is a reply to journalist and broadcaster Piers Morgan:
Then there are the family optics and dynamics involved. Views on these have been divided, especially with regard to the Queen and Prince Philip:
The Queen is our longest serving monarch and Britain's Head of State. She is a national treasure. Does Harry owe her more allegiance than he does his own family? It is a sensitive subject with the public:
It has been reported that Prince Harry did not discuss his and the Duchess's impending lifestyle change with the Queen, Prince Charles or Prince William. That has not gone down well with supporters of the Royal Family:
Some people say that Harry has an excuse for his behaviour because of the manner in which his mother died. However, as Piers Morgan points out, he is not the only person who lost a parent at an early age. Piers Morgan's father died when he was a youngster, too:
People forget that Princess Diana was Prince William's mother, too:
On now to the statement from the Sussexes, which they posted on their website and on Instagram:
January, 2020
"After many months of reflection and internal discussions, we have chosen to make a transition this year in starting to carve out a progressive new role within this institution. We intend to step back as 'senior' members of the Royal Family, and work to become financially independent, while continuing to fully support Her Majesty The Queen. It is with your encouragement, particularly over the last few years, that we feel prepared to make this adjustment. We now plan to balance our time between the United Kingdom and North America, continuing to honour our duty to The Queen, the Commonwealth, and our patronages. This geographic balance will enable us to raise our son with an appreciation for the royal tradition into which he was born, while also providing our family with the space to focus on the next chapter, including the launch of our new charitable entity. We look forward to sharing the full details of this exciting next step in due course, as we continue to collaborate with Her Majesty The Queen, The Prince of Wales, The Duke of Cambridge, and all relevant parties. Until then, please accept our deepest thanks for your continued support."
Their Royal Highnesses, The Duke and Duchess of Sussex
What about the carbon footprint??
Buckingham Palace issued this terse response:
Discussions with The Duke and Duchess of Sussex are at an early stage. We understand their desire to take a different approach, but these are complicated issues that will take time to work through.
Morgan, writing for the Daily Mail, said on Thursday, January 9 (emphases mine):
Seriously?
I've seen some disgraceful royal antics in my time, but for pure arrogance, entitlement, greed, and wilful disrespect, nothing has ever quite matched the behaviour of the 'Duke and Duchess of Sussex.'
I put inverted commas around those titles because I sincerely hope they won't exist much longer.
Indeed, if I were Her Majesty the Queen, I would unceremoniously strip Harry and Meghan of all their titles with immediate effect and despatch them back into civilian life.
These two deluded clowns announced yesterday they were quitting life as senior royals.
In a series of staggeringly pompous statements on their gleaming new Hollywood-style website, they laid down the law to the Queen and to the rest of us about exactly how things are supposedly going to work from this moment on.
To summarise, they want to stop being 'senior royals' with all the tedious duty that entails.
And instead, they now want to be a 'progressive' force within 'the institution'.
In other words, they want to be super-woke celebrities (with all the outrageous 'Do as we say not as we do' hectoring hypocrisy they've already brought to that status) who get to keep all the trappings of royal life without any of the hard, boring bits and the right to cash in on their status however they choose.
So, they want the glitz, the glamour, the splendour and the stupendous wealth….they just don't want to have to actually earn it.
What a pathetic joke.
He was appalled that the Sussexes took this decision independently:
It was shocking enough that Harry and Meghan didn't even have the courtesy to tell either Prince Charles, who they sponge off, or Prince William of their grandiose plans.
But it was absolutely appalling that they failed to notify the Queen.
This woman is not just Harry's grandmother, she's the Monarch for god's sake.
She has spent the past six decades on the throne and by common consent has served her people with magnificent grace, commitment, respect and skill.
Elizabeth II will go down in history as one of the greatest, if not THE greatest, monarchs.
Yet now, at the age of 93, and with her 98-year-old husband Prince Philip suffering ill health, she's had to suffer the repulsively rude indignity of being treated like a piece of insignificant dirt by her own spoiled brat grandson and his scheming, selfish D-list actress wife.
He discussed Edward VIII's abdication:
Of course, and very ironically, she is only Queen because her own uncle, Edward VIII, also fell under the romantic clutches of another American woman, Wallis Simpson, and felt compelled to resign as King.
That led to his brother George VI taking over, and when he died, his eldest daughter Elizabeth was crowned Queen in her mid-20s.
Now, after surviving a number of royal crises including the death of Princess Diana in 1997, Her Majesty faces another that could cause potentially irreparable damage to the Monarchy.
Yes, coupled with Prince Andrew's fall from grace last year, this development is very bad, indeed.
Timing is everything, it is said. This is excruciatingly poor timing.
When my generation were growing up in the 1960s and 1970s, our parents and teachers were appalled at our self-centredness. If I had a $1 for every time they said to us …
Me, me, me! That's all you ever think about: self, self, self!
… I'd be writing this from Monaco.
Yet, this is what the Sussexes are doing: thinking about self, self, self!
Piers Morgan agrees:
Unfortunately — but quite rightly — the goodwill previously accorded to them is likely to vanish quickly.
This is what they are attempting to fob us off with:
This is closer to the stark reality of the situation:
January 9 happens to be the Duchess of Cambridge's birthday:
It's a shame this news overshadowed what should have been a happy day for her.
Self, self, self!