You are currently browsing the tag archive for the 'police' tag.
Just as they did with their exposé of the parliamentary expenses scandal in 2009, The Telegraph's journalists have excelled themselves with their exploration of the Government's handling of coronavirus in The Lockdown Files.
Don't miss my first and second entries, which include reaction from sources elsewhere.
The Telegraph's focus on Friday, March 3, was on policing and quarantining holidaymakers.
Boris's sister speaks
Rachel Johnson, Boris's sister, wrote about how she and their father were tracked down during the pandemic in 'As police pursued my father during Covid lockdown, my lonely mother endured care home prison':
She talks about her brother's handling of the pandemic and her own views (emphases mine):
… I opposed lockdowns on a cellular level. Still do. I have to accept that ultimately schools were closed, the entire population pretty much incarcerated in their own homes, with our sick, vulnerable, frail and elderly people rotting in solitary for months and months on end, and it was all signed off by him.
And I admit that I've been cheered to see that the Hancock cache of WhatsApps – which The Telegraph, via Isabel Oakeshott, has done such a majestic public service in revealing – shows him in his truer colours when it came to all the generally pointless non-pharmaceutical interventions we had to put up with for far too long.
He was much more of a sceptic than a zealot, they show, often bounced into U-turns or Covid-sanitary fascism by being presented with selective fatality graphs and other data dashboards in order that he did what either Hancock or Cummings – gibbering control freaks, both – wanted.
She describes a visit from the police and being spied on by a national newspaper, ending with her mother's loneliness in isolation:
The plight of those in care homes fills me with the most unquenchable rage, even to this day. Many still have visiting restrictions and a Covid mentality. My widowed mother ended up in one, and even from June 2021 residents were isolated in their rooms for 10 days minimum if anyone in the home had tested positive.
Before June, though, my mother lived on her own with a carer. When I called her or Zoomed her, she would whisper: "I'm lonely." It broke my heart.
I continued to see her, even though she was not in my ludicrous "bubble" as she had a carer. I took her Christmas dinner in 2020. It was against the rules and the laws or whatever. In my view, that was immaterial.
Every Covid restriction broke the laws of nature, and nothing and nobody – and I mean nobody – was going to tell me not to see my mother on her last Christmas on Earth.
The price of freedom is eternal vigilance, and I completely support Isabel Oakeshott's bravery in showing us how the sausage of doom was made.
It must never, ever, happen again.
Boris's and Rachel's mother died in 2021.
Most of us in the UK remember the news story from November 2020 about the woman who attempted to take her mother out of a care home only to find that the police swarmed around them in a car park. Her daughter, Leandra Ashton, who filmed the incident, talked about what a painful moment that was for her mother and grandmother. Police arrested her mother and took her grandmother back to the care home. Dr Renee Hoenderkamp, a GP, is the other lady in the interview with GB News's Patrick Christys:
Dr Hoenderkamp shares her experience when she spoke to doctors who did not want to listen to her:
It should be noted that over the course of the pandemic, Dr Hoenderkamp changed her mind about coronavirus measures, e.g. masks. The first tweet is part of a long thread:
How Boris's libertarian instinct disappeared
On Thursday, March 2, we discovered how Boris changed his common sense attitude towards the pandemic in 'Lee Cain and James Slack – the media advisers who helped shape the decisions that changed our lives':
WhatsApp messages sent between Boris Johnson and his ministers show the extent to which media advisers were able to influence policy during the coronavirus pandemic.
In June 2020, for example, the then prime minister considered ending some lockdown restrictions early – but dropped the idea after "Slackie and Lee" said it was "too far ahead of public opinion".
He was referring to James Slack and Lee Cain, his two most important media advisers at the time. Here we take a closer look at the two former journalists who had the prime minister's ear.
The article says that Lee Cain was remarkably powerful in No. 10 in 2020:
Mr Cain's influence within Number 10 was such that when the Prime Minister was in hospital with Covid in April 2020, colleagues said – only half-jokingly – that Mr Cain was left "running the country".
His official role was as the then prime minister's director of communications. However, WhatsApp exchanges have shown that Mr Cain's remit went beyond advising on communications and involved helping to decide the policies themselves …
When Chris Heaton-Harris, then the rail minister, suggested to Mr Johnson in May 2020 that the border with France could be reopened, Mr Cain intervened.
He wrote: "Quarantine surely an essential part of any exit strategy – and opening up a flank to an entire continent would seem to leave a substantial hole. Public will think (rightly) we are potty. Overwhelming support for tougher action at our borders!!"
It was Cain who suggested kowtowing to Nicola Sturgeon on masks. He planted doubt in Boris's mind, saying that she might be right:
In Aug 2020, when Mr Johnson asked ministers and officials for their views on whether face masks were necessary in schools, Mr Cain told him: "Considering Scotland has just confirmed it will [impose them] I find it hard to believe we will hold the line. At a minimum I would give yourself flex and not commit to ruling it out …
"Also why do we want to have the fight on not having masks in certain school settings?"
His pivotal role in government raised eyebrows among some former colleagues who had not seen him as a high-flyer in his previous jobs.
Sturgeon's mask policy — later Boris's — came up Thursday night on GB News with Patrick Christys, Neil Oliver and Prof. David Paton lamenting how much damage it did to children:
The article says that Cain had previously worked for The Sun and The Mirror before going into public relations. He began working on the Vote Leave (Brexit) campaign in 2016, which brought him into contact with Dominic Cummings. Interestingly, he had previously applied to be part of the Britain Stronger in Europe campaign but lost out. He claimed he was primarily interested in a political career.
After the successful Brexit referendum result, Cain worked for Andrea Leadsom MP then for Boris when he was Foreign Secretary. Even after Boris resigned that post in the summer of 2018, Cain remained loyal, working for Boris without remuneration. He was confident great things were in store for him.
Ultimately, he ran afoul of Mrs Johnson and set up his own PR firm:
He left Downing Street, together with Mr Cummings, in Nov 2020 after losing what was widely regarded as a power struggle with Mr Johnson's wife, Carrie. He later set up his own corporate communications firm.
James 'Slackie' Slack was the third member of the trio who advised Boris on policy:
Along with Mr Cain and Mr Cummings, he was never far from the prime minister's side and his input helped to shape key decisions dictating people's freedoms.
Like the prime minister himself, Mr Slack had no background in science, behavioural psychology or even public relations – but Mr Johnson would rarely make a move without first consulting "Slackey", "Caino" and "Dom".
… It was he who updated the waiting world on Mr Johnson's condition as he fought for his life in intensive care.
Along with Mr Cain, he helped to shape lockdown policy by expressing concern that lifting restrictions too soon would be too far ahead of public opinion.
In a similar vein, he told ministers and advisers on March 8 2020 that the newly-imposed first national lockdown was out of kilter with public opinion.
He wrote that: "I think we're heading towards general pressure over why our measures are relatively light touch compared to other countries. Also why we aren't isolating/screening people coming back from Italy. We'll need to explain very calmly that we're doing what actually works."
The Telegraph has screenshots of various WhatsApp messages discussing coronavirus measures.
Slack entered the Downing Street orbit in 2016 when he was the political editor of the Daily Mail. Theresa May had just become Prime Minister and hired him in February 2017 to be her official spokesman in order to improve her public image.
After May's departure, Boris retained Slack:
regarding him as a safe, trustworthy pair of hands. Mrs May rewarded him for his loyal service to her with a CBE in her resignation honours list.
Slack got on well with reporters, which was another plus, then:
He briefly succeeded Mr Cain as No 10 director of communications – a political role, rather than a Civil Service posting – at the start of 2021.
His time in Downing Street ended soon afterwards:
Mr Slack's Downing Street career came to an unexpectedly shameful end, when The Telegraph revealed he held his leaving party in April 2021 on the eve of the late the Duke of Edinburgh's funeral.
Mr Slack, who had moved back into journalism as deputy editor of The Sun, issued a public apology for his behaviour.
Laughing at quarantined holidaymakers
Another pivotal personality in the pandemic was Simon Case, a career civil servant who worked for then-Prime Ministers David Cameron and Theresa May before taking a break to be Prince William's Private Secretary between 2018 and 2020.
As I recall, Prince William highly recommended Case to Boris Johnson. In August 2020, Boris appointed Simon Case as Cabinet Secretary and Head of the Home Civil Service. Case continues in that post today under Rishi Sunak.
In the UK, civil servants have long been called 'mandarins', which explains this story, 'Top mandarin mocked holidaymakers "locked up" in Covid quarantine hotel rooms'. It, too, has several screenshots of WhatsApp conversations.
The article begins:
Those unlucky enough to be caught up in Britain's pandemic-era quarantine hotel policy likened it to being held prisoner.
Messages seen by The Telegraph show that ministers and officials shared the sentiment and joked about passengers being "locked up" in "shoe box" rooms.
In February 2021, Simon Case, the country's most senior civil servant, was in WhatsApp contact with Matt Hancock, the then health secretary, as Britain began a forced quarantine for returning holidaymakers.
On February 16, 2021, Case asked Hancock how many people had been 'locked up' in hotels the day before. Hancock responded:
None. But 149 chose to enter the country and are now in Quarantine Hotels due to their own free will!
To which Case replied:
Hilarious
The Telegraph shared experiences from those quarantined:
Those on the receiving end of the quarantine policy described the misery of being held captive in tiny hotel rooms.
"It feels like I'm in Guantanamo Bay," one woman who was forced to spend 10 days in a government-approved hotel told The Telegraph at the time. "I honestly believe this would destroy most people's sanity."
Another furious traveller said: "It's total abuse. It has abused basically every single human right that we have."
In January 2021, Matt Hancock had convinced Boris as well as Case and other senior officials that toughening up travel rules with £10,000 fines was the way to go:
Mr Hancock said it was "BRILLIANT" when he saw reports of people being stopped by police at airports, while Boris Johnson, the prime minister, said news of a traveller being fined £10,000 for breaking quarantine rules was "superb".
The enforcement of the quarantine rules, including severe punishments for those who broke them, became a major priority for Mr Hancock in the next weeks …
The next month, Mr Hancock shared a story with Mr Johnson directly about two people who were fined £10,000 for failing to quarantine after returning to the UK from Dubai.
Officials had scrambled to put the quarantine policy together amid rising concern in the Government about positive cases slipping into Britain from "red list" countries.
Mr Hancock and Mr Case expressed concern that no single government department had control of the border, describing the situation as "mad" and something the prime minister needed to fix.
Later, doubt arose as to whether the quarantine policy actually worked:
The hotel quarantine policy itself has since been criticised in reports by two parliamentary committees, which said it wasted taxpayers' money without restricting the spread of Covid.
In a report last April [2022], the transport select committee that "using case numbers as an indicator, there is no evidence that the requirement for travellers from certain countries to quarantine at a hotel, rather than at a location of their choice, has improved the UK's coronavirus situation compared with other European countries".
In a submission to the public accounts committee, the Cabinet Office said the Government was unable to determine how successful the quarantine policy had been because "it is difficult to isolate the effects of one of a number of interventions from the other ones".
The committee concluded that the Government "does not know whether it achieved value for money from the £486 million that it spent implementing measures".
One tour operator tweeted his disgust at Case's and Hancock's cavalier response to quarantined passengers, which affected his own business and others:
Hancock encouraged heavy-handed policing
We knew from the beginning that Matt Hancock wanted police to get tough with normal people trying to survive the pandemic in 2020, but another article has more detail, '"Get heavy with police" to enforce lockdown, Matt Hancock told ministers'.
Here, too, Simon Case had some involvement. On August 28, 2020, he WhatsApped Hancock:
Blimey! Who is actually delivering enforcement?
Hancock replied:
I think we are going to have to get heavy with the police
The article explains:
The leaked messages also show that the pair again returned to their fears that police were failing to crack down on alleged lockdown breaches.
However, the police were heavy-handed from the beginning of lockdown in March 2020, with each police force in England deciding how far to go with fines and arrests:
Heavy-handed policing was one of the most controversial issues of the pandemic and saw members of the public fined for going for a walk with a cup of coffee, leaving home "without a lawful reason" and taking part in vigils and protests.
Many of the 118,000 fines were challenged in court and overturned, and officers were later criticised for "Orwellian" tactics that included the use of drones, roadblocks and helicopters to catch rule-breakers.
Meanwhile, in Downing Street, things were very different late in December 2020:
The Telegraph can reveal that Mr Johnson took the decision to create a Tier 4 alert level, effectively cancelling Christmas for 16 million people, while a lockdown party was taking place in the same building.
Timestamps on messages from Mr Case and Mr Hancock, who attended the meeting remotely, show that the "Covid-O" meeting to decide the policy coincided with a Number 10 Christmas party on Dec 18, 2020.
Fines subsequently reviewed
I was very happy to read on Thursday that all the fines issued at the height of the pandemic have since been reviewed, with many rescinded.
'How Covid turned Britain into a curtain-twitcher's paradise' tells us more:
Blameless citizens complained that a family get-together would merit a knock at the door from police, but that they showed no such interest if a burglary was reported.
By March 2022, police forces in England and Wales had issued 118,978 fixed penalty notices for breaches of Covid restrictions.
Fines were issued for uncovered mouths and noses in public places, for failing to self-isolate, for meeting too many friends at once, for having a picnic, for going home after entering the country, and much else besides.
Coronavirus regulations changed more than 60 times over the course of the pandemic, meaning many officers struggled to keep up with the latest iteration of the rules and fines were issued unlawfully.
At the time, senior police officers were understood to be concerned about what they were being asked to do. Having spent years building up trust with communities that were in some cases suspicious of the police, they privately expressed fears that long-term damage would be done to their ability to police by consent.
Early on in the pandemic, Derbyshire Police, which turned out to be one of the most draconian forces of the period, set the tone by pouring black dye into a Peak District beauty spot known as the Blue Lagoon to discourage people from going there for exercise.
The same force deployed drones to spy on people exercising away from their local area, and two women drinking coffee while on a walk together were fined £200 each after their hot drinks were deemed to be "a picnic".
Their fines were later withdrawn and they received an apology – but the damage was done as far as public opinion was concerned.
A report by HM Inspector of Constabulary in 2021 accepted that there had been "a reduced service" in some areas of policing as "some forces increased the number of crimes they decided not to investigate because they were unlikely to be solved" and reduced in-person visits to registered sex offenders …
The low point came in March 2021 during an open air vigil for Sarah Everard, the marketing executive who was abducted and murdered by an off-duty police officer, at which four people were arrested for breaching Covid regulations.
A High Court judge later found that police had breached the human rights of the organisers of the vigil, in particular the right to freedom of speech and assembly …
The House of Commons joint committee on human rights concluded that a "significant number" of fines had been wrongly issued, but that many people felt too intimidated to challenge them.
MPs were so concerned about the heavy-handed approach of some police forces, and the wildly differing interpretations of the rules across different forces, that the committee recommended a review of every fine issued.
It discovered that when people who had been issued with fixed penalty notices opted to take the matter to court, rather than simply paying the fine uncontested, the Crown Prosecution Service (CPS) found that around a quarter of the charges were incorrect.
Even more extraordinary was the CPS's disclosure, in 2021, that every prosecution brought under the Coronavirus Act had been unlawful.
The Act was set up to allow the authorities to detain any "potentially infectious" person who refused to take a Covid test, and a CPS review found that all 270 charges under the legislation had been withdrawn when they got to court, or overturned after innocent people were convicted.
However, the fine mentality has affected policing long-term:
There is evidence that this push for ever-greater numbers of fines for petty offences has permanently affected the police's mentality.
Chief Superintendent Simon Ovens, of the Metropolitan Police's Roads and Transport Policing Command, told a meeting of the London Assembly last year that Transport for London was targeting one million speeding prosecutions in the capital each year, compared with the 130,000 issued from fixed speed cameras in 2018.
Rather than targeting road safety and fewer deaths and injuries on the roads, the police were targeting enforcement – a reversal of the Peelian principle that success should be measured in a lack of crime, not an increase in arrests.
Lockdown — and Covid fines — also adversely affected courts:
Already facing an inevitable backlog of cases because of the closure of public buildings, courts found themselves dealing with the extra caseload generated by Covid fines when they reopened after lockdown.
In November last year, Max Hill, the director of public prosecutions for England and Wales, disclosed that almost 75,000 defendants were awaiting trial, up from 70,200 in August 2020, meaning the post-Covid backlog of cases has increased rather than being gradually reduced.
The Government's target is to reduce the waiting list to 53,000 cases by March 2025, which may seem unambitious – but even that target is in danger because of a squeeze on public spending, said Mr Hill …
Clare Waxman, the Victims' Commissioner for London, said the courts system was "still in crisis" and the delays were having a "devastating" effect on victims.
Former police chief objects to Government policy
During parliamentary debates on lockdown policing, the topic of enforcement arose occasionally. MPs who spoke up said that the police were often confused about what and when to enforce something related to the pandemic. Furthermore, were these actually laws or mere guidance?
On Friday, March 3, The Telegraph published an article on this subject, 'Former police chief rejects Matt Hancock's Covid "marching orders" in leaked WhatsApp texts':
After a meeting on Jan 10, 2021, shortly after another lockdown had begun, Mr Hancock wrote to Mr Case about a meeting in Downing Street with senior police officers on enforcement, with the message finishing by saying: "The plod got their marching orders."
Reacting to the latest exposé on Friday morning, Sir Peter Fahy, the chief constable of Greater Manchester Police between 2008 and 2015, said: "Lots of people in the police service won't be surprised at the tone of these remarks.
"They were faced with an unprecedented situation, this legislation was rushed out, it was confused, it had poor definitions in it, there was this constant confusion between what was legislation and what was guidance; often it seemed ministers themselves didn't understand the impact of the legislation."
Sir Peter suggested he would not have rolled over had he been called into Number 10 and told to get tough.
"No, the conversation would be 'sorry the legislation is not clear enough, the definitions are not clear enough, we're trying to do our best but you've not given us the powers to enforce the legislation'… I know those were the messages going back into Government as police were trying to do their best," he told BBC Radio 4's Today programme.
But the former officer of 34 years said "police were stuck in the middle" as some members of the public wanted stronger enforcement while others "felt it was turning into a police state".
Police forces were repeatedly criticised for being over-zealous during the Covid crisis, prompting Neil Basu, then the Met Police assistant commissioner, to warn in this newspaper at the time that "how we police this pandemic will be remembered for many years to come".
Nigel Farage targeted
In 'Can we lock up "pub hooligan" Nigel Farage, asked Hancock's team', we discover how they relented:
Matt Hancock's team asked if they could "lock up" Nigel Farage after he tweeted a video of himself at a pub in Kent, WhatsApp messages have revealed.
On July 4, 2020, the leader of the Brexit Party shared a video of himself drinking his "first proper pint in 103 days" at The Queens Head pub in Downe Village.
A fortnight earlier, Mr Farage had been filmed attending a Donald Trump rally in Tulsa, Oklahoma. At the time, anyone entering England from abroad was required to quarantine at home for 14 days or face a fine of at least £1,000.
Messages seen by The Telegraph have revealed that Mr Hancock asked his team to contact the Home Office to see whether they were "considering" pursuing Mr Farage for the apparent breach.
At 4.28pm that day, Mr Hancock messaged the "MH top team" WhatsApp group with a link to a Sky News report claiming Mr Farage had breached quarantine rules. "We need to discuss urgently", he said.
The group chat, which included his special advisers and senior officials, quickly sprang into action.
Jamie Njoku-Goodwin, at this time one of Mr Hancock's aides, replied: "Does he count as a pub hooligan? Can we lock him up?"
A senior civil servant also responded to ask whether he "needed anything" and suggested that this might be a matter for Priti Patel, then home secretary.
The police are operationally independent of the Home Office. Despite this, Mr Hancock instructed his team to contact Ms Patel's private office …
Three minutes later, Mr Njoku-Goodwin responded to say that he had "just spoken to HO [Home Office] spads". He said: "Sounds like we need to get PHE to do one of their 'spot checks' and prove that he isn't at home."
Mr Hancock then requested that Mr Farage's case was dealt with "like any other" and that any enforcement action was taken by the Home Office, not the Department of Health.
At the time, Mr Farage insisted he had not broken the rules because he had already completed the 14-day isolation period and tested negative, tweeting a photo of him in a pub with the caption: "Sorry to disappoint you. Cheers!"
But the former Ukip leader told The Telegraph on Thursday that he believes he was in fact in breach, saying: "If I was being honest with you, after the first set of lockdowns I wasn't really prepared for some little pipsqueak like Matt Hancock to tell me how to live my life, quite frankly.
"That photo was taken when I came back from America, on the day the pubs opened. It was pretty nip and tuck … which means I probably was in breach. I'm probably a Covidiot."
Mr Farage said he had three visits from the police during the pandemic. "The idea that headmaster Hancock was after me – I love it," he said.
Farage opened his March 2 GB News show with the story:
Piers Morgan another Government obsession
According to Isabel Oakeshott, to whom Hancock turned over 100,000 WhatsApp messages in compiling his Pandemic Diaries, Piers Morgan was another Government obsession, which I find strange as he was pro-lockdown, pro-masks and pro-vaccines at the beginning. Apparently, he changed his mind partway through:
Contrarian Prof Carl Heneghan speaks
Oxford physician and researcher Prof Carl Heneghan, a Covid contrarian, has been one of my heroes throughout the pandemic.
He wrote an article for The Telegraph's Lockdown Files about his experience with Downing Street in late 2020, 'I warned that second lockdown data was wrong — but I was ignored':
It was a Saturday morning when I was asked if I could Zoom into Downing Street for 1 pm.
I was in the midst of a morning shift in urgent care – having just walked out of a care home with a seriously unwell patient, I was a little flustered, to put it mildly.
My role has never been to make the decisions, but to ensure that the decisions are based on the best available evidence. In this case, though, it was vital that decisions affecting the whole of society were made on accurate information.
I work with a great team, who forensically look at the data and notice details that most overlook. We met daily, and it had become clear that the slides leaked to the BBC on estimated Covid deaths and that would later be presented at the government press conference were out of date and the reported deaths were way too high.
I spent Saturday informing advisers that there needed to be a better understanding at the heart of the Government.
While several others on that call were also trying to aid the understanding of the data, the message was clear – the Government was about to lock down again, based on the wrong information.
I couldn't help but think that the public won't forgive you when they find out they are being fed a narrative of fear based on untruths.
But nothing changed. By Saturday night, the Downing Street press conference went ahead. "Unless we act, we could see deaths in this country running at several thousand a day," said the PM. The second lockdown was announced that evening.
Heneghan contacted the health editor of The Telegraph who published an article shortly after the second lockdown was announced.
Heneghan also got in touch with Dr Raghib Ali, a new Covid Government adviser at the time:
He organised a second call with Downing Street late on Sunday.
The Lockdown Files reveal that the Prime Minister told his WhatsApp group that I'd said "the death modelling you have been shown is already very wrong", as it was out of date, having been drawn up three weeks previously.
However, it did not make a blind bit of difference:
By Nov 6,  Downing Street insisted the incorrect death toll data was "a mistake". The error in the graphs made the numbers too high, but by then it was too late to change course. The second lockdown had already begun. 
How terrible when a government cannot admit the greater mistake of lockdown.
Hancock still aggrieved by The Lockdown Files
Matt Hancock says he still feels betrayed by his former book collaborator, Isabel Oakeshott.
Since The Lockdown Files have appeared, someone posted this 2022 tweet of his wherein he says that even when data bring challenges, the final outcome is always better with them than without: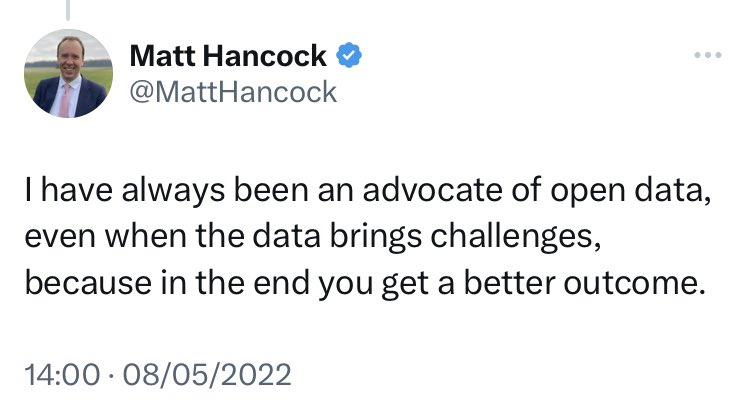 That's something he should keep in mind now, rather than licking his wounds.
On Thursday, Oakeshott told Hancock, via Julia Hartley-Brewer's TalkTV show, that this story is much bigger than he. It's about an entire nation's suffering:
Hartley-Brewer tweeted about Hancock and betrayal. She received an apposite response:
On Thursday afternoon, Oakeshott issued a formal statement on the betrayal issue, which is well worth reading:
Much in our nation could well take decades, if ever, to recover from — in my words — Hancock's disastrous and dictatorial policies.
However, GB News's Patrick Christys said that 'failings extended much further beyond Matt Hancock':
On Thursday, author Lionel Shriver told Jacob Rees-Mogg how sorry she feels for the many children adversely affected by lockdown. It was World Book Day. As such, many schoolchildren dressed up as their favourite literary characters:
The left hand WhatsApp exchange below shows what a farce it was to lock down an entire nation. The mortality rates were quite low overall. When the elderly died, most of them were well into their 80s. People under 35 rarely died. As for Edwina Currie, she single-handedly tanked Britain's egg market in the late 1980s with her salmonella scare:
No doubt, many of us could rail on and on about this. I have done over the past three years.
On the other hand, no words can express the betrayal we — and those in many other Western countries — experienced from elected representatives who are notionally our public servants.
More to follow next week.
On Saturday, February 11, 2023, GB News aired Charlie Peters's incredible 45-minute documentary, Grooming Gangs: Britain's Shame.
This is not easy viewing, but it is important to watch. Peters was able to interview victims and whistleblowers, mostly in Rotherham, but also in Rochdale and Telford — all in England:
Near the end of the documentary is a map of all the known towns in England — there are many — along with Glasgow where grooming gangs currently operate. If I had a still of it, I would post it. Most are in the north, but there are some in the Home Counties, too, such as leafy Wendover.
Imagine. Those are only the places known about. Some experts say that nearly every town in England has a grooming gang network.
Highlights
The following highlights from the documentary show what a serious problem this has been and continues to be.
Action was not taken because of the unique ethnicity of the perpetrators.
It should be noted that Rotherham and Rochdale, among others, have Labour councils.
Amazingly, whistleblower and youth worker Jayne Senior of Risky Business and concerned Rotherham council workers were told that the girls consented. According to English law, children cannot consent because they are not old enough to give informed consent:
Councillors in Rotherham and elsewhere knew what was going on but turned a blind eye. As I mentioned several days ago, Mark Steyn, now back in Canada, shone a spotlight on the grooming situation in Telford when he worked for GB News:
This is one of the cases Rotherham councillors knew about. Julie was 12 at the time. Her 'boyfriend' was 24. He and his mates took over her and her mother's life:
Julie's mother was terrified. The abusers were so intimidating that she felt she had no choice but to co-operate with them by allowing them in the house with access to her daughter:
Julie ended up being trafficked around the country at the whim of the gang. She ended up learning their Pakistani dialect. Two of the councillors who were briefed on her case were committee chairs but did nothing. They remain committee chairs today. One of them now heads Rotherham Council's Standards and Ethics committee:
Jayne Senior of Risky Business was shocked to learn of the Standards and Ethics committee appointment. A survivor called it 'a slap in the face':
Jayne Senior had a database of girls in Rotherham which she worked on in order to find a network of abusers. Someone unknown tampered with aspects of it.
In Rochdale, then-Detective Constable Maggie Oliver, who later retired to found the Maggie Oliver Foundation which helps victims of grooming gangs, said that her superiors told her that there was no evidence to prosecute — even though she had compiled plenty of incriminating evidence.
In every town investigated, grooming gangs treated their victims as subhumans. One was murdered. Another was raped with a broken bottle. One had petrol thrown on her with gang members lighting matches around her. Girls have been routinely tortured, gang raped, drugged, plied with strong drink, burnt — and more.
This is what Maggie Oliver had to say:
She says that, because they have been operating for decades now, grooming gangs know exactly what to look for when selecting a young girl as prey:
The following are current statistics from the Maggie Oliver Foundation:
It is very difficult for a young girl to extricate herself from the gangs.
Elizabeth, a Rotherham survivor, has a book coming out on March 31 about her harrowing experience. She was groomed by a woman who acted as a go-between with the gangs:
Samantha Smith from Telford, a long-time victim, was also in the documentary. She posts an assessment from a Rotherham victim — once one perpetrator has your number, they all have it — and adds that it is easier to treat victims as criminals rather than the perpetrators:
Samantha is now a columnist for The Telegraph, The Spectator and the Daily Mail.
If gang members treated their victims as subhumans, teachers, police and council workers did, too. Samantha said that she was made to feel as if it were her fault.
Home Office reports
There were three Home Office reports into the Rotherham scandal, which continues today.
Nothing happened as a result.
Jayne Senior says the council did not like the results of the reports:
As one newspaper reported, everything was ignored in order to 'preserve grubby political careers':
This thread discusses the Home Office reports and their findings:
Residential care workers also raised the alarm but were largely ignored:
The second and third reports from 2003 and 2006 went further than the first. Those reports revealed that criminality was clearly involved. Police and social work managers ignored them:
Rotherham Council did not want to know, either. Some councillors were in denial. Others thought it was a one-off problem:
Meanwhile, social services were becoming stretched with the numbers of victims coming forward:
Ethnicity was becoming an issue in these cases, but no one in authority wanted to acknowledge it:
No one wanted to open a powder keg. Whilst this is understandable, the problem of CSE — child sexual exploitation — will continue until this is tackled intelligently but thoroughly:
It should be noted that women were also targeted, some of whom acted as madams, by their landlords:
Rotherham's Labour council thinks that the city's designation as the 2025 Children's Capital of Culture will automatically heal all these wounds. Instead, townspeople think it is a sick joke:
Ultimately, there is a desparate need for an honest discussion:
GB News has two detailed reports on Rotherham Council's part in the scandal here and here.
Growing problem that political correctness won't stop
Charlie Peters did several interviews in the run-up to and after the broadcast of the documentary.
Here he says that girls are being ignored and that the authorities are too concerned about political correctness to do anything:
Indeed, Peters points out the problem with political correctness in the documentary:
He is correct in saying that there needs to be a 'national response' to grooming gangs:
Red Wall MP Robbie Moore of Keighley, which also has a grooming gang problem, agrees:
Rotherham's MP, Alexander Stafford, also a Red Wall parliamentarian, told Tom Harwood that he was not happy about councillors remaining in prominent positions. He thanked GB News for the documentary:
The scale is likely to be much larger than had been previously thought, says one solicitor (lawyer):
The statistics are horrifying:
One reason why is the increasing use of social media to lure vulnerable girls:
Home Office response
During last summer's Conservative Party leadership contest, Rishi Sunak said that he would tackle the problem of grooming gangs.
We haven't heard a peep since.
Home Secretary Suella Braverman's office said she was 'appalled' by the documentary's findings:
I won't hold my breath in anticipation.
Reaction
GB News presenters publicised the documentary, with some interviewing Peters.
Nigel Farage said it is a must-see:
Michelle Dewberry, originally from Hull, which also has a grooming gang problem, said the issue needs discussing:
It deserves a repeat showing, more than once:
Elsewhere, The Spectator's Ed West wondered where the moral outrage is over this problem. Note that where there is outrage, the authorities, including the Home Office, stomp on it quickly. More on Labour-run Knowsley at the end of the post:
And, across the Pond, columnist Rod Dreher says that there are lessons to be learned from this in the United States:
Last weekend's news
Knowsley, which is a Labour constituency near Liverpool, had a demonstration last weekend against Channel migrants being housed in local hotels. Families have become increasingly concerned about the safety of girls and women. One 15-year-old girl was propositioned by one of the hotel residents, who was clearly an adult. She recorded it and it went viral.
Unfortunately, the authorities and the media accused those at the peaceful protest of being far-right thugs. To be fair, the protest was later gate-crashed but probably not by the far-right. People dressed in black and wearing balaclavas infiltrated the event and became violent. Such types are likely to be from the far-left. Europeans call them black bloc. Americans call them Antifa.
In London, someone verbally lashed out at the Tate (pictured below) for holding a Drag Queen Story Hour. Again, this person was labelled far-right in the media. In light of the mad things happening in Scotland over sexual identity politics, people are worried.
The Telegraph's Alison Pearson voiced her objections to labelling: 'I'm sick of people with an ounce of common sense being labelled "far-right"':
She adds a third news story to the mix:
… we learn that four Afghan "boys" who arrived in small boats across the Channel last year have just been arrested in connection with the alleged rape of a 15-year-old girl at a school in Dover. So, are all of us who warned that there was a potential safeguarding issue around putting asylum seekers of indeterminate age into British schools still "far-Right"? 
She concludes:
If the Government and a liberal elite continue to stigmatise and silence working-class people for a perfectly rational reaction to policies which threaten their children and their communities then I'm afraid they must prepared to reap the whirlwind.
Are those who think this way far-Right? Or could it possibly be that we are just right?
Many will say that those who object are just right.
Take, for example, this February 14 verdict on a former grooming gang member from West Yorkshire. He walked free:
The defendant apparently has mental health issues. One wonders about his victim's mental health:
He did not serve any time:
One must take a moment to read the article on YorkshireLive. Excerpts follow:
A grooming gang member who was first arrested seven years ago has finally been sentenced – but has walked free from court.
Sayeed Hafeez was 23 when he took a 15-year-old girl to two beauty spots in West Yorkshire and had sexual activity with her. Bradford Crown Court heard the girl had already been groomed and abused by a number of other men who have previously been sentenced.
His Honour Judge Anthony Hatton said there was no evidence to suggest the girl had been "traded" to Hafeez, who is now 36, and it is not clear how they came to know each other. He said Hafeez had had sexual activity with the teenager at Cliff Castle and St Ives …
The court heard the prosecution could not point to anything that would suggest Hafeez, of Thomas Duggan House in Shipley, knew the girl was vulnerable.
Mitigating Taryn Turner told the court …
… the girl was "mature" at 15, and a photograph of Hafeez at the time seems to "reveal he was a much younger man still in college so perhaps the disparity in age is not so great as may be thought at first."
Again, we see the notion of a minor being able to consent. Wrong!
People should be highly upset about this — not only at the perpetrators but also at the authorities for doing absolutely nothing to stop the damaging, sometimes deadly, abuse of young girls.
Today's post concludes my three-part series on Mark Steyn's departure from GB News.
Find out why he left here. This post has more segments from his evening programme, which will be sorely missed.
What follows are clips from the best of the rest of his output for GB News.
Law and order
In 2021, the British public discovered that the police weren't much cop. They began being more interested in patrolling Twitter than investigating actual crime.
Over a year ago, on February 2, 2022, Steyn addressed this parlous state of affairs:
Nearly a week later, on February 8, Steyn pointed out that Labour's Sir Keir Starmer's record as Director of Public Prosecutions (DPP) wasn't exactly good. This editorial came on the back of then-Prime Minister Boris Johnson's accusation at the despatch box during PMQs that Starmer never did anything about BBC presenter Sir Jimmy Savile, since deceased, when two constabularies were investigating him for molesting minors. Labour took great offence at Boris's accusation. Nor did Starmer do anything about the grooming gang situation in Labour-controlled Rotherham when he was DPP:
On April 18, Steyn showed us the parlous police statistics for England and Wales. At the 51-second mark, we see that in less than 10% of cases was anyone charged or even summonsed. Meanwhile, London's Metropolitan Police were investigating Boris for get-togethers during lockdown. Steyn alleged that the Met were looking at each accusation of a party as a separate incident to boost their crime-solving figures. He was being semi-serious, but one can readily believe it:
On April 18, he informed us that, where some cases of multiple sexual assault by more than one person are concerned, the police now prefer something spurious called 'community resolution' to prosecution and sentencing. How would that apply to grooming gangs, one wonders. Dear, oh dear:
Channel migrants
On May 24, Steyn opened his editorial with all the notionally big political machinations going on: the investigation of Boris's partygate, the WEF at Davos and an ever-increasing 'big government'. He concluded that this was the 'death of democracy'. He then discussed the Home Office's plan to place 1,500 Channel migrants in a disused RAF base in tiny Linton-on-Ouse, pop. 700. Unbelievable.
The good people of this North Yorkshire village had been protesting the move for days. The migrants were scheduled to pole up on May 31. Steyn pointed out that the political class 'have everything' and 'you've got nowt':
Fortunately, the Home Office rode back on the decision. That wasn't Steyn's first mention of the village. It would be nice to think that his making it public forced the Government to backtrack.
On August 2, as tens of thousands of migrants had crossed the Channel in 2022 by that time, Steyn had a go at the Government's placing these undocumented people in decent hotels, rather than sending them back over the Channel:
Many of the arrivals from the Channel are Albanians. It seems that the UK is the only European country to admit Albanians crossing illegally. Other European countries refuse them entry. Albania is safe, so safe, in fact, that it is becoming a British tourist destination. Other GB News programmes reported last year that newly-arrived Albanians to the UK are quickly taking over the British drug trade.
On November 28, hundreds of Albanians blocked central London to celebrate Albanian Independence Day. The broadcast video was extraordinary. The Met did nothing, while a load of posh cars paraded in a convoy around the main streets near Parliament. Albanian women in their native dress danced around the cars. Traffic was at a standstill.
On November 29, Steyn said that he had to abandon the taxi he was in to walk to the GB News studio. He criticised MPs for doing nothing about the numbers of Albanians coming here illegally. They were at that time, the majority of the Channel crossers. He also criticised the police for closing a bridge near Parliament rather than breaking up the convoy. Steyn said:
The useless political class have wrecked your country, and they're not done yet.
Conservative Party
During the Conservative Party leadership campaign in July, Steyn interviewed Lord Frost, whom many want to renounce his peerage and throw his hat into the ring one day. (He would need to become an MP first or Party rules would need to be changed.) He is a proper Brexiteer and an unabashed Conservative in the best of ways.
Steyn interviewed the life peer on July 11:
Highlights follow.
Steyn said that the Party has lost its way. Frost and Steyn align on what should matter to true Conservatives:
Lord Frost said that stopping the Channel crossings was paramount:
Perhaps one day he will renounce his peerage and run as a Conservative candidate for Parliament:
Platinum Jubilee
On June 1 and 2, Steyn devoted parts of his show to the Queen's Platinum Jubilee.
Here's the full show. At 49 minutes in, he discusses Australia's new Prime Minister who installed an 'Assistant Minister for the Republic'. Not surprisingly, Steyn is critical, as is The Spectator's Australian editor Alexandra Marshall, who was appalled that the appointment was made just before Platinum Jubilee weekend. Marshall said that no mention of a republic was ever made during the general election and that most Australians are shocked by the move. She says that politicians 'do not deserve any more powers than the ones they already have':
Before that, Steyn interviewed The Conservative Woman's Laura Perrins. Although she has lived in England for many years, she is still Irish to her core and couldn't get excited about the Jubilee. Steyn was disappointed:
On June 2, Steyn paid a splendid tribute to the Queen in his editorial:
Social issues
On December 22, 2021, Steyn interviewed the Revd Will Pearson-Gee, an Anglican priest who said that, in the event of another lockdown, he would not be closing his church at Christmas:
I do not have that interview, but it does give me a chance to once again share the priest's passionate declaration that his church would remain open. In the event, he didn't have to worry about another lockdown, thanks to 101 rebel Conservative MPs:
That same evening, Steyn took exception to the 'man' who had a baby and refused to be called 'mother':
On April 6, 2022, Steyn criticised British politicians who refused to define a woman out of fear. Earlier that day, GB News's Ben Leo had interviewed several MPs on the subject. Some didn't answer. Others ran away. Well worth watching:
On April 27, Steyn had an excellent editorial on whether going to university is a good idea for everyone. Back in the 1990s, then-Prime Minister Tony Blair said that 50% of British students should go on to higher education. Currently, Steyn says, 53% now attend university. However, Blair said last year that 70% of Britons should now go to university. Steyn counters the argument by saying that, in the 20th century, the vast majority of Americans left school at the age of 13 and went on to achieve great things. Steyn poured cold water on the 'achievement' aspect of university, saying that so many are still students at the age of 28 and are working as baristas rather than in high-level employment. Furthermore, university now leaves British students in debt, so they are unable to get married and start families. As a result, British demography is suffering with an ageing population.
He is so right:
A Canadian lady, Yasmine Mohammed, appeared several times early in 2022. She discussed her time in al-Qaeda and deplored the fact that Western nations seem to bend over backward for radical philosophies. She concluded that radicals and Islamicists share the same goal, which is to bring down the West:
Dutch farmers
Until I watched Mark Steyn, I had no idea that the Dutch government wanted to seize farms in the Netherlands.
The legal philosopher, as she calls herself, Eva Vlaardingerbroek, appeared many times to keep Mark and his audience apprised of the situation.
On July 11, Eva explained why the Dutch farmers were actively protesting:
Dutch Prime Minister Mark Rutte says there is a nitrogen crisis exacerbated by farming. That idea came from the EU. Dutch farmers are some of the world's greenest in their innovations, but Rutte wants them to turn their farms over to the government.
On August 1, Eva pointed out the danger that such a move poses to individual freedom — the right to own property and to work productively as one wishes:
On December 14, for the first time, GB News's ratings overtook those of the BBC, with Sky News in third place!
Eva expressed her delight in being part of Mark Steyn's programme:
On February 6, 2023, she expressed her disgust at GB News for Steyn's departure. It should be noted that the channel's CEO has changed his own Twitter account to 'private':
Meanwhile, Eva continues campaigning for Dutch farmers.
Unfortunately for them, Mark Rutte's government is winning. This video is from February 3:
On February 8, she said in an interview that the government intends to purchase 3,000 farms by the end of the decade. Who will supply the food?
The next major farmers protest will take place on March 11 in the Hague. I wish these men and women well in their fight:
Mark Steyn update
On February 7, Press Gazette accused Steyn of launching a 'tirade' against Ofcom:
The telecoms regulator currently has two investigations open into GB News, both relating to claims around the safety of Covid-19 vaccines made on The Mark Steyn Show, which aired at 8pm on Mondays to Thursdays.
No fines have been levied against the broadcaster at present, nor any adverse rulings made against the television channel. (GB News Radio did breach a broadcast rule in March 2022 when it failed to give a full list of candidates standing in a by-election.)
Press Gazette understands Steyn has to date been presenting for GB News in a freelance capacity, and had been in negotiations for a permanent contract.
However, it appears the channel has struggled to get Steyn to comply with Ofcom's requirements under the Broadcasting Code.
In a video published to his website on Monday, Steyn referred to an instance in which, ten minutes before going on air, he had a back and forth with the channel's editorial compliance officer that ended with him calling them "Ofcom's bitch" …
It is unusual for a publisher to ask a staff member to accept the costs of a regulatory or legal sanction. It is unclear from the language in the clause whether Steyn would have automatically had to accept liability for the fines or if GB News was reserving the right to pass him costs.
Steyn said in the video: "I'm on the hook there for Ofcom fines – but, and this is the important point, I don't have any say in our defence against an Ofcom complaint. That's all done by GB News. So Ofcom's bitch, as I call the compliance officer, will be making the weedy, wimpy defence to Ofcom, and then I'm the one who has to pay the £40,000 fine or whatever it is."
Steyn went on to say "Ofcom is making a big move to take over the planet at the moment" in connection with the Online Safety Bill.
Asked about Steyn's accusations, a GB News spokesperson said: "GB News takes Ofcom compliance extremely seriously. All our presenters are expected to comply fully with the Broadcast Code and there are no exceptions.
"This does not impinge on our ability to ask tough questions, express strong opinions, and debate the issues that matter to the people of Britain."
Now comfortably back in Canada, Mark has relaunched his online show with his usual guests:
GB News viewers will miss the beauty of Eva Vlaardingerbroek, Alexandra Marshall and Leilani Dowding:
That episode can be found here.
Follow Mark Steyn and his shows here and here. He's also on Twitter.
Steyn's 'Stats Man' Jamie Jenkins will be watching — and contributing. Excellent:
In closing, The Conservative Woman's Laura Perrins is also dismayed by Steyn's departure:
She is not wrong.
GB News made a huge mistake. Let's hope they can limit the damage this will cause them.
End of series

This week, Big Brother Watch's Ministry of Truth exposé states how UK Government agencies tracked social media accounts of certain well-known Britons during the coronavirus pandemic to monitor opinions.
One of the Twitter accounts involved belongs to a publican who had not yet begun appearing on television.
2020: online dissent, abuses of power

Before going into that story, here are bookmarks I had filed under 'Ministry of Truth'. It would seem that the name relates to a Twitter account which has since been renamed. This person has nothing to do with the aforementioned exposé, but the tweets reflect what was already on people's minds.
Interestingly, all of these relate to the pandemic.
Looking back to April 2020, three weeks after the UK locked down, people were already discussing the egregious nature of lockdown and suspicion about any vaccine.
This is an informal poll asking what percentage of global deaths justifies a lockdown:
Nearly 80% of people did not wish to take a coronavirus vaccine, should one be developed:
By April 13, police were already entering people's properties. In this case, there was no party going on, but the abuse of power was shocking:
The video went viral:
On April 24, 2020, Tony Blair's Institute for Global Change suggested that state surveillance was 'a price worth paying' to stop coronavirus. Shocking:
By the end of April, we discovered that the WHO had coined the expression 'New Normal' on June 7, 2019:
In June 2020, despite lockdown in force, protests took place. In London, Metropolitan Police officers ran away from protesters after being pelted with objects:
2023: Ministry of Truth
On Saturday, January 28, 2023, Big Brother Watch sent an advance copy of their report to the Mail, which reported (emphases mine):
A shadowy Army unit secretly spied on British citizens who criticised the Government's Covid lockdown policies, The Mail on Sunday can reveal.
Military operatives in the UK's 'information warfare' brigade were part of a sinister operation that targeted politicians and high-profile journalists who raised doubts about the official pandemic response.
They compiled dossiers on public figures such as ex-Minister David Davis, who questioned the modelling behind alarming death toll predictions, as well as journalists such as Peter Hitchens and Toby Young. Their dissenting views were then reported back to No 10.
Documents obtained by the civil liberties group Big Brother Watch, and shared exclusively with this newspaper, exposed the work of Government cells such as the Counter Disinformation Unit, based in the Department for Digital, Culture, Media and Sport, and the Rapid Response Unit in the Cabinet Office.
But the most secretive is the MoD's 77th Brigade, which deploys 'non-lethal engagement and legitimate non-military levers as a means to adapt behaviours of adversaries'.
According to a whistleblower who worked for the brigade during the lockdowns, the unit strayed far beyond its remit of targeting foreign powers. 
They said that British citizens' social media accounts were scrutinised – a sinister activity that the Ministry of Defence, in public, repeatedly denied doing.
Papers show the outfits were tasked with countering 'disinformation' and 'harmful narratives… from purported experts', with civil servants and artificial intelligence deployed to 'scrape' social media for keywords such as 'ventilators' that would have been of interest.
The information was then used to orchestrate Government responses to criticisms of policies such as the stay-at-home order, when police were given power to issue fines and break up gatherings. 
It also allowed Ministers to push social media platforms to remove posts and promote Government-approved lines.
The Army whistleblower said: 'It is quite obvious that our activities resulted in the monitoring of the UK population… monitoring the social media posts of ordinary, scared people. These posts did not contain information that was untrue or co-ordinated – it was simply fear.'
Last night, former Cabinet Minister Mr Davis, a member of the Privy Council, said: 'It's outrageous that people questioning the Government's policies were subject to covert surveillance' – and questioned the waste of public money.
Mail on Sunday journalist Mr Hitchens was monitored after sharing an article, based on leaked NHS papers, which claimed data used to publicly justify lockdown was incomplete. An internal Rapid Response Unit email said Mr Hitchens wanted to 'further [an] anti-lockdown agenda and influence the Commons vote'. 
Writing today, Mr Hitchens questions if he was 'shadow-banned' over his criticisms, with his views effectively censored by being downgraded in search results. 
He says: 'The most astonishing thing about the great Covid panic was how many attacks the state managed to make on basic freedoms without anyone much even caring, let alone protesting. 
Now is the time to demand a full and powerful investigation into the dark material Big Brother Watch has bravely uncovered.'
The whistleblower from 77 Brigade, which uses both regular and reserve troops, said: 'I developed the impression the Government were more interested in protecting the success of their policies than uncovering any potential foreign interference, and I regret that I was a part of it. Frankly, the work I was doing should never have happened.'
The source also suggested that the Government was so focused on monitoring critics it may have missed genuine Chinese-led prolockdown campaigns.
Silkie Carlo, of Big Brother Watch, said: 'This is an alarming case of mission creep, where public money and military power have been misused to monitor academics, journalists, campaigners and MPs who criticised the Government, particularly during the pandemic.
'The fact that this political monitoring happened under the guise of 'countering misinformation' highlights how, without serious safeguards, the concept of 'wrong information' is open to abuse and has become a blank cheque the Government uses in an attempt to control narratives online.
'Contrary to their stated aims, these Government truth units are secretive and harmful to our democracy. The Counter Disinformation Unit should be suspended immediately and subject to a full investigation.'
A Downing Street source last night said the units had scaled back their work significantly since the end of the lockdowns.
The Mail's article also has the 77th Brigade member's full disclosure as well as Peter Hitchens's first-hand experience from that time.
It is ironic that a Conservative MP, Tobias Ellwood, is part of the 77th Brigade, which monitored another Conservative MP, David Davis:
Toby Young, also monitored, featured the Mail's articles on his website in 'The 77th Brigade Spied on Lockdown Sceptics, Including Me'.
He pointed us to a Twitter thread from Dr Jay Bhattacharya, one of the signatories of the Great Barrington Declaration, which the Establishment panned worldwide:
On Sunday, January 29, Spiked had a tongue-in-cheek title to their article on the exposé, 'Warning: sharing a spiked article could get you in trouble with the government':
Today, a report by Big Brother Watch has revealed the alarming lengths the UK government went to in order to hush up its critics. We now know that three government bodies, including a shady Ministry of Defence unit tasked with fighting 'information warfare', surveilled and monitored UK citizens, public figures and media outlets who criticised the lockdown – and spiked was caught up in that net.
This mini Ministry of Truth was composed of the Rapid Response Unit (RRU) in the Cabinet Office, the Counter Disinformation Unit (CDU) in the Department for Culture, Media and Sport and the army's 77th Brigade. The 77th Brigade exists to monitor and counter so-called disinformation being spread by adversarial foreign powers. But, as a whistleblower from the unit told Big Brother Watch, 'the banner of disinformation was a guise under which the British military was being deployed to monitor and flag our own concerned citizens'. The other bodies worked together to monitor 'harmful narratives online' and to push back on them, by promoting government lines in the press and by flagging posts to social-media companies in order to have them removed.
The public figures targeted by these shadowy units included Conservative MP David Davis, Lockdown Sceptics founder Toby Young, talkRADIO's Julia Hartley-Brewer and Mail on Sunday columnist Peter Hitchens. All of whom had warned about the consequences of lockdown and had raised questions about the UK government's alarmist modelling of the virus.
Documents obtained by Big Brother Watch, using subject-access requests, reveal that Peter Hitchens was flagged for, among other things, sharing a spiked article. A cross-Whitehall disinformation report from the RRU in June 2020 notes that, 'The spiked article was shared on Twitter by Peter Hitchens, which led to renewed engagement on that specific platform'. The RRU also monitored the level of public agreement, noting that 'some highly engaged comments' agreed with the article, while others were critical …
We desperately need a reckoning with lockdown, and with the lockdown on dissent that accompanied it.
Big Brother Watch announced their report with a summary of highlights, 'Inside Whitehall's Ministry of Truth — How secretive "anti-information" teams conducted mass political monitoring'.
Read that if you do not have time to peruse their full report.
Guido Fawkes also summarised the report on Monday, January 30:
Millions of pounds of taxpayer's money went into this egregious surveillance. Imagine inadvertently paying to have yourself monitored by the state:
Unbelievable.
Will anything come of this? I certainly hope so, but I doubt it.
On Thursday, February 2, David Davis asked about Peter Hitchens during Cabinet Office questions:
David Davis: In 2020 we have evidence that the Cabinet Office monitored the journalist Peter Hitchens' social media posts in relation to the pandemic. In an internal email the Cabinet Office accused him of pursuing an anti-lockdown agenda. He then appears to have been shadow- banned on social media. Will the Minister confirm that his Department did nothing to interfere with Hitchens' communications, either through discussion with social media platforms or by any other mechanism? If he cannot confirm that today, will he write to me immediately in the future to do so? (903428)
Mr Speaker: Who wants that one?
Jeremy Quin (Cabinet Office Minister): It is a pleasure to take it, Mr Speaker. I thank my right hon. Friend for his question. He referred to the rapid response unit; what it was doing during the course of the pandemic was entirely sensible—trawling the whole of what is available publicly on social media to make certain we as the Government could identify areas of concern particularly regarding disinformation so that correct information could be placed into the public domain to reassure the public. I think that was an entirely reasonable and appropriate thing to do. I do not know about the specifics that my right hon. Friend asks about; I would rather not answer at the Dispatch Box, but my right hon. Friend has asked me to write to him and I certainly will.
They have an answer for everything.
Let no one think that Labour would have done anything differently. Labour fully supported the Government on everything coronavirus-related and said they would have gone further.
It's hard to know where to begin with this year's Christmas news, much of which is disappointing, to say the least.
That said, there is a bright Christmas message here, so please read on.
Scotland legislation latest
On Thursday, December 22, the Scottish Parliament — or Assembly, as I still call it — passed legislation for Gender Recognition Reform, specifically to grant Gender Recognition Certificates (GRCs).
The bill passed in the SNP-controlled government 86-39 with no abstentions. Only two Conservative MSPs voted for it. The rest were SNP (Scottish National Party), Scottish Greens (SNP coalition partners), Scottish Labour and Scottish Liberal Democrat MSPs.
The final contributions were largely made on the basis of feelings. Wednesday's transcript shows that every Conservative motion proposing greater controls over who can apply for a GRC and under what conditions was defeated. Debate had also taken place on Tuesday in an attempt to rush this through before Christmas break.
The Scottish Parliament thought this so important that it even cancelled their annual Christmas carol service, which, this year, was to feature Ukrainian refugees living just outside of Edinburgh.
A pro-independence — though not a pro-SNP — Scot who lives in England, the Revd Stuart Campbell, summed up the legislation in one of his Wings Over Scotland posts, 'On the hush-hush' (emphases mine):
The last few days have been perhaps the most turbulent in the entire history of the modern Scottish Parliament. Proceedings have been suspended repeatedly, members of the public thrown out and threatened with arrest, filibusters attempted, carol services cancelled, tempers frayed and sittings going on until the wee small hours.
All of this has happened in the service of the policy that the SNP has made its flagship priority for the last two years and more – the destruction not only of women's rights, but of the very CONCEPT of a woman …
So you'd imagine the party would have been tweeting about it constantly, keeping its supporters informed about all the dramatic events and the progress of the bill, if only to reassure them that they were determined to get it passed before the Christmas break come what may …
But there wasn't one solitary word about the thing it just spent three solid days forcing into law. And since it was a thing that most of its own voters, and indeed a huge majority of all Scots, were opposed to, readers might be forgiven for thinking that they just wanted it all kept as quiet as possible, as if they were ashamed.
We suspect, and very much hope, that their wish may not be granted.
The Revd Mr Campbell means that the Secretary of State for Scotland in Westminster might refuse to present the Bill for King's Assent. Let's hope so.
Another Wings over Scotland post explains what the Bill actually does:
… one of the most regressive, dangerous and frankly absurd pieces of legislation the modern world has ever seen. Last week, [First Minister Nicola Sturgeon's] government successfully managed to get the word 'woman' redefined from an adult human female to anyone to who has a piece of paper that says they are one.
Should obtaining this piece of paper involve a rigorous, measured process that takes psychological and criminal history into serious consideration and prioritises the safety of women and children, this would be permissible to the socially liberal. Alas though, the new GRA has shamelessly scrapped all safeguarding measures. For a man to legally become a woman now – and be entitled to access all female-only facilities, be it changing rooms or prisons, all he has to do is 'live as' a woman (whatever the hell that means) for three months followed by a three-month 'reflection period'.
TRA-adjacent politicians have nowhere to hide with this now. They can no longer deny that sex-based rights will be grievously compromised and that predators and fetishists now have ease of access to women (and children's) spaces, from bathrooms to sports teams.
In another post, Campbell linked to Tuesday's proceedings where a Conservative MSP tried to raise an amendment calling for greater scrutiny of sex offenders wishing to change gender. Unfortunately, 64 SNP/Green/Lib Dem MSPs voted it down. In 'The Disgraces of Scotland', Campbell wrote:
The events marked simply and unquestionably the most shameful and contemptible moment in the history of the Scottish Parliament since 1707.
1707 was the year when the Act of Union was established between England and Scotland.
He also pointed out that voting down the amendment resulted in:
ceding the moral high ground to the Scottish Conservatives …
Anyone who knows the Scots knows that anything Conservative is unpopular there. That said, the Scottish Conservatives are the official opposition party in Edinburgh.
It should be noted that anyone aged 16 1/2 and over can apply for a GRC. It would appear that no formal medical diagnosis will be required with this new legislation.
Campbell's readers have much to say on the matter. Some say this is a deleterious influence from American pressure groups. Others say that women will be in great danger.
Both are likely possibilities.
None of the MSPs supporting the Bill thinks that women will have any problem with sex offenders or deviants. However, a British substack begs to differ. 'This Never Happens' is a lengthy catalogue of gender-changers around the world who have committed horrific crimes, many of a sexual nature. Another site with a similar catalogue can be found here.
It is ironic that a woman is in charge of Scotland and she has overseen this legislation. In fact, she has supported it from beginning to end.
Scotland, like Canada, was such a beautiful country once upon a time. When I say 'beautiful', I'm referring to people. Another spirit — the devil — is moving through both nations.
One positive outcome is that the Scottish Conservatives can use this legislation to their advantage during the next election cycle. Unlike the SNP, Scottish Labour and Scottish Lib Dems, they alone voted en masse against it, showing that they are the true defenders of women and girls.
An UnHerd columnist, Joan Smith, says that this will come soon to England, should Labour win the next general election:
The man sitting next to you on a tram in Edinburgh, or turning up for a women-only swimming session, may self-identify as a woman — and the law will support him every step of the way. Centuries-old assumptions about what is real, about what people see in front of them, are being overturned. And it's coming to Westminster as well, if Sir Keir Starmer follows through on his proposal to 'update' the 2004 Gender Recognition Act.
We have less than two years before a Labour government comes to power, weighed down by promises to import the idiocy (I'm being polite here) of self-ID to the rest of the UK. Two years, in other words, to watch what happens when politicians reject biology, common sense and the imperative to protect women against male violence. 
In the meantime, prisons, hospitals and refuges outside Scotland will face the headache of what to do when a man with a Scottish Gender Recognition Certificate (GRC) — obtained with far fewer safeguards than elsewhere in the UK — demands access to women-only spaces. The prospect of expensive litigation is terrifying, but women's organisations on both sides of the border are already preparing for the fight of their lives.
So crazed are MSPs by this ideology that on Tuesday evening they voted down an amendment that would have placed barriers in the way of convicted sex offenders who seek to apply for a GRC, complete with a new female name. They even rejected an amendment — proposed by Michelle Thomson, an SNP MSP who has waived anonymity to reveal her own experience of being raped when she was fourteen years old — that would have paused the process of acquiring a certificate for men charged with sexual offences.
This is an extremely troubling development. Let's not forget that the SNP-Green government has pressed ahead with the legislation even after Lady Haldane's judgment established last week that a GRC changes someone's legal sex for the purposes of the 2010 Equality Act. Scottish women are now expected to accept that any man standing in front of them, waving a piece of paper, is a woman — even if they're in court and the man is accused of raping them. 
It's clear that a bill that was supposedly purely administrative has hugely expanded the number of individuals who can apply for a GRC, with catastrophic effects on women's rights.
The rest of the UK is about to find out what it's like living alongside a country in which observable sex no longer has any meaning. Welcome to Scotland, where the word 'woman' will now soon include any man who fancies it.
Conservatives in England and Wales can take heart from this for the general election in two years' time, pointing to their colleagues north of the border. Who are the great defenders of women and girls? It certainly won't be Labour.
Woman arrested for silent prayer
On December 6, a pro-life supporter from Worcestershire was arrested for praying silently in Birmingham in an exclusion zone around an abortion clinic.
Here is the video of her arrest:
A fundraiser is open for her:
BirminghamLive filed their report on Tuesday, December 20:
A woman has been charged with breaching an exclusion zone outside a Birmingham abortion clinic. Isabel Vaughan-Spruce, aged 45, from Malvern in Worcestershire, was arrested near the BPAS Robert Clinic in Kings Norton on December 6.
She was later charged with breaking a Public Space Protection Order, said by Birmingham City Council to have been introduced to ensure "people visiting and working there have clear access without fear of confrontation". Vaughan-Spruce will appear at Birmingham Magistrates' Court on February 2 next year.
A West Midlands Police spokesperson said: "Isabel Vaughan-Spruce, aged 45 from Geraldine Road, Malvern, was arrested on December 6 and subsequently charged on December 15 with four counts of failing to comply with a Public Space Protection Order (PSPO). She was bailed to appear at Birmingham Magistrates Court on February 2 2023."
The police must feel threatened by prayer, especially that of the silent sort.
On Friday, December 23, UnHerd 's Mary Harrington gave her thoughts on the arrest:
It's customary in these situations to decry the breach of liberal norms involved in arresting someone not for doing something wrong but merely thinking. But if, as I've suggested elsewhere, all politics is now post-liberal, that means it's once again explicitly the case that state power is aligned with a widely-shared moral order. 
This is a drum I've been banging for a little while, for contra the fond imaginings of some liberals we never really stopped ordering power to sacred values. After all, it's not really possible to have a functioning polity otherwise. This, I argued shortly before the pandemic, is why hate crime laws appeared a scant few years after the abolition of blasphemy laws: they are blasphemy laws. We've just updated what we considered blasphemous …
…  Vaughan-Spruce's arrest makes it clear that the zone surrounding an abortion centre is treated as sacred in a way that's evidently no longer meaningfully the case (at least as far as the European court is concerned) of a church. She is an activist and director of March for Life UK, and has been previously arrested for protesting against abortion. But this in no way diminishes the growing sense that the activity being protected is also increasingly treated as sacred …
We have sacralised autonomy to such an extent that laws uphold women's right to it, even at the cost of another radically dependent life. And the issue is growing ever more moralised, as evidenced by the fact that even thinking disapproving thoughts about this radical commitment to individual autonomy is now treated as blasphemous, in zones where its most extreme sacrifices are made. 
Wherever you stand on the practical issues surrounding abortion, this is indisputably a profound statement on the relative values we accord to freedom, care and dependency — one with profound ramifications for how we see the weak and helpless in any context. That the practice is taking on sacramental colouring, for a religion of atomisation, should give us all pause.
Indeed.
House of Lords Archbishop of Canterbury debate on asylum
On December 9, the House of Lords gave the Archbishop of Canterbury his annual debate. This year, the subject was the UK's asylum and refugee policy.
I hope that readers will understand if I do not excerpt his speech here. They are free to read it for themselves.
We have taken in a record annual number of illegal migrants crossing the Channel this year, expected to be over 50,000.
We have also taken in large numbers of legitimate refugees and asylum seekers. We have also given visas to many thousands of legal migrants this year, particularly from Africa and Asia, namely India and Hong Kong.
UnHerd had a good analysis of what Welby said and our current predicament:
The Archbishop says he aims to support action that would "prevent small boats from crossing the channel", but he also stresses that the UK is not taking many refugees and should take many more. 
Astonishingly, he dismisses the provision our country has made to welcome Hong Kong residents — well over 100,000 to date and many more to come — by saying "and that, by the way, is not asylum but financial visas". It may not involve an application for asylum as such, but it clearly involves flight from oppression. Welby also draws the wrong conclusion from the fact that developing countries host many more refugees than developed countries. This is much cheaper than settlement in the West and makes return more likely. Developed countries should help pay the costs, and the UK leads the way in this regard.
The control Welby claims to support does not presently exist. The small boats cannot safely be turned around in the Channel and France will not accept their immediate return. The Rwanda plan is a rational (if imperfect) attempt to address the problem, removing asylum-seekers to a safe third country, where they will be protected, yet the Archbishop decries the plan on the grounds that it outsources our responsibilities. This makes no sense, for the UK not only accepts that Rwanda must comply with international standards, but also commits to funding the protection of those who prove to be refugees. Welby asserts that the plan has failed to deter. Indeed, because it has not yet been tried at all. 
The UK has good reason to resettle in safe third countries those who enter unlawfully on small boats, which would discourage others from (dangerous) unlawful entry and restore control of our borders. The historic tradition on which the Archbishop relies is alive and well in the provision our government has made, with wide public support, for temporary protection for Ukrainians escaping Russian aggression and for resettlement of the new Huguenots, the Hong Kong residents seeking to escape the oppressive reach of the Chinese Communist state. 
Lord Lilley — former Conservative MP Peter Lilley — posed the conundrum of loving one's neighbour and not being able to accommodate everyone, especially those who arrive under false pretences:
This issue raises very difficult dilemmas for Christians. Being a very inadequate Christian myself, I take up the challenge from the most reverend Primate the Archbishop with trepidation: to try to formulate principles for governing our policy on asylum and migration. Not having direct access to the mind of God like the most reverend Primate the Archbishop, I seek those principles in the Bible.
I recall that our Lord said that the essence of Christianity is to love God and love our neighbour as ourselves. When asked who our neighbour is, he gave the parable of the good Samaritan, when a Samaritan helps a Jew—from which I deduce that our neighbour is not just the person next door to us and not necessarily a member of our own nation; it can be anyone. The first principle I therefore deduce is that, although charity begins at home, as a lot of my constituents used to tell me, it does not necessarily end at home. I am at one with the most reverend Primate the Archbishop on that.
Secondly, the Samaritan did what he practically could. We may be called on to help anyone we practically can, but we cannot help everyone. Again, the most reverend Primate the Archbishop recognised that and it is important that we recognise that our responsibilities are finite, in this respect.
Thirdly, when the Levite and the Jewish priest reached their destination, I have no doubt that they deplored how, owing to years of austerity, there had been insufficient spending on police and the health service to prevent the problem arising in the first place or to treat the person, instead of leaving it to the passing Samaritan. Therefore, my third principle is that, to be a good Samaritan, you have to give care, help and so on at your expense. We, as politicians, may have to take decisions on behalf of others but, in doing so, we should have consideration for the impact we are having on others and not imagine we are being virtuous when we do good at their expense.
The first principle is that charity begins at home, in how we treat people who have come to settle here. When I was a child, mass immigration into this country was just beginning. The parish in which I lived asked each family to link up with a migrant family, many of whom were lonely, isolated and, at worst, facing hostility. My family was linked up to a delightful Mauritian couple, whom we would invite to supper every few weeks. We became good friends. That was done by parishes across south London. I would love to hear from Bishops who have not yet spoken about what the churches are doing today to help integrate those who are here in our society and to be the good Samaritans to our neighbours from abroad.
But charity does not end at home. I pay tribute to those tens of thousands of people who opened their homes to families fleeing the bombing in Ukraine, while their menfolk remained to fight for their country. We should not imagine we are sharing in being good Samaritans if we throw open the doors of our country to everybody because, if we do that, we are doing good at others' expense. We are, in effect, saying that migrants, be they legal or illegal, asylum seekers or otherwise, through housing benefit and social housing, will have access to rented and social homes. We all have our own homes, so we will not be affected. Therefore, more young people will have to wait at home or live in cramp bed-sitters for longer, because of what we, as legislators, think we are doing generously, without taking the impact on others into account.
The second principle is that our neighbour can be anyone, but it cannot be everyone. Millions of people want to come here. Look at the impact of the green card system the Americans operate, when they make 30,000 visas to the US available to certain countries and say, "Anyone can apply; there is a ballot." Some 9% of the population of Albania applied when they heard about that being offered to them, as did 11% of the Armenian and 14% of the Liberian populations. These were only the people who heard about it and responded. The potential number who would like to come to America or Europe, if we open these so-called direct routes, would be enormous. Will we say to those who apply, at an embassy or some place abroad, that they would have the same legal rights, and opportunities to appeal or for judicial review if things are turned down? If so, potentially millions of people would join the queue. It would not shorten but lengthen it, so we have to restrict and to prioritise.
I submit to noble Lords that the priority should not be the boat people. They are not coming by boat from Basra, Somalia or Eritrea; they are coming from France, Belgium and Germany. Why are they coming here rather than staying in those safe countries? They are three or four times as likely to be rejected there. France, in the last year before the pandemic, forcibly repatriated 34,000 people. I find some strange double standards being applied here. There are no criticisms of France for being much stricter than us or of us for being much laxer than them, but one or the other must be the case.
I am coming to an end. If it is morally and legally right for the French to try to prevent people leaving their shores, and for us to pay and support the French in so doing, it should be morally and legally right for us to return them. If they cannot be returned, it is reasonable to try to deter them by saying, "If you come here, you will go to Rwanda. You always have the opportunity to stay in France." I submit that we do not always consider these opportunities.
Later on, the Archbishop of York, the Right Revd Stephen Cottrell, spoke, an excerpt of which follows. The transcript hardly does his indignation justice. He ripped right into Lord Lilley:
I say to the noble Lord, Lord Lilley, that everyone is our neighbour. Of course, we cannot take everybody, but that makes it even more important that we have a fair system for everyone.
Dehumanising language promotes fear. Threat of destitution is used as a deterrent. Children are treated as if they are adults. Yet in our own country, among our own people, in our churches, other faith groups and communities, some things have gone well, such as the Homes for Ukraine scheme, where many people have found a home, other family members have joined them, and people have been able to get work. This is really good.
But why has our response to people fleeing other conflicts been different? Currently, the definition of family in our asylum system would not allow someone to join their sibling even if they were the last remaining relative, and being able to work and contribute is a long way off. The tragedy of our system lies in its exceptionalism, meaning that people receive differential treatment usually because of their country of origin. That underpins the Nationality and Borders Act, and I fear that further legislative action will be the same.
But we could learn from what is happening in our communities. The noble Lord, Lord Lilley, asked us directly about integration. I do not know where to begin. In hundreds of parishes and schools, and in other faith communities up and down our country, that is what we are doing—in English language classes, in befriending and in teaching people. I would be the first to admit that there are lots of things about the Church of England that could be better, but that is something that we are doing, alongside others, and it shows the best of British.
We need a system that will simply provide safe and legal routes for everyone to have equal opportunities to apply for asylum. All I am saying is that I think that would be good for us, as well as for the people who are fleeing unimaginable conflict and evil.
Finally, when it comes to being able to work, the Church of England, alongside the Refugee Council and the Government's own Migration Advisory Committee, is a long-standing supporter of the Lift the Ban campaign.
I say all this—like many of us, I would wish to say more, but the most reverend Primate the Archbishop of Canterbury said most of it—as winter arrives, and it is cold, and a cost of living crisis will inevitably affect the British people's capacity to be hospitable. I say simply that a functioning asylum system is not a threat to our social cohesion as some fear or predict, but a dysfunctional, unfair one is.
As every small child knows at this time of the year, as the noble Lord, Lord Cormack, mentioned, Mary and Joseph came looking for somewhere to stay, but there was no room at the inn. Saying no, accusing those who are being hospitable of being naive, or passing the buck are easy, but saying yes, with a fair and equal system for everyone, opens up blessings for everyone.
A week later, Cottrell featured in an article in The Telegraph: 'Forgive my "predictable leftie rant" on asylum, says Archbishop of York'.
It seems he knew he was out of order with Lord Lilley, who deserved the same courtesy as the peers agreeing with the Archbishop. It was good for Lord Lilley to speak politely on behalf of the British public.
Britons are paying upwards of £7 million a day just to house those crossing the Channel.
GB News's Mark Steyn and his guest hosts have been covering the topic nearly every night:
Taxpayers are deeply upset, especially during our cost of living crisis, which is causing many to choose between food and fuel.
Combine that with taxpayers' personal expenses for Net Zero, and we are heading for disaster:
Red Wall Conservative MP Jonathan Gullis tried unsuccessfully to raise a Private Member's Bill to get illegal migrants to Rwanda sooner rather than later:
Hotels across England are being taken over by companies working for the Home Office to house the Channel-crossers:
Hospitality workers in those hotels are losing their jobs as the aforementioned companies install their own staff to manage them:
The December 22 show also featured the seemingly intractable problem:
Former Sun editor Kelvin MacKenzie then swung by to weigh in on how much migrants are costing Britons.
The Home Office — read 'civil servants' — must do something now.
It's obvious people are watching GB News, because they beat BBC News for the first time ever on December 14:
Onwards and upwards!
House of Commons recess debate
On Tuesday, December 20, the House of Commons held its Christmas recess debate.
Normally, these are rather jolly affairs where MPs air wish lists for their constituencies for the New Year. However, this year's contributions were rather grim, including those from Conservative MPs.
Once again, providentially, I tuned in at the right time to hear the member for Don Valley, Conservative MP Nick Fletcher. He closed his speech saying the following, the first part of which came as news to me:
Finally, Christian friends across the House tried to secure a Backbench debate on Christmas and Christianity, but by all accounts we were not successful. While I have this moment, I want to remind those in this place, and anyone who cares to watch, that although Christmas is celebrated in many ways across the world, the real reason is the birth of our saviour, Jesus Christ. He was sent as a saviour, and with the promise that whoever believes in him will have eternal life. I do not want anyone ever to forget that. Merry Christmas everybody.
Jim Shannon, a Democratic Unionist Party MP (i.e. from Northern Ireland), was one of the last MPs to speak. A devout Anglican — yes, they still exist — he gave a beautiful speech on the meaning of the season, most of which follows:
It is no secret that I love this time of year—I may have mentioned that a time or three in this House. There are so many things to love about Christmas: time with family; good food; fellowship; and, for me, the singing of an old Christmas carol as we gather in church. But the most wonderful thing about Christmas for me is the hope that it holds. I wish to speak this year about the Christ in Christmas, because, too often, we miss that. It would be good this year to focus on what Christmas is really all about. I ask Members to stick with me on this one.
The message of Christmas is not simply the nativity scene that is so beautifully portrayed in schools and churches throughout this country, but rather the hope that lies in the fact that the baby was born to provide a better future for each one of us in this House and across the world. What a message of hope that is; it is a message that each one of us needs. No matter who we are in the UK, life is tough. The past three years have been really, really tough—for those who wonder how to heat their homes; for those who have received bad news from their doctor; for those whose children have not caught up from the covid school closures; for those who mourn the loss of a loved one; for those who mourn the breakdown of a family unit; and for those who are alone and isolated. This life is not easy, and yet there is hope. That is because of the Christmas story. It is because Christ came to this world and took on the form of man so that redemption's plan could be fulfilled. There is hope for each one of us to have that personal relationship with Christ that enables us to read the scriptures in the Bible and understand that the creator, God, stands by his promises.
I want to quote, if I may, from four Bible texts. To know that
"my God will meet all your needs according to the riches of his glory in Christ Jesus."
That is from Philippians 4:19.
To trust that
"I am the Lord that heals you."
To believe that
"all things are possible."
That is Matthew 17:20.
We can be comforted by Psalm 147:3:
"He heals the brokenhearted, And binds up their wounds."
Isaiah 41:10 says:
"So do not fear, for I am with you; do not be dismayed, for I am your God. I will strengthen you and help you; I will uphold you with my righteous right hand."
The strength for today and bright hope for tomorrow come only when we understand who Christ is. One of my favourite Christmas passages is actually not the account of his birth, but the promise of who he is. We all know this:
"For to us a Child shall be born, to us a Son shall be given; And the government shall be upon His shoulder, And His name shall be called Wonderful Counsellor, Mighty God, Everlasting Father, Prince of Peace."
In a world where our very foundation seems to be shifting, how awesome it is to know that this our God is only a prayer away. A group of people come to the House of Commons two or three times a week, and pray for Parliament. I have to say how important it is to have those prayers.
As we think of this passing year—something that many of us do—we think about what has happened and perhaps look forward to 2023 with renewed hope for the future. I think we should look forward with hope; we have to do that. We should always try to be positive. In this passing year, my mind goes to the loss of Her Majesty the Queen. Many of us felt that so deeply, and yet her passing also carried the message of hope, because of Christ. I quoted this when we had the tributes to Her Majesty. It is important, I think, to put it on the record again.
The wonderful message that the Queen gave in one of her cherished Christmas messages—this one was in 2014—was crystal clear:
"For me, the life of Jesus Christ, the prince of peace, whose birth we celebrate today, is an inspiration and an anchor in my life."
That was Her Majesty talking.
"A role model of reconciliation and forgiveness, he stretched out his hands in love, acceptance and healing. Christ's example has taught me to seek to respect and value all people of whatever faith or none."
It is my firm belief that this true message of Christmas is what can bring hope and healing to a nation that can seem so fractured. When I look at the headlines, I sometimes despair, but that is also when I most enjoy my constituency work, and getting to see glimpses of community spirit and goodness that are done daily and yet are rarely reported. Her Majesty's speech in 2016 reflected that, when she said:
"Billions of people now follow Christ's teaching and find in him the guiding light for their lives. I am one of them because Christ's example helps me to see the value of doing small things with great love, whoever does them and whatever they themselves believe."
At that point, Conservative MP John Hayes intervened:
It is heart-warming and refreshing to hear the hon. Gentleman's plain and confident affirmation of his faith, and our faith too. By the way he speaks, he encourages all of us to reflect on the Judeo-Christian foundations on which our society and our civilisation are built, and I just wanted to thank him for that.
Jim Shannon thanked John Hayes before continuing:
The right hon. Gentleman is most kind. I am giving just a slight reminder of what Christmas is about. I think we all realise that, but sometimes it is good to remind ourselves of it. The example of Christ is one of humility, coming to the earth as a vulnerable baby, and of purpose, as we see the gold given that symbolises royalty, the frankincense to highlight his deity and myrrh to symbolise his purposeful death to redeem us all.
I am a strong advocate in this House for freedom of religion or belief, as the Leader of the House knows. She is always very kind; every week, when I suggest something that should be highlighted, she always takes those things back to the Ministers responsible. I appreciate that very much, as do others in this House. I am proud to be associated with that wonderful cause, and as long as God spares me I will speak for the downtrodden of my own faith and others. I speak for all faiths, because that is who I am, and so do others in this House with the same belief.
At the same time, however, like Her late Majesty, I am proud to be a follower of Christ. At this time of year I simply want the House to know the hope that can be found in Christ, not simply at Christmas, but for a lifetime. The babe of Bethlehem was Christ on the cross and our redeemer at the resurrection, and that gives me hope and offers hope for those who accept him and it.
From the bottom of my heart, Mr Deputy Speaker, I thank you in particular, since you have presided over this speech and the past few hours. I thank Mr Speaker and all the other Deputy Speakers, with all the things that are happening to them, the Clerks and every staff member in this place for the tremendous job they do and the graceful spirit in which everything has been carried out in the last year. I thank right hon. and hon. Members, who are friends all—I say that honestly to everyone.
I thank my long-suffering wife, who is definitely long-suffering, and my mum—
At that point, Shannon broke down in tears.
Leader of the House Penny Mordaunt stepped in quickly and graciously while Shannon composed himself:
The hon. Gentleman has often summed up how people feel, particularly at this time of year. I know he has had losses over the past few years, and he always manages to sum up the feeling of this House. Many Members in this debate have spoken about constituents or family they have lost, and we appreciate his bringing up these issues, as I appreciate all Members' doing so. There will be some people thinking about spending Christmas apart from family they are not able to see, or having suffered those losses. I thank him and we are all willing him strength as he continues his speech.
After a pause, Shannon resumed and concluded:
I thank the Leader of the House for that. I mentioned my long-suffering wife; we have been married 34 years, so she is very long-suffering, and that is probably a good thing, because we are still together. My mum is 91 years old and I suspect she is sitting watching the Parliament channel right now to see what her eldest son is up to and what he is saying, so again that is something.
I also thank my staff members. I told one of my Opposition colleagues last week that I live in a woman's world, because I have six girls in my office who look after me and make sure I am right …
Lastly, I thank my Strangford constituents, who have stuck by me as a councillor, as a Member of the Legislative Assembly and as a Member of Parliament in this House. This is my 30th year of service in local government and elsewhere. They have been tremendously kind to me and I appreciate them. I want to put on record what a privilege it is to serve them in this House and to do my best for them.
I wish everyone a happy Christmas, and may everyone have a prosperous, peaceful and blessed new year, as we take the example of Christ and act with humility and purpose in this place to effect the change that we all want and that is so needed in our nation—this great United Kingdom of Great Britain and Northern Ireland, always better together.
Mr Deputy Speaker Nigel Evans said:
Your mother and wife will be as proud of you as we all are, Jim. [Hon. Members: "Hear, hear!] As a person of faith, I thank you very much for putting the Christ back into Christmas in your speech. We come now to the wind-ups.
When acknowledging MPs' contributions in the debate, Penny Mordaunt said:
The hon. Member for Strangford (Jim Shannon) should never have to apologise for mentioning Christ in this place—especially at Christmas. We are in a place where the architecture is designed to turn our faces to God. I thank him for his Christmas message.
And, finally — best Christmas wishes to Mark Steyn
In closing, hearty Christmas wishes to Mark Steyn who is recovering from two successive heart attacks:
He is recovering in France but told viewers more on December 19. Incredibly, the first heart attack happened before he presented one of his nightly shows on the self-styled People's Channel. He presented it anyway. Wow:
The GB News host suffered the first one "without recognising" the symptoms, before hosting his show on The People's Channel.
Speaking on his current absence from GB News, Steyn said: "I'm too medicated to manage artful evasions.
"I had two heart attacks. Because I didn't recognise the first one, as such, the second one was rather more severe."
The experienced broadcaster spoke about the shocking ordeal, saying he "doesn't look right", looking back at images of himself presenting the Mark Steyn show during the first heart attack.
Speaking on SteynOnline, he said: "The good news is that the first one occurred when I was in London. If you get a chance to see that day's Mark Steyn Show, with hindsight, I don't look quite right in close-ups.
"By not recognising it as a heart attack, I deftly avoided being one of those stories we feature on the show every couple of nights about people in the UK calling emergency and being left in the street for 15 hours before an ambulance shows up.
"I had a second heart attack in France. With Audrey [his wife?] helping me in the ambulance, she told me I was 15 minutes from death."
The presenter also revealed he would remain in France over Christmas and New Year as he is unable to leave medical care and return to New Hampshire.
GB News viewers will be sending Mark every best wish for a speedy recovery — and a healthy, happy New Year! We look forward to seeing him on the airwaves soon!
This week's news that former Health and Social Care Secretary Matt Hancock would be standing down as MP for West Suffolk at the next election was a joyful tiding, indeed.
Hancock is currently an Independent MP. The Conservative whip was withdrawn on November 1, 2002, when he accepted the invitation to appear on I'm A Celebrity … Get Me Out of Here, which takes place in the Australian jungle. Amazingly, he came third, getting further than Boy George did.
This week saw more Hancock news with the publication of his Pandemic Diaries, co-authored with former Times journalist, Isabel Oakeshott.
This series charts the rise and fall of the former Conservative MP, a principal protagonist in the coronavirus drama of 2020 and the first half of 2021.
Two Oxford medics give their verdict
On December 8, 2022, The Spectator featured an article from Drs Carl Heneghan and Tom Jefferson from the University of Oxford: 'The UK isn't learning the right lessons from lockdown'.
Both were sceptics during the pandemic, the type of medics Matt Hancock eschewed, as we will find out later on from the Pandemic Diaries.
Excerpts from Heneghan and Jefferson's article follow, emphases mine:
This month, the UK's Department of Health and Social Care published a Technical Report on the Covid-19 pandemic in the UK.
The report is a long 11-chapter document describing the UK's response and pointing out suggestions for dealing with future pandemics.
The report is described as 'independent', but the authors are public health civil servants and a handful of academics. Given that the authors were instrumental to a greater and lesser degree in implementing the catastrophes of lockdowns, this report is as independent as President Xi marking his own homework in China.
It is hard to reconcile some of the report's content with what we have written about in the past. For example, there is no mention of the misuse of PCR tests or of Britain's failure to follow the example of other countries, whose contact tracing systems were overwhelmed in days.
There is also no apology for the evidence-free mass testing programme, the segregation of healthy people, and the lack of identification of truly infectious cases.
I remember the early weeks of the pandemic, which entered totalitarian territory on Monday, March 23, 2020, with Boris's five-minute announcement on lockdown.
My far better half and I wondered then about the absurdity of contract tracing. Fortunately, neither of us has a smartphone, nor did we participate in any testing regime ever. We simply don't see that many people.
Heneghan and Jefferson's article states:
It would have been better if the report admitted that contact tracing is hugely challenging, that it would never have achieved its intended outcomes and was, therefore, a waste of £37 billion. This is something health officials in Lombardy, Italy had realised by the beginning of March 2020. The UK Parliament has also pointed out that the contract tracing programme had an 'unimaginable' cost.
Yet, Matt Hancock paraded it as being a fail-safe method of finding out about loads of infectious people.
Then there were the hospitalisations. Here is a little-known fact worth repeating again and again:
up to 40 per cent of 'hospital cases' were infections acquired in hospitals … suggesting that whatever 'protection' measures hospitals were taking did not work.
After that came the school closures, even when Government officials said that children were at low risk from coronavirus themselves but could still transmit it to older relatives. Hmm:
When it comes to the low risk to school children and teachers, the report portrays this as a tension between missing education and stopping transmission …
But school-age children had the lowest Covid risk, and we are now reaping the effects of this immunological segregation, with a whirlwind of influenza-like illnesses sweeping across the country. The costs to children socialising and the impact on their schooling are mere details in the report.
Heneghan and Jefferson point out that the report makes scant mention of the 7.2 million people on NHS waiting lists and the rise in excess deaths because of lockdown. Furthermore:
Our requests for the cause of the current excess in deaths have gone unanswered.
The footnotes and references in the report appalled them:
… the type of evidence cited in the report's footnotes and references is remarkable. It mainly relies on models, i.e. opinions formulated by those with a long history of getting it wrong or citing selective pieces of work.
They say that there should be no excuses for the lack of planning for the pandemic:
There is no mention of the need for proper planning to plug known gaps in the evidence. For example, suppose you need to know whether masks or other physical interventions work in the community, you prepare protocols for trials designed to find this out in a short time. In that case, you get prior ethical approval and fire the starter pistol when the WHO declares a pandemic or earlier.
There is plenty of precedent for this kind of preparation. That is what happened in 2009 with mock-up influenza pre-pandemic vaccines. So there can be no excuses here, just a disregard for crucial gaps in the evidence and a reluctance to address them. It is even easier in the case of non-pharmaceutical interventions (NPIs) as there are no regulators breathing down your neck.
As for crucial NPIs, such as mask wearing and lockdown, the report says:
It may never be possible fully to disentangle some of the effects of individual NPIs in this pandemic, as many were used together….
Observational studies on NPIs were often complicated by several potential confounders.
The medics conclude that nothing will change:
Due to the sheer number of interventions tried at any one time, we may never know what works, particularly if we also rely on low-quality observational studies – as we have done – to inform policy.
But none of this matters: it'll be more of the same next time.
Hancock champions Klaus Schwab
Matt Hancock entered Parliament in May 2010, when David Cameron became Prime Minister, ending 13 years of Labour government.
Hancock began his ministerial rise to in 2013 as a junior minister in what was then the Department for Business, Innovation and Skills. He was the UK's Anti-Corruption Champion from 2014 and 2015. He served as Minister for the Cabinet Office and Paymaster General between 2015 and 2016.
When Theresa May became Prime Minister, Hancock became Minister of State for Digital and Culture, now the Department for Digital, Culture, Media and Sport.
In that capacity, he delivered a speech praising Klaus Schwab's Fourth Industrial Revolution. He delivered the speech at the House of Commons to the All-Party Parliamentary Group (APPG) at the Fourth Industrial Revolution's (4IR's) autumn reception on October 16, 2017. Hancock introduced Klaus to the APPG.
The transcript is still available to read in full:
… the nature of the new technologies is that the changes we are experiencing today, are probably the slowest changes we will see over the rest of our lifetimes. If you don't much like change, I'm afraid I don't have so much good news.
Our task, in this building and around the world, is to make this technology, this change, work for humanity. And I'm profoundly confident we can. Because this technology is made by man, so it can be hewn to build a better future for mankind.
And I'm delighted to speak alongside so many impressive colleagues who really understand this, and alongside Professor Klaus Schwab who literally 'wrote the book' on the 4th Industrial Revolution. Your work, bringing together as you do all the best minds on the planet, has informed what we are doing, and I'm delighted to work with you.
For the 1st Industrial Revolution, the UK could claim to be the 'workshop of the world' – propelled by development of the steam engine, it reached its pinnacle in the mid-19th Century. But the UK has not had the monopoly on waves of industrialisation.
Now, in the fourth revolution, we are determined to use our strengths to play a leading part. By its nature the fourth industrial revolution is more collaborative than the first. And we will play our part …
… our Digital Strategy, embedded within the wider Industrial Strategy, sets out the seven pillars on which we can build our success. And inside that fits our 5G strategy, like a set of Russian Dolls.
Our Strategy covers infrastructure, skills, rules and ethics of big data use, cyber security, supporting the tech sector, the digitisation of industry, and digitisation of government. All these are important.
… today I am delighted to announce that we are launching the first £25m competition for 5G testbeds and trials projects. We already lead on the highly technical development of 5G standards through the international work of the University of Surrey and others.
Now we are looking for innovative projects to test the roll out of 5G to develop the UK's growing 5G ecosystem. We want projects that explore the real-world potential for 5G …
It will also support projects which explore ways of using 5G technology to address challenges in particular sectors, such as those faced in health and social care …
Earlier this year, the 'fourth industrial revolution' was not a very well-known term – at least before it became a central topic at the World Economic Forum. It recently made its way into an item on BBC Breakfast television – this shows we've probably started to reach critical mass.
It's a pleasure now to introduce the man who made the fourth industrial revolution a household phrase: Professor Klaus Schwab.
Hancock became Secretary of State for Health and Social Care under Theresa May in July 2018, when she promoted Jeremy Hunt, his predecessor, to Foreign Secretary. Hancock remained in post throughout the pandemic until he was caught on camera in a heavy embrace with his then-adviser, now girlfriend, in 2021, when social distancing restrictions were still in place.
Hancock returned to the Conservative backbenches on June 26, 2021, after The Sun published the photos. Hancock and his girlfriend immediately separated from their spouses and are still an item.
The run-up to the pandemic
Even before the pandemic, Hancock was opposed to people who questioned vaccines.
On Sunday, September 29, 2019, The Guardian reported that he wanted compulsory vaccinations for schoolchildren:
The government is "looking very seriously" at making vaccinations compulsory for state school pupils and has taken advice on how such a law could work, the health secretary has said.
Matt Hancock, a vehement critic of anti-vaccination campaigners, has previously suggested such a plan. Speaking at a fringe event at the Conservative party conference, he said he was "very worried" by falling vaccination rates, indicating the government could act soon.
"I've said before that we should be open-minded, and frankly, what I'd say is that when the state provides services to people then it's a two-way street – you've got to take your responsibilities, too," Hancock told the Q&A session hosted by the Huffington Post.
"So I think there's a very strong argument for having compulsory vaccinations for children when they go to school, because otherwise they're putting other children at risk.
"Then I'd want to make it very easy if the children do arrive at school not vaccinated, simply to get vaccinated, and make it the norm. But I think there's a very strong argument for movement to compulsory vaccination, and I think the public would back us."
He took aim at social media for spreading what he called 'anti-vaccine messages':
"It's unbelievable, I think, that Britain has lost its measles-free status, and it should be a real wake-up call. I think that the social media companies have got a lot to answer for, because they allow the spread of anti-vaccine messages.
"I will do whatever I can – the science is absolutely clear and settled on the importance of vaccination. And the worst thing is that if you don't vaccinate your child, and you can, then the person you're putting at risk is not only your child but it's also the child who can't be vaccinated for medical reasons."
He had already started thinking about compulsory vaccines in May that year:
Hancock first raised the idea of compulsory vaccinations in May, saying he did not wish to do it but might be forced to act if no other solutions to improve take-up rates could be found.
He said: "Those who have promoted the anti-vaccination myth are morally reprehensible, deeply irresponsible and have blood on their hands."
Confidence in the MMR vaccination seems to have dropped at least partly in response to social media misinformation and scare stories. The discredited claims of Andrew Wakefield, who in 1998 theorised that the jab was linked to autism, are widely circulated.
Wakefield was struck off the medical register in 2010 after suggesting a link between the MMR vaccine and autism.
He also seemed to be interested in social care at that time. On June 10, 2019, Care Home Professional reported:
Matt Hancock has pledged a £3.5bn cash injection to prop up the social care system as he kick-starts his campaign to become the UK's next prime minister.
In an interview with the Daily Mail, the Secretary of State for Health and Social Care said he would seek the extra funds in the next Spending Review …
The Health and Social Care Secretary described the current social care system as "unsustainable" and said there's a "whole number of injustices" affecting society's most vulnerable people.
"One of the biggest injustices is that for people who worked hard all their lives and have put money aside – the system penalises them and won't fund their care without them having to sell the house, whereas people who haven't put money aside get their care supported. I think this is very unfair," he added …
He wanted to see individuals funding their own social care by contributing to a personal fund:
He stressed that the payments could be made over many years of a working life.
The scheme, which would be made voluntary, would require all workers over 40 to contribute 2.5% of their wages.
"I'd like to see people encouraged to take it out when they get their first mortgage – that being the point where many people buy life insurance," the minister said.
The insurance scheme would do away with previous Conservative proposals to put a lifetime cap on care costs.
Cometh coronavirus, cometh the man — or not
We were only a fortnight into lockdown in the Spring of 2020, and already we could see Matt Hancock's true character.
The televised Coronavirus Updates appeared almost daily on the BBC, and he was in most of them.
On April 12 that year, The Mail on Sunday's Peter Hitchens wrote 'Matt Hancock is trying to run the UK like my 1950s prep school':
Until I started travelling in the Communist world, my main experience of living under tyranny was my time at a boarding school on the edge of Dartmoor, 60 years ago.
The headmaster, an enormous, booming man, had many fine qualities. But he was given to dreadful rages, which tended to strike late on Saturday afternoons.
He would throb with fury because some of the more loutish boys had left their games clothes on the changing room floor.
For some reason, he viewed this as a terrible crime closely related to murder. So he would summon us into the assembly hall, and harangue us as darkness fell outside.
The more we stood mulishly in front of him, saying nothing and with our eyes downcast, the angrier he became …
Collective punishments – a ban on eating toast, or the cancellation of a promised film show – would follow, along with more shouting and angry notices in red ink, threatening worse to come.
Most of us were guiltless of wrongdoing. But we were small, and he was huge. The staff seemed more scared of him than we were.
We were on a windswept hilltop miles from anywhere. We had no escape …
Hancock wanted to ban outdoor exercise because it was violating social distancing rules, hastily put into place:
I had thought such childish things were long over in my life. But a week ago I found that I was, once again, living at the mercy of an equally petulant would-be despot.
Matthew Hancock, Secretary of State for Health, went on national TV to threaten to ban outdoor exercise if people continued to break 'social distancing' rules.
From a Government that claims to be preserving life and health, this threat was literally mad.
Banning exercise for any length of time will lead to the deaths and illness of many thousands of currently healthy, older people who know that such exercise is vital to their physical and mental wellbeing.
Such exercise can easily be taken while maintaining the required distance from others.
The threat was a dictatorial one, of collective punishment of all for the wrongdoing of others.
This is illegal under Article 33 of the 1949 Geneva Conventions. A foreign occupier would not be allowed to do it.
Sunbathing and sitting on park benches also irked Hancock while the police were enjoying their newly-found powers over the public:
Mr Hancock also said it was 'quite extraordinary' that some people had spent the weekend sunbathing in public places despite it being against Government guidance.
Getting into his stride, he urged people not to sit down even for a minute on a park bench, saying those who disobeyed the rules were putting their own and others' lives at risk.
What is this nonsense? The words of Ministers and the words and actions of the police show a pointlessly bossy side to these measures – the attempted ban on Easter egg purchases, the sunbathing squad, alleged arrests of people for just buying wine and crisps, the lumpish threat by a police chief to search the baskets of shoppers.
Provided the people doing these things do not break the distancing rules, why are they wrong?
Sunbathing, for instance, probably reduces the risk of infection, and if people keep a proper distance apart, what on earth is wrong with it? Why shouldn't someone sit on a park bench?
Mr Hancock said: 'I say this to the small minority of people who are breaking the rules or pushing the boundaries: you are risking your own life and the lives of others and you're making it harder for us all.'
Hitchens, who spent years working in Communist countries, hit the nail on the head:
I sense something more going on here.
The Government are trying to get us to accept a far higher level of state intrusion in our lives than we have ever endured.
They are treating us as if we were unruly children. This is despite what I regard as a quite extraordinary willingness among the great majority to do as we are asked.
It has gone to their heads. They need to calm down, for the sake of all of us.
We are not children, this is not some 1950s prep school ruled by the swish of the cane, and Mr Hancock is not our headmaster.
Hitchens rightly questioned the number of deaths at that point, which were nothing unusual, coronavirus or not:
A week ago, at the daily official briefing, Dr Jenny Harries, the Deputy Chief Medical Officer, confirmed my point that many deaths with Covid are not necessarily from Covid. She said: 'These are Covid-associated deaths, they are all sad events, they would not all be a death as a result of Covid.'
What nobody says is how many are as a result of the virus.
Then, if you look at the Office for National Statistics weekly death charts, for week 13 of each year (the week which this year ended on March 27), you find some interesting things.
The total of deaths for that week in 2020 is higher than the five-year average for that time of year, which is 10,130. In fact, it is up to 11,141.
This is 1,011 more deaths than normal per week, 144 more deaths than normal per day, regrettable but not gigantic. Do these figures justify the scale of our reaction?
If you add up the total deaths for the first quarter of the year from respiratory diseases, the figure so far for 2020 (22,877) is less than those for 2013 (25,495), 2015 (28,969), 2017 (25,800), 2018 (29,898) and 2019 (23,336).
Again, is this event as exceptional as we are being told? If not, why the shutdown?
Obtaining PPE was a huge problem, and not only for the UK. France, along with other Western countries, was also scrambling to secure PPE. I know from having read Marianne, a French newsweekly.
PPE popped up regularly in parliamentary debates. Labour asked repeatedly what the Government was doing and to get on with the job.
However, people who knew what was going on in the NHS said that things weren't as bad as the Opposition benches made them out to be.
Sir Keir Starmer had only been Labour leader — succeeding Jeremy Corbyn — for a week or so in April. He was offended that Hancock told the NHS not to waste precious supplies:
However, those with connections inside the NHS said that a hoarding mentality was present and that there was an adequate provision of PPE:
On April 9, Hancock announced a testing lab in Milton Keynes, the Lighthouse Lab, a.k.a. the National Biosample Centre:
Meanwhile, many of us wanted an update on herd immunity.
On April 8, Guido Fawkes reported, complete with audio (emphases his):
As new modelling released by University College London (UCL) predicts the UK will pass the threshold for herd immunity by Monday (with 73.4% of the population protected either by vaccination or previous infection), Matt Hancock was quick to pour cold water on the findings during an interview with LBC's Nick Ferrari. Speaking this morning, Hancock said:
I was told by some scientists that we were going to have herd immunity in May, and then in June, and then after that […] what I prefer to do is watch the data. And so we've set out the road map, the road map is really clear, it is our route back to normal, we're on track to meet the road map, and that's our goal.
Pressed on why the government seemed keen to accept the pessimistic assumptions within the Imperial College data, yet sceptical of UCL's new study, Hancock – rather predictably – said:
I think we have taken the right course in plotting our way to freedom, and doing it carefully, because we want it to be irreversible. We have seen what happens when this virus gets going […] and we want to get out of this safely and irreversibly.
The 'data not dates' refrain feels less plausible with every passing day…
One Twitter user sounded the alarm:
When University College London, a respected establishment put out work saying we'll hit herd immunity by Monday and Matt Hancock immediately dismisses it You know darker forces are at work here. He's a member of Parliament that doesn't work for the people, he works for Gates.
On April 23, exactly two months into lockdown, Hancock was enjoying his power over the British people. Meanwhile, some of us were beginning to worry about the economic downside of keeping everyone at home.
The Mail reported that there was no end in sight:
Matt Hancock tonight insisted the coronavirus lockdown must stay until there is no risk of a second peak – as scientists warned the outbreak might not be fading.
The Health Secretary vowed not to compromise the national effort against the disease as Professor Jonathan Van-Tam told the daily Downing Street briefing that while hospital occupancy rates had dipped in in London the picture in other parts of the UK was 'more of a plateau'.
The figures – along with another 828 deaths being declared in the UK – add weight to the arguments of those who want to err on the side of caution despite the devastation being wreaked on the economy.
At this point, Boris Johnson had been released from St Thomas's Hospital from his near-death bout with the virus and was recuperating at Chequers. His wife Carrie, about to give birth to their first child, was with him.
Rifts were appearing as to how long lockdown should last:
Divisions have emerged between Cabinet 'doves' such as Mr Hancock and 'hawks' who believe the NHS has capacity and would prefer to loosen the draconian social distancing measures earlier.
The PM has intervened from his recuperation at Chequers to snuff out speculation about an imminent easing, with Downing Street making clear his priority is avoiding a 'second peak' in the outbreak.
There are reports Mr Johnson's inner circle has stopped using the phrase 'exit strategy' and instead wants to signal a 'next phase' of lockdown, with varying levels of restrictions set to continue for the rest of the year until the virus gets 'close to eradication' or a vaccine is found. Australia has successfully suppressed cases to very low numbers.
Scientists have been telling ministers behind the scenes that control of the outbreak is still so uncertain that even slight changes to the curbs on normal life could result in a disastrous flare-up.
Mr Hancock said tonight: 'We have been clear that we will not risk lives by relaxing the social distancing rules before our five tests have been met.
'First, that the NHS can continue to cope, second, that the operational challenges can be met, third, that the daily death rate falls sustainably and consistently, fourth, that the rate of infection is decreasing, and most importantly, that there is no risk of a second peak.'
The Mail included a photo montage of Cabinet members and this caption of where they stood on the issue:
How members of the cabinet are currently split over the ending of the lockdown. Mr Johnson (top left) and Matt Hancock (bottom left) are classed as 'doves'; Michael Gove, Liz Truss and Rishi Sunak (right, top-to-bottom) as 'hawks'; and Foreign Secretary Dominic Raab (top centre) is among those in the middle, with Gavin Williamson (centre) and Alok Sharma (centre bottom)
Senior Conservative MPs wanted an end to lockdown:
There is no prospect of lockdown measures being eased before the current period comes to an end on May 11.
However, some senior Tories have been pushing plans for an easing soon afterwards, pointing out that the NHS is still below surge capacity and could 'run hot' to limit the economic meltdown.
SAGE clearly wanted lockdown to continue:
Government scientists have been warning that the situation is currently so finely balanced that even marginal loosenings could have disastrous effects.
One Cabinet source told the Guardian the government's advisers on Sage had suggested any easing would push up the rate of transmission – known as R.
The source said: 'The scientists are very clear. There's no loosening of measures we can do that won't bring the R back over 1 …
'We did have an R of about 3. And we've driven that down. But even a small increase in transmission could put you above 1.'
The WHO were adamant that the Western world should remain locked down, even though some of those countries were already easing restrictions:
Dr Takeshi Kasai, the WHO regional director for the Western Pacific, said: 'This is not the time to be lax. Instead, we need to ready ourselves for a new way of living for the foreseeable future.'
He said governments must remain vigilant to stop the spread of the virus and the lifting of lockdowns and other social distancing measures must be done gradually and strike the right balance between keeping people healthy and allowing economies to function.
Despite concerns from health officials, some US states have announced aggressive reopening plans, while Boeing and at least one other American heavy-equipment manufacturer resumed production.
Elsewhere around the world, step-by-step reopenings are under way in Europe, where the crisis has begun to ebb in places such as Italy, Spain and Germany.
By the last week in April, questions were mounting.
On April 23, The Telegraph's Christopher Hope wondered why Hancock didn't take any questions from the media after that day's coronavirus briefing:
The next day, Hancock praised Muslims for their 'sacrifice' in not meeting daily for prayers during Ramadan, but had nothing to say to Christians who could not attend church on the holiest feast of the year, Easter, which remembers Christ's resurrection from the dead. Houses of worship were closed:
Hancock began wearing a prominent CARE lapel badge on television. By this time, he had pledged that a 'protective ring' had been placed around care homes, something he later denied saying.
People found the CARE badge risible.
James Kirkup, writing for The Spectator, defended the move:
Matt Hancock's badge for carers is a perfectly good idea. The mockery of it is in many cases shallow, ill-informed, revealing and hypocritical.
You don't need me to describe the badge or the mockery. Anyone with an internet connection and a glancing familiarity with what passes for 'news' these days is aware that the Health – and Social Care – Secretary announced that the Government is now backing a scheme that encourages social care staff to wear a green badge saying CARE.
Part of the aim is to give care workers the same sort of recognition, esteem and access to services – reserved shopping hours, for instance – as NHS workers.
This is reasonable, necessary and overdue. Part of the UK's social crisis lies in the social care workforce, which is too small and too transient. There are around 125,000 vacancies in social care at any moment, roughly eight per cent of the workforce. Turnover is around 30 per cent, double the average across the UK labour market.
Kings College London surveyed care workers and found that some said that teachers warned their children to do better in school, otherwise they'd end up working in care homes:
In a survey of care workers, the Kings' team found that it wasn't just society as a whole that looked down on care. It was care workers themselves. One of the most common phrases used by interviewees was 'I'm only a care worker'. Many reported that their children had been told if they don't work hard they would end up working in care. 'The lack of esteem has been internalised,' prof Manthorpe said. Our collective disregard for social care has left carers feeling worthless and keen to leave the sector, sometimes for jobs with equally poor wages.
The following year, after Hancock had urged all care workers to be vaccinated, a number of those who refused to do so were either fired or left for hospitality jobs.
John Pilger, writing for The Guardian, rightly predicted that a storm was brewing over PPE contracts and wasted money on testing:
A debate in Parliament took place just recently on the topic. Labour are still furious.
The prediction that came true
Former Conservative MEP Daniel Hannan, now Lord Hannan, predicted exactly what would happen as early as April 5. He was incredibly accurate.
The Express reported:
Economist Mr Hannan warned businesses would "topple like dominoes" if the lockdown remained in force until May, while pointing the finger at Public Health England for the failure to undertake a widespread programme of testing. The ardent Brexiteer, writing in The Sunday Telegraph, said the cost of the restrictions was hard to measure "but no less painful for that". He explained: "One of my university contemporaries, who has a history of mental health problems, has struggled terribly with confinement.
"A neighbour is facing the grimmest of hat-tricks: her business ruined, her house-move frozen and her cancer operation postponed.
"The village osteopath, who went from 300 patients a week to zero when the bans came in, has been forced into insolvency.
"Nationally, a million more people have been pushed on to benefits."
Mr Hannan also scoffed at the assertion stringent measures were required to minimise the number of people dying.
He said: "I am astonished by how many commentators duck these consequences by airily asserting that 'lives matter more than the economy'.
"What do they imagine the economy is, if not the means by which people secure their welfare?
"The economy is not some numinous entity that exists outside human activity; it is the name we give to transactions among people aimed at maximising their wealth, health and happiness."
If businesses – excluding those deemed likely to accelerate infections, such as nightclubs – were permitted to reopen next week, "we might yet escape the worst", he asserted.
However, he added: "If the prohibitions remain in force into May, businesses will topple like dominoes, and a decade of depression will ensue."
And so it came to pass.
To be continued next week.
In writing this week's Forbidden Bible Verses post on Philippians 2:14-18, I used, as per usual, John MacArthur's sermons.
'Stop Complaining, Part 1' begins with his view of an overly indulged, complaining generation.
He says that the problem is getting worse, rather than better.
Emphases mine below:
Let me sort of ease in to our subject a little bit, if I might.  We're in Philippians chapter 2 verses 14 through 16.  And I titled the message, "Stop Complaining."  There's a reason for that, and it's fairly obvious if you look at verse 14 where Paul says, "Do all things without grumbling or disputing," which are really two ways of saying stop complaining.  And as I was thinking about this very pertinent message about living your Christian life without complaining, it became very apparent to me that we live in a very complaining society.  And I really believe we are breeding a generation of complainers, and they seem to be getting worse with each passing generation. 
And as I've said to you on a number of occasions, it is a curiosity to me that the most indulged society is the most discontent society, that the more people have, the more they seem to be discontent with what they have and the more complaining they seem to be.  In thinking about this, and there would be many ways to approach it, I was just inadvertently flipping on the radio this week and I heard a speech by a sociologist that was quite curious to me and quite interesting.  The sociologist made a very interesting point.  He was talking about the young people in our culture, talking about their discontent, talking about their complaining attitude, their resistance to responsibility, and how that nothing is ever the way they would like it.  And they go through life with a kind of sullen discontent, kind of rejection of things the way they are.  And he had an interesting thesis.  What he basically said was this: that in many ways this discontented generation of young people is a product of small families.  His thesis was that where you have families where the average is two or less, of course the average family now in America is 1.7 children, which is kind of strange to think about; as one brother said to his sister, "I'm the one and you're the point seven."  But every family seems to come out at about 1.7.7.  We realize that families are getting smaller and smaller and moving toward one child families, if that.  Most families in America have either none, one, or two children …
And the difference is where you have a small family, the system bends to the child.  Where you have a large family, the child bends to the system.  And so, what you have, he said, is young people growing up in an environment where the system bends to them.  And you have child-centered parenting.
MacArthur grew up in a large family, where choice was not an option:
I know as a child myself, one of the reasons I wanted to grow up was I wanted freedom.  I lived in a totally conformed society.  I ate what they gave me.  I don't ever remember going shopping with my mother, ever.  I wore whatever she brought home.  I never picked out a thing, never.  I don't even remember going to a department store clothing section as a young person.  My mother brought me what I needed, and I put it on.  And I conformed to the system.  And I looked forward to adulthood so that I could be free to make my own choices.  The reverse is true now; children grow up controlling the family and they don't want to become adults because that means conformity.  Then, they have to go to work, and nobody at work says, "Now, how would you like your office decorated?  And what time would you like to take a break for lunch?"  Nobody says that.  They put you on an assembly line or they put you in a place where you are forced to conform, so what you have then is a generation of young people who don't want to grow up.
And this sociologist said on the radio, you ask the average high-school kid, what do you want to do when you get out of school?  What's his answer?  "I don't know."  You ask the average college student, what do you want to do when you're out of college?  "I don't know."  And the reason he doesn't know is because he is postponing responsibility because responsibility means conformity to a system, whereas childhood for him has been absolute freedom.  Eat what you want when you want, wear what you want when you want, and your mother will take you anywhere you want to go whenever you want.  And so, you breed a generation of young people who are irresponsible.  And when they do get a job, they get a job simply to finance themselves so they can enjoy their indulgences, and then when they're 28 years old their license plate says, "He wins who has the most toys."  And the whole idea of adulthood is to collect toys, boats, cars, vacation trips, on and on and on.
Now, what you have in this kind of thing, said this sociologist, is breeding moody discontent.  And you build young people who cannot conform and cannot be satisfied, over-indulged kids who don't want to be adults, continue to push off responsibility; they grow up in an environment they control.  They don't like being controlled.  And they become discontent.  They don't want to take responsibility.  They don't want to work.  And their adult years are sad.  They become sullen, very often, they become complainers.  And I really believe that he's right in many cases.  One of the curses of our culture are overindulged childish kind of adults who are really complainers about everything.  Nothing is ever enough.  That's why we have a whole society with a critical mentality, constantly attacking everything.
The church environment is no different:
Now, I want you to know this has found its way into the church.  And the church is full of its own complainers, and what is really sad is many of them are run by their children's discontent.  People leaving the church because their children don't like it.  Can't imagine such a thing, unless their children control the family.  The church has its complainers.  And here we are with so much, so much.  How in the world could we possibly complain just because every little thing in life isn't exactly the way we want it?  Frankly, I would suggest to you that few sins are uglier to me and few sins are uglier to God than the sin of complaining.  Frankly, I think the church at large does much to feed this thing by continuing to propagate this self-esteem, self-fulfillment garbage that just feeds the same discontent.  There's little loyalty.  There's little thankfulness.  There's little gratitude.  And there's very little contentment.  And sadly, what happens eventually is your griping, grumbling, murmuring discontent is really blaming God because, after all, God is the one who put you where you are.  So, just know who you're complaining against.
He discusses how famous people from the Bible railed against God, from the very beginning:
Now, having said all of that there is a sense in which this complaining is part of our culture.  There's another sense in which it's not new at all.  Who was the first complainer who ever walked the earth?  Who was it?  The first complaining human being who ever walked was the first human being whoever walked.  And what was Adam's first complaint?  "God, the woman You gave me."  We are in this mess because of this woman.  He didn't blame Eve; he blamed God.  Eve had nothing to do with it.  God made Eve.  Adam wasn't married; he woke up one morning he was married.  God could have picked anybody He wanted, He picked her.  Why?  It's God's fault.  She led the whole human race in sin.  The woman You gave me, complaining.  Cain complained to God about God's work in his life, Genesis 4:13 and 14.  Moses complained to God for not doing what he wanted Him to do when he wanted Him to do it, Exodus 5:22 and 23.  Aaron and Miriam complained to God against Moses, His chosen leader and their own brother in Numbers chapter 12.  Jonah complained to God because he was mad at God for saving the Ninevites, Jonah chapter 4 verses 9 and 10.  And it is still a popular pastime to complain at God.  And may I say that all of your complaints in one way or another are complaints against the providential purpose and will of God.
There's a new book out called "Disappointment With God," very popular and being promoted very heavily.  It seems to me to make complaining against God okay.  It sort of tries to define God as a lonely misunderstood lover who is really trying to work things out, but is really kind of a victim of all of us and we shouldn't complain against Him, we ought to love Him.  What a strange view of God.  He is not some lonely misunderstood lover; He is the sovereign God who has ordered the circumstances of all of our lives.  And to complain against God, to grumble against God is a sin and we must see it as such.
In the ninth chapter of Romans verse 20, "O man, who answers back to God?  The thing molded will not say to the molder, 'Why did you make me like this,' will it?"  Who in the world are you to answer back to God?  What an unthinkable thing to do.  And when describing the apostates in Jude 16, it says they are grumblers finding fault following after their own lusts.  All they want is what they want when they want it, they don't get it, they grumble and find fault.  It's characteristic sin of the proud and it is characteristic sin of the wicked.
Now, the tragedy of this particular sin is that it is so contagious.  Let me take a minute to usher you back into the Old Testament, chapter 13 of Numbers.  And I want you to follow me and we'll at least get through this little introduction and I think set the stage for what is ahead of us.  This is really very, very interesting and very important.  We go back to the number one illustration of grumbling, murmuring belly-aching griping people the world has ever known, namely whom?  The Israelites.  Numbers 13 just gives us a little insight in to the potential power of this attitude to spread.  Verse 30 says, "Caleb quieted the people before Moses and said, we should by all means go up and take possession of it for we shall surely overcome it."  Joshua, you remember, and Caleb came back from spying out the land and they said we can do it; God is on our side, we can take it.  "But the men who had gone up with him said, we are not able to go up against the people for they are too strong for us."  Which is nothing but doubting God.  "So, they gave out to the sons of Israel a bad report of the land which they had spied out saying the land through which we have gone in spying it out is a land that devours its inhabitants, and all the people whom we saw in it are men of great size."  And then, they said this, "Also we saw the Nephilim, the sons of Anak are part of the Nephilim, and we became like grasshoppers in our own sight and so were we in their sight."
So, they come back with this complaining: we'll never do it, we can't make it, we can't defeat them.  It's a bad report.  It will fail, it will never make it.  Prophets of doom, they are.  And they're really complaining against the fact that God has told them to go in.
God hates complaining as much as He hates sin.
God killed complaining Israelites. The wages of complaining were death:
Now, go over to chapter 14, watch what happens in verse 36, "As for the men whom Moses sent to spy out the land and who returned and made all the congregation," what?  "Grumble against him by bringing out a bad report concerning the land, even those men who brought out the very bad report of the land," follow this, "died by a plague before the Lord."  You know what the Lord thinks of grumblers?  He killed them because they spread a brooding discontent against God.  That's the issue.  These people complained against God, they complained against God calling them to go into the land, they complained because the odds were against them humanly speaking.  And in their disbelief and complaining against God, they caused the whole nation to grumble, and as a result God killed them with a plague.  Grumbling really spreads, and your discontent, and your critical spirit, and your grumbling attitude, and your murmuring complaints will infect other people.
Here were the children of God.  They had been led out of Egypt.  God had parted the Red Sea for them.  They had seen ten plagues, miraculous plagues at the point of their deliverance.  And as soon as they got out of the land of Egypt they started to complain, and it never really ended.  Can I take you through a little trek?  Go back to Exodus and let's go back to where it started in the Exodus.  Verse 11 of chapter 14, "Then, they said to Moses," and they're out in the wilderness now.  "Is it because there were no graves in Egypt that you have taken us away to die in the wilderness?"  They said, "What do you bring us out here for, because there weren't any graves in Egypt?"  Which is a mocking statement.  I mean, wasn't there a place to bury us there?  You're going to have to take us to the desert to bury us?  "Why have you dealt with us in this way, bringing us out of Egypt?"  Here's the complaint, it's not like they want it.  They've left Egypt, it's not the way they want it.  Pharaoh is moving after them, and they begin to complain.  Of course, God did a marvelous thing, He opened the Red Sea, drowned Pharaoh's entire army and saved them.
Go to chapter 15, they come through the Red Sea, they've been delivered, and in that great 15th chapter, the song of Moses sings of God's great deliverance.  And it's no sooner than they've done that, verse 22, then Moses led Israel from the Red Sea, and they went out into the wilderness of Shur, and they went three days and they didn't have any water, three days.  And they came to Marah, they couldn't drink the waters of Marah, they were bitter therefore it was named Marah, so the people what?  Grumbled at Moses saying, "What shall we drink?"  Again, the same attitude.  Chapter 16, by the way, God provided water for them.  You remember it.  Verse 27 of chapter 15, 12 springs of water and they camped there and 70 date palms and they had a feast.  "Then, they set out from Elim and all the congregation of the sons of Israel came to the wilderness of Sin which is between Elim and Sinai, on the 15th day of the second month after their departure from the land of Egypt, and the whole congregation of Israel grumbled against Moses."  Nothing is ever enough.  Part the Red Sea, provide the water, more grumbling.  "Would that we had died by the Lord's hand in the land of Egypt, we would have been better off there when we sat by the pots of meat, when we ate bread to the full."  Boy, this is a crass crowd, right?  They don't care about anything but food.  "We're all going to die of hunger."  Boy, they're real deep, aren't they?  Real deep people.  "And the Lord provides again."  It's absolutely incredible.  God sends quail, God sends manna down.
Then, you come to chapter 17.  "Then, all the congregation of the sons of Israel journeyed by stages from the wilderness of Sin according to the command of the Lord and camped at Rephidim and there was no water for the people to drink.  Therefore the people quarreled with Moses and said, give us water that we may drink."  See, here's more complaining, griping, grumbling, quarreling, disputing.  "Moses said to them, why do you quarrel with me?  Why do you test the Lord?  He is the one who has ordained the circumstances.  But the people thirsted there for water and they grumbled against Moses and they said, why now have you brought us up from Egypt to kill us and our children and our livestock with thirst?"
Well, Moses is getting to the end of his rope.  So, Moses cried to the Lord, and I'm sure it was loud, "What shall I do to this people?  A little more and they'll stone me."  Some group, huh?  So, the Lord said, "Pass before the people, take with you some of the elders of Israel, take in your hand your staff with which you struck the Nile and go.  I'll stand before you there on the rock at Horeb and you'll strike the rock and water will come out of it the people may drink.  Moses did so in the sight of the elders of Israel, he named the place Massah and Meribah because of the quarrel of the sons of Israel, and because they tested the Lord saying, is the Lord among us or not?"  It doesn't take very long for people to forget the provision of God.
Now, go over to Numbers for just a moment or two because I want you to see this pattern.  Now, they're at the other end of the 40 years.  They're ready.  Time is ready to go into the land.  And it's not much different.  Verse 1 of chapter 11 of Numbers, "Now, the people became like those who complain."  You ought to underline that.  "They became like those who complain of adversity.  Complaining of adversity in the hearing of the Lord."  That's where their complaint really was directed.  "And when the Lord heard it His anger was kindled, and the fire of the Lord burned among them and consumed some of the outskirts of the camp.  The people therefore cried out to Moses and Moses prayed to the Lord and the fire died out.  So, the name of the place was called Taberah because the first of the Lord burned among them."  40 years later, and they have been complaining the whole time about everything.
Verse 4 says, "The rabble who were among them had greedy desires, and the sons of Israel wept again and said, who will give us meat to eat?  We remember the fish and the cucumbers and the melons and the leeks and the onions and the garlic, and we've got nothing but manna, crummy manna."  Day after day, this is typical complaining.  Chapter 14, God keeps on providing.  God sends the spies into the land.  And what happens?  They come out, they give this evil report, we can't do it.  Verse 27 of chapter 14, "How long," the Lord says to Moses and Aaron, "shall I bear with this evil congregation who are grumbling against Me?  I have heard the complaints of the sons of Israel which they are making against Me.  Say to them as I live, says the Lord, just as you have spoken in my hearing, so I will surely do to you.  Your corpses shall fall in this wilderness, even all your numbered men according to your complete number from 20 years old and upward who have grumbled against Me."  God says I'll kill the whole lot of you, you'll never enter the promised land, and He did it.  He did it.
Chapter 16 verse 41, "On the next day," what next day?  The next day after God had just punished some people for invading the priesthood.  The next day after God's object lesson about serious treatment of His law, "All the congregation of the sons of Israel," verse 41, "grumbled against Moses and Aaron, and they're saying you are the ones who caused the death of the Lord's people."  And the Lord was furious.  Verse 45, He says, "Get away from among this congregation that I may consume them instantly.  Then, they fell on their faces."  And Moses said to Aaron, "Take your censer and put in a fire from the altar and take incense in and bring it quickly to the congregation and make atonement for them, for wrath has gone out from the Lord, the plague has begun.  Then, Aaron took it as Moses had spoken, ran into the midst of the assembly, for behold the plague had begun among the people so he put on the incense and made atonement for the people.  And he took his stand between the dead and the living and the plague was checked, but those who died by the plague were 14,700, besides those who died on account of Korah," where the ground swallowed them all up.  God just starts slaughtering thousands of them because of their grumbling, complaining, discontent.
You find it again in chapter 20.  You find it again in chapter 21.  I won't read them to you.  I suppose the summary of all of it could be in Psalm 106, just listen to this, verse 25.  It says, "They didn't believe in His word but grumbled in their tents.  They didn't listen to the voice of the Lord.  Therefore, He swore to them that He would cast them down in the wilderness."  And that's exactly what He did.
I read with interest and thought that this must be quite a recent sermon.
How old do you think it is?
MacArthur delivered that sermon on January 15, 1989!
Let's return to our generation of complainers from that era, 33 years ago, as I write in 2022.
Their parents would have been born in the late 1950s through to the early 1960s, in most cases.
Those young adults, their children, in 1989, would have started getting married and bearing their own offspring in the 1990s.
Here we are, three decades — and three generations — later.
I have an update on today's youth from Saturday's Telegraph, July 30, 2022: 'Our fixation with feelings has created a damaged generation'.
The article is about British youth. Post-pandemic, the main topic that appears in many news articles and parliamentary debates is mental health.
If I had £1 for every time I've heard the words 'mental health' in parliamentary debates between 2020 and 2022, I'd be living in Monaco right now.
Not only do we have a new generation of complainers, they say they are suffering.
They are suffering because they are too introspective.
Feelings are the order of the day. A dangerous solution to that is the Online Safety Bill currently in the House of Commons. Pray that we can put an end to it, because it has provisions for 'legal but harmful' speech. The Secretary of State for Digital, Culture, Media and Sport — currently Nadine Dorries — can decide what is 'legal but harmful' speech.
Whoa!
That is a very dangerous route.
Even more dangerous are the voices coming from Labour MPs, who say that if they are ever in government again — a likely possibility — they will clamp down on whatever free speech remains.
Even worse, the legislation has not been passed, yet, here are Hampshire Constabulary just last Saturday, July 30, 2022, arresting a military veteran for tweeting a meme. The person who complained said that the meme caused him or her 'anxiety'.
The police don't ordinarily go to people's homes to investigate crime these days. Yet, they are all too ready to look into social media.
Five officers attended this man's residence and arrested him. It appears that no charges stuck, possibly because of the Reclaim Party's Laurence Fox's video of the incident. Perhaps the police were embarrassed?
The man tweeting this — unrelated to the incident — is former firefighter Paul Embery, a GB News panellist and Labour Party member who is active in unions, someone concerned about freedom of expression:
Guido Fawkes has more on the story and points out (emphasis in the original):
Arresting people for causing offence or anxiety, all while Hampshire recorded 8,000 burglaries in the last year, probably isn't the best use of police time…
How did we get here?
The Telegraph article consists of an interview with Gillian Bridge, 71, who is an addiction therapist, mental health advocate, teacher and author of many years' experience in schools and prisons.
Now you might think she makes all manner of apologies for today's youth.
Au contraire!
Gillian Bridge was aghast to find that the BBC put great emphasis earlier this year on how young Britons were reacting to the war in Ukraine. She said:
… there was this expectation that they were going to be enormously distressed – and about something that was not affecting them directly. Meanwhile, what were they doing in Ukraine? Living in bomb shelters; giving birth in cellars. But we were supposed to worry about the 'anxiety' young people were experiencing here? Frankly, I found that terrifying.
She said that this was not surprising, because in our post-pandemic world, feelings in a world of short attention spans are the only thing that matter.
As such, Ukraine is less important now. It shouldn't be, but it is:
Terrifying, but "not surprising", she adds with a sigh. "And you'll notice that just like other political subjects that have prompted huge emotional outpourings on and off social media of late, things have now gone very quiet on that front. Once we've had these 'big' emotions, we are no longer particularly interested, it seems." She cites our celebration of the NHS as another example. "People were virtually orgasmic about their pan-banging, but how many of them then went on to volunteer or do something tangibly helpful?" It's in part down to our gnat-like attention span, says Bridge, "but also the fact that a lot of the time we're not interested in the actual subject, just the way we feel about it."
Mental health problems, real or otherwise, have spun out of control over the past few years, even pre-pandemic:
… the 71-year-old has watched our "fixation with feelings" balloon out of all proportion, eclipsing reason, and predicted how damaging it would be, especially for the young. However, even Bridge was shocked by figures showing that more than a million prescriptions for antidepressants are now written for teenagers in England each year, with NHS data confirming that the number of drugs doled out to 13 to 19-year-olds has risen by a quarter between 2016 and 2020.
Child mental health services are reported to be "at breaking point", with referrals up by 52 per cent last year and some parents even admitting that they have been sleeping outside their children's bedrooms in order to check they are not self-harming. There is no doubt that we are dealing with an unprecedented crisis – one that was definitely heightened by the pandemic. "But Covid cannot be held responsible for all of it," cautions Bridge. "And while antidepressants can be very effective, we need to be asking ourselves how we reached this point? Because whatever we've been doing clearly isn't working."
Bridge blames this on too much introspection:
At the Headmasters' and Headmistresses' Conference in 2019 Bridge told the 250 independent school heads in attendance what she believed to be the root cause of this mass unhappiness: "This focus on 'me, myself and I' is the problem… It's taking people who are vulnerable to begin with and asking them to focus inwards." And in Bridge's ground-breaking book, Sweet Distress: How Our Love Affair With Feelings Has Fuelled the Current Mental Health Crisis, the behavioural expert explains why too much emphasis on emotion is as bad for our health as a surfeit of sweet treats. Indeed the "empty calories contained in some feelings" have only helped our "sense of self-importance to grow fat", she says. Hence the "emotional obesity many are suffering from now".
Cancel culture and censorship are part of this dreadful focus on feelings:
The book – which kicks off with Bridge's assertion, "We've been living in a gross-out world of personal emotional self-indulgence and sentiment for decades now … decades which have seen the nation's mental health worsening" – is a succession of equally magnificent declarations. Magnificent because she has pinpointed the cause of a whole range of societal problems, from mental distress and the determined fragility of the young to the woke chaos of universities and cancel culture.
Interestingly, Bridge believes that this toxic focus on feelings began in the 1970s. MacArthur and the sociologist he cited spoke in 1989. The timing makes sense.
Bridge told The Telegraph:
Certainly the touchy-feely approach to things had already started in classrooms back in the 1970s.
From there, it gradually expanded, year after year, decade after decade:
Flash forward to today, when every boss can be silenced by an employee starting a sentence with: "I just feel that …"
Whereas you could do so in the old days, it is now taboo to downplay someone's feelings, and that is not a good thing:
The great value of feelings today, Bridge tells me, "is that no one else can ever deny them … so if you feel offended then someone has genuinely harmed you". Celebrity culture has promoted this new way of thinking as much as social media, "where you can witness people actually gorging on themselves, getting high on the strength of their own feelings just as they do on sugar – self-pleasuring, basically. And listen, it may feel good in the short term, but it's very bad for us in the long run."
People can convince themselves that their feelings are the truth, their truth, anyway. That omits fact, what really happened. Bridge mentioned Meghan Markle's complaints:
Take the Duchess of Sussex, she points out, and her litany of "heartfelt" complaints. "Just last week there she was explaining that she didn't lie to Oprah about growing up an only child, because she felt like one, so it was, as she put it 'a subjective statement'." Bridge laughs; shakes her head. "We really are tying ourselves up in knots now, aren't we? Because it's all about me, myself and I, and someone like Meghan has made it so much easier for people to follow in her footsteps, when the reality is that feelings are not immutable. They are not fixed, an absolute. They are not fact. And they are certainly not something that must override everything else."
Yet there is a natural neurological process whereby the brain is able to turn feelings into fact, Bridge explains. "If you revise, rehearse, repeat and reinforce, then you create a fact, and that fact will then be embedded in your memory: 'your truth'. Going back to Markle, that's crucially a truth that no amount of counter-evidence can challenge."
Bridge says that encouraging children to emote and focus on their feelings is unhelpful for them and for society at large. The focus on feelings originated in the United States, the source of all bad ideas in our time:
"The worst possible thing you can do with a child is to give them a fixed idea that they are feeling a certain way," she says with aplomb. So those "emotional literacy" classes that started in California and are now being taught at schools here in the UK? The ones using a "traffic light" system, with pupils as young as four being asked to describe their "happiness levels" accordingly? "A terrible idea," Bridge groans. "Feelings are simply physiological sensations mediated by cultural expectations; they go up and they go down!" Yet thanks to the pervasive narrative that every feeling should be given weight, "instead of enjoying the limitless health and optimism of youth" many youngsters "are now entrenched in their own misery".
Bridge then tapped unknowingly into what MacArthur preached about in 1989, the notion that there were once roles for us in life, conformity to social expectations:
The desire to feel significant (either by embracing victimhood or by other means) is hardly new where young people are concerned, Bridge reminds me, and her tone is notably empathetic. "Let's not forget that people used to have a role in life assigned for them within their communities. You might do an apprenticeship and then go and work in a factory or go into your father's firm, or you might be preparing to get married and have babies. Now people have to find their role, they have to choose an identity, and that is much more complicated for them."
Remember when we older folk — the 60+ group — were taught resilience at home when we were children? 'Tomorrow's another day'? It meant that today's setback was temporary and, sure, we were hurt or upset, but better times were on the way. And, sure enough, they were.
Parents and schools are not teaching children about the temporary nature of setbacks. Therefore, today's children lack resilience, which gave all of us who learned it so long ago hope for the future:
"The reason 'everything will look better in the morning' is so important," says Bridge, "is that just like the children who did well in [Walter Mischel's famous 1972] marshmallow experiment, they were able to predict the future based on their past." That ability to delay and see the bigger picture is closely associated with the development of the hippocampus, she explains, "which is memory, navigation and good mental health. Yet by immersing ourselves in feelings and the now, we've blotted out the 'OK so I'm feeling bad, but tomorrow will be another day' logic, and we're trusting the least intelligent part of our brains. As parents, we should all be discouraging this in our children. Because a child has to believe in tomorrow."
Developing resilience is good for brain health, and it helps us to survive.
Bridge says that altruism also helps our brain health. We look out for others, not just ourselves. She says:
Studies have shown that it protects us from mental decline in our later years, but that the self-involved are more likely to develop dementia.
She cautions against cancelling or revising our history, whether it be factual or cultural:
Learning and a sense of history are equally important when it comes to brain health. "Yet again we seem to be distancing ourselves from the very things that we need to thrive. We're so threatened by history and its characters that we try to cancel them! When you only have to read something like Hamlet's 'to be, or not to be' speech to understand that it encapsulates all of the issues and irritations we still suffer from today. And surely knowing that gives you a sense of belonging, a sense of context, continuity and, crucially, relativity?"
Alarmingly, Bridge says that some young people believe that suicide is a melodrama, not a final act:
… they don't actually realise it's the end of them. Instead, they are almost able to view it as a melodrama that they can observe from the outside. Which is a deeply distressing thought.
Scary.
Bridge warns that too much introspection can lead to criminality:
Although it's hard to condense everything she learnt about the criminal brain during those years down to a tidy sound bite, "what was notable and important in this context," she says, "was their fixation on themselves. So the more a person looks inwards at the me, myself and I, the more they're likely to run afoul of everything, from addiction to criminality. In a way, the best thing you can do for your brain is to look beyond it."
She tells me about a prisoner she was working with "who came up to me and said: 'I've got mental health' – as though that were a disorder. Because people have become so 'into' the problem that the phrase is now only negative. That's surely one of the most worrying developments of all. And it's why I refuse to use or accept the term 'mental health' unless it is prefixed by 'good' or 'bad'."
Incredibly, with all the misplaced importance on feelings, Bridge says she has never had a bad reception to her talks:
… she stresses she "has never encountered negativity anywhere I have spoken". Yet another reason why Bridge isn't about to dampen her argument.
She thinks there might be the seeds of a turnaround, based on news items over the past few weeks:
"I think people understand that it's time for some tough talking," she writes in Sweet Distress. "There is increasing evidence that families, schools and universities are being overwhelmed by an epidemic of mental ill health." So whatever we are doing isn't just "not helping", but harming? "Absolutely. But I am seeing more and more people speaking up about this now. The narrative is changing. Just look at what the Coldstream Guards fitness instructor, Farren Morgan, said last week about body positivity promoting 'a dangerous lifestyle'. He's right." She shrugs. "It's no good saying 'it's OK to be any size you please' when we know that if children have bad diets, that can in turn lead to obesity – which in turn makes it more likely that they will suffer both physically and mentally later on."
She mentions the new smart dress code implemented by the head of Greater Manchester Police – the one that, according to reports last week, helped turn the force around into one of the "most improved" in the country. "These officers were performing better at work because they were dressed smarter. So what does that tell us? That if you have a disciplined life and if you accomplish the things you set out to do, that gives you self-esteem – which makes you happier. But of course none of this happens if we are just sitting around 'feeling' things."
She suggests that a good way of getting young people out of the cancel culture narrative is to point out that, someday, they might be cancelled, too. Also note the final word:
How do we get people out of themselves when they are so entrenched, though? How do we root them when they are flailing to such an extent? "By giving them a sense of being part of history! By getting them to see that if they want to cancel someone who lived 50 or 100 years ago, then in 50 or 100 years' time someone may have entirely 'valid' reasons to cancel them. By building the inner scaffolding that will keep them standing throughout life's ups and downs. And you know what that inner scaffold is called?" she asks with a small smile. "Resilience."
Get Gillian Bridge into the new Government, coming soon, as an adviser. The nation needs someone like her. She would be perfect in helping us to defeat our mental health pandemic.
After a few weeks' hiatus to cover the Conservative Party leadership contest, I am now able to conclude my series on Red Wall MP Marco Longhi, who represents Dudley North in the West Midlands.
Those who missed them might find Parts 1 and 2 of interest.
Boris tribute
Marco Longhi paid Boris Johnson a brief but heartfelt tribute during the Prime Minister's final PMQs on July 20, 2022:
A long time ago, when I trained as a pilot, I had the luxury of being able to fly around turbulent storms. I also had the ability to rely on a team who kept my aircraft airworthy. As the Prime Minister prepares his new flight plans, may I suggest that he resets his compass to true north and stops off in Dudley, where he will always be welcomed with open arms and sincere affection, and where he will be able to see his legacy?
Boris replied:
I thank my hon. Friend for that renewed invitation. I have spent many happy days with him in Dudley; let us hope that there are more to come.
The Archbishop of Canterbury on Rwanda
After the first scheduled deportation to Rwanda on June 14, 2022 proved to be a non-starter, the Archbishop of Canterbury made his views known yet again.
On June 15, The Express reported (emphases mine):
In a Tweet he wrote: "To reduce dangerous journeys to the UK we need safe routes: the church will continue to advocate for them.
"But deportations — and the potential forced return of asylum seekers to their home countries — are immoral and shame us as a nation."
This, rightly, elicited reaction from some Red Wall MPs:
Red Wall Conservative MPs were furious at the attack on Home Secretary Priti Patel and suggested that Welby give up his two palaces, which come with his Archbishopric, to house illegal migrants and use his personal wealth to pay for their needs.
Ashfield MP Lee Anderson said: "If the Archbishop of Canterbury truly believes that we should do more to keep illegal immigrants in this country and love thy neighbour as thyself then perhaps he should give up his two palaces and pay for all the accommodation costs.
"He can then instruct every Church in the UK that their vicarages should also be given up to illegal immigrants to stay in. These are practical measures he could take to assure the great British public that the Church is doing all it can during these difficult times."
The Archbishop's main residence is Lambeth Palace – south of the River Thames from the Houses of Parliament.
As well as numerous bedrooms the 800-year-old palace boasts extensive gardens, a large library, an atrium, "the pink drawing room" and a state dining room.
Meanwhile, his residence in Canterbury is the Old Palace or Archbishop's Palace, another grade I-listed 800-year-old building where one of the bedrooms was used by the Queen.
Marco Longhi echoed those sentiments:
In a personal message directed at the Archbishop, Dudley North MP Marco Longhi added: "Archbishop, as you appear to feel so strongly about this, will you give up two of your palaces for illegal migrants and pay for their accommodation?
"I note how it is the liberal privileged elite, unaffected by the impact of illegal immigration, whose moral outrage is loudest."
Well said.
Policing
When Boris won the December 2019 general election, increasing the numbers of police around England was a manifesto pledge.
On December 14, 2021, Longhi recognised the efforts the Government had made thus far in the West Midlands:
This Government value all our police officers. That is why, with our 11,053 extra police officers, we are not on target, but ahead of target to deliver our manifesto pledge of 20,000 new officers; there are 867 new officers already working in the West Midlands.
The financial settlement gave West Midlands police an inflation-busting 5.8% increase to its budget—a staggering £36 million. In addition, the rises in local tax that residents pay, together with council tax, put West Midlands police at the top of league tables across the country for precept increases; since 2012, a staggering increase of 79% has been imposed on people in Dudley North and across the West Midlands by the Labour police and crime commissioner.
Dudley people—and those across the West Midlands, I am certain—can see that effective policing is about more than just money. It is about local decision making and how that filters down from the chief constable and the police and crime commissioner.
Longhi was having a go at Labour for taxing West Midlands residents excessively but delivering little value for money with regards to policing. A Labour MP asked him to give way for an intervention, but he refused:
I would rather not, just now. The facts sadly speak for themselves. We need the right strategy for deploying all the new police officers we recruit, making the right decisions locally, and having the will and competence to deliver on them. The Labour police and crime commissioner has closed dozens of police stations, while spending more than £30 million on refurbishing plush offices at his headquarters in Lloyd House in Birmingham.
Another Labour MP asked to intervene, but Longhi refused to do so.
A commotion arose.
This took place in Westminster Hall, where niche debates take place rather than in the House of Commons. This one focused on West Midlands policing.
Sir Edward Leigh (Conservative) was the chair:
Order. Calm down. The hon. Gentleman does not have to give way if he does not want to.
Longhi continued, pointing out Labour's ability to rake in tax money then do nothing for local people:
Meanwhile, Dudley and Sedgley police stations have closed. Some hope was given to Dudley people when a new police station was promised in Dudley. It was hailed by my predecessor—the noble Lord Austin—as a new multimillion-pound station to replace the one in Brierley Hill. Several years later, we are still waiting for it. In 2019, it was announced that it would open in 2021, yet no detailed plans have been submitted by the police and crime commissioner to the council planning department.
Dudley is a major metropolitan town—I believe it is the largest town in the country that is not a city—and it has been without a central police station since late 2017. We are paying the price for no presence as a result of inaction and incompetence. Perhaps the Minister might inquire of the police and crime commissioner when Dudley people might see shovels in the ground and the promised new station.
I have great respect for a local police inspector in Dudley by the name of Pete Sandhu and his team. They are trying their utmost to make do with offices borrowed from Dudley Council that are, quite frankly, not fit for purpose. Inspector Pete Sandhu, the local police teams and PCSOs in Dudley town, the surrounding villages and those across the West Midlands not only deserve but need a station that is fit for purpose. Unfortunately, time and again, Labour police and crime commissioners have failed their constituents—including mine.
At the end of the debate, Kit Malthouse, the then-Minister of State for Crime and Policing, responded on behalf of the Government:
I have never shied away from those difficult financial decisions that have to be taken. Nevertheless, generations will pass, and maybe in 50 years the Labour party will stop talking about that period of austerity and talk about what is happening today. Today, I thought I was coming to a debate about the value of neighbourhood policing. However, it has become obvious that this is a pretty naked political manoeuvre in advance of some difficult financial decisions that the police and crime commissioner for the West Midlands will have to make as he moves towards setting his council tax. My hon. Friend the Member for Dudley North (Marco Longhi) has highlighted how significantly council tax has increased over the past few years …
… I find these debates a bit disheartening because of the lack of curiosity exhibited by Members about the performance in the West Midlands. For example, they never ask themselves why other police forces are doing better. Why is Liverpool doing better than the West Midlands? Why is Humberside doing better than the West Midlands? …
I will give way in a moment. Those Members are unwilling to acknowledge the reason, which is that decisions were made by the previous Labour police and crime commissioner that set the West Midlands back. They have to take responsibility for those decisions; they cannot, I am afraid, just come to this Chamber and keep saying that everything that goes wrong in the West Midlands is the Government's fault, and that everything that goes right is the Labour party's achievement. Nobody is buying that in Edgbaston, Selly Oak, or anywhere else in the West Midlands. They recognise that difficult decisions had to be made, and I urge the Labour party to acknowledge those difficult decisions.
David Jamieson was not all good, and he was not all bad. He had difficult things to do, and he made a set of choices that produced a particular outcome and a particular baseline in the West Midlands. I have no doubt that that was what he said in the elections that he won, and that the people of the West Midlands took him at his word and believed him. They have re-elected a Labour police and crime commissioner, so presumably they are happy with that performance, but complaining that everything that goes wrong is down to the Government seems a little naive to me.
Malthouse concluded:
… The West Midlands made a certain matrix of decisions that resulted in the outcome today. A number of forces around the country made different decisions. As a result, they will have more police officers than they had in 2010. That is something with which hon. Members will have to wrestle; I am afraid that is the plain truth.
On neighbourhood policing, I am pleased to hear that there is a thrust in the West Midlands to invest in neighbourhood policing, not least because the neighbouring Staffordshire force has been doing that for some years, to great effect. The police and crime commissioner and the former chief constable there took the decision to invest in neighbourhood policing and, interestingly, traffic policing, as the basic building blocks of an excellent delivery of service to their people. As a result, they saw significant reductions in neighbourhood crime. My hon. Friend the Member for Dudley North referred to the uplift number, which is 800-odd. I encourage exactly that kind of intervention. It is what lies behind our desire to expand the number of police officers in the country.
Fireworks
I strongly disagree with Marco Longhi's desire to see ordinary people banned from using fireworks.
It has only been in recent years that virtue signallers have made complaints about a splendid celebratory tradition that has been going on for centuries.
In England, at least, fireworks may be used only a few months during the year and, even then, only on certain days:
15 October to 10 November;
26 to 31 December;
3 days before Diwali and Chinese New Year.
However, not everyone obeys the rules. Furthermore, the rules are not enforced in equal measure.
So, Longhi took a survey of his constituents on the matter.
On November 8, 2021, a debate on fireworks took place in Westminster Hall. Although this debate has taken place often in recent years, this particular one was triggered by an online e-petition. The number of signatures required a parliamentary debate.
Longhi said:
There is no denying that access to fireworks in the UK is easy and that enforcement of existing legislation is poor. Although many of us have enjoyed firework displays over the last week to celebrate Diwali or to remember the foiled plot to blow up this House, many, if not more, are traumatised by fireworks. Last year, following scores of pieces of correspondence from constituents, I decided to open a public survey so that all my constituents could share their thoughts on fireworks and the impact they have. I received both positive and negative feedback, but I was truly shocked by the sheer volume of responses I received, many of which were overwhelmingly negative. Given the nature of the internet, the survey spread widely—some might say it went viral—and I found myself with well over 1 million hits on Facebook and well over a 100,000 survey returns.
We have heard about the trauma to pets and livestock. As we approach Remembrance Day, let us also spare a thought for our veterans and those suffering from PTSD, for whom loud and unexpected bangs and flashing lights can have a devastating effect on quality of life.
We have had many Australian influences on legislation over the years, and perhaps it is time for some more. At present in the UK, there is no legal requirement to have any form of licence or training in order to let off consumer fireworks. Fireworks can be sold at any time of the year and can be bought online. In Australia, it is illegal for someone to buy, possess or discharge fireworks unless they hold a pyrotechnician's licence or single-use licence. Authorities must be notified of all firework displays, and authorised events can be found using the authorities' fireworks display search.
One question that I would ask all Members in this room and those unable to join us today is this: should local authorities take the location of public displays into consideration when granting them a licence and should they require displays to be well publicised in the surrounding area? Furthermore, is it right to place greater restrictions on the sale, purchase and use of fireworks? If we agree, surely we can then find an agreeable compromise that protects those who are traumatised by fireworks.
I have already had discussions with my hon. Friend the Minister about this issue and I greatly appreciate his time, but it is time we had a wider debate and an honest discussion. This debate is had every year, but there are no real legislative changes. Surely the time is right for that to happen now.
Paul Scully, who was the Parliamentary Under-Secretary for Business, Energy and Industrial Strategy at the time, responded for the Government.
I agree with what he said:
… I am grateful to the members of the public who took the time to sign the e-petition that has brought us here to Westminster Hall to discuss this important matter, because it has received more than 300,000 signatures and calls on the Government to limit the sale of fireworks.
Therefore, I will take the time to outline and explain the Government's position on this matter, and to say, first of all, why we believe—although I understand that it is not the subject of this debate, as has been outlined—an outright ban on fireworks or an outright ban on their sale to the public is not the appropriate course of action.
We have concerns that banning fireworks in that way could have significant adverse and unintended consequences for public safety, particularly in leading to the emergence of a black market in illicit fireworks. There was a reason why there was not a 2019 debate on this issue. Yes, it was the year of a general election, but more importantly in 2019 the Petitions Committee conducted an inquiry on this issue, which I was a part of as a Member of the Committee, and the evidence given by interested parties aligned with the Government's current view. Those interested parties included both the National Police Chiefs' Council and the National Fire Chiefs Council.
The petition being debated today also highlights the concerns that some people have—understandably—about the impact of fireworks on vulnerable groups and animals. These are issues that I was only too pleased to discuss with my hon. Friend the Member for Dudley North (Marco Longhi) when we met back in July to discuss the fireworks survey that he had carried out in his constituency; as he said, it went somewhat viral. I really sympathise with those views, and I am always sorry to hear the stories of how some individuals and animals have been affected by fireworks. That is why the Government are committed to promoting the safe and considerate use of fireworks, and why we have been carrying out a programme of action on fireworks to ensure that those who use them do so safely and appropriately.
It is important to say that this is a highly regulated area, with a comprehensive regulatory framework already in place to control the sale, availability and use of fireworks. We believe that this framework strikes the right balance for people to enjoy fireworks while aiming to reduce risks and disturbances to people and animals. For example, current legislation sets an 11 pm curfew on the use of fireworks, with later exceptions only for the traditional firework periods of 5 November, Diwali, New Year's Eve and Chinese New Year.
A load of concerned Opposition MPs from Labour and the Scottish National Party piled on with interventions.
Scully replied on noise and trading standards questions:
There is a 120 dB noise limit on fireworks available to consumers. Retailers are restricted to only selling consumer fireworks during a limited period around each of the seasonal celebrations that I just referred to, and retailers may only supply fireworks to the public outside those periods if they obtain a licence from their local licensing authority. However, I fully appreciate that it is just as important to ensure that legislation is enforced effectively. We have heard of some issues where that has fallen short, but I will describe what powers and mechanisms are in place against the illegal sale and use of fireworks.
Local authority trading standards work with retailers to ensure that the fireworks that are sold are safe, and have powers to enforce against those who place non-compliant fireworks on the market. Trading standards and local fire and rescue authorities in metropolitan counties can also enforce against those selling fireworks without an appropriate licence—for example, outside of the normal selling period.
He also said, in response to Opposition MPs:
In our polling, the Government found that 11% of the population want a total ban on fireworks, 36% want a ban on the private sale of fireworks, and, from memory, 64% enjoy the use of fireworks and want to be able to enjoy them both privately and publicly. We came to similar conclusions from our evidence as were reached by the Petitions Committee in its 2019 inquiry. In the extensive report setting out its findings, the Committee concluded that introducing further restrictions on fireworks was not the appropriate course of action, due to the potential unintended consequences. That was just two years ago. We agree with that position.
We acknowledge the experience of people who believe that banning fireworks would push the market underground and make it more difficult to regulate and monitor. We also agree with the Committee's conclusion that such a ban would have a substantial economic effect on those who have built their livelihood in the fireworks industry. Restricting fireworks would probably also have dire consequences for community displays, which raise funds for good causes.
Due to those significant concerns, the Government believe that the most balanced course of action is to continue to pursue non-legislative measures on fireworks to complement existing legislation. That is the position we set out and committed to in our response to the Petition Committee's inquiry.
Leave our fireworks alone!
I've only ever bought sparklers, but I have no idea where my neighbours purchase their fireworks.
For years, our local superette used to have a large, locked counter filled with fireworks at the appropriate time of the year. They got rid of that over a decade ago.
Our neighbourhood's home displays of fireworks, which I used to be able to watch from the comfort of my living room and kitchen, have also decreased over the past few years.
I disagree with Longhi on this subject. However, it is good that he respected his constituents' wishes, conducted a survey and presented the results to the Government.
Business of the House questions
Marco Longhi and Lee Anderson seem to have struck up a friendship. I often see them sitting together in the Commons.
Perhaps Lee's Ashfield food bank brought them together.
This is from the Business Debate of November 25, 2021, when Jacob Rees-Mogg was still Leader of the House.
Anderson said:
Last Friday I was joined by my hon. Friends the Members for Stockton South (Matt Vickers), for Bassetlaw (Brendan Clarke-Smith) and for Dudley North (Marco Longhi) in a "Ready Steady Cook" event in Ashfield. With the help of the local food bank, the college and local top chef Dave Marshall, we were able to produce 175 meals for just 50 quid. This is our fight against food poverty. Does the Leader of the House agree that we need a debate in this place on food poverty, so we can help people to cook on a budget and feed the nation?
Rees-Mogg replied:
I commend my hon. Friend for his amazing achievement and his hard work. I have a friend who teaches people to cook on a budget and runs something called Bags of Taste, which is a very successful way of encouraging people to cook on a budget. My hon. Friend is leading by example.
In the same debate, Longhi raised a complaint about a group of Travellers who refused to move on when they should have:
Yesterday, I received a three-page letter from the leader of Dudley Council. A designated Traveller site in Dudley has been occupied by Travellers who have overstayed the terms of their licence. After due process was followed in the courts in co-operation with the police, the police commander refused to support the council to give cover to bailiffs, citing the European Convention on Human Rights, as Travellers may have rights.
Will the Leader of the House agree to look into the matter and arrange a statement from the relevant Minister? This sets a terrible precedent for councils across the country, which may find that they have wasted taxpayers' money by following legislation set out by this place to invest in designated sites. It can provide indefinite leave to stay illegally, with no protection for landowners. It implies that the police can "woke interpret" and choose to follow laws other than this country's and its courts' instructions. Does that not give further credence to the need to repeal the Human Rights Act, as I have been calling for for many months?
Rees-Mogg gave a theoretically correct reply on policing by consent, which, as we saw during the pandemic, no longer works as such.
He also seemed reluctant to condemn the European Convention on Human Rights, of which the UK is still a signatory:
My hon. Friend asks an excellent question. It is really important that we are all equal under the law, and it is fundamental that the law is carried out by the police. We police by consent; the police are us, and we are the police. For that to work, people have to have confidence that the law will be enforced. Having said that, I do not know the specific details of the case or the reasons for the police decision, but the Government are taking more action to deal specifically with the issues around illegal campsites and associated criminality. I will pass on my hon. Friend's comments to the Lord Chancellor, and I note with great interest what he has to say about the Human Rights Act.
A new Human Rights Act is making its way through the Commons, with the intention that it frees us from EU conventions. However, why we cannot use and enforce the original one, the 1688 Bill of Rights, puzzles me.
King Kong
To end on a lighter note, on January 28, 2022, the Cultural Objects (Protection from Seizure) Bill debate took place.
Suzanne Webb, the Conservative MP for Stourbridge, discussed little-known artefacts and the importance of taking good care of them.
This includes a replica of King Kong:
I now want to tell the tale of an artefact of great distinction and notoriety that resided in the Midlands: an 8 foot tall, 890 kg fibreglass statue commissioned for display in Birmingham in 1972, as part of the sculpture for public places scheme in partnership with the Arts Council of Great Britain. It was commissioned to make something city-oriented, and the sculptor chose King Kong—I do not know whether my hon. Friend the Member for Dudley North (Marco Longhi) remembers the King Kong that resided in Birmingham. I do not want hon. Members to do a quick Google now, as I will be told off by Mr Speaker, but when they leave the Chamber, they can see the incredible artefact that was in Birmingham and supposed to represent it. It was down to the sculptor's association with New York City, and he created it for their own petty reasons. It was displayed in the heart of the city for many years—imagine if it was actually seized! It was something of a notoriety, and I loved it as a child growing up. We used to drive round to look at it. Hon. Members will be pleased to hear that King Kong lives on, and is now retired in Penrith.
Longhi made no reference to King Kong in his speech, but commended the Bill as an important contribution to preserving our culture and history, good and bad:
It is a pleasure to follow my hon. Friend the Member for Vale of Clwyd (Dr Davies) and to speak about this straightforward and reasonable Bill, which has been designed in a specific and targeted way, and will only help to support a sector that, like so many others, has been affected during the pandemic.
Our museums and cultural institutions in the United Kingdom do an incredible job. They have the power to transcend barriers, to preserve and to educate. Our museums, galleries and cultural institutions teach us about the past—the good, the bad and the ugly. By learning about the past, we can be inspired for the future to do better or learn from past mistakes. They stimulate our brains and make us smarter.
My Dudley North constituents are lucky that we have many rich cultural institutions on our doorstep: the Black Country Living Museum, Dudley Zoo and Castle, the Wren's Nest site of special scientific interest, the Dudley Canal Tunnel Trust, nature reserves, our microbreweries and pubs, and our bowling greens and parks. The list really does go on.
——————————————————————–
I am pleased to say that Longhi supported Kemi Badenoch in the Conservative Party leadership contest.
All the best to him for a long and satisfying parliamentary career.
Last Friday's post introduced the Red Wall MP Marco Longhi, who represents Dudley North in the Black Country area of the Midlands.
The Black Country is so-called for its long coal mining history.
On March 31, 2022, Marco Longhi gave an excellent interview to Nigel Farage on GB News, which shows the measure of the man — level headed, polite and pragmatic:
Longhi said that having served in local politics — he was mayor of Walsall for two years beginning in 2017 — was a good way of preparing for becoming an MP.  His maternal grandfather Wilfred Clarke was also mayor of Walsall in 1978.
Before that, Longhi served as a local councillor in 1999.
The conversation between him and Farage turned to the 2019 phenomenon of the Red Wall seats that voted Conservative for the first time.
Longhi, whose mother's side of the family had a career history of working in the mines, said that miners were overwhelmingly Labour voters. However, by the time the Brexit referendum came about in 2016, they started to question their allegiance for Labour, which seemed to be ignoring them.
Longhi's Dudley North constituency voted to Leave in the referendum: 72 per cent. In subsequent elections, he and Farage agreed that Labour's dominance began breaking up, with voters turning to either UKIP or the Brexit Party.
Longhi said that, when the historic December 2019 election came around, Dudley North's voters rallied around Boris Johnson's premiership. Of Boris, Longhi said that the PM was:
able to sprinkle that little bit of gold dust.
Farage, not wanting to miss an opportunity to criticise the Conservatives, asked Longhi about their Net Zero policy. Farage mentioned the fracking company Cuadrilla, which was awaiting permission from the Government to begin extracting shale gas in the North of England. To date, they still are.
Longhi said that, while he supported the general push towards decarbonisation, he said it has to be done 'pragmatically, step by step'.
Farage said he was concerned about the cost of living. Longhi agreed and hoped that the Government could do something about reversing their new taxes, brought in to help pay for the cost of the pandemic measures, e.g. furlough and business grants.
Longhi agreed when Farage expressed concern that the Conservatives could lose the next election. Longhi said that the pandemic had truly paralysed Parliament for two years — acknowledging that the public would not accept that — and that two years to make up lost ground was not long enough. Longhi said that, when he was elected in 2019, he foresaw that it would take two Parliaments — ten years — to get the Conservative policies from the manifesto in place.
Therefore, he said he has been trying to set voters' expectations for the next election.
Farage said that Labour leader Sir Keir Starmer is positioning himself as a safe pair of hands. Longhi agreed, saying:
I have been talking about this danger since the day I was elected.
I am pleased since the recent shake-up at Number 10 [post-Partygate] they are more receptive, there are different people in place, and I really hope, for all of our sakes, that those changes are going to be acted upon.
Longhi said that being an MP is
the best job in the world
and that he enjoys helping out his constituents wherever he can. He says that the occasional thank you note he receives in return adds to that personal satisfaction.
Boris
Unlike other Conservative MPs, Longhi has not made any pronouncements about Boris Johnson.
Instead, he, as the UK's trade envoy to Brazil, tweeted his delight at meeting one of the country's former presidents:
He also tweeted his support for shale gas:
We now move on to looking at Marco Longhi's participation in Parliament.
Mayor of Walsall – mental health
On May 8, 2018, when Longhi, not yet an MP, had become mayor of Walsall again for another one-year term, the Conservative MP for Walsall North commended him in a session on Health and Social Care (emphases mine):
Eddie Hughes: I hope the Minister will join me in congratulating the mayor of Walsall, Marco Longhi, whose mayoralty has raised a significant sum to support WPH Counselling and Education Services, which provides adolescent mental care and counselling in Walsall.
Jackie Doyle-Price responded on behalf of the Government:
I am very grateful to my hon. Friend for raising this matter, and I very much welcome the contribution made by the charity to support teenagers in his constituency with psychological therapies and to help to address their mental health conditions. I join him in extending my congratulations to the mayor for choosing this very important cause and for endeavouring to raise so much money for it.
Committee appointments
As a new MP, on March 2, 2020, Longhi was appointed to two parliamentary committees: the Environmental Audit Committee and the European Scrutiny Committee. The latter monitors progress on Brexit.
Trade
On May 20, 2020, Longhi participated in a debate on the post-Brexit Trade Bill:
The Trade Bill we are discussing today is a framework that allows us to continue to trade as a nation state with those countries who already have a trade agreement with the EU. It enables UK service providers to seek out business in Government procurement markets worth £1.3 trillion, and reshores from the EU those protections available under WTO rules to support British business against unfair trading activities under the new trade remedies authority.
Why is that important? It means that we will harpoon yet again the ill cited arguments that we will crash out and fall off a cliff edge through Brexit. It means that we can seek out new business, and it means that we can finally take effective action ourselves against rogue nations who do not respect international trading conventions. Let us remind ourselves of the EU's impotence when China dumped its excess steel on our markets, and the jobs it cost us here in the UK.
It is an undisputed fact that open markets and free trade generate wealth and our new-found and hard-won ability to seek out new markets will grow our economy. Covid-19 has brought about a global tendency towards protectionism, which we know has the opposite effect. We must not be drawn into this trap at any cost, as we shall be poorer for it. However, what covid-19 has shown is that for all their rhetoric, the EU's institutions fail to respond effectively, if at all, and its constituent members immediately behaved as a collection of nation states. They offered a shallow apology to the Italian people for leaving them to their own devices while protecting their own. I must ask, was that not entirely predictable? That begs the question of how, as a nation at this historic junction, we consider the strategic implications of a future crisis. Should we be more self-reliant in key areas such as energy, food and medicines? Many large corporates are now reshoring as they understand the total cost of outsourced activities, including problems with quality control, the cost of unreliable supply chains and the carbon footprint of products, just to name a few. That is why I was delighted to hear about our investment to produce 70 million masks in the UK and create around 450 jobs at the same time. It is about taking a risk-based approach and understanding the total cost-benefit arguments of decisions that we take in the key areas that affect our national resilience.
Globalisation is here to stay. As we harness the great opportunities presented to us by Brexit and FTAs, our biggest challenge is how we do so. The area that I represent in Dudley and the many areas that my new colleagues represent have not always benefited. Globalisation has seen benefits, but also a race to the bottom with a low-wage economy in traditional manufacturing and the loss of jobs in the sector. Buying a pair of boots for a few pounds less is not a huge benefit if there is not a job to go to.
Analysis shows that there are between 250,000 and 350,000 businesses that currently do not export but could. My plea is that we target those businesses, with a special focus on those in the Midlands, with determination, enthusiasm and strategic focus, and at real pace, so that we can add value and bring new jobs to these areas while we also minimise the devastating impact of covid-19 on local economies and people's lives.
On June 24, 2021, Longhi participated in the Comprehensive and Progressive Agreement for Trans-Pacific Partnership debate, led by Liz Truss, who was, at the time, the Secretary of State for International Trade:
Longhi: Does the Secretary of State agree that if British business is to invest it needs confidence, and that that confidence will come by restating our commitment to free trade by diversifying our trade offer, generating new jobs and bringing more stability to the jobs we already have?
Truss: My hon. Friend is absolutely right. A key benefit of the CPTPP is increased resilience. It means that our exporters will not have all their eggs in one basket. They will have options about where they send their goods. It will also mean our importers are able to rely on strong relationships in countries which follow the rules and have good standards in areas such as the environment and worker protection.
He then intervened in Liam Fox's speech on protecting free trade, which, in turn, helps consumers:
Does my right hon. Friend agree that consumers will therefore have cheaper access to white vans and St George's flags, which particularly our self-employed make use of in the construction industry?
Fox did not want to go there:
I cannot think what my hon. Friend is alluding to, but it is certainly true that consumers will have access to far greater choice …
Labour's John Spellar — one of their few good guys — attempted to intervene and finally succeeded:
The right hon. Gentleman knows that I am very supportive of trade and trade agreements. Equally, I was rather surprised by his response to the hon. Member for Dudley North (Marco Longhi). Should we not be encouraging people to buy white vans made in Luton, and trying to ensure that St George's flags are made and sold in the United Kingdom?
Fox batted that intervention away in short order:
The right hon. Gentleman is quite right that we should ensure that as much is made in the United Kingdom as possible …
International aid
The temporary 0.2% reduction in international aid post-pandemic has been a long-running issue amongst Conservative MPs and arises again and again. Half the Conservative MPs, it seems, strongly disagree with the reduction while the other half support it, because it is only temporary.
On June 30, 2021, in the Opposition's Official Development Assistance and the British Council debate, Longhi said that MPs who made a big deal about the reduction were virtue signalling:
Foreign aid spend has frequently been a way for politicians to compete for moral righteousness in the public eye. My Dudley residents care not for this type of posturing.
My right hon. Friend the Member for Sutton Coldfield (Mr Mitchell)—he is no longer in the Chamber—who is a near neighbour of mine, referred in his closing remarks to his electorate, implying that they agree with his stance on foreign aid. I would make two points on that. First, my constituency is literally just down the road from his, and I can categorically assert that a significant majority of my residents do not agree with him. Secondly, I gently point out to him that, on average, two thirds of all people polled in this country very recently did not agree with him either. Just the other day, on GB News, he used the majority view argument to support assisted dying, so perhaps he might consider being consistent with his rationale, instead of imposing his moral virtues on the country's majority view.
Virtue signaller Anthony Mangnall, a Conservative, intervened:
I am sorry to interrupt my hon. Friend. It is fine if that is his argument, but surely he believes that it is right for this House to have a vote on the issue, because we are all representatives of our constituencies, and of the views of our constituents. Forget the polling and allow this place to have its say. Does he not agree with that sentiment?
Longhi replied:
I might refer my hon. Friend to votes on Brexit in previous years, when a significant number of elected Members did not represent their constituents and voted the opposite way to them.
Labour will always oppose what the Government do, even if they tripled foreign aid. Having only ever averaged a maximum spend under 0.4% of national income when it was in office, compared with the 0.7% that we achieved, Labour's protestations are somewhat shallow, if not risible. People will see Labour for what it is: out of touch with working-class people and totally clueless about their priorities.
I am concerned about some of my colleagues. They are being so generous with other people's money—a notable socialist behaviour, I might add. Perhaps they can explain to my Dudley North taxpayers why we should spend £15 billion overseas when my residents cannot find council houses and when we still have homeless people on our streets, some of them brave veterans.
Longhi went on, refusing to take further interventions:
I would like to make progress, please.
Covid has given rise to exceptional circumstances, and the Government were entirely right to reduce aid and focus on rebuilding our country. Charity begins at home. That said, I do not agree with reducing the foreign aid budget from 0.7% to 0.5% of national income; I would scrap the target altogether. Foreign aid should be and needs to be completely reformed. A fluctuating number each year that bears no real link with need, priorities or actual outcomes is no way to plan or act strategically. It is not how a household would budget, it is not how a business would budget, and it should not be how a Government budget. Which other Government Department do we fund as a percentage of national income?
Mangnall succeeded at last:
It is on that point—I can give the answer. We committed in our manifesto in 2019 to funding research and development at 2.7% of our GDP. We commit to NATO spending at 2% through the Ministry of Defence. The list goes on.
At that point, Madam Deputy Speaker (Dame Eleanor Laing) said that, as many MPs were leaving the chamber, she would be lifting time limits on speeches.
Longhi concluded, refusing to take another intervention from Mangnall:
Thank you, Madam Deputy Speaker.
I will respond by saying it is not the way we fund policing, education or health here at home. Surely a more sophisticated approach that is outcome-focused and delivers measurable change in very poor countries by employing some of our own local and UK-based companies is a far better approach than the arbitrary and unaccountable system that we continue to virtue-signal about.
I would ask two things of colleagues wanting to reinstate the 0.7%: let us focus efforts on achieving much better outcomes by reforming foreign aid, and, while we are at it, focus on challenging the EU and other wealthy countries that consistently fail to meet their own targets and do not measure up to what the UK is certainly doing …
By any measure, the UK already does far more than most, both in cash terms and in areas not captured by our foreign aid spending. Certainly my constituents know that very well.
Yes!
Buying a house
On October 7, 2020, Longhi put forward a Ten Minute Rule Bill, a type of Private Members Bill, about reforming Conveyancing Standards.
I do not know what became of it when it was debated, but he made good points about the pitfalls of house buying:
I beg to move,
That leave be given to bring in a Bill to establish minimum standards regarding searches and assessments of risk for solicitors and licensed conveyancers acting on behalf of purchasers of residential properties; and for connected purposes.
The main aim of this Bill is to help protect people who wish to buy a house—sometimes their first home—from being exposed to risks that currently are not sufficiently visible or understood at the point of purchase. The Bill does not propose radical changes to the conveyancing process; nor, indeed, does it propose changes to the development control system, although some may argue that that might be desirable to further de-risk the process for homebuyers.
I will set out two examples to illustrate the types of difficulties faced by homebuyers. Both are real cases of people who have been let down by a system that has not kept pace with an industry that has become increasingly cut-throat. The system does not offer enough consumer protections for people who are about to make possibly the single most important investment of their lives, while the transaction itself is mired in documents and legal complexities that are rarely fully understood.
My first example is of a developer who purchases land and applies for planning permission, which is granted subject to conditions. Those conditions are wide ranging and set out requirements of the developer in order for them to receive final planning certification at the end of the development. One such condition may be that soil sampling is undertaken to establish whether any contamination is present; another may be that properties must not be occupied until planning conditions have been fully satisfied.
That developer set up a limited company for the sole purpose of the development and started marketing the site almost immediately. Some properties were sold off-plan; some were sold when the buildings were largely complete. When the final plot was sold, the developer immediately liquidated the company. That means the legal entity that sold the properties no longer existed.
It became apparent immediately that a significant number of planning conditions had not been met: no soil sampling, no preventing of owners from occupying, and no top coating of road services or pavements to bring them up to council adoptable standards. Drainage was not connected properly, and the new homeowners had a huge list of unfinished works and complaints about poor standards of work.
At that point, the homeowners turned to the council for help, in the expectation that it would have the ability, as a local regulatory body, somehow to fix things. It transpired that any regulatory liabilities relating to the properties transferred to the property owners at point of sale, and that if the council chose to enforce breaches of planning, it would have to pursue the new homeowners.
It is important to note that the current system places no requirements on local planning authorities to pursue developers to evidence compliance with planning conditions. The expectation is that a developer will want final planning certification, but that is all it is: an expectation. What if a developer does not care about obtaining the certification? Their objective is to build, sell and maximise profit. So here we are; we have just purchased a property in good faith following the advice of the conveyancing solicitor—who, by the way, was recommended by the developer—and the property does not have planning permission. Certification costs could be extremely significant, and we have no recourse to the developer because they no longer exist as a legal entity.
My second example is probably more widespread than my first, and I suspect that similar examples may be present in several MPs' casework folders. Imagine we are very keen to buy a property. At the point of purchase, our solicitor handling the conveyancing might highlight the fact that there is a contract for maintenance of green spaces on the estate—grass cutting, hedge trimming and so on—as well as that those areas do not belong to any of the properties and the cost is about £100 per year. Do we still want to buy the property? Of course we do. That is not a lot of money in the grand scheme of things, and if it means securing the property of our dreams, of course we will pay it.
What is not discussed with sufficient clarity at the point of conveyance, if at all, is that the small print of the maintenance contract will state that contract owners can increase the price as and when they wish, and there is virtually no recourse within the contract for poor workmanship or lack of clarity. The fee of £100 per year may soon become £500 per year, and the grass cutting may be once a year instead of once a month. These areas remain unadopted by local councils—something that I find a little too convenient. How would you feel, Mr Speaker, if you paid an even higher council tax for services you did not receive, compared with a neighbour around the corner who pays less and gets more?
Usually, when a service is not rendered, one may choose not to pay. That cannot happen here, because these contracts state that a charge will be placed against the property, so it cannot be sold without payment. Furthermore, homeowners cannot complain to anybody, because an unresponsive contractor is virtually unaccountable and has plenty of legal cover, while homeowners are usually bounced around from contractor to subcontractor to developer in a never-ending merry-go-round.
Those two scenarios are real. The same thing has happened in Dudley and to other people from the Black Country whom I have met. People find themselves financially exposed. The system is being gamed by unscrupulous developers and contractors, because it is not transparent enough to shine a light on the potential risks to people when they are buying a property. People might feel that the very fact that a solicitor is handling the conveyance means that they are sufficiently protected. They employ a solicitor not just to carry out due diligence for them, but to highlight any potential downsides. That is not happening with enough robustness, and that is why I propose the Bill.
Crime and Labour
In a Business of the House session on June 16, 2021, Longhi lamented that Labour MPs voted against the Government's Police, Crime, Sentencing and Courts Bill:
I am sorry to say that it came as no surprise to me when Labour voted against tougher sentences for rapists and child rapists this week. My constituency of Dudley North has been waiting for a new police station in the centre of Dudley for many years, as was promised by the Labour police and crime commissioner. Will my right hon. Friend agree to explore this issue with me, and perhaps with the Home Secretary, and agree to a debate on the effectiveness of police and crime commissioners more generally?
Jacob Rees-Mogg, then Leader of the House, replied:
My hon. Friend raises an important point. The socialists, as always, are weak on crime and weak on the causes of crime, and they have shown their true colours in the recent refusal to support tougher sentences for violent criminals. Unfortunately, socialist police and crime commissioners have been failing their constituents. I hope that my hon. Friend will continue to hold his local PCC to account and at the highest level, because the Government are continuing to back the police and to support the public in fighting to bring down crime.
… We are taking the landmark Police, Crime, Sentencing and Courts Bill through Parliament at the moment, which will tackle serious violence throughout the country. We have hired nearly 9,000 additional police officers and are well on track to meet our target of 20,000 new officers this Parliament. I am grateful to my hon. Friend the Member for Dudley North (Marco Longhi) for the important issue that he raises.
Marco Longhi gets it, as it were.
I will conclude with more of his policy perspectives next week.
The voters of Dudley North should be pleased with him. He cares about them.
Finally, after six years, the Metropolitan Police took away noise-enhancing equipment from Steve Bray, the well known anti-Brexit protester.
Earlier this month, I wrote about his confrontations with Conservative MP Lee Anderson.
Metro posted the following Twitter thread on Tuesday, June 28, 2022.
I find it incredulous that police had to wait for the new Police Crime Sentencing and Courts Act in order to do anything. Surely, his daily, disruptive noise was already a breach of the peace, an ancient offence:
Naturally, those who oppose Brexit and Conservatives believe that the Met's reaction was overkill.
However, Conservative MP Andrea Leadsom supported the move:
She makes an excellent point about 'fulfilling the democratic decision of the UK to leave the EU', the largest plebiscite in British history.
Leadsom received bouquets and brickbats in equal measure for using the words 'violent protest':
I cannot imagine what it must be like to have to work day in and day out with Bray's braying through a loudhailer:
The area around Parliament also has permanent residents, such as the Speakers of the House, Commons and Lords:
Guido Fawkes has another video of the police with Bray:
Guido's post has a photo of the Territorial Support Group who confiscated Bray's boombox (emphases his):
20 or so Met police officers have now swarmed Steve Bray to confiscate his loudspeaker and threaten his arrest. This is all a result of the Police, Crime, Sentencing and Courts Act 2022, which comes into force today. Here's what Section 73 of the Act says regarding noisy protests:
Section 73 amends section 12(1) of the 1986 Act allowing a senior police officer additionally to impose conditions on a public procession where they reasonably believed the noise generated by that procession may result in serious disruption to the activities of an organisation in the vicinity, or have a significant, relevant impact on people in the vicinity.
They even threw his boom box into the back of a police van…
Hat-tip: Charlotte Lynch and Ellie Varley
Another Conservative MP who will be breathing a sigh of relief at the confiscation of Bray's equipment will be Marco Longhi, who represents Dudley North in the Midlands:
I'll have more on Longhi — and Bray — tomorrow in my next Red Wall MP profile.