You are currently browsing the tag archive for the 'politics' tag.
President Trump appears relaxed at home in Palm Beach, Florida.
At Mar-a-Lago, someone spotted him doing what he does brilliantly — handing out tips to his staff.
Here he is, flanked by his Secret Service detail, early in February 2021:
On Friday, February 12, the day before his second impeachment acquittal, radio talk show host Howie Carr took his wife — 'the mailroom manager' — and a guest, Joe Piantedosi from the Piantedosi Baking Co. in Malden, Massachusetts, to the resort for dinner. Howie is a member of the club, which is conveniently located, as he now lives in Palm Beach, having moved from Massachusetts a few months ago.
On Presidents Day, February 15, Howie wrote and talked about his dinner. His article includes a photo.
In 'Monday Musings: President Trump's getting back to his old self', he says:
I spoke with President Trump Friday night at Mar-a-Lago. He seemed like he's in a better mood, and this was even before the ridiculous impeachment "trial" ended Saturday with his acquittal, and his lawyer demolishing the media in a liveshot with See BS News (more below).
After my radio show Friday night, Joe Piantedosi and I drove back to Palm Beach from Boca and met the mailroom manager at Mar-a-Lago. Our table for dinner was right next to POTUS', and he came down at about 8 with Corey Lewandowski, Dave Bossie and Pam Bondi, the former AG of Florida who also worked as one of his lawyers.
Dave Bossie was Trump's deputy campaign manager in 2016. Corey Lewandowski was his campaign manager in early 2016, then made way for Paul Manafort so that the latter could mastermind the delegate debacle and win the Republican nomination for Trump.
Howie continues:
As POTUS entered, the dining room, Joe, the mailroom manager and I all stood up and said hello. I extended my hand to shake and POTUS said, "No, we'll get in trouble!" So I shook Corey's hand.
Anyway, an hour or so later, we had finished dinner and were leaving.
How can anyone go out to eat and finish dinner in an hour? It's evident that Howie's stomach op for weight control is still working.
The Trumps' table is always cordoned off:
Usually, I look over his way and wave goodbye, and if he wants to talk, he calls me over. He was looking away, so we just walked on. I don't want to impose myself on him (or anybody else).
So we were walking out through the lobby when I heard a voice behind me: "Mr. Carr, Mr. Trump would to speak with you."
Trump, understandably, was still preoccupied by the election:
The mailroom manager was ahead of us, so Joe Piantedosi and I walked back into the dining room. One of the waiters moved the rope so we could walk into the private area. The president looked up and said, "Do you think I won New Hampshire, Howie?"
"Absolutely!" I said.
He thinks a lot about New Hampshire, about what happened both in 2016 and last year. In 2016, he blamed the "buses from Massachusetts," but I think it was more the same-day registrations in the college towns. If you subtract the impossibly high turnouts in Durham, Hanover, Keene, Plymouth, etc., instead of losing by 3700 or so votes he wins the state, and so does Sen. Kelly Ayotte, for sure.
The reason POTUS asks me about this is that he associates me with New Hampshire. He was on my show, I was at his rallies. I was the host of the town hall in Sandown which was his dress rehearsal for the one in St. Louis where he cleaned Hillary's clock.
To POTUS, I'm not so much the guy from Boston, or the guy who was born in Portland. I'm the guy who's on seven radio stations in New Hampshire.
So I told him, how could you have lost when the NH GOP took over the legislature in Concord in absolute landslides – 67 House seats, 4 Senate seats. He knows this, I'm sure, so I asked him, did you hear what just happened in Windham?
"What happened in Windham?" he asked. I really had his attention now.
I told him – the town just did a hand recount, after all this time, of the legislative races in Rockingham House District 7. The four Republican candidates were each undercounted on the machines – in the hand recounts each GOP candidate picked up, respectively, 297, 299, 303 and 298 votes.
Isn't that peculiar, how each Republican was undercounted by almost the exact same number?
"Has this been reported anywhere?" Trump asked, looking over at Corey Lewandowski, who lives in Windham.
"Not in the Union Leader," I said. "At least I haven't seen it."
Corey looked at him. "I'll get you the numbers," he said.
The Union Leader reported on the story by the time Howie's show aired on Presidents Day. One of the Republican candidates was sure she received more votes — and she had. The discrepancy, however, did not affect the final outcome. The Gateway Pundit and The Daily Fodder have more on the story.
Talk turned briefly to Trump's impeachment trial in the Senate:
The president briefly mentioned the trial – "I thought it was a good day," he said, and no one said much of anything in response, because, let's face it, it was such a ridiculous kangaroo-court farce that who wanted to waste time watching and getting pissed off about it, even if you're headed to Mar-a-Lago for dinner.
Finally, Trump asked how dinner was:
and that was like the old days, before he was even running, when during dinner he'd move from table to table like a super maître d'.
"I had the lobster risotto," I told him. "It was great."
Howie concludes:
It was great to see him in such a positive mood, and I can only imagine how pleased he must have been the next day when the travesty came to its pitiful end, and then his lawyer Michael van der Veen demolished some bimbo on See BS News.
I will have more on that and the impeachment trial next week.
Although Trump's acquittal is well known, a few rather interesting events and analyses did not make mainstream news.
In case you've missed the earlier posts in this series, here they are: parts 1, 2, 3 and 4.
The best known of the minority MPs from David Cameron's premiership — 2010 to 2016 — is Rishi Sunak, who is Chancellor of the Exchequer.
He represents the Richmond constituency in Yorkshire.
Early years
Rishi Sunak's grandparents moved from the Punjab province of India to East Africa. Rishi's mother Usha was born in Tanzania. His father Yashvir was born in Kenya. Both are Hindus.
Both sets of grandparents migrated to the UK in the 1960s.
After marriage, Usha and Yashvir settled in Southampton, on the southern coast of England. Usha worked locally as a pharmacist. Yashvir was a general practitioner.
The couple have three children: Rishi, another son Sanjay, who is a psychologist, and a daughter Raakhi, who works on COVID-19 strategy for the Foreign, Commonwealth and Development Office.
Rishi Sunak went to the renowned public (private) school Winchester College, founded in 1382, where he was head boy and editor of the student newspaper.
He then went to Lincoln College, Oxford, where he graduated with a First in 2001 in PPE, which is nothing to do with hospital gowns, rather Philosophy, Politics and Economics. Whilst at Oxford, he did a brief stint at Conservative Campaign Headquarters.
During summer holidays he worked at a curry house in Southampton.
Sunak began his career at Goldman Sachs, where he worked as an analyst from 2001 to 2004.
He then decided to study for an MBA at Stanford University in California, where he met his wife, Akshata Murthy, the daughter of the Indian billionaire N. R. Narayana Murthy, the man behind Infosys. The couple married in 2005. Sunak, a Fulbright Scholar, completed his MBA in 2006.
Sunak and his wife settled in England and have two young daughters.
Prior to entering politics, Sunak worked for two hedge funds and was also the director of one of his father-in-law's companies, Catamaran Ventures.
Political career
Former Conservative Party leader William Hague represented Richmond, which has been a safe seat for the party for over a century.
Rishi Sunak was elected comfortably to his first term with a majority of 19,550 (36.2%). Once in Parliament, he was appointed to the Environment, Food and Rural Affairs Select Committee.
Sunak was also committed to Brexit and was an early advocate of free ports, having written a report on the concept in 2016, the year of the referendum.
In 2017, with Theresa May as Prime Minister, Sunak won re-election with an even greater majority of 23,108 (40.5%). In Parliament, he continued to support Brexit, voting for Theresa May's deal and against a referendum on a final withdrawal agreement in 2019.
That year, Theresa May stood down as PM. Sunak supported Boris Johnson in the ensuing leadership contest.
That autumn, during the general election campaign, he appeared on a television debate, representing the Conservatives:
I am sure Sunak did better than Iain Dale gave him credit for:
He also participated in a seven-way debate on ITV.
On December 12, Sunak further increased his margin of victory at the polls to 27,210 (47.2%).
The coronavirus Chancellor — and some inside scoops
Then, in February 2020, Prime Minister Boris Johnson replaced Sajid Javid with Rishi Sunak as Chancellor:
He gave his first budget less than a month later, on Wednesday, March 11, which I wrote about at the time.
The following Monday, March 16, Boris announced social distancing rules and the closure of pubs, restaurants and events venues. Rishi spoke at one of Boris's televised coronavirus briefings with news of a generous financial package:
Guido Fawkes posted the full video and remarked (emphasis in the original):
You wouldn't guess he's only been in the job for five weeks…
Full details are here. Sunak also issued a Twitter thread with a summary:
Then lockdown came a week later on Monday, March 23.
A few days later, Boris was struggling with his bout of coronavirus, as was Health Secretary Matt Hancock:
The Conservatives soared to record approval ratings in the polls:
Early in April, Boris was quietly rushed to St Thomas' Hospital in London. Rishi did another coronavirus briefing to reassure an anxious nation:
The well-spoken, gentle Sunak appealed greatly to the folks at home. The Independent did not like that one bit.
Society magazine Tatler began running articles on Sunak in March. They could see he would quickly become a cult personality.
On March 18, the magazine posted an article by Annabel Sampson, 'Everything you need to know about Britain's new Chancellor, Rishi Sunak'.
It begins with this (emphases mine):
The virtues of 39-year-old Rishi Sunak have been extolled many times over; for his charming demeanour, his razor sharp brain and his acute financial sense. Now the man who has come to be recognised as the 'Maharaja of the Dales', thanks to his Indian ancestry and Yorkshire home, has been appointed to the highest office in the country, to Boris Johnson's Cabinet in the role of the Chancellor of the Exchequer, the second biggest government job; and the second youngest person ever to take the position.
The appointment follows the 'Cabinet Reshuffle' that occurred in February when Savid Javid, the former Chancellor, resigned when he was asked to get rid – reportedly a request linked to Dominic Cummings – of his closest aides. Rishi Sunak's star has been rising for some time now, so his appointment to the position will have baffled few.
The article has several photos, including one of Sunak in the Yorkshire countryside and one with his dog, which resembles Boris Johnson's Welsh rescue pup, Dilyn.
Sunak and his wife had a traditional Indian wedding:
Rishi and Akshata were married in her hometown of Bangalore, in a two-day ceremony attended by 1,000 guests.
Akshata is a working mother:
Akshata runs her own fashion label Akshata Designs and is also a director of a venture capital firm founded by her father in 2010. Her designs are wonderful; she's been profiled by Vogue India and been credited for creating clothes that are 'vehicles to discovering Indian culture' – comprised of chic silhouettes with bold, Indian design.
Did we know that the Sunaks throw great parties? We do now:
With their combined wealth, they understandably have a generously sized home in Northallerton, North Yorkshire (in Sunak's constituency). The Daily Mail reports that their annual summer garden party is a county highlight; where uniformed staff loft around serving ice cold champagne and canapés (no doubt prepared by the prestigious Yorkshire Party Company).
Sunak is a natural at politics:
According to the Daily Mail, 'While many MPs stutter and trundle their way through their maiden speech in the Commons, Mr Sunak's at-ease manner provided a glimmer of what was to come'. One ally in parliament told the Telegraph: 'He's ferociously intelligent and thoroughly decent at the same time' …
He was one of the few Conservatives who were let loose on the air waves (14 times in total) and allowed to make public appearances during the election campaign last year. He has even been dubbed the 'Prime Minister-in-waiting', we'll see. His first big challenge was the March budget; and now he is juggling the unprecedented complexity of the impact of the coronavirus on the economy. The UK are in safe hands.
The article also has a photo of him supporting Yorkshire County Cricket at Edgbaston.
Early in July, Tatler's Ben Judah travelled to Sunak's home town of Southampton and reported his findings in 'Inside the world of Rishi Sunak'.
Naturally, Judah went to the curry house where Sunak worked during his summer holidays:
The kitchen at Kuti's Brasserie, not far from Southampton docks, was not the sort of place, in August 1998, you would have gone looking for a future hedge funder, son-in-law of a billionaire and Conservative chancellor.
That summer – the summer of the France 98 World Cup and the Omagh bombing – Kuti Miah, the eponymous restaurateur behind the curry house, went to have a word with one of his waiters. 'You're going to be someone, Rishi,' he said. The future UK chancellor flashed his famous smile. He was, adds Miah, 'a brilliant talker'. Rishi Sunak, then 18, was about to go to Oxford, but that holiday he waited tables for Miah, a close family friend, to earn some pocket money. 'I saw him grow up,' says Miah. 'His father used to bring him in his carry cot.'
Miah was fast friends with Yashvir and Usha Sunak, both Hindu Punjabis born in colonial Kenya and Tanzania respectively, whose parents had migrated from India. After India's independence, both families left East Africa for Southampton in the mid-to-late 1960s. Yashvir and Usha met in Britain and married. He became a local GP and she ran a pharmacy. They were 'brilliant conversationalists' and 'very strong believers' who 'worked very, very hard', according to Miah, who also recalls that they were 'passionately British'.
Rishi, the eldest of their three children, was cut from the same patriotic cloth. Not only did the young Sunak fall in love with the game of cricket, he fervently supported England over India at any opportunity. His career, too, has followed one of the most traditional and storied of England's paths to power. Like five chancellors of the exchequer before him, Sunak was schooled at the ancient and distinguished Winchester College; and like three of those same Wykehamist chancellors, he went on, as was expected, to study at Oxford.
The article includes a photo of Sunak with his wife and in-laws.
Ben Judah had met Rishi Sunak before, in 2015, just before the general election that year. They met up in Northallerton, North Yorkshire:
We were a long way from London – from where Sunak had been 'parachuted in' for the seat. During the interview, I had a distinct sense of being the only person in the cafe who knew that this slight man in a Barbour jacket was running for parliament. 'I tell this story when I'm out and about,' he said, coffee in hand, 'that you can come to this country with very little… My grandparents came with very little from a village in northern India, and two generations on, their grandson has this enormous privilege of running as a candidate for parliament. For my family, the route was education.'
Well said.
Sunak's candidacy in 2015 raised some eyebrows:
He was vying for a seat once presided over by Tory grandees William Hague and Leon Brittan. But I had spent days in Richmond and the surrounding area, reporting on the resentment his sudden arrival had stirred up among certain local Tory notables, who felt the seat in the Dales was rightfully theirs. 'There was a very acrimonious constituency battle,' claimed one source, with a lot of hostility to an outsider coming in.
Sunak's wife had also met with some resistance on the campaign trail, says Judah.
However, Sunak's father-in-law enthusiastically flew to England where he helped to campaign:
Sunak's billionaire father-in-law, NR Narayana Murthy, however, has been so enthusiastic about Sunak's parliamentary career that he'd flown in, and had even been leafleting on his behalf, wearing a Rishi sweatshirt. 'To be honest,' said Sunak in Costa Coffee that day, 'I think it's patronising to assume minorities should only run in minority seats.'
The article discusses Sunak's property profile:
On 7 May 2015, Sunak won, with more than 50 per cent of the vote (a Ukip vote of 15 per cent had appeared from nowhere). He put down roots in his new constituency of Richmond, North Yorkshire, augmenting a £10 million property portfolio (metropolitan digs in London – a Kensington mews house, a flat on Old Brompton Road – and a place in California) with a £1.5 million Georgian manor in Yorkshire set across 12 acres, including an ornamental lake. Here, he now entertains the constituency membership with lavish summer parties at which uniformed staff serve champagne and canapés. He has been repeatedly dubbed by newspapers the 'Maharajah of the Yorkshire Dales'.
The general public know less about those details. Nonetheless, Rishi Sunak has become a household name:
In a swift few years, Sunak has become known as many things: Dishy Rishi to the tabloids; one of the richest MPs in Westminster; the second-youngest-ever chancellor of the exchequer, presiding over a £350 billion package to boost the economy (the largest ever recorded in peacetime); and a former hedge funder whose profile has risen faster than stocks in a vaccine manufacturer.
However dazzling all of this is now, things were very different when Sunak entered Winchester College as an adolescent:
… Winchester would come at a price for the Sunaks. No sooner was he accepted than Rishi's good fortune immediately foundered: he missed out on the expected scholarship. Desperate not to let the opportunity go to waste, his parents decided to take on the high fees themselves, picking up extra work and making what the chancellor has called considerable 'sacrifices'. His brother would later follow.
One of his classmates discussed Sunak and described Winchester in the mid- to late 1990s:
Tim Johnson, now a lawyer, was in the boarding house next door. 'Rishi was a good chap, in boarding-school idiom,' he recalled. Sunak, he said, was a 'reasonable cricketer', who stood out in friendliness; and he was a solid, but never number one, student. 'Rishi was always expected to do something,' Johnson remembered. But exactly what, beyond Winchester, was vague. 'He was always expected to be head boy as he was clever enough, reasonable enough and well behaved enough.' This became Sunak's thing – hard work and attainment, becoming the first Winchester head of school from an Indian background.
Sunak was different to other sixth formers in Winchester: a lifelong nondrinker, he wasn't distracted by the allure of the pub. But there was something else that marked him out from the herd. He was a conservative in every sense: not only in his outlook and demeanour but in his religious attitudes, too – a practising Hindu who avoided beef. At school, where few boys were political, Sunak was clearly 'associated with the Tories', said Johnson. It was 1997, The Chemical Brothers were topping the charts and the mood was rebellious. Counterculture, New Labour and ripped jeans were in; the Conservatives were out. 'That wasn't his intellectual jam. Rishi didn't play that game,' Johnson explained.
'Everyone was chipper about it when Blair won,' Johnson said. But not Rishi. His family's story was closer to Margaret Thatcher's than that of his bourgeois Labourite classmates. Watching the early results of the landslide on election night 1997, Sunak sat down to write a gloomy article for the school magazine, The Wykehamist, lamenting the news. His main complaint: Europe. 'He revels in the label of a patriot,' he complained of Tony Blair, 'but has plans for the possible break-up of the United Kingdom and membership of an eventual European Superstate.' The seeds of Brexit were already in his mind.
'Already,' fretted Sunak, 'the New Labour rhetoric sounds worryingly pro-European and avid pro-Europeans are being sent to Brussels' …
Later, at Oxford, Sunak had a low profile, unlike his predecessor as MP, William Hague:
He was nothing like the young William Hague, who arrived at Oxford fêted and almost a Tory celebrity, or the young Boris Johnson, the blond beast who tore apart the Oxford Union. At Oxford, Sunak was a nobody, much like Tony Blair.
He continued to eschew strong drink:
Oxford acquaintances remember him as a nerdy teetotaller who was 'just very clearly going into business'. He would 'make this big thing' out of drinking Coke in the pub. 'Rishi was unknown to the student politicians, that gossipy overlapping world, who all knew each other,' said Marcus Walker, then-president of the Oxford University Conservative Association, now a clergyman. Sunak was never a member.
It is hard to remember how irrelevant and demoralised Tory circles felt after 1997, but some do recall Sunak as a 'Thatcherite' and 'Eurosceptic'. 'That was absolutely par for the course,' said Walker. 'If you were still a Tory after 1997, you were a Eurosceptic. That was all you had left.'
Nevertheless, Sunak did develop a network from his Winchester College and Oxford days. Graduates from Winchester are called Old Wykehamists:
These days, socially, Sunak has been placed by some in Westminster's Spectator set. He was best man to his lifelong friend and fellow Old Wykehamist James Forsyth, political editor of The Spectator, at Forsyth's politician-studded wedding in 2011, to Allegra Stratton, the national editor at ITV News – and gave what one guest recalled was 'one of the most touching best man's speeches I've ever heard'. (In fact, Stratton has recently announced she's leaving ITV News for a job with Sunak at the Treasury. Some have seen this as very Cameron-esque in its 'chumocracy'.)
Allegra Stratton, also a good friend of ITV's Robert Peston, now works for Boris Johnson as his notional press secretary, although she has not yet begun to give press briefings, probably because of coronavirus.
Imagine the son of immigrants having ties to Britain's two oldest — ancient — magazines: The Spectator and Tatler. Wow.
Tatler's Ben Judah also spoke with people who had worked with Sunak during his hedge fund days. They painted a similar character portrait of the Chancellor:
After two years in California completing a CV-topping MBA, he returned to London and Mayfair in 2006, where a new type of boutique finance was booming: hedge funds. He was hired by Sir Chris Hohn at The Children's Investment Fund (TCI). It was a dream job: a big role at an activist firm off Berkeley Square at the peak of their fame. 'He appears to have been trusted,' said a source. Indeed, Sunak was made a partner two years later. Contemporaries remember him ever-ready to meet and greet; a mixture of a junior, deputy and a bag carrier; the perfect foil to Hohn's bolshy swagger. 'Ridiculously nice.' 'Affable.' 'Approachable.' 'Charming.' These are the words that come up again and again among Mayfair types who knew Sunak. The charm was of a particular kind: 'There are two kinds of people at hedge funds,' said one source. 'Handsome and thin smooth-talkers who are always on the phone or going out to lunch with clients, getting them to part with their money. And then quants in the back room with their shirts buttoned up badly.'
Sunak was one of the smooth-talkers, his charm honed on calls to investors, getting them on board with whatever drastic moves the fund wanted to make. The kind of charm that prizes clarity and persuades people to part with their money. It worked: but hedge-fund charm is designed to hide as much as it reveals. The atmosphere at TCI was buccaneering and bold; it both led and profited from a controversial banking raid that eventually meant a £45.5 billion public bailout of the Royal Bank of Scotland. (The Treasury and TCI say Sunak was not involved in the deal.) He left when TCI split in 2009, and joined the breakaway hedge fund Theleme Partners. His new firm's reputation took a knock when its founder was revealed to have used a notorious tax avoidance scheme. The Labour Party researched Sunak's past during the 2019 election. 'But he was too little known for us to use it,' said one source …
His reasons for entering Parliament are equally obscure. Those who know him have different opinions as to why. One thing that everyone agrees on is his penchant for order:
Many in Westminster see his motivation as status. 'He's not an ideologue,' said one Tory source. 'He wanted to enter politics in that old-fashioned way, because it was seen as the good thing to do.' Good, as in socially ambitious. Whether that's true is another matter, because first came a stint at Policy Exchange, leading a unit researching black and minority ethnic attitudes. The scruffy but influential Conservative think tank world is seen as a de facto holding pen for future special advisers, but it was nonetheless an unexpectedly technical way into Westminster for someone with means.
Sunak quickly made an impression. 'He's got that Blair-like ability to hold your eye,' says Nick Faith, who worked with him there. Sunak cut a snappy figure amid slovenly suits. 'He's into his clothing.' His is not the fusty establishment Rees-Mogg or Nicholas Soames style, but more the wiry Emmanuel Macron look. Everything Sunak wears, many remarked, is immaculate, even at the end of a Treasury work day, and fits perfectly. Faith says that 'everything, from how Rishi dresses to how he structures his life, is very well organised'. Sunak's elegant house in London, with a touch of Indian decor, reflects that. 'Nothing is out of place. For someone with two small kids, that's quite an achievement.'
Having learned from his background in finance, Sunak also knows how and when to place his bets:
'His mind works in Excel,' said one City contemporary. But like all hedge funders, it also works in bets: and the two biggest bets that Sunak has made in his career have paid off spectacularly – Brexit and Boris. David Cameron knew the gravity of his predicament when Sunak came out for Leave. 'If we've lost Rishi, we've lost the future of the party,' he reportedly said. The same thing played out in reverse in June 2019 when Sunak came out for Boris in The Times with two other MPs during the party leadership elections. This was widely seen in Westminster as a decisive turning point: the one where Johnson won over 'the sensibles' and pivoted the backbenchers. The PM seems to agree: all three have been handsomely rewarded.
In Parliament, he keeps a low profile but, to those who know him, is loyal:
'He's unknown in parliament,' said one MP. 'He doesn't play the parliamentary game at all.' Tory Remainers are sceptical of him. 'It's Star Wars,' said one MP, referring to the chancellor's strange and classically 'geek-chic' hobby for minutely detailed models of spaceships and video games. 'Most of his political philosophy comes out of the Star Wars trade wars that are about the independence of various kingdoms from the Empire. He's not someone intellectual.' Loyalty has been his strongest suit. Sunak is a No 10 man. 'He's a grown-up,' said one MP. 'The only grown-up in Downing Street, despite him being 20 years younger than them.'
… At the height of tensions over Brexit last year, he was cheerfully going around Westminster saying he would back 'no deal' if push came to shove. He struck the right note, in the right place, at the right time. Tensions between Boris Johnson and Sajid Javid's teams exploded in February, when the then-chancellor resigned after refusing to fire his own special advisers and submit to an unprecedented joint team with Downing Street, effectively under the stewardship of Dominic Cummings. It was Sunak, with high skills and no clear agenda or faction behind him in parliament, whom Downing Street turned to. He quickly agreed to the joint team, once again becoming the perfect foil for an outsized boss. 
Even now, it's still too early to say whether Rishi Sunak will become a future leader of the Conservative Party and, as such, a possible prime minister. A week is a long time in politics.
When Boris's erstwhile special adviser Dominic Cummings broke coronavirus rules in travelling from London to Durham and back during Boris's time in hospital, Sunak tried to calm the ever-turbulent waters surrounding Cummings, who was never popular with the Remainer media. He tweeted this after Cummings's lengthy press conference in May:
In June, Sunak was tactful about the reopening of shops and businesses in Britain after the first coronavirus lockdown:
He also warned that his generous financial package could not go on indefinitely:
A few weeks later, in early July, pubs were allowed to reopen:
The Government launched the Enjoy Summer Safely campaign. Pictured below is Piccadilly Circus:
On July 8, he issued a Summer Economic Update, with financial help continuing (more here):
This included the launch of his Eat Out To Help Out plan, which lasted to the end of August:
A lot of Labour MPs didn't like the plan. I don't know why. Leftists own restaurants, too.
He cut VAT for the hospitality industry, too.
He also issued a detailed jobs plan, including an apprentice scheme:
Some men in the media were taking a shine to Dishy Rishi, including the leftist Owen Jones of The Guardian and Channel 5's Jeremy Vine:
At that time, the attention being given to Sunak and Boris Johnson got the better of Conservative MP Caroline Dineage, a Culture minister, who was questioned on masks, which were strongly suggested (mandatory only on public transport) but still optional in what now look like heady days. This was from a BBC interview:
… asked why the Prime Minister and Chancellor Rishi Sunak had not worn one in public, she snapped: "You'd have to ask the Prime Minister and the Chancellor that, with respect.
"But it is something that is advised and we keep it under review."
At the end of September 2020, the coronavirus crisis dragged on. Talk intensified about a winter lockdown.
On September 24, Sunak issued a Winter Economy Plan, about which I wrote at the time. When he presented it in the House of Commons, he advised all MPs to live 'without fear'.
By October 6, Sunak was being blamed for an uptick in coronavirus 'cases' (positive test results, not necessarily hospital admissions) for the Eat Out to Help Out scheme:
A US study, which did not cover Britain, showed that hospitality venues were shown to be responsible. However, the study did not cover workplaces or hospitals. Nonetheless, it is still a contentious point even to this day.
The Sun's Harry Cole rightly, in my opinion, defended the Chancellor's restaurant promotion.
Then talk of hospitality curfews emerged. Fellow Conservative MP Matt Vickers defended the Chancellor's Eat Out to Help Out programme, which had come to an end five weeks earlier.
The calls for a winter lockdown grew. The Chancellor rightly opposed them:
By then, more areas of England had moved into tiers, indicating more coronavirus cases. Sunak increased financial support to those cities and counties. He also offered more help to businesses, including the self-employed.
By November, some thought a storm was truly brewing between Boris and Rishi. Despite all the talk from the Government about people being able to meet loved ones at Christmas — for the first time in months, for many — a pessimistic undercurrent, which turned out to be accurate, seemed to be part of every news cycle.
Rumours circulated that Sunak was ready to resign. However, on November 1, the Daily Mail reported:
A source said there was a 'collective decision' to back a second lockdown, and that Mr Sunak 'accepted it' – and he did not threaten to resign, as some whispers around Westminster were suggesting yesterday.
The November lockdown was supposed to prevent a Christmas lockdown, but that was not to be. There was a brief re-opening before Christmas, and on December 19, the hammer fell once more.
Interestingly, the minority MPs in Cabinet shared Sunak's concerns.
By the middle of December, Sunak was clearly worried about how long the borrowing could go on. On Saturday, December 19, the day when Boris announced Christmas was cancelled, The Spectator reported what the Chancellor said about borrowing and quantitative easing (QE):
'Are you or anyone else going to guarantee me that, for the duration of this parliament, rates might not go back to 1 per cent?' he asks, pointing out that this almost happened in March, before the Bank of England started printing money to bring rates back down. 'There is this very large QE thing that's going on. No one has done that before. There are plenty of smart investors who are also thinking about the risks of inflation over the next 12 months. Because we are now so levered, small changes have huge cash implications. If I have to come up with £10-£20 billion a year in a few years' time because things have changed — well, that's a lot of money.'
To Sunak, it's not just an economic problem but a political one. 'If we [Tories] think borrowing is the answer to everything, that debt rising is fine, then there's not much difference between us and the Labour party,' he says.
The media criticised him for going to his constituency of Richmond for Christmas. To be fair, he did work while he was there, visiting a local hospital and a vaccine centre. He did not rush back to London.
On February 3, 2021, Sunak rightly accused scientists advising the Government of shifting the goalposts regarding lockdown:
This might be causing a rift in Boris's Cabinet:
On a brighter note, Time magazine has included Rishi Sunak on its list of 100 'emerging leaders'. On February 17, the Daily Mail reported:
Under the 'leaders' category, Chancellor Rishi Sunak landed a spot on the list, being described as the 'benevolent face of the government's response to the COVID-19 pandemic' by Times reporter Billy Perrigo.
The Chancellor's profile piece discussed the furlough scheme, describing how he approved 'large handouts' for people whose jobs had been affected by coronavirus.
The piece also paid respect to Sunak's Eat Out to Help Out scheme, which the magazine described as an attempt to 'revive the economy' by subsidizing dining out at restaurants.  
Although his profile acknowledges that Sunak bears more responsibility than most for his calls to ease lockdown restrictions, Time's profile for the Chancellor admits he has earned himself a 'legion of fans'.
Sunak's accompanying profile points to a YouGov poll showing him to be the nation's most popular politician and even tips him to be the bookmakers' favourite as the next Prime Minister.  
Again, a week is a long time in politics. We shall see about the future as and when it happens.
For now, Sunak is focussing on the budget, to be delivered on March 3. He is asking industry leaders for their thoughts.
Michelin-starred chef Gordon Ramsay was one of those leaders:
If Rishi Sunak ever tires of being an MP or Chancellor, a job in media awaits.
He is an excellent interviewer and researched Gordon Ramsay well. The 15-minute video is worth watching.
The list of minority Conservative MPs continues. All being well, more tomorrow.
Recently, I've been featuring a bit more about Kevin McCarthy (R-California), the GOP Leader of the House of Representatives.
In my December 15 post, I'd doubted whether he'd been on the Trump Train since 2016, but, according to my ancient bookmarks, he took his first step on board in March that year.
By the way, this is still my favourite tweet from the 2020 election. Well done:
Looking back, as early as March 2016, McCarthy, House Majority Leader at the time (Paul Ryan was Speaker of the House), believed that Candidate Trump could galvanise the Republican Party. On March 10 that year, the venerable Sacramento Bee reported (emphases mine):
House Majority Leader Kevin McCarthy on Thursday rejected the possible calamitous effects a Donald Trump nomination could have on the Republican Party, arguing instead that the businessman and political newcomer may improve the chances of GOP House challengers in November …
He also outlined his hopes for the House:
"Our desire (for) the House is to become the place of ideas," he said. "Whoever becomes president, make the debate about policy, so when the election is over we can solve the problems. But the American people decided which way they wanted to go."
He walked alone.
On May 9 that year, he made the risky move of signing up to be a Trump delegate. Politico reported:
House Majority Leader Kevin McCarthy has signed up to serve as a delegate for presumptive Republican nominee Donald Trump at this summer's national convention in Cleveland.
McCarthy's move is notable in part because House Speaker Paul Ryan has said he is "not ready" to endorse Trump, even though he is the lone Republican remaining in the contest …
Peter Thiel, the billionaire tech venture capitalist who was an early investor in Facebook and a past backer of Kentucky Sen. Rand Paul, signed up as a Trump delegate in House Minority Leader Nancy Pelosi's San Francisco district.
David Horowitz, a conservative activist, and Richard Grenell, a former spokesman for past U.S. ambassadors to the United States, also are slated to be Trump delegates.
Other notable Trump delegates from the California congressional delegation include Reps. Darrell Issa and Duncan Hunter, who was one of the earliest House members to endorse the Manhattan billionaire.
Late in 2019, Kevin McCarthy strongly supported President Trump through his first impeachment in the House:
Sadly, his optimism was misplaced on the House votes. Fortunately, the Senate acquitted the American president.
In December 2020, he spoke out against election fraud:
Around Christmas, he fought against approving billions in foreign aid when Americans were unemployed because of the coronavirus crisis:
Just after Christmas, PJ Media thought McCarthy had a good chance of replacing Nancy Pelosi as Speaker of the House. Oh, if only.
The fragrant Judge Jeanine Pirro was equally hopeful. However, McCarthy dampened her enthusiasm by telling her that Nancy Pelosi was calling back a Democrat congresswoman who had coronavirus to vote in person (true, it happened)! He also said that the Democrats were going to stop freedom of speech as guaranteed under the First Amendment (that also happened). He also thinks that California governor Gavin Newsom will be recalled (I certainly hope so):
Only a few days later, when the break-in of the Capitol building took place and a woman was shot just as electors' votes were to be tabulated (news of the policeman came later), McCarthy, according to John Solomon's Just the News, asked President Trump to make a statement:
"This is not the direction we should go," McCarthy told Fox News.
McCarthy was one of the first to say he heard police saying that shots were fired. To this day, Nancy Pelosi has not said a thing.
Then came calls for President Trump's second impeachment, which McCarthy rightly objected to, saying that the United States would recover her rightful place as 'our shining city on a hill':
Then, the anti-Trump Lincoln Project waded in. How they can use President Lincoln's name in vain is repulsive, to say the least.
The Lincoln Project objected to Trump defenders such as McCarthy, Senator Ted Cruz (R-Texas) and junior Senator Josh Hawley (R-Missouri):
Unbelievable.
This is what Kevin McCarthy said when the House held their brief impeachment hearing for President Trump. It's pretty clear that he objected to a kangaroo court (my words) impeachment with no due process and that is why he said such a move would be divisive for America (around the 3-minute mark):
Not every Trump fan was happy with his speech, but, as GOP Leader, his speech had to be balanced, speaking to both sides of the aisle.
Another Trump fan objected to McCarthy's opposition to Joe Biden's push for yet another amnesty. Why is unclear. Perhaps they do not have as many McCarthy bookmarks as I do.
However, everything Kevin McCarthy has said is consistent with his support for President Trump.
The Lincoln Project thought so, too:
At the end of January, Kevin McCarthy visited Mar a Lago to work with President Trump on a strategy to take back the House of Representatives in 2022:
On January 30, the Lincoln Project posted an egregious video aimed at McCarthy. Words fail me. This is a must watch:
On a brighter note, tomorrow's post will look at some of the newest shining stars in the Republican Party. Kevin McCarthy introduces them one by one.
After a slow news period post-'inauguration', everything accelerated again to the point where there is too much to cover in one week.
At the end of January 2021, the EU tried to block the UK's coronavirus vaccine supply, specifically to the AstraZeneca vaccine developed in Oxford!
The EU poked at the softest, most vulnerable part of the UK-EU agreement post-Brexit: not to create division between Northern Ireland and the Republic of Ireland, covered by Article 16.
However, the EU, being short of coronavirus vaccines, briefly invoked the sacrosanct Article 16 on Friday, January 29, 2021, despite Jean-Claude Juncker's old commitment to Ireland that there would be no hard border with a post-Brexit EU-UK trade agreement. This debate in the Irish parliament took place long before coronavirus. What a sloppy dress code:
Then, just less than a month after the UK made a full Brexit with a trade agreement, the EU did this:
On Friday, January 29, Guido Fawkes reported (emphases in the original):
As part of its plot to block vaccine exports to the UK, the EU has invoked Article 16 of the Northern Ireland Protocol. This has effectively removed Northern Ireland from the EU's customs. In plain English, Article 16, the so-called safeguard clause, allows both the EU and the UK to unilaterally suspend part of the Northern Ireland Protocol (which keeps Northern Ireland in the EU's customs territory) in specific circumstances.
Most discussion around this particular article had been how or whether the UK would use it. The fact that the EU has implemented it less than a month after coming into effect could set a big precedent.
Practically this new EU-imposed hard border won't make a huge difference as Northern Ireland will receive their jabs via Great Britain, but this political move is extraordinary, after a week of terrible news for the Union. After years of arguing to keep Northern Ireland in its customs territory, the EU has just merrily kicked it out.
However, such an action threatened the long-standing peace agreement between North and South.
EU Commission president Ursula von der Leyen's action managed to unite Britain's — and Ireland's — Right and Left for the first time in years:
Guido's article says of the centre-right Democratic Unionist Party:
UPDATE: The DUP have, not unsurprisingly, slammed the EU's decision as "an incredible act of hostility". Arlene Foster says:
"This is an incredible act of hostility. By triggering Article 16 in this manner, the European Union has once again shown it is prepared to use Northern Ireland when it suits their interests but in the most despicable manner — over the provision of a vaccine which is designed to save lives.
At the first opportunity the EU has placed a hard border between Northern Ireland and the Republic of Ireland over the supply chain of the Coronavirus vaccine.
With the European Union using Article 16 in such an aggressive and most shameful way, it is now time for our Government to step up. I will be urging the Prime Minister to act and use robust measures including Article 16 to advance the interests of Northern Ireland and the rest of the United Kingdom."
As for Labour:
UPDATE II: Labour join in with the EU condemnation: Louise Haigh MP, Labour's Shadow Northern Ireland Secretary, commenting on the European Union's decision to invoke Article 16 of the Northern Ireland Protocol:
"This move is deeply destabilising and undermines the huge efforts being made to make the Protocol work.
Unilateral actions like this do nothing to aid the stability in Northern Ireland which the Protocol was designed to preserve.
The European Union must remember the Protocol depends on joint working and they share a responsibility to uphold that. They must think again, and revoke this action."
Later that day, Guido recapped the previous five days of hassle for AstraZeneca and vaccine supply. CEO Pascal Soriot insisted that the company never made a hard and fast commitment to the EU. AstraZeneca made what are contractually known as best reasonable efforts to supply to the EU. Guido's article has a copy of the contract, which you can read at the link:
AstraZeneca has committed to use its Best Reasonable Efforts (as defined below) to build capacity to manufacture 300 million Doses of the Vaccine, at no profit and no loss to AstraZeneca, at the total cost currently estimated to be [REDACTED] Euros for distribution within the EU [REDACTED] (the "Initial Europe Doses"), with an option for the Commission, acting on behalf of the Participating Member States, to order an additional 100 million Doses (the "Optional Doses").
The ball was then in von der Leyen's court:
Guido reported von der Leyen's response:
No. There are binding orders and the contract is crystal-clear. AstraZeneca has expressly assured us in this contract that no other obligations will stand in the way of fulfilling the contract.
However, Guido explained:
The key obligation in the agreement is in Section 5.1, which "silos" production for the doses to go to the EU, making clear that the AZ obligation is only to use best reasonable efforts to manufacture the initial doses within the EU. If they are manufacturing doses outside the EU that's irrelevant to that obligation. Has the EU just shot itself in the foot?
Guido's founder Paul Staines is based in Waterford, Ireland. He thinks that, for the good of relations between North and South, the UK should share their AstraZeneca doses with the Republic:
He was not alone. The Scotland editor for The Spectator agreed:
Fine. Let's make sure that Britons get their share first. That's why the deal was set up in the first place.
By the end of last Friday, right, left, centre and the Church of England opposed the EU action:
The Archbishop's intervention seemed to have a huge impact in Britain, which is surprising for such an atheistic nation:
The strange thing about Article 16 is that the British EU-lovers assumed that the UK Government would implement it first against the EU. That was the big stink around the Internal Market Bill, which gives the UK leeway to back out of parts of the trade agreement if the EU becomes threatening.
In the end:
Late that evening, the EU president conceded:
Boris made no mention of it on his Twitter feed.
More on the UK's coronavirus vaccine success will follow on Monday.
For now, here's the next EU-UK drama, which also started on Friday, January 29 — international travel:
Macron's probably upset because the Institut Pasteur vaccine failed this week. Because of that failure, he rubbished the AstraZeneca vaccine:
As Guido said:
The French haven't been able to produce a vaccine, and the Germans couldn't do it without American corporate help. No wonder voices in the EU were so keen to hit out, falsely, at the success of Brexit Britain's Oxford vaccine. Poor Little EU.
Oh, boy. Politics, politics.
2021 will be a doozy of a year.
On Monday, January 18, 2021, former Supreme Court Justice Lord Sumption appeared on Julia Hartley-Brewer's talkRADIO show to discuss the perils of lockdown:
From early last year, Lord Sumption has been a calm, rational opponent of lockdown.
Breitbart has a summary of the three-minute interview clip. Excerpts follow, emphases mine.
I am pleased that his stance has not changed:
Lord Sumption, who last month branded lockdowns "profoundly immoral" and "useless", told talkRADIO's Julia Hartley-Brewer on Monday: "We are in the process of turning a public health crisis into an economic, social, and educational disaster.
"We didn't have to do this. One of the problems is that the government has never been prepared at least to acknowledge that it is necessary to weigh up one thing against another. We cannot have both: lockdown and a prosperous economy. The fact is that no country ever managed to reduce deaths by making itself poorer."
He warned that this will have a long-term, generational effect:
Lord Sumption continued: "What we have is a lot of people in this country that because they are frightened, or in the case of the government because they are manipulative, are only prepared to look at part of what is actually a very complicated problem.
"You can't just look at it as a public health issue because it's a major economic issue. I'm not talking just about the prosperity of businesses, I'm talking about jobs, and how a generation of young people entering the job market is entering a void and the consequences of that are terrible.
"It's going to live with them for years and years. Long after we've forgotten about COVID, they'll be suffering from the consequences of this. The problem is that emotion is a tool for avoiding difficult choices and the idea that there are no difficult choices — in this case, that the answer is simply to lock down — is frankly absurd."
Using independent sources, Breitbart supports Lord Sumption's views about the economy and about the effect on NHS services in other areas:
A survey conducted by the Federation of Small Businesses (FSB) found that it is expected that around a quarter of a million small businesses will collapse as a result of the lockdown this year.
Reports since the beginning of the lockdowns have also revealed the cost to the nation's wider wellbeing as NHS hospitals prioritised COVID care and cancelled other services, including a fall in chemotherapy attendance and early cancer referrals, and people dying on transplant waiting lists. There has also been a rise in people feeling depressed or suicidal.
The following graph shows that lockdown was — and is — not necessary. It shows deaths in England between 1971 and 2020. There was hardly an uptick last year:
LBC's talk radio show presenter Maajid Nawaz has also been an outspoken opponent of lockdown.
Last Sunday, he put together an exhaustive thread — excerpts of which follow — about the dangers of lockdown worldwide, especially for children:
Lockdown is made for the middle class a) who have houses with gardens and b) who never have to worry about losing their jobs — public sector employees:
Ten months on, this is a never-ending downward spiral, where the rules change every few weeks and are often contradictory. More on that in another post.
Monday's edition of Lou Dobbs Tonight on Fox Business Network was an eye-opener for those who had hoped for the best.
Earlier in the day, we saw the guest list, most prominently Leo Terrell, a well known civil rights lawyer:
These are the segments in order of his January 11 show.
Watch them and weep.
As the old saying in Europe goes, 'When America sneezes, the rest of the world catches a cold'.
Lou began by reporting that, along with social media, 'corporate America' is repudiating President Donald J Trump:
Hmm. Interesting.
Many of us learned in history class — perhaps long ago — that fascism involved government co-opting corporations to do its will.
Tom Fitton from Judicial Watch was up next. He said that the Left's — Democrats' — main goal was to remove Trump from office:
Investigative journalist Sara Carter was interviewed, citing a tweet from former CIA director John O Brennan, who has been keen to get rid of Trump since 2016:
She called attention to his tweet from January 9:
Note the words 'seeking national redemption', 'total denunciation of a despot's legacy' and 'eradicate any remaining malignancy'.
Those are words I never expected to see in a communication from an American official.
Clouthub CEO Jeff Brain followed:
Speaking personally, Leo Terrell's short segment was the best. He came right out and defended President Trump. I wish he had more time to speak:
The closing few minutes featured Lou Dobbs asking for short conclusions from everyone on the show:
In conclusion, the next four years could be very dangerous for the 74+-million people who supported President Trump.
Anyone doubting the possible peril can read John Brennan's recent tweets:
Brennan reposted a video from Arnold Schwarzenegger, who looks really mean. Perhaps plastic surgery went wrong. He doesn't look right, which doesn't lend much credence to his argument against the president:
The next CIA director should be interesting:
Meanwhile, back at the Capitol building, members of the House of Representatives were struck by coronavirus. These seemed to be Republicans only:
The chief of the Capitol Police was dismissed last week. He warned about future security in the building:
A Massachusetts congressman objected to Trump's award of the Presidential Medal of Freedom to his friend, the Patriots' (American football) coach Bill Belichick. Wow. Suddenly, everything Trump touches, so to speak, is tainted:
Belichick will not be accepting the award.
Jake Sherman reports for Punchbowl. He had a series of tweets about the Dems' moves to impeach President Trump for a second time. It is rumoured that Nancy Pelosi could sit on this for months and try to impeach him after he leaves office. This is a first:
This creates a problem for Republicans. This is evidence that corporate America is cutting off funds to the Republican Party. I feel sorry for House Minority Leader Kevin McCarthy (R-California):
It gets worse. Democrats propose to not recognise any Republican who moved to question the Electoral College vote. That is not very democratic, is it?
Looking back to Epiphany, Wednesday, January 6, while the president's rally progressed in various parts of Washington, DC, the first lady was busy with a photo shoot of White House furnishings. She also appeared to distance herself from the very public gathering:
Hmm.
Returning to the Dems and the president, here is a draft of the House impeachment resolutions. I can't see this proceeding, especially on the grounds of 'insurrection'. No one loves the United States more than President Trump:
The seasoned congressman Steny Hoyer is fully behind the impeachment motion:
I do not understand how a trial can begin 'right away'. They have to get a whole committee lined up. Good grief.
That said:
It's unclear whether the Department of Justice will go along with the Dems on claims that the president incited unrest. PJ Media reported:
A senior Justice Department official says there are no plans to indict Donald Trump or anyone else who spoke at a rally just before the Capitol building was breached by a pro-Trump mob.
Ken Kohl, a senior prosecutor in the U.S. attorney's office in Washington, said, "We don't expect any charges of that nature."
This will no doubt be enormously unsatisfying to Democrats who long to see Donald Trump do a perp walk into the federal courthouse.
Elsewhere in the nation's capital, pro-Trump lobbyists are being shunned:
It's worth remembering what happened last Wednesday into the early hours of Thursday. This is a concise summary from a commenter on the British political site Guido Fawkes (sorry, no permalinks available on his site):
Also, Trump's public polling is unchanged, despite negative media coverage and his social media ban. The National Pulse reports:
Numbers from Rasmussen Reports show that following both of these events, his approval rating has shifted either one or two percentage points – exclusively trending upwards.
In conclusion:
In 2016, around the time of Trump's election, I wrote that the Left — Democrats — were aping the Bolsheviks of the Russian Revolution.
I didn't get much traction with that suggestion then.
What about now?
Just to keep everyone updated: President Donald Trump has not conceded.
On Friday, December 4, Sean Hannity spoke with former New York City mayor Rudy 'America's Mayor' Giuliani about vote discrepancies in the contested states, beginning with Nevada:
Giuliani said that when someone brings a civil lawsuit, the judge assumes that the allegations are 'true and correct', yet 'the judge' — US state unspecified — 'did just the opposite' (emphases mine):
Now, we can get it reversed but he's accomplished what he wants to accomplish.
He's delayed things, and, I'm sorry to say, he's a Democrat. And you can't tell me he's made this decision based his on legal knowledge unless he really didn't go to law school.
On a motion to dismiss, you have to assume that every allegation we make is true, and then say it doesn't violate the law.
Later on, you get to make a motion for summary judgement … we get a chance for a hearing.
The reason I went to the state legislatures, Sean, is because I saw what the courts were doing, and I wanted to go around them …
The Georgia court wouldn't have allowed those courts to put those witnesses up. The legislature did. In Michigan, the same thing.
We had two Democrat judges and they weren't allowing us to put witnesses up. But, I was able to get some of the witnesses up there because I went to the legislature.
Now, the simple fact is, we don't need courts.
The United States Constitution gives sole power to the state legislatures to decide presidential elections.
In fact, if we go back to the Founding Fathers, they would tell us that we're making a mistake.
This should be thrown right back to the House of Representatives and to the Senate — in each state — and they should hold hearings, they should make factual determinations, and they should decide what the right voter count is.
President Trump sounded off against Governor Kemp of Georgia:
Giuliani had a photo of the suitcases full of ballots in Georgia; I posted a video on Friday:
In Wisconsin, the state's supreme court threw out a Trump lawsuit: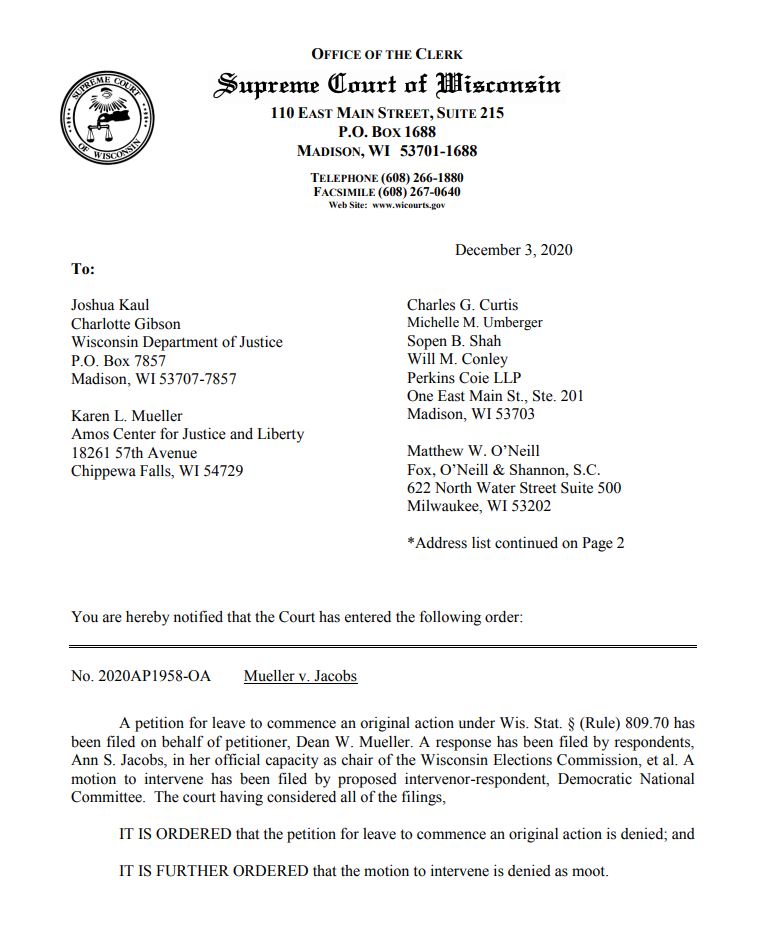 On Friday, December 4, the Daily Mail reported:
A divided Wisconsin Supreme Court on Thursday refused to hear President Donald Trump's lawsuit attempting to overturn his loss to Democrat Joe Biden in the battleground state, sidestepping a decision on the merits of the claims and instead ruling that the case must first wind its way through lower courts.
In another blow to Trump, two dissenting conservative justices questioned whether disqualifying more than 221,000 ballots as Trump wanted would be the proper remedy to the errors he alleged.
The defeat on a 4-3 ruling was the latest in a string of losses for Trump's post-election lawsuits. Judges in multiple battleground states have rejected his claims of fraud or irregularities.
Trump asked the Wisconsin Supreme Court to disqualify more than 221,000 ballots in the state's two biggest Democratic counties, alleging irregularities in the way absentee ballots were administered. His lawsuit echoed claims that were earlier rejected by election officials in those counties during a recount that barely affected Biden's winning margin of about 20,700 votes.
Trump's attorney Jim Troupis said he would immediately file the case in circuit court and expected to be back before the Supreme Court 'very soon.'
However, a hearing will take place in Wisconsin on December 11.
The Gateway Pundit reported:
Wisconsin Republicans will convene a public hearing on the 2020 election irregularities on December 11th. 'Mil' below is Milwaukee County:
Who would have ever thought voter fraud could take place in the land of touristy 'Food, Cheese, Gifts' (a ginormous sign I saw in my youth on trips to Wisconsin)?
Meanwhile, in Arizona, the state's Speaker of the House declined requests to overturn the certification of the vote count. In short:
It's so much easier to do nothing at all. However, doing nothing at all against the Democrats will have severe repercussions for the Great Republic:
It gets worse. Gateway Pundit continues to produce evidence that C h i n a was printing bogus ballots for the election. They have been following this story since November 28.
On December 5, they reported about a video, which has been properly translated into English (emphases in the original):
In the video a caller is heard requesting a bulk order of ballots to ship to the United States.
Here is the video with the translation.
FYI- Our Mandarin speaker confirmed the translation is accurate.
The order was reportedly for 5 million votes.
Two readers noticed that at the 0.54 second mark you can see "Charlotte County Florida" on the ballots …
Here are templates of the Mississippi counterfeit ballots printed in China.
Gateway Pundit have been talking to a former insider, Vinness A. Ollervides, the source for their information:
Here is the video:
On Saturday, President Trump held a successful afternoon rally in Valdosta, Georgia, for the Republican candidates in the state's run-off election early in January 2021. You can read more about it here. The candidates spoke briefly, while the audience voiced their support for the president with cries of 'Fight for Trump':
Elsewhere, President Trump's supporters are also fighting for him:
The battle continues, so, as my late grandfather used to say, 'Don't give up the ship!'
As December begins, here's where we are with regard to the November 2020 election.
This is another long thread, so feel free to grab some sustenance before reading.
Logical thinkers marvel (not) at Joe Biden's achieving the impossible:
And then there's Nate Silver, who rode to fame in predicting Obama's ascent to the White House in 2008:
This is the raw truth behind Biden's miraculous win (click on the last tweet to see the rest of the thread):
This is why Trump campaign lawyers continue to contest election results in six disputed states.
State law does not supersede the US Constitution:
The Dems' battle plan, published in 2019
In 2019, Loyola University's School of Law published a detailed battle plan on how the Democrats could win the 2020 election. It is over 50 pages long and covers all possible scenarios:
Recommended reading at the weekend.
Arizona
Arizona's chapter of the Republican Party does not want the results officially certified:
A hearing took place on Monday, November 30. Phoenix and Scottsdale are in Maricopa County:
This is how wide the disparity of votes is. Also, 100,000 ballots a day needed to be adjudicated:
One witness wanted a nationwide audit of the election results:
Furthermore, an expert witness, Colonel Phil Waldron, says the Dominion machine used was connected to the Internet on Election Day. Traffic went to Frankfurt, Germany. Algorithms changed votes. Another person alleged 35K fraud votes were added to Democrat candidates by spread distribution.
Now the state legislature must come to a decision about the election results:
This is where it gets confusing.
Governor Ducey certified the election that day …
… but a special session of the state legislature could still take place:
Arizona's Electoral College votes on December 14 could be withheld:
Meanwhile, Trump supporters gathered for a rally that started in the morning and continued into the evening:
It is astounding that a Republican governor would want to hasten the swearing in of a Democrat senator, especially after a lengthy hearing about election fraud took place.
Twitter censored at least one witness at the hearing:
On Wednesday, December 2, Doug Ducey was served with a lawsuit on his certification. This means that he must decertify Arizona's results:
Georgia
Lucian Lincoln 'Lin' Wood Jr continues to pursue the truth in Georgia, his home state:
Georgia's governor and lieutenant governor — Republicans — claim there was no voter fraud:
Suppose there has been foreign interference:
Wood has been investigating the voting machines:
On December 2, Breitbart published an assortment of Democrat campaigns to which Lin Wood donated in the past. The article also claims that Wood wants Trump supporters to vote for Democrat candidates in the upcoming state run-off elections.
Wood replied that he wants the Republican state candidates to take a tougher stand against the governor before the run-off:
That same day, The New American reported that Georgia's Secretary of State Brad Raffensperger began investigations into several groups trying to rig the January 5 run-off election:
Georgia Secretary of State Brad Raffensperger has initiated investigations into various groups, including one founded by former Georgia gubernatorial candidate and "voter suppression" alarmist Stacey Abrams, for seeking to "aggressively" register "ineligible, out-of-state, or deceased voters" before the January 5 runoff elections.
Raffensperger's office on Wednesday said the investigations probe groups like America Votes, Vote Forward and The New Georgia Project — which was founded by Abrams and previously chaired by Democratic Senate candidate Raphael Warnock.
For weeks, Raffensperger warned against registering individuals who are ineligible to vote in Georgia's runoff elections and against encouraging people to come to Georgia with the sole aim of casting ballots in the election …
On Wednesday, the secretary of state stated that his office has "received specific evidence that these groups have solicited voter registrations from ineligible individuals who have passed away or live out of state."
"I will investigate these claims thoroughly and take action against anyone attempting to undermine our elections," he assured.
President Trump will be appearing in Georgia on Saturday, November 5, to rally support the Republican candidates.
On Thursday, December 3, a 'blockbuster' video of suitcases of ballots emerged:
More follows in this thread, where you can see a Democrat deny what happened.
Michigan
After Arizona, Michigan was the next stop:
On Friday, November 13, Judge Timothy Kenny of the Third Circuit Court dismissed witness testimony regarding alleged voter fraud at the TCF Center (Cobo Hall, in old money) where ballots were being tabulated.
Judge Kenny dismissed the testimony because the witnesses, in his words, were:
not credible.
It is interesting, then, that Judge Kenny has been releasing violent criminals from prison because of coronavirus.
On Sunday, November 29, the Gateway Pundit reported (emphasis in the original):
The Detroit News broke the story, and they have not been given all the records they requested. The only time period covered so far has been from March through September 21, meaning there could be many more.
This includes alleged child molesters. And violent felons.
And it includes an alleged rapist who went on to allegedly rape while freed by Judge Kenny.
Back in March, Kenny said he would not release any violent offenders, but he did anyway:
The Wayne County Prosecutor's Office told the Detroit News: "Judge Kenny is ultimately the person determining who will be released. Prosecutor Worthy believes that Judge Kenny has been very responsible about not releasing violent criminals."
Prosecutor Worthy!
This next bit is from the Detroit News, but I could not find the direct link on Gateway Pundit. The released convicts are not people you'd invite round for tea (emphasis mine):
…released from the Wayne County Jail were Jameel Bradley and Kaylin Drewery, both of whom were convicted of third-degree criminal sexual conduct, meaning their victims were either aged 13-16, or the abusers were in positions of authority over them.
Egads.
Judge Kenny obviously does not care about the people of Michigan — or the people of the United States. He releases violent criminals. He also dismisses serious allegations of voter fraud.
Gateway Pundit has a video of several people who testified about alleged voter fraud in TCF Center in Detroit. They testified in Lansing, the state's capital on Tuesday, December 1 (emphases in the original):
Over the past three weeks The Gateway Pundit and our team in Detroit have interviewed DOZENS of GOP elections observers who were threatened, abused, attacked and harassed at the TCF Center in Detroit, Michigan following the 2020 election landslide for President Donald Trump.
Several of these observers witnessed carloads of ballots arriving at the center in the middle of the night on November 4th marked for Joe Biden.
These observers described their abuse at the TCF being followed around by far left goons and being locked out of the ballot counting room.
This was corruption and fraud at its worst.
And the Democrat Party condones this violence and theft.
A hearing took place on December 2, wherein witnesses said they have been threatened, intimidated and may not be able to find jobs:
Here is one witness's testimony. Please watch:
Nevada
By the time you read this, an inspection will have taken place in Clark County, where Las Vegas is located:
Discovery continues with Sidney Powell's team:
If the Democrats are certain they won legitimately, why would they beat someone up?
Re the discovery by Jesse Binnall, the Gateway Pundit reported that incentives were allegedly exchanged for votes (emphases mine):
The Gateway Pundit spoke to Jesse Law, one of the Trump Electors represented by Jesse Binnall in the trial that is set to begin on Thursday.
One of the issues sited in the lawsuit is improper campaigns in the Native American community, which appear to be bribes, in exchange for votes and registering to vote.
Law explained that "if we are to believe the many articles out these days that claim the Native American vote was critical to the election results this year, then yes, as it appears from your reporting and others' that this was a widespread effort in many tribal areas and states. Being from Nevada, I am familiar with a lot of the ongoing economic issues facing Native American communities and I think it's cynical and sad the way they appear to have been taken advantage of by this votes for dollars scheme."
As the Gateway Pundit reported on Sunday evening, Native Americans in Arizona, Nevada and a slew of other states were given gift cards, televisions, electronics, and even resort stays in exchange for voting. These efforts were partially funded by George Soros' Open Society Foundation and government agencies …
When asked how confident he is that the lawsuit will succeed, Law said that if the court is fair, they will win.
"If the judge will allow all the evidence to be heard, I think it will be very successful because this is a clear case of illegal behavior no matter how you spin it, and that coupled with the many other categories of voter fraud that occurred in this state well over count for the difference in current tallies for the presidential election."
A hearing was held yesterday, December 2. Matt Schlapp, who is helping with Team Trump's efforts, was confident of their evidence:
Yesterday, a Nevada judge decided not to rule on the hearing until today, Friday, December 4:
Pennsylvania
On Friday, November 27, a Circuit Court judge dismissed one lawsuit by Team Trump:
Republicans in the state legislature tried a last-ditch effort, but it was not good enough:
Not only were there not enough sponsors, the legislature is now adjourned until January 2021:
News emerges from Solomon Yue, the Vice Chairman & CEO at Republicans Overseas, that four US Supreme Court Justices have agreed to take the Pennsylvania case.
Wisconsin
On December 2, a new lawsuit was filed in Wisconsin. Developing:
The following day, the Gateway Pundit reported (emphases in the original):
President Trump's team's recent lawsuit in Wisconsin must be over the target. 

Is this why a Madison, Wisconsin Attorney pushed back and threatened Gateway Pundit after our reporting on absentee and 'indefinitely confined' ballots in Wisconsin?
This is about Dane County, where Madison is:
Thousands of IC votes were observed by recount watchers in Dane County that were in pristine condition rather than being folded or showing any sign of wear and tear. The same was observed in thousands of absentee votes with the initials of 'MLW' on them.
RedState has more details. An excerpt — an overview — follows:
This Complaint initiating the Election Contest challenges several categories of ballots that were counted by the Election Boards of Dane and Milwaukee Counties during the recount process, all of which were the subject of objections by the Trump Campaign during the recount process. The objections were denied by the Election Boards, and the ballots were included in the final tabulated results.
President Trump speaks out
President Trump spoke for 46 minutes on December 2 (full transcript here, at the end of the post):
Newsmax has a summary of the points he made about the election and about the Department of Justice's non-investigation into the spying that took place into his 2016 campaign.
An excerpt from Newsmax's article follows (emphases mine):
"Even what I am saying now will be demeaned and disparaged, but that's OK. I just keep on going forward."
"Their mail-in voting scam is the latest part of their four-year effort to overturn the results of the 2016 election, and it's been like living in Hell."
Separate from his lengthy list of alleged fraudulent acts, Trump took a moment to rip special counsel John Durham for moving too slowly.
Trump lamented that findings from Durham's investigation into potential FBI malfeasance in its probe of Russian meddling in the 2016 political cycle did not surface before the most recent election last month, effectively altering the course of the race.
"We caught them all," Trump said from the White House Diplomatic Room. "We're still waiting for a report from a man named Durham who I've never spoken to and never met. They can go after me before the election as much as they want, but unfortunately Mr. Durham didn't want to go after these people . . . before the election, so who knows if he'll ever even do a report."
Attorney General William Barr has granted Durham special counsel authority in his investigation of the investigators.
"If you look at the lies and leaks and illegal acts done by so many people," Trump insisted, "something should happen. The hardest thing I have to do is explain why nothing is happening to all of these people who got caught spying on my campaign."
But it was the fraud claims dominating the president's remarks, as he reemphasized his claim that the Nov. 3 election was "rigged." This, though AG Barr announced he has unearthed no proof of widespread voter fraud that would alter the outcome of the vote. Major news outlets have declared Biden winner, a conclusion Trump's legal team is challenging on the basis of those fraud claims.
(Though Newsmax has called several battleground states for Biden following official certification of their vote tallies, it has not yet called the overall election for either man, pending the outcome of the legal challenges.)
"This is not just about honoring the votes of 74 million Americans who voted for me," Trump said. "It's about ensuring that Americans can have faith in this election. And in all future elections."
His overarching claim: "This election is about great voter fraud, fraud that has never been seen like this before."
I knew from the beginning that Bill Barr, who served in the Bush administration, was bad news. I also had little faith in Durham.
Conclusion
Anything could happen in the days ahead.
Things could get rough:
Or this could all proceed calmly.
This is an excellent interview clip from the days of Citizen Trump:
It looks as if that fateful day has arrived for President Trump:
We should be careful what we wish for.
If this does not prove the existence of a Uniparty, what does?
What a pity.
Millions of us will continue to pray for President Trump, his family, his campaign lawyers and all who have filed affidavits and given testimony in hearings.
May the truth be acknowledged — soon.
The two- to three-week lockdown ended up lasting eight months, even if it was off and on.
It was never totally 'off'. After we were liberated, we were told, whether it be in Europe, North America or the Antipodes, that we would have to not only continue to socially distance but also to start wearing masks. Then came curfews:
What about being able to open only between 6 a.m. and 6 p.m.? Nicola Sturgeon — Scotland's First Minister (SNP) — is having a laugh, only she's deadly serious. 'Off sales' refers to alcoholic beverages sold in off licences (liquor stores):
Now we are approaching the Christmas season, the peak time of year for sales: parties, banquets, family dinners. A number of US states, including those with RINO governors, were on lockdown this week. As such, they missed Thanksgiving, which ushers in the holiday season in the US.
These are the tweets I ran across this week, during America's national Thanksgiving, a day of family, friends and food.
In the US, a lot of people cannot travel at the moment. They are not even supposed to see their families, even if they live nearby. Their governors told them they mustn't or, if they do, they'll 'kill Grandma', which must have come out of a WHO pandemic handbook, because we get that in Europe, too (the UK and France).
This is very important:
Yet, so many Westerners do not mind nearly a year's worth of restrictions — and that includes a number of Libertarians I know personally:
This is worth repeating:
And again:
How many businesses will collapse this year? Most of them are small to medium business owners who have employees.
The hospitality sector has been devastated, even though every bar and restaurant poured in their businesses' own money to make their establishments 'COVID-secure'. Governments said that still wasn't enough.
Now look what's happening. This is an example from California:
Laws — or, perhaps more honestly, 'regulations' (not all of which can be legally enforced) — differ from place to place. Even in England, what is allowed in one county is disallowed in another. There's no level playing field or explanation as to why other than this graph with spurious data from America's Centers for Disease Control and Public Health England which shows that hospitality is the main vector for COVID-19 transmission:
Pull the other one, why don't you, guys?
The reality from England is that, as Guido Fawkes reported on October 12 (emphasis in the original):
Stockport NHS Foundation Trust shows that "Eating out/ exercise/ shopping/events" accounted for just 2.4% of transmission.
The same data show that a staggering 92.5% of coronavirus cases occurred at home!
Here's another chart from October, showing low incidences in the hospitality sector. The Daily Mail used NHS data. Homes were excluded from this study:
Yet another study says it's supermarkets:
In the video below, top Scottish chef Tom Kitchin explains the bankrupting costs for the average restaurateur. The clip did not show his conclusion, which was that probably 6,000 UK restaurants will have to close because of these on-off lockdowns — costing thousands of £££ each time to close and to reopen — prohibiting them from trading. Takeaway doesn't always help:
And what are the figures for Los Angeles County, where we started?
Restaurants in Los Angeles County account for only 3.1% of coronavirus outbreaks:
Where are there more coronavirus outbreaks in Los Angeles County? Government locations:
The saddest thing is, no state needed to lock down for more than a few weeks earlier this year. South Dakota did not have any lockdown. Below is the situation in Florida, thanks to Republican governor Ron DeSantis:
A lot of US governors need to be reined in. How, constitutionally, I don't know. Right now, they're a law unto themselves.
European governments need to get a grip.
Career politicians need to face reality — or they will lose a lot of needed tax revenue.
Lockdowns are a crime against humanity.
The announcement from President Trump's campaign legal team from November 22 shocked many Sidney Powell supporters.
Many Trump and Powell supporters think that the US president's case for election redress is sunk.
Here is what is happening. My post from Monday, November 23, offers background, including the Trump team's announcement.
What Sidney Powell said
Sidney Powell issued her own statement afterwards. Her work is about 'We the People', as is L Lin Wood Jr's.
Powell's statement is as follows (emphasis in the original, those in purple mine):
I agree with the campaign's statement that I am not part of the campaign's legal team. I never signed a retainer agreement or sent the President or the campaign a bill for my expenses or fees.
My intent has always been to expose all the fraud I could find and let the chips fall where they may–whether it be upon Republicans or Democrats.
The evidence I'm compiling is overwhelming that this software tool was used to shift millions of votes from President Trump and other Republican candidates to Biden and other Democrat candidates.  We are proceeding to prepare our lawsuit and plan to file it this week.  It will be epic.
We will not allow this great Republic to be stolen by communists from without and within or our votes altered or manipulated by foreign actors in Hong Kong, Iran, Venezuela, or Serbia, for example, who have neither regard for human life nor the people who are the engine of this exceptional country.
#WeThePeople elected Donald Trump and other Republican candidates to restore the vision of America as a place of life, liberty and the pursuit of happiness.
You may assist this effort by making a non tax-deductible contribution to www.DefendingTheRepublic.org.  #KrakenOnSteroids"
Sidney Powell
What Trump's campaign lawyers are working on and what Sidney Powell is perfecting are two different issues.
The Trump realm cannot easily enter the Powell realm because that would complicate things unnecessarily.
REX, whom I've quoted before, albeit not recently, has this analysis as to why there is a pincer movement going on:
This is also a useful analysis. I am unfamiliar with the author, but what he says makes sense:
Rush Limbaugh and Howie Carr want more action
On Monday, November 23, Rush Limbaugh was disappointed that nothing was happening yet from either Team Trump or Sidney Powell.
The Daily Caller carried portions of the transcript from his show (emphases mine):
"You call a gigantic press conference like that, one that lasts an hour. And you announce massive bombshells, then you better have some bombshells, there better be something at that press conference other than what we got," he explained.
Limbaugh went on to say that a witness — even one whose identity was disguised — would have gone a long way toward bolstering the claims made by the president's team.
"But you don't — you can't — I talked to so many people who were blown away by it, by the very nature of the press conference," Limbaugh continued. "They promised blockbuster stuff, and then nothing happened. And that's just, that's not — well, it's not good. If you're going to promise blockbuster stuff like that, then there has — now, I understand. Look, I'm the one that's been telling everybody, this stuff doesn't happen at warp speed, light speed, the way cases are made for presentation in court. But if you're going to do a press conference like that, with the promise of blockbusters, then — then there has to be something more than what that press conference delivered."
Limbaugh concluded by saying that if the Trump team was going to make a case, it needed to be done quickly. "Time, of course is of the essence now, as it is speedily vanishing. So they're going to have to act fast," he said.
The Howie Carr Show, now a Newsmax programme, came on in the afternoon.
Howie couldn't get hold of Sidney Powell for another interview, but he did speak with Boris Epshteyn and Joe diGenova. The next few paragraphs are my potted summary of what they told Howie.
Boris Epstein, part of Trump's campaign legal team spoke to Howie. Epstein said ALL the states in question are still in play. He appeared during Howie's Newsmax hour. (Howie wears a jacket and tie during that portion of his broadcast.)
Epstein said they are tracking things very closely and said he wanted to reassure Newsmax viewers that everything is in hand and progressing as planned.
Joe diGenova was on Howie Carr's Newsmax hour after Boris Epshteyn. Joe diGenova said that there IS a two-pronged strategy in play. He said that Sidney Powell doesn't have any problem pursuing the voting machines angle while Team Trump pursues what went on in the polling stations with no Republican observers admitted or placed so far away that they couldn't see anything.
He confirmed what Boris Epshteyn said: ALL the questionable states were still in play that day (and this week).
Is President Trump worried about paying for recounts and/or audits in individual states? Based on 2016 and the four years of lefty turmoil that followed, his team were prepared and set money aside, especially as mail-in ballots were heavily promoted in all Democratic-controlled states or cities.
Trump knew his campaign would need to pay for recounts. That's $3 – 7 million per state. They have that covered.
For those who think Trump should take Al Gore's advice and concede, in 2000, when the hanging chad contest in Florida was in dispute, Gore didn't concede until December.
But I digress.
Back to Howie Carr. As an organised crime reporter for the Boston Herald for many years, he knows how the legal system can be manipulated. On Monday's show he asked whether Sidney Powell's legal standing would be questioned. On whose behalf could she credibly make her case? (After all, L Lin Wood Jr's case in Georgia got thrown out last week for lack of standing. He is going to appeal the decision.)
It turns out that Sidney Powell is a military lawyer. As today is still Thanksgiving Day, the ultimate American feast, here's the retweet:
Now for the original tweet:
She has been representing Gen Michael Flynn.
She has also put the frighteners on certain people involved with the voting machines:
Patience required — more information emerging
An American Thinker article by Andrea Widburg puts the election legal fight into perspective:
Currently, I believe that this election was marked by epic fraud.  You cannot convince me that Biden, who got five or six people to his rallies, as opposed to the 52,000 or so at Trump's rallies in Pennsylvania, ended with more votes than Obama.
Nobody ever said proving this fraud would be easy (or, sadly, even possible).  I'm treating its unfolding like an epic novel with a surprise ending …

So should the rest of us.
Imagine if we were on the legal team. We wouldn't have time to sleep — or contemplate our annual turkey dinner with all the trimmings.
For Team Trump, there is much to challenge. RedState has an article with dizzying detail about Georgia alone.
There are also these items:
Yet another witness has come out in Michigan, describing the same scenario as in Georgia:
This is in addition to the legal challenges going on not only in these states but a handful of others which produced dubious results.
As for Sidney Powell, more information emerges for her, including this:
I really hope this isn't true (a must see/read thread about Republicans and the voting machines).
Conclusion
Meanwhile, Donald Trump is:
Prayers continue for everyone involved in this historic battle for the future of the Great Republic.