You are currently browsing the tag archive for the 'politics' tag.
My post from Friday, April 28, 2023 discussed Queen Elizabeth II's family history and her way of handling politics and protocol.
That post mentioned her address to the nation about the coronavirus pandemic on Sunday evening, April 5, 2020.
Although London's streets were largely deserted because of the UK's national lockdown, the address appeared at Piccadilly Circus. At just 523 words, it was a remarkably effective balm for the nation:
I also mentioned that, a short while after the Queen's broadcast aired on television, Prime Minister Boris Johnson had to be taken to St Thomas' Hospital with coronavirus. He remained there the rest of that week, alarmingly close to death.
By the time the annual Falkland Islands' penguins march would have taken place on the Queen's birthday, April 21, Boris was recuperating at Chequers and his partner Carrie was about to give birth to their son Wilfred.
Unfortunately, the penguins march had to be called off that year, but this is a past video of what it looks like:
Political leaders
Because of the Queen's ultimate discretion, especially in politics, we do not know much of what she really thought of world leaders, but a few stories arose after her death in September 2022.
The Queen and her Prime Ministers
On Tuesday, April 7, 2020, the Queen sent a message to Boris's then-partner Carrie Symonds, later the third Mrs Johnson, with get well wishes for the then-Prime Minister:
Here is Sky News's coverage about the message. Note that the Royal correspondent is at home in her kitchen:
In 2022, after the Queen's death, a Royal historian commenting on GB News said that she had a particular fondness for Labour's Harold Wilson and that she thought that Tony Blair (also Labour) was just a bit too ambitious for her liking. Wilson always had an anecdote or observation that made her chuckle.
That was about the most information we could glean about the head of state who reigned over 16 PMs. They met weekly in person until the pandemic put an end to that, when a telephone call had to suffice.
In addition, every September, the Queen extended an invitation to her Prime Ministers and their wives to stay for a few days at Balmoral. This was true even for Boris's then-partner Carrie Symonds, as The Sun reported on August 18, 2019:
CARRIE Symonds is expected to meet the Queen at her Balmoral estate — where they will enjoy an informal barbecue.
Eco-campaigner Carrie will accompany her boyfriend PM Boris Johnson to the Scottish castle during the monarch's summer holiday.
The Queen traditionally invites Prime Ministers and their spouses to stay with her during early September.
And a source revealed Carrie was "expected to go" to Scotland next month, where she and Boris are also likely to have a formal dinner.
In previous years, PMs and their spouses have been invited to walk across the Royal Deeside estate and have even watched the Queen do the washing up.
French presidents
The morning after the Queen died in September 2022, France's talk radio channel RMC devoted two hours to discussing the British monarch and her 70-year reign.
The subject of French presidents arose. One of the expert panellists said that the Queen liked the socialist François Mitterand the best. She was sceptical of Charles de Gaulle and was relieved when Georges Pompidou entered the Elysée. The French president she really disliked was Jacques Chirac. Allegedly, she did not like his innuendos or the way he would sidle up to her. He got too physically close to her on more than one occasion, the expert said.
Nelson Mandela a firm favourite
It seems that South Africa's Nelson Mandela was the Queen's favourite leader, according to Royal historians appearing on GB News. The two apparently had a mutual arrangement whereby they rang each other up at any time of day or night.
Musical tastes
It has been said that the Queen enjoyed popular music more than a classical opus.
She was no doubt fond of Dame Vera Lynn's hit singles during the Second World War.
On July 28, 2016, the Queen gave the iconic singer, then 99 and still recording, another honour. The Telegraph reported:
Dame Vera Lynn, the Forces' sweetheart, has received her latest honour from the Queen in an investiture ceremony held at her village home.
The 99-year-old, whose songs brought hope during the darkest days of the Second World War, was made a Member of the Order of the Companions of Honour in the Queen's Birthday Honours list.
She could not make it to Buckingham Palace and received the accolade – for nearly eight decades of service to entertainment and charity – at an investiture ceremony at her home in Ditchling, near Brighton, on Wednesday.
Dame Vera, who turns 100 next March, said she was "truly delighted" to be made a Companion of Honour …
Led by Peter Field, the Lord Lieutenant of East Sussex, family friend Carola Godman Irvine, who is the county's deputy lord lieutenant, read the citation which saluted Dame Vera for being "the voice of hope" during the Second World War …
Her hits included We'll Meet Again, I'll Be Seeing You, Wishing and If Only I Had Wings. In 1941, she was handed her own regular radio programme, Sincerely Yours, giving her a peak-time evening audience …
In 2002, she founded cerebral palsy charity the Dame Vera Lynn Children's Charity, based in Billingshurst, West Sussex, which provides support and education for affected families.
She is involved with many other charities throughout the UK and beyond. She has received accolades throughout her life, including an OBE in 1969, a DBE in 1975, and in 1978 she was given the Freedom of the City of London.
In 2019, a tenor who performed for her said that the Queen enjoyed musicals. The Express reported:
US-based tenor Andrew McNeil made the revelations after he was asked to perform for Her Majesty at an intimate dinner. He was invited by the US ambassador Robert Johnson to sing and instantly asked Buckingham Palace for some hints as to what the Queen likes. The event was attended by around 20 people and in one of his songs Mr McNeil sang a duet with Kathryn Jenkins.
According to People Magazine, Mr McNeil said: "We reached out to the palace for her musical tastes, and her Lady in Waiting informed us she loves show tunes.
"Especially show tunes from 'Oklahoma'."
During the event Mr McNeil performed an array of tracks including 'Oh What a Beautiful Morning' and 'It Had to be You'.
However, I always wondered which group the Queen preferred: the Beatles or the Rolling Stones.
The November 2020 issue of the high society magazine Tatler might have the answer to that burning question.
An article about younger nobles pursuing careers in music, 'Heir bands' (p. 35), states (emphases mine):
Even the Queen has a good ear: 'I want to see the Rolling Stones,' she told Dirk Bogarde before Lord Christopher Thynne and Antonia Palmer's 1968 wedding, when the rockers played to a room of blue-blooded fans at the St James's Palace reception.
Television
Our first televisual monarch …
… was also known to relax at Balmoral watching some of the nation's favourite programmes.
On July 23, 2019, The Express revealed her personal preferences:
THE Queen makes an annual request for recordings of her favourite TV shows that await her when she ventures to Balmoral every summer.
Her private secretary sends a list of shows to the Special Services department at the BBC and they arrange for DVDs to be be made of their own shows and those from other stations. A senior courier was told by the Queen that ITV drama The Bill was her favourite while it was on air. An aide told The Sun: "The Queen likes them in the form of separate discs, although of course it would be easier to transfer them digitally.
"You might call that old-fashioned, but that's the way she prefers to do her viewing."
In 2010, when The Bill was cancelled after 2,425 episodes in 26 years, the monarch was said to be disappointed.
Despite enjoying the police drama, she is reported to have said she was not a fan of "those episodes where policemen get hurt".
Eastenders star Paul Nicholls claims he saw The Bill was a favourite: "I saw that list.
"Besides The Bill there was Keeping Up Appearances, Midsomer Murders, New Tricks, Last Of The Summer Wine and the complete Doctor Who."
The list of programmes is not the only tradition in place at Balmoral.
Queen Victoria started the tradition of having a bagpiper play under the monarch's window at 9am for 15 minutes every single morning.
Meanwhile, the current Queen began a tradition of inspecting the sandwiches given to guards according to another castle insider.
After her death, at least one Royal commentator said that the Queen's favourite programme was the London-based nightly serial, Eastenders.
Racing
The Queen probably knew the most about racing than anyone in Britain or Ireland.
She was one of the world's experts on bloodlines and breeding.
King Charles sold her race horses soon after her death.
So let's remember the glory days of the Queen at the races at Cheltenham Festival, which takes place in mid-March:
Fortunately, the Queen passed her love of horses on to Princess Anne and her daughter, Zara Phillips:
After Prince Philip's funeral in April 2021, the Queen wanted to be alone on her birthday, on the 21st of that month.
On April 19, The Mirror reported:
The Queen will mark her loneliest birthday – her first without husband Philip in seven decades – with video calls from family and a walk with her new puppies.
The monarch turns 95 on Wednesday, just four days after the Duke of Edinburgh's funeral, where the Queen was forced to sit alone and wear a face mask due to England's coronavirus lockdown rules.
She and the rest of the Royal Family will still be in an official two-week period of mourning for her late husband of 73 years, who died aged 99 on April 9.
The Queen is expected to have a video call with great-grandchildren Prince George, seven, Princess Charlotte, five, and Prince Louis, two – on Wednesday, and the royals have agreed a rota to visit her ahead of her birthday, sources told the Mirror.
She was seen going out for a drive alone in a green Jaguar on Sunday, and she reportedly stopped at one of her favourite spots for a quiet moment of reflection 24 hours after the service.
And it is expected that she will mark her birthday in a similar way as she continues to grieve Philip in private and prepares to resume royal engagements following the official mourning period.
The nation was moved by the heartbreaking image of the monarch sitting alone and wearing a face mask as she gazed at her late husband's coffin inside St George's Chapel at Windsor Castle on Saturday.
She will celebrate the first birthday of her reign without her husband just 12 days after the Duke of Edinburgh's death.
Another report from The Mirror said that the Queen was not in the mood to get involved with Harry and Meghan's melodrama:
The Queen isn't in the mood to host a family summit to address the feud with Prince Harry and Meghan Markle, a royal biographer claims.
Author Ingrid Seward said the monarch, who turns 95 this week, "hates confrontation" and her children have a tough time getting her to talk about "anything other than dogs or horses".
This week, she will mark the first birthday of her reign without her late husband Prince Philip.
His funeral was the first time Harry, 36, had met up with his family since his and wife Meghan Markle's explosive interview with Oprah Winfrey last month …
Ms Seward said any kind of family summit involving the Queen, at this stage at least, to address the Oprah interview and other issues at the heart of the rift would be unlikely.
She told the Times: "His (Harry's) grandmother will not be in the mood for it. She hates confrontation.
"The children have much difficulty getting the Queen to discuss anything other than dogs or horses.
"I remember Fergie telling me it took three weeks for them to try and get her to discuss their divorce. She kept saying 'Oh, I've got to take the dogs for a walk'."
The day before her birthday in 2021, the Queen lost a close friend from the racing world, Sir Michael Oswald.
On April 20, The Sun told us that he died on the day of Prince Philip's funeral:
Her Majesty's trusted racing adviser passed away from a long illness on April 17 aged 86.
Sir Michael looked after the Queen and Queen Mother's racing interests for almost 30 years.
He was regularly pictured next to the royal at racing events over the years.
Paying tribute, Sir Michael's wife Lady Angela, who was a lady-in-waiting to the Queen Mother, told Racing Post: "He always said he had the most wonderful job anybody could ever have had and that for all his working life he was simply doing what he would have done had he been a rich man who didn't have to work."
Sir Michael was born in Walton-on-Thames, Surrey, in 1934 and attended Eton and later King's College, Cambridge.
The racing enthusiast was then recruited as manager of the Royal Studs.
He worked for the Queen Mother from 1970 until 2002 before becoming Her Majesty's racing adviser after her death.
The expert was appointed Knight Grand Cross of the Royal Victorian Order (GCVO) in last year's New Year Honours list.
He fondly remembered his time working with the Queen and once gave an insight into her dry sense of humour.
Sir Michael had called aide Barry Mitford to let him know a horse the Queen owned called Harvest Song was running and it would be shown on TV in case the monarch wanted to watch it.
He said: "Barry got rather excited at this, asking will it win and should he have a flutter. I told him under no circumstances should he waste any money on it: that I had more chance of winning the 100m at the Olympics."
Incredibly, the 50-1 outsider won the race by five and a half lengths.
When Sir Michael later rang the Queen to ask if she'd watched the race, she replied: "Oh yes, and may I say that Barry is standing next to me. If I was you, I would find some dark glasses and a good disguise next time to come anywhere near this place."
Sir Michael's death is the second tragedy to hit the Queen after her beloved husband of 73 years passed away on April 9.
This is what happens as one ages, particularly into one's 90s. We see our friends go to their eternal rest.
More on the Queen will follow tomorrow.
On May 6, 2023, Queen Consort Camilla will be crowned as Queen.
With that in mind, my weekday posts until then will be a retrospective of Queen Elizabeth II.
Family history
It is useful and interesting to look back on how the British had a succession of German monarchs dating back to George I.
On June 24, 2015, The Telegraph featured an article, 'How German is the Queen?'
Excerpts follow, emphases mine.
Many Britons say we have a German monarchy, but our ties with that part of Europe and others date back to the Dark Ages:
It is, in fact, worth remembering that the word "English" is derived from the Angles, of Anglo-Saxon fame. When the Romans cleared out of Britain in AD 410, a range of German, Danish, and Dutch tribes that we sloppily call the Anglo-Saxons moved in from across the Whale Road. That's not forgetting the Vikings either, who brought Danish, Norwegian, and Swedish blood to swathes of Britain. So, to be honest, if we scrutinise the Royal Family's connections with the Fatherland, we should take a long look at our own, too, and acknowledge that this country has had the most profound and close genetic and cultural ties with the people of Germany and Scandinavia for over 1,500 years.
In 1701:
The Protestant King William III has no direct heirs, and his crown could soon pass to a Catholic. To prevent this, Parliament passes the Act of Settlement, locking them out of the succession.
In 1714:
William's sister-in-law Queen Anne dies without children. The crown skips over 56 of her close Catholic relations to rest on George Ludwig, ruler of the German state of Hanover. He speaks very little English and relies on his ministers to run Britain for him.
In 1761:
George III takes the throne. He is still a Hanoverian, but unlike his father and grandfather he was born in London and speaks English as a first language.
In 1819:
A succession crisis prompts George III's fourth son Edward to marry the princess of Saxe-Coburg-Saalfeld. Their daughter, Victoria, will end up Queen – and marry her German cousin Albert.
In 1917:
Victoria's line continues as the House of Saxe-Coburg and Gotha. But the First World War – and the Russian revolution – call for a royal rebrand. George V renames it the House of Windsor.
Here's how it happened:
When World War One bred increasing anti-German sentiment in Britain, astute observers noted that Kaiser Bill was Queen Victoria's grandson and our King George V's first cousin. In recognition of the delicacy of the position, George V changed the name of his royal house from Saxe-Coburg-Gotha to Windsor, after the castle. At the same time, he also took the modern step of adopting Windsor as a surname for his family.
Thirty years later, in 1947, the future Queen married Prince Philip:
Philip is a member of the House of Schleswig-Holstein-Sonderburg-Glucksburg. But, with the Second World War fresh in Britain's memory, he abandons these titles before his marriage.
When she acceded the throne in 1952:
Queen Elizabeth II chose to keep the name Windsor, and in 1960 the Queen and the Duke of Edinburgh announced that they wanted their descendants who do not have an HRH title to be Mountbatten-Windsor. (Mountbatten is the Duke of Edinburgh's adopted name. His German-Danish-Greek royal lines are Schleswig-Holstein-Sonderburg-Glūcksburg on his father's side, and Battenberg on his mother's.)
The Royal Family still follow German customs at Christmas:
The Royal Family still opens its presents on Christmas Eve, following the German tradition, which Prince Albert was particularly keen on following.
However, it is also important to point out that the Queen was also a direct descendant of Britain's royal houses:
… there's no point overstating it. The Queen is also directly descended from over a thousand years worth of Britain's royal houses, including the Stuarts, Tudors, Plantagenets, Angevins, Normans, and Wessex. 
That means King Charles is, too.
Politics
The Queen was acquainted with 15 Prime Ministers during her reign. Liz Truss was the last.
A 2019 Tatler retrospective shows her pictured with several of them, beginning with Sir Winston Churchill. You won't want to miss the photographs, which end with Boris Johnson. How time changed through the decades.
Here is a video of the Queen and other members of the Royal Family at a G7 drinks reception in 1991. At that time, John Major was Prime Minister and George H W Bush was president. However, other former Prime Ministers also attended:
The video is known for a quip that the Queen made to Sir Edward 'Ted' Heath (1970-1974), who is not held in the highest esteem among Britons who were around in the 1970s:
Guido Fawkes gives us the quote (emphasis his):
One of the highlights of the clip is the Queen saying what we all knew directly to Ted Heath's face; when the former PM mentioned he'd been to Baghdad the Queen jokingly responds, "I know you did, you're expendable". The Queen of diplomacy…
The Queen was also astute in other political matters, such as economic crises. The monarch goes through a red box every day with updates on national and world affairs.
On April 13, 2020, The Express told us about her consternation at the 2008 banking crisis:
… unearthed reports shed light on how Queen Elizabeth II reacted to the turmoil on the international markets twelve years ago.
According to a 2008 report by the Telegraph, during a briefing by academics at the London School of Economics (LSE), Her Majesty asked: "Why did nobody notice it?"
Professor Luis Garicano, director of research at the LSE's management department, had explained the origins and effects of the credit crisis when she opened the £71 million New Academic Building.
The Queen then described the turbulence on the markets as "awful".
Prof Garicano said: "She was asking me if these things were so large how come everyone missed it."
He told the Queen: "At every stage, someone was relying on somebody else and everyone thought they were doing the right thing" …
The Queen's investments, largely in British blue chip companies, broadly tracked the market, resulting in a 25 percent fall in her portfolio's value.
Philip Beresford, compiler of The Rich List, told the publication: "I would think she will have taken an enormous hit.
"Though maybe not as much as people who did racy investments in shares."
On April 21, 2019, the Queen celebrated her 93rd birthday and became the longest reigning British monarch and longest-serving current head of state in the world at the time:
At the beginning of the month, the Conservative government was having an exceedingly difficult time getting Brexit legislation through Parliament.
Lord James of Blackheath CBE wanted the Queen to step in and resolve the issue (emphases in the original):
The way forward from this is to:-
1. Make an immediate appeal to the United Nations making reference to a potential breach of the Vienna Convention on the Law of Treaty Making 1969 under Article 46.1, with a view to seeking an adjudication that the EU is attempting to force us to agree a treaty based upon fundamentally unconstitutional arrangements unacceptable to the British Crown …
2. If the application could be supported by Her Majesty, it would add significant force. This application to the UN could surely be assembled by a Government legal team within a single working day and be ready to be presented by the UK's Ambassador to the UN on behalf of Her Majesty within 48 hours …
4 The dire constitutional consequences of remaining will very likely force an abdication by the Monarch. She would either have to accept a state of perjury or maintain the Crown's honour by abdication. Her oaths of office will have become entirely corrupted such that no successor could undertake them, thus the total demise of the Crown is a very real and inherent risk in remaining.
Failure to terminate the membership of the European Union will continue to lead us all deeper into a treasonous liability arising from placing our governance subject to a foreign Potentate. That Potentate is unelected by the UK's electorate, is unaccountable to them and irremovable by them.
This is an absolute affront to the Dignity and Majesty of the Crown. It could foreshadow the total demise of the Monarchy.
When Brexit is finally done, Parliament must be shown to have discharged its absolute responsibility not to have reduced its own omnipotence.
However, a spokesman for Her Majesty said that she would not become involved in the Brexit rows:
One year later, on the evening of Sunday, April 5, 2020, the Queen made the rare move of addressing the nation outside of her Christmas speech. She spoke to us about the pandemic:
The nation was in its first-ever lockdown and Her Majesty gave us a short televised message about keeping our chins up, telling us that we would meet again, echoing Dame Vera's Second World War hit song:
The ratings were massive:
Her address even made the main French news channel BFMTV:
That evening, just after the Queen's broadcast ended, Boris Johnson entered St Thomas' Hospital with coronavirus:
Admiration for the Queen went up by 30%. The Government's ratings went up by 29%:
The Queen also entertained American presidents.
She welcomed the Obamas twice, once in 2011 and again in 2016.
On April 22, 2016, The Mail reported:
Barack Obama paid a heartfelt tribute to the Queen today, calling her 'a real jewel to the world' and 'one of my favourite people' after he and his wife Michelle had an intimate lunch with Elizabeth II and the Duke of Edinburgh.
Speaking alongside David Cameron at a Press conference in London, the US President took the opportunity to praise the Queen on the occasion of her 90th birthday – and also joked about the 'smooth ride' he and Mrs Obama had when Prince Philip drove them in his Range Rover.
Mr Obama, who is making his last trip to Britain as President, shared a meal with the Queen at Windsor Castle before his summit with the Prime Minister.
He came equipped with a gift – an album of photos showing the Queen meeting various Presidents – which he handed over shortly after the Duke took the role of his chauffeur, driving both couples 400 yards from their helicopter landing site to the door of the castle. 
Three years later, it was Donald Trump's turn for a State Visit:
The Express reported:
The Buckingham Palace event will be held as Britain and the US mark 75 years since D-Day.
US President Trump and his wife Melania will be guests of the Queen during a three-day visit, beginning on June 3.
Here is a photo of President Trump inspecting the troops at Windsor Castle with the Queen following behind:
Protocol
Although the Queen was a stickler for protocol, there were times when she relented.
Once was when Prince Charles insisted that Princess Diana's body be flown home on the Royal jet.
In 2021, the story emerged of the Queen's reason for denying it — they were divorced — then giving in to her son on August 31, 1997. The Express reported:
After Diana's death in Paris, the Prince of Wales reportedly had an argument with the Queen about how his ex-wife's body should be brought back to the UK. It has been reported that Prince Charles wanted to travel to Paris on the royal plane to bring Diana's body home but the Queen initially disagreed. Richard Kay, a friend of Princess Diana, told the Channel 5 documentary, Diana: 7 Days That Shook the Windsors: "This was a surprising and brave move.
"He had no right to be there other than as the father of her sons.
"Charles wanted to take the royal flight to Paris but the Queen wouldn't allow it.
"Charles fought harder for Diana than he had ever fought for her in her lifetime."
His request to travel to Paris was initially refused.
However, Prince Charles did not want to back down and eventually, the Queen gave him permission to use the royal plane to bring back Diana.
When Prince Charles arrived in Paris Princess Diana's former butler, Paul Burrell, was in the hospital.
Speaking on the Channel 5 documentary he said: "He was devastated.
"This was a woman he had loved in his own way."
Princess Diana's coffin was taken to the royal plane, which was waiting at an airport in Paris.
This was just 16 hours after she had died.
The royal plane then landed at RAF Northolt just outside of London.
In 2011, the Queen came up with a plan to entertain the Obamas, who were not invited to Prince William's wedding. This was another story that did not see the light of day until several years later.
On April 14, 2020, The Express reported:
The Duke and Duchess of Cambridge walked down the aisle more than eight years ago. It was April 29, 2011, and Kate Middleton made history when she said "I do" to Prince William at Westminster Abbey. The day was declared a public holiday in the UK, but because the Duke of Cambridge is not the first-in-line to the throne, the wedding was not a full state occasion, which meant many details of the big day were left down to the couple …
The guest list included more than 1,900 people and had its fair share of celebrities – including the Beckhams, Sir Elton John, the late Tara Palmer-Tomkinson and David Cameron.
However, there were two people missing from the guest list, who had been widely expected to attend.
The Queen personally invited 40 heads of state, who received gold-embossed invitations.
Former US President Barack Obama and his wife, Michelle, however, were not among them.
According to a 2011 report by the Daily Mail, the Government organised a state visit the following month – the first for a US President since 2002 – in return for Mr Obama not coming to the wedding.
The couple did not receive the invitation, the report claims, because of the added security costs involved with protecting the former President.
French Prime Minister Nicolas Sarkozy and his wife Carla Bruni also missed out and Prince Andrew's former wife, Sarah Ferguson – the Duchess of York – was also snubbed.
The Queen had a wonderful way of working quietly with the utmost discretion. In her reign, no one dared leak anything from her office.
One hopes that will continue to be true with King Charles.
Today's post concludes my long running series on The Telegraph's The Lockdown Files.
Those who missed it can read Part 1 of the conclusions.
All other posts in my series are on my Marxism/Communism page under The Lockdown Files.
MPs in the dark (cont'd)
In yesterday's post, I featured articles about several Conservative MPs who said that they had no idea the Government was suppressing evidence about coronavirus data and that what the WhatsApp messages revealed was shocking, considering Parliament was given so little time to debate pandemic policy measures.
Another MP in this category is David Davis.
On March 6, 2023, The Telegraph published 'Covid polling data used to shape decision-making still being kept secret, claims ex-minister' (emphases mine below):
The Government has been accused of failing to rapidly disclose Covid polling data that shaped decision-making during the pandemic.
In the wake of The Lockdown Files, David Davis, the former Cabinet minister, has called for the taxpayer-funded research – worth at least £1.5 million – to be made "easily accessible and comprehensible to the public" after ministers repeatedly refused his requests to publish the information in a near three-year transparency battle.
However, the Cabinet Office has insisted some of the data is already in the public domain …
Until April last year, ministers pushed back time and again against Mr Davis's requests for polling data to be put in the public domain on the grounds the information was still being used to shape policy, or would cost too much to publish.
Documents seen by The Telegraph show Mr Davis first submitted a Freedom of Information request in July 2020 seeking the cost and content of all polling conducted by the Cabinet Office, dating back to January that year …
After demanding an internal review and investigation by the Information Commissioner's Office, the former Cabinet minister turned to the parliamentary tools at his disposal – lodging a series of 20 written questions over 18 months.
In September, the government promised to release "evaluation reports" from a review of data held by the Cabinet Office – and wrote to the Public Administration and Constitutional Affairs Committee (PACAC) in December to say details from surveys by pollsters Kantar had been published online.
Oliver Dowden, the Chancellor of the Duchy of Lancaster, also said in his letter to William Wragg, the PACAC chairman, that further data tables from Ipsos were available "on request", while the National Institute for Health Research had published results from its own study.
But Mr Davis told the Commons on Monday he had not seen the data in question, while Mr Wragg said the notion the information had been made available to PACAC was "news to me".
The former Brexit secretary stressed that the details "must be made easily accessible and comprehensible to the public".
Asked for the whereabouts of the reports promised in September last year, the Cabinet Office pointed to the data referenced in the PACAC letter.
The following is an excerpt from David Davis's Point of Order raised on March 6, 2020:
… I kept pressing, and eventually, in April last year, I was told that a timetable for releasing the information would be available in the spring. That deadline came and went, so I tried again in September, when I was told that the data would be published by the end of the year. Now, three months into 2023, I have still not seen it. About an hour ago, a journalist was told by the Cabinet Office that it had been made available to the Public Administration and Constitutional Affairs Committee, whose Chairman, my hon. Friend the Member for Hazel Grove (Mr Wragg), is present; but I have not seen it.
Public money was used to obtain polling information relating to some of the biggest policy decisions in a generation. It must be made easily accessible and comprehensible to the public. May I seek your advice, Madam Deputy Speaker, on how the House can make the Government give it the data on the basis of which it appears to have created policy throughout the pandemic?
William Wragg intervened:
Further to that point of order, Madam Deputy Speaker. As my right hon. Friend prayed me in aid during his point of order, let me simply say that this is news to me, as Chair of the Public Administration and Constitutional Affairs Committee. I can certainly inform the House that the Committee has never received the data in any simple form, such as the questions that were asked and the answers that were received.
Deputy Speaker Rosie Winterton (Labour) responded, in part:
… if a Member has been told that information will be made available by a particular date, I would expect that commitment to be met. Knowing him as I do, I am sure that the right hon. Member will be assiduous in pursuing this matter, for example through parliamentary questions, and I hope he will receive helpful responses.
As for the point from the Chair of the Committee, I suspect that he may go back and request further information, but that is entirely up to him and his Committee.
Lockdown a big mistake, Sweden emerges best
Columnists from The Telegraph and elsewhere were deeply disappointed to see that Government officials ruined the British economy for political purposes and expedience.
Matt Hancock wanted to make himself look good. One of Boris's advisers said that England should side with Scotland on mask-wearing because having a conflict with Nicola Sturgeon would not be worth the trouble.
It's interesting to note that none of those three is in any leadership role in 2023. Boris's adviser resigned a long time before ago.
On March 4, The Telegraph's Allison Pearson posted 'Lockdown sceptics like me were demonised — but we were right':
… don't tell me thousands more would have died if we hadn't locked down because thousands more are dying because we had lockdown. Men and women in their thirties, forties and fifties with families; fit, younger people whom the virus could not harm, now presenting with incurable cancers. Will they be putting their names on the National Covid Memorial wall? They should.
Human beings have an astonishing capacity to forget, especially when something is embarrassing to look back on or when it makes us feel a bit stupid …
The biggest shock revealed by The Telegraph scoop is quite how often our leaders, who always claimed to be guided by "the science", were making decisions on the hoof.
Astonished, we read conversation after conversation where, it becomes clear, that decisions affecting the suffering of the elderly entombed in care homes, of children shut out of schools and playgrounds is filtered through the prism of something called "Comms".
So, when Boris Johnson asks his top team whether masks in schools are necessary, Chris Whitty, the Chief Medical Officer, replies: "No strong reason against in corridors etc, and no strong reason for. The downsides are in the classroom because of the potential to interfere with teaching."
But Lee Cain, the PM's director of Comms, is not happy. Scotland has just confirmed masks in schools so England is under pressure to follow suit lest Nicola Sturgeon gain the advantage. "Why do we want to have the fight on not having masks in certain school settings?" asks Cain …
The Lockdown Files reveal that Matt Hancock and other key players often had a callous disregard for everything except their own egos …
Children's wellbeing? Forget it. Hancock, we learn, launched a disgraceful "rearguard action" to close schools when Gavin Williamson, then-education secretary, was, to his credit, battling to keep them open … Keeping children out of education for another two months (until March 2021) turned out to be the real car crash …
Ironically, Downing Street had become a prisoner of the public's fear. That sense of dread which, as Laura Dodsworth points out in her definitive book, State of Fear, was itself created by government scientists "using a battery of weapons from distorted statistics, 'nudges' and misleading adverts on TV to control the public in order to make them comply with lockdown requirements". So people were convinced that Covid was a uniquely ruthless killer.
… The elderly were at risk of "just giving up" because they had been isolated for so long. Too bad. Hancock did nothing to alleviate the misery experienced by tens of thousands as they enacted a pitiful pantomime of intimacy through care-home windows and Perspex screens. (Visits to care homes and hospitals only returned to something like normality in July 2021 and, appallingly, many are still fortresses.) …
… as time went on, and the restrictions bit deeper, I began to shout at the TV during the Downing Street press briefings. Why did no one ask why having a "substantial meal" with alcohol in a pub protected you against Covid in a way that standing at the bar eating a bag of crisps did not? Robert Jenrick, the communities secretary at the time, explained that "a Cornish pasty on its own" would not constitute a substantial meal, "unless it came on a plate, to a table, with a side of chips or salad". This gave rise to one of the great dilemmas of the pandemic: The Scotch Egg Question. Food minister George Eustice said a scotch egg "probably would count" as a substantial meal, but a No 10 spokesman hastily over-ruled that deplorable, devil-may-care attitude, sternly insisting that "bar snacks do not count".
Grown men, our democratically elected representatives no less, actually said ludicrous things like that with a straight face. On the basis of no scientific evidence whatsoever. It was farcical.
The farce insulted our intelligence, but it was the cruelty I abhorred. Common sense and basic human decency had been overridden, leading to the isolation of the most vulnerable (the very people we were meant to be "saving"); so many lonely deaths, so many families damaged, so many self-harming teenagers. Every day, my Telegraph inbox filled up with devastating stories …
To speak out, however, was to be demonised as a "Covidiot" and worse. The Left of the Labour Party, still smarting from the recent defeat of Jeremy Corbyn, redirected all its fire-breathing zealotry into advancing the cause of "zero Covid", the better to undermine the hated Tories. I regularly found myself under attack, and trending (not in a good way) on Twitter. Once, it was for the heresy of suggesting that we should allow young people to get Covid and build up natural immunity which could then help protect their grandparents. Prior to the pandemic, that had been an uncontroversial precept of epidemiology. As Martin Kulldorff, former professor at Harvard Medical School and co-author of the Great Barrington Declaration, observed drily this week at a Covid hearing in the House of Representatives, "I guess we knew about it [natural immunity] since 430 B.C. – the Athenian plague – until 2020. And then we didn't know about it for three years, and now we know about it again."
I was naïve enough to be shocked when I discovered that a Conservative MP, Neil O'Brien, had set up (at the behest, it was alleged, of certain ministers) a McCarthyite website to monitor the work of journalists like me who took a sceptical attitude to lockdown. How could that be happening in a free society? While I undoubtedly got certain things wrong, especially in the early days, I was repulsed by the way that Matt Hancock assumed the moral high ground, bulldozing over any criticism of his own highly questionable decisions. Intoxicated by his new totalitarian powers. Mr Hancock, I felt, was getting away with murder …
The Covid Inquiry, which began this week [albeit not publicly], with a dismaying lack of lockdown sceptics among its "core participants" had better buck up its ideas, or else. (At first, the inquiry wasn't even going to consider the damage done to children, if you can believe it.
Anne Longworth, the Children's Commissioner, has not been included and there is still not a single witness from the hospitality sector.) If the Establishment was hoping for a whitewash, the Lockdown Files will make that very hard indeed …
The Lockdown Files are not a betrayal. They are a declaration of loyalty to the public which has the right to know.
May we never forget the stick that Isabel Oakeshott got for The Lockdown Files:
On March 18, The Telegraph published Daniel Hannan's 'The evidence is in. Lockdowns kill people — and the more you lock down, the more you kill':
… Britain was driven into abandoning its proportionate, cool-headed epidemic plan, not just by shrieking TV presenters, but by perverse incentives. Put simply, decision-makers knew that they would not get into trouble for excessive caution. They could blow away billions, bankrupt businesses, ruin children's education, and none of it would be a resigning matter. But make the slightest mistake the other way, and they would be done for.
Easy to say in hindsight? Maybe. But those of us who said it at the time were roundly denounced as granny murderers. In February 2020, I recalled the ridiculous forecasts that had accompanied bird flu and swine flu, and cautioned against panic: "Politicians, like most people, are bad at calculating risk, and almost every minister would rather be accused of over-reacting to a threat than of having done too little. There is a similar bias, albeit a less pronounced one, among the various medical advisory bodies".
Every time I criticised the lockdown – and this column was one of only three or four doing so in March 2020 – I would steel myself before pressing send. I knew that demanding a reopening was hugely unpopular. What if it also turned out to be wrong?
Yet the facts remained stubbornly at odds with the policies. As the disease spread from China, Chris Whitty pointed out that it was not dangerous enough to merit an acceleration of the vaccine approval process (no one, at this stage, was contemplating a UK lockdown).
"For a disease with a low (for the sake of argument 1 per cent) mortality a vaccine has to be very safe so the safety studies can't be shortcut," he messaged on February 29 2020. Reader, the mortality rate for Covid in this country never rose as high as 1 per cent.
Why, then, were we panicked? What happened to the original epidemic plan, which was to allow infections to seep gradually through the population so that hospitals would not be overwhelmed at any one moment?
The answer can be glimpsed in a message on March 8 from James Slack, Boris Johnson's calm and measured spokesman: "I think we're heading towards general pressure over why our measures are relatively light touch compared to other countries."
Too bloody right. And the pressure – cretinous rants from Piers Morgan, false rumours of hospitals being overrun, "Go Home Covidiots" signs – grew until, two weeks later, a prime minister who hated nannying with every bone in his body felt obliged to sentence the population to house arrest.
Could he have resisted that pressure? Other countries had already closed, 92 per cent of the electorate wanted to be confined and the scientific advisers, sniffing the wind, had switched to arguing for tougher measures.
But one country held out. Sweden, lacking its own pandemic plan, had adopted Britain's – and, unlike Britain, it did not crack under criticism. Sweden is our counterfactual, a laboratory quality control showing what would have happened here had we held our nerve. And the evidence it presents looks damning. A study has found that, from 2020 to 2022, Sweden had the lowest excess mortality rate in Europe.
That finding blows the case for lockdowns out of the water. In the early days of the pandemic, when the Government was being criticised for what looked like a high death rate (largely because it had sent NHS patients into care homes), ministers and medical advisers urged us to wait until all the evidence was in …
Judged by this metric, Britain did not do badly. Our overall excess death rate was behind Scandinavia, in line with Germany and the Netherlands, and ahead of most of southern and eastern Europe. But the real outlier was Sweden, which had the lowest excess mortality in Europe, and one of the lowest in the world, throughout 2020 and 2021.
During the pandemic, I assumed that Sweden would emerge with a slightly higher death rate, but a much stronger economy. Since poverty correlates with lower longevity, I expected that, over time, Sweden would see fewer deaths from other causes, so ending up healthier as well as wealthier. But I underestimated the lethal impact of the lockdowns themselves. Sweden did not just do better over time; it actually killed fewer people during the pandemic.
How did Britain's leaders respond to the evidence that they should have stuck to Plan A? They took it as a personal affront. Hancock referred in his messages to the "f***ing Sweden argument", and asked officials to "supply three or four bullet [points] of why Sweden is wrong".
But Sweden was not wrong, and no amount of desperate deflection about Norway also having a low death rate can disguise it. The horrible truth is that lockdowns killed people. Sweden had lots of coronavirus cases but relatively few excess deaths. Australia had few coronavirus cases, but a strict lockdown. It ended up with higher excess mortality than Sweden.
Are people ready to believe it? Are we prepared to admit that the disasters we are still experiencing – undiagnosed diseases, absenteeism, debt, lost education, price rises, mental health problems – were self-inflicted?
It seems not. We will go into the next crisis with the same skewed incentives. And all because, like so many Hancocks, we don't want to "imply we've been getting it wrong".
On March 22, The Telegraph published Madeline Grant's 'Nobody wants to confront the truth about lockdown':
… Even now, pro-lockdowners ignore the example of Sweden because its experience of Covid doesn't fit their mantra – "we had no choice". Justifications (but not opinions) have shifted with the evidence. When Sweden appeared to be doing badly, it was "because it failed to lock down". Now the data have moved in Sweden's favour, it's because "Sweden had an unofficial lockdown all along" [false]. The Telegraph's Lockdown Files exposed the self-fulfilling logic behind many decisions. Coercion became its own justification, as when Matt Hancock feared cutting isolation times would dilute the message and "imply we've been wrong". Whether you agree with lockdown or not, this is an appalling way to govern.
… Public readiness to allow so many basic functions of life – worship, exercise, social interaction – to be dismissed as "non-essential" suggests an inability to bear ordinary risks once inseparable from existence; expectations of a level of "security" unthinkable to previous generations. Even if we never lock down in precisely the same way again, a Rubicon has still been crossed.
So we didn't finish stronger or more united, we simply ended up with the cold truth that, for many of us, things we claim to value – freedom, the next generation, prosperity, mental wellbeing didn't really matter that much – at least not enough to fight for. When that becomes clear, there is little left for a society to coalesce around. All that remains are the fragments of those past illusions.
… Vital questions risk being lost along the way; about whether those laws were ever justified, and the incalculable damage they caused.
On March 23, UnHerd's Freddie Sayers, who is half-Swedish, asked 'Why doesn't Britain regret lockdown?'
He says:
… To the majority of people who believe lockdowns were right and necessary, the Covid era was no doubt distressing, but it need not have been cause to re-order their perception of the world. Faced with a new and frightening disease, difficult decisions were taken by the people in charge but we came together and got through it; mistakes were made, but overall we did what we needed to do.
For the dissenting minority, the past three years have been very different. We have had to grapple with the possibility that, through panic and philosophical confusion, our governing class contrived to make a bad situation much worse. Imagine living with the sense that the manifold evils of the lockdowns that we all now know — ripping up centuries-old traditions of freedom, interrupting a generation's education, hastening the decline into decrepitude for millions of older people, destroying businesses and our health service, dividing families, saddling our economies with debt, fostering fear and alienation, attacking all the best things in life — needn't have happened for anything like so long, if at all?
To those who place emphasis on good quality evidence, it has been particularly exasperating. In the early days of 2020, we had only intuitions — there was no real data as to whether lockdowns worked, as they had never been tried in this way. As millions tuned in to our in-depth interviews on UnHerdTV with leading scientists, we made sure to hear arguments in favour of lockdowns as well as against …
In the past year, however, we have for the first time been able to look at the Covid data in the round. Many of the countries which appeared to be doing "well" in terms of low levels of infections and deaths caught up in the second year — Norway ended up much closer to Sweden, while countries such as Hungary, which were initially praised for strong early lockdowns, have ended up with some of the worst death tolls in the world. Due to the peculiarly competitive nature of the lockdowns, the results were neatly tracked, allowing clear comparison between countries and regions. While we spent the first year arguing about deaths "with" Covid as opposed to deaths "from" Covid, all sides in this discussion have now settled on overall "excess deaths" as the fairest measure of success or failure: in other words, overall, how many more people died in a particular place than you would normally expect?
My view on these results is quite simple: in order to justify a policy as monumental as shutting down all of society for the first time in history, the de minimis outcome must be a certainty that fewer people died because of it. Lockdown was not one "lever" among many: it was the nuclear option. The onus must be on those who promoted lockdowns to produce a table showing a clear correlation between the places that enacted mandatory shutdowns and their overall outcome in terms of excess deaths. But there is no such table; there is no positive correlation. Three years after, there is no non-theoretical evidence that lockdowns were necessary to save lives. This is not an ambiguous outcome; it is what failure looks like.
If anything, the correlation now looks like it goes the other way. The refusal of Sweden to bring in a lockdown, and the neighbouring Scandinavian countries' shorter and less interventionist lockdowns and swifter return to normality, provide a powerful control to the international experiment. Three years on, these countries are at the bottom of the European excess deaths league table, and depending on which method you choose, Sweden is either at or very near the very bottom of the list. So the countries that interfered the least with the delicately balanced ecosystem of their societies caused the least damage; and the only European country to eschew mandatory lockdowns altogether ended up with the smallest increase in loss of life. It's a fatal datapoint for the argument that lockdowns were the only option.
So why, three years on, do most people not share this conclusion? Partly because most people haven't seen the evidence. Nor will they. The media and political establishment were so encouraging of lockdowns at the time that their only critique was that they weren't hard enough. They are hardly going to acknowledge such a grave mistake now. Nor do I expect the inquiry to ask the right questions: obfuscation and distraction will continue and mea culpas will never arrive.
But it can't all be put down to the media. Over that strange period, we were reminded of something important about human nature: when frightened, people will choose security over freedom. Endless opinion polls confirmed it, and politicians acted upon it. Tellingly, those constituencies most in favour of lockdowns in our polling are leafy and affluent — New Forest West, Bexhill, Henley, The Cotswolds. Perhaps some people even enjoyed it.
Meanwhile, the dissenting minority is not going anywhere. This new class of citizen is now a feature of every Western society: deeply distrustful of authority, sceptical of the "narrative", hungry for alternative explanations, inured to being demonised and laughed at. The dissident class skews young (it includes 39% of 25-34 year olds) and clusters around poorer inner-city neighbourhoods; it heads to alternative media channels for information. Its number was greatly increased over the lockdown era as those people lost faith in the way the world is run. They will continue to make their presence felt in the years to come.
As for me, the past three years have changed how I view the world. I feel no anger, simply a wariness: an increased sense of how fragile our liberal way of life is, how precarious its institutions and principles, and how good people, including those I greatly admire, are capable of astonishing misjudgements given the right atmosphere of fear and moral panic. In particular those years revealed the dark side of supposedly enlightened secular rationalism — how, if freed from its moorings, it can tend towards a crudely mechanistic world in which inhuman decisions are justified to achieve dubious measurable targets.
I hope there is no "next time", and that the political class will never again think nationwide lockdowns are a proper policy option in a liberal democracy. But if they do, I suspect the opposition, while still perhaps a minority, will be better organised.
On March 9, The Telegraph's Fraser Nelson, who also edits The Spectator, had more on Sweden's success in 'Britain may well repeat its lockdown blunders sooner than anyone thinks':
… The winner, with the smallest rise in "excess" deaths since the pandemic began, is Sweden.
For those who had accused the lockdown-rejecting Swedes of pursuing a "let it rip" policy that left people to die, this is all rather baffling …
Sweden had the unflappable Anders Tegnell as chief epidemiologist, who went all-out to argue against what he saw as populism: lockdowns that were not backed by science and could cause more harm than good. He never stopped arguing, giving television interviews while waiting on train platforms and publishing study after study. He won people over. Sweden ended up with middling Covid but among Europe's least economic damage and lowest increase in deaths. In an interview last week, Tegnell offered advice for his successor: "Have ice in your stomach."
… The science on Covid still isn't clear. On masks, on social distancing, even school closures – it's hard to say what difference they make to the spread of a virus. The UK hasn't commissioned a single high-quality study into what works and what doesn't. Even the excess deaths count is complicated – but Sweden is at or near the bottom, whichever way you cut it. But even now, no one seems very interested in the actual science, or learning lessons any time soon.
It's now 20 years since the boring old coronavirus mutated into a killer in the Sars epidemic. Asian countries updated their pandemic emergency plans – but Britain didn't, sticking with its flu-based approach. Are we seeing the same complacency yet again? We have now seen, in the Lockdown Files, much of what went wrong. We have also seen, in Sweden, what can go right. We will now see whether Rishi Sunak can put the two together.
The following day, The Telegraph reposted Nelson's February 23, 2022 article, 'Was Sweden right about Covid all along?'
It explains more about the psyche of the Swedes as a people:
To understand Sweden, you need to understand a word that's hard to explain, let alone translate: lagom. It means, in effect, "perfect-simple": not too much, not too little. People who are lagom don't stand out or make a fuss: they blend right in – and this is seen as a virtue.
Essays are written about why lagom sums up a certain Swedish mindset – that it's bad to stand out, to consider yourself better or be an outlier. That's why it's so strange that, during the lockdowns, Sweden became the world's defiant outlier.
Swedes saw it the other way around. They were keeping calm and carrying on: lockdown was an extreme, draconian, untested experiment. Lock up everyone, keep children out of school, suspend civil liberties, send police after people walking their dogs – and call this "caution"? Anders Tegnell, Sweden's state epidemiologist, never spoke about a Swedish "experiment". He said all along he could not recommend a public health intervention that had never been proven.
Tegnell also made another point: that he didn't claim to be right. It would take years, he'd argue, to see who had jumped the right way. His calculation was that, on a whole-society basis, the collateral damage of lockdowns would outweigh what good they do. But you'd only know if this was so after a few years. You'd have to look at cancer diagnosis, hospital waiting lists, educational damage and, yes, count the Covid dead.
The problem with lockdowns is that no one looks at whole-society pictures. Professor Neil Ferguson's team from Imperial College London admitted this, once, as a breezy aside. "We do not consider the wider social and economic costs of suppression," they wrote in a supposed assessment of lockdown, "which will be high." But just how high? And were they a price worth paying? …
… its people were incredibly cautious. But unlike Brits, they had a government that trusted them.
There were some Swedish diktats: a "rule of eight" was set up for a while. Bars, restaurants and cafes were all socially distanced and, at one point, had to close by 8.30pm. For a few weeks, Swedes even had vaccine passports. But that was about it: the rest was guidance, and it was followed.
What no statistic can convey is just how careful Swedes were; something that struck me whenever I'd visit. It was perfectly legal to meet up in bars and for a fika in a coffee shop, but most didn't. A friend of mine had a rule that she'd only ever meet friends outside – even in the Stockholm winter (she did this so much that she got frostbite). In summer last year, studies showed Swedes working from home more than in any other European country.
This kept Covid low, while the lack of rules allowed for people to use their judgement while minimising economic and social damage. Sweden's GDP fell by 2.9 per cent in 2020, while Britain's collapsed by 9.4 per cent.
The cost of the various Covid measures is best summed up by the debt mountain: an extra £8,400 per head in Britain, and £3,000 in Sweden.
Swedish schools kept going throughout, with no face masks. Sixth-formers and undergraduates switched to home learning, but the rest of Swedish children went to school as normal. That's not to say there weren't absences as the virus spread: it was common to see a third, at times even half of the class absent due to sniffles or suspected Covid. But there were no full-scale closures and, aside from some suspicions about minor grade inflation (the average maths grade sneaked up to 10.1, from 9.3), there is no talk in Sweden about educational devastation …
Pimlico Plumbers' Charlie Mullins recants on the vaccine
Charlie Mullins was, until recently, the owner of London's Pimlico Plumbers, the capital's best known plumbing outfit. He has since sold the company.
He still owned it during the pandemic and insisted that all of his many employees have the vaccine. In fact, he went so far as to say that no one — no one — should be walking around in public unless they had the vaccine.
On March 7, Mullins changed his tune after having read The Lockdown Files. He appeared on GB News that day to say that the British people were 'misled and lied to'. The second video has the content of what he said when he was pro-vaccine:
Better late than never. I wonder how many of his plumbers lost their jobs because they refused the jab.
He's the sort who probably would have agreed with the jailing of the Scarborough woman for coughing in February 2021: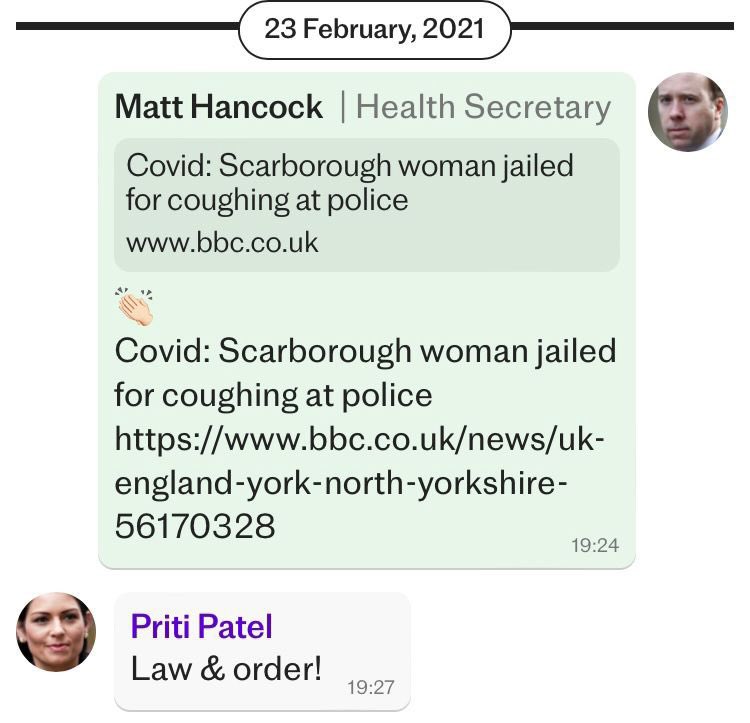 Shameful.
Don't mention China; meanwhile, Joe Biden and FBI are on the case of suspected virus origin
From the beginning of the pandemic, Matt Hancock, to his credit, was suspicious of the origins of the virus. He wanted to include that in his December 2022 book, Pandemic Diaries, but Downing Street refused.
On March 8, The Telegraph published 'Matt Hancock Covid memoirs censored over Wuhan lab leak comments':
Matt Hancock was censored by the Cabinet Office over his concerns that the Covid-19 pandemic began with a lab leak in Wuhan, the Lockdown Files reveals.
The former health secretary was told to tone down claims in his book because the Government feared it would "cause problems" with China.
Mr Hancock wanted to say that the Chinese explanation – that the virus being discovered close to a government science lab in Wuhan was coincidental – "just doesn't fly".
But, in correspondence from late last year and leaked to the Telegraph, the Cabinet Office told him that the Government's position was that the original outbreak's location was "entirely coincidental" .
It is the first time that the British position has been categorically stated. Mr Hancock was warned that to differ from this narrative, which resembles China's version of events, risked "damaging national security".
In his book, Pandemic Diaries, Mr Hancock also wanted to write that "Global fear of the Chinese must not get in the way of a full investigation into what happened" but this too was watered down …
The changes to the book were made by the Cabinet Office when Mr Hancock submitted his manuscript for review – a process all former ministers are expected to follow – last year. Once alterations were made, the book was signed off for publication by Simon Case, the Cabinet Secretary, on November 4 2022.
That same day, Hancock's co-author Isabel Oakeshott, to whom he gave his WhatsApp messages that form the basis of The Lockdown Files, noted that the FBI has since gone public with its suspicions in 'Upsetting China is the Government's biggest taboo, as I found out the hard way':
Sunak recently used his first foreign policy speech to declare that the "golden era" of relations between our two countries is over. Unfortunately, the panjandrums in the Foreign Office have yet to catch up, as the Cabinet Office's painstaking attempts to water down Matt Hancock's book about the pandemic expose.
Did Covid-19 originate in a Wuhan lab, a global centre for the study and storage of exactly the type of coronaviruses that led to the outbreak? The FBI is certainly warming to the theory. Just last week, the US intelligence agency said that was the most likely cause of the outbreak.
Choosing his words carefully, FBI director Christopher Wray declared that a "potential lab incident" was "most likely" to blame. Other intelligence agencies also struggle to believe that the proximity of the first known case to the world's leading coronavirus research laboratory – a place where samples are deliberately altered to make them more deadly to humans – is just happenstance.
As for Downing St? They won't go there. During tortuous negotiations between Hancock and the Cabinet Office over what he could and could not say in his Pandemic Diaries, officials let slip something quite extraordinary: that they believe the proximity of the Wuhan lab to the first recorded Covid outbreak is "entirely coincidental." They seem terrified of anyone saying otherwise.
On March 20, The Guardian reported that Biden ordered the release of intelligence relating to potential links between the virus and the Wuhan lab: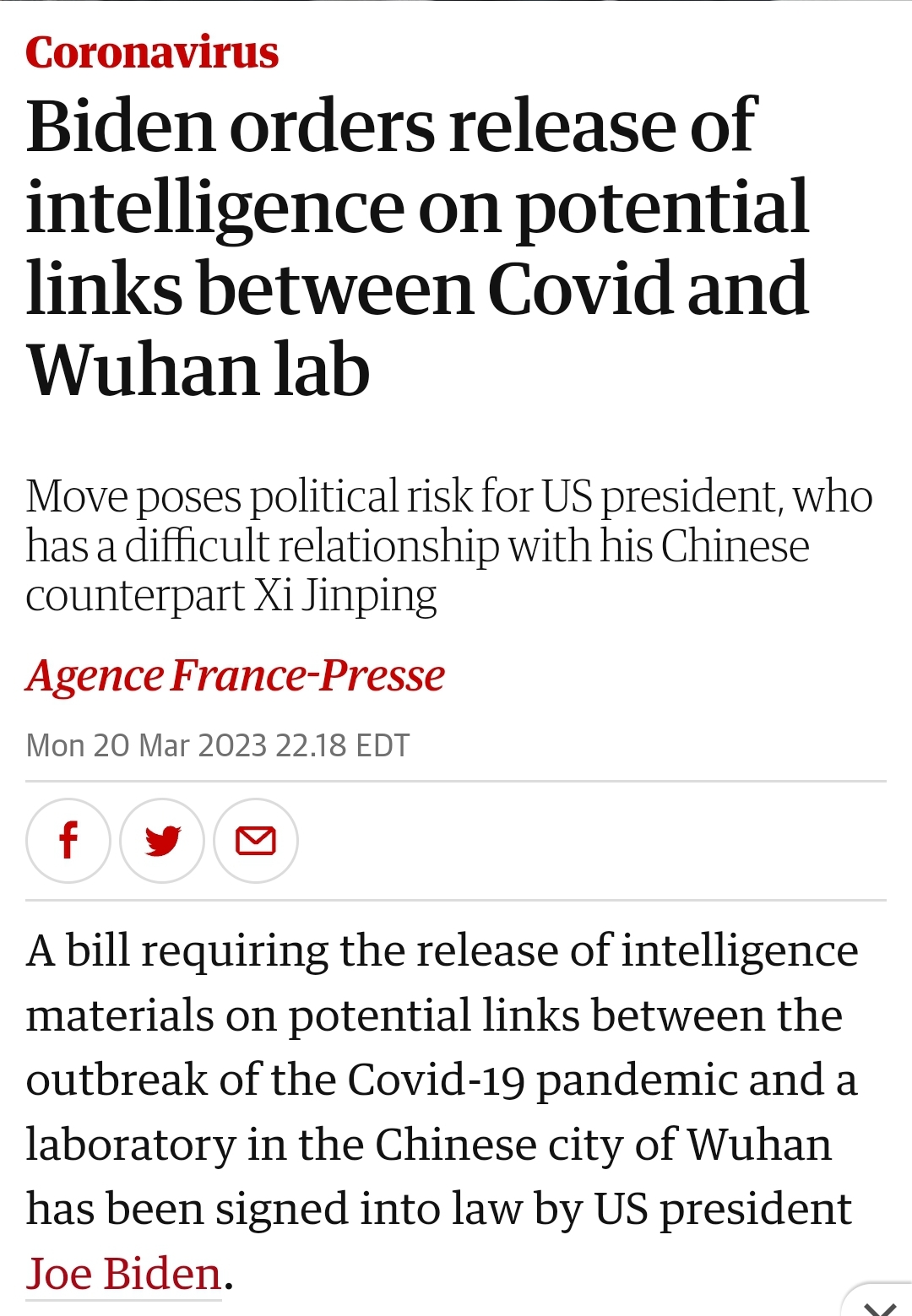 It was discussed on March 21 on GB News:
Conservative MPs have been eager to discuss this in more depth; The Telegraph covered their concerns two weeks before Biden ordered the American intelligence release.
Let us hope that Rishi is not reticent. His father-in-law has an important Infosys office in China.
Conclusion
The Telegraph did the UK a huge favour in publishing The Lockdown Files.
They confirmed all my suspicions in their marvellous 'read it and weep' articles.
Sadly, even friends of mine have criticised Isabel Oakeshott — 'that girl' — and say that everything will be properly dealt with during the inquiry. As if!
Then again, they were proponents of lockdown. And, yes, they live in a leafy place in the Home Counties with a huge garden where they plant their own vegetable supply. They didn't suffer one bit.
When will some people ever learn?
End of series
Matt Hancock looms large in The Telegraph's Lockdown Files series which ended earlier this month.
For more background, see parts 1 and 2.
Matt Hancock latest
The series continues after an update on latest news about the UK's former Health and Social Care Secretary.
On Saturday, March 25, 2023, The Guardian reported that Hancock had been one of a handful of Conservative MPs caught in a prank set up by the left-wing activist group Led By Donkeys, 'Top Tory MPs ask for £10,000 a day to work for fake Korean company' (emphases mine):
The former chancellor, Kwasi Kwarteng, and former health secretary, Matt Hancock, agreed to work for £10,000 a day to further the interests of a fake South Korean firm after apparently being duped by the campaign group Led by Donkeys.
Kwarteng attended a preliminary meeting at his parliamentary office and agreed in principle to be paid the daily rate after saying he did not require a "king's ransom". When Hancock was asked his daily rate, he responded: "It's 10,000 sterling" …
The senior politicians have complied with all relevant rules and referred to their obligation to their constituents during preliminary meetings. The Led by Donkeys project, conducted with investigative reporter Antony Barnett, comes at a time when people face a cost of living crisis. The campaign group released a report on its investigation on Twitter on Saturday, with recorded undercover footage …
The purported firm that approached the politicians did not exist and had a rudimentary foreign website with fake testimonials. MPs have been warned by the Home Office to be on their guard against the "threat of foreign interference", and the group's investigation demonstrated the ease with which they seemed able to gain access to the MPs.
Led by Donkeys is understood to have approached 20 MPs from the Conservative party, Labour and Liberal Democrats after examining the outside earnings of MPs on the parliamentary register of interests. An email sent by the fake investment and consulting firm, Hanseong Consulting, said it wanted individuals for an international advisory board to "help our clients navigate the shifting political, regulatory and legislative frameworks" in the UK and Europe.
It said advisers would be required to attend six board meetings a year, with a "very attractive" remuneration package and "generous expenses" for international travel. Five MPs agreed to be interviewed on Zoom, with one who was clearly suspicious of the firm's credentials terminating the call. The MPs were interviewed by a woman purporting to be a senior executive, with a backdrop of the skyline of Seoul, the South Korean capital, at her office window …
In early March, Hancock agreed to an online meeting for the advisory role. The Telegraph had that week published his leaked cache of more than 100,000 WhatsApp messages, but he seemed relaxed for the meeting with the fake foreign firm. He said it had been "quite a busy week" but that March was the "start of hope".
"We were wondering, do you have a daily rate at the moment?" he was asked by the interviewer, posing as a senior business executive. "I do, yes," Hancock replied. "It's 10,000 sterling."
… Hancock is an independent MP after he had the whip suspended for taking part in I'm a Celebrity, for which he was paid £320,000, with Rishi Sunak's spokesperson saying at the time that "MPs should be working hard for their constituents".
Hancock said in the meeting that he followed the "spirit and letter" of parliamentary rules, and would also require additional approval for the role because he had been a minister, but outside interests were permitted. He said he was mindful of the responsibility to serve his constituents …
Led by Donkeys was established in 2018 as a campaign in response to Brexit. Its high-profile projects and satirical stunts have since included a spoof episode of the BBC show Line of Duty with Boris Johnson being interrogated by the anti-corruption AC-12 unit and painting the colours of the Ukrainian flag outside the Russian embassy in London.
A spokesperson for Hancock said: "The accusation appears to be that Matt acted entirely properly and within the rules, which had just been unanimously adopted by parliament. It's absurd to bring Mr Hancock into this story through the illegal publication of a private conversation. All the video shows is Matt acting completely properly."
Furthermore, Matt will be looking for a new job as he will not be standing again as an MP come the next general election.
Although I am not a defender of Hancock, former BBC presenter Jon Sopel is hardly in a position to take pot shots at him, considering that he, too, fancies filthy lucre, as Guido Fawkes revealed on Monday, March 27:
Days earlier, on March 18, The Mail's Richard Eden reported that Hancock's girlfriend and her estranged husband sold their South London house to Gordon Ramsay for several million pounds:
Should she ever tire of turning her boyfriend, Matt Hancock, into a TV star, Gina Coladangelo has a lucrative alternative career as a property tycoon.
I can disclose that she and her estranged husband, Oliver Tress, managed to sell their marital home to fiery TV chef Gordon Ramsay and his wife, Tana, for a staggering £7.5 million.
It's an astonishing price for the area of South London. Not only is it almost double the £3.8million that Gina and Tress paid in 2015, but it's £2.5 million more than the top price paid previously for any property in their street.
Zoopla had estimated its value as between £3.8 million and £4.6 million …
The sale, which Land Registry documents confirm went through in January, is all the more impressive as it comes when British property prices are predicted to plunge by ten per cent.
The five-bedroom Edwardian house is in one of London's most desirable areas. Ramsay, 56, and his wife, 48, bought it in their joint names from Gina and Tress, the founder of upmarket homeware and clothing chain Oliver Bonas.
Gina, 45, left Tress, 55, with whom she has three children, for former health secretary Hancock, 44, who competed in I'm a Celebrity . . . Get Me Out Of Here!.
Ramsay, who has an estimated fortune of £175 million, already owns a huge house, said to be worth £7 million, less than a mile away …
Last year, he, Tana and their five children were reported to have temporarily moved out after work began on a super-basement …
Tatler adds:
It is easy to see why Ramsay might need a new home. The chef announced at the start of the year that he and wife Tana are expecting their sixth child. On the Heart Breakfast show, the chef said that 'there's one more on the way' to join their five children: Megan, 25, twins Jack and Holly, 23, Tilly, 21, and Oscar, three. Holly recently featured as one of the most eligible singles at Tatler's Little Black Book party. According to Hello! magazine, the Ramsays are believed to have paid in cash for their new luxury pad; they also own a £6 million house in Cornwall and a mansion in Los Angeles. Gordon and Tana marked their 26th wedding anniversary very recently, having married in Chelsea in 1996.
On March 6, as The Lockdown Files were drawing to a close, The Telegraph reported, 'Matt Hancock cancelled after indiscreet WhatsApps "upset" travel industry':
A major international travel conference has axed Matt Hancock from its programme after The Telegraph revealed he had been highly critical of the travel sector during the pandemic.
The Institute of Travel and Tourism (ITT) confirmed that Mr Hancock will no longer be speaking at its annual conference in Doha, Qatar, saying that the messages uncovered by The Telegraph had caused upset to many in the travel industry.
Last week, as part of its Lockdown Files series, The Telegraph revealed that Mr Hancock and Simon Case, the country's most senior civil servant, shared jokes about those being forced to stay in quarantine hotel rooms during the pandemic …
The former health secretary was also highly critical of the airline and airports industry, describing them as being "totally offside" and "unhelpful", while Mr Case [top civil servant Simon Case] labelled them as "horribly self-serving" ...
In a statement to The Telegraph, Steven Freudman, chairman of the ITT, said that Mr Hancock had become a "major distraction".
He added: "We have over 25 distinguished speakers and it would have been unfair on them for the focus to have been solely on Matt Hancock."
The ITT annual conference is regarded as one of the sector's key annual events, with thousands of travel professionals and high-profile speakers from across the globe attending.
The initial decision to invite Mr Hancock as a speaker at the conference was widely criticised by sector figures even before The Lockdown Files revelations were published.
Industry figures told The Independent that they wanted the ITT to reconsider its decision, accusing Mr Hancock's policies of "destroying the sector" and resulting in thousands of travel jobs being lost …
Dr Freudman said: "The original invitation was issued in the hope that Matt Hancock would recognise the damage that he and his government caused the travel industry with its handling of the pandemic.
"We were also hoping that he might confirm that lessons had been learnt and that any future crises would be handled differently.
"However, his WhatsApp messages have upset many of us in the travel industry and his presence would clearly have been a major distraction."
The Telegraph has contacted Mr Hancock for comment.
That day, Hancock's lawyer appeared on GB News and was introduced as such. He responded vehemently that he did not want that detail mentioned. The presenter calmly read out the lawyer's email to GB News stating that he permitted them to describe him as Hancock's lawyer. The lawyer sheepishly responded that he forgot to type 'not'. Comedy gold:
Isabel Oakeshott describes The Telegraph 'bunker'
Hancock gave Oakeshott access to the 100,000 WhatsApp messages because she co-authored his book, Pandemic Diaries.
On Friday, March 24, she wrote an article for Tatler describing what working in seclusion with The Lockdown Files reporters was like at the beginning of 2023:
… The Daily Telegraph was the only newspaper that consistently challenged the lockdown agenda and had a track record of managing huge investigations in the public interest – famously exposing the MPs' expenses claims in a scandal that rocked Westminster in 2009. They immediately agreed to put a full team of top journalists on the project: The Lockdown Files. 
In a secure bunker, well away from the main newsroom, I worked alongside their reporters, filleting the messages: a team of eight or so, full time, for eight weeks. To avoid hackers, our computers were not connected to the internet. We worked from hard drives stored overnight in a safe. Anything printed was swiftly shredded. Nobody else came into the bunker, which, as the weeks went by, became increasingly unhygienic. Discarded takeaway containers, half-eaten packets of Colin the Caterpillar sweets, mouldy mugs and other detritus were strewn over every grubby surface. Hunched over our computers in a room with no windows, we were like lab rats in some dubious experiment, wracked by colds, coughs and – oh, the irony – Covid. By the week of publication, our core team had swelled to some 25 writers and digital news experts. The Daily Telegraph's newsroom was emptying out – leaving those who remained wondering where all their colleagues had gone. 
There was a curious voyeuristic pleasure in reading the banter between Government ministers and their aides – including some very flirty exchanges between two household names. Who was sending who the heart emojis and who was complimenting who on their sexy outfits? I'll leave it to your imagination. Suffice to say, they wouldn't be too happy if that news was in the public domain.
On Sunday, March 26, we got an answer about the heart emojis. Michael Gove sent them to Hancock:
Hancock responded, 'You have been true throughout'.
Gove explained to Sophy Ridge on Sky News that he agreed, particularly on that day, with Hancock's course of action. No surprise there. They're cut from the same cloth.
Guido Fawkes has the interview:
Oakeshott's article continues:
The WhatsApp from Matt Hancock came through at 1.20am: 'You have made a big mistake,' it said darkly – leaving me to imagine what punishment he had in mind. The following day, he released a furious statement, accusing me of 'massive betrayal'. Fair enough – I had breached his trust and would face plenty of questions about that decision. But did anyone outside the media bubble seriously doubt it was for the public good? The torrent of grateful messages from ordinary people, often with harrowing personal stories about their own suffering during lockdown, was answer enough for me … Dining in a mountain restaurant in the French Alps, my partner, Richard Tice [leader of the Reform Party], was surprised – and touched – to be passed a note by the waiter from a fellow diner who had recognised him. On the crumpled piece of paper were the words 'please thank Isabel'. 
Lord Sumption on Hancock: 'a fanatic'
On March 10, after The Lockdown Files came to an end, Lord Sumption, a former Supreme Court justice and guardian of civil liberties, wrote an editorial for The Telegraph: 'Matt Hancock was never a policy maker — he was a fanatic':
The 19th-century sage William Hazlitt once observed that those who love liberty love their fellow men, while those who love power love only themselves. Matt Hancock says that he has been betrayed by the leaking of his WhatsApp messages. But few people will have any sympathy for him. He glutted on power and too obviously loved himself.
Some things can be said in his favour. The Lockdown Files are not a complete record. No doubt there were also phone calls, Zoom meetings, civil service memos and the like, in which the thoughts of ministers and officials may have been more fully laid out …
Nevertheless, Hancock's WhatsApp messages offer an ugly insight into the workings of government at a time when it aspired to micromanage every aspect of our lives. They reveal the chaos and incoherence at the heart of government, as decisions were made on the hoof. They expose the fallacy that ministers were better able to judge our vulnerabilities than we were ourselves. They throw a harsh light on those involved: their narcissism, their superficiality, their hypocrisies great and small. Above all, they show in embarrassing detail how completely power corrupts those who have it.
… Even the most ardent lockdown sceptics accept that in extreme cases drastic measures may be required. But Covid-19 was not an extreme case …
No government, anywhere, had previously sought to deal with epidemic disease by closing down much of society. No society has ever improved public health by making itself poorer …
The fateful moment came when the government chose to go for coercion. This ruled out any distinction between the vulnerable and the invulnerable, because it would have been too difficult to police. It also meant that ministers began to manipulate public opinion, exaggerating the risks in order to justify their decision and scare people into compliance. So we had the theatrical announcement of the latest death toll at daily press conferences from Downing Street. Shocking posters appeared on our streets ("Look him in the eyes", etc). Matt Hancock announced that "if you go out, people will die".
The scare campaign created a perfect storm, for it made it more difficult to lift the lockdown …
Hancock was the chief peddler of the idea that everyone was equally at risk from Covid-19. This proposition was patently untrue, but it was useful because it frightened people. "It's not unhelpful having people think they could be next," wrote his special adviser, who knew his master's mind well. Other countries did not behave like this. In Sweden state epidemiologist Anders Tegnell was able to reassure his public that a lockdown was neither necessary nor helpful. Events have proved him right.
… Matt Hancock insisted on schoolchildren wearing masks in class in spite of scientific advice that it made little difference, because it was necessary to keep up with Nicola Sturgeon. When Rishi Sunak had the temerity to suggest that once the vaccine rollout started the lockdown should be relaxed, Hancock resisted. "This is not a SAGE call," he said, "it's a political call."
Once ministers had started on this course, there was no turning back. It is hard to admit that you have inflicted untold damage on a whole society by mistake. Hancock resisted shortening the 14-day quarantine period in spite of scientific advice that five days was enough, because he did not want to admit that the original policy had been wrong. Relevant evidence was simply shut out. His response to the success of Sweden's policies was not to learn from it but to dismiss it as the "f—ing Swedish argument". Having no grounds for rejecting the Swedish argument, he had to ask his advisers to find him some. "Supply three or four bullet [points] of why Sweden is wrong," he barked.
The adrenalin of power is corrosive. It was largely responsible for the sheer nastiness of the Government's response to criticism. Hancock lashed out at the least signs of resistance or dissent. He wanted internal critics sacked or moved. He suggested the cancellation of a learning disability hub in the constituency of an MP who intended to vote against the tier system. Ministers "got heavy" with the police to make them tougher on the public …
I'll get to the learning disability hub in a moment. Shameful, just shameful.
Lord Sumption's editorial continues:
There is no sign that Hancock either thought or cared about the wider consequences of his measures. He seems to have believed that there was no limit to the amount of human misery and economic destruction that was worth enduring in order to keep the Covid numbers down. Rishi Sunak is on record as saying that any discussion of the wider problems was ruled out in advance, and this is fully borne out by the WhatsApp messages. Any hint from Sunak or business secretary Alok Sharma that the cure might be worse than the disease provoked an explosion of bile but no actual answers.
Hancock fought tooth and nail to close schools and keep them closed. Deprived of many months of education, cooped up indoors and terrified by government warnings that they would kill their grandparents by hugging them, children suffered a sharp rise in mental illness and self-harm although they were themselves at no risk from Covid-19. Cancer patients were left undiagnosed and untreated. Old people, deprived of stimulation, succumbed to dementia in large numbers. Small businesses were destroyed which had taken a lifetime to build up. A joyless puritanism infected government policy. No travel. No wedding parties or funeral wakes. No hugs. Anyone who spoke up for a measure of decency or moderation in this surreal world was promptly slapped down as a "w—er".
Real policy-making is never black and white like this. It is always a matter of judgment, of weighing up pros and cons. In that sense, Matt Hancock was never a policy-maker. He was a fanatic.
Why did hitherto decent people behave like this? In Hancock's case, at least part of the answer is vanity. The crisis was good for his profile. He saw himself as the man of action, the Churchill of public health, the saviour of his people, earning the plaudits of a grateful nation. As early as January 2020, he was sharing a message from a sycophantic "wise friend" assuring him that a "well-handled crisis of this scale could propel you into the next league". He fussed over his tweets. He pushed his way in front of every press camera. He tried to divert the credit for the vaccines from Kate Bingham to himself. "I think I look great" is one of his more memorable messages.
Sumption says that Boris Johnson, his Cabinet and his advisers could not have restrained Hancock. Boris had no strategy, and the others were lacklustre:
Apart from Sunak and Gove, his Cabinet was probably the most mediocre band of British ministers for nearly a century. Collectively, they proved unable to look at the whole problem in the round. Their eyes were never on the ball. They were not even on the field. These are the lessons of this sorry business.
Blocking disability hub
Hancock did not tolerate Conservative MPs voting against his health policies during the pandemic.
On Tuesday, March 7, The Telegraph led with a story about James Daly MP from Bury North:
'Matt Hancock's plan to block funding for disabled children if MP opposed lockdown' tells us:
Matt Hancock discussed a plan to block funding for a new centre for disabled children and adults as a way of pressuring a rebel Tory MP to back new lockdown restrictions, The Lockdown Files show.
WhatsApp messages between Mr Hancock, the then health secretary, and his political aide show they discussed taking a plan for a learning disability hub in Bury, Greater Manchester, "off the table" if James Daly, the Bury North MP, sided against the Government in a key vote.
It came ahead of the vote on Dec 1, 2020 on the introduction of a toughened new local tiers system of restrictions for England.
The Telegraph has also obtained a WhatsApp message with an attached list of 95 Conservative MPs planning to vote against the tier system and detailing their concerns about it. 
The article has that list.
On November 20, 2020, Allan Nixon, one of Hancock's Spads (special advisers) WhatsApped his boss:
… Thoughts on me suggesting to Chief's spads that they give us a list of the 2019 intakes thinking of rebelling. Eg James wants his Learning Disability Hub in Bury – whips call him up and say Health team want to work with him to deliver this but that'll be off the table if he rebels
These guys' re-election hinges on us in a lot of instances, and we know what they want. We should seriously consider using it IMO
Hancock replied:
yes, 100%
James Daly only found out about this through The Lockdown Files:
Mr Daly – whose constituency is the most marginal in the UK mainland with a majority of just 105 – told The Telegraph he was "appalled" and "disgusted" that the disability hub, for which he had been campaigning, had been discussed as a way of coercing him into voting with the Government.
He said he had never been contacted by the Whips' Office and no threat to block the scheme had been made.
The conversation between Nixon and Hancock continued on December 1, 2020:
On the morning of the vote, Mr Hancock messaged his adviser to say: "James Daly is with us", but Mr Nixon responded with the caveat: "If extra hospitality support is forthcoming."
Later that day, Mr Nixon also forwarded his boss a new list of MPs who were undecided on the vote. In the event, Mr Daly voted against the Government, according to the parliamentary record.
In total, 55 Conservative MPs opposed the tiers system, forcing Mr Johnson to rely on Labour abstaining to get the measures through. It was, at the time, the biggest rebellion of the Johnson administration.
After revealing that he had not been contacted by the Whips' Office, Mr Daly said: "It sounds like the whips didn't bother."
The Bury North MP said he was surprised that the hub, which would allow specialists to coordinate activity under one roof, was even being threatened because "it never got dangled in the first place".
He added: "They were never proposing to give it to me. I still don't have it. Even though I have repeatedly campaigned for it, Hancock never showed the slightest bit of interest in supporting it. I had a number of conversations with Hancock at that time, but I can definitively say the hub was never mentioned.
"I think it is appalling. The fact that they would only give a much needed support for disabled people if I voted for this was absolutely disgusting."
Mr Daly had discussed the need for the centre with Mr Hancock in January 2020. In a post on his website about "how we improve health outcomes for all Bury North residents", he published a photograph of himself with the then health secretary. The hub, he said, would benefit "the most vulnerable in our community".
That afternoon, The Telegraph published 'Rishi Sunak rebukes Matt Hancock over plot to block disability funding':
Downing Street has rebuked Matt Hancock after it emerged that he had discussed a plan to block funding for a new disabled centre to pressure a Tory MP to back lockdown restrictions …
Asked whether this was not the way Rishi Sunak would like his ministers to operate, the Prime Minister's official spokesman said: "Of course. There are rules and guidelines which apply.
"I can't speak for the actions of a former government. I think you heard from the Prime Minister, who said it's important that the inquiry looks at all the issues in a complete way rather than relying on piecemeal bits of information.
"You will know that funding decisions are taken in line with strict guidelines to ensure value for money set out in the spending framework, and ministers' departments are held accountable for their decisions."
Allison Pearson: Hancock 'should be arrested'
After The Telegraph published No. 10's rebuke to Hancock, one of the paper's columnists, Allison Pearson, weighed in with 'Matt Hancock should be arrested for wilful misconduct in public office':
… Dismayingly, if not entirely unpredictably, it was the very restrictions Matt Hancock and his lockdown zealots told us were necessary to save the health service which have very nearly finished it off. "The NHS has collapsed anyway as a direct result of the lockdowns and the vast backlog they caused," says my source. Ironies don't come much more bitter than that …
Just when you think he has sunk as low as is humanly possible, he ponders using children with special educational needs as leverage ("yes 100%," enthused Hancock). By unhappy coincidence, I have just had an email from Rob, a father with an autistic son. This is what Rob wrote: "Lockdown sent him from a happy 14-year-old into a complete psychological breakdown. The fear of why everyone was wearing masks, the breaking of routine (so important for SEN children) and closing of schools. He was utterly terrified. The knock-on-effect for our family has been devastating. Thanks to anti-psych meds he's slowly getting there, but from the second lockdown onwards it's destroyed the fabric of our family to say nothing of our life savings being lost (self-employed). To read the WhatsApps in The Telegraph makes me so angry. Having the heartbreak of a disabled child made worse by self-aggrandising fools is almost too much to take. Administering psychiatric medicines to your child tends to focus the mind as to where the blame lies and it isn't with Isabel Oakeshott."
Well, there's another Hancock Triumph. A 14-year-old boy who successfully had the pants frightened off him. (Hope you feel proud of yourself, Matt.) Are Members of Parliament seriously not going to debate what we suspected, but now know for sure, was done quite deliberately to Rob's son and thousands of other vulnerable children, some of them no longer with us because they were scared into taking their own lives? …
As for Matt Hancock, he has lost the Whip and, unfortunately, can no longer be disciplined by the Conservative party. The slithy tove can – and must – be dragged before a Select Committee. Personally, I would like to see him in jail for the vast hurt he has caused.
Are there grounds for a prosecution of the former minister for misconduct in a public office? Did Matt Hancock "wilfully misconduct himself to such a degree as to amount to an abuse of the public's trust in the office holder without reasonable excuse or justification"? …
Now, that's what I call an Urgent Question.
Also of interest is 'Dominic Cummings takes "nightmare" swipe at Rishi Sunak and Matt Hancock'.
I hope to wrap up the rest of my review of The Lockdown Files tomorrow.
My post last Friday was about Liz Truss's 4,000 word essay in The Telegraph, her 49-day premiership and the support her mandate for growth subsequently received.
There is still tension among conservative and Conservative voters about the direction of Rishi Sunak's premiership, especially with Jeremy Hunt installed as Chancellor in the last days of Truss's time in No. 10. Jeremy Hunt is a man no Conservative Party member ever wanted to see in either No. 10 or No. 11 Downing Street. Since October 2022, he seems to be running the country.
Even worse, Conservative Party members were denied a vote for Truss's successor. The Parliamentary Conservative Party elected Sunak and were delighted to crown their man without input from people they consider as plebs. That said, not every Conservative MP was happy with the new Prime Minister.
Public sentiment is not in Sunak's favour, as this poll from December 19 shows. Liz had far higher ratings in September:
Guido Fawkes wrote (red emphases his):
New polling from Ipsos MORI continues to show the dire state of Rishi Sunak's party. The poll puts Labour's lead at 26%, up 7% on November, with the Conservatives' trust on the economy falling. On public trust to secure economic growth specifically, Rishi's ratings are now significantly lower than Liz Truss managed. Liz had a lead of 15% over Labour, Rishi is level.
Economic statistics paint a similar picture. The economy outperformed other months in October, registering 0.5% growth in the one month Liz was PM. It seems the public had good reason to initially back Liz's pro-growth message.
This might seem like ancient history, but Jeremy Hunt's Spring Budget is due in March. He presented his Autumn statement in November.
On November 19, Liz Truss's favourite economist Patrick Minford wrote an analysis of Hunt's budget for The Telegraph. The opening and closing paragraphs follow:
Jeremy Hunt's Autumn Statement has presented us with big tax rises and spending cuts in order to avoid a large "fiscal hole" created by the need to have the debt-to-GDP ratio falling by 2027-28 – the new "fiscal rule". But it will worsen the recession and ironically will also wreck the public finances.
In short, the Autumn Statement is a wrecking ball – worsening recession, damaging growth, degrading the long-run public finances and even raising inflationary wage costs. Commons amendments are needed to restore sanity to these plans.
He had a much better critique for non-economists on November 5. While he disapproved of Truss's and Kwasi Kwarteng's mini-Budget delivery, he wrote (purple emphases mine):
The danger now is serious. Sunak and Hunt are set on a course that will turn a stagnant economy into a shrinking one, with unemployment rising, firms folding and the quality of public services declining even more.
The whole notion of a growth agenda has tragically been rendered toxic. The track we are now on – fiscal tightening (tax rises and spending cuts) plus monetary tightening (high interest and mortgage payments) – has been tried before and invariably leads us further on to the scorched earth of more tax rises, more spending cuts and a slump in living standards.
Politically, for the Conservatives, the outlook is grim. If Sunak and Hunt press ahead in the November 17 Autumn Statement with their triple whammy of tax rises, spending cuts and higher mortgage rates, the country is unlikely to forgive them.
That same day, The Telegraph released results of an Ipsos UK poll showing that voters were deeply unhappy with Hunt's tax increases:
Tory MPs have told The Telegraph that the decision by Jeremy Hunt, the Chancellor, to raise Britain's tax burden to the highest level since the Second World War on Thursday was the "economics of a madhouse" that has made the party "more Labour than Labour".
Polling conducted for The Telegraph by Ipsos UK shows the statement has also failed to reassure voters, with almost half of the public reporting they feel more concerned about the economy and their personal finances than they did beforehand …
In the wake of the Autumn Statement, three Conservative MPs told The Telegraph they had visited constituency associations and been met with hostility from members about the tax increases.
"I had an association dinner the day after the Kwasi and Liz mini-Budget – everybody was full of enthusiasm, they were excited again, they could see ­Conservative policies coming over the hill and they were cheering," said one backbencher. In contrast, the atmosphere at a dinner following Mr Hunt's statement was "unbelievably subdued", they said. 
Jacob Rees-Mogg, the former business secretary, said: "Conservative members are fretful, I think it's fair to say. They are loyal but fretful.
"They want to support Rishi [Sunak] and they want him to do well, but they are concerned about where we are on the economy."
Sir Bill Cash, the veteran Tory MP, said there was a "sense of bewilderment by some people at seeing things brought forward that are not at all Conservative economically or politically".
Another senior Tory MP said the ­party's supporters were "furious" about the statement, which they described as "the economics of a madhouse".
"Our voters feel as if frankly we've abandoned them and that we've become more Labour than Labour," they said.
On November 20, Liam Halligan, GB News's economics editor who also writes for The Telegraph, wrote, 'The Chancellor is taking us for fools with his cynical stealth budget':
This Autumn Statement was based on a false premise: that the UK is on the brink of fiscal implosion and set to be shut out of international bond markets.
As a result, Chancellor Hunt is imposing very substantial tax rises at precisely the wrong time, which risks driving an already shrinking economy deeper into recession and undermining our public finances even more.
Hours before Jeremy Hunt stood up in the House of Commons on Thursday, the 10-year gilt yield – the annual interest the Government must pay on a new decade-long loan – was 3.14pc.
Ahead of the now notorious mini-Budget in late September, that same yield was 3.49pc ­ – considerably higher.
It's not as if Britain is so much more indebted than other comparable countries. While our national debt stands at 97pc of GDP, the figures in France, Canada and the US are 115pc, 116pc and 132pc respectively. Across the G7, only Germany has less public debt than the UK.
But prior to the measures proposed by then Prime Minister Liz Truss and her Chancellor Kwasi Kwarteng, no-one was seriously questioning the UK Government's solvency. 
They weren't before this Autumn Statement either, as illustrated by the fact that – partly because of measures Hunt already implemented since becoming Chancellor – gilt yields had fallen by a third in little more than a month.
As such, was it really necessary, in the midst of a cost-of-living crisis, to drive the tax burden even higher? Government revenue as a share of GDP – 33.1pc as recently as 2019 – is now heading for 37.1pc, the highest sustained level since World War Two.
… no other major economy is imposing sharp tax rises in the face of a slowdown.
The UK is heading "into a storm", as Hunt said. But while he attempted to come across as humane – the word "compassion" appeared five times in a speech lasting less than an hour – the Chancellor came across as rather cynical …
It's as if he thinks we are fools and won't notice we're paying much more if most headline tax rates stay put.
When Nigel Lawson introduced the 40p rate of tax in 1988, it was paid by only the highest earning 1.7 million workers. Now, those paying income tax at 40pc or more will soon number almost 8 million – a fifth of the workforce …
This is the kind of fiscal management typically associated with Labour, not the Tories. And that could turn out to be ironic – given the voter anger that will be generated as this Autumn Statement sinks in.
Meanwhile, on another front, Rishi Sunak was undoing Truss's plan for a streamlined, more controlled No. 10. 'SpAds' below means 'special advisers'. I note that Sunak's welcome into No. 10 was much more muted than Liz Truss's:
Sunak also rejected Truss's plan for more affordable childcare.
On New Year's Day 2023, The Telegraph reported:
Rishi Sunak has shelved plans for a major overhaul of the childcare system aimed at saving parents money and helping them back into work.
Liz Truss had been looking at increasing free childcare support by 20 hours a week and ending mandated staff-child ratios in what her team described as a "big bang" shake-up of the system.
But The Telegraph understands that the policy drive has been postponed indefinitely, with the scale of reforms now being considered expected to be much smaller. Any proposed changes to the rules around childcare provision are not expected for months – a much later timescale than Ms Truss's push for announcements before Christmas …
The cost of childcare is often named by MPs as a major concern for constituents, with backers of reform arguing that better, cheaper provision would allow more parents to return to work, boosting the economy.
A stark drop in the number of facilities offering childcare has been a trend for years, with an overall fall of 10,600 providers since August 2019 in England – a 14 per cent drop.
Two days later, The Times reported, 'Don't ditch my childcare reforms, Liz Truss tells Rishi Sunak'.
Here we see Conservative MP Simon Clarke appearing. He will be a Trussite force with which to be reckoned this year. He was also a Treasury minister when Sunak was Chancellor:
Liz Truss has warned Rishi Sunak not to scrap her childcare reforms amid growing frustration from Tory MPs over the "unaffordable" costs facing parents …
Supporters of Truss, including Simon Clarke, the former levelling up secretary, are among those who have publicly criticised Sunak's plans.
Truss herself is understood to disapprove of the prime minister's reluctance to embrace significant reform.
A source close to Truss told The Times: "Excessive bureaucracy is making childcare in England increasingly unaffordable for many parents. The system needs to be reformed in order to boost growth and opportunity. Junking Liz's plans for this critical policy area seems economically and politically counterproductive."
Kit Malthouse, the education secretary under Truss, urged Sunak to "push the go button as soon as possible".
"The current system is a complicated Heath-Robinson affair that means no one, parents or providers, is happy. It's fundamental for economic growth that parents are supported in work and my team and I had formed up a 'Childcare Big Bang' plan to do just that," he said …
Amid concerns from Tory MPs over the spiralling costs of childcare, the education select committee will launch an inquiry into the problem.
On January 5, The Times's Katy Balls told us more about Simon Clarke's mobilisation of Trussite MPs:
Shortly before Christmas, in a darkly lit Chinese restaurant near the Home Office, a scene played out that would alarm any government whip. There, in a corner of Ma La Sichuan, was Liz Truss, dining with three of her allies. Simon Clarke, her one-time levelling up secretary, and Ranil Jayawardena, her environment secretary, were present. They were joined by her former parliamentary private secretary Rob Butler. None of them have prospered under Rishi Sunak.
… Clarke has already opened hostilities with Rishi Sunak, pushing to overturn the ban on new onshore wind farms. He's backed by Truss and Boris Johnson. He's also setting up a new group of Tories dedicated to that Trussite watchword: growth …
The less-than-edifying circumstances of Truss's ejection from Downing Street mean that both she and members of her cabinet have been keeping largely quiet …
But as the Trussites emerge from a period of reflection, they could pose the bigger threat in an ideological fight. They did, after all, triumph over Sunak in the argument with Tory members. "These MPs haven't suddenly changed their worldview," says a former adviser to Truss. As Clarke put it in an interview with The Spectator this week, "There is a real risk that with Liz's eclipse comes the wider rejection of an entire school of Tory thinking." He warns that "a battle for the soul of the Tory party is underway".
The good news for Sunak is that as things stand, a large chunk of these MPs don't want to throw another prime minister out of Downing Street. Free market Tories in marginal seats, such as Clarke and Jacob Rees-Mogg, will be nervous about more leader volatility ahead of the next election. But they also don't want to sit back and do nothing for two years. Instead, they want to see Sunak expand his ambitions for growth across housing, childcare and work …
Clarke's new outfit — Next Generation Tories — is aimed at bringing younger voters to the party, a cause few would disagree with. But it is ultimately free market with a focus on housebuilding and planning.
Truss could join the fray next. She has hired a press chief and there are talks about the possibility of her fronting or taking a role with a think tank. Not everyone thinks it is such a great idea. "I think silence is undervalued," says a former aide …
The Truss project didn't survive long enough for her to publish her growth plan, but a draft of the eight-page document offers a taste of the kind of policies this group is likely to advocate. They include mobile phone planning reform (relaxing planning regulations to extend 5G coverage across the country) which aides predicted would cause a parliamentary row over the digging required for new cabling. On childcare, easing restrictions for childminders; on farming, slowing cuts to subsidies to give the average farmer an extra £7,000 over two years; and on immigration, removing students and temporary workers from the net migration statistics as part of a looser policy to bolster the economy.
… while some MPs undoubtedly backed Truss for careerist reasons, plenty more regard her reform pitch as the right one. "If they pick their fight well, they'll start a debate on direction," says an MP who backed Sunak.
Katy Balls, who also writes for The Spectator, revealed Truss's growth plan in the magazine on February 9. It is eminently sensible and achievable. Truss planned for much of it to be achieved in 2023. Readers may peruse it at their leisure, as there are several tables to examine.
Returning to January 2023, the Financial Times took issue with Conservative efforts to reduce the deficit. They really have moved ever leftward over the years:
It also became clear that Truss wasn't such a bad PM after all. The UK's GDP results for November 2022 were better than expected:
On January 31, The Telegraph's Tim Stanley wrote that the IMF owes Liz Truss an apology. He reminded us of their previous critique in light of their new forecast:
Conservative Greg Clark made one very good point: this is only a forecast. The IMF has been known to get those wrong.
Moreover, it's the same clever-clogs IMF that advised us not to cut tax last year that now tells us our economy is in a nosedive because we raised taxes. Somebody owes Liz Truss an apology.
The Telegraph should apologise, too, for putting words in Truss's mouth when headlining her 4,000-word essay of February 4, their grand exclusive. The problem is that people who didn't read the essay, probably among them Andrew Neil, repeated the headline:
The day after Truss's essay appeared, her Conservative Party chairman, Red Wall MP Jake Berry, told the BBC that voters in the North had enough of the status quo and wanted a new way forward, i.e. Truss's policies. Guido Fawkes has the video:
That day, Grant Shapps told the BBC that Truss's instinct to lower taxes was correct in principle, but she collided with reality. A Twitter user pointed out Shapps's error. Truss's policies would have kept the UK second only to Germany in debt-to-GDP ratio of the G7 nations:
James Dyson, the vacuum cleaner mogul, would strongly disagree with Shapps. On January 19, The Guardian recapped an article he wrote for The Telegraph in which he criticised the lack of UK growth:
The founder of the eponymous vacuum cleaner firm said "growth has become a dirty word" under the current leadership and that on current trends, the average British family will be poorer than their Polish counterpart by 2030.
Dyson, a prominent supporter of Brexit, criticised the government's "ever higher tax bills" for the private sector and regulations, saying it is imposing "tax upon tax on companies in the belief that penalising the private sector is a free win at the ballot box".
"This is as shortsighted as it is stupid," Dyson wrote in the Telegraph on Thursday. "In the global economy, companies will simply choose to transfer jobs and invest elsewhere. Our country has an illustrious history of enterprise and innovation, born of a culture which we are in the process of extinguishing. We have got through the worst of Covid, but risk wasting the recovery."
Dyson said the government's failure to get workers back to the office after the pandemic had "badly damaged the country's work ethic", arguing face-to-face interaction was important, including for the training of new and young employees. He also claimed the growth of his business, which makes vacuum cleaners, fans and hairdryers, had happened largely "despite government, rather than because of it".
However, he concluded that "it is not too late for Britain to shake off its Covid inertia" if the government acts fast. "Starting with the spring budget in March, it must incentivise private innovation and demonstrate its ambition for growth," Dyson wrote.
The government is under pressure to reduce taxes for households and businesses in the spring budget to avoid a damaging and long-lasting recession.
On Sunday, February 12, John Redwood, who has been an MP since the Thatcher years, made an appeal on Sky News for more tax cuts, beginning with corporation tax (Guido has the video):
The following day, he wrote more about it in his online diary, pointing out that high corporation tax has caused AstraZeneca to renege on future expansion in the UK. Instead, the company will be moving to Ireland:
The decision by Astra Zeneca to put a major new investment  into Ireland where they charge 15% business tax compared to our new rate of 25% shows just how stupid our high tax policy is. Instead of getting 15% of a good stream of profits over many years alongside income tax and VAT on all the well paid ,jobs they bring, the UK has settled not to have any of it. 25%  of nothing is  nothing.
The same folly is evident in the North Sea. In a rush to get a bit more revenue this year with high and erratic windfall taxes, the government has delayed or lost important investments in new gas and oil fields. Instead of generating more well paid jobs and plenty of tax revenue on the output over the next decade or two, we opt to import and to pay huge taxes away to foreign governments on all the imports. Just one of the fields not currently going ahead would generate a gross £25bn over its life, with a lot of that passing directly to the Treasury in taxes.
Ireland makes my case perfectly. With a much lower rate of business tax than us Ireland enjoys a much higher proportion of its revenues from business tax because so many businesses go there to set up an HQ and to invest in plants and offices. Ireland  has a much higher per capita national income than us thanks to all the foreign investors congregating there to create jobs and spend money. The UK should copy them with a 15% tax rate as Jeremy Hunt himself proposed last summer. We too would get more revenue and have higher per capita average incomes. Enthusiasts for the EU are always urging us to align more with our Irish neighbours. This would be a great way of doing just that.
When Margaret Thatcher and her Chancellors cut higher rate income tax from 83% to 60% and then to 40% the amount of income tax paid by the better off rose in cash terms, rose in real terms, and rose as a proportion of total income tax. What's not to like for all involved? When George Osborne drove UK corporation tax down gradually to 19%, the take from company tax went up, not down. So why do OBR and Treasury models tell Ministers any cut in tax rates will lead to a reduction in tax revenue we cannot afford? History and modern experience suggests otherwise.
Last week, economic growth continued to be a hot topic. On February 24, The Telegraph published two letters from their readers on the subject.
One reads:
SIR – For many years we have believed that we live in a rich country – one that can afford top-class services such as the NHS, social support and good roads, railways and other infrastructure, and can buy whatever food it needs from abroad rather than growing it.
Sadly this is no longer the case. Britain does not generate enough wealth to support its needs, and has been borrowing ever more to make up the shortfall. Unless we make a fundamental change and start to grow our economy, we will not be able to afford the things we think we are entitled to.
The other says:
SIR – When will the Chancellor and Prime Minister remember that taxation discourages whatever it falls on, and that, in many cases, raising tax rates leads to lower overall receipts?
… we have ended in the grotesque chaos of a Conservative government – a Conservative government – scuttling around raising corporation tax at precisely the moment it should be lowering it in order to encourage businesses to set up and invest in our economy.
Meanwhile, the wagons have been circling from both the Sunak and the pro-Boris camps.
On the Sunak side, Lee Anderson is now the Deputy Chairman of the Conservative Party and, on February 21, another Red Wall MP, Brendan Clarke-Smith, was appointed to succeed Anderson as leader of the Blue Collar Conservatives. While both will do brilliantly, is it just a cynical move from Sunak to keep Red Wall voters onside with no policy changes from Downing Street?
On the pro-Boris/Liz side of the equation, David Campbell-Bannerman, a former Conservative MEP and head of the new Conservative Democratic Organisation, says that Conservative associations across England are prepared to de-select MPs who resigned when Boris was PM so that he was himself forced to stand down. They are also angry that they voted for Liz Truss and found her similarly deposed within a few weeks.
On February 23, The Telegraph's Christopher Hope reported:
Members are particularly irked that they chose both Mr Johnson and Ms Truss, only for MPs to force out both and eventually appoint Rishi Sunak as Prime Minister. During the Conservative leadership campaign last summer, members voted by 57.4 per cent to 42.6 per cent for Ms Truss over Mr Sunak.
Last weekend Damian Green, the former de facto deputy Prime Minister under Theresa May, was not selected to fight the Weald of Kent seat at the next general election. There were reports that this was because of anger at his criticism of Mr Johnson when he was prime minister, although this was disputed by friends of Mr Green.
Scores of MPs are facing votes on whether they will stand at the next election before July 23 – known as "vesting day" in Conservative Central Office – because of a shake-up of constituency boundaries.
There were suggestions in Westminster that Sir Richard Graham, who was critical of Mr Johnson, might not be readopted by his party at a meeting of local Tories in Gloucester on Friday. Sir Richard urged Conservative colleagues to focus on defeating Labour rather than party disunity …
Mr Campbell-Bannerman, a former Conservative MEP, told The Telegraph's Chopper's Politics podcast: "I get the feel of a reckoning – MPs being held to account. MPs have caused this chaos by bringing down Boris.
"There were about 60 MPs who signed letters or resigned or said Boris should go. There's more than that, maybe 150, who didn't want Boris. I'm not saying Boris was flawless. He certainly wasn't. But look at the disaster that has followed getting rid of him. Surely they should have toughed it out, got him to improve performance?"
He added that "potentially" dozens of these MPs could now find that they are not adopted as candidates by their local parties, adding: "A lot of MPs will be coming up for selection and they will be held to account.
"I'm not advocating it, but what I'm advocating is the members have the right and the power to do this. Central Office should back off and they should be allowed to make their decisions.
"We don't have a hit list or a target list. We're not operating like that. But we support members and I think we've empowered members to take back control, to say hang on, this isn't good enough. We're not getting a good enough choice here. We want to do it our way."
He said MPs were "being held to account for plunging the party into crisis", pointing out that the Tories had plummeted in the polls.
"We've really gone down badly, due to the chaos. And you can point fingers at Liz Truss, but Liz Truss would not have been there if they had kept Boris and Rishi wouldn't be there if they had kept Boris," he added.
Good! Well said!
Liz Truss stood by Boris all the way until the end. Her South West Norfolk Conservative association awarded her with reselection for the next general election:
An indirect compliment came Liz's way from Labour's Keir Starmer. Imitation is the sincerest form of flattery. He, too, is touting a growth-led economy — for now, at least:
An exciting year lies ahead, one that will make or break either the Conservatives or Labour ahead of 2024's general election.
Readers who missed them might wish to read Parts 1 and 2 in this series on Scotland's First Minister, Nicola Sturgeon, who announced her resignation as SNP leader on Wednesday, February 15, 2023.
She will remain First Minister until the SNP membership elect a new leader. Afterwards, she will remain an MSP for Govanhill in Glasgow, which you can view in the first 11 minutes of this video:
The saga about her last few years in office continues.
Independence
Scotland held an indepence referendum in September 2014. Alex Salmond was First Minister at the time. A slim majority of Scots voted to remain part of the UK.
At the time, the SNP said that it would be a 'once in a lifetime' referendum. However, since then, it quickly became apparent that the Party hoped to increase the momentum for Yes in the years that followed.
Neither Salmond nor Sturgeon, who succeeded him in 2014 post-referendum, ever put forward a detailed, phased plan of how independence would actually work.
A Reddit thread from May 9, 2021 illustrates that independence would raise complicated issues and future arrangements. Three contributors' comments follow:
1/ … the plan is to use the pound for several years which, I'm not sure is a great plan.
2/ Weird question but what qualifies as an asset? Sometimes, some independent supporters like to say that if we have a clean break, we'd have no assets but we'd also have no debts but aren't some assets inevitable like the Scottish Parliament building, public infrastructure and all the Crown Territories etc?
3/ There will absolutely not be a clean break. HMRC will almost certainly have to collect tax on our behalf for a number of years.
I also expect us to remain part of the UK single market and customs Union immediately after independence, until something is sorted out with regards to the EU.
The first day of independence will be all about making everything exactly the same as the day before, not one thing should change, that doesn't absolutely have to. Then there should be a gradual parting of the ways over several years, where it is beneficial to do so.
Four months later, on September 9 that year, The Express reported that Sturgeon was keen on another referendum with a 'detailed prospectus' beforehand, even though polling showed that Scots weren't that interested:
The First Minister used her Programme for Government statement on Tuesday to re-pledge her desire to have a second vote on leaving the UK by the end of 2023. Ms Sturgeon argued "at this juncture in history, it is essential that we consider the kind of country we want to be, and how best to secure it".
Putting independence at the heart of her government, she ordered work to once again begin of a "detailed prospectus" outlining the case for going it alone.
But a Survation poll found only 38 percent of voters believe there should be another referendum within two years.
In another damning blow to the SNP's independence dreams, the survey also found support for remaining in the UK stood at 57 percent, with 43 percent backing independence.
The findings are in stark contrast to last December when support for quitting the UK was supported by a record high of 58 percent of Scots.
Just over a year ago, on February 10, 2022, The Spectator pointed out the difficulty with State pensions in the event of independence (emphases mine):
In an interview last night with ITV's Representing Borders programme, the First Minister said that, while she accepts 'on an ongoing basis it will be for the Scottish government to fund Scottish pensions' … she believes that 'historic assets and liabilities' will be a 'matter for negotiation.' Unfortunately, there are no historic assets and liabilities in the pensions system; the state pension is not some great historic pot but rather paid from current taxation.
Sturgeon claims such a negotiation would take account of 'the historical position in terms of National Insurance contributions, paid by Scots.' But the truth is that there is no collective National Insurance 'fund': it's effectively a convenient government myth to raise taxes by the back door. There is no legal claim on an NI fund, with no-one paying in and nothing to pay into. Is Sturgeon trying to deliberately conflate pensions with other assets and liabilities to try to trick the electorate? Or is she herself unaware about how the state pension system actually operates?

Here is a clip from the programme:
The Bow Group think tank crunched numbers for Scotland a few weeks later. On February 28, 2022, The Scottish Daily Express reported that the results were dire:
Scotland would be poorer than countries like Romania and the Czech Republic if the nation separated from the UK, a leading political expert has warned.
… Ben-Harris Quinney, chairman of the Bow Group think tank, says Scotland's economy would take a massive hit.
In the event of separation from the UK, Scotland would need to take on its share of the UK's national debt while other assets and liabilities would need to be divided.
Speaking to the Express.co.uk, Mr Quinney said: "The costs of Scotland having its own currency, splitting assets, and having a trade border with the UK is impossible to predict with any specific accuracy because the variables are too great.
"It is likely however that the costs of these shifts to the Scottish economy will be very high.
"Scotland, separated from the UK, is a relatively poor country based on its economic performance.
"Twenty per cent of Scottish citizens are considered to be living in poverty, and its total national economy of £150 billion is worth less than a quarter of London's economy.
"As an individual nation it would likely be poorer than countries like Romania or the Czech Republic."
In 2020, Romania was only the 18th richest European country with its economy valued at £182billion, contracting by just 3.9 percent and recovering strongly at 6.5 percent in the first half of 2021.
Mr Quinney also warned Scotland could be left footing a bill worth hundreds of billions of pounds if it decides to become an independent country, as it would have to take on a large chunk of the UK high national debt.
While the UK is set to pay the EU nearly £40billion over a number of years as part of a Brexit divorce settlement, Scotland could be left footing a much higher bill.
Mr Harris-Quinney further warned: "Scotland has a significant share of UK national debt, and there are several major UK assets in Scottish territory like North Sea oil and gas, military bases, and Crown territory.
"At a minimum there would have to be a negotiation on ownership of property and payments in either direction to unbind these areas.
"Scotland would likely want to keep tariff free trade with the UK, and a liberal border arrangement with the UK.
"It would rely heavily on imported goods, the majority of which coming from the UK initially, and perhaps for the foreseeable future."
Russia's invasion of Ukraine began on February 24, 2022.
On March 18, a poll found that 59% wanted independence talks halted because of the situation in Ukraine. Boris Johnson was the first world leader to step up to the plate in that regard:
On June 28, Sturgeon announced the next referendum date would be October 19, 2023. Deputy SNP leader John Swinney is walking with her at Holyrood:
The Scots were not interested. This time, rather than Ukraine, they said that the parlous state of the NHS and the police service were a national priority.
On June 30, The Times reported:
Nicola Sturgeon has been accused of neglecting Scotland's NHS and police force with her push for independence as new polls showed voters do not want another referendum on her timetable.
Surveys by YouGov and Savanta ComRes both found that more than half of people asked were against another constitutional ballot taking place on October 19, 2023 …
The Savanta ComRes poll for The Scotsman found that 53 per cent of people did not believe a referendum should take place next October, while 40 per cent said it should and the remainder were undecided.
It also found that 44 per cent of those questioned supported independence, while 46 per cent were opposed, both down one point from a survey last month. Ten per cent were undecided, which was up three percentage points.
The YouGov research, for the Scotland In Union, the anti-independence group, found that 55 per cent of people did not think a referendum should be held before the end of 2023, with 34 per cent in favour and 11 per cent unsure.
The same survey found that voters ranked it fifth in their list of priorities, with 20 per cent of people putting in the top three issues they believed the Scottish government should prioritise over the next two years.
This put a referendum behind the NHS (59 per cent), the economy (57 per cent), education (23 per cent) and climate change and the environment (21 per cent).
On July 20, Sturgeon's new prospectus for independence appeared online. Unfortunately, its cover showed an English wind farm. Admittedly, it was soon changed to a Scottish one, but, considering how the SNP despise the English, the irony was not lost on those of us south of the border:
The Conservative Party leadership contest was in full swing in July and August. Liz Truss called Nicola Sturgeon 'attention-seeking', and, as such, best left ignored.
GB News's Dan Wootton asked The Telegraph's Scottish Editor Alan Cochrane if Truss's remark would damage independence hopes. He said that the SNP was already in enough trouble already:
On Tuesday, August 9, The Express reported that Scotland's Advocate General, a Law Officer of the Crown who advises on Scots law:
submitted the UK Government's argument that constitutional matters are reserved for Westminster and a referendum on Scotland's future cannot be held without the consent of Westminster.
It comes after the SNP-led Holyrood Government claimed last month that its plans for IndyRef2 fall within the scope of its powers as the ballot would be "advisory" and have no legal effect on the union. A full hearing on the case is set to be heard by the Supreme Court in October.
UK law officers have argued that the constitution is reserved to Westminster.
Last month, the Scottish government published its case, stating the referendum is "advisory" and would have no legal effect on the union.
A spokeswoman for the UK government said: "People across Scotland want both their governments to be working together on the issues that matter to them and their families, not talking about another independence referendum.
"We have today submitted our written case to the Supreme Court, in accordance with its timetable …"
The hearing is set to take place on October 11 and 12 in London.
In the submission last month, the Scottish government said any referendum would not be "self-executing", meaning it would be advisory and only used as a way to discover the views of the Scottish people.
On Thursday, August 25, GB News reported that Sturgeon appeared at an Edinburgh Fringe venue to talk and tell the audience that an independent Scotland would remain at the heart of the British Isles:
Nicola Sturgeon has told an audience in Edinburgh that still considers herself to be British, despite the long-running campaign for Scottish independence …
Speaking at 'In Conversation with Nicola Sturgeon' at the Fringe, she said: "So, this might surprise people, but do you know I consider myself British as well as Scottish.
"British is an identity that comes from being part of the British Isles.
"We'll still be part of the British Isles. An independent Scotland would still be part of the British–Irish Council that I go to right now as First Minister.
"Identity is a complex thing. Many people live in Scotland, are as Scottish as I am, but will have a very proud Pakistani or Indian or African identity."
Speaking at a hustings in Perth on Tuesday, Ms Truss told Tory members she would "not allow" another vote on independence if she was elected as prime minister on September 5.
But former chancellor Rishi Sunak – Ms Truss's opponent in the leadership race – was less steadfast in his rejection of another vote, saying he accepted the union was "by consent" but saying he did not think "now or any time in the near future" was the time to consider another vote.
On Wednesday, November 23, The Guardian reported that the UK's Supreme Court blocked a new Scottish independence referendum:
The Scottish parliament cannot hold a second independence referendum without Westminster approval, the UK supreme court has ruled, in a unanimous judgment likely to anger Scottish nationalists who say the country's future is for Scottish voters to decide.
The first minister, Nicola Sturgeon, said immediately after the ruling: "Scottish democracy will not be denied."
She said: "Today's ruling blocks one route to Scotland's voice being heard on independence – but in a democracy our voice cannot and will not be silenced."
Sturgeon said she respected the ruling, but accused Westminster of showing "contempt" for Scotland's democratic will.
"This ruling confirms that the notion of the UK as a voluntary partnership of nations, if it ever was a reality, is no longer a reality," she told a news conference.
Sturgeon said her government would look to use the next general election as a "de facto referendum" on separating from the rest of the UK after more than 300 years.
Insisting that the SNP "is not abandoning the referendum route, Westminster is blocking it", she said: "We must and we will find another democratic, lawful and constitutional means by which the Scottish people can express their will. In my view, that can only be an election."
Scottish 'embassies'
Did you know that Scotland has notional embassies in Canada, China, America, France, Ireland, Germany, Belgium and Denmark?
On August 27, 2022, The Times told us:
Offices include a £2.5 million base in Brussels, the heart of the European Union, which employs about 20 people.
Scottish government officials said hubs increase visibility for Scotland and create new economic and trading opportunities. However, the Scottish Conservatives have accused the first minister of being "caught asleep at the country's wheel while rubbish is piling up on [our] streets".
A Scottish government spokesman said: "The first minister is visiting Denmark for a series of trade, investment and policy engagements, including meeting representatives of the Danish government" …
However, that visit did not go quite as planned.
Sturgeon planned to meet the new Danish prime minister, Mette Frederiksen, who arranged a meeting for her with Denmark's foreign minister Jeppe Kofod, instead. Good for Ms Frederiksen.
The Times said:
The pair "discussed how Scotland and Denmark can work together on issues such as the cost of living crisis, energy and the climate emergency," according to the Scottish government.
Sturgeon has been criticised for travelling to open the "Nordic Office" — which is based inside the UK embassy — with waste piling up on Scotland's streets and workers across the public sector threatening to strike …
Oh, dear. She got the early breakfast slot with Kofod:
Sturgeon met Kofod around 7am before hosting a roundtable with State of Green, a group pushing for a transition towards renewables, business and energy leaders to discuss "how Scotland and the Nordic region can work together to accelerate decarbonisation and share expertise".
That said, afterwards, there was time for Sturgeon to go fully international:
She then visited a Unicef supply warehouse in Copenhagen this afternoon to see how it is supporting children impacted by the war in Ukraine before opening the office with an official reception.
Watch for a global post for her sometime in the future.
Meanwhile, it should be noted that:
Foreign affairs are reserved powers with the UK government, but the Scottish government spends about £6 million a year on a network of overseas offices.
Thank goodness Nicola Sturgeon will no longer be First Minister. It is understood that the leadership contest will be brief.
Scotland should have a new leader by this time in March 2023, if not before.
End of series
The SNP (Scottish National Party) are currently looking for a new leader with the recent resignation of Nicola Sturgeon, Scotland's First Minister.
I'm doing a brief series on Sturgeon's time in office. Part 1 appeared last week.
Style over substance
Sturgeon will long be remembered for her expensive suits and shoes.
She prioritised style over substance and often had a grand project in mind, such as a publicly owned not-for-profit energy company announced in 2017, which never saw the light of day:
In 2019, she gave us her reading list, which, ironically, included 1984. A Twitter user reminded her that the SNP were imitating Orwell's dystopia rather too well. Their Named Person project would have seen a government representative monitor each child's upbringing:
During the 2021 election campaign, a local one for much of England but one of governance for the devolved nations, Sturgeon felt the need to announce her pronouns:
While Sturgeon did participate in some debates during the 2021 campaign …
… she pulled out of the BBC Question Time special. Guido Fawkes pointed out that, suddenly, after giving coronavirus press briefings nearly every day, she became camera-shy (red emphases his):
When Boris refused to debate Sturgeon in 2019, the SNP put out a Facebook graphic accusing him of "running scared" and being a "big feartie".
Sturgeon hasn't been having a great campaign, getting dragged into debate scraps with Douglas Ross, and appearing relatively low-energy. Today's poll has the SNP's constituency vote share down by 3%, and their list voting intention down to 38%. It's amazing someone who's hosted unchallenging live television briefings almost every day throughout the last year has suddenly become camera-shy…
When put on the spot, Sturgeon does not react well. In this BBC interview, fellow Scot Andrew Neil gave her a grilling over her poor record on almost everything north of the border. Unfortunately, the following clip does not include her response, but her facial expression is a familiar one, often seen at First Minister's Questions when Scottish Conservatives leader Douglas Ross and Scottish Labour leader Anas Sarwar question her government's shortcomings:
Scotland's drug deaths highest in Europe
One of Sturgeon's most appalling failures is the number of drug deaths in Scotland.
During the 2021 election campaign, Douglas Ross asked her about them.
Guido had the story and a video:
Nicola Sturgeon was put on the back foot last night during STV's Scottish leadership debate. Pressed by Douglas Ross over her appalling record on Scotland's escalating drug crisis – drug deaths have doubled since she became First Minister – Sturgeon floundered, saying:
I think we took our eye off the ball with drug deaths and I've said as much to the Scottish Parliament […] I set out at the start of this year £250 million investment programme to build up rehabilitation services including residential rehabilitation to make sure we give more support to community services, to make sure we provide faster access to treatment.
… Taking her eye off the ball is putting it mildly…
On August 2 that year, Dr Campbell Campbell-Jack, a retired Presbyterian minister, wrote an article for The Conservative Woman: 'Sturgeon's catalogue of catastrophe'.
On the drug deaths, he says (purple emphases mine):
… some SNP failures enter the realm of the tragic. If we are to judge a government on how they treat society's most vulnerable members, the SNP have a long way to go before their practice matches their pronouncements on the country's drug crisis.
A report released by the National Records Scotland on Friday shows that for the seventh year running Scotland had a record number of drug deaths last year with 1,339. The rate of drug deaths in Scotland, 231 people per million, is more than three and a half times higher than that in the rest of the UK and is the worst in Europe, 15 times higher than the European average. Statistics from developing countries are hard to come by but it is generally acknowledged that Scotland's record is one of the worst in the world. 
The SNP government, which has devolved power over health, has been in place since 2007. The number of drug deaths in 2007, when it came to power, was 455. This was considered scandalous at the time.
Nicola Sturgeon said the number of lives lost 'is unacceptable, each one a human tragedy'. She added, 'Today, my thoughts are with every family who has lost a loved one – I am sorry for the loss you have suffered.' Ms Sturgeon, however, has previously admitted some responsibility, saying that her government 'took our eye off the ball' on drug deaths.
Not surprisingly, the SNP blame the UK government for not allowing Scotland to have supervised shooting galleries for drug users.
However, the other three nations of the UK do not have the same problem:
Whilst it is possible to make an argument for a health-based approach to drug use, one wonders why if present drug laws do so much supposed harm in Scotland they don't do equivalent harm in England and Wales? Scotland's drug problem cannot be argued away by saying 'It wisnae me, a big boy did it and ran away'. The SNP have to take responsibility for their actions.
Dr Campbell Campbell-Jack alleges some drug users are so desperate for rehabilitation treatment that they commit a crime in order to get it in prison:
Rather than funding more rehab facilities and restoring the budgets of local alcohol and drug partnerships, which is within their power, the SNP have taken the easy way out by accusing the UK government of binding their hands by blocking plans for their innovative policies such as safe consumption rooms where addicts could shoot up in sanitary conditions rather than in underpasses and waste ground.
There is such an acute shortage of publicly funded rehabilitation places and cuts to local multi-agency drugs services that Scotland has entered Kafkaland where some addicts pursue what seems to them a logical course of action: they choose to commit crimes ensuring a prison sentence rather than remaining in the community because they know they have a better chance of accessing treatment behind bars. For Scotland's addicts, HMP Barlinnie beats NHS Scotland.
A failed lawyer [Sturgeon] leading a failed government is leading almost inexorably to a failed country, and the most vulnerable are paying the price.
On February 19, 2023, four days after Sturgeon stood down as SNP leader, veteran political journalist Simon Heffer wrote an article for The Telegraph: 'Nicola Sturgeon's dreamland is over — Scotland faces a painful reckoning'.
Since 2021, there have been only nine fewer drug deaths — 1,330 instead of 1,339:
An indication of the state of Scottish society is that nearly 60,000 people in a country whose population is five and a half million have a drug addiction problem. That is a higher proportion of addicts than any other country in Europe. Recent figures showed that Scotland had an annual rate of 1,330 deaths from drug addiction. In Slovakia, which has an identical-sized population, the number of deaths (in 2017) was 19.
In Scotland, the government-run treatment services for addicts are dismal. Around 40pc of Scottish addicts are in treatment, compared with 60pc in England. The rate of around 25.2 deaths per 100,000 of the population is three and a half times England's.
Incredibly, Sturgeon's government blames Margaret Thatcher, who left office in 1990:
When being forced to admit this shocking failure, the SNP blames Margaret Thatcher and the legacy of her economic policies for closing down much (inefficient and obsolete) Scottish heavy industry. In other words, the failure of the British state (which the SNP purports to loathe) to use the money of predominantly English taxpayers to subsidise the inefficiency and restrictive practices that undermined so much Scottish industry is the cause of the country's out-of-control drugs problem.
Mrs Thatcher left office more than 32 years ago; an SNP administration has run Scotland since 2007. There are, frankly, no excuses. If parts of Scotland are enduring poverty it is largely down to the failings of those who have ruled the country for the last 16 years, whose hostility to capitalism and incomprehension of business were proved by the many businesses that planned to relocate in England had the referendum in 2014 gone the other way.
Education disaster
Simon Heffer reminds us that Scottish schools were, until recently, the envy of the world. They aren't anymore:
Education has also been a disaster under the SNP. Scotland's schools were once among the finest in Europe; in the 18th and 19th centuries they sent young people to university from social classes that would not get inside an English university until the 1940s.
In June 2021, however, the Organisation for Economic Co-operation and Development (OECD) said that the SNP administration had no long-term strategy or vision for schools, and had failed to keep abreast of best practice. It attacked the examinations system, curriculum development, the management of teachers and the availability of data for measuring schools' performance. John Swinney, who has proved an entirely incapable education minister, was so embarrassed that he delayed publishing the report until after that year's Holyrood elections.
For maths and sciences, in which high attainment is now considered essential for the prosperity and development of any society, Scotland ranks 25th and 24th respectively among OECD countries. In 2019-20, the proportion of pupils in Scottish schools passing three or more Highers was 43pc lower than in any other year since 2015, when another international report from the Programme for International Student Assessment [PISA] condemned the standards of attainment in reading, maths and science.
To try to massage the figures, the SNP has relied on a feeble system of continuous assessment rather than rigorous examinations. This has ensured that the gap in attainment between those at the bottom of the ladder economically and those at the top has widened.
The other consequence of this failure to develop Scotland's human resources through education is that the brains, skills and talent that might improve the Scottish economy are scarce: and for those whose talents are developed, Dr Johnson's adage that the noblest prospect many of them ever see is the high road that takes them to England remains painfully true.
NHS and National Care Service in dire straits
At First Minister's Questions, Sturgeon becomes deeply annoyed at questions from Douglas Ross and Anas Sarwar over the lingering problems with the NHS and Scotland's National Care Service.
It is worth noting that Sturgeon was Scotland's health secretary for several years before becoming First Minister in 2014. According to Ross and Sarwar, some of the existing problems began then.
Simon Heffer tells us:
If the NHS is said to be on its knees in England, it is prostrate in Scotland. The British Medical Association said last month that the country was 2,000 GPs short and about three in 20 vacancies for consultants were unfilled. There were also 6,400 vacancies in nursing and midwifery. A Royal College of Nursing spokesman said that six in 10 nurses were thinking of leaving their profession because they have had enough of their overloaded working conditions.
The medical and paramedical professions in Scotland have repeatedly savaged Humza Yousaf, the Scottish Health Minister, for having (in the words of a Scottish geriatrician) "no plan, no strategy", and therefore inspiring "no trust" from the professions.
Waiting times in A&E have reached a record high, with 5,000 people in the last week of 2022 waiting over eight hours, and half of them for over 12 hours. The malfunctioning of Scotland's National Care Service means hospital beds are filled with people who otherwise could be discharged. Over 600,000 people are awaiting "planned procedures" compared with just over 300,000 when Ms Sturgeon took office in 2014.
High taxation, sluggish economy
The SNP are fond of blaming Brexit and the UK government for Scotland's economic woes.
However, Heffer says that a report from January 2023 points out that Sturgeon's government has no clear economic strategy:
The report said there was no clear strategy for innovation, that for the last decade productivity had been "muted" and that Scotland had failed to become a "hotbed of start-up activity". The SNP blame Brexit for this, which hardly explains why other cities in Britain are performing far better; the SNP will not admit that it has no idea how to encourage and support entrepreneurs …
The entrepreneurs Scotland so desperately needs are driven away by high taxation, the deep economic uncertainty provided by the threat of separatism, and a shrinking skills base.
Independence dream dies
During the 2021 election campaign, Holyrood magazine featured Mandy Rhodes's highly critical editorial, 'The mendacity of hope'.
Rhodes takes us back to the 2014 independence referendum campaign:
Back in 2014 in a campaign video for the independence referendum, Nicola Sturgeon asked us to imagine a baby – Kirsty – and to think about what kind of country we wanted her to grow up in.
It was a brilliant, evocative message, a hopeful one, with a positive vision that things could only get better, that our children could live their best lives. And who wouldn't want that?
Two years later, after the SNP were re-elected, Sturgeon made this pledge:
Let's all resolve that, when this parliament dissolves five years from now, we'll be able to say we've done everything we can to give all of Scotland's young people the best possible future.
Rhodes continues:
Well, we are now five years on, with independence no closer and Baby Kirsty now seven. The SNP heads into an election that it will win, still stuck on repeat, pledging to make Scotland the best country for any child to grow up in.
The SNP has been in power for 14 years and despite cleverly positioning itself as the party of opposition, lest you blame it for any of the country's ills, it is set to return to power on the back of yet more promises for that same change.
So, when is it coming?
… Yet here we are, with the SNP still winning votes on the back of a promise to build a fairer, more equal, Scotland. If it's window dressing you are after, then artifice has won over substance.
Every opinion poll has the SNP winning this next election. The only question now, is by how much.
Yet contrast that 2014 video message of hope, that forward-looking vision for a more positive future, with the dystopian styled, party-political broadcast issued by the SNP last week and the difference is clear. Fourteen years in government, and the SNP can't offer a positive narrative for its record, it can only blame Westminster for everything that is still wrong …
But if the Scottish Parliament does not have the powers to find Scottish solutions to Scottish problems, then what is its point? What is the point of a party of independence being in power for so long but not delivering on independence? What is the point of having a woman in power but who lets women down?
What is the point in an election that will merely deliver more of the same? And what is the point in promising a better future for children when those already growing up under the SNP's watch have been let down?
Come on. Nicola Sturgeon has said she hopes that this election will breathe fresh air onto the toxicity of our politics, but those winds of change need to sweep over her and her party too. It needs a clear out. Some fresh thinking. Some challenge, and some ambition to make the change it has promised over and over again.
There is something very sour about the SNP right now – a party that doesn't take well to criticism; that sneers at opposition; that hectors journalists, and silences its detractors.
Too often, political commentators are assumed to be people who care too much about party politics. We are accused of having an agenda, of being too close to power, of having nefarious causes that we are trying to promote. That in fact we are political stooges. But none of that is remotely true.
In the main, we are here to see change, to hold truth to power …
During the 2021 campaign, Sturgeon said she wanted to sort out the coronavirus crisis before holding a second independence referendum.
The Revd Stu Campbell of Wings Over Scotland took issue with Sturgeon's preference for 'patient persuasion' before a second referendum. On April 30 that year, he wrote:
As we noted earlier today, her "patient persuasion" has taken Yes from a 10-point lead to an 8-point deficit in the last four months. She's going backwards at a rate of knots, and in the most favourable circumstances she could ever dream of – Brexit, a pandemic in which she's been (erroneously) seen to have performed well, and a wildly unpopular and almost comically crooked complete buffoon in 10 Downing Street.
She HAD a majority for independence, and she's blown it. It's almost impossible to imagine anything that could possibly provide a bigger boost to the Yes vote than what she's already had and wasted.
She used to promise that she'd deliver a second indyref "before it is too late" to avoid the effects of Brexit. But Brexit happened 15 months ago and now we have to wait for some unspecified point at which the effects of COVID are over before she'll even begin to try. There's always an excuse, and there always will be …
The truth of the matter is that Nicola Sturgeon has poisoned the Yes movement. Every part of it is now at war with every other part, and so bitterly that it's hard to imagine the peace and unity of 2014 returning even if and when she's finally dragged kicking and screaming out of Bute House.
Simon Heffer, writing in 2023, seems to be of the same opinion:
… the nationalist movement may well become more of a minority sport. It is already split following the creation of the Alba party by Alex Salmond, who fell out with Ms Sturgeon over her handling of complaints of sexual misconduct against him. He was later acquitted of 13 offences in a criminal trial.
And although the fanatics will endure any hardship to be shot of the colonial oppressor, many others won't. Scotland reached peak Sturgeon a couple of years ago, after her polished performance in the pandemic, when she enjoyed being more welfarist at every turn than the English government.
It will require a remarkable achievement by her successor to lift support for nationalism to the point where it would look likely that the Scottish people would back separatism in a referendum. The SNP has scrapped a special conference it was holding on the question. Talk of the next UK election being a referendum on separatism is ending.
When SNP sources say, as they have in recent days, that a second referendum is off the agenda for the next five years, what they really mean – all being equal – is 10, 15 or 20 years. Every further failure in health, education, infrastructure planning and social care lines up more voters against them: for in the extensively devolved system, only they are responsible.
Heffer tells us how important English subsidies are to Scotland:
It is one thing to tell an opinion pollster that you, as a Scottish voter, would like to be shot of England; quite another to vote in a referendum, were there to be one, to cut the umbilical cord to the Treasury in Whitehall, whose subventions to Scotland under the block grant are around £41bn per year.
For every £100 the government spends per person in England, it spends £126 in Scotland. As the IFS's comments on the country's economic future imply, the SNP has nothing but pie in the sky to suggest as the source of that money post-independence.
The SNP never had a detailed plan for independence.
More on that tomorrow.
Wednesday, February 15, 2023, was a busy day in Britain.
The day began with Labour leader Sir Keir Starmer announcing that the former Party leader Jeremy Corbyn, would not be allowed to run for re-election under Labour. Corbyn had the Party whip removed some time ago and is an Independent MP, representing Islington.
At 11:00 a.m., Nicola Sturgeon announced her resignation as Scotland's First Minister, although she will remain an MSP (Member of the Scottish Parliament) until the next election:
Two big news events in one day caused some political reporters to race from a London airport to Edinburgh to cover both stories.
This was Metro's take on the day:
I watched most of the press conference, which, as one has come to expect from Sturgeon, was three times longer than it should have been.
She really didn't talk much about Scotland or the Scots, either, only herself:
Sturgeon said that she would remain in politics and defend women's rights, something she said she had always done.
One wonders.
Gender Recognition Reform Bill and independence sticking points
Since the Scottish Parliament passed their Gender Recognition Reform (GRR) Bill several weeks ago, regular protests for women's rights have been taking place in Glasgow's George Square. The Secretary of State for Scotland in Westminster is blocking its passage to Royal Assent by enforcing Section 35. This is the first time the UK parliament has vetoed Scottish legislation.
Scottish Labour joined the SNP and Greens in pushing the legislation through with no safeguarding amendments, as tabled by the Scottish Conservatives and duly rejected. These would have required more than a man's self-identification as a woman on his own assertion. Since then, news has emerged of a rapist dressed as a woman who was serving time in a female prison. There are other examples of male criminals claiming to be women. One such man recently abducted a little girl for 27 hours. This has not impressed Scots, especially as MSPs supporting the recent legislation said that these things never happen.
On February 9, 2023, Scotland's Daily Record reported that 30000 SNP (Scottish National Party) members have cancelled their membership (purple emphases mine):
Up to 30,000 people are said to have ­cancelled their SNP membership in response to Nicola Sturgeon's gender reforms and the ­stalling of independence.
The First Minister is under rising pressure to ­abandon her Gender Recognition Reform (GRR) Bill altogether in a bid to halt the meltdown. Polls have also shown public support for the SNP and ­independence has plunged after it emerged double rapist Isla Bryson had spent time in a women's prison.
Dozens of SNP supporters have taken to social media to say they have binned their membership cards. One said: "I cancelled my membership. Rejection of ­reasonable amendments to GRR the final straw… the ­Scottish Government look like zealots."
Another said: ­"Membership cancelled. I never signed up for regressive identity politics."
GRR, or grr, indeed.
Scottish independence also emerged as an issue for those cancelling SNP membership. Many think it's going nowhere:
Yet another added: "I am for ­independence. I don't see the SNP getting us there and have cancelled my ­membership. I believe this issue, women's rights and the need for single sex protections to be important in its own right."
Polls show that the appetite for independence has been falling recently. The GRR has probably helped that, as people think more of that type of legislation would come if Scotland withdrew from the United Kingdom.
As one commenter on a Guido Fawkes post put it:
People, in general, are happy to ignore politicians until they do something that affects them. They hadn't thought about the ramifications of "trans women are women", because it hadn't directly affected them.
Well, by putting a rapist into a women's prison, they noticed and they saw how dangerously stupid the idea of self id was. What brought her down was her inability to row back after she had painted all the people who warned this would happen as bigots.
Sturgeon also got herself tied up in knots at a press conference about the rapist in the women's prison by mixing the convict's genders, which brought more grilling by interested reporters.
The Daily Record article continues:
Support for the SNP as well as support for ­independence, has dropped, according to a YouGov poll out last week. It fell to 44 per cent from 50 per cent in December in the Holyrood constituency vote and from 40 per cent to 36 per cent in the regional list. SNP support at Westminster dropped from 43 per cent to 42 per cent while backing for ­independence dropped from 53 per cent to 47 per cent.
Sturgeon said she plans to run the next UK election as a "de facto referendum" in the hope of achieving a majority of votes north of the Border and ­securing negotiations on ­independence. The SNP does not publish membership numbers but a party source said: "This is a real and deepening crisis for the SNP and Sturgeon ­personally".
Only last month, Sturgeon was confident that she had 'plenty left in the tank' to lead Scotland to independence:
Now not so much.
Interestingly, a February 1 article in the Scottish Daily Express said that Sturgeon was due to resign soon:
David Griffiths, a former Holyrood candidate for the Alliance 4 Unity party, told the Scottish Express that sources close the SNP leadership have the First Minster's days numbered.
He caused a stir on social media on Tuesday by tweeting: "I'm told Nicola Sturgeon will shortly announce her decision to stand down as SNP leader before the next UK General Election" …
Asked for more details, he said: "Let's just say I'm acquainted with someone who is close to some of the SNP hierarchy and they've said they are hearing that she might have decided that she's had enough."
Commenting on car crash interview with Ms Sturgeon where she branded opponents to her gender policy "misogynistic, homophobic, and racist" he said: "It was just the most staggering thing I've ever heard from a senior politician in Scotland."
Someone commenting on a Wings Over Scotland post ('The Ship That Died of Shame', February 15) said a friend had heard about the upcoming resignation the evening before:
I was told last night she was going. A friend had a load of SNP big wigs in his taxi and they were talking aboout her resignation. So its come to pass. Hoepfully she's not destroyed the dream of an Independant Scotland. Now we must get the best people.
Poor polling
In recent weeks, it has come to light that the Scottish Parliament's views do not reflect those of Britons as a whole.
On February 10, UnHerd commissioned a poll conducted by FocalData about GRR based on four questions.
General statements, such as being allowed to change one's gender received broad agreement, but more specific ones, such as transgender women using women-only spaces and participating in women-only sports showed more opposition.
UnHerd has an accompanying map showing the nuanced areas of response by parliamentary constituency:
Once you start asking about specific policies and impacts, the results move in a decidedly more sceptical direction. Asked whether "transgender women should be allowed to use spaces reserved for women, such as women's toilets or changing rooms", 33% agree and 42% disagree. Most of the 53 constituencies that support the idea contain city centres and student towns, while all but one of the top 10 most opposed constituencies are in Scotland.
Whereas taken as a whole population, Scotland is only slightly more trans-sceptical than England and Wales (31% of Scottish people strongly disagree with the proposition about women-only spaces, compared with 28% in Wales and 27% in England), those areas in strongest disagreement are almost all in Scotland. In total, 45% of Scottish voters oppose the idea compared with 32% who support it. The result in Scotland underscores the political risk to First Minister Nicola Sturgeon of her Gender Recognition Bill …
Taken as a whole, there seems to be a majority of voters coming to a nuanced position on this issue: supportive of people who wish to identify as a different gender, but sharply defensive of women-only spaces and sports. And on the evidence of Scotland, the more they are exposed to the arguments the clearer that view becomes.
On February 14, The Revd Stu Campbell, founder of Wings Over Scotland, published results of a poll they commissioned from Panelbase in 'Confirmation Bias For Beginners':
He says the results show that most MSPs are not representing the views of their constituents:
… we just asked directly if people felt their MSPs were doing their jobs.
Ouch. By well over 2 to 1, respondents felt that they were being let down by the people who are supposed to speak for them. (Excluding DKs the margin is just shy of 70/30, very similar to the margin by which people in polls oppose self-ID generally.)
But it's when you drill down into the detail that it gets a bit disturbing.
Because remember, we're not asking for people's views on gender reform itself here. We're simply asking if they think the Parliament is in step with the public. And for voters of the Tories, Labour and Lib Dems, that's an easy answer.
Even though the latter two supported the GRR, their voters are clear that they did so against the wishes of the public, by margins of 14:1 (Tories), almost 4:1 (Labour) and 3:1 (Lib Dems). And that's perfectly rational, since countless polls all show the same.
SNP voters, however, are split down the middle in a statistical tie of 36-35. But far more said they didn't know than voters of the other parties, which means that barely over a third of even SNP voters think Parliament is speaking for the people …
But more than that, what they tell us is that Parliament is letting the whole of Scotland down with its dogged, pig-headed determination to force through law that nobody wants. And the people know it.
Those 'in the know' know nothing
Returning to the GRR bill, a number of MPs, pundits in London and at least one civil servant thought that enforcing Section 35 would boost Sturgeon's popularity.
Guido Fawkes posted an excellent summary of the predictions they made only a few weeks ago:
He tells us:
Following weeks of scrutiny over her controversial transgender reform bill and stance on trans rapist prisoners, Nicola Sturgeon resigned this morning. This came as a surprise to Guido – for weeks pundits were warning the government's decision to block Scotland's Gender Reform Bill was a victory for Nicola and the independence cause. Instead it's seen unionism boon and Sturgeon quit. Even Reuters is now reporting that Rishi "outmanoeuvred" the First Minister. 
Behind the scenes Sue Gray, the powerful Second Permanent Secretary to Cabinet Office, went out on a limb in Whitehall leading the mandarin's efforts to block the block. She was hyperactive behind the scenes trying to stop Alister Jack using Section 35, claiming it would be terrible for the union and boost Nicola. Her expertise on the union has been found wanting…
The Guardian's political editor Pippa Crerar's judgement was likewise shown up, as her analysis described how the SNP might weaponise a court battle, which could prove a "gift to the independence cause". Whilst New European columnist James Ball said the government's invocation of Section 35 was "every one of Sturgeon's Christmases at once". He went on to add it was "total idiocy".
The were plenty of Tories who made the same, demonstrably wrong, argument. Senior Scottish Tory MSP Jamie Greene voted for the bill on those grounds. Penny Mordaunt too warned it could backfire. Theresa May displayed her characteristically statesman-like political acumen as she came out in favour of the bill. A fair number of Tory wets were left high and dry, as they piled on to criticise the government's decision to block the move. Whilst the Tory Reform Group called UK Government intervention a "deeply concerning development" which "played into the hands of those who seek to break our Union". A reminder – "Yes" is now 12% behind in the polls.
How little those in the know actually know.
Missing money
However, there is another reason why Sturgeon might have chosen this very moment to resign: the missing sum of £600,000 from the SNP's coffers which was supposed to have been, in the Party's words, 'ring-fenced' for the independence cause.
Guido explains:
In recent days Police Scotland were finally given permission to formally interview a number of SNP and ex-SNP figures about the disappearance of £600,000 that had been donated by activists and ring-fenced as a Scottish Independence fund.
Despite the ring-fencing, when the SNP published their 2019 accounts it was noticed they had just £96,000 in the bank.
More intriguingly, it later emerged that Sturgeon's husband, Peter Murrell, loaned the party over £100,000 in June 2021, a move that Scottish Tory chairman Craig Hoy described as "beyond odd for the SNP chief executive – and Nicola Sturgeon's husband – to be lending his employer a six-figure sum of money".
Imagine if the First Minister had been a Conservative:
Guido reckons the Lobby would have spent much more time scrutinising this were she a Tory First Minister…
The missing money was old news when I first read about it in 2021. Most of the sum was comprised of Party members' contributions rather than those of big donors. Those people want to know what happened to it.
One donor on a Wings over Scotland post says:
… the missing money is, I think, the thing lurking in the shadows. I'll admit I gave money as I assumed (wrongly) we'd be getting a massive push towards a referendum and independence. I didn't expect it to vanish into a black hole where Sturgeon and her husband look iffy and now with the police getting involved, it looks as if fraud is suspected.
There will be no de facto referendum this year. Whoever takes over from Sturgeon will hang onto their position til the Westminster elections next year because that short money needs to come in. Of course, if the police do find that Sturgeon or her husband are guilty of fraud then the effects of that are going to be felt for the new FM.
I do feel there's a lot happening which hasn't spilled over into the public domain as yet, but we're seeing hints here and there … which suggest to me that something else is coming down the line.
The Revd Stu Campbell from Wings over Scotland mulled over Sturgeon's timing and the money issue:
Nicola Sturgeon told Scotland's press this morning that despite her weariness, she could have managed a few more months or even a year as First Minister, which would at least have got her halfway to keeping her promise to serve a full term if she was elected in 2021.
Which just makes her timing all the harder to explain.
Because it's hard to imagine how much less appropriate it could have been.
Firstly, the party was completely unprepared. We've spoken to several current SNP elected representatives today and none of them had had any advance warning – not even the slightest hint – of the resignation. Incredibly, the first they knew was reading about it on social media this morning. Wings knew before SNP MPs and MSPs did.
And secondly because it leaves the SNP in total chaos. Just four weeks from now it's due to have arguably the most important conference in its history, at which it'll decide how to deliver to the people of Scotland the say in their future that they've been promised since 2016.
Campbell points out that, according to SNP rules, it takes 133 days to elect a new Party leader, so Sturgeon will be with us for several months yet, unless the National Secretary amends the process. He has a screenshot of the rules in his post.
He continues:
So why the sudden rush out the door?
There is simply no rational explanation for the timing of Sturgeon's exit to be found anywhere in her resignation speech/conference, except for the last 16 seconds of it. It is an astonishing betrayal of those still loyal to her (she betrayed everyone else long ago, of course) to hand them such a short-fused fizzing timebomb and run for her life.
So if anyone can come up with a convincing alternative to the idea that she just didn't want to be actually sitting at her desk when her husband and/or herself were arrested for defrauding her own supporters out of £600,000 of their hard-earned cash, we're all ears. But it better be really, really good.
On this subject but elsewhere in the ether, someone made a mock-up of Sturgeon's perspex podium: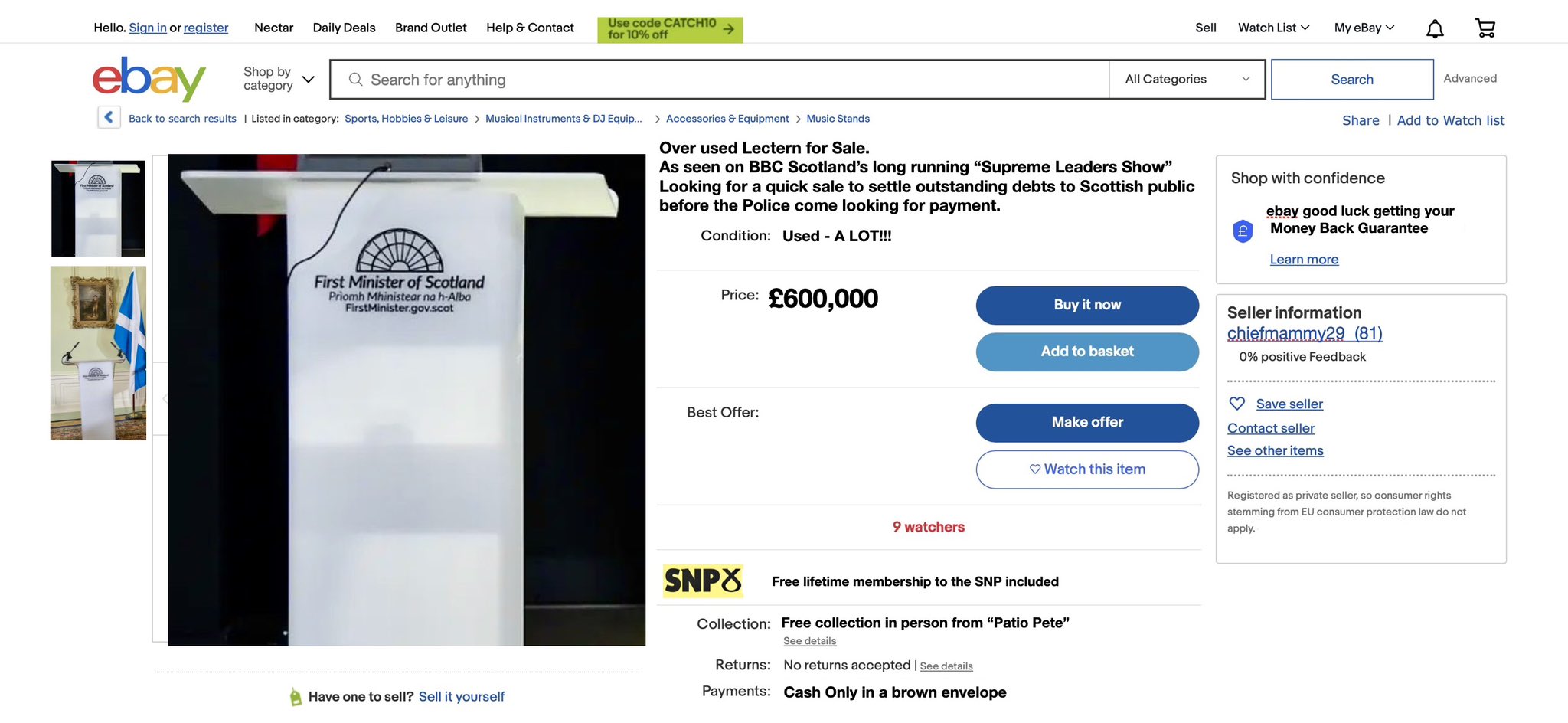 People wonder why Police Scotland hadn't stepped up to the plate over the £600,000 years ago.
Scottish law is different to that of other nations in the UK, but three comments on one of Guido's posts might go some way in explaining the delay:
If there is a criminal investigation, the police shouldn't need "permission" to interview anybody. The fact that in Scotland apparently they do tells us all rather a lot about how the SNP have been governing Scotland. I really wish the UK government would conduct a real probe into what has been going on north of the border. That might sound the death knell for devolution at last. And Brown wants to extend the whole fiasco by breaking England up into lots more individual fiefdoms as if London hasn't already shown the idea up as nonsense.
Police Scotland had to get permission from the Crown Office (their CPS) to question Sturgeon and Murrell. The head of the Crown Office also being a government adviser had absolutely nothing to do with the delay in permission being granted………
They had to wait until they could be confident their careers and/or pensions wouldn't be harmed by investigating the no-longer-golden 'girl'.
No obvious successor
Finding a successor will be interesting.
A commenter on another of Guido's posts thinks old but deep internal SNP issues will re-emerge:
The next few months will also see some very ugly wounds that have not healed … burst wide open … Whoever takes her place will be fighting several fires that have gone one for a very long time, with several pretty much out of control now. This is a very precarious time for that party, and they could very easily implode.
Despite Sturgeon saying that:
the SNP is awash with talented individuals
Guido begs to differ (see link in tweet):
It seems SNP MPs disagree – one told The Scotsman that the talent pool is a "shallow well"…
Guido recapped the top runners and riders. In the middle is Deputy First Minister John Swinney and on the right is Cabinet Secretary for Finance and the Economy Kate Forbes, currently on maternity leave:
Guido has based his profiles on the results of a Panelbase poll for The Sunday Times which shows that of all possible candidates, Don't Know wins by a whopping 69%:
Nicola Sturgeon has resigned as First Minister, brought down by her own absurd gender reform bill and crashing support for independence. As ever, Guido brings you the runners and riders for who might step up to replace her. The latest polling from Panelbase, published last week in The Sunday Times, paints a grim picture for the SNP; virtually none of the potential candidates have any name recognition or support base. Still, here's how things stand…
Kate Forbes – Scotland's current Cabinet Secretary for Finance and the Economy. By a narrow margin, the most 'popular' choice to win, although only in the loosest sense of the word – she got 7% in the Panelbase poll. At 32 years old, she'd be the youngest political leader in the UK by quite a margin. Hasn't ruled out standing, according to "a source close to her" in the Times. Crucially, she's been sceptical of Sturgeon's gender policies. Currently on maternity leave…
John Swinney – Current Deputy First Minister. Got 6% in the Panelbase poll. Loyal to Sturgeon and an experienced operator, although recently caused upset amongst the party's MSPs after he allegedly assured them they could "vote with their conscience" on the Gender Reform Bill… only to then apply a three-line whip. Was accused of withholding evidence during the Salmond Inquiry, and survived the Scottish Tories' subsequent vote of no confidence.
… With a whopping 69% in the Panelbase polling, however, was notorious political heavyweight… "Don't Know". Definitely one to watch…
John Swinney has too much past political baggage to be First Minister.
Kate Forbes would be a safe pair of hands, especially for women. She is also a devout Christian.
Outlook for Labour and Conservatives
Pundits say that Sturgeon's resignation could provide a lift for Scottish Labour. However, what those pundits aren't saying is that Labour MSPs voted overwhelmingly for GRR.
Scottish Conservatives, in my view, are better placed, provided they stop standing in the shadows. Their MSPs were the only ones who had useful safeguarding amendments to the GRR. Furthermore, only three Conservative MSPs voted for GRR.
Therefore, currently, Scottish Conservatives hold the moral high ground, even if Scots, for whatever reason, have historically loathed them.
This will be interesting to watch.
Gosh, what a lot of news to cover in one post.
Admittedly, a few of these items are a bit old but fit in thematically.
Theresa May U-turns on support for Scottish gender reform legislation
I wrote yesterday about former Prime Minister Theresa May's support for Scotland's Gender Recognition Reform bill on Tuesday, December 27.
Within 24 hours she had made a U-turn, thankfully, although she did it through a spokeswoman.
On Wednesday, December 28, The Times reported (emphases mine):
In the wake of the interview the BBC issued a press release which stated: "On the subject of Scotland's proposed gender recognition laws, Ms May said she was disappointed the Westminster government wasn't supporting them."
Yesterday, however, a spokeswoman for the Maidenhead MP insisted that was not the case.
"As prime minister, Theresa launched a consultation looking at gender recognition laws with the aim of providing a more sensitive approach to transgender people, but she does not agree with Nicola Sturgeon's legislation and is particularly concerned about the consequences it could have for children in Scotland and across the UK," she said.
We can but hope that the Secretary of State for Scotland does not send the legislation for Royal Assent:
Immediately after MSPs voted in favour of the legislation Alister Jack, the Scottish secretary, threatened to invoke section 35 of the Scotland Act, which allows him to prevent the legislation from receiving royal assent.
Although gender recognition is devolved to Holyrood, the Equality Act — with which the new law will interact — is reserved to Westminster.
As nearly two-thirds of Scottish voters — even SNP supporters — think this legislation is a terrible idea, Westminster can show the 'Union dividend' in being 'better off together'.
Gas futures coming down
On Thursday, December 29, The Guardian had encouraging news about the price of natural gas futures in Europe:
European gas prices have dropped back to levels seen before the Ukraine war began in February, as fears of a gas crisis this winter ease.
The month-ahead European gas future contract dropped as low as €76.78 per megawatt hour yesterday — its lowest level in 10 months, data from Refinitiv shows.
As this chart shows, gas prices have fallen back from their surge in March, and again in the summer as European countries scrambled to fill their gas storage tanks.
Prices have dropped thanks to warmer-than-normal temperatures this winter, which have limited demand for gas, after the European Union successfully filled reserves to a peak of almost 96% in November.
Consumption reduction targets have also helped to limit demand, with the EU aiming to cut its gas consumption by 15%.
Earlier this week, 83.2% of EU gas storage was filled, data from industry body Gas Infrastructure Europe shows, still above the target of 80% set for the start of November.
Traders are confident that inventories will end winter at a very comfortable level with a very low risk of falling to critically low levels, says John Kemp, energy market analyst at Reuters.
UK gas prices have also dropped back from their highs earlier this year. The day-ahead gas price closed at 155p per therm yesterday, compared with 200p/therm at the start of 2022, and over 500p/therm in August.
The UK versus the EU
All year long in Parliament we've heard that the UK is 'broken' and that we should have stayed in the EU.
Polls have been published showing that Brexit voters have buyer's remorse. Well, they shouldn't have. We are much better off outside an unelected European Commission. Furthermore, EU countries are not doing substantially better than Blighty.
France
This week, I received the latest copy of Marianne, the French newsweekly. Part of its cover story headline, referring to the state of their nation, reads:
EN PANNE
meaning, 'out of order', 'not working'.
On Wednesday this week, The Spectator had an excellent article about our neighbour: 'All is not well in Macron's France':
In 2021, both World Bank and United Nations GDP (nominal) rankings have the UK at 5th and France 7th. International Monetary Fund estimates for 2022 show India overtaking the UK to claim the 5th spot for world GDP, but with France still 7th.
One may question the reliability of GDP as a comparator, but a host of other measures regularly show France worse off than the UK. Debt to GDP ratios show France at some 115 per cent, the UK 99.6 per cent. Meanwhile the Bank for International Settlements gives France's total public and private debt (non-financial) at 351 per cent; the UK at 271 per cent.
One can rightly point to France's present day lower inflation at 7.1 per cent (EU harmonised) compared to the UK's 10.7 per cent. But as French debt statistics above show, president Emmanuel Macron began forcing down domestic inflation by subsidising prices during his 2022 presidential election campaign. French unemployment at 7.4 per cent compares unfavourably with the UK's 3.4 per cent. Meanwhile France is the highest taxed OECD and EU state, leaving little margin for manoeuvre. Her balance of payments figures are as gloomy as the UK's, together with her flat economic growth.
While Britain's position is not rosy, France's is certainly no better. That is why recent predictions in a certain European press, not least in France, taken up by British elites, that the UK was descending into terminal decline has lost all proportion. If the French press enjoy a touch of schadenfreude at the expense of the old enemy, and French politicians are glad to distract from their own problems, the willingness of much of the British middle class to swallow the same view can only be explained by ingrained cultural habit aggravated by post-Brexit resentment. Today, with Macron utterly wedded to the EU project, France for British elites is ipso facto superior to Britain. Yet France's moral state is parlous.
Since the 2022 presidential and legislative elections Macron's centrist party has no overall majority. France is stalemated and drifting towards ever more radical politics. Macron's prime minister Élisabeth Borne, unable to command a majority in the National Assembly, struggles to get her business other than by the constitutional sleight of hand of article 49,3, which guillotines parliamentary debate. With the chamber split four ways the question remains as to whether Macron will eventually dissolve parliament. Opinion polls suggest this would be a gift to Marine Le Pen's party, already the single largest opposition party with 89 seats. France might then come to replicate the present radical right Italian government.
Socially and culturally French society is far from healthy. Other than worsening violence and lawlessness in the banlieues – conveniently out of sight of English elites' visits to France – the French model of assimilation and laïcité is being tested to destruction. Official Justice Ministry statistics for July 2021 show 24.6 per cent of the prison population as foreign (double the proportion in Britain).  The French Interior Minister publicly stated this summer that, although foreigners make up 7.4 per cent of the French population, they account for 19 per cent of all delinquency nationally, and that 48 per cent of arrested delinquents in Paris are foreigners, 55 per cent in Marseille, 39 per cent in Lyon.
… The general picture is of a France far from at ease with itself. The prospect of a member of France's ethnic minorities leading the country with no fuss in the near future, as has just happened in Britain, seems impossible.
And remember the cries of 'Brexit is bad' when the Paris stock exchange overtook London's in November?
I don't recall any mea culpas from the metropolitan elite once we resumed normal service ten days later:
Guido Fawkes posted (emphases his):
The London stock market has re-overtaken Paris's after falling behind for 10 days, with a lead of $63 billion. A 2.5% rally in the value of the pound led to the improvement, and morale booster, compared to a modest 0.7% improvement for the Euro …
Germany
While Remainers in Britain's metropolitan elite moan about food inflation, our friends in Germany have experienced similar price hikes.
On October 14, September figures for the UK showed that our grocery price inflation hit an all-time high of 13.9%.
Yet, JustFood reported that Germany's grocery price inflation also reached historic highs:
Inflation levels in Germany reached their highest levels in three decades in September with food prices rising 18.7% year on year, figures show.
In a continued squeeze on consumer pockets, inflation reached 10% – its highest level since the country's reunification in 1990, the federal statistical office said.
Consumers faced the sharpest rises in edible fats and oils, which were up by 49%. Dairy products and eggs increased by 29.1%, meat and meat products 19.5% and bread and cereals 18.5%.
Month-on-month comparisons show consumers paid 1.8% more for food in September than in August, with vegetables 3.9% more expensive and dairy products up by 2.2%.
The consumer price index for food in Germany, measured against a 2015 baseline of 100, stood at 135.4 year-on-year in September, compared to 121.1 overall.
The federal statistical office said the cost of energy was leading inflation but food also played a major role, with both contributing to an overall 10% rise in prices.
Without food and energy rises in the equation, the country's inflation rate is reduced by over half to 4.6%. The prices of all goods increased by 17.2% in September 2022 compared to 2021, but the prices of non-durable consumer goods, which include food and energy, increased by 23.3%.
We cannot blame German inflation on Brexit. As Conservative ministers rightly say at the despatch box, inflation is up all over Europe and the West.
UK to relax egg rules to line up with EU
Another thing we hear from Remainers, especially in the Houses of Parliament, is that British food regulations are weaker than the EU's!
Nothing could be further from the truth! Our food standards have been higher than the EU's for decades.
Anyone wanting up-to-date proof can read an article in Wednesday's Guardian — 'UK free-range egg rules could be relaxed in line with EU for avian flu outbreaks':
Free-range egg rules in the UK could be relaxed in response to the European Union preparing to overhaul regulations after the biggest avian flu outbreak on record.
Ministers are understood to be considering a change to the rules that would mean eggs laid by hens kept in barns for months on end could be classed as free range.
Currently, eggs cannot be classed as free range if birds are indoors for more than 16 weeks. Farmers have that grace period in both the EU and UK, which means eggs can still be labelled as free-range if a government-issued housing order for birds is in place up to 16 weeks.
Subsequently, labels need to be added to packaging making it clear that those are now classified as barn eggs.
Whitehall sources told the Daily Telegraph that the Department for Environment, Food and Rural Affairs (Defra) is considering changing the regulations in order to keep farmers competitive with Europe …
The European Commission put forward a proposal in September, which stated "where temporary restrictions have been imposed on the basis of EU legislation, eggs may be marketed as 'free-range' notwithstanding that restriction".
The proposal, which is awaiting approval by the European parliament, means eggs could be classed as free range even if hens are forced to spend months indoors due to government rulings.
In September, egg producers in the UK said it was essential that the government now followed suit to avoid British suppliers being undercut by EU imports.
Climate change
Climate change sceptics will be on the right side of history in time.
Guido Fawkes's readers posted about deforestation in this post.
One chap posted an article about the increasing need for balsa wood from Latin and South America for blades on wind farms. Apparently, indigenous communities have not been consulted: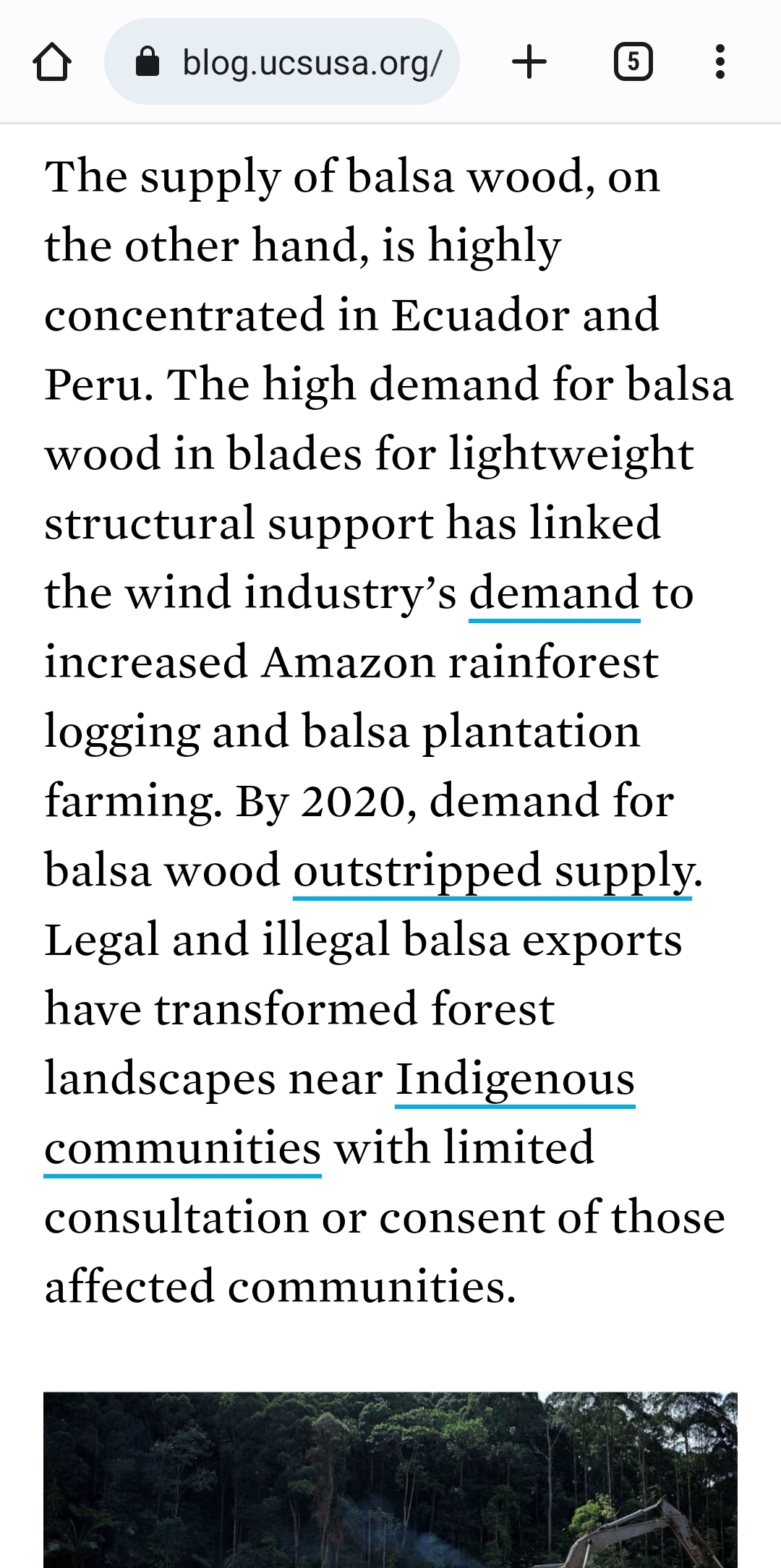 The article continues, stating that some companies are switching from balsa to oil byproducts, such as PET and PVC, or to cellulose: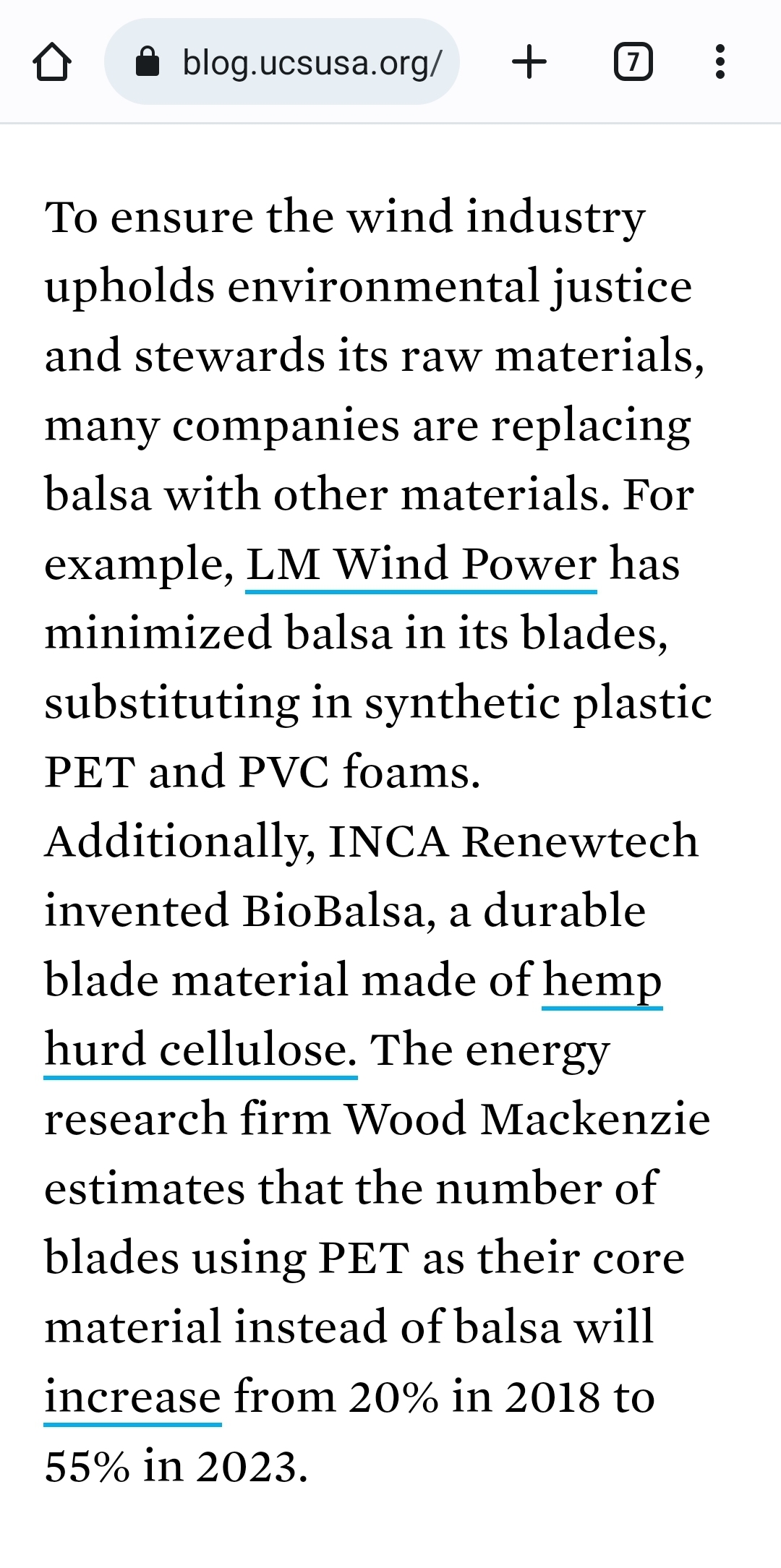 The man who posted the article pointed out:
BALSA is being replaced with PET and PVC (yep- crude oil) but are also experimenting with cellulose– which needs highly toxic chemicals to make.
Someone responded with this:
Synthetic PET usually uses food starch as a replacement for oil based derivatives. These divert food crops away from human and livestock consumption. They also encourage the use of GM crops and pesticides.
PVC production creates sodium chloride, which is a cause of acid rain.
The eco loons really didn't think this through.
Ultimately:
The eco l00ns NEVER think anything through.
And they hope we won't notice.
It's part of the reason why 'climate science is settled' and they refuse to debate.
You know how it goes.
Fracking bad – mining cobalt (even using young children) good.
You flying -bad- them flying- good.
On a similar note, an UnHerd article laments the loss of the hearth in 'Firewood will save the West'. The author, Paul Kingsnorth, lives in Ireland and has his firewood delivered to his home:
The Irish government is currently campaigning against households which burn turf or wood, the former on the grounds of CO2 emissions, and the latter on the grounds of air quality. As ever, the campaign is driven from Dublin, and mostly takes Dublin sensibilities into account. Rural households in Ireland have been burning turf and wood forever, with little significant impact on "air quality" — or at least, no impact comparable to that which Ireland's "Celtic Tiger" modernisation has had. Suddenly, though, the media is full of scientists armed with studies demonstrating how getting a fire going in your cottage in winter will lead to cancer and lung disease on a widespread scale.
That is nonsense. Until recently, Man had been surrounded by smoke for millennia.
Essentially, the Irish government, in line with other Western governments, wants to do away with fireplaces:
This new tilt against household fireplaces is not just an Irish phenomenon: it is suddenly popping up everywhere. Woodstoves are, curiously, becoming the number one air pollution villain. Never mind mass car use, accelerating air travel or industrial pollution. Never mind the emissions caused by the massive increase in Internet server farms, which within just a few years could be using up an astonishing 70% of this country's electricity. These days, if you want to demonstrate your social responsibility, you should be all aboard with the abolition of the traditional fireplace and its replacement with "green" alternatives.
He explains that the home hearth has been not only traditional but also atavistic throughout mankind's history. He cites the philosophical polymath John Michell (1933-2009):
The fireplace, whether our dessicated urban authorities know it or not, has a primal meaning, even in a world as divorced as ours from its roots and from the land.
In his short essay "Fireside Wisdom", the uncategorisable John Michell suggested that the "displacement of the hearth or fireplace" from the home was one of the many reasons for the craziness of the modern world which his life had been spent playfully exploring. The fireplace at the centre of the home, he wrote, was both an ancient practicality and a device of "cosmological significance" across cultures and time: "Conversation is directed into the fire while dreams and images are drawn out of it."
In the past, the act of sitting staring into the smoky fire with family or neighbours was the genesis of the folk tale and folk song which tied the culture together. Now we stare at digital fires hemmed into boxes manufactured by distant corporations who also tell us our stories. No song we can dream up around a real fireplace can compete with what these boxed fires can sell us. "Thus," wrote Michell, "the traditional cosmology is no longer represented by its domestic symbols, and a new, secular, restless, uncentred world-view has taken its place."
Focus, Michell explained, is "the Latin name for the central fireplace. The fire not only warms but, as a symbol, illuminates the corresponding images of a centre to each of our own beings and of a world-centre which is divine, eternal and unchanging." Lose your fires, and you literally lose your focus as a culture. In this context, a government spokesman telling his population, as one minister here recently did, that they should "get over" their "nostalgic" attachment to the hearth fire and install ground source heat pumps instead is more than just a nod to efficiency. It is an assault on what remains of the home and its meaning. It is an attack on the cultural — even the divine — centre.
Paul Kingsnorth posits that each move away from self-sufficiency, e.g. using one's own fireplace, puts us more under the control of government:
When you can no longer grow your own wood or cut your own turf to heat your own parlour, you are made that little bit more dependent on the matrix of government, technology and commerce that has sought to transmute self-sufficiency into bondage since the time of the Luddites. The justification for this attack on family and community sufficiency changes with the times — in 17th-century England, the enclosures were justified by the need for agricultural efficiency; today they are justified by the need for energy efficiency — but the attack is always of the same nature. Each blow struck against local self-sufficiency, pride and love of place weaves another thread into the pattern which has been developing for centuries, and which is almost complete now in most affluent countries …
In my lifetime, in my part of the world, the notion and meaning of "home" has steadily crumbled under external pressure until it is little more than a word. The ideal (post)modern home is a dormitory, probably owned by a landlord or a bank, in which two or more people of varying ages and degrees of biological relationship sleep when they're not out being employed by a corporation, or educated by the state in preparation for being employed by a corporation. The home's needs are met through pushing buttons, swiping screens or buying-in everything from food to furniture; for who has time for anything else, or has been taught the skills to do otherwise?
He refers to a 1980 manuscript, 'Family Work', by the American essayist Wendell Berry:
Like so much of Berry's work, it locates the centrepoint of human society in the home, and explains many of the failures of contemporary Western — specifically American — society as a neglect of that truth. The home, to Wendell Berry, is the place where the real stuff of life happens, or should: the coming-together of man and woman in partnership; the passing-down of skills and stories from elders; the raising and educating of children; the growing, cooking, storing and eating of food; the learning of practical skills, from construction to repair, tool-making to sewing; the conjuration of story and song around the fire …
Even back in 1980, Berry recognised that the home had become an "ideal" rather than a practical reality — precisely because the reality had been placed out of reach for many. What killed the home? Three things, said Berry: cars, mass media and public education. The first meant that both work and leisure could, for the first time in history, happen a long way from home. The second — "TV and other media" — have played a role, since the mid-20th century, in luring us all into a fantasy world of freedom from obligation, and a limitless, fun consumer lifestyle. "If you have a TV," writes Berry, "your children will be subjected almost from the cradle to an overwhelming insinuation that all worth experiencing is somewhere else and that all worth having must be bought." Finally, the school system is designed "to keep children away from the home as much as possible. Parents want their children kept out of their hair." Schools exist to train children to fit into individualistic, consumer societies; to internalise and normalise their ethics and goals, and to prepare for a life serving their needs.
I have to disagree with his disparagement of television, as my better half and I watch a lot of French programmes, food shows in particular. For us, it is a window into a culture we love very much. Were it not for television, we would have to visit France in person much more often. As it is, we can experience France from our sitting room and perfect our language skills while learning more about the world's finest cuisine.
Berry's solution is to make the home a welcoming, peaceful place for everyone living there:
… he suggested that we should "try to make our homes centres of attention and interest"; to make them as productive and nurturing as we can … you will see new possibilities begin to open up. You will see, in Berry's words, that "no life and no place is destitute; all have possibilities of productivity and pleasure, rest and work, solitude and conviviality that belong particularly to themselves", whether in the country, the city or the suburb. "All that is necessary," he suggests, is "the time and the inner quietness to look for them."
Television is a good thing
On the subject of television, a 104-year-old Australian woman told her grandson that it was probably the greatest development in her lifetime.
Lewis Isaacs wrote her story for The Guardian: 'My 104-year-old Nan's secret to a long life':
A life as long as hers can be hard to comprehend. Asked what the biggest change to the world she'd seen across her life was, Nan replied that it was television. Life when she grew up rarely extended past her suburb. Television connected the living room to the world.
How true! Well said, Nan!
The article has family photographs, too.
So what is Coral Isaacs's secret to longevity?
She says it comes down to genetics and finding the right partner. She was widowed more than 30 years ago and says the life she built with my Pop has supported her since. It helps to remember your pills, she adds, and to get up, shower and make your bed every day.
I suspect the truth about her endurance is something different though. Nan is determined to keep her eyes focused on the future. Even when the days are hard, she still looks forward.
I was hoping she would mention smoking a crafty cigarette or enjoying a daily digestif, but, sadly, no.
Churchill's cigar goes on sale
For a smoking story, we had to go to an auction house.
On Thursday, December 29, The Times reported that one of Winston Churchill's cigars is expected to fetch £3,000 at auction:
The former prime minister gave the Cuban cigar to an RAF doctor who helped him when he broke his leg in 1962.
The doctor's grandson has put the rare cigar up for sale with Hansons Auctioneers, which said it would be an "impressive item" for any Churchill collector. Charles Hanson, the owner, said: "We occasionally see Churchill cigar stubs that people have picked up after he dropped them. But to gain a whole cigar in such pristine condition, given as a gift in unusual circumstances, is special."
Churchill, who died in 1965 aged 90, was a lifelong smoker. While he was at boarding school, his mother learnt he had taken up smoking cigarettes and tried to bribe him to stop by promising him a pistol and a pony.
He switched to cigars after spending time in Cuba after his graduation from Sandhurst military academy, and friends, dealers and associates sent him regular deliveries of cigars from then on.
The circumstances are most Churchillian:
The auction house said the cigar under auction was given to an RAF squadron leader, Bertram AJ Barrow. Churchill fractured his femur while getting out of his bed at the Hotel de Paris in Monte Carlo, and was flown back to London on an RAF plane while in a waist-to-ankle plaster cast.
Barrow, the leader of the medical team, plucked up the courage to ask Churchill for one of his famous cigars.
For decades the treasured cigar was kept in a bedside drawer, but will now go under the hammer at on January 9 with an estimate of £2,000 to £3,000.
Barrow's grandson, Thomas Barrow, 33, an employment law adviser from London, said: "Bertram asked for a cigar as a keepsake, and Churchill advised that he could have 'one that he had been saving' — which was Cuban and still in its glass case."
What a story!
Conclusion
As my later grandmother-in-law, a lifelong Londoner, was fond of saying:
The old ways are the best.
I couldn't agree more.
Let's try to recapture them in 2023.
The story goes that when the Swiss Reformer Zwingli said that Holy Communion was a mere symbol, an appalled Martin Luther observed that 'another spirit' was working through him, meaning the devil.
Sadly, we have had a lot of 'another spirit' news in 2022.
Let's get through that first in order to move on to other items.
'Another spirit' news
From the family structure to euthanasia, the devil never stops.
Canada's 'killing fields'
On December 16, the Mail had an excellent article about the many Canadians being urged to undergo euthanasia.
Canada's national euthanasia programme is called MAiD (Medical Assistance in Dying), but this is no comely lass, rather a killing machine of sorts, so much so that even the UN wants to call time on it (emphases mine):
… the progressive administration of Prime Minister Justin Trudeau now finds itself in the deeply embarrassing position of being attacked by human rights campaigners and the United Nations over MAiD. 
Three UN experts last year concluded the law appeared to violate the Universal Declaration of Human Rights. Euthanasia — from the Greek for 'good death' — is a means of release to people in unimaginable and incurable pain, especially if expected to die soon. 
This is how Canada's 'killing fields', as the Mail rightly says, entered the statute books:
Canada's Supreme Court dismissed as scaremongering fears of a 'descent down a slippery slope into homicide' when it overturned a ban on euthanasia in 2015, ruling that it was unconstitutional as it deprived people of dignity and autonomy. 
The following year, Canada's Parliament passed legislation allowing euthanasia, but only for people suffering from a terminal illness whose death was 'reasonably foreseeable'. 
Within five years, it became clear that Canada was, indeed, sliding down the slope when — again under pressure from the courts — MPs passed Bill C-7, which scrapped those criteria. 
From 2021, anyone suffering from an illness or disability that 'cannot be relieved under conditions' that he or she 'considers acceptable' can, with the approval of two doctors or nurse practitioners, get MAiD free. 
The patient must be found to be competent to make the decision and wait a minimum 90-day assessment period before death is provided. 
If a doctor refuses to sign off the request, patients can shop around for one who is more amenable. And unlike other countries, including Belgium and the Netherlands, where euthanasia is legal, Canadian patients are not required to have exhausted all treatment alternatives first. 
Last year, 96 per cent of MAiD applications were approved. 
Seeking to understand why so many in government and healthcare appear to be pushing MAiD enthusiastically, critics point to a 2017 study by the University of Calgary that estimated medically-assisted dying could reduce national healthcare spending by $139million a year (£83 million). 
The report noted that in some Canadian provinces, caring for patients in the last six months of life accounted for more than a fifth of healthcare costs.
This page from a MAiD pamphlet didn't come from the Mail, but its egregious typeface and presentation make such a death look harmless and normal: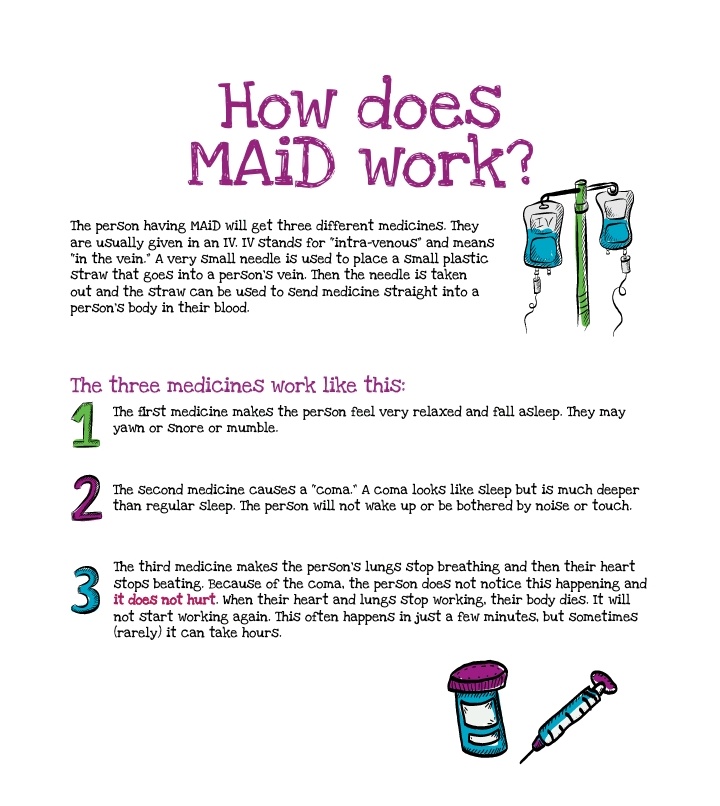 All manner of Canadians — totalling 10,000 in 2021 — have gone to their rest via MAiD. These are photo captions from the Mail where their stories are explored in greater detail. Note the financial reasons:
Michael Fraser, 55, was euthanised by his GP after he pleaded poverty
Wheelchair-bound Les Landry, 65, an ex-lorry driver from Medicine Hat, Alberta, is one of those seeking assisted suicide primarily for financial reasons 
Christine Gauthier, a paraplegic army veteran who competed in the 2016 Paralympics, told MPs how, after five years of trying to obtain a stairlift for her home, a Veterans Affairs official told her that if she was 'desperate', they could offer her MAiD
Here in the UK, both Houses of Parliament have been debating legislating for end of life choices. Some peers (Lords) and MPs (Commons) are all for the Canadian model, about which, it seems, they know very little:
In both Canada and the UK, euthanasia is defined as the act of deliberately ending a person's life to relieve suffering. 
It is often referred to as 'physician-assisted dying' or 'assisted dying' and is distinct from 'assisted suicide' which is helping someone to kill themselves by, say, obtaining lethal drugs for them. 
Just months after the House of Lords halted an attempt to legalise euthanasia in the UK, the Commons last week launched a new inquiry into assisted dying with 'a focus on the healthcare aspects', including the role of doctors, access to palliative care, criteria for eligibility and 'what protections would be needed to safeguard against coercion'. 
Successive UK governments have refused to legalise euthanasia but inquiry chairman [Conservative] Steve Brine MP said there was now 'real-world evidence' to look at from those countries where it is legal. 
What has also changed is that the British Medical Association, Britain's biggest doctors' union, took a landmark vote last year that ended its long- standing opposition to euthanasia. 
It is possible that even children will be able to request MAiD in 2023:
Many are deeply concerned by next spring's extension of MAiD to people with mental illnesses and — pending a parliamentary review — to 'mature minors' above the age of 12. 
MAiD has its critics among clinicians, but does it have enough of them?
This was the most apt description of the process:
Professor Tim Stainton, director of the Canadian Institute for Inclusion and Citizenship at the University of British Columbia, described Canada's law as 'probably the biggest existential threat to disabled people since the Nazis' programme in Germany in the 1930s'. 
It's hard to disagree.
Woe betide Canada. It used to be such a lovely country.
More dismantling of marriage
Two weeks ago, I featured news stories from November advocating that couples abandon the marital bed.
On December 15, The Guardian's Emma Brockes promoted living apart: 'Why are so many women living in separate homes from their partners and kids? Because it's a win-win situation'.
This is obviously for upper middle class types who can afford two homes:
The overheads on two households are eye-bleeding.
Even so, it's another slippery slope article.
As usual, this trend emanates from North America and was first trumpeted in the New York Times, where the devil seems to have a comfy home:
In the New York Times this week – sound the klaxon – a new trends piece drops on the growing numbers of women in the US who, post-pandemic, are opting to sustain the separate household model of marriage, established during lockdown by some families to reduce Covid transmissions, and proving so preferable to the norm, apparently, that they're in no hurry to reunite with their husbands.
It's well known that among straight couples, women initiate most divorces – by some reckonings 70% – and pushing for separate households is, I would imagine, a staging post towards this end for many of the numbers in this new trend. But for others, perhaps it really is a viable solution to the problem of loving your spouse but not wanting them underfoot all the sodding time.
How frightfully sad.
This began years before the pandemic:
What's new is the surge in those who still identify as married but live apart from their spouse; in the US, married couples maintaining separate households rose by a quarter between 2000 and 2019, and in 2021, that number sharply climbed again, according to the New York Times. It is estimated by the Census Bureau that 3.89 million Americans, or 2.95% of married couples, live apart. They even have a little acronym: Lat, or "living apart together".
The trend appears a likely result both of everyone being home for the past two-plus years and driving each other insane, and the fact that after lockdown ended, studies showed that men swiftly dropped the childcare and domestic work some had adopted during that period. Judging by case studies in the article, for some women, quarantining in a quiet, separate residence while their husbands shouldered the caretaking at home, struck them at the level of a revelation. For others, the fact that even a global pandemic did little to undermine – or in some cases, actively deepened – the division of labour at home along traditional gender lines had a straw-that-broke-it effect.
How utterly, utterly selfish.
New York Times crossword puzzle
As we're on the subject of the New York Times, here is their December 18 crossword puzzle. December 18 was the first night of Hanukkah, yet the paper produced a gamma-shaped puzzle. Hmm. Why?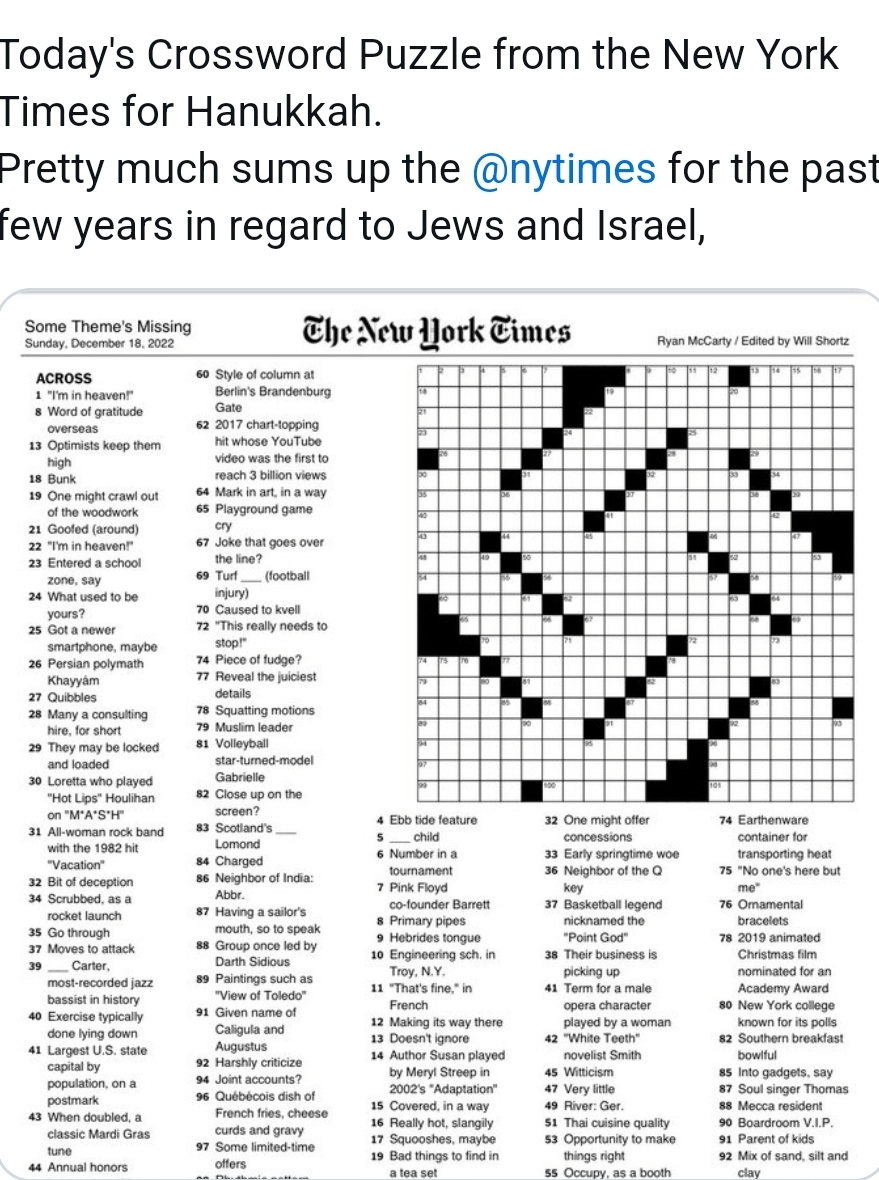 Despite complaints from prominent Jews around the world, the paper defended the puzzle's shape, saying:
'This is a common crossword design: Many open grids in crosswords have a similar spiral pattern because of the rules around rotational symmetry and black squares,' a Times spokesperson told DailyMail.com on Monday. 
Although Carlos Slim is the current owner, the famous Ochs-Sulzberger family are still in charge of content:
The paper is run by AG Sulzberger – the sixth member of the Ochs-Sulzberger family to serve The Times as publisher since the newspaper was purchased by Adolph Ochs in 1896. The family is of both German and Jewish ancestry. 
This is not the first time such a design has appeared:
A similar incident occurred in 2017, and at that time the newspaper responded in a tweet: 'Yes, hi. It's NOT a swastika. Honest to God. No one sits down to make a crossword puzzle and says, "Hey! You know what would look cool?"' 
One wonders.
Christian doctor told to attend 'boundaries' course
I was amazed to see a praying Christian physician, Dr Richard Scott, appear in The Telegraph on September 27.
His is such an old — and sad — story. It goes back to 2019 and has only now been resolved.
The 62-year-old was nearly struck off the medical register for praying by request with his patients in Kent. Someone complained, and you can guess the rest.
The article says:
A tribunal that could have taken away his right to practice was called off after a last-minute settlement with the NHS, but Dr Scott will have to attend a £500 one-day training course on "professional boundaries".
The tribunal was due to consider complaints relating to a telephone interview Dr Scott took part in on BBC Radio 4 in 2019 discussing his use of prayer in his practice.
On the radio programme he also said: "As a Christian doctor you have to ask yourself, who's your ultimate boss? And it's not the GMC [General Medical Council]. It's Jesus Christ."
He said he offered spiritual care to around one in 40 patients, and around 80 per cent of people offered prayer or religious support accepted the offer.
The tribunal was set to begin in Ashford on Monday to determine whether he could still be allowed to work as an NHS doctor.
He had previously been ordered to attend a three-day course costing £1,800 aimed at people who had been accused of sexual impropriety.
Dr Scott was not accused of sexual misconduct and refused to attend the course or undertake a psychiatric assessment. The GMC had twice ruled that the Christian doctor had not breached any of its guidelines.
Following the settlement with the NHS, Dr Scott will now take part in a one-day training course costing £500 relating to "professional boundaries". He said that he did try to "follow the General Medical Council guidelines and if you read them correctly, they allow you and encourage you to speak to patients about religion where it's relevant to their care".
"Some people are desperate for help and I can give any number of examples of people I've helped through spiritual care – which is done on my own time and fully consented." he added.
Andrea Williams, chief executive of the Christian Legal Centre, which supported Dr Scott, said: "Dr Scott is a highly experienced doctor whose life and career has been committed to serving his patients and community.
"He is loved and respected by his community which he has served for decades. His love for Jesus and dedication to his faith is also well known where he works and within the community.
"There is no evidence that Dr Scott's practice of praying with his patients has in any way interfered with his delivery of excellent medicine – in fact, quite the opposite."
NHS England has been contacted for comment.
That poor man. It's hard to imagine the stress he has been under for the past three years. I hope that he and his family have a blessed, relaxing Christmas this year.
House of Lords climate change paper
This month, the House of Lords published a paper on climate change — 'In our hands: behaviour change for climate and environmental goals'.
It's 140 pages long and a product typical of today's left-leaning peers, including a number of the Conservatives lurking there, too.
I've been reading the chapter called 'Behaviour change for climate and environmental goals', because this is what the average Briton will experience in the years to come via media bombardment.
Of course, the Lords worry about 'misinformation' and 'disinformation', meaning any evidence contrary to their Net Zero narrative.
This is from page 84 of the paper (page 86 in the PDF linked to above):
309. Several witnesses expressed concern about the spread of misinformation—incorrect or misleading information—and disinformation—deliberately deceptive information—related to climate change and the environment on social media. Carnegie UK described research carried out by the Institute for Strategic Dialogue (ISD), which compared the levels of engagement on social media platforms generated by reliable scientific organisations and climate sceptic actors respectively and found that the posts from the latter frequently received more traction and reach than the former. Carnegie UK explained:
"In the fortnight over which COP26 took place, sceptic content garnered 12 times the level of engagement of authoritative sources on the platform; and 60 per cent of the "sceptic" posts they analysed could be classified as actively and explicitly attacking efforts to curb climate change."530
310. Witnesses had several suggestions as to how misinformation and disinformation about climate change and the environment on social media could be tackled. Mr Smith suggested traditional broadcasters—like the BBC—must play an important role as "trusted sources" in a landscape of disinformation online. 531 Carnegie UK expressed concern that the Government's Online Safety Bill "does little to tackle climate change information", and proposed amendments to bring climate change disinformation into the scope of the draft Bill in a "proportionate manner".532
Pages 95 and 96 highlight the Conservative government's deficiences in bold text, paragraph after paragraph. Contrary to what the Lords say, this is a good thing.
Here are two sections, emphases theirs, from page 96 (page 98 of the PDF):
362. The public expect the Government to take a leadership role to enable behaviour change, but the Government's reticence to address key areas—such as what people eat, how we heat our homes, what we buy and how we travel—which is largely a result of a reluctance to be perceived as reducing freedom of choice, undermines individuals' willingness and ability to take action.
364. The Government should apply behavioural science to all its policies and initiatives. It should urgently review the Net Zero Strategy and policies and initiatives in place to deliver it and rectify where its six principles underpinning green choices are not being delivered.
Satan has obviously found a home on the cushy red benches of the Lords.
Good on the Conservative government in taking little to no action on this guff. Long may it remain so.
Starving mother struggles to feed children
This is another story that causes one to shake one's head in disbelief or despair.
It appeared on ITV News on Monday, December 19:
A mother-of-four from Bath says she is having to live off her children's leftovers because she no longer has enough money to pay for her own meals.
Victoria Walker will not be able to afford Christmas for her family as food prices continue to rise.
She rarely turns the heating on and tries not to eat so that her children can have food.
"Unless I really have to, I won't eat," she said. "I fill myself up with tea and coffee. I like the children to eat so I tend to have the leftovers."
Recently her 11-year-old daughter even started offering her pocket money to help buy food essentials like bread and milk.
She added: "It just makes me sad. It breaks my heart. Christmas is looking sad for me. I can't afford Christmas."
Victoria is receiving help from Action for Children, a charity created to help vulnerable children, young people and their families in the UK.
Unfortunately, the accompanying video, which can be seen at the link, undermines the mother-of-four's case for hunger.
ITV also showed her in their social media post about the story: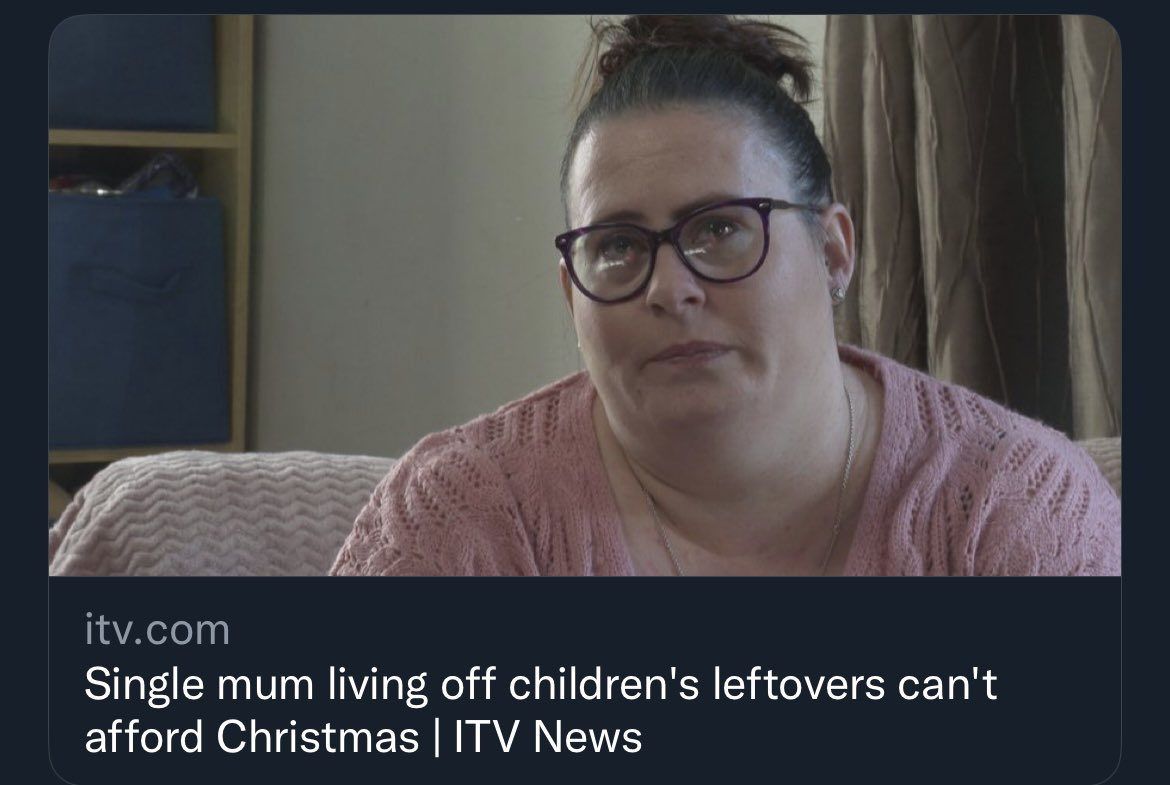 No further comment.
Political theatre: they're all friends, really
We mere mortals think that politicians from opposite sides of the spectrum oppose each other in real life.
However, the Queen's mourning period proved that what we see on television and read in the papers is nothing more than political theatre. I refer specifically to the gathering of hundreds of MPs, Prime Ministers and peers from past and present gathering to see King Charles take the Oath of Affirmation shortly after his mother died.
These men and women, whether Labour or Conservative, have a real rapport with each other.
On September 13, six days before Queen Elizabeth's funeral, The Telegraph's Tom Harris, a former MP himself, discussed the meeting of the Privy Council that day and featured a photo of former Prime Ministers Gordon Brown (Labour) and Boris Johnson (Conservative) sharing a laugh together.
Harris explained why this was not unusual:
Consider this: what if the Queen's death and preparations for her funeral were not forcing natural enemies to behave in public, but were allowing our political leaders the rare opportunity genuinely to enjoy each other's company? …
Cross-party friendships are always surprising to outside observers, though within Westminster's walls they are so common that they are rarely commented upon. True, the tea room, where most of the House of Commons gossip is shared, is strictly split up into party areas. But those demarcations are informal and there is much interchange and banter, including the sharing of tables by MPs of different parties.
The fact is that many MPs will feel more comfortable sitting in the smoking room after a late night vote, having a drink and sharing a joke with colleagues from the opposite party, than they will having a beer after a meeting of their local party. After all, outside those fraught occasions when constituency mergers and boundary changes are in prospect, an MP will see no rival when he gazes around the chamber of the Commons. Everyone there, by definition, already has a seat and is too concerned with holding onto theirs to cast envious eyes on their own.
It's a shame that friendships between MPs of opposition parties is the love that dare not speak its name. Only when tragedy rears its head do we catch a glimpse of those relationships. In a touching tribute to John Smith just a day after the Labour leader's unexpected death in 1994, John Major told of late night drinks in his study with his political rival, meetings which started off with drink singular and then progressed to the plural pretty quickly.
As an MP I would frequently join colleagues from different parties to sample Soho's various karaoke bars … These events were not unusual in themselves; what was unusual was how quickly, the day after, everyone once again sworn political enemies.
Ironic, then, that it is the speeches and barbs of the Commons and TV studio debates, not the joyful, slightly inebriated singing, that are the more performative. Constituents expect it. The first rule of Karaoke Club is that no one talks about Karaoke Club, not just because MPs can't be seen to be enjoying themselves during the week instead of keeping their heads down in the Commons library, but also because it just wouldn't do to be seen to be friends with the other side.
And, finally — Bruce Springsteen
On Monday, November 14, Bruce Springsteen cleared up a long-running argument — apparently — about the lyrics to his 1975 hit 'Thunder Road'.
The next day, The Telegraph reported:
The 73-year-old's fans have long disputed whether the opening line to 1975 hit Thunder Road begins with the slam of a screen door followed by "Mary's dress" either swaying or waving.
Knowing he would be asked about the crucial word during an appearance on US talk show The Tonight Show by host Jimmy Fallon on Monday, Springsteen arrived prepared with an original vinyl LP detailing the song's lyrics.
The Boss declared the LP had the lyrics incorrectly printed as "waves", adding that he had sung "sways" for nearly half a century …
The debate over the wording re-emerged on social media last year after two copies of the handwritten lyrics went to auction, one saying "sways" and the other "waves".
Springsteen's own publications also bear the hallmarks of confusion, with his 2016 autobiography Born to Run using "sways" and his website referring to "waves".
Jon Landau, Springsteen's manager and co-producer on Born to Run, said last year that the lyric was "sways" and that "any typos in official Bruce material will be corrected".
"That's the way he wrote it in his original notebooks," Landau said.
Good to know in case anyone starts a dispute about it after too much Christmas cheer.
More news to follow in the coming days.