You are currently browsing the tag archive for the 'politics' tag.
On September 28, 2019, President Trump discussed the 'single greatest scam' going on in politics today — the Left's relentless attacks on him and the American people.
Please watch this short video:
How true.
The comments in response to that tweet are hideous, to put it mildly.
Here in the UK, our Left is conducting similar co-ordinated attacks on Prime Minister Boris Johnson. I notice that they did not do this to Theresa May, possibly because they knew she would delay Brexit, which she effectively did.
Now we have a PM who wants us to exit by October 31.
Here is one American citizen pundit's view:
People aren't stupid. They see and understand what is going on.
DB Daily Update has a great article on the current parallels between the United States and Great Britain. It does seem as if there is a cold civil war going on in both our nations. Emphases mine below:
When this latest coup/impeachment effort crashes and burns in spectacular fashion, we can expect the forces aligned against Trump and his supporters to simply make up another false narrative and keep the coup going.
The same thing is happening right now in Britain, where Boris Johnson, the Prime Minister elected to complete the Brexit effort the voters approved three long years ago, is under a similar relentless assault by that country's deep state, disloyal lawmakers and fake news media. As I wrote in one of the earliest Campaign Updates way back in 2016, Brexit and Trump are essentially the same political movement, a movement that pits those who love their country and want it to remain a strong, independent nation against the forces of globalism and one-world-government.
The Brits who support Brexit have held firm through all that time and grown stronger. Trump's base of support has also held firm and grown larger. That base has remained unshakable not because they necessarily approve of every aspect of Trump's personal behavior, but because they understand what is at stake here, and whose side Trump is on.
Because at the end of the day in this tiresome Civil War, Trump is on the side of Americans and America. I don't know about the rest of you, but they won't ever wear me down.
That is all.
I'll close with comments from the aforementioned Praying Medic tweet that help explain why the British wanted a referendum on EU membership. These also indicate why Theresa May was never viciously attacked politically whilst she was PM:
As for Boris, only a couple of weeks ago the Shadow (Labour) Chancellor, the former Conservative Chancellor (under May) and Boris's own sister (!) claimed that No Deal backers stood to make financial gains.
At least one Government minister subsequently denounced this last week from the despatch box in Parliament.
Here is the report on the allegations from The Guardian dated Saturday, September 28:
The UK's most senior civil servant is under pressure to investigate Boris Johnson's financial backers following cross-party claims that unnamed individuals stand to benefit from the prime minister's willingness to pursue a no-deal Brexit.
John McDonnell, the shadow chancellor, has written to the cabinet secretary, Sir Mark Sedwill, asking if there may be a conflict of interest in Johnson's acceptance of support from hedge funds that could gain from an economic shock.
Earlier on Saturday, Philip Hammond, the former chancellor, suggested Johnson was pursuing the interests of financial backers set to gain from a no-deal Brexit, in a major escalation of tensions in the prime minister's own party.
Hammond said he was repeating a comment made last week by Rachel Johnson, the prime minister's sister.
The former chancellor was accused by senior Tories of attempting a "smear" without evidence. However, Hammond was supported on Saturday by a series of MPs from across the Commons.
"Johnson is backed by speculators who have bet billions on a hard Brexit – and there is only one option that works for them: a crash-out no-deal that sends the currency tumbling and inflation soaring," Hammond wrote in the Times.
Downing Street has refused to comment on the claim.
On October 1, Treasury Minister Simon Clarke accused John McDonnell of 'outlandish speculation' when the latter brought up the issue that day in Parliament:
Guido Fawkes has more (emphases in the original):
Making his debut at the dispatch box, the new Treasury Minister Simon Clarke confidently tore down McDonnell's absurd urgent question on short positions taken against the pound in the lead up to a possible no-deal Brexit. Something Guido and many others have comprehensively debunked before…
Clarke blasted the question as the shadow chancellor propagating myths and smears and claiming the conspiracy does little to cool tensions in Westminster at the moment. Playing Labour at their own game…
On a related note, at the weekend, it was rumoured in the media and by other Remainers that Boris could go to jail for pursuing a No Deal Brexit in violation of the recent Benn-Burt Act, a.k.a. the Surrender Bill, which stipulates that he must ask for an extension to the current Brexit deadline.
This is straight out of the Get Trump playbook.
More to follow anon.
Britain's Conservatives have had a highly successful party conference in Manchester.
They have had the highest attendance in 20 years, with many more young members showing up.
Conservatives seen as Party of Brexit
Voters now think that the Conservatives are definitely a party of Brexit, a dramatic turnaround since the days of Theresa May in April 2019, as a YouGov poll from October 1 shows:
Guido Fawkes writes (emphasis in the original):
New YouGov polling has revealed that more Leave voters now think that the Tory party is a pro-Brexit party in a direct contrast to the last time the question was asked. Back in April, Leave voters were found to be substantially more likely to think the Tories were actually anti-Brexit (40%) than pro-Brexit (23%). The more pro-Brexit the Tories are seen as, the higher their polling climbs…
Hearteningly for Tory strategists, the proportion of Brexit Party voters who see the Tories as anti-Brexit has collapsed from 65% to just 24%.
This exchange is representative of voters' perceptions:
One of Guido's readers provided an excellent analysis (emphases mine) and meme featuring Chancellor Sajid Javid, Home Secretary Priti Patel, Leader of the House Jacob Rees-Mogg and Foreign Secretary Dominic Raab:
The core Cabinet + Lynton Crosby + Dominic Cummings are driving policy in a very interesting way.
They are commissioning an unprecedented number of focus groups and private polls. They are scouring the social media. They will even be reading this comment (Hi!).
They then use this knowledge of what the public actually want to form policy and to craft the messages in their speeches, press releases and other output.
They are doing what a government should do. They have become the servants of the people.
This is why Boris says we are leaving, deal or no deal. He is 100% sure that this is what the vast majority want. And he knows how massively unpopular the Quislings are.
The other parties are just bumbling round in the dark with their blindfolds on.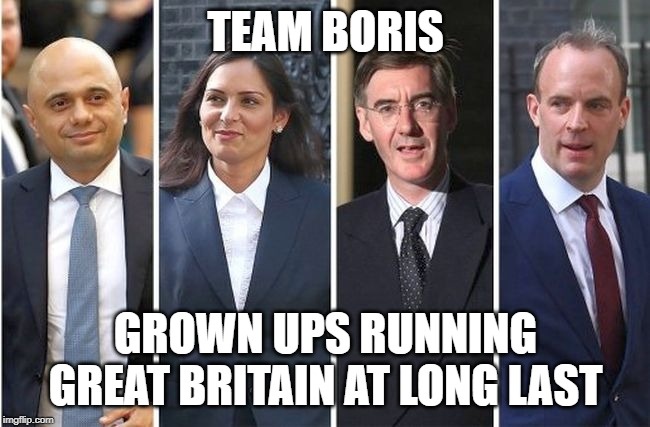 I don't know about 'grown ups' as much as a group of people who have the mettle to keep going, in spite of all obstacles, not least the daily nastiness from the Left. This went up near Manchester in nearby Salford just before Conference began on Sunday, September 29:
Boris best PM since Maggie
Many Britons have said anecdotally online that Prime Minister Boris Johnson is the best since Margaret Thatcher, who stood down in 1990. The following is something any Briton over 60 will tell you about when you ask about the 1970s and her party's defeat of Labour. She faced a national mess, one that affected everyone with regular power outages, strikes and so on:
Whilst it's early days, here are poll results from this week for Boris …
… and the Conservatives:
Conservatives — the party of the people and of diversity
From the introductory speech by the female chairperson of the conference until the end, the Conservative message was:
We don't care where you come from, but where you are going.
How true.
Under Boris Johnson, we have the most diverse Cabinet in British history.
Despite all their rhetoric on people and diversity, Labour's Shadow Cabinet barely comes close.
Labour are also under investigation on charges of anti-Semitism.
On Monday, September 30, a young Conservative Party member introduced the Chancellor of the Exchequer. Mercy Meroki is no fan of the Labour Party. She is currently studying at Oxford:
Now is a good time for people like me to find out how to pronounce the Chancellor's name:
He greeted his mother, who was in the audience. This is probably the first time Punjabi has been heard at a Conservative Party conference. I wonder about the Labour and Lib Dem conferences in that regard, too, though:
The biggest headline from the Chancellor's speech is a proposed abolition of inheritance tax, rightly viewed by Britons to be the most unfair:
The Party of Law and Order — Conservatives
I sincerely hope that Priti Patel can be a better Home Secretary than her predecessors Amber Rudd and Theresa May.
Her speech went down very well with conference attendees and people watching from home.
Whilst I applaud the addition of 20,000 more police from the PM and her, we have heard this before. For various reasons, it never happens.
I also question the Australian points system for future immigrants. Surely, there must be a better way, as an article from October 1 in The Guardian, 'Oxford professor's children refused visas to join her in UK'. This is what happens in the academic world, so heaven only knows what happens to others than senior executives or the very wealthy (emphases mine):
Dr [Amber] Murrey, an expert on social change in Africa, who has published widely and previously held positions at universities in Cairo, Massachusetts and Ethiopia, took up her post in Oxford last year. Without proof of residency she couldn't set up schooling or somewhere to live in advance, so the couple decided she should establish a base in Oxford before moving the family. While she has been returning to Cameroon to see her daughters and husband in the university holidays, she says this has been an emotional strain.
"It has been really hard, because I need to spend more time with my daughters but I am wary of being out of the UK for too long in case it jeopardises the terms of my tier 2 visa," she says.
The news has hit the family hard. Murrey says: "My nine-year-old had been so excited about her new school, and our apartment near a meadow. After I told her their visas had been denied she told me: 'I know why they rejected me, it's because I've been misbehaving this week, Mama'. We both cried very hard."
The Home Office rejection letters say that under immigration rules a child may only be given a visa if both parents are living together in the UK. This would be waived if the parent living here had sole responsibility for the children, or the other partner had died.
"This policy seems to operate under the guise of keeping families together, but it is splitting mine apart," Murrey says.
Ultimately the couple want the whole family to live together in Oxford, but Murrey says that right now they are just trying to "do what is best for our daughters".
She doesn't know whether she has been singled out as a risk because her husband is from Cameroon. "We have family members and friends there who have been rejected for British visas in the past," she says.
The Wellcome Trust, a health research charity, has evidence of around 100 cases in which academics, especially from African countries, have been refused visas to come to the UK for conferences, often for spurious reasons …
A young Canadian academic, who wished to remain anonymous, recently encountered a similar pop-up window when applying for a full-time lectureship that should have qualified her for a tier 2 visa at a London university.
"It said: 'It is highly unlikely that you would obtain permission to work in the UK on the basis of an offer for this … job. It is therefore recommended that you do not continue with your application'."
She says this felt like a sign saying: "foreigners go home". She blames the government rather than universities, but says that after a year of applying for jobs she is beginning to feel desperate.
Gareth Edwards, a senior geography lecturer at the University of East Anglia and co-founder of International and Broke, which campaigns against high visa costs for academics, says international academics are getting this sort of pop-up warning when applying for permanent lectureships. "Those jobs are most certainly eligible for sponsorship," he says.
Meanwhile, we've got illegals coming here on dinghies from the Dunkirk area. They have friends or family members pick them up in coastal arrival points in the UK to take them to their new home.
It seemed to be just a few cases last year, but LBC (radio) recently sent someone undercover to investigate, and it's a regular trafficking programme with dozens of people being smuggled across the Channel every night. On a slow day, only 20 to 25 go across. Normally, twice that many people make the crossing nightly, often with the blessing of the local gendarmerie. I will write about this in a separate post.
Immigration aside, the levels of crime on our streets are far different than they were 25 or 30 years ago. Crime used to make the national news. Now there are so many incidents that local newspapers cover them instead. So, on that basis, Priti Patel's policies — really Boris's, as he came up with them first — have been applauded:
And, ironically, before the Home Secretary spoke on the dais to formally announce this new commitment, security staff duly ejected a Conservative MP from an event at the International Lounge. Either he or his guest lacked the relevant pass to gain entry. They were then asked to leave the conference altogether:
The BBC reported:
A staff member guarding the door of the International Lounge said the incident was sparked by a disagreement.
"It was a small misunderstanding," the man said.
BBC Political Editor Laura Kuenssberg said the incident happened just before home secretary Priti Patel stood up to make a speech "trying to reclaim the Tories as the party of law and order".
A Greater Manchester Police spokesman said an attendee "attempted to enter the International Lounge area of the conference without the relevant pass".
"Security staff intervened and resolved the situation without any breach of security occurring," he added.
Also:
The incident led to a lockdown of part of the Manchester Central Convention Centre for about 20 minutes. The MP apologised "unreservedly".
A Conservative spokesman said: "The incident was totally unacceptable."
"Geoffrey has been asked to leave Conference and we are establishing all of the facts to see if further action is necessary," he added.
"We will always adopt a zero tolerance approach to any inappropriate behaviour towards our hardworking staff."
The Cotswolds MP said in a statement: "This was a minor verbal misunderstanding.
"The police have not contacted me at all. I am mortified that something so minor seems to have been blown out of all proportion and if anyone has been offended, I apologise unreservedly.
"I will co-operate with the party in any investigation."
Tweets show this incident caused concern:
Boris's speech — backing Britain
Of course, most reading this want to know what Boris said just before midday on Wednesday, October 2.
As one would expect, he was witty and to the point. As one reader of Guido Fawkes points out:
… Boris in a nutshell: HE CHEERS US UP.
True!
Others agreed:
Were any other former PMs there? No:
You can see Boris's speech in full, beginning at one hour and 36 minutes in:
Note his Brexit coloured tie.
He began by paying tribute to his predecessor, Theresa May. He also thanked the outgoing leader of the Scottish Conservatives, Ruth Davidson. Neither is a particular fan of his, but Boris did the right thing.
He then said:
We have so many reasons to feel confident about our country.
Finally. Having watched portions of the Lib Dem and Labour conferences, it was a relief to hear a party leader talking positively about Britain.
He referred to Labour as the:
anti-Semitic Marxists in Brighton last week.
Boris then wittily criticised Jeremy Corbyn for not voting for a general election. Corbyn, lest we forget, asked for one 35 times, no exaggeration. Boris put forward a motion twice in September, and Labour voted No. Then he went on to discuss the Supreme Court overruling the recent prorogation, which had Royal assent:
He brought up Brexit:
He rightly asked when any Conservative leader last spoke about capitalism:
The answer is Theresa May in 2017. Prior to that, David Cameron did at some point.
He spoke up for Britain and our nation's great innovations throughout history:
I'm fed up with being told our country can't do something when I passionately believe that it can.
He gave a shout out to the Commonwealth.
He praised Priti Patel for supporting law and order policies.
He called for London to elect Shaun Bailey as its next mayor.
He spoke about buses, his favourite vehicle.
He said that wind and solar energy were far more productive than originally claimed. It turns out his sister, Remainer Rachel, was sceptical. Boris picked up on it at the time in one of his Telegraph columns:
At the end, Boris received a standing ovation.
No one slept through his speech.
He did not use an autocue, either, which was refreshing.
'No disposable cups'
The comedy moment of the conference occurred on Tuesday, October 1.
Boris really wanted a cup of coffee, and a male aide handed him one. A female assistant quickly whisked it out of his hand.
Apparently, it was because it was in a disposable cup. I do think the Conservatives are taking this eco-thing a bit too far:
Watch Boris extend his hands, not quite believing what happened and not having any coffee. He's a good sport:
It reminded me of that Seinfeld episode, 'The Soup N@zi': 'No soup for you!'
Comedy gold.
Guido Fawkes reports (emphasis in the original):
After a slue of late night receptions with Tory members, Boris was denied his much needed caffeine hit this morning by his press team – all because it came in the wrong cup. When Number 10 Press Secretary Rob Oxley handed the Prime Minister a cup of coffee, it was swiftly snatched away by events aide Shelley Williams-Walker who scolded him saying "No disposable cups." Oxley was later spotted buying a KeepCup and a mug at the Tory Party conference shop…
UPDATE: Several hours later…
My observations
After Boris's speech, the Conservative Party Conference drew to a close for another year.
My brief observations follow, contrasting this to the two left-wing conferences.
First, everyone at the Conservative conference was tidy and well groomed. Most of the men wore jackets and ties.
Secondly, proceedings ran to time. Boy, did they ever.
Finally, everyone who spoke was articulate and delivered their speeches well.
Bravo!
Now, it's onwards and upwards to GET BREXIT DONE!
The 2019 Conservative Party conference began on Sunday, September 29.
As has been the case for the past few years, it is taking place in Manchester.
Guido Fawkes has the perfect caption:
I reported on Friday that MPs voted NOT to adjourn during these three days, despite the fact that the House of Commons did not meet for the Liberal Democrat and the Labour Party conferences. A great many Leavers fear that mischief could be afoot during the Conservatives' absence.
The Mail on Sunday reported that No. 10 Downing Street is investigating possible 'foreign collusion' on the part of Remainer MPs. It was the paper's front page story (click here and here for easier reading, as well as the website link to the article):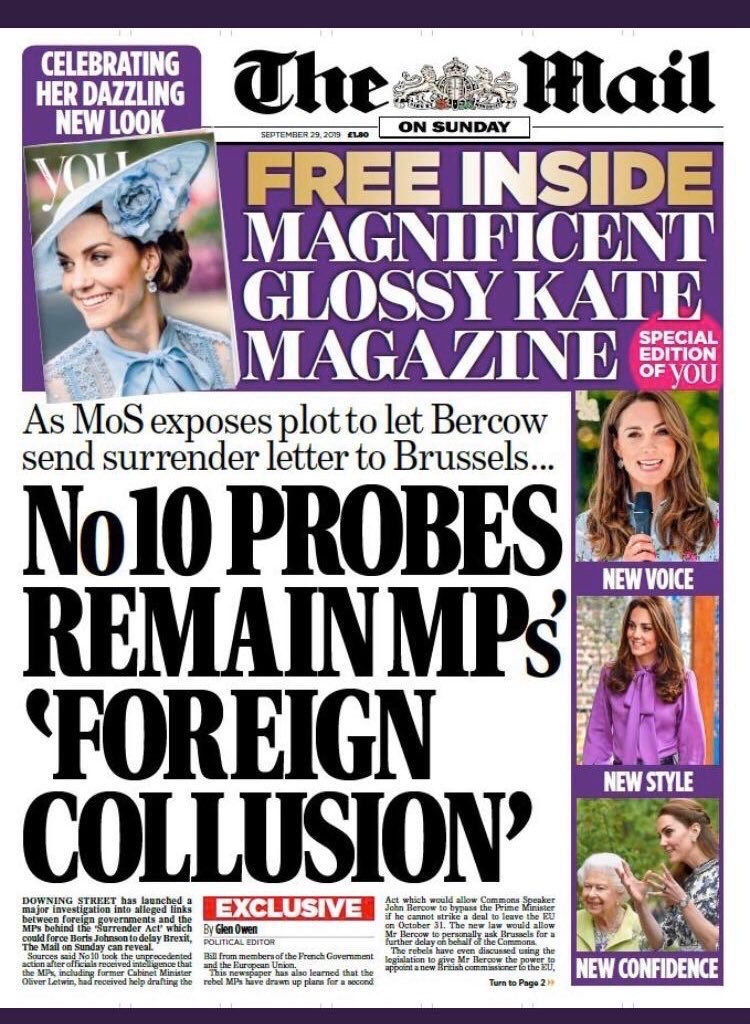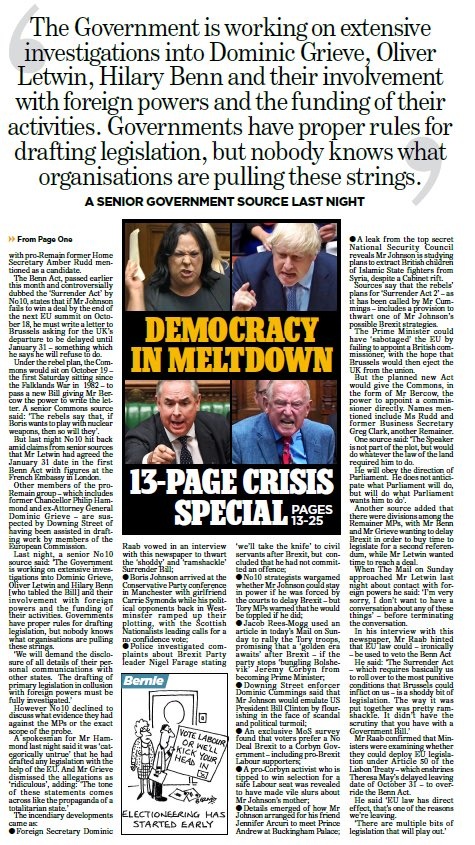 I am not sure whether anything quite like this has ever happened on this scale in Britain. It certainly hasn't in modern history, meaning the last century, at least.
If true, this is serious stuff, especially if Speaker of the House John Bercow can get involved acting as the Prime Minister. What the heck?
I did not know this about sedition. If true, sedition is not a crime anymore in the UK. Good grief. How can that be?
Note that we are talking about turncoat Conservatives here, those who have had the party whip withdrawn and are now classified as Independent MPs.
David Gauke is now an Independent MP. I agree that these are serious accusations, but he appears to be digging a hole for himself:
Hmm, with all the complaints from last week, which ran into the weekend, about Boris Johnson's language, one wonders:
As if that isn't bad enough, Labour's Jeremy Corbyn convened a meeting with the Liberal Democrats' Jo Swinson on Monday to put forward a VONC — Vote of No Confidence — against Boris Johnson. Nicola Sturgeon, the leader of the Scottish National Party (SNP), is herself not an MP but has MPs representing the party in the House of Commons. Talks are continuing:
And, the Labour vote for 16-year-olds could be scheduled during the Conservatives' absence. It is doubtful that Speaker Bercow would stop it. This is the Shadow (Labour's) Education Secretary Angela Rayner. She was on Andrew Marr's BBC show on Sunday:
As for Speaker Bercow, Guy Verhofstadt really likes him:
Bercow might be standing down at the end of October, but he can wreak a lot of havoc before then.
The other big question at the weekend was whether Boris would feel compelled to resign. The media were full of scaremongering stories. I hope this is true:
The flowchart below looks accurate:
A majority of the British public backs Boris.
Lord Ashcroft conducted a poll on Brexit for the Mail on Sunday:
My latest research, published today, looks at the fundamentals: how voters have reacted to the drama not just of the past few weeks but the years since the EU referendum, and how this week's events fit into the longer story.
For many people, and not just among those who backed Leave in the increasingly distant 2016 referendum, that story is one of frustration and failure – or, worse, deliberate actions to delay Brexit for as long as possible or stop it altogether.
Here is a key graphic from the poll: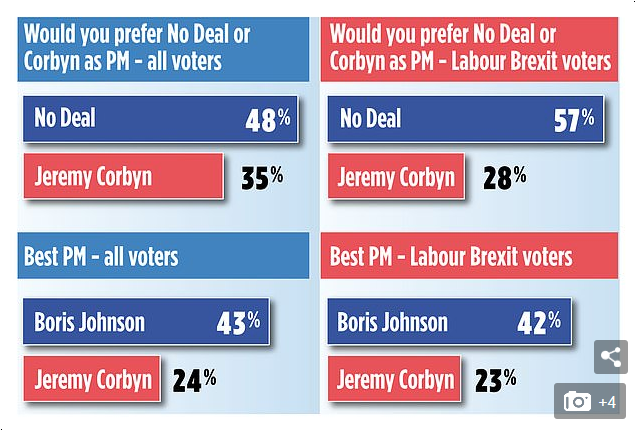 It is hard to know what to make of it all.
One thing is for sure. Even though opposition MPs are whining about the absence of democracy, their masks have slipped.
We now know they do not care one jot for 17.4m Britons who voted to Leave in 2016 — and won: 52% to 48%.
More on the latest Brexit and Boris developments to follow tomorrow.
Welcome to another bumper edition of Brexit Chronicles.
On Tuesday, September 24, 2019, Britain's Supreme Court — formerly known as the Law Lords — decided that Prime Minister Boris Johnson's prorogation of Parliament was unlawful and that MPs should return to the House of Commons on Wednesday.
They did not say that Boris Johnson personally broke the law in this regard, only that the prorogation was unlawful.
That said, this appears to be the first time a court of law has ruled against a prorogation, a fairly common occurrence throughout the history of the House of Commons. This legal decision on prorogation sets a potentially dangerous precedent, although I would be happy to scrap the Labour-instituted Supreme Court and see a return to the Law Lords. Pictured below are the Attorney General Geoffrey Cox and Baroness Hale:
Baroness Hale, speaking for the Supreme Court, wore a large spider brooch when she read out the decision. Hmm. A spider brooch about the size of a tarantula. Optics, anyone?
She also erred on one of the names in her statement, as Conservative MP John Redwood points out:
Unfortunately, that detail is unlikely to render the decision invalid.
At the time the Supreme Court reached its decision, the Labour Party conference was going on at the time in Brighton.
Before recapping this week's events, in 2016, thousands of British barristers signed a letter imploring MPs not to enact the result of the referendum. This I did not know:
Now back to the present day.
Be advised of occasional foul language below!
Thwarting Brexit
Leave voters across the country can see what opposition MPs are doing. I reckon more and more voters are tuning in to BBC Parliament to watch proceedings.
Even renowned historian David Starkey has been vocal about stubborn Remain MPs refusing to fulfil the Leave result:
The danger is that if we adopt the Customs Union proposals that Remainers want, we will have far less control over our own trade, currency, armed forces and laws than we did as a full member of the EU before MPs voted to trigger Article 50 (emphases mine):
It's all been a set up from the very beginning. The UK was only ever half in but after this, if we don't leave 31/10 they'll make sure we're all the way in it right up to our necks. Full implementation of the Lisbon Treaty. Euro and all!
The Liberal Democrats, led by Jo Swinson, wrote to the EU Commission about Brexit, when only the government in power — currently Conservative — should be dealing directly with them. This was brought up in Wednesday's Commons session, by the way, so it is true:
The move has not gone down well with some voters:
Note the petition:
Labour Party conference
The Labour Party produced a laundry list of far left policies to discuss at their conference in Brighton.
A teenage vote would keep a left-wing government in power forever. Reason No. 1 not to vote for Labour:
A trade unionist says other policies will be difficult to explain to voters:
Re the abolition of private schools: who is going to pay for the chaos this would cause? The taxpayer. Here's Diane Abbott, who sent her own son to the private City of London day school:
This would devastate towns where there are private — including what the British call 'public' (e.g. Eton, Harrow, Rugby) — schools. Angela Rayner is the shadow education minister. Her name comes up in the second tweet:
Then there was Labour's protest for a People's Vote on EU membership. Erm … we had one on June 23, 2016. It was the referendum.
Emily Thornberry loathes England, by the way:
Labour MPs voted twice before the prorogation to oppose a general election, by the way. A general election is also a people's vote:
Conservative MP James Cleverly, party chairman, has a good, concise summary of Labour's policies — including their refusal to vote for a general election, when they've asked 35 times for one in Parliament. The video is subtitled:
This is what happened at conference. Diane Abbott makes it look as if Boris Johnson never tabled his two motions for a general election before prorogation.
Dishonest Labour — the perfect party for lo-fo voters and a clear danger to the nation:
I hope Labour never again see power during my lifetime. Thirteen years of them (1997-2010) was almost more than I could bear.
Despite the Labour Party conference, which normally produces a positive bounce in the polls, the Conservatives are still ahead. Why hasn't Britain Elects updated their party leaders photo?
People also want a general election:
Brexit negotiations difficult
The Benn-Burt bill, which received royal assent on September 9 and forces the PM to ask the EU for an extension if there is no deal, has made the Prime Minister's and the government's Brexit negotiations very difficult. This was the status on September 21:
Nevertheless, Boris and his Brexit ministers soldier on.
The following took place on Thursday, September 26:
Michael Gove says that the No Deal Brexit committee has been meeting frequently:
Another Brexit meeting, announced yesterday, took place today:
Boris's statement
Boris gave a statement to MPs at 6:30 p.m. on Wednesday about the 'zombie Parliament', the longest since the Civil War in the 17th century. Brexit Central has the full transcript. Excerpts follow:
With your permission, Mr Speaker, I shall make a statement on yesterday's Supreme Court verdict and the way forward for this paralysed Parliament.
Three years ago, more people voted to leave the European Union than have ever voted for any party or proposition in our history.
Politicians of all parties promised the public that they would honour the result.
Sadly, many have since done all they could to abandon those promises and to overturn that democratic vote.
And after three years of dither and delay – that left this country at risk of being locked forever in the orbit of the EU – this government that I lead has been trying truly to get us out.
And most people – indeed most supporters of the party opposite — regardless of how they voted three years ago — think the referendum must be respected. They want Brexit done, I want Brexit done, people want us out on 31 October — with a new deal if possible but without if necessary.
64 days ago, I was told that Brussels would never reopen the Withdrawal Agreement. We are now discussing a reopened Withdrawal Agreement in the negotiations.
I was told that Brussels would never consider alternatives to the backstop – the trap that keeps the UK effectively in the EU but with no say.
We are now discussing those alternatives in the negotiations.
I was told Brussels would never consider arrangements that were not permanent. We are now discussing in the negotiations an arrangement that works on the principle of consent and is not permanent.
I was told there was no chance of a new deal but we are discussing a new deal.
And this is in spite of the best efforts of this Parliament to wreck our negotiations by their attempts to take No Deal off the table.
The truth is the majority in this Parliament are not opposed to the so-called No Deal — this Parliament does not want Brexit to happen at all.
Many of those who voted for the Surrender Act a few weeks ago said then that their intention was to stop a No Deal Brexit.
They have said every day since that Parliament must vote against ANY deal at all.
I think the people of this country can see perfectly clearly what is going on.
They know that this Parliament does not want to honour its promises to respect the referendum.
The people at home know that this Parliament will keep delaying, it will keep sabotaging the negotiations because they don't want a deal …
The public don't want another referendum – what they want and what they demand, that we honour the promise we made to the voters to respect the first referendum.
And they also want us to move on — to put Brexit behind us and focus on the NHS, on violent crime and on cutting the cost of living.
That is why I also brought forward a Queen's Speech. My government intends to present a programme for life after Brexit.
But some members of this House could not stand that either. Instead of facing the voters, the opposition turned tail and fled from an election. Instead of deciding to let the voters decide, they ran to the courts instead.
And despite the fact that I followed the exact same process as my predecessors in calling a Queen's Speech, the Supreme Court was asked to intervene in this process for the first time ever and it is absolutely no disrespect to the judiciary to say I think the Court was wrong to pronounce on what is essentially a political question at a time of great national controversy.
So we have Opposition MPs that block and delay everything running to the courts to block and delay even more — including blocking legislation to improve and invest in our NHS and keeping violent criminals in jail.
The people outside this place understand what is happening …
Out of sheer political selfishness and political cowardice members opposite are unwilling to move aside and let the people have their say.
They see MPs demanding that the people be given a say, then running scared from the election that would provide them with one.
And worst of all they see ever-more elaborate legal and political manoeuvres from the party opposite which is determined, absolutely determined, to say "we know best" and thumb their noses at the 17.4 million people who voted to leave the European Union.
The Leader of the Opposition and his party do not trust the people.
The Leader of the Opposition and his party are determined to overthrow the referendum result whatever the cost.
They do not care about the bill for hundreds of millions of pounds that will come with every week of delay.
They don't care if another year or more is wasted arguing about a referendum that happened three years ago.
All that matters to them now is an obsessive desire to overrule the referendum result …
I have to confess, Mr Speaker, that I was a little shocked to discover that the party whose members stood up in Brighton this week and repeatedly – and in the most strident terms – demanded an election, I hear them, is the very same party whose members have already this month – not once but twice – refused to allow the people to decide on their next government.
For two years they have demanded an election but twice they have voted against it …
So if in fact the party opposite does not in fact have confidence in the government, they will have a chance to prove it….I think they should listen to this Mr Speaker.
They have until the House rises today to table a motion of no confidence in the government, and we can have that vote tomorrow.
Or if any of the other parties, the smaller parties fancy a go, they can table that motion, we'll give you the time for that vote …
It is time for this Parliament finally to take responsibility for its decisions. We decided to call that referendum. We promised time and again to respect it.
I think the people of this country have had enough of it — this Parliament must either stand aside and let this government get Brexit done or bring a vote of confidence and finally face the day of reckoning with the voters.
And I commend this statement to the House.
No one from the opposition benches put forward a motion for either an election or a vote of no confidence.
People watching at home thought the PM's speech was excellent.
The language issue
On Wednesday, Boris deplored the Benn-Burt bill in his above address and referred to it as the Surrender Act.
He is absolutely correct.
Opposition MPs took exception and said he should not refer to it as such, because MPs' feelings were hurt. We watched the proceedings on television and do not understand how they arrived at that conclusion.
Boris also said 'humbug', which opposition benches also found hurtful.
A Labour MP, Paula Sherriff, then brought up Jo Cox, the Labour MP who was murdered in cold blood just days before the 2016 referendum.
The Prime Minister replied tactfully and mentioned Jo Cox's name, saying that she would have wanted Brexit to go ahead in line with the referendum vote, the people's will.
The media seized on this by making it sound like the PM brought up Jo Cox's name first. He most certainly did not. That link also has videos of Ms Sherriff, which do not show her in a flattering light.
Ms Cox's widower, Brendan, had this to say. I listened to the PM and did not hear him demonise the late MP in any way, but Mr Cox might have heard about the exchange second hand:
The atmosphere in Wednesday's evening session was appalling. Speaker of the House John Bercow did very little to keep order. Opposition MPs spoke over the PM, they shouted in a hostile manner and Bercow said practically nothing.
On Thursday, talkRADIO's Julia Hartley-Brewer interviewed a virtue-signalling Liberal Democrat MP:
Previously, she interviewed another virtue-signalling Lib Dem MP. Note the contrast in tone from said MP:
She gave a short message to opposition MPs on Brexit and language:
The language issue was debated at lunchtime on Thursday in Parliament.
Opposition MPs spoke of death threats.
Well, Conservatives have been on the receiving end of threatening behaviour, too, as Vicky Ford MP pointed out during the debate.
A little over a year ago, anti-Brexit people demonstrated outside of Jacob Rees-Mogg's house, with his children present, more about which below.
Only a few days ago, a rapper accepting a music award held a dripping head effigy of Boris Johnson.
Threats are happening to MPs on both sides of the House of Commons:
Opposition language — the truth
In Thursday's debate on language, following a statement by Labour MP Jess Phillips, who has also received death threats, a Conservative MP brought up Labour MP John McDonnell's wish to assassinate Margaret Thatcher.
Of course, Speaker Bercow shut that down pretty fast.
Let us look at what John McDonnell said some time ago:
Backbencher has an excellent article explaining the full nasty and violent context of McDonnell's aforementioned statements.
Another MP with the first name of John has also used foul and insulting language, directed below at a Conservative MP:
Here is a past video from the aforementioned Jess Phillips about her own party leader:
Also this (click on second tweet to see it in full):
Also:
And this:
And what about the language used in Remainer protests? 'Betrayal'? 'Treason May'?
That's mild compared to this:
If those examples are not convincing enough, Guido Fawkes has many more.
After all is said and done, PLEASE leave everyone to their opinions!
No threats, please!
Let us live in peace, whatever our views!
As the wise Church of England clergyman, the Reverend Marcus Walker points out:
No adjournment for Conservative Party conference
The main opposition parties, Labour and the Lib Dems, have had their party conferences but voted against an adjournment for a few days next week for the Conservatives to have theirs.
How petty:
I could not agree more with the following opinion:
Certain cross-party bills will be tabled for next week, as the Leader of the House, Jacob Rees-Mogg, agreed with MPs on Thursday afternoon.
More to follow next week.
Most of us thought that Supreme Court Justice Brett Kavanaugh was safe from allegations once he was confirmed and sworn in to office nearly a year ago.
We were wrong.
On Saturday, September 14, 2019, a New York Times article raised the allegations from 2018 once more, calling for Justice Kavanaugh's impeachment.
The paper invited the two authors of a book about the Kavanaugh accusations, The Education of Brett Kavanaugh: An Investigation, to write a column about them. Robin Pogrebin and Kate Kelly wrote the book and the article. Part of the article (paywall) has to do with one of last year's accusers Deborah Ramirez and a classmate, Max Stier, who are said to have witnessed Kavanaugh, a university freshman, at a dorm party. Breitbart has the excerpt of the supposed episode.
Those familiar with Robin Pogrebin and Kate Kelly's book have said one must read it until the end to find this gem:
… critics pointed out: "Not only does the alleged victim not confirm the story, she is reported to be denying it."
Nevertheless, Democrats have been on the attack, including presidential candidate and US Senator, Kamala Harris, from California:
Breitbart's article states:
Harris did not mention, or did not know, that the authors' own book refutes the allegation, which the alleged victim reportedly does not recall. The accuser [Max Stier] — not the victim — also represented Bill Clinton during his impeachment …
During Kavanaugh's confirmation hearings, Harris — who is on the Senate Judiciary Committee — was criticized for tweeting a deceptively edited video that made it appear as though he argued against women's access to birth control.
Some Twitter users, including a co-author of a book on the subject, remember this story from an article in the New Yorker at the time and how it collapsed under scrutiny:
The story of Christine Blasey Ford, the most memorable of Kavanaugh's accusers, was also resurrected — but earlier, around September 8, before the NYT article appeared.
Here's the short version:
On September 8, Newsweek reported, in part:
A video circulating on social media shows Christine Blasey Ford's attorney telling attendees at a feminist conference that her client's testimony against now-Supreme Court Justice Brett Kavanaugh was a politically motivated move to protect Roe v. Wade.
Conservatives are railing against comments attorney Debra Katz made in April in her keynote address at the University of Baltimore's Feminist Legal Theory Conference regarding Kavanaugh's controversial Supreme Court confirmation process. Katz represented Ford, who testified at a public hearing and accused Trump's nominee, at the time a U.S. Court of Appeals judge, of sexually assaulting her 36 years prior while the two were in high school. Katz's comments at the conference appeared to confirm many conservatives' accusations that Ford's testimony was intended in part to protect the 1973 Roe v. Wade ruling that established abortion access as a constitutional right.
Speaking on the theme of "Applied Feminism and #MeToo" earlier this year, Katz told attendees: "In the aftermath of these hearings, I believe that Christine's testimony brought about more good than the harm misogynist Republicans caused by allowing Kavanaugh on the court."
The self-proclaimed "women's rights and social justice activist" continued: "We were going to have a conservative [justice] … Elections have consequences, but he will always have an asterisk next to his name. When he takes a scalpel to Roe v. Wade, we will know who he is, we know his character, and we know what motivates him, and that is important; it is important that we know, and that is part of what motivated Christine."
… American Lawyer Magazine reporter Ryan Lovelace authored a book released last week entitled, Search and Destroy: Inside the Campaign against Brett Kavanaugh, portraying Katz as a partisan, politically-motivated feminist who encouraged Ford to smear Kavanaugh.
Another Democrat candidate for president, Amy Klobuchar, US Senator for Minnesota, tweeted her support for Blasey Ford:
Yet, one of Blasey Ford's oldest friends doubted the veracity of the accusation against Kavanaugh.
This is also in Robin Pogrebin and Kate Kelly's book. They were the ones who wrote the recent NYT article.
On Sunday, September 15, The Federalist's Mollie Hemingway tweeted:
Interestingly, that same day, the NYT issued a correction to their article. One wonders how many people saw the correction and how many millions more spent time at the weekend listening or reading extensive coverage of the efforts to impeach Kavanaugh:
The correction states:
Mr. Stier, who runs a nonprofit organization in Washington, notified senators and the F.B.I. about this account, but the F.B.I. did not investigate and Mr. Stier has declined to discuss it publicly. (We corroborated the story with two officials who have communicated with Mr. Stier.)
Something must be done about the media in general:
This scurrilous tactic of smearing Kavanaugh again and again, now with the goal of impeaching him, could backfire on Dems in 2020.
This is what a sampling of Americans said on Twitter:
One had a message for Kamala Harris:
So why are these accusations and calls for impeachment being raised now?
Here is another reason why. The Senate is appointing dozens of Trump nominees to US federal courts:
Citizen journalist Tracy Beanz, gives us the perspective of another citizen journalist, Harold Finch. The following thread explains that the Democrats are afraid of losing more of their cases in the higher courts. In retaliation, the Dems could try to discredit decisions from those courts — including the Supreme Court — and ignore them. Dangerous:
There it is — plain as day.
This is just one more reason NOT to vote for Democrats in 2020.
The past seven days in Britain have proven further the old adage that a week is a long time in politics.
Last Saturday, September 7, Conservative MP Amber Rudd (Hastings and Rye) resigned from Prime Minister Boris Johnson's cabinet. Her resignation is not a huge loss, as she is a Remainer, however, the optics were potentially damaging to the new PM.
She was upset about the 21 Conservative MPs who had the whip removed last week. (The PM's brother Jo had resigned from Cabinet days before for the same reason.) Fair enough. However, she allegedly told The Sunday Times about her resignation before she notified the PM, according to Buzzfeed's Alex Wickham:
On Monday, September 9, talk revolved around Boris's 'unfair' prorogation. A few weeks ago, Conservative MEP Daniel Hannan reminded us of the facts:
Before prorogation took place, however, former Conservative-now-rebel MP Dominic Grieve put forward a Humble Address procedure in Parliament on Monday afternoon. He wants every detail of correspondence behind prorogation as well as the emergency Brexit procedures contained in Project Yellowhammer. The Guardian has this summary of this extraordinary measure with regard to prorogation correspondence (emphases mine):
Grieve's demand for the release of all written and electronic contact about the temporary suspension of Parliament and Operation Yellowhammer documents since July 23 to be released was approved by MPs by 311 votes to 302 on Monday.
It asked for all correspondence and communications, formal or informal, including WhatsApp, Telegram, Signal, Facebook Messenger, private email accounts, text messages, iMessage and official and personal mobile phones connected to the present Government since July 23 relating to prorogation.
It listed key individuals of Mr Johnson's Government, including senior adviser Dominic Cummings and director of legislative affairs Nikki da Costa.
Grieve was Attorney General just a few years ago, so, apparently, this move is legal, even though one wonders about the legality of requesting private correspondence given EU data protection rules. An update follows below.
That was followed by Speaker of the House John Bercow's announcement that he would be relinquishing his post by October 31. A standing ovation from Opposition MPs followed, at which point most Conservative MPs left the chamber. Then, a 90-minute verbal floral tribute followed to the Remainer from a variety of Opposition MPs, also Remainers. And these are the people who complain they lack adequate time to debate Brexit!
That evening, as MPs continued to sit in session, the PM once again put forward his motion to hold a general election. His prior attempt had been defeated a week earlier.
Once again, Boris was defeated. Those who voted Aye were in the majority, but he needed two-thirds of all sitting MPs to vote for it.
Still, no one can rightly call him a dictator.
Recalcitrant MPs should have listened to Gina Miller. This is probably the one time I agree with her — and that is only with the second sentence in this tweet:
Gina's case on illegal prorogation was rejected, but it goes before the Supreme Court next week on appeal. Former Conservative PM John Major (pictured in the background) piggybacked his own anti-prorogation case onto Miller's:
It's a bit rich for Sir John to complain about Boris's prorogation:
Around the time Parliament was preparing for prorogation, a poll was released saying that the British public do not want another extension to Brexit:
In the early hours of Tuesday morning, all hell broke loose in the House of Commons.
Black Rod, the Lady Usher in the House of Lords and Queen's representative for the prorogation ceremony, entered the House. She was there to prorogue Parliament and summon all MPs to the House of Lords where they had to listen to a very long list of all the achievements of their Parliament. It took ages.
I stayed up to watch everything on BBC Parliament, but the following video has better views of a few other scenes in the Commons. The noise that Opposition MPs made was terrible. Then, a vexed Black Rod, who stood on the red line designating the governing party's boundary in the House, glared at the Speaker as he made some great peroration, to borrow the word he uses against those with whom he disagrees. He then barked at two Conservative MPs telling him to get on with it and leave the chamber. One Labour MP climbed on top of Speaker Bercow to prevent him leaving!
This video is around six and one half minutes long and is well worth watching:
Here is a potted version with subtitles of the proceedings:
It was part of Bercow's job to silence the chamber and allow Black Rod to speak.
Here are a few more scenes:
The 'SILENCED' signs were rich, considering these MPs are thwarting Brexit at every turn. A Leave supporter did a nice Photoshop of the Speaker's chair:
All of the MPs were supposed to follow Black Rod to the House of Lords, but only the Conservatives and a handful of Opposition MPs did.
The rest stayed behind to film themselves in the Commons — not allowed — and to sing songs, such as The Red Flag!
The Labour MP crawling on top of Bercow was re-enacting a similar prorogation scene in Parliament from 1629:
After Bercow returned from the House of Lords, he received a second standing ovation, largely from the Opposition:
On Wednesday, September 11, The Guardian reported that Cabinet minister Michael Gove wrote Dominic Grieve in response to his aforementioned Humble Address procedure requesting private correspondence on prorogation. The government — rightly — will not hand over said documents:
A letter from Michael Gove addressed to former Attorney General Dominic Grieve states that the request would breach the rights of those named in the communications – including civil servants and special advisers.
This is an unprecedented, inappropriate, and disproportionate use of [the Humble Address] procedure. To name individuals without any regard for their rights or the consequences of doing so goes far beyond any reasonable right of Parliament under this procedure.
These individuals have no right of reply, and the procedure used fails to afford them any of the protections that would properly be in place. It offends against basic principles of fairness and the Civil Service duty of care towards its employees.
Excellent move, excellent reasoning.
However, the government did release more information about Operation Yellowhammer, which looks a lot like what we saw reported in the media earlier this year in anticipation of the original March 29 departure date:
We have enough to go on at this time. Why release procedures that could compromise national security?
Michael Gove explained that Yellowhammer details what to do in a worst case scenario. Those scenarios might never happen. They are contingency plans:
That day, three Scottish Appeal Court judges declared that the PM's prorogation is unlawful, as they believe it is intended to stymie Parliament:
The case goes to the UK's Supreme Court next week. The Guardian reported:
The three judges, chaired by Lord Carloway, Scotland's most senior judge, overturned an earlier ruling that the courts did not have the power to interfere in the prime minister's political decision to prorogue parliament.
Lawyers acting for 75 opposition MPs and peers argued Johnson's decision to suspend parliament for five weeks was illegal and in breach of the constitution, as it was designed to stifle parliamentary debate and action on Brexit.
The judges failed to issue an interdict, or injunction, ordering the UK government to reconvene parliament, prompting a row over whether the decision meant MPs could go back to the House of Commons.
The court issued an official summary of its decision declaring the prorogation order was "null and of no effect", but Carloway said the judges were deferring a final decision on an interdict to the UK supreme court, which will hold a three-day hearing next week.
Conservative MP Nigel Evans reiterated the PM's position:
A hypocritical Labour MP showed up alone for PMQs (Prime Minister's Questions) late that morning, following the Scottish judges' declaration. Too bad he did not spend that energy in a vote for a general election:
On Thursday, a High Court judge in Belfast dismissed a legal challenge against a No Deal Brexit. A BBC article says:
One of the three cases brought was by the victims' campaigner Raymond McCord who plans to appeal the decision.
The court heard arguments that a no-deal would have a negative effect on the peace process and endanger the Good Friday Agreement.
But the judge said the main aspects of the case were "inherently and unmistakeably political".
Lord Justice Bernard McCloskey also excluded a challenge against the suspension of Parliament because the issue formed the "centrepiece" of proceedings in England and Scotland.
As the week draws to a close, a reporter for The Times (paywall) says that the EU regrets alliances with Labour and other Remainers over their incoherent policies on Brexit. Labour's Keir Starmer is on the left in the photo, with party leader Jeremy Corbyn on the right:
As far as the government's negotiations in the EU, Boris has made a largely favourable impression, although his negotiator David Frost is seen to be driving a hard bargain in some areas. This thread comes from the Director of the Centre for European Reform, who confirms that, to date, no firm proposals have been presented to the EU. That said, he says some EU nations believe that Boris wants to make a deal before October 31:
Elsewhere in Brussels news, Guy Verhofstadt's wine from his estate in Tuscany is reportedly very good. Perhaps that was what he poured in this documentary clip about the EU's Brexit Steering Group:
On Monday, September 16, the PM will meet over lunch for Brexit talks with Jean-Claude Juncker in Luxembourg.
More to follow anon as this sorry saga continues.
Last week, a reader, prairie123, responded to my post, 'Brexit Chronicles: the parliamentary drama continues':
This is very informative, I have been trying to learn more about this situation for a while now, but I have such a firm understanding of how US govt. works, that it's a little tricky to figure out how British govt. does things. The questions (and shouting matches, etc) during the question portion of that even were insane! I thought there would be more decorum and manners… also the crossing of the floor by Lee – that must have been a BIG deal! He basically just switched parties, correct? Yikes. I hope Boris can win some back, but I have a feeling it's just time to vote some members out.
I do have some random questions, if could ask you CM: Does the UK have a set time for elections or is it random? Does the House of Lords get voted in/out? Is the majority/minority whip jobs similar to US positions? When the UK joined the EU, did the people get to vote to decide that, or did the govt. just decide it was best? The EU is basically draining the economy of the UK, right? What other negative implications has being a part of the EU brought to the people of the UK, in other words what is so bad about the EU that you don't like?
Ok, sorry to be a pest, but I really am curious about this. I know there is nothing I can do to help, but just keep Boris Johnson in my prayers and the people of Britain, I hope the politicians will actually do what they said they will do, which is the will of the people!
Thanks CM – have a great day! 🙂
I am most grateful to prairie123 for the questions. Answers follow.
That post discussed the now-former Conservative MP Phillip Lee crossing the floor of the House of Commons to the Liberal Democrats.
… that must have been a BIG deal! He basically just switched parties, correct?
Yes, and it is a big deal whenever it happens when MPs are in session. This was notable as Prime Minister Boris Johnson, also Conservative Party leader, was addressing Parliament at the time:
Does the UK have a set time for elections or is it random?
It used to be more random until the Fixed Term Parliaments Act — FTPA — became law in 2011.
When David Cameron (Conservative) became Prime Minister after the May 2010 election, there was a hung Parliament, with no clear Conservative majority. The Conservatives had 306 MPs and the Liberal Democrats 57 MPs. The Conservatives had to go into coalition with the Liberal Democrats, led at that time by Nick Clegg. Clegg became Deputy Prime Minister.
The purpose of the FTPA was to ensure that neither of the coalition partners — the Conservatives nor the Liberal Democrats — could trigger a snap general election.
In principle, under the FTPA, general elections are now held every five years. In reality, Prime Minister Theresa May, David Cameron's successor, was able to trigger one in 2017, even though the Conservatives won the 2015 election. (Opposition MPs said she had no mandate to deliver Brexit, and the election was seen as a way of giving her legitimacy.)
Under FTPA, Theresa May needed the Aye votes of two-thirds of sitting MPs in order to trigger an election. She got those votes, and the election went ahead in June 2017. Unfortunately, she came out with less of a majority than before the election.
PM Boris Johnson has tried twice in the past two weeks to trigger a general election. Unfortunately, although the Aye votes were overwhelming, they did not come from two-thirds of sitting MPs. Other MPs abstained or did not vote.
Does the House of Lords get voted in/out?
There is no public vote for members of the House of Lords.
The House of Lords used to be comprised of hereditary peers until Labour, under Tony Blair, enacted reforms between 1997 and 2010. The House of Lords Act 1999 retains only 92 hereditary peers among the Lords Temporal.
There are also Lords Spiritual who are members: 26 bishops from the Church of England.
The majority of the Lords Temporal are life peers who are appointed by the monarch on the advice of the Prime Minister or the House of Lords Appointments Commission.
There is no limit to the number of members of the House of Lords. It is the only upper house of bicameral government in the world to be larger than the lower house.
Are the majority/minority whip jobs similar to US positions?
Yes and no.
In the UK, a whip withdrawn from an MP means that the MP no longer represents his political party in Parliament, even though he can remain as a sitting MP. This is what happened to the rebel Conservative MPs last week. They became independents upon withdrawal of the Conservative whip.
Wikipedia explains:
In British politics, the chief whip of the governing party in the House of Commons is customarily appointed as Parliamentary Secretary to the Treasury so that the incumbent, who represents the whips in general, has a seat and a voice in the Cabinet. By virtue of holding the office of Parliamentary Secretary to the Treasury, the government chief whip has an official residence at 12 Downing Street, although the chief whip's office is currently located at 9 Downing Street. Government whips report to the prime minister on any possible backbench revolts and the general opinion of MPs within the party, and upon the exercise of the patronage, which is used to motivate and reward loyalty.
In the sense of 'voting instructions', there are three categories of whip in British politics that are issued on particular business. An expressed instruction on how to vote could constitute a breach of parliamentary privilege, so the party's wishes are indicated unequivocally but indirectly. These whips are issued to MPs in the form of a letter outlining the parliamentary schedule, with a sentence such as "Your attendance is absolutely essential" next to each debate in which there will be a vote, underlined one, two or three times according to the severity of the whip:
A single-line whip is a guide to what the party's policy would indicate, and notification of when the vote is expected to take place; this is non-binding for attendance or voting.
A two-line whip, sometimes known as a double-line whip, is an instruction to attend and vote; partially binding for voting according to the party's position, attendance required unless prior permission given by the whip.
A three-line whip is a strict instruction to attend and vote according to the party's position, breach of which would normally have serious consequences. Permission to not attend may be given by the whip, but a serious reason is needed. Breach of a three-line whip can lead to expulsion from the parliamentary political group in extreme circumstances, and even to expulsion from the party. Consequently, three-line whips are generally only issued on key issues, such as votes of confidence and supply. The nature of three-line whips and the potential punishments for revolt vary among parties and legislatures.
In the US, the whip has a similar function, but without the drastic consequences that are possible in the UK system:
Both houses of Congress, the House of Representatives and Senate, have majority and minority whips. They in turn have subordinate "regional" whips. While members of Congress often vote along party lines, the influence of the whip is weaker than in the UK system. American politicians generally have considerably more freedom to diverge from the party line and vote according to their own or their constituency's conscience. One reason is that a considerable amount of money is raised by individual candidates. Furthermore, neither members of Congress, nor any other person, can be expelled from a political party, which are formed simply by open registration. In addition, because preselection of candidates for office is generally done through a primary election that is open to a wide number of voters, candidates who support their constituents' political positions, rather than those of their party leaders, cannot easily be rejected by their party due to a democratic mandate.
Because members of Congress cannot serve simultaneously in Executive Branch positions, a whip in the United States cannot bargain for votes by using potential promotion or demotion in a sitting administration as an inducement. There is, however, a highly structured committee system in both houses of Congress, and a whip may be able to offer promotion or threaten demotion within that system instead. In the House of Representatives, the influence of a single member individually is relatively small and therefore depends a great deal on the representative's seniority (i.e., in most cases, on the length of time they have held office).
In the Senate, the majority whip is the third-highest ranking individual in the majority party (the party with the most seats). The majority whip is outranked by the majority leader and, unofficially, the president pro tempore. As the office of president pro tempore is largely honorific and usually given to the longest-serving senator of the majority, the majority whip is in reality the second-ranking senator in the majority conference. Similarly, in the House, the majority whip is outranked by both the majority leader and the speaker. Unlike the Senate's presiding officer, the Speaker is the leader of his or her party's caucus in the House.
In both the House and the Senate, the minority whip is the second highest-ranking individual in the minority party (the party with the lesser number of legislators in a legislative body), outranked only by the minority leader.
When the UK joined the EU, did the people get to vote to decide that, or did the govt. just decide it was best?
In the 1960s, the Government had made repeated applications to join the European Common Market — purely a trading bloc without much of today's bureaucracy — and the UK was finally accepted in 1969.
It took three years to work out the terms, and on January 1, 1972, the UK joined the EC (European Community), along with Denmark and Ireland.
Some Labour MPs disapproved of the terms of the treaty and thought that the matter should be taken to the public in a referendum, and this was part of the Labour Party's manifesto for the 1974 election, which they won.
The referendum was held in 1975. The Conservatives supported EC membership, and Labour MPs were still divided. Tony Benn was deeply concerned about how EC membership would eventually erode the UK's sovereignty as a nation. (Today, his grandson Hilary holds the opposite view.)
Yes won by 67.23% of the vote, with a turnout of 64.62%.
You can read more at the following links: History of European Union-United Kingdom relations and 1975 United Kingdom European Communities membership referendum.
The EU is basically draining the economy of the UK, right?
Not really, however, we could be using the annual contributions we make to the EU for our own nation.
What EU membership has done is weaken our manufacturing over the years (details in this post).
As for contributions, we are second behind Germany. We are a net contributor, meaning that we send more to the EU every year than we get back.
On June 1, 2019, the Express reported:
In 2017, the UK was the second largest contributor with €7.43bn (£6.55bn), just behind Germany at €12.8bn (£11.2bn).
Britain will remain a member of the EU until its departure has been negotiated and will continue to contribute to the EU budget until it formally leaves.
On the other end, Poland was the biggest net recipient of the EU budget (getting more back than it contributed in the first place), followed by Greece, Romania, Hungary and Portugal.
Regardless of their ability to contribute, the 27 countries are able to vote on EU policies equally. Is it advisable that countries who sap from the EU coffers receive an equal vote on everything?
On May 29, the BBC published a good analysis of how EU contributions are spent and where they go. As their article explains, figures can be looked at in a few ways.
First, on the poorer countries:
The EU spends the money on a wide range of projects, but about three quarters of the budget every year goes to two main areas: agriculture and development of poorer areas of the EU.
So, poorer countries and those with a lot of farms get more.
Poland was the biggest net recipient of the EU budget (getting more back than it contributed in the first place), followed by Greece, Romania, Hungary and Portugal.
Luxembourg and Belgium, two of the richest EU countries, are also on the list of EU budget net recipients, because they receive a high proportion of the funding for administration as many EU institutions, such as the Commission and the European Parliament, are based there.
Secondly, on the contributions, whilst the BBC quotes the same German and British contribution figures as the Express article, when one analyses the contributions per person, a different picture emerges:
The largest net contributor to the EU budget per capita is the Netherlands, followed by Sweden, Germany, Denmark and the United Kingdom in fifth place, with €112.85 in 2017.
Thirdly, the placement differs again, albeit slightly, when one looks at the contributions in terms of GDP:
The Netherlands pays the biggest proportion of its gross domestic product (GDP) – a measure of the amount produced in an economy in a year. In 2017, its contribution to the EU budget was 0.47% of its GDP.
Germany is second on this list, followed by Sweden and the UK, in fourth place, with 0.32% of GDP contributed in 2017.
As for our final 'divorce' settlement, a page on Parliament's website has excellent information, in part:
The UK will remain a member of the EU until its departure has been negotiated and will continue to contribute to the EU budget until it formally leaves …
The UK Government costs the settlement at around £35 billion-£39 billion. However, the true cost will not be known until all the future payments have been made …
The UK Government says that it may pay to participate in some EU programmes after Brexit. For instance, the UK might contribute to remain in Horizon 2020, the EU's research and innovation programme. Exit negotiations will determine the extent of the UK's future participation in EU programmes and any cost.
What other negative implications has being a part of the EU brought to the people of the UK, in other words what is so bad about the EU that you don't like?
The main issue is loss of national sovereignty.
Hilary Benn, the Labour MP who has been running serious interference against Brexit, had a grandfather who felt quite the opposite. The late Tony Benn was a legendary Labour MP. Whilst I did not agree with most of his views, his 1975 prediction about membership in the EU came true. He warned that we would lose our sovereignty bit by bit, which we did. He also warned that once in, we would find it very difficult to leave. And so it is proving. I wish he were still alive to talk to his grandson about this issue.
———————————————————————————————————–
I hope this answers some of your questions, prairie123. Thank you very much for your moral support for those of us who wish to leave!
The truth about Remainers wanting Britain to stay in the European Union continues to emerge.
The result is that British voters have become very angry — even Remainers and the normally apathetic.
People are angry because of the false promises those on both sides of the aisle made three years ago:
News items
Late last week, a number of news interviews and articles exposed the continued, wilful intransigence of Remain MPs calling for 'compromise', 'coming together' and so on — all in a concerted effort to block not only Brexit but also a general election.
Spiked's Brendan O'Neill appeared on Sky Australia on September 4 to discuss Hilary Benn's European Union (Withdrawal) (No.6) Bill and the failed vote on a general election:
Meanwhile, in Britain that day, former Conservative MP Michael Portillo rightly said that the 2016 referendum was never about Deal or No Deal. The voter responding to him also remembers then-PM David Cameron's words correctly:
Brexit Party MEP Dr David Bull said the same on David Vine's Channel 5 morning talk show. On Friday, September 6, he responds to a Remainer panellist saying that Leave 'was based on a lie':
Nor did any of the Leave campaigners say it would be easy:
Well said, Portillo! No leading figure campaigning for Brexit *ever* mentioned a deal of any kind! Nobody said we'd be getting a great, quick, easy deal! Nobody said we'd have to have a deal in order to enjoy the exact same benefits of being the EU! These are all Remoaner lies!
On Thursday, September 5, news emerged that former Conservative MPs, from whom the Party whip had been withdrawn last week, plan to stand as Independent MPs in the next general election. They are Remainers:
The Sun reported not only on the rogue MPs but also on other developments going on at the heart of Prime Minister Boris Johnson's government (emphases mine):
They are Philip Hammond, David Gauke, Dominic Grieve, Ed Vaizey, Sam Gyimah, Alistair Burt, Steve Brine, Caroline Nokes, Antoinette Sandbach, Rory Stewart, Margot James and Stephen Hammond.
Even if the rebels fail to win them, the move could split the Tory vote and hand the seats to opposition parties, diminishing the PM's chances of a majority.
It came as Sir John Major last night demanded the PM reinstate the 21 rebels – and sack controversial aide Dominic Cummings in an extraordinary attack.
The former PM said it defied belief the Tory MPs had been booted out for failing to "parrot the views of a Prime Minister influence by a political anarchist".
Former Attorney General and rebel leader Mr Grieve told The Sun last night that his decision to stand "depends on the circumstances of the election".
But Mr Grieve added: "I'm certainly of the view that pulling out of politics during the biggest crisis in recent history would be the wrong thing to do …"
… The development comes as Sajid Javid became the latest senior Tory to join the spiralling Cabinet revolt against the expulsions.
Asked if there was a road to redemption for them, the Chancellor told LBC: "I would hope so. I would like to see them come back at some point" …
It wasn't good news for Labour that day, either, as voters in Grimsby, in North East Lincolnshire, told BBC Radio 4 that they could not countenance the idea of Jeremy Corbyn as Prime Minister. Grimsby is a Labour stronghold and has elected a Labour MP consistently since 1945: 74 years!
The Express has the story about the fishing town that also voted overwhelmingly to Leave in 2016. Some residents are considering voting for the Brexit Party:
Speaking to BBC Radio 4's Today programme, one local said: "Labour are out, I think.
"I would definitely say Labour would be gone. Their position on Brexit is not very clear and that's probably why they're going to be in trouble.
"They'll be seen as the worst of the parties because at least the Lib Dems have come out and said, 'this is our position.' Everyone knows the Tory position with Johnson and people.
"I feel Labour is still sort of in the middle and Corbyn's not going to be, probably, the world's best prime minister" …
And another local appeared to echo the sentiment, saying: "It's difficult when you've been a paid-up Labour member for years and now we're really struggling to think, 'I don't really want to vote for them.'
"Where does your vote go? We could be Liberals but Conservatives, no. Because if you look at the Conservatives at the top at the minute, they don't have to worry about what challenges or financial challenges Brexit would bring because they're all very rich."
Other locals also signalled they would be willing to switch their vote to the newcomer Brexit Party led by Nigel Farage, whose candidates snatched at least one seat in each constituency at the European parliamentary elections in May – including one seat in Scotland.
A man said: "I was talking to my friend earlier and he said he'd vote Farage.
"Actually, that's quite a possibility. I'm thinking about it and my friends are, too."
Boris's call to the voters
On Thursday, September 5, Boris updated the voters, explaining what their choice is now, given last week's events in the House of Commons. The short video has subtitles:
An MP speaks
This video clip shows Conservative MP Nigel Evans defending the voters who, in good faith, ticked the Leave box in 2016. What a pity he spoke to nearly empty benches on both sides:
A Conservative MEP sums up
The eloquent MEP Daniel Hannan sums up the current Brexit deadlock — and prorogation — as follows:
A Labour MP for Leave gets threatened
Kate Hoey, Labour MP for Vauxhall (South London), has been an ardent Leave campaigner from the beginning. After her re-election in 2017, she decided not to stand again as a Labour MP in the next general election.
Last week, she voted with the Government against Hilary Benn's 'Surrender' bill:
She also received the following email, which looks as if it came from a bot. Nonetheless, it carries a nasty threat. She received support from the aforementioned Dr David Bull. Language alert:
Labour Leave tweets
Labour Leave point out the hypocrisy of Remainer MPs. 'SM' is Single Market and 'CU' is Customs Union:
In fact, SM + CU is worse than Remain. We would have no sovereignty — or EU vote.
I am glad to see they took exception to Remain MPs' extreme characterisations of Leavers last week:
The British speak out — 'bigger than Brexit'
It is telling that the British public are now clearly angry about the way Parliament has treated them.
This is now bigger than Brexit. It is about how we are governed.
Some Remainers understand what is happening and want MPs to carry out the referendum result.
So do some who were formerly apathetic about politics in general.
The Remainers
This former Remainer is irked by the People's Vote (FBPE) — second referendum — brigade:
The awakened apathetics
This is a great tweet — followed by similar replies:
Teachers are angry
These are more replies to the man's tweet about his apathetic wife.
These are important because they are about teachers, most of whom voted to Remain. Yet, even they can see that what's happening is greater than Brexit. This is about how we are governed, full stop:
Conclusion
The British are ready now for a general election.
Some of us have had two elections this year: local (not everywhere) and for the EU Parliament.
Yes, we were sick of going to the polls so frequently, especially for an EU election, but, based on last week's antics, we are looking forward to casting our vote.
Consider it a People's Vote, or a second referendum. It serves the same purpose.
In two votes, MPs stymied Prime Minister Boris Johnson during the afternoon and evening of Wednesday, September 4, 2019.
You can read my earlier report here.
The European Union (Withdrawal) (No.6) Bill
The Hilary Benn – Alistair Burt Bill passed the House of Commons, effectively limiting the chances of No Deal Brexit in favour of yet ANOTHER cap-in-hand request to the EU for yet ANOTHER extension!
Burt, by the way, is a rebel Tory and is now an Independent:
Parliament's website has a summary of the bill, known officially as the European Union (Withdrawal) (No.6) Bill:
The Bill would require that unless the House of Commons approves a deal with the EU or the House of Commons agrees a no-deal Brexit, the Government must by 19 October 2019 seek an extension to the Article 50 period until 31 January 2020.
In debating it yesterday afternoon, a handful of Conservative MPs loyal to the British public pointed out that some Remainer MPs — unnamed — are in league with Brussels to prevent a No Deal Brexit or any Brexit at all.
They further accused Remainer MPs of playing for time. The more extensions they get, the further away the timeline moves from the 2016 referendum, at which point they could say that it's time for a second referendum.
There are already some MPs with private estates or farms that receive EU grants. So, they have a vested interest in maintaining the status quo. Others must have some other dependency on the EU financially, otherwise, they would vote to leave on October 31. At some point, someone will reveal more about this.
In any event, the bill progressed to the House of Lords, which — despite the amendments the Conservative peer Lord True tabled (he lives up to his name) — is scheduled to clear by the end of the day, Friday, September 6. The Lords will then return it, with amendments, to the Commons for further debate on Monday. It is likely to pass into legislation.
On Thursday, September 5, Guido Fawkes reported that, in a twist of events, No. 10 has agreed with opposition MPs that the Lords should be enabled to clear this by Friday. That would indicate that the 100+ amendments that Lord True tabled have either been reduced or eliminated:
… following Boris's defeat in the [C]ommons, there ha[ve] been reports that far from the 100 hours-worth of debate we were anticipating in the Lords, the Government has conceded defeat and negotiated with the opposition to agree Hilary Benn's Bill to complete all its stages by Friday – with the bill then going back to the Commons for any further consideration on Monday.
This sounds like a further climbdown on the government's part, but Guido explains that this could help Boris get more leverage for a snap general election (emphasis in the original):
It looks like the decision was accepted by Boris, who now will want legislation to be passed as quickly as possible, to ensure Labour can't again duck out of backing a general election next week. Prorogation could be enacted as late as the 12th, allowing Boris to secure his preferred route to an election by the 16th…
We can but see.
More on the bill follows below.
General Election voted down
Last night, Boris brought forward a motion for a general election.
MPs defeated him on this vote, too.
Until 2011, it was relatively easy for a sitting Prime Minister to call for a general election. However, in 2010, Conservative Prime Minister David Cameron had to form a coalition government with the leader of the Liberal Democrats at that time, Nick Clegg. The Liberal Democrats are a far smaller party than either the Conservatives or Labour. In order to secure the Liberal Democrats' position in the coalition, Parliament passed the Fixed Term Parliament Act, under which no general election can be held unless two-thirds of all sitting MPs approve it. The Queen then rubber stamps the decision.
Last night's vote was overwhelmingly in favour of a general election, however, not all of the MPs voted Aye or No. Some abstained. Others did not vote at all:
The replies to the tweet show that the British public are not happy:
Yes, indeed.
As I write on Thursday, it appears that the Government could be contemplating another motion for an election, to be tabled on Monday:
That said, this is what the Prime Minister said after Thursday's vote:
The Opposition has opted to show confidence in Her Majesty's Government.
That is true.
One member of the public summed up the result as follows:
Yes, in effect, a general election would be a People's Vote on Brexit. The Left has been clamouring for a People's Vote — a second referendum — for most of this year. A general election would accomplish the same objective.
It is also worth noting that Labour have also been calling for a general election since February 2018, only months after the June 2017 election was held. This video shows all their requests:
The following tweets from The Independent's John Rentoul explain Labour's reasoning for voting against the Government's motion on Wednesday:
What Boris might be thinking
These two defeats on Boris's first full day in the Commons look terrible, and indeed they are, however, knowing that he is a keen student of world history going all the way back to the Ancient World, he and his Svengali, Dominic Cummings, no doubt have other cards they intend to play.
On these two votes, some on Twitter offer speculation. One involves Jacob Rees-Mogg's sister Annunziata, who is a Brexit Party MEP:
It makes sense.
What Boris said last night
Late yesterday evening, the Prime Minister gave a ten-minute interview to ITV's Robert Peston, in which he discussed his past two days in Parliament:
At the 2:00 mark, he discussed the new Bill, saying that it damages his ability to negotiate a good deal with the EU. He said that it also dictates the letter he is to write for an extension.
You can see the letter here on page 8. Talk about supplication!
It is clear that Remainer MPs are now out in the open about their opposition to No Deal. The public understands what is going on:
Yep!
Boris's brother resigns
The Prime Minister's brother, Jo Johnson, has a place in the Cabinet, but has chosen to become a rebel and resign the Party whip.
News broke early Thursday afternoon. Andrew Neil discussed it on his BBC show that day:
The now-former Minister for Universities and Science tweeted:
ITV's Robert Peston quipped:
Was it a surprise or not?
Someone replied with the referendum result for Johnson's Kent constituency:
Jo Johnson failed to mention that his constituency of Orpington had a 57.54% estimated LEAVE vote in 2016
Johnson's resignation was only a matter of time. I was surprised to see him accept his brother's offer of a Cabinet post in July, considering his Remainer views.
In other news
Boris's top adviser Dominic Cummings was found in contempt of Parliament in March 2019 for his 2016 role in the Vote Leave campaign, which he chaired. He refused to appear before the Digital, Culture, Media and Sport (DCMS) committee, which accused him of spreading fake news for the campaign.
On Wednesday, Damian Collins MP wrote again to ask him to appear before the committee:
I think Cummings will ignore the request, but I could be wrong.
———————————————————————————————-
And, so, this wraps up a week of excitement in Parliament. What a potboiler this saga is! More to come anon.