You are currently browsing the tag archive for the 'popular music' tag.
It would be difficult to overstate how much England has been stomped on over the past 30 years and more.
Britons are told that England does not exist; it is merely a collection of regions.
The English are told there is 'no appetite' for an English Parliament.
Britons are taught in school to ignore and even hate England.
Right now, I am looking at one of my high school textbooks, an anthology. Its title? England in Literature.
I read it in a class called 'English', oddly enough.
England is the only nation of the four in the United Kingdom without its own Parliament, which many of us living here would love to have, just as the other three nations have their own assemblies. However, our notional betters have told us that this would be impossible. Years ago, it was reported there was 'no appetite' for it. Yet, the people living in England have never been asked to vote on such a proposition, unlike the inhabitants of Scotland, Wales and Northern Ireland.
Now, to borrow an English expression, we have a spanner in the works: the continued success of England in Euro 2020.
On July 4, the Telegraph's Nick Timothy wrote an opinion piece: 'England has been denied the voice it deserves by elites who would rather Englishness didn't exist'.
It has this subtitle:
England has its own unique and complex identity, and it should have a parliament of its own, too
I couldn't agree more, although, these days, part of me thinks it would add a layer of bureaucracy and expense. That said, it would be worth the price.
For the past few weeks, England football fans have been singing the 1996 hit song Three Lions (Football's Coming Home) written by comedians David Baddiel and Frank Skinner, with music by the Lightning Seeds. Recalling England's World Cup win 30 years earlier, it was written for the 1996 European Championships:
Nick Timothy encapsulates the mood of England supporters perfectly:
The football fans singing "it's coming home!", while anxiously anticipating the pain of another England disappointment, manage to reconcile two seemingly contradictory English traits: boisterous triumphalism and private self-doubt.
The way the English feel about not only football but the nation itself is at loggerheads with elites who live in this part of our Sceptred Isle.
Timothy elaborates (emphases mine):
… the English do have traits and tendencies, just like any other nationality. And yet, for many English elites, England's identity is something best denied. It is, they believe, too dangerous, too embarrassing, or too exclusive. Even those now debating what they call "Englishness" are doing so, they admit, with reluctance.
Among them, a common contrivance is to pretend that English culture is, as one commentator puts it, "thin", an identity that "has arisen not because of a positive movement to adopt the identity, but scorn for other forms of collective belonging". Another pundit asks, "what is England now, other than sports teams and Shakespeare?"
Englishness is very different to that of the distinct identities of the other three nations that make up the United Kingdom, but those who wish to suppress it are doing so successfully, thus far:
They seem to hope that if "Englishness" must be appeased, they can make sure that whatever follows is an elite-led project in which they can keep everything civilised.
I am not sure exactly where 'civilised' would be violated were Englishness to be celebrated. For years, we have been told to avoid any national pride, unlike the Welsh and the Scots. It is perfectly acceptable for nationally-oriented political parties such as Plaid Cymru and the Scottish National Party (SNP) to exist. Yet, no such party currently exists in England.
Elites in England fear we would break out in violence. Perhaps this is a leftover from the tiny pockets of extremists from the 1970s and early 1980s. Those groups have since faded into history and hardly speak for 99.9% of the population of England which, today, is highly diverse, particularly in our big cities. However, it is not as if the other nations of the UK don't have their extremist groups, although Wales might be an outlier there.
Looking back further, England has her own undeniable history and culture, as Timothy points out:
England is the mother of parliaments. It is the land of Shakespeare and Dickens, Elgar and Holst, the Beatles and Stones, the Cotswolds and Cumbrian hills, London and Liverpool, Oxford and Cambridge. It is Stonehenge and St Paul's, football and cricket, the local church and village pub, Isaac Newton and Isambard Kingdom Brunel.
It is cream teas and Cheddar cheese, a pint of bitter and a cup of tea, farms and factories, honest coppers and straight judges. It is the Wars of the Roses and the Reformation, Roundheads and Cavaliers, rebellions and strikes, Industrial Revolution and a Glorious Revolution. It is the home of Magna Carta, Locke and Burke, Churchill and Attlee, and long lines of kings and queens …
From philosophy to science, inventions to the arts, English culture is rich with significance.
Therefore:
It is needlessly destructive to ignore, denigrate or misrepresent it.
Sharing a common identity, as promoted in Scotland and Wales, can be healthy:
Shared identity is what allows us to recognise familiarity in strangers, and that familiarity, psychologists attest, encourages trust and solidarity and the willingness to make sacrifices for others. You and I might never have met, but we have language, places, habits, customs and shared history, culture and stories to help us to trust one another. This shared national identity means we can look beyond the narrower identities – racial, religious, regional, whatever – that can divide us.
The only time the English can truly celebrate their identity is when it comes to national sports teams — football, primarily, but also rugby and cricket. Contrary to what the elites say about national identity, it works remarkably well:
The English football team is multiracial and at ease with itself. The cricket team – who are world champions – are multiracial and multi-religious. And as the football song shows, it is collective memories ("'cause I remember…") and our shared attachment to place ("it's coming home") that bring us together.
One aspect of the display of national identity during football tournaments is the flag. For England, this is the flag of St George, a red cross on a white background. The only time it is even vaguely acceptable in the eyes of the elites is during this time.
Through the past 30 years, England football fans have draped large ones outside the windows of their homes or flown smaller ones from their cars or vans. Ironically, in a year in which England has been so successful in football, I have only seen two or three so far. Perhaps those who used to fly the flag have been psychologically intimidated over the years by talking heads on the media.
Nick Timothy says it wasn't always this way:
In the 1966 World Cup final, England fans held up the Union Flag; by the 1996 European Championships semi-final – played before Scottish devolution – England fans were flying the cross of St George without causing a stir.
Moving back to the original subject of an English parliament, Timothy points out the problem of not having one. The issue is that MPs from the devolved governments can end up determining English legislation:
Devolution to Scotland and Wales but not to England means Scottish, Welsh and Northern Irish voters decide the government of England. A UK government elected by mainly English voters thinking of issues that are devolved elsewhere makes no sense to Scotland, Wales and Northern Ireland. If one day we end up with a UK government elected with no English majority, but expected to determine policies in England that are devolved elsewhere, we will face a constitutional crisis.
"English votes on English laws" does not resolve this issue.
In fact, the Chancellor for the Duchy of Lancaster, Michael Gove, who is Scottish, plans to abolish English votes on English laws, known as EVEL.
A June 16 post from a Scottish site, Jaggy.blog, explains how EVEL came to be:
The newly revealed plan by the Cabinet Office Minister, Michael Gove, to scrap English Votes for English Laws will be welcomed by fellow Unionists who felt this 'Evel' act rubbed salt in Scottish rebels' wounds after the 2014 referendum. Actually, it was more of a desperate ploy by David Cameron to counter the threat of UKIP before he could work up the courage to call a referendum on EU membership.
It would seem that the reason Gove is planning to revoke EVEL is because the Conservatives have a majority of 78 in the House of Commons, thereby enabling them to overrule any opposition from the SNP, the third largest party in Parliament.
Gove's move is seen as something that would preserve the Union. This I personally doubt, but here is the reasoning:
Zealously spearheading the UK Government's efforts to save the Union, Mr Gove told The Times today that Evel has outlived its usefulness:
Ultimately, it's a convention which arose out of a set of circumstances after the 2014 [Scottish independence] referendum, where you had a coalition government and so on. We've moved on now, so I think it's right to review where we are on it. The more we can make the House of Commons and Westminster institutions work for every part of the UK and every party in the UK, the better.
The less said about Michael Gove, the better. His reasoning is illogical, but he won't care. He has no love for England, either.
Would the SNP be able to restrain themselves and not vote on English laws? Back in the 1990s, it used to be a matter of honour whereby they would not do so. After all, English MPs cannot vote on Scottish laws, because that legislation has been handled in Holyrood since 1999.
Therefore, as Nick Timothy says, the only way to resolve this is by creating an English Parliament:
… there can be no return to the unitary state of old. The only sustainable remaining solution is an English parliament and English government within a federal UK, supported by a political culture that respects and cherishes pride in England and shows a more serious commitment to the government of England's regions. We have a lot to take pride in, and as the football team is showing, there are many more shared memories – of triumph, hopefully, rather than disaster – still to be made.
Sadly, a shared culture and geography is unlikely to make that happen anytime soon.
For now, we must lie back and consider the Three Lions — and the possibility that they could win Euro 2020.
In closing, there is nothing shameful about England or the English. They have given me the best years of my life.
Many moons ago last century, I spent three happy holidays in Scotland.
My first was during my time at university, when I was studying on the Continent. I bought a souvenir, a dark green lambswool pullover from the Edinburgh Woollen Mill which was then located in the Royal Mile. Unfortunately, I had to throw it out recently, just weeks short of its 43rd birthday.
The Scots I met were hospitable and interesting, regardless of what they did for a living. On my trip in 1978, when a group of us were at a pub in Edinburgh, I asked them what they thought of the Queen. They all liked her. Did they ever want independence? No.
There was a long hiatus before I returned. In those intervening years, I contented myself by keeping abreast of their music in the 1980s. Fortunately, the radio station I listened to in the US played British music most of the time. Their other offering was reggae. Radio heaven.
In my humble opinion, 1983 was a banner year for Scottish bands.
My all time favourite has to be Aztec Camera, led by the highly talented and, at the time, a very young Roddy Frame, who has lived in London since the 1980s.
Their 1983 album High Land, Hard Rain is hard to fault. I have a few favourite tracks from that album, but my all-time favourite is 'Oblivious'. Roddy Frame's Spanish guitar riffs are superb. The best thing is that one can listen to this any time of day or night and enjoy it:
The band performed this live at Aston University, Birmingham, on 13 December 1983. This was broadcast on the BBC's Whistle Test On The Road on 16 December 1983.
Frame wrote the melody and the lyrics, which begin with this:
From the mountain tops
Down to the sunny street
A different drum is playing a different kind of beat …

Then there was Big Country, who, in 1983, had one Top 40 hit in the United States, 'In a Big Country', a rousing example of Celtic-influenced rock, complete with bagpipe riffs. This video comes from BBC's Top of the Pops:
Their attire reminds me of that of the schoolboys I saw on public transport every day when going to work: pullovers and baggy wide-wale corduroys. It was a nice look for an American city.
Then there was Runrig. Their 1983 hit was the anthem for Scottish independence, 'Alba' (pron. 'Al-i-ba'). The lyrics are in Scottish Gaelic, but this video has English subtitles:
This was filmed in Edinburgh: on Calton Hill and Arthur's Seat (or so it looks).
On my return trips to Scotland in the late 1980s, I bought three Runrig albums.
Now I am sorry I did.
One of their number, Pete Wishart, who plays keyboard in the video, is the longest serving SNP MP in Westminster. He was first elected MP in 2001.
I watch a lot more BBC Parliament than listen to music these days. Watching Wishart sneer in the House of Commons is too much. Whether it is for show or whether he really does dislike the English as much as it appears, I have no idea. Whatever the case, it vexes me that, even in a small way, I helped to put money in his pocket and bread on his table.
This brings me to the larger question of the SNP and their drive for Scottish independence, particularly as the UK has local elections coming up on Thursday, May 6, 2021.
On my stays along the east coast of Scotland, I never did meet anyone who supported independence.
Yet, the Scottish National Party, which was founded in 1934, has grown in popularity over the past two decades to become the largest Scottish political party in both Holyrood (Scotland's assembly in Edinburgh) and in Westminster (London, seat of the UK Parliament). In London, they have 44 MPs. By contrast, the Liberal Democrats have only 11.
Only Scottish voters can cast a ballot for the SNP.
The current SNP leader and First Minister is Nicola Sturgeon.
Before her, it was Alex Salmond, who served as an MP for 30 years, from 1987 to 2017.
Once I moved to the UK, I began watching Channel 4 News every night. I broke that habit many years ago. That said, they invariably had a news item on or interview with Alex Salmond. For whatever reason, he became quite the globetrotter, visiting China, the United States and Qatar. He also spoke at a UN Climate Change Conference in Copenhagen.
I could never understand how an MP whose party was not in government could be allowed to make all those trips. He was hardly a hanger-on, either. He met very powerful people, as one can see from the photos on his Wikipedia page.
His downfall came with the Scottish independence referendum in 2014. On September 18 that year, voters living in Scotland went to the polls. Disappointingly for the SNP, 55% voted to stay in the UK. It was a big deal at the time and, although the SNP deny it today, it was billed as a once-in-a-generation referendum. Salmond stood down as First Minister. His deputy was Nicola Sturgeon. She succeeded him.
Wikipedia summarises the referendum as follows (emphases mine):
Prominent issues raised during the referendum included what currency an independent Scotland would use, public expenditure, EU membership, and North Sea oil. An exit poll revealed that retention of the pound sterling was the deciding factor for those who voted No, while "disaffection with Westminster politics" was the deciding factor for those who voted Yes.[3]
For the past few years in the Commons, SNP MPs have been railing against 'this UK government' and have been talking a lot about a second referendum.
Few specifics have been published on a concrete plan for independence. One would think that, having failed to win in 2014, a solid proposition regarding currency, a central bank and trade is critical. However, none exists.
Alex Salmond, who is leading the new — and tiny — rival independence party Alba (pron. 'Al-i-ba'), is the only one who has even a rough outline of a plan involving a Scottish currency.
For the purposes of this election, however, the SNP are banking on a platform of coming out of the coronavirus crisis. Based on First Minister Nicola Sturgeon's track record so far — a steep decline in Scottish education standards and the most drug deaths of any European nation — it does not inspire confidence:
This pamphlet says that another independence referendum will be held once the coronavirus crisis is over:
That could be years away.
Others mention independence without adding 'after the crisis', such as this one:
There are two votes to be had in this election, which, in Scotland, are counted in a system of proportional representation, the D'Hondt method. There is a constituency ballot and a list ballot. I'll discuss this on another day. For now, it explains why the leaflets advise voting SNP on both ballots:
Here is another two-vote plea:
Then there are 'free stuff' policies such as these for bicycles. Given the parlous state of Scotland's rural roads, one hopes there will be a lot of money in this particular pot:
A universal basic income is also part of the SNP platform. For my readers who do not live in the UK, it is worth noting that taxpayers living in England forfeit some public money through the Barnett formula to help finance Scotland, Wales and Northern Ireland. There are also top-ups for certain expenditures, e.g. coronavirus programmes, which are called Barnett consequentials. This is a sore point for English taxpayers. A universal basic income — 'Minimum Income Guarantee' — at this stage is beyond the pale:
The SNP were very much against Brexit. Most Scots voted against it in the 2016 referendum. As such, the SNP would like for Scotland to join the EU as an independent nation. To some south of the border, the logic appears baffling (not my illustration):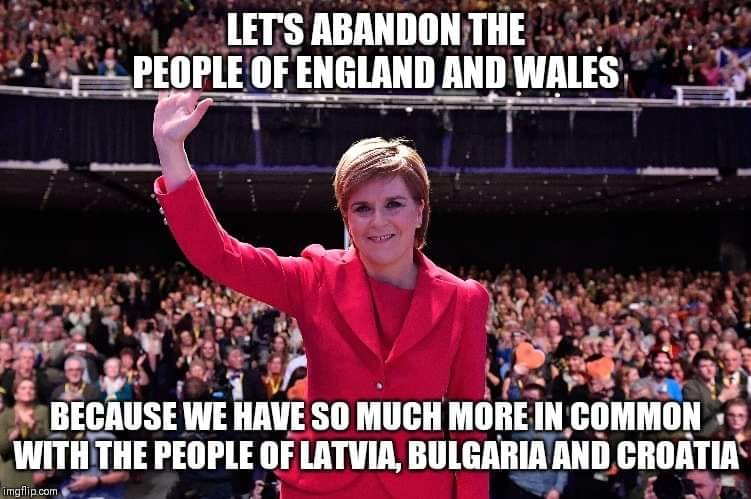 Even today, most regions of Scotland would still vote against independence. I was surprised to see that the Highlands, where one would expect independence fervour to be great, is still, albeit just, a majority No. The only Yes areas — the green ones — are around Glasgow and further east in Dundee. I picked this map up online today: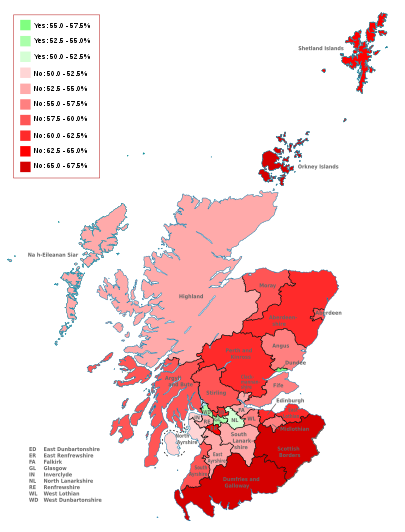 I am very much looking forward to the results of Scotland's election, which will not be available until May 7 or 8.
Meanwhile, a number of voters committed to independence are walking away from the SNP.
More about that in a future post.
A short post today.
That said, I hope that it provides food for thought.
Most of our leaders are on a losing wicket; they are 'blinded by science'.
The indefatiguable Tom Fitton of Judicial Watch explains everything coronavirus-related in a nutshell:
That graphic — meme, if you prefer — describes today's confused thinking surrounding a virus related to the common cold.
This mural in Denver International Airport, the successor to Stapleton International Airport, saw the light of day in the mid-1990s. Strangely prophetic:
It's time we stopped being Blinded by Science (courtesy Foreigner, 1979), equally prophetic.
Where is it all leading? Few of us know — including our elected leaders.
Happy New Year!
Happy new decade!
I enjoy, albeit with trepidation at times, looking back at the decades I've lived through and charting the change from beginning to end.
O tempora, o mores!
1960s
In 1960, growing up in the United States, I remember that things were still quite formal. Most people took care in the way they spoke and in their appearance. They were careful to conduct their households in a respectable manner. By the middle of the decade, that began to change but not too noticeably.
By 1968, a social revolution was underway, including sexually. What was once private became public. Attire reflected that. Women began wearing skirts above the knee. Men's clothes became more form-fitting.
Sloppiness and drugs became fashionable with the advent of hippies. Even though they were a small minority, they received a lot of media coverage. A slogan connected with them — 'If it feels good, do it' — began to pervade society at large.
Cinema and television reflected this change.
At home, Americans moved from watching westerns to tuning into a zany comedy hour. In 1960, Gunsmoke was the most viewed programme. In 1969, it was Rowan and Martin's Laugh-In. Gunsmoke had moved to sixth place in the Nielsen ratings.
Film genres and themes also shifted. In 1960, the great epics were popular, with Spartacus the highest grossing film and Exodus coming third. Psycho was second. In 1969, while Butch Cassidy and the Sundance Kid was in the top slot, Midnight Cowboy was at No. 3, Bob & Carol & Ted & Alice was No. 6 and an X-rated movie, I Am Curious (Yellow) was No. 12. It would have been unthinkable in 1960 that an urban drama about homosexuality, a movie about swingers and one that was pornographic would have been so popular nine years later.
1970s
The cultural shift continued in the 1970s. American magazines and newspapers devoted many column inches to social drop-outs experimenting with communal living. Swingers were becoming popular in suburbia. Again, those were two small sub-groups of society, but everyone — even the most respectable — knew about these two phenomena.
Pop music got bolder, more sexualised. I remember in high school that we talked a lot about sex and could hardly wait to start dating so that we could experiment. Our parents wondered what was wrong with us. The idea of sin and the forbidden went out the window. 'If it feels good, do it' had spread to the middle classes. Previously forbidden carnal acts were encouraged as being completely 'natural'. This furthered the evolution of a shame-free society. Today, I read that some teenagers don't kiss on a first date; instead they engage in oral sex.
Interestingly, one of the most suggestive singers of the decade, Eric Carmen of the Raspberries, laments where this has led today:
I remember neighbours of ours getting divorced. The wife said that she could earn her own living now, thank you very much. The husband was heartbroken. We felt sorry for their two children. Until then, my family and I personally did not know any couples who got divorced. It just didn't happen to everyday individuals. However, divorce rates continued to rise and, these days, no one bats an eyelid.
More women started working. What began as a liberating elective would turn out to be a mandatory means of survival in marriage in the years that followed. Few of us knew that then, though.
Returning to music, it was a great decade for youngsters. FM radio produced rather excellent stations devoted to little known genres that never reached Top 40 AM stations. Through them, we discovered prog rock from Britain: Yes, Rick Wakeman, and Emerson, Lake and Palmer, to name but three musical greats. There were many more, too numerous to mention here.
Near the end of the decade we had disco. Saturday Night Fever was a huge box office hit and propelled John Travolta from television (Welcome Back Kotter) to cinema fame.
The most popular television sitcoms, such as Welcome Back Kotter, were all set in metropolitan areas. In terms of television in general, The Waltons was probably the only show with a rural setting.
Halfway through the decade, I spent a year in France, which was much quieter than the US socially and still quite formal, even though the more leftist state university students were generally unkempt and unwashed. In many respects, the country was a bridge between the 1960s and the 1970s in the nicest possible way.
1980s
Leaving university, I recall that many of my friends latched onto the Reagan zeitgeist and became conservatives.
They turned into their parents and lost the fun-loving verve they once had. I stayed single the longest, so was more acutely aware of a shift into respectability and suburban living.
I lived in a major US city then, earning my own way in life. For relaxation, I used to go to matinees at the weekend. The price of admission was cheaper and the cinemas were nearly empty, giving me the impression I had the big screen all to myself.
I saw a lot of world films in the first part of that decade, some from Brazil and Australia but mostly Britain and France. French film became a passion. Even one of the UHF television channels showed French films from the 1950s. Bliss.
As far as music was concerned, my favourite FM station played British and European singles apart from reggae on Sunday afternoons. More bliss.
Then, around 1986, something began to change. Although my favourite radio station stayed the same, the movie theatres weren't showing as many foreign films. Within a couple of years, they stopped showing them altogether. One of my lifelines had vanished, sadly. The American films that replaced them were not very good, either, so I stopped going to the cinema.
Everything became very one-dimensional. America, somehow, had lost the link with the zeitgeist of European culture, which it never recovered. It used to be that people in the 1960s and early 1970s made a two- or three-week trip to western Europe to see the historic sites they learned about in school. It was what we today would call a bucket list item.
Fortunately, by the end of the decade, employment events intervened — and further improved — for me.
1990s
Living in England, I realised that I had an insatiable appetite for history and politics. I learned a lot about both thanks to a gift subscription to The Spectator, which I had read about in English lit class in high school. It's been around since 1828.
In 1990s, my in-laws told me that Margaret Thatcher's time was up. She had become too full of herself. We had high hopes for John Major.
I remember the 1992 election, which Major won handily. I could not understand the rage of my female colleagues who expected Neil Kinnock to win. They stayed up all night drinking, waiting for a Labour government that never came. The next day, at work, they were hungover, tearful — and, above all, angry. Why did they think he stood a chance? Perhaps I had been reading too much of The Spectator, but I had no doubt that Major would continue as Prime Minister.
By 1997, most of us felt change was needed. The Conservative MPs on the front bench seemed like tired, bloated bureaucrats. None of them had an original idea. Most seemed to be lining their own pockets. I was most consterned by Health Secretary Virginia Bottomley, who started closing A&E (Accident and Emergency) services at local hospitals. What was she thinking?
When Tony Blair became Prime Minister in 1997, nearly everyone I knew rejoiced. Change was coming.
And how …
2000s
The first few years of Labour were fine. I was enjoying my work too much to pay any attention.
By 2005, I longed for a Conservative government, especially when Gordon Brown became PM with no general election.
After that, Labour became unbearable, banging on about people's personal lives and habits. The smoking ban came into force in the summer of 2007. Ministers assured us in television interviews that private members clubs and hotels would be exempt. No, not at all. It was a blanket ban everywhere.
It was during this decade that London elected its first mayor, Ken Livingstone. He served two terms and introduced the city-wide congestion charge for motor vehicles, which we called the Kengestion Charge. My colleagues at the time reminded me that, as head of the old GLA (Greater London Authority), he was known as Red Ken.
Boris Johnson succeeded him, also serving two terms. His administration made the streets tidy again and also lowered crime.
By 2006, I started looking more closely at the EU and the unelected bureaucrats in Brussels who seemed to rule our lives. I agreed with those disgruntled Britons who wanted a referendum on our membership.
Most of all, however, I was sick and tired of Labour, to the point of despair.
I also asked my far better half to cancel my gift subscription to the The Spectator, as it had changed its editorial line considerably after Boris Johnson left as editor. Although more people now read it, it is a former shadow of itself. I would not call it neither conservative nor traditional at all any more.
2010s
Hope came in the May 2010 general election.
The Conservatives had to form a coalition government with the Liberal Democrats. It was the David Cameron and Nick Clegg Show, but at least Labour were out of the picture after 13 years.
David Cameron referred to himself as the 'heir to Blair'. It took me some time to see it, but he was not wrong.
He set out to reform the Conservative Party and alienated older, faithful members in their local associations. CCHQ suddenly did not need their help.
On a broader level, Cameron will probably be best remembered for opening up marriage to same-sex couples and for offering us the EU referendum, billed by all parties as a 'once in a lifetime' choice which they all pledged to implement.
A number of televised debates took place in 2016. I watched them all. Some of my friends were less than convinced by the Leave proposition. The one clincher was Brexit The Movie, which is an hour-long eye-opener about the Brussels gravy train and better than any of the debates, no matter how good:
I stayed up until the early hours of the morning of Friday, June 24, 2016 to watch the result. When it was clear that Leave had won, I went to bed. The next day, my far better half and I woke up to Cameron resigning because he did not like the result. We had a celebratory lunch in London and went to a party that evening that had been planned months earlier. I remember the apprehension we both felt about sounding out the other party guests as to their views on the EU. We later discovered that were not alone. Finally, someone there broke the ice upon his arrival by exclaiming:
Is everybody HAPPY? I certainly am!
At that point, we were free to talk about Brexit.
Theresa May became Prime Minister later that summer.
Across the pond, another sea change was happening: Donald Trump's candidacy. It was even more of a shock when he won. A startled nation awoke to find that Hillary Clinton was not their president.
The conflicts about Brexit and Trump continue today. Opponents to both have grown ever more vehement.
On September 20, 2019, the British website Spiked issued a thought-provoking documentary on Trump and Brexit. It's 26-minutes long and well worth watching. To cover Brexit, their reporters interviewed residents of Southend-on-Sea in Essex. To cover the Trump phenomenon, they interviewed Pennsylvania journalist Salena Zito and residents of Erie, which was once a major industrial powerhouse in that state. It has fallen on very hard times, indeed:
The major theme running through both is, as they put it, 'change', which I believe they should have called 'self determination' and 'recovering the aspirational dream'.
One thing that struck me was the interview with the owner of a gym in Erie. He said that his father raised seven children on a janitor's salary:
You couldn't do that now.
Too right. Both parents now have to work — unlike in the 1960s — and few households can support more than two or three children.
People in Britain and the United States want to work and save more of their hard-earned cash. They also want good job opportunities for their children.
A fisherman in Southend said that, because of EU rules, he is restricted to an ever-smaller part of waters in which to fish. The number of fishing boats has continued to decline, he added, and the number of fisherman has also dropped dramatically. That is why he, and many others in Southend, voted Leave in 2016.
The decade closed with Boris Johnson's landslide victory on December 12. Historian David Starkey explores what this means for the nation in this 57-minute documentary from The Sun, ably conducted by a young reporter:
Starkey explores the evolution of Parliament since Victorian times, when it became the institution we know today. As many Northern constituencies flipped from Labour to Conservative, Starkey says that Boris's pledge to revitalise the North will mean little unless he espouses their values of patriotism, which, he says, has been a dirty word for many years.
He says that Boris could well become a figure like Charles II, who restored the monarchy beginning in 1660. Many of their personality traits are similar, he notes, particularly their penchant for bringing a nation together and reforming it at the same time. It is well worth watching when you have the opportunity.
There is much more to Starkey's interview than summarised here. He talks about the people of the North, Labour, Jeremy Corbyn, David Cameron, Tony Blair and, significantly, Benjamin Disraeli. Starkey hopes that the PM will study his Victorian predecessor's successes closely.
With that, I must close for now. There are many developments over the past 60 years that I have not mentioned. This is merely to give an idea about the direction that Western society took as the decades rolled on.
Welcome to 2020. Let's hope it brings many good tidings. I wish all of us the very best.