You are currently browsing the tag archive for the 'Portugal' tag.
Sunday, June 6, 2021, was the 77th anniversary of D-Day, the Longest Day: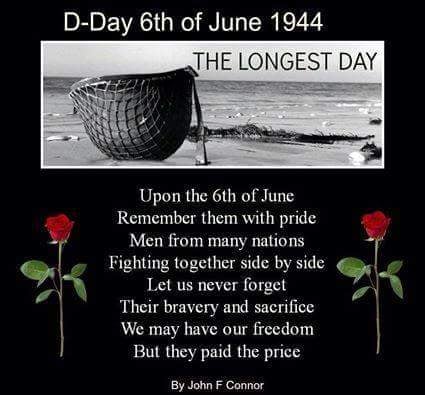 This map shows the landings in Normandy: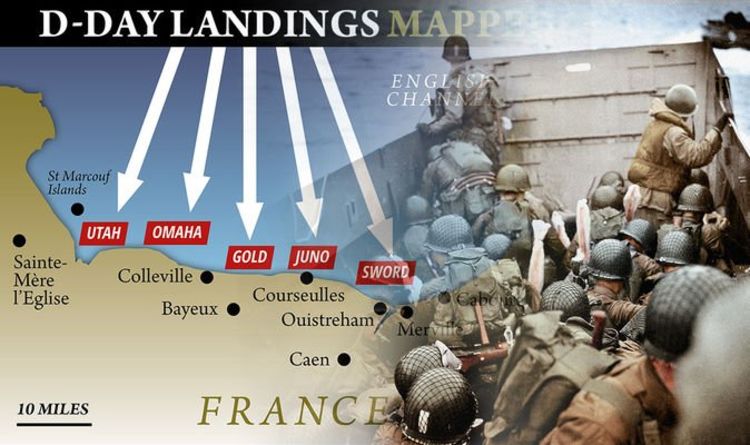 While preparing Sunday dinner, I listened to C-SPAN's Sunday morning show, broadcast on BBC Parliament. Sarah Rose, the author of D-Day Girls, was the guest. Her book is a novel, but she did a lot of historical research showing the intelligence work that women did behind the scenes as part of a carefully-managed international network.
The phone-in included many sons and daughters of Second World War veterans. Nearly all said that those veterans were, understandably, highly reluctant to talk about their war experiences. However, some said that their fathers or grandfathers opened up in their later years. One caller said that she has several hours of memories that she has recorded for posterity, particularly for younger family members.
With more and more of those veterans passing from this mortal coil, now is the time for children and grandchildren to record and catalogue those memories, if they can. One person who has done so is the author of Pacific Paratrooper, remembering Everett A Smith, their father. It's an excellent website, which also documents much history about the battles and conditions in the Pacific theatre. I am delighted to have the author as one of my regular readers.
We will always remember those heroic men and women:
Incidentally, the Houses of Parliament were bombed in 1941 and had to be reconstructed authentically in the 19th century manner. Both were faithfully restored. The next tweet shows the House of Commons:
Seventy-seven years later, we are still in the grip of the coronavirus crisis and a loss of freedom the troops involved in D-Day would have found unthinkable.
In Britain, former Prime Minister Tony Blair (Labour) appeared on The Andrew Marr Show to say that Britons who have had two vaccinations should be allowed greater freedoms, thereby creating a two-tier society:
If a Conservative had said that, Marr would have heaped criticism all over him or her.
It is mystifying that Tony Blair even gets airtime on this topic. He isn't in government, nor is his party.
It appears I am not alone, judging from the replies to this tweet:
On the topic of vaccines, Tony Blair has never said if his son Leo, born when he was in No. 10, had the MMR vaccine, which was highly controversial at the time. So, it was okay for him to refuse to give his son a vaccine that every other child born in Britain had/has to have. It is very difficult to get separate children's vaccines for measles, mumps and rubella. One imagines that Blair managed to get them for his son.
Tony Blair also wanted national ID cards. The debate raged for a few years in Parliament. Fortunately, nothing happened.
On Monday, Guido Fawkes's cartoonist Rich, recalling the ID card debate from the Blair years, posted this:
On the topic of vaccines, the Government is talking about giving them to children. Highly dangerous, one would have thought. The Telegraph's Bob Moran was moved to create this cartoon a week ago:
ITV's Good Morning Britain stoked the flames by asking whether the vaccinated should refuse to associate with the unvaccinated:
Fortunately, most Britons disagree with Good Morning Britain:
June 21 is supposed to be Freedom Day, according to the Government, with the caveat that full reopening of Britain will be based on data rather than dates.
It should come as no surprise that the Government could now backtrack on that date:
On June 1, we had no coronavirus deaths, but that did not make the news:
TalkRADIO host Julia Hartley-Brewer is fed up with the delays. In fact, as the chart below from Peston shows, the UK's actual coronavirus stats are much better than SAGE's models:
On June 3, Portugal, the only European country on the UK's green list for travel, was moved to the amber list, yet these charts tell a different story:
One suspects that it was only ever on the green list for the Champions League final in Porto:
Oddly, we had more freedom a year ago — with no masks and no vaccines — than we do now:
In Wales, First Minister Mark Drakeford (Labour) says that social distancing will not be disappearing any time soon:
Data for the UK should be available on June 14, at which point the Government will announce their decision regarding June 21:
The Government have paid for coronavirus advertising and COVID marshals, extending to 2022. Former London Assembly member David Kurten tweeted a reminder:
I, too, want my country back.
In Germany, scientists from Munich University say that lockdown had no effect on the virus spread:
Something is very wrong when, in a five-minute speech on television, a prime minister or a president can remove everyone's civil liberties at a stroke.
Monday, March 23, 2020, will be etched on my memory forever. That was the date of the UK's first lockdown.
D-Day. Freedom Day. What has happened to us — and for a 'pandemic' with fatality rates no worse than influenza? We are in a very bad way, not only in the UK, but also elsewhere in the West.
Lent ends on the evening of Holy Saturday, generally timed around the first Easter Vigil service.
Many Christians enjoy attending Easter Vigil services to see the blessing and lighting of the Paschal Candle, which is lit at services for the next 40 days, until Ascension Day.
New holy water is blessed in Catholic and High Anglican churches. (Chrism Masses would have been held on Wednesday of Holy Week, at which time bishops bless the oil used in Baptism, Confirmation, Ordination and the Anointing of the Sick and Dying for the next year.)
Traditionally, catechumens — newcomers to the faith — are baptised at this service.
The following post has more information:
What happens on Holy Saturday?
During the day, families are busy purchasing and preparing festive dishes for Easter Day. A popular custom among Polish Catholics is to have their food blessed at church.
(Image credit: annhetzelgunkel.com)
The following post, with the help of the aforementioned website, explains the importance of these traditional ingredients:
Holy Saturday and food traditions
Every Christian culture has certain food traditions. In 2016, Mary Berry, the doyenne of English home cooks, presented a two-part programme for the BBC in which she explored different Easter treats from around the world. Find out more below:
Easter food explored — part 1 (Mary Berry, BBC — 2016)
Easter food explored — part 2 (Mary Berry, BBC — 2016)
A French cooking site has an interesting article on Easter food in Europe and Algeria. 'Gâteaux de Pâques traditionnels' has excellent close-up photographs by way of illustration. A summary of the article follows along with my own commentary.
France
In Alsace, the traditional Easter cake is made in the shape of a lamb. It was originally called Osterlammele — Easter lamb — suggesting its German origins.
Easter cakes in other European countries are also in lamb shapes, using special moulds. Polish lamb cakes are elaborately iced and decorated.
The one from Alsace is plainer, lightly dusted with icing sugar. Traditionally, it was wrapped in fine paper in the colours of Alsace or the Vatican.
Regardless of decoration, lamb cakes are rich in eggs, which were traditionally forbidden during Lent.
Wherever it is used, the lamb shape reminds us of the goodness of Christ and that we should follow His example.
All Recipes provides the instructions. The video below might not be the most expert, but I did enjoy watching the two young lads make a lamb cake:
Italy
Pasteria Napoletana is a popular Easter tart.
Its origins go back to pagan times, when a special bread made from spelt was offered to Ceres, the goddess of agriculture and fertility, in springtime.
Wikipedia says that it is possible that early bread evolved into a ritual bread made of honey and milk which catechumens received after their baptism on Easter Eve during the reign of Constantine.
In the 18th century, one of the nuns at the convent of San Gregorio Armeno in Naples, which still exists today, was responsible for the version eaten today. She wanted to create a tart that symbolised the Resurrection, including orange blossom water from the convent's garden.
The symbolism is as follows: wheat for rebirth, flour for force and strength, eggs for infinity, white ricotta for purity and orange blossom water — along with dried fruit, spices and sugar — for richness.
Wikipedia says that the nuns were 'geniuses' in preparing these tarts, which had to be made on Maundy Thursday in order to set properly for Easter. They were then given to wealthy benefactors for the Easter table.
Although variations exist — sometimes with pastry cream added — each must have wheat and ricotta to be considered authentic.
Laura in the Kitchen has a recipe and a video:
Portugal
At Easter, the Portuguese eat folar, bread which can be sweet or savoury.
Sometimes folar is wrapped around whole eggs (before baking) to symbolise new life.
Other variations include chorizo or other charcuterie.
Traditionally, this bread is given to priests, godparents or godchildren as a symbol of happiness and prosperity.
The lady in the video below makes a savoury folar in the most traditional way — in a bread trough. The film is in Portuguese, but you can check it for consistency and shaping while you follow a recipe, in this case from Pocket Cultures:
Austria
Austrians celebrate Easter by including on their tables a rich brioche called Osterpinze or Pinza. (Oster means 'Easter'.)
This brioche originated in southern Austria. It is shaped into three petals — no doubt to symbolise the Holy Trinity — and sometimes has a coloured Easter egg — the Resurrection and new life — in the centre. Orange blossom water is used in the dough. Some variations also include dried fruits for extra richness.
The Austrians adapted this recipe from pannetone. Italy borders the southern part of the country.
The Bread She Bakes has a recipe in English. Although the video below is in German, watch this gentleman's techniques:
Algeria
Although Algeria is primarily Muslim today, it is important to remember that North Africa was the cradle of the early Church. One could certainly put forward a case for Christianity being an African faith, because it spread to Europe later.
Christians in Algeria ate Mouna Oranaise at Easter. La Mouna — a mountain — is situated outside of Oran, Algeria's second largest city. Christians from Oran went to this mountain to celebrate Easter and to break bread.
Although the French article does not say, it seems likely that the bread developed into a brioche when the French arrived and took its present-day form.
All good brioches take time, and the Mouna takes six hours to rise: four initially, after which the dough is divided into two and left to rise for another two hours.
The Mouna has a rich egg glaze and is topped with pearl sugar.
Today, people of all faiths eat Mouna. A Muslim included the recipe on her Pinterest page. A YouTube video appears on the Sephardic (Jewish) food channel.
Christian pied-noirs brought the Mouna recipe to France as an Easter speciality. Make a brioche dough and include orange flower water or lemon zest. Knead the dough well — or use a food processor with a dough hook — to ensure the dough is nice and light:
I am sure that some of these Easter treats cross borders. I am particularly interested in hearing from others with regard to breads and pastries. Feel free to comment below!
In the meantime, I hope that everyone's Easter preparations go well!
October 31 is widely celebrated in North America.
Hallowe'en has not managed to recuperate its roots in Europe, despite efforts by marketers and the media to encourage trick-or-treating.
In England, at least, households not wishing to participate keep their hallway and front door lights off. Generally speaking, trick-or-treaters respect this gesture and stay away.
Although I run the risk of over-simplifying the origins of Hallowe'en — All Hallows Eve/Evening, hence the traditional contraction — I may expand on it next year at this time. My pagan readers are welcome to contribute in the comments, which will stay open for a fortnight.
Europe
During the Middle Ages, a tradition called mumming developed whereby a group of people dressed up, went door-to-door or to a venue such as a pub to perform a short skit or play. They did this at various times through the year.
So far, historians have only been able to find scripts from plays which date back to the 18th century, when mumming reached its peak. It continued through the 19th century, at least in the British Isles, then faded out.
The scarcity of written records makes it difficult for researchers to pinpoint the exact origin of mumming. Wikipedia says:
Early scholars of folk drama, influenced by James Frazer's The Golden Bough, tended to view these plays as debased versions of a pre-Christian fertility ritual, but some modern researchers discount this view preferring a late mediaeval origin (for which there is no evidence either).[3]
That said:
Mummers and "guisers" (performers in disguise) can be traced back at least to the Middle Ages, though when the term "mummer" appears in medieval manuscripts it is rarely clear what sort of performance was involved. In 1296, for example, the festivities for Christmas and for the marriage of Edward I's daughter included "fiddlers and minstrels" along with "mummers of the court".[2] At one time, in the royal courts, special allegorical plays were written for the mummers each year — for instance at the court of Edward III, as shown in a 14th-century manuscript, now in the Bodleian Library, Oxford.
In any event — apart from mumming — the Middle Ages also saw the rise of souling, the practice of poor children and adults going door-to-door offering to pray or sing a Psalm for the dead in return for a soul cake. This took place on Hallowmas, which had pagan origins (emphases mine below):
The custom of trick-or-treating at Halloween may come from the belief that supernatural beings, or the souls of the dead, roamed the earth at this time and needed to be appeased.
It may have originated in a Celtic festival, held on 31 October–1 November, to mark the beginning of winter. It was Samhain in Ireland, Scotland and the Isle of Man, and Calan Gaeaf in Wales, Cornwall and Brittany. The festival is believed to have pre-Christian roots. The Church made the date All Saints' Day in the 9th century. Among Celtic-speaking peoples, it was seen as a liminal time, when the spirits or fairies (the Aos Sí), and the souls of the dead, came into our world and were appeased with offerings of food and drink. Similar beliefs and customs were found in other parts of Europe.
It is suggested that trick-or-treating evolved from a tradition whereby people impersonated the spirits, or the souls of the dead, and received offerings on their behalf. S. V. Peddle suggests they "personify the old spirits of the winter, who demanded reward in exchange for good fortune".[2] Impersonating these spirits or souls was also believed to protect oneself from them.[3]
At least as far back as the 15th century, there had been a custom of sharing soul cakes at Hallowmas.[4] People would visit houses and take soul cakes, either as representatives of the dead, or in return for praying for their souls.[5] It was known as "souling" and was recorded in parts of Britain, Flanders, southern Germany and Austria.[6] Shakespeare mentions the practice in his comedy The Two Gentlemen of Verona (1593), when Speed accuses his master of "puling [whimpering or whining] like a beggar at Hallowmas."[7] The wearing of costumes, or "guising", at Hallowmas, had been recorded in Scotland in the 16th century[8] and was later recorded in other parts of Britain and Ireland.[9]
The Soul — Souling — Cake
The Semper Eadem blog, which concerns all things Elizabethan, has a recipe for souling cakes, for those who are interested in making these for friends or family.
The recipe post explains:
A Soul Cake (or Souling Cake) is a small round cake, like a biscuit, which is traditionally made for All Souls' Day (the 2nd November, the day after All Saint's Day) to celebrate the dead …
Traditionally each cake eaten would represent a soul being freed from Purgatory. The practice of giving and eating soul cakes is often seen as the origin of modern day Trick or Treating, which now falls on Halloween (two days before All Souls' Day). The tradition of 'souling' and giving out Soul Cakes on All Souls' Day originated in Britain and Ireland hundreds of years ago, from giving out bread on All Souls' Day during the devout Middle Ages …
Soul cakes and breads were often made by drawing a cross shape into the dough before baking, signifying their purpose as Alms for the dead.
The recipe given is one from the Victorian era when many ingredients that were very expensive in the Middle Ages became more widely available. However, when the tradition first started:
Indeed, any spice at this time, sugar included, would have been a prized commodity that primarily only the wealthy could afford. To go from door to door, praying for the souls of the departed in return for these sweet treats, would have been viewed by generations of poor children as quite a good trade-off.
The Reformation
The Reformation is synonymous with the printing press. Even if one could not read, one could at least go to church to hear the Bible read in one's own language, rendering it comprehensible for many.
As a result, where Protestantism took root, the government and Reformers frowned upon earlier syncretic practices. In England:
Henry VIII changed the perceptions of the kingdom forever when he broke from Rome. A guiding force in his reformation of the Catholic Church was the destruction of what he and his chief minister Thomas Cromwell scorned as "superstition." Saints' statues were removed; murals telling mystical stories were painted over; shrines were pillaged; the number of feast days was sharply reduced so that more work could be done during the growing season. "The Protestant reformers rejected the magical powers and supernatural sanctions which had been so plentifully invoked by the medieval church," writes Keith Thomas. The story in The Crown is told from the perspective of a young Catholic novice who struggles to cope with these radical changes.
Yet somehow Halloween, the day before All Saints' Day, survived the government's anti-superstition movement, to grow and survive long after the Tudors were followed by the Stuarts …
Recent practice
Trick-or-treating still exists in parts of the British Isles and elsewhere in Europe. Ancient traditions live on, even if they are not widespread.
Ireland
An Irishwoman, Bernadette, wrote on a 2009 Telegraph blog that, where she lives, October 31 is a religious rather than secular celebration:
Round here, all the kids dress up as saints, have their mates round, run riot, prize for the best re-enactment of the life story of the saint you've come as, Mass, Adoration, pizzas….. which takes us nicely into All Saints Day. Come on — who celebrates Hallowee'en anymore as ghosts witches and ghoulies ? It's so passé, dear. Keep up. Catholics have moved on a bit recently.
Scotland
Scotland has the practice of guising — disguising.
I have only seen it once, around Guy Fawkes' (Bonfire) Night (November 5), when I was approached on Princes Street in Edinburgh one evening by a little girl and her mother. The little girl was in ancient dress, held out a small bag and said:
Penny for the guy.
I gave her a couple of copper coins, she thanked me nicely and we all went on our way.
Another Telegraph reader, johnofcroy, shared his childhood memories:
As a boy growing up in Scotland we used to dress up at Halloween as "guisers", carry a hollowed out turnip and call on the neighbours when, in exchange for a song or dance, we would be given some sweets. This was in the sixties when American trick or treat culture was totally unknown to us. So although there may be no English tradition of guising at Halloween there most certainly was a long Scottish tradition.
Northern England
An English reader, crownarmourer, recalled going around with his friends carrying a moggy — a jack o'lantern:
and asking for cash not candy for years in my home village in the North East of England.
Miserable Southerners may not have any old customs but we did and still do …
Hans Castorp wrote:
… The distant origins of 'trick or treat' came from these islands, probably the Celtic fringes where the autumnal feast, clearly pagan, was Beltane, much condemned by Scottish divines. (It looks like it was originally a pagan autumn equinox which was transferred to the eve of All Saints Day after Christianisation. Anyone got detail on this?)
The remnants of this in the non-Celtic north of England (Yorkshire, Lancashire, Cumbria etc) is 'Mischief Night' which involves acts of hooliganism by teenagers against unpopular neighbours. Again, a threat against neighbours as with 'T or T' but a rather more serious one and police are or were often invoked to deal with it …
Parts of the American Midwest
This I did not know. It appears as if guising is alive and well in pockets of the Midwest.
From Wikipedia:
Children of the St. Louis, Missouri area are expected to perform a joke, usually a simple Halloween-themed pun or riddle, before receiving any candy; this "trick" earns the "treat".[52] Children in Des Moines, Iowa also tell jokes or otherwise perform before receiving their treat.
Portugal
From the same Wikipedia link:
In Portugal children go from house to house in All Saints day and All Souls Day, carrying pumpkin carved lanterns called coca,[57] asking every one they see for Pão-por-Deus singing rhymes where they remind people why they are begging, saying "…It is for me and for you, and to give to the deceased who are dead and buried[…]"[58] or "[…]It is to share with your deceased […]"[59] If a door is not open or the children don't get anything, they end their singing saying "[…]In this house smells like lard, here must live someone deceased".
Pão-por-Deus translates as 'Bread of God'. Records of this tradition go back to the 15th century.
In the nearby Azores:
the bread given to the children takes the shape of the top of a skull.[60]
After the 'begging' is complete:
the Magusto [feast for the dead] and big bonfires are lit with the "firewood of the souls". The young people play around smothering their faces with the ashes. The ritual begging for the deceased used to take place all over the year as in several regions the dead, those who were dear, were expected to arrive and take part in the major celebrations like Christmas and a plate with food or a seat at the table was always left for them.[62]
Politically incorrect
In closing, a group of leftists have criticised American Hallowe'en celebrations as being politically incorrect. They allege the costumes (e.g. cowboys and Indians) reopen old historic wounds. A brief, sometimes entertaining, video has just appeared on YouTube criticising those who want to do away with Hallowe'en for reasons of 'offence':
Conclusion
I was amazed to find out about all the ancient and modern commemorations for the dead which take place all over the world, and not always around the end of October and the beginning of November.
Next year, I intend to write a piece on Day of the Dead, which became popular in the US after I left. It is a newish tradition celebrated by St Mark's Episcopal Church in Manhattan. A church should not be taking part in a syncretic tradition, even if their altar to the dead is in a nearby tent.
My mother learned to sing this carol in Latin, customary in the pre-Vatican II Catholic Church when it was 'Adeste Fideles'. In fact, she never really got to grips with the English words and at times muttered quietly about the loss of the Latin lyrics at Christmas Mass.
Little did she — or I — know about the history of 'O Come All Ye Faithful', sung here by King's College Choir, Cambridge. Also noteworthy is the organist's mastery of David Willcocks's arrangement — wow!
It would have surprised my mother to find that a Catholic priest wrote the English lyrics to this carol. Frederick Oakeley, received his Classics degree from Christ Church, Oxford, in 1824. After his ordination in the Church of England, he became a fellow and the chaplain to Balliol College. From 1827, Oakeley became interested in the tractarian — Oxford — movement, known as High Church Anglicanism. This caused him no end of controversy in a subsequent appointment as the minister of Margaret Chapel, where he served between 1839-1845. During that time he added various elements of High Church worship to the services and met with accusations of 'ritualism'.  Oakeley moved so closely to the Roman Catholic Church that his clerical orders were withdrawn until such time as he would retract his beliefs.
Oakeley wasted no time in crossing the Tiber. In 1845, he joined John Henry Newman's religious community and was received into the Roman Catholic Church.  He attended seminary and was ordained in 1848, at which point he began to serve at Catholic churches in London. Thirty years before his death in 1880, he was appointed a canon of the Diocese of Westminster, a post in which he served faithfully.
'O Come All Ye Faithful' has several verses, not all of which are sung together. This is partly because the carol would take too much time to sing. The other reason is that not all the verses are intended for Christmas. One verse, for instance, is to be sung only at Midnight Mass or on Christmas Day. Another verse, the eighth, is intended solely for Epiphany services. Oakeley translated the verses we use most commonly today from Latin into English. Other lyricists were responsible for writing or translating additional verses.
That much is straightforward. The authorship of the music to 'O Come All Ye Faithful' is less clear.  Most music scholars today agree that a Catholic layman, John Francis Wade, is the author of the carol we know today. Before that, the English composer John Reading, an Anglican, was also thought to have written the melody. King John IV of Portugal's name has also been considered. John IV was a composer in his own right and owned one of the largest libraries of music in the world at that time. John IV's daughter Catherine of Braganza, incidentally, was the wife of England's Charles II. The two married several years after John's death.
Now let us look at the life of John Francis Wade (1711-1786). Although he was English, it is unclear whether he was born in England or in Douai, in northern France. In any event, he was a Jacobite, and, if he was born in France, his parents might well have been sympathetic to the cause. The Jacobite movement started when Charles II's brother, James II of England, was deposed by Queen Mary II and King William III. (We know them today collectively as William and Mary.)
The Jacobite movement is complex and combined various alliances of British Catholics and Protestants for either religious or political reasons. Catholics, like Wade, wanted a restoration of Stuart successors because they would be more sympathetic to their religious practice.  The French allied with the Jacobites and planned to invade Britain. Bonnie Prince Charlie — James II's grandson, Charles Edward Stuart — was seen to be as the hope of this movement in its later years. He instigated the Jacobite Uprising of 1745, which ended in defeat at the Battle of Culloden (emphasis on the second syllable, which is pronounced 'lud').
During the height of this struggle, however, Jacobites communicated with each other in coded language. 'Bethlehem' meant 'England'. Published hymns and poems were embellished with Stuart imagery — oak leaves and white roses — to denote that they contained Jacobite messages. 'O Come All Ye Faithful' was one of these. It was thought to have been Wade's ode to the birth of Bonnie Prince Charlie, with 'faithful' referring to Jacobites.