You are currently browsing the tag archive for the 'Prince Harry' tag.
Previous instalments in my series on Harry and Meghan can be found here, here, here and here.
I left off at the end of 2019, with The Sun publishing a story on the Sussexes imminent extended visit to Canada, which enraged the Duke and Duchess:
On December 21 that year, Sky News reported:
Harry and Meghan's spokeswoman ended speculation over their whereabouts by confirming the couple and their seven-month-old son Archie are spending their six-week Christmas break in the country Meghan called home for seven years.
"The decision to base themselves in Canada reflects the importance of this Commonwealth country to them both," she said.
"The Duke of Sussex has been a frequent visitor to Canada over many years, and it was also home to The Duchess for seven years before she became a member of the Royal Family.
"They are enjoying sharing the warmth of the Canadian people and the beauty of the landscape with their young son."
The duchess lived in Toronto before joining the Royal Family as the popular US drama Suits, in which she starred in, was filmed in the Canadian city.
Harry and Meghan were famously pictured in Toronto in 2017 at the Invictus Games.
The Sussexes are likely to have spent the US Thanksgiving celebrations on 28 November with the duchess' mother Doria Ragland.
Prince Harry's grandmother, the Queen, is said to be supportive of the Sussexes' plan to take a long break and not join the rest of the Royal Family at Sandringham on Christmas Day.
The Duke and Duchess of Cambridge have previously spent Christmas with Kate's parents in Berkshire instead of with the Queen.
Harry's grandfather, Prince Philip, 98, was taken to hospital in London on Friday from Sandringham for treatment for a pre-existing condition, Buckingham Palace said.
The Queen had just arrived at the Norfolk estate for her Christmas break after the State Opening of Parliament on Thursday …
By Christmas Eve, the Mail reported that the Royal Family wanted the couple to return home in light of Prince Philip's stay in hospital:
Prince Harry and Meghan Markle have been urged by Royal family members to return from abroad to spend Christmas in the UK, as Prince Philip spends a fourth night in hospital …
It comes after a family Christmas card of the royal couple smiling in front of a Christmas tree, with Archie's adorable face staring down the camera lens, was revealed.
On December 28, news emerged in the UK that:
THE Duke and Duchess of Sussex have registered the trademarks for hundreds of products with their Sussex Royal brand.
That same day, Blind Gossip posted 'The Big Plan':
Think back to a few months ago when we talked about the baby.
Our married couple was oddly reluctant to let the public see the baby, citing concerns over safety and a desire to bond privately.
We told you that wasn't true. Plenty of their family members have managed to keep their children safe and secure over many generations while meeting their obligations as public figures.
We told you that the couple was actually trying to keep sightings of the baby rare while they figured out how to monetize the situation… without the rest of the family finding out.
They bungled that scenario.
However, it's now full steam ahead with The Big Plan!
What is The Big Plan?
To brand and monetize everything.
You are now seeing that plan being put into motion. And if you question what they are doing, you will be met with anger, misdirection, and insistence that their motives are pure.
We hid the baby because… Privacy! Motherhood!
We take private planes and stay in posh private digs because… Environment! Wellness!
We isolate ourselves from 99% of our family and surround ourselves with celebrities because… Family! Safety!
We are engaging our own outside lawyers and PR team because… Protection! Charity!
How dare you question our motives!
See how that works?
Fortunately, the Queen put paid to Sussex Royal on February 18, 2020, as the Mail reported:
The Duke and Duchess of Sussex must drop their 'Sussex Royal' label after deciding to step down as working royals.
Following lengthy and complex talks, the Queen and senior officials are believed to have agreed it is no longer tenable for the couple to keep the word 'royal' in their 'branding'.
Harry and Meghan have spent tens of thousands of pounds on a new Sussex Royal website to complement their hugely popular Instagram feed.
They have also sought to register Sussex Royal as a global trademark for a range of items and activities, including clothing, stationery, books and teaching materials. 
In addition, they have taken steps to set up a new charitable organisation: Sussex Royal, The Foundation of the Duke and Duchess of Sussex.
It has now been made clear that they will need to 're-brand'.
Returning to December 2019 and January 2020, Harry was eager to work out some sort of arrangement for his and Meghan's future with the then-Prince Charles. Charles told his son that such things had to be done in person, not via email. Prior to that, Harry had contacted the Queen, who said she would be happy to meet with him until it turned out her diary was full.
Various excerpts in this post come from investigative-turned-royal reporter Valentine Low and his 2022 best-seller, Courtiers. Royal insider Lady Colin Campbell said on GB News a few weeks ago that Low's book must be the definitive one he had so much access to the people who run the Palace.
On a personal note, I read all of Valentine Low's work when he wrote for the London Evening Standard around the Millennium. Low left no stone unturned in his lengthy exposés, and it is good to see that he continues to doggedly investigate his subject matter.
Another book I would recommend is Tom Bower's 2022 best-seller Revenge, which concerns the Sussexes lives. It, too, is packed with detail. Again on a personal note, I read his biography of the late Robert 'Bob' Maxwell in the 1990s. Maxwell died an unresolved mysterious death on his yacht. Maxwell was larger than life, both physically and figuratively. Bower's biography was a page-turner, from start to finish.
I sent both Courtiers and Revenge as Christmas gifts in 2022. I commend them to my readers.
'Cornered, misunderstood, deeply unhappy'
Valentine Low's excerpt, which The Times published on September 25, 2022, explains what happened between December 2019 and January 2020 (emphases mine):
The current set-up was not working for them, and they wanted to go and live in North America. Harry seemed to be under the impression that they could just sort it out by email before he and Meghan got back to London on January 6. The reply they got, however, was that this would require a proper family conversation. They were also told that the first date that the family would be available was January 29. It is not clear if this inflexibility was on the part of Charles, who was due to be in Davos, or that this was the response of his long-time private secretary Clive Alderton, pulling the strings. Either way, from the Sussex point of view, this went down incredibly badly. It fed into the narrative that they were not being taken seriously by the palace machinery, or by the rest of the family.
Harry had tried to speed up matters by arranging to see his grandmother alone before he left Canada. However, the message was conveyed to him that the Queen had been confused about her diary, and was no longer available. Harry was incensed, because it was not true: the courtiers had got in the way, it seemed, because they saw the meeting with the Queen as an attempt to pick the Queen off before Harry started talks with the rest of the family. As one source put it, "There was a danger that a private conversation could be interpreted very differently by two people."
And so it turned out with other conversations concerning the Sussexes, leaving the Queen to state that 'some recollections may vary'.
Harry considered travelling directly to Sandringham to see his grandmother:
He eventually dropped the idea, but it was a sign of his frustration that he even contemplated such a move.
Royal diaries opened up early in January 2020:
Given that the couple announced their plans to stand down on January 8, and the royal family met to discuss it all five days later on January 13 — the so-called Sandringham summit — it seems that the family diary was rather more flexible than originally appeared.
Harry and Meghan could be maddening, of course; they had already infuriated the royal family by pushing out their Megxit announcement on January 8 with the minimum of notice when all the talks had been about issuing a joint statement. But the palace also showed the sort of initial inflexibility that was always guaranteed to infuriate them. Harry and Meghan felt cornered, misunderstood and deeply unhappy. If the rest of the institution failed to appreciate that, even if their demands were unreasonable, the departure negotiations were never going to end happily. It is uncontroversial to suggest that the Sussexes would regard the talks as a failure. They wanted to find a compromise whereby they could live part of the year abroad but carry out some royal duties at home. No such compromise was found. Instead, they lost their royal duties, their patronages, Harry's military affiliations, their security, their income from the Prince of Wales and, for official purposes anyway, their HRH titles. They pretty much lost everything, except for the freedom to do exactly what they want.
This is what I meant yesterday by the mess of pottage.
The courtiers were busy:
In the immediate aftermath of the Sussex bombshell on January 8, when the Queen said she wanted all four households to "work together at pace" to find a workable solution, Edward Young, the Queen's private secretary, was with the Queen at Sandringham. The first negotiations took place in Clarence House — Charles's home ground — over the following four days, with the private secretaries and communications secretaries from the four households all trying to find a way to make the Sussexes' dreams a reality. They gathered in Alderton's office, a sunny first-floor room where paintings from the Royal Collection sit alongside photographs of Alderton's own family. Young would join the talks on the phone from Norfolk, but for the first few days it was Alderton who was leading the discussions. (Later, they would all have talks at Buckingham Palace.) Simon Case, Prince William's private secretary, who is now cabinet secretary, also played a pivotal role. "He was talking to both sides," said a source.
The people sitting around the table went through five different scenarios, which ranged from Harry and Meghan spending most of their time being working members of the royal family, but having a month a year to do their own thing, to them spending most of their time privately, but doing a select number of royal activities. There was, according to more than one source, a positive atmosphere in the room: they wanted to find a solution. At one stage, Alderton made the point that if they could get this right, they would be solving a problem for future generations of the royal family who were not in the direct line of succession.
Ultimately, the Queen decided that the couple could not be both in and out of the Royal Family:
By the end of the week, the five scenarios had been worked through. The view from the palace establishment was that, however much time Harry and Meghan spent away from royal duties, anything they did would reflect on the institution. That meant that the normal rules about royal behaviour would apply. They should not act or take decisions in order to gain financial or other material benefits for themselves, their family, or their friends.
But the Sussexes wanted their freedom: freedom to make money, freedom to dip their toes into American politics. There was no way for the two sides to reach an agreement on that point. Crucially, it was the Queen who took the view that unless the couple were prepared to abide by the restrictions that applied to working members of the royal family, they could not be allowed to carry out official duties. One source said: "There was a very clear view: you can't be in and out. And if you've got such clarity of view, it's very difficult to say, 'Why don't we go 10 per cent this way instead of 20 per cent?' " Compromise was off the table, removed by the Queen.
Low wonders whether the courtiers could have handled the situation 'differently', but it seems the previous paragraph would say that they could not have done so. The Queen took the final decision — and the right one, in the estimation of most Britons.
Mismatched expectations
It would appear that Meghan thought she would be the star of the Royal Family, whereas the Palace, rightly, expected her to slot into her role as the Duchess of Sussex.
Low found empathisers with both sides then adds his view:
One former palace insider believes the way the developing crisis was handled was "incompetent beyond belief". They said: "I think Meghan thought she was going to be the Beyoncé of the UK. Being part of the royal family would give her that kudos. Whereas what she discovered was that there were so many rules that were so ridiculous that she couldn't even do the things that she could do as a private individual, which is tough . . . It just required the decision-makers to sit around a table and say, 'OK, what are we going to do about this? What do you need to feel better? And what can we give?' "
There is, however, another view: that nothing could have ever saved the situation. The two sides were just too far apart. Another palace source, who has been critical of the Queen's private secretary Edward Young in the past, said: "I think that it was an impossible task. I think in Meghan and the household, you had two worlds that had no experience of each other, had no way to relate to each other, had no way to comprehend each other. And Meghan was never going to fit in that model and that model was never going to tolerate the Meghan who Meghan wanted to be. So I think that it was inevitable that they would not be able to work together. I don't think there's anything Edward could have done about that that other members of the royal family would have accepted."
Both things are probably true. There was a collective failure on the part of those who work for the royal family to recognise that there was a serious problem, to flag it up, and to try to do something about it. There were no high-level discussions any time in the first eight months of 2019 — when Meghan was later to say that she had suicidal thoughts and the first clues were emerging that the Sussexes were plotting an escape — about the nature of their unhappiness and what could be done about it.
But even if that had happened, I do not believe that it would have solved the problem. Their grievances were too deep-rooted, and the distance between what the Sussexes wanted and what the royal family felt able to give was just too great. Perhaps the best that could have happened is that the divorce could have been handled without all the acrimony that followed the events of January 2020. One thing is definitely true, however. If there were any failings, they were during the first year or so of Harry and Meghan's marriage.
There is one final thought on this, and it comes from a surprising source, someone who knows Harry well but remains upset about what Harry and Meghan did. Their view is that perhaps the Sussexes' departure was not the untrammelled disaster that so many think it was. "There is a part of me that thinks Meghan did Harry the greatest kindness anyone could do to him, which was to take him out of the royal family, because he was just desperately unhappy in the last couple of years in his working life. We knew he was unhappy, but we didn't really know what the solution would be. She came along and found the solution."

Dear, oh dear.
The Sussexes ignored staff advice
In an article from January 10, 2020 for The Times, written as the formal separation took place, Low tells us what was going on between the Sussexes and their staff before the couple sent out their statement:
This reveals how Harry has his own sense of the truth:
There was talk of putting out a statement — not the one that was eventually released but a blander version merely confirming that talks were taking place, and giving none of the detail about their plans to become financially independent and to split their time between Britain and North America.
Once more, Harry spoke to the Queen. Versions of how the conversation went differ. According to one narrative she made it clear that he should not go public with his plans. However, a source close to Harry told The Times: "He certainly thinks she said it was fine."
His closest advisers did not think it was fine. Both Sara Latham, the couple's communications secretary, and Fiona Mcilwham, their private secretary, argued strongly against putting out a bombshell statement without consulting the other members of the family. Harry and Meghan, however, were determined to press ahead.
The other royal households were given the statement shortly after 6pm on Wednesday. Ten minutes later it was sent out to the world.
It seems that the Duke and Duchess hadn't listened to their staff on other occasions:
Harry and Meghan's closest advisers are a devoted team who believe in the values, aims and ambitions espoused by the duke and duchess. But that does not mean that their advice is always listened to: and it also does not mean that some of them are not anxious about their future as the couple carve out their new role.
It also does not mean all of them have been involved in the plans. The Sussexes' website, sussexroyal.com, was created by Made by Article, a Canadian company, without input from their Buckingham Palace press team. Instead much of the content, criticised for inaccuracies, was created by the couple with Sunshine Sachs, a PR company in New York.
The Sussexes' most senior advisers are Sara Latham, their communications secretary, and Fiona Mcilwham, their private secretary, both appointed in the past year. Until last year the couple's household was part of Kensington Palace, home of the Duke and Duchess of Cambridge, and they were a closely knit team and funded by the Prince of Wales.
Then came the falling out and the decision for the Sussexes to set up on their own. In theory they are answerable to the Buckingham Palace team, but in reality they operate as a separate fiefdom. Most staff costs are paid for by the Duchy of Cornwall, but communications staff under Ms Latham are paid for by the sovereign grant.
Public unhappy
Low then explores the view of the general public in January 2020, which was quite negative, especially as their money went towards the refurbishment of Frogmore Cottage, where the Sussexes lived for only a short while:
… the announcement that the Duke and Duchess of Sussex aimed to be financially independent has raised questions about their future income. The duke has personal wealth — the money left to him by his mother, Diana, Princess of Wales — but is supported by money from his father and public cash.
In the narrow streets that surround Windsor Castle, locals grumbled at the cost of a recent renovation to the couple's residence, Frogmore Cottage, which sits in the castle grounds. Taxpayers paid £2.4 million to renovate the grade II listed building, into which the pair moved nine months ago. Jess Hunter, 28, manager of the Queen Charlotte pub, said: "It seems a bit rich to then turn around and walk away from it all. I like Meghan but she knew what she was getting into when she married Harry. If you don't want to be a princess, don't marry a prince."
About 32 per cent of people thought the decision would "damage" the royal family, while 49 per cent did not. "He's a normal human being and he's wanting to carve out a little bit of space for his new family to grow in," added Michael Smith, 52, a prison officer. "It's what his mother would have wanted."
The Sussex Survivors' Club

The Times featured another excerpt from Low's book on September 24, 2023.
It gives examples of how unaccustomed courtiers are to incivility — and so should they be. It is hard to imagine what they went through from 2018 to early 2020.
Low takes us back to 2018, when he was part of the press pack on the couple's South Pacific tour:
It is normally a standard part of a royal tour, the moment when the royals venture to the back of the plane, where the media sit, to say hello and have a chat. But the tour of the South Pacific by the Duke and Duchess of Sussex in 2018 was different …
… Harry had looked out of sorts. His relations with the media pack had been prickly and strained. Where Meghan smiled, always putting on her best face whenever she was on show, Harry glowered. On the five-hour flight back from Tonga to Sydney, his press handlers promised that he would come and thank the media for being there. It was only after the plane had landed that the couple finally appeared.
I remember the scene well. Harry looked like a sulky teenager, Meghan stood behind him, smiling benignly. Her only contribution was a comment about how much everyone must be looking forward to Sunday lunch at home. Harry sounded rushed, as if he couldn't wait to get back into the first-class cabin. "Thanks for coming," he said, "even though you weren't invited."
This was spectacularly rude — and incorrect. The media had been invited to cover the tour. Later, Harry's staff told him how badly his remarks had gone down. He replied: "Well, you shouldn't have made me do it." Harry's petulant behaviour revealed much about the couple's deteriorating relationship with their own staff.
So bad did things eventually become that Harry and Meghan's team would later refer to themselves as the Sussex Survivors' Club. The core members were Sam Cohen, whom the Queen had personally asked to step in as private secretary and who worked for the couple from after their wedding until the end of their South Africa tour in September 2019; Sara Latham, the former Freuds PR managing partner, hired in 2019 to be in charge of communications; and assistant press secretary Marnie Gaffney. Sources say the team came up with a damning epithet for Meghan: a "narcissistic sociopath". They also reportedly said on repeated occasions: "We were played."
Fast forward to the Oprah interview in March 2021, and all close advisers' support was forgotten:
Meghan takes pains to highlight the difference between the Queen and those who surrounded her. In Meghan's account, they were the people who refused to help when she was in her hour of greatest need. They were the ones who "perpetuate falsehoods" about her.
Watching Meghan describe how she considered ending her life in the year after her marriage was an uncomfortable experience. And yet a succession of perfectly decent people, all of whom believed in Meghan and wanted to make it work, came to be so disillusioned that they began to suspect that even her most heartfelt pleas for help were part of a deliberate strategy that had one end in sight: her departure from the royal family. They believe she wanted to be able to say 'Look how they failed to support me'.
Sam Cohen, who had 17 years' experience of working at the Palace, would frequently say to Edward Young, the Queen's private secretary, and Clive Alderton, Charles's private secretary, that if it all went wrong, the Palace needed evidence of the duty of care it had shown to Harry and Meghan. The duty of care was crucial. "[Sam] was a broken record with them on that," said a source.
But by the time of the Oprah interview, everything the Palace had done to support the couple — including giving them a team that would have done anything to help them succeed — was forgotten.
Instead, Meghan was able to point out all the times the institution had failed her. One of them was when she says she went to the head of HR, where she was given a sympathetic hearing but sent on her way. This was inevitable: HR is there to deal with employee issues, not members of the royal family. Meghan would presumably have known that, so what was she doing there? Laying a trail of evidence, would be the cynical answer.
Another former staff member goes even further. "Everyone knew that the institution would be judged by her happiness," they say. "The mistake they made was thinking that she wanted to be happy. She wanted to be rejected, because she was obsessed with that narrative from day one."
Courtiers are unaccustomed to untoward behaviour:
Part of the problem, according to one source, was that everyone in the Palace was too genteel and civil: "When someone decides not to be civil, they have no idea what to do. They were run over by her, and then run over by Harry."
The situation was not helped by Harry and Meghan's deteriorating relationship with Alderton and Young. "As things started to go wrong," a source told royal biographer Robert Lacey, "Meghan came to perceive Young as the inflexible, bureaucratic figure who summed up what was with the BP [Buckingham Palace] mentality, and the feeling was mutual. Young really came to dislike Meghan's style." Harry was just as dismissive of the two senior courtiers as Meghan. An insider said: "He used to send them horrible emails. So rude."
Meghan's secrecy
If Meghan criticised the courtiers, she was not exactly above criticism herself.
She used secrecy to her advantage:
When Harry and Meghan went to Canada for their six-week break in November 2019, their escape plans were already laid, amid the greatest secrecy. Meghan would not even tell their nanny, Lorren, where they were going. According to one source, she did not know where they were going until the plane — a private jet — was in the air.
Shortly before the end of the year, Meghan confided in a member of her staff that the couple were not coming back. The rest of the team did not find out until they held a meeting at Buckingham Palace at the beginning of January 2020. They found it hard to accept they were being dumped just like that. Some of them were in tears. "It was a very loyal team," said one.
Money, money, money
By the end of March 2020, Meghan was allegedly panicking about money:
On March 31, The Express reported:
Meghan Markle and Prince Harry agreed to pay back the money spent for the refurbishment of Frogmore Cottage into the Royal Purse as part of their deal with the Queen. As part of their bid for independence from the Royal Family, the Duke and Duchess of Sussex said they want to become financially separate from the Queen and will be looking for new sources of income. Meghan last week was confirmed to have struck up a deal with Disney to narrate their latest documentary Elephant but the Duchess donated the money as the project was filmed before she and Harry announced their departure from the Royal Family.
A royal insider claimed Meghan is terrified because of the financial pressure they are now under and suggested the Duchess has ordered Prince Harry to find a job.
Speaking to US tabloid National Enquirer, the anonymous source said: "This debt is a blow to their ambitious plan to become freewheeling billionaires in the world.
"Meghan is terrified that her dreams of being a Hollywood queen will be destroyed by this financial nightmare and she is insisting that Harry make a move and resolve the crisis."
The insider however noted the lack of previous working experience could make the search for a new job difficult for the Duke of Sussex.
That is too funny. On a serious note, we see again the mess of pottage looming large.
Harry's lack of work experience led him to dish the dirt on the world's most famous royals. I hope he's happy.
Ending on the present day — January 2023 — it is rumoured that Harry might be offered a contract to be a television commentator in the US on his father's May 6 coronation.
On January 25, The Express reported:
Prince Harry has been tipped to skip King Charles III's coronation after two US broadcasters allegedly approached the Duke of Sussex to commentate on the ceremony. The Duke's potential coronation role was first tipped in this weekend's Sunday Express where TV companies were suggested to be attempting to lure him to join their media teams. Harry's relationship with his father and the Royal Family has been frosty after a series of digs levelled at the institution in recent months. Royal correspondent Charles Rae said the couple may still be invited to attend the ceremony but suggested Prince Harry may instead opt to strike a deal with US TV channels to act as a commentator and stay in the US …
Speaking on behalf of Spin Genie, Rae added: "There are also rumours that Harry has been offered a lot of money by two broadcasters to commentate on the Coronation …
Networks CBS and NBC are believed to have approached the Duke to get him joining their reporting team in the lead-up to the coronation.
The Venn diagram: Diana
The intersection of the Venn diagram linking Harry and Meghan is clearly Princess Diana.
On August 4, 2021, at the time the Duchess turned 40, her half-sister Samantha told GB News's Dan Wootton how obsessed Meghan was with the princess:
Here's the full video, just under 20 minutes long. In it, Samantha discusses how difficult it is to love someone who has caused so much hurt, her disappointment that Meghan has not contacted their ailing father and her book about the Duchess:
As for Harry, Prince Charles's and Princess Diana's chef at Kensington Palace, Darren McGrady, says that William and Harry had very different personalities (see at the 1:25 mark).
He says that one day Diana entered the kitchen after the boys had just been in — a favourite place for them to go — and said:
You know, the boys are so different. William's deep, like his father, and Harry is just an airhead like me.
What more can I say? Nothing.
Cottage pie
In closing, Darren McGrady prepares cottage pie the authentic way. The recipe dates from the 1700s.
There is a note early on in the video that says shepherd's pie is made with lamb and cottage pie is made with beef, something non-Brits do not realise.
It is also called cottage pie because it was for peasants. Peasants lived in cottages.
But I digress.
Cottage pie was a favourite of Wills and Harry. Perhaps one day, in the years to come, they might enjoy it again together.
End of series
Anyone who missed previous entries in this series can find them here, here and here.
Every time I read about Prince Harry, I cannot help but think of the story of Jacob and Esau.
Mess of pottage
Esau sold his birthright for a mess of pottage (Genesis 25:29-34). Harry, too, sold his place in the Royal Family for ephemeral media coverage. Who knows what will happen to him in future years?
Like Jacob and Esau (Genesis 27:41), Princes William and Harry are embroiled in a feud, one which the current Prince of Wales is handling with dignity. All being well, in time, perhaps they will mend fences, as Jacob and Esau did (Genesis 33).
The expression 'mess of pottage' is still used today (emphases in purple mine):
A mess of pottage is something immediately attractive but of little value taken foolishly and carelessly in exchange for something more distant and perhaps less tangible but immensely more valuable. The phrase alludes to Esau's sale of his birthright for a meal ("mess") of lentil stew ("pottage") in Genesis 25:29–34 and connotes shortsightedness and misplaced priorities.
It seems pertinent because on January 20, 2023, The Telegraph featured an article, 'Meghan stays in the shadows as Prince Harry flies solo on Spare publicity blitz':
"We're like salt and pepper," Meghan opined in an interview. "We always move together" …
But, since Christmas, Prince Harry has been left to soak up the limelight alone.
As he embarked on an unprecedented publicity blitz to promote his memoir, Spare, this month, Meghan has remained below the radar – and sent a clear message: This is Harry's project, not mine …
While the Duchess has backed her husband to the hilt over this deeply personal outpouring, she was not quite the driving force behind the project that many have assumed.
Sources suggest that media-savvy Meghan was slightly more circumspect about the concept of a memoir and may have raised gentle concerns about whether it was the right move.
A January 23 article in the New York Post reported on the article:
Prince Harry's wife Meghan Markle had previously expressed worries that his recent bombshell memoir "Spare" could ruffle the wrong feathers.
The former actress, 41, had raised "gentle concerns" about the book, wondering if it was the "right move," sources recently told the Telegraph.
Meanwhile, on Saturday, January 21, The Express reported 'Royal Family news: Palace have "pulled a blinder" as Harry and Meghan "plan" destroyed':
The Royal Family have "pulled a blinder" by not publicly responding to the recent bombshell claims from Prince Harry and Meghan Markle, with an expert destroying the Sussex's "ill-conceived game plan" …
More than a week after Harry's book was released, both Buckingham Palace and Kensington Palace have yet to make any comment on the claimes made by the prince.
Edward Coram-James, a PR, reputation and crisis management expert and CEO of Go Up, claimed this shows the Royal Family had a strong "game plan" in place and were prepared for any such accusations, while blasting Harry and Meghan's strategy as "ill-conceived".
He told Express.co.uk: "What should the Royal Family do in response to these claims? In a word: nothing. They have pulled a blinder.
"The biggest mistake that they could make would be to respond to any of the allegations. They are simply not serious enough allegations to warrant them breaching their long held code of silence.
"Breaching that silence will imply guilt. Remaining silent gives an air of maturity and remaining above the fray.
"The Royal family have had a game plan and, unlike the Sussexes, whose game plan has appeared ill-conceived and often strayed from, the royals have toed the line throughout."
Mr Coram-James poured cold water over the accusations made by Harry in his book, adding the Royal Family have only taken a "mild bruising" and "never came close to being on the receiving end of any knock out blows".
He continued: "The Royal Family know that it will all blow over soon enough, as the news cycle moves on and today's news becomes old hat.
A scathing, painfully accurate Spare review
My reader Katherine sent in two articles from Dominic Green about Spare. Thank you, Katherine!
These are the best yet.
'The Tragedy of Prince Harry' is Dominic Green's scathing, painfully accurate review of the book for The Washington Free Beacon. I cannot commend it more highly to my readers. It's long and captivating from the start.
As such, I will excerpt it as briefly as possible:
This is not Prince Harry's autobiography. It is a biography of a character called "Prince Harry," assembled from conversations with the real Harry by a ghostwriter, J.R. Moehringer. It is to autobiography as one of those Philip Roth novels where the main character is called "Philip Roth" are to fiction, only less tedious. It is fascinating in its way, though not in the way the real Harry intends. It is a collaboration between two unequal partners, one an accomplished ventriloquist, the other believing that he has finally found his voice.
Harry recorded the audiobook, so he knows exactly what is in Spare. He wants us to know that animals give him spirit messages from the beyond. These are usually sent by his late mother Diana, Princess of Wales, who died violently in 1996, when Harry was 12 and his older brother William was 15. The messages begin when Harry is 14. He and William are on safari in Botswana, eating dinner in their tent, when a leopard appears. "Everyone froze," Harry says. "Except me."
"I took a step towards it. … I was thinking about Mummy. That leopard was clearly a sign from her, a messenger she'd sent to say, 'All is well. And all will be well.'"
The leopard lied. Harry is not well. He and William are traumatized by Diana's death. Their father, now Charles III, struggles to comfort them, and sends them to boarding school. Harry refuses to believe that Diana is dead. He tells himself that she is hiding in a Swiss chalet, and she comes to him in his dreams. Soon, Harry is binge-drinking and smoking weed. Smoking a fat one with his mates in a bathroom at Eton, perhaps Britain's top boarding school, Harry looks out on the moonlit grounds and meets his spirit animal …
Green provides the passage from Spare, which involves a fox. Harry sees it as a portent some years later:
In 2008, more than a decade later, Captain Harry Wales, now serving as a gunner on an Apache helicopter in Helmand Province, Afghanistan, is camped for the night, drinking hot chocolate and watching the radio. Around one in the morning, a flurry of messages about "Red Fox" come through …
Green gives us the relevant paragraphs then continues:
An Australian magazine had got hold of the story that Harry was in Helmand. He was a target for the Taliban, so his superiors decided to extract him, for his own safety and that of his fellow soldiers. At 24, his active military career was over. The Army made the "spare" a leader, and valued his talents. It gave him a purpose for the first time, and kept him busy enough to forget his sorrows.
The ensuing years see Harry floundering:
Nearly a decade will pass until he meets Meghan Markle in 2016. These are the lost years. The spirit animals fall silent, and Harry self-medicates. He drinks and smokes weed every day. He does coke, magic mushrooms, ayahuasca, and LSD in an effort to lift the veil of reality and stroke the lost leopard. He falls out of night clubs, too drunk to walk. He picks fights with photographers and his own bodyguard. He has panic attacks whenever he meets the public. He stays in Courteney Cox's house when she is away, drinks loads of tequila, takes loads of mushrooms, and hallucinates that her toilet is speaking to him.
Harry does not explain why Courteney Cox's talking toilet was a hallucination, but the spirit animals are real. At this point in his life, he cannot explain anything to himself. He is so overwhelmed with loss and grief that he cannot recall his mother. He is trapped in a "red mist," a rage that he directs at his feeble father Charles, his scheming stepmother Camilla, his cold, conformist brother William, and above all at the British press, which he blames for his mother's death.
Diana is a leopard, Harry is a fox. Charles is a cowardly lion. William has surrendered his "autonomy," so he doesn't get an animal at all. Kate is the bitch who takes William away from Harry. Alone, he unravels further. By 2013, he cannot control his panic attacks and agoraphobia.
Harry is tormented by the death of his mother, which seems to dictate his reality.
Green tells us the truth about Diana, a name that means 'huntress', yet the huntress turned into the hunted:
After divorcing Charles and leaving the royal security envelope, Diana fell in love with an Egyptian playboy, Dodi al-Fayed. It was a Fayed chauffeur who crashed that car in Paris, by speeding downhill into the underpass so fast that the Mercedes limo took off, hit one side of the underpass, then ricocheted across into a concrete pillar. Three of the four passengers died. The survivor was the bodyguard who, being a mere mortal, had worn his seatbelt.
Harry cannot name al-Fayed; he calls him "Mummy's friend." He does not mention that Diana dumped William and Harry in Scotland with the grandparents, so she could pursue her summer romance with Dodi. Nor does he mention Mummy's earlier lover, Dr. Hasnat Khan, whom she smuggled into the Kensington Palace apartment she shared with William and Harry. Like Oedipus, Harry is blind to Mummy's true nature. Diana manipulated the press, too. Before she was taken from Harry, she abandoned him.
Princess Diana was hunted by the jackals, but the Diana she was named for, the Greek goddess, was the huntress. She pursued fame in revenge for Charles's faithlessness, staging teary confessionals for the cameras and driving the pack of paps at him and his family. Charles retaliated with his own staged confessions. Harry now retaliates with his. The Windsors survived Edward VIII's dalliances with Wallis Simpson and Hitler. They survived Charles and Diana's war for public sympathy. They will survive Harry's assault, too. But will he?
Harry is sure that Meghan never 'googled' him and that it was just a sublime coincidence that she wore his mother's favourite perfume, but Green reminds us of the facts:
Meghan's childhood friend insists that Meghan was an avid reader of royal biographies, especially about Diana. Meghan was photographed outside Buckingham Palace when she visited London as a teenager. When William married Kate, Meghan blogged about the "pomp and circumstance surrounding the Royal Wedding," and the "endless conversations about Princess Kate."
A 2014 photo shows Meghan, sitting in an airport with her laptop, reading about Elizabeth II. In Tom Bower's recent book Revenge, Meghan's former business adviser Gina Nelthorpe-Cowne attests that Meghan told her, "I've googled Harry. I've gone deeply into his life." Harry tells us that he googles Meghan as he falls in love, but he insists that she, like Diana, is entering the royal circus as a naif. His first "marathon" Instagram session with her happens to fall on what would have been Diana's 55th birthday. Who is the naif here?
Harry has followed in his mother's sad footsteps:
Harry and Meghan flee from Britain because they believe that his family is colluding with the press against them …
For the first time, Harry must fend for himself. Like Diana, he has left the royals' state-funded and highly professional security envelope …
When their children are born, Diana is in the room too. At night, when Meghan and the kids are asleep, Harry slips out and gets high on his own. The clear night sky over Montecito reminds him of the stars over Africa. The Red Fox communes with the spirit of the leopard, but he is never safe. There is no clarity in this freedom. There is no real guidance, either. Meghan, his savior, is pushing him back into the limelight.
Harry must fund his family's security or risk bringing Diana's fate upon Meghan and his children. The only way to save them is to sacrifice himself: to sell his story, to seek out the hated camera, to sit with the hated journalists, to dissolve himself in the flashbulbs, to be lost forever in their refractions, and join his mother. "Keeping people tuned to the show, that was the thing."
Like Hamlet, Harry has now hoist himself on his own petard, the hot wind of his rage and resentment. Like Hamlet, he will fall on his own poisoned sword. Harry, his father's dim, damaged, delusional, doomed "darling boy," has sold his family and his soul. Meghan and Moehringer have served him on a platter, like a roast swan at a royal banquet. There is no return after this, only the final act of the tragedy.
On January 19, the Wall Street Journal published Green's article about Harry's personal beliefs and how they tie in with those of his contemporaries with regard to Christianity: 'Prince Harry's Pagan Progress'.
This, too, is excellent. Excerpts follow:
Harry's father, King Charles III, may be supreme governor of the Church of England, but when it comes to the inner life, Harry, who was born in 1984, is a typical millennial. Pew Research reported in 2010 that Americans 18 to 29 were "considerably less religious than older Americans." Twenty-six percent of millennials said they had no religious affiliation, and they were also less likely to pray every day than members of Generation X (41% vs. 54%). Yet the percentage of millennials claiming "absolute certainty" in God's existence (53%) wasn't far off the figures for baby boomers (59%) and Generation X (55%) when they were young.
For Harry's grandmother Elizabeth II, personal faith was indistinguishable from her constitutional duty. King Charles describes himself as a "committed Anglican Christian," and Harry says he set a "deeply religious" example and "prayed every night." Harry attended church regularly as a child, obligatory given the Windsor family's alliance with the church.
Harry was 12 when his mother died in a car crash in Paris. The Christian rites at her funeral in Westminster Abbey couldn't console him. His only regular contact with the Bible came when a teacher, punishing teenage misdemeanors, delivered "a tremendous clout, always with a copy of the New English Bible." This, Harry writes, "made me feel bad about myself, bad about the teacher, and bad about the Bible."
Instead, Harry turned to the animal world:
At around 15, Harry experienced a ritual induction into manhood. Guided by Sandy, a family retainer, he shot a stag. Sandy slit the dying animal's throat and belly and told Harry to kneel. "I thought we were going to pray," the prince writes. Instead, Sandy pushed Harry's head inside the carcass and held it there. "After a minute I couldn't smell anything, because I couldn't breathe. My nose and mouth were full of blood, guts, and a deep, upsetting warmth."
"So this," Harry tells himself, "is death." Yet he's ecstatic. "I wasn't religious," Harry writes, "but this 'blood facial' was, to me, baptismal." Finally, he has lived the "virtues" that had been "preached" to him since childhood. Culling the herd is being "good to Nature" and "good to the community." Managing nature is "a form of worship," and environmentalism is "a kind of religion" for his father. For the first time Harry feels "close to God."
This pagan rebirth carries strong symbolic overtones for Harry. Monarchy is a survival from the earliest times. So is the hunt, with its symbolic echoes of religion's roots in animal sacrifice and seasonal rites. The Windsors live in urban captivity, but their spiritual home is the Scottish Highlands, where the stag is the monarch of the glen. Diana shared her name with the Greek goddess of the hunt—and Harry writes that she was "hunted" to her death, the cameras still "shooting, shooting, shooting" as she lay trapped in the wreckage.
Green concludes:
Harry's narrative of resurrection bears formal resemblance to the Gospels, but its content owes more to Carl Jung, Joseph Campbell and the Californian gospel of self-care. His neopagan progress is that of many millennials—especially those who, like Harry, are white men with no college education. By 2017, Pew found that 38% of Americans 30 to 49 were "spiritual but not religious." Sixty-seven percent of the unchurched were "absolutely certain" of God's existence, and 24% "fairly certain." Fifty-seven percent prayed "at least daily," but 76% "never" participated in group study or prayer. Like Harry, they are solitary and syncretic, inward travelers with no direction home.
'Faustian bargain'
On January 9, UnHerd posted an article about Spare: 'Prince Harry's Faustian Bargain'.
Its author, Darran Anderson, says:
… The most telling line, which reaches towards the heart of the matter, comes back to the Faustian nature of fame and particularly the media's gaze and how that can distort, "After many, many years of lies being told about me and my family, there comes a point where, going back to the relationship between, certain members of the family and the tabloid press, those certain members have decided to get in the bed with the devil" … Again and again, in his recollections in interviews and writing, Prince Harry comes back to the media as a baleful destructive force in his life …
What is particularly illustrative and sympathetic about Prince Harry's relationship with fame is that it was not chosen. In the traditional Faustian transaction, the would-be genius or celebrity sells their soul, knowing that the cost is damnation and believing that the gains will be worth it. With the royals, fame is hereditary, which is as much of a curse as a blessing. The transaction is one-sided. No deal is made and yet the individual assumes precisely the same debt. In a world, even a country, where children are born into horrendous poverty and deprivation, it's difficult to have sympathy for someone born into immense privilege. Yet it is warranted, given that child we watched walking along forlorn at his mother's funeral did not choose any of this.
The problem is that Prince Harry is now a man and no longer a lost boy. Though he has chosen an arguably noble route of walking away from an environment that had shunned him, and he has the right to speak his mind and tell his own story, he has not walked away from fame. Sympathy, like any resource, is finite …
It is even more understandable to wish to escape the glare of the lens that played a part in the death of a beloved parent. Having chosen Meghan and America, Prince Harry had the chance to transcend fame and to effectively defeat the presence that has seemingly haunted his life. He could go semi-privately into any number of ventures. Harry was not, after all, a signatory to the Faustian pact. One of the most tragic aspects to what has been unfolding is not just the painful reality of a family schism, but rather that at the brink of escape, Harry decided to return to the table to sign the contract.
… The point where sympathy dissipates is with this issue of fame, the courting of it rather than the walking away. This is where the public's role in the Faustian bargain comes in. This is what differentiates celebrities from the rest of us, the point of departure, and the judgement can and may well be merciless. By aiming for the echo chamber of the terminally online and the patronage of the American establishment, the wider sympathy is lost. It is especially frustrating as the prince had a chance to get out.
Harry's case is not helped by a mixed tone of grievance and sanctimony. One moment, he is referring to the killing of Afghan militants as a game of chess, the next he is engaging in flagellation about his previous lack of social consciousness. At its worst, it seems distasteful and condescending, the opposite of a spiritual confessional. It undoes the undoubtedly brave work of speaking about trauma, autonomy, or even his right to speak. As George Orwell put it, "Autobiography is only to be trusted when it reveals something disgraceful", but here even the disgrace feels performative. It feels grubby and out of touch, both too intimate and too remote. It feels, in other words, like fame …
Summer of 2019: too much PDA
Returning to the summer of 2019, where I left off, articles were circulating about the inability of the couple to keep their hands off each other in public.
On August 11 that year, The Sun reported:
MEGHAN Markle and Prince Harry's friends have "stopped inviting" the couple to dinner parties because they "frown upon their PDAs", insiders have claimed.
According to the Mail on Sunday, the Duke and Duchess of Sussex make a point of sitting together at events – even if their host has seated them separately.
Meghan's excuse was that she finds dinner party etiquette:
too "exclusive" and "traditional".
Tough. You sit where your hosts seat you. In Britain, it often means splitting up couples at table to enliven conversation. No one with any manners minds that.
Harry's friends found his wife's American attitudes tiresome:
Along with ignoring the seating plans, insiders have also claimed that the Duchess is openly affectionate with her husband on these occasions which causes Harry's friends to "roll their eyes" at her "American ways".
What's more, Harry's inner circle has "stopped inviting her to dinner" over the "frowned upon" PDAs (public displays of affection) at the dinner table.
The Sun lays out dinner party etiquette for the uninitated. This would be useful for the Duchess:
While it might not seem like THAT big a deal to sit next to your partner at a party, the high society occasions Meghan and Harry have been attending ask guests to follow the three rules of "placement".
To avoid sounding too "common" or American, the first rule is that "placement" must be pronounced the French way which involves emphasising each of the three syllables.
The second rule dictates that couples should NOT sit together in case any affectionate behaviour puts others off their meal.
And in order to truly grasp the rules of "placement", guests must always sit where they have been asked to achieve the perfect, balanced high society table.
'Snubbing protocol'
And there was more.
Meghan wanted to hold Harry's hand when it was clearly not the done thing:
Shortly after she married into the Royal Family last year, Prince Harry refused to hold Meghan's hand at a royal event out of respect for The Queen.
Because she wore jeans to Wimbledon in 2019, she could not enter the Royal Box:
An insider claimed Meghan was a "nightmare" during the visit when her security guards infamously BANNED guests from taking photos of her and her casual attire meant she wasn't allowed to watch the action from the Royal Box.
They told The Times: "They couldn't invite her into the Royal Box because she was wearing jeans."
On August 19, the Mail reported on what the editor of Majesty, Ingrid Seward, had to say about the Sussexes' protocol breaches:
Ingrid Seward, editor of Majesty magazine, suggested that the Sussexes' attempts to move away from tradition might 'bother' the Duke of Cambridge, 35.
Appearing on Saturday's Channel 5's documentary William & Harry: Princes At War?, Ingrid suggested that Harry and Meghan had 'snubbed protocol' in a way that was unexpected from royals.
She said: 'I would think it might bother William a little bit, because he might see the way that Harry and Meghan do things as being detrimental to the business of the monarchy as a whole.'
The couple have faced a growing backlash over the summer over their privacy demands, including holding a top secret christening for son Archie and refusing to tell the public who his godparents are …
Critics have hit out at Meghan recently for 'considering herself more of an A-lister than a member of the royal family', after she selected a handful of celebrity friends for the cover of Vogue.
Speaking about Harry and Meghan 'snubbing protocol', Ingrid said: 'It wasn't done in a very royal way, or the way we'd come to expect.'
The 'eco-lecturers' and their private jet flights
Between August and September 2019, the Sussexes took several trips on private jets.
There is nothing wrong with that other than Prince Harry used one of those flights to deliver a lecture in Italy on how everyone had to cut back on air travel in order to save the environment.
On August 15, The Sun reported on Piers Morgan's disgust at the couple's hypocrisy. At the time, he was still co-presenting Good Morning Britain. The British public were also disgusted:
PIERS Morgan has criticised Meghan Markle and Prince Harry after they took a private jet to Ibiza for a six day break – despite the Duke warning of the "terrifying" effects of climate change.
The GMB presenter, who has previously criticised the couple, took to Twitter following the news where he made a dig at the Sussexes.
Sharing an article about their trip, he wrote: "Saving the planet, one private jet at a time."
Many were in agreement with Piers, dubbing the "eco-warrior" couple hypocrites following the holiday.
One wrote: "You're absolutely correct, virtue signalling and full hypocrisy!!"
Another agreed adding: "Utterly ludicrous! If you're going to take private jets, fine but then don't preach about climate change. Hopeless!" …
According to local reports Harry and Meghan flew to Ibiza with their son Archie Harrison to celebrate her 38th birthday on August 4.
The jet created seven times more C02 per person than any one of nine daily scheduled flights from London to the Spanish holiday isle.
Harry and Meghan, who took baby son Archie, landed in Ibiza on Tuesday last week – along with publicly-funded Met Police protection officers.
Five Spanish security officers then whisked them to their secluded luxury private villa.
The family returned to the UK on Monday.
It was the second time that the prince had used a private jet in two weeks after he flew to Sicily to attend the Google Camp to deliver a "barefoot speech" on saving the environment the week before.
But Harry has been accused of hypocrisy over his use of private jets following his speeches urging everyone to "take action" on climate change.
In a post on his SussexRoyal Instagram site in July, he wrote: "With nearly 7.7 billion people inhabiting this Earth, every choice, every footprint, every action makes a difference."
… Buckingham Palace refused to comment on the Ibiza trip.
On August 19, the Mail reported on another private jet trip, to Nice:
The Duke and Duchess of Sussex were embroiled in another hypocrisy row today after being pictured leaving the south of France over the weekend in a fourth trip by private jet in just 11 days.
Prince Harry and Meghan, who have been outspoken on environmental issues in recent months, generated an estimated seven times the emissions per person compared to a commercial flight when flying home from Nice.
Photographs of the royal couple and three-month-old Archie showed the family stepping on board the Cessna 680 Citation Sovereign jet on Saturday at about 3pm local time, having arrived in France three days earlier.
Royal experts said the British public do not want to be 'lectured on climate change by those who don't do follow their own advice', while MPs said the trips do not 'fit with their public image' they project as eco-warriors.
The couple are believed to have visited the £15million palatial home of Castel Mont-Alban owned by Sir Elton John and his husband David Furnish overlooking the Promenade des Anglais during their holiday to the French Riviera.
The trip to Nice came shortly after Harry and Meghan, who married in May last year, had returned by private jet to the UK from Ibiza after a six-night break on the Spanish island to mark the Duchess's 38th birthday.
Veteran royal watcher Phil Dampier gave his views about the anger of Britons about the flights and the Sussexes' behaviour as a whole:
They are not unique – other royals have taken private jets, but they have been criticised over the years as well.
I certainly don't believe they are getting a bad press because the British public are racist.
It is simply that people don't like to be lectured on climate change by those who don't do follow their own advice.
Some families slave away all year to afford one nice holiday and they shouldn't be made to feel guilty about harming the planet when Harry and Meghan are swanning about in luxury.
It's really sad to see all the goodwill that people had towards this couple disappear in such a short space of time.
They really need to understand quickly the damage they are doing and take steps to turn it around.
They could start by taking on some of the 1500 patronages of the Queen and Prince Philip, and get out there and do some run-of-the-mill royal jobs and shake a few hands.
Meghan gives the impression she wants to live like a Hollywood star protected by publicists, agents and lawyers and that's not how the royal family works.
It only survives because there is give and take and the public- who are paying for it – want it to succeed.
If they lose the public's support they are in trouble.
Sir Elton John stepped in to stop the turbulence, as it were.
The Mail reported:
Sir Elton John today confirmed he had paid for the Duke and Duchess of Sussex to fly to and from his £15million mansion in Nice by private jet for a holiday 'inside the safety and tranquillity of our home'.
The 72-year-old singer claimed he had ensured Prince Harry and Meghan's flights to and from the French Riviera last week were carbon neutral by making the 'appropriate contribution' to a carbon footprint fund.
That angered people all the more. Who among us can do that?
More flights followed until early September.
The Africa tour
That autumn, the Sussexes toured southern Africa, an official trip of goodwill towards the Commonwealth countries.
They left behind strained relations with their Palace staff.
Even Africa, a place the Queen thought the couple would enjoy, considering Harry's Sentebale charity was there, could not bring them happiness or escape:
While there, they gave an interview to ITV's Tom Bradby, who also interviewed Harry about Spare in January 2023. Where they are concerned, Bradby is more a friend than an objective reporter.
The interview with Bradby aired in October 2019, while the then-Duke and Duchess of Cambridge were touring Pakistan, another initiative to show goodwill towards the Commonwealth.
Valentine Low, author of 2022's Courtiers, wrote:
The first real intimation the public had that all was not well in Meghan's world came in October 2019, when ITV released a trailer for its documentary, Harry & Meghan: an African Journey. As Meghan spoke to Tom Bradby in a garden in Johannesburg, she spoke about how she had struggled with life in the spotlight as a newlywed and as a new mother. Almost as if she were trying to hold back tears, she said she had found it hard and added, "And also, thank you for asking, because not many people have asked if I'm OK. But it's a very real thing to be going through behind the scenes."
The trailer came out while William and Kate were on a tour of Pakistan. The resulting coverage inevitably overshadowed reporting of the last day of the Cambridges' tour. The Cambridge team was not happy and saw it as a deliberate attempt to knock the Cambridges out of the headlines. Relations between the two households became quite tense.
When the documentary came out, it also showed how far Harry and William had drifted apart. Asked by Bradby about the rift between him and William, Harry chose not to deny it, but said instead, "We are certainly on different paths at the moment, but I will always be there for him, as I know he will always be there for me."
William, back home after the Pakistan tour, appears to have been taken aback at such a stark portrayal of his brother and sister-in-law's unhappiness. He realised they were in crisis. The day after the documentary aired, William whatsapped his brother to ask if he could come and see him. This put Harry and Meghan into a spin. What should they do? Initially, Harry was in favour. Then he spoke to his brother again and asked him who he would tell. William explained that he would have to clear his schedule, which would mean telling his private secretary. At that point, Harry said don't come. He was so concerned that William's team would leak the visit to the press that he would rather they did not come than risk it getting into the papers. It highlighted once again the dysfunction at the heart of so many royal relationships and that members of the royal family so rarely pick up the phone and speak to each other directly.
The final months
The Times featured several excerpts from Valentine Low's Courtiers, one of which explained the time before the African tour through to the beginning of 2020:
As one senior source put it, when they gave an interview in the autumn to Tom Bradby of ITV News in South Africa "they had made it clear that they were finding it very difficult. They were anxious and excited to chart their own course, knowing that they had more flexibility as they were not in the line of succession."
Moves were already afoot to create their own website with the help of the American PR company Sunshine Sachs. The site was originally intended to promote their charitable foundation, but later to explain — when the time came — how they planned to branch out on their own.
As they took an extended break with their son, Archie, now eight months, in Canada, the negotiations over their plans began to take shape. Harry originally contacted the Prince of Wales just before Christmas about spending more time in North America but was told he needed to come up with a thought-out plan, the London Evening Standard reported. When he sent a draft proposal to Prince Charles early in the new year he was told more time was needed to think through the complex implications, particularly over funding.
A source told The Times: "It reached an impasse where his father said, 'We need to have these conversations in person. This is not something we can negotiate over email.'"
That much was agreed, but Harry also wanted to talk to his grandmother.
"He wanted to go and see the Queen," a source said. "He has been communicating with her on the phone throughout. He wanted to see her, not to negotiate with her but to talk to her grandson to granny, to say, 'This is how we have come to this.'" It was intended to be a gesture of respect, rather than an attempt to open negotiations with her.
He called her suggesting that he visit her at Sandringham when he returned home. "She says, 'Yes, love to see you, come and see me,'" the source said.
Then came what has been described as a "classic" move from the Palace.
"A message was conveyed: 'Oh, sorry, misunderstanding, she might have said she was available, but actually she is not available.'" Harry, it seemed, had fallen victim to family politics. The source said this was, in part, because the family were worried that he would use anything she said in their meeting as a negotiating tactic. Nothing, apparently, could have been further from the truth. But the result was that Harry was angry and upset at the rebuff.
By the time he and Meghan were back home, their press team was aware that The Sun was on to a story about their plans to spend more time in Canada. It prompted anxious negotiations between the Sussexes and the rest of the family about how to proceed. Should they sweat it out and say nothing, in the knowledge that such delicate negotiations are best conducted out of the public eye? Or should they release a statement and thereby try to set the agenda? The matter was taken out of their hands when the story appeared in Wednesday's paper under the headline "We're orf again".
Never fans of the tabloid press, Harry and Meghan were incandescent. "They were so angry," said the source.
The final instalment will come tomorrow.
What a sad story. It seems to get more desperate by the day and will not end well.
Last Friday's post was about the friction between the Duke and Duchess of Sussex and the then-Duke and Duchess of Cambridge but also Palace staff. (You can read my first post on them here.)
There were other signs that the Sussexes were a rather unusual Royal couple, which might have tainted the public's opinion of them.
Political ambitions
Just days after their wedding in May 2018, Sebastian Shakespeare wrote an article for the Mail, 'Why Meghan Markle for President isn't crazy' (emphases mine):
Meghan Markle is said to have told a former close associate that her ultimate ambition is to be president of the U.S. The conversation apparently took place after Meghan began her romance with Prince Harry.
'Meghan was quite clear that she wanted to be president one day,' the source claims.
It may sound fanciful, but the new Duchess of Sussex has held the ambition since she was a little girl. In 2015, she reportedly told the journalist Piers Morgan that she had not always sought showbusiness success.
'As a kid, I wanted to be either the president or a news broadcaster like you,' she told him …
And the claim appears to have caused consternation at Kensington Palace yesterday, with the Duchess giving her official spokesman permission to take the unusual step of issuing a public denial.
'This conversation you describe with an associate is fictitious,' the spokesman insisted.
I am, though, not the only one to hear rumours that Meghan still holds political ambitions.
Former Times editor Sir Simon Jenkins says: 'Her friends and associates affirm that she is a political animal.
'Such is her fame, she could perfectly well follow a route taken by a certain Ronald Reagan. She might lead for the Democrats against a Republican Ivanka Trump. All I can say is, why not?'
On November 17, 2018, the Duchess practised interfaith outreach in an official visit to a mosque near Kensington Palace:
PJ Media reported on the visit a week later, taking their source from The Telegraph:
In yet another shocking failure in a long line of interfaith outreach by Western governments since 9/11, The Daily Telegraph reports today that the American-born Duchess of Sussex, Meghan Markle, has been recently promoting a program associated with the notorious Al-Manaar mosque not far from Kensington Palace. The mosque has produced as many as nineteen terrorists — including "Jihadi John" and his Islamic State "Beatles" who tortured and beheaded Western captives in Syria.
The duchess has helped raise more than $250,000 for the Hubb Community Kitchen operated out of the mosque by promoting a cookbook that royal press agents have billed as celebrating "the power of cooking to bring communities together" …
The Grenfell Tower fire had taken place in June 2017, one of the worst blazes in London in decades. It is still spoken of today. Much community rebuilding had to be done, so one can understand that, but, according to The Telegraph, the Duchess had made earlier, 'secret visits' to the mosque:
In February it emerged the 37-year-old royal had made secret visits to the mosque in Westbourne Grove, which has also hosted Princes William and Harry, Theresa May and Jeremy Corbyn in recent months.
An investigation by the Henry Jackson Society (HJS), the anti-extremism think tank, has linked the mosque, opened by Prince Charles in 2001, to 19 jihadists, including Islamic State executioner Mohammed Emwazi, also known as Jihadi John.
Research by the HJS suggests the mosque was once attended by three of the four "Beatles", the Isil terror cell charged with guarding, torturing and killing hostages in Syria and Iraq. As well as Emwazi, Choukri Ellekhlifi, Alexanda Kotey and Aine Davis, all from west London, also have links with Al Manaar.
PJ Media pointed out that ITV News had also picked up on the Duchess's prior visits:
An ITV News report earlier this week reported that the duchess has made numerous unreported visits to the notorious mosque in recent months:
Also:
The Sun reported last night that Kensington Palace was trying to distance Markle from the mosque, claiming that the community kitchen housed in the mosque is an independent project.
But this does raise questions about how royal officials decided to promote an effort so closely tied to the Al-Mannar mosque when reports going back to 2014 chronicled the role that the mosque played in the radicalization of "Jihadi John" and the ISIS "Beatles."
The move to Frogmore Cottage: strain with the Cambridges
As my post from Friday says, by the time the wedding took place, many Palace staff as well as the Cambridges saw too much tension and outbursts involving the new Duke and Duchess of Sussex. It could no longer be contained.
On November 23, 2018, The Sun reported that the Sussexes were leaving Kensington Palace for the 10-bedroom Frogmore Cottage in the grounds of the Windsor estate:
The brothers have always been incredibly close, but Harry and Meghan are setting up their home in the grounds of Windsor Castle.
The Queen has given them Frogmore Cottage, which is having a multi-million pound refit paid for by the taxpayer.
It will provide ten bedrooms and a nursery for their baby, due in April. The couple are expected to move in next year.
A royal source said: "The initial plan was for Harry and Meghan to move out of their cottage in the grounds of Kensington Palace and into one of the main apartments.
"But there has been a bit of tension between the brothers.
"Now Harry and Meghan don't want to live next to William and Kate and want to strike out on their own."
The cosy cottage the pair currently live in as previously home to the Duke and Duchess of Cambridge before the couple moved into a 20-room apartment inside the palace.
"They need more room and hope Frogmore Cottage will be ready in time for when they have the baby."
Frogmore Cottage needs major building work to turn it back into a luxury family home, boasting 10 bedrooms & a new nursery plus space for a gym & yoga studio.
Currently it's been chopped up into 5 units where palace staff have been living.
News of Meghan and Harry's decision to leave Kensington Palace comes weeks after it was first reported that Harry and William would have separate courts in the future instead of using Kensington Palace as a joint office for them.
Nearly a year later, on August 27, 2019, The Sun reported that the Sussexes actually wanted to live in Windsor Castle, but the Queen said no:
MEGHAN Markle and Prince Harry wanted to move in with his grandparents and set up home in Windsor Castle, reports say.
It's claimed the Duke and Duchess of Sussex asked the Queen if living quarters in the historic castle could be made available for them after they were married but the answer was a firm 'no', so they went on to renovate Frogmore Cottage in the grounds of the estate …
The original castle in Berkshire dates back to the 11th century when construction was started following the Norman invasion of England by William the Conqueror.
Since the time of Henry I it has been used by the reigning monarch.
Henry III built a luxurious royal palace within the castle during the middle of the 13th century which were later expanded upon by Edward III.
Frogmore Cottage, in the grounds of Frogmore House on the royal estate, was built in 1801.
On Christmas Day 2018, The Sun reported that all seemed to be well between the Duchesses of Cambridge and Sussex at Sandringham:
MEGHAN Markle placed a hand on Kate Middleton's back in a show of unity as they today brushed aside rumours of a rift for a Christmas Day church service.
The sisters-in-law were all smiles as they joined the royal family at Sandringham for the annual service this morning.
And Meghan and Kate brushed off feud rumours as the former actress placed a hand on the Duchess of Cambridge's back as they appeared to share a joke.
The pregnant Duchess of Sussex looked radiant in a navy £2,250 Victoria Beckham coat with £1,350 black boots as she held tightly to Prince Harry's arm.
The Duchess of Cambridge, who wore a £3,000 red Catherine Walker coat and £650 burgundy "Halo Band" made by milliner Jane Taylor, walked apart from Prince William.
Kate teamed the festive look with matching gloves and a clutch bag, while the Queen was vibrant in a grey feathered hat and jacket with a bright pink trim.
Three weeks later, in January 2019, royal reporters were none the wiser about whether a feud was actually taking place.
On January 17 that year, The Daily Caller reported:
According to new reports by royal insiders Katie Nicholl and Leslie Carroll, the Duchesses may not be as at odds as we were previously led to believe.
Contrary to mainstream narratives pushed over the past several weeks, Markle and Middleton may not be feuding as much as just feeling each other out.
"When [Prince] Harry met Meghan [as] the relationship was progressing, he was really keen to get Kate's stamp of approval," Nicholl tells ETOnline. "He wanted them to be close as sisters-in-law. I think they're still in an early stage of their relationship."
And while there very well could be some jealousy, that doesn't necessarily equate hard feelings.
"Possibly, Kate does feel a little eclipsed by Meghan, who's just come along to such huge media interests, public interests and being so successful from the start," Nicholl added.
Of course, Harry and Meghan's decision to move out of Kensington Palace this year — a rare decision for the Royal Family, who usually resides together at the palace during most of the year — fanned the flames of a rumored feud. It didn't help that a report that Middleton left a meeting with Markle in tears before her May wedding quickly dominated headlines for weeks …
For what it's worth, Ingrid Seward, editor-in-chief of Majesty Magazine, isn't buying the candy-coated reporting.
"People forget Meghan is an LA girl," Seward suggested. "It's very different for her to suddenly come here and marry into the royal family…I think Meghan thought she had an ally in Kate…Kate was pregnant and unwell. And then she had a new baby. So she couldn't give Meghan the attention she expected. And I think that's when things started to sour."
So is it a case of misunderstanding? Or did the two women get off on the wrong foot? We'll have to wait and see…
On February 5, The Daily Caller told its readers that it was Princes Harry and William who were allegedly feuding, not their wives:
Meghan Markle and Kate Middleton's alleged feud is reportedly really between Prince Harry and Prince William after the eldest offered some "brotherly advice."
It reportedly happened when Prince William shared that he was "quite concerned that the relationship [with the Duchess of Sussex] has moved so quickly," Katie Nicholl said in a clip from TLC's "Kate v. Meghan: Princesses at War," per E! News Monday.
And that "'You know, this seems to be moving quickly. Are you sure?' And I think what was meant as well-intended brotherly advice, just riled Harry," she added.
That advice reportedly translated to Harry that William wasn't behind his decision to marry Meghan Markle.
Nicholl continued, "Harry is hugely protective of Meghan. He saw that as criticism. He interpreted that as his brother not really being behind this marriage. And I don't think things have been quite right ever since."
However, royal biographer Lady Colin Campbell explained that the alleged distance between the brothers is all about Markle's influence on her husband.
"Everything I hear is that Harry is completely beguiled by Meghan, and completely enthralled to her and has changed considerably," Lady Campbell shared.
Baby Archie
On March 4, 2019, Gateway Pundit's Niall McCrae didn't sit on the fence when discussing the Duchess of Sussex's baby shower:
Keep your seatbelts on, folks. According to Vanity Fair, Meghan revealed at her baby shower that her imminently expected will be raised as a gender-fluid child. Of course, this was denied by Buckingham Palace. But nobody would be surprised if this progressive princess, supported by her widely popular and slightly wild husband Harry, fully meant what she allegedly said.
It was predictable from the outset that Meghan would be a wrong 'un (should anyone imply such inference, I attribute none of this to her ethnicity or American nationality, which freshen the Windsorhood). She is the epitome of the self-righteous, virtue-signalling, celebrity social justice warrior. Narcissistic Meghan wants to emulate and exceed Diana, and ensure that in future movies she will be not the actress but the actual heroine.
Never being a fan of Diana, my response to her untimely death in 1997 was coolly detached as I saw all those flowers, all those personal messages from people who never met her. However, Diana obviously fulfilled a need in society, and the outpouring of grief after the tragedy marked a turning point in British culture, from the traditional stiff upper lip to open emoting. As Tony Blair said when taking office earlier that year, 'A new dawn has broken, has it not?'
We all wish Meghan and Harry a healthy and happy child. A boy is rumored, and perhaps that explains the gender fluidity. As a devout feminist, Meghan would probably be less keen on undermining the sex of a daughter: instead, she would be raised a strong female, preparing to right the wrongs of the patriarchal world.
On Monday, May 6, The Independent reported on ancient rules regarding royal custody of grandchildren. Keep in mind that this now pertains to King Charles:
… there is a fascinating law in place that means that Prince Harry and Meghan may not always have full legal custody of their child.
More than three centuries ago, a law was enacted that means the sovereign has full legal custody of their minor grandchildren, royal expert Marlene Koenig explains.
The law, called "The Grand Opinion for the Prerogative Concerning the Royal Family," was introduced by King George I in 1717.
"George I did not get along with his son, the future George II," Koenig tells The Independent.
"I believe it came about when the Prince of Wales [George II] did not want to have the godparent for his son that his father wanted – so George I got Parliament to come up with something."
This means that when Charles, Prince of Wales becomes sovereign, he will have custody of his minor grandchildren.
According to Koenig, issues surrounding the law arose in 1994 when Diana, Princess of Wales separated from Prince Charles.
Diana expressed wishes to take their sons, Harry and William, to live with her in Australia, but couldn't due to the regulations laid out by the custody law …
Hmmm …
CNN tries to trap Trump on Markle
On June 1, CNN tried to trap President Trump into saying that the Duchess was 'nasty'. Instead, he said (29-second point in the video):
No, I didn't know that she was nasty.
Here's the full exchange:
Another Twitter user, since deleted, observed — nearly correctly:
List of women Trump has used the word "nasty" to describe: -Hillary Clinton -Nancy Pelosi -Meghan Markle -Kamala Harris -San Juan mayor -Danish prime minister.
August 2019: the turning point
Valentine Low, the author of 2022's best-seller Courtiers, tells us that, by August 2019, things were unravelling quickly for the Sussexes, who already had a US PR team lined up:
By August 2019, things were "awful and tense" within the Sussex household. There were also clues that Harry and Meghan did not see their long-term future as working members of the royal family. Their Africa tour was coming up, but there was nothing in the diary after that. Meanwhile, staff were increasingly aware of the presence in the background of Meghan's business manager, Andrew Meyer, and her lawyer, Rick Genow, as well as her agent, Nick Collins, and Keleigh Thomas Morgan of Sunshine Sachs. The US team had been very busy, working on deals not only with Netflix but also a deal for Harry's mental health series for Apple+ with Oprah Winfrey and Meghan's voiceover for a Disney film about elephants.
The most the public knew at the time was that the Queen had arranged for the couple to go on a tour of Africa, as part of a goodwill sign towards the Commonwealth countries there:
While preparing for the Africa tour, the team was trying to persuade the couple that it would be appropriate to do an interview with the British media. Sam Cohen suggested Tom Bradby of ITV, who already had a relationship with Harry. Meghan was reluctant at first. Her attention was focused on the prospect of doing an interview with Oprah Winfrey. After thinking about it, however, Harry said they would agree. There was one proviso: he and Meghan could not do interviews together or be in the same shot. That would go against their deal with Oprah, which at that point was slated for the autumn of that year. (It eventually went ahead more than a year later, in March 2021.)
The Express was on to the Sussexes at that time.
On Saturday, July 28, the paper reported that the Sussexes' job vacancies were no longer on the Clarence House recruitment site:
The American and the Duke of Sussex are no longer listed on the recruitment page of Prince Harry's father Prince Charles' website. Prince William and wife Kate however, remain there. One family friend said of Harry: "He wants to control everything and everyone he's involved with. How he's going to pay for it is another question."
Under the recruitment tab of the Clarence House website vacancies are listed for staff keen to work for Charles and Camilla and the Cambridges.
Regardless of there being any vacancies available, the Duke and Duchess of Sussex were listed at the top of the site, along with Charles, Camilla, William and Kate.
The couple are no longer there.
The suspicion the Duke and Duchess of Sussex have now split from Prince Charles on his website also raises questions about funding.
The costs of Harry's office and his royal duties are met by a stipend from the Prince of Wales.
Between them Harry and William share about £4million a year, with the lion's share going to the direct heir to the throne.
But without his father's support, Harry would have to turn to the Queen for funding – and she already has a lengthy list of people to support.
… Meghan and Kate seemed to have patched up their differences with a visit to Wimbledon this summer.
But Meghan and Harry aides sparked outrage when it emerged there were rules on how to approach them in Windsor.
The Sun reports neighbours are advised against initiating conversations with the couple.
However, if Meghan or Harry start a discussion they are welcome to exchange pleasantries with the young couple.
They are also asked not to play with the couples' dogs or request to see their baby, the report claims.
On Thursday, August 1, The Express had a follow-up article:
Meghan Markle and Prince Harry made big changes in their lives during recent months as they simultaneously became parents for the first time. The royal couple split from their charity partnership with Prince William and Kate, Duchess of Cambridge in January. Three months later it was announced Prince Harry would team up with US talk show legend Oprah Winfrey on a new TV series about mental health.
This was followed by the birth of their first son Archie Harrison Mountbatten-Windsor on May 6, 2019.
Since then, Meghan and Harry have planned a forthcoming royal visit to South Africa in autumn.
They also raised eyebrows after citing their intention to raise Archie as a "private citizen" despite him being seventh-in-line to the throne.
The royal baby lives with the Duke and Duchess of Sussex at their Windsor Estate home where they can maintain strict privacy …
Her mum, Doria Ragland, lives in Los Angeles where she is a yoga instructor.
Doria has crossed the pond to visit her daughter and grandson but a royal expert has now revealed Meghan may be looking to set up house over there.
Emily Andrews told Yahoo's The Royal Box the Duke and Duchess of Sussex may well purchase a property in the USA for work and personal reasons …
The royal expert did not suggest that any purchase would mean a permanent move to the United States …
She and Harry are expected to travel to the Queen's official Scottish residence, Balmoral Castle, along with other senior royals this summer.
The idyllic holiday home becomes the Queen's two-month break from royal duties every July and August.
Vogue
On August 2, Meghan's issue of Vogue that she had guest-edited appeared on the shelves.
The Spectator rightly objected to the Duchess's perceptions of life. She appears to think that it's not what you do that matters, it's what you look like that counts. Look at Harry in the photo — a completely different person:
The issue featured the Duchess's supposed heroines.
Author and journalist Douglas Murray wrote about it for UnHerd — 'Meghan and Harry are playing a dangerous game':
… Meghan Markle, otherwise known as the Duchess of Sussex, has guest-edited the September edition of Vogue. The contents of the issue are perhaps unsurprising. As well as inevitably celebrating prominent women, such as the teenaged school truant Greta Thunberg, the Duchess has also set out to prove that women don't need men to give them status. Something she has done by including an interview with her husband, Prince Harry.
This in itself has drawn a certain amount of comment, and will not have calmed fears some people had that a highly political figure marrying into the nation's most necessarily non-politically opinionated family might cause problems down the line. The fact that Meghan Markle's pre-Harry politics might be best described as 'woke' is in some ways unimportant – a prominent Donald Trump-supporting Republican marrying into the Royal Family would raise similar concerns, to say the least.
The worry was that Prince Harry's marriage to Ms Markle would end up tipping him towards her political path, fears that will not have been calmed by his appearance in the high-end fashion magazine. In the royally-guest-edited issue, Prince Harry talks about a number of things, the headline-grabber being his claim that he and his wife would not have more than two children because of its impact on the environment and climate change …
It is the Prince's follow-up comments, however, that dish up the problem, less for his audience than for the Prince himself. Watching Prince Harry beginning to play the game of identifying 'unconscious bias' is like gazing at a hapless amateur juggling with loaded pistols; it is enough to make any well-disposed person want to scream "Stop" and seize the guns from his unsuspecting hands.
The comments appear in a conversation between the Prince and primatologist Dr Jane Goodall, on the subject of what humans can learn from chimpanzees. At one point Dr Goodall says that children do not notice skin colour, to which Harry adds: "But again, just as stigma is handed down from generation to generation, your perspective on the world and on life and on people is something that is taught to you. It's learned from your family, learned from the older generation, or from advertising, from your environment." Well perhaps …
One of the most extreme forms of – generally unconscious – bias that people demonstrate throughout their lives is towards attractive people, and not only in the selection of partners. Study after study shows that good-looking men and women stand a better chance of promotion in their chosen field of work than people who are average-looking or actively unattractive.
For instance, it may be carefully suggested that the editor of September's issue of Vogue would not be editing September's edition of Vogue if, rather than the acclaimed beauty she is, she looked rather more like a member of the Addams family. Or indeed an average-looking member of the general public. There may be many reasons why Prince Harry requested Meghan Markle's hand in marriage, but her looks must have – consciously or otherwise – at least counted in her favour on the way to the altar.
Another form of bias that people express throughout their lives – again, consciously or otherwise – might be an inclination towards someone who is financially or socially secure. I should never want to accuse a Duchess – or any other member of the Royal Family – of any variety of bias. And yet it seems possible that in her search for a husband Ms Markle may have demonstrated some form of bias (unconscious or otherwise) towards thrones and their heirs. I will put the point no stronger. But in her search for love, Ms Markle must have met many people. Perhaps she met many princes and mingled with many a duke. But it is striking, at the very least, that of all the people who appeared across her path, the one she ended up marrying in a low-key ceremony at Windsor Castle happened to be the second son of the Prince of Wales.
Balmoral no-show — part 1
It was a given that the Royals joined the Queen during her summer holiday at Balmoral and participated in her favourite country pursuits.
However, the Duchess was fussy.
On August 11, The Sun reported:
MEGHAN Markle might fake a headache to avoid taking part in blood sports when she visits the Queen in Balmoral, a royal expert has claimed.
Sports like hunting and fly fishing are much-loved group activities at the Queen's summer retreat in the Scottish highlands.
With a 50,000 acre estate comprising of grouse moors, forestry and farmland, animals to hunt are in no short supply in Balmoral.
But the Duchess of Sussex, 38, who follows a vegan diet during the week, isn't a fan of hunting – despite her husband Prince Harry being taught from a young age.
Writing for the Mail on Sunday, royal editor Robert Jobson said: "Meghan, however, who rather disapproves of such blood sports, may choose to feign a headache."
BBQs and picnics are thought to take place daily at Balmoral, regardless of the Scottish weather, as the royals are so fond of all things outdoorsy.
"It is hunting which is perhaps the biggest passion", Robert added of the royal hobby, which includes shooting birds and deer.
"Her Majesty shot her last stag in 1983 near to the Spittal of Glenmuick, in a spot that is now called The Queen's Corry.
"But she still attends shoots and drove Kate to a grouse shoot when the couple visited a couple of years ago."
This I did not know. Wow:
The Queen was taught to stalk deer by her late cousin, and best friend, Margaret Rhodes.
Returning now to Meghan:
Earlier this week, a source told Fabulous pescatarian Meghan would try fly fishing to appease her father-in-law Prince Charles.
They added: "But there will no softening on Meghan's stance against hunting, any stag or deer hunting fills her with horror.
"Venison will not be one of her menu choices for sure."
However, the Queen was also fussy. And, after all, Balmoral was her estate.
Five days later, on August 16, The Sun told us that Her Majesty despised ripped jeans and wedge heels. Meghan loves both:
It has been reported that the Duke and Duchess of Sussex will make their first trip to the Scottish castle this summer, but the Queen has her firm views on correct attire.
Speaking to Fabulous Digital, the source said: "The Queen is no favourite of jeans so the US boyfriend look and ripped jeans will be left in Frogmore Cottage along with any wedges which her Majesty hates with a passion."
Meghan Markle has often demonstrated she is a fan of wearing denim, and recently caused a stir when she showed up at Wimbledon wearing jeans …
It is thought this year Meghan will visit the castle for the first time, where the Sussexes will be given their own wing, as well as enjoying a traditional afternoon tea with Her Maj.
A source told the Sun on Sunday: "The Queen and Prince Philip adore the couple and, of course, their new great-grandson Archie, and they have invited them to Balmoral for a few days.
"It is testament to Meghan that she has been given this invite. It's a huge honour."
However, they did not go, according to the Mail's September 6 report:
aides insisted the Sussexes were too busy working on charitable projects to join the Queen at Balmoral this weekend …
There had been rumours that the Sussexes would be joining the monarch at Balmoral in the Scottish Highlands this week with their baby son Archie.
But while most of the Royal Family have made the long trek up to Aberdeenshire, Harry and Meghan actually have no plans to fly to Scotland at all.
Sources close to the couple insist that the decision should not be seen as a 'snub' – and Harry only rarely goes up to the Queen's Deeside estate nowadays.
The US Open
Instead, the Duchess made plans to fly to New York to see her friend Serena Williams compete at the US Open.
Serena Williams was said to be hesitant as she lost at Wimbledon when the Duchess was in the stands:
Despite the long flight and a stressful delay for Meghan, sources have claimed that Williams' coaches aren't massively thrilled that the Duchess has come to support her friend, as she could distract her from the game in hand.
They are said to be concerned due to the fact that Williams lost when Meghan attended her last match at Wimbledon.
A source told Page Six: 'Serena asked her coach about Meghan coming when she won last night and everyone is worried, as tennis players are very superstitious, and Serena lost when Meghan came to watch her at Wimbledon.'
The source added that Williams' aides were concerned that the trip was a publicity stunt.
However Williams is said to 'adore' Meghan and 'wouldn't have a word of it'.
It is not yet known where in New York Meghan will be staying and who she will be staying with, however she is thought to have flown first class for the two-day trip across the Atlantic.
It comes just days after her husband spoke out about sustainable travel at an environmentally-friendly tourism event in Amsterdam.
And last month he is understood to have given a passionate barefoot speech about saving the planet at Google's £16million climate change summit in Sicily.
Meghan's 7,000 mile journey to New York and back is expected to generate 986kg of carbon dioxide.
The article has a helpful map showing all seven flights that the Sussexes took between August 6 and September 6 in Europe.
Harry excused his flights as follows:
He took a scheduled flight to Amsterdam this week to promote Travalyst, a scheme for environmentally-friendly tourism.
Speaking at the event, the prince refused to apologise for his recent private flights, saying: 'I spend 99 per cent of my life travelling the world by commercial.
'Occasionally there needs to be an opportunity [to fly privately] based on a unique circumstance to ensure that my family are safe – it's as simple as that.
'For me it's about balance. It's not a decision I would want to take, but if I have to do that, I will ensure that I balance out the impact that I have.'
Harry dismissed concerns over his carbon footprint by insisting that he 'offsets' his emissions by donating to renewable energy incentives and planting trees.
Returning to tennis, it seems that Serena Williams's coaches were correct. Meghan's presence and Williams's loss coincided, as the Mail told us on September 8:
Tennis fans have accused Meghan Markle of jinxing Serena Williams last night as she watched the tennis star lose and fail to secure an historic 24th Grand Slam at the US Open, just months after she attended Williams' defeat at Wimbledon.
The Duchess of Sussex, 38, was called a 'bad luck charm,' with fans citing the resounding loss at the Wimbledon final to Simona Halep and the year before at SW19 to Angelique Kerber.
The Royal was the centre of attention in New York as she watched with Williams' mother Oracene Price but the pair were left disappointed as the former number one was beaten 6-3, 7-5, by Canadian Bianca Andreescu.
Balmoral no-show — part 2
As for Balmoral, the Mail article continued:
Prince Harry and Meghan's absence from the trip has left Her Majesty 'hurt and disappointed,' the Mail on Sunday understands, at a time when she likes to bring her friends and family together at her favourite time of the year.
The Queen is already said to be 'baffled' by Meghan and Harry's inability to steer clear of PR calamities, and is concerned that her beloved grandson and his new wife are failing to listen to their team of advisers.
On September 8, The Sun told us:
THE QUEEN was left "hurt and disappointed" when Meghan Markle skipped visiting Balmoral in favour of her last-minute trip to New York over the weekend.
In opting for the US Open instead:
she snubbed the Queen's invite to attend the Highland Games – something that proved a disappointment according to royal insiders.
The Mail on Sunday described the move as an "outright snub" adding that Her Majesty "is 'hurt and disappointed' at a time when she likes to bring her friends and family together."
According to insiders the monarch had been looking forward to "a few days of merry chaos" with her great-grandchildren, including Archie who is still yet to visit the Queen's summer home with Harry and Meghan claiming he is "too young."
While Meghan was watching Serena Williams:
the Queen was joined by Prince Charles and Camilla at the Braemar Gathering Highland Games on Saturday …
The Queen is currently staying at her nearby summer residence Balmoral where she last night hosted Boris Johnson and girlfriend Carrie Symonds.
But the Prime Minister was forced to cut short the anticipated weekend-long visit after a turbulent week.
One week later on September 16, The Express reported:
The Queen "does not want to talk about the Sussexes" according to claims from a royal insider. People spending time with Her Majesty, 93, have reportedly been told not to mention Meghan Markle or Prince Harry. Leading royal expert Quentin Letts tweeted the bombshell remark this week, claiming it was the only subject that was strictly banned from discussion.
That is really bad.
As the King would say, 'Dear, oh dear'.
The article continues:
Letts tweeted on Friday: "Friend of an acquaintance was about to go riding with HMQ.
"Was given v firm advice 'Talk about anything except one subject.' Brexit? 'No, The Sussexes.'"
This comes after claims of clashes within the royal family.
The Queen was reportedly left "deeply disappointed" by Meghan and Harry's hostile behaviour.
Several royal sources claimed the monarch was not impressed with the way Prince Harry and Meghan Markle have acted since marrying last year.
She is reportedly "disappointed" with their behaviour as representatives of the British monarchy around the world.
There is plenty more to come about the Sussexes. Stay tuned.
Picking up where I left off last week, below are some old news articles from the Duke and Duchess of Sussex's early years together, which might provide some insight on what Prince Harry relates in Spare. In the words of the late Queen, 'Recollections may vary'.
However, let's begin with two book reviews of Spare.
A good ghostwriter's genius
Tina Brown, the youngest editor of Tatler, the editor who transformed Vanity Fair and the first woman to edit The New Yorker, wrote an excellent review of Spare for The Guardian. Excerpts follow, emphases mine.
She says that JR Moehringer made good use of various literary devices and outstanding writing to bring Harry's story to life:
One of the few good decisions that Prince Harry has made in the last five turbulent years was to take George Clooney's advice and hire a ghostwriter as skilled as the novelist JR Moehringer. Spare is gripping in its ability to channel Harry's unresolved emotional pain, his panicky, blinkered drive, his improbably winning rapscallion voice, and his skewed, conflicted worldview. Best of all, Moehringer knows how to drill down into scattered memories and extract the critical details that make this hyper-personal chronicle an unexpected literary success.
Who will forget the scene of monarch and grandson grasping dead pheasants, "their bodies still warm through my gloves" after a Sandringham shoot, confronting each other as she tries to escape in her Range Rover from what she knows is coming. "I've been told that, er, that I have to ask your permission to propose [to Meghan]," Harry mumbles. "Well then," replies her majesty, "I suppose I have to say yes." It's one of the joys of this memoir that Harry is still puzzling over her answer. "Was she being sarcastic? Ironic? Was she indulging in a bit of wordplay?" …

The most powerful character in the story, Diana, never truly appears, other than in radiant glimpses. The unassuageable anguish of the 12-year-old Harry's loss gives Moehringer a potent, overarching literary device. His mother, Harry heartbreakingly decided, was not really dead at all. She had "disappeared", found a way to escape her unhappy, haunted life, and make a "fresh start" (perhaps in Paris or a log cabin in the Alps). Expectation of her Second Coming freezes his heart and will not allow him to cry except once, when her coffin is lowered into the ground at Althorp. The din of the world's mourning and the endless tawdry explorations of what really happened that night in the Pont de l'Alma tunnel, place Harry's own memories in a lock box even he cannot access until a breakthrough in his mid-30s in a therapist's office. The only aspect of his mother's death that he finds unforgettable is the identity of those who caused it: the press and the paps, variously referred to as ghouls, pustules, dogs, weasels, idiots and sadists, who after "torturing" his mother "would come for me". The "red mist" of his rage towards them never lifts. The reader is with him all the way as the hack-pack humiliates the rudderless prince for every adolescent misstep.
Unfortunately for Harry, he disregards or misunderstands what a monarchy and hereditary peers bring to the upper rungs of British society. He also doesn't appreciate his own privilege:
What Harry does not realise, however, is that his magical thinking about Diana's "disappearance" extends to multiple other aspects of his life. He writes as if he is the first privileged male to notice the unfairness of primogeniture (the "hierarchy", as he likes to call it with sinister emphasis). Well, duh. The monarchy invented it. The stately homes of England – belonging to many of the people he was at school with – are all inhabited by winners of the birth lottery while the younger siblings are relegated to some mouldy manor house and a sinecure at a bank (if lucky). Harry, we can all agree, has done better than most. At the age of 30, he inherited many millions from Diana and more from the queen mother when she died in 2002. (The fridge at his modest "Nott Cott" bachelor digs within the hardly shabby environs of Kensington Palace is, he tells us, often "stuffed with vacuum packed meals sent by Pa's chef".)
Despite Moehringer's talent, the reader eventually turns to Harry's shortsightedness about how the monarchy actually operates:
Harry's most extreme misunderstanding in Spare concerns the topic he affects to know most about: how the deep state of the Palace works. Harry prefers to blame sycophantic double-dealing courtiers when the decisions handed down are those he doesn't like. By his account, the queen's private secretary Edward Young blocked the meeting at Sandringham that Harry requested in January 2020 to discuss the Sussexes' plan to become part-time royals. The possibility that the monarch herself was having second thoughts about the wisdom of such a meeting (Granny's diary was suddenly full) isn't entertained.
… There are more ironies. While the recurring plaint of Spare is the power that his father and brother hold over his life, the truth is how circumscribed their power actually is. Charles tells his "darling boy" to put all his proposals for a hybrid royal role in writing not because he's stalling but because, as he says: "It's all decided by the government" …
In the end, Tina Brown felt rather sorry for him, but not for the usual reasons everyone else is. It's for his 'magical thinking':
… the nub of his incandescent fury, is how he and Meghan were sold out by the institution. But one senses that his rage has another source: deep marital embarrassment. Harry's most profound act of magical thinking was the promise of what he could deliver his bride. In the ecstasies of infatuation – and of relief that he'd finally found someone "perfect, perfect perfect" – he boosted his beloved's fantasy of their life together as world-dominating humanitarian superstars powered by her Hollywood glamour and his royal stature. Sitting on the Ikea sofa of Nott Cott, how could he tell her that, in the grand scheme of the monarchy, he was a penny-ante prince? His great big dreams revealed how small he was: one can't help but feel that it's this that he really wants an apology for.
Hugo Vickers, a biographer and ghostwriter himself, wrote a review of Spare for The Oldie:
Apparently this book is 'full of insight, revelation, self-examination, and hard-won wisdom about the eternal power of love over grief.' It purports to be the memoirs of Prince Harry, but it is ghost-written by the Pulitzer-award-winning writer, J.R. Moehringer, a man well-qualified to write about dysfunctional family relationships.
At the end of his own fine memoir, The Tender Bar, Moehringer acknowledged a number of friends who 'spent hours confirming or correcting my memory, and helping me piece together long-ago conversations' …
Moehringer also ghosted Open, the immensely popular memoirs of the tennis player, Andre Agassi …
It is the job of the ghost to extract facts from the 'author', especially an inarticulate one, and turn his outpourings into a book that justifies the many millions spent on it by the publisher. (I believe the publishers have to sell 1.7 million copies to make Spare commercially viable).
Moehringer clearly had his work cut out with Prince Harry …
If you are not convinced, try this line in which Harry explains a Page Three Girl for the benefit of American readers. Does this sound like him? – 'That was the accepted, misogynist, objectifying term for young, topless women featured each day on page three of Rupert Murdoch's the Sun.' Where did that come from?
I've heard on GB News that Meghan helped edit the book and that those words are hers.
Then there is the opening quote:
This book opens with a quote from William Faulkner. On page 13, Prince Harry admits he has no idea who Faulkner was …
Hugo Vickers points out many of the book's historical inaccuracies:
I mistrust this book. Prince Harry admits to a shaky memory, apparently too traumatised to recall anything much before his mother's death. He acknowledges the 'superb fact-checking' of one Hilary McClellen, but no! she has allowed numerous howlers to slip through, causing me to wonder how much else Prince Harry has got wrong or simply cooked up to sell his book.
The Queen did not consign the Duke and Duchess of Windsor to a remote grave in the Frogmore burial ground (page 2). This trivialises the Queen and misunderstands her sympathy. She even paid the Duchess the signal honour of commanding flags to fly at half-mast on public buildings on the day of her funeral. Prince Harry could not have been offered a place in the Royal Vault in St George's Chapel (page 5). The Royal Family did not get out of the car on the way back from Crathie Church on the Sunday Diana died to look at flowers (page 20). They did come out on Thursday 5 September.
He seems in a muddle about what flag was on his mother's coffin (page 23) (well, OK). He does not descend from Henry VI (page 43). He won't have known about Snowdon's vile notes to Princess Margaret (page 73) until that was revealed years later by Anne Glenconner. He was not called at school about the Queen Mother's death (page 75). She died during school holidays on Easter Saturday. He was in Klosters. So that scene was invented. The Queen was not at the pop concert when Brian May played (page 78). May played at the beginning. She arrived just before the end. The Queen did not go to the Guildhall for the Charles/ Camilla civil wedding in 2005, but she was most certainly at the Service of Blessing (page 99). (He talks of standing near the altar. He was sitting next to his brother).
Need I go on? Yes – a lie on page 337 or another muddle: Meghan could not have bought her father a first-class Air New Zealand ticket. They do not run first-class seats from Mexico.
People will read this, as they watched Netflix – to salivate over the bile he pours out against his family. Enough has been written about that. I took additional exception to his unforgivable description of dumping lovely Cressida Bonas (page 240), but then who will not be moved reading of his burgeoning love for Meghan Markle (page 265 – passim)?
Whether Harry realised it or not, there is an irony about the book:
There is a line which shows just how hypocritical this whole exercise is. Harry is in therapy (page 310). He writes, 'I vented about my family. Pa and Willy. Camilla.' He stops when he thinks passers-by can over hear the conversation. 'If they ever knew. Prince Harry in there yapping about his family. His problems. Oh, the papers would have a field day.' I rest my case.
Vickers concludes, wondering about JR Moehringer's ultimate goal in ghost-writing Spare:
One further point. Prince Harry bases a large part of his premise on the idea that the only thing the Royal Family care about is being on the front page of newspapers. The enormous success of the Queen and Prince Philip (and the quiet success of Princess Anne) is that they did not care a jot what people thought. They got on with the job.
No doubt J.R. Moehringer and his team of shades were well-paid for their ghosting. But, given he comes from a considerably less privileged background than Harry's, I wonder where his sympathies ultimately lie, and whether he is proud to have played a part in such an unpleasant exercise.
Now let's move on to older news items about the Sussexes.
Fact-checking Meghan's Babe statistics profile
Shortly before Meghan and Harry married, I saw an online posting about Meghan. This is a screenshot of it:
I am grateful to my reader Katherine who sent me a Newsweek article about the profile, which says that Meghan did not write or post it herself. An excerpt follows:
Several other tweets have also shared the same screenshot.
While the profile image of Meghan Markle was posted recently, it appears to have been circulated online for a few years. The earliest example Newsweek could find was in 2019, posted on Twitter, alongside similar disparaging claims about Markle and her race.
However, the biography was not authored by Meghan Markle, and instead appears to be a user-submitted biography from a mostly pornographic website called freeones.com.
The website was found by searching for images similar to the profile of Markle posted on Twitter. Markle is still listed on the site as "Caucasian", although her details can be edited by anyone.
While an exact copy of her profile on freeones.com as shared on Twitter has not been archived, other profiles from 2013—when Markle's details were reportedly added to the website—show the same format and presentation as the entry posted on social media (such as the header "Babe Statistics".)
That same year, Markle told the South China Morning Post that she was "bi-racial".
"Specifically for me, because I'm bi-racial, I can go in for so many parts," she said.
"If you're blond and blue-eyed, you may have 10 auditions but, because I could look what they call 'exotic Caucasian', instead of having 10 auditions I would have 40. You hear 'no' a lot more.
"It hurts a lot because you feel like all you hear is 'no'. It's really just about powering through. At a certain point, people just give up and once they've dropped out of the pool your chances of making it are so much better. It's a numbers game."
Markle's representatives told Newsweek she had not uploaded any information to the site, and that third parties without any relationship to her or the authority to act on her behalf to do so were responsible …
Mentoring Meghan and managing Harry's insecurities
When Lady Diana Spencer was engaged to Prince Charles, I remember reading at the time that the Queen Mother took her under her wing to prepare her for life as the future Princess of Wales.
This is normal procedure and includes etiquette, protocol and more.
Valentine Low, the former investigative-turned-royal reporter for The Times, wrote 2022's best seller, Courtiers. On September 23, the paper published an extract from the book which is full of detail about the turmoil going on between Harry, Meghan and the Palace:
Even before Meghan came on the scene, Harry's grievances with the media, especially the tabloid press, could lead to tensions with his staff. One insider recalls: "He was always messaging, making phone calls. It was nonstop. There were constant battles with the media and expecting the team to be on your side.… He was always on Twitter. You then had to be on everything too. Every minor infraction was a big deal."
Harry's enemies were not just in the media. "He definitely had mistrust of the courtiers at Buckingham Palace and his father's palace," said one source. This could lead to tensions within his own team who were based at Kensington Palace …
Compounding Harry's frustration was a long-held fear that his time was running out and that once Prince George turned 18 he would become irrelevant. "He had this thing that he had a shelf life. He was fixated [on] this. He would compare himself with his uncle [Prince Andrew]. He would say, 'I have this time to make this impact. Because I can.' Until George turns 18, was the way he was thinking about it. 'Then I will be the also-ran.' He was genuinely thinking of it as, 'I have this platform now, for a limited amount of time. I want to move forward, move forward.' " …

Harry's obsession with the media, his sense of frustration, mistrust of palace courtiers and the constant loyalty tests of his own staff were all there before Meghan. But after Meghan turned up, it got significantly worse.
Once their relationship became public in October 2016, Meghan became insecure about it, which, in turn, disturbed Harry. The tension revolved around getting her a security detail:
Faced with hordes of journalists intent on trawling through every aspect of Meghan's life, Harry became determined to protect his girlfriend. Meghan, meanwhile, told him that if he did not do something about it, she would break off the relationship. A source said: "She was saying, 'If you don't put out a statement confirming I'm your girlfriend, I'm going to break up with you.' " Harry was in a panic. Another source said: "He was freaking out, saying, 'She's going to dump me.' "
Harry turned to Jason Knauf, the bright young American who was recruited by Kensington Palace in 2015 to be the communications secretary for the Cambridges and Prince Harry. His previous role had been running the communications for the crisis-hit Royal Bank of Scotland. He loved working for William and Kate and Harry.
Harry phoned Knauf, demanding that he put out a statement confirming that Meghan was his girlfriend and condemning the racist and sexist undertones of some of the media coverage. Meghan wanted public validation that this was a serious relationship. She was convinced that the palace was unwilling to protect her from media intrusion. She told Harry's staff: "I know how the palace works. I know how this is going to play out. You don't care about the girlfriend."
It's odd, but I don't remember any negative coverage of Meghan at all at that time. The media were overjoyed that Harry had another girlfriend, one whose intentions seemed serious.
Valentine Low says that the courtiers sensed the American was different from Harry's previous girlfriends:
Harry's staff knew that Meghan was different from other royal girlfriends. She had her own opinions and would let people know what they were. In the spring of 2017, more than six months before the couple were engaged, she told one of Harry's advisers: "I think we both know I'm going to be one of your bosses soon."
There was also a lot riding on Meghan. The palace knew it could not afford to repeat the mistakes that were made with Princess Diana. Before the wedding, Meghan had a meeting with Miguel Head, William's private secretary, who told her that the palace would do everything they could to help. There was no need to think that she had to take on her new role in a particular way.
Meghan thanked Head and said she wanted to concentrate on her humanitarian and philanthropic work and to support Harry as a member of the royal family. As one source said, "The entire place, because of everything about her and because of what Harry's previous girlfriends had been through, was bending over backwards to make sure that every option was open."
Sir David Manning, former ambassador to the US who was William and Harry's foreign affairs adviser, also put his mind to thinking about how Meghan might fit in to the royal family and what married life could look like for them. However, the couple's sense of frustration and their suspicion of the palace establishment was already causing problems. An early issue was security. In the immediate period after her arrival in London there was no straightforward mechanism for providing Meghan with full-time police protection, especially at a time when the palace was trying to slim down the level of security provided to members of the royal family.
The Government needed to get involved, which was par for the course and nothing against Meghan. Edward Lane Fox — often called ELF because of his initials — took the lead:
Such matters were decided by a Home Office committee called Ravec (the executive committee for the protection of royalty and public figures). Harry's private secretary at the time, Ed Lane Fox, a former captain in the Blues and Royals who'd joined Harry's close-knit team in 2013, argued Meghan needed to be protected immediately.
"Ed had to wage a huge battle to get them to understand that she would not be able to live her life without police protection. Meghan had no idea that this was even happening, because we did not want her to have another reason to think that she wasn't going to be welcomed. Ed did amazing things for her behind the scenes, but none of them was really appreciated."
To Harry and Meghan, the two months that it took to get a decision about her security seemed like an age. They felt as if the powers that be were simply unwilling to provide her with the security she needed.
Meanwhile, the interpersonals between Meghan and Palace staff received mixed reviews:
At this time, at the Queen's request, the Lord Chamberlain, Earl Peel – the most senior figure in the household – went to see the couple to explain to Meghan how the palace worked. He recalled, "I liked her, actually. She was very forthright. Very, very polite. Very understanding. She wanted to learn."
However, relations between Meghan and the team at Kensington Palace were fraying fast. In late 2017, after the couple's engagement was announced, a senior aide discreetly raised with the couple the difficulties caused by their treatment of staff. People needed to be treated well and with some understanding, even when they were not performing to Harry and Meghan's standards, they suggested. Meghan was said to have replied, "It's not my job to coddle people."
Meanwhile, she wasn't dealing with the more junior staff, even people whom William and Kate – and Harry, before Meghan came along – had been quite happy to engage with. It seemed that she wanted respect and having to talk to someone a bit further down the pecking order – in a small office, where there wasn't much of a pecking order – wasn't treating her with respect. "She would take it as an insult," believes one source.
On April 29, 2018, shortly before the wedding, Yahoo!News posted an article from London's Evening Standard on Meghan's touchy-feeliness, stating that the Palace wanted to mentor her for her new role:
Meghan Markle is likely to turn to the Duchess of Cambridge for tips on getting to grips with Royal etiquette before her wedding to Prince Harry, an expert has claimed.
The former Suits actress, 36, may be encouraged to reign in her "touchy-feeliness" ahead of the big day but is unlikely to be given formal lessons, says royal etiquette expert William Hanson.
Those who have been there, done that and got the tiara including Kate and Camilla, Duchess of Cornwall will help coach Ms Markle ahead of her wedding at St George's Chapel in Windsor Castle on May 19 .
Mr Hanson said: "Meghan won't have a specific tutor, but the royal household and other members of the royal family who have 'married in' will be passing on their knowledge to the newest addition.
"Meghan will also be observing others, too, watching and copying certain mannerisms or tricks that they do to cope and successfully navigate the pitfalls of court life.
"Her fiancé will, of course, also be sharing his considerable knowledge too."
Hanson also:
revealed that Prince Harry's bride-to-be might struggle with to reign in her tactile nature …
"This may well be a conscious choice on her part and may be one of the ways that she plays her part in evolving the monarchy, but this touchy-feelyness cannot happen everywhere that she will go and so she may well struggle with having to learn when to be informal and when to be slightly more reserved."
Ms Markle has previously broken royal protocol by hugging members of the public …
Mr Hanson said he would advise Ms Markle to take her time when getting used to Royal etiquette in a bid to succeed.
"Meghan is clearly going to shake things up a bit for the royal family, but I hope not everything gets changed overnight," he added.
Based on what happened during the wedding preparations, it seemed that the Duchess of Cambridge was not the one to mentor her future sister-in-law. More on that below.
Over a year later and after the birth of Archie, the new Duchess of Sussex's lack of mentoring was still on the Queen's mind.
On Thursday, August 1, 2019, The Express reported, 'Queen sees Sophie Wessex as Meghan Markle's "unofficial mentor"':
Queen Elizabeth II is trying to ease Meghan into her new royal life after the Duchess of Sussex has come under fire multiple times in the past months. The monarch believes the 37-year-old former actress could find a friend and ally in Sophie, Countess of Wessex, as the pair share the desire of a normal life within the Royal Family, according to a close friend … 
The Queen's suggestion doesn't come out of the blue, as Meghan and Sophie are believed to have bonded after spending time together at Royal Ascot last year …
Just like Meghan, Sophie had a career of her own for years before marrying Edward, and has worked in public relations for a variety of firms.
The Wessexes want their children to grow up away from the spotlight – similarly to what Prince Harry and Meghan are trying to do with their son, Archie Harrison Mountbatten Windsor.
I have no idea how that worked out.
Wedding stress
I was going to call this section 'Tantrums and tiaras' but that seemed too clichéd.
The weeks running up to the wedding were reportedly highly tense. It must have been hell.
Valentine Low writes that the tiara kicked everything off:
Organising the wedding was particularly stressful. There were rows about scheduling, the wedding announcements, the gospel choir and, most famously, the tiara. In the months before the wedding, Meghan was told that the Queen would lend her a tiara for the big day, just as she had done for Kate Middleton seven years earlier. An appointment was made in February for Meghan to look at a shortlist of appropriate tiaras at Buckingham Palace. Accompanied by Harry, and under the watchful eye of Angela Kelly, the Queen's dresser, who is also curator of the Queen's jewellery, Meghan opted for Queen Mary's diamond bandeau tiara.
Meghan then needed to make sure her hairdresser had an opportunity to rehearse with it before the day itself. Unfortunately, on the day her hairdresser, Serge Normant, was in town, Angela Kelly was not available, so neither was the tiara. In Harry's view, this was Kelly being obstructive. According to the book Finding Freedom, Kelly had ignored repeated requests from Kensington Palace to set up a date for a hair trial. And Harry was furious. "Nothing could convince Harry that some of the old guard at the palace simply didn't like Meghan and would stop at nothing to make her life difficult," wrote the book's authors.
But there is another version: that Harry and Meghan were naive at best, entitled at worst, to expect others to jump to their command when they had not even bothered to make an appointment. As a source told The Mail on Sunday: "Meghan demanded access to the tiara. She didn't make an appointment with Angela but said, 'We're at Buckingham Palace. We want the tiara. Can we have it now please?' Angela essentially said, 'I'm very sorry, that's not how it works. There's protocol in place over these jewels. They're kept under very tight lock and key. You can't turn up and demand to have the tiara just because your hairdresser happens to be in town.' "
Harry then began ringing others to put pressure on Kelly to bend the rules and in the course of his less than diplomatic efforts is said to have used some fairly fruity language. Whether Harry swore at his grandmother's aide, or about her, is not clear. But she wasn't impressed. She reported all this to the Queen, who summoned Harry to a private meeting. "He was firmly put in his place," a source said. "He had been downright rude."
On Friday, January 13, 2023, The Telegraph's Camilla Tominey wrote about the wedding stress and how it affected Meghan's relationship with Catherine, starting in 2017:
… as with the family hierarchy – there was a pecking order: and the problem for Meghan was that Kate always appeared to get first dibs on designers.
Erdem Moralıoğlu was one of Meghan's absolute favourites, but even after Harry had put a ring on it, Kate, who was already a client, continued to get priority …
Suffice to say the notion of her soon-to-be sister-in-law receiving preferential treatment did not, it is claimed, go down well with Meghan, especially as she "wasn't even Queen". (Meghan always pointedly insisted on calling the Princess of Wales "Kate" even though the rest of the family referred to her as "Catherine". Harry reveals in Spare that when he first introduced Meghan to his brother Kate remained in the garden, playing with the children – hardly the welcome they both wanted.) …
In Spare, Harry confirms an argument with Angela Kelly, the late Queen's closest aide, over Queen Mary's diamond bandeau tiara she borrowed for the big day. Although he denies saying: "What Meghan wants, Meghan gets", there is a sense that this was the unofficial slogan of the nuptials. Air freshener was indeed requested to improve the aroma of "musty" St George's Chapel.
He also confirms a row between Kate and Meghan over bridesmaids' dresses, despite describing it as a "sci-fi fantasy".
The French couture dresses did not fit any of the bridesmaids properly and, contrary to Harry's suggestion that Kate was the only one who made a fuss, Meghan told staff at the time she had complained to the designer and that several of the mothers were angry. The row didn't actually happen at a fitting but when Kate went round to Meghan's to discuss it. (At this point both women lived at Kensington Palace: Meghan at Nottingham Cottage and Kate at Apartment 1A).
Ironically, it was Meghan herself who acknowledged to the then Cambridges' staff that Kate "had left in tears" – in a bid for help to smooth it over. That's why the palace couldn't demand a retraction.
Contrary to Harry's claim in Spare that the original story claimed "Meghan had reduced Kate to tears about the bridesmaids' dresses", actually the rather more balanced 1,200-word feature read: "The Telegraph has spoken to two separate sources who claim Kate was left in tears following a bridesmaids' dress fitting for Princess Charlotte.
"'Kate had only just given birth to Prince Louis and was feeling quite emotional,' said one insider." (It was the Sun who splashed the headline: "Meghan Made Kate Cry" the following day, with a piece written by Jack Royston, now Newsweek's chief royal correspondent and one of the Sussexes' cheerleaders). 
Here is The Sun's article.
Moving on:
It is true that Kate went round again the next day with a bunch of flowers and a card to apologise (another bid to keep the peace) …
Harry insists the bridesmaids' dress story was briefed by the palace, claiming Kate told Charles and Camilla about the altercation over dinner. But more negative headlines started appearing after the wedding precisely because the histrionics staff had grown well used to were now being witnessed by all and sundry. The palace could no longer keep a lid on it.
Even the Prince of Wales had witnessed the aftermath of Meghan's "bridezilla" behaviour.
The Duchess is alleged to have spoken particularly harshly to a young member of the team in front of her colleagues after criticising a wedding plan she had drawn up, saying: "If there was literally anyone else I could ask to do this, I would be asking them instead of you." When William heard of the incident, he took the woman aside and said: "I hope you're okay. You're doing a really good job," prompting her to burst into tears.
On January 10, 2023, the Mail interviewed Royal tailor Ajay Mirpuri, who finally broke his silence about the wedding:
Luxury suit and dressmaker Ajay Mirpuri has broken four years of silence on the now infamous affair – claimed to have led to tears from the Duchesses of Sussex and Cambridge – after being tracked down by the Daily Mail.
He revealed that he saw nothing of what is said to have gone on but he and three staff had to work round the clock at Kensington Palace and Windsor Castle for four days before the 2018 nuptials after finding that none of the six bridesmaids' dresses made by French fashion house Givenchy fitted.
Mr Mirpuri, 45, who has a showroom in London's West End, said he felt it was a shame that how the young bridesmaids, including Princess Charlotte, looked on the day had been overshadowed by reports of the fall-out between Meghan and Kate …
'All six bridesmaids' dresses had to be fixed, and we did it.
'I'm a royalist and I wanted to do whatever I could with my small business to serve the Royal Family.
'We just got our heads down and said "Now we're here, we've got to fix it so that on the day Britain comes off well."
'Had this book not come out, no-one would have known it was us. But if it saved the day, it saved the day, and good luck to them.
'I won't say it upsets me, but in that whole big event, this [the row] is what's spoken about the most – it should be the fact that they [the bridesmaids] looked fabulous.'
Mr Mirpuri was speaking for the first time about his role, after Prince Harry detailed in his book Spare, officially published today, his and Meghan's version of the row with the Duchess of Cambridge about the dresses.
The Prince remains angry that initial reports of the argument focused on Kate being left in tears. There have been several different versions over the years of who made who cry.
Now, Harry has said it was Meghan who he found 'on the floor sobbing'.
According to his account, four days before the May 2018 wedding, Kate sent Meghan a text about her daughter Princess Charlotte crying because her dress was 'too big, too long, too baggy'.
A terse exchange ensued in which Meghan said a tailor – named by Harry only as Ajay – had been 'waiting all day' at Kensington Palace to make alterations …
The gowns were created – as was the wedding dress – by British designer Clare Waight Keller, artistic director of Givenchy. But they were made, it seems, from measurements only, and without repeated fittings.
The other bridesmaids were Harry's goddaughter Florence van Cutsem, Rylan and Remi Litt, the daughters of close friends of Meghan, Ivy Mulroney, daughter of Canadian stylist Jessica Mulroney, the unofficial maid of honour and Zalie Warren, another of Harry's goddaughters and the youngest of the troop, aged just two at the time.
'I've no idea what measurements Givenchy had received, but with our experience and knowledge we could see straight away that all six bridesmaids' dresses had to be fixed, as they weren't going to fit,' Mr Mirpuri said.
'We had to work tooth and nail for four days, four of us working until 4am three nights in a row, to make them fit.
'We left Windsor Castle at 10pm the night before the wedding. Did anyone on the day complain about the bridesmaids' dresses and how they looked? The answer is no.'
Mr Mirpuri has worked for Meghan several times, plus others in the royal household, as well as A-listers Elton John, Michael Caine and Mariah Carey.
When asked what he charged, he replied: 'I won't divulge that – or who paid the bill. I can't say it was four figures or five figures. But whoever's mistake it was paid the bill.'
Givenchy did not respond to a request for comment.
Then there was Meghan's father's illness. Camilla Tominey tells us that, as Harry:
concedes, her father Thomas Markle's heart attack had just thrown the wedding into chaos. 
Mr Markle went on Good Morning Britain in June 2018 and revealed he had never actually met Harry despite talking to him about "Donald Trump" and "Brexit" over the telephone. Then his daughter Samantha Markle took to the airwaves, publicly questioning Harry and Meghan's treatment of the gravely ill former lighting director. That was the moment the Sussexes' staff felt they "lost control of the narrative".
Early misgivings proven correct
The then-Cambridges were concerned about Harry's relationship with Meghan, and the way she treated staff confirmed their fears.
Camilla Tominey says:
the Cambridges, as they were then known, had their reservations from the start.
Harry's insistence that their joint communications secretary Jason Knauf put out a statement in November 2016, claiming his "girlfriend" had been "subject to a wave of abuse and harassment" at the hands of the media created early unease between the brothers. Harry feared he would be "dumped" if he didn't "protect" the American actress. Yet having already warned him to "take as much time as you need to get to know this girl" (a description that apparently offended Meghan), the rashness of the statement rang alarm bells with William. 
… William, who along with equally introverted Kate has never craved the limelight, felt it was too much of a "celebrity" approach. Being of a more "never complain, never explain" persuasion, William questioned the wisdom of Harry going to war with the newspapers so early on in the relationship. It was risky, for a woman he had only been with for a matter of months … 
Contrary to Harry's suggestion he was unsupportive, it was the Prince of Wales "in fix it mode" who agreed that experienced and highly professional Amy Pickerill be moved from the press office to become Meghan's deputy private secretary following her engagement to Harry.
Returning to the tearful staffer whom William comforted, Valentine Low tells us:
On another occasion, when Meghan felt she had been let down over an issue that was worrying her, she rang repeatedly when the staffer was out for dinner on a Friday night. "Every ten minutes, I had to go outside to be screamed at by her and Harry. It was, 'I can't believe you've done this. You've let me down. What were you thinking?' It went on for a couple of hours." The calls started again the next morning and continued "for days", the staffer said. "You could not escape them. There were no lines or boundaries – it was last thing at night, first thing in the morning."
Relations between the couple and some of their senior staff became so fractious that Miguel Head had to step in to keep the peace.
The Queen became concerned and made a staffing change to help out the newlyweds:
Ed Lane Fox never planned to stay much longer than five years working for Harry. A few days after the wedding, Buckingham Palace announced that Samantha Cohen, the Queen's former assistant private secretary, would be stepping in to help the couple out for six months as their interim private secretary. Cohen, then aged 49, had already handed in her notice at Buckingham Palace, but just as she was preparing to leave, after 17 years, the Queen, who had a high regard for her, asked her to stay on and help Harry and Meghan. Cohen – everyone calls her Sam – was one of the most popular and well-regarded members of the Queen's household.
Harry knew her well already, as did William, and was very fond of her. The feeling was reciprocated. Cohen was determined to make her new job work. "Harry was initially very enthusiastic," said a source. But Cohen was soon to discover that making Harry and Meghan happy was a bigger challenge than she had anticipated.
Low has much more on other staff who were being bullied in the months that followed. Cohen, he says, was one of the best Royal tour organisers, but everything seemed to fall apart during the Sussexes first official tour, that of Australia and the South Pacific in 2018. Meghan was also receiving a lot of freebies during that time, another Palace no-no.
Low says that Jason Knauf sounded the alarm, having heard from staff on the South Pacific tour:
The harsh treatment was not confined to junior staff. One source said that Samantha Cohen had been bullied. Another said: "They treated her terribly. Nothing was ever good enough. It was, 'She doesn't understand. She's failing.' " In fact, the source said, Cohen was "a saint" and the best organiser of royal tours they had known.
In February 2021 the duchess's lawyers denied that Cohen had been bullied, saying that the couple were always grateful for her support and dedication. "She remains very close to the duke and duchess."
On October 26, 2018, just as Harry and Meghan were flying from Tonga to Sydney for the Invictus Games, Knauf wrote an email to his immediate boss, Simon Case, Prince William's private secretary [Case moved on to work at No. 10 Downing Street afterwards during Boris Johnson's time as Prime Minister], saying that he had spoken to the head of HR for the palace about "some very serious problems" concerning Meghan's behaviour. He wrote: "I am very concerned that the duchess was able to bully two PAs out of the household in the past year… The duchess seems intent on always having someone in her sights. She is bullying X [name withheld by author] and seeking to undermine her confidence. We have had report after report from people who have witnessed unacceptable behaviour towards X despite the universal views from her colleagues that she is a leading talent within the household who is delivering first-rate work."
Knauf, who was in daily contact with staff on the tour, went on to say that the tour was "very challenging" and was "made worse by the behaviour of the duchess". He also expressed concerns about his own standing and suggested that even Samantha Cohen could be struggling to cope …
He added: "I remain concerned that nothing will be done."
… Jason Knauf, the person who made the bullying allegation, was also American. Insiders said this was about more than just Meghan's American straight talking.
On tour, Meghan was received enthusiastically everywhere, but she was disappointed and wanted more:
Massive crowds were turning out to see them and Meghan's refreshingly informal approach to royal visits was proving a hit with the Australian public. When she turned up at the home of a farming family, she brought some banana bread that she had baked herself. When the couple visited a school to see the work of a programme to improve the educational outcomes of young Aboriginals, she was fêted as an inspirational role model.
Behind the scenes it was a different story. Although she enjoyed the attention, Meghan failed to understand the point of all those walkabouts, shaking hands with countless strangers. According to several members of staff, she was heard to say on at least one occasion, "I can't believe I'm not getting paid for this."
Admittedly, Meghan was pregnant at the time of the tour.
Nonetheless, Low writes:
More than once, staff felt they were treated harshly. On the journey from Tonga to Sydney, Sam Cohen was said to have had a particularly torrid time of it, according to one source.
"Sam had been screamed at before the flight and during." After that, she warned other staff to stay away from Harry and Meghan for the rest of the day. That evening, her colleagues tried to arrange matters so that she did not have to see Harry and Meghan any more than was strictly necessary. "It was so horrible to see yesterday," one said the next day. According to one source, David Manning, who was always a reassuring presence on tours, would say, "You are dealing with a very difficult lady."
The effect of Meghan's behaviour was perhaps seen in its starkest terms some time after Knauf wrote his email to Simon Case. Harry had heard about the complaint and had tried to persuade Knauf to make it go away (something denied by the Sussexes' lawyers). One member of staff, who was named by Knauf in the email, was due to work with Meghan the next day and was worried that she would find out about the complaint.
"This is why I feel sick," they said. "I don't want to have to get into the car with her tomorrow morning… She will blame me for it, which will make tomorrow absolutely horrific."
In the months after the tour, it became clear that the two Americans — Jason Knauf and the Duchess of Sussex — did not see eye to eye:
In the months after the South Pacific tour, the relationship between Jason Knauf and Harry and Meghan was effectively over, even though Knauf was still officially in charge of their media operation. In December, Meghan, wearing a black one-shoulder Givenchy dress, made a surprise appearance at the British Fashion Awards at the Royal Albert Hall, where she presented an award to Clare Waight Keller, who had designed her wedding dress. Knauf had no idea it was happening until Meghan was on stage. She had refused to let Sam Cohen or her assistant private secretary, Amy Pickerill, tell him it was happening.
A month after Knauf sent his bullying allegations to Simon Case, he handed in his notice. He was instead taken on by William and Kate as a special adviser and later became chief executive of the couple's charitable body, the Royal Foundation.
The Royal foursome also ended:
The bullying allegations, meanwhile, accelerated a major shake-up at Kensington Palace, with Harry and Meghan splitting their household from William and Kate's.
Cohen prepared her departure:
Cohen was clearly delighted to be getting out soon. A source once said: "Sam always made clear that it was like working for a couple of teenagers. They were impossible and pushed her to the limit. She was miserable."
Cohen "was at her wits' end", said a friend. She was exhausted, had stayed on with the Sussexes for longer than she originally planned and felt isolated from the rest of the royal hierarchy now that she was no longer in the Queen's private office. "She was constantly having to battle on Harry and Meghan's behalf, while taking all this abuse from them." She also found herself getting far more involved in arranging their personal lives than would normally be appropriate for a private secretary, who, despite the job title, is just there to look after their official lives.
The Sussexes' new team was large, as one would expect of them:
It included a private secretary, two assistant private secretaries, a communications secretary and two other communications officers, as well as administrative staff.
Another American, although one with dual US-UK nationality, was part of it:
Sara Latham – a dual US-British citizen with a bright smile and seemingly boundless energy – was the PR big-hitter who was going to be in charge of communications. Then a managing partner at the Freuds PR agency, she had a wealth of experience, having been a senior adviser on Hillary Clinton's presidential campaign … 
At first, Latham and Meghan were a golden combination. She told a friend, "I love this job. It's amazing." Latham would go round for lunch with the duchess at Frogmore Cottage to talk things over. Latham thought she understood Meghan, who believed that the press hated her and that she was a victim of racism in the media. The way Latham saw it, Meghan as an American was a victim of cultural differences rather than racism. What she needed was someone to hold her hand and help her navigate her way through the minefield.
It did not take long for the shine to wear off. There was a series of battles with the media that spring and summer. First came Meghan's lavish baby shower in New York. Then, when Archie was due in May, Meghan was determined to avoid the indignity of a royal birth with journalists camped outside the hospital. The palace put out a statement saying that the duchess had gone into labour, only for it to emerge later than she had, in fact, given birth some eight hours before.
Remember that 2019 was the year Meghan and Harry took private jets everywhere:
This prompted rows with Sara Latham, who had advised Harry against taking private jets.
Relations between the couple and Latham became increasingly tense. Close colleagues began to wonder how long Latham would want to stick around. At the back of their minds was the feeling that anyone leaving the Sussex team would be best advised to think of a good excuse. Meghan did not like it if she thought it was about her.
Meghan's assistant private secretary, Amy Pickerill, resigned around that time. Low says that the Duchess was quite 'angry'.
Then came the Africa tour that year.
To be continued next week.
Following on from Wednesday's post, I have a few bookmarks about the Duke and Duchess of Sussex which are worth exploring in light of Prince Harry's new book, Spare.
As Harry portrays his situation, nothing the Royal Family gave him was ever good enough. Let's look back and see what was said at the time.
I will end the post with analyses of Spare for readers' weekend viewing.
Nottingham Cottage
We know from Spare that he thought Nottingham Cottage — Nott Cott — in the grounds of Kensington Palace, was not an adequate home for him, either single or married.
A Daily Mail article from August 22, 2016, 'Eugenie's moving in to Kensington Palace with William, Harry and Kate', shows us the full palace layout and where everyone lived at the time. What a delightful enclave for family members, young and old alike.
This is what Richard Kay wrote about Diana's former apartment and Nott Cott (emphases mine):
It is Margaret's four-storey residence, which also has an eight-car garage, that is now home to William, Kate and their children Prince George, three, and Princess Charlotte, one.
William's decision to return to his childhood home, the source of memories much happier than those of his late mother, triggered the regeneration. It followed a period of soul-searching and house-hunting.
Clarence House, where until his wedding he had shared an apartment with Harry, was briefly considered until his stepmother, the Duchess of Cornwall, loftily declared: 'There's no room here.'
Then there was St James's Palace next door — but William was said to find it 'rather gloomy'.
The only other option was Buckingham Palace, but imagine the upheaval — and the angst for Prince Charles — had the popular William set up home in his grandmother's official residence.
'It would have suggested a very dangerous message: that the Queen was apparently endorsing her grandson as her successor,' says a courtier.
Kensington Palace was where William really wanted to live with Kate. But he drew the line at returning to his mother's old flat, Apartments 8 and 9, because, according to Princess Michael, of the 'ghosts' of Diana. (Margaret's old flat is said to have a ghost, incidentally — a woman in a blue dress.)
After Diana's death, her apartment was stripped to the bare floorboards. Even the light fittings were removed.
For a decade it was left as a shell before being split into offices for charities, as well as providing a home for the head of the Army, General Sir Richard Dannatt, the Chief of the General Staff.
Thus William and Kate's first marital home — KP's Nottingham Cottage (where Harry now lives) — was of modest proportions. Self-contained, cosy and private, it was formerly the home of Prince Philip's private secretary, Brigadier Sir Miles Hunt-Davis, and his wife Gay.
Two years later and, after a £4.5 million taxpayer-funded refit, they were ensconced in Apartment 1a, Princess Margaret's old home.
So, Nott Cott was of modest proportions, yet it was William and Kate's first home after they married. Harry makes it sound as if it were an insult that he and Meghan were expected to live there as newlyweds.
By the way, Kensington Palace is home to more than members of the Royal Family:
The 50-plus residents include senior courtiers, military figures, domestic staff and even a few members of the public, who pay the market rent for accommodation.
In return, they get 24-hour armed police security, their own telephone exchange and a team of gardeners and craftsmen to maintain the palace, which was adapted for royal use by Sir Christopher Wren.
… Clearly, with so many Royals and VIPs, the security — which we have purposely not highlighted in our graphic — is world-class.
At the time it was built, 'KP' was in the countryside:
Originally a Jacobean mansion, KP was bought in 1689 for the princely sum of 18,000 guineas by William III. Suffering from chronic asthma, he hoped to benefit from the Kensington air, which was cleaner than in the city centre, and commissioned Sir Christopher Wren to make it a home fit for a king.
Queen Victoria resisted moves to turn it into a national gallery. And despite similar attempts in this century — part of Prince Charles's plan to streamline the Royal Family — Victoria's descendants still live there today.
Here is a little-known fact about the palace and Princess Margaret's apartment:
… for Diana, haunted by unhappiness, it came to be 'more prison than palace'. Princess Margaret's decline from being a vibrant party-goer — and party-giver — was marked by her loneliness, rattling around a 22-room apartment after her divorce from the Earl of Snowdon …
… after a £4.5 million taxpayer-funded refit, they [William and Kate] were ensconced in Apartment 1a, Princess Margaret's old home.
Veteran palace staff have jokingly wondered whether repairs included the replacement of a loose-fitting drain cover outside the front door.
According to Margaret's former chauffeur David Griffin, Diana drove over the cover if she had a late-night assignation because the route was not covered by CCTV cameras. He said: 'Whenever the Princess heard the cover clanking late at night, she knew it was Diana and would peer out. It usually meant Diana didn't want anyone to see who she was bringing home.'
2017 — engagement year
2017 turned out to be the year that would change Harry's life permanently.
It is no wonder that the Queen thought that Harry's future would include Africa. Here he was in October that year with the co-founding patron of the charity, Sentebale — 'Forget me not'. The charity is in memory of Princes Harry and Seeiso's late mothers:
In November 2017, Harry and Meghan announced their engagement.
On January 24, 2018, Vanity Fair explored how the couple met. Note that no sooner had he slipped a ring on her finger than a television film was in the making (original emphases in bold):
Well, it is looking like they are going to have to hire an extra fact-checker or two for the forthcoming Prince Harry–Meghan Markle Lifetime movie, as the details relating to the pair's "origin story" grow increasingly . . . complex.
Let's recap: in November, on the day their engagement was announced, the shimmering couple sat down for a joint interview with the BBC, where they were asked how they met. (In their case, the circumstances of their meeting—given the very separate spheres, not to mention continents, they each occupied—held special intrigue.) Meghan and Harry explained they had been set up by a mutual friend—but, just as it appeared Harry might let slip the friend's name, Meghan cut him off, and said they would try to maintain "her" privacy. Yes, her!
Of course, this clue had the British press off to the races …
The press came up with several names, all of which turned out to be wrong. Finally, the matchmaker's name emerged:
But now E! News has come along and . . . added a new dimension to the mystery … the outlet claims that it can confirm that the actual "real heroine of this love story" is Violet von Westenholz (whose name had also been bandied about back in November). Who is she? Well, her father is a baron and friend of Prince Charles, and she has, according to E!, "been in Harry's trusted inner circle of friends for years." (Curiously, Violet's younger sister, Victoria, had once been romantically linked to Harry, in fact.)
Harry had been concerned about finding the right woman:
E! offers this pretty amusing sourcing about Harry's state of mind before meeting Markle, which touches on . . . the possibility of his using Tinder: "Harry was having a really hard time finding anyone. It's hard enough finding someone new to date. He can hardly go on Tinder or a dating app like normal people, but to meet someone that you actually connect with, that was proving to be almost impossible. It was something he had confided in his closest friends about; he was ready to meet someone but it was so hard to actually find the right person."
It was at about this point when von Westenholz encountered—yes—a star of USA's Suits with a lifestyle blog named Meghan Markle. The two reportedly "became friends through Violet's P.R. work" with Ralph Lauren. E! says that Markle had "been a part of the London social scene for a while," and that, with the knowledge that Harry was looking for love, as it were, Violet put two and two together and let Harry know "she might just have the perfect girl for him."
Von Westenholz has, unsurprisingly, not responded to E!'s request for comment about her role in the relationship.
At the bottom of the article is one of the engagement photos. Why does Harry have a problem with the placement of his right hand? He always looks as if he's trying to hide something with it. Two fingers are often out in a horned gesture. Perhaps his therapist could explore that a bit more with him. It might unlock secrets of his psyche.
The Markles speak out
Members of the Markle family spoke out in the weeks before the wedding on May 19, 2018.
On May 2, the Mail featured an article on the April 26 letter that Thomas Markle Jr sent to Prince Harry. He wrote it on yellow lined office pad stationery, the sort that is available everywhere in the United States. Markle shared it with In Touch magazine.
Excerpts from 'Meghan Markle's brother warns Prince Harry to cancel royal wedding' follow:
Elder sibling Thomas Markle Jr has warned the 33-year-old royal to ditch the May 19 union with the 'Suits' actress.
Mr Markle slammed the American star, insisting that 36-year-old Meghan is a 'jaded, shallow, conceited woman that will make a joke of you and the royal family heritage.' 
The letter, shared with In Touch magazine reads: 'As more time passes to your royal wedding, it became very clear that this is the biggest mistake in royal wedding history.'
'Meghan Markle is obviously not the right woman for you.
'I'm confused why you don't see the real Meghan that the whole world now sees.
'Meghan's attempt to act the part of a princess like a below C average Hollywood actress is getting old.'
The 51-year-old, who is from Oregon in the US, then went on to claim that their father went into debt in order to support Markle's acting dream and is still struggling financially. 
He also claims that their father was not invited to the wedding …
Mr Markle accused his sibling of turning her back on the family and said she is 'falsely' trying to portray herself as the new Princess Diana.
He told the Daily Mirror: 'She's clearly forgotten her roots. It's torn my entire family apart. Meg likes to portray herself as a humanitarian, a people's person and a charitable person but she is none of those things to her family.
'She is giving the greatest ­performance of her life. She is acting phoney. I've read that Meg wants to be like Diana. 
'Diana was worshipped by everyone in the world. She was loved for the right reasons.
'That's what Meg wants, but I don't think that's going to happen. She's not genuine like Diana.'
Mr Markle has not seen his sister since 2011 when the pair – and Meghan's film producer ex Trevor Engleson, 41 – attended the Los Angeles funeral of their grandmother, Doris. 
However, Markle Jr was not without his own notoriety:
Markle believes that his brushes with the law may have embarrassed his half sister who is avoiding him. 
He was in the news at the start of the year when he was thrown in jail for two days for a drunken brawl with his fiancee Darlene Blount on New Year's Eve. 
Last year Markle was also arrested for brandishing a gun at his fiancee during another drunken fracas, although the charges were later dropped.
He blamed his behaviour on struggling to cope with the extra pressure and scrutiny he and the rest of his family have faced since Meghan's royal engagement.
New title for Harry
On the big day, Saturday, May 19, 2018, the BBC reported that the Queen conferred upon her grandson a title that had not been used since 1749:
Prince Harry has been given a Scottish title by the Queen.
He will be the third Earl of Dumbarton – a title that has strong military connections and one not used since 1749.
On her marriage, Meghan Markle has become the Countess of Dumbarton.
The title goes back to the time of King Charles II:
The first to hold the title was George Douglas, a younger son of the first Marquess of Douglas, who was created Earl of Dumbarton in 1675.
A Scottish nobleman and soldier, George was given the title by Charles II in recognition of his military service.
On George's death at St German-en-Laye in France, the title passed to his son, also called George, who became the second Earl of Dumbarton.
The title became extinct when the second earl died in 1749, meaning it has not been used in more than 260 years.
Dumbarton has historical significance dating back to the Dark Ages:
Dumbarton, on the north bank of the River Clyde, to the west of Glasgow was founded in the fifth century and was once the capital of the ancient Kingdom of Strathclyde.
It is the site of a volcanic rock on which stands Dumbarton Castle. During its long history, the castle has been both a royal residence and a fortress.
Dumbarton was a Royal Burgh between 1222 and 1975.
Mary Queen of Scots was kept at the castle as a young child for several months in 1548 for her safety before she embarked for France to become the bride of the Dauphin, the young French prince.
The wedding
In the days preceding the wedding, many Britons will recall the effusive, if not over-the-top, headlines.
The BBC televised the wedding in full. I watched the sermon from Bishop Curry, the President of the Episcopal Church in the United States. Then I watched the couple exchange vows. I remember there was something about that I didn't like.
Although the ceremony took place in St George's Chapel at Windsor Castle, there were many American elements to it, as the BBC reported:
It was a traditional wedding – the dress, the bridesmaids, the vows, the hymns. And it was very, very different.
The Palace made it clear in a stream of announcements that they wanted a different kind of wedding.
But it was the service that marked this out as a modern, diverse wedding for a modern, diverse couple: the Kingdom Gospel choir setting toes tapping, a young black cellist, and a breathtaking address from Bishop Curry, the President of the Episcopal Church.
Every royal wedding is a chance for the Royal Family to relaunch and reinvent. There may have been trouble in the week before the wedding. But that is in the past.
This wedding was about the future, a different future for the Royal Family.
And how. Little did we realise it at the time.
The article had a summary of highlights. The BBC omitted mentioning that Prince Charles walked his new daughter-in-law down the aisle, as Thomas Markle Sr had been too ill to attend:
The wedding service combined British tradition with modernity and the bride's African-American heritage.
The Most Rev Bishop Michael Curry, the president of the US Episcopal Church, gave an address, the Rt Rev David Conner, Dean of Windsor, conducted the service and the Archbishop of Canterbury, the Most Rev Justin Welby, officiated.
"There's power, power in love," said Bishop Curry, who was invited to speak by Ms Markle.
"If you don't believe me think about a time when you first fell in love. The whole world seemed to centre around you and your beloved."
In a fiery, passionate speech, he also referenced the African-American spiritual song Down by the Riverside, which was sung by slaves, and when he realised he had gone on too long, he told his audience he had better wrap up as "we gotta get you all married!"
Indeed.
Also:
Lady Jane Fellowes, the sister of Prince Harry's late mother, Diana, Princess of Wales, gave a reading from the Song of Solomon.
Karen Gibson and The Kingdom Choir performed Ben E King's soul classic Stand By Me during the service.
As the bride and groom signed the register, 19-year-old cellist Sheku Kanneh-Mason – who won the 2016 BBC's Young Musician – performed three pieces by Faure, Schubert and Maria Theresia von Paradis.
He was accompanied by musicians from the BBC National Orchestra of Wales, the English Chamber Orchestra and the Philharmonia.
The gospel choir also performed Etta James' uplifting version of Amen/This Little Light of Mine as the newlyweds left the chapel.
Afterwards, the couple went into Windsor:
After the service, the duke and duchess travelled through Windsor along a route lined by tens of thousands of well-wishers.
The Royal Borough of Windsor and Maidenhead said more than 100,000 people visited the town on Saturday.
The celebrations
Guests seemed to be divided up into two groups for two different celebrations.
The first was the Queen's luncheon for the happy couple:
All 600 guests were invited to a lunchtime reception at St George's Hall, hosted by the Queen. The best man, the Duke of Cambridge, acted as compere.
Guests were treated to a performance by Sir Elton John and were served langoustine canapes, Windsor lamb, and champagne and pistachio macaroons. Instead of a formal sit-down dinner, food was served in bowls.
If I were hosting, I would have put my foot down re bowls. Formal or not, it's an extraordinary occasion. Eat off a plate.
Then again, remember Harry's words before the wedding: 'Whatever Meghan wants, Meghan gets'?
Here is a photo of the elderflower and lemon cake:
Royals, celebrities and sports stars attended. The article has a partial list.
As it was not a state event, there were no politicians, only former Prime Minister John Major, who had been:
a special guardian on legal matters to Princes William and Harry after the death of their mother …
Members of the public were invited into the Castle grounds to see the newlyweds. There were 1,000 in all, most of whom were charity workers.
Then came the evening reception, which Prince Charles hosted at Frogmore House, which, in time, became the couple's home:
On Saturday evening, the newlyweds are celebrating with 200 close friends and family at a private reception less than a mile from Windsor Castle at Frogmore House, hosted by Prince Charles.
Ms Markle was expected to break with tradition for royal brides and make a speech at the event.
No taxpayers' money was spent:
The Royal Family will pay for the wedding, including the service, music, flowers and reception.
On Monday, May 21, The Sun reported on Meghan's speech.
The bride's mother Doria Ragland, 61, attended, as we remember, and wore a beautiful Givenchy outfit. Both she and her daughter had a most positive view of the Royal Family:
MEGHAN Markle declared "I have found my Prince" as she made a romantic speech to her new husband hours after joining the Royal Family.
The Duchess of Sussex bravely took the microphone to profess her love for Prince Harry– while thanking his family for "welcoming" her at the Royal Wedding reception.
In the speech, the US actress particularly singled out the Prince of Wales, just hours after her new father-in-law walked her down the aisle in the wedding of the year.
She is said to have a "special bond" with Prince Charles, grateful of his kindness to her and her mother during the huge change in her life.
Meghan's mum Doria Ragland, 61, was the bride's only family member on her big day after Meghan's dad Thomas Markle dropped out due to health issues …
According to one source, the Duchess of Sussex expressed her gratitude to Prince Charles at how welcoming he had been to both herself and her mum.
They told the Daily Mail: "She has been so touched by how welcoming the Prince of Wales has been. So is her mother.
"Honestly, they are touched beyond belief. It was important to her to make a point of thanking him publicly, although, of course, he knows privately how she feels."
Another source told the newspaper: "It is often said that he always wanted a daughter and I think he has been really moved by how well they have got on.

"There is definitely a connection there. Meghan's mother means more to her than anything, so it was lovely to see the way he was so welcoming to Doria too."
The evening reception took place in:
a £300,000 glass marquee in the grounds of Windsor Castle paid for by Prince Charles.
Harry's dad left guests in stitches with a speech about changing his nappy, while the groom delighted everyone when he referred to Meghan as his "wife".
Jubilant guests were later treated to an incredible firework display that could be seen for miles around Windsor as the Royal Wedding was brought to a close.
The Sun said that, earlier, Thomas Markle Jr retracted the sentiments he had penned in his aforementioned letter to Harry:
… he has now backtracked on his scathing comments – branding it a "moment of madness".
There was a bit on the clothes:
The loved-up pair gazed at each other during the ceremony, with Meghan wowing in her spectacular gown by designer Clare Waight Keller of Givenchy.
She teamed it with a dazzling Mary Diamond Bandeau tiara – lent to her by the Queen.
The article made one mention of:
star-studded guests that had gathered at the couple's reception at Frogmore House on Saturday night.
That was because there was another article about them and much more to read about this special day, including, but not limited to, the following:
Harry's friends' hurt feelings
However, not everyone who thought they would get an invitation to the evening bash received one.
On May 21, Katie Nicholl, Vanity Fair's royal reporter, had quite the list in 'Some of Prince Harry's Old Friends Were "a Bit Surprised" to Not Be Invited to the Evening Wedding Reception' (bold emphases in the original). This is why I think there were two groups of guests:
While George Clooney was the last man standing at Prince Harry and Meghan Markle's wedding party and James Corden had guests in stitches with his hilarious jokes, some of Harry's oldest pals were left wondering why they hadn't been invited to the party of the decade. Below, a few of the old friends who didn't make the cut.
While she was at the wedding and afternoon reception at Windsor Castle, Violet von Westenholz wasn't at the evening party. Having played cupid—it was von Westenholz who gave Harry Meghan's number after suggesting they meet—von Westenholz was notable by her absence. Perhaps she had double-booked, as she was seen at the wedding of Harry's old chum Ed Watson to Cara-Louise Pratt later in the evening.
While Harry generously extended wedding invitations to his exes (he thought it was the right thing to do, according to one of his pals), neither Chelsy Davy nor Cressida Bonas got a golden ticket to the bash. Though reports claimed Davy was there, a family friend told Vanity Fair that she didn't get an invite to the party, despite speaking to Harry in a tearful phone call last week. "It was their final call, a parting call in which they both acknowledged Harry was moving on. Chelsy was quite emotional about it all, she was in tears and almost didn't go to the wedding. In the end, she went and promised Harry she wouldn't try and gatecrash the party."
There was also no invite to either the wedding or the reception for Harry's old party chum Natalie Pinkham. The prince has known Sky Sports presenter Pinkham for more than 10 years and they stay in regular touch. "Natalie was a bit surprised not to be there," said a source who knows them both. "She and Harry still talk so it was a surprise for her not to be invited at all."
Another society nose out of joint was that of Astrid Harbord, one of the prince's oldest friends, who has a reputation for being a party girl but wasn't at the party of the decade. Harry's old army pal James Blunt and his wife, Sofia Wellesley, were also left off the elite evening guest list. "Some of Harry's pals were a bit surprised not to get the golden ticket to the evening party," said a society friend. "There was actually another wedding that weekend that a lot of them were invited to, so they got to have fun in any case."
Prince Charles's 70th birthday charity party
On Tuesday, May 22, 2018, the Queen held a garden party for the then-Prince Charles in honour of his 70th year.
He was born on November 14, 1948, but, beginning with the garden party, special celebrations and exhibits marked his birthday year.
A bee plagued Harry during the speech he gave in honour of his father. Meghan stuck her tongue out. (Why?)
The Sun reported, complete with many photos of the new bride:
MEGHAN Markle was left giggling as her new husband tried to swat away a bee as he gave a birthday speech for his dad.
The US actress couldn't help but smile as Prince Harry was buzzed by the insect during a 70th birthday bash for Prince Charles.
At one stage the playful royal even seemed to stick her tongue out as her new hubby struggled with the persistent pest – a flashback to Christmas Day when she did the same at Sandringham.
Prince Harry had been speaking about his dad's "selfless drive to affect change" to the garden party crowd at Buckingham Palace when he was forced to swat away the insect …
But as he tried to go on, the 33-year-old interrupted himself – waving a bee away and saying: "sorry, that bee really got me."
While many in the crowd laughed, none were more amused than Meghan.
The new royal burst out laughing, leaning forward as she was overcome with giggles at her new husband's mishap.
She also exchanged smiles with Prince Charles and Camilla as they chuckled at the insect's ill-timed interruption.
The second-in-line to the throne appeared to be slightly embarrassed by his son's praise during his speech, bashfully tapping his cane on the floor as Prince Harry addressed the crowd.
Meghan today seemed comfortable with her in-laws as she attended her first official event as a royal.
That sentence reads a bit oddly with the addition of 'today', as if she had been uncomfortable in the past. Hmm.
Analysis of Spare
Moving on five years to the present day, we see a different Duke and Duchess of Sussex.
Dan Wootton, who writes for the Daily Mail and hosts a two-hour GB News show every Monday through Thursday, has devoted the week to discussing Spare as well as Harry's interviews.
On Monday, January 9, his column began as follows:
If the Queen Consort Camilla is 'dangerous' and a 'dragon' for working with the British free Press to improve her reputation, then Prince Harry and Meghan are themselves dragon slayers.
We've now had to sit through hours of a grim fantasy created by the embittered Sussexes, most recently outlined in painful softball interviews by their BFF Tom Bradby on ITV in the UK and woke US media allies Anderson Cooper on CBS and Michael Strahan on ABC.
The fairy tale goes that this selfless and altruistic couple were forced to smash relations with their British royal relatives and flee the country because of a vicious briefing campaign launched against them, even seeing the Press conspire with the institution and senior members of the Royal Family to drive out such a popular pair.
That narrative is deranged.
It's a hypocritical invented account designed by snivelling Harry and fake Meghan to avoid taking any account for their own behaviour, including credible claims of bullying against staff by the American diva.
Well, I've had enough of media figures tiptoeing around what we all know are falsehoods.
If Harry and Meghan claim briefing the tabloid Press is some sort of unforgivable 'crime' undertaken by Charles, Camilla, William and Kate, then they are just as guilty.
How do I know? Well, I was on the receiving end of such briefings by the Sussexes' own communications team during my years covering Meghan's time in the Royal Family as I broke a series of now infamous scoops, from Tiaragate, the bitter rivalry between Kate and Meghan, and, ultimately, Megxit.
On Tuesday, he had just finished reading Spare. Wootton holds nothing back in his analysis, which begins with this:
… I needed to take a wash after reading what is without doubt the most pathetic, self-serving and tone-deaf autobiography ever because of the number of vitriolic and deeply personal swipes he takes at his own flesh and blood.
No one is safe.
Not even the late Queen, who Prince Harry paints as cold, detached and old-fashioned, rather than a monarch desperately trying to hold her wayward family together for the good of the institution.
What's so disturbing is that, even when describing his version of events in such an obviously one-sided manner, it was still clear to me that Harry is in the wrong about almost every menial gripe for which he opines.
While his father King Charles and brother Prince William are, unsurprisingly given their role, far from perfect, they are left at the end of their tether by Harry's pig-headed intransigence, especially once he is so heavily influenced by a cabal of woke psychotherapists and Hollywood yes men working in cahoots with his controlling wife Meghan Markle.
Harry has spent the past two years claiming all he wanted was support from the Royal Family.
But Spare makes plain when they tried to offer help and solutions, it was never good enough for the Sussexes, who want everything their own way all the time …
Predictably, having broken a number of damaging scoops about the Sussexes, often accepting briefing from Harry and Meghan's staff, as I revealed in my column here yesterday, I come in for a pasting, being described as 'a sad little man' for first revealing the story of Megxit.
Just like much of the fiction and fantasy in Spare, Harry gets it all wrong again though, incorrectly claiming I was 'likely working in concert with the Palace, whose courtiers were determined to get ahead of us and spin the story'.
Harry admits he went to the late Queen with the information that I was about to break the story, in order for the Sussexes to release a statement to scoop me, despite the fact I'd given them over a week's notice already by that point.
Here are Dan's shows from Tuesday, Wednesday and Thursday this week. Monday's seems to have disappeared, for whatever reason.
Tuesday, January 10:
Wednesday, January 11:
Thursday, January 12. This one has a video about the Elizabeth Arden cream Harry used on an intimate part of his anatomy to relieve frostbite. He then says that it reminded him of his mother, which creeped out the two men on Dan's panel:
You can fast forward through the adverts, of which there are many.
Watch early to avoid disappointment.
I will have more on the Sussexes next week.
Try as I might, I have not been able to ignore the Duke and Duchess of Sussex.
Before Christmas, their six-hour Netflix series aired. One suspects that, by Christmas Eve, the residents of Hell, Michigan, had more important things on their mind as their town froze over:
Now we have Prince Harry's new book, Spare. Many of us have been going spare at the non-stop coverage.
I feel a conflict of emotion about Harry. Part of me is deeply disappointed with his unnecessary revelations. Another part feels really sorry for him. Yet another finds some of these anecdotes, principally the one involving the dog bowl, amusing.
Someone did a mock-up of the incident in a Bayeux tapestry style. 'Canis' on the dog bowl is a nice touch: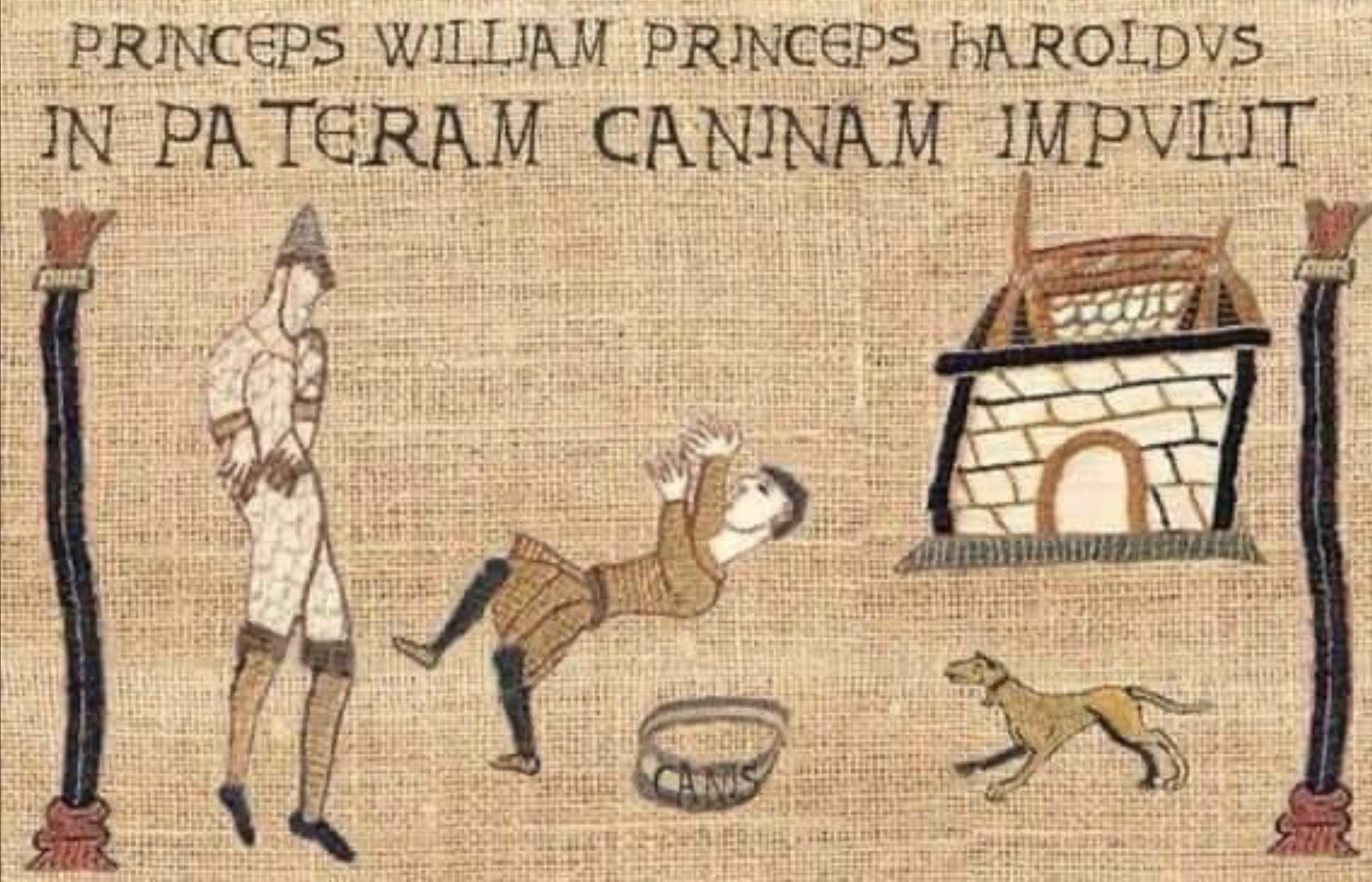 On a serious note, though, William seems to want his brother back as we can see from the book's Spanish translation. On Friday, January 6, The Times reported (emphases mine):
The encounter, which took place in early 2019 while Meghan was away, began with William coming to ask him to "do something" about his wife, telling him: "Meg is a difficult person . . . she is rude, brusque and has made enemies of half the staff." Those comments, Harry told him, parroted "the press narrative" about his wife.
In 2021, The Times revealed that Meghan faced a bullying complaint during her time at Kensington Palace. It claimed that she had driven out two personal assistants. At the time, the couple's lawyers said the newspaper was "being used by Buckingham Palace to peddle a wholly false narrative".
Recounting the episode at Nottingham Cottage, in the Spanish translation of the book, Harry writes: "Willy had not come to debate anything. He had come to lay down the law …
"He insulted me. He called me everything." According to a version seen by The Guardian, when William said that he was trying to help, Harry replied: "Are you serious? Help me? Sorry — is that what you call this? Helping me?"
… Harry went into the kitchen and William followed.
Harry writes that he gave his brother a glass of water and said: "Willy, I can't speak to you when you're like this."
He then tells how William called him another name and "then came at me". He writes: "Everything happened very fast . . . He broke my necklace by grabbing me by the collar of my shirt and he threw me to the ground. I fell on the dog bowl, it broke under my back and the pieces scratched me. I stayed on the floor a few seconds, stunned, and then I got up and told him to leave."
William urged Harry to fight back, saying: "Go on, hit me! You'll feel better if you hit me!" but he refused. William then left the kitchen, returning a few minutes later to apologise.
Harry writes that William told him that he did not need to tell "Meg" about this and claimed: "I didn't attack you, Harold." The duke reveals that he did not tell Meghan straight away but did contact his therapist, later admitting to his wife what had happened when she saw the "scrapes and bruises".
On Wednesday, January 11, UnHerd columnist Mary Harrington finds that Harry reminds her of his mother: 'Why Harry couldn't be a hero'.
She thinks he should raise cattle in some remote location. Poor cattle. Harry would be too busy navel-gazing to tend them.
Harrington introduces us — me, anyway — to a new word, 'lolcow':
A "lolcow", for those who don't know, is a derogatory, very online term for someone who gains notoriety via attention-seeking behaviour, combined with imperviousness to criticism and lack of self-awareness …
A lolcow is, in essence, someone who isn't very good at playing the game of calculated self-disclosure; that's Harry, to a T.
Harrington says that Princess Diana was the original lolcow in the 1990s:
… 28 years ago, in 1995, in an emerging world of 24-hour news cycles and ever-hungrier tabloids, Harry's mother became the first true lolcow. She also set the bar for media oversharing, in the notorious Martin Bashir interview that tipped her from remote, paparazzi-hounded royal to press-courting celebrity megastar. Here, Diana coyly dropped bombshell after bombshell of juicy gossip for the media, interspersed with soft-voiced woe about how awful it was that the media wanted to know everything about her.
True! I remember it well.
The acorn does not fall far from the tree:
In Spare, Harry has followed decisively in her footsteps, producing more than 400 pages of such painfully needy oversharing that every page of airport-novel prose cries out for a hug. And it does so while conveying a queasy sense of squinting through the curtains at some sordid domestic scene. Reading it left me bemused at how the people around this clearly unhappy man could have encouraged him – or at least not stopped him – over-sharing to quite such a degree.
But why do it? Why subject yourself to the hostility and humiliation that anyone could predict would follow these revelations? To a significant extent, the opportunity to lolcow himself in this way is not of Harry's choosing. Rather, the larger context is the fact that this outdoorsy, obviously basically well-meaning-but-emotionally-mixed-up midwit was not born a prince in (as a wag observed on Twitter) an age where he could perish heroically in some ill-advised charge against Prussian cavalry. Rather, he had a prominent role thrust upon him, unasked, from birth, in an age that has made commodifying ourselves a centrepiece of culture and commerce alike.
I expected to feel exasperation and perhaps distaste reading what has by now been exhaustively trailed in every newspaper as a bombshell tell-all memoir of the notoriously private Royal Family. But I was surprised to find myself feeling deeply sorry for the Duke of Sussex. And if Spare has this unexpected effect, it's less because it reveals him – as he presents himself – to be the innocent victim of persecutory tabloids and conniving courtiers. Rather, it's in demonstrating just how ill-equipped he is, by temperament, to navigate the impossible choices with which fate has afflicted him.
In the decades since Diana's death, ever greater swathes of the human soul have been redirected from human relationships to commercial exploitation. Celebrity culture is perhaps the most well-established and pervasive of such dynamics. It commodifies two other core features of our emotional landscapes, redirecting them from intimacy to profit: the social roles of gossip, and of self-disclosure. As our daily lives grow ever more atomised, we depend more and more on synthetic gossip about celebrities we don't really know to fill the gaps in our personal "village" and provide fodder for its water-cooler conversations.
Lolcow status often brings with it a Faustian bargain, as it did with Harry's mother, one of my reasons for concern about him:
But if Spare depicts being endlessly "papped" as a living nightmare, it's also in the nature of Faustian bargains, as Darran Anderson noted yesterday, to offer power as well as a horrible price. It is, after all, a function of Harry's public profile that anyone cares about his childhood or inner life at all. And if Harry laments the way media scrutiny ruins relationship after relationship for him, he doesn't seem able to imagine simply opting out altogether …
Harry's explanation of his father's behaviour in turn sheds light on his own tragic path to lolcow-dom. After a youth "deprived of love", Harry speculates, Charles is "dangerously, compulsively drawn" to the "elixir" offered by the media. If Spare is at all accurate, this could apply just as well to Harry. But perhaps what damns Harry, unlike his father, to a tragic fate as lolcow is simply that he's not very good at managing the balance between disclosure and self-protection, probably because he's simply not cold-blooded enough …
For intimate self-disclosure to strangers rarely produces just empathy. While you may get a measure of this (and Harry has plenty of supporters) you'll also get objectification, mockery, and further demands for personal details. Then, still needy, and still craving love and validation, those with lolcow tendencies will respond by further disclosure, thus provoking ever more objectification and so on.
My sense of the Duke of Sussex is that, unlike more cold-blooded and self-disciplined operators, he has spent his life since that moment in Balmoral reaching out again and again for a metaphorical hand-hold, only to receive in return another barrage of photography. So he's given in, and attempted what he calls "honesty" — which is to say, flinging every personal detail into the maw of the machine at once, presumably in the hope that this will finally make the great mass of strangers like him.
Without ever leaving the same studiedly bland, tabloid-register prose, the book lurches between accounts of travel and action, grotesquely over-personal revelations, including about family members who doubtless never consented to be thus exposed, and strangely platitudinous passages of introspection. The cumulative impression is of someone who put his own personality into storage, and bought a replacement one in IKEA.
What beggars belief is the sheer level of neediness implied by such a wince-inducing level of self-exposure. But it's hardly difficult to grasp why he should be so needy: his mother's death haunts almost every page of Spare. He describes Diana as "light", and reminisces about "Her devastating smile, her vulnerable eyes, her childlike love of movies and music and clothes and sweets – and us. Oh, how she loved us."
However, Harrington reminds us that Diana often left her two sons behind while seeking romance after her divorce from Charles. She went on several trips abroad, then it all ended with her fateful, final stay in Paris:
… in truth his mother abandoned him before she died. "My mother legendarily said there were three people in her marriage," he writes. "But her maths was off. She left Willy and me out of the equation." And indeed she did, divorcing Charles and leaving her two sons behind with him, while she jetted off to beach resorts.
Those of us who experienced the non-stop onslaught of Diana news remember the boys':
"surrogate mums": school matrons, Tiggy Legge-Bourke, and Teej, an older friend. Meanwhile the sainted Diana can do no wrong.
What concerns me is that history could repeat itself, as Harry himself suggests. Harrington is spot on with her analysis:
Perhaps, then, we shouldn't berate him for vulnerabilities and cognitive dissonances he has, to such a great extent, inherited from her. For Spare also reveals just how far Harry is his mother's son. He has inherited her fear of the dark, he says, "along with her nose, her blue eyes, her love of people, her hatred of smugness and fakery and all things posh". But he seems to have followed her footsteps in more ambivalent ways, too. Spare is already as much of a voyeuristic sensation as she was. And it's not much of a stretch to imagine Diana rationalising her own prioritisation of personal feeling over tradition and obligation much as Harry does, as part of "living in truth".
Harry talks about fearing "a repeat of history, another untimely death like the one that had rocked this family to its core 23 years earlier". The clear implication is that he is afraid Meghan might die in a car crash just like his mother. But my sense is that if anyone is in danger, it is Harry. For if he has inherited Diana's nose, we may infer from Spare that he has also inherited her cocktail of vulnerability, emotional reasoning, and (shall we say) below-average analytic capacity that, combined with unasked-for levels of public scrutiny, has sealed his fate as Prince Lolcow.
Another tragic thing about Harry is that there are many truly disadvantaged boys and girls who have lost a parent, perhaps both parents. Their home lives, in some cases, are gone, their lives snapped in two.
They're the ones for whom I feel sorrier. Harry has every advantage known to mankind. It's time he began looking differently at life and his future.
While Nigel Farage took a two-week break from his early evening GB News show, actor Laurence Fox, who also founded the Reclaim Party, was his guest host.
What a surprise viewers had on Tuesday, October 4, 2022, when Fox spoke to Donald Trump on the phone:
It was an excellent interview, done in segments, after which a Democrat or a Republican appeared on air to give his or her views of what Trump had just said.
This is the full hour-long episode:
Fox began by reviewing Trump's accomplishments while in office, pointing out that he got elected in 2016 because he could connect with millions of Americans and didn't come off as an elitist like Hillary Clinton did:
America's 45th president told Fox how surprised he was at Boris Johnson's change of focus during his premiership, saying that he 'went woke':
This GB News article has more (emphases mine):
Donald Trump has called former UK Prime Minister Boris Johnson "woke" in a surprising attack on his ally.
In a world exclusive GB News interview, the ex-US President said Boris Johnson "went liberal all of a sudden" in a "crazy" move.
Trump called Mr Johnson a "good guy" but criticised him for "changing" as he spoke to Laurence Fox.
The 76-year-old said: "Boris was a friend of mine, perhaps he still is but I haven't spoken to him in a while.
"The problem Boris has is he went liberal all of a sudden, and I think that is crazy.
"He's a good man but something happened to him, he changed, he went for windmills all over the place and he went a little bit wokier than I believe he is and I think ultimately that is the thing that got him out.
"I don't think it was the party [Conservatives] I think that was just an excuse."
Although Trump has not met Boris's successor Liz Truss, he is favourably disposed towards her:
Trump also said that he was surprised at the criticism Truss's mini-budget received (more here):
The Telegraph reported on that part of the interview:
Former US president Donald Trump had said that he backs new Prime Minister Liz Truss and that he thinks "very highly" of her.
Speaking on GB News to Laurence Fox, Trump said of Truss that he liked "some of the things she's done", adding that he had "cut taxes very substantially and we did much more business and she's done that".
He said that he thinks "very highly of her and she had a great send-off from the Queen", adding that as it was the late Queen's last meeting it was a "big deal".
Joe Biden's former Chief of Staff appeared but she didn't respond to anything Trump had said. She only wanted to bang on about how 'divisive' he had been as president. Talk about living in a parallel universe:
In a separate interview, Greg Swenson from Republicans Overseas UK lauded Trump's economic policy and said that more countries around the world should implement them:
Trump discussed his own major accomplishments during his four-year term, which brought criticism from an adviser to both the Bush II and Clinton administrations. Fox ended this man's three-minute rant by telling him to go and have another espresso:
Trump rightly told Fox that, if he were still president, there would be no war in Ukraine:
Former Royal Navy Commander Dr Chris Parry agreed:
Trump was discreet about his meeting with King Charles III a few years ago and offered his support to the new monarch. Trump also reminded us that his mother was Scottish:
GB News reported:
He told Laurence Fox: "I think he'll probably not discuss certain elements of what he believes, in my opinion.
"I think Charles is going to do very well, he's got a great way about him, I think he did very well during the ceremony [Queen Elizabeth II's funeral]."
Despite his warm feeling towards the royal, Trump admitted he does not hold look upon Prince Harry and Meghan Markle as favourably.
He told GB News: "I'm not a fan, I was never much of a fan of her [Meghan].
"I don't get it, but I hope he's [Harry] happy, he didn't seem too happy and he doesn't seem too happy.
"I thought she was disrespectful to the Queen, which is a no no, you can't do that."
The Telegraph had more:
"I know him very well, quite well. And I spent a lot of time when I was over there as president with him. And with his wife [who] was absolutely lovely, by the way, and we had a good time together," he said.
As for the King's popularity versus his mother's, he said:
Probably difficult when you're the King you want to have 100% of the people love you like the Queen did. The Queen had – everybody loved her, right? She didn't have that kind of an agenda.
And yet, you know, she was a very strong woman. I got to know her too. She was a very strong woman, a great woman.
The interview ended with a discussion about biopics. Fox plays Hunter Biden in My Son Hunter, released on September 7.
Trump said that, if it were ever to happen, he hoped that Fox could play him in a biographical movie:
Oh, that voice!
He enthused for another minute or so about Fox's accent, then, with both parties happy, the call came to an end.
Fox's interview style is conversational, something Trump would appreciate. What a great hour of television.
This is my final post on the events of the Queen's Platinum Jubilee Weekend.
For those who missed it, I have covered Trooping the Colour, the Service of Thanksgiving at St Paul's and the Party at the Palace concert.
Today's recap is about the fantastic pageant in central London and festive street parties around the nation on Sunday, June 5, 2022.
Before I go into that, however, there are two more things to cover from earlier in the weekend.
The first concerns lunch at the Guildhall following Friday's Service of Thanksgiving.
On Monday, June 6, Dan Wootton wrote about it for the Daily Mail (emphases mine):
The sense of disappointment within London's grand Guildhall was palpable.
One of the rooms hosting dignitaries and other invited guests had been left without a member of the Royal Family present to mingle and chat as promised.
The mood turned frosty when the upset attendees, who had expected to be hosted by a minor royal as they were served English sparkling wine and a buffet of traditional dishes like coronation chicken and smoked duck, were told by organisers it was because the Duke and Duchess of Sussex had turned down an invitation to attend.
But it wasn't just the public who were stunned at Harry and Meghan's notable snub following an awkward appearance at St Paul's Cathedral for the Service of Thanksgiving.
That carefully choreographed event had been derailed by the boos received by Harry and Meghan from onlookers as they entered and then departed the church where Princess Diana famously married Prince Charles – the worst nightmare for courtiers who have long feared normally polite monarchists might vocally turn on the couple after their unrelenting attacks on the institution since Megxit.
I've learned some members of the Royal Family and many senior courtiers were horrified at the detached and cold appearance by the exiled couple, who had also made the decision to fly out of the country before the Queen had even made her historic Buckingham Palace balcony appearance, alongside Charles, Camilla and the Cambridges, on Sunday evening.
Lady Colin Campbell spoke with Wootton on his GB News show Monday night. She, too, said the Sussexes were snubbed:
She added that the couple were deeply unhappy because the Jubilee has outshone their own 'brand':
At least Her Majesty was able to meet Lilibet, who celebrated her first birthday at the weekend.
In another news event not widely covered, the Queen's Baton Relay arrived in London on June 2 in advance of this summer's Commonwealth Games in Birmingham:
Commonwealth Games minister Nigel Huddleston (wearing a red tie) met with some of the participants on Saturday at the Tower of London:
The Commonwealth Games will be starting in Birmingham on July 28:
Street parties
At lunchtime, the weather was dismal in many parts of the UK.
The Mail on Sunday reported:
Royal superfans are set to brave the elements on the final day of the Queen's Platinum Jubilee weekend, amid fears today's £15million Pageant will be battered by thunderstorms.
The Met Office has issued a yellow warning for heavy rainfall and potentially even hail across much of England and Wales from midnight until 6pm this evening.
Forecasters have said that the bad weather – including downpours of up to 50mm an hour, and even hail – may cause travel disruption and flooding in some places, with parts of London and the South East, the Midlands, East Anglia most at risk.
In London, we had what I call Coronation Day weather. Coronation Day was on June 2, 1953. It was cold, damp and rainy.
The greatest of these lunch parties was the Big Jubilee Lunch at Oval Cricket Ground in Vauxhall, south London. Prince Charles and Camilla, Duchess of Cornwall, represented the Royal Family.
The Mail on Sunday has an article with so many photos, you will have felt as if you'd been there.
An excerpt follows:
Prince Charles today said he hopes 'bickering' does not return to Britain after the Platinum Jubilee generated a feeling of 'togetherness' across the country.
The Prince of Wales and Camilla, Duchess of Cornwall are tucking into the Big Jubilee Lunch at the Oval cricket ground in South London, where they marvelled at a 20ft tea table made entirely of felt and cut a big cake before toasting Her Majesty. 
Guests at the lunch have said that the future king remarked: 'When it comes to Monday are we going to go back to all the bickering again? Let's hope we don't do that.'
That is one thing Charles and I agree upon. Unfortunately, Monday's confidence vote about Boris Johnson put paid to that.
As for the rest of the nation attending street parties:
Britons are attending a record-breaking 12million parties and lunches today as they celebrate the Queen's astonishing seven-decade reign. 
Dear me. How was that even possible?
And there were more lunches, not only in the Commonwealth nations:
More than 600 Big Jubilee Lunches are being planned throughout the Commonwealth and beyond – from Canada to Brazil, New Zealand to Japan and South Africa to Switzerland.
How wonderfuul was that?
Meanwhile, in Windsor, Prince Edward and Sophie, Duchess of Wessex, attended a 'long lunch' just outside the castle gates:
… the Earl and Countess of Wessex are expected to join thousands of the Queen's neighbours for a record breaking 'long lunch' on the Long Walk outside the gates of Windsor Castle on the final day of the Platinum Jubilee celebrations.
Here is a photo montage of street parties and lunches across the UK, which the Eden Project has helped organise in an attempt to bring the nation together in unity:
Street parties are renowned for delightful sweet treats:
For once, Scotland had better weather than England.
Despite all their independence rhetoric as well as the SNP-run councils and the Scottish Parliament, Scots came out in force to celebrate the Queen.
Edinburgh, the capital, took the cake, according to The Times:
In Edinburgh, the street party capital of Scotland, neighbours laid tables and chairs outside their homes and shared a small mountain of home baking, wine and champagne to toast the Queen's landmark achievement.
Residents of 32 streets applied to Edinburgh city council to ban traffic for the afternoon, the most of any local authority area, which allowed long lunches and children's games to take place in safety …
In Rutherglen, South Lanarkshire, about 300 adults and children enjoyed a picnic in the town's Overtoun Park, as part of the Big Jubilee Lunch. With the Duchess of Rothesay as patron of the organisation, an estimated 85,000 similar events were taking place around the UK at the same time …
Eugenie Aroutcheff, organiser of the Rutherglen event, said the eco-friendly project in the park was designed to combat social isolation and loneliness in the community.
Following the pandemic, the emphasis this year is on getting neighbours and friends back together again.
I will have more on street parties in general. The consensus among some people is that we should not need a Jubilee in order to organise street parties. I could not agree more, especially as the next Jubilee is likely to be decades away — unless the Queen shows exceptional longevity. It's possible. Her mother died just days before her 102nd birthday.
The Platinum Jubilee Pageant
There was no time for the thousands of people organising and participating in the Platinum Jubilee Pageant to have a too leisurely sit-down lunch:
They were all busy making their final preparations for the last official event of the weekend:
In all, 10,000 people made this spectacular pageant possible. It was amazing, and I'm not all that keen on this sort of thing.
This was the parade route, which is quite long:
The theme was honouring the Queen and each of the seven decades of her reign:
The Royal Marines had been part of the official events since Thursday. They must have been exhausted. Here we can see a short video about their many rehearsals:
This video shows a few of the Pageant performers and the floats involved:
The acts were magnificent. The costumes and choreography were so creative. I've never seen anything like it.
Here's the full three-hour video as seen at the end near the Victoria Fountain in front of Buckingham Palace. All the Royal Family members and most of the politicians and dignitaries who were at Saturday's concert were there:
The Queen's third balcony appearance
Around 4 p.m., news emerged that the Queen would be travelling in from Windsor Castle to Buckingham Palace for a final balcony appearance, bringing an end to four days of celebrations.
Four generations of the Royal Family appeared on the balcony: the Queen, Prince Charles and Camilla, Prince William and Kate and their children.
One must object, however, to Prince William's entreaties the night before about saving the planet as he and his family took a private helicopter to London:
Hmm. Perhaps it's not the best look.
The Queen looked stunning in an emerald green outfit. She appeared before the crowd around 5:10 p.m.:
The crowds in The Mall ran to the palace as soon as her Standard (flag) went up sometime after 4 o'clock. When the Standard flies above any Royal household, the Queen is in residence:
Agence France Presse had lovely photos:
Chart-topper Ed Sheeran and a few other singers sang the National Anthem. Afterwards, Sheeran swiftly but sincerely wished everyone a safe journey home. The crowd dutifully dispersed. By then, the weather had improved.
The Queen's influence is worldwide
Incredibly, the Queen's Platinum Jubilee was celebrated even in countries that are not part of the Commonwealth, e.g. Thailand, Switzerland, Poland, Morocco and Portugal:
What a wonderful four-day weekend it was!
Long live our gracious Queen! Long live our noble Queen! Long live the Queen!
On Thursday afternoon and evening, I watched GB News's wall-to-wall commentary on the Queen's Platinum Jubilee. It has been excellent.
GB News is available worldwide, live and on video.
Nigel Farage was in London for Trooping the Colour and said that the parade and the enthusiasm of everyone he met elsewhere was very moving, indeed:
Retired Royal correspondent Michael Cole, who had watched the Coronation in 1953 as a little boy on his family's brand new television set, told Farage that he felt the same way:
Continuing on from Thursday's post on the Platinum Jubilee, likely to be a one-off event in British history, here is the marvellous flypast that took place after Trooping the Colour:
That evening, the Queen symbolically set off the beacon lighting around the UK and Commonwealth nations:
This video shows how the lighting unfolded at Windsor Castle …
… and here we can see them lit up around the world:
On Friday morning, June 3, a Service of Thanksgiving for the Queen's 70-year reign took place at St Paul's Cathedral in the City of London.
The evening before, Buckingham Palace announced that the Queen would not be attending, having suffered 'discomfort' after Trooping the Colour. She made a second appearance on the balcony to acknowledge the military personnel and officers participating.
However, the BBC commentators told us that she was watching the broadcast as it unfolded on television.
Interestingly, Queen Victoria arrived for her Diamond Jubilee at St Paul's Cathedral in 1897 only to find out that she could not exit her carriage because of ill health. When everyone inside found out, they all — clergy included — went outside to conduct the service there:
The Times's Valentine Low wrote the following about Elizabeth II:
The Queen may not have been able to take part in the Trooping the Colour ceremony on Horse Guards, but she takes her role as Colonel-in-Chief very seriously. Her decision to make that extra appearance was prompted by the same motivation that saw her make a last-minute appearance at the opening of the Elizabeth line: her unwavering sense of duty.
The Queen will be extremely disappointed at not going to St Paul's. She has a sincere religious belief, and takes her role as head of the Church of England seriously too …
For the moment, the jubilee remains all about the Queen: wherever she is.
Personally, I would have had the Service of Thanksgiving at St George's Chapel at Windsor Castle. The Queen returned to the castle after lunch with the Royal Family following Trooping the Colour.
The Sussexes attended the lunch at Buckingham Palace. They did not appear on the balcony as they are not working members of the Royal Family.
However, once at Windsor, where Archie and Lilibet stayed while their parents were in London, the Queen finally got to meet her newest great-grandchild:
The Daily Mail article has the order of the Service of Thanksgiving, which was traditional and dignified in all the best Church of England ways. Why can't more C of E services be like that?
St Paul's Cathedral also has the Order of Service as it was printed for those attending:
Crowds had gathered outside by 6 a.m. in the limited space Paternoster (Our Father) Square affords:
Attending these services as invited guests or military guard requires a bladder of steel and optimum decorum. Waiting for everyone to arrive takes longer than the actual service.
Today's service welcomed as guests the charity sector, military cadets, Girl Guides, Boy Scouts, Commonwealth dignitaries, the military, politicians past and present as well as the extended Royal Family.
The public sector were there, too:
Outside were a military guard as well as military representatives from the Commonwealth nations. They had to stand perfectly still as the guests filed into the cathedral.
Here is another set of guards inside:
Musicians played traditional music. The Royal Marines provided the brass accompaniment. The Royal Air Force played the closing fanfare introducing the National Anthem, which concluded the service. Everyone sang his/her heart out. I've never heard anything like it:
Former Prime Ministers were in attendance: Sir John Major, Tony Blair, Gordon Brown and David Cameron. Brown and Cameron brought their respective wives, Sarah and Samantha.
Members of the Cabinet, including Defence Secretary Ben Wallace, Foreign Secretary Liz Truss and Home Secretary Priti Patel, attended.
Opposition leaders Sir Keir Starmer and Sir Ed Davey were there, along with Scotland's First Minister Nicola Sturgeon and her husband.
London Mayor Sadiq Khan and his wife also attended.
Prime Minister Boris Johnson got a huge and prolonged cheer when he arrived at the cathedral, accompanied by wife Carrie.
These photos show Boris and Carrie in the main photo. On the top right are the Camerons and on the bottom right are the Blairs, Tony and Cherie:
The only others who got louder cheers were the Sussexes …
… and the Cambridges:
I have read media reports that the Johnsons and the Sussexes were booed. I watched the proceedings on television. What I heard were most definitely cheers for both couples.
A royal expert commenting on the service said that, where the Queen is concerned:
nothing happens by chance.
Therefore, we can conclude that the fact that the Sussexes arrived by private car and got their own mini-procession down the aisle of St Paul's was an instruction from the Queen (see second tweet):
The couple sat near the front, next to Princesses Beatrice and Eugenie, who were with their husbands.
The minor Royals arrived in a large black coach (bus). It took ages for them to file in, as they shook hands with a long line of Anglican clergy, including the Bishop of London, the Right Revd and Right Hon Dame Sarah Mulally, who had a lucrative career prior to entering the priesthood.
The clergy wore elaborate crimson and gold copes which were created for George V's Silver Jubilee service in 1935. Most of them looked as good as new.
Yeoman Warders (Beefeaters) from the Tower of London stood behind them. They were on official duty guarding those inside the cathedral.
You can see both below:
Prince Edward and the Duchess of Wessex brought along their children. I really like Sophie. So does the Queen:
Prince Charles and the Duchess of Cornwall were the last to arrive:
By now, readers might be wondering who the gentleman wearing ermine is.
He is the Lord Mayor of London — the City of London, that is. This is a rotating one-year position and the new Lord Mayor assumes his responsibilities beginning every autumn at the Lord Mayor's Show, a parade in the City, which is the oldest part of London and still serves as the financial district.
The Lord Mayor of London is in charge of the City and, in that district, is second in power only to the Queen. Therefore, Prince Charles is subordinate to him while within those boundaries.
For centuries, until the Great Fire of 1666, that part of London was the capital, outside of Westminster, which was some distance away.
Everyone lived and worked there unless they had responsibilities at the heart of government in Westminster, which was most easily accessed by boat along the Thames.
Everywhere else that is now very much a part of the capital was a rural suburb until a few hundred years ago.
From that, we can better understand the importance of the Lord Mayor of London's historical role.
The Lord Mayor has several swords, now ceremonial, that he uses. However, each sword has its own role. Today's was the sword of state. If the Queen had been in attendance, he would have worn his most important sword.
The Lord Mayor's assistant also carries a sword and wears a mink hat for ceremonial occasions:
You can see him outside the cathedral, hands resting on the sword, just immediately to the left of the main entrance:
Returning to the service, these chairs were for Prince Charles and the Duchess of Cornwall:
Prince William and the Duchess of Cambridge sat right next to them in ordinary chairs:
Here is a view of what the congregation saw — the main altar, the choirmaster and the men and boys choir:
Boris Johnson delivered the New Testament reading, Philippians 4:4-9, which one can imagine that the Queen selected personally, as it truly gave us a message about our present circumstances and the transition of the monarchy. We are to think on higher things — and not worry:
Rejoice in the Lord always; again I will say, Rejoice. Let your gentleness be known to everyone. The Lord is near. Do not worry about anything, but in everything by prayer and supplication with thanksgiving let your requests be made known to God. And the peace of God, which surpasses all understanding, will guard your hearts and your minds in Christ Jesus. Finally, beloved, whatever is true, whatever is honourable, whatever is just, whatever is pure, whatever is pleasing, whatever is commendable, if there is any excellence and if there is anything worthy of praise, think about these things. Keep on doing the things that you have learned and received and heard and seen in me, and the God of peace will be with you.
The Archbishop of York, the Right Revd Stephen Cottrell, gave the sermon, as the Archbishop of Canterbury has coronavirus, along with Prince Andrew.
The Archbishop of York's sermon began with a brief discourse on how seriously the Queen took her Christian duties and ended on a lighter note with references to her favourite pastime, horse racing, particularly apposite as the Derby is on Saturday. Her Majesty is not expected to attend:
Children from the Commonwealth took turns in giving the prayer intercessions.
After the service, guests went to the Guildhall for lunch:
Meanwhile, Britons up and down the land gathered for street parties:
Thankfully, it was another reasonable day in London, dry and partly cloudy.
On Saturday evening, another spectacular concert in the style of those for the Golden and Diamond Jubilees will take place in front of Buckingham Palace.
On Sunday, a celebratory pageant will take place in the same location.
I plan to have more posts next week on the importance of the Queen's 70-year reign as well as the many social and political changes during that time.
On Monday, May 17, 2021, a number of interesting news items appeared.
World Economic Forum cancels 2021 meeting
The World Economic Forum, the brainchild of Klaus 'The Great Reset' Schwab, is cancelling their 2021 meeting in Singapore:
MoneyControl reports:
With COVID-19 cases surging across the globe, World Economic Forum on May 17 announced the cancellation of its annual meeting in Singapore.
The World Economic Forum has been preparing a Special Annual Meeting in Singapore, which was supposed to take place just three months from now. The next Annual Meeting will instead take place in the first half of 2022. Though final location and date will be determined based on an assessment of the situation later this summer …
"It was a difficult decision, particularly in view of the great interest of our partners to come together not just virtually but in person, and to contribute to a more resilient, more inclusive and more sustainable world. But ultimately the health and safety of everyone concerned is our highest priority," WEF Founder and Executive Chairman Professor Klaus Schwab said.
The WEF event had already been rescheduled twice and had been moved to Singapore from its usual location of Davos, Switzerland. The event brings together politicians and business leaders from around the world.
Good news.
California can no longer lock down churches during coronavirus crisis
There's more good news, this time from California. Governor Newsom can no longer issue coronavirus — and other — diktats preventing church worship:
LifeNews reports that:
a California District Court entered an order approving Liberty Counsel's settlement of the lawsuit on behalf of Harvest Rock Church and Harvest International Ministry against California Gov. Gavin Newsom. The full and final settlement was approved today the District Court and thus is the first state-wide permanent injunction in the country against COVID restrictions on churches and places of worship.
Once entered by the District Court, this full settlement will be the first state-wide permanent injunction in the country against COVID restrictions on churches and places of worship. Under the agreed state-wide permanent injunction, all California churches may hold worship without discriminatory restrictions.
Under the settlement, California may no longer impose discriminatory restrictions upon houses of worship. The governor must also pay Liberty Counsel $1,350,000 to reimburse attorney's fees and costs.
The settlement references several Supreme Court opinions, including Harvest Rock Church v. Newsom, that include a long list of similar nonreligious activity the High Court set forth as comparable gatherings. These include grocery stores, warehouses, big box stores, transportation, infrastructure, telecommunications, and much more. In other words, churches and places of worship may never again have discriminatory restrictions placed on them that are not equally applied to a long list of "critical infrastructure" or "essential services" as outlined in several Supreme Court precedents cited in the settlement agreement.
Excellent result.
Diner owner posts COVID-19 snitch list
Diner owner Craig Kenady of Washington State got tired of lockdown and decided to reopen his business, That One Place.
It wasn't long before concerned Karens began complaining on Washington's snitch site about the reopening. Kenady decided to print the list of complaints, complete with names, and post it at the entrance to his diner.
The town where he lives, Port Orchard, has a population of 13,000. Most people know each other.
PJ Media has the story, complete with photos, including the snitch list of complaints.
They also have excerpts of his interview with Seattle's KIRO 7. He said:
The only motivation was is that I feel if they're going to call and complain about us, then their neighbors deserve to know. We all, in our small community, deserve to know who we can trust or not.
That's what started it. We felt that it was the right thing.
On Monday afternoon, Howie Carr interviewed him. Well worth a listen. Kenady has no regrets whatsoever.
Oxford University says imperial measurements must be 'decolonised'
The Daily Mail reported that, in the aftermath of American-inspired protests last summer, Oxford University is in the process of decolonising certain aspects of its curriculum, including imperial measurements:
The University has suggested imperial measurements, including the mile, inch, pound and ounce, should be 'decolonised' due to its links to the British Empire.
Decolonising plans by Oxford's maths, physics and life sciences departments suggest the teaching of the measurements in the curriculum may change, according to The Telegraph.
It comes after a pledge from Oxford's vice-chancellor Louise Richardson to embed teaching on colonialism and the Empire into courses and 'diversify' the maths and life sciences curriculum.
The UK had these measurements long before it had an empire.
The libertarian site Spiked responded with this (emphases mine):
What British colonialism has to do with policing in 21st-century America is anyone's guess. But this rage against imperial measurements is even more confusing. Imperial measurements, like all measurements, are simply a way of assessing distance, weight and height.
Just because they are called 'imperial' and were used in the British Empire doesn't mean they are stained forever by racism. As one tweeter pointed out, the metric system is hardly without fault either in this regard, given it was spread around the world thanks to Napoleon's imperial expansion.
The decolonisation movement presents itself as a serious intellectual and political endeavour. It isn't. It is a project of historical offence-taking that is apparently without end. As the goings on at Oxford demonstrate, if you give these activists an inch they will take a mile.
Prince Harry deplores America's First Amendment
Fox News carried a story about Prince Harry (great meme here) and his dislike of freedom of expression in the United States.
The article says:
Prince Harry is facing a wave of backlash after calling the First Amendment of the U.S. Constitution "bonkers" during a podcast appearance last week. 
The Duke of Sussex made the comments on an episode of Dax Shepard and Monica Padman's "Armchair Expert" podcast … 
He specifically took issue with the paparazzi.
"I don't want to start sort of going down the First Amendment route because that's a huge subject and one in which I don't understand because I've only been here a short period of time," Harry said. "But, you can find a loophole in anything. And you can capitalize or exploit what's not said rather than uphold what is said."
"I've got so much I want to say about the First Amendment as I sort of understand it, but it is bonkers," he continued.
Harry's comments ignited a wave of criticism online.
Fox News also included tweets about his interview.
Rep. Dan Crenshaw (R-Texas) tweeted:
Nigel Farage rightly warned the prince about criticising America in an ill-advised way:
That's true.
After Larry King retired from CNN, Piers Morgan took over his slot.
Once Piers Morgan began criticising the Second Amendment, his ratings tanked and the show was cancelled. Newsweek has the story, written after he was ousted from Good Morning Britain earlier this year:
The presenter hosted a CNN talk show from 2011 to 2014. In Piers Morgan Live (formerly known as Piers Morgan Tonight), he interviewed politicians, celebrities and members of the public.
His first guest in the prime-time slot—which was previously occupied by broadcasting giant Larry King, who died in January—was Winfrey.
Morgan's show was canceled on February 23, 2014, after a run of disappointing ratings, which he blamed on his stance on divisive issues such as gun control.
"It's been a painful period and lately we have taken a bath in the ratings," Morgan told The New York Times at the time.
"Look, I am a British guy debating American cultural issues, including guns, which has been very polarising, and there is no doubt that there are many in the audience who are tired of me banging on about it," he added. "That's run its course."
In the U.K. Morgan is also well known for being embroiled in a phone-hacking investigation—and for being sacked as editor of the Daily Mirror in 2004 over the publication of hoax pictures claiming to show British soldiers abusing an Iraqi prisoner.
He was interviewed by U.K. police officers investigating hacking in December 2013. CNN said this had no impact on its move two months later to axe his show.
The Sun reports the same:
While the show started off with respectable ratings, audience figures soon dropped, with some media outlets reporting that the British host failed to connect with an American audience.
Morgan struggled to match the ratings garnered by his predecessor, the Guardian reported.
By February 2014, viewership dropped to the lowest seen since he took over from King …
CNN's Allison Gollust said: "The decision had nothing to do with the hacking interview – not at all."
The final episode of Piers Morgan Live aired on March 28, 2014.
Piers Morgan is still derided in both countries.
Prince Harry, take note.