You are currently browsing the tag archive for the 'Prince Harry' tag.
This is my final post on the events of the Queen's Platinum Jubilee Weekend.
For those who missed it, I have covered Trooping the Colour, the Service of Thanksgiving at St Paul's and the Party at the Palace concert.
Today's recap is about the fantastic pageant in central London and festive street parties around the nation on Sunday, June 5, 2022.
Before I go into that, however, there are two more things to cover from earlier in the weekend.
The first concerns lunch at the Guildhall following Friday's Service of Thanksgiving.
On Monday, June 6, Dan Wootton wrote about it for the Daily Mail (emphases mine):
The sense of disappointment within London's grand Guildhall was palpable.
One of the rooms hosting dignitaries and other invited guests had been left without a member of the Royal Family present to mingle and chat as promised.
The mood turned frosty when the upset attendees, who had expected to be hosted by a minor royal as they were served English sparkling wine and a buffet of traditional dishes like coronation chicken and smoked duck, were told by organisers it was because the Duke and Duchess of Sussex had turned down an invitation to attend.
But it wasn't just the public who were stunned at Harry and Meghan's notable snub following an awkward appearance at St Paul's Cathedral for the Service of Thanksgiving.
That carefully choreographed event had been derailed by the boos received by Harry and Meghan from onlookers as they entered and then departed the church where Princess Diana famously married Prince Charles – the worst nightmare for courtiers who have long feared normally polite monarchists might vocally turn on the couple after their unrelenting attacks on the institution since Megxit.
I've learned some members of the Royal Family and many senior courtiers were horrified at the detached and cold appearance by the exiled couple, who had also made the decision to fly out of the country before the Queen had even made her historic Buckingham Palace balcony appearance, alongside Charles, Camilla and the Cambridges, on Sunday evening.
Lady Colin Campbell spoke with Wootton on his GB News show Monday night. She, too, said the Sussexes were snubbed:
She added that the couple were deeply unhappy because the Jubilee has outshone their own 'brand':
At least Her Majesty was able to meet Lilibet, who celebrated her first birthday at the weekend.
In another news event not widely covered, the Queen's Baton Relay arrived in London on June 2 in advance of this summer's Commonwealth Games in Birmingham:
Commonwealth Games minister Nigel Huddleston (wearing a red tie) met with some of the participants on Saturday at the Tower of London:
The Commonwealth Games will be starting in Birmingham on July 28:
Street parties
At lunchtime, the weather was dismal in many parts of the UK.
The Mail on Sunday reported:
Royal superfans are set to brave the elements on the final day of the Queen's Platinum Jubilee weekend, amid fears today's £15million Pageant will be battered by thunderstorms.
The Met Office has issued a yellow warning for heavy rainfall and potentially even hail across much of England and Wales from midnight until 6pm this evening.
Forecasters have said that the bad weather – including downpours of up to 50mm an hour, and even hail – may cause travel disruption and flooding in some places, with parts of London and the South East, the Midlands, East Anglia most at risk.
In London, we had what I call Coronation Day weather. Coronation Day was on June 2, 1953. It was cold, damp and rainy.
The greatest of these lunch parties was the Big Jubilee Lunch at Oval Cricket Ground in Vauxhall, south London. Prince Charles and Camilla, Duchess of Cornwall, represented the Royal Family.
The Mail on Sunday has an article with so many photos, you will have felt as if you'd been there.
An excerpt follows:
Prince Charles today said he hopes 'bickering' does not return to Britain after the Platinum Jubilee generated a feeling of 'togetherness' across the country.
The Prince of Wales and Camilla, Duchess of Cornwall are tucking into the Big Jubilee Lunch at the Oval cricket ground in South London, where they marvelled at a 20ft tea table made entirely of felt and cut a big cake before toasting Her Majesty. 
Guests at the lunch have said that the future king remarked: 'When it comes to Monday are we going to go back to all the bickering again? Let's hope we don't do that.'
That is one thing Charles and I agree upon. Unfortunately, Monday's confidence vote about Boris Johnson put paid to that.
As for the rest of the nation attending street parties:
Britons are attending a record-breaking 12million parties and lunches today as they celebrate the Queen's astonishing seven-decade reign. 
Dear me. How was that even possible?
And there were more lunches, not only in the Commonwealth nations:
More than 600 Big Jubilee Lunches are being planned throughout the Commonwealth and beyond – from Canada to Brazil, New Zealand to Japan and South Africa to Switzerland.
How wonderfuul was that?
Meanwhile, in Windsor, Prince Edward and Sophie, Duchess of Wessex, attended a 'long lunch' just outside the castle gates:
… the Earl and Countess of Wessex are expected to join thousands of the Queen's neighbours for a record breaking 'long lunch' on the Long Walk outside the gates of Windsor Castle on the final day of the Platinum Jubilee celebrations.
Here is a photo montage of street parties and lunches across the UK, which the Eden Project has helped organise in an attempt to bring the nation together in unity:
Street parties are renowned for delightful sweet treats:
For once, Scotland had better weather than England.
Despite all their independence rhetoric as well as the SNP-run councils and the Scottish Parliament, Scots came out in force to celebrate the Queen.
Edinburgh, the capital, took the cake, according to The Times:
In Edinburgh, the street party capital of Scotland, neighbours laid tables and chairs outside their homes and shared a small mountain of home baking, wine and champagne to toast the Queen's landmark achievement.
Residents of 32 streets applied to Edinburgh city council to ban traffic for the afternoon, the most of any local authority area, which allowed long lunches and children's games to take place in safety …
In Rutherglen, South Lanarkshire, about 300 adults and children enjoyed a picnic in the town's Overtoun Park, as part of the Big Jubilee Lunch. With the Duchess of Rothesay as patron of the organisation, an estimated 85,000 similar events were taking place around the UK at the same time …
Eugenie Aroutcheff, organiser of the Rutherglen event, said the eco-friendly project in the park was designed to combat social isolation and loneliness in the community.
Following the pandemic, the emphasis this year is on getting neighbours and friends back together again.
I will have more on street parties in general. The consensus among some people is that we should not need a Jubilee in order to organise street parties. I could not agree more, especially as the next Jubilee is likely to be decades away — unless the Queen shows exceptional longevity. It's possible. Her mother died just days before her 102nd birthday.
The Platinum Jubilee Pageant
There was no time for the thousands of people organising and participating in the Platinum Jubilee Pageant to have a too leisurely sit-down lunch:
They were all busy making their final preparations for the last official event of the weekend:
In all, 10,000 people made this spectacular pageant possible. It was amazing, and I'm not all that keen on this sort of thing.
This was the parade route, which is quite long:
The theme was honouring the Queen and each of the seven decades of her reign:
The Royal Marines had been part of the official events since Thursday. They must have been exhausted. Here we can see a short video about their many rehearsals:
This video shows a few of the Pageant performers and the floats involved:
The acts were magnificent. The costumes and choreography were so creative. I've never seen anything like it.
Here's the full three-hour video as seen at the end near the Victoria Fountain in front of Buckingham Palace. All the Royal Family members and most of the politicians and dignitaries who were at Saturday's concert were there:
The Queen's third balcony appearance
Around 4 p.m., news emerged that the Queen would be travelling in from Windsor Castle to Buckingham Palace for a final balcony appearance, bringing an end to four days of celebrations.
Four generations of the Royal Family appeared on the balcony: the Queen, Prince Charles and Camilla, Prince William and Kate and their children.
One must object, however, to Prince William's entreaties the night before about saving the planet as he and his family took a private helicopter to London:
Hmm. Perhaps it's not the best look.
The Queen looked stunning in an emerald green outfit. She appeared before the crowd around 5:10 p.m.:
The crowds in The Mall ran to the palace as soon as her Standard (flag) went up sometime after 4 o'clock. When the Standard flies above any Royal household, the Queen is in residence:
Agence France Presse had lovely photos:
Chart-topper Ed Sheeran and a few other singers sang the National Anthem. Afterwards, Sheeran swiftly but sincerely wished everyone a safe journey home. The crowd dutifully dispersed. By then, the weather had improved.
The Queen's influence is worldwide
Incredibly, the Queen's Platinum Jubilee was celebrated even in countries that are not part of the Commonwealth, e.g. Thailand, Switzerland, Poland, Morocco and Portugal:
What a wonderful four-day weekend it was!
Long live our gracious Queen! Long live our noble Queen! Long live the Queen!
On Thursday afternoon and evening, I watched GB News's wall-to-wall commentary on the Queen's Platinum Jubilee. It has been excellent.
GB News is available worldwide, live and on video.
Nigel Farage was in London for Trooping the Colour and said that the parade and the enthusiasm of everyone he met elsewhere was very moving, indeed:
Retired Royal correspondent Michael Cole, who had watched the Coronation in 1953 as a little boy on his family's brand new television set, told Farage that he felt the same way:
Continuing on from Thursday's post on the Platinum Jubilee, likely to be a one-off event in British history, here is the marvellous flypast that took place after Trooping the Colour:
That evening, the Queen symbolically set off the beacon lighting around the UK and Commonwealth nations:
This video shows how the lighting unfolded at Windsor Castle …
… and here we can see them lit up around the world:
On Friday morning, June 3, a Service of Thanksgiving for the Queen's 70-year reign took place at St Paul's Cathedral in the City of London.
The evening before, Buckingham Palace announced that the Queen would not be attending, having suffered 'discomfort' after Trooping the Colour. She made a second appearance on the balcony to acknowledge the military personnel and officers participating.
However, the BBC commentators told us that she was watching the broadcast as it unfolded on television.
Interestingly, Queen Victoria arrived for her Diamond Jubilee at St Paul's Cathedral in 1897 only to find out that she could not exit her carriage because of ill health. When everyone inside found out, they all — clergy included — went outside to conduct the service there:
The Times's Valentine Low wrote the following about Elizabeth II:
The Queen may not have been able to take part in the Trooping the Colour ceremony on Horse Guards, but she takes her role as Colonel-in-Chief very seriously. Her decision to make that extra appearance was prompted by the same motivation that saw her make a last-minute appearance at the opening of the Elizabeth line: her unwavering sense of duty.
The Queen will be extremely disappointed at not going to St Paul's. She has a sincere religious belief, and takes her role as head of the Church of England seriously too …
For the moment, the jubilee remains all about the Queen: wherever she is.
Personally, I would have had the Service of Thanksgiving at St George's Chapel at Windsor Castle. The Queen returned to the castle after lunch with the Royal Family following Trooping the Colour.
The Sussexes attended the lunch at Buckingham Palace. They did not appear on the balcony as they are not working members of the Royal Family.
However, once at Windsor, where Archie and Lilibet stayed while their parents were in London, the Queen finally got to meet her newest great-grandchild:
The Daily Mail article has the order of the Service of Thanksgiving, which was traditional and dignified in all the best Church of England ways. Why can't more C of E services be like that?
St Paul's Cathedral also has the Order of Service as it was printed for those attending:
Crowds had gathered outside by 6 a.m. in the limited space Paternoster (Our Father) Square affords:
Attending these services as invited guests or military guard requires a bladder of steel and optimum decorum. Waiting for everyone to arrive takes longer than the actual service.
Today's service welcomed as guests the charity sector, military cadets, Girl Guides, Boy Scouts, Commonwealth dignitaries, the military, politicians past and present as well as the extended Royal Family.
The public sector were there, too:
Outside were a military guard as well as military representatives from the Commonwealth nations. They had to stand perfectly still as the guests filed into the cathedral.
Here is another set of guards inside:
Musicians played traditional music. The Royal Marines provided the brass accompaniment. The Royal Air Force played the closing fanfare introducing the National Anthem, which concluded the service. Everyone sang his/her heart out. I've never heard anything like it:
Former Prime Ministers were in attendance: Sir John Major, Tony Blair, Gordon Brown and David Cameron. Brown and Cameron brought their respective wives, Sarah and Samantha.
Members of the Cabinet, including Defence Secretary Ben Wallace, Foreign Secretary Liz Truss and Home Secretary Priti Patel, attended.
Opposition leaders Sir Keir Starmer and Sir Ed Davey were there, along with Scotland's First Minister Nicola Sturgeon and her husband.
London Mayor Sadiq Khan and his wife also attended.
Prime Minister Boris Johnson got a huge and prolonged cheer when he arrived at the cathedral, accompanied by wife Carrie.
These photos show Boris and Carrie in the main photo. On the top right are the Camerons and on the bottom right are the Blairs, Tony and Cherie:
The only others who got louder cheers were the Sussexes …
… and the Cambridges:
I have read media reports that the Johnsons and the Sussexes were booed. I watched the proceedings on television. What I heard were most definitely cheers for both couples.
A royal expert commenting on the service said that, where the Queen is concerned:
nothing happens by chance.
Therefore, we can conclude that the fact that the Sussexes arrived by private car and got their own mini-procession down the aisle of St Paul's was an instruction from the Queen (see second tweet):
The couple sat near the front, next to Princesses Beatrice and Eugenie, who were with their husbands.
The minor Royals arrived in a large black coach (bus). It took ages for them to file in, as they shook hands with a long line of Anglican clergy, including the Bishop of London, the Right Revd and Right Hon Dame Sarah Mulally, who had a lucrative career prior to entering the priesthood.
The clergy wore elaborate crimson and gold copes which were created for George V's Silver Jubilee service in 1935. Most of them looked as good as new.
Yeoman Warders (Beefeaters) from the Tower of London stood behind them. They were on official duty guarding those inside the cathedral.
You can see both below:
Prince Edward and the Duchess of Wessex brought along their children. I really like Sophie. So does the Queen:
Prince Charles and the Duchess of Cornwall were the last to arrive:
By now, readers might be wondering who the gentleman wearing ermine is.
He is the Lord Mayor of London — the City of London, that is. This is a rotating one-year position and the new Lord Mayor assumes his responsibilities beginning every autumn at the Lord Mayor's Show, a parade in the City, which is the oldest part of London and still serves as the financial district.
The Lord Mayor of London is in charge of the City and, in that district, is second in power only to the Queen. Therefore, Prince Charles is subordinate to him while within those boundaries.
For centuries, until the Great Fire of 1666, that part of London was the capital, outside of Westminster, which was some distance away.
Everyone lived and worked there unless they had responsibilities at the heart of government in Westminster, which was most easily accessed by boat along the Thames.
Everywhere else that is now very much a part of the capital was a rural suburb until a few hundred years ago.
From that, we can better understand the importance of the Lord Mayor of London's historical role.
The Lord Mayor has several swords, now ceremonial, that he uses. However, each sword has its own role. Today's was the sword of state. If the Queen had been in attendance, he would have worn his most important sword.
The Lord Mayor's assistant also carries a sword and wears a mink hat for ceremonial occasions:
You can see him outside the cathedral, hands resting on the sword, just immediately to the left of the main entrance:
Returning to the service, these chairs were for Prince Charles and the Duchess of Cornwall:
Prince William and the Duchess of Cambridge sat right next to them in ordinary chairs:
Here is a view of what the congregation saw — the main altar, the choirmaster and the men and boys choir:
Boris Johnson delivered the New Testament reading, Philippians 4:4-9, which one can imagine that the Queen selected personally, as it truly gave us a message about our present circumstances and the transition of the monarchy. We are to think on higher things — and not worry:
Rejoice in the Lord always; again I will say, Rejoice. Let your gentleness be known to everyone. The Lord is near. Do not worry about anything, but in everything by prayer and supplication with thanksgiving let your requests be made known to God. And the peace of God, which surpasses all understanding, will guard your hearts and your minds in Christ Jesus. Finally, beloved, whatever is true, whatever is honourable, whatever is just, whatever is pure, whatever is pleasing, whatever is commendable, if there is any excellence and if there is anything worthy of praise, think about these things. Keep on doing the things that you have learned and received and heard and seen in me, and the God of peace will be with you.
The Archbishop of York, the Right Revd Stephen Cottrell, gave the sermon, as the Archbishop of Canterbury has coronavirus, along with Prince Andrew.
The Archbishop of York's sermon began with a brief discourse on how seriously the Queen took her Christian duties and ended on a lighter note with references to her favourite pastime, horse racing, particularly apposite as the Derby is on Saturday. Her Majesty is not expected to attend:
Children from the Commonwealth took turns in giving the prayer intercessions.
After the service, guests went to the Guildhall for lunch:
Meanwhile, Britons up and down the land gathered for street parties:
Thankfully, it was another reasonable day in London, dry and partly cloudy.
On Saturday evening, another spectacular concert in the style of those for the Golden and Diamond Jubilees will take place in front of Buckingham Palace.
On Sunday, a celebratory pageant will take place in the same location.
I plan to have more posts next week on the importance of the Queen's 70-year reign as well as the many social and political changes during that time.
On Monday, May 17, 2021, a number of interesting news items appeared.
World Economic Forum cancels 2021 meeting
The World Economic Forum, the brainchild of Klaus 'The Great Reset' Schwab, is cancelling their 2021 meeting in Singapore:
MoneyControl reports:
With COVID-19 cases surging across the globe, World Economic Forum on May 17 announced the cancellation of its annual meeting in Singapore.
The World Economic Forum has been preparing a Special Annual Meeting in Singapore, which was supposed to take place just three months from now. The next Annual Meeting will instead take place in the first half of 2022. Though final location and date will be determined based on an assessment of the situation later this summer …
"It was a difficult decision, particularly in view of the great interest of our partners to come together not just virtually but in person, and to contribute to a more resilient, more inclusive and more sustainable world. But ultimately the health and safety of everyone concerned is our highest priority," WEF Founder and Executive Chairman Professor Klaus Schwab said.
The WEF event had already been rescheduled twice and had been moved to Singapore from its usual location of Davos, Switzerland. The event brings together politicians and business leaders from around the world.
Good news.
California can no longer lock down churches during coronavirus crisis
There's more good news, this time from California. Governor Newsom can no longer issue coronavirus — and other — diktats preventing church worship:
LifeNews reports that:
a California District Court entered an order approving Liberty Counsel's settlement of the lawsuit on behalf of Harvest Rock Church and Harvest International Ministry against California Gov. Gavin Newsom. The full and final settlement was approved today the District Court and thus is the first state-wide permanent injunction in the country against COVID restrictions on churches and places of worship.
Once entered by the District Court, this full settlement will be the first state-wide permanent injunction in the country against COVID restrictions on churches and places of worship. Under the agreed state-wide permanent injunction, all California churches may hold worship without discriminatory restrictions.
Under the settlement, California may no longer impose discriminatory restrictions upon houses of worship. The governor must also pay Liberty Counsel $1,350,000 to reimburse attorney's fees and costs.
The settlement references several Supreme Court opinions, including Harvest Rock Church v. Newsom, that include a long list of similar nonreligious activity the High Court set forth as comparable gatherings. These include grocery stores, warehouses, big box stores, transportation, infrastructure, telecommunications, and much more. In other words, churches and places of worship may never again have discriminatory restrictions placed on them that are not equally applied to a long list of "critical infrastructure" or "essential services" as outlined in several Supreme Court precedents cited in the settlement agreement.
Excellent result.
Diner owner posts COVID-19 snitch list
Diner owner Craig Kenady of Washington State got tired of lockdown and decided to reopen his business, That One Place.
It wasn't long before concerned Karens began complaining on Washington's snitch site about the reopening. Kenady decided to print the list of complaints, complete with names, and post it at the entrance to his diner.
The town where he lives, Port Orchard, has a population of 13,000. Most people know each other.
PJ Media has the story, complete with photos, including the snitch list of complaints.
They also have excerpts of his interview with Seattle's KIRO 7. He said:
The only motivation was is that I feel if they're going to call and complain about us, then their neighbors deserve to know. We all, in our small community, deserve to know who we can trust or not.
That's what started it. We felt that it was the right thing.
On Monday afternoon, Howie Carr interviewed him. Well worth a listen. Kenady has no regrets whatsoever.
Oxford University says imperial measurements must be 'decolonised'
The Daily Mail reported that, in the aftermath of American-inspired protests last summer, Oxford University is in the process of decolonising certain aspects of its curriculum, including imperial measurements:
The University has suggested imperial measurements, including the mile, inch, pound and ounce, should be 'decolonised' due to its links to the British Empire.
Decolonising plans by Oxford's maths, physics and life sciences departments suggest the teaching of the measurements in the curriculum may change, according to The Telegraph.
It comes after a pledge from Oxford's vice-chancellor Louise Richardson to embed teaching on colonialism and the Empire into courses and 'diversify' the maths and life sciences curriculum.
The UK had these measurements long before it had an empire.
The libertarian site Spiked responded with this (emphases mine):
What British colonialism has to do with policing in 21st-century America is anyone's guess. But this rage against imperial measurements is even more confusing. Imperial measurements, like all measurements, are simply a way of assessing distance, weight and height.
Just because they are called 'imperial' and were used in the British Empire doesn't mean they are stained forever by racism. As one tweeter pointed out, the metric system is hardly without fault either in this regard, given it was spread around the world thanks to Napoleon's imperial expansion.
The decolonisation movement presents itself as a serious intellectual and political endeavour. It isn't. It is a project of historical offence-taking that is apparently without end. As the goings on at Oxford demonstrate, if you give these activists an inch they will take a mile.
Prince Harry deplores America's First Amendment
Fox News carried a story about Prince Harry (great meme here) and his dislike of freedom of expression in the United States.
The article says:
Prince Harry is facing a wave of backlash after calling the First Amendment of the U.S. Constitution "bonkers" during a podcast appearance last week. 
The Duke of Sussex made the comments on an episode of Dax Shepard and Monica Padman's "Armchair Expert" podcast … 
He specifically took issue with the paparazzi.
"I don't want to start sort of going down the First Amendment route because that's a huge subject and one in which I don't understand because I've only been here a short period of time," Harry said. "But, you can find a loophole in anything. And you can capitalize or exploit what's not said rather than uphold what is said."
"I've got so much I want to say about the First Amendment as I sort of understand it, but it is bonkers," he continued.
Harry's comments ignited a wave of criticism online.
Fox News also included tweets about his interview.
Rep. Dan Crenshaw (R-Texas) tweeted:
Nigel Farage rightly warned the prince about criticising America in an ill-advised way:
That's true.
After Larry King retired from CNN, Piers Morgan took over his slot.
Once Piers Morgan began criticising the Second Amendment, his ratings tanked and the show was cancelled. Newsweek has the story, written after he was ousted from Good Morning Britain earlier this year:
The presenter hosted a CNN talk show from 2011 to 2014. In Piers Morgan Live (formerly known as Piers Morgan Tonight), he interviewed politicians, celebrities and members of the public.
His first guest in the prime-time slot—which was previously occupied by broadcasting giant Larry King, who died in January—was Winfrey.
Morgan's show was canceled on February 23, 2014, after a run of disappointing ratings, which he blamed on his stance on divisive issues such as gun control.
"It's been a painful period and lately we have taken a bath in the ratings," Morgan told The New York Times at the time.
"Look, I am a British guy debating American cultural issues, including guns, which has been very polarising, and there is no doubt that there are many in the audience who are tired of me banging on about it," he added. "That's run its course."
In the U.K. Morgan is also well known for being embroiled in a phone-hacking investigation—and for being sacked as editor of the Daily Mirror in 2004 over the publication of hoax pictures claiming to show British soldiers abusing an Iraqi prisoner.
He was interviewed by U.K. police officers investigating hacking in December 2013. CNN said this had no impact on its move two months later to axe his show.
The Sun reports the same:
While the show started off with respectable ratings, audience figures soon dropped, with some media outlets reporting that the British host failed to connect with an American audience.
Morgan struggled to match the ratings garnered by his predecessor, the Guardian reported.
By February 2014, viewership dropped to the lowest seen since he took over from King …
CNN's Allison Gollust said: "The decision had nothing to do with the hacking interview – not at all."
The final episode of Piers Morgan Live aired on March 28, 2014.
Piers Morgan is still derided in both countries.
Prince Harry, take note.
This is my final post on Prince Philip, as the Queen and Princess Anne returned to work last week, just days before his funeral, but more importantly because of his own views:
The Queen
The Queen turned 95 today, Wednesday, April 21. May she have many happy returns. Prayers continue for God's comfort to her at this difficult time:
The funeral commentators on Sky News remarked at how the Queen's eyes always lit up when Prince Philip entered a room, even after 73 years of marriage:
She posted this photograph of herself with Prince Philip in Scotland, a nation which they loved. Muick, by the way, is pronounced 'mick':
The Countess of Wessex said that the Queen regarded him as her protector:
He also kept a gimlet eye on public opinion for her. One wonders how much he influenced the Queen to return to Buckingham Palace with Princes William and Harry after Princess Diana died in August 1997. As dictated by the media, we were under the impression that then-Prime Minister Tony Blair was responsible for the return of the Royal couple and their grandsons to London, but, now, one wonders:
The Queen will treasure the many memories of her husband — and his pragmatism.
Prince Philip's practical wisdom
Prince Philip had straightforward views on various aspects of everyday life.
Attire
The Prince was probably the best dressed British man for decades. Who could top his effortless, yet classic, style of dress and accessories?
He also kept himself in trim throughout his life, which helped him maintain his sense of impeccable style:
The Daily Mail has an article with a retrospective of photos of him through the years. Although the Prince had his clothes made by top Savile Row tailors, all any man has to do is adopt the classics (emphases mine):
According to [celebrity stylist] Rochelle [White], the Duke's suits were 'impeccably' tailored, with the royal selecting classic, handsome suiting; most often single-breasted jackets in navy. 
Meanwhile off-duty, the royal would often relax in a cool polo shirt and button-down linen shirts which made him 'eye-catching' …
Becky French, creative director of one of his preferred tailors Turnbull & Asser, told The Telegraph: 'Prince Philip was quite simply one of the best dressed men in the world, 'Up until the age of 99, he always looked impeccable, with his naval blazer, shirt and tie.
'Never a slave to fashion, he knew how he wanted to dress and perfected that style over almost a century.' 
Brevity in public speaking
On Monday, April 12, both Houses of Parliament met to pay tribute to the Prince.
Ian Blackford (SNP) cited an excellent piece of advice from the Prince on public speaking. It is ironic that it was Blackford who found the following quote, as he speaks endlessly.
This is excellent — and so true:
What the backside cannot endure, the brain cannot absorb.
Fools
Winston Churchill's grandson, Sir Nicholas Soames, a former MP, told Freddie Sayers of UnHerd that Prince Philip did not suffer fools gladly:
Honesty
A former Royal butler said much the same thing as Sir Nicholas Soames, adding that the Prince spoke as he found. As such, he enjoyed working for the Prince, because he told one exactly what he wanted, politely but succinctly:
Stiff upper lip
Prince Philip was a 'stiff upper lip', 'old school' gentleman:
However, as the generations pass, personal conduct changes:
Spiked's Tim Black referred to the interview with Sir Nicholas Soames above, writing (emphases mine):
As Tory grandee Nicholas Soames put it this week, Philip was 'the epitome of the stiff upper lip'.
But so were many others of Philip's generation. Because maintaining a stiff upper lip, remaining in control of one's emotions, especially in public, was long considered by many to be a mark of one's character. It was something to be cultivated, worked on. Because it meant that one was able to act according to something beyond one's own impulses. It meant that one was committing oneself to something – a duty to others, perhaps, or to an idea or a cause – over and above one's feelings. To not be in control of one's emotions, to succumb easily to tears or anger, was the mark of a lack of character, a sign of immaturity.
Tim Black is right. Maintaining a stiff upper lip is hard work: no two ways about it.
Sense of duty
Tim Black pointed out that the Prince was devoted to duty:
You don't have to be a fan of the monarchy – and we at spiked are not – to mourn the passing of the character represented by Prince Philip. 'Everyone has to have a sense of duty', he told an interviewer in 1992. 'A duty to society, to their family.' Too many in high places, it seems, only have a duty to themselves.
I think it is incumbent upon us to rediscover this lost virtue.
Some of Prince Philip's duties involved recognising others for their achievements. Former Chancellor of the Exchequer George Osborne recalled the Prince giving his father an award in 1970:
Interviews: never discuss yourself
Gyles Brandreth, a former Conservative MP, has written two books about the Royal Family. After the Prince's death, the Daily Mail asked him what the Queen's consort thought of Prince Harry's and Meghan Markle's interview with Oprah.
The Sun reported:
Gyles Brandreth told the Daily Mail the fact the interview was aired while Philip was is in hospital "did not trouble him".
But he added: "What did worry him was the couple's preoccupation with their own problems and their willingness to talk about them in public.
"Give TV interviews by all means,' he said, 'but don't talk about yourself'.
"That was one of his rules. I know he shared it with his children. I imagine he shared it with his grandchildren, too."
The royal biographer revealed Philip, who died on Friday aged 99, thought the interview was "madness".
Mr Brandeth also said Philip believed his grandson was a "good man" but regretted his decision to step down as a senior royal.
Prince Philip gave many interviews. In the following one from 1995, he discussed his memories of the Second World War. Remarkably, revealing little about himself, he spoke of the various ships on which he served and the tension surrounding battle. Whilst conversational, he speaks so well in recalling so many details that might as well be narrating a documentary. This is a marvellous video, especially for people interested in the war in the Pacific:
Food
Probably the only time Prince Philip and the Queen disagreed was when it came to their meals.
A former Royal chef, Darren McGrady, who now works in the United States, says that the Queen ate to live, whereas the Prince lived to eat. As such, the Prince did not mind if the Queen had a dinner engagement elsewhere, because he could request what he wanted from the kitchen.
The Queen doesn't like garlic. Prince Philip did. Sometimes McGrady prepared the same dinner two different ways: garlic-free for the Queen and extra garlic for the Prince. McGrady discusses the subject here:
Both were known to bring back recipes from their international tours for the Royal chefs to prepare once they were back in the UK.
In the next video, McGrady relates his first meeting with the Prince, whom he mistook for the gardener because of his scruffy, well-worn clothes. Here he prepares one of the Prince's favourite dishes, salmon coulibiac, a Russian form of salmon en croute:
In this next video, McGrady said that the Prince did not suffer fools gladly. He was no stranger to the Royal kitchens, stopping in to ask what was being served and, during the summer, what fruit was ripening. McGrady said that the Prince already knew what was in the gardens, therefore, the staff had to know, too. Prince Philip taught McGrady how to remove mango fruit with a spoon. Another favourite dish of his was Icelandic pancakes, filled with jam and folded in half. The recipe is at the 6:47 mark:
Those who knew him, including Darren McGrady, said that the Prince enjoyed barbecuing — whatever the weather. One of the Sky News funeral commentators said that the Prince held a barbecue in freezing weather one January. The Prince loved it; his guests were polite — and cold.
The Prince also went in for fancier meats to grill outdoors, such as lamb noisettes. He found steaks rather ordinary, McGrady says.
Gordonstoun
On April 12, the Daily Mail revealed previously undisclosed details about Prince Philip's schooldays at Gordonstoun (pron. 'Gordons-town') in Scotland. The article comes complete with photographs. He was Prince Philip of Greece at the time, with no surname.
Although he could be mischievous, he always wanted to do better in his studies and school activities:
The Duke of Edinburgh's old boarding school has released his report cards which reveal 'he was naughty, but never nasty'.
The report from the £40,000-per-year Gordonstoun in Moray was written for the Duke's marriage to The Queen in 1947.
Headmaster Kurt Hahn's notes also reveal a comical incident when the young prince nearly knocked over a young woman with a pram – but his apology was 'irresistible'.
The school has educated three generations of the UK Royal Family – including Prince Philip, who joined at the age of 13. 
Gordonstoun – which featured in Netflix's hit series 'The Crown' – was founded by Dr Hahn, who fled Nazi Germany and became an inspiring mentor to Philip. 
When Philip came to Gordonstoun 'his marked trait was his undefeatable spirit, he felt deeply both joy and sadness, and the way he looked and the way he moved indicated what he felt'. 
Dr Hahn noted of the young pupil: 'He had grown impatient of what for short may be called Royalty nonsense. After matches and theatrical performances, people often asked him for an autograph. He found this ridiculous and on one occasion signed himself "The Earl of Baldwin", to the bewilderment of the autograph-hunter.' 
He also reveals Philip had 'meticulous attention to detail' and was 'never content with mediocre results' … 
Sarah Ferguson
It seems that the only person the Prince was not keen on was Sarah Ferguson.
While the Queen is quite fond of her — Andrew being her favourite child — the Prince preferred to keep her at arm's length.
My older readers might remember when, in 1992, photos of her lover sucking her toes circulated around the world. Prince Philip decided that was the moment she was persona non grata.
On April 13, Gyles Brandreth wrote an article for the Daily Mail on the Prince's views of Fergie:
On the whole, Prince Philip was reasonably circumspect when talking about his children and their relationships — except in the case of Prince Andrew and Sarah Ferguson.
He spoke with real affection of their daughters, Beatrice and Eugenie, but he made no secret of the fact that he regarded Sarah, Duchess of York, as 'simply beyond the pale'.
One day in the summer of 1992, while she was staying at Balmoral with the Queen and Prince Philip, photographs had appeared in a daily newspaper of Sarah topless and having her toes sucked by a lover in the South of France.
The Duke of Edinburgh decided that, as far as he was concerned, 'enough was enough'. He did not want — or need — to have anything more to do with her.
For the remainder of Sarah's stay at Balmoral, his actions spoke louder than words. 'It was ridiculous,' she told me. 'As soon as I came in through one door, he'd be falling over the corgis to get out of the other. It was very funny. Except, of course, it wasn't.'
After Sarah's separation from Prince Andrew, the Queen continued to have tea with her from time to time.
But Prince Philip was resolute: he had no desire to see her again.
This Sarah knew and it pained her. 'Of course I want to see him,' she told me after her divorce. 'I am the mother of his granddaughters, after all.'
I raised this with Prince Philip, but he just shrugged and said: 'But the children come and stay.'
When I asked him why he wouldn't see Sarah, he said: 'I am not vindictive.' Then, looking at me directly, he added emphatically: 'I am not vindictive, but I don't see the point.' That Andrew and Sarah appeared to remain friends after their separation — and that they shared a home even after their divorce — seemed to him 'truly bizarre'.
'I don't pretend to understand it,' he said.
Sarah, however, kept trying to mend bridges … 
I'm with Prince Philip on that. I could never understand Fergie and Andrew's relationship. I still don't.
On April 15, The Sun reported that both Sarah and Andrew have been seen with the Queen:
They have been making the short drive from Royal Lodge to Windsor Castle, sometimes twice a day, to walk with the Queen and her new corgis.
However, Andrew has been warned to forget plans to use his public appearances as a springboard back into royal duty.
Royal watchers believe Philip's passing aged 99 boosts the chances of Fergie making a comeback after years in the wilderness.
Now her husband has departed, the Queen, who has a soft spot for her former daughter-in-law, might be more open to the idea of her and Andrew returning to a more prominent role within the Firm.
Princess Anne
Prince Philip was closest to his daughter Anne.
Princess Anne's own children have praised her as a mother. She gave her father full credit:
The Prince might have been no-nonsense, but he had fun, especially with three generations of Royal children.
This is a priceless little video:
He also kept his children amused on car trips:
Princess Anne survived a kidnapping attempt in 1974:
Prince Philip was no stranger to Royal weddings. On the right hand side of the photo montage, he walked Princess Margaret down the aisle (George VI had died a few years beforehand) and, in 1973, Princess Anne:
So that Anne would smile walking down the aisle, the Prince cracked one of his usual jokes, which made her laugh:
This was the happy result:
Here's a close up of her gown, which has attracted much favourable comment.
After her father's death, Princess Anne released a statement, along with a photo:
Three days later, she was back at work:
Great-grandchildren
Members of the Royal Family have posted some splendid photos of Prince Philip with his great-grandchildren.
Here he is taking Prince George for a carriage ride:
The next photo shows the Prince sharing a bite to eat with Princess Anne's granddaughter. Click to see it in full — absolutely charming:
This group photo was taken in 2018 and made the front page of the Daily Express on Thursday, April 15:
More tributes
The Daily Mail has an article recapping pre-recorded interviews with Prince Philip's children. These were broadcast after he died. ITV has more, complete with longer clips.
The Royal Family also posted a multi-generational photo montage.
Prince William wrote that his grandfather shared his life at all times:
both through good times and the hardest days.
Prime Minister Boris Johnson and fellow MPs paid tribute on Monday, April 12, as did members of the House of Lords. A number of their anecdotes are not only interesting but also amusing. In the devolved assemblies, including Northern Ireland, the only person who had anything negative to say was Patrick Harvie of the Scottish Greens.
Conclusion
In closing, I do wish that the general public had known more about Prince Philip while he was alive. We could have had an even fuller recollection of his life and service, not only to the UK but also to the Commonwealth.
Will there ever be another like him? We might be waiting a century or more. The only other Royal consort who was mentioned in the many tributes was Queen Victoria's husband, Prince Albert. He died in 1861.
With that in mind, it will be up to us to emulate the best of Prince Philip's example. Adopting a stiff upper lip would be a great start. So would feeling a sense of duty towards others.
Prince Philip's funeral took place at St George's Chapel, Windsor Castle, on Saturday afternoon, April 17, 2021.
Exactly two months earlier, he had been admitted to the King Edward VII Hospital in London, a private health care establishment where he went for minor ailments:
He then was transferred to St Bartholomew's, a specialist NHS hospital in London, for heart surgery. Afterwards, he was sent back to the King Edward VII to recuperate. He spent a month in hospital before being discharged:
Because of coronavirus restrictions, the Queen did not visit her husband. However, Prince Charles visited once. On March 18, The Express reported:
Prince Philip's 28-day hospital stay is the longest ever, and he was only visited by Prince Charles, likely due to ongoing COVID-19 restrictions.
The Prince of Wales visited his father during his first week in hospital, having made the 200-mile round trip to London from his Gloucestershire home, Highgrove.
Prince Philip has been treated for heart problems in the past, and this time, his stay isn't understood to be Covid related at all.
On April 11, after the Prince died, The Sun reported on the significance of that visit. Royal insider Andrew Morton wrote (emphases mine):
It was a meeting of vital importance, especially as visitors to the private King Edward VII's hospital were permitted to see patients only under "exceptional circumstances".
This private exchange clearly came under that heading as the future king emerged from their 30-minute conversation clearly upset and preoccupied.
It had been an emotional encounter — one where, it could be assumed, Philip outlined his final wishes to his eldest son.
The Duke, who had been the head of the family for as long as anyone could remember, was finally stepping down and bowing out.
Now it was Charles's time to step up to the plate and finally take over control of the first family.
Doubtless his father, who had the reputation for writing thoughtful letters to family members, set down his thoughts on paper beforehand …
Though Philip is remembered with enormous affection by the family — William and Harry call him The Stud in reference to a picture of their grandfather with his hair slicked back and wearing sunglasses — his relationship with his eldest son was never easy.
Princess Diana told me it was "very tricky, very tricky".
She recalled: "Prince Charles longs to be patted on his head by his father."
Once at home, the Prince appeared to be recovering, until he took a turn for the worse. On his better days, he took advantage of the occasional mild weather we enjoyed in southern England. On April 10, The Sun reported on his final weeks:
The Queen was by Prince Philip's bedside when her husband of 73 years passed away, with the Duke having spent his final days in "good form" reading in the sun, it was reported today.
The Duke of Edinburgh is believed to have spent his last few days reading and writing letters and sleeping in the sun weeks before his 100th birthday.
Despite officials at the Palace declined to "go into any specifics" about the Duke's passing, it is understood that his condition worsened overnight on Thursday with insiders warning that he had become "gravely ill".
However, any talk of whisking Prince Philip back to the hospital was reportedly dismissed by the Queen.
One well-placed source told the Telegraph: "He spent most of the four weeks he was in hospital trying to get home.
"They operated on his heart in a bid to give him a little longer, maybe with the 100th birthday in mind.
"But he didn't really care about that.
"He just wanted to be back in his own bed. There is no way he would have wanted to die in hospital."
According to reports, there had been no dramatic decline in Philip's health but it was gradual.
Staff said that the Duke was "on good form", still writing and reading letters earlier this week.
On warm days over the last few weeks, Philip would reportedly ask to sit in the sunshine with a rug over his legs and nod off.
The Prince wanted to be self sufficient to the end. He was livid when he first saw a wheelchair in his room:
One aide told the Daily Mail he insisted on bending to the floor and picking up his dropped reading glasses, saying "I'll do it" when a footman sprung forward.
And the Queen was said to be overheard saying he wouldn't use his hearing aid, which "means we have to shout", she noted.
Prince Philip was still reportedly dressing himself until recently and heading out of his room in a smart shirt and jumper on good days.
He would use a stick to walk around his rooms, and rarely allowed himself to be pushed in a wheelchair.
A royal source revealed when it was first put in his rooms he shouted: "Get that bl***y thing out of my sight".
In his last few weeks, the prince was well enough to still speak to family and close friends on the telephone but unlike the Queen, the Duke was not a fan of Zoom calls.
Days before the funeral, the Queen made a decision about attire for her sons and grandsons:
Meanwhile, hours of military rehearsal took place:
On Saturday, I watched the funeral coverage on Sky News. Alastair Bruce OBE, a senior British Army reservist, did an excellent job of commentary from start to finish. That video is now private, although a podcast exists, but the Royal Family channel has the funeral in full:
Sky News posted three minutes of highlights:
The Prince had been closely involved in 'every detail of planning' the ceremony, including the music and the readings.
Within the grounds of Windsor Castle, a procession took place with the Prince's casket placed on a Land Rover Defender he helped to design. The casket was draped in his own standard, or colours. In the video shot above, you can see the flag of Greece in one quadrant.
On the casket were a few items personal to him, such as his Royal Navy covering, and a naval sword that his father-in-law George VI gave him.
A carriage was also part of the procession, as the Prince enjoyed carriage racing. On the seat were his riding gloves and, it was said, sugar cubes for the horses.
Sky News reported:
A naval sword, gi[ven] to Philip by King George VI when he married Princess Elizabeth in 1947, was placed on top of the duke's coffin as it was carried into the chapel.
The coffin was also covered with a wreath, naval cap and the duke's personal standard.
It was one of several details which reflected the royal's naval career and lifelong association with the armed forces.
Philip designed his own custom-built Land Rover to carry the coffin at his funeral.
The modified Land Rover Defender TD5 130 chassis cab vehicle was unveiled two days before the service.
The duke first began the long-lasting venture to create the bespoke hearse in collaboration with Land Rover in 2003, the year he turned 82.
He made the final adjustments to the vehicle in 2019, the year he turned 98.
The Defender was made at Land Rover's factory in Solihull in 2003 and Philip oversaw the modifications, in collaboration with the company, throughout the intervening years.
The duke requested that the original Belize Green bodywork be switched to Dark Bronze Green, a colour used for many military Land Rovers.
Along the route, the men of the Royal Family and Princess Anne walked behind the Land Rover. The women, except for the Queen who was in the ceremonial Bentley, stood along the route, awaiting the procession.
The Queen rode with her lady-in-waiting Lady Susan Hussey, who did not attend the funeral, in order to keep the numbers to the state-required 30 persons during coronavirus restrictions:
Once at St George's Chapel, eight Royal Marines carried the Prince's casket up the steps. On the second landing, they stopped for the one-minute national silence at 3 p.m. Featured in this video is a clip of students from his alma mater Gordonstoun in Elgin, Moray (Scotland):
Although a lot of this video is about Prince Harry, Alan Jones of Sky News Australia said that Prince Philip's coffin was designed to be biodegradable:
Inside the chapel, various medals had been placed on velvet cushions on the altar. Sky's article says:
Military medals handpicked by the duke featured inside the chapel at his funeral.
Philip's chosen insignia, the medals and decorations conferred on him by the UK and Commonwealth countries – together with his Royal Air Force wings and Field Marshal's baton, were pre-positioned on nine cushions on the altar.
The duke also included insignia from Denmark and Greece – Order of the Elephant and Order of the Redeemer respectively – in a nod to his birth heritage as a prince of Greece and Denmark.
Insignia on display from across the Commonwealth included the Zanzibar Brilliant Star of Zanzibar, the Brunei Esteemed Family Order and the Singapore Order of Darjah Utama Temasek.
Insignia, orders, decorations and medals are a way of a country saying thank you and recognising someone's achievements.
The insignia were sewn in place at St James's Palace by two seamstresses using transparent fishing wire.
The Queen was met by the Dean of Windsor before the minute's silence. This is a photo of her before the rest of the Royal Family took their places. The Queen placed her handbag on the seat next to her, where her beloved husband sat on so many other occasions. Her brooch was a gift from the Prince:
Our hearts went out to the monarch, especially during this time of coronavirus restrictions:
Barrister Francis Hoar was livid:
The Duchess of Cambridge attracted much attention at the weekend for this filmic, yet unsettling, photograph. Note that a 'Karen' posted it! You could not make this up:
Members of the Royal Family were spaced apart in the chapel, sitting in their respective familial bubbles. Princes Harry and Andrew sat alone.
Three members of Prince Philip's family were also in attendance. They flew in from Germany and stayed with a mutual friend in Ascot, near Windsor. They left immediately after the funeral.
The Sun reported (photos at the link):
THREE of Prince Philip's German relatives will attend his funeral and are in isolation ahead of the service, it is claimed.
Two great-nephews and a cousin are said to be staying with a mutual friend in Ascot, Berkshire, so they can safely be there on Saturday.
Bernhard, Hereditary Prince of Baden, Prince Donatus, Landgrave of Hesse, and Prince Philipp of Hohenlohe-Langenburg are locked in a Covid-compliant bubble, the Daily Mail reports.
The Duke of Edinburgh allegedly made it clear he wanted his "blood" family to be included in his funeral arrangements.
Prince Philipp, 51, said in a statement from the house where he and his relatives remain isolated until the weekend: "It really is an incredible honour and we are all extremely touched and privileged to be included on behalf of the wider family."
Contrast the social distancing and self-isolation with the scene in London that afternoon. It doesn't make sense:
The ceremony had a lot of music, which the Prince himself chose:
You can read the Order of Service in its entirety here. The liturgy was in traditional language.
A choir of four, socially distanced in another part of the chapel, sang the hymns.
The service began with 'sentences', Bible verses:
I AM the resurrection and the life, saith the Lord: he that believeth in me, though he were dead, yet shall he live: and whosoever liveth and believeth in me shall never die.
John 11. 25-26
I KNOW that my redeemer liveth, and that he shall stand at the latter day upon the earth: and though after my skin worms destroy this body, yet in my flesh shall I see God: Whom I shall see for myself, and mine eyes shall behold, and not another.
Job 19. 25-27
WE brought nothing into this world, and it is certain we can carry nothing out. The Lord gave, and the Lord hath taken away; blessed be the name of the Lord.
1 Timothy 6. 7, Job 1. 21
Among others, the Prince chose the hymn I refer to as 'For Those in Peril on the Sea':
ETERNAL Father, strong to save,
Whose arm doth bind the restless wave,
Who bidd'st the mighty ocean deep
Its own appointed limits keep;
O hear us when we cry to thee
For those in peril on the sea.
O Saviour, whose almighty word
The winds and waves submissive heard,
Who walkedst on the foaming deep,
And calm amid its rage didst sleep:
O hear us when we cry to thee
For those in peril on the sea.
The first reading was one that only Prince Philip would have chosen:
Ecclesiasticus 43. 11-26 read by the Dean of Windsor
LOOK at the rainbow and praise its Maker; it shines with a supreme beauty, rounding the sky with its gleaming arc, a bow bent by the hands of the Most High.
His command speeds the snow storm and sends the swift lightning to execute his sentence. To that end the storehouses are opened, and the clouds fly out like birds.
By his mighty power the clouds are piled up and the hailstones broken small. The crash of his thunder makes the earth writhe, and, when he appears, an earthquake shakes the hills.
At his will the south wind blows, the squall from the north and the hurricane. He scatters the snow-flakes like birds alighting; they settle like a swarm of locusts. The eye is dazzled by their beautiful whiteness, and as they fall the mind is entranced.
He spreads frost on the earth like salt, and icicles form like pointed stakes. A cold blast from the north, and ice grows hard on the water, settling on every pool, as though the water were putting on a breastplate.
He consumes the hills, scorches the wilderness, and withers the grass like fire. Cloudy weather quickly puts all to rights, and dew brings welcome relief after heat.
By the power of his thought he tamed the deep and planted it with islands.
Those who sail the sea tell stories of its dangers, which astonish all who hear them; in it are strange and wonderful creatures, all kinds of living things and huge sea-monsters.
By his own action he achieves his end, and by his word all things are held together.
The second lesson was the story of Jesus and Martha discussing her brother Lazarus. This exchange took place before Jesus raised him from the dead:
John 11. 21-27 read by the Archbishop of Canterbury
MARTHA said to Jesus, "Lord, if you had been here, my brother would not have died. And even now I know that whatever you ask from God, God will give you." Jesus said to her, "Your brother will rise again." Martha said to him, "I know that he will rise again in the resurrection at the last day." Jesus said to her, "I am the resurrection and the life; he who believes in me, though he die, yet shall he live, and whoever lives and believes in me shall never die. Do you believe this?" She said to him, "Yes, Lord; I believe that you are the Christ, the Son of God, he who is coming into the world."
The choir sang the Lord's Prayer, a beautiful rendition.
A series of prayers read by the Dean of Windsor and the Archbishop of Canterbury followed, beginning with these:
The Archbishop of Canterbury shall say
O ETERNAL God, before whose face the generations rise and pass away, thyself unchanged, abiding, we bless thy holy name for all who have completed their earthly course in thy faith and following, and are now at rest; we remember before thee this day Philip, Duke of Edinburgh, rendering thanks unto thee-for his resolute faith and loyalty, for his high sense of duty and integrity, for his life of service to the Nation and Commonwealth, and for the courage and inspiration of his leadership. To him, with all the faithful departed, grant thy peace; Let light perpetual shine upon them; and in thy loving wisdom and almighty power work in them the good purpose of thy perfect will; through Jesus Christ our Lord. Amen.
The Dean of Windsor, Register of the Most Noble Order of the Garter, shall say
O LORD, who didst give to thy servant Saint George grace to lay aside the fear of man, and to be faithful even unto death: Grant that we, unmindful of worldly honour, may fight the wrong, uphold thy rule, and serve thee to our lives' end; through Jesus Christ our Lord. Amen.
GOD save our gracious Sovereign and all the Companions, living and departed, of the Most Honourable and Noble Order of The Garter. Amen.
O GOD of the spirits of all flesh, we praise thy holy name for thy servant Philip, Duke of Edinburgh, who has left us a fair pattern of valiant and true knighthood; grant unto him the assurance of thine ancient promise that thou wilt ever be with those who go down to the sea in ships and occupy their business in great waters. And we beseech thee that, following his good example and strengthened by his fellowship, we may at the last, together with him, be partakers of thy heavenly kingdom; through Jesus Christ our Lord. Amen.
Then came the military music, which included Pipe Major of The Royal Regiment of Scotland playing A Lament, followed by the Buglers of the Royal Marines, who sounded The Last Post, Reveille and, perhaps the most meaningful of all as a final message from the Prince to his family: Action Stations.
At the end, the choir sang the National Anthem:
Afterwards, the Queen returned to her private apartments in the Bentley.
Cars awaited the other royals, but Prince Charles gestured for them to drive on. The Mirror reported that this was perhaps a move to give younger members of the family time to spend chatting with Prince Harry.
The Queen's 95th birthday is Wednesday, April 21. The Mirror reported:
The widowed Queen went for a solo drive and stopped at one of her favourite spots for a moment of quiet reflection the day after Prince Philip's funeral, it is claimed …
She will celebrate the first birthday of her reign without her husband when she turns 95 on Wednesday, just four days after the funeral and 12 days after the Duke of Edinburgh's death.
Events will be shelved or toned down, as the Royal Family remains in mourning, and the Queen is likely to do the same things she did 24 hours after Philip's funeral at St George's Chapel at Windsor Castle.
On Sunday, the 94-year-old drove herself alone from the castle, where she has been shielding during the coronavirus pandemic, to her nearby Frogmore estate for some quiet reflection, the Daily Mail reported.
There, the monarch, who isn't required to have a driving licence, took in the cherry trees that are still in bloom and the spring flowers lining the banks of the ornamental lakes.
Sources told the newspaper that she is likely to spend her birthday in similar fashion – making the short drive alone to Frogmore to walk her new puppies, a dorgi named Fergus and a corgi named Muick.
Fergus is named after her uncle Fergus Bowes-Lyon, who was killed as he led an attack on the Germans during the First World War, while Muick (pronounced "Mick)" is named after Loch Muick on the Queen's Balmoral estate in Scotland.
My prayers go to the Queen for many more years of sentient life and for the Lord's peace and comfort upon her at this most difficult time.
Sadly, Prince Philip, the Duke of Edinburgh, died on Friday, April 9, 2021, exactly two months short of his 100th birthday:
The Queen has lost her best friend. My deepest sympathies to her for the unimaginable loss of her long-time husband and daily confidant. My condolences also go to the Royal Family in their grief.
Young love
The couple first met in 1934, and began corresponding when the Prince was 18 and a cadet in the Royal Navy. Princess Elizabeth was 13 at the time.
She was smitten with him from the start.
Prince Philip served with distinction during the Second World War in the Mediterranean and Pacific fleets.
After the war ended, he could have had a stellar career in the Royal Navy. His superiors praised his clear leadership skills.
However, love intervened and the rest was history.
Born Prince Philip of Greece and Denmark, he renounced his foreign titles and took British citizenship before he and Princess Elizabeth were engaged. He took the surname of his maternal grandparents: Mountbatten.
He and Princess Elizabeth were engaged in July 1947. They married on November 20 that year. Shortly before the wedding, George VI gave him the titles of Duke of Edinburgh (created for him), Earl of Merioneth and Baron Greenwich.
Prince Philip remained in the Royal Navy until July 1951. He retired with the rank of Commander.
Royal succession — and surname
In January 1952, he and the Queen began a tour of the Commonwealth countries. They were in Kenya when news reached them that the Queen's father, George VI, died on February 6 that year.
Although she became Queen immediately upon her father's death, her coronation took place in 1953, as it had to be planned meticulously.
On Coronation Day, he knelt before her, clasped her hands and swore an oath of allegiance to her:
He also had to touch her crown and kiss her on the cheek.
He never had a constitutional role, nor was he ever formally given the title of Royal Consort. The courtiers did not like him, nor did they trust him. They believed his personality to be brash and unbecoming of the Royal household. They shut him out of as much decision making as possible.
When Elizabeth became Queen, the question about her family name arose. Prince Philip suggested that the Royal Family be known as the House of Edinburgh. Upon discovering that suggestion, Queen Mary, Elizabeth's grandmother, wrote to Prime Minister Winston Churchill, who advised the young monarch to issue a royal proclamation saying that the Royal Family would continue to be known as the House of Windsor.
In his inimitable style, Prince Philip complained privately:
I am nothing but a bloody amoeba. I am the only man in the country not allowed to give his name to his own children. [57]
The Queen did nothing until eight years later, in 1960, 11 days before she gave birth to Prince Andrew. She issued an Order in Council declaring that the surname of her and her husband's male-line descendants who are not styled as Royal Highness or titled as prince or princess would be Mountbatten-Windsor.
Pater familias
Prince Philip had to carve a role out for himself. He became the pater familias and, through the years, his role expanded to cover not only his four children but his grandchildren. He listened to their concerns, shared their joys and gave them advice. He knew everything that went on in their lives.
Although the public knew him for speaking as he saw — rather bluntly, on occasion — behind closed doors Prince Philip was known to be a warm, loving man.
He also favoured a more transparent Royal Family. According to the BBC, it was he who encouraged the Queen to make a multi-episode documentary on their daily lives, including those of their four children. It was broadcast in the late 1960s. I remember seeing it in the United States.
When Princess Diana died on August 31, 1997, Prince Philip was the one who kept an eye on the public mood that fateful week. He, the Queen and Princes William and Harry were at Balmoral in Scotland for their summer holiday. When the young princes wanted to attend church, their grandparents took them to the Sunday service on the day of their mother's death. Later in the week, it was Prince Philip who encouraged the boys to walk behind the funeral procession the following Saturday. He said:
If you don't walk, I think you'll regret it later. If I walk, will you walk with me? [93]
One cannot imagine what he thought of Prince Harry's departure for the United States to live a life separate from his closely knit family. I did read that the Royal Family shielded information about the Oprah interview from him.
John F Kennedy's funeral
Prince Philip was in Washington for John F Kennedy's funeral in 1963.
He had a friendly encounter with John Jr, who was still a toddler and known as John-John at the time. The child wondered where his father was, as he had no one with whom to play. The Prince stepped in to fill that gap. In 1965, the British government gave an acre of land at Runnymede to the United States for use as a memorial to JFK:
Funeral arrangements
Prince Philip was self-effacing and did not like a fuss to be made over him.
Therefore, the funeral arrangements will respect his wishes, which is rather convenient, as coronavirus restrictions are still in place. Up to 30 people will be allowed at his funeral, in line with legislation across the nation:
The funeral is scheduled to take place on Saturday, April 17:
It is interesting that Prince Harry will be able to attend when we have a 10-day quarantine in place for arrivals into the UK under coronavirus regulations.
The Sunday Mirror reported on Prince Harry's return to the UK:
He could also be released from quarantine if he gets a negative private test on day five, under the Test to Release scheme.
Given his status as a member of the Royal Family travelling to support the Queen, Harry might be considered exempt from travel restrictions.
Wow. It's nice to know we have a two-tiered quarantine system in place /sarc.
A championship boxer remembers the Prince
Former WBC Heavyweight Champion Frank Bruno MBE posted his memories of meeting Prince Philip. He is at the top left in the following photo:
An Anglican priest remembers the Prince
The Revd Peter Mullen, an Anglican priest, recalled his encounters with Prince Philip for Conservative Woman on April 10 in 'A personal recollection'.
He first met the Prince during his schooldays:
The first time I met the Prince was in connection with his Duke of Edinburgh's Award Scheme which gave a leg up to youngsters from what would now be called the less privileged parts of the country. He paid a visit to the Leeds branch of the Church Lads' Brigade of which, aged fourteen, I was a member. We were in the church hall making things. My task was to make a table lamp. I was hopeless at it.
The Duke got hold of my half-finished creation, held it up to one eye and said, 'I suppose this hole is where the flex goes?'
'I think so, Sir.'
'You think so? I was never any good at this sort of thing either!'
And he was off . . . 
As an adult, Mullen met him on more than one occasion thanks to the Honourable Company of Air Pilots. The Prince was its Grand Master. Mullen served as chaplain.
He recalls:
The Company gave a lunch for him to mark his 80th birthday and I recall how jovial he was, making light of his years: 'I believe I have lasted so long because you people are always toasting my good health, but I don't want to live to be a hundred. Things are dropping off already!'
At another luncheon one of our Liverymen who had his own port wine business presented the prince with Bottle Number One, the first fruits, so to speak. As he left, the duke handed the bottle to me: 'You have this, Peter. Our house floats on the bloody stuff.'
'Well, Sir, now I don't know whether to drink it or frame it.'
'Gerrit down ya neck!'
Prince Philip on MPs
Guido Fawkes came up with a good quote from one of the Prince's trips to Ghana. It concerns MPs. His Ghanaian hosts told him the country had 200 MPs. Prince Philip replied:
That's about the right number. We have 650 and most of them are a complete bloody waste of time.
Incidentally, Parliament will be recalled one day early from Easter recess. On Monday, April 12, MPs and Lords paid tribute to the Prince in their respective Houses:
That afternoon, the House of Commons reconvened to pay their tribute — from 2:30 p.m. until 10 p.m. (good grief).
Speaker Sir Lindsay Hoyle spoke first:
Prime Minister Boris Johnson had this to say:
Boris Johnson, who was invited to the funeral but declined so that another member of the Royal Family can attend, said that he would forego a pint when pub gardens reopen on April 12, out of respect for the Prince. Guido Fawkes, however, thinks that the Duke of Edinburgh would have wanted us to toast his memory, especially at a pub that bears his title in Brixton, south London:
Guido had a second tweet on the subject with another quote from the Prince:
Agreed.
Prince Philip on Australia
This is too funny. For those who are unaware, Australia was established as a place where Britain could send convicts. That was a long time ago, but the nation's original purpose was to serve as a prison: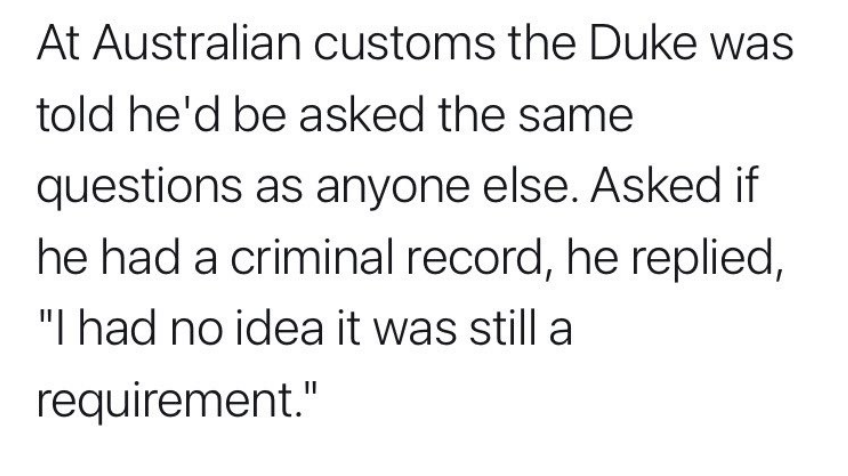 Prince Philip on civil liberties
On a serious note, the 12-minute interview below from 1984 is well worth watching, especially in the coronavirus era.
Prince Philip firmly supported the rights of the individual and believed that the state should serve the individual, not, as in our times, the other way around.
This is from a Thames Television programme originally broadcast on ITV:
I have posted the video below in case the tweets are deleted:
The Prince also said that certain subjects are out of bounds, such as the media and the NHS.
He said that the media are incapable of taking a joke about themselves and, as for the NHS, well, one cannot say anything against it. He didn't necessarily dislike the NHS but thought it was held in too high a regard. Nothing is perfect in this world.
We have been travelling a long road towards the point where we are at present: ruled by the media (they clamoured for coronavirus restrictions) and worship of the NHS. This is how Health Secretary Matt Hancock, Prime Minister Boris Johnson and SAGE have been able to rule our lives. It's been at least 40 years in the making.
BBC coverage on Friday
I was watching BBC Parliament early Friday afternoon, around 1:15, when the programme was interrupted by a broadcast from the BBC News Channel.
I checked the schedule an hour later, which said that the programme would last until 4 p.m. It was still going when I was preparing dinner at 5 p.m.
The final of MasterChef was to have been broadcast that night on BBC1. This was a clip from Thursday's programme:
Pictured are the hosts and judges, chef/restaurateur John Torode on the left and former greengrocer, now television presenter, Gregg Wallace on the right:
BUT:
The BBC News channel was simulcast all afternoon and all night long, not only on BBC Parliament but also on BBC1, to the dismay of MasterChef fans (myself included), and BBC2. BBC4 was suspended for the evening.
I read on social media that the BBC also broadcast continuous coverage of Prince Philip on their radio stations, including Radio 2, knocking out Steve Wright's drive-time show on Friday afternoon.
A friend of mine said that most of the BBC's employees were probably rubbing their hands with glee because it meant an early weekend for them. It's a cynical perspective that could well turn out to be true. We'll find out when someone writes his or her memoirs.
Everyone with a television set receives the BBC News channel. It comes into our homes at no extra charge. There was no need for the BBC to take over every channel for hours on end. By the way, if one had watched two hours of the Prince Philip coverage, as I did, one would have seen and heard everything in its entirety.
The BBC braced themselves for a plethora of complaints; they took the relevant page down on Sunday. Good. I am sure Prince Philip would have objected, too.
As much as I love the Queen, I hope they do not try this when her day comes. God willing, may it be long into the future.
Record-beating prince
Prince Philip established two records as consort to the Queen. He was the longest-serving royal consort in British history. He was also the longest-lived male member of the British royal family.
May he rest in eternal peace with his Maker.
May our gracious Lord grant the Queen, Defender of the Faith, His infinite peace and comfort in the months ahead. May He also bless the Royal Family during this difficult time.
As I close a week discussing Disroyalty starring the Duke and Duchess of Sussex, here are a few more views about their plans as well as a summary of what went on at Sandringham on Monday, January 13, 2020.
Before I get to those, however, it is important to remember that other Royals will have to pick up the Sussexes' slack, leaving 200 engagements per year to divide among them.
Key points about the Sandringham summit
Here's what to know about the Sandringham summit on Monday.
The Daily Mail says that Harry arrived at 11:20 a.m.
By then, Prince Philip had already left and was driven elsewhere on the estate. He was reportedly furious last week:
Philip was reportedly 'spitting blood' with anger when he found out last Wednesday and yelled at his aides: 'What the hell are they playing at?'
If he left, he wasn't feeling any calmer.
Prince Charles had arrived the day before. Prince William showed up 15 minutes before the meeting began at 2:00 p.m.
The meeting was held in the Long Library, which used to be a bowling alley. Princes William and Harry spent much time there as children.
It is located away from other rooms where the Royals might have been overheard.
Meanwhile, the Home Secretary, Priti Patel, denied charges of racism (same link):
Ms Patel, speaking to BBC Radio 5 Live, said: 'I'm not in that category at all where I believe there's racism at all. 
'I think we live in a great country, a great society, full of opportunity, where people of any background can get on in life.'
Asked if the media had been in any way racist, she replied: 'I don't think so, no… I certainly haven't seen that through any debates or commentary or things of that nature.'
On January 14, the Mail reported that Prime Minister Boris Johnson wisely refused to be drawn in on the controversy:
In his first major TV interview since the election, Mr Johnson said: 'I am a massive fan of the Queen and of the Royal Family…
'I am absolutely confident that they are going to sort this out.'
I was happy to read that Harry's early arrival ensured that he could have a lengthy one-on-one conversation with his grandmother.
Bolter
In 2018, a few months before Prince Harry and Meghan Markle got married, Germaine Greer gave an interview to Australia's 60 Minutes in which she said she thought the bride would end up leaving.
The Cut posted the story on April 16. Prescient (emphases mine):
During an interview with 60 Minutes Australia this weekend, outspoken and controversial feminist author Germaine Greer said she thinks Markle "will bolt" as soon as she gets a sense of what life in the British royal family (which Greer refers to as "the firm") is really like.
"Let's hope they're in love. If they're not it's going to be totally unbearable," Greer told journalist Tara Brown. "She will see vistas of boredom that are unbelievable. I think the pressure to escape from the firm is crushing."
When Brown asked what she predicted for the couple's future, Greer answered, "I think she'll bolt."
"She bolted before. She was out the door," she said, referring to Markle's 2013 divorce from Trevor Engelson. "I think she'll bolt. I hope in a way that she'll bolt but maybe she'll take Harry with her."
When asked why Markle, already a successful television star, would give up her career to marry into the royal family, Greer quipped: "Why would a girl born in poverty marry a man with 53 million quid? I can't think of single reason."
It seems Harry might be worth less than that — possibly £30m, but the point stands.
There is also the status involved.
Opportunism
The deputy political editor at the Daily Mail, John Stevens, had this to say about the Sussexes' announcement last week:
In fact, that is quite possible.
Allegedly, Justin Trudeau knew of their plans before the Queen and the rest of the Royal Family. So did Elton John.
On January 11, the Daily Mail reported:
There was speculation last night that Canada's Prime Minister Justin Trudeau may have given a cryptic Twitter clue about the crisis that was about to engulf the Royal Family.
When news emerged that the Duke and Duchess of Sussex had turned their back on Royal tradition and flown to Canada for Christmas, their powerful friend was one of the first to welcome them on social media.
He wrote: 'You're among friends, and always welcome here.'
Just weeks later, the Royal couple were looking to test that 'always' by announcing their move to Canada.
And the tweet has done little to dampen gossip in Embassy circles that Mr Trudeau was more aware of the Sussexes' emigration plans than even their closest family.
Diplomatic sources claim Mr Trudeau and his wife Sophie were consulted about the decision late last year, before members of the Royal family and even the Queen.
The Trudeaus are friends with the Sussexes:
Last night, the Canadian government did not respond when confronted about the claims, but sources close to the Sussexes denied they had discussed the move with Prime Minister Trudeau.
The Canadian First Couple and the Sussexes have been close friends, with Meghan and Sophie even sharing a stylist – Meghan's best friend and sometime babysitter for Archie, Jessica Mulroney.
Prince Harry, 35, and Mr Trudeau, 48, are two of the younger fixtures on the world stage, with both men appearing to enjoy each other's company at events such as Commonwealth commemorations.
The two have also encountered each other on multiple occasions through Prince Harry's Invictus Games for disabled servicemen.
I wonder if the Sussexes are aware that, many years ago, Trudeau once attended a fancy dress party in blackface. He thought nothing of it at the time. Terrible.
Returning to John Stevens's tweet, here are a few responses:
Money
Although, technically, what Prince Charles does with his income from the Duchy of Cornwall is his business, the British would be annoyed if he continued to finance Prince Harry:
This YouGov poll shows similar results:
This Briton tweeted about the video of Harry touting Meghan to Disney's Bob Iver for voiceover work:
Naturally, some of the money she would earn from such work would go to charity. Of course:
Trudeau said that his country will pay for the Sussexes' security detail. Canadians won't be too happy about that:
Another Daily Mail report said that Canada would pay half the Sussexes' £1m annual security detail cost. We shall see. On January 14, the Mail published an article quoting Trudeau, who said:
I think most Canadians are very supportive of having royals be here, but how that looks and what kind of costs are involved, there are still lots of discussions to have.
Family
The young Anglican priest who tweeted the following has mistakenly said that the Sussexes are on the Civil List. They are not.
However, the larger point about their role in the Royal Family is what is important:
The Revd Giles Fraser, formerly Canon at St Paul's Cathedral and now Rector of St Mary, Newington in South London, wrote a considered article on the topic that the Revd Philip Murray raised. The Bishop of Dorking (Surrey) complimented him on it:
Do we still recognise moral obligations that exist prior to our having chosen them? That is, it seems to me, the question embedded within the whole Megxit scandal. It couldn't have been better designed to drive a wedge between two very different ways of seeing the world …
But this isn't just about monarchy. For the same tension exists within the very idea of a family — the Windsors being, as well as royal, the most famous family in the world. How does liberalism — of which Meghan Markle feels like a supreme representative — deal with that age-old sense of moral obligation towards those who have brought you into life and have raised and nurtured you, without you having chosen them for the task. Of course, some families fail in this very basic duty. And most of us parents only get it half right, at best.
Without this very basic idea that we are born into some fundamental unit of existential solidarity, something towards which we owe an allegiance long before we are able to choose it, human life is released from its moorings and we are all deeply lost. This is where liberalism flounders. For when it comes to the most important basis of human flourishing, family life, liberalism has nothing useful to say, other than to remind us that some families are destructive and dysfunctional and best escaped from. Be your own person, it advises. Break free. But this is to cut off the branch on which nests are built.
Sense of duty
A Theology graduate from Cambridge University has the ultimate analysis of the Duchess and her outlook on a sense of duty.
This is a must-read:
So true — especially the closing thought about helping minority Britons!
When they got married, I thought she might look forward to such a role. I was wrong.
Poll on the monarchy
Between Thursday and Friday, January 9 and 10, Deltapoll conducted a survey on the monarchy. This was after the Sussexes' announcement.
The favourable results were lower than I'd expected:
A Pole responded to that tweet, encouraging us to keep the Royal Family:
Good or bad? It's important. I come originally from Poland. I read Polish papers and #British monarchy issues make front page headlines there. The monarchy is #Britain's trademark, as it were, recognised worldwide. Try and lose it to see how good it actually is to have it.
I fully agree.
This is a breakdown of the question by age group:
I also agree with these replies:
I do not think that most of our Prime Ministers would have made great Presidents.
The Royal Family are good for Britain. Let's not discard them because of the actions of a few bad apples.
Being a member of Britain's Royal Family requires special personal characteristics which, when combined, are as rare as hen's teeth:
– intestinal fortitude;
– a stiff upper lip;
– a perpetual sense of duty;
– the ability to keep one's mouth shut;
– control over one's personal life.
Many are called, but few are chosen — and even fewer succeed.
In recent memory, Sarah Ferguson didn't make the mark. Nor did Princess Diana. Nor has the Duchess of Sussex. Nor has her husband, Prince Harry.
It is not easy, and it is a constant obligation.
The Royal Family is not called The Firm for nothing.
In fact, in reality, it carries with it more obligations than a corporation.
People see formal dress, tiaras and crowns in sumptuous palaces and castles. The flip side is that one's life is never one's own. One serves Queen and country under the unsparing eye of the media and the British public.
Being a British Royal is one of the world's most difficult jobs imaginable.
For the most part, with the exception of those conferred at birth, one's titles are on loan.
It is important not to assign oneself a title one does not possess. Case in point, with reference to the Duchess of Sussex:
To be clear, she is NOT a Princess (unless you consider a future Disney voiceover role as one). She is a Duchess, and that can just as easily be taken from her as it was given.
Another important point is not to show disloyalty. It's bad enough offending the Queen, without casting shadows on the British public and expecting to get all the glory for no guts.
If you get a 'sensitive content' message about the second tweet, please ignore it and open it up. It's a parody letter:
The publicity surrounding the Sussexes was positive for at least two years. Note the 2018 headlines from their engagement and wedding in the second tweet below. They reflected the national mood:
Many of the Sussexes' pronouncements since then, including the secrecy surrounding their young son, made many members of the public feel as if they no longer wanted to be part of our nation.
It turns out we were not wrong.
An opinion piece on Spiked, a free-thinking, quasi-libertarian website, pulls no punches. This is from 'A woke Wallis Simpson' by Brendan O'Neill, a republican — not a monarchist. Yet, even he sees a problem with the Sussexes (emphases mine):
H&M, the most right-on royals in history, are breaking off so that they can foist even more woke bollocks on the plebs without having to worry about receiving a tutting phone-call from Her Maj's press secretary reminding them that they're royalty and not virtue-signalling Hollywood celebs.
Megxit, as this royal bombshell is wittily being called, is a striking sign of the times. What Harry and Meghan are doing is virtually unprecedented in the history of the royals. They are jacking in their jobs (I say jobs) as senior royals and pursuing a more 'financially independent' path that will allow them to earn, travel and – this is important – jabber on about their pet concerns and causes as much as they like.
This is also a major sticking point:
Even leaving aside the fact that they won't actually be financially independent – they'll still get wads of cash from the Duchy of Cornwall and will still stay in that Frogmore Cottage us British taxpayers just splashed 2.4million quid on – still their move is a startling and concerning one.
This is the difference between Meghan Markle and, say, Prince Charles:
What it fundamentally reveals is the incompatibility of the modern culture of narcissism with the values of duty, loyalty and self-negation traditionally associated with royal life. To someone like Meghan, who sprang from celebville, who sees herself as the embodiment of right-on goodness, and who loves nothing more than advertising her eco-virtue and performing her PC credentials, life in the British monarchy was never going to be a good fit.
Yes, the woke agenda Meghan expresses so well shares much in common with the old-world elitism of the monarchical system. Both obsess over inherited characteristics (the woke bang on about race and gender, the monarchy is all about bloodline). Both have a penchant for looking down their noses at the little people. And both have an instinctive loathing for modernity, from Charles' longstanding conservationism to H&M's humanity-bashing eco-hysteria.
But there's one big, irreconcilable difference: where the woke value the self over everything else, senior royals are meant, ostensibly at least, to be selfless, to submerge the self into the crown. It looks like this is a deal-breaker for the younger, more celebrity-oriented royals, especially newcomer Meghan but also Harry, too. Their unprecedented 'stepping back', and the fury this has allegedly caused in the Palace, suggests the cult of the self that Meghan and other showily virtuous celebs embody and promote, does not work within an institution whose ideal is the Queen: opinion-free, emotions hidden, dutiful, unquestioning and in it for the long haul.
Correct!
But wait, there's more. Their way of speaking about the Queen is also unprecedented:
Even more startling is the way they talk about the queen. They say they will 'continue to collaborate with Her Majesty The Queen'. Collaborate with? They sound more like Kendall Jenner talking about her adverts with Pepsi than individuals who are meant to devote themselves for life to royal duty and the preservation of the crown. I'm about as republican as it gets (abolish the monarchy is my view), but even I recognise that treating the queen as a kind of big business one temporarily 'collaborates with' is out of order. Meghan comes off like a woke Wallis Simpson, taking away a senior royal into a new life of PC globetrotting.
One of the readers' comments (second one, no hyperlink available) describes the contrast between the Sussexes and the Queen's parents during the Second World War:
The current situation should remind us all of the remarkable differences between generations. Winston Churchill was desperate to move the Royal family to Canada when hostilities commenced in WW2. The King refused and said that he wanted to stay with his people. In fact the Queen Mum said she was relieved when Buckingham Palace took a direct hit during the Blitz as she could then look the Eastenders in face thereafter. Princess Elizabeth herself served in the military as a mechanic and truck driver. The King, in fact, wanted to be part of the advanced landing parties on D-Day, fortunately he was talked out of it. The Royal family's sense of duty inspired the British people to see the crisis through even though at the beginning of hostilities it was touch and go for Britain. Running away to safety was not an option for them.
Harry and Meghan find Royal duties tedious and boring. It's not for them and they want to make lots of money instead. The Press have given them a hard time and some gutter types have written some nasty things about them. They would, it seems, prefer deference rather than criticism. The only option available to them is to escape to Canada.
Is it no small wonder that older people view the Millennials as mere snowflakes.
The first readers' comment is about personal dynamics between the Sussexes. This is another danger, namely for the Duke:
I have the feeling it is Meghan manipulating Harry as I think she is quite narcissistic. And she knows Harry has a problem with British press re: his mother. She may be exploiting that. I also think their marriage will therefore be in shambles in the not too far future …
There is a good article on narcissism relating to this, 'A Very Royal Narcissist — Part 9', excerpts from which follow.
Is it possible that this is what has been going on behind the scenes for the past several months? Emphasis in the original:
Smearing the family members ("They are trying to control you, I am just trying to help you see that.")
Exaggeration of Threat ("They do not want you to be happy, I do, that is why they see me as a threat.")
Projection (see the above comment).
Pity Play ("Your family do not like me." "This country has it in for me and I have tried so hard, you know, tried the stiff upper lip, but they just do not like me.")
Guilt ("If you loved me, you would move for me.")
Triangulation ("If we stay, it will end up the same for me as it was for your mother and you do not want that to happen do you?")
Use of The Victim´s Weaknesses Against Them …
Promised Gain ("If we live there, we can do our own thing and both be happy, you want that for us don't you?")
Remember, the narcissist will do this through unconscious manipulations. The narcissist genuinely believes that they are doing the right thing and cannot see, because of their narcissism, that they are actually being manipulative.
Such manipulations will have been used in isolating Prince Harry from his father, brother, grandparents, friends and extended family (save those who are viewed as supportive and therefore no threat to the control) and thus choosing water over blood.
The article on narcissism goes on to speculate as to what possibly happened at Sandringham on Monday, January 13, and the aftermath.
Whatever the outcome, the article concludes:
In the short term, Miss Markle will exert control in some form and in her "world" she will be winning. Of course, there is much more that is yet to happen with this ongoing saga of a Very Royal Narcissist.
I hope that means that this awful saga comes to an end, in favour of the Royal Family.
Tomorrow I will close a week of disroyalty with two more views about the Royal Family and the Sussexes.
Sooner than expected, I am writing about the Sandringham summit, held on Monday, January 13, 2020, to provide a way forward for the Duke and Duchess of Sussex in their disroyalty.
Present at Sandringham were the Queen and Princes Charles, William and Harry. Contrary to earlier reports, the Duchess, in Canada, did not participate via telephone. The Daily Mail reported that aides issued a brief statement to that effect:
The Sussexes decided that it wasn't necessary for the duchess to join.
Afterwards, the Queen issued a statement:
That would seem the most sensible solution.
No commercialisation of the Sussex titles, either. (I don't care what arrangements are in place at present.) The Queen issues titles, and they are not the property of recipients.
The Queen's statement reads as follows (emphases mine):
Today my family had very constructive discussions on the future of my grandson and his family.
My family and I are entirely supportive of Harry and Meghan's desire to create a new life as a young family. Although we would have preferred them to remain full-time working Members of the Royal Family, we respect and understand their wish to live a more independent life as a family while remaining a valued part of my family.
Harry and Meghan have made clear that they do not want to be reliant on public funds in their new lives.
It has therefore been agreed that there will be a period of transition in which the Sussexes will spend time in Canada and the UK.
These are complex matters for my family to resolve, and there is some more work to be done, but I have asked for final decisions to be reached in the coming days.
ENDS
Political pundit Guido Fawkes wrote, using a Brexit term (emphasis in the original):
Looks like an orderly transition to a Canada Plus model…
His readers, however, are sorely disappointed.
So am I.
However, the monarch is much wiser than her subjects. Her statement is probably not all it seems on the surface. She might want to take the venom out of events from the past week and let the wound begin to heal. She probably also wants to avoid a Princess Diana situation: different circumstances, granted, but the same reaction from certain quarters, which turned Prince Harry's mother into a martyr figure.
Whilst journalist and television presenter Piers Morgan was as disappointed as I, a few of his readers think the Queen could be playing the long game:
On Monday, January 13, British GQ posted an interview with Piers Morgan:
In 2017, Morgan supported Prince Harry's choice of future wife. He wrote an article for the Daily Mail: 'PIERS MORGAN: Hearty congratulations, Harry, you picked a real keeper'.
Excerpts follow from the British GQ article (emphases in purple mine).
Contrary to what he thought in 2017 and 2018, Morgan believes the Duchess is a threat to the monarchy:
GQ: You have engaged in some very personal and sometimes vicious arguments over Meghan and Harry over the past few days. Did you feel passionately about this before the news about them broke or did it just get out of hand?
Piers Morgan: I've felt strongly about this for about 18 months, ever since I could see the way the wind was blowing. The truth about Meghan Markle is that she's a social climbing piece of work and all the people rushing to her defence have not, I've noticed, had any personal dealings with her. The number of people she has used and then cut loose is long and illustrious and involves almost her entire family, most of her oldest friends, most of Harry's best male friends and now she's trying to extricate Harry from the royal family. I think she represents a clear and present danger to the future of the monarchy and I don't say that lightly. If you are going to have two renegade celebrity part-time royals bestriding the globe cashing in on their royal status, I think that could accelerate an atmosphere of republicanism that can be very dangerous to the existence of the monarchy. There are very important issues here and I think it's something people should be emotive about if they, like me, value the monarchy and the royal family.
He objects to the Sussexes wanting all the benefits of being Royals without having to put in any of the day-to-day duties:
I noticed you have focused on the Queen in these discussions.
The Queen's a 93-year-old woman who has been on the throne for over six decades – she's probably the most respected world leader of modern times. She's recently had to put up with a scandal involving her middle son, whom she's had to effectively fire; her husband is 98 and suffering serious health issues. So she's got enough on her plate without these two upstarts deciding they're going to rewrite the way the royal family conducts itself with their new agenda. Nobody wants a progressive royal family, nobody wants a woke royal family. This is entirely driven by Meghan Markle, who has turned Harry, I'm afraid, into a simpering doormat and the result is fairly cataclysmic. They want to leave the royal family on their terms where they get to keep all the good bits – the taxpayer-funded security and travel, the free mansion which was refurbished at our expense – but they don't want to do the Wednesday duty at a community centre in Stoke. That's not going to wash.
He explains why he changed his mind about the Duchess:
Do you think the mainstream media have been fair in their scrutiny of Meghan and Harry?
PM: Yes, I wrote a lot of very positive things about Meghan Markle. Then a number of stories began appearing about the way she had ghosted people. Look, I was a very minor ghosting. I thought we were good friends. She tweeted we were good friends – tweets she has now deleted. She was the one who reached out to me for media advice so I did and I thought we got on very well, but the moment she met Prince Harry, bang! And she's done that to many people. She is a social climbing cut-and-runner. I fear what will happen to Harry.
He says that what the Sussexes are doing is not what the Royal Family is about:
How do you think the future royal relationships will pan out and could it help the royals in the long run?
You can't be half royal and half not. You can't take public money and flog your status off to commercial entities. I don't see how this works. They are entitled to lead any life they want to lead, but they are not entitled to be a drain on the British taxpayer. Also, why is Meghan Markle a global star? It's because she married into the British royal family and I think the public will take a very dim view of somebody coming into our royal family for three years and then buggering off and fleecing everything off the back of her royal status. You can't be a part-time royal and not do the dirty work that goes with it. If they want to give up all their free stuff and pay for everything themselves then good luck to them, but even then if she makes tens of millions of dollars it won't be because of her acting work, it will be because she married Prince Harry.
In his Daily Mail column published the same day, Morgan listed the reasons why he went off the Duchess.
However, going back further, he cites his column on the Sussexes' wedding and reminds us of how much the British public looked forward to it (emphases mine):
From the moment Meghan Markle came on the royal scene, and it was revealed she was from a mixed-race background, she was welcomed with warm open tolerant arms by a wonderfully multi-cultural and diverse modern Britain that was thrilled to finally see a non-white member of the Royal Family.
She was showered with almost universal praise, especially when the engagement was announced.
The media, in particular, was unanimous in its verdict that this was a great thing for the country. In fact, I haven't seen a press so united in joy for anything royal since Diana first became Charles's girlfriend.
This extraordinary tidal wave of goodwill continued through to the big wedding in May 2018, which by common consent was a triumph.
As I wrote myself in the Daily Mail the following day, 'it mixed the best of traditional British pomp and majesty with large dollops of Markle Sparkle and the result was a biracial, Hollywood-fused union of very different cultures that worked magnificently well.'
True! People were thrilled. Royal fans lined the streets of Windsor that day, even if they had little hope of seeing the new Royal couple.
He is criticising the Duchess — and the Duke — for the following:
… her erratic conduct – and Harry's – since the wedding, which has been spectacularly ill-advised;
… hypocritical of Meghan to have a $500,000 celebrity-fuelled baby-shower party in New York, including a lift on George Clooney's jet, on the same day she and Harry tweeted a plea for people to think of the poor;
… they went to such ridiculous lengths to hide basic details of their baby Archie's birth from the public that pays for much of their lavish lives;
… appalling when Meghan's bodyguards stopped members of the same public taking her photo at Wimbledon;
… she refused to meet President Trump during his UK state visit, despite being the only American member of the Royal Family;
… dreadfully two-faced of her and Harry to preach about the need to watch every carbon-footprint, as they jumped on Sir Elton John's private jet every ten minutes;
… she ended a tour of poverty-strewn parts of South Africa by moaning about her own 'struggle';
… their incessant war with the media, throwing hysterical abuse-laden warnings and lawsuits out like confetti, so pathetically thin-skinned and self-defeating given how much positive press they've also enjoyed;
… the way they're treated the Queen so deplorable and cruel, given her age (93), the fact her 98-year-old husband Philip has been so ill, and the recent enormous stress she has suffered over having to fire her own son Andrew over the Jeffrey Epstein scandal …
He concludes, in part:
The reality is that Meghan and Harry have brought this ugly situation entirely on themselves …
Here is one more self-inflicted injury by the Sussexes:
The youngsters complaining about the media were too young to remember the press drubbing that the Duchess of Cambridge — Kate — received when she got engaged to Prince William. Her mother was also ridiculed for having been a former airline attendant. A few years ago, the Duchess and her mother were criticised for having young Prince George stay at the Middleton home now and then so that he could spend time with his maternal grandparents.
She got her media flak, but she rose above it. Now she can do no wrong:
As Morgan says:
That is definitely true.
Before then, there were Charles's girlfriends from the early 1970s, all roundly sniped at in the press.
Princess Anne was similarly criticised during the same time period.
So did Princess Anne's first husband. The media called him 'Foggy', not just once or twice but often. So often, in fact, that to this day, I do not remember his real name.
Before that, there was Princess Margaret — the Queen's sister — who suffered a barrage of negative press during her adult life, from the 1950s to her death in 2002.
Conclusion: Meghan Markle is NOT the only Royal who has ever been criticised in the media. Others suffered far worse for no compelling reasons at all.
More tomorrow on other commentators' reactions to the Sussexes.
In the meantime, for anyone compiling pub quiz stumpers, here's one for you:
Q. What was Prince Harry's last public engagement as a senior Royal?
A. The official draw at Buckingham Palace on January 16, 2020, for the Rugby League World Cup, which will be hosted in the UK in 2021.
Of course, that could well be subject to change in the years to come, but it's good for the time being.
On Monday, January 13, the Queen, Prince Charles, Prince William and Prince Harry held a family summit with their respective advisers on Harry and Meghan's future:
I hope to have more on that at the end of the week.
For now, the British public's reaction at the Duke and Duchess of Sussex's disroyalty (not a real word) was largely one of disgust with the couple and supportive of the Queen. For proof, please read the readers' comments in the tweets and articles below.
Many British journalists also oppose the Sussexes' attempt to leave royal life and still get paid while showing great disrespect to the Queen.
Tim Stanley of The Telegraph is around Harry and Meghan's age, but even he takes a dim view of their actions:
Stanley explained the situation (emphases mine):
It might seem counterintuitive, but the monarchy survives by appearing modest and the Windsors figured out long-ago that they reign not by the grace of God but the good will of the people – so going all "progressive", cashing in and running off to Canada ("But I get to keep Frogmore Cottage, right?") is not the behaviour of a 21st‑century royal.
"Who do you think you are, young man? A Kennedy?"
Like most Britons, he thinks the storm will pass:
The threat of a tell-all interview, termed 'blackmail' by many Britons, has not gone down well, either:
On Sunday, January 12, The Sun reported that the couple could give the interview to the queen of daytime television, Oprah Winfrey. Meghan is allegedly busy working on it:
Her American PR team is already in touch with major US networks and chat show queen Oprah Winfrey.
The couple could use the TV threat to try to secure a better deal at the Sandringham talks with the Queen, Prince Charles and Wills over their plans to step down from frontline royal duties.
A royal source said: "Harry and Meghan's people have been reaching out to all the big US networks to explore the possibilities of a sit-down warts-and-all interview.
"Perhaps Harry and Meghan will use this as a negotiating tactic as there is no way the royals want their dirty laundry out in the open.
"Maybe they will get more money if they agree not to talk."
It is believed Meghan's team has been in contact with ABC, NBC and CBS and celebrity chat show hosts such as Oprah.
She was a surprise guest at Harry and Meghan's wedding and is known to be in contact with them. Meg's mum Doria has been pictured leaving Oprah's home.
Harry has already worked with Oprah for an Apple TV series on mental health.
The source said the couple want to "tell their side of the story" — adding: "Meghan feels she's been silenced and is no longer prepared to be muted.
"She and Harry feel the royals have been racist and sexist. Her people are actively exploring opportunities."
I wonder if the Queen discussed this with her grandson at the Sandringham summit.
In 2019, Prince Harry succeeded his grandfather, Prince Philip, as Captain General of the Royal Marines.
On Monday, January 13, a retired officer in the Royal Marines told the Telegraph that, based on last week's antics, he would not raise a toast to Harry if he attempts to cash in on his royal title:
The retired military chief urged the 35-year-old Duke to honour his pledge of allegiance to the Queen, while a decorated war hero described his decision to stand down from the Royal family as "disgusting".
James Glancy, a former captain in the Special Boat Service, said he and many military colleagues would not raise a toast to the Duke if he tried to earn money from his royal position with commercial ventures.
His criticism came as a highly decorated Army figure told The Daily Telegraph: "Prince Harry has every right to want to balance his responsibilities between the Royal family and his wife and young family. But first and foremost Harry was a commissioned officer who pledged allegiance to the Queen and the Queen is his grandmother, so when push comes to shove, Queen and country come first."
Speaking to Nigel Farage on LBC radio, Capt Glancy, who won the Conspicuous Gallantry Cross in 2012 for courage and leadership during three campaigns in Afghanistan, said: "Harry's been a great public servant.
"He's done two tours of Afghanistan. I was there for one of his tours … He's done brilliant work in charity since he's left the Armed Forces, especially with the Invictus Games, but his behaviour in the last year is not becoming of somebody that holds these important positions, these patronages, including that of the Captain General."
Captain Glancy also told the following to Nigel Farage:
Insisting others in the Royal Marines and military were "very upset, if not disgusted by the disrespect to the Queen by not discussing this", Capt Glancy added: "Everybody agrees that if he wants to leave these positions … he's absolutely entitled to have another life, and he's entitled to live overseas. But you can't do this half and half. You're either in or out … "
The Telegraph article went on to quote the father of one of the men who served alongside the Prince in Afghanistan who:
accused the Duke of "abandoning his Army family".
Derek Hunt, whose son Nathan was mentioned in dispatches for neutralising Taliban bombs in Helmand province in 2008, said: "Nathan kept Prince Harry alive in Afghanistan. He'd have been blown up had my son not found those IEDs. After everything they went through together, I think it is terrible to see him turning his back on everyone.
"We all thought Harry really understood what life is like for veterans and their families, as if he was one of us and by our side – but he's shattered that impression now. It's like he's lost his spark, like he's not the same person."
Tied in with Harry's military service are the Invictus Games, a sports competition he helped to develop for disabled military veterans. I watched some of the first Invictus Games and they are very inspiring, indeed. They have given the participating veterans a new lease on life.
On Saturday, January 11, The Telegraph reported that the future of the Invictus Games could be in doubt following the Prince's announcement to retire from public life:
Military backers of the games, which have brought together wounded servicemen and women since they first launched in London in 2014 are known to be concerned the event may fall into a "limbo".
The Invictus Games have relied heavily on the Duke of Sussex as its public figurehead, and his close association with the event has guaranteed them a high profile to date.
It was at the Invictus Games in Toronto, in September 2017, that Harry and Meghan made their first official public appearance together.
But there are fears that if the Duke and Duchess withdraw from part of their public duties as part of their aim to "step back as senior royals", then the Invictus Games could lose much of their purpose and drive.
One source familiar with the thinking of the Palace said: "There is a big question about the Invictus Games. Where does that stand? The military are pretty annoyed because he seemed totally disinterested at the last meeting. 
"They were very worried and concerned. They are thinking 'now what? It is in limbo. They don't know where it sits."
Another military snub has not gone unnoticed. On Friday, January 10, The Sun quoted one of their employees, veteran Royal photographer Arthur Edwards, who said:
I don't think you can "pop in" for Trooping the Colour but not be there for Remembrance Sunday.
Arthur Edwards was speaking to Fox News about the Sussexes and had this to say about Meghan:
The veteran snapper said she had won over the British people and was "brilliant".
He remembered how "the Prince of Wales walked her down the aisle, what a way to compliment."
But added: "It seems that it's not enough, it's not enough for Meghan."
As for Harry:
You couldn't take your eyes off him because he was guaranteed to do the unexpected, like playing football with street kids, racing Usain Bolt or hugging a prime minister.
He was a joy to work with, a normal guy in the street who just happened to have a royal title. The whole world loved him.
But over the past two years his relationship with the media has not just turned sour — it has become toxic.
I haven't seen him look really happy for a long time.
The Sussexes' complaints about the Royal Family — if true — seem rather petty.
Before Christmas, the Queen posed for a photograph with three generations of her family, all in the top three places as heirs to the throne: Prince Charles, Prince William and young Prince George. The Sun reported:
It has been claimed that the succession photo was the last straw for Meghan and Harry.
Why on earth is that a problem? They are the immediate princes in line to succeed the Queen and each other. Harry is sixth in line.
Here's another alleged complaint. Harry allegedly got upset with his older brother when he introduced him to Meghan. The Sun says that was the beginning of the rift between them:
Prince Harry fell out with Prince William when his older brother told him to "heed" Princess Diana's warning not to "marry in haste", it's been claimed.
The Duke of Sussex, who has now quit the royal family, accused his once-close brother of trying to "wreck his relationship" with Meghan Markle.
William had told Harry to take his relationship with the former actress slowly after he was first introduced to her at Kensington Palace.
And he reiterated the warning after Harry and Meghan got engaged – this time using mum Diana's advice to drive it home.
She had explained to William how she and Prince Charles "hardly knew each other" before marrying, the Daily Mail reports.
The comments sparked a rift between the two …
Well, who could be angry about that? That's just common sense advice to avoid a problem marriage.
One accusation that both Princes Harry and William say is false is the claim that the latter bullied the former. On Monday, January 13, The Sun reported that the brothers issued a joint statement denouncing the story:
Prince Harry and Prince William have united to say they are "deeply, deeply unhappy" about claims the latter's 'bullying' caused the royal split.
The Duke of Sussex was originally said by a royal source to have felt pushed out of the royal family by his big brother.
But he has spoken out with William today slamming the "offensive" claims ahead of crisis talks being held by the Queen at Sandringham.
Their statement read: "Despite clear denials, a false story ran in a UK newspaper today speculating about the relationship between The Duke of Sussex and The Duke of Cambridge.
"For brothers who care so deeply about the issues surrounding mental health, the use of inflammatory language in this way is offensive and potentially harmful."
Meanwhile, the Sussexes have Elton John as a close confidant. Nothing wrong with that, except that they told him of their plans to withdraw from royal life before they told the Queen. On Sunday, January 12, The Sun reported on a story published in the Sunday People:
The Sunday People also revealed that Harry and Meghan have turned to Elton John after secretly telling him they were planning to quit royal life before they informed the Queen.
An insider said: "Sir Elton is constantly at the end of the phone for Harry and Meghan and speaks to them every day.
"He is an inspiration to them and has been an almost motherly figure to them throughout this process. They made their decision on their own but he has been a shoulder to lean on and listened to them as they spoke about their own plans."
The public will stand by the Queen.
A few of her subjects, frustrated with the Sussexes, have suggested that Charles could demand that Harry take a DNA test. Yes, the paternity rumour mill has started again. However, it is said that red hair runs in the Spencer family, so he would have inherited it from his mother's side.
I do hope everything works out well for all concerned. Whatever is decided upon will have far-reaching effects one way or another.