You are currently browsing the tag archive for the 'Priti Patel' tag.
The Conservative Party Conference took place in Manchester from Sunday, October 3 through Wednesday, October 6, 2021.
It was the first one since 2019, which was two months before their victory in the December 12 election that year.
UK in crisis
This year's conference took place during the ongoing petrol supply problems and shock record-breaking hikes in gas futures on Tuesday and Wednesday:
On top of that, on Wednesday, Reuters reported that the UK's petroleum regulator rejected Shell's plans to redevelop the Jackdaw gasfield in the North Sea (emphases in purple mine):
"We're disappointed by the decision and are considering the implications," a Shell spokesperson said.
It was unclear on what grounds the Offshore Petroleum Regulator for Environment and Decommissioning (OPRED) refused to approve the environmental statement for the field's development.
The Department for Business, Energy and Industrial Strategy, under whose umbrella OPRED operates, did not immediately reply to a request for comment.
Maddening.
The supply chain crisis for food continues. On Wednesday, The Times reported The National Pig Association warned retailers that 120,000 pigs would have to be slaughtered because of a lack of butchers. Some pig farmers are closing down altogether.
Some supermarkets are also suffering from empty shelves. Tesco, however, is bucking the trend. The Times reported that the supermarket chain is:
often highest up the pecking order when it comes to suppliers committing to make the business a priority …
Good for them.
Conference theme disappointing
The conference theme was … Build Back Better.
How awful.
Here it is draped across Central Station Manchester:
The Conservatives riffed on this in a Bake Off-style event. Pictured with Prime Minister Boris Johnson is Home Secretary Priti Patel:
Having listened to some of the speeches and read excerpts from others, they were all light in content. Most of them were pep rally or visionary statements rather than what plans Cabinet ministers have for the nation.
As The Telegraph's Madeline Grant wrote:
Never at a Tory Conference has so little been said, by so many, to so few.
Sunday, October 3
As the conference opened, rumours circulated about three unnamed Labour MPs thinking of crossing the aisle to the Conservatives, as the Mail on Sunday reported:
Guido Fawkes had more on the story (emphases in red Guido's):
… this is due to disillusionment with Starmer's leadership, with the MPs already having opened up "lines of communication" with Tory whips. In related news, a senior Labour MP was spotted by a co-conspirator chatting with two Mail on Sunday hacks and three senior Tory advisors at a conference bar last night…
The day's big event, according to The Spectator, was the drinks party that the 1922 Committee of backbenchers held, sponsored by ConservativeHome. Interestingly, a long-time Labour MP for north-west London — Barry Gardiner — was in attendance:
… the main focus of the night was the 1922 drinks with ConservativeHome in a room stuffed full of parliamentary talent and, for some reason, Barry Gardiner.
Strangely, Boris did not appear, leaving a gap which Chancellor of the Exchequer Rishi Sunak ably filled (video):
While Johnson was not scheduled to make an appearance here, Prime Ministers have traditionally done so in the past to pay tribute to their colleagues. His 'disappointing' absence – in the words of one disgruntled backbencher – left a vacuum for Sunak to fill, in a room full of MPs who will presumably one day decide who Johnson's successor should be.
The Chancellor leapt to the stage to tell fellow Tories about what he was most looking forward too at conference: Michael Gove dancing, the PM running in a full suit (not just a shirt) and 'machine like message discipline from every single one of you – and that means you too Cabinet.' He added that 'I've got your back' to anxious MPs in the room and that 'for the record I too am a low tax conservative' – welcome words for those party donors who Mr S[teerpike, columnist] understands attended a 'tense' meeting earlier at the Midland, amid considerable unease at the recent NI [National Insurance] hike.
In such circumstances, perhaps it's understandable that Boris would stay away.
According to The Telegraph, senior Conservatives have warned Boris not to dream up any more future tax hikes:
Earlier that day, Boris gesticulated wildly at the BBC's Andrew Marr, saying, 'You have no fiercer opponent to tax rises than me'. This probably means more tax rises are on the way:
The Spectator has more on the interview.
On tax hikes, Sir Desmond Swayne MP told talkRADIO's Julia Hartley-Brewer the raw truth. He added that lower taxes will enable greater economic growth:
Another event that Boris avoided was the one by the Tory Reform Group (TRG), which wants the Conservatives to move closer to the centre politically. They are Remainers. The Spectator reported:
Theresa May's former deputy Damian Green welcomed attendees …
Green, a mainstay of various causes on the left-ish wing of the party over the past two decades, told activists that it was their task to 'make sure that the voice of moderate conservatism, centre-right conservatism is as strong as possible within the party' – a job 'never more important than today because there are times when I slightly feel that it is only people like us that stop this party drifting back to being seen as the nasty party.' A tacit rejoinder to Priti Patel perhaps?
But then it was time for the speaker and the great white hope of Tory moderation. Tom Tugendhat, the chairman of the Foreign Affairs Select Committee, took to the stage to ecstatic applause and, like Green, was under no illusions about the awesome responsibility he and his One Nation caucus members share – to keep the Conservative party effectively sane …
There was also ample time for several potshots at the current Tory leader Boris Johnson, with whom Tugendhat is said to enjoy a wary relationship.
Foreign Secretary Liz Truss, tipped to be a future Party leader, also made the rounds that day (video):
The fringes were packed last night as Tory ministers did the rounds. Liz Truss, the darling of the free market think tanks, appeared at the Think Tent equipped with a magnificent blow dry and an applause-winning speech which castigated cancel culture as 'fundamentally wrong.' That and other jibes at identity politics in her conference address lead the Daily Mail this morning to ask whether she is in fact the new Mrs Thatcher.
Several reporters wrote about her new hairdo, which, to me, didn't look much different from the old one.
Returning to the mysterious Labour people who might want to change parties, here's Manchester mayor Andy Burnham, a former Labour MP, heaping praise on Michael Gove, the minister in charge of Boris's levelling up programme. Burnham spoke to Trevor Phillips on Sky News that morning. Hmm:
Neither Andy Burnham nor Barry Gardiner is a Conservative. Crossing the aisle for ideals they don't believe in seems a rather rash way of getting their own back at Keir Starmer.
Boris made four appearances at conference that day, including one for the Scottish Conservatives. Guido captured his wit along with audio:
The PM warned of a "crackpot coalition" between the SNP and Labour – "the only way they could" kick the Tories out.
He described the Labour conference as "a total rabble", saying it had the air to him of "a seriously rattled bus conductor" facing an "insurrection on the top deck of the bus", or the "captain of a Mediterranean cruise ship facing insurrection by a bunch of Somali pirates".
Douglas Ross MP/MSP also addressed Scottish Conservatives. As party leader in Scotland, he wants to position the party as that of the nation's working class. It's a good move, as The Spectator reported:
Like all good fables, Douglas Ross's speech at Tory conference had a beginning, middle and end. Act One detailed the many iniquities of the SNP, from their dysfunctional vaccine passport scheme to their Hate Crime Act, and most of all their agitation for Scotland to break away from the UK. Act Two took the sword to Labour, bemoaned its abandonment of working-class voters and its internal divisions over the constitution. Theirs was not the party to take on the SNP. Only one party was and it was the subject of Act Three, in which Ross deepened a theme begun under Ruth Davidson's leadership: the Scottish Conservatives as the party of the Scottish working-class.
He hit all the familiar notes about the SNP's failings in government, the ones that never seem to stick longer than two or three news cycles and are invariably forgotten about by the next election. He also hinted at an interesting theme that, if teased out carefully, could come into greater play. It is the perception, no longer wholly limited to unionists, that Nicola Sturgeon is a bit… off. Out of touch. Superior. Maybe even a bit of a snob.
In other news, last week, Labour's Angela Rayner called Conservatives 'Tory scum'. Feisty Dehenna Davison MP, representing Bishop Auckland as the constituency's first Conservative, had 'Tory Scum' badges made.
This harks back to 1948, when Aneurin 'Nye' Bevan said the Conservatives were 'lower than vermin'. Following that, the Conservatives formed the Vermin Club. Club member Margaret Roberts — who would become Margaret Thatcher — also had 'Tory Vermin' badges made, as Nigel Farage told Dehenna Davison on GB News:
Party chairman Oliver Dowden pledged that the Conservatives would do away with ugly new housing developments by strengthening planning laws.
He also assured the public that they would have turkeys for Christmas, referring to ongoing supply chain problems.
Monday, October 4
Monday opened with the latest ConservativeHome popularity poll.
Liz Truss is at the top. Other MPs pictured are (left to right) Defence Secretary Ben Wallace, Leader of the House Jacob Rees-Mogg, Chancellor Rishi Sunak and Education Secretary Nadhim Zahawi:
Guido analysed the results, excerpted below:
The turn round in her fortunes from last year when she was being tipped to be sacked from the Cabinet is quite something. Liz is one of the increasingly rare consistently free market voices around the Cabinet table…
Rishi Sunak is down by some 10 points and moves from second to fifth place. Rishi's tax hikes have clearly taken the gloss off him with the true blue believers. 
Grant Shapps [Transport] and Priti Patel are bumping along the bottom in barely positive approval territory. Shapps has been doing fairly well with the incredibly difficult transport brief. Patel is suffering because she has failed to do the seemingly impossible – stop the cross channel migrants. Tory activists are unforgiving, they don't want excuses, they want results.
It was the turn of Rishi Sunak to address the party faithful.
A rise in council tax would not go down well. Meanwhile, protesters pelted Sir Iain Duncan Smith MP with a traffic cone:
Some at conference are disappointed with Sunak, whose budget comes up in a few weeks' time. Steve Baker MP is pictured in the second tweet:
Boris was out and about in Greater Manchester. He spoke to an interviewer about policing and said that the Government needs to change its culture, which has become misogynistic, particularly in light of the Sarah Everard murder earlier this year, committed by … a policeman, who recently received a life sentence.
In other news, Justice Secretary Dominic Raab plans to reform UK human rights legislation and do away with the ties to EU human rights legislation we are still under.
With regard to the Labour mystery, Manchester's mayor, Andy Burnham, had a conversation with Levelling Up minister Michael Gove, whom he had praised the day before. The Mail reported that Burnham was also due to address Conservatives at a fringe event sponsored by Transport for the North the following day. Hmm.
The cervix question that appeared at Labour's conference was also brought up with Conservatives. Dominic Raab responded by bringing up both misogyny and misandry in a highly confused way (video):
Two MPs decided to have a bit of fun with the issue as they drove to Manchester together:
Guido recapped their amusing exchange:
Health-conscious Conservative MPs Marco Longhi and Lee Anderson don't want to fanny about when it comes to their well-being. Marco, according to their road-trip video, made sure to receive a cervix exam before heading to conference this week. Always better to be safe than sorry…
Why is it that no one ever asks if women have a prostate gland?
On the subject of health, Desmond Swayne told Julia Hartley-Brewer why he is firmly against vaccine passports:
Lord Frost (pictured on the right) threatened the EU over the post-Brexit trade issues with Northern Ireland. Outside of the conference, pig farmers protested over the inability to get their stock to market. Boris had said that government cannot solve every issue, referring to the supply chain problem. He also told British businesses to hike staff salaries, which did not go down well, either:
I think they should give the meat away. A lot of poor families would appreciate it.
Tuesday, October 5
Boris began the day with an interview to LBC's Nick Ferrari. Extinction Rebellion offshoot Insulate Britain had blocked some of Britain's roads for the ninth consecutive day.
Despite injunctions from Priti Patel's Home Office, their human blockades continue.
Boris told Ferrari they are 'irresponsible crusties' (video). The question remains whether Extinction Rebellion gets any Government funding:
Dominic Raab confirmed in his speech that he would be reform the Human Rights Act to free it from EU hackles.
Guido's post includes a quote and this summary:
They will detach it from the ECHR, enabling quicker deportations of convicted criminals and swifter action on domestic abusers …
Raab's successor at the Foreign Office, Liz Truss, confirmed a trip to India later this month, ahead of COP26 in Glasgow in November.
Guido had a chat with her:
Among other topics, the foreign secretary confided in Guido she was finding the new department's mandarins to be "a bit 'Yes, Minister'"…
Rishi Sunak addressed the Northern Powerhouse Leaders' Lunch.
Guido says:
Sunak claimed that there is a "new age of optimism" in the north thanks to Red Wall Tories, and heaped them with praise for "helping to change our party and change our country". "In me, you have a Chancellor who is going to be with you every step of the way," he added.
See? I told you these speeches were content-free.
Later in the day, he appeared at a fringe event where he was asked about the cost of Net Zero. This was his alarming answer:
Health Secretary Sajid Javid promised another reform of the NHS, which mostly involves digitisation. I can think of more pressing NHS concerns and agree with Guido:
… pouring in taxpayers' money without checking how it's being spent isn't enough. That cash needs to be put to good use. Reviewing the eye-watering pay packets of some NHS diversity managers would be a start…
The Telegraph's Christopher Hope interviewed Oliver Dowden, who is thinking about resurrecting the singing of the National Anthem at conference, calling it a 'splendid idea'.
Hope also took the opportunity to present Dowden with a 'Tory Scum' badge, which he put on and said he would wear for the duration of the interview. Hope suggested he wear it until the end of conference.
This video shows the badge exchange. Hope gives us more information on the aforementioned Vermin Club:
Guido says that the badges were most popular. Dehenna Davison had to order more:
Many conference-goers have spent the last couple of days asking Davison for one of her badges, only to be disappointed upon being told she'd run out. Good news however, after Davison put in an emergency order for 400 more given their popularity…
The most outrageous session of the day — and a British first — was an address by the Prime Minister's wife to Party faithful. No Prime Minister's spouse — we've had two husbands in that role — has ever made a party political address until now:
Never mind the subject matter: was it the right thing for Carrie Johnson to do — even if she is a very good public speaker? Boris watched from a distance.
Polling stable
I'll review Boris's closing speech in tomorrow's post.
Post-conference polling is stable. YouGov's was taken on Tuesday and Wednesday:
Sir Desmond Swayne explained to Julia Hartley-Brewer that Boris's popularity and the lack of ideas from the Opposition have buoyed the Conservatives:
What Government should do next
Health Secretary Sajid Javid needs to keep a gimlet eye on NHS spending, especially on things like this:
Guido says:
The NHS is recruiting a supplier to deliver "compassionate conversations training" to 14,000 front facing NHS staff in a publicly funded contract worth a mind-boggling £3 million. The contract tender, which was published yesterday and closes on 5 November 2021, says the aim is to equip NHS staff with "the skills they need to handle challenging situations with compassion whilst ensuring they feel able to look after their own wellbeing if needed". Guido assumed that doctors were already taught about the importance of a good bedside manner…
It's almost ludicrous to think that this weekend Javid promised a forensic review of the NHS's management and leadership whilst the NHS continues to recklessly splash cash on diversity roles. Just six months ago Guido revealed that the NHS was hiring eight more 'diversity, equality and inclusion managers' across the country, with salaries up to as much as a whopping £62,000. If Javid is going to cut down those waiting list times he needs to focus taxpayers' money on the clinical front line, not nonsense make-work contracts and diversity roles…
Guido says it is also time for Boris to reconsider the current Government moratorium on fracking:
If Boris wants to energise Britain, domestic gas production should be part of that mix; it would provide energy security when Britain's energy needs are being threatened by the Russians and the the French. Boris is now in a position to do something glorious, to stop pussy-footing around and leave no stone unturned or unfracked. So get on with it…
This is what Boris had to say on the subject while he was Mayor of London:
I won't be holding my breath on either of those propositions.
Tomorrow: Boris's keynote speech
Following on from yesterday's post about Britain's presence in Afghanistan, today's entry has more.
On Tuesday, August 17, Strategic Culture posted 'Afghanistan: Whatever the Future Brings, One Thing Is for Sure, Britain and the U.S. Should Stay Out'.
While I disagree with the general premise, the article did have interesting historical information about the UK's involvement in Iraq and Libya based on questionable intelligence by a security chief who promoted the Russian dossier nonsense during the 2016 US presidential election. Emphases mine below:
All the blood and treasure spent, yes that is a tragedy, but not because of how it is ending, but rather how the War on Terror was started.
That is, that the Iraq and Libya wars were both based off of cooked British intelligence, which resulted in the attempt by the British people to prosecute Tony Blair as a war criminal for his direct role in causing British and U.S. troops to enter an illegal war with Iraq. This prosecution was later blocked by the British High Court claiming that there is no crime of aggression in English law under which the former PM could be charged. It seems there is no law against being a war criminal in Britain.
And it was none other than MI6 chief (1999-2004) Sir Richard Dearlove who oversaw and stood by the fraudulent intelligence on Iraq stating they bought uranium from Niger to build a nuclear weapon, the very same Sir Richard Dearlove who promoted the Christopher Steele dossier as something "credible" to American intelligence.
In addition, the Libyan invasion of 2011 was found to be unlawfully instigated by Britain. In a report published by the British Foreign Affairs Committee in September 2016, it was concluded that it was "the UK and France in March 2011 which led the international community to support an intervention in Libya to protect civilians from forces loyal to Muammar Gaddafi". The report concluded that the Libyan intervention was based on false pretence provided by British Intelligence and recklessly promoted by the British government. This is the real reason why David Cameron stepped down.
This is what caused the United States to enter both wars, due to, what has now been officially acknowledged as fraudulent or deliberately misleading evidence that was supplied by British intelligence.
Now onto Afghanistan. After the horrifying weekend of August 14 and 15, Britain's Defence Secretary, Ben Wallace, tried to enlist NATO allies' help to fill the gap from Joe Biden's withdrawal:
UK Defense Secretary, Ben Wallace, has been actively trying to call on NATO allies to join a British-led military coalition to re-enter Afghanistan upon the U.S. departure! Wallace states in an interview with Daily Mail:
"I did try talking to NATO nations, but they were not interested, nearly all of them…We tried a number of like-minded nations. Some said they were keen, but their parliaments weren't. It became apparent pretty quickly that without the U.S. as the framework nation it had been, these options were closed off…All of us were saddened, from the prime minister (Boris Johnson) down, about all the blood and treasure that had been spent, that this was how it was ending."
This has left the UK in a tailspin, although, as of August 26, Prime Minister Boris Johnson said that Britain would remain in Afghanistan to complete evacuation efforts.
However, some of our brightest commentators are fumbling to come up with reasonable solutions to America's withdrawal. Andrew Neil said that we should ask France to partner with us. Hmm:
Meanwhile, Biden acts as if everything is fine.
On August 20, he said that the US gave the Afghans 'all the tools' they need. This is the tally over the past 20 years:
Nigel Farage has disparaged Biden in recent days:
It's not so much the withdrawal itself but how it is being done that is the worry. Troops should be the last to leave:
As if that is not bad enough, the Biden administration has supplied the Taliban with the names of people who helped the US effort. One could not make this up:
Johnny Mercer MP (Con), himself a veteran, posted the video:
But, then, according to his fellow Conservative MP, Tom Tugendhat, the British did the same thing. How is this even possible?
Foreign Office staff left documents with the contact details of Afghans working for them as well as the CVs of locals applying for jobs scattered on the ground at the British embassy compound in Kabul that has been seized by the Taliban.
The papers identifying seven Afghans were found by The Times on Tuesday as Taliban fighters patrolled the embassy. Phone calls to the numbers on the documents revealed that some Afghan employees and their families remained stranded on the wrong side of the airport perimeter wall days after their details were left in the dirt in the haste of the embassy's evacuation on August 15.
The fate of Afghans who worked alongside western diplomats and troops, and who may face reprisals after being left behind, has become an emblem of the West's retreat from Afghanistan.
Such was the British surprise at the speed of the capture of Kabul that the embassy's evacuation protocols, necessitating the shredding and destruction of all data that could compromise local Afghan staff, their families or potential employees, appear to have broken down.
The article mentions Foreign Secretary Dominic Raab, who was on holiday in Crete on August 14 and 15. He was supposed to make an important phone call, which he delegated to Lord Goldsmith. On the face of it, that wasn't a bad idea, because Goldsmith is close to Carrie Johnson and could have had direct access to Boris through her. Unfortunately, for whatever reason, the phone call was never made. I'm still not sure whether it was as crucial as the media make it out to be, because the media are anti-Boris anyway. More will emerge in the weeks to come, but this is what we know for now:
The discovery of the documents comes after Dominic Raab, the foreign secretary, rejected a request to speak with his Afghan counterpart to discuss the evacuation of interpreters who worked for Britain two days before the fall of Kabul. It suggests that staff at the British embassy were careless with the lives of Afghan employees in the rush to save their own.
Labour now have a real issue with which to attack the Conservatives:
Labour said foreign secretary Dominic Raab has "serious questions to answer" and that the destruction of sensitive materials should have been a "top priority". Lisa Nandy, his opposite number, called on the government to "urgently assess" the individuals who may have been identified by the breach and whether operations may have been compromised. The Commons Foreign Affairs Select Committee is now set to launch an inquiry.
I hope that Defence Secretary Ben Wallace is committed to sorting this out:
Reacting to the revelations this morning, Ben Wallace, the defence secretary, said the blunder was "not good enough" and would be investigated. Wallace said that the prime minister "will be asking some questions" about how the documents came to be left on the ground.
Wallace gave an interview to Sky News Friday morning. Contrary to what the British public understood yesterday from Boris about the evacuation efforts continuing, they will be coming to a close shortly, possibly by the time you read this:
Tom Tugendhat chairs the Commons Foreign Affairs Select Committee, so my expectations for the upcoming inquiry into this security breach are high:
Tugendhat spoke about the American withdrawal:
Sorry, but the withdrawal debacle is a military defeat.
I feel very sorry for British — and American — troops. They are still heroes, as Johnny Mercer, who served in Afghanistan, says:
Meanwhile, Home Secretary Priti Patel visited a refugee centre:
She is preparing the British public. We will be taking in 20,000 or 25,000 Afghan refugees over the next five years. However, the British are also concerned about the number of illegal immigrants coming in from France across the English Channel:
Nigel Farage urges caution over the refugee programme:
The Daily Mail article says that Ben Wallace was satisfied that the man on the 'no fly' list was not a threat. However, the Mail states that some security checks have been taking place once the military plane is in the air:
Defence Secretary Ben Wallace today insisted security checks at Kabul airport are working after it emerged a person banned from Britain under a 'no-fly list' was able to travel to the UK as part of the Afghanistan airlift. 
In a potential security breach, the individual was cleared to board an RAF plane before checks in mid-air revealed they were barred from coming to this country.
In a sign of the challenges facing British soldiers at the airport – who are already on high alert amid fears of terror attacks – it emerged last night that a further four people on the no-fly list tried to board mercy flights to the UK, but were stopped before the planes took off.
Mr Wallace defended the security checks, telling Sky News: 'The watch list, or the no-fly list, pinged and the individual was identified so that is a plus side that it worked.
'I wouldn't be as alarmed as some of the media headlines are about this individual and I would also take some comfort from this process is working and flagging people.'
It came amid fears that more than 1,000 heroic Afghan translators, staff and their families could be left behind by the frantic evacuation operation.
Ministers have outlined plans to extract a further 6,000 UK nationals and eligible Afghans, but sources said there were 7,000 who Britain would ideally like to rescue.   
The Home Office said yesterday a 'security assessment' of the individual who arrived in the UK revealed they were no longer considered a threat by the security or law enforcement agencies. Sources said there would be no further action taken against the person, whose nationality is unclear.
But the development raised concerns over security relating to the airlift.
That was the state of play on August 23.
On August 26, another report emerged, this time from The Telegraph. The British public will not find this reassuring:
The Twitter thread received comments of astonishment and concern, such as these:
The men coming across the English Channel are also unlikely to have their papers, creating one terrible mess in the months and years to come.
In closing, today's main story in the UK is that the British evacuation in Afghanistan will end this weekend:
Ben Wallace always maintained that some Afghans would be left behind. Where possible, more will be airlifted:
What a terrible ending after 20 years.
Parliament returns in early September. Both Houses will have a lot of questions for the Government.
At the weekend, demonstrations took place across Europe protesting lockdown and other continuing coronavirus restrictions. Most of those were peaceful.
Meanwhile, in Bristol, on Sunday, March 21, 2021, a violent group of rioters took exception to the proposed Police, Crime, Sentencing and Courts Bill making its way through Parliament. It passed its second reading last week and goes into committee for further debate this week.
It has been a long time since such violence has touched our shores. It was as if poison had come from across the pond, so to speak.
Having seen videos of what happened, millions of people living in England will now hope that the proposed legislation makes it through Parliament and the Lords with few amendments.
On Monday, March 22, Chief Constable Andy Marsh of Avon and Somerset Police detailed the damage and injury for Sky News. A number of officers had to be sent to hospital, two with injuries that required immediate treatment. One of those officers had a punctured lung, another a broken arm. Chief Constable Marsh said that every one of them is doing well and are out of hospital. Twelve police vans were also destroyed. Police have arrested seven people but the Chief Constable says that he will need the public's help in the coming days to arrest more:
You can see the police vans being set alight in this video:
Here is a burnt-out police car:
And who will pick up the tab for replacements? Taxpayers:
The riot's name was Kill the Bill. On the face of it, it was about the legislation, however, the police are also known colloquially in England as 'the Bill', for many reasons, one of which was that they used to carry a Bill of Parliament with them to certify their authority:
It is attempted murder when you look beyond the name of the riots….'kill the bill'…..nothing to do with the 'bill' passed in Parliament.
No doubt Bristol's authorities thought they saw the last of their problems once they started acquiescing to demonstrators' demands last summer. But the radical left always want more:
ITV News has a video of a police van being rocked back and forth. It also includes the broken windows at Bristol's Bridewell Police Station. Bristol residents quickly disowned the gratuitous vandalism:
Police tried to do the right thing last summer, but the 'softly, softly' approach does not work in the long run. Think Seattle. Think Portland:
This is what happened Sunday afternoon:
This is what happened on Sunday night:
According to Rep. Adam Schiff (D-California), rioters are attempting to achieve peace through violence. Sounds like the Bolsheviks of a century ago:
The British public are understandably unhappy:
Note the reaction to this tweet from Home Secretary Priti Patel:
Yes, the English will want rioters brought to book and properly sentenced:
Some think that Bristol's Labour council might be onside, just as Democrat-controlled cities were with American protests last year:
Labour MPs also opposed the proposed legislation last week, even though the principles of the bill, not specifics, were being discussed.
As much as we support the police, they, too, need to rethink their optics and their tactics.
Only a week ago, the public saw this in London during the vigil for Sarah Everard:
Just days later, police in England went after soft targets at pro-democracy rallies but appeared seemingly helpless when confronted by anarchists:
It's not a good look.
By and large, the British support the police but find their modus operandi confusing, to say the least. No new laws will help that.
My previous posts in this series covered Piers Morgan's pontifications and the new Hate Crime Bill in Scotland.
Today's post looks at the Sarah Everard vigil on Clapham Common on Saturday, March 13.
On March 3, 2021, 33-year-old Sarah Everard disappeared from the streets of south London while walking home from a friend's house. A week later a woman's remains were found in the eastern part of Kent. Because of the extraordinary nature of the case, the UK Government have since placed a D notice on coverage of the details which have emerged thus far.
The case moved women across the UK to express their grief.
Women were also angered when, last week, after Ms Everard was missing for six days, officers from London's Metropolitan Police advised women not to go out alone at night.
Interestingly, Mayor of London Sadiq Khan told a radio station that London's streets are not safe for women and girls:
The same advisory went out many years ago in England when Peter 'Yorkshire Ripper' Sutcliffe was on the prowl for his latest victim. Julie Bindel recalled her memories of that time in an article for The Spectator: 'Why are London police telling women to stay at home?'
Bindel wrote (emphases mine):
I moved to Leeds in 1979, during the hunt for serial killer Peter Sutcliffe. I was 17-years old and had been raised, as had most girls, being warned that our safety was our own responsibility. 'Don't go out alone at night', 'don't talk to strange men', 'cover your flesh if you don't want to get yourself raped'. Men were rarely told that they were to blame for the fact that we constantly looked over our shoulder whenever we were out alone in case a predator was looking to strike.
As a response to West Yorkshire police issuing what was effectively a curfew on women, feminists organised the first Reclaim the Night marches which occurred simultaneously across 12 English towns and cities, from Manchester to Soho.
Women on these marches carried placards reading 'No curfew on women — curfew on men' as they shouted about their anger at being kept off the streets — the supposedly public highways, after all — by the threat of male violence.
I recall feeling very angry at being told by police to 'stay indoors' and 'Do not go out at night unless absolutely necessary, and only if accompanied by a man you know.' Ironically, Sutcliffe himself gave the same advice to his sister.
Bindel provides other instances where police forces across England gave women the same advice.
She concludes:
Women should be able to go for a walk without fear or a male chaperone. We feel scared not because we are pathetic, weak creatures but because so many men target us. Feminism exists because women are sick and tired of being in danger in both the home and on the streets. They should be the ones to lose their freedom of movement, not us.
Perhaps Wales's First Minister Mark Drakeford read her article of March 10. Two days later he told the BBC's Charlie Stayt that he might consider a curfew on men in Wales:
Alternatively, perhaps Mark Drakeford saw Baroness Jones (Green) advocate such a measure the day before in the House of Lords:
Guido Fawkes saw a potential problem with that (emphasis in the original):
The Green Party also backs gender self-identification for all so Guido can already think of one loophole in Jenny's plan…
Some of Sarah Everard's friends had the idea of organising a vigil for her at Clapham Common, through which she walked on her way home on March 3. They decided to cancel it.
However, a vigil did take place there, at the bandstand, on Saturday, March 13. People could pay their respects and place flowers at the bandstand.
The Duchess of Cambridge went to pay her respects with a bouquet that afternoon.
As the sun set, what was a quiet day of reflection and grief turned into something else. Protesters gathered, as did the Metropolitan Police.
The BBC's Charlie Haynes tweeted:
Independent journalist Ahmed Kaballo tweeted his footage:
The London correspondent from the Washington Post was there and posted her footage:
Here is a photo:
Then police arrested a young woman. Reports say she is petite — 5'2″:
I am surprised that a woman of her small stature had to be held to the ground in order for an arrest to take place. Couldn't four policemen do that standing up?
Reports say she was later released, but the point still stands.
With coronavirus lockdown still in place, everyone who is everyone was at home. Those people saw it online or on the telly.
In the early hours of Sunday morning, March 14, the Met's Assistant Commissioner Helen Ball, who reports to Commissioner Cressida Dick — two women! — issued a statement, which says, in part:
"Around 6pm, more people began to gather close to the bandstand within the Common. Some started to make speeches from the bandstand. These speeches then attracted more people to gather closer together.
"At this point, officers on the ground were faced with a very difficult decision. Hundreds of people were packed tightly together, posing a very real risk of easily transmitting Covid-19.
"Police must act for people's safety, this is the only responsible thing to do. The pandemic is not over and gatherings of people from right across London and beyond, are still not safe.
"Those who gathered were spoken to by officers on a number of occasions and over an extended period of time. We repeatedly encouraged those who were there to comply with the law and leave. Regrettably, a small minority of people began chanting at officers, pushing and throwing items.
"After speaking with officers, the vast majority of people quickly left. Four arrests have been made for public order offences and for breaches of the Health Protection Regulations.
"Part of the reason I am speaking to you tonight is because we accept that the actions of our officers have been questioned.
"We absolutely did not want to be in a position where enforcement action was necessary. But we were placed in this position because of the overriding need to protect people's safety.
"Let me end by saying that across the Met, we review every single event that we police to see if there are lessons that can be learnt. This one will be no different."
The Sunday morning news shows were only hours away. Not surprisingly, this was a huge story.
The Safeguarding Minister (?!) told Sky's Sophie Ridge that the events were 'very upsetting':
The Victims' Commissioner told Ridge that police had made a bad situation worse:
The Met's Commissioner defended her men:
But the story and the emotion didn't go away. On Sunday, demonstrators gathered in Parliament Square to protest the Met's handling of the vigil.
Two other British cities held peaceful vigils. Birmingham's police worked well with organisers, as local MP Jess Phillips explained to the BBC. Glasgow held a quiet ribbon vigil. Elsewhere, such events took place online.
On Monday morning, Prime Minister Boris Johnson voiced his disapproval:
However, Boris voiced his support for Dame Cressida in her role (Guido Fawkes has the story and a video).
Guido Fawkes's cartoonist, Rich, posted his weekly cartoon:
The public, however, thought that the vigil should not have taken place, probably because of coronavirus restrictions:
A retired Metropolitan Police officer posed these questions:
On Monday afternoon in Parliament, Home Secretary Priti Patel gave a statement and paid tribute to Ms Everard:
"women and girls must feel safe while walking our streets", and cited the Domestic Abuse Bill which is going through the Lords this evening as the action the Government is continuing to take.
During the debate that followed, Sir Charles Walker said that what happened at the vigil was the fault of the overwhelming majority of MPs who voted for the Coronavirus Act 2020:
He said (emphases mine):
This House criminalised the freedom of protest. This House. Us. Not Dame Cressida. Not the Metropolitan Police. We did. We criminalised freedom to protest collectively. We are up to our eyeballs in this.
I couldn't agree more.
Walker wanted to amend the law that afternoon to allow protests again. That did not happen.
Tom Harwood, who writes for Guido Fawkes, asked whether police took advantage of a soft target:
Really difficult situations provoke a different response from the Met, such as last summer's protests. They walk away:
Incidentally, skin colour is irrelevant. Last autumn, the Met bought sandwiches for Extinction Rebellion who were occupying Smithfield Market.
On Monday night, Boris tweeted a statement about women's safety:
Even if the general public objected to the vigil, conservative and libertarian columnists took strong objection to the Met's handling of it as well as to the law against protests.
UnHerd posted 'The police have a woman problem'.
Conservative Woman featured 'Police at Sarah vigil were trying to enforce a rotten law'. They also posted 'I hate what is being done to my country'.
Spiked remembered the reason the vigil took place: 'This is not what Sarah would have wanted'.
The Leader of the House of Commons, Jacob Rees-Mogg, said on Thursday, March 18, that the coronavirus laws will most likely stay in place until the end of June, when the furlough programme expires.
That said, they will be debated next week.
In conclusion, illiberal laws bring illiberal — and inconsistent — enforcement.
Yesterday's post looked at the beginning of today's modern Conservative Party in the late 20th and early 21st century, including Boris Johnson's diverse family history.
Since 2010, the Conservatives have added to their number of accomplished MPs, people who have really achieved something in their lives before they entered Parliament.
The list of MPs whose immediate ancestry includes parents from Asia and Africa continues below.
The Cameron years: May 2010 – June 2016
In the 2010 election, when David Cameron became Prime Minister, several more Conservative MPs of colour took their places in Parliament.
Most are still serving today, listed below.
Rehman Chishti (Gillingham and Rainham)
Rehman Chishti was born in Pakistan on October 4, 1978.
At the time, his father, Abdul Rehman Chishti, was Federal Adviser on religious affairs to the Prime Minister of Azad Kashmir, the region where the Chishtis lived. This was during the time when Zulfikar Ali Bhutto was Pakistan's prime minister. In 1978, Chishti's father left Pakistan for the UK, where he became an imam. Shortly afterwards, a military coup overthrew the Bhutto government. General Zia-uk-Haq led the coup and later executed Bhutto.
It was not until 1984 that Mrs Chishti was able to join her husband in Kent, taking with her their elder daughter and young Rehman. From that point, life resumed a sense of normality for the family. Rehman Chisti attended local schools, then read law at University of Wales Aberystwyth. He supplemented his income by working summer jobs in retail in Kent.
In 2001, he became a barrister, having been called to the Bar of England and Wales by Lincoln's Inn in London. He prosecuted and defended cases in Magistrates' and Crown courts.
During the years when Labour was in power, he worked as an advisor for Zulfikar Ali Bhutto's daughter, Benazir Bhutto, after her tumultuous term as Pakistan's prime minister had ended. Chishti held this position between 1999 and 2007.
In 2006, he decided to switch his affiliation from Labour to Conservative and served as advisor on diversity to Francis Maude, who led the Conservatives at that time.
He won his first election as MP for Gillingham and Rainham in 2010, having been lauded by both Labour and Conservative publications as being a rising star in Parliament.
Since then, he has held three notable appointments: Vice Chairman of the Conservative Party for Communities (2018), Prime Ministerial Trade Envoy to Pakistan (2017-2018) and Prime Minister's Special Envoy for Freedom of Religion or Belief (2019-2020).
Helen Grant (Maidstone and The Weald)
Another MP serving Kent is Helen Grant.
Helen Grant was born in Willesden (London) in 1961. Her mother is English and her father a Nigerian, an orthopaedic surgeon.
Helen's parents split up when she was a young child. Her father later emigrated to the United States. Helen and her mother moved to Carlisle, in the north-West of England, where she was raised by her mother, her grandmother and her great-grandmother. They lived on a council estate.
She excelled in sports at secondary school and decided to read law at university. She later opened her own law practice, Grants Solicitors, which specialises in family law.
She was a member of the Labour Party between 2004 and 2006, but quickly grew disillusioned:
It was almost looking in the biscuit barrel, not liking the look of the biscuits, and slamming the lid shut.[6]
In 2006, she joined the Conservative Party. That year, she helped the Conservatives devise a policy on family breakdown, co-authoring the Social Justice Policy Group Report 'State of the Nation – Fractured Families' published in December 2006, and the follow-up solutions report 'Breakthrough Britain' published in July 2007.[8]
Grant became the first mixed-race/black female MP, succeeding the formidable Anne Widdecombe, who stood down for the 2010 election.
Helen Grant married her husband Simon in 1991. They have two sons, one of whom served in the Royal Marines.
Kwasi Kwarteng (Spelthorne)
Kwasi Kwarteng, who represents Spelthorne in Surrey, is familiar to anyone who has followed Brexit and the Government department BEIS (Business, Energy and Industrial Strategy).
Kwasi Kwarteng's parents emigrated from Ghana in the 1960s when both of them were students. His mother became a barrister and his father an economist in the Commonwealth Secretariat.
Kwarteng was a brilliant student. As a boy, he attended Colet Court, the feeder school for St Paul's School. Kwarteng went one better. He attended Eton.
At Eton, he was a King's Scholar and received the school's most prestigious award: the Newcastle Scholarship. He read classics and history at Trinity College, Cambridge, earning a First in both subjects.
During his time at Cambridge, he appeared on University Challenge during the first season when the BBC resurrected the show in 1994. I saw it. The episode that he was on aired in 1995 and raised eyebrows. Kwarteng pressed the buzzer to answer the question, then forgot the answer. Exasperated, he spontaneously uttered the 'f-word'. The production team was unable to censor it in time.
Guido Fawkes has the details:
This photo of a resulting newspaper article comes from Guido. Moderator Jeremy Paxman is pictured:
After earning his degree at Cambridge, Kwarteng was awarded a Kennedy Scholarship from Harvard. After studying there, he returned to Cambridge to earn a PhD in economic history.
He then had a busy career, combining work with journalism. He was a columnist for The Daily Telegraph and worked at investment banks, among them JPMorgan Chase. He also wrote and co-authored books on history and business.
At the time he won his first election as MP for Spelthorne, a local paper described him as a:
black Boris.
Kwarteng was an ardent supporter of Brexit and Boris Johnson. He also thinks that Britain's welfare state needs to be pared back.
Kwarteng has held a variety of positions in Government and is the first black MP — and the first Conservative MP — to be appointed as a Secretary of State.
He is also a member of the Privy Council.
Priti Patel (Witham)
Priti Patel has been Home Secretary since Boris Johnson became Prime Minister in 2019.
She held various Government posts prior to that appointment.
Priti Patel was born in London in 1972. Her paternal grandparents were from Gujurat, India, then emigrated to Uganda. They owned a shop in Kampala.
In the 1960s, the Patels' son and his wife — Priti's parents — emigrated to England, settling in Hertfordshire, where they built up a successful chain of newsagents. The family are Hindu.
Unlike a few of the other MPs profiled above, Priti never flirted with the Labour Party. She was a firm fan of Margaret Thatcher, who, in her words:
had a unique ability to understand what made people tick, households tick and businesses tick. Managing the economy, balancing the books and making decisions—not purchasing things the country couldn't afford".[8]
Patel was always interested in politics. After completing her degree in economics at Keele University in Staffordshire, she studied British government and politics at the University of Essex.
She began her career working in the Conservative Central Office. As she was interested in seeing the UK leave the EU, she left for two years to head the office of the Referendum Party, headed by the late tycoon Sir James Goldsmith. That was between 1995 and 1997. Goldsmith's party did not win many votes. We still have the campaign video tape, which Goldsmith's campaigners sent to certain constituencies he had hoped to carry. Goldsmith died two months after the election.
Patel returned to the Conservatives, working for party leader William Hague in his press office.
In 2006, she became the Prospective Parliamentary Candidate for the staunchly Conservative constituency of Witham in Essex. By 2010, she was well known and won election handily.
She became part of the 'class of 2010', also known as 'the new Right'. She and her fellow 'classmates' Kwasi Kwarteng, Liz Truss, Dominic Raab and Chris Skidmore co-authored Britannia Unchained, which took strong exception to the welfare state. One of the book's more controversial statements is:
once they enter the workplace, the British are among the worst idlers in the world.
I don't fully agree with that, but I do worry about the effect that lockdown and furlough are having on our collective psyche in that regard.
Priti Patel is married and has one child, a son.
Alok Sharma (Reading West)
In 2010, Alok Sharma won Reading West with a majority of 6,004 after Labour MP, Martin Salter retired.
Alok Sharma was born to a Hindu family in Agra, India, in 1967. Five years later, he and his parents settled in Reading, Berkshire, where Alok's father became very involved in Conservative Party politics and helped to establish the Conservative Parliamentary Friends of India.
The Sharmas sent their son to local schools, including the well-respected Reading Blue Coat School in Sonning, Berkshire. Alok moved to the north-West for university, earning a BSc in Applied Physics with Electronics in 1988.
However, Alok's interests extended beyond science. He later qualified as a chartered accountant with Deloitte, Haskins & Sells in Manchester. He went on to work as a corporate financial advisor for other firms, leading to posts not only on London but also in Stockholm and Frankfurt. He advised clients on cross-border mergers and acquisitions, listings and restructurings.[8]
Sharma has held several posts as Minister of State and Secretary of State.
He is currently the President for the climate change conference COP26, which the UK will host in 2021. Sharma is currently a full member of Boris Johnson's Cabinet Office.
Sharma married a Swedish lady, with whom he has two daughters.
Nadhim Zahawi (Stratford-on-Avon)
Nadhim Zahawi is best known for his current post as Parliamentary Under-Secretary for COVID-19 Vaccine Deployment in the UK.
He is second-best known for co-founding the international polling company YouGov with Stephan Shakespeare. Zahawi served as YouGov's CEO from 2005 to 2010.
Zahawi was born to Iraqi Kurdish parents in Bagdad in 1967. In 1976, when Saddam Hussein began his rule over Iraq, the Zahawis moved to London, where Nadhim attended independent day schools.
Nadhim earned a BSc in Chemical Engineering from the University of London.
However, immediately after university, Zahawi's interests lay with the Kurds. He worked on their behalf from 1991 to 1994.
In 1994, he was elected as a local Conservative councillor for Putney in south-West London. He held that post until 2006.
In 2010, he gained the attention of the local Conservative association in Stratford-on-Avon and became their prospective parliamentary candidate. He has been re-elected three times since: 2015, 2017 and 2019.
Zadawi has held two Parliamentary Under-Secretary of State posts, the first for Children and Families and the second for Business and Industry.
Zadawi and his wife are keen horse riders. They co-own a riding school. Their children attend university in the United States.
Sajid Javid
Sajid Javid was also among the 2010 intake. I will cover his life story this week, as it is worth a separate post.
Conclusion
Had I not been watching BBC Parliament so often, I would not have read the life experiences of many of our MPs.
I had watched the maiden speeches of those who entered Parliament in 2019, however, I had missed those of the MPs who came before them.
One can imagine that Boris, given that his paternal great-grandfather was lynched in Turkey, would appreciate every element of life experience and intelligence that this intake of MPs brings to the House of Commons.
Last week proved to be another emotive and passionate one in the House of Commons with regard to coronavirus and Brexit.
This post concerns coronavirus.
On Monday, September 14, Prime Minister Boris Johnson's Rule of Six, which he announced on September 9, came into effect. It sounds rather Chinese.
It means that people living in England cannot meet in groups of greater than six, indoors or outdoors. If we do, according to him, we 'will be breaking the law'.
He also introduced a new platoon to keep us in line: COVID marshals, to remind us of existing coronavirus rules in England — 'hands, face, space'.
Recall that Boris said after the December 2019 election that we now have the People's Government. Hmm.
The UK government is copying a Belgian idea. The Rule of Six reduced their second spike.
Increasingly, Britons have been looking back at Sweden, which refused to lock down. Fraser Nelson is the editor of The Spectator. Chris Whitty is our Chief Medical Officer; in May, he said that coronavirus was harmless for most people and most of us would never get it:
Michael Gove MP, a Cabinet minister and Chancellor of the Duchy of Lancaster, made matters worse when he confirmed that under-12s were part of the Rule of Six, unlike in Scotland and Wales, where under-12s are not. With life getting back to normal as school has started again, this came as a blow to many families:
The Telegraph reported that the Cabinet was split on the proposals (emphases mine):
… one senior Tory source said that "half the Cabinet" had doubts about the so-called 'rule of six', and it was "pretty hard to find a Conservative member of Parliament who agrees with all of this".
The COVID marshals are also a problem for police and local councils:
Meanwhile, Mr Johnson's plan for coronavirus marshals to help enforce the six-person rule was unraveling as police derided them as "Covid Wombles" and councils said they were a "gimmick".
Downing Street admitted councils would not be given any money to pay for the marshals, suggesting volunteers could do the job, and said it would be up to individual local authorities to decide whether they actually wanted them.
It got worse, as curfews were mooted:
The Government has discussed going even further with new lockdown restrictions, and has drawn up "a well-developed proposal" for a nationwide curfew which was discussed at ministerial level.
My head spun.
Then the ministerial snitch crowd appeared on weekend news programmes to say that people must tell on their neighbours if they are seen to be violating the Rule of Six:
Political journalist Isabel Oakeshott rightly responded:
I couldn't agree more. This is supposed to be the People's Government, isn't it?
History will not look kindly on 2020 with regard to the measures taken to combat the virus:
I was wrong.
Home Secretary Priti Patel said that people should not even talk when they see friends in the street, even at a distance (audio here, thanks to Guido Fawkes, and there's video, too):
Yebbut, if you DO report what appears to be criminal activity, allegedly, the police do not want to know. Here is a printscreen of a set of comments on a Guido Fawkes thread. I call your attention to the last two. Police would rather pick on mums and their children. Ironically, that was posted on the anniversary of the Battle of Britain. Go figure.
A mild-mannered man from Buckingham called talkRADIO to say he would not comply with the Rule of Six because the Government had gone too far.
So did a lady from Brighton, saying that the Rule of Six was about:
control. They're trying to see how much they can get away with.
Another talkRADIO host, Julia Hartley-Brewer, had a go at Roy Lilley, former NHS Trust chairman. She said:
We are being scared into thinking we have to give up our civil liberties when that won't save lives. Being sensible will save lives.
The Telegraph's Salley Vickers wrote of the restrictions on her and her loved ones:
I would rather risk dying and have the joy of their company than lose that vital contribution to my own happiness.
With the festive season only several weeks away, the Daily Mail's Peter Hitchens told talkRADIO's Mike Graham that the Rule of Six has:
made Christmas an arrestable offence.
Another Daily Mail journalist, Bel Mooney, wrote an editorial for Conservative Woman saying that she was surprised at the amount of resistance she received when she wrote that she would be defying the Rule of Six at Christmas:
… in response to Matt Hancock's sudden, arbitrary and illogical 'rule of six' diktat, I wrote a strong opinion piece (at the request of my newspaper) headlined 'NO, NO, NO! I'm having Christmas for 14 – and no puffed-up Covid marshal will stop me'.
As you might expect, there was a huge response. I never look online, and am not on Twitter (I expect there was a lot of poison swilling around out there). I am talking about emails to me and the newspaper. What interested me was the fact that, if I am to be honest, the antis outnumbered the pros. I didn't expect that from Mail readers.
You can never tell with Mail readers, though. They're a tricky lot.
Oxford University's Professor Carl Heneghan and honorary research fellow Tom Jefferson wrote an article for The Spectator against the Rule of Six, saying that Boris must bin it:
At Oxford University's Centre for Evidence Based Medicine, we have spent years trawling through the scientific evidence on the effects of measures such as distancing on respiratory viral spread. We are not aware of any study pointing to the number six. If it's made up, why not five or seven? …
Northern Ireland has taken a more measured approach and not announced any changes to how many people can meet. These disagreements in policy reveal how decisions are being made without evidence. It seems that somebody in government sat in a cabinet office room and said six is a good idea and nobody disagreed …
The problems with policy stem from the current cabinet's vast inexperience: the Health Secretary has been in post for just over two years now; the PM and the Chief Medical Officer a year. The Joint Biosecurity Centre is overseen by a senior spy who monitors the spread of coronavirus and suppresses new outbreaks. Add to this mix the new chair of the National Institute for Health Protection, who similarly has little or no background in healthcare. Our leaders amount to little more than a Dad's Army of highly paid individuals with little or no experience of the job at hand.
This inexperience leads to rash decisions and arbitrary policies.
One example is that entire areas can be locked down if they have 50 cases per 100,000 people. Yet the recognised alert threshold for 'regular' acute respiratory infections is 400 cases per 100,000.
Lord Sumption, who has been speaking out against lockdown this year, said that the Rule of Six will be unenforceable. I hope he is right:
Tom Tugendhat (Tunbridge and Malling, Con) expressed his concerns about the new rule and rightly wanted MPs to vote on it and similar measures:
It's unlikely that the House of Lords can help, either. They already have a full schedule. We should thank Lord Lamont for raising the issue of consulting the public, however. 'SI' means 'statutory instrument':
Monday, September 14
Behind the scenes and well outside of Parliament, an email emerged dated May 23, wherein Chief Scientific Adviser Sir Patrick Vallance stated he had pushed the most for March's lockdown:
Guido Fawkes has the full text of the email. I am not sure how Sir Patrick thinks that a vaccine will achieve herd immunity, though.
In the first of the debates on the Brexit-related Internal Market Bill, Charles Walker MP (Broxbourne, Con) prefaced his comments by expressing his dismay about the Rule of Six, the lack of consultation with Parliament and the fining of Jeremy Corbyn's brother Piers at the anti-lockdown rally on Saturday, September 12.
Thank you, Charles Walker:
This is short and well worth watching:
Tuesday, September 15
Secretary of State for Health and Social Care Matt Hancock poled up to make a statement to MPs about the Rule of Six and testing.
Excerpts follow:
There are signs that the number of cases in care homes and the number of hospitalisations is starting to rise again, so last week we acted quickly, putting in place new measures—the rule of six, which came into force yesterday. We do not do this lightly, but the cost of doing nothing is much greater.
Testing also has a vital part to play. Everyone in this House knows that we are doing more testing per head of population than almost any other major nation, and I can tell the House that we have now carried out over 20 million tests for coronavirus in this country. As we expand capacity further, we are working round the clock to make sure that everyone who needs a test can get a test. The vast majority of people who use our testing service get a test that is close to home, and the average distance travelled to a test site is now just 5.8 miles —down from 6.4 miles last week; but the whole House knows that there are operational challenges, and we are working hard to fix them.
We have seen a sharp rise in people coming forward for a test, including those who are not eligible.
Jonathan Ashworth (Leicester South, Lab/Co-op), speaking for the opposition, said:
I am grateful for advance sight of the Secretary of State's answer. That was decent of him.​
Yesterday LBC revealed that there were no tests available in covid hotspots, including Rochdale, Pendle and Bradford. Over the weekend in Bolton, where infections are the highest in the country, a mobile testing centre failed to turn up. Meanwhile, in Bury hundreds queued for five hours for a test. In Walsall, a father with his sick child travelled 76 miles to an appointment in Wales, only to find on arrival that tests had run out. Increasing numbers of teachers and pupils are not in school. In hospitals, operations are cancelled while NHS staff are stuck in limbo, waiting for tests.
The Secretary of State blames increased demand, but when tracing consistently fails to reach 80% of contacts, when less than 20% of those with symptoms self-isolate properly and there is a lack of financial security, infections rise. When schools reopen and people return to workplaces and social distancing becomes harder, infections rise. Extra demand on the system was inevitable. Why did he not use the summer to significantly expand NHS lab capacity and fix contact tracing?
Just as demand is increasing, the ability to process tests is diminishing. Post-graduate students working in the Lighthouse labs are returning to university, so why did the Secretary of State not plan for the inevitable staff shortages in the Lighthouse labs? Those commercial pillar 2 labs, The Sunday Times revealed at the weekend, have a huge backlog of 185,000 tests. Thursday's data revealed that 65,709 test results were not returned by the end of the week. Care home residents now wait an average of 83 hours for their result. The Prime Minister promised us a 24-hour turnaround for results, so what is going on? What is the current backlog and what is the timeframe for clearing it?
We were promised a world-beating system, so why are we sending tests to Germany and Italy for processing? But, most importantly, people want to know when they will get a test and when this mess will be fixed. Today there will be thousands of ill people trying to book a test, only to be told none is available. When will people be able to book a test online again, or has the online booking system been deliberately disabled? When will ill people no longer have to travel hundreds of miles for a test that should be available on their doorstep? When will pupils and teachers out of school get access to testing, so they can get back to school? When will NHS staff have access to regular testing, so they can focus on their patients and not be sitting at home?
We are at a perilous moment. Imperial College estimates the virus is doubling every seven to eight days. We all want to avoid further restrictions or another national lockdown, but when testing and contact tracing break down, the growth of the virus cannot be tracked. The Prime Minister promised us whack-a-mole, but instead his mallet is broken. The Secretary of State is losing control of the virus; he needs to fix testing now.
Many MPs — from both Opposition and Conservative benches — said that their constituents could not get tests.
Even the Speaker of the House tweeted that his constituents were having similar problems:
The testing situation is shocking — as Terry-Thomas used to say in the Boulting Brothers films: 'An absolute shower!'
On the upside, the British coronavirus jobs situation is improving, thank goodness (more from Guido here):
Wednesday, September 16
Deputy Labour Leader Angela Rayner (Ashton-under-Lyne) stood at the Opposition despatch box for Prime Minister's Questions (PMQs), as Sir Keir Starmer was self-isolating:
She did a good job.
She began by saying:
Many people in the Chamber will think that the battle of Britain is today, but actually we marked the 80th anniversary of those veterans yesterday, and I want to put on record our thanks to all those who fought for our country in the past.
I want to start by reading to the Prime Minister a message that I have received from a man called Keir. Keir was not able to go to work today and his children could not go to school because his family had to wait for their coronavirus test results, despite the Prime Minister's promise of results within 24 hours. Keir was able to do the right thing and self-isolate and work from home, but other people are not in this position, and many of them are the very people who were getting us through this crisis, such as the care workers, who I used to work alongside before I was elected to this House. The Prime Minister once earned £2,300 an hour; can he tell us the average hourly rate of a care worker in this country?
Boris was singularly unimpressed, although he had a neutral expression on his face, even when discussing Starmer:
I congratulate the hon. Lady on her elevation. She speaks of the constituent Keir, and I can tell her that—allegedly, apparently—he has had a negative test, and I do not know quite why he is not here. But 89% of those who have in-person tests get them the next day, and we are working very fast to turn around all the test requests that we get. I think that most people looking at the record of this country in delivering tests across the nation will see that that compares extremely well with any other European country. We have conducted more testing than any other European country, and that is why we are able to deliver tests and results in 80% of cases where we know the contacts.
The hon. Lady asks about care homes, and I can tell the House that today we are launching the winter care home action plan. She is right to raise the issue of care homes, and we are concerned about infection rates in care homes, but we will do everything we can to ensure that care homes and their workers are protected.
On the hon. Lady's final point, I am proud that it is this Government who have instituted the national living wage to ensure that every worker in this country, including care home workers, is paid substantially more, thanks to the care and the work of the people of this country.
Boris listened attentively and responded sensitively to all the points that Angela Rayner raised until this point, which came several minutes in, when she said:
Infections are rising. The testing system is collapsing. When you are the Prime Minister, you cannot keep trying to blame other people for your own incompetence. We have the highest death toll in Europe, and we are on course for one of the worst recessions in the developed world. This winter, we are staring down the barrel of a second wave, with no plan for the looming crisis. People cannot say goodbye to their loved ones. Grandparents cannot see their grandchildren. Frontline staff cannot get the tests that they need. And what was the top priority for the covid war Cabinet this weekend? Restoring grouse shooting.
I suppose that is good news for people like the Prime Minister's friend who paid for a luxury Christmas getaway to a Caribbean island and funded his leadership campaign, and just so happens to own two grouse moor estates. So Prime Minister, is this really your top priority?
The Prime Minister answered:
While the Labour Opposition have been consistently carping from the sidelines throughout this crisis and raising, frankly, issues that are tangential, if not scare stories about what is going on, we are getting on with delivering for the British public. We are not only massively ramping up. She has not contested any of my statistics today about the extent to which this country is now testing more than any other European country.
She has not disputed the massive acceleration in our programme. [Interruption.] I will answer the substance of her question, thank you very much. We are getting on with delivering on the priorities of the British people: getting us through this covid crisis; delivering on making our country safer, bringing forward measures to stop the early release of dangerous sexual and violent offenders, which I hope she will support; strengthening our Union, which in principle Opposition Front Benchers should support; and building more homes across this country and more affordable homes across this country, which she should support. That is in addition to recruiting more doctors and more nurses, and building more hospitals.
I do not think anybody is in any doubt that this Government are facing some of the most difficult dilemmas that any modern Government have had to face, but every day we are helping to solve them, thanks to the massive common sense of the British people, who are getting on with delivering our programme and our fight against coronavirus. It is with the common sense of the British people that we will succeed, and build back better and stronger than ever before.
If only.
That day, news of an upcoming curfew in London emerged.
Apparently, the British people don't have much common sense, after all.
Currently, London has some of the fewest new coronavirus cases (i.e. positive tests, little hospitalisation):
Guido rightly wrote (emphases in the original here):
If this afternoon's splash from the Evening Standard is true, it is a step too far. The London director of Public Health England (yes, the organisation is still limping on for now, despite the Health Secretary announcing its abolition back in August) has issued a "curfew alert" to the capital through the newspaper, saying residents could face a mandatory curfew if Covid cases continue to rise. A ridiculous suggestion that should be forcefully opposed.
Shutting pubs, bars, restaurants, and just about everything else at an arbitrary hour will obviously do nothing to stop the spread of coronavirus. If anything, the move will be counter-productive – compressing the same number of customers into a shorter time and making social distancing harder still. Or pushing social gatherings into homes not bars, which are thought to be more likely to spread the virus. This no doubt ineffective PHE [Public Health England] nannying should have been dumped when the organisation was. The government need to remember there is a limit to people's compliance. This might just hit it.
As I write early on Tuesday, September 22, Boris is planning to bring in an England-wide curfew for pubs and restaurants on Thursday. As if the virus will know the difference between a 10 p.m. closing time versus the usual one of 11 p.m. The mind boggles.
Thursday, September 17
Matt Hancock appeared again with another update on coronavirus.
This time, it was about measures taken on lockdown in the North East of England. This includes strict adherence to household bubbles, table service only in hospitality venues and a curfew between 10 p.m. and 5 a.m.:
Once again, he was straining every sinew, an expression he has been using since March:
The battle against coronavirus is not over, and while we strain every sinew to spring free of its clutches, with winter on the horizon we must prepare, bolster our defences and come together once again against this common foe.
Then he announced upcoming plans to make everyone using A&E (Accident and Emergency) departments to make a booking! Good grief:
… we are working to get patients the right care in the right place, by expanding the role of NHS 111. During the peak of this pandemic, we saw millions of people using NHS 111, on the phone or online, to get the best possible advice on coronavirus, helping them to stay safe and, where possible, to stay out of hospital, where they could have unknowingly spread the virus. It is crucial that, ahead of winter, we use this window of opportunity to seek out what worked and build on it, so we provide a better service for patients and protect the NHS. Of course, no one will ever be turned away from our emergency departments in the most serious of cases; however, we have worked with the royal colleges, the NHS and others to develop a better, quicker and more clinically appropriate service for patients by using NHS 111 first.
This is how it works. We will invest £24 million to increase call-handling capacity and to make sure there are more clinicians on hand to provide expert advice and guidance, and we will build on our trials to make NHS 111 a gateway to the emergency care system, providing a first port of call for patients. In future, rather than having to queue in an emergency ward, we are testing that people should call NHS 111 first to book an appointment with whoever can give them the most appropriate care, whether it is a GP, a specialist consultant, a pharmacist, a nurse or community services. Of course if they need to go to the emergency department, NHS 111 will be able to book them into an appropriate time slot. We want to see this approach lead to shorter waiting times and better availability of appointments for patients. We will consult on how its performance is best measured, and, with successful pilots, we will roll out NHS 111 First to all trusts from December.
This is the bit that galled me the most:
The purpose of 111 First is to improve access, including in terms of inequalities in the NHS, by ensuring that people get the right treatment in the right place and easier access if they do need to go to an emergency department, because the emergency ​department will know that they are coming. It is commonplace now in almost every part of our life to let people know that we are coming. If we are going to do something as important as visit an emergency department, it will help both the patient seeking treatment and the NHS to let them know that they are coming first. That is the principle behind 111 First. It sits alongside 999, which anybody should call in a serious incident.
'People's government', my eye.
Nor is the NHS the people's health service.
If you have a serious injury, you or your loved ones could be losing life- or limb-saving time by calling 111 or 999.
Based on what I read during the March lockdown, calling 111 was life-threatening. Children calling on behalf of elderly parents were told, 'If your relative is not turning blue, do the best you can.'
Calling the ambulance service on 999 generally produced this result: 'We're overloaded. If you can take your relative to hospital yourself, please do so.'
Over the past few months, I have heard NHS senior executives give testimony to Select Committees. They do not want patients coming in to a hospital, to a GP surgery — anywhere on NHS property.
An absolute shower!
Speaking of absolute showers, Baroness Harding — Dido Harding, a former jockey and failed business consultant/corporate director — gave testimony to a Select Committee, the Commons Science and Technology Committee, led by Greg Clark MP (Tunbridge Wells, Con).
Wow. It was car-crash television on BBC Parliament.
Baroness Harding is, inexplicably, the director of NHS Test and Trace programme.
Greg Clark is no slouch. He pressed and pressed the same question. Did she not anticipate the increase of demand for tests after lockdown lifted?
Finally, she gave the answer.
The Independent reported:
Demand for coronavirus tests is three to four times the number available, the director of NHS test and trace has admitted.
Baroness Dido Harding, who told MPs there was capacity to carry out 242,817 tests a day, said the "sizeable" rise in demand had been unexpected.
Boris Johnson has pledged to raise capacity to 500,000 by next month – but Baroness Harding's estimates suggest that even that figure would not be enough to satisfy demand.
Even then:
despite images of queues outside Covid-19 drive-in centres, the testing tsar said: "I strongly refute that the system is failing."
She put the blame on SAGE …
Baroness Harding insisted current capacity had been based on modelling provided by the government's Scientific Advisory Group for Emergencies (Sage) and suggested that around a quarter of those seeking tests did not have symptoms.
… and the testing laboratories:
Quizzed by the committee chair and former Tory minister Greg Clark on the current issues in the system, she said that the "constraint" in the testing was in processing and laboratories.
On Friday, Sir Jeremy Farrar, a SAGE member and director of the Wellcome Trust, hit back.
The Telegraph reported:
Sir Jeremy Farrar, the director of the Wellcome Trust, who sits on the Government's Scientific Advisory Group for Emergencies, said the body had given "clear advice" that a fully functioning test, track and trace system should be in place …
Responding to her comments on social media, Sir Jeremy said he had personally warned that a growing testing crisis was looming.
"Interesting to be blaming Sage," he wrote on Twitter. "Has been clear, and in the advice, that the UK faced an inevitable increase in community transmission and cases after the summer and needed a fully functional and trusted test, track and trace in place."
Sir Jeremy posted his comments from a BBC interview with Andrew Marr in June, in which he warned of a "nasty rebound" if steps were not taken to improve testing. He also re-posted an article from May in which he warned that lifting restrictions was difficult even with a fully working testing programme in operation.
The testing crisis deepened on Friday when it emerged that children at four out of five schools are staying at home because they cannot get a test …
This coronavirus business will only get worse. Watch and wait.
Part 2 concerns the Brexit-related Internal Market Bill.
The British government did not request a Brexit negotiation extension in June 2020.
On Friday, June 12, our chief negotiator from No. 10 tweeted:
On June 25, David Frost updated us as follows:
As of July 1, we were on our way out.
Talks continued in London on July 8:
As of the end of June, despite coronavirus, the International Monetary Fund predicts that, post-Brexit, Britain's growth could surpass that of the EU next year:
Guido Fawkes summarises the details (red emphases in the original):
The International Monetary Fund's new growth projection shows a global contraction of 4.9%, with every region of the world simultaneously in recession for the first time in human history. Advanced economies are projected to be hit particularly harshly by this crisis, with double digit contractions for the UK and Euro area this year at -10.2% each. Notably, however, is that in 2021 (after the UK will have left the economic orbit of the EU) the UK is set to fall by as much, then grow back faster than the cumulative Euro area.
Of course the projected 2021 growth will not make up for the 2020 recession. All advanced European countries' economies are set to be smaller at the end of 2021 than they were at the end of 2019.  If we can believe IMF forecasting, individually over 2020 and 2021, Germany's economy will have shrunk by 2.8%, the UK by 4.5%, France by 6.1%, and Italy and Spain both by 7.3%…
On July 1, Parliament voted to end free movement of EU citizens when the transition period ends on December 31. This is the advantage the Conservatives have with their 80-seat majority:
Guido Fawkes points out:
If he wasn't having to deal with a deadly global pandemic, this year would be going pretty well for Boris…
Millions of EU nationals already resident in Britain are eligible for settled status, allowing them to live and work here among family and friends. The scheme opened last year and has already registered 3.3 million individuals.
The Settlement Scheme for EU nationals expires on June 30, 2021:
As for our freedom of movement in Europe, we always had it — even before joining the EU:
Last week's UK-EU negotiations produced a win for clearing houses in the City of London, the capital's financial centre.
On Thursday, July 9, The Telegraph reported, in part (emphases mine):
Brussels did not confirm how long the arrangement will last. It will kick in if the UK and the European Union fail to reach a Brexit deal.
The decision is likely to be seen as a climbdown by EU chiefs, who have long resented Britain's dominance in clearing.
A power grab was launched shortly after the Brexit vote to try and force Continental firms to clear trades through hubs within the bloc, but this stalled when it became clear no other financial centre could handle the volume of activity done in the City.
Clearing houses such as LCH, ICE Clear Europe and LME Clear perform a vital role in greasing the wheels of international finance, standing between buyers and sellers to settle trades and ensure sellers get paid.
Access to London's clearing houses for financial contracts such as swaps and futures is a key issue for European firms because the UK dominates the continent's €735 trillion (£658 trillion) annual market. It was feared they could be denied access to crucial finance and face serious stability risks if frozen out.
In a further boost, Liam Fox, the Conservative MP for North Somerset and former Secretary of State for International Trade under Theresa May, is one of the nominees for becoming the next Director-General of the World Trade Organisation.
Fox is on the right in the photo below. Pictured with him is his former adviser, Adam Werritty:
On July 10, Guido Fawkes reported:
Speaking to a Chatham House event last night, the US Trade Secretary Robert Lighthizer told the audience Fox was "one of the favourites", lavishing praise:
"I'm an admirer of his … I've had many a conversation with him. I've even had the occasional cocktail with him. He's smart, he knows the area, he has a good philosophy."
Last month Lighthizer told lawmakers the US is looking to back "someone who understands the nature of the problem of free economies dealing with China", which may not be too difficult a manifesto for Fox to get on board with, given the UK's shift away from warm relations over Hong Kong, and an impending u-turn on Huawei.
Incidentally, Oliver Dowden MP, Secretary of State for Digital, Culture, Media and Sport, announced the u-turn on Huawei today, Tuesday, July 14.
On Sunday, July 12, Ireland's new Taoiseach (prime minister, pron. 'Tee-sock') Micheál (pron. Mee-hull) Martin was hopeful of a transition deal between his country and Britain:

Home Secretary Priti Patel is working with the French to stop the boat people coming to the south east coast of England every day:
The UK government has launched a new transition period scheme for businesses — Check, Change, Go:
We have a lot to look forward to next year for business, and, in the case of the European Space Agency, research and exploration:
An exciting new era awaits just around the corner.
Despite coronavirus, videoconferences have been ongoing with the EU with regard to a new trade agreement.
We are at an impasse at the moment, although talks will resume during the first week in June.
Meanwhile, the UK is preparing to negotiate a trade deal with Japan:
On May 19, the Department for International Trade announced a new UK Global Tariff:
The pound rose on the announcement. Trade Secretary Liz Truss, negotiating our post-Brexit trade deals, is pictured:
On May 20, the House of Commons debated the Trade Bill:
She also discussed support for small businesses in this context:
Speaking of small businesses, this man is grateful for emergency government help during the coronavirus crisis from Chancellor for the Exchequer Rishi Sunak:
Other small business owners have reported similar success:
Returning to Brexit, on Monday, May 18, MPs passed the new Immigration Bill.
This short video provides information on the bill, which means that the UK will have the ability to accept immigrants from all over the world:
While the Immigration Bill is good news, the illegal migration across the Channel from France is something that the Home Office must tackle now:
I am not sure why such migrants are not returned to France straightaway. They are entering illegally:
It looks as if the French are aiding and abetting this migration, now done in full daylight. It used to be a night-time operation:
Nigel Farage went out on a fishing boat to film it. He says that the UK coast guard warned everyone on the fishing boat that their vessel would be impounded if they filmed the UK rescuing the dinghy, full of illegals:
You couldn't make it up.
How can this be happening? Why?
One of the migrants even flips off Farage and the fishermen.
More below. Pett Level is in East Sussex. Dover is in Kent:
Of the YouTube video, Guido Fawkes says (highlights in the original):
This shocking video reveals that the illegal migration trade, which is a multi-million €uro criminal enterprise, is being facilitated by the French Navy. Nigel Farage yesterday videoed evidence of a dangerously over-burdened dinghy being escorted by a French Naval vessel across the English channel until it was out of French waters, where in British waters it was met by what he reports to be a UK border force vessel. This is not a "search and rescue mission", this is a handover aiding an abetting criminal in the commission of a crime.
What is going on? …
Nigel Farage tells Guido there will be more dynamite footage. The good weather means this is peak time for illegal cross channel migration. Surely an MP should be granted an urgent question to the Home Secretary today?
Except, Parliament was already in Whitsun recess.
Nevertheless, the Home Secretary has urgent questions to answer:
Farage is not the only one to track this migration.
The BBC have done so:
So has investigative reporter Michael Crick, who has shocking figures about the numbers of illegals reaching the Kent coastline. Watch (subtitled):
On Thursday, May 21, Guido Fawkes reported that Home Secretary Priti Patel was talking with 30 Conservative MPs about it:
Guido says that the video conference was polite. Matt Vickers MP (Conservative, Stockton South) can concur. Priti Patel says that she is working with the French, 1,100 illegals have been turned back and that she will legislate against such crossings (third video below):
Guido also contacted the Home Office independently and received the following replies. It appears that this pertains, in some extent, to Brexit. Even so, under the Dublin Regulation, refugees must apply for asylum in the first safe country of arrival (emphases in the original, those in purple mine):
Is the Home Secretary Priti Patel aware of what the border force is doing?
The French boat was not escorting the migrant boat. International maritime law prevents border force intervening with boats unless they are expressly invited to. The boats were shadowing the migrant vessel in case it sank and the people needed rescuing. The first duty French and British vessels is to save life at sea.

Upon arrival those aboard the boats have to be processed through the asylum system before the Government is legally able to return them

.
Has this collaboration been given Ministerial approval?
Collaboration is wide of the mark. Priti raises the issue of channel crossings with the French interior minister every time she sees him. Both are committed to stopping it, but have to work within the framework of international law, meaning the work to stop crossings can largely only be done on land not at sea.

More will be able to done to deal with boats once they have landed on British shores when the Brexit transition period ends.

The Government is keen to reassess the EU's Dublin convention on asylum application.
Is the French Navy not in breach of EU directives and/or law?
The French Navy is following international law

.

It would be illegal to intervene with the boat.

Instead, the navy is committed by law to save lives at sea, and consequently shadows boats that are at risk.
Is this the official or unofficial policy of the French government?
The French Government has been working well with the British to stop illegal channel crossings. They do not want to allow crossings as this creates a strong pull factor for more migrants to come across continental Europe to northern France in the hope of crossing too. It is a big domestic political problem for them, and they have been largely successful in clearing migrant camps and patrolling beaches. 100 people were stopped over the weekend. Boats do however slip through the net.
Guido asked why it was the case that the Australians were able to turn back boats uninvited. They do it by breaking international law. It upsets the UN and embroils the Australian Government in a lot of legal trouble with powerful interest groups; it works though…
Also on May 21, Breitbart reported that the Fourmentin, named after a notorious 18th century French pirate who terrorised the English (!), has form in illegal migration: 'Transponder Data Proves Farage Right on French Handover of Illegals', having made similar trips of this nature. The Aramis, a former French naval vessel which is now a police vessel, has, too. Good grief.
There must be shady money in these operations. You or I could not take a dinghy out to sea, but these people get a military escort. One law for us and another law for people who aren't even citizens of France or the UK. We know nothing about them (e.g. criminal records in their home countries) other than that they are male and able bodied. The mind boggles.
Several days ago, a Conservative MP said that over 600,000 immigrants arrived in the UK in 2019. I wonder if the likes of these were included in the count.
Conservative Woman posted an article by John Smith, 'Farage migrant video shames so-called journalists'. It says, in part (emphases mine):
This is a scandal of epic proportions. More than 1,000 immigrants are known to have arrived in Britain since lockdown began on March 23. Others will have slipped through the net. This is despite Migration Watch's constant alerts. 
Farage has been chipping away at this issue for weeks. The video is the culmination of a long investigation by him. He has undertaken this work because he believes it badly needs to be exposed for a host of reasons. Not only are these men (he says they are mainly men) probably not refugees (they are economic migrants fleeing the safety of France), but they are breaking the law. We know nothing about them, meaning there is a security risk to our citizens. There is also a public health risk because they may have Covid-19 … 
Farage has done a public service in reporting on this scandal. It's only May. Think how many more illegal immigrants will try to cross between now and October. Once, newspapers such as the Sunday Times or Daily Mail grasped that their readers cared about this kind of story. Now, they mock those like Farage who do their reporters' work for them.
This is Farage's full video, posted on May 21. It includes an interview that LBC (radio) did with Priti Patel:
Just as bad is the £2.9 billion deal the UK government struck with two companies, Serco and Mears, in January 2019 (when Theresa May was PM) to provide housing and support for asylum seekers. Good grief. Why does that cost so much?
Ending on coronavirus, it is a relief that the government now has sufficient testing capacity to extend it to the general population. This is particularly important with the proposed return to school in June for certain pupils:
Looking ahead, once things stabilise after the coronavirus outbreak, hard decisions will need to be taken about aspects of national health care. We are still waiting — ten years on — for the Conservatives' promised 'bonfire of the quangos':
When the military have to sort out logistics for the health system, we have a problem:
Harvesting crops is also an issue. I hope that British farms will recruit British workers wherever possible:
However, this could well be dead in the water:
The article, from May 20, is behind a paywall, but the comments are accessible. They corroborate the article's author saying that young Britons have applied for these jobs and have been turned down — or not replied to at all. Some farms have turned down those who can work locally and live at home, rather in a six-person mobile home accommodation on the premises.
Excerpts from the article follow:
The narrative goes something like this –
Farmers: "We need workers or the crops will rot"
Her Majesty's Government: "Then employ British workers"
Farmers: "We tried, you tried, but they just aren't up to it, the food is going to rot"
HMG: "Oh no, we cannot allow that to happen, open the doors and ship them in" …

The author, Gawain Towler, is suspicious of DEFRA, the Department for Environment, Food and Rural Affairs:
Some questions recently asked of Defra push towards the idea that the ministry has now decided to side with the farmers and against the views of the majority of the population. They were asked whether the Government had put any system to evaluate the success of the campaign to employ UK workers on the farms, after all there has been a great propaganda push, so surely this will have had an evaluation attached to it.
The answer was that they couldn't say, because it was commercially sensitive. Nobody had asked about individual farms, but the broad picture – simply how many have been employed. No answer, no system in place to check.
The ministry was also asked about the series of what looks on the surface to be discriminatory measures to discourage British workers. The refusal to allow people to have transport. The demands that they live on site, rather than travel into work, in dormitories for which the workers' pay. The demand in some cases for an up to three-week training period, to pick fruit …
Why does it take three weeks to learn how to pick fruit?
The author concludes:
If the Government is refusing to address these very real concerns, and they are, if they refuse to even have any system in place to discover the efficacy of their schemes, then what are we supposed to think? I, who am still looking for work in the sector, and many thousands like me who have also failed to find work through the system must surely be justified in thinking that they are not serious. Worse still, it looks like the system is deliberately designed to fail.
Yes, it certainly does, even though it would be nice to be proven wrong.
As one can see, there is still much work to be done in Parliament this year, dominated by Brexit and coronavirus.
As I close a week discussing Disroyalty starring the Duke and Duchess of Sussex, here are a few more views about their plans as well as a summary of what went on at Sandringham on Monday, January 13, 2020.
Before I get to those, however, it is important to remember that other Royals will have to pick up the Sussexes' slack, leaving 200 engagements per year to divide among them.
Key points about the Sandringham summit
Here's what to know about the Sandringham summit on Monday.
The Daily Mail says that Harry arrived at 11:20 a.m.
By then, Prince Philip had already left and was driven elsewhere on the estate. He was reportedly furious last week:
Philip was reportedly 'spitting blood' with anger when he found out last Wednesday and yelled at his aides: 'What the hell are they playing at?'
If he left, he wasn't feeling any calmer.
Prince Charles had arrived the day before. Prince William showed up 15 minutes before the meeting began at 2:00 p.m.
The meeting was held in the Long Library, which used to be a bowling alley. Princes William and Harry spent much time there as children.
It is located away from other rooms where the Royals might have been overheard.
Meanwhile, the Home Secretary, Priti Patel, denied charges of racism (same link):
Ms Patel, speaking to BBC Radio 5 Live, said: 'I'm not in that category at all where I believe there's racism at all. 
'I think we live in a great country, a great society, full of opportunity, where people of any background can get on in life.'
Asked if the media had been in any way racist, she replied: 'I don't think so, no… I certainly haven't seen that through any debates or commentary or things of that nature.'
On January 14, the Mail reported that Prime Minister Boris Johnson wisely refused to be drawn in on the controversy:
In his first major TV interview since the election, Mr Johnson said: 'I am a massive fan of the Queen and of the Royal Family…
'I am absolutely confident that they are going to sort this out.'
I was happy to read that Harry's early arrival ensured that he could have a lengthy one-on-one conversation with his grandmother.
Bolter
In 2018, a few months before Prince Harry and Meghan Markle got married, Germaine Greer gave an interview to Australia's 60 Minutes in which she said she thought the bride would end up leaving.
The Cut posted the story on April 16. Prescient (emphases mine):
During an interview with 60 Minutes Australia this weekend, outspoken and controversial feminist author Germaine Greer said she thinks Markle "will bolt" as soon as she gets a sense of what life in the British royal family (which Greer refers to as "the firm") is really like.
"Let's hope they're in love. If they're not it's going to be totally unbearable," Greer told journalist Tara Brown. "She will see vistas of boredom that are unbelievable. I think the pressure to escape from the firm is crushing."
When Brown asked what she predicted for the couple's future, Greer answered, "I think she'll bolt."
"She bolted before. She was out the door," she said, referring to Markle's 2013 divorce from Trevor Engelson. "I think she'll bolt. I hope in a way that she'll bolt but maybe she'll take Harry with her."
When asked why Markle, already a successful television star, would give up her career to marry into the royal family, Greer quipped: "Why would a girl born in poverty marry a man with 53 million quid? I can't think of single reason."
It seems Harry might be worth less than that — possibly £30m, but the point stands.
There is also the status involved.
Opportunism
The deputy political editor at the Daily Mail, John Stevens, had this to say about the Sussexes' announcement last week:
In fact, that is quite possible.
Allegedly, Justin Trudeau knew of their plans before the Queen and the rest of the Royal Family. So did Elton John.
On January 11, the Daily Mail reported:
There was speculation last night that Canada's Prime Minister Justin Trudeau may have given a cryptic Twitter clue about the crisis that was about to engulf the Royal Family.
When news emerged that the Duke and Duchess of Sussex had turned their back on Royal tradition and flown to Canada for Christmas, their powerful friend was one of the first to welcome them on social media.
He wrote: 'You're among friends, and always welcome here.'
Just weeks later, the Royal couple were looking to test that 'always' by announcing their move to Canada.
And the tweet has done little to dampen gossip in Embassy circles that Mr Trudeau was more aware of the Sussexes' emigration plans than even their closest family.
Diplomatic sources claim Mr Trudeau and his wife Sophie were consulted about the decision late last year, before members of the Royal family and even the Queen.
The Trudeaus are friends with the Sussexes:
Last night, the Canadian government did not respond when confronted about the claims, but sources close to the Sussexes denied they had discussed the move with Prime Minister Trudeau.
The Canadian First Couple and the Sussexes have been close friends, with Meghan and Sophie even sharing a stylist – Meghan's best friend and sometime babysitter for Archie, Jessica Mulroney.
Prince Harry, 35, and Mr Trudeau, 48, are two of the younger fixtures on the world stage, with both men appearing to enjoy each other's company at events such as Commonwealth commemorations.
The two have also encountered each other on multiple occasions through Prince Harry's Invictus Games for disabled servicemen.
I wonder if the Sussexes are aware that, many years ago, Trudeau once attended a fancy dress party in blackface. He thought nothing of it at the time. Terrible.
Returning to John Stevens's tweet, here are a few responses:
Money
Although, technically, what Prince Charles does with his income from the Duchy of Cornwall is his business, the British would be annoyed if he continued to finance Prince Harry:
This YouGov poll shows similar results:
This Briton tweeted about the video of Harry touting Meghan to Disney's Bob Iver for voiceover work:
Naturally, some of the money she would earn from such work would go to charity. Of course:
Trudeau said that his country will pay for the Sussexes' security detail. Canadians won't be too happy about that:
Another Daily Mail report said that Canada would pay half the Sussexes' £1m annual security detail cost. We shall see. On January 14, the Mail published an article quoting Trudeau, who said:
I think most Canadians are very supportive of having royals be here, but how that looks and what kind of costs are involved, there are still lots of discussions to have.
Family
The young Anglican priest who tweeted the following has mistakenly said that the Sussexes are on the Civil List. They are not.
However, the larger point about their role in the Royal Family is what is important:
The Revd Giles Fraser, formerly Canon at St Paul's Cathedral and now Rector of St Mary, Newington in South London, wrote a considered article on the topic that the Revd Philip Murray raised. The Bishop of Dorking (Surrey) complimented him on it:
Do we still recognise moral obligations that exist prior to our having chosen them? That is, it seems to me, the question embedded within the whole Megxit scandal. It couldn't have been better designed to drive a wedge between two very different ways of seeing the world …
But this isn't just about monarchy. For the same tension exists within the very idea of a family — the Windsors being, as well as royal, the most famous family in the world. How does liberalism — of which Meghan Markle feels like a supreme representative — deal with that age-old sense of moral obligation towards those who have brought you into life and have raised and nurtured you, without you having chosen them for the task. Of course, some families fail in this very basic duty. And most of us parents only get it half right, at best.
Without this very basic idea that we are born into some fundamental unit of existential solidarity, something towards which we owe an allegiance long before we are able to choose it, human life is released from its moorings and we are all deeply lost. This is where liberalism flounders. For when it comes to the most important basis of human flourishing, family life, liberalism has nothing useful to say, other than to remind us that some families are destructive and dysfunctional and best escaped from. Be your own person, it advises. Break free. But this is to cut off the branch on which nests are built.
Sense of duty
A Theology graduate from Cambridge University has the ultimate analysis of the Duchess and her outlook on a sense of duty.
This is a must-read:
So true — especially the closing thought about helping minority Britons!
When they got married, I thought she might look forward to such a role. I was wrong.
Poll on the monarchy
Between Thursday and Friday, January 9 and 10, Deltapoll conducted a survey on the monarchy. This was after the Sussexes' announcement.
The favourable results were lower than I'd expected:
A Pole responded to that tweet, encouraging us to keep the Royal Family:
Good or bad? It's important. I come originally from Poland. I read Polish papers and #British monarchy issues make front page headlines there. The monarchy is #Britain's trademark, as it were, recognised worldwide. Try and lose it to see how good it actually is to have it.
I fully agree.
This is a breakdown of the question by age group:
I also agree with these replies:
I do not think that most of our Prime Ministers would have made great Presidents.
The Royal Family are good for Britain. Let's not discard them because of the actions of a few bad apples.
Britain's Conservatives have had a highly successful party conference in Manchester.
They have had the highest attendance in 20 years, with many more young members showing up.
Conservatives seen as Party of Brexit
Voters now think that the Conservatives are definitely a party of Brexit, a dramatic turnaround since the days of Theresa May in April 2019, as a YouGov poll from October 1 shows:
Guido Fawkes writes (emphasis in the original):
New YouGov polling has revealed that more Leave voters now think that the Tory party is a pro-Brexit party in a direct contrast to the last time the question was asked. Back in April, Leave voters were found to be substantially more likely to think the Tories were actually anti-Brexit (40%) than pro-Brexit (23%). The more pro-Brexit the Tories are seen as, the higher their polling climbs…
Hearteningly for Tory strategists, the proportion of Brexit Party voters who see the Tories as anti-Brexit has collapsed from 65% to just 24%.
This exchange is representative of voters' perceptions:
One of Guido's readers provided an excellent analysis (emphases mine) and meme featuring Chancellor Sajid Javid, Home Secretary Priti Patel, Leader of the House Jacob Rees-Mogg and Foreign Secretary Dominic Raab:
The core Cabinet + Lynton Crosby + Dominic Cummings are driving policy in a very interesting way.
They are commissioning an unprecedented number of focus groups and private polls. They are scouring the social media. They will even be reading this comment (Hi!).
They then use this knowledge of what the public actually want to form policy and to craft the messages in their speeches, press releases and other output.
They are doing what a government should do. They have become the servants of the people.
This is why Boris says we are leaving, deal or no deal. He is 100% sure that this is what the vast majority want. And he knows how massively unpopular the Quislings are.
The other parties are just bumbling round in the dark with their blindfolds on.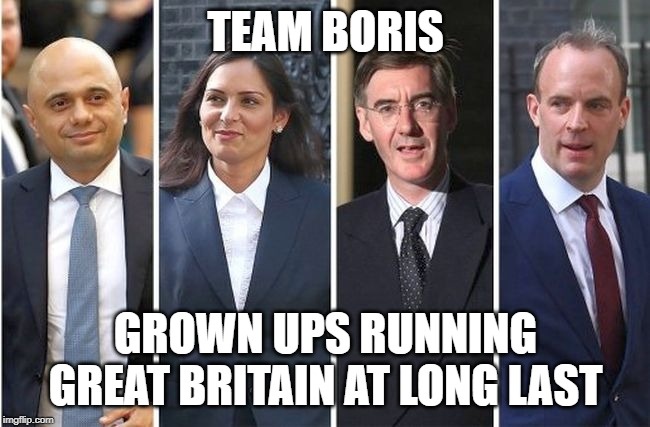 I don't know about 'grown ups' as much as a group of people who have the mettle to keep going, in spite of all obstacles, not least the daily nastiness from the Left. This went up near Manchester in nearby Salford just before Conference began on Sunday, September 29:
Boris best PM since Maggie
Many Britons have said anecdotally online that Prime Minister Boris Johnson is the best since Margaret Thatcher, who stood down in 1990. The following is something any Briton over 60 will tell you about when you ask about the 1970s and her party's defeat of Labour. She faced a national mess, one that affected everyone with regular power outages, strikes and so on:
Whilst it's early days, here are poll results from this week for Boris …
… and the Conservatives:
Conservatives — the party of the people and of diversity
From the introductory speech by the female chairperson of the conference until the end, the Conservative message was:
We don't care where you come from, but where you are going.
How true.
Under Boris Johnson, we have the most diverse Cabinet in British history.
Despite all their rhetoric on people and diversity, Labour's Shadow Cabinet barely comes close.
Labour are also under investigation on charges of anti-Semitism.
On Monday, September 30, a young Conservative Party member introduced the Chancellor of the Exchequer. Mercy Meroki is no fan of the Labour Party. She is currently studying at Oxford:
Now is a good time for people like me to find out how to pronounce the Chancellor's name:
He greeted his mother, who was in the audience. This is probably the first time Punjabi has been heard at a Conservative Party conference. I wonder about the Labour and Lib Dem conferences in that regard, too, though:
The biggest headline from the Chancellor's speech is a proposed abolition of inheritance tax, rightly viewed by Britons to be the most unfair:
The Party of Law and Order — Conservatives
I sincerely hope that Priti Patel can be a better Home Secretary than her predecessors Amber Rudd and Theresa May.
Her speech went down very well with conference attendees and people watching from home.
Whilst I applaud the addition of 20,000 more police from the PM and her, we have heard this before. For various reasons, it never happens.
I also question the Australian points system for future immigrants. Surely, there must be a better way, as an article from October 1 in The Guardian, 'Oxford professor's children refused visas to join her in UK'. This is what happens in the academic world, so heaven only knows what happens to others than senior executives or the very wealthy (emphases mine):
Dr [Amber] Murrey, an expert on social change in Africa, who has published widely and previously held positions at universities in Cairo, Massachusetts and Ethiopia, took up her post in Oxford last year. Without proof of residency she couldn't set up schooling or somewhere to live in advance, so the couple decided she should establish a base in Oxford before moving the family. While she has been returning to Cameroon to see her daughters and husband in the university holidays, she says this has been an emotional strain.
"It has been really hard, because I need to spend more time with my daughters but I am wary of being out of the UK for too long in case it jeopardises the terms of my tier 2 visa," she says.
The news has hit the family hard. Murrey says: "My nine-year-old had been so excited about her new school, and our apartment near a meadow. After I told her their visas had been denied she told me: 'I know why they rejected me, it's because I've been misbehaving this week, Mama'. We both cried very hard."
The Home Office rejection letters say that under immigration rules a child may only be given a visa if both parents are living together in the UK. This would be waived if the parent living here had sole responsibility for the children, or the other partner had died.
"This policy seems to operate under the guise of keeping families together, but it is splitting mine apart," Murrey says.
Ultimately the couple want the whole family to live together in Oxford, but Murrey says that right now they are just trying to "do what is best for our daughters".
She doesn't know whether she has been singled out as a risk because her husband is from Cameroon. "We have family members and friends there who have been rejected for British visas in the past," she says.
The Wellcome Trust, a health research charity, has evidence of around 100 cases in which academics, especially from African countries, have been refused visas to come to the UK for conferences, often for spurious reasons …
A young Canadian academic, who wished to remain anonymous, recently encountered a similar pop-up window when applying for a full-time lectureship that should have qualified her for a tier 2 visa at a London university.
"It said: 'It is highly unlikely that you would obtain permission to work in the UK on the basis of an offer for this … job. It is therefore recommended that you do not continue with your application'."
She says this felt like a sign saying: "foreigners go home". She blames the government rather than universities, but says that after a year of applying for jobs she is beginning to feel desperate.
Gareth Edwards, a senior geography lecturer at the University of East Anglia and co-founder of International and Broke, which campaigns against high visa costs for academics, says international academics are getting this sort of pop-up warning when applying for permanent lectureships. "Those jobs are most certainly eligible for sponsorship," he says.
Meanwhile, we've got illegals coming here on dinghies from the Dunkirk area. They have friends or family members pick them up in coastal arrival points in the UK to take them to their new home.
It seemed to be just a few cases last year, but LBC (radio) recently sent someone undercover to investigate, and it's a regular trafficking programme with dozens of people being smuggled across the Channel every night. On a slow day, only 20 to 25 go across. Normally, twice that many people make the crossing nightly, often with the blessing of the local gendarmerie. I will write about this in a separate post.
Immigration aside, the levels of crime on our streets are far different than they were 25 or 30 years ago. Crime used to make the national news. Now there are so many incidents that local newspapers cover them instead. So, on that basis, Priti Patel's policies — really Boris's, as he came up with them first — have been applauded:
And, ironically, before the Home Secretary spoke on the dais to formally announce this new commitment, security staff duly ejected a Conservative MP from an event at the International Lounge. Either he or his guest lacked the relevant pass to gain entry. They were then asked to leave the conference altogether:
The BBC reported:
A staff member guarding the door of the International Lounge said the incident was sparked by a disagreement.
"It was a small misunderstanding," the man said.
BBC Political Editor Laura Kuenssberg said the incident happened just before home secretary Priti Patel stood up to make a speech "trying to reclaim the Tories as the party of law and order".
A Greater Manchester Police spokesman said an attendee "attempted to enter the International Lounge area of the conference without the relevant pass".
"Security staff intervened and resolved the situation without any breach of security occurring," he added.
Also:
The incident led to a lockdown of part of the Manchester Central Convention Centre for about 20 minutes. The MP apologised "unreservedly".
A Conservative spokesman said: "The incident was totally unacceptable."
"Geoffrey has been asked to leave Conference and we are establishing all of the facts to see if further action is necessary," he added.
"We will always adopt a zero tolerance approach to any inappropriate behaviour towards our hardworking staff."
The Cotswolds MP said in a statement: "This was a minor verbal misunderstanding.
"The police have not contacted me at all. I am mortified that something so minor seems to have been blown out of all proportion and if anyone has been offended, I apologise unreservedly.
"I will co-operate with the party in any investigation."
Tweets show this incident caused concern:
Boris's speech — backing Britain
Of course, most reading this want to know what Boris said just before midday on Wednesday, October 2.
As one would expect, he was witty and to the point. As one reader of Guido Fawkes points out:
… Boris in a nutshell: HE CHEERS US UP.
True!
Others agreed:
Were any other former PMs there? No:
You can see Boris's speech in full, beginning at one hour and 36 minutes in:
Note his Brexit coloured tie.
He began by paying tribute to his predecessor, Theresa May. He also thanked the outgoing leader of the Scottish Conservatives, Ruth Davidson. Neither is a particular fan of his, but Boris did the right thing.
He then said:
We have so many reasons to feel confident about our country.
Finally. Having watched portions of the Lib Dem and Labour conferences, it was a relief to hear a party leader talking positively about Britain.
He referred to Labour as the:
anti-Semitic Marxists in Brighton last week.
Boris then wittily criticised Jeremy Corbyn for not voting for a general election. Corbyn, lest we forget, asked for one 35 times, no exaggeration. Boris put forward a motion twice in September, and Labour voted No. Then he went on to discuss the Supreme Court overruling the recent prorogation, which had Royal assent:
He brought up Brexit:
He rightly asked when any Conservative leader last spoke about capitalism:
The answer is Theresa May in 2017. Prior to that, David Cameron did at some point.
He spoke up for Britain and our nation's great innovations throughout history:
I'm fed up with being told our country can't do something when I passionately believe that it can.
He gave a shout out to the Commonwealth.
He praised Priti Patel for supporting law and order policies.
He called for London to elect Shaun Bailey as its next mayor.
He spoke about buses, his favourite vehicle.
He said that wind and solar energy were far more productive than originally claimed. It turns out his sister, Remainer Rachel, was sceptical. Boris picked up on it at the time in one of his Telegraph columns:
At the end, Boris received a standing ovation.
No one slept through his speech.
He did not use an autocue, either, which was refreshing.
'No disposable cups'
The comedy moment of the conference occurred on Tuesday, October 1.
Boris really wanted a cup of coffee, and a male aide handed him one. A female assistant quickly whisked it out of his hand.
Apparently, it was because it was in a disposable cup. I do think the Conservatives are taking this eco-thing a bit too far:
Watch Boris extend his hands, not quite believing what happened and not having any coffee. He's a good sport:
It reminded me of that Seinfeld episode, 'The Soup N@zi': 'No soup for you!'
Comedy gold.
Guido Fawkes reports (emphasis in the original):
After a slue of late night receptions with Tory members, Boris was denied his much needed caffeine hit this morning by his press team – all because it came in the wrong cup. When Number 10 Press Secretary Rob Oxley handed the Prime Minister a cup of coffee, it was swiftly snatched away by events aide Shelley Williams-Walker who scolded him saying "No disposable cups." Oxley was later spotted buying a KeepCup and a mug at the Tory Party conference shop…
UPDATE: Several hours later…
My observations
After Boris's speech, the Conservative Party Conference drew to a close for another year.
My brief observations follow, contrasting this to the two left-wing conferences.
First, everyone at the Conservative conference was tidy and well groomed. Most of the men wore jackets and ties.
Secondly, proceedings ran to time. Boy, did they ever.
Finally, everyone who spoke was articulate and delivered their speeches well.
Bravo!
Now, it's onwards and upwards to GET BREXIT DONE!