You are currently browsing the tag archive for the 'Prof Neil Ferguson' tag.
On Friday, January 4, news emerged that SAGE, the scientific and clinical group advising the Government on coronavirus, will no longer be meeting regularly.
Pictured on the left is Sir Patrick Vallance, chief scientific officer, and, on the right, Sir Chris Whitty, chief medical officer:
Guido Fawkes's post says (emphases in the original):
The pandemic is over and, rightly, SAGE is gone. Announced this afternoon, the freedom-hating advisory board will stop meeting regularly, though the government has placated hypochondriacs by promising they stand ready to reform. Like an epidemiological Take That…
SAGE met monthly from January 2020, though increasingly pushed for lockdowns and Covid measures, which when ignored by Boris proved massively surplus to requirement. The government has taken back control once again…
SAGE were the ones responsible for repeated lockdowns, the U-turn on masks and 'hysterical', as the Swedes put it, modelling. Here is one example: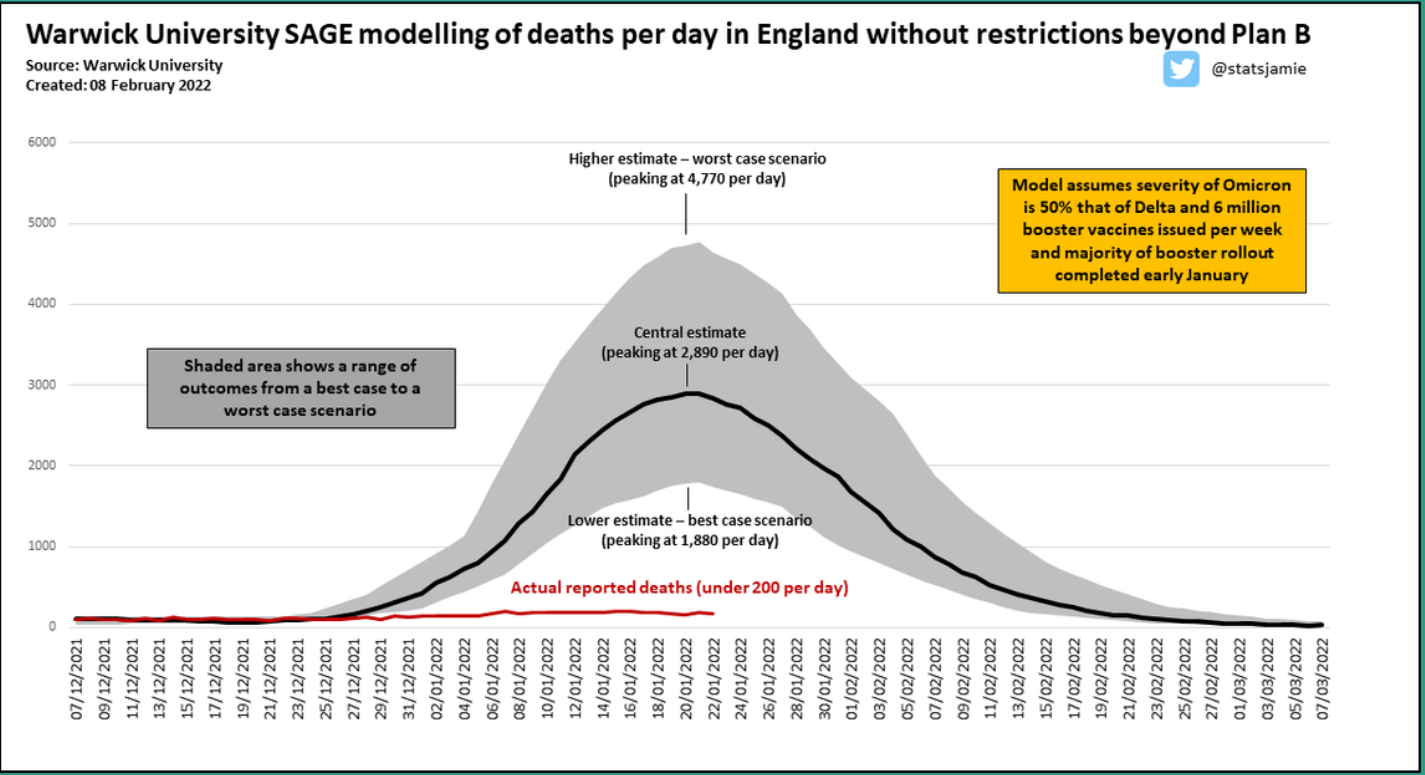 Shameful.
The Daily Mail reported (emphases mine):
The scientific advisory group, chaired by Sir Patrick Vallance and Sir Chris Whitty, 'stands ready' to reconvene if the virus rebounds.  
It marks another significant step in the return to normal and suggests even No10's famously cautious advisers recognise the worst of the pandemic is over.  
The influential panel – made up of 90 leading experts and officials – has met at least monthly since January 2020, and multiple times a week during surges. 
There had been growing calls for the group to be reviewed amid claims it held too much power over the Government and did not have enough diversity of opinion.   
Much of the criticism has been aimed at SAGE's pessimistic projections, most recently warning of up to 6,000 Omicron deaths per day this winter. It has also been accused of leaking proposals to the media in order to pressure ministers to back stricter measures. 
Sir Chris and Sir Patrick will continue to advise ministers on Covid, as will the UK Health Security Agency and Joint Committee on Vaccination and Immunisation (JCVI). 
It comes a week after Boris Johnson lifted all pandemic laws in England as part of his 'living with Covid' strategy, with free testing due to be axed next month. 
Conservative MP Steve Baker was generous in his assessment of the freedom-depriving scientific group:
We have seen that experts are only human too.
That said, he added:
As we now pick up the pieces after the collateral damage of lockdowns and restrictions, we see more clearly than ever before that we need competitive, multi-disciplinary expert advice with challenge. Boris ought to implement reforms now.
Indeed.
Even though most of us never heard of SAGE until two years ago, the committee has been around for well over a decade:
SAGE was initially set up to provide 'coherent, coordinated advice' on the science surrounding pandemics and other emergencies.
It was a little-known body before the Covid crisis, and had only occasionally been called upon to assist in decision making.
It first met in 2009 for the swine flu pandemic, and then in 2014 to advise on Ebola, in 2016 over Zika and in 2018 over the Salisbury poisoning.
The group met only once in 2019 amid concerns the Toddbrook Reservoir dam in Derbyshire would collapse.
But since the pandemic began it has convened meetings at least once a month, with the first held two weeks after the first cases of the virus emerged in Wuhan, China, in December 2019.
The group has met more frequently during fresh waves of the virus, convening eight meetings since Omicron emerged in late November. 
Other than Whitty and Vallance, we knew most about the SAGE subgroups SPI-M, the modellers, and SPI-B, the behaviourists:
SAGE meetings have a shifting membership drawn from a panel of about 90 scientists and medical experts. 
Dozens more sit on sub-groups, including controversial epidemiologist Professor Neil Ferguson, who was kept on as an adviser despite being forced to apologise for breaking lockdown rules during an affair with a married woman.
It is unclear how often the SAGE subcommittees will meet.   
My first inclination on seeing this news was that SAGE will now get involved in climate change.
I hope that the Ukraine situation has put paid to that.
I have some highly uncharitable things to say about SAGE.
GB News's Mark Dolan expressed his dissatisfaction with SAGE much better than I could in this well considered editorial at the weekend. He is right to say that SAGE caused damage to Britain that Vladimir Putin could only have dreamed of:
May we never see their like again. Somehow, sadly, I think we will.
Isn't it interesting that the media narrative has changed from wall-to-wall coronavirus coverage to Ukraine?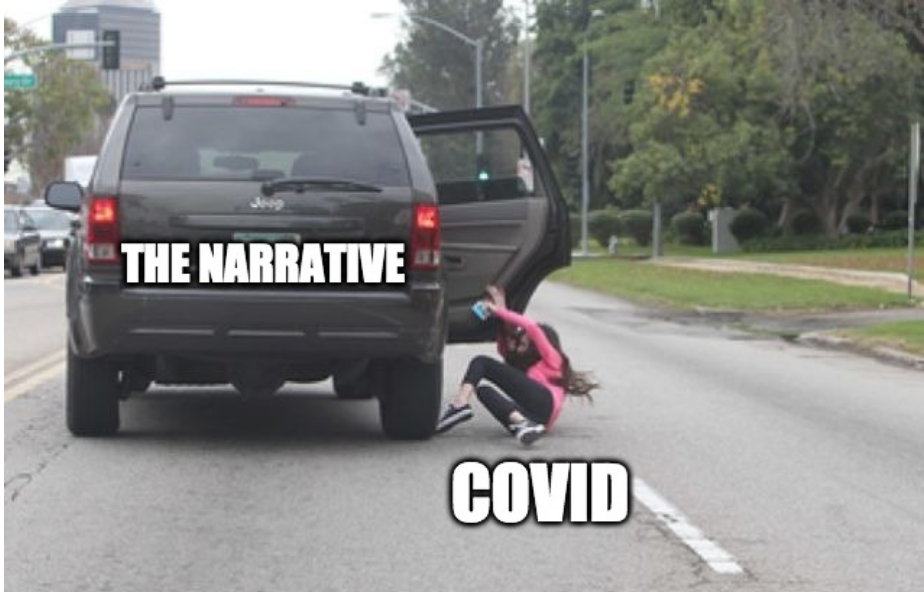 It seems that there is never room for more than one media narrative at a time. Sadly, this is now true even on GB News.
Fortunately, I have a few coronavirus gems from last month.
We must never forget what our notional betters did to us over the past two years.
The UK will hold a formal inquiry, although we do not know when it will start.
On Saturday, February 5, GB News's Neil Oliver delivered a five-star editorial on coronavirus measures in Scotland and other Western nations:
This was the theme:
Well, the narrative certainly changed by the end of the month.
Nonetheless, even as I write, coronavirus measures are still a thing in Scotland. First Minister Nicola Sturgeon has lifted some, with others to go this month. However, it might be some months before all of them disappear north of the border.
This was the state of play in Scotland in early February:
Somehow, Covid still manages to be in our faces – suffocating us bit by bit and all the time.
My children are still required to wear masks at school all day every day – rebreathing their own exhaust fumes for hours at a time.
In Scotland last week, first minister Nicola Sturgeon said her devolved assembly would spend hundreds of thousands of taxpayers' pounds cutting the bottoms off classroom doors so as to improve air flow in schools.
Seriously – that's what she said. Get this: she actually said there's a worry about how much CO2 children are inhaling in improperly ventilated classrooms.
They have to keep the masks on – so that they exist in a permanent cloud of their own, self-generated CO2, held over their mouths and noses like a smothering hand, but rather than let them take off those masks and breathe air like free people should, Sturgeon's proposed solution is to take a saw to the bottom of the classroom doors.
To say you couldn't make it up is an insult to made up things.
The fact that you can open a door to increase ventilation, on account of its hinges, the fact that doors exist in schools at least in part to inhibit the spread of smoke and flames in the event of fire, significantly more of a threat to the lives of children and staff than Covid ever was, has apparently passed Sturgeon by.
But, hey-ho, if there's one thing we've learned after two years, it's that everything is all and only about Covid.
Some days it feels like it always will be.
Covid could and should be behind us, as I have already said, but the powers that be keep pulling it back around until it's front and centre.
[Boris] Johnson announced some sort of an end to restrictions, but still, that air of lives limited, lives controlled, prevails, like the smirking grin that remains after the Cheshire Cat has otherwise disappeared.
And do you want to know why? Because after these two years like no others in our history, Covid is all they've got to explain and to justify everything else.
He took issue with Western governments:
Governments need Covid, and desperately …
All the money we ever had and most of the money we might ever dream of having – they blew the lot on Covid.
And since Covid is all the Governments have got now, by God they're determined to keep it.
Covid, as it turns out, is like a sort of Swiss Army knife, equipped with all sorts of useful little tools for all sorts of jobs, large and small. And meanwhile the evidence of manmade disaster is all around us.
He referred to the Johns Hopkins study that came out a few days beforehand:
A recently published study from the world-renowned Johns Hopkins University, in Baltimore, found lockdowns had had little to zero public health benefits and instead imposed enormous economic and social costs.
Like we didn't know that already, having been there while it was actually happening – but anyway, let's hear it again.
Researchers found lockdowns in Europe and the US lessened the Covid-19 mortality rate by just 0.2 percent.
The authors concluded that lockdown policies are ill founded and should be rejected in future.
Everywhere they were applied – everywhere – lockdowns caused enormous economic and social costs.
He went on to discuss how our various governments 'blew it':
Allow me to summarise those findings even more: Our governments blew it.
Faced with what they told us was the greatest threat to our civilisation in our lifetimes, for a hundred years or more, our governments took a bad thing and, through over-confidence, monumental incompetence and with the dull-eyed stubbornness of mules made it massively worse.
More importantly, when they must have known they were making it worse, they did it again. And again.
Now, rather than take responsibility and own up to their catastrophic failures – maybe say sorry for all the lives ended, lives ruined, lives compromised, a generation of children used like sandbags to protect the vulnerable from a flood, like stab vests worn on the chests of adults – they keep holding up the tattered rags of Covid, like the remnants of a curtain to stop us seeing the reality that lies behind it.
What lies behind that shabby curtain are consequences, and even now those powers that be don't want us looking at them, far less talking about them and thereby understanding the crippling reality of them.
Isn't it convenient that the TPTB now have Ukraine with which to distract us? Thanks, Putin. The news overkill on that is the ultimate distraction.
Oliver then talked about the horrors of quantitative easing:
What they did with money – your money, my money, everybody's money – during the pandemic is what the banks have been doing with money for decades now, and it's largely to blame for the bigger mess we're in now.
Quantitative Easing, they called it – printing money, to you and me.
For decades the tactic applied by the banks, with governments in cahoots, was to print uncountable, unthinkable amounts of money.
"We don't have any money left."
"Well print more, then."
"How much?"
"As much as you like – and keep it coming, I need another super yacht, and so does my mum. No one'll notice. And if they do, say it was Covid."
Imagine a glass of orange squash – a little bit of concentrate, topped up with water.
Tastes like orange, you know how it goes.
Then imagine tipping that glass-full into an empty swimming pool and turning on the taps.
By the time the pool is filled up with water, any orange in the mix is so diluted as to be utterly undetectable.
That, more or less, is what has happened to our money.
The value of our money has been so diluted it is quite literally not worth the paper it's printed on – which probably explains why they don't seem to want to actually print it on paper anymore.
They just add more zeros on their computer screens instead. Look at what they did with some of that pretend money: trillions of pounds worth of debt that will never, ever be repaid.
Billions blown on dodgy PPE, billions handed over as 'Bounce Back Loans' to companies that didn't even exist. Gone.
Those gazillions are gone – and the truly troubling point is that in every way that matters, they didn't really exist in the first place.
Rishi Sunak and Boris Johnson and the like have the gall to say they've got a way to fix the mess.
They might as well try to put out a factory fire by blowing on it.
On account of all that funny money, and then their use of Covid as a hammer to flatten business after business, the economic and financial model we've taken for granted for the last 50 years or more is finally done.
He looked at Covid measures in various countries:
Much of Europe is an interesting watch, to say the least. Austria is a police state now, in all but name, thanks to Covid.
Papers, please! Italy and Germany are much the same.
France would likely go the same way – except President Macron is too properly scared of too many of his own people to go all the way to vaccine mandates.
Instead, he remains committed to making the lives of the unvaccinated as miserable as possible. In Western Australia unvaccinated parents are barred from the hospitals where their children lie sick, dying.
In Canada the GoFundMe organisation has withheld millions of dollars raised in good faith, in support of the truckers protesting vaccine mandates.
What will become of that money, donated by hundreds of thousands of ordinary Canadians, remains unclear.
More and more questions are being asked about the vaccines, all around the world.
Questions about efficacy, about safety, and yet governments like the US, Canada and Australia, as well as here and just about everywhere else continue to dig in, more and more determined to get a needle into every arm on the planet.
Israel is beavering away with injection number four – and the positive cases are spiking in what looks, on the graphs, like a vertical line pointed into space.
With the Covid narrative in tatters now, new weapons of mass distraction are being deployed to stop us thinking too much about the mess.
Enter Putin with his invasion of Ukraine. How timely. In early February, we knew it was coming:
I'd like to say, Don't Mention the War, but of course there's Russia and Ukraine to look forward to as well.
Oliver brought up non-Covid health issues:
There was a GP on the telly last week saying the stress of lockdown is causing heart attacks and strokes.
Well, I never.
He brought up the irony about the silence surrounding all the plastic face masks being dumped into the environment:
Climate crisis and environmental meltdown are back to the fore again – never mind the fact we've dumped trillions of filthy face masks, and Covid tests into that environment, that doesn't seem to matter.
He concluded:
Weapons of mass distraction or not, there'll be no hiding the fuel bills due in a few weeks' time.
People forced to choose between eating and heating tend to behave differently than before.
Energy black hole, Net Zero and its consequences and only pretend money with which to pay for it all.
How much longer can our dear leaders hide behind Covid?
We do a lot of weather forecasting on this channel. I tell you this – there's a storm coming.
Oliver then had Benjamin Loughnane (pron. 'Loknayn') from The Bow Group think tank to discuss the Johns Hopkins study about lockdown. This was also a very good segment:
Richard Tice from the Reform Party also appeared to talk about our leaders' mistakes:
You can see the full show below. Almost all of it concerns coronavirus:
Later in the evening, Mark Dolan presented an excellent editorial on how the media and Government handled the pandemic:
The replies to the tweets were worthwhile, such as this one:
Some of us knew from the beginning that most of the coronavirus measures in Western countries were bogus, but anyone who mentioned that PCRs were picking up old viruses was dismissed as a crank.
Lo, it emerged last month that the intrusive PCR testing was proven to be ineffective in accurately diagnosing coronavirus.
Dolan said (emphases mine):
A major new study confirms that PCR tests are horribly inaccurate. There's a surprise.
According to researchers at the University of Oxford, if you've heard of it, a third of people who tested positive for coronavirus via PCR tests were not contagious and did not need to self-isolate.
The study found that many laboratories are setting the positivity bar very low, meaning they're picking up people, who are – quotes – "a danger to no one".
Hand sanitising is also inconclusive:
Do you remember our blistered skin, in March 2020?
Sing happy birthday twice, as you wash your hands? After which a couple of scientists with half a brain cell, pointed out that the virus is transmitted through the air, via aerosols. No sugar, Sherlock.
Perspex screens in shops — or, in cars, as was the case in France — might not have been a good idea, either:
A report came out in August of last year, suggesting those environmentally catastrophic Perspex screens you see in shops, offices and on TV, may make matters worse.
The Environmental Modelling Group, a panel of 16 SAGE experts, said "There is some epidemiological and mechanistic evidence, that suggests screens could increase risks of aerosol transmission, due to blocking/changing airflow patterns or creating zones of poor air circulation behind screens.
Well done everyone.
The best masks couldn't stop the rise in contagion:
Even where countries have demanded better N95 masks, like Austria, cases have sky rocketed nonetheless.
There was no evidence that vaccine passports stopped the spread:
What about vaccine passports? We're saving lives aren't we?
Except that cases have continued to soar in countries that have implemented these divisive measures, which link your medical status to certain basic rights, freedoms and privileges, including in particular in France and Italy.
The same held true for closing nightclubs:
What about closing nightclubs?
The Welsh first Minister Mark Drakeford, who likes a boogie himself, was able to demonstrate no evidence that closing nightclubs would have an impact on spread.
After two years, our health service is on backlog overload and probably will be until the end of the decade.
Some people's lives are in ruins: closed businesses, relatives' suicides, nervous breakdowns, missed diagnoses of terminal illness. I could go on.
Dolan said:
Two years in which we have incarcerated the healthy, stopped people from going out to work and making a living, closed once viable businesses, wrecked mental health and ignored worse diseases like cancer.
The Telegraph are reporting that up to 87,000 cancer diagnoses may have been missed. And the rest.
If you think Covid is worse than cancer, there is something wrong with you.
But that's been the message of the pandemic response.
'If it's not Covid, they don't care' is something I've heard from so many of you over the last two years.
The famously deadly disease of cancer, that affects all age groups, has been relegated in importance for two years, with tragic consequences that will be with us for years to come, with cases like young mothers who didn't get that lump checked or weren't able to. Well done everyone.
There will be a day of reckoning for what Professor Jay Bhattacharya, one of the most respected medics in the world, has called the biggest public health mistake in history. He's being polite.
Dolan rightly took issue with governments, modellers and the media:
So who's to blame?
Well, weak politicians who panicked in March 2020 and discarded decades of pandemic planning …
I blame the modellers like the randy professor, Professor Pants Down himself, Neil Ferguson, who predicted half a million deaths at the start of the pandemic, which spooked ministers into taking this ruinous path.
Some government scientific advisors predicted 6000 deaths a day if we didn't cancel Christmas …
I blame Sage, who failed to equate economic damage with death.
The University of Bristol have told me that half a million people will die as a result of creating the biggest recession in 300 years. And what about wrecked lives?
It's a question no one has ever been able to answer me. Why is it okay to wreck lives? Of course, it isn't. But wreck them we did. And it's most reprehensible when you think of the needless impact on young people and children, who face vanishing threats from the virus. So who else do I blame?
Well I blame the media …
… I blame the media for offering just one narrative. Lockdowns work, masks work and absolutely everybody's got to have the vaccine.
Now these views are valid, arguably the majority of people and perhaps most scientific professionals think exactly that. No problem. Let's hope you're right, because that's the hell you've put us through.
As data come in from around the world, based upon different approaches, with no obvious difference from where I'm standing, I have my doubts. But remember those press conferences – the Beeb, Sky, ITV – why are we not locking down longer, tougher, harder?
By offering such one-sided coverage of the pandemic, by betting everything on the words of SAGE, and freezing out other scientific voices like Sunetra Guptha, Carl Henegan, Martin Kulldorf and Jay Bhattacharya, the media let us down.
To say that the media have lied to you is a bit strong. But they have not provided the full picture.
And any lawyer will tell you concealing information is tantamount, in its own way, to an untruth.
Shall we be polite and just call it government propaganda? I think that'll do.
I shouldn't name names, but I will. The Mail and the Telegraph are the only papers I can think of that have consistently balanced their reporting and have dared to offer a critique about these debatable lockdowns.
The Guardian is a paper I've always admired and read every day.
But where was their coverage of the Johns Hopkins University report, a meta analysis of 24 studies into lockdown, suggesting the measures saved 0.2% of lives, whilst of course exacting colossal harm.
Not peer reviewed and the study has been done by economists, but worth reporting?
I'd say so.
Sweden got it right. That was something that many of us were criticised for saying offline.
Dolan said:
Sweden have seen a fraction of the economic damage, the societal damage and have had fewer per capita deaths than so many countries that locked down hard.
He concluded:
In the end I think the media have got this wrong – they've backed the wrong horse and they are on the wrong side of history.
So there will be a day of reckoning for their one-sided coverage. But will we ever get an admission of guilt, or dare I say it, an apology? I doubt it.
There will be no contrition. And for all of those well paid and high profile figures in the media – we know who they are – the relentless cheerleaders for these disastrous and, in my view, failed measures, sorry seems to be the hardest word.
Now to the present day.
On Wednesday, March 2, the House of Commons Science and Technology Select Committee gathered oral evidence on coronavirus in a session called 'UK Science, Research and Technology Capability and Influence in Global Disease Outbreaks'. Greg Clark (Conservative) chaired the session.
You can watch it here.
After the first hour, Prof Graham Medley — who exchanged tweets late last year with The Spectator's Fraser Nelson on modelling — gave his oral evidence on SPI-M's modelling of the pandemic. He is SPI-M's chair.
Sorry seemed to be the hardest word for him, too, as he saw no need to apologise for Prof Neil Ferguson's mad models which the Swedes described as 'hysterical'.
Medley told MPs that SPI-M 'didn't have the time' (his words) to calculate the probability or feasibility of their overblown scenarios. They plugged garbage in, and, lo, garbage came out. However, he defended everything. He had no regrets.
Three MPs gently took him to task for the modelling. Labour's Graham Stringer came right out and said that he doesn't trust modelling at all, none of it.
One of the MPs tried to press him on the Twitter exchange with Fraser Nelson. Medley replied:
I wish you wouldn't do that.
In the end, he managed to get himself out of any controversy.
Most of the other MPs wanted to question the person from the behavioural part of SAGE, SPI-B. This person was to have sat along side Medley. However, the SPI-B representative cancelled. How convenient.
Dr Camilla Holten-Møller appeared in the final segment. She is the Chair of the Expert Group for Mathematical Modelling at Statens Serum Institut (SSI) in Denmark. What a breath of fresh air she was.
She admitted that SSI did get one of their models woefully wrong, so they quickly regrouped, studied their mistakes and liaised more closely with university research and clinical groups who provide them with data.
It would be nice if Medley had showed the same candour. As it was, he didn't even look bothered.
I can hardly wait for the formal coronavirus inquiry in the UK. The Science and Technology Select Committee will write a report on this evidence session, as they have with others, and submit it to the Government. The reports will be part of the inquiry process.
On Monday, February 28, 2022, The Telegraph released the findings of their Freedom of Information request concerning modelling that SAGE and other scientists in the UK used to promote the case for 2020's initial lockdown.
The Telegraph reported (emphases mine):
Scientists did not have accurate Covid case numbers, and were unsure of hospitalisation and death rates when they published models suggesting that more than 500,000 people could die if Britain took no action in the first wave of the pandemic, it has emerged.
On March 16 2020, Imperial College published its "Report 9" paper suggesting that failing to take action could overwhelm the NHS within weeks and result in hundreds of thousands of deaths.
Before the paper, the UK coronavirus strategy was to flatten the peak rather than suppress the wave, but after the modelling was made public, the Government made a rapid u-turn, which eventually led to lockdown on March 23.
However SPI-M (Scientific Pandemic Influenza Group on Modelling) minutes released to the Telegraph under a Freedom of Information request show that by March 16, modellers were still "uncertain" of case numbers "due to data limitations".
The minutes show that members were waiting for comprehensive mortality data from Public Health England (PHE) and said that current best estimates for the infection fatality rate, hospitalisation rates, and the number of people needing intensive care were still uncertain.
They also believed that modelling only showed "proof of concept" that lockdowns could help, and warned that "further work would be required".
The team was also encouraged to look for collaborators and resources outside of the infectious diseases network.
Well, that never happened. They stayed within their closely knit group and never ventured outside of it for data sources from other scientists and clinicians.
For the millions of us around the world who had been looking at the data from the Diamond Princess cruise ship in Asia and thinking that coronavirus was no big deal, it was a shock to find that those data had not been considered in the Government's strategy.
Those waiting for a certain hapless modeller's name to appear need wait no longer:
Imperial College held a press briefing about its model on the afternoon of March 16, and on the same day, Boris Johnson ordered the public to avoid pubs, restaurants and non-essential contact and work from home if possible.
At the briefing, Prof Ferguson told journalists that the new conclusions had been reached because "the last few days" had provided "refinements" in the estimates of intensive care demand and hospital surge capacity.
But the minutes now show that SPI-M did not believe the data were complete …
Minutes from the following day, March 17, also show that the Department of Health wanted to know whether Prof Neil Ferguson had referenced other papers in the Imperial model.
And both Imperial and the London School of Hygiene and Tropical Medicine (LSHTM) were asked to renew modelling ahead of a Sage meeting on March 18 which would "include reviewing the commonality of assumptions" and look specifically at a London lockdown, where cases were rising more quickly.
All of Neil Ferguson's predictions, going back to the Millennium, have been wildly wrong. How the Government could not have questioned these figures is beyond me. To make matters worse, the modelling went around the world, including to the US and to Sweden.
Good grief. What a global shambles.
Furthermore, Ferguson couldn't even keep to the rules himself, having visited his mistress who lived on the other side of London to him and his wife.
These modelling inaccuracies went on through 2021. The article has more, but, in short, the minutes recorded that blame for incomplete data belonged to NHS Test and Trace on one occasion, to NHS England on another and Public Health England (PHE) on a third.
Last year, the Government planned to lift the post-Christmas lockdown on June 21 but waited another month. Modellers:
did not use the most up-to-date figures, which was criticised by MPs at the Science and Technology Select Committee.
That means that June 21's Freedom Day could have gone ahead! Instead, we had to wait until July.
Two scientists who have never been invited to share their views on coronavirus with SAGE or the modellers told The Telegraph what they thought. Prof Carl Heneghan and Dr Tom Jefferson are colleagues at the University of Oxford:
Prof Carl Heneghan, the director of the centre for evidence based medicine (CEBM) at the University of Oxford, said: "This has always concerned me about the modelling. Throughout the two years there has been systematic error, consistent over-estimation and a tendency to go directly to the media with conclusions, without validation or peer review.
"It's clear from the SPI-M minutes there were issues with the data, it wasn't robust. And it shows that they should have been looking for additional outside expertise.
"What concerns me is if we don't fix these problems we will end up being bounced back into restrictions or end up spending money in ways that detracts from the healthcare problems at hand."
… Dr Tom Jefferson of the CEBM at Oxford branded the early pandemic modelling "irresponsible".
"They should have said 'I'm sorry, we do not have the data," he said. "Any forecast based on limited data is just a guess, it's unethical and reckless, and we can now see the consequences of this behaviour with people dying because of the destruction of our services."
One of the people just as upset, if not more so, with Neil Ferguson and the other modellers is the MP for the Isle of Wight, Bob Seely.
He has been sounding off on this in Parliament for a few months now. My guess is that he wants modelling to be included in the UK's coronavirus inquiry.
He told The Telegraph:
The arguments for and against lockdown are complex, but what is becoming clear is that the evidence that the Government saw was incomplete and potentially inaccurate.
This is a national scandal. No question about it. The data that petrified politicians was inaccurate.
The Daily Mail also covered this story. The blue sidebar discusses Ferguson's modelling:
The scientific paper published by Professor Ferguson and his colleagues on the Imperial College COVID-19 Response Team was credited for persuading Boris Johnson's Government to ramp up their response to the coronavirus.
The paper, released on March 17, and titled Impact of non-pharmaceutical interventions (NPIs) to reduce COVID19 mortality and healthcare demand, predicted that the Government's original plan to 'mitigate' the outbreak instead of trying to stop it could have led to a quarter of a million people dying.
Using data from Italy and China, the scientists predicted how different Government measures would have different impacts on the outbreaks. 
If no action at all had been taken against the coronavirus it would have claimed 510,000 lives, the team's report said. Had the Government stuck with their strategy of trying to 'mitigate' the spread – allowing it to continue but attempting to slow it down – with limited measures such as home isolation for those with symptoms this number would be roughly halved to 260,000. 
If the strictest possible measures are introduced, the number of deaths over a two-year period will fall below 20,000, the scientists said.
Even reading those numbers in a newspaper report is dumbfounding. They do not make sense.
Returning to Bob Seely, he first started mentioning Ferguson's modelling on December 14, 2021, when MPs were asked to vote on a few new coronavirus measures, including a Christmas lockdown in England because of Omicron, already known to be mild. Fortunately, 101 Conservative rebels voted against the lockdown. As news was emerging about Boris's Christmas party during the previous year's seasonal lockdown and the fact that the Conservatives were tanking in the polls, another year of Yuletide misery would not have gone down well with the public.
This is what Bob Seely said on December 14, 2021, when Health Secretary Savid Javid was at the despatch box during the debate:
I strongly support getting vaccinated. I had my booster jab two weeks ago. I thank all Islanders who are engaged in the vaccination process in my constituency. I congratulate the Government on an ambitious booster programme. When it comes to the vote tonight, I will accept and trust what they say on face masks and on the daily tests, which seem infinitely more sensible than locking people down in hotels. I will not support them on passports or mandatory jabs. Threatening the jobs of 73,000 NHS staff seems an odd way to support the NHS.
I want to raise a wider issue with those on the Front Bench, which has somewhat coloured my judgment. I have heard nothing to reassure me on the following points. I am fed up with dubious forecasts and ridiculous extrapolations the kind of which many hon. Members have talked about. Academics—I am not quoting myself—have talked about Imperial College London's forecast being "hysterical", "inflated", "consistently over-confident", "lurid", "flawed" and "spectacularly wrong". What do the Government have to say about the incredibly questionable extrapolations that they have used?
I am tired of all the leaks. It was leaked that omicron could kill 75,000. It could, but it may not. All these doomsday forecasts, leaked at critical moments, erode public trust.
Thirdly, we are told we have to follow the science. Of course we have to follow the science, but it is a misleading statement as science is shaped by the inputs and by the desired outcome. For example, we had 70 pages of evidence from Scotland on vaccine passports, but there was no evidence to support their value for uptake, so why are we introducing them? We are doing so because of the precautionary principle. That is not science.
One of the most disturbing things is the lack of context for the statistics that have been used. Was that to increase knowledge or to increase fear? My right hon. Friend the Member for New Forest West (Sir Desmond Swayne) said that between 500 and 1,000 people die each day in this country, and people die of flu all the time. It is about putting this information in context, and I fear that the result of too much of this has been to scare people, especially the old and now the young. They are petrified of covid without taking account of more genuine and potentially more damaging threats such as the appalling impact on education.
I will vote against the Government on two of the motions tonight, but my decision to do so has been coloured by the past 18 months of policy, which we need to improve.
On January 5, 2022, Boris Johnson gave Parliament an update on the Omicron variant's effect on health in England.
Seely said:
I congratulate the Prime Minister on his balanced approach, unlike that of others in this House. There is increasing concern among epidemiologists, modellers, oncologists and scientists about the use of modelling and forecasts. Among the comments are that the forecasts we may have been using over the past two years are "almost hysterical," "lurid," "spectacularly wrong," "consistently overconfident" and "substantially inflated." Those comments are from scientists, not journalists or politicians. Does the Prime Minister trust the modelling he is getting, and will the Government consider an inquiry into the use of modelling and forecasts, many of which have been found to be unrelated to reality?
Boris did not like that one bit. I saw the debate.
He replied:
It is important for everybody to understand the limitations of models; they are not forecasts, but mathematical projections based on the data the modellers currently have, particularly when it came to Omicron, about the severity of the disease. That is why, when we feed assumptions about severity that are excessive into the models, we get results that are excessive; that is what my hon. Friend is driving at. Some of the models or calculations are much closer to what is happening now, and models are useful and cannot be dispensed with as we need to have projections, and we in this House should not in any way try to undermine or attack the independent scientists, whose independence is absolutely vital for our ability to handle this disease.
Oh, please!
On January 18, Seely led a motion at a Select Committee chaired by Sir Edward Leigh MP:
I beg to move,
That this House has considered forecasting and modelling during covid-19.
This was a rather heated debate, not so much by Conservatives but by the left-wing MPs responding to Seely's lead contribution.
Excerpts follow:
… Thanks to some questionable modelling that was poorly presented and often misrepresented, never before has so much harm been done to so many by so few based on so little questionable and potentially flawed data.
I believe that the use of modelling is pretty much getting to be a national scandal. That is not just the fault of the modellers; it is how their work was interpreted by public health officials and the media—and yes, by politicians, including the Government, sadly. Modelling and forecasts were the ammunition that drove lockdown and created a climate of manipulated fear. I believe that that creation of fear was pretty despicable and unforgivable. I do not doubt that modelling is important or that there has been some good modelling, but too often it has been drowned out by hysterical forecasts. I am not, as Professor Ferguson implied, one of those with an "axe to grind". I do, however, care about truth and believe that if someone influences policy, as the modellers and Imperial College London have done, they should be questioned. Frankly, they have not been questioned enough.
Above all, I want to understand why Government, parts of the media and the public health establishment became addicted to these doomsday scenarios, and then normalised them in our country with such depressing and upsetting consequences for many. I do not pretend to be an expert; I am not. I defended my own PhD at the end of last year, but it is not in epidemiology and I do not pretend to be particularly knowledgeable about that. But depending on time—I know others want to come in as well—I will quote from 13 academic papers and 22 articles authored by a total of approximately 100 academics.
Seely went into Neil Ferguson's history of poor modelling over the past 20+ years, which had disastrous results for British farmers in earlier epidemics, then the greater populace during coronavirus:
This is a story of three scandals, and the first one took place 21 years ago. In 2001, we faced the foot and mouth emergency. We reacted drastically by slaughtering and burning millions of animals, and farmer suicides and bankruptcies followed. That policy was allegedly heavily influenced by Imperial College modelling and Professor Ferguson. Since foot and mouth, two peer-reviewed studies examined the method behind that particular madness. I quote from them now to show there are practical and ethical questions over modelling going back two decades.
In a 2006 paper, and I apologise for these wordy, long titles, titled "Use and abuse of mathematical models: an illustration from the 2001 foot and mouth disease epidemic in the United Kingdom"—they are not that catchy—the authors confirmed that Ferguson's model
"probably had the most influence on early policy decisions"
and
"specifically, the introduction of the pre-emptive contiguous culling policy".
That is

the mass slaughter of animals near infected farms

. The authors said that the consequences were "severe" and
"the models were not fit for the purpose of predicting the course of the epidemic"
—not a good start. They remain "unvalidated". Their use was "imprudent" and amounted to
"the abuse of predictive models".
Devastatingly, the authors wrote
"The UK experience provides a salutary warning of how models can be abused in the interests of scientific opportunism."
It is difficult to find a more damning criticism of one group of scientists by another.
A 2011 paper, "Destructive tension: mathematics versus experience—the progress and control of the 2001 foot and mouth disease epidemic in Great Britain"—bit of a mouthful—by four academics said the models that supported the culling policy were "severely flawed" and based on flawed data with "highly improbable biological assumptions". The models were
"at best, crude estimations that could not differentiate risk".
That is not a very good "at best". At worst, they were "inaccurate representations".
Sadly, the paper said, impatience for results
"provided the opportunity for self-styled 'experts', including some veterinarians, biologists and mathematicians, to publicise unproven novel options."
Some of the scientific work—some of it modelling, some of it not, with some modelling by Ferguson and some not—was cited as "unvalidated" and "severely flawed", with inaccurate data on "highly improbable assumptions" leading to "scientific opportunism". Is anybody reminded of anything more recent that would suggest the same?
I scroll forward 20 years. As with foot and mouth, with covid we had a nervous Government presented with doomsday scenarios by Imperial—the 500,000 dead prediction—that panicked them into a course of profound action with shocking outcomes. After the lockdown had gone ahead, Imperial publicised on 8 June a study by, I think, seven of them arguing the justification for lockdown. It claimed that non-pharmaceutical interventions saved more than 3 million lives in Europe. Effectively, Imperial marked its own homework and gave itself a big slap on the back.
That work is now being challenged. Because of time, I will quote only a small selection. In a paper entitled, "The effect of interventions on COVID-19", 13 Swedish academics—Ferguson ain't popular in Sweden, I can tell Members that much—said that the conclusions of the Imperial study were not justified and went beyond the data. Regensburg and Leibniz university academics directly refuted Imperial College in a paper entitled "The illusory effects of non-pharmaceutical interventions on COVID-19 in Europe", which said that the authors of the Imperial study
"allege that non-pharmaceutical interventions imposed by 11 European countries saved millions of lives. We show that their methods involve circular reasoning. The purported effects are pure artefacts, which contradict the data. Moreover, we demonstrate that the United Kingdom's lockdown was both superfluous and ineffective."
I am not saying that this stuff is right; I am just saying that there is a growing body of work that is, frankly, taking apart Imperial's. Remember, we spent £370 billion on lockdown that we will never get back. I could continue with other quotes, but I think Members get the flavour.
Moreover, a substantial number of other papers now question not Imperial per se but the worth generally of lockdowns. A pre-print article by four authors, "Effects of non-pharmaceutical interventions on COVID-19: A Tale of Three Models", said:
"Claimed benefits of lockdown appear grossly exaggerated."
In another paper, three authors found no clear, significant benefit of lockdowns on case growth in any country. Other papers continue that theme. I will quote one more, on adults living with kids. Remember: we shut schools because we were scared that kids would come home and infect older people, who would then die. This paper, in The BMJ, found
"no evidence of an increased risk of severe COVID-19 outcomes."
We shut down society and schools just in case, doing extraordinary harm to people's lives, especially young people. I am not a lockdown sceptic, as Ferguson casually describes some of his critics, but I am becoming so. Do you know why, Sir Edward? Because I read the evidence, and there is a growing body of it. In fact, there is one quote that I did not read out. There was a study of lots of countries that had lockdowns and lots that did not, and the data was inconclusive.
The third element of the scandal is the recent modelling. Swedish epidemiologists looked at Imperial's work and compared it with their own experience. Chief epidemiologist Anders Tegnell said of Imperial's work that
"the variables…were quite extreme…We were always quite doubtful".
Former chief epidemiologist Johan Giesecke said Ferguson's model was "almost hysterical". In the House of Lords, Viscount Ridley talked of a huge discrepancy and flaws in the model and the modelling. John Ioannidis from Stanford University said that the "assumptions and estimates" seemed "substantially inflated".
There was a second example last summer. In July 2021, the good Professor Ferguson predicted that hitting 100,000 cases was "almost inevitable". He told the BBC that the real question was whether we got to double that or even higher. That is where the crystal ball starts to fail: we got nowhere near 200,000, and we got nowhere near 100,000. There was nothing inevitable about Professor Ferguson's inevitability, and his crystal ball must have gone missing from the start. In The Times, he blamed the Euros for messing up his modelling because—shock horror—people went to pubs a lot to watch the games during the competition. When the tournament finished—shock horror—they did not. That seems to be the fundamental problem: where reality comes up against models, reality steamrollers them because models cannot cope with the complexity of real life. To pretend that they can and even that they are useful, when so many of them have proved not to be, is concerning.
Ferguson is only one of many people in Independent SAGE especially, but also SAGE, who did not cover themselves in glory. Raghib Ali—a friend of my hon. Friend the Member for Wycombe (Mr Baker), who I am delighted is present—is one of the heroes of covid. He noted that many left-wing SAGE members
"repeatedly made inaccurate forecasts overestimating infections".
Very often, they were falsely described on the BBC.
After a brief intervention of thanks from another Conservative MP, Seely continued, mentioning another member of SAGE who seemed to appear regularly on the BBC:
Just for the record, the communist Susan Michie, who is quoted quite often by the BBC, is not a medical doctor, a virologist or an epidemiologist. She is a health psychologist, so why on earth is she talking about epidemiology?
The third scandal took place this winter. Imperial, the London School of Hygiene and Tropical Medicine and others—I think they included Warwick—predicted 5,000 daily covid deaths, with 3,000 daily deaths as the best-case scenario. They were hopelessly inaccurate, and at this point the tide really begins to turn. Dr Clive Dix, a former vaccine taskforce head, said:
"It's bad science, and I think they're being irresponsible. They have a duty to reflect the true risks, but this just headline grabbing."
As I say, the tide is turning. Oncology professor Angus Dalgleish describes Ferguson's modelling as "lurid predictions" and "spectacularly wrong". The great Carl Heneghan, another scientist who has emerged with great credit for his honesty and fairness of comment, says:
"it's becoming clearer all that ministers see is the worst-case scenario".
Professor Brendan Wren says:
"Dodgy data and flawed forecasts have become the hallmarks of much of the scientific establishment"—
what a damning quote!—
"which has traded almost exclusively in worst-case scenarios…this must stop now."
I agree.
I will wind up in the next two to three minutes—I will speak for no longer than 15 minutes because other people wish to get in, and I am always mindful of that. What is the result of all this? The result, as UCL's Professor Francois Balloux notes, is a
"loss of trust in government and public institutions for crying wolf."
That is just it. We have had hysterical forecasts, models taken out of context, and worst-case scenarios normalised.
In the Army, there is something called the most dangerous course of action, and there is something called the most likely course of action. To sum up in one sentence how we got this wrong, we have effectively taken the most dangerous course of action and collectively—the politicians, media, scientists and health professionals—presented that as the most likely course of action, but it was not. Why did politicians say, "Follow the science" as a way of shutting down debate, when we know that science is complex and that our outputs are dependent on our inputs? It was down to public-health types, whose defensive decision making would only ever cost other people's jobs, other people's health, other people's sanity, other people's education and other people's life chances.
We know that the Opposition supported lockdown from the word go, but a little more opposing might have been helpful. The BBC and the Guardian have been salivating at state control and doomsday scenarios. Against this tsunami of hysteria and fear, thank God for The Spectator, The Telegraph and, yes, the Daily Mail for keeping alive freedom of speech and putting forward an alternative, which is now being increasingly scientifically vindicated. I accept that lockdown was understandable at first—I get that—but I believe the continuation of lockdown after that first summer was an increasingly flawed decision.
In wrapping up, I have some questions. To Professor Ferguson and the doomsday modellers: why are so many of your fellow academics disputing your work and your findings? To the BBC, as our state broadcaster: why did you so rarely challenge Ferguson, SAGE or Independent SAGE? Why did we misrepresent experts, and why did the BBC allow itself to become the propaganda arm of the lockdown state? To the Government: how could we have been so blinkered that we thought that following the science meant shutting down scientific debate? Why did we never use other datasets in contexts with the British people, or even in contexts in which these profound and enormous decisions were made? Why did we think that it was in our nation's interests to create a grotesque sense of fear to manipulate behaviour? SAGE and Independent SAGE kept on getting it wrong. To the public health types, I quote from Professor Angus Dalgleish again:
"Flailing around, wallowing in hysteria, adopting impractical policies and subverting democracy, the Chief Medical Officer is out of his depth. He has to go if we are ever to escape this nightmare."
He is not a journalist; he is an oncologist—a senior oncologist.
Twice in 20 years, we have made some pretty profound and significant errors of judgment, using modelling as a sort of glorified guesswork. I suggest respectfully to the Government that, after foot and mouth and covid, never again should they rely on dubious modelling, regardless of the source and regardless of the best intent. I am sure that Imperial and all these other people do the best that they can, and am very happy to state that publicly. However, why has so much of their work been described—and I will use the words of other academics—as "unvalidated", "flawed", "not fit for purpose", "improbable", "almost hysterical", "overconfident", "lurid", "inflated", "pessimistic", "spectacularly wrong", "fraudulent" and as "scientific opportunism"?
On January 26, the Daily Mail published his speech as an article, which was a great idea. Only political geeks, myself included, watch Parliament in action. This is information the public need to know.
I read the comments following the article. This one caught my eye:
The only accurate data analysis of Covid19 remains the Diamond Princess incident where an entire population were analysed and it showed that Covid19 was not the severe threat to all population that it was made out to be and even more interesting now is that if you rerun the incident again yet pressure that cruise ship population was vaccinated, you get statistically the same results.
Hmm.
To think that millions of 'ordinary' people knew about the Diamond Princess early in 2020, yet very few 'important' people ever brought it up in the media — or in political settings.
It's no wonder that many of us think that we were severely taken advantage of over the past two years.
Early in March 2020, my far better half and I were optimistic that Prime Minister Boris Johnson, his government and his advisers would not be too proscriptive about coronavirus restrictions.
In the end, they were, but the following timeline shows how quickly their thinking on herd immunity changed.
In light of Dominic Cummings's testimony to the Science and Technology Select Committee on Wednesday, May 26, and his lengthy Twitter thread prepared beforehand (continuing afterwards), I offer a short and a long version of what happened.
Short version
The Government denies that natural herd immunity — catching the virus — was ever government policy.
Yet, here is Sir Patrick Vallance, the UK's chief scientific adviser, at a coronavirus briefing on Thursday, March 12, 2020:
It seems that Cummings might have advised the government to backtrack and deny it was policy, however briefly:
As Cummings said on Wednesday, once he received numbers from an NHS specialist/mathematician who extrapolated scenarios on what could happen, the Government changed tack:
Long version
I haven't missed a single coronavirus briefing since they started in March 2020. As regular readers will know, I have been deep-diving into the pandemic since then.
February 2020
Lessons From The Crisis has an excellent article on how the herd immunity plan unfolded and changed. 'It's bizarre that this needs saying, but *of course* the UK had a Herd Immunity plan' is well worth reading.
It includes a capture of SAGE minutes from February 4, 2020, advocating that policies for influenza be followed. The article summarises this as follows (emphases in the original):
On the 4th of February, at the UK Scientific Advisory Group for Emergencies's fourth Covid meeting, influenza planning, with its assertions that spread was "inevitable"and halting the virus "a waste of resources" was adopted as the official recommendation- tragically this was about ten days before Chinese covid cases peaked, never return to their early 2020 levels …
The scientific consensus presented to ministers was: mass infection of the population was inevitable, a vaccine would not be available in time, so the only choices were about how to manage the mass infection of the population until the country had accumulated enough cases to get to herd immunity …
The alternative being attempted by governments elsewhere, trying to stop the disease from infecting the population, was regarded as folly; the UK government's scientific advisors were certain that countries attempting suppression would fail …
March 2020
In his testimony on Wednesday, Cummings claimed he broke rank with the Government on Wednesday, March 11:
Publicly, however, he was still on board with the Government plan:
Vallance gave his aforementioned briefing on herd immunity on March 12. This is what appeared afterwards:
This is a summary of an interview Vallance gave to Sky News the next day (full video here):
The Independent quoted a BBC interview with him on March 13:
Sir Patrick told the BBC that the advice the government is following for tackling coronavirus is not looking to "suppress" the disease entirely but to help create a "herd immunity in the UK" while protecting the most vulnerable from it.
Asked if there is a fear that clamping down too hard on its spread could see it return, Sir Patrick said: "That is exactly the risk you would expect from previous epidemics.
"If you suppress something very, very hard, when you release those measures it bounces back and it bounces back at the wrong time.
"Our aim is to try and reduce the peak, broaden the peak, not suppress it completely; also, because the vast majority of people get a mild illness, to build up some kind of herd immunity so more people are immune to this disease and we reduce the transmission, at the same time we protect those who are most vulnerable to it.
"Those are the key things we need to do."
That same day, SAGE's Professor John Edmunds also advocated natural herd immunity in this Channel 4 interview:
Nigel Farage was outraged by the policy:
The Lessons From The Crisis article says that the turning point happened almost immediately:
Partly in response to this outrage, the government changed course; Boris Johnson swapped strategies and began locking down the country just 3 days after the herd immunity plan became public, with new priorities built around suppressing the virus with blunt instruments such as lockdowns to buy time for building countermeasures- testing and tracing capacity, vaccines, treatments.
That is not to give Nigel Farage single-handed credit. The media also helped a lot, especially with frequent footage of what was happening in northern Italy at the time.
On Monday, March 16, Prof Neil Ferguson released his (spurious) numbers from Imperial College London, which changed the Government's policy. 
UnHerd reported on it the following day — 'Why the Government changed tack on Covid-19':
The Chief Scientific Adviser, Sir Patrick Vallance, Chief Medical Officer, Professor Chris Whitty, and the government's science adviser Dr David Halpern indicated that the government's strategy was to allow the virus to pass through the population, to allow individuals to "acquire herd immunity" at a delayed speed, while vulnerable groups were "cocooned." This strategy, however, was subsequently contradicted by health secretary Matt Hancock, who insisted that "herd immunity is not our goal or policy".
The quick reversals did not end there, as a ban was announced on mass gatherings just a day after the government's initial claims that it was not the right time for such measures. On Saturday, the government briefed select journalists on "wartime measures" to quarantine the elderly at home or in care homes, away from any contact with the rest of the population; earlier than such measures were expected to be announced.
Finally, it was revealed yesterday afternoon that the Prime Minister had decided to dramatically step up countermeasures, and switch entirely to a strategy of containment as a result of advice from an expert response team at Imperial College London, which concluded that the strategy of delay would likely cause "hundreds of thousands" of avoidable deaths.
The initial plans — to establish herd immunity based on research on social fatigue and assumptions that effective vaccines would not be developed — contradicted the guidance from the World Health Organisation (WHO), and the wealth of evidence in the fields of epidemiology, behavioural science and immunology, so it is unsurprising that countless experts have already questioned and criticised the strategy, including epidemiologists, immunologists, and behavioural scientists.
On Saturday, March 21, Alex Wickham from Buzzfeed summarised a tense and confused week inside No. 10, and the road to lockdown (emphases mine):
While the scientific debate was raging last week between experts, officials, and ministers in face-to-face meetings and over emails and text messages, Johnson's government was publicly insisting that the scientific advice showed the UK did not yet have to bring in more stringent measures to fight the virus.
Political aides tacitly criticised other countries who had taken more dramatic steps, claiming Britain was being "guided by the science" rather than politics.
Towards the end of last week, some ministers and political aides at the top of the government were still arguing that the original strategy of home isolation of suspect cases — but no real restrictions on wider society — was correct, despite almost every other European country taking a much tougher approach, and increasing alarm among SAGE experts.
The thought of months or even a year of social distancing was simply not feasible, some in Johnson's team still thought at that point. They continued to privately defend the controversial "herd immunity" approach outlined to the media by Vallance, even as other aides scrambled to claim the UK had never considered it to be policy.
And there was fury behind the scenes among members of Johnson's team at the likes of Rory Stewart and Jeremy Hunt, who had been publicly saying the government had got it wrong.
But data from Italy — presented to the government before it was published by experts at Imperial College on Monday — changed all that. Their report confirmed the earlier fears of the epidemiologists who had been calling for more drastic action.
On Monday, March 23 — the day Prime Minister Boris Johnson took away every Briton's civil liberties in five minutes by announcing the first lockdown — Byline Times posted a must-read article, 'COVID-19 SPECIAL INVESTIGATION: Part Three — Behavioural Scientists told Government to use "Herd Immunity" to Justify Business-As-Usual'.
SPI-B is our behavioural, or 'nudge', unit and is part of SAGE. Dr David Halpern, a SAGE member, runs the unit. This was allegedly their role in the herd immunity discussions:
A SPI-B document dated 4 March, which rejected the need for school closures, went on to refer to the medical concept of immunity. In a discussion about how the public might be confused about the disparity between the Government's approach of "not applying widescale social isolation at the same time as recommending isolation to at-risk groups", the document acknowledges disagreement within the SPI-B.
The document explains: "One view is that explaining that members of the community are building some immunity will make this acceptable. Another view is that recommending isolation to only one section of society risks causing discontent."
The idea of immunity does not come up elsewhere in the SAGE corpus. But, Professor Chris Whitty, the Government's Chief Medical Advisor, claimed that 20% of the population of Wuhan, China, had contracted the Coronavirus and acquired herd immunity. He believed that this explained why new cases had begun to fall in China. 
This flatly contradicted data from China showing that, by end of January, after the crisis had peaked, just under 95% of the Wuhan population remained uninfected by the virus. This was, therefore, nothing to do with herd immunity, but a result of China's emergency containment response. 
The UK Government, it seemed, had made a gamble: one that Dr Brian Ferguson, Director of Immunology at Cambridge University, described as "not scientifically based and irresponsible" because typically "Coronaviruses don't make long-lasting antibody responses".
Whether or not it was a specific goal of the Government, its network of behavioural science advisors had fielded herd immunity as a way of justifying to the public why the Government was not taking early action – despite having no scientific evidence behind the idea. 
Social media discussions on herd immunity began to appear:
On Tuesday, March 24, Byline Times posted another must-read article, 'The Coronavirus Crisis: Oxford Model Touting "Herd Immunity" was Promoted by PR Agency Tied to Ministry of Defence and Nudge Unit'.
Excerpts follow:
On 24 March, the Financial Times claimed that as much as half of the British population may have already been infected by the novel Coronavirus, according to a new model by Oxford University's Evolutionary Ecology of Infectious Disease group. 
The conclusion, according to the FT's science editor Clive Cookson, suggested that the country "had already acquired substantial herd immunity through the unrecognised spread of COVID-19 over more than two months". If true, this would vindicate the Government's "unofficial herd immunity strategy – allowing controlled spread of infection," he stated.
Although numerous epidemiologists and scientists had questioned the validity of the Oxford model – which had not been peer-reviewed – it was promoted to the press by a PR agency with ties to the Government, raising questions about how and why this model was published and disseminated at this time.
The draft paper, which was originally posted to Dropbox, included a disclaimer noting that its content was "not final" and could be "updated any time". The disclaimer also contained a contact point for journalists: "Contact for press enquiries: Cairbre Sugrue, cairbre@sugruecomms.com."
Dr Lewis Mackenzie, a Biotechnology and Biological Sciences Research Council Discovery Fellow, commented: "Why on earth has this been sent to the media via a third party PR company instead of the Oxford University press team? Seems very irresponsible to encourage reporting on this topic before the scientific community had a chance to comment and peer-review it."
When asked why its own press team did not release the study, Oxford University said: "All Oxford academics have freedom of expression regarding their areas of specialism, including communication through the media. It is therefore not uncommon for academics to make their own arrangements for contacting the press. The university cannot comment on individual arrangements that it is not party to."
Caibre Sugrue is the founding director of Sugrue Communications, a technology PR agency. He is also a non-executive advisory board member of 100%Open, an innovation consultancy – which has worked for several British Government agencies, including the UK Ministry of Defence's Defence, Science and Technology Laboratory (DSTL) and a leading charity which co-owns the Cabinet Office's Behavioural Insights Team (BIT) or 'nudge unit'.
This seems to be the first appearance of Prof Sunetra Gupta, later of The Barrington Declaration (a libertarian approach to coronavirus self-isolation), who works at Oxford University:
The original FT piece had claimed that, if substantial herd immunity had been achieved, restrictions could be removed sooner than expected. The article added: "Although some experts have shed doubt on the strength and length of the human immune response to the virus, Prof Gupta said the emerging evidence made her confident that humanity would build up herd immunity against COVID-19."
I contacted Professor Sun[e]tra Gupta, one of the co-authors of the study, to find out what this emerging evidence is. She did not respond to a request for comment. However, the model was reported worldwide and some commentators in both the US and UK used it to suggest that strong social distancing measures may be unnecessary …
Scientists are divided on the prospects for achieving herd immunity, but most agree that, while achieving it may be possible at some point, it is not clear how long it would last. In any case, whether or not it is achievable, the immediate focus should be on minimising fatalities.
By the end of the month, confusion among journalists reigned:
April 2020
In April, it appeared that dealing with coronavirus was becoming highly complex. Author Ian Leslie tweeted a considered an explanation from a Financial Times reader:
May 2020
Two months later, Sir Patrick Vallance denied that natural herd immunity was ever a plan:
Prof John Edmunds gave Channel 4 another interview, wherein he appeared to backtrack on his previous claims about herd immunity. The first video is from his March interview and the second from May:
I'll have more on the UK's approach to herd immunity next week.
Yesterday's post introduced Neil Ferguson's interview with The Times, which the paper published on the evening of Christmas Day.
This was the biggest statement he made:
How Ferguson, he of the hopelessly outlandish — and false — predictions, could enter the fray on a worldwide pandemic using CCP methods beggars belief:
The other chilling statement made in the article was that lockdowns will be employed in future pandemics. That's because they worked so well, we had to have one long lockdown — under various guises — for the better part of nine months, not the promised two or three weeks:
Yet, Matt Hancock relies on what this man and SAGE members regurgitate every couple of weeks:
My prayer for 2021 is that divine providence shines a light on the evil that Ferguson, a NERVTAG member, SAGE and Matt Hancock have been perpetrating on the British people:
Thank heaven that Bosnia and Herzegovina ruled against an inhumane coronavirus programme. I hope that we do the same:
Someone also needs to have the guts to investigate Ferguson and the rest of them:
Let's look at The Times's article, which Science Editor Tom Whipple wrote: 'Professor Neil Ferguson: People don't agree with lockdown and try to undermine the scientists'.
Tom Whipple was absolutely gushing in his reporting, overlooking Ferguson's previous bogus predictions over the past 20 years of notional pandemics. Some of those predictions put a severe dent into British farming (emphases mine):
He moved from Oxford to Imperial as part of the country's leading infectious disease modelling group. They modelled the 2001 foot and mouth outbreak, as well as the 2009 swine flu outbreak, in which at one point, before better data came in, they estimated a "reasonable worst case scenario" of 65,000 deaths.
When he returned to advise the government once again, this projection, two orders of magnitude above the real total, was cited by his critics. So too was foot and mouth, where the cull of millions of cattle and sheep, partly on the basis of predictions about the disease, still causes deep bitterness among farmers.
Whipple at least calls lockdown 'a medieval intervention'. However, I would posit that, even in the Middle Ages, there were policies of sequestering the vulnerable and quarantining the sick, leaving the rest to work. People needed food and goods. Anyway, Ferguson describes how he embraced the CCP policy of overall lockdown:
In January, members of Sage, the government's scientific advisory group, had watched as China enacted this innovative intervention in pandemic control that was also a medieval intervention. "They claimed to have flattened the curve. I was sceptical at first. I thought it was a massive cover-up by the Chinese. But as the data accrued it became clear it was an effective policy."
Then, as infections seeded across the world, springing up like angry boils on the map, Sage debated whether, nevertheless, it would be effective here. "It's a communist one party state, we said. We couldn't get away with it in Europe, we thought." In February one of those boils raged just below the Alps. "And then Italy did it. And we realised we could."
Whipple gushed:
That realisation was a fulcrum in British history, and in the life of Professor Ferguson.
That 'fulcrum' meant poor health and/or imminent penury for millions of the rest of us.
This was Ferguson's outrageously erroneous prediction that prompted Britain's continuing lockdowns:
a quarter of a million Britons would die. If we wanted to stop that, he also projected, it would require extreme social distancing measures until a vaccine arrived.
Whipple's next sentence reads:
That was when he went from unknown epidemiologist to academic superstar.
That is incredibly disingenuous. Millions of Britons knew who he was from his previous predictions. Our celebrity astrologer Mystic Meg could have done better by staring into her crystal ball. She would not have advocated lockdown or masks, either.
Ferguson expressed his surprise that people would criticise him:
"It's bizarre," he says. "Particularly given that I've never been a public servant. We volunteer for scientific committees, we don't get paid anything." He says he has not read most of the coverage, but can't help hearing some of the criticism.
"Where it's been disappointing is if people start out from a viewpoint that they don't agree with lockdown, then try to undermine the science and scientists behind it. That hasn't been a pleasant experience."
Those statements puzzle me greatly.
His own track record speaks for itself, yet, his and SAGE's policies have been ruling all our lives for the better part of a year. He doesn't think people should criticise him because they are losing their livelihoods? Pure bunkum.
Whipple then goes into the assignation that Ferguson and his married mistress had during the springtime lockdown. The rest of us were holed up in our homes and she travelled across London for an afternoon's pleasure. My account of it is below. The title expressed my hope that this charlatan would be exposed and that we would be liberated. Alas, no:
Prof Neil Ferguson resigns: will coronavirus lockdown start ending in the UK now? (May 5)
Ferguson told Whipple that he had expected some sort of mercy, at least to be ignored. Why, oh why, did the media start digging into his private life? Oh, woe:
"I made some mistakes. I've been completely open in terms of saying they were mistakes. But, nevertheless, the fact that journalists were digging into my private life at that level of detail was not something I could ever imagine. That's not something you want to be on the end of.
"My wife and son and my partner had journalists on the doorstep. I was actually in my flat in London, they didn't know where I was. It was a very difficult time." He and Sir Patrick Vallance, the present chief scientific adviser, agreed he should step back from Sage work.
Unfortunately, NERVTAG — New and Emerging Respiratory Virus Threats Advisory Group — allowed him to stay, hence, his continuing participation in these illiberal restrictions upon our lives.
Returning to lockdown, this is a curious statement:
These days, lockdown feels inevitable. It was, he reminds me, anything but. "If China had not done it," he says, "the year would have been very different."
Yes, it would have gone on as normal, with Rishi Sunak's fantastic budget putting an end to austerity and giving us a better economy and hope for our post-Brexit transition future.
This month, the new variant — B.1.1.7, or B117, as it often appears — has caused more panic. Ferguson and his ilk have determined it is more infectious. However, it might also be less damaging to COVID-17 patients in hospital:
Nevertheless, Ferguson now wants even harsher measures:
he strongly implies that schools will have to shut in January, and even then the virus might evade lockdown.
Goodness knows what 'the virus might evade lockdown' might mean for Britons.
Whipple actually believes that Ferguson is some sort of scientific saviour. Good grief:
This is, I say, petrifying. It is also extremely interesting. Nowadays, it is orthodoxy that lockdown was right. In the next pandemic, we won't hesitate to use it. But as this new variant shows, lockdown does not always work.
However, it also seems as if our first lockdown, sold to us as 'flattening the sombrero', to borrow Boris Johnson's term, was done so on a false premise:
It was never guaranteed that lockdown would crush the curve. He is all too aware of this. "During late March, early April, we kept looking at the data as it came in. Was there any sign of hospital admissions and deaths hitting a peak? It was a very, very anxious time." We now know that when we got it to its lowest, R, the reproduction rate of the virus, hit 0.6. Lockdown worked. If the professor's modelling of the new variant is correct, it won't be so easy to control. In the same circumstances it could have a rate just over 1 and the pandemic would not have retreated.
Ferguson says to his critics:
It's clearly unfortunate that a minority of people almost don't like the idea that you can just have random bad things happen in the world, and want to attribute it to some malign plan.
Ferguson and his family are largely unscathed from the policies he helped to develop.
Two other sites that reported on this interview had pertinent insights.
NewsWars noted:
In the Christmas interview, the epidemiologist admitted "there is an enormous cost associated with" lockdowns, specifically the erosion of civil liberties.
However, thanks to the Chinese Communist Party's authoritarian measures, he said, "people's sense of what is possible in terms of control changed."
And how! A year ago, who could have imagined that the CCP would be indirectly controlling our health policy?
At UnHerd, Freddie Sayers wrote similarly (italics in the original):
He almost seems at pains to emphasise the Chinese derivation of the lockdown concept, returning to it later in the interview:
"These days, lockdown feels inevitable. It was, he reminds me, anything but. "If China had not done it," he says, "the year would have been very different.""
To those people who, still now, object to lockdowns on civil liberties principles, this will be a chilling reminder of the centrality of the authoritarian Chinese model in influencing global policy in this historic year.
Let us look at what Laura Perrins, ex-barrister and co-editor of Conservative Woman, a haven of common sense, has to say about said policies. Let's start with testing of schoolchildren, something likely to come in January, along with the current hue and cry to close schools again:
The Government, advised by SAGE, NERVTAG and other quangos — quasi-NGOs — have lied and lied and lied this year, culminating with Christmas:
In conclusion:
I could not agree more.
Pray that this scourge leaves us and other Western countries in 2021.
Freedom is never free.
Happy New Year.
We in the West have been well and truly played in 2020.
For those who think they're doing the right thing by obeying all the coronavirus restrictions, consider the following statement from Prof Neil Ferguson of Imperial College London, the king of lockdown, even though he violated the rules himself with his married mistress. A tip of the hat to the Daily Mail's veteran columnist Peter Hitchens, who lived for several years in the former Soviet Union:
I'll have more on the interview tomorrow, but here are a few of the reactions to Ferguson's statement.
This is an important observation re what Ferguson said about Italy (emphases mine):
Italy signing up to Belt and Road with China have any relevance?
Yep.
Here's another:
He is complicit either fully knowingly or because he is compromised. Either way he has blood on his hands.
And another:
A year ago most would have denied they would ever allow governments to tell them who they can see at Christmas, what they wear, what they can buy or eat. Now most welcome it. They are yet to realise it is permanent, governments don't give up power without being forced to do so.
Many Britons are shocked that the Government wheeled Ferguson out yet again:
How could Boris listen to Ferguson? Boris is old enough to know better.
Check out Ferguson's prior predictions:
Is it any wonder that people have been suspicious of prescriptions and proscriptions that are completely antithetical to Western values?
The longer this goes on, the better for governments influenced by C C P ideas:
Tomorrow, I'll have more from the Neil Ferguson's interview to The Times.
See Part 1 in this series about the anger in Britain over lockdown.
One or two tweets below might have salty language. The rest do not.
There is much anger by a proportion of the population at the government:
MPs, except for one, are largely silent on the subject. Luckily, John Redwood has been an MP for decades. He might be our only hope:
Most are like Conservative MP Nadine Dorries, however. She was one of the first MPs to get coronavirus. Her aged mother, who also had it, helped her recover. I was sorry to see her tweet this:
Yesterday, I left off on masks. On Thursday, June 4, Transport Secretary Grant Shapps said they would be mandatory on all public transport in England. Health Secretary Matt Hancock repeated the order the following day:
Someone in the know saw this coming in April (never mind the reply):
This is so irrational. Earlier this year, the WHO advised against it:
Exactly.
I'm looking forward to the first lawsuit when someone is unable to breathe on public transport:
The above advice applies to England.
Wales, Northern Ireland and Scotland are on their own track.
However, Scotland is no better:
This is what they are doing in Singapore. Simon Dolan, incidentally, is suing the British government over lockdown. Good man:
It seems masks are only the beginning. In the UK, we haven't fully got off the ground with the track-and-trace app.
More from Simon Dolan about Singapore:
Track-and-trace is also getting up people's noses:
Then there's the R rate that SAGE and Chief Medical Officer Chris Whitty discuss daily on the coronavirus briefings:
But that's nothing compared to the wacky modelling from Imperial College's Prof Neil Ferguson which brought about lockdown:
Yet, at least one London hospital is ignoring masks and social distancing:
Shouldn't only the vulnerable be sheltered?
Picking up on the railway platform, here's the latest on international transport …
… and the latest on public conveniences:
Why doesn't any of this make sense?
Similar madness holds true for local buses:
Meanwhile, unlike protestors around the world complaining during coronavirus about the death of an American ex-convict thousands of miles away, when you're Piers Corbyn (pictured with the policewoman in a mask), an eccentric weather forecaster as well as the brother of the last Labour leader, and say that climate change is caused by the sun's activity and you're protesting lockdown with like-minded people, you can be arrested twice at Hyde Park in London:
The sheer hypocrisy of it all is mind boggling.
More tomorrow.
Throughout the coronavirus crisis, one name has popped up several times, that of Prof Michael Levitt, biophysicist and professor of structural biology at Stanford University in California.
In 2013, Prof Levitt was a joint winner of a Nobel Prize in Chemistry, along with Martin Karplus and Arieh Warshel, for 'the development of multiscale models for complex chemical systems'.
Levitt, 73, was born in Pretoria, South Africa, and is currently a citizen of the United Kingdom, Israel and the United States.
He holds degrees from King's College London and the University of Cambridge.
He has had a stellar career, receiving several distinguished scientific awards and scientific advisory board appointments in addition to his university professorships over the years.
He has had much to say about coronavirus.
On Monday, March 23, 2020, he gave an interview to the Los Angeles Times, with a prediction: 'Coronavirus outbreak may be over sooner than you think'.
The LAT said that he had been adopting a measured approach throughout the pandemic since January, refuting the wild and inaccurate overestimates from the likes of Prof Neil Ferguson of Imperial College London (emphases mine):
Michael Levitt, a Nobel laureate and Stanford biophysicist, began analyzing the number of COVID-19 cases worldwide in January and correctly calculated that China would get through the worst of its coronavirus outbreak long before many health experts had predicted.
Now he foresees a similar outcome in the United States and the rest of the world.
While many epidemiologists are warning of months, or even years, of massive social disruption and millions of deaths, Levitt says the data simply don't support such a dire scenario — especially in areas where reasonable social distancing measures are in place.
"What we need is to control the panic," he said. In the grand scheme, "we're going to be fine."
This is what he discovered about China's experience of the pandemic:
On Jan. 31, the country had 46 new deaths due to the novel coronavirus, compared with 42 new deaths the day before.
Although the number of daily deaths had increased, the rate of that increase had begun to ease off. In his view, the fact that new cases were being identified at a slower rate was more telling than the number of new cases itself. It was an early sign that the trajectory of the outbreak had shifted.
Think of the outbreak as a car racing down an open highway, he said. Although the car is still gaining speed, it's not accelerating as rapidly as before.
"This suggests that the rate of increase in the number of deaths will slow down even more over the next week," Levitt wrote in a report he sent to friends Feb. 1 that was widely shared on Chinese social media. And soon, he predicted, the number of deaths would be decreasing every day.
Three weeks later, Levitt told the China Daily News that the virus' rate of growth had peaked. He predicted that the total number of confirmed COVID-19 cases in China would end up around 80,000, with about 3,250 deaths.
This forecast turned out to be remarkably accurate: As of March 16, China had counted a total of 80,298 cases and 3,245 deaths — in a nation of nearly 1.4 billion people where roughly 10 million die every year. The number of newly diagnosed patients has dropped to around 25 a day, with no cases of community spread reported since Wednesday.
At that point, he moved on from China:
He analyzed data from 78 countries that reported more than 50 new cases of COVID-19 every day and sees "signs of recovery" in many of them. He's not focusing on the total number of cases in a country, but on the number of new cases identified every day — and, especially, on the change in that number from one day to the next.
"Numbers are still noisy, but there are clear signs of slowed growth."
On Tuesday, March 24, The Independent picked up on the article and had found another interview he had done for an Israeli financial newsletter on coronavirus modelling, in which he stated that he disagreed with the exponential growth formulae used in predictions, e.g. Ferguson's, although he mentioned no names:
In an interview with Calcalist, an Israeli financial newsletter, Mr Levitt explained why he didn't agree with models of exponential growth that many organisations were using as the basis of their predictions.
"In exponential growth models, you assume that new people can be infected every day, because you keep meeting new people. But, if you consider your own social circle, you basically meet the same people every day," he said. "You can meet new people on public transportation, for example; but even on the bus, after sometime most passengers will either be infected or immune."
He also thought that social distancing was a good idea:
Mr Levitt said that social distancing measures have been helpful in reducing the virus' ability to spread rapidly.
At this point, he was studying Italy's coronavirus numbers:
He suggested that the higher percentage of elderly people in Italy paired with the country's vibrant social culture resulted in the explosion of cases in that country.
"Furthermore, Italian culture is very warm and Italians have a very rich social life. For these reasons, it is important to keep people apart and prevent sick people from coming into contact with healthy people," he said.
He was rightly concerned with overloading health systems, including that of the United States:
"Currently, I am most worried about the US. It must isolate as many people as possible to buy time for preparations. Otherwise, it can end up in a situation where 20,000 infected people will descend on the nearest hospital at the same time and the healthcare system will collapse," he said.
However, while he recommended a brief lockdown as a stop-gap measure to flatten the sombrero, as it were, he also believed that the nations' populations were developing a natural, or herd, immunity to coronavirus:
Mr Levitt said that while isolating was an important step to fighting viral spread, he also believes a certain segment of the population may be naturally immune to the disease.
"We know China was under almost complete quarantine, people only left home to do crucial shopping and avoided contact with others. In Wuhan, which had the highest number of infection cases in the Hubei province, everyone had a chance of getting infected, but only 3 percent caught it," he said. "Even on the Diamond Princess [the quarantined cruise ship] the infection rate did not top 20 percent."
He said those numbers suggest that some people simply are immune or especially resistant to the virus.
It's quite possible that some of us can build up immunity to COVID-19, because the common cold is a type of coronavirus. I'm not equating the two by any means, just highlighting that the principle could well be the same. We might not need an expensive drug — or a vaccine with who knows what in it.
On May 2, Prof Levitt gave an interview to Britain's online magazine UnHerd, which is an excellent site. Freddie Sayers, the site's executive editor, conducted the interview, which is just under 35 minutes long, available below and at the accompanying article:
The aforementioned article explains Levitt's nuanced view of coronavirus. Lockdowns should be only short-term, or focussed on vulnerable groups, such as the elderly. Social distancing is important, but, even then, after a while people will ignore it. Therefore, some prior immunity or asymptomatic cases must factor in somewhere. Neil Ferguson's Imperial College numbers are misguided, because this is not about exponential growth.
An excerpt from the article follows:
His observation is a simple one: that in outbreak after outbreak of this disease, a similar mathematical pattern is observable regardless of government interventions. After around a two week exponential growth of cases (and, subsequently, deaths) some kind of break kicks in, and growth starts slowing down. The curve quickly becomes "sub-exponential".
This may seem like a technical distinction, but its implications are profound. The 'unmitigated' scenarios modelled by (among others) Imperial College, and which tilted governments across the world into drastic action, relied on a presumption of continued exponential growth — that with a consistent R number of significantly above 1 and a consistent death rate, very quickly the majority of the population would be infected and huge numbers of deaths would be recorded. But Professor Levitt's point is that that hasn't actually happened anywhere, even in countries that have been relatively lax in their responses.
He takes specific issue with the Neil Ferguson paper. "In a footnote to a table it said, assuming exponential growth of 15% for six days. Now I had looked at China and had never seen exponential growth that wasn't decaying rapidly."
The explanation for this flattening that we are used to is that social distancing and lockdowns have slowed the curve, but he is unconvinced. As he put it to me, in the subsequent examples to China of South Korea, Iran and Italy, "the beginning of the epidemics showed a slowing down and it was very hard for me to believe that those three countries could practise social distancing as well as China." He believes that both some degree of prior immunity and large numbers of asymptomatic cases are important factors.
He also observes that the total number of deaths we are seeing, in places as diverse as New York City, parts of England, parts of France and Northern Italy, all seem to level out at a very similar fraction of the total population. "Are they all practising equally good social distancing? I don't think so." He disagrees with Sir David Spiegelhalter's calculations that the totem is around one additional year of excess deaths, while (by adjusting to match the effects seen on the quarantined Diamond Princess cruise ship) he calculates that it is more like one month of excess death that is need before the virus peters out.
More generally, he complains that epidemiologists only seem to be called wrong if they underestimate deaths, and so there is an intrinsic bias towards caution. "They see their role as scaring people into doing something, and I understand that… but in my work, if I say a number is too small and I'm wrong, or too big and I'm wrong, both of those errors are the same."
He believes the much-discussed R0 is a faulty number, as it is meaningless without the time infectious alongside.
On May 23, the Telegraph had an article about Levitt: 'Lockdown saved no lives and may have cost them, Nobel Prize winner believes'.
Levitt had been in touch with Ferguson to tell him his numbers were (once again, as the British know) woefully out of whack:
Michael Levitt, a Stanford University professor who correctly predicted the initial trajectory of the pandemic, sent messages to Professor Neil Ferguson in March telling the influential government advisor he had over-estimated the potential death toll by "10 or 12 times".
The Imperial College professor's modelling, a major factor in the Government's apparent abandoning of a so-called herd-immunity policy, was part of an unnecessary "panic virus" which spread among global political leaders, Prof Levitt now tells the Telegraph.
Levitt told the Telegraph that he was no fan of a prolonged lockdown:
"I think lockdown saved no lives," said the scientist, who added that the Government should have encouraged Britons to wear masks and adhere to other forms of social distancing.
"I think it may have cost lives. It will have saved a few road accident lives – things like that – but social damage – domestic abuse, divorces, alcoholism – has been extreme. And then you have those who were not treated for other conditions."
Levitt nails it with his next observation. Politicians were terrified at the prospect of a high death toll if they did not implement lockdown:
"I think that the real virus was the panic virus," Prof Levitt told the Telegraph. "For reasons that were not clear to me, I think the leaders panicked and the people panicked and I think there was a huge lack of discussion."
Levitt believes that COVID-19 has a natural life cycle. Lockdown did little. The virus burned out by itself:
"In Europe, I don't think that anything actually stopped the virus other than some kind of burnout," he added. "There's a huge number of people who are asymptomatic so I would seriously imagine that by the time lockdown was finally introduced in the UK the virus was already widely spread. They could have just stayed open like Sweden by that stage and nothing would have happened."
Also:
"There is no doubt that you can stop an epidemic with lockdown but it's a very blunt and very medieval weapon and the epidemic could have been stopped just as effectively with other sensible measures (such as masks and other forms of social distancing)," he added.
Levitt thinks that the UK will have total deaths around 50,000, which looks quite possible. He's also drawn the ire of epidemiologists, yet his forecasts have been far more accurate than theirs:
"It turns out numbers are played out very consistently when you look at all the places that have been badly hit, particularly in Europe. The token number of deaths before things stop is about one month of natural deaths, which is something like one in a thousand."
Based on his estimates, Britain was due to suffer around 50,000 deaths in total. "A lot of things went wrong but I think the main thing is that we just needed to think and discuss things a little bit," he added. "I was told on numerous occasions 'you are not an epidemiologist, shut up'. I don't really care. I was just looking at the numbers. I was looking at the cruise ship, looking at Wuhan. The same number held for these places."
A few days before the Telegraph interview took place, an article comparing Levitt's spot-on numbers with Prof Neil Ferguson's off-piste ones appeared in The Critic: 'We're all in the big numbers now'.
As its author, Alistair Haimes, says, we are now in a place to begin studying UK coronavirus deaths and statistical curves.
This is how wrong, to be polite, Ferguson's Imperial College numbers were:
Imperial College haven't had a good war, and after their performance in other recent epidemics perhaps they will now pass their mantle onto another team.  Preferably one that can code to levels fit for publication, never mind policy: it is increasingly awkward to hear the Prime Minister quoting their forecast that, were it not for lockdown, the UK could have been looking at half a million deaths when, at the tail-end of the epidemic, there are only 320,000 deaths worldwide.
By contrast, we have Dr Levitt's accurate predictions, but no one wanted to know because Levitt is not an epidemiologist!
In mid-March, Stanford's Nobel laureate Michael Levitt (biophysicist and professor of structural biology) discussed the "natural experiment" of the Diamond Princess cruise ship, a virtually perfect sealed petri-dish disproportionately filled with the most susceptible age and health groups. Even here, despite the virus spreading uncontrolled onboard for at least two weeks, infection only reached 20% of passengers and crew (an "upper bound" to infection levels?); Levitt concluded that we must have high levels of innate immunity that can clear the virus. And using very simple mathematics (not "15,000 lines of uncommented code" like Neil Ferguson) he demonstrated that the virus's spread had never been exponential but rather has been running out of steam from day one. Who listened?
The end result is a death toll that is no worse than a bad influenza year:
If we simply move covid-19 deaths from spring to winter, the death-toll and the extent of the epidemic is put in the context of recent bad (but not dramatic) influenza years.
We have had bad flu years in the UK, and within the past two decades, but we didn't get hysterical about them:
Remember the killer flu of 2000, and the lockdown after the Millenium super-spreader events? Me neither. Covid-19 might not be "just flu", but that's because there's no "just" about flu.
According to the article, Sweden's no lockdown strategy was that of Britain's SAGE (Scientific Advisory Group for Emergencies) member and our Chief Scientific Adviser, Sir Patrick Vallance:
In Sweden, Professors Giesecke and Tegnell have managed the epidemic within Sweden's healthcare capacity without suspending civil liberties or shutting down schools or society (Sir Patrick Vallance's "Plan A"), with no greater death-toll than our own. The Free Swedes pointed out all along that lockdown would be much easier to get into than out of: no kidding, we're in an eel-trap.
We have no idea if the UK government looked at models that contradicted Ferguson's. Oxford University has more realistic models, but we paid attention to Ferguson's numbers from Imperial College. They have never been right for other pandemics, so why would he have been right about this one?
One thing the article omits is the media narrative that drove us to lockdown. Britain was going along with the Swedish model of social distancing, but the 24/7 news channels — BBC and Sky — ramped up Project Fear by asking why we didn't have a lockdown, too.
No doubt advisers put pressure on Prime Minister Boris Johnson, too, because everyone in that stratum of society, Boris included, will watch some BBC news every day. He probably already knew the narrative.
Hence, lockdown on the evening of Monday, March 23.
SAGE minutes actually state that the British public was so scared that they would comply:
SAGE minutes make it clear that the public was explicitly petrified in order to ensure compliance with lockdown.
Lockdown was a YUGE mistake socially and economically.
We are due to go through the worst economic disaster since the early 18th century. Years differ: 1704, 1706, 1708. Take your pick.
Questions must also be asked of Neil Ferguson. He ruined the farming industry with his past predictions. Now he's ruined not only the British economy, but, perhaps, others where leaders looked at his unrealistic extrapolations. (The United States comes to mind.)
One could be forgiven for thinking that Ferguson has an agenda of some sort. It certainly looks that way.
Boris, his government ministers and his advisers now have to get us out of this mess, sooner rather than later.
Boris's 'baby steps' won't cut it.
The following British coronavirus version of Rudyard Kipling's If– (original full text here) with regard to coronavirus brought a smile. I hope it does the same for you.
It's a comment that Steven Brook left on a Spiked column by Brendan O'Neill: 'What Neil Ferguson's booty call tells us about modern politics'.
I've added a few grammatical edits to this witty take on the virus:
If – by Mr Kipling
If you can lose your head when all about you are losing theirs and blaming it on you for not panicking sooner.
If you can hide your doubt, judgement and perspective and put your faith in experts like Piers Morgan
If you make no allowance for other considerations, the economy or unintended consequences.
If you can wait and not be tired by waiting for a vaccine that is unlikely to turn up.
Or meekly accept being lied about, because the mainstream media don't deal in facts any more.
Or being hated, don't even think of cutting the public funding to the hatemongers.
And yet don't look too normal, nor talk too wise, just put your critical faculties on one side and show you care …
If you can dream of a multicultural paradise but ignore the reality of a fragmented rudderless society
If you can think, then, for God's sake, hide those thoughts, or you will look cold and heartless.
If you can meet with Triumph and Disaster, having beaten the virus but wrecked the economy.
And treat those two impostors just the same; who needs a healthy economy anyway?
If you can bear to hear the truth you've spoken
Twisted by the BBC to make a trap for fools, but you're too scared to deal with that nest of vipers.
Or watch the things you gave your life to, broken, the family, freedom of speech, education.
And stoop and failed to build 'em up because you imported third rate tools from China:
If you can make one heap of all our national wealth
And risk it on Prof Ferguson's model which forecast that 121% of the British population would be dead by Easter.
And lose, because Imperial College has a long history of getting things completely wrong and start again at the beginnings.
And never breathe a word about our loss because no one takes responsibility for previous panics (and, for goodness sake, don't publish the grooming report).
If you can force your heart and nerve and sinew not to strangle Robert Peston even though he richly deserves it.
To keep having press conferences long after they have become utterly pointless.
And so hold on when there is nothing in you
Except the Will which says to them: 'You do realise that Common Purpose runs the UK?'
If you can talk with the public while selling out your nation to the globalists
Or walk with the Davos crowd — but still pretend to have the common touch,
If neither foes nor loving friends can hurt you because you burnt the photos of you with the lady boy.
If all men count with you, but George Soros particularly;
If you can fill the unforgiving news cycle
With sixty seconds' worth of calm reassurance,
Yours is the Earth and everything that's in it, which, sadly, is a lot less than it used to be.
And—which is more—you'll be a modern politician, old chum.
It nicely sums up the past two (and a bit) months here in England.
Friday, May 8, 2020, was a national holiday in the UK to commemorate the 75th anniversary of VE Day.
It's a bittersweet commemoration.
The Allies fought for our freedom.
In the UK, we are still in lockdown for coronavirus.
Not a day has gone by when I haven't considered that all those freedoms fought for were taken from us on the evening of Monday, March 23, 2020. All it took was an announcement from Prime Minister Boris Johnson.
This is where we are:
We await Boris's announcement on Sunday, May 10, re lockdown.
This tweet is from the co-editor of Conservative Woman:
I find it hard to believe that Boris can credibly extend lockdown (which isn't saying he won't) …
… particularly in light of Prof Neil Ferguson's bogus numbers …
… and resignation from SAGE for having his mistress over — twice:
Boris told us his was to be the People's Government. I hope someone reminds him of that.
This was VE Day 2020, as Kathy Gyngell, the other co-editor of Conservative Woman, puts so aptly:
This letter to the editor comes from author Virginia Ironside, born a year before VE Day:
She nails it in the last paragraph.
The lockdown has shown there is an 'us' and a 'them'. Ferguson's lover said that lockdown was straining her marriage. Aww diddums. She lives in a £1.9m house. Imagine if she were living with an abusive husband on the 15th floor of a council block:
So, what hope have we?
I have never lost sight of this fact:
A German virologist agrees. (I'm ever thankful that peacetime brought Europe together.) I watched this interview, which is excellent:
Meanwhile, in Sweden:
And let's not forget the economic impact, the worst since 1706:
These facts make watching the late afternoon daily coronavirus briefing all the more painful.
Dominic Raab, Boris's First Secretary (deputy PM), was at the main lectern on Thursday, May 7:
One veteran of the Second World War, Captain Tom Moore, raised more than $28m for the NHS by walking around his garden 100 times. He uses a zimmerframe (walker), so this could not have been easy.
For his 100th birthday a few days ago, the Royal Air Force gave him his own personal flypast.
And now ITV made a documentary about his time in the war, which was shown on Friday:
God bless him. Many happy returns, Captain Tom!