You are currently browsing the tag archive for the 'pub' tag.
On Monday, June 14, Prime Minister Boris Johnson postponed Freedom Day from Monday, June 21 to Monday, July 19.
Quelle surprise!
Although the data for hospitalisations and deaths look better than ever thanks to the vaccine rollout, SAGE modelling shows that if figures of cases — positive tests — continue to increase 'exponentially', then we could be in for a big problem:
However, the reality is more like this:
Incredibly, Britons support the delay:
Protest at Downing Street
Earlier in the afternoon, when it became clear that Boris was going to delay England's reopening, a protest took place outside of Downing Street.
The BBC's Nick Watt got caught up in it on his way to the mid-afternoon press briefing for journalists. I have no idea why the crowd harassed him, but the Metropolitan Police did not seem bothered:
Coronavirus briefing
Boris held his televised coronavirus briefing at 6 p.m.
Boris should have had Matt Hancock, Secretary of State for Health and Social Care, go to Parliament first to make this announcement, then give his press conference. Hancock poled up in the House of Commons two hours after Boris's press conference. More on that below.
At the coronavirus briefing, Boris was accompanied by Sir Patrick Vallance and Prof Chris Whitty. Here are the highlights:
Sure, just as he announced June 21 would be a few months ago. I'll believe it when I see it.
Some restrictions have been lifted for weddings and funerals:
The delay is partly because of the Delta variant from India:
Sure thing, Chris. By July, there could be another variant:
Even though Boris is trying to keep us hopeful, there is no way we would open in two weeks' time instead of four:
This is because — as has been explained at previous coronavirus briefings — it takes four weeks for a full cycle of effects to complete before a decision can be made: cases, hospitalisations, deaths.
Keep in mind that our vaccination programme has been wildly successful. The elderly and vulnerable have had their second shot and 18-24 year olds are now invited to get their first inoculation.
The vaccines used thus far — AstraZeneca and Pfizer — are said to be highly effective against the virus, especially after two injections:
One of the three men said that we would have to 'learn to live with this virus'. We know that, fellas, so open up.
We know that people are going to die, just as they do from flu:
That's exactly what they said in April.
Labour are quite happy with an extension of restrictions. No surprise there:
Matt Hancock's statement in the House of Commons
Matt Hancock announced the delay in the Commons that evening at 8:30.
Once again, the Government evaded going to Parliament first, followed by the media and public.
The Speaker, Sir Lindsay Hoyle, was not happy. This is not the first time Hoyle has reprimanded Hancock:
Sir Lindsay said that he is ready to arrange a private meeting with the Prime Minister to discuss these continuing evasions of Parliament:
Hancock said:
That tweet is spot on. In March 2020, it was about 'squashing the sombrero' of hospital admissions, as Boris put it.
Then we had the rest of the list in that tweet.
Now it seems to be about zero COVID.
That's quite a leap.
Hancock's statement and the subsequent debate are available on Hansard. Excerpts follow. All MPs below are Conservative.
Jeremy Hunt MP, the chair of the Health and Social Care Committee and former Health Secretary, said (emphases mine):
May I start by saying that I totally agree with your expression of disappointment, Mr Speaker, that in a parliamentary democracy Parliament heard about this news after the media, and much as I respect my right hon. Friend it should be the Prime Minister who is here this evening?
I happen to support these measures and the caution the Government are showing, but may I suggest to my right hon. Friend that one of the reasons for the disappointment many people feel is the use of words like "irreversible"? Tonight, Sir Patrick Vallance said that we will be living with covid for the rest of our lives. If there is a vaccine-busting variant that threatens another 100,000 lives, these measures will not be irreversible, and we have a duty to be completely honest with people about the bumpiness of the road ahead. So may I urge the Health Secretary to be as cautious with the language we use as he rightly is with NHS bed capacity?
Mark Harper is one of the few MPs who wants England to open up now. He said:
Before I ask the Secretary of State my question, I should just say—as a former Government Chief Whip, it does not give me any great pleasure to do so—that I wholly associate myself with your remarks earlier, Mr Speaker. This statement should have been made to this House by the Prime Minister before it was made to the media. I hope that we do not see a recurrence of it and I wish you well in your meeting with him.
The Secretary of State has set out that it is not the Government's policy to get to zero covid—indeed, that is not possible. Can he say whether it is the Government's policy to maintain a low prevalence of this virus? If it is not, can he confirm the Prime Minister's sentiments today that 19 July is a terminus date, and can he rule out bringing back restrictions in the autumn and winter when we see an inevitable rise in what is a respiratory virus?
Hancock replied:
Well, it is not inevitable—I do not think it is inevitable. It may happen, but it is not inevitable because we also have the planned booster programme to strengthen further the vaccination response. But it is absolutely clear, based on all the clinical advice that I have seen, that a goal of eradication of this virus is impossible. Indeed, there is one part of this country that tried it for a bit in the summer and found it to be impossible. Therefore, we must learn to live with this virus and we must learn how we can live our normal lives with this virus, so I reflect the Prime Minister's words, which, of course, I concur with entirely, on 19 July. Our goal is to make sure that we get as much vaccination done between now and then—especially those second doses—to make sure that we can open up safely, even if there is a rise in cases, by protecting people from hospitalisation and especially from dying of this awful disease.
Steve Brine was, rightly, unhappy:
Last week, the Secretary of State told me:
"Our goal…is not a covid-free world…the goal is to live with covid".—[Official Report, 7 June 2021; Vol. 696, c. 678.]
Well, you could have fooled me, and many of our constituents. There is dismay out there tonight. The reopening of the wedding industry is not a meaningful reopening and I think it is cruel the way some are being misled. The Prime Minister and my right hon. Friend have been very clear today that 19 July is not a new "not before" date but an end to all this, so will the Secretary of State tell the country his assessment of risk and personal responsibility and whether he feels that as a country we remotely have that right at this time?
Hancock replied (in part):
Once we have the offer of a vaccine to everybody, and once we have protected and mitigated the large part of that risk, we do need to move back to a world based on personal responsibility. That is right, and that is where we intend to go. I think that we have made steps already in that direction in steps 1, 2 and 3. This country is freer than almost any other in Europe in terms of our economy and of our society. That is partly because of the very rapid vaccination effort here, but I hope that my hon. Friend can take from that the direction we intend to go.
Peter Bone made excellent points on the Government's disrespect for the Commons:
I am sure, Mr Speaker, that the Secretary of State for Health heard what you said at the beginning of this statement. May I ask the Secretary of State how we got ourselves into this position? He has been very good at coming to the House and making statements on covid, but on the biggest, most important day, the press were given an embargoed statement at 3 o'clock and the Prime Minister had a big showy press conference at 6, yet he could not be bothered to turn up until 8.30. This is a clear breach of the ministerial code. How did it happen? Who thought it was a good idea, and who actually broke the ministerial code?
Hancock had little to say in response but said he would continue answering questions.
Sir Geoffrey Clifton-Brown asked on what basis the decision to delay was made. Hancock said:
… Central to the judgment today is the fact that we are seeing a rise in hospitalisations, especially over the past week, and especially among those who are unvaccinated or have just had a single jab. Those people are not largely those who are unvaccinated out of choice; it is those who are unvaccinated because they have not yet had the opportunity because they are younger.
Until about a week ago, hospitalisations were basically flat. We thought that the link might have been completely broken between cases and hospitalisations or that it might be a lag. Sadly, hospitalisations then started to rise. For deaths, we have not yet seen that rise, which I am very pleased about; hopefully they will never rise, in which case the future will be much easier. It may still be that there is an element of it that is a lag, and we will be looking out for that very carefully over the couple of weeks ahead, but nevertheless our goal is to get those vaccines done in the five weeks between now and 19 July in order to make sure that this country is safe. I will commit to publishing anything further that we can that underpinned the decision, but I can honestly say to my hon. Friend that most of it is already in the public domain.
The morning after with talkRADIO's Julia Hartley-Brewer and guests
On Tuesday, June 15, Israel ditched its mask mandate:
They vaccinated quicker than the UK, which they could do as a much smaller country:
TalkRADIO's Julia Hartley-Brewer interviewed three interesting guests, whose videos are all worth watching.
Clearly frustrated by this delay, she asked her audience about their mood:
She opened her show with an editorial on selfishness, because many people say that her civil liberties stance is 'selfish'. She turned the tables on her accusers:
She interviewed David Paton, the Professor of Industrial Economics Nottingham University Business School. He has been running his own models and studying the national statistics since the early days of the pandemic last year.
This is his take. He observes that we are doing much better than SAGE models suggest:
He also told Julia that we are doing much better than the SAGE models purport:
Next up was Hugh Osmond, the founder of the Punch Taverns chain. He said that the medical experts wanted to remove all joy from our lives. He also pointed out that hundreds of pubs have closed because of the government's handling of the pandemic and that if the pub summer season is short this year, hundreds more will go to the wall by the end of 2021:
Julia's next guest was Mark Harper MP, chairman of the parliamentary Covid Recovery Group, quoted in the aforementioned Hansard excerpt. I agree with him in that these restrictions might never end:
He cannot understand why the Government is not more positive about the success of the vaccine rollout. He also discussed the negative fear-mongering from the media. Note the reply tweet which is spot on re the G7 get-togethers:
Julia's third guest in her coronavirus segment was barrister Francis Hoar, who has been anti-lockdown from the start:
Before his interview, he reiterated his concern about increased government control via a (Chinese style) social credit system:
He also retweeted the following:
This appears to be a quote from Sir Charles Walker MP (Conservative), who is also against lockdowns:
It is hard to disagree with him as the Government keeps moving the goalposts:
Francis Hoar told Julia Hartley-Brewer that Boris looked as if he had been taken hostage at last night's coronavirus briefing and that he is deeply concerned about the future of young people today because of continuing restrictions. He is very much a supporter of having our personal freedoms restored yesterday:
Conclusion
I really do hope that England reopens on July 19. I wanted the nation to reopen on June 21.
However, if it does not, then it is unlikely to reopen until Spring 2022. That could be June 2022.
My reasoning is as follows. September is the month when schools reopen, so that is a risk factor. Then comes flu season when coronavirus will worsen. The experts and the Government will say that we shouldn't have big Christmas celebrations at home, in the pub or in a restaurant because it's just too risky. Winter is always a bad time for illness, and we don't want to overburden the NHS, so we have to wait until sometime during the springtime.
Therefore, if reopening does not take place on July 21, 2021, then the next possible date is between mid-March (after the Cheltenham Festival, likely to be a 'pilot' event) and June 2022.
I hope I am wrong. I truly do.
One wonders if Labour leader Sir Keir Starmer has Conservatives on his PR team.
He certainly has not had a good campaign for his party's candidates in the run up to England's local elections on Thursday, May 6.
On Monday, April 19, he got off to a rocky start with a visit to a pub in Bath in the West Country, shortly after pubs were allowed to reopen for outdoor service after our winter lockdown. Publican — and Labour voter — Rod Humphris of The Raven gave Starmer a piece of his mind, saying that he did a lousy job of opposing the Government's coronavirus restrictions:
I have been a Labour voter my entire life. You have failed to be the Opposition … You have failed this country.
Pub customers must remain outdoors unless they need to use the loo. Humphris and other publicans could be doing better business if they were allowed to have customers indoors. He showed Starmer a chart with ONS statistics showing coronavirus is no longer the threat it was a year ago. He also gave the Labour leader a brief talk about other statistics on the harm lockdown has done to Britain, from children to the economy.
Starmer dismissed it and told Humphris he did not need any 'lectures' from him — then proceeded to enter the pub.
The nerve of Starmer. He knows the rules.
Humphris tried to push Starmer's security man away from the door but failed. The burly security man held on to Humphris on the staircase. Shouting about being assaulted, Humphris tried to break free. Meanwhile, Starmer was having a look around the pub's interior.
Humphris shouted:
Get out of my pub!
Somewhere along the line, Humphris's spectacles fell off. Starmer had them in his hand. On his way out the door, he quietly returned them to Humphris. Starmer and his two security men then left, telling people to get out of their way, adding a stern 'please'.
This is the electioneering video of the year — and the full version:
I've watched that video several times and would encourage others to see it at least once.
It paints a perfect portrait of what another Labour government would be like, barging in wherever they like with burly security detail.
Heaven forfend.
Rule No. 1 of pubgoing: the publican is in charge of his/her public house — 'My gaff, my rules'.
Here is the late Barbara Windsor as Peggy Mitchell, the publican on BBC's EastEnders, ordering customers to 'get out of my pub':
Meanwhile, elsewhere in England that day, Prime Minister Boris Johnson had a pleasant conversation with two pubgoers:
As questions mounted about Boris's Downing Street flat refurbishment, Starmer paid a visit to a John Lewis store to look at wallpaper last Thursday:
Guido Fawkes wrote (emphases in the original):
Guido's interested to see Starmer arrive at John Lewis this afternoon for a smug photoshoot amid flat-gate. It's undoubtedly a smirk-raising photo-op, though it's undermined by Starmer's own words at PMQs yesterday, who ranted at Boris:
This is a Prime Minister who, during the pandemic, was nipping out of meetings to choose wallpaper
Now the Tories are able to accuse Starmer of playing party politics, and doing so during a pandemic.
On Friday, May 30, the former Director of Public Prosecutions found himself trolled by a young Conservative in Manchester:
Guido Fawkes had the story:
He may have thought a trip to Labour's Manchester heartland would have been a safe choice after his infamous Bristol pub confrontation, however Sir Keir was once again caught out. Posing with Twitter user Jordan Hutchinson he smiled and gave a thumbs-up, only to have Hutchinson tell viewers "Vote Conservative". It's appropriate Starmer spent yesterday in John Lewis's home furnishings section, as it's looking curtains for him…
Jordan Peterson's video amused James Cleverly MP, Minister for Middle East & North Africa in the Foreign, Commonwealth & Development Office. A member of the public replied to say that Labour have only themselves to blame:
Starmer ended the week with a visit to a gym. Oh, dear. The late Margaret Thatcher was more adept with a handbag:
Actor and musician Laurence Fox of the libertarian Reclaim Party is running for Mayor of London. He posted an interesting video on May 1 showing Starmer and other Labour Party members, including at least one other MP, enjoying drinks together indoors, something we are not allowed to do at present because of the pandemic:
Laurence Fox stands by the video and his tweet:
Starmer's Labour seems to be all about rules for 'thee but not for me'. Who would want that, even at a local level?
After a long winter lockdown that began on the evening of Saturday, December 19, 2020, England began reopening on Monday, April 12, 2021.
This was a bit like Groundhog Day. We saw the same scenes last June and July. The only difference was the weather:
Gyms
Let's get the serious business out of the way first, then we can have some fun.
Gyms were allowed to reopen their interiors to customers.
TalkRADIO broadcast from a pub in London on Monday morning and interviewed a gym owner from Surrey:
Barbers and hairdressers
While some rushed to the pub at midnight, others went to get their hair done:
Other customers waited until daylight:
It was the same further north:
Piers Morgan went to top-drawer stylist Daniel Galvin for his haircut:
Actor Daniel Brocklebank had a good Monday:
However, not everyone is in a rush to return for a Spring shearing. Some are enjoying the lockdown look:
Shops of the 'non-essential' variety
Department stores and other 'non-essential' shops were able to reopen.
Once again, it was a bright day for Primark. This was the scene in Birmingham's Bullring in the city centre:
Unfortunately, for Debenhams, where financial troubles started before the coronavirus crisis, it was a bittersweet day:
I'd never thought they would close. That leaves John Lewis as the last nationwide chain of department stores. How sad.
One record shop customer had a therapeutic experience:
Charity shops were also allowed to reopen:
Thank goodness. I have a few donations to make — all wrapped up pre-COVID.
Pubs and restaurants
Pubs and restaurants were allowed to reopen outdoors.
In some places, such as London's Soho, streets were closed to traffic in order to accommodate customers:
Pubgoers queued for a midnight opening. This was the scene in Coventry in the West Midlands:
In London, journalists from The Sun waited until their working day ended on Monday evening:
One wonders how many people used the paper's Beer Matt as a beer mat:
Renowned historian and author Simon Sebag Montefiore enjoyed coffee in London:
At the end of the day …
London's Evening Standard reported on Tuesday that the capital came 'back with a bang':
That's great to see.
Best of luck to everyone in the retail, beauty, gym and hospitality industry! May this be the last doggone lockdown!
Sadly, Prince Philip, the Duke of Edinburgh, died on Friday, April 9, 2021, exactly two months short of his 100th birthday:
The Queen has lost her best friend. My deepest sympathies to her for the unimaginable loss of her long-time husband and daily confidant. My condolences also go to the Royal Family in their grief.
Young love
The couple first met in 1934, and began corresponding when the Prince was 18 and a cadet in the Royal Navy. Princess Elizabeth was 13 at the time.
She was smitten with him from the start.
Prince Philip served with distinction during the Second World War in the Mediterranean and Pacific fleets.
After the war ended, he could have had a stellar career in the Royal Navy. His superiors praised his clear leadership skills.
However, love intervened and the rest was history.
Born Prince Philip of Greece and Denmark, he renounced his foreign titles and took British citizenship before he and Princess Elizabeth were engaged. He took the surname of his maternal grandparents: Mountbatten.
He and Princess Elizabeth were engaged in July 1947. They married on November 20 that year. Shortly before the wedding, George VI gave him the titles of Duke of Edinburgh (created for him), Earl of Merioneth and Baron Greenwich.
Prince Philip remained in the Royal Navy until July 1951. He retired with the rank of Commander.
Royal succession — and surname
In January 1952, he and the Queen began a tour of the Commonwealth countries. They were in Kenya when news reached them that the Queen's father, George VI, died on February 6 that year.
Although she became Queen immediately upon her father's death, her coronation took place in 1953, as it had to be planned meticulously.
On Coronation Day, he knelt before her, clasped her hands and swore an oath of allegiance to her:
He also had to touch her crown and kiss her on the cheek.
He never had a constitutional role, nor was he ever formally given the title of Royal Consort. The courtiers did not like him, nor did they trust him. They believed his personality to be brash and unbecoming of the Royal household. They shut him out of as much decision making as possible.
When Elizabeth became Queen, the question about her family name arose. Prince Philip suggested that the Royal Family be known as the House of Edinburgh. Upon discovering that suggestion, Queen Mary, Elizabeth's grandmother, wrote to Prime Minister Winston Churchill, who advised the young monarch to issue a royal proclamation saying that the Royal Family would continue to be known as the House of Windsor.
In his inimitable style, Prince Philip complained privately:
I am nothing but a bloody amoeba. I am the only man in the country not allowed to give his name to his own children. [57]
The Queen did nothing until eight years later, in 1960, 11 days before she gave birth to Prince Andrew. She issued an Order in Council declaring that the surname of her and her husband's male-line descendants who are not styled as Royal Highness or titled as prince or princess would be Mountbatten-Windsor.
Pater familias
Prince Philip had to carve a role out for himself. He became the pater familias and, through the years, his role expanded to cover not only his four children but his grandchildren. He listened to their concerns, shared their joys and gave them advice. He knew everything that went on in their lives.
Although the public knew him for speaking as he saw — rather bluntly, on occasion — behind closed doors Prince Philip was known to be a warm, loving man.
He also favoured a more transparent Royal Family. According to the BBC, it was he who encouraged the Queen to make a multi-episode documentary on their daily lives, including those of their four children. It was broadcast in the late 1960s. I remember seeing it in the United States.
When Princess Diana died on August 31, 1997, Prince Philip was the one who kept an eye on the public mood that fateful week. He, the Queen and Princes William and Harry were at Balmoral in Scotland for their summer holiday. When the young princes wanted to attend church, their grandparents took them to the Sunday service on the day of their mother's death. Later in the week, it was Prince Philip who encouraged the boys to walk behind the funeral procession the following Saturday. He said:
If you don't walk, I think you'll regret it later. If I walk, will you walk with me? [93]
One cannot imagine what he thought of Prince Harry's departure for the United States to live a life separate from his closely knit family. I did read that the Royal Family shielded information about the Oprah interview from him.
John F Kennedy's funeral
Prince Philip was in Washington for John F Kennedy's funeral in 1963.
He had a friendly encounter with John Jr, who was still a toddler and known as John-John at the time. The child wondered where his father was, as he had no one with whom to play. The Prince stepped in to fill that gap. In 1965, the British government gave an acre of land at Runnymede to the United States for use as a memorial to JFK:
Funeral arrangements
Prince Philip was self-effacing and did not like a fuss to be made over him.
Therefore, the funeral arrangements will respect his wishes, which is rather convenient, as coronavirus restrictions are still in place. Up to 30 people will be allowed at his funeral, in line with legislation across the nation:
The funeral is scheduled to take place on Saturday, April 17:
It is interesting that Prince Harry will be able to attend when we have a 10-day quarantine in place for arrivals into the UK under coronavirus regulations.
The Sunday Mirror reported on Prince Harry's return to the UK:
He could also be released from quarantine if he gets a negative private test on day five, under the Test to Release scheme.
Given his status as a member of the Royal Family travelling to support the Queen, Harry might be considered exempt from travel restrictions.
Wow. It's nice to know we have a two-tiered quarantine system in place /sarc.
A championship boxer remembers the Prince
Former WBC Heavyweight Champion Frank Bruno MBE posted his memories of meeting Prince Philip. He is at the top left in the following photo:
An Anglican priest remembers the Prince
The Revd Peter Mullen, an Anglican priest, recalled his encounters with Prince Philip for Conservative Woman on April 10 in 'A personal recollection'.
He first met the Prince during his schooldays:
The first time I met the Prince was in connection with his Duke of Edinburgh's Award Scheme which gave a leg up to youngsters from what would now be called the less privileged parts of the country. He paid a visit to the Leeds branch of the Church Lads' Brigade of which, aged fourteen, I was a member. We were in the church hall making things. My task was to make a table lamp. I was hopeless at it.
The Duke got hold of my half-finished creation, held it up to one eye and said, 'I suppose this hole is where the flex goes?'
'I think so, Sir.'
'You think so? I was never any good at this sort of thing either!'
And he was off . . . 
As an adult, Mullen met him on more than one occasion thanks to the Honourable Company of Air Pilots. The Prince was its Grand Master. Mullen served as chaplain.
He recalls:
The Company gave a lunch for him to mark his 80th birthday and I recall how jovial he was, making light of his years: 'I believe I have lasted so long because you people are always toasting my good health, but I don't want to live to be a hundred. Things are dropping off already!'
At another luncheon one of our Liverymen who had his own port wine business presented the prince with Bottle Number One, the first fruits, so to speak. As he left, the duke handed the bottle to me: 'You have this, Peter. Our house floats on the bloody stuff.'
'Well, Sir, now I don't know whether to drink it or frame it.'
'Gerrit down ya neck!'
Prince Philip on MPs
Guido Fawkes came up with a good quote from one of the Prince's trips to Ghana. It concerns MPs. His Ghanaian hosts told him the country had 200 MPs. Prince Philip replied:
That's about the right number. We have 650 and most of them are a complete bloody waste of time.
Incidentally, Parliament will be recalled one day early from Easter recess. On Monday, April 12, MPs and Lords paid tribute to the Prince in their respective Houses:
That afternoon, the House of Commons reconvened to pay their tribute — from 2:30 p.m. until 10 p.m. (good grief).
Speaker Sir Lindsay Hoyle spoke first:
Prime Minister Boris Johnson had this to say:
Boris Johnson, who was invited to the funeral but declined so that another member of the Royal Family can attend, said that he would forego a pint when pub gardens reopen on April 12, out of respect for the Prince. Guido Fawkes, however, thinks that the Duke of Edinburgh would have wanted us to toast his memory, especially at a pub that bears his title in Brixton, south London:
Guido had a second tweet on the subject with another quote from the Prince:
Agreed.
Prince Philip on Australia
This is too funny. For those who are unaware, Australia was established as a place where Britain could send convicts. That was a long time ago, but the nation's original purpose was to serve as a prison: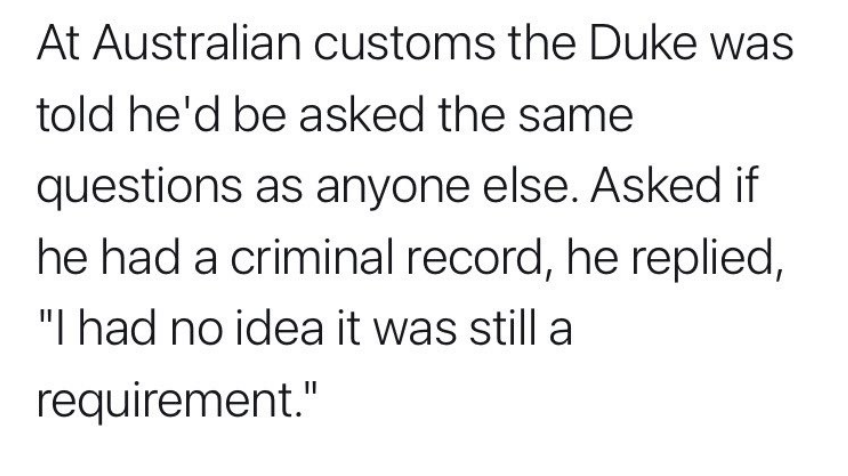 Prince Philip on civil liberties
On a serious note, the 12-minute interview below from 1984 is well worth watching, especially in the coronavirus era.
Prince Philip firmly supported the rights of the individual and believed that the state should serve the individual, not, as in our times, the other way around.
This is from a Thames Television programme originally broadcast on ITV:
I have posted the video below in case the tweets are deleted:
The Prince also said that certain subjects are out of bounds, such as the media and the NHS.
He said that the media are incapable of taking a joke about themselves and, as for the NHS, well, one cannot say anything against it. He didn't necessarily dislike the NHS but thought it was held in too high a regard. Nothing is perfect in this world.
We have been travelling a long road towards the point where we are at present: ruled by the media (they clamoured for coronavirus restrictions) and worship of the NHS. This is how Health Secretary Matt Hancock, Prime Minister Boris Johnson and SAGE have been able to rule our lives. It's been at least 40 years in the making.
BBC coverage on Friday
I was watching BBC Parliament early Friday afternoon, around 1:15, when the programme was interrupted by a broadcast from the BBC News Channel.
I checked the schedule an hour later, which said that the programme would last until 4 p.m. It was still going when I was preparing dinner at 5 p.m.
The final of MasterChef was to have been broadcast that night on BBC1. This was a clip from Thursday's programme:
Pictured are the hosts and judges, chef/restaurateur John Torode on the left and former greengrocer, now television presenter, Gregg Wallace on the right:
BUT:
The BBC News channel was simulcast all afternoon and all night long, not only on BBC Parliament but also on BBC1, to the dismay of MasterChef fans (myself included), and BBC2. BBC4 was suspended for the evening.
I read on social media that the BBC also broadcast continuous coverage of Prince Philip on their radio stations, including Radio 2, knocking out Steve Wright's drive-time show on Friday afternoon.
A friend of mine said that most of the BBC's employees were probably rubbing their hands with glee because it meant an early weekend for them. It's a cynical perspective that could well turn out to be true. We'll find out when someone writes his or her memoirs.
Everyone with a television set receives the BBC News channel. It comes into our homes at no extra charge. There was no need for the BBC to take over every channel for hours on end. By the way, if one had watched two hours of the Prince Philip coverage, as I did, one would have seen and heard everything in its entirety.
The BBC braced themselves for a plethora of complaints; they took the relevant page down on Sunday. Good. I am sure Prince Philip would have objected, too.
As much as I love the Queen, I hope they do not try this when her day comes. God willing, may it be long into the future.
Record-beating prince
Prince Philip established two records as consort to the Queen. He was the longest-serving royal consort in British history. He was also the longest-lived male member of the British royal family.
May he rest in eternal peace with his Maker.
May our gracious Lord grant the Queen, Defender of the Faith, His infinite peace and comfort in the months ahead. May He also bless the Royal Family during this difficult time.
As most of England is now in either Tier 2 or Tier 3, including London (in the latter), some scientists are clamouring for previously approved Christmas gatherings to be cancelled.
This is the exchange that took place on Wednesday, December 16, the day when London and surrounding areas entered Tier 3. Communist Susan Michie, a member of SAGE and independent SAGE, told Good Morning Britain that we should cancel Christmas this year and replace it with extra 'bank holidays' next year. She's a smooth talker. Laura Perrins, an ex-barrister who co-edits Conservative Woman, saw right through this:
Well, London mayor Sadiq Khan has cancelled the capital's New Year fireworks. The Tube will also stop running at 12:30 a.m. this year.
Laura Perrins had a lot to tweet on Wednesday from her article that day, 'Matt Hancock wants to ruin your Christmas. It's sheer cruelty'. Excerpts follow, emphases mine:
YOU'RE making your list, you're checking it twice and Matt Hancock is deciding whether you've been naughty or nice. Yes, once again the government have decided to inflict more psychological damage on the population by putting in doubt the Christmas relaxation of rules which will 'allow' you to spend some time with your family. The anxiety that this causes, the dread, the cruelty: that is the point of this latest government move. 
At the time of writing it looks as if (for once) Boris Johnson will hold his nerve and not hand over complete control to Matt Hancock and the 'scientists' who seem to run the country. All this anxiety has been triggered because the BMJ published an editorial saying that the rules 'allowing' you to see your family at Christmas are a 'major error' which would cause the health service to be overwhelmed. As usual you have to sacrifice your basic freedoms so that the NHS can do the job you pay them a great deal to do. All must be sacrificed, it seems, for 'our' NHS. 
Even if Johnson does hold his nerve this time, it should be said every day that Matt Hancock is a dangerous man who has set out to destroy this country. Some people think I am too strong in my language. I am not. 
What the government are doing is evil. You need to understand that. They are destroying thousands of businesses, thousands of jobs in arts and culture, they have closed pubs and restaurants as a way of crushing your spirit. Meeting your friends down the pub is uniquely British, speaking to them in the flesh, arguing with them over a pint; these are the small joys that ordinary people look forward to. This is something that the elite in the media and politics, and certainly the scientists, simply do not understand. They're all right, Jack. What's a trip to the pub anyway – that's for the little people. 
This tweet from Camilla Tominey caught my eye yesterday. 
She is right – this landlord has had his business wiped out 'in the blink of an eye'. Destroying the livelihoods of so many in the blink of an eye is something that used to happen only in communist Russia. It is not quite a knock on the door in the middle of the night, but it is not far off. Oh, but don't worry, they will get compensation from the government, you tell me. That is not the point. This landlord runs a business, he wants to provide this service, I have no doubt he takes pride in providing this service, it's not just the money he wants. It's his sense of dignity in a job well done.
This is why I believe that any future legal cases should claim this entire Covid government strategy is a breach Article 3 of the Human Rights Act which states that no one shall be subjected to torture or to inhuman or degrading treatment or punishment.
Perrins ended her article with thoughts on Dickens's A Christmas Carol:
In the great Christian story of redemption, A Christmas Carol, Scrooge famously did not observe Christmas. In addition, he hated anyone who did. He refused a generous invite to share the Christmas meal from his nephew. This was rightly seen as cruel, mean, mean-spirited and immoral. Scrooge was incapable of any joy or love. Matt Hancock wants to ruin your Christmas. He wants you to uninvite the relations you have invited to share your Christmas meal. Hancock, like Scrooge, is mean, mean-spirited and cruel. Ignore him. Keep Christmas as you will.
I wish you and yours every comfort and joy this Christmas. Know in the New Year that we at TCW will not rest until every last mask is burnt and 2m sign is peeled off the pavement. Anything less is defeat. 
Excellent!
On Tuesday, December 15, she opined on the type of people who love lockdown. Someone from Scotland responds:
In case anyone thinks Labour would be any better on Christmas celebrations, their party leader Sir Keir Starmer also wants celebrations on the feast day of Christ's birth scrapped:
This came up at Wednesday's PMQs (Prime Minister's Questions).
Fortunately, Prime Minister Boris Johnson echoed the words of one of his cabinet ministers, Chief Secretary to the Treasury Steve Barclay:
Guido Fawkes reported Steve Barclay told Radio 4's Today programme on Tuesday that Britons should (emphases in the original):
"try and minimise their contacts" in the week before Christmas. Yet still sticking to the four nation, five day relaxation. For now…
Barclay also advised that when families gather they do so "in a way that isn't the maximum of what the rules require but the minimum that they as a family need to do."
That means that Transport Secretary Grant Shapps's subsidy of public transport is still on …
… and Conservative rebel MP Mark Harper — one of the good guys — can rest easy:
Returning to public transport, anyone travelling to London will be greeted with Christmas cheer:
Bob Moran has been doing some great political cartoons for the Telegraph mocking lockdown. He's found a fan in Daily Mail columnist Peter Hitchens:
I hope that Bob Moran — and Peter Hitchens — have a happy Christmas.
Here's Bob at work:
Here are the Models, mocking Chief Medical Officer Prof Chris Whitty and Chief Scientific Officer Sir Patrick Vallance:
Jokes aside — and as necessary as they are right now — it is alarming to think about how a three-week lockdown turned into one that lasted over nine months.
I wrote a few weeks ago here that this is the wildest conspiracy ever. We've moved beyond 'theory'. We're living it:
As regular readers of mine know, my principal worry is the economy.
Here's Klaus 'Great Reset' Schwab, the Founder and Executive Chairman of the World Economic Forum, discussing the COVID-19 group that will address — and, in his mind, solve — all the problems of coronavirus and the world in general. Business, he says, will be a big part of this. Be afraid, be very afraid. This is what he's actually saying:
In closing, let's return to London.
Deaths are normal for this year. This is a five-year chart:
London's hospitals are not overly burdened either, especially compared with 2018 and 2019:
And why do we not receive any information from the Department for Health and Social Care about a prophylaxis for COVID-19? Instead, we're pushed into taking a vaccine with messenger RNA. Revolutionary, for sure, but can we be certain it will work and is safe?
One wonders what will happen next year.
The two- to three-week lockdown ended up lasting eight months, even if it was off and on.
It was never totally 'off'. After we were liberated, we were told, whether it be in Europe, North America or the Antipodes, that we would have to not only continue to socially distance but also to start wearing masks. Then came curfews:
What about being able to open only between 6 a.m. and 6 p.m.? Nicola Sturgeon — Scotland's First Minister (SNP) — is having a laugh, only she's deadly serious. 'Off sales' refers to alcoholic beverages sold in off licences (liquor stores):
Now we are approaching the Christmas season, the peak time of year for sales: parties, banquets, family dinners. A number of US states, including those with RINO governors, were on lockdown this week. As such, they missed Thanksgiving, which ushers in the holiday season in the US.
These are the tweets I ran across this week, during America's national Thanksgiving, a day of family, friends and food.
In the US, a lot of people cannot travel at the moment. They are not even supposed to see their families, even if they live nearby. Their governors told them they mustn't or, if they do, they'll 'kill Grandma', which must have come out of a WHO pandemic handbook, because we get that in Europe, too (the UK and France).
This is very important:
Yet, so many Westerners do not mind nearly a year's worth of restrictions — and that includes a number of Libertarians I know personally:
This is worth repeating:
And again:
How many businesses will collapse this year? Most of them are small to medium business owners who have employees.
The hospitality sector has been devastated, even though every bar and restaurant poured in their businesses' own money to make their establishments 'COVID-secure'. Governments said that still wasn't enough.
Now look what's happening. This is an example from California:
Laws — or, perhaps more honestly, 'regulations' (not all of which can be legally enforced) — differ from place to place. Even in England, what is allowed in one county is disallowed in another. There's no level playing field or explanation as to why other than this graph with spurious data from America's Centers for Disease Control and Public Health England which shows that hospitality is the main vector for COVID-19 transmission:
Pull the other one, why don't you, guys?
The reality from England is that, as Guido Fawkes reported on October 12 (emphasis in the original):
Stockport NHS Foundation Trust shows that "Eating out/ exercise/ shopping/events" accounted for just 2.4% of transmission.
The same data show that a staggering 92.5% of coronavirus cases occurred at home!
Here's another chart from October, showing low incidences in the hospitality sector. The Daily Mail used NHS data. Homes were excluded from this study:
Yet another study says it's supermarkets:
In the video below, top Scottish chef Tom Kitchin explains the bankrupting costs for the average restaurateur. The clip did not show his conclusion, which was that probably 6,000 UK restaurants will have to close because of these on-off lockdowns — costing thousands of £££ each time to close and to reopen — prohibiting them from trading. Takeaway doesn't always help:
And what are the figures for Los Angeles County, where we started?
Restaurants in Los Angeles County account for only 3.1% of coronavirus outbreaks:
Where are there more coronavirus outbreaks in Los Angeles County? Government locations:
The saddest thing is, no state needed to lock down for more than a few weeks earlier this year. South Dakota did not have any lockdown. Below is the situation in Florida, thanks to Republican governor Ron DeSantis:
A lot of US governors need to be reined in. How, constitutionally, I don't know. Right now, they're a law unto themselves.
European governments need to get a grip.
Career politicians need to face reality — or they will lose a lot of needed tax revenue.
Lockdowns are a crime against humanity.
Yesterday's post discussed England's new three-tier lockdown system and the 10 p.m. curfew on hospitality venues.
I ended with tweets from a publican in Essex, whose story I will go into below.
However, a few news items are worth looking at first.
Yesterday was Global Handwashing Day:
That day, Matt Hancock, Secretary of State for Health and Social Care, announced that more cities in the north of England would be moving to Tier 2. London and the adjacent county of Essex are also moving to Tier 2 as of Saturday morning, 00:01:
Essex has a low rate of positive tests, or 'cases':
London also has a low case rate. With a population of 9.3 million, it currently has 40 hospital admissions per day. On March 23, that figure was 505.
The death rate in the capital is also very low compared with the height of the pandemic earlier this year.
Conservative MPs representing London constituencies were not happy with all 32 boroughs being in Tier 2:
Here's a more detailed graph of London:
These lockdowns no longer make sense:
Imagine the impact on the hospitality industry:
Guido Fawkes has the Tier 2 rules (emphasis in the original):
People must not meet with anybody outside their household or support bubble in any indoor setting, whether at home or in a public place

All businesses and venues can continue to operate, in a Covid-secure manner, other than those that remain closed in law, such as nightclubs and adult entertainment venues

Certain businesses selling food or drink on their premises are required to close between 10pm and 5am. Businesses and venues selling food for consumption off the premises can continue to do so after 10pm as long as this is through delivery service, click-and-collect or drive-thru

Schools, universities and places of worship remain open

Weddings and funerals can go ahead with restrictions on the number of attendees

Organised indoor sport and exercise classes can continue to take place, provided the Rule of Six is followed

The "Rule of Six" will continue to apply outdoors and in private gardens

People should aim to reduce the number of journeys they make where possible. If they need to travel, they should walk or cycle where possible, or to plan ahead and avoid busy times and routes on public transport
As I pointed out yesterday, there is money to be had in Tier 2 and Tier 3 lockdowns:
As London will be in Tier 2 lockdown, Speaker of the House Sir Lindsay Hoyle has banned alcohol in the House of Commons catering outlets on the Parliamentary estate:
The Government have stated that their new tiered rules make them easier for the public to understand, but they are still confusing.
Adam Brooks, who owns two pubs in Essex, has been tweeting about the regulations:
This week, Spiked interviewed Adam Brooks for his perspective on pubs during the coronavirus crisis:
The interview appeared on October 13: '"The pub industry is on the verge of collapse"'. Excerpts follow, emphases mine.
Adam Brooks says that the pandemic has damaged two viable businesses which are seasonal, something many of us do not consider when thinking about pubs. The mask policy has not helped:
… I have never known anything like this – it's quite worrying.
One of my pubs is very seasonal in its trade – it's in the middle of the forest, and it's food-focused. Lockdown meant I missed all the good weather of April, May and June. I normally make losses through the winter, and those months get me where I want to be. But I have not had that this year. We were lucky to have good weather when we reopened, and up until about two and a half weeks ago, I was optimistic that we would get through to March and have a fairly normal 2021, or if anything a good one, due to people's desire to celebrate freedom. But the past two and a half weeks, with these added restrictions, have put a real dent in takings. The mask rule has put some people off – I have got friends that just don't want to go out because they don't want to wear masks.
My other pub is a backstreet pub. It survived on 60 to 70 people standing up around the bar on Friday and Saturday nights. New things like table service and having to have extra staff make it a real challenge. If the government brings in more rules, I think it would be the final nail in the coffin for a lot of us. At that point, it would probably be best if we closed and did some sort of deal with the breweries to reopen in more normal times. But, unfortunately, that would not protect the staff.
I am losing as much as or more than I would be if my pubs were closed. The worst thing is that being a leaseholder often means having personally to guarantee any future debts against your house. That means I have also got the risk of losing my house down the line if things go really badly.
He described the profile and habits of customers at his backstreet pub:
My backstreet pub is situated amid housing and other restaurants and shops. In the past I would have customers come in before they went for a meal at a restaurant. Then, around half past nine or 10, I would have customers come in who had finished their meals in restaurants, and just wanted an hour or so to chill out or to catch up in the pub. I have lost all of those people. I have lost the people who get home from work on a Friday night, put the kids to bed and pop to the pub. They are just not coming out because it's not worth it. Overall, the curfew and the mask rules have reduced that pub's trade by about 35 per cent.
Although Brooks appreciates having been able to take advantage of the coronavirus support from earlier in the year, he has little confidence in the Government's handling of the crisis:
We were promised the initial lockdown would be brief, and I accepted it. But since June I have been unable to back this government on Covid. We have seen no evidence for the measures enforced on hospitality. It seems to me like the government is trying to put together retrospective evidence to back up these restrictions – and I don't think it has got any …
If the government could explain why it is doing these things, that would be fair enough. But it can't. Covid cases linked to hospitality are hovering at around three to five per cent of the total. To see an industry crash when there is no real proof that it is causing a problem is really hard to take.
Essex County's move into Tier 2 could be very damaging for his pubs. Tier 2 was not yet on the cards when Brooks explained the effect of another lockdown or more restrictions:
This is a bit of a grey area. If we are suddenly hit with a law, not just a guideline, that says people from separate households can't mix, we will be choked out over two or three months. If there are any more restrictions than we have in my area now – masks, the curfew, tables of six and the various other stipulations that we have – I think the industry will collapse. I really do. If it's for any more than a couple of months, I can't see the industry surviving.
A lot of publicans realise we are probably not going to earn any money until March. I have not really earned a penny since last March. Many of us can get by with the loans. But we cannot get by if our businesses are losing £2,000 a week or more until next year. In that scenario, we are goners.
The pub industry is meaningful to many people, a home away from home:
My old backstreet boozer-type pub really is the front room of many older people who want some peace and quiet or some social interaction outside of their family home. It's a meeting point and it's a community hub. A lot of the time, the pub is these people's lives. During the initial lockdown, when my pub in the forest was closed, I saw two or three old guys with cans of lager sitting on the pub benches outside. That was very telling. We had stripped away a huge part of their lives that they could not do without. They could not get drinks from the pub, but they were just coming for the scenery and hoping that sufficed. Socially, it would be a disaster if pubs did not survive.
He also pointed out that an important supply chain revolves around pubs:
The pub industry employs something like a million people. If it collapsed, the supply chains would collapse, too. And that includes everything from breweries to greengrocers to meat suppliers to wholesalers to cleaners. People don't realise what the pub industry supports in this country, and that's a shame because sometimes people just think I'm sticking up for a place where people get drunk and disorderly. Your average pub isn't like that.
Brooks rightly takes issue with the Government for not consulting people at all levels to understand the pub industry. At minimum, he says, Government ministers could have met with a CEO from a brewery to get a better picture.
He also has a low view of the covid crisis modellers from SAGE:
The scientific modellers, who have arguably got us into this mess, don't seem to understand how people behave.
Brooks thinks that the 10 p.m. curfew should go in return for the following:
I have come up with a list of a few measures pubs could take in return for getting rid of the curfew. It includes things like having a designated staff member encouraging people not to congregate outside at the end of the night. We could allow the authorities access to our CCTV if they think there is a problem. We could commit to sending a weekly report to licensing authorities. We could have a rule whereby the last customer entry is an hour before closing. These are basic things we can do in return for dropping the 10pm curfew.
He concluded by expressing his disappointment that, up to now, the big breweries and pub chains have not said much about coronavirus regulations.
However, Tim Martin, who founded the JD Wetherspoon chain, has been speaking out. Today, Friday, October 16, the London Evening Standard reported that his chain is losing money. He also thinks that England should move towards the Swedish 'herd immunity' approach:
In the year to July sales plunged 30% to £1.26 billion and the divided to shareholders – which includes 10,000 of the staff – went from 12p a share to zero.
Last year, 'Spoons made a profit of £102 million on sales of £1.8 billion.
Mr Martin called on the Government to follow Sweden's coronavirus-tackling approach in a bid to save his pubs.
Sweden was one of the few European countries not to impose a compulsory lockdown, with pubs and restaurants allowed to stay open, as health officials opted for a "herd immunity" drive to combat the pandemic.
The outspoken chairman suggested the UK follow suit, as more than half of England prepares to enter the Government's "high" or "very high" risk Covid alert tiers.
Yesterday, the Evening Standard reported on the damage that the tiered system is likely to cause the pub industry:
As Emma McClarkin, chief executive of the British Beer & Pub Association puts it: "Tier two measures mean pubs can remain open, but households cannot mix inside them. This completely kills our pubs' business model making many of them totally unviable."
… UKHospitality's chief executive Kate Nicholls said: "Being moved into tier 2 is a curse for businesses. They will be trapped in a no man's land of being open, but with severe restrictions that will significantly hit custom, all while unable to access the job support available in tier 3. It is the worst of both worlds for businesses."
Unfortunately, we have Government and SAGE members driving pubs into the ground.
Here's Sir Patrick Vallance saying there is no such thing as herd immunity. Wow:
Here's Matt Hancock condemning herd immunity in Parliament earlier this week:
Iain Duncan Smith MP (Con) has written an article for The Telegraph saying that our economy cannot go on like this:
I agree.
While everyone is empathetic to those who have lost friends or family to COVID-19, this is also true:
I hope that Adam Brooks's pubs survive. May they prosper next year.
I wish all publicans the very best for the future. This is a parlous state of affairs.
Breweries and heads of pub chains really should try to arrange a meeting with Matt Hancock or a Cabinet minister representing business interests.
On Monday, October 12, 2020, Prime Minister Boris Johnson announced a three-tier system for England in an attempt to make new coronavirus restrictions easier to understand:
He delivered a statement in Parliament and later addressed the nation. In the video clips below, Chief Medical Officer Prof Chris Whitty is on the left and Chancellor of the Exchequer Rishi Sunak is on the right:
These plans run for the next six months:
Earlier that day, Chief Medical Officer Prof Chris Whitty, Chief Scientific Officer Sir Patrick Vallance and Deputy Chief Medical Officer Prof Jonathan Van-Tam presented an update. It is unnerving when SAGE (Scientific Advisory Group for Emergencies) members make an announcement of upcoming health policy before the Prime Minister or the Secretary of State for Health and Social Care, Matt Hancock. They did this on September 21 as well, against a Government backdrop. They have official permission to do so, but it is unsettling to see. It looks as if they are in charge. Perhaps they are.
Hmm.
I very much agree with this tweet about SAGE members who are physicians, such as the aforementioned three men (emphases mine below):
'Drs' go into epidemiology and PH because they want the same salary as the frontline grafters without the hours, stress or risk.
So, how accurate were Sir Patrick Vallance's alarming projections from September? Not very accurate at all, as many people in England suspected three weeks ago, and deaths are thankfully minimal compared to springtime statistics:
The SAGE members spoke on Monday morning. Boris addressed MPs that afternoon.
The Conservative MP for Wakefield, Imran Ahmad Khan, rightly pointed out that a Conservative government should let citizens make informed choices for themselves:
As Conservatives, we often speak of levelling up. However, now is the time to level with the British people. There is no silver bullet. All measures to stop the spread of covid have painful effects on our economy, social lives and mental wellbeing. Voices on the Opposition Benches believe that British people are incapable of understanding complex issues such as Brexit. The Conservative party is the champion of individuals' rights to make autonomous decisions without state interference. Will the Prime Minister double down on our party's historic commitment to invest greater trust in the individual to decide what is best for themselves?
Boris gave his standard communitarian response:
Indeed, and I hope that the individual will also recognise that the risk that we carry—he or she carries—is not just to ourselves, but to the whole of the community because, in the end, we are all potential vectors of this disease and we may bring it inadvertently to someone who is more vulnerable than ourselves. That is the risk. That is why we are bringing in these measures, why we have had the package of measures that we have had throughout this pandemic, and why we now need to intensify them in some local areas now.
Boris answered over 100 questions in two hours. The session ended just before 6 p.m.
He addressed the nation on television at 7 p.m.
The adjournment debate in Parliament that evening revealed that the National Health Service would be more aptly named the National Covid Service.
Labour's Fleur Anderson, who represents Putney in south west London, spoke about the continued closure of the Urgent Care unit at Queen Mary's Hospital in Roehampton. Excerpts follow:
In August 1997, Queen Mary's Hospital, which is in Roehampton, ended its A&E service, and has since had a minor injuries unit, which the trust gave a gold-standard accreditation in November last year. So there is no A&E service in my constituency. The minor injuries unit was upgraded to an urgent treatment centre, with a GP added to the excellent nurse practitioner staff, earlier this year. In a normal year, the centre serves 16,000 to 18,000 people, so it is a vital service in our community.
During the peak of the pandemic, the decision was taken to temporarily close the service because of a lack of space for social distancing and to be able to adhere to Government guidelines, and also to move the staff to other areas that needed them more. The pharmacy for out-patients has only recently been closed, and at very short notice. Of course I understand, as do local residents, that changes had to made and that health services had to adapt. I fully appreciate that our NHS managers had to make some extremely difficult decisions on service provision as they faced the prospect of being overwhelmed, which they are now facing again, with the second wave. The continued closure makes us in Roehampton feel overlooked, and it is putting additional pressures on NHS services at Teddington, the walk-in centre at Kingston, St George's Hospital A&E and local GP surgeries. I am concerned that this will cause untold long-term damage to the health and wellbeing of our community.
I have been asked, "What about the person with the dislocated shoulder, the chest pain, the allergic reaction?" They all need to be assessed and stabilised urgently, but at the moment they are being turned away. I have met the chief executive of the hospital trust and raised these issues. I asked her to assure me that the centre would be reopened as soon as it was safe to do so, but she has not confirmed when it will reopen, if at all. That is very ​worrying. I hope to hear from the Minister this evening that he will support the trust in making plans to reopen the walk-in urgent treatment centre. 
I would like briefly to explain the impacts that the closure is having on local people. Anyone who goes to where the minor injuries unit used to be is asked to travel far away to the Teddington walk-in centre, to Kingston A&E or to St George's A&E in Tooting. Those bus journeys can take an hour, which can result in painful journeys or in many people not making the journey, not being seen and not being treated. I am sure the Minister will agree that an hour on public transport is an unacceptably long journey time when there is a really good hospital right there in Roehampton, but it is just not open for walk-in urgent care. One of my constituents wrote to me this week to say:
"I took my elderly father, who is nearly 90 years old, to Queen Mary's just over a month ago, because he had cut his fingers quite badly and they were bleeding. The kind staff there had helped us when my father had a similar problem last year and they knew how to bandage his fingers because he has very thin skin…Because the Centre was closed, we had to go all the way to Kingston Hospital which was quite stressful. While his treatment there was good, it would have been far easier if we could have gone somewhere more local to him as my father isn't used to travelling that far."
Also, some patients are unable to travel or should not travel. An example is patients with diabetic foot ulcers, who should keep their activity to a minimum to allow ulcers to heal. At the same time, if they have an infection, it needs treating immediately as it could deteriorate rapidly leading to the need for amputation. That is one group of patients who are not getting the care they need because the urgent treatment centre and the pharmacy are not open. There is an obvious health risk to people needing to travel further if they are seriously ill.
There is also an increased risk of covid infection through asking people to travel greater distances by public transport during the pandemic, especially when they are unwell or chronically ill. They could have an underlying condition, which might be the reason they are going to the urgent care centre in the first place. That would make them more susceptible to the effects of covid-19. Closing the pharmacy is having the effect of delaying patients receiving treatment, as they are now being referred to their GP by the clinics. If they cannot immediately get an appointment with their GP, this can lead to delays of up to 48 hours before starting their treatment. That is another impact.
There is also a knock-on effect on services in other places. The fact that 16,000 to 18,000 people a year used to be treated at Queen Mary's is putting pressure on St George's and Kingston, along with the increasing demand at the moment. GP surgery appointments are already at a premium, and this demand will only worsen as the difficult winter months approach. Even before the pandemic, it was reported that over 11 million patients had to wait more than 21 days for a GP appointment. In my constituency, there are 14 main surgeries and three branch practices. My team has called round all the local GP services. Several are still only doing appointments over Zoom, and in one local medical centre, a member of staff begged for the urgent care centre to reopen due to the pressure its closure is causing for GP surgeries.​
Increased demand for overstretched GP surgeries with finite resources ultimately means fewer local people's conditions or illnesses receiving treatment, and even more concerningly, serious and urgent illnesses such as cancer being missed and going undiagnosed. It is cancer diagnosis that I am particularly concerned about. As the Minister knows, lots of cancers are diagnosed when people present at hospital with a symptom. With the doors of the urgent treatment centre still closed, many cancers that might otherwise have been spotted will have been missed …
Edward Argar, Minister for Health, responded on behalf of the Government:
… I am conscious that the trust has yet to set out a firm commitment to a reopening date, but I join the hon. Lady in saying that I hope it will set out its future plans as soon as possible. I am conscious that she has met the trust's chief executive, Jacqueline Totterdell, to discuss these issues and plans for the reopening of the urgent treatment centre. Although that reopening date is still to be confirmed, I understand that the trust and local commissioners are undertaking work to agree a new covid-secure model of care before reopening, which is the right approach.
The hon. Lady highlighted not only the urgent treatment centre but its role in helping early diagnosis and treatment of cancers. I completely understand and recognise her concerns about the impact of the pandemic on cancer services and the importance of ensuring that cancers do not go undiagnosed. The NHS is working to restore the full operation of all cancer services, with local delivery plans being delivered by cancer alliances. Systems will be working with GPs and the public locally to increase the number of people coming forward and being referred with suspected cancer to at least pre-pandemic levels—I will come on to the performance of her local trust in a moment.
To support that, systems will help to ensure sufficient diagnostic capacity in covid-19-secure environments, through the use of independent sector facilities and the development of community diagnostic hubs and a rapid diagnostic centre. The hon. Lady is right to highlight that diagnostic capability is a considerable challenge, not least because, to put it perhaps a little bluntly, many diagnostic tests are very close and personal, and the equipment used is intimate in terms of looking inside the human body. The cleaning and infection control measures that are necessary between each patient make it challenging to see as many patients as would have been the case before the pandemic.
That last sentence worried my far better half, who asked, 'Does that mean they weren't cleaning between patients before coronavirus?'
After discussing cancer services, Argar discussed the Urgent Care pharmacy in question:
The hospital pharmacy is absolutely vital for people being able to have timely access to the medicines they need and being able to get them on site. Although people using it will have been treated and advised in hospital, they can none the less get very helpful advice from the pharmacy as well, so I share her view about the importance of that. As I have said, I include that in my offer to her—to discuss that with her and with the chief executive. I will endeavour to do that later this week …
I simply reiterate that I share the hon. Lady's view that, where services for perfectly good and legitimate clinical reasons have been temporarily closed or altered, it is extremely important that they are reopened as soon as trusts are able to do so and, where in the future any changes are proposed, that they are subject to the usual full public consultation, engagement and consideration. I do not want to see temporary measures becoming permanent by default, and she can read that as perhaps an expression of my view on what is happening in Roehampton …
I hope that I have been able to offer the hon. Lady some reassurances today. I thank her for securing the debate, and I very much look forward to meeting her …
Fleur Anderson was reassured. I hope that Queen Mary's Hospital gets back to full service soon.
The content of that debate was alarming.
Apologies for the digression, but this is the state of play for the NHS, or should I say NCS, not only in Roehampton but all over the nation. It is an absolute shambles.
Tuesday, October 13 — the almighty SAGE, no evidence needed
On Tuesday, October 13, Treasury Minister Steve Barclay laid out the Chancellor's expanded plans for financial support during the continuing coronavirus crisis.
The 10 p.m. curfew for pubs was also voted on later that day.
Mel Stride, the Conservative MP representing Central Devon, asked for scientific evidence about the curfew:
My right hon. Friend and the Chancellor of the Exchequer have done a great deal to support the economy, but there has to be a careful balance struck between protecting against the virus and avoiding further economic destruction. With ​that in mind, what scientific evidence has the Treasury received that closing pubs at 10 pm gets that balance right?
Steve Barclay did not answer the question and inadvertently pointed out SAGE's woefully inaccurate modelling (see graph at the top of the post):
We have to balance the evidence that the Government receive from a range of quarters. My right hon. Friend will recall that when the initial advice from the Scientific Advisory Group for Emergencies was put forward, the Government came forward with a range of measures, such as the rule of six and the curfew. Indeed, if we look at the projections that were made at that time, we see that we could potentially have had 49,000 or so daily cases by 14 October when in actual fact the figure on that date was 12,872. That indicates the fact that the package of measures put in place by the Prime Minister and the Chancellor of the Exchequer have had an influence. However, listening to the SAGE advice, it is recognised that we need to go further and that is why the tiered approach has been set out.
Mike Wood (Con, Dudley South) sounded the alarm about pubs in his West Midlands constituency:
A tenth of pubs have not reopened since lockdown in March while two thirds were already trading at a loss, even before restricted opening times, mandatory table service and the new restrictions announced yesterday. Will my right hon. Friend look at the support that is available for pubs that are not yet compelled to close, but are legally prevented from operating economically, and in particular state aid limits that threaten to prevent 10,000 pubs from receiving the support they need? Without that support, many thousands of pubs will close their doors and never reopen.
Barclay responded:
… Ultimately, that is why the Chancellor set out the wider package of support, recognising the concerns he speaks of with the tax deferrals, the loans, the business rate support and the measures on VAT, which are targeted at the sector because of the very real concerns he correctly articulates.
Bob Seely (Con, Isle of Wight) asked for evidence that compels swimming pools and gyms to close in some areas under the new restrictions:
Is there any specific evidence that swimming pools and gyms are centres for covid transmission? Has any research been done into rising obesity and unfitness levels, and has any research been done into rising unemployment caused by the closure of gyms and pools that is now happening in parts of the UK?
Barclay reiterated that those sectors were part of the reason for the Chancellor's expanded support package. Again, he could not provide any scientific evidence:
In some ways, that is slightly more of a Health question than a Treasury question, but I recognise that there is read-across from those businesses into the economy. In short, the opinion of the chief medical officer and the chief scientific officer is that those businesses do carry significantly more risk, which is why they have been harder hit in the guidance that has been issued.
What if it turned out that Whitty and Vallance were as wrong about that as they are with their astronomically mistaken 'case' projections?
I fully agree with the assessment of Sir Edward Leigh (Con, Gainsborough):
It is not surprising that more and more Members are calling for more Government support, because the Government are forcing more and more businesses, particularly in the hospitality sector, out of business. The Chief Secretary says that his priority is to help business. The best way to help businesses is to let them get on and do business. We are going bankrupt as a nation—there will not be the money to pay for the NHS or pensions. What is the Treasury doing to row back against other parts of the Government and insist that we must allow British business to operate? He did not answer the question from the Chairman of the Select Committee, my right hon. Friend the Member for Central Devon (Mel Stride)—what is the scientific evidence for pubs closing at 10 o'clock? Is he leading the fight to help Britain to stay in business?
Barclay replied:
With respect, I did answer it. I pointed to the projection given by the chief medical officer and chief scientific adviser at that time, the SAGE guidance and the fact that the package of measures put in place by the Prime Minister has resulted in a lower infection risk. The CMO and others would recognise that this is a range of measures. My right hon. Friend says that the Government have gone too far and that there is no evidence for the curfew. The tenor of most of the questions one gets is that we have not moved far enough and should be taking more drastic actions. That speaks ​to the fact that this is a balanced judgment. One needs to look at the range of measures we are taking, and that is what I would refer him to.
After that, MPs debated then voted on all the new coronavirus measures. All passed, including the 10 p.m. curfew for pubs across the nation.
Matt Hancock delivered the statement which opened the debate.
He took strong exception to the Great Barrington Declaration:
Some people have set out this more relaxed approach, including those in the so-called Great Barrington declaration. I want to take this argument head on, because on the substance, the Great Barrington declaration is underpinned by two central claims and both are emphatically false. First, it says that if enough people get covid, we will reach herd immunity. That is not true. Many infectious diseases never reach herd immunity, such as measles, malaria, AIDS and flu, and with increasing evidence of reinfection, we should have no confidence that we would ever reach herd immunity to covid, even if everyone caught it. Herd immunity is a flawed goal without a vaccine, even if we could get to it, which we cannot.
Well, not all of us get flu every year, and, in the wide scheme of things, COVID-19 has a 99% survival rate.
I agree with Hancock's second point about the impossibility of isolating older members in multi-generational households.
However, overall, Hancock really is in thrall to SAGE. They must be relishing the power they have over him:
John Redwood (Con, Wokingham) asked a simple question:
How long do the scientists think we will need these lockdowns for, and what is their exit plan?
Hancock had no real answer. The one he gave proves that lockdowns do not work. So much for SAGE advice:
We have seen the exit plan from local lockdowns. For instance, in Leicester, where we had a firm local lockdown, the case rate came right down. We lifted that and we have sadly seen it start to rise again. The case rate is determined by the amount of social mixing, and it reduces during a lockdown. In some parts of the country where the case rate has continued to rise, there is an argument for further ensuring that we do not reach the level of contact that is at the root of the virus spreading. The challenge is how to calibrate the lockdown to get the virus under control while doing the minimum damage to the economy and to education.
Huw Merriman (Con, Bexhill and Battle) pointed out the futility of a 10 p.m. curfew, as everyone pours out into the street and onto public transport at the same time:
The Secretary of State talks about a regulation on pubs closing at 10 o'clock, which has been in force for four weeks. There may be some undoubted positives for health, but we see some negatives with people amassing together on public transport and in the streets. Do the positives outweigh the negatives, as far as the science is concerned?
More waffle from Barclay, I'm sorry to say.
You can see some of Shadow Health Secretary Jonathan Ashworth's reply to Barclay in the video below. Ashworth says that the Government have not gone far enough, even if he opposes another full lockdown, or circuit-breaker, as it is now called.
The debate continued.
Addressing Matt Hancock, Dr Andrew Murrison (Con, Southwest Wiltshire), who is a physician, cautioned him against being closed-minded and advised looking at other voices in the medical world, including those of those who say that lockdown serves little purpose and should be confined to the vulnerable only:
I support these restrictions with a heavy heart. On balance, I will be supporting the Government this evening, but I want to make just a few quick points.
I would be very careful about subscribing to the Vallance/Whitty orthodoxy that informed these regulations, while not at all examining very carefully respectable bodies of medical opinion to the contrary. I would cite particularly the Heneghan/Sikora/Gupta line. It is important that the Secretary of State and his ministerial team address those things head-on and treat them with the respect that they deserve …
We need to be careful about groupthink, confirmation bias, a thin evidential basis and uncertainty masquerading as certainty. There is a huge margin of uncertainty with all this, and we all need to develop a level of humility in our attitudes towards dealing with this crisis. That is why I shall be supporting the Government this evening …
In all this, we simply do not know and we are learning all the time. We have to accept, I think, the expertise of those advising Ministers and that we have experts for a reason, but there is an alternative view. Unless we get a vaccine—goodness me, I hope we do—I think we may find that the cure is worse than the disease in terms of lives lost directly to covid, incidental lives lost to other common diseases—stroke, heart attack and particularly cancer—loss of liberty, loss of livelihood and the compete trashing of our economy. That is what is at stake. I do not envy the Secretary of State in his work.
Labour's John Spellar (Warley) made excellent points. I agree with every one of them:
There is a huge principle to be debated here. At the heart of it is the false dichotomy posed again by the Secretary of State today ​between hospitality and the economy and jobs, as though hospitality were not part of the real economy and millions of jobs did not depend on it. Tell that to the workers and businesses owners in pubs and clubs, restaurants and cafes, hotels and wedding venues, theatres and cinemas, betting shops, bingo halls and casinos and gyms, all of which are facing really hard times and challenges. They are facing closures, ruin and job losses on a massive scale. At the same time, as we heard earlier, Treasury support is weakening and the Chancellor of the Exchequer is not only losing the cost of support but suffering a major loss of revenue.
Unfortunately, the approach seems to be driven less by deep analysis and more by the dreaded doctrine of "something must be done". This is something; therefore we must do this irrespective of proportionality, outcome or impact. But this time it is even worse. It seems to be "something needs to be seen to be done" without any cost-benefit analysis or considering the impact on a beleaguered industry and a workforce facing mass redundancies. Accordingly, I and many other Members are unclear about the basis, either at a local or national level, of these proposals. The Chief Secretary talked earlier of anecdotes. I want a bit more than anecdotes.
Sir Richard Leese, the leader of Manchester City Council, rightly said on Radio 4 today that a far better way than closures and curfews is to give powers to local councils to take rapid action to shut down non-compliant venues. In my authority of Sandwell, which has an enviable contact rate of 85% led by the excellent public health director Dr McNally, we have had one case linked to a hospitality venue, and that was early on in the pandemic in a pub in Smethwick. The Express & Star, our evening newspaper, investigated and found that across the Black Country, which is home to 1.25 million people, there have been just 10 such incidences of covid, again all early in the pandemic.
In his opening speech, the Secretary of State did not give an indication of how long he thinks this can go on. It could last almost indefinitely unless we develop a vaccine, an event that, as the Prime Minister candidly admitted yesterday, is uncertain and would not be 100% effective. One of the tests of an exit strategy is considering how we contain the virus if we are not able to eliminate it, as we have had to do with major diseases throughout history and as many of parts of the world still have to do today.
Steve Baker (Con, Wycombe) brought up the economic damage done and his support for the Great Barrington Declaration. He said that the Government must find a middle way:
… three problems. The first is that a vaccine may not come. The second is that a vaccine may not be effective. The third is that all this is propped up on quantitative easing and ultra-cheap credit. Indeed, now we are reading in the newspapers about negative interest rates, and this is why I declared the interest. I think you have to have a peculiarly high level of economic education to believe that we can head towards £745 billion of QE and ultra-low or negative interest rates and that all this will not be a problem. I will not say any more about it. I think it will be a problem, and it is precarious indeed that the Government's strategy is propped up on such a monetary policy …
Personally, I think that privately the Government are a little more optimistic about the AstraZeneca vaccine, which my right hon. Friend the Prime Minister mentioned, ​but here is the thing: even suppose the Government had vaccinated the public with a successful, safe vaccine by Easter or possibly the summer, that still leaves our economy and Government spending propped up on ultra-cheap credit. The problem with that is that the Bank of England has told us on the Treasury Committee that if inflation comes in it will have to, under its mandate, fight inflation. That would effectively mean pulling the plug on Government spending. This is precarious indeed …
For the reasons that I have given, I am convinced that the Government must find an alternative strategic plan between the Great Barrington declaration and where we are today.
All Government measures passed in the votes that night.
Labour's mixed messages
Meanwhile, Labour's shadow cabinet are all over the shop.
On Tuesday, Jonathan Ashworth opposed a national lockdown, while saying that the Government were not going far enough with measures:
However, Labour leader Keir Starmer announced on national television that he wants a national lockdown, as Guido Fawkes points out (emphases in the original):
Why does Keir Starmer support imposing a national lockdown on areas with low Covid incidence whilst opposing regional lockdowns on areas with high Covid incidence? Whatever side of the argument you are on, surely it is clear that being on both sides of the argument at the same time makes no sense logically? Unless it is pure political opportunism…
Ashworth said, rightly that a national lockdown "would be disastrous for society… but I don't believe anyone in the house is proposing that…" Hours later Starmer proposed precisely that…
Tiered lockdown: public money from taxpayers or private enterprise?
In closing, this is what is allegedly happening in Essex, which is just to the east of London. This is puzzling, because Essex has low positive test rates.
Adam Brooks is a publican:
Essex Council deny that money is involved. The councillor giving the following statement said that the Council is doing it for health, not financial, reasons:
Fair enough.
The leader of the Council issued this video announcement, which was not well received by Essex residents (read the replies):
Essex aside, on the subject of lockdown money, Laura Dodsworth has written a lengthy article for Spiked, 'There's a financial incentive for councils to lock down'.
She stands by her article:
She explains that Liverpool Council made sure they received commitment to a financial package from the Government before entering Tier 3:
Liverpool mayors Steve Rotheram and Joe Anderson said that they did not agree with some aspects of the Tier 3 lockdown, but were aware that government would bring in rules 'with or without them'. And so rather than argue forcefully against lockdown, they negotiated to secure the best financial package possible.
This policy is not without its drawbacks:
The new funding package for councils is designed to alleviate the pain of lockdown, to sugar the pill. But the structure of the funding might end up providing local authorities with the ingredients to make lockdown cake indefinitely. It is specifically intended to support more testing, including door-to-door testing, sometimes with help from the military. But more testing leads to more cases. More cases lead to more lockdowns.
… the funding is also going towards enforcement of lockdown regulations and self-isolation, which there are fines for breaching. That, in turn, raises more funds – the revenue from fixed-penalty notices, whether they are issued by local police, environmental-health officers or new Covid marshals, goes into local-authority coffers. In theory, the lockdown fixed-penalty fines should be going straight back into public health (as littering fines would go towards the environment). But, in reality, revenue from fines is not always that well ring-fenced in local authorities.
Liverpool Council is nearly broke:
Back in April, Liverpool council warned it was facing bankruptcy. It's easy to appreciate that local leaders are anxious to secure funds to deal with the ongoing lockdown crisis. I am not suggesting that councils and local politicians would make calculated decisions to push areas into lockdown. But the road to hell is paved with good intentions. This financial model has the potential to become a vicious circle. Seasoned disaster-planner Lucy Easthope tells me: 'There is a tendency in reactive disaster funding to create dependency and to actively avoid thinking through the long-term harms and over-reliance [on emergency funds].'
Allegedly, London is likely to be next:
It will be interesting to see how this turns out in the months to come. I hope that the Treasury have terms and conditions attached to this funding.
The end of the road for England's pubs?
Since the smoking ban in 2007 and the financial crisis the following year, the number of pubs decreased from 50,000 to 39,000 in the UK. That was as of 2018.
Because of the earlier lockdown this year, more have no doubt closed — for good.
The new coronavirus regulations began on Wednesday, October 14:
Below is a video of the 'last hurrah', as my parents' generation would have called it, in Liverpool, before Tier 3 regulations set in.
Regardless of what one thinks of the video, according to the pie chart, when workplaces and schools/universities are factored in, according to Public Health England, hospitality accounts only for 3 per cent of coronavirus 'case' sources:
Not all pubs have to close, but in order to stay open, they must serve 'a substantial meal', as in New York City. A packet of crisps or pork scratchings will not do. The Pub Curmudgeon said that the Government have not precisely defined the term 'substantial meal', which could be problematic.
Meanwhile, Adam Brooks, the aforementioned publican from Essex, has given an interview to Spiked:
More to come tomorrow on how his business has fared during the coronavirus crisis.
This week, a mini-rebellion erupted on the Conservative back benches over coronavirus.
More on that in a moment.
First, let's have a look at Friday's headlines.
As millions of Britons are worrying about their vanishing income, it is shameful that the Independent Parliamentary Standards Authority, an independent body which oversees the system of allowances and salaries for Members of Parliament, decided to give them a pay rise! Incidentally, a Labour MP is shown in the photograph below:
Unconscionable!
Although the economy was starting to recover earlier in the summer when lockdown was lifted, things are different today:
It's been a challenging year for Rishi Sunak, the Chancellor of the Exchequer, who replaced Sajid Javid in March, just a fortnight before lockdown. He delivered a brilliant budget for a bright year ahead, then coronavirus struck.
Sunak is one of the contrarians on coronavirus and is said to prefer letting Britons get back to work.
That said, he has given billions in financial aid to the nation and delivered a Winter Economic Plan. However, pressure is on now to not only find a way to boost the Treasury's coffers but also to provide extra financial support to the areas of the country which are under what seems to be permanent lockdown. The Huffington Post has more on today's new measures.
These are the highlights:
This is his latest tax plan:
Hmm:
It's a tough job, so I'm glad Rishi is in that post. He's doing the best he can.
Next door, at No. 10 Downing Street, Rishi's former aide Allegra Stratton has been named as Prime Minister Boris Johnson's new press secretary. Conservative men across the nation had hoped for a Kayleigh McEnany, but we will wish Ms Stratton well in her new job:
Note how media and politics intertwine. Stratton is connected not only to Nos. 10 and 11 Downing Street but also to top adviser Dominic Cummings as well as to The Spectator:
Guido Fawkes says (emphases in the original):
Widely anticipated and always the bookies favourite, Allegra Stratton has been confirmed as the new Downing Street Press Secretary. Her experience as a television reporter on Newsnight, ITV News and with Peston will stand her in good stead. 40 year-old Allegra is married to the Spectator's James Forsyth. They have one child. She has done a good job spinning for Rishi and he will miss her…
Bring on the briefings…
Stratton left ITV in April to work for Rishi:
I had bookmarked a tweet from ITV's political editor Robert Peston a few months ago when No. 10 announced its search for a press secretary. Unfortunately, I subsequently deleted it. Peston tweeted that he knew of a perfect candidate, someone who had worked for him and was now working for Rishi Sunak: Allegra Stratton.
And, lo, it came to pass.
Here's an interesting tweet from May, after Dominic Cummings had to give a press conference in the garden of No. 10 to apologise for his questionable trip up North to Barnard Castle (a town named for its castle) with his wife Mary Wakefield and their four-year-old son:
One of Cummings's goals was to clear out No. 10 of Remainers in senior positions. Cabinet Secretary Sir Mark Sedwill, the most senior Remainer and the man in charge of civil servants, resigned during the summer.
Sedwill's replacement is Simon Case, who used to work for Prince William:
Guido Fawkes has posted Case's email to civil servants, popularly referred to as 'mandarins', and says:
Simon Case, Sir Mark Sedwill's replacement as Cabinet Secretary, has got off to a strong start in the job by sending an email to all civil servants boasting of his 'profound sense of pride in our nation's history", telling Whitehall staff "We must maintain our dedication to honesty, integrity, impartiality and objectivity." Guido hopes counselling will be put in place for any distressed metropolitan mandarins at this time…
Now on to coronavirus.
Scotland's Nicola Sturgeon is putting much of that nation under a 16-day 'circuit-breaker' lockdown (pubs shut, no alcohol in restaurants, no visiting) during half-term (break for schools). Yet she is decommissioning the Nightingale hospital in Glasgow. Why?
In England and Wales, questions have been raised about the new contact-tracing app:
Today (Friday), the Telegraph's Chief Political Correspondent Christopher Hope interviewed the Conservative MP, Sir Iain Duncan Smith, who had a lot to say not only on coronavirus but also Brexit (he thinks large parts of the Withdrawal Agreement should be torn up if we want a Canada deal).
Excerpts follow (emphases mine):
Boris Johnson will never defeat the coronavirus pandemic, Sir Iain Duncan Smith has said, and instead must start to help Britons to learn to live with the disease.
The former Conservative leader told today's Chopper Politics podcast … : "'I've never been to a time like this where we have almost suspended all judgement on everything else as secondary to Covid.
"And the truth is that if we go on just trying to push these spikes down the whole time … then we could be in this for years because there are very few vaccines that have been completely effective against viruses."
Sir Iain said the focus on Covid meant that other risks were being completely ignored. He said that the problem was "we've lost the balance of risks. We now have only one risk. And if you think of only one risk, then you can damage everything around you".
He added that he thought the right course of action regarding coronavirus was "managing it but not expecting that, as people say, we can defeat this, because I honestly don't think we will actually."
YES!
The 30-minute podcast is here. Hope interviews other guests, too.
Conservative MPs are warning Boris not to take the votes of former Labour-supporting area lightly. Those areas, many of which now have Conservative MPs, are the ones most affected by semi-permanent lockdown:
Earlier in the week, the Government postponed a vote on the 10 p.m. curfew on pubs and restaurants in England. It has been rescheduled for next week:
Members of the public are understandably concerned. One summarised Boris's speech at the (virtual) Conservative Party conference this week:
But I digress.
The reason the Government are picking on the hospitality sector is because of this chart, which MPs on both sides of the aisle dispute:
Hospitality venues are at the top of the list.
Note that schools and workplaces are not mentioned.
This is the reality, and this is what dissenting MPs are going by. Hospitality is ranked at 4 per cent (see pie chart):
The hospitality sector had to put a lot of money into their businesses in order to reopen during the summer, yet the Government is targeting them. That is also true in France, but we'll stick with England for now:
I am very concerned about this eventuality:
Conservative MP Steve Baker talks a good game, but he voted with the Government this week to renew coronavirus restrictions.
ITV interviewed him yesterday:
ITV has excerpts of Baker's interview:
Speaking to the Acting Prime Minister podcast, the MP said the rule is "badly evidenced and appears to be counter-productive".
He said the rule, which forces pubs to close between 10pm and 5am, is "wrecking the hospitality industry, which we only just pumped lots of taxpayers money into through Eat Out to Help Out".
He claimed the "cost of lockdowns are worse than the cost of the disease" and suggested the PM is only imposing them because of hopes of a vaccine "turning up and solving all these problems".
He said he fears the UK is in "grave danger" of "jumping into a lobster pot here from which we can't emerge" if a vaccine is not forthcoming.
"The danger we're in at the moment is we'll destroy our economy," he told podcast host Paul Brand.
He said he supports Prime Minister Boris Johnson in his response to coronavirus, but questioned whether he is "betting the country on a vaccine turning up".
"If his strategy is based on a vaccine coming, I think there's going to be a problem," he said.
The Wycombe MP appeared to suggest the team around the prime minister was not allowing him to use his strengths …
Mr Baker, who was a prominent Brexit supporter, said he "deeply" regrets the way the UK divided over EU membership and said he can feel the same happening with coronavirus.
"I'm really worried that our society is polarising with hysterical arguments on both sides.
"What I am saying is I want us to have a radical spirit of concern for one another, a radical willingness to listen to one another and then be moderate in what we say and do to try and close all these, all these divides." 
I agree wholeheartedly with every word.
In closing, I really hope that Steve Baker and the other Conservative rebels vote against the Government on the hospitality curfew next week.
They won't win, but they will send a strong message to Boris and Matt Hancock.